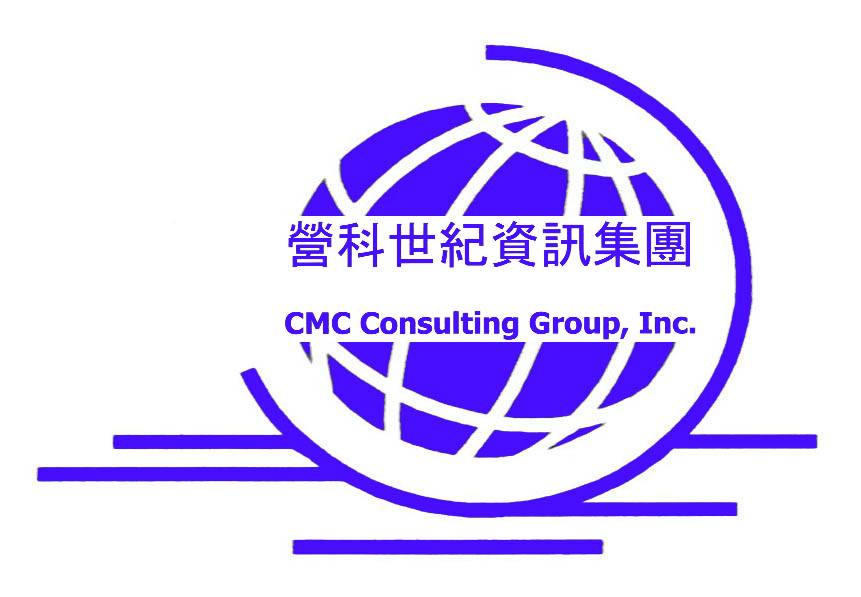 "Building Bridges, Exploring Business Opportunities for Hawaii and United States Businesses through Experiences and Hand on approaches - We Get Things Done with Tangible and Measurable Results"

New Shanghai Office Effective September 1, 2004 to better serve our American and Chinese clients












Hawaii's China Connection Video
Feature Business & Community Leaders
Face to Face with Audrey Li, Attorney at Law, Shanghai, China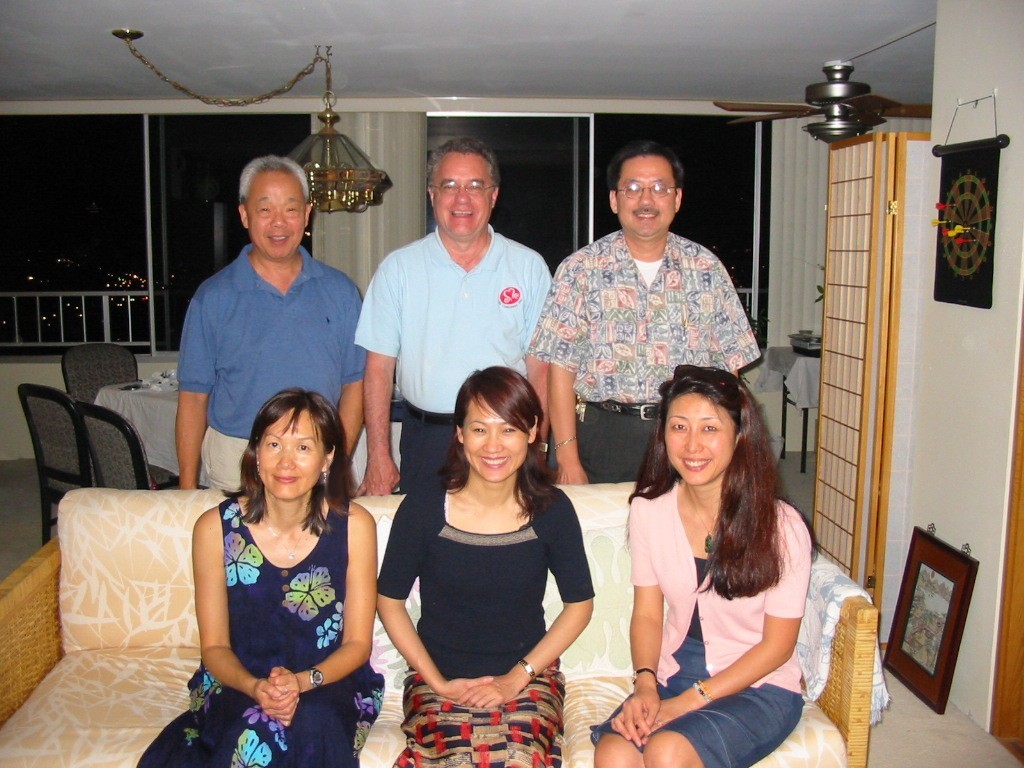 "Foreign Investment & Dispute Resolution in China"
by Audrey Hong Li, Concord & Partners , China. Audrey is a member of the Hong Kong China Hawaii Chamber of Commerce.
Part One: Foreign Investment

1. Overview

a. Achievements in Foreign Investment in China

Over the last 25 years China has sustained a growth rates in excess of 7% and is becoming the world's third largest economy. Foreign investment in 2002 reached a record high of over 50 billion US. In 2003, American investment to China alone has reached 4 billion US and over 4,000 American invested companies were incorporated in China. More multinational corporations are adjusting their investment structures by shifting not only manufacturing but also R&D centers and regional headquarters to China.

To take Shanghai for example, now Shanghai has 106 R& D centers, 56 regional headquarters and 90 foreign investment companies.

b. Legal Framework

China is now in the process of making its legal system increasingly streamlined, transparent and predictable.
Laws and rules issued and promulgated from 1979 to March 2003:
Constitution Law of 1982 and three Amendments;
At the national level: 420 laws by the National People's Congress;
900 administrative laws & regulations by the State Council;
50,000 implementing administrative rules by various ministries under the State Council;
At the local level: 8,000 local rules and regulations by different provinces and municipalities.

In 2004 further legislative improvements concerning investment transactions : Amendment of Company Law and Securities Law;
Formulation of laws regarding Bankruptcy, Corporate Income Tax, Foreign Currency and Foreign Trade as well as Anti-Trust, Anti-dumping and Anti- Unfair Competition.

2. Brief History of Foreign Investment in China
Traditionally tools for foreign investments in China:
(i) Representative Office: not an entity, not allowed to generate local revenue
(ii) Branch: normally for foreign financial institutions only
(iii) Equity Joint Ventures: limited liability, but lack of control
(iv) Contractual Joint Ventures: more flexible
(v) Wholly Foreign Owned Enterprises (WOFE): full control, not available in all industries
(vi) Foreign –Invested Joint Stock Company:

Basic Description of FIE:

(1) Limited liability within ratio of capital contribution;
(2) 25% minimum equity contribution required to qualify as "regular" FIE entitled to preferential tax treatment and other benefits;
(3) Ultimate control is at board rather than shareholder level, Board Chairman is LR of JV, General Manager wields day-to-day operational control.
(4) Regulatory approval required for any change in equity structure (eg. sale, termination) makes exits complicated)

3. Key Legal Developments

a. M & A
Now: Under the new M&A rule and regulations in recent years, foreign companies CAN:
i. Acquire existing shares or new shares of domestic enterprise;
ii Acquire operating assets from domestic enterprises
iii Acquire operating assets from domestic enterprises for contribution as capital to establish new FIE
b. Other Acquisitions by Foreign Investors
i. Acquisition of assets, shares and creditor rights owned by State-owned Enterprises (SOE)
ii. Acquisition of non-tradable shares (Legal Person Shares) in Chinese listed companies
iii. Acquisition of A shares in Chinese listed companies (QFII)
iv. Acquisition of Equity in existing FIEs
c. Establishment of Companies with an investment nature by Foreign Investors

Foreign investors with multiple China investment projects CAN establish companies with an investment nature to (1) provide services to one another, (2) centralize purchasing or administration and (3) consolidate accounting WITHOUT subject to the 50% net asset limitation on investment by the holding company.

4. Using Hong Kong as Entry Point: CEPA

Effective from 1 January 2004, "Closer Economic Partnership Arrangement" (CEPA) can be used by foreign companies with Hong Kong based operations as entry point to get access to Mainland China to (1) Trade in goods with zero tariff, (2) to Trade in 18 service sectors ahead of WTO Commitment and with lower threshold.

5. Trends

To sum up the development of foreign investment in China:
a. WOFE is becoming an increasingly common vehicle for foreign investors;
b. Foreign operations in China will become more streamlined, and M & A, both domestic and cross border, will become enormous;
c. Government regulatory approval is still critical, official discretion sometime too broad and local regulations are not consistent, but government is becoming more supportive of innovative transactions.
d. Now is an opportune time to enter China. It's both an opportunity and a challenge.

Part 2: Dispute resolution in China

There are normally 4 alternatives in resolving commercial disputes, i.e. negotiation, conciliation, arbitration and litigation. Arbitration has become an increasingly preferred because;

(1) Convenient, cost saving and efficient;
(2) Procedures flexible and confidential;
(3) Can apply foreign laws;
(4) Award is final and binding,
(5) Award can be enforced both in China and foreign countries.

1. Over view

China's first Arbitration Law: implemented in 1995.

Independent domestic arbitration commissions at major cities: Mainly domestic cases, some foreign related.

CIETAC (China International Economic & Trade Arbitration Commission): Major venue for foreign related disputes; started to take domestic cases recently.

2. Domestic Arbitration

At present there are more than 170 domestic arbitration commissions throughout the country. By 2001, over 12,000 cases have been heard and decided. In terms of number of cases and amount of disputes involved, the top three largest and most active ones are Guangzhou Arbitration Commission, Beijing Arbitration Commission and Shenzhen Arbitration Commission.

3. CIETAC ( China International Economic and Trade Arbitration Commission)

(1) Organization:

The leading permanent international commercial arbitration institution in China with its headquarters in Beijing.

Originally established in 1956 within CCPIT.

Over the years to suit China' economic and trade development the organization was re-organized and took on its current name in 1988. 1n 1989, CIETAC established a Sub-Commission in SZ and in 1990 in SH and currently maintains 6 offices. They applied a uniform rule of arbitration and panel of arbitrators. CIETAC no longer attached to CCPIT.

(2) Arbitration Rules and Panel of Arbitrators:

Arbitration rules amended 5 times.

Currently 3 set of rules are available:
(1) one for international economic and trade disputes;
(2) one for domestic disputes;
(3) a new one in May 2003 to do deal specifically with financial disputes.

Unique Panel System: the disputing parties CAN ONLY appoint arbitrators from among the Panel of Arbitrators;

Panel of Arbitrators: 518 arbitrators in total, of whom 174 are foreign arbitrators involving over 30 countries and regions around the worlds.

(3) Achievements

Up to now CIETAC has concluded 8,000 cases involving parties from 45 countries and regions with a load of approximately 700-800 cases each year, and has become one of the well-known international arbitration institutions in the world.

Since 1994, CIETAC has ranked FIRST among major international arbitration institutions world wide, in terms of numbers of cases accepted, and has become the busiest international arbitration in the world.

(4). Enforcement/ 1958 Convention/ Civil Procedural Law/

China acceded to 1958 New York Convention in 1987;

CIETAC's awards have been able to be recognized and enforced outside China, now in 149 countries;

CIETAC's awards have been recognized and enforced in more than 40 countries.

(5). Key development

(1) CIETAC Domain Name Dispute Resolution Center: set up in December 2000 to resolved domain name disputes in the areas of IP and information technology, specifically on IP and internet domain names in cyberspaces. 108 cases in 2003

(2) Asian Domain Name Dispute Resolution Center: JV between CIETAC & Hong Kong International Arbitration Center, it is one of the only 4 domain dispute providers in the world, the first one and only one in Asia.

(3) CIETAC Financial Dispute Arbitration Rules and Arbitrators in May 2003: to solve disputes arising from financial disputes'

6. Major issues to be considered for arbitrating before CIETAC

(1) First must have a Validity of Arbitration Agreement—challenge of arbitrator's jurisdiction
Clear Content: specify complete name, intent,
Can apply foreign laws and English languages if set forth in the contract.

(2) Second, before filing Application for Arbitration, take preservative measures including Property Preservation and Evidence Protection to ensure enforcement of awards..

(3) Third, Selection of arbitrators
Majority opinion prevails. Each party picks one with 3rd jointly selected or by the Chairman of CIETAC. Avoid conflict of interest.

Ethical Rules of Arbitrators: professional code of ethics for arbitrators

(i) CAN"T give advice, accept gifts, Should withdraw if there is conflict of interest. Should give parties ample opportunities to present the case;
(ii) will assume legal liability if committed Met privately, accepted bribes, committed embezzlement shall be removed from the List.

(4) Fourth, Make sure there is no procedural violation, which can cause the award to be set aside or not enforced.

(i) Grounds for refusing to recognize or enforcement of Foreign Related or international awards:
1) No valid arbitration agreement;
2) Matters decided exceed scope of arbitration or beyond arbitral authority of the arbitration institute;
3) Formation of arbitral tribunal or the arbitration procedure no in conformity with the rules of arbitration;
4) The parties against whom the enforcement is sought was not properly notified to appoint an arbitrator or to take part in the arbitration proceedings or was unable to state his opinions due to reasons for which he is not responsible - denial of right to properly present the case
5) Misconduct of arbitrators in arbitration, such as arbitrators committed embezzlement, accepted bribes, practiced graft or made an award that perverted the law--
6) The recognition or enforcement would be contrary to the public policy of that country.

The above all restricted to procedural violations/irregularity and not touch on the merits of an award

(ii) Grounds for refusing domestic awards:

1) Main evidence for ascertaining the facts was insufficient
2) Application of law truly incorrect
3) Directly relates to merits of the award

About us
CMC Consulting Group, Inc, a Hawaii based consulting company with offices both in Hawaii USA and Shanghai China, is focusing on China related business development consultancy. The company is headed by a strong partnership among several influential China business experts in Hawaii.

Mr. Michael Zhang, CEO & President is also the president & CEO of Blue Hawaii Surf, who is the first and only Chinese owner of a surfing brand – Blue Hawaii Surf. It was nominated by First Hawaiian Bank three times as one of the fifty fastest growing Companies in Hawaii. Mr. Zhang has been nominated by Pacific Business News for the prestigious "Forty Under 40" outstanding young business executive award. Mr. Zhang has set up three joint venture companies in China since 1994.

Mr. Johnson Choi, Executive Vice President & CFO has owned a variety of businesses with decades of experience in financial and business consultancy with a focus on the China market. Mr. Choi is one of the Principals of ProjectOnNet.com, a Hawaii Act 221 qualified software development company and Makai Motion Pictures LLC, a Hawaii Act 221 qualified movie and television production company. Mr. Choi is the founder and president of Hong Kong China Hawaii Chamber of Commerce and the former president and one of the founders of Hong Kong Business Association of Hawaii.

Ms. Yen Chun, Vice President & COO has over 20 years of extensive China consulting experience. She was one of the few China consultants who successfully negotiated many projects for major U.S. corporations in China. Ms Chun was Senior Consultant of China Consulting Services Department with Touche Ross International (now Deloitte and Touche). She was Manager of China Business Program at JAIMS (Japan-America Institute of Management Science). She is trustee of the prestigious Soong Ching Ling Foundation of Beijing and Shanghai, Founding Member and Vice President of Sun Yat-Sen Hawaii Foundation, Director of Chinese Chamber of Commerce and Hong Kong China Hawaii Chamber of Commerce.

Ms. Liwei Kimura, Project Manager has more than a decade of experience working with international businesses in China and the US, including positions in sales & marketing, human resources, public relations and business development. She holds a BS in hospitality management and an MBA, as well as a professional certificate in simultaneous translation.
Ms. Fei Zhao, China project Manager has more than a decade of experience working with international & media businesses in China, including positions in sales & marketing, public relations and business development.

In 1985 both Ms. Chun and Mr. Choi were involved in the establishment of sister-state relationship between Hawaii and Hainan province in China.

Contact us: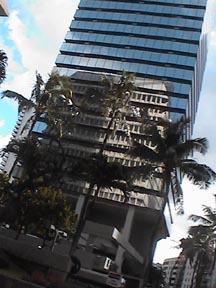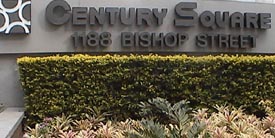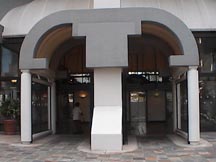 Corner Bishop and South Beretania Street
Business Hours: 8:30am - 4:00pm (M - F) Advance Appointment Requested
USA Address: 1188 Bishop Street, Century Square, Suite 3403, Honolulu, Hawaii 96813, USA
Hong Kong SAR Address: 253 Des Voeux Rd #1305, Central, Hong Kong
China Address: 31-35 Yongjia Rd, #520, Shanghai 200030, China
San Francisco USA Phone: (415) 691-6138;
Hawaii USA Phone: (808) 524-5738;
Hong Kong SAR Phone: (852) 8171-3118 & (852) 9239-3999 (mobile)
USA Toll Free Fax: (877) 852-8548
Hawaii USA Fax: (877) 852-8548
emails: jwkc8168@yahoo.com, johnsonchoi@johnsonchoi.com or cmcconsultinginc@yahoo.com

Last update August 22, 2004