December 31, 2002
China: BEIJING - Two United Nations nuclear inspectors expelled by North Korea arrived in China on Tuesday, leaving behind a nuclear program that the international community fears will be used to build plutonium-based weapons.
China: SHANGHAI -- German Chancellor Gerhard Schroeder and Chinese Premier Zhu Rongji opened the world's first commercial magnetic levitation train on Tuesday, with both sides having much to gain from its success.
China: BEIJING - China successfully launched its fourth unmanned spacecraft yesterday in what is likely a final test before sending its first astronaut into orbit. Official media said Shenzhou IV, or Divine Vessel IV, was sent into a preset orbit by a Long March II F carrier rocket which blasted off from the Jiuquan Satellite Launch Centre in north-western Gansu province. The Pentagon in July said that China's manned space mission could happen next year, with Beijing's eventual aim being to build a reusable space vehicle similar to the American space shuttle.
Hong Kong: The number of visitors from the mainland to Hong Kong set another record last month with 697,841 arrivals, a 71.8 per cent increase from November last year, the Hong Kong Tourism Board said yesterday. Overall, the number of visitors to Hong Kong in November reached 1.57 million, 37.5 per cent more than last year but just short of the 1.58 million record set in October, the board said. In the first 11 months of the year, the number of visitor arrivals rose 19.9 per cent to 14.9 million, with arrivals from the mainland accounting for almost half of that at 6.07 million. Clara Chong, executive director of the board, said in a statement: "If we can maintain this level of growth for the remainder of December, we are certainly looking at a final figure for the year in excess of 16 million arrivals."
December 30, 2002
China: Liu Ming Kang and Xiao Gang, two of the mainland's top bankers, have emerged as leading candidates to head China's new banking regulator to be launched within the next two months.
China: German chancellor Gerhard Schroder meets Hu Jintao and praised his country's friendship with China on Monday, saying new Communist Party leader Hu Jintao is making ''great contributions'' to the relationship between the two nations.
December 29, 2002
China: BEIJING - China has accepted applications from three Taiwanese airlines to operate indirect charter flights to the mainland for the Chinese New Year holiday - a potentially significant move as the two rivals inch towards establishing direct air links, the Chinese state media reported yesterday.
China: BEIJING - The former chairman of the China Securities Regulatory Commission, Mr Zhou Xiaochuan, has been appointed the new governor of China's Central Bank. He replaces Mr Dai Xianglong who is tipped to become mayor of the northern port city of Tianjin and is one of China's best-known financial figures abroad. Mainland-based bankers and securities analysts yesterday said the impact of Mr Dai's departure would be limited because important decisions in the mainland's banking and securities sectors would remain at the office of Premier Zhu Rongji and, in future, at the office of current Vice-Premier Wen Jiabao.
China: Seven HKSAR drug traffickers avoid death penalty - Much to the surprise of legal experts, China's biggest cross-border smuggling operation results in lenient sentences. HKSAR residents Lam Yip-shing, Fong Che, Choi Pui-shing, Cheung Siu-pao, Wong Kin-keung, Choi Wai-shan and Kwok Wing-wah were found guilty with six mainlanders of trafficking 672.9kg of heroin from Myanmar into the mainland in November 2001. The drug was destined for sale in Hong Kong where it could have fetched more than HK$80 million (US$10.1 million) on the streets.
December 27, 2002
China: China's telecommunications equipment makers are aggressively competing for a bigger slice of the international market at the same time as their global rivals are hungrily eyeing the mainland.
Hong Kong: Israeli firms are increasingly making Hong Kong their home away from home. Ornit Avidar Rarely, the Israeli Consulate's commercial attache, talks about her job and discusses the determination of Israeli companies to make it in Hong Kong.
December 26, 2002
China: Beijing-based Huaxia Bank has been given the go-ahead for an A-share initial public offering (IPO), signaling an acceleration of the corporation trend that is forcing mainland banks to adopt market-based discipline.
December 24, 2002
Hong Kong: Hong Kong Exchanges and Clearing (HKEx) has reported a record year for new listings and improved its ranking to become the world's ninth-largest stock market. However, the record listings and elevation from No 10 in the world have failed to lift market turnover, which has slipped 18 per cent this year.
China: Draft civil laws aimed at better protecting private property in order to stimulate economic growth have gone before the National People's Congress (NPC). The decision to codify civil laws laying down the rights of individuals and corporations was made at last month's party congress, where it was agreed strengthening protection would encourage private investment. NPC chairman Li Peng is determined to get the task under way before he steps down from office in March.
Hong Kong: Article 23 will undermine civil liberties: Human Rights Watch - Proposed Article 23 legislation did not conform to international human rights standards and would ''seriously undermine'' civil liberties in Hong Kong, Human Rights Watch warned on Tuesday, the last day of the controversial article's consultation period. ''Civil liberties and civil society are precisely what distinguish Hong Kong from China,'' said Brad Adams, executive director of the human rights watchdog's Asia division.
December 23, 2002
China: China Unicom hopes to sign up another 21.5 million subscribers to its services next year, targeting at least half of the aggressive plan for its recently launched code division
multiple access (CDMA) service.
December 22, 2002
China: Sweeping reform in the pricing of China's natural gas industry is needed to achieve Beijing's goal of doubling the share of gas in China's total energy supply in 10 years, according to the International Energy Agency (IEA).
Hong Kong: Banks pressure 'listing-scam' firms - Directors at two of the companies have resigned after ICAC (Independent Commission Against Corruption) raids saw their chairmen and other staff arrested on Monday. Executives of the companies are alleged to have over-stated profits to enable the firms to qualify for a stock-exchange listing, bribing accountants and advisers to go along with the scam.
China: Dutch company Philips Electronics is planning to boost its presence in China, making it one of its three main centers for research and development.
December 21, 2002
China: Investors rush for mainland's first brokerage IPO Citic Securities' initial public offering (IPO), the first by a mainland brokerage, has been 357 times subscribed, underwriter Guangfa Securities announced yesterday.
Hong Kong: Chinese Estates Holdings has acquired a major commercial building in Tsim Sha Tsui for HK$1.1 billion in one of the biggest private property transactions this year.
December 19, 2002
China: CLSA has become the first foreign investment bank to win approval to set up a joint venture in China under new market-opening regulations introduced earlier this year. The French-backed regional house said yesterday it had received a formal letter from the China Securities Regulatory Commission (CSRC) giving the go-ahead for a new Shanghai-based firm to be created in conjunction with Xiangcai Securities, a top-10 ranked mainland brokerage firm.
China: Legend Group, China's largest computer maker, is paying up to HK$220 (US$28.3) million to take over a telecommunications systems integration business. A Legend spokesman said Chinaweal, which provides IT solutions to telecom companies - including billing, accounts management, settlement, customer service and network management - had given a profit guarantee but declined to reveal details.
December 17, 2002
China: Silicon Valley-based BEA Systems hopes to give China's nascent software export sector a kick-start when the firm opens its first offshore software development laboratory in the mainland next year and starts transferring key technology to developers.
China: China's new Public Security Minister is Mr Zhou Yongkang, who is the first Politburo member to assume a ministerial position since the end of the Cultural Revolution.
China: U. S. Admiral push for closer ties with China - The commander of the US Pacific Fleet ended a series of high-ranking military-to-military talks yesterday, highlighting a clutch of bilateral security issues including Iraq, North Korea and Taiwan.
December 16, 2002
Hong Kong: AmCham-Hong Kong's response to the consultation document on Article 23 in PDF format
Hong Kong: In a surprise move, former stock exchange chief executive Paul Chow Man-yiu has turned down an offer to take over the top job at Hong Kong Exchanges and Clearing, leaving no clear candidate as front-runner for the position.
Hong Kong: Officials of the Independent Commission Against Corruption (ICAC) raided the offices of three related listed companies yesterday and seized computers and documents.
December 15, 2002
China: Beijing can't live without its migrants - The capital's service industry, in particular, will grind to a halt without them. Nine in 10 workers in the service industry come from other parts of China, such as Hebei, Henan, Sichuan, Anhui and Liaoning. The latest census figures show that there are more than two million such migrant workers serving the capital's 13 million residents.
Hong Kong: With lending opportunities proving elusive, two of Hong Kong's largest banks are looking to tap small and medium-size enterprises (SMEs) through Internet banking.
December 13, 2002
Hong Kong: The Hong Kong General Chamber of Commerce has formed a joint venture company to capitalize on the government's decision to open the market for online regulatory documentation.
Hong Kong: Citizen of Hong Kong can enlist for volunteer work, book marriage dates and more at the Hong Kong Government's ESD website, making Hong Kong one of the world's first governments that operates on its citizens' schedules, not the way around.
Hong Kong Government Services - Electronic Service Delivery
December 12, 2002
Hong Kong: HK-China border to stay open 24 hours, pedestrians will be able to cross between Hong Kong and mainland China 24 hours a day by the end of next month, Hong Kong's chief executive said yesterday. The Lok Ma Chau-Huanggang foot crossing to the southern Chinese city of Shenzhen will be opened round-the-clock by Chinese New Year or the end of January, Mr. Tung Chee Hwa said.
China: Farmers groan as WTO entry heralds changes, many have to switch from growing grains to fruits and vegetables instead as well as raise the quality to compete globally.
China: GENEVA - World Trade Organization (WTO) members largely welcomed China's efforts to implement trade rules during its first year of membership but raised a handful of concerns, trade sources said.
December 10, 2002
Hong Kong: Sunday sacks 10pc of workers, Loss-making Sunday Communications, Hong Kong's smallest mobile operator, sacked about 10 per cent of its staff yesterday in a bid to save costs in a brutally competitive market.
Hong Kong: Bankers and analysts confirmed yesterday that HSBC Holdings - the parent of Hong Kong's biggest lender - was aggressively seeking new investment opportunities on the mainland.
December 8, 2002
China: Foreigners missing out on China's WTO entry Citigroup chairman Sanford Weill said in March that he would like to see 300 Citibank branches in China one day. At the rate China has let his company expand, Mr Weill's wish will not materialize until 2302.
China: Beijing is expected to approve the first batch of custodian banks under the new qualified foreign institutional investor (QFII) scheme by the end of this month, a senior Citibank official said.
Hong Kong: China's booming exports have also been a boon to Standard Chartered Bank, which is seeing fees for trade financing rise at its corporate and institutional banking division in Hong Kong.
December 7, 2002

Hong Kong: A controversial reclamation plan that will dramatically alter the Wan Chai waterfront was given the green light by the Town Planning Board yesterday. The board amended the plan to lower the height of a key part of the development, preserving Hong Kong Island's skyline. But it approved a particularly controversial part of the plan which involves reclaiming part of the harbor to create a park. The 26-hectare reclamation plan along the coast from the Convention and Exhibition Centre towards Causeway Bay will develop an exhibition centre and commercial complex.
China: US ready to issue mixed report card on WTO progress a year after opening its markets, Beijing is likely to be praised for its overall effort but criticized for failures in agriculture.
December 6, 2002
China: Third-generation (3G) wireless proponents KDDI of Japan, South Korea's SK Telecom and United States-based Qualcomm are expanding their ties with China Unicom, despite a freeze on launching new high-speed, Internet-ready mobile phone systems in the mainland.
Hong Kong: The Li Ka-shing-backed travel services portal Priceline.com.hk has seen the number of customers visiting its Web site decline, but Hong Kong's online booking industry is registering expanding consumer interest, according to an AC Nielsen Netratings report.
December 5, 2002
Hong Kong: Sun Hung Kai Properties (SHKP), formerly one of Hong Kong's more cautious developers with a view to mainland investment, is splashing out with plans to spend some HK$8 billion (US$1.03 billion) on a Shanghai site to include two hotels and office, living and shopping space.
December 4, 2002
China: China Merchants Bank unveils credit-card plan for masses China Merchants Bank has announced plans for the mainland's first mass credit-card campaign - signaling the start of aggressive competition for customers in the infant market.
Hong Kong: Innovate or die, SAR lenders warned Home lending may be left to just a handful of big banks in Hong Kong as shrinking profit margins force a shake-out of the industry and squeeze low-volume lenders out of the mortgage business.
Hong Kong: Continental adds a New York flight Continental Airlines will boost its presence in Hong Kong this spring with another flight on its non-stop service from Hong Kong to New York, making a total of six services a week.
December 3, 2002
China: Shanghai lands 2010 World Expo - The cultural and economic showcase is set to give China a bigger boost than the Beijing Olympics, say economists. Shanghai celebrated late into the night after being awarded the right to stage the 2010 World Expo, an event touted as a bigger economic boost for China than Beijing's Olympic Games.
Hong Kong: Three quit Monetary Authority, triggering reshuffle - Hong Kong's longest-serving banking regulator, David Carse, is bowing out. Two senior colleagues at the Hong Kong Monetary Authority are also resigning - setting the stage for a reshuffle at the top of the SAR's de facto central bank. Deputy chief executive Tony Latter will leave when his contract runs out on January 3. His duties will be assumed by another deputy chief executive, Norman Chan Tak-lam. Marian Li Chan Sien-mun will leave the authority when her secondment as the chief executive of Exchange Fund Investment Ltd ends on January 31 when the company, set up to sell the government's stock portfolio, ceases operation. Most attention, however, will be focused on the departure of Mr Carse, deputy chief executive in charge of banking regulation when his contract expires in March. But he says he is willing to stay on until a successor is chosen. Authority sources said it may ask Mr Carse to stay until the end of next year to avoid the simultaneous departure of so many senior officials. Bankers are tipping Choi Yiu-kwan, executive director of banking supervision and Mr Carse's deputy, to replace him. But there is also speculation that Financial Secretary Antony Leung Kam-chung may appoint someone from outside the authority.
December 1, 2002
Hong Kong: Developers spark fresh price war Sheung Wan and Kowloon projects have set new benchmarks in a property market that has seen prices fall 65pc since 1998. Wharf (Holdings) is cutting prices for the first batch of public sale units at its Kowloon Station, Sorrento phase two project, after Queen's Terrace in Sheung Wan was yesterday priced at more than 10 per cent below prevailing secondary market prices. The two core urban district projects are seen as setting new benchmarks for a property market which has seen a 65 per cent decline in prices since 1998.
China: Guangdong to build bridge to Hainan, the 30km link is expected to provide an economic boost to both provinces.

Guangdong will invest 50 billion yuan (HK$47.2 billion) to build a bridge linking the province with Hainan island, local reports say. The 30km structure is part of a national project to build five bridges starting in Tongjiang, part of northernmost Heilongjiang province, and ending in the Hainan resort town of Sanya, the reports said. The other three bridges will be in Hangzhou bay, the Bohai Sea and across the Yangtze River mouth.
November 30, 2002
Hong Kong & China: Alternative plan emerges for Zhuhai bridge - Reports of the Guangdong proposal has failed to mention a Shenzhen and Macau link. Guangdong authorities plan to spend 15 billion yuan (HK$14 billion) on building a 26.7km bridge linking Hong Kong with Zhuhai, according to a Guangdong newspaper. The report did not mention whether the bridge would link the SAR directly with Zhuhai. Neither did it say whether the proposal would include links to Shenzhen and Macau, nor when the project might start.
November 29, 2002
China: Investors punish VTech for its gloomy earnings outlook - Shares in VTech Holdings plunged 13.46 per cent yesterday as investors responded to its gloomy outlook for the second half.
China: ZTE wins $1.4b China United contract - Zhongxing Telecommunications (ZTE) has won a 1.57 billion yuan (about HK$1.47 billion) deal to supply equipment to China's No 2 mobile operator, beating foreign vendors that dominate the mainland market for telecoms gear.

November 28, 2002
Hong Kong: HK will seek Beijing's approval for a Y-shaped bridge to Zhuhai and Macau A source close to the study says an alternative link to Shekou is not needed.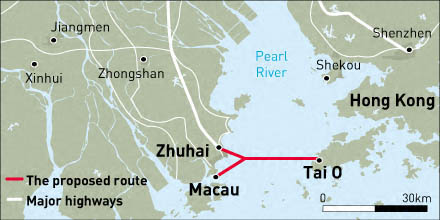 The building of a 29km bridge linking Hong Kong, Zhuhai and Macau is set to be recommended to Beijing by the Hong Kong government. The Y-shaped bridge would run from north of Tai O on Lantau Island to Macau and Zhuhai under proposals being finalised by the government feasibility study team. Traffic using it to reach Hong Kong would have easy access to Chek Lap Kok airport and the rest of the SAR.
Hong Kong: Visitors to Hong Kong set another monthly record last month, with the number of arrivals reaching 1.58 million, the Tourism Board said yesterday. The mainland market was the biggest factor - contributed nearly 670,000 visitors in October, up 68.4 per cent on the corresponding month last year. Arrivals from the Americas increased by 37 per cent in October to more than 140,000 compared with the same month last year, with visitors from the United States jumping 40.8 per cent. More than 109,000 Japanese visitors arrived last month, an increase of 29.5 per cent over last year.
China: The workers at Dongguan Nokia Mobile Phones Co. understand how China's economic boom works - they churned out 11.6 million phones last year, half for export and half for sale in China. The employees work 12 hours a day, six days a week if it's busy. The Dongguan operation, which opened in 1995, is one of only two Chinese plants for the Finnish cell-phone company, which also has a plant in Beijing. Hong Kong and Taiwanese businesses began arriving in the 1980s. Those two places still account for 88 percent of the $16 billion in foreign overseas investment that has come to Dongguan. Young women in search of jobs flock to Dongguan from rural China, from provinces such as Guanxi, Hunan and Jiangxi. Dongguan's workers sent back 13 billion yuan ($1.6 billion) to their homes in 2001 alone.
Half the cost of Mexico - Dongguan VTech Electronic Industries, the local subsidiary of the Hong Kong cordless-phone producer, closed a factory in Mexico and shifted production to China. With cheap land and labor, the cost of production in Dongguan is half that of Mexico, operations manager Simon Lau explained.
China: China's change of guard offers few clues - By Richard Halloran
Go to the Honolulu Advertiser link for the COMPLETE report
November 27, 2002
China: Chinese Vice-Premier Wen Jiabao attended here Tuesday the opening of the headquarters of the Asian and Pacific Center for Agricultural Engineering and Machinery (APCAEM) of the United Nations.
Wen said the APCAEM is the first China-based official UN organization, and the move of the center from Bangkok, Thailand to Beijing marks a step forward for cooperation between China and the UN, thanks to concerted efforts by all parties concerned.
He expressed his belief that more UN and other international organizations will set up their headquarters in China and said the Chinese government is ready to give support and provide work conditions for their operation. The APCAEM, now with 12 members, covers a wide range of research areas, including agriculture, forestry, husbandry, cash crop production, fishery, as well as genetic engineering and agricultural information projects.
China: After years of bitterly fighting anti-dumping actions against its products, the mainland is launching its first such case since joining the World Trade Organisation, taking on US, Japanese and South Korean paper exporters. Claiming a flood of cheap products, Beijing is demanding that domestic companies importing paper used in copperplate printing from the three countries must pay deposits to Customs to ensure that the shipments are not sold too cheaply.
Hong Kong's exports in October rose 12.9 per cent year-on-year to $150.5 billion, the biggest jump and highest amount since October 2000, boosted by demand from China and other Asian countries.
Hong Kong people will be able to gamble legally on soccer matches starting next summer after a historic government decision yesterday to grant an exclusive footballing franchise to the Jockey Club. The controversial move - a last-ditch bid to combat rampant illegal bookmaking - means Hong Kong will join Macau in a soccer betting beach-head next to the mainland, where such gambling remains strictly limited.
November 26, 2002
Zuji launch to rival Priceline - Cathay Pacific, United States travel portal Travelocity and 16 major airline partners will officially launch Zuji.com.hk tomorrow, two months after introducing the Singapore and Australia sites.

Phone regulator to join Nortel - The head of planning at the mainland's phone regulator has retired, and will move as early as January to a venture controlled by Nortel Networks, North America's second-largest phone equipment maker.

November 25, 2002
Warm welcome as US ship docks in Qingdao - An American destroyer docked in an eastern Chinese harbour yesterday in the first such port call by the US Navy since the two countries curtailed military ties following the spy-plane incident last year.
No relaxation of broadcasting restrictions in sight - Reports indicate that China will tighten rather than loosen its grip on the broadcasting sector. This was shown by the release of a blueprint for the creation of a new government agency which would hold the monopoly over all satellite broadcasts in China. Peter Burge and Erik Leyssens of Deacons look at the state of broadcasting legislation.

Enigmatic Hu cast as a colourful character - New Communist Party chief Hu Jintao likes sports and dancing and once played a flower fairy in a school production of a Beijing opera, state press have reported.

November 24, 2002
HSBC faces uneasy session after US deal fears, HSBC Holdings faces a jittery trading session after reports that its planned US$14.2 billion takeover of consumer credit firm Household International may be unravelling.
BoC HK to close more outlets in drive for profit and efficiency BoC Hong Kong (Holdings) the city's second-biggest bank, plans to shut additional branches after closing more than 20 outlets this year, according to deputy chief executive Zhu Chi.

The world's third-largest jeweler Bulgari Group is seeking partners to enter China's luxury goods market and plans to open stores in major cities next year.
Talks are under way to merge the operations of 17 small banks in eastern and central China into a 50 billion yuan (about HK$46.86 billion) regional bank to be called Huaihai.
November 19, 2002
China Netcom buys Asia Global Crossing assets China Netcom (Hong Kong), the Hong Kong arm of China's third-largest telecommunications carrier, has secured a deal to acquire assets from Asia Global Crossing (AGC), in the first such acquisition by a mainland carrier.
PCCW plans to outsource 3,000 workers Three thousand workers at one of Hong Kong's biggest companies, PCCW, face an uncertain future after the telecommunications giant on Monday night announced the formation of a new subsidiary to employ them.

Datacraft about to slip into red Singapore network specialist Datacraft Asia is expected to post its first full-year loss on Thursday, as it takes the full force of its bad debt and restructuring charges while customer orders remain dismal.

November 6, 2002

Linda Lingle won a historic victory last night to become Hawaii's first woman governor and the first Republican to hold the office in 40 years
Lingle/Aiona beat Democratic opponent with 197,009 votes, or 52 percent, vs. 47 percent, or 179,647 votes, for her Democratic opponent Lt. Gov. Mazie Hirono.
Lingle, the 49-year old former Maui mayor, started running for governor shortly after barely losing to Gov. Ben Cayetano four years ago.
She drove a focused campaign aimed at that stronghold of the Democratic Party, the office of governor.
The state's last Republican governor was William Quinn, who lost the office in 1962.
Go to the Star-Bulletin link for the COMPLETE report

November 1, 2002
Zuji travel site set to take off
People in Hong Kong can now book hotels, air tickets, cars and holiday packages through Zuji.com.hk, a travel portal backed by 13 Asian airlines, including Cathay Pacific and Singapore Airlines.
China Telecom forced to delay IPO
The collapse of China Telecom's initial public offering has damaged investor confidence and the company will have to cut its offer price significantly if it is to revive the sale successfully, according to brokers and analysts.
ISIA talks up business hub plan
The Information and Software Industry Association (ISIA) has announced a "megaplan" for a collaboration hub to help Hong Kong technology companies to partner with overseas vendors in bidding for major projects.

October 30, 2002

Chang-Lin Tien, former Chancellor of UC, Berkeley, passed away last night. Our community lost a pillar of strength. We lost a dear friend.

Chang-Lin has achieved highly. Yet he was willing to take risks on behalf of our community. He didn't care about protecting his own feathers. He cared about doing the right things. Such persons are rare in our community. I hope his death will motivate us to emulate him and try to fit into his huge shoes.
S. B. Woo, President 80-20 Initiatives

October 29, 2002
Games projects lure Hong Kong SAR firms
Several Hong Kong companies have expressed interest in bidding for 14.5 billion yuan (about HK$13.66 billion or US$2 billion) in development contracts for the 2008 Olympic Games facilities, according to a Beijing official.
Sony plans US$100m movie push
Japanese electronics and entertainment giant Sony plans to spend about US$100 million to make movies in China over the next three years, according to a company spokeswoman.

October 22, 2002
China Unicom strikes CDMA deals with telecom giants
Battered telecommunications equipment giants Motorola, Lucent Technologies and Nortel Networks have clinched deals worth hundreds of millions of dollars for the construction of the second phase of China Unicom's code division multiple access (CDMA) cellular network.
China Mobile disclosure praised
China Mobile (Hong Kong) has won applause from analysts after becoming the first Hong Kong-listed telecommunications carrier to release full quarterly results.

October 20, 2002
Hong Kong Scientists win grants in first for Beijing
Three Hong Kong scientists have become the first from outside the mainland to lead projects in one of Beijing's top hi-tech programs.
Chinese University announced yesterday that three of its professors - Lin Hui, Wen Li and Liu Yun-hui - had been awarded grants and become principal investigators on four projects within the 863 Program.
The academics will be involved in technological research and the training of mainland colleagues. With grants totaling nearly $2 million, the professors will work in priority areas such as information technology and advanced manufacturing.
Their projects will include a virtual geographical system for monitoring fires, floods and landslides and a model for planning and checking railways.
Professor Kenneth Young, pro-vice-chancellor of Chinese University, said the awards proved that scientific research in Hong Kong was at the forefront of Asia.
The 863 Program, which was launched in March 1986, was the mainland's response to the United States' Strategic Defense Initiative. Former leader Deng Xiaoping hoped it would allow Beijing to keep pace with US technology.

October 20, 2002
Bank of China governor to head reform body targeting big four banks
China's central bank governor Dai Xianglong has been appointed to head a new top-level taskforce charged with tackling reforms at the core of the mainland's banking sector - the big four commercial banks
Analysts see the move as a sign that Beijing is accelerating long-overdue banking reforms.
Beijing sees problems at the big four as the thorniest part of its fragile banking sector.
The four banks are the Industrial and Commercial Bank of China, Bank of China, China Construction Bank and Agricultural Bank of China.
They account for more than 70 per cent of total lending and deposits in China, but mainland officials have warned repeatedly that they face losing market share to foreign banks.

October 18, 2002
Hong Kong, US air deal breaks 3-year deadlock
Hong Kong and the United States are understood to have reached an agreement in broad terms on a pivotal new air services pact after three years of deadlock - effectively giving Cathay Pacific the right to serve nearly all major US destinations.

October 8, 2002
Domain name dispute resolution approval won by Hong Kong International Arbitration Center (HKIAC)

Christopher To of the HKIAC outlines Hong Kong's expanding role as a value-added services platform for the Chinese mainland
Hong Kong International Arbitration Centre (HKIAC) is one of the premier arbitration centres in Asia and a prefered venue for its growing international clientele. The HKIAC is also becoming one of the favoured locations for firms from the Chinese mainland for dispute resolution, and the way has now been paved for handling domain name arbitration.
The Hong Kong International Arbitration Centre (HKIAC) has been approved to handle domain name dispute resolution in the Chinese mainland, further reinforcing Hong Kong's position as a leading arbitration centre in the Asia-Pacific.
The announcement was made at the end of September by the China International Network Information Centre (CNNIC), a service operating under the Beijing Government's Ministry of Information Industry and administered by the Chinese Academy of Science.
If one company has a conflict with another company within China over .cn domain name usage, administered dispute resolution provisions can now be done in Hong Kong, similar in form to the Internet Corporation of Assign Names and Numbers (ICANN).
HKIAC was one of two organisations to be approved, the other being the China International Economic Trade Arbitration Commission.
Christopher To, Secretary-General of the HKIAC, described the decision as a breakthrough since a country normally has national sovereignty over its own domain names. (In other words, .cn issues would normally be dealt with in the Chinese mainland, .uk issues in the UK, and so on).
"There is an example of Hong Kong being used more and more as a high value-added services platform for companies within the mainland. It means that mainland firms and even the government are more confident in using Hong Kong for arbitration-related services."
As more foreign investment in the mainland follows China's entry to the World Trade Organization, overseas firms can also use Hong Kong as their arbitration platform.
"Overseas firms are familiar with the common law system in Hong Kong," Mr To said. "Some newer companies entering China for the first time may not be familiar with the regime in the mainland. They can come through Hong Kong to get vital experience for doing business in China."
Under the arrangement, Hong Kong and Beijing will work together under the same rules. "We have been working closely with the Chinese mainland as a team effort," Mr To said. "It is further evidence that the one country, two systems principle is still highly regarded in the mainland."
He added that this was a further step in efforts by Secretary for Justice, Elsie Leung Oi-sie to achieving reciprocal enforcement of arbitral awards, in line with international norms.

October 4, 2002
TN 10/04 Hong Kong; Foreign Government Tender; Computer system Government tender Trade Opportunity Program leads USDOC, International Trade Administration
PRODUCT DATA

A. DETAILED PRODUCT DESCRIPTION:
Supply of hardware, software and related services for server collocations and facility management for the Radio Television Hong Kong.
B. PRODUCT SPECIFICATIONS/TECHNICAL DATA:
The Hong Kong Government is inviting tenders for the supply and installation of hardware, software and provision of related services for Radio Television Hong Kong (RTHK) on internet web and real media streaming hosting. Tenderers are required to submit bids for all the mandatory services and be the single point of contact for all related services. RTHK started its Internet service in December 1994. Most radio and TV program produced by RTHK are now webcast live on RTHK on internet. Online on-demand archive services are also provide. The online audio-visual archives enable net user to access RTHK productions.
The services to be provided including:
Mandatory Services
a. System Implementation Service
b. Server Co-locations and Facility Management Service
c. Maintenance and Monitoring Service

Optional Service
a. Local Balancing Solution Contractor shall be responsible for the supply, delivery, installation and commissioning of new hardware and software at the Government location and the contractor location, and provision of customized work necessary for the RTHK on internet. The hosting of the hardware and the provision of any other equipment/networking at the contractor location to facilitate the provision of the RTHK on internet services to the public shall be on a 24 hours a day and 7 days a week basis. In evaluating tenders submitted and awarding the contract, the Government is not bound to accept the lowest price tender. Award will be made to tenderers who appear to the Government to be fully capable of undertaking the contract and whose tenders are to be the most advantageous to the Government. All new hardware and software shall be delivered within one month from date of award of contract. All installation work shall be completed within 45 days from date of award of contract.

Effective April 7, 2000, the Government Supplies Department (GSD) offers the Electronic Tendering System (ETS) for firms interested in obtaining and submitting tender documents on-line. GSD-registered suppliers can download tender documents, and submit tender offers and related questions. To access ETS, firms need to subscribe. Fees vary from HKD38/usage -HKD800/year. Details are available in GSD's web site: http://www.ets.com.hk For information on obtaining a tender document, please phone or fax Annie Cheung (see above contact info on Cheung) and quote the Government Tender Reference number PT/0377/2002 (A4312722001). For faster access to the tender document, we recommend using pre-paid courier remote pickup service via UPS or Fedex; or be a subscriber of the Government Supplies Department Electronic Tendering System. For general information on bidding procedures, please consult the Government Supplies Department web site at http://www.info.gov.hk/gsd and http://www.ets.com.hk for details.
CONTACT: Annie Yin-ling Cheung
Government of the Hong Kong SAR
Government Supplies Department
333 Java Road 9/F., North Point, Hong Kong
Phone: (852) 2231-5271
Fax: (852) 2116-0105/2807-2764
(Source & Credit: United States Department of Commerce - HKCHcc Collaboration Partner)

October 4, 2002
SUBJECT: CROSS-STRAIT TRADE AND INVESTMENT: HONG KONG SEEKING TO MAINTAIN ITS ROLE

1. (U) SUMMARY: HONG KONG WILL CONTINUE TO PLAY AN IMPORTANT ROLE IN CROSS-STRAIT TRADE AND INVESTMENT DESPITE ANY FUTURE DEVELOPMENT TOWARD DIRECT TRADE AND TRAVEL LINKS BETWEEN THE PRC AND TAIWAN. HONG KONG, HOWEVER, IS CONCERNED ABOUT THE RISE OF SHANGHAI AS TAIWAN'S HI-TECH INVESTMENT BASE. IN RESPONSE, HONG KONG IS MAKING ADDITIONAL EFFORTS TO BETTER FACILITATE FLOWS OF GOODS, PEOPLE, AND CAPITAL BETWEEN HONG KONG AND SOUTHERN CHINA. COOPERATIVE EFFORTS BETWEEN HONG KONG AND GUANGDONG ALONG THESE LINES SHOULD HELP CHINA'S PEARL RIVER DELTA REMAIN AN IMPORTANT PLACE FOR TAIWAN INVESTMENT. CURRENTLY, APPROXIMATELY 25% OF TAIWAN INVESTMENT IN THE MAINLAND IS IN SOUTHERN CHINA, AND OVER HALF OF ALL CROSS-STRAIT TRADE IS MORE ACCURATELY GUANGDONG PROVINCE - TAIWAN TRADE. OWING TO THIS CONCENTRATION OF TRADE AND INVESTMENT IN SOUTHERN CHINA, AS MUCH AS 80% OF CROSS-STRAIT TRADE PASSES THROUGH HONG KONG. TAIWAN FIRMS ARE ALSO INCREASINGLY TURNING TO HONG KONG FINANCIAL MARKETS TO RAISE MONEY FOR EXPANSION INTO CHINA.

---------------------------------------------------
HONG KONG BENEFITS FROM CROSS-STRAIT INVESTMENT AND TRADE
---------------------------------------------------

2. (U) HONG KONG BENEFITS ECONOMICALLY FROM TAIWAN INVESTMENT IN CHINA BECAUSE OF RESTRICTIONS ON DIRECT TRAVEL AND TRADE BETWEEN MAINLAND CHINA AND TAIWAN. HONG KONG'S FINANCIAL MARKETS CAN ALSO PROVIDE HIGH-QUALITY SERVICES TO TAIWAN FIRMS. PEOPLE, GOODS, AND CAPITAL FLOW THROUGH HONG KONG AS A RESULT OF SUCH INVESTMENT. HONG KONG OFFICIALS ESTIMATE THAT THEY BENEFIT MORE FROM TAIWAN INVESTMENT IN SOUTHERN CHINA'S PEARL RIVER DELTA THAN INVESTMENT IN OTHER AREAS OF THE COUNTRY. PEARL RIVER DELTA INVESTMENT ALSO BRINGS BENEFITS THAT ARE LIKELY TO CONTINUE TO FLOW EVEN IF THE PRC AND TAIWAN ESTABLISHED DIRECT LINKS IN THE FUTURE.

---------------------------------
CONCERNED ABOUT RISE OF SHANGHAI
---------------------------------

3. (U) OFFICIALS IN HONG KONG ARE CONCERNED THAT RECENT INFLOWS OF TAIWAN INVESTMENT INTO THE MAINLAND ARE PRIMARILY GOING INTO THE YANGTZE RIVER DELTA AREA AROUND SHANGHAI. AIT TAIPEI REPORTS THAT TAIWAN MINISTRY OF ECONOMIC AFFAIRS ESTIMATES THAT, FOR THE FIRST EIGHT MONTHS OF 2002, JIANGSU RECEIVED 52.85% OF PRC-BOUND INVESTMENT, GUANGDONG 22.87% AND ZHEJIANG 9.01%. MUCH OF THIS NEW INVESTMENT IS IN HIGHER-END TECHNOLOGIES, SUCH AS SEMI-CONDUCTORS AND RELATED INDUSTRIES. INVESTORS IN SHANGHAI WOULD BE LESS LIKELY THAN THOSE IN SOUTHERN CHINA TO TRAVEL THROUGH HONG KONG OR USE HONG KONG'S SERVICES IF DIRECT CROSS-STRAIT TRADE AND TRAVEL WERE TO EVENTUALLY BECOME REALITY.

4. (U) THIS PROVIDES ANOTHER REASON FOR HONG KONG TO COOPERATE WITH GUANGDONG PROVINCE TO IMPROVE SOUTHERN CHINA'S BUSINESS ENVIRONMENT TO ENSURE THE PEARL RIVER DELTA CONTINUES TO RECEIVE A STEADY INFLOW OF INVESTMENT. ALONG THOSE LINES, HONG KONG RECENTLY HOSTED A GUANGDONG - HONG KONG- TAIWAN ECONOMIC COOPERATION FORUM TO BETTER UNDERSTAND THE CROSS-STRAIT FLOW OF INVESTMENT AND TRADE.

------------------------------------------
TAIWAN INVESTMENT STILL IN SOUTHERN CHINA
------------------------------------------

5. (U) ALTHOUGH RECENT TAIWAN INVESTMENT IN THE SHANGHAI AREA IS GRABBING HEADLINES, SHANGHAI IS NOT DRAWING AWAY ESTABLISHED TAIWAN INVESTMENT FROM SOUTHERN CHINA, ACCORDING TO GUANGDONG GOVERNOR LU RUIHUA, WHO ADDRESSED THE AUGUST GUANGDONG - HONG KONG- TAIWAN ECONOMIC COOPERATION FORUM. TAIWAN FIRMS ALREADY ESTABLISHED IN THE PEARL RIVER DELTA WERE STAYING, AND NEW INVESTMENT WAS STILL COMING IN. ACCORDING TO XINHUA NEWS AGENCY, DURING THE FIRST SIX MONTHS OF 2002: 648 NEW TAIWAN FIRMS WERE ESTABLISHED IN GUANGDONG, UP 18.4% OVER THE SAME PERIOD IN 2001; TOTAL NEW CONTRACTED FDI BY TAIWAN FIRMS IN GUANGDONG REACHED US$ 1.98 BILLION, AN INCREASE OF 112% OVER THE SAME PERIOD IN 2001; AND UTILIZED INVESTMENT WAS US$ 1.34 BILLION, A 48% INCREASE.

6. (U) GOVERNOR LU REPORTED THAT AS OF MID-YEAR THERE WERE 14,784 TAIWAN FIRMS IN GUANGDONG PROVINCE WITH TOTAL CONTRACTED FDI OF US$ 23.5 BILLION AND UTILIZED FDI OF US$ 12.0 BILLION FROM TAIWAN. HE ALSO MENTIONED THAT THE CITY OF DONGGUAN ALONE HAD OVER 1,000 TAIWAN-INVESTED ELECTRONICS MANUFACTURING PLANTS AND ACCOUNTED FOR APPROXIMATELY 10% OF THE WORLD'S COMPUTER PRODUCTION CAPACITY. ACCORDING TO THE OFFICIAL "SHENZHEN COMMERCIAL DAILY," TAIWAN INVESTMENT IN SOUTH CHINA'S PEARL RIVER DELTA ACCOUNTS FOR 25% OF TOTAL TAIWAN INVESTMENT ON THE MAINLAND.

--------------------------------------------------
CROSS-STRAIT TRADE STILL PASSING THROUGH HONG KONG
--------------------------------------------------

7. (U) DUE TO RESTRICTIONS ON DIRECT SHIPMENTS BETWEEN TAIWAN AND MAINLAND CHINA, CROSS-STRAIT TRADE MUST PASS VIA A THIRD TERRITORY. THE MAJORITY OF CROSS-STRAIT TRADE STILL PASSES VIA HONG KONG. IN THE FIRST FIVE MONTHS OF 2002, APPROXIMATELY 80% OF CROSS-STRAIT TRADE (INCLUDING TRANSSHIPMENTS, TRANSIT GOODS, AND RE-EXPORTS) PASSED VIA HONG KONG, ACCORDING TO MICHAEL SZE, EXECUTIVE DIRECTOR OF THE HONG KONG TRADE DEVELOPMENT COUNCIL. SOME CROSS-STRAIT TRADE, FOR EXAMPLE THAT GOING TO THE NORTH OF CHINA, HAS FOUND MORE DIRECT ROUTING THROUGH JAPAN OR KOREA. HOWEVER, THE FACT IS THAT THE MAJORITY OF CROSS-STRAIT TRADE IS STILL GUANGDONG PROVINCE - TAIWAN TRADE, REACHING US$ 17 BILLION IN 2001 AND REPRESENTING 52% OF TOTAL CROSS-STRAIT TRADE, ACCORDING TO GOVERNOR LU. THIS PUTS HONG KONG IN A GOOD POSITION TO CONTINUE TO BENEFIT FROM TAIWAN - PRC TRADE INTO THE FUTURE, PROVIDING TRANSPORTATION, LOGISTICAL SERVICES, AND VALUE-ADDED MANUFACTURING.

8. (U) MOREOVER, AS LONG AS TAIWAN FIRMS ARE MANUFACTURING IN THE PEARL RIVER DELTA REGION AND EXPORTING TO THE REST OF THE WORLD, HONG KONG PORTS WILL BENEFIT. FOR EXAMPLE, THIS YEAR, PORTS IN NEIGHBORING SHENZHEN ARE ALREADY OPERATING BEYOND CAPACITY. HONG KONG, WITH EXCESS CAPACITY, IS PICKING UP THE SLACK. ACCORDING TO STANDARD CHARTERED BANK RESEARCH, HONG KONG'S CARGO THROUGHPUT IN THE SECOND QUARTER OF 2002 JUMPED 7% QUARTER ON QUARTER AND WILL LIKELY HIT 6% GROWTH THIS YEAR, POSSIBLY THE FASTEST GROWTH SINCE 1997. IT IS IN HONG KONG'S BENEFIT TO COOPERATE WITH TAIWAN MANUFACTURERS AND GUANGDONG AUTHORITIES TO FACILITATE THE FLOW OF THESE GOODS FROM GUANGDONG PROVINCE OUT THROUGH HONG KONG'S PORTS.

---------------------------------------
TAIWAN FIRMS RAISING MONEY IN HONG KONG
---------------------------------------

9. (U) STOCK MARKET. AT LEAST 20 TAIWAN-BACKED FIRMS ARE LISTED IN HONG KONG, WITH TOTAL MARKET CAPITALIZATION OF OVER US$ 3 BILLION. LARGER TAIWAN FIRMS LOOKING FOR INTERNATIONAL EXPOSURE ARE TURNING MORE AND MORE TO HONG KONG'S CAPITAL MARKETS TO RAISE FUNDS, ACCORDING TO LAWYERS AT AN INTERNATIONAL LAW FIRM HANDLING TAIWAN COMPANY LISTINGS IN HONG KONG. TAIWAN FIRMS ENTER THE MARKET THROUGH IPOS AS WELL AS BACK-DOOR LISTINGS. FOR EXAMPLE, THE DAUGHTER OF LIU TAIYING (THE FORMER CHAIRMAN OF THE TAIWAN KMT BUSINESS MANAGEMENT COMMITTEE AND A CLOSE ASSOCIATE OF TAIWAN'S FORMER PRESIDENT LEE TENG-HUI) LAST YEAR BOUGHT HONG KONG-LISTED GREATER CHINA SCI-TECH HOLDINGS WITH PLANS TO EXPAND INTO CHINA'S HIGH-TECH AND TELECOMMUNICATIONS SECTORS.

10. (U) FIVE OF THE EIGHT TAIWAN-BACKED FIRMS ON HONG KONG'S SECOND BOARD (THE GROWTH AND ENTERPRISE MARKET) WERE LISTED WITHIN THE PAST 18 MONTHS. ACCORDING TO THE LOCAL LAWYERS WE SPOKE WITH, FOREIGN INSTITUTIONAL INVESTORS IN PARTICULAR ARE MORE COMFORTABLE PUTTING THEIR MONEY INTO A STOCK LISTED IN HONG KONG RATHER THAN ONE LISTED IN TAIPEI: CROSS-STRAIT JITTERS KEEP SOME FROM INVESTING DIRECTLY IN TAIWAN.

11. (U) HONG KONG ALSO PROVIDES A ONE-STOP SHOP FOR COMPANIES LOOKING TO RAISE FUNDS AND INVEST IN CHINA. EXPERTS ON SETTING UP INVESTMENT VEHICLES (FOR EXAMPLE, HOLDING COMPANIES IN TAX-HAVEN ECONOMIES LIKE THE BRITISH VIRGIN ISLANDS), RAISING FUNDS, AND STRUCTURING CHINA BUSINESS ARE ALL AVAILABLE IN HONG KONG. SMALLER FIRMS TEND NOT TO USE HONG KONG'S SERVICES BUT PREFER TO GO IT ALONE, RELYING ON LINGUISTIC AND CULTURAL TIES. HOWEVER, THE LARGER TAIWAN COMPANIES ARE INCREASINGLY SEEING THE VALUE OF SOUND LEGAL ADVICE, ACCORDING TO HONG KONG-BASED LAWYERS WORKING ON TAIWAN LISTINGS. EVEN AS TAIWAN REDUCES ITS RESTRICTIONS ON DIRECT INVESTMENT INTO MAINLAND CHINA, MANY LARGE TAIWAN FIRMS WILL STILL PREFER TO INVEST THROUGH VEHICLES INCORPORATED IN THIRD COUNTRIES TO TAKE ADVANTAGE OF TAX BENEFITS AND POLITICAL, PROTECTION THAT DIRECT TAIWAN INVESTMENT WOULD NOT AFFORD. FOR INSTANCE, TAIWAN FIRMS HAVE NO DIPLOMATIC OFFICIALS WHO CAN ADVOCATE ON THEIR BEHALF.

12. (U) BANKING SERVICES. THE STRONG PRESENCE IN HONG KONG OF TAIWAN-OWNED BANKS POINTS TO THE IMPORTANCE OF HONG KONG AS A FINANCIAL INTERMEDIARY BETWEEN THE PRC AND TAIWAN. TAIWAN BANKS HAVE BEEN OPERATING IN HONG KONG ONLY SINCE THE EARLY 1990S. NOW THERE ARE SEVEN TAIWAN BANKS WITH BRANCH OFFICES AND FIVE MORE WITH REPRESENTATIVE OFFICES IN HONG KONG. THE BANKS MAINLY PROVIDE SERVICES TO TAIWAN BUSINESSES INVOLVED IN MANUFACTURING AND TRADING ON THE MAINLAND. HONG KONG'S BANKS HANDLE MORE THAN JUST LETTERS OF CREDIT AND SHORT-TERM TRADE FINANCING FOR TAIWAN FIRMS INVESTED IN THE MAINLAND. THEY ALSO PUT TOGETHER LARGE FINANCING DEALS FOR FIRMS LOOKING TO EXPAND IN CHINA. BANKS IN HONG KONG HANDLE MORE SYNDICATED LOANS FOR TAIWAN COMPANIES WITH CHINA OPERATIONS THAN BANKS IN TAIWAN, ACCORDING TO TAIWAN'S UNITED WORLD CHINESE COMMERCIAL BANK HONG KONG BRANCH CHIEF MARKETING OFFICER. THIS IS BECAUSE HONG KONG FINANCIAL MARKETS ARE DEEPER THAN THOSE IN TAIWAN, AND IT IS EASIER TO FIND UNDERWRITERS FOR A DEAL DONE IN HONG KONG. IT IS TRUE THAT TAIWAN BANKS ARE LOOKING TO MOVE INTO THE MAINLAND TO SERVICE THEIR CUSTOMERS WITH INVESTMENTS THERE, BUT MORE COMPLEX BANKING SERVICES, SUCH AS SYNDICATED LOANS, WOULD CONTINUE TO BE PUT TOGETHER IN HONG KONG FOR ITS DEPTH OF MARKET, CONVERTIBLE CURRENCY, AND RELATIVE EASE OF PUTTING TOGETHER INTERNATIONAL TRANSACTIONS.

-------------
WHAT'S AHEAD?
-------------

13. (U) ALTHOUGH A LARGE PERCENTAGE OF CROSS-STRAIT TRADE AND INVESTMENT RELIES ON HONG KONG FACILITATORS, HONG KONG KNOWS IT CANNOT REST ON ITS LAURELS. SOUTHERN CHINA IS FACING INCREASING COMPETITION FROM THE YANGTZE RIVER DELTA REGION OF CHINA. THIS COMPETITION IS STIMULATING NEW THINKING IN HONG KONG. NEW TAIWAN INVESTMENT IN CHINA IN THE IT SECTOR IS GOING INTO THE YANGTZE RIVER DELTA BECAUSE LAND AND RESOURCES ARE ALREADY SATURATED IN SOUTHERN CHINA ACCORDING TO YEH HONG-DAN, THE CHAIRMAN OF THE DIGITAL INDUSTRY ASSOCIATION OF DONGGUAN -- IT PARKS IN THE SHANGHAI AREA ARE AGGRESSIVELY COURTING SUCH INVESTMENT. STILL, SOUTHERN CHINA REMAINS THE BIGGEST IT MANUFACTURING BASE IN CHINA AND THE BIGGEST SUPPLIER OF IT PRODUCTS TO THE WORLD, WITH GOOD CONNECTIONS TO HONG KONG AND THE OUTSIDE WORLD, AND SYNERGY WITHIN COMPANIES WORKING IN THE REGION. THAT SAID, ACCORDING TO OUR COLLEAGUES AT AIT, SHANGHAI IS VERY MUCH SEEN AS THE PLACE FOR HIGHER-END INVESTMENT GOING FORWARD.

14. (U) IN THE FACE OF INCREASED COMPETITION, HONG KONG BELIEVES IT NEEDS GREATER COORDINATION WITH GUANGDONG TO LOWER TRANSACTION COSTS FOR BUSINESSES IN THE REGION, ACCORDING TO A VARIETY OF SPEAKERS FROM TAIWAN AT THE GUANGDONG - HONG KONG - TAIWAN SEMINAR. CUSTOMS CLEARANCE NEEDS TO BE EXPEDITED AND BORDER-CROSSING TIMES NEED TO BE SHORTENED TO MAINTAIN THE ATTRACTIVENESS OF THE PEARL RIVER DELTA FOR TAIWAN INVESTORS. SOUTHERN CHINA IS ALSO VIEWED BY HONG KONG AS LACKING MAJOR UNIVERSITIES THAT CAN CONTRIBUTE TO RESEARCH AND DEVELOPMENT ACTIVITIES. HONG KONG IS AWARE OF THESE PROBLEMS AN IS WORKING WITH CENTRAL GOVERNMENT OFFICIALS IN BEIJING AND PROVINCIAL LEADERS IN GUANGDONG TO ADDRESS THE ISSUES. COORDINATION ACROSS BORDERS IN NEVER EASY, THOUGH, AND IT REMAINS TO BE SEEN WHETHER HONG KONG'S EFFORTS TO PRESERVE ITS LEADERSHIP ROLE AND THE COMPETITIVENESS OF THE PEARL RIVER DELTA AS ONE OF CHINA'S TOP DESTINATIONS FOR INVESTMENT WILL BEAR FRUIT.
(Source & Credit: United States Department of Commerce - HKCHcc Collaboration Partner)

September 30, 2002
Sybase commits to Cyberport Hong Kong
Enterprise software vendor Sybase will focus on next-generation wireless applications, integration, business intelligence and Macintosh-related initiatives when it opens a new Asian Solutions Centre at phase III of Cyberport in 2004.
"This agreement reaffirms our decision in 1994 to make Hong Kong our Asia-Pacific headquarters," Mr Chen said. "We aim to support the direction that the government would want us to take to help develop information technology in Hong Kong."
Sybase, a specialist in enterprise infrastructure and one of the world's largest software companies, has signed to take up an initial 10,000 to 20,000 square feet of office space at Cyberport.
Mr. Tang said: "By being an anchor tenant, Sybase has cast a vote of confidence on Cyberport and to developing Hong Kong as a centre for innovation and technology."
Although Sybase has offices in Beijing, Shanghai, Chengdu, Guangzhou, Nanjing and Shenzhen staffed with 120 engineers, its SAR-based centre is expected to take the lead in business intelligence and enterprise integration applications.
"In Asia, our integration business is going gangbusters and we see Hong Kong helping keep that healthy," Mr Chen said.

September 11, 2002
REPORT TO CONGRESS OF THE U.S. - CHINA SECURITY REVIEW COMMISSION - THE NATIONAL SECURITY IMPLICATIONS OF THE ECONOMIC RELATIONSHIP BETWEEN THE UNITED STATES AND CHINA
This first annual report of the U.S.-China Security Review Commission has provided a comprehensive analysis of U.S.-China relations and a set of findings and recommendations on the effects of the expanding economic ties with China on U.S. national security, including our technological and industrial base. The ten chapter narratives represent the judgment of the Commission that the U.S.-China relationship contains both hopeful and troublesome elements. We have tried to address both, but have given greater emphasis to the problems and potential problem areas of the relationship in keeping with the matters we were charged by Congress to address.
The trend lines in China's race to modernity bear close scrutiny. The Commission notes that many of the issues discussed in this Report — the growing trade deficit, unprecedented investment flows, recurring political tensions, technology transfers, restrictions on human rights, WTO compliance, proliferation of technologies associated with weapons of mass destruction, military modernization, and others — have been thorny issues in our relations with other countries from time to time.
China is unique for the U.S., in part, because the trade relationship and the trade deficit have grown so large so quickly and because foreign investment flows into China have been so massive, while, at the same time, political tensions over proliferation, trade and other issues continue. China's military buildup continues and appears aimed at projecting its influence and interests in Asia, human rights abuses continue, and the Communist Party's authoritarian regime remains in place. Because China is not a status-quo country, its size and rapid emergence as a magnet for foreign investment and advanced technologies and the growth of its military capabilities have sounded alarm bells in the U.S., and in other industrialized democracies. These concerns would not be as strong as they have been if these same trends had developed in a country with whom we have established a trusting relationship. Despite a decade of extensive economic interactions and cooperation with China, that sort of relationship has not developed and our efforts at confidence building measures (CBMs) have not materialized.
Our relations with China are complex, and in need of more careful study and understanding. There is both promise and danger in the relationship and neither should be ignored or minimized. In this fast-changing relationship, our policy, if unattended, will lag behind events on the ground, thereby increasing chances of miscalculation and damage to important U.S. interests.
Looking Forward
Congress created the U.S.-China Security Review Commission as a permanent bipartisan independent Commission because the issues involving Sino-U.S. relations are neither short-term, nor static, nor simple. Looking forward, the Commission believes that special emphasis should be paid to the following issues:
China's Compliance with its World Trade Organization Obligations - The Commission should continue to monitor China's record of compliance with its WTO obligations and assess if shortcoming in compliance show a lack of political will or institutional capacity. Because China's adherence to its WTO commitments is in our national interest, the Commission will conduct its own independent analysis and compare it with analyses by others who will be addressing the same compliance issue. This could also include an assessment of official and public opinion in China on China's first year in the WTO.
China's Regional Influence - The Commission intends to evaluate shifts in manufacturing from other Asian countries to China and shifts in U.S. trade and investment patterns from other Asian nations to China, and the impact such relocations have on U.S. economic and security interests in the region. Of particular interest is the growing economic, demographic and communication linkages between Taiwan and the Mainland and the effects these expanding interactions may have in ameliorating political tensions in cross-strait relations.
China's Economic Reforms - China is burdened with domestic problems inherent in a legacy of a centrally planned economy, its transition to a market-based economy and its integration into the global economy. The Commission should monitor China's management of its difficult domestic problems, including social dislocations likely to emerge from WTO membership, a weak banking system burdened by huge debts, widespread official and party corruption, growing social and economic inequalities, an under-funded pension system and huge unemployment, local protectionism, growing environmental and natural resource problems, and much more. Students of China disagree on whether China can successfully manage its economy and survive these enormous challenges.
U.S. Economic Transfers - The Commission should assess trends in out-sourcing manufacturing to China by U.S. companies, including the shift of R&D facilities and capabilities and the adequacy of U.S. export control statutes and regulations in helping to manage this trend. We should continue to assess the degree to which the U.S. industrial base, including the defense industrial base, is reliant on Chinese imports, especially imports of advanced technologies. We should continue to assess the effects these transfers have on U.S. employment trends, wages, and standard of living. Finally, we should assess the validity of the so-called 'hollowing out" phenomenon associated with the relocation of manufacturing capacity to China, and measures to deal with it.
Military Modernization - The Commission should continue to track the relationship between China's trade surplus with the U.S., its access to U.S. capital markets and the inflow of U.S. foreign direct investment on China's military modernization program, its defense budget and spending, and its strategy for challenging U.S. influence in Asia.
Access to U.S. Capital Markets - The Commission developed recommendations in this Report on Chinese and other foreign companies seeking access to or trading their securities in U.S. capital markets. We believe that more review and analysis should be conducted on the adequacy of existing disclosure and transparency requirements with respect to the identities, global activities and senior management of Chinese entities coming to or already in our markets. Specifically, the Commission should focus on the use of capital markets to advance Chinese military modernization programs, its proliferation activities, and its relations with terrorist-sponsoring governments.
Proliferation of Weapons and Technologies of Mass Destruction - The Commission believes that additional analysis is needed to assess China's role in the proliferation of weapons of mass destruction and related technologies and know-how to terrorist-sponsoring states and the effectiveness of unilateral and multilateral sanctions or controls aimed at the Chinese government in limiting or eliminating this practice.
Bilateral Cooperation Programs - The Commission should assess China's compliance with its existing U.S. bilateral cooperation agreements, including the l979 Agreement on Science and Technology, the agreement on exports of prison-made products, the Agreement on Intellectual Property Rights, and to consider measures that should be taken to increase compliance with them.
Chinese Perceptions in the Media and Education System - The Commission should evaluate Chinese government efforts to shape and influence Chinese perceptions of the United States through the control of the Internet and the print and electronic media in China. We believe this should be coupled with a review of how China's educational system depicts the United States, our history, values and behavior.
Patterns of U.S. Investment and Trade in China - The Commission will continue to monitor and assess year-to-year U.S. trade and investment patterns with China and the incentives and others inducements China may be offering U.S. corporations to locate or relocate production facilities and R&D to China.
Energy - The Commission will assess China's growing energy needs, how these needs shape its relations with other countries, particularly oil-producing, terrorist-sponsoring states. In addition, it will examine China's plans to diversify its energy sources, the security-related inducements it employs to insure reliable sources and the plans it may have to secure maritime and other lines of commerce and communications to bring reliable supplies of energy to China's expanding economy.
Trade Deficit and Chinese Military Spending - The Commission should assess the relationship between the U.S. trade deficit and China's expanding economy and its military spending. Because China's financial data are unreliable, we will devote special attention to this difficult but crucial issue in understanding China and Chinese military growth and modernization.
China's Activities in the United States - The Commission should also devote attention to China's activities in the U.S., including its drive to acquire U.S. technologies, the activities of PLA-affiliated companies operating in the United States, and the role that Chinese students, researchers and scholars studying and conducting research in the U.S. play in the transfer of U.S. technology and know-how to China.
Go to the following link for the COMPLETE report

September 8, 2002
JAMES KEITH U.S. CONSUL GENERAL IN HONG KONG
James Keith assumed his responsibilities as Consul General of the United States of America in Hong Kong in August 2002. Mr. Keith was most recently the Director of the Office of Chinese Affairs at the U.S. Department of State. He served in that position since July of 1999. Mr. Keith is a career Foreign Service Officer who served three previous tours in the Office of Chinese Affairs at the Department of State. He has served in overseas assignments at the U.S. Embassies in Beijing, Jakarta and Seoul. He also studied Mandarin Chinese in Taipei at the American Institute in Taiwan.
In addition to his Foreign Service postings, Mr. Keith was a member of the National Security Council under President Bush and Assistant to the President and National Security Advisor Brent Scowcroft in the Asian Affairs Directorate from 1991 to 1992. He was also a member of President Clinton's National Security Council, working for the Assistant to the President and National Security Advisor Samuel R. Berger from 1999 to 2000 as Director for Asian Affairs.
Mr. Keith was born June 20, 1957 in Roanoke, Virginia. He lived as a child in Tokyo, Jakarta, Hong Kong, and Taipei. (While in Hong Kong from 1968 to 1971, he attended the Hong Kong International School in Repulse Bay). He joined the U.S. Foreign Service in 1980 after graduating with a B.A. degree in English from the College of William and Mary in Williamsburg, Virginia. He speaks Mandarin Chinese, Korean and Indonesian. Mr. Keith has received Superior and Meritorious Honor Awards from the Department of State. He is married to the former Jan E. Carter of Deland, Florida. They have six children.
China's New Consumers
Chinese consumers have bank savings totaling HK$850 billion (US$1 = HK$7.8)
An estimated 60 million consumers also invest in China's A and B shares on Shanghai and Shenzhen stock markets, and H shares on Hong Kong's market
National retail sales grew by more than 10% in 2001
Between 2001-2005, consumer credit is expected to increase by 30% a year
New car sales are expected to double to two millions a year by 2005
China Construction Bank alone had 4.2 million credit customers in 2001
New home loan mortgages approved in 2000 almost $41 billion
There are 80 million cable television subscribers in China
Over 130 million people are fixed line phone users and there 61 million mobile phone subscribers - growing at 73% per annum
China has over 100,000 registered 'cn' domain names and over 30 million people with internet access
Source & Credit: American Chamber of Commerce Hong Kong - HKCHcc Collaboration Partner

September 1, 2002
Shanghai mayor plays down rivalry
Hong Kong and Shanghai were both partners "playing the music of the rejuvenation of China", the new mayor of Shanghai said yesterday as he sought to play down competition between the two cities.
Chen Liangyu described his hopes for the mainland city in his first interview with the Hong Kong media since taking office in December.
However, he did not directly address concerns in Hong Kong about Shanghai's attempts to secure China's second Disney theme park - which could pose competition to Hong Kong Disneyland.
Mr Chen said Shanghai would focus on supporting a few key industries, including the steel, automotive, high-technology and chemical sectors.


August 23, 2002
Is Hawaii's Asian policy strategic?

Shirley J. Daniel is the Henry A. Walker Jr. Distinguished Professor of Business Enterprise at the University of Hawaii at Manoa College of Business Administration
Over the years, Hawaii's government has proposed many initiatives aimed at stimulating economic growth by exploiting our mid-Pacific location. On a regular basis, delegations of visiting dignitaries from various countries in Asia are received with protocol and hospitality. Hawaii officials travel to Asia, imploring Japanese tourists to return, or visit Chinese government offices and industries.
But one has to wonder "What is the state's ultimate goal with regard to Asia?" Are these activities part of a strategy to position Hawaii vis-à-vis Asia, or are they just opportunistic episodes that allow us to pretend we are important economic players in the Asia-Pacific region?
Politicians live in a world of limited terms and frequent elections, and often do not have the luxury (or discipline) to plan for the long-term. However, Hawaii desperately needs leadership that can develop a vision for Hawaii at least 20 years into the future.
Is Hawaii's primary long-term business strategy to be the premier tropical resort destination in the Pacific-Asia region? If so, we should invest in protecting Hawaii's natural beauty, develop more tourist attractions that appeal to the Asian visitor, and make travel to Hawaii as easy and safe as possible by upgrading our airport and related infrastructures.
This strategy has the advantage of being relatively easy to understand and would be based on our current position of strength in tourism. It also is relatively easy to implement because we won't need a particularly well-educated work force, a good public school system or a world-class university to implement it.
However, this strategy has a disadvantage in that there are many tropical vacation destinations throughout Asia with high-quality facilities and services that are less expensive and closer to Asia than we are. I recently attended a meeting in Bali, Indonesia, at which the location, facilities and services were as good as any I've experienced in Hawaii (or anywhere else) for about 70 percent of the cost. Furthermore, if Hawaii's tourists are only coming for a vacation, it isn't particularly important for them to be in the United States. In fact, the increased security and immigration processing required to enter the United States could be considered a disadvantage.
The biggest disadvantage to this strategy is that the types of jobs available to Hawaii's workers will be lower-wage, and the class division between the "haves" and "have nots" will continue to widen.
An alternate business development strategy the state has proposed is to position Hawaii as a good place for high-tech business. The passing of Act 221 to attract investment in high-tech businesses is probably the most visible manifestation of this strategy. Other evidence of this strategy includes the building of high-tech parks and incubators on every island. These efforts represent a good start, but are not sufficient to position Hawaii as a location to sustain a high-tech industrial base.
This strategy will require a sustained commitment to high-quality public education at all levels, from pre-school through graduate school. And if we want to include investors and customers from Asia, our educational system must also incorporate the study of Asian languages and cultures.
Hawaii's status as part of the United States could be used as an advantage with Asian competitors in regard to the protection of intellectual property, the rule of law, access to U.S. banking and capital markets, and well-defined controls over corruption.
If the state really wants to implement this strategy we will need to change our business and labor laws and policies to support a knowledge-based economy rather than the present labor-based economy of agriculture and tourism.
At some point in the future, we will also have to decrease the marketing and promotion of Hawaii as a vacation destination, and commit to increasing marketing and promotion of Hawaii as a serious business destination. Hawaii's visitor promotion activities over the past 40 years have resulted in the development of a very strong brand image as a leisure destination. This leisure image is so strong I have encountered frequent reluctance on the part of U.S. officials to hold meetings in Hawaii, or even to travel to Hawaii on legitimate business.
A high-tech strategy for Hawaii will also encounter tough competition from other locations, both in Asia and the United States. But the long-term payoff for Hawaii's citizens will be higher-paying jobs, more income equality and less class division.
Pacific Perspectives - Honolulu Star Bulletin Direct Link
Reprint with permission from Author

July 31, 2002
Tony Leung, the secretary of finance for Hong Kong has gotten married to an Olympic champion Fu Mingxia, a three-time Olympic diving champion, married in Honolulu on July 15th
I have received repeated media inquiry from Hawaii and California confirming Mr. Leung's wedding in Hawaii since Friday. I told them their information was a little behind since Mr. Leung already gotten married on July 15th, which happens to be my birthday.
Additional information is being reported at the Pacific Business News today, please go to the following link for detail.
Breaking News - Pacific Business News Direct Link
Johnson W. K. Choi, President and Executive Director

July 26, 2002
Hong Kong Economy - Immigration - Cyberport
Overall economic activity remained generally slack in recent months. While external trade showed a latest relapse, domestic demand continued to be curtailed by rising unemployment and subdued business climate.

Externally, exports of goods, after resuming positive growth in both March and April, fell back in May 2002, by 1.8% in value terms over a year earlier. This was mostly due to a fall-back in exports to the US and an enlarged decline in exports to the EU. The situation was exacerbated by an on-going shift from re-exports to offshore trade. Exports of services should have fared better, with offshore trade still on the rise, and with continued robust growth in visitor arrivals particularly from the Mainland.

Locally, consumer spending remained sluggish, with the volume of retail sales recording a distinctly larger fall by 4.9% in May 2002 from a year earlier. Investment spending on machinery and equipment was also weak, amidst a tardy business outlook.

In the residential property market, flat prices went down marginally further, by 0.6% in May 2002 from the preceding month. Flat rentals stayed soft.

The labor market slackened further, with the seasonally adjusted unemployment rate rising from 7.4% in March – May 2002 to 7.7% in April – June 2002 (provisional). The underemployment rate lowered from 3.1 % to 2.9% (provisional) over the same periods.

On consumer prices, the Composite CPI fell by 3.3% in June 2002 from a year earlier, larger than the 3.1% decrease in May. Local demand conditions especially in the retailing of goods and in private housing continued to be weak. There was also the dampening effect from the rates concession and the waiver of water and sewage charges by the Government. Import prices edged lower in overall terms.

On exchange rate movements, tracking closely the recent distinct weakening in the US dollar against the major currencies, the trade-weighted Nominal Effective Exchange Rate Index of the Hong Kong dollar edged appreciably lower, from 103.9 at end-May to 102.6 at end-June 2002.

The local stock market consolidated in June 2002, along with the downslide in the US stock market. Apart from concern about the pace of recovery in the US economy and its key entrenched problems, the WorldCom accounting scandal added further to market anxiety. The Hang Seng Index, at 10 599 at end-June 2002, was 6% below the level at end-May.
Hong Kong is enhancing the mobility of business travelers by relaxing the criteria for obtaining a Travel Pass, which allows holders to make multiple visits to Hong Kong without a visa and to use the resident counters and enjoy streamlined immigration clearance at ports of entry. The program formerly required applicants to have made five trouble-free trips to Hong Kong in the previous year. As of July 1, 2002, this requirement has been reduced to three visits.
The Hong Kong Cyberport, an IT development at Telegraph Bay that is one of the flagship projects of the government's Digital 21 Strategy, recently received a vote of confidence from three major American companies – Microsoft, Sybase and ESRI HK – as they announced plans to move into the pioneering business campus.

Chief Executive Mr Tung Chee Hwa met the Managing Director of Microsoft Hong Kong, Mr Mark Phibbs, to welcome the company's decision, saying, "We are delighted to see this major development in our strategic partnership with Microsoft, whose advanced technology contributes to building Hong Kong as a leading digital city. The presence of such an international software leader at Cyberport will draw other companies to come to work with us as Hong Kong is developing a knowledge-based economy."

Microsoft will move into Cyberport in October this year. It will take up two floors of Cyberport's phase I building, totaling some 4,000 square meters (40,000 square feet) of office space.

Sybase has signed up as an anchor tenant at Phase III of the development, due to open in 2004. At a ceremony to welcome Sybase's commitment, the Secretary for Commerce, Industry and Technology, Mr Henry Tang, said that Sybase had always been a staunch supporter of the Cyberport.

"Sybase has cast a vote of confidence in the project," he said. "This is a strategic company decision on the part of this multinational company which has the personal support of Sybase's Chairman, CEO & President, Mr John Chen. Mr Chen is confident that Cyberport provides an excellent facility for IT companies and professionals. Sybase believes that Cyberport will meet its business needs and will help the company explore new areas of IT development."

Mr Tang noted that innovation and technology were powerful drivers for Hong Kong's long-term economic growth, stating, "Our vision is to develop Hong Kong into a center of innovation and technology, thereby increasing the added value, productivity and competitiveness of Hong Kong's manufacturing and service industries."

ESRI HK, the Hong Kong branch of US-based ESRI, which specializes in Geographic Information Systems technology, is one of the seven companies which have signed up tenancy agreement to move into the newly completed Cyberport Phase I building.

ESRI Hong Kong said it sought space at Cyberport because it would provide the company's professional staff with a campus-like environment similar to that provided by its US headquarters.

The Cyberport is a 24-hectare complex that will comprise a mixture of state-of-the-art offices, residential, commercial and recreational facilities. It is being built in three main stages. Construction of the first phase was completed in early 2002, and its facilities will be ready for use by October. The first phase building has received tenancy agreements for about 80% of its office space.

*Courtesy and Credit: HKETO in SF, HKCHcc Collaboration Partner

July 18, 2002
OOCL Names New Agent for Mexico Orient Overseas Container Line (www.oocl.com) of Hong Kong has named Agencie Naviere De Mexico, S.A. De C.V.-perhaps better known as "Agnamex"--as its new agent in Mexico. The companies say the recent growth in the Mexican economy thanks to NAFTA offers the new team, "considerable opportunities for future business development." Agnamex has a long history in the Mexican market, offering Linear Agency, intermodal and port services through offices in Mexico City, Veracruz and Altamira/Tampico.

July 5, 2002 - Philips Case Study

Rob Westerhof, President and CEO, Philips Electronics China Group
In April 2002, the Dutch electronics company Philips decided to locate its Asia-Pacific headquarters in Hong Kong. Previously, the company's Hong Kong office oversaw North Asia, while South Asia/Pacific was managed out of Singapore. In order to streamline the company's structures and operations, Philips started a process to integrate the two regions into one and establish the head office of the new "Asia" region in Hong Kong. This process is expected to be completed by the end of the year and could eventually create a few hundred more high level jobs.

According to Philips Electronics China Group President and CEO Rob Westerhof, "Hong Kong is an excellent location for an Asia-Pacific Headquarters because the regional emphasis of the high-tech industry is more and more on northeast Asia, and China is becoming increasingly important. Hong Kong's location is ideal for this purpose and it offers the sophisticated communications and transport infrastructure, including a world class airport, which keeps us close to our target markets."

"Having our headquarters here in Hong Kong will also result in more frequent interaction with our corporate headquarters in the Netherlands. Our top management will be here on a regular basis and we plan to take more advantage of Hong Kong's role as a major Asian conference and exhibition hub."

Philips also uses Hong Kong as a purchasing hub for many of its divisions, with a considerable quantity of the products originating in Southern China. The company brought in several of its buyers from overseas, who now live in the New Territories and commute regularly to Guangdong Province. This is very convenient for them because they are still able to enjoy the high quality of life of residing in the SAR, including access to excellent schools and medical care.

As a high-tech company, Philips is extremely dependent on the skills of the local workforce. Although the educational level of Hong Kong graduates is very high, Philips still experiences a shortage of potential recruits with technological backgrounds. As a result, the company welcomes increased access to the labour pool on the mainland for its Hong Kong operations. Philips also runs sophisticated internal training programmes and exchange schemes, in which local employees are seconded to an overseas office in order to expand their skill base and build cross-country relationships within their product divisions.

Despite its strong roots in Hong Kong, Philips is still a very multicultural and international company. Its Asian design facilities, which are located in the SAR, employ people of 35 different nationalities designing audio systems, domestic appliances and other products. The new regional headquarters feature staff from throughout Asia Pacific, nearly all European countries and North America. Philips derives its strength from being one of the world's leading electronics companies, ranking Number 8 on Fortune's list of global electronics companies. The company is Number 1 in Europe, with sales of EUR 32.3 billion. Philips is a global leader in color television sets, lighting, electric shavers, medical diagnostic imaging and patent monitoring, and one-chip TV products. Philips has around 200,000 employees in more than 60 countries.

In Hong Kong, Philips was established in 1948 and quickly became a major trading company for electronic products. It later set up a lighting factory in Kwai Chung, gradually expanding its operations, and an LCD factory in Tai Po. In the 1970s, Philips entered the semiconductor market by taking a share in Electronics Device Limited and started to manufacture audio products after the acquisition of Coronet Ltd.

In 1985, the company set up its first joint venture in China, which triggered a period of very aggressive expansion. Today, Philips operates 41 wholly owned foreign enterprises and joint ventures in China, including Hong Kong and Macau, and employs 25,000 staff, of which 20% are located in Hong Kong. The SAR is also the company's world headquarters for portable audio and sound accessories.

As Rob Westerhof explains: "Asia is one of our most important regions, with Greater China showing the most promising prospects for growth. The Philips brand stands for constant innovations in design, functionality and consumer-orientation: all factors that define how we interact with new products, new technologies and new materials. Hong Kong will be the centre from which we aim to drive this process of innovation and growth throughout the Asia Pacific region and we are very comfortable having our key base in this city."

June 11, 2002 - Chinese Customs Further Standardize Import-Export Declaration Procedures
Chinese Customs authorities have recently strengthened the administrative procedures for import-export declaration. Consignors and consignees of import-export goods are required to declare the actual transaction price to Customs and submit supporting documents such as invoices, contracts and packing lists.
Others new from China as follow:
1. Guangzhou Will Transform Its Wholesale Markets
2. China National Petroleum Corporation (CNPC) Sets Eight Major Development Strategies for New Century
3. New Surface Water Quality Standard Issued
4. Foreign Investment Encouraged in China Civil Airports and Airlines
5. Beijing Public Transport to Re-Introduce Diesel Engine Buses
6. Enterprise Resource Planning (ERP) Application in China
For further information, please contact HKCHcc at 222-8183 or by email info@hkchcc.org
Source & Credit: HKTDC and DBEDT

May 24, 2002 - $858,000 Grant for Shanghai Solid Waste Disposal Project
TDA just announced a fairly large opportunity to do a feasibility study for the Shanghai Municipal Government. The study will be funded by TDA and will set the scope of work covered by a 250 Million dollar World Bank loan for Shanghai's integrated solid waste project. Enviromental companies interested in doing business in China in this area will be interested in this opportunity.

$858,000 Grant for Shanghai Solid Waste Disposal Project TDA's Request for Proposal (RFP) for the Shanghai Municipal Solid Waste Project World Bank Loan Preparation was posted on FedBizOpps (www.fedbizopps.gov) today. It will be a 2 step RFP, with companies submitting a requalification Statement first, then a technical proposal if they make the short list. I've also included those instructions below.

A detailed Request for Proposals (RFP), which includes the requirements for submission of the Prequalification Statements and the Technical Proposal, the Terms of Reference, and a background definitional mission report are available from TDA, at 1621 N. Kent Street, Suite 200, Arlington, VA 22209-2131. Requests for the RFP should be faxed to the IRC, TDA at 703-875-4009.

In the fax, please include your firm's name, contact person, address, and telephone number. Some firms have found that RFP materials sent by U.S. mail do not reach them in time for preparation of an adequate response. Firms that want TDA to use an overnight delivery service should include the name of the delivery service and your firm's account number in the request for the RFP. Firms that want to send a courier to TDA to retrieve the RFP should allow one hour after faxing the request to TDA before scheduling a pick-up. Please note that no telephone requests for the RFP will be honored. Please check your internal fax verification receipt.
You may also contact HKCHcc at 222-8183 or by email info@hkchcc.org if you have questions
**Source & Credit: James Mayfield, Commercial Officer, American Consulate, Shanghai Environmental and Marine Technologies Team

May 23, 2002 - Promote your business in Asia without leaving your office - U. S. Commercial Service, United States Department of Commerce - Deadline June 14, 2002
Now is the time to plan for business in Asia. The entry of China and Taiwan into the World Trade Organization, as well as an increasing consumer base throughout Asia, will create unprecedented new opportunities for U.S. exporters over the next few years.
Your firm's promotional brochures, catalogs, and videos, displayed by the U.S. Department of Commerce at the New Products USA 2002 Catalog Exhibition, September 9-26, 2002, will help you find valuable contacts in Shenyang, China; Hong Kong; Kuala Lumpur, Malaysia; Kaohsiung, Taiwan; Jakarta, Indonesia; Cebu, Philippines; and Male, Maldives.
For only $450 you'll get targeted promotion through highly publicized catalog exhibitions in each of the six markets – and more:
ü Put your firm's literature in the hands of hundreds of business representatives at each location.
ü Publish your product profile in show directories that circulate long after the events.
ü Receive a record of all show visitors who expressed interest in doing business with your firm.
ü Benefit from individualized export counseling at your nearest U.S. Export Assistance Center.
For a head start on your trade leads, sign up for our "Speed Leads" option and receive information on business prospects while the shows are in progress. Trade lead transmission by standard methods can take longer. An additional $300 will cover "Speed Leads" for your firm in Shenyang, Hong Kong, Kuala Lumpur, and Kaohsiung.
The markets targeted by New Products USA 2002 offer considerable potential to U.S. firms looking for distributors, representatives, and partners in a wide range of industries:
China holds huge potential for U.S. exporters, particularly in the energy, environmental, telecommunications, medical, construction, and franchising sectors. In the past decade, U.S. exports to China have grown by nearly 12% annually. China's accession to the World Trade Organization will dramatically increase the number of industries with market potential. Shenyang (pop. 4,540,000), capital of Liaoning Province in northeast China, is one of the country's busiest industrial cities. Annual imports to Liaoning Province top $8.7 billion.
Hong Kong continues to benefit from its free-market philosophy, absence of trade barriers, low taxes, transparent regulations, free flow of information, and complete freedom of capital movement. There are more than 1,100 U.S. businesses represented in Hong Kong, including over 500 regional operations, and more than 50,000 Americans reside in Hong Kong. U.S. exports to this market totaled $14.6 billion in the past year.
Malaysia spent $2.7 billion on U.S. goods and services in the first quarter of 2001 alone. Most sectors are open to trade. U.S. suppliers of electronics, infrastructure, and consumer products have been particularly successful, as have fast food and other franchises involving local partners. In addition, Malaysia's developing Multimedia Super Corridor points to special opportunities for U.S. high-tech firms.
Taiwan spends $140 billion on imports annually and remains America's seventh largest export market. Its educated work force, advanced infrastructure, strategic location, and pro-business climate favor trade and investment. The trend towards privatization in this economy is clear. Taiwan's accession to the World Trade Organization will lead to reductions in tariff and non-tariff barriers, paving the way for more U.S. exports.
Indonesia, enjoying renewed growth in trade, offers clear potential for U.S. exports in a range of sectors. While the long-term possibilities are virtually endless in a market of 220 million potential customers, one immediate prospect that has emerged suddenly is pollution control equipment. This and other promising sectors are well worth exploring in the Indonesian market.
The Philippines is the world's third largest English speaking nation and our 19th largest export market. U.S. exports to the Philippines grew by 21.6% in 2000, reaching $8.79 billion, and increased another 3.4% in the first quarter of 2001. American products find widespread acceptance in this market of 80 million consumers.
The Maldives, a small, but relatively sophisticated, island market, imports everything. Host to half a million tourists a year, this market offers opportunities in energy generation, water treatment, waste management, water and air transport, construction, telecommunications, and management software, among other sectors.
To participate:
1. Complete the enclosed Participation Agreement. Include a copy in each shipment of catalogs to the show locations. We suggest making copies for overseas locations before supplying your credit card information, which should appear only on the copy faxed to Washington and the copy you keep for your files.
2. Export management companies (EMCs) may represent up to three firms, which may be listed separately in the show directory (please include distinct product and company information for each listing requested).
3. By June 14, 2002, fax your completed Participation Agreement with credit card payment. If you wish to pay by check – payable to the U.S. Department of Commerce – please use a courier service to deliver your Participation Agreement and payment. Send your Participation Agreement and payment to:
Louis Quay (N/F)
U.S. Department of Commerce
14th Street and Constitution Avenue NW
Room 2116
Washington, DC 20230 Tel: (202) 482-3973 / Fax: (202) 482-2718
4. By U.S. first-class mail only send three copies of your full product-line literature, or three copies each of up to three separate product-line catalogs, with a copy of the Participation Agreement, to each of the addresses where you wish to exhibit. (The fee remains the same whether you wish to participate at some or all locations.)
Please put your packages in the mail by no later than June 14, 2002.
Mark all packages "For New Products USA Catalog Show" and send them to the above addresses, where they will be forwarded free of charge to the overseas locations – you pay only U.S. first-class postage. Be sure to use U.S. first-class mail only, as other services will not deliver packages to the mail centers listed above. You may enclose a small product model or videotape (VHS/NTSC for Taiwan, VHS/PAL for other markets). Please do not send catalogs to the U.S. Department of Commerce in Washington.
You may also contact HKCHcc at 222-8183 or by email info@hkchcc.org if you have questions or to obtain a copy of the agreement.

May 16, 2002 Business Alert
US government has undertaken initiatives to extend cargo controls abroad, employing the Container Security Initiative (CSI), which involves overseas governments, and the Customs-Trade Partnership Against Terrorism (C-TPAT), which was launched in April 2002 and promises "fast-lane" cargo processing. These US cargo security initiatives, however, are expected to increase shipping costs.
The Bush Administration has worked on the behalf of private express delivery services and successfully sought China's concession to delay the implementation of new regulations that would bar private operators from handling packages less than 0.5 kg.
The United States Trade Representatives (USTR), in its annual "Special 301" report, concludes that China has made progress in some areas of protecting intellectual property rights (IPR), yet expressing concerns that IPR efforts are not yet complete.
(Source and Credit: Hong Kong Trade Development Council)

May 8, 2002 - China fear looms over ratings - S&P affirms Hong Kong A+ foreign currency rating, holding the line as long as it retains its independence from mainland interference

China's long-term foreign currency issues are rated BBB - two notches below Hong Kong's.
The latest warning from S&P over Hong Kong's autonomy from the mainland follows a report last month from the Economist Intelligence Unit (EIU) that Singapore had taken over Hong Kong's title of best business environment in Asia, while the SAR had slipped to 11th from fifth.

May 3, 2002 - Partner City Qingdao invite Hong Kong Companies to bid for more than US$9billion in Olympic Games Project
Qingdao is the sole partner city of the 2008 Olympic game to be held in Beijing, China. There are 154 projects, sample of the projects are as follow:
US$40 million Olympic Village
US$60 million International Luxury Cruise Terminal
US$25 million Aquatic Sports Centre
projects in the city's infrastructure, service, industrial and agricultural sectors
Haiwan Bridge and Qingdao subway system
28 projects worth US$914 million with 30 foreign companies, including Hutchison Whampoa and Hong Kong and China Gas were signed.
Italian tyre manufacturer Pirelli, its China agent Hutchison Whampoa and Qingdao Rubber Group signed a US$72.3 million memorandum of understanding to invest in a joint venture to manufacture 700,000 tyres a year.

May 1, 2002 Chasing after CHINA - A Thriving Economy - The 2008 Summer Olympics - Entrance into the World Trade Organization - All eyes are on China, and Hawaii wants a piece of the action - Jacy L Youn - HawaiiBusiness Special Issue May 2002
It's been nearly six months since China officially entered into the World Trade Organization, but what exactly does that mean for our little island state in the middle of the Pacific? Sure, opportunities in the China market are worth upwards of about $200 billion, according to Richard Bahar, business development manager for the Department of Business, Economic Development and Tourism. But it appears Hawaii is still unclear about one thing: how are we best able to sink our teeth into a piece of that pie? Most local companies have yet to establish themselves as players in the global market, while the state government is still struggling with the fact that despite a handful of successful East-West transactions, China's perception of Hawaii is one of a visitor destination, not a business hub.
"When I talk to people in China and Hong Kong, they don't perceive Hawaii as a serious business competitor like the U.S. mainland and other foreign countries," says Johnson W.K. Choi, president and executive director of the Hong Kong-China-Hawaii Chamber of Commerce. "They think, 'Okay, you're from a tourist destination.' So we really have to prove that whatever services or products we bring over there are cutting edge and that we really mean business. And that's difficult, because, to be honest, Hawaii has a limited number of strengths and a lot of weaknesses."
The constrictive size of most Hawaii-based companies is among the biggest barriers for those looking to do business in China. Very often these are companies in specific niche industries, each with a tight budget and a small staff. Especially without any direct flights from Hawaii to China, it becomes disadvantageous for a company to exert the time and money to send even one employee over to hustle business.
Eric Epling, chief marketing officer for a Honolulu-based Internet solutions firm, Revacomm, says that while the cost factor can be limiting, there are creative ways around it. "I think partnering is the best way to try and enter a market when you're a small company," says Epling. Revacomm made local news early last year, when it was awarded a $2 million contract to develop a Web presence for Xinhua Financial News of Hong Kong and Beijing – a subsidiary of the world's third-largest news agency. Epling says that rather than exhausting all of your resources on advertising in Shanghai and Beijing, where the markets are just too large and dynamic for most Hawaii companies, invest the time in honing in on a small handful of potential clients, in the smaller cities where competition is less fierce. "Affiliate yourself with someone who has a presence there, that certainly helps," he says. Or better yet, someone who has a presence here and there.
Joanna Li, who is presently working out of a corner unit in Revacomm's Amfac Tower office, is putting the finishing touches on the business plan for her new company, East-West Liaison LLC, which she hopes to open in about a year. Li was born in Southern China, where she worked as a reporter for seven years at the China Daily. She is among a growing pool of Chinese consultants who hope to lend their expertise to Hawaii companies to aid in the area of business development, training and market assessments.
"Of course, with the upcoming Olympics, and the development pace China will be sustaining over the next several years, there's an increased level of interest from the local community wanting to expand to China," she says. "But there is still the communication barrier. In China, who introduces you is the most important thing, and so a lot of people are immigrating to Hawaii from China and are positioning themselves as somebody who can help the local businesses who are interested in China."
Even with the proper guan xi (connections), marketing to China is getting increasingly difficult, admits Charles Lau, president of AM Partners. The Honolulu-based architecture firm has been doing projects in China since 1985, averaging about three to six projects there at a time, with a total value between $0.5 million to $1 million per year. "It's difficult, because it really is a global market now," says Lau. "With the Internet, it's really just become a leveled playing field. The guy working in Ireland or Singapore or France has the same chance of reaching that client in China as we do."
This, however, is the area in which Hawaii actually has the upper hand. "China is in a stage to really want to catch up with the rest of the world, and the United States is such a superpower; they naturally think of us as a first choice," says Chao Robert Zheng, manager of business development in Greater China for Wimberly Allison Tong & Goo, another Honolulu-based architecture firm doing work in China. "And being from Hawaii, there is less of a cultural divide with China than other areas in the world." WATG entered the China market in 1978.
"Hawaii architecture firms do well in China, because they are experts in resort design. The service and tourism industries are huge opportunities for Hawaii to get into the China market," says Yen Chun, director of the Chinese Chamber of Commerce of Hawaii and director of Uniket Ltd., a China consulting firm. "What Hawaii companies need to do now is find other markets where we can add value to China."
Easier said than done. According to the experts, drawing parallels between China's needs and Hawaii's offerings is a difficult task. Chun argues that the three primary industries that really benefit from China's entrance into the WTO are financial services, automobiles and agriculture. The Hong Kong-China Chamber's Choi says that financial services, healthcare and education are all on the top of China's wish list, while East-West Liaison's Li says it's all those areas plus environmental consulting, architectural planning and insurance.
"Finding all of the specific industries where Hawaii companies can best enter the market … you can see it's just so elusive," says Lily K. Yao, chairman of the Chamber of Commerce of Hawaii and director emeritus of the Chinese Chamber of Commerce of Hawaii. "China's entrance into the WTO will definitely help us in the long run. But someone has to go into China and learn what their plan is first. What specific areas do they need help with? From there, we can see how we're going to fit Hawaii into that plan. It isn't going to work any other way."
Johnson Choi and Yen Chun are Directors and Founding Members of the Hong Kong China Hawaii Chamber of Commerce (HKCHcc)

May 1, 2002 Teaching China Tourism - Is Hawaii Helping a Formidable Competitor or Ultimately Development a Huge Market - Kelli Abe Trifonovitch - HawaiiBusiness Special Issue May 2002
The former dean of the University of Hawaii's School of Travel Industry Management was one of the first Westerners to go into China when the behemoth nation opened its doors in 1978. Chuck Gee says a business acquaintance that worked for Hyatt International in Hong Kong called him and asked if he would like to be the first educator into China.
"I said I would give, not quite an arm, but certainly I would give quite a lot to be there," remembers Gee.
There was no tourism in China at the time. Full diplomatic relations with the United States had not been formalized. The group stayed in military "hotels" that had either been built by the Russians or had been private mansions that were confiscated by the Communist government during the Cultural Revolution. But Gee complimented the Chinese for recognizing the importance of human resources and training in order to build the nation's tourism industry.
Gee says, "I think the Chinese were impressed by what we had to bring to the table. And they realized that it wasn't just a simple industry where you could throw up a couple of hotels and say, 'The doors are open. Please come.'"
Gee saw Hawaii as uniquely qualified to train the Chinese in the business of tourism. Twenty-four years and countless seminars and trips later, Gee figures that more than 1,000 people – with the ability to educate or influence thousands more – have received training in China from Hawaii tourism experts. To date, more than 400 Chinese have received training related to the tourism industry in Hawaii.
The Hawaii-based architecture firm Wimberly Allison Tong and Goo (WATG) also began exploring the China market in 1978. The company specializes in hospitality, leisure and entertainment design, and is projecting that $5 million of the Honolulu office's projected $10 million in sales this year will be generated in China. Wimberly's Senior Vice President for Hawaii, George Berean, says, "We're at a point right now where we hope it sort of levels off after this year or it's beyond the resources of this office to supply all the services, basically because we only have three directors who can generate the (China) business and we're on the airplane half the time already."
Berean says WATG is exploring opening up a representative office in Beijing. One potential project there is a 750-acre theme park that's asked WATG for help in making it more viable.
China's tourism industry is starting to do very well. China has entered the World Trade Organization and will host the 2008 Olympics. Tourists from around the world have been traveling there, including 2,383,700 Japanese in 2001, according to the Japan Travel Bureau. That's 15 percent of the more than 16 million Japanese who traveled abroad last year and 875,720 more than the 1,507,980 that the JTB says came to Hawaii.
Taka Kono, the publisher of The Japan Report newsletter, says there are a number of reasons China is drawing Japanese visitors. The hospitality infrastructure has dramatically improved, Japan Airlines and All Nippon Airways are fighting for the routes to China, prices for European-brand copies are cheap and China holds nostalgia for older Japanese. "Hawaii does not have the possibility of going back to the No. 1 position for Japanese tourists," says Kono. The state of Hawaii has been marketing tourism expertise to China in the last couple of years in a big way. Richard Bahar, business development manager for the Department of Business Economic Development and Tourism, says there has been a tremendous return on investment for the state. Bahar says the state has been able to leverage an estimated $15,000 into relationships with huge tourism operators, such as the Beijing Tourism Group (40,000 employees) and the JinJiang Tourism Group, which employs about 9,000. "The potential gain for Hawaii is that we have a very high-value export product," Bahar says. He says the University of Hawaii's overseas training was valued at about $5 million last year, and he believes that number can be doubled.
Bahar says, "I don't necessarily see China as a major competitor (for Japanese tourists). It's different. Hawaii will continue to appeal to certain types of people. Hawaii doesn't want to attract people looking for a cheap, short holiday."
The Hawaii Visitor and Convention Bureau President and Chief Executive Officer Tony Vericella concurs. "We're definitely not shooting ourselves in the foot by helping others and by sharing our expertise and our knowledge, because, after all, isn't that part of the essence of who we are anyway?" he asks. Vericella maintains that Hawaii will get much more back in the end, much of that in the form of Chinese visitors to Hawaii.
Gee points out that our early entrance into China has created a great sphere of influence for Hawaii. Gee says, "If we consider that tourism is also a trade account, eventually while they may benefit by the things that they are exposed to in terms of our teaching, eventually, China is going to be a two-way tourism country as Japan became."
Chuck Y Gee is a Director and Founding Members of the Hong Kong China Hawaii Chamber of Commerce (HKCHcc)

May 1, 2002 - Tourism - Shanghaiing the Chinese - Kelli Abe Trifonovitch - HawaiiBusiness Special Issue May 2002
It's not going to take force to get potentially millions of Chinese to travel to Hawaii. It's not even going to take better marketing. It's simply going to take more air seats, according to Henry Ou, president of the Hawaii Chinese Tourism Association and for his travel agency, Air & Sea Travel Center Inc.
"I do 800 to 1,000 people a month, but the thing is I think I can do at least 1,500 to 2,000 people if we have enough seats. Because there are many more that want to come, but in the end they cannot, because they can't find affordable airfares or they just cannot get the seats," Ou says.
No Chinese carriers fly direct to Hawaii yet. It hadn't seemed profitable until recently. The problem is compounded by the fact that getting a visa to come here can still be an arduous process.
According to the Department of Business Economic Development and Tourism, the average Chinese visitor in 2001 spent $195 a day. That was the second highest amount after the average Japanese visitor, who spent $235.
The chairman of China HNA Group, which owns China's fourth-largest airline, Hainan Airlines Co. Ltd., would like to alleviate the airlift problem. "I wish to one day open direct flights to Hawaii," says Chen Feng, who held an HNA board meeting in Hawaii in late March. He says he already has the plan in his head and would like to expand upon a visa pilot program for pleasure visas to Hawaii. According to the HVCB, some Chinese visitors have been arriving since the beginning of the year with "For sightseeing in Hawaii," on their visas. Chen says, "I think if we can set up this tourist channel we can make a scheduled charter flight here using my Boeing 767. Hainan Airlines can make a scheduled charter flight direct from Beijing and Shanghai."
Chen estimates that the minimum number of annual Chinese visitors to Hawaii, once things get rolling, would be something like 50,000. But, he notes: "We have a lot of problems we have to resolve, like visa, designing training programs. We begin step by step. … I don't like it to take so long. I do everything really quick."
Henry Ou is the President of the Hawaii Chinese Tourism Association and a Member of the Hong Kong China Hawaii Chamber of Commerce (HKCHcc)

April 30, 2002 - World Trade Center Proposed - By Andrew Gomes - Honolulu Advertiser
A Hawai'i automobile dealer and real estate firm are proposing to develop a $100 million office high-rise next to Blaisdell Center that would bear the World Trade Center name as part of an ambitious project that would make use of the state's World Trade Center franchise.
The state Department of Business, Economic Development & Tourism is expected to sign an agreement today with Wholesale Motors in association with CB Richard Ellis Hawai'i Inc. to operate the franchise for three years with an option to purchase the license.
During that time, the companies would work on building the office tower as part of a bigger mixed-use project on the mauka-'ewa corner of Ward Avenue and Kapi'olani Boulevard, according to people familiar with the deal.
Department officials last week said it would be premature to talk about the franchise arrangement. A CB Richard Ellis official declined comment, as did Joe Nicolai, president of Wholesale Motors. Details of the agreement are expected to be announced today.
Nicolai, who sells Lamborghini, Lotus and Maserati automobiles, acquired the 2.4-acre property two years ago. In the early 1990s, the site had been envisioned as a luxury condominium project known as Symphony Park.
Nicolai has considered the property, now a paved lot used for parking, for residential, retail, restaurant and automobile dealership uses — some or all of which conceivably could be part of the World Trade Center complex.
Overcoming the tragic association with the Sept. 11 attacks could pose some challenges for the project. But if successful, the project may help facilitate international business in Hawai'i and diversify the state's economy.
Jim Reis, regional coordinator for North American trade centers, said that despite Sept. 11, the World Trade Center name remains attractive.
"The conclusion everyone has come to is the name still has tremendous value," he said. "The target was not the World Trade Center or the World Trade Center name, but those two big buildings in New York."
Rich Johnson, a spokesman for the World Trade Center Seattle, said business at center events and its restaurant have picked up since Sept. 11. "It's kind of strange," he said. "I guess it was kind of a rallying."
Many Hawai'i business organizations, including the Chamber of Commerce of Hawai'i, have long been proponents of establishing a World Trade Center in the state.
"It is something needed as a catalyst for diversification of the economy," said Charlotte Vick, chairwoman of the Hawai'i Pacific Export Council. "It presents a tremendous opportunity for us."
Robert Murphy, director of the U.S. Commerce Department's Honolulu Export Assistance Center, said a World Trade Center in Hawai'i would present opportunities for greater trade, such as exporting tourism services or serving as a distribution hub for materials from Asia and America used in manufacturing.
"Hawai'i's location (and communications infrastructure) is so paramount for this business exchange between Asia and North and South America," he said.
The idea of a World Trade Center in Hawai'i has been considered over the past 25 years at various sites, including Aloha Tower, downtown office buildings, the airport and Hawai'i Convention Center.
The concept concentrates providers of global business information and services in a building, facilitating a kind of United Nations of commerce.
About 300 World Trade Centers exist in about 100 countries — all part of the World Trade Centers Association formed in 1970 based on pioneering centers in New York, Tokyo, New Orleans and Houston.
Many centers operate by leasing office space to member businesses, though there are other formats.
For instance, the World Trade Center Denver is a nonprofit partnership between local business community members, a building owner and state college. In Cleveland, the center is an arm of the Chamber of Commerce and is financed by economic development organizations. Baltimore's center operates as an educational organization with significant financial backing from the area's port authority.
The state bought its World Trade license in 1993 for about $100,000, but has kept the franchise largely inactive. At least twice in the past several years the state has sought to assign the center license, once to electronics giant Uniden Corp., but contract conditions and a decade-long depressed business environment resulted in no viable offers.
Last July, the state again issued a request for proposals to use the license, and at least five interested parties, including the CB/Wholesale Motors team, responded.
Charlotte Vick is a Director and Founding Members of the Hong Kong China Hawaii Chamber of Commerce (HKCHcc)
Robert Murphy is a Honorary Ex-Officio Director of the Hong Kong China Hawaii Chamber of Commerce (HKCHcc)

*News information are obtained via various sources deemed reliable, but not guaranteed