Hong Kong, China & Hawaii Biz*


How to Do Business with China, through Hong Kong & Setting up Business in China? - last update Feb 8, 2003
Hong Kong, China & Hawaii News Archive for Year 2002
Hawaii Governor Linda Lingle Weekly Update e-Newsletter
Go to Our Resource Center Page for Complete News Updates on SARS
Sorry Over SARS - events highlight positive business opportunities in East Asia - Jacy L Youn, Hawaii Business Daily - April 18, 2003
It is amazing with a down economy and most small businesses are struggling that Hawaii lawmakers would support raising nearly $100 million in new taxes...... - By Lowell Kalapa, Hawaii Tax Foundation Go to Hawaii Reporter for complete story
April 30, 2003

Hawaii: SARS Epidemic: Hong Kong is Open for Business.....Please enter here for complete story from Honolulu Advertiser or Go to Hawaii Reporter for complete story
China: China's State General Administration of Quality Supervision and Inspection and Quarantine (AQSIQ) and Certification and Accreditation Administration (CNCA) on April 25, 2003 published at its website: www.cnca.gov.cn the Announcement No. 38 postponing the mandatory enforcement date of the CCC Mark from May 1, 2003 to August 1, 2003. The decision was made on April 23, 2003......Please enter here for complete story from U. S. Dept of Commerce
Premier Wen Jiabao yesterday appealed for international understanding over the mainland's Sars crisis, asking for faith that his government could cope with a "grave situation". Amid growing panic in Beijing about the spread of Sars, the capital yesterday reported its biggest one-day rise in infections - 152.
Shanghai will limit the number of new luxury housing projects this year after officials called for measures to cool the overheated property market, the city's Housing and Land Management Bureau said.
Beijing's acting mayor warned on Wednesday the severe acute respiratory syndrome (Sars) situation in the Chinese capital was ''severe'' and that a shortage of hospital beds was preventing patients getting timely treatment. ''The CPC Beijing Committee and Beijing municipal Government believes that at the present time the situation in Beijing remains severe for Sars prevention and treatment,'' acting mayor Wang Qishan said at a press conference.
Cong Fukui, a former vice-governor of Hebei, was yesterday sentenced to death with a two-year repreive on corruption charges, Xinhua reported. The sentence was handed down by the Intermediate People's Court in Zhangjiakou, Hebei province. Cong, who served at the vice-governor post from July 1997 to July 200, and three other officials were arrested in 2000 for embezzling around 9.3 million yuan (HK$8.7 million) in an investment and loan scheme. He was expelled from the Communist Party a year later.
Hong Kong: Donations to Project Shield were declared tax-deductible yesterday, giving a boost to the campaign to help Hong Kong's frontline medical workers. Supporters in Hong Kong and around the world have donated more than $8.4 million over the past five days.
The family of a male nurse who died of Sars after working on high-risk wards was yesterday offered the chance to give him a permanent burial at Gallant Garden, a site reserved for people who die while performing exceptional acts of bravery.
Hong Kong doctors yesterday produced reassuring news for parents preparing to send their children back to primary school from next week onwards: the Sars virus seems to be less aggressive in the very young than in teenagers and adults.
Hong Kong stocks shook off weeks of depression to hop on board a surging regional stock market rally yesterday after the World Health Organization (WHO) signaled the Sars outbreak may have peaked in most Asian countries except China.
April 29, 2003
Hong Kong: The WHO announced last night that Hong Kong's atypical pneumonia outbreak had peaked, but cautioned that its travel advisory would remain in place until there are no new cases of infection. Donors yesterday sent the Project Shield appeal to buy protective outfits for Hong Kong's frontline medical workers through the $6 million mark - enough to buy more than 200,000 suits for doctors, nurses and other health workers.
Members of staff at Tuen Mun Hospital attend a memorial service for their colleague Lau Wing-kai, who died on Saturday hailed a hero by Chief Executive Tung Chee-hwa.

Shun Lee Catholic school pupils in Kwun Tong have their temperatures checked with an infrared scanner yesterday.
A coalition of local businesses believes Hong Kong's economy can be revived swiftly if consumers forget their Sars fears and get out and spend. More than 3,000 buyers attended a houseware and gifts fair in Hong Kong yesterday, which organisers said was higher than expected in view of the Sars outbreak. The Sars outbreak would probably trim economic growth in the region's developing countries by only a small margin, it was predicted yesterday.
The Asia-Pacific electronics industry remains stable despite the outbreak of atypical pneumonia, according to a survey. Only 2 per cent of all mobile-phone subscribers in Hong Kong have registered for the so-called 2.5G or general packet radio service network (GPRS), compared with 62 per cent in South Korea, according to the local regulator, the Office of the Telecommunications Authority (Ofta).

China: A Beijing restaurant tries to attract customers by promoting itself as Sars-free. Outdoor tables are becoming increasingly popular. Taiwan yesterday defended its decision to ban Hong Kong and mainland visitors as it launched an all-out campaign to fight Sars, which is expected to cut the island's economic growth rate by as much as 50 per cent. China would have a "superb" opportunity today to show the world that it is open, honest and determined to beat Sars, a senior Thai foreign ministry official said yesterday. Beijing had almost 9,000 people in quarantine yesterday as city officials unveiled a comprehensive plan to deal with Sars. Guangdong hospitals say they do not have enough money for the equipment needed to handle the Sars outbreak.

Chinese banks have started putting incoming banknotes in 24-hour quarantine before returning them to circulation in an effort to contain Sars, state media said on Tuesday.
Around 2,000 villagers torched a school building earmarked as a severe acute respiratory syndrome (Sars) quarantine centre, ransacked government offices and overturned cars in China's first reported instance of social unrest related to Sars, officials said on Tuesday. The mayhem in Chagugang town, a rural area not far from the heavily populated port city of Tianjin, happened on Sunday night after the Tianjin Government decided to convert a school into an isolation facility for people suspected of having contact with Sars patients.
Four out of every 100 workers in Shanghai now come from outside the city, as rapid economic growth and greater integration with the rest of the Yangtze River delta create more jobs. Many Shanghai companies have traditionally favoured local residents, but construction and service-sector jobs are mainly filled by migrant workers. Some 2,959 companies from the two provinces set up operations in Shanghai last year, up by 34 per cent from 2001. Their registered capital reached 15.1 billion yuan (HK$14.3 billion), up 30.5 per cent. In 2002, the Shanghai government also signed 8 billion yuan worth of deals for 158 co-operative projects with the two provinces.
The Ministry of Communications issued an emergency circular yesterday demanding that local officials stop disrupting the national transportation system as part of efforts to stop the spread of Sars to their provinces. Xinhua said last night that some provinces also had placed unauthorised restrictions on freight transportation. "The ministry maintains that such actions have severely undermined social stability and will probably also undermine the nationwide transport of essential medical equipment and materials used in the fight against Sars," the agency reported.
Mini-bus and saloon maker Brilliance China Automotive Holdings says it expects a rebound in earnings this year after initial start-up losses of its saloon venture knocked 27.7 per cent off its net profit to 650.84 million yuan last year (about HK$609.96 million), down from 900.26 million yuan in 2001. Chairman Wu Xiaoan said the saloon venture, which will ultimately be able to produce 70,000 of its Zhonghua saloons and 30,000 BMW models, would be the company's growth driver. The company will spend up to 800 million yuan this year to bolster annual mini-bus production capacity to 120,000 units from the present 70,000 units.
April 28, 2003
Hong Kong: People across Hong Kong yesterday sent messages of gratitude to medical staff battling the Sars outbreak, while their donations pushed Project Shield through the $3 million mark. Taiwan yesterday announced that people arriving from Hong Kong, the mainland and other Sars-infected areas will be placed in quarantine on arrival. The Hong Kong government yesterday warned of the "adverse implications'' arising from Taiwan's move to quarantine visitors, and urged the island's authorities to lift what it described as "unnecessary'' measures. Twelve people in Hong Kong died of atypical pneumonia yesterday, giving the city the world's highest death toll from the outbreak.
China: US President George W. Bush has offered to help China curb the spread of Sars. Mr Bush spoke by telephone to President Hu Jintao over the weekend. He offered his condolences for the victims and said the US would provide "any possible support and assistance" in the battle to curtail the spread of the deadly virus, Xinhua reported yesterday. More than 4,000 people have been quarantined in the capital. Schools, cinemas and other entertainment complexes have been closed and road blocks set up in an effort to stop infected people spreading the disease. Inspectors were disinfecting trains, buses and the wheels of cars yesterday, and performing random temperature checks on people leaving the city. Wolfgang Preiser has learned a special lesson as an adviser to the World Health Organization (WHO) battling Sars on the front lines for the past five weeks - rumors can be true on the mainland. While health experts like Dr Preiser are more used to dealing with scientific facts, rumors of Sars cases led experts to Beijing military hospitals, where they found patients were being left off the city's official tally.

The Shanghai government is considering a proposal to invest up to 10 billion yuan (about HK$9.37 billion) over the next five years building a "cruise city" on the Shanghai waterfront to receive luxury liners and tap a new market among mainland tourists.
The Bank of China (BOC) and PricewaterhouseCoopers (PWC) are facing charges of fraud for their alleged involvement in the liquidation of Tele-Art, a bankrupt consumer products components maker, once listed on Nasdaq.
French Prime Minister Jean-Pierre Raffarin wound up a weekend visit to China saying he saw a new spirit of openness in relations between the two countries. "I have the impression of a certain opening-up," Mr Raffarin said before he departed for Paris. "Up until now I had the feeling that relations [between France and China] were very formal and not very concrete at all," he said, speaking after signing a series of trade deals including one for the sale of 30 Airbus passenger planes and another for the building of a conventional power station. The French prime minister, who arrived on the mainland on Friday, was the first Western leader to visit the country since the new government took over in March. He also braved warnings about the outbreak of severe acute respiratory syndrome. At a meeting with members of the French community in Beijing before leaving China, Mr Raffarin urged them not to panic in the face of the outbreak. "We must face with determination, cool-headedness and clarity the difficulties we have to overcome," he said. The two prime ministers oversaw the signing of a 30-plane deal between Airbus and the Civil Aviation Administration of China in a deal that is expected to be worth more than one billion euros (HK$8.6 billion).
April 25 - 27, 2003
Hawaii: Fear of SARS Hurting Hawaii Chinatown, Business and Hawaii's Tourism - "It's scary," said Johnson W. K. Choi, tax consultant and president of the Hong Kong China Hawai'i Chamber of Commerce. "A lot of people are very, very concerned." .....Please enter here for complete story from Honolulu Advertiser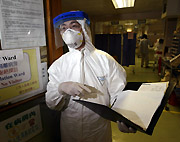 Hong Kong: The South China Morning Post today launches Project Shield - an opportunity for Hong Kong people to buy protective suits for local medical staff in the front line of the battle against Sars. A doctor at the Prince of Wales Hospital in one of the Barrierman suits that the Post is working to provide for all frontline staff. David Hui Shu-cheong is one of the lucky ones. The frontline doctor already has access to the "Barrierman" suits that Project Shield is setting out to buy - and says he changes his suit about six times a day as he rushes between wards. The hi-tech Barrierman protective suits that Project Shield will buy are designed for workers dealing with viral outbreaks, chemical spills and radioactive substances.
Cathay Pacific Airways on Friday sought to assure passengers that it would safeguard their health and combat the spread of the severe acute respiratory syndrome (Sars) inside aircraft cabins.
International credit rating agency Fitch Ratings cut its outlook for Hong Kong's currency yesterday, saying the outbreak of atypical pneumonia will hurt the economy, unemployment, deflation and the government's finances. Fitch's ratings for the dollar had been higher than that of other agencies.
Economic growth in East Asia this year will be nearly a percentage point lower than last year as the outbreak of atypical pneumonia takes its toll on business and tourism, the World Bank said yesterday. Sars will cost East Asian economies US$15 billion this year.
Analysts are warning that Cathay Pacific Airways could be facing the worst year in its history, as the airline's directors meet next month to consider the unprecedented move of slashing its previously announced final dividend payout for the past financial year.



China: Beijing residents stock up on food at a supermarket as panic buying spread across the city. Nothing that happens in Beijing is trivial, according to an old Chinese saying. Since the Sars outbreak shook up the capital and led to the sacking of the health minister and the mayor, the mysterious disease has darkened the popular mood and spread jitters to cities across the country. Beijing has started to quarantine entire buildings that have been exposed to the Sars virus, including a hospital with as many as 3,000 people inside. In just less than one month, atypical pneumonia has brought Beijing's sprawling People's Hospital to its knees.
China is expected come under the spotlight for failing to stem the initial outbreak of Sars in its territory when East Asian health ministers meet here on Saturday over the crisis which has wreaked havoc on the region. That China did not alert the world to the fact of a mysterious form of pneumonia infecting people in the southern province of Guangdong as early as November has sparked criticism from its Southeast Asian neighbors and other countries. Analysts say delegates to the Association of Southeast Asian Nations (Asean) ministerial meeting, a prelude to a regional Sars summit in Bangkok on April 29, are likely to seek greater openness and transparency from the mainland. Despite their frustrations, however, Asean countries are unlikely to openly confront Beijing over its earlier cover-up because the mainland remains a huge export market, they say.
WHO officials have also predicted the virus would exact a greater toll on Shanghai. But they said the number of severe acute respiratory syndrome (Sars) cases in Shanghai would probably be less than in Beijing and Shanxi province - the two hardest-hit areas of the mainland. WHO experts in Shanghai are continuing their visits to hospital and the Shanghai Centre for Disease Control. They will return to Beijing on Saturday. On Wednesday, the WHO advised against travel to Beijing and Shanxi province. Beijing has accounted for more than two-thirds of the mainland's Sars cases.
Chinese airlines signed contracts at a ceremony on Friday to buy 30 Airbus A320 and A330 planes. The signing ceremony between the Civil Aviation Administration of China and the European aircraft manufacturer took place at Beijing's Great Hall of the People. It was inked in the presence of visiting French Prime Minister Jean-Pierre Raffarin and Chinese Premier Wen Jiabao. Other deals set to be concluded during Mr Raffarin's visit are likely to involve French engineering and transport group Alstom, insurance company Groupama and bank Credit Lyonnais, sources said.
New figures from the World Trade Organization (WTO) show China's merchandise exports jumped 22 percent last year to $325.6 billion, while imports rose an equally impressive 21 percent to $295.2 billion. No other trading nation in the top 10 came even close to that level of growth. The world leader, the United States, saw its exports fall 5 percent in 2002 from the previous year. Exports by third-ranked Japan rose 3 percent, while second-ranked Germany posted a 7 percent rise. China's two-way trade flow totaled $620.8 billion, behind the U.S. with $1806 billion, Germany $1105.5 billion, Japan $752.4 billion and France $655.9 billion. Rounding out the top 10 are the U.K. with $615.7 billion, Italy $493.1 billion, Canada $480.1 billion, Netherlands $461.1 billion and Belgium $408.9 billion. Of total world merchandise trade flows of just over $13.1 trillion, the top 10 traders accounted for $7.4 trillion, or 56 percent. The U.S. share is 13.78 percent, while China has 4.73 percent. But even if China's economic growth this year contracts from its first-quarter rate of 10 percent to about five or six percent for the full year, its trade growth is likely to well outstrip that, as it continues to receive the lion's share of offshore investment into Asia. At anywhere near a 10 percent growth rate in merchandise trade, China will overtake France by the end of this year and begin closing on Japan, which has long held the mantle of Asia's greatest trading nation. China ranks No. 10 in services, with two-way trade of $81.5 billion. In contrast, U.S. services trade in 2002 was $486.2 billion, followed by Germany on $237.7 billion, U.K. $219 billion, Japan $170 billion and France $148.3 billion. Asia's other export-dependent economies also rate high on the global trade ladder. In merchandise exports, Hong Kong ranks at No. 11, followed by South Korea at 12, Taiwan 14, Singapore 15, Malaysia 18, Thailand 24 and Australia 25.
April 24, 2003
Hong Kong: Emergency relief measures worth $11.8 billion were unveiled by the Hong Kong government yesterday amid growing concerns that the atypical pneumonia outbreak will continue to have a devastating impact on the economy for months to come.
A detective police constable was found guilty on Wednesday of accepting bribes to provide assistance to a criminal suspect, the Independent Commission Against Corruption (ICAC) said on Thursday. Businesses hit hard by the Sars outbreak will receive help through cheap bank loans to pay staff wages under a $3.5 billion scheme announced yesterday. The Airport Authority is poised to unveil a package of measures aimed at helping airlines and franchise operators at Chek Lap Kok ride out the downturn in air travel through Hong Kong. The Hong Kong Tourism Board and the hotel industry will launch a worldwide campaign to restore travellers' confidence when the Sars outbreak is brought under control.

Hong Kong: IT engineers (from left) Edwin Chan, Nelson Kwan, Bernard Chung and John Lau worked six hours a night on their Web site, www.sosick.org providing details of Sars hotspots.
China: Vice-Premier Wu Yi is expected to be appointed health minister in what is seen as an unprecedented move to oversee the massive national effort to combat the Sars virus. The World Health Organisation last night advised against travel to Beijing after a further 105 Sars cases were reported in the city, where experts say the number infected has yet to peak. Mainland intellectuals have launched an Internet signature campaign urging the government to keep its promises on Sars. Beijing suspended classes in schools yesterday, giving an extended break to 1.7 million children. A team from the World Health Organization gained access to a Shanghai military hospital yesterday, as experts continue to probe the number of Sars cases in the city. The Chinese Football Association (CFA) will suspend all matches nationwide due to the escalating Sars outbreak, state media reported yesterday.
Shanghai Auto Show is closing three days early, highlighting the threat which the severe acute respiratory syndrome (Sars) outbreak poses to the mainland's economic prospects. Shares in Chinese companies took a pounding on the Hong Kong, Shanghai and Shenzhen exchanges yesterday as growing fears over the Sars outbreak washed away investor perceptions that the mainland was a haven of stable and robust growth.
April 23, 2003
Hong Kong: Hong Kong's frontline workers in the battle against Sars are about to be rewarded with the establishment of a $200 million fund to support medical staff. Amid a sea of anti-Tung sentiment, the shock sackings of two senior officials in Beijing over their mishandling of the Sars outbreak are poised to usher in subtle changes and more uncertainties in the Hong Kong political scene. Cathay Pacific Airways last night announced further temporary flight cuts due to plunging passenger demand in the wake of the atypical pneumonia outbreak and the war in Iraq.
Hong Kong's largest banking group has seen no material business fallout as a result of the mounting public health crisis but says the government should do more to avert economic damage even if that worsens the Budget deficit. Many mainland insurance companies say Sars sufferers holding medical policies will largely be covered despite fine-print exclusions that seem to rule out compensation.
China: Beijing authorities have begun a massive campaign to identify and isolate people who could be severe acute respiratory syndrome (Sars) patients, sending hundreds of investigators to round up those with symptoms, state press said on Wednesday. As of April 21, the number of proven Sars cases in Beijing stood at 588. An additional 666 suspected cases have been identified. Public schools in Beijing are to close Thursday for two weeks, affecting some 1.7 million students, the city's education commission said amid mounting efforts to stem the spread of the deadly Sars virus. Tests for primary, middle and high school students also have been postponed indefinitely, a spokeswoman for the Beijing Municipal Education Commission said Wednesday.
The deadly pneumonia known as Sars bit deep into US-China educational exchanges overnight (HK time), as students returned home early from Chinese study trips and a prestigious international affairs school cut short spring studies in Nanjing. The last of around 45 students studying in the northeastern city of Harbin and Beijing on sojourns arranged through Washington firm CET Academic Programs arrived back in New York via Tokyo on Tuesday. Johns-Hopkins University School of Advanced International Studies (SAIS), also based in Washington, said in a statement it had agreed with Nanjing University to end the semester, set to run to May 6, on April 22.
April 22, 2003
China: Attendances and sales at the annual Guangzhou export fair have dropped dramatically due to fears related to the Sars outbreak. Organizers of the 12-day 93rd China Export Commodities Fair said the value of orders taken on the first six days of the event totaled US$2.2 billion (HK$17.16 billion), the Guangzhou-based Southern Metropolitan News reported yesterday. The fair, which starts its final session on Friday, has been attended by about 15,000 foreign visitors, the newspaper said.
The mainland's tourism industry has started counting the cost of the cancellation of the traditional long holiday for Labour Day, with some travel agencies describing the decision as nothing short of disaster. "It's a big loss and a real disaster for us. I don't know how much money we will lose since the cancellations are still coming in," said an executive of the Shanghai Spring International Travel Service.

A World Health Organization (WHO) team began a four-day visit to Shanghai yesterday, vowing to see how the mainland's commercial hub is equipped to handle Sars. The visit comes after a similar inspection of Beijing led to the sacking of the mayor. Shanghai has reported just two confirmed cases with another nine suspected. Health workers say the true number is far higher. But WHO officials declined to answer more sensitive questions, such as whether the team would push for access to military hospitals. Local authorities have tightly controlled access to the activities of the team and the start of the visit received scant coverage from state media. The city government sees the visit by the WHO team as a way to show the city is safe for travel and business, officials say.
Mainland stock prices were pummelled yesterday by mounting fears over China's worsening severe acute respiratory syndrome (Sars) outbreak.
China Mobile (Hong Kong) has for the first time posted single-digit profit, confirming investor concerns that the mobile giant's rate of growth is slowing after years of expansion.
Hong Kong: Easing the cash-flow problems of sectors suffering from the Sars outbreak will be the Hong Kong government's priority when it announces a long-awaited package of relief measures, an official source said yesterday. The sacking of two officials by the central government over reporting of the Sars outbreak on the mainland has put some pressure on Hong Kong Chief Executive Tung Chee-hwa to do a better job, according to academics and politicians. Two hundred thousand secondary school students will return to class today, wearing face masks and undergoing mandatory temperature checks, after a three-week suspension of classes because of the Sars outbreak.
April 21, 2003
China: China fired its health minister and Beijing's mayor on Sunday after reporting an alarming spike in SARS deaths and cases in the capital, a tacit admission that officials had earlier hidden the extent of the disease. Chinese authorities said at least 12 more people were killed and 300 more were infected by the Severe Acute Respiratory Syndrome virus, almost all in Beijing. They also canceled the week-long May Day holiday to discourage people from traveling and further spreading the disease.

Specimens of endangered Siberian tiger cubs are displayed among other illegal animal specimens confiscated after a crackdown by police in Changsha, central China, on Friday. Trade in endangered animals in China is punishable by fine, jail and sometimes even life imprisonment in cases involving the Giant Panda.
China has not been invited to join Asean leaders for their one-day Sars summit later this month, a Thai foreign ministry spokesman said yesterday. The decision is an apparent U-turn after it was reported on Friday that China had been invited to attend the session.
China plans to break up its tobacco monopoly over the next two years and permit one of its biggest tobacco firms to list on the stock market, mainland publication the Business Post reported yesterday.
April 18 - 20, 2003
Hawaii: The Hawaii state Legislature is at it again - the majority is trying to raise Hawaii taxes an unprecedented $430 million. Hawaii business is paying the forth highest taxes in the nation. Rick Hamada of KHVH Radio and the Hawaii Reporter at http://www.HawaiiReporter.com are asking people to attend a rally coordinated by Rick Hamada during his morning broadcast from 6 a.m. to 10 a.m. with the theme 'NO MORE TAXES!"

Hawaii: The New Economy report comes out at a time when conflicting studies and national stories shed negative light on Hawaii's business community. Last year, Forbes magazine published a story Trouble in Paradise … why doing business in Honolulu has become equivalent to suicide. And the Small Business Survival Committee ranked Hawaii's small business climate last in the nation.
After more than a year of research, the highly anticipated report, "A New Economy in Hawaii. Benchmarking Hawaii's Progress in the New Economy," is now available to the business community. The nonprofit organization, Hawaii Institute for Public Affairs, today released 2,000 copies of its 72-page document (a four-color, glossy booklet). "It looks at the economy from a broad-based standpoint," says William M. Kaneko, an attorney who also is the president and chief executive officer of the Hawaii Institute for Public Affairs. The report also goes beyond clichéd discussions of Hawaii as a high-tech center, he says. The report's goal is to be a reference tool for public-policy decision-makers and business leaders.
(7.3 meg file size)
China: DaimlerChrysler is closing in on a joint venture agreement to manufacture Mercedes sedans in Guangzhou, according to industry sources.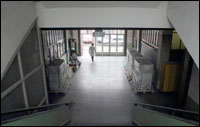 China: China has world-class virologists who can play a crucial role in the fight against the severe acute respiratory syndrome (Sars) but lacks research facilities and links with institutions around the world that will make them more effective. This is the assessment of World Health Organization (WHO) experts who have been working closely with the Chinese in recent weeks on the outbreak. The considered view is that virologists in China, which has the most number of people infected, are best placed to conduct research into the virus that causes the disease. But they lack top-end equipment and are handicapped by poor coordination among the different research centres in the country, not to mention virologists working on Sars abroad. 'The Chinese virologists are world-class but the facilities are a bit behind the times,' said Mr Alan Schnur, team leader of the WHO's Communicable Disease Control unit in Beijing. Professor Hong Tao, the institute's chief researcher, agreed with WHO's assessment and said that the scientists there lacked funding and research facilities, such as an ultra-centrifuge which costs about US$80,000 (S$142,640). The WHO team has suggested that Chinese virology laboratories form a national Sars network, with the nucleus consisting of the national virology institute, the virology units from the communicable disease centres of Beijing and Guangdong, and the Department of Virology in Zhongshan University, Guangzhou. Dr Wolfgang Preiser, a German virologist who was part of the WHO team, had high praise for the laboratory facilities there as well as the virologists, describing them as 'motivated and very capable people'.

Hong Kong: Passengers silhouetted against a departure lounge window at Chek Lap Kok international airport as Cathay Pacific planes park on the tarmac yesterday. While airlines elsewhere battle insolvency, Hong Kong's de-facto flag carrier has been expanding, helped by booming business with China. But the Sars crisis has turned the China advantage into an unprecedented liability. Cathay Pacific has won its bid to resume flights to the mainland, paving the way for the Hong Kong government to negotiate flights to Shanghai, Beijing and Xiamen with the central government.
Businesses are giving everything from cash to stickers to virtual thank-you cards to help this weekend's Operation Unite cleanup campaign to fight Sars.

China: Pharmacy workers stock up boxes of preventive medicine against atypical pneumonia as dozens of customers wait in line to buy them in Beijing. China's top leaders this week signaled a change in official attitude toward the Sars outbreak, expressing grave concern for the first time and demanding urgent action.
The severe acute respiratory syndrome crisis will hurt the mainland's growth this year, a senior economics official said yesterday.
April 17, 2003
Hong Kong: Hong Kong's schools will open in stages from next Tuesday, officials announced yesterday, after the number of new Sars cases and deaths declined for the first time in a week. The Secretary for Education and Manpower, Arthur Li Kwok-cheung, said that Secondary Three level and above would resume classes after the Easter break. Hopes rose in Hong Kong's battle against severe acute respiratory syndrome (Sars) yesterday with the announcement that local scientists have made a breakthrough that will speed development of a vaccine. The leader of the research team at the University of Hong Kong, Professor Frederick Leung, announces the breakthrough in the genetic sequencing of the Sars virus yesterday. After weeks of fear, local university researchers say better treatment and drugs are on the way, while the death toll and infection rate drops on the same day a decision is made to reopen schools.
A coronavirus specimen - weighing just one-millionth of a gram and taken from the lungs of a patient who died in Toronto - has played a key in the global fight against the deadly Sars.
The outbreak of the deadly Sars virus has cost Asia nearly US$11 billion (HK$85 billion) and the figure could rise, it was reported on Thursday.
China: Despite the Sars crisis, ratings agency Standard & Poor's yesterday upgraded from "stable" to "positive" its outlook for China's long-term, foreign-currency sovereign credit rating. Analysts say China needs to keep on the path to reform to stimulate growth. The foundations are being laid for a more market-oriented economy with less reliance on government spending to maintain growth.

China: Shrinking opportunity: China's Ministry of Information Industry (MII) predicted total revenue generated by telecom operators this year will increase by 11.76 per cent, down from 14.4 per cent last year.
April 16, 2003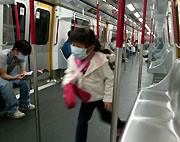 Hong Kong: Seats aplenty, but few takers: The Sars outbreak has dealt the Mass Transit Railway Corporation an unprecedented blow, with passenger numbers down 20 per cent and Airport Express usage halved. The KCRC is similarly affected. The slump complicates their planned merger, analysts say, and dims hopes for government sales of its rail shares.
Hong Kong's information technology (IT) market declined 13.8 per cent last year and would be hit even harder in the year ahead due to the Sars virus, research firm IDC Asia-Pacific said on Tuesday.
China: Sina.com, one of the mainland's most popular Web sites, has joined about 200 Internet portals in a government-backed search engine alliance which challenges global giants such as Google.
Guangdong's economy grew an impressive 13 per cent in the first quarter and is expected to grow by more than 11 per cent this year - despite the global slump and the atypical pneumonia outbreak, Guangdong Statistics Bureau director Pu Xinmin said yesterday.

China: Businessmen from Mali consult an exhibitor at the 93rd China Export Commodities Fair, which opened in Guangzhou yesterday. Few foreigners have braved the war and Sars to be there.
April 15, 2003
China: China's economy grew by 9.9 per cent year on year during the first quarter, the fastest quarterly growth in six years, officials announced yesterday. Complementing the good news were other positive economic indicators, chief among them a rise of 17.2 per cent in industrial output, a 27 per cent surge in fixed-asset investment and a 40 per cent leap in foreign trade volumes. Foreign direct investment rose 57 per cent, to US$13.1 billion (HK$102.2 billion), the Ministry of Commerce also reported. Furthermore M2, the broadest measure of money supply, rose 18.5 per cent in March from a year ago, after rising 18.1 per cent in February. The government is encouraging state-owned banks to lend more to keep the economy growing by 7 per cent a year.
Who wants to marry a Shanghai millionaire? An introverted millionaire with a hot temper, that is. A man claiming to be the wealthy chairman of a private company has placed adverts in several newspapers desperately seeking a virgin bride. He Xin, a lawyer handling the replies, said more than 1,000 women had responded to the ad - headed "Successful gentleman sincerely seeks ideal mate".

China: Shenzhen Expressway chairman Chen Chao says the company is confident of plugging its profit shortfall within three years. The firm was confident of plugging its profit shortfall within three years after last month announcing the 1.93 billion yuan (about HK$1.82 billion) sale of two profitable national highways to its parent, chairman Chen Chao said yesterday. "We are looking for toll-road projects in Guangdong and the Pearl River Delta and ports and logistics projects in Shenzhen," Mr Chen said. The company's net profit fell 14.57 per cent to 359.93 million yuan last year due largely to expiry of tax allowances and reduced construction management income.
China: H-share Sinopec Beijing Yanhua Petrochemical, China's largest producer of resins and plastics, is holding joint-venture talks with foreign firms to capitalize on domestic demand. General manager Xu Hongxing said it was discussing a possible joint investment with German chemical and healthcare giant Bayer in producing rubber materials for China's car tyre industry. The company said it was also in talks with Japan's Mitsubishi Engineering about co-operation in plastic products used in the car industry and with Netherlands-based chemicals group DSM about producing rubber for the medical industry.
Hong Kong: Heavy doses of potent anti-viral drugs will be given early to patients in a new Hospital Authority strategy to improve the effectiveness of treatment and ease the burden on intensive-care wards. However, a pharmacology professor warned the anti-viral treatments used - Ribavirin and steroids - could have serious side-effects including heart and liver damage and severe anaemia. Speaking at Legco's health services panel yesterday, Ko Wing-man, acting chief executive of the Hospital Authority, said: "In normal cases, doctors have to confirm diagnoses and weigh up the risk of the treatment before they prescribe drugs. However, the practice no longer works in this case. Meanwhile, Deputy Secretary for Health, Welfare and Food Thomas Yiu Kei-chung told Legco that the government had arranged for about 300 Home Ownership Scheme flats in Kowloon to be used as temporary hostels for medical staff who refused to go home to avoid infecting their families.
April 14, 2003
China: President Hu Jintao made a crisis visit to Guangdong at the weekend, meeting Hong Kong chief executive Tung Chee-hwa to discuss the worsening Sars situation. Mr. Hu's personal intervention - only revealed after his visit was over - came as Premier Wen Jiabao delivered the leadership's most serious portrayal yet of the dangers of the crisis. Urgent action was needed to stop it paralyzing the country, the premier said. He urged government officials to be fully aware of the "importance and urgency" of the prevention and treatment of Sars, saying it has "a bearing on the overall situation of China". The statements, made at a conference in Beijing on the control of the virus, underline the concern among the senior leadership, who until recently had not publicly acknowledged the outbreak. Mr. Hu said authorities were ready to meet the challenge presented by the outbreak of Sars. He also pledged to assist Hong Kong with medical supplies, and expressed confidence in the ability of Mr. Tung's administration to combat the virus. Mr Hu is the first senior government leader to visit Guangdong since the outbreak began. The secrecy surrounding his visit is unusual, given that the official media normally reports extensively on the activities of the leadership. Even government officials in Guangzhou seemed unaware yesterday that the president had been in the province visiting. "I don't know about this," said foreign affairs office spokeswoman Su Caifang.
Guangdong is going ahead with its biannual Guangzhou trade fair this week despite the global concern over the severe acute respiratory syndrome (Sars) outbreak. Hundreds of foreign participants have already cancelled plans to attend the 83rd China Commodities Fair, which starts tomorrow and runs in two sessions, the first until Sunday, and then from April 25 to 30. In a bid to reassure foreign visitors, organizers are taking a number of measures, including putting three hospitals with the most experience in treating Sars on alert and setting up medical teams at the fair venue and at hotels. Guangzhou International Travel Service's inbound manager, He Jiebin, said all her group clients for the fair, numbering about 1,000 people from India, Russia, Europe, the US and Malaysia, had cancelled. The world-recognized fair is very important to China because of the significant volume of export orders transacted. Last spring, the fair secured a record US$16.85 billion (HK$131 billion) in export orders - 14 per cent of China's total annual exports.
Hong Kong: Japan's largest carriers are expected to miss first-half sales forecasts by a combined 100 billion yen (about HK$6.46 billion) as the Iraq war and the outbreak of severe acute respiratory syndrome (Sars) force airlines to slash hundreds of flights in the region.
The Airport Authority said yesterday the Sars outbreak was hurting its core business, with more than 30 per cent of flights cancelled and passenger throughput down 60 per cent in recent days.
Analysts have played down the prospect of Cathay Pacific Airways grounding its entire fleet. According to the RTHK Web site, the airline's director of corporate development Tony Tyler said the airline would have to respond to circumstances, but stressed it had no plans to ground its fleet. Bank of China International's head of transport and logistics research Michael Chan said: "Financially, Cathay is one of the strongest airlines in the world although it has been badly hit in the Sars crisis. "Cathay has reduced more than one-third of its capacity so far and there's room for a further cut." Cathay had liquid funds of HK$13.18 billion at the end of last year, enough to hold up the airline for 563 days even if it continues to lose US$3 million a day - a figure disclosed in Cathay's internal memorandum that was leaked to the media last Saturday.
Hong Kong: Software giant Microsoft Corp has filed a complaint against Lucent Technologies to counter claims by Lucent that Microsoft's hardware partners were infringing on the telecommunications equipment maker's patents.
April 11 - 13, 2003
Hong Kong: All passengers leaving Hong Kong will have their temperature taken at Chek Lap Kok airport before they are allowed to board a plane, Chief Executive Tung Chee-hwa announced yesterday in an attempt to reassure people overseas about the spread of atypical pneumonia.
Cathay is carrying just one-third the number of passengers it did this time last year, with fears over the spread of Sars and conflict in Iraq prompting a collapse in air travel.
The spread of Sars accelerated yesterday as Hong Kong saw its victim toll jump through the 1,000 barrier, with 61 new infections representing the biggest daily rise in 10 days.
Guangdong and Hong Kong health officials held their first government-to-government meeting yesterday and agreed to set up an expert team within days to strengthen co-operation on Sars, including improving reporting mechanisms.
China: Overseas buyers spooked by the severe acute respiratory syndrome (Sars) virus may be cancelling their trips to Hong Kong and the Pearl River Delta. But Hong Kong's famously flexible manufacturers have hit on a range of measures to keep their trade alive.
The Hong Kong and Shanghai exchanges have put aside a fierce rivalry to launch a jointly developed range of energy derivative products, marking the first co-operative venture between the two centres.
China's Shanghai Composite Index surged to a 26-week high yesterday, buoyed by hopes of accelerating economic growth and a more investor friendly regulatory environment.

Hong Kong: In an embarrassing climbdown, Financial Secretary Antony Leung Kam-chung yesterday announced Hong Kong Exchanges and Clearing (HKEx) would keep its frontline regulatory role for the next 12 to 18 months, pending a consultation on the controversial market reform plan.
China: CNBC Asia-Pacific has entered into a strategic partnership with Shanghai Media Group (SMG) under which the two companies will exchange content and split advertising revenue from shared programming.

China: Mainland health officials yesterday denied allegations that they have not fully disclosed statistics on the full extent of the atypical pneumonia crisis on the mainland. Hundreds of foreign participants have decided to stay away from the biannual China Export Commodity Fair.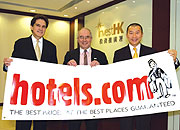 Hong Kong: Hotels.com selected Hong Kong as its Asia Pacific headquarters, attracted by the SAR's excellent and affordable infrastructure. The company is the Internet's largest specialized provider of discount hotel accommodations. Hotels.com offers discount rooms in more than 7,700 premiere properties in over 325 destinations throughout North America, the Caribbean, Europe and Asia.
Hong Kong: The Pier 9 Development is to be designed, constructed, operated, managed and maintained as a world class facility, with the objective of enhancing Hong Kong's position as Asia's World City. It is located on Hong Kong's waterfront, close to the Central business district.
April 10, 2003

Hong Kong: Qantas chief executive Geoff Dixon says the global aviation industry is under ''severe strain''. The war in Iraq, Sars and lingering fears about terrorism have hit revenues, forcing the airline to shed 1,400 jobs by June.

Hong Kong: Former stock exchange head Paul Chow Man-yiu will return to the job after signing a four-year contract with Hong Kong Exchanges and Clearing (HKEx) yesterday, according to a source at the exchange. Mr Chow, chief executive of HSBC Asset Management (Hong Kong), was now negotiating his departure date with HSBC to determine when he could start working for the exchange, the source said. The exchange is expected to make an announcement within days.
Hong Kong: An aggressive price war between mobile operators will do little to hurt Sunday Communication's quest for its first profitability this year, according to group managing director Bruce Hicks. Sunday last week announced a HK$88 for 500 minutes monthly tariff plan - 10 per cent higher than the plans offered by four of its rival operators. Sunday, one of the two loss-making operators, trimmed its loss by 45 per cent to HK$117 million. No 1 mobile operator Hutchison Telecom also failed to make a profit last year. Mr. Hicks said last month that Sunday had made a profit in the first quarter, and promised the company would become profitable for the year.

China: An employee from an electronics company demonstrates the latest MP3 product during the opening of the China International Electronic Information Technology Exposition in Nanjing, in east China's Jiangsu province. Nearly 600 companies are participating in the four-day event.
Despite the atypical pneumonia outbreak, Beijing officials announced yesterday that the Boao Forum for Asia will continue as scheduled for May 18 and 19.
Beijing stepped into the vanguard of the Chinese political reform movement yesterday, as city officials announced two broad-based programmes of administrative reform echoing those announced in Shenzhen last year.
A US prosecutor warned that a human rights lawsuit against Li Peng - who was premier at the time of the 1989 Tiananmen Square pro-democracy protest - might have "grave consequences" for ties between the two nations.
April 9, 2003

Hong Kong: Cousins of Leslie Cheung, his assistant Chung Pui-kong (centre), and the star's long-time companion Tong Hok-tak (second right) attend his funeral yesterday. More than 1,000 fans lined the pavements as superstar Leslie Cheung Kwok-wing made his last journey through Hong Kong's streets from the Hong Kong Funeral Home to the Cape Collinson crematorium yesterday. Followers waved and wept as the hearse, covered with Cheung's favourite white flowers and green leaves, carried their idol to his last resting place. Many had been waiting since early morning to say their final farewells. Mourners began arriving at the North Point funeral parlour at 8am. Among those from the world of entertainment who paid their respects were Lydia Sum Tin-ha, Derek Yee Tung-shing, Alan Tang Kwong-wing, Peter Chan Ho-sun, Cheung's first girlfriend Teresa Mo Shun-kwan, Tony Leung Chiu-wai, Carina Lau Ka-ling, Tsui Hark, Jacky Cheung Hok-yau, Anita Mui Yim-fong, Brigitte Lin Ching-hsia, Nicholas Tse, Karen Mok Man-wai, Ti Lung and Faye Wong.
April 8, 2003
China: Affluence will meet effluence on the shores of Shanghai by 2007: the city plans to build a beach to cater to a growing middle class seeking leisure activities. Four design institutions are working on the five billion yuan (HK$4.7 billion) project, which will transform a 10km stretch of barren coast into golden sand.
This month's Xin Caifu (New Fortune) magazine will release a list of the 400 richest people in China, a rival to that published for the past four years by the American Forbes magazine. Larry Yung Chi-kin, chairman of Citic Pacific, gets top billing as the richest mainland Chinese, worth US$736 million (HK$5.7 billion), according to the list. The New Fortune top 10 includes six of the same people who appear on the Forbes list for last year, which also put Mr Yung at No 1, with US$850 million in assets. New Fortune ranks Lu Guanqiu, chairman of car-parts company the Wanxiang Group, second with US$631 million, and Huang Guangyu, chairman of the home appliances and property conglomerate Pengrun Group of Beijing, third with US$564 million. Only one woman made the New Fortune top 10 - Chen Lihua, the chairman of the Fu Hua Group of Beijing, whose business is real estate and sandalwood furniture. It gave her assets as US$464 million.
President Hu Jintao personally intervened to stop the closure of the controversial weekly newspaper 21st Century World Herald, according to high-placed mainland media sources. The tabloid was temporarily suspended on March 13 after publishing an interview with Li Rui, a liberal-minded party elder who was a former secretary of Mao Zedong. In a March 3 article, published to coincide with the National People's Congress meeting, Mr. Li called for more democracy within the Communist Party and criticized the leadership for not adequately promoting the rule of law. Mr. Hu has hinted that he has a progressive attitude towards the media. He reportedly told media officials that he disliked the format of China Central Television news broadcasts and publicly called for more real news coverage instead of a focus on officials at meetings and on inspection tours.
Hong Kong: Hong Kong's CSL joined its Australian parent Telstra, Malaysia's Maxis, Singapore's MobileOne (M1) and Smart of the Philippines to form the Asia Mobility Initiative (AMI) and establish a common portal with high-speed application services. Five Asian mobile operators serving a combined 20 million customers formed an alliance yesterday to develop data services and capture data roaming revenue. Analysts believed the alliance was a step towards co-operation on a larger scale.
Hong Kong's largest information technology firms are confident the contingency plans they have in place will get their businesses and employees through the atypical pneumonia crisis unscathed. Technology firms and academics are keeping basic education and business going in Hong Kong, despite the lingering public health crisis.
China: Zhongguancun, the central government's 200-billion-yuan (S$43.4-billion) dream of a national high-tech park, will have to jostle with Beijing's Central Business District (CBD) in attracting top-notch tenants and talent. The irony is that the CBD, in the heart of the bustling Chaoyang district, does not even exist. Buildings on its drawing board are slated to be ready only in 2006. But already, high-profile organizations have announced plans to be based there. Among them is China Central Television (CCTV), which is constructing a US$600-million (S$1-billion) headquarters that boasts theatres, visitor centers and public amenities. CCTV will sit among five million sq m of office space, 2.5 million sq m of residential units and another 2.5 million sq m set aside for cultural and entertainment facilities. Developers have also tried to attract clients by advertising their proximity to the CBD and the wide array of restaurants, bars and even exclusive gyms in Chaoyang district, giving publicity to the mega project.
April 7, 2003

Hong Kong: The government's controversial market reform plan will damage the economy and seriously undermine financial sector competitiveness, the head of the stock exchange warns. Stock Exchange chairman Charles Lee Yeh-kwong has slammed a proposal to turn the Securities and Futures Commission into a super regulator. He said the plan threatened the mainland's national interest. The proposal aims to improve the quality of companies listed in Hong Kong. But Mr Lee said: "It is against the national policy of China. The central government supports more mainland companies listing in Hong Kong, while the reform will shut the door to many small firms." The Companies Registry could merge with the Securities and Futures Commission (SFC) to form a single corporate regulator or be reformed to maintain its stand-alone role, according to proposals by the Standing Committee on Company Law Reform.

Canto-pop idols Aaron Kwok, Jacky Cheung, Andy Lau and Leon Lai perform a song together in tribute to Leslie Cheung at the 22nd Hong Kong Film Awards. It is normally one of the most glittering events of the year, but the 22nd Hong Kong Film Awards were held in a sombre mood last night to reflect recent events. Organisers had requested that guests opt for more muted colours, and the audience was a sea of black, matched by the sober faces of celebrities at the Cultural Centre in Tsim Sha Tsui. Some stars, such as Sandra Ng Kwun-yu and Karena Lam Kar-yan, had initially planned to wear red and pink outfits but ended up in beige and grey as a mark of respect to Leslie Cheung Kwok-wing, the actor and singer who committed suicide last week. Best supporting actor Anthony Wong Chau-sang gave the most meaningful speech, taking a page out of Financial Secretary Antony Leung Kam-chung's book by quoting from Charles Dickens' A Tale of Two Cities.
The main winners:
Best Film: Infernal Affairs
Best Director: Andrew Lau Wai-keung, Alan Mak Siu-fai (Infernal Affairs)
Best Actor: Tony Leung Chiu-wai (Infernal Affairs)
Best Actress: Lee Sin-je (The Eye)
Best Supporting Actor: Anthony Wong Chau-sang (Infernal Affairs)
Best New Performer: Eugenia Yuan (Three)
Best Screenplay: Alan Mak, Felix Chong (Infernal Affairs)
Best Cinematography: Christopher Doyle (Hero)
Best New Director: Lo Chi-leung (Inner Senses)
Best Asian Film: My Sassy Girl (Korea)
Canada announced its eighth death from Sars yesterday, as Chinese-Canadians in Toronto expressed worries over a racist backlash blaming them for the introduction and spread of the virus. Another death on April 1 is being investigated as a possible Sars case. A positive post-mortem diagnosis has not yet been made. Community leaders and anti-racism campaigners said Chinese-owned restaurants and businesses were facing unofficial boycotts. One restaurant in the largely Asian suburb of Scarborough took out newspaper advertisements to deny rumours that a kitchen worker had been infected.

Jardine OneSolution chief executive Steve Lo says the war in Iraq could slow corporate spending on information-technology. Slower growth and poor prospects in China have come as a "culture shock".
China: World Health Organization director general Gro Harlem Brundtland has publicly criticised China for its handling of the deadly pneumonia outbreak, the BBC reported on Monday.
April 4 - 6, 2003
Hong Kong: British Airways and Qantas announced last night that they are dropping non-stop Hong Kong services in response to the World Health Organization's travel advisory on the atypical pneumonia outbreak. It was a rare sight at Lowu: trains half-full and no queues in front of the immigration counters on the eve of the Ching Ming Festival, when tens of thousands of families usually dash across the border to sweep the graves of their ancestors on the mainland. The showcases of jewelers from Hong Kong, Singapore and China remained empty at the World Watch and Jewelry Show in Zurich this week. The traders were not allowed to present their products for fears that the SARS virus might spread. All hygiene black spots across Hong Kong will be cleaned to stop the spread of atypical pneumonia, Secretary of Home Affairs Patrick Ho Chi-ping said yesterday.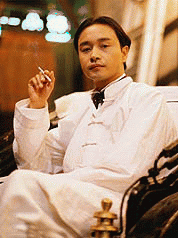 Four Kings of Canto-pop agree to pay tribute to Leslie Cheung - Awards chairman Cheung Tung-joe said the "Four Kings" of Canto-pop - Jacky Cheung Hok-yau, Andy Lau Tak-wah, Leon Lai Ming and Aaron Kwok Fu-shing - had agreed to perform a tribute to Leslie Cheung, who jumped to his death from the Mandarin Oriental Hotel on Tuesday. The tribute is expected to include clips from his movies and a medley of his musical hits, including the theme song from John Woo's A Better Tomorrow, the 1986 film which catapulted Cheung to fame. "We have extended the invitation to all four singers and they have given us a verbal confirmation that they will do it. However, there are no guarantees. If they are too upset or emotional to perform, then, of course, we will understand,'' said Cheung Tung-joe. "Leslie was a part of the industry and the tribute is our mark of respect. Other aspects of the awards will proceed as normal. This is a professional industry awards ceremony." Cheung's funeral will take place at 11am on Tuesday at the Hong Kong Funeral Home in North Point. His family has also set aside 6pm to 8pm on Monday for fans to pay their respects. Cheung is one of the nominees for the best actor award for his performance as a troubled psychiatrist in Lo Chi-leung's Inner Senses. The atypical pneumonia outbreak has also forced organizers to change their plans for the night. The red carpet leading into the ceremony at the Cultural Centre has been scrapped in favor of a so-called "walkway of compassion", dedicated to medical staff.
China: Intel's cancellation of developer forums in Taipei and Beijing may lend more weight to warnings by analysts who say severe acute respiratory syndrome (SARS) could eventually cripple the hi-tech industry if doctors can't control the disease soon. The China market helped chipmaker Intel avoid a decline in revenues last year, with the mainland's contribution jumping 37 per cent year on year to US$3.2 billion. A medical official yesterday apologized for China's failure to give the public more information about the outbreak of severe acute respiratory syndrome (Sars).

Young people of Chinese minority nationalities perform a bamboo dance in Guilin, a tourism resort in southwest China's Guangxi Zhuang Autonomous Region, during an annual song festival.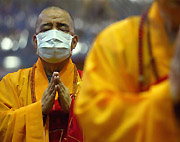 Hong Kong: Monks at the Hong Kong Buddhism Association in Causeway Bay pray for calm amid the atypical pneumonia crisis yesterday. As the death toll in Hong Kong climbs to 17, experts home in on the source of the spread. Medical experts investigating the rapid spread of atypical pneumonia at a Hong Kong housing estate believe they have made a breakthrough by linking the explosion in cases to a nearby construction site.
Growth Enterprise Market listing committee chairman Lo Ka-shui has resigned, adding to the uncertainty the board faces under the government's controversial stock exchange reform plans.
The government will invite companies to stake their claims for the management contract of Hong Kong's HK$3 billion digital trade transport network (DTTN), according to logistics industry sources. Tradelink, the government's minority-owned vehicle for the electronic transmission of regulatory documents, yesterday presented its case to run the network to the Logistics Council. It is believed at least three other companies have made informal inquiries about forming and managing the DTTN. The DTTN, as laid out in the Accenture group's HK$5 million report on the initiative, is an electronic nerve centre through which all modes of trade transport can be managed and documented. The deadline for formal submissions is April 30.
China: The China market helped chipmaker Intel Corp avoid a decline in revenues last year, with the mainland's contribution jumping 37 per cent year on year to US$3.2 billion.
A team of World Health Organisation (WHO) epidemiologists arrived in Guangdong yesterday to search for answers about the origins of Sars. Severe acute respiratory syndrome (Sars) is effectively under control in Guangdong, the health minister said yesterday.

Hong Kong's tourism industry is not the only one affected by the Sars virus. Although officials say the outbreak in Beijing is under control, only a few visitors were at the Temple of Heaven yesterday. Residents have been warned to avoid crowds, and many tourists are staying away from the mainland.
April 3, 2003
Hong Kong: The World Health Organization yesterday warned travelers not to visit Hong Kong or Guangdong, in an unprecedented move aimed at preventing the spread of atypical pneumonia.
China: Under mounting criticism at home and abroad over its handling of the pneumonia outbreak, the central government yesterday suddenly opened a floodgate of co-operation and said the fight against Sars was a top priority. The first cases of Sars have been traced back to people eating or handling birds in Guangdong, according to a top health expert from the Chinese Centre for Disease Control and Prevention.

China Unicom chairman Yang Xianzu, left, confers with executive vice-president Shi Cuiming during yesterday's earnings announcement. Profits rose by just 2.5 per cent last year - the slowest in four years.

China: Cisco Systems has broadened its allegations against Huawei Technologies, accusing the Shenzhen-based firm of having infringed the American company's intellectual property rights to a greater extent than Huawei previously admitted.
Hong Kong: Struggling Cable & Wireless (C&W) has named a veteran of the telecommunications industry, Francesco Caio, as its new chief executive as it tries to restore confidence in the 131-year-old firm.
April 2, 2003

Hong Kong: Pop star, actor and director Leslie Cheung Kwok-wing plunged to his death from the Mandarin Oriental hotel in Central in an apparent suicide last night. Cheung, 46 - star of the hit 1993 movie Farewell My Concubine - fell from the 24th floor window of the hotel and was found lying in Connaught Road at 6.41pm.
China: The United States has issued its annual report card on China's human rights - and, for the first time in years, it praises improvements. Human rights are no longer being eroded in China, it says. The European Union, too, cited positive developments in a report yesterday. In a clear indication that China's rigid official news media has to change to stay relevant, the new propaganda chief, Li Changchun, has urged a different approach to covering government meetings and reporting on leaders.
Former Premier Zhu Rongji's heavy-handed approach to cracking down on tax cheats was controversial but has proven to be extraordinarily successful. The central government announced yesterday that tax revenues had risen by more than 27 per cent year-on-year in the year to March, reaching 436 billion yuan (about HK$408.66 billion), up 95 billion from the previous period last year. "I hear many rich people are paying taxes these days," said Huang Yiping, China economist at US brokerage house Salomon Smith Barney in Hong Kong. Though tax revenues are up, the government still needs to address the tax discrimination against domestic enterprises, which pay a 33 per cent profits tax, while most foreign investors have been granted years of rebates off the 33 per cent profit tax.
April 1, 2003

Hawaii: Mr. Duan Qiang, Chairman of the Board of the Beijing Tourism Group (BTG) has signed a Memorandum of Understanding with Mr. Ted Liu, Director of Hawaii DBEDT on collaboration in the areas of training, education and destination management. Following the signing ceremony at Governor Lingle's office, Mr. Duan speaks on "The Beijing Olympics 2008: Challenges and Opportunities for Hawaii Businesses" The Beijing Tourism Group, the largest provider of travel services in Beijing, is the lead tourism service provider for the Olympic Games. The event was sponsored by the Hong Kong China Hawaii Chamber of Commerce (HKCHcc), Hawaii Department Economic Development and Tourism (DBEDT) and others.
Hong Kong: Yet another investment bank has cut its forecast for Hong Kong's economic growth this year in the face of the atypical pneumonia outbreak. Several other banks are planning reports this week that may result in more lowered forecasts. Investors yesterday reacted to gloomy forecasts about the economic damage the widening outbreak of atypical pneumonia is inflicting on Hong Kong by sending the market to a 4.5-year low. The outbreak of severe acute respiratory syndrome (SARS) in Hong Kong is forcing companies to turn to telecommuting as an increasing number of employees are being advised to work from home. International concern over the virulent, global outbreak of atypical pneumonia is growing with a fourth casualty in Canada and new possible cases reported yesterday in France. Inbound tourism has practically ground to a halt while hotel occupancy has fallen by up to 20 per cent amid the atypical pneumonia outbreak.
China: China has installed safety systems to ensure that its first manned space shot, now just months away, does not end in a disaster like the final flight of the American space shuttle Columbia, state media said yesterday. The systems are designed to rescue astronauts from danger or mishaps at any time during the flight, according to an article on the website of the Communist Party's People's Daily. Astronauts can escape the pod before lift-off via cables, high-speed elevator or ejection seats, the article said. During orbit, they can exit the craft and be picked up by another spaceship. On re-entry, the stage during which Columbia broke apart, Chinese astronauts can escape by ejecting or reducing speed, said the article, entitled Safety of Chinese Astronauts Guaranteed and Emergency Escape Assured.
March 31, 2003
China: Motorola plans to bid aggressively for other government and utilities contracts in Greater China after winning a US$69 million deal to upgrade the Hong Kong Police Force's mobile communications system. The United States firm will replace the police's existing CC2 system with the advanced CC3 in phases starting next year. It will provide nearly 10,000 wireless devices as well as integrating and maintaining the digital network. The system migration will be completed in 2006. "The system gives police access to license checks on vehicles and access to the criminal data-base," said John Cryer, director of business development for major projects for Motorola's Commercial Government and Industrial Solutions Sector (CGISS). He said all data transmission would be encrypted. Police in Beijing, Shanghai and Taiwan already used Motorola's communications systems, he said. Other customers in the region included the MTRC, Shanghai Pudong Airport and Taiwan High Speed Rail. The company was eyeing government units at state and provincial level in China as well as the 2008 Beijing Olympic Games. "We are targeting every single police force, government departments and railways," said John Gherghetta, Asia-Pacific vice-president of global marketing and sales for CGISS.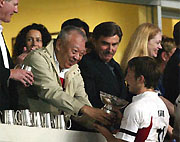 Hong Kong: A show of Sevens support: Determined that the atypical pneumonia outbreak would not overshadow the Hong Kong Rugby Sevens at the weekend, Chief Executive Tung Chee-hwa turned out yesterday to present the winner's trophy to England, the defending champions.
March 28 - 30, 2003

Hawaii: Military Housing Privatization Initiative Seminar (Multi-billion dollar Hawaii Project) was presented at the Queen Emma Summer Palace Preview information listed on February 21, 2003 The event is Sponsored by Korean Chamber of Commerce, Okinawan Chamber of Commerce, Hawaiian Chamber of Commerce, Hong Kong China Hawaii Chamber of Commerce (HKCHcc), Hawaii Hispanic Chamber of Commerce and Hawaii Department Business Economic Development & Tourism (DBEDT), attended by 50 people
China: Germany's Infineon Technologies said on Thursday it had extended a deal with Shanghai-based Semiconductor Manufacturing International Corp (SMIC) to boost its output of computer memory chips. The move, which builds on a production deal agreed between the two companies in December, reflects Infineon's strategy of concluding manufacturing agreements with foundry partners, allowing it to increase output while keeping fixed costs down.
TAIWAN: Watching its once world-beating computer manufacturing industry ebb away to China, is striving to acquire a new specialty - research and development. Taiwan faces a tough task in transforming its manufacturing economy into a knowledge-based one, despite its early victories in luring household names like HP, Dell and Sony to set up R&D centers. Two big question marks are Taiwan's lack of a large talented labor force and meagre domestic corporate spending on research. "I am kind of doubtful about the plan because the personnel problem can be a major obstacle," said Lin Chu-chia, an economics professor at National Chengchi University. "The quality of our R&D people in the design and application sector is not bad, but there aren't many of them," he said.

Hong Kong: Asia Financial Holdings president Bernard Charnwut Chan says it still has to decide how much extra capital to inject into its joint venture with People's Insurance Company of China, in which it holds 10pc.
China: Guangzhou has been given the green light to start building a container terminal at Nansha and is in talks with potential foreign investors, according to a senior municipal official. Phase I construction of four berths at the port was formally approved last week by the State Development and Reform Commission and would be completed by September next year, Li Guorong, director of Guangzhou's Bureau of Foreign Trade and Economic Co-operation, said yesterday.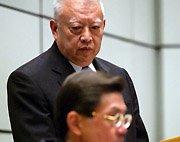 Hong Kong: Chief Executive Tung Chee-hwa and health secretary meet the media yesterday. Mr Tung says Hong Kong is facing its most serious disease threat in 50 years. More than 1,000 people who have had close contact with atypical pneumonia sufferers will be put under quarantine starting from Monday, schools will be closed and visitors screened, under a package of measures to curb the spread of the deadly virus in Hong Kong. All government and private schools, kindergartens and day courses run by the Vocational Training Council will be closed from tomorrow until April 6, the government announced last night. Medical experts last night criticized organizers of the Rugby Sevens for going ahead with the event despite the pneumonia outbreak - and said the plan to issue face scarfs to fans could not protect them from the virus. Hong Kong stocks fell heavily yesterday as investors fretted about the growing economic impact from the outbreak of atypical pneumonia. The pneumonia outbreak is affecting property sales, with fewer people visiting show flats, according to developers and estate agents.
China: China's dominant offshore oil producer CNOOC, with a 16.1 per cent year-on-year rise in net profit last year to 9.23 billion yuan (about HK$8.66 billion), may buy downstream gas assets from its parent. Sinopec Shanghai Petrochemical is studying the use of oil futures contracts as a hedging tool to better control crude costs, which accounted for 57.65 per cent of material costs last year.
March 27, 2003

China: Cosco Pacific chairman Wei Jiafu, who has delivered a US$154.56 million profit, says the company has expanded market share, revenue and profits from container leasing and container terminal operations.
Newly formed power transmission giant State Grid Corp of China yesterday unveiled key growth targets and development policies for the mainland power industry.
General Motors' (GM) mainland joint venture had a fourfold gain in profit last year after rising incomes and easier financing lifted sales of its Buick and Sail cars in Asia's fastest-growing market.
The atypical pneumonia outbreak and the Iraq war have dealt a double blow to Guangzhou's economy as tourists cancel bookings and business travellers hold off on confirming plans to attend next month's giant China Export Commodity Fair.
A Beijing university has formed an elite class that aims to turn its top students into Nobel Prize winners. Each of the 34 students from the Aviation and Aerospace University selected for the class has been assigned a noted academic to personally tutor them throughout the course. The university said it hoped to foster talent in the sciences and win Nobel Prizes for China. Of the more than 500 Nobel Prize winners to date, only a handful are ethnically Chinese, and most hold foreign citizenship. In recent years elements in the local media have highlighted this poor record.
Hong Kong: Hong Kong's dominant free-to-air broadcaster, Television Broadcasts (TVB), avoided a profit decline last year, helped by a turnaround of its Taiwan television and publishing operations.
Hong Kong and China Gas (Towngas) is planning to build a 30km pipeline as part of a scheme to partially replace its naphtha feedstock with cheaper natural gas.
The Rolling Stones announced on Thursday that they have cancelled their concerts in Hongkong over the weekend citing fears over the fast-spreading atypical pneumonia which has claimed 10 lives in the city so far.
March 26, 2003

Hawaii: Mr. Duan Qiang, Chairman of the Board of the Beijing Tourism Group (BTG), speaks on "The Beijing Olympics 2008: Challenges and Opportunities for Hawaii Businesses" on Monday, March 31, from 11:30 am to 1:30 pm, at the Harbor View Seafood Restaurant at Aloha Tower Marketplace. It is Sponsored by the Hawaii Dept of Business, Economic Development & Tourism, Chinese Chamber of Commerce, Hong Kong China Hawaii Chamber of Commerce (HKCHcc), The Chamber of Commerce of Hawaii and Others.

Hawaii: Johnson Choi, President and Executive Director of HKCHcc met with Dr. Brent D Wilson, Dean, School of Business before speaking to more than 100 students at the BYU Hawaii's Entrepreneur Lecture Series on the topic "Hawaii Failed Business Image and Continued Missed Opportunities"


Hawaii: TIM Night 2003 at the Ihilani Resort Hotel - TIM Night is an annual formal dinner event put together by the Students of the School of Travel Industry Management at the University of Hawaii at Manoa in collaboration with the Kapiolani Community College and Selective High Schools. More than 300 Travel Industry Executives and Alumni have attended the sold out Gala event.

China: The 2007 unlocking of China's financial sector to foreign players means regulators must help domestic banks address their mounting bad loans. Regulators are unlikely to take steps this year to reduce the banking sector's mountain of non-performing loans, despite the potentially disastrous consequences of ignoring the problem, Xinhua reported yesterday.
Hong Kong: Global supply chain management firm Li & Fung's net profit rose 38 per cent last year on the back of surging exports from the Pearl River Delta.
Hong Kong and China Gas (Towngas) has concluded a contract with state-owned enterprise Nanjing General Gas in a 1.2 billion yuan (about HK$1.12 billion) project to supply piped-gas in Nanjing, the capital of Jiangsu province
March 25, 2003
China: In China's first year as a member of the World Trade Organization (WTO), few industries grew at a faster pace than the car industry. Last year, China accelerated its transition away from a "bicycle kingdom" as competition grew and vehicle sales hit record levels. With car sales falling or flat in almost every country last year and the outlook for this year even less exciting, China is like the answer to a prayer. Car demand is booming.
"See you in court," is becoming an increasingly popular retort on the mainland, even for schoolchildren, writes Peter Goff. A secondary schoolgirl from Liaoning province is suing a classmate for 160,000 yuan (HK$150,700) for psychological damage she claims she suffered after he frightened her with a plastic snake.
The Bank of China (BOC) is expected to announce that its chairman, Liu Ming Kang, has formally stepped down to take over the newly created national banking regulator, a move which will set off a new round of personnel changes at the mainland's largest foreign exchange bank.
March 24, 2003
Hawaii: Three U.S. airlines are already in bankruptcy protection -- UAL Corp. (UAL: Research, Estimates)'s United Airlines, US Airways Group Inc. and Hawaiian Airlines Inc. (HA: Research, Estimates) -- while the world's largest airline, AMR Corp (AMR: Research, Estimates).'s American, is also teetering on the brink. The war in Iraq could easily add $10 billion to world airline losses and deepen what is already the worst crisis in the history of commercial aviation, the International Air Transport Association said Saturday. In the gloomiest forecast yet of the impact of the war on the industry, the association said it expects international passenger travel to drop 15 to 20 percent during the war, depending on the region of the world. The IATA's forecast was the latest evidence of how devastating the outbreak of war in Iraq is for a key part of the global economy. Airlines have already reported accumulated losses of $30 billion since the Sept. 11, 2001 attacks in the United States reduced air travel.
Hong Kong: Hong Kong travelers could have the choice of a third local passenger airline by late summer, if CR Airways is given approval to launch a new carrier from Chek Lap Kok. Schools whose pupils fall victim to the outbreak of atypical pneumonia will be immediately shut down for seven days under a series of measures mapped out by the government yesterday to combat the spread of the disease.
Financial Secretary Antony Leung has taken a swipe at Chief Secretary Donald Tsang for previous Budget excesses in a rare public sparring match between Chief Executive Tung Chee Hwa's top two lieutenants. The government had overspent between the years 1996 and 2002, Mr. Leung said during an interview with Hong Kong Cable Television on Saturday. Mr Leung, who became Financial Secretary in May 2001, said his predecessor, Mr Tsang, had estimated in the 2001-2 Budget that the fiscal deficit would be HK$3 billion (S$682 million). The actual deficit turned out to be 20 times higher at HK$63.3 billion. He did not refer to his predecessor by name but Mr Tsang was Financial Secretary from 1995 to 2001 before he became Chief Secretary.
March 21 - 23, 2003
China: Beijing Olympic organizers Friday briefed the International Olympic Committee (IOC) on the city's latest progress in preparations for the 2008 Games.
Hong Kong: Measures aimed at protecting Hong Kong from terrorist attacks have been stepped up and safety assessments will constantly be reviewed, the secretary of security Regina Ip announced yesterday, an hour after the war broke out.
Despite Tung Chee-hwa's refusal to accept his resignation over the controversy surrounding his pre-budget purchase of a luxury car, there is growing pressure for the financial secretary to step down. Chief Executive Tung Chee-hwa yesterday stepped up his defense of Antony Leung Kam-chung, insisting the financial secretary made an honest mistake in failing to disclose his purchase of a new car ahead of tax increases.
Schools may be forced to close if the outbreak of atypical pneumonia worsens next week, the education minister warned after a fifth student fell ill with the virus.
China: Chinese cities have to be run increasingly like big corporations if they want to stay ahead in the bid for investments and tourist dollars, according to a new study which ranks the nation's most competitive cities. Hong Kong, Shanghai, Shenzhen, Beijing and Macau - in that order - emerged as the top five most competitive cities from the study of 200 cities in China. Not surprisingly, coastal cities in south-eastern China dominated the rankings, while mining cities in central, western and north-eastern China took the cellar positions.
Beijing has shortlisted 13 design firms competing to build a multi-million-dollar national stadium, the main arena for the 2008 Olympic Games. Each of the tenders that made it through the first round got US$50,000 (S$88,000) for their three-month architectural efforts. The three finalists will each take home a further US$50,000. The 13 designs - short- listed from a total of 44 - will go on display at the Beijing International Convention Centre from March 26-31 to solicit public opinion and suggestions, the Beijing Urban Planning Commission has announced. The evaluation panel consisting of 13 members - six Chinese and seven foreigners - includes architects, engineers, Olympic experts and government officials. They will select the top three designs and make the final decision, according to Mr. Li Yidong, an official with the commission in charge of the tenders. The national stadium will host the grand opening and closing ceremonies as well as track-and-field events during the 2008 Olympic Games. The Beijing State-owned Assets Management Co Ltd, the official operator of the stadium, said eight of the candidates were foreign companies or consortia from Australia, Japan and the United States as well as two domestic firms and three joint ventures. The eventual winner will draw up more detailed architectural plans, with construction work set to begin on Dec 24. Sited in the south of the Olympic Green, the heart of the 2008 Games, the national stadium will cover a floor area of 145,000 sq meter.
March 20, 2003

Hawaii: James Burke is currently dean of The Collins School of Hospitality Management and professor of hospitality and tourism management at California State Polytechnic University in Pomona. Dr. Burke has met with the University of Hawaii Travel Industry Management Alumni (T.I.M. International, Inc) Board of Directors and T.I.M. Advisory Board at the Hyatt Regency Waikiki Hotel. Dr. Burke is one of the three candidates being considered as the New Dean for the UH - School of Travel Industry Management.
Hong Kong: The global pneumonia outbreak is believed to have originated with a sickly Guangdong doctor who stayed in a Hong Kong hotel and infected six other people, health officials said last night. Among those infected by the doctor was a Hong Kong man, 26, who became the so-called index patient for the Prince of Wales Hospital outbreak of atypical pneumonia that is responsible for infecting most of the 150 people in hospital so far. World health experts are trying to identify what has caused a new form of deadly pneumonia called severe acute respiratory syndrome or HKSARS. It spread first in Southeast Asia and is now spreading across the world, including England, France, Israel, Slovenia and Australia, all of which previously been clear of infection.
The nation's new leaders yesterday praised the performance of Chief Executive Tung Chee-hwa and pledged their full support to revitalise the Hong Kong economy. As a hearing over Cathay Pacific Airways' application to resume flights to the mainland nears completion, lawyers for rival Dragonair have declared that a substantial part of the hearing was illegal under the Basic Law.
PCCW is expected to report a significant fall in market share in its core fixed-line telephone business when it unveils a net loss estimated at more than HK$7 billion today. The residential property price war is escalating with Cheung Kong (Holdings) slashing up to 20 per cent off the price of its flats at West Kowloon's Hampton Place.
March 19, 2003

Hawaii: Walter Jamieson is the vice chair of the World Tourism Education and Research Center at the University of Calgary in Alberta, Canada met with the University of Hawaii Travel Industry Management Alumni (T.I.M. International, Inc) Board of Directors and T.I.M. Advisory Board at the Duke Restaurant, Outrigger Waikiki Beach Hotel. Dr. Jamieson is one of the three candidates being considered as the New Dean for the UH - School of Travel Industry Management.
China: China's new president and premier yesterday called for greater democracy and rule of law, saying reforms and opening up are the only path to a more prosperous country. On the eve of war in Iraq, China continued to hold out hope that conflict could be avoided and stressed its long-standing position in favor of a political resolution within the framework of the United Nations.

French entrepreneur Xavier Naville and a worker inspect some of his company's vegetables at a plant outside Shanghai. Mr. Naville's company, Creative Food, processes fresh vegetables for export throughout Asia.
Hong Kong: Hong Kong and China Gas (Towngas) has signed a long-awaited 1.2 billion yuan (about HK$1.12 billion) contract to supply piped gas to end-users in Wuhan, Hbei province. Huawei Technologies, being sued by Cisco Systems for allegedly unlawfully copying its software, used software mirroring Cisco's, including the bugs, a former Huawei employee said in court documents filed in the United States on Monday.
Hong Kong researchers have made a breakthrough in their battle to identify a mystery respiratory illness which has killed at least nine people and caused a global health scare, reports said on Wednesday. The illness known as Severe Acute Respiratory Syndrome (Sars), has been identified as a virus from the paramyxoviridae family by researchers from Hong Kong's Prince of Wales Hospital and Chinese University, said the reports. 'It is an important finding showing the anti-viral treatment is the right choice,' Dean of Chinese University's faculty of medicine Sydney Chung Sheung-chee was quoted as saying by the South China Morning Post. But doctors said the paramyxoviridae family incorporated different viruses that could affect humans and that further studies were needed to establish whether the Sars was a new virus and whether it was curable.
March 18, 2003
Hong Kong: Hong Kong's health minister yesterday accused the World Health Organization (WHO) of spreading panic over the pneumonia outbreak and appealed for calm as the number of cases in the special administrative region doubled to 83. More airlines are refusing to let passengers with flu-like symptoms on board as a mystery pneumonia spreads globally. A Cathay Pacific flight engineer is one of the patients admitted to hospital with atypical pneumonia. Father of two Rob Saunders was admitted to hospital last week. He had been on holiday from his job with the airline before his admission and is believed to have traveled to the mainland and Bali.

China: China Southern Airlines yesterday confirmed it will raise capital through an A-share listing in Shanghai in the second half of the year to finance new aircraft and invest in Guangzhou Baiyun International Airport. Company president Wang Changshun says the airline has worked towards a listing since the second half last year and has already received the green light to go ahead from the authorities.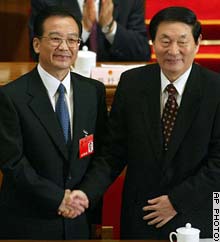 The Chinese Communist Party's third-ranking member has been appointed its next premier, assuming control of a huge, rapidly-evolving economy. Sunday's vote will see Wen Jiabao, 60, replace Zhu Rongji, who will retire. Wen will assume control of an economy that has recorded staggering growth, but one wracked with myriad problems brought on by decades of reform. Wen, 60, was confirmed as successor to the highly respected Zhu by the National People's Congress, China's ceremonial legislature, as it wound down its annual two-week session.
March 17, 2003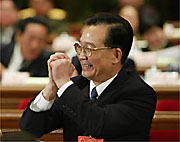 China: Overwhelming support: Wen Jiabao is approved as the next premier during the NPC meeting yesterday, after attracting 2,906 votes from the nearly 3,000 delegates.

Hong Kong: Visiting US terrorism expert Gunnar Kuepper says Hong Kong's status as a global hub makes it a potential terrorist target. He believes the authorities, emergency services and communities should know the vulnerabilities and 'prepare mentally' for disaster. The Prince of Wales Hospital, at the centre of an outbreak of severe atypical pneumonia among its staff, has suspended non-emergency operations and specialist consultations, as the outbreak shows no signs of abating. The outbreak in Hong Kong has spread to other countries in Asia and around the world. More than 150 suspected new cases of the illness, known as Severe Acute Respiratory Syndrome (SARS), have been reported since last week. The World Health Organization said the cause of the disease had not been identified and scientists did not know whether it was a virus or if the infectious agent was previously unknown.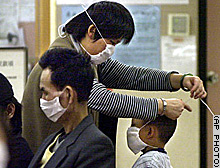 Hong Kong: The emergence of the outbreak in Canada, China, Hong Kong, Indonesia, the Philippines, Singapore, Thailand and Vietnam has led the WHO to put airlines on alert for cases of suspected pneumonia among passengers. Dubbed severe acute respiratory syndrome (SARS), the severe form of pneumonia does not appear to respond to treatment. The virus is so new it does not as yet have an official name. During the past week, more than 150 new or suspected cases of the pneumonia have been reported, the WHO said. Nine of those people have died. The outbreak is believed to be centered in Hong Kong where 37 medical staff at one of the territory's hospitals were hospitalized on Sunday, two of them in critical condition. An American-Chinese man who flew to Hong Kong from Hanoi with pneumonia died Friday morning and a Vietnamese nurse who treated him in Hanoi's French Hospital died Saturday. Two members of an American-Canadian family died in Canada last week after returning to North America from a holiday in Hong Kong.


Hawaii: 2003 Narcissus Fashion Show has featured Princess Kaiulani Fashion founded in 1959 by Jack and Joan Andersen. According to Mr. Terrill S. W. Chock, President-Elect & Festival Chairman of the Chinese Chamber of Commerce. The original theme has to be changed about 30 days before the event due to previously contracted designer unable to obtain VISA in time to enter the United States. The current turn of world's event was a big challenge for Terrill to switch venue at the very last minutes. The writer have known Terrill for more than 25 years, a well rounded person with excellent people's skill. He has indeed live up to the challenge and put together an impressive gala event (more photo on our Photo-Album page)
March 14 - 16, 2003

Hawaii: Special Event Sponsored by the Hong Kong China Hawaii Chamber of Commerce (HKCHcc), US-China People Friendship Association and the Japan American Institute Management Science (JAIMS) Special invitation has been extended for a beachside party and sunset cruise to Fudan University-China, Sun Yat-Sen University-China, Hong Kong Polytechnic University-HKSARG & JAIMS-Hawaii during their visit to Honolulu Hawaii attending the Asia Moot Corp 2003, March 11 - 14, 2003. Go to our Photo Album Page for more information.

Asia Moot Corp 2003 Business Plan Competition 1st place winning team - Sasin Graduate Institute of Business Administration of Chulalongkorn University Thailand and 2nd place winning team - Fudan University China

Asia Moot Corp 2003 Business Plan Competition is made possible with the generous contribution of Barry M. Weinman of Allegis Capital and others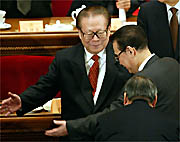 China: President Jiang Zemin and outgoing NPC chairman Li Peng give way to each other at the CPPCC closing ceremony in the Great Hall of the People. The new top government line-up has long been an open secret since the leadership succession at the Communist Party's 16th congress in November. Communist Party General Secretary Hu Jintao is expected to be confirmed as president today, replacing Jiang Zemin and completing the last leg of a sweeping and smooth leadership succession. The newly elected chairman of the Chinese People's Political Consultative Conference yesterday told delegates they must listen to the voices of China's emerging social elite. Beijing officials will invest 120 million yuan (HK$113.2 million) over the next five years to protect the historical area around the Forbidden City. Police have upgraded security at foreign consulates in Guangzhou in the wake of bomb blasts at Peking University and this week's hostage-taking incident at the Reuters office in Beijing.

Hong Kong: A woman peers from the door of the new Shanghai Tang store being built in the city of the same name. After starting in Hong Kong and expanding overseas, the boutique is now coming to the city which inspired its fashions.
More health workers have been admitted to Hong Kong hospitals with symptoms of respiratory illness as officials warned on Saturday that more people were likely to be struck down by the mystery bug. Speaking on a radio program, the hospital authority's director of operations Ko Wing-man said that eight more medical workers were admitted to three hospitals on Friday. These were in addition to the 43 already being monitored for the atypical pneumonia, 29 of whom are showing signs of the illness.
March 13, 2003
China: Members of China's top leadership should set an example in the country's battle against corruption by declaring their own financial interests and those of their family members, according to a proposal that has caused heated discussions among NPC deputies and CPPCC delegates. The proposal has touched upon one of the most sensitive political taboos. Information about the personal lives of China's top leadership is regarded as a state secret.
Hong Kong: Hong Kong's economy is expected to grow 2.5 per cent this year if an expected war in Iraq unfolds the way most observers expect it to, an executive research group said yesterday. Hong Kong's financial chief yesterday faced a critical audience of top businessmen as he continued to defend his unpopular package of tax increases. The overseas education allowance for civil servants in Hong Kong is outdated and a comprehensive review is needed, the secretary for the civil service said yesterday. Hong Kong's economy is expected to grow 2.5 per cent this year if an expected war in Iraq unfolds the way most observers expect it to, an executive research group said yesterday.
March 12, 2003


Hawaii: Stephen Smith, Professor, Department of Recreation and Leisure Studies, University of Waterloo, Ontario, Canada met with the University of Hawaii Travel Industry Management Alumni (T.I.M. International, Inc) Board of Directors and T.I.M. Advisory Board at the Rainbow Suite, Hilton Hawaiian Village. Dr. Smith is one of the three candidates being considered as the New Dean for the UH - School of Travel Industry Management.


Asia Moot Corp 2003 (business plan competition) - Teams representing University of Hawaii/JAIMS, Fudan University, Sun Yat-Sen University and others competing for the top prize and earn the right to compete for $100,000 in seed capital at the University of Texas at Austin Moot Corp Competition in April.
Hong Kong: Overseas investors will effectively be able to buy permanent residency under the investor immigration program approved by the Executive Council yesterday. Starting in July, applications will be accepted from people willing to spend $6.5 million on real estate or financial assets such as stocks or bonds. In return, they and their families will be granted right of abode status if they live in Hong Kong for seven years. Those who do not remain for the required length of time will still be granted unconditional stay if they are willing to keep their investments in Hong Kong.

The chairman of the Kowloon-Canton Railway Corporation, Michael Tien Puk-sun, addresses the West Rail Building inauguration ceremony at Kam Tin yesterday. Mr. Tien pledged his support for a new transport fare adjustment system in Hong Kong. He said a review of the existing fare structure was necessary in view of the changing economy and prices.
The Independent Commission Against Corruption (ICAC) confirmed on Wednesday it had arrested six people for alleged bribery and misconduct in public office this week. Those arrested included two serving electronic engineers and a retired senior project engineer from the Electrical and Mechanical Services Department (EMSD). Three people from an information technology (IT) company were also arrested. The ICAC investigation has revealed that the engineers, after obtaining a quotation from the IT company, requested its director and staff to submit four false quotes from different companies to meet government regulations.
China: Formal negotiations on a new air services agreement between the United States and China could start by the middle of the year, with a significant liberalisation of air services between the two countries expected to emerge. China posted a trade deficit in the first two months of the year, and economists believe the nation's exports growth might slow down as the shadow of war looms over Iraq. A man who said he had a bomb burst into Reuters news bureau in Beijing on Wednesday and held a number of journalists for about two hours before releasing them unharmed. China Petrochemical Corp - the parent of listed China Petroleum & Chemical (Sinopec) - has become the second Chinese oil firm to buy an 8.3 per cent stake in Kazakhstan's North Caspian Sea project for US$615 million. Mainlanders could be allowed to invest in Hong Kong stocks under the Qualified Domestic Institutional Investor (QDII) scheme as early as this year, according to China's central bank chief.
March 11, 2003
China: A smiling Li Peng makes his way back to his seat after delivering his final address as NPC chairman at the Great Hall of the People yesterday. The outgoing chairman of the National People's Congress, Li Peng, has high hopes that a socialist legal system with Chinese characteristics will be in place by 2010.
The opening of the first phase of Shanghai's multi-billion yuan Yangshan port development will be delayed by two years, dealing a blow to the city's short-term ambitions to be northeast Asia's biggest shipping hub. Shanghai's new mayor, Han Zheng, was quoted at the weekend as saying the city would complete the first-phase construction of what could be the world's largest deep-water container port by 2007.
Hong Kong: Hong Kong Jockey Club chief executive Lawrence Wong has admitted that the club is looking at the feasibility of buying the Macau Jockey Club outright. Its chief executive says negotiations are ongoing for a deal that could restore HKJC revenues to pre-handover levels. Speaking to the South China Morning Post at the Asian Racing Federation (ARF) conference in Auckland, Mr Wong said the lines of communication between him and his counterpart, Kenneth Liang Kin-man, were open and discussions had been positive.

Secretary for Financial Services Frederick Ma (centre) with Dao Heng Bank chief executive Randolph Sullivan and DBS Hong Kong chairman Frank Wong at the opening of Dao Heng's Bond Investment Centre. According to proposed law changes, companies will not be required to produce prospectuses if they issue bonds or equities to fewer than 50 people or solely to professional investors.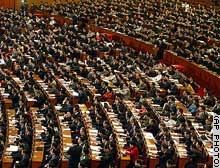 China: China's legislature has approved a sweeping restructuring of the country's cabinet, bringing it more in line with Western models. Beijing will turn its sprawling ministries -- devised over decades of communism that focused on state planning and control -- into a streamlined operation that will bolster policing of financial systems to prevent corruption. As part of its revamp, China will set up special agencies to oversee banks and state assets, as more foreign investment enters the country. (Factbox of ministerial revamp).
March 10, 2003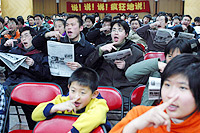 China: Fervor to learn the language is a phenomenon that cuts across age groups and social classes. When Beijing hosts the Olympics in 2008, Mr. Liu, the 62-year-old retired mechanic wants to be a voluntary tour guide to bring foreign athletes and tourists around the Chinese capital and show them 'China's sights', as he puts it.
Hong Kong: Hong Kong executives are now the best-paid in Asia, demoting their Japanese counterparts to second place, a survey found yesterday. The poll, conducted by Mercer Human Resource Consulting, found executives in Hong Kong received on average 32 per cent more than their counterparts in Japan and 45 per cent more than those in Singapore.

Hong Kong Financial Secretary Antony Leung said yesterday he made a blunder in buying a luxury car shortly before he raised taxes for motor vehicles and vowed to donate the money he saved to charity. In response to media reports that he bought a Lexus LS430 for HK$790,000 (S$174,000) in late January, he said his purchase was prompted by 'a genuine need...as we were expecting a new baby'. With the new tax, which Mr. Leung announced in his Budget speech last Wednesday, his car would now cost HK$50,000 more. Guidelines advising organizations and the public in Hong Kong on how to react to civil emergencies will this week be issued by the police amid growing fears of international terrorism as war in the Gulf looms.
China: China's largest waste recycling project launched But Hong Kong environmentalists fear that a similar park proposed for Tuen Mun will not be able to compete. Construction of the country's largest waste recycling project has started in Guangdong. The $3 billion National Demonstration Eco-Industrial Park and South China Environmental Protection Industry Park, located in Nanhai 25km southwest of Guangzhou, will be completed in three to four years. The project is backed by the State Environmental Protection Administration. Spread over 6.6 sq km, the park will be home to a variety of green industries, such as environmental protection consultancies, research and design units, green products manufacturers and waste recyclers.

Hong Kong: Playmates Holdings chairman Thomas Chan Chun-hoo says the initial response to the new-generation of the Teenage Mutant Ninja Turtles, priced at less than US$10 each, is encouraging. Teenage Mutant Ninja Turtles, the forgotten darlings of American children, are making a comeback with a well-financed market relaunch this year.
March 7 - 9, 2003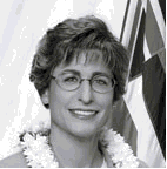 Hawaii: Governor Linda Lingle efforts to improve Hawaii business image continues to face challenges when both House and Senate are controlled by Democrats. Anti-business bills continue to emerge discourage outside investments in Hawaii. New taxes are proposed to put additional burden on small and medium size enterprises (SME).

Hong Kong: Chief Executive Tung Chee-hwa received a vote of confidence from China's party chief yesterday, with Hu Jintao speaking of the Hong Kong leader's capabilities and wisdom. The backing for Mr. Tung comes at a time of public debate over the chief executive's performance and political future. Mr. Hu conceded that Hong Kong and Macau had encountered some "temporary difficulties" during economic restructuring. He said Beijing would take all measures to help revitalize the two economies.

General Secretary Hu Jintao meets Henry Fok Ying-tung, the Hong Kong CPPCC vice-chairman who led a delegation in Beijing yesterday. Two possible successors to Hong Kong and Macau Affairs Office (HKMAO) director Liao Hui are said to have emerged, if as expected he is appointed a vice-chairman of the central government's top advisory body.
Under the scheme, which would be funded by the $200 million set aside for promoting foreign investment in the special administrative region (SAR) and the Pearl River Delta region in the Budget on Wednesday, local business leaders would introduce potential overseas investors to SAR officials. Prominent Hong Kong business leaders are to act as frontmen for the government to attract foreign investment, the Secretary for Commerce, Industry and Technology has revealed. People should not put all the blame for their discontent on the shoulders of Tung Chee-hwa, but the chief executive does have room for improvement, a Hong Kong deputy to the National People's Congress said yesterday. Speaking at a panel discussion for members of the delegation from the special administrative region (SAR), Allen Lee Peng-fei also said that the dollar should be devalued to regain competitiveness.

China: A soldier stands guard at the Great Hall of the People in Beijing where the NPC is being held. This year's congress has unveiled sweeping reforms. The Minister of Labour and Social Security, Zhang Zuoji, is likely to become the head of the ministerial-ranking Development Research Centre of the State Council as part of efforts to strengthen the powerful government think-tank. One of China's top economists called on leaders yesterday to accelerate the nation's privatisation drive as a means of sustaining long-term growth.

Zhai Ruoyu, chairman of Beijing Datang, expects consumers to pay less for their electricity after the Chinese government implements a new tariff scheme, to be unveiled next month.
A Chinese engineering company has signed two contracts worth more than US$100 million to build a water system in an area of Kuwait where US forces are preparing for war with Iraq. A spokesman for the Gezhouba Group's No4 Engineering Co said yesterday that the contracts, worth US$109 million, were its largest overseas deal and also the biggest between China and Kuwait.
A bureau has been established in Guangdong to promote the development of small and medium-sized enterprises (SMEs). Headed by deputy director-general Liu Huaquan, an economist, the Small and Middle Enterprise Bureau is modelled on a similar government department in Zhejiang province, where privately owned enterprises are flourishing.
March 6, 2003
Hong Kong: Financial Secretary Antony Leung Kam-chung told radio listeners on Thursday to have confidence in Hong Kong's economic recovery - adding that the territory's linked exchange rate system would remain in place. Filipino maids have reacted angrily to Philippine President Gloria Macapagal-Arroyo's decision yesterday to temporarily ban the export of domestic helpers to Hong Kong. An extradited British banker charged with bribery was sentenced to four years' imprisonment in the District Court late on Wednesday. Swire Pacific reported a 31 per cent jump in net profit on Thursday due to strong growth in its aviation business. Cathay Pacific Airway's chairman James Hughes-Hallett said yesterday that the carrier's short-term prospects were not good. Cathay Pacific Airways chairman James Hughes-Hallett's warning that global economic turmoil and war fears mean prospects are not overly bright may be too pessimistic, given that the airline seems well positioned for another profitable year.
China: A top environmental official has admitted there are problems with a water cleanup plan being undertaken as part of the massive Three Gorges Dam project. China will today announce a radical shake-up of government bureaucracy aimed at adapting it to the fast-changing market economy. Li Guoqiao's drug Artekin, which is spearheading China's latest foray into the international pharmaceutical market, could be a major weapon in the battle against an insidious disease. China painted a bleak picture of what lies ahead on Thursday as it posted a record budget deficit for 2003 and warned corruption, waste and unemployment were hampering progress.
March 5, 2003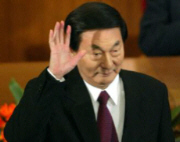 China: Chinese Premier Zhu Rongji waves before giving his final work report at the opening session of the National People's Congress (NPC) at the Great Hall of the People in Beijing on Wednesday. Mr Zhu is expected to give up his position to Wen Jiabao after the end of this Congress on March 18. Premier Zhu Rongji, who presided over China's emergence as a major world economic force, issued a blunt warning on Wednesday that unrest among overtaxed farmers and unemployed workers could derail its spectacular progress.
Hong Kong: Proud new father Antony Leung has more than the responsibilities of parenthood on his shoulders as he tackles Hong Kong's financial woes. Almost two years after he took over the purse strings from Donald Tsang Yam-kuen, there are growing doubts about the former banker's ability to restore fiscal health and rejuvenate the economy. Public opinion polls show his popularity has been on a slippery slope since he took office. With the unemployment rate sticking at 7 per cent and wage benchmarks falling, the financial chief is an easy target for criticism. As Mr. Leung enters a new phase in his personal life, he will also find himself at the crossroads of his public career. On the one hand, he faces the daunting task of balancing the budget. On the other, he needs to reflect on his goals and beliefs in playing the role of financial secretary in the SAR leadership.
China: The liquidators and creditors of Guangdong International Trust and Investment Corp (Gitic) are chasing hundreds of millions of US dollars in assets despite a recent decision by the Guangdong Higher People's Court to end the company's four-year bankruptcy proceedings. The chief of China Minsheng Banking Corp has dashed hopes that foreign investors will be allowed to take a large stake in the country's only private bank. As part of its restructuring plan, state-owned China Reinsurance plans to bring in at least five Asian-based foreign investors to take up to 24.9 per cent of the nation's only reinsurer as it moves towards a listing.
March 4, 2003
China: One of the mainland's richest men and a delegate to the Chinese People's Political Consultative Conference (CPPCC) has called on the government to offer private entrepreneurs more protection. "I believe it is important that the government provides a safe environment for private entrepreneurs," said Liu Yonghao, the 51-year-old chairman of Chengdu and Shanghai-based New Hope Group, a large agricultural commodities company with investments also in banking. Mr Liu's comments come in the wake of the murder of Li Haicang, a tycoon and a fellow member of the CPPCC. A steel magnate from Shaanxi province, Li was shot dead early last month. The 10th Chinese People's Political Consultative Conference opened yesterday with a promise to tackle tough issues ranging from social stability and the needs of disadvantaged groups to arbitrary levies and rural reforms. CPPCC delegates have become increasingly outspoken as economic reforms increase the gap between rich and poor. They have also become vocal in their attacks on widespread corruption. The advisory group has no actual power, but its opinions are supposed to reflect the concerns of Chinese society. Only about 40 per cent of its more than 2,000 delegates are Communist Party members.
Hong Kong: The completion of a bridge linking Hong Kong, Macau and Zhuhai will bring an extra 2 per cent economic growth for Hong Kong and create more than 6,700 jobs in the city, a study has found. European countries may soon ask to renegotiate their air service agreements with Hong Kong in attempts to head off a proposal by the European Commission to take over management of civil aviation rights for all its member states. On March 6 last year, Financial Secretary Antony Leung Kam-chung gave his inaugural budget speech. It came at a trying time for the Hong Kong economy, faced with slumping growth, rising unemployment and a serious lack of confidence. Hong Kong's Director of Social Welfare, Carrie Lam Cheng Yuet-ngor, said yesterday she would not resign after social service groups criticised her for failing to consult them on cuts.
March 3, 2003

Hong Kong: A protester is reflected in a mock chopper bearing the phrase, "Poor people are being slaughtered". Many elderly and disabled people joined the protest against the government plans to cut welfare payments. The protest, jointly organized by more than 100 welfare groups and non-government organizations, started at Chater Garden and moved on to the Central Government Offices. A leading economist has warned of a cycle of economic contraction if the government makes drastic spending cuts to help balance the budget by 2006-07. Edward Chen Kwan-yiu, the president of Lingnan University, said the deficit was not caused by over-spending, but a sharp drop in revenue. He said a shock approach was needed to rejuvenate the economy, because unlike in the 1970s and 80s, "market forces no longer work".

Former chief secretary Anson Chan Fang On-sang said people should not take their anger over the reduction in social welfare payments out on the government. "We can't rely totally on the government. In the past, people perhaps relied too much on the government but now they have to learn to rely more on themselves."
China: The children of 'notable families' include a revolutionary leader's son who is expected to be named vice-president. Several dozen family members of top leaders - commonly called "princelings" - will participate in the annual meetings of the National People's Congress and the Chinese People's Political Consultative Conference. Top of the list is Zeng Qinghong, one of the nine Politburo Standing Committee members and president of the party's Central Party School. Mr. Zeng is an NPC deputy representing his home province, Jiangxi. The annual meetings of China's legislature and its related advisory body that bring thousands of delegates to the capital this week are the highest levels of what the communist Government calls its version of democracy - chances to network, debate issues within narrow bounds and, most importantly, endorse a prearranged agenda. This year, the results include appointments that will ripple across the world: the installation of successors to President Jiang Zemin, Premier Zhu Rongji and other top government leaders. The step is part of a generational transfer of power that is expected to be the most orderly in 53 years of Communist Party rule.

Hong Kong: Securities and Futures Commission (SFC) executive director Alexa Lam says the commission is gearing up to help the market avoid chaos when the new law takes effect. The SFC is to issue a 200-page guide on transitional arrangements covering the new law.
Monday is an important day for Hutchison Whampoa as it is the start date for its 3G venture. And with more than half of the firm's capital budget sunk into the venture, the world is watching to see if Mr Li can turn the new tech into a world-class business.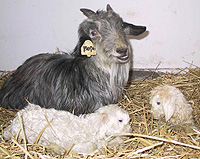 China: China's first successfully cloned goat, Yangyang, is set to hit the record books with a new achievement, becoming the proud grandmother of a 2.8-kg kid, state media said yesterday.
February 28 - March 2, 2003





Hawaii: More than 100 distinguished guests from both Public and Private sectors attended a standing room only presentation at the Plaza Club on the subject of "Hawaii's Travel Industry: Is There Another Japan? Presented by George Darby, Attorney at Law, Asia Business Network; Dalton Tanonaka, President, Pacific Basin Economic Council (PBEC): Hawaii business image in Asia - Necessary Changes; Chuck Gee: Destination Hawaii - How the model for inbound Chinese tourism differs from inbound Japanese tourism; Daniel Pyun: Destination Hawaii - How the model for inbound Korean tourism differs from the inbound Japanese tourism; Ted Liu, Director, Hawaii DBEDT: Implications for DBEDT's Travel Industry Strategy; Manuel C Menendez III, Director, Office of Economic Development, City & County of Honolulu; Johnson Choi, President & Executive Director, Hong Kong China Hawaii Chamber of Commerce; Chuck Gee, Dean Emeritus, School of Travel Industry Management, University of Hawaii at Manoa; Daniel Pyun, Attorney at Law, President, Korean Chamber of Commerce and Ronald Watanabe, President, Hotel Partners Unlimited (visit our photo album page for more picture display).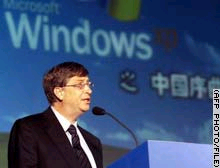 China: Software giant Microsoft has agreed to show China's government the underlying source code for its Windows software in an attempt to assuage official concerns about the integrity of its computer operating systems. Microsoft chairman Bill Gates yesterday announces the partnership with China Unicom in which the two firms will develop value-added services for the mainland mobile phone carrier's CDMA 1x platform. Sega shares rallied yesterday on a newspaper report that Microsoft and Electronic Arts are looking into buying a stake in the Japanese video game-maker.
Hong Kong: The budget deficit is still on course to reach $70 billion this year, an academic and a legislator said yesterday after the government reported a cumulative $58.4 billion shortfall following the payment of profits and salaries tax in January. Li Ka-shing held on to the title of Asia's richest person in Forbes magazine's annual ranking of the world's wealthiest people, although his fortune shrank by 22 per cent because of the slumping stock market and global economy. The US magazine put Mr Li's fortune at US$7.8 billion (HK$61 billion), in 28th place behind the list's leader, Microsoft chairman Bill Gates, who is worth US$40.7 billion.
Hardcore pro-independence politicians, led by former president Lee Teng-hui, are losing their battle to stop the government from easing restrictions on business and transport links with China, according to analysts. According to the Investment Commission, Taiwanese businesses invested US$455.29 million (S$792 million) in the mainland in January, a jump of 120.78 per cent over the same period last year.

China: China and Russia yesterday toughened their united opposition to a war in Iraq, saying a conflict "can and should be avoided". But neither country revealed whether it would use its veto powers to block a second United Nations resolution authorizing force.
Mr. Zhu Rongji is retiring after more than a decade as China's economic chief. Zhu Rongji will go down in history as a leader who helped create the foundations of modern China. Hand-picked by paramount leader Deng to run the economy in 1991, he has steered the nation through many domestic difficulties and global volatility. His performance is spoken for by China's statistics:
foreign exchange reserves stand at US$286 billion (HK$2.23 trillion), the second highest in the world behind Japan's, up from US$21.7 billion a decade ago;
Gross domestic product growth has averaged more than 7 per cent in the past decade and is forecast to be maintained for the coming five years;
Foreign direct investment reached US$700 billion by the end of last year. In 2002, it was more than US$50 billion, a record;
Total debt levels are just a third of the world average among developing countries: with 1.93 trillion yuan (HK$1.81 trillion) in domestic government bonds, and US$165 billion in foreign borrowings, China has a healthy debt ratio that comprises only 32 per cent of GDP;
At the end of 2002, the mainland's GDP reached US$1.25 trillion, just less than one third of Japan's and 10 per cent of the US figure. However, economists believe the mainland is well on its way to surpassing Japan's GDP in the coming decade; and
Consumer savings stand in excess of US$1 trillion, and though 2.4 million super-rich people control 65 per cent of the nation's US$1.6 trillion liquid assets, there is now a rising middle class of 65 million, each earning an average of US$5,000 a year.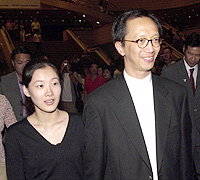 Hong Kong:
It was a bundle of joy for Hongkong's Financial Secretary Antony Leung and his wife Fu Mingxia, a four-time Olympics gold medallist dubbed China's 'diving queen'. But the birth of their baby girl on Wednesday raised questions about whether special privileges were being granted to Ms Fu since many mainland spouses of Hongkong men are not allowed to give birth in the territory. Mr Leung, 51, married the 26-year-old diver from China's Hubei province in July.

An officer puts a dog through its paces at the Police Dog Unit in Kowloon Bay. Dogs from the unit will feature in an RTHK show to be screened on TVB Jade tonight about canine crime fighters. It includes the story of Lorna, a police dog chopped in the head with an axe while pursuing a burglar more than 20 years ago.

China: A villager stands in the rubble of his house in Qiongkuer Qiake, the centre of a devastating earthquake that hit Xinjiang on Monday. About 8,000 buildings were razed in Bachu county. Thousands of homeless villagers freeze through another night as authorities plead for help to rebuild the 'war zone'.
February 27, 2003
Hong Kong: In a positive development for Hong Kong's economy, the value of exports rose by nearly 27 per cent year-on-year in January, latest statistics released on Thursday showed. Census and Statistics Department figures revealed that the value of total exports (including re-exports) rose by 26.7 per cent year-on-year to $135 billion. This was after a year-on-year increase of 16.7 per cent in December. The surge in exports was mainly due to a robust re-export sector. The value of re-exports rose by 30.3 per cent to $125.5 billion in January, despite a 6.8 per cent drop in domestic exports, the statistics showed.
China: China has re-affirmed its commitment to form a free-trade zone with the 10 members of the Association of Southeast Asian Nations (Asean) by January 2005.
Hong Kong: Wing Lung Bank is not letting a HK$129 million loss on its credit-card business last year dampen its enthusiasm for the high-risk consumer product. General manager Chung Che-sum believes the worst of the credit-card bad debt is over after the bank reported yesterday that its charge-off ratio for credit cards was 14.6 per cent for last year - above the industry average of 13.45 per cent.
For the first time the Jardine group admits that redeveloping the 40-year-old Mandarin Oriental hotel is an option, subject to an evaluation of challenges posed by the rival Four Seasons hotel due to open in Central in 2005.
China: The world's No 2 PC maker Dell Computer aims to bolster its position in China this year with a goal of outpacing overall growth in the market by a factor of three, its top Asia executive said on Thursday.
Microsoft's Bill Gates will be in Beijing on Friday to sign a framework agreement with China United Telecommunications to jointly explore developing a platform and applications using Microsoft's operating system for mobile services.
February 26, 2003
China: Despite speculation that talks had stalled, United States-based investment firm Newbridge Capital said it was close to a deal to buy nearly 20 per cent of Shenzhen Development Bank - the latest in a string of foreign forays into the mainland banking sector.
China differs from the United States only in the short-term tactic of dealing with North Korea while both share the same goal of wanting the state to give up its nuclear weapons program. 'China knows North Korea well enough to suggest that the US tactic of coercing Kim Jong Il will not work,' said Professor Kenneth Lieberthal from the University of Michigan.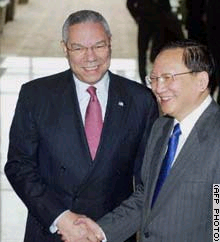 Hong Kong: Colin Powell meets Chinese Foreign Minister Tang Jiaxuan in Beijing. Beijing has angrily denied the missile Pyongyang fired into the Sea of Japan, or East Sea, earlier this week was imported from China or made with Chinese technology.
February 25, 2003

Hong Kong: CSL Hong Kong's Dolphin Ip displays the Tungsten W, a wireless mobile phone and e-mail device with always-on access to the Internet. It is Palm's first wireless device for the international market.
Oracle Systems and Hewlett-Packard have opened a centre in Hong Kong to help local independent software vendors and developers (ISVs) migrate from legacy systems to Oracle/HP solutions. The Competency Centre, at HP's headquarters in Taikoo Shing, is designed to help ISVs which may not have access to big systems and related hardware.

Smugglers beware: Senior Customs official Chow Kwong demonstrates the department's new computer system that has been installed at the Lowu and Lok Ma Chau checkpoints and the Hong Kong-Macau Ferry Terminal to crack down on travelers who break duty-free regulations. From tomorrow, any Hong Kong resident who has not left for at least 24 hours is not allowed to return with duty-free items.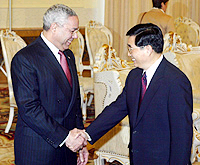 China: Visiting US Secretary of State Colin Powell attends a media briefing after holding talks with Chinese officials. China and the US have found mutual areas of interest as bilateral trade increases. China's co-operation on counter-terrorism issues has also helped win America's trust. Chinese Vice-President Hu Jintao chose to leave the ball firmly in Washington's court. He was quoted by Xinhua news agency as saying after his meeting with Mr. Powell that China hoped that the US and North Korea 'will conduct direct dialogue as soon as possible'.
February 24, 2003
Hong Kong: Century-old rule on jury service is under review - Most trials are conducted in Chinese, yet English proficiency is required before HK people can perform their civic duty. Most Hong Kong citizens are barred from jury service because of a century-old rule that requires a juror to have a level of English proficiency, despite the extensive use of Chinese in courts since the handover. The government is now reviewing the rule. Legal experts and a lawmaker are urging that it should be changed to comply with the common-law principle that the accused should be tried by fellow members of the community. It means that only 316,812 or 4.4 per cent of Hong Kong's 6.8-million population are eligible. This compares to the United States, Britain and Canada where more than three quarters of citizens are potential jurors.
A drastic overhaul to the tax system that could include a sales tax is needed to make it less dependent on cyclical swings in the economy, says Civic Exchange's report on the budget and public finances. Such reform will make the government's income less dependent on asset prices, which tend to fluctuate according to the property market, and tie it more to overall spending by the general population, which tends to hold steady. In doing so, Hong Kong would avoid large budget deficits like the $77.3 billion it has today, the report says.
China: Foreign media and entertainment companies should not have high hopes that China will open up its television industry to them anytime soon, according to a senior official at state broadcaster China Central Television (CCTV).
Beijing's high court has thrown out the corruption conviction of Huaxia Bank's former chief in a development that will help the bank's plans to list on the domestic stock market this year.
Zhongxing, one of China's biggest manufacturers of telecommunications equipment, has postponed plans for a public listing in Hong Kong and is considering instead an overseas private placement, an official newspaper reported yesterday. The Chinese government and private firms plan to spend up to 700 billion yuan (about US$84.6 billion) to develop key technologies in the next five years, the country's science minister said on Thursday. China, eager to promote economic growth and technological prowess, spent a total of 104.3 billion yuan in the five years to 2002, up from 50.9 billion yuan in the previous five-year period, Minister Xu Guanhua told a news conference.
Hong Kong: The No 4 fixed-line operator in Hong Kong claims to be one of the few companies carrying millions of minutes of corporate Taiwan phone traffic into the mainland each month. Because of Taiwan's ban on direct cross-straits links, such traffic must be routed through Hong Kong. New World Telecommunications (NWT) has been expanding beyond Hong Kong by tapping into the lucrative market between Taiwan and the mainland.
February 21 - 23, 2003

Hawaii & Hong Kong: Annie Tang, Director of the Hong Kong Economic and Trade Office - San Francisco (HKETO) met with Manuel Menendez III, Executive Director, Office of Economic Development, City & County of Honolulu and Johnson Choi, President & Executive Director of the Hong Kong China Hawaii Chamber of Commerce (HKCHcc) to share and exchange information on future collaborations. HKETO will focus on projects that can yield tangible results. Due to distance between San Francisco and Hawaii, it is difficult to take frequent trip to Hawaii. HKETO has to rely on local partners like HKCHcc and others. Her office can assist on trade & business matching. It is very important for Hawaii Companies to do some homework ahead of time (visit our photo album page for more pictures).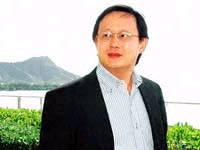 Hawaii & Hong Kong: It's a typical fine winter day in Honolulu and Samuel Wong is sitting at a waterfront table at the plush Halekulani Hotel in Waikiki, watching the waves and working on a plate of eggs benedict and a cup of coffee. Hawaii seems a world away from Hong Kong, and Wong, who is concurrently the music director of the Hong Kong Philharmonic and the Honolulu Symphony, is clearly consumed by the spirit of the islands. ''My mind and heart is where I am making the music,'' the 42-year-old says, matter-of-factly. ''It's important to focus, because there are so many distractions.'' Kicking off with a pre-tour concert in Hong Kong on February 12, they will travel to Macau and South Korea before hitting London, Belfast and Dublin, and finally holding their closing concert at the Theatre de Champs Elysee in Paris on March 2. Before becoming a full-time conductor, Wong was an eye surgeon who dabbled in music. He studied medicine at Harvard and also attended the Toronto Conservatory of Music, where he became an accomplished piano player as well as a conductor. ''I think the Hong Kong Philharmonic can be the best orchestra in Asia,'' he says. ''We are planning a major tour in China in the next two years. My dream is also to bring the Phil to Carnegie Hall and the American east coast as well during my tenure. As for recording, we are branching out to more popular crossover projects of folk songs involving traditional Chinese instruments.'' All these plans suggest there will be little work for the new music director, when one is appointed, to do. Wong gives an enigmatic answer: ''Some orchestras in Britain don't have permanent music directors, they just have conductors,'' he says. ''A lot of people care very deeply about music in Hong Kong; it's worth my effort to build it. I am at peace with myself.''


Hawaii: Patrick K Batt, Program Manager, Residential Communities Initiative (RCI) - Hawaii and Faye Hirono, Air Force Privatization Manager discussed RCI opportunities for Hawaii Companies. Army will privatize about 7,500 Army Family Homes (AFH) in Hawaii, using the RCI. Army will donate housing and other improvements to a partner, and lease the partnership the land below the improvements for 50 years. Cash Flow is based solely on Soldiers' Basic Allowance for Housing (BAH). BAH is estimated to exceed $100 million/year for 50 years, or over $5 Billion. For additional information, please visit the following websites: Air Force www.hickamhousingprivatization.com, Navy/Marine www.esol.navfac.navy.mil, Army www.rci.army.mil or www.25idl.army.mil.

Connie Lau, CEO of American Savings Bank in Hawaii spoken at the Hawaiian Chamber of Commerce luncheon about the value base transformation change, community service bank to be a true part of the community and their focus of economic growth throughout the Hawaiian community.
Hong Kong: A landmark deal has been struck to cut civil service salaries back to the level they were at during the handover, a move that will ease the soaring budget deficit to the tune of $7 billion by 2006. The government hopes the reduction, which will be implemented in two phases beginning next year, will put an end to long-running pay disputes. The two-phase pay cut will save the government HK$12.2 billion for the next three fiscal years, instead of HK$21 billion if the businessmen had their way.
China: According to figures released yesterday by the Department of Commerce, the US trade deficit with China last year was US$103 billion. China overtook Japan three years ago as the country with which the US has its largest trade deficit, and has maintained that position ever since. Trained economist Han Zheng has been appointed as the new mayor of the mainland's key commercial centre. Despite lacking reformist credentials, he is expected to push economic growth.
Hong Kong: A Hong Kong man infected with a bird flu virus has died in the first known death from the disease since it killed six people in the territory in 1997 and triggered worldwide alarm. The Health Department said the man and his nine-year-old son, who is in stable condition in a Hong Kong hospital, contracted the H5N1 bird flu virus, possibly while visiting relatives in China.
February 20, 2003

Hong Kong: A cashier serves a customer at a Mongkok money exchange. Monetary Authority chief Joseph Yam says a stronger yuan would lower prices for goods in Hong Kong.
The Obscene Articles Tribunal on Thursday upheld its ''obscene'' classification of a cover of gossip magazine Eastweek - which outraged Hong Kong people last year by featuring a semi-nude picture of an abducted actress. Magistrate Au See-hin and four adjudicators unanimously ruled the October 30 edition of the magazine was ''obscene'' - or in the Class 3 category - making it unfit for sale. Criminal charges are expected to follow the ruling.

China: The US State Department's coordinator for counter-terrorism, J. Cofer Black, praises China's anti-terror efforts at a Beijing briefing yesterday. Mr. Black, who has been in China for several days for the third round of US-China counter-terrorism consultations, said he had "very constructive" talks with Chinese officials, specifically on stopping the financial links for terrorists.
China's northern port city of Tianjin is anxious to play catch-up. Its economic performance was just behind Beijing and Shanghai in the 1980s but, in the last decade, Tianjin has been overtaken by Guangzhou and Shenzhen. CHUA CHIN HON of The Straits Times China Bureau looks at the city's US$22 billion (S$38.8 billion) plan to remake itself.

Hong Kong: Standard Chartered's Hong Kong director Peter Wong says the bulk of the bank's US$287 million write-off was due to credit cards. He warned that the personal bankruptcy problem would continue to haunt Hong Kong banks this year.
February 19, 2003
Hong Kong: Talks aimed at forging closer economic links between Hong Kong and the mainland have been quietly resumed, boosting hopes that an agreement can be reached by the summer. Senior trade officials from each side held a meeting in Hong Kong last week over the Closer Economic Partnership Arrangement (Cepa), the first time such discussions have taken place since last August.

Ho Ming-sze, an adviser to the Fok Ying Tung Foundation, told a seminar hosted by the Hong Kong Chinese General Chamber of Commerce that a cross-delta bridge was neither feasible nor appropriate. Ho Ming-sze sets out his case against a link to the Pearl River Delta, while Henry Fok, who said he would not invest in the project, looks on.

China: A military policeman guards the Japanese Embassy in Beijing after North Korean asylum seekers managed to enter a school run by the consulate. A Japan-based rights group confirmed that a man, a woman and her two children had entered the school and asked for refugee status from the Japanese government.
The holiday messages reaped 500 million yuan (HK$471.8 million) in total revenue for China Mobile, China Unicom and their subcontractors, according to CCID Consulting, an arm of the Ministry of Information Industry. But the popularity of the short-messaging system (SMS) has also left the authorities worried that it is being used to spread rumors and reactionary views.
China is facing a serious shortfall in teachers and the situation could get worse when the number of youths entering high school and universities peaks in coming years, state media said yesterday. The country will need an extra 1.16 million senior high school teachers and 110,000 college teachers by 2005, the Xinhua news agency said, citing China's first official research document on education and human resources.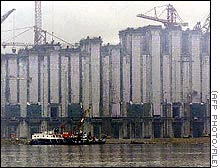 China: The world's largest hydropower project, China's Three Gorges Dam, plans to list up to 18 percent of its power assets in an initial public offering in Shanghai by the end of the year, a senior project official said. The Three Gorges project is due for completion in 2009. State-run China Yangtze Power Corp (CYPC) aims to raise four billion yuan ($483 million) through its IPO and to reap a total of 40 billion yuan ($4.83 billion) over ten years via additional stock offers and sales to institutional investors.
February 18, 2003

China: China steps up business shopping spree abroad - The purchase by a 10-year-old Beijing high-technology company of a South Korean liquid crystal display firm for US$380 million, announced this week, was the latest in a series of high-profile foreign acquisitions by Chinese firms. According to official estimates, Chinese investment abroad totaled about US$10.7 billion by the end of last year, a fraction of the foreign investment pouring into China, which reached US$52.7 billion last year alone. However, many expect the outward investment to continue at a rate of growth similar to the more than 50 per cent of the past five years, for the same reasons that made Japan and Korea major overseas investors in earlier decades. The most popular destination for Chinese investment is Hong Kong, which accounts for about 20 per cent, followed by Southeast Asia. The biggest investment is in minerals, especially oil, as domestic production falls far behind demand spurred by economic growth of 8 per cent a year. Last year, China imported about 65 million tonnes of oil, against domestic output of about 165 million.
Visiting US Trade Representative Robert Zoellick has complemented China on its implementation of World Trade Organization (WTO) rules. But he says improvements are still needed in areas such as agriculture. Mr. Zoellick arrived in China on Sunday for a four-day visit after attending an inconclusive WTO meeting in Tokyo, at which 22 nations failed to agree on a proposal to lower import tariffs on agricultural products and cut farm subsidies. Foreign direct investment (FDI) in China surged last month after a two-month dip as money began to flow into service industries such as banking and insurance. Investment increased to US$3.59 billion (HK$28 billion), according to the Ministry of Foreign Trade and Economic Co-operation. Meanwhile, contracted foreign investment, a sign of future investment, rose 65 per cent to US$9.24 billion.

China: Bemused shoppers pass talent scout Zhao Xuan after taking his business card. US-based agency Trans Continental Talent has signed 400 people in Beijing and Shanghai for advertisements, ceremonies, films and television programs.
Hong Kong: The population of Hong Kong rose in 2002 rose to 6.8 million, latest statistics on Tuesday revealed. The Census and Statistics Department said the SAR's population rose by 0.8 per cent year-on-year to reach 6,815,800. The department said there were 48,500 births and 33,800 deaths in the territory between 2001 and 2002. During the same period, there was a net influx of 42,100 people flowing into Hong Kong, contributing to 74 per cent of the population growth.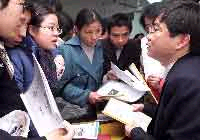 China: Chinese university students accustomed to cramming for exams are now cramming job fairs across the country in the hopes of landing a job. Eager students (above) besieged an employer at a job fair in Xian, capital of Shaanxi province at the weekend. A record 2.12 million university graduates will join China's labor force in July, a near 50-per-cent jump on last year's 1.45 million graduates.
February 17, 2003

Hawaii: Lily Lee Chen, First Chinese Lady Mayor in America, Former Mayor of Monterey Park, California and Member, Board of Governors, East-West Center has met with more than 200 Chinese Community Leaders. During the hour long talk, she has spoken on the struggle of Chinese in the USA, the need to collaborate with other minority groups including but not limit to Hispanic, Japanese and Blacks, to focus on issues affecting Chinese in the United States, get involve and participate in the political process to become a registered voter. She has used the Jewish organizations as examples on their efforts to develop glass root support for the Jewish state. There is a distinct difference between Jewish and Chinese organizations. Jewish organizations are few but focus, thousands of members working together to support a common goal. Chinese organizations are many, seldom worked together for a common goal.
In 1982, when Vincent Chin was clubbed to death by two unemployed autoworkers and gotten no jail time by the judge. It was the Japanese American Organizations took the lead to fight for justice. In 1950s, during the Korean War, Congress was in the work to intern Chinese like what they did to the Japanese in case of war between China and USA, it was the Japanese American Organizations that worked to defeat the measure.

Hong Kong: Yon So and Maggie Tsui Mee-kie brought their pets to register as blood donors at the Convention and Exhibition Centre yesterday. The Society for Abandoned Animals, which organized the event, aims to create a database of healthy pets that can be used as blood donors during emergencies.

Former attorney-general Michael Thomas has backed the government's blue bill on national security legislation, dismissing remaining concerns as matters of refinement. While Mr. Thomas, who was attorney-general from 1983 to 1988, said that even though he had not read the blue bill on the laws based on Article 23 of the Basic Law as closely as local experts, he felt that it had broadly managed to balance national security with human rights considerations. Mr. Thomas also praised the development of the Court of Final Appeal in Hong Kong.
China: Shenyang food firm eyes listing in HK - L&D Group shrugs off comparisons with its provincial counterpart Euro-Asia, burdened with financial scandal. L&D Group founder and managing director Yang Kai said the enterprise, formed in 1992, was considering a spin-off of three core businesses for separate listings in Hong Kong, including food processing, berry cultivation and its dairy division. L&D Group - which last year recorded 1.4 billion yuan (about HK$1.3 billion) in sales - plans to use the listing proceeds to fund an expansion of sales and distribution channels across China.
Judiciary and regulators need to be educated on trust law, lawyer says - China's efforts to establish professional asset management still have a way to go. China's trust law segregated legal and beneficial ownership of assets but its implementation had been weak, said Iain Batty, a partner at international law firm CMS Cameron McKenna.
An upstart carmaker that has vowed to produce a people's car has gained backdoor access to the Hong Kong stock market by setting up a joint venture with a listed firm and has hired one of the country's top industry executives. The Jili Group, based in the eastern province of Zhejiang, is the only private company in China's crowded car market. It produced 50,000 passenger cars last year, some costing as little as 50,000 yuan (about HK$46,940) and aims to double that number this year.

Shanghai's GDP rose to 540 billion yuan (S$115 billion) last year, 10.9 per cent higher than in 2001. Mayor Chen Liangyu said Shanghai's per capita gross domestic product (GDP) would cross the US$5,000 (S$8,800) per annum level this year. Speaking to delegates at the opening of the city's 12th People's Congress of the Communist Party, he said that by 2007, GDP per person would increase by 50 per cent to reach US$7,500.
February 14 - 16, 2003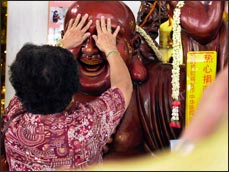 Hong Kong: TOUCHY-FEELY: It is believed that touching certain parts of the Laughing Buddha brings a range of rewards: Ears for long life, the mouth for food throughout the year, the stomach for wealth and his laughing face, for happiness. Needless to say, this statue got plenty of attention from devotees visiting the Kwan Im Thong Hood Cho Temple on Waterloo Street on Saturday, the last day of the Chinese New Year.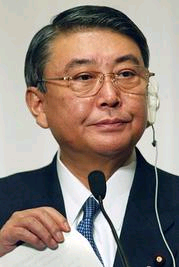 Hawaii: Exporting giants seeking new markets and nations intent on protecting their own farmers could not bridge their differences on tariffs at the last day of a World Trade Organization ministers' meeting Sunday. During the three-day Tokyo meeting, delegates from 22 nations of the 145-member WTO clashed over a proposal from Stuart Harbinson, the chair of the WTO farm negotiations, to reduce tariffs by an average 60 percent in five years, cut agricultural subsidies and raise import quotas. "There are very deep differences represented on this table," U.S. Trade Representative Robert Zoellick said after the meetings.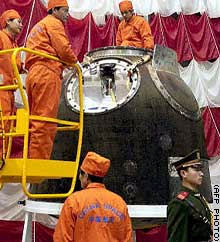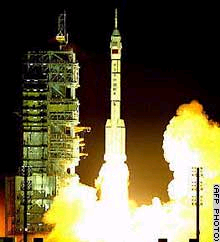 China: Chinese scientists reveal the contents onboard the 'Shenzhou IV' module -- launched in January -- which carried samples of rice, wheat, cotton, corn, fruit, vegetables, herbs and flowers. China is sticking to plans for a manned space launch this year, confident its rockets are safe, the head of the country's main civilian space agency was quoted as saying.

China: A billboard provides a fitting backdrop for this Beijing couple on Valentine's Day, an event that is growing in popularity in China. A Western event long accepted by only a fashionable few in China, became a mainstream holiday in Beijing yesterday that seemed to surpass the traditional Lantern Festival in popularity.

Hong Kong: Sir Run Run Shaw and Chief Executive Tung Chee-hwa opened the 31st Hong Kong Arts Festival at the Hong Kong Cultural Centre in Tsim Sha Tsui last night. More than 1,600 attended the opening performance, the Stutgart Opera's The Abduction from the Seraglio. Tickets to the festival's 108 performances are almost sold out.

China: Shanghai will kick off the annual session of its local legislature tomorrow to choose a new mayor for the mainland's commercial hub. Han Zheng, now executive vice-mayor, is widely expected to win the post at the end of the week-long meeting of the Shanghai People's Congress, replacing current mayor Chen Liangyu. His appointment would put a trained economist at the helm of the financial and trade centre, cheering foreign investors.
Shanghai is planning to develop an island roughly the size of Hong Kong into an eco-friendly resort zone in the largest project of its kind for the eastern Chinese metropolis. The central government has approved the plan for Shanghai to undertake the 12.2-billion yuan (S$2.7-billion) project, according to the Shanghai Municipal Planning Project Administration. The blueprint includes building an 8.5-km-long tunnel between Pudong and Changxing Island, a 9.5-km-long bridge between the Changxing and Chongming islands and a 7-km-long elevated highway on Changxing.

Hong Kong: Despite the improvements to the original proposals, the anti-subversion bill announced yesterday has demonstrated the impossible task of reconciling conflicts between safeguarding national security and preserving civil liberties. Legal experts said on Friday they were still unhappy with the proposed Article 23 legislation - despite Government claims that it has been amended to take account of public concerns. Leading members of the legal profession warned yesterday that the devil was still in the details, after being briefed by officials on the national security bill. Margaret Ng Ngoi-yee, a spokeswoman for the Article 23 Concern Group, said serious problems remained with it. ''For example, the offence of sedition will continue to be an offence designed to incriminate speech,'' she said. Margaret Ng, who is a legislator representing the legal profession, said people should consult experts to explain the blue bill.
Security Secretary Regina Ip says the government has listened to concerns. Beijing wants Hong Kong to enact the legislation as soon as possible to prevent hostile forces from using this southern territory as a base to subvert the communist mainland. The government wants the bill passed by July. "The government has taken heed of people's views and concerns and incorporated many suggestions in formulating the bill, which has struck a good balance between protecting national security and safeguarding people's rights and freedoms," Ip said.

Chinadotcom chief Peter Yip, whose firm reported it first-ever profit. Chinadotcom is the last of the four US-listed Chinese Internet firms to turn a profit. Internet services firm Chinadotcom reported its first-ever quarterly profit on Thursday at least two quarters ahead of schedule, largely as a result of aggressive cost cutting.
China: China Telecom has resumed the selling of its controversial mobile call-forwarding service after a local telecommunications bureau has said it will back innovative services. In December China Telecom's subsidiary offered the controversial mobile call-forwarding service, which re-routes incoming mobile calls to fixed-lines to escape fees payable to mobile operators. The service marks another bid by China Telecom to snatch revenue from mobile rivals.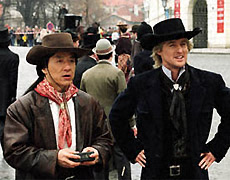 Hong Kong: Box-office receipts from the United States at the weekend show Chan's style of action-comedy has a healthy fan base there. But we'll wait and see whether or not his act still tickles Hong Kong's funny bone.
China: Volkswagen, Europe's largest carmaker, sold 35 per cent more vehicles in Asia last year, boosted by gains in China, one of the world's fastest-growing markets. In China, it sold 43 per cent more cars, or 513,000 units, last year. It plans to sell more than 600,000 vehicles in China this year and introduce at least five new models, including the Audi A4 and the Polo sedan.
Pakistan has signed a US$62 million (S$109.4 million) agreement to buy 1,300 railway cars from China, Information Minister Sheikh Rashid Ahmed said yesterday. The agreement signed this week in Beijing will help Pakistan modernize its antiquated and often dangerous railway system.
February 13, 2003

Hong Kong: MTRC boss Jack So Chak-kwong yesterday announced he is resigning from the urban train operator - making him the latest in a flood of executives to depart from government corporations. He leaves ahead of the widely expected announcement of a merger of Hong Kong's two railway companies.

Comic heroine returns: Theresa Lee Wai-chun, the creator of the comic book character "13 Dots", checks one of her art works, the "Cheers Bar", which goes on exhibition from today. The heroine character Ms Lee created was a fashion icon in the 1960s and 1970s and is being revived in 18 pieces of her work on display until March 8 at the Basheer Design bookshop in Causeway Bay.
China: US Trade Representative Robert Zoellick travels to Beijing early next week for talks that US farm and business groups hope will spur progress in areas ranging from biotech crop standards to insurance market reforms. Mr. Zoellick's first trip to China in nearly a year comes as the US trade deficit with the increasingly powerful exporter was expected to set a new record in 2002 at more than US$100 billion.
China: Hainan now offers visa-free access to 21 nationalities.
China: If war breaks out in Iraq, China will have no shortage of reporters to rival the globally-recognized anchors of U.S. prime time network news. There is 100 Chinese reporters making their way to the Middle East to cover a possible war with Iraq who are a testament to how much China's media have changed since the last showdown in the Gulf 12 years ago.
February 12, 2003

China: Despite the flood of foreign investment into the greater Shanghai region, Guangdong remains the top international trader in China, accounting for more than one-third of exports last year. Last year, Guangdong posted a trade surplus of US$15.83 billion (HK$123.15 billion) on imports and exports of US$221.1 billion, 35.6 per cent of the national total and an increase of 25.3 per cent over the previous year. Next came Shanghai, with trade of US$72.64 billion, followed by Jiangsu with US$70.29 billion and Beijing with US$52.5 billion.
Mainland director Zhang Yimou's epic Hero was last night honoured with an Oscar nomination for Best Foreign Language Film. It is the third time one of Zhang's films has been nominated for the award, after Ju Dou in 1990 and Raise the Red Lantern the following year.

Hong Kong: Bank of East Asia chairman David Li, at yesterday's results announcement, says a sharp rise in personal bankruptcies hit the bank hard last year.
Mainland developer Shanghai Forte Land will raise up to HK$1 billion in a public offering in Hong Kong later this month, in a move that will give competitors also planning share sales an indication of the market's mood. Sources familiar with the deal said privately-owned Shanghai Forte, with most of its assets in Shanghai, planned to issue 456 million new shares, representing about 30 per cent of the enlarged share capital.
HP chief aims to conquer Hong Kong - General manager Peter Yeung's vision for Hewlett-Packard HK underscores a confidence built on years of experience. HP general manager Peter Yeung says his firm is ready to "go after all the other players". He singled out the computer storage systems maker EMC and IBM's Global Services unit, saying these rivals "better watch out".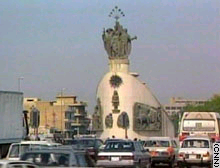 China: Amid the talk of war, several Asian nations have ordered their embassy staff members to leave Iraq. About 10 staff members of the Chinese Embassy in Baghdad have left the country after Beijing earlier this week ordered the departure of the mission's nonessential personnel.
February 11, 2003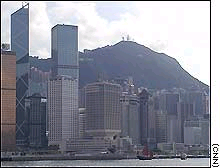 Hong Kong: Chinese freight forwarder Sinotrans Ltd. will sell more shares to Hong Kong public investors after the retail portion of its $436 million initial public offering was more than 15 times subscribed, a source close to the deal said on Monday.
The Hong Kong government has given a strong indication on the method it will use to carry out a trial run of an emissions trading scheme among power plants in Hong Kong and Guangdong in three years time. The government studied three systems being used in the United States - "open market", "off-set" and the "cap and trade" method. The document said the open-market system, which is voluntary in nature, could not achieve specific emissions reduction targets set by the government, while the off-set system, which levels off an increase in emissions by new polluters, was not effective enough.
Canto-pop singer Cecilia Cheung Pak-chi cuddles a rescued dog after being appointed an animal ambassador by the Society for the Prevention of Cruelty to Animals. Ms Cheung said she was thrilled to be able to help.
The central government is pressing ahead with a study of the controversial $15 billion bridge connecting Hong Kong, Macau and Zhuhai, with a visit by its delegates due next week. The study, co-funded by the Guangdong and Hong Kong governments, is due to be completion in June. The key issues being looked at include the alignment of the bridge. It is understood that the Hong Kong government prefers a Y-shaped construction running from near Tai O on Lantau to Macau and Zhuhai, with a possible extension to Guishan to the southwest of Lantau, where a deepwater port could be developed.

China: The plight of China's millions of rural residents has been made a priority of the new leadership, but many officials say the government is not prepared for a radical policy overhaul.
Shanghai has spent 45 billion yuan (HK$42.3 billion) on environmental protection in the past three years, but a senior official says the city must do more to clean up its smoggy skies and dirty water to attract foreign investors. The city's spending on the environment grew roughly 10 per cent annually from 2000 to 2002, setting a record. During that time, Shanghai sought to clean up Suzhou Creek, in the northern part of the city, and to increase wastewater treatment.
Beijing plans major Cabinet restructuring - Number of ministries will be cut in a bid to downsize the government and bring it in line with a market-oriented economy. The revamp will reduce the number from the current 29 to 22 or 23.
February 10, 2003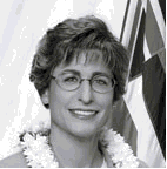 Hawaii: Governor Lingle wants to break the link that many see between politics and government contracting by banning campaign contributions from people and companies that compete for contracts. "Large gifts to public officials, including exclusive golf outings and lavish entertainment, will be presumed attempts to bribe and treated as such," Lingle said in her State of the State address last month. "Corruption of public officials in just not going to be tolerated," Roth said. "The governor hopes and expects that this message is going to be received loud and clear." The administration's bribery bills, HB 1125 and SB 1278, are meant to correct flaws in current law that make it very difficult to win convictions, Bennett said. The bills would also prohibit officials from accepting most gifts. http://www.hkchcc.org/business-link.htm to be connected to the Hawaii Ethics Commission and Legislative Issues directly affecting your business.
Hong Kong: PCCW may revive an attempt to bid for British telecommunications firm Cable & Wireless (C&W) this week with a £2 billion (about HK$25.35 billion) offer, according to reports from London.
China: Hong Kong and the Virgin Islands were the mainland's top two foreign investors last year, while contracted investment from the United States rose more than 25 per cent, according to official figures published yesterday.

Hong Kong: A mainland visitor is helped off a tourist bus in Hong Kong. The number of mainland tourists traveling is surging as visa restrictions are increasingly being relaxed. Singapore and other Asian countries plan to compete aggressively this year with Hong Kong to attract mainland tourists. The tourism chiefs of Thailand, Japan and Singapore said they would increase their budgets in the hope of gaining a bigger slice of a market that saw 16.6 million mainland tourists travel abroad last year.

China: Shanghai's planned edifice faces competition from the finalists in the New York World Trade Centre competition to erect the world's tallest building.

Scientists have discovered a massive underground lake in China's largest desert in the north-west, boosting hopes for poverty relief in the country's arid and sparsely-populated region. The lake beneath Taklimakan Desert, the world's second largest, has a capacity of 36 billion cubic metric - almost the same as that of the vast 632-sq-km reservoir being constructed under the Three Gorges Dam project.
February 7 - 9, 2003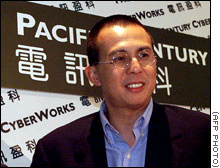 Hong Kong: PCCW, Hong Kong's dominant fixed-line carrier, initially denied that it had made a bid for Cable & Wireless (C&W). But late on Thursday, the company confirmed it had tried to initiate discussions about buying the company in December.

China: The Siberian tiger feasts on the mule it had killed the day before in the Hunchun nature reserve. It is believed only 20 remain in China.

China is preparing to launch a manned flight of its own. The mainland's most recent launch, which saw the unmanned Shenzhou IV spend eight days in orbit last month, included stringent safety tests in preparation for the historic mission, due to lift off later this year.

Shanghai attracted 50.6 billion yuan (HK$47.7 billion) in domestic investment last year, equivalent to more than 130 million yuan every day, and officials say the city wants to draw even more.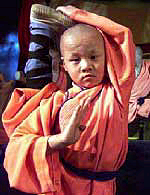 China: Shaolin Gung Fu, already immortalized in martial arts novels and movies, will be kicking and punching its way to the coveted Unesco world heritage list soon if China gets its way. The Shaolin school of martial arts - consisting of 708 different forms of fighting techniques dating back 1,500 years - will be China's main nomination for the United Nations Educational, Scientific and Cultural Organization's list for oral and intangible heritage in 2005.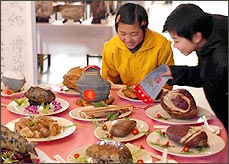 This is one banquet that is meant for your eyes only. Two children gasp in delight at a mouth-watering 'rock banquet' exhibition in Lanzhou, China. The 'dishes' at this scrumptious 'feast' are all made of natural rock formations.
More than 2.65 million Chinese went abroad on vacation last year, a rise of 37 per cent compared with 2001, the official Xinhua news agency reported, citing the Ministry of Public Security. The World Tourist Organization predicted that China would attract more tourists than any other country by 2020, shooting past Spain and the United States and usurping current leader France. The Travel Industry Council of Hong Kong estimated that Chinese mainland tourists would spend a total of HK$3 billion (S$675 million) during their stay in the territory, Xinhua said.
China needs IT professionals - With strong growth in its software market, China is facing a huge problem - it doesn't have enough top-end info-tech professionals to service its export market, forcing the country to import workers from India.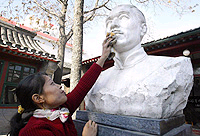 China: A worker cleans a bust of Chinese revolutionary author Mao Dun at the traditional courtyard museum that was his former residence in Beijing. Museums in the city are struggling with low visitor numbers.
Chinese judge Shi Jiuyong has been elected as president of the World Court, the United Nations institute for legal disputes between states, replacing Frenchman Gilbert Guillaume, who completed a three-year term on Thursday. He was born in Zhejiang, eastern China, and has law degrees from St John's University in Shanghai and Colombia University, New York.
Hong Kong: China now accounts for 44.3 per cent of the Hong Kong's total trade in 2002 - and is still the territory's largest trading partner, according to latest statistics released this week.
February 6, 2003
Hong Kong: Hong Kong has signed an agreement with Shanghai on mutual recognition of professional qualifications, a move seen as a way to promote more business opportunities for local professionals. The interim agreement will apply to five professional groups - architects, surveyors, planners, landscape architects and structural engineers.

Henry Tang Ying-yen lights a firecracker at RTHK's Lunar New Year celebrations yesterday, watched by the Director of Broadcasting, Chu Pui-hing, left. After the reception, the Secretary for Commerce, Industry and Technology confirmed a trading zone near the Lok Ma Chau border was being considered.

China: In the quest to clean up the mainland, environmental lawyer Wang Canfa may have the hardest job - taking the government to court to enforce its own laws. A United Nations Development Programme report said while China's laws were "impressive" in quantity, many were contradictory. Another problem is the lack of environmental law professionals. While there are around 40,000 environmental officials and more than 110,000 lawyers, there are only a handful of environmental law specialists. Corruption is the root of the problem. "Local protectionism is the crucial reason for environmental pollution," a Xinhua headline said. Local courts and environmental bureaus survive on the taxes and bribes of the industries they monitor.
February 6, 2003
Hong Kong: An agreement on a new Pearl River Delta regional soccer league that would include teams from Hong Kong and Macau could be reached in the next few months, the home affairs chief said yesterday. Announcing the proposal, Patrick Ho Chi-ping said the scheme would raise the quality of soccer teams in Hong Kong and boost public interest in the sport. He also said the government would upgrade 21 pitches and build at least nine new football grounds by 2005.
The vice-chancellor of Chinese University, Ambrose King Yeo-chi, has said he supports integration or a merger with other institutions to create "the best university in Asia". Professor King said yesterday that integration would be an effective way of meeting the university's goal of becoming a leading institution in the region as it prepares for its 40th anniversary celebrations this year. "The huge resources for top public universities in the United States come largely from their student numbers," said Professor King. "Hong Kong is in a position to produce the best institution in Asia, attracting top students from around the world, because of our international faculty. Mainland universities have not been able to do that because of the language barrier, but they are catching up fast."
Hong Kong may build an exhibition complex on its border with China to allow Chinese businessmen to meet foreign investors, a report said yesterday. The Hong Kong Trade Development Council has been asked to conduct a feasibility study on the proposed exhibition and convention complex in a designated 96-ha 'special zone' on the border with the southern city of Shenzhen, the Chinese-language Sing Tao Daily said. The centre, which would be between the Lok Ma Chau and Huanggang checkpoints, would provide foreign investors with an opportunity to meet mainland businessmen.
China: China tightened rules on liquids air travelers can bring aboard planes yesterday, three days after a would-be hijacker set off a mid-air fire with fuel hidden in a drinks can. The rules, published by the Civil Aviation Authority, stated that passengers will be allowed to bring no more than two bottles or cans of drinks on board future flights, the state Xinhua news agency reported.
February 5, 2003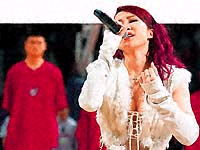 Hong Kong: CoCo Lee hopes her performance of the US national anthem at the home debut of basketball star Yao Ming will help raise the profile of Asian-Americans. Eighteen months earlier, she performed A Love Before Time, the theme to the hit movie Crouching Tiger, Hidden Dragon, at the Oscars ceremony. Wearing a Versace-designed red cheongsam, her performance was beamed to a worldwide television audience of one billion and she was touted as the next Jennifer Lopez or Mariah Carey. ''The amazing thing is not many [Chinese-American] people say they want to be a singer, because there isn't one [to inspire them],'' she says. ''It's really important for me to do well because we need that voice. Hopefully I can be that person. If I do succeed I can help others. Once people have accepted an Oriental or Asian person singing English songs, there'll be many more CoCos to come. I want to help open that door.''

China: United States government restrictions on high-technology exports may torpedo Shanghai's hopes of attracting Intel's first plant that would make central processing units (CPUs) in Asia, an official newspaper reported.

A train pulls into Zhichunlu station on Beijing's first above-ground commuter rail system that covers the capital's northern districts. It is now fully operational. China's top tourist destinations are reporting robust business over the Lunar New Year holiday, with visitor numbers up significantly over the same period last year, according to state media.

Hong Kong: A crime syndicate believed to have smuggled scores of illegal immigrants into Hong Kong inside suitcases wheeled through the Lowu checkpoint is known in the Indian and Pakistani communities as "Mukha Airlines".
Faced with 600 extra primary school teachers due to shrinking classes, Hong Kong's Education and Manpower Bureau is considering implementing a scheme in which two teachers share a post. According to the report, a new teacher receives a monthly salary of HK$17,100 (S$3,800). Cutting it by half would reduce a teacher's pay to HK$8,550.
February 4, 2003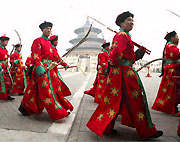 China: Heaven-sent for the new year: Security guards dressed as imperial officers perform their annual ritual marking the third day of the Lunar New Year at the Temple of Heaven in Beijing. The colorful ceremony was performed by China's emperors to ensure bountiful harvests in the year ahead.
The CIA has placed advertisements targeting Chinese-Americans in Asian-oriented newspapers and magazines across the United States, the Washington Times said yesterday. They will run all week in New York, Los Angeles and San Francisco media. According to the US Census Bureau, there were more than 2.7 million Americans with Chinese ancestry in 2000, making them the largest group of Asian-Americans.
Hong Kong: Hong Kong's homebuyers have been slow to acquire the global taste for fixed-rate mortgages, despite being urged to do so by the quasi central bank, preferring instead to ride interest rates lower with floating-rate loans tied to the prime rate. HKMC senior vice-president of operations, Kenny Fok Tze-chun said: "Fixed-rate mortgages have not been in fashion for the past one to two years . . . in a downward [interest rate] cycle, nobody looks at fixed rates."
China: Defense Minister George Fernandes, who once cited China as India's 'potential enemy No 1', now sees vast potential for better relations between the two Asian giants. India could even learn from China's economic success, he said in comments which underscored a new upbeat approach towards China after decades of distrust.
Hong Kong: The number of Hongkongers migrating to countries such as the United States and Canada has been falling steadily in the past eight years. Figures hit a 22-year low last year, with only 10,500 moving abroad compared to the peak in 1992 which saw more than 66,000 leaving Hong Kong.
February 3, 2003
China: The Shanghainese are often seen as arrogant and cunning by other fellow Chinese. With the city expected to host an estimated 70 million visitors to the World Expo in 2010, Shanghai mayor Chen Liangyu is concerned about its negative image. Riding on Shanghai's 'Better City, Better Life' programme to get itself ready for its World Expo bid, Mr Chen has revived a 10-year-old 'Seven Nos' campaign. It urges people not to spit, harm the environment, damage public property, smoke in public, jaywalk, swear or litter.

Hong Kong: Asian martial arts hero Chow Yun-Fat ("Crouching Tiger, Hidden Dragon") will star in the action-drama "Walk Like a Dragon." Chow attained massive popularity in Asia by portraying hard-boiled cops, hit-men and gangsters before crossing over to American films in 1998 with "The Replacement Killers," followed by "The Corruptor" and "Anna and the King." He next appears in MGM's "Bulletproof Monk," due out April 16.
January 31 - February 2, 2003



(Feb 1, 2003) NASA investigators vow to find out what caused the space shuttle Columbia to fall to Earth in pieces, even as they grieve for the seven astronauts -- their friends and colleagues -- who were killed in the disaster. Shuttle commander Rick D. Husband; pilot William C. McCool; payload commander Michael P. Anderson; mission specialists David M. Brown, Kalpana Chawla and Laurel Clark; and Israel's first astronaut, Ilan Ramon, died when the shuttle came apart during re-entry. Close-up video of Columbia launch Video shows what appears to be debris hitting the underside of the left wing. Several former NASA workers believe it could be ice, something not out of the ordinary. This is their opinion, not official information. (Video is in slow motion)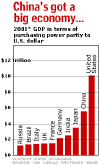 China: China's gross domestic product (GDP), the broadest measure of a nation's economy, ranks behind that of the United States, Japan and a few key European nations when measured in traditional terms, and its official GDP and other economic data are considered by some analysts to be unreliable. But when measured in terms of purchasing parity with the U.S. dollar -- a method economists use to better reflect the value of a country's currency -- China's GDP ranks second in the world. And few doubt its growth -- whether 8 percent a year or not -- is outpacing the rest of the world.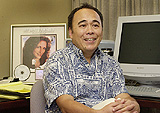 Hawaii: Chris Lee, founding co-director of the Cinematic and Digital Arts Program at the University of Hawaii, is a longtime Hollywood producer whose films include the Julia Roberts' hit "My Best Friend's Wedding." I absolutely think there are more ecumenical tax credits that could be put in place, so that everybody could take advantage of them, so that there's not even a process of having to go to attorneys and be approved.
China: China today will introduce tough new rules on police who gamble, drink or violate gun laws, state press reported. The stringent new code, known as the Five Prohibitions, will also punish officers who drink-drive or carry firearms when under the influence of alcohol, the China Daily said.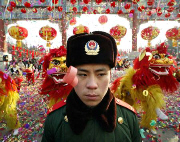 A Chinese policeman stands guard as entertainers perform a lion dance during the opening ceremony of a Chinese New Year temple fair at the Temple of Earth in Beijing. The Chinese government estimates the nation's trains, planes, buses and other transport will handle 1.8 billion trips during the holiday period - perhaps the planet's largest mass movement of people at any one time.

The Soviet influence of the 1950s, also known as 'socialist realism' exemplified in buildings such as the Friendship Hotel, gave way in the 1980s to more modern touches. The Xiangshan Hotel at Fragrant Hills, designed by Hong Kong architect I.M. Pei, features a massive courtyard and hotel rooms with diamond-shaped windows.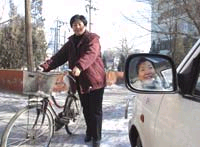 China: Bicycles have been the main mode of transport in China for decades. But the number of bicycles is fast dwindling in the country's more prosperous cities as increasingly affluent urbanites eschew the slow, uncomfortable ride for faster, smoother transport on four wheels. The result has been a fall in annual bicycle sales from a peak of 40 million to between 20 million and 25 million in recent years. More than one million cars were sold in China in the first 11 months of last year, an impressive 55.4 per cent increase compared with the same period in 2001.
Guangzhou has broken ground on its fourth subway line and announced that it is going ahead with plans to build three more lines - even as the central government announced it was suspending subway construction lines in 20 cities.
January 30, 2003
Hawaii: It is a very significant occasion for the Asian Pacific American (APA) community that a Chinese American provided the response speech to the State of the Union. Governor Locke (Washington State) provided the 11-minute Democratic response, broadcast live minutes after President Bush finished his State of the Union speech. Throughout his speech, the Governor personalized his arguments with his own personal family experiences. The Governor spoke of how his grandfather came to the United States from China nearly a century ago, of how his father served in the United States Army during World War II, and of the values of education, hard work, family, and responsibility that led to his realization of the American Dream.
Hong Kong: The confidence of Hong Kong consumers improved considerably over the past six months but people are still relatively pessimistic about the future, a survey suggests. This stands in stark contrast to their counterparts across the border, who remain the most optimistic in the region. Consumer confidence might be on the up, but corporate Hong Kong appears to be far less bullish about the future, writes Ambrose Leung.
Two directors and a financial controller of an audio-visual company were convicted on Wednesday at the District Court of conspiring to defraud the University of Hong Kong (HKU) in relation to the tendering of a $35 million project for its new medical complex.
Australia's outgoing Ambassador to China, David Irvine, yesterday offered a rare insight into China's new role on the geopolitical stage. "China is doing as much as it wants to be doing," Mr Irvine said, referring to the diplomatic impasse over Iraq and North Korea. "They [the political elite] just want the region to be as stable as it possibly can be without attention being diverted from the push to economic progress." He said the role of Hong Kong was central to this success, urging the special administrative region to continue to view itself as the "financial entrepot" to the region's powerhouse economy. "Hong Kong is such a vibrant place. I do not meet a lot of people who are not confident about the future of Hong Kong."
Visitor spending in Hong Kong is expected to have increased 16 per cent year-on-year to more than $75 billion last year, fuelled by a record growth in mainland travelers, says the Hang Seng Economic Monthly.In 2001, tourism receipts stood at $64.28 billion, according to the Hong Kong Tourism Board. Mainland visitors spend an average of $5,170 per trip to Hong Kong, more than travelers from any other country, and 14 per cent more than the average visitor. In addition, strengthening Hong Kong's role as a shopping paradise for these visitors, not just based on price but also on service and quality, could probably induce them to spend even more, it said. Last Friday, the Hong Kong Tourism Board said visitor arrivals in 2002 rose 20.7 per cent to 16.6 million. But more than one-third did not stay overnight. The growth was largely due to the strong influx of mainland visitors, who increased by 53.4 per cent year-on-year to reach 6.8 million last year.
China: A joint exploration project between Taiwan's government oil firm, Chinese Petroleum Corp, and the mainland's chief offshore oil producer, China National Offshore Oil Corp, has been given the all-clear. The approval by the central and Taiwan governments sets the scene for further cross-strait co-operation by government-owned enterprises as the two seek to establish direct economic links.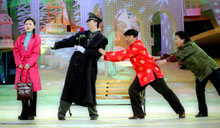 Gala shows, like this Beijing TV Station production, are traditional TV fare for the Chinese New Year. Since its inception in 1983, the gala show - featuring songs, dance routines and comedy skits - has been the country's undisputed No 1 media and social event.
January 29, 2003
Hong Kong: Several mainland technology companies have expressed interests in leasing space at Cyberport and intend to lock up deals this year, according to a government official. Cyberport co-ordinator Betty Fung Ching Suk-yee said on Tuesday: "We are discussing terms with mainland companies. I'm sure we will see some Chinese companies at Cyberport."
Six tycoons have backed the government proposals to enact security law legislation, according to analysis of the 97,097 submissions filed to the administration. The tycoons supporting the proposals included the chairman of Cheung Kong Holdings, Li Ka-shing; the chairman of New World Development, Cheng Yu-tung; the chairman of Hopewell Holdings, Sir Gordon Wu Ying-sheung; CITIC Pacific chairman Larry Yung Chi-kin and Macau gambling mogul Stanley Ho Hung-sun.
China: The Guangdong government plans to invest 210 billion yuan (HK$200 billion) in 10 sectors over the coming years, state media reported. The selected areas include roads, subways, energy, waste water treatment, petrochemicals and cars. The central government is considering drastic reforms to deal with simmering rural problems, including giving the Ministry of Agriculture more power and disbanding township and village governments.
The United States Department of Education in Connecticut said overnight (HK time) it has entered into an educational exchange agreement with the Shandong Provincial Department of Education in the mainland. The agreement will allow up to 50 Connecticut schools to connect with schools in Shandong, a province of 90 million people in the eastern mainland. The province already has an agreement with Connecticut, signed in 1986 by then-Governor William O'Neill and the governor of Shandong to promote a trade and economic relationship.
January 28, 2003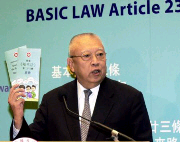 Hong Kong: The Government received over 100,000 submissions on its proposed anti-subversion law, Secretary for Security Regina Ip Lau Suk-yee revealed on Tuesday. The Government has made amendments to the proposed Article 23 legislation following a three-month period of public consultation, Chief Executive Tung Chee-hwa said on Tuesday. Proof that the Hong Kong government has listened to the public over proposed anti-subversion laws will be found in its response to views expressed during the consultation process, the financial secretary said yesterday. Authorities will also limit a ban on the theft of state secrets and apply it only in cases where people obtain classified information by computer hacking, stealing or by bribing officials. Journalists had expressed concerns that they could run afoul of the law by trying to break stories containing information that had not been officially released. 'We must allay their fears because we have no intention of undermining press freedom,' Mr. Tung said, although he declined on Tuesday to take questions from reporters. Mr Tung insisted that the government was paying close attention to public views, adding that most people recognize that the former British colony is required constitutionally to enact the anti-subversion law. Ever since Hong Kong was returned to Chinese sovereignty in 1997 it has been required under Article 23 of its mini-constitution, the Basic Law, to outlaw subversion, sedition and other crimes against the state. 'I have full confidence that after the law is enacted, the public will find their freedoms, including freedom of speech, press, procession and assembly, which they currently enjoy, remain fully protected,' he said.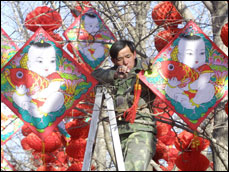 China: A Chinese worker decorates a tree at a park in Beijing on Tuesday. Parks and temples in Beijing will be crowded starting this weekend as millions of Chinese celebrate the beginning of the Lunar New Year on Feb 1.
National Basketball Association star Yao Ming has signed a three-year advertising contract with telecom company China Unicom, his first with a domestic firm. Unicom is China's second biggest mobile operator, with 12.1 per cent of the national telecommunications market, one third of its biggest rival China Mobile with 37.4 per cent, according to figures published by the Ministry of Information Industry last week.

A study conducted by a leading think-tank for the Shanghai government shows that Wenzhou and Ningbo, two of the mainland's wealthier cities known for their aggressive private-sector expansion, are pumping tens of billions of dollars into China's commercial capital. This year, according to the study by the Shanghai Academy of Social Sciences, no less than 10 billion yuan (HK$9.4 billion) is expected to move from these two cities to Shanghai. It will feed into a range of sectors, from property to infrastructure, will be seen in the ownership of private hospitals and schools, and will end up in the city's banks as deposits.
Hong Kong: Police gear up for huge crowds at Lunar New Year fireworks display - About 380,000 people are expected to gather on the Tsimshatsui waterfront for the fireworks display on Sunday, with police sending 1,000 officers to the area to guard against a repeat of the New Year's Eve ruckus.
China: Regional economists yesterday applauded the government's announcement that foreign exchange reserves stood at US$286.4 billion (HK$2.2 trillion) by the end of last year, a 35 per cent increase on 2001.
Hong Kong: Hong Kong's young industrialists are offering mainland training stints to Hong Kong youths to show them that the territory still maintains sizeable manufacturing-related operations even though factories have moved north. ABOUT 20 members of the Hong Kong Young Industrialists Council yesterday held a one-day recruitment fair, offering Hong Kong youths more than 70 training places in their factories in the Pearl River Delta. The businesses are manufacturers of watches, gold jewelery, spectacles, toys, garments and plastics. The training stints on offer are mainly in management, engineering and design. Open to those 18 years and up, the programmes last for six months and pay HK$4,000 (S$890) a month for secondary school graduates and HK$6,000 a month for college graduates. Food, lodging and transport from and to Hong Kong are also paid for.
China: Chinese citizens who fancy the waters and mineral-rich sand of the Dead Sea will not need to travel to the Middle East, because China is now building its own 'Dead Sea' in south-western Sichuan province. The one-billion-yuan (S$209-million) resort, sited in Daying county, is expected to be completed in 2005, the Huaxi City Daily reported.
January 27, 2003
Hong Kong: Rachel Tan Weng-kim, 20, of Kuala Lumpur is crowned Miss Chinese International 2003 on Saturday at Hong Kong's TVB studios, beating 19 contestants from Chinese communities as far as Peru and South Africa. Hong Kong's Tiffany Lam Man-yee (left) was first runner-up, followed by Diana Wu Dan, a student from Toronto, Canada.
Last night's historic round-the-clock opening at Lok Ma Chau has made life easier for thousands of travelers and boosted land prices. But to many observers, those benefits are just the beginning. Passengers and trucks continued to criss-cross the border beyond midnight thanks to lengthy negotiations over the round-the-clock opening between Hong Kong and the central government. The breakthrough came last month after a visit by Chief Executive Tung Chee-hwa to Beijing. The move has been seen as an important step in Hong Kong's integration with the Pearl River Delta region. Secretary for Security Regina Ip Lau Suk-yee was on hand in the early hours of the morning to witness the start of round-the-clock crossings.
China: The new governor of China's central bank has ordered new measures to cut the level of bad debt in the four big state banks, but no decision has been taken on the establishment of a new bank regulator - a move that has been widely expected.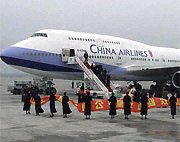 Lion dancers perform at Shanghai's Pudong airport as passengers board the first Taiwanese charter flight to land on the mainland in more than 50 years. The services will run until February 6. A China Airlines (CAL) Boeing 747-400 carrying 19 crew and two Taiwanese government officials left Taiwan before dawn, made a 50 minute stopover in Hongkong and arrived in Shanghai's Pudong airport at 8.52 am. 'This is a breakthrough in cross-strait ties,' said Shanghai vice-mayor Han Zheng. 'Like most Taiwan investors in Shanghai, we hope that the day of direct flights will come soon.' China Airlines is the first of six Taiwanese airlines to provide charter flights between yesterday and Feb 9 for Shanghai-based Taiwanese to return home for the Chinese New Year, which falls on Feb 1.

Hong Kong: PCCW Infrastructure chairman Robert Lee Chi-hong is relying on his experience as a band player, lawyer and property salesman to realise the dream of Cyberport, HK's hi-tech premier project. In his present incarnation as chairman of Richard's Li Tzar-kai's PCCW Infrastructure, Mr Lee's goal is to complete and sell or lease the various components of the Cyberport project which is touted as Hong Kong's premier high-technology working and living environment. "We expect Cyberport to generate sufficient sale proceeds to cover on-going development costs by the fourth quarter of 2003 and this cash flow sufficiency is predicated upon the sale of 400 to 500 units a year. By December 31, we will have US$500 million invested in Cyberport and next year's investment will be around US$100 million to US$150 million assuming these units are sold."
China: China plans to restructure key ministries wielding sweeping powers over trade, economic policy and state assets as part of the third major government overhaul in 20 years, ministry officials say. The reforms - led by Vice-Premier Wen Jiabao who is expected to take over Premier Zhu Rongji's post at an annual meeting of parliament in March - aim to eliminate overlap and create a more transparent regulatory structure. The latest round of reform blueprints envisions expanded roles for the State Development Planning Commission (SDPC), in charge of macroeconomic strategy, and the Ministry of Foreign Trade and Economic Cooperation (Moftec), officials said.
A small or medium-sized enterprise (SME), venturing into the huge China market may seem like going sailing in the open sea in a kayak. But what if SMEs got together to build a bigger boat and plotted a course for a specific destination? 'SMEs in particular, do not have the size or scale to influence or generate favourable conditions to aid their business,' said Asme president Lawrence Leow at the event. 'However, if SMEs can band together, then the combined force and influence can be sizeable enough to create a cluster effect,' he added. A group of Taiwanese businessmen who banded together to negotiate with the mayor of Kunsan, China and obtained tax, relief and other benefits during the 1997 currency crisis. He said: 'So, it can be seen that when you have the size, you can build a cluster effect that generates strong influence and leverage over the local authority and community.' He noted that elsewhere in China, Taiwanese businesses have created the 'same cluster effect' in Dongguan where there are 3,000 electronics firms, and Hongkong businessmen have also set up their clusters in Shenzhen, Guangzhou and Zhuhai.
Hong Kong: Market players have reacted cooly to a Hong Kong Exchanges and Clearing (HKEx) plan to classify more than 800 main-board companies into different tiers, based on their risk profiles, in an effort to improve the quality of listed firms.

Bank of East Asia (BEA) chairman and chief executive David Li Kwok-po has revealed the bank is looking for his successor, as the 63-year-old banker nears retirement.
January 24 - 26, 2003


Hawaii: Official Opening - Chuck Yim Gee Technology Learning Center - School of Travel Industry Management, University of Hawaii at Manoa - University of Hawaii students in the Manoa Travel Industry Management School will benefit from the new equipment at the Gee Technology Learning Center, named for Dean Emeritus Chuck Yim Gee. Rod Ruggeiro, informational technology director for the school, described some of the new equipment at yesterday's opening of the Learning Center. The facility with its state-of-the-art equipment also will enhance distance-education programs.
The Gee Technology Learning Center, named in honor of Dean Emeritus Chuck Yim Gee, was made possible largely by the generous donations of the School of Travel Industry Management alumni association, TIM International, Inc., and the endowments of Kitaro Watanabe and Bernice C. Loui. The Center, which opened in January 2003, include an executive videoconference suite, a multi-media computer learning laboratory with Smartboard technology and a multi-purpose computer laboratory named after benefactors Leong Hop and Bernice C. Loui.
The Gee Technology Learning Center is a unique resource in travel industry higher education providing a platform for the School to deliver high-quality programs both on-campus and by distance. It also serves as a focal point for studies of electronic network information system and services in the travel industry, and dynamically evolving travel distribution systems. Cutting-edge technologies will be incorporated in to the center as they emerge.
Dean Emeritus Chuck Yim Gee is a Director and Founding Members of the Hong Kong China Hawaii Chamber of Commerce (HKCHcc)

Hawaii: Taipei Mayor Ma Ying Jeou attended conference in Lanai and attended a reception honoring him at the Harbour View Seafood Restaurant, Aloha Tower Market Place
Hong Kong: ICAC (Independent Commission Against Corruption) chief calls for global links to combat corruption - The ICAC is at the "end of the beginning" in its battle against corruption in Hong Kong, its commissioner said yesterday. Speaking at the closing ceremony of a three-day conference hosted by the Independent Commission Against Corruption and global law-enforcement body Interpol, Ambrose Lee Siu-kwong spoke of a new era for the anti-graft agency as it approached its 30th anniversary. He urged the 500-strong gathering of the world's top anti-graft experts from 61 jurisdictions to forge a global partnership. "The experience of Hong Kong and other parts of the world clearly points out that no jurisdiction can afford to let corruption rear its ugly head," the commissioner said. Other conference speakers praised the ICAC proposal to lead a united global front after hearing of the rampant graft and corruption that once pervaded Hong Kong society. "Protection rackets, illegal kickbacks, bribery and other corruption-related crimes were common," ICAC community relations director Susan Mak told the conference. "Corruption within the civil service and in the police force were unchecked. It permeated every fabric of society. Ms Mak said the establishment of the ICAC in 1974 had drastically curbed graft and corruption.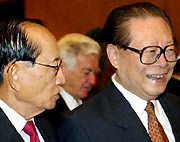 China: Fidel Ramos, Bob Hawke and Jiang Zemin meet the press after their Boao forum board of directors meeting in Beijing yesterday. President Jiang Zemin has agreed to attend the annual conference of the Boao Forum for Asia, the organisation that is likely to become the stage for him to take on the role of international statesman after relinquishing his government position at the National People's Congress.
Beijing officials announced yesterday they are offering residency benefits to qualified Hong Kong, Macau and Taiwan executives as a means of attracting talent to the city, in a move applauded by top mainland headhunters.

A Taiwan Semiconductor Manufacturing Company (TSMC) engineer inspects a silicon wafer. The Taiwan chipmaker plans to invest US$898 million to build a factory outside Shanghai. Taiwan Semiconductor Manufacturing Company (TSMC) has received preliminary government approval to become the island's first chipmaker to open a factory in China, clearing the first hurdle in its bid to end a decades-old ban.
Nokia is reorganizing its mainland set-up to better compete with Motorola and other Asian rivals. Regaining the No 1 spot in China is seen by analysts as vital for Nokia if it is to retain its lead worldwide.
Hong Kong: The University of Science and Technology (HKUST) has called for further private sector investment in its information technology (IT) park in Guangdong to help promote economic development in the Pearl River Delta. Its vice-president for research and development Otto Lin said yesterday further growth in the region could provide more industrial support for research in local universities, faced with a possibly heavy cut in government funding due to the huge budget deficit. Accusing the government of spending only paltry sums on research and development, he said the struggling economy had caused a reduction in research funding from the industrial sector. He said the Nansha Information Technology Park in Panyu, Guangdong, could help with technological development and training of mainland talent in the region. "There could also be more collaboration between industries and local universities as the economy develops there." He pledged that HKUST would take the lead in promoting economic and technological co-operation between Hong Kong and the rest of the delta. "Companies can do product development at much lower costs in the park." But he questioned why there was such a huge budget deficit, estimated at about $70 billion for this financial year. Investment in scientific research was necessary for improving Hong Kong's competitiveness in a knowledge economy, he said. Hong Kong ranked 45 out of the 49 countries polled in the world competitiveness study carried out by the Swiss-based Institute for Management Development in 2001. It invested only 0.25 per cent of its gross domestic product on research and development, lagging behind Taiwan, which ranked 10th, and Singapore, in 14th place. The Nansha IT Park, a joint venture which was set up between the Fok Ying Tung Foundation, set up by tycoon Henry Fok Ying-tung, the Guangzhou government and HKUST, provides support for technological development and professional training in hi-tech fields.
Hong Kong's tourism industry has rebounded - with a record number of visitors coming to the territory in 2002, latest statistics on Friday revealed. Figures from the Hong Kong Tourism Board (HKTB) show the SAR had 16.57 million ''total arrivals'' in 2002. This was the highest on record and an increase of 20.7 per cent compared with 2001. More than 6.8 million visitors were from the mainland - an increase of 53.4 per cent on the 2001 figure. The HKTB attributed the increase in mainland visitors to the relaxation of visa requirements by China's central Government last year. The HKTB forecasted further growth of 8.4 per cent to 17.96 million visitors in 2003. Mainland visitors are expected to account for 7.86 million - a growth of 15.2 per cent, according to the HKTB. According to the statistics, in 2002 Taiwan remained Hong Kong's second largest source of tourists, with arrivals reaching more than 2.3 million. There were more than 1.9 million visitors from South and Southeast Asia - an increase of 9.1 per cent. Visitor numbers from North Asia, North America, Europe, Australia, New Zealand, Africa and the Middle East also rose.
China: First IQ, then EQ, now it's SQ! Study wants to find out how Chinese men's sexual quotient measures up to that of Westerners? You have measured your IQ and EQ, but people may soon ask for your 'SQ' - or sexual quotient - if some Chinese doctors get their way. SQ was introduced into popular Chinese lexicon on Wednesday as a measure of sexual health when several doctors launched a nationwide study on the 'quality of life' of Chinese men, who they say have a much lower SQ than their European or American counterparts. 'We have to break the theoretical bottleneck surrounding the international debate and research on sexual health and dysfunction,' said Dr Wang He, secretary of the China Sexology Association's Chinese Traditional Sexual Medicine Committee.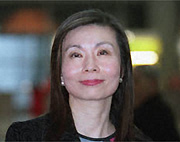 Hong Kong: The new Taiwanese cultural envoy finally arrived in Hong Kong yesterday, following the long-awaited granting of her work visa. Lu Ping arrived in Hong Kong last night pledging to promote cultural exchanges between Hong Kong and Taiwan. The new Taiwan envoy would not be drawn on topical local issues.
The US Customs Service left no doubt yesterday of its commitment to next month's new maritime trade regulations as it emerged that at least a quarter of US-bound exports were likely to be rejected for non-compliance.
The arrest of two men on the mainland who are wanted for an execution-style killing in the United States was hailed yesterday as a defining case in the push for Hong Kong to be made the extradition platform of Asia.

China: Xiong Ziren: moving to Nanjing - A spokesman for the Hong Kong garrison said yesterday that Major-General Wang Jitang had replaced Lieutenant-General Xiong Ziren as commander. The PLA chief in Yunnan province has been appointed the new commander-in-chief of the troops stationed in Hong Kong. General Xiong has been appointed deputy Political Commissar of the Nanjing Military Command. His move is seen as a promotion because the Nanjing Military Command is the mainland's most important military region, responsible for mapping military attacks against Taiwan should a war break out.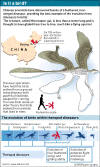 (source & credit: SCMP/Reuters) The animal glided from tree to tree 128 million years ago and has revived the debate about the evolution of birds. The 128-million-year-old animal - called Microraptor gui, in honour of Chinese paleontologist Gu Zhiwei - was about 75cm long and had two sets of feathered wings, with one set on its front limbs and the other on its hind legs. Details of the fossils appeared in yesterday's issue of the journal Nature. Paleontologist Xing Xu of the Chinese Academy of Sciences described six fossils with leg feathers arranged in a pattern similar to wing feathers in modern birds.
Hong Kong: Financial Secretary rules out using reserves to cut deficit - Relying on Hong Kong's financial reserves was not the ultimate solution to the budget deficit problem, Financial Secretary Antony Leung Kam-chung told a luncheon on Thursday. Mr Leung said although the reserves could act as a buffer to the deficit problem, the long-term solution lay in reviving the economy. ''Our reserves mean we don't have to borrow to cover the deficit, at least for the time being. This has given us and the international financial community some comfort,'' Mr Leung said.
Chinese vice-premier Qian Qichen downplayed on Thursday disagreements in Hong Kong over the enactment of the proposed anti-subversion law. Mr Qian told reporters in Beijing he did not think there were many significant differences of opinion. He said Article 23 was only one of many articles in the Basic Law. ''Hong Kong people would reach a consensus gradually,'' he said.
China: Shenzhen mayor Yu Youjun met and chatted with a critic whose article sparked a lively Internet debate over the city's future, in a move that reflects Shenzhen's position as China's laboratory for reform - both political and economic. The article triggered an online debate involving more than 100,000 comments. The 2 1/2-hour meeting took place a few days ago, after securities researcher Guo Zhongjiao, 28, wrote an online article last October contending that the Special Economic Zone (SEZ) was losing its competitive edge following China's entry into the World Trade Organisation (WTO). Since its establishment as China's first SEZ in 1979, Shenzhen has been a pioneer in economic and, more recently, political experimentation as China moves towards a more market-oriented, open society. Recently, however, many feel the city has lost out as Beijing tries to level the playing field under its obligations to the WTO.
January 23, 2003
China: Japanese electronics giant Toshiba will invest US$1 billion in China in the next few years to boost production of computer chips, screens and mobile telephones. Taiwan Semiconductor Manufacturing Company (TSMC) has received preliminary government approval to become the island's first chipmaker to open a factory in China, clearing the first hurdle in its bid to end a decades-old ban.

Hawaii: In her first State of the State speech this morning, Gov. Linda Lingle said she is holding back plans to cut taxes because of Hawaii's weak economy. But Lingle, Hawaii's first woman governor and the first Republican governor in 40 years, asked lawmakers to cut taxes for the poor, set mandatory prison sentences for public corruption convictions, increase the standard tax deduction for low-income residents, establish a 30-percent tax credit for long-term-care insurance purchase and others.
Hong Kong: Hong Kong must remain vigilant in fighting corruption, Chief Executive Tung Chee-hwa told an international anti-graft conference on Wednesday. Speaking at the opening of a three-day ICAC-Interpol Conference, Mr. Tung said: ''Corruption can erode the rule of law, undermine the efficiency of governments, stifle economic development, and in some cases may trigger social and political unrest.'' Mr Tung said Hong Kong had been ranked as one of the world's least corrupt places in the Corruption Perceptions Index, released by Transparency International in August 2002. But there was no room for complacency, emphasised the Chief Executive.
A former Ocean Park food operations manager on Tuesday was charged for alleged fraud relating to the award of $330,000 worth of purchase orders. The Independent Commission Against Corruption (ICAC) said Tsui Wai-chung, 50, currently on bail, would appear in Western Magistracy on Thursday. He faces 19 counts of fraud, and one of trying to pervert the course of justice. The case arose from a corruption complaint alleging Tsui might have accepted bribes from a food stall operator for allowing the latter to operate at Ocean Park.
After the rail project is given the green light, questions will be raised about the future of the controversial Route 7 highway. The government has finally given the green light to the MTRC's proposed loop rail line in southern Hong Kong Island. The Executive Council decided yesterday to proceed with further planning on the $10 billion South Island Link, which would possibly be a light rail track.

Hong Kong: Round-the-clock opening of the Lok Ma Chau crossing will not lead to more crime because extra police will be deployed after midnight, a senior officer said yesterday. The district commander of the border district, Stephen Fung Kin-man, said the number of officers on duty at the crossing would double from three to six from Monday.
Dragonair is readying itself for the possibility of a long legal fight if the Air Transport Licensing Authority (Atla) rules against it in relation to constitutional issues raised over Cathay Pacific's bid to resume services to the mainland, according to industry sources.
China: A former planning director of the company that built the Guangdong-Hainan railway has gone on trial in Guangzhou for alleged corruption. Lu Hanzhang, a former official of the Guangdong-Hainan Railway Company, appeared before Guangzhou Intermediate Railway Court on Tuesday for allegedly accepting more than a million yuan (HK$940,000) in bribes from more than a dozen contractors and railway companies, the Guangzhou-based Nanfang Daily reported on its Web site yesterday.
According to reports published in state-run media yesterday, more than 200 billion yuan (about HK$188 billion) had been "mislaid" by state agencies in the first 11 months of last year, while 7.3 billion yuan had been "lost" through "poor decision-making".
When a high-profile conference begins in Beijing tomorrow to address perhaps the most complex issue facing the national leadership - reform of the financial system - senior cadres will have had some interesting reading to digest. According to reports published in state-run media yesterday, more than 200 billion yuan (about HK$188 billion) had been "mislaid" by state agencies in the first 11 months of last year, while 7.3 billion yuan had been "lost" through "poor decision-making".
China's position as the centre for its traditional medicine has been eroded by Japan, South Korea and even Germany, which are flooding the world market with their own brand of Chinese cures. The situation is so serious that it has sparked calls from the country's Chinese medicine community for a national effort to reverse the tide. At stake is not just cultural pride, but also a home market worth more than US$5 billion (S$8.7 billion) a year and a world market surpassing US$16 billion in value, of which China has only a 3-per-cent share. Not helping the situation is the fact that China must slash import tariffs for medicine by 60 per cent next year.
The Taiwanese government is considering loosening its ban on direct contact with China by allowing mainland students to study in Taiwan. It is one of the measures the authorities may be forced to take to counter the growing influence of China over the island and foreign countries. China allows Taiwanese to study on the mainland and the number of such students has been growing.
China displaced Japan as the world's second-largest market for personal computers (PCs) in the second half of last year, after the United States, market researcher International Data Corp said yesterday. A total of 6.3 million PCs were shipped in China in the period, compared with 5.7 million in Japan, IDC analyst Kitty Fok said.
January 22, 2003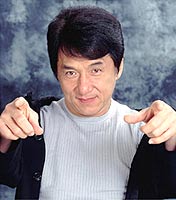 Hong Kong: The 48-year-old star Jackie Chan said in emailed remarks sent out by his manager to AP: 'I will use stunt doubles if you ask me to ride an F-16 jet fighter, or to jump over a series of hurdles with a crazy horse, or to perform two 720-degree somersaults. 'But one somersault, I'll do it myself. I will do what I can do and I won't do anything that is out of my capability.' The Hong Kong native made his mark in international film with his stunts and dance-like martial arts choreography, but has expressed a recent wish to move on to dramatic roles.
Hong Kong's deflation continued in the final month of 2002 - with prices falling 1.5 per cent year-on-year - due to weak demand and soft import prices, latest statistics released on Tuesday showed.
Hong Kong universities can no longer rely solely on government funding during the economic downturn, Financial Secretary Antony Leung Kam-chung said on Tuesday.
Social stability was a major foundation of Hong Kong's future economic prosperity, Chief Executive Tung Chee-hwa said on Tuesday.

China: Cross-strait education: Students from Taiwan attend a class at the Hua Tong Taiwan Businessmen's School in Kunshan, 50km from Shanghai. Taiwanese business people have invested up to US$100 billion (HK$778 billion) on the mainland since the late 1980s and an estimated one million now live on the other side of the Taiwan Strait. (Reuters photo)
The PetroChina-led consortium behind the 4,000 km west-to-east natural gas pipeline project says it has signed agreements with 17 buyers for a combined annual volume of 2.81 billion cubic metres (bcm).
The Danish manufacturer of the colorful snap-together Lego building blocks has won a copyright-infringement case in a Chinese court, a development in the anti-piracy fight promised by China's leadership since the country joined the World Trade Organization. The ruling by the Beijing High People's Court is a 'landmark' one, the Lego Company said. 'It is the first time that the Chinese legal system has delivered a judgment that confirms copyright protection of industrial design/applied art,' the Denmark-based company said in a news release posted on Monday on its Web site. It also establishes the possibility of gaining 'double protection' under China's legal system, the toymaker said. This allows a company to register design protection and simultaneously obtain copyright protection for a product in the courts. Lego, best known for its interlocking plastic building blocks, filed suit in 1999 against an unnamed Chinese company, alleging it had copied 53 characteristics of Lego toys, the statement said. The court ruled that 33 of the elements are protected by copyright, which had been infringed by the Chinese design, Lego said. The lawsuit comes amid repeated promises by the Chinese government to increase protection for patents, copyrights and other intellectual property after being admitted into the World Trade Organisation in December 2001. Foreign businesses have complained that China is failing to fully enforce the laws, forcing them to spend extra money on anti-piracy technology and tactics while worrying about seeing customers snatched away by unscrupulous competitors.
January 21, 2003
Hong Kong: One of Hong Kong's smallest mobile operators, Peoples Telephone, is to deploy a third-generation (3G) alternative that will deliver near-3G speeds at a fraction of that technology's cost.
Pacific Century CyberWorks is pinning its wireless strategy on Wi-Fi technology, as it doubles the number of public installations for wireless local area networks (WLANs) in Hong Kong this year.
China: Legend Group was the top seller of personal computers in the Asia-Pacific region, excluding Japan, in the fourth quarter of last year, according to a preliminary report from research firm International Data Corp (IDC).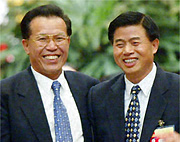 Guangdong's new provincial governor Huang Huahua, right, meets the press yesterday with Lu Ruihua, the man he will replace. He says his focus in the new role will be on boosting Guangdong's ability to compete in international markets. (Reuters photo)
The China policy chief for Taiwan's governing Democratic Progressive Party (DPP) quietly arrived in Beijing on Sunday for a rare visit seen as a potential breakthrough in cross-strait relations. Chen Chung-shin, a DPP legislator and concurrent director of the party's China Affairs Department, was in the capital at the invitation of think-tanks affiliated with the central government and armed forces. Mr Chen, a close associate of Taiwan President Chen Shui-bian, was making his first visit to the mainland since taking over the DPP's China department in July.

Chiang Kai-shek's grandson says a wall is slowly being torn down - For Taiwanese lawmaker John Chang Hsiao-yen, son of former president Chiang Ching-kuo and a grandson of Nationalist leader Chiang Kai-shek, the arrival of the first Taiwan plane in Shanghai on Sunday will be nothing less than a "D-Day" in the rocky history of cross-strait relations.
Beijing is considering a multi-billion-yuan recapitalisation of its technically insolvent big four state banks, ahead of a key meeting this week of China's financial policy-making institutions aiming at reforming the sector.
Hong Kong: Hong Kong trading firm Li & Fung has aggressive plans for its Circle K convenience stores in Guangzhou, hoping to open one shop every two weeks, and already firing the first shot in an expected price war with competitors.
Chinese basketball sensation Yao Ming is providing an Asian role model for Hong Kong fans who previously looked up to Americans like Shaquille O'Neal or Tim Duncan, the Hong Kong Basketball Association said yesterday. Called the "Little Giant" and the "Great Wall" by the mainland media, Yao Ming joined the NBA only three months ago. His four-year contract is worth US$17.8 million (HK$138 million).
China: In an exercise that might have ramifications for political reform in a still avowedly communist country, the people of Siyang County were given the chance recently to single out non-performing public servants through a ballot of sorts. The results of the vote were announced live on local TV and radio. A little-known county in China's eastern province of Jiangsu has struck a blow for public accountability by allowing its residents to vote out incompetent officials.
January 20, 2003
China: China has taken an important step towards the convertibility of the yuan by liberalizing rules under which companies that invest abroad exchange their yuan for foreign currency, according to state media.
Another of Communist Party chief Hu Jintao's allies, Mr. Meng Xuenong, moved up the political ranks yesterday when he was named mayor of Beijing.
Hong Kong: Airline industry sources say Dragonair and Cathay Pacific Airways have abandoned talks aimed at a private settlement of their dispute over Cathay's bid to resume mainland flights and are focusing their efforts on preparing for the public hearing scheduled to begin on Thursday.
Hawaii: Artist Clarence Lee, Member of HKCHcc, an American of Chinese descent, from Hawaii, was commissioned to design the stamps. To commemorate the Year of the Ram, Mr. Lee created an intricate paper-cut design of a ram, with the Chinese characters "Year of the Ram" drawn in grass-style calligraphy. Organization of Chinese Americans (OCA) joins the United States Postal Service in celebrating the Year of the Ram with the issuance of the 11th stamp in the award-winning Lunar New Year series. The first day of the issue ceremony took place in Chicago, Illinois on January 15, 2003. The series began in 1993 with the issuance of the Year of the Rooster stamp, followed by stamps for the Years of the Dog, Boar, Rat, Ox, Tiger, Hare, Dragon, Snake and Horse. The inspiration for creating a Lunar New Year commemorative stamp first originated in 1988 with Jean Chen, an OCA-Georgia chapter member. Ms. Chen decided that there needed to be something done on a large scale that would recognize Chinese contributions to this nation. "We are pleased that to be here in Chicago as it is the first year the unveiling that is taking place in the Midwest," stated Christine Chen, Executive Director of OCA. "This further demonstrates the vibrant APA community in Chicago as well as the growing and active APA communities all over the country."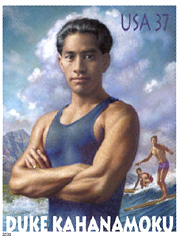 Hawaii: Last year, the US Postal Service dedicated a stamp in honor of Duke Kahanamoku, the legendary swimmer and Olympian who is best known as the international surfing. Besides King Kamehameha I, this stamp will be the only dedicated to a Hawaiian or Pacific Islander. The ceremony for the commemorative stamp occurred on August 24, 2002, during a daylong public festival in Honolulu, Hawaii, also the 112th anniversary of Duke's birth. As a swimmer on the U.S. team during the 1912 Olympic Games in Stockholm, Sweden, Duke won a gold medal for the 100-meter freestyle and a silver medal for the 800-meter relay. He also won medals in the 1920, 1924, and 1932 Olympic Games. During much of his lifetime, Duke was seen as Hawaii's unofficial ambassador to the rest of the world. He popularized surfing throughout the world while also remaining active in his native Hawaii, serving as sheriff of Honolulu for many years. Duke passed away in 1968. The stamp depicts a oil portrait of Duke by Michael J. Deas, based on a 1918 photograph from the collection of the Bishop Museum in Hawaii.
China: China's wealthiest used to flaunt their riches by hiring bodyguards to carry their shopping bags and dageda, mobile phones the size of walkie-talkies. Today's tycoons, many of whom live in the capital, go to the five-star Beijing Hotel next to Wangfujing, the city's premier shopping street. Every Saturday night, hundreds of high-powered entrepreneurs, officials and artistes network inside the hotel's Golden Hall and feast on nutritious shark's fin soup served up in porcelain cups, pick at perch and watch performances by popular dance troupes. The occasion? The controversial First Banquet parties. The real First Banquet was chaired by late premier Zhou Enlai on Oct 1, 1949 to mark the founding of the People's Republic of China. Cadres ate simply, with dousha bao, or red-bean buns, and dumplings as the staples. Pork balls and carp were about the only pricey dishes. From 1949 to 1958, all the national day receptions were held at this hotel. But today, its First Banquet parties are an unapologetic celebration of wealth, with tickets sold at between 800 yuan and 2,000 yuan (S$170 and S$420) per tycoon.
China is to build a permanent scientific survey station at the North Pole this year, the People's Daily said yesterday. The base will allow Chinese scientists to conduct year-round research related to the Arctic Zone. China previously had temporary research bases at the Pole.
The mainland will overtake Japan to become the largest importer in East Asia within two years and become the biggest exporter by 2010, a US economist said yesterday.
Shenzhen's trial political reforms will be launched within the next six months, creating a three-tiered government with clear separation of policy-making, execution and supervision functions, Mayor Yu Youjun said.
Mainboard-listed telecommunications services provider China Motion Telecom International has won a license to enter Hong Kong's already crowded fixed-line market.
Hong Kong: Hong Kong police apologised yesterday to the family of an elderly mainland Chinese tourist who was mistaken for an illegal immigrant and sent back to China. Mr. Lee Shung, 71, who is partially senile, was in the territory visiting relatives with his wife. Deputy Police Commissioner Dick Lee told reporters that police were investigating whether the incident involved communication, procedural or human errors and that they would bring Mr Lee back to Hong Kong. In August 2000, Yu Man Hon, an autistic 17-year-old with the mental age of two, had gone missing after being mistakenly sent across the Chinese border by immigration officers.
January 17 - 19, 2003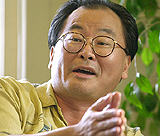 Hawaii: Ted Liu, the Hawaii DBEDT chief is ready for business - Faced with a need to do more with less, the new director of the state's Department of Business, Economic Development and Tourism (DBEDT) said yesterday that he'll seek to streamline the agency and rely on more private-sector partnerships to accomplish its mission.
Many businesses in Hawaii are hopeful the latest additional to Governor Linda Lingle Team, the old way of "play and pay" system will be a thing of the past. People familiar with DBEDT internal operation in the past said change on the top is necessary, but most of the problems were created by people not at the Director or Management level. The problem is at its roots level. In the past, many business/trade mission was nothing more than a State paid vacation funded by the Hawaii DBEDT to local entities willing to "play and pay". Many businesses went on business/trade mission in the past gave very high score on the fun aspects, many thought the wine, dine and sightseeing portion was great. When asked how businesses or entities were selected. Many replied that it is a non-bid contract, depending on who you know and decision not made by head of DBEDT. Scheme is also set up to turn a "bid" contract into a "non-bid" contract. Inside source said that amount to $500,000 per year.

Hawaii: A museum (in Hong Kong) dedicated to Chinese revolutionary leader Sun Yat-sen, which would focus on Hong Kong's role in shaping modern China, has been proposed to mark the 80th anniversary of his death. Similar museum has been planned for Hawaii for years.

China: A business dispute between the Ministry of Foreign Trade and Economic Co-operation (Moftec) and the Guangzhou government's new convention centre is threatening to undermine the 4 billion yuan facility. If unresolved, the Pearl River Delta could inherit another white elephant on a scale approaching Zhuhai's under-utilised 6.9 billion yuan (HK$6.5 billion) airport. The dispute illustrates how poor communication and co-ordination between different levels of government on the mainland can lead to tremendous waste. According to government and industry sources familiar with the matter, the dispute centres on Moftec's biannual China Export Commodities Fair (CECF), whose spring and autumn sessions attract hundreds of thousands of people to Guangzhou. "It's a real cash cow for Moftec. They don't want to give it up," one source said. "Basically, this dispute is all about money and which department gets it."
Foreign investors in mainland power plants will be forced to re-negotiate guaranteed-price purchase agreements with buyers as part of the industry reform, leading to a probable reduction in tariffs and returns.
If China can achieve its modernization objectives by 2050, its ranking in the world economy will scale new heights, to complete the transformation from a large developing economic entity to an economic power. The mainland can then 'rank among the major powerhouses for the development of the world economy', said Dr. Liang Youcai and Dr. San Feng. By 2050, China could become the second-biggest engine, after the United States, driving the global economy - as long as the country grows by at least 4.5 per cent a year, say two state economists.
Premier Zhu Rongji has called for better welfare benefits in the north-eastern rust belt where two labour activists stood trial after leading laid-off workers in protests against lost wages and corruption.
The services sector has become China's biggest job creator and has the potential to absorb more unemployed workers, the National Bureau of Statistics (NBS) said yesterday.
The ranks of Chinese Internet users swelled by a whopping 75 per cent to 59.1 million people by the end of last year, making China the world's second-largest online population, ahead of Japan and behind only the United States.
Shenzhen, facing low-cost competition elsewhere on the mainland, will have to learn from the Hong Kong experience to avoid the hollowing-out of industry over high costs, according to Shenzhen mayor Yu Youjun.
Hong Kong: Hutchison Whampoa, Asia's biggest investor in European mobile-phone companies, and Singapore Technologies Telemedia have received European Union approval to buy 62 per cent of bankrupt fibre-optic network operator Global Crossing.
The Hong Kong Shippers Council yesterday warned its members to take new United States Customs Service regulations seriously because shipping lines will reject all US-bound cargo not registered 24 hours in advance of sailing.
The Office of the Telecommunications Authority (Ofta) plans to monitor provision of wireless local area network (WLan) services by requiring Internet service providers (ISP) to apply for a class licence before deployment.
Hong Kong crime victims in Shenzhen can expect quicker police help under a new co-operation scheme launched yesterday - but only if the offences are committed in border areas.
China: China United Telecommunications has signed a framework accord with South Korea's SK Telecom for a joint venture to provide wireless Internet services in the mainland.
Hong Kong: In a major change of strategy, Hutchison-Priceline (Travel) will offer published-price travel products, a departure from its loss-making United States counterpart's name-your-own-price model.
China: The mayor of Guangzhou called on Hong Kong yesterday not to stand in the way of his city's development, particularly its plans for the Nansha port, saying co-operation would lead to mutual gains and a "win-win" situation. At a time of mounting anxiety over Hong Kong's economic future, increased integration with the Pearl River Delta has been portrayed as a given. It appears, however, that despite the success of Hong Kong investors across the border in recent years, further integration is being held back by nothing more - or less - than a lack of mutual respect. Premier Zhu Rongji has come down hard on the mainland's property markets in recent months, warning that overzealous officials and real estate developers are creating a bubble.

(source & credit SCMP) China: Beijing has thrown open its fledgling insurance broking market, giving United States-based Aon Corp the first full licence issued to a foreign company. The move sets the stage for more such approvals and will be a relief for foreign brokers which have tried in vain for years to enter the market. They have so far been restricted to reinsurance broking and risk-management consultancy.
Hong Kong: Britain has told China that the Article 23 controversy will undermine international confidence in Hong Kong if the issue is mishandled.
Hong Kong: The Asia's space race - CHINA: Man on the moon by this year - INDIA: Lunar spacecraft by 2015 - JAPAN: Manned lunar flight by 2020, but observers they do not foresee a repeat of the space race of the 1960s in which the former Soviet Union and the United States spent vast sums to compete for global supremacy in outer space. Yet, the three Asian countries' space aspirations are impressive, given that many countries are scaling back on their space programmes because of a lack of funds. Although China aims to set up an independent space station in five to six years, a number of Chinese officials indicated interest in participating in the International Space Station - a joint effort of Europe, Canada, the US, Japan and Russia.
China: As Hong Kong speeds up border crossings with Guangdong province to foster closer economic integration with the Pearl River Delta, Shenzhen is agitating to dismantle an internal border which divides the special economic zone (SEZ) from the rest of the city. Shenzhen delegates to the Guangdong People's Congress lobbied for the lifting of the border during a meeting at the congress, now in session. With factories and residential projects concentrated inside the zone, Shenzhen's further development has to take place outside its boundaries. The Shenzhen Airport and seven planned satellite towns are located around the zone. Shenzhen and Zhuhai are the only two of China's five SEZs to have internal boundaries. Controls at Zhuhai have been relaxed.
January 16, 2003
China: The Beijing telecommunications regulator has signaled its determination to crack down on irregular pricing among mobile telephone operators by fining China Unicom 300,000 yuan (about US$281,550) for tariff violations. Computer chip giant Intel is set to begin its first mainland processor assembly this year at a newly upgraded US$500 million plant, even as the company announced plans for a major cut in capital spending.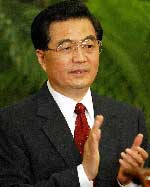 Hong Kong: It has been just 50 days, but China's new leader Hu Jintao has impressed most observers with a relatively good start in his arduous job of running the world's most populous country. During this period, the Chinese Communist Party (CCP) chief made both symbolic and substantial moves to consolidate his power and set the tone of his administration. His first move came as a small yet pleasant surprise to many. At the first Politburo meeting under his chairmanship, in early December, Mr. Hu stressed the need for greater transparency and decided that henceforth Politburo meetings would be opened to the press. The Politburo is China's top decision-making body after its Standing Committee. By doing so he introduced a measure of reform, albeit small, into China's secrecy-cloaked political system.
China: Foreign travelers heading for Beijing will no longer be restricted to staying at designated hotels in the capital city, according to the Chinese authorities. Foreigners looking for a place to put up for the night will now have no worries as they can check into any hotel which has vacant rooms. China's entry into the World Trade Organization, this restriction has been lifted from this year, reported the Beijing Morning Post.
Hong Kong: Coming at a time of widespread concern about poor standards of Putonghua in Hong Kong impeding integration with the mainland, it received cross-party support. Finally, Hong Kong legislators spoke with one voice yesterday in an effort to enhance integration with the Pearl River Delta. It just wasn't in the language most people are accustomed to hearing from them.
China: "Statistics show that there are some speculative bubbles in the property market in both Guangzhou and Shenzhen but the bubbles are not very big," Ma Jing, governor of the Guangdong branch of the People's Bank of China, said in an interview with GD-HK Information Daily. Guangdong officials have dismissed the threat of a bubble in the local property market but said they would control the supply of land allocated for development to avoid future overheating. Centaline (China) Property Consultants director Lai Kwok-keung that said a bubble burst was unlikely in Guangdong although the property market there would enter a period of consolidation.
Hong Kong: Guangdong knew of bridge plan - Hopewell Holdings chairman Sir Gordon Wu Ying-sheung has told Guangdong of his intention to invest in a bridge linking Hong Kong, Zhuhai and Macau but officials want a more detailed plan, a mainland academic said yesterday.
Hong Kong: The warped perceptions of people who have failed to get over the "glory days" of the mid-1990s are to blame for the gloom about the economy, not the government, the chairman of the American Chamber of Commerce said yesterday.
January 15, 2003

Hong Kong: Regina Ip Lau Suk-yee, who has come under fire for her handling of the debate, said yesterday that religious and political leaders were to blame for creating a "herd mentality" which had prompted irrational comments from people who did not understand the proposals. At the opening of the legal year on Monday, Chief Justice Andrew Li Kwok-nang called on the community, including the government, to engage in rational debate on matters such as the enactment of new laws. Secretary for Justice Elsie Leung Oi-sie, who was also at the briefing, denied the chief justice had expressed concern about Article 23, saying he had merely called for rational debate.
China: After years of finding nothing but fault with China's human rights record, a major New York-based monitor said conditions had improved in the past year. The report credited this to the generational leadership change that took place last year at the 16th Communist Party Congress when Hu Jintao was named as general secretary, succeeding President Jiang Zemin. It was the first seamless leadership handover in the 54 year history of the People's Republic of China.
China: China yesterday made an unprecedented offer to host talks between the United States and North Korea to resolve their dispute over Pyongyang's nuclear weapons program.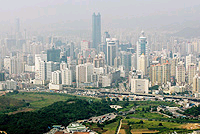 China: Hong Kong and Taiwan have been smarting from a hollowing out of businesses to mainland China. 'Special' no more: set up 20 years ago as China's experiment in capitalism, Shenzhen is now losing out to Shanghai, which is being groomed by the central government to be the country's top city. Professionals, stock-broking firms and foreign investors are now choosing to base themselves in Shanghai instead of the Special Economic Zone. Shenzhen has reason to fear - it could be next. The special economic zone (SEZ) is worried that at least four of its top-flight companies will be pulling up stakes to move north, in particular to Shanghai.
China: Guangdong's planning chief yesterday invited investors to come forward with proposals for a bridge linking Hong Kong, Zhuhai and Macau, but said the provincial government would not itself fund the project.
Hong Kong: More than half of Hong Kong's 178,000 civil servants are being invited to retire early. Though unions say the $2.1 billion package is unattractive, civil service chiefs expect about 7,000 to take up the offer over four years.
January 14, 2003
Hong Kong: The corporate restructuring trend in Hong Kong is expected to continue this year as firms move to improve balance sheets, make use of idle cash and strengthen shareholder value, according to Morgan Stanley executives.
China: GUANGDONG Governor Lu Ruihua mentioned Hongkong in only one paragraph of his work report at the opening of the provincial people's congress yesterday, a sign which showed that both sides needed to step up dialogue on regional development.
China: More than 7,000 foreigners have taken up Shanghai's offer of residency since the Chinese city implemented its green card scheme six months ago, state media reported yesterday. Shanghai's green card scheme, the first in the country, allows talented professionals from other countries and other cities in China to apply to live in the city while retaining their foreign nationality or original residential status.
China: China is to tighten its regulatory framework for listed companies and accounting firms to prevent any corporate scandals similar to those that rocked world markets last year, state media said yesterday. The strict new rules to be implemented in the coming one to two years include strengthening the accounting responsibilities of chief executives and chief accounting officers of listed firms. They would also boost information disclosure requirements relating to economic activities among management teams and major shareholders, said China Securities Regulatory Commission (CSRC) chief accountant Zhang Weiguo. CSRC is the top watchdog overseeing China's securities sector.
January 13, 2003
China: The Government predicts 1.82 billion people, roughly equivalent to the mainland's entire population, will travel during the Chinese New Year holiday period
China: Strong private investment, a vibrant services sector and heavy consumer buying of homes and cars helped spur Beijing's double-digit growth last year, according to experts. Mr. Cui Shuqiang, chief of the Beijing Statistical Bureau, announced on Friday that Beijing's Gross Domestic Product (GDP) grew by 10.2 per cent last year. A big-ticket item selling like hotcakes is cars, with 120,000 units sold in the Beijing area last year, up 20 per cent over 2001.
China: The mainland's largest non-life insurer, with more than 70 per cent of the domestic market, aims to list in Hong Kong or New York this year, and will consider foreign firms as shareholders, according to a Business Post report. Last month, the State Council gave its approval for the listing as part of a restructuring of Peoples Insurance Company of China (PICC) into two companies - PICC Holding and PICC Asset Stock, the report said.
China: Many foreign observers believe China has undergone a remarkable change in its handling of foreign affairs. Gone is the strident rhetoric and readiness for a show-down on the slightest provocation. Instead, it is nurturing a kinder, gentler image of a responsible "major player" in the international community. Hu Jintao, the country's enigmatic new leader, has stepped out of the shadows after being officially crowned general secretary of the Communist Party. The 10th Guangdong People's Congress will convene today in Guangzhou with the important task of electing a new government to lead the province for the next five years. The mainland is bracing for about 1.7 billion passenger trips over the Lunar New Year as people take advantage of the break to return home or travel.
January 10 - 12, 2003








Hawaii: Sustainability Workshop - Sponsored by the City and County of Honolulu and University of Hawaii, many of the HKCHcc members have attended the standing room only workshop at the Dole Cannery Ballroom. There were more than 1,000 people listen to Governor Linda Lingle, Mayor Jeremy Harris and President Evan Dobelle of the University of Hawaii. Other presenters include Noel Brown, Former Director of the UN Environment Program; John Bullard, President of Sea Education Association of Massachusetts; Curtis Johnson, President of the Citistates Group; Benjamin Lee, City Managing Director; Hermina Morita, State Representative; Gary Okino, Chairman of the Honolulu City Council and Edwin Orett, Principal of Pacific Technology Association.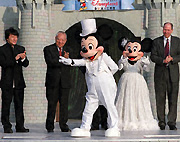 Hong Kong: Hong Kong in line for best value Disney experience in the world - Michael Eisner, chairman and chief executive officer of the Walt Disney company, said although prices had yet to be set, rumors of an entrance fee of between $200 and $250 (US$25 and $32) were at the "high end" of what they were considering. "We have not set the price yet since we are still considering discount and group package prices, " he said. "I can only say the price will be reasonable and affordable. I think [$200 to $250] is towards the high end."
Hong Kong: Chief Executive Tung Chee-hwa has moved to ease concerns about tax rises, pledging that any increases would not undermine Hong Kong's simple, low-tax system.
China: When the mainland plots its radical reforms of the financial sector later this month, one official worth watching closely will be Yan Haiwang, a deputy governor of the central bank, the People's Bank of China.
China & Hong Kong: China air route row postponed - Dragonair has moved to delay indefinitely a public hearing it called into Cathay Pacific Airways' bid to re-enter the China market, industry sources say.
China: China National Offshore Oil Corp yesterday announced plans for a significant foray into the power business in an effort to diversify its energy division and secure demand for its liquefied natural gas (LNG) terminals.
China: Beijing yesterday unveiled new guidelines on extending small, low-interest loans to unemployed and laid-off workers to help them start their own businesses. The loans will be capped at about 20,000 yuan (HK$18,800) per person and guaranteed by funds set up by provincial and municipal governments. People who team up to start businesses are eligible for larger loans.
China: The Chinese government seems hell-bent on encouraging people to buy cars - even if it results in traffic gridlocks in major cities and urban dwellers choking on exhaust fumes. Beijing has targeted the vehicle industry as one of the key driving forces of economic growth and a pillar industry of the Chinese economy. With China's entry into the World Trade Organisation in 2001, it also lowered import tariffs from 70-90 per cent to 44-51 per cent, and in 2005 these will fall further to 25 per cent. In the first 11 months, locally made vehicles soared by 37 per cent over the same period in 2001 to 2.96 million units, while vehicle imports grew to 112,000 units from 68,000. Foreign car-makers such as BMW, thirsting after a relatively undeveloped and fast-growing market, have entered China aggressively in recent years through joint ventures with state-owned enterprises. Volkswagen, the first foreign car-maker to enter China 20 years ago in a joint venture with First Auto Works, has cornered 18.2 per cent of the market. But General Motors, a relative latecomer, is aggressively gaining market share. Other main players include Toyota, Honda, Nissan and Hyundai.
January 9, 2003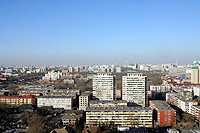 China: Cruising down Beijing's main thoroughfare on a bright Saturday morning, he says: 'The air quality has really improved in the last three to four years. Blue skies used to be such a rare sight. Hopefully, it will get even better this year.' The cost: 10 billion yuan (S$2.1 billion) this year for various environmental protection measures, on top of the 50 billion yuan spent between 1998 and 2002. The Beijing government is hoping to do just that in its clean-up efforts for the run-up to the 2008 Olympics.
China: China has granted approval for News Corp's Star TV to air its Chinese-language entertainment channel to limited locations across the mainland, an executive said yesterday. The approval follows a similar deal for the InfoNews channel operated by Phoenix Television Holdings - a move industry watchers called a significant step towards looser restrictions of China's broadcasting industry. Star owns 37.6 per cent of Phoenix Television.
China: China Construction Bank will seek government approval to form a joint venture with Morgan Stanley to resolve bad assets with a book value of around four billion yuan (US$480 million), an official of the bank said.
China: The State Economic and Trade Commission warned yesterday that the nation's economic growth will slow this year, the first sign that China's leaders are gearing up for a less-than-stellar performance in 2003. Regional economists in Asia agree that China's economy will continue to grow between 7 per cent and 8 per cent, but warn that a prolonged conflict between the US and Iraq may hurt China.
Hong Kong: Hong Kong is planning to speed up economic integration with the Pearl River Delta, Chief Executive Tung Chee-hwa said on Thursday. ''Hong Kong has been consistently the largest source of foreign direct investment (FDI) in the PRD and Guangdong province,'' he said in his first major speech since Wednesday's policy address. Mr Tung said a total of US$79 billion (HK$614.6 billion) in direct investment from Hong Kong was recorded in the region at the end of 2001. Statistics show the combined gross domestic product of Hong Kong, Macau and the rest of the PRD reached US$260 billion (HK$2,022.8 billion) in 2001. It was estimated to reach over US$500 billion (HK$3,890 billion) in 10 years, making the PRD one of the world's top 20 economies, the Chief Executive noted. ''Our vision is to develop the PRD into an internationally competitive major economic region. It will not only be a manufacturing base with new technology inputs, but also a principal provider of modern services to China and the Asia-Pacific,'' he said. ''With China already in the WTO and the mainland market further opening up, we are working to attract numerous small and medium enterprises from North America, Europe and Japan to use Hong Kong as a base...'' added Mr. Tung .
China: The State Administration for Radio, Film and Television (SARFT) has granted Bloomberg Television the right to broadcast its Asia news channel to luxury hotels, diplomatic residences and other specially designated compounds in China, a senior company executive said yesterday.
China: Samsung Electronics, the world's third largest mobile handset maker, has won a foothold to sell its GSM handsets in China, casting a threat to dominant foreign players Motorola and Nokia.
January 8, 2003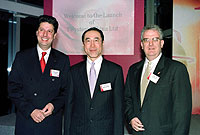 Hong Kong: Deutsche Telekom Group, Europe's No 1 telecommunications provider, opened its operational office for Greater China in Hong Kong. Its subsidiary & China Ltd offers convergent solutions merging IT and telecommunications technologies to corporate customers in Greater China.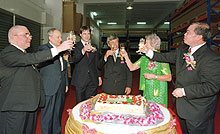 Hong Kong: Habasit East Asia Ltd has selected Hong Kong as its regional headquarters and fabrication and distribution centre to tap the potential of the growing Greater China market. The Swiss company is a leading developer and manufacturer of power transmission, conveyor and processing belts. Habasit has offices and factories in 70 countries and employs 1,980 people around the world. Global sales revenue in 2000 was HK$2.1 billion.
China: Chinese Internet portal Sina.com said on Tuesday it would achieve profitability for the first time ever, as it announced two new deals to expand high-growth mobile and online
gaming services.
Hong Kong: PCCW shareholders on Tuesday approved a five-for-one share consolidation plan aimed at boosting the stock price of the telecommunications company.
Hong Kong: Hong Kong chief executive Tung Chee-hwa on Wednesday promised to tackle the ballooning fiscal deficit and build closer ties with China to reinvigorate the city's ailing economy.
China: China yesterday said US charges against two firms for illegally sharing sensitive space technology with Beijing were 'laughable'. 'The Chinese side has no need to, nor could China, get technology from American companies that relates to satellites, rockets and missiles,' Foreign Ministry spokesman Zhang Qiyue told reporters. Meanwhile, prominent rocket scientist Wang Decheng also blasted the US charges as 'laughable', saying only China was responsible for the success of its space program.
China: Hundreds of seats remain empty on the first-ever flights between Taiwan and China, a weak show of interest that organizers blamed on requirements forcing time-consuming stopovers in Hong Kong or Macau.
January 7, 2003
China: China will phase out the 'jobs-for-life' system for the country's 30 million civil servants over the next few years in a major shakeup of the decades-old 'iron rice bowl' employment system, state media reported on Tuesday.
China: China's new leader Hu Jintao has begun putting his own people in key positions, appointing a number of cadres from the Communist Youth League (CYL) which he used to head, according to sources in Beijing. Mr. Han Zheng, who is currently deputy party secretary of Shanghai, will become the city's mayor, while Mr. Shen Yueyue, deputy party secretary of Anhui province, will become deputy head of the Chinese Communist Party's Organization Department.
China: Eighteen houses and apartments belonging to leading Chinese actress Liu Xiaoqing, who has been convicted of tax fraud, have been auctioned for 6.6 million yuan (S$1.4 million) but the amount still falls short of the 14.6 million yuan in taxes she evaded.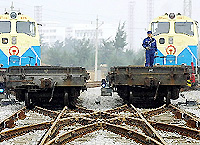 China: China's biggest special economic zone (SEZ) makes history today when it is connected to the mainland by the nation's first cross-sea rail link. The most important part of the long-awaited rail project is a ferry which carries train coaches across the Qiongzhou Strait, the strip of water between Hainan and the mainland. As the central government promotes holiday economics, the railway authorities are banking on passenger traffic. Last year, the number of arrivals in Hainan rose 8 per cent to 12 million.
January 6, 2003
Hong Kong: Madam Justice Maria Yuen Ka-ning ruled in a High Court judgment yesterday that George Soros' SFM Advisory Holdings, the Asian Development Bank and others conspired to strip Peregrine Investment Holdings of the true value of its stake in the company that manages the US$779.5 million Asian Infrastructure Fund (AIF).
China: Phoenix Satellite Television has won approval to air its Putonghua InfoNews Channel in China, raising hope at the loss-making firm that the 24-hour channel can boost advertising revenue and break even by next year. The landing rights, granted by the State Administration of Radio, Film and Television, enable InfoNews to be viewed legally in luxury hotels, diplomatic compounds and other specially designated compounds. Phoenix, in which Rupert Murdoch's News Corp has a stake, has recorded losses for the past seven quarters partly because of InfoNews. Launched in early 2001, with an annual budget of US$15-$20 million, it had failed repeatedly to get rights to broadcast in the mainland.

Hong Kong: New regulations and higher reinsurance charges are forcing up fees for insurance providers, who are expected to pass along the higher costs to policyholders, according to legislator Bernard Charnwut Chan, who represents the insurance industry.
China: Sinotrans, a unit of China's biggest air-shipper, is expected to post earnings growth of at least 20 per cent in each of the next three years, according to a research report by one of the investment banks arranging its share sale.
January 5, 2003
China: China is stepping up liberalisation of its gigantic utility sector by enticing private investment as the Ministry of Construction, in a rare announcement, called for the franchising of water, gas and heat supply as well as public transport and sewage and refuse treatment.
Hong Kong: Hong Kong's toy industry faces a tough year, coming off a weak 2002 and hampered by a slow global economy and threatened by growing competition from mainland rivals.
China: China has approved a Taiwanese airline's plan to provide indirect charter flights to Shanghai during the Chinese New Year period, Taiwanese media reported yesterday. Far Eastern Air will be allowed to offer the indirect flights from Jan 26 to Feb 10, the China Times reported yesterday. It had applied for six round-trip flights and the airfare is set at NT$16,000 (S$800).
China: Chinese Premier Zhu Rongji has ruled out devaluing China's currency, saying Beijing's current policy is in the interests of the country, state press reported yesterday. China's foreign exchange reserves surged 35 per cent last year to US$286.4 billion (S$501.49 billion), figures sourced to Premier Zhu Rongji revealed yesterday.

China: There is no prize for guessing that come March, Chinese Vice-Premier Wen Jiabao would get on the hot seat - currently occupied by economic czar Zhu Rongji - of managing the problem-fraught Chinese economy. The question really is whether the premier-in-waiting - seen widely as an able administrator and technocrat - has what it takes to push through difficult reforms and fix the increasingly acute economic problems that China faces. 'Like Zhou Enlai, he has the talent to be a lieutenant, not a head of state, a firefighter, not a fire-starter,' wrote China scholar Wu Jiaxiang, comparing Mr Wen to the late premier who held the country together during the Cultural Revolution.
January 3, 2003

Hong Kong & China: Hong Kong still has the edge over Shanghai in the eyes of corporate bosses - but in some areas the gap is narrowing. The SAR has a better investment environment and is more a "world-class city" than Shanghai, but the northern rival is quickly making itself a better place to do business, a survey of 204 chief executive officers and senior managers found. On a scale of one to five, Hong Kong's overall competitiveness rating rose to 3.93, from 3.75 the year before, while Shanghai's rating rose to 3.12 from 2.96 in 2001.
January 2, 2003
China: China, where the economy has outgrown its biggest rivals for the past seven years, may no longer need a weak currency to keep its edge. And some of China's biggest companies say they will gain from a stronger currency.
China: Speculation has been rife that Mr. Chen Long, one of the 14 astronauts currently undergoing training, has been selected for the historic mission. According to sources, China will send only one astronaut on its first manned space flight, expected to take place later this year. Mr. Chen has been chosen over other trainees due to his outstanding performance, Sing Tao Daily reported, quoting sources.
January 1, 2003
China: Double-digit economic growth continues for Shanghai - Shanghai's economy has posted its largest rise in five years, surging 10.9 per cent in 2002 amid record levels of foreign investment following China's World Trade Organization entry.
Taiwan: TAIPEI - Taiwan's President Chen Shui-bian yesterday sought to mend fences with China by pledging not to advocate radical changes that would escalate cross-strait tensions. The back down by Mr. Chen was seen as an attempt to avert cross-strait tensions which could affect his re-election bid next year, analysts said.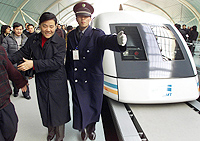 China: SHANGHAI - Chinese Premier Zhu Rongji has agreed to the construction of another commercial magnetic levitation train in China, an executive from German engineering giant Thyssen Krupp said. Mr Zhu said China would build a second 'maglev' line from Shanghai to the eastern city of Hangzhou in Zhejiang province, Thyssen Krupp director Hartmut Heine said.
China: Many women in China resort to the pariah status of being a mistress to a married man not because of love but economic survival, a survey said. Conducted in the southern province of Guangdong, where many rich Hong Kong and Chinese men put up mistresses in apartments, the survey found that 74.5 per cent of mistresses became an er nai or 'second wife' to shake off poverty, the Chinese news portal www.sina.com said. Only 13 per cent of the women said they did it for love while 42 per cent said it did not bother them never having a legal marital status.
China: The country's economy also grew by 8 per cent while the world economy struggled through a slump. China also moved up to fifth place from sixth on the list of the world's major foreign trade powers and became the world's number one recipient of foreign investment.
Hong Kong: Health inspectors have destroyed more than 50 chickens at a fresh food shop here after some of the birds were stricken with avian flu. The latest discovery of the virus came after the government slaughtered more than 16,000 chickens on a farm on Saturday after a number of dead birds were found there.
China: The ongoing quest by China's rich and powerful for more high-status possessions will reach new heights next year when a Chinese aeroplane manufacturer rolls 'affordable' private planes off the assembly line. The Shenyang Airplane Industry (Group) Company Ltd, one of the largest aircraft manufacturers in China, is due to begin selling a superlight private plane for 500,000 (S$105,000) to 600,000 yuan, according to the Beijing Times. Its EV-97 plane weighs about 475 kg and can travel at speeds of up to 180 to 200 kmh.

*News information are obtained via various sources deemed reliable, but not guaranteed