Hong Kong, China & Hawaii Biz*


How to Do Business with China, through Hong Kong & Setting up Business in China? - last update Feb 8, 2003
Our Resource Center Page provide daily Updates on SARS (HK Gov, WHO & CDC)
How can we serve you better? - please take 1 minute to complete the web survey
Hong Kong: The World Health Organization (WHO) announced on June 23rd, Monday it will remove Hong Kong from its list of Sars-affected areas after the territory reported no new Sars infections for 20 consecutive days....Go to our resource center page for detail
Do you know our dues paying members attend events sponsored by our collaboration partners worldwide at their membership rates - go to our event page to find out more!
Holidays Greeting from President Obama & Johnson Choi
http://www.youtube.com/watch?v=pNk4Z4lUV-k
http://www.facebook.com/video/video.php?v=219896871983&ref=mf
Wine-Biz - Hong Kong
Brand Hong Kong Video
This Hawaii Investment Survey is being conducted through a Social Enterprise Endowment of Harvard Business School, with the support of the China-Hawaii Chamber of Commerce, and Enterprise Honolulu, an economic development organization.
The purpose of the survey is to collect aggregate data on the current and potential investment capital flows into the state of Hawaii. This research is being conducted to identify investment trends and make recommendations to improve the future investment climate in Hawaii.
All data collected in the survey is strictly confidential and will be reported only in aggregate form (with all company-specific information withheld). It is important to note that your response is greatly appreciated, whether or not your company has made past investments in Hawaii.
Participants will receive a free copy of the Hawaii Investment Survey research findings upon conclusion of the project in September 2003.
Please check the appropriate responses in the attached form and send the survey back to dcook@mba2004.hbs.edu, fax back to 808.536.2281, or simply fill the survey out online at http://www.surveymonkey.com/s.asp?u=34994233796. Please call 808.521.3611 with any questions regarding the survey.
July 31, 2003
Hong Kong: Preparations have begun for a constitutional review, Chief Executive Tung Chee-hwa revealed yesterday. But he said he would not respond to calls for faster progress towards full democracy until a thorough study had been completed.
Secretary for Housing, Planning and Lands Michael Suen Ming-yueng said on Wednesday he was "cautiously optimistic'' about the residential property market - as the private housing supply would decline over the next three years.
If Sars returns in the winter, portable isolation units will be erected and empty public flats may be used for quarantining patients' families and as staff housing.
Pearl River Delta cities must improve their co-ordination or risk losing out in the race to make the region China's economic centre, a conference in Guangdong was told. Hong Kong, Macau and mainland officials will hold talks in Beijing today on the final consultancy studies for two key cross-border transport projects.
The government, theme park operators and hotel owners will be able to issue real estate investment trusts (REITs) under a revised regulatory code announced yesterday by the Securities and Futures Commission (SFC). The easing of restrictions on real estate investment trusts (REITs) will boost Hong Kong's competitiveness against Singapore and other international markets, according to developers and investment bankers.
MTR Corp (MTRC) has questioned the fairness of a government proposal to revise the route of the $33 billion Sha Tin-Central rail link - a project that the company lost to rival Kowloon-Canton Railway Corp (KCRC) last year.
China: Beijing's Capital Airport has slashed the cost of more than 70 products after coming under heavy criticism for its exorbitant food and beverage prices, which rival those of Hong Kong's five-star hotels.

Policemen form a security line before Real Madrid players arrive at the Tuodong Stadium for a training session in Kunming, the capital of the southwestern province of Yunnan. Real Madrid, with their new signing David Beckham, are on a two-week tour of Asia, which includes Hong Kong and Japan.
Mainland enterprises have invested US$27.6 billion abroad, and although that is just a fraction of the global total of foreign direct investment (FDI), China is among the fastest-growing sources of such investment in the world, according to a survey released yesterday.
Removing the last vestiges of the planned economy, the Beijing municipal government is poised to announce a series of administrative reforms, sources say.
China, the world's largest cellphone market, will have more than 400 million mobile users in four years' time, according to government forecasts quoted by state media on Wednesday.
July 30, 2003
Hong Kong: Last-minute political manoeuvring - some of it sourced to Beijing - has dashed the chances of Hong Kong's director of health replacing the WHO official who headed the global battle against Sars.
Liberal Party chairman James Tien Pei-chun said yesterday Chief Executive Tung Chee-hwa was no longer angry with him over his shock resignation from the cabinet earlier this month, a move which forced the Hong Kong government to shelve the controversial National Security Bill.
The free-trade agreement between Hong Kong and the mainland should be extended to Macau and Taiwan to create a Greater China free-trade area, an authoritative report has recommended to the central government.
Hongkong Land Holdings, Central's largest office landlord, has posted a 13 per cent fall in interim net profit and warned of a tough outlook for the second half because of continued weakness in the commercial sector.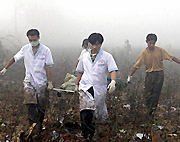 China: Twenty-nine people were killed and at least 141 hurt when a series of explosions demolished a fireworks factory in Hebei province, state media reported yesterday.

This is - or rather, was - the Yellow river in Lanzhou, 2,000km upstream from Jinan. A bulldozer levels land reclaimed from the river, which is at its lowest level in 50 years. The Yellow river may be regarded as the mother of Chinese civilization, but that does not impress tourist Liu Yan as she looks out over its insignificant, muddy flow.
An innovative scheme that allows offenders to perform community service instead of languishing behind bars is being extended to more mainland cities and provinces.
July 29, 2003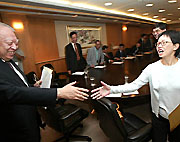 Hong Kong: Chief Executive Tung Chee-hwa moves around the table yesterday to shake hands with Cyd Ho Sau-lan of The Frontier, after having already met the Democratic Party's former chairman, Martin Lee, and legislator Szeto Wah. Chief Executive Tung Chee-hwa met a group of pro-democracy legislators yesterday for the first time since taking office. Despite the smiles and handshakes, the gap between them appeared as unbridgeable as ever.

Chief Executive Tung Chee-hwa, with Tsang Hin-chi (left) and Chan Wing-kee, at the meeting with pro-Beijing business leaders. In sharp contrast to his meeting with members of the pro-democracy camp, Chief Executive Tung Chee-hwa earlier in the day admitted his weaknesses to a group of businessmen and told them that their concerns would be "properly addressed".
The Kowloon-Canton Railway Corporation has offered to return its property development rights to the government to aid the administration's efforts to boost the battered housing market.
For motorists using the planned bridge across the Pearl River Delta from Hong Kong to Macau and Zhuhai, cross-border hold-ups are likely to be a thing of the past.
Cheung Kong (Holdings)' first real estate investment trust (REIT) was oversubscribed yesterday after being launched in Singapore, according to a source familiar with the company.
The price war in the residential fixed-line telephone market has intensified with one operator offering a promotional HK$1 monthly tariff to attract subscribers to switch networks.



Hong Kong School Net managing director Professor Wong Po-choi envisions a "healthy internet" for families by offering parents services such as the ability to control how much time their children can surf.
China: China will probably not heed calls from policymakers in the United States and Europe, who say that the yuan is undervalued and that the central government should raise the value of its currency, according to a representative of investment bank Credit Suisse First Boston (CSFB).
An American envoy said China had done all it can diplomatically in a still-unsuccessful bid to get North Korea to resume nuclear talks.
China's dominant offshore oil producer CNOOC has unveiled a gas discovery in the South China Sea that is estimated to contain reserves amounting to about 10 per cent of the company's existing oil and gas reserves.
Potential buyers of a large Shanghai Land Holdings stake are being asked to come up with a preliminary offer, it was revealed yesterday.
July 28, 2003
Hong Kong: International business groups, upset by recent changes to the Immigration Department's policy on dependant visa holders, have complained to the government over what they see as an erosion of the qualities that make Hong Kong attractive to overseas firms and professionals.
Tung Chee-hwa should appoint ministers who dare to give frank advice, former executive councillor James Tien Pei-chun says.
Many residents of four Guangdong cities who can visit Hong Kong on their own from today do not know how to apply for a permit, a survey has shown.
Hong Kong property developers plan to step up mainland marketing of their luxury residential projects following the central government's decision to relax restrictions on individual tourists traveling to the territory.
Looming competition in Hong Kong's pay-television market is expected to see only two of the four mainstream players survive, according to analysts.
China: The Pearl River Delta faces serious flooding, according to mainland scientists who say the sea level in the region is likely to rise by as much as 30cm by 2030.
The Sars outbreak took a heavy toll on rural income on the mainland during the second quarter of the year, especially among the millions of migrant workers who lost their jobs in cities, according to the National Statistic Bureau.
Zheng Xiaohui Major Internet portals in China are abandoning alliances with small and individual Web sites in exchange for keeping business relations with China Mobile Communications Corp.
July 25 - 27, 2003
Hawaii: U.S. Rep. Ed Case introduces bills to halt Jones Act to end what he calls a "stranglehold" of cargo shipping that exists between Hawaii and the West Coast by repealing the 83-year-old Jones Act.
The Hawaii Tourism Authority (HTA) announced today the agencies selected to market Hawaii in North America, Japan, Asia, Oceania and Europe. The selections were the result of a request for proposal process that began in March of this year.
The winning agencies in the HTA review are:
"The Hawaii Tourism Authority review process attracted international bidders who demonstrated that they can develop exciting, creative and innovative marketing programs based on a deep understanding of their markets," said Rex Johnson, president of HTA. The Hawai'i Visitors and Convention Bureau (HVCB) will continue to market Hawaii in North America. "HVCB has a long history of implementing successful programs in North America and we look to them to continue the momentum for growth there," Johnson said. "The HVCB contract will provide continuity for the North American marketing program while the Hawaii Tourism Authority completes its investigation of the issues raised in the recent state auditor's report." The HTA will begin developing contracts for the selected marketing agencies to begin January 1, 2004; however, planning for 2004 industry programs will begin immediately in order to coordinate the state's plans with those of private industry. Detailed profiles on the companies are available on the HTA website www.hawaii.gov/tourism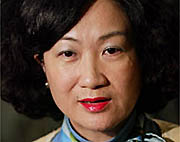 Hong Kong: The security chief Regina Ip returned to Hong Kong last night. She was invited to Beijing to say goodbye. Mrs. Ip held a press conference at Chek Lap Kok airport where she praised the public for its support. Secretary for Security Regina Ip Lau Suk-yee spent the last day of her 28 years as a civil servant as a special guest of some "old friends" - the central government in Beijing.

The Enzo Farrari is unveiled at The Peninsula. Charles Kwan, the owner of one of the eight bound for Hong Kong, will keep his in a showroom.
Stanley Ho Hung-sun's privately controlled gaming flagship in Macau has spent about HK$500 million to raise its stake in Shun Tak Holdings to 13 per cent, sparking speculation it may inject its casino operation into the Hong Kong. Stanley Ho Hung-sun's privately controlled gaming flagship in Macau has spent about HK$500 million to raise its stake in Shun Tak Holdings to 13 per cent, sparking speculation it may inject its casino operation into the Hong Kong-listed company.
Mainland authorities are considering allowing Hong Kong lenders to provide personal yuan banking services to Hong Kong residents in an extension of the Closer Economic Partnership Arrangement, it was revealed yesterday.

Chief Executive Tung Chee-hwa has finally agreed to meet the pro-democracy camp - three weeks after a march in which 500,000 people turned out in protest against the National Security Bill.
Dozens of pro-Beijing figures have been invited to the capital by central government officials anxious to keep them united in support of the Tung administration.
Mao Zedong's only son, Mao Anying, has been remembered in an article in Guangming Daily in the run-up to the 50th anniversary of the Korean armistice tomorrow.
Individual tourists from Beijing and Shanghai are to be allowed to visit Hong Kong, in another attempt by the central government to boost tourism in the city.
Sars investigators have questioned management at the Prince of Wales Hospital over their failure to promptly close a medical ward, where the outbreak first started among the hospital's health-care workers in March.
The International Monetary Fund is understood to have "softened" its opposition to any loosening of Hong Kong's currency peg to the US dollar in the light of changed economic circumstances.
While most of Hong Kong slept through the worst of Typhoon Imbudo, 15 staff at the government's Emergency Transport Co-ordination Centre worked through the night to ensure public transport services would resume smoothly yesterday morning.
Hongkong and Shanghai Hotels (HSH) is seeking legal advice on a potential insurance claim to recoup business losses incurred from the Sars outbreak in Hong Kong.
China: Typhoon Imbudo killed at least six people and caused economic damage worth an estimated 1.9 billion yuan (HK$1.8 billion) during its brief passage through Guangdong on Thursday, according to preliminary reports. Officials fear that a central government relief package worth 420 million yuan (HK$394.8 million) allocated to help flood-stricken areas falls far below the amount required to meet the needs of millions of victims who lost their homes.
The developer of China's Three Gorges hydro-power project, China Yangtze Three Gorges Project Development, plans to invest in an additional six generators worth 2.45 billion yuan (HK$2.29 billion) to handle power demand during peak periods, according to senior officials.
United States textile manufacturers have petitioned the Bush administration to restrict imports of brassieres, gloves, dressing gowns and knitted fabric from China, saying a surge in imports is threatening their survival.
Zheng Xiaohui Major Internet portals in China are abandoning alliances with small and individual Web sites in exchange for keeping business relations with China Mobile Communications Corp.
Internet portal Lycos Asia has retrenched staff as part of a downsizing of operations in Singapore to focus on the booming China market, an executive of the company said yesterday.
Several eastern and southern provinces are facing power shortages this summer, as unusually high temperatures and rapid economic growth increase demand for electricity in Shanghai and booming coastal regions, state media said yesterday.
The three-month ban on mandatory subscriptions to Communist Party newspapers has received a new boost, with the party's central disciplinary committee and the Ministry of Agriculture linking the prohibition to efforts to ease the financial difficulties of rural people.
Chau Ching-ngai and his wife Mo Yuk-ping are being sued by Shanghai Land Holdings for misappropriating US$34.2 million for their own use between April and May, according to a High Court writ.
Nasdaq-listed mainland Internet portal Sina.com said yesterday that its profit rose by 110.9 per cent to US$7.12 million in the three months to June on the back of a 43.4 per cent rise in revenue to $25.98 million.
July 24, 2003

Hong Kong: Tony Blair ducked out of Hong Kong ahead of the typhoon yesterday, leaving behind a vote of confidence in the city.
Mainland leaders have decided to take a more personal interest in major Hong Kong matters, sources said yesterday. A second round of public consultation on Hong Kong's National Security Bill will be launched in September, lawmakers were told yesterday. But hopes for the bill to be drastically altered, possibly in the shape of a so-called white bill, appear likely to be dashed. The committee scrutinising the National Security Bill should be disbanded to restore public confidence in future examination of the laws, pro-democracy lawmakers urged yesterday.
Regina Ip Lau Suk-yee will put her otherwise smooth 28-year government career behind her as she steps down as secretary for security at the end of today.



Hang Lung Properties chairman Ronnie Chan yesterday said the government had given the MTR Corp and Kowloon-Canton Railway Corp land-development rights as an indirect grant to provide them financial support when the property market was booming. "However the structural change in the market since 1997 means the policy is no longer suitable," he said.
Property owners will be able to apply to sell assets through real estate investment trusts (REITs) from next week after the Securities and Futures Commission (SFC) announces the regulatory framework, according to a source familiar with the situation.
A major property developer has joined a growing debate over the government's preferential land supply policy for Hong Kong's two railway firms, saying it is outdated.
City Telecom plans to enter the pay-television market next month, offering a package of 10 to 12 channels aimed at budget-minded consumers, chairman Ricky Wong Wai-kay said.

Takeover target: While Sunday has found a new calling as a takeover target, its award- winning branding exercise featuring its beach ball in quirky locations, has given way to promotions, such as handing out flyers.
China: The Group of Eight leading industrialized nations may soon ask China and several other countries to join a new body it plans to form, the European Union Trade Commissioner, Pascal Lamy, said yesterday.
Plans are being finalized for the formation of five shareholding banks that aspire to become China's first joint stock banks founded on purely private initiatives.
July 23, 2003
Hong Kong: The central government expects Chief Executive Tung Chee-hwa to undertake political reforms in the near future, the state councilor in charge of Hong Kong affairs said yesterday.
The Hong Kong Observatory said it would issue the No. 3 Strong Wind Signal early on Wednesday afternoon and may raise the alert to Storm Signal No. 8 in the evening, as Typhoon Imbudo is heading toward Guangdong.
As his political troubles swirled at home, British Prime Minister Tony Blair weighed in on Tuesday on big Asian worries, predicting Beijing would soon arrange more talks on the North Korean nuclear crisis and praising its hands-off approach to Hong Kong's political dilemma.
Hong Kong's Commercial Radio, which broadcasts programmes critical of the government, will have its licence renewed for another 12 years, despite earlier speculation that it would only be allowed to operate for another three years.
BOC Hong Kong (Holdings) (BOCHK) is among the largest of Zhu Kuan Group's 28 creditor banks which are owed a total HK$4.49 billion, a Zhu Kuan official has revealed.
The first berth in the long-awaited Container Terminal 9 project opened yesterday and was hailed by government and port officials as a shining example of the power of private and public sector co-operation.

Much-maligned mobile operator Sunday has again been in the news this past week with the market cheerleading its potential takeover first by SmarTone, then by PCCW.
China: China's top trade officials put on a show of economic solidarity during the opening of the fifth Asia-Europe Economic Ministers' Meeting yesterday, saying economic development and co-operation is the key to world peace.
China Netcom Group has moved a step closer to a merger with Little Netcom after reaching an agreement to integrate the two companies' operations in northern China.
One of the three companies allowed to run casinos in Macau announced plans yesterday to spend more than US$12 billion to turn the enclave into the largest destination resort in Asia.
Former president Jiang Zemin returned to the media spotlight for the first time in three weeks when he met Mr Blair at the Zhongnanhai government compound.
China's largest steel-maker, Baoshan Iron & Steel, has reached an agreement in principle with Japan's Nippon Steel on the establishment of a 6.5 billion yuan (HK$6.09 billion) joint venture to make steel products for China's booming car industry.
July 22, 2003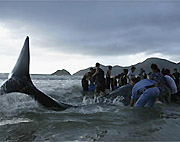 Hong Kong: A team of would-be rescuers struggles in vain to push the male sperm whale back out into the waters off Tai Long Wan beach in Sai Kung last night. The 9.7-metre-long whale later had to be put down.
July 20 marks the 30th anniversary of the death of legendary film star and martial artist Bruce Lee in Hong Kong. Bruce Lee's sudden, untimely death at age 32 and the circumstances surrounding it has sparked endless rumour and speculation.
Nearly three-quarters of people surveyed in Hong Kong said they agreed with the resignation of financial chief Antony Leung Kam-chung last week.
Lawmakers yesterday attacked the review of the much-criticized ministerial system for avoiding comment over the chief executive's role in recent political controversies.
Chief Executive Tung Chee-hwa is likely to look for a new financial secretary outside the Hong Kong government as two ministers in his cabinet have indicated they are not interested in the job.
Media representatives said yesterday they were still unhappy with the restrictions on news coverage at the Central Government Offices in Hong Kong after the government agreed to partial relax them.

Singapore's DBS Bank is in talks to buy stakes in mainland lenders after receiving at least five unsolicited proposals. Randy Sullivan, chief executive at DBS in Hong Kong, Jackson Tai, group vice-chairman and Frank Wong at the official launch of DBS's operations in Hong Kong yesterday. Mr Tai says the firm has received five or six unsolicited requests from banks in China.
MTR Corp (MTRC) is eyeing a possible listing for its consultancy business, which it expects to generate $600 million in revenue in the next three years.
China: A Y-shaped bridge linking Hong Kong to Macau and Zhuhai should go ahead as soon as possible, a central government agency has concluded.
The frontline regulator of listed companies, Hong Kong Exchanges and Clearing (HKEx), is among 86 public firms to be named and shamed for flouting some of the most basic requirements for corporate filing.
How bad really was the Sars outbreak in Beijing? This is the question starting to trouble World Health Organization officials after Beijing health authorities admitted they had no accurate record of the number of people infected by the deadly disease in the capital earlier this year.
Residents of Hong Kong, Macau and Taiwan will for the first time be allowed to take the national qualification test for professional translators, according to Xinhua.
The mainland is likely to face renewed pressure to revalue the yuan when 25 economic ministers from Europe and Asia meet at a conference in Dalian this week.
Shanghai plans to merge or restructure five government bodies, including key economic agencies, in an effort to meet the demands of a market economy, state media and officials say.
Mainland chipmaker Semiconductor Manufacturing International Corp (SMIC) has appointed Credit Suisse First Boston (CSFB) as a book-runner for its planned international initial public offering next year, according to banking sources.
July 21, 2003
Hong Kong: The retiring government auditor has fired his last salvo, saying departments are still wasting taxpayers' money despite the mounting budget deficit. Officials have tried to influence the Audit Commission to tone down its criticisms, according to Dominic Chan Yin-tat.
The Hong Kong government should consider adopting British-style public-private partnerships (PPPs) rather than opting for wholesale privatization of its assets, a consultant has said.
About 80 million Guangdong residents might be able to visit Hong Kong without joining tour groups from May next year.
Growth-challenged local telecommunications operators cheered their late inclusion in Hong Kong's free trade pact with the mainland, seeing opportunities to own and control "value-added" data services which have boomed in recent years.
China: A boy sits in front of the construction site for a 30km-long ocean bridge at the world's largest port project on Shanghai's southern coast. Shanghai is pushing ahead with construction of the world's largest container port even as the project is buffeted by lingering controversy.
Beijing woman Lei Reman, 25, has done what no other woman in the capital has ever done before: she has brought a man to court for sexual harassment.
Shanghai property tycoon Chau Ching-ngai was close to repaying the remaining $741 million on a $1.77 billion Bank of China (Hong Kong) Holdings loan when he was detained by mainland authorities in May.
China's car love affair shows no sign of abating with newly rich consumers buying 120 per cent more BMW's in the first half of this year than the whole of last year.
July 18 - 20, 2003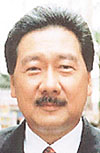 Hawaii: The Pacific Basin Economic Council will vote next month on whether to move its headquarters from Honolulu to Singapore, but the group's president wants to see local support to keep it here. "I serve my members and will support whatever is decided," PBEC president Dalton Tanonaka said yesterday. "But I've been trying to better connect Hawai'i businesses to our organization and hope leaders here see the value of having PBEC remain." The group will hold its 36th general meeting in Seoul, South Korea, Aug. 22-26. On Aug. 24, the group will vote whether to move to the Southeast Asia city-state where officials have offered free rent.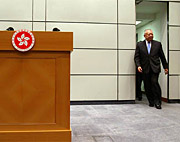 Hong Kong: Chief Executive Tung Chee-hwa yesterday insisted he would not step down, amid growing calls for him to quit in the wake of the mass protests against his government. Tung Chee-hwa steps into the conference hall at the Central Government Offices to deliver his statement and answer questions yesterday. In a 45-minute appearance, he said he and his team would respond to the aspirations of the people. Mr Tung appeared to fight back tears as he spoke of having contemplated quitting. An influential mainland academic has suggested Chief Executive Tung Chee-hwa delegate some of his duties, particularly political affairs and the tough job of dealing with different political camps, to a deputy to make up for his lack of political skills. Tung Chee-hwa is expected to receive the central government's support for continuing to run Hong Kong when he meets leaders in Beijing today.

Constitutional Affairs Secretary Stephen Lam confirms yesterday that he will be acting security chief when Regina Ip leaves.
The cash-strapped Housing Authority yesterday announced a radical privatization plan to solve its budget deficit by selling off its shopping centres and car-parking spaces to a new company - a move which could generate $20 billion. Investment bankers said the Housing Authority's plan to sell its car parks and shopping malls through a real estate investment trust (REIT) should be attractive to investors, but they say the necessary market framework would need to be put in place first.
Hong Kong's director of health, who is facing an investigation for her handling of the Sars outbreak, is considering a senior post at the World Health Organization.

Andrew Sheng, chairman of the Securities and Futures Commission, has not yet signed a new contract even though his term expires at the end of September. The impasse has sparked expressions of concern from legislators and brokers worried that the ongoing political crisis could impact on the markets watchdog.
The investment bank sponsors of PCCW's poorly received US$400 million share placement have been criticised by investors after a negative report issued by its research department contributed to the counter plunging to a historic low yesterday.
Serious consideration should be given to allowing the election of Hong Kong's third chief executive by universal suffrage, the head of the biggest pro-Beijing party believes.
Central government leaders are expected to voice strong public support for the chief executive and his administration during their meetings in Beijing at the weekend, mainland sources familiar with Hong Kong affairs said yesterday.
Antony Leung's resignation as financial secretary and the uncertainty surrounding his replacement have cast doubt over the government's fiscal policies, legislators and academics say.
A World Trade Organization agreement was breached by the Hong Kong government when it awarded a multi-billion dollar reclamation contract, according to a ruling handed down by a review body.
A second round of public consultation on the National Security Bill will be conducted, the chief executive announced yesterday.

China: A saleswoman assists a customer at a discount store in Beijing yesterday. The mainland economy continued to show impressive growth in the first half despite fears that the Sars outbreak would slow it down.

A sale looms for caged civet cats at Xin Yuan market, Guangzhou. Forestry officials have lifted the ban on trade of 40 wild animals, which was imposed during the Sars outbreak. A member of the University of Hong Kong's team of microbiologists which detected the Sars virus in civet cats says Guangdong is making a mistake by lifting a ban on the trade in wild animals.
The European Commission has added its voice to those in the United States expressing fears that the low level of the yuan is becoming a problem for the world's financial system.
A key investment vehicle of Zhuhai's municipal government is on the brink of collapse after banks rejected an "insulting" offer to restructure HK$4.49 billion in debts and threatened to take steps to liquidate the company. The financial dire straits of Zhu Kuan Group raise major questions about the Zhuhai government's ability to take part in the proposed bridge to Lantau Island.
About 10,000 rhesus monkeys and thousands of snakes now being held in wild animal farms in Guangzhou are waiting for health authorities to determine their fate.
Yao Jingyuan, chief economist of the National Bureau of Statistics, loves to crack jokes, and his tale of "romance being in the air" when announcing first-half economic results was a telling insight into how the mainland economy was able to escape Sars.
British Prime Minister Tony Blair is scheduled to arrive in Beijing on Sunday for a four-day visit for wide-ranging discussions on bilateral, regional and global issues.
Taiwan's top mainland policy formulator, Tsai Ing-wen, yesterday painted a rosy picture for future cross-strait exchanges, with the island normalizing activities such as direct shipping and financial trade with the mainland.

Aircraft movements at Beijing Capital International Airport in the first week of this month have bounced back to near pre-Sars levels, with about 600 aircraft landing or taking off at the airport daily.
It is practically an article of faith to the electronics industry that another production boom is just around the corner and an increasing amount of this production will be in China.
July 17, 2003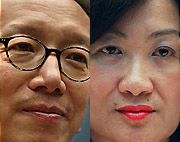 Hong Kong: Secretary for Security Regina Ip cited personal reasons for her resignation, submitted to Tung Chee-hwa on June 25, while Antony Leung reportedly resubmitted his at 8pm last night after first offering to go in March over the scandal surrounding his luxury car. The political crisis engulfing Hong Kong in the wake of three mass demonstrations took a dramatic twist last night as Chief Executive Tung Chee-hwa announced, in the space of just more than two hours, that he had accepted the resignations of two key ministers. Chief Executive Tung Chee-hwa will pay a duty visit to Beijing on Saturday to brief state leaders on the political crisis in Hong Kong. The shock resignations of Antony Leung Kam-chung and Regina Ip Lau Suk-yee from the Tung cabinet will deepen uncertainty in the leadership of Hong Kong in the wake of recent mass protests against the government.
Regina Ip's legacy is almost certain to be marked largely by the Article 23 controversy, but Secretary for Security Regina Ip Lau Suk-yee yesterday announced the end of a vast and diverse 28-year-old career in public service in Hong Kong. Police Commissioner Tsang Yam-pui last night was touted as a frontrunner to take over from Regina Ip. Mrs Ip's fellow minister Michael Suen Ming-yeung also was mentioned as a possible successor.

Financial Secretary Antony Leung leaves the Central Government Offices following his resignation. He faces possible prosecution over his purchase of a Lexus ahead of his budget. The resignation of former Financial Secretary Antony Leung Kam-chung would not harm Hong Kong's economy, leading businessmen said on Thursday.
Former Financial Secretary Antony Leung Kam-chung had joined the Government with great enthusiasm, and his controversial purchase of a luxury car was an "unfortunate incident", Chief Secretary Donald Tsang Yam-kuen said on Thursday.

The entertainment industry yesterday was rocked by the arrest of mogul Albert Yeung Sau-shing and singer Juno Mak Chun-lung as part of a sweeping ICAC investigation into an alleged bribes-for-awards scam.

The commercial-based business model of MTR Corp (MTRC) must not be sabotaged in the face of the government shifting its policies on transport fares and land supply, the outgoing chairman and chief executive Jack So Chak-kwong told the administration.
The Hong Kong Monetary Authority (HKMA) has hired Goldman Sachs and HSBC to lobby rating agencies in an attempt to curb the risk of being downgraded.
China: Elite members of the Communist Party will meet soon to discuss a revision of the state constitution to include former president Jiang Zemin's Theory of Three Representatives.
Taiwan yesterday resumed normal exchanges between the outlying islands of Kinmen and Matsu and the mainland province of Fujian, more than two months after it cut off the links due to the outbreak of Sars.
Shanghai Merchants Holdings was stripped of HK$35.1 million in three questionable money transfers between February and April, according to new findings by the company's receivers.

It makes sense for mainland fixed-line giant China Telecommunications to skip second-generation (2G) services when it is granted a mobile licence, according to company president Chang Xiaobing.
July 16, 2003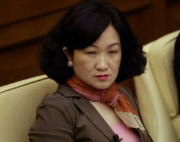 Hong Kong: Hong Kong's chief executive announced on Wednesday the resignation of Secretary for Security Regina Ip Lau Suk-yee, who was key to efforts to pass a controversial anti-subversion bill that sparked massive pro-democracy protests.
Singapore has overtaken Hong Kong as the best place to do business in the Asia-Pacific region, an economic intelligence group said on Wednesday after surveying the world's 60 biggest countries.
Hong Kong's leading property firm Sun Hung Kai Properties (SHKP) will take a 10 per cent stake in Hopewell Highway Infrastructure, Gordon Wu, chairman of Hopewell Holdings, said on Wednesday.
The Department of Justice would treat the investigative report on Financial Secretary Antony Leung Kam-chung's controversial car purchase like any other potential criminal prosecution case, Secretary for Justice Elsie Leung Oi-sie said on Wednesday.
Entertainment tycoons Albert Yeung Sau-shing and CCT Telecom chairman Clement Mak Siu-tong were among the list of prominent show business personalities being questioned by the Independent Commission Against Corruption (ICAC) on Wednesday morning.
The Secretary for Housing, Planning and Lands Michael Suen Ming-yeung on Wednesday warned of the difficulties in maintaining the quality of public housing if the Housing Authority (HA) was forced to lower rents.
Outgoing MTR Corp chief executive Jack So Chak-kwong on Wednesday said lowering or raising train fares should be carried out carefully - to avoid breaching the company's commercial principles.
Shares in Sunday Communications surged another 30.64 per cent on Tuesday as the company confirmed the departure of a senior executive. The surge, which followed a 37.78 per cent surge on Monday, took the shares to a 16-month closing high of 40.5 cents.

China: BMW's Lueder Paysen (left) and Marc Singleton, of joint venture partner Sime Darby, after signing the deal in Kuala Lumpur yesterday. BMW plans to expand in Malaysia as part of moves to strengthen its presence in Asia.
Japanese carmaker Toyota and China's First Automotive Works (FAW) Group said on Wednesday they had begun operations at their sports utility vehicle (SUV) joint venture in northeast China.
China's leading PC manufacturer Legend Group is not ready to expand overseas yet, the group's chairman Liu Chuanzhi said on Tuesday.
China's second-quarter gross domestic product (GDP), due out on Thursday, was set fall sharply due to the impact of Sars, potentially marking its lowest level since 1991, state press reported on Wednesday.
A state newspaper has raised the alarm over a steady increase in financial crime in Shanghai, saying the prevalence of the trend threatens the city's rise as an international financial centre.
In a revolutionary step aimed at injecting competitiveness into mainland aviation, regulators held an unprecedented meeting with consumer groups yesterday - taking in both their criticism as well as advice, ahead of finalising the nation's new air ticket pricing system.
Six people have been reported killed in a mudslide in southwestern China as torrential rains feed floodwaters from the remote desert west to the densely populated east.
Rescuers were still searching yesterday for 50 people missing after a landslide at a mountain resort in western Sichuan province, but hopes of finding any survivors were fading, state media reported.
July 15, 2003
Hong Kong: The number of families trapped in negative equity soared to more than 177,000 last month, as the Sars outbreak pushed housing prices even lower, according to a study by Midland Realty.
China Telecom Corp, the Hong Kong-listed arm of the mainland's largest fixed-line carrier, has announced a long-awaited multi-billion-yuan plan to acquire six networks from its parent.
Hong Kong companies, heeding lessons learned during the Sars outbreak, have increased their spending on information technology in preparation for other contingencies.
China: Yang Bin, once the mainland's second-richest man, stands in the dock of Shenyang court where he was convicted of bribery and fraud yesterday. Only nine months ago he and North Korean leaders toasted Yang's appointment to head a new special economic zone. The fall from grace of the mainland's second-richest man was complete yesterday, when a court jailed Yang Bin for 18 years and fined him and two of his companies a combined eight million yuan for crimes including bribery and fraud.
Mainland tourism will have to wait until the end of next year or possibly early 2005 to recover fully from the impact of the Sars outbreak, according to a leading academic.
Male government officials in Sichuan have been banned from hiring women as personal assistants or drivers in a bid to clamp down on high-powered pillow talk.
Government regulators are holding talks with consumers and airlines today as it prepares to liberalise the mainland's air fare system - a move applauded by frequent travelers.
The head of the State Asset Management Commission is proposing higher wages at state-owned enterprises (SOEs) in an effort to improve management efficiency.
China's central government has proposed prohibiting car dealerships that sell domestically made vehicles from carrying imported models, in a move aimed at protecting mainland producers.
With great fanfare, UBS Warburg last Wednesday become the first foreign investor to buy A shares, purchasing the stock of four blue-chip companies on the Shanghai and Shenzhen markets.

Germany's Siemens is reportedly restructuring its largest mainland telecommunications equipment joint venture, Beijing International Switching System Corp (BISC), by merging it with its Shanghai unit.
July 14, 2003
Hong Kong: The central government is considering more flexible policies towards Hong Kong due to the serious challenge to "one country, two systems" presented by opposition to the National Security Bill. For the third time in two weeks, thousands of people took to the streets yesterday in protest at government policy - demanding the speedy introduction of full democracy for Hong Kong.
More than 3,000 drummers set the world record for striking Chinese drums simultaneously in Victoria Park yesterday.
The government has ruled out spending billions of dollars to buy up sites of ecological importance, according to a consultation document on nature conservation to be released this week.

After months of delays and failed negotiations with strategic investors, Huaxia Bank will finally list on a domestic stock market next month, raising five billion yuan (HK$4.68 billion). But no outside bank will buy shares in it.
China: A million people filled Beijing's parks yesterday to celebrate the end of the city's Sars outbreak.

Jiangsu province, where water levels have reached their highest for 10 years. Xinhua says 569 people have died due to flooding this year. The dykes of the swollen Huai river in Anhui province are being patrolled around the clock by 1.74 million residents and soldiers as efforts to protect the population from the deadly flood waters are stepped up, a spokesman for the Anhui Flood Control and Drought Relief headquarters said yesterday.

Members toasting the successful launch of Asia Aluminum's $3 billion project to develop an industrial city in Zhaoqing include (from left) managing director Benby Chan, chairman Kwong Wui-chun, Zhaoqing City mayor Deng Yaohua and deputy mayor Liang Guoan.
The Chinese leadership came close to announcing the framework of a scheme allowing mainland investors to buy Hong Kong stocks, but the decision was delayed because of opposition by the China Securities Regulatory Commission (CSRC) and the Sars outbreak.
July 11 - 13, 2003

Hong Kong: Dr Yuguo Li, associate professor of the University of Hong Kong's department of mechanical engineering, and Dr Alex Chan, president of the Hong Kong Institute of Engineers, watch a demonstration of the "Sars-buster" system. The developers of the system believe it can prevent transmission of viruses such as Sars in hospital wards.
A former director of the United States Federal Reserve's board of governors is to replace David Carse as deputy chief executive of the Hong Kong Monetary Authority (HKMA), marking an end to the decades-long tradition of employing an envoy from the Bank of England to take charge of Hong Kong's banking policy and supervision.
Global consulting and IT services company Cap Gemini Ernst & Young has relocated the headquarters of its Chinese operations from Hong Kong to Shanghai this week in an attempt to capture growing demand in the mainland market.
The central government is quietly rethinking and redressing what is described as "rash tendencies" in investigating cases involving businessmen, amid concerns over the handling of fraud allegations against Liu Jinbao.
Disgraced former Hong Kong solicitor and failed Legco candidate Helen Chung Yee-fong is due to arrive in Hong Kong this morning after extradition from the United States to face nine fraud charges, following a two-year battle to bring her to justice.
Hong Kong insurance companies have had to pay out $105.28 million as a result of the Sars outbreak, making the virus the city's second-most expensive insurance catastrophe.
HSBC Holdings yesterday agreed to sell its loss-making Italian private banking operations for 10.8 million euros (HK$95.5 million) to investment bank Banca Profilo.
China: Wal-Mart founder Sam Walton would have been proud had he been at the grand opening of the new Sam's Club in Beijing's Shijingshan district yesterday.
When Li Changchun was put in charge of ideology in the Standing Committee of the Politburo, hopes were high that his experience in Guangdong, which has the most open media environment in the country, would lead to long-awaited media reforms.
The Agricultural Bank of China (ABC), the weakest of the mainland's four biggest lenders, put its non-performing loans (NPL) ratio at 30.07 per cent at the end of last year, under new disclosure requirements.

Two-year-old Xiangxiang is set free outside the Giant Panda Breeding and Research Centre in Wolong. The male panda became the world's first captive-bred specimen to be returned to the wild.
One of the country's top private property developers has slammed a new People's Bank of China lending policy that tightens the rein on the real estate market. Officials issued the policy without adequate public consultation, says Pan Shiyi.
The mainland China has lifted 150 million people out of poverty in the past 10 years - the biggest success story in international poverty alleviation, the United Nations said yesterday.
Foreign manufacturers are slashing their prices in a bid to restore their dominance in China's high-end television market.
July 10, 2003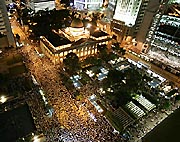 Hong Kong: The Legco building is surrounded by demonstrators during last night's vigil in Central. Protesters called for Article 23 to be delayed until Hong Kong enjoys one man, one vote. Tens of thousands of people rallied in the heart of Hong Kong last night in the second mass protest against embattled Chief Executive Tung Chee-hwa in less than a fortnight.
The Hong Kong Jockey Club can start receiving bets on soccer games as early as next month after the Betting Duty (Amendment) Bill passed its third and final reading by 30 votes to 24 in the Legislative Council on Thursday.
Dozens of mainland officials from various departments have been rushed to Hong Kong to meet people from different sectors of the community and assess the political crisis facing the Tung administration. Pressure mounted yesterday for security chief Regina Ip Lau Suk-yee to be removed from handling Article 23 legislation, with a fellow cabinet member saying she would face great difficulties if she remained associated with the bill.
Environmentalists yesterday outlined a vision for Victoria Harbor of promenades, a musical fountain and a harbourside entertainment precinct, as they warned that the fight to protect the waterfront from alternative projects resulting in reclamation may not be over yet.
At least 21 people were killed and 21 injured when a bus skidded off Tuen Mun Road near Ting Kau bridge around 6.35am on Thursday, a police spokesman said.
Hong Kong's top banking regulator yesterday warned that banks' mortgage portfolios could deteriorate further unless borrowers were granted leniency in restructuring their debts.
Cathay Pacific Airways' passenger numbers last month surged more than 88 per cent from May when the Sars outbreak was at its peak.
China: Authorities have evacuated 68,000 people from around a lake in Jiangsu province to clear the way for the next flood peak on the Huai river as it experiences its worst flooding since 1991.
Premier Wen Jiabao says he will stick to a reform agenda and will not waver despite recent debate on the pace of change in light of the Sars crisis.
Asian tourism officials gathered in Beijing yesterday to hammer out a strategy to lure tourists back to the region after the Sars crisis.
Negotiations over the rescue of SK Global will enter another round in Hong Kong today after foreign creditors rejected a token top-up of the previous 40 per cent cash offer to buy out their debt.
July 9, 2003
Hong Kong: Against the backdrop of the ongoing crisis of confidence faced by Tung Chee-hwa, Foreign Ministry spokesman Kong Quan yesterday defended the "one country, two systems" blueprint and suggested the central government remained determined the security bill should become law.

A model wearing an outfit by local designer Ika sashays down the catwalk at a showcase of spring and summer collections for Hong Kong Fashion Week.
Hopewell Highway Infrastructure (HHI), to be spun off by Hopewell Holdings on the main board early next month, will have net debt that is up to 92 per cent higher than shareholders' equity after the listing, despite raising up to $3.64 billion.
A $3.11 billion real estate investment trust (reit) to be launched by Cheung Kong (Holdings) in Singapore will set a benchmark for future issues in Hong Kong, it was claimed yesterday.
SK Global will meet domestic and foreign creditors in Hong Kong today for restructuring negotiations that may decide the fate of the debt-ridden South Korean conglomerate.
Hong Kong Exchanges and Clearing (HKEx) has shelved a plan to extend trading hours in yet another embarrassing backdown in the face of opposition from brokers.
China: The mainland has stepped up arrests and violence against HIV-positive villagers protesting for more government help, rights groups said on Wednesday.
Shenzhen's new mayor, Li Hongzhong, used his first media interview since taking office to make a pledge - to build the city into a "world-class metropolis".
Chinese-language portal Sohu has notched up profits of US$7.5 million for the second quarter, a 63 per cent leap from the previous quarter.
July 8, 2003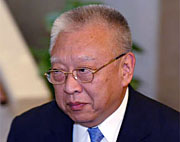 Hong Kong: A sombre Chief Executive Tung Chee-hwa meets the press to make a statement at Central Government Offices yesterday afternoon. Mainland sources say the central government is 'disappointed' by the delay of the security bill's passage. The central government yesterday remained silent on the abrupt turnaround by Chief Executive Tung Chee-hwa, signaling its intention to stay above the controversy surrounding the delay of the second reading on the national security legislation. The United States said overnight (HK time) the delaying of the Article 23 legislation was a "positive development" and urged the Government to conduct "an open and transparent process of consultation" on the issue.
The Liberal Party would not turn away from Tung Chee-hwa or play the role of an opposition party, party chief James Tien Pei-chun said yesterday.

Gao Siren (left), head of the Beijing Liaison Office, presents a medal to a relative of Joanna Tse during a ceremony to honor health workers. Sars Heroic Medals were presented to more than 300 public health workers, including those who contracted the disease, academic and scientific researchers, and private doctors and Chinese herbalists who contributed to the effort.
A meeting between Tung Chee-hwa and Guangdong Governor Huang Huahua scheduled to be held today on a bridge linking Hong Kong, Macau and Zhuhai has been postponed because of the current political crisis.
Global express operator United Parcel Service (UPS) is set to splash out US$100 million to make Hong Kong its hub for trade with Europe, pending regulatory approval of its second tranche of aviation rights under last year's Air Services Agreement with the United States, according to industry sources.
The Hong Kong arm of SK Global has won two weeks' breathing space to sell a US$561 million debt-restructuring plan to foreign creditors, a last-ditch reprieve from the prospect of liquidation.
Swire Pacific faces paying an estimated HK$4.5 billion to the government after Hong Kong's top court threw out an attempt by the conglomerate to quash a ruling over Taikoo Shing land premiums.
Hong Kong has risen in the ranks of owners of the world's fastest supercomputers by doubling the number of its high-performance computing sites over the past six months.

China: South Korean President Roh Moo-hyun and President Hu Jintao inspect a guard of honour in Tiananmen Square yesterday. Chinese and South Korean leaders vowed yesterday to work towards bringing North Korea into a new round of multilateral talks to resolve the festering issue of the hermit state's nuclear program.
After conquering Sars, the mainland China has once again become the lone bright spot in the world economy, Morgan Stanley chief economist Stephen Roach said yesterday.

3Com North Asia chief David Tang sees the venture becoming the leading enterprise networking equipment supplier in China. Networking gear maker 3Com, which has suffered several years of diminishing sales, hopes to turn its fortunes around through its joint venture with the mainland's Huawei Technologies.
July 7, 2003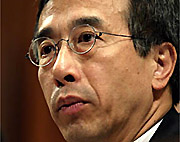 Hong Kong: James Tien Pei-chun made a stand last night over his concerns about the Article 23 timetable. Executive Councilor James Tien Pei-chun last night announced that he had resigned from Tung Chee-hwa's cabinet after his calls to delay the national security bill were rejected. In a stunning turnaround, Chief Executive Tung Chee-hwa announced at 2am this morning that the government will defer the second reading of the controversial national security legislation.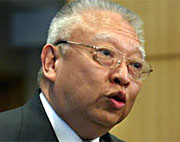 Chief Executive Tung Chee-hwa addressed the media yesterday at the Central Government Offices. He reassured that Article 23 would not affect the freedoms and the rights of Hong Kong people. The government may have to postpone the passage of its controversial national security legislation after a key legislative ally said yesterday it favored a delay until December. Some of Hong Kong's best-known former officials yesterday joined a chorus of calls for the government to defer enactment of the national security laws, citing the need for public consultation. With the Liberal Party's about-face yesterday over passage of the national security laws, it remains far from clear what the fate of the legislation will be. Tung Chee-hwa has one last chance to address public concerns and shelve the national security bill, lawmakers said yesterday. Legco president Rita Fan Hsu Lai-tai said she would consult both the Bills Committee and the House Committee of the council tomorrow before deciding whether the government's proposed amendments could be introduced. Last-minute amendments proposed by the government did little to ease concerns on the most controversial provisions of the national security law yesterday as journalists and legal professionals continued to call for more time to discuss the relevant issues.
Increased capital requirements would be likely to speed up consolidation in Hong Kong's overcrowded stockbroking market.
The craze in Asia for downloading personalised ring tones, games and pop hits on to mobile phones has rapidly developed into a multi-billion-dollar industry with the boom expected to surge as technology improves in the next five years, analysts say.

China: Soldiers rescue a resident of Yangzhou in eastern Jiangsu province. Amid rising river levels, officials in neighboring Anhui province evacuated 17,000 people living along a main tributary of the Yangtze. More than 17,000 people were evacuated from along the Huai river yesterday before authorities blew up a dike to release swollen floodwaters into a low-lying plain.
China's attempt to use administrative pressure to force coal suppliers and the nation's power producers to resolve a deadlock in price negotiations has failed to secure the signing of all relevant contracts by the end of last month.
Investigators have arrested the chairman of a major state IT company on suspicion of fraud involving nearly one billion yuan (HK$937 million) just after it cleared the first hurdle towards an overseas listing, an official newspaper reported yesterday.
July 4 - 6, 2003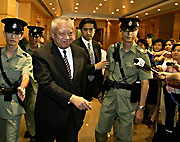 Hong Kong: Chief Executive Tung Chee-hwa leaves the Central Government Offices yesterday after a meeting on Article 23 legislation - the second round of crisis talks in two days. Today Mr Tung is expected to give an official response to Tuesday's protest march. The chief executive is expected to respond today to the demands of the 500,000-strong protesters who turned out on Tuesday calling for a delay in the enactment of Article 23 legislation. Police Commissioner Tsang Yam-pui issued a stern warning yesterday ahead of a planned protest against the national security bill outside the Legco building next Wednesday, stressing it would be unlawful for anyone to disrupt proceedings of the legislature.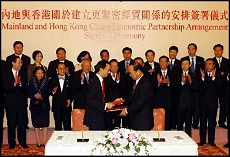 (Left) Financial Secretary Antony Leung and Vice-Minister of Commerce An Min exchange CEPA documents as Premier Wen Jiabao (5th from left) and CE Tung Chee-Hwa applaud. International firms targeting China's market could enjoy special treatment under the newly-announced Closer Economic Partnership Arrangement (CEPA) between Hong Kong and the Chinese mainland.

Hong Kong will have a better tomorrow because of its competitive advantages and the ability of its people to forge ahead, said Premier Wen Jiabao. He was speaking on July 1 at celebrations marking the sixth anniversary of the establishment of the Hong Kong Special Administrative Region.

With Sars behind Hong Kong, HK is busier than ever as international visitors make up for lost time.
Mickey Mouse may hail from the land of hamburgers and hotdogs, but when he makes his debut in Hong Kong, he will be serving up dim sum.

China: A Beijing man inspects a proposed design for the 2008 Olympic Games' swimming complex yesterday. Ten designs for the complex are in the running for selection and are being displayed in the capital.
A blueprint for sweeping structural reforms of China's print media could rock the foundations of lumbering state-run newspapers and prepare the industry for market competition.
Unshaken by the Sars outbreak, foreign investors committed US$6.07 billion in funds to Shanghai in the first half of this year, up 40 per cent on last year.
July 3, 2003
Hong Kong: Hong Kong's chief executive called an urgent meeting with his ministers yesterday to consider the government's response to this week's 500,000-strong protest against the proposed national security law. Australia on Thursday joined the United States and Britain in expressing concern over Hong Kong's plan to enact controversial anti-subversion legislation next week. Police Commissioner Tsang Yam-pui on Thursday warned that future protests in Hong Kong need to remain law abiding. Activists warn there could be clashes with supporters of Article 23 when they besiege the Legislative Council on the day the national security legislation is put to a vote.
A working group led by the Securities and Futures Commission (SFC) has backed down from a proposal to raise the capital requirement for stockbrokers by up to 10 times after the government supported objections from brokerages, according to a source familiar with the situation.
China: The lifting of restrictions on individual tourists from Guangdong will help the retail and hotel sectors in Hong Kong but may not help tour operators, academics and business leaders said yesterday.
Export growth will slow this year because of a sluggish world economy and growing anti-China trade sentiment around the globe, mainland experts predicted yesterday.
AOL Time Warner has sold a controlling stake in Chinese Entertainment Television Broadcast (CETV) to Tom.com for stock worth HK$53.23 million, less than two years after the struggling channel secured coveted landing rights in Guangdong province.
July 2, 2003
Hong Kong: Hong Kong students have been revealed as the "star performers" in a major international study of maths, science and reading literacy - although the report's authors note that pupils here are weaker in areas that involve more creative and critical thinking.
About 9,500 foreign domestic helpers lost their jobs at the height of the Sars outbreak in Hong Kong from March to May, Immigration Department figures show.
China: President Hu Jintao unveiled little of groundbreaking nature yesterday in his first speech as general secretary on the birthday of the Communist Party. He told cadres to launch a "new wave" of studying the "Theory of the Three Representatives" put forward by predecessor Jiang Zemin and to dedicate themselves to "serving the people".
The People's Daily has attacked foreign critics for talking up the value of the Chinese currency, the first clear sign that mainland leaders are tiring of international pressure to revalue the renminbi.
China's National Development and Reform Commission (NDRC) has announced ground-breaking provisional rules banning price-fixing alliances, monopoly profits and predatory pricing.
China Southern Airlines has ruled out an initial public offering (IPO) in the mainland market this month but analysts expect a listing debut as early as this quarter.
July 1, 2003

Hong Kong: Chinese Premier Wen Jiabao talks to workers at the Prince of Wales Hospital. Wen praised Hong Kong's fight against Sars during his visit to the hospital where dozens were sickened early in the crisis. He conducted a whirlwind tour of Hong Kong that took him to Amoy Gardens, a shopping mall and a number of key academic and economic establishments.
Cantonese and Putonghua speakers use more areas of their brains than people who speak English, scientists said yesterday, providing an insight into why the languages are so difficult for foreigners to learn.
Standard Chartered, Hong Kong's fourth-largest bank, will not benefit from dramatically relaxed entry requirements into the mainland banking sector under a free-trade pact designed to give Hong Kong firms a leg up over foreign rivals.
Global beer giant SABMiller has made its second significant move into the mainland with the purchase of a 29.6 per cent stake in Hong Kong-listed Harbin Brewery Group.
Mainland telecommunications operators and regulators have expressed concern over a flood of pornography on Chinese Web sites, including the Li Ka-shing-controlled Tom.com.

China: A tour group from South Korea pose for photo in front of a banner declaring there is no Sars in the Chinese capital, Beijing. Tourism officials keen to jump start the tourist industry organized an event to mark the arriving of the first foreign tour group to Beijing after the Sars epidemic. About 60 South Koreans arrived from a flight from Pusan, South Korea.
Beijing's 2008 Olympics will be postponed by two weeks because organizers are concerned that the city's stiflingly hot summer will affect the performance of athletes and spectators' enjoyment.
US business magazine Forbes will press ahead with compiling a list of the mainland's 100 richest people despite the legal problems associated with some of the previous entrants that have made many entrepreneurs reluctant to co-operate.
Germany's Siemens will launch its Xelibri brand handset in China this week to gauge demand for the quirky mobile-phone in the world's biggest market.
June 30, 2003
Hong Kong: Premier Wen Jiabao receives a warm welcome after touching down at Chek Lap Kok yesterday on his visit to Hong Kong. The premier has warned that the economic impact of Sars will continue to be felt on the mainland for some time to come. Wen Jiabao arrived yesterday bearing kind words, a special gift and just one regret: that he had not come to Hong Kong earlier.
A landmark free-trade agreement with the mainland has been signed, giving Hong Kong companies and professionals a critical advantage over foreign competitors in accessing the nascent Chinese market. The closer economic partnership arrangement (Cepa) signed yesterday in theory significantly lowers the barriers for Hong Kong banks seeking to tap the mainland market. Cepa will probably not result in a flood of orders for Willy Lin Suen-mo, managing director of Milo's Knitwear. Cepa will bring valuable opportunities for Hong Kong businesses and professionals, and will give local companies competitive advantage over their foreign rivals, business leaders said last night.
Restrictions on tourists entering from Guangdong province will be progressively lifted from July 28, giving Hong Kong's struggling tourist sector a much-needed boost.

An unusual queue has formed in Sai Wan Ho every afternoon in recent months, with housewives and maids - even one working for tycoon Li Ka-shing - waiting to buy salty geese from a small Chiuchow takeaway. Shun Hing Chiushan Salty Food Company has been open for only a year but has already gathered a city-wide reputation.
The government has for the first time committed itself to formal monetary policy, with top officials defining their roles in an attempt to remove question marks about who makes key finance decisions.
Chief Executive Tung Chee-hwa and Guangdong Governor Huang Huahua will take personal charge of a cross-border forum to boost co-operation after the signing tomorrow of a free-trade pact with the mainland.

South China Morning Post Group Editor-in-Chief David Armstrong presents a cheque for $8.8 million to Hospital Authority chief executive William Ho Shiu-wei on behalf of Project Shield, the campaign conducted by the Post between April 25 and May 6. The cheque brings to $21.14 million the total spent on protective equipment for medical workers. A final purchase of equipment will be made soon to clear the Project Shield bank account.
The government has made what is believed to be its final concessions on the national security bill ahead of an expected large turnout at Tuesday's public rally.

Hong Kong Exchanges and Clearing (HKEx) chief executive Paul Chow Man-yiu yesterday rejected suggestions the exchange needed to take responsibility for the quality of new listings after a string of recent stock-market scandals.
The job of deputy chief executive at the Hong Kong Monetary Authority (HKMA) is likely to go to a foreign banking regulator after the hunt to replace David Carse failed to turn up any suitable local candidates.

China: Drug smugglers enter China by many different paths, including jumping fences near the Jiegao gateway, or via the legal route, the official Mangbang border crossing (right), 50km east of Ruili.
A corruption scandal unfolding in Wenzhou has put the spotlight on the rise of a local official and shady land deals in the eastern port city, where loose regulations have allowed private business to flourish.
The China Construction Bank has punished nearly 500 employees after authorities uncovered fake loans and other problems involving more than one billion yuan (HK$940 million), state media said yesterday.
ICEA Capital is confident about the near-term prospects of Dawnrays Pharmaceutical (Holdings), whose initial public offering (IPO) is the first share offer lead-managed by ICEA after its reputation was tarnished by former client Euro-Asia Agricultural (Holdings).
China's biggest cotton mill is seeking to raise nearly two billion yuan (HK$1.88 billion) from a listing on Hong Kong's main board during the summer, according to an official newspaper.
A little-known private developer from Ningbo is buying the Shanghai Hilton, the city's first five-star hotel, for US$150 million, an official newspaper reported.
Indian Prime Minister Atal Behari Vajpayee yesterday ended the first visit by an Indian leader to the mainland in a decade, saying it will help settle decades-old border disputes and restore trust.
Taiwan president Chen Shui-bian's decision yesterday to press ahead with his plan to hold a referendum on a nuclear power plant despite United States' concern is being seen by analysts as a ploy to boost his chances of re-election.
Yuan forward contracts rose yesterday after United States Treasury Secretary John Snow said China was considering widening the range in which the currency could trade.
China has issued a provisional rule on banking fees to curb price competition between lenders and bring its banking sector closer to international standards.
June 27 - 29, 2003
Hawaii: China Opportunities - Sponsored by Hawaii DBEDT - Presented by James Mayfield, Commercial Officer, American Consulate, Shanghai, Auto, Environmental and Marine Technologies Team discuss various business opportunities available to Hawaii Companies, to take advantage of the widely recognized "Hawaii" Brand. Rather than participating in various trade show, Hawaii should consider doing our own with focus in Hawaii products, tourism, education, training and others. The challenges facing Hawaii and United States Companies when competing with European firms are USA based Companies inability to collaborate with each others, the lack of collaboration limit our ability compete effectively. Rule and regulations passed by Congress to forbid USA Companies to commit certain acts considered as "illegal" to secure business deals does not apply to European Companies created an uneven playing field.
Governor Lingle signed administrative rules that will bring dramatic changes to Hawai`i's quarantine laws during the Hawaiian Humane Society's annual PETWALK. The new rules that go into effect on June 30, allow for a 5-day-or-less quarantine for pets that qualify and include a provision for direct release of a pet arriving at the airport if the pet owner has completed all the requirements and submitted required documents ahead of time. The new rules also allow pet owners to travel freely out of state without having to quarantine their animals upon their return, provided they meet the appropriate requirements. "We were able to devise a system that allows pets to enter the state without quarantine and still provide the islands with a high level of protection from the introduction of rabies," said Governor Lingle.
Hong Kong: Secretary for Financial Services and the Treasury Frederick Ma Si-hang said the Government would raise $21 billion by selling and securitizing its assets this financial year to help reduce the budget deficit.
The price of flats is key to the wealth feeling in Hong Kong. With prices having fallen for most of the past six years, many feel poorer.
Chief Executive Tung Chee-hwa said on Friday he would replace Chief Secretary Donald Tsang Yam-kuen as head of the sixth Hong Kong-Guangdong Co-operation Joint Conference - which would be held in Hong Kong next week.
All language teachers will now be required to have relevant degrees - after the Government on Friday endorsed a language body's suggestions to improve Hong Kong people's language skills.
The average wage rates for all major sectors in Hong Kong fell 1.5 per cent in March compared with a year earlier, latest Government statistics released on Friday found.
It appears that the HK$15.8 billion Cyberport project is more popular with home buyers than companies looking to lease office space.
China: Taiwan reported no new Sars infections or deaths on Friday for the 21st consecutive day since the island's first patient was isolated in a hospital.
China has pledged to maintain strict checks on passengers for Sars symptoms at points of entry and exit and to upgrade quarantine systems for the export and import of animals and plants.
British Prime Minister Tony Blair is set to visit the mainland to improve bilateral relations that have been strained over the Iraqi war.
Minibus and sedan maker Brilliance China Automotive Holdings expects to meet its half year sales target and has no plan to cut prices despite analysts' concerns competition will heat up on the back of more product launches in the second half.
Four of Shanghai Land Holdings' 11 directors, excluding chairman Chau Ching-ngai, are in Shanghai and cannot be contacted by the company. A fifth director is among the 27 suspects arrested earlier this month in Hong Kong by the Independent Commission Against Corruption.
China's chief auditor has found various operational irregularities and rampant lending violations at the China Construction Bank (CCB) and Agricultural Development Bank of China (ADBC).
June 26, 2003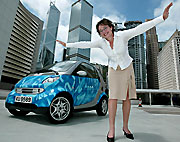 Hong Kong: Nicole Hergarten had never won a thing in her life - until yesterday. The 36-year-old is the lucky winner of the first of three smart cars being given away by the South China Morning Post.
Premier Wen Jiabao will be able to get his first taste of Hong Kong's way of life when he comes for the sixth handover anniversary celebrations.
One of the two unions representing 1,700 New World First Bus drivers says it will launch a "work-to-rule" protest tomorrow as the firm has not agreed to scrap a plan to replace the drivers' guaranteed annual bonus with a discretionary scheme.
In a desperate attempt to reduce mounting costs, the Housing Department yesterday made a surprise announcement that it would slash its workforce by more than 20 per cent, the most drastic downsizing exercise seen in the civil service.
There were enough live wild animals imported into Hong Kong last year to give one to each of Hong Kong's 6.8 million residents, health chiefs have revealed.



The outgoing director-general of the Office of the Telecommunications Authority (Ofta), Anthony Wong Sik-kei, said yesterday there was already "over investment" in Hong Kong's telecommunications network and foreshadowed a grim outlook for the fixed-line telephone market.
Mainland and Hong Kong exporters have expressed concern in the wake of a European Union decision to remove tariff benefits for a range of Chinese products, including televisions and electrical appliances.
A private company registered by detained Shanghai businessman Chau Ching-ngai and his wife Mo Yuk-ping is continuing to make large monthly mortgage payments on two luxury properties in Hong Kong.
China: One of the mainland's top property developers has called on the government to clean up corruption and boost transparency in the real estate industry.
With pouncing lion dancers and drummers banging gongs, Beijing celebrated the World Health Organisation's lifting of its travel advisory to the city yesterday.
British Prime Minister Tony Blair is to visit China later this year, Foreign Secretary Jack Straw said on Thursday (HK time) after talks in London with his Chinese counterpart Li Zhaoxing. No date was announced for the trip, which would signal the passing of a split between London and Beijing that emerged during the run-up to the Iraq war, which China opposed at the United Nations. Mr Li, who met Mr Blair on Wednesday, said the Chinese leadership was looking forward to greeting the prime minister as "a good friend and an old friend of China."
June 25, 2003

Hong Kong: Exterior work on Hong Kong's tallest building, Two International Finance Centre, was completed yesterday. At 420 metres high, the 88-storey tower in Central is the third largest in the world according to its developer, Sun Hung Kai Properties.
Next month, Hong Kong will host a meeting of tourism ministers and operators from 56 countries to improve international relations and boost confidence among holiday-makers considering an Asian destination.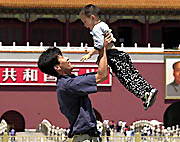 China: A jubilant Beijinger plays with his son in Tiananmen Square yesterday after the capital was given the all-clear and removed from the Sars-affected-area list. Beijing was the last place on the mainland still on the WHO list. The nightmare is finally over. Sars is under control, for now at least, and, with the World Health Organization's lifting of the travel advisory against Beijing, it seems the mainland can finally get back to business.
The mainland must improve rural health care and shore up its disease prevention and control measures if it is to stand a chance against repeat outbreaks of Sars or other illnesses, a government health chief said yesterday.

Chinese investment group D'Long has bought Fairchild-Dornier's project to build the 728 passenger jet, saving thousands of jobs threatened when the aircraft maker filed for bankruptcy last year, officials say.
Changes in China's bank reserve requirements to tighten monetary supply are unlikely to take place soon, according to analysts.
June 24, 2003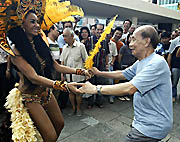 Hong Kong: Brazilian dancer Gardenia Vallini gets in the party mood with Mak Wai outside Harbor City in Tsim Sha Tsui to celebrate Hong Kong's Sars-free status. But as restrictions ease, people are urged to maintain vigilance. Hong Kong is ready to spend $1 billion to rebuild its battered image and lure back tourists and businesses after it was officially declared free of Sars by the World Health Organization yesterday. A new diagnostic test for Sars has been developed by Chinese University to help ensure patients receive appropriate treatment as soon as they are admitted to hospital. Sars is a word that Hong Kong people of this generation will never forget. It is an event that will be remembered in the same way our elders are haunted by the Sino-Japanese war.

As Hong Kong yesterday celebrated being taken off the WHO list of Sars-affected areas, it remembered the 296 victims, including eight medical workers who died from the disease. These health professionals died fighting a disease that struck down 378 of their colleagues. In total, 1,755 Hong Kong residents were infected, 321 at Amoy Gardens alone, and 296 died. 1,262 people were put in isolation, 13,300 jobs were lost and 4,000 businesses folded. A WHO travel advisory was in place for 52 days, 13,783 flights were cancelled, 3,600,000 fewer travelers crossed at Lowu and 1,000,000 foreign tourists stayed away. Today, 104 days after the outbreak began, we are Sars free.
Hong Kong advertising sales shrugged off the worst effects of the Sars outbreak last month to total $1.13 billion, only 3.3 per cent less than in May last year.

China: Dancers entertain the largely Taiwanese audience at Shanghai's Bailemen nightclub on Saturday, the first night the famous club had opened since Sars emerged. The World Health Organization (WHO) on Tuesday removed its recommendation that people should postpone all but essential travel to Beijing.
Indian and Chinese leaders yesterday agreed on the need for greater mutual trust and co-operation. The neighbours signed agreements symbolizing a desire for a new, closer relationship.
Mainland banks may need to recall billions of yuan in real-estate loans to comply with new curbs on excessive property lending, bankers and economists say.
The China Securities Regulatory Commission (CSRC) has further tightened mainland listing rules by requiring share offer candidates to disclose financial information on their largest shareholders.
Boeing chief executive Phil Condit believes a recovery in the airline industry will take a while as the world's largest planemaker struggles with slow demand after the Sars outbreak prompted a decline in tourism. Airlines have cancelled or delayed aircraft purchases as a stagnating economy, the September 11 attacks, war and the Sars outbreak have cut travel demand. Mr. Condit has sought to protect Boeing from fluctuations in demand by expanding defense and space businesses.
June 23, 2003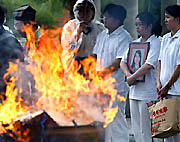 Hong Kong: Family and friends buried 30-year-old Kate Cheng Ha-yan yesterday at Gallant Garden in the hope that she would be the last Hong Kong medical worker to fall victim to Sars. Cheng, a Tai Po Hospital doctor, became the youngest medic killed by the virus on June 1.
The Sars crisis has contributed to the biggest crash in betting turnover in Hong Kong Jockey Club history, sparking warnings that its contributions to charity and government coffers will be affected.
The ninth floor of the Metropole Hotel in Mongkok - ground zero of Hong Kong's Sars epidemic - will be turned into a museum if the management can figure out the best way to "package it".
Tourism chiefs will step up their efforts to lure back tourists with cheap holiday packages once Hong Kong is declared Sars-free today.
The scrapping of the Rolling Stones' scheduled March performances amid the Sars outbreak could result in a record insurance payment for event cancellation in Hong Kong, according to industry sources.
Hong Kong's third-largest mobile operator SmarTone Telecommunications has initiated a price war for the third time this year. First it expanded the number of free voice minutes, then it lowered entry with a $50 tariff plan and now it is offering free SMS messaging across its network.
China: The Ministry of Civil Affairs has been put in charge of a new regulation repealing a 1982 vagrancy law that granted mainland police the power to arbitrarily detain and incarcerate rural migrants.
Indian Prime Minister Atal Behari Vajpayee yesterday became the first Indian leader to visit China in a decade, and urged both sides to work harder to fulfill their true bilateral potential.
The Ministry of Health has taken the unusual step of divulging information on infectious diseases throughout the mainland, and demanded that officials report any outbreaks promptly.
June 20 - 22, 2003

Hawaii: Mr. Chi Hung Chan based in San Francisco, a prominent Attorney with extensive experiences in international business dealings since 1985 with prominent clients in Asia including but not limit to Hong Kong and China, among others professional involvement is the current Director and Founding Members of the Hong Kong Silicon Valley Dot Com and Hong Kong Association of Northern California.


Ms. Ye Hong, Senior Reporter for Wen Wei Po Hong Kong and Editor-in-Chief of Fortune Weekly Magazine discuss "Chinese Women - Last 50 years" at the Hee Hing Restaurant, Honolulu, Hawaii. The event was sponsored by the U. S. China People Friendship Association. It was attended by many members of the Hong Kong China Hawaii Chamber of Commerce (HKCHcc) who have helped promote the event. Our founding members and directors of HKCHcc, Ms. Yen Chun was the interpreter for Ms. Hong's talk.
Hong Kong: WHO Director-General Gro Harlem Brundtland talks to the media at Chek Lap Kok airport after arriving from Kuala Lumpur. Dr Brundtland warned that Hong Kong should remain vigilant in view of the cluster of New Sars' infections in Toronto. Hong Kong's hopes of being removed from the World Health Organization's infected-area list tomorrow could be dashed if a suspected Sars case is confirmed, health officials said yesterday.

Height regulations are being introduced to block developments on the Peak in the style of "the chopsticks" - two skyscrapers of more than 60 storeys built by Hang Lung Properties on Stubbs Road. An attempt by a group of 27 property owners on the Peak to raise the redevelopment potential of their properties was blocked by the Town Planning Board yesterday.
The United Nations High Commissioner for Refugees Hong Kong office and the Government of Hong Kong had to share the burden of the HK$1.16 billion Vietnamese refugees bill, a senior official of the UNHCR official said on Friday.
English Premier League giant Liverpool will play against the Hong Kong team at the Hong Kong Stadium on July 27 as part of the territory's re-launch activities to boost its image after the Sars outbreak, InvestHK director Mike Rowse announced on Friday.
The US White House urged Hong Kong's lawmakers in a statement released overnight (HK time) to amend the "shortcomings" of proposed national security legislation that could harm local freedoms and autonomy. Secretary for Security Regina Ip Lau Suk-yee on Friday rejected Washington's overnight comments that the proposed national security law could harm local freedoms and autonomy.
Cafe de Coral Holdings, which operates the world's largest Chinese fast-food network, has taken a bite out of the western food market by acquiring the loss-making Oliver's Super Sandwiches chain from Jardine Matheson Holdings at a price equivalent to the value of a middle-market flat.
Top Hong Kong Exchanges and Clearing (HKEx) officials are laying the trackwork for a roadshow of Chinese cities that will focus on encouraging railway companies to list here.

A Dragonair jumbo comes in to land at Chek Lap Kok. The airline has the green light to begin serving Bangkok, the latest step in dismantling Hong Kong's "one airline, one route" policy.
In a surprise move, the Commerce, Industry and Technology Bureau (CITB) on Thursday relaxed the proposed change of ownership threshold for pre-approving telecommunications share transactions for new investors from 15 per cent to 30 per cent.
Japanese video-game maker Nintendo said on Thursday it had won one of its "most significant anti-piracy judgements", which was against a Hong Kong firm that sold devices capable of copying its games and putting them on the Internet for limitless downloading.

China: Foreign Minister Li Zhaoxing meets US Secretary of State Colin Powell at the Asean Regional Forum in Phnom Penh, where North Korea was discussed.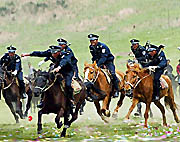 Sichuan's newly formed grassland ranger police squad goes through its paces in Tangke county. The mounted squad was taking part in a passing out parade after its inauguration earlier this week.
Taiwanese companies based on the mainland have pushed China ahead of Mexico and Japan as the top supplier of hi-tech goods to the United States.
Plans for a free trade area linking the world's most populous nation and Southeast Asia by 2010 are on track, with China confident tariffs on a range of products will be dismantled long before then.
China Construction Bank (CCB) lent 30 million yuan (HK$28.11 million) to a firm linked to mainland property businessman Chau Ching-ngai, who is at the centre of a politically explosive corruption investigation in Shanghai.
Cafe de Coral Holdings, which operates the world's largest Chinese fast-food network, has taken a bite out of the western food market by acquiring the loss-making Oliver's Super Sandwiches chain from Jardine Matheson Holdings at a price equivalent to the value of a middle-market flat.
US brokerage house Morgan Stanley revised China's 2003 growth forecast up a full percentage point to 7.5 per cent yesterday, citing surging exports in recent months, despite the Sars crisis.
June 19, 2003
Hong Kong: The relationship between stock analysts and listed firms has been thrown into confusion following the reprimand of a Goldman Sachs analyst for selective disclosure, despite no action being taken against the firm that leaked the price-sensitive information.
No new infections and no deaths from severe acute respiratory syndrome (Sars) were reported in Hong Kong on Wednesday, health officials said.
Cable network operator Asia Netcom, the former Asia Global Crossing, is fighting back after being rescued from bankruptcy, but it is not winning many friends among its competitors who accuse it of "predatory pricing".
China: President Hu Jintao has become chairman of the Communist Party's leading groups on finance and economics, Taiwan affairs and foreign affairs as he consolidates his hold on power.
Economists and central government officials gave a cool response to suggestions by US Treasury Secretary John Snow yesterday that the mainland is interested in moving towards a more flexible exchange rate.
The US Centers for Disease Control and Prevention (CDC) downgraded its Sars travel advisory to an alert for mainland China, except for Beijing. World Health Organization (WHO) experts say China, whose capital, Beijing, is the only place still under a WHO travel warning, holds the key to whether Sars will resurface.
June 18, 2003
Hong Kong: The full impact of the Sars outbreak became clear yesterday as Hong Kong's unemployment rate came in at a record high 8.3 per cent and economists warned it could hit double figures by the end of the year. Nobody needs to tell Rudy Pun York-kay how bad the job situation is in Hong Kong. Armed with a psychology degree, 25-year-old Mr. Pun entered the job market in January and found a place as a clerical worker. He was laid off a month later and can't remember how many applications he has sent out since then.
After weeks of controversy over its behavior during the Sars outbreak, Baptist Hospital has launched a campaign to clear its name.
A restaurant chain which last week was stopped from using the chief executive's name to promote a dish of snails appears determined to stay on the trail of controversy - this time picking beleaguered radio talk-show host Albert Cheng King-hon's name for its promotion.



Outgoing MTR Corp chairman Jack So Chak-kwong (pictured) stands to earn a $34 million bonus by joining PCCW and allowing Richard Li Tzar-kai to step down as chief executive.
China: Economists and central government officials gave a cool response to suggestions by US Treasury Secretary John Snow yesterday that the mainland is interested in moving towards a more flexible exchange rate.
Guangdong Executive Vice-Governor Li Hongzhong has been chosen to succeed Yu Youjun as mayor of Shenzhen.
The mainland has been the "greatest victim'' of Sars and learned important lessons from its fight against the disease, Vice-Minister of Health Gao Qiang told an international Sars conference yesterday.
Rapid desertification on the mainland is costing the country more than US$40 billion every year in direct and indirect economic losses, state media reported yesterday. Despite costly efforts to halt the advance of the desert on Beijing, partly by creating a green belt of trees, violent sandstorms could still be a major problem during the 2008 Olympics, experts have warned.
June 17, 2003
Hong Kong: At least 16 service industries in Hong Kong will benefit from the free-trade agreement that the special administrative region is poised to sign with the mainland, Chief Executive Tung Chee-hwa said yesterday.

Secretary for Home Affairs Patrick Ho gets to grips with Mickey Mouse at a press conference in Hong Kong Stadium's restaurant to announce the Disney family show. Residents have been told not to worry about the sound levels from two proposed family nights at the Stadium.
Hong Kong reported no new Sars infections for the fifth consecutive day on Monday, and no deaths were reported, as the World Health Organization (WHO) indicated it might soon drop the territory from its list of Sars-affected areas. The World Health Organization's (WHO) top infectious diseases specialist David Heymann said on Monday that Hong Kong could be removed from the list of Sars-affected areas as early as next week.
A property company backed by the Beijing municipal government will make its debut on the main board on Thursday after a positive response from investors helped it complete Hong Kong's second-largest initial public offering (IPO) of the year.
Hong Kong tour operators are not interested in participating in China's inbound tour market despite a move by the mainland authorities to open up the sector to overseas companies.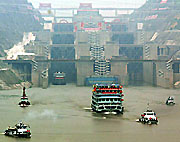 China: China's plan to create the world's largest shipping lock came to fruition yesterday as 10 vessels entered the five-level structure that provides a gateway through the massive Three Gorges Dam. Ships emerge from the massive lock on The Three Gorges Dam on the Yangtze River near Yichang yesterday. Normal traffic has resumed on the river. The lock, which took 10 years to build, can lift and lower ships more than 100 metres by flooding its five gates.

A woman hunts for bargains in Beijing's summer sales. Consumer growth on the mainland last month was the lowest for five years as Sars took its toll. Mainland consumers spent 346 billion yuan (HK$325 billion) last month despite the impact of Sars, a 4.3 per cent rise over the same month last year, the State Statistical Bureau reported yesterday.
Struggling chip manufacturer Transmeta has bought a stake in Linux specialist Chinese 2000 Holdings, a company run by Hong Kong firms eForce and Culturecom, to drive its Asia expansion and diversify its business.
The Web Crawler, the latest weapon in the software industry's war on copyright pirates, is now on the case in Asia, prowling through cyberspace sniffing out sites that offer illegal downloads.

Oracle's US$5.1 billion bid for PeopleSoft has put the US tech sector back on the map. Now investors in Asia are asking whether some of that attention will turn towards China. The fragmented Chinese software market, relatively untouched by investment, could be in line for a takeover boom.
Taiwan's Board of Foreign Trade (BOFT) was studying the feasibility of allowing imports of China-made mobile phone handsets, a BOFT official said on Monday.
Taiwan Semiconductor Manufacturing Company (TSMC), the world's largest supplier of made-to-order chips, will become the first Asian company to join the Philadelphia Semiconductor Index on June 23.
June 16, 2003
Hong Kong: Chief Executive Tung Chee-hwa yesterday provided a further $700 million to create 32,000 temporary jobs and training places for young people and the middle-aged, a move that comes as Hong Kong's jobless rate looks set to top 8 per cent.
Leaders from the mainland and four other Asian-Pacific countries are to attend an international forum in Hong Kong next month to discuss the revival of Asia's tourism industry. Leaders from Thailand, Singapore, Vietnam and New Zealand are due to attend the conference, said Zhong Changming, a director of the Boao Forum that is organizing the two-day event along with the World Tourism Organization.
Privatization candidate Kerry Properties has announced a loss of about HK$1.106 billion in the first four months of this year because of a revaluation. The Hong Kong developer said the loss arose from a revaluation of property and infrastructure assets as part of its privatization due diligence required under the Takeovers Code.
China: The central government is to be asked to extend the free-trade deal between Hong Kong and the mainland to Macau.

Chinese athletes row a dragon boat past a banner which reads "Fight against Sars" during a competition held yesterday to celebrate Guangzhou's progress in bringing the disease under control.
China Post wants to list its six most profitable regional operations in Hong Kong, but the plan is being blocked by the complex task of determining exactly what each of them earn.
June 13 - 15, 2003

Hawaii: Governor Lingle celebrates the start of construction on the University of Hawai`i Biomedical Research Center with Dr. Ed Cadman, dean of the John A. Burns School of Medicine (left), and University President Evan Dobelle (right). Photo: Bob Chinn. Governor Lingle Celebrates Vertical Construction at New Medical School Governor Lingle joined University of Hawai`i officials and acknowledged the foresight of previous government lawmakers as cranes swung a section of the first-floor wall into place for the new $300 million John A. Burns School of Medicine. The Governor also pledged her continued support for the construction of a major biomedical complex that will potentially include a new Comprehensive Cancer Research Center and training center for the World Health Organization for research on everything from bioterrorism to severe acute respiratory syndrome. "This marks a new beginning for an entire medical and research industry in our state," said Governor Lingle. "The new medical school will play an even greater role in the community, as well as help stimulate our economy."

Hong Kong: People around the world will soon find out that Hong Kong is free of Sars and safe to visit - when they open their mailboxes. Chief Executive Tung Chee-hwa adds the finishing touch to a giant version of a free postcard aimed at bringing travelers back.

Chief executive Paul Chow says Hong Kong Exchanges and Clearing is willing to hand over part of its regulatory role over listed companies to the Securities and Futures Commission in a move that may help break the deadlock on the government's market reforms.
Hong Kong doctors have decided to change their common treatment for Sars after an anti-HIV drug was found to be more effective in combination with Ribavirin than steroids, a therapy that has been the focus of intense medical debate worldwide.
No new cases of Sars were recorded and no people died of the disease on Thursday - the first "double zero day" in Hong Kong since the outbreak began in mid-March, health officials said.
Standard & Poor's Ratings Services announced on Thursday it had lowered its ratings on Hutchison Whampoa and Cheung Kong (Holdings) to A- from A while affirming its A- corporate credit rating on Cheung Kong Infrastructure .
Citic Pacific plans to reinvest its more than $6 billion cash pile in mainland infrastructure projects, dashing investor hopes of a special dividend after the firm announced on Tuesday that it would cash out of its Shanghai ventures.
A major ingredient in licorice has proven remarkably successful at combatting the Sars virus in lab-dish tests, according to a German study reported on Saturday in the British weekly journal The Lancet.
China: United States networking equipment maker Cisco Systems has launched its most aggressive push against copyright infringement by instigating large-scale raids on pirate manufacturers in China.
The World Health Organization's (WHO) concerns about data coming out of China have been addressed, leading WHO infectious disease expert David Heymann said on Thursday.
The trial of Dutch-Chinese orchid tycoon Yang Bin entered its second day in northeastern China's Shenyang city on Thursday as expectations among his supporters lingered between the cautious and the gloomy.
Officials yesterday said Jilin province was prepared to pay as much as 200,000 yuan (HK$188,000) a year to hire information technology security experts for its police department. Xinhua said it was the first time a provincial government had used special contracts in open recruitment. Wu Wenchang, the director of the provincial government's personnel department, told Xinhua that his department would hire three experts on special contract terms. The recruitment will be open to the public nationwide and will run for about three weeks, beginning on Sunday.
Guangdong (HK) Tours - which has served the local cross-border market for two decades - was last night wound up by a court petition from its creditors for failing to repay debts worth $377 million.
The US Trade Office's agricultural negotiator yesterday accused China of not complying with the agreement it made upon joining the World Trade Organization.
Li Hongzhong, a Harvard-educated career politician and the youngest member of the Guangdong Communist Party Standing Committee, is expected to be appointed when the standing committee of the Shenzhen People's Congress meets starting Tuesday. Mr Li is a stark contrast to his high-profile predecessor Yu Youjun, who stepped down on June 10 to become vice-governor in Hunan. While Mr Yu is known as a media-savvy and outspoken, Mr Li is seen as low-key and plainspoken.
United States textile manufacturers are poised to file a submission to the Commerce Department that could restrict Chinese clothing exports, including those produced by Hong Kong-owned factories on the mainland, within as little as 90 days.
China Netcom Group, the mainland's third-largest telecommunications carrier, has taken a big step forward in its integration plans by acquiring Jitong Network Communications for HK$451.63 million.
Taiwan Semiconductor Manufacturing Company (TSMC), the world's largest supplier of made-to-order chips, will become the first Asian company to join the Philadelphia Semiconductor Index on June 23.
June 12, 2003
Hong Kong: A free-trade agreement between Hong Kong and the mainland has been completed, the city's trade minister has revealed. He predicted the pact would lure "many" foreign and mainland firms to Hong Kong.
Dai Nippon Printing Co - one of the world's leading printers - will shut its Hong Kong office in August after nearly 40 years of operation.
Standard & Poor's has revised its BBB-plus long-term counterparty rating on BOC Hong Kong (Holdings) from stable to negative, citing concerns over the effectiveness of the bank's credit-approval controls. Its A-2 short-term counterparty credit rating on the bank remains unchanged.

China: Water gushes from open sluice gates on the main dam of the Three Gorges project in Yichang, Hubei province, where the water level has reached 135 metres. The first stage of filling the vast Three Gorges Dam reservoir has been completed five days ahead of schedule, state media said yesterday.
Foreign Minister Li Zhaoxing leaves tomorrow on a regional visit at a time when China is working to improve relations with its neighbors and reassure them that its economic growth does not pose a threat.
June 11, 2003
Hong Kong: The first legal challenge mounted by Hong Kong's civil servants against a controversial decision to cut their pay was defeated yesterday after a court ruled their constitutional rights had not been breached.
Analysts and government officials say the merger of Hong Kong island's two main bus companies could improve the overall quality of bus services and even provide scope for future fare cuts.
The US State Department has authorised the return to Hong Kong of US government employees and their families who chose to leave due to the outbreak of Sars, the US consulate spokesman said on Wednesday.
The number of Hong Kong-listed companies which have delayed results announcements this year has reached 29, triggering market concern over potential accounting irregularities.
China: Liu Jinbao, until recently one of the mainland's top bankers as the head of Bank of China in Hong Kong, is under investigation by state authorities, the bank has confirmed.
China is stepping up efforts to stop government departments from drafting self-serving laws to protect their own interests.
China industrial production rose 13.7 per cent last month, only slightly lower than in the previous month, in an indication that the Sars crisis has not hit production lines as hard as some feared.
The central government has decided to pay direct subsidies to the nation's farmers, abandoning a system backed by former premier Zhu Rongji which rural experts said had brought little benefit to rural households.
Hong Kong Police Commissioner Tsang Yam-pui, who yesterday met the director of Shanghai's Public Security Bureau, Wu Zhiming, said the two forces would open a direct communication channel. Previously, Hong Kong police have had direct links only with their Guangdong counterparts. Under the new arrangement, the Hong Kong and Shanghai police chiefs and their forces' top detectives will meet once a year. They will communicate by telephone, e-mail and fax whenever necessary. Mr Wu said he saw plenty of room for co-operation between the two forces as both Hong Kong and Shanghai were large and busy financial centres.
Conglomerate Citic Pacific is to sell its Shanghai infrastructure portfolio back to the municipal government for $6.16 billion, highlighting the risks faced by even well-connected players when investing in major mainland projects.
Shanghai Land Holdings' woes deepened yesterday as the locally listed flagship of mainland businessman Chau Ching-ngai revealed that two of its Shanghai subsidiaries had been involved in "unorthodox loan transactions" worth 650 million yuan (HK$612 million).
June 10, 2003
Hong Kong: Citybus, Hong Kong's second-largest franchised bus firm, is to be sold to the Cheng Yu-tung family for $2.2 billion in an industry consolidation that has prompted fears of diminishing competition.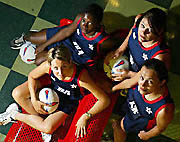 As Hong Kong's Special Olympics squad arrived in Macau yesterday to start a 10-day quarantine before heading off to the Games in Dublin, another local sports team was having to face up to the fact that they could not afford such a luxury. Cassie Graham, left, Asabe Makele, Jo O'Reilly and Kiri Edwards, members of Hong Kong's netball team, may be forced to pull out of the world netball championships in Jamaica after the host country imposed a 10-day quarantine requirement on them.
Officials have yet to decide whether to push ahead and build a temporary hospital to handle patients with infectious diseases - despite acknowledging yesterday that existing facilities are inadequate.
An obscure Hong Kong-based property company will take a 35 per cent stake in China's first foreign-invested - and privately owned - cargo airline, Jetwin Air Cargo.
UBS, which earned lucrative co-sponsoring fees from the US$2.6 billion listing of BOC Hong Kong (Holdings) last year, has taken the counter off one of its key Hong Kong stock portfolios.
China: Millionaire tycoon Yang Bin has hired one of China's top criminal lawyers to defend him against charges of fraud, bribery and false accounting. Tian Wenchang, 56, is chairman of the All-China Lawyers Association's criminal law committee. He heads his own firm in Beijing and has taken on various high-profile cases. He became known internationally last September when North Korean leader Kim Jong-il appointed him as chief executive of a special administrative region in Shiniuju, which borders the northeastern Chinese city of Dandong.
Business travel to the mainland is tipped to pick up quickly following the end of the Sars outbreak and will spark export demand, according to a survey by Asia's largest provider of information on trade. Fifty per cent of the respondents - buyers from major trading houses and department stores around the world - were prepared to resume travel one month after Sars-related travel advisories were lifted.
Shanghai's economy grew by 10.3 per cent last month, slowing from earlier this year under the impact of Sars on the retail and travel sectors. However, the bureau said the impact of the Sars outbreak had started to show its effects on the local economy.
The future of China's advanced cellular communications expansion will be anchored on one wireless technology, global system for mobile communications (GSM), according to Craig Ehrlich, chairman of the GSM Association Board.
June 9, 2003
Hong Kong: Hong Kong's Special Olympics squad, which has been banned by the Irish government from taking part in this month's Games in Dublin because of Sars fears, could still turn up - as tourists. The Hong Kong Down Syndrome Association is planning to raise funds to send the entire squad of 44 athletes to Dublin. Their aim is to "uphold the spirit of the Olympics and also to get to know the Irish people", according to a senior official.
All listed companies will be forced to change lead audit partners every five years under radical proposals aimed at wiping out accounting scandals and putting Hong Kong on an equal footing with other international markets.
Kowloon-Canton Railway Corp (KCRC) chief executive Michael Tien Puk-sun has questioned the property-based business model for rail operators, saying it does not provide sustainable profits.
Home buyers emerging from the gloom of Sars yesterday took advantage of a price war between developers to snap up nearly 170 units at two residential projects at Tsing Yi and Tung Chung.

China: A bridge linking Hong Kong with the western side of the Pearl River Delta should go ahead because it will boost economic development and help regional integration, a central government study has found. Proponents of the project say the green light given by the cabinet-level commission can put an end to debate over the project and lead to an early start on construction. The study, which was jointly commissioned by the Hong Kong government and the commission, formerly known as the State Development Planning Commission, started in March and was initially scheduled to be completed by the end of this month. A source close to the study said the commission's Institute of Comprehensive Transportation had reached the initial conclusion that the link should be built as soon as possible. However, it has not yet decided on the specific alignment of the cross-delta bridge. The Hong Kong government has recommended a Y-shaped bridge linking San Shek Wan, south of Chek Lap Kok airport, with Macau and Zhuhai. Its alignment is similar to a 29km bridge proposed by Hopewell Holdings chairman Sir Gordon Wu Ying-sheung.
The Bank of China has broken its week-long silence over its Hong Kong branch's exposure to Shanghai property tycoon Chau Ching-ngai, the subject of a mainland investigation into questionable loans and tax fraud. In a statement issued late last night, China's biggest foreign-exchange bank said BOC Hong Kong (BOCHK) is demanding repayment of $741 million still outstanding from a $1.77 billion loan extended in June last year to New Nongkai Global Investment, Mr Chau's Hong Kong flagship and the holding company of locally listed Shanghai Land Holdings. BOCHK had granted New Nongkai a credit line of $2.1 billion. According to the statement, BOC Hong Kong "has applied to and has been granted an order by the High Court of Hong Kong for the receivership of New Nongkai in order to receive and protect the business and assets of New Nongkai and its subsidiaries ... Based on information so far, the New Nongkai loan shall not have material adverse impact on the financial position of [BOCHK]."
The WHO has decided not to remove Guangdong from its list of infected areas, nor will it withdraw its travel advisory on areas neighboring Beijing, saying more information was needed first.
A powerful former Kuomintang treasurer was indicted yesterday for massive corruption in a closely watched case seen as a test of the Taiwan government's resolve to stamp out official graft.
Flood protection officials had been too quick to blame the Three Gorges Dam for the collapse of a section of dyke 50km downstream, Xinhua yesterday quoted experts as saying.
June 6 - 8, 2003

Hawaii: After a six-month search, Governor Lingle was extremely pleased to name 18-year tourism veteran Marsha Wienert as the state's first tourism liaison. Wienert will work with the state's tourism stakeholders, including the visitor industry, community and government to coordinate a long-term strategy for Hawai`i's largest industry. Wienert was upbeat and positive about joining the administration's cabinet and her critical role in working with members of the government and community. "Almost every country that we compete with has a minister of tourism or director of tourism or some point person in government and now we do as well," said Governor Lingle.

This week Governor Lingle celebrated her 50th birthday with friends from around the state. She also took her weekly radio show "on the road" to broadcast live for the first time by any governor in recent memory from a neighbor island. During her visit to Maui, the Governor participated in a ground-breaking ceremony at Waiehu Kou to reiterate her pledge of restoring trust and integrity in government for native Hawaiians. In addition, she appointed the state's first cabinet-level tourism liaison, as well as reaffirmed the administration's goals with the medical community to improve health care for all Hawai`i residents.

Hong Kong: Gymnast Fu Shu-keung trains for the Special Olympics World Summer games. But it looks highly unlikely he will take part in the games, as the Irish government is refusing to drop its ban on Sars affected countries.
Hong Kong retail sales in April fell sharply as already weak consumer sentiment was badly undercut by the Sars outbreak, the Government said on Friday.

Cable & Wireless (C&W) ended all ties with PCCW yesterday by selling its remaining 14 per cent stake in the telephone company. Cable & Wireless unloaded 651.88 million PCCW shares through a US$400 million placement, which came a day after C&W announced a record £6.5 billion annual loss and unveiled a restructuring plan.

China: A man walks beneath the newly filled Three Gorges Dam. Reduced water flow may have been behind damage to a dyke downstream.
Mounting investigations into the financial dealings of Zhou Zhengyi, one of China's richest tycoons, could shed light on some of the more untenable practices of China's ruling Communist Party, analysts and observers said on Friday.
Two police officers in Guangzhou have been fired and more than 12 other officials punished for their involvement in the death of a migrant worker, Sun Zhigang, in a police clinic.
The mainland reported no new Sars infections again yesterday as the World Health Organisation indicated it might soon lift its travel advisory on areas surrounding Beijing.
Political analysts have given President Hu Jintao pass marks on his first foray into international diplomacy.
Western entertainment companies are protesting against a demand that they strip their logos from shows sold to China's national cable-television network, saying it would eliminate any chance they have of building a brand in a country that is home to the world's largest number of cable subscribers.
China's largest mobile phone maker Ningbo Bird has announced plans to sell its handsets in overseas markets as sales slow at home amid fierce competition.
June 5, 2003

Hawaii: Mr. Li Jiaxiang, the recently appointed Chairman of the Air China Group met with Hawaii DBEDT Director Mr. Ted Liu and its strategic partners companies/organizations (i.e. Hong Kong China Hawaii Chamber of Commerce, CMC Consulting Inc and Others) at the Plaza Club. The luncheon is being hosted by Miss Annie Wu, the Vice Chairman of the Beijing Air Catering Company and the Chairperson of the World Trade Center Association of Hong Kong. The Air China Group, of which Air China is a part, is a $7 billion conglomerate that has diversified into airline catering, hotels and resorts, advertising and media and other lines that support the Group's core businesses. It is one of China's ten largest companies. Air China flies 127 airplanes, most Boeings, to 35 international cities and 80 cities in China. Each week, they operate more than 3,000 flights.
Hong Kong: The United States Centre for Disease Control and Prevention (CDC) on Wednesday lifted its travel advisory which had cautioned people about visiting Hong Kong during the Sars outbreak.
Hong Kong and Macau should team up with Guangdong cities to market a 10-day Pearl River Delta tour to foreign and domestic tourists, the Guangzhou tourism chief says.

There was a double reason to cheer yesterday, as rowing fans urged on dragon boat racers, and retailers and restaurateurs celebrated Hongkongers' return to their spending ways.
China: Shanghai authorities placed local property tycoon Chau Ching-ngai under house arrest more than a week ago on suspicion of financial crimes, ranging from illegal fund-raising to tax fraud, a mainland newspaper said yesterday.

Goldman Sachs chairman Henry Paulson outlines the investment bank's joint venture with the Industrial and Commercial Bank of China (ICBC). Goldman plans to help ICBC dispose of up to 10 billion yuan (HK$9.37 billion) worth of non-performing assets.
Waterford Wedgwood - the Irish crystal and china maker chaired by billionaire Tony O'Reilly - has bowed to the inevitable and will move the production of some goods to China and other parts of Asia to better compete with cheaper rivals.
Fourth-largest Japanese carmaker Mitsubishi Motors Corporation plans to increase the number of its dealerships in China to 300 in the next four years, about four times the current number, a report said on Thursday. Through such measures as expanding its sales network in China, the company aims to sell 300,000 vehicles there in 2007, about four times its 2002 sales, the Nihon Keizai Shimbun said.

Chairman Cheung Wai-tung says Culturecom is in talks with mainland companies to co-operate on the production of low-price motherboards powered by the Via Dragon SCS 3210 CPU, a single-chip Chinese central processing unit jointly developed with IBM.
June 4, 2003
Hong Kong: A day after being admonished by the director of health for its slow response to the Sars outbreak, the private Baptist Hospital announced yesterday it had sacked its chief executive.
Hong Kong's banking watchdog is investigating the Bank of China's Hong Kong branch following the reported arrest of one of its former executives in a suspected corruption case that also led to the arrest of the wife of Shanghai tycoon Chau Ching-ngai.
Law-enforcement agencies could confiscate proceeds from serious crimes even if the suspect is not convicted - another proposed weapon in the government's growing arsenal against money laundering and funding for terrorist groups.
The government has approved a plan to increase Invest Hong Kong's budget by half, an extra 200 millions to help it better compete with other cities in attracting foreign investment.
China: Centuries of tradition are about to be ended in Guangzhou as the city government moves towards centralized slaughtering of poultry to improve the hygiene of its wet markets.
When Zeng Hutu takes out the rubbish at his housing complex in the Beijing suburb of Daxing, he no longer throws it down the garbage chute where it would stay with his neighbors' rubbish until the next scheduled pickup divisions emerging for a cleaner and safer Beijing.
President Hu Jintao yesterday agreed to boost energy co-operation and vastly increase trade with neighboring Kazakhstan, reasserting China's interests in a region where the US has dramatically increased its presence and brought its troops nearer to the Chinese border. Mr. Hu and Nursultan Nazarbayev, the Kazakh president, signed agreements to revitalize work on an oil pipeline from Kazakhstan to China and increase Chinese participation in the Kazakh energy sector, establishing a program for co-operation which will run to 2008.
Huawei Technologies will quit the United States market by the end of the year as part of an out-of-court settlement with Cisco Systems, according to a well-placed source.
A bill to unify China's two-tiered income tax regime for domestic and foreign-invested companies is not expected to take effect until 2005 at the earliest, according to a senior official at the State Administration of Taxation (SAT).
Newbridge Capital has accused Shenzhen Development Bank (SDB) of failing to properly disclose its decision to disband a transitional management team, as the Californian-based fund's proposed takeover of the bank continues to unravel amid an increasingly bitter war of words.
June 3, 2003
China: A steady drop in Sars numbers in China could cause the World Health Organization (WHO) to remove a warning against travel to parts of the country previously considered among the most heavily infected areas in the world, a WHO official said on Tuesday. The mainland yesterday reported no new cases of Sars for the first time since it began releasing figures on April 20, but the WHO warned the central government against lowering its guard. WHO travel warnings are currently in place for Beijing and Tianjin cities and the provinces of Hebei, Shanxi and Inner Mongolia.

US President George W. Bush has invited President Hu Jintao to visit Washington later this year or early next year after the two held talks at the G8 summit in France. "President Bush issued an invitation to President Hu to visit Washington as soon as he can make it, hopefully in late 2003 or early 2004," said a US official on the sidelines of the summit in Evian.
China's 124.1 billion yuan (HK$116.3 billion) National Social Security Fund could begin its long-awaited investment in the mainland stock market this month.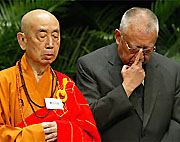 Hong Kong: Chief Executive Tung Chee-hwa and Buddhist monk Ven Kok-kwong pray for an ending to the Sars outbreak at a function at City Hall yesterday. Consumer confidence in Hong Kong is continuing to improve now the Sars outbreak is under control.
The wife of Shanghai property tycoon Chau Ching-ngai was arrested by the ICAC yesterday together with 19 people, including her staff and a former bank officer, for suspected corruption related to bank loans and conspiracy to defraud, sources said.
Chief Secretary Donald Tsang Yam-kuen yesterday outlined his vision for the future of Hong Kong. He said he envisaged a healthy, economically vibrant and just society - but stressed that to achieve this he would need help from the public. The vision statement reads: "Our vision is for Hong Kong to be a healthy, economically vibrant and just society that respects the natural environment and values its cultural heritage. "By engaging the community in the process of building a strategy for sustainable development, we aim to ensure that Hong Kong will be a city for all to share and enjoy, for this and for future generations." The government will also seek funding of $100 million from the legislature on Friday next week to set up a fund to promote public understanding about sustainable development and research on the issue. There will be no ceiling on the funding granted to successful applicants but the budget of proposed projects must be at least $50,000.
Eleven Asian central banks are joining forces to establish a US$1 billion bond fund aimed at boosting regional debt market development and prevent a repeat of the 1997-98 Asian financial crisis.
Microsoft has launched the QTek 7070 Smartphone in Hong Kong in an effort to secure its foothold in the mobile phone market. The QTek is the first mobile phone to use Microsoft's Smartphone 2002 operating system.
The government is stepping up efforts to persuade people to use its online services, with MTR stations hosting a roadshow to publicize what is available.
June 2, 2003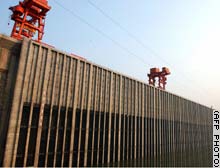 China: China began filling the reservoir behind its gargantuan Three Gorges Dam on Sunday in a major step toward completion of the world's largest hydroelectric project. The sluice gate of the dam began closing at midnight and by early morning live broadcasts on state television showed the water level had already reached 106 meters (350 feet). By June 15, the level is expected to reach 135 meters (446 feet). By midmorning Sunday, the closure of 19 of the dam's 22 water diversion holes was declared a success, the official Xinhua News Agency reported. It said the remaining three holes would be left open to ensure an adequate flow of water to the lower reaches of the 8,700-kilometer-long (3,955-mile-long) Yangtze River, which runs from Qinghai in the west to the eastern coast near Shanghai.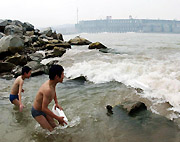 The Yangtze river was blocked yesterday for the filling of the reservoir of the world's biggest hydroelectric project - a point of national pride but which critics fear will become an environmental nightmare.
Officials chased residents on the streets as a 10-day campaign of temperature checks opened yesterday amid scenes of chaos in Taiwan.
For the first time since 1998, the Indian Defence Ministry's annual report to Parliament has not identified China as the biggest threat to national security.
A visit to Kazakhstan by President Hu Jintao starting today is expected to help channel China's growing interest in its resource-rich but sparsely populated Central Asian neighbor.
China and 10 Asean countries have announced a plan to strengthen entry-exit quarantine procedures to control the spread of Sars. Among the measures is a requirement that all passengers go through temperature screening and complete a health declaration card. The countries, which gathered in Beijing for a one-day meeting, agreed not to deny entry to arriving passengers who show Sars symptoms. Possible Sars patients should be examined and sent to hospitals for isolation, further observation and treatment - while the country of departure should be notified as soon as possible. They also agreed to staff ports with medical professionals and checking and protective devices such as thermal scanners. If possible Sars cases are found during the voyage of ships, the carrier may stop at the nearest harbor for emergency medical treatment. The countries also agreed to notify each other in advance through diplomatic channels if they close ports of entry temporarily to control Sars. Li Changjiang, director of the General Administration of Quality Supervision, Inspection and Quarantine, said the meeting was a follow-up to the summit attended by Premier Wen Jiabao and other Asean leaders in Bangkok on April 29.
Hong Kong: Two psychiatrists have warned that Sars patients and their families are in danger of developing post-traumatic stress disorders and have called for tests to identify those who are most at risk.
Hong Kong businessman Dickson Poon has emerged as a potential buyer for London luxury retailer Harrods, according to British press reports.
Hong Kong Exchanges and Clearing (HKEx) has ditched plans to forge international alliances and will instead pump resources into China expansion, according to sources at the exchange.
May 30 - June 1, 2003

Hong Kong: SFC's Ashley Alder with HKEx's Karen Lee unveil proposals to regulate listing sponsors. Individuals who breach a proposed code of conduct for listing sponsors will be placed on a blacklist and their names made public by the Hong Kong Exchanges and Clearing (HKEx) in a bid to protect investors from shoddy share offerings.
Lianhua Supermarket will begin pre-marketing its planned US$100 million Hong Kong flotation next week after meeting the stock exchange's listing requirements.
The Hong Kong government should reduce spending and introduce a consumption tax in order to deal with challenges to the economy including Sars, deflation and the budget deficit, the International Monetary Fund said yesterday.
A million more people from Guangdong are expected to visit Hong Kong every year when restrictions on individual travel are lifted in July. Travelers could be sent back to their home cities if they are found to have Sars symptoms at border crossings between the mainland, Hong Kong and Macau, a senior Guangdong health official said yesterday.
Public housing tenants will face eviction for littering and other hygiene offences under a radical penalty system designed to avoid another "health catastrophe" in Hong Kong's estates. Health chief Yeoh Eng-kiong said yesterday that it was unlikely Hong Kong would face another Sars outbreak on the scale of the one that has ravaged the city in recent months.

One of Hong Kong's Special Olympics athletes makes her feelings known outside the Irish consulate in Wan Chai yesterday. The Hong Kong squad remains in limbo while the lobbying effort continues, pressuring Ireland to lift the ban imposed on it in the wake of the Sars outbreak. The ban applied to competitors from Sars-infected regions including Hong Kong, Taiwan and the mainland.
The incoming Bank of China boss has defended lending policies at its Hong Kong branch, claiming it has stringent procedures preventing individual managers approving large advances without approval.
China: President Hu Jintao was to meet the leaders of Canada, Poland and Greece yesterday in St Petersburg during a flurry of diplomacy designed to raise his profile and convince the world that China can control Sars. In his first overseas tour as Chinese president, Mr Hu is currently meeting a host of world leaders in Russia.
The central government yesterday declared that the Sars epidemic was being brought under control, as the number of infections had stabilized in recent weeks.
A drive to modernize the military is meeting resistance from some conservatives within the PLA, according to a state media report.
It's a richly symbolic event for China, a sign of its growing economic and political status: President Hu Jintao meeting US President George W. Bush and other G-8 leaders during their summit in France. Chinese officials dismiss suggestions that Beijing might want to join the Group of Eight, the club of major economies and Russia. But their interest in the group is plain, highlighted by Mr. Hu's decision to make the debut visit by a Chinese leader to a G-8 event as part of his first foreign trip since taking office in March.
Vice-Premier Wu Yi yesterday expressed confidence that China would remain the world's major destination for foreign investment despite the Sars outbreak. In a meeting with Stuart Levernick, vice-president of Caterpillar Investment in Beijing, Ms Wu said it was understandable that some foreign investors had postponed business talks on the mainland or even withdrawn staff because of the outbreak. But she stressed that the setback was temporary and that the central government would follow a flexible approach to facilitate foreign investment.
China's second-largest telecommunications provider China Unicom planned to set up a chain of 700 Internet bars nationwide this year, the first to open in Shanghai in the coming months, state press reported on Friday.
May 29, 2003
Hong Kong: Hong Kong's health chief defended his appointment yesterday as head of a committee investigating the government's handling of the Sars outbreak, saying Chief Executive Tung Chee-hwa could ask for his resignation if he so wished. Team Clean has finally come clean on its plans for Hong Kong. The government's taskforce on public hygiene standards, led by Chief Secretary Donald Tsang Yam-kuen, yesterday unveiled its list of long-awaited measures for cleaning up the city. A frontline healthcare assistant killed by Sars was remembered on Thursday by top Hong Kong officials, grieving colleagues and friends for her dedication to duty.

Friends, colleagues and officials pay their respects to Tang Heung-may. Her colleagues spoke about the cheerful bravery of Hong Kong's third public health worker to die of Sars.
China: Major exporters in eastern China expect Sars to cut the volume of shipments this year by more than 30 per cent.
US President George W. Bush and Chinese President Hu Jintao will meet on June 1 in France for the first time since Hu became head of state in March, as Washington seeks renewed help from Beijing on ending the North Korea nuclear crisis.

Liu Chuanzhi, the chairman of Legend Group, China's biggest computer-maker, is bullish on the company's future prospects. The group yesterday posted a lower than expected net profit of $1.01 billion for last year.
The share price of Shanghai Land Holdings plunged 20.17 per cent yesterday following intense speculation that its flamboyant chairman Chau Ching-ngai faces an official investigation for irregularities surrounding his $1.5 billion takeover of the company.
May 28, 2003
Hong Kong: London has Trafalgar Square; New York has Central Park. Calls are now mounting for the government to turn the Tamar site into Hong Kong's equivalent, following the shelving of plans to build its new headquarters on the waterfront site. The five contractors competing to develop the $4.9 billion Tamar site have expressed anger at the government's decision to halt the project, fearing they may have wasted money in bidding for the contract.



Kowloon Motor Bus managing director John Chan says competition in the public transport sector means there is little room for expansion in the short term, but he is confident of the long term. The Sars outbreak has pushed Kowloon Motor Bus Holdings (KMB) into the red for the first time in 10 years, says the managing director of Hong Kong's largest franchised bus company.
On the eve of his retirement, HSBC chief executive Sir Keith Whitson issued a resounding tribute to Hong Kong, the city where he spent 14 of his 42 years at the bank.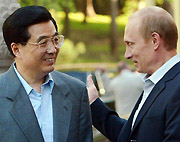 China: President Hu Jintao and Russian President Vladimir Putin chat prior to an informal dinner at Mr. Putin's residence in Novo-Ogaryovo outside Moscow. President Hu's first official foreign trip has met with success as Mr. Putin indicated both countries could help each other. They pledged to co-operate on the development of energy reserves - a move that could reduce China's reliance on oil from the Middle East.
Guangdong has banned the breeding, consumption and trading of wild animals in an effort to control transmission of diseases after the Sars outbreak.
Taiwanese judicial authorities are stepping up investigations into suspected cover-ups of Sars infections at hospitals that could have spawned the island's outbreak, prosecutors said yesterday.
Water levels along China's major northern waterway, the heavily polluted Yellow River, are at their worst in 50 years, threatening drinking supplies to millions of people, state press reported on Wednesday. On Tuesday, China's environment authorities launched emergency measures to tackle the problem, including the monitoring of water flow and threats to close down factories pumping waste into the river, the China Daily said
With the mainland recording no new cases of Sars outside the capital yesterday, the central government is pressing the World Health Organization (WHO) to remove travel warnings to most parts of the country. Yang Weizhong, director of the Disease Control and Emergency office under the Chinese Centre for Disease Control and Prevention, said yesterday that officials had been seeking ways to lift the WHO travel warning during recent meetings with its representatives.
May 27, 2003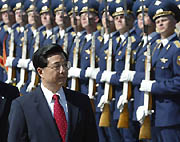 China: President Hu Jintao reviews an honor guard yesterday on his arrival in Moscow, the first port of call in a four-nation tour. President Hu Jintao arrived in Moscow last night on a 10-day, four-nation tour - billed as one of the most important trips by a Chinese head of state in recent memory.
The mainland yesterday reported its first single-digit daily increase in the number of Sars infections since the government came clean on the extent of the outbreak.
A Guangdong wildlife expert has proposed a suspension of trading and consumption of all kinds of wildlife until new laws are put in place to manage the activity.
The new supervisor of more than 39,000 financial institutions in China, the China Banking Regulatory Commission, is seeking senior bankers worldwide to advise on reforms of the nation's institutions that have been swamped with more than US$200 billion of bad loans. The Council of International Advisers, whose members will be experienced banking supervisors and professionals, will advise the nation on ways to improve its banking system. China aims to open its financial markets to overseas investors by the end of 2006. About a quarter of loans at its four biggest state banks were non-performing at the end of last year, according to government estimates.
Hong Kong: Plans to build a $4.9 billion headquarters for the Hong Kong government on the waterfront Tamar site have been put on hold because the administration needs to review its priorities in the wake of Sars.
The Law Reform Commission has been asked by the government and the judiciary to consider allowing lawyers to take cases on a "no win, no fee" arrangement - a step which could pave the way for fundamental and controversial changes to Hong Kong's legal system.
A Sars vaccine developed by Hong Kong virologists will soon be tested on animals, the University of Hong Kong said last night.
Travel industry representatives have urged the Hong Kong government to back their proposal to issue $300 cash coupons to visitors.
The mainland's restriction on tours to Hong Kong is set to be lifted next month. Tour agents on both sides of the border are preparing for the resumption of their business, which has been devastated by the Sars outbreak.
A complete ban on live chickens - both imported and locally farmed - is being considered by the government as part of stringent hygiene measures to prevent the spread of potentially deadly viral infections.
Ratings agency Moody's Investors Service expects the Sars crisis to force many Hong Kong banks to revisit their merger strategies as the already weak operating environment deteriorates further.

Commerce, Industry and Technology Secretary Henry Tang Ying-yen at the Do IT! programme launch to help SMEs, held at Cyberport.
May 26, 2003
Hong Kong: Victor Fung, the Airport Authority chairman, believes that getting back 70 per cent of the pre-Sars passenger flow is not good enough. The Airport Authority yesterday announced a $100 million rescue package to attract the flights that deserted Hong Kong during the Sars crisis.
Mainland residents will soon be allowed to invest in the Hong Kong stock market as well as those of foreign countries, in a significant liberalization of the central government's foreign exchange policy.
Liu Jinbao, the best-known mainland banker in Hong Kong, has been removed as vice-chairman and chief executive of Bank of China (Hong Kong), potentially setting off a much-anticipated reshuffle at the institution.

Singers Edmond Leung Hon-man (left), Hacken Lee and Alan Tam Wing-lun join a campaign to promote Hong Kong tourism. Hong Kong officials yesterday continued to promote local tourism, even as they warned it may take some time before travelers from the mainland and overseas felt the city was safe enough to visit again. Three-quarters of Guangzhou residents who have visited Hong Kong will not visit the city again until the Sars outbreak has been brought under control, a survey found.
Guidelines on wearing masks in public places like shopping malls and cinemas are to be revised by the Hong Kong health authorities. The move came as officials reported one new Sars case yesterday following a landmark zero infection day on Saturday.



China: As city life gradually begins to return to normal, body-builders show off their muscles at a street demonstration in Beijing. As life in Beijing begins to return to normal, the mainland media is stressing that Sars will soon be a thing of the past.
At Shanghai Book City, the biggest bookshop in the city, with 120,000 titles on seven floors, you can buy everything from a book on how to get your son into Harvard and the latest biography of George W. Bush to computer software and the obligatory tomes of Karl Marx and chairman Mao Zedong.
Wal-Mart Stores, the world's largest retailer, has testified against a petition for duties as high as 84 per cent on televisions imported into the United States from China.
May 23 - 25, 2003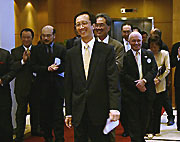 Hong Kong: The WHO withdrew its travel warning against Hong Kong and southern Chinese province of Guangdong on Friday. ''WHO director-general Gro Harlem Brundtland said:'' We are changing the travel advice for Hong Kong and Guangdong, effective on Friday, May 23.'' Chief Executive Tung Chee-hwa on Friday welcomed the lifting of the World Health Organization's (WHO's) travel warning for Hong Kong. An elated Financial Secretary Antony Leung and other officials attend the press conference to announce the lifting of the WHO travel advisory. The government is planning a series of high-profile publicity activities over the next few months to rebuild Hong Kong's image and persuade tourists to return.

Kelly Chen and Aaron Kwok go through their moves at yesterday's rehearsal for the 1:99 concert. Organizers of today's "1:99 Concert" at Hong Kong Stadium have already raised more than $12 million for the children of Sars victims, and are hoping to reach the $15 million mark by the time the concert begins at 5.30pm.
The Airport Authority (AA) has offered airlines reduced landing fees at Chek Lap Kok as a carrot for quickly reinstating flights that were cancelled during the Sars crisis.

Public doctor Joanna Tse is buried with the highest honors after dying of Sars. "She used her life to change Hong Kong people's values in the long run - not to see how much we own, but how much we can give. We remember her as a true daughter of Hong Kong." With these words, Pastor Hugo Chan turned from a group of reporters and walked into the North Point funeral home yesterday to begin the service for Joanna Tse Yuen-man, the public doctor who died of atypical pneumonia after volunteering to work in a Sars ward. Amid white roses, lilies and candles, over 400 mourners, including Chief Executive Tung Chee-hwa and other top officials, gathered to pay their respects at the funeral home. After eulogies, prayers and hymns from friends, colleagues and fellow churchgoers, the first public hospital doctor to die from Sars was then buried with highest honors in Gallant Garden. Tse, 35, is the only woman buried in the garden - a cemetery for public servants who die while serving the community. A $130 million government fund to help medics learn more about Sars has been set up in her name. After the ceremony, a government service was held, presided over by Mr Tung, Secretary for Health, Welfare and Food Yeoh Eng-kiong, Secretary for Civil Service Joseph Wong Wing-ping, and Health Director Margaret Chan Fung Fu-chun. Hospital Authority chairman Leong Che-hung offered his "highest praise" to Tse. "What we can do is to learn from her spirit and apply it in our lives," he said. Tuen Mun Hospital chief executive Cheung Wai-lun added: "She is the model for all doctors and doctors-to-be. In her career, in her family, with her love she held the same attitude: contributing without asking anything in return." Tse's coffin was carried to Gallant Garden by eight pallbearers, including Hospital Authority chief executive William Ho Shiu-wei. North District Hospital doctor Ludwig Tsoi Chun-hing, who was at university with Tse, said he still could not come to terms with her death. "She was an angel, so gentle, so caring," he said.
The tourism board has asked the government to give directions on when it would be safe for members of the public to remove their face masks - saying such a move could improve Hong Kong's image. The government-funded organisation had previously said that wearing masks to prevent Sars was a personal choice.
The Government is planning to suspend lands sales for another year - but will also restore the land application system, the Hong Kong Economic Times reported on Friday.
Hong Kong was still experiencing deflation - with the consumer price index (CPI) falling by 1.8 per cent year-on-year in April, the Census and Statistics Department said on Friday.

Li Ka-shing retains his optimism and faith in 3G. Hutchison Whampoa says it is satisfied with the subscriber take-up for its third-generation (3G) mobile-phone services in Europe despite a slow start.
China: China's decision to focus its reform efforts on the country's top 196 state-owned enterprises (SOEs) should benefit those firms, but it raises questions about what happens to the remainder that are now the responsibility of local governments across the country.
Yao Ming, China's most popular sports star, has filed a suit against Coca-Cola after it refused to withdraw bottles carrying his image. Lawyers acting for Yao filed the suit in a Shanghai court yesterday, demanding that Coca-Cola cease production and sale of the products, issue a public apology admitting that it has infringed his copyright and pay him psychological damages of one yuan. The action follows the passage of a deadline on Thursday to withdraw from shop shelves the bottles carrying an image of Yao and two other members of the Chinese national basketball team.
China's privatization tsar faced the media for the first time yesterday and made it clear that the government would push through reforms of state-owned enterprises (SOEs) despite the Sars crisis.
The State Council has ordered local officials to take immediate action to solve the country's worsening unemployment problem, with Sars continuing to affect the economy.
Taiwan yesterday reported eight more deaths and 65 new cases, its biggest daily jump in infections, while a US expert helping the island cope with the outbreak was taken to hospital with suspected Sars.
Thousands of students returned to classes in Beijing yesterday for the first time since April 24, when public schools were closed at the height of the city's Sars outbreak.
Mainland belongs in G7: former WTO chief - Mike Moore says its economy - twice as big as Russia's - cannot be ignored. With an economy twice the size of Russia's, China should be invited to join the Group of Seven, according to Mike Moore, the former secretary-general of the World Trade Organization.
May 22, 2003
Hong Kong: The United Nations' refugee agency has asked the Hong Kong government to write off $1.16 billion it is said to owe for the upkeep of Vietnamese boat people who arrived from the late 1970s to the 1990s.
A senior health official said yesterday Hong Kong could meet the World Health Organisation's requirements for lifting the travel advisory against it by mid-June if the number of new Sars cases did not exceed three a day.
Cathay Pacific Airways says it expects a recovery in Hong Kong's travel and tourism sector to begin by early autumn. It plans a big marketing campaign in October to help relaunch the city as a major travel destination in the wake of the Sars crisis.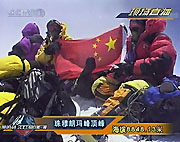 China: Chinese climbers yesterday became the first to broadcast live television footage from the top of the world's highest mountain.
President Hu Jintao next week will embark on his first overseas tour since becoming head of state, attending a G8 meeting where he will meet US President George W. Bush on the sidelines.
Millionaire businessman Yang Bin, chosen by North Korea last year to be chief executive of a special administrative region next to the Chinese border, will go on trial on June 10 to face charges of illegal fund-raising, fraud, bribery and the illegal use of land.
Beijing showed more signs of a guarded return to normality yesterday and the World Health Organisation said it was "encouraged" by the apparently falling Sars infection rate on the mainland.
The People's Bank of China (PBOC) has asked domestic lenders to extend short-term loans at discounted rates to sectors and companies affected by the atypical pneumonia outbreak.
May 21, 2003
Hong Kong: Mr. Anthony Nightinggale, the new Chairman of the Hong Kong General Chamber of Commerce (HKGCC), has taken up the chairmanship of the Hong Kong Ethics Development Advisory Committee from his predecessor Mr. Christopher Cheng.
The World Health Organization last night maintained its warning against travel to Hong Kong despite a strong lobby from the city's health chief in Geneva.

A 500-bed infectious diseases hospital will be built under a Hospital Authority proposal to prepare Hong Kong for future medical crises. The proposed new hospital would not be Hong Kong's first facility dedicated to the treatment of patients with infectious diseases. Several leading private hospitals saw a 50 per cent drop in out-patient business and non-urgent surgery at the peak of the Sars outbreak last month, as potential patients avoided hospitals.
Citing concerns about debt-laden PCCW's declining fixed-line business, credit agency Moody's Investors Service downgraded PCCW-HKT Telephone's credit rating yesterday in a move likely to increase annual interest costs on nearly US$3 billion in bonds.

Michael Tien (left) and Frederick Ma at the bond issue ceremony. Kowloon-Canton Railway Corp plans to sell $500 million of five-year and 10-year bonds to the public to help finance an expansion of its rail network.
China: China has reinforced its call for an international fund to finance global efforts to curb the spread of Sars. Many European corporations operating on the mainland have seen their revenues slide by as much as 40 per cent since the Sars outbreak.
Shanghai has left its export target unchanged at US$37 billion for this year as top officials urge firms to boost overseas sales to offset the impact of Sars on the local economy.
China's decision to replace a 3 per cent business sales tax on gas service pipeline connection fees with a 13 per cent value added tax (VAT) marks a first step towards increased regulation of the highly profitable sector.
May 20, 2003
Hong Kong: Hong Kong moved a step closer to having no fresh Sars cases yesterday as the World Health Organization warned last night in Geneva that a new influenza pandemic could sweep the globe.
Vice-Premier and Health Minister Wu Yi has urged the World Health Organization to lift its travel advisory against Hong Kong.
Hong Kong manufacturers had experienced many unreasonable demands from overseas business communities due to Sars, Secretary for Commerce, Industry and Technology Henry Tang Ying-yen said yesterday.
A medical procedure which has been linked to the spread of Sars among health staff is still being conducted in general wards at Tuen Mun Hospital, despite mounting concerns from medical unions that the practice could lead to more infections.
Some 380,000 kindergarten and primary students returned to class yesterday after a seven-week break imposed by the government because of the Sars outbreak.
Sars may be on the wane but many Hong Kong banks are still to feel the real pain from credit-card bad-debt problems caused by the outbreak, analysts warned.
Hutchison Whampoa is set for a summer launch of its third-generation (3G) mobile-phone service in Hong Kong after starting an online pre-registration campaign yesterday.
China: The World Health Organization remains wary about a dramatic decline in the number of Sars cases being reported by the mainland.
Japanese Prime Minister Junichiro Koizumi has written to President Hu Jintao, with the aim of improving ties between the two countries.
Beijing will put its millions of migrant workers under strict surveillance in the days and weeks ahead, as they return to the capital in search for jobs, a top official said on Tuesday.
A mainland academic has forecast that the Sars outbreak could cost the government 20 billion to 30 billion yuan (HK$18.8 billion to HK$28.2 billion) in lost tax revenue this year because of slower economic growth and financial bail-outs for companies. Zhang Peisen, a researcher with an institute under the State Administration of Taxation, was quoted by the China Daily as saying aid to companies could cause a loss of 10 biilion to 20 billion yuan, while slower growth could mean a further cut of 10 billion yuan.
China's aviation regulator has slashed airport charges for international airlines, leaving Hong Kong as one of the last aviation hubs in the region not to aid carriers by cutting landing fees.
May 19, 2003
China: SARS Business Response Surveys Conducted by American Chamber of Commerce in Shanghai and Hewitt published on May 18, 2003
A survey series to keep members updated on best practices for managing SARS in our businesses

First survey 4/18, follow up survey 5/13

Consistent group of companies to help us to accurately monitor changes

140 responses to the first survey, 46 of which contributed to the second survey
OFFICE MEASURES
60% of companies are quarantining employees returning from high-risk areas.

42% of companies are encouraging the use of masks and some are providing masks to employees for work and personal use

50% of companies are sterilizing their office regularly according to WHO regulation

33% of companies are requiring visitors to wear a mask in the office

Other prevalent office practices include issuing of Vitamin C (18%) & daily or regular temperature-taking
EXPATRIATE EMPLOYEE RELOCATION/REPATRIATION
Original survey showed 46% of companies with a relocation /repatriation plan, for which the employer typically held the burden of cost. New survey shows around 30% with a plan.

Despite the SARS concerns, only 13% of expatriate employees have chosen to leave the country.
TRAVEL RESTRICTIONS – CHINA OPERATIONS
Restrictions have not loosened.

31% of respondents have not changed their policy in the past two weeks. The remaining companies added new travel bans.

Only travel is business critical, subject to highest level approval.
TRAVEL RESTRICTIONS - CORPORATE
Corporate outlook not much different than local.

New travel bans for Taiwan, continued bans for all of China and Hong Kong.

No easing of restrictions as of yet.
Worst Case Contingency Planning: Do you have a plan in place in case the SARS situation takes a sharp downward turn?
Yes – 61% No – 39%
Are you more confident in the accuracy of the information coming from government sources than two weeks ago?
Yes – 78% No – 22%
Are you familiar with the "8 Orders" issued by the Shanghai Government?
Yes – 71% No – 29%
Are you imposing the two week quarantine period for employees who have visited high risk SARS areas?
Yes – 88% No – 12%
BUSINESS IMPACT
The majority of companies see a mildly negative impact from SARS

"No Impact" and "Hard to Say" companies have begun to see mainly negative impact in the past two weeks.
Hong Kong: Finance ministers of the world's leading economies have expressed confidence that structural reform will pull the global economy out of its slump, despite continuing signs of weakness and the persistent threat of terrorist attacks.
The president of the International Olympic Committee has criticized Ireland's decision to ban athletes from Sars-affected areas from next month's Special Olympics.
Air cleaners designed by local scientists can minimize the chances of Sars infection in intensive care wards, a City University professor said yesterday.
The Hong Kong government is under growing pressure to appoint an independent panel to investigate the Sars outbreak amid concerns the probe to be led by the health chief will lack credibility.
The government's emergency loan initiative aimed at countering the economic fallout from Sars is too small, excessively exclusive and hard to administer, a rising chorus of small business associations and companies argue.
One of the world's leading international accounting bodies has appointed a Hong Kong accountant as its new global president, the first Chinese to hold the role in a move that focuses attention on the struggle to develop professional reporting standards on the mainland.
Hong Kong's most aggressive discounter of long-distance call services may enter the local mobile market in 2006 should the government stick to a plan to open the sector further. China Mobile (Hong Kong) has warned rivals to refrain from aggressive price cuts as fears grow of a looming acceleration in mainland wireless market competition.
Sunday Communications plans to add more location-based services (LBS), claiming that alerts indicating when a mobile-phone user is in the vicinity of a Sars-affected building have spurred interest in such offerings.

China: Taiwan has apologized to Japan after admitting a Taiwanese doctor may have carried the Sars virus to the country.
Beijing will start reopening schools this week after a one-month closure due to the Sars outbreak, newspapers said yesterday. They said primary and secondary schools with 1.37 million students would start resuming classes on Thursday. The capital is the city hardest hit by Sars in the world with 147 deaths and more than 2,400 cases. High school students due to graduate in July would be the first to return, the Beijing Star Daily said. They would be followed by younger students at suburban schools.
Asia Television (ATV) is close to finalizing an advertising-revenue-sharing agreement with the Guangdong government, even if profits earned in the province cannot be repatriated to Hong Kong, according to industry sources.
May 15 - 18, 2003
Hong Kong: Chief Executive Tung Chee-hwa last night survived an unprecedented challenge for him to resign. After a heated debate, Hong Kong's lawmakers voted 35-19 to reject a non-binding motion for Mr Tung to step down in the wake of a series of political mishaps over the past six years culminating in what some see as a mishandling of the Sars crisis. Critics of the government's response to the Sars crisis seized their moment in the Legislative Council yesterday, securing a vote on whether a formal investigation should be held into the conduct of senior officials amid the outbreak.
The Hospital Authority's Raymond Wong tries out the new face shield being tested for frontline medical workers in the battle against Sars. A World Health Organisation official last night questioned whether "holes" in the Hong Kong system were leading to health-care workers continuing to be infected with Sars.
Restaurants, hotels and karaoke operators in Hong Kong have enjoyed a rebound over the past week with the Sars outbreak being brought under control.
Hong Kong's business sector and delegates to the nation's top advisory body are to donate millions of dollars to the mainland to combat Sars and help victims of the virus.
Directors of Cathay Pacific Airways will waive their fees this year as a gesture of solidarity with the airline's beleaguered staff and shareholders.
PCCW is forcing 5,000 employees to switch to a cheaper retirement scheme in an attempt to slash its pension contributions amid a HK$1.1 billion shortfall.
Multimedia investment firm Tom.com blamed a seasonal downturn in the advertising market and weak spending on sporting and entertainment events for a 16 per cent drop in revenue over the first three months of the year compared with the previous quarter.

China: President Hu Jintao yesterday called on cadres to aim for a "double victory" in China's quest to combat Sars and maintain robust economic growth. Senior business leaders of Chinese and foreign enterprises met yesterday to discuss ways the nation can improve its Sars crisis management techniques and image abroad. China has reminded local officials across the country to make sure national laws banning the use of child labour are implemented.
The volatile mix of panic over Sars and the proliferation of high-tech communications is challenging China's effort to control information even as it promotes the economic potential of the technology. The crackdown coincides with official calls to redouble efforts against severe acute respiratory syndrome, which has killed more than 260 people on China's mainland. China already is the world's biggest mobile phone market, with 207 million in use. Its population of Internet users is second only to the United States, with 59 million people on-line.
May 14, 2003
Hong Kong: More than 100 Hong Kong jewelers are preparing to take part in the Las Vegas jewellery fair this month after the US organiser reversed an earlier decision to ban them from attending.
Dragonair, United Airlines and the Hong Kong Aircraft Engineering Company (Haeco) yesterday joined Cathay Pacific in asking employees to take unpaid leave.
Although they will speak in many languages, leaders of at least 27 foreign business chambers hope to send a single, clear message to their home countries during a charity fair this weekend: life in Hong Kong has returned to normal. Organised by the Korean Chamber of Commerce, the "We Love Hong Kong" campaign aims to allay fears among overseas people about the risk of traveling to Hong Kong amid the Sars outbreak.

Tse Yuen-man - the first public hospital doctor in Hong Kong to die of Sars - was a widow who threw herself into her work after her husband, a doctor at another hospital, died of leukaemia last year. She was one of the first doctors to volunteer to work with Sars patients. A hospital lobby was transformed into a shrine yesterday as floral tributes poured in for a young woman doctor who sacrificed herself trying to save the lives of Sars patients.

The wife of the chief executive, Betty Tung Chiu Hung-ping (centre), joins Rosanna Wong Yick-ming, second-right, and other Operation Unite officials to launch the hygiene charter scheme yesterday. More than 220 businesses and organisations have pledged to meet new cleanliness standards as part of the battle against Sars. MTR Corp, Maxim's Caterers and Café de Coral are some of the companies which have volunteered to join the hygiene charter set up by Operation Unite, a campaign formed last month to fight against the outbreak.
HSBC's asset management arm has appointed veteran fund executive Blair Pickerell as its new Asia Pacific chief executive, replacing Paul Chow Man-yiu.
Management and technology consulting firm Booz Allen & Hamilton's survey of the world's 2,500 largest publicly traded companies found that 253 chief executives left their positions last year - a 10 per cent rise over 2001. Of those, nearly 100 were forced out because of poor performance - a 70 per cent rise against the number fired in 2001. Chief executives were forced out of their jobs last year at record levels all over the world, according to a survey of leadership turnover.
China: Several countries are refusing to accept visitors from China because of the Sars outbreak, while others are requiring stints in quarantine of up to two weeks. Sars has begun to spread to the countryside while the number of new cases reported in Beijing continued to drop for the fifth consecutive day.

Indian Prime Minister Atal Behari Vajpayee will visit China next month as part of ongoing efforts to improve relations between the world's two most populous nations, Defence Minister George Fernandes announced yesterday.
The Chinese navy is equipping its latest destroyers with radar that has a similar capability to the US Aegis system, despite American efforts to stop the spread of the advanced technology.
A hunt is under way in Shenzhen and surrounding districts for nearly 1,000 people who attended a wedding reception because the father of the groom has come down with Sars. So far, 362 guests and hotel workers had been located, with 59 in quarantine because of their close contact with the Sars sufferer, and 303 were undergoing daily temperatures tests, he said.

America's third-largest oil company, ConocoPhillips, is preparing to trump China Petrochemical's US$615 million acquisition of an 8.33 per cent stake in one of the world's biggest oil and gas projects.
China's dominant cellular carrier is seeking to turn the tables on fixed-line carrier China Telecom by launching a service allowing users to divert calls from land lines to their mobile phone.
May 13, 2003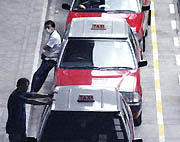 Hong Kong: Six thousand Hong Kong taxi drivers have proposed cutting fares by up to 30 per cent in an attempt to save their Sars-hit business.
Hong Kong snooker player Marco Fu Ka-chun caused a sensation yesterday when he beat the sport's newly crowned world champion, Mark Williams, to claim the first major title of his five-year professional career.

Betty Tung Chiu Hung-ping breaks down in tears as she attends a ceremony marking International Nurses' Day at the Hospital Authority's headquarters in Kowloon City. Chief Executive Tung Chee-hwa's wife lost her composure after the authority's senior executive manager, Susie Lum, thanked her for her help in the fight against Sars. A 35-year-old woman doctor at the Tuen Mun Hospital died from severe acute respiratory syndrome (Sars) on Tuesday morning after being treated in the hospital's Intensive Care Unit (ICU) for about a month, the Hospital Authority said.

Cheung Kong (Holdings) affiliate iBusiness is teaming up with Commonwealth Bank of Australia to open a joint-venture wealth management company. AMTD Financial Planning, whose new chairman is Edmond Ip Tak-chuen, will tap into the growing demand for private financial advisory services. IBusiness will own 61.25 per cent of AMTD, while Commonwealth will hold 30 per cent. AMTD will not charge fees.
Ernst & Young chairman Anthony Wu Ting-yuk is to be questioned before a judge on his ''apparently close personal involvement'' with the collapsed New China Hong Kong (NCHK) group of companies that his firm audited.
Consumer goods exporter Li & Fung is moving some of its sourcing operations out of China due to the impact of the Sars outbreak.
China: China is set to launch a powerful new agency to tackle future health crises and natural disasters - its first bureaucratic reform following the Sars outbreak.
Shanghai will push state investment to a record high this year to try to maintain double-digit economic growth as Sars threatens the mainland's commercial centre. Shanghai plans to spend 55 billion yuan (HK$51.9 billion) on 78 infrastructure projects alone this year. Last year, total fixed-asset investment rose 8.2 per cent to 216 billion yuan. Shanghai plans to designate six more hospitals for Sars patients, in addition to the present four, city officials said yesterday. They did not name the new Sars hospitals. Officials also clarified quarantine rules, saying the city would use the World Health Organisation's list of areas with recent local transmission to determine whether to isolate returning residents. Under new rules, residents returning to Shanghai from affected areas overseas must be quarantined for two weeks. Residents returning from other parts of the mainland affected with Sars would also be quarantined based on a list issued daily by the Ministry of Health, officials said.
Experts from the World Health Organisation are to visit more rural areas throughout the mainland to gain a better understanding of the Sars situation as the number of confirmed cases tops 5,000.
US investment firm Newbridge Capital insists it still has an exclusive right to acquire a stake in Shenzhen Development Bank (SDB) despite the lender saying it has cancelled plans to introduce a transitional management team, set up by Newbridge, that would have been vested with management control.

A worker disinfects a drain in Guangzhou. A campaign against spitting is also under way.
May 12, 2003
Hong Kong: Local small and medium enterprises (SMEs) have predicted a gloomy business outlook for the second quarter due to the severe acute respiratory syndrome (Sars) outbreak, a study by the SME centre of the Hong Kong Productivity Council released on Monday showed.
wearing surgical masks in addition to their regular uniforms, students arrive at their primary school on Monday morning. About 250,000 primary students headed back to class after a six-week school closure to prevent the spread of Sars, which has been slowing here as new cases have stayed in the single digits for eight straight days.
A global third-generation (3G) mobile phone congress scheduled for Hong Kong next month has been cancelled because of Sars concerns.
China: A group of 38 private oil companies in northeast China has accused PetroChina and China Petroleum & Chemical (Sinopec), the country's two biggest oil firms, of trying to bankrupt them by controlling prices and withholding supply.
About 250 multinational companies are expected to drop their office setup plans in China and establish operations in Hong Kong due to the way mainland authorities handled the Sars outbreak, a property consultant says.
A high-powered Japanese delegation is expected to visit Beijing next week in another sign of warming Sino-Japanese relations, diplomatic sources said.
Premier Wen Jiabao visited hard-hit regions of Shanxi yesterday and warned that the declining number of Sars infections did not mean the crisis was over.
Indian Prime Minister Atal Bihari Vajpayee will visit China next month, with chances improving for a permanent peace between the two neighbours, Defense Minister George Fernandes said on Monday. India and China still have border disputes from their 1962 mountain war, but relations have improved rapidly since 1998, when Mr Fernandes said India tested nuclear weapons because of its fears of China.
China's exports rose by a third from a year earlier last month as factories filled overseas orders placed months ago, before the Sars outbreak began to slow the economy. Exports rose 33.3 per cent to US$35.6 billion (HK$277.6 billion) last month, while imports rose 34.4 per cent to US$34.6 billion, according to customs figures released by Xinhua.
May 9 - 11, 2003
Hong Kong: The World Health Organization has spoken out against ''unnecessary'' moves to restrict travel for people from Sars-affected areas, as anger in Hong Kong mounted over action by US universities to either ban students or ask their relatives not to attend graduation ceremonies. Responding to the measures, a spokeswoman for the WHO said they were an overreaction and could cause panic and frustration. "The WHO does not believe it is good practice to target all people, without exception, from Sars-affected areas,'' she said. "The global risk of becoming infected with Sars is extremely small, and measures like those being taken by the US universities are ultimately counter-productive since they may effectively create more panic and frustration.'' The US institutions requesting families in countries hard-hit by the disease to skip graduation ceremonies are Case Western Reserve University in Cleveland, Ohio, the University of Rochester, in New York, and Washington University in St Louis, Missouri. This follows a decision this week by the University of California at Berkeley to bar students from affected regions from this year's summer program. Case Western Reserve University is asking graduating students to "strongly discourage" family members who have traveled in the past 10 days from a Sars-affected area from attending ceremonies on May 18, according to its Web site. "It's understandable, but very disappointing," said Katherine Fung-Surya, director of the Hong Kong branch of the US government-funded Institute of International Education, which promotes cultural exchanges with America. "We're getting to the stage where more [US] universities are taking measures against Sars," she said.
Cathay Pacific has formally asked all 14,000 of its employees around the world to take a total of four weeks unpaid leave over the next six months as part of an ongoing effort to conserve cash and avoid lay-offs. Faced with losses of up to US$3 million (HK$24 million) a day, Cathay sent an internal memo yesterday afternoon to all of its employees - from its chairman down to its ground staff - asking them to take part in its "Special Leave Scheme". The scheme, which would begin on June 1, is part of a package of measures in response to plummeting passenger numbers. The latest cut would save the company an estimated $600 million, based on last year's total staff costs, including bonuses, of $7.9 billion. This would come on top of the $934 million saved by reducing the dividend.
Jack So Chak-kwong, the outgoing chairman of MTR Corp (MTRC), has ended months of speculation about his next move by accepting the position of PCCW's group managing director.
Contract shoemaker Yue Yuen Industrial (Holdings) and mainland container leaser and port operator Cosco Pacific are to replace New World Development and Sino Land in the blue-chip Hang Seng Index.
UBS Warburg has won for the second consecutive year an important poll that helps determine the pay and careers of Asia's research analysts.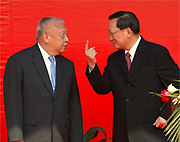 Hong Kong: Tung Chee-hwa meets Tang Jiaxuan at the Huanggang border crossing yesterday to collect a shipment of mainland medical supplies. Chief Executive Tung Chee-hwa expressed mixed feelings yesterday as he accepted a consignment of medical supplies for Hong Kong from the central government, saying the mainland itself had an urgent need for protective clothing in its own battle against Sars. Hong Kong yesterday received a boost in the fight against Sars as the number of new infections hit a new low of seven cases and the number of deaths fell to four, the lowest level since April 24. Renowned scientist David Ho and University of Hong Kong experts are making progress on a new treatment for Sars based on anti-HIV therapies. An announcement could be made as early as today.
China: The Sars outbreak which is still peaking on the mainland remains a big danger to the world even though other places with major outbreaks have brought the disease under control, a senior World Health Organization executive warned yesterday. The World Health Organization yesterday extended its warning on travel to Taipei as Taiwan reported six more cases of Sars. Infectious disease control experts are to be sent to three inland provinces by the World Health Organization. The provinces to be inspected are Guangxi, Anhui and Henan. They have some of the lowest reported totals of Sars cases, but all are considered at risk. Up to yesterday, Anhui had reported nine cases, Henan 15 and Guangxi 20, with three deaths.

In response to new requirements from the People's Bank of China, HSBC Holdings revealed financial details about its mainland operations for the first time. Responding to new requirements from the People's Bank of China by foreign banks on disclosure, the group yesterday announced the net profit from its mainland operations jumped 30.79 per cent last year. HSBC, one of the biggest foreign banks operating in China, said net profit climbed to 156.05 million yuan (about HK$146.25 million) from 119.31 million yuan in 2001. Last year, HSBC's China branches were granted licenses from the People's Bank of China to provide foreign-currency services for the first time to mainland citizens and corporations.
May 8, 2003
Hong Kong: PCCW deputy chairman Linus Cheung Wing-lam said yesterday he will leave the company by the end of this year. PCCW deputy chairman Linus Cheung Wing-lam might join the Government and replace Antony Leung Kam-chung as Financial Secretary later in the year, a local newspaper reported on Wednesday. Mr Cheung's three-year-contract with PCCW was reportedly worth more than $30 million - including an annual salary of $4.8 million and other compensations. The Government was unlikely to announce any ministerial changes until the atypical pneumonia outbreak was under control, the paper added.
A hospital nurse killed by severe acute respiratory syndrome (Sars) was remembered on Wednesday as the ''people's hero'' at a funeral attended by Hong Kong leaders and dozens of grieving health care workers in white uniforms and surgical masks. Lau Wing-kai, 38, died on April 26, becoming the first frontline health worker killed by the disease in the territory. Sars has sickened 1,646 people here and killed 193. Chief Executive Tung Chee-hwa attended Mr Lau's funeral but said nothing to journalists who were kept outside at the family's request. Director of Health Dr Margaret Chan Fung Fu-chun was seen weeping.
China: Beijing has no problems dealing with its Sars patients, a ranking official said on Wednesday, in stark contrast to recent remarks made by the city's mayor suggesting there were not enough hospital beds.
Macau's health authorities will ask the World Health Organization (WHO) to take the territory off its list of Sars-hit areas as it has no confirmed case of the pneumonia-like illness, a Macau government spokeswoman said on Wednesday.
May 7, 2003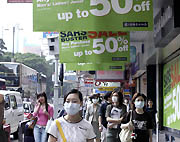 Hong Kong: The World Health Organisation has set out three criteria that Hong Kong needs to meet to have the travel advisory imposed against it as a result of the Sars outbreak lifted, stressing that the number of new cases must be fewer than five for at least three consecutive days. Hong Kong stands to lose as much as $40 billion from the Sars, economists and analysts polled by the South China Morning Post say. But as the number of active infections continues to fall, the outlook for the worst-hit sectors - retail and tourism - is improving.

A serum drawn from the blood of recovered Sars victims has cured more than 10 patients who failed to respond to standard anti-viral treatment, doctors announced yesterday. Professor Gregory Cheng describes the new treatment. Behind him is an image of a fellow doctor and Sars patient donating blood for use in the serum. Professor Cheng - a former patient himself - was also among the donors. The patients had initially received a combination of Ribavirin and steroids - the standard treatment adopted by the Hospital Authority to deal with severe acute respiratory syndrome (Sars) - but showed no progress. The university has started using the serum as a "second-line" treatment on another batch of about 50 patients who have also failed to respond to Ribavirin and steroids.
The competing medical faculties of Hong Kong's two oldest universities made a show of reconciliation yesterday, with each granting an honorary professorship to a Sars researcher from the other. Questions had been raised about how medical experts from the Chinese University and the University of Hong Kong could work together in the proposed disease-fighting centre. The Chinese University's medical school named HKU microbiologist Yuen Kwok-yung as honorary professor. Joseph Sung Jao-yiu of the Chinese University's medicine and therapeutics department will receive the same honor from HKU. Yesterday, Hospital Authority chief Leong Che-hung said rivalry between the two universities would not stop a new plan to set up the centre, which would be modeled on the US Centres for Disease Control and Prevention. The planned centre "will require the co-operation of all the relevant experts, not only the two universities, but also the whole medical system and environmental protection-related parties'', Dr Leong said. The Jockey Club has pledged to donate $500 million to set up the centre, which is likely to fall under the supervision of the Health, Welfare and Food Bureau.

Hong Kong will launch a campaign to keep the city healthy and clean forever, Chief Secretary Donald Tsang Yam-kuen pledged yesterday. Donald Tsang rejects speculation he is being sidelined politically in being appointed to head the Team Clean taskforce. The taskforce brings together several senior health, housing, home affairs and planning officials, including Permanent Secretary for Planning and Lands John Tsang Chun-wah, who is appointed to the taskforce for three months.
The mainland's deepening Sars crisis has had a devastating impact on Dragonair, with airline insiders saying it is now carrying fewer than a thousand passengers a day.
China: The number of new Sars cases in Beijing increased by less than 100 for the third day running yesterday, but experts were wary of saying the outbreak had peaked in the capital. The United States promised on Wednesday (HK time) to increase technical assistance to China to help it combat the deadly epidemic of Severe Acute Respiratory Syndrome that has already claimed the lives of 214 Chinese. Health and Human Services Secretary Tommy Thompson made the pledge in a telephone conversation with Chinese Vice-Premier and Health Minister Wu Yi, according to US government officials. Mr. Thompson said his department will develop a plan with Chinese officials this month for increased technical assistance that would include training Chinese specialists, helping China increase its laboratory capacity and improve health information technology.
A senior captain from China's Naval Academy in Qingdao and navy technicians were among the 70 people killed in the Ming Class submarine accident.
Motorola, the world's second-largest handset maker, has ordered most of the 1,000 employees at its Beijing head office to work from home after an employee was confirmed to be suffering from Sars.
China's telecommunications carriers posted a stronger than expected 20.3 per cent year on year increase in first-quarter revenue to 108.93 billion yuan (about HK$102.08 billion), according to the Ministry of Information Industry.
May 6, 2003
Hong Kong: Chief Executive Tung Chee-hwa yesterday unveiled a blueprint to restore international confidence in Hong Kong, saying headway was being made in containing the Sars outbreak. The government should consider issuing Sars bonds to fund measures needed to help Hong Kong tackle the outbreak, Monetary Authority chief executive Joseph Yam Chi-kwong said yesterday.
The University of California at Berkeley has barred students from Hong Kong and other countries hit by the atypical pneumonia outbreak from taking up new summer classes, chancellor Robert M. Berdahl announced overnight (HK time).
Banks, cinemas and dozens of other businesses have announced fresh offers for the We Love Hong Kong campaign to help get the city get back on its feet.
Cathay Pacific Airways has announced plans to halve its dividend payout to investors for the past financial year, as fears over the spread of Sars and the war in Iraq have led to a collapse in air travel through Chek Lap Kok.
Hong Kong banks could see their profits tumble as much as 45 per cent year-on-year if the sharp decline in business activity and consumer spending triggered by the Sars outbreak persists until the end of the year, Standard & Poor's warned yesterday.
China: President Hu Jintao and military chief Jiang Zemin held an emotional meeting yesterday with the families of 70 sailors who died in a submarine accident, consoling them on their loss.
The World Health Organisation (WHO) overnight (HK time) expressed concern about the capacity of the health system in poorer regions of the mainland to cope with the atypical pneumonia crisis. Officials at the World Health Organisation said yesterday they still are not getting the answers they need to make a proper assessment of Beijing's progress in fighting Sars.
The central government will put three more provincial leaders on trial for corruption in the next few months, signalling its determination to crack down on illegal activities among high-ranking officials.
Mainland computer giant Legend Group served notice to rivals that its overseas expansion is well under way, with a sweeping rebranding programme, according to market analysts.
Fear of severe acute respiratory syndrome (Sars) has resulted in a rash of trade-show cancellations in Taiwan, but many exporters are grateful for the change in plans.
May 5, 2003
Hong Kong: Hong Kong will have a new border checkpoint east of the current Man Kam To crossing to help further integration between the special administrative region and the Pearl River Delta.
The severe acute respiratory syndrome (Sars) virus could stay alive for days in faeces and urine, the World Health Organization (WHO) said on Monday.
PCCW is poised to bid for 15 broadband wireless network licences in Britain in a move that could see it become a major broadband operator for an investment of only £2.1 million (about HK$26.25 million).
The controlling shareholder of property and hotel owner Top Glory International Holdings is seeking to take the company private at a cost of HK$1 billion, the latest in a spate of privatization attempts.
Billionaire investor Warren Buffett has told investors to resist coming to the conclusion his purchase of a stake in PetroChina means he is taking a stance on investing in the mainland.
China: Beijing's schools were ordered to remain closed yesterday as the capital's Sars-related death toll hit 100 with more than 15,000 people in quarantine.
Taiwan yesterday intensified its quarantine efforts after the number of confirmed Sars cases on the island tripled to 116 in just 11 days.
Alleged Chinese-American double agent Katrina Leung says she had 2,100 contacts with mainland officials while being paid as an FBI informer.
More than 100 farmers attacked a government office in eastern China and beat up officials, enraged that a severe acute respiratory syndrome (Sars) quarantine centre would be set up in their community, state media and a local official said on Monday.
Shanghai's confirmed Sars cases doubled to four when it was revealed at the weekend that a couple visiting the city had the virus. The number of suspected cases stood at 15, including two US citizens and one German national, reports said yesterday.
The reported arrest of the alleged killer of a prominent Sino-Thai businessman at the Lisboa Hotel last month was welcomed yesterday by a spokeswoman for gambling tycoon Stanley Ho Hung-sun's company. Hong Kong newspaper Wen Wei Po last week identified the suspect as Tang Shaohua, from Hunan province. It said Tang was the prime suspect in the April 18 murder of 70-year-old Chinese-Thai businessman Chan Sai-yin, who was also known by his Putonghua name, Chen Shihian, and his Thai name, Norarat Tangpakorn. Chan's body was found bound and gagged in his eighth-floor room at the Lisboa. His personal assistant, who also was bound and gagged, reportedly provided Macau police with information on the suspect.

Hawaii: Governor Lingle Shares Lei Day Tradition with the Nation - Governor Lingle marked Hawai`i's annual Lei Day celebration by promoting the state as a visitor and business destination. The Governor's interviews with national media, via satellite, originated from Waikiki Beach. "Not only does Hawai`i have beautiful beaches," said Governor Lingle. "We have the warmest and friendliest people." The Governor's comments were broadcast to a diverse range of news outlets that included the NBC News Channel, Fox News Edge, Daily Buzz, KABC-ABC (Los Angeles), Agriculture Day, KMAX-UPN ("Good Day Sacramento"), and others. Read more in the Pacific Business News.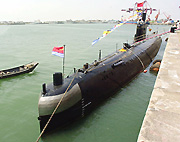 China: 70 Chinese sailors drowned when their Ming Class submarine (similar to the one above) malfunctioned in a drill east of the Neichangshan islands.
As the numbers of people quarantined as a result of Severe Acute Respiratory Syndrome (Sars) rose to over 15,000 in Beijing on Sunday, health officials were being fired nationwide for failing to implement stringent measures to control the epidemic.
Xinhua said Finance Ministry officials announced that they have set aside 3.5 billion yuan (HK$3.29 billion) in new funding to help in the construction of hospitals and clinics throughout the country. To prevent a massive decline in share prices due to a potential Sars-induced panic in the markets, the China Securities & Regulatory Commission announced that it was extending the closure of the stock markets to the middle of the month. Earlier, the CSRC said that the markets would remain closed for only the first week of May. To make sure that money is always available and that currency notes are free of Sars, the People's Bank of China ordered that all banks must begin sterilizing the currency they receive before redistribution. In addition, to make sure all banks and ATMs are free of Sars, the central bank ordered that all banks must begin sterilising their buildings as well as the air in the buildings. The Beijing Cereal and Foodstuffs Co. also began 24-hour shifts to make sure that adequate food is on hand in case people begin runs on the city's supermarkets. Yesterday, the company said that it would supply 240 tonnes of cooking oil, 140 tonnes of rice, 1,150 tonnes of flour and 1.8 million bags of instant noodles daily.
Hong Kong: Project Shield yesterday donated a 10-day supply of surgical masks and 500 hi-tech Air-Mate respirators to help protect Hong Kong's frontline health workers, as the campaign's funds swelled to more than $13.5 million.

ECIC commissioner Cheung Kam-kay says the drop in payments came as a surprise as overseas markets are still depressed and corporate failures high. He says this year is also a concern because of Sars. The Hong Kong Export Credit Insurance Corp (ECIC) said successful claims from exporters triggered by buyer defaults stood at HK$37.48 million for the year to March, down 57 per cent from the previous year. While the amount of compensation paid out was lower, the exported business insured by the ECIC rose 6 per cent to HK$28.16 billion.
Chinese Estates Holdings has delayed a decision on whether to redevelop or renovate its newly acquired Tung Ying Building in Tsim Sha Tsui due to the uncertain market conditions. Chinese Estates director-assistant Leng Yen Thean said: "We have been thinking about whether to redevelop or do a big renovation to the building. However, the Sars crisis has added to the uncertainty. When the economy improves, we will think about our direction." Chinese Estates acquired the 17-storey Tung Ying Building in Nathan Road for HK$1.1 billion from the Hotung family in December last year. The deal was one of the biggest private property transactions last year. Ms Leng said tenants had demanded rent cuts of about 30 per cent to 50 per cent, but the company had not yet made concessions and would consider the requests on a case-by-case basis.
Hong Kong Dragon Airlines has been forced to delay the delivery of two Airbus aircraft following the slide in passenger demand caused by the Sars outbreak. "As a result of the current decline in demand for travel, Dragonair is delaying the arrival of two A321s, originally planned for delivery in June and August, until the end of the year," the airline said. China Eastern Airlines company secretary Luo Zhuping said yesterday that the carrier was talking to Boeing and Airbus about delaying the delivery of 12 aircraft. A spokesman for the Taiwan-based China Airlines said the airline might consider adjusting the delivery dates for four aircraft this year. Cathay Pacific Airways this week said it had discussed the possibility of delaying some new aircraft deliveries, but had since decided to receive the planes on schedule. The airline has six passenger aircraft - one A340-600, three A330-300s and two B777-300s - set for delivery this year. Taiwan's second carrier, Eva Air, will also receive two A330-200s this year as planned.
May 2 - 4, 2003

Hong Kong: Jim Thompson, Chairman of the American Chamber of Commerce - "Members of The American Chamber of Commerce are totally committed to Hong Kong and will continue to look on this city as their best option for investment in Asia. The completely transparent handling of the challenge presented by SARS plus the high level of medical professionalism displayed actually enhances Hong Kong's reputation as a city we can trust to deal with unexpected challenges.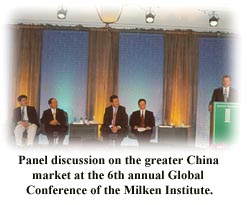 Hong Kong: The role of the growing Chinese economy, including Hong Kong's place as a banking and logistics center for the greater China market, was the theme of a concurrent session sponsored by Hong Kong Economic and Trade Office at the 6th annual Global Conference of the Milken Institute in Los Angeles in April. Titled "A Rising Star in the Global Economy: The Greater China Market," the event drew an audience of over 800. Hong Kong ranked #1 in Milken Institute's Capital Access Index for second year.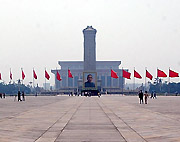 China: There is one national landmark that is sure to draw a crowd on Labor Day. But as the photo above shows, Tiananmen Square was virtually deserted yesterday thanks to government warnings that people should stay indoors. Shanghai's tourism business is the most prominent victim of the city's Sars outbreak. No one is going away for the scaled-down Labour Day holiday that began yesterday, normally one of the busiest seasons of the year.
Hainan and parts of Shanghai yesterday lifted the quarantine measures for travelers from Hong Kong and other areas affected by Sars in an apparent U-turn from their stance on Wednesday. Controlling the Sars outbreak in Guangdong remained an arduous task, Premier Wen Jiabao said yesterday as he ordered provincial authorities to take precautions to ensure the disease is defeated, Xinhua reported. The Shanxi government sealed off its largest medical university yesterday and quarantined thousands of students after Sars cases were found on the campus, university officials said yesterday.
This week, three publications of the Nanfang Media Group - the 21st Century Economic Herald, the Southern Metropolitan News and Nanfengchuan (Windows of the South) magazine - made a bold call for reforms in signed commentaries. The commentaries accused the government of mishandling the early stages of the Sars outbreak and urged officials to use the crisis as an opportunity to give the public more control over their daily affairs. The Southern Metropolitan News said the outbreak had highlighted weaknesses in the current administrative system. It said Sars had amplified concerns about the well-being of society, and urged the central government to improve its ability to manage crises. An article in the most recent issue of Nanfengchuan magazine written by Renmin University public administration professor Mao Shoulong criticised the government for making economic growth and social stability its top priorities and for covering up the initial outbreak.
Imports of mobile phones in Shanghai surged fivefold in the first quarter, according to figures published on Thursday, swelling an oversupply market that analysts believe will lead to price wars and factory closures.
Hong Kong: Fallen tycoon James Henry Ting - who disappeared more than two years ago after presiding over Hong Kong's biggest ever corporate collapse - has been arrested by Hong Kong detectives after landing by helicopter at the Macau ferry terminal.
Labor Day demonstrators in Hong Kong march from Chater Garden to the Central Government Offices yesterday. The percentage of Hong Kong Sars patients dying from the disease rose above 10 per cent yesterday as five more deaths were reported - along with just 11 new cases, the lowest daily increase since March 16. The World Health Organization yesterday expressed concern about the rising global death rate from severe acute respiratory syndrome (Sars), as a senior official warned that the percentage of infected patients worldwide who die is likely to rise from 6 per cent to 10 per cent. The second week of a Sars infection is critical because at that time patients either recover rapidly or suffer a severe worsening of their condition which often ends in death, medical experts said yesterday.
Airlines are hoping the devastating collapse in air travel through Chek Lap Kok has hit rock bottom, but the pace of recovery may ultimately depend on when the mainland is able to bring its Sars epidemic under control. Cathay Pacific Airways sources said passenger numbers have begun showing signs of stabilizing after having fallen in the early part of the week to their lowest level since the Sars crisis began in mid-March. A senior Cathay executive said privately that total passenger numbers across its network fell to around 6,000 on Tuesday. By contrast, the airline was carrying an average of about 33,000 passengers per day during April last year. By Wednesday, its passenger numbers had shown a slight rebound, the executive said.
Visitor numbers at Ocean Park have plummeted by 70 per cent since mid-March and the park is losing $15 million to $20 million a month because of Sars, its chief executive said yesterday. "Now we have 1,200 to 1,500 local visitors and no overseas [or mainland] visitors at all." All school tours were cancelled last month. Last year, about 40,000 students visited the park, he said.

Jimmy Lai, owner of the Apple Daily newspaper, poses next to mock-ups of its Taiwanese incarnation. The paper hits the street today in Taiwan as rivals cut prices and offer gifts in preparation of the readership competition. The top three newspapers in Taiwan have cut prices and introduced prize giveaways in preparation for a bruising readership battle as the local edition of Jimmy Lai Chee-ying's Apple Daily hits the streets today.

The firm at the centre of the mainland's biggest bankruptcy in 2000, Guangdong Maoming Polyacrylic Chemical, has been sold to a Hong Kong company for 100 million yuan (about HK$93.72 million).
May 1, 2003
Hawaii: Business with China complicated by SARS .....Please enter here for complete story from Honolulu Star Bulletin
Hong Kong: Quarantine measures for travelers from Hong Kong and other areas affected by Sars have been introduced in parts of Shanghai, Hainan and Hunan, as mainland cities and provinces step up measures to prevent the spread of the disease. Donations to Project Shield broke through the $10 million mark last night as Hong Kong's frontline medical staff unveiled a list of the most urgently needed items in the battle against Sars. Hong Kong's budget deficit for the 2002-03 financial year amounted to $61.7 billion, $8.3 billion lower than the official forecast of $70 billion, the government said yesterday. The Hong Kong business sector yesterday raised at least $17 million to establish a fund to help Sars victims. Liberal Party leader James Tien Pei-chun said the preliminary idea was to grant the family of each patient who died of the disease $50,000 to $200,000.
China: Beijing does not have enough doctors or nurses to handle the escalating Sars outbreak in the capital, the acting mayor said yesterday. Beijing officials said last night that more than 11,000 people are being held in quarantine as the city struggles to control the spread of Sars. Wen Jiabao, on his first visit abroad as premier, set his stall out to tell the world that China's new leadership meant business in joining forces with its Southeast Asian neighbors to combat Sars. Shanghai authorities vowed yesterday to implement stricter measures to guard against Sars, even though the city's official tally of cases remains low.
The 93rd China Export Commodities Fair ended yesterday a day ahead of schedule with 9,128 exhibitors bagging orders worth only US$4.42 billion (HK$34.43 billion), just a quarter of the US$16.8 billion they booked last spring. Only 23,128 foreign buyers visited the mammoth fair, which was held in two sessions from April 15-20 and from April 25-30, down from 120,576, according to figures from the fair spokesman, Xu Bin. The last spring fair accounted for 14 per cent of China's total exports.
April 30, 2003

Hawaii: SARS Epidemic: Hong Kong is Open for Business.....Please enter here for complete story from Honolulu Advertiser or Go to Hawaii Reporter for complete story
China: China's State General Administration of Quality Supervision and Inspection and Quarantine (AQSIQ) and Certification and Accreditation Administration (CNCA) on April 25, 2003 published at its website: www.cnca.gov.cn the Announcement No. 38 postponing the mandatory enforcement date of the CCC Mark from May 1, 2003 to August 1, 2003. The decision was made on April 23, 2003......Please enter here for complete story from U. S. Dept of Commerce
Premier Wen Jiabao yesterday appealed for international understanding over the mainland's Sars crisis, asking for faith that his government could cope with a "grave situation". Amid growing panic in Beijing about the spread of Sars, the capital yesterday reported its biggest one-day rise in infections - 152.
Shanghai will limit the number of new luxury housing projects this year after officials called for measures to cool the overheated property market, the city's Housing and Land Management Bureau said.
Beijing's acting mayor warned on Wednesday the severe acute respiratory syndrome (Sars) situation in the Chinese capital was ''severe'' and that a shortage of hospital beds was preventing patients getting timely treatment. ''The CPC Beijing Committee and Beijing municipal Government believes that at the present time the situation in Beijing remains severe for Sars prevention and treatment,'' acting mayor Wang Qishan said at a press conference.
Cong Fukui, a former vice-governor of Hebei, was yesterday sentenced to death with a two-year repreive on corruption charges, Xinhua reported. The sentence was handed down by the Intermediate People's Court in Zhangjiakou, Hebei province. Cong, who served at the vice-governor post from July 1997 to July 200, and three other officials were arrested in 2000 for embezzling around 9.3 million yuan (HK$8.7 million) in an investment and loan scheme. He was expelled from the Communist Party a year later.
Hong Kong: Donations to Project Shield were declared tax-deductible yesterday, giving a boost to the campaign to help Hong Kong's frontline medical workers. Supporters in Hong Kong and around the world have donated more than $8.4 million over the past five days.
The family of a male nurse who died of Sars after working on high-risk wards was yesterday offered the chance to give him a permanent burial at Gallant Garden, a site reserved for people who die while performing exceptional acts of bravery.
Hong Kong doctors yesterday produced reassuring news for parents preparing to send their children back to primary school from next week onwards: the Sars virus seems to be less aggressive in the very young than in teenagers and adults.
Hong Kong stocks shook off weeks of depression to hop on board a surging regional stock market rally yesterday after the World Health Organization (WHO) signaled the Sars outbreak may have peaked in most Asian countries except China.

*News information are obtained via various sources deemed reliable, but not guaranteed