Hong Kong, China & Hawaii Biz*


How to Do Business with China, through Hong Kong & Setting up Business in China? - last update Feb 8, 2003
Our Resource Center Page provide daily Updates on SARS (HK Gov, WHO & CDC)
How can we serve you better? - please take 1 minute to complete the web survey
News Archives in PDF Format
Do you know our dues paying members attend events sponsored by our collaboration partners worldwide at their membership rates - go to our event page to find out more!
China Business Opportunities provided by the Commercial Section of the U. S. Consulate in Shanghai - download in Microsoft Word Format - updated on Sept 30, 2003
Sept 30, 2003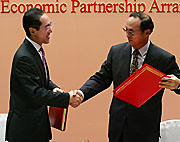 Hong Kong: Henry Tang and An Min seal the Cepa deal with a handshake at yesterday's signing ceremony at the Central Government Offices. The Hong Kong and mainland governments promised to lower more barriers to cross-border trade after announcing more details on the first round of Cepa yesterday. Commerce minister John Tsang Chun-wah was careful not to raise expectations over a free-trade accord with the mainland as he unveiled its long-awaited details codified in six annexes yesterday.

Hong Kong companies now have the chance to own more than 50 per cent of mainland telecommunications service companies.
Hong Kong insurance companies will be able to hold higher stakes in mainland rivals in a move likely to prompt more merger and acquisitions in the greater China market.
Hong Kong's logistics industry, which earns its living adding value to the supply chains of multinational retailers, finds almost no value added for it in the latest Cepa details. The majority of the 273 goods eligible for tariff-free status under the Closer Economic Partnership Arrangement will be subject to existing rules governing their content.
Kowloon Motor Bus Holdings (KMB) will take a stake in Shenzhen's dominant public transport company in a deal which will see the two firms expand into southern China and prepare for a possible listing.
A trade fair organiser has accused the Trade Development Council (TDC) of using government subsidies to force private companies out of the exhibition business.
Efforts in technology research and innovation at the Chinese University of Hong Kong are increasingly focused on their commercial use to attract private-sector funding.

China: Tourists run for buses in Beijing after arriving for the holiday. Despite earlier predictions of a rise in travel numbers, it seems people would rather stay at home. Some of the lustre seems to have worn off the golden week holiday, with Beijing residents saying they are keeping their holiday plans for the National Day celebrations low-key.
Work has started on a project to move water from Shanxi province to Beijing in an effort to quench the thirst of a city struggling through its fifth year of drought.
A proposal by Taiwan President Chen Shui-bian to create a new constitution for the island in 2006 has met with scepticism and derision by his political opponents.
Receivers for Shanghai Land Holdings last week moved the company's $1.2 billion in cash and bank balances from BOC Hong Kong (Holdings) to an account at Standard Chartered, according to sources.
State-owned pharmaceutical giant Sanjiu Enterprise Group said yesterday that it sold more than one billion yuan (HK$937.2 million) of assets to repay bank loans but declined to confirm a report that it owed nearly 10 billion yuan, more than double its net assets.
Foreign investment is pouring into the mainland's semiconductor market as chipmakers bet that increased demand from Chinese manufacturers signals a turnaround in their industry.
Sept 29, 2003

Hong Kong: Cheung Kong's sales manager says up to 2 per cent of mainlanders have the financial clout to afford luxury flats worth $10 million.
Telecommunication companies in Hong Kong are expected to gain access to the mainland market under an amended version of the free-trade pact to be signed today.
Li Ka-shing says he put the idea of a special tax-free industrial zone on the Hong Kong-Shenzhen border directly to President Hu Jintao because the Hong Kong government could not settle a dispute over reclaimed land there.
A leading economist has cast doubt on the sustainability of Hong Kong's recovery, saying the latest rebound is fuelled purely by a psychological feel-good factor.
The MTR is handing out shopping coupons worth $100 million to mainland tourists, while property agents are giving away gold to entice cross-border buyers to mark the National Day celebrations.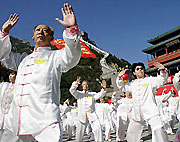 China: Thousands of tai chi practitioners demonstrate their skills on the Great Wall of China at Juyongguan, on the outskirts of Beijing, yesterday. The event was held to promote good health in the runup to the 2008 Olympic Games.

Pilgrims attend a memorial ceremony in honour of Confucius at his birthplace, Qufu in Shandong province. It was part of a series of events being staged this year for the Confucius Culture Festival.
A popular English-language training school has been ordered to pay 10 million yuan (HK$9.4 million) in compensation to two United States companies for illegally selling test papers for key US university entry examinations.
The Zhuhai municipal government intends to withdraw all support from the debt-ridden Zhu Kuan Group unless creditor banks owed HK$4.49 billion accept a restructuring offer by October 8.
People's Insurance Co of China (PICC), China's largest property insurer, later this week will start pre-marketing in Hong Kong for its global share offering as part of attempts to gain listing-application clearance from the Hong Kong stock exchange.
Three developers are hoping rich mainlanders will go on a spending spree in Hong Kong after a high-profile property promotion kicks off in Shanghai this week.
Sept 26 - 28, 2003

Hawaii: Mayor of Tianjin and Former Chairman of Bank of China, People Republic of China, Honorable Dai Xiang Long met with business leaders in Hawaii.

City of Tianjin and State of Hawaii has established a Sister-State Relation in 2002. Hong Kong China Hawaii Chamber of Commerce (HKCHcc) and Others have supported the Sister-City relation and testified in front of the Hawaii State Legislature for its passage in 2002.
Hawaii ranks last in U.S. for business friendliness - The state's high sales and gas taxes, along with electricity costs, put it at the bottom, a survey finds.
Tourism's cultural role encouraged - UH's new travel dean says the industry has responsibilities with visitors it has to accept.
Hong Kong: Security chiefs from Hong Kong, Macau and Guangdong have agreed to strengthen co-operation to combat cross-border crime because they expect closer economic ties will have an impact on law and order.
The Hospital Authority is confident it has found an effective new treatment for Sars - using an HIV drug - but it is still prepared to use previously controversial methods in extreme cases.
The Hong Kong government has put forward an alternative landing point on Lantau for the proposed bridge linking Hong Kong, Zhuhai and Macau, which would reduce the costs of construction and the project's environmental impact.
Some of the 5,700 Hong Kong people who invested in languishing Guangdong property projects may never get their money back, despite official intervention, according to local NPC delegates.
The University Grants Committee has proposed the government raise the cap on foreign students to 8 per cent of first-year intake, up from 4 per cent.
Securities and Futures Commission (SFC) chairman Andrew Sheng will remain on the job for another two years after the government agreed to extend his contract, putting an end to protracted negotiations which had left his future at the regulatory body in doubt.
Sir Chung-kong Chow has been appointed chief executive and a director of MTR Corp (MTRC), succeeding Jack So Chak-kwong.
Sun Hung Kai Properties (SHKP) will embark on an aggressive plan for land-use conversion after holding talks with the government on premiums to convert five million square feet of agricultural land for residential use.
The manufacturer of China's most famous alcoholic beverage has demanded an apology from retail giant Carrefour after the discovery of 720 bottles of fake wine on its shelves in three stores, before one of the busiest seasons, the National Day holiday.
China: American businessmen in China have added their voices to the chorus of criticism from Washington of China's unfair trade practices. The American Chamber of Commerce in China said yesterday the mainland was still not meeting its commitments under the World Trade Organization to lifting trade barriers. Christian Murck, chairman of AmCham China, said many of its complaints were the same ones it had made a year ago. Politicians in the United States, under pressure from their constituents, are putting increasing pressure on the Bush administration to report China to the WTO for its allegedly unfair trade practices. Their complaints centre on what they perceive is the undervaluation of the renminbi, which they say makes Chinese exports artificially cheap and is costing US manufacturing jobs.
Media groups in Asian countries should work together to break the monopoly held by western media giants, a vice-president of Xinhua said yesterday.
China Digital Holdings, the mainland's largest information technology products distributor, has taken its first step towards overseas expansion by forming a system integration joint venture with General Electric (GE) and Japan-listed TIS.
Japan's Nintendo said on Thursday that it would enter China's home-use video game market next month, making it the first computer game console maker to move into the mainland market.
Sept 25, 2003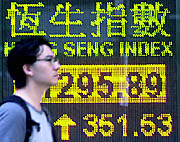 Hong Kong: Funds poured into the Hong Kong stock market yesterday, pushing shares to a 15-month high, as investors bet that deflation was abating and companies would benefit from an improving economy.
If the nation's leaders want to foster stability in Hong Kong, they should meet a diverse range of political groups, including democrats, the Liberal Party told State Councillor Tang Jiaxuan yesterday.
Economy-watchers are noting some tantalising trends: property prices have begun rising, and luxury cars in Hong Kong could soon cost more. Further, the financial secretary says he thinks the weak US dollar will ease deflationary pressure by strengthening Hong Kong's exports and services sector.
Members of a Hong Kong employers' group were told yesterday to be more selective when hiring staff and warned not to be too hasty in raising pay.
Financial Secretary Henry Tang Ying-yen has no sympathy for currency speculators who, he said, got their fingers burned by short-selling Hong Kong dollars.
The growing problem of synthetic drug trafficking in Asia has been reflected in Hong Kong. Nearly 40 more people - 535 - were arrested for possession of methamphetamine and Ecstasy-type tablets in the first half of this year compared with the same period last year.

customer looks for discounts at a department store in Hong Kong yesterday, the day after the government said deflation eased in August.
China: Mainland customs officials will launch a nationwide crackdown later this year against multinational companies who evade payment of duty and taxes, says an international consultancy.
Russian Prime Minister Mikhail Kasyanov announced yesterday that a long-awaited US$2.5 billion joint oil pipeline deal with China had been postponed.
The country's first four-stage solid-fuel rocket capable of putting small satellites into space at short notice has been tested successfully, according to Xinhua.
Guangdong's incessant power shortages and a rising demand for energy has provided the impetus for Cheung Kong Infrastructure Holdings (CKI) to invest $5b on a power plant, further deepening CKI's penetration into the province's power market.
A desperate attempt by fund managers to abort China Merchants Bank's record-breaking convertible bond plan has grown into a chorus calling for a revamp of the mainland's deficient corporate governance structure to curb reckless stock market fund-raising.
The hunt for Zhu Kuan Group assets is to spiral into the High Court as provisional liquidators lock horns with the Zhuhai government-owned companies' former adviser, PricewaterhouseCoopers (PwC), over books and records.
Tradelink, the public-private company which controls the electronic submission of regulatory trade documents, expects to reach an agreement with the government to build Hong Kong's digital trade transport network (DTTN) by the end of the year.
Sept 24, 2003
Hong Kong: Financial Secretary Henry Tang Ying-yen said on Wednesday that he had total confidence in Hong Kong's linked exchange rate system - despite recent market fluctuations.
The historic July 1 mass protest was the most significant political event Hong Kong has experienced since the handover, the United States Consul General in Hong Kong James Keith said overnight (HK time).
Li Changchun, the mainland official in charge of ideology, told a delegation of Hong Kong media executives on Wednesday that they should be more positive about the Tung government.

Only 5 per cent of youngsters admit to smoking in the past three months, but experts say that real number is much higher.
The government would confer with private medical institutions over the reporting of Sars information and the roles they should play if another outbreak occurred, Health Chief Yeoh Eng-kiong said on Wednesday.
The Civil Service needs to improve communication within its ranks to ensure a more effective government, Chief Executive Tung Chee-hwa said on Wednesday.

The Institute of Surveyors urges overhaul in land charges so developers can clean up urban blight.
Mainland resident Liu Xiong, 39, was sentenced to six months' imprisonment at the Kwun Tong Magistrate's Court on Tuesday for attempting to deceive Immigration officers about his travel destination.
Two mainland women were arrested for working as illegal labourers in foot reflexology shops in Happy Valley, the police said on Wednesday.
NWS Holdings, the infrastructure flagship of New World Development, is close to selling its problematic toll-bridge projects in Wuhan, Hubei province, according to a senior company official.

China: Wen Jiabao joins a toast by the premiers to increased security liaison and closer trade ties in the Shanghai Co-operation Organization.
The central government will respond to growing pressure to revalue the yuan by making significant changes next year and possibly even floating the currency as early as 2008, economists say. Beijing acknowledges the concerns of the Group of Seven richest nations and the International Monetary Fund about the undervalued yuan, Finance Minister Jin Renqing said yesterday.
Prime ministers from China, Russia and four central Asian nations yesterday agreed to increased security co-operation and closer trade ties.
Local water suppliers may be placed under a single bureau to improve efficiency and the quality of supplies, a senior official has said.

Ford Motor will triple production in China to 150,000 units a year, as it scrambles to catch up with more established overseas rivals such as General Motors and Honda Motor.
China officials are studying the possibility of launching a Hong Kong-style Tracker Fund as a way to dispose of state assets and raise capital to cover its pension shortfall.
Taiwan's China Airlines and the mainland's China Eastern Airlines plan to open a Taipei-Shanghai route through Okinawa, potentially taking business away from Hong Kong.
Sept 23, 2003
Hong Kong: The government yesterday unveiled a battle plan to combat Sars II, with Tung Chee-hwa taking a leadership role as soon as a new case emerges in the community.
A dramatic weakening in the US dollar yesterday sent Asian currencies sharply higher, while stock markets struggled amid fears that Asian companies will become less competitive.
Police and industry officials yesterday joined the growing outcry for more stringent measures to combat gangs of international jewel thieves targeting Hong Kong. They say the spate of thefts has cast a shadow over future exhibition events in the city.
Hong Kong's chief executive has vowed to step up co-operation between the city and Shanghai, saying the two will soon announce a detailed plan to forge a closer economic partnership.
Selina Chow Liang Shuk-yee has gone through ups and downs in her 28 years of public service that few other politicians can match, going from weather girl to a member of Hong Kong's highest decision-making body.
Growing demand in China, Japan and South Korea is keeping code division multiple access (CDMA) mobile networks neck and neck with Asia's nascent third-generation (3G) mobile services market.
Fast-food giant McDonald's plans to serve up wireless broadband internet links to customers in Hong Kong, following a major rollout in Guangdong province.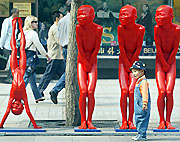 China: A child pauses in front of a row of statues along Beijing's famed Wangfujing Street. Hundreds of works of modern art are featured in this week's biennale exhibition celebrating the capital's 850th anniversary.

A workman walks past a flower arrangement in the form of the official logo for the 2008 Olympic Games at a park in Beijing. The capital has launched a series of events to promote the sporting extravaganza. The logo, unveiled early last month, is shaped like the character for jin, meaning Beijing.
An issue of the Communist Party's mouthpiece People's Daily has been censored in Jiangxi province, apparently because it carried an article highlighting corruption among local cadres.
The future of a controversial US$2.5 billion pipeline will be the focus of talks when Russian Prime Minister Mikhail Kasyanov meets Premier Wen Jiabao this week.
The mainland securities regulator has issued tighter guidelines to cap the size of initial public offerings (IPO) as China's stock markets wobble from a rash of new share offerings.
China Merchants Bank yesterday held meetings with Beijing-based fund managers in a bid to quell discontent over a proposed 10 billion yuan (HK$9.37 billion) convertible-bond issue that is threatening to turn the star of a new generation of state-owned enterprises into an example of China's corporate governance deficiency.
The outlook for leading Hong Kong property developers will remain weak as they continue to be dogged by oversupply and further price falls, ratings agency Standard & Poor's has warned.
Siemens, the world's fourth-biggest mobile-phone maker, has slashed handset inventory in China after a switch to direct selling to consumers in bigger cities helped increase sales.
Sept 22, 2003
Hong Kong: Liberal Party vice-chairwoman and tourism chief Selina Chow Liang Shuk-yee has been appointed to the Executive Council, Chief Executive Tung Chee-hwa announced on Monday afternoon.
Efforts have been stepped up to safeguard the independence of the judiciary amid concerns the court system is not sufficiently protected from government interference. Secretary for Justice Elsie Leung Oi-sie has hit back at critics of the government's offer to halt civil court action against three protesters.
Developers are calling on the government to abandon its efforts to stabilise the residential property market since it has shown signs of improvement.
The exhibition and convention industry is working overtime to accommodate higher than normal demand for trade shows and meetings.
MTR Corp (MTRC) will delay the tender of its land lots for the development of a massive residential project at its depot in Tseung Kwan O for a year.
The mobile phone price war in Hong Kong appears to have eased, with fewer subscribers switching networks. Executives from Hong Kong's mobile operators have criticised the price war as making little sense in helping the industry improve its profitability or services.
Hong Kong's stock market will join forces with London's exchange to issue new rules that allow mainland and local companies to use one prospectus when listing in both places, with potential savings of up to 20 per cent.
China: The failed World Trade Organization talks in Cancun, Mexico, are likely to provide extra ammunition for Washington's politicians in their attempt to make China a scapegoat for US economic woes, analysts say.
Efforts by China and Russia to keep the United States out of their Central Asian backyard are likely to be highlighted when the two meet with four smaller neighbors in Beijing tomorrow, analysts say. The central bank rejected demands from the Group of Seven industrialised countries at the weekend for a rapid move towards more flexible exchange rates.
City officials in Zhuhai have physically obstructed provisional liquidators of Zhu Kuan Group from probing up to HK$4 billion in property assets, forcing them to take their plight to the central government.
Children in Beijing lined up in their hundreds from 5am yesterday to get their hands on a copy of the latest Harry Potter novel.
State-owned telephone company China United Telecommunications Group is broadening a "help wanted" campaign to attract foreign talent with overseas experience to fill middle-management positions.
Sept 19 - 21, 2003

Hawaii: Hawai`i Takes A Stand Against Drugs - Governor Lingle and Lt. Governor Aiona welcomed over 400 participants to a three-day drug summit to discuss strategies to tackle illegal substance and alcohol abuse in Hawai`i. Attendees included federal, state and county elected officials, drug treatment providers, police, judges and church and community leaders. Lt. Governor Aiona, who spearheaded the summit, also released an informative survey of almost 1,000 residents collected during the series of "Talk Story" sessions around the state. "We are taking a stand and we will be successful against drug and alcohol abuse in this state," said Governor Lingle. The summit ended with Lt. Governor Aiona stating, "This is just the beginning. We all recognize this is a monumental task. We need some system changes." View the survey online and read more in the Honolulu Star-Bulletin.
Hong Kong: China's central bank boss has dashed hopes that all Hong Kong banks will soon be able to carry out yuan business locally.
A jobless man who says he turned to drug smuggling because he needed money for his newborn son was allowed to hold the infant for the first time yesterday in the dock before being hauled off to jail.

A photographer who set up for his picture in the wrong place races to catch up with a row of mooncake tins knocked over domino style at Ling Liang Church MH Lam Secondary School in Tai Po. The school had collected the 1,600 mooncake tins for recycling and the students decided to play dominoes with them for fun.
Chief Secretary Donald Tsang Yam-kuen said yesterday the introduction of universal suffrage was a "clear goal" - but Hong Kong's political system should not be a clone of that in America or Britain. The British government wants to see early implementation of universal suffrage, Secretary for Economic Development and Labour Stephen Ip Shu-kwan has been told.
The central government has expressed its concern to Hong Kong's security chief over the city's ability to cope with the expected influx of mainland visitors during the forthcoming National Day holiday.

The majority of independent directors in Hong Kong are poorly paid and come from a limited pool of middle-aged men, according to the first comprehensive survey on independent directors by the Hong Kong Institute of Company Secretaries.

Hutchison Whampoa is stepping up efforts to market its third-generation (3G) mobile-phone services in Italy with a plan to give away video-phone handsets, starting next week.

China: Firemen in Shanghai battle a fire that broke out on a container ship which was being constructed in a shipyard. One fireman was killed and another injured in the blaze.

People's Bank of China governor Zhou Xiaochuan sees Hong Kong playing an important role in the bank's currency operations. The central government attached great importance to calls for Hong Kong banks to be allowed to conduct yuan business with individuals in Hong Kong and welcomed proposals to legitimize the overseas use of the yuan, the mainland central bank chief said yesterday.
US congressmen have introduced a bill calling on the Bush administration to step up pressure on China to revalue the yuan.
Guangdong authorities have tried and sentenced 132 suspects after a two-year probe into eight smuggling gangs in southern China. They were convicted of smuggling goods worth more than 12 billion yuan (HK$11.2 billion).
Advance bookings for the 94th China Export Commodities Fair have been sluggish because of continuing concerns about another Sars outbreak, according to the event's organizers.
A Communist Party scholar has hailed a "bold gesture" by President Hu Jintao to further promote democracy within the party.

Sohu chief Charles Zhang yesterday made an impassioned plea for the proper recognition of private wealth and an end to political vendettas that were a hangover from the worst excesses of the communist period.

The mainland's Ministry of Finance scrapped a 26 billion yuan (HK$24.36 billion) government bond sale this week after interbank interest rates hit near-record highs late last month.

The mainland's only privately owned carmaker, Geely, is a step closer to a Hong Kong listing after agreeing to inject 450 million yuan (HK$421.65 million) of car production assets into a joint venture with listed Guorun Holdings.
Sept 18, 2003
Hong Kong: Hong Kong's unemployment rate fell last month as the economy bounced back from the Sars crisis and travelers returned to the city, latest government statistics released on Thursday showed.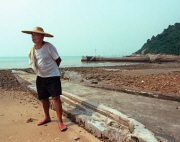 Chui Kam-kee, a 71-year-old farmer, strolls along a beach at San Shek Wan on Lantau Island. Mr Chui and his wife are among two dozen families living in this remote village, but their tranquil life is now under threat from the proposed construction of a bridge linking Hong Kong with Macau and Zhuhai.
Enacting Hong Kong's controversial national security law would be no easy task - but the government would learn from the experience, Chief Secretary Donald Tsang Yam-kuen said overnight (HK time) in New York.

Actress Suki Kwan Sau-mei (centre) leaves court after spending two weeks in detention for perverting the course of justice.
Hong Kong's residential property market was stabilising - but its large supply of flats would continue to limit rises in prices, Moody's Investors Service said on Thursday.
An emergency meeting would be held on Friday to discuss an incident in which 200 mainland tourists were left stranded in Wan Chai, The Hong Kong Travel Industry Council executive director Joseph Tung Yao-chung said.

China: Visitors at an aviation exhibition in Beijing look at models of Chinese fighter jets. The four-day exhibition, the 10th to be held in the capital, showcases military and civilian aircraft and has attracted the world's largest aircraft manufacturers.
China on Thursday rejected US criticisms it was not doing enough to comply with the market-opening agreements of its WTO entry, saying it was determined to carry out its commitments.
US entertainment giant Walt Disney said on Thursday the recent lifting of restrictions on individuals from mainland China visiting the territory would boost visitor numbers for its Hong Kong theme park.
Dutch financial group ING has become the eighth foreign institution to gain approval to invest in China's A-share markets amid speculation that Beijing is trying to slow the fund inflow through a capital-account liberalisation scheme to ease monetary growth and reduce foreign-exchange pressure.
Japanese electronics giant Sony said on Thursday it planned to ramp up output of digital cameras in China to 500,000 as it targets total annual sales in the country of US$4 billion annually.
The lack of large homegrown firms is hindering the country's plans to develop hi-tech industries, according to a government official.
China's economic rise is unstoppable and the entire Asian region can benefit by developing closer trade links with the mainland, according to senior officials of the Asian Development Bank (ADB).
Sept 17, 2003

Hong Kong: Outgoing banking regulator David Carse believes banks will have better profits in the second half than they did in the first half of this year because Hong Kong is bouncing back after Sars, and bad credit-card debts and mortgage loans are improving as banks help borrowers restructure their finances. Hong Kong's controversial high mortgage cap will stay even though its creator is stepping down at the end of this week.
The first 100 units at the Pacifica in Cheung Sha Wan sold out in two hours last night at prices 10 per cent higher than neighbouring developments, and prices could be raised further if demand held up, the project's backers said yesterday.
Prominent mainland banker Fang Fenglei is leaving his position as head of ICEA Finance Holdings to help form a joint-venture investment bank that involves Goldman Sachs.
Opening up the telecommunications market in the Pearl River Delta to Hong Kong companies would give the mainland a chance to prepare for full-fledged competition when the sector opens to foreign firms in 2006.
The European Union has questioned the British government's mandate to negotiate a new air services agreement with Hong Kong, casting a shadow over plans by Virgin Atlantic to launch flights to Australia.
A year after the mainland declared support for the Linux computer operating system, the Hong Kong government has launched its own campaign to promote its adoption by business and the public sector.
The University of Hong Kong has asked the government to be flexible in raising the quota for admission of students from outside the city.
The case of a Hong Kong businessman held in Guangdong for nearly two years without charge over alleged unpaid debts has been transferred to authorities in Shenzhen for further examination.
Gem thieves struck on the eve of a twice-a-year jewelry fair, snatching a suitcase containing $2 million worth of jewellery from a guest room at a five-star hotel in Tsim Sha Tsui yesterday.

China: An assembly of about 1,000 police officers and security guards pledge their support for the fight against crime in Guangzhou. Municipal authorities held the event to show their commitment to cracking down on offenders amid a trend of rising crime rates in the country.
The central government pledged yesterday to maintain dialogue and negotiations with the United States despite signs the Bush administration is stepping up its trade dispute with China.
The publisher of Forbes has defended the magazine's list of the mainland's richest 100 people - despite it being superstitiously regarded as the "kiss of death" after several listed tycoons met a violent end or were jailed.
Sept 16, 2003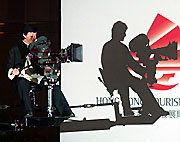 Hong Kong: Martial arts star and stuntman Jackie Chan yesterday dropped in to help launch a global advertising campaign aimed at sustaining Hong Kong's post-Sars tourism revival. Jackie Chan swoops in on a camera boom at the launching of "Hong Kong - Live It, Love It!", the Tourism Board's latest advertising campaign, at the convention centre. The centrepiece is a commercial featuring the superstar in some of the city's most celebrated locales. The ad will play in the US, Britain and Australia, among others. Hong Kong's tourism industry is officially back, according to government officials. They said yesterday that visitor arrivals last month grew for the first time, year on year, since the Sars outbreak began.
Hong Kong drivers will soon be able to take the wheel anywhere on the mainland without sitting its drivers' test - but most will still not be able to use their own vehicles.
Liberal Party vice-chairwoman and tourism chief Selina Chow Liang Shuk-yee looks likely to be appointed to the Executive Council in a revamp of Tung Chee-hwa's cabinet following the July 1 protest.
Hong Kong is set to host the next WTO ministerial meeting - but may have to wait three months just to find out when it will be held.
Hong Kong property counters surged yesterday as investors bet that developers' moves to raise prices amid an improving economy signalled the end to a six-year slump in values.
Hutchison Whampoa's terminal facilities in Pusan sustained more than HK$20 million in infrastructure damage when typhoon Maemi ripped through South Korea's biggest container port at the weekend.
China: Ratings agency Standard & Poor's has backed China's decision not to revalue the yuan, saying that any flotation would be dangerous and could damage the nation's creditworthiness, as well as that of local banks.
The collapse of the World Trade Organization talks in Mexico was applauded yesterday as a victory against the powerful rich nations that cemented China's role as a leader of the developing world.
Convicted criminals wait to be sentenced in Guangzhou. President Hu Jintao has said that the three-year Strike Hard campaign is responsible for greater stability on the mainland. In July, the government announced that the campaign would continue for at least for another year.
China's consumer prices increased in August at their fastest pace in four months as drought and floods caused food prices to rise and surging home loans pushed up property values.
Sprawling Shanghai could be about to spread even further, property experts said after news that city authorities plan curbs on construction of tall buildings in central areas.
China Merchants Bank's record-breaking 10 billion yuan (HK$9.37 billion) convertible bond issue has met stiff opposition from mainland fund managers, who have banded together in a rare show of solidarity.
China Mobile is withholding an estimated 150 million yuan (HK$140.56 million) in payments to Internet content providers to stop them providing pornography to its mobile-phone users.
Beleaguered computer services giant Electronic Data Systems (EDS), which is slashing jobs amid sluggish sales, has pushed further into China with a string of large business automation deals.
Sept 15, 2003

Hong Kong: More than 800 people applied for 90 jobs with New World First Travel Services yesterday. The positions included jobs as cabin attendant and sailors with the firm, which has bought two new cruise ferries.
BOC Hong Kong (Holdings) arranged for two of its lawyers to sit on the board of Shanghai Land Holdings, the locally listed vehicle of disgraced Shanghai property tycoon Chau Ching-ngai, and also for one of its accountants to work inside the company.
The definition of what is meant by "local company" in the free-trade pact between Hong Kong and the mainland could be challenged, a senior government official has admitted.
Hong Kong's economy, which is heavily reliant on exports and the service jobs they create, would suffer greatly in the event of a stronger mainland currency, says a veteran analyst.
Ghosts, nudity, homosexuality and extramarital affairs may be cut from the scripts of local films as movie producers sacrifice Hong Kong audiences to get into the mainland market.
Tired of typing long internet addresses for Hong Kong websites? Next year should bring relief. Following in the footsteps of the United States, Canada and Japan, Hong Kong internet users and companies will be able to register domain names ending with just .hk, instead of the usual com.hk, org.hk, gov.hk, edu.hk, or net.hk.
Casino company The Venetian has terminated the employment of a senior manager in Macau after 23 illegal workers from Hong Kong were arrested at its construction site last month.

Customers dine on seafood outdoors at a Sai Kung restaurant. Owners say business has improved 40 per cent since the government introduced an outdoor seating scheme.
The government can expect a grilling from a more assertive Legislative Council in the next nine months, with political parties keen to impress voters in two upcoming elections.
Cheung Kong (Holdings) plans to raise the prices for the remaining units at its Banyan Garden and Hampton Place projects as buyers grow more confident with a firming economy.

China: China's steadfast commitment to its currency policy has been crucial to the country's economic growth and should be maintained, according to Robert Mundell, an American academic.
Semiconductor Manufacturing International Corp (SMIC), China's earliest foreign-invested chipmaker, has raised US$630 million from a private placement amid speculation of its imminent acquisition of a stake in Motorola's Tianjin semiconductor plant.
A Shanghai-listed company controlled by arrested tycoon Chau Ching-ngai says it has been defrauded of more than 211 million yuan (HK$198 million) by Chau's private companies.
China's securities watchdog plans to limit the size of initial public offerings (IPO) in an apparent bid to buttress market confidence in the wake of falling share prices.
Foreign direct investment (FDI) into China fell sharply in August for the second month in a row, adding to a list of concerns about the health of the mainland economy.

Japanese experts handle a bomb containing toxic gas in Shijiazhuang, central Hebei province. The 52 shells in the stockpile being disarmed are only a small fraction of those left behind by the Japanese military.
China Network Communications Group Corp (Netcom Group) has upped the ante in its rivalry with fixed-line giant China Telecommunications Group after completing a 20-month restructuring plan.
The mainland's central bank needs a radical strategy to push the nation's four biggest state-owned lenders to clean up their bad loans, People's Bank of China governor Zhou Xiaochuan said yesterday.
Sept 12 - 14, 2003

Hawaii: An opening celebration for "The American Semester" of the Johns Hopkins University-Nanjing University Center for Chinese and American Studies at the Hawaii Imin International Conference Center, Jefferson Hall of the East West Center.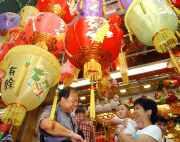 Hong Kong: Mid-Autumn festival lanterns hanging in a street outside a row of shops in Hong Kong.
Taxpayers will fork out up to $80 million to finance the Harbor Fest as part of Hong Kong's post-Sars revival efforts - but they won't be entitled to cheap tickets or information on how the money is spent.
The chief executive will take a long-overdue break with his wife tomorrow after almost a year of relentless battles over the Article 23 legislation.

Lighted Chinese lanterns at Victoria Park earlier in the week, ahead of the Mid-Autumn Festival, which fell on Friday when the moon was supposed to be at its roundest and brightest.
Hong Kong-based exporters and trading companies face a growing challenge to hold on to business as more buyers and overseas importers go straight to sources on the mainland, the Trade Development Council has warned.
Hong Kong anti-globalisation activists staged a protest yesterday to urge the government not to sign any trade agreements at the World Trade Organisation's (WTO) fifth ministerial meeting in Mexico.
The chief executive has pledged that top officials will closely monitor how individual professions can gain access to the mainland market following the signing of a trade pact with the central government.

Sunday Communications believes the long-anticipated industry consolidation has been made more difficult after the mobile operator posted its first interim profit on Wednesday.

Shanghai is considering granting Taiwanese people visas on arrival. If approved, the relaxation would make life in Shanghai more convenient for the tens of thousands of Taiwanese who, with their families, have flocked to the city for business in recent years. Many manufacturers have moved factories from Taiwan to the city.

China: Nineteen-year-old female giant panda Qing Qing tightly holds her newly born baby in the giant panda breeding and research centre in Chengdu, Sichuan Province. Since she first gave birth to a baby panda in 1989, Qing Qing has produced 13 babies in nine births, including two twins.
A 16.7 billion yuan (HK$15.7 billion) expansion of Beijing Capital International Airport is planned to cope with an expected increase in visitors for the 2008 Olympic Games.
The official mainland trade union will amend its constitution later this month at its national congress to make the protection of workers' rights a priority for unionists, officials said yesterday.
Premier Wen Jiabao has called for increased reliance on market forces to jump-start the stagnant economy in the northeastern rust belt.
A trade war between the United States and China would seriously damage both nations, a Ministry of Commerce expert warned yesterday.
Chinese traders load a truck with packages of cheap clothes near a market in Beijing. The clothes had been sold to Russian traders who make a living travelling to Beijing and returning with large quantities of cheap clothing to sell at home.
Policies aimed at reining in over-investment in the car manufacturing industry are expected to be unveiled soon by the central government in a bid to prevent over-supply in the sector.
China Telecom Corp is set to pay a higher than forecast US$9 billion to US$10 billion purchasing six provincial networks from its parent company, according to banking sources.
For the past six months, Shenzhen Newspaper Group executives had been preparing the launch of a weekly financial newspaper. Planning had reached an advanced stage with an initial investment of 50 million yuan (HK$47.18 million) already budgeted, a nationwide distribution plan in place and a suitably ambitious name for the new paper: Global Economic Review.
Sept 11, 2003

Hong Kong: Shoppers scramble for half-price fresh fish at the Tseung Kwan O ParknShop megastore yesterday. The supermarket chain slashed prices to celebrate the reopening of its live-fish counters.
The largest property developer on the mainland is interested in buying vacant flats in Hong Kong under the Home Ownership Scheme, a government bureau said yesterday.
Work on the bridge linking Hong Kong with the western Pearl River Delta is expected to start in 2006, a legislator said yesterday.
Guangdong authorities are to hold talks with their Hong Kong counterparts on how solo mainland travellers can gain access to affordable medical care during visits to the city.
Hong Kong's financial secretary is opposed to the idea of issuing bonds to ease the budget deficit, saying such a concept was like living on a credit card.

China: Medical staff monitor people entering a fever ward at a hospital in Beijing yesterday. Concerns have been raised on the mainland and elsewhere after authorities in Singapore reported a Sars case there. The government in Guangdong has earmarked 1.5 billion yuan (HK$1.4 billion) to prepare for the possible return of Sars, according to a senior mainland health official.
Taiwan will allow local airlines to offer indirect chartered cargo services across the strait as a transitional step before direct links with the mainland are established.
Members of the US Congress have proposed a bill that would impose an extra 27.5 per cent tariff on Chinese imports if negotiations on a yuan revaluation are unsuccessful.
Dutch bank ABN Amro won long-awaited regulatory approval this week to buy a stake in a Beijing-based fund manager, only to face the challenge of stemming mass redemptions of one of the first portfolios managed by a foreign-invested Chinese fund house.
Strong growth in xiaolingtong subscribers in the first half has encouraged China Telecom Corp to step up efforts to snatch more revenue from mainland mobile carriers.
China's internet police blocked 127 spam servers around the world in the latest move to fight the increasing amount of junk mail on the Web, state press said on Tuesday.
Sept 10, 2003
Hong Kong: Hong Kong is on high alert to guard against a possible new outbreak of Sars following the discovery of a new case in Singapore, the health chief said yesterday. Measures have been stepped up to ensure travelers arriving in Hong Kong from Singapore are Sars-free.
A Swiss company has developed a prototype vaccine against the Sars virus, but said yesterday it would only develop the product if the disease re-emerged.
The mainland (China) is considering increasing the number of Hong Kong-made goods to be exempted from import duties under Cepa.
Taiwan's Fubon Financial Holding plans to bolster the asset size of its newly acquired Hong Kong lender to qualify for preferential access to the mainland market under the free-trade agreement with the mainland.
China: It does not take much reading between the lines to work out what mainland police are concerned about during the run-up to the 2008 Olympics. It is all there, in Chinese and English, in their language training textbook.

Visitors to Tiananmen Square in Beijing gaze curiously at a replica of the Three Gorges Dam being built for the forthcoming National Day celebrations. The display, which will also recreate a miniature section of the Yangtze river, is expected to take nearly a month to complete.
Tourism authorities in Guangdong have warned people planning to take breaks in Hong Kong during the "golden week" holiday next month that there are only 80,000 hotel rooms in the city.
A new regulation is to be introduced to prevent police using evidence and confessions extracted through torture in non-criminal cases.
Anti-graft inspectors are confiscating suspects' passports to prevent them from fleeing abroad in the latest effort to curb widespread corruption among senior officials.
The Ministry of Commerce launched its "go abroad" investment strategy yesterday at the China International Fair for Investment and Trade.
The buyer of bankrupt Guangdong International Trust and Investment Corp's premier asset, its 63-floor headquarters complex in central Guangzhou, has missed three payment deadlines.

Hyatt International has joined the Beijing property development frenzy by making its first bricks and mortar investment in the country, a departure from its strategy of relying on hotel management contracts.
Sept 9, 2003
Hong Kong: Chief Executive Tung Chee-hwa has called on mainland entrepreneurs to set up factories in Hong Kong, saying the Closer Economic Partnership Agreement has created an ideal environment for manufacturing in the city.
Vice-President Zeng Qinghong is not ruling out a meeting with Hong Kong's pro-democracy groups. But whether he sees them or not, their relations with the central government are likely to stay frosty, one observer believes.

Goods being unloaded from a Dragonair plane. Cargo revenues held firm for carriers during the Sars outbreak.
Economic conditions and public opinion will be taken into account before the government decides whether to proceed with a land departure tax, according to the financial secretary.
Financial Secretary Henry Tang Ying-yen's first budget will not contain any drastic measures, a government source has revealed.
Retail sales in July fell at their slowest pace in half a year, aided by the return of mainland visitors and local shoppers after the Sars crisis.

Canto-pop star Leon Lai Ming, a Unicef special representative, arrives at Chek Lap Kok airport, where Cathay Pacific announced it had raised $5.54 million for the United Nations youth agency through its Change for Good scheme. The sum, collected from August 2002 last month, was 26 per cent lower than the previous year's figure because of the Sars outbreak.
Taiwan's Fubon Financial will acquire 55 per cent of International Bank of Asia (IBA) from Bahrain-based Arab Banking Corp for $2.37 billion, marking the third local bank acquisition in just over a month.
Hong Kong software firms, desperately needing to pump up sales, are poised to march into Guangdong province and take on government-backed enterprise information technology projects.
IBM Hong Kong has won a US$4.5 million contract from the Hong Kong Hospital Authority to supply 10,000 desktop personal computers in the next two years.
China: Experts are working on a plan aimed at tackling the environmental repercussions of rapid economic growth in Guangdong and ensuring sustainable development.
Foreign direct investment worldwide this year is likely to match last year's depressed level, but will grow again next year, and China will continue to make a strong showing, a UN report says.
The Zhuhai municipal government has attempted to seize a 42 per cent stake in Hong Kong-listed Zhu Kuan Development by enforcing a share charge its bank creditors suspect was illicitly created.
The mainland government has taken aggressive measures to ease a glut in the handset market by imposing new restrictions on imports, paving the way for a major shake-up in the industry.
Sept 8, 2003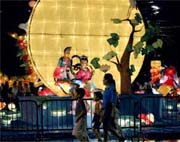 Hong Kong: Helped by the wet weather, a Hong Kong family enjoys a lunar landscape with a difference in Victoria Park last night, at the opening of the Mid-Autumn Lantern Celebration.
Shoppers at the Mongkok branch of the Wing Wah Cake Shop, which stocks only traditional mooncakes made with brown lotus-seed paste and egg yolk.
Hong Kong has been urged by academics at the World Trade Organisation (WTO) ministerial meeting in Mexico this week to show more patriotism by supporting the mainland's position in trade negotiations.
Several local scientists are believed to have been nominated for a new international academic award hailed as the "Nobel Prize of the East", established by movie mogul and philanthropist Sir Run Run Shaw.
The central government is considering relaxing immigration rules to allow wealthy mainland investors to seek abode in Hong Kong in order to boost the city's economy, according to Chief Executive Tung Chee-hwa.
A recent surge in the number of trucks and cargo that have gone missing in Hong Kong and China has led to a record increase in insurance claims.

China: The Shanghai Maglev Transportation Development Company tests a magnetic levitation train near Pudong international airport. As official debate over the Beijing-Shanghai high-speed rail project enters its final stages, two prominent mainland rail experts say they have been barred from proposing an alternative plan they claim would save the country billions of yuan.
Business tycoon Yang Bin has lost his appeal against an 18-year sentence for bribery and fraud, Xinhua reported.

Carmakers such as Volkswagen are still waiting to enter China's vehicle-financing sector. The car industry has been China's hottest sector since the country joined the World Trade Organisation, with foreign producers piling in to capture a slice of the action. But companies are still waiting for China to comply fully with the WTO promises it made.

Interbrew has paid US$131.5 million to secure a 50 per cent stake in the China brewing operations of Malaysia's Lion Group.
Hong Kong and China Gas (Towngas) has signed its third piped-gas project in Shandong province in less than a week.
More than 10,000 foreign investors and 40,000 domestic business people are converging on Xiamen this week to discuss opportunities for foreign investment on the mainland, as well as investment opportunities for Chinese enterprises abroad.
Property tycoon Chau Ching-ngai is suspected of manipulating the share price of locally listed Shanghai Land Holdings to prevent it dropping below a key level set out in his $1.77 billion loan agreement with BOC Hong Kong (Holdings).
Sept 5 - 7, 2003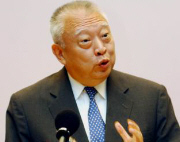 Hong Kong: Chief Executive Tung Chee-hwa yesterday announced the withdrawal of the controversial National Security Bill - without making a commitment on whether it would be reintroduced within the remaining four years of his term. Tung Chee-hwa's announcement marks the beginning of a new kind of relationship between Hong Kong and the central government, one characterized by more flexibility, maturity and pragmatism on both sides. Politicians and social groups in Hong Kong voiced general approval of the government's withdrawal of the National Security Bill yesterday, but some feared the retreat was part of a wider political strategy. Against the drastic changes in the political scene since July 1, the Tung cabinet had no better alternative than to shelve indefinitely its legislative plans for an anti-subversion law. The Article 23 Concern Group yesterday urged the government to reveal the reason for the shock withdrawal of the bill, just one day after the security chief vowed to push ahead with fresh consultation this month. Foreign envoys and business chambers generally welcomed the withdrawal of the Article 23 bill, saying it was a wise step to concentrate on the economy while consulting the public on the issue.

Stalked by paparazzi day and night, Canto-pop star Anita Mui Yim-fong told yesterday of being unable to step out of her home for weeks - making it impossible for her to get treatment for her cervical cancer.
BOC Hong Kong (Holdings) did not know the net worth of Chau Ching-ngai when it granted a $1.77 billion loan to the Shanghai property tycoon and relied on his "good faith and honesty" to raise cash to repay the bank. No one is to blame. Nor is there necessarily anything to blame anyone for. And, most importantly, the whole unfortunate episode will make BOC Hong Kong (Holdings) a better bank.
Hong Kong and the mainland were once again the most popular places for foreign direct investment (FDI) in Asia last year, the United Nations said yesterday.

Displays are starting to take shape at Victoria Park for the Mid-Autumn Festival.
Three days after buying a controlling interest in Vanda Systems & Communications Holdings and installing Canning Fok Kin-ning as chairman, Hutchison Whampoa sold a parcel of shares for a $72 million profit.
Apec members are sharply divided over a call by US Treasury Secretary John Snow for China and other East Asian economies to let markets determine exchange rates.

Officials from Kenya Airways yesterday launched flights between Hong Kong and Nairobi, marking the first direct service between Chek Lap Kok and the East African nation. They are seen with David Pang Ding-jung, chief executive officer of the Airport Authority. The airline plans to fly to Hong Kong three times a week with a stopover in Bangkok.
Hong Kong is still the best-performing "host economy'' for foreign direct investment (FDI) in Asia - and the region's second-largest FDI destination after China, according to the United Nations' World Investment Report 2003.
Concerns that some provisions of the free-trade agreement between Hong Kong and the mainland are inconsistent with the World Trade Organization's rules were unfounded, the government said last night. Hong Kong's revival hinges on the effective implementation of the free-trade pact struck with the mainland, a senior central government official said yesterday.
Property tycoon Chau Ching-ngai struck a deal to sell his 63.19 per cent stake in Shanghai Merchants Holdings to a 35-year-old retired Shenzhen judge for $11.5 million while in Chinese custody.
A renewed outbreak of Sars in the winter will not derail the stock market boom, according to HSBC, which estimates the disease is already factored into prices even if it has mercifully not returned to haunt Hong Kong.
A proposal to increase the number of independent, non-executive board members at listed companies may improve corporate governance, but there may not be enough qualified directors to go around.
Secretary for Education and Manpower Arthur Li Kwok-cheung on Thursday said universities and secondary school representatives have agreed to draft a timetable for implementing a "three-three-four" education model by this year.
About 30 foreign domestic workers marched to government headquarters on Thursday in a protest against a recent minimum wage cut and an upcoming levy on their employers.
Five members of the Democratic Party on Thursday took up their concerns about Article 23 with Secretary for Security Ambrose Lee Siu-kwong.

Investment bank Credit Suisse First Boston on Thursday revised its 2003 gross domestic product (GDP) forecast for Hong Kong to 2.4 per cent from 1.8 per cent previously.

Asian economies were poised to grow at "rapid rates" despite the conflict in Iraq and the outbreak of Sars, which might have significantly slowed this year's growth in Singapore and Hong Kong, the World Bank said.
Eleven Asians are among the 40 wealthiest people below 40 years old outside the United States, with India's Kumar Birla ranked as the richest and six Chinese making the list, according to Fortune Magazine.

China: In a play about Sars, health officials arrive to seal off a community where a person has been infected with the virus. The play, at Beijing's capital theatre, is billed as the first such production dealing with Sars.
Shanghai prosecutors have ordered the arrest of Chau Ching-ngai on charges of fabricating registered capital and manipulating stock prices, local media and police said yesterday.
Scientists who have provided fresh evidence linking the Sars coronavirus to civet cats in Guangdong's wet markets have stopped short of calling for a ban on the animal trade, instead urging better monitoring.
A surge in high-stakes gamblers from Hong Kong and the mainland sent Macau's casino revenues soaring to a record $2.8 billion last month. "We broke all records," said Kingsley Kong, a senior manager of Stanley Ho Hung-sun's casino-concession company, Sociedade de Jogos de Macau (SJM).
No top communist leaders have ever published their memoirs after leaving office, but ex-premier Li Peng has broken the pattern by rushing his diary into print within months of his retirement.
US Treasury Secretary John Snow will head home with a commitment from China to deepen economic reforms and accelerate the move towards a floating exchange rate, but this may not be enough to please hardline US manufacturers.
A fierce price battle has severely eroded their margins. The industry sheriff, the Ministry of Information Industry (MII), is unwilling to intervene. And the two dominant providers of mobile phone services - China Mobile and China Unicom - are bickering over who fired the first shot.
Citic Pacific hopes fresh management blood and a controlling equity stake will help turn around Dalian CP Digital Technology, its limping telecommunications joint venture on the mainland.
Flood waters tore a 100-metre hole in an embankment in northern China, forcing the emergency nighttime evacuation of more than 100,000 people, the official Xinhua News Agency reported on Thursday.

Hein Verbruggen, chairman of the IOC's Co-ordination Commission, looks at the winning design for the main Games stadium. The International Olympic Committee will give the Beijing organisers top marks today for their efforts to date in preparing for the 2008 Games.
The Ministry of Health yesterday denied rumours of a resurgence of Sars cases in Beijing after it received inquiries from the World Health Organization.
Senior officials from China and Japan are meeting to discuss an accident last month in which dozens of Chinese were poisoned by mustard gas left behind by Japan's army after the second world war.
The economies of East Asia, excluding Japan, will record the fastest growth in the world this year and next because of China's strength, the World Bank said in its annual global economic forecast, released yesterday.
China's oil giant CNOOC on Thursday reported an impressive rise in interim profit due to a significant increase in oil and gas revenues.
Sept 4, 2003
Hong Kong: Businesses, financial markets and schools in Hong Kong reopened on Wednesday after Typhoon Dujuan swept past the territory, slightly injuring 22 people and causing chaos at the territory's airport.
Hong Kong maritime authorities said on Wednesday they had failed to find four mainland fishermen reported missing at the height of Typhoon Dujuan the previous night.
More jobs were available for job seekers in August - indicating that the labour market was improving following the control of Sars and the implementation of the "individual visit" scheme from China, Financial Secretary Henry Tang Ying-yen said on Wednesday.
If Hong Kong legislators discuss current affairs overseas, their remarks should reflect "mainstream opinion'' in the territory, suggested Secretary for Constitutional Affairs Stephen Lam Sui-lung on Wednesday.
Economic ministers from Southeast Asia and China on Wednesday said negotiations for a free-trade zone between the two were progressing and noted that two-way trade would probably soar to more than US$70 billion this year.
China: The World Health Organization (WHO) warned of a possible new epidemic of severe acute respiratory syndrome (Sars) in coming months, as winter takes hold in the northern hemisphere.
Millions of people were soaked by floods seeping across China on Wednesday that killed seven people and destroyed large swathes of cropland, according to state media.
Except on state security, officials will have to answer to the media. New regulations on information disclosure are expected to come into force this year. The regulations on information disclosure are a long way from constituting a law to enshrine and protect the people's right to know, Professor Li acknowledged.
Sept 3, 2003
Hong Kong: Guangdong and Macau were bracing for severe floods early today after Typhoon Dujuan lashed the Pearl River Delta with torrential rain after narrowly missing Hong Kong. Businesses, financial markets and schools in Hong Kong reopened on Wednesday after Typhoon Dujuan swept past the territory, slightly injuring 22 people and causing chaos at the territory's airport.
Education officials were praised by parents and principals for reacting more swiftly than usual in ordering schools to close as Typhoon Dujuan approached.



Richard Parsons of AOL Time Warner tells AmCham lunch guests he wants piracy controlled. United States media giant AOL Time Warner is still searching for the right business model and struggling with rampant piracy in China, two years after it first entered the market.
The Securities and Futures Commission (SFC)'s managed compensation fund has suffered its biggest net loss, $200 million, after being hit by the 1998 collapse of one of Hong Kong's biggest brokers, CA Pacific Securities.
The former head of the Broadcasting Authority - now an official at Television Broadcasts (TVB) - says the agency should regulate the pay-television services of City Telecom (HK) but denies his lobbying of his previous employer is a conflict of interest.
Mobile phone networks were jammed for at least an hour on Tuesday as millions of calls were made by people warning friends and relatives that the No 8 signal would be raised in the afternoon.
China: Guangzhou is expecting huge flooding today after Typhoon Dujan pounded the Pearl River Delta last night.
Reports that Japan will offer the equivalent of $6.7 million - but no official apology - to people poisoned by mustard gas in northern China last month have increased anger over the incident. One man died and 42 people were injured when five canisters of mustard gas were dug up at a building site in Qiqihar, Heilongjiang.

With a growing chorus in favor of keeping China's currency pegged to the US dollar, US Treasury Secretary John Snow is unlikely to win any major concession on exchange-rate policy when he meets Premier Wen Jiabao today.
Booming exports and imports helped container throughput at the port of Shenzhen surge to a record high of one million boxes last month, matching throughput figures at Hong Kong's deep-sea port of Kwai Chung.
Mobile phone sales rose slightly on the mainland in July, the first increase since the Sars virus struck in April, but they are unlikely to dent the huge inventory that has plagued China's handset manufacturing industry.
Sept 2, 2003

Hong Kong: New pupils at SKH Yat Sau Primary School in Choi Hung Estate prepare to experience the start of the new school year. Some of the young students were a little anxious about the new environment.

A mainland woman tries on a ring in a jewellery shop in Hong Kong. Banks are looking to offer yuan services as more visitors arrive.
Philips president and chief executive Gerard Kleisterlee says the Dutch consumer electronics giant is no longer "selling boxes", but has become a platform service provider. Royal Philips Electronics is looking for partnerships with large Asia-Pacific telecommunications network operators, with the aim of packaging broadband-linked entertainment and communications services.
A Hong Kong computer games firm has lost the second round in its legal battle with the world's top three console giants.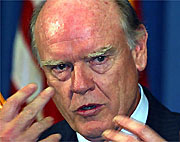 China: US Treasury Secretary John Snow says in Tokyo that exchange rates should be determined by market forces, implicitly rejecting government intervention, or a peg. China ratcheted up the rhetoric yesterday on its decision to hold steadfast to the pegged yuan exchange rate, signalling a hardened stance ahead of the arrival of US Treasury Secretary John Snow today.
It was 4am and a boisterous crowd had already started to gather outside the visa bureau in Beijing. The mood was jovial for such an absurdly early hour as strangers chatted and served each other tea and steamed dumplings. Perhaps it was because they were all going to a party. Destination: Hong Kong. Thousands of people poured into visa bureaus in Beijing and Shanghai yesterday for permits to visit Hong Kong and Macau, but a mainland official urged them not to book trips to Hong Kong yet because the city would be unable to cope with the rush. Tourists from the mainland can soon check on the availability of Hong Kong hotel rooms and flights, and the conditions at border crossings - thanks to a one-stop internet information centre.
Receivers have been appointed to seize the personal assets of Shanghai businessman Chau Ching-ngai in an attempt to repay US$34.2 million he allegedly owes Shanghai Land Holdings.
These primary school pupils seem happy to be back at school on the first day of the academic year at Huanggang Primary School in flood-ravaged Xuyi county in Jiangsu province. All 600 pupils turned up despite heavy floods in July that inundated 15 of the 18 classrooms. The school had cleaned its classrooms and other areas in time for the start of term.
Hoping to prevent a return of Sars, the Guangzhou health bureau has ordered the isolation of all fever patients who have been verified as having flu.
A Beijing construction company has been caught bribing hundreds of migrant workers to vote for its design in a competition to build the gymnasium at the Olympic village.
Global instability has locked China and the United States into a "straitjacket" of strategic co-operation, according to a US scholar.
Negotiations with foreign partners on a planned US$5.2 billion natural gas pipeline had not ceased, PetroChina said yesterday, a day after the chairman of Royal Dutch/Shell said discussions were deadlocked.
Sept 1, 2003
Hong Kong: Financial Secretary Henry Tang Ying-yen said on Monday that he did not foresee a revaluation of the yuan in the short term.
The Customs and Excise Department said on Monday it had confiscated 10 models of battery-operated toy lanterns and seven types of thin fluorescent lights for safety tests after conducting over a 100 spot checks on various retailers.
The Hong Kong and China Gas Company (Towngas) on Monday reported a slight rise in interim profit - due to profit derived from property investments.
Towngas' net profit for the six months ended June 30 rose to $1.81 billion, up 6.5 per cent from the $1.7 billion in the first half of last year.
Insurance industry bodies and the police are working to crack down on the sale of policies without the consent of buyers - a tactic used by unscrupulous salespeople to boost their performance.
The four Hong Kong companies cleared to operate third-generation (3G) mobile phone networks have been given another year to pay deposits for their licenses because of subdued demand amid the continuing economic slump.
China: Two tiger cubs born in a Shanghai zoo began a trip Monday from China to South Africa, where they'll be taught hunting skills to help them survive in the wild.

A young boy gazes at a model stadium at an exhibition of concept designs for the main venue for the 2008 Olympic Games in Beijing. Construction of the main stadium is scheduled to begin next year. The country has already begun seeking sponsors for the prestigious event.
Jinan Qingqi Motorcycle, which last year posted the biggest loss by a publicly traded company in China, has avoided expulsion from the stock exchange by posting a first-half profit.
China's home-grown third-generation (3G) mobile technology - time division synchronous code division multiple access (TD-SCDMA) - could begin commercial trials early next year, according to Li Shihe, chief technology officer and vice-president of Datang Telecom.
Since the introduction of the one-child policy more than 20 years ago, mainland parents have been exerting pressure on their children to perform well academically. Now, some are going to the extraordinary length of hurrying up their child's birth to ensure they can attend school sooner.
US Treasury Secretary John Snow's visit to Beijing this week is unlikely to pacify critics of China's yuan-dollar peg, analysts said yesterday.
August 29 - 31, 2003

Hawaii: Chuck Gee was one who made a difference as a "forceful public advocate for tourism"...and in building a different kind of school to serve the global travel industry....Honolulu Star Bulletin - Excerpts from the Commemorate Edition - December 31, 1999. Dean Emeritus Chuck Yim Gee of the University of Hawaii, School of Travel Industry Management celebrated his 70th Birthday yesterday. August 28, 2003 is being named "Chuck Yim Gee Day" by Governor Linda Lingle of the State of Hawaii and Mayor Jeremy Harris of the City and County of Honolulu. Dean Emeritus Chuck Yee Gee is the Director and Founding Members of the Hong Kong China Hawaii Chamber of Commerce (HKCHcc).
Hong Kong: The government yesterday raised its full-year growth forecast amid broadening signs of a faster-than-expected rebound - just as its latest economic figures confirmed that Sars had dragged Hong Kong into recession.
Casino gaming officials said yesterday a tip-off that led to Thursday's arrest of 23 Hong Kong residents on a construction site was the first major salvo in a "dirty tricks" campaign being waged among rivals within the industry.
San Shek Wan, a small and all-but-forgotten village on Lantau, has been thrust into the spotlight as the proposed landing point for the super-bridge linking Hong Kong with the western Pearl River Delta.

Technological change, harsh competition and pricing restrictions resulted in the loss by PCCW of 205,000 lines to rivals, causing its market share to decline five percentage points to 77 per cent.
The alignment and the landing points of the cross-delta bridge have not yet been decided, despite the widespread assumption that its Hong Kong landfall will be at San Shek Wan on Lantau.
Twenty-nine suspected illegal workers from the mainland and four Hong Kong people who employed them were arrested in Mongkok yesterday.
Hong Kong blue chips powered higher yesterday as institutional money continued to pour into equities on the hope the economy was following the lead of the United States.
Rupert Murdoch's Star TV has denied rumours it is considering withdrawing its investment in Taiwan's cable television industry, despite revising down its goals for digital TV rollout on the island.

China: Foreign Affairs Vice-Minister Wang Yi fields questions yesterday after the six-nation talks on North Korea's nuclear programme. The curtain fell yesterday on the six-nation talks on the North Korean nuclear crisis, with no clear finale in sight. But the mere fact that the meeting was staged - and all players remained to the end - made it a notable success, analysts say.
Wuhan, the capital of Hubei province, is set to join other large mainland cities in asking the central government to allow its residents to visit Hong Kong individually.
Shenzhen has passed the country's first organ transplant law, but the legislation does little to confront key points surrounding the controversial issue, analysts say.
China may send troops to Liberia to support a planned United Nations peacekeeping mission, according to a senior diplomat.

China United Telecommunications chairman Wang Jianzhou says it will look beyond China for investment.
Mainland telecommunications equipment maker Datang Telecom revealed government plans yesterday to financially back an indigenous mobile phone technology that could limit and delay opportunities for rival Western systems.
Siemens and Huawei Technologies plan to form a US$100 million joint venture to develop the mainland's third-generation mobile-phone Time Division Synchronous Code
Nokia, the world's largest manufacturer of mobile phones, has unveiled its long-awaited CDMA (code division multiple access) handsets for China Unicom's 2.5 generation network.
The Zhuhai municipal government-owned Zhu Kuan Group has returned to the negotiating table with creditor banks owed HK$4.49 billion, but the offer - amounting to a 79 per cent haircut - has been swiftly snubbed by key creditors.
China's growing fondness for the short message service (SMS) is becoming a cash cow for internet portals as they jump on the bandwagon to either issue bonds or look for spin-offs to list their SMS units.
August 28, 2003
Hong Kong: Hong Kong legislator Lau Wong-fat has become embroiled in the dispute between the Zhuhai government-owned Zhu Kuan Group and creditor banks owed $4.49 billion.
Switching the Hong Kong dollar's peg from the US dollar to the renminbi is the only alternative worth considering, one of the original architects of Hong Kong's currency system says.
Hong Kong's financial secretary Henry Tang Ying-yen left on Thursday for his first official visit to Beijing since taking office earlier this month.
A member of Chief Executive Tung Chee-hwa's cabinet has warned the government not to set itself the target of passing new national security laws ahead of next year's Legislative Council elections. Talks were held in Beijing yesterday to discuss the future work of the Basic Law Committee after the reappointment of members.
The people of Taiwan and Hong Kong should become better neighbours and work harder to foster understanding between the island and the mainland, a prominent Taiwanese writer and scholar says.

PetroChina expects to set a record net profit for the full year after reporting the highest interim net profit for Hong Kong-listed companies this year, according to president Chen Geng.
Globally run Standard Chartered has committed itself to being a key player in China's banking sector and may incorporate itself in Hong Kong to ensure preferential market access under a cross-border, free-trade agreement, according to its recently appointed London-based chairman.
China has asked Goldman Sachs, Merrill Lynch and four other investment banks to visit Beijing tomorrow to discuss terms of a planned global sale of US$1.5 billion of bonds, according to bankers invited to attend.
Hong Kong Exchanges and Clearing (HKEx) will launch a China futures index by the end of this year, despite failing twice before in similar attempts.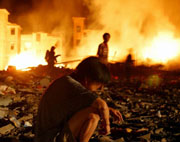 China: A woman cries as she squats amid the debris of an explosion at an illegal fireworks factory in Shanjie, Fujian province. The blast, which killed 22 people and injured 41 others, flattened houses in a 60-metre range and ignited huge fires.
Two extra hydroelectric generators will be installed at the Three Gorges Dam this year to help alleviate power shortages in the Yangtze River Delta.
A tough environmental impact assessment law comes into force on the mainland on Monday, but experts are sceptical as to whether it will provide a significant boost to the nation's dismal record on green issues.
August 27, 2003
Hong Kong: Top government officials on Wednesday sent their condolences to the family of the two crew members of the Government Flying Service (GFS) who died after the helicopter they were travelling in crashed on a hillside in Lantau on the way to Cheung Chau to airlift a patient to hospital.

After 18 years of work, Dickson Poon will receive $7 million for his services in Dickson Concepts, his first salary since acquiring a majority stake in the luxury retailer in 1985.
Hutchison Whampoa's planned spin-off of its Indian mobile phone operation could reap up to US$2 billion, an amount that would help offset part of its third-generation losses next year, according to analysts.
China: Chinese authorities have blocked a tunnel suspected of being built by smugglers to link a border town in Shenzhen with Hong Kong, it was reported on Wednesday.
State-owned property developer Beijing Capital Land has dismissed concerns that it will be affected by tighter real-estate lending policies introduced recently by the People's Bank of China.
China Merchants Bank, the mainland's largest publicly traded lender, is planning to issue up to 10 billion yuan (HK$9.37 billion) in convertible bonds to shore up its capital base, after lending aggressively and boosting profits by 31.5 per cent in the first half.
Aluminum Corp of China (Chalco), China's largest maker of the metal and the world's second-largest producer of alumina, saw its first-half net profit grow 175 per cent year on year, with analysts expecting continued strong alumina prices to give rise to even higher second-half profits.
China Eastern Airlines Corp has urged the government to be cautious in adopting an open-skies policy as increased competition would hurt mainland carriers' profitability.
In a boost to China's economy, semiconductor giant Intel will begin construction next year on a US$200 million chip testing-and-assembly facility in the western Sichuan province.
August 26, 2003
Hong Kong: Hong Kong tycoon Li Ka-shing has appointed former Equal Opportunities Commission chief Anna Wu Hung-yuk as an adviser to Shantou University's law faculty.
Financial Secretary Henry Tang Ying-yen returned from the mainland on Tuesday with a message of "cautious optimism'' for Hong Kong - saying the territory's major trading partners were now showing signs of economic recovery.
Mainland officials in Beijing said it was necessary for Hong Kong to pass Article 23 into law - but believed the territory should set the legislation's timetable, Executive Council member Andrew Liao Cheung-sing said on Tuesday.
Hong Kong's unemployment rate would remain high as new graduates enter the labour market, Permanent Secretary for Economic Development and Labor Matthew Cheung Kin-chung said on Tuesday.
Financial Secretary Henry Tang Ying-yen has singled out deflation as his biggest challenge, saying he cannot cut government spending too much to balance the budget.
Internet service provider (ISP) Netvigator has responded to the recent spate of virus and worm attacks by launching a virus-scanning service for its business users. However, the service was greeted with dismay by some users.
China: Plans to inject fresh capital into China's technically insolvent Big Four state banks have been submitted to the State Council, providing the first concrete indication that the central government will push ahead with its third massive recapitalization of the banks in the hope of strengthening the financial system.

A sightseeing boat takes tourists along the Huangpu river past the Pudong new district in Shanghai, which wants to attract more visitors. Shanghai is going all out to increase tourism, spending 47 billion yuan (HK$44.18 billion) on new facilities over the next three years in an attempt to attract more visitors.
The central government would address the problem of economic overheating through development instead of applying the brakes across the board, a senior government minister said yesterday.
Beijing Datang Power Generation - the largest power producer in Beijing, Tianjin and Datang with a market share of 33 per cent - plans to spend 13 billion yuan (HK$12.18 billion) on bolstering its capacity 44 per cent by 2006.
Harbin Power Equipment - one of the mainland's largest makers of generators, turbines and boilers - expects sales to jump in the second half as electricity shortages lead power firms to accelerate new plant projects.
Sars and the war in Iraq have combined to drag China Eastern Airlines Corp into the red in the first half, but the carrier's prospects will improve later in the year with a rapid recovery in domestic traffic, according to analysts.
Shanghai businessman Chau Ching-ngai and his wife Mo Yuk-ping are being sued by Shanghai Merchants Holdings, which is already in receivership, for $37.38 million worth of funds allegedly deposited in their privately held bank accounts between February and May.
A plan to restrict the use of foreign-made software in Chinese government computers has raised concerns that the mainland may be pursuing a new protectionist policy, which could jeopardize its commitments to the World Trade Organization.
August 25, 2003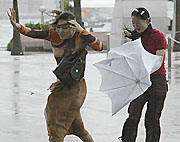 Hong Kong: Mainland tourists experience the heavy rain and winds of Typhoon Krovanh in Bauhinia Square, Wan Chai. At least 10 people were slightly injured as the typhoon brushed by Hong Kong yesterday with no serious damage and headed towards Hainan island.
The Jockey Club yesterday stopped accepting bets on one soccer roll-up for more than three hours for the first time since the legalisation of soccer betting.
Mainland, Hong Kong and foreign firms are being targeted as Beijing's Olympic organisers launch a drive to attract sponsors and suppliers for the event, estimated to cost at least US$1.65 billion to stage.
The newly formed Health Protection Agency in Britain could be a model for Hong Kong in controlling infectious diseases, according to the expert panel handling the Sars investigation.
The government and people of Hong Kong should strive to improve their competitiveness and not rely on the mainland to prop up the city's economy, according to mainland academics and pro-Beijing politicians.
What they lacked in polish and experience, they made up for with enthusiasm as two dozen Hong Kong "chief executives" and Guangzhou "mayors" yesterday exchanged views on health issues in the Legislative Council.
Hong Kong will promote the Closer Economic Partnership Arrangement (Cepa) with the mainland at the upcoming WTO ministerial meeting in Mexico to give companies around the world a better idea of what benefits they will get by setting up shop in the city.

Insurance Commissioner Benjamin Tang Kwok-bun says a growing number of mainlanders are buying policies in Hong Kong.
China: Beijing, struggling to survive a severe drought, has received just 45 per cent of its average annual rainfall this year.
China Petroleum & Chemical Corp (Sinopec), the mainland's second-largest oil producer, is planning its first corporate bond issue to raise 3.5 billion yuan (HK$3.28 billion) after a record but lower than expected first-half net profit of 10.7 billion yuan, almost double that of the same period last year.
China's top legislature is considering big changes in the banking supervision policies to put more emphasis on risk management by bank watchdogs, state press said yesterday.
August 22 - 24, 2003
Hawaii: State Announces Contingency Plans for Potential Bus Strike - Governor Lingle and State Department of Transportation director Rod Haraga announced contingency plans to help ease traffic congestion on O`ahu roads in the event of a city bus drivers strike. Among the steps that will be taken, the state plans to change the requirements and extend the hours for its high-occupancy vehicle lanes. "We're encouraging everyone to rideshare - carpool, vanpool - to help cut down on the number of vehicles on our roads during a strike," said Haraga. All state departments will use state cars to help with carpooling in the event of a City and County of Honolulu strike. Motorists are reminded that 46,000 college and private school students head back to class on Monday, August 25th. As an added precaution, cars should be checked and maintained to cut down on the number of stalled vehicles.
Hong Kong: While confident about Hong Kong's economy, Mr. Li said unemployment was a worry - and asked for ideas on creating jobs. Li Ka-shing yesterday spoke of his pride in Hong Kong's July 1 protest - and said he liked to invest in democratic and stable places.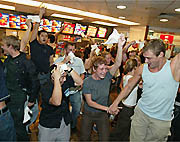 Flash-mobsters wave napkins as they prance around in the McDonald's outlet in the World Trade Centre, Causeway Bay, last night. It was the first such internet-initiated event to be staged in Hong Kong. Following instructions posted on the Wed, participants converged on the fast-food restaurant to perform a ''ballet'' that involved plenty of exuberant twirling and hopping, and some ''woo-wooing''.

Stars Li Bing Bing, Leon Lai, Andy Lau and Tony Leung (left to right) attend a blessing ceremony before the filming of Infernal Affairs III at the Majestic Hotel in Nathan Road. The ritual, performed by revered sage Chau Yum-nam, known as the White Dragon King, attracted a curious crowd as he extinguished candles with his mouth. The film is the final part of the blockbuster movie series.
The mainland shoppers were scurrying from shop to shop in Tsim Sha Tsui looking for items to buy. Watches, jewellery, clothes, shoes, bags, toys . . . you name it, they were buying it. Sudden downpours scattered them, but did nothing to dampen their zest for spending.
Raising the limit on the amount of money mainland visitors can bring into Hong Kong could boost economic growth by several percentage points, economists said yesterday.
A new anti-money laundering measure requiring estate agents and jewellers to report suspicious transactions has been greeted with dismay.
Hong Kong Exchanges and Clearing (HKEx) is considering waiving the three-year profit requirement for large firms seeking to list on the main board - a proposal analysts believe would pave the way for the privatisation of government assets.
Hong Kong property stocks rose strongly yesterday, pushing the Hang Seng Index through the 10,700-point level to a 13-month high. The properties sub-index has risen almost 20 per cent since August 7, buoyed by improved sentiment and rumours of strong buying interest from mainland tourists.
Hutchison Whampoa reported a first-half profit of $6.06 billion, compared with $5.95 billion last year, dragged back by a $3.9 billion operating loss from its maiden 3G mobile ventures.
Where once they might have bought watches and jewelry, cheap flats and shops appear to be topping the must-have list of mainland residents visiting Hong Kong on an individual basis.
Legislating on national security should be put off until after next year's Legislative Council election, Tsang Yok-sing, head of the biggest pro-Beijing political party, said yesterday. Until now he has advocated early passage of the controversial bill.

Commissioner of Police Tsang Yam-pui (left) and Chief Secretary for Administration Donald Tsang Yam-kuen hammer an image of a young criminal at the Junior Police Call Fight Crime Summer Camp in Ma On Shan.
Property agents have been warned that turning a blind eye to the financing arrangements between buyers and sellers is no longer acceptable.
The mainland prosecution of a Hong Kong woman for smuggling leather through a company in the city was flawed as the law could not be extended to Hong Kong, a court in Guangdong heard yesterday.
Hong Kong is to seek a relaxation of restrictions governing the amount of cash mainland travelers can bring into the city.



Cheung Kong (Holdings) deputy chairman Victor Li says the housing market is "no big problem". Cheung Kong (Holdings) has painted a positive picture of the housing market, saying prices have gradually climbed in recent months and the sector is "very healthy".
Bank of China (Hong Kong) has put a division head on temporary leave as investigations into a loan issued last year to detained businessman Chau Ching-ngai advance.
PCCW has urged the Office of the Telecommunications Authority (Ofta) to abolish its policy of requiring the dominant carrier to provide compulsory Type II interconnection to its rivals, saying it could violate an article on the deprivation of property under the Basic Law.

China: WHO experts Pierre Formenty (left) and Henk Bekedam discuss the results of their fact-finding mission. An international team of health experts that toured Guangdong to find the source of the Sars virus has called the central government's decision to lift the ban on the trade of civet cats and other wild animals premature.

Colorfully dressed delegates to the All-China Women's Federation head to the Great Hall of the People in Beijing for the opening of their ninth national congress. Poverty and unemployment are the biggest obstacles to progress for the country's women. The All China Women Federation's ninth national congress, which opened yesterday, aims to help overcome both - by helping more women start their own businesses.
Shenzhen - where many Hong Kong patients go for transplants - yesterday outlawed trading in human organs, and backed up the ban with fines of up to 500,000 yuan (HK$470,000) for doctors. The city is the first on the mainland to pass such legislation, and others are now set to follow.
The poisonous gas leak from Japanese wartime chemical weapons that affected 43 people in the northeastern city of Qiqihar has claimed its first life - 18 days after the accident took place.
Amid controversy over an ancient calligraphy scroll bought by the National Palace Museum for 22 million yuan (HK$20.7 million), the museum's deputy head curator has denied accusations that he was to blame for any purported price-fixing with the auction house.
The World Bank is weighing a plan to issue bonds in China's domestic currency in what could result in a significant loosening of the country's tightly controlled capital markets.
Huaxia Bank's loans to its largest shareholder remain in excess of a regulatory cap, despite the dilution effect of rapid business growth in recent years, the lender revealed in its initial public offering prospectus yesterday.
ESPN Star Sport plans to expand its online services once the mainland government grants it a broadband license.
To mark the Chinese Women's Ninth National Congress, which opens today, Josephine Ma examines efforts to encourage women to take part in local politics.
Injuries suffered by 43 people in the northeastern city of Qiqihar this month after several barrels of Japanese wartime chemical weapons were unearthed have fuelled a wave of anti-Japanese sentiment on mainland websites.
Top mainland entrepreneurs and economists met this week in Wenzhou, the heartland of domestic private enterprise, and vowed to work together to progress to the next stage of private-sector growth.
August 21, 2003

Hawaii: Talk business with U. S. Under Secretary for International Trade Mr. Grant Aldonas and the Director of U. S. Dept of Commerce Honolulu, Mr. Paul Tambakis. Mr. Aldonas discussed the vast opportunities available for U. S. Company to explore the China market and how his office can help. He is hoping organizations like the Hong Kong China Hawaii Chamber of Commerce will continue to help promote trade and understanding to break down the trade barriers.
Hong Kong: Members of the Hong Kong Bar Association's council have been left out of a delegation of lawyers visiting the mainland next week, sparking concern they could be marginalized following their outspoken criticism of the National Security Bill.
Bank of China Hong Kong (Holdings) has put a senior official on temporary leave amid investigation of a loan made by the bank to a company controlled by disgraced Shanghai property tycoon Chau Ching-ngai.
Hong Kong hamburger fans take heart: while the city is the world's costliest, according to a survey, it takes the average worker only 13 minutes to earn enough for a Big Mac - the sixth-shortest time of the 70 cities surveyed.
Police said they have arrested some 300 mainlanders in a massive anti-crime operation, which ended on Thursday morning, in an attempt to curb triad activities in the West Kowloon region.
Mainland authorities went all out yesterday to ensure there were no hiccups on the first day when Guangzhou, Shenzhen, Huizhou and Zhuhai residents were allowed to apply for individual travel permits to visit Hong Kong and Macau.
Hong Kong plans to speed up the processing of planning applications for hotels to cope with the expected surge in mainland tourists, Secretary for Economic Development and Labour Stephen Ip Shu-kwan said yesterday.
Mainland tourists taking advantage of the relaxation of travel restrictions say they are looking forward to shopping in Mongkok and the chance to catch up with their relatives.
Booming international trade centred on China has seen Orient Overseas International Ltd (OOIL) take in record first-half profits with analysts predicting that the shipping industry is on the crest of a major upswing in profitability.

Paul Chow Man-yiu, chief executive of Hong Kong Exchanges and Clearing (HKEx), said yesterday he was worried about corporate governance at Bank of China (Hong Kong) and other mainland-related issuers, saying trouble at the companies could drive investors away.
Hong Kong telecommunications executives were upbeat yesterday after meeting Beijing officials for the first time about gaining greater access to the China market.

China World Hotel is set for a US$30 million facelift. The Shangri-La group hotel and the China World Centre complex is at the heart of an area designated as Beijing's new central business district. The China World Centre, a joint venture between the Kerry Group (parent company of the South China Morning Post) and the Ministry of Commerce, is also building an 88-storey office tower behind the hotel and complex.
China: The mainland's Ministry of Communications will begin a hearing today into the legality of terminal handling charges (THC) at the country's booming container ports.
Guo Wei, chief executive of China's largest IT products distributor, Digital China, talks about his firm's recent poor results and how he plans to revive the firm.
A virus - "Sobig.F" - that debuted this week has been declared the fastest spreading e-mail plague of all time, while another malicious program that hit last week continued to disrupt computers worldwide.
August 20, 2003
Hong Kong: In a sharp turnaround, the government-appointed expert committee investigating the handling of Hong Kong's Sars outbreak now says it will pin the blame on individual officials if it finds evidence of maladministration or negligence.
Major banks in Hong Kong say they will probably raise their forecasts for economic growth in light of the sharp rebound from Sars and the expected flood of Guangdong tourists taking advantage of an easing of visitor restrictions.

Cruise ship the Omar III sits at the China Merchant's Wharf in Kennedy Town, where it has been brought for a refit. The Hong Kong Tourism Board was yesterday asked to consider using empty ships as floating hotels to solve the city's looming shortage of tourists accomodation. An earlier proposal to convert public housing into low-budget hotels provoked widespread controversy.
The relaxation of travel restrictions to Hong Kong has raised concerns that the city's security could suffer with more mainland residents visiting as individuals, a survey found on Wednesday. Hong Kong is worrying too much about the problems an increase in mainland tourists may bring, Secretary for Security Ambrose Lee Siu-kwong said yesterday.
International credit ratings agencies are asking what action the Hong Kong government is going to take now that the target of balancing the budget in three years has been dropped.

Raymond Chien Kuo-fung, the recently appointed chairman of MTR Corp, holds a football representing the firm's corporate image, at a press conference at World Wide House.
The Shui On Group is preparing to reorganise its China properties and other assets under a new corporate vehicle by the end of the year, as it looks to the mainland to offset its declining operations in Hong Kong.
Wing On (Holdings) has picked up office-retail building Causeway Bay Plaza One with a top bid of $1.2 billion in the biggest property transaction so far this year.
Lawrence Ho Yau-lung - the son of Macau's casino king - sees a role for his Melco International Development as an adviser to gambling businesses seeking a listing on the Hong Kong market.
China: Macau and Shanghai will jointly promote their grand prix motor races, the cities' officials revealed yesterday.

Zhou Hongyi demonstrates the 3721 search engine that has made his fortune. The pioneering search site opened the internet to non-English- speaking Chinese users. When Zhou Hongyi first logged on to the internet as an engineer for Beijing computer firm Founder, he was awe-struck by the information at his fingertips. But he was also dismayed at having to use the English alphabet to search for anything of substance. So he created the 3721 Chinese search engine.
A Shanghai court yesterday dismissed lawsuits filed by residents' groups against Jingan district alleging corruption in the allocation of land to property tycoon Chau Ching-ngai.
The central government is prepared to revamp the country's ailing rural credit co-operatives to help support hard-pressed farmers.
China Petroleum & Chemical Corp (Sinopec) and CNOOC have clinched a natural gas exploration and development agreement with international oil giants Royal Dutch/Shell and Unocal, involving potentially billions of dollars of investment in the Xihu Trough region of the East China Sea.
Digital China Holdings, the mainland's biggest distributor of information-technology products, will scale down its mobile handset distributing business and sack half of the unit's staff after it contributed a $112 million loss to the parent's quarterly results.
Environmental activists on Tuesday stepped up their efforts to block Hong Kong's export of electronic waste to the mainland, depositing a 1.6-metre tall "e-waste" sculpture on the government's doorstep.
August 19, 2003

Hong Kong: Former Olympic figure-skater Michelle Kwan performs a routine at the Cityplaza Ice Palace in Taikoo Shing. The US skater, 22, has been helping to promote Hong Kong as a tourist destination.
Hong Kong will use the Mid-Autumn Festival next month to launch a series of events to attract international tourists back to the city.
The Tourism Commissioner yesterday said there were still plenty of hotel rooms available for visitors wanting to come to Hong Kong during the "golden week" holidays around National Day at the start of October. How much hotels charged for them was a matter of supply and demand.
A former deputy political adviser to the Hong Kong government has been appointed as Britain's top envoy to the city after recently serving in Beijing.
Hong Kong's Financial Secretary Henry Tang Ying-yen has pledged to maintain consistency in policies and a market-oriented economic strategy to help lure more investments to revitalize the economy.
The Hong Kong government has given the clearest signal yet that its plan to balance the budget by 2006-07 will have to be deferred because of the Sars outbreak's economic impact.
Hong Kong's unemployment rate hit a record 8.7 per cent last month, but analysts took heart from the fact it rose only 0.1 percentage points, which they saw as another sign the economy is recovering.
Fixed-asset investments shot up 32.7 per cent in the first seven months of the year to reach a record 1.87 trillion yuan (HK$1.75 trillion), causing some government officials and economists to warn that the mainland's economy was overheating.
PCCW is set to re-enter Hong Kong's crowded pay-television market with an as yet unspecified broadband-delivered offering, but few market watchers expect it to compete directly with the content-rich offerings of established television players.
Most listed firms must hire an extra non-executive director after the stock exchange listing committee decided yesterday to increase the minimum number from two to three to enhance the voice of small shareholders on company boards, according to a committee source.
Growth in Hong Kong's highly lucrative but risky credit-card business has slowed as the market matures, according to Visa International.
Hong Kong avoided the worst of a fast-spreading computer virus attack last week. The virus threatened to infect millions of computers worldwide and to close a Microsoft website offering software patches against malicious programs.
The government has moved to revamp its ageing financial management and information system, with a recent award to IBM of a contract worth almost $350 million to set up and maintain a web-based infrastructure covering all departments.

China: A customer admires a crayfish at a Shanghai market. China exported 8,000 tonnes of crayfish tail meat to the US last year.
Sichuan telecommunication authorities yesterday auctioned the telephone number 88888888 for a record 2.33 million yuan (HK$2.19 million), Xinhua reported.
Millionaire actress Liu Xiaoqing's legal team have still to receive her indictment papers that are crucial as they prepare her defense on tax evasion charges.
The mayor of Shanghai yesterday had some advice for Hong Kong: build more hotels to cope with an expected flood of mainland tourists.
August 18, 2003
Hawaii: The company selected to build, manage and maintain thousands of military homes on O'ahu traces its roots to a family-run construction company in California's wine country and to an Australian startup that grew into a multibillion-dollar conglomerate now trying to reinvent itself. Actus Lend Lease is the progeny of two companies from divergent parts of the world, focused on getting military housing contracts like the $1.7 billion one on O'ahu announced earlier this month. The company was formed in 1999 from a joint venture between Napa, Calif.-based Actus Corp. and Lend Lease Projects U.S.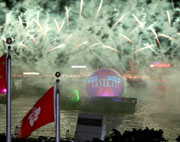 Hong Kong: The Strato-Fantasia laser and fireworks display lights up Victoria Harbour. Tourists watching it later enjoyed a banquet. The number of tourists visiting Hong Kong has surged by almost 80 per cent in the past month, Chief Secretary Donald Tsang Yam-kuen revealed last night.
The Hong Kong government has stepped up preparations for the introduction of a sales tax by forming a taskforce to work on the details, sources have revealed.
A comprehensive report on Hong Kong's public finances, scheduled to be released in October, looks set to give a clearer picture of the budget deficit problem, according to a well-placed source.
The political crisis surrounding Chief Executive Tung Chee-hwa is not yet over, though the social atmosphere has much improved since the mass protest on July 1, retired chief secretary Sir David Akers-Jones says.
Former security chief Regina Ip Lau Suk-yee wept as she left Hong Kong yesterday to pursue further studies in the United States.
Li Ka-shing's property flagship Cheung Kong (Holdings) and its affiliate Hutchison Whampoa are in talks aimed at tightening their grip on Asia-based online travel agency Priceline-Hutchison.
China: Agreement from the mainland authorities for Cathay Pacific's proposal to launch services to Beijing could be received early next month.

Dancers rehearse the musical Liu Sanjie along the Lijiang River in Yangshuo near Guilin. The 100 million yuan ($94 million) production of folk songs is directed by film director Zhang Yimou and premieres on October 1. The 12 mountains along the river provide a stunning backdrop.
Outspoken Hong Kong legislator Emily Lau Wai-hing yesterday said threats by pro-Beijing politicians and media to try to unseat her in the Legislative Council would not stop her from continuing to campaign for democracy.
Victims of an earthquake in Inner Mongolia measuring 5.9 on the Richter scale were yesterday struggling to cope with the aftermath.
Attempts to sell a controlling stake in property tycoon Chau Ching-ngai's Shanghai Land Holdings have been hampered by scant details available on the assets, liabilities and affairs of the company, according to evidence presented to Hong Kong's High Court.
Mainland telecommunications-equipment manufacturers were among the technology industry's worst performers in the first six months of the year, registering a 35.4 per cent annualised decline in profits even as many other sectors generated strong earnings growth.
August 15 - 17, 2003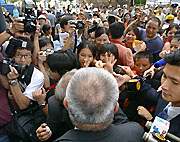 Hong Kong: Tung Chee-hwa greets enthusiastic mainland tourists in Bauhinia Square before meeting tourism sector representatives. One admirer described him as "passionate". Chief Executive Tung Chee-hwa may not have many fans in Hong Kong but for mainland tourists it seems he is a superstar to rival David Beckham.

Anson Chan, in optimistic mood, meets the press at a media briefing held by Unicef.
General manager Raymond Or Ching-fai says HSBC, Hong Kong's largest lender by assets, will be interested in offering its customers fixed-rate mortgages as the interest-rate cycle edges up.
A collection of calligraphy by more than 1,500 elderly artists goes on display at the Hong Kong Baptist Hospital in Kowloon Tong. At 3,124m, it is believed to be the world's longest.
Residents from Shenzhen, Guangzhou and Zhuhai can apply to visit Hong Kong on an individual basis from Wednesday, 10 days earlier than scheduled, the Guangdong Public Security Department announced yesterday.
The government has been warned of serious confusion when tens of thousands of mainland tourists troop across the border during the national day holidays in October.

Strong inflows of foreign capital and favourable economics have put Hong Kong at the centre of an apparent rerating of Asian markets, with strategists arguing that further gains are likely should global investors maintain their renewed love of equities.
Modern Terminals Ltd (MTL) and a subsidiary of China Shipping Group will form the first consortium to bid for up to six berths at Shanghai's Yangshan Deepwater Port project, which will cost as much as nine billion yuan (HK$8.49 billion).
The number of Hong Kong homeowners in negative equity has risen 27 per cent in three months, to more than 105,000, the monetary authority said yesterday, blaming the rise partly on the Sars outbreak.
A wealthy Hong Kong investor kidnapped in South China and held hostage for 54 hours has been rescued without a multi-million dollar ransom being paid, state press said on Friday.
Ryanair founder Tony Ryan is in talks over a possible investment in Air Macau - a move which could help create one of Asia's first low-cost, no-frills international airlines.
Former Chief Secretary Anson Chan Fang On-sang on Thursday said the July 1 demonstration and the visit of Spanish champions Real Madrid have helped improve the atmosphere in Hong Kong.
University vice-chancellors, secondary school representatives and government officials on Thursday convened the first three-party meeting to discuss four-year degree programmes.
I-Cable Communications on Thursday reported a fall in interim profit amid fierce competition which has forced the company to adopt an aggressive pricing strategy and promotional campaign.
The Securities and Futures Commission (SFC) plans to issue guidelines on how analysts may use company information but has yet to propose tougher rules to dissuade selective disclosure.

China: A worker deflates beer bottle balloons after a carnival to celebrate the 100th anniversary of Tsingtao Brewery in the northeast China resort town and former German colony Qingdao on Thursday.
Despite the continuing spat between the US and China over the valuation of the yuan, relations between the two nations are at their "best in years", former Clinton administration Asia adviser Kenneth Lieberthal said yesterday.
The mainland is making little headway in solving its huge unemployment problem because the economy may not be growing fast enough to absorb the army of job-seekers, state media said yesterday.
Chinese and Japanese lawyers are ready to represent Chinese victims of chemical weapons abandoned by the Japanese Imperial Army in Qiqihar city, Heilongjiang province, and bring the Japanese government to court.
Businesswoman Liu Xiaoqing's release is said to be imminent - more than two years after the former actress' high-profile detention for alleged tax fraud. She has already spent 18 months longer in jail than mainland law says a suspect can be held without trial.
The right to use a piece of land where the proposed Hong Kong-Zhuhai bridge would likely enter the mainland city has been stripped from a company owned by the Zhuhai municipal government, incensing creditor banks fighting to recover $4.49 billion the firm owes them.
The mainland's largest women's organisation will hold a national conference next week to lobby for better protection of women's rights and help them to cope with problems arising in a changing society.
Creditors owed $4.49 billion by one of the Zhuhai municipal government's key investment arms have taken urgent legal steps to protect assets and liquidate companies in the group following a complete breakdown in trust amid swelling fears over missing cash.
Yang Rong, the former chairman of Brilliance China Automotive Holdings, has filed a lawsuit in a Washington court claiming compensation of US$690 million from the Liaoning provincial government for assets he says it stole from him, his lawyer said yesterday.
China's 220 million mobile phone users are sending almost to 10 billion SMS messages a month, evidence that the mainland has entered the stage where it can begin to bloom into a giant corporate data market, according to a study released on Thursday.
August 14, 2003

Hong Kong: Film star Michelle Yeoh attends a cheque presentation to charity group Aids Concern on behalf of skincare brand Kiehl's. Yeoh nominated the charity after the apothecary decided to donate a percentage of sales from its most popular items to a good cause.
Hong Kong stocks powered to a near one-year high yesterday on surging turnover as investors bet that continued low interest rates would underpin a broad-based economic recovery.
Property developers and investors yesterday warned that turning unsold Home Ownership Scheme flats into guesthouses to accommodate mainland tourists would scare off Hong Kong's foreign investors.
An inter-departmental taskforce has been set up to prepare for the expected influx of mainland tourists to Hong Kong for the National Day holiday week in October.
A set of fire-safety requirements will be tailor-made for Hong Kong's Housing Department so it can convert 744 vacant flats under the Home Ownership Scheme into hostels, the government said yesterday.
The central government official who last week warned Hong Kong to remain a city of life, not strife, had less to say about stability yesterday and nothing about recent protests when he met Liberal Party members and lawmakers.
Hong Kong Exchanges and Clearing (HKEx) yesterday posted a lower than expected interim profit due to a special provision for its investment in defunct electronic trading platform BondsInAsia.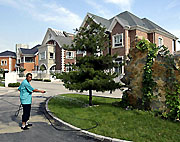 China: Carefully manicured landscapes are just one selling point at Beijing Rose Garden, one of the newest examples of the capital's appetite for western-style luxury housing. For the more decadent Beijing resident, home just would not be home without private lakes, hot-spring baths, in-house pools and saunas, all nestled among aromatic rose gardens and mature oak trees.
Pearl River Delta boundaries must be broken down and economic roles redefined as cross-border integration speeds up, say government think-tanks in Guangdong.
A top disease control official in Beijing says health authorities in the capital have been put on alert for a possible re-emergence of Sars this winter.
Foreign investment in China plummeted 38 per cent in July from a year earlier and export growth eased slightly as delayed effects from the Sars outbreak hit the twin engines of the booming economy.
Although America and its allies forced Japan to revalue the yen in 1984, western economic powers will have a hard time using the same tactic to force China to revalue the renminbi, a top US economist said yesterday.
Members of the politburo have met to discuss the future of one of the final economic bastions of Communist Party control and a hallmark of an open society - the media.
Cisco Systems has raided a major counterfeiter of its networking products in Guangzhou, seizing more than 400 to 500 router modules worth more than US$1 million.
August 13, 2003

Hawaii: (picture with Dean Emeritus Chuck Gee, Founding Members and Director of the Hong Kong China Hawaii Chamber of Commerce (HKCHcc)) Governor Linda Lingle met with the Affiliated Chamber of Commerce to continue to push forward the business agenda to make Hawaii a more friendlier place to do business.

Hong Kong: Former security chief Regina Ip is surrounded by supporters and former colleagues at a farewell tea reception in Causeway Bay. Former security chief Regina Ip Lau Suk-yee yesterday said she would pursue further studies in the United States but declined to comment on her political future.
Robert Owen, the first chairman of the Securities and Futures Commission, says he does not support a proposal for the agency to take over the front line regulatory role from Hong Kong Exchanges and Clearing.
Multimedia investment firm Tom. com has posted its first quarterly profit, thanks to strong growth from its Internet and wireless data services, such as mobile-phone downloads.
International ratings agency Fitch has taken a negative outlook on Hutchison Whampoa in its first assessment due to uncertainties over the conglomerate's third-generation (3G) mobile-telephone venture.
The popularity ratings for leading Hong Kong government officials have risen in the past month.
A travel industry leader last night dismissed as bizarre a government proposal to turn unsold Home Ownership Scheme (HOS) flats into guesthouses to accommodate mainland tourists. Other industry leaders also questioned the proposal.
China: A Guangdong property firm has paid $6.5 million to end a dispute that threatened Chinese soccer international Li Tie's career with English club Everton. Yesterday's surprise move also keeps a Shenzhen phone firm's name on the club's shirts for the Premier League season, which starts on Saturday.
In a push for transparency in the civil service, the mainland is opening up competition for posts.
Japan yesterday expressed regret at the poisoning of 36 people by chemical weapons abandoned by Japanese troops after the second world war.
The death toll has risen to 37 with five miners missing after a gas explosion ripped through a mine in Datong, Shanxi province.
August 12, 2003

Hong Kong: Director Peter Wong Tung-shun says Standard Chartered is in talks with some of the mainland's 10 shareholding banks to buy a 15 per cent stake in one of them.

Idea Expert's Robert Chan says his firm first conceptualized the Twin-TV two years ago, primarily as a solution for salespeople who spend a lot of time on the road, lugging heavy laptops for presentations.
Small and medium-sized companies were generally more optimistic about recruiting new employees in 2003 than larger firms, a new study released on Monday found.
Hong Kong's frontline police officers have been ordered to report all verbal abuse directed at them while on patrol so the force can decide whether a law to tackle the problem is needed.
Hong Kong companies with operations on the mainland hire most of their frontline staff there, with only top managers recruited in the city, a survey has found.
Hong Kong's wet markets are facing stiff competition from a growing number of supermarkets in the territory, a Consumer Council survey on Monday has found.
HSBC (China) chief economist George Leung Siu-kei urged Financial Secretary Henry Tang Ying-yen to be cautious about using the government's fiscal reserves to stimulate the economy.
Standard Chartered Bank has been seeking merger opportunities with local banks to assist its mainland business, according to director Peter Wong Tung-shun.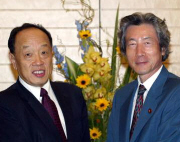 China: Chinese Foreign Minister Li Zhaoxing is welcomed by Japanese Prime Minister Junichiro Koizumi at the latter's official residence in Tokyo on Monday. The two men were expected to discuss ways to resolve the North Korea nuclear issue.
The peak-season power shortages that have plagued Shanghai this summer and caught some of its biggest-name investors off guard are expected to continue to 2010 and possibly beyond.

Soldiers clear away oily weeds in a polluted upper reach of the Huangpu river in Shanghai, close to where the 2010 World Expo will be held.
China has overtaken America as the largest exporter of goods to Japan, a sign the mainland's factories are fast becoming the production powerhouses for the world.
With the mainland's robust economic growth generating fears of overheating in the months ahead, the central government is considering "resolute" action to curb over-investment and the duplication of projects.
The Communist Party said yesterday it would hold a meeting in October to map out plans for further economic restructuring and amending the constitution.
Plans have been unveiled by Shanghai's premier development area, Pudong, to help boost the city's role as a regional trade and financial centre.
The mainland's bustling low-end car market may become even more crowded, with two of the newest domestic manufacturers announcing aggressive expansion programmes yesterday and a Sino-foreign joint venture unveiling plans for an eightfold rise in capacity before 2005.
The central government has filed compensation claims against the Japanese government for damages after residents in northeast Heilongjiang province were poisoned by chemical weapons dumped by the Japanese army after the second world war.
A group of Chinese banking officials and financial experts would visit Hong Kong later this month to discuss plans to set up offshore yuan businesses here, it was reported on Monday.

A tourist uses his mobile outside the Great Hall of the People in Beijing. China Mobile wants Net firms to stop linking their Net pages to personal websites because of concern some may be publishing pornography. China Mobile Communications has stopped Netease.com, Sina .com and other Web companies from including fees for software and movie downloads to computers on users' mobile phone bills, in a move aimed at curbing pornography.
August 11, 2003

Hawaii-South Korea: Mayor Ahn sang-Soo rowed the boat about 20 meters with Jonathan at a launch of the Spirit of Hawaii and Goodwill Visit to South Korea 2003 to wish Jonathan a good luck in his voyage.
Hong Kong: Hong Kong's Sars-hit economy has shown another sign of improvement, with the growth in the number of people receiving social security payments easing significantly last month.
Plans to build a Hong Kong centre for disease control (CDC) may strengthen the city's ability to head off future epidemics from southern China, experts say, but they warn that unless the government gets it right there could be another Sars-like crisis in the making.
The Hong Kong government is poised to appoint the first of four financial advisers to support its privatisation programme, which was expanded last week to include the Hong Kong Airport Authority.

Mmm, Mummy, that feels good: Lo Shui-ha massages her baby, Leung Tin-mei at a baby massage competition held during a baby products expo at the Hong Kong Convention and Exhibition Centre. After receiving lessons, some 100 parents massaged their babies and three winners were selected based on their technique.
Media reports that Guangdong would soon export domestic helpers to Hong Kong have been denied by an official with a Guangzhou-based home economics association.
The Independent Commission Against Corruption has questioned a number of BOC Hong Kong (Holdings) employees in recent days in connection with its probes into property tycoon Chau Ching-ngai, the Oriental and Sun dailies reported yesterday.
Dominant telecommunications provider PCCW has lost more than 5 per cent of its fixed-line customers to rivals in the first six months of this year.
The liberalization of cross-border travel has opened the floodgates for an influx of illegal workers into Hong Kong, say unionists.
Green groups are calling for a common standard to assess the environmental impact of the proposed bridge spanning the Pearl River estuary.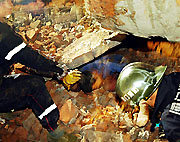 China: The death toll from the collapse of a partly built factory in Fujian climbed to seven yesterday, with 38 injured, after nearly 500 rescuers battled through the night to free workers buried under the rubble.
The head of Research International China (RIC), China's largest domestic customised market research company, is looking forward to the day he does not have to submit every report to government bureaucrats for vetting.
August 8 - 10, 2003

Hawaii: AT&T Dragon Boat Festival is taken place at the Ala Moana Beach Park. The Hawaii Chinese Republican Coalition team was the 1st to cross the finish line under the non-profit category.
Jonathan Cowles of Spirit of Hawaii 2003 is now 5 days into the rowing trip in Korea with many vivid experiences already. Have had all sorts of weather and tides. The trip has been a great success so far with the people of Korea. Word has spread all over the country about the relations and economic gesture of goodwill. Mr. Cowles cannot go into even the smallest restaurant without being recognized and asked for autograph or photo. An invitation has been extended to Mr. Cowles to lecture in the international relations department of a Seoul University after the trip. At the opening ceremony in Inch'on, Mayor Ahn rowed together with Mr. Cowles in the harbor and announced awarding Honorary citizenship when Mr. Cowles done the trip. Quite an Honor!

Hong Kong: Signing off: Action star Jackie Chan signs posters for his new film, The Medallion, for fans queuing up to meet him at the opening of a new sushi store in Rail Link Plaza, Sha Tin. The film, co-starring British actors Lee Evans and Julian Sands and Hollywood actress Claire Forlani, opens in cinemas across Hong Kong next Friday.

The government has convinced Hong Kong Exchanges and Clearing chairman Charles Lee Yeh-kwong to abandon retirement plans and stay until 2006, a senior government source told the South China Morning Post yesterday.
Orient Overseas (International) announced late on Thursday it would buy back 47 million of its shares from Fortwin and Sixpence - two investment holding companies controlled by Cheung Kong and Hutchison Whampoa, respectively.

Banking legislator David Li Kwok-po yesterday dismissed a government suggestion that lifting the mortgage ceiling for second-hand flats could help revive the flagging property market.
Guangzhou's ambition to develop Nansha Island as a deep-water port will face a challenge if a bridge is built linking Hong Kong, Macau and Zhuhai. The plans for Nansha needed reassessing, its chief planner, Duan Xiangfeng, said yesterday.
Hong Kong tourism officials and hotel operators are confident the city has enough rooms to cope with a rise in travellers from Guangdong, since the majority only stay for a day or spend the night in relatives' homes. Still, they point out that more hotels are being built.
China: Guangdong will spend 1.5 billion yuan (HK$1.41 billion) over the next three years to improve its public health system, including 500 million yuan to rebuild its Centre for Disease Control and Prevention.
International pressure on China to revalue the yuan increased yesterday after reports that hedge funds and currency speculators have built a US$20 billion position in the trading of non-deliverable forwards, expecting that the Chinese currency will rise in coming months.
China, in a clear move to draw in a reluctant United States, announced it was ready for talks on preventing an arms race in space, even if the dialogue was not specifically aimed at a binding treaty.
A Shanghai court has ruled in favour of three global entertainment giants suing local companies for selling pirated DVDs of movies such as Moulin Rouge and A Bug's Life, but awarded a fraction of the compensation the studios had requested.
Mainland gas distributor Xinao Gas Holdings has expanded into Changsha, the capital of Hunan province, and aims to boost its potential customer base by more than 12 per cent to 16 million through a joint venture deal with a local gas supplier.
British company Lipton, which made its fortune selling black tea that originated in China, is challenging traditional Chinese habits by launching green and jasmine tea bags on the world's biggest market.
The sale of state-owned enterprises is gathering pace. According to a report released yesterday in the state media, all major cities have drafted lists of firms that will be sold in the coming months or years.
A total of 56 billion yuan (HK$52.6 billion) will be spent on improving Beijing's roads in the run-up to 2008, when the city hosts the Olympic Games, authorities have announced.
New regulations allowing people to marry without the permission of their work unit or neighbourhood committee are widely expected to be announced in the next few days.
China plans to open the southern provincial island of Hainan to international air traffic in a bid to draw tourists and boost the subtropical region's economy, state press reported on Friday.
Japanese carmaker Honda said on Friday it had launched a joint venture in China to produce its small CR-V sport utility vehicles to meet expanding and diversifying demand there.
August 7, 2003
Hong Kong: The government plans to float part of the Airport Authority as it seeks to accelerate its privatisation program and reduce its budget shortfall.
NBA star Yao Ming slam-dunked ... while Real Madrid flunked. Hong Kong saw two sides of sporting superstardom last night as long-awaited post-Sars recovery events came to fruition.
Hong Kong and Guangdong should abolish the quota system for cross-border private cars and allow a free flow of traffic because more infrastructure will be completed within 10 years, a research agency is recommending.
Business groups yesterday welcomed plans by Hong Kong and Guangdong to strengthen co-operation and turn the Pearl River Delta into an economic super-zone.
Building a bridge linking Hong Kong to Zhuhai and Macau would encourage up to 30,000 extra cross-delta journeys a day by 2020, an official study suggests.
Cathay Pacific Airways reported a record half-year loss of $1.24 billion yesterday on the back of the Sars outbreak but still declared an interim dividend of three cents a share.
Personal bankruptcies in Hong Kong continued to take their toll on Standard Chartered Bank in the first half as local profits fell 18.2 per cent year-on-year.
China: The central government will launch drastic institutional reforms to slash the bloated rural bureaucracy as part of its efforts to ease the financial burden on farmers and reduce social discontent, government officials have revealed.
A park-and-ride system has been envisaged by Macau government officials to tackle the surge in Hong Kong and mainland traffic that a cross-delta bridge would bring.
A national crackdown will be launched by the State Council tomorrow against malpractice in the development of industrial zones.
Members of the Shanghai Co-operation Organisation (SCO), which groups China and five former Soviet republics of Central Asia, yesterday launched an anti-terrorist exercise in Kazakhstan aimed at averting terrorist strikes from the air and on land.
A Zhejiang-based air-conditioner manufacturer has become the first Taiwanese-invested company to win the right to list A shares in China.
The Volkswagen joint venture in Shanghai was closed last Friday because of a power shortage and the shutdown could be repeated, a company spokesman said yesterday.

First-quarter profit at the mainland's top computer manufacturer rose 3.8 per cent as the Sars epidemic forced consumers to search for ways to pass away the hours at home.
The transformation of Chinadotcom into a software company has seen it post an interim profit of US$5.4 million, compared with a loss of $16 million a year ago.
Only about half of China's 37 mobile phone manufacturers would still be in business within a year because of overproduction and falling prices, predicted the president of Siemens' Shanghai joint venture.
August 6, 2003
Hong Kong: Hong Kong and Guangdong yesterday vowed to turn the Pearl River Delta region into one of the world's "economic super-zones", with both governments unveiling a plan to bring prosperity to the region.
Mainland tourist arrivals will hit 10 million a year when all of Guangdong's 75 million residents are allowed to visit Hong Kong on an individual basis starting from next year, Guangdong governor Huang Huahua predicted yesterday.
When thousands of Hong Kong commuters start making their way to Zhuhai or Macau using the Pearl River Bridge in 2006, few will probably pause to remember the events of this week.
A joint taskforce will meet this month to discuss how to implement the proposal to build a bridge between Hong Kong, Macau and Zhuhai.
The effects of the Sars outbreak are expected to drag Cathay Pacific Airways deep into the red in its first-half results, but analysts are forecasting a rebound in the rest of the year.
Hong Kong Exchanges and Clearing plans to launch yuan-related products once local banks are allowed to operate deposit services in yuan under the closer economic partnership arrangement (Cepa).
Hutchison Whampoa's Australian mobile business reported a first-half loss of A$129.4 million (HK$647 million) yesterday, of which almost 60 per cent was due to its start-up 3G operations.
Hongkong.com announced an eightfold increase in interim profit yesterday, boosted by strong sales from a mobile messaging unit it acquired in April.
China: Premier Wen Jiabao said yesterday that a stable exchange rate was good for China and global economies, signaling that the authorities will not bow to mounting international pressure for a stronger yuan.
A magnetic materials company has been identified as the agent co-ordinating the alleged theft of US military technology by Chinese students, according to a US media report.
The number of vehicles on Beijing's roads has reached two million, meaning there is one car-owner for every four residents in the capital.
Ningbo Bird has become the first Chinese mobile-phone maker to beat foreign rivals for the biggest slice of the mainland market.
August 5, 2003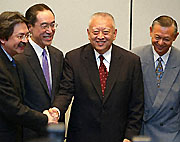 Hong Kong: For someone who had perhaps never seriously considered taking the post of financial secretary until one or two weeks ago, Henry Tang Ying-yen understandably struck a fine balance between continuity and change yesterday. Tung Chee-hwa shakes hands with new appointees John Tsang, Henry Tang and Ambrose Lee after announcing their selection. New Secretary for Commerce, Industry and Technology John Tsang Chun-wah says his mission is to strengthen Hong Kong's role in the Pearl River Delta and improve the business environment. Hong Kong's new finance chief last night pledged to review planned tax rises and other key measures to wipe out the budget deficit by 2006-07, saying he would seek views on a realistic timetable.

The heavy artillery was yesterday wheeled out in the public relations battle to put post-Sars Hong Kong back on the tourism map, with Chinese basketball star Yao Ming arriving for an exhibition match to be played tomorrow.
New Secretary for Security Ambrose Lee Siu-kwong said on Tuesday he would work closely with Secretary for Justice Elsie Leung Oi-Sie to explain the controversial Article 23 legislation to the public.
HSBC Holdings yesterday posted a larger than expected 25 per cent jump in interim profit to US$4.1 billion on the back of recent acquisitions in North America. Two recent acquisitions and exchange rate gains were the main drivers of banking giant HSBC Holdings' robust 25 per cent year-on-year surge in first-half net profit to US$4.1 billion, as it braved falling interest rates and the global economic downturn.

Internet giant Yahoo! hopes to increase its revenue from Hong Kong with the launch of Yahoo! Enterprise Solutions (Y!ES), a series of value-added services and applications aimed at corporate customers.
China: Just a day after it was unveiled in Beijing, the much-awaited 2008 Olympic Games logo has been lavished with praise and assailed by critics.
A top government think-tank in Guangdong has proposed forging a European Union-style common market with five neighbouring provinces in southern China, saying the plan will be crucial for the development of the region.
Moves to revitalise the northeastern rust belt have been placed on the national agenda, underscoring the determination of the new leadership to address intractable problems inherited from the days of the planned economy.
China yesterday announced plans to send a manned space mission to the moon by 2020, more than 50 years after American astronaut Neil Armstrong first stepped on to the lunar landscape.
PetroChina - the mainland's largest oil producer - was operating 293 petrol stations at the end of last year with joint venture partner BP, even though the scheme has not been given Beijing's approval.
August 4, 2003

Hong Kong: Superstar Ricky Martin meets the media and fans in Tsim Sha Tsui. He will be back in Hong Kong next year during his world tour.
Expatriates applying to become permanent residents are facing new, stricter procedures that require them to show they have taken "concrete steps" to adopt Hong Kong, and nowhere else, as their home.
Businessmen would pull out of Hong Kong if a pro-democracy candidate standing for workers' rights was voted into power as chief executive by universal suffrage in 2007, Liberal Party leader James Tien Pei-chun has warned.
No more than 12 Hong Kong accountants will directly benefit from the free-trade agreement with the mainland, the president of the Hong Kong Society of Accountants says.
A loophole in the free-trade arrangement between Hong Kong and the mainland could possibly be used by locally based accounting firms to gain greater access to the mainland market than is allowed under the pact, an official at a major accounting association says.
Sino-foreign joint ventures, railways and infrastructure companies are likely to be the targets of Hong Kong Exchanges and Clearing's (HKEx) first post-Sars road show in Guangzhou today and tomorrow.
HK firms slowest in the region for results Annette Chiu Hong Kong companies are the slowest in Asia at releasing interim results, taking 18 days more than the regional average, according to a JP Morgan survey.
China: The long-awaited emblem for the 2008 Olympic Games was unveiled at an elaborate ceremony in Beijing last night. The 2,008 guests watch as the Olympic logo, designed by a Beijing company, is unveiled amid great pomp and ceremony at the Temple of Heaven last night.

Raise the red logo: The long awaited logo for the Beijing 2008 Olympics is finally revealed to the world during a spectacular gala at the Temple of Heaven in the capital. The emblem, entitled "Chinese Seal - Dancing Beijing", features a single character on a traditional red seal and the words ''Beijing 2008''.
The central government has been urged to widen its power structure as it makes the transition from a planned economy to one driven by market forces.

Passengers wait for a train at Zhichunlu station in the north of Beijing. Investors are steering clear of new underground lines.
A shortage of money is blocking plans for an underground rail system in Shenyang and an additional line in Beijing before the Olympics, while the system in Shanghai is unable to meet interest payments, according to a newspaper report.
August 1 - 3, 2003
Hong Kong: Legalized betting on top European football matches kicked off in Hong Kong on Friday with pressure groups warning the move will encourage more people to the bookmakers in the already gambling-mad city.
Commuters will benefit from major pubic transport fare concessions from October 1 - as the territory's four bus companies and the two railway corporations on Friday announced discounts.
Secretary for Commerce, Industry and Technology Henry Tang Ying-yen would be an ideal choice as Hong Kong's next Financial Secretary, according to Bank of East Asia chairman David Li Kwok-po.

SuperStar Leo finally returns to Victoria Harbour yesterday after sitting out the Sars crisis in Australia for almost four months.
The MTRC stunned analysts yesterday with dismal first-half results far worse than their direst predictions - but they, and the company, are still predicting full-year profits higher than last year.
The supply of new flats is falling and there should be light at the end of the tunnel "very soon", Hong Kong's housing minister said yesterday. Part way through his speech on the state of the property market yesterday, Secretary for Housing, Planning and Lands Michael Suen Ming-yeung threw out some quotable quotes for the crowd to digest.
Hong Kong police are to meet officers in Guangdong to discuss ways of identifying mainlanders who apply to travel to the special administrative region with criminal intent.
Police Commissioner Tsang Yam-pui, widely tipped to be a candidate for secretary for security, yesterday described such suggestions as "purely speculation".
Cosco Pacific, the Hong Kong-listed terminal operations arm of China's biggest shipping line, has sold its interest in the loss-making River Trade Terminal (RTT) at Tuen Mun.
Morgan Stanley, ING Groep and Goldman Sachs are among a group of 15 international investment banks fighting proposals to tighten regulations on listing sponsors.
Hong Kongers who turned to the Internet for entertainment during the devastating Sars outbreak have continued surfing in cyberspace more than a month after the crisis passed, a survey found on Thursday.
China: After weeks of speculation about sweeping changes in the news media, the directives unveiled this week dispelled any doubts that the central government under the new leadership is determined to shake up the media sector.
A woman climbs down a ladder into a historic guard tower on the Great Wall of China north of Beijing yesterday - the last day it was legal to do so. Tourists are now banned from undeveloped sections of the wall in the Beijing area to protect the ancient structure from damage.
After weeks of speculation about sweeping changes in the news media, the directives unveiled this week dispelled any doubts that the central government under the new leadership is determined to shake up the media sector.
With floods, drought and earthquakes continuing to affect large areas of the country, relief agencies are bracing for a prolonged period of economic and human loss.

Mainland carriers are on target to take delivery of all scheduled planes for this year, thanks to a speedy rebound in passenger traffic. Airbus Industries will deliver 25 aircraft to China-based carriers this year.
China is looking to revive a US$1.2 billion oil project signed in Iraq under the Saddam Hussein regime that had been expected to produce 90,000 barrels per day, a senior Chinese oil official says.

*News information are obtained via various sources deemed reliable, but not guaranteed