Hong Kong, China & Hawaii Biz*
How to Do Business with China, through Hong Kong & Setting up Business in China? - last update Feb 8, 2003
Do you know our dues paying members attend events sponsored by our collaboration partners worldwide at their membership rates - go to our event page to find out more! After attended a China/Hong Kong Business/Trade Seminar in Hawaii...still unsure what to do next, contact us, our Officers, Directors and Founding Members are actively engaged in China/Hong Kong/Asia trade - we can help!
China Projects Bidding Information - update daily
FDA Bio-terrorism Rules About to Take Effect on December 12, 2003 - Go to our "Trade Issues" Page for Detail
December 31, 2003 - January 1, 2004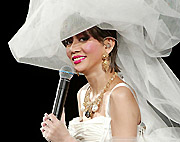 Hong Kong: "Don't cry for me. Don't say my name. Let me go on my journey in peace." "It was Anita Mui's last wish. She did not want her friends to cry and be in despair, and she did not want people to yell out her name." Canto-pop diva Anita Mui, wearing a wedding gown last month at her last public performance.
With the Cepa trade pact coming into effect tomorrow, many businesses in Hong Kong have not applied for certification under the arrangement. They are still drawing up their plans, the Trade and Industry Department said yesterday.
Hong Kong lags behind Shanghai, Shenzhen and Beijing in growth potential, although it is still the nation's most competitive city, a study has found. The 2003 China cities competitiveness rankings placed Hong Kong fifth in growth potential. Shanghai clinched the top slot, followed by Suzhou, Shenzhen and Beijing.
Chief Executive Tung Chee-hwa has been rated the most amiable city leader in the country, a survey has found. In the study, carried out by the China Institute of City Competitiveness, Mr Tung made the list of the nation's best-known leaders along with Shanghai Mayor Chen Liangyu and Taipei Mayor Ma Ying-jeou.
Up to 100 firms are expected to float their shares on the Hong Kong stock market next year, tapping HK$100 billion as large mainland plays continue to seek funds from international investors, estimates by PricewaterhouseCoopers show.
Continued appetite for recently listed mainland stocks, especially China Life Insurance, yesterday helped push the Hang Seng Index above the 12,600-point level for only the third time this year.
The Office of the Telecommunications Authority (Ofta) has proposed a new rule that could potentially make mergers and acquisitions in the sector more difficult.

Financial dealings between the Housing Authority and the contractor at the centre of the Sha Tin short-piling scandal are likely to be investigated by the Audit Commission after a revelation that the authority will recover only about 13 per cent of HK$605 million it claimed from the company.
Vegetable and fruit processor China Green Holdings will debut on Hong Kong's main board next month to raise HK$175 million to expand its production facilities.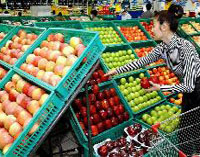 China: Restructuring China's economy and preventing it from overheating are the two main objectives of the draft industrial development regulations issued Tuesday. The draft is accompanied by a list of detailed sectors and technologies the country is encouraging to develop.
Construction began Tuesday on the central section of China's ambitious south-to-north water diversion project to ease the severe water shortage around the capital city.
Japan and the European Union have increased the pressure on Taiwanese President Chen Shui-bian not to hold a controversial referendum.
Victims of Japanese chemical weapons abandoned in Qiqihar, Heilongjiang, yesterday accepted a compensation package from the Japanese government.
A joint venture between AOL and Legend Group faces an uncertain future after the domain name for its co-managed website was sold to a Xiamen-based portal.
China Petroleum and Chemical Corp (Sinopec) has agreed to buy two refinery plants from its parent for 356 million yuan (HK$334.14 million), giving it a presence in the northwestern region for the first time.
December 30, 2003
Hong Kong: Canto-pop diva and actress Anita Mui Yim-fong, one of Hong Kong's top celebrities in the 1980s, died early on Tuesday after a battle with cancer, friends said. She was 40. Friends of cancer-stricken Canto-pop star Anita Mui Yim-fong last night rushed to her bedside after she was admitted to the Hong Kong Sanatorium and Hospital in Happy Valley.
HSBC is to pay up to US$20 million for a 50 per cent stake in a small Sino-foreign joint venture, Fujian Asia Bank, as the global giant seeks to expand its foothold in China's high-growth but under-developed financial sector.
Hong Kong exports maintained healthy growth last month, despite a slight slowdown, as strong demand for mainland goods continued to buoy shipments. Total exports increased by 9 per cent from a year earlier to HK$153.8 billion, following a sharp rise of 9.4 per cent in October, according to the Census and Statistics Department.
The telecom regulator has launched an anti-competition probe of Li Ka-shing's telecommunications firms after residents at apartments developed by his Cheung Kong group complained they had to pay for phone services it offered even if they declined to use them.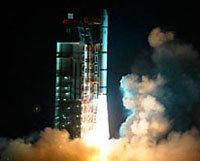 China: China launched a high-altitude orbiting satellite into the preset orbit early Tuesday morning (Beijing Time) at the Xichang Satellite Launch Center in southwest China, using a Long March 2C/SM carrier rocket.
The mainland and Hong Kong have agreed on a single customs examination at the border - a move that will slash paperwork in half and reduce the time it takes for trucks to deliver goods.
China Construction Bank (CCB) plans to cut 28,000 staff in the next 12 months in preparation for a share sale, a mainland newspaper said. The move has sparked fears of staff cuts at other mainland banks which have been preparing to sell shares.
Medical experts from the World Health Organization arrived on the mainland yesterday to join the investigation of the suspected Sars case in Guangzhou. A laboratory expert from the WHO, Dr Tuckweng Kok, arrived in Beijing Monday to review the test results of a suspected case of SARS.
A controversial rule taking effect in February seeks to improve the quality of mainland-listed companies and enhance corporate governance by holding listing sponsors more accountable for the companies they take public.
December 29, 2003

Hong Kong: With banks in Hong Kong moving into yuan-denominated services, visitors from the mainland have no problem paying for their purchases in yuan.
Multinationals are gearing up to enter the mainland market through Hong Kong's free trade agreement despite the limited interest from local firms - the intended beneficiaries of the agreement.
Hong Kong and mainland negotiators are set to meet in early February to agree on a new air services pact that may see Cathay Pacific being given expanded slots to Beijing and rights to Shanghai and Xiamen.
The free-trade pact signed between Hong Kong and the mainland has received a lukewarm response, with fewer than 50 services companies applying for early access to the mainland market.
Hutchison Whampoa has awarded managers bonuses of up to six months salary, reflecting the group's strong operating performance despite its cash-sapping foray into third-generation telephone services.
A spin-off of Li Ka-shing-controlled tom.com may have finally been blessed by Hong Kong's stock exchange but the tycoon still has a long way to go in catching up to other Nasdaq-listed mainland peers.
Hong Kong Dragon Airlines (Dragonair) is set to expand its freighter fleet early in the New Year with the addition of a fourth Boeing freighter it has bought in Taiwan.
The value of property transactions next year is expected to surge more than 50 per cent to HK$290 billion driven by improved sales in the secondary home market, Midland Realty chairman Freddie Wong has predicted.
China: The toll from the Chongqing gas blast would have been much smaller if a national emergency response system was in place, the State Administration on Work Safety said. A hissing black mist of gas was the only warning thousands of Chongqing villagers had of the deadly poison that was coming their way. The capping operation, which is key to control the blowout gas well in Chongqing south-west China, was successful on the morning of Dec.27. The largest search ever ended before that the same morning.
The mainland's foreign trade is expected to top US$840 billion this year - up 35 per cent from last year - making the nation the world's fourth-biggest trader.
Kowloon Motor Bus Holdings (KMB) is set to seal a 497.6 million yuan purchase of a major interest in near monopoly Shenzhen Public Transportation, accelerating the trend of growth-challenged local utility operators expanding across the border.
Shanghai has set the date for the 2010 World Expo from May to October of that year, the city's Vice-Mayor Jiang Sixian revealed yesterday, adding that Hong Kong companies could benefit from the event.
The mainland was home to 1.294 billion people this year, a 10 million net rise on last year, a State Population and Family Planning Commission report said.
Regional support for globalization remains the strongest in China. According to a TNS survey commissioned by the World Economic Forum, out of 11 Asian countries, China was most in favour of borderless trade and the free flow of labour at 44 per cent compared with the regional average of 28 per cent.
TCL Corp, a television and mobile handset manufacturer based in Huizhou, has been named Guangdong's most competitive enterprise this year.
December 25 - 28, 2003
Hong Kong: Although Hong Kong is striving to become a regional information technology and communications services hub, a critical component - enterprise software which helps businesses manage supply chains, resources planning and customer relationships - might not be gaining the critical mass needed to foster local innovation and home-grown developers.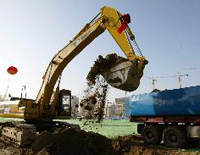 China: Ground was broken Wednesday for construction of the National Stadium -- the landmark architecture project for the Beijing Olympics. A short while later, shovels and backhoes tore into earth and workers began building the National Swimming Centre.
Starting next year, new reforms for entering and leaving China will help citizens travel abroad and allow foreigners to more easily invest and travel in China, public security officials said Wednesday.
December 24, 2003
Hong Kong: Most foreigners traveling to the United States will have their fingerprints scanned and their photographs taken under a new program designed to enhance border security.
Hong Kong police seized their largest haul of weapons and ammunition in 20 years after smashing a crime syndicate blamed for a spate of armed robberies, a spokesman said on Wednesday.
The solo travel scheme from the mainland to Hong Kong will be extended to the whole of Guangdong in the next six months, giving a further boost to the city's tourism sector and the economy.
The Dutch division of Hutchison Whampoa's international port investment arm has provisionally acquired its second facility in Rotterdam, boosting the terminal operator's presence in the key north Europe marketplace.
Three small Hong Kong banks - Wing Lung, Dah Sing and Shanghai Commercial Bank - will open branches in Shenzhen next year.
The International Monetary Fund (IMF) forecasts Hong Kong's economy to grow by up to 5 per cent next year, helped by the tourism boom and implementation of the free trade pact with mainland China.
Japanese firms have turned slightly more positive on Hong Kong's business environment, but only a few plan to invest here over the next several years as they prefer low-cost mainland cities.
The stock exchange wants the Securities and Futures Commission (SFC) to be the sole regulator of listing sponsors to resolve investment bank concerns about double regulation, according to exchange sources.
China: General Secretary Hu Jintao presided over a meeting of the Political Bureau of the Communist Party of China (CPC) Central Committee Tuesday, to discuss the top issues of building the Party's style and fighting corruption.
Regional support for globalization remains the strongest in China. According to a TNS survey commissioned by the World Economic Forum, out of 11 Asian countries, China was most in favour of borderless trade and the free flow of labour at 44 per cent compared with the regional average of 28 per cent.
Government auditors in Shenzhen have sharply criticised city officials for embezzling and mishandling public funds.
China does not intend to take the lead or seek undue attention in international affairs despite its rising economic power and its successful manned space launch, Foreign Minister Li Zhaoxing said yesterday.
China has announced a campaign to crackdown on the booming illegal internet gaming industry, which is crippling many online games providers and developers.
Soon scientists in the United States, China and Russia would be able to collaborate in cyberspace over a new high-speed computer network that included the first direct computer link across the Russia-China border, developers said.
December 23, 2003
Hong Kong: The new policy of issuing Hong Kong drivers with mainland licences directly met both support and opposition yesterday. Hong Kong drivers will be able to apply for permanent mainland licenses without sitting a test from January 1.
Hong Kong entered its sixth year of deflation in November, one of the world's longest periods of falling prices since the second world war.
Competition in Hong Kong's small online auction market is going to intensify after United States giant eBay announced yesterday the official launch of its localized platform.
A sharp rise in regional stock markets has seen net sales of equity funds in Hong Kong leap by 26 per cent in the first 10 months of the year, with most of the sales in the second half of the year, according to the Investment Funds Association.
China: The National People's Congress yesterday began the formal procedure for changing the constitution to protect private property rights and human rights.
Beijing is considering linking the yuan to a basket of 10 currencies of its major trade partners - a move that analysts say may lead to a fall rather than appreciation in the currency.
Galanz Enterprise Group - the world's largest microwave oven producer - plans to spend two billion yuan (HK$1.88 billion) to expand air-conditioner output to 12 million units a year despite serious over-production in the sector.
In a first for a mainland city, candidates were allowed to nominate themselves to serve as mayor of the eastern city of Jintan, a move officials claimed was a small step towards democratic elections.
The State Council has unveiled a six-point strategy to resolve the mainland's chronic power shortages, highlighting the importance of the issue in the central government's policy agenda.
Shanxi province's Datong Coal Mining Group has announced a merger which will raise its asset value by a third, as officials reinforce moves to consolidate China's fragmented coal industry.
Shares in Winsan (China) Investment Group rose 469.23 per cent yesterday after the central government-controlled China Electronics Corp (CEC) took a controlling stake in the property investment firm.
December 22, 2003

Hong Kong: Stephen Ip and He Guangwei at the signing ceremony for the Mainland and Hong Kong Closer Tourism Agreement yesterday.
State-owned China Electronics Corporation will become the largest shareholder of Hong Kong-listed Winsan (China) Investment Group by injecting its entire stake of 65 per cent worth HK$260 million in mobile-phone maker, Shenzhen Sang Fei Consumer Communications.
Asia Airfreight Terminal (AAT), the second cargo operator at Chek Lap Kok airport, has kicked off a scheme, estimated to cost HK$1.5 billion, to double the size of its cargo handling facility.
Hong Kong Society of Accountants' new president Roger Best said his top agenda in 2004 is to press ahead with accounting reform by rolling out some 15-18 new standards to show the true picture behind companies' numbers.
Personal bankruptcies and petitions fell last month to their lowest level in two years, providing further evidence that Hong Kong's economy is recovering more strongly than expected. The latest survey on consumers' spending habits has confirmed Hong Kong people are increasingly prepared to spend again, thanks to the continuing economic recovery.
Shops and restaurants must meet new standards in order to gain the Hong Kong Tourism Board's seal of approval.
Hang Seng Bank's board has decided to freeze salaries next year, taking its cue from controlling shareholder HSBC Holdings despite signs of an improving economy and employment prospects.
Fifty people have been arrested after the ICAC smashed a fraud syndicate suspected of cheating mortgages out of the Housing Authority and banks.
The market for Chinese medicines in Hong Kong is expected to undergo a major shake-up after the launch yesterday of a new product-registration system.
Hefty commission fees pocketed by investment banks for large offerings in the past few months have translated into some plump bonuses, with fat cheques of up to two years' salary landing on desks this Christmas.
Outsourcing to Asia by United States and European companies and internet gaming is pushing up regional demand for bandwidth, helping to soak up excess capacity in the undersea cable industry that has long depressed prices.
China: President Hu Jintao and US president Bush conversed over telephone Saturday in an exchange of views on further developing Sino-US relations and they gave a favorable appraisal of Premier Wen's recent successful visit to the United States.
Chinese President Hu Jintao has called for greater efforts for speeding up the development and training of qualified personnel for the country's modernization drive.
The hottest place for trendy people to hang out in Guangzhou these days is The Mansion, a wine bar/café located in a red brick house in the secluded Dongshan military district.
Gold miner Fujian Zijin Mining Industry has become the most popular new listing since the red chip bubble burst in 1997, with the public portion of its $1.14 billion offering 743.3 times oversubscribed.
China Huarong Asset Management will brief the media in Beijing today on the progress of a high-profile auction of US$3 billion of non-performing loans (NPL) amid reports of a limp response from international and domestic investors.
Trade between the mainland and Taiwan is expected to exceed US$50 billion this year, up 25 per cent from last year.
Chinese chipmaker Shanghai Belling plans to buy a stake in a local chip firm, which is partly owned by Japan's NEC Corp, to help it build an eight-inch wafer fab.
December 15 - 21, 2003

Hong Kong: The team from PricewaterhouseCoopers dashes down Charter Road during the annual rickshaw race organized by the Association of Chartered Certified Accountants. Thirty-two teams took part in the race, with the team from Sino Hotels winning the overall championship. The race was the highlight of the association's fun day, which raised more than $500,000.
Orient Overseas (International), the Tung family controlled shipping company, is splashing out US$161 million (HK$1.26 billion) on another two containerships that are the biggest afloat. The ships, which can carry 8,063 20-foot containers, will be built by Samsung Heavy Industries.
Heavy buffet bookings are putting the icing on Christmas celebrations for premium hotels and restaurants this year. With bookings for festive buffets already 90 per cent full, Hong Kong Federation of Restaurants and Related Trades chairman Simon Wong predicted a 20-30 per cent increase in the industry's turnover this Christmas.
Philippine President Gloria Macapagal-Arroyo promised a crowd of 5,000 flag-waving Filipinos in Hong Kong yesterday that her government has not given up on its fight to overturn the $400 pay cut imposed on foreign domestic helpers in April.
The Israeli president arrived in Hong Kong yesterday for a three-day official visit amid tight security that reflected the tension in the Middle East.
Hong Kong cop drama "Infernal Affairs" swept the top prizes at the Chinese-language version of the Oscars in Taiwan on Saturday. Directed by Hong Kong director Andrew Lau and Alan Mak, "Infernal Affairs" won the best picture award at the Golden Horse ceremony, which showcases films from Taiwan, Hong Kong and China. Tony Leung, a past winner of the Cannes Film Festival best actor prize, won the award for best actor for his role in the critically acclaimed film as a undercover cop who infiltrates an underworld gang. He won the same title at the Hong Kong Film Awards in April. The film, which had earned 12 nominations, also bagged the trophies for best director, best supporting actor and best sound effects. The blockbuster had a huge following across Asia, and was Hong Kong's top-grossing movie last year, chalking up more than HK$55 million ($7 million) at the box office. The best actress title went to Hong Kong's Sandra Ng for her role in "Golden Chicken" and Taiwan actress Lin Mei-siu won the Golden Horse award for best supporting actress. Taiwan has hosted the Golden Horse ceremony for 40 years, but its once-thriving movie industry has shown no signs of a revival. In Infernal Affairs III, actor Andy Lau roars off to work in a Saab 9-5 2.3 Aero Station Wagon, uses a Sharp GX22 mobile phone and gets billed by SmarTone. In the same film chief inspector Yeung Kam-wing, played by Leon Lai, checks the time on his Chronoswiss wristwatch.
Canto-pop star Eason Chan Yick-shun whispered "I love you" to his father in an emotional courtroom farewell yesterday after the public servant was convicted of accepting $3 million in bribes.
Hong Kong films are expected to grab the limelight in Taiwan tonight at the 40th annual Golden Horse Awards, Asia's equivalent of the Academy Awards.
Listed companies will not be required to report results on a quarterly basis or disclose their directors' salaries by name under the stock exchange's new code of corporate governance practices.
Industrial Bank, 34 per cent owned by the Fujian provincial government, will sell a stake to Hang Seng Bank, banking sources have said.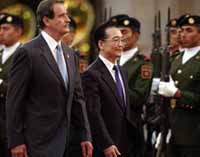 China: Premier Wen Jiabao has met his Mexican host, President Vicente Fox. Wen said the purpose of his visit is to enhance trust and expand understanding between Mexico and China. He will also seek mutual development for the two countries. Chinese Premier Wen Jiabao said that he and Canadian Prime Minister Jean Chretien had set a goal of doubling their countries' bilateral trade by 2010.
China Green (Holdings), a vegetable and fruit grower and processor based in Fujian province, will seek an initial public offering on both Hong Kong's main board and the A-share market in the mainland.
E28, a Chinese designer of wireless solutions for smart phones, is beating global telecommunications giants in bringing Linux software technology to market.
Tianjin Development Holdings, the overseas-listed arm of the Tianjin municipal government, has applied to the stock exchange to have its toll roads business spun off and listed separately on the main board.
The Guangdong Higher People's Court has barred six local court reporters from attending trials for six months after they filed reports that were not approved by the authorities.
Chinese Premier Wen Jiabao said Mexico City on Friday that China and Mexico are partners instead of competitors and that more cooperation is in the interests of both sides.
December 13 is a day that opens old wounds for the Chinese people. The day 66 years ago marked the start of one of the most brutal atrocities in human history, when about 300,000 civilians were killed by Japanese invaders in about six weeks
Federal Reserve chairman Alan Greenspan says a rise in the value of the yuan against the US dollar will probably have little impact on America's soaring trade deficit or the loss of US manufacturing jobs.
Prices on the mainland rose 3 per cent in November, the biggest year-on-year rise since 1997 - raising fears the economy is starting to overheat.
As the trial of 14 Chinese accused of organizing an orgy involving hundreds of Japanese tourists continued yesterday, it was clear that Zhuhai is anxious to put the scandal behind it as quickly and as quietly as possible.
The privatization of China's banks is likely to begin in earnest next year with the planned US$5 billion equity raising by China Construction Bank, according to sources.
Speculative demand for mainland stock offerings was reinforced yesterday, with Chia Hsin Cement Greater China Holdings soaring almost 50 per cent on its first day of trading, setting the tone for next week's debut of heavyweight counters.
China's Assets Supervision and Administration Commission is hoping to reduce rampant corruption in state-owned firms and motivate their bosses by introducing a performance-linked compensation plan.

China's aviation regulator has poured cold water on plans for more airports in the Yangtze River Delta, saying airport density in the delta is the highest in the world.
December 12 - 14, 2003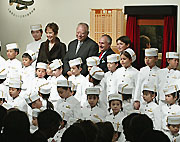 Hong Kong: Peninsula turns a new page: More than 1,000 guests packed The Peninsula last night to celebrate the hotel's 75th anniversary. Among them, Betty Kadoorie, Chief Executive Tung Chee-hwa, Michael Kadoorie and son Philip posed with 75 page boys and girls at the charity gala event.

Anson Chan, at a Unicef function yesterday, was evasive on her possible return to politics.

Hongkong and Shanghai Banking Corp chairman David Eldon says the bank's asset quality has improved and that with the better outlook, it is seeking opportunities in China.
The volume of manufactured goods moving through Kwai Chung last month declined for the sixth consecutive month as south China exporters continued to opt for cheaper ports across the border.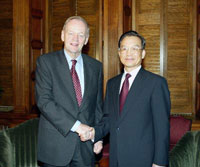 China: Chinese Premier Wen Jiabao Thursday in Ottawa spoke highly of China-Canada friendship and trade and economic relations, voicing hope for further promoting cooperation with the North American country.
China Thursday announced a new import policy to replace existing import quotas for State-traded oil products next year as part of its commitment to the World Trade Organization.
Insurer China Life's share offer was about 150 times oversubscribed by Hong Kong's investing public - who put up nearly $175 billion for a slice of the world's biggest IPO this year - sources said last night, citing preliminary figures. Would-be investors in China Life Insurance's new share offer raced to meet yesterday's deadline for the submission of applications - with some winning and others missing out.
The launch of gold explorer Fujian Zijin Mining Industry's HK$1.15 billion initial public offering hit a glitch yesterday, with angry investors claiming there were not enough prospectuses to meet an overwhelming demand.
Shenzhen Press Group would generate 2.5 billion yuan (HK$2.36 billion) in advertising income this year, making it the mainland's top advertising earner in the print media, general manager Chen Juncong said.
Premier Wen Jiabao left the US for Canada, leaving his last American stop, Boston, with a big smile and repeating to reporters what he had told audiences earlier: the visit was a resounding diplomatic success. China wants democracy but conditions are not ripe for high-level direct elections, Premier Wen Jiabao told scholars and students in a speech at Harvard University.
The China Securities Regulatory Commission (CSRC) yesterday unveiled reforms to dramatically streamline its four-year-old listing committee and introduce transparency in the previously secretive process to approve public share offerings.
Australia & New Zealand Banking Group, the third-largest lender in Australia, plans to take an equity stake in Shanghai Rural Credit Co-operatives Union, which has applied for a commercial banking licence.

Online game developer Shanda Networking is the mainland's fastest-growing company in the telecommunications, media and technology (TMT) industry this year, according to Deloitte Touche Tohmatsu.
Ningbo Bird, the mainland's largest domestic manufacturer of mobile phones, hopes to ship 20 million handsets next year as overseas sales account for a greater portion of its revenue.
December 11, 2003
Hong Kong: The central government appears to be slowing the expansion of port facilities in Shenzhen as they are increasingly challenging Hong Kong's status as the region's key maritime hub. Container volumes at Shenzhen port will fully overtake those at Kwai Chung port in 2005, according to a research report by US investment bank Merrill Lynch.
The new leader of the DAB, Hong Kong's largest pro-government party, says he is concerned about the negative impact of withdrawing its representative from the Executive Council. Former DAB chairman Tsang Yok-sing meant it when he said last week a "shock-therapy" approach would be adopted to rebuild the party after the district council elections debacle.
Hutchison Whampoa is expected to announce details for the Hong Kong launch of its third-generation (3G) mobile-phone services at a joint press conference on Monday with Japanese handset manufacturer NEC Corp.
The board of directors of Hong Kong Exchanges and Clearing (HKEx) has chosen the option of expanding the dual-filing system as its preferred way forward for the government's market reform plan, according to exchange sources.
A significant easing of deflationary pressure is expected to help Hong Kong's economy grow by 3.8 per cent next year, the Hong Kong General Chamber of Commerce has projected.
Sourcing giant Li & Fung has completed almost all of its current orders on hand for spring 2004 and does not expect business to be materially impacted by a worsening trade spat between the United States and China, managing director William Fung said.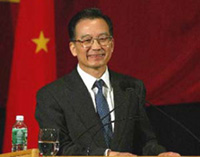 China: Chinese Premier Wen Jiabao on Wednesday proposed extensive dialogue between different civilizations and cultures in the spirit of equality and tolerance so as to avoid conflicts caused by ignorance or prejudice.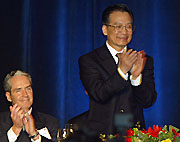 Wen Jiabao, with Christopher Galvin of Motorola, attends a dinner of business leaders and Sino-US groups in Washington.
Wang Xuebing, a flamboyant protege of former premier Zhu Rongji and former head of the Bank of China, has been sentenced to 12 years in jail for bribery.
Polling stations opened in Beijing yesterday for district and county congressional elections, but many voters remained unmoved by a propaganda campaign aimed at portraying the ballot as a landmark political event.
The mainland's factory production grew at a record annual pace of 18 per cent last month as carmakers, steel plants and mobile phone manufacturers expanded to meet rising demand.

An Air China Boeing 747 takes off from Beijing's airport. Last month, China signed contracts worth US$1.7 billion to buy 30 Boeing planes for five Chinese airlines.
China will give banks and urban credit co-operatives greater freedom to fix lending rates from January 1 in a key move to shore up its financial sector.
A major property project in Beijing that Hutchison Whampoa pulled out of this year has received a 16 billion yuan commitment from a joint venture between China's Cosco Group and Indonesia's Salim Group, Beijing officials say.
December 10, 2003
Hong Kong: The Democratic Alliance for Betterment of Hong Kong will reconsider its relationship with the govern-ment and strive to get a better grasp of public feeling, its new party chairman said last night. The new DAB chairman is an open-minded politician who is viewed by colleagues as a leader who can inject fresh thinking into the pro-government party.
Jennifer Murray - the 63-year-old wife of former Hong Kong taipan Simon Murray – who is hoping to become the first helicopter pilot to circumnavigate the globe over both poles landed in Antarctica on Tuesday, Argentine officials said on Wednesday.

Hong Kong Monetary Authority chief Joseph Yam Chi-kwong found his place in history yesterday while leading reporters on a tour of a new information centre on the 55th floor of Hong Kong's tallest building, IFC Two. The centre features a timeline from 1842, when Hong Kong was ceded to Britain, to last month's announcement that Hong Kong banks will be able to conduct yuan business next year.
HSBC Holdings has seen an improvement in Hong Kong's commercial sector amid an influx of mainland tourists, but lending growth is lagging behind the rest of the region, the bank said in a briefing to analysts and investors.
Shares of Hong Kong-listed mainland vehicle makers have surged after listing candidate Great Wall Automobile's initial public offer (IPO) was said to have been oversubscribed more than 680 times.
Hong Kong's small and medium-sized enterprises (SMEs) are calling on their bankers for more credit to fund their growing business on the mainland - providing one of the few growth spots in an otherwise lacklustre local lending market, according to HSBC.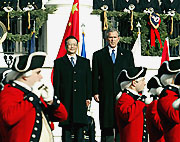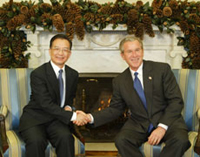 China: Wen Jiabao and George W. Bush review the ceremonial Old Guard march past during arrival ceremonies for the premier at the White House. US President George W. Bush has assured Premier Wen Jiabao that he opposes any steps by Taiwan's leaders towards independence.
Chinese officials will put forward several proposals this week aimed at reducing trade friction with the US and promoting exports to the mainland. Premier Wen Jiabao told a blue-chip gathering of businessmen in New York that he had not come to the United States to "fight a trade war" and asked Washington not to politicise economic and trade issues.
The central government will allow mainland banks to issue subordinated debt for the first time, giving them another option to raise capital and shore up sagging capital adequacy ratios.
Wholly owned United States shipping firms will be able to sell services direct to the inland China market under a landmark bilateral deal signed yesterday.
Foreign investors will be allowed to hold up to 75 per cent of joint-venture cinema projects in seven mainland cities, including Beijing, Shanghai and Guangzhou, under a relaxation of state regulations.
China Southern Air Holding has taken a further step towards integrating its airline interests with the creation of five umbrella companies.
December 9, 2003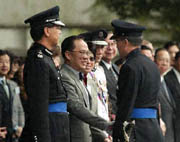 Hong Kong: The parade marched, the band played and retiring Police Commissioner Tsang Yam-pui received a crisp salute from his colleagues and a hug from his tearful brother Chief Secretary Donald Tsang Yam-kuen yesterday to mark the end of nearly four decades with the force.
That great Hong Kong institution, the queue, returned to the streets yesterday when long lines formed outside banks for application forms for the initial public offering of China Life Insurance shares. Hong Kong-traded mainland stocks hit a six-year high yesterday as investor enthusiasm for new share offerings reached levels not seen since the internet boom almost four years ago. Minsheng Bank is poised to file an application for a listing on the Hong Kong stock exchange with the aim of raising up to US$1 billion in the first half of next year, according to sources close to the deal.
HSBC Holdings said it continued to dominate Hong Kong's credit card market in the first three quarters this year, as credit card spending surged 23 per cent year on year.
HC International, the leading cross-media business information services provider on the mainland, is set to raise as much as HK$123 million through an initial public offering (IPO) to fund expansion.
Financial Secretary Henry Tang faces a daunting task of halting runaway spending and balancing the Hong Kong government's books. What this will mean in dollars and cents for individual portfolios will be spelled out in his budget speech on March 10. But with an aggregate 11 per cent cut in recurrent spending already slated over the next five years in order to achieve fiscal balance in 2009, it is clear no department will escape the knife.
The new investment migration scheme has attracted more than 100 applications over the past six weeks and the first batch of successful investors are already here.
When it comes to stress, affluent people in Hong Kong are among the most laid back in the world. Together with Brazilians, Hongkongers cope with life's demands far better than Americans, Japanese and Australians.
City Telecom (CTI) has thrown down the gauntlet in the pay-television war by hiring the chief operating officer of rival Galaxy Satellite Broadcasting, the pay-television arm of Television Broadcasts (TVB).


China: Wen Jiabao shakes hands with people who had gathered to see him outside his hotel in New York. Premier Wen Jiabao yesterday turned on the charm to woo overseas Chinese in New York, and made an impassioned plea for the reunification of the nation.

Premier Wen Jiabao Monday expressed a strong desire for closer economic and trade relations between China and the United States.
The State Intellectual Property Office has discovered a clause in the patent law that can be used to protect the official designs and logos for the 2008 Olympic Games from mainland companies that have been trying to win rights to them.
China is well on its way to sending an unmanned space probe to fly to the moon, with the first orbiter spacecraft expected to take off within three years, lunar exploration scientists confirmed Monday.
December 8, 2003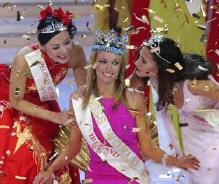 Hong Kong: Miss China Guan Qi 3rd place at the Miss World, Miss Ireland 1st place winner.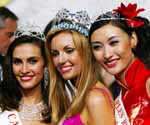 Nineteen-year-old Miss Ireland, Rosanna Davison, daughter of singer Chris de Burgh, was crowned Miss World 2003 on Saturday in China's first international beauty pageant. It was China's first time hosting an international beauty pageant. A $12 million tiara-shaped convention hall was built especially for the event, which organizers said would be watched by 2 billion people around the world.
The HK government will roll out its digital terrestrial TV service in 2006 and free up four single-frequency network multiplexes to lure four new players to apply for the licences.
The government announced on Monday Patricia Chu Yeung Pak-yu - a former welfare official - as the new chairwoman of the Equal Opportunities Commission.
A senior police officer has been sentenced to three years jail for accepting free sex from prostitutes, a court official said on Monday.
Hong Kong's retail sales rebounded in October due to rising consumer confidence and an increasing numbers of mainland tourists, latest government statistics released on Monday showed.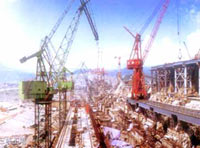 China: The input lagging behind the national infrastructure investment for several years is the immediate reason for slow power construction and inadequate overall power generation. Across the nation, people are preparing for a winter rendered cold and dark by frequent energy shortfalls, as power suppliers struggle to meet growing demand.
China has made significant changes in its policies after its entry into the World Trade Organisation in December 2001 and should not be blamed for job losses in the United States, Boao Forum for Asia secretary-general Long Yongtu said.
The central government will regulate the sale of state assets by guiding the development of a "healthy market", a senior official has said.
Asia Television (ATV) will be entitled to 20 per cent to 25 per cent of advertising revenues generated in nine Pearl River Delta cities and 50 per cent from a provincial network under a recently negotiated agreement with the Guangdong Administration of Radio, Film and Television, according to industry sources. One of Guangdong's biggest broadcasters has proposed increasing advertising rates on pirated Hong Kong programming by as much as 80 per cent to mitigate possible financial losses arising from greater restrictions on prime-time advertising.
China is studying plans to introduce reverse mortgages to help elderly citizens increase their incomes as the country grapples with a growing deficit in its pension fund that has resulted in a failure to pay retired workers properly.
Chinese Premier's upcoming visit to the U.S. will contribute to further deepening mutual understanding and trust, expanding bilateral exchanges, and further promoting the constructive cooperation.
A research made by Peking University proved that over the 15 years, Chinese women have become more and more practical in choosing their partners.
December 5 - 7, 2003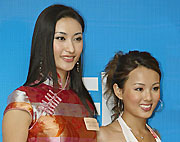 Hong Kong: Miss China Guan Qi (left) and Hong Kong's Yeung Lok-ting prepare for tomorrow's Miss World show in Sanya, Hainan. It is the first officially recognized international beauty pageant hosted by the mainland.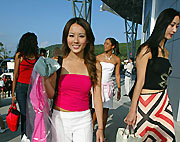 Miss Hong Kong, Yeung Lok-ting (left), and Miss China, Guan Qi, arrive for the rehearsals in Sanya. Staying beautiful is hard work - for the backup team. It took 40 bellhops nearly three-quarters of an hour to deliver 600 pieces of luggage to the rooms of the Miss World hopefuls, according to the Sheraton Sanya Resort, host hotel for the event.

Tung Chee-hwa, under pressure to increase the pace of democracy, attends a ritual at the Po Lin Monastery on Lantau yesterday. The tone is polite but the message cannot be clearer: the central government will have the final say over the pace and development of Hong Kong's political system. The need for lawmakers to agree on a democratic reform package is the biggest of the hurdles the Basic Law places in the way of changing the manner of selecting the chief executive, according to politicians. Amid growing demands for universal suffrage in Hong Kong, the central government has moved to remind people of the imperative of a down-to-earth understanding of the parameters of political reform under "one country, two systems". Despite the mounting resistance from the mainland over democratization in Hong Kong, champions of constitutional reform are undaunted by the challenge they face.
The Hong Kong government will go ahead with its long-delayed digital terrestrial television plan despite not knowing which standard the mainland will adopt.
Outgoing Police Commissioner Tsang Yam-pui had a dream when he took over the top job. His dream was that Hong Kong's police officers would be judged more on the content of their character than the color of their hair.
Companies in Hong Kong expect better business and economic conditions in the next two years, a survey by the Hong Kong General Chamber of Commerce found.
Local businesspeople are bullish about business conditions and economic growth next year, but they are unhappy with the government's performance and support early talks on political reform, a survey by Hong Kong General Chamber of Commerce has found.
Mainland financial institutions are expected to take stakes in smaller banks in Hong Kong as they prepare to list here, a financial services expert said.
The number of unemployed young people in Hong Kong dropped by 3,700 but social workers warn there is no room for complacency, with the group's unemployment rate still 32.5 per cent.
More than half of Hong Kong people understand Putonghua but only about 40 per cent can speak it, according to a study.
The lure of fast money is gripping Hong Kong as a raft of new stock issues attracts strong retail interest, apparently forcing issuing banks to print additional application forms in the first significant investing mania since the internet stock boom three years ago.
The Hong Kong Monetary Authority (HKMA) may be pressed by legislators to ask Chinese regulators for an interview with former BOC Hong Kong (Holdings) chief executive Liu Jinbao over a $1.77 billion loan to Shanghai property businessman Chau Ching-ngai.
Hong Kong's interest rates are scraping the bottom with an offer announced yesterday by Liu Chong Hing Bank: zero interest for its tax loans.

China: Amid the huge demand for shares in the initial public offering of Great Wall Automobile Holding, company chairman Wei Jianjun remains focused on the challenges ahead. Proceeds from the $1.52 billion listing will finance expansion of the carmaker's plant in Baoding, Hebei province. Mr Wei says the investment is essential in the face of increasing competition in the industry.
Hong Kong's biggest tycoons have thrown their weight behind China Life Insurance's H-share offering, agreeing to buy US$500 million of the $3 billion in shares on offer.
Corrupt officials will no longer be able to hang on to their ill-gotten gains if proposals being considered by the central government's discipline inspection commission become law.
The inclusion of a small number of independent candidates on the official ballot for election to Beijing's district congress has been dismissed by observers and candidates themselves as little more than window dressing.
Aluminum Corp of China (Chalco) will make its first foray abroad after teaming up with two other mainland firms to tap alumina reserves in central Vietnam as part of an effort to plug a growing deficit in the metal's local supply.
On sections of Beijing Road you can barely see the sky. In Tibet Road, they dangle in garden-hose rolls and knots intricate enough to confound a boy scout. Over on Hefei Street, one enterprising apartment dweller even uses them to hang-dry selected cuts of meat.

China Banking Regulatory Commission chairman Liu Mingkang said banks could reduce non-performing loans by getting clear financial figures from the companies they lent money to.
Motorola has invested in a mainland venture capital fund to strengthen its foothold in China's fast-growing wireless communications market and boost the start-up community.
Worsening unemployment tops the list of thorny problems Shanghai's government must deal with in order to ensure the metropolis' sustained development, mayor Han Zheng said.
Media conglomerate Global China Group Holdings wants to acquire print media distribution firms in the mainland to strengthen its existing network across the country.
China Motion Telecom said savings from cost-cutting measures and the introduction of more bundled telecom services should narrow losses in the second half.
Macau will steal Las Vegas' title of casino capital of the world, American gaming mogul Sheldon Adelson has predicted. Mr Adelson, who heads one of the three companies allowed to run casinos in Macau, based his forecast on southern China's booming economy.
December 4, 2003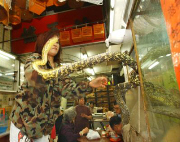 Hong Kong: Though it's the season for snake soup, the local snake industry is suffering a severe supply crunch of the main ingredient after mainland authorities banned exports during the Sars outbreak, on fears the illness was spread by wild game in southern China.
Hong Kong's youth unemployment rate has dropped from its record high level in the third quarter, Permanent Secretary for Economic Development and Labor Matthew Cheung Kin-chung said on Thursday.
Hong Kong's manufacturers' orders-on-hand slipped 6.7 per cent year-on-year in October, latest government statistics released on Thursday found.
The head of China's foreign exchange administration has announced that the mainland will gradually loosen a host of capital-account controls and, for the first time, allow foreign financial institutions to issue yuan-denominated debt paper.
The securities regulator was on the brink of shutting down CA Pacific's business six months before the brokerage's 1998 collapse, which left thousands of investors claiming billions of dollars, it emerged yesterday.
Legislators passed a motion yesterday urging the government to press shipping lines into lowering their terminal handling charges (THC) - the highest in the world.

John Chen, the HK-born head of Sybase, has been appointed to the board of Walt Disney, where he hopes to play a key role in its initiatives in media and technology.
Hong Kong conglomerate Hutchison Whampoa might need to spend an extra €2 billion (US$2.4 billion) on its third-generation (3G) mobile phone business due to a delay in the delivery of new handsets to Europe, a report said on Thursday.
Cosmetics retailer Sa Sa International Holdings is applying for a retail licence to open stores on the mainland after posting a better-than-expected interim profit.
Hutchison Whampoa, the world's largest port operator, has been engaged in the initial development of ports in Chongqing, an industrial city in southwestern China, according to a Beijing-backed newspaper.
China: China Southern Airlines will launch direct non-stop flights between Guangzhou and Paris from June 28 next year as part of the final stage of its codeshare pact agreed on Tuesday with French flag carrier Air France.
China must free up the internet if it wants to achieve its goal of becoming the world's biggest web market in four years' time, German Chancellor Gerhard Schroeder said yesterday.
Chia Hsin Cement Greater China Holding Corporation's HK$283.2 million initial public offering (IPO) has drawn strong market interest with the institutional tranche 6.6 times subscribed, the offer's sponsor says.
German media giant Bertelsmann has bought 40 per cent of one of China's three national book retailers, marking the first time a foreigner has ventured into the mainland's book distribution business.
Tech-happy Shanghai, the most wired city in China, has a problem - wires. Telephone wires. Fibre-optic wires. Electrical wires. Wires no one can seem to identify. They're everywhere, and they're gumming up the works.
China has flagged imminent policy changes aimed at easing capital controls and taking the heat off the country's currency, just days before Premier Wen Jiabao is due to leave on his first official visit to the United States.
December 3, 2003

Hong Kong: (

view live Video Feed) Chief Executive Tung Chee Hwa (centre) officates at the opening of the HK Science Park Innovation & Photonics Centres. Joining him are the Parks chairman Victor Lo and Chief Executive Officer CD Tam.
After 11 years at the helm of the party he helped create, Tsang Yok-sing last night formally stood down as chairman of the Democratic Alliance for Betterment of Hong Kong. Chief Executive Tung Chee-hwa is to brief state leaders today about Hong Kong's political and social situation, particularly the impact of the district council elections on his rule.
Hong Kong Property sales leapt 66 per cent year-on-year last month, with the value of sales doubling to HK$21.3 billion, official figures show. Investors, emboldened by a 50 per cent surge in the stock market over the past six months, are increasingly bullish about 2004.
Cathay Pacific Airways has resumed services to the mainland after a 13-year hiatus with its Airbus A330-300 jet touching down in Beijing with about 280 passengers about 9pm yesterday.
Tree smuggling by mainland poachers - who earn between $8,000 and $15,000 a tree - operating out of illegal logging camps hidden in remote coastal scrubland has devastated parts of Sai Kung Country Park, police say.
The wife of Shanghai tycoon Chau Ching-ngai yesterday appeared in a Hong Kong court along with four associates on charges of conspiring to defraud and pervert the course of justice in relation to alleged market manipulation.
Under the 2004 Digital 21 Strategy draft proposal on information technology (IT), the Hong Kong Government is arguing for a more integrated institutional structure and is considering creating the position of a chief information officer (CIO) to spearhead its many IT development initiatives.

China: Gerhard Schroeder visits a motor show in Guangzhou yesterday. The German Chancellor reiterated his support for the one-China policy.
The US has told Taiwan it opposes any referendum designed to change the island's status or move it towards independence.
The global boom in demand for raw materials more than tripled orders for the mainland's No 1 shipbuilding group this year and is spurring a multibillion-dollar spending spree on infrastructure to support the fast-developing industry.
Swiss bank UBS, already the largest of the mainland's 10 qualified foreign institutional investors, is preparing for a bigger plunge into China's US$460 billion A-share market. It has urged the China Securities Regulatory Commission to clarify the tax policy for Qualified Foreign Institutional Investors (QFII) as soon as possible.
Power shortages in the mainland are seen worsening next year, with no improvement expected until 2005, as residents turn up the thermostat for the winter and industrial demand pushes daily usage levels to a peak not seen since the summer.
December 2, 2003
Hong Kong: With funding cuts to education in the pipeline, educators yesterday called on the government to save money by cutting an English-language program and dropping plans to build new schools.
Encouraged by strong third-quarter growth in the domestic economy, investors pushed Hong Kong's largest shares to their highest close in 28 months yesterday, setting the trend for a year-end rally.
The Henderson Land Group plans to invest more than $1 billion developing four hotels in Hong Kong and Beijing in the coming years as part of efforts to cash in on an expected boom in tourism.
The government, borrowing an idea from big business, is considering creating the position of a chief information officer (CIO) to spearhead its many information technology development initiatives.
The government believes a deal that gives Hong Kong controlled access to the code behind Microsoft's Windows platform will help buttress the city's information security infrastructure and online government services.
A Hong Kong company has announced a world first in high-quality video compression that could lead to better video transmission over the internet.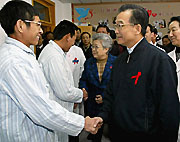 China: Premier Wen Jiabao shook hands and chatted with Aids patients at a Beijing hospital yesterday - World Aids Day - in an unprecedented public display of the leadership's commitment to fight the disease.
The Beijing Olympics organizing committee has failed to patent its designs and logos for the Games - an oversight that may mean it will have to pay to use them.
Cathay Pacific will mark its return to the mainland tonight after a 13-year absence when flight CX 318 lands at Beijing's Capital Airport.
The central government will allow enterprises to make their own investment decisions if they do not require state funding, a key economic minister said yesterday.
Recent trade frictions and "mixed signals" from Washington towards Taiwan would top the agenda of Premier Wen Jiabao's first official visit to America, according to an influential expert on Sino-US relations.
China's top bank regulator yesterday announced measures to widen foreign access to the domestic banking sector and said he planned to designate at least one state bank as a "pilot" for further reform of the financial system.
The Agricultural Bank of China's Guangzhou branch has denied being ordered to stop lending because of concerns over mounting bad loans, but it has admitted to a slowdown in lending.
December 1, 2003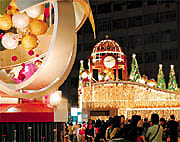 Hong Kong: Shoppers turn out for the formal lighting of Christmas decorations in Tsim Sha Tsui last night. Consumers spending and tourism are underpinning Hong Kong's recovery, the latest GDP figures show. Hong Kong's economy bounced back sharply from its first-half recession to grow at pre-Sars levels in the third quarter. The rebound was spread across all sectors, although tourism and local spending were particularly strong. The latest report card on Hong Kong's economic performance provides welcome confirmation that a recovery is well under way. Cash tills in the city's hotels and restaurants are ringing up renewed sales activity (with more in store over the festive season) and exports - particularly to China - are being ferried over the border in ever-increasing quantities.
The government will announce a major reshuffle within the police force as early as today with Deputy Commissioner (Operations) Dick Lee, earmarked as the new police chief.
Sun Hung Kai Properties is to spend 100 million yuan (HK$938.7 million) renovating its first shopping mall in Beijing to take advantage of increased consumer spending and in preparation for the 2008 Olympic Games.
Expectations of strong growth in the economy in the third quarter helped propel Hong Kong shares to their highest close in more than three weeks.
Fujian Zijin Mining Industry is set to become the first gold-mining company to list in Hong Kong next month after a planned sale of about 27 per cent of its share capital to institutional and retail investors.
A senior Hong Kong policeman has been found guilty of accepting free sexual services from prostitutes arranged by a nightclub operator, in what a judge described as "the clearest case of `keeping sweet' corruption".
Legislators from across the political spectrum have urged Chief Executive Tung Chee-hwa to replace the newly appointed director of audit, Benjamin Tang Kwok-bun.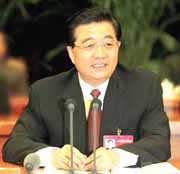 China: China's annual Central Economic Work Conference ended Saturday in Beijing, laying down guidelines for the economic work in 2004, underlining the general principle of comprehensive, coordinated and sustainable development with the people's interests as top priority. This year, the Chinese government has for the first time allocated 50 million yuan (6 million US dollars) to promote the development of SMEs, said Chen Yanhai, deputy director of the SME department of the State Development and Reform Commission. In China, there are 3.02 million SMEs that produce half of the country's gross domestic product. They also contribute to 60 percent of the country's exports and 43 percent of the tax revenue.
Yantai North Andre Juice, the mainland's largest apple juice concentrate producer and exporter, is seeking to consolidate its market position by increasing production and manufacturing a high-end product called pectin.
Top officials, grappling with a rich-poor gap and growing unemployment, have begun a key annual meeting to map out economic policy for the year ahead.
A Shenzhen court has sentenced two people to death for the systematic robbery and murder of 12 young women.
Chinese regulators have been meeting their banking peers in Hong Kong to test market reaction to a bailout plan for the Big Four state lenders, with an announcement on the rescue package expected shortly.
Sony Corp has announced that it will launch the PlayStation 2 (PS2) games console in China next month, despite widespread concerns within the company about the potential for piracy of games.
Nov 28 - 30, 2003
Hong Kong: Travelers may soon be able to fly from Hong Kong to Sydney on Virgin Atlantic if a deal signed yesterday between the Hong Kong and British governments passes European Commission scrutiny. That the Hong Kong-UK air services agreement signed yesterday requires European Commission approval shows the uncertain business climate created by Brussels' wish to be the sole negotiator of such pacts for European Union countries.
A joint long-range search-and-rescue drill will be staged today by the PLA Hong Kong garrison, the US coastguard and air force and the Government Flying Service.
Hong Kong's economy probably crawled out of its first-half recession and resumed growth in the third quarter of the year thanks to strong exports, a revival in consumer confidence and returning tourists.
Shares in Television Broadcasts have risen 8.93 per cent this week as the broadcaster closes in on a landing-rights deal with Guangdong - the first step towards a potentially lucrative revenue-sharing agreement with the province's cable operators.
Ernst & Young has been ordered by a judge to hand over audit, restructuring and "internal review" documents relating to Akai Holdings, the collapsed flagship of businessman James Ting.
The busy season for high-value south China exports peaked this week, with the airport's cargo handlers putting in overtime to meet holiday demand from overseas consumers.

China: A factory worker in Dalian keeps a close watch on a batch of molten steel, the alloy at the heart of an ongoing trade rift between Beijing and Washington. Premier Wen Jiabao said he will discuss the issue of US steel tariffs - ruled illegal by the WTO - during a visit to America next week.
Taiwanese opposition lawmakers scored a political victory last night by pushing through legislation that restricts the government's ability to hold referendums on sovereignty issues.
Guangdong Brewery Holdings is in talks to sell a 21 per cent stake to one of the world's top five breweries, marking the latest attempt by an international brewer to break into the mainland's highly competitive beer market.
The mainland will adopt a third-generation (3G) mobile-phone licensing policy that will favour fixed-line players China Telecom and China Netcom - posing a threat to the nation's two mobile carriers.
Nov 27, 2003 - Happy Thanksgiving (USA)
Hong Kong: Cathay Pacific Airways on Thursday won the right to operate the high-profile London to New York route after three days of talks between the Hong Kong and British governments.
Asia's largest computing industry conference formally opened on Thursday in Hanoi, bringing together technology experts and government officials from Asia-Pacific, Europe and the United States.
James Thompson, the embattled organizer of the controversial Harbour Fest, will retire from the American Chamber of Commerce's board of governors after he finishes his two-year stint as chairman next month.
The Audit Commission has hit out at wastage in the education sector, citing thousands of unfilled school places, empty classrooms and aborted research projects - all at a time when educators are bracing for further budget cuts.
The possibility of a further civil service pay cut in Hong Kong has not been ruled out, the government said yesterday.
Thirty-nine company directors were removed from their posts in the first 10 months for offences such as insider trading and market manipulation - exceeding the 35 who lost their corporate positions last year.
The anti-spam bill passed by the US Senate may also serve as a legislative model for Hong Kong telecommunication authorities, according to David Ketchum, the head of the Asia Digital Marketing Association and member of a Hong Kong anti-spam coalition that includes Time Warner, Microsoft and the Hong Kong Internet Service Providers Association.
China: Beijing on Thursday blamed US visa procedures for the delay of a trip by a group to the United States that was expected to buy a wide range of products in an effort to put a dent in China's huge trade surplus. China's trade surplus should fall into a deficit in coming years, meaning that expectations its currency would rise in value were unrealistic, a Chinese central bank official said on Thursday.
The central government was yesterday hastily dismantling its mid-Pacific satellite tracking base following the decision by the tiny Pacific atoll nation of Kiribati to switch its diplomatic recognition to Taiwan, a witness said.
About 1,000 villagers protesting in Zhejiang province over what they said was the illegal seizure of their farmland clashed with police, resulting in several injuries, local residents said.
Shenzhen police say the city's crime rate has dropped by more than 30 per cent in just four weeks - a development they attribute to new tactics adopted to tackle a crime wave that has been surging since July.
China Resources (Holdings) (CRH) plans to form China's first publicly traded real-estate investment trust (reit) by pooling 20 billion yuan (HK$18.58 billion) of property in Hong Kong, China and Thailand.
Ratings agency Standard & Poor's has sharply improved its outlook for the mainland banking system, saying it will reach international benchmarks for non-performing loans within five years.
China has set up a cabinet-level group to push reform of the top state banks, including plans to inject capital to help them float shares and prepare for greater competition from foreign lenders, government sources said yesterday.
Mainland internet portal Sohu.com has finalized its acquisitions of an online gaming website and a real-estate portal for US$36.5 million. Sohu said the acquisitions would strengthen its position as a leading internet property.
Nov 26, 2003
Hong Kong: Slowing population growth has given Hong Kong the chance to create a better, more spacious living environment, according to the government's development blueprint for 2030.

PLA troops in an armored personnel carrier enter Hong Kong through the Lok Ma Chau checkpoint early yesterday. The Hong Kong PLA garrison has just completed the sixth rotation of its army, navy and air force officers since the handover.
A 3rd runway may be needed - Hong Kong needs to make significant investments in its transport infrastructure to deal with a growing economy and competition from rival cities in the region, the HK2030 Study says. The number of visitors arriving in Hong Kong could increase almost sevenfold, to 70 million a year, by 2030, with two-thirds coming from the mainland, the Hong Kong government's planning study shows.
A 99-hectare plot at the Shenzhen border will become a permanent "trade expo", with visa-free access for mainland and overseas visitors and Hongkongers by 2030, if a new planning study recommendation becomes reality.
The Securities and Futures Commission (SFC) may tighten the regulation of stock-market analysts after two separate surveys found investors and securities firms were dissatisfied with the way research writers disclosed their conflicts of interest.

China: Primary students in Chengdu, Sichuan province, light candles on a giant cake to mark the 100th birthday of Ba Jin, one China's greatest modern writers, who was born in the city. The writer, whose real name is Li Feigan, celebrated his birthday in a Shanghai hospital, where he was visited by Politburo member Li Changchun and Shanghai party secretary Chen Liangyu.
Politburo members have been getting to grips with how the Communist Party should manage the mainland's educated elite and its skilled workers - a task made more difficult by the mushrooming private sector.
The comparatively low number of HIV/Aids cases in China obscures the fact the virus has reached epidemic proportions in several provinces and is spreading rapidly elsewhere.
The United States has accused Chinese companies of dumping televisions and slapped duties of 28 to 46 per cent on their products in the latest flare-up in trade tension between the two countries.
A state-owned hotel in Shanghai has come up with a novel way of raising money: sell off its rooms separately to individual investors and then lease them back, offering guaranteed annual returns as high as 7 per cent.
Mainland internet portal Sohu.com has finalised its acquisitions of an online gaming website and a real-estate portal for US$36.5 million.
Nov 25, 2003
Hong Kong: Tsang Yok-sing has resigned as Democratic Alliance for Betterment of Hong Kong chairman after the party suffered its worst ever election result on Sunday. Yesterday's resignation by Tsang Yok-sing is the second time the DAB chairman has offered to quit - the first time was shortly after the July 1 march. The Tung administration's governance crisis, triggered by the July 1 protest, looks set to deepen in the wake of the crushing defeat of the government-friendly Democratic Alliance for Betterment of Hong Kong in Sunday's polls. Officials are set to review the pool of candidates to be appointed by Chief Executive Tung Chee-hwa to the 18 district councils, following pressure from the pro-democracy camp against any move to dilute their success in Sunday's poll.
The Hong Kong Mortgage Corp (HKMC) plans to raise $9 billion in the domestic debt market next year, which would again make it the city's largest bond issuer.

China: Astronaut Yang Liwei is welcomed in his home town of Huludao, Liaoning province, in his first visit after last month's space flight.
The central government has announced it will shut down analogue television signals in 33 major cities by 2015, and replace these with digital broadcasts on more than 120 channels.
Politburo members yesterday met in Beijing to discuss the nation's economic reforms for next year and stressed that China must keep its momentum up and aim for another year of rapid growth.

Toyota lawyer Shi Yusheng displays the Toyota (left) and Geely Group badges during a court hearing in Beijing. Geely was accused of using a logo similar to Toyota's trademark "T" on the hood, steering column and boot of its Merry cars. A Beijing court yesterday dismissed a Toyota Motor lawsuit brought against a mainland firm accused of copying its logo. The test case has been closely watched by foreign multinationals worried about protection of their intellectual property rights in China.
China's furniture exports could be seriously affected if United States manufacturers prevail in a recently launched anti-dumping suit, according to a Chinese furniture maker association.
Nov 24, 2003
Hong Kong: Salaries for senior managers in key mainland cities are expected to overtake those in Hong Kong in five to seven years.
The pro-government Democratic Alliance for Betterment of Hong Kong suffered a severe blow in yesterday's district council polls, which saw more than one million voters cast their ballots in a record turnout. The remarkable surge in turnout at the district council polls yesterday speaks volumes about the change in citizens' civic awareness and political aspirations following the July 1 demonstration.
Air Canada says Cerberus Capital Management has made a second offer for a stake in the insolvent airline, two weeks after losing out to a bid from Victor Li Tzar-kuoi.
Hong Kong's 18,000 licensed stock and futures brokers will be allowed to work on the mainland from January, making them the first group of local service professionals allowed to practice there.
Hong Kong marked five full years of deflation in October, but prices fell at their slowest rate in five months, adding fuel to hopes that inflation will return next year.

Thursday's bomb attacks in Turkey have driven Hong Kong into a heightened state of alert, with guards outside banking giant HSBC's Central headquarters. The police are to consult diplomats and overseas institutions in Hong Kong to see if their security arrangements need strengthening amid fears of escalating international terrorist activity, the police commissioner said. Two Hong Kong tour agencies have cancelled tours to Turkey after the terrorist attacks in Istanbul on Thursday.
Yahoo! has expanded its China operations by paying US$120 million to acquire the Hong Kong-based software provider of a leading mainland internet firm.

China: A laboratory researcher examines the cell growth of a Sars vaccine. So far about 1,400 shots have been produced. The mainland is expected to approve clinical tests of a vaccine for Sars by the end of next month. It will brief World Health Organization experts about its research plans on Friday, a Chinese government official said.
Premier Wen Jiabao says China was "shocked and wounded" by the "unilateral" decision of the US to impose quotas on certain mainland textile imports. He called for the two sides to set up a system for regular discussions to avoid similar problems in future.
Great Wall Automobile Holding plans to raise between US$150 million and $200 million through a Hong Kong listing, using the proceeds to expand production at its Baoding facility and boost marketing of its new models.
Amid escalating tensions, Taiwan offered an olive branch to the central government yesterday by saying it would allow mainland planes to fly to the island during the Lunar New Year holiday.
In his first year as Communist Party general secretary, Hu Jintao has shown himself to be a decisive leader. He has won praise for his handling of the Sars crisis, for cracking down on corruption and pursuing a more proactive foreign policy - but he disappointed those who had expected swift political reforms.
China Life Insurance has inherited net assets worth 29.6 billion yuan (HK$27.49 billion) before a planned US$2.5 billion dual listing of 25 per cent of its shares in Hong Kong and New York, according to a filing to the US Securities and Exchange Commission.

A convicted criminal is paraded during a public sentencing in Guangzhou. Fifteen criminals convicted of rape or murder were sentenced, with three receiving the death penalty. Guangdong authorities are cracking down on criminals in the face of a rising crime rate.
The United States has requested regulatory flexibility to set up a cargo hub in China during two days of informal discussions with mainland aviation officials.
The United States has softened its tone towards China amid their escalating war of words over trade. The two sides could sit down and work out a reasonable compromise, Commerce Secretary Don Evans said. Rising trade and political tensions between China and the US will only intensify and might never go away, a top executive of a major US-based management consultancy said yesterday.
The number of mobile-phone users in the mainland has exceeded that of landline subscribers for the first time, according to the Ministry of Information Industry.
Spending by Asia-Pacific countries on information technology (IT) security will rise sharply in the coming years due to growing internet usage and increased business uncertainty, a study shows.
Nov 21 - 23, 2003

Hawaii: While in Hawaii for the Inaugural Homeland Security Summit & Exposition, ten ambassadors from the Association of Southeast Asian Nations (ASEAN) met with Governor Lingle to explore and promote commercial, trade and cultural exchange opportunities between Southeast Asia and the United States. In addition to their meeting with Governor Lingle, the ASEAN Ambassadors visited public and private sector businesses to discuss the areas of biotechnology, agriculture, aquaculture, education, training and tourism development. ASEAN ambassadors, who represent the third-largest overseas market for the United States, and council members will discuss trade and security issues with state leaders. They are ambassadors from Brunei Darussalam, Cambodia, Indonesia, Laos, Malaysia, Myanmar, Philippines, Singapore, Thailand and Vietnam.

Hong Kong: A vigil is held at the Hong Kong Funeral Home in North Point yesterday for Assistant Police Commissioner Cheung Chi-shum, who jumped to his death from a Mid-Levels apartment block last week. Cheung, 54, is the most senior police officer in Hong Kong to have killed himself.
The government will continue to spend money to keep the Hong Kong dollar from rising in strength over its pegged limit, Financial Secretary Henry Tang Ying-yen said yesterday.
Company turnaround stories are always good to find, especially when they concern HK firms competing against global giants. Hand-held device manufacturer Group Sense, which came out with interim figures showing a 140 per cent increase in net profits, is one of those stories.
Hong Kong's truckers do not stand to gain from the Closer Economic Partnership Arrangement (Cepa) as the problems they face, such as high operating costs, have not been addressed, an industry leader has complained.
Sun Hung Kai & Co (SHK) has paid about HK$15 million for full control of stockbroking house Yicko Securities - the group's second bargain acquisition in five months as consolidation of Hong Kong's fragmented brokerage industry gathers pace.
Hong Kong's Chek Lap Kok airport would be ready for privatization in 18 to 24 months, depending on market conditions, the city's Airport Authority (AA) said on Thursday. A strong regulatory framework to govern a privately-controlled Chek Lap Kok would be the key to the success of the privatization plan and guarantee the airport's role as a motor for the Hong Kong economy, workshop participants heard yesterday.
Hong Kong police have stepped up patrols around the British consulate and the headquarters of HSBC following the blasts in Istanbul.
Hong Kong prepares to go to the polls on Sunday for the first time since massive protests rocked the territory in July, and analysts say the election will be a measure of residents' desire for democratization.
After seeing Hong Kong thrown into a political crisis over an anti-subversion bill, Macau's Chief Executive Edmund Ho made clear he is in no hurry to pass a similar measure.
Secretary for Health, Welfare and Food Yeoh Eng-kiong said on Thursday staff at the Caritas Medical Centre who were confirmed to have contracted viral gastroenteritis may have been infected after treating patients without gloves.
China's first astronaut Yang Liwei had written to the people of Hong Kong expressing his gratitude for the passionate welcome accorded him during his brief stay in the territory, the government said on Thursday.
The Housing Authority (HA) announced on Thursday it had received eight submissions expressing interest in converting two surplus Home Ownership Scheme (HOS) blocks into guesthouses.
North European countries as well as South Korea, Hong Kong and Taiwan dominated a new global ranking released on Wednesday that assesses the ability of 178 economies to harness the digital revolution.

China: A villager eats lunch at an unlicensed kiln spewing smoke on the outskirts of Wuhan, Hubei province. Authorities are trying to shut down such polluters, which are known to burn old tyres and asphalt.
For the first time in more than 20 years, a small group of independent candidates is preparing to run in Beijing's district congress election.

Shanghai is the centre of the finance storm surrounding troubled Shanghai Land and some of its subsidiaries.
The private sector arm of the World Bank has made its first foray into China's retail industry through the acquisition of a strategic stake in Beijing supermarket chain Wumart Stores, which begins trading on the Growth Enterprise Market today.
An angry Beijing has summoned US Ambassador to China Clark Randt to express its "shock and dissatisfaction" over a decision to cap three types of Chinese textile imports, state press said on Thursday.
China said on Thursday it might hike tariffs on some US imports if Washington failed to comply with last week's World Trade Organization ruling that steel tariffs violated global trade rules.
China's director of statistics defended the nation's GDP figures on Thursday, saying despite imperfections, the method of compiling data reflected economic growth in the country.
Nov 20, 2003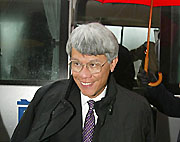 Hong Kong: Joseph Yam is leading the Hong Kong Association of Banks delegation in Beijing this week. Hong Kong bankers and finance officials pressed their mainland counterparts for more business yesterday, a day after receiving limited rights to conduct yuan banking services.
This week's CCTV auction of prime advertising slots for the coming year - a key barometer of mainland consumer spending - raised a record 4.4 billion yuan (HK$4.14 billion), up a third on last year.
Hong Kong's education chief yesterday denied breaking a promise made to student leaders at the weekend when they dropped their plan to boycott classes this week. A strongly worded report published by the Legislative Council yesterday called for higher education institutes to review pay packages received by senior management.
Hong Kong officials are still optimistic that a new air services deal can eventually be sealed with Australia, despite the two sides failing to come to an agreement following two days of meetings in Canberra.
The Hong Kong Monetary Authority has spent another HK$2.56 billion buying US dollars in a renewed attempt to weaken the local currency, but the Hong Kong dollar stayed strong throughout Asian trading yesterday.
Hutchison Whampoa has increased the size of its multi-tranche bond by two-thirds to US$5 billion after receiving massive demand, market sources said. The bonds were also to be priced more aggressively than the initial guidance, they said.

China: A consumer sizes up lingerie in Shanghai, one of three items the US has imposed quotas on. Top mainland and regional economists shrugged off concerns yesterday that the US decision this week to impose quotas on certain imported mainland textiles would hurt Sino-US relations and lead to an escalating trade war.
A national suicide prevention plan will be prepared through a joint effort by the government, independent organisations and foreign experts over the next few years, it was announced yesterday.
Mainland handset makers are losing market share to foreign rivals as their overseas counterparts quickly adapt to changing consumer preferences for colour-screen handsets and camera phones.
Nov 19, 2003
Hong Kong: Mainland tourists use yuan to pay for their purchases in a Mongkok store yesterday. Retailers are set to cash in on the landmark deal to allow yuan accounts and cards. Local banks received the green light to conduct yuan business yesterday in a landmark move that will spur cross-border economic activity and more closely knit Hong Kong's financial system with that of the mainland. The agreement to allow yuan banking business in Hong Kong signals a new step towards China's ultimate goal of full currency convertibility. It will also provide a boost to Hong Kong tourism. The central government's decision to allow Hong Kong banks to accept business in renminbi will further enhance the visibility of the currency in daily life here. Allowing Hong Kong banks to conduct yuan business should provide a host of new income opportunities, but the short-term financial benefit will be limited because banks will not be allowed to lend out the yuan they collect.
Hongkongers looking for a way to earn more interest on their cash deposits may be tempted by the new yuan-denominated accounts that banks will be allowed to offer next year.
PCCW is claiming success in lowering its churn rate, saying initiatives such as its "intelligent" fixed-line services have slowed the defection of customers to rivals. But company executives were long on promises and short on hard numbers.
China: Fixed assets investment, a main economic indicator of government-driven investment in infrastructure projects and in manufacturing, slowed considerably last month.
Four prominent mainland legal experts have teamed up to launch a pioneering non-governmental organisation to promote legal rights and offer free legal assistance to the weak and poor.
The mainland's central bank plans to give financial institutions greater leeway in setting interest rates for loans and deposits to strengthen their risk-management skills and improve the nation's banking system.
Exiled mainland entrepreneur Yang Rong, who is trying to wrest back control of Hong Kong-listed Brilliance China Automotive Holdings and other mainland-based assets from the Liaoning provincial government, has rejected a Beijing court's offer to hear a disputed ownership case.
It was business as usual at Shenzhen's Lowu Commercial City after intellectual property enforcement officers raided 21 accessory shops and confiscated more than 800 counterfeit items of Tiffany jewellery yesterday afternoon.
In some respects, 3Com's tie-up with Huawei may look like a marriage of convenience, but it also seems to make strategic sense - an international brand for Huawei and a fast route into the Chinese market for 3Com.
Nov 18, 2003
Hong Kong: The unemployment rate fell last month to the lowest level in six months - and almost to pre-Sars levels - as Hong Kong continued to benefit from a tourism-led recovery.
Any changes to the methods of selecting the chief executive would have to be endorsed by the central government, the constitutional affairs chief stressed yesterday.
Students agreed to abort plans to boycott classes after the education minister promised to freeze tuition fees, it was revealed yesterday. Universities could not shoulder further budget cuts, staff representatives told the education minister at a meeting yesterday. Chief Executive Tung Chee-hwa yesterday praised education chief Arthur Li Kwok-cheung for his efforts in resolving the dispute over university funding cuts with tertiary students.
The Equal Opportunities Commission should not follow former chairwoman Anna Wu Hung-yuk's "mistaken" emphasis on filing lawsuits on behalf of victims, according to a veteran commission member.
Lawmakers have passed a motion requiring the government to review whether ministers drawn from the civil service should be given double benefits.
The international port investment arm of Hutchison Whampoa is one of three Hong Kong operators to express an interest in developing and operating a major container terminal in New York harbor.
China: In a real-life version of the popular US television show Sex and the City, a 25-year-old sex columnist with a Guangzhou magazine is pushing China's sexual revolution ahead with an online diary that chronicles the graphic details of her sex life.

Henry Tang (front) and Hong Kong exchange chairman Charles Lee Yeh-kwong at the exchange's newly-opened office in Beijing.
US investment bank Goldman Sachs has upgraded its forecast for the mainland's gross domestic product growth this year to 8.7 per cent.
Authorities yesterday announced a crackdown on illegal land use, citing five cases including an investigation into a golf course and villa spanning a huge tract of former farmland.
Mainland troops have staged a day of counter-terrorism exercises in Tibet to practise fighting "terrorists" aligned with exiled spiritual leader the Dalai Lama, officials and a Tibetan newspaper say.
A new national standard for DVDs will be announced today, making China the first nation to choose its own video compression standard over one that is commonly accepted worldwide.
China Life Insurance, the mainland's largest insurer, has delayed marketing what would be the world's biggest initial public offering this year because regulators in the United States have not cleared the US$2.5 billion sale.
Mainland insurers may be allowed to invest their premiums in Hong Kong equities and bonds, giving them a chance to diversify their risk and seek potentially higher returns outside China's financial markets.
Retail petrol stations in bustling eastern China have started to ration the supply of gas oil as refineries struggle to keep up with demand.
Greater China has moved up the ranks of owners of the world's fastest supercomputers by increasing the number of its top-ranked sites to 17, led by high-performance systems from the mainland's Legend Group.
Nov 17, 2003
Hong Kong: Education and Manpower Secretary Arthur Li Kwok-cheung yesterday managed to win over radical students protesting against proposed education budget cuts.
More than 1,000 listed companies will be asked to draw up a code of conduct for their staff under a two-year anti-corruption campaign launched this month by the ICAC.
In November 1998, Hong Kong's composite consumer price index (CPI) turned negative for the first time in more than 20 years. It marked the beginning of deflation that has continued for 59 months.
Senior Hong Kong finance and stock exchange officials are descending on Beijing this week for discussions that could have far-reaching implications for the stock market and banking sectors.
Delayed delivery of third-generation (3G) mobile handsets might have an impact on revenue at Hutchison Whampoa this year, but the longer-term effects will be minimal, chairman Li Ka-shing said yesterday.
The New World Development group has been forced to sell its entire interest in 13 toll roads and bridges on the mainland back to local authorities for HK$1.16 billion, the company said in an announcement issued late last night.

China: University students line up outside an employment agency in Shaanxi province. Private-sector jobs have lost some of their appeal as the government seeks to reshape the image of the civil service. Jin Yi spent hours filling out a complicated online registration form, the first step to becoming one of thousands of candidates for just 30 jobs in the Finance Ministry.
Guangzhou Iron & Steel Enterprises Holdings is seeking foreign investment to complete a 32.5 billion yuan (HK$30.5 billion) steel production facility in the heart of the Pearl River Delta.
Sexual revolution is boosted by University course - on the tree-lined campus of Fudan University's medical school, more than 60 students are packed in a classroom pouring over the material for the day's lecture: "A Concurrent Discussion of the Several Degrees of Homosexual Love and Aids."
The development of a proposed free-trade border zone will threaten the continuity of an internationally important bird area in the northwestern New Territories, birdwatchers have warned.
Health officials are unsure how to proceed with expanding a program to give free drugs to rural Aids patients following a lukewarm response to the first phase of the scheme.
Nov 14 - 16, 2003
Hong Kong: The standoff between the government and Hong Kong's tertiary institutions over pending budget cuts escalated last night, with more universities deciding to join a planned boycott of classes next week. University chiefs have confirmed that funding could be slashed a further 30 per cent in 2005-2008.
Arrests of prostitutes and other illegal workers from the mainland have risen sharply this year, but the situation is not spiraling out of control, Hong Kong's Immigration Department said yesterday.
One year ago, a seemingly innocuous virus struck down a man in a small town in southern China. Within weeks the pneumonia-like disease had spread to Hong Kong, devastating the city, before it continued its deadly path around the world.
Monetary chief Joseph Yam Chi-kwong is not concerned that local interest rates are lower than corresponding rates in the United States, and will tolerate a high level of liquidity in the interbank system for as long as it takes to bring the Hong Kong dollar back to the level at which it is pegged to the greenback.
China: The longer China takes to revalue its currency, the bigger the stress on its economy and banking system, the IMF's new chief economist has warned. Raghuram Rajan said a gradual move to a more flexible exchange rate would yield benefits for both the Chinese and global economies.
The politically sensitive US trade deficit with the mainland hit a record US$12.7 billion in September as imports from China hit $14.8 billion, also a record, figures released yesterday show. The mainland posted a record trade surplus last month as exports surged at their fastest pace in five months, stoking growth in Asia's second-biggest economy and fuelling concern the US will take action to protect its market.
The nation's consumer prices rose at their fastest annual pace in more than six years last month as soaring charges for vegetables and grain offset falls in many manufactured goods, according to figures released yesterday.
The Bank of China's locally listed subsidiary is in discussions to participate in a pilot scheme that will pave the way for yuan-denominated credit-card purchases in Hong Kong.
Mainland chipmaker Shanghai Belling will proceed with a 383 million yuan (HK$355.8 million) plan to make eight-inch silicon wafers despite failing to secure a strategic foreign partner in the joint venture.

ZTE, China's largest publicly traded phone equipment maker, aims to boost mobile handset sales volume by 40 per cent next year, helped by increased marketing spending and lower-priced models. ZTE has hired action movie star Jet Li as a spokesman and introduced cheaper handsets to challenge giant handset makers like Motorola and Nokia.
Mergers and acquisitions among telecommunications operators in the region were expected to increase next year as their credit ratings stabilize, said French credit rating agency Fitch Ratings.
Nov 13, 2003
Hong Kong: The chief secretary yesterday added to the controversy over the West Kowloon cultural district by alleging that some property developers had resorted to lies in their efforts to kill the $24 billion project. A lawmaker accused Donald Tsang Yam-kuen of smearing developers.
A strip of land intended for a wetland wildlife habitat has been revealed as a potential obstacle to development of a free-trade zone on the Hong Kong-Shenzhen border.
At least 90,000 Hong Kong residents have just three days to get a new "smart" identity card or face a $5,000 fine.

Cheung Chi-fai Hong Kong's first statue of Sun Yat-sen, the founder of modern China, is unveiled at a ceremony at the University of Hong Kong. Dignitaries including university council chairman Victor Fung Kwok-king and vice-chancellor Tsui Lap-chee attended the event on the 137th anniversary of Sun's birth.
The row over university funding in Hong Kong has intensified, with a senior education official warning that primary and secondary schools may also face budget cuts.
The government has given the clearest signal yet that the Basic Law allows the chief executive election in 2007 to be conducted by universal suffrage if necessary.
A controlling stake in the Hong Kong-listed vehicle of jailed mainland businessman Yang Bin is expected to be sold to a white knight for $20 million to $30 million, according to a source familiar with the liquidation.
Intervention yesterday by the Hong Kong Monetary Authority for the fourth time in three days suggests that the de facto central bank is trying to draw a line on how much the Hong Kong dollar is allowed to appreciate.
China: The nation's foreign direct investment (FDI) and loan growth declined in October according to data issued yesterday, suggesting the economy may be starting to cool after months of blistering growth.
Shanghai has given a hero's welcome to Yang Liwei, China's first astronaut, who is on a three-day trip to the nation's financial capital.
Some farmers are worse off today than their counterparts 25 years ago before the launch of economic reform, according to a leading US expert.

China Resources Power Holdings chairman Song Lin (left) and Wang Shuai-ting, the deputy chairman and chief executive, toast the stock-market debut of the independent power producer. But by the end of the day the share price had slipped 1.78 per cent from its offer price to finish at $2.75 after hitting a high of $3.05.
Shanghai Pudong Development Bank is preparing a massive convertible bond issue, despite a recent upsurge in opposition by mainland fund managers and shareholders to such capital-raising measures on the grounds they dilute holdings in listed firms.
China's telecommunications regulator, the Ministry of Information Industry (MII), has issued new rules on interconnection settlement among the carriers, marking a major step forward in resolving the long-delayed reform on interconnection.
Nov 12, 2003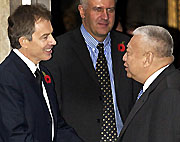 Hong Kong: British Prime Minister Tony Blair yesterday welcomed the plan by the Hong Kong government to launch a public consultation on constitutional reform next year. Despite the criticism he faces at home, Chief Executive Tung Chee-hwa has received nothing but praise from compatriots living in Britain during his three-day visit to London.
The honeymoon is over for Financial Secretary Henry Tang Ying-yen if the latest figures from the Public Opinion Program at the University of Hong Kong are anything to go by.
The number of homeowners with negative equity in their properties fell in September from the previous quarter, the first decline since the end of 2001.
Herbal soup given to patients on the mainland during the Sars outbreak could work just as well as western antiviral medicines in combating Sars, a symposium was told yesterday.
China plans to use Guangdong to spearhead increased co-operation with the Association of Southeast Asian Nations. But analysts say the focus will create new opportunities for Hong Kong and Macau.
University chiefs have united against the government's plan to cut university funding substantially, ahead of next week's boycott of classes by students.
Another upward spike in the Hong Kong dollar prompted Hong Kong's de facto central bank to step into the market three times over a 24-hour period, buying a total of US$200 million worth of greenbacks.
Securities and Futures Commission (SFC) chairman Andrew Sheng yesterday rejected claims that a proposal to tighten regulations on listing sponsors was too harsh, saying investment banks had misunderstood the plan.
China: The mainland plans to accelerate the sell-off of state-owned enterprises (SOE) to private foreign and domestic players by inviting investors to a major summit, the official in charge of the nation's privatization plans announced yesterday.

promising to carry "real, forbidden news" was given a lukewarm reception by readers and a media expert yesterday.
Shanghai property investment surged in the first 10 months of the year despite moves by the authorities to cool the luxury residential market.
A Sichuan spirits firm that paid thousands of dollars for a three-hour visit by former United States president Bill Clinton extracted a promise from him to become a regular tippler of its potent brew and to have it served on the dining table of the White House in 2005 - provided a Democrat wins next year's election.
The long-delayed broadband joint venture between China Network Communications Group Corp and internet venture capital investors International Data Group and Softbank Corp has been revived and may be up and running by the end of the year.
Nov 11, 2003
Hong Kong: The Secretary for Education and Manpower, Arthur Li Kwok-cheung, yesterday pledged to try to persuade Financial Secretary Henry Tang Ying-yen not to cut the education budget substantially.
Australian Michelle Guthrie has been named to replace Star TV chief executive James Murdoch, the new head of British Sky Broadcasting Group (BSkyB), Star Group announced yesterday. Ms Guthrie is the first female to head Star TV, a unit of Rupert Murdoch's News Corp, and will oversee the pay-television operator's key markets in India and China.
The chief of Walt Disney's office in Hong Kong, who is also one of the key organisers of the Harbour Fest, is leaving his job.
Assistant Police Commissioner Cheung Chi-shum jumped to his death from the rooftop of his Mid-Levels home early yesterday.
The government is trying to bypass the Town Planning Board in developing the massive $24 billion West Kowloon cultural district.
Hong Kong Electric Holdings will take a hit on its earnings next year if, as expected, it keeps tariffs unchanged for a second consecutive year.
Despite having the world's fastest-growing mobile phone market, the Asia-Pacific region is lagging behind Europe and the United States in adopting wireless applications to the enterprise market.
China: Beijing Capital International Airport (BCIA) will raise as much as 13 billion yuan (HK$12.07 billion) over the next four years to expand the airport as it prepares for the 2008 Olympic Games
Citigroup has won a landmark auction of non-performing loans by the Bank of China, snapping up a loan portfolio with a face value of US$1.8 billion for 30 cents on the dollar.
A veteran Aids activist has asked to meet Premier Wen Jiabao to urge him to sack officials who were involved in the blood-selling scandal that led to hundreds of thousands of people contracting HIV.
After a slowdown in September, the mainland's industrial output picked up again last month on the back of surging production in telecoms equipment, metals and electronic machinery.
Nov 10, 2003

Hong Kong: Entrants to the Miss World contest enjoy a bus tour around Hong Kong. The finals will be held next month on Hainan island in a US$14 million hall built for the event.
Probably grateful to leave behind the raging controversies centred on the Equal Opportunities Commission, Chief Executive Tung Chee-hwa found the perfect way to relax during the start of his five-day European tour - an early morning stroll in London's Hyde Park.
Applications for telecommunications firms to enter the mainland market under the Closer Economic Partnership Arrangement (Cepa) have been open for a month but so far the response has been lukewarm.
Tycoon Victor Li Tzar-kuoi has outbid American private investment firm Cerberus Capital Management in their tussle to rescue debt-laden Air Canada, triggering what could be the Li family's maiden foray into airline management.
OBI, one of the world's largest Do-It-Yourself retailers, will relocate its Asia sourcing center and 60 jobs from Hong Kong to Shenzhen next year, as the special economic zone cements its status as one of the top procurement hubs for global retailing chains.
New York-listed consumer electronics maker Nam Tai Electronics is seeking to spin off three subsidiaries on Hong Kong's stock market next year, raising about HK$2 billion.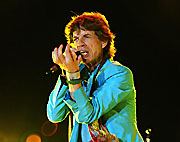 Chief Executive Tung Chee-hwa had a look of awe. AmCham chairman James Thompson just looked relieved. And former US president Bill Clinton did not look too unhappy either as the Rolling Stones finally rocked Hong Kong on Saturday.
A $20 billion railway along the proposed Hong Kong-Macau-Zhuhai bridge could be financially viable, the KCRC chief believes. A railway along the proposed Hong Kong-Macau-Zhuhai bridge will only make economic sense when 100 million people a year cross between Hong Kong and the west side of the delta, the main advocate of the link says.
Anson Chan Fang On-sang said yesterday that government leaders must have the wisdom to know there are things that should not be changed in post-handover Hong Kong.
A $155 million trust fund to assist families of people killed by Sars and those suffering long-term side-effects from their treatment was approved by legislators yesterday.

Chief Executive Tung Chee-hwa welcomes former US president Bill Clinton at Government House yesterday. A day earlier Mr Clinton delivered a keynote speech at a Business Week CEO forum.
A crocodile on the loose has Hong Kong officials at wit's end after a weeklong hunt in which the animal slipped unscathed from a trap -- and critics said Sunday it's time to bring in the professionals.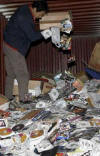 China: A Chinese policeman disposing of pirated DVDs on Thursday. Pirated DVDs of Hollywood movies cost 7 yuan (S$1.50) each in Beijing. CHINA'S Vice-Minister for Commerce, Mr Wei Jianguo, yesterday admitted that China still had some way to go to fulfill its World Trade Organization obligations on intellectual property rights (IPR).
The Beijing municipal government has signed the last of the four contracts it offered through a public bidding system to build and run Olympic venues, including the Olympic village.
Private enterprises have become the economic engine behind the mainland - but central government officials still don't give them enough credit or leeway, World Economic Forum experts say.
For many middle-class families in China, hiring a maid has become an affordable luxury, helped by an influx of migrant workers from the countryside that has created a class of willing, low-wage workers.
Senior Chinese Diplomats arrived in South Korea to prepare for a new round of six-nation talks aimed at ending a crisis over North Korea's nuclear weapons program.
An early downfall of snow in Beijing knocked down thousands of trees and caused chaos for commuters on Saturday.
China's first man in space, Colonel Yang Liwei, was given the title "Space Hero" by military chief Jiang Zemin at a rally in Beijing attended by several thousand officials.
Nov 7 - 9, 2003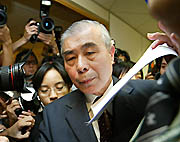 Hong Kong: EOC chairman Michael Wong announces his resignation yesterday, saying he was unable to withstand a "coordinated attack" by the media and an unsupportive government

Vice-Premier Zeng Peiyan expresses his approval for developments in Hong Kong before returning to the mainland yesterday. Vice-Premier Zeng Peiyan has thrown his support behind a proposal to set up a tax-free industrial zone on the border with Shenzhen.
Rolling Stones frontman Mick Jagger is looking forward to meeting up with Bill Clinton tonight and would be happy to jam with the sax-playing former US president.
A senior Guangdong official yesterday confirmed a new supply deal is likely to provide Hong Kong with cheaper water.
Causeway Bay is the third most expensive shopping district in the world for the second year running, putting it in the same league as New York's Fifth Avenue and Paris' Champs Elysees, according to an annual survey released yesterday.
Germany's major plush toy maker NICI has ignored relatively high retail rents in Hong Kong, choosing instead to open its flagship Asia-Pacific store in the territory to use it as a springboard to tap the lucrative mainland market.

China: Holidaymakers escape the clutches of winter in the cold northeast of the country by jet-skiing at Holiday Beach, near the city of Haikou on Hainan island. Traditionally, northerners flock to warmer climes in Hainan with the onset of chilly winter temperatures.
Closer trade ties between the United States and China will benefit both countries and bring prosperity to Asia, former US president Bill Clinton said yesterday.
Nobel laureates, economists and international business leaders made a joint call for global economic development based on equality, credibility and co-operation when the World Economic Development Declaration was released in Zhuhai yesterday.
China's economic growth is creating the perfect conditions for an explosion of HIV, the virus that causes Aids, and the government must act quickly to head off a full-blown epidemic, a senior United Nations official has warned.
Mainland enterprises are undergoing fast-paced reform but are still a long way from meeting global standards or challenging western or Asian multinationals, according to experts.
Legend chairman Liu Chuanzhi announced a 2.91 per cent growth in interim profit and said the result was caused by the additional investment in its handset business.
PICC chairman Tang Yunxiang and AIG chairman Maurice Greenberg are looking to develop other insurance business. PICC Property and Casualty's shares shot through the roof on their debut yesterday, soaring 50 per cent on the issue price and bucking a 2.32 per cent drop in the Hang Seng Index.
China's banking regulator has fined Wachovia Bank, the fifth-largest bank in the United States, US$440,000 for conducting illegal operations at its Shanghai office.
Nov 6, 2003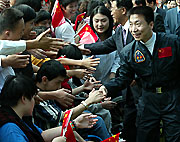 Hong Kong: Yang Liwei says goodbye to young fans at a ceremony at Government House yesterday before heading with his team to Macau for a two-day visit. China's first man in space, Yang Liwei, bade a reluctant goodbye to the people of Hong Kong yesterday, but left with the vow: "I will return."
A commission of inquiry will be set up to investigate the handling of Harbour Fest, Financial Secretary Henry Tang Ying-yen announced. The Tung team, learning from the bitter experience of the Sars outbreak, has acted to limit further damage to its authority and image by initiating an independent investigation into the Harbour Fest controversy.
Hong Kong's economy is on the path to recovery, and the central government will continue to help the city revitalise itself, Vice-Premier Zeng Peiyan said yesterday.
Chief Executive Tung Chee-hwa will meet British Prime Minister Tony Blair and French President Jacques Chirac during a trip to Europe, starting on Saturday, to brief them on the latest political, social and economic developments in Hong Kong.
Asia was driving the growth of the semiconductor industry with its share of the US$160 billion dollar business more than doubling to 38 per cent in the past decade, an official of a US-based firm said on Wednesday.
China: The mainland's foreign currency reserves hit a record US$401 billion at the end of last month, marking a 40 per cent increase over last year.

Pakistani President Pervez Musharraf meets Central Military Commission chairman Jiang Zemin. The relationship enjoyed by Pakistan and China was underlined yesterday by a joint declaration in which bilateral ties were deemed "exemplary". The first joint exercise by the navies of China and India is being interpreted by defence experts as Beijing's attempt to balance its relations with nuclear rivals India and Pakistan.
Top regional economists yesterday said China was suffering from serious over-investment in certain sectors, but that the economy as a whole was still healthy.
The slow pace of disposal of the non-performing loans of China's Big Four state banks poses credit risks for the banking sector, according to a report by credit rating agency Moody's Investors Service.
China's leaders are grappling for a way to end a decades-old programme of state ownership without sacrificing a say in management, according to a senior official with the State Owned Assets Supervision and Administration Commission (Sasac).
China's largest non-life insurer, PICC Property and Casualty, is expected to make a strong debut on the stock exchange today, with the indicative grey market price touted yesterday suggesting a more than 20 per cent rally from the pre-listing issue price of $1.80.
Shanghai-based industrial sewing machine maker Shanggong has won special approval to launch the mainland's first B-share sale in three years amid talk that such domestically listed foreign currency shares have outlived their historical usefulness with the gradual relaxation of China's capital account.
China's largest computer maker Legend Group has warned it may sacrifice short-term profit as it continues to invest in its loss-making mobile handset manufacturing business.
There are growing fears of a grain shortage in China as farmland continues to shrink and production drops.
Nov 5, 2003
Hong Kong: Equal Opportunities Commission chairman Michael Wong Kin-chow yesterday suddenly cancelled an internal meeting with commission members due to be held this afternoon to explain the controversial sacking of a senior officer.
Vice-Premier Zeng Peiyan arrived in Hong Kong yesterday for a three-day visit, becoming the first state leader to visit the city since it was rocked by a series of anti-government demonstrations.
Most Hong Kong workers will probably see their pay frozen again next year because companies are still finding business tough despite the recent economic rebound, a survey has found.
Tycoon Li Ka-shing's proposal for a special tax-free trade zone between Shenzhen and the New Territories has been backed by a committee of tax experts from the local chapter of CPA Australia, a professional association of accountants.
Tom.com has launched an aggressive expansion plan in the mainland after announcing yesterday it had set up its first Sino-foreign joint venture with a state-owned publisher.

China: Huawei Technologies' plant in Shenzhen, where low- priced routers are made. This year Huawei expects to export $1 billion of equipment - an 80 per cent increase. Huawei Technologies, which began as a seven-person start-up making analogue parts for telephone switchboards, today has 22,000 employees, sells equipment in 40 countries and is pushing into the US through its partnership with 3Com.
Swedish telecommunications networks giant Ericsson hopes the launch of next-generation mobile networks by Chinese carriers will make the mainland the company's largest revenue contributor.
Hong Kong and Guangdong have reached a deal that is expected to provide cheaper water and avoid millions of dollars worth of fresh water being dumped into the sea each year.
Shenzhen's ambitious plan to reorganize its government has been effectively scrapped because it challenged the power of the Communist Party, according to academics.
China's manned space flight program has succeeded in bringing Chinese people together, the program's deputy director said yesterday.
Shanghai has taken more steps to put its property market in order after the Chau Ching-ngai scandal, restarting construction of buildings abandoned because of financial problems and introducing policies to make housing more affordable.
British oil giant BP has won final approval from the central government to set up joint-venture petrol stations with PetroChina in Guangdong and Fujian provinces, while a similar joint venture with China Petroleum & Chemical Corp (Sinopec) in Zhejiang province is expected to be given the go-ahead soon.
Combine a sharp businessman who sees the commercial potential of soccer in China and a faded, overweight football star with a famous name but an empty pocket and you come up with the Diego Maradona brand of sportswear for sale around the world.
Nov 4, 2003
Hong Kong: Hong Kong has succeeded in winning the bid to host the fifth East Asian Games in 2009, the East Asian Games Association announced on Monday. Hong Kong has won the rights to hold the East Asian Games in 2009 after it defeated Taipei in a secret ballot held yesterday in Macau.
A pilot scheme to allow mainlanders to use yuan credit cards to pay for purchases in Hong Kong is likely to top the agenda of a meeting between Hong Kong and Guangdong banking regulators this month.
The judiciary yesterday expressed concern at the controversy surrounding retired Court of Appeal judge Michael Wong, saying it was of fundamental importance that judges conduct themselves with the utmost integrity.
Vice-Premier Zeng Peiyan begins a three-day tour of Hong Kong today, the first state leader to visit since the start of a series of political crises after the mass protest on July 1.
Former Sunday Communications group managing director Craig Ehrlich has rejoined Hutchison Whampoa, going back to his Hong Kong telecommunications roots after taking up the chairmanship of the largest worldwide mobile industry body early this year.
Hong Kong's popular Octopus electronic payment system will soon be used by the Dutch after the MTR Corp and its partners wrapped up a 120 million euro (HK$1.08 billion) contract to introduce the technology to the Netherlands.
HSBC has obtained approval to launch yuan businesses in Qingdao, Tianjin and Guangzhou, the banking giant announced on Monday.
Hong Kong's poor air quality was caused by regional pollution and it would take time to cure, Secretary for the Environment, Transport and Works Sarah Liao Sau-tung said on Monday.
Software giant Microsoft's reported bid to take over internet search king Google has highlighted the high-stakes battle mounting over the multibillion-dollar search engine business.
China: Guangdong party chief Zhang Dejiang has publicly outlined his vision of a pan-Pearl River economic zone for the first time - and Hong Kong does not feature largely in it.
Tata Consultancy Services (TCS) plans to establish an information technology services triangle - linking India, Singapore and China - that could channel more outsourcing contracts into Asia.
Vice-President Zeng Qinghong is expected to be appointed to a senior position in the Central Military Commission, cementing his position in the country's fourth-generation leadership.
Oracle has opened its second China development centre (CDC) to meet the needs of a quickly expanding market in the mainland.
New mainland censorship guidelines will make it easier for non-political films to go into production, but industry insiders say the regulations will not loosen the censors' stranglehold on the industry.
Former American trade representative Charlene Barshefsky predicted yesterday that China and the US are heading towards an explosive collision.
Metro, the world's fifth-biggest retailer, yesterday announced a tripling of its investment in China and expected to turn a profit on its mainland operations in two to three years.
The mainland's national school curriculum is about to get a lot greener in what has been touted as a major breakthrough in education policy.
Mainland domestic handset maker Eastern Communications (EastCom) posted its fifth consecutive quarterly loss last week, putting further pressure on its parent's overseas listing plan.
Nov 3, 2003

Hong Kong: Colonel Yang Liwei arrived in Hong Kong to a hero's welcome yesterday, as hundreds of students and other fans gathered at Chek Lap Kok airport to cheer China's first man in space.
Hong Kong firms will need to pay substantially more for insurance cover for Sars and other infectious diseases as leading reinsurance providers reduce their exposure to future outbreaks from January.
Colonel Yang, who became China's first man in space last month, was greeted by top government officials and scores of flag-waving school children at the airport before being whisked off to a dinner reception hosted by Chief Executive Tung Chee Hwa.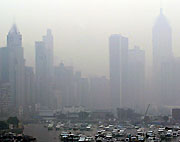 The nation's first spaceman was denied a panoramic harbor view yesterday as Hong Kong and its neighbors were blanketed with smog.
Less than half of Hong Kong people believe they are enjoying basic rights such as freedom of speech and the right to live in a clean environment, a Chinese University study has found.
The controversial Central reclamation project has been thrown into further jeopardy after the government was found to have breached World Trade Organization tendering rules in awarding the contract. In a ruling handed down on Thursday, a review panel said the government was not being fair in changing the tendering conditions of the third phase of the reclamation after the tender was closed.
A group of senior government officials has demanded the secretary for the civil service explain why he opted to retire from the service in July while remaining as the minister who heads Hong Kong's 170,000 bureaucrats.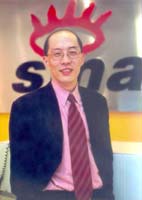 China: Chinese President Hu Jintao's daughter has married one of the country's richest tycoons, a newspaper reported yesterday, in what is probably China's most high-profile union of power and money.
Guangzhou is investigating reports that 50 million yuan (HK$47 million) was misappropriated from its education foundation and another 150 million yuan was lost through bad investments.
Main board listing candidate China Resources Power Holdings, dwarfed by the mainland's three Hong Kong-listed independent power producers (IPP) in terms of capacity, has made up for its weaker bargaining position by establishing long-term relationships with up to eight large coal suppliers.
Chinese construction staff work through the night under floodlights on a housing development project in Beijing. The Ministry of Construction has launched an investigation into China's property industry over worries that a bubble is looming for the fast-growing sector.
Tickets for the most popular events at the 2008 Olympic Games will be packaged with those for less popular competitions to boost sales, according to mainland media reports.
The central government has worked hard to protect the environment during the construction of the massive Qinghai-Tibet railway, according to a top mainland scientist.
China is right to push for regional integration through a single free trade agreement with Southeast Asian nations, but must work harder to put its neighbors at ease, former Philippines president Fidel Ramos said yesterday.
China will raise the unofficial 15 per cent cap individual foreign banks may take in mainland lenders to 24 per cent later this year, according to a senior regulatory official.
PICC Property & Casualty has wrapped up this year's most oversubscribed initial public offering in money terms by pricing it at the top of an indicative price range of HK$1.80 to raise $5.4 billion - the largest IPO this year.
Newbridge Capital has launched arbitration proceedings against shareholders of Shenzhen Development Bank, seeking compensation after the derailing of a milestone acquisition attempt.
Japan's Sumitomo Chemical, one of the world's biggest makers of pesticides, has accepted with regret its loss of a landmark mainland court case lodged against the Shaanxi provincial government.
China Unicom is forcing more users to pay for their phones, which is lowering the amount put aside for handset subsidies, but investors remain unimpressed and fear a decline in the mobile sector's breakneck growth trend.
October 24 - Nov 2, 2003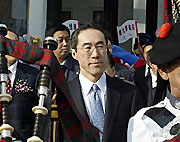 Hong Kong: Finance chief Henry Tang Ying-yen defended his fiscal strategy yesterday, saying his approach was milder and more practical than that of his predecessor.
A 500-point plunge in the Hang Seng Index yesterday does not qualify as another "Black Thursday" but has dampened investor euphoria after months of almost uninterrupted price gains.
The Hong Kong government has forked out $55 million on public relations consultants in the past three years - despite spending $1.16 billion on its own Information Services Department (ISD). Government departments have sought to defend their multimillion-dollar bills for public relations consultants after lawmakers questioned whether the outsiders offered value for money. Departments have been forced to spend millions of dollars to hire external consultants because the Information Services Department (ISD) is behind the times in providing public relations advice, say experts.
Deflation in Hong Kong has eased for the second consecutive month, with prices for fresh vegetables, women's clothing and package tours showing more signs of recovery in September.
HSBC yesterday completed a ground-breaking deal to securitise HK$3 billion of its taxi and public light bus loans for sale to institutional investors to improve internal capital management and finance the expansion of its market share in the area.
The battle of the crocs has finally come to an end. Hong Kong retailer Crocodile Garments has reached an agreement with France's Lacoste over a patent infringement lawsuit that has consumed the two companies' energies for a decade.
China: National People's Congress chief Wu Bangguo will visit North Korea next week, a trip analysts say could speed up efforts to resolve the crisis over Pyongyang's nuclear weapons program.

Lofty ambitions: Children wait to perform in a parade in Beijing's Wangfujing shopping district at the launch of the Hong Kong Tourism Festival in the capital. The month-long campaign features displays and events intended to attract mainland travelers to the city.
Top-ranking officials from India and China began talks in New Delhi yesterday to try to resolve their long-running border dispute which took the world's two most populous nations to war in 1962.
The central bank is to supervise the nation's crackdown on money laundering under a legal amendment, Xinhua reported yesterday.
Japanese and Chinese leaders called for stronger ties yesterday - the 25th anniversary of the implementation of a peace treaty - but scholars said unresolved historical issues would continue to be a major setback in relations.
The National Social Security Fund (NSSF) has formally expressed its interest in investing overseas, a development that may signal the emergence of a domestic lobby behind the mainland's stalled qualified domestic institutional investor (QDII) program.
The launch of China's first sovereign bond in more than two years late on Wednesday could act as a trigger for more mainland companies to also issue debt in the international capital markets, analysts said. However, this might happen more for strategic reasons than any direct need for cash.
Leading contract microchip maker Taiwan Semiconductor Manufacturing Company (TSMC) will invest US$10 billion in a Shanghai industrial park in the next 10 years, state press reported on Thursday.
The Asia-Pacific semiconductor industry was on the rebound and could look forward to annual sales growth of more than 15 per cent in the next four years, technology research house Gartner said on Thursday.
October 23, 2003
Hong Kong: Hong Kong has proposed paying only for water it uses - an idea that could conserve water for Guangdong, the environment chief said yesterday.
Although short on concrete proposals for raising revenue or reducing spending, Mr Tang's fiscal strategy was long on principle: the need for a more flexible and realistic approach to restoring healthy public finances. The target of balancing the budget by 2006-07 will be delayed for two years until 2008-09, the finance chief announced yesterday. Finance experts were unimpressed by the finance chief's address to Legco yesterday, labelling it an extension of the recovery plans laid out by his predecessor, Antony Leung Kam-chung.
Blood would "flow like a river" if Mr Tang cut spending by 11 per cent over five years, one political opponent said. Another doubted a weak government had the will to find such big savings.
The IMF may raise its forecast for Hong Kong's economic growth, citing the positive impact of expanded mainland tourism, closer cross-border ties and prospects of the global rebound continuing.
Hong Kong Exchanges and Clearing's new No 2, Patrick Conroy, has his sights set firmly on China-related products after meeting the media for the first time yesterday to announce the launch of H-share index futures on December 8.

China: President Hu Jintao inspects a guard of honour after arriving at Sydney airport for the start of a four-day tour of Australia. Australia and China will sign an historic deal tomorrow to pave the way for a free-trade agreement, underlining growing links between the two countries.
Shanghai Mayor Han Zheng will announce specific steps to improve economic co-operation with Hong Kong during a forthcoming visit to the city, a Shanghai government spokeswoman said yesterday.
US Trade Representative Robert Zoellick has put pressure on China to open its markets under the WTO agreement, saying wider access for American companies would be of mutual benefits.
Procter & Gamble (P&G) has dismissed as "groundless" a 175 million yuan (HK$162.92 million) breach-of-contract lawsuit filed by Hutchison Whampoa, its long-standing joint-venture partner in China.
Peoples Telephone may miss its aggressive annual profit forecast of $400 million in the run-up to its planned $1.25 billion listing early next year.
The long-delayed flotation of state-owned shares may proceed if the earnings of China's listed firms eventually gain ground on their stock prices, a senior mainland securities official has predicted.
A cash offer for shares in Shanghai Merchants Holdings triggered by Chau Ching-ngai's $11.5 million sale of his stake to a retired 35-year-old Shenzhen judge has been rejected by the majority of independent shareholders.
October 22, 2003
Hong Kong: Lawyers for pop star Nicholas Tse on Wednesday urged a court to throw out his criminal conviction for letting a chauffeur take the blame after Tse crashed his own Ferrari.
More foreign companies than ever now have offices in Hong Kong - but will they keep coming? More than half say the city is a worse place to do business than it was a year ago.
Chief Executive Tung Chee-hwa is expected to face tough questions on constitutional reform in Hong Kong when he meets Democratic Party legislators in a pre-policy address consultation on Friday.
Hong Kong was named yesterday to play host to the World Trade Organisation's next ministerial meeting, the government announced. The unanimous decision was made by the WTO's general council in Geneva, although the timing of the meeting still depends on the progress of trade negotiations between member states in Geneva, the government said.
Property developer Hopewell Holdings' decision to divest two beleaguered infrastructure projects for HK$79.96 million will allow an instant earnings boost and a more focused portfolio, according to deputy managing director Thomas Jefferson Wu.
China: Mr. Hu said China wanted its currency convertible - words likely to please his US counterpart. Millions of people must be lifted out of poverty before China can be called an affluent nation, President Hu Jintao said yesterday - emphasizing in his first press conference the central government's quest to spread wider the fruits of economic growth.
The minister of land and resources has reportedly been suspended for alleged corruption, in the most significant scandal in the central government since President Hu Jintao and Premier Wen Jiabao took office in March.
Las Vegas gaming mogul Steve Wynn yesterday issued a fresh warning to Macau to get control of its rampant loansharking operations, saying new laws must allow his casinos to compete legally.

A satellite for detecting and monitoring Earth's resources, jointly developed by Brazil and China, blasts off using China's Long March carrier rocket in Shanxi province.
Scientists are pledging to step up research on the environmentally sensitive Qinghai-Tibet plateau as the high-mountain region undergoes natural and man-made change.
Citic Pacific is planning a US$540 million power project in Jiangsu province in its latest efforts to cultivate income sources.
Investors flocked to China's first global bond sale in more than two years, making the US$1.5 billion offer well oversubscribed before the book close tomorrow.
Legend Group Holdings, parent of China's largest personal computer maker Legend Holdings, plans to raise US$60 million to $70 million from domestic and overseas investors for its venture-capital fund to nurture domestic information technology companies.
October 21, 2003



Hawaii: "China Hawaii Chamber of Commerce" and "China Council for the Promotion of International Trade (CCPIT) Hebei Sub-Council" agree to enhance the liaison and cooperation in the area of import and export, investment, business information and other commerce related activities for the benefit of the members of both organizations signed Memorandum of Mutual Cooperation in Honolulu Hawaii on Oct 20, 2003.
Hong Kong: A clear promise was given by the Hong Kong government yesterday that a public consultation on constitutional reform will start early next year.
About 100 former Sars patients may be suffering from serious bone degeneration as a result of their treatment, the Hospital Authority has revealed.
Hong Kong could solve its deficit problem in five years without raising taxes or issuing bonds, according to a leading accounting firm.
Hong Kong engineers who built exploration tools for a European space probe now on its way to Mars had two requests for funding rejected by the government, it was revealed yesterday.
Hongkong and Shanghai Hotels is planning to raise up to $1.27 billion from the sale of new shares, according to a source familiar with the deal. The shares would amount to 20 per cent of the company's enlarged share capital.
Property developer Sun Hung Kai Properties (SHKP) has joined four Asian-based foreign investors to take a combined 100 million yuan (HK$93.65 million), 10 per cent stake in a mainland insurance start-up.
Hong Kong information security professionals have raised the red flag over Microsoft's new strategy to release alerts for security holes in Windows products each month, saying the move would leave many enterprise computer networks exposed to malicious programs and possible infection.
Microsoft has pinned its hopes on a band of Hong Kong-based partners to spur fresh demand from Asian enterprises for its new line of Office System software and services.
China: Hopes overseas that China would soon let its currency float more freely were dashed by President Hu Jintao's comment on Sunday that "currency stability" served the mainland's economic performance, analysts said yesterday.
President Hu Jintao urged Apec countries yesterday to further open their markets, warning delegates that world trade was facing increasing levels of protectionism.
The mainland will surpass France to become the most popular tourist destination in the world by 2020, according to the World Tourism Organization.
In the week it first put a man into space, the mainland also launched one of the world's most ambitious government-backed grid computing projects - the China Education and Research Grid, which will link more than 200,000 students and faculty members at nearly 100 universities across the mainland.
Sony Corp has decided to postpone the launch of its PlayStation range of game consoles in China until next year from December due to the rampant software piracy in the mainland and the impact of Sars.
October 20, 2003
Hong Kong: The Commerce, Industry and Technology Bureau (CITB) is leading a delegation of more than 30 telecommunications executives to meet officials of the Ministry of Information Industry to clarify the opening of the sector under the closer economic partnership arrangement (Cepa).
Education officials are exploring the feasibility of switching from Cantonese to Putonghua for teaching Chinese at primary and secondary schools.
An international treaty to protect biological diversity and regulate the trade of genetically modified organisms is to be adopted by Hong Kong.
Exotic seafood, snakes and hi-tech electronics equipment are emerging as the new cash crop for smugglers operating from Hong Kong's waters, anti-smuggling taskforce officers say.
A court order is being sought to force Ernst & Young to hand over key documents relating to Akai Holdings, the flagship company of tycoon James Ting that spectacularly collapsed in 2000 after posting a record US$1.72 billion loss.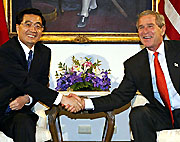 China: President Hu Jintao refused to budge on the currency dispute with the United States yesterday, telling business executives at the Apec forum that China's economic policies were good for global trade. The Chinese and United States presidents agreed yesterday to step up efforts to resolve the North Korean nuclear crisis in what they described as a "very good" hour-long meeting. The US and China are locked in a diplomatic tussle over Beijing's request for George W. Bush to meet Defense Minister Cao Gangchuan during the general's visit to Washington next week.
Beijing has been praised for its financing of the 2008 Olympics, with a member of the event's international organizer allaying fears of empty hotels and stadiums in the capital when the games begin.
Posco of South Korea will build a US$700 million steel plant in Jiangsu province, betting that expanding in Asia's second-biggest economy will widen its lead as the world's most profitable steelmaker.
Japan has offered China 300 million yen (HK$21.2 million) for harm caused by chemical weapons that were abandoned by the Japanese army in China, officials in Beijing said yesterday.
October 17 - 19, 2003
Hong Kong: The long-standing policy of Hong Kong's civil servants remaining politically neutral was described as a "British practice" by a senior central government official yesterday.

Tung Chee-hwa arrives at Legco yesterday. The chief executive put up a staunch defense in the face of calls for him to step down. Tung Chee-hwa has said he learned a lesson from the summer of discontent - beware of public opinion and avoid controversial political questions. And he did just that yesterday. The government should use every means at its disposal to encourage an increase in property prices, Tung Chee-hwa told legislators yesterday. Tung Chee-hwa says he will consider giving evidence before the Legislative Council's select committee on Sars if lawmakers ask him to.
International credit rating agency Moody's Investors Service raised its foreign currency debt ratings on Hong Kong by two notches yesterday and lifted its ratings on the mainland by one level.
New World Development (NWD) has reported its first full-year loss in more than 30 years, dragged down by a one-off provision of $4.77 billion after being hit by the sluggish property market and high development costs in the mainland.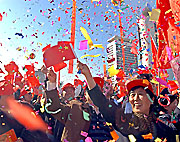 China: Looking slightly dazed by the fuss, Yang Liwei emerged from the Shenzhou V capsule yesterday morning after completing a historic odyssey through the skies and fuelling the country's ambitious dreams of space adventure. Hours after the nation's first man in space touched down, leaders of the manned space program were already talking about their ambitions for the future. When you're sitting in a can 343km above the Earth, it must be nice to know your mother is thinking of you. Yang Liwei's was on Tuesday night. Fears that China has military ambitions in space will prevent close co-operation with the United States and even long-time collaborator Russia, analysts say. There were jubilant scenes across the mainland yesterday as excited crowds danced and chanted slogans to celebrate Lieutenant-Colonel Yang Liwei's successful space mission.
Member states of the Asia-Pacific Economic Co-operation forum hope slashing red tape will stimulate an additional US$280 billion in regional trade by 2006.

China yesterday began the Hong Kong leg of a roadshow promoting a US$1.5 billion global bond issue - its first in more than two years.
Software giant Microsoft is tackling the mainland's growing domestic demand by forming a new unit that, for the first time, will develop and launch software for the Chinese market.
Spending on telecommunications networks will start to pick up in Asia-Pacific next year, with mainland carriers expected to lead the way as they deploy next-generation mobile networks, according to International Data Corp (IDC).
October 16, 2003
Hong Kong: The housing chief yesterday announced more steps to rein in supply of new flats - and predicted surplus would turn to shortage within four years. He also said limited land sales would resume next year. The key word that Michael Suen Ming-yeung made a point of emphasizing yesterday was consolidation - that the measures announced were made on the basis of prevailing housing policies. Property developers yesterday welcomed the new measures to boost the property market, with two of them immediately increasing the prices of their flats. Speculation about further government measures to prop up the property market and strong gains by HSBC Holdings helped propel Hong Kong stocks to their highest close in 26 months yesterday.
Harbour Fest organizers yesterday declared victory in their battles with the management of the Rolling Stones, claiming that last Friday's cancellation of the shows actually sealed the deal to have them perform next month.
Hong Kong's chief executive hailed China's first astronaut as a hero yesterday, saying the nation's dream of conquering space had been realized.
Five Hong Kong banks will be the first lenders to take advantage of the closer economic partnership arrangement (Cepa) when it comes into effect next year.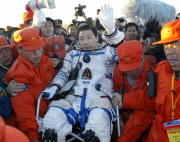 China: China's first astronaut in space returned safely to Earth early on Thursday when his craft touched down as planned after 21 hours in orbit. Beijing's mission control declared the country's landmark debut flight "a success." Lieutenant-Colonel Yang Liwei was due back on Earth early this morning to complete China's historic first manned space flight.
China's exports last month grew at their fastest pace in three months, and factory production surged, as consumer spending picked up in the United States and Japan.
October 15, 2003
Hong Kong: Hong Kong's monetary chief used today's 20th anniversary of the currency peg to launch a vigorous defense of the linked exchange rate, saying last night that recent events had shown it was not to blame for the city's economic troubles.
Customs officers seized almost two tonnes of ivory estimated to be worth $2.7 million hidden in a container that arrived in Hong Kong by ship from Tanzania, Africa, via India and Indonesia.
The Hospital Authority will release an internal investigation report over its handling of the Sars outbreak tomorrow, together with its response, chairman Leong Che-hung said last night.
The Rolling Stones are back on the lineup for the Harbour Fest. The American Chamber of Commerce, the festival organisers, announced late last night that tickets for Rolling Stones concerts on November 7 and 9 would go on sale at 10am today through the usual outlets.
After a near two-week absence from the market, the Hong Kong Monetary Authority (HKMA) surprised dealers and investors yesterday by stepping in to buy US dollars.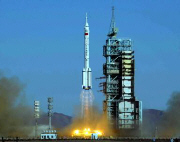 China: China on Wednesday launched an astronaut into space aboard the Shenzou V craft in a historic mission which catapults the country into an elite club alongside Russia and the United States. Amid snowcapped mountains and vast desert, hundreds of tourists will brave the icy cold of a Chinese autumn morning to scan the skies for a glimpse of the Shenzhou V lift-off.
The Communist Party leadership ended a four-day meeting yesterday with a pledge to deepen economic reforms by protecting private business.
Scientists in Guangzhou say they have achieved a human pregnancy through a technique that involves the use of three parents, and that may one day help infertile women.
The central government has branded Gao Yan, the former head of China's State Power Corporation, "a traitor against the party and country", according to sources close to the company.
China and Japan should stop intervening in the currency markets to give themselves an unfair trade advantage, President George W. Bush said ahead of a nine-day trip through Asia.
The central government has unveiled details of its reduction of the value-added tax (VAT) rebate paid to exporters, and promised to speed up payment of an estimated 300 billion yuan (HK$280.95 billion) in outstanding refunds.
October 14, 2003
Hong Kong: The Hong Kong economy has probably pulled out of its Sars-induced recession in the third quarter and will expand 2.2 per cent this year because of a sharper-than-expected rebound, researchers predicted yesterday.
InvestHK director-general Mike Rowse said on Tuesday he would discuss with the American Chamber of Commerce whether the Rolling Stones would be performing in the Hong Kong Harbour Fest next month.
A proposal to allow employers to hire three mainland workers for every new job they create for a Hong Kong worker has been dropped after strong opposition from unions.
The Pearl River Delta has long been held up as the saviour of Hong Kong's economy and a source of jobs, but Hong Kong youths are not interested.
The Guangdong public security bureau has announced a further extension of individual travel to Hong Kong and Macau.
Hong Kong's largest power utility, CLP Holdings, is selling down its 92 per cent stake in Australian electricity generator Yallourn Energy to fund future expansion in the country.
China: Plans for live television coverage of China's first manned space mission have been cancelled due to concerns over the potential political repercussions if something goes wrong. As China prepares to put a man into space for the first time, the propaganda gurus have been torn between a desire to promote nationalist sentiment and a fear of building up something that could go terribly wrong.
China's largest non-life insurer, PICC Property & Casualty, will pay almost 30 per cent of its forecast profit this year in a special dividend to its mainland parent, according to the firm's preliminary listing prospectus.
Loss of momentum in China's trade deregulation efforts has not slowed down expansion plans of United States-based information technology firms in the mainland.
Linux may have some way to go before it becomes commonplace on desktops, but the free operating system is already taking a dominant position in China's embedded software market.
United States insurance giant American International Group (AIG) will pay at least 1.38 billion yuan (HK$1.29 billion) for a 9.9 per cent stake in the mainland's largest property insurer, PICC Property & Casualty, before its Hong Kong listing next month.
New rules allowing domestic and foreign banks to trade a broad range of derivatives in China should allow investors more tools to manage risk stemming from huge government bond holdings.
Beijing has asked the European Union to end a ban on arms sales imposed after the 1989 Tiananmen Square crackdown and predicted that the EU would soon become China's biggest trading partner.
For a mere 60 yuan (HK$56), brand-conscious mainland consumers are upgrading their domestically produced cars to Mercedes and BMWs. It is a simple process and one that is becoming increasingly popular.
China and seven Portuguese-speaking countries yesterday signed an eight-point action plan for economic and trade co-operation and formally established Macau's role as a link between the two sides.
All eyes will be on President Hu Jintao and his American counterpart, George W. Bush, when they and 19 other heads of state meet in Bangkok for the Apec forum.
October 13, 2003

Hong Kong: TVB executive chairman Sir Run Run Shaw (left) and Chief Executive Tung Chee-hwa officiate at the opening of the studio's Tseung Kwan O facilities. The move may save TVB more than $100 million a year. Television Broadcasts (TVB) is confident that growth in advertising revenue in the second half of the year will offset the operational loss from moving its studios and see its local operations return to the black on a full-year basis.
Passenger traffic at Chek Lap Kok airport is virtually back to normal, with September numbers reaching more than 95 per cent of pre-Sars levels.
A pro-Beijing party has asked the central government to consider allowing mainland residents to buy property in Hong Kong through transactions completed on the mainland.
Several possible landing spots for the proposed delta bridge were examined in Zhuhai and Macau yesterday by a delegation of officials from the two cities and Hong Kong.

Delegates attend the Forum for Economic and Trade Co-operation between China and Portuguese-speaking countries. There will be good news about the proposed Macau-Zhuhai cross-border industrial park by the end of the year, Vice-Premier Wu Yi said during a tour of Macau last night.
Despite all the hype about the abundant and cheap pool of talent on the mainland, Hong Kong technology companies are cautious about setting up research and development (R&D) centres there.
Cisco Systems, the world's largest maker of internet routing equipment, is optimistic it can stem a loss of market share in Asia to lower-cost rivals such as China's Huawei Technologies.
China: The Long March CZ-2F rocket, expected to be used in the launch of the Shenzhou V capsule, is stationed on the launch pad at the Jiuquan Space Centre in Inner Mongolia. China plans to launch a manned capsule into orbit this week, becoming one of only three nations to have sent a man into space. The tentative launch date is between Wednesday and Friday "at a proper time", officials say.
Macau will figure prominently in the central government's drive to strengthen economic and trade ties with the Portuguese-speaking world, Vice-Premier Wu Yi said last night.
Beijing has been ranked 23rd out of 30 mainland provinces and municipalities in terms of gross domestic product (GDP) growth so far this year.
Asia Television (ATV) has finalized an advertising-revenue-sharing agreement with the Guangdong broadcasting authority and says it expects the joint venture will boost turnover by "hundreds of millions".
Swire Properties has until the end of this year to restructure its flagship, four billion-yuan (HK$3.72 billion) mainland property project in Guangzhou.
October 10 - 12, 2003

Hawaii: Members of the National People's Congress Standing Committee with Governor Lingle. From left to right, Zhou Zhengqing, vice chairman of NPC Financial and Economic Affairs Committee; Governor Lingle; Jiang Enzhu, chairman of NPC Foreign Affairs Committee and China-US Interparliamentary Exchange Group; Hu Kangsheng, vice chairman of NPC Law Committee and chairman of NPC Legislative Affairs Commission; and Zhong Jianhua, consul general of the People's Republic of China.

Hong Kong: Deputy Beijing Mayor Lu Hao said, during a news conference in Hong Kong about the 7th Beijing-Hong Kong Economic Co-operation Symposium, that the Beijing city government would simplify travel procedures to encourage more residents of the capital to visit Hong Kong.
Hong Kong people should not be complacent about dengue fever this winter, Food and Environmental Hygiene Department consultant Ho Yuk-yin warned on Friday.
Leading mobile telephone operators Hutchison Telecom and CSL are opposed to giving back part of their spectrum when their second-generation (2G) licenses expire in 2005.
American International Group (AIG) plans to buy 9.9 per cent of PICC Property and Casualty, a strong show of support for the mainland's largest non-life insurer before its Hong Kong listing.
The mayor of Ningbo was in Hong Kong yesterday for a spot of fishing. However, Jin Deshui came to fish for people, hoping that high salaries would lure some of the best and brightest to work in the coastal city of Zhejiang province.
Hong Kong's new deputy monetary chief was not giving too much away at his media debut yesterday. Negative equity? Positive signs. Basel II? A challenge. Grand total likely to be sold to steady the currency? Ask my boss.
A minority of recovered Sars patients might suffer after-effects caused by using heavy doses of steroids, Hospital Authority chief executive William Ho Shiu-wei said on Thursday.
Hong Kong property agencies are planning to expand their outlets for the first time since the peak of the boom in 1997 as the market continues to gain confidence.
The incidence of diabetes in Hong Kong is increasing at an alarming rate - and this will do enormous social and economic harm if more is not done to prevent it, medical experts warn.

China: Models of the rocket and spacecraft that will blast off from the Gobi desert on Wednesday for one orbit around Earth. China will broadcast its first manned space mission live on television next week, according to mainland media reports.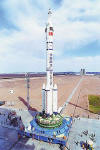 Two Russian-trained pilots have been tipped as the leading candidates for China's first manned space flight - although only one is likely to be selected for the mission.
Qantas Airways will launch a transpacific cargo service through Shanghai this month, as it takes advantage of the latest in a series of experiments that give foreign carriers access to major cities in China.

Tourists in Sichuan province step gingerly down a steep pass beside the Leshan Grand Buddha - the world's largest stone Buddha. Authorities are planning to continue restoration work begun last year on the 71-metre monument, which is on the Unesco list of world heritage sites.
The chief designer of the Shenzhou V spacecraft has expressed confidence that next week's launch will be a success, even though the mainland has conducted only four unmanned tests.
Six categories of people will not be allowed to work abroad, according to a rule issued by the Ministry of Personnel in conjunction with other national departments. The rule says technical specialists or management personnel who work on key national or provincial projects and research programmes cannot be employed overseas without permission. Also barred from working abroad are civil servants, people assigned by the state to support China's western development, those who have ever worked with state secrets, criminal suspects, and anyone who cannot leave the mainland due to other laws and regulations.
Media mogul Rupert Murdoch, chairman of News Corp, told Communist Party leaders yesterday that foreign countries could help China to create an "exemplary media industry".
Buyers from around the world gathered in Shanghai on Thursday to attend the 2003 China Sourcing Fair focussing on Electronics and Components which runs until October 11 at the Shanghai Exhibition Centre.
Receivers of Shanghai Merchants Holdings have been unable to verify a deal purportedly struck by businessman Chau Ching-ngai to sell his 63.19 per cent stake in the company to a retired Shenzhen judge for $11.5 million.
Taiwan Semiconductor Manufacturing Company (TSMC) said on Thursday it had invested NT$1.89 billion (US$56 million) in its China subsidiary as part of its plan to set up a NT$33.75 billion (US$1 billion) semiconductor plant in the mainland.
Wavecom plans to move production of its mobile phone modules to the mainland, hoping to take advantage of increased demand amid government efforts to encourage Chinese manufacturers to source more of their parts domestically.
October 9, 2003
Hong Kong: The Society for the Protection of the Harbour put forward five proposals to the government during a meeting on Wednesday in a bid to resolve the impasse over the controversial Central reclamation project.
Hong Kong said on Wednesday it would increase its departure tax for air passengers by 50 per cent to HK$120 (US$15.38) early next year in a bid to trim its fiscal deficit.
Industry watchers are divided over whether telephone users would benefit from a change to strict regulations preventing fixed-line dominant carrier PCCW from cutting prices and forcing it to lease its "last mile" loop to rivals.
Hong Kong's government said on Wednesday it would bid to host the prestigious International Telecommunication Union's ITU Telecom World conference in 2006.
Eight years ago, Hong Kong pioneered a radical experiment in the liberalization of telecommunications that has rippled across the globe. Results have been spectacular, with a massive expansion of networks and services resulting in some of the world's lowest prices.
Over 3,000 mainlanders were serving sentences in Hong Kong this year, Secretary for Security Ambrose Lee Siu-kwong said on Wednesday.
Police officers have clear guidelines for dealing with suspects in detention and during interrogations, Police Commissioner Tsang Yam-pui said on Tuesday. Mr Tsang's comments follow the death of a man earlier this week who plunged to his death while in police custody.
The government plans to offer free influenza vaccinations to a larger number of elderly people from November 10, the Department of Health said on Wednesday.
China: Premier Wen Jiabao said on Wednesday he was pleased to see Hong Kong had gradually stabilized following a political crisis which arose from mass protests earlier this year.
October 8, 2003

Hong Kong: Winston Chu says the way to protect the harbor in the long term is in co-operation with the government, not through litigation. The major political parties are now asking the government to reconsider the Central reclamation project even though they unanimously approved the work last year.
Chaos engulfed the public-hospitals system when Sars struck because the Hospital Authority lacked a crisis-management plan, its own review panel has concluded. Urgent measures set out by the Sars Expert Committee to prepare Hong Kong for another outbreak will be completed "within six months", the health minister said last night. Public discontent with the expert committee's report on Sars surfaced in a poll released by the Democratic Party yesterday.
Newly appointed Executive Councillor Selina Chow Liang Shuk-yee is enjoying a honeymoon period with the public, an opinion poll shows. Her popularity rating has topped those of her four fellow non-official members of the chief executive's cabinet.
Hong Kong's retail sales increased in August, for the first month since January, boosted by rising consumer confidence and increasing numbers of mainland tourists flocking to Hong Kong to shop.
In a gesture rich with symbolism, Irish President Mary McAleese and husband Martin McAleese took time from a China trade mission to meet Hong Kong's Special Olympics team last night.
HSBC Asset Management yesterday launched the first open-ended fund which gives overseas retail investors unprecedented access to the mainland's US$480 billion A-share market.

China: Until recently, couples like these would have found it difficult to divorce, but a law introduced this month has changed all that. Liberalized divorce regulations that cut the amount of time it takes to end a marriage from 30 days to 30 minutes will lead to a surge in the divorce rate, an expert has warned.
Police officers in Guangzhou say petty crime is up in the province because they have lost their powers to round up migrants.
Harvard University yesterday rebuffed China's accusation it had conducted unethical human genetic research on the mainland and broken its promise to provide remedial help to farmers affected.
Directors of state-owned companies will be given more powers over the next three years to improve corporate supervision and prevent corruption and mismanagement.
China Resources Power Holdings has been given a 10 per cent stake in the mainland's largest independent power producer (IPP), the latest in a series of deals as it bulks up its assets before a US$300 million to $350 million listing.
The mainland's new car policy will bar most fresh entrants to China's booming market, which is suffering from a glut of capacity as manufacturers expand to boost sales.
October 7, 2003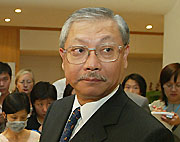 Hong Kong: Michael Suen fronts the media to explain the decision to put the harbour issue before Exco. The future of Victoria Harbour is back in the government's hands after the court rejects an attempt to halt Central project. The Executive Council will decide this morning whether to allow the return of a fleet of reclamation barges to Victoria Harbour after a legal bid to suspend work on the controversial Central project failed yesterday. If the Central reclamation proceeds as planned, contractors will begin pouring at least 250,000 cubic metres of sand and rock into the harbor in early December.
No hospital chiefs will be asked to step down over their handling of the Sars crisis following a probe by the Hospital Authority. The expert committee appointed by Tung Chee-hwa to look into the Sars outbreak had never thought of investigating what role the chief executive played in getting Hong Kong out of the crisis, a committee member said yesterday.

A touch of Buckingham Palace comes to Central as "guardsmen" sporting the busby hats of the Guards' Regiment march through town as part of a Cathay promotion.
Three activists celebrated victory yesterday after the Hong Kong government dropped its ultimatum for them to accept curbs on the right to protest or face further legal action - without wringing any concession from the trio.
The pro-business Liberal Party has re-launched itself to target the middle class in an ambitious attempt to become the ruling party in Hong Kong. The "golden week" holidays drew 287,000 mainland visitors to Hong Kong - including 80,000 to 90,000 individual travelers.
Hong Kong's third-largest property developer yesterday completed a near $3 billion stock placement in an opportunistic cash call that could signal a peak for booming property stocks and harks back to a less sophisticated era of corporate finance.
Efforts by Hong Kong software firms to take on government-backed technology projects in the mainland may also benefit foreign high-technology companies.
China: China is expected to tread softly at a meeting of Asean nations starting today, reassuring its neighbors that its growing economic might is not a threat and proposing greater regional co-operation.

Residents of Beijing joke that they spend more time traveling to their jobs along clogged arteries than actually working. The central government is urgently seeking ways to ease traffic in Beijing as cars multiply by the millions, clogged roads undermine productivity and the 2008 Olympics draw nearer.
The listing of the mainland's largest state-owned telecommunications equipment group has been scaled back and delayed by restructuring issues, according to sources close to the transaction.
Technology and education are coming together in Shanghai in an attempt to realize the city's goal of becoming a bilingual city by 2010, according to Asia Broadband, a company at the forefront of using advanced technology for educational purposes.
With worldwide sales in handheld devices in its third consecutive year of decline, Palm is turning its eye to China which has become the largest market in the Asia-Pacific, outside Japan.
Tax concessions will boost PICC Property & Casualty's net profit this year by about 700 million yuan (HK$653.81 million), according to a research report its joint global coordinator has issued.
October 6, 2003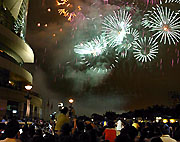 Hong Kong: Bursts of color light up the sky above the Hong Kong Convention and Exhibition Centre during last night's International Musical Fireworks Competition. About 290,000 people packed the waterfront to watch teams from Hong Kong and Italy strive to outdo each other with an impressive display of music and lights. Japan will take on the United States on Sunday in the two-part contest.
Hong Kong faces the threat of large-scale conflicts as it wades through a highly volatile election year, a top adviser to the chief executive has warned. The chief executive is facing renewed pressure to resign in the wake of the Sars investigation and the mass protest in July.
A gay couple married in Canada are raising the stakes in their battle to have their union recognised in Hong Kong. Roddy Shaw Kwok-wah and Nelson Ng Chin-pang say the administration must recognise their marital status or they will seek a judicial review of the matter.
The Catholic Church in Hong Kong has launched another scathing attack against the government, accusing it of pushing the education reform bill in much the same way it pushed Article 23 legislation.
Nokia pins its hopes on the N-Gage game and mobile phone. When Nokia launches the N-Gage gaming device tomorrow, the telecommunications firm will take its first step towards a new business model targeting wireless entertainment and business solutions in a bid to spur stagnating sales.
Cheung Kong (Holdings) is set to announce a $10 billion multi-currency retail bond programme that aims to tap local investors' thirst for high-yield instruments while providing the company with a diversified source of debt finance.
Hutchison Whampoa has lost the rights to exclusively provide soccer highlights to its third-generation (3G) mobile-phone users in Britain, but will be able to provide clips on a non-exclusive basis along with rival Vodafone Group.
China: President Hu Jintao will address a special two-day sitting of the Australian parliament this month, Australian Prime Minister John Howard said yesterday. United States President George W. Bush will also speak. He will address a joint sitting of Australia's federal parliament with Mr Hu on October 23, the next day. "The fact that the Chinese president should choose to come to Australia to address a joint sitting of parliament so very early in his term speaks volumes [of] the way in which we have been able to manage a close practical relationship with the Chinese," Mr Howard said.
A five-day car fair in Guangzhou was mobbed by more 600,000 visitors, setting a new attendance record for the increasingly car-crazy country. With about 1,500 vehicles sold, the car show in the Guangzhou city stadium from Wednesday to yesterday was also the most successful one in terms of sales in the Pearl River Delta region, the Yangcheng Evening News reported. About 400,000 people paid the relatively high 25 yuan (HK$23) fee to enter the exhibition fair and 200,000 more waited outside to watch the road show.
Mainland authorities hope to use a new global anti-corruption agreement to hunt down thousands of corrupt government officials who have fled overseas with billions of yuan.
Foreign Ministry officials have lashed out at what they called "arrogance and prejudice" in a US government report that criticises Beijing's human rights record and urged a visit by a UN torture investigator.
Prime Minister Wen Jiabao and Indian Prime Minister Atal Behari Vajpayee are expected to meet on the sidelines of the Asean leaders meeting in Bali this week, another sign of the increasing high-level diplomatic contacts between the two nations.
China yesterday published long-awaited regulations to allow car firms to finance the purchase of their vehicles, a decision that will accelerate an already booming market and worsen congestion on crowded urban streets.
A Shanghai-listed company has asked the police to take action against its former chairman who has fled the country, probably for the United States, leaving hundreds of millions of yuan in debts and possibly ruining the company.
October 3 - 5, 2003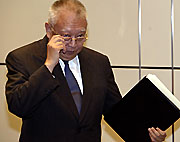 Hong Kong: Tung Chee-hwa puts on a brave face yesterday. The Legislative Council is likely to establish a select committee backed by the main political parties to determine whether any officials should be held responsible for the Sars outbreak.
Hong Kong's famous Victoria Harbour has become the focal point of a legal fight over land reclamation. Conservationists were in court on Friday trying to get an order stopping a project that they say will cause the loss of too much of the harbor that has already shrunk dramatically through the years because of other such work.

Government piling work, left, for reclamation project in Victoria Harbour to improve traffic condition was suspended last Sunday, after a court hearing on a complaint by conservationists.
More than one million low-skilled workers in Hong Kong who only have education up to Form Three level may lose out as the city moves towards a knowledge-based economy, Financial Secretary Henry Tang Ying-yen says.
The government has apparently shifted its stance on a proposal by Li Ka-shing to set up a tax-free industrial zone along the Hong Kong-Shenzhen border, saying it would consider any plan which would help raise employment and benefit the economy.
Many young candidates are stepping forward to run in the district council elections, spurred into politics by the July 1 mass demonstration and the weak economy. Election experts said most of these young people had only slim chances of winning a seat.
Stanford University economist Lawrence Lau is set to be the next vice-chancellor of the Chinese University of Hong Kong (CUHK), a university spokesman said yesterday.
Hongkong Air Cargo Terminals Ltd (Hactl) next week will open a consolidation centre for air cargo exports in Guangdong province as the world's No 1 airfreight handler gains a long-awaited foothold in the mainland's manufacturing heartland.
Brokers should strictly enforce the two-day settlement of stock trades, the securities watchdog warned yesterday, after discovering some houses were allowing clients up to eight days to pay for their transactions.
The experts probing Hong Kong's Sars crisis found significant shortcomings in the handling of the outbreak but did not single out anyone for blame - raising the ante for legislators to set up their own inquiry.
Tears welled in the eyes of health minister Yeoh Eng-kiong yesterday as he publicly apologised, for the first time, to the people of Hong Kong and the families of the 299 people killed by Sars for his shortcomings in handling the outbreak.

Connie Chan and Patrick Tse Yin face the media after having their handprints immortalised at the ceremony in the New World Centre mall in Tsim Sha Tsui.
Hong Kong's Sars outbreak could have been less catastrophic if the city had obtained accurate and timely information from Guangdong, where the first infections were reported last November, the expert panel report said. The Legislative Council is likely to establish a select committee backed by the main political parties to determine whether any officials should be held responsible for the Sars outbreak.
Global funds reallocating capital to Asia sent Hong Kong stocks soaring yesterday as bullish investors bet on a regional economic revival following fresh indicators of strength in the United States economy.
Full-year profit at Henderson Land Development rose a modest 4 per cent, despite a write-down for the declining value of its projects.
Property developers remain divided on whether the government should resume public land sales when a one-year moratorium expires at the end of the year.

China: Tension has been rising in Beijing and Shanghai, where residents evicted for redevelopment have increasingly taken to protesting.

Thirteen newly married couples take to street while holding red umbrellas and variegated balloons under drizzle, in Ruyang County, central China's Henan Province. As local economy booms, people in this remote county are beginning to enjoy higher standards of living.

Mary Ma Xuezheng, a director at PC maker Legend, kept the No 5 spot - the highest for Asia - in Fortune magazine's list of women with the most business influence outside the US.
The Pope will canonise a 19th century missionary to China tomorrow - and unlike the case three years ago, when his canonisation of martyrs angered leaders, the move has been welcomed on the mainland.
The first three days of the National Day "golden week" holidays saw a record number of visitors and commuters at tourist attractions and on public transport across the nation.
China is now such a powerful force in the world's economy that it has a duty to show leadership in adopting market-based exchange rates, US Treasury Undersecretary John Taylor said yesterday.
October 2, 2003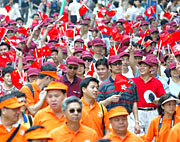 Hong Kong: Revellers march to Southorn Stadium during yesterday's National Day parade, which involved about 100 local organizations. More than 400,000 people took part in events around the city.
The government-commissioned report on Sars, to be released today, will "criticize and praise" key health officials for their performance and touch on the government's accountability system, a member of the expert panel has revealed.

Celebrations abound, with the traditional fireworks display over the harbor.
Tung Chee-hwa yesterday vowed to improve his governance, the economy and people's livelihoods to achieve prosperity and stability as Hong Kong further integrates with the mainland.
The chief executive's cabinet should become more transparent to increase the public's understanding of the decision-making process and address its grievances, newly appointed executive councilor Selina Chow Liang Shuk-yee says. Selina Chow made a confession as she spoke about four men who have had an influence on her life and career. The newly appointed executive councillor admitted that her quick temper and blunt style had made her many enemies in the past.
China: President Hu Jintao has called for further reform of the mainland's political system and the expansion of "socialist democracy" and citizens' participation in politics.
Meng Xuenong, the former Beijing mayor who was sacked during the Sars outbreak this spring, has re-emerged as a top official overseeing the massive South-North Water Transfer Project.
A sightseeing boat pulls up to a pier in Xiling gorge in Hubei. More water will be added to the Three Gorges reservoir this month. Water levels in the Three Gorges Dam reservoir will rise by four metres by the end of the month in an effort to boost electricity production and alleviate power shortages.
Hundreds of thousands of people flocked to landmarks in Beijing and millions of others headed on holiday yesterday as the nation celebrated the 54th anniversary of the founding of the People's Republic.
There are indications that the mainland's economy will face increasing pressure in the coming months as foreign governments intensify their campaign to force a revaluation of the yuan.
Guangdong will consolidate five television and radio stations under a new group company in an effort to streamline operations and recapture market share from Hong Kong and foreign broadcasters, according to provincial media sources.
The State Council is considering the final draft of a new policy to govern the car industry which may give foreign manufacturers more scope to finance vehicle sales and lift investment ceilings, industry sources said.
Cisco Systems, the world's largest maker of equipment to link computers, and Chinese rival Huawei Technologies have signed an agreement to halt a patent lawsuit filed by Cisco in a US court.
October 1, 2003
Hong Kong: Some medical workers, who contracted Sars earlier this year, want to claim compensation from the government, the Association of Hong Kong Nursing Staff said on Tuesday.
Firms in Hong Kong have started to hire again - as 24,000 job vacancies were registered in the private sector last month, the Labor Department said on Tuesday.
The Government said on Tuesday that it has recorded a fiscal deficit of $60.2 billion for the five months between April and the end of August - while its fiscal reserves stood at $255.2 billion at August 31.
There has been an increase in the number of pathological gamblers in Hong Kong since soccer gambling was legalized, new statistics released on Tuesday show.
British conglomerate Swire Pacific announced on Tuesday that it would discontinue its distribution business for Volvo and Hyundai cars in Hong Kong and Macau.
Efforts in technology research and innovation at the Chinese University of Hong Kong (CUHK) are increasingly focused on their commercial use to attract private-sector funding.
China: The Chinese government made it clear that the central bank in future would be charged mainly with monetary policy making as a special watchdog would supervise the banks, state media said on Tuesday.
Europe's largest carmaker Volkswagen and Shanghai Automotive Industry Corp (SAIC) on Tuesday said they had invested a combined €240 million euros (US$278 million) in an engine joint venture in Shanghai.
Chinese Premier Wen Jiabao on Tuesday used his first National Day speech to express confidence about the economy despite the Sars epidemic and warn Taiwan against seeking independence.

*News information are obtained via various sources deemed reliable, but not guaranteed