Hong Kong, China & Hawaii Biz*


How to Do Business with China, through Hong Kong & Setting up Business in China? - last update Feb 8, 2003
Do you know our dues paying members attend events sponsored by our collaboration partners worldwide at their membership rates - go to our event page to find out more! After attended a China/Hong Kong Business/Trade Seminar in Hawaii...still unsure what to do next, contact us, our Officers, Directors and Founding Members are actively engaged in China/Hong Kong/Asia trade - we can help!
China Projects Bidding Information - update daily Scholarship & Grants
FDA Bio-terrorism Rules About to Take Effect on December 12, 2003 - Go to our "Trade Issues" Page for Detail
Are you ready to export your product or service? You will find out in 3 minutes with resources to help you - enter to give it a try
Holidays Greeting from President Obama & Johnson Choi
http://www.youtube.com/watch?v=pNk4Z4lUV-k
http://www.facebook.com/video/video.php?v=219896871983&ref=mf
Wine-Biz - Hong Kong
Brand Hong Kong Video
March 31, 2004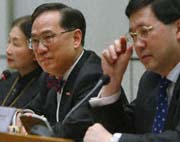 Hong Kong: Donald Tsang releases the report, with ministers for justice Elsie Leung Oi-sie and constitutional affairs Stephen Lam Sui-lung. Chief Secretary for Administration Donald Tsang said yesterday Hong Kong had to face the ``political reality'' that Beijing effectively would decide when time was ripe for reforms to the systems for electing the chief executive and Legislative Council.

Sotheby's director for China and Southeast Asia Nicholas Chow holds an imperial seal that belonged to emperor Qianlong from the Qing dynasty. The soapstone seal, bearing a carving of the mythical imperial lion, encapsulated the emperor's authority. The seal will be auctioned on April 25 at the Island Shangri-La Hotel. It is expected to fetch between $7 million and $9 million.
Analysts who double as newspaper "tipster" stock columnists under pen-names may be forced to reveal their identities and personal shareholdings under proposals to be unveiled by the securities regulator today.
Consumer electronics maker TCL International Holdings and parent TCL Corp will spin off their jointly held mobile-phone manufacturing company in Hong Kong in a move that will see them cash out of the slowing mainland handset market.
China: The mainland has stopped offering visas on arrival for US passport holders at entry points such as Shenzhen in an escalation of a diplomatic row over fingerprinting.
Beijing defended its human rights record yesterday, saying 2003 had been a year of "landmark significance for progress", although it admitted that more needs to be done.
While Pascal Lamy's smile is still lingering in Chinese people's minds, Franz Fischler, EU Commissioner for Agriculture, Rural Development and Fishery, arrived in Beijing at Lamy's heels
Almost 20 per cent of China's population of 1.3 billion has moved into the middle class, according to Xinhua News Agency, citing the nation's top think-tank.
March 30, 2004
Hong Kong: Hong Kong's soccer elites talk proudly of their patriotism - and would be happy to beat the national team in a World Cup qualifier tomorrow night to prove it.

Arthur Li talks to reporters after meeting a delegation of primary school principals at the Education and Manpower Bureau. He says the bureau is being flexible towards schools marked for closure.
Hong Kong's two exhibition centres must co-ordinate their roles to combat competition for business from other Asian cities, government officials said yesterday.
The government is considering capping the multimillion-dollar tab it pays in overseas education allowances for the children of civil servants.
Hutchison Whampoa is planning to spin off its mobile-phone assets through a separate listing vehicle, in a move which could raise as much as US$1 billion and offset losses stemming from its third-generation (3G) business.
Cheung Kong (Holdings) expects top dollar for its luxury flats at the Tiger Balm Gardens site when sales begin in the third quarter of this year.

Hong Kong Computer Society president Daniel Lai says he possesses the qualifications required to lead Hong Kong's IT development initiatives. Hong Kong Computer Society president Daniel Lai is tossing his hat into the ring as a candidate for the post of government chief information officer (CIO). The veteran information technology executive is also head of IT for the Mass Transit Railway Corporation (MTRC).
Rivals Symantec and MessageLabs have formed a unique alliance in Hong Kong that promises to expand their business and fuels speculation that the two security firms may be planning a merger.
A digital media centre opening in Cyberport on Tuesday will provide multimedia equipment and services for Hong Kong's small and medium-sized enterprises (SMEs).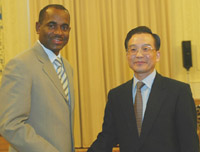 China: The government of the People's Republic of China and the government of the Commonwealth of Dominica established diplomatic relations at ambassadorial level as of March 23.
China is expected to publish Tuesday a white paper on its human rights progress over the past year, an official with the Information Office of the State Council said Monday.
Guangdong has been unable to solve its power shortage problems and will have to purchase more electricity from Hong Kong and other regions this year.
Asia's largest refiner, China Petroleum & Chemical Corporation (Sinopec), said yesterday its 2003 net profit rose 32 per cent to 21.59 billion yuan (HK$20.34 billion) from 16.32 billion yuan a year earlier.
The climate for initial public offerings grew colder yesterday after the retail response to the share sale of China Resources Peoples Telephone forced global co-ordinator UBS to buy 8 per cent of the company.
Mainland electricity producer Huadian Power International plans to spend almost 26 billion yuan (HK$24.5 billion) in the next three years to build and upgrade power plants, hoping to grab a share of the country's surging demand.
Great Wall Automobile Holding Company, China's largest maker of sport-utility vehicles (SUVs) and pickup trucks, plans to invest as much as 900 million yuan (HK$848 million) in 2004 and 2005 to enter the multi-purpose vehicle (MPV) market.
March 29, 2004

Hong Kong: About 3,000 people, including 1,000 PLA members, took part in Hong Kong's annual tree planting day, in Tung Chung yesterday. Secretary for Justice Elsie Leung Oi-sie joined senior People's Liberation Army members to create a greener city.
An extensive body of material that could shed light on important parts of the Basic Law has been donated to a library soon to open in Hong Kong - but some documents have been held back on the mainland to ensure compliance with state secrets laws. The opening of the Basic Law Library in October will help fill a vacuum that has long hindered research into Hong Kong's constitution and public understanding of its provisions.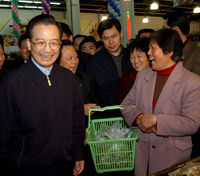 China: The acceleration of development in eastern China constitutes a crucial component part of the overall strategy of modernization construction and practical efforts should be made to bring about the all-round, coordinated and sustained social and economic growth, said Premier Wen.
Premier Wen Jiabao has warned officials against making blind investments in wasteful projects. Demand for oil and coal will increase again on the mainland this year, according to a Ministry of Commerce report.
The central government's latest measures to cool the economy have sparked a range of views on the outlook of the mainland's commodities industry.
China Resources Peoples Telephone yesterday moved to dispel market speculation that its HK$1.46 billion initial public offering (IPO) was in trouble, saying its shares will debut on the main board on Wednesday as scheduled.
Sinopec Shanghai Petrochemical, China's largest ethylene maker, will embark on a 1.9 billion yuan capital expenditure plan to boost capacity after posting a strong profit result last year.
Mainland mobile-phone giant China Unicom has become a dark horse in the bidding race for a new third-generation licence in Hong Kong after confirming its interest in rolling out its CDMA 2000 network in the territory.
Russia's 2nd-largest oil company signed an agreement on Saturday with Russian Railways to double the railway delivery of oil export to China this year and increase the amount by five times by 2006.
Facing worsening energy shortages, Guangdong plans to increase its generating capacity by 4.6 million kilowatts and buy 29.5 billion kilowatt-hours from other provinces, including 2 billion kilowatt-hours from Hong Kong this year, according to an official report yesterday.
China Netcom Communications Group (CNC), China's second biggest fixed-line carrier, is looking to expand its international telecom services and enter the wireless broadband sector in the mainland.
China is set to import at least 100 million tons of crude oil this year - 10 per cent more than 2003 and accounting for 37 per cent of the country's consumption of 270 million tons estimated in 2004, according to the Ministry of Commerce.
China has been told to overhaul its cinema infrastructure or risk driving away Hong Kong investors.
March 26 - 28, 2004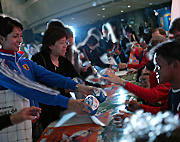 Hong Kong: Hong Kong Sevens player Chan Fuk-ping prepares to sign two miniature balls for a fan at Pacific Place yesterday in the run-up to the Cathay Pacific/Credit Suisse First Boston Hong Kong Sevens, which kicks off at the Hong Kong Stadium this evening. Chan, who has represented Hong Kong since 1996 in both the Sevens and 15-a-side competition, is the face of the city's team, having been honored with an image on a Hong Kong postage stamp last month.

Briton Craig Summers (left) and Peter Gauchi from New Zealand, pictured in Wan Chai, are two of the estimated 20,000 overseas fans expected to attend the Sevens.
Forgers of the new smart ID cards have proven to be not so smart. Immigration officers have made their first seizures of faked smart cards since the issue of the IDs began nine months ago. The smart ID cards are hailed as virtually forgery proof and the fakes do not come close to challenging that claim.
Watch and jewellery makers in Hong Kong are set to return in force to the world's biggest industry trade show next month in Switzerland, although they still feel hurt after being effectively banned last year because of the Sars outbreak.
Hong Kong's fund industry is seeking legal advice as it gears up to fight the possibility of punitive action from the pension regulator over breaches of investment regulations.
Disappointing results from a number of high-profile companies and concern about slowing growth in China sparked widespread selling of Hong Kong stocks yesterday, leaving the Hang Seng Index at a new low for the year and the H-share index down 4.12 per cent on the day.
Hong Kong Land Holdings, the largest landlord in Central, is poised to return to the residential market after a seven-year hiatus.
The Office of the Telecommunications Authority (Ofta) has rejected criticism that it is creating too much competition in the local third-generation (3G) telecommunications market, saying its job is to "protect competition and not competitors".
In one of the largest operations of its kind, 750 police officers raided brothels, love motels, cyber cafes and karaoke parlours in West Kowloon, arresting more than 400 people, seizing HK$45 million in cash and other assets, and dealing a major blow to a triad-run vice syndicate.
China: China's largest computer firm, Legend Group, is expected to announce today that it has joined an international elite corporate club by becoming a major Olympic Games sponsor.
Guangzhou Mayor Zhang Guang- ning has set two goals for the coming year: to spur economic development and make the city a better place to live and work.
China Unicom suffered its first profit decline last year since it listed four years ago, citing growing pains in the key CDMA segment and larger than expected losses from the disposal of its twilight paging business.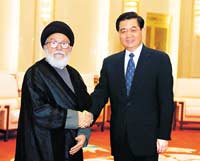 China is willing to take an active part in Iraq's reconstruction and China will work with the international community to help Iraqi people embark on a road of peace, stability and development, President Hu said when meeting IGC president Bahr Ul-Uloum Thursday.
China will strive to launch a satellite to orbit the moon by December of 2006 from Xichang Satellite Launch Center in Sichuan province, SW China, the country's top space official said Thursday.

China shipping giant Cosco Pacific is looking to invest in terminal ports in North America and Europe as part of a multimillion-dollar ports expansion program this year.
March 25, 2004
Hong Kong: There still needs to be closer co-operation between all those involved in Hong Kong's information technology industry, the Secretary for Commerce, Industry and Technology said on Thursday.
Hong Kong should build new container terminals within eight years, but those efforts will be futile unless the government tackles high trucking and port costs, according to a key strategy report.
Government officials on Wednesday hit back at claims that an additional third-generation (3G) mobile phone license would create too much competition, saying the market would be the final arbiter.
New World Development (NWD) is taking the government to court for scrapping the sale of former subsidized flats at Kingsford Terrace in Ngau Chi Wan. The legal move is the second by the same developer in the past eight months.
Hong Kong banks face an uphill battle to meet the end-2006 deadline for implementing the new Basel Accord, financial consultants KPMG warned yesterday.
China: Beijing reacted angrily yesterday to a new United States policy of fingerprinting people applying for non-immigrant visas, saying it was discriminatory and a violation of human rights.
Retail sales on the mainland, which the central government hopes will play a bigger role in driving economic growth, are expected to rise more than 9 per cent this year, the Ministry of Commerce says.
Taiwan Semiconductor Manufacturing Company (TSMC) has raised the stakes in its lawsuit against Semiconductor Manufacturing International Corp (SMIC), making fresh accusations that drew an angry response from its mainland rival.
The US decision to introduce an anti-China motion at the ongoing session of the UN Human Rights Commission comes as no surprise. This marks the 11th such motion made by the US since 1990.
Party and govn't officials are not allowed to take enterprise posts starting in May, according to a notice released by the CPC central committee. Experts are hailing the new rule as "very necessary."
PetroChina played down concerns that output declines at its ageing mainstay Daqing oilfield - the country's largest - will accelerate, after reporting record profit growth yesterday of 48.4 per cent for last year due to buoyant oil prices.
Oversupply and rising prices of raw materials are combining to force a restructuring of China's newsprint industry, with domestic competition intensifying in advance of Beijing's five-year-old anti-dumping law expiring at the end of June.
March 24, 2004

Hong Kong: The panda An An in its enclosure at Ocean Park, to be livened up by the Lovely Giant Panda Party next month.
Civil service unions yesterday urged the government to halt the second phase of a pay cut next year, in view of the continued economic recovery and a slight rise in the private sector pay trend.
Mobile-phone carriers CSL and Sunday Communications have lashed out at a government proposal to issue a new CDMA license that could be used for third-generation (3G) services, saying it would create too much competition in a crowded market.
Cathay Pacific Airways is likely to ``put its own metal'' next year on services between Hong Kong and Moscow following the signing of a long-awaited codeshare deal with Russian airline Aeroflot on Monday in Moscow.
China: Hong Kong, Guangzhou and Macau should make a joint bid for the 2010 Asian Games, a delegate to the Guangzhou CPPCC has proposed.

Sumner Redstone, chairman and chief executive of Viacom, plans to follow up his company's joint venture in Shanghai with another in Beijing. Global media giant Viacom is forming a television production company with the Shanghai Media Group that will be the first foreign investment in China's media content industry since new laws were announced last month.
Citic Securities bonds worth one billion yuan will go on sale tomorrow, marking the first scrip sale by mainland brokerages desperately trying to broaden their fund-raising channels.
Premier Wen Tuesday unveiled this year's major tasks for reinvigorating industrial rustbelts, promising more efforts to restructure State firms, promote the non-State sector, optimize industrial mix, and absorb more domestic and overseas investment.
China expressed strong dissatisfaction with US decision to seek a resolution condemning its human rights record at a key UN meeting and called in the US ambassador to lodge its protest.
Great Wall Automobile could become the first mainland carmaker to sell vehicles in Hong Kong, after announcing plans yesterday to market its sport-utility vehicles (SUVs) in the territory.
March 23, 2004

Hong Kong: Tourism academic Ray Pine wants to help prepare Hong Kong and the mainland for the coming influx of visitors.
Hong Kong and Japan signed an agreement on Tuesday to step up exchanges in communications and information technology.
Almost two-thirds of Hong Kong people support democrats' calls for full elections in three years, a survey revealed on Tuesday, but few expect they will actually materialize.

Vice-chairman and chief executive He Guangbei is banking on successful wealth management services and the consumer credit portfolio for growth at BOCHK. BOC Hong Kong (Holdings) has charmed investors with its results for last year beating the most optimistic of expectations. Bank of China Hong Kong has cheered shareholders with a forecast-beating profit gain for last year, but failed to deliver on key management appointments recommended in the wake of the Shanghai Land Holdings loan inquiry.
The Consumer Price Index (CPI) bucked a six-month deflation-easing trend, falling by a steeper-than-expected 2 per cent in February, although analysts remain optimistic that prices will rise by year end.
The Inland Revenue Department has slapped a HK$240 million tax bill on Air New Zealand for transactions conducted through a locally registered shelf company.

Government plans to appoint a chief information officer (CIO) this year might be hindered by a lack of suitable candidates for the job, experts warned. John Tsang Chun-wah, Secretary for Commerce, Industry and Technology, announced the creation of the CIO's position earlier this month.
Kowloon-Canton Railway Corporation (KCRC) has begun a feasibility study for the massive redevelopment of its freight terminal at Hung Hom, which could see the area transformed into a commercial and convention centre hub costing up to HK$20 billion.
China: Many Shanghai-based Taiwanese businesspeople who went home to vote have been returning to the city with heavy hearts.
Cowi, Denmark's top engineering firm, has teamed up with Danish architect AA Arkitekter, to be among eight groups shortlisted to bid for the design of the tennis centre and hockey stadium for use in the 2008 Beijing Olympics.
Anhui Conch Cement expects turnover and production to be up by more than 50 per cent this year despite higher coal prices, executive director Guo Jingbin said.
Hebei province is catching China's initial public offering fever with a half-dozen companies eager to list in Hong Kong, Hebei's vice-governor Cai Limin said at a trade fair yesterday.
China Unicom, the mainland's No2 mobile operator and the only carrier that offers a dual network, is expected to report a 4.4 per cent rise in 2003 net profit to 4.77 billion yuan (HK$4.49 billion) from 4.57 billion yuan a year earlier, according to analysts.
The resignation of Taiwan's defense minister highlights the rift between the 65-year-old Kuomintang veteran and the Chen Shui-bian administration, observers and analysts say.
American textile and clothing manufacturers may intensify calls to impose further quotas on mainland garment products as the United States seeks to haul China before the World Trade Organization (WTO) over its alleged non-compliance with global trade rules.
A hefty portion of the proceeds from Solomon Systech (International)'s initial public offering next month will go to existing shareholders - a move which could fuel investor doubts about the chip designer, especially after Semiconductor Manufacturing International Corp (SMIC) flopped in its listing debut.
United States computer giant Hewlett-Packard (HP) will ramp up its retail presence in China through partners, selling HP-branded iPods, digital cameras, projectors and home entertainment systems by the end of the year. However, it will not open 1,000 retail stores as reported in the mainland media last week.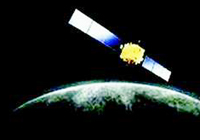 China's lunar probing program formally started when the project was approved by the state in January 2004, marking a significant step forward in the country's deep space exploration.
China expressed strong dissatisfaction with US decision to seek a resolution condemning its human rights record at a key UN meeting and called in the US ambassador to lodge its protest.
March 22, 2004
Hong Kong: Hong Kong's economy looks to be heading for a good year. Business conditions and consumer confidence are up, while unemployment is falling and deflation slowing.
The silence of Chinese leaders Hu Jintao and Wen Jiabao on the political future of Hong Kong is in sharp contrast to the cultural-revolution style rhetoric used by Beijing officials and Basic Law drafters against the territory's pro-democracy forces.
Lingering uncertainties over Taiwan's election and security fears worldwide are expected to discourage investors and weigh on Hong Kong shares this week.
Constrained by the upcoming election in September, Financial Secretary Henry Tang did not raise taxes or cut spending dramatically in his budget, yet still managed to balance it in five years on paper; he simply raised some numbers in the projections to complete the mission.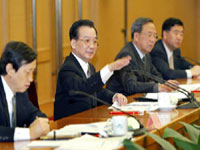 China: Premier Wen Jiabao affirmed at a work conference the achievements made in carrying out the western development strategy over the past four years and pointed out that the strategy would still be one of China's top agendas. From Mar. 16 to 17 the Chinese Ministry of Commerce held a national conference on the reform and development of circulation business in Beijing, the first one since its establishment. China is evolving into a huge manufacturing base for the whole world, and sorely needs trained technicians, which will become a major disincentive for the further development of manufacturing.
China's largest air carrier and its largest coal producer plan to ride on the appetite for China-related stocks by scheduling initial public offerings in the United States and Hong Kong this year.
China Everbright Holdings is selling its entire interest in China Everbright Technology (CET) to three new shareholders in a deal that may lead to a takeover.
At least one mainland Chinese airline could sign a provisional agreement this year for the A380, the double-deck, long-range, 555-seat super jumbo jet, according to a senior Airbus executive.
Two airlines in greater China - Air Macau and Shanghai Airlines - are expanding their freighter fleet to take advantage of the mainland's burgeoning airfreight market.
The Securities and Futures Commission (SFC) will soon amend the rules governing real estate investment trusts (reits), allowing them to hold overseas properties.
Listing candidate China Resources Peoples Telephone is promising high dividend yields as it strives to reverse a recent run of disappointing initial public offerings on the Hong Kong stock exchange.

Nokia says it regained the top spot in China's retail handset market over the first two months of this year, surpassing home-grown manufacturers such as Bird and TCL, and arch-rival Motorola.
March 19 - 21, 2004
Hong Kong: Chicken will be back on the menu of many households today following an agreement between the government and five associations representing the industry to resume the supply of local poultry to the markets.
Hong Kong is expected to record a whopping 30 per cent growth in tourist arrivals this year as a result of the surging number of mainland individual travelers, according to Financial Secretary Henry Tang.
Active hiring by retail and tourism-related companies helped improve Hong Kong's jobless rate in February to 7.2 per cent, its lowest level since November 2002.
Orient Overseas (International) (OOIL) on Friday announced a record net profit result of US$329 million (HK$2.5 billion) for 2003.
Tycoon Li Ka-shing's conglomerate flagship Hutchison Whampoa used all of its unbooked past gains and sold all the shares it held in two European phone companies to offset its massive loss in third generation (3G) mobile operations and beat analysts' expectations. Hutchison Whampoa's third-generation (3G) venture has suffered a higher than expected $9.6 billion loss in its first year of operation, with a troubled launch in Europe and Australia eroding gains from an otherwise strong performance in its main operating divisions. Despite a worse-than-expected loss for its third-generation (3G) business last year, Hutchison Whampoa managing director Canning Fok is sticking to his original target of achieving break even by the end of next year.
Strong sales of more than 6,000 flats helped lift full-year net profit for Cheung Kong (Holdings) by 12per cent to HK$9.82 billion.
Contractors working on phase three of the Central reclamation project will be eligible for a maximum HK$100 million in compensation for the five-month delay caused by a long court battle over the scheme.
China: The Bush administration has filed a trade complaint against the central government over the tax break it gives domestically made semiconductors. It is the first World Trade Organization filing against the mainland. US Thursday brought a complaint against China in the World Trade Organization over tax policies that it said represent an "unfair barrier" to China's semiconductor imports.
China stock offerings have lost their gold dust allure with Semiconductor Manufacturing International Corp (SMIC) stock falling 7.99 per cent on its trading debut in Hong Kong yesterday, suggesting that indiscriminate demand could be a thing of the past.
In a move that appears to run counter to central government policy, the Hainan provincial government plans to reopen a bank that was shut down by the People's Bank of China (PBOC) in 1998 because of its massive bad debts.
China Mobile (Hong Kong), the world's largest mobile carrier by subscribers, says net profit for last year improved 9per cent to 35.56 billion yuan (HK$33.48 billion), bolstered by strong growth in the number of subscribers and non-data mobile services.
Experts believe that the Chinese economy is more and more concentrating in big city areas, especially in the city groups of Pearl River Delta, Yangtze River Delta and Beijing-Tianjin Bohai Bay region.

Mainland-backed conglomerate Citic Pacific said 2003 earnings plunged 66.32 per cent as the Sars outbreak, the sale of some infrastructure projects and property provision took a heavy toll on its business.
Free-range chickens raised on the prairies of Inner Mongolia are about to be marketed in southern China, in what is shaping up as a billion yuan (HK$941.5 million) battle for consumers' taste buds following the outbreak of bird flu in the mainland.
March 18, 2004
Hong Kong: The chief secretary last night warned against rushing to introduce electoral changes in Hong Kong unilaterally, saying this would breach obligations to seek Beijing's consent on reforms. As calmly and softly as he could, Donald Tsang was telling the harsh truth about the democratic development of Hong Kong.
Poultry farmers and government officials last night failed to break a deadlock on resuming live chicken sales despite some wholesalers agreeing to transport birds to retail outlets.
Goldman Sachs is considering financing an investment bank involving mainland banker Fang Fenglei and computer firm Legend Holdings, banking sources say.
China Telecom Corp is gearing up for a second round of asset acquisitions next month with plans to raise more than HK$23 billion in the equity market, keeping it one step ahead of rival China Netcom Corp.
China Telecom, the Hong Kong-listed unit of the mainland's biggest fixed-line operator, beat forecasts with a strong 152.6 per cent growth in 2003 net profit to 24.69 billion yuan (HK$23.25 billion).
Television Broadcasts (TVB), the dominant free-to-air TV broadcaster, said yesterday that profit plunged 25 per cent to HK$441 million for 2003, after a pickup in advertising in the second half failed to offset the impact of the Sars outbreak earlier in the year.
Hong Kong Dragon Airlines (Dragonair) has confirmed that a contract will be signed in early April for the lease of six 284-seat Airbus A330-300s from International Lease Finance Corporation (ILFC).
China: General Motors, the world's largest carmaker, says combined net profit at its four joint ventures in China more than trebled to US$437 million (HK$3.4 billion) last year as its share of the mainland market increased.
Barely a quarter of 94 foreign companies investing in China last year made any money despite the country's dramatic economic progress, according to a survey by PricewaterhouseCoopers.
Fixed-asset investment on the mainland jumped 53 per cent in the first two months of this year amid expectations that the central government would restrict new infrastructure projects after the National People's Congress.
China Construction Bank (CCB) intends to sell 50 billion yuan worth of shares in troubled companies as it ramps up non-performing asset disposal, senior bank executives say.
Semiconductor Manufacturing International Corp (SMIC), China's largest chip maker, is set to debut in New York and Hong Kong stock markets shortly amid expectations it will see roaring investor demand.
Stringent export controls on chip-making equipment are hindering the ability of United States suppliers to tap the rapidly growing mainland market, even as political pressure to reduce the trade deficit with China increases in this presidential election year.
Stringent export controls on chip-making equipment are hindering the ability of United States suppliers to tap the rapidly growing mainland market, even as political pressure to reduce the trade deficit with China increases in this presidential election year.
It may take a decade before the Agricultural Bank of China (ABC), the weakest of the mainland's Big Four state-owned lenders, can go public unless the central government pours more money into it, Fitch Ratings director Arthur Lau said in Hong Kong.
Although grain prices in China leapt 20 per cent year on year in February, prices since last October have been noticeably slowing and giving authorities some breathing room in their fight against inflation, according to National Bureau of Statistics figures.
Hawaii: First ever between Hawaii and China the "Hawaii's China Connection", a co-production between CMC Consulting Group Inc and Shanghai TV Documentary Channel completed on location in Hawaii.
March 17, 2004
Hong Kong: Nearly half a million public housing tenants would have their rent cut by 10 per cent and all welfare recipients would live rent-free in the subsidized flats under a government proposal to compensate for overcharging on rents.
The health minister has laid professional responsibility for the handling of the Sars crisis on the former director of health and said Chief Executive Tung Chee-hwa had "overall total responsibility" for its impact on the community.

Donald Tsang, the head of the taskforce on constitutional reform, insists his group will not be sidelined by a mainland think-tank.
Security officials have rejected calls to verify the number of mainland children who were estimated to be eligible for right of abode in Hong Kong before the reinterpretation of the Basic Law in 1999.
Hong Kong Cable Television has bid close to $800 million to secure exclusive Hong Kong broadcast rights for the next three seasons of English Premier League (EPL) football, according to a source close to the bidding process.
The number of transactions in the secondary property market this month is on course to match levels not seen since the late 1990s, in the latest evidence of the sector's rebound.
Kowloon-Canton Railway Corp has hired Morgan Stanley to advise it as the government-owned company prepares for a proposed merger with MTR Corp, according to sources.
China: The multibillion-dollar Nansha port project in Guangzhou will enhance rather than challenge Hong Kong's role as Asia's logistics centre, say mainland officials.
Stringent export controls on chip-making equipment are hindering the ability of United States suppliers to tap the rapidly growing mainland market, even as political pressure to reduce the trade deficit with China increases in this presidential election year.
Two Chinese naval warships and two French warships end a joint maritime drill Tuesday off the coast of Qingdao, a port city in east China's Shandong province.
China, EU Tuesday pledged to forge ahead their comprehensive strategic partnership via co-operation in various sectors, including joint efforts against terror.
Shanghai Industrial shares fell 4.1 per cent yesterday as investors punished the company for its association with Semiconductor Manufacturing International Corp (SMIC), which sparked concern at the time of its initial public offering by making conflicting statements on its finances.
China will kick off a profound reform of its land administration system following Premier Wen Jiabao's exhortation for an ``iron fist'' crackdown on rampant illegal land requisition across the country.
China Power International Holding - a utility run by the daughter of former premier Li Peng - has hired Merrill Lynch to manage an initial public offer that may raise HK$7.8 billion, bankers involved in the sale said.
March 16, 2004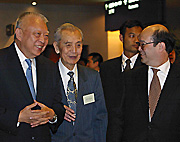 Hong Kong: Tung Chee-hwa arrives at yesterday's seminar on the Basic Law with one of the law's drafters, Shao Tianren (centre) and Shiu Sin-por, head of the One Country Two Systems Research Institute.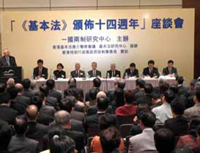 China refers to the People's Republic of China. The relationship between "One Country" and "Two Systems" is clear. In Deng Xiaoping's words, without "One Country," there would be no "Two Systems", Chief Executive Tung Chee Hwa said at the symposium.
The head of Hong Kong's biggest bank said yesterday the city must continue to use its own initiative to build economic strength.
Hong Kong Exchanges and Clearing (HKEx) has sought a clarification from Semiconductor Manufacturing International Corp (SMIC) about remarks made by chief financial officer Jenny Wang that were retracted in a filing to the US Securities and Exchange Commission (SEC) on Friday. Dim sum carts, historic displays or even squash courts may replace the trading terminals at Exchange Square if Hong Kong Exchanges and Clearing (HKEx) fails to renew its lease on the trading hall in October next year.
Hong Kong-based commodity trader and maritime bulk carrier Noble Group yesterday launched a placement of US$200 million worth of convertible bonds to fund potential strategic acquisitions and refinance existing debts, according to market sources.
Luxury retail store operator Dickson Concepts (International) will spend HK$50 million to open its third Seibu department store and a watch and jewelry shop in Hong Kong to capture the tourism boom.
China: Former Zhuhai mayor Liang Guangda, who has advocated a bridge linking the special economic zone and Hong Kong since the mid-1980s, has given his backing to a Y-shaped structure linking Hong Kong, Zhuhai and Macau.
Retail sales on the mainland in the first two months of the year saw a 10.5 per cent increase over the same period last year, powered by sales of cars and mobile phones.
Strong oil prices allowed China's dominant offshore oil producer, CNOOC Ltd, to post record profits of 11.54 billion yuan (HK$10.87 billion) for last year - up 25 per cent from the previous year - even though the company reported that production costs rose to US$11.08 (HK$86.42) a barrel against US$8.48 in 2002.
China's unquenchable import-export demand, which has tied up an estimated 80 per cent of global shipping capacity, was primarily responsible for pushing up China Shipping Development's 2003 net profit by 73 per cent to 1.02 billion yuan (HK$960.94 million).
The mainland's Supreme People's Court has adopted a ``very practical and pragmatic approach to construction disputes'', according to United States law firm Jones Day.
China is speeding up construction of a portion of the world's largest water transfer project in a bid to slake the increasingly acute thirst of Beijing and other northern cities, according to Minister of Water Resources Wang Shucheng.

China rules: It is up to foreign firms to comply with China's Wapi standard because of China's right to set rules for its industries, says Avaya chief executive Donald Peterson.
A lengthy trade crisis over China's wireless local area network (WLAN) encryption standard might benefit the information technology rivals of Intel and other firms adversely affected by the mainland policy, industry experts said.
The dotcom bubble may have burst but the local internet domain-name business is witnessing a slow revival. Last week, Hong Kong company Essatte sold the domain name spamzilla.com to United States software developer International Software Systems Solutions for US$35,000.
IBM has unveiled a dedicated information technology services programme to help small Hong Kong firms exploit business opportunities across the border.
China-European Union trade is expected to increase in 2004 thanks to a growing EU and China's entry into the World Trade Organization, a senior EU official said Monday.
March 15, 2004
Hong Kong: Europe's chief trade representative has raised concerns about Hong Kong's protection of intellectual property and the lack of a competition law.
The way has been opened for AirAsia, the region's first low-cost international airline, to launch services from Hong Kong.
Security officials were yesterday urged to review the need to empower police to impound the travel documents of suspects released on bail after six South Americans caught in an anti-theft operation at a jewelry show last week left Hong Kong.
Hutchison Whampoa is expected to report a 10 per cent fall in profit for last year, with heavy losses in its global third-generation (3G) mobile-phone ventures potentially wiping out the profit contribution from its cash-cow port division.
Developers' unsold inventories declined for the seventh consecutive month in February, reaching their lowest level since November 2001 due to a revival of buying interest across the city by end users and investors, according to Midland Realty.
Behind the velvet glove of further economic goodies offered by Premier Wen Jiabao to Chief Executive Tung Chee-hwa yesterday is a veiled iron-fist warning to Hong Kong not to think of stepping out of line.
Hong Kong Dragon Airlines (Dragonair) will acquire 12 passenger and freighter planes in the next four years as it strengthens its international cargo and mainland network, chief executive Stanley Hui says.

China: Officers of the Bureau of Industry and Commerce check equipment on a mobile laboratory in Guangzhou. The lab is one of the measures taken to improve food hygiene in the city, where early Sars cases were linked to exotic-animal delicacies. New rules will also require quarantine documents for livestock brought into the city. Producers of 15 kinds of food from rice to soy sauce will have to start applying for quality seals.
Governors of the mainland's three northeastern provinces admit the rust-belt region is facing an uphill battle to boost farmers' incomes and provide adequate help for the poor.
When China's first man in space returned to terra firma he bought with him news that he could not see the Great Wall from space, dispelling a commonly held myth and leading to rewriting of the nation's schoolbooks.
Plans by an influential group of American businesspeople to lobby for US retaliation against China on trade issues are expected to give the continuing currency conflict a higher profile in the US presidential election campaign.
The mainland has accused the United States of having excessively protectionist trade policies, saying Washington is failing to conform to the spirit and agreements of the World Trade Organization (WTO).
Credit Suisse First Boston is in the process of applying for a mainland derivatives license, making it one of the first foreign banks to take advantage of a recent relaxation on rules surrounding the financial instruments.
China Shipping Container Lines (CSCL), the dedicated container arm of China Shipping Group, has applied to the Hong Kong Stock Exchange to launch an initial public offering of up to US$2 billion.
The annual session of China's top legislature came to a close Sunday in Beijing after adopting the draft amendment of the Chinese Constitution and resolutions on a series of relevant documents.
Chinese legislators Sunday approved Premier Wen's gov't work report after their demand the government improve its style of work had been incorporated into the final version of the report. Premier Wen Jiabao said yesterday that the mainland's fast-growing economy is at ``a critical juncture'' and promised vigorous controls to prevent its experiment in a capitalist-style market economy from spinning out of control.
March 12 - 14, 2004

Hong Kong: The last thing people may have expected to hear discussed on a post-budget radio phone-in program was the hot topic of patriotism. But with the exception of sales tax and the deficit the phrase "patriotic and love Hong Kong" was the one most mentioned by Financial Secretary Henry Tang yesterday when he took to the airwaves on RTHK. Public consultation on the introduction of a sales tax will be launched next year, but the financial secretary said yesterday he would not push ahead without a full community consensus.
Registration fees for patents and designs will be slashed by more than 80 per cent to less than $1,000, a move which the government says will benefit the business sector.

Ming Pao Enterprise Corp executive director Francis Tiong Kiew-chiong, confirming a joint venture with Redgate Media, said yesterday the merger positioned the companies to "leverage the enormous media opportunities in Greater China". He said the partners would seek to float the venture in Hong Kong. Ming Pao Enterprise Corporation is preparing to circulate several titles on the mainland after forming a publications advertising joint venture with Redgate Media. Under the partnership, Ming Pao will inject Ming Pao Weekly, City Children's Weekly and Hi-Tech Weekly into the venture.
Tom Online fell 6.66 per cent in its debut on the Growth Enterprise Market yesterday after its Nasdaq shares failed to match the spectacular first-day gains of other internet companies listed recently in the United States.
Hong Kong's biggest developer, Sun Hung Kai Properties, has added its voice to growing calls for the government to soften its stance on "high" sale prices for public sites.

China: Reporters run for cover as a fireball explodes behind them during the burning of confiscated goods in the suburbs of Guiyang, in Guizhou province. Authorities were burning 34 truckloads of confiscated pirated and substandard goods valued at about US$750,000.
A US businessman expected to be appointed to a new position to help save American jobs and bolster the beleaguered manufacturing sector has recently set up his own factory in Beijing, it emerged yesterday.
The mainland's top banking officials have vowed to crack down on excessive lending for consumer purchases in an effort to prevent the economy from overheating.
Aluminum Corp of China (Chalco) has raised prices for spot alumina sales, bringing them closer in line with what users pay for imports of the main raw material used to make aluminum.

China and United States semiconductor giant Intel are fighting over a government plan to force mainland computer makers to use a new standard for encrypting wireless communications. Intel, the world's top chip firm, said China's home-grown encryption technology failed to work well with chips based on the existing global standard known as Wi-Fi. The mainland will not back down on a plan to force computer makers to adopt a new standard for encrypting wireless communications after Intel said it would halt sales of its Centrino chip in China.
Legend Group has fired 5 per cent of its workforce in a corporate restructuring move it said would eliminate overlapping positions and allow for consolidation of some departments.
China Resources Peoples Telephone, a mobile phone services provider, hoped to raise between $1.17 billion and $1.5 billion in an initial public offering scheduled for March 31, according to sources close to the deal.
The central government's massive injection of nearly HK$350 billion into two of China's Big Four state commercial banks could be thwarted by political chicanery, is hardly in accordance with market discipline and is probably unwise, according to a top government financial adviser in Beijing.
China National Offshore Oil Corp (CNOOC) - China's third-largest oil company - agreed to build a US$2 billion (HK$15.6 billion) liquefied natural gas (LNG) import terminal in Zhejiang province, the nation's third, as part of a government effort to boost gas use.
March 11, 2004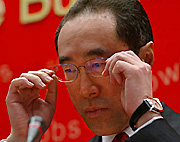 Hong Kong: Financial Secretary Henry Tang Ying-yen says it took courage not to raise taxes. Bonds worth up to $20 billion will be issued by the deficit-plagued government this year in an unprecedented step to help finance future capital projects, Financial Secretary Henry Tang Ying-yen announced in his maiden budget yesterday. Exotic registration plate numbers used to be a sign of prestige - soon they will stand for creativity as well. Under an initiative launched by the financial secretary yesterday, car owners can make their unique statement with personalized plates. A rapt audience is a rare thing in a city with as short an attention span as Hong Kong. Henry Tang took the podium amid low expectations of what he might do, but high anticipation of what he might say. Thanks to a few one-off lucky breaks, the budget deficit will come in a lot lower than officially predicted, the financial secretary said. Some $95 million will be earmarked for tourism promotion and training activities in the coming year, the financial secretary says. Financial Secretary Henry Tang gave probably the most important speech of his political life yesterday. As a budget speech it ranked among the dampest squibs of all time. However, as an opening gambit in his campaign to be Hong Kong's next chief executive, it will have gained high pass marks from all the important constituencies. Tang's hallmark is not brilliance but careful calculation.
Hong Kong's economy grew at a faster than expected 3.3 per cent in 2003, driven by a strong rebound in the second half, and Financial Secretary Henry Tang is forecasting the momentum will continue and result in 6 per cent GDP growth this year.
Hong Kong action movie star Chow Yun-fat is suing mainland technology giant Konka for $6 million in damages for using his image in an advertisement without permission.
Cathay Pacific Airways will launch a daily direct flight to New York in July, as Hong Kong's biggest carrier looks to build on the aviation industry's recovery from last year's devastating Sars outbreak. Hong Kong's economy may have registered a remarkable recovery last year, but it still looks positively measly next to Cathay Pacific's spectacular return from the dead. Cathay Pacific Airways saw a strong rebound in the second half that helped it recover from a HK$1.24 billion first-half loss to post a full-year net profit of HK$1.3 billion last year. The recovery allowed the carrier to beat analysts' expectations.
China: China will make more efforts on pressing population, resources and environmental protection issues that have close links with the people, said Chinese President Hu Jintao and Premier Wen Jiabao in Beijing Mar. 10.
A total of six former ministerial-level officials were sentenced on charges of job-related crimes last year and officials pledged to intensify efforts to crack down on corrupt officials according to law. The nation's law enforcement officials investigated more than 43,000 officials on charges of bribery and dereliction of duty, top prosecutor Jia Chunwang said yesterday, with at least 123 of those cases involving 10 million yuan (HK$9.41 million) or more.
France, as a first western country to establish diplomatic relations with New China, has a deep-rooted background in history and a traditional friendship with China. More interestingly, every French president has a "China Complex".
China's top legal experts yesterday vowed there would be no let-up in the war on graft, warning that even ranking officials should not consider themselves above the law.
Intel said it was not complying with China's government-imposed wireless security standards, setting the stage for a showdown between the world's most populous nation and US-based technology firms.
Hewlett-Packard, the world's second-biggest personal computer maker, plans to increase investment in China and start selling digital cameras and home entertainment systems in the country.
US private equity company Carlyle Group is negotiating with a partner to buy a stake in China Pacific Life Insurance, the nation's third-largest insurer, for US$400 million (HK$3.12 billion), people involved in the talks said.
Fortis Haitong Fund Management, a venture of Belgium's largest financial services company, said it received 12 billion yuan (HK$11.29 billion) from investors in the biggest subscription to a Chinese mutual fund offer.
March 10, 2004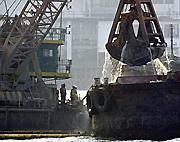 Hong Kong: A dredger at work off Central yesterday. Most work on the reclamation had been halted pending the judge's ruling. The government's reclamation of Victoria Harbour to add 18 hectares to the Central waterfront for a bypass is back on track after a court ruled work could proceed. A full fleet of reclamation barges is expected to resume work off Central within a month following yesterday's court ruling confirming the legality of the project. Dejected and fighting back tears after losing a crucial harbor development court case, anti-reclamation activist and lawyer Winston Chu yesterday urged the public to speak out on the future of Hong Kong's harbor.
Australia's foreign minister yesterday weighed into the diplomatic row surrounding two executives wanted in Hong Kong on corruption and bribery charges for their role in a construction scandal.
Donald Tsang Yam-kuen may be starting to feel the effects of his role as head of the government's constitutional taskforce.
Hutchison Whampoa wants to pay back £1.5 billion (HK$21.46 billion) in outstanding loans used to fund its third-generation (3G) mobile-phone business in Britain to save on interest costs.
Orange, the wireless unit of France Telecom, will sell most of its stake in a two-year-old Thai mobile-phone venture that reported an eightfold increase in losses last year and fell short of market-share targets.

CK Life Sciences International Holdings, the biotechnology unit of Cheung Kong (Holdings), has reported its first ever net profit - from investments, not sales of its own products whose losses continued to mount.
In another sign of confidence in the property market, the Urban Renewal Authority (URA) received 22 expressions of interest for a Tsuen Wan redevelopment project yesterday.
The dramatic fall in air traffic through Chek Lap Kok airport during the Sars epidemic last spring led Hong Kong Aircraft Engineering (Haeco) to post a 26 per cent drop in net profits to HK$345 million last year. This compared with HK$465 million recorded in 2002.

China: The mainland is facing a bleak employment scenario this year which will be exacerbated by further layoffs from state firms and the entry of first-time job seekers.
Proposed constitutional amendments guaranteeing private enterprises greater legal protection will not remove all barriers they now face, an official from China's national business body says.
One of Hong Kong's largest newspaper publishers will establish a joint venture in an effort to secure back-door access to China's rapidly growing media market, potentially paving the way for three of its popular magazines to be sold in the mainland for the first time.
China Life Insurance president Wang Xianzhang says the company is seeking to park US$3.5 billion worth of listing proceeds raised in Hong Kong late last year in overseas markets.
China has allowed its 130 billion yuan national welfare fund to begin investing overseas as it seeks higher returns to cover a surge in pension obligations.

With Beijing facing increasingly acute water shortages, municipal government officials are to penalise consumers exceeding a daily limit and ban heavy water-consuming industries outright in a sweeping water-use plan, according to Ding Xiangyang, the director of the Beijing Municipal Development and Reform Commission.
China will offer incentives including tax rebates of up to 2,000 yuan (HK$1,880) per person to encourage employers to hire workers laid off by the state sector.
Citic Pacific plans to invest an additional US$1.5 billion (HK$11.7 billion) to expand the generation capacity of its Ligang Power Plant in the Yangtze River Delta city of Jiangyin in Jiangsu province.
March 9, 2004
Hong Kong: Hong Kong NPC deputy Allen Lee Peng-fei delivers a piece to camera in front of the Great Hall of the People yesterday afternoon. Mr. Lee, the former Liberal Party chairman, is in Beijing to attend the annual congress session. Over the years he has answered hundreds of reporters' questions but yesterday he took on a reporters' role himself for the weekly RTHK current affairs program Legco Review, which he co-presents.
A court ruled on Tuesday that the government could continue with its plans to fill in a part of Victoria Harbour for a highway project - despite prolonged opposition from conservationists.
Chief Executive Tung Chee-hwa on Tuesday re-appointed Alice Tai Yuen-ying as the Ombudsman for another five-years starting from April 1.
The Hospital Authority late on Monday allocated 14 general out-patient clinics to treat patients suffering from influenza-like illnesses, Xinhua reported on Tuesday.
PCCW chairman Richard Li will be among the last people to take advantage of the present back-door listing regime.
Shares of Dong Fang Gas Holdings, the back-door listing vehicle for PCCW's property assets, rode a roller coaster yesterday, soaring 295 per cent in the first few minutes of trade with investors apparently confused by the terms of the deal.
The property market revival has led 32 developers and contractors to express interest in a rare supply of residential land made available through the Urban Renewal Authority's (URA) Wan Chai housing redevelopment.
Australia's Macquarie Bank has agreed to buy ING Group's cash equity business in Asia for an undisclosed amount, in a move it believes will propel it to the top tier of brokerage and investment banks in the Asia-Pacific region.
Asian foreign-exchange reserves have grown strongly this year, rising 8.6 per cent, or more than US$164 billion, to $2.07 trillion by the end of last month, according to figures from the region's central banks.
The Hong Kong government promises a sharper focus on data security, electronic commerce, support for small enterprises and information technology research and development under its 2004 Digital 21 Strategy.
In his maiden budget speech tomorrow Financial Secretary Henry Tang is likely to bite the bullet and propose imposing a goods and services tax (GST) in the 3-5 per cent range, government sources suggest. His maiden budget speech tomorrow will probably reveal more practical measures to restore a balanced deficit, as well as giving further insights into the ``new Tang culture''.
China: Constitutional amendments that will introduce sweeping changes on the protection of private property and encourage the development of non-public sectors of the economy were submitted to NPC delegates yesterday. Restoring and protecting private property rights in China after 55 years of communist rule will require changes to myriad laws and the creation of new ones, legal experts and private entrepreneurs say.
Residents of cities in Fujian province will likely be allowed to visit Hong Kong as individual travelers in the second half of this year, Xiamen Mayor Zhang Changping said yesterday.

Legend had been appointed by the mainland government to develop the security chip and was in talks with other companies to form an alliance to promote the standard, according to a report on Monday citing Legend Group research director David Wei.
Authorities suspected that former Bank of China Hong Kong chief Liu Jinbao, formerly one of China's brightest banking stars, was deeply involved in improper lending in Shanghai long before his arrest last summer, according to an influential mainland magazine.
March 8, 2004
Hong Kong: Financial Secretary Henry Tang Ying-yen is expected to announce a bond issue program in his maiden budget speech on Wednesday to generate up to $50 billion for infrastructure projects, analysts said.
The European Parliament is worried about the erosion of "two systems" in Hong Kong in the wake of the disputes over democracy, according to the city's recently retired envoy to Brussels.
PCCW has confirmed plans to spin off its property units in a backdoor listing transaction that it hopes will capitalise on resurgent property market activity.
Hong Kong-based trading firm ATA Trade.biz will seek a Nasdaq listing to strengthen its branding and expand its mainland and global operations.
Financial Secretary Henry Tang, in his budget speech on Wednesday, is likely to spell out the government's thinking on a timetable and format for a goods and services tax (GST) that is now increasingly seen as essential to reining in the fiscal deficit.
Vision Grande Group Holdings, a cigarette pack manufacturer in the mainland, plans to raise more than HK$100 million in a listing on Hong Kong's main board.
China: President Hu Jintao Saturday pledged full support for the governments of HK and Macao special administrative regions to maintain long-term prosperity and stability in the two regions.
China's biggest chip-maker Semiconductor Manufacturing International Corporation (SMIC) is set to grab as much as US$1.89 billion (HK$14.74 billion) from the equity markets via a dual listing in Hong Kong and the United States
After joining the elite group of nations to have put an astronaut into space, China is now planning to send a woman into orbit.
Beijing Mayor Wang Qishan yesterday defended the mass relocation of people for the 2008 Olympic Games, saying it was necessary if the capital was to realise its Olympic dream.
China will allow foreign investors to take strategic equity stakes of up to 20 per cent in Bank of China (BOC) and China Construction Bank (CCB) before planned public listings that aim to cement international best practice at the state lenders.
The head of China's foreign-exchange regulator has indicated that about US$2 billion worth of pensioners' money held by China's National Social Security Fund may be allowed to make its way to the Hong Kong stock market.
March 5 - 7, 2004

Hong Kong: Local director Ann Hui poses with mainland actress Vicky Zhao Wei. Hui's film Jade Goddess of Mercy will open the Hong Kong International Film Festival.
Secretary for Health, Welfare and Food Yeoh Eng-kiong on Friday called for greater co-operation in preventing the outbreak of infectious diseases in Hong Kong.

Fairwood chairman Dennis Lo wants the firm to become Hong Kong's most preferred fast-food brand within about three years.
PCCW has proposed injecting about US$1.5 billion of property assets into a listed company in a bid to capitalise on a strong property market and bolster its battered balance sheet.
Chairman Richard Li Tzar-kai may have been absent when PCCW delivered its 2003 results yesterday, but his fingerprints were clearly visible on the announcement. In the red column we have a list of one-time charges, ranging from game business assets in Japan to a complete write-down of Reach, the undersea cable joint venture with Telstra, adding up to US$892 million.
SBI E2-Capital has sacked investment banking director Louis Lin and suspended senior vice-president of equity and capital markets Vincent Yam after they were arrested last week by anti-graft officers as part of a bribery and stock manipulation probe.
The government will move to streamline the regulation of Hong Kong's information technology and communications industries under its 2004 Digital 21 Strategy, which aims to bolster the city's competitiveness.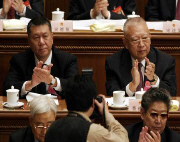 China: China on Friday opened the annual session of its National People's Congress, one of the world's largest legislatures, where it will amend the constitution. Chief Executive of Macau, Edmund Ho and Chief Executive Tung Chee-hwa, applaud during the opening session of the NPC in Beijing's Great Hall of the People on Friday.
Shenzhen authorities yesterday introduced a temporary measure allowing short-distance cross-border buses to pick up passengers at the Huanggang checkpoint after an unexpected ban on the practice was imposed on Tuesday night.
Minister of Commerce Bo Xilai held talks with the US ambassador to China this week on the currency issue, even as a bipartisan group of American senators urged an emergency meeting with President George W. Bush about the value of the yuan.
The finances of judges in Beijing will be regularly scrutinised as part of moves to fight corruption in the legal system, but an anti-graft.
The Mar.2 "Report for China's Sustainable Development Strategy 2004" by the Chinese Academy of Sciences (CAS) brought forward a general goal for China to fully realize a well-off society in 2020.
Contrary to the previous "China threat theory", many Japanese reports have begun to believe that China's economic development has promoted Japan's economic recovery.
March 4, 2004
Hong Kong: Hong Kong equities fell 2.01 per cent yesterday as investors seized on a range of excuses to retreat from the 14,000-point level, which the market has been flirting with for much of the past fortnight.
Hutchison Whampoa's third generation (3G) mobile service is estimated to have signed up 50,000 Hong Kong subscribers in its first month, an indication that its aggressive pricing strategy may be paying off.
Financial Secretary Henry Tang apparently will not have to go scrabbling about for loose change to help cut the fiscal deficit after all, as it now appears the figure for 2003-2004 will be much less gloomy than he projected in October.
Thousands of regular cross-border travelers were caught off guard at Huanggang checkpoint yesterday when the Shenzhen port authority imposed a ``no pick-up'' passengers rule only hours after it had informed bus operators of the change.
Another of the Chinese University's Sars heroes has resigned to pursue a dream. The resignation of microbiology professor John Tam, who headed a research team seeking to identify the virus, comes just two weeks after the resignation of university medical faculty dean Sydney Chung, who left to become a surgery professor at the University of Papua New Guinea.
The Hong Kong Baptist University has received a HK$100 million windfall. The money, from Nam Tai Electronics chief financial officer Koo Ming-kown, is the largest single donation ever given to a Hong Kong university.
China: Senior leader Jia Qinglin yesterday made a strong appeal to Chinese people in Hong Kong and Macau to support their governments and work for rejuvenation and reunification of the nation.
A United States financial institution will take a stake of more than 5 per cent in China Minsheng Banking Corp when it launches its US$1 billion H-share offering in Hong Kong, the private lender's chief revealed yesterday.
Earnings at China Resources Peoples Telephone dropped 22 per cent last year as an intense price war hurt profits, raising questions about the firm's ability to prosper as it prepares an initial public offering.
The EU-US trade rows around the Foreign Sales Corporation has a long history. Retaliation is not the ends. The EU's experience may offer enlightenments on settling trade rows within WTO framework.

Legend Group, China's largest computer maker, is considering whether it can afford the millions of dollars needed to become a major sponsor of the 2008 Olympic Games in Beijing - or whether it can afford not to and miss out on the opportunity to boost its international image.
March 3, 2004

Hong Kong: Models sport exhibitors' wares on the catwalk at the annual Hong Kong International Jewelry Show at the Convention and Exhibition Centre in Wan Chai yesterday. Organizers intent on making the International Jewelry Show the world's biggest were yesterday encouraged by the strong turnout of exhibitors and buyers on the opening day of the four-day event.
Customs officials said on Wednesday they seized 307 live land tortoises, an endangered species, which were smuggled into Hong Kong in two suitcases on a flight from Malaysia.
The MTR Corp expects to earn $9.2 billion from property sales in the next three years and anticipates the business will be the key driver of future profit, as earnings from train fares take a back seat. Record high property profits of almost HK$5.37 billion helped the MTR Corp report a healthy year-on-year 24.3 per cent improvement in its bottom line to HK$4.45 billion despite poor performance of its rail operations.
HSBC Holdings and subsidiary Hang Seng Bank came under pressure in the stock market yesterday after reporting less than spectacular full-year earnings, contributing to a fall in the Hang Seng Index after four days of rises.
PCCW is expected to post a 2003 net profit of HK$1.37 billion, a turnaround from a net loss of HK$7.76 billion a year earlier, due to earnings from its residential project, Bel-Air in Cyberport, analysts said.
The Li Ka-shing-controlled Hong Kong Electric Holdings is expected to report its first drop in full-year profit after six straight years of steady earnings growth, analysts say.

China: Live birds crowd a poultry stall in Shenzhen's Dongmen wet market. Mainland officials hope to resume exports of live poultry to Hong Kong within six months.
A decision to float the yuan could weaken the Chinese banking system and threaten the world economy, the US Federal Reserve chairman has warned.
China will provide resources and technology to countries in Southeast Asia and help to strengthen regional co-operation in the fight against bird flu, Vice-Premier Hui Liangyu said yesterday. Live poultry exports from the mainland could resume within six months, Vice-Minister of Agriculture Qi Jingfa said yesterday.
Several new Protestant churches are being built in Beijing to accommodate the city's burgeoning Christian community.
China's second-largest life insurer yesterday filed an application with the Hong Kong stock exchange for a US$2 billion initial public offering to expand its capital base.
Shanghai Huahong NEC Electronics, a semiconductor venture between NEC and Shanghai Huahong Group, said sales would rise 50 per cent this year after it focused on making chips used in identity cards and consumer products.
In 2003 among five cities including Beijing, Shanghai, Tianjin, Chongqing and Guangzhou, Beijing got the second place in terms of economic increase but the last in terms of growth speed.
Guangzhou and Shenzhen have become the first major cities in China to scrap local townships - the lowest-level power unit in China's political hierarchy - in a move to reduce government bureaucracy and ease the financial burden on taxpayers, particularly farmers.
March 2, 2004
Hong Kong: HSBC Holdings, buoyed by a US$1.83 billion (HK$14.27 billion) pre-tax contribution from its new United States consumer business, Household International, yesterday reported a record net profit of US$8.77 billion - a rise of 41 per cent.
The possibility of turning Cheung Sha, one of the most scenic beaches on Lantau, into a resort area is being explored by a government taskforce on the island's development, sources say.
Hong Kong's quality of life rating held steady last year while the rankings of regional rival Singapore and major mainland cities improved, according to a survey by a consultancy firm released yesterday.
The Airport Authority is in talks with Zhuhai airport to take over the management and operation of the loss-making facility located about 50 kilometres east of Chek Lap Kok airport.
The newly elected chairwoman of the English Schools Foundation (ESF), Professor Felice Lieh-Mak, pledged last night to bring in the Independent Commission Against Corruption to meet staff and ensure there was no misconduct within the embattled institution.
Ocean Park will raise admission fees for adults by HK$5 and for children by HK$3 to fund ``innovative programmes and events'', the theme park's new chief executive officer announced yesterday.
China: The State Council has approved in principle the building of a rail line between Guangzhou and Zhuhai - part of a Pearl River Delta high-speed network.
Tonnes of heroin are making their way into the mainland every year through the Sino-Myanmese border and drug addiction has become a major threat to public order, mainland narcotic officers said yesterday.
Australian mining giant BHP Billiton will sell iron ore worth about US$9 billion over 25 years to four of China's leading steel mills, as the country seeks to secure supplies of crucial raw materials.

CP1897.com chief operations officer Edmond Hung says a Chinese e-library system will be launched next year. When the Commercial Press launched its e-commerce subsidiary CP1897.com four years ago, it did not envision its e-books as a reservoir for Greater China's first Chinese e-library system.
Silicon Valley-based BEA Systems has formed an alliance with Beijing's municipal government to develop new software products in the mainland based on Chinese intellectual property.

China's top banking regulator will require all mainland commercial banks to lift their capital adequacy ratios from the current 6.3 per cent to a minimum 8 per cent starting in 2007, leaving some of the nation's biggest lenders scrambling to raise capital and clean up their loan books.
China's biggest cotton textile manufacturer, Weiqiao Textile, said 2003 net profit rose 87.9 per cent to 542 million yuan (HK$509.8 million) from 288 million yuan a year earlier.
March 1, 2004
Hong Kong: Plans to develop a waste recycling industry in Hong Kong have suffered a setback after a group of industrialists failed to find a suitable site for a $300 million plant.
Hong Kong's key fast-food restaurants have raised prices for the first time in five years, possibly triggering a chain reaction in other sectors that may add to inflationary pressure and end deflation earlier than forecast.
A strong set of year-end earnings from heavyweights such as HSBC and subsidiary Hang Seng Bank are expected to give momentum to the market this week, with the Hang Seng Index hovering just below the 14,000 mark.
Hang Seng Bank has followed its parent HSBC to become the second bank offering yuan services to domestic companies in China.
The Independent Commission Against Corruption (ICAC) is expected to widen its dragnet into possible share manipulation by two Hong Kong-based apparel companies to investigate other members of Hong Kong's financial community, law enforcement sources say.
Hong Kong business activity accelerated further in February, spurred by rising global demand and an improving domestic economy, according to the purchasing managers' index.
The concept of corporate social responsibility (CSR) is gaining ground among companies in Hong Kong and elsewhere in the region, as investor pressure grows on corporations to pay attention to best practices.
China: The central government has decided to resist mounting international pressure and not revalue the yuan this year, informed mainland banking analysts have revealed.
Ocean Grand Chemical Holdings, which makes chemicals used in precious metal electroplating, is in talks with US car-making giant General Motors on the supply of low-pollution plating products.
A veteran historian and writer yesterday outwitted Kaohsiung Mayor Frank Hsieh Chang-ting in a debate by daring him and the government he represents to hold an independence referendum rather than a "meatless" popular vote.
Premier Wen Jiabao has stressed the need to put the interests of the people first and pursue balanced and sustainable economic development, Xinhua reported ahead of Friday's opening of the annual National People's Congress.

An iron and steel works in Liaoning province. The mainland's resources development industry is attracting many foreign players.
Police have arrested the high-flying chairman of a Shanghai brokerage who is suspected of stealing up to two billion yuan from his company and may have driven it into bankruptcy.
For the first time since it took over fixed-line giant Cable & Wireless HKT 3-1/3 years ago, analysts are upbeat on PCCW's full-year earnings, expecting last year's business initiatives to have stemmed market-share losses and property sales to have provided a positive cash flow.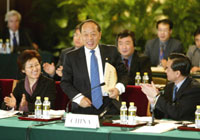 Six-party talks on Korean Peninsula nuclear issue ended in Beijing on Feb. 28, with all participants promising to push ahead with diplomatic efforts.
China's top legislature appointed on Feb. 29 54-year-old Bo Xilai, former governor of Northeast China's Liaoning Province, as new Minister of Commerce, replacing Lu Fuyuan, who resigned for illness.
Nearly 100 key poultry enterprises promised that their products are and will be safe in the future, in a bid to assure customers who will sometimes hesitate in eating fowl meat.
Feb 27 - 29, 2004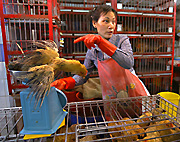 Hong Kong: selling chicken at the Kowloon City wet market yesterday in defiance of the poultry industry strike. She said she supported the strike but couldn't let her customers down. While most of the 800-odd retailers and 30 wholesalers joined the strike, called to press for the lifting of the ban on live chickens from the mainland, a large number of vendors kept trading, making live chicken easy to find.
Secretary for Economic Development and Labor Stephen Ip Shu-kwan, said on Friday the government would try to upgrade the Supplementary Labor Scheme to create more jobs in Hong Kong.
Hong Kong's exports in January grew at their slowest rate in 20 months, surprising many who had been expecting continued stronger growth.

The Independent Commission Against Corruption (ICAC) has arrested 20 people in an alleged HK$116 million cigarette smuggling racket understood to involve a top executive of a subsidiary of the bluest of China's blue-chip companies - Shanghai Industrial Holdings.
The Independent Commission Against Corruption raided the offices of Kwong Hing International Holdings yesterday, but investigators declined to comment as they removed boxes of documents.
Hong Kong Exchanges and Clearing (HKEx) will pay out nearly half of its HK$3.7 billion cash reserves as special dividend after 2003 earnings surged 17.55 per cent to HK$691.77 million, or 66 HK cents per share, driven by higher market turnover from a number of giant initial public offerings in the second half.
A HK$95 million one-off insurance settlement to cover business losses from the Sars outbreak helped The Hongkong and Shanghai Hotels report a 20 per cent rise in net profit for 2003.
Although the current cyclical economic recovery could solve the unemployment problem in many industries, structural unemployment needs more time to resolve, and this requires more realistic measures from the government, according to Bank of China (BOCHK) economist Dai Daohua.
China: The Beijing committee organizing the 2008 Olympics is calling for spending to be reined in following an instruction by the central government for the capital to host the Games frugally.
General Motors has announced a corporate restructuring of its money-losing assembly plant in the northeastern city of Shenyang, as it seeks to strengthen the weakest link in its China manufacturing operations.
Chongqing Television, a leading broadcaster in Sichuan province, hopes to be the first mainland media firm to list abroad by launching an initial public offering on the Growth Enterprise Market.
China Thursday expressed its "strong dissatisfaction and resolute opposition'' to the annual human rights report of the United States, which accuses China of "backsliding'' on human rights.
Outdoor advertising firm Clear Media is to spend HK$200 million to add 3,000 bus shelter display panels this year as it seeks to increase market penetration in the mainland.
China Southern Airlines is planning to expand its air cargo operation so that airfreight contributes more than 20 per cent of total revenues.
Feb 26, 2004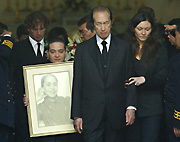 Hong Kong: The rich and famous of Macau and Hong Kong were among the hundreds of mourners at yesterday's funeral in Macau of Clementina Angela Leitao Ho, the first of casino mogul Stanley Ho Hung-sun's four wives.
The economy is displaying all the right signals for the International Monetary Fund to raise its annual growth forecast for Hong Kong, according to the organization's resident representative in the city.
With the budget two weeks away, the consensus emerging among Hong Kong's political parties is that there should be no major tax increases. They also say a freeze on government fees and charges that affect livelihoods should continue.
With the debate over patriotism raging, businessman Eddie Luk Ngai-ming yesterday expressed his love for his country in a different way: by opening a renminbi account at Bank of China headquarters.

China: Guangzhou party secretary Lin Shusen left the city's government last year worrying if the new Baiyun International Airport would be able to secure international air rights. An artist's impression of Guangzhou's new airport, due to open for traffic in June. The first phase cost nearly 20 billion yuan.
An influential think-tank in Shenzhen said yesterday the city would not become the fifth municipality directly under the central government because this would deepen rivalry between cities in the Pearl River Delta.
Plans for the second phase of Shanghai's massive Yangshan Deepwater Port project have been submitted to the State Development and Planning Commission, with formal approval expected shortly and construction scheduled to begin by year-end.
Feb 25, 2004
Hong Kong: The government confirmed yesterday it wants Hong Kong's rail companies to merge. But it is leaving it to the two operators to arrange the union - with a deadline of August. The proposed merger between the MTRC and the KCRC was presented as a "win-win situation" for all concerned, particularly the traveling public. Hong Kong's securities industry is greeting the proposed merger between the MTR Corp (MTRC) and the KCRC with little enthusiasm at best, while the industry's best-known gadfly says the sale could be illegal because of regulations against self-dealing.
The city of Tianjin is moving closer to having Hong Kong's MTR Corporation develop new portions of its underground railway, possibly through a build-operate-transfer (BOT) scheme similar to that between MTRC and the Shenzhen Metro, a Tianjin official said.

Actor Russell Wong Sun-tak and his wife, Hong Kong fashion designer Flora Cheong-Leen, strike a pose at the Hollywood premiere of his film Twisted. The film, starring Ashley Judd and Samuel L. Jackson, tells the story of a policewoman whose boyfriend may be a serial killer.
Some light could be shed on one of Hong Kong's more intriguing financial riddles when banks open this morning and for the first time begin to accept yuan deposits. The large pool of yuan currency notes in circulation in Hong Kong - estimated at anywhere between 40 billion yuan and 90 billion yuan - will begin finding its way into the formal banking system from today.

China: Delegates are served tea at the Shenzhen People's Congress yesterday. Representatives are focusing on the city's development. The trade agreement with Hong Kong should be used to boost Shenzhen's already surging economy, according to acting Mayor Li Hongzhong.
Mainland trade negotiators have failed to convince their US counterparts to eliminate quotas imposed last November on Chinese knitted fabrics, bras, dressing gowns and robes.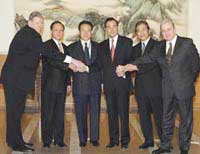 The second round of six-party talks on the Korean Peninsula nuclear issue started in Beijing Wednesday morning. Delegations from China, the DPRK, the US, the Republic of Korea, Russia and Japan are attending the talks.

China is likely to roll out its first exchange-traded funds (ETFs) as early as July, marking the birth of an instrument that could facilitate the future sale of state holdings in mainland-quoted companies, according to industry sources.
Shenzhen acting mayor Li Hongzhong is to lead a high-profile delegation of government leaders to Hong Kong in an attempt to attract the SAR's services industry away from other mainland cities under the Closer Economic Partnership Arrangement (Cepa).
Feb 24, 2004

Hong Kong: Bronze busts of the six medical workers who gave up their lives in the battle against Sars are unveiled yesterday at the Airport Express station in Central.
February in Hong Kong means that budget season is approaching. As Financial Secretary Henry Tang Ying-yen works on the final draft of his March 10 inaugural budget, market watchers have been working on their own guesstimates about the size of this year's deficit.
British businesses should enter the Chinese market to maximise opportunities offered by the Pearl River Delta and the Closer Economic Partnership Agreement (Cepa), the Hong Kong Economic and Trade Office said overnight.
Tourist traffic to Hong Kong this year is expected to bounce back dramatically to reach 20.5 million - up 32 per cent from last year - the Tourism Board said yesterday.
China Shipping Group plans to list its dedicated liner arm, China Shipping Container Liners (CSCL), in Hong Kong to tap up to US$2 billion as investors grow increasingly hungry for mainland initial public offerings.
In what analysts are saying may be the biggest global initial public offering of the year, China Construction Bank (CCB) is seeking a simultaneous listing in Shanghai, New York and Hong Kong. The bank, which in recent months has shed US$22.5 billion (HK$175.5 billion) in bad loans and reformed its management structure, hopes to raise 60 billion yuan (HK$56.37 billion).
Hong Kong start-up Mail Prove has launched what it claims is the first anti-spam service capable of blocking Asian-language junk e-mail. Mail Prove chief executive Jeffrey Vong said plans were under way to offer the service free to a number of organizations operating websites with .org or .gov domain names.
China: People should notice an improvement in Hong Kong's air quality by the end of the year as some of the heavily polluting power plants in the Pearl River Delta are cleaned up, the environment minister says. In a determined push to turn itself into a major cultural and commercial metropolis, the Shenzhen government plans to spend 23.8 billion yuan (HK$22.36 billion) this year on 205 infrastructure projects to clean up transport, shipping, environment and traffic problems.
China's biggest microchip maker, Semiconductor Manufacturing International Corp (SMIC), kicked off its initial public offering road show yesterday with a vow to boost sales 40 per cent a year - as sources close to the deal said it could raise up to US$1.59 billion (HK$12.4 billion).
China Shipping Container Lines Company (CS Container) - the mainland's second-largest box carrier - is seeking to raise about US$2 billion (HK$15.6 billion) with an initial public offering (IPO) in Hong Kong, according to banking sources.
Railway constructors in China are faced with the best opportunity as the State Council, or cabinet, has approved in principle an ambitious goal of building 28,000 kilometers of railways by the year 2020.
Want to live forever? Now you can - by donating your brain to the world's first brain bank which will record donors' life histories and also aspects of their personalities.
Shanghai yesterday lifted the quarantine around a village hit by bird flu last month, as the mainland began to declare areas virus-free.
The central government has no plans to raise interest rates, People's Bank of China spokesman Bai Li said yesterday, confounding speculation that Beijing intends taking such action to cool economic growth.
Ford Motor has chosen to build its second mainland car plant in Nanjing, Jiangsu province, as it seeks to catch up with rivals in the world's fastest-growing vehicle market.
Feb 23, 2004
Hong Kong: Balanophora hongkongensis, a parasitic herb, is the first new species discovered in Hong Kong since 1988.
Financial Secretary Henry Tang Ying-yen has come out in support of Beijing's stance that principles - including those on patriotism - must be clarified before discussions on political reform can proceed. Financial Secretary Henry Tang has warned that some people in Hong Kong want to see the failure of the ``one country, two systems'' approach that underpins Hong Kong's political structure.
Hong Kong could save at least $524 million on its water bill every year if it strikes a deal with mainland authorities on reduced imports from the Dongjiang river.
The confusion surrounding last year's problem-plagued Harbour Fest refuses to go away, with the latest wrinkle being a demand from recording industry giant EMI for HK$230,000 in payment for 10,000 promotional CDs produced for the festival but never distributed.
Hong Kong's yuan clearing bank Bank of China (Hong Kong) will give local lenders details today of the minimum operating capital required for starting yuan business.
When Oppenheimer Funds, a United States pension fund giant with more than US$150 billion (HK$1.17 trillion) assets under management, planned to expand overseas, it had three choices for its Asian headquarters - Taiwan, Singapore and Hong Kong. Taiwan has a larger retail market while the Singaporean government offered more incentives. OppenheimerFunds picked Hong Kong.
Japanese organized crime figures allegedly have been laundering money through the Hong Kong branch of Credit Suisse as part of a scheme that has seen at least six billion yen (HK$432 million) move illegally through the SAR.
Brokers hope Hong Kong Exchanges and Clearing will pay a special dividend when announcing results on Thursday, which are expected to be helped by ballooning turnover accompanying the 34.92 per cent gain in the Hang Seng Index last year.
China: Premier Wen Jiabao has weighed in on an increasingly contentious debate over last month's controversial US$45 billion bailout of the China Construction Bank (CCB) and Bank of China.
The mainland yesterday lifted the isolation order on Dingdang town in Guangxi province - the nation's first town to be struck by bird flu in winter.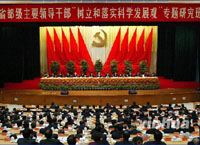 The formation of the new scientific development concept is a major achievement the CPC has made in its efforts to emancipate ideological work, seek truth from facts, keep pace with the changes of the time, and realize ideological innovation, said Premier Wen Jiabao Saturday in Beijing.
Party and government leaders in Anhui's Wuhu city are snapping up jobs in the business sector in droves, although the practice is forbidden by the Communist Party, according to a Xinhua investigation.
Wang Xiangwei Premier Wen Jiabao has criticized China Construction Bank (CCB) in internal meetings for what he sees as a lack of genuine willingness to reform and establish a truly commercial mechanism.
China Construction Bank (CCB) has secured titles to only about 36 per cent of the properties it intends to auction in April, raising concerns about the quality of the assets on offer and potentially threatening the success of the mainland's first sale of so-called "settled assets".
Newly-elected Mayor Wang Qishan Saturday acknowledged traffic congestion is a problem for the city at the moment, but won't pose any headache for the 2008 Olympics.
Feb 20 - 22, 2004

Hawaii: President George W. Bush greets Hawaii Governor Lingle at the Oval Office following her two-day visit to Iraq. Governor Lingle expressed her appreciation to more than 1,600 members of the Pacific Army Reserve, including 600 citizen-soldiers from the 411th Engineer Battalion who are scheduled to depart for Iraq in late March in support of "Operation Iraqi Freedom." The Governor also thanked family members of the soldiers, as well as their employers, for making sacrifices on behalf of the global war on terrorism. Governor Lingle shared her experience during her two-day mission to Iraq with five other governors. On her way back to Hawaii, Governor Lingle met with President George W. Bush and other top federal officials at the White House to debrief them on her experiences in Iraq.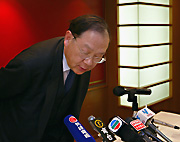 Hong Kong: A Hong Kong deputy to the National People's Congress yesterday apologized for his "inappropriate" remarks that Hong Kong people were like dogs that had been fed too many biscuits.
Hong Kong has offered the firmest indication yet that it opposes the introduction of armed sky marshals on international flights, saying any safety threat should be dealt with before passengers board.
A chip designer plans to raise as much as HK$1.2 billion through a main-board listing, the latest milestone for the four-year-old company that is one of Hong Kong's few successes in the technology sector.

Financial Secretary Henry Tang assures fund managers the government intends to exempt offshore funds from profits tax. Fund managers were told last night that the government intended to provide a "clear exemption from profits tax to offshore funds", a move deemed critical in maintaining Hong Kong's competitiveness as a regional wealth management center.
The Dean of Medicine at the Chinese University of Hong Kong (CUHK), Sydney Chung, has resigned but denies that he had been placed under any pressure to do so.
China: Communist Party members can now be expelled for watching pornographic films, visiting prostitutes or keeping mistresses as part of tougher and more wide-ranging rules to fight corruption.
Online democracy is coming to China's boardrooms. The country's securities regulator is hoping to allow holders of public shares in mainland-listed companies to vote online on critical issues as early as this year in a bid to improve corporate governance, according to sources.
The mainland's gamers have had to wait four years for the arrival of Sony's PlayStation 2. But four years is a long time for anybody, especially when piracy is mixed into the equation. PlayStation 2 has been available on the black market for a while now, and at a much cheaper price.

A worker checks mobile phone circuit boards at the AT&S plant in Shanghai. The city, once best known for its textiles and handbags, is trading its low-tech past for a hi-tech future.
A disgraced former Hong Kong-based mainland banker confessed yesterday in Beijing to accepting bribes from a key figure in the swindle of US$483 million (HK$3.76 billion) from the Bank of China.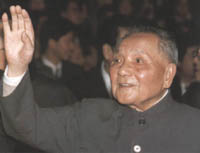 In June 1984, late Chinese leader Deng Xiaoping made famous remarks on the concept of "one country, two systems". People's Daily carries a commentary Friday, pointing out the principle is the fundamental guarantee of HK's long-term prosperity and stability.
Beijing would be comfortable with an annual 10 per cent rise in average housing prices but might have to take steps to keep the market in check if prices were to rise by 20 per cent or more, according to JPMorgan.
Growing numbers of mainland property developers like Shanghai Forte and Beijing Capital Land are seeking alternative ways of raising capital at home or abroad to get around a tough edict by Beijing six months ago to shut down a possible property bubble.
The mainland's second-largest insurer, Ping An Insurance, is expected to list in Hong Kong in May raising about US$1.9 billion (HK$14.82 billion) from its initial public offering, according to market sources.
Disposable medical device producer Shandong Weigao Group Medical Polymer Company's move to raise HK$142.6 million was well received yesterday by institutional investors betting on market upside amid recent strong sentiment.
China Online has raised HK$218.4 million after disposing of a 9.27 per cent stake in Tian An China Investments, the companies said in a statement.
Feb 19, 2004
Hong Kong: Mainland authorities have decided to sack Liu Jinbao as vice-chairman of the Bank of China (BOC) and will turn him over for criminal prosecution following an investigation lasting nearly 10 months, sources have revealed.

Legislators have approved a plan to raise $6 billion by selling bonds backed by the future toll revenues from five government-owned tunnels and the Lantau Link expressway. The impending privatization of the Airport Authority will not lead to higher ticket prices, government sources say.
Internet users in the Pearl River Delta will be able to track lightning strikes quickly and accurately when five monitoring stations are built next year.
Economists are predicting that Hong Kong's unemployment rate last month fell from 7.3 per cent to 7.1 per cent.
Kong Developers have signaled their market muscle resulting from a recovering property sector by slashing fees paid to sales agents by as much as 55 per cent.
A drop in bad-debt charges and a stronger economic environment in Hong Kong combined to push up Standard Chartered's net profit by 20.6 per cent to US$1.01 billion last year. A good atlas rather than a good accountant might be more useful to get a handle on Standard Chartered's financial results, yet it is the more familiar assets in Hong Kong rather than Africa or India that again provide the impetus for a 20.6 per cent increase in full-year net profit to US$1.01 billion.

A $150 million tranche of retail bonds issued by the Hong Kong Mortgage Corp (HKMC) has been seven times oversubscribed, with retail investors advancing $1.2 billion in their scramble to get in on the issue.
The Bagle.B internet worm on Wednesday continued to propagate itself throughout the world, with experts ranking the virus as the third-most dangerous computer bug after the notorious Sobig.F and Mydoom.A.
Court-ordered negotiations between China's Minsheng Bank - caught in an embarrassing dispute and charges of forgery just as it seeks a US$1 billion (HK$7.8 billion) initial public offering in Hong Kong - and one of its former shareholders failed yesterday in Beijing with no promise when they will resume.
The Airport Authority is going ahead with plans for a second hotel at Chek Lap Kok airport that would compete with the existing five-star 1,100-bed Regal Hotel complex.
Cathay Pacific may either take majority control or sell its stake in Hong Kong Dragon Airlines (Dragonair) in return for greater access to the mainland passenger and cargo market, according to a new research report.
A surge in local residents going overseas for Chinese New Year helped increase the number of passengers and flights at Chek Lap Kok airport last month by about 6 per cent, according to latest Airport Authority figures.
China: Ratings agency Standard & Poor's has given its stamp of approval to recent economic reform in China by raising the country's credit rating and reaffirming its positive outlook. But it said the banking system was a risk.
Shanghai aims to finalize the master plan for the World Expo site this year and will set ticket prices next year, although officials have said the entry cost will be about 160 yuan for the 2010 event.
Legend Group says its slightly lower-than-expected third-quarter net was dragged down by continuing losses in its mobile phone business and shrinking margins in the face of strong competition from foreign players.
Digital China Holdings, the computer distribution arm of Legend Group, halted trading yesterday amid fears that its earnings information had been leaked ahead of today's results announcement.
Feb 18, 2004
Hong Kong: Hongkong.com chief executive John Xiao says the company is aggressively looking for acquisition opportunities and has cash on hand of $1.3 billion. The Growth Enterprise Market-listed online media firm said yesterday that its net profit increased 287.4 per cent last year to $105.14 million on turnover of $187.66 million.
Hong Kong politicians are distorting the meaning of the word ``patriot'', Vice-Minister for Commerce An Min said yesterday, while praising those in the SAR who invest money as a sign of their love for the mainland.
The Airport Authority will have to repay the government HK$6 billion in equity as the first stage of its privatisation before private investors are allowed to buy a stake in the airport operator in an initial public offering.
Education chief Arthur Li Kwok-cheung has called for an independent audit of the English Schools Foundation following allegations its management is dysfunctional and its finances poorly controlled.
Bank of East Asia (BEA) has become the first local bank to announce interest rates for yuan deposits - setting the return for customers at 0.5 per cent to 0.7 per cent per annum.
Sunday Communications, one of Hong Kong's four 3G license holders, expects two of the city's six mobile phone operators to be swallowed up as competition intensifies from third generation (3G) mobile services.
Next Media, the magazine and newspaper publisher controlled by tycoon Jimmy Lai, has warned it expects to report a loss for the year to the end of March due to its unprofitable Taiwan operation.
A replica of the Shenzhou-5 rocket, signed by China's first man in space, Colonel Yang Liwei, and a model of Air Force One, the United States presidential jet, signed by former president Bill Clinton, go under the hammer in Hong Kong on Friday.
HSBC yesterday became the first foreign bank to join a 47-member domestic syndicate approved to underwrite and distribute yuan-denominated Chinese Government Bonds (CGBs) issued in the domestic interbank money market.
Agreements on mutual recognition of the professional qualifications of architects and structural engineers were signed by Hong Kong and the mainland yesterday.
Vice-Minister of Commerce An Min yesterday urged Hong Kong to allow mainland-trained doctors who have obtained permanent residency to practice in the city.
In yet another sign that China's financial system is opening up to the larger financial world, the country's social security fund is expected to be allowed to invest in overseas markets, with Hong Kong the main beneficiary, a top government official said yesterday in Beijing.
China: Presidential election can be called the biggest event for America in 2004. As the election draws near, signs began to show that the democratic and republican parties would play their "China cards" once again.
China's trade surplus is expected to scale back this year despite strong demand for Chinese products, analysts say, a trend which could quell worries of China's heavy presence in certain world markets.
China's software startup Evermore launched a daring challenge on Feb. 16 to US Microsoft's monopoly on Office software by introducing an English version of Evermore Integrated Office (EIOffice).
The first regulation focusing on internal party supervision since the founding of the Communist Party in 1921 was published yesterday.
Market response to mainland steel producer China Oriental Group's initial public offering (IPO) - in which it aims to raise as much as HK$1.93 billion - has been promising.
In a bold move to restructure the banking sector, the Zhejiang provincial government has sold 49 per cent of its stake in Zhejiang Commercial Bank to 10 local private enterprises to help turn the lender into a joint-stock commercial bank with the intention to be a nationwide business operation.
The mainland's leadership has called a week-long study session for top provincial officials and ministers. Analysts say this marks the beginning of moves to rectify long-standing policies of the late Deng Xiaoping, which led to the pursuit of economic growth rates above all else.
China Telecom Corp may issue new shares to fund a second round of asset acquisitions from its parent, according to sources close to the company.
The Guangzhou Daily Group is planning a back-door listing in Shenzhen in a surprise gambit to become China's first publicly traded newspaper company.
Mainland e-commerce portal Alibaba.com has raised US$82 million in venture capital, the largest for a Chinese internet start-up, the company said yesterday.
In what appears to be a major shift in Beijing's guidance of the Chinese economy, provincial leaders have been summoned to the capital for a study session to change their focus away from high-speed gross domestic product (GDP) growth that is distorting the economic system.
Feb 17, 2004

Hong Kong: Emily Lau and other undaunted legislators tuck into chicken delights at a Causeway Bay restaurant in a move designed to put the maligned birds back in favor.
Surveyors and architects have reached consensus with mainland authorities on mutual recognition of professional qualifications after years of negotiations. A proposed bridge linking Hong Kong, Zhuhai and Macau would not have an extension going to Shenzhen, a senior official said yesterday.
Growing regional concerns over espionage underpinned an historic meeting yesterday between officials and more than 100 overseas military attaches during a formal visit to the PLA garrison at Stonecutters island.
Hang Lung Properties, the largest retail landlord in Mong Kok, is expected to report first-half net profit fell by up to 8.5 per cent, due to low sales income and its policy of holding back flats in the recovering market.

Hutchison Whampoa has pinned its much-touted 3G hopes on the mass market with a handset costing a mere HK$998 - a quarter the price of the first handset the company launched just three weeks ago - with a monthly plan 30 per cent less than its previous cheapest plan.
Some of the world's leading technology vendors are betting big that Asia's small firms will boost their spending this year and narrow the "digital divide" with larger enterprises.
China: Wang Huaizhong, former deputy governor of Anhui Province, was executed Thursday, being the third Party official at or above ministerial or provincial level put to death for corruption.
The China division of debt-ridden Asia Pulp & Paper (APP) is seeking to list on the Shanghai stock exchange despite the fact that its Singapore-based parent has been attempting vainly for more than three years to restructure US$13.9 billion (HK$108.42 billion) of debt left from what has been called the biggest emerging-market collapse in history.
The mainland plans to establish a pension scheme similar to Hong Kong's Mandatory Provident Fund (MPF) and 401(k) savings programmes in the United States.

John Brennan, HP senior vice-president for worldwide SMB operations, says HP will invest about US$100 million this year in the Asia-Pacific region under its Smart Office initiative.
The Bank of China (BOC) is seeking approval to issue up to 60 billion yuan in subordinated debt this year as it recapitalises in preparation for an eventual listing next year.
Top US official John Bolton yesterday urged Beijing to help curb the spread of weapons of mass destruction, a day after reports said designs of nuclear weapons found in Libya came from China via a Pakistani-led trading network.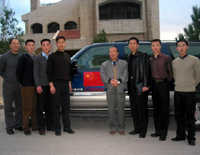 A team of Chinese diplomats arrived in Baghdad Monday and will soon start preparations for the reopening of the Chinese Embassy in the Iraqi capital. This is the first time Chinese diplomats have formally returned to Iraq since the US-led coalition launched the war against Iraq in March 2003.
A new computer chip embedded with the Linux operating system may change the way computers in the mainland are defined. The V-Dragon, developed by Hong Kong-based Culturecom, is a 400-megahertz PowerPC processor embedded with the Midori Linux operating system and Chinese character generation technology.
China Unicom, the world's third-largest mobile phone operator, has signed a far-reaching agreement with Sun Microsystems to develop and promote Java-based mobile data services for the mainland's wireless phone market.
The insurance regulator in Guangdong says the mainland's free-trade pacts with Hong Kong and Macau are likely to spur sales of illegal policies, so-called ``underground policies'', in the province.
Shenzhen's equities market, awakened by a signal from Beijing that it intends to revive the bourse after three years of lackluster activity, is continuing to attract fresh money, boosting expectations that it will outperform Shanghai this year.
Feb 16, 2004

Hong Kong: Cosco Pacific managing director Sun Jiakang says China is such a large market no single firm can have a presence in every port.
The Shenzhen checkpoint for the Western Corridor will operate around the clock when the cross-border expressway is completed by early 2006, said Guangdong Governor Huang Huahua.
Dongfeng Motor, China's third-largest carmaker, has started preparing for a Hong Kong listing, in the hope of tapping investors' fervor for the world's fastest-growing vehicle market.
Tom.com has formalized plans for a spin-off of its mainland internet arm that could raise up to $1.46 billion in a listing on Hong Kong's second board next month.
Resurgent corporate earnings look set to bolster government finances through increased profits, easing the pressure on the financial secretary to impose tax increases in next month's budget.

Chip industry officials Yu Zhongyu (left) and Zhang Keke enlist the aid of Hong Kong Science and Technology Parks in integrated circuit design for mainland firms.
The government is suggesting a HK$32 million funding plan to get a proposed independent investigation board (IIB) - which would drive Hong Kong's accounting reform - off the ground, sources close to the government said.
Megastar Jackie Chan and director John Woo helped take the Hong Kong action movie genre to Hollywood - now Hong Kong is helping Hollywood break into China.
Hong Kong ship owner Tai Chong Cheang Steamship (TCC), owned by a cousin of Chief Executive Tung Chee-hwa, will expand into the large tanker sector after ordering a very large crude carrier (VLCC) worth about US$81 million (HK$631.8 million) from a South Korean shipyard.
Hong Kong Dragon Airlines (Dragonair) will focus on expanding its existing European freighter services to twice-daily flights rather than develop new cargo routes to Russia.
The unenviable task of saving Ocean Park from sinking beneath the waves of oblivion will be in the hands of a man who rose from being a service park attendant sweeping floors at Knott's Berry Farm in California - ``seven miles down the road from Disneyland''.
China: China's currency isn't undervalued and the country's best strategy in the face of increasing global pressure for yuan appreciation is to hold the exchange rate where it is, according to George Leung, HSBC chief economist for Greater China.
Chinese oil companies will likely resume activities at the oil trading centre this year, which will trade forward contracts for refined oil products, including gasoline, diesel oil, kerosene and fuel oil.
Bo Xilai, one of the nation's hottest political rising stars, has been promoted to minister of commerce, a move seen as preparing him to play a more important role in the central government.
US presidential candidate Senator John Kerry boasts far more Hong Kong and mainland experience than any of his Democratic rivals.
The General Office of the State Council, China's cabinet, has issued a notice pledging financial support to help farmers and the poultry industry get through the bird flu outbreak in the country.
After a year of explosive growth in China, world No 2 personal computer maker Dell said yesterday it hoped to grow at triple or more the market's overall growth rate this year.
Shenzhen-based Huawei Technologies has formed a US$100 million joint venture with Germany's Siemens Information and Communication Mobile to compete in China's nascent third-generation (3G) mobile technology market.
Feb 13 - 15, 2004

Hong Kong: Actor Eric Tsang hams it up at the announcement of nominations for the Hong Kong Film Awards.
Hong Kong's hopes of hosting the next ministerial meeting of the WTO this year have been dashed by uncertainties gripping the trade body since the collapse of the last round of global talks in Mexico in September.
The former leader of the pro-Beijing Democratic Alliance for Betterment of Hong Kong yesterday said he would urge mainland officials to keep an open mind on the views of the Hong Kong people on constitutional development, including those of the pro-democracy camp.
Debt-laden New World Development (NWD) is expected to raise as much as HK$4.1 billion in a rights issue that is set to be the biggest among real estate developers in 17 years.
A rare information system glitch resulted in 333 candidates in Hong Kong and Shanghai being mistakenly notified last month of failing the December level one chartered financial analyst (CFA) examination.
Hong Kong companies face the daunting challenge of reporting next year's earnings under a revised accounting standard that could introduce big swings in their annual profit results, Deloitte Touche Tohmatsu warned yesterday.
Morgan Stanley Capital International (MSCI) index is to reduce its weighting in Hong Kong's stocks, but fund managers and analysts say the market is unlikely to be affected as its fundamentals remain attractive to investors.
An MTR station is the key to Ocean Park's survival in its future battle with Hong Kong Disneyland, according to the park's chairman, Allan Zeman. Ocean Park should do more to educate the public about wild animals, Society for the Prevention of Cruelty to Animals executive director Pauline Taylor said yesterday.
China: Shenzhen Airport Holdings has revealed it is seeking a strategic investment from the Hong Kong Airport Authority (HKAA), as the municipal government looks to dispose of its shares.
More than four-fifths of chief executives in Asia are optimistic about their companies' revenue growth for the next three years with expectations that China trade will be a top earnings driver, PricewaterhouseCoopers (PwC) said.
Mainland companies' new listings in Hong Kong drew massive interest among investors with seven Chinese companies having raised HK$39.55 billion in the last two months of 2003.
While China's leaders are trying to put the brakes on selected industries such as steel, automobiles, property and cement to cool an economy that some believe is overheating, it is questionable how much they can impact overall growth given the tools they have to work with.
French shipping firm CMA CGM is negotiating to invest in two mainland ports this year as part of an expansion of shipping links between China and North America that also includes the opening of 13 extra mainland offices.
American Express Bank says it expects China to repeg the yuan and allow it to strengthen around 5 per cent against a basket of currencies in the coming months.
Beijing Road in Hong Kong City - a newly opened shopping mecca in Guangzhou - is beginning to take on the trappings of a petty trading bazaar because of the border opening resulting from the Closer Economic Partnership Arrangement.
China's push to computerise its administration is expected to see it account for most of the 45 per cent share of IT spending by regional governments this year, according to research house IDC.
Guangzhou plans to shift its urban development focus south towards Panyu, where Asia's largest railway station complex is to be built in an ambitious plan confirmed yesterday by Guangzhou mayor Zhang Guangning.
Mainland airlines are to be given a permanent exemption from paying airport construction and development fees from the start of this year, Xinhua has reported.
At a forum on Sino-US economy and trade, Air China president Li Jiaxiang said frankly that in the Sino-US trade and business exchanges Chinese airlines face "artificial barriers".
Basketball superstar Yao Ming is set to score another sponsorship point - this time with McDonald's.
Summing up his first year in office, Guangzhou Mayor Zhang Guangning said yesterday his greatest satisfaction had been his government's handling of last year's Sars outbreak. His biggest headache was the problem of villages being engulfed by cities.
The buzz of motorcycle engines will fade from Guangzhou city streets during the next three years as part of an official drive against traffic accidents and crime.
US Trade Representative Robert Zoellick came to Beijing yesterday bearing a gift: an offer to eliminate agricultural export subsidies.

Shenzhen-based Huawei Technologies has formed a US$100 million joint venture with Germany's Siemens Information and Communication Mobile to compete in China's nascent third-generation (3G) mobile technology market.
Feb 12, 2004

Hong Kong: After posting first-half results that beat expectations, Esprit chairman Michael Ying Lee-yuen says the firm offers "high potential for continuous growth". First-half earnings at fashion retailer and wholesaler Esprit Holdings have exceeded expectations thanks to strong sales in Europe, currency gains from the surging euro and - more importantly - improvement in its underperforming Asian businesses. Esprit Holdings stunned analysts with a 53 per cent surge in interim net profit to HK$886 million as the apparel giant reported strong retail growth in Germany and France. The gain at the casual clothing retailer came despite costly restructurings in the United Kingdom and the United States.
The global port network of CSX World Terminals (CSXWT) is to be sold, potentially opening the door to a new operator and a shift in the balance of power at Hong Kong's port. The sale of CSX World Terminals' Hong Kong facilities could strengthen a relatively weak dynamic in Hong Kong's present port environment: competition.
The problem of negative equity was improving following a recent surge in property prices and a recovery in the economy, the Hong Kong Monetary Authority said on Thursday.
The World Trade Organization (WTO) has still not decided when it would hold its next ministerial meeting, the Secretary for Commerce, Industry and Technology said on Thursday.
The proposed HK$4.3 billion takeover of International Bank of Asia (IBA) by Taiwan's Fubon Financial Holdings moved a step closer to being settled yesterday, with an announcement that most, though not all, of the pre-conditions to the deal have now been satisfied.
Hong Kong's first land auction in 20 months is expected in April after developers raised their offers for two prime residential lots. The lots, one on the Peak and the other in Aberdeen, could fetch HK$1.5 billion, surveyors say.
Hongkong & Shanghai Banking Corp chairman David Eldon warned yesterday that speculators have returned to Hong Kong's property market and prices are in danger of rising too quickly.
International fashion designer Vivienne Tam has designed the new logo for the Mandarin Oriental's new hotel in Manhattan, AFP reported on Thursday.
China: The mainland posted its first trade deficit since last March as export growth slowed after tax rebates on overseas shipments were reduced at the start of the year.
The creation of a tightly integrated economic region encompassing nine Southern China provinces, Hong Kong and Macau got a boost yesterday in Guangzhou with the announcement that a special body is to be set up to co-ordinate development.
Modern Terminals will take 65 per cent in the development of the 7billion yuan (HK$6.57 billion) first phase of Dachan Bay container port, on the western side of Shenzhen near Chiwan.
The Chinese edition of Forbes lately published its Chinese celebrity power rankings. Almost occupied exclusively at the top by actors, actresses and athletes, the poll has triggered hot debate.

Wuxi-based chipmaker CSMC Technologies plans to use the proceeds from its April IPO to fund expansion, including the building of a US$1 billion, 200mm-wafer plant.
One of China's top chipmakers, Semiconductor Manufacturing International Corp (SMIC), has filed a preliminary prospectus with US securities regulators to raise US$714 million in an initial public offering in Hong Kong and New York.
United States internet search giant Google is building its mainland presence, unveiling a keyword advertising service for both simplified and traditional Chinese characters.
Feb 11, 2004

Hong Kong: Gulfstream Aerospace sales division vice-president Roger Sperry (left) congratulates Metrojet chairman Michael Kadoorie on buying the company's latest US$20 million mid-range Gulfstream jet. Hong Kong-based Metrojet, the Kadoorie Group's business aviation unit, is expanding its fleet amid growing demand for private jets in the region.
"Hong Kong should be governed by Hong Kong people, with patriots as the main body." This is the bottom line that Beijing spelled out clearly to the chief secretary and his taskforce during their discussions on the city's constitutional development.
Poor communication between the SAR and the Guangdong provincial government could delay construction of the planned 37-kilometre bridge linking Hong Kong with Zhuhai and Macau, a senior Guangdong official said yesterday.
The chairman of the English Schools Foundation (ESF), his deputy and treasurer resigned at a dramatic meeting of the foundation's executive committee yesterday after failing to secure a controversial appointment. The three top executives of the English Schools Foundation resigned yesterday after failing to push through the ratification of their candidate to head the HK$1 billion private school system.
A harbor front housing estate built for the government but left unsold to help stabilize property prices was not sold back to its developers too cheaply, the housing chief insisted yesterday. In yet another dismal example of housing policy failure, developers are expected to reap a windfall profit from the return of a second subsidized project at a premium as low as HK$1,500 a square foot - after officials insisted they would demand top dollar for any such deal in future.
Earnings at Bank of East Asia (BEA) rose 51.3 per cent last year as the lender benefited from robust growth in fee-based and trading income and better loan quality. If Bank of East Asia is a barometer for this year's banking season, two themes are likely to emerge: improved asset quality and the return of consumption credit.
China: Premier Wen Tuesday called on financial officials to tighten reins on lending to over-invested industries to slow down investment growth, which he described as being excessive fast-paced last year.
A senior Guangzhou official has followed two others in Guangdong in accusing the media of sensationalizing outbreaks of bird flu on the mainland.
Guangdong Governor Huang Huahua has set a 9 per cent gross domestic product growth target for this year, while warning of rising competition at home and abroad, as well as increasing tendencies toward protectionism.
High-level Sino-US defense talks opened in Beijing yesterday, which are expected to pave the way to a recovery of military ties between the two nations.
Global oil giant BP has sold its entire 2.1 per cent stake in Sinopec Corp, China's second-largest oil producer, for HK$5.73 billion in a move which reduced its H-share investment portfolio.
Mainland insurance companies, with their premium incomes soaring and with few options for using it domestically, may be allowed to invest in overseas bond markets by the China Insurance Regulatory Commission.
Feb 10, 2004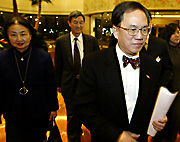 Hong Kong: Donald Tsang Yam-kuen expected the weather in Beijing to be cold yesterday, but nothing could have prepared him for the chilly, almost off-hand reception he received. Donald Tsang put on a brave face when he met the deputy director of the Hong Kong and Macau Affairs Office, but looked less assured later, leading his group away from a media conference.
Insurance and financial group Principal Asset Management Company (Asia) has acquired Hong Kong-based Dao Heng Fund Management from Guoco Group, in what industry players say is likely to be just the first consolidation among pension providers in the SAR in coming months.
Translation gains from an appreciating euro against the US dollar are likely to help boost first-half earnings at Hong Kong fashion retailer Esprit Holdings by as much as one-third to HK$753 million, some analysts say.
China's booming export market will help boost Asian airfreight shipments by an above-average 6.8 per cent a year in the next two years, according to forecasts prepared for Lufthansa Cargo.
InvestHK, the government's investment promotion agency, is set to announce that it has convinced the world's largest data storage firm, EMC, to set up its regional headquarters in the city.
Insurance and financial group Principal Asset Management Company (Asia) has acquired Hong Kong-based Dao Heng Fund Management from Guoco Group, in what industry players say is likely to be just the first consolidation among pension providers in the SAR in coming months.
The merger of e-commerce giants Ariba and FreeMarkets could trigger a wave of industry consolidation as rivals vie for a share of the market for automating the purchase and sale of supplies and services in the mainland.

The government appears ready to forgo nearly HK$800 million in lost revenue to get out of a controversial subsidised housing project in Hung Hom that the developers could either tear down and replace with a more lucrative development, or refurbish and sell at far higher prices.
China: Guangzhou's new Baiyun International Airport will open for flights on June 28 with a promise to give Hong Kong International Airport a run for its money.
The central government, increasingly concerned about the country's ability to feed itself, will sharply increase investment in agriculture this year and institute what a government official called ``the world's most strict measures'' to stop cities from eating up farmland.
The Chinese government has allocated 100 million yuan (US$12 million) in special funding for research into bird flu, according to China's National Avian Influenza Prevention Headquarters.
The central government is to crack down on fake vaccines for poultry after the World Health Organization (WHO) warned yesterday that using poor-quality products would make the bird flu outbreak worse.
Investors chose to ignore a central bank denial that a revaluation of the yuan was imminent yesterday, pushing China-related stocks higher on speculation that it would happen sooner rather than later.
Yahoo! China has ended its relationship with the mainland's internet regulator, opting instead to tie up with a privately owned search engine to boost market share.
The central government has signalled it will measure the worth of officials by how much they improve farmers' incomes, rather than by how fast GDP grows or how many grand infrastructure projects they launch.
Senior leaders are expected to gather in Beijing today to discuss reforms of the banking, securities and insurance industries - and the valuation of the yuan.
Feb 9, 2004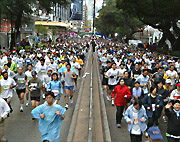 Hong Kong: Two Kenyans - one of them blind and the other a late entrant - took the leading honours in a cold and wet Standard Chartered Hong Kong Marathon yesterday.
Kowloon Motor Bus (KMB) has won approval from the central government to set up a joint venture to run bus services in Wuxi, Jiangsu province, one of the first fruits borne by the closer economic partnership arrangement (Cepa), industry sources say
A senior Guangdong official yesterday threatened to take legal action against the Hong Kong media for what he described as "irresponsible reports" on the bird flu outbreak in the province.
The long-awaited debate on constitutional reform in Hong Kong officially started yesterday when the government's taskforce arrived in Beijing for a three-day visit.
Asia's largest health and beauty chain, Watsons, has criticized aggressive retail rent increases as "unrealistic" at a time when low prices are still squeezing retail margins and the weakness of the United States dollar is increasing the cost of goods.
China Network Communications Group (China Netcom), the country's second-largest fixed-line operator, will bring forward its first-time share sale in Hong Kong to July to capture the robust stock market, a company source said.
China: With 160 million handsets produced in China last year, consumers ensure that retailers share the same pressures as producers. China is pulling the plug on new licences for the manufacture of mobile-phone handsets to avoid the kind of glut and cutthroat competition that led to the meltdown of its television industry about three years ago.
Guangdong-based audio-visual retailer Fab is pressing ahead with plans for an aggressive expansion of its mainland sales network despite industry giant Blockbuster's conclusion that the Chinese market is a lost cause.
The G7 grouping of rich countries yesterday made a fresh if thinly veiled appeal for a yuan revaluation after a mainland business newspaper said the currency could be revalued as soon as next month.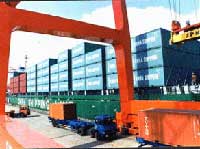 The trade volume between China and the US hit a historic high of 126 billion US dollars in 2003. China has become America's third largest trade partner. Imports from the US reached 34 billion US dollars, while exports to the US exceeded 92 billion US dollars.
Special taskforce officers aiming to prevent the spread of bird flu on the mainland yesterday arrived in 11 provinces and regions.
The State Council has announced a series of measures to boost the incomes of the country's 900 million farmers and narrow the escalating gap between rural and urban wages. Sensing the urgency of raising farmers' income, the CPC Central Committee and the State Council have issued a document on policies for boosting the growth in the income of farmers.
Cut-throat competition among the big four US investment banks for lucrative fundraising deals in Asia is increasingly forcing smaller banks to rethink their viability or settle for relatively slim pickings in the race for Asian initial public offerings (IPOs). Bank of East Asia is expected to set the pace for rival Hong Kong lenders when it begins the industry's reporting season tomorrow by unveiling a forecast 30 per cent increase in 2003 net profit. UK-based banking giant Barclays has made Hong Kong its hub for Asia expansion, taking advantage of an improving investment climate and sustained economic growth.

Funds under management in China have almost doubled in the past two years after the industry was liberalised, but foreign firms still need to spend two years or more in negotiations with a local partner to tap into the market, according to global accounting firm KPMG.
Feb 6 - 8, 2004

Hong Kong: Hong Kong ice carvers Siu Kay-hung and Ho Chun-ng add the finishing touches to their dragon sculpture at Japan's Sapporo Snow Festival. They chose the dragon image to symbolize resilience and stability. Hong Kong teams have won the grand prize 11 times in the festival's 31 years.
Hong Kong's tourism sector is set to receive another boost in the form of two chic, smaller-sized hotels boasting hi-tech applications to attract style-conscious travelers.
The Immigration Department has supplied Beijing with a list of the names of about 20,000 mainland visitors who have broken the law in Hong Kong or who are deemed "suspicious".
Hong Kong SAR passports are more popular than British National (Overseas) passports among Hong Kong people, travel industry leaders said yesterday.
Travel agencies are planning more package tours for impulse travelers wishing to spend their weekends in Japan once travel to the country becomes visa-free for Hong Kong residents.

Australian group Strange Fruit performs "The Spheres" outside the Cultural Centre on Thursday night. Using four-meter poles and giant orbs, it tells the story of a child and its various encounters.
Clothing retailer Giordano International will spend HK$100 million to add another 120 new outlets to its sales network in Asia this year.
Australian Justice Minister Chris Ellison has come under renewed attack for refusing to surrender two men wanted in Hong Kong on corruption and bribery charges, with the federal opposition yesterday joining calls for an explanation.

China: A worker lures wild pigeons at People's Square in Shanghai. A mainland bird flu crackdown has grounded millions of domestic homing pigeons, which must be inoculated to stop the disease spreading.
The Bank of China (BOC) is arranging the first direct public auction of non-performing loans by a mainland bank, according to sources.

BMW's Helmut Panke says GM's Cadillac poses no threat to his China sales ambitions.
Thirty-six per cent of mainland-listed companies missed last June's deadline to fill at least a third of their board positions with independent directors, China's securities regulator revealed yesterday.
Huawei Technologies has become a minority shareholder of Sunday Communications, its first third-generation (3G) customer, according to a Hong Kong Exchanges and Clearing document released yesterday.
The Russian petroleum giant Yukos will increase crude oil exports to China by rail starting in 2006 because of growing uncertainties over a planned Sino-Russian pipeline from eastern Siberia to the Daqing oil field in northeastern China. China Petroleum & Chemical Corporation (Sinopec), the mainland's second-largest oil and gas producer, will issue a 3.5 billion yuan (HK$3.3 billion) domestic corporate bond next week to fund a pipeline project.
Shenzhen's restructuring of its listed state-owned enterprises (SOEs) is expected to lead to a series of mergers and acquisitions between local state firms and foreign and private investors.
The Beijing Youth Daily Group is preparing for a one-billion-yuan stock market listing in Shanghai this year, which will make it the first mainland newspaper company to go public.
CSMC Technologies, a mainland-based supplier of made-to-order chips in which Singapore's Chartered Semiconductor Manufacturing has a 10 per cent stake, plans to build a US$1

A total of 37 people were killed and 15 injured in a Lantern Festival gathering Thursday night in Beijing's suburban Miyun County. The accident happened at 7:45 p.m. Thursday in the Mihong Park where people were celebrating the Lantern Festival. As police in Beijing began investigating the stampede in Mihong Park that left 37 people dead, the city's acting mayor, Wang Qishan, said local governments must learn from the tragedy and suspend all public activities that fail to meet safety requirements.
Feb 5, 2004
Hong Kong: Japan confirmed yesterday it would grant visa-free access for holders of Special Administrative Region (SAR) and British National (Overseas) passports from April.
The Hong Kong government yesterday strengthened the monitoring of chicken deaths on farms to prevent the spread of bird flu as Guangdong confirmed it had imposed a partial ban of egg exports.
Hong Kong and central government officials will discuss the opening up of mainland skies to local airlines this month as planned, a mainland official says - dispelling fears the talks were to be postponed indefinitely.
Hong Kong and the mainland are accepting illegally logged timber from Indonesia's threatened national parks, according to a private study.
Hong Kong's overseas offices are being restructured to help save an annual $11 million, lawmakers have been told.
Sun Hung Kai Properties (SHKP) has been back in buying mode, spending nearly $600 million for a 50 per cent interest in a housing project with a developable area of 1.6 million square feet in Hunghom.
Shareholder activist David Webb has called for the immediate suspension of China Life from trading on the Hong Kong stock exchange until the company can assure investors that it is not affected by an accounting scandal uncovered in the books of its mainland parent.
A HK$1.4 billion share placement by mid-tier Hong Kong lender ICBC (Asia) closed fully subscribed yesterday in a global distribution described by sources close to the deal as ``very encouraging''.
Continental Mariner Investment Company (CMIC), once one of the hottest red chips because of its links to the People's Liberation Army, is planning a HK$265.6 million top-up placement, market sources say.
China: China is gradually emerging into the US-led global economic order, and its fast growing economy provides powerful support to the US economy, a front-page article of the Wall Street Journal said on Friday.
In a bid to improve its festering environment and lure more business from home and abroad, Guangdong is to spend 82 billion yuan (HK$77.06 billion) on fixed-asset investment in infrastructure this year.
A former employee of China Construction Bank's Shenzhen branch is standing trial for allegedly violating banking rules and cheating a Macau company and an education fund in Shenzhen out of more than 150 million yuan, Xinhua reported yesterday.
Bird flu has probably existed on the mainland for a long time, veterinary experts say, but the scale of the outbreak has only been made public because of the government's recent commitment to openness.
Shanghai Airlines will receive permission to fly to Germany later this month, marking the first time a second-tier mainland carrier has had an international long-haul route approved.
China's mobile duopoly - China Mobile and China Unicom - have reached a gentlemen's agreement to ease price competition in their latest effort to boost earnings.
Feb 4, 2004
Hong Kong: The British consulate in Hong Kong and travel industry representatives said yesterday they had been kept in the dark about a new policy that requires British National (Overseas) passport holders to apply for visas before entering Indonesia.
The mainland topped the list of video piracy offenders in Asia last year, a report said yesterday. But Hong Kong's efforts to crack down on pirated discs seemed to be paying off, said the report by the Motion Picture Association.
The firm that blazed a trail as a developer of modern middle-class housing estates in the 1970s is retreating from the mass market, adding to the concentration of property development in the hands of a few massive players.
Hutchison Telecom is suing the Office of the Telecommunications Authority (Ofta) in a move aimed at protecting its lucrative international roaming fees.

The stock exchange's listing division has proposed a public censure of New World Development (NWD) and four of its directors for the leaking of a profit warning before the company's 2000 interim results announcement.
Hong Kong regulators are likely to demand that the locally listed units of mainland's two biggest financial institutions - banking group ICBC, and insurer China Life - show a clean bill of health following reports of a massive accounting scandal uncovered in the books of their mainland parents.
Two China-backed Hong Kong-listed companies are poised to raise as much as 4.20 billion yuan (HK$3.95 billion) through share offers in the mainland, riding on favorable sentiment after the State Council issued new guidelines designed to boost the domestic capital market.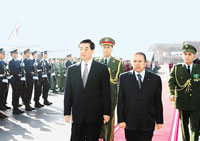 China: President Hu Jintao arrived in Algeria on Feb. 3, aiming at securing further economic co-operation and exploring energy pacts as well as bolstering diplomatic ties with the influential African nation.
China will this month host a second round of six-nation talks on North Korea's nuclear program, the Foreign Ministry announced yesterday in the first real hint of progress since initial talks were held in Beijing in August.
The mainland's A and B share markets and locally listed H shares are expected to remain under pressure in the coming months as regulators introduce measures to cool China's economy, according to JP Morgan Fleming Asset Management.
Northern Hebei province will hold a trade fair in Hong Kong next month to promote private enterprises looking for strategic partners for potential Hong Kong listings in 2004-2005.
China's State Council has decided to establish a postal savings bank, which will be the fifth-largest bank on the mainland with deposits of more than 840 billion yuan and a network of 20,000 branches.
Experts from the World Health Organization (WHO) will visit the mainland soon to investigate the spread of bird flu and to review steps taken by the central government to halt the disease.
Chinadotcom Corp plans to spin off its mobile and internet business in a Nasdaq Stock Market flotation that it hopes will raise US$100 million.
Feb 3, 2004
Hong Kong: Hong Kong's monetary chiefs have said that an opportunity to interview former BOC Hong Kong (Holdings) chief Liu Jinbao would not have aided their investigation into a loan scandal at the bank.
Yuan deposits became more attractive to Hong Kong bank customers yesterday after the People's Bank of China said it would offer an annual interest rate of 0.99 per cent to the yuan clearing bank.
The number of property transactions in January rose 29.8 per cent year-on-year as the property market continued to improve, latest government statistics released on Tuesday showed. The number of homeowners with negative-equity mortgages in Hong Kong fell to 67,000 at the end of December - the lowest level since 2001, while the value of those mortgages was also the lowest for two years at HK$107 billion.
Half of the new year gains chalked up under the Exchange Fund in the first three weeks of trade in January were wiped out in the last four trading days of the month as the bird flu scare hit financial markets, lawmakers have been told. Investors made skittish by continuing bad news on bird flu sold down the Hang Seng Index by 2.18 per cent yesterday, wiping out HK$90 billion in shareholder value.
Health Chief Yeoh Eng-kiong said on Tuesday no H5N1 virus was found in carcasses of chickens found at the Tai Kong Po dead animal disposal center.
Shipping lines, exporters and freight forwarders using Kwai Chung port are unlikely to face extra security charges in the short term following a global anti-terrorism crackdown.
China: Market darling China Life Insurance dropped 5.26 per cent yesterday after the national auditor found accounting problems at the insurer, prompting it to hold an investor conference call to emphasize the irregularities were at the old company before its listing.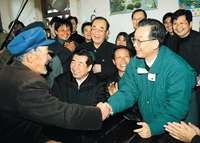 Chinese Premier Wen Jiabao urged governments to make preventing the bird flu epidemic a priority. (photo: Premier Wen shakes hands with an elderly farmer at the latter's home in the suburbs of Wuxue City, a bird flu-hit area.)
Visiting Chinese President Hu Jintao stressed the importance of further strengthening and developing China-Gabon and China-Africa ties in his address to the National Assembly of Gabon.
China, beset by a fast-increasing gap between its energy needs and its production, intends to overhaul its eight-year-old electricity law this year to open the energy market to private investment, officials with the State Development and Reform Commission say.
China Power International Holdings is expected to seek an initial public offering this year to raise up to US$4 billion (HK$31.2 billion) on international markets as strong economic growth spurs increasing need for power infrastructure.
More than two weeks after the World Health Organization (WHO) asked China for information to help curb the Asia-wide bird flu epidemic, it is still waiting, a WHO spokesman said on Tuesday.
Shanghai banned the sale and slaughter of live poultry at local markets yesterday to stop the further spread of bird flu after a suspected outbreak was detected in a farm on the city's outskirts last Friday.
A Chinese company, Evermore Software from Wuxi city in Jiangsu province, will soon be the first domestic firm to go head to head with Microsoft in the overseas office software market. The firm is about to release an English-language edition of Integrated Office (EIOffice), a suite of productivity software.
Feb 2, 2004
Hong Kong: Mainland visitors went on a shopping spree in Hong Kong, running up yuan card transactions and withdrawals worth HK$40.72 million in just 11 days last month - equivalent to about HK$1.35 billion a year.
Hong Kong last night banned the import of live birds and poultry meat from the mainland as the bird flu virus was confirmed in two provinces and suspected cases emerged in Guangdong and two others. The ban also covers frozen and chilled poultry. Poultry traders have expressed frustration at the ban on poultry imports, and say the industry will lose millions of dollars if the measure lasts too long.
Hong Kong Exchanges and Clearing (HKEx) yesterday announced a list of rule changes to improve corporate governance - a sign it is not about to relinquish its powers. In a colourful show of dissent, Hong Kong Exchanges and Clearing (HKEx) director David Webb has taken a blistering swipe at the body's proposals for the regulation of listings.
The University Grants Committee has published its blueprint for higher education, envisaging specific roles for each university, more say for the committee over the sector and increased collaboration between institutions. The grants committee's report has sparked fears that many academic departments could face closure or be severely scaled down if they do not fall within institutions' newly defined roles.
China Petroleum & Chemical (Sinopec) has beaten its mainland and overseas rivals in grabbing a slice of the crowded Hong Kong petrol retail market, winning a tender to lease five land lots.
Hong Kong's business activity picked up and output prices increased sharply in January as the city's economy continued to grow, according to the purchasing managers' index.

China: Japan's Kao Corp plans to add cosmetics to its lineup in China by the middle of next year.
The president and general manager of the Shanghai branch of Xinhua have been replaced and are under investigation for alleged financial crimes and corruption probe.
Thousands of employees of state-owned enterprises in China apparently treated the Industrial & Commercial Bank of China (ICBC) as their piggy bank, appropriating billions of yuan for their personal use, according to additional details emerging from an extraordinary speech on Friday by China's Auditor-General, Li Jinhua.

As more bird flu cases were spotted across China, the Ministry of Commerce, the State Administration for Industry and Commerce and the General Administration of Quality Supervision, Inspection and Quarantine have intensified poultry market surveillance while at the same time ensuring meat supply.
China on Sunday began levying anti-dumping tax on imports of phenol, a wildly used chemical component produced in Japan, the Republic of Korea, the United States and China's Taiwan Province. Eyeglass manufacturers in Wenzhou in the eastern coastal Zhejiang province are to meet today to discuss how to face an anti-dumping suit brought four weeks ago by Argentina against one of the city's biggest industries.
China's success in its first manned space flight marks the completion of its first-step task and conditions are now mature for the second step of the nation's manned space program.

China's voracious intake of raw materials to feed its rising industrialisation and the significant outbreaks of viruses in the food chain are likely to send commodity prices skyrocketing this year, economists and analysts say.
The Shanghai Stock Exchange hopes to win regulatory approval to launch a pilot program for warrant issues and trading this year, according to a Shanghai securities industry source close to the exchange. PICC Property and Casualty and Fujian Zijin Mining Industry are both tipped to join Morgan Stanley Capital International's (MSCI) China index as new members in an upcoming review, according to securities houses.
January 30 - Feb 1, 2004

Hawaii: Governor Outlines Five Highest Priorities, Unveils 2004 Initiatives
In her second annual State of the State address, Governor Lingle focused on her administration's five highest priorities for the 2004 Legislative Session. These are: revamping the public school system, building safe communities, promoting a healthier Hawaii, preserving our unique environment and maintaining a strong economy. Among the initiatives unveiled in her hour-long speech, which was interrupted 50 times by applause, was a proposed amendment to the State Constitution requiring the legislature to enact a balanced budget. Regarding her highest priority of reforming the public education system, the Governor called on the legislature to "let the people decide." She is calling for a November ballot measure to let the voters determine if the statewide Department of Education should be broken up into separate school districts with locally elected school boards, or if the current, failing system should remain intact.

Hong Kong: Movie star and Hong Kong tourism ambassador Jackie Chan speaks after receiving the title of Honorary Professor from Polytechnic University yesterday. The honour recognises his "outstanding professional achievements" and his promotion of Chinese arts and culture overseas.
Financial Secretary, Henry Tang Ying-yen on Friday emphasized the importance of tourism to Hong Kong's future - urging people to be friendly and helpful to tourists.
Hutchison Whampoa placed $1.8 billion in Vanda Systems & Communications Holdings shares yesterday, just one day after it agreed to sell its fixed-line business to the computer systems integrator.

Blockbuster is pulling out of Hong Kong and has scrapped plans to enter the mainland, where consumers prefer buying cheaply pirated DVDs and VCDs to paying rental fees.
Hong Kong's exports surged at the fastest pace in 11 months in December as Chinese exporters rushed to deliver their shipments before the reduction of tax rebates that began this year.
China: Red-chip conglomerate Citic Pacific has poached China Unicom executive vice-president Shi Cuiming, hoping his extensive experience and connections can give its mainland telecommunications business a boost.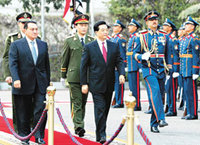 China and Arab countries on Friday set up a China-Arab states cooperation forum and issued a declaration on the forum, Chinese Foreign Minister Li Zhaoxing and Secretary-General of the League of Arab States (LAS), Amr Mahmoud Moussa, announced at the LAS headquarters in Cairo.
Hong Kong-listed Sinotrans, the mainland's logistics giant, has further expanded its freight-forwarding services in southeastern China by buying a controlling interest in Fujian's largest firm
China's fast-growing aviation market, driven by 10 per cent to 12 per cent annual growth in air travel, is attracting growing investment in the highly competitive jet maintenance sector.
January 29, 2004

Hong Kong: Toast of the town: Chief Executive Tung Chee-hwa (centre) flanked by senior officials including Heung Yee Kuk chairman Lau Wong-fat (left) and Justice Secretary Elsie Leung Oi-sie (right) proposes a toast at the kuk's spring reception at the International Exhibition and Trade Centre, Kowloon Bay. Giving speech at his spring reception, Tung Chee Hwa said that during the New Year holidays Hong Kong has been bustling with people, sales and business, an uplifting scene, which has not been seen for years.
Business and political leaders have formed a new political group to be headed by outspoken property tycoon Ronnie Chan Chi-chung.
The public should not lose heart over constitutional reform, Chief Secretary Donald Tsang Yam-kuen said yesterday. Beijing would handle the issue with wisdom, he said.
In a HK$7.1 billion lateral arabesque, Hutchison Whampoa was given permission late last night by the Hong Kong stock exchange to inject its money-losing fixed-line telephone unit into Vanda Systems, which it also controls, through a back-door listing.
The Mydoom computer virus continued to spread on Wednesday, but most users in Hong Kong again escaped the worst of it. The virus, also known as Novarg, has surpassed the Sobig.F worm to become the fastest-spreading virus to date.

China: President Hu Jintao with French External Commerce Minister Francois Loos at Paris City Hall yesterday. The president outlined projects aimed at luring French business leaders. President Hu Jintao yesterday wooed top French business leaders, outlining large infrastructure projects the mainland planned to build that could benefit from French expertise and technology. Having scored wins on ties with Europe, Chinese President Hu Jintao attended to business on Jan. 28, luring heavyweight French firms with enticing visions of China's surging economy.
Heineken, the world's third-largest brewer, has become the latest international player to grab a slice of the mainland's lucrative beer market, signing a US$71.8 million deal for 21 per cent of Guangdong Brewery Holdings.
A French campaign for the European Union to lift an arms ban on the mainland imposed after the 1989 Tiananmen Square crackdown could scuttle plans by European defense contractors to sell submarines to Taiwan, a defense analyst said yesterday.
Foreign computer manufacturers on the mainland grew faster than their domestic counterparts last year, posing an increasing threat to dominant player Legend Group as it fights to keep its leading position.
ShareJet, an aircraft charter company based in Guam, is targeting multinationals with plants and investments in China and the Asia-Pacific region after taking delivery of an 18-seat business jet.
January 28, 2004
Hong Kong: International credit rating agency Standard & Poor's may raise its ratings outlook for Hong Kong this year if the economy continues to improve and the government carries through on promises to cut spending and fix structural problems.
Sixteen companies have lodged requests with the Hong Kong government for their goods to be added to the list of products that already have zero-tariff status when they enter the mainland market, the commerce chief said yesterday.
Retail sales in Hong Kong will see single-digit growth this year as the economy recovers, the Hong Kong Retail Management Association said yesterday.
ICEA, the listing sponsor of collapsed orchid grower Euro-Asia Agricultural (Holdings), is about to become the first investment bank to face disciplinary action by the securities regulator for failing to check the accuracy of information provided by an initial public offering candidate.
Market misbehavers left little to the imagination last year. They manipulated, misappropriated and misstated, much as they did in 2002. The difference is that from April 1, the penalties for these deeds were to have more bite.
A new computer virus spread rapidly around the world on Monday and Tuesday, but Hong Kong users seemed to fare better than those in other regions due to a combination of timing and a speedy response from software companies.
Personal computer shipments to the Asia-Pacific region, excluding Japan, rose 13.6 per cent last year, shaking off the effects of Sars, which had threatened to crimp sales.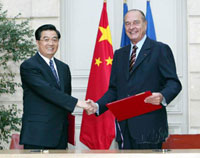 China: Visiting Chinese President Hu Jintao said on Jan. 27 that the joint declaration he and his French counterpart, Jacques Chirac, signed will play an important role in boosting Sino-French ties in the future. President Hu Jintao used a speech to France's National Assembly yesterday to tout his nation's efforts to achieve legal, political and economic reforms - an acknowledgment human rights were the biggest obstacle to closer ties with European nations.
The Chinese government has begun to take concrete measures to help domestic enterprises better deal with international disputes related to intellectual property rights since the beginning of the year, so as to protect the nation's fundamental benefits and economic security.
More than US$10 billion (HK$78 billion) in foreign direct investment has poured into Beijing alone over the last five years, accounting for nearly half of all FDI in the capital since the China opened its markets to foreign investors more than 20 years ago.
Guangdong Brewery Holdings, which produces and sells Kingway beer, is expected to reap about HK$580 million in cash in a deal that will see Heineken take a one-fifth stake in the brewery as a strategic investor.
On just his third trip abroad as president, Hu Jintao is visiting three African countries, reflecting China's growing need for natural resources to fuel its booming economy.
The growth of government revenue will slow this year after expanding rapidly last year, the Ministry of Finance said yesterday.
French cosmetics giant L'Oreal has bought mainland rival Yue-Sai, a brand created by American entrepreneur Kan Yue-sai with the slogan "specially for the Chinese woman".
January 27, 2004

Hong Kong: A "God of Wealth" delivers lai see packets to taxi drivers in Hunghom. The increase in retail spending has put an even rosier glow on Hong Kong's economic recovery. The Year of the Monkey will be a good one for Hong Kong companies, according to a half-yearly survey of business confidence released yesterday. The monetary chief yesterday predicted Hong Kong's deflation problem would disappear by the end of this year.
Solo mainland visitors gave Hong Kong's economy a much-needed Lunar New Year boost with more than 100,000 arriving over the holiday, immigration authorities said yesterday.

Morgan Stanley's Wu Sheng is dwarfed by the image of Shanghai Forte chairman Guo Guangchang telling a video conference that China's move to tighten credit to developers bodes well for the industry.
Hong Kong health authorities will consider lifting the ban on US beef imports, after the completion of an international experts' review on the safety measures.
Hong Kong Association of Banks (HKAB) chairman Peter Wong fears levying charges on large deposits held in clearing accounts to reduce Hong Kong's aggregate balance may eventually hurt banks' small customers.

Hong Kong Computer Society president Daniel Lai says e-learning is a market with vast economic potential for Hong Kong. A group of information technology associations has asked the government to back a plan that would establish Hong Kong as an e-learning hub for China.
Government plans to cut its higher education budget have dampened prospects for the territory's leading supercomputing initiative, at the University of Hong Kong (HKU).
Anti-virus firm MessageLabs will launch a fraud protection message filtering service in Hong Kong this week to help internet home-users fight against "phishing" scams designed to trick users into disclosing valuable information.
CSX World Terminals, Kwai Chung port's No 3 cargo handler, will be dealt a major blow when Hanjin Shipping opts for a rival facility next month, taking about half the US operator's business with it.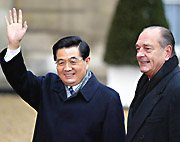 China: President Hu Jintao arrived in Paris yesterday for a four-day visit and was greeted at the airport by his French counterpart Jacques Chirac, who is anxious to strengthen political and commercial relations between the two countries. France is rolling out the red carpet for the four-day visit of President Hu Jintao in the hope of receiving stronger backing for its goal of creating a multipolar global order and of winning commercial contracts to boost the lethargic French economy.
China Overseas Land & Investment yesterday became the latest in a series of listed companies to take advantage of strong share-price gains by launching a top-up placement worth $1.53 billion.
The Lau brothers of Chinese Estates Holdings may include an uncompleted Shanghai shopping plaza into Sogo Hong Kong to bolster interest in its proposed listing.
Ssangyong Motor workers plan to hold a four-hour strike today to protest against the sale of the South Korean carmaker to China Blue Star (Group), but the mainland company says the labor action will not prevent the takeover.

Students at Guangzhou University will be allowed to sit for Hong Kong public examinations from as early as next year.
January 26, 2004
Hong Kong: Cheung Kong (Holdings) is Hong Kong's biggest advertiser, spending HK$138.12 million last year on marketing campaigns to drum up sales for new property projects.
Hong Kong's equities markets could absorb well over HK$100 billion in new placements this year without running into liquidity problems as the SAR's economy continues to recover, analysts say.
Hutchison Whampoa's Indian mobile businesses could be worth up to HK$10.92 billion, but increasing competition from new players may pose challenges to its plan to list these assets to offset third-generation (3G) losses.
China: Egypt attaches great importance to Chinese President Hu Jintao's imminent visit to Egypt and expects the visit will further widen and deepen its relations with China, said Egyptian Ambassador.
The GDP of south China's Shenzhen recorded an eight year high of 286.051 billion yuan (about 34.5 billion US dollars) in 2003, surging 17.3 percent over the previous year. China's auto imports hit a record of nearly US$10 billion (HK$78 billion) last year as imports of cars and parts skyrocketed to meet soaring market demand, according to customs statistics.
Inflows of new money to China-themed funds hit a six-year high in 2003, as the mainland's economy steamed ahead to another year of record growth, says United States-based fund tracker http://www.EmergingPortfolio.com.
The mainland economy soared 9.1 per cent last year, the fastest pace since 1997 and well ahead of expectations, igniting concerns that the world's sixth largest economy is dangerously overheating.
The construction plan of the Beijing-Shanghai High Speed Railway has finally been determined at 2004 beginning after five years' hot debate on whether to use rail track or the magnetic levitation (maglev) technology. At a January 7 regular meeting of the State Council chaired by Premier Wen Jiabao, attendees discussed and passed in principle the nation's "medium-and-long term plan of railway network". Informed sources say though maglev supporters remain the meeting accepted experts' suggestion to use rail-and-track, and it only remains to see who, among Japan's New Trunk Line, Germany's Siemens and France's Alston, will win the bid.
January 21- 25, 2004 Happy Chinese New Year (Year of the Monkey 2-22-04)
Hong Kong: Police, customs and transport officials have been preparing for the Lunar New Year holidays at the Lowu border control point. Health-control measures have been established, as have arrangements to ease the anticipated surge of travelers during the holiday period.
Hong Kong saw a 34 per cent rise in fake yuan notes last year, due apparently to the influx of mainlanders and the large circulation of the currency in the territory, reports here said yesterday.
Chief Executive Tung Chee Hwa asked the Standing Committee on Judicial Salaries and Conditions of Service to recommend an appropriate institutional structure, mechanism and methodology for the determination of judicial remuneration.
Deflation eased for the fifth straight month in December as the return of retailers' pricing power and a stabilising property market continue to set the scene for an end to more than five years of falling consumer prices that have squeezed corporate earnings and deepened the SAR's budget deficit.
A first test for the Sars virus on a 33-year-old mainland tourist yesterday proved negative, one day after the man was admitted to Queen Elizabeth Hospital. But further checks might be necessary.
The Companies Registry should be turned into a corporate watchdog to regulate Hong Kong's 500,000 private companies, says the government-appointed Standing Committee on Company Law Reform.
Hong Kong shares staged a powerful rebound to a 31-month high yesterday as investors appeared to have decided that prices had come down enough during last week's consolidation.
Anti-impotence drug Viagra is enjoying brisk sales in Hong Kong, thanks to mainland buyers frustrated with counterfeit pills at home.
Property developer Shanghai Forte Land is expected to receive an overwhelming response from investors to its HK$1.4 billion initial public offering in Hong Kong next month despite the risk given its high dependence on a single property market.
China: The US Commerce Department has approved preliminary anti-dumping duties of up to 123 per cent on plastic shopping bags from China, Malaysia and Thailand.
China's leaders and more than 4,500 representatives of various walks of life attended a grand celebration Tuesday morning at the Great Hall of the People to mark the upcoming Chinese Lunar New Year which starts on Jan. 22 this year.
The mainland economy shrugged off the Sars outbreak to grow by 9.1 per cent last year, its fastest rate since 1997. Mainland growth reached a milestone last year with per capita gross domestic product exceeding US$1,000 for the first time. Despite a possible little downturn China will however keep its economy on the track of rapid development. This is a conclusion reached by many Chinese economists when predicting the economic trend of 2004.
The Hong Kong media may be giving Guangdong a hammering over its reaction to the new Sars cases, but the province has come a long way since the mishandling of last year's outbreak. Samples taken from about a dozen fever patients have been sent for Sars tests at the Beijing Centre for Disease Control and Prevention, but all have come back negative. The precaution was taken after the reappearance of Sars in Asia.
A Beijing-based financial exchange raised 11 billion yuan from the sale of 78 companies last year, underlining the increasing importance of such marketplaces in the disposal of state-owned enterprises (SOEs).
The proposed Beijing-to-Shanghai magnetic-levitation (maglev) railway was killed by enormous costs and technology worries, it was revealed yesterday.
Mainland companies are expected to find it easier to list overseas in the second quarter of this year as a result of new regulations being hammered out by the China Securities Regulatory Commission (CSRC) and investment bankers over the last six months.
Although bidding is expected only in the second half of the year, Hong Kong Wharf (Holdings) and the Shanghai-based state-owned conglomerate China Shipping Group are expected to win the second phase of Shanghai's Yangshan port, mainland media have quoted a shipping official as saying.
January 20, 2004
Hong Kong: Hong Kong is free of the killer H5N1 bird flu virus sweeping Vietnam, according to a leading microbiologist.
University of Hong Kong virologists believe a WHO-approved vaccine against the bird flu that has claimed at least four lives in Vietnam may be available sooner than expected.
Higher standards of corporate governance and financial transparency will drive up demand for accounting professionals in Hong Kong this year, but that won't translate into an increase in salaries, an international recruitment firm said.
Management jobs for Hong Kong people on the mainland are increasing because the wage gap between expatriates and local Chinese has narrowed.
Mainland tourists did not rush to ATM machines in Hong Kong yesterday - the first day they could make withdrawals using yuan-denominated cards - but retailers nonetheless predict sales will improve by up to 30 per cent as a result of the easier access to cash and credit.
There are now more broadband internet surfers in Hong Kong than narrowband users - a sign the city is becoming increasingly technology savvy as consumers prefer lightning-fast downloads to pedestrian dial-up access.
At first glance, the $900 million supply contract between Sunday Communications and Huawei Technologies seems to heavily favor the cash-strapped mobile firm.
Hui Yuk-min Huawei Technologies is sitting on a paper profit of about $1.2 billion since investing in the initial public offering of China Telecom 14 months ago.
Despite a slow start, major Hong Kong retailers still expect the use of debit cards in renminbi will bolster sales by up to 20 per cent during the Lunar New Year period.
Sapphire Princess, one of the world's largest and most luxurious cruise liners, will have to berth at the Kwai Chung container terminal when it arrives for a visit in April next year.
Buyers snapped up 100 units at Cheung Kong (Holdings)' joint-venture Cairnhill development in Tsuen Wan in three hours yesterday, bringing the number of units sold since the opening of reservations on Friday to 280.
The Securities and Futures Commission board meeting today is going to make a crucial decision on whether to support a plan that would see the SFC replace the stock exchange as the main regulator for listed companies.
China: China has won the battle against Sars, Premier Wen Jiabao said yesterday, as the focus on preventing the spread of the virus turned to Beijing and the north ahead of the Lunar New Year holiday.
Mainland reforms that eliminate taxes on investment in equipment are expected to help company profits, but they could also contribute to an overheating economy.
China will embark on one of the most ambitious space programmes this year when it launches 10 satellites, begins development of its lunar probe and prepares for a second manned space flight.
The central government has set up a taskforce to monitor talks on Hong Kong's political development and work out strategies to respond to the latest situation in the city. Aspirations for increased democracy in Hong Kong are mainly driven by dissatisfaction with the government, and the public is not ready to fight for it "at all costs", says the head of the Central Policy Unit.
Vehicle sales on the mainland are expected to surge 20 per cent this year to more than five million units as prices continue to fall due to over-production at home and further tariff cuts on imported cars.
European aircraft manufacturer Airbus Industrie is aiming for 50 per cent of China's commercial plane market after it confirmed it had become the world's largest aircraft producer, beating arch-rival Boeing for the first time last year.
January 16 - 19, 2004
Hong Kong: The MTR Corp has signed a 6 billion yuan deal to build a subway in Shenzhen.

Thousands of lanterns adorn the entrance to Ocean Terminal in Tsim Sha Tsui amid Lunar New Year celebrations to welcome the Year of the Monkey.
Hong Kong's third-largest property developer, Henderson Land Development, is selling $5 billion of convertible bonds, taking advantage of a 52-week high in its share price.
Emerging markets' lender Standard Chartered has announced it plans a local incorporation for its Hong Kong operations - a long-awaited change in the group's structure that could deliver massive tax breaks on around one quarter of its revenues.

Hutchison Whampoa's top port executive John Meredith says building container terminals on Lantau will increase costs and jeopardize cargo-handling efficiency.
Investors ignored a doubling of chipmaker Intel's fourth-quarter profit and focused instead on negative forecasts by the firm that sent regional technology stocks into a downward spin.
Riding the back of a soaring equity market, the Hong Kong government reported sharply higher earnings from its reserves. The windfall may help fill a large part of the shortfall from the territory's stubborn budget deficit.

China: Aggressive targets have been outlined for the aviation industry this year. At least one domestic private investment group will be allowed to establish a new low-cost airline on the mainland this year.
Guangdong is well prepared to deal with a Sars crisis if another serious outbreak of the virus occurs, a WHO expert said yesterday.
In an effort to cool its overheating economy, the Central Government is likely to begin tightening monetary policy this summer, according to Dong Tao, chief regional economist at Credit Suisse First Boston.
Ex-president Jiang Zemin re-emerged yesterday to meet visiting US Joint Chief of Staff General Richard Myers and hammer home the message that China's ties with the US are on an upswing.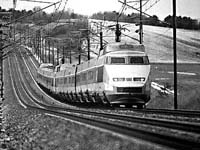 Prospects for a high-speed magnetic levitation (maglev) railway between Beijing and Shanghai are in doubt following a Beijing newspaper report saying the central government has scrapped the idea.
Huawei Technologies expects earnings to grow about 30 per cent this year to four billion yuan, helped by stronger demand for the company's next-generation mobile-phone equipment.
Mainland newspaper advertising income soared to a record 20 billion yuan (HK$18.8 billion) last year, with the Guangzhou Daily staying in the lead with revenue of 1.6 billion yuan.
International Finance Corporation, the investment arm of the World Bank, is expected to take a strategic position in the mainland private lender China Minsheng Bank in its HK$7 billion H-share initial public offering in Hong Kong in March or April.
January 15, 2004
Hong Kong: The Hong Kong government, seeking principles to guide the city's political reform, is reaching back 14 years to statements made by the then chairman of the Basic Law Drafting Committee, a document delivered to Legco revealed yesterday. The release of the government paper and the visit of two mainland legal experts to Hong Kong this week is an indication the public is being considered in the debate on constitutional reform, albeit possibly in a low-key way.
Strong demand has seen the MTR Corp (MTRC) top up the amount of its 10-year bond by US$100 million to $600 million, according to sources close to the deal.
The spectre of a pandemic is as real as ever, experts said yesterday as Asia tried to put a stop to rapidly spreading bird flu that has led to chicken slaughters in three countries and is feared to have killed at least 12 people in Vietnam.
The government's HK$6 billion securitisation of tunnels and a bridge will miss its March 31 deadline after legislators asked for more information, but the shortfall in revenue may be compensated for by stamp duty and Exchange Fund investment, Secretary for Financial Services and Treasury Frederick Ma said yesterday.
China Network Communications Group (China Netcom), the mainland's second-largest fixed-line operator, will inject its three newly-restructured units into a holding company that it plans to list in Hong Kong and the United States.
China: Chicken vendors in Shenzhen do a booming trade as people stock up for the Lunar New Year.

General Richard Myers and his Chinese counterpart General Liang Guanglie at a welcoming ceremony in Beijing yesterday. China's space program headquarters was visited for the first time by a US military official yesterday in a further show of warming relations between the two countries.
Some US$1.1 billion dollars of telecommunications equipment bought amid fanfare by a high-profile Chinese purchasing group in Washington would largely be made by China-based factories, officials said on Wednesday.
Two major cities in the Yangtze River Delta - Hangzhou and Wenzhou - plan to expand their airports to international status despite civil aviation authorities pouring cold water on plans for more facilities in the region.
US telecommunications and computer equipment makers have signed contracts worth US$2.3 billion with Chinese companies, including deals worth about $1.1 billion to Motorola.
Rio Tinto Group, the world's second-largest iron ore exporter, and No 3-ranked BHP Billiton have raised prices of the raw material to a record after Nippon Steel agreed to the biggest annual increase in at least 24 years.
Yahoo! and leading mainland internet portal Sina.com have teamed up to offer auction services in China, in a market already crowded with home-grown players.
Southern China's first broadcasting group will soon begin operations as Guangdong weans its media outlets off state funding and prepares them for a new era of nationwide competition and, eventually, a stock-market listing.
Shanghai Electric Group, China's largest power and industrial equipment maker, has appointed CSFB and Guotai Junan Securities to prepare the state giant for a Hong Kong listing, according to sources.
January 14, 2004
Hong Kong: Hong Kong stepped up protection measures against bird flu yesterday as a deadly strain continued to ravage Asia and raised the spectra of a flu pandemic.
Hong Kong has moved to prevent an outbreak of the deadly bird flu by announcing a temporary ban on poultry imports from Japan. It has also ordered that all mainland chickens at local farms and markets be vaccinated by tomorrow.
Hong Kong attracted nearly US$15 billion in foreign direct investment in the first nine months of last year despite the economic turmoil caused by the Sars crisis, outstripping the US$12.8 billion achieved for the whole of 2002.
Six people charged with laundering billions of dollars have gone on trial at the High Court in what prosecutors allege is the biggest money-laundering case the world has seen, charging that as much as HK$3.2 billion was laundered within a 35-day period.
The garment and fashion industries expect double-digit growth this year with the implementation of the Closer Economic Partnership Arrangement (Cepa) and the global economic rebound.
Hutchison Whampoa has lost out to an as-yet-unnamed European port operator in the fight for a stake in the fourth phase of Beilun port in Ningbo, Zhejiang province.
China: The year 2004 will be a critical year for the reforms and development in China, Premier Wen Jiabao said Tuesday. This year the country stands at a turning point in its economic development and will see dramatic reforms, Wen said in a report on the economic situation.
Crime in Shenzhen soared last year, with total cases leaping 57 per cent and kidnappings up a whopping 75 per cent.
The World Health Organisation has sent samples taken from Guangdong's second suspected Sars case to Hong Kong laboratories and dismissed reports that the 20-year-old waitress has been confirmed as suffering from the disease.
President Hu Jintao has scored a modest but significant political victory after the Communist Party's anti-corruption watchdog yesterday adopted a regulation to strengthen internal party supervision.
The mainland securities watchdog has consulted brokerages and dozens of listed companies on plans to float previously non-tradable shares, which account for about 68 per cent of China's 4.01 trillion yuan stock market capitalization, according to sources.
PSi Technologies of the Philippines plans to shift half of its production to the mainland, creating 1,500 jobs as it joins the movement of chip-packaging and testing companies to China - the world's largest importer of semiconductors.

German industrial giant Siemens will pay US$24 million to take control of its network equipment joint venture from Beijing Enterprises, believing it can better serve customers with full management control.
Earnings at Huawei Technologies surged 177 per cent last year, helped by strong sales growth in overseas markets.
China plans to build four more nuclear power plants in the Yangtze River Delta by 2010 to help ease serious electricity shortages facing the booming region.
China is to encourage foreign investment in the service industry by holding its first-ever convention on the sector, which now accounts for about one third of national gross domestic product.
January 13, 2004
Hong Kong: The chief executive yesterday pledged to keep taxes low when tackling the budget deficit. A senior mainland official yesterday stressed that Hong Kong's democratic development must progress in a gradual and orderly way. Chief Executive Tung Chee-hwa's latest policy address confirms that information technology will be the driving force behind Hong Kong's transition to a knowledge-based economy.
The territory's biggest information technology company, IBM China/Hong Kong, has appointed mainland-based senior executive Timothy Cheung as its new general manager.
Sogo Hong Kong is planning to raise as much as US$200 million (HK$1.56 billion) in an initial public offering in March, sources say.
Property sales are making a substantial contribution to the income of telecom giant PCCW and will probably continue to do so as the outlook for the luxury market improves, analysts say.
China: The central government is under intense pressure to sack Ma Fucai, president of China National Petroleum Corp, over the Chongqing gas blast that killed 243 people and injured more than 10,000.
A new agency governing antitrust laws in China could be abused by domestic companies seeking an edge over foreign investors, western companies fear.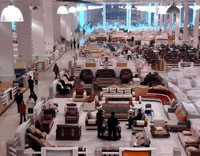 Chinese furniture manufacturers and US retailers have joined forces to condemn the US preliminary approval of duties of more than US$1 billion of wooden bedroom furniture from China, seen as a bid to garner support from the US manufacturing sector ahead of this year's presidential elections.
Statistics show that in 2003 China's total import/export worth reached US$851.21 billion, rising US$230.4 billion, or 37.1 percent up over the previous year, being the year of fastest growth since 1980.
Shenzhen's plan to scrap its second border will speed up the special economic zone's (SEZ) integration with the Pearl River Delta and boost development, according to analysts.
Oil services provider Titan (Holdings) will form a US$120 million joint venture to build the largest fuel-oil transport and storage facility in the Pearl River delta.
PetroChina's only strategic shareholder, oil giant BP, will sell its entire 2 per cent stake in the mainland's largest oil and gas producer at a sharp discount to its most recent market price.
Mainland developer Shanghai Forte Land, which is reviving plans to tap Hong Kong's equity market, will invest in a US$50 million upmarket residential project along with the real estate unit of its listing sponsor, Morgan Stanley. Zhejiang province plans to pour a massive 300 billion yuan (HK$283 billion) into projects in the six-city Hangzhou Bay Industrial Belt in a bid to grab a bigger slice of the action from the booming Yangtze River Delta.
The Guangdong Department of Health has confirmed a second suspected Sars case, but another possible case in Shenzhen has turned out to be a false alarm. Ten children and one adult are believed to have died from bird flu in Vietnam, with indications it is the same strain that killed seven people in Hong Kong. The one confirmed case of Sars in Guangdong, and the two suspected cases, do not constitute an outbreak of the disease as the layman understands it, the WHO said yesterday.
The Communist Party's anti-corruption watchdog is expected to adopt a regulation aimed at strengthening internal party supervision at a meeting this week in Beijing.
January 12, 2004

Hong Kong: Just as they had been close friends in life - both on and off the movie screen - Canto-pop diva Anita Mui Yim-fong and heartthrob Leslie Cheung Kowk-wing seemed close in death.
Britain and Hong Kong plan to set up roundtable talks to help small and medium-sized companies in Britain invest in the city and in the Pearl River Delta, says a visiting UK official.
Japan will decide in the next few months whether to grant Hong Kong citizens visa-free status, a senior diplomat said yesterday.
The Bank of Communications, one of China's oldest banks, is understood to be planning dual listings in Shanghai and Hong Kong and intends to expand its local operations through acquisitions.
Low interest rates and a cash-rich banking system are prompting more lenders to offer what they call fixed-rate mortgage products in an attempt to lure home-buyers who expect an improving economy to push up interest rates.
Up to 900,000 mainlanders will visit Hong Kong during the Lunar New Year holidays, according to the Travel Industry Council.
Hong Kong-made goods entering the mainland free of tariffs under the Closer Economic Partnership Arrangement (Cepa) may still retail at higher prices than in the SAR because of a mainland value-added tax of up to 17 per cent, a Shenzhen tax official says.
China: Relations between China and Japan got off to a bumpy start in the new year, but analysts say both countries are making serious efforts to look past the short-term hurdles to expand their common interests.
The prospect of closer military relations with China and Washington's push to get North Korea to abandon its nuclear programme are among the chief reasons for a trip to Asia by a top US general.
Farming and food processing company China Green (Holdings) said the retail tranche of its HK$192 million initial public offering was 1,603 times subscribed, making it the most heavily subscribed IPO in Hong Kong's history.
KFC, which opened its first mainland outlet within view of Mao Zedong's mausoleum in Beijing, is now extending its reach through the Hunan countryside where the founding father of communist China was born and raised.
Doctors from the World Health Organization (WHO) Sunday scoured a southern Chinese apartment block where China's only confirmed new SARS case lived in, looking for clues as to how the 32-year-old freelance TV worker caught the flu-like virus.
China's telecommunications sector is about to enjoy sharply higher user growth, according to official forecasts, putting key stocks back in the limelight after four years of punishing competition and fears of market saturation.
A Chinese FM spokesman Saturday called on the US to stop interfering in Hong Kong's internal affairs and not to do anything harmful to the stability and prosperity of Hong Kong and to Sino-US ties.
January 9 - 11, 2004
Hong Kong: Retail sales rose for the fourth consecutive month in November to the highest growth in 10 months, signaling persistent deflation is easing with the surge of mainland tourists and a turnaround in consumer confidence.
Standard Chartered Bank reaped a HK$283.75 million profit yesterday after it unloaded its 0.4 per cent stake, or 45.4 million shares, in rival BOC Hong Kong (Holdings).
The government on Friday lost a final bid to overturn a lower court ruling halting a controversial plan to reclaim 29 hectares of land from Victoria Harbor.
Hong Kong remains the world's freest economy and is a role model for poorer governments seeking economic development, according to a survey released on Friday.
Hong Kong's low entrepreneurial activity was a result of poor education and insufficient transfer of research and development findings from universities to the community, a study released on Friday found.
The MTR Corp (MTRC) will launch a US$500 million bond issue to institutional investors next week to replenish its working capital.
So Tom.com is planning to return to the market again with its multimedia internet operations. But hold on, didn't we all queue to buy those same assets back in March 2000? Never mind, if you thought you missed the boat last time, now you have another chance.
China: On Jan. 7, official with the CSTIND said that in 2004 China is going to organize and implement a project - Orbiting the Moon which has for a long time attracted a lot of attention.
China Telecom may need to raise between US$2 billion (HK$15.6 billion) and US$4 billion through share sales to fund its next round of acquisitions of 11 provincial networks from its parent, investment bank JP Morgan said.
The Guangdong Communist Party committee has been reshuffled. Guangdong party organization department director Liu Yupu and Cai Dongshi, director of the propaganda department, have been promoted as committee deputy secretaries, according to official reports.
Yangcheng Evening News Group, publisher of the Guangdong Communist Party's official newspaper, has launched the mainland's first daily aimed at private entrepreneurs.
A suspected Sars case in China had been in contact with civet cats, state media said on Friday, as reports suggested some of the animals were being clubbed to death, raising the risk of spreading the virus. Belated confirmation by Guangdong that it has a new suspected Sars patient has raised concern over how the province is handling the reporting of its cases.
The Communist Party in Guangdong has appointed a new propaganda chief to rein in the province's freewheeling media and improve Guangzhou's image as a city beset by Sars and police brutality.
The northeastern rust belt will use government bonds and may create new banks to help fund a sweeping plan to reform the region's decrepit state-owned firms and revive downtrodden local economies.
China Network Communications Group (CNC Group) plans to include assets from three to six provinces in its upcoming initial public offering and expects earnings to soar 70 per cent this year.
Global soft-drink giant Coca-Cola has become ensnarled in another lawsuit in China, this time over an alleged trademark infringement with a Chinese drink-maker, company lawyers said yesterday.
Matsushita Electric Industrial, the maker of Panasonic products, on Thursday said it would slash its 73 sales and production subsidiaries in Southeast Asia by about 40 per cent over the next three years as it moved less-sophisticated manufacturing to low-cost China.
January 8, 2004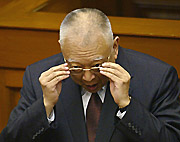 Hong Kong: Chief Executive Tung Chee-hwa delivers his annual policy address in Legco on Wednesday in his first major policy speech since a huge protest six months ago sent shock waves through his government. In his seventh policy address, the chief executive announces the setting up of a body to study Hong Kong's political development, drawing an unprecedented response from the central government. The central government's uncharacteristic statement on Hong Kong's constitutional reform, issued minutes after Tung Chee-hwa's policy speech, is telling in many ways. The chief executive stressed the importance of middle-class involvement in politics and said more middle-class people would be appointed to advisory boards and committees. The chief executive has agreed to consult the central government on Hong Kong's political reform before launching a promised review of constitutional development. In his seventh policy address, Tung Chee-hwa failed to give a firm timetable for the review but appointed Chief Secretary Donald Tsang Yam-kuen to head a taskforce to find out Beijing's concerns and the way forward.
Three Hong Kong television news staff are showing severe acute respiratory syndrome (Sars) symptoms after covering Guangdong's first Sars case this winter, according to news reports on Thursday.

Venus Williams and Martina Navratilova join the party at the Mandarin Oriental Hotel for players in the Watsons Water Champions Challenge. The tournament - which also features leading men's players including Roger Federer and Juan Carlos Ferrero - starts tonight at Victoria Park
Cathay Pacific Airways announced on Thursday that it planned to add 13 aircraft to its freighter fleet.
At least six companies have submitted bids in the tender sale of the five-star Hyatt Regency Hong Kong in Tsim Sha Tsui in the latest sign of growing property market confidence.
A unit of Hong Kong trading company Li & Fung has become the first wholly owned foreign subsidiary to be awarded a mainland export license.
China: Federal Express (FedEx) has signed a framework agreement with the Guangzhou Baiyun Airport Authority that may see the express operator switch its Asia-Pacific hub to the mainland city's new $18 billion airport by 2008.
A pair of Chinese and Japanese software companies announced a joint venture on Wednesday aimed at developing a Linux-based platform for Asian markets that they hope will challenge Microsoft's dominance.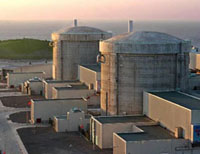 China was prepared to start a massive nuclear power plan and include nuclear power into the state electric power plan for the first time. This strategy of China has attracted world attention today when global nuclear power is developing slowly.
Japan has been China's largest trade partner for strait 11 years. The bilateral trade volume between China and Japan was estimated to hit a new high at US$130 billion for year 2003.
China has lately completed research and development of an exploration apparatus that will be used on the country's first lunar satellite, which is expected to be launched in 2006.
Mainland health authorities have reported another suspected Sars case on Thursday - a waitress in southern province of Guangdong, the official Xinhua news agency said.
More than 30 million yuan has been offered in compensation by the China National Petroleum Corporation (CNPC) to the 190 households that lost family members in the Chongqing gas field disaster.
China sacked or transferred more than 40,000 unqualified police officers in the second half of last year in an attempt to polish the tarnished image of its public security forces.
January 7, 2004
Hong Kong: Chief Executive Tung Chee-hwa will today deliver a down-to-earth policy blueprint that is expected to capitalize on Hong Kong's closer economic ties with the mainland.
An online disease surveillance system was launched yesterday, with 11 Hong Kong pneumonia patients given quick tests for Sars and a list of their contacts sent to the Department of Health.
A senior Hospital Authority manager told the Legislative Council's Sars inquiry yesterday that he had reviewed atypical pneumonia cases daily in February, but did not notice anything unusual about the case of Guangzhou doctor Liu Jianlun - "patient zero" who spread Sars to Hong Kong.
Hong Kong's economy will probably grow 4.7 per cent in the first quarter this year as further integration with the mainland and the rising global economy continue to propel growth, according to the Apec Study Centre at the University of Hong Kong.
Hopewell Holdings' HK$4 billion mega-hotel plan in Wan Chai has been cleared to go ahead after it bought out the two remaining lots on the site of its proposed project for about HK$12 million, chairman Gordon Wu said.
Shanghai Forte Land's on-off initial public offering (IPO) in Hong Kong is on again, as the developer plans to raise as much as US$140 million (HK$1.1 billion) in the first quarter.
China: China has finalized a US$45 billion bailout of two of the four biggest state-owned banks - an attempt to clean up their balance sheets before they seek public listings. The mainland government's cash bailout of two of its Big Four state banks will clear the way for their eventual partial privatization and allow them to operate on a commercially viable basis, according to analysts. It is not the first time the mainland has bailed out its Big Four state banks, and it remains to be seen whether the latest round of recapitalizations begun yesterday is also the last. A foreign exchange fund management company will supervise the US$45 billion (HK$351 billion) bailout of the two state lenders.
United States media giant Time Warner has pulled out of its US$50 million internet joint venture with mainland computer maker Legend Group, putting an end to all its media ventures in China.
Legend Group, the mainland's largest computer maker, has jumped on the broadband bandwagon, tying up with China Telecommunications Corp in a bid to tap the surging Chinese market.
Aluminum Corp of China (Chalco) raised $3.11 billion yesterday, taking advantage of a massive run-up in its share price to place new shares with investors eager to capitalize on the mainland's booming industrial economy and soaring commodity prices.
People on the mainland are taking the new Sars case in their stride, with few bothering to wear face masks. Even in Guangzhou, people said they were confident that health authorities were better prepared to fight the virus than they were last year.
Shang Xianlian, his wife, son, and three daughters used to eke out a living by growing wheat in Jiangxi province, collectively earning only 300 yuan a month. An inspection of more than 100,000 schools has found that students have been charged 853 million yuan in illegal fees last year, Education Minister Zhou Ji said yesterday.
The 32-year-old television producer in south China's Guangdong Province who has been confirmed as a SARS patient has fully recovered and will be discharged from hospital on Thursday.
January 6, 2004
Hong Kong: The bill for civil servants' leave and pension entitlements is $328 billion, according to the government's new accounting system designed to determine its true liabilities and asset values.

A 55-year-old man was arrested late on Monday in connection with an arson attack on a Mass Trass Railway Corporation train. Police are searching for a middle-aged arsonist who started a fire inside a packed MTR train during the rush hour yesterday morning, injuring 14 people and forcing 1,200 passengers to evacuate at Admiralty station.
A Filipina domestic helper from Hong Kong was last night in isolation at a Manila hospital suffering from suspected Sars and severe pneumonia, Philippine health authorities said.
Money continued to flow into Hong Kong equities yesterday but H shares, which have led the way over the past few weeks, were sidestepped as investors switched into property stocks and pushed the Hang Seng Index above the 13,000-point level for the first time in 2 years.
A group of local information technology industry associations is backing a government plan to create a chief information officer (CIO) position that would lead Hong Kong's IT development initiatives.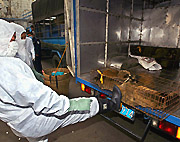 China: Guangdong authorities yesterday ordered the slaughter of 10,000 civet cats in the province, as Hong Kong and the mainland moved to prevent a possible spread of Sars after a 32-year-old man was confirmed as having the deadly disease. Police descended on Xinyuan market, one of Guangzhou's biggest wild animal markets, yesterday and seized 85 masked palm civet cats after a cull was ordered by provincial authorities. The Guangdong Sars patient was infected with a new strain of the virus which may spread more easily from animals to humans, researchers said yesterday.
The State Council, China's cabinet, has decided to choose two major state-owned commercial banks, the Bank of China and China Construction Bank, for pilot reform to turn them into joint-stock banks.
A top government think-tank yesterday forecast a slowdown in the mainland's booming car market this year - a bad omen for manufacturers which are adding capacity as fast as they can.
The mainland government will pump billions of yuan into China Southern Securities in an expensive and unprecedented rescue effort, according to sources close to the country's fifth-largest brokerage.
January 5, 2004
Hong Kong: A rail line should be built on the proposed bridge linking Hong Kong, Zhuhai and Macau, according to a government adviser on Hong Kong's development over the next 30 years. More than 1 million people will cross between Hong Kong and the mainland every day by 2030, a Planning Department forecast says.
Hong Kong people are turning to nature-based tours as they became more health conscious. Demand for green tours has soared since the Sars outbreak, and led to the rise of small travel agencies specializing in these tours.
Local developer K Wah International Holdings has agreed to provide a corporate guarantee to its non-wholly owned subsidiary on the mainland for a bridging bank loan of up to HK$100 million.

The mischievous Monkey King from the Chinese classic Journey To The West helps launch a special set of stamps yesterday at the General Post Office in Central to commemorate the approaching Year of the Monkey.
China: The National People's Congress and US Senate have agreed to hold annual meetings, the first such high-level parliamentary exchange between the two countries.
More mergers are expected in the mainland's struggling securities sector after the fifth-biggest brokerage, China Southern Securities, was taken over by the authorities for accumulating losses of more than eight billion yuan (HK$7.55 billion), according to industry sources. The central government's move to put China Southern Securities into administrative receivership will send a shockwave through the Shenzhen and Shanghai stock markets when they open today.
Main board-listed Tingyi Holdings, the mainland's largest instant noodle maker, will form a US$950 million (HK$7.41 billion) soft-drinks venture with two Japanese companies to explore new businesses.
Shenzhen Expressway plans to waive 13.9 million yuan (HK$13.04 million) in loan interest from its joint-venture partner so that it can receive an advance repayment of a 306 million yuan loan.
January 2 - 4, 2004

Hong Kong: The glittering World Carnival site at Admiralty, where about 65,000 visitors turned out on New Year's Eve. The carnival, which runs until February 1, is the biggest travelling show of its type in the world, creating more than 450 temporary jobs.
About 100,000 people marched for democracy yesterday, signaling to the government that the discontent which brought 500,000 people onto the streets six months ago is still simmering. The local deputy to the National People's Congress has accused political parties of using mass protests to further their personal interests. He also said that such rallies were an abuse of the system, even if some of the demands were valid.
Hong Kong-listed and state-owned Beijing Capital Land plans to develop an office and serviced-flat complex in Hujialou in the capital for 4.5 billion yuan (HK$4.22 billion) together with three partners.
Ensuring the smooth implementation of the Closer Economic Partnership Arrangement (Cepa) was a priority for both the central and Hong Kong governments, mainland officials said yesterday. Shenzhen is to follow Guangzhou and open a shopping centre for Hong Kong products granted zero tariffs under the Closer Economic Partnership Arrangement (Cepa) trade pact.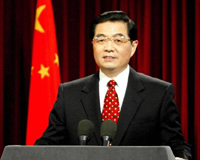 China: President Hu Jintao Wednesday called for efforts to build a world of peace and prosperity in his New Year's address. Hu extended New Year greetings to Chinese people of all ethnic groups, including those in HK, Macao and Taiwan and overseas Chinese, as well as friends from all other countries.
Violent protests and an escalation of complaints over the forced demolition of residential buildings have prompted authorities to toughen regulations and increase transparency.
China emerged from 2003 with a new face to its diplomatic style, literally and figuratively.
Relations between China and India improved beyond expectations in 2003 and the two countries are poised to become even friendlier this year, international relations analysts say.
Qingdao Iron & Steel Group has agreed to buy key equipment assets from bankrupt Geneva Steel of the United States for less than 10 per cent of their original cost.
State-owned Beijing Capital Land will raise 574.75 million yuan from three strategic investors to help fund a 4.5 billion yuan property project in Beijing.
HSBC Holdings and Citibank have become the first foreign banks to win approval to issue credit cards in China, state media said yesterday.
December 31, 2003 - January 1, 2004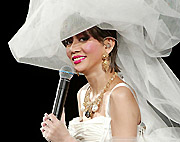 Hong Kong: "Don't cry for me. Don't say my name. Let me go on my journey in peace." "It was Anita Mui's last wish. She did not want her friends to cry and be in despair, and she did not want people to yell out her name." Canto-pop diva Anita Mui, wearing a wedding gown last month at her last public performance.
With the Cepa trade pact coming into effect tomorrow, many businesses in Hong Kong have not applied for certification under the arrangement. They are still drawing up their plans, the Trade and Industry Department said yesterday.
Hong Kong lags behind Shanghai, Shenzhen and Beijing in growth potential, although it is still the nation's most competitive city, a study has found. The 2003 China cities competitiveness rankings placed Hong Kong fifth in growth potential. Shanghai clinched the top slot, followed by Suzhou, Shenzhen and Beijing.
Chief Executive Tung Chee-hwa has been rated the most amiable city leader in the country, a survey has found. In the study, carried out by the China Institute of City Competitiveness, Mr Tung made the list of the nation's best-known leaders along with Shanghai Mayor Chen Liangyu and Taipei Mayor Ma Ying-jeou.
Up to 100 firms are expected to float their shares on the Hong Kong stock market next year, tapping HK$100 billion as large mainland plays continue to seek funds from international investors, estimates by PricewaterhouseCoopers show.
Continued appetite for recently listed mainland stocks, especially China Life Insurance, yesterday helped push the Hang Seng Index above the 12,600-point level for only the third time this year.
The Office of the Telecommunications Authority (Ofta) has proposed a new rule that could potentially make mergers and acquisitions in the sector more difficult.

Financial dealings between the Housing Authority and the contractor at the centre of the Sha Tin short-piling scandal are likely to be investigated by the Audit Commission after a revelation that the authority will recover only about 13 per cent of HK$605 million it claimed from the company.
Vegetable and fruit processor China Green Holdings will debut on Hong Kong's main board next month to raise HK$175 million to expand its production facilities.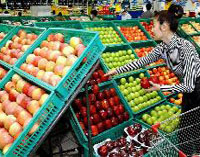 China: Restructuring China's economy and preventing it from overheating are the two main objectives of the draft industrial development regulations issued Tuesday. The draft is accompanied by a list of detailed sectors and technologies the country is encouraging to develop.
Construction began Tuesday on the central section of China's ambitious south-to-north water diversion project to ease the severe water shortage around the capital city.
Japan and the European Union have increased the pressure on Taiwanese President Chen Shui-bian not to hold a controversial referendum.
Victims of Japanese chemical weapons abandoned in Qiqihar, Heilongjiang, yesterday accepted a compensation package from the Japanese government.
A joint venture between AOL and Legend Group faces an uncertain future after the domain name for its co-managed website was sold to a Xiamen-based portal.
China Petroleum and Chemical Corp (Sinopec) has agreed to buy two refinery plants from its parent for 356 million yuan (HK$334.14 million), giving it a presence in the northwestern region for the first time.

*News information are obtained via various sources deemed reliable, but not guaranteed