Hong Kong, China & Hawaii Biz*


How to Do Business with China, through Hong Kong & Setting up Business in China? - last update Feb 8, 2003
Do you know our dues paying members attend events sponsored by our collaboration partners worldwide at their membership rates - go to our event page to find out more! After attended a China/Hong Kong Business/Trade Seminar in Hawaii...still unsure what to do next, contact us, our Officers, Directors and Founding Members are actively engaged in China/Hong Kong/Asia trade - we can help!
China Projects Bidding Information - update daily Scholarship & Grants
FDA Bio-terrorism Rules About to Take Effect on December 12, 2003 - Go to our "Trade Issues" Page for Detail
Are you ready to export your product or service? You will find out in 3 minutes with resources to help you - enter to give it a try
June 30, 2004
Hong Kong: Public approval of the central government's policies towards Hong Kong has plunged in the past 12 months, according to results of a survey released ahead of tomorrow's protest.

3G technology has too many restrictions and its development is still at a very immature stage. Hutchison Whampoa managing director Canning Fok Kin-ning yesterday suggested that the company could again face a shortage of mobile phones - but this time for the right reasons, as subscribers rush to sign up for 3G services.
The telecommunications regulator suffered another setback yesterday after the Executive Council at the last minute called off a meeting to approve changes to the agency's fixed-line interconnection policy.
Tom Group will be the first company to transfer its listing to the main board from the Growth Enterprise Market (GEM), after being granted a number of waivers by the Hong Kong Exchanges and Clearing.
Hong Kong will have an interim chief information officer in place this week to lead the city's information technology development initiatives.

China: Former South African president Nelson Mandela meets Vice-President Zeng Qinghong, who is visiting the nation to improve ties.
Huang Yantian , the flamboyant chairman of the collapsed Guangdong International Trust and Investment Corp (Gitic), has been jailed for 14 years - the final chapter in a sorry saga which spooked investors in Hong Kong and around the world.
Henan province's government has been asked to speed up the search for HIV carriers who are unaware they have the virus, Vice-Minister of Health Wang Longde said yesterday.
The damming of the Mekong river to help power the mainland's economy could pose a grave threat to the livelihoods of millions of Southeast Asian farmers and fishermen within a decade, an Australian researcher said yesterday.
One of the central government's main mouthpieces is making new inroads into Hong Kong, after winning a contract to provide sports-related video content for captive passengers on Kowloon Motor Bus (KMB) routes.

China overtook the United States as a recipient of foreign direct investment in 2003 as companies broadened their strategies in emerging markets.
Piracy remains a top concern for the Chinese software industry, although there are signs of improvement, a report released yesterday by government and industrial agencies in Beijing says.
The Bank of China, the country's largest foreign exchange bank, said yesterday it would issue subordinated debt worth 10 billion yuan (US$1.2 billion) to replenish its capital base ahead of a planned initial public offering next year.

The four urban rail projects in Beijing will offer ample opportunities for domestic and foreign investors, according to analysts.
June 29, 2004
Hong Kong: Asia's richest woman, Nina Wang Kung Yu-sum, yesterday lost the latest battle with her father-in-law for control of the $27 billion Chinachem empire when the Court of Appeal upheld a ruling that her husband's will leaving her the company was forged.
The number of mainland tour groups coming to Hong Kong around the time of Thursday's protest will be down by nearly 80 per cent, tour operators say.
All Hong Kong citizens can get a home return permit, a senior mainland official reiterated yesterday in response to reports that several pro-democracy figures may have their bans lifted.
Standard Chartered is spending HK$980 million to acquire personal loan specialist PrimeCredit as it looks to make inroads into the lower end of Hong Kong's consumer credit market.
HSBC Holdings will need an unambiguous agreement on non-performing loans, managerial control and other issues before signing a deal to buy 20 per cent of the Bank of Communications (Bocom), director David Eldon said yesterday.

Hong Kong has slipped down the ranks of markets running the industry's fastest supercomputers, according to the latest survey of the top 500 systems worldwide.

Hong Kong's exports grew for the 24th straight month in May due to the mainland's robust economic growth, but economists said the pace will probably slow later this year as a result of China's attempts to rein in its overheating economy.

China: Premier Wen Jiabao yesterday marked China's 50-year-old doctrine of peace by declaring the nation will never threaten any countries, pursue expansion or seek hegemony.
Loans to key sectors of the economy, including energy and communications, will continue to be encouraged despite concerns about overheating, a top banking regulator says.
Systematic investigations into the finances of top-level Communist Party bodies and political organisations such as the National People's Congress will be launched this year by the National Audit Administration, a report says.
An Arizona car dealer is gearing up to become the first to sell a full line of Chinese-made vehicles in the United States at Wal-Mart-style prices he hopes will lure tens of thousands of buyers.



A ERJ145 regional jet at the delivery ceremony in Harbin yesterday. The two jets were part of an order for six ERJ145s that China Southern agreed to purchase earlier this year.

China is optimistic that a framework agreement for the new round of WTO negotiations would be issued by the end of July, a senior Chinese trade official said yesterday.
China's financial authorities yesterday took a further step to complete a regulatory regime under which banking, securities and insurance are separately regulated.
China and Argentina signed five agreements yesterday in Beijing to bolster their relationship, which is an important component of Argentine President Nestor Kirchner's six-day state visit to China.
June 28, 2004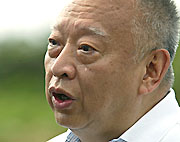 Hong Kong: Feeling the heat as the mercury climbs during a visit to Japanese encephalitis hotspot Palm Springs yesterday, a conciliatory Tung Chee-hwa tries to lower the city's political temperature, saying he will listen humbly to people's views. Attempts by Beijing, the Hong Kong government and democrats to show sincerity intensified yesterday as all sides took further steps towards strengthened ties.

Passes for the PLA's open day on Thursday were snapped up yesterday after a morning of frenzied queuing.
The individual traveler scheme may be extended to Jiangxi by the end of the year, the province's governor Huang Zhiquan said yesterday.
A new lawyers' group comprised of pro-Beijing figures has vowed to facilitate talks between the central government and the democrats, including lobbying officials to let them visit the mainland.
Luen Thai Holdings, Hong Kong's biggest garment maker, is planning a share offer to raise funds to finance expansion in the mainland. This is in preparation for a seismic shift in the global textile landscape after the abolition of national export quotas in January next year.

The Hong Kong government has launched a four-month consultation to solicit public's views on measures to combat spam, Secretary for Commerce, Industry and Technology, Mr John Tsang, announced on Friday.

Customers look at zero-tariff products made in Hong Kong at a specialized trading market, which opened yesterday in Qingdao, Shandong Province. From January to May, a total of US$42.3 million worth of Hong Kong goods entered the mainland without duties.
China: A dissident actor and filmmaker barred from entering the mainland since the June 4 crackdown in 1989 will soon be able to shoot movies there.
When the US Federal Reserve Bank meets tomorrow and Wednesday, the world will be eagerly anticipating the extent to which its chairman, Alan Greenspan, will raise interest rates.
Hopes that Shenzhen's administrative reforms could signal the start of political change on the mainland were dashed when the city revealed its plans in March. But the mayor still pins the city's future on the promise of reforms.
Investigations into allegations of Chinese products being dumped on foreign markets are likely to increase, a senior mainland official has warned.
The Shanghai municipal government has ordered state companies under its control to halt trading activities on the mainland stock markets by Wednesday, in an effort to reduce their risk exposure and to stem irregular practices among brokerages.
Transmile Group is to list its freight forwarding arm, Cen Worldwide, as the Kuala Lumpur-based air cargo company expands its presence in the lucrative China market and beyond in co-operation with Hong Kong's Kerry Logistics Group.
The Shenzhen company that produced the mainland's first DVD and became a model for state-owned high-technology firms has largely ceased production and is looking for foreign investors.

Indian Foreign Minister Natwar Singh (C), Former Indian President Kocheril Raman Narayanan (1st L) and Chinese Ambassador to India Hua Junduo attend a reception marking the 50th anniversary of the initiation of the Five Principles of Peaceful Coexistence, in New Delhi, India, June 25, 2004. The five principles were first initiated by late Chinese Premier Zhou Enlai in early 1954 while meeting with an Indian delegation. Then in June of the same year, Zhou visited India and Burma (now called Myanmar) and issued communiques based on the five principles.
As an eight-month exhibit on Sino-US ties forged during their joint fight against Japanese aggressors during World War II came to an end on Friday, a senior curator said the retrospect really gave more reasons for the two countries to promote friendship.
China Petrochemical Corp (Sinopec Group) and China National Offshore Oil Corp (CNOOC), the nation's second and third largest oil companies, have set up a joint venture to import crude oil. The joint venture makes CNOOC the fifth largest crude oil importer in China.
Alcatel Shanghai Bell (ASB), Alcatel's joint venture in Shanghai, is close to wrapping up a deal with a domestic company to develop TD-SCDMA (Time Division Synchronous Code Division Multiple Access), the Chinese homegrown 3G standard.
The Silicon Valley Bank (SVB) will open an office in Shanghai early next year to help seek investment opportunities in China for US venture capitalists, a senior manager with the US bank said over the weekend.
Chinese enterprises must step up efforts to design their own intellectual property right (IPR) development strategies, IPR experts suggested last week.
June 25 - 27, 2004
Hong Kong: A government minister yesterday revealed details of the lobbying effort by Beijing that helped Hong Kong land a world telecommunications event.
Hong Kong students planning to study in mainland universities will meet challenges in their academic and social lives, a group of local students say.
Chief Executive Tung Chee-hwa last night said he was very concerned about the public reaction to the Legco report on Harbor Fest.
Hongkong and Shanghai Banking Corp is in talks to take a 19.9 per cent stake in the Bank of Communications (Bocom), the mainland's fifth-largest lender, but key terms of the deal remain unresolved.
Hong Kong Exchanges and Clearing (HKEx) said it is finally in touch with Far East Pharmaceutical Technology's missing chairman and is currently investigating matters ``worth its attention''.
KPMG expects the new accounting standard on financial instruments will have significant impact on the banking sector in Hong Kong as it would revamp the way lenders do their provisioning.

China: Vice-Governor Jiang Jufeng says Hong Kong can develop a "headquarters economy". Sichuan officials yesterday pledged to encourage more local companies to set up headquarters in Hong Kong under the pan-Pearl River Delta regional co-operation framework.
A total of 131 million yuan allocated to the Chinese Olympic Committee has been misused since 1999, a report by the state's top auditor alleges.
US Commerce Secretary Donald Evans and Labor Secretary Elaine Chao have hailed their four-day visit to the mainland as a victory for Sino-US trade.

Ping An chairman Peter Ma monitors trade in the insurance group's shares, which put on a lacklustre performance on their debut. The much-hyped debut of Ping An Insurance (Group) fell flat yesterday, disappointing the market on a day Hong Kong and China stocks soared.
The Industrial and Commercial Bank of China is in talks with regional governments in the northeast rust belt to sell non-performing loans worth tens of billions of yuan in a novel experiment that could lead to the creation of a model for asset disposals across the country.
Citigroup has suspended two senior bankers, including the daughter-in-law of former premier Zhao Ziyang, for presenting false information. It has pledged to work with regulators to resolve the situation.

Citic Pacific and Compagnie Generale des Eaux (CGE) of France will set up two joint ventures to handle the operation and maintenance of water treatment plants in Zunyi in Guizhou province.
June 24, 2004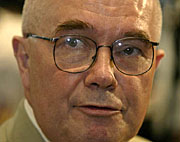 Hong Kong: The Director of Audit should consider investigating other Invest HK-organized events to avoid a repeat of the Harbor Fest fiasco, a Legco inquiry report has recommended. The idea of organising an international music festival was fraught with peril from the start, the Public Accounts Committee report says, and things went downhill from there. Political parties yesterday demanded the government take swift action to demote or transfer InvestHK chief Mike Rowse to punish him for his role in the Harbour Fest fiasco. A defiant Mike Rowse yesterday vowed not to resign and said he would defend himself if the government launched disciplinary action against him over Harbor Fest.

Under a slate-grey sky, workers put the finishing touches on an advertisement for Aqua Fantasia, a fountain show at the Clock Tower in Tsim Sha Tsui. The 10-minute display will project movies and still images of Hong Kong on a screen of water 10 metres wide and 10 metres high, created by 700 water-pool jets. The $5 million show kicks off the Shopping Festival which begins on Saturday.
China: A Yellow River boating trip for Communist Party members from a chemical factory ended in disaster when one vessel overturned in heavy rain, killing at least one person and leaving another 43 missing.
Former executives of the State Power Corporation were responsible for disastrous financial problems uncovered at the now-defunct electricity monopoly, the mainland's top auditor reported yesterday.
Guangzhou Party Secretary Lin Shusen has been assigned to become governor of Fujian , but it is not yet known if he will take up the job. Sources say he is awaiting appointment papers.
The central government has come to the aid of Bank of China and China Construction Bank for the second time in six months, by subsidising their disposal of non-performing loans with a face value of about 280 billion yuan.
China remains the Asia-Pacific's No1 target for cross-border mergers and acquisitions, retaining its cachet in the face of an altogether flat first half for the rest of the globe, which saw percentage falls in activity, according to international consultants KPMG.
Hang Lung Properties will continue to invest heavily in the mainland despite the resumption of government land sales in Hong Kong.
The central government has bowed to insurers' demands to be allowed to invest their growing pool of premiums overseas, meaning US$8 billion could flow into markets such as Hong Kong.
Hutchison Whampoa is urging the telecommunications watchdog to extend the mobile licence for its ageing CDMA technology for another five years before the regulator switches the spectrum over to third-generation usage.
The Asian Development Bank (ADB) has tied up with ADM Capital to launch a fund that will invest in distressed assets in Asia. The Asian lending bank announced yesterday that the partners have raised an initial US$138 million (HK$1.08 billion) in an exercise that is expected to raise US$500 million.
A possible write down by China Telecom on the 10 provincial networks it recently acquired and the per-share earnings dilution after it placed new shares to fund the purchase are weighing on the company's rating and stock target price, analysts say.
June 23, 2004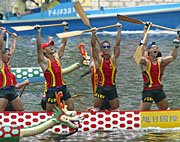 Hong Kong: Members of the Fire Services Department team celebrate their win in the Financial Secretary Cup at yesterday's dragon boat races at Sha Tin. Their victory wasn't cheered by some rivals, who complained that the firefighters set off too early. Rowers of all ages took part in the festival - including a 91-year-old competitor in the first-ever dragon boat race for the elderly.
Hong Kong people can use all forms of expression to fight for democracy, the state leader in charge of the city's affairs said yesterday. But they should act for the benefit of "one country, two systems", as well as the stability and prosperity of the city.

Performers from the People's Liberation Army's arts troupe hold a dress rehearsal at the Hong Kong Coliseum for their show tonight, part of the celebrations to mark the seventh anniversary of the establishment of the Hong Kong Special Administrative Region.
Invest HK chief Mike Rowse faces a broad range of punishments, from a reprimand to dismissal, when the report on the Harbour Fest fiasco is released today.
Bill Clinton found Jiang Zemin "intriguing, funny and fiercely proud", and while Tung Chee-hwa is an "intelligent, sophisticated man", he had the clear impression after meeting the chief executive and Martin Lee Chu-ming in 1998 that both were unhappy with the details of the handover.
China: Hunan is trying to improve its investment environment, banning the collection of random fees and pushing for a pro-business attitude among officials, Vice-Governor Yu Youjun says.
Foreign ministers and senior officials of 22 Asian nations yesterday affirmed the need for regional co-operation and launched an initiative searching for energy security.
Premier Wen Jiabao yesterday sought to allay fears about the mainland's efforts to slow the scorching pace of economic growth, while acknowledging the economy's performance had become an issue of concern for the international community.
China's new reciprocal air services agreement with the United States will rewrite the aviation rule book in Asia, and protectionist governments not up to the challenge will watch the new era of open skies from the ground.
Ping An Insurance (Group)'s $14.3 billion initial share offering - the year's largest - has drawn subscriptions from retail investors for more than 58 times the available shares.
Huawei Technologies, China's largest telecommunications equipment manufacturer, is on course to achieve US$2 billion in sales revenue from overseas markets this year after posting a strong first-quarter performance.
China has entered an elite group of countries making the world's fastest supercomputers, as a high-performance system in Shanghai took 10th place in a recent ranking of the 500 fastest systems globally.
June 22, 2004

Hong Kong: A pedestrian passes next to a poster outside a bar showing an England soccer fan as flags of countries participating in the Euro 2004 Championship in Portugal decorated Hong Kong's Lan Kwai Fong nightlife and entertainment. European soccer is very popular in Hong Kong and the Hong Kong Jockey club now allows betting on soccer matches.
Long unpaid leave for civil servants is being considered by the government to help trim the multibillion-dollar payroll.
Supporting the filming of Hollywood blockbuster Tomb Raider and getting seawater to flush through 80 per cent of Hong Kong's toilets have been highlighted by the civil service as two of its greatest achievements.
Hong Kong will have a 150-metre tall fountain - the world's tallest - if the government awards the West Kowloon cultural district project to Henderson Land Development.
Bank of East Asia chairman and chief executive David Li Kwok-po, 64, has won board approval to extend his term at the helm of Hong Kong's fifth-largest lender for up to five years.
The organisers of CommunicAsia, encouraged by the success of this year's event, are preparing to significantly expand the telecoms trade fair in Singapore in 2006 in a move that threatens to upstage a similar event to be held in Hong Kong that same year.
Consumer prices in Hong Kong fell marginally less than expected in May, reflecting a steady upward trend in prices. Economists expect the economy to pull out of its long deflationary spiral by the third quarter this year.
A dogfight has broken out between Cathay Pacific Airways and Virgin Atlantic Airways over plans by the British carrier to launch flights between Hong Kong and Australia in December.
Moody's Investors Service said Hutchison Whampoa's current A3 debt rating is at risk of being lowered if its much-touted third-generation (3G) subscriber growth or average revenue per user (Arpu) fail to hit their targets.

China: A giant panda Yuhin sits in a cage at Kansai International Airport in Osaka, western Japan on Monday before it leaves for China for a breeding mission.
Guangdong will continue to develop sectors of its economy in direct competition with Hong Kong, even as a regional co-operation group is being created, provincial governor Huang Huahua says. Agreements on co-operation in tourism and environmental conservation will be signed by the nine southern mainland provinces, Hong Kong and Macau next month, Guangdong Governor Huang Huahua said.
Beijing and Washington yesterday signed four letters of understanding aimed at improving work safety and protecting workers' rights on the mainland.
An initiative to enhance regional energy security through joint exploration, develop renewable energy sources and build infrastructure is expected to be adopted at a meeting in Qingdao this week.

Hitachi Global Storage Technologies will set up a hard disk-drive manufacturing centre in Shenzhen, a US$500 million project that could eventually create 14,000 jobs for the city.

The Chinese government is calling on internet service providers to sign a 'self-discipline pact' meant to stop the spread of information that could harm national security as defined by Beijing.
A lengthy delay in granting third-generation (3G) cellular licences in China may spur more mainland consumers to obtain multiple mobile phone service subscriptions.
The third-round Beijing six-party talks on the nuclear issue of the Korean Peninsula will begin this week as scheduled. What is to be discussed and what result will be achieved in the talks?
Hong Kong-listed China Resources Power Holdings is planning to build four more 600,000 kilowatt generating units in Hubei, valued at about US$980 million (HK$7.64 billion), provincial vice-governor Han Zhongxue said yesterday.
China's semiconductor market will increase 33 per cent this year to reach US$39.7 billion (HK$309.66 billion), driven by heavy investment by equipment makers and strong demand for electronic products, making it the world's third-largest, research firm Gartner has predicted.
June 21, 2004
Hong Kong: The volatile property market received another blow yesterday with the KCRC's announcement that it will put five big housing projects - with more than 13,600 flats - up for tender from next year.
Executive Councilor Tsang Yok-sing has urged the government to appoint a panel of constitutional experts from Hong Kong, the mainland and overseas to help design a new political framework for the city.
A young gay man is poised to mount an historic challenge to the constitutionality of the different ages of sexual consent for homosexuals and heterosexuals under Hong Kong law.
The West Kowloon cultural district project is not only a battleground for property developers, it is also a competition between the world's top architects and engineers.
The recent police raid of an office in the Central Tower has no relation to the Macau Jockey Club, its directors and Angela Leung On-kei, wife of casino mogul Stanley Ho Hung-sun, Onshine Securities said yesterday.
Chipmaker CSMC Technologies Corp has called off a Hong Kong share offering of up to $683.1 million - the first mainland company to ditch listing plans in 15 months amid weakening demand from investors.

China: Britain and China conducted their first joint naval exercises off Qingdao in Shandong province yesterday. A British Royal Navy helicopter from the guided missile destroyer HMS Exeter lands on a Chinese naval vessel off the port of Qingdao.
Central Military Commission chairman and former president Jiang Zemin has promoted 15 senior officers to the rank of full general. It brings to 79 the number of generals he has hand-picked since 1993.
The mainland could have as many as 40 million private investors - businesspeople who finance and run companies with more than eight employees - by 2010, the head of the All-China Federation of Industry and Commerce predicts.
State-owned China Ocean Shipping Group (Cosco) is close to appointing bankers to guide the listing of its dedicated container-shipping arm through the increasingly turbulent waters for China plays.
Hainan Airlines has paid 400 million yuan to buy the airport serving the Three Gorges Dam, after the government stepped in to block its takeover by a young private firm.
China's strategy on oil security ran contradictory to the US oil strategy? Fiona Hill, senior researcher with US Brookings Institute accepted an interview.
Just as mainland tourists throng to the streets of Mong Kok and Causeway Bay looking for quality at bargain prices, Hong Kong retailers are heading to the mainland hoping to cash in on the growth of buying power across the border.
Hong Kong may have lost much of its middleman appeal for the goods trade as China has opened up to foreign firms, but it is emerging as an important intermediary for financial services and capital exchanges between the mainland and the West.
A worsening power shortage has been forcing China to speed up national expansion of renewable energy sources and is considering making it compulsory for power grids to buy electricity generated from small hydro, wind, solar and bio-mass power projects.
June 18 - 20, 2004
Hong Kong: Bosses of a Hong Kong-listed pharmaceutical firm could not be contacted yesterday after its stock was suspended from trading following a share price plunge of more than 90 per cent amid panic selling.
Chief Executive Tung Chee-hwa set no preconditions yesterday when he pledged to help pro-democracy activists regain access to the mainland, in what was seen as a significant softening of his stance.
Hong Kong and Shenzhen yesterday pledged to avoid "unhealthy competition" as they signed eight agreements to boost co-operation.

Vocalist Chester Bennington of Linkin Park goes into overdrive during the bands concert at the Hong Kong Convention and Exhibition Centre in Wan Chai last night. Linkin Park also have gigs in Bangkok and Singapore on their Southeast Asian tour.
Hong Kong's unemployment rate has dropped to its lowest level in more than two years, buoying hopes of an improving jobs picture through the summer months.
DAB chief Ma Lik will meet public security officials in Beijing today in an effort to secure entry to the city for some of the mainland abode seekers who have stayed on illegally in Hong Kong after being denied the right to settle.
Al-Qaeda terrorists studied security at airports including Hong Kong's Chek Lap Kok, and conducted surveillance on airlines in Asia, before attacking America on September 11, 2001, the US commission probing the attacks has found.

A consortium headed by Cheung Kong Infrastructure Holdings is one of three shortlisted bidders for the C$600 million (HK$3.41 billion), 100km highway project from Vancouver to the Canadian ski resort of Whistler (above), Cheung Kong Infrastructure said yesterday. A Cheung Kong spokeswoman said the bidding process had not finished and the company had no further comment.
PCCW and Australian partner Telstra Corp have agreed to settle US$1.2 billion in loans to their undersea cable joint venture for just $311 million, which should put the operation on a firmer financial footing.
A plan by Sun Hung Kai Properties to develop an $8 billion hotel-retail-office project in Shanghai's financial district could face delays, with restaurant owners refusing to vacate their premises until the original owner compensates them.
The booths of mobile phone manufacturers Samsung, Panasonic, LG Electronics and Sony Ericsson are easily the darlings of the crowd at this year's edition of CommunicAsia, the region's biggest trade show for telecommunications products, with a dazzling display of the latest gizmos.

China: A woman is delighted to have won a TV at the launch of a real estate project in Beijing, where 900 prime sites are waiting to be sold.
The central government has moved to assert its authority over municipal land sales in Beijing, with the aim of cleaning up the capital's property sector.
President Hu Jintao and his counterparts from Russia and four Central Asian nations fortified their security alliance yesterday, inaugurating an anti-terrorism centre and promising to support Afghanistan in bolstering its stability.
Volkswagen, the mainland's biggest foreign carmaker, yesterday slashed car prices by up to 11.7 per cent, matching General Motors and heating up their intense rivalry in a decelerating market.
The mainland's No2 mobile carrier, China Unicom, yesterday posted its fourth consecutive month of weak subscriber growth amid heated competition in the world's biggest cellular market.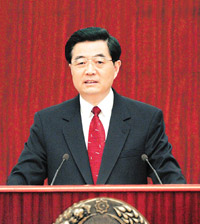 President Hu Jintao addresses the Uzbek Parliament in Tashkent, June 16, putting forward a proposal for further developing relations with Central Asia.
June 17, 2004
Hong Kong: The government expects a windfall of tens of billions of dollars to help cut its budget deficit after amendments designed to combat "aggressive tax avoidance schemes" was passed yesterday.
The number of millionaires in Hong Kong rose 30 per cent last year as the economy rebounded from the Sars outbreak and a prolonged decline in the property market, a study finds.
The world's first computer virus that can infect advanced mobile phones has been created. The worm, named Cabir, was sent to two overseas computer security companies by underground virus writers to highlight the vulnerability of mobile phones.

Police Commissioner Dick Lee Ming-kwai (right) views exhibits at the security trade fair in Wan Chai, which officers believe is being targeted by mainland criminal gangs. Hong Kong faces a credible threat of a "dirty bomb" attack by terrorists, and security forces are on heightened alert and ready to respond around the clock, a security conference heard yesterday.
Hong Kong women's obsession with lily-white skin has hit a new high, with almost half having used skin-whitening cosmetics, according to a regional survey released yesterday.
Spending on advertising by Hong Kong telecom companies jumped 163 per cent to HK$62.93 million in May with dominant fixed-line operator PCCW topping the list after doubling its expenditure.
The Hong Kong Society of Accountants (HKSA) plans to introduce sweeping changes to investment property accounting rules which could result in increased earnings volatility for listed firms.
Overseas Chinese Town (OCT) Enterprise Corporation, a state-owned firm that invests in tourism, electrical appliances and real estate, is planning to raise as much as US$1 billion (HK$7.8 billion) through an initial public offering in Hong Kong, market sources said.
China: Stanley Ho's multibillion-dollar gaming flagship Sociedad de Tourism e Diversoes de Macau (STDM) is allegedly at the centre of a money-laundering scheme moving billions of US dollars out of China through Macau into Hong Kong, according to a story in today's edition of the Far Eastern Economic Review.
Beijing has confirmed that electricity prices across most of the mainland will be increased - by an average 2.2 fen per kilowatt hour - in a bid to ease power shortages.
Strict controls will continue to be imposed on credit despite the initial victory in curbing excessive investment growth, the State Council said yesterday.
Beijing's special envoy to the Middle East yesterday welcomed last week's backing from the Group of Eight for American plans to promote economic and democratic reform in the region and resolve the conflict between the Palestinians and Israel.
China is set to award financial derivatives trading licences to four foreign banks, including Citigroup, further opening its markets to foreign expertise and capital, according to banking sources.
China Mobile is unaware of any government-backed plan to force the merger of the mainland's four telecommunications carriers into two groups and has not been asked to take part in any talks on such a proposal, the company said.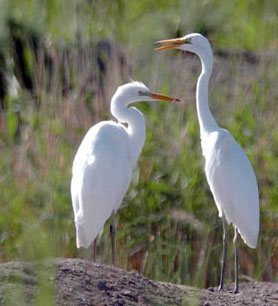 Two egrets stand by the Bosten Lake in China's Xinjiang June 13. The Lake is a paradise for water birds including egret, hern, red-billed gull and widgeon.

Tsingtao Brewery said it has agreed to buy a 50 per cent stake in Gansu Nongken Beer Co, but analysts believe the deal will not trigger more acquisitions in the mainland brewery market.
June 16, 2004

Hong Kong: A presentation at the Drug InfoCentre, which is due to open this month in the Queensway Government Offices, Admiralty. A donation of $50.58 million from the Jockey Club Charities Trust has helped fund the centre, which will become the focal point for anti-drug education. The 900 sq metre two-storey exhibition hall will open next Tuesday.
In June 1984, Deng Xiaoping put forward the concept of "one country, two systems" to a visiting Hong Kong delegation. Twenty years later, a mainland actor who made his career by playing the late leader said it was still the best political formula for Hong Kong.
Candidates counting on the youth vote in the Legislative Council elections are likely to be disappointed after results of a study showed young people were not politically active.



A Chinachem representative makes the final bid of $1.01 billion for the Sa Po Road site at yesterday's land auction.
Cash circulating in the economy surges by up to $23 billion at every Lunar New Year to help fill the traditional Lai See gift envelopes distributed during the annual festival, a study by the Hong Kong Monetary Authority reveals. Risks to Hong Kong's monetary and financial stability have receded due to the city's economic rebound, reflecting strong global growth and low interest rates, the Hong Kong Monetary Authority (HKMA) said in a report.
The latest batch of Hong Kong initial purchase offerings (IPOs) has received an overwhelming response from investors, with instant messaging provider Tencent Holdings' retail tranche being 158 times subscribed and China Shipping Container Lines' offer 53.2 times subscribed.
Leighton Asia (Northern), the Hong Kong-based subsidiary of Australia's largest construction contractor, says it has been awarded a HK$2 billion contract to design and build Steve Wynn's hotel and casino complex in Macau, confirming a report in The Standard yesterday.

China: Shanghai police officers try to deal with owners of a restaurant who threatened to jump from a building to protest against the demolition of their property.
Two former managers of the outspoken Southern Metropolis News had their jail terms for embezzlement and bribery reduced on appeal yesterday.
Beijing signed several agreements with Uzbekistan yesterday as the central government seeks to assert its influence over the strategically important region of Central Asia.

Valuair intends to become the first budget airline to enter the mainland market and will double its fleet before the end of the year, according to a founding shareholder in Singapore's first low-cost carrier.
Internet search giant Google has taken a small stake in Baidu.com, the mainland's largest search-engine company, in an investment which could lead to greater co-operation.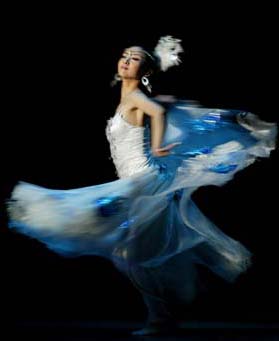 Tai Lihua, a deaf and dumb dancer of Chinese Art Ensemble of the Handicapped, performs in San Jose, June 14.
China is seeking for measures more practical and effective in the anti-corruption campaign. A "Special Action" - "One, two, three project"- is under consideration.
This is the new business model adopted by Hangzhou city officials in their quest to turn a failed mall into a thriving centre for trade in goods under the Closer Economic Partnership Arrangement, the free trade pact between Beijing and Hong Kong.
China may leap ahead of Hong Kong in the use of RFID (radio frequency identification) technology, by using the speck-like chip to boost efficiency in supply chain management, a business consultant says.
June 15, 2004

Hong Kong: Katie and her handler lead her mule co-workers up the trail. is one of six mules from Canada to become the official "pack transporters" for the construction of the Tung Chung cable car system.
Financial Secretary Henry Tang Ying-yen yesterday said he was willing to bet the jobless rate would fall below 7 per cent this year.
Embattled Harbor Fest organizer James Thompson says he is holding nothing back from the ICAC investigation into the event.
Stress levels elsewhere in Asia have declined in the past three years, but not in Hong Kong. Political uncertainty and worries about children's education may be to blame, according to an Asian health survey released yesterday in Singapore.
Shenzhen Mayor Li Hongzhong is scheduled to arrive in Hong Kong tomorrow on his first official visit to the city, during which he is expected to sign several agreements, including one on developing the border area.
Financial Secretary Henry Tang says the individual travel scheme is responsible for bringing more than two million mainlanders to Hong Kong since its launch last year.



Hong Kong Exchanges and Clearing chief executive Paul Chow Man-yiu toasts the launch of H-share index options yesterday with exchange division head Gerald Greiner (left) and chief operating officer Patrick Conroy. Mr Conroy said HKEx was working with the Shanghai Futures Exchanges to develop crude-oil futures. He said mainland firms and investors would have a huge need for oil futures contracts in light of the recent volatility in oil prices.

Hong Kong stocks took their biggest tumble in four weeks yesterday as a range of factors, including a potential mainland interest-rate rise, were taken as reasons to sell.

Scientist Mark Tilden of WowWee, pictured in the Hong Kong company's design and sales office in Tsim Sha Tsui, says Robosapien is for robot hobbyists and "kids from six to 55". The robot is expected to fill the gap left by the departure of the more expensive Sony Aibo, which was withdrawn from sales in Hong Kong.
Local corporate deployment of Linux has spread its wings, with the Hong Kong Aircrew Officers Association moving its core information technology system to an open-source computing environment.
China: Macau's Commissioner Against Corruption (CAC) yesterday handed to prosecutors the results of a 2-1/2-year investigation into suspected corruption involving two senior public works officials.
Statistics released yesterday seem to indicate the mainland economy is still growing at a brisk pace, putting additional pressure on officials to increase interest rates.
Nippon Yusen Kaisha (NYK Line), the world's biggest ocean-going car carrier by volume, is in talks with Guangzhou municipal and maritime authorities to build a joint-venture car terminal at the port of Nansha.

HKR International is planning to bring a Beverly Hills-style development to Discovery Bay - with prices to match. HKR is hoping the $1 billion project will lure Hong Kong's rich and famous, who will be able to design their dream home complete with must-have accessories such as a garden and swimming pool.
The mainland is expected to unify its two-tiered corporate income tax regime for domestic and foreign-invested firms at a single rate of between 25 and 30 per cent, according to sources.
High oil prices and China's strong demand for energy may speed up the introduction of oil futures to the Shanghai Futures Exchange, according to CNOOC chairman and chief executive officer Fu Chengyu.
Nippon Yusen Kaisha (NYK), Japan's largest shipping line, is hoping to reach agreement with port officials in Guangzhou within the next six months to develop a car import-export terminal at Nansha.
June 14, 2004
Hong Kong: Strengthening communication through "face-to-face talks" is more conducive to Hong Kong's harmony and stability, the Central Government Liaison Office said yesterday in response to the democrats' offer to mend fences with Beijing.
After being caught off guard by the size of last year's July 1 march, officials have been quietly gauging the views of community leaders to try to better estimate how many people will join this year's rally.
The delegation of Hong Kong and Macau business people and officials returned home yesterday after a week-long tour of Dalian, Shenyang, Changchun and Harbin, where they visited many companies and met dozens of officials.
The telecommunications watchdog is considering tougher penalties on providers of illegal international direct dialling (IDD) services that circumvent local access charges - a fee that generates about $500 million a year for fixed-line operators.

As Hong Kong's financial sector becomes increasingly sophisticated, the lines between its different segments are blurring, pitting them against each other for consumer dollars in a dizzying array of products.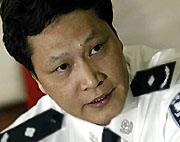 China: Yu Xinguo, deputy head of the Shenzhen police, says only 87 of the 41,207 cases reported in Shenzhen in the first five months of this year involved Hong Kong residents.
In a major revision of China's tax code, authorities have reached a preliminary consensus on unifying the tax systems for domestic and foreign-invested enterprises so that companies in both sectors should pay a rate between 25per cent and 30 per cent.
China's insolvent state-owned banks are steadily cleaning up their act, but interference by central authorities all too often hinders real, lasting and necessary reforms, says Steven Xu, a former senior economist at Hong Kong-listed Industrial and Commercial Bank of China (Asia).

Premier Wen Jiabao talks to workers at a steel plant in Hubei, Wuhan. He says developing the region is a core priority. Central and western provinces have been assured that the national government is still committed to developing the regions, while it pursues measures to cool the pace of economic activity.
The bodies of 11 mainlanders shot dead in northeastern Afghanistan will be repatriated today on a mainland military aircraft.
Work-related accidents dropped 13 per cent in the first four months of the year compared to the same period laast year and the mainland's notorious coal mines are becoming safer despite a series of high-profile disasters, authorities said.

Ping An chairman Peter Ma details plans of the company's initial public offering, as Goldman Sachs' Mark Machin looks on. Ping An Insurance (Group) stands to benefit from expected interest-rate rises, officials said yesterday on the eve of launching the retail tranche of its $16.48 billion global initial public offering.

Dutch oil refiner Petroplus plans to sell its 110,000 barrel per day (bpd) refinery in Wales for possible relocation to China.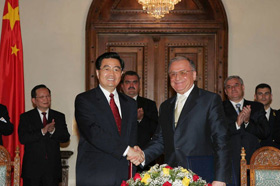 Chinese President Hu Jintao (L, Front) shakes hands with Romanian President Ion Iliescu after signing a joint statement pledging to build friendly and cooperative partnership between their countries in Bucharest, Romania, June 13.
The overall situation of the Chinese economy is fine at present as the government's macro economic control efforts have taken effect, said Wen.
June 11 - 13, 2004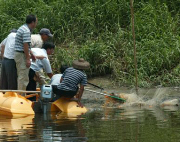 Hong Kong: Agricultural and Fisheries Conservation Department officers net the Yuen Long crocodile on Thursday morning, which has embarrassed expert hunters by evading their ambushes. The reptile was caught in a trap specially designed by the department.
Hong Kong's new investment migration scheme has attracted $796 million and 339 applications since it was launched last October, local media reported on Thursday.
The stock exchange's listing committee has refused to grant a waiver for Hutchison Whampoa's plan to spin off most of its non-third generation (3G) global telecommunications assets in two phases, dealing a blow to the conglomerate's fundraising hopes.
China: The Communist Party is expected to tackle political reforms at the fourth plenum of the 16th Party Congress this autumn. The aim is to consolidate and give momentum to piecemeal changes already made, according to the mainland-backed Wen Wei Po newspaper and political analysts.
Advanced Micro Devices said on Wednesday that China's biggest personal computer maker, Lenovo Group, would use its chips in a new line of desktop personal computers.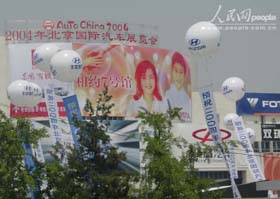 Beijing 2004 Int'l Auto Exhibition opens in Beijin June 10. Over 600 auto companies scattered in 20 countries attend the get-together displaying their productions.
June 10, 2004
Hong Kong: Champion jockey Douglas Whyte claimed another piece of Hong Kong racing history at Happy Valley last night by becoming the first jockey to ride 100 winners in a single season.
The government may postpone its planned $20 billion bond issue if the US Federal Reserve increases interest rates this month, Secretary for Financial Services and the Treasury Frederick Ma Si-hang said yesterday.
The stock exchange's listing committee has refused to grant a waiver for Hutchison Whampoa's plan to spin off most of its non-third generation (3G) global telecommunications assets in two phases, dealing a blow to the conglomerate's fundraising hopes.

A multi-billion dollar international drug and money laundering syndicate, allegedly financed out of Hong Kong and Malaysia and uncovered after a five-nation investigation, was smashed yesterday with the arrest of 14 suspects and seizure of enough chemicals in an illegal laboratory to make HK$4.21 billion worth of ``ice'' or crystal methamphetamine.
Standard Chartered Bank is aggressively ramping up its non-fee-paying services in the mainland to cater for its most important China-based customers - investors from Hong Kong, Taiwan, Korea and Japan.
Tens of thousands of rural credit co-operatives in Guangdong are expected to soon begin the process of merging into banks as part of Beijing's bid to reform the country's financial institutions.
China: More than a million jubilant people lined the streets of Beijing yesterday in the heat to cheer on the torch-bearers who carried the Athens Olympic flame along a 55km route through the city.
President Hu Jintao and his Polish counterpart, Aleksander Kwasniewski, pledged to strengthen economic and cultural ties between the two nations, while the Polish leader said a "constructive dialogue" would be held on differences over human rights.

As Beijing's week-long AutoChina motor show began yesterday, manufacturers reaffirmed their confidence in the mainland car market, forecasting strong sales and brushing off concerns that supply will soon outpace demand. Mazda's MX-5, pictured, is just one of the models on show this week fighting for a slice of the action.

China's richest men and women are gaining more legal rights, financing opportunities and stature but they still have a long way to go towards improving their image in society, says the author of a well-known wealth ranking.
June 9, 2004

Hong Kong: All eyes, and cameras, were focused on the immaculately styled Tony Leung Chiu-wai, who was on hand to launch this year's Hong Kong International Film and TV Market (Filmart). "My role is to help introduce Hong Kong to the overseas market," he said. "We are getting more recognition and I hope I can help this to continue."
A Venus craze hit Hong Kong yesterday as hundreds queued for hours outside the Space Museum to join millions of people around the world witnessing an astronomical event last seen 122 years ago.
The Hong Kong Monetary Authority has asked banks to identify "high-risk" customers, including politicians and heads of state, in an effort to stop money-laundering activities in the city.
Hong Kong-listed mainland car stocks took a battering yesterday as investors reacted negatively to reports that mainland car owners had defaulted on billions of yuan worth of loans last year.
Cathay Pacific Airways is unlikely to buy Boeing's new 7E7 Dreamliner passenger jet, but it is interested in the Airbus A380 super-jumbo, a senior executive says. This comes as it seeks further cost cuts to offset the high price of fuel. Airlines, including Cathay Pacific Airways, Hong Kong Dragon Airlines (Dragonair) and mainland carriers, will introduce all-electronic ticketing by 2007 in an effort to save US$3 billion (HK$23.4 billion) a year.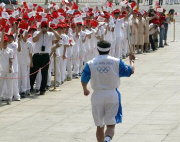 China: Yu Zaiqing, China's member of the International Olympic Committee, carries the Olympic torch through Beijing's Tiananmen Square to begin the Beijing leg of the Olympic torch relay on Wednesday. The torch will be carried by 148 runners on a 55-kilometre journey from Tiananmen Square to the Summer Palace. China is the fifth stop in the torch's 78,000-kilometre journey across six continents, 27 countries and 33 cities.

A plane comes in to land, much to a young boy's delight, at Guangzhou's old Baiyun International Airport. Silence will fall over the area from June 28, when the airport will close and the new Baiyun International Airport, at Huadu, is scheduled to open.
Industrial dumping and aggressive land reclamation in the waters west of the Pearl River Delta would drastically alter the region's coastline and hinder the area's future development, according to an official study.
A power company run by a son of former premier Li Peng is among the top five firms on a list of the worst air polluters in Beijing.
President Hu Jintao arrived in Warsaw yesterday for a two-day visit - part of his four-nation tour that analysts said was part of Beijing's continuing push to forge closer ties with Europe. China and Poland signed a joint declaration on Tuesday pledging to work for a "friendly and cooperative partnership" between the two countries.
Red chip China Merchants Holdings (International) will spin off its toll-road and tanker operations, valued at an estimated $3.84 billion, by the end of the year to focus on its core port businesses.

The chairman of the mainland's biggest manufacturer of machine tools says that his firm will become the world's fifth-biggest in five years and its largest by 2014 - and he did not expect any help from Hong Kong capital.

China's economic development would not only change the social structure of the country, but also pump vigor into the world economy, said Michael Dell.
June 8, 2004
Hong Kong: The head of the KCRC has warned against any cheap sale of the corporation's assets during a merger of the city's two railway operators.
Retail sales in Hong Kong grew 19.9 per cent in April, the fastest year-on-year pace in more than four years. But shopkeepers weren't popping too many champagne corks - no one was in the mood to buy a year ago at the height of the Sars outbreak.
Hong Kong customs officers seized 7.5 million smuggled cigarettes, the largest haul of the year, during an examination of cargo at the Kwai Chung container terminal.
Baptist University will start a joint-venture campus in Zhuhai next year, targeting Hong Kong and mainland students.
The government stands to make an on-paper profit of $3.3 billion after it bought 4,304 unsold subsidized flats to house disciplined services members now living in quarters.

The cut-throat mortgage war has moved into the secondary market, with Citic Ka Wah Bank yesterday saying it hoped to lure homebuyers with a fixed interest rate of 0.88 per cent for a six-month period - the lowest in Hong Kong.

PCCW may end its reselling arrangement with former mobile services arm CSL in favour of Hutchison Telecom or another provider, according to industry observers.
Ping An Insurance, the mainland's second-biggest life insurer, is poised to bring the largest initial public offering to Hong Kong this year, offering 1.38 billion shares to raise up to HK$16.49 billion.
The potential move to the main board by four of the biggest companies on the Growth Enterprise Market (GEM) by market capitalization will slash the value of Hong Kong's secondary board by 35 per cent although the territory's capital-raising status should remain intact.

China: The Fisherman's Wharf venture, which is due to open next year, is one of many aiming to tap into Macau's roaring tourism sector.
The firm building the massive Three Gorges Dam does not have power over local government officials in charge of funds for relocating more than a million people displaced by the project, its former president says.
General Motors, the world's largest carmaker, has raised the stakes in the increasingly competitive mainland market by announcing that more than US$3 billion will be invested in ventures with its mainland partners over the next three years.
Nearly 100 billion yuan (HK$94.23 billion) in outstanding car loans went sour in China by the end of last year, spurring banking regulators to launch a nationwide check on defaulting buyers and apparently playing a role slowing car sales.
China Eagle Group chairman Wong Kwong-yu has proposed omitting his home appliance group's outlets in major cities such as Shanghai and Hong Kong from an 8.8 billion yuan (HK$8.29 billion) asset injection deal into the company.
Some Shenzhen-based retail chains are now thinking about ending their relationship with the beleaguered debit card issuer China UnionPay and instead negotiating with individual banks for lower service charges on credit and debit cards.
June 7, 2004
Hong Kong: The mainland will look first to Hong Kong and Macau when seeking foreign capital, talent and technological know-how, Vice-President Zeng Qinghong told a group of tycoons yesterday.
Standard Chartered Bank is in advanced talks to buy a strategic stake of at least 15 per cent in China Everbright Bank, one of the mainland's smaller commercial banks, sources said.

Mainland instant messaging company Tencent Holdings hopes to raise up to $1.55 billion from its public offering in Hong Kong. Listing candidate Tencent Holdings says it will retain its leadership in the mainland's instant messaging service sector, but margins will continue to fall as development and marketing expenses rise.
The parent company of Hong Kong's smallest mobile carrier has made a great leap to Madagascar, displacing a French provider to become the African island nation's principal foreign telecommunications investor.

China: Twenty-one people are feared dead after a massive landslide engulfed a village in the southwestern municipality of Chongqing at the weekend.
Taipei has temporarily refused entry to two reporters from the People's Daily in what is seen as the start of a visa war across the Taiwan Strait.
The mainland's leading home appliance chain will achieve a Hong Kong listing through a related-party transaction with its chairman's main-board vehicle in a deal worth 8.8 billion yuan.
The legal battles between Microsoft and governments in Europe and the US make the company look like a partner in a bad marriage. But in Southeast Asia, Microsoft seems more like an ardent suitor, wooing governments with sweet promises and gifts.
Telecommunications companies from Japan are setting aggressive sales targets on the mainland, buoyed by strengthening direct investment trends among Japanese multinationals.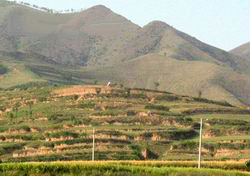 After two months of sleuthing, a group of Chinese archaeologists have found what they believe to be a large group of tombs of China's Western Zhou Dynasty (1046-771 BC) in Qishan, China's Shaanxi.
The latest results of Global Investment Prospect Assessment (GIPA) shows China is still deemed the most attractive investment destination in the world.
A leading scientist for China's first moon exploration mission said Sunday that the country has no manned landing project by the year of 2017.
June 4 - 6, 2004

Hong Kong: Standard Chartered's head of consumer banking, Tan Kong Khoon, toasts yesterday's launch of its first capital-guaranteed structured notes for retail investors - available from today - as the bank rides the momentum created by the strong public response to the government's $6 billion securitization bonds last month.
Hong Kong stocks recorded their biggest fall in almost three weeks yesterday as oil prices again exceeded US$40 per barrel, prompting a new round of selling by institutional players.
Stanley Ho Hung-sun's Shun Tak Holdings plans a $1 billion expansion binge in Macau, betting that the economic resurgence in the former Portuguese colony is more than just a run of good luck.

Scott Cheung Sze-lok and Jennifer Tin Lai-ki of the Hong Kong Camy Academy of Dancing show off their skills at a preview of this summer's International Arts Carnival. The carnival, which runs from July 14 to August 29, will feature nearly 500 events, from acrobatics, puppetry, music, dance and other stage performances, to workshops, exhibitions, and school and cultural tours.
The pan-Pearl River Delta agreement is expected to speed integration of the economies of Hong Kong, Macau and nine southern provinces - but to imagine it will deliver big benefits any time soon could be wishful thinking.
Guangdong plans to take the leading role in pan-Pearl River Delta regional development, provincial Governor Huang Huahua says.
Hong Kong's two railway operators were accused by lawmakers yesterday of wasting resources by submitting rival proposals for a link to Whampoa Gardens while they are discussing a merger.

Putonghua television content provider Phoenix Satellite Television Holdings is planning to switch its Hong Kong listing to the main board. Vice-president Liu Shuang said Phoenix is also considering a share placement.

MTR Corporation (MTRC) will not land lucrative property projects in Beijing as part of its 2.4 billion yuan (HK$2.26 billion) investment in a joint venture to develop the city's Metro Line 4 rail system.
China: The central government's harsh administrative measures to cool down the mainland economy have met with increasing resentment and passive resistance from local authorities, testing the political skills and willpower of the new leadership.
President Hu Wednesday called on the country's millions of scientific workers to contribute more to the country's scientific and research undertakings and to strive for accelerated modernization.
SABMiller will sell its 29 per cent stake in Harbin Brewery Group to rival Anheuser-Busch for $1.64 billion, ending the first takeover battle for a listed mainland company.

Beijing's choice as Panchen Lama, Gyaincain Norbu, holds a Buddhist ceremony at the Yonghegong Lamasery in Beijing. He received homage from 30 Living Buddhas and met a delegation from Mongolia. Most Tibetan Buddhists recognize another Panchen Lama - Gedhum Choekyi Nyima - who has not been seen since 1995 after being chosen by the Dalai Lama.
China has made significant gains in reforming its economy and legal system, according to a study by the Asia-Pacific Economic Co-operation Secretariat.
A call centre used by the United States to take applications for visas reopens today after a six-week diplomatic standoff.
Beijing has acted about a dozen times during the past year to thwart shipments of nuclear-related materials to problem states. But some US officials remain concerned that mainland firms continue to sell items with potential nuclear uses to North Korea and Iran.
June 3, 2004
Hong Kong: A leading board member of Hong Kong's Community Chest, Lawrence Yu Kam-kee, is among seven key investors to have reaped $131 million from a quick flick of Harbin Brewery Group shares to Anheuser-Busch, prompting a major takeover battle with SABMiller.

A Kenyan landmark was yesterday turned into a promotional stage for the Miss Hong Kong pageant. The contestants posed in bikinis beside the foaming waters of the 72-metre Thomson's Falls as part of a publicity filming mission ahead of the August competition.
The government faces a $280 million compensation claim from the contractors involved in the Central Reclamation because of the delay caused by a dispute over the legality and size of the project.
Senior mainland officials and academics yesterday called on Hong Kong, Macau and the southern provinces to step up co-ordination and remove barriers to the free flow of capital and goods.
A former ING Investment Management director is among four executives facing bribery and fraud charges, as graft-busters widen a probe into an alleged $6 million stock scam involving sales of shares in three listed firms.
Hong Kong mobile phone ownership was the highest in Asia, with 86 per cent of the population owning one or more mobile phones, according to a study by technology research company TNS of 11 Asian telecommunications markets, including Japan, South Korea, Singapore and Thailand.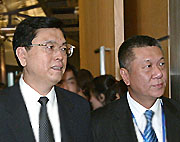 China: Macau Chief Executive Edmund Ho (right) accompanies Zhang Dejiang, Guangdong Communist Party chief, to yesterday's Pan-Pearl River Delta forum in Macau. The opening of the first Pan-Pearl River Delta forum has dominated headlines in Guangdong and Hong Kong, but people living in far-flung western provinces and eastern Fujian are barely aware of the event.
After weeks of deliberation, the mainland looks set to announce tougher measures to cool the overheating economy - including raising interest rates and electricity prices, according to informed sources.

Lenovo Group chairman Liu Chuanzi appears less than pleased at the company's annual results announcement yesterday at the Conrad Hotel. The mainland PC maker posted a disappointing 3.44 per cent increase in profit last year. Analysts had estimated a 7.55 per cent rise. Lenovo officials said the firm must first defend its domestic market share against foreign rivals before expanding overseas.
American companies, including Boeing and Motorola, have lost more than US$30 billion since July 2002 because of government delays in granting visas to business travelers from other countries, a study sponsored by eight trade associations has found.
May 27 - June 2, 2004
Hong Kong: A "two schools, one system" formula has been proposed by the dean of the University of Hong Kong's medical school to turn the city into a regional biomedical hub.

The relic, held in a bulletproof glass box, was flown in Tuesday afternoon -- just in time for the Buddha's birthday celebrations here Wednesday. It will be shown for 10 days in this largely Buddhist territory.
China: Brazilian President Lula is leading a grand delegation on a visit to China, which comprises seven ministers, four governors and more than 400 entrepreneurs.
China will try to help a small portion of population who still live in poverty have access to adequate food and clothing at an early date in the next decade, said Chinese Premier Wen.
Anheuser-Busch, the world's largest beermaker, has offered a sweetener to the government and citizens of Harbin by setting up a US$8 million (HK$62.4 million) trust fund as investors await its counter-offer in the bidding war against SABMiller for control of Harbin Brewery Group.
China, which began making Aids medicine less than two years ago, has become a major exporter of cheap raw material for Aids drugs and is gearing up to export finished drugs to Third World countries. The move could see the country driving down the worldwide price for the medicine. But international experts caution that quality must be assured. In response to a mushrooming HIV/Aids epidemic that has seen many poor farmers affected, the Chinese government in December 2002 gave approval to several domestic pharmaceutical firms to make generic versions of Western drugs whose patents had run out, to try to lower the cost of treatment. So far, four Chinese companies are producing the anti-Aids medicine.
China's red- hot economy could cause serious overheating among its citizens. Facing a summer of electricity shortages, Shanghai has warned offices they could be forced to cut power use by 20 per cent with just five minutes warning, according to notices sent to companies yesterday. New city regulations require the sudden cuts to keep the grid from crashing, especially between the peak demand hours of 9 to 11am, 1 to 3 pm and 7 to 9pm, the notices said. Shanghai will face a shortage of 2.2 million kilowatts between June and September, the notices said.
May 26, 2004
Hong Kong: In the first land auction for 20 months yesterday, Hong Kong developers snapped up two public sites in an aggressive bidding war that added $2.95 billion to the government's coffers.
The business schools of the Hong Kong University of Science and Technology and the University of Hong Kong may unite.
Shenzhen firms aim to recruit 3,000 professionals and skilled workers at a jobs fair in Hong Kong in August.
Were this not Hong Kong, holding a land auction in the city's premier cultural centre might seem incongruous. The ritual of the public sale offers both spectacle and an indefatigable signal to the rest of the population.
HSBC Holdings said yesterday it would focus on organic rather than acquisition-led global expansion, despite making a raft of purchases in China and the United States in recent years.
Sunday Communications, the Hong Kong mobile operator financially backed by Shenzhen-based IT giant Huawei, has predicted consolidation will reduce the current six players in the SAR's mobile market to three.
An improvement in inbound tourism has helped luxury hotel chain Shangri-La Asia's yield for its Hong Kong properties, which was up 30 per cent year-on-year in the first four months of the year, compared with the group's 41 per cent yield rise.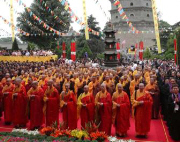 China: More than 1,000 Buddhists of Hong Kong and the mainland worship the sarira of Buddha at Famen Temple, some 110 km west to Xi'an, capital of northwest China's Shannxi Province, on Monday. The sarira is believed to be a bone section of the Buddha's finger.

The sarira of Buddha, which is believed to be a bone section of the Buddha's finger, at Famen Temple in northwest China's Shannxi Province. National treasures including the Buddhist sarira and 20 cultural relics from Xi'an will arrive in Hong Kong on May 25 and will be displayed publicly at the Conventional and Exhibition Centre from May 26 to June 4.
A scavenger carries a sack of garbage to sell while listening a music with a headphone in Shanghai. Despite drastic efforts to cool off China's rapidly surging economy, the commerce ministry said that it is expected to grow at an annual rate of more than 9 per cent in the first half of the year, a rate well in excess of the official target.
Guangdong Party Secretary Zhang Dejiang is expected to set the tone for regional co-operation at a forum in Hong Kong next month.
The percentage of mainland residents who smoke fell between 1996 and 2002, but a corresponding rise in the population means that more people are smoking than ever.
Hong Kong pay-television operator i-Cable Communications has been given approval to broadcast a 24-hour information and entertainment channel on Shenzhen's cable network from Friday.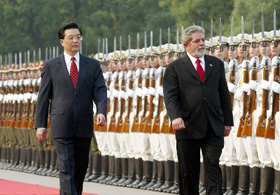 Chinese President Hu Jintao (L) greets Brazilian President Luis Inacio Lula da Silva on the square outside the east gate of the Great Hall of the People in Beijing, May 24, 2004.
Ping An Insurance, which is seeking to raise US$1.5 billion (HK$11.7 billion) in an initial public offering in Hong Kong, is set to make its share trading debut on June 25, according to an investment banking source.
May 25, 2004
Hong Kong: Hong Kong is still the region's shopping paradise, a credit-card firm's survey shows. And despite intense competition from neighbours, its supremacy will not be seriously challenged for years to come.
Several proposals emerged in yesterday's first official seminar on constitutional reform, where it was suggested the public could directly take part in the next chief executive election, but it would be just short of full universal suffrage.

Japanese tour agents take time out for a tai chi class at the Cultural Centre piazza. Led by the Japan Association of Travel Agents, the group of more than 120 agents is on a four-day visit to learn more about the city's latest attractions. It is hoped the tour will help them design new itineraries and increase the number of Japanese visiting Hong Kong.
The Hong Kong Mortgage Corp has set up a $20 billion retail bond program to tap money being switched from bank term deposits because of low interest rates.
Some of the world's largest information technology firms have started a major push of new products and services in Hong Kong this summer, more than a year since the Sars outbreak virtually stopped the industry in its tracks across Asia. The region's largest communications trade show is back on track just a year after it was sidetracked by the Sars outbreak, with support from big Asian tech firms and the influx of new mainland exhibitors.
China: Two major transport projects appear to have fallen victim to the mainland's campaign to slow investment, according to state media.
The water at the mouth of the Pearl River is so badly polluted it is unsuitable for aquaculture or water sports and cannot sustain endangered species, according to a study.
Fear after Paris tragedy, the architect responsible for Beijing's controversial National Theatre designed the terminal at Charles de Gaulle airport in Paris which collapsed on Sunday, killing four people.
The central government is preparing to spend millions of dollars on subsidizing television set-top box sales to lure more subscribers and boost digital cable development, a standard the country will adopt by 2015 when analogue transmissions end.
May 24, 2004
Hong Kong: Hong Kong's film industry enjoyed a blissful moment this weekend with local movie star Maggie Cheung Man-yuk winning the best actress award at the Cannes Film Festival.
Hong Kong Disneyland is putting the final touches to a promotion campaign it hopes will one day make its theme park the biggest tourist draw in Asia.

At least one little flower was feeling the effects of the heat yesterday at a ceremony in Kowloon Park to celebrate the Flower Passion Campaign. The government campaign is designed to improve environmental awareness and community spirit. Potted plants were given away free at the ceremony.
The battle for the financial services sector seat in September's Legislative Council elections is hotting up, with the chairman of the Hong Kong Securities Professionals Association, Christopher Cheung Wah-fung, saying he may run.
Cautious bidding is expected in the sale of two residential sites tomorrow, which comes as a timely test of developers' faith in the market amid slackening demand and anticipated higher interest rates.
HSBC Holdings, the world's second-largest banking group by market capitalisation is said to have entered the US$7 billion (HK$54.6 billion) auction to bid for New York Community Bancorp.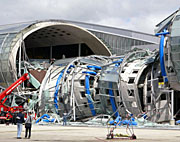 China: A Chinese national was among at least five people who were killed when the roof collapsed at a new terminal at Paris' Charles de Gaulle airport yesterday, showering departing passengers with tonnes of concrete, steel and glass.

National People's Congress chairman Wu Bangguo samples a national dish after arriving at Khabarovsk, near the border of Heilongjiang province. Mr Wu began a week-long goodwill visit to Russia on Saturday.
Scientists in Beijing have started testing a Sars vaccine on four volunteers in the first trial involving humans.

Dockworkers shift CSCL boxes in Shekou. The shipping line begins its IPO roadshow today. China Shipping Container Lines (CSCL) aims at becoming one of the world's top three container shipping companies by 2010, according to chairman Li Kelin, who begins the mainland group's three-week-long investor presentation in Hong Kong today.
Aluminium products manufacturer Ocean Grand Holdings has given an ultimatum to the management of a state-owned acquisition target - resolve a 100 million yuan employee compensation issue or see the deal collapse.
In a move to beef up its foothold in the Pearl River Delta, NWS Holdings will team up with a mainland partner to build a 3 billion yuan (HK$2.82 billion) third phase for the Zhujiang Power Station.
China Internet Network Information Center (CNNIC), the country's official authority for Internet domain name registration, has announced a new web-security product to tackle recent cases of fraudulent web sites.
May 21 - 23, 2004
Hong Kong: Hong Kong and Kenya signed the Air Services Agreement on Friday, - which will allow direct flights between the two destinations.

Golden Harvest founder and chairman Raymond Chow says the filmmaker is focusing on mainland expansion and film financing. Golden Harvest Entertainment (Holdings), one of the oldest filmmakers in Hong Kong and the biggest film distributor in Southeast Asia, says it is in talks with a number of potential strategic investors to finance the expansion of its mainland operations. Shares of film distributor Golden Harvest Entertainment jumped as much as 42.8 per cent when trading resumed yesterday following confirmation that tycoon Li Ka-shing had bought a 17 per cent stake.
Hong Kong's limited supply of luxury properties continues to lure homebuyers amid a market slowdown, with HSBC yesterday selling a three-storey detached house on the Peak for more than $180 million.
Tech heads visiting this year's CEhk, formerly known as the Computer Expo, on Thursday were relatively unimpressed by the array of new technologies on display. The expo has been running for almost 20 years and is the largest event of its kind in Hong Kong.
Hopewell Holdings chairman Gordon Wu has threatened to seek a court injunction to ban a hearing at the Planning Department next month to change the approved plan on the company's Mega Tower hotel project.
Li Ka-shing said yesterday freedom of speech and politics in Hong Kong were better now than before the handover and anyone who thought otherwise was being too sensitive.
A further auction of public land has been triggered following an aggressive bid for a Kowloon site that seemingly defies weakening sentiment in the face of sluggish demand and expectations of higher interest rates.

Hutchison Whampoa's third-generation (3G) global mobile subscriber base is finally closing in on its two million target - five months later than originally projected. Hutchison Whampoa finance director Frank Sixt takes a close look at a 3G phone during Cheung Kong's annual general meeting.
Hong Kong's wealthiest man came to the rescue of China Shipping Group's foundering initial public offering yesterday, agreeing to buy up to 10 per cent of its shares as a strategic investor, a source close to the deal said.
China Mobile (Hong Kong), the world's biggest mobile phone operator by subscriber numbers, said it added 3.02 million subscribers in April following rapid growth in low-spending users. China Mobile (Hong Kong) is reporting strong subscriber gains as its aggressive pre-paid regional promotion targeting low-end customers pays off.
PCCW shares climbed 5.1 per cent on Wednesday on hopes that China Network Communications Group (China Netcom) will soon take a stake in Hong Kong's dominant fixed-line carrier, despite the lack of details on a deal which could potentially reshape the city's telecommunications landscape.
China: Trade tensions between the European Union and China are threatening to escalate after Beijing scrapped subsidies on coke exports in a bid to reduce domestic commodity prices.
Shops in Guangzhou have begun charging customers the fee levied on retailers by China UnionPay, the electronic interbank network that manages 400 million credit cards and bank cards linked to ATM machines.
Bank of China's listing plans remain on track despite orders from the central government for banks to tighten lending to certain industries, chairman and president Xiao Gang said.
Bank of Communications, the mainland's fifth-largest lender, is in talks to sell a stake to overseas lenders, including HSBC Holdings and Standard Chartered, as it plans a first-time share sale as early as this year, says its chairman Yin Jieyan.
China Shipping Container Lines (CSCL), which cut its initial public offering by a third because of a market slump, plans to sell its shares at up to HK$4.175 each, raising HK$10.1 billion, a banker involved in the deal said.
The politically sensitive trial of property developer Chau Ching-ngai has ended, but a verdict has yet to be announced, his lawyer and state media say.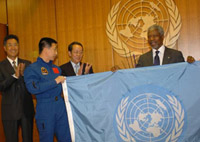 United Nations Secretary-General Kofi Annan on Wednesday met China's first astronaut, Yang Liwei, who presented the UN chief with two UN flags which he had taken with him on his mission in October. Congratulating China on its first successful manned space flight, Annan said at the handover ceremony that it is a "great achievement" watched by all Chinese people and people around the world.
Beijing Development (Hong Kong), the information technology unit of red-chip Beijing Enterprises Holdings, plans to sell its software business to Xteam Software International for HK$424.27 million in exchange for Xteam's controlling stake.
May 20, 2004

Hong Kong: Construction workers add supporting ropes to one of the three towers erected on Cheung Chau ahead of the annual Bun Festival next week.
Currency traders noted large capital inflows to Hong Kong yesterday, which boosted the local dollar and gave legs to a convincing stock-market rebound.
PCCW shares climbed 5.1 per cent yesterday on hopes that China Network Communications Group Corp (China Netcom) will soon take a stake in Hong Kong's dominant fixed-line carrier, despite the lack of details on a deal which could potentially reshape the city's telecommunications landscape.
No one knows who does it and no one takes responsibility but anonymous political pressure is casting a growing pall over free expression in Hong Kong. Yesterday it led veteran politician and commentator Allen Lee to put down his radio microphone and decide to give up his seat in the National People's Congress, the third radio host to quit the airwaves in recent days.
Hong Kong stocks leapt back to life yesterday as some regional uncertainties cleared and institutional investors stepped in to pick up bargains. Stocks strengthened across the board as signs emerged that funds were buying aggressively and mainland officials cleared the air about an interest rate rise, while the Hong Kong dollar also strengthened.
China Travel Service (Holdings) Hong Kong, a unit of the mainland's official travel agency, is seeking a HK$1.25 billion loan from HSBC Holdings and three other banks to refinance debt, bankers close to the deal said.
China: Interest rates do not need to be raised at the moment because there is not enough evidence the economy is racing out of control, the central bank chief says.
China Telecom Corp placed 5.85 billion shares yesterday to raise $13.43 billion, pouncing on the opportunity provided by this week's market rebound.
China will double the ownership cap for a single investor in mainland insurers to 20 per cent from June 15, in an attempt to attract more private investment capital into the sector.
State control, falling profitability at some Chinese cellular operators and the cost of investing in carriers such as China Mobile - the world's third-largest operator by market value - detered buyers, investors and company officials said. Two years after China eased investment rules, Vodafone is still the biggest of any overseas operator.
China will open wider its agricultural sector to the outside world in a bid to develop agriculture and the rural economy.
China's GDP rank dropped from No.6 to No.7 whilst GDP per capita jumped one place from No.111 to No. 110.
A mainland survey has revealed that nine out of 10 employees are unhappy with their jobs. Almost half of the respondents said they were dissatisfied because they felt they were underpaid. A similar number were unhappy with their bosses and the way their companies operated.
China should become the focal point of an East Asian free trade zone to rival other blocks such as the European Union and the North American Free Trade Area (Nafta), a leading academic claims.
May 19, 2004
Hong Kong: The ICAC has been urged to look into the Harbor Fest fiasco a day after the release of a report criticizing the organization of the event.

The glowing logo of the Logistics Hong Kong conference illuminates the faces of Financial Secretary Henry Tang Ying-yen (left) and Minister of Communications Zhang Chunxian at yesterday's opening. The event focuses on Hong Kong's regional role as a hub for logistics and cargo handling. The city may pay up to $800,000 for the event.
Hong Kong's unemployment rate fell to a 17-month low last month, as booming tourism and improved consumer spending helped spur job creation.
The cash-strapped Housing Authority will be paid more than $2 billion by the government to turn about 4,000 unsold Home Ownership Scheme (HOS) flats into staff quarters for the disciplined services, sources close to the deal said yesterday.
Another Hong Kong energy company has signed a development deal with Anhui, the mainland's powerhouse province. The 245 million yuan (HK$230.9 million) deal signed yesterday by Hong Kong China Gas Company (Towngas) closely follows a 10.8 billion yuan joint venture by CLP Holdings to develop a power plant in Anhui.
Hong Kong and the Pearl River Delta have a major symbiotic role as the mainland authorities continue to help the SAR develop its logistics and infrastructure links with China, a senior mainland official said yesterday.
The government may propose to legislators selling its HK$20 billion bonds in one batch in an attempt to beat an expected interest rate hike, bankers say. The Legislative Council will meet today to vet the proposal to enable the administration to make its offer by mid-July as planned.
A top official of the Hong Kong Monetary Authority (HKMA) is pleading for the Basel-based Bank of International Settlements, which sets global banking standards, to weaken Europe's grip and admit the SAR to membership of its key implementation committee.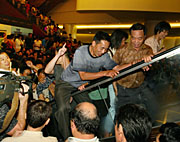 China: Macau's gaming industry entered a new era yesterday amid chaotic scenes. Scuffles broke out as more than 15,000 people jammed into the Sands casino, the first challenger to Stanley Ho Hung-sun's gambling empire. Two years after the Macau government took away its most coveted monopoly from its most powerful businessman, Stanley Ho Hung-sun, the former Portuguese colony's morose gaming culture got its first taste of Las Vegas glitz. And judging from the maddening crush of gamblers at yesterday's opening of the Sands, they appear to like it. Macau gaming mogul Stanley Ho Hung-sun said yesterday he was looking forward to competing with his new rival and hoped to learn from him and improve the quality of his own casinos.
PCCW is in talks with China Network Communications Group to form a strategic partnership that may result in the mainland's No2 fixed-line player becoming a shareholder in its core telecommunications network.
Investment in factories, buildings and other fixed assets slowed last month, suggesting a government clampdown on industrial expansion is starting to work.

Workers at the Dongfeng-Honda joint-venture plant in Wuhan. The mainland carmaker is on an expansion drive and aims to raise funds through a listing in Hong Kong. Dongfeng Motor, the mainland's third-largest carmaker, hopes to include four joint ventures with foreign rivals in its proposed listing in Hong Kong, according to president Miao Wei.
German conglomerate Siemens has announced a major expansion of its wide-ranging mainland operations, planning investments worth €1 billion (HK$9.37 billion).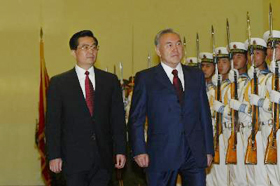 President Hu Jintao (L) and the visiting Kazakh President Nursultan Abishevich Nazarbayev review the guard of honor of the People's Liberation Army (PLA) three services in Beijing, May 17.
Lee Hsien Loong, Deputy Prime Minister of Singapore has recently accepted the special interview of the People's Daily reporter during his visit in China.
Global brewer SABMiller has extended its grip on China's northeast brewing market by acquiring two more breweries in Anhui province via its joint-venture vehicle, China Resources Breweries.
Panva Gas Holdings, which distributes natural gas in China, is to invest 120 million yuan (HK$113.12 million) in a joint venture with the Benxi city government in Liaoning province to run gas pipeline networks.
May 18, 2004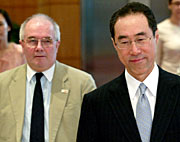 Hong Kong: Mike Rowse - director-general of InvestHK, who oversaw Harbor Fest - and Financial Secretary Henry Tang prepare to meet the press. Mr Rowse was attacked for failing to properly monitor the event.
The outlook for Hong Kong's long-term debt has been raised to stable from negative by Fitch Ratings on the back of improved prospects for growth and hopes that five years of falling prices in the city could soon end.
Hong Kong's cash-strapped government is considering adopting its public-private participation (PPP) scheme for the proposed development of a recycling park in Tuen Mun.
Lingering concerns over a looming United States interest-rate rise, the mainland's slowing economy and a potential energy crisis sparked by Middle East security fears prompted a flood of capital out of regional equity markets yesterday. Ignoring the real-world issues of China's inflationary economy, the Middle East crisis and US interest-rate prospects, the diviners of technical market trends reckon this correction could be far from over.
A private investment firm owned by the family of Li Ka-shing will take a stake in Hong Kong's third passenger airline, CR Airways, by the end of the month, according to a source close to the deal yesterday.
``Superman'' Li Ka-shing is about to leap into the movie-making business in a single bound by taking a 17 per cent shareholding in Asia's premier film studio, Golden Harvest Entertainment.
Container throughput at Kwai Chung port climbed 1.5 per cent last month to 1.04 million TEUs (20-foot equivalent units) compared with a year earlier, according to the Port Development Council.
MTR Corp is seeking more railway projects in top cities in the mainland, trying to tap one of the world's fastest-expanding economies for its own profit growth, chief executive officer Chow Chung-kong said.
China: The mainland's economy is at a crucial stage as the government tries to slow growth without going too far and causing a crash, Deputy Finance Minister Li Yong says. Outdated methods of compiling economic data have hampered Beijing's efforts to get a true picture of the economy, a regional economist says.
Beijing has fired the founder and chairman of one of the mainland's biggest pharmaceutical firms Sanjiu, in what could be seen as a warning to state company chiefs to obey orders and keep within budget as the government moves to cool the fast-growing economy.
Beijing's campaign to cool the overheating economy will not delay the listing of the country's four top state-owned commercial banks, a China Banking Regulatory Commission (CBRC) official said.
In striking contrast to the rest of the country, Guangdong earned a US$2.6 billion (HK$20.28 billion) foreign trade surplus in the first four months of this year against a national trade deficit of US$10.76 billion.
Xian Haitian Antenna Technologies, which makes base station antennas, says it is shielded from the mainland's recent round of austerity measures by being a high-tech business and its location in the west of the country, an area which benefits from preferential development policies.
China, the world's largest steel user, may scrap anti-dumping tariffs on cold-rolled steel to help reduce raw material prices, a move that may increase competition for domestic producers.
Sichuan Changhong Electric, Konka and other mainland television makers said they plan to appeal against a decision by the United States to impose import duties of as much as 78 per cent on their goods.

China claimed the Thomas Cup title early Monday by beating Denmark 3-1 in the badminton team championship final.
The 57th World Health Assembly's (WHA) General Committee decided on Monday in Geneva not to include in the agenda a proposal on inviting Taiwan to participate in WHA as an observer.
May 17, 2004
Hong Kong: Prices on the mainland rose at their fastest rate in seven years last month, adding fuel to speculation that interest rates will rise and sending the Hang Seng Index plunging below 11,300, to its lowest point in seven months.
A year before the handover, Albert Chow moved to the mainland and opened a factory producing plastic goods. He has never looked back.

Storm clouds shroud Victoria Harbour yesterday during an amber rainstorm that dumped 31.6mm of rain on the city up to midday. The storm was blamed for a power outage at Chek Lap Kok airport, where a sudden dip in voltage, probably triggered by lightning, briefly knocked out the baggage-handling system.
A rare national treasure dating back 3,000 years to the Western Zhou dynasty has returned home thanks to a state-backed company that bought it from a Hong Kong antiques dealer.
Despite an expected rise in United States interest rates and a tightening of economic policy on the mainland, Hongkong & Shanghai Banking Corp chairman David Eldon says he expects a slight property price rise by the end of this year.
Cosco International Holdings is set to acquire the insurance arm of its parent group for a total of US$6.06 million (about HK$47.24 million) to expand its shipping related businesses.
China: Visa applicants queue outside the US embassy in Beijing. A call centre for applications was shut down by mainland authorities after the US began fingerprinting visa applicants. US consular offices on the mainland will soon begin allowing walk-in applications for visas, weeks after Chinese authorities shut down a call centre for booking appointments.
At the end of last year, the first women's beauty pageants in more than half a century were held on the mainland. It was seen as a symbol of changing times.
Guangdong media officials are hindering Television Broadcasts in talks over potentially lucrative provincial landing rights, in an attempt to delay Hong Kong's dominant broadcaster from collecting advertising revenues generated from its current programming.
China Shipping Development (CSD) has cancelled part of a controversial 15-vessel leasing deal with its parent after the transaction came under close scrutiny.
The mainland government's drive to cool the economy has killed off a speculators' circus - planeloads of buyers from the Zhejiang provincial city of Wenzhou that scoured the country buying property.
Shanda Interactive Entertainment has slashed the size of its initial public offering by 49 per cent, reflecting tough market conditions and concerns about slower growth in the mainland economy.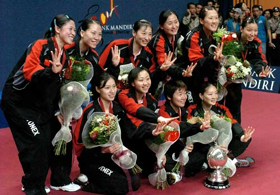 Chinese women's badminton team members pose for photographs during the awarding ceremony for the final match of the world team badminton championship Uber Cup in Jakarta, May 15. China beat the team of the ROK 3-1 and won a 12th Uber Cup.
The strategy of revitalizing northeastern China's traditional industrial base should be be implemented in line with a scientific concept of development, said President Hu during his recent tour to Jilin province.
A US trade panel gave final approval May 14 to steep anti-dumping duties on over $276m worth of China's color televisions.
May 14 - 16, 2004
Hong Kong: The number of Hong Kong residents - who have moved or intend to move to live in China - doubled in 2003, a government survey found on Friday.
Chief Secretary Donald Tsang Yam-kuen on Thursday said bilateral trade between Hong Kong and Sweden grew 12.7 per cent in 2003.
Mainland wireless equipment giant Huawei is to provide Sunday Communications with a HK$859 million, 7.5-year term loan to help finance the roll-out of its third-generation (3G) mobile service.
A team of leading mainland legal experts will meet Hong Kong scholars on Sunday to gauge their views on constitutional reform.

Residential sales have plunged to levels not seen since during last year's Sars epidemic, as troubling economic signals and sky-high prices prompt home-seekers to hold off on purchases. Cheung Kong deputy chairman Victor Li Tzar-kuoi (centre) says buyers will return when prices drop to more moderate levels.
Hong Kong's securities watchdog has, for the first time, accepted a monetary settlement from a senior derivatives broker in lieu of disciplinary action, prompting calls from other finance sector professionals for equal treatment.
Hong Kong's economy will grow 5.7 per cent this year on the back of the export and tourism boom, National Australia Bank (NAB) predicts. However, growth may slow to 4.7 per cent next year as the central government takes steps to cool the overheating mainland economy, it said.
China: Thirty years ago, George H W Bush was America's representative in Beijing just as revolutionary China was taking its first, tentative steps towards opening up to the outside world. The future American president used his time in Beijing to good advantage, building a network of personal contacts at the highest levels of the communist party that served him well as president and, later, as a frequent and honoured guest of the Chinese leadership.
Industrial production on the mainland rose by 19.1 per cent last month, an outcome likely to bolster calls for a new round of austerity measures to cool torrid economic growth.
A crackdown on credit has been ordered for all poor-quality and redundant projects as part of efforts to cool the mainland's soaring economy.
Premier Wen Jiabao returned to Beijing yesterday after an 11-day European tour, with officials and analysts generally upbeat on his performance.
Shanda Interactive Entertainment has slashed the size of its initial public offering by 49 per cent, reflecting tough market conditions and concerns about slower growth in the mainland economy.
China's largest beverage maker is going where no other Chinese firm has gone before - it has shipped the first retail batch of its own cola to the home of the carbonated soft drink, the United States.
China's trade deficit widened sharply in April, to US$2.26 billion (HK$17.63 billion) from US$540 million in March as increased imports and higher commodity and oil costs drove up import costs and gave Beijing some running room against arguments to revalue the yuan.
DHL Express, an offshoot of Deutsche Post World Net, has launched its China Domestic courier service for parcel shipments on the mainland.
CLP Holdings is set to sign a joint venture deal worth up to 10.8 billion yuan (HK$10.18 billion) to develop coal and electricity in what is rapidly becoming a mainland powerhouse - Anhui province.
May 13, 2004
Hong Kong: Beijing's liaison office in Hong Kong has for the first time sent a report to the central authorities on the demands of the 7,000 mainland-born children of Hong Kong parents who were denied right of abode following the NPC's 2001 Basic Law interpretation.

The stars came out to play at last night's opening of the Cannes Film Festival in the south of France. But the main players from Hong Kong were locked away in an editing suite in Thailand, racing to get their film ready for screening next week. President and jury members at the Cannes festival: Peter von Bagh (Finland), Benoit Poelvoorde (Belgium), US star Kathleen Turner, president and US director Quentin Tarantino , UK actress Tilda Swinton, French star Emmanuelle Beart, Tsui Hark of Hong Kong and Jerry Schatzberg (US).

Cathay Pacific Airways chief executive David Turnbull (left), chairman James Hughes-Hallett and chief operating officer Philip Chen Nan-lok face questions from the media after the carrier's annual general meeting yesterday. Mr Hughes-Hallett said a fuel surcharge was "under active review" in light of rapidly rising costs.
Morgan Stanley Capital International (MSCI) will add 60 companies, including 12 Hong Kong-listed stocks, to its Asian index series later this month in a reflection of the strong performance of regional markets last year and the shift in focus towards energy and materials.
Li Ka-shing has pulled a rabbit out of the hat with the sale of Hutchison Whampoa's remaining 20 per cent stake in a mainland consumer-goods joint venture to partner Procter & Gamble (P&G).
Mainland mobile phone giant China Unicom is urging the Hong Kong government to speed up the controversial auction of its CDMA network licence, saying the current infrastructure, run by Hutchison Whampoa, is too old.
Unsettled markets and concerns about rising interest rates are upsetting plans for three mainland companies - Ping An Insurance Group, China Shipping Container Lines and CSMC Technologies - to raise money in the capital markets.
China: The central government will buy bonds issued by Hong Kong, Premier Wen Jiabao said yesterday.
Premier Wen Jiabao will review how the mainland economy performed in April before deciding his next move to rein in growth.
The Bush administration is backing China's membership of an influential group that controls nuclear exports despite Beijing's insistence on providing atomic reactors to Pakistan, a country with a troubling nuclear record.
A crackdown has been launched against mainland officials who illegally detain or torture people, in a move that acknowledges many civil servants are abusing their powers.
President Hu has called for joint efforts by the CPC and the whole people to well educate juveniles on ideology and ethics.
China's Big Four state-owned commercial banks have started to centralize loan approvals in Beijing for the steel, cement, aluminium and real estate sectors as part of the increasingly stern campaign to cool the mainland's economy.
The cry of the over-enthusiastic shopper - ``Pay it with plastic'' - could be silenced in Shenzhen because of a dispute between retailers and China's biggest debit-card issuer UnionPay over handling charges for credit and debit card transactions.
May 12, 2004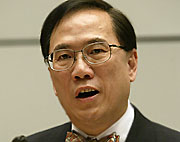 Hong Kong: Chief Secretary Donald Tsang outlines details of the public consultation over electoral change yesterday. The areas of change allowed in Hong Kong's constitutional reform were unveiled yesterday. But the government warned that it would be futile to fight for proposals outside those covered in Beijing's decision on the city's pace of democratic development. Premier Wen Jiabao has appealed for Hong Kong people to understand the good intentions behind the central government's recent interpretation of the Basic Law.
Sun Hung Kai Properties is requiring buyers of its newest residential project in To Kwa Wan to pay for entire floors rather than individual flats, emphasizing leading developers' market power at a time when investors are scrambling to secure access to high-quality properties.
It will be world's longest cable-stayed bridge - for a while anyway. The government has decided it will spend HK$2.76 billion to build the cable-suspended bridge to ease traffic flow on the Tsing Kwai highway.
Billionaire Li Ka-shing's conglomerate Hutchison Whampoa is selling its entire stake in a mainland venture with Proctor & Gamble, making an exceptional gain of HK$13.7 billion.
A continued capital flight from Hong Kong saw the local dollar testing its 7.8 peg to the US dollar for a second day yesterday - spurring the Hong Kong Monetary Authority (HKMA) to support the currency with purchases totalling HK$4.602 billion.
China: Guangdong officials have been ordered to rein in "excessive investment" by Governor Huang Huahua in an attempt to prevent inflation. An "appropriately tight" monetary policy will be adopted by the mainland's central bank amid growing speculation that it may raise interest rates to avoid a hard economic landing. Mainland banks have stopped extending discounted lending rates to their best customers amid tighter money-market liquidity and expectations of a rise in interest rates, effectively raising capital costs for many Chinese companies.

Ratings agency Standard & Poor's says the overall credit quality of companies in the Greater China region improved over the past half year with the economy.
May 11, 2004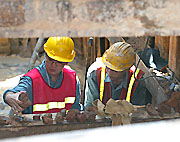 Hong Kong: Workers at a construction site examine some of what archaeologists believe are pieces of a Tang dynasty kiln at the junction of Tung Choi Street and Soy Street in Mongkok. Some experts say the kiln produced building materials, while others argue it may have been used to make ceramics.

Hong Kong Committee for Unicef chairman Robert Fung Hing-piu (left) and Anson Chan present Jackie Chan a souvenir of his work.
Hong Kong should build direct contacts with individual cities in the western Pearl River Delta instead of going through Guangdong authorities, a government think-tank study has found. Hong Kong industrialists are lobbying state leaders to create a "super industrial park" in the Pearl River Delta region.
Hewlett-Packard, powered by an aggressive marketing campaign, has moved ahead of perennial market leader Lenovo in total Asian personal computer sales in the first quarter.
International action hero Jackie Chan on Monday pledged to help child victims of landmines and Aids following his visit to Cambodia.
A community ''cleanliness index'' would be introduced to improve environmental hygiene in 18 districts in Hong Kong, local media reported on Monday.
Workers repairing drainage pipes beneath a busy Hong Kong street stumbled upon a stash of traditional Chinese pots dating back over a thousand years, officials and local media said Monday.
Thousands of Filipino workers in Hong Kong are exercising their first-ever right to vote, casting their last-minute ballots in the country's presidential elections on Monday.
Computer sales in the Asia-Pacific region, excluding Japan, totalled 8.09 million in the March quarter, up 16 per cent on the year on the back of stronger consumer confidence, an industry report said on Monday.
Hong Kong should start planning to avoid having the same problems Japan has with its aging population. Based on the current population trend, there will be approximately five million senior citizens in Hong Kong by the year 2031. They will account for 58 per cent of the population. Early planning is necessary as Hong Kong's elderly are already facing problems due to the city's lateness in implementing its MPF scheme.
The Avenue of Stars in Tsim Sha Tsui has been hugely popular with foreign tourists since its opening in late April. However, its continuing popularity will depend on how well the film industry performs in the future. Although the industry has been doing better in recent years, it has gone through a difficult decade since its peak in the 1990s.

China: Premier Wen Jiabao shakes hands with British Prime Minister Tony Blair as Major-General Sebastian Roberts looks on ahead of a Guard of Honor inspection in London. Premier Wen Jiabao and British Prime Minister Tony Blair yesterday agreed to maintain "stability, prosperity and a high degree of autonomy" for Hong Kong.
Merrill Lynch has become the first foreign institution to win a licence to invest in mainland A shares this year, despite official misgivings over the qualified foreign institutional investor (QFII) scheme.

Mainland chip foundry CSMC Technologies may seek to raise additional funds after its Hong Kong initial public offering - a task that could prove difficult amid poor sentiment as investors fret over efforts to rein in China's galloping economy.
China's Sars epidemic last year paid off in at least one way: it jolted many Chinese entrepreneurs to the value of charity. They are digging deep into their pockets, with the 15 most generous donating$155 million to non-profit groups last year.
Premier Wen Jiabao visits London today and tomorrow. Discussions will focus on investments from Britain and the Hongkong issue - where Beijing has blocked plans for full direct elections. Mr Wen heads for Dublin tomorrow before returning to Beijing.
Local Chinese authorities would be required to suspend projects that might raise consumer prices under new controls meant to prevent a jump in inflation amid surging economic growth. China reported inflation at a modest 2.8 per cent in the first three months of this year. But officials worry that surging economic growth could ignite inflation. The economy grew an annual rate of 9.7 per cent in the first quarter, well above the government target of 7 per cent for this year.
May 10, 2004

Hong Kong: Hong Kong Hospital Authority chief executive William Ho Shiu-wei addresses the Hong Kong Sars Forum at the Convention and Exhibition Centre yesterday. The cash-strapped Hospital Authority may "export" medical workers and professional staff to work on the mainland to generate income to ease its financial hardship, according to its chief. The Hospital Authority will carry out a drug trial on future Sars patients in an effort to identify the best treatments for the killer disease.

United Overseas Bank is in the midst of a corporate battle for the control of its listed property unit, United Overseas Land.
Dalian Port Group has confirmed it is seeking to float on the Hong Kong stock exchange after industry and banking sources said the company's A-share listing plan had been rejected by the China Securities Regulatory Commission (CSRC).
Amid cheery calls of ``Happy Mother's Day'', thousands of local Filipino domestic helpers and other workers exercised their right to vote in Hong Kong yesterday, voting in the first Philippine election to allow absentee balloting by overseas citizens.
Mounting losses for Hutchison Whampoa's cash-hungry 3G operations may mean that tycoon Li Ka- shing's multibillion-dollar bet will not make a positive return on investment in the next decade and Hutch may even be forced to walk away from 3G by 2006, according to analysts.
Hong Kong's publishing players are tapping the print media advertising boom on the mainland in an effort to explore fresh sources of income, but they still have a long way to go in the highly fragmented market.
An estimated 350,000 mainland tourists spent last week's Labor Day holidays in Hong Kong, sending the city's average hotel occupancy rates to 80-90 per cent, a year-on-year increase of 5 per cent.

Walt Disney icons Mickey Mouse and Winnie the Pooh look cosy but a royalties battle and a judge's ruling have soured the relationship.
The government stands to gain $1.8 billion this year from the sale of Cyberport residential projects developed by PCCW.

The Great Moscow Circus shows off its rare white Siberian tiger, Serina, at its new temporary home in Victoria Park. The circus will perform there for two weeks before moving to Kwai Chung Sports Ground on May 27 to round off its tour in Hong Kong.
A Singaporean and a Malaysian were arrested and $4.56 million worth of suspected Ecstasy was seized in a crackdown on what authorities said was an international drug ring that used Hong Kong as a transit hub.
Action superstar Jackie Chan has successful bought a land plot next to his Kowloon Tong office for more than $100 million. He said he would be adding his wife's name, Joan Lin, to the deed in appreciation for the love and care she has given to their son Jackson.
Karina Lau Ka-ling was recently rewarded with a new 7-figure contract by a beauty company after having been its spokesperson for years. She is now reportedly the most expensive figure-trimming model in Hong Kong.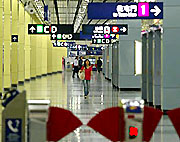 The Nam Cheong interchange with the MTR is deserted at 7:30pm during last night's rush hour - examplifying West Rail's problems. Kowloon-Canton Railway Corporation (KCRC) has warned that its 2004 pre-tax profit may slump by 78 per cent, as the worse-than-expected West Rail passenger traffic and stiff competition from cross-border coaches takes a toll on its bottom line.
Hong Kong's official foreign currency reserves fell by US$1.7 billion (HK$13.26 billion) to US$122.1 billion at the end of last month, according to data released yesterday by the Hong Kong Monetary Authority (HKMA).

China: Premier Wen Jiabao is greeted by an unidentified woman as he arrives at Heathrow airport, London, for an official visit to Britain. Premier Wen Jiabao started his British tour yesterday with a promise to bring about "greater development" in Sino-British relations.
Pesticides and industrial chemicals have been found in preserved vegetables made by factories in Sichuan province, a CCTV report says.
Harbin Brewery Group executives have further outlined their argument for rejecting a takeover bid by SABMiller in favour of further co-operation with Anheuser-Busch, as the unprecedented struggle for control of a major mainland company enters its second week.
Taiwan will allow shippers including Evergreen Marine Corp, Taiwan's largest shipping company, and AP Moeller-Maersk to sail directly between the island and the mainland, carrying goods traded between China and third countries.
American International Group (AIG) has become the first foreign insurer to receive approval to sell kidnapping insurance on the mainland.
China Telecom, the mainland's biggest fixed-line operator, may price its planned placement of 8.318 billion H shares today but will have to accept one at the bottom of its range, sources close to the deal said.
A district in Guangzhou has launched a "Small Eyes Watch Big Eyes" campaign, asking children to turn in their parents if they are involved in corruption.
Chen Jianmin, a doctor of traditional Chinese medicine from Sichuan, yesterday ended a seven-week fast - after bettering American magician David Blaine's 44 days without food.
Datang International Power Generation - the second-largest Hong Kong-listed electricity generator in China - plans to raise up to six billion yuan (HK$5.66 billion) by issuing one billion A shares to finance construction of 10 power plants.
May 7 - 9, 2004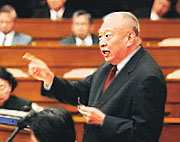 Hong Kong: Tung Chee-hwa addresses Legco yesterday. Hong Kong must work hard to improve relations with the central government, says the chief executive.

Tonnes of boulders are delivered to replenish those that were allegedly illegally removed from the Tung Chung River, sparking an outcry from green groups.
The Telecommunications Authority (TA) has asked the industry's appeal board to withhold ruling on a number of PCCW appeals, saying the fixed-line giant is trying to sidestep the regulator's power in determining whether to revoke the operator's dominant status.
Hong Kong Dragon Airlines (Dragonair) has bought five Boeing 747-400 special freighters from Singapore Airlines in a deal thought to be worth about US$250 million (HK$1.95 billion).

Two Keka-class police boats are launched in Joss House Bay yesterday at a ceremony attended by Police Commissioner Dick Lee Ming-kwai. The vessels, which cost $47 million each, have a top speed of 27 knots and are the fastest in the marine police's fleet of 140 vessels.
Customers may have to pay up to $14 a year on each $10,000 deposited, up to $100,000, to ensure they get their money back in the case of bank failure.

China: Premier Wen Jiabao is greeted at Brussels airport yesterday. He will hold two days of meetings with European Union officials. Trade disputes ranging from product piracy to rules blocking European companies from winning construction contracts for the 2008 Olympics in Beijing dominated the agenda as Chinese Premier Wen Jiabao began the second leg of his European tour.
Premier Wen Jiabao said yesterday that Beijing would only float the yuan under favorable macro-economic conditions and with the support of a prudent banking system.
The new Sands Casino in Macau, which is expected to open this month, will be a Las Vegas-style gambling palace with Chinese characteristics, its American designer said yesterday.

Wen Jiabao visits the Leuven microelectronics research centre in Belgium as part of his highly successful European tour. Beijing and the European Union have agreed to enhance co-operation in trade, world affairs and the exchange of technology in what was described as "serious engagement" between the two sides by European Commission President Romano Prodi.
The world will feel the pinch from a slowing mainland economy even if the government is able to engineer a soft landing in the coming year, according to reports by Morgan Stanley.
The mainland is likely to see a soft landing as it tries to slow economic growth, a senior Standard Chartered Bank economist said yesterday.
Beijing may have pledged to take forceful action to cool the economy, but the world's second-largest iron ore producer, Rio Tinto, has seen no let-up in demand from the mainland.
Internet search giant Google is likely to establish a mainland presence after completing its US$2.71 billion initial public offering, in an effort to convert its popularity in China into advertising revenue.
May 6, 2004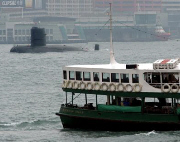 Hong Kong: A Chinese People's Liberation Army (PLA) submarine sails past a Star ferry in Victoria Harbour on Wednesday. Eight Chinese warships eased through Hong Kong's Victoria Harbor on Wednesday as the naval fleet concluded a five-day visit - Beijing's biggest show of force since it took over the former British colony in 1997.

Lord Foster's vision of the West Kowloon cultural hub. Competition for the tender will be fierce as Hong Kong's major developers vie for control. Henderson Land Development is poised to cross swords with two of the biggest developers in Hong Kong after deciding to bid for the controversial West Kowloon cultural hub.
Philip Chen Nan-lok will become the first Chinese chief executive of Cathay Pacific Airways at the end of the year, in the latest management reshuffle at Hong Kong's No1 carrier and its parent John Swire & Sons (Hong Kong).
Standard Chartered Bank has turned to a Macau courtroom in its quest to write the final chapter for Zhu Kuan Group, the window company of the Zhuhai Municipal Government and parent company of Zhu Kuan (Hong Kong) which fell into a river of red ink five years ago.
Financial Secretary Henry Tang yesterday said he was disappointed by Standard & Poor's decision to maintain a negative outlook on Hong Kong's currency rating.
China: New casinos are cropping up, the economy is booming in double-digits and Macau is about to find out if it made a smart bet by opening the doors to Las Vegas-style casinos ready to give long-time gaming tycoon Stanley Ho Hung-sun a run for his money.
A joint declaration to enhance co-operation on a broad range of economic and political issues has been adopted by Premier Wen Jiabao and German Chancellor Gerhard Schroeder.

The mainland brewery at the centre of an unprecedented tug-of-war between SABMiller and Anheuser-Busch has lashed out at an uninvited takeover bid, further escalating an already heated conflict between the world's two largest beer producers.
Siemens has agreed to form a venture with Chinese manufacturer Ningbo Bird to develop and market mobile phones. The German handset-maker, the world's fourth-largest, will sell its phones through Ningbo Bird's 30,000-shop dealer network in China.

Beijing is unlikely to raise interest rates immediately after the Labour Day ``golden week'' holiday although rate rises are inevitable in helping to cool down the economy, an economist said yesterday.
May 5, 2004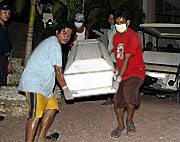 Hong Kong: Three prominent Hong Kong residents - Swiss-born gallery owner Manfred Schoeni, German property developer Anton Faustenhauser, and architect John Cowperthwaite, son of former Hong Kong financial secretary Sir John Cowperthwaite - have been found hacked to death in a luxury villa on the Philippine resort island of Boracay. The bodies of the victims, found in separate rooms, are removed from the house.
All retail investors who submitted valid applications for the Hong Kong government's first securitised bond issue will receive at least one bond each - even though applications far exceeded the amount on offer, government officials said yesterday.

Sun Tse-ping, grandson of Sun Yat-sen, attends the exhibition's opening yesterday. He said he barely talked to or seldom saw his grandfather.
Chief Secretary Donald Tsang Yam-kuen told legislators yesterday he did not know Beijing would rule out universal suffrage when he was appointed to head the government taskforce on constitutional reform in January.
Li Ka-shing may sell his stake in online travel agency Priceline.com in a transaction that could raise US$250 million to fund his third-generation (3G) mobile-phone businesses.
The Securities and Futures Commission (SFC) is investigating unusual trading activities amounting to HK$26.26 billion surrounding share placements by listed companies or their controlling shareholders.
The government has suspended new applications for its HK$5 billion Innovation and Technology Fund (ITF) until a review of the focus areas is completed, Innovation and Technology Commissioner Anthony Wong said.
Singapore low-cost airline ValuAir has received the green light from Hong Kong's Civil Aviation Department to start flying between the two cities, making it the first budget carrier with flights to the SAR.
China: The central government will appoint a vice-premier to co-ordinate efforts to curb intellectual property rights (IPR) infringements, according to Premier Wen Jiabao.

Visitors to the Summer Palace, formerly the second home of the Chinese Imperial family, enjoy a quiet corner away from the bustling crowds yesterday. An estimated 91 million tourists are on the move within the mainland this week as the May Day holiday continues.
A joint declaration to enhance co-operation on a broad range of economic and political issues has been adopted by Premier Wen Jiabao and German Chancellor Gerhard Schroeder.
A preliminary deadline has passed for corruption charges to be filed against former Southern Metropolis Daily editor-in-chief Cheng Yizhong as reports emerge that Guangdong party elders have intervened on his behalf, his lawyer and other sources say.
Kerry Properties and Shangri-La Asia will invest up to HK$4.68 billion in a landmark commercial complex in central Shanghai, the two companies said.
Shenzhen will continue to breathe down Shanghai's neck for third position in the world's top 10 container ports, according to latest figures yesterday.
China, which has accumulated more than US$400 billion (HK$3.12 trillion) in foreign exchange reserves, may be partly spared from tumbling yields on United States treasuries in its portfolio, according to Bank of China (Hong Kong) in its latest monthly economic review.
May 4, 2004
Hong Kong: The $16.8 billion made by the government Exchange Fund in the first three months of the year has been wiped out, putting pressure on public coffers and efforts to tackle the budget deficit.
Rising property prices in the past few months have helped more than 40 per cent of homeowners in negative equity out of the hole, latest figures show.
The government's 2003-04 tax revenue was 14 per cent higher than for the previous year, in a sign of Hong Kong's continuing economic recovery.
A public alert was raised yesterday by Hong Kong's main computer security watchdog after it received more than 300 reports of infection by the "W32.Sasser" worm, which spreads through a computer connected to the internet - without the use of e-mail.

New World Development faces a public censure by the stock exchange for leaking a profit warning after a judge threw out the company's challenge to the listing regulator's investigative powers.
Some local retail stocks and travel-related mainland plays were bought up yesterday as investors anticipated the flood of mainlanders hitting the road for the May Day holiday - many with Hong Kong as their destination - would translate into higher company earnings.

Sun Hung Kai Financial Group (SHK) is targeting retail investors with a new fixed-income product, hoping to cash in on the enthusiasm for the government's first securitized bond issue last month.
Some of Hong Kong's most highly qualified workers are still not making full use of their computers, despite the government's efforts to encourage the use of information technology.
A grim-faced Joseph Yam, chief executive of the Hong Kong Monetary Authority admitted before some of his toughest critics in the Legislative Council yesterday that ``volatile market conditions'' last month contributed to the Exchange Fund making a multibillion-dollar investment loss.

China: Two months after announcing an ambitious overseas expansion plan, the mainland's Kingdee International Software Group may find the strategy has as many weaknesses as strengths. Kingdee chairman and chief executive Robert Xu says the company is on track to meet its key expansion targets.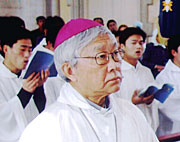 Bishop Joseph Zen says Mass at the Sheshan Basilica in Shanghai during his trip. The outspoken cleric is invited back to his native city by mainland officials.

Only a few years ago, China's gateway to North Korea was an old garrison post with 750,000 people having little to look forward to from the border city they call home. Traffic backs up in the bustling border city of Dandong, opposite the proposed North Korean special administrative region of Sinuiju.
Carmaker DaimlerChrysler says it has received an important approval from the mainland government for its plans to build Mercedes C and E-class cars at a new factory in Beijing with Chinese partner Beijing Automotive Industry Holding.
Despite six months of increasingly loud warnings from Beijing to local officials to slow down fixed-asset investment, at least 19,000 new projects by governments at all levels got under way in the first quarter.
China Shipping Container Lines (CSCL), which is seeking to raise up to US$2 billion (HK$15.6 billion) in an initial public offering in Hong Kong next month, will probably double its net profit to 3.3 billion yuan (HK$3.11 billion) this year, according to its sponsors.
May 3, 2004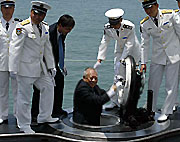 Hong Kong: Chief Executive Tung Chee-hwa inspects a submarine during the welcoming ceremony for the visiting PLA navy taskforce. The navy's big guns sailed into Hong Kong yesterday for a six-day port call in the biggest show of military might sinc e the handover. A People's Liberation Army naval taskforce of two guided-missile destroyers, four frigates and two submarines docked in Ngong Shuen Chau Naval Base yesterday morning.

Former chief secretary Anson Chan Fang On-sang arrives at a Cyberport cinema last night to attend the charity showing of My Fair Lady. Mrs Chan entered the political reform debate this week, warning that Beijing had undermined confidence in Hong Kong's autonomy by ruling out universal suffrage.
Hong Kong will hold its first international conference of sex workers, trade unions, activists, academics and lawmakers tomorrow to discuss legal constraints and possibilities for protecting the rights of sex workers.
A period of unusually low Hong Kong interest rates could be coming to an end if adjustments in the local money market are anything to go by.
New World Development has sold a detached house at its Island South project for HK$23,000 per square foot, a new benchmark for luxury prices since the 1997 property crash.
Legislative Council president Rita Fan yesterday rejected a request by Martin Lee of the Democratic Party to move a motion of amendment seeking to condemn the decision by the National People's Congress (NPC) Standing Committee to rule out universal suffrage in 2007-2008.
China: Shanghai Mayor Han Zheng yesterday vowed to rein in the city's surging property prices, which rose more than 20 per cent last year to become the highest on the mainland.

Travelers join the crush to buy train tickets in Beijing, intent on getting away for the May Day break.
Hong Kong citizens who own residential properties in Shanghai seem unfazed by government measures to cool the sector.
Haining mayor and a chemical company executive have resigned to take responsibility for accidents that happened on their watch.

Guangdong party official Ou Guangyuan (left), Hopewell Highway Infrastructure managing director Thomas Jefferson Wu (centre) and Sir Gordon celebrate the new road. Hopewell Holdings is planning a return to Guangdong's power sector, eight years after it was forced to abandon its investment in the now-thriving market.
Investors have been reluctant to buy the placement shares of Dong Fang Gas Holdings, the property unit of fixed-line carrier PCCW, despite the lure of a hefty discount.
Samsung Electronics aimed to make almost 25 per cent of its output in China this year, tapping the country's lower costs and booming market, a company official said.
China's leaders are spending the long May Day holiday weekend pondering how to use their command economy tools to bring the steaming economy back under control without too much damage to their long-term objectives.
Asian financial markets braced for a credit crunch on the mainland yesterday, sending stock and bond prices sharply lower on fears the region's economic powerhouse was headed for a hard landing.
Premier Wen Jiabao's crackdown on headlong development has claimed its first victims - local and state officials who have been sacked or face censure for funding a massive 10.6 billion-yuan (HK$10 billion) steel plant on illegally acquired land in Changzhou, Jiangsu Province.
CNOOC Ltd, China's biggest offshore oil producer, said revenue rose 3.8 per cent to 7.78 billon yuan (HK$7.33 billion) in the first quarter, as increased production partially offset a drop in realized oil and gas prices.
April 30 - May 2, 2004

Hong Kong: Ghost rider: Tung Chee-hwa attends "Tour of Occult Wonderland", a musical performance staged at the Cultural Centre in Tsim Sha Tsui by China Cultural City, an organization promoting Chinese culture.
Hong Kong's tourism, retail and food sectors are promoting their wares ahead of the arrival of more than 400,000 mainland visitors during the May Day holiday week.
Hong Kong residents can apply for yuan-denomination credit and debit cards from today - the first issued in the city.
PCCW has wasted no time bringing its shares in Dong Fang Gas Holdings to market, announcing a placement immediately after its shareholders approved a reverse-takeover plan yesterday that will transform Dong Fang into a PCCW property subsidiary.
A proposed merger of Hong Kong's two rail operators by initially handpicking profitable assets of the government-owned Kowloon Canton Railway Corp (KCRC) for injection into the listed MTR Corp (MTRC) is unlikely to find much support among shareholders and investors, analysts say.
Bank of China Hong Kong customers traveling to the mainland will be able to withdraw yuan from tens of thousands of automatic teller machines and pay for goods with yuan credit cards at hundreds of thousands of outlets across the country from tomorrow.
Hong Kong is set to benefit from the entry of 10 countries into the European Union (EU) as the average import tariffs to those countries will be cut to 4 per cent from 9 per cent, the Trade Development Council (TDC) said.
China: China's central bank is understood to have decided to raise interest rates after an emergency meeting was held yesterday to discuss measures to curb investment growth.
The World Health Organization (WHO) has identified serious problems with safety practices in mainland laboratories. Health officials, meanwhile, reported two more confirmed cases in the latest Sars outbreak.
Local leaders and business operators were yesterday warned to step up safety awareness with millions of people preparing to hit the road for the week-long May Day holiday.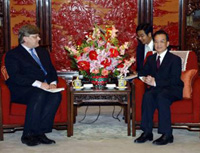 China is taking measures to maintain steady and relatively fast economic growth and prevent major ups and downs in development, Premier Wen said in an interview with Reuters.
April 29, 2004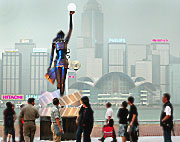 Hong Kong: Locals and tourists wander along the 440-metre Avenue of Stars in Tsim Sha Tsui, which opened to the public yesterday.
Premier Wen Jiabao yesterday pledged that the objective of having Hong Kong elect its chief executive and the legislature by universal suffrage had not changed. Business tycoons in Hong Kong yesterday lashed out at pro-democracy politicians, warning Beijing's tolerance of their demands for universal suffrage in 2007 was wearing thin.

Chief executive Tony Fernandes says AirAsia has chosen Macau to launch daily flights to Bangkok and Kuala Lumpur because the airport's management was hungrier for its business.
The US$3.5 billion initial public offering of China Life Insurance is being investigated by the Securities and Futures Commission, the regulator has announced.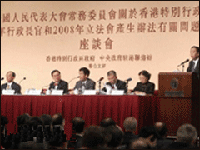 China central authority officials stressed Monday that the decision by the NPC Standing Committee concerning HK's election methods in 2007 and 2008 is of paramount importance in guiding HK's constitutional development.
Hong Kong people will soon be able to fly to Bangkok and Kuala Lumpur for around HK$200 one way - but only if they are prepared to set off from Macau.
The Hong Kong Monetary Authority has agreed with its mainland counterpart to set up a direct link from the HKMA's settlement system for debt securities to help Chinese financial firms hold Hong Kong and foreign debt.
Star Cruises, the world's third-largest cruise line operator, has been assigned junk ratings by Standard & Poor's and Moody's Investors Service as the rating agencies are concerned about its competitiveness.

China: Vice-Premier Huang Ju tells a national employment forum in Beijing that job creation is a top priority of the central government.
The mainland needs "very forceful" measures to cool down its fast-growing economy, but steps taken so far should help avoid economic volatility, Premier Wen Jiabao said yesterday.
The mainland economy will grow 8.3 per cent this year despite government efforts to slow it down, according to the Asian Development Bank.

Mainland internet portal Sina.com will further expand into online gaming and e-commerce operations in anticipation of a slowdown in advertising and mobile-related services.
FM spokesman Kong Quan said Tuesday that a Shanghai company, which provided counseling for US visa information and appointment reservation services, was closed for overcharging.
China Mobile (Hong Kong) is buying the last 10 provincial networks from its parent in a deal worth US$4.119 billion, making it the first overseas-listed Chinese mobile carrier that offers services across the country.
Shanghai Pudong Development Bank, China's second-biggest publicly-traded lender, wants to raise as much as six billion yuan (HK$5.66 million) selling new shares, scrapping plans to sell bonds convertible into its stock.
April 28, 2004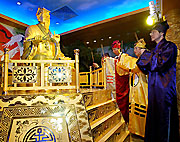 Hong Kong: This $78 million gold statue of Chinese deity Wong Tai Sin is expected to attract 40,000 mainland tourists over the week-long Labour Day break. The 2.3-metre figure is on show at jewellery-maker Hang Fung Gold Technology's 3D-Gold exhibition hall in Hunghom, which opened yesterday. The firm expects to do $100 million in business during the holiday. Hang Fung is the maker of a $38 million gold toilet, which has set a Guinness world record as the most expensive product of its kind.
Hong Kong has lost out to Macau in the tough fight to attract AirAsia as the Kuala Lumpur-based budget airline's first destination in China.
Banks in Hong Kong took in about 5 billion yuan in deposits by the end of March, just a little over a month since they were permitted to conduct personal yuan banking business in the city.
Hong Kong's 12 listed banks will focus on boosting income from conventional lending and keeping a lid on improving bad debt for the remainder of the year, according to KPMG.
Hong Kong's public and private sectors are expected to continue investing in mainframe systems for their high-performance computing needs, despite efforts by Microsoft and its partners to migrate more enterprise users to Windows-based machines.
In a sharp reminder of Hong Kong's serious fiscal deficit, the government has proposed to scrap the Land Fund and transfer the HK$157.8 billion to the general reserve account.
Difficulty in navigating an uncertain regulatory and legal framework in Shanghai is forcing Hang Lung Properties to abandon, at least for the time being, further expansion plans in the city and seek investment opportunities elsewhere in China.
IDS Group said it has become the first Hong Kong distribution company to get approval from the State Ministry of Commerce to set up a wholly owned company in China under the Closer Economic Partnership Arrangement (Cepa).
China: About 1,000 people have been quarantined on the mainland as health officials ramp up efforts to prevent a Sars outbreak from spreading ahead of the busy May Day holiday, WHO staff and Beijing officials said yesterday.
Capital requirements for new projects in four sectors have been raised by the State Council in another attempt to cool the mainland's booming economy, state media reports say.
Global financial giant Citigroup has agreed to buy a non-performing loan (NPL) portfolio with a face value of two billion yuan from China Great Wall Asset Management, in one of the first outright sales of mainland bad bank loans.
TCL International Holdings' mobile phone making arm and Alcatel of France are forming a €100 million (HK$922.78 million) handset joint venture that will give the Chinese manufacturer greater scope to seek new markets.
Beijing-based Bank of China was reported by mainland media at the weekend to be considering plans to privatise and delist its Hong Kong unit in order to include the assets in the global listing of the entire group planned for some time next year.
China's stockpile of steel products mushroomed by more than 40 per cent in the first quarter of this year, adding to worries that the country is facing massive industrial over-production which could lead to factory closures and job losses.
China's first television station run under private management appears to be attracting viewers and advertisers, although the government has no intention of giving up its control of news programming any time soon.
April 27, 2004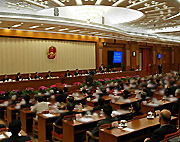 Hong Kong: Beijing formally rang down the curtain on calls for universal suffrage and direct democracy in Hong Kong yesterday and hours later senior officials of the National People's Congress (NPC) lectured the territory's business and political elite on the new reality. Hong Kong is not ready for full democracy, the nation's highest legislature ruled yesterday. The NPC Standing Committee meets yesterday to rule that universal suffrage will not be introduced in Hong Kong in 2007. Hong Kong's political situation was not mature enough for the introduction of universal suffrage, leading state officials said yesterday. "Today's decision is a very creative beginning," former solicitor-general Daniel Fung Wah-kin told the NPC briefing on Hong Kong's political future. Vice-President Zeng Qinghong yesterday urged Hong Kong people to grasp the timely opportunity to develop the economy. Harmony between lawmakers and the government is a crucial requirement for universal suffrage in Hong Kong, a veteran mainland law professor says.

Hong Kong's public and private sectors were expected to continue investing in mainframe systems for their high-performance computing needs, according to local IBM executives.

Merger and acquisition deals on the mainland and in Hong Kong are expected to increase 30 per cent to 40 per cent this year as a result of large-scale restructuring and privatizations, PricewaterhouseCoopers says.
The optimistic times are rolling again in Hong Kong and Asia. More than 40 per cent of business executives polled yesterday at the start of an important conference in Hong Kong thought that their companies would show growth of 15 per cent or more this year. Only 3 per cent of those attending predicted growth of below 5 per cent.
China: Mainland officials reported no new Sars cases yesterday as authorities stepped up efforts to control the latest outbreak, which has been linked to a security breach in the mainland's leading virology institute.
An ambitious target of finding 14 million jobs has been set by the central government this year, nearly four times as many as last year.
Mark Chen Shulin (left), chairman of Ng Fung Hong and Feng Yulin, chairman of Shenzhen Commerce & Trade Investment Holdings, shake hands after Ng Fung Hong, a foodstuff trader, agreed to spend 380 million yuan in acquiring a 70 per cent stake in Shenzhen General Food Corp, a Shenzhen-based, state-owned company engaged in livestock raising, slaughtering and meat product processing.
China National Chemicals Import & Export Corp (Sinochem), the mainland's largest chemicals trader, has offered 644 billion won (HK$4.34 billion) for control of South Korea's bankrupt Inchon Oil Refinery, beating rival bids.

Cisco vice-president and Linksys founder Victor Tsao says the mainland market is quick to embrace new technology.
Foreign networking technology suppliers had to push for increased co-operation with mainland partners and the central government, as national standards in this industry remained a priority for China, according to market experts.
The 13,290-word White Paper in square Chinese characters notes that China has a population of nearly 1.3 billion, and therefore, to solve the employment issue in the country is a strenuous, arduous and pressing task.
Almost 60 per cent of exhibitors inspected so far at the vast Canton Fair trade exhibition in Guangzhou have been found to be promoting pirated goods, a fair official said yesterday.
China National Aviation Co (CNAC), the major shareholder of Dragonair and Air Macau, has agreed to buy a controlling stake in two inflight catering units from Air China International Corp for 361 million yuan (HK$340.3 million).
BP - Europe's top oil company - and PetroChina - the mainland's biggest oil producer - have won government approval to build 500 filling stations in Guangdong and Fujian provinces.
April 26, 2004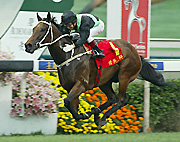 Hong Kong: Silent Witness, Hong Kong's unbeaten champion sprinter, raced into the record books yesterday with an 11th successive win.
The nation's top legislature is today expected to rule out the introduction of universal suffrage in Hong Kong in 2007, but to give the green light to "appropriate amendments" on future electoral methods.
Hong Kong's stock market may suffer fund outflows of up to US$765 million (HK$5.967 billion) as a result proposed changes to the Morgan Stanley Capital International (MSCI) index favoring Taiwan, analysts said.
The world's third largest-cruise company Star Cruises, via its wholly-owned subsidiary, NCL Corp, proposes to raise up to US$450 million (HK$3.51 billion) by offering senior notes to qualified institutional buyers.

China: Health workers monitor travelers' temperatures with thermal-imaging cameras at Beijing's international airport yesterday. The WHO will send a team of experts this week to advise on quarantine measures. The World Health Organization will send a team of experts to Beijing this week to find out if the country's leading virus research laboratory is responsible for the latest outbreak of Sars.

An agent assists a customer at a China Southern Airlines ticket office in Shanghai. Passenger traffic grew 14.8 per cent in the second half of last year but the carrier's load factor is still below the Asian average. China Southern Airlines has reported its first loss in five years, slumping to a net loss of 358.27 million yuan (HK$337.6 million) for 2003 compared with a net profit of 575.76 million yuan a year earlier.
Concerns over new mainland contracts have delayed the renewal of licenses for a number of foreign broadcasters, with some baulking at vague terms that could leave them with unlimited liabilities for transmitting sensitive material.
China Netcom Corp will scale back the size of its initial public offering and list two months later than planned amid growing investor scepticism toward mainland plays.
China has issued new rules that allow insurers to set up asset-management companies, paving the way for further liberalization in the way premium income is managed.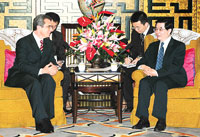 China's development is an opportunity for expanding cooperation between Mexico and China and will fuel world economic growth, said former Mexican President Ernesto Zedillo Ponce De Leon during meeting with Chinese President Hu Jintao.
The development of the European Community has brought about the Euro, while in Asia, people are talking more and more about "Asian Dollar" as economic cooperation in this region is increasing with each passing day.
As many as two-thirds of Shanghai's convention and exhibition organisers are unqualified, driving exhibitors away from showing their wares at events in the city, according to the Shanghai Convention and Exhibition Association.
Goodwill amortisation of more than HK$815 million related to the acquisition of Pegasus Telecom (Qingdao) Company widened full-year net losses at Haier-CCT Holdings to more than HK$856.36 million last year, almost 13 times the 2002 deficit.
April 23 -25, 2004

Hong Kong: Sik Kok Kwong, chairman of the Hong Kong Buddhist Association, is hoping a week-long exhibition of part of Buddha's finger will help bring blessings to calm the city's economic and political turmoil. Several state officials, including Director of the Religious Affairs Bureau Ye Xiaowen, are expected to accompany the relic to Hong Kong on May 26.

Pupils celebrate at the Central Library in Causeway Bay after taking part in the attempt to break the world record for most people reading aloud at the same time.
The mainland's first round the clock air-sea rescue network is being set up - with Hong Kong's expert helicopter pilots at the heart of operations.
The pace of deflation in Hong Kong quickened again for the third consecutive month in March, as housing rents continued to fall and a utility company gave a one-time rebate, the Census and Statistics Department said yesterday.
Hong Kong's unemployment rate held steady last month as the number of people who started looking for work again offset gains in hiring.
Hong Kong is a potential target for terrorist attacks, FBI director Robert Mueller warned yesterday.
A counterfeiting racket operating through several front companies in Hong Kong and Asia is being investigated for allegedly funding Islamic terrorist organisations, a security expert says.
Hong Kong and Shanghai Banking Corp chairman David Eldon has rung the alarm bell once more over the city's embryonic property revival.
Spyware has infected most PCs around the world, and Hong Kong is no exception. Even the companies behind the spyware programs admit that as many as nine out of 10 computers are infected with these uninvited digital eavesdroppers.
Hong Kong International Airport (HKIA) is extending its ferry links to three more Pearl River Delta cities next month as part of a plan to encourage more mainland travellers to use the airport.

China: US President George W. Bush greets Vice-Premier Wu Yi during a meeting at the White House where he hailed positive trade talks.

Vice-Premier Wu Yi addresses a dinner held by the National Committee on US-China Relations in Washington on Thursday. The United States should remove restrictions on the export of hi-tech equipment to China as a way of easing America's gaping trade deficit with her nation, Vice-Premier Wu Yi said yesterday.
Trade promotion, the European Union's arms embargo and Hong Kong's political reforms will be high on the agenda when Premier Wen Jiabao visits five EU countries next month.

Policemen try to dissuade a student from surfing the internet at a Shanghai cafe. Shanghai authorities are installing new software that requires all computer users in Net cafes or bars to enter their ID card numbers.
The central government has agreed to curb software and movie piracy in exchange for access to more US technology.
The US has warned Taiwan that unilateral moves towards independence could destroy its economic and democratic "miracle".
The mainland has agreed to delay indefinitely the implementation of its home-grown wireless-internet standard, putting an end to a contentious dispute between the United States and China which US officials earlier suggested might be taken to the World Trade Organization.
China's Ministry of Communications has rejected a report from its handpicked "body of experts" that found terminal handling charges (THC) on the mainland to be anti-competitive and suggested the levies be repositioned to give market forces greater influence over their application.
The frontman to Forbes business magazine, Steve Forbes, has called for stability amid hopes that China will maintain its current foreign exchange rate regime and not proceed with a possible plan to peg the yuan to a basket of currencies.
April 22, 2004
Hong Kong: The three mainland officials who came to Hong Kong to explain Beijing's interpretation of the Basic Law are expected back next week to spell out its forthcoming decision on the chief executive's report on constitutional reform.
Experts say hazy days like these are here to stay if Hong Kong's decade-old air quality standards are not brought up to date.
A $750 million fund investing in technology research and business ventures has lost $247 million, the auditor's report revealed. Many of the projects it backed lost nearly all the money invested.
The chief auditor said any doubts about his impartiality should have been quashed by his first report, which criticised the financial secretary and even the department led by his own brother.

Television Broadcasts (TVB) is in discussions to take a 49 per cent stake in a mainland media joint venture, giving Hong Kong's top broadcaster cherished access to the lucrative Guangdong market.
Leading property developers have pulled advertising from Jimmy Lai Chee-ying's Apple Daily, in what the mass-circulation newspaper believes is a boycott related to its pro-democracy stance and criticism of the Hong Kong and mainland authorities.
A publicly funded research institute has sold its photonics chip-packaging business to a Hong Kong buyer, a rare success for a government whose efforts to promote technology development in the city have so far been relatively unsuccessful.
Hong Kong Exchanges and Clearing (HKEx) has been given approval to set up "contact points" in Guangzhou and Shanghai, in a move which will help it fend off competition from rival foreign stock exchanges for mainland listings.
The United States-based Heritage Foundation is best known in Hong Kong for annually bestowing the title of the world's freest economy on the SAR. Back home, the think-tank based in Washington, DC, has iconic status among conservatives for its decades-long fight against communism and in favour of low taxes - and for its ability to put allies in positions of power in Republican administrations from that of Ronald Reagan to George W Bush.
The Hong Kong dollar sank to a fresh six-month closing low of 7.7997 to the US dollar in local trade yesterday - effectively ending a six-month siege by speculators who were betting they could force a revaluation of the currency and break its peg against the greenback.
Hong Kong's status as the region's premier exhibition hub is in danger if it fails to add sufficient convention space and limits potential opportunities for small and medium-sized businesses, according to Jeffrey Lam, chairman of the Fair Organizing Committee of the Hong Kong Houseware Fair 2004.
China: A chlorine gas leak in the eastern city of Nanchang has left more than 100 people ill, including 22 with "serious" respiratory problems, state media and officials said yesterday. It was the second chlorine gas leak on the mainland in less than a week.

North Korean leader Kim Jong-il hugs former president Jiang Zemin during his surprise three-day visit to Beijing this week.
Wireless content provider Mobilemode is expanding its stable of mobile handset games, including one based on the United States television series Baywatch, but simple ring-tones are expected to dominate sales for another year. It is not a trend chief executive Jarno Salmivuori would like to see endure.
The mainland's No 1 mobile firm, China Mobile, on Tuesday said its average revenue per user - a benchmark for measuring the size of phone bills - was down 3 per cent to 97 yuan a month in the first quarter. However, profitability and subscriber numbers have hit record highs.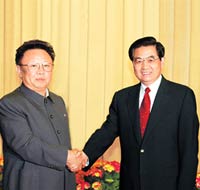 Kim Jong Il, general secretary of the Central Committee of the Workers' Party of Korea and chairman of the National Defense Commission of the DPRK, paid an unofficial visit to China from April 19 to 21 at the invitation of Hu Jintao, general secretary of the CPC Central Committee and president of China.
Military cooperation between Russia and China is not targeted at a third country but is aimed to guarantee regional peace and security, stressed Russian Minister of Defense Sergei Ivanov in Beijing Wednesday.

For the first time since the Communists came to power in 1949, private companies will be allowed to distribute books in China and even run nationwide chains of bookstores.
April 21, 2004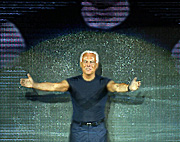 Hong Kong: The man Milanese call the "King", Giorgio Armani, last night concluded his first visit to Hong Kong with two star and diamanté-studded fashion shows at HSBC headquarters in Central.
Hong Kong can expect millions more mainland visitors from next month after the State Council yesterday doubled to 150 million the number of citizens allowed individual travel to the city.

Many of the small investors who queued at banks yesterday to subscribe to the government's maiden issue of securitized bonds were surprised to discover they had first to open investment accounts. Standard & Poor's has given a AA- credit rating to the Hong Kong government's HK$6 billion asset-backed bond issue, but its sovereign ratings team will now closely monitor any ``top-up'' payments that may be needed if toll revenues backing the bonds fall short.
Hong Kong's biggest business group raised its economic growth forecast for 2004, citing improving conditions, but warned the city may also be hurt by possible slowdowns on the mainland and in the United States. The Hong Kong General Chamber of Commerce (HKGCC) has raised its forecast for gross domestic product growth for this year to 5 per cent from 3.8 per cent, amid tourism-bolstered retail sales and an upturn in the property market.
Hong Kong Exchanges and Clearing (HKEx) has launched a probe into transactions between CNOOC and a finance company controlled by its parent, China National Offshore Oil Corp.
Merrill Lynch and Deutsche Bank, second-tier investment banks in the Hong Kong and mainland share-placement league, have been appointed managers of a proposed initial public offering by Dongfeng Motor, China's third-largest vehicle maker.
Homebuyers can now walk into a Hang Seng Bank branch and obtain a 90 per cent mortgage loan in a few minutes, thanks to a new arrangement between the bank and the Hong Kong Mortgage Corp (HKMC), although the procedure could trigger a rise in Hong Kong's debt-income ratio.

China: The US expects to make progress this week in a multibillion-dollar trade spat with China over widespread piracy of American movies, music and software.

Jiangxi Copper, China's largest copper producer, has seen its share price drop almost 20 per cent in the past three days on fears of further credit tightening on the mainland. The government has been clamping down on loans to infrastructure projects, sparking concerns that the commodities cycle is about to peak.
Mtone Wireless, a mainland provider of mobile-phone data services, has filed to raise US$55 million through a Nasdaq listing despite the recent market debut flops of rivals Linktone and Tom Online.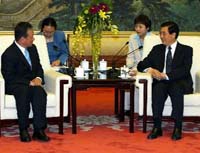 Chinese President Hu Jintao said Tuesday in a meeting with WHO Director-general Dr. Lee Jong-Wook that China is willing to continue exchanges and cooperation with WHO
April 20, 2004
Hong Kong: The Hong Kong government launched its first securitized bond issue yesterday, offering interest of up to 4.28 per cent and promising to guarantee revenue shortfalls.
The National People's Congress (NPC) Standing Committee is expected to endorse Chief Executive Tung Chee-hwa's report on political reform when it meets on Monday.
Intel Corp, the world's largest manufacturer of computer chips, will open an assembly plant for high-technology products in Hong Kong next year, citing a need to be closer to south China's thriving computer manufacturing sector.

Hang Seng Bank vice- chairman and chief executive Vincent Cheng Hoi-chuen demonstrates his ping-pong skills in front of an audience of youngsters who will benefit from the bank's sponsorship of sports development. The bank yesterday pledged an additional $3.7 million to the Hang Seng Table Tennis Academy from now until 2006.
The renewal of the air traffic management system at Chek Lap Kok airport was expected to be ready in 2008, the Oriental Daily reported on Tuesday.
Two men wanted in Hong Kong on bribery and corruption charges over a short piling scandal are both back at work - and with the same Brisbane-based construction company - after Australia's justice minister refused to surrender them for trial.
A small but steady corporate migration to Linux and other open-source computing systems is gathering pace in Hong Kong. And one of the city's most substantial enterprise Linux migration projects has been accomplished by technology services firm COL.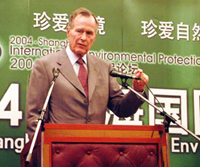 China: Former US President Bush stressed Monday in Shanghai that China-US relationship is the most important bilateral relationship in the world and is the basis for cooperation between the two nations on issues such as environmental protection. Senior officials of China and US will sit down together to discuss their trade issue this week as Vice-Premier Wu Yi and her top-level delegation left for the US Monday.
An executive from China Pingan Insurance has been kidnapped and is believed to have been murdered in Beijing, raising fears that affluent mainland executives have become targets of criminal gangs.
The mainland's counterfeit luxury goods may give most designers nightmares, but Italian fashion legend Giorgio Armani says imitation is the ultimate form of flattery and admits he picked up a fake Armani watch in Shanghai.
Foreign companies have warned the Shanghai government it will lose investment if it does not improve the power supply, calling for more gas-fired stations and incentives to save electricity.

Traders at a market in Shanghai yesterday. Mainland retail sales were up 11 per cent year on year.
Wang Beinan's art may not be good enough to get him into the China Artists' Association. But he is determined to use his skills to make enough money from reproducing the paintings of old masters to set up an alternative academy for artists like himself.
Centrino mobile technology sales in the mainland were holding steady, even as the deadline to comply with China's wireless local area network (WLAN) encryption standard drew near, a senior Intel official said.
Sinopec Zhenhai Refining & Chemical said it plans to spend 3.5 billion yuan (HK$3.3 billion) to expand capacity by a quarter by mid-2006 as China's buoyant economy stimulates demand for oil products such as petrol and diesel.
April 19, 2004
Hong Kong: The nation's top legislature is expected to endorse Chief Executive Tung Chee-hwa's request for changes to Hong Kong's electoral methods within a fortnight. Electoral proposals not in line with the nine factors outlined by the government would have a slim chance of approval, Chief Secretary Donald Tsang Yam-kuen said yesterday.

Louis Vuitton bags soar above the heads of 2,000 party-goers at the brand's 150th birthday party, held at the Tamar site in a giant tent designed to resemble an LV trunk.
The Hong Kong government has been criticized for losing the world's second-largest third-generation (3G) mobile phone industry conference to Singapore, where 3G services are not scheduled to start until next year.
The MTR Corp is in talks with Beijing to build and manage part of the capital's 50 billion yuan (HK$47.15 billion) subway expansion project. The subway operator confirmed the talks yesterday, as it received a strong endorsement for the job from Beijing vice-mayor Zhang Mao.
Hong Kong should not leap into full democracy as it will endanger China's economic and political stability, a former chief secretary has warned. Sir David Akers-Jones said for Hong Kong to take ``too many big jumps'' will have a knock-on effect on the mainland.

By legalizing gambling, governments in Asia are hoping to stop money going to organised crime funded by illegal casino operations.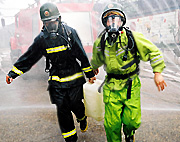 China: About 150,000 people were evacuated after clouds of toxic chlorine gas spewed from a factory in Chongqing city yesterday, leaving at least nine dead or missing. Premier Wen Jiabao gave instructions Saturday for effective measures to be taken to eradicate any hidden dangers from the chlorine leak accident in southwest China's Chongqing Municipality. The military was yesterday called in to blow up tanks used to store chlorine gas at a Chongqing chemical plant where a series of explosions left nine people dead or missing on Friday.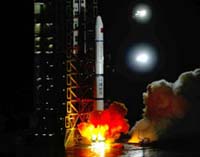 A mini-satellite and a micro-satellite, both for experimental purposes, blasted off atop a Long March rocket from Southwest China's Sichuan Province just before midnight Sunday.

Work continues on a pumping station in Yangzhou as part of the mainland's ambitious south-north water diversion project.
China Construction Bank (CCB) has been forced to delay its pioneering auction of property and land-rights assets as bidders seek further guarantees over titles.

The latest in wheel technology is on display at the14th International Bicycle and Motor Fair in Shanghai. It has attracted 900 bike producers from Italy, France, Spain, Germany, Poland, Japan, Korea, India, Hong Kong, Taiwan, the mainland and the United States.
With the first of Macau's new casinos preparing to open its doors next month, an executive involved with one of the projects says gaming operators face several challenges, including finding enough qualified service workers.
The successful visits this week by US Vice-President Dick Cheney and European Commission president Romano Prodi illustrate Beijing's ability to play one power off against another and further strengthen its aspirations to build a multipolar world.
Independent power producer (IPP) Huaneng Power International has agreed to acquire five power plants in Jiangxi, Hebei and Sichuan, Hunan and Liaoning from its unlisted parent for 4.57 billion yuan in its largest acquisition to date.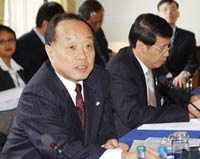 Foreign Minister Li Zhaoxing said Kildare on Saturday that multilateralism provides mankind with an effective way to deal with common challenges and important means to solve international disputes.
The price-to-earnings ratio of Ping An Insurance is expected to be lower than its peers for its initial public offering in Hong Kong, according to an analyst with the Economic Observer weekly.
April 16 - 18, 2004
Hong Kong: Tung Chee-hwa yesterday submitted a report to the National People's Congress Standing Committee, recommending that changes be made to Hong Kong's electoral methods in and after 2007. Proposals for political reform must aim at perfecting the executive-led system and must not affect Beijing's power to appoint the chief executive, the government taskforce says.
Hong Kong's political history should be taken into account when considering the Basic Law principle of "gradual and orderly" change in methods to elect the chief executive and legislature, the taskforce report said.
The Hong Kong government has been criticized for losing the world's second-largest third-generation mobile-phone industry conference to Singapore, where 3G services are not scheduled to start until next year.
China: The mainland economy can sustain its 25-year expansion at a rapid rate of 6 to 9 per cent a year, and its impact on the rest of the world will be deep, an IMF report says. Despite more than six months of intensive jawboning by Beijing, China's economy expanded at 9.7 per cent in the first quarter, way ahead of forecasts, raising questions of what weapons the government has to slow its torrid economic expansion.
Mainland and United States negotiators are closing in on a new bilateral air services agreement in what promises to be the boldest opening of China's aviation sector, according to officials close to the talks.
Under a new law to be passed this summer, the courts will be able to award damages to minority shareholders who have been unfairly prejudiced.
The 95th China Export Commodity Fair opened on Thursday in Guangzhou, capital of south China's Guangdong Province, with the attendance of representatives from 12,224 domestic and overseas enterprises and companies.
Shanghai's property prices have been rising so rapidly that the market is approaching levels seen in Hong Kong before the 1997 bubble, according to Morgan Stanley, which warns a major correction is imminent.
April 15, 2004

Hong Kong: A huge Louis Vuitton trunk is illuminated at the Tamar site in Admiralty. The 70-metre-long trunk, which is actually a vast marquee with the luxury label's famous gold motifs projected on to its sides, will be the scene of a party tomorrow night celebrating the brand's 150th anniversary.
The government is studying the adoption of a centralized labor insurance scheme in the wake of ever-increasing premiums, especially after the Sars outbreak.
Colonial-era civil service perks estimated to cost taxpayers $96 million a year are to be scrapped or substantially tightened as part of an overhaul to curb government spending.
six months yesterday after investors decided that evidence of stronger growth in the United States could lead to higher interest rates.
Cathay Pacific Airways is spending about HK$8 billion expanding its fleet with eight wide-body Airbus and Boeing aircraft in a move first revealed by The Standard four months ago.
China: China Construction Bank (CCB), the mainland's top property lender, is likely to delay its initial public offering to next year or later as top government officials and economists have expressed serious doubts about the bank's readiness.

US Vice-President Dick Cheney meets former president Jiang Zemin in Beijing yesterday during his three-day visit to the mainland. US Vice-President Dick Cheney urged the central government to ease controls on the mainland currency yesterday, saying markets should set the exchange rates, a senior US official said.
Guangzhou looks set to host the 2010 Asian Games after Malaysia pulled out of the running yesterday.
The mainland movie studio that gave some of China's most accomplished film directors their big break is planning the industry's first overseas listing.
The United States will impose anti-dumping duties on Chinese television imports but with substantially lower punitive levies than initially put forward in the high-profile trade case.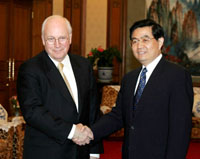 Chinese President Hu Jintao met Wednesday with visiting US Vice President Dick Cheney. The two sides exchanged views on bilateral ties, Taiwan, and the nuclear issue on the Korean Peninsula.
China is ready to strengthen consultation and coordination with the European Union (EU) on important international and regional issues, President Hu said Wednesday during his meeting with EC President Prodi.
William Rhodes, one of the United States' leading financial figures, has warned that China is in danger of being caught up in a US backlash against free trade during this year's presidential campaign.
April 14, 2004
Hong Kong: Hong Kong's economic development is being hampered by insufficient investment in science and technology-based industries, according to one of the world's foremost economists, Jeffrey Sachs. Nearly half of the finished projects supported by a $5 billion government fund set up to develop technology projects have flopped, according to a report tabled to Legco yesterday.
The direct financial and economic benefits to Hong Kong from the MTR Corp's proposed West Island and South Island lines could top HK$40 billion, more than twice as much as the construction cost, according to a study by the University of Hong Kong released yesterday.
In a sign of renewed institutional investor interest in Hong Kong's property market, a consortium formed by Morgan Stanley Real Estate Fund, locally listed Pioneer Global Group and Pamfleet (HK) has agreed to buy Paliburg Plaza and Kowloon City Plaza.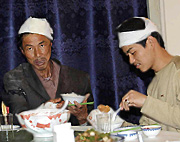 China: Chen Xiaojin (left) and Li Guiwu dine at the Baghdad restaurant which has offered them work. They were hurt in a car crash before the kidnap. Seven Chinese men taken hostage in Iraq savored their freedom yesterday after being released - and were considering staying on in Baghdad to work.
The mainland's money supply raced ahead again last month, suggesting the central government has made only limited progress in its attempt to restrain lending and bring the economy under control.
Senior officials yesterday defended the nation's lax record on protecting intellectual property rights, saying they understand the foreign criticism but believe it is too harsh.
Maanshan Iron & Steel will boost production capacity by more than 60 per cent over the next two years, in apparent defiance of a central government clampdown on over-investment in heavy industries.
Investors dumped H shares yesterday as moves by China's central bank to cool the economy reignited fears about falling earnings growth.
A consortium led by Morgan Stanley has agreed to buy Paliburg Plaza and Kowloon City Plaza in the biggest property transaction this year.
Chinese Estates Holdings controlling shareholder Joseph Lau Luen-hung is the latest major investor to cash in on surging share prices, seeking to raise as much as $970 million by offloading about 9.5 per cent of his stake in the property company yesterday.
China Telecom, the mainland's No 1 fixed-line carrier, will acquire 10 provincial networks that lost a combined 10.8 billion yuan last year for a total consideration of 67.8 billion yuan. The new acquisitions will double the carrier's provincial networks to 20.
EBay will ramp up its aggressive expansion in China by hiring more staff for its subsidiary EachNet, despite expecting operations to remain unprofitable for the next three to five years.
Internet portal Yahoo! will continue "stepping on the gas in China", raising the possibility of making further acquisitions in e-mail and messaging services and online games to expand its revenue on the mainland.

President Hu when meeting with US Vice President Cheney Wednesday.
April 13, 2004

Hong Kong: Beach-goers welcome the end of winter and make the most of the sun at Repulse Bay yesterday before the expected arrival of some wet weather this week.
Many Hong Kong garment companies falsify the working hours of their staff on the mainland to satisfy overseas clients, an Oxfam survey has found.
Twenty-nine tourists from Hong Kong were injured in a bus crash in Guangxi yesterday when the coach they were traveling in tipped on its side after swerving to avoid an oncoming petrol tanker.

International law firm Denton Wilde Sapte is axing its entire Asian network, including regional hub Hong Kong and an office in Beijing.
The central government will delay the launch of a mid-cap board on the Shenzhen stock exchange for small- and medium-sized enterprises, in a move billed as an economic sweetener for Hong Kong.

China: Seven Chinese citizens taken hostage at the weekend in Iraq were released by their captives early on Monday (HK time) and were being looked after by Chinese diplomats, the Chinese embassy in Baghdad said. Mainland analysts do not expect concern over the seven hostages' fate to affect China's stance on Iraq. Seven Chinese nationals abducted in Iraq have been released late Monday night in Iraq, said a Chinese FM spokesman Tuesday morning. Their physical and spiritual conditions are generally stable. (Photo: Member of the Chinese Embassy welcomes the seven released Chinese nationals).
A Guangzhou-based TV station has ambitions to become the first global broadcaster in Cantonese.
Ma Fucai has quit as head of PetroChina, the mainland's largest oil producer, and its parent company, sources say, to take responsibility for December's blast at a Chongqing gas well, which killed 243 people and poisoned more than 10,000.
One of the closest associates of Macau 14K triad boss Wan Kuok-koi is starting a nine-year sentence in the city's high-security jail after giving himself up in Cambodia.
The Industrial and Commercial Bank of China (ICBC), the country's largest commercial lender, will begin disposing of non-performing loans next week through an asset-backed securities sale, according to bankers.

China wants to lead the development of global standards for radio frequency identity tags, a move that is likely to step up companies' adoption of the wireless tracking technology, according to Sparkice chief executive Edward Zeng.
Taiwan Semiconductor Manufacturing Company (TSMC), the world's biggest supplier of made-to-order chips, has filed for approval from the island's government to start production at its first plant in China by the end of this year.
China Shipping (Group) Company, the mainland's second-largest shipping firm, plans to issue two billion yuan (HK$1.88 billion) worth of corporate bonds to develop its business.
April 12, 2004
Hong Kong: The latest phase of the luxury project at the Cyberport will lift the number of top-end property transactions to 300 deals in the second quarter after the market's strong performance in the first quarter, according to Centaline Property Agency.
Hong Kong's third party logistics companies are expected to benefit from the increasing foreign trade and freight volumes in China, according to a Hong Kong Trade Development Council (TDC) report.

The 11th National Kidney Foundation Charity Show on Sunday featured three generations of Taiwanese and Hong Kong stars. It was spiced up by stunts performed by local celebrities such as the one where television host Sharon Au (above) stood barefoot on a sword.
China: The Chinese government has decided to continue enhancing macro-economic readjustment and control so as to ward off threatening inflation and ensure a stable economy. Premier Wen Jiabao admitted the central government has so far failed to take the steam out of an overheating economy and has vowed to adopt more measures to slow it down. China's rapidly growing economy is placing increasing strains on an already stretched power sector and the country has been warned to expect more blackouts this year as the gap between supply and demand is expected to widen to a record 30 million kilowatts.

Seven Chinese were kidnapped by armed men in central Iraq on Sunday. The seven Chinese citizens entered Iraq via Jordan Sunday And were most probably abducted in Fallujah, west of Baghdad.
China's foreign trade deficit totaled 8.43 billion US dollars in the first quarter of 2004 because of three successive months of import growth, more than 8.2 percentage points higher than exports.
Mainland electronics giant TCL International says a plan to offload its 40.8per cent stake in Huizhou TCL Mobile (TCL Mobile) and list the unit separately on the Hong Kong bourse is intended to exclude the mobile business from its upcoming joint venture with a French TV maker.
China's rapidly growing numbers of newly rich urbanites prefer investing their money in real estate rather than putting it in bank savings or the stock market, the mainland's most reputed market research firm has found.
April 8 - 11, 2004

Hong Kong: Four young designers who beat more than 5,600 competitors in last year's Children's Stamp Design Competition signed autographs yesterday following the release of their collectors' set. Collectors queued at Central Post Office for the autographs of (top left) Belinda Chan Hoi-yan, (top right) Tsoi Ka-lai, (bottom left) Liu Chap-yin, and April Yuen Nga-pui, aged between nine and 11. The set - "Children's Stamps: My Favorite Toys and Games" - costs $11.80.
Secretary for Constitutional Affairs Stephen Lam Sui-lung on Thursday urged foreign governments and investors not to interfere in issues relating to Beijing's interpretation of the Basic Law.
Hutchison Whampoa is likely to continue heavily subsidizing its handsets to beat expected upgrades in 3G services and handsets in the second half of this year, according to analysts.
Wharf (Holdings), which runs business in ports, property, telecommunications and media, has agreed to swap port assets with Swire Pacific and the UK-based Peninsula & Oriental Steam Navigation Co (P&O) to expand its presence in fast-growing Shenzhen.
Hong Kong's growth in the second quarter will be as good as the heydays of high-tech fever in 2000, but academics caution the Sars outbreak last year will distort year-on-year comparisons.
Private doctors are planning to woo wealthy mainlanders to Hong Kong for medical treatment. The Medical Association has already made exploratory visits across the border to sell services and promote the concept of medical tourism to mainlanders, vice-president Dr Wilson Fung said.
Chief Executive Tung Chee-hwa should seize on the old adage that the flip side of crisis is opportunity and initiate political reform procedures in Hong Kong if he hopes to revive public confidence in the SAR government and his leadership, a former senior aide to the beleaguered leader said yesterday.

China: Construction work continues on the 101-storey Shanghai World Financial Centre this week, just one of a multitude of property developments under way in the city.
Shanghai's residential property sales rose a whopping 42 per cent year on year in the first quarter to 3.45 million square meters, leading some analysts to warn of a bubble in the city's real estate market.
Vice-Premier Wu Yi will lead a delegation to Washington this month for what may be the toughest trade negotiations since the World Trade Organization accession talks of 2000 and 2001.
China Life Insurance (Group) would have talked to the national auditor about the details of a probe that uncovered 5.4 billion yuan in accounting irregularities before its public listing in December, according to a source at the state agency.
The mainland's roaring car industry is showing signs of slowing down, with higher prices for raw materials and lower than expected sales due to tighter lending policies taking their toll on manufacturers' profits.
Gome Electronics is hoping to increase mainland sales by entering the music and movie retail business as early as next month, despite rampant piracy within the industry.
Lucent Technologies' four top China executives left the company following allegations of corruption, according to a filing with the United States Securities and Exchange Commission (SEC).
Semiconductor Manufacturing International Corp (SMIC) may be the newsmaker of its sector, but it is the little known players that account for the bulk of China's chip-making industry.
China was the world's third largest commodities importer in 2003. Looking ahead, there will be an increasingly difficult environment for China's foreign trade. Trade deficit is very likely to continue.
April 7, 2004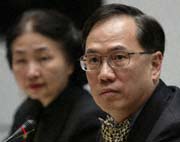 Hong Kong: Donald Tsang said voices for reform were ''very clear'' but there was ''ample time'' to consider further the need for change. Any proposal on political reform in Hong Kong would be put to the public first before Beijing was asked to give its approval, the chief secretary said, but he stressed none could be implemented if consent was withheld. Beijing cast a pall of gloom over the democratic aspirations of Hong Kong with yesterday's ruling by the Standing Committee of the National People's Congress that all political reforms in Hong Kong have to be approved by the central government.
China Eastern Airlines spoke out yesterday against granting Cathay Pacific Airways traffic rights to fly to Shanghai, and said it doubted whether Hong Kong's flagship will be allowed to fly to the city this year.
The insurance industry is gearing up for battle with the Inland Revenue Department over a new international rule that could cost the government more than $100 million in lost taxes annually.
DBS Bank is set to reap a profit of $857.6 million after agreeing to sell its entire 10 per cent stake in Wing Lung Bank back to the Wu family, the controlling shareholder of the mid-tier lender.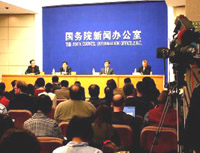 China's top legislature said Tuesday it is up to the Chinese central authorities to decide whether it's necessary or not to amend the methods for selecting gov't head and forming HK local legislature. (Photo: news conference on HK Basic Law interpretations)
China: The mainland's roads are fast becoming death traps as 11 million new drivers take to the streets each year without proper training - making the country's highways the world's deadliest.
Shanghai, Hainan and the Pearl River Delta region in Guangdong are exempt from a new mainland visa policy which restricts US passport holders, the Ministry of Foreign Affairs has confirmed.
The central government has announced discoveries of new oil deposits that it says will help reduce the country's increasing dependence on imports, amid growing worries over energy.
Guangdong has launched a one-month ``Strike Hard'' crackdown on so-called ``underground insurance policies'', or unauthorized products sold by Hong Kong insurers to mainland residents, pledging to revoke agents' licences and punish top management of firms helping sell unauthorized policies.
China will set up a US$300 million (HK$2.34 billion) distribution centre in Dubai to aid the country's exports to the Middle East, Africa and Eastern Europe, Ministry of Commerce Vice-Minister Wei Jianguo said.
April 2 - 6, 2004
Hong Kong: Hong Kong needs a central slaughterhouse to prevent a future bird-flu outbreak, according to a new government consultation paper.
Deputy-Director of Health Leung Pak-yin will become the new Controller for the Centre for Health Protection (CHP), the government announced on Thursday.
Hong Kong and Singapore on Thursday signed a pact to boost cultural exchanges between the two cities.
Hong Kong's Roman Catholic leader says the gruesome Mel Gibson film about the death of Jesus Christ is "too brutal," but churchgoers here turned out in force as the show opened on Thursday.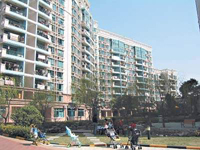 China: In 2003, the average land price in municipalities, provincial capitals, cities specifically designated in the state plan and major cities at the Yangtze River Delta and Pearl River Delta were stable but saw a slight rise.
China will require some American visa seekers to take part in interviews in a tit-for-tat move after the United States began demanding that Chinese seekers of non-immigrant visas submit fingerprints. Beijing's retaliatory move against the new US policy - also unpopular in many other countries - comes as China wages another publicity battle against Washington over a US motion at the United Nations to censure its human rights practices. US diplomats would be forced to apply and pay for visas when they travel on a personal basis and US citizens would no longer be eligible to apply for visas on arrival in China, the ministry said on its website.
The United States has told Taiwan President Chen Shiu-bian, who has angered China by insisting on a new Constitution for the island, to uphold his pledge not to alter the cross-strait relationship.
China has invariably assumed a posture of considering the overall situation in its foreign policy to Japan, so Koizumi is prone to reckon China wouldn't react too strongly to Yasukuni Shrine visit.
The European Union has joined a United States complaint against China in the World Trade Organisation (WTO), adding weight to the Bush administration's claims that tax breaks for mainland chipmakers give them an unfair advantage over imports.
Alcatel, the world's biggest maker of broadband Internet equipment, said it is in talks to sell its handset business to Chinese companies.
April 1, 2004
Hong Kong: Beijing broke the ice with the democracy camp yesterday by initiating a meeting with three legislators who were to have taken their opposition to the interpretation of the Basic Law to Beijing. The chief secretary has appealed to lawmakers not to wrangle over who has the right to initiate political reforms. It was a half-step, but the surprise dialogue between a group of pro-democracy legislators and mainland officials on issues relating to democratic development signaled subtle moves by Beijing to ease political tensions. In defense of allegations that the government has failed to stand up to the forthcoming interpretation of the Basic Law provisions by Beijing, Chief Secretary for Administration Donald Tsang said yesterday constitutional changes could not be decided by the SAR government alone because the issue did not fall within the high degree of autonomy Hong Kong was promised.

Canto-pop superstar Leslie Cheung's long-time companion Daffy Tong (left) orchestrated every aspect of the exhibition, a spokeswoman for Madame Tussauds said.
Sun Hung Kai Properties (SHKP), Hong Kong's biggest developer, has joined the chorus of investors clamouring for prestige properties, paying about $450 million for a Deep Water Bay house next to a home owned by the family of Chief Executive Tung Chee-hwa.
China: Dust storms whipped up in Mongolia and northern China have multiplied fourfold over the past 50 years, a UN conference has heard.

A Chinese officer tries to stop a photographer outside the US embassy in Beijing. The sign explains rules on fingerprinting for visa applicants. US businessmen working on the mainland have called on Beijing and Washington to settle a visa row before it escalates.
Beijing and Moscow have not had any disagreements over an oil pipeline linking Siberia with northeast China, says the ambassador to Russia.

Six of the world's largest carmakers have cleared a key hurdle in their struggle against counterfeiting after the Guangdong government signaled its intention to prosecute a glass factory for manufacturing fake windscreens.

Businessmen check out the latest chips at a fair in Shanghai. Europe is seeking observer status at Sino-US meetings over tax rebates for Chinese chip producers. The European Commission wants to join consultations between Washington and Beijing on the mainland's valued-added tax (VAT) rebate for domestically made semiconductors, which the US alleges is discriminatory.
Earnings at Shanda Interactive Entertainment are expected to jump by as much as 80 per cent this year, which should attract investor interest as the mainland online game operator prepares for its initial public offering.
It is totally out of a Cold War mentality that the US government has opposed China in the field of human rights in order to distort China's image, undermine its stability and hinder its development.
Women are now more and more independent and bearing heavy pressures. Therefore no responsible woman would give an easy answer to the matter of whether or not to have babies.

*News information are obtained via various sources deemed reliable, but not guaranteed