Hong Kong, China & Hawaii Biz*
How to Do Business with China, through Hong Kong & Setting up Business in China? - last update Feb 8, 2003
Do you know our dues paying members attend events sponsored by our collaboration partners worldwide at their membership rates - go to our event page to find out more! After attended a China/Hong Kong Business/Trade Seminar in Hawaii...still unsure what to do next, contact us, our Officers, Directors and Founding Members are actively engaged in China/Hong Kong/Asia trade - we can help!
China Projects Bidding Information - update daily Scholarship & Grants
Are you ready to export your product or service? You will find out in 3 minutes with resources to help you - enter to give it a try
Sept 30, 2004
Hong Kong: Hong Kong has been offered a new tourism slogan: "Hong Kong: See It, Sell It". Authorities yesterday revealed tourism figures had hit a record high with more than 2 million visitors last month.
The success of last Sunday's inaugural China Grand Prix may quicken efforts to establish a motor racing track in Hong Kong.
A surge in oil prices will not hurt Hong Kong's overall economy although it might affect specific areas, the financial chief said yesterday.
More mainland, Japanese and Korean tourists are expected to flock to the tranquil foothills of Lantau Peak after a project to plant timber obelisks bearing a Buddhist scripture is completed in the next few months.
The Securities and Futures Commission has proposed setting a cap on how much stock collateral can be re-pledged by brokers to obtain bank loans.
A rise in crude-oil futures to above US$50 per barrel yesterday put pressure on key stock markets around the region, including Hong Kong, as investors digested potential negative implications for growth and inflation.
Several high-profile initial public offerings due for this year are unlikely to come to market before the Christmas holiday, as strict listing procedures and weakening market sentiment lead to delays.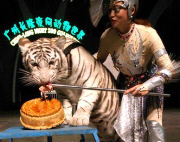 China: A Chinese performer attempts to make a white tiger eat a moon cake stuffed with chicken during a performance at a night zoo in Guangzhou. Chinese around the world marked the moon day festival on Tuesday, traditionally sipping tea and eating moon cakes made from red bean while enjoying the full moon.

The American-born female giant panda Hua Mei and one of her cubs at the China Wolong Giant Panda Protection and Research Center in southwest China's Sichuan Province. Giant panda Hua Mei, who did not know how to feed her babies after giving birth to them, learned some basic skills in the nursing of cubs in a 7-day training session held by the staff of the research centre.
Beijing authorities are using computer technology to keep tabs on advertisers who make illegal claims about their products, saving human monitors the task of scanning print, television and radio commercials.

A dance performance is held yesterday during a ceremony to mark the 2255th anniversary of the birth of Confucius at the Temple of Confucius in the city of Qufu, East China's Shandong Province. The ceremony to pay tribute to the great sage used to be organized by local non-governmental organizations. The activity was organized by the local government yesterday.
Sept 29, 2004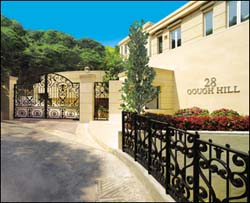 Hong Kong: In another indication that irrational exuberance is returning to Hong Kong's property market, PCCW chairman Richard Li is expected to pocket as much as HK$1 billion from the sale of his privately owned deluxe Peak single-family residential project at 28 Gough Hill. Three of the homes in the seven-unit project have sold for between HK$31,000 to HK$23,000 per square foot, Robert Lee, chief executive officer of the project's marketing agent Pacific Century Premium Developments (PCPD), said Monday.
Hong Kong textile manufacturers are encouraged to apply for country of origin (CO) documentation for their exports when import quotas expire on January 1 to avoid them being mistaken as goods made in China, the Trade and Industry Department said.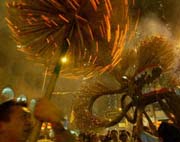 The traditional fire dragon dance is staged in Tai Hang, Hong Kong Island, last night, as part of the celebrations marking the Mid-Autumn Festival. For more than 120 years, people have been parading the dragon, bristling with incense sticks, in the belief it will drive away plague.

The questions may have been probing, but this reporter wasn't getting any answers as she tried to interview Hu Jintao on his arrival in Hong Kong yesterday. She failed because the president was a wax figure which has joined Madame Tussauds on The Peak. Mr Hu's figure is part of a new display called "Proud to be a world leader", in which visitors can join the president as he gets off a plane.
The value of Hong Kong's tangible exports registered a 20.9 per cent leap in August compared to the same month last year. But an industry insider warns of leaner times ahead with world oil prices rising.
Higher fuel and security costs may see the world's airlines lose up to US$4 billion this year despite a dramatic rebound in demand for passenger and cargo services in key markets such as the Asia-Pacific region, according to the International Air Transport Association (Iata).
After much hype, the arrival of a powerful new wireless communications technology known as WiMAX is finally getting closer. WiMAX is touted as Wi-fi on steroids, with radio signals that can pass through buildings and travel kilometres rather than just metres.
China: United States pharmaceutical giant Pfizer will file a judicial appeal against the decision by the China's State Intellectual Property Office (Sipo) to overturn the patent for its anti-erectile dysfunction drug, Viagra.
With a bumper harvest in sight for this year, China is sowing the seeds for a fruitful 2005, planning to expand its acreage of wheat - the nation's second most important crop after rice - by 666,600 hectares.
Residents from Wenzhou in East China's Zhejiang Province investigate a real estate project in Haikou, capital of South China's Hainan Province, on Sunday. Projects in Hainan, targetting potential investors, have attracted a great number of buyers from the rest of the country during National Day holidays in recent years.
Beijing police are stepping up measures against rioting and terrorism in the run-up to Friday's National Day celebrations, in a sign of unease over the country's security situation.
TCL chief Tomson Li says the decisions to enter partnerships with Thomson and Alcatel was a departure from his cautious style. The next 12 to 18 months will be crucial for both joint ventures, he says.
Sept 28, 2004

Hong Kong: Buyers descend on a shop to stock up on lanterns and mooncakes for the Mid-Autumn Festival. Green groups are urging people to recycle lanterns after the festival.
Outgoing health and welfare minister Yeoh Eng-kiong has revealed that the sorrow and depth of emotion of families who suffered from the Sars outbreak was the main reason for his decision to step down. No more Sars, no more bird flu, and don't even mention CSSA. Yeoh Eng-kiong says he just wants to be an ordinary citizen after his 33 years of public service end next week. The outgoing health and welfare secretary has expressed frustration at his no-win position in the welfare debate - criticized by some as being insensitive to the plight of the poor; warned by others that concessions will turn Hong Kong into a welfare state.
A study released recently by Hong Kong Trade Development Council (TDC) shows ample opportunities for financial institutions to capitalize on Hong Kong's unique position vis-a-vis the Chinese mainland.
Hong Kong's often-ignored and sometimes-maligned foreign domestic workforce contributes as much as HK$13 billion to Hong Kong's economy annually - more than 1 per cent of the city's gross national product, according to one estimate. From academics to community organisers, no one knows precisely how much these workers, principally from the Philippines, Indonesia and Thailand, do contribute. This, says Sajida Ally of the Asian Migrant Centre (AMC), is part of why their work is too often under-valued. Calculating the total economic worth of Hong Kong's 240,000 foreign domestic workers as part of the SAR's HK$1.25 trillion GNP is a complex formula that takes into account several different multiplier effects including the amount they earn, the kind of work they do and how much they spend locally.
Hong Kong companies are woefully unprepared as a stock exchange deadline to make their boards more independent approaches and an embarrassing extension by regulators looks increasingly likely.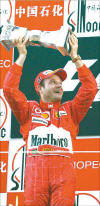 China: The head of motor sport in China put the seal on the mainland's entry into Formula One yesterday with this simple statement: "We have shown the world we can do it." Rubens Barrichello of Ferrari holds high the trophy after winning the inaugural Chinese Formula One Grand Prix yesterday in Shanghai. Second place went to Jenson Button of BAR , followed in the third by Kimi Raikkonen of McLaren. A total of 200,000 spectators crowded into the newly-built Shanghai International Circuit to watch the inaugural Chinese Grand Prix.

Formula One goods available in Beijing: A customer buys a race car model in a Formula One store on Beijing's Wangfujing Street yesterday as Formula One car racing in Shanghai got underway. This first Formula One store in Beijing, with a full range of Formula One merchandise, opened in the city's commercial hub on Saturday, with a total of 50 such stores expected to serve Beijing by the end of the year.
Chinese consumers' love affair with plastic is deepening with 714 million bank cards issued since the first was launched in 1985 and 18 trillion yuan (HK$16.97 trillion) worth of transactions charged on credit and debit cards last year. However, despite the seemingly huge numbers, it is an industry in its infancy. Credit cards account for only about 4 per cent of cards issued. Most plastic in China is debit cards.
Shanghai is about to become even larger as the metropolis awaits its third baby boom in modern history. The city of nearly 17 million will see its population increase by more than 100,000 per year over the next decade, with a peak expected in 2014 and 2015, when the figure will reach an annual 160,000, Xinhua News Agency said.
Chinese exporters should not be too worried about the possible further removal of Chinese products from the European Union's Generalized System of Preferences (GSP) list, and should focus efforts on increasing the competitiveness of their products, experts say.
US-based world leading media conglomerate Viacom Inc is expanding its business in China, with a new partnership with Beijing Television (BTV) and much wider coverage for the 24-hour MTV channel launched in South China's Guangdong Province.
The Chinese tax authorities' recent decision to exempt stamp duty on legal heirs but impose it on other beneficiaries who receive land and houses suggest the country will not impose inheritance or bestowal taxes in the near future, experts say.
Universal Music Limited, a world-leading music company, announced an agreement on Saturday with Guangzhou Impact Audio-Video Co Ltd, to distribute classical music discs in the Chinese mainland.
United States' companies that are less competitive in global trade may need to make adjustments to cope with "structural changes of the world economy that follow China's development," said Robert Kapp, president of the US-China Business Council, the principal organization for US companies engaged in business with China.
The mainland's banking regulator will provide "active consideration and prior approval" for overseas banks wanting to have a stake in lenders based in the northeastern rust belt, as part of official policies to rejuvenate the region.
Shanghai is raising the stakes in its battle to be seen as China's cultural centre, hosting the mainland debuts of Sir Elton John, Phantom of the Opera, and Hong Kong director Wong Kar-wai's latest film, 2046.

Military vehicles run to the site to take part in a military exercise with live ammunition held in the Queshan Training Base in Henan, central China Sept. 25. Some 60 foreign military leaders, observers and officers from 16 countries, observed the exercise, which was code-named "Iron Fist-2004".
The president and grass-root soldiers from the army, navy and air force and armed police stationed in the capital city watched the dance, which is known as "Diary of a Soldier", at the China Grand Theater.
China has decided to grant a package of preferential tax policies to its rust belt in northeast China, which includes the provinces of Heilongjiang, Jilin and Liaoning.
Leaders of China and Russia mutually recognized their status of full market economy on Friday in Moscow, saying that it will boost the development of bilateral economic and trade cooperation.
A five-member mainland consortium led by state-owned China Minmetals Corp is poised to make a bid, likely to be priced at between US$4.2 billion and $5 billion, for Canada's biggest mining company Noranda.
Sept 27, 2004
Hong Kong: The Michael Moore documentary which savages US President George W. Bush's handling of the September 2001 attacks, Fahrenheit 9/11, will open in Hong Kong on October 14.
China's senior leadership has finally weighed in on the Hong Kong elections, with Premier Wen Jiabao saying the results of the race for Legislative Council seats was a clear manifestation of democracy. "It is most important for them to respect the Basic Law and to represent the interests of all the Hong Kong people,'' he said.
State oil trader Sinochem has signed a final contract to buy South Korea's smallest refiner, Inchon Oil, for about US$549 million (HK$4.28 billion) - China's first takeover of a foreign oil company.
Disappointment over the full-year results of Sun Hung Kai Properties, Hong Kong's biggest developer, and weak overseas markets set off a wave of selling in the local stock market yesterday, with investors keen to secure profits before the end of the quarter.
Continued delays at the biggest ports on the west coast of the United States are disrupting peak-season trade movements and have set the stage for a rise in transport fees for Asian exporters next year as shipping lines look to pass on the cost.
Two HSBC nominees were elected to Bank of Communications' (Bocom) board this week as China's fifth-largest lender seeks to improve its corporate governance system before its dual listing in Shanghai and Hong Kong.
China: Germany's Michael Schumacher walks through a pit area after a software problem in his Ferrari caused him to abandon the free practice at Shanghai International Circuit.

One hundred couples who work for a Taiwanese-funded company in Fuzhou yesterday held a giant wedding in a public park. The company, an electronics maker, is the biggest Taiwanese-funded business in the Fujian city, with more than 6,000 employees.
Premier Wen Jiabao yesterday praised Jiang Zemin for handing power to the younger generation of state leaders and stressed now was not the right time to loosen the grip on the economy. President Hu presented on Saturday certificates to two nearly promoted generals in his capacity as CMC chairman.
Premier Wen Jiabao yesterday hailed the Legislative Council elections as an advance for democracy in Hong Kong, and said there should be frequent dialogue between Beijing and various sectors of Hong Kong society.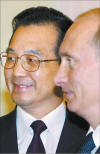 China and Russia are expected to sign a protocol on Moscow's accession to the World Trade Organization next month when President Vladimir Putin visits the mainland, Premier Wen Jiabao said after talks in Moscow yesterday. China is willing to work with Russia to further promote their strategic partnership, visiting Premier Wen Jiabao told a representative group of the Russian people on Friday.
China Unicom, the world's No 2 CDMA mobile operator by users, is spearheading the formation of a global industry alliance, with members ranging from operators to terminal manufacturers.
Sept 24 - 26, 2004
Hong Kong: The wife of the first doctor to die of Sars has lost her bid for help from a government fund created to help the families of workers who die in the line of duty.

Chinese opera performers rehearse in Kowloon Park yesterday for next week's Mid-Autumn Festival.
Hong Kong's average hotel occupancy rate was 86 per cent in the first eight months of this year - the highest level since 1996.
Higher investment from the mainland is expected next year, driven partly by the impact of the cross-border Cepa agreements, InvestHK director-general Mike Rowse said yesterday.
Fung shui experts will be consulted before the opening day for Hong Kong Disneyland is chosen.

Rental contribution from Sun Hung Kai's flagship Two IFC should boost earnings next year. Hong Kong's biggest developer yesterday urged the government to put up more land for public sale and ease fears of a housing shortage.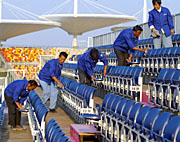 China: Workers put finishing touches to seating at the Shanghai International Circuit yesterday in preparation for the grand prix. Formula One supremo Bernie Ecclestone yesterday rated Sunday's inaugural China Grand Prix more highly than the Olympics.

China has been making efforts to advance Sino-Japanese relations from strategic perspectives and for lasting friendship. Chinese President Hu Jintao (R) meets with Speaker Kono Yohei of Japan's House of Representatives in Beijing, September. 22, 2004. China has been making efforts to advance Sino-Japanese relations from strategic perspectives and for lasting friendship, said Hu.
The National Copyright Adminis-tration will intensify efforts to crack down on the making of pirated textbooks and computer software, copying or selling fake audio-video products and infringing on the copyright of network works.

Huawei Technologies, China's largest telecommunications equipment maker, is not your average mainland firm. From its slick campus headquarters on the outskirts of Shenzhen and its bevy of pricey Western management consultants to its marching drills, Maoist slogans and collectivist ownership, this is one Chinese company that stands out from the pack. It has also become a serious international player in a high technology business - a feat accomplished by very few of its mainland peers

Local residents attend an auction in Nanjing, capital of East China's Jiangsu Province. China's auction market will open to foreign businesses at the end of this year, according to the country's commitments to the World Trade Organization.
Top executives of AMD, the world's second-largest computer chip maker, say they are aiming to achieve a market share higher than their global average in China with stronger co-ordination between its organizations in the Chinese mainland, Hong Kong SAR and Taiwan Province.

A fountain decorated with flowers forms the centrepiece of a display in Tiananmen Square celebrating the 55th anniversary of the founding of the People's Republic of China next Friday. The display covers 12,000 square metres and incorporates 300,000 pots of flowers.
High-level Chinese officials will take part for the first time in a meeting of the Group of Seven countries in Washington next month, the Foreign Ministry said yesterday.
Premier Wen Jiabao arrived in Moscow yesterday with a mission to secure more power supply from Russia to satisfy China's booming demand for oil and gas.
Viacom will announce today a strategic partnership with Beijing Television, part of its aggressive expansion into a television content production market that is emerging from strict state supervision.
China Unicom, the world's No2 CDMA mobile operator by users, is spearheading the formation of a global industry alliance, with members ranging from operators to terminal manufacturers.

Olympic gold medallist champion again: Chinese Olympic gold medallist Liu Xiang clears a hurdle beside Allen Johnson of the United States in the men's 110 metre hurdles final at an international track and field meet yesterday in Yokohama, Japan.
Chinese recruitment portal operator 51job's renewed Nasdaq-listing plan has drawn a warm response from investors as market interest in technology counters rebuilds, despite a number of Hong Kong listing candidates being forced to trim their offer sizes.
Sept 23, 2004

Hong Kong: Jackie Chan attends the premiere of his latest movie, New Police Story, at the UA Whampoa cinema in Hunghom, last night with (from left) Nicholas Tse Ting-fung, Charlie Young Choi-nei and Charlene Choi Tsoek-jin.
Special registration and labelling may soon be required for all products that contain volatile organic compounds (VOCs), the government announced on Wednesday. The requirements are part of a plan to reduce VOC pollutants in the Pearl River Delta.
The Equal Opportunities Commission chairwoman yesterday defended the work of an independent panel investigating the body, after a legislator complained to Chief Executive Tung Chee-hwa that the inquiry team lacked credibility.
Hong Kong's de facto central bank raised a benchmark lending rate by a quarter point on Wednesday, mirroring the US Federal Reserve's move, but at least one commercial bank balked at matching the full increase.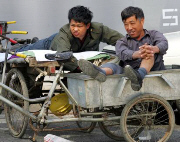 China: Two workers relax on the back of tricycles outside a construction site in Beijing on Wednesday. Hundreds of thousands of migrants from rural areas of China are employed on the construction sites in the city.
Beijing is set to significantly expand energy co-operation with Moscow, Premier Wen Jiabao said ahead of a visit to Russia.
A new set of rules on personnel management may strengthen the Communist Party's ability to govern, and curb the problem of officials going to work for companies they used to supervise, Xinhua reported this week.
China Network Communications Corp (China Netcom), which is seeking a dual listing in Hong Kong and New York next month, will cut the size of its offer by at least 30 per cent to avoid following in the footsteps of the dismal listing of China Telecom in Hong Kong two years ago, according to market sources.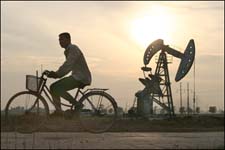 China's economy will expand 8.8 per cent this year and 8 per cent in 2005, but growth next year may slow to 7.2per cent if oil prices stay at around US$40 (HK$312) a barrel, the Asian Development Bank (ADB) said. "Higher global oil prices have introduced new uncertainties to the country's economic prospects for 2004-2005,'' the bank said in its Asian update report on Wednesday.
Techfaith Wireless Communication Technology, a Chinese handset design house, had scrapped a plan to go public on Hong Kong's second board in favour of a Nasdaq listing in order to achieve a higher valuation, according to market sources.
A giant clock started ticking yesterday in Tian'anmen Square, at the very heart of the Chinese capital, counting down the days, hours and minutes to the Beijing 2008 Olympic Games.
China's power supply will likely meet demands by 2006, said Zhao Xizheng, president of the State Grid Corporation of China, the country's largest power transmission and distribution firm.

Chang Zhenming (centre) is appointed president of China Construction Bank Corporation yesterday. China Construction Bank, one of the country's four largest State-owned banks, said yesterday it would not start an initial public offering (IPO) before the end of this year.
Sept 22, 2004
Hong Kong: Hong Kong and US scientists believe they have found chemicals that can stop the spread of the Sars virus, raising hopes a cure for the pneumonia-like illness is in sight, researchers said on Tuesday.
Steve Forbes, the billionaire who was once a US presidential hopeful, entered the Hong Kong political debate on Tuesday stressing economic stability is key to the city's success.
Hong Kong's bars and hotels must clean up their act and ban smoking or face a barrage of health lawsuits, activists warned on Tuesday.
Legislator Sin Chung-kai has renewed calls for Hong Kong to press Beijing to include a proposed Special Telecoms Zone under the city's new trade pact with the mainland. The proposal seeks rights for HK telecom firms to land their cable systems in Shenzhen and offer their services across the Pearl River Delta.
The territory's power companies say that difficulties in sourcing alternative fuel supplies, the depletion of the Hainan gas fields ahead of expectations, and the cost and time of installing pollution reduction equipment mean it will be hard to further reduce emissions, a key contributor to Hong Kong's poor air quality. CLP Holdings and its rival Hongkong Electric in 2002 created 89 per cent of all sulphur dioxide (SO2) and 45 per cent of nitrogen oxide (NOx) emissions in the SAR. While those emissions are a far cry from 1992 levels, doctors and environmental groups want the companies to do more.

China: Chinese Premier Wen Jiabao met with Edmund Ho Hau Wah, chief executive of China's Macao Special Administrative Region (SAR), and gave him the signed decree from the State Council appointing Ho to a second term.
The top watchdog of the Communist Party of China (CPC) yesterday vowed to step up its fight against corruption to ensure the Party improves its capacity to govern the nation.
China has great potential in developing its petroleum and natural gas industries, said Vice-Minister Zhang Guobao in charge of the National Development and Reform Commission (NDRC).

Pedestrians walk past the billboards for discount ads outside a shopping center in downtown Beijing Sept. 19, 2004. Sales for consumer goods and production means will reach 15 trillion RMB yuan (1,811.6 billion US dollars) in China market in 2004, Bo Xilai, China's Minister of Commerce, said in Beijing on Sunday.
Austria's AT&S, Europe's largest producer of printed circuit boards, plans to invest about 100 million euros (US$121 million) in Shanghai to build its second plant.
Shanghai Aircraft Manufacture Factory yesterday delivered the 500th next-generation 737 horizontal stabilizer to the Boeing Company, marking another significant milestone in the Boeing-China aviation partnership.
The European Union (EU) wants greater access to the Chinese market in the textile sector and it is sure to lift textile quotas as scheduled, according to a senior EU official.
Sept 21, 2004
Hong Kong: Lawmakers from both sides of the political divide are uniting to demand the government suspend a planned cut in welfare payments, their first battle with the Tung administration since the Legislative Council election.
Veteran lawmaker David Li Kwok-po has complained to Chief Executive Tung Chee-hwa over the home affairs chief's handling of the Equal Opportunities Commission inquiry.

People talk in front of a Development Bank of Singapore (DBS) stand yesterday at the HK Financial Services Expo in Shanghai. The three-day event attracted more than 30 famous commercial banks, investment banks, asset management institutions, securities firms, accounting firms, IT and telecom technologies providers from Hong Kong.
Hong Kong shoe merchants yesterday condemned the arrest of a colleague by German customs officers at a trade fair in Dusseldorf.
A set of four stamps will be issued next month to celebrate cultural and economic partnerships between Hong Kong and other Pearl River Delta cities.
Beijing has reacted positively to a request by Hong Kong lenders that they be allowed to conduct trade-related yuan business, top mainland officials told a Hong Kong Association of Banks (HKAB) delegation yesterday.
Hong Kong's leading free-to-air broadcaster Television Broadcasts says it has won long-sought landing rights to legally air its two flagship channels to about five million homes in the Pearl River Delta area and will receive at least $50 million from sales each year.

A boy looks at lanterns in a street market of Hong Kong yesterday. With the coming Mid Autumn Festival, the Hong Kong Customs and Excise Department reminded parents and guardians about the potential hazards of festive toys such as battery-operated toy lanterns and light sticks when selecting such toys for children as some unsafe samples were found without the required identification markings on packaging.
China: A day after retiring from China's top military post, Jiang Zemin told army chiefs yesterday to accept the leadership of the Communist Party and that of their new commander, President Hu Jintao. The stage is set for China's transformation into a dominant military power with President Hu Jintao being handed control of the armed forces, analysts said yesterday. President Hu Monday praised Jiang Zemin for easing in a new era of Chinese leadership and for his "noble character, sterling integrity and broad-mindedness."

A buffalo grazes in front of abandoned houses in Zili village, Kaiping, Guangdong province, which were built with money sent home by villagers who migrated to the US and Canada in the 1920s. Local authorities are applying for the houses to become world heritage sites.

Air Macau broke even in the first eight months of this year and the carrier is expected to deliver a profit for the full year.
Singapore state investment firm Temasek Holdings and Henderson Land Development chairman Lee Shau-kee have committed to buying up to 20 per cent of the shares in China Power International Development's initial public offering, sources close to the deal say.
Red chip Silver Grant International Industries will buy a portfolio of non-performing assets with a face value of 56.9 billion yuan from China Cinda Asset Management Corp, China Construction Bank's dedicated distressed asset management company, according to market sources.
Sept 20, 2004
Hong Kong: Li Ka-shing's conglomerate Hutchison Whampoa could raise as much as $8.81 billion in a spin-off of its second-generation mobile phone business unit in Hong Kong and New York next month.

MTR staff check out the new pedestrian subway that opened yesterday in Tsim Sha Tsui. Connecting the MTR station with a Kowloon Canton Railway station, which is still under construction, the $1 billion subway is 400 metres long and will be open daily from 5.50am to 1.15am. The East Rail extension is expected to open this year, allowing passengers to change trains between it and the MTR at Tsim Sha Tsui or Kowloon Tong.
Eight mainlanders were arrested during an anti-theft operation on the first day of the Jewellery and Watch Fair yesterday.
Manufacturers and traders are most vulnerable to cross-border corruption, the ICAC has found.
Figures from the Independent Commission Against Corruption showed cases involving the two sectors made up 50 per cent of the 76 cross-border corruption complaints it received last year.
The controversial plan to expand the Hong Kong Convention and Exhibition Centre might cost more than twice the estimated $1.2 billion, as that figure does not take into account a potential land premium, a leading surveyor says.
The need to renew talks on bringing in workers from the mainland has acquired a new urgency as Hong Kong-owned textile firms prepare to move factories back from across the border, an industry leader says.



Hong Kong Monetary Authority chief executive Joseph Yam Chi-kwong yesterday led a group of about 20 top bankers seeking to lobby mainland authorities to enable local lenders to conduct more types of yuan business.
Bankers chasing Hong Kong-listed Far East Pharmaceutical Technology for loan repayments have discovered the troubled drug firm's cash balance has plummeted from HK$600 million to less than $6 million, according to sources close to the lenders.

China: Jiang Zemin, former chairman of the CPC Central Military Commission, and President Hu Jintao, also general secretary of CPC Central Committee and chairman of the CPC Central Military Commission, meet with all those present at the Fourth Plenum of the 16th Central Committee of the Communist Party of China yesterday. A new era began on the mainland yesterday, with Jiang Zemin giving up his last post as chairman of the Central Military Commission to make way for President Hu Jintao, completing the first orderly transfer of power since 1949. After days of intense speculation, Jiang Zemin confounded his critics and detractors by stepping down as chairman of the Central Military Commission - without any conditions attached.
President Hu Jintao has widespread support within the rank and file of the PLA as he takes over the helm of the world's largest military from Jiang Zemin , according to analysts. The Communist Party's Central Committee yesterday pledged to ensure social stability as it highlighted the need to build a more effective party leadership.

Chinese soldiers strike the bell bearing the words "Do not forget the National humiliation" at the September 18 Museum in Shenyang, capital of Liaoning. Saturday marked the 73rd anniversary of Japan's September 18 invasion of China.
Beijing's efforts to slow the economy by reining in investment in industries such as steel and cement are working, Vice-Premier Huang Ju says, suggesting further tightening measures such as an interest rate rise may be unnecessary.
Automakers' main recalls in China so far this year, Mercedes-Benz: 17 vehicles in January, 12,988 vehicles in September, Toyota: 1,489 Lexus cars in July, 2,339 Land Cruiser Prado SUVs in August, Mitsubishi Fuso: 7,802 medium and heavy-duty trucks in September, Chang'an Suzuki: more than 157,000 Altos in September, FAW Car: 30,000 Mazda6 sedans in June, Guangzhou Honda: 70,240 Accords in June, Dongfeng Peugeot Citroen: 7,539 Citroen Picasso saloon cars in September.
Sept 17 - 19, 2004
Hong Kong: Constitutional reform and safeguarding economic recovery take priority over security legislation, Chief Executive Tung Chee-hwa said yesterday. The Article 23 bill would not be reintroduced to Legco until there was a "basic consensus" on the question.
The fairytale of the Hong Kong-born princess and her Danish prince is over. Prince Joachim, second in line to the throne of Denmark, and his part-Chinese wife, Princess Alexandra, are to divorce after nearly nine years of marriage.
The Halloween theme proves a little too authentic for Ho Siu-tung, eight, at an event yesterday to promote Ocean Park's month-long Halloween Bash. The fear-filled festival, featuring haunted houses and other ghastly attractions.
Hong Kong's jobless rate dropped by 0.1 percentage points to 6.8 per cent last month, the lowest level in the past 30 months.
Hong Kong's companies judge has voiced "serious reservations" over a three-year directorship ban proposed by the Official Receiver against former Peregrine boss Philip Tose, saying it may be too short.
Negotiations over the terms and structure of a proposed merger between the MTR Corp and the KCRC are far from over, but they will now be better informed following the conclusion of a technical study.

A cool response from fund managers has obliged Li Ka-shing's Hutchison Whampoa to scale back its upcoming second- generation telecom offering and pitch shares to third-generation allies. To guarantee a successful completion of the planned spin-off of its second generation (2G) phone business, Hutchison Whampoa has agreed to trim the offer's size and is holding talks with "friendly business partners" to buy shares in the unit.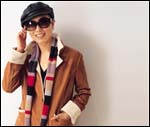 Women's fashion retailer Veeko International Holdings said it plans to expand in Hong Kong by tapping into the local cosmetics market.
HSBC has completed one of the more drawn-out share placement mandates in Hong Kong's financial market history, selling $2.1 billion worth of shares in Hang Lung Properties "left over" from a deal that went wrong eight years ago.

China: Health officials check an illegal food-processing shop in a back alley in Shaanxi's capital Xian yesterday. Local authorities are conducting a crackdown on the city's food-processing facilities in the lead-up to the week-long October 1 National Day holiday.
Mooncake manufacturers on the mainland are rolling out pricey cakes to cash in on the Mid-Autumn Festival gift-giving tradition, but academics warn that this festive delicacy and ritual can be abused - as a ready means of bribery.
Political reforms aimed at building a more effective leadership were at the top of the agenda when the fourth plenum of the 16th Communist Party Central Committee opened yesterday.
The central bank is leaning towards holding off an interest rate rise until the end of the year despite intense speculation such an increase is imminent, sources close to the bank say.

China's rapeseed planting acreage increased 200,000 hectares in 2004. The full-year output of rapeseed is expected to increase 9 per cent to 1.19 million tons. Soybean imports stood at 8.94 million tons in the first half of 2004. Edible oil production is predicted to hit a record 10 million tons. Imports of edible oil jumped some 70 per cent to 3.35 million tons from January to June. Edible oil supply will exceed demand by 3 million tons in 2004, as predicted.
Rescue workers handle the debris of a crashed civil helicopter yesterday in Yuyao, East China's Zhejiang Province. Four people aboard died and three were hospitalized. The helicopter was rented by the Ningbo TV Station from the Zhejiang TV Station for filming a local scenic spot. Investigation into the cause of the crash is underway.
Twice the number of US companies are planning to expand business in China compared with last year, according to the American Business in China White Paper.
Shares of red chip Tianjin Development Holdings surged 13 per cent after it announced an almost fivefold increase in first-half earnings and said it would spend up to 200 million yuan (HK$188 million) to boost production at its profitable wine business.
Sept 16, 2004

Hong Kong: SAR lags world in tackling pollution - Amsterdam has car-free zones, Stockholm extensive areas with restricted speed limits, and even Bogota has a spanking new, low-polluting public transport fleet. Yet when it comes to curbing smoke, fumes and haze, Hong Kong is not even in the running.
Hong Kong's election chief denied on Wednesday that vote-counting irregularities influenced the outcome of Sunday's legislative polls. Elections chief Mr Justice Woo Kwok-hing says it does not matter whether or not he resigns in the wake of the problems on polling day. The Electoral Affairs Commission released figures last night showing there were 14,220 invalid votes - unmarked or spoiled ballots - cast on Sunday in the five geographical constituencies.
Lawmakers from the DAB, the largest party in the legislature after Sunday's election, were welcomed by Chief Executive Tung Chee-hwa yesterday.

The airline board's Gilbert Chow (left ) and Airport Authority director Howard Eng discuss details at the seminar. Talks will begin before the end of the year to establish a new mechanism for setting airport landing charges, a vital step in setting up the regulatory framework for privatisation of Hong Kong International Airport.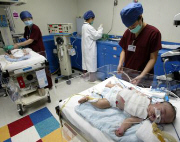 China: Medical workers take care of twin girls in the intensive care unit at Shanghai Children's Medical Centre on Tuesday, four days after their surgery last Thursday at the Xinhua Hospital. The twins were conjoined at the abdomen and chest.
All 4.6 billion yuan earmarked for land acquisition and compensation to villagers forced to make way for the Guangzhou Higher Education Mega Centre has been fully disbursed, officials say, disputing villagers' claims that they only received 1.25 billion yuan.
President Hu Jintao will today cement his authority over the ruling Communist Party at a key meeting, during which top party officials will discuss and approve his plan to bolster the party's legitimacy through increased transparency and accountability.
China Resources Breweries (CRB) has taken over three money-losing plants from Lion Nathan in a US$154 million deal that helps strengthen its mainland market position and delivers a long-awaited exit for the Australian seller.

Residents at the Xidan District Beijing play waist-drums and yange dance to celebrate general election in Dec 1953. The First Session of the First National People's Congress opens in Sept 1954 in Beijing. The holding of the First Session of the First National People's Congress symbolizes the founding of the People's Congress System in China.
China recently sent its former Vice FM Wang Yi to Japan as the new ambassador, hoping the bilateral China-Japan ties may have a favorable turn.
Sept 15, 2004
Hong Kong: One of Hong Kong's leading employers' groups yesterday sought to quash expectations of pay increases, despite recent good economic news. Improving economic conditions no longer automatically lead to better salaries in Hong Kong, the Employers' Federation of Hong Kong said. "Across-the-board [pay] increases to all employees should be avoided," the federation said in its annual guidance note to company chiefs yesterday. "Most companies should not adjust basic pay levels." The statement comes as some leading firms start to offer rises to all staff, signalling an end to a tough two years in which many workers suffered pay cuts and lay-offs.

The all-male Les Ballets Trockadero de Monte Carlo, or The Trocks, rehearse yesterday before their show in the Lyric Theatre at the Hong Kong Academy for Performing Arts later in the evening. The comedic New York troupe will be in the city until Sunday.

Wheelock and Co chairman Peter Woo Kwong-ching (left) and Sun Hung Kai Properties chairman Walter Kwok Ping-sheung (centre) yesterday received awards from Walpole, a non-profit organisation aiming to advance British products and services. Presenting the awards at the British Consulate, Walpole deputy chairman Guy Salter said they were chosen on the basis of their association with retailers that featured luxury British brands. Also at the ceremony were Dickson Concepts chairman Dickson Poon (rear centre), Hutchison Whampoa deputy chairman Victor Li Tzar-kuoi (rear right) and the Earl of Home, the chairman of Coutts & Co (front right).

The second stage of Cepa eliminates import quotas on another 713 product categories and leaves Hong Kong's IT sector scrambling for increased preferential treatment. Hong Kong's information technology sector is scrambling to obtain more trade concessions from mainland authorities as competition builds up in the IT services market in China.
China: Festivities are in the air, first for the 50th anniversary of the NPC, followed by the 55th anniversary of the nation's founding next month. Fifty years ago, the first National People's Congress met in Beijing and ratified the constitution of the People's Republic. Those landmark events are to be commemorated today with fanfare in the Great Hall of the People.
Officials in some Guangdong townships are being offered salary packages of up to 150,000 yuan (HK$141,420) a year as part of growing efforts to stem a brain drain from the civil service and curb corruption.
Urgent reforms are needed for Shenzhen's public hospitals which are overloaded with patients and face an increasing financial burden, the city's health authorities say.
A top judicial official yesterday issued a warning over rampant financial fraud on the mainland after the Supreme People's Court upheld death sentences handed down to three former staff of state-owned banks.
WHO officials have urged China and the rest of Asia to implement more effective measures to improve food safety, after a scandal involving substandard infant formula on the mainland earlier this year left at least 12 babies dead.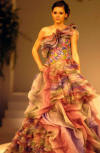 A model presents a dress designed by Japanese Designer Yumi Katsura in Dalian, a port city in NE China's Liaoning, Sept. 13, as part of the world master's haute couture collections of the 16th Dalian Int'l Fashion Festival.
A Sino-Singapore joint venture yesterday entered the race to be the first budget airline to serve the promising mainland passenger market and expects to launch flights in 2006 from its hub in Guangzhou.
The world's No1 water firm is to battle for supply franchises in three affluent mainland cities after snapping up a 700 million yuan project in Tianjin.
China Central Television (CCTV) will make a giant step into the American market next month, when a deal will be unveiled for the distribution of 17 mainland channels over the Echostar satellite network, media sources say.
The mainland's trade surplus for last month hit a record for the year despite soaring imports of key commodities such as oil, machinery and electronics. The US$4.49 billion (HK$35.02 billion) figure was expected to swing the mainland's trade balance into a surplus for the year, the China Daily newspaper reported, citing the General Administration of Customs.
The US Commerce Department yesterday unveiled new tools in Beijing to help US companies expand exports to China's growing market, one of their fastest-growing export markets. The tools include the China Business Information Centre, American Trade Centres and the Global Supply Chain Initiative.
Sept 14, 2004

Hong Kong: The combination of oversized ballot papers, a large turnout and poor planning led to ballot boxes filling up early, voting being delayed and boxes opened and repacked at numerous polling stations. Polling day wound up with a significant number of complaints but there were no arrests. Most complaints related to election advertising. The 1,302 complaints received by Sunday evening was down 9.6 per cent from the 1,427 complaints in the September 2000 poll. The pro-democracy camp's dream of seizing control of the Legislative Council seemed to be dashed as a record number of Hong Kong voters flocked to the polls for the most closely watched election in the territory's history. Voters keen to exercise their rights From newlyweds to old folks, families, students and ethnic minorities, all shades of Hong Kong came out to cast their vote. While some were unsure who to vote for and unhappy with the calibre of the candidates, nearly all agreed it was their duty to take part in the democratic process.
Pro-democrat Cyd Ho Sau-lan lost her seat in the Hong Kong island constituency after being defeated by pro-Beijing candidate Choy So-yuk by only 0.23 per cent of the votes.
China Power International Holding Co, which is expected to launch an initial public offering in Hong Kong next month, has gained an option to buy a 25 per cent stake in Shanghai Electric Power.

China: Yang Jin, 20, a model from Chongqing, claims the title of Miss China. The finals of the New Silk Road Chinese Model Contest 2004 is held on Sept 12 in Sanya. A total of 46 female models and 29 male models take part in the competition. Mu Zhonghua claims the title of Mr. China and Yang Jin wins "Miss China".
Prosecutors are discussing tougher measures to hunt corrupt officials who have fled overseas, Saturday at a national meeting in Guangzhou, capital of south China's Guangdong Province.
United States labor and manufacturing groups have not abandoned their efforts to turn the yuan regime into an issue during the presidential campaign, but they may be running out of time. With only 53 days remaining until the elections, it will be difficult to frame criticism of China's trade and currency policies in rhetoric that translates easily to voters.
Japanese Foreign Minister Kawaguchi Yoriko believes it is important to maintain friendly relations between the Chinese and Japanese governments and two peoples.
Chinese people's huge appetite for houses and cars will keep the country's economic growth at more than 8 per cent per annum over the next two decades.
Both vehicle output and sales in China rebounded in August after declining in four consecutive months from April to July, according to an industry organization.
TNT, the world's leading provider of express, logistics and mail services, set up its China headquarters in the city last weekend, reinforcing its commitment to the Chinese market.

Niu Youcheng, vice-mayor of Beijing, presents a giant pear to Feng Kun, the leader of Chinese women's volleyball team, as a gift in Beijing yesterday. The pear, weighing 1.87 kilograms, was the biggest in a contest held in Daxing District in Beijing this year. Feng's team won the gold medal at the Athens Olympics Games. The last time China won the volleyball gold medal was 20 years ago.

The quality of goods manufactured on the mainland is nowadays on a par with international standards, says Henry Steiner, design and branding consultant and one of Hong Kong's most well- known designers. Hong Kong companies that make their own products on the mainland are in an ideal position to create their own designer brands and reap the benefits that well-branded goods bring as they move up the value chain.
Sept 13, 2004
Hong Kong: More than 1.5 million people voted yesterday in a record turnout for the third Legislative Council (LegCo) elections since Hong Kong's reunification with the motherland. A record turnout of voters yesterday delivered a poorer-than expected result to the pro-democracy camp, a fillip to pro-Beijing forces and - probably - seats for two mavericks who are set to spice up events in the Legislative Council chamber. The high turnout in the election is a significant step in the development of democracy in Hong Kong. Against a backdrop of negative campaigning, voters sent a clear message to Beijing and the Hong Kong government by turning up at the voting booths: they want full democracy. Pro-democracy parties made smaller than expected gains in Hong Kong elections which were seen as a referendum on the territory's Beijing-backed rulers, according to results released on Monday.

Tung Chee-hwa, and Electoral Affairs Commission chief Justice Woo Kwok-hing (second right), open a ballot box.
Well-known political activist "Long Hair" Leung Kwok-hung has been elected a lawmaker after receiving 60,925 votes in New Territories East in Sunday's Legco Election.
Hong Kong's fixed-line network operators face a fundamental challenge to their business in light of the top industry regulator's laissez faire stance on internet telephony, which should allow for its rapid deployment.
Google forged ahead with its news website despite threats of legal action and allegations by local media of copyright infringement. The website for Hong Kong news cites news summaries and uses photos from local Chinese language media.
China: Direct-sales companies seeking to enter the lucrative mainland market will be required to have investment capital of at least US$10 million and a turnover of 500 million yuan from the past three years, according to draft legislation.
Beijing's top economic planner hit back yesterday at criticism the mainland was relying too heavily on government controls to put the brakes on the economy.
Free broadcasts of CCTV's digital pay-TV service are being extended by two months in the hope of encouraging more people to sign up.

Cleaning up world's highest peak:Local Tibetans and volunteers use yaks to transport rubbish collected on Mount Qomolangma yesterday. They spent five days collecting the rubbish, which had been left by mountaineers from all over the world. More than 90 volunteers from all over the country, together with more than 50 local Tibetans, participated in the activity. Upon their arrival on September 2, the volunteers carried out activities to promote environmental protection on the world's highest peak. They called on visitors to leave nothing behind but their footprints and good memories.
ICBC (Asia), the Hong Kong-listed unit of the mainland's biggest bank, has raised US$400 million to finance its continued aggressive expansion.
The World Health Organization (WHO) has warned of a global outbreak of avian influenza unless greater efforts are made to fight the disease in countries already affected by it and international co-operation is strengthened.
The country's quality inspection authorities pledged on Saturday to deny market access to any food products that fail to pass the strict scrutiny of a new "market access system" by the end of next year, quality supervisor Ji Zhengkun said in Beijing.
Financial technology on show: An e-banking system serves customers on site at the China International Financial Technology and Equipment Exhibition. The four-day event opened yesterday at the Beijing Exhibition Centre.
China's fund management companies are competing strongly to get the first licences to manage occupational pension funds, a market worth 50 billion yuan (US$6 billion) at present and still growing rapidly.
Sept 10 - 12, 2004

Hong Kong: Former chief secretary Anson Chan Fang On-sang listens to an aside by her cousin, Christine Fang Meng-sang. Speaking at the Duke of Windsor Social Service Building in Wan Chai to support Ms Fang's campaign to represent the social welfare sector in Legco, Mrs Chan said the sector should communicate with business to gauge support for welfare policy, adding it was not right to handle issues in a hot-headed way.
More than 1,500 suspected triad members or associates have been arrested in a cross-border police operation involving 6,000 local officers and 2,000 raids - but senior crime figures remain untouched.
The Court of Appeal does not have the jurisdiction to hear the ICAC's appeal of the High Court judgment setting aside its warrants to search Sing Tao Daily's offices and a reporter's home, the court heard yesterday.
Christians in Hong Kong have been urged to vote on Sunday to fulfil their religious and political duties. Ahead of a series of church activities this weekend to urge followers to turn up to the polls, clerics said that, as citizens, Hong Kong's 500,000-plus Christians should take an active part in public affairs.
Major shareholders who pledge 5 per cent or more of the shares in a listed company to secure loans will need to make public disclosure, if a proposal by the stock exchange is approved this month.
Hutchison Whampoa is planning to order up to 12 million third-generation (3G) mobile phones in anticipation of a surge in subscriber numbers next year, according to equipment vendors.
China Netcom Group (Hong Kong), which is planning a US$1.5 billion initial public offering, has named former telecommunications industry regulator Zhang Chunjiang as its chairman among 13 new board appointments.

The government of the Hong Kong Special Administrative Region (HKSAR) yesterday accused a report by US group Human Rights Watch of painting a distorted picture of the situation in Hong Kong.

China: Shipbuilding in China - Shipbuilding tonnage on the Chinese mainland will exceed 8 million tons this year, up from 6.05 million tons last year. The tonnage during the first half of this year grew by 66 per cent to 4.09 million tons, accounting for 14.4 per cent of the world's total. New ship orders received by the mainland's shipbuilders rose by 21 per cent to 9.9 million tons during the period, controlling 19.3 per cent of the world's total new ship orders.
The China Insurance Regulatory Commission (CIRC) will strive to deepen the reform of insurance asset management mechanisms so as to resolve problems in the management of insurance funds, a top official said yesterday.
Most migrant workers would until recently have jumped at the chance to earn more than 700 yuan a month working at a foreign-funded electronics factory in Dongguan. But many, like Hunan native Ma Lu , are walking off the job in search of better careers.
The five Olympic venues that will be scrapped to cut costs will be the tennis, baseball, softball, badminton and hockey facilities, the vice-mayor of Beijing says.
The Ministry of Communications is requiring Shenzhen ports to impose "development fees" on shippers for the first time, a move that will force port users to pay an extra 500 million yuan a year.
Software development company Zhongtian International hopes reforms of the mainland's debt-ridden rural credit co-operatives (RCCs) will create lucrative business opportunities.
Microsoft has lodged its first anti-piracy complaint with China's copyright bureau against three mainland software producers - Beijing Zhong Xin Lian, Tianjin Tian Bao Guang Die and Tianjin Minzu Wenhua Guang Die.

China's shares dropped to a five-year low yesterday, as heavy selling of blue-chip stocks by some institutional investors further eroded the weak investor confidence in the stagnant market.
Sept 9, 2004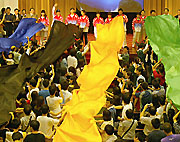 Hong Kong: While some of China's Olympic champions were demonstrating their skills and taking on local opposition yesterday, these gold medalists were given a colorful welcome by members of the University of Hong Kong Student Union. They may have had to sing for their suppers during a hectic stop in Hong Kong, but China's Olympic heroes still managed the energy to finally get down to some sporting business yesterday. Fans eager to see more of gold medalist swimmer Luo Xuejuan may have their wish granted, as the 100m breaststroke winner said yesterday she would be happy to come to Hong Kong as an exchange student.
Hong Kong and Beijing signed a landmark aviation deal yesterday that will raise the number of airlines allowed to serve the mainland and ultimately add 400 flights a week to meet the growing demand for leisure and business travel.
A journalist being interviewed by ICAC officers over the leak of a protected witness' name told them her career would be over if she revealed her source, a court heard yesterday.
The Hong Kong Institute of Certified Public Accountants (HKICPA), formerly known as the Hong Kong Society of Accountants, defended its plan to end its recognition of certification with accounting bodies, saying the move is intended to uphold the standards and uniformity of its members.

China: A man jumps from a bridge onto an airbag as a fireman shouts instructions during a drill in Guangzhou. Fire services and staff from the city's Convention and Exhibition Centre took part in the exercise, one of several designed to improve disaster response.
Guangdong's small and medium-sized enterprises (SMEs) have won improved access to capital and will soon have their own regulatory environment, but they still want more assistance, academic and business sources say.
Manufacturers in southern coastal China are so short of low-cost labour that many are trying to poach workers from their rivals to keep production lines running, a survey by the Ministry of Labor and Social Security has found.
China Construction Bank (CCB), the country's third-largest bank, plans to inaugurate a shareholding firm on September 21 to hold its banking assets. The move is a key step towards multibillion-dollar domestic and international stock market flotations by the lender.

Vice-Premier Wu Yi holds up a golden key to open the Eighth China International Fair of Investment and Trade in Xiamen of Fujian Province. The fair is known for serving overseas investors coming to China and Chinese businesses going abroad.
The past decade saw a sharp decline in number of rural poverty in China, but its urban poverty became a matter of concern, said the Report of China Population and Development Country.
Sept 8, 2004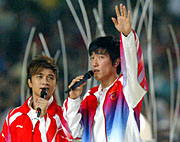 Hong Kong: Champion hurdler Liu Xiang (right) performs a duet with Canto-pop singer Leo Ku at the Hong Kong Stadium last night. The nation's Olympic heroes last night added singing to their list of accomplishments as they joined in a variety show, the highlight of their four-day charm offensive in Hong Kong. Olympic fever took a firm grip in the city yesterday, and even police officers could not resist the charm of the mainland's 50 gold medallists - seizing the opportunity to take photos with them.
The opening value of next month's government land sale was boosted to more than $8 billion yesterday when another site was triggered for auction - fuelling optimism about the property market and putting another dent in the government's budget deficit.
The ICAC has transferred to the Department of Justice evidence files relating to its investigation into a breach of the Witness Protection Ordinance.
Confidence in "one country, two systems" and in the Hong Kong and central governments has risen, lessening the negative impact of Beijing's decision in April to rule out full democracy in 2007 and 2008, according to a survey.
Mainland developer Shui On Land has doubled its land bank through the injection of three development sites from parent Shui On Group for 840 million yuan (HK$791.95 million), bringing its total new projects to five with total expected investment of more than US$8 billion (HK$62.4 billion).
Hong Kong's chief telecommunications regulator signaled it will take a light approach towards regulating Internet-based telephony, and warned that traditional fixed-line operators should change their business models to face the challenge.
Luxury hotel operator Shangri-La Asia said its first-half profits rose more than 11 times, beating analysts' forecasts, as tourism and business travel picked up in Asia following last year's Sars outbreak.
Hong Kong's Airport Authority, which operates Asia's third-busiest airport by passenger volume, is seeking HK$4 billion in loans to boost working capital, those involved in the transaction said.
China: Despite the recent slowing in world economic growth, Asia was likely to remain a good place to do business, economists said yesterday.
Five of the 10 new Olympic venues which were to be built under the supervision of the Beijing city government have been scrapped in the latest cost-cutting exercise to affect the 2008 Games, the People's Daily reported.
The Communist Party will hold the annual plenary session of its Central Committee from September 16 to 19, Xinhua reported yesterday after a report said Jiang Zemin may be preparing to step down as chairman of the Central Military Commission.
The debt levels of the mainland's second-largest fixed-line operator, which is pursuing a stock-market listing in Hong Kong and New York, were more than twice the size of its bigger rival at the end of last year, according to analysts who have spoken to the company's management.
Mainland officials have urged a slowdown of overseas listings by the nation's biggest state firms to boost the development of its fledging stock markets and arrest waning investment sentiment.
Kam Hing International will invest part of the proceeds from its forthcoming initial public offering on building an additional electricity generation plant to offset power shortages in Guangdong and lower its electricity costs, according to chief financial officer Elmen Wong Wai-kong.
The port of Shenzhen last month handled a record volume of manufactured goods as western and Asian consignees continued to direct carriers to ship their purchases through the cheaper facilities across the border.
China Southern Airlines Northern Company, a subsidiary of China Southern Air Holding Company, said yesterday it is going to introduce 23 Airbus A320 Family aircraft to replace its MD-82 and MD-90 aircraft.

People are viewing a rare stone amazingly resembling "Dancing Beijing", the emblem for Beijing 2008 Olympic Games, on September 7. The pattern and the length-width ratio of stone, 40cm in height, 28cm in width and 8cm in thickness, are almost the same as the Olympic "China Seal".
The Pakistan government will soon invite foreign companies, including Chinese equipment suppliers Huawei Technologies and ZTE Corp, to participate in the country's biggest telecommunications privatization plan.
The Hong Kong government is to adopt a stringent new policy to streamline public sector information technology investments. The move is designed to sharpen the focus of the bureaus and departments on the return on investment of e-government activities.
Acer chairman, chief executive and founder Stan Shih once wrote that many strategies employed by the companies in the west cannot be applied directly in Asia. And true to form as a creative industry leader, Mr Shih, in his final year at Acer, named Gianfranco Lanci as the firm's new president.
Sept 7, 2004
Hong Kong: Hong Kong's tepid property market received a much-needed boost yesterday with the government accepting a guaranteed bid of $5.02 billion that triggers the auction of what is expected to be the most expensive site sold since the handover.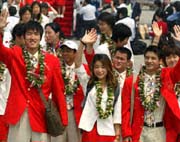 Gold medal winners hurdler Liu Xiang (left) and divers Guo Jingjing and Tian Liang greet their fans after arriving Hong Kong.

Members of China's women's volleyball team and fellow gold medallists arrive at Chek Lap Kok. They later attended a function at Government House.
They may have overcome the burden of their country's expectations and the challenge of world-class competition, but China's Olympic gold medallists appeared to be struggling on the first day of their publicity marathon in Hong Kong.
Hong Kong has a chance of hosting some events for the Beijing Olympics, but a lot of red tape will have to be unravelled first, a top mainland sports official said yesterday.
Fund managers have reacted cautiously to Hutchison Whampoa's planned spin-off of its telecommunications assets, questioning prospects for its Indian mobile business and grumbling about a stated zero-dividend policy.
The world's biggest port operators were yesterday shortlisted to bid for CSX Corp's global container-terminal network, which includes three berths in Hong Kong and three projects in China and South Korea, according to sources involved in the deal.
Cathay Pacific Airways will substantially expand services to Australia for the winter schedule as it moves to strengthen its presence in one of the fastest-growing tourist destinations for Hong Kong and mainland travelers.
Hong Kong Monetary Authority chief executive Joseph Yam Chi-kwong has been called on to help lobby mainland authorities to grant Bank of East Asia (BEA) and other Hong Kong enterprises listing rights on mainland exchanges through a system of China depositary receipts (CDRs).
Acer Group chairman, chief executive and founder Stan Shih once wrote that many strategies employed by the most admired companies in the west cannot be applied directly in Asia without considering the region's unique resources and business conditions.



Olympic medallists from the Chinese mainland pose with officials after arriving at Hong Kong airport. The group, led by Yuan Weimin, minister of the State General Administration of Sports (second right, front row), includes all of the Chinese mainland's gold medallists at the Athens Games and some coaches.
Wynn Resorts has raised its investment profile in Macau by buying out its local partners with US$52.2 million (HK$407.1 million) worth of its own stock. The company, run by mogul Steve Wynn, is building a US$705 million casino resort set to open next to the Casino Lisboa by the end of 2006.
China: The founder of a crime-fighting website based in Shenyang has been ordered by a telecommunications watchdog to shut down his operation.
A year-long anti-piracy campaign is to be launched to strengthen law enforcement with tougher penalties for violators, the central government said yesterday.
With the ink just dried on its landmark deal in China, international cable network operator Flag Telecom is planning to make a big push to supply more bandwidth to mainland carriers as they prepare for the 2008 Olympics in Beijing.
Chinese companies made overseas direct investments valued at US$2.85 billion last year, an increase of 5.5 per cent compared with 2002, the Ministry of Commerce said yesterday.

Easing energy shortage:Workers cheer at the linking-up of the west-east gas pipeline at Jingbian County in western China's Shaanxi Province yesterday. The project is designed to alleviate the nation's energy shortage through transferring natural gas from Tarim Basin in the west to the nation's eastern provinces.
Global investment agency Carlyle Group has invested US$15 million in Target Media Holdings Ltd, a Shanghai-based media company.
SHANGHAI: Dow Jones Indexes yesterday launched the Dow Jones CBN China 600 Index, a broad Chinese benchmark index, in co-operation with China Business Network Co Ltd (CBN).
Taiwan-based electronics equipment maker Chunghwa Picture Tubes (CPT) will raise 3.8 billion yuan (HK$3.58 billion) from a mainland A-share initial public offering in Shanghai in the first quarter of 2005, a source close to the deal said.
Mainland banks may see a deterioration in their assets' quality as the central government tries to cool the economy, which could force a few to delay listing plans, ratings agency Fitch said.
Sept 6, 2004
Hong Kong: Financial Secretary Henry Tang Ying-yen proved a popular substitute for Tung Chee-hwa on the opening day of the racing season when he gave industry leaders the hint they were hoping for - that wagering reform is on the way.
Banking swindles increase in Hong Kong, duping unwary savers of tens of thousands of dollars, authorities reveal, and banks are allegedly making huge payouts in hush money. Police and monetary officials are issuing stark warnings.

When Svitlana (left), Nadya and Vera, better known as the Nu Virgos, were let loose with a shopping pass courtesy of Skymart at Hong Kong International Airport yesterday, they made a beeline for lingerie, thrilling fans and photographers by modelling the items - over their clothes. The Ukrainian singers are in town from today until Thursday.
A mainland carrier's plan to buy a significant stake in PCCW's Hong Kong telephone network could be derailed, with talks stalled over widely differing views about how much the business is worth.
Sales in large housing estates soared last month, with a recovery in the secondary property market driven by the 95 per cent mortgage scheme for secondary home purchases and the new tenancy ordinance.

China: Squatter homes in the Gangxia area will soon have to make way for the bulldozers clearing land for luxury apartments.
China has an acute shortage of trained psychologists to deal with the millions of people suffering from mental problems, according to participants at a national psychologists convention in Shanghai.

Seamstresses work in a Dongguan clothing factory. Businessmen in the Guangdong manufacturing centre say many factories are understaffed by as much as 40 per cent. Experts say labour shortages along mainland coastal regions can be solved in the short term, but Hong Kong-based manufacturers are concerned they are facing a long-term problem.

Delegates to the Third International Conference of Asian Political Parties sign a 10-metre cloth to express their desire for world peace at the Temple of Heaven in downtown Beijing yesterday. The temple used to serve as a site for Chinese emperors to pray for national stability and prosperity. The three-day conference concluded with the issuing of the Beijing Declaration. During its hosting of the third International Conference of Asian Political Parties (ICAPP) that started on September 3, the Communist Party of China (CPC) has had its governing capability widely recognized by the assembled political parties.
Chinese Premier Wen Jiabao said in Beijing on September 4 that the government will take more substantial, effective measures to score greater achievements in creating more jobs.

Annual gold demand on the Chinese mainland is expected to triple in coming years as a result of the ongoing gold market deregulation, according to the World Gold Council.
Philips Electronics needs to transform its advantage as one of the best known brands in China into the most-preferred brand and is well on its way to double its sales in the world's most populous market in four years, said a top company executive.

An expert checks up growth of the hybrid rice named "II You 7954" at a demonstration farmland in Yongsheng County, southwest China's Yunnan Province, Sept. 3, 2004. After scientific checkup by a team of experts, the team confirmed that the grain output of this kind of hybrid rice has reached 1,195.2 kilograms per mu (15 mu equals to one hectare). Experts said that it was a top-ranking rice yield in the world and the hybrid rice had high promotion value as well.
Sept 3 - 5, 2004
Hong Kong: Hong Kong was reducing the threat of capital outflows by slashing the fiscal deficit, developing a strong banking system and issuing bonds, the Secretary for Financial Services and the Treasury said on Friday.
Chief Executive Tung Chee-hwa yesterday again pressed Hong Kong's case to be allowed to stage some events of the 2008 Beijing Olympics. Beijing and Hong Kong have agreed to set up a top-level official mechanism to promote greater co-operation in such wide ranging areas as trade, human resources and the 2008 Olympic economy. China's "political, economic and cultural centre" joined hands with its "financial, logistics and trade hub" yesterday to set up a new mechanism to boost ties.
Race-fixing and corruption allegations cast a dark shadow over the horse-racing industry globally following the arrest of former champion Hong Kong jockey Kieren Fallon and 15 others in Britain, officials said yesterday.

Three days after he was seen in a CCTV documentary playing on the beach with his wife and daughter, Mr Leung was sitting centre stage at a financial services forum yesterday at the invitation of the Beijing municipal government. Mr Leung was a guest speaker in his capacity as former financial secretary, sitting alongside directors of Beijing's financial regulatory committees and senior Hong Kong bankers. He resigned last year after it was revealed he bought a Lexus car just before announcing an increase in vehicle taxes.

Henderson Land Development chairman Lee Shau-kee prefers a view of Victoria Peak from his 1,000-square-foot office at the new headquarters in Two IFC.
The stock exchange is considering a proposal to require major shareholders to disclose share pledges used to secure bank loans in an attempt to enhance market transparency - a move that is bound to spark controversy.
China Beijing Equity Exchange plans to open a Hong Kong trading platform within three to six months to boost the sale of state assets to foreign investors.

The Olympic flag is displayed at the opening of the Beijing-Hong Kong economic co-operation symposium yesterday in Hong Kong. The two-day high-level symposium aims to attract Hong Kong investment for 130 Olympics-related projects, ranging from logistics to technology and manufacturing valued at more than US$10 billion.
Hutchison Telecom International (HTI) and China Power International Holding are believed to have obtained "in-principle" approvals for their listings on Hong Kong's main board.
China: Malaysia on Thursday unveiled plans to set up new offices in China and Saudi Arabia to promote its eight-year-old Multimedia Super Corridor (MSC) and seek out new business deals to bolster growth in the hi-tech zone.
A former mainland customs official linked to the massive Fujian smuggling scandal is facing extradition to Hong Kong after the Australian Federal Court in Sydney ended his two-year bid for freedom.

Hu Jintao and other senior officials meet members of the squad which secured China's best Olympic result with a haul of 32 gold medals. China's Olympics squad was given a warm welcome by President Hu Jintao and other top leaders in a reception at the Great Hall of the People yesterday.
The mainland's economy is forecast to grow an annualized 9 per cent in the third quarter of the year, down from 9.6 per cent three months earlier, state press reports say.
Beijing is studying a plan to hold officials accountable for the investment decisions they make in office, state media reported yesterday.
An agreement signed by Chinese and Philippine oil companies to carry out a pre-exploration study in the South China Sea covers part of the disputed Spratly Islands, a Filipino oil executive says.

China Life, the country's flagship life insurer, is gearing up to further its product restructuring.
The Boeing Company said yesterday it has finalized an order with Air China for seven 737-700 jetliners worth about US$360 million at list prices.
The French power giant Electricite de France (EDF) will co-operate with China in all areas of electricity development and help the country's strategy of sustainable development in power generation.
Sept 2, 2004
Hong Kong: Hong Kong doctors will be allowed to publish more business information under a Medical Council proposal to relax a long-time ban on promoting their services.
Fifty Chinese Olympic gold medalists will storm the city in a three-day tour next week, meeting the public, sightseeing and showing off their skills against local athletes.
Financial Secretary Henry Tang Ying-yen will lead a delegation to Shanghai this month to explore business opportunities ahead of the 2010 World Expo.
The latest figures on foreign direct investment (FDI) on the mainland point to a trend of relocation, restructuring and rethinking of strategies by overseas enterprises, according to analysts.

China: A security guard stands watch near the platform from where China's first manned space flight was launched last year. The Jiuquan aerospace centre in Gansu opened its doors to the foreign media yesterday for the first time, although most sites were off limits.

Chinese President Hu Jintao (2L) visits an exhibition on the achievements of China's nuclear industry over the last five decades at the Military Museum of the Chinese People's Revolution in Beijing, capital of China, Aug. 30, 2004. China will generate 36 million kw of nuclear electricity in 2020, accounting for over 4 percent of its total installed power generating capacity. Beijing is stepping up development of nuclear power plants to meet the voracious energy needs of the nation's rapid economic growth, officials say. With a decision to move forward to build additional nuclear power plants, nuclear power will take on a larger proportion in China's power supply system.
Natural gas began to flow through the 4,200km pipeline from Xinjiang to Shanghai yesterday, signalling that commercial operation of the project would begin in the near future.
China Telecom Corp will adopt a cautious approach to the introduction of its third-generation (3G) mobile network after it receives a licence, a strategy that will greatly reduce its capital-expenditure budget.
Bank of Communications (Bocom) has chosen mainland broker China Galaxy Securities to manage its domestic listing, putting to rest doubts over whether the mainland's fifth-largest lender would choose an A-share listing in addition to its overseas offering.
China Telecom, the locally-listed mainland telecommunications firm said it posted a 12.2 per cent year-on-year rise in its first half profit, supported by strong subscriber growth.

President Hu Jintao said yesterday in Beijing that China and the Philippines should deepen their co-operation in agricultural technology, machinery, infrastructure and development of resources.
Sept 1, 2004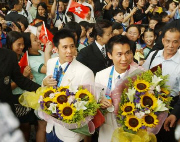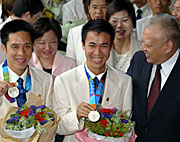 Hong Kong: Hong Kong's Olympic silver medallists, table tennis stars Li Ching, right, and Ko Lai-chak arrive at Chek Lap Kok airport to a hero's welcome. Li and Ko, who upon arrival said they want to strike gold in Beijing in 2008, are mainland Chinese who moved to Hong Kong and got special clearance from the International Olympic Committee to compete for the SAR. Chief Executive Tung Chee-hwa has asked the home affairs minister to oversee ways to improve sports development in the city.
Li Ka-shing's Cheung Kong Infrastructure (CKI) has continued to ``aggressively'' expand internationally by leading a consortium to buy a controlling stake in four of Britain's gas distribution networks in a deal worth HK$20 billion.
The government saw its budget deficit shrink by 88 per cent in the first four months of this fiscal year from a year ago, as the rapidly improving economy and a HK$20 billion bond issue in July boosted its coffers. In another sign of Hong Kong's strengthening economic recovery, business activity expanded for the 15th consecutive month in August as local companies increased output to meet rising global demand, according to the latest purchasing managers' index (PMI) released by NTC Research.
Local building contractor Chun Wo Holdings plans to expand its property development business to diversify from the competitive construction sector.Managing director Clement Kwok said the firm wanted to develop home projects, although construction would remain its core business.
Beijing authorities are seeking at least US$10 billion (HK$78 billion) in overseas investments for 130 projects at a two-day Beijing-Hong Kong Economic Co-operation Symposium beginning in the SAR tomorrow.

China: Chinese gymnasts pose for a photo upon arriving in Beijing on August 31, 2004. China's Olympic athletes, who won a record 32 gold medals in Athens, arrived on Tuesday to a hero's welcome.

Men's 110-metre hurdles gold medal winner Liu Xiang waves as he arrives with other Olympic athletes at Beijing airport yesterday. "We sent shockwaves through the world," he said on arrival.

Rhythmic gymnasts are welcomed at the Capital International Airport yesterday on their return from Athens. China's team won a record second place on the gold medal table.
China's triumphant Olympic team arrived home yesterday to a heroes' welcome. Members dedicated their medals to the motherland as the country pledged not to let the world down in hosting the 2008 Games. Athens' successful struggle to stage the Olympics on time has impressed and inspired organisers of the 2008 Games, says Beijing Party Secretary Liu Qi.
The daughter of Sars whistle-blower Jiang Yanyong collected the Ramon Magsaysay Award - Asia's equivalent of the Nobel Prize - in place of her father in Manila yesterday.
China is suspending initial public offerings for up to one month to introduce rule changes that will allow the market instead of the state to decide the price of new shares. The changes will bring the mainland's flagging stock exchanges more into line with international standards - and make retail investment less hazardous.
Aug 31, 2004
Hong Kong: Several Hong Kong mobile phone operators are eyeing push-to-talk services but are reluctant to follow New World Mobility's lead until the industry adopts open standards that will allow competing handsets to communicate with each other.
Great Wall Auto, the Hong Kong-listed producer of pickups and sport utility vehicles, said yesterday that it plans to raise as much as 2.74 billion yuan (US$330.9 million) on the mainland stock market.
Hong Kong-listed Geely Automobile Holdings Co, which produces low-cost cars on the Chinese mainland, said yesterday that its profit skyrocketed by more than 60 times in the first six months of this year.
Techtronic Industries, the fast-growing Hong Kong-based maker of a clutch of international hand tool brands, is paying US$713 million (HK$5.56 billion) to acquire two units of the Stockholm-based Atlas Copco Group to strengthen its grip on the power tool market.
Economists raised their forecast for Hong Kong's economic growth this year after faster-than-expected, second-quarter growth and the government's lifting of its official full-year projection to 7.5 per cent from 6per cent.
Property and casualty insurers booked substantially improved underwriting profits despite a slight drop in premium income, while local life insurers enjoyed windfall premium gains in the first half, according to figures from the office of the insurance commissioner.
Orient Overseas (International), controlled by Chief Executive Tung Chee-hwa's family, said its four wholly owned subsidiaries will pay a total of US$221.2 million (HK$1.73 billion) for four new container ships.
Towry Law Group, the HHG unit that offered a record payout this month to settle claims related to two fraudulent hedge funds, may face additional liabilities of more than US$250 million (HK$1.95 billion) for misrepresenting and promoting other risky investments, company and court documents show.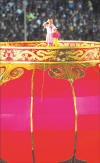 China: 'Welcome to Beijing':Chen Tianjia, 5, rides a lantern-shaped float yesterday morning Beijing time, during the eight-minute performance given by Beijing at the Olympic Games closing ceremony in Athens. The next summer Games will be held in the Chinese capital in 2008.
Four-time Olympic gold medallist Fu Mingxia says newly crowned diving queen Guo Jingjing outshone her even back in 1996. China's second-place finish at the Athens Olympics led to an outpouring of pride among Beijingers yesterday.
Mainland banks have been urged to offer education loans to poor students starting university next month, with authorities saying the issue is central to the social stability and training requirements of the nation.

Mayor of Beijing Wang Qishan waves the Olympic flag handed to him by President of IOC Dr. Jacques Rogge at the closing ceremony for the 28th Olympic Games held at the Olympic Stadium in Athens, August 29. At the world-noticing 28th Olympic Games, Chinese good athletes have achieved unprecedented, excellent results, making new historic breakthroughs.
Red chip Shanghai Industrial Holdings is ploughing about 1.5 billion yuan into the mainland's fledgling water-supply market, paving the way for a separate listing of the business, according to chairman Cai Laixing.
China is set to allow international financial institutions to issue yuan-denominated bonds for the first time, according to banking sources in Beijing.

Zhongsou Online Software is promoting its desktop search application as an alternative to Baidu.com and Google, as the Beijing-based company takes on its cashed-up rivals in the potentially lucrative market for online search services.

China on Sunday launched a recoverable science experimental satellite into a preset orbit, atop a Long March 2C carrier rocket from a launch center in northwest China.
Aug 30, 2004

Hawaii: State Adjutant General Robert Lee continues to be one of Hawai`i's top newsmakers as thousands of National Guard and Reserve troops prepare for deployments to the Middle East. Troops will first train at Schofield Barracks on O`ahu and then at Fort Bliss in Texas and Fort Polk in Louisiana before going to Iraq early next year. This is Hawai`i's largest troop mobilization since the Vietnam War. General Lee also joined Governor Lingle at the keel-laying ceremony for the USS Hawai`i, a nuclear-powered attack submarine under construction in Rhode Island. As the top military official for the state, General Lee supervises Hawai`i's armed forces, maintains the readiness of the Hawai`i National Guard for state and federal active duty, and coordinates civil defense activities.
Hong Kong: Hong Kong's Airport Authority may be facing a $7.8 million compensation claim from airlines after more than 10,000 items of luggage were "short-shipped" due to a breakdown in the baggage handling system on Tuesday.
Fok Foundation adviser Ho Ming-sze says he is concerned about whether the Little Nansha project, undertaken by Henry Fok Ying-tung, will proceed smoothly after Mr Ho exposed the problems local officials created for the Hong Kong tycoon. But he believed Mr Fok would not pull out of the project.
News of dominant fixed-line carrier PCCW's intention to pay a maiden dividend failed to cheer investors yesterday, with its share price falling 35 cents - more than six times the intended interim dividend payout.

CapitaLand, the largest property and hotel group in Southeast Asia, will invest US$180 million in a real estate investment trust (Reit) to be launched by the Hong Kong Housing Authority.

China: China embraced its first volleyball Olympic title in 20 years, beating Russia 3-2 in the women's final at the Athens Olympic Games August 28, 2004.
China was celebrating on Sunday its best performance at an Olympics after sprinting home in the final few days of competition with an unexpected surge of golds across a wide range of sports. China won its second-ever Olympic gold in women's volleyball on Sunday (HK time) after fighting back from two sets-to-nil down to defeat Russia in a marathon encounter. Dark horse Hu Jia came from behind to give China a record sixth Olympic diving gold on Sunday (HK time) with victory in the men's ten-metre platform event.

Shanghai teenagers contribute to the approximately 550 billion text messages that 300 million mainlanders will send this year, fuelling telecom firms' profits as the market for the service doubles to 55 billion yuan, according to the Ministry of Information Industry.
China Life Insurance, the country's largest life insurer, says it is successfully balancing its migration to more profitable products with the need to maintain premium growth and defend its market share.
A four-day hearing of a libel lawsuit against the authors of a best-selling book on the plight of peasants has turned into a battle for farmers' rights and the freedom to criticise the work of officials, one of the defendants' lawyers said.

Household appliances exposition:Gome's First Brands Exposition of Global Household Appliances kicks off on Friday at China Architectural Culture Centre in Beijing. The four-day expo is exhibiting almost all kinds of famous household appliance brands known to Chinese consumers. It is also the first large-scale household appliance exhibition ever held in China.
Shanghai-listed A share China United Telecommunications Co Ltd (China Unicom) posted a first-half profit of 1.56 billion yuan (US$188 million) on Friday, registering growth of 20.25 per cent over the same period a year ago.
Shanghai Automotive Co, the listed arm of China's top car maker Shanghai Automotive Industry Corp (SAIC), has reported a 49.1 per cent jump in net profits during the first half of this year, boosted by strong performance of its joint venture with General Motors (GM).
China Southern Airlines, the country's biggest carrier, plans to join the SkyTeam alliance to connect its flights with other international carriers and become the first mainland airline to join a global grouping.
Aug 27 - 29, 2004
Hong Kong: Fixed-line carrier PCCW, eager to please investors amid continued erosion of its core voice business, yesterday pledged to pay its first dividend after reporting a 14.5 per cent rise in first-half earnings.
A group of Hong Kong businessmen led by Li Ka-shing's eldest son Victor are to invest more than HK$13 billion in a string of Guangzhou enterprises. The deals were signed or pledged at a ceremony on Thursday involving business and government leaders from both cities.
Hong Kong Science and Technology Park has signed an agreement with the Tianhe Software Park in Guangzhou to allow 3,000 mainland software firms to set up offices here, giving them better access to the international IT market.
Hong Kong's trade growth slowed in July but remains on track for double-digit gains this year, reflecting rising consumer spending in China and the territory and robust demand from overseas markets.
Corporate debt issuers in the Asia-Pacific region have higher average credit ratings and are less likely to default than companies from other regions, says Moody's Investors Service in its first study of corporate rating downgrades and upgrades, defaults, and defaulted bond recoveries in the region.
San Miguel Brewery Hong Kong, the locally listed arm of the Philippines beermaker, cut its first-half loss from last year's level and reiterated that it expects to make a profit for the full year helped by rising sales and less discounting.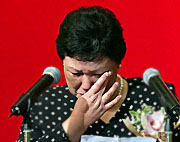 China: Deng Xiaoping's daughter Deng Nan breaks down at the launch of an exhibition commemorating the 100th anniversary of his birth. She said the late patriarch had expressed a desire to visit Hong Kong after the handover when it was in the "embrace of the motherland". Wiping tears away, Deng Nan continued: "Today our father finally sets his feet in Hong Kong".
Typhoon Aere inflicted more than 2.1 billion yuan in damage on Fujian province , knocking down more than 8,000 buildings and submerging crops, but local officials yesterday insisted there were no casualties.
A soft landing for the mainland's booming economy is not yet assured, the International Monetary Fund has warned, despite measures to curb credit and slow investment in overheated sectors.

Bank of China president Li Lihui - vice-chairman of the board - says it still has historical problems to sort out.
China's largest foreign-exchange lender plans to bring on board a former Bank of England banking supervision head as an independent director.
Conglomerate Citic Pacific painted a rosy picture for the second half of this year after delivering 225 per cent growth in net profit to $1.36 billion for the first six months.

China Unicom chairman Wang Jianzhou expects easy migration for the firm's networks. China Unicom remains bullish on the prospects for its future third-generation (3G) mobile operations, claiming it can launch its services faster and cheaper than rivals.
Mainland mobile-phone makers face a painful period of consolidation over the next two years as the domestic market slows, according to the chairman of consumer electronics maker TCL International Holdings.
China and Chile are fast-tracking negotiations over the establishment of a free trade agreement (FTA), with the conclusion of feasibility studies to be announced in early October, according to a Chilean diplomat.
China Petroleum & Chemical Corp (Sinopec), ExxonMobile and Saudi Aramco have primarily agreed to set up a fuel marketing joint venture to sell oil products for the proposed US$3.5 billion petrochemical and refinery complex in East China's Fujian Province, the companies said yesterday.



Chinese gold and silver medallists Guo Jingjing (C) and Wu Minxia (R) have photos taken with bronze medallist Yulia Pakhalina of Russia after the reward ceremony for the women's 3m springboard diving event at the Athens 2004 Olympic Games August 26, 2004.
Aug 26, 2004
Hong Kong: Developers can expect a level playing field when the government invites proposals for the cruise terminal project later this year.
About 100,000 people are expected to view an exhibition commemorating the 100th anniversary of Deng Xiaoping's birth, organisers said yesterday.
Hong Kong jewelers have been advised to promote their products in secondary cities on the mainland after a survey showed Hong Kong brands were not as popular there as in major centres - creating scope for expanding sales.
Hong Kong and Beijing will sign a new accord on their free-trade pact tomorrow, further liberalising the mainland market for the city's goods and service industries.
Hong Kong's securities regulator is being forced to write off one in five investigations that involve a mainland element because it is unable to gather evidence or get access to suspects across the border.
Mobile phone operator China Resources Peoples Telephone on Tuesday demonstrated its high-speed data transfer service, Mobile TV, and said it was holding preliminary discussions on the feasibility of Nokia's push-to-talk technology.

Prominent business figures in Hong Kong are calling for bolder measures from the central government under the CEPA (Closer Economic Partnership Arrangement) framework in a bid to buoy up Hong Kong's economy.
China: Trading in fuel oil futures started in Shanghai yesterday after a 10-year break, giving the world's second-largest oil consumer an important tool with which to hedge risks.
Alcatel Shanghai Bell (ASB) has announced the launch of its next generation network (NGN) reality centre in Shanghai.
China is moving steadily towards creating its first batch of free trade zones as seven of China's 15 bonded zones have been given the green light from the State to follow Shanghai to set up pilot zone-port interactive areas (ZPIAs).
More than half a million people were evacuated in Fujian yesterday before Typhoon Aere hit the eastern province, causing landslides and playing havoc with flight schedules.

MTR's Phil Gaffney says the firm will sign a deal to build, operate and maintain a 16 billion yuan railway in Beijing in a few weeks.
Ping An Insurance (Group)'s results announcement yesterday afternoon degenerated into controversy after the premature disclosure of a 25.8 per cent rise in interim profit to analysts and selected investors.

Peng Bo wins the men's 3m springboard gold medal, which is also China's 24th gold, at the Athens 2004 Olympic Games August 24, 2004.
The central government has sanctioned a long-awaited price rise for various refined oil products, but it may not be enough to compensate oil refiners for the sharply higher crude costs they have to bear.
Aug 25, 2004
Hong Kong: Hong Kong's No 2 free-to-air broadcaster Asia Television (ATV) is selling a 10 per cent stake to a Guangdong government-backed counterpart for 200 million yuan.

Primary Four students show off the PC tablets that will connect them to the English e-Book Centre. The students can access learning resources on the school's server from outside class.
Hong Kong businesses are expected to be granted zero export tariffs from next year on a further 500 product categories, the trade minister and the chairman of the Federation of Industries said yesterday.
Watch and clock exports from Hong Kong increased by 8 per cent to $20.7 billion in the first half of the year compared with the same period last year, industry representatives revealed as they announced details of next week's Watch and Clock Fair.



Peter Thompson, Starwood's vice-president for Hong Kong, Macau and Thailand, believes hotel room rates in Hong Kong will improve as inflation returns to the city.
Hutchison Whampoa's retail and manufacturing division, AS Watson, has exercised an earlier acquired right to take a 40 per cent stake in a German health and beauty chain from the former owner of Kruidvat Group, the De Rijcke family.
Hong Kong telecommunications giant PCCW confirmed on Tuesday that it was in talks to sell part of its fixed-line telephone business to Chinese telecom operator China Network Communications
China: Legislators are considering passing a law on electronic signatures to promote online business in China.
Beijing municipal government will be seeking more than 100 billion yuan from Hong Kong investors at the Beijing-Hong Kong Economic Co-operation Forum next week.

Shenzhen, which once led the mainland in attracting foreign investment, is losing its appeal, members of the Shenzhen People's Congress Standing Committee have been told. A lack of land for expansion is the biggest threat to continuing investment, Shenzhen's government says. But mergers with neighbouing cities have been ruled out.
Former Securities and Futures Commission chairman Anthony Neoh has been appointed the first independent director of the restructured Bank of China, sources said yesterday.
China and Kazakhstan are reviewing the possibility of building a pipeline to deliver natural gas from western Kazakhstan to Xinjiang Uygur Autonomous Region, on China's western border, to satisfy the country's increasing gas demands.
Aug 24, 2004
Hong Kong: Sixty-eight months of deflation has finally ended in Hong Kong - and the territory was now experiencing mild inflation, latest statistics released on Monday showed.

Part of the 5,000-strong crowd queueing for crystal mahjong tiles, with umbrellas adding to the congestion. Three women were taken to hospital for treatment.
A request for "a level playing field" for private Guangzhou firms wanting to invest in Hong Kong will be discussed when a high-level delegation from the Guangdong provincial capital arrives in the special administrative region today.
Foundation work for the Shenzhen Western Corridor has been suspended amid accusations of negligence in site investigations after the mainland contractor ran into piling problems.
Three daughters of late patriarch Deng Xiaoping will arrive in Hong Kong today and are expected to launch an exhibition on Thursday commemorating the centenary of their father's birth.
The government has been negotiating with the mainland authorities about allowing Hong Kong-based institutions to issue yuan-denominated bonds.

China: Young people mark the centenary of Deng Xiaoping by laying a wreath before a huge painting of the late leader in Shenzhen, the city in South China's Guangdong Province, which was transformed from a sleeping fishing village into a modern city thanks to the reform and opening policies pioneered by Deng in the late 1970s.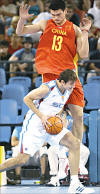 Yao achieves dramatic victory:Chinese basketball centre Yao Ming guards Serbia and Montenegro's Vlado Scepanovic during the men's preliminary game in Athens yesterday. Yao led his team to a dramatic 67-66 victory over last year's world champions. Yao's dream has come true as China heads for the quarter-finals while Serbia and Montenegro heads for home.
From Beijing to Shenzhen, hundreds of thousands of people gathered for government-organised activities, toured exhibitions and visited historic sites associated with Deng Xiaoping on the 100th anniversary of his birth.
A rising number of foreigners living in Macau, coupled with increasing foreign investment in the tourism and gaming sectors, has prompted some countries to appoint representatives to serve their citizens in the city. Far East Consortium International plans to build a complex of hotels, serviced apartments and commercial outlets in Macau similar to Hong Kong's Pacific Place at an investment cost of about HK$1.5 billion.
China Everbright Bank, in talks to sell a stake to Standard Chartered Bank, is planning a major round of domestic fund-raising to recapitalise and make its balance sheet more attractive for public listing, according to sources.
China Minsheng Banking Corp, the mainland's third-largest publicly traded lender, has posted an 81 per cent increase in second-quarter profit as economic growth fuelled demand for loans by companies and consumers.

China Communications Insurance (CCI), the Hong Kong insurance arm and wholly owned subsidiary of the mainland's Bank of Communication, yesterday announced the opening of a representative office in Shenzhen. According to chairman and chief executive Guan Huanfei (above), the office will be used for preparing the company's eventual entry into the mainland market.

China is actively participating in regional economic co-operation. New progress has been made in the FTA negotiation between China and ASEAN, and China has also initiated FTA talks with SACU (Southern African Customs Union) and GCC (Gulf Countries Council). Stable development has also been achieved in the feasibility study of FTA possibilities with Australia, New Zealand and Chile.

When 26-year-old Adam Chen started his career as a life insurance agent a year ago, he knew he would face competition. But he didn't expect that it would come from Hong Kong agents.
The Bank of China is expected to announce on Thursday details of a new corporate structure, an important step towards the bank's initial public offering next year, sources said.
Top executives of New York Life, the largest mutual life insurance company in the United States, said they have enough capital to expand its joint venture insurer in China to as many cities as possible and as quickly as possible.
Aug 23, 2004

Hong Kong: Red chip China Resources Enterprise intends to submit a revised hotel redevelopment plan to the government after its original proposal was thrown out last week, according to executive director Francis Kwong Man-him. The State Council-controlled conglomerate is determined to pursue the plan, which involves redeveloping its Sha Tin Cold Storage and Pak Sik Godown in Fo Tan into a 28-storey hotel with up to 987 rooms providing an area of 658,500 square feet.
yesterday singing the praises of an 11-day course in Beijing designed to boost their national identity - and dismissing any idea it may have been a brainwashing exercise.
A senior police officer yesterday said the sex scandal involving an off-duty Hong Kong policeman in Shenzhen had damaged the force's reputation.
Hong Kong's railway companies have been granted a two-week extension to a looming merger proposal deadline after a surprise government directive told them to consider using the underused West Rail line as part of a Hong Kong-Guangzhou express link.
I-Cable Communications will not be considered a dominant player if it launches telephone services over its pay-television network, leaving it with a free rein to set tariffs, the Office of the Telecommunications Authority (Ofta) says.
The number of bankruptcy orders fell to less than 1,000 last month, the second-lowest figure since October 2001, according to statistics released yesterday by the Official Receiver's Office.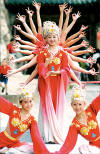 China: Holy hands from Yungang Grottoes:Artists dance in front of the Yungang Grottoes in Datong, Shanxi Province, North China on Friday. The dance, prepared by Datong Art School and modeled on cave drawings inside the grottoes, won a top award recently at the 19th international folk dance festival in Tel Aviv, Israel.

Wang Nan and Zhang Yining of China converted the second of five match points on Friday to overpower the South Korean pair of Seok Eun-mi and Lee Eun-sil 4-0 (11-9, 11-7, 11-6, 11-6) and retained their Olympic table tennis women's doubles title.
Cosco Pacific Ltd, the port arm of China's largest shipping company, will spend 1.06 billion yuan (US$128 million) on a 16 per cent stake in China International Marine Containers (Group) Co (CIMC), the world's top maker of shipping containers.

Leaders and representatives from all walks of life gather at the Great Hall of the People August 22 to commemorate the birth centenary of late leader Deng Xiaoping, the chief architect of China's reform and opening-up drive. Hu Jintao, state president and general secretary of the CPC Central Committee, delivered a speech. China's month-long celebration of the birth centenary of its late leader Deng Xiaoping, chief architect of the country's reform and opening up drive, reached its climax Sunday with a 6,000-people grand gathering at the Great Hall of the People.

Vice-Minister of the Information Industry Xi Guohua (right), Deputy Director of the State-owned Assets Supervision and Administration Commission Wang Ruixiang (second from right), Vice-Minister of Railways Wang Zhaocheng and China Tietong's Board Chairman Zhao Jibin (left) press a crystal ball to launch China Tietong Group Co Ltd in Beijing on Friday.
China will launch a nationwide campaign to step up its protection of intellectual property rights (IPR) in the coming months.
A sharp drop in interim profit at the mainland's largest property insurer is expected to disappoint analysts already worried about car insurance price competition, slowing non-life premium growth and losses from equity investments.
Tariff controls imposed by the mainland's telecommunications regulator have helped ease price competition in the mobile sector, but subscriber growth continues to slow.
Aug 20 - 22, 2004

Hawaii: Sen. Hiram Fong sits with other members of Hawaii's delegation at the 1968 Republican National Convention in Miami. Fong, who worked his way from the streets of Kalihi to graduate from Harvard Law School and become the first U.S. senator of Asian ancestry, died yesterday at age 97.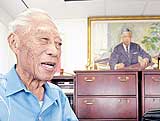 Former U.S. Sen. Hiram Fong in his downtown office, where he displayed a painting of him in his younger days.
Hong Kong: Several major Hong Kong companies posted firm results for the first half yesterday, confirming that the recovery in the economy continues largely undeterred by tightening measures on the mainland and surging oil prices. The number of working Hong Kong people reached a record high last month as unemployment remained steady at 6.9 per cent.

The Convention and Exhibition Centre was a faint outline yesterday due to pollution. Bad visibility, down to 550 metres in places, led to shipping accidents.
The off-duty Hong Kong policeman caught with a prostitute in Shenzhen has been suspended from duty and may undergo disciplinary investigation.
The ICAC yesterday asked for information from a city law firm in its continuing investigation into the leaking of the name of a witness under protection.

Chairman Li Ka-shing (left) and managing director Canning Fok at yesterday's press conference on Hutchison Whampoa's results. Li Ka-shing reaffirmed Hutchison Whampoa's optimism about its third-generation (3G) mobile communications business yesterday despite mounting losses, saying subscriber growth was on target and hinting at possible spin-offs in Europe.

China: Translators use sign language in a case involving a hearing-impaired prisoner in a Guangzhou court. China has one of the largest prison populations with about 110 inmates per 100,000 people.
The recent downfall of former Panyu party secretary Liang Bainan has lifted the veil on a little-known chapter in the development of Nansha - the once-desolate island turned up-and-coming industrial centre midway between Guangzhou and Hong Kong.
Cadres at selected work units in Hubei , Shanxi and Beijing must submit reports on the assets and income sources of their children living abroad under a pilot scheme to fight corruption.
Systems now in place at the Bank of China Hong Kong (BOCHK) would prevent further scandals at Hong Kong's second-largest lender, vice-chairman and chief executive He Guangbei said yesterday.
Internet retailer Amazon.com will buy Joyo.com, which runs some of China's biggest retail websites, for about US$75 million.

China won the first two gold medals in the Olympic badminton tournament yesterday, with world champion Zhang Ning beating Indonesian-born Dutchwoman Mia Audina 8-11, 11-6, 11-7 in the singles final.
After two days of gloom, China was back on the winning rails on Thursday with Liu Chunhong winning a weightlifting title on her record-shattering binge and its shuttlers contributing two golds.
China logged a staggering agriculture trade deficit in the first half of this year, importing US$3.73 billion more than it exported, indicated the latest statistics from the Ministry of Agriculture.
China's foreign direct investment grew by nearly 46 per cent in July, indicating strong confidence by foreign investors in the Chinese economy despite the government's credit tightening moves.
Aug 19, 2004
Hawaii: Hiram Leong Fong, former U.S. senator and Hawaii businessman, died this morning at St. Francis Medical Center at the age of 97. Fong, a Republican, represented Hawaii in the U.S. Senate from 1959 until his retirement in 1977. He was the first senator of Asian descent in U.S. history. Born in 1906, Fong grew up steeped in poverty in Kalihi. The seventh of 11 children, he graduated from McKinley High School in 1924 and went on to graduate from the University of Hawaii, completing his degree with honors in a mere three years. He graduated from Harvard Law School in 1935 and was a founding member of the law firm Fong Miho and Robinson in Honolulu in 1942. Fong soon established a business empire in Hawaii with the Finance Factors group of businesses, which included Finance Factors, Finance Realty and Finance Investment.
Hong Kong: As part of his punishment following a drugs' conviction, singer and actor Roy Chow Wing-hang on Wednesday visited a new drug information centre. A government spokesman said the visit was to help the 20-year-old learn more about the dangers of drugs.
The Trade Development Council (TDC) will seek government permission later this year to make temporary road closures surrounding the Wan Chai convention centre to accommodate spillover crowds from its biggest trade fairs.
Industrial & Commercial Bank of China (Asia), a Hong Kong unit of China's largest lender, and family-run Wing Lung Bank raised interim dividends as they reported higher first-half profits.
Hong Kong toy tycoon Francis Choi is to become the second-largest shareholder of Regal Hotels International, which has seen a turnaround in its fortune amid the tourism and property boom.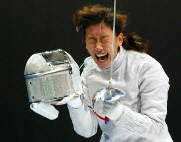 China: China's Tan Xue cheers after defeating USA's Sada Jacobson in their semi final during the Women's Individual Sabre competition of the 2004 Olympic Games at the Helliniko fencing hall in Athens. Chinese fencers Tan Xue and Wang Lei ended China's 12-year Olympic medal drought when they collected the silver medals of women's sabre and men's epee individual on August 17.
Australian Foreign Minister Alexander Downer yesterday played down the mainland's military buildup while urging countries to do all they can to discourage Taipei from declaring independence.
China took a tentative step towards capital account convertibility yesterday, allowing insurers to invest up to 80 per cent of their foreign-currency holdings overseas with immediate effect.
China Mobile (Hong Kong) posted a healthy rise in first-half earnings, but a 25 per cent increase in the dividend payout was not enough to satisfy market watchers, who said the mainland's largest mobile-phone operator could afford to be more generous.
South Korea's Hynix Semiconductor said on Wednesday it had finalised a deal to build a US$2 billion microchip plant in China through a joint venture with French-Italian partner, STMicroelectronics.
Aug 18, 2004

Hong Kong: Chinese University senior embalmer Chin Gai-cheung inspects a specimen at the Body Parts Exhibition in Tsim Sha Tsui. The exhibits, with a health-education theme, show body parts in both healthy and unhealthy states.
Investors who bought shares of two failed Cayman Island-based hedge funds through Towry Law International (TLI) have been offered reimbursement of up to 90 per cent of their investment plus interest, the firm says.
China: It was Deng Xiaoping who "resolutely backed" the crackdown on the "1989 political disturbance" and insisted on building Guangdong's Daya Bay nuclear plant and the Three Gorges Dam, according to former premier Li Peng.
The mainland spent more than expected on projects such as roads, power plants and factories in the January-to-July period, conflicting with a picture of a cooling economy painted by earlier economic data.
State Grid Corp is preparing to auction its 6,473 megawatts of power generation assets this year, according to banking sources.
Harbin Brewery Group is suing SABMiller in Britain's High Court for $55 million, saying the money is owed under the terms of the original strategic-partnership agreement between the two companies.
Veritas Software, the world's largest independent storage software company, is planning a fresh round of investments and alliances in the mainland as part of its goal to reach US$2 billion in revenue this year.
Constant pleas by global equipment suppliers for the central government to award third-generation (3G) licences will probably bring results in the middle of next year, with the timetable for issuance becoming clearer as authorities step up talks.
Australian Foreign Minister Alexander Downer poses at a lecture at Tsinghua University yesterday. Downer said progress on "a very ambitious proposal" for a China-Australia free trade agreement was faster and smoother than expected.
The Shenzhen Stock Exchange has been approved by the China Securities Regulatory Commission to launch Listed Open-ended Funds (LOFs), the exchange announced yesterday.
China's semiconductor industry is expected to witness faster growth as more projects are launched in the next five years, according to Xu Xiaotian, secretary-general of China Semiconductor Industry Association.
Aug 17, 2004
Hong Kong: The transport chief yesterday denied a hidden agenda existed to protect KCRC revenue, following a change in policy on cross-border buses that has almost halved services and brought fare rises of up to 75 per cent. Dozens of passengers, waiting under the sun in Mongkok yesterday, were angry at long queues for cross-border buses on the first day the government cut services by 40 per cent.
More than 9,000 hotel rooms have been booked in advance for the international convention of the world's largest volunteer organization, to be held in the city next year, organizers said yesterday.
Bank of China Hong Kong (BOCHK) has moved to allay any remaining fears that the latest scandal involving two former executives may affect profits.
A unit of China Overseas Land & Investment, the Hong Kong arm of China's construction ministry, is seeking to force Hong Kong real estate developer Gold-Face Holdings into bankruptcy.
Rating agency Standard & Poor's (S&P) has given Hong Kong's fragmented insurance industry a stable outlook but warns further consolidation is likely.
Shares of First Pacific, which runs telecom and food businesses in Southeast Asia, slumped to their largest percentage loss in two years as its 56 per cent first-half net profit jump was below analysts' expectations.
Hutchison Global Communications Holdings (HGC), the fixed-line arm of Hutchison Whampoa, said net profit in the first half rose 36.11 per cent to HK$49 million, from HK$36 million in the same period last year after including three months' results of its recently-acquired IT and newly consolidated broadband operations.
China: A 25.5km tunnel and bridge link to Shanghai's Chongming Island has been approved by the central government following months of delays after the project became caught up in policies to slow the economy.
China will step up controls on direct selling as the countdown begins for the first legislation on the controversial sales approach.

Families of the mainland's autistic children have long felt helpless due to a lack of support from society and the government, but a training centre in Beijing is doing its best to make a difference.

Former New York mayor Rudolph Giuliani addresses a delegation at the Global Brand Forum 2004 in Singapore. Mr Giuliani, a hero of the September 11, 2001 crisis in the United States, says governments must not compromise with terrorists. The forum allows world leaders and top business executives to discuss the future of global brands and business leadership.
Mainland regulators may soon lower the entry bar for foreign portfolio investors in a bid to revive the languishing stock markets, according to brokers and press reports.
Suzhou extended its edge over Shanghai as the most attractive destination in east China for foreign investment this year, fuelling fears that the mainland's financial capital is no longer a competitive location for manufacturing.
Constant pleas by global equipment suppliers for the central government to award third-generation (3G) licences will probably bring results in the middle of next year, with the timetable for issuance becoming clearer as authorities step up talks.

Olympians Zhu Qinan (right) and Li Jie win gold and silver medals in the 10-metre air rifle yesterday. Zhu broke the world record with 702.7 points.
China is expected to become a very important centre of research and development for multinational companies, thanks to its robust economic growth and a rich pool of talented people, according to a senior Japanese company executive. Foreign investors have set up more than 600 research and development (R&D) centres in China as of June this year, focusing on telecommunications, electronics, automotive, pharmaceutical and chemical industries, according to a report from the Ministry of Commerce.

Chinese athletes bag five more golds on August 16 at Athens Olympic Games. The champions are shooter Zhu Qinan, diving duo Lao Lishi and Li Ting, weightlifter Chen Yanqing, Shi Zhihong, and swimmer Luo Xuejuan.
Aug 16, 2004

Hong Kong: Future architect or designer Cherry Li with her winning design for a UN stamp, which "represents all humanity hand-in-hand".
The standard of all 112 English-medium schools will be reassessed, and those that do not make the grade will have to use Chinese as the medium of instruction under proposals being drafted by a government advisory group.
A new air services arrangement giving mainland carriers unprecedented rights to fly to foreign cities from Chek Lap Kok could be unveiled as early as this week.
The number of passengers using Hong Kong International Airport broke the monthly record in July with 3.448 million travellers, a 40 per cent increase from the same period a year ago.

Hutchison Whampoa and its parent, Cheung Kong (Holdings), are expected to report at least a doubling of interim profits on Thursday, thanks to a HK$13.7 billion windfall from the sale of a mainland joint venture with Procter & Gamble that covered mounting third-generation (3G) mobile-phone losses.
HSBC Holdings, the parent company of Hong Kong's biggest lender, is set to buy the consumer lending unit of Japan's troubled UFJ Holdings for about 100 billion yen (HK$7.04 billion), the Asahi Shimbun reported yesterday.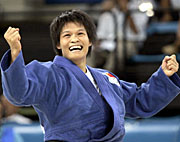 China: A judo gold for Xian Dongmei last night fuelled celebrations over China's best-ever start to an Olympic Games, helping to make up for flops by Yao Ming's basketballers and pistol champ Tao Luna.

Models are reflected in mirrors as they look at their new hairstyles in Beijing yesterday. China's fast-expanding fashion market is on the rise and famous fashion labels are flooding in.
Academics have expressed support for Fujian Communist Party cadre Huang Jingao , who has been accused by local officials of committing a grave political error by publicizing his six-year fight against corruption.
Chinese wireless service providers (SPs) suffered another major blow, as Sohu.com Inc said its multimedia messaging service (MMS) would be suspended by China Mobile Communications Corp for one year due to violations of the country's dominant mobile carrier's regulations.
National standards on the classification of retail business modalities, to be implemented on October 1, will inform foreign investors that opening up convenience stores, discount stores and small and medium-sized supermarkets are preferable choices in China, which is to open the industry up fully after December 11.
Guangdong Province, China's biggest foreign trader, realized a record import and export volume of US$30.43 billion in July, up 25.9 per cent from the same month of last year.
Aug 13-15, 2004
Hong Kong: Chinese restaurants in Hong Kong enjoyed the biggest boost in business in the second quarter of 2004, compared with other types of restaurants, latest statistics released on Friday show.
PCCW's distressed undersea cable joint venture Reach posted a US$2.7 billion loss due to a $2.6 billion asset write-down on continued deterioration in the global wholesale communications industry.

US logistics giant BAX Global launched a wholly-owned company in Guangzhou, capital of southern China's Guangdong Province, yesterday, capitalizing on a free trade pact between the Chinese mainland and Hong Kong SAR.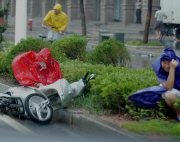 China: Cyclists tumble on a road due to the strong wind in Wenling, in east China's Zhejiang Province. Typhoon Rananim, the 14th this year, hit Wenling on Thursday morning.
China's consumer prices went up 5.3 per cent year on year last month, the highest rise in seven years, stirring up fresh debate over whether the central bank will raise interest rates soon.
Guangzhou people spend the most on food. Shanghai people spend the most on new cars and apartments. And Beijing is the fashion capital of the mainland, at least according to a new survey.
Mainland technology giant Lenovo Group, challenged by the nation's austerity programme and aggressive multinationals such as Hewlett-Packard (HP), regained the No1 market-share position in Asia-Pacific personal computer sales during the second quarter.
Baoshan Iron and Steel Co Ltd (Baosteel), China's No 1 steel maker, announced yesterday that it is going to issue 5 billion shares to raise cash worth 28 billion yuan (US$3.4 billion) to buy assets from its parent Shanghai Baoshan Iron and Steel Group Corp.
China's foreign exchange regulator said yesterday it had found forex business irregularities at certain insurance companies in a recent inspection, but compliance was believed good overall.
China's largest State-owned commercial bank will be able to solve its long-standing problems of high non-performing assets, insufficient bad loan provisions and low capital adequacy within three years if the State gives "appropriate support."
Goldman Sachs and prominent mainland banker Fang Fenglei have obtained final regulatory approval to launch a pioneering joint-venture investment bank in the mainland.
China's job market offered a satisfactory answer sheet in the first half of this year. The number of newly employed people was 5.9 million, reaching 65 per cent of the 9-million target set for the year.
Aug 12, 2004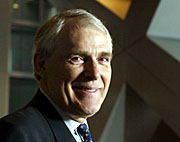 Hong Kong banks left their best lending rates unchanged at 5 per cent yesterday, despite the long-expected rise in US benchmark short-term rates to 1.5 per cent on Tuesday. HSBC chairman David Eldon says that the time will come when the Hong Kong lending rate will have to be increased.

Three 10A's students of Diocesan Girl's School, Christie Pang Hong-yee, Theresa Lena Chow and Hiu-yan Chan celebrating outside their school after receiving their Hong Kong Certificate of Education results.
Human rights lawyers said the ICAC faced a tough fight in its appeal against a ruling by a High Court judge, which they described as well-reasoned.
The new management company set up to run the Housing Authority's car parks and shopping centers will operate strictly on commercial principles, says its chief executive officer, Victor So Hing-woh.
The system to admit professionals from the mainland to Hong Kong should be more flexible and efficient to meet the changing labour demands of different industries, a new legislator said yesterday.

After conducting trials during the past two games, the International Olympic Committee is permitting more than a dozen broadcasters to show video of the Athens Olympics online.
Television Broadcasts expects to receive landing rights in Guangdong province and sign a revenue-sharing agreement with mainland media authorities by the end of next month, legalising its broadcasts for the first time in one of China's richest media markets and opening up an important new revenue stream.
Tom Online will acquire Beijing-based Treasure Base, a mobile-phone content provider specialising in sports, in a deal that could be worth as much as US$64.4 million.
Cathay Pacific Airways faces an uncertain second half as rapidly rising operating costs and increased competition look set to erode revenue gains and dilute any benefits from a rebound in Hong Kong's economy.
Exporters are bracing for a new round of surcharges as the scope of Washington's anti-terror initiatives spreads to encompass United States-bound air freight.

China: Former James Bond actor turned Unicef goodwill envoy Sir Roger Moore took aim at hotels and schools in Beijing yesterday for turning away a group of Aids orphans who were in town for a summer camp.
Jiang Zemin and Hu Jintao will visit the home town of late leader Deng Xiaoping in Sichuan in the coming few days to officiate at celebrations of the centenary of his birth.
Beijing said yesterday it had expelled a mainland-born US scholar for stealing state secrets and had barred him from returning for five years. Wang Feiling's case has sparked a diplomatic row with Washington.
Dry bulk shipping firm Jinhui Holdings failed to benefit from the industry upswing as trading on freight derivatives dragged the company into the red in the first half.

China witnessed its third monthly trade surplus in a row as July's exports surged by nearly 34 per cent, according to customs statistics.
Gold output in the Chinese mainland is expected to reach 210 tons this year, according to an industry organization.
China's securities watchdog has set up criteria for overseas listings of subsidiaries of domestic listed companies to protect interests of public shareholders.
Shanghai-listed Datang Telecom Technology Ltd is to pay US$3.75 million to buy stakes in a joint venture (JV) between South Korea's SK Telecom and Xinjiang Tiandi Group, the company said yesterday.
The growth of loans significantly slowed during the first seven months of this year, which indicates the government's economic macro control measures are taking effect, the People's Bank of China (PBOC) said yesterday.
China's shipbuilding industry is stepping into a new development era with the first liquefied natural gas (LNG) shipbuilding contract in the nation signed yesterday in Beijing.
Aug 11, 2004
Hong Kong: Cathay Pacific Airways, the leading carrier in Hong Kong, said on Tuesday it is buying seven used Boeing 747-400s and leasing another to bring its fleet to 103 aircraft.
Hong Kong residents traveling to Iraq need to be vigilant about their personal safety, the Security Bureau warned on Tuesday.
A surge in the number of cargo aircraft operating into Hong Kong International Airport helped Hong Kong Aircraft Engineering (Haeco) post a 22 per cent rise in net profit to HK$232 million in the first half of this year. This compared with HK$190 million reported last year.
China: Chief Executive Tung Chee-hwa has slumped in popularity polls again despite a sudden surge last month that suggested a two-year crisis of confidence in him was over, a poll showed on Tuesday.
A strategy by Lenovo Group to sell computers at do-it-yourself (DIY) prices will probably prompt its mainland rivals to follow suit. In its latest promotion, China's largest computer maker is targeting lower-tier non-urban users who are highly price sensitive.

An elderly man visits a grand exhibition on the life of late leader Deng Xiaoping in the China National Museum at the east side of the Tian'anmen Square in Beijing August 10, 2004. The exhibition is to commemorate the 100th anniversary of birth of Deng.
China plans to spend 14.6 billion yuan (S$3 billion) to build the country's biggest oil pipeline, stretching 4,000km from Xinjiang to the north-western province of Gansu, the People's Daily said yesterday.
Beginning from the latter half of last year, a series of policy measures were adopted for strengthening and improving macro-control and regulation of the economy.
In an attempt to make its key manufacturing industries more productive and cost-competitive - and keep them from fleeing to lower-cost areas in China or elsewhere - Shenzhen will build seven giant industrial zones where firms can share warehousing, transport links, training and other common functions.
Vehicle production growth slowed for a fifth month on the mainland last month as people put off purchases in anticipation of further discounts and lending curbs imposed to cool the world's fastest-expanding major economy reduced demand.
While most attention has focused on Beijing's US$45 billion (HK$351 billion) bailout of two of the big four state-owned banks in December, the central bank has been quietly handing out almost twice as much money to a range of other troubled financial institutions - from rural credit co-operatives to securities firms.
The Capital Group, the Los Angeles-based fund manager whose sale of shares in Harbin Brewery helped Anheuser-Busch win control of the Chinese brewer in June, has raised its stake in Tsingtao Brewery twice in two weeks despite the beermaker's poor performance outlook.
China recently appointed two experts well versed in anti-aircraft carrier warfare to head the People's Liberation Army General Staff Department (GSD) in yet another step to prepare the country for war over the Taiwan Strait.
Aug 10, 2004
Hong Kong: The government has received its first payment from the controversial Cyberport development, netting $1.67 billion from the sale of half of the project's residential units.

With several contracts on the go at one time, drainage work is expected to be delayed in many traffic areas. Using high technology has been suggested to minimise delays.
The government's handling of the controversy surrounding the Equal Opportunities Commission and the treatment of its former chairwoman, Anna Wu Hung-yuk, was unfair and ridiculous, banker David Li Kwok-po says.

Despite the stunning view from many rooms, Le Meridien-Cyberport Hotel is having a difficult time attracting guests. Its occupancy rate is as low as 10 per cent, sources say.
Hong Kong banks are expected to raise interest rates for the first time in four years after an expected increase tonight by the United States Federal Reserve, senior industry executives said yesterday.
Dah Sing Financial Holdings (DSFH) will rely on its insurance business to contribute 50 per cent of group profits and may try to build up the subsidiary through acquisitions, the company said at its results briefing yesterday.

Bank of China officials are arriving in Hong Kong today to investigate embezzlement allegations against executives of the locally listed vehicle, a mainland source said.
Mainland Headwear, Hong Kong's popular sports cap manufacturer, is to add three production lines to produce official caps for the 2008 Beijing Olympics that will be distributed at 3,000 official retail outlets when the games come to the mainland.
China: China's national flag is hoisted at the athletes' village of the 2004 Athens Olympic Games before receiving a blessing from former International Olympic Committee President Juan Antonio Samaranch yesterday. Entering the village before the ceremony, Samaranch met Chinese athletes and officials. Ioannis Manos, the Olympic Village manager, delivered a welcoming speech.
Foreign insurers in China, Number of foreign insurers operating in China, as of the end of 2003, Life insurance: 20, Property & casualty insurance companies: 14
Reinsurance companies: 3, Premiums of foreign life insurers in the first half of this year: 3.8 billion yuan (US$458 million), up 51.2 per cent, Premiums of foreign property & casualty insurers in the first half of this year: 650 million yuan (US$78.3 million), up 47.1 per cent. The increasing presence of foreign reinsurers will benefit the Chinese market with greater underwriting capacity, better competitive environment and faster technical improvements, the insurance watchdog says.
The Tianjin Port Free Trade Zone has received approval from the Ministry of Commerce to open a trade and industrial park in the United States.
Xiamen-based Taikoo Aircraft Engineering Co Ltd (TAECO), a leading Asian aircraft maintenance company, is investing US$42 million in building its fourth hangar in a move to enhance its competitiveness.
Inflation on the mainland will likely accelerate in the third quarter, the People's Bank of China forecasts, but will start slowing in the final three months of the year. GDP growth will slow in the third quarter, the central bank says.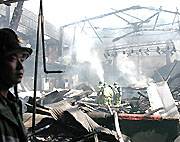 Firefighters inspect the scene of a blaze at a nightclub yesterday in Lhasa , capital of the Tibet Autonomous Region. Two people were killed in the blaze in the two-storey building attached to the Niwei Nationality Opera House in the city's downtown area and an investigation into the cause of the fire is under way.
The Red Cross Society of China is struggling with donor fatigue following a wave of donations during the Sars crisis last year and is under pressure after a harsh summer flood season that failed to win publicity.
Education authorities in Beijing have conducted a three-day safety inspection of the city's nurseries in the wake of last week's fatal kindergarten attack.

China Unicom Chairman Wang Jianzhou says better content is needed. China Unicom, mainland's second-largest mobile phone carrier, has built the fastest mobile data network in China. Now all the company needs is customers to use it.
Aug 9, 2004

Hong Kong: Local artists have competed in an art competition against rivals from other nations taking part in the Olympics Games. The two pieces of art representing Hong Kong in the Olympic Sport and Art Contest will be on show at the Hong Kong Visual Arts Centre alongside 11 works that entered the local preliminary contest.
The Trade Development Council, stymied by public opposition to further reclamation of Victoria Harbour, is eyeing sites for an expansion of the Hong Kong Convention and Exhibition Centre that chairman Peter Woo says is vital to maintaining the city's top-ranked position on the Asian convention and trade fair circuit.
Monitoring cases of influenza and mosquito-borne diseases have become the two priorities for health officials in Hong Kong, Macau and Guangdong.
Britain's Hong Kong and Shanghai Banking Corp (HSBC) will pay US$1.75 billion to buy a 19.9 per cent share of China's Bank of Communications (BoComm), the two announced on Friday in Beijing after an agreement-signing ceremony.
Asians earn the fattest incomes and are the most qualified and employed among the foreign-born population in the US, the latest US Census Bureau report reveals.

OOIL did not anticipate Beijing's austerity measures hitting its trade out of Hong Kong and the mainland, saying the cooling efforts were not aimed at the export sector.
Cathay Pacific Airways and Hongkong Dragon Airlines want to increase or extend surcharges on passenger tickets to counter surging fuel costs and five other carriers also are seeking to follow suit.
Tung family interests reaped a US$46.3 million windfall yesterday when the board at their majority owned shipping firm offered a generous interim dividend after net earnings jumped almost 240 per cent year on year.
Buoyed by expectations of better times, Hong Kong consumers have started splashing out on big-ticket items again, government figures have revealed.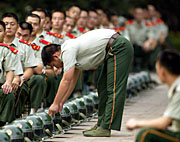 China: Chinese paramilitary police prepare for the Asian Cup soccer final between China and Japan at the Workers' Stadium in Beijing.
Plans for a removable roof on the National Stadium - one of the landmarks being built for the 2008 Olympics - have been scrapped despite original tender documents describing the design element as compulsory.

A lingerie model has the undivided attention of the almost wholly male crowd as she walks down the catwalk during a fashion show at Shanghai's first adult products expo, drawing thousands of spectators who gawked at lingerie models and handled sex toys.
Beijing has appealed to India to reopen a wartime highway to boost trade and business between the two countries.
More than 200 Chinese and Pakistani elite troops held their first joint anti-terrorism exercises named "Friendship 2004," in Taxkorgan Tajik Autonomous County, Northwest China's Uygur Autonomous Region on Friday afternoon.
Law firms of China need to become strong and think big in the face of increasing foreign competition, said Chinese lawyers in Beijing on Thursday.

An alliance was established on Friday in Beijing to boost the development of SCDMA (Synchronous Code Division Multiple Access), a homegrown wireless access system.
A 267-member first main group of China's 637-strong Olympic delegates left Beijing for the Athens Games on Sunday, August 8. The Chinese delegation consists of 637 members, 407 of which are athletes. They will compete in 26 out of the total 28 sports, except equestrian and baseball.
The first half of the year saw 442 development areas called off, a reduction of 94 percent with 607 construction projects cut down or put back, dealing with an investment of RMB 164 billion-yuan.
Aug 6 - 8, 2004

Hawaii: Lt. Governor Aiona conferred with Chen Hui Min, chairman of China Council for the Promotion of International Trade in Pudong. Chen, a member of the Shanghai Political Consultative Committee, hosted a one-on-one business matchmaking luncheon for the Hawai`i delegation. To help promote Hawai`i products and services in emerging Chinese markets, Lt. Governor Aiona joined a state delegation meeting this week with high-level government officials and business executives in Shanghai, Beijing and Tianjin. In addition to conferring with mayors of the three cities, Lt. Governor Aiona is leading a series of discussions with officials for the 2008 Beijing Olympic Games and with ministers of tourism development, environmental protection, and education and training. The Lt. Governor is also meeting with leaders of the China Council for the Promotion of International Trade. In December 2001, the State of Hawai`i and the council signed a memorandum of understanding to facilitate international economic and business transactions. The Lt. Governor's mission to China coincides with a weeklong exhibit of Hawai`i businesses and entertainers at a new culture, shopping, dining and entertainment center in Shanghai called Xintiandi.

During an official eight-day mission to China, Lt. Governor Aiona met with high-level Chinese officials to promote business opportunities and economic development for Hawai`i. He is shown speaking to the China Council for the Promotion of International Trade. With a membership of over 77,000 companies, the council is the largest institution promoting foreign trade in China.
Hong Kong: The decision to build a bridge linking Zhuhai, Macau and Hong Kong will be made at the end of the year, Chief Executive Tung Chee-hwa said.
Google may have illegally issued more than 23 million shares of its stock to hundreds of employees and consultants, injecting an unexpected legal risk into the online search engine leader's highly anticipated IPO.
Once regarded by its people, its rulers and the outside world as a politically apathetic enclave of hard-charging workaholics, Hong Kong saw a record number of candidates register by the deadline to run for seats in the Legislative Council.
Hong Kong Dragon Airlines (Dragonair), which runs direct flights to more than 20 Chinese cities, said it returned to a first-half net profit on the back of the economic recovery and the increase in mainland tourists.
Hutchison Telecommunications Australia has signed a network sharing agreement with Australia's Telstra to split the cost of its 3G network in the group's third-largest market, a move that would allow Hutchison Whampoa to recoup some of its hefty global 3G investment.
Convenience Retail Asia, a retail unit of blue chip Li & Fung, said it will spend HK$50 million this year to add 34 outlets in Hong Kong and the mainland as it unveiled an 11 per cent second-quarter net profit increase.
Jardine Matheson Holdings, which invests in real estate, distributes cars and runs supermarkets in Hong Kong, posted first-half profit of US$441 million.
China: The largest airport in China opened in Guangzhou on Thursday, establishing a giant freight and passenger hub in the country's manufacturing heartland to rival neighboring Hong Kong.
Aluminium products maker Ocean Grand Holdings has agreed to sell 49 per cent of stainless steel maker Asia Pacific Holdings (China) for HK$182 million, to redirect resources to expand its core business.
Taiwan's Formosa Plastic Group has won approval to build a steel cold-rolling mill and port facilities in Ningbo, a booming city in Zhejiang province on the Yangtze River Delta, even though steel is one of the industries Beijing wants to rein in.
Toyota Motor has won formal approval from Beijing to build a 3.69 billion yuan (HK$3.39 billion) joint-venture car plant in the port city of Nansha, Guangdong province, with Guangzhou Automobile Industry Group.
Wumart,the largest retail chain operator in Beijing, has set aside 20 million yuan (HK$18.85 million) to take over a department store complex, Jingbei Dashijie, in the capital and turn it into a megastore.
Aug 5, 2004
Hong Kong: Another former senior official of BOC Hong Kong (Holdings) is under investigation in connection with a scandal that has led to the suspension of two deputy chief executives for alleged misappropriation of funds.
Hutchison Whampoa will sell 50 per cent of its Australian third-generation network to Telstra Corp at cost, allowing the conglomerate to cut the financial drain from its loss-making business.
India and China remain the top priorities for Standard Chartered Bank as it moves into the second half of the year, but the bank remains tight-lipped about a widely reported deal to enlarge its stake in China Everbright Bank and other acquisition plans.

Six years of government deregulation have opened the door for hundreds of discount call operators to move in on PCCW, Hong Kong's dominant telecom carrier. PCCW has harshly criticised the launch of broadband telephone services by rival City Telecom, calling the move "premature" with the potential to turn a forthcoming consultation on internet telephony into a "sham exercise".
The governments of Guangdong and Hong Kong agreed to strengthen co-operation in 14 key areas and to set up three more expert groups for greater common development at a high-profile joint conference yesterday.

China: Airport staff take photographs of each other on the tarmac of Guangzhou's old Baiyun airport, which is being closed as a new state-of-the art facility opens in the suburbs. When pilots from the fledging Chinese Air Force first landed on a stretch of barren land in Guangzhou more than 70 years ago, no one guessed the stark airstrip would someday become a famous airport.
American International Group (AIG) is forging into China's asset management business and is also looking for partners in the commercial banking sector.
Foreign bank signs are displayed in Shanghai, China's financial hub. The China Banking Regulatory Commission published revised rules on the administration of foreign financial institutions on Tuesday, reducing capital requirements for their local currency operations and simplifying entry requirements.
Macao and mainland banking officials yesterday signed an agreement which will allow the special administrative region to launch renminbi business.
This weekend's Asian Cup soccer final between China and Japan in Beijing has become as much a political event as a sporting occasion, with tensions fuelled by anti-Japanese sentiment on the mainland.

Express air cargo begins rolling through DHL's new US$100 million intra-Asia hub, which will be serviced by a new $400 million fleet of freighters.
China is gearing up for a nationwide crackdown on online computer games, including those with sensitive political content. The operation is the latest attempt by China to rein in what it perceives as the harmful influences of the internet.
According to Zhou Chang, manager in charge of second-hand vehicle sales with Beijing Zhongyida Huicheng Automobile Sales Ltd (Zhongyida Huicheng), the possible further opening up of the second-hand car market will certainly provide a big shot in the arm for the firm's business.
The Ministry of Railways' plan to allow private capital, including foreign investments, to fund railway construction projects will be made public by year's end, confirm sources close to the ministry.
Aug 4, 2004
Hong Kong: "One country, two systems" is a Chinese invention and there is no question of foreign countries monitoring its implementation, according to Commissioner of the Ministry of Foreign Affairs Yang Wenchang.
Hong Kong's revived property market has helped the number of homeowners in negative equity fall to the lowest level on record.
More than three years after its introduction, the aggregate value of the Mandatory Provident Fund finally exceeded $100 billion this month.

MTRC chief executive Sir Chung-kwong Chow at the railway operator's interim results briefing yesterday. The strong rebound in Hong Kong tourism helped put MTR on track to a forecast-beating net profit of HK$1.17 billion in the first six months of the year.
PCCW has harshly criticised the launch of broadband telephone services by rival City Telecom, calling the move "premature" with the potential to turn a forthcoming consultation on internet telephony into a "sham exercise".
Chinese internet firms hongkong.com and NetEase.com are looking to diversify from mobile short messaging services (SMS) after seeing a slowdown in revenue growth.
TCL, a handset maker and the world's largest TV set manufacturer, said on Tuesday it planned to list its mobile phone unit in Hong Kong by way of introduction, dropping a proposal for a global share offering.

China: A car explodes in the middle of the road near Nanjing's new railway station yesterday morning. The driver managed to escape without injury. Xinhua said the self-combustion of cars happens frequently in hot weather between June and September every year. The high temperature in Nanjing was believed to be the cause of yesterday's incident.
Construction of the National Stadium - the centrepiece of Beijing's 2008 Olympic Games - has been partially halted for a redesign, in an apparent response to Beijing Mayor Wang Qishan's call for frugality.
PetroChina has ended a preliminary agreement with foreign oil companies on the west-to-east gas pipeline project, after two years of talks failed to yield a unified investment strategy.
An ecstatic Chinese football team celebrates as goalkeeper Liu Yunfei saves Iran's last spot kick in the penalty shoot-out - and sends China to the Asian Cup final.
China, as an APEC member, will continue to make contributions to improving peace and science development in the Asia and Pacific regions, State Councillor Chen Zhili said yesterday in Beijing at the opening ceremony of the APEC Youth Science Festival.
The development of the recycling industry, a modern concept worldwide, occupies a prominent place on the work agenda of the Tianjin Economic and Technological Development Area (TEDA).
China's crude oil import will for the first time break through 100 million tons this year to hit a record of 110 million tons.
Aug 3, 2004
Hong Kong: Commercial Radio last night sacked its chief operating officer, Tony Tsoi Tung-ho, hours after a public confrontation between talk-show host Albert Cheng King-hon and station director Winnie Yu in which Cheng alleged the station had tried to stop him standing for Legco.
The parent of Hong Kong's biggest lender, HSBC plc, yesterday reported record profits of US$6.35 billion for the first half of the year - up US$2.24 billion, or 55 per cent, on the same half last year.

The exhibition In Search of Master Q celebrates the folkloric status of Hong Kong's favourite cartoon, created by Alfonso Wong.
The Bank of China's (BOC) Hong Kong unit said on Tuesday it has suspended two deputy chief executives who are being investigated on the mainland for alleged graft.
Henderson Land Development has sold at least 16 units in its flagship residential project Grande Promenade in Sai Wan Ho at some of the highest prices seen in the district, according to property agents.
PCCW yesterday denied blocking access to broadband telephone calls offered by City Telecom, after the fixed-line operator's smaller rival experienced a 16-hour outage in its service.
A Sino Land subsidiary yesterday lost a $321 million deposit to Hang Lung Group after a High Court judge ruled the company had no right to pull out of a billion-dollar hotel transaction.

China: A policewoman consoles one of 18 children rescued from traffickers in Guangdong as they arrive back in Kunming, Yunnan province. Four people were arrested in the operation. In March, police announced that 42,215 women and children kidnapped since 2001 had been released, while many more are never found.
Guangzhou opened the new Baiyun International Airport yesterday, becoming one of the last major mainland cities to modernise its airport.
More than 4,000 cab drivers have staged mass strikes and sit-ins in Yinchuan , capital of the Ningxia Hui autonomous region , since Friday to protest against local government plans to revoke their taxi licenses.
Many internet firms are vying to become the Amazon.com of China but face formidable challenges such as poor payment systems, inefficient infrastructure and consumer reluctance to shop online.
Lenovo Group is setting up a direct sales channel to fight off competition from Dell Computer and other rivals, but analysts say the mainland computer giant's problems go beyond logistics issues.
Many small and medium-sized enterprises (SMEs), mostly privately-owned, have been experiencing liquidity difficulties recently as some banks have become excessively strict with their lending operations.
China's banking regulator has urged commercial banks to take a differentiated approach when tightening lending policies as part of the State's efforts to cool down expansive investment and credit growth.
Volkswagen's two Chinese joint ventures regained their crown as the No 1 and No 2 passenger car sellers in the nation last month after being topped in June by local operations of General Motors (GM) and Honda Motor.
Overseas persons who stay in Chinese mainland for less than a year should pay personal income tax on what they earned within the country, but their incomes from outside the country will be tax-free.
China has now become the forth-largest trade partner of New Zealand and I believe China would become the largest trade partner of New Zealand in the near future, said New Zealand PM Helen Clark.
Aug 2, 2004

Hong Kong: The design of two stamps commemorating this year's Olympic Games in Athens are unveiled by Postmaster-General Allan Chiang Yam-wang (left) and legislator Timothy Fok Tsun-ting. The $5-denomination stamps, depicting an ancient Greek runner and a modern one, go on sale on August 13, the first day of the Games.
Hong Kong Journalists Association representatives vowed yesterday to seek an amendment to the law on search and seizure powers after emerging disappointed from meeting ICAC deputy commissioner Daniel Li Ming-chak over last weekend's raids on newspaper offices.
Outspoken radio talk-show host Albert Cheng King-hon said for the first time yesterday he was interested in running for a Legco seat in September. A senior mainland official skirted involvement in the Albert Cheng King-hon affair last night, saying comment by outsiders was inappropriate.
Investors dumped shares in Bank of East Asia yesterday after the lender reported interim results that showed a 5.4 per cent drop in core operating revenues to $1.32 billion for the first six months.
HSBC Holdings and Bank of Communications are expected to seal the largest foreign acquisition of a stake in a mainland lender next week at a ceremony attended by top bankers and senior government officials.
Former Citigroup China investment banking vice-chairwoman Margaret Ren, who was suspended in June, has told financial services executives in Hong Kong that her departure was due to the backdating of documents relating to share allocations during the US$3.5 billion (HK$27.3 billion) initial public offering of China Life Insurance, last year's biggest initial share sale.
China: The rapidly warming ties between China and India continue to improve as hoped, Deputy Foreign Minister Dai Bingguo said yesterday in New Delhi, where he is attending the third round of border talks.
US Homeland Security head Tom Ridge yesterday apologised to the Chinese consulate in New York over the beating of Tianjin businesswoman Zhao Yan.
China's two-tier corporate income tax system for domestic and foreign firms will be unified in 2006, state media reported yesterday.
The founder of China's largest home appliance retailer Gome Appliance has scrapped his share offering in main-board-listed China Eagle Group after it was halved due to weak investor interest.
The securities brokerage arm of China's second-largest life insurer is in talks with leading United States asset manager Alliance Capital Management on setting up a mainland fund joint venture.
Two US nationals were arrested in Shanghai on July 1 as leading suspects in a pirated DVD trafficking ring, the Ministry of Public Security (MPS) said here on Friday.
The biggest Chinese semiconductor maker Semiconductor Manufacturing International Corp (SMIC) reported on Friday a sharp increase of revenues and expressed strong confidence in its full-year growth.
The central government's reported move to transfer the real-estate operations of about 200 State-owned enterprises (SOEs) to five property companies has led to heated debate in the property industry.
GD Power Development, the listed unit of one of China's five largest generators, said it plans to take a quarter stake in a 2.4 billion yuan (HK$2.3 billion) project to add two generators in the northern province of Gansu.
The 89th International Esperanto Conference concluded in Beijing on July 31. A declaration praised China's support for the Esperanto campaign and appealed all countries to introduce Esperanto to their education system.
July 30 - Aug 1, 2004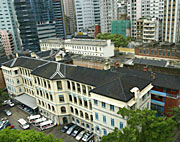 Hong Kong: A group of at least five established families is proposing to convert the Central Police Station, Victoria Prison and the former Central Magistracy into a massive arts complex, funded by $500 million in donations.
The government's Exchange Fund has posted disappointing returns for the first half of the year, raising concerns that its annual revenue targets may prove unrealistic.
The ICAC investigation that led to controversial raids on newspaper offices last weekend was entirely within the rule of law, a former operations director of the anti-graft body, Tony Kwok Man-wai, said yesterday.

Bank of Communications' Hong Kong branch expects to see full-year earnings grow 10 per cent after reaching its profitability target in the first half, assistant general manager Li Siu-kei (above) said yesterday at a ceremony marking the change of its corporate logo. Loan growth this year is seen at 5 per cent to 10 per cent. First-half profit came mainly from write-backs and non-interest income. Trade finance, syndicate and mortgage loans drove loan expansion in the first six months.
Hong Kong interest rates spiked sharply higher yesterday, after investors drained more than HK$7 billion out of the interbank money market to buy higher-yielding US dollars.
The owner of the 723-room Hyatt Regency Hong Kong hotel in Tsim Sha Tsui is considering knocking down the 35-year-old building to make way for a retail-commercial complex, citing inadequate returns.
More than 45,000 fixed-line telephone users applied to switch networks last month but only 58 per cent of them saw their requests successfully processed, according to the telecoms regulator.
CSMC Technologies planned to re-launch its delayed initial public offering as early as next week after agreeing with its underwriter to cut its minimum offer price target by 20 per cent, sources said.
China: Nearly half the people on the mainland label themselves as "middle class" but a recent report from the Chinese Academy of Social Sciences shows it is a bit early to celebrate a booming bourgeoisie.
A raft of trade and economic initiatives in various industries is expected from the six-nation Shanghai Co-operation Organisation (SCO) meeting in Tajikistan in September.
A national drug-control campaign will focus closely on the Pearl River Delta region, as Guangdong's two main cities top the list of drug-affected areas on the mainland.
In his first known visit to Shanghai since taking office more than a year ago, President Hu Jintao toured the mainland's financial capital to shore up support for central government moves to slow the economy.
The founder of the mainland's largest home appliance retail chain, Gome Appliance, has slashed the price range of the China Eagle Group shares he is offering after investors baulked at the high prices.
Bank of China and China Construction Bank were declared technically solvent yesterday for the first time by Standard & Poor's.
Chinese blood banks and manufacturers of blood products are being urged by an ongoing national campaign to buy only lab-tested plasma to prevent the further spread of viruses, including HIV.
China United Telecommunication Corp Ltd turned out to be the star of yesterday's trading on the Shanghai Stock Exchange, with its rights issue of 1.5 billion shares being the most actively traded.
July 29, 2004

Hong Kong: Commissioner for Transport Robert Footman tests a new minibus seat belt. From Sunday, passengers are required by law to buckle up, where belts are provided, or face a maximum fine of $5,000 and three months in jail. Officials predict the law will reduce casualties in minibus accidents by 20 per cent.
The controversy over ICAC raids on newspaper offices has drawn international attention, with the US State Department, the US consulate in Hong Kong and the International Federation of Journalists adding their weight to concerns over press freedom. ICAC Commissioner Raymond Wong Hung-chiu will cut short his holiday and fly back to Hong Kong soon to handle the controversy over the anti-graft body's raids on newspaper offices.
About 2.6 million mainlanders have travelled individually to Hong Kong since the solo travel scheme was implemented a year ago. But the Tourism Board says that the visitors are spending less.



Tom Online will team with ESPN to offer sports content to mobile-phone users, as part of the company's plan to add new revenue streams. Outdoor media division president Li Jian (pictured) expected earnings before interest, tax, depreciation and amortisation to grow more than 20 per cent from $67.19 million last year.
Hong Kong banks are likely to raise their lending rates when the United States Federal Reserve next raises the benchmark cost of capital, HSBC chairman David Eldon says
Hong Kong buyers poured 5.7 billion yuan into the mainland property market in the first half of the year, with Shenzhen their favourite location, according to a recent survey.
Internet portal Tom Online has achieved a 20.31 per cent rise in second-quarter profit after diversifying its mobile short messaging service (SMS) business to interactive voice operations.
Declaring it is the ``end of an era'', outspoken commentator Albert Cheng has confirmed that he has been sacked by Commercial Radio, effectively ending the career of one of Hong Kong's most colorful - and controversial - media celebrities.
China: Nearly 1 billion yuan of public funds were misappropriated by government authorities in Guangdong last year, according to a report by the local auditor.
Efforts to cool the economy will not be weakened by new policies making it easier for companies to raise and invest capital, a senior state planner said yesterday.
Taiwanese investment on the mainland increased by more than 10 per cent in the January-May period compared with the same period last year.
China Yangtze Power has revealed a controversial plan to invest two billion yuan in its creditor China Construction Bank Holding (CCBH), the would-be listing vehicle of the mainland's No3 lender.
Prashant Rao Lenovo Group has agreed to transfer its non-telecoms information technology services business to AsiaInfo Holdings, an IT solutions provider in China, as part of a new strategic alliance.
China Network Communications (Netcom) has made a huge write-down on its assets before a planned Hong Kong listing in an effort to offer the shares at a low price.
China will allow some pilot companies to repay liabilities to their listed subsidiaries with holdings in them, offering a resolution to the repayment of misused funds in some listed firms by major shareholders.

Foreign direct investment (FDI) in Guangdong fell 14.3 per cent in the first half of the year compared with 2003, as international investors switched emphasis to selling to the domestic China market from concentrating on exports, the province's traditional strength.
Bank of China (BOC), the country's top foreign-exchange lender, plans to name Hainan province vice-governor Li Lihui as its new president as part of internal reforms before an international stock sale.
July 28, 2004
Hong Kong: The ICAC raids of seven newspaper offices on Saturday have been criticized by a foreign media protection group. The Committee to Protect Journalists (CPJ) in the United States also called for a thorough investigation on the raids.

It was a quiet first day's trading for the two retail tranches of the Hong Kong government's $20 billion bond yesterday. In the $2.55 billion four-year tranche, four bonds were traded at a price of 99.95, compared with an issue price of 99.63, despite a general rise in bond yields since the price was fixed last week. At the listing ceremony, Financial Secretary Henry Tang Ying-yen (centre) said the bond issue had been "enthusiastically" received internationally and in Hong Kong.
Tom Group is in talks with a leading mainland business newspaper on forming a potentially precedent-setting media joint venture in China.
Hong Kong Exchanges and Clearing is considering rule changes to make it easier and cheaper for Growth Enterprise Market-listed firms to move to the main board.
Internet portal Tom Online has achieved a 20.31 per cent rise in second-quarter profit after diversifying its mobile short messaging service (SMS) business to interactive voice operations.
Rising rents and a big jump in occupancy at one of its five Hong Kong shopping malls helped boost Fortune Reit's second-quarter distribution by about 7.8 per cent to more than HK$39.72 million.
ASM Pacific Technology, the world's largest semiconductor assembly equipment and leadframe maker, said it revised up capital investment by one fifth this year to HK$300 million after its first-half net profit jumped to a record on strong global demand.

China: In a skilful display, a policeman leads a motorcycle team through burning rings in Lanzhou , northwestern Gansu province.
Chief Executive Edmund Ho, who reportedly has overwhelming support for his re-election, yesterday said he was aware of concerns about democratic reforms and that he would "do the proper thing" during his second term.
China Network Communications Corp (Netcom) has made a huge write-down on its assets before a planned Hong Kong listing in an effort to offer the shares at a low price.
Shares of China Southern Airlines plunged 6.09 per cent to a two-month low of HK$2.70 on news it would place 500 million yuan (HK$471.35 million) for investment with brokerage Centergate Securities of Beijing.
Industrial and Commercial Bank of China (ICBC), the country's largest lender, will need more than 600 billion yuan (HK$565.2 billion) to improve its capital and bad debt to target levels, according to BOC International (BOCI) estimates.
Cofco International, the mainland's biggest soyabean meal producer, will probably unveil that its first-half profit shrank by as much as one-third due to rising soyabean prices and weak demand for crude edible oil in China amid the government's austerity measures, analysts said.
July 27, 2004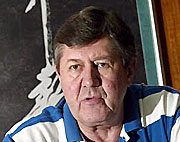 Hong Kong: Senior criminal barrister Kevin Egan tells of his 41 hours in ICAC custody, which he spent "sleeping and drinking water". Tung Chee-hwa was informed in advance of the operation that led to the controversial weekend raids by the ICAC on newspaper offices. The two lawyers arrested by the ICAC on Saturday were yesterday split on whether to take action against the commission for detaining them for 41 hours. A number of newspapers that were raided by the ICAC on Saturday said yesterday they planned to take legal action against the anti-graft watchdog.

Singer Whitney Houston arrives at Chek Lap Kok last night with her daughter Bobbie Christina Brown. The 40-year-old diva, who was surrounded by hefty bodyguards, will perform at the Convention and Exhibition Centre tomorrow night, her last tour date in Asia.
The sticker "I am a safe driver" has taken on new meaning for four cross-border truck drivers travelling through Lok Ma Chau and Man Kam To. They are pioneer peer educators with Aids Concern and teach drivers about safer sex practices through condom use to reduce the transmission of HIV/Aids.
Hong Kong's exports continued to grow robustly last month, buoyed mainly by continued demand for goods originating on the mainland.
Controversy over the regulation of public companies in Hong Kong is set to flare up again, this time over the power to fine issuers and directors for breaches of statutory listing rules. The Securities and Futures Commission (SFC) has agreed to accept $195,000 from a trader convicted of hawking futures contracts, rather than suspending his license for six months.
Swimwear and casualwear manufacturer Tack Fat Group International has raised its stake in United States teen fashion brand Mudd to 36 per cent from 5 per cent for US$53 million.
China: Guangzhou officials have pledged a smooth opening for the Baiyun airport after final tests yesterday, but foreign airlines fear, and some airport officials hint, that baggage handling will go haywire and delay flights.
Growing amounts of funds are circulating outside China's banking system partly due to the State's credit curbs aimed at cooling down growth, drawing attention from government officials and economists.
PetroChina, the nation's largest oil producer, said yesterday that the firm is still studying plans for a domestic listing which would be the largest-ever share-offering on the Chinese market, a spokesman said yesterday.
Huanneng Power International, China's largest independent power producer, yesterday agreed to buy more than 30 million tons of coal from Shenhua Group - the nation's largest coal producer - over the next three years.
Former president Jiang Zemin yesterday appeared to weigh in on the intense debate over the mainland's economic development by urging the government to "speak the truth and report the actual conditions".
Beijing's Olympic organising committee has toned down its sloganeering for the 2008 summer Games - stepping back from its pledge to host the "most successful Olympics" and a "brilliant, successful" event.
The rise of China's nouveaux riches has boosted demand for fine art and antiques insurance, as the world's most populous country develops a taste for the trappings of high culture.
Information and communications industry players are betting that increased technology spending in Macau will bolster growth across the Pearl River Delta.
Textile industrial leaders have urged that global textile quotas between WTO members should be eliminated as scheduled.
China's commercial banks are going to be allowed to buy into trust and investment firms, a breakthrough in the segregated regulatory scheme in the banking, securities and insurance sectors of the financial industry.
July 26, 2004
Hong Kong: Top barrister Kevin Egan was released by the ICAC early this morning, less than 48 hours after he and five others were arrested in an operation that saw the commission mount a massive raid on newspaper offices.
The honeymoon may be over just weeks after Hong Kong and Shenzhen exchanged co-operation vows, with both sides digging in over a plan for dredging a shipping channel to the special economic zone.
Only 8,000 out of 43 million residents in nine mainland cities newly eligible for the individual traveller scheme applied for a permit to visit Hong Kong in the first week of July, the Travel Industry Council has revealed.
Faced with rapidly depleted offshore fish stocks, Hong Kong fishermen are pushing into deeper waters.
Thousands of tickets to the People's Liberation Army's 77th anniversary parade next Sunday were snapped up in two hours yesterday, leaving many people disappointed.
Lane Crawford International is responding to incursions on its home turf by the likes of famed retailer Harvey Nichols with an aggressive and high-profile expansion in Central.
PCCW's NOW Broadband TV has reached a content provision agreement with Asia Television (ATV), whereby the upstart cable outfit will source a 24-hour news channel from Hong Kong's No2 free-to-air broadcaster.
The prospect of more expensive insurance cover for company directors has prompted appeals for insurers to keep premiums affordable for smaller companies.

China: Children in Guang'an play in front of a giant billboard featuring Deng Xiaoping in his twenties. A series of events on August 22 marks the 100th anniversary of his birth. Deng Xiaoping's birthday party has started early. The paramount leader would have turned 100 on August 22 and thousands of well-wishers are already visiting his childhood home in Paifang village, Sichuan province
A US border inspector faces criminal charges for beating a Chinese businesswoman. Robert Rhodes was charged on Friday with civil rights violations after the Wednesday beating of 37-year-old Zhao Yan near the famous Niagara Falls.
The State Council is to abandon its approval power for investments that do not involve government funds.

Xin Jin Yang, a newly-bulit oil tanker made for the China Shipping Group, berthed in Dalian on Friday. The tanker has a capacity of 300,000 deadweight tons. China's shipping firms are expanding their crude oil tanker fleet transportation capacity to help safeguard the nation's vulnerable oil supplies.
A new law intended to simplify business approvals could have implications for the regulation of religious affairs on the mainland.
Beijing Capital Land's plan to raise three billion yuan through a domestic A-share listing has been rejected by the China Securities Regulatory Commission, following moves by the central government to control credit to certain sectors of the economy.
China's central bank will maintain its cautious stance on further monetary policy moves to ensure that the nation's fast-growing economy enjoys a "soft landing," a leading official said.
FedEx's joint venture in China has established a branch in Kunshan in the eastern province of Jiangsu to meet the increasing import, export and express courier demand in the area.
US-based global health care product manufacturer Johnson & Johnson will take over the stake in a local drug joint venture held by its Chinese partner after nearly a decade of co-operation.
July 23 - 25, 2004

Hong Kong: Despite what they say about not taking sweets from strangers, a passer-by accepts an ice cream from two models standing on the corner of Lockhart Road, near Sogo. The girls were promoting the Harmonic Health Beauty Centre, a weigh-loss clinic. They aren't just models; Candy and Suki are former clients, each having shed 9kg.
Former chief secretary Anson Chan Fang On-sang yesterday urged Hongkongers to focus on preparing for universal suffrage after 2008 to win Beijing's support. She said they could develop more mature political parties.
The Foreign Ministry yesterday expressed "strong dissatisfaction" over a British government report that said Beijing's intervention in Hong Kong's debate on universal suffrage was inconsistent with the high degree of autonomy guaranteed the city.
The Hong Kong government should consider broadening its tax base to stabilise revenue, according to international credit ratings agency Standard & Poor's.
The Hong Kong government's $20 billion bond offer became even more attractive to retail investors yesterday, when the notes were officially priced at a discount amid a rise in local short-term rates.
The first ethnic Chinese to sail around the globe alone has embarked from Hong Kong's Victoria Harbor on his sloop Albatross for a new voyage yesterday.
China: Premier Wen Jiabao has vowed to take full and personal responsibility for the harsh measures imposed to cool the economy.

A family in Changde, central Hunan province, waits for flood relief to arrive yesterday. Meanwhile, rescuers retrieved another 10 bodies from a deadly mudslide which descended on three villages in Yinjiang county, Yunnan. This took the number of deaths to 12, and 48 people remain missing from Tuesday's disaster. A total of 70,000 people have been affected, with economic losses at 157 million yuan.
A Hong Kong man accused of cheating a vice-mayor of Shaoguan out of more than 1.5 million yuan in a card game has been released on bail in Shenzhen.
The National Audit Office will also assess the efficiency of state-owned agencies following a high-profile report this year focusing on the financial irregularities of government departments.
Shanghai has increased the minimum compensation for people relocated to make way for property development, following public protests by residents complaining that the payments are too low.
Bank of China might not hand out underwriting mandates for its initial public offering until next year, according to a senior mainland source familiar with the bank's restructuring plan.
Mid-tier developer Nan Fung Development has outmanoeuvred eight rivals to win the contract for an estimated $2 billion Urban Renewal Authority (URA) residential project in Tai Kok Tsui.
In an effort to prevent the theft of repayments from oversubscribed initial public offerings, refund cheques will carry part of the applicant's identity card number from next month.
Global cosmetics direct selling giant Avon Products Inc said it has been granted approval to begin a pilot direct selling business, a prelude to China's lifting of a ban on the industry.
Japanese carmaker Mazda will join forces with its parent firm Ford Motor in production in China by jointly building a new plant with the US auto giant's joint venture with Chang'an Motor Corp.
July 22, 2004
Hong Kong: A creative touch helped Liu Han-yu (left) and Tseng Hsiem-tze win the 2004 Hong Kong Shopper of the Year contest.
People who declared an intention to stand in the Legco election in the run-up to the nomination period must submit statement-of-election expenses even if they decide not to push through with their candidacy, the ICAC said yesterday.
Mr Kam is one of 12 Hong Kong people to have received US-made anti-snoring implants in a clinical trial that could lead to silent nights and sound sleep for the multitudes of heavy snorers and their families.
Leung Chun-ying is the biggest property investor and holds the highest number of salaried directorships and public offices among unofficial Executive Council members.
Asian equity markets gained yesterday after United States Federal Reserve chairman Alan Greenspan's comments about evidence of strengthening demand in the US sparked hopes of rising export earnings for regional manufacturers.
Almost 50 per cent of the recent applications for stock-market listings have contained inadequate disclosure, with companies often relying on unsubstantiated projections for product revenues, the Securities and Futures Commission says.

Singaporean Deputy Prime Minister Lee Hsien Loong's visit to the Taiwan Island hurt China's core interests and destroyed the political base of bilateral relations, said Chinese Foreign Ministry spokesperson Kong Quan on Tuesday.
China: Villagers facing eviction to make way for Guangzhou's University City on Xiaoguwei Island are again taking their case to Beijing after the local government refused to agree to their compensation demands.
Detention for military doctor Jiang Yanyong meant nine hours of brainwashing a day for seven weeks, a source revealed, a day after the release of the man who dared to expose the mainland's cover-up of Sars.
For the Huang family in Binyang county, Guangxi , the sudden mudslides that happened early on Monday brought disaster.
Jinhui Holdings has warned investors that interim results would be "substantially worse" than last year's net loss of HK$1.5 million after being caught on the wrong side of the volatile bulk shipping market.
New World TMT has lost an early round in its legal battle with a 30 per cent-owned United States affiliate, after failing to gain control of more than US$340 million in funds.
Trust companies in China are facing the problem of risk management and information disclosure. China's trust and investment companies have been urged to tighten their risk controls and management when undertaking rapid expansions of their business.
Northeastern China will conduct an experimental reform of its value-added tax (VAT) system in the near future, National Development and Reform Commission Vice-Minister Zhang Guobao has revealed.

A man checks his messages on his mobile in Xian. The new mainland telecom law will require different carriers to co-operate with each other.
China Mobile (Hong Kong), the world's largest mobile carrier by subscriber numbers, posted its second consecutive month of weak subscriber growth, adding just 2.71 million users in June.
China United Telecommunications Corp Ltd, the listing arm of China Unicom Corp in the domestic A share market pledged yesterday that the massive 4.5 billion yuan (US$542) it raised through share placements would fuel its expansion and further enhance its competitiveness.
The Royal Philips Electronics is to make itself over from a technology and manufacturing-driven company to a market-driven one with a new positioning of its brand. China has become a trial ground for that strategy, said a top company executive.
July 21, 2004
Hong Kong: The PLA garrison has for the first time invited all pro-democracy legislators to attend a military parade on the anniversary of the army's founding. It is the latest in a series of moves aimed at reducing political tension in the run-up to the Legislative Council election.
The central government has invested in the Hong Kong government's $20 billion bond offering completed this week, Financial Secretary Henry Tang Ying-yen confirmed yesterday.

"Warrior" Wong Siu-lun, 21, impressed the judges at the Animax Hong Kong Comics Festival 2004/Hong Kong Game Fair "cosplayer" competition yesterday. Cosplayers dress as their favorite game and cartoon characters. The finalists were Siu-lun, Apple Hung, 20, and Olivie Lo, 25.
Former stock exchange chief executive Alec Tsui Yiu-wa has become the latest director to quit Value Convergence Holdings, making him the second board member to leave the firm since the Independent Commission Against Corruption arrested one of the company's executives 10 days ago.
Hong Kong's unemployment rate fell to a lower-than-expected 6.9per cent last month, a two-year low, from 7per cent in May, as mainland tourists and the spillover from China's booming economy helped create more jobs in the territory, the government said.
The Hong Kong Science and Technology Park, the government's HK$12 billion high-tech project that has long been criticised as a white elephant, claims there will be an office space shortage in mid-2005 as it is teaming up with China's semiconductor sector to tap into this US$26 billion (HK$202.8 billion) mainland business.
Film distributor and cinema operator Golden Harvest Entertainment Holdings said it is buying movie theatres in both Taiwan and Singapore to complement its film production financing tie-up with EMI Group and Abba Movies.
Kingmaker Footwear Holdings, which makes shoes for popular brands such as Timberland and Clarks, will spend HK$50 million to boost production capacity by 10 per cent over the next eight months.

China: A mainland couple try to spot the fake during a campaign organised mainland banks. The notes have been good enough to fool automatic teller machines. None of the record number of fake yuan notes circulating on the mainland have been found in Hong Kong, according to the Public Security Ministry.
Most of China's inefficient state-owned enterprises (SOEs) that rushed into property development as a way to make money have been abruptly ordered out by the central government.
The highest commodity prices in years - driven by China's insatiable demand - have come back to haunt mainland companies, with two large power producers expected to report disappointing interim results next month due to soaring coal costs.
China Mobile (Hong Kong), the world's largest mobile carrier by subscriber numbers, posted its second consecutive month of weak subscriber growth, adding just 2.71 million users in June.
Telecommunications services firm Citic 21CN expects its purchase of short-messaging service provider Beijing HL95 will help it report a profit in the coming financial year.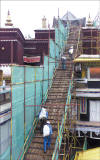 About 300 Tibetan workers and artisans work on rooftops, cracked murals, and the foundation of the Potala Palace in the heart of Lhasa, capital of Southwest China's Tibet Autonomous Region. Their work is part of the second-phase renovation at this architectural wonder of Tibetan Buddhism. The central government has allocated 170 million yuan (US$20.6 million) for the project, which is to be completed by October of next year. Technicians and experts from at least 20 design and research institutions are offering on-site guidance. Traditional measurements are being used to maintain the original style.
China is sending its largest and youngest Olympic delegation ever to the 2004 Athens Games next month, signalling an early warning that it could be a dominant force at the 2008 Beijing Olympics with experience it reaps in Greece.
China Construction Bank yesterday issued its first group of 10 billion yuan (US$1.2 billion) worth of subordinated debt with a term of 10 years.
A joint venture between TCL Communication Technology Holdings Ltd (TCL Communication) and Alcatel is set to be launched in the third quarter of this year.
Delphi, the world's largest manufacturer of auto parts, remained confident about prospects for the auto industry in China, despite a sharp slowdown in sales growth in recent months.
July 20, 2004
Hong Kong: A top government adviser has proposed adding a new tier of deputy policy secretaries to Chief Executive Tung Chee-hwa's embattled ministerial system.
Trading in the shares of handset distributor Global Tech Holdings was suspended by the stock exchange yesterday, following the removal of two independent non-executive directors from the company's board.
The worldwide hunt for candidates to the position of Hong Kong government chief information officer (GCIO) has started, with international executive search firm Spencer Stuart & Associates leading the charge.
The Hong Kong Tourism Board has opened a new office in Guangzhou, capital of South China's Guangdong Province.
A recent survey on the reading habits of primary and secondary students found almost 20 per cent do not read at all and another 50 per cent read mostly comic books.
Facing serious threats from intensifying regional competition, Ocean Park aims to remake itself as a world-class theme park focused on marine life to try to attract tourists from across Southeast Asia, chairman Allan Zeman said.
The Hong Kong stock exchange, in a rare move, halted trading in shares of Global Tech (Holdings) before the opening yesterday after the company removed its remaining two independent non-executive directors due to unspecified ``irreconcilable differences''.
Hong Kong may once more be referred to as the ``Pearl of the Orient'', thanks to local resident Edmond Ip. Ip has worked hard to build a pearl industry in the territory, which he says could bring in revenue of as much as HK$800 million a year.
China: Guangdong is drafting an agreement to demolish trade barriers among the nine provinces that make up the pan-Pearl River Delta regional economic co-operation grouping.
Another attempt by mainland activists to set sail for the disputed Diaoyu Islands in the East China Sea was blocked by the authorities on Sunday, organisers confirmed yesterday.
Shanghai plans to implement new rules on religion that will for the first time regulate the activities of foreign residents and the use of the internet by religious groups in the city, government sources said.
President Hu Jintao yesterday instructed cadres, government officials and soldiers to do everything they can to control damage and casualties from the summer floods sweeping the country.
Beijing Youth Daily Group has dropped a domestic listing plan in favour of floating its shares on the Hong Kong stock exchange, in a landmark deal that will make it the first mainland newspaper group to list overseas.
French carmaker PSA Peugeot Citroen's joint venture with Dongfeng Motors has recorded its first fall in sales since it was established in 1992, raising concerns the alliance may incur a loss this year.
BOC International Holdings (BOCI), the investment banking arm of Bank of China, is opening a New York office this month to sell mainland and Hong Kong stock deals to big US investors, according to an executive.

Large pieces of ice lie inside a waiting area of the Jiangsu Provincial Hospital of Traditional Chinese Medicine in Nanjing, East China, yesterday. With the city's temperature rising to 37 C yesterday - and the use of electricity for air conditioning limited - the hospital decided to use ice to cool things off.
The European Union (EU) is on the verge of scrapping a two-year-old ban on a number of Chinese animal imports, but restrictions on poultry, pork, beef and dairy products will remain, a European Commission (EC) delegation to China said yesterday.
China's largest oilfield, Daqing, will keep output stable over the next two years by suspending a production reduction scheme.
July 19, 2004
Hong Kong: Film director and pro-democracy activist John Shum Kin-fun, who visited the mainland for the first time in 15 years this month, told senior mainland officials that democrats have never wanted Hong Kong to become independent.
A High Court judge yesterday cleared the ICAC of unlawfully detaining a secretary who claimed to have been held by the graft-busters against her will at an unknown location. Mr Justice Michael Hartmann ruled in the Court of First Instance that there had been no unlawful detention of Becky Wong Pui-sze by the Independent Commission Against Corruption.
Disputes over the turnout of the July 1 rally took a new twist after a group of academics said the size of the crowd ranged from 180,000 to 210,000.
Just over a third of the $221 million due in penalties from insider dealers in Hong Kong has been collected by the government since it set up a tribunal to probe illicit trades.
Overseas studies have shown that "circuit breaker" systems applied in foreign markets do little to stem stock market volatility and have not helped to fend off attacks from speculators, according to a Hong Kong academic.
Hong Kong banks will rely on sharply lower bad debt charges and write-backs of previous provisions to report profit growth in their interim results that begin to appear on July 30, say analysts.
A much-coveted advisory role to the government on its plan to merge the Kowloon Canton Railway Corp with the MTR Corp has been awarded to Citigroup and HSBC - after they offered their services free.

China: Sporting goods colossus Adidas displays footballs used in nine World Cup games in a soccer expo in Beijing. The four-day event, which started on Thursday, has drawn nearly 60 companies from 15 countries.

Wei Liucheng is frustrated by what he sees as inefficiency. "In business, the balance sheet will tell you how well you are performing," he says. But in public office "you can talk all day and do nothing". Wei Liucheng's head is still spinning nine months after leaving his job as the head of China's biggest offshore oil conglomerate to become governor of Hainan province.
Media attention has been focused on the widening wealth gap between cities and the countryside, but alarm bells now ring about another economic imbalance - between the poorest and the poor.
China's biggest State-owned enterprises (SOEs) reported solid profit growth in the first half year, as they adjusted production and investment scales in accordance with State macro economic management measures.
The shifting fortunes of China's internet portals are likely to take a turn for the worse as short-messaging services (SMS) are gradually becoming less of a goldmine, state media said yesterday.
Oracle Corp says record growth could make China its No2 Asia-Pacific market in three years and it is pondering acquisitions in the region despite hints that a tech-sector recovery is sagging.
China's economic growth slowed in the second quarter, with the central government's measures to cool down the economy getting the credit for having taken effect.
The Bank of China, the country's largest foreign exchange bank, said on Friday its share-holding reforms have proceeded steadily during the first half of this year.
The China United Coalbed Methane Corp Ltd (CUCBM) signed a production-sharing contract with the US firm Asian American Coal Inc in Beijing on Friday to jointly exploit the coalbed-methane resources in North China's Shanxi Province.
China Network Communications Group Corp (China Netcom), the country's second-largest fixed-line phone company, is working actively to seek approval from the US Securities and Exchange Commission (SEC) and the Hong Kong Stock Exchange to go public, sources say.
Carlsberg A/S, the world's fifth largest brewer, together with a Danish fund, will buy stakes in four breweries in China, further expanding its presence in the country's western regions. China's leading Tsingtao Brewery and Anheuser-Busch are seeking to rewrite a strategic ``hands-off'' agreement after Anheuser's acquisition of Harbin Brewery.
The United States International Trade Commission has ruled that China has dumped plastic bags, ironing boards and tetrahydrofurfuryl alcohol under market prices.
China's textile industry breathed a sigh of relief recently when the United States promised to stick to international obligations negotiated more than a decade ago to phase out remaining textile and apparel quotas at the end of this year.
In the eyes of experts, Olympic colors are represented in the chains of the Olympic Games, including: buildings, environment, city image, facilities, and even the colors of autos.
July 16 - 18, 2004

Hong Kong: A model parades in a feathered creation by designer Kelvin Tsoi during Fashion Week at the Convention and Exhibition Centre in Wan Chai yesterday. The week-long event ends today.
Bank of China (Hong Kong) plans to scrap its "iron rice bowl" employment policies in favour of a performance-based system that takes into account market wages.
The Hong Kong Monetary Authority (HKMA) was back in the currency market yesterday, helping to mop up Hong Kong dollars after spending the closing months of last year pumping billions of dollars in local currency into the system.
A breakdown of Cathay Pacific's computer systems yesterday stranded or delayed 3,700 passengers as overwhelmed staff scrambled to manually check in and board frustrated travelers.
The state office in charge of Hong Kong affairs has had a top-level reshuffle, a move that fuels speculation of a possible change in Beijing's policy on the city.
If there was any doubt before, Luen Thai Holdings' disappointing debut yesterday drummed home the message - new Hong Kong listings have lost their appeal.
Angela Leong On-kei, wife of casino tycoon Stanley Ho Hung-sun, has resigned as non-executive director of Value Convergence Holdings - the fourth director to resign from the firm in three months.
The Office of the Telecommunications Authority (Ofta) has declared that it will not be intimidated by dominant fixed-line carrier PCCW's persistent legal challenges.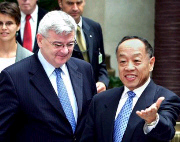 China: Chinese Foreign Minister Li Zhaoxing greets German Foreign Minister Joschka Fischer in Beijing on Thursday. Mr Fischer is expected to discuss the campaign to persuade North Korea to give up its nuclear ambitions and a wide range of bilateral issues. Foreign Minister Li Zhaoxing yesterday told his German counterpart he would back a larger role for Germany at the United Nations. He also expressed dissatisfaction at the west's handling of human rights and Hong Kong issues.
All mainlanders will eventually be allowed to visit Hong Kong as individuals, but the scheme will first be extended to residents of the pan-Pearl River Delta region, a top mainland tourism official said.
China Construction Bank (CCB) has applied to the State Council for permission to launch the country's first residential mortgage-backed securitization (MBS) deal.
China plans to establish several film animation conglomerates within five to 10 years to stimulate the burgeoning and profitable industry, a senior film official said yesterday.
Facilitating cross-Straits links: Hotpot chainstore in Taipei says the eatery accepts payments in renminbi, or yuan, at an exchange rate of 1 yuan equalling $NT4. With increasing cross-Straits commercial interactions, more and more businesses in Taiwan are accepting payments in renminbi.
The economy of South China's Guangdong Province posted a strong 15.1 per cent growth in the first half of the year and is expected to expand by about 14 per cent for the full year as investment and export increases are expected to slow down in the second half.

Beijing's macroeconomic measures seem to be working, with fewer consumers taking out bank loans for luxury goods such as the car these affluent residents are inspecting. China posted lower-than-expected GDP growth in the first half of this year, suggesting the central government's macroeconomic policies are taking the steam out of the sizzling economy.
Macau Chief Executive Edmund Ho Hau-wah yesterday formally launched his election bid for a second term in office.
Producer prices increased at their fastest pace in the 12 months to June, but analysts saw signs inflationary pressures were easing, which bodes well for efforts to cool the mainland's economy.
Mainland accountants at international heavyweight PricewaterhouseCoopers (PwC) could soon be taking more holidays after the firm revised its compensation policy in the face of staff protests to "reward overtime worked more explicitly".
Guangdong's worsening power shortage is starting to strangle business at Hong Kong-owned manufacturing operations in the province, according to industry observers.

To meet the growing needs of Sino-US relations, China plans to build a new embassy in the US capital of Washington DC within three years.
Construction started here yesterday on a Sino-German car platform component joint venture between German auto giant Volkswagen and the First Automotive Works Corp (FAW).
July 15, 2004
Hong Kong: Heavy stock and bond market losses have taken their toll on employees' pension investments, with the Mandatory Provident Fund recording a flat 0.04 per cent return in the first six months of this year, according to Standard & Poor's.
Chief Secretary Donald Tsang Yam-kuen yesterday said demands expressed by the public during the July 1 demonstration would be taken into account in the final proposals for constitutional reform.

The sequel to the successful East Wing West Wing is being produced by Zuni Icosahedron and the Edward Lam Dance Theatre and will be staged from August 13 to September 5 at the Shouson Theatre of the Hong Kong Arts Centre in Wan Chai.
Andrew Pyne, Cathay Pacific Airway's general manager for International Affairs, has tendered his resignation and will be joining Bangkok-based Air Andaman as an adviser.
Kanjanapas Chong Kwong Derek, better known to friends and associates in Hong Kong as Derek Wong, shot to prominence this week when the Independent Commission Against Corruption (ICAC) detained him and eight others in connection with alleged fraud in the sale of shares in a one-time cigarette lighter manufacturer turned diode maker called Semtech International Holdings.
The Better Hong Kong Foundation, a local business think-tank, has revised down Hong Kong's economic growth this year by 0.4 percentage points due to the United States interest rate rise and China's austerity measures.
Film distributor Golden Harvest Entertainment Holdings will sell a 10 per cent stake to music publisher EMI Group, market sources say. News of the imminent sale came as the market was also awash with speculation yesterday that Golden Harvest may sell another stake of 20 per cent to a US-based fund.
Hopewell Highway Infrastructure will invest 4.9 billion yuan (HK$4.62 billion) in the second phase of the Western (Pearl River) Delta expressway.

China: Shenzhen's rental sector is worth 30 billion yuan a year, but flats are often let informally and some house illegal businesses. Shenzhen's government has ordered a crackdown on illegally rented houses and saunas as the city tries to improve its image.
Macroeconomic controls are achieving "obvious" results, Premier Wen Jiabao told a cabinet meeting yesterday, but he warned against blind optimism about the economy as contradictions and problems remain.
Deals worth 241.2 billion yuan were signed on yesterday's opening day of the pan-Pearl River Delta regional trade symposium in Guangzhou.
Shanghai Pharmaceutical, China's largest drug company, is seeking to raise US$500 million through an overseas listing as early as next year.
Relations between the United States and China continued to improve during the first half of the year. Progress was made in a number of important areas, said Sun Weide, press counselor and spokesman of the Chinese Embassy in the United States, during a press conference. This year marks the 25th anniversary of the establishment of diplomatic relations between China and the United States. Both countries face opportunities to further develop ties in the months and years ahead. High level contact between the two countries lend momentum to the development of the China-US relationship.
The problem of agriculture, rural areas and farmers is an imperative one of importance that must be dealt with in the course of building a well-off society. China must shift from controlling the population number to optimizing population structure in its population and family planning work.

Attempts to reform one of the mainland's biggest problems of the 1990s - so-called ``triangular debt'' owed between state banks and state-owned enterprises - appear to have gone seriously awry, according to new research sponsored by the China Association of State Economy.
China's cotton buyers are delaying payment on US$475 million (HK$3.7 billion) of imports from the United States, Australia and other producers because of loan curbs on textile makers and speculation global prices will continue to fall.
July 14, 2004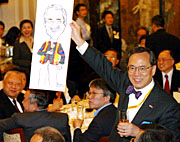 Hong Kong: Chief Secretary Donald Tsang Yam-kuen shows off a cartoon of himself by artist Bill Yim during the Legislative Council's end-of-term dinner last night. There were a few moments where discord threatened to rear up, but for the most part yesterday, lawmakers allowed a degree of levity to maintain the prevailing harmonious wind blowing through the Legislative Council.
People should have the right to draw up "living wills" saying whether they want to be kept on life support or die naturally if they become terminally ill or fall into irreversible comas later in life, the Law Reform Commission says.
The boom in initial public offerings (IPOs) from mainland companies has produced a windfall for investment bankers and brokers, who receive handsome pay cheques and bonuses for their efforts.

Bank of East Asia (BEA) chairman David Li Kwok-po yesterday invited Hong Kong's wealthy to shield their assets from "shameful" local death duties by setting up offshore trusts.
Homegrown conglomerate Hutchison Whampoa has finally edged into the world's top 500 firms, joining 14 other mainland or Hong Kong-listed companies on the Fortune 500 list.
Hong Kong-based Moulin International Holdings has renewed its US$25-a-share bid for US eyewear retailer Cole National after receiving financial backing from one of Cole's key shareholders.
China: Police have detained nearly 100 people suspected of involvement in a baby-trafficking network based in the Inner Mongolian capital of Hohhot
Beijing will spend 20 million yuan to improve the city's weather information system to give the public better access to climate data.
Foreign companies continue to pour money into new plants and operations on the mainland despite concerns about a hard landing for the economy.

The world's biggest mobile phone suppliers are hoping their speed to market and advanced new models will boost their mainland sales and stave off fierce competition from Chinese handset makers.
China's insurance regulator said it wants to build an insurance system in two to three years to protect against natural catastrophes, which cause some US$17 million in losses every day.
China's money supply and credit growth slowed significantly last month, increasing confidence that the State's tightening measures this year are adequate enough to cool down economic growth at a measured pace.
China's air travel will continue to grow strongly to nearly five times its present level within 20 years, a senior Airbus official predicted in Beijing yesterday.
Shanghai Gross domestic product in the nation's economic hub is expected to notch up a 14 per cent growth this year despite a host of measures taken to cool down the overheated economy.
China's placid venture capital (VC) sector will return to the limelight this year driven by improved sentiments with the launch of new board for start-ups and strong influxes of foreign fund, a leading mainland VC research company forecast.
July 13, 2004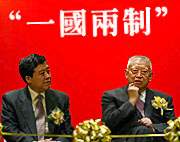 Hong Kong: Ministry of Foreign Affairs commissioner in Hong Kong Yang Wenchang and Tung Chee-hwa at a ceremony to mark the 100th anniversary of the birth of Deng Xiaoping.
The Independent Commission Against Corruption has arrested nine people, including the chairman of listed company Semtech International Holdings, over alleged payments of at least $1.5 million to bankers and analysts to manipulate Semtech's share price.
The crew of a Hong Kong-registered crude carrier yesterday refused to call at Iraq's largest oil terminal in Basra, citing safety fears a day after reports that an Islamic militant group had threatened to target Asian companies that transport goods for the US military.
Secretary for Health, Welfare and Food Yeoh Eng-kiong returned to work yesterday after taking a four-day break in the wake of his resignation. The Department of Health will not go on the defensive in its response to the Legislative Council's Sars report.
HSBC Holdings, parent of Hong Kong's biggest lender, is to buy the financial services arm of British clothing retailer Marks & Spencer for £762 million (HK$11.04 billion).
PCCW's NOW Broadband TV has tackled Hong Kong Cable Television's dominance of sports broadcasting by signing exclusive deals with ESPN and Star Sports.
An increasing number of Hong Kong-based service providers are ready to make bigger forays into mainland markets, taking advantage of the Closer Economic Partnership Arrangement (CEPA) that opens up 18 service sectors to them. Under the CEPA, the Hong Kong providers are allowed more leeway than any other foreign investors.

China: People walk through unlit streets in Pudong, one of Shanghai's top tourist spots, after the electricity was turned off to conserve power. As temperatures soar this summer, the mainland's richest areas are feeling the heat.
A record number of Guangdong residents are heading to Hong Kong or abroad this summer to take advantage of relaxed travel restrictions.
Maintaining a sex-ratio balance should become one of Beijing's social planning priorities, a think-tank has warned, saying the nation's growing shortage of women could spiral out of control.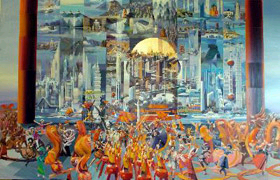 The oil painting entitled "Jubilate for the Century Olympic Dream of China", a masterpiece of Australian Charles Billich, a painter known for his Olympic-themed paintings. The painting, which is 2.8-metre-high and 1.8-metre-wide, depicts the rapturous moments when China won its bid to host the 2008 Olympic Games on July 13, 2001.
Shanghai Automotive Industries Corp is considering listing overseas to raise money for expansion and to solidify its dominant market position as competition intensifies.

Investment bank Goldman Sachs has agreed to invest US$40 million in Shenzhen Neptunus Pharmaceutical, a privately owned chain of pharmacies, aiming to turn it into the biggest in China and list it abroad within five years.
The world's biggest mobile phone suppliers are hoping their speed to market and advanced new models will boost their mainland sales and stave off fierce competition from Chinese handset makers.
China posted its second consecutive monthly trade surplus in June as exports soared by a record 46.5 per cent, figures from the General Administration of Customs showed yesterday.
July 12, 2004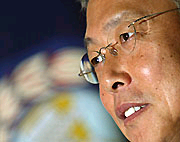 Hong Kong: Police moved yesterday to calm fears about the city's maritime safety following threats by an armed Islamic group to attack ships from places including Hong Kong. Police Commissioner Dick Lee says port security in Hong Kong is better than that in many other parts of the world.
A new opportunity to thaw frosty Sino-Vatican relations is emerging, as the Hong Kong government and the Holy See discuss an unprecedented exhibition of Vatican artefacts in the city.

Lantau residents against plans to build a "superjail" on Hei Ling Chau stand on the point at Mui Wo where a bridge will cross the coastline. Nearly 100 people joined a walk yesterday to raise awareness about potential environmental damage from the proposed prison for 7,200 inmates.
Controversy over Legco's Sars report continued yesterday, with a prominent microbiologist saying that criticism levelled at top officials was unfair.
Hong Kong businesses joined forces yesterday to form a coalition opposing the proposed introduction of a goods and services tax.
The police force will have trouble cutting its budget further in the next financial year, and its pledge to minimise the impact on frontline officers and the public might be compromised, the commissioner has warned.
Key officials in the government and the Hospital Authority (HA) tried their best to control last year's spread of SARS, Chief Secretary Donald Tsang told the Legislative Council (LegCo) on Friday.
China: The mainland must change the way it administers its finances by abandoning the old mindset that urban development has priority over the countryside, according to Finance Minister Jin Renqing. The Ministry of Supervision is investigating at least 24 cases involving the misuse of state funds documented by the National Audit Administration - including one involving former Bank of China vice-chairman Liu Jinbao , according to an official.

China Minsheng Banking and Newbridge Capital have parted ways on a deal to give the US equity firm a stake in the mainland lender. China Minsheng Banking Corp's seventh-largest shareholder and Newbridge Capital have scrapped a deal that would have given the United States private equity firm a 4.82 per cent stake in the mainland lender.
Hit by sit-ins at a Shanghai branch and a 200 million yuan fraud in Liaoning, the Bank of Communications (Bocom) is fighting to save an investment from HSBC Holdings that would take 20 per cent of its equity and inject more than US$1 billion of badly needed capital.
An agreement between China and the United States to eliminate Chinese chip makers and designer's value-added tax (VAT) rebates will not stop the country's push to develop a domestic semiconductor industry or reduce its attractiveness to global investors, say companies and analysts.
China's central bank will not loosen control over loan extensions despite complaints from local businesses about cash flow problems, said Governor Zhou Xiaochuan of the People's Bank of China.
US National Security Council Adviser Condoleezza Rice has assured Chinese leaders of her country's loyalty to the one-China policy while saying US-Chinese relations are developing in an unprecedented manner.
A celebration ceremony is held on Friday in Shanghai for the maiden voyage of the world's largest container ship, the CSCL Asia. The vessel is one of China Shipping's five orders scheduled to be put into service by the end of the year. It can carry 8,500 20-foot containers and its first port of call will be Los Angeles in the United States. The vessel, 334 metres long and 42.6 metres wide, was built by South Korea's Samsung Co at a cost of more than US$80 million.
China Network Communications Group Corp (China Netcom), the country's second-largest fixed-line phone company, is moving on its initial public offering (IPO) by setting up a shareholding company.
With trade relations between the United States and China strained in an election year, a study by The Conference Board paints a more complex picture of the mainland economy, noting that China's rapidly maturing economy is losing far more manufacturing jobs than the US.
TPV Technology, the world's second-largest flat monitor maker, is expecting liquid crystal display (LCD) panel suppliers to relax credit terms in the second half of this year because of falling panel prices.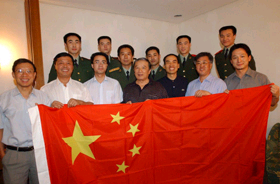 Sun Bigan (C, front), currently head of the Chinese mission team in Baghdad for the reopening of the embassy, has a group photo with the staff and security members in Baghdad, Iraq, July 9, 2004. China on Friday formally reopened its embassy in Iraq, after more than four months of preparations for this move.
July 9 - 11, 2004

Hong Kong: Kuwait's Prime Minister Sheikh Sabah Al-Ahmad Al-Sabah with Chief Executive Tung Chee-hwa during their meeting yesterday. Mr Al-Sabah said China's second-largest oil firm Sinopec had teamed up with United States oil giant ChevronTexaco, France's Total, a Canadian firm and a Russian company to tender for the project in the northern part of Kuwait.
HSBC is in talks to buy two Japanese consumer-finance companies as the world's second-largest economy recovers, according to reports published yesterday.
The Legislative Council yesterday passed a watered-down version of an amendment to Hong Kong's Companies Ordinance intended to improve corporate governance and make it easier for shareholders to sue company directors.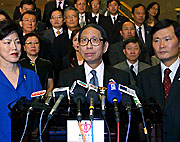 Hospital Authority chairman Leong Che-hung became the second victim of the fallout from the Legislative Council Sars inquiry when he resigned last night, while insisting the authority "has made no mistake". Many of the comments in the Legislative Council's Sars report are unjustified and unfair and there are fundamental flaws in it, the Hospital Authority said last night. Chief Secretary Donald Tsang Yam-kuen said last night no one was negligent in the handling of the Sars outbreak last year, as he came to the defence of the top three officials criticised in the Legco inquiry report. More than 100 Queen Mary Hospital staff issued a statement yesterday condemning Legco criticisms of the government and Hospital Authority as "harsh and unfair".

Police Commissioner Dick Lee Ming-kwai inspects students from the Hong Kong Sea School during a passing out ceremony in Stanley yesterday afternoon. The boarding school, with 225 students, provides Form One to Form Five education for boys. Apart from basic academic studies like English, Putonghua, mathematics and information technology, students also learn a range of other subjects, including maritime studies and hospitality.
A senior state official yesterday highly commended departing heath minister Yeoh Eng-kiong for having done a good job in combating Sars last year - the first open praise from Beijing for a minister forced to step down.
The Hong Kong Mortgage Corp (HKMC) is planning to introduce a scheme that will allow homebuyers to borrow up to 95 per cent of a property's purchase price, in a move that could help lift the sagging residential market.
Solid institutional support outweighed lukewarm public sentiment for maritime transport plays yesterday, helping Pacific Basin Shipping raise HK$1.09 billion after it priced its initial public offering (IPO) in the middle of the expected range.
Asian stocks fell, paced by internet-related shares such as Softbank and Yahoo! Japan, after Yahoo! reported second-quarter profit that missed some analysts' estimates.
Hong Kong's Airport Authority plans to offer up to a 50 per cent rebate on landing fees to airlines that run flights to a new destination over the next two years to fend off threats from Guangzhou, Bangkok and Singapore to the SAR's status as an international hub.
China: It was supposed to have raised 11 million yuan for the underprivileged, but when the dust settled on a Sichuan benefit concert, a local charity found itself in debt up to its ears while the performers walked away with fees of up to 170,000 yuan.
Consumer prices on the mainland will show easing inflation in the second half of the year, potentially to about 2 per cent for the year to the end of November, says a think-tank under the State Development and Reform Commission.
Growth in mainland car sales slowed to the lowest level in two years last month, as consumers waited for prices to stabilise and banks put the brakes on new car loans.
The China State Intellectual Property Office (SIPO) has declared the patent for Viagra, the US-based pharmaceutical company Pfizer Inc's erectile dysfunction-correcting drug, as invalid in China because it doesn't conform with Article 26 of China's Patent Law.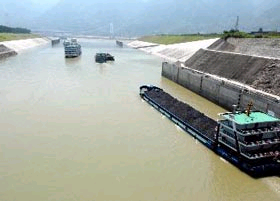 Several ships sail in the diversion channel after passing the permanent ship lock of the Three Gorges Project on the Yangtze River in Hubei, July 6, 2004. It started its trial navigation on June 16, 2003 and was open to public on June 18 the same year.
Shenzhen is to raise the price of water by almost 20 per cent in the face of an acute water shortage as mushrooming economic and population growth push up demand. The problem has been exacerbated by the worst drought in 14 years undermining reservoir stocks.
Seventy per cent of foreign consumer goods firms are making profits in China as retail spending surges, accounting firm KPMG said yesterday. When the mainland opened to foreign retailers in 1992 many early entrants flopped. But growing affluence has improved the landscape during the past five years.
July 8, 2004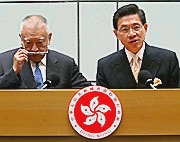 Hong Kong: Chief Executive Tung Chee-hwa announces the resignation of Secretary for Health, Welfare & Food Dr Yeoh Eng-kiong yesterday at a press conference. Tung commended his professionalism and dedicated service to the public. Health minister Yeoh Eng-kiong resigned last night - three days after a critical Legco report put the blame for the mishandling of last year's Sars outbreak that killed 299 people squarely on his shoulders. Finding the right candidate to head the Health, Welfare and Food Bureau will be a huge challenge, medical professionals warned yesterday. Hospital Authority chairman Leong Che-hung last night offered to resign, but members threatened to quit en masse if he did so.

Financial Secretary Henry Tang at the launch ceremony for the government's $20 billion bond offering yesterday. Pension fund managers and retail investors will opt for the government's shorter-term bonds, as Hong Kong interest rates are expected to eventually track the recent rise in the United States, fund managers and stockbrokers said yesterday.
Management at the River Trade Terminal (RTT) began considering their options yesterday after the Court of Appeal published reasons for its judgment last month stopping the loss-making facility from serving ocean-going vessels at its docks.
The global trade in pirated software, from copies of Microsoft Windows XP to Adobe Acrobat, hit almost US$29 billion last year, an industry trade body said in its annual survey.
The Office of the Telecommunications Authority (Ofta) hopes to promote competition and spur demand in mobile data services by addding a fifth third-generation mobile phone licence. Not surprisingly, the city's present 3G licence holders aren't pleased.
China: Authorities in the eastern province of Anhui had culled at least 22,000 chickens and ducks by yesterday amid a new outbreak of bird flu, but an agricultural official described the return of the deadly virus as an "isolated case".
More than 30 mainland activists yesterday defied a police warning and gathered on the Marco Polo Bridge in Beijing to commemorate the 67th anniversary of the incident that marked the start of Japan's invasion of China.
Power plants must be built faster to overcome the country's serious energy shortage, China's electricity chief says.
Communist Party leaders in Jiangsu have made an open pledge to stay free of corruption in the wake of a recent series of graft scandals in the province.
Yanzhou Coal Mining has unveiled its first acquisitions in almost four years, to be financed by the placement of up to HK$1.69 billion in new shares on the back of its recent share-price rally.
Microsoft agreed to establish a global strategic tie-up with Digital China Holdings, the domestic information technology distributor and software company said on Tuesday.
Chinese shrimp producers said the US decision to impose high duties on their exports is unfair and that the US consumers will pay the cost.
July 7, 2004
Hong Kong: PCCW will not be forced to lease "last-mile" connections to rival fixed-line telephone and broadband internet operators in urban areas beyond 2008, Ofta rules. The concession, following intense lobbying by the dominant telecoms provider, brings forward the deadline by two years.

Thirty-five chefs received certificates for passing the "Western Cuisine Trade Test", part of an accredited system that allows local chefs to obtain international professional qualifications. They were at a new state-of-the-art demonstration kitchen at the Hospitality Industry Training and Development Centre in Pokfulam. The 596-square-metre space can accommodate up to 50 chefs-in-training at one time.
It has been a year since Chan Kai-na recovered from Sars, but she says her life will never be the same. The disease has left the 35-year-old so weak that she has to walk with a cane and cannot turn in her bed without her husband's help. She has left her job as an attendant at Sha Tin Hospital, where she contracted the disease, and is living on government payments. Recovered Sars patients who are still suffering physical and psychological problems are exhausting a government fund set aside to pay for their expenses. The health director has defended his predecessor for the second day running after she was criticised in the Legco Sars report for failing to act on information regarding the outbreak in Guangdong last year.
Credit-rating agencies have given a boost to the government's HK$20 billion bond sale, awarding the issue strong ratings yesterday.
China: Visitors to the China National Art Museum in Beijing view a bronze sculpture entitled Olympic Spirit by artist Wei Xiaoming yesterday. The museum's new curator, Feng Yuan, is credited with revitalizing an institution long associated with pro-establishment exhibitions.
The mainland's gross domestic product grew more than 10 per cent in the first half of the year despite government moves to slow the economy, a top mainland official said yesterday.
Mainland oil giant PetroChina could provide the first serious challenge to rival CNOOC's dominant offshore position after obtaining a licence from Beijing to explore and produce oil and gas reserves in the southern part of the South China Sea.
A British economist has said if the European Union decides not to grant China the Market Economy Status (MES), it would be a "tragedy" to the world economy.
China will gradually work out a corruption punishment and prevention system with the aim of curbing corruption from the root.
The European Union (EU) and the National Copyright Administration of China are focusing on ways to further improve enforcement of intellectual property rights (IPR), officials attending a joint IPR exchange programme said.
China National Nuclear Corporation (CNNC), the nation's largest nuclear power conglomerate, said it is ready to start construction of a new nuclear power plant in Sanmen, in East China's Zhejiang Province.
China's banking regulators, after years of study and preparation, are preparing to launch the long-awaited deposit insurance scheme, which is the "missing link?of the country's banking regulatory framework.
July 6, 2004
Hong Kong: While senior medical officials failed to act appropriately during last year's Sars outbreak, Chief Executive Tung Chee-wa acted decisively during the crisis, a Legislative Council Sars inquiry has found. Hong Kong Medical Association president and legislator Lo Wing-lok apologized on Monday morning for the earlier disclosure of the Legislative Council Sars inquiry report. The report is due out on Monday afternoon. A handful of doctors - including the heads of Kwong Wah and United Christian hospitals and three intensive care specialists - were praised by name for their work in fighting the Sars outbreak.

An explosion of color will be a feast for traders' eyes at the Summer Sourcing Show for Gifts Houseware and Toys at the Convention and Exhibition Centre, which opens today. The fair, featuring 12 Hong Kong companies, will showcase the latest in gift ideas, from jewellery to stationery, kitchenware, home appliances, toys and sporting goods.
Hong Kong banks are likely to increase lending following the implementation of new, risk-based bank capital rules under the Basel Capital Accord, the Hong Kong Monetary Authority (HKMA) said.
Hong Kong-listed ICBC (Asia) yesterday said it had postponed a US$300 million (HK$2.34 billion), five-year bond offering due to ``technical reasons'', though analysts said falling yields and disappointing United States economic statistics were most likely responsible for the delay.

China: Nanning officials are confident that the city's 1.1-billion-yuan convention centre will not become a white elephant.
Shenzhen Airlines will become the first mainland carrier to compensate passengers for late flights amid rising consumer complaints about the industry's poor service.
Guangxi province hopes the annual China-Asean Expo - which will be held in the provincial capital Nanning in November - will help transform the city into a business and tourism centre for western China.
The former head of the Communist Party's publicity department in Chongqing is being investigated for corruption, state media reports say.
Two senior executives from separate mainland carriers have confirmed that the State Council is considering a plan to merge the country's four telecommunications players at parent level as a short cut to resolve its long-delayed third-generation (3G) mobile-licensing program.
Tungda Innovative Lighting Holdings yesterday lost almost half its value on concerns that repeated delays in releasing its annual result may mean an accounting problem.
Jumbo deals dominated the initial public offering market in the first half of the year and the trend is likely to continue, according to international accounting firm PricewaterhouseCoopers (PwC).
Morgan Stanley is in talks to buy a 10per cent stake in Shanghai Yongle Home Electronics Appliance as part of plans to help the home appliance retailer sell shares overseas.
Microsoft is pursuing an aggressive staff recruitment drive in China with an eye to creating one of the most formidable software research and development facilities outside of the United States.
More than 500 days since taking the helm at IBM's worldwide Linux business, Jim Stallings says the deployment of open-source software is reaching critical mass in Asia because of government demand.
July 5, 2004

Hong Kong: Pop star Yumiko Cheng Hei-yi poses on board a tram yesterday as Hongkong Tramways celebrated its 100th birthday. The company is marking the event by giving tourists and charity organisations free sightseeing rides. The first free trip began at the tram operator's depot in Western yesterday afternoon.
Gamblers will tomorrow witness a Hong Kong-owned company's first attempt to enter Macau's lucrative gaming industry, with the opening of the 16-storey Galaxy Waldo casino-hotel.
Hong Kong banks could begin returning billions of dollars in surplus capital to shareholders after they adopt new methods of calculating regulatory capital under the Basel II Capital Accord, according to the Hong Kong Monetary Authority.
Cheung Kong Infrastructure Holdings (CKI) has invested HK$1.3 billion to become the biggest shareholder of a Sydney toll road project in the latest foray by a Li Ka-shing-controlled company into the Australian utilities sector.
PCCW claims it won the latest legal battle with the Office of the Telecommunications Authority (Ofta) over the government's broadband interconnection policy and expects the watchdog to pay its court costs.

Public policy matters outside the finance industry do not usually draw the interest of investment banks but nine institutions - all in chorus - have chimed in against a controversial proposal to issue a fifth third-generation (3G) mobile-phone licence in Hong Kong.
China: Youths celebrate after Guangzhou was named as the host for the 2010 Asian Games. The city won the event by default after the withdrawal of all other contenders. Guangzhou is banking on the 2010 Asian Games to transform it into southern China's leading metropolitan city and raise its international profile to compete with Beijing, Hong Kong and Shanghai, according to scholars and officials.
Unesco has included 12 historic buildings in Macau as the only Chinese site to be considered for world heritage status next year, a central government official has revealed.
A senior Guizhou official has warned prospective investors in power projects that they must look for their own markets despite the province's role as an electricity supplier to Guangdong.
Cities face the prospect of developing smog to rival Los Angeles' if the mainland does not do something to reduce the ever-increasing number of cars on the streets, the deputy head of the State Environmental Protection Administration says.
Mobile phone value-added services providers have scored big with content catering to the mainland's mania for European football.



Racing along the Yangtze:Paddlers race down the course during the 12th national dragon boat racing championship in Zigui County, Hubei Province yesterday. The race originated in activities to commemorate ancient poet Qu Yuan (BC 340-277), who was a native to the county. This year's race is the first held in Qu's hometown, near the Three Gorges Dam along the Yangtze River, since it began in 1984.

The US textile industry petitioned the Bush administration to curb the import of socks from China. The industry asked that a quota be imposed that would cap the growth in Chinese sock imports at 7.5 per cent over the next year.
July 2 - 4, 2004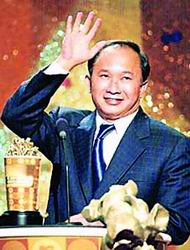 Hong Kong: Hollywood action filmmaker and Hong Kong native John Woo was recognised Thursday by the government for his contribution to the city's movie industry. "Mr. Woo is awarded for his outstanding achievements as a gifted and innovative film director," the government said in a statement.
In six years, Jackie Chan has moved from Hong Kong action star to wholesome Hollywood sidekick with a string of successful buddy comedies, including ''Rush Hour'' and ''Shanghai Noon.'' Given his limited English, the 50-year-old actor has built his popularity around his ability to stage elaborate martial arts sequences, though the violence has been toned down from his earlier films to appeal to broader audiences. ''You can see how my movies changed to healthy action and are not so violent anymore,'' he says. ''Fifteen years ago, I made the right decision: Do more for the kids. I'm always looking for a script with not just a dark side. It's always a happy-go-lucky script.''
Chief Executive Tung Chee-hwa last night pledged to step up efforts to respond to the public's aspirations after thousands took to the streets in a call for greater democracy.

Swimmers cool off at Repulse Bay yesterday as the temperature soared to 34.6 degrees Celsius - the hottest July 1 on record and warmest day of the year so far. Four people suffered heatstroke, including a 48-year-old Kowloon City woman and an 86-year-old Tai Wai woman. Both are in critical condition in hospital. Last night 124 people were cooling down in nine heat shelters.
Property agents appear to be regaining their commission power amid a lukewarm property market, claiming they are being offered a fee bonus by some developers seeking to speed up sales.

China: A People's Armed Police contingent escorts the national flag in Tiananmen Square yesterday as part of the ceremony marking the founding of the Communist Party. The Chinese Communist Party marked its 83rd anniversary yesterday with President Hu Jintao stressing the need for a capable and clean ruling party.
The head of China's main disease-research agency has quit to take responsibility for April's mini-outbreak of Sars that started at one of his agency's laboratories and killed one person, Xinhua reported yesterday.
Beijing and Tokyo should co-operate, not compete, in the quest to secure imported energy supplies, according to a mainland scholar.
Southeast Asian nations have missed Wednesday's deadline to slash tariffs on goods flowing to and from China under a far-reaching free-trade agreement, but officials said yesterday a deal could be worked out in the next few weeks.
More futures trading products and other derivatives will be gradually developed in China, Yang Maijun, director of the futures regulatory department of the China Securities Regulatory Commission (CSRC), said yesterday.
China Network Communications Group Corp (China Netcom) has secured permission from the central government to list on the Hong Kong stock exchange through a red-chip vehicle, sources said.

Chinese products fly the flag abroad:A worker fixes the cabin door of an Airbus plane at the Chengdu Aircraft Industrial Co Ltd workshop. The first batch of A320 series Airbus nose parts, made by the Chengdu firm, were handed to Airbus on Wednesday. One quarter of all Airbus aircraft around the world are installed with parts made in China.
Shenzhen city gov'nt has decided that by Oct. 31 this year, all the registered permanent residents will be changed into city dwellers, and the former collective-owned land will be nationalized.
July 1, 2004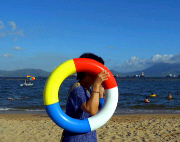 Hong Kong: A woman carries a colorful swimming ring on a Hong Kong beach as locals try to beat soaring summer temperatures and high humidity. The Hong Kong Observatory has issued a very hot weather warning indicating a high risk of heat stroke, with temperatures having reached 37 degrees Celsius in parts of the territory.
Four men painted as the key figures in Hong Kong's biggest money-laundering operation, alleged to have processed more than $92 million a day, walked free last night after a High Court jury acquitted them.
The stock exchange is considering introducing a "circuit breaker" system to control trading volatility, in an attempt to make the market less vulnerable to speculative attack and panic selling. Hong Kong's finance regulators are eyeing hedge funds with growing concern, blaming their short-selling tactics for recent market volatility.
The Airport Authority will pay its first dividend to its only shareholder - the government - despite a steep fall in profits last year due to the Sars crisis.
China: Beijing and Washington should begin high-level talks over each other's strategic intentions to prevent a military confrontation, a top American expert on the People's Liberation Army says.
China's inflation rate is set to reach 5 per cent for June and remain at a similar level this month, according to an official.
A revolution in the role of all levels of government on the mainland will take place today with the enactment of the Administrative Approval Law, which will give greater protection to individuals and businesses while targeting corruption.

Chinese pirated software vendors offer pirated programmes in Beijing. Bill Gates, who is expected to visit China on Wednesday, said earlier that Microsoft will hold talks with Asian governments to offer tailored, cheaper versions of its Windows operating system to aid poorer people. Pirated Windows software can be purchased for just RMB6. Hong Kong legal officials - meeting with their Guangdong counterparts - have agreed to crack down on intellectual property crimes in China.

The photo shows experts from overseas and home working in the 85th grotto of the Mogao Grottoes. Getty Conservation Institue and Chinese counterpart launched the joint protection of the Mogao Grottoes in 1988. The projet will complete in Spring 2005.
China-made super server Dawning4000A with a peak performance of 11 trillion floating point operations per second (TFlops) passed appraisal on June 29.
Beijing said yesterday the mainland is ready to start talks on the establishment of the "three links" across the Straits, as long as Taipei agrees not to internationalize these links.
New policies to stipulate more relaxed control of capital outflow are expected to be issued shortly as the next step in China's long march towards a fully convertible Chinese currency, according to the State Administration of Foreign Exchange.
The Cinda Asset Management Co will buy 278.7 billion yuan (US$33.6 billion) in non-performing loans from the Bank of China (BOC) and the China Construction Bank (CCB), in a fresh move by the country's financial sector to improve the health of the State banks, the Economic Daily reported yesterday.

*News information are obtained via various sources deemed reliable, but not guaranteed