Hong Kong, China & Hawaii Biz*


How to Do Business with China, through Hong Kong & Setting up Business in China? - last update Feb 8, 2003
Do you know our dues paying members attend events sponsored by our collaboration partners worldwide at their membership rates - go to our event page to find out more! After attended a China/Hong Kong Business/Trade Seminar in Hawaii...still unsure what to do next, contact us, our Officers, Directors and Founding Members are actively engaged in China/Hong Kong/Asia trade - we can help!
China Projects Bidding Information - update daily Scholarship & Grants
Are you ready to export your product or service? You will find out in 3 minutes with resources to help you - enter to give it a try
Holidays Greeting from President Obama & Johnson Choi
http://www.youtube.com/watch?v=pNk4Z4lUV-k
http://www.facebook.com/video/video.php?v=219896871983&ref=mf
Wine-Biz - Hong Kong
Brand Hong Kong Video
December 31, 2004 to January 3, 2005 - Happy New Year
Hong Kong: Celebrities from Hong Kong, Taiwan, and China will perform a fund-raising show next week for tsunami victims in devastated southern Asia, organizers said on Friday.
Hong Kong is requesting incoming flights from Vietnam to broadcast health announcements urging passengers with bird flu symptoms such as coughs or fever to wear a mask and report to an airport medical post, the government said on Friday.

Finet chief executive George Yu says Japanese content provider T&C Holdings will take a 5 per cent stake in the financial information provider's enlarged share capital before the forthcoming listing on the Growth Enterprise Market. Finet will use the proceeds to fund expansion into the mainland where it sees a growing number of opportunities. It hopes to partner China Unicom or China Mobile in offering content to mainland mobile-phone subscribers.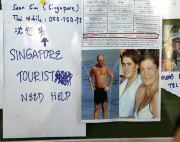 Posters searching for missing loved ones are displayed at a community centre on Thursday in Takuapa, Thailand. More than 1,500 are known dead in last Sunday's tsunami that struck the southern coast of Thailand following a massive earthquake off the coast of Sumatra, Indonesia. The dead toll in Thailand, according to authorities, is expected to rise above 3,000. Worldwide more than 70,000 are reported killed. Another Hong Kong person has died as a result of Sunday's devastating earthquake and tsunamis in South Asia, Deputy-Secretary for Security Michael Wong Wai-lun said on Thursday afternoon. Hong Kong's top pop stars will perform at a charity concert to help raise funds for relief efforts in tsunami-stricken countries across southern Asia, officials said on Thursday.
The decline in Hong Kong wages accelerated in September compared with three months earlier, bucking expectations that companies are raising salaries amid robust economic growth.
In a surprise move, 19 pro-democracy organizations and the Liberal Party have agreed to set aside their differences and turn two opposing protests on January1 into a large-scale joint fund-raising campaign for victims of Sunday's devastating tsunamis.
From midnight tonight, arrangements governing crucial water supplies by Guangdong province to the territory will expire, leaving no formal agreement in place for the quantity and price of supplies.
China: About 700 officials have been punished and 21 billion yuan recovered in the six months since the National Audit Office published shocking revelations about rampant government corruption and the misuse of public funds, state media reports say.
The mainland's foreign debt stood at US$223 billion at the end of the September quarter, up 1 per cent from the end of June, in a sign that a clampdown on corporate yuan speculation is working.
The mainland's first comprehensive anti-monopoly law is expected to be passed by the National People's Congress next year.
China's largest life insurer misused 750 million yuan to build a Beijing office tower before its initial public offering last year, mainland legislators were told this week.
China is expected to post an unprecedented US$5.5 billion agricultural trade deficit this year, the Ministry of Agriculture sources said yesterday.

Bridegroom Li Gang picks up his wife Liu Yuxi on a decorative tricycle to celebrate their wedding in October in North China's Tianjin. China's wedding planning sector has become a promising industry and has grown by leaps and bounds in recent years.

Members of the Chinese International Search and Rescue team get prepared to leave for Indonesia at Capital International Airport in Beijing, Dec. 30, 2004. The team of 30 experienced Chinese rescuers flew to Indonesia Dec. 30 to assist the rescue work in areas hit by quake and tsunami in the Southeast Asian country.

Hong Kong's top pop stars will perform at a charity concert to help raise funds for relief efforts in tsunami-stricken countries across southern Asia, officials said on Thursday. The death toll in Sunday's earthquake and tsunami in the Indian Ocean could top 100,000, IRC said Wednesday.
China's top telecoms equipment maker, Huawei Technologies, said on Thursday that China Development Bank will support its export drive with up to US$10 billion (HK$78 billion) in financing over the next five years.
Shares in China Life Insurance, the mainland's largest insurer, fell 4.6 per cent to HK$5.15 on Thursday after a report that the United States Securities and Exchange Commission had opened a formal investigation into the company's 2003 initial public offering.
Mainland oil companies could soon become major investors in Canada's vast reserves of oil sands as they seek to expand and diversify their sources of supply.
December 30, 2004
Hong Kong: Nearly 400 Hong Kong people were missing in tsunami-devastated areas yesterday but the city's known death toll remained at one. Donations and aid have begun flowing in from around the world, in an outpouring of grief and concern for those devastated by the tsunami that slammed Asia. Hong Kong's donations to tsunami victims rose to more than $60 million yesterday.

The Housing Authority holds its special open meeting where it was revealed that three options had been considered if the listing had gone ahead as planned.
Tighter regulation of listing sponsors and tougher disclosure requirements are among measures proposed to revive the sluggish Growth Enterprise Market (GEM), according to a source at Hong Kong Exchanges and Clearing (HKEx).
Media and satellite-television operator eSun Holdings added to the Macau frenzy yesterday by revealing plans to build two hotels as part of its $2 billion television city development in the former Portuguese enclave.

China: China's first batch aid cargoes to fly to South Asia.
The central government's liaison office in Hong Kong has set up a new department to lobby and court the support of institutions and groups representing the city's middle class and professionals.
Ninety-five Beijing tourists stranded in Phuket arrived home on a charter flight yesterday to be greeted by kisses and hugs from relatives.
China Merchants Holdings International will pay six billion yuan to take a 30 per cent stake in Shanghai International Port Group (SIPG), according to industry sources, giving the Hong Kong-listed company an interest in Shanghai's coveted Yangshan port project.

The maker of micro hard-disk drives for Apple's popular iPod Mini is taking court action against a little-known mainland rival, claiming patent infringement and seeking undisclosed monetary damages.
About 50 major textile exporters have agreed to set up six price co-ordinating panels to keep an eye on export orders through self-discipline, as textile quotas are set to be removed on Saturday.
The first Plasma Display Panel (PDP) television production line with Chinese intellectual property rights will be built in the beginning of the year in Nanjing, capital of East China's Jiangsu Province.
December 29, 2004
Hong Kong: The first Hong Kong casualty of the tsunami was confirmed last night, as the government said more than 200 city residents remain unaccounted for, nearly three days after the catastrophe. Hong Kong people are digging deep to help tsunami victims, donating at least $46 million to relief efforts. Hong Kong holidaymakers told of scenes of devastation when they returned home yesterday. It could have been a scene from the movie Titanic. Seeing her husband washed away as water rushed through their Phuket hotel room, Leung Wai-kei let go of the rail she was clinging to and followed him.

Skyworth Digital Holdings' new management team, finance director Frederick Leung (left), chief executive Wang Dianfu (centre) and financial controller Zhao Kejun hope to restore the television maker's credibility, which was shattered when the former chairman was charged over missing funds after he and nine others, including three board members, were arrested.
Hong Kong-listed Yanzhou Coal Mining has moved to safeguard a 640 million yuan loan it extended to an obscure industrial company in Shandong province, after it emerged that the loan's guarantor could not provide adequate security.

The government will finalize its plan to make the Office of the Insurance Commissioner autonomous in the new year, Insurance Commissioner Richard Yuen Ming-fai said. Once free, it probably will increase licensing fees to compensate for the loss of funding. "It would be meaningless to spin off the insurance authority if the government continues to fund it," Mr Yuen said.

China: Police struggle to keep back the surging crowd. The intense rush forced Lowu station to close briefly in the evening. Shenzhen's subway opened amid fanfare and confusion yesterday, as hundreds of passengers eager to take the first trains clashed with security guards and police at Lowu station. Hong Kong and other neighbouring cities are expected to eventually reap economic rewards from the Shenzhen subway, with the retail and real estate sectors looking to be primary beneficiaries.
The export tariffs on garments China published over the holidays may help appease the United States and other nations worried about their textile industries, but they are far too low to have a significant impact on businesses, industry players say.
China Metal International Holdings, which on Friday will become the last company to list this year, has had a reasonable response from investors for its initial public offering, despite receiving little publicity as the market focused on the controversial listing of the Link Reit.
Harbin No 1 Tool Corporation, the largest production and scientific research base for precise and complex cutting tools in China, established a joint-venture (JV) with Plasma und Vakuum Technik GmbH (PVT), a well-known vacuum coating company based in Germany.
December 28, 2004

Hong Kong: Couples Mai Kam-hung and Mary Mak Suk-yi and Percy and Hon-ming Chow celebrate their 30th wedding anniversary by renewing their vows with 42 other couples in the first all-diocese wedding anniversary celebration in Hong Kong.
Government land premium valuations should be outsourced to create jobs in the construction industry and ensure objectivity, an influential professional group has proposed.

Hong Kong's wealthy expat community has been left counting the cost of Sunday's massive tsunami that ripped through the Thai beach resort of Phuket, laying waste to thousands of million-dollar holiday homes and retirement villas. Local property brokers will also be left rueing the possible collapse of the region's red-hot market for luxury holiday homes, an industry pummeled in recent years by the Bali bombings, Sars and the bird flu outbreak.
China: Officials will be told to resign if their actions lead to huge financial losses or have a negative impact on society, under a proposal being examined by the National People's Congress Standing Committee. Civil servants are soon going to have a clearer perception of their career responsibilities and performance standards, as the law-making Standing Committee of National People's Congress (NPC) begins deliberating a proposed law on civil servants today.
China's wholesale destruction of its older neighborhoods is slowing, with housing demolitions this year falling by more than half compared with 2003, Construction Minister Wang Guangtao said on Monday.
China announced a first round of export duties on textiles, in a move analysts said is as much an attempt to spur large-scale production of high-quality products as to head off a trade spat with the West. According to the International Business Daily , which is published by the Ministry of Commerce, China will impose export duties of between 0.2 yuan and 0.3 yuan per unit on 146 items from Saturday. Those items fall into six categories of clothing, including dresses, trousers, knitted and non-knitted blouses, sleepwear and underwear. For accessories such as hooks for knitted and non-knitted clothing, a duty of 0.5 yuan will be charged per kilogram.
Residents of Chongming Island are hoping that more prosperous times lie ahead, with construction of 12.3 billion yuan bridge and tunnel project linking the island with Shanghai due to start this week.
Mainland regulators will move to relax and clarify rules over the coming months to attract more foreign portfolio investors to the country's languishing stock markets, sources say.

Seeking advice on urban planning: Overseas scholars and professionals look at a model of Chengdu's urban planning on Saturday. The city, capital of southwestern China's Sichuan Province, invited more than 300 overseas scholars to discuss the high-tech industry development of the city over the weekend.
With the launch of the first backbone network of the next-generation Internet in China, the country is expected to dramatically narrow its gap with the world's leaders, officials and experts said.
Beijing International Power Development & Investment Corporation (BIPDIC) and Beijing Comprehensive Investment Company (BCIC), two State-owned investment enterprises, merged into Beijing Energy Investment Holding Co Ltd yesterday in Beijing.
China has more aviation partners in Europe than ever before. While still negotiating with the EU, seven individual countries have signed MOU on air transport deals with China this year.
December 27, 2004
Hong Kong: More than 9,000 people across Asia were killed on Sunday after one of the most powerful earthquakes on record triggered massive tidal waves that slammed into coastlines of countries including Sri Lanka, Indonesia, India, Thailand and Malaysia. Tourists, fishermen, hotels, homes and cars were swept away by walls of water unleashed by the 8.9-magnitude earthquake, centred off the west coast of the island of Sumatra in Indonesia, where 2,437 people were killed by floods and collapsing buildings. Holidaying SAR politicians may be among the missing - Several Hong Kong politicians could be among the missing following Sunday's devastating earthquake and tidal waves, according to sources. Contact has been lost with newly-elected Democratic Party leader Lee Wing-tat and his wife, Tuen Mun district councilor Josephine Chan.
Tough rules urged for civil service retirees - The government needs to put real teeth into rules that bar retired civil servants from taking private sector jobs that cause conflicts of interest, according to an academic who advocates criminal penalties for rule breakers.
China: Google may have grabbed the headlines, but it was Chinese companies that led the recovery of technology share offers in the US this year. The two best-performing IPOs in the US hail from China - Shanda Interactive Entertainment and 51Job.
A world leader in chemical industry, BASF, announced plans to invest 30 million US dollars to build a new chemical plant in the Shanghai Chemical Industry Park in Shanghai, east China.
Chinese foreign trade has increased 750 times since the People's Republic of China was founded 55 years ago.
When Venezuela recognized China's status as a market economy last week, Beijing secured yet another pawn in a low-key battle it is waging against the United States and Europe, analysts said.
December 24 - 26, 2004
Hong Kong: For the first time, the Star Ferry services from Hong Kong Island to Tsim Sha Tsui might be suspended on Friday night to prevent over-crowding at the waterfront, local media reported on Friday. Special traffic arrangements on Sunday would come into effect on Hong Kong Island, Kowloon and the Tsing Yi area for the 9th Tour of the South China Sea International Cycling Race, the Transport Department announced on Friday.
Police are investigating a death threat against legislator Albert Cheng King-hon following accusations he was to blame for halting a huge government property privatization, a statement said on Thursday.

Lo Siu-lan leaves her lawyers' offices in Wan Chai. The housing estate resident's legal challenge derailed the Link Reit listing.
Hong Kong people are the world's most frequent patrons of fast food restaurants, a global survey released on Thursday showed.
Inflation in Hong Kong continued very subdued in November, rising just 0.2 per cent from a year earlier, the same rate as reported in October, government figures showed on Thursday.
Former President Joseph Estrada, detained for nearly four years on corruption charges, will be allowed to go to Hong Kong to undergo knee surgery on Sunday, an anti-graft court ruled.

China: One of a group of suspected drug smugglers sits in a police compound after being detained crossing the border from Vietnam at Pingxiang, Guangxi. It was the first joint anti-drug operation by the two countries. Official figures show China has more than a million addicts.
Hotels, ski resorts and karaoke parlors are tipped to be the big winners this Christmas weekend as the nation's businesspeople and younger generation go in search of the festive spirit.

Tycoon Stanley Ho before a statue of Zeus at the opening of the Greek Mythology Casino in Macau. The casino was expected to make $390 million in profits each month.

Solar energy lamps are installed alongside a river in Beijing. China is stepping up efforts to develop the solar energy industry, echoing the government's promise to make renewable energy resources account for 10 per cent of China's energy consumption by 2020.
Chinese American Nobel laureate Chen Ning Yang, 82, and his fiancee Weng Fan, 28, arrive at the Bureau of Civil Affairs of Shantou City, China's Guangdong Province for marriage registration Friday, Dec. 24. The couple were said to visit Weng's family in Chaozhou Friday afternoon.

The first phase of an export-oriented automobile production base built by the Guangzhou-Honda Automobile Company starts trial operation in Guangzhou, capital of south China's Guangdong Province, Dec. 23, 2004. The production base, with the first-phase investment of 125 million US dollars, is designed to manufacture 50,000 economy cars called "JAZZ" annually with dischargement of 1 liter and 1.5 litres, which will be exported particularly to European markets.
China's second manned space mission will take place in September 2005 with two astronauts circling the Earth for five days, state media on Thursday quoted a high ranking space official as saying.
Instant messaging provider Tencent Holdings expects its monthly profits to drop four million yuan after a possible change in its licensing agreement with China Mobile. The Shenzhen-based company said it was renegotiating a deal for its 161 Mobile Chat service with the country's largest mobile operator.
The Hua Jiao Airship China, a private firm engaged in commercial airship services, received flying licenses for its airships from the Civil Aviation Administration of China (CAAC) yesterday.
China will continue to lower tariffs on imported alcoholic drinks next year. The moves are expected to bring challenges to Chinese alcohol producers.

Toyota Motor Corp. President Fujio Cho stands next to the company's new sedan, the "Lexus GS 430" during a press conference in Tokyo, capital of Japan Dec. 21, 2004. The new sedans, including the "Lexus GS 350" and "Lexus GS 430", will be sold in Aug. 2005.
Under the approval of China Banking Regulatory commission, the Bank of China will be the first Chinese commercial bank providing gold services to individuals.
The US retail giant Wal-mart will open its first outlet in Shanghai next year and also move its headquarters there. Wal-mart says hello to Shanghai. Not only will the US retail giant open its first outlet in the port city next year, but will also place its headquarters there. Aside from the Pudong area store, the Commerce Ministry has also approved two other Wal-mart stores in Shanghai in 2005. Wal-mart will complete construction of its first Shanghai store by May 2005. The store is expected to provide about 500 jobs. Wal-mart entered China in 1996. It now operates 30 stores in China. Only three of these are located in East China, including one in Beijing.
December 23, 2004
Hong Kong: There has been a sharp rise in the number of Hong Kong people buying second-hand flats on the mainland, with transactions up by 24 per cent this year.
Efforts by Singapore's state-owned PSA International Corp to grab a slice of Hong Kong's lucrative container traffic business have been foiled again, after its $2.3 billion offer for a 57 per cent stake in Asia Container Terminals (ACT) was nullified by existing shareholders yesterday.
In a further step towards turning Hong Kong into a leading financial intermediary for the mainland, the financial sector may receive the green light to significantly expand dealing in yuan-denominated financial products such as bonds and stocks, a leading mainland economist said. Ba Shusong, deputy director of the Financial Research Institute of the State Council's Development Research Centre, said Hong Kong would ``have bright prospects'' in expanding yuan-related businesses when the mainland decides to reform its exchange rate mechanism and move towards currency convertibility.

Chief Secretary Donald Tsang's recent acknowledgment that the government was less rigid than before about the West Kowloon cultural district is an attempt to grab space for future maneuvering.
The newly-opened Ma On Shan Railway would probably meet its target of 190,000 daily passengers by the end of 2005, Kowloon Canton Railway Corporation chairman Michael Tien Puk-sun said on Wednesday.
A record 400,000 people are expected to celebrate New Year's Eve in the Tsim Sha Tsui area, police said on Wednesday.
Shangri-La Asia is talking to Swire Properties about operating a second new five-star hotel in Guangzhou, where not a single luxury hotel has opened since 1992.

Telstra has approached several mobile operators about offloading CSL, the wireless carrier it acquired from PCCW for a whopping US$2.15 billion three years ago. Australian telecommunications giant Telstra wants to sell Hong Kong CSL, in a move that could lead to a new round of consolidation in Hong Kong's crowded six-carrier mobile market, sources say.
The sixth WTO ministerial meeting is scheduled to be held in Hong Kong in December of next year, said Sun Zhenyu, China's first ambassador to the WTO, yesterday in Hong Kong.

China: President Hu Jintao visits a food and aquatic products firm in Zhongshan during a two-day tour of Guangdong cities, including Zhuhai , Foshan and Guangzhou that ended yesterday. During the visit, China News Service reported that he reiterated the central government's commitment to economic controls, while stressing the need to pursue high quality and productivity.
The latest bid by the mainland's top judicial authorities to broaden the net of piracy crimes will add little force to the government's fight against rampant breaches, experts say.

Zhang Yanping, the president of advertising company Beijing Media Corp, was in a buoyant mood as his company began trading on the Hong Kong stock exchange yesterday. Investors were impressed with Beijing Media's prospects - its shares spent most of their first day's trade at about 20 per cent higher than the issue price of $18.95. The stock closed at $22.70, a 19.78 per cent gain. The initial public share offering was 422 times covered.

A man looks for his car at a parking lot as snow continued to fall in Beijing yesterday. The first heavy snow of the winter in Beijing caused delight but chaos as well yesterday, with virtually every outbound flight delayed, roads closed and tourist sites shut down.
US information technology giant HP aims to become one of the top three notebook computer vendors in the Chinese market next year, as its arch-rivals IBM and Lenovo are busy consolidating.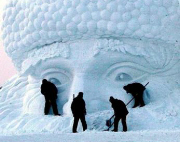 Workers put the final touches to part of a giant snow sculpture depicting Santa Claus in Changchun, northeastern China. The 80-metre-long sculpture was made with 7,000 cubic metres of snow and the designers claim it's the world's biggest snow sculpture.
Toshiba says it will stop making notebook computers at its Philippine plant next month and shift production to its main factory in Hangzhou to cut costs.

Returned overseas Chinese students flock to the recruiting counter for Sinopec Corp at a job fair for State-owned enterprises yesterday in Beijing. By providing 228 job vacancies and 57 projects, China's large State-owned enterprises are rolling out the red carpet to returned Chinese scholars.
Macau's newest gaming palace, the Greek Mythology Casino, opens today with an eye on topping the Sands Macau's blockbuster debut in May. Deputy general manager Michael Chan predicted on Wednesday that the opening will attract up to 50,000 customers, lured in part by a 100 million pataca (HK$97.1 million) lucky draw.
December 22, 2004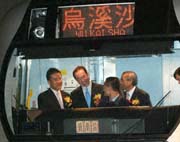 Hong Kong: Financial Secretary Henry Tang Ying-yen gets to ride up front at the opening of the Ma On Shan rail line yesterday. With him are KCRC chairman Michael Tien Puk-sun, left, the driver, and acting chief executive Samuel Lai Man-hay. Hundreds of people turned out for the opening ceremony, at which Mr Tang voiced his gratitude for President Hu Jintao's "encouragement" following Mr Hu's strong remarks criticizing the Tung administration's governance.
The recent spate of high-profile corruption cases involving listed companies has prompted the ICAC to work with Hong Kong's securities regulatory bodies and mainland authorities to step up supervision and corporate governance.
Retired senior officials employed by private companies may face stiffer government restrictions following the row over the former deputy housing director's role in the West Kowloon cultural hub project.
The controversial $10-billion Ma On Shan Rail opened to the public to a mixed reception on Tuesday afternoon. Financial Secretary Henry Tang Ying-yen officiated at the launch of the new 11.4km-long Kowloon Canton Railway Corporation line connecting Tai Wai and Ma On Shan, local radio reported.
More than 21.36 million visitors were believed to have come to Hong Kong in 2004, Hong Kong's Tourism Board chairwoman Selina Chow Liang Shuk-yee said on Tuesday.
Over one-third of respondents participating in a Hong Kong University online poll said that they had no definite idea what Chief Executive Tung Chee-hwa should focus on in his eighth policy address.

New World Telecom launched its music download service at a colourful ceremony at the World Trade Centre in Causeway Bay on Monday. New World Telecom has entered the competitive market for paid music downloads with the launch of NWTmusic.com on Monday. The site has the support of the big record companies, such as Sony BMG, EMI, Universal and Warner, and local firms, such as Emperor Entertainment Group, Gold Label and BMA.

China: Liu Jing, winner of the final of the 17th World Model Contest for the region of China waved to spectators in Beihai, Guangxi Autonomous Region on Dec 19. Liu Jing from Jiangxi Province won the championship; Zhang Fang from Henan Province won runner-up and Liu WenJing from Shandong the third place. The champion Liu Jing will represent China to take part in the final in September 2005.

A student who has had cosmetic surgery on her eyelids and cheeks was crowned the winner of China's first pageant for such "man-made beauties" Saturday in Beijing. Feng Qian, 22, received a US$6,000 country club membership after being picked from among 20 finalists, who ranged in age from 18 to 62.
Top judicial authorities have reinterpreted the mainland's criminal law to include heavier sentences for copyright piracy and lower the threshold for punishable offences. Chinese courts will, from today, treat infringement on intellectual property rights (IPR) as a major criminal offense rather than a minor one.
Finance Minister Jin Renqing has announced a 283.7 billion yuan fiscal surplus in the first 11 months. He also asserted the mainland's economy was not overheating and that he did not expect inflation to rise strongly.
Like other mainland carmakers, the Nissan-Dongfeng joint venture in Guangzhou has been trying to contain rising costs.

Dumpling winter warmer: Migrant laborers enjoy jiaozi or dumplings in a cold, dilapidated shed yesterday to celebrate the Winter Solstice at a construction site at Yingcheng Square in Pingdingshan, a city in Central China's Henan Province. On the lunar Chinese calendar the day, with the longest night, marks the arrival of the coldest days of the year and a time for people to celebrate their harvests after busy seasons. Dumplings with meat and vegetable stuffings are traditional for most northern Chinese, while sweet dumplings or tangyuan are common in the south.
December 21, 2004
Hong Kong: President Hu Jintao yesterday ordered Tung Chee-hwa and his ministers to lift their game. Read the president's remarks positively, Tung Chee-hwa says on his return from Macau. As a keen soccer fan, Tung Chee-hwa knows how difficult a game can become when playing away from home. Tung Chee-hwa swiftly went into damage-control mode yesterday, putting on a brave face and rejecting speculation that President Hu Jintao's remarks on his governance were a dressing down.
A senior state official yesterday said broad agreement had emerged over constitutional reform in Hong Kong, but warned that discussions should not depart from the limits set by Beijing.
The individual travellers' scheme for mainlanders visiting Hong Kong and Macau could be extended if Beijing were asked, a senior state official said yesterday.
Hong Kong workers are increasingly becoming chained to the workplace, working a basic average of 44.5 hours a week this year, compared with 42.9 in 2001.

Housing minister Michael Suen told Commercial Radio the Link Reit listing could be back on in January. He sees no reason to amend the Housing Ordinance for the deal.

BOC Hong Kong (Holdings) has generated strong interest from developers and property funds in the tender sale of its 33-room luxury guesthouse at One Gough Hill Road. About 16 developers and property funds have expressed interest in the Peak property, agent DTZ Debenham Tie Leung confirmed. With a gross floor area of about 25,000 square feet, the property is likely to generate at least $500 million based on recent Peak transactions.
Investors yesterday greeted the scrapping of the controversial Link Reit listing with cautious relief, then celebrated the end of the muddle with a surprise buying spree.
China: President Hu Jintao yesterday held up Macau Chief Executive Edmund Ho Hau-wah's rule as a model of "one country, two systems".
Auditors have launched a seven-month special investigation of the finances of China Central Television, the country's biggest TV network - a sign of a broader campaign targeting state-owned media organisations.
The central government will strip provincial governments of the power to issue key economic statistics amid growing concern over the accuracy of information.
Top judicial authorities have issued a set of guidelines to govern the revised jury system in an attempt to raise sentencing standards and root out corruption in the mainland's courts.

US firm Warburg Pincus will pay US$100 million for a 22.5 per cent stake in Harbin Pharmaceutical Group (Holdings), one of China's largest drugmakers.
Dragged along by a booming China, East Asian countries should grow 7.6 per cent this year, their best result since the region's 1997 financial crisis, the Asian Development Bank (ADB) said yesterday.

A taxi driver places a Chinese national flag on top of his car as he waits for passengers in front of a hotel in Macao yesterday, as the Special Administrative Region (SAR) celebrates its fifth anniversary of return to the motherland yesterday. Attending the celebrations, President Hu Jintao said the SAR shows the success of the "one country, two systems" model drawn up by late Chinese leader Deng Xiaoping.
Surgeons from Shanghai's Ruijin Hospital announced yesterday an operation to transplant seven organs from a single donor to a woman on December 12 was a success.

Golden harvest:Farmers harvest oranges in Zigui County in Central China's Hubei Province. The county, which has a long tradition of growing oranges, achieved a bumper harvest this year, whose output reached 130 million kilograms.

Airbus Senior Vice President and Airbus China President Laurence Barron speaks at a press conference introducing Airbus' new A350 in Beijing, capital of China Dec. 20, 2004. A350 is to be offered in two versions, the A350-800, which would carry 245 passengers and have a range of 15,900 kilometers, and the A350-900, which would seat 285 people and have a range of 13,900 kilometers.
December 20, 2004
Hong Kong: China's top legislature, the National People's Congress (NPC), explained in Beijing on Friday that the anti-secession law it plans to enact will not be applicable to the Hong Kong and Macao special administrative regions (SARs) of China.
Hong Kong Financial Secretary Henry Tang said the chances of the Link Real Estate Investment Trust being listed as planned are "relatively low", which will, however, not affect HK's role an int'l financial center.
The underwriters of the Link Reit issue are on the verge of pulling the plug on the Housing Authority's mega deal, fearing that if they proceed with the offering they could be vulnerable to shareholder lawsuits should the offering later be ruled invalid, sources said. "It's a very tough situation,'' said a source familiar with the deal. The three joint global co-ordinators of the deal - HSBC, Goldman Sachs and UBS - have until 8am on Monday morning to decide whether they wish to continue underwriting the deal, but sources close to the deal said the underwriters were leaning toward withdrawing from the listing.
ParknShop, the supermarket chain controlled by tycoon Li Ka-shing, has wasted no time in taking advantage of this week's full opening of the mainland's retail market to foreign competition. The chain plans to open three new hypermarkets on the mainland, including one in Guangzhou, by the end of this month. This will increase the number of ParknShop hypermarkets on the mainland to 31, said Iwan Evans, chief executive of food, electronics and general merchandise at AS Watson, the Hutchison Whampoa unit that owns the foodstores.
The Hong Kong Monetary Authority tightened the rules governing banks' liability for the contents of safe deposit boxes after finding that 24 of the 27 institutions it surveyed assumed no liability even if losses were caused by their own negligence. The move came in the wake of the DBS Bank (HK) debacle in which 83 depositors suffered losses when the bank accidentally destroyed their safety deposit boxes in October. DBS Bank ultimately offered compensation of about HK$12 million to the customers even though the terms and conditions of its safe deposit box service protected the bank from any liability.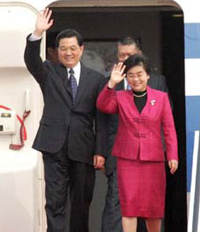 China: President Hu Jintao (L) arrives in Macao at around 11:30 a.m. (local time) on Dec. 19, 2004. He arrived here to attend a celebration gathering to mark the 5th anniversary of Macao's return to the motherland.
China's Supreme Justice and President of the Supreme People's Court Xiao Yang vowed to improve the country's judicial capacity to meet the requirements of economic development at an on-going national court meeting. In a keynote speech to the national higher court presidents meeting, held here from Dec. 16 to 18, Xiao said judicial capacity mainly includes "striking hard" on severe criminal cases and cracking down on financial and economic fraud, intellectual property infringement, human rights violations in judicial fields and official power abuse.
Cambodia reaffirmed on December 18 that Cambodia always pays great attention to strengthen the friendly relations with China, stressing that it will continue to push forward the all-around development of bilateral relationship. Cambodia's Senate President Chea Sim and Prime Minister Hun Sen met separately on Saturday with visiting Chinese delegation led by Chen Haosu, president of the Chinese People's Association for Friendship with Foreign Countries (CPAFFC).
Chinese film fans will have a rare, unprecedented opportunity to meet a group of major Hollywood stars next year in Beijing and Shanghai, on the 100th anniversary of China's film industry. The stars, including top film director Oliver Stone and actor Dustin Hoffman and actress Angelina Jolie, will come for "The Beijing-Hollywood World Movie Masters Forum-2005," scheduled from February 20 through July 16, next year, the China Film Association and Amer-Asian Hollywood Entertainment Group announced.

Residents view cars during a family car exhibition in Fuzhou, capital of southeast China's Fujian Province, Dec. 18, 2004. Fuzhou held the exhibition displaying 30 kinds of cars for those who may buy cars ahead of the traditional Chinese Spring Festival in February.
The mainland is becoming a world leader in nuclear power, outgoing United States Energy Secretary Spencer Abraham said in Beijing, urging more co-operation on a range of energy issues. "Clearly, China is taking a global lead in nuclear power,'' he told students at Beijing's Tsinghua University on Friday. "Beyond traditional fossil fuels, there are China's very impressive efforts to accelerate its supply of nuclear power."
Mainlanders are toasting their economic growth with beer as the country for the first time surpassed the United States as the world's top beer guzzler, a global survey by a Japanese brewer said. Mainland drinkers chugged down nearly 25 billion litres in 2003, accounting for 17.3 per cent of the world's beer consumption of 144 billion litres. The US accounted for 16.5 per cent, the study by Kirin Brewery said. Increasing incomes saw mainlanders drink 6.4 per cent more beer in 2003, while US consumption fell 0.4per cent in 2003 from 2002, the survey said.
December 17 - 19, 2004
Hong Kong: Dragonair pilots have voted to launch a work to rule starting just before the Lunar New Year holiday because of a long-running dispute over the airline's refusal to offer them an agreement on working rosters.

Papers charting the formation of the Basic Law in Beijing will be declassified next year, the organiser of Hong Kong's first public archive on the mini-constitution said yesterday. In a speech at City Hall, Basic Law Institute chairman Alan Hoo (above) said mainland officials were analysing documents donated by late legal expert Wu Jianfan , who was behind the drafting of the city's mini-constitution in the 1980s. The Basic Law Library at City Hall will open to the public from tomorrow.
Cheung Kong (Holdings) and its associate Hutchison Whampoa have "conquered" another mainland inner city, with plans to pour $1.7 billion into Xian's residential and commercial property market.

Noel Smyth (second from left), of The Dublin Jack, celebrates the First Smoke-Free Pint award with Anthony Hedley (left), Professor of Community Medicine at HK University, Homer To, of the Council on Smoking and Health, and Christian Masset, chairman of Clear the Air.
Three Leisure and Cultural Services Department officials failed to communicate adequately over the discovery of bloodworms in public swimming pools earlier this year, a report by the Ombudsman revealed on Thursday.
Hong Kong's jobless rate remained unchanged at 6.7 per cent for the three-month period ending in November, the government said on Thursday.

Henderson Land Development chairman Lee Shau-kee would like to have Warren Buffett's talent for profitable investment. Tycoon Lee Shau-kee has set up a $50 billion fund for investing in Hong Kong and the mainland as he bids to become the Chinese equivalent of his role model Warren Buffett, the world's second-wealthiest man.
The Tung family's Orient Overseas (International) Ltd (OOIL) is about to acquire its first stake in a mainland container port as part of a joint-venture company that will build, manage and operate a new terminal complex in Tianjin.
Mandarin Oriental International has finalised plans to spend US$110 million renovating its flagship hotel in Central.

SmarTone's deal with Vodafone is expected to help it mount a strong challenge to Hutchison's 3. Shaking on it are (from left) SmarTone's Douglas Li and Raymond Kwok and Vodafone's Brian Clark and Thomas Nowak. SmarTone Telecommunications Holdings, which is due to launch its third-generation (3G) cellular service this month, pulled an unlikely ace from its sleeve on Wednesday - an exclusive network alliance with the world's largest mobile phone operator, Vodafone Group.

China: The "China Star" is the fastest train china ever produced, capable of running at an hourly speed over 300 kilometers.

Pakistani Prime Minister Shaukat Aziz is welcomed to Beijing by Premier Wen Jiabao yesterday. Mr Aziz was quoted by Xinhua as saying that his government had recognized China as a market economy, with Beijing promising Pakistan US$150 million in aid to build a nuclear power plant.
Beijing is offering mainland companies more than 5 billion yuan in subsidies and dozens of other incentives to lure them to the Three Gorges Dam area in a drive to lift residents out of poverty.
Pressure on prices will remain a top concern for Beijing next year because the country could move from food-driven to longer-lasting cost-push inflation, a senior economist says.
December 2004, police in Shenzhen of Guangdong Province arrested more than 20 suspects who allegedly produced more than the 11,609 pieces of so-called "CISCO System" circuit modules, worth more than 20 million yuan (US$2.4 million).
China's SOE regulatory body signed a contract with the presidents of 30 central State-owned enterprises yesterday, linking the salaries and bonuses of those presidents with the profitability of their enterprises. The State-owned Assets Supervision and Administration Commission (SASAC) reaffirmed yesterday that State-owned enterprises (SOEs) will continue joint-stock reforms - despite debates on whether such reform has led to the draining of State assets.

President of China's flag carrier China International Air Co., Ltd Li Jiaxiang (L2) celebrates with his co-workers for their initial trade at Hongkong Stock Exchange in the Hongkong Special Administrative Region Dec.15, 2004. China International Air Co., ltd traded on stock markets in London and Hongkong synchronously on Wednesday. Shares of Air China, the country's largest carrier, closed 8.2 per cent higher after its first trading day in Hong Kong yesterday, a solid debut in line with market expectation.
Ministry of Railways announced in Beijing Wednesday that China will begin building high speed railways, which carry trains traveling at 200 kilometers per hour or faster, in 2005.
December 16, 2004
Hong Kong: Chief Executive Tung Chee-hwa has appointed a four-member Independent Committee of Experts to make recommendations on future elections, a spokesman announced on Wednesday.

Performers from the Imperial Ice Stars put a smile on the face of young Wong Tsz-tsung from the Hong Kong Society for the Deaf, accompanied by his mother. Olga Sharutenko, in pink, plays Lilac Fairy and Maria Borovikova stars as Carabosse, in the performance of Sleeping Beauty on Ice.
The government on Wednesday afternoon appointed Privacy Commissioner Raymond Tang Yee-bong to succeed Patricia Chu Yeung Pak-yu as Equal Opportunities Commission (EOC) chairman next month.
The Chief Executive has appointed four lay members to the Council of the Hong Kong Institute of Certified Public Accountants (HKICPA), a spokesman said on Wednesday.

As office rents go, the sky's the limit. With vacancy rates at a four-year low, rents for Hong Kong grade A offices will soar as much as 35 per cent next year, says consultant Jones Lang LaSalle. As rents rise, more foreign investors will jump into the sector.
China Network Communications Group Corp (China Netcom) has offered to buy a 20 per cent stake in PCCW. The offer comes just a few weeks after the Chinese carrier listed its unit - China Netcom Group Corp (Hong Kong) - in Hong Kong and New York.
China: The flow of foreign direct investment (FDI) into the mainland slowed dramatically last month, but analysts say the annual figure is still well on track to top US$60 billion.
Climate change could reduce China's food production by one-tenth by 2050. Given present conditions, the damage would hit China between 2030 and 2050, said a report presented at a United Nations conference on Monday.
The Beijing-based parent firm of China Aviation Oil (Singapore) Corp (CAO) is backing away from a rescue plan to help the company overcome its US$550 million derivatives losses.
Wong Kwong-yu, recently named the richest man in China by Euromoney, yesterday cashed in a further $1.37 billion of his home appliance retail empire.
The Hong Kong Mortgage Corp has expanded its insurance programme to cover loans for older properties in a move the government sees as benefiting both homeowners and buyers.


Participants consult business information at a booth of the ongoing Dongguan International Science and Technology Co-operation Week in Dongguan in South China's Guangdong Province yesterday. The event aims to better enhance the city's advantages in IT manufacturing and industrialization by inviting renowned scholars and IT firms from home and abroad.
German software giant SAP is to greatly boost its research and development team in China, to serve local demands, and also work as a global development base, as the company's expansion in the world's most populous market enters a new stage.

Oil pump running at Xifeng Oil Field in Qingyang city of Gansu Province, June 18, 2004. China drew world's attention for its infrastructure construction in 2004. The project of "West-East Gas Transmission" was completely put into operation, orderly construction of Qinghai-Tibet Railway pushed forward, power generation at the Three Gorges progressed smoothly and Qinshan nuclear power plant fully put into production. Brilliant achievements were also made in other major projects.
December 15, 2004
Hong Kong: Mr Justice Michael Hartmann told the Court of First Instance on Tuesday that he wished to make a ruling over the Link Real Estate Investment Trust (Link REIT) case by 5pm on Tuesday, local media reported.

Ballerina Irene Lo attends the announcement by Dynamic Star International of a partnership agreement with the Hong Kong Ballet and Hong Kong Sinfonietta.
Most Hong Kong people working for foreign-funded enterprises in the Pearl River Delta (PRD) region are men, a mainland survey released on Tuesday shows.

China: Haier-CCT Holdings, which gained shareholder approval to buy controlling shareholder Haier Group's washing machine business, says it will acquire all the group's other white goods businesses. Also, Haier-CCT will change its name to Haier Electronics Group.
China's media regulator is reviving a plan to create a unified national cable-television platform, after earlier efforts ran into stiff opposition from local network operators.
China has overtaken South Korea as the second-most popular destination for companies looking for acquisitions in the Asia Pacific, as the value of cross-border merger and acquisition (M&A) deals on the mainland tripled in the first 11 months of this year over last year.

IBM's departure from the PC business and Lenovo's transition to a global player is an opportunity for others to grab the market for 14 million corporate PCs in the US and tens of millions more internationally.

China Great Wall Computer Corp President Lu Ming and IBM Vice-President Tim Carroll attend the signing ceremony of their joint venture -- International Systems Technology Company -- based in Shenzhen, South China's Guangdong Province on Dec 12th.

Vice-Chairman of the Central Military Commission and Defence Minister Cao Gangchuan (second right) speaks with visiting Russian Defence Minister Sergei Ivanov during a welcoming ceremony in Beijing yesterday. Ivanov announced China and Russia will jointly hold a first-ever military exercise next year.

Chinese President Hu Jintao (R) meets with visiting Russian Defense Minister Sergei Ivanov in the Great Hall of the People in Beijing Dec. 13, 2004. Sino-Russian strategic coordination has attained an unprecedentedly high level, said President Hu.
In an effort to build up its nuclear power capacity, China plans to set up a new nuclear technology company. Three companies are in the running to design and build two nuclear reactors, including four units, in China.

A girl chooses scarves at a shop in Zhengzhou in Central China's Henan Province. Newly-staged measures on Chinese textile exports will help improve the trading climate for Chinese textile companies and benefit the industry's long-term development, industry insiders said.
December 14, 2004
Hong Kong: Equal Opportunities Commission chairwoman Patricia Chu Yeung Pak-yu would not serve another term after her first term ends on Wednesday, the government announced on Monday.
A new public transport plan aimed at providing greater railway access and services to people living in the New Territories would be introduced this year, the assistant Transport Commissioner said on Monday.

More than 2,300 pupils hula-hooped their way to a world record by spinning for two minutes. Taiwan held the previous record.

KCRC chairman Michael Tien says it would be "financially irresponsible" for the firm to build the Canton Road station alone. Kowloon-Canton Railway Corp (KCRC) will revive a planned $1.8 billion station serving the Canton Road shopping area only if the main property owner in the district shares a large portion of the cost, said chairman Michael Tien Puk-sun.
Struggling telecommunications firm PCCW is planning a re-launch of its video-on-demand service, hoping to build a new earnings stream at its NOW Broadband pay-television business to compensate for the erosion of its core fixed-line revenues.
Citigroup has signed its first purchase of non-performing loans from Silver Grant International Industries after buying a minority stake in the Hong Kong-listed distressed asset specialist last month.
Lenovo and IBM are likely to lose enterprise customers as corporations worried about the uncertainty created by the pair's merger of PC businesses turn to major rivals such as Dell and Hewlett-Packard.
China: Maritime authorities say last week's oil spill near the mouth of the Pearl River, caused by a collision between two container ships, is larger than previously estimated.

Customers purchase clothes at a large retail goods market in Guiyang, capital of southwestern China's Guizhou Province. China's retail sales in 2004 are expected to rise 13 per cent over last year to reach 5.2 trillion yuan (US$628 billion).
The US decision to impose punitive duties on Chinese wooden furniture will not have a big impact on the industry as manufacturers make efforts to tap new foreign markets. However, domestic market competition is expected to increase.
The first petroleum association for China's private oil firms, the China Chamber of Commerce for the Petroleum Industry (CCCPI), was established on Saturday in Beijing.
December 13, 2004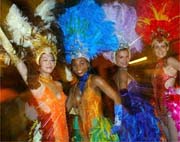 Hong Kong: Razzmatazz and a carnival atmosphere kicked off the biggest racing weekend of the year as the sun set over Stanley yesterday.
The owners of Hunghom Peninsula yesterday scrapped plans to pull down the never-occupied waterfront estate amid a widening political and legal dispute over their right to do so.
Students from the Li Po Chung United World College perform at a concert in Wan Chai to mark International Human Rights Day.
More than half the companies in a survey have monitored employees' use of the internet and e-mail, while about 30 per cent can monitor their phone calls.

Chow Yei-ching, Chevalier International chairman and managing director, says the company will concentrate on mainland projects.
Leading Hong Kong advertisers are locked in a showdown with dominant terrestrial broadcaster Television Broadcasts, which is trying to raise next year's advertising rates by as much as 18.8 per cent.
HSBC Holdings sees early signs of growth in credit demand in Hong Kong, with recovering confidence in the property sector.
The government, looking for better ways to spend the $4 billion remaining in the $5 billion Innovation and Technology Fund (ITF), has decided to set up four research and development centres to focus on areas such as car parts and textile development.
Hong Kong Airport Authority (AA) Chairman Victor Fung pledged Friday to do everything possible to maintain HK's aviation leadership in Asia.

China: Policemen stand watch as a railway carriage filled with fireworks burns into the night in Changsha, Hunan province, after the cargo exploded and injured 18 workers who were repairing tracks nearby.
The central government looks set to announce a leadership reshuffle in several key provinces and the State Administration for Radio, Film and Television to build loyalty and fight corruption, sources say.
Lenovo Group chief financial officer Mary Ma does not think employees will be fired when the company completes its US$1.25 billion purchase of IBM's personal computer business.
China refuted rumors on Friday that it had been dumping US dollar-denominated assets from its massive foreign exchange reserves.
The State-own Asset Supervision and Administration Commission (SASAC) took aim at the beleaguered China Aviation Oil (Singapore) Corp on Friday for violating regulations on trading oil index futures. China's foreign exchange (forex) watchdog yesterday vowed to get tougher on speculation on the renminbi's appreciation.

A client deposits renminbi at a bank in Nanjing, East China's Jiangsu Province. The People's Bank of China says the recent interest rate hike has shown some early effect by noticeably intensifying the willingness among local residents to deposit their money.
China's first petroleum equipment export contract was signed on Thursday in Beijing, between Beijing Petroleum Machinery Factory (BPM) under China National Petroleum Corporation (CNPC), and the US-based Rowan Drilling Company Inc.
China has achieved an initial success in using carbon dioxide enhanced coalbed methane (CBM) recovery technology from Canada to tap the country's huge CBM resources, a type of clean energy but also a major killer of miners every year.

Visitors walk through the Palace Museum, the imperial palace of the Ming and Qing dynasties in ancient China, in Beijing, Dec. 9, 2004. The latest statistics show that the overseas visitors to China will be expected to reach 105 million in 2004 and the gross income of tourism industry will reach 600 billion yuan (72.6 billion US dollars) . China is becoming one of the most attractive tourism destinations in the world.
December 10 - 12, 2004
Hong Kong: The government on Friday confirmed that the public listing timetable of the Link Real Estate Investment Trust (Link REIT) has not changed — even though the Court of First Instance has yet to decide whether to allow a lawsuit against the listing.

China's first man in space, Colonel Yang Liwei, is led back to his seat after being conferred with an honorary doctorate by Chinese University yesterday. Fellow recipients were Shun Hing Group chairman William Mong Man-wai (seated), Nobel economics laureate James Mirrlees and philosopher Lao Yung-wei, also known as Lao Sze-kwang. The astronaut said he felt honoured to receive the degree.
In a dramatic turnaround, the two developers of the Hunghom Peninsula announced on Friday afternoon that they have decided not to demolish the housing estate.
Hong Kong and the mainland signed a liaison agreement in Beijing on Friday to encourage closer notification and liaison on poultry products imported into Hong Kong, a spokesman said.
Hong Kong and Britain signed the second Memorandum of Understanding (MOU) on Friday aimed at enhancing co-operation over information and communications technology, a spokesman said.
Modifying game players like X-Box and PlayStation II to run pirated discs and renting out movies may become criminal offences under proposals unveiled by the Hong Kong government on Thursday to close loopholes in the Copyright Ordinance.
The "Three Wise Men" of the South China Morning Post - business columnist Jake van der Kamp (far right), columnist Kevin Sinclair (second from the right), and cartoonist Harry Harrison, launch their books in the Fringe Club theatre in Central. South China Morning Post group editor-in-chief David Armstrong (far left) hosted the event and interviewed the trio before opening it to questions. Members of the audience supped champagne and proceeds went to Operation Santa Claus.

AIG Tower, a new Grade A commercial building on the former Hotel Furama site, will come on the market in March next year. The landlord - AIG Group, CapitaLand and Lai Sun Development - officiated at the topping out ceremony yesterday.
MTR Corp's offer to pay 50 per cent of the land premium on its Tseung Kwan O line has elicited an enthusiastic response from smaller developers which are normally shut out of rail-side projects by prohibitive capital requirements.
Executive Councillor Laura Cha Shih May-lung yesterday dismissed speculation that she was in line for the top job at the securities watchdog.

Michael Dell says his company sees organic growth, rather than mergers and acquisitions, as the more sustainable way, citing Dell's preference for long-term marketing and technology alliances.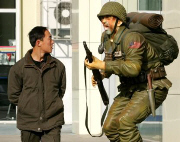 China: A man walks past a life-size model of a US Army soldier outside a store selling military paraphernalia in Beijing on Friday. Though the newly opened store sells clothing and other military accessories imported from the US and European suppliers, it did not offer any products related to China's People's Liberation Army.
A worker attends to a customer at a Shanghai tea house - the Chinese character on the window means tea. In terms of tea production, China is closing in on India, the world's top tea producer, according to a UN food agency. China produces 24.6 per cent of the world's tea.
A developed China will not pose a threat to other countries, Premier Wen Jiabao said yesterday in The Hague, adding that human rights had been greatly improved and the economy was expanding fast. The China-EU comprehensive strategic partnership will logically require that China's full market economy status be recognized at an early date and restrictions on exports of high-tech products to China be liberalized, visiting Premier Wen Jiabao said here yesterday.
Mobile phones were expected to generate more money this year than traditional fixed-line services for the first time due to surging demand in developing countries such as China, India and Russia, an annual industry report said on Thursday.
China is expected to abolish the agriculture tax imposed on the country's more than 900 million rural residents next year three years ahead of schedule, experts said.
The mainland has banned British computer game Football Manager 2005, saying it has violated Chinese law by referring to Hong Kong, Taiwan and other regions as separate countries.

Stage for Chinese commodities:Two Arabic dealers talk with a Chinese counterpart at the Chinese Commodity Distribution Centre which opened on Tuesday in Dubai, United Arab Emirates. The centre, the biggest of its kind China has launched overseas, aims to lure over 3,000 Chinese enterprises to showcase their products.

Chinese Premier Wen Jiabao (L2), Dutch Prime Minister Jan Peter Balkenende (R2), EU Commission President Jose Manuel Barroso (L1) and EU foreign policy chief Javier Solana pose for photo in the Hague, Netherlands, Dec. 8, 2004.
China's total foreign trade volume amounted to 1,001.7 billion US dollars by Nov. 20, 2004, official said Thursday.
December 9, 2004
Hong Kong: Standard Chartered group chief executive Mervyn Davies yesterday flagged profit growth of about 29 per cent this year - a hint that immediately drew heavy flak from labor spokesmen in Hong Kong, where the bank last month sacked 200 employees to cut costs.
Tom Group is buying about 30 per cent of Huayi Brothers Media Group, the mainland's biggest private film-maker as it expands into a lucrative market recently opened to foreign investment.

China: China's largest PC maker Lenovo has bought IBM's PC business for US$1.25 billion. Analysts say the move will help Hong Kong-listed Lenovo's entry into the high-end corporate market marking the biggest ever outright corporate acquisition by a mainland company overseas.

Lenovo Chairman Liu Chuanzhi (left) shakes hands with John Joyce, senior vice-president & group executive of IBM Global Services, at a ceremony in Beijing yesterday. Lenovo, China's largest personal computer maker, bought IBM's PC-making business for US$1.25 billion, capping IBM's gradual withdrawal from the business it helped pioneer in 1981.

Foreign Minister Li Zhaoxing (left), his Dutch counterpart Bernard Bot and EU foreign policy chief Javier Solana sign agreements for closer exchange, watched by Premier Wen Jiabao, Dutch Prime Minister Jan Peter Balkenende and European Commission chairman Jose Manuel Barroso. China is now the EU's second most important partner, after the US.
The mainland has promised more investment to boost grain production and is considering measures to narrow the rural-urban divide and maintain steady growth in farmers' incomes, according to two top policymakers.
Shenzhen authorities have fined a Hong Kong-invested joint-venture company a record 1.96 million yuan for paying illegally low wages and forcing workers to do overtime, two months after 3,000 employees took to the streets in protest at their treatment.

He Guangwei (R), director of the Chinese State Tourism Administration, shakes hands with Grant D. Aldonas, under secretary of international trade administration of the United States Commerce Department, in Washington Dec. 6, 2004. China and the US signed an agreement to promote travel and tourism cooperation on Dec. 6. Domestic tourists in China is expected to top 900 million this year with tourists entering China to reach 105 million. Annual tourism revenue is expected to exceed 600 billion yuan.
Zhou Xiaochuan, central bank governor, announced there were many things to do for China's next financial reforms, especially the improvement of relevant legislations concerning finance, and the Bankruptcy Law as well as other laws related to loan swindle in particular.
December 8, 2004

Hong Kong: Being delayed at Chek Lap Kok will never be dull again, thanks to an upgrade of facilities that will allow local artists to showcase their work. "I see seating areas pleasing to our travellers' tired legs. I see inspiring, exquisite artwork and products pleasing to our minds," said Chief Executive Tung Chee-hwa's wife, Betty Tung Chiu Hung-ping (centre), who launched the improvements.
The government was planning to raise medical charges for non-Hong Kong citizens next year - in face of the growing pressure on public medical services as more mainlanders come to Hong Kong, local media reported on Tuesday.
Finnish pupils are the smartest in the world according to a survey of knowledge among 15-year-olds in 41 countries, the OECD said on Tuesday (HK time), with three Asian countries taking second through fourth place, including Hong Kong in third place.

Henderson Land Development chairman Lee Shau-kee says he will subscribe for up to US$500 million worth of shares in Hong Kong's first real estate investment trust, the Link Reit.
A consortium controlled by Li Ka-shing has agreed to pay $1.93 billion for the four-star Kowloon Hotel complex in Tsim Sha Tsui, lower than the market had anticipated.
The Hong Kong shares of Lenovo Group were suspended from trading yesterday amid rumours the mainland computer giant would announce a takeover of IBM's global personal computer business. China's largest manufacturer of personal computers Lenovo Group said on Tuesday it was in negotiations with a major information technology company, believed to be US-based IBM.

PCCW's Wu Liang-tai says 3G by itself is not enough to satisfy demand for broadband because it is a voice-oriented service and there is not enough frequency.
China: British conglomerate Virgin Group announced Tuesday that it is in talks with a mainland Chinese telecommunications company to set up a joint venture to provide mobile services in China.
Guangdong authorities will launch a three-year campaign to instil patriotism in residents and encourage them to be more law-abiding, trustworthy and courteous, official media reported yesterday.

Main agreements with Germany - An agreement on building a hotline between the governments of China and Germany; A joint statement on bilateral railway co-operation; A framework agreement signed by China Aviation Supplies and Airbus company on the purchase of Airbus jetliners; A contract to establish a Volkswagen-FAW engine factory in Dalian; An agreement on financial co-operation between two governments. A record 22 agreements valued at billions of US dollars were signed yesterday in Beijing between China and Germany while a series of deals were sealed between China and Italy.
German-US auto giant Daimler-Chrysler and Chinese partner Beijing Automotive Industry Holding Corp yesterday began building a new plant for their joint venture to produce Mercedes-Benz sedans.
The National Development and Reform Commission said Monday that domestic consumer prices are expected to rise by about 4 percent this year, which would be the highest in seven years since 1997.
December 7, 2004
Hong Kong: Financial secretary Henry Tang Ying-yen said on Monday he was considering the Liberal Party's proposal to open a casino on Lantau Island.

Wong On-yuen plays one of James Wong's songs on the erhu at yesterdays public memorial. The love of James Wong Jim's life broke her silence last night after his public memorial at Hong Kong Stadium, saying the lyricist died fearing his talents were not respected. "To me, he was always number one in writing lyrics," Eunice Lam Yin-nei said in an interview broadcast on Cable TV hours after the father of Canto-pop's service. Lam and Wong lived together for 14 years, from 1976 to 1990, but never married. He later described her as the great love of his life.
The use of personal computers and the internet in Hong Kong households and private companies continued to enjoy steady growth this year, two new surveys released on Monday showed.
The holding company of Hutchison 3G Italia, controlled by Hutchison Whampoa, has been ordered by an arbitration court to pay €423.3 million ($4.4 billion) to a unit of Italian company Cirtel International (CIR) following a dispute over financing for the European mobile-phone operator.

Babara from the Netherlands (R) and his boy friend receive warm welcome from the Hong Kong Tourism authorities on Dec 5, 2004. She is the 20 millionth tourist to HK in 2004. Tourist number has broken the record of 20 million for the first time. Tourists from the Chinese mainland have amounted to 12 million.

China: Window cleaners scale a high-rise building in Beijing. Economic planners have been trying to rein in rampant spending on glitzy projects.
The US government said on Friday that neither China nor any other major trading partner of the United States is violating a US law against currency manipulation to gain unfair trade advantages.
Mainland public servants' pay would no longer be based solely on their duties under a revision to the civil service system being considered by the government.

A McDonald's restaurant in Beijing. Beijing McDonald's Food is 50 per cent owned by Beijing Sanyuan, which delivered a $24.31 million loss to indirect shareholder Beijing Enterprises for the six months to June.
A financial set-up that could see Air China deposit up to five billion yuan - more than 65 per cent of its initial public offering proceeds - with a firm that provides services to its parent has drawn fire from corporate governance activists.
Red chip China Resources Enterprise (CRE) plans to bolster its retail presence in the mainland by paying its parent $660.3 million to raise its stakes in two supermarket chains.

A passenger train is in a trial operation across the Qiongzhou Strait from Hainan Island to Guangdong Province in South China. The Haikou-Guangzhou passenger line, the first cross-sea passenger train service in the country, was officially put into operation yesterday, with the K408 train embarking from Haikou at 6.58 pm and arriving in Guangzhou at 6.52 this morning. The cars are carried on a ferry with passengers seated inside the train while on the sea. Freight cars were put into service early last year.

Chinese cabbage goes abroad:Farmers transport Chinese cabbage in Ninan County of East China's Shandong Province on Saturday. Vegetable dealers in the county have been taking full advantage of this year's cabbage harvest and are actively accessing ways to export the cabbage abroad, including markets in South Korea.
December 6, 2004
Hong Kong: British Deputy Prime Minister and First Secretary of State John Prescott left Dalian for Hong Kong, winding up his five-day official visit to China.
The government has decided to proceed with a civil service salary cut as planned next month, without waiting for a ruling from the Court of Final Appeal.
The Labor Advisory Board's first meeting on the need for a minimum wage and maximum working hours was a "good start" towards further discussions between employers and employees, a labor official said yesterday.
The MTR Corp is preparing to ride into Beijing by 2008 after signing an agreement to invest in a 15.3 billion yuan metro project in the capital.
Peter Wong Tung-shun, the former Standard Chartered Bank chief executive for Greater China, is reliably understood to be in line to take a top job with the Hongkong and Shanghai Banking Corp (HSBC).

China: Maria Julia (L) from Peru is crowned Miss World 2004 at the final of the 54th Miss World Competition held in Sanya, China's southernmost Province of Hainan Dec. 4, 2004. Contestants from 107 countries and regions, including three from Chinese mainland, Taiwan and Hong Kong took part in the competition.

Tianjin Economic and Tech Development Zone is build on the land which used to be a piece of salina. 20 years of hard work has turned over a new leaf for the area. In the past 10 years, a new coastal area has been established where advanced infrastructure is available and hi-tech industry has taken shape.
China is planning to set up a lawsuit mechanism efficient and convenient for capital market investors to seek compensation from listed companies for financial wrongdoing, according to China's top securities official.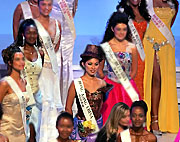 Miss Hong Kong Queenie Chu Wai-man, centre, takes part in a rehearsal for today's Miss World final in Sanya. As the final preparations took shape yesterday, organizers announced the Hainan resort town would host the pageant next year for a third consecutive time. A worldwide audience of 2.4 billion is expected to tune in to see who is crowned - for the first time by popular vote.
Chinese dancers perform during the Miss World Pageant rehearsal in Sanya, on Thursday on China's southern resort island of Hainan. A total of 107 contestants will be going through selection for the Miss World 2004 crown on Saturday.
International Business Machines has put its computer business up for sale, according to a leading US newspaper. The company was in serious discussions with Lenovo, China's largest maker of personal computers, and at least one other potential buyer.

A money exchange dealer shows renminbi notes at an exchange counter in Kuwait City, Kuwait. With the rapid development of business relations between China and Kuwait, more and more local foreign exchange dealers are beginning to provide small amount renminbi exchange services.
The Chinese mainland, Hong Kong and Macao combined are likely to become the second or third largest market of international accounting giant PricewaterhouseCoopers (PWC) in the future, with new opportunities coming from the "go global" strategy of Chinese firms.

Shiing-shen Chern (Chen Xingshen), a world-renowned overseas Chinese mathematician, 93, died of illness at his home at Nankai University in north China's Tianjin Municipality at around 7:15 p.m. Friday. Students pay tribute to him.
December 3 - 5, 2004
Hong Kong: Chief Secretary Donald Tsang Yam-kuen said on Friday he would work to ensure the applications of Hong Kong businessmen doing business in China would be processed quickly.
Modern Chinese medicine maker Shineway Pharmaceutical Group made its debut yesterday in Hong Kong, with its retail portion of shares 231 times over-subscribed by investors.

Wong Wang-sang (R1), the chairman of Skyworth Digital Holdings Limited (Skyworth), walks out of the Eastern Hong Kong Magistrates Court in Hong Kong, Dec. 2, 2004. The chairman and his brother Wong Pui-sing, an executive director of the company, appeared in court Thursday, charged by HK's ICAC for conspiring to steal 48 million HK dollars ($6.2 mln) company funds.
Hong Kong doctors are at long last being allowed to advertise in newspapers, a decision the Medical Council says is aimed at opening up information for patients.
A Cathay Pacific jet was being inspected in Bangkok last night to see what caused a piece of engine casing to break away and crush a car on the ground. The airline denied the engine had exploded.

Youngsters unleash a rain of confetti at the kick-off of the seasonal fund-raiser for Save the Children Hong Kong, held at Chek Lap Kok airport. Helping out were celebrity Michelle Reis (right), the Airport Authority's chief executive David Pang Ding-jung and its commercial director Hans Bakker. The organisation, part of an international alliance, is dedicated to protecting the rights of children worldwide.
As audience members, they are forced to sit in a corner or in the last row and usually cannot go to the theatre as a group because few seats are set aside for them. As would-be performers, they often cannot even get on to a stage because of unfriendly designs.
Five well-dressed mainland thieves posing as buyers were caught red-handed on the first day of an international jewellery show in Wan Chai yesterday.

Tung Chee-chen and wife Harriet celebrate after he was named the Business Person of the Year at the annual DHL/SCMP Hong Kong Business Awards yesterday. The Tung family-owned Orient Overseas (International) is sailing its way to record earnings this year, according to its chairman Tung Chee-chen, who yesterday was named the DHL/SCMP Business Person of the Year.
Developers are offering guaranteed rental returns of up to 5 per cent a year, in a bid to compete with other investment products and lure more cash-rich investors to the residential market.

China: A customer chooses flowers at a flower market in Nanjing, capital of East China's Jiangsu Province. As Christmas and the New Year approaches, more flower growers are busy bringing to market various kinds of flowers to meet the growing demands of Chinese customers.
The government is likely to tighten supervision of domestic companies' trading futures on overseas markets after the China Aviation Oil (Singapore) Corp lost US$550 million from speculative trading, company managers and industry experts said.
The State Administration of Radio, Film and Television has recently released two regulations, which loosen restrictions on foreign capitals' entry into the broadcasting, film and TV industry.

Pedestrians walk past Santa Claus dolls displayed outside a store yesterday in Beijing. Although the mainland does not officially celebrate Christmas, retailers do a brisk trade as residents of the capital get into the festive spirit in the run-up to December 25.
Beijing will raise the ceiling on the amount of renminbi that can be taken in and out of the country from 6,000 yuan to 20,000 yuan, the central bank said yesterday.
Further interest rate rises and greater currency flexibility are likely to be added to the monetary policy mix when top mainland leaders gather today for a three-day meeting to thrash out next year's economic plans.
Plans to restructure the mainland's coal industry by grouping its 28,000 mines into 13 clusters to allow more efficient supply and safety management have been announced.
Beijing is exploring ways to deflect the influx of petitioners from across the country by making local administrations responsible for addressing their plight.
United Parcel Service (UPS) yesterday agreed to pay US$100 million to dissolve its international trade partnership with Sinotrans in key markets, making it the first foreign firm to wholly own express cargo operations in the mainland.
Dutch electronics firm Philips plans to spend up to US$250 million on China-based research and development next year and hire 50 more engineers for its 100-strong mobile display screen R&D facility in Shanghai.
December 2, 2004
Hong Kong: Chief Executive Tung Chee-hwa said on Wednesday the number of tourists coming to Hong Kong has doubled since 1997 to reach about 20 million this year.
West Kowloon will become home to the world's first official Bruce Lee museum as well as the region's first centre for Chinese opera if bidder Henderson Land gets its way. In a race to gain the rights to develop the 40-hectare West Kowloon cultural project, Henderson Land, one of three competitors, is seeking to score cultural brownie points by gathering support from Hong Kong's Cantonese opera figureheads and Bruce Lee's family.
There has been an increase in the smuggling of vehicles with dual registration in Hong Kong and the mainland, Customs officials say. Secretary for Constitutional Affairs Stephen Lam said in a written reply to a query about smuggling from lawmaker Li Kwok-ying that Customs officers detected 138 cross-border smuggling cases involving vehicles registered on both sides of the border (so they can be driven on both sides) in the first 10 months of this year. Officials made 153 arrests and the vehicles seized were worth HK$82 million in total.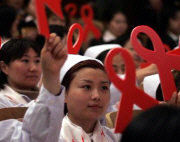 China: Chinese nurses holding up red ribbon cutouts during a ceremony held to mark World Aids Day in Beijing on Wednesday. The number of people contracting the Aids virus in China is rising and infections are spreading from high-risk groups such as drug users to the general population, according to a study released on Tuesday.
Hong Kong would import chilled pork from China after discussions on inspection and quarantine requirements were completed with the mainland, the health minister said on Wednesday.

China Banking Regulatory Commission chairman Liu Mingkang has urged three of the country's big four lenders - Bank of China, China Construction Bank and Industrial & Commercial Bank of China - to adopt the risk management practices outlined in the Basel II accord. He also told the two-day Capital Markets and Corporate Governance conference in Beijing yesterday that five new cities would be opened to foreign banking enterprises.
Recent reforms at two of the mainland's big four state-owned commercial banks may be eroding the long-entrenched role of Communist Party committees at Chinese financial institutions.
Dutch electronics firm Philips plans to spend up to US$250 million on China-based research and development next year and hire 50 more engineers for its 100-strong mobile display screen R&D facility in Shanghai.
United States companies had their most profitable year in China in 2003, according to a new study, signaling that the country's rising wealth and openness are finally translating into solid returns on the billions of dollars of investments foreigners have made there. The study estimates that US companies' net profits from operations they wholly or partially own in China jumped 25 per cent in 2003 to US$4.4 billion (HK$34.32 billion). By comparison, US companies collectively made almost zero net profit from their China operations in 1995, though that had risen to US$1.93 billion by 1999.
December 1, 2004
Hong Kong: Director of Immigration Lai Tung-kwok said on Tuesday that fake smart identity cards are not a serious problem in Hong Kong - despite reports of some false cards appearing in the territory.
The Food and Environmental Hygiene Department announced on Tuesday afternoon it would resume processing applications for beef imports from Canada with immediate effect.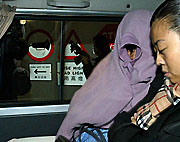 An executive of television maker Skyworth Digital is taken away by ICAC officiers after the raids, which also saw Skyworth chairman Stephen Wong arrested. Stephen Wong is accused of misappropriating a "substantial amount" of company funds. The ICAC has arrested the chairman, three board members and financial controller of television maker Skyworth Digital for alleged corruption relating to fraud and pilfering of corporate funds.
The government suffered a major setback over the West Kowloon cultural hub project yesterday when political parties joined forces to pass a motion for a full review on the contentious "single-developer" approach.
Hong Kong workers can look forward to average wage growth of just 2.7 per cent next year, the lowest in the Asia-Pacific region, according to forecasts issued yesterday by human resources consultants Hewitt Associates.
The MTR Corp has offered an unprecedented sweetener to potential developers of the Tseung Kwan O Area 86 residential project in a move seen as a vote of confidence in the property market.
China: China Aviation Oil (Singapore), which has a near monopoly on importing jet fuel into the mainland, has suffered the biggest trading losses by a state-owned firm in the history of the People's Republic after losing US$550 million in oil derivatives trading.

President Hu Jintao shakes hands with an Aids patient yesterday during his tour of the Youan Hospital in Beijing, accompanied by Minister of Health Wu Yi (right). Aids orphans on the mainland are struggling against discrimination and a lack of assistance, with Aids workers yesterday appealing for donations to help the vulnerable group.

The deal with Actoz Soft will cement Shanda's leadership in the mainland online-gaming industry. Shanda Interactive Entertainment will use half the proceeds from its initial public offering in May to buy a controlling stake in a South Korean game developer, in a move that analysts see as a settlement of a copyright dispute that will further cement its leadership position in the mainland gaming industry.
Global rating agency Standard & Poor's yesterday affirmed a positive outlook on reforms in the Bank of China and the China Construction Bank, two pilot State-owned banks chosen for shareholding restructuring and public listings.

The British retailer Kingfisher announced last week that B&Q China, a subsidiary of Kingfisher will acquire five membership supermarkets of the Pricesmart in China by 6.95 million pounds (approximately 105 million yuan). The B&Q plans to turn the supermarkets to supermarket of building materials in 2005.
November 30, 2004
Hong Kong: A lawmaker yesterday proposed a legal amendment to prevent ICAC search warrants from being issued unless evidence showed that the suspects posed a "real risk" to an investigation.
An investigation was under way yesterday into how 700 pieces of luggage were left behind at Hong Kong International Airport after a single suitcase strap brought the baggage handling system to a stop for 90 minutes.

Richard Clarke, former White House senior cyber security adviser, says hackers pose a greater threat than terrorists. Criminals, hackers and terrorists are making the internet an unsafe place for legitimate users and causing companies billions in lost business, according to a former White House counter-terrorism and cyber security chief.
China: The mainland will play an increasingly critical role in US President George W. Bush's foreign policy as diplomatic crises in Iraq, North Korea and Iran continue to cloud Washington's ties, according to a former senior US official.
Beijing is a step closer to stripping local courts of the power to impose the death penalty without referring cases to the Supreme People's Court, following the submission of draft amendments to the People's Court Organisation Law.

Residents and tourists visit the Sixth Flower Fair opened in Zhangzhou, southeast China's Fujian Province, Nov. 28, 2004. Zhangzhou has more than 200 flower enterprises planting flowers of 4,536 square kilometers and achieving an annual sales volume of 720 million RMB yuan (87 million US dollars) thanks to the fair, which has also promoted the development of flower tourism.
November 29, 2004
Hong Kong: The proposed bridge linking Hong Kong with Macau and Zhuhai will not incorporate a rail line after studies found it would cost too much, the central government minister responsible for the project has revealed.

Chief Executive Tung Chee-hwa cheers on competitors at the start of a charity walk on The Peak yesterday. Mr Tung was presiding over the event and Secretary for Justice Elsie Leung Oi-sie also attended. The charity walk was organised by the Hong Kong Coalition of Professional Services.
The stock exchange has abandoned a plan to introduce automatic trading suspension mechanisms - a "circuit-breaker" system - amid concern they could fuel chaos rather than impose stability.
PCCW will plough US$40 million into the commercial roll-out of its wireless broadband service in Britain next year, according to deputy chairman Jack So Chak-kwong.
Hutchison Whampoa's supermarket chain, ParknShop, is seeking to acquire a retailing chain in eastern China to accelerate its expansion in the mammoth market.
China: Premier Wen Jiabao launched an indirect attack on the US yesterday for failing to halt the slide in the dollar, while vowing not to revalue the yuan under pressure.
Chinese consumers remain among the most upbeat in the world about their economy, and with extra money in their purses as the New Year season approaches, new technology products are at the top of their shopping lists, according to the latest ACNielsen Consumer Confidence Study.
China's box office is estimated to grow 30 per cent to 1.3 billion yuan this year, with domestic movies playing an increasingly bigger role as more foreign filmmakers join the rush into mainland co-production.

Visitors attend the Second Guangzhou International Auto Show, which is scheduled to close today. China's vehicle manufacturers witnessed the first year-on-year decline in their profits in six years during the first three quarters of this year, with the slide set to continue in the fourth quarter.
Viacom's soon-to-be-launched joint TV production venture with Shanghai Media Group (SMG) will play an increasingly important role in the expansion map of the US media conglomerate in China, says its China business chief.

Premier Wen Jiabao arrived in Vientiane Sunday for an official visit from Nov. 28 to Nov. 30. Wen held talks with leaders of Laos, Indonesia, Singapore and Malaysia respectively. Wen will also attend the eighth summit between ASEAN and China, and between ASEAN and China, Japan and ROK, as well as the sixth China-Japan-ROK summit.
November 26 - 28, 2004
Hong Kong: Hong Kong's financial system was playing an increasingly important role in China's economic development, Secretary for Financial Services and the Treasury Frederick Ma Si-hang said on Friday.

Lawmaker Albert Cheng talks to a stallholder in Wong Tai Sin about joining the alliance of commercial and parking tenants.
The government on Friday launched the first phase of its Medical Device Administrative Control System (MDACS) - which will be under the supervision of the Department of Health.
Hong Kong's economic growth this year will match the government's forecast of 7.5 per cent because of benefits created by the free-trade agreement with the mainland, the financial secretary said yesterday.
The Hong Kong Motion Picture Industry Association (MIPA) estimated that the total box-office revenue for Hong-Kong-produced films this year would be less than $300 million, half of usual amount. The Federation of Hong Kong Film Workers said that Cepa failed to help promote Hong Kong's film industry as expected and it urged the government to make laws to prohibit free downloading of films on the internet.
Bank of Communications (BOCOM) governor Zhang Jianguo said that the bank should be able to obtain regulatory approval in the first quarter of next year for its application to set up a credit-card joint venture with HSBC. Zhang said that both banks attached great importance to the credit-card business.
The late lyricist James Wong Jim was also a successful writer. A copy of the 48th edition of his Indecent Jokes Collection was recently sold for $550 in an online auction. The two-volume joke collection, first published in 1983, is now in its 61st printing with a total of 160,000 copies already sold. The book's publisher will be making extra copies available next Thursday at the retail price of $38.

Internet providers will have a more reliable connection on the newly launched HKIX2. At HKIX2's launch was Kenneth Young of the Chinese University of Hong Kong.
Hong Kong Broadband Network (HKBN) says it will continue with its attempt to sue PCCW for allegedly blocking its voice over internet protocol (VoIP) service, even though PCCW has said it is likely to drop an injunction against the service in a separate case scheduled for next week.
The number of workforce accidents in Hong Kong has fallen in recent years, Permanent Secretary for Economic Development and Labour Matthew Cheung Kin-chung said on Thursday.
The government said on Thursday it has completed transportation of dioxin-containing residues to Tsing Yi Chemical Waste Treatment Centre (CWTC) for trial incineration.
MTR Corp has joined forces with a British company to bid for a rail franchise in England in an attempt to break into the US$20 billion European railway market.
Three major recording companies have agreed to make their music available to be shared and sold over a new online file-swapping service that aims to lure music fans away from rival services where trading of music and movies remains unfettered.

China: Residents of Jinan, Shandong province, brave the cold to make the most of the city's first winter snowfall yesterday.
President Hu Jintao's first visit to Latin America has helped expand the mainland's trade ties with the region and spread the message that Taiwan's independence movement is a security threat to the Asia-Pacific region, Foreign Minister Li Zhaoxing said yesterday.
Guangzhou's controversial "university town" project did receive State Council approval, a senior official said yesterday, ending months of silence over allegations that the project was illegal.
The mainland's dominant offshore oil and gas producer CNOOC is looking to raise up to US$1 billion with its first convertible bond by cashing in on investors' expectations of continued high oil prices.
The top official at China's National Social Security Fund (NSSF) has ruled out investing in overseas stocks this year, dashing hopes in Hong Kong for a multibillion-dollar influx from across the border.
A new report on the Pan-Pearl River Delta Region said unification of the region was necessary for future economic development.
China will launch its lunar orbiter Chang'e 1 to explore the moon's environment and study the thickness of its soil by the end of 2007, a senior space official said on Thursday.
High-profile Foreign Ministry spokeswoman Zhang Qiyue will soon take up a new post as ambassador to Belgium, in what diplomatic sources say is an effort to help forge closer ties with Europe.
Mainland law-enforcement agencies have detained more than 13,000 people and seized more than six tonnes of drugs in less than four months, resulting in the price of some drugs doubling in areas such as Yunnan province.
Casino boss Stanley Ho Hung-sun last night threw down the gauntlet to the stock exchange to allow shares in his Melco International Development to resume trading this morning. Cyber On-Air Group has become the latest company to jump on the Macau bandwagon, announcing it will pay as much as $1.21 billion to buy hotel and casino operations in the Philippines and Macau from its parent, Chow Tai Fook Enterprises.
The central government has given approval for China Unicom to buy as much as 49 per cent of Macau's leading telecoms firm, Companhia de Telecomunicacoes de Macau (CTM), in the latest move to boost economic integration between the mainland and Macau.

A group of European tourists have their lunch on their ride to Xigaza on November 24, 2004. They are driving around Tibet for traveling. The Tourism Bureau of the Tibet Autonomous Region revealed that from Jan.- October this year tourism generated a record revenue of more than 1.3 billion yuan for Tibet, which was 40.5 percent higher than that of the same period of last year.
The nation's economic hub yesterday reaffirmed its resolve to encourage foreign investments to purchase or merge with State-owned enterprises (SOE), including this in a new regulation for property rights exchange, which starts today.

China will donate material supplies worth US$1 million to help Iraq carry out upcoming elections. Wang Guangya, China's permanent representative to the United Nations (UN), announced the pledge while attending the international conference on Iraq on Tuesday.
Cereal Partners Worldwide (CPW), a 50-50 joint venture between Switzerland-based Nestle and US-based General Mills, yesterday announced the opening of its first Chinese manufacturing unit in Tianjin.
November 25, 2004 - Happy Thanksgiving
Hong Kong: Lyricist James Wong Jim, whose literary talents traversed Hong Kong's music, television, film and advertising scenes, died of lung cancer early on Wednesday, his doctor and media said. He was 64.

The latest fashion collections by local designers previewed yesterday at the China Tee Club, marking the soft launch of the third World Boutique. Organised by the Hong Kong Trade and Development Council, World Boutique is a fashion fair set to feature over 200 brands from all over the world and will run between January 18 and 21, concurrently with Hong Kong Fashion Week.
The business sector is optimistic about the economy for the next two years, according to a study released by the Hong Kong General Chamber of Commerce on Wednesday.
The government has pledged to increase pressure for a resolution to the long-running dispute over terminal handling charges (THC) and narrow the price differential between Hong Kong and Shenzhen ports.
The Chinese Academy of Sciences will set up an Asian open exchange point in Hong Kong to operate a high-speed internet network interconnecting Beijing and other countries in the region.
China: Macau casino mogul Stanley Ho Hung-sun is poised to strike back at his American competitors when the first phase of a flamboyant 2-billion-pataca casino-hotel opens.
President Hu Jintao ended the first day of a state visit to Cuba by witnessing a marathon signing of 16 agreements with the Cuban government, including nickel purchase, production and prospecting deals.
Sony Pictures Entertainment is set to announce China's first fully licensed Sino-foreign television production joint venture.

Lion dancers perform at the naming ceremony of the 175,000-ton cargo vessel Mineral Belgium in Shanghai yesterday. Shanghai Waigaoqiao Shipyard (SWS) yesterday sold the first in a new line of cargo vessels with the world's largest tonnage to a Belgian shipping company.
China's first domestically-manufactured 600-megawatt super-critical power generator commenced operations yesterday in Huaneng Qinbei Power Plant in Central China's Henan Province.

Wang Guangya, special envoy of the Chinese government, attends the int'l conference on Iraq in Egypt's Sharm el-Sheikh Nov. 23.
November 24, 2004
Hong Kong: Police Commissioner Lee Ming-kwai on Tuesday praised Hong Kong journalists - saying they generally enjoyed a good working relationship with police officers.
Secretary for Financial Services and the Treasury Frederick Ma Si-hang, would lead a 120-strong delegation to Beijing later this week for a forum on management of insurance funds, a government spokesperson said on Tuesday.
Cyberport developer Pacific Century Premium Developments may sell its 43-storey office block in Quarry Bay to an international investment fund for $2.8 billion, marking a second wind for a commercial property revival that had been running out of steam.



Over the next two years, HSDPA - an advanced modulation technique for 3G cellular networks - is set to become the new gold standard for the city's competitive mobile market. The alphabet soup of acronyms Hong Kong mobile phone users have to ingest will be getting thicker with the arrival of high-speed downlink packet access technology, or HSDPA.
Three fixed-line carriers - PCCW, New World Telecom (NWT) and Hutchison Global Communications (HGC) - have entered into a private cyberspace agreement to bypass Hong Kong's congested public internet exchange.
Hutchison Whampoa and Cheung Kong (Holdings) would jointly invest US$90 million in the mainland's second-largest chipmaker, Grace Semiconductor Manufacturing, the Shanghai-based company said on Monday.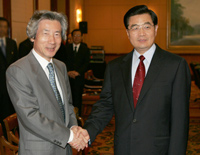 China: Chinese President Hu Jintao (R) shakes hands with Japanese Prime Minister Junichiro Koizumi after Hu attends the 12th Economic Leaders' Meeting of the Asia-Pacific Economic Cooperation in Santiago, capital of Chile, Nov. 21, 2004. The meeting between Hu Jintao and Junichiro Koizumi was a welcome development amid strained Sino-Japanese ties, but disputes are unlikely to disappear, according to mainland analysts.

Zhongxing Telecommunications Co Ltd (ZTE), the country's second-largest telecoms equipment maker, launched its roadshow yesterday, bringing it a step closer to raising a maximum of HK$3.5 billion (US$448 million) on the Hong Kong market.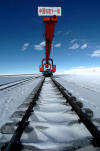 The picture dated Nov 22 shows machine laying tracks after snow. The track laying of the Qinghai-Tibet Railway progresses smoothly from Anduo to Lhasa. A total of 190 kms of track has been completed and there is only 200 kms to go to reach Lhasa.
China, the world's second-largest oil consumer, has managed to set a new full-year record for fuel oil imports in just 10 months, a clear sign its appetite for refined oil products will continue unabated next year.
Beijing is unlikely to bow to increased pressure to revalue the yuan because of the US dollar's recent slump, analysts say.
President Hu Jintao had a brief conversation with Taiwan's envoy to the Apec summit on Sunday - the highest-level exchange between the two sides in 12 years.
The shares of Brilliance China Automotive Holdings, BMW's manufacturing partner and the mainland's biggest minibus manufacturer, fell 10.85 per cent yesterday following the mysterious resignation of its auditor last Friday.
November 23, 2004
Hong Kong: Financial Secretary Henry Tang Ying-yen said on Monday the government would not introduce a goods and services tax (GST) until 2009 because of the level of opposition to the tax in Hong Kong.

Li Ka-shing greets staff during the Cheung Kong and Hutchison Whampoa games in Sha Tin yesterday and says many of them can look forward to a pay rise next year.
Chief Executive Tung Chee-hwa overnight (HK time) stressed the importance of helping developing countries through the Doha Round of World Trade Organisation (WTO) negotiations.

China: A monk waits for clients in his trinkets store at Shaolin Temple, which has become a profitable business catering to hordes of tourists. Every morning, as a new fleet of buses unloads tourists at Shaolin Temple, Li Yaojin thinks wistfully about the peaceful days two decades ago when he first arrived as a Buddhist novice.
The central government is committed to a hands-off policy that will give the reins of state-owned companies to professional executives, an official said.
Shenzhen Baoan International Airport must strengthen ties with Hong Kong International Airport (HKIA) and invest 20 billion yuan over the next 20 years if it is to keep pace with demand for passenger and freight services, according to a consultants report commissioned by Shenzhen aviation authorities.
Xinhua Financial Network (XFN), partly owned by the Xinhua News Agency, plans a second overseas listing next year to facilitate further expansion and become a diversified print-to-television media group.
China's rapidly growing building design and construction sector could be poised for an extreme makeover as companies from the United States, Britain and Hong Kong introduce a new generation of digital tools to mainland projects.
APEC leaders pose for a group picture yesterday at La Moneda Presidential Palace in Santiago wearing Chile's traditional hand-made "chamantos." Chinese President Hu Jintao stands fourth from right, front row. US President George W. Bush said Saturday morning that he expects to continue to work closely with Chinese President Hu Jintao on prosperity and peace for the two countries and the world.

Trade with Jordan rising fast:A Jordanian vendor sells Chinese-made balloons in Amman, Jordan. China's trade with Jordan reached US$470 million in the first three quarters of this year, a year-on-year increase of 50 per cent, according to the Chinese Ministry of Commerce.
November 22, 2004
Hong Kong: Hong Kong Tourism Board (HKTB) said Friday that it has been recognized worldwide for its marketing excellence in promoting the destination image of Hong Kong and motivating travelers to come to the city.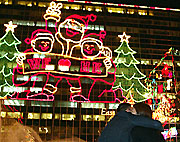 Two lovers get into the festive spirit after the Christmas lights are switched on in Tsim Sha Tsui East last night. Grace Lam, of the KCRC, and Tsim Sha Tsui East Property Developers Association president Lui Che-woo officiated at the turning-on ceremony.
Standard Chartered Bank has agreed to take a 19.99 per cent stake in a mainland banking start-up planned by the Tianjin municipal authorities at an initial investment cost reported to be between US$100 million and US$150 million.
China: Mainland property developer Emperor (China Concept) Investments has hopped on to the "Macau concept" bandwagon, changing its name to Emperor Entertainment Hotel and shifting its focus to the casino business.
Mainland telecommunications equipment manufacturer ZTE Corp, the first A-share company to seek a subsequent H-share listing, is offering its shares at a discount of up to 34 per cent to its last traded price on the Shenzhen stock exchange.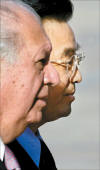 The President of Chile, Ricardo Lagos Escobar (left) and his Chinese counterpart, Hu Jintao, take part in a ceremony at the "Plaza Constitucin," in front of the presidential palace "La Moneda" in Santiago, on Thursday. Hu arrived in Chile on a state visit and to participate in the Asia-Pacific Economic Cooperation (APEC) forum. Ministers from 21 member economies of the Asian-Pacific Economic Cooperation (APEC) forum ended their two-day meeting on Thursday with a joint statement pledging more efforts to facilitate trade, security, sustainable development and macroeconomic stability.

A Japanese technician uses a model bulldozer to try and get some sweets at the Second China International Engineering Machinery Expo, which ends on Saturday in Shanghai. The four-day event attracted 700 enterprises from 24 countries.
China's largest auto glass manufacturer Fuyao Glass Industry Group Co Ltd launched a new float glass product line on Friday, which is expected to help ease the nation's dependence on importing float glass, a kind of glass that is perfectly flat and clear - a major raw material for producing automobile glass.

Chinese President Hu Jintao (L) meets with US President George W. Bush in Santiago, Chile, Nov. 20, 2004 during their summit on the sidelines of the 12th APEC leadership meeting.
United States retailer Wal-Mart - which, if it were a country, would be China's ninth-largest trading partner - expects a double-digit increase in its procurement in the mainland this year. Wal-Mart last year bought US$15 billion (HK$117 billion) of Chinese goods, eclipsing Australia and Canada, whose trade with the mainland totaled US$13.56 billion and US$10.01 billion respectively.
November 19 - 21, 2004
Hong Kong: Chief Executive Tung Chee-hwa late on Thursday (HK time) in Santiago told Chilean businesses to make use of Hong Kong's strategic position to enter the mainland market.
Hong Kong has signed reciprocal agreements with Germany, Norway, Singapore and Sri Lanka to avoid double taxation on income from shipping and air transport, a government spokesman announced on Friday.
Microsoft has warned Asian governments they could face patent lawsuits for using the Linux operating system instead of its Windows. Linux violated more than 228 patents, Microsoft chief executive Steve Ballmer said at the company's Asian Government Leaders Forum in Singapore.
The central government is considering scrapping the national "golden week" holidays, which have been a boon to the Hong Kong economy, a mainland tourism official confirmed yesterday.
Fears were expressed yesterday that Japanese encephalitis could spread on Hong Kong Island - possibly through wild birds - after a man from South Horizons in Ap Lei Chau fell ill with the potentially fatal disease.
Invitations from the government for proposals to build a new cruise terminal in Hong Kong have bypassed a number of planning procedures, a harbour protection group said yesterday.
Hutchison Telecom, Hong Kong's first and so far only third-generation (3G) mobile operator, on Wednesday said it would retain its mass-market, low-tariff strategy when rival SmarTone Telecommunications entered the 3G market next month.

Christmas comes early to Hong Kong: Spectators marvel at Christmas lights in Hong Kong yesterday. The mechanical Christmas decorations set up in Hong Kong's well-known shopping mall, Harbor City, at Tsim Sha Tsui, have been submitted to the "Guinness Book of World Records" for being the longest display in the world.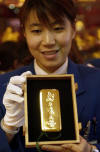 China: A staff of Beijing Caishikou Department Store shows a gold bar named "Happy the Year of Rooster" in Beijing Nov. 19, 2004. The gold bar designed specially for the coming Year of Rooster was issued at the store Friday and bars weighing more than 250 kg were sold out one day.

Experts say Shanghai needs to boost its 44,000-strong police force to tackle rising crime linked to an influx of migrant laborers. Shanghai is planning to expand its police force over the next five years amid a growing crime wave and the phasing out of community security teams.

Developers welcome the Beijing government's proposals, which may lead to the auction of 300 development sites frozen since August. The Beijing government is close to issuing rules that can free up thousands of hectares of real estate for sale to developers, providing a much-needed boost to the city's property market.
Poor ratings, low advertising revenue and satellite footprint problems have prompted the mainland's main television broadcaster to pull the plug on its West China Channel just two years after it was launched.

ParknShop will spend up to $150 million upgrading 15 of its superstores in a move that is likely to spark a new round of competition with arch-rivals Wellcome and China Resources supermarkets.
With Macau fever burning ever hotter, more Hong Kong micro-cap stocks have joined the fray this week, announcing gambling and hotel-related ventures in the former Portuguese enclave.
Consumer goods giant Procter & Gamble yesterday became the first foreign company to top the annual bidding auction for prime-time advertising space on China Central Television (CCTV).



Transmission success: A electrician announces the successful transmission of electricity at the Xiangfan 500-kilovolt transformer substation in Xiangfan in Central China's Hubei Province yesterday. The substation, with an investment of 270 million yuan (US$32.53 million), will help transmit electricity generated from the Three Gorges Dam to the nation's west.

A scientific experimental satellite named "Experimental Satellite No. 2" is launched by a Long-March 2-C carrier rocket at the Xichang Satellite Launch Center Nov. 18.
November 18, 2004
Hong Kong: Chief Executive Tung Chee-hwa burst into tears when he phoned his father, shipping magnate Tung Chao-yung, about the sinking of their family's ship, Seawise University, in Victoria Harbor in 1972.

The upmarket Langham Place commercial complex opened in Mongkok yesterday, with Lo Ka-shui, deputy chairman and managing director of Great Eagle Holdings, officiating. The 15-floor, 600,000 sq ft mall, located near the Portland Street red-light area, is expected to change the look of the ageing district. There are 170 stores, selling everything from fashion to housewares.
Chief Superintendent Sidney Fung Kwok-on (right) demonstrates how a sound-control switch, bought for $400, means that patrol guards can now detect illegal immigrants from the comfort of a control room instead of trekking through the countryside.

Singer Leon Lai promotes a new '3' phone at the Harbour Plaza Hotel yesterday. Hutchison Telecom, Hong Kong's first and so far only third-generation (3G) mobile operator, yesterday said it would retain its mass-market, low-tariff strategy when rival SmarTone Telecommunications entered the 3G market next month.

Zhang Chunjiang (right), board chairman of China Netcom, toasts with Paul Chow (second from left), chief executive of Hong Kong Stock Exchange, to celebrate China Netcom's successful IPO in Hong Kong yesterday.
China: China's World Cup soccer qualifying campaign came to an end as expected last night, but in the cruellest of circumstances. A 7-0 victory over Hong Kong was trumped by Kuwait's late surge against 10-man Malaysia, who they beat 6-1.

A visitor examines an oil painting of Deng Xiaoping by South Korean artist Kang Hyung-koo at the Shanghai Art Fair yesterday. More than 260 agencies and galleries from countries such as France, the US and Japan are taking part.
The central government has stepped in to defuse a crisis in Si-chuan province where villagers rioted over plans to build a dam that would force more than 10,000 of them off their land.
In Beijing's continuing effort to clear its smoggy skies ahead of the 2008 Olympics, the mainland's top environment body yesterday signed an agreement with the US Environmental Protection Agency aimed at making diesel engines cleaner and improving fuel quality.
Macau yesterday signed a liberal-ised air-services pact with the mainland, opening the door for Australian no-frills carrier Virgin Blue to go ahead with plans for a new China-focused airline in the former enclave.
China Minmetals Corp faces even tougher negotiations if its proposed US$5.5 billion takeover of Canadian mining company Noranda is to succeed, after the deadline for exclusive talks between the two companies expired and Noranda invited fresh bidders.
Mainland personal computer giant Lenovo Group said an "irrational" domestic price war after it switched strategy to compete in the lower end of the market was to blame for the firm's disappointing quarterly earnings announced on Tuesday.

President Hu Jintao (left) shakes hands with Argentine President Nestor Kirchner after signing co-operation agreements yesterday aimed at increasing bilateral trade and investment at the Casa Rosada presidential palace.
China's central bank announced Wednesday a 0.3125 percentage point hike in the upper limit of the interest rate for one-year US dollar deposits.
November 17, 2004
Hong Kong: Secretary of State Colin Powell, who battled with Bush administration hawks over the Iraq war, resigned on Monday and senior officials said national security adviser Condoleezza Rice would take his place.
The International Monetary Fund (IMF) expects Hong Kong's economy to grow by 7.5 per cent this year amid strong consumer demand and rising exports, a government spokesman said on Tuesday.
A record eight million mainlanders visited Hong Kong in the first eight months of 2004, Secretary for Commerce, Industry and Technology John Tsang Chun-wah said overnight (HK time).
Talks between Chek Lap Kok airport and rival Chinese hubs have run into serious difficulties, making it unlikely that Hong Kong will clinch alliances with Shenzhen and Zhuhai airports before its planned privatisation in 2006, a press report said on Tuesday.
StanChart chief Mervyn Davies (left), new Hong Kong head Peter Sullivan and chief operating officer Ben Hung ring in the changes. Beleaguered bank chief Mervyn Davies yesterday forecast that rival lenders in Hong Kong will be forced to follow Standard Chartered's lead and retrench staff to combat falling margins in their consumer banking divisions.
Ritz-Carlton has become the latest upmarket hotelier to bet on bright prospects for Hong Kong's hospitality and tourism sector, with plans to open a hotel above Kowloon Station, sources say.
The Hang Seng Index rose 1.07 per cent to its highest close in more than 3-1/2 years yesterday, as investors continued to snap up banking and property stocks following last week's surprise interest-rate cut by lenders.

China: Miss World, Rosanna Davison of Ireland, and Miss China, Qi Guan, attend a Hainan tourism promotion event at Chater Garden in Central yesterday.
China's direct foreign investment grew by over 53 per cent in October, bringing the total for this year to more than the whole of 2003. The total worth of China's imports is expected to exceed 1.5 trillion US dollars from 2004 to 2006, said an official with the Ministry Commerce Tuesday.

Customers at a supermarket in Nanjing in East China's Jiangsu Province. China's retail sales realized mild growth in October, rising 14.2 per cent year-on-year to 498.3 billion yuan (US$60.2 billion).

Chinese Premier Wen Jiabao (R2), also a member of the Standing Committee of the Political Bureau of the Central Committee of the Communist Party of China, delivers a keynote speech during a seminar on rejuvenating old industrial bases in northeast China and other regions held in Shenyang, capital of northeast China's Liaoning Province, Nov. 15, 2004.
China's real-term diamond consumption reached $1.235 billion last year, ranking Asia first and world fifth. Experts predict that domestic sales of diamond will reach $1.8 billion by the year 2010.
November 16, 2004
Hong Kong: Leading bank Standard Chartered announced on Monday that one of its senior executives Peter Wong Tung-shun would be resigning on Friday.

Members of the Ladies Hash House Harriers team were a force to be reckoned with yesterday as they strode out around The Peak. The 30th annual Matilda Sedan Chair Race lived up to its lively reputation, with about 50 teams carrying a sedan chair with passenger on board and sporting fancy outfits. It raises funds for 25 to 30 local charities.
Food standards in Hong Kong remain high and the level of pathogens - or disease causing substances - in the food remains low, a new study released on Monday has found.
Chief Executive Tung Chee-hwa will leave for Santiago in Chile on Tuesday to attend the 12th economic leaders' meeting of the Asia-Pacific Economic Co-operation (Apec) summit on November 20 and 21.
Secretary for Housing, Planning and Lands Michael Suen Ming-yeung said on Monday the government would consider measures to ease financial pressure on public housing tenants - if it wins an appeal on rent levels next week.
US mortgage giant Freddie Mac, the world's fifth-biggest issuer of bonds, is considering a programme of Asian currency issues to guard against future concerns from regional investors over the US deficit and the value of the US dollar.
Bankers, lawyers, accountants and other professionals may face criminal sanctions for failing to "know your customer" under an anti-money laundering bill that seeks to bring Hong Kong in line with global efforts to curb illicit cash and terrorist financing.

China: A visitor to the mainland's first Lamborghini dealership, which opened in Beijing last week, takes a picture of the V12 Murcielago - which sells for over 3.9 million yuan. Lamborghini will next open dealerships, for the super-rich, in Shanghai and Guangzhou.
Shenzhen's population growth risks running out of control and threatens to delay the city's modernisation by at least five years, a population expert has said.

Macromedia's China strategy so far revolves around trying to convince manufacturers to build Flash into their handsets.
China imported a total of 99.59 million tons of crude oil during the January - October period amid continually rising international oil prices.
November 15, 2004
Hong Kong: The government has no plans to reconsider the Jockey Club's monopoly on taking bets over the Internet despite a World Trade Organisation ruling last week against the United States' ban on web gambling. The SAR government's stance paves the way for a confrontation with the Caribbean nation of Antigua and Barbuda, home to many Internet gambling companies which brought the case, and which has far-reaching implications for the Jockey Club.
The Hong Kong-listed Citic Pacific conglomerate will invest billions of yuan for tourism development in Hainan province to tap into the tropical island's booming travel industry, Hainan's governor, Wei Liucheng, said in Hong Kong on Sunday.
Hong Kong handled a record 299,000 tonnes of air cargo last month, driven by robust demand for goods from North America, Europe and the mainland, the Airport Authority said.
Millions of dollars were raised by thousands of people who spent their Sunday morning in a charity walk and a novelty sedan chair race. An estimated 2,500 medics, school children, families and cancer survivors turned up in Tai Tam Country Park for the ninth annual charity walk "Stride for a Cure''. Their efforts raised more than HK$2.3 million for local cancer research.

China: During their talks in the Brazilian capital of Brasilia, President Lula said that relations between China and Brazil have developed steadily in recent years and bilateral cooperation in the fields of politics, economy, trade, culture and international affairs has been fruitful. He expressed his hope that the Sino-Brazilian strategic partnership would be strengthened further. The Brazilian leader reaffirmed that his country will firmly maintain the one-China policy. Visiting Chinese President Hu Jintao and his Brazilian counterpart on Friday pledged to make concerted efforts to push bilateral relations towards long-term, steady and continuous development.
US Secretary of State Colin Powell said on Saturday that the United States has had a "best" relationship with China in over 30 years, in an interview to be broadcast on Sunday. "But we have a good relationship with China. I would submit it's the best relationship that the United States has had with China in over 30 years," Powell said in an interview with CNBC's weekly program "The Wall Street Journal Report," which is also aired on some 200 broadcast stations across the country.
China will strengthen consultation and dialogue with Luxembourg on important bilateral and international issues as well accelerate bilateral trade and economic relations, Premier Wen Jiabao said while meeting with his Luxembourg counterpart Jean-Claude Juncker on Friday.

Silver celebration:Coca Cola China President Paul Etchells and former Chinese woman's football team member Sun Wen (left) attend a ceremony celebrating the 25th anniversary of Coca Cola's return to China. The event was held in Shanghai on Friday.
China's insurance and securities industries are stepping up their integration with overseas markets as the country approaches the third anniversary of its World Trade Organization (WTO) membership.
China's leading telecommunications equipment manufacturer Huawei Technologies announced on Friday that it had agreed a series of contracts in Africa earlier this month which will help accelerate its expansion in the continent's market.

On November 12 a drill was successfully held in Jiangbei International Airport in Chongqing municipality in southwest China for a relocation. 400 people were invited to act as travelers to experience the boarding process. The extension project of the airport costs more than 1.6 billion yuan and covers the space of 840,000 square meters. The building is featured with local style. Relocation will be launched next month.
China's imports and exports in thefirst ten months this year amounted to 926.47 billion US dollars, rising 35.8 percent year-on-year, according to statistics released by the General Administration of Customs (GAC) in Beijing Friday.
The White House on Friday rejected a request from 30 members of the Congress to bring China's currency issue before the World Trade Organization (WTO).
November 12 - 14, 2004
Hong Kong: Three more banks in Hong Kong announced on Friday afternoon that they would cut prime lending rate to five per cent. Bank of China (Hong Kong) left its interest rates unchanged yesterday saying it would "closely monitor the market situation", while most of its big rivals cut their rates.
HSBC is poised to pay debt work-out specialist Newbridge Capital up to US$3 billion for its 49 per cent stake in Korea First Bank (KFB), analysts say.
Air China, which aims to raise up to US$1 billion in a dual listing in Hong Kong and London, expects its net profit to surge more than 13 times to at least 2.3 billion yuan this year, company sources say.
A slowing luxury home market has received a boost from the sale by Henderson Land Development of four units in a three-year-old project on Bowen Road. They were sold for as much as $20,000 per square foot to Macau gaming mogul Stanley Ho Hung-sun's fourth wife, Angela Leung On-kei.
Hong Kong's de facto central bank on Thursday raised its base rate by a quarter of a percentage point to 3.50 per cent, matching the latest rate hike by the US Federal Reserve.
Iris Chang, a best-selling author who chronicled the Japanese occupation of China and the history of Chinese immigrants in the United States, was found dead in her car of a self-inflicted gunshot, authorities said. She was 36. Chang, who won critical acclaim for her books "The Rape of Nanking" and "The Chinese in America," was found along Highway 17 just south of Los Gatos, Santa Clara County authorities said overnight (HK time). On Wednesday, a motorist noticed her car parked on a side road, checked the vehicle and called police. The official cause of death has not been released, but investigators concluded that Chang, who was hospitalized recently for a breakdown, shot herself in the head. She lived in San Jose with her husband and two-year-old son. Born in Princeton, New Jersey, in 1968 and raised in Champaign-Urbana, Illinois, Chang earned a bachelor's degree in journalism at the University of Illinois and a master's in science writing at Johns Hopkins University in Baltimore.
The government has identified 12 priority sites in Hong Kong for further conservation, Secretary for the Environment, Transport and Works Sarah Liao Sau-tung said on Thursday.
China is the now the third most favored investment destination in Asia, Secretary for Financial Services and the Treasury Frederick Ma Si-hang said on Thursday.

China: Guangzhou to build world's highest tower - It is learned recently from the construction headquarters of the new Guangzhou Television Center that the design options for the new 580 to 600-meter-high Guangzhou Television Tower, the highest of its kind in the world, have been chosen preliminarily and have been handed over to the Guangzhou municipal government for approval. It is disclosed that the work of land takeover and demolition has been underway smoothly. It is expected to start prophase construction in December this year and will be completed in August or September in 2007.

Soldiers participate in a ceremony at the Sun Yat-sen Memorial Hall to mark the 139th anniversary of his birth.

Brazil has recognised China as a market economy, President Hu Jintao announced yesterday.
China's consumer price index rose 4.3 per cent last month - a sharp drop from the 5.2 per cent registered in September, National Bureau of Statistics figures show.
The mainland's chief justice has vowed to step up judicial reform and strengthen independence in the mainland's court system.

Cisco China president Duh Jiabin said the construction of the next-generation system would meet clients' needs for the next five to 10 years. Mainland fixed-line giant China Telecommunications Group Corp has awarded Cisco Systems a contract worth about US$100 million to build a network connecting more than 200 cities.
PalmOne on Thursday denied persistent reports that the manufacturer of personal digital assistants (PDAs) had withdrawn from the China market.
Global management consulting company Accenture announced yesterday it will help the Shanghai Stock Exchange (SSE) build a new electronic trading system targeted at the Chinese market and based on the Deutsche Borse's Xetra trading system.
"Innovation I", the first mini-satellite of less than 100 kilograms independently developed by Chinese Academy of Science (CAS) has been normally operated for 385 days since launched into the orbit on 21 October 2003. Currently, the satellite is still in good condition and works steadily. As practice proved that the satellite has met the designed standard and the experimental application by the users told satisfactory.
Chinese President Hu Jintao arrived in Brasilia Thursday afternoon to begin his first state visit to Brazil. Hu said in a written speech upon arrival at the airport that his current visit aims to "push forward bilateral cooperation as well as the relations of strategic partnership" between China and Brazil. Hu visited Brazil 10 years ago. The current visit is his first trip to south America after becoming president of China last year. During his stay in Brazil which will last until next Tuesday, Hu is expected to confer with Brazilian President Luis Inacio Lula da Silva and leaders of the National Congress of Brazil.
Premier Wen called for thrifty preparation for Beijing 2008 Olympics and better work environment for rural migrants.
400 million yuan of state treasury bonds will fund the information system and testing system of 119 agricultural products wholesale markets in China.
China's central bank has unified the foreign exchange deposit reserve ratio for overseas and domestic financial institutions at 3 percent, effective January 15th next year.
China's producer prices rose in October at the fastest pace since at least 1998 as costs for crude oil, steel and other metals surged. Prices jumped 8.4 per cent from a year earlier after rising 7.9 per cent in September, according to Beijing-based Mainland Marketing Research, which releases figures on behalf of the statistics bureau.
China is signaling the beginning of the end of its status as the world's "bicycle kingdom'' as an emerging middle class increasingly forgoes the clean and energy efficient transport in favor of the car. Beijing this month cancelled its registration requirements for bicycles, a move viewed by the state press as highlighting its demise as a "transportation tool'' and the nation's full fledged entry into the "car society''.
United Airlines, undergoing court-supervised reorganisation after filing for Chapter 11 bankruptcy protection in 2002, hopes to begin daily flights between Guangzhou and San Francisco by March 2005.
November 11, 2004
Hong Kong: An arts groups headed by a sister of Chief Executive Tung Chee-hwa is to set up an ink-painting museum in the West Kowloon cultural district. The proposals for developing the West Kowloon cultural district put forward by Swire Properties and a mystery individual bidder have been rejected in the first stage of the government's assessment of the massive project. The Democratic Party plans to apply to the Town Planning Board to rezone the site of the West Kowloon cultural district. Property developers shortlisted for the West Kowloon cultural district project yesterday vowed to make the area an international icon.
Chief Executive Tung Chee-hwa said yesterday an independent three-member expert committee would be set up to review the management of Legislative Council elections. The Civil Service Bureau will decide on any disciplinary action against electoral officers after the release of a damning Electoral Affairs Commission report on a string of polling-day blunders.

An Italian exhibitor displays a new workout machine at the Cosmoprof beauty products fair.
Esprit Holdings chairman Michael Ying Lee-yuen stunned the market yesterday in an ambitious attempt to raise more than $4 billion by selling a 7.8 per cent stake in the global retail and wholesale casual-wear company.
Hong Kong Dragon Airlines is likely to drop its objection to mainland route applications filed by start-up rival CR Airways, according to Citic Pacific managing director Henry Fan Hung-ling.

China: Taiwanese President Chen Shui-bian yesterday offered to cut the island's troop strength to 280,000 by 2008 to ease military tensions with the mainland. Taiwan now has 380,000 troops. A planned new history curriculum which rejects Taiwan's ties with Sun Yat-sen, the founder of the Republic of China, and treats him as a foreigner has infuriated opposition lawmakers on the island. Independent legislative candidate Lai Tsu-hsin demonstrates against the curriculum changes in front of a portrait of Sun Yat-sen outside the Ministry of Education in Taipei.
Growth in the mainland's industrial output slowed to 15.7 per cent in the year through October, a development economists said would help reduce pressure for another increase in interest rates.
Macau casino king Stanley Ho Hung-sun faces a probe by the stock exchange after remarks he made over the past 10 days resulted in a roller-coaster ride for the shares of one of his companies, Melco International Development.

Potala Palace gets makeover:A bulldozer removes debris of demolished buildings near the Potala Palace in Lhasa, Tibet, to make way for expansion of the square in front of the palace. The project, initiated by the Tibet Autonomous Region government, paves the way on a beautification plan for the palace area.
The State Administration of Foreign Exchange (SAFE) said yesterday its local bureau in East China's Fujian Province recently made major achievements in combating money laundering and other illegal foreign exchange transactions.
Travel agents at an outlet of the China International Travel Service (CITS) Head Office in Beijing yesterday. The travel agency yesterday officially acquired the China Duty Free Group to form the CITS (Group) Corp, the leading flagship in China's tourism sector, to enhance enterprise competitiveness in the international tourism market. The group is planning for a listing in Hong Kong within one year.
Chinese central bank's decision to raise interest rates last month signals that the Chinese government has begun to regulate the economy by financial means rather than simply by administrative measures, said Lou Jiwei, China's Vice Finance Minister.
November 10, 2004
Hong Kong: East Asia will this year record its strongest economic performance since the 1997-1998 financial crisis with average growth of 7.1 per cent but a slowdown is expected in 2005, the World Bank said on Tuesday.
Average monthly salaries for middle-level management and professional employees in Hong Kong have fallen slightly since last year, latest statistics released on Tuesday showed.
Some 118 artifacts that unveil the culture of the ancient Dian Kingdom of Yunnan will be on display at the Hong Kong Museum of History from Wednesday until February 21, 2005.
Sun Yat-sen University, one of the oldest universities on the mainland, celebrates its 80th anniversary on Friday with a pledge to pursue liberalism and strengthen its position in Guangdong through closer ties with Hong Kong.
Two decades after the battle between VHS and Betamax, electronics makers are gearing up for another drawn-out video format war that is likely to confuse consumers and hinder the industry's transition to next-generation DVDs.
China: Foreign Vice-Minister Zhou Wen-zhong, tipped as China's next ambassador to Washington, is seizing every opportunity to underscore Taiwan's importance in Sino-US relations.
Beijing's anti-graft investigators are expected to launch a probe into the multibillion-dollar deals Lucent Technologies and other foreign telecom equipment makers have secured to supply the mainland's vast telecom market.
Estela Galletti (centre) from Brazil talks with a Chinese businessman at the Close to China-Brazil China Expo held in August in Beijing. Chinese President Hu Jintao's visit to four Latin American countries is expected to assist the development of bilateral trade.
Foreign Minister Li Zhaoxing and visiting Israeli Foreign Minister Silvan Shalom agreed to enhance Sino-Israeli ties and expand co-operation in talks yesterday in Beijing.
Foreign investors are becoming increasingly attracted to western China's agricultural sector, which will assist the overall development of this region, according to officials and participants at the 11th China Yangling Agricultural High-tech Fair.
November 9, 2004

Hong Kong: C.Y. Ma Memorial College students use the textile skills they learned in a career-oriented curriculum that prepares teenagers in Form Four and Five for vocational training or future employment. More than 1,860 students at 130 schools enrolled this year, compared with 1,320 students last year.
Power users should be prepared to pay as much as 9 per cent more on their electricity bills as the price for cleaner air, Secretary for the Environment, Transport and Works Sarah Liao Sau-tung said yesterday.
Hong Kong's retail sales continued to grow during September, recording an increase of 8.7 per cent over the same period last year, according to the latest government figures.
The health minister has backed a controversial Medical Council proposal that requires doctors to undergo continuing education or face being barred from practising.
Most of the responses to a government consultation suggest that Hong Kong adopt a combination of advanced technology, industry self-regulation, consumer education, effective legislation and targeted enforcement to check the spread of spam.
China: China's capital Beijing is facing the pressure of explosive population growth and tight resources, is considering a new urban plan to cope with an expected 18 million residents by 2020, state media said on Monday. Details of a blueprint aimed at transforming Beijing into a modern and international metropolis by 2020 have been released by municipal authorities.
The mainland's home-grown third-generation (3G) mobile technology has suffered a major setback, after failing to yield satisfactory performances in comprehensive field trials designed to help the government determine its 3G licensing strategy.
Shares in Shun Tak Holdings ended a 10-day rally yesterday, falling 1.66 per cent to $5.90 after investors reacted negatively to the company's $1.5 billion acquisition of a large waterfront site in Macau from chairman Stanley Ho Hung-sun.
China is a dream market for direct advertisers. Rising incomes and consumption are fuelling thirst for consumer information in a country where junk e-mail has yet to trigger advertising fatigue like it has in the west.

Premier Wen Jiabao (C) visited the family of Ruan Zexing (L1) in Chongwen District, Beijing, Nov. 7. Wen said local gov'ts should work hard to provide adequate heating to all households by ensuring adequate coal and gas supply.
The lunar vehicle China will launch is expected to land on the surface of the moon in 2012. The "lunar rover" brought by the vehicle will start its journey for exploration. When attending the "forum on China Important Engineering and Technology Achievements" Hu Hao, deputy director of No 1 systematic engineering department under the State Commission of Science and Technology for National Defense Industry and director of the lunar exploration engineering center, disclosed that as the first part of China's lunar exploration program the Chang'e-I satellite is expected to be sent to orbit the moon in 2007 by Long March III A carrier rocket at the Xichang Satellite Launch Center.
Prof. Wang Renzi (R1) of the Northwest Sci-Tech University for Agriculture and Forestry introduces pest control knowledges to Cheng Zili (L), a peasant from Xianyang, Shaanxi Province at the 11th Yangling Agricultural High-tech Expo. The latest achievements in agriculture are displayed at the expo. More than 100 experts present the expo to give peasants consulting services, which help them resolve problems in production. The services therefore receive welcome from peasants.
China's central bank said it would take a "gradual and safe" approach to loosening the yuan-dollar peg, following International Monetary Fund calls to let the currency float in a wider margin.
November 8, 2004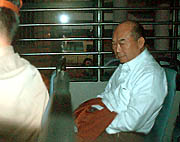 Hong Kong: The long-running legal saga involving Lee Ming Tee ended yesterday when the Malaysian tycoon was jailed for a year over his role in a deception to inflate the true value of the Allied Group.
Cai Xiaohong , a former senior official with Beijing's liaison office in Hong Kong, has been sentenced to 15 years in prison for supplying state secrets to the British intelligence service, sources say.
Shanghai wants more talent from Hong Kong to bolster businesses in the city, with one in 10 companies expressing an interest in hiring local residents, Party Secretary Chen Liangyu has revealed.
Four business chambers have voiced opposition to a minimum wage in Hong Kong, saying it would affect the city's ability to attract foreign investors.
Hong Kong and China Gas (Towngas) has entered a bid for a stake in Beijing's largest gas supplier, the biggest operation to which the company has ever committed itself outside Hong Kong.
Stocks and property have proved to be the favored investment targets for migrants who have poured $1.69 billion into Hong Kong in return for right of abode.
China's leading state laboratory for emerging infectious diseases will be created at the University of Hong Kong, a top microbiologist said yesterday.

China: A model displays lingerie to an all-male crowd during a sex toy exhibition in Guangzhou as part of the Second National Sex Awareness Festival. The festival is "open and bold" about its subject matter and teenagers are welcome, state media has said.
Details of a blueprint aimed at transforming Beijing into a modern and international metropolis by 2020 have been released by municipal authorities.
A possible reshuffle of US President George W. Bush's China advisers has cast uncertainty over his administration's approach to Beijing and cross-strait issues, according to Washington analysts.
Citigroup Global Markets has agreed to buy a 9.75 per cent stake in bad-loan specialist Silver Grant International Industries for $445.6 million in cash, amid fierce competition among foreign investment banks for a slice of China's distressed asset market.
ICQ, the No1 global instant messaging company, is searching for a mainland partner with which to expand its service and increase its active user base in China by as much as 28 times in four years.

A postal logistics distribution vehicle parked outside a post office in Shenzhen. Logistics related spending in China accounts for more than 20 per cent of the GDP, around twice the figure of developed countries.
Beumer of Germany, one of the world's leading machinery manufacturers, is investing heavily here to build an Asia-Pacific manufacturing base as part of its global expansion strategy.
Beijing has chosen the lucky number 8 for the start of the Olympic Games, setting the clock at 8pm on August 8, 2008, or 8/08/08/08 for the opening ceremony, city mayor Wang Qishan said yesterday.
The mainland has vowed to take action against its trading partners to counter what it claims is global protectionism as it stands poised to surpass Japan as the third-largest trading entity in the world by the end of the year.
Senior mainland officials expressed optimism about Sino-US relations yesterday, with President Hu Jintao and George W. Bush - fresh from his election triumph - due to meet later this month.
China's financial regulators want to create a fund to compensate investors swindled by rogue brokers, in the hope of restoring confidence and stopping waning interest in the mainland's stock markets.
The increased frequency with which Chinese officials are coming out to talk about their long-term desire to have a more flexible currency has heightened speculation that a change to the peg is drawing closer.
Four supermarkets owned by overseas Chinese in Carabobo of Venezuela were looted by local people with one being burnt down, a local Chinese newspaper reported.
China successfully put its earth resource satellite, the third of ZY-2, into the orbit with a Chinese Long-March 4-B rocket that blasted off at 11:10 am Saturday.
November 5 - 7, 2004
Hong Kong: The High Court on Friday sentenced former chairman of Allied Group, Lee Ming-tee to one year in jail for issuing false statements, a court official said, ending a corporate scandal that spanned more than a decade. The Director of Public Prosecutions said on Friday that the jailing of businessman Lee Ming-tee would send a message to those who commit corporate crimes in Hong Kong.

Andy Lau Tak-wah and leading mainland director Feng Xiaogang appear at Harbor Plaza in Hunghom yesterday to promote their latest movie, A World Without Thieves, which opens in Hong Kong on December 4. The film marks the first time Lau has worked with Feng.
Chief Executive Tung Chee-wha has appointed two judges to head divisions of the Insider Dealing Tribunal (IDT), a government spokesman said on Friday.
Internationally acclaimed Hong Kong film director John Woo will receive an honorary doctorate for his contribution to the Asian film industry.
Hong Kong and Guangdong are co-operating on ways to improve air quality and reduce harmful emissions from power stations in southern China.
Hong Kong's economy and trade would benefit from the re-election of the United States President George W. Bush, Financial Secretary Henry Tang Ying-yen said on Thursday. Financial Secretary Henry Tang said on Thursday the re-election of US President George W. Bush is good news for the territory's economy because the incumbent's trade policies are more liberal than those of his opponent.

Exxon Mobil chief executive Lee Raymond says demand for oil in Asia's emerging economies will more than double by 2030.
The securities watchdog made an eleventh-hour rule change last night to allow all Hong Kong fund-management firms to buy into real-estate investment trusts (reits).
Larry Yung Chi-kin, the chairman of Hong Kong-listed conglomerate Citic Pacific, tops this year's list of the richest people in China as compiled by Forbes.
Competition in the bourgeoning voice over internet protocol (VoIP) segment heated up yesterday as two more telecommunications players launched IP telephony services that allow users to make phone calls through their computers for less than $60 a month.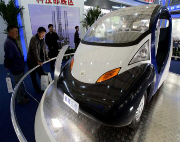 China: Visitors admire a Chinese eco-friendly concept car at Shanghai International Industry Fair on Friday in Shanghai. The exhibition featured leading-edge technology in electronics, car and other industries as well as displays showing China's progress in nuclear energy, shipbuilding, railways and aerospace.

The August 1 Aeronautic Team of the Chinese Air Force performs at the Fifth Air Show China in Zhuhai, Guangdong Province. Also performing yesterday was Russia's Swift Team, which flies the Mig-29.
President Hu Jintao sent congratulatory messages to US President George W. Bush on his re-election and to Hamid Karzai on his election as president of Afghanistan.
President Hu Jintao on Thursday congratulated George W. Bush on his re-election as president of the United States, saying Beijing looked forward to promoting "constructive co-operative relations" with Washington.
Beijing pledged to speed up negotiations with member nations of the Association of Southeast Asian Nations yesterday and boost economic links in a bid to seek early implementation of the China-Asean Free-Trade Area.
Morgan Stanley is looking for property opportunities in Macau, including the Venetian Group's Cotai strip development, according to industry sources.

People refuel a motorcycle at a CNPC subsidiary PetroChina's gas station in Zhengzhou in Central China's Henan Province. CNPC established an offshore oil engineering subsidiary yesterday to help it boost the exploitation of oil in China's waters.
November 4, 2004
Hong Kong: An amended motion calling for a review of the duty on ultra-low-sulfur diesel was passed by the Legislative Council last night.
A joint proposal by the Democratic and Liberal parties to cut salaries tax to the 2002 level has failed to gain support from other lawmakers.

German sports goods maker Adidas-Salomon posted a 19 per cent rise in third-quarter net profit that slightly beat forecasts, bolstered by a turnaround in the United States and strong growth in Asia. Net profit rose to €179 million (HK$1.76 billion) from €150 million in the same quarter a year earlier, the world's second-largest sports goods maker said. A Reuters poll of 12 analysts had produced an average forecast of €174 million in quarterly profit.
The chairman of China Netcom Group Corp (Hong Kong), which is planning a US$1.2 billion listing in Hong Kong and New York, yesterday admitted its parent company may not reach an agreement to buy PCCW's fixed-line assets.
A colorful but controversial feature of the local investment scene - financial analysts moonlighting as anonymous tipster columnists - will go the way of paper-based trading under conflict-of-interest regulations to be introduced by the Securities and Futures Commission.
By April, Hong Kong will have a fresh set of rules to protect investors from conflicted analysts. New York attorney-general Eliot Spitzer, who began this now global drive to address analysts' conflict of interests, might well ask what took us so long.
Hong Kong mobile-phone operators say there is no need for special legislation to regulate unsolicited text and multimedia messages in their industry, despite junk mail - or spam - being a key nuisance for internet users.
China: Despite the central bank's recent hike in interest rate hikes, Chinese companies will continue to enjoy low-interest loans when they invest in government-encouraged overseas projects.
China National Petroleum Corp (CNPC), the nation's largest oil producer, yesterday established an offshore oil engineering subsidiary, a fresh move to help it boost the exploitation of oil in China's waters.

Vice-Premier Wu Yi visits the Guangxi agriculture exhibition pavilion during the China-Asean business and investment summit.
The public security chief of Huizhou in Guangzhou is facing graft charges after being sacked last month for illegally selling two-way permits to mainlanders, including prostitutes seeking to work in Hong Kong and Macau.
Beijing pledged to speed up negotiations with member nations of the Association of Southeast Asian Nations yesterday and boost economic links in a bid to seek early implementation of the China-Asean Free-Trade Area.
Heilongjiang is planning to build two bridges on its border with Russia as China looks increasingly to its northern neighbour for new markets and raw materials to feed its booming economy.
November 3, 2004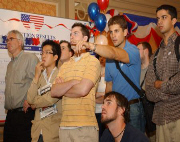 Hong Kong: Americans living in Hong Kong follow a live TV broadcast of US elections results at a Hong Kong hotel where members of the local American community gathered to wait for the US presidential election results on Wednesday.
Staff Reporter Education and Manpower Secretary Arthur Li Kwok-cheung proved a master of spin last night at a youth forum in Wong Chuk Hang when students asked some tough questions. One student said many top officials sent their children to study overseas. "Does this prove Hong Kong's education is inferior?" Professor Li replied: "Maybe they are afraid to compete with smart students like you, so they send their children abroad."
Sotheby's said on Wednesday that its autumn auctions in Hong Kong raised a total of $590 million – a record for the Chinese autonomous region.
Seven Asia-Pacific mobile phone operators - SingTel, Optus, Barti, Maxis, Telkomsel, Taiwan Cellular and Globe Telecom - with a combined total of over 56 million subscribers formed an alliance on Wednesday aimed at creating a unified regional network.

China: Police guard a bridge leading to Langchenggang in Henan. Officers imposed martial law on the town after violence between hundreds of Han Chinese and Hui Muslims. Hundreds of police and soldiers yesterday continued to block the Henan villages where violent clashes between Han Chinese and minority Hui Muslims last week left at least seven dead and 42 injured.
The first expo promoting the free-trade agreement between China and the Association of Southeast Asian Nations attracted interest from more than 4,000 exhibitors, requiring twice the number of booths originally available.

An attendant fills up at a petrol station in Shanghai run by Sinopec, which is buying more outlets to strengthen its position in the country as foreigners enter next month's open market Sinopec, Asia's largest oil refiner, will buy petrochemical assets and petrol stations from its parent company for 4.58 billion yuan (US$553.8 million) in an asset swap to consolidate its petrochemical and oil retail businesses.
Energy co-operation between Iran and China has geared up after the two governments signed a co-operation framework last week to allow China to import Iranian liquefied natural gas (LNG) and develop an oil field - a deal worth up to US$100 billion.
Wal-Mart will open as many as 18 new stores in China by the end of next year as it takes advantage of new rules allowing foreign retailers to expand into second-tier cities.
International and Chinese scientists are busy preparing a national strategy to stop the invasion of invasive plant species, now annually costing China billions of US dollars.
NWS Holdings, the services arm of New World Development, will invest as much as 600 million yuan in two water-supply and treatment plants in Hainan.
November 2, 2004
Hong Kong: Financial Secretary Henry Tang Ying-yen yesterday floated a new range of tax measures - including a capital gains tax - as he conceded the burden on the middle class had grown in recent years.
Thousands of Hong Kong-based websites were down for almost seven hours yesterday because of problems with one of the city's main internet domain name registrars.

Workers take down Picasso's Parade and ready it for the return flight to Paris today after its exhibition at Two IFC. The stage curtain, which Picasso painted for a ballet in 1917, was on loan from the Pompidou Centre as part of the Year of France in China festival. Owing to the work's fragility, it might not be shown again for 20 years.
The government may not achieve its budget target of earning $12.3 billion from its investments due to the volatile financial markets this year, the head of the Hong Kong Monetary Authority conceded yesterday.
The number of residential mortgages in negative equity has fallen 75 per cent compared to the same period last year, according to the Hong Kong Monetary Authority.

The spectacular economic growth that has turned the Pearl River Delta into a manufacturing powerhouse looks set to continue as the region expands to become the pan-Pearl River Delta, according to Secretary for Commerce, Industry and Technology John Tsang Chun-wah. "Our forecast figures suggest that the GDP of this region will exceed US$1 trillion by 2010, and double to $2 trillion 10 years later in 2020," Mr Tsang said at the SCMP/Hong Kong General Chamber of Commerce Third Pearl River Delta Conference, held yesterday at the Shangri-La Hotel in Zhongshan.
Singapore's state-owned PSA Corp is making a second aggressive bid to gain a foothold in Hong Kong's port by acquiring a stake in the two idle berths owned by Asia Container Terminals (ACT) at the main terminals in Kwai Chung.
Red chip China Resources Enterprise has paid 660 million yuan for a minority stake in a gas supplier in Chengdu, according to executive director Francis Kwong Man-him.
Hong Kong Monetary Authority (HKMA) chief executive Joseph Yam Chi-kwong has expressed concern over the quality of management at local lenders, given a series of controversies and mishaps that have grabbed the headlines.
Protection of IPR gives tech park the edge Hong Kong's strong legal system is attracting chip design firms to the city Stuart Biggs Hong Kong is relying on its reputation for protecting intellectual.
China: The Utterly Butterly aerobatic team perform mid-air stunts amid appalling visibility yesterday at the Zhuhai Air Show. Most of the day's flying was cancelled as chronic air pollution hampered proceedings. The air show will continue until Sunday.
Beijing will give the green light to a controversial dam project in the southwest of the country later this month, with work expected to start early next year.
International Olympic Committee president Jacques Rogge yesterday voiced overwhelming confidence in Beijing's preparations for the 2008 Games but rejected the idea of a "frugal Olympics".
Jia Jun and her husband, Yu Ning, started their business six years ago with the goal of catering for the needs of young parents and a nation of xiao huangdi, or "little emperors". Now the company is looking to extend its business into cyberspace with a plan to open an online shop in January.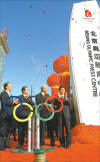 Unveiling the Beijing Olympic Press Centre at yesterday's opening ceremony are (from left) Wang Guoqing, vice-minister of the State Information Office; Li Dongsheng, deputy head of the Publicity Department of the CPC Central Committee; Kaven Gosper, International Olympic Committee (IOC) member and vice-president of the IOC Co-ordination Commission for the Games of the XXIX Olympiad; and Long Xinmin, deputy Party secretary of Beijing.
China's civil aviation fleet will need to add 2,194 new planes in the next 20 years to feed the country's ever-growing demand for air travel, a leading industrial research institute predicted yesterday.
November 1, 2004
Hong Kong: Cauldrons, black cats and tongue of newt may have been off the menu last night in Lan Kwai Fong, but this did not stop revellers from rounding off a full weekend of Halloween partying.
A mainland justice official on Monday met with Secretary of Justice Elsie Leung Leung Oi-si in Hong Kong to discuss legal issues arising from the Closer Economic Partnership Arrangement. Hong Kong was preparing for the next phase of the Closer Economic Partnership Arrangement (Cepa), which will grant over 700 products tariff free access to China, Secretary for Commerce, Industry and Technology John Tsang Chun-wah said on Monday.
Hong Kong's economy continues to grow, as companies recorded their 17th consecutive month of higher output and new orders on hand last month, according to the purchasing managers' index (PMI).

New World Telecom managing director Albert Wong Chi-chu says the telecom industry is suffering the pain of writing down assets such as traditional telephone exchanges, TDM switches and submarine cables. The telecommunications industry had to bite the bullet when it came to writing down assets as traditional fixed-line communications switch over to internet protocol (IP), according to New World Telecommunications (NWT) managing director Albert Wong Chi-chu.
Spyware problems have become especially pernicious, leaving tech firms scrambling to respond to customers who don't realise they have spyware. The firms are not only concerned about the cost of dealing with such calls, but with wrongly being blamed for the problems caused by spyware.
China: A technician attempts to shoot down an aircraft image on a screen, using the latest screen-based air defence missile training equipment at the Zhuhai aerospace show. Beijing will promote rapid reforms of the aviation industry to meet the demands of China's economy, a senior official said yesterday at an aerospace forum in Zhuhai.
Foreign investors are turning around the mainland's hospitals and aiming squarely for the rapidly growing middle class, who are willing to pay more for better care.
China's three listed telecommunications carriers are about to swap bosses in a dizzy merry-go-round that is likely to create uncertainty in the market and damage morale within the companies.
General Motors (GM) and Chinese partner Shanghai Automotive Industry Corp (SAIC) on Saturday signed a joint development and commercialization agreement on hybrid and fuel cell vehicles in oil-hungry China.

China's Ma Lin scored a World Cup championship hat-trick by beating Greek Kalinikos Kreangaat 4-2 while Chinese women's players continued to dominate with their eighth World Cup title on Sunday, Oct. 31, in Xiaoshan, Zhejiang Provice. Zhang Yining thrashed Wang Nan 4-2 in the women's singles final.
Oct 29 - 31, 2004
Hong Kong: The Far Eastern Economic Review will change its format from a newsweekly to a monthly opinion journal in December, effectively marking the end of the region's leading English-language news magazine, its publisher Dow Jones said on Thursday.

Chefs watch as colleagues battle it out at the Best Culinary Awards competition at the Chinese Cuisine Training Institute yesterday. The Tsim Sha Tsui branch of Tai Woo restaurant won a gold for its scrambled egg white with crab meat served with salted egg yolk prawns.
Police arrested 21 people and seized suspected stolen goods worth about $1.2 million during a crackdown on the handling of stolen goods, a spokesman said on Thursday.

Airport Authority finance director Raymond Lai and chief executive David Pang yesterday conclude a $6 billion syndicated loan facility with 22 financial institutions to help finance its capital restructuring before privatisation. After a signing ceremony, Mr Pang said he was optimistic that the airport's second-half performance would compare favorably with last year.
An exclusive group of investors - including media mogul Rupert Murdoch, Dell Inc founder Michael Dell and the Kwok brothers of Sun Hung Kai Properties - stands to make US$189 million, or almost 60 per cent profit, from a three-year investment in the mainland's telecommunications industry.
City Telecom has stepped up its assault on the traditional voice market, unveiling a new internet telephony service yesterday that allows customers to dial fixed-line or mobile phones from their computers.
The Chinese mainland and Hong Kong further liberalized trade by adding 713 types of goods on the zero-tariff list yesterday, which will be implemented January 1 of next year.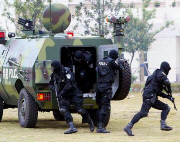 China: Armed police officers rush out of an armored vehicle during an anti-terror drill under the scenario in which terrorists had attacked a chemical storehouse and taken some hostages in Shanghai on Wednesday. The comprehensive exercise, which is staged to test the emergency services' reactions in a simulated terrorist urban attack, was the first of its kind ever held in Shanghai.

China's central bank on Thursday raised interest rates for the first time in nearly a decade in a surprise move that was the boldest so far aimed at guiding a heated economy onto a path of slower growth. The announcement of the hike of just over a quarter of a percentage point by the People's Bank of China marked a shift away from the central directives the government has so far used to cool the world's seventh-biggest economy.

President Hu Jintao (R, Front), Premier Wen Jiabao (2nd R) and Vice-President Zeng Qinghong (R) meet with the representatives at the opening ceremony of the 8th national conference of the Red Cross Society of China (RCSC), Oct. 27. Hu said the RCSC has bright prospects in the country's ongoing process of building a well-off society
The race for Russian pipeline and for oil in East China Sea, unveiled the "energy race" between China and Japan to the world. The inevitability of the competition has long existed, said analysts.

Children put on a fire-breathing performance at a food festival in Chengdu, Sichuan, which is drawing on its famously fiery cuisine to help promote tourism.
Jilin province, long considered the backwater of the northeast rust belt, has been caught up in a top-level personnel reshuffle, bringing in a relatively young bureaucrat from the affluent city of Suzhou in Jiangsu province to be its next governor.
US Secretary of State Colin Powell has delivered a public rebuke to Taiwanese pro-independence forces in an effort to warn Taipei against any flare-ups with Beijing, according to mainland and Taiwanese analysts.
Development of hydroelectric power will be accelerated to solve China's energy shortage, senior officials say, even though they acknowledge the dams' impact on the environment and displacing of people.
Oct 28, 2004
Hong Kong: Hong Kong is poised to enter an era of unprecedented economic opportunity, Chief Secretary Donald Tsang Yam-kuen said during a visit to the United Kingdom.
Crowd control measures and special traffic arrangements will be implemented in Lan Kwai Fong to cope with Halloween revellers on Friday night to Monday morning, a police spokesman said on Wednesday.

Valerie Satterfield (third left) advises an American citizen at the US consulate in Hong Kong on how to fill out a voting form for the presidential and congressional elections. The consulate yesterday shut its non-immigrant visa services section to allow for absentee voting in the US poll. Ms Satterfield, of San Antonio, Texas, and the other workers pictured belong to the League of Women Voters.
The public would be consulted on the merger of the Broadcasting and the Telecommunications Authorities in the coming months, the Secretary for Commerce, Industry and Technology said on Wednesday.
A second US theme park could be built in Hong Kong in addition to Disneyland which is scheduled to open late next year, local newspapers reported on Wednesday.

Hong Kong's pay-television industry will lose out on US$24.33 million this year due to piracy, with 78,000 viewers - or one in 10 - using unauthorised decoders, according to a study.
Taiwan Semiconductor Manufacturing Company, the world's leading made-to-order microchip maker, said global semiconductor industry growth was expected to be flat in 2005 compared with this year but the company itself should still see gains.
China: China's health ministry on Wednesday warned the country's hospitals and clinics to be on alert for a return of the deadly Sars virus as winter approaches.
Mainland judicial authorities have investigated 1,780 civil servants for human rights violations in a four-month national campaign, according to Xinhua.

A clerk waits for customers at a textile shop in Beijing. It is hoped the removal of some tariffs with Asean countries will boost trade.
The importance of rural tax reform, which prevents local governments from imposing unreasonable rates on farmers, cannot be measured by its financial contribution alone, according to two experts from Anhui province.

Mass marketing: After dairy products maker China Mengniu Dairy's 310 million yuan advertising spree last year, China Central Television (CCTV) hopes media buyers and advertisers will spend up to five billion yuan in its auction of prime-time commercial slots for next year. The broadcaster wants the November 18 auction in Beijing to raise more than this year's 4.4 billion yuan.
Mainland regulators have ordered China Cinda Asset Management Corp to take over troubled Liaoning Securities, amid a growing trend of government-led rescues to clean up the brokerage industry.
China Netcom Group Corp (Hong Kong), the listing arm of China's No2 fixed-line carrier, has valued its initial public offering at between $8.1 billion and $9.2 billion, making it the third-largest share offering this year.
Shareholders of privately held Air Macau will meet next Wednesday to discuss whether or not to open the Macanese market to Australian no-frills carrier Virgin Blue.
Voice over internet protocol (VoIP) was unlikely to take off in China soon, as the government was keen to protect fixed-line revenue for telecommunications companies, analysts said.
Profit growth by China's industrial firms picked up significantly in the first nine months of this year, a clear indication that the country's fixed asset investment and raw materials prices might further rebound.
Oct 27, 2004
Hong Kong: Chaotic scenes greeted pop idol Andy Lau when a riot broke out at one of his concerts in China resulting in dozens of people being injured, a press report said on Tuesday.

Top skaters Mandy Woetzel and Vadim Yarkov reveal a little of the magic that will be in evidence when Sleeping Beauty on Ice begins on December 8 at the Hong Kong Academy for Performing Arts. The show by Russia's Imperial Ice Stars follows the story of Princess Aurora, her handsome prince and an array of colorful characters.
Kowloon would experience faster population growth than the New Territories and Hong Kong Island over the next 10 years, a report published by the Planning Department on Tuesday said.
Chief Secretary Donald Tsang Yam-kuen overnight (HK time) told British officials that Hong Kong was making progress towards adopting universal suffrage.
Asian currencies recorded big gains against the US dollar yesterday in a move that could hurt regional export revenues but help cushion the shock of paying for costlier oil imports.
China: A crackdown on Guangdong's liberal media has resumed and intensified, claiming the editor-in-chief of the influential Tong Zhou Gong Jin magazine as its latest victim, and ending hopes of rehabilitation for Southern Metropolis News' chief editor after he was expelled by the Communist Party.
Mainland insurance companies have a new avenue of investment after regulators yesterday agreed to allow them to invest as much as 5 per cent of their assets directly into the domestic stock market.

An investor walks past an electronic display board at a stock bourse yesterday. The stock market yesterday gave the cold shoulder to the CIRC rule to give a green light to insurance firms' direct investment in the market. The benchmark Shanghai Composite Index lost 18.2 points to 1,311.15.
Dutch electronics giant Philips said it experienced better-than-expected growth in the Chinese market this year despite the local government's tightening efforts aimed at moderately slowing down economic growth.

Cui Tiankai (L), director general of Asian affairs of the Chinese Ministry of Foreign Affairs, shakes hands with Mitoji Yabunaka (R), director general of the Japanese Foreign Ministry's Asian and Oceanian Affairs Bureau, prior to their talks over demarcation disputes of the East China Sea in Beijing October 25, 2004. No deals were reached at Monday's talks, but the two states agreed to continue their talks.

Exhibition have have arrived at the Zhuhai Airport on Oct 24. The 5th China International Aviation and Aerospace Exhibition will be held in Zhuhai from Nov 1st to Nov 7th. A total of 32 countries and regions will take part in the Expo. Delegations from the UAE, Greece, Sweden, Finland, India, Iran will make their dedut at the expo.
China on Tuesday slashes US decision to limit the imports of socks made in China, warning it remains the right to take "further actions" within the World Trade Organization framework.
Oct 26, 2004

Hong Kong: The Rolls-Royce of public conveniences, the multimillion-dollar toilet near the Wishing Tree at Tai Po was designed to blend in with its environment.
Britain has agreed to pay a six-figure settlement to a Hong Kong man who was jailed in India after British consular officials there mistakenly said his British passport was forged, a newspaper reported on Monday.
Prosecutors said Monday they will ask the court trying former Philippines president Joseph Estrada for corruption to block his request for medical leave to undergo knee surgery in Hong Kong next month.
More than 50 flights planned between Taiwan and Hong Kong International Airport at Chek Lap Kok were cancelled on Monday due to typhoon Nock-ten.

Elizabeth House in Causeway Bay has a 99.6 per cent tenancy rate and generated $90m in rental income in the past financial year. Kowloon Development has agreed to buy Elizabeth House in Causeway Bay for $1.34 billion, as the property investment firm looks to expand its Hong Kong property portfolio.
Solicitors and accountants are lobbying the government to allow a change in partnership structures that would limit their liability, amid growing anxiety in the professions that just one "mega-lawsuit" could wipe out entire practices.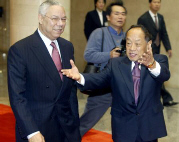 China: Visiting US Secretary of State Colin Powell follows Foreign Minister Li Zhaoxing in Beijing, on Monday. Mr Powell is in China for discussions on the resumption of stalled six-party talks on the North Korean nuclear impasse.

President Hu Jintao (R) shakes hands with US Secretary of State Colin Powell during a meeting in Beijing Oct. 25, 2004. Opposition to "Taiwan independence" and curbing risky activities of "Taiwan independence" forces are in the common interests of both China and US, and the Asian-Pacific countries, said President Hu.
The mainland's first property rights law is expected to be passed during the next annual plenary session of the National People's Congress after being scrutinised this week by its Standing Committee for a third time.
The US might attack Europe's planned network of global positioning satellites if it was used in wartime by a hostile power such as China, according to a report yesterday.
China needs billions of yuan in investment to boost coal mining capacity and avoid energy shortages amid tight supply of the fuel up to next year, according to a government-backed industry think-tank.
China's emergence as manufacturer to the world makes the country a key player in the setting of lucrative global technology standards, according to the president of the RFID China Forum.

Employees work on the production line of a dried laver processing factory in Lianyungang of East China's Jiangsu Province. Japan is likely to stop its discrimination against Chinese dried laver and allow its importation soon after China launched its first investigation into trade barriers.
Oct 25, 2004

Hong Kong: Customs officer Tam Yiu-keung with some of the bottles of fake bird's nest products. Government chemists believe the product is made of seaweed or algal jelly. Mainland authorities have been asked to help trace the source of almost 32,000 bottles of fake bird's nest products grabbed by Hong Kong customs officers - the first such seizure in 13 years.
More than 3,000 liberal studies teachers will be needed by 2010 under proposed reforms to the school system, Permanent Secretary for Education and Manpower Fanny Law Fan Chiu-fun said yesterday.
Almost 1,400 flat-seekers spent yesterday's Chung Yeung Festival queueing up at sales offices in Hang Lung Properties' AquaMarine development in Cheung Sha Wan.

The cost of taking out a mortgage loan could rise for StanChart customers if the bank joins the HKMC's insurance scheme. Insurance provider Hong Kong Mortgage Corp has gatecrashed a "beauty parade" of reinsurers to entice Standard Chartered into its fold and establish a monopoly for its mortgage insurance program.
Asian stocks rose Friday, led by exporters and shippers to China, after a government report indicated Beijing was succeeding in taming its economy without aggressively pushing up prices.

China: File photo shows customers choose fruit in a super market in Nanjing, east China's Jiangsu Province. China's economy grew by 9.5 percent year-on-year in the first nine months of this year, 0.6 percentage points higher than the same period of last year. China will continue to carry out the macro-economic control measures in the fourth quarter of this year so as to achieve the targets set for the year and lay a good foundation for next year, according to a top government meeting concluded here Friday.
Tax officials say the central government will continue to push for rural tax reforms to help reduce the financial burden on mainland farmers.
Authorities in Henan province yesterday ordered the Zhengzhou Coal Industry Group, which runs the Daping Mine where at least 66 miners died after an explosion on Wednesday, to stop production at all its mines as rescuers struggled to find 82 workers still trapped underground.

China's No2 telecommunications equipment supplier ZTE Corp is on track to become the first mainland A-share company to list in Hong Kong after it was revealed that China Minsheng Banking Corp's listing ambitions had run into delays due to shareholder resistance.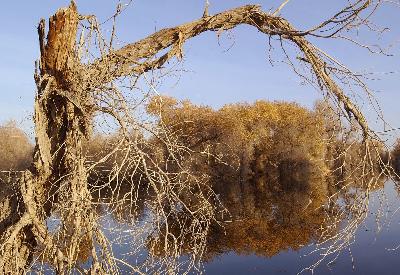 This photo taken on Oct. 22 shows the autumn view of the euphrates poplar grown in the Tarim river great nature park in Luntai County, China's Xinjiang. In this October, many tourists and photographers were attracted here. The euphrates poplar forest grown in the Tarim Basin accounts for 89.1 percent of the total area of euphrates poplar in China and it is the largest one in the world too.
The Beijing Municipal People's Congress on Friday adopted a local implementation method to the Road Traffic Safety Law, requiring compulsory third-party insurance for all motor vehicles in Beijing.
China Construction Bank, one of the country's Big-four State-owned banks, said on Friday it had earned 49.9 billion yuan (US$6.0 billion)profits during the first nine months of this year before setting aside provisions for bad loans.
Oct 22 - 24, 2004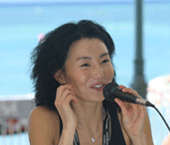 Hawaii: Maggie Cheung charms an excited Hawaii press corps, at LVHIFF's opening day news conference at the Moana Surfrider.

TRIBUTE TO MAGGIE CHEUNG - International superstar Maggie Cheung (HERO, IN THE MOOD FOR LOVE) is a veteran of over 80 films and is revered all around the world for her grace, style and exquisite acting career. Ms. Cheung is a special guest of the festival, as we honor her with an ACHIEVEMENT IN ACTING Award, as well as presenting two films from her repertoire – her latest feature CLEAN (HIFF Opening Night Film on Oct 21, 2004) and the classic COMRADES, ALMOST A LOVE STORY!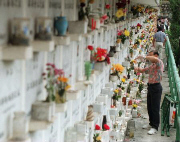 Hong Kong: People pay respect to their ancestors during the Chung Yeung Festival at Happy Valley Cemetery.
Nearly 600 staff at the Hyatt Regency in Tsim Sha Tsui face an uncertain future after the owner confirmed yesterday that the 35-year-old hotel would close in January, 2006.
Hong Kong has decided to outlaw smoking in bars and restaurants, joining cities like New York and countries such as Ireland in leading the charge against tobacco, officials said on Thursday.

Pop star and actress Kelly Chen Wai-lam cannot hold back tears of gratitude after being named a 2004 Outstanding Young Person of the World for her contribution to children, world peace and human rights. Chen, 31, is the city's first woman and the 12th Hong Kong person to win the Junior Chamber International award in the 34 years it has been running. The award ceremony will take place in Japan next month.
The government was committed to enhancing Hong Kong's position as an international aviation hub, Permanent Secretary for Economic Development Sandra Lee Suk-yeeat said on Thursday.
China: Soaring demand for energy on the mainland and pursuit of profits by coal producers are to blame for lax safety standards and a rise in fatal accidents at coal mines, according to a top industrial safety expert and government officials.
Top mainland leaders in charge of Taiwan affairs have made high-profile visits to Taiwanese-funded factories in Fujian during the past few days, apparently aimed at reassuring Taiwanese businessmen jittery over rising cross-strait tensions.

Two farmers stack corn for drying in Hailun, Northeast China's Heilongjiang Province. Chinese farmers will see more agricultural insurance companies approved to help protect their interests.
China's economy grew by 9.5 percent year-on-year in the first nine months of this year, spokesman for the National Bureau of Statistics announced Friday. Soaring crude oil prices will have impact on both world and Chinese economies, but that on the latter seems quite limited presently, said spokesman of the NBS.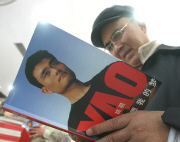 A man looks at the biography of Chinese NBA star Yao Ming in a bookstore in Beijing on Thursday. Yao, one of world's most recognised basketball players, will donate the proceeds from the Chinese version of the book to the Shanghai 2007 Special Olympics Committee.

A Mexico City store displays Chinese and Japanese candy and snacks. Chinese imports are flooding Mexico, a country long famed for its artisanry and local production of candy, and experts say Mexico must modernise and reform its economy in order to compete with low-cost Chinese goods.
Cathay Pacific Airways' agreement to buy 9.9 per cent of Air China is expected to boost the size of the mainland flag carrier's pending share offering by at least 30 per cent.
China's continued power shortage is pushing the government to take additional action - including legislation - to promote the development of renewable energy.

Energy-saving lamps displayed at the Dongfang Jiayuan Lighting Products Market in Yuquanying, Beijing. The European Union launched an investigation into the possible circumvention of its anti-dumping measures imposed on imports of energy-saving lamps originating in China on September 8. Yesterday marked the deadline for answering the EU anti-circumvention investigation.
Huawei Technologies, the country's leading telecoms equipment provider, said yesterday that it is talking with the country's two leading fixed-line telecoms operators to roll out its home networking solution to create a new business growth area.
The China TEDA Biology Forum which will open this Saturday in the Tianjin Economic-Technological Development Area (TEDA) in the North China municipality aims at making new progress in the research on uses of biological technology in production and life.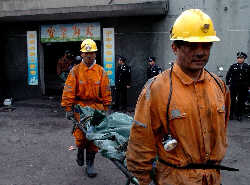 Rescue work is underway in Henan's Daping Mine, where a deadly gas explosion took place at 22:10 Wednesday, leaving over 56 people dead. 92 miners are still stranded undergound. A total of 446 miners were at work underground when the accident occurred, and 298 escaped.

A model demonstrates a writable television conference system made by Japanese electronic company Pioneer on a computer exhibition opened in Tokyo, Japan, Oct. 20, 2004. Some 372 companies from China, the United States and Japan joined the fair. Besides computers and related products, other new products such as digital DVD player, thin TV set were also exhibited.
Chinese clothing and textiles will lose their low-tariff support from the European Union under a proposed reform of the bloc's preferential tariff scheme which aims to ensure that the world's poorest nations benefit most. But the international development agency Oxfam promptly slammed the EU's new Generalised System of Preferences (GSP) after it was unveiled on Wednesday, branding it unfair to the developing world and "blatantly protectionist''.
Shanghai plans to auction off Rolex watches, running shoes and other gifts intended as bribes to officials in a bid to raise awareness about graft, newspapers reported. The auction on Sunday will offer presents with a combined estimated value of 100,000 yuan (HK$94,130) that were handed over to Communist Party discipline officials, Shanghai Daily reported on Thursday.
Oct 21, 2004
Hong Kong: The government on Wednesday announced that it would extend concessions for ultra-low sulphur diesel until next December to help the transport industry cope with rising oil prices.
Business research undertaken by the Chinese University of Hong Kong has been ranked fourth in the world in a survey of international business schools. The survey of the world's leading business faculties was recently published by Management International Review - a leading business magazine.

A booth attracts strong interest at the Hong Kong International Toys and Gifts Show which opened yesterday, with 3,058 exhibitors from 33 countries packing the convention and exhibition centre to capacity. More than 1,000 would-be exhibitors were turned away, prompting organisers to consider seeking use of the 4.2-hectare Tamar site at Admiralty which is available as supplementary show space from next year.
Several parties have approached Hutchison Whampoa wanting to buy a stake in its Canadian-based Husky Energy amid rising oil prices, according to managing director Canning Fok Kin-ning.
Television Broadcasts (TVB) is putting up its advertising rates by an average of 12 per cent next year, an increase industry players say is too high.
The Securities and Futures Commission has warned investors to exercise caution - especially on the internet - saying it has received 100 complaints of fraud this year involving losses of $11 million.

China Netcom Group (Hong Kong) sees itself as a regional player able to capture surging demand for high-speed data traffic and so setting it apart from close rival China Telecom.

Romance tour: Hong Kong singer Karen Mok (centre) joins 62 mainland couples from Hangzhou, capital city of East China's Zhejiang Province. They participated in the Ross Wedding Ceremony as part of a romance tour to Hong Kong at the Avenue of Stars.

China: Rescuers help a woman from her damaged home in Baoshan prefecture, Yunnan province, early yesterday after an earthquake measuring 5.0 on the Richter scale struck the area on Tuesday morning. Twelve people were injured and hundreds of homes devastated, Xinhua said. Nearly 5,600 people had to be evacuated from their homes and were put up in makeshift shelters, according to a Baoshan official.
A Chinese official yesterday reiterated that protection of intellectual property rights (IPR) is a priority in addressing the challenges brought by China's economic growth, saying that European Union (EU) and Japanese efforts to strengthen IPR protection in China are welcome.
Guangdong's gross domestic product grew 14.8 per cent in the first nine months of the year - 1.8 percentage points more than in the same period last year - despite austerity measures and escalating oil prices, a report says.
Mainland authorities have arrested 23 blood dealers and shut down 46 blood-collection centres in a five-month campaign to curb thriving illegal blood sales, official media reported yesterday.

Bad assets disposed of (in the first nine months), China Huarong Asset Management Company 174.6 billion yuan, China Cinda Asset Management Company 133.1 billion yuan, China Orient Asset Management Company 96.7 billion yuan & China Great Wall Asset Management Company 183.2 billion yuan, China's four asset management companies (AMCs) disposed of 587.6 billion yuan (US$70.8 billion) of bad assets and recovered 120.2 billion yuan (US$14.5 billion) in cash during the first nine months of this year, the China Banking Regulatory Commission said yesterday.
The central government's top foreign exchange regulator says the yuan's peg to the US dollar is not a good enough reason to brand China a "non-market economy", a key factor in trade negotiations.

China Mobile, the mainland's largest cell phone operator, said on Wednesday its net profit for the first nine months rose 10.3 per cent to 28.898 billion yuan (US$3.7 billion) on strong subscriber growth.
Oct 20, 2004

Hong Kong: Dressed in auspicious red jackets, Hangzhou couples kiss after taking part in a group wedding during their trip to Hong Kong.
Kwan Kin Tours, whose tour groups have been involved in several serious accidents in recent years, came under heavy fire from victims' relatives yesterday after the latest fatal crash. Their tears mingling with the chilly rain, families of Hong Kong victims killed in the Taiwan tour bus crash paid last respects to their loved ones at the accident scene yesterday.



The SFC's Ashley Alder (left) and HKEx's Richard Williams say they did not succumb to pressure to change their proposals. Stock market regulators have scrapped a proposal to "name and shame" listing sponsors that fail to take adequate steps to ensure disclosure by the companies they represent.
The Hong Kong Monetary Authority has issued a stern warning to banks about breaching the 70 per cent mortgage lending rule, a move seen by some observers as an attempt to cool the property market.

Taiwan tech equipment makers Foxconn and Juteng are on track for Hong Kong listings, while IPE is likely to tap market earlier with more modest ambitions.

A plane of China Eastern Airlines Co. Ltd. loads cargos at the Hong Kong International Airport (HKIA) Oct. 17, 2004. According to HKIA, the air cargo rose to 280,000 tons in Sept. which hits the record high of the airport.
China: Shanghai's economic growth surged 14.2 per cent in the first nine months of the year, down slightly from its first-half performance, but economists warn it needs to slow further.
US Secretary of State Colin Powell will prod mainland leaders during a visit to Beijing to consider holding talks with Taiwan and allay concerns over US arms sales to Taipei, the US State Department said yesterday.
Beijing is revamping its religious policy, moving from control by diktat to the rule of law to curb arbitrary interference by the state and give religious groups more autonomy, a senior official says.
The China Securities Regulatory Commission (CSRC) yesterday ordered the takeover of troubled Minfa Securities, burdened by billions of yuan of debt and facing street demonstrations by angry investors demanding their money back.
The mainland's top economic planning body has ordered a crackdown on rampant unauthorised construction of power plants, whose capacity is estimated to amount to 25 per cent of the national total.
China Netcom Group (Hong Kong) sees itself as a regional player able to capture surging demand for high-speed data traffic and so setting it apart from close rival China Telecom.
It is almost three years now since China became a full-fledged member of the World Trade Organisation, but the country's record in intellectual property protection - especially for software - remains poor even as calls for sweeping reforms from international trade groups grow louder.
China launched the Fengyun-2 batch 2 (FY2 O2) satellite successfully with Long March carrier rocket 3A on Tuesday.
Oct 19, 2004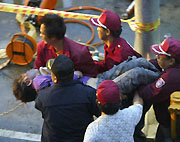 Hong Kong: Five Hong Kong tourists, including two sisters, died and 29 others were injured when a tour bus plunged down a mountainside at a popular scenic spot in Taiwan yesterday.
Information on more than 30 infectious diseases will be made available on both sides of the border through a computer database, under a joint programme between Hong Kong and Guangdong health authorities.

Fu Sze-sze, who tried to interest her fellow beauty contestants in visiting Hong Kong, plans to explore a career in show business. Fu's enthusiasm in promoting Hong Kong may have had a lot to do with her winning the Miss Friendship title, which was voted on by all 58 contestants at the Beijing final. The 21-year-old took gifts for the other contestants and told them all about Hong Kong in the hope that some would come to visit.

China: Competitors in the Beijing International Marathon, in which two runners died, run past Tiananmen Gate in central Beijing on Sunday. The organization of China's premier long-distance race has come in for intense criticism after two amateur competitors collapsed and died on Sunday.
Non-governmental organizations will eventually be able to register to work on the mainland without having to be sponsored by a government department, a Ministry of Civil Affairs official has predicted.

China Cinda Asset Management chief executive Zhu Dengshan says the reform will speed up the disposal of bad loans. China will streamline approval procedures for the sale of non-performing loans (NPL) to international investors, according to the president of one of the four state-owned asset management companies.
Chongqing is the latest mainland city to send delegates to Hong Kong on a Cepa mission, aiming to attract more than 100 billion yuan in investments for projects ranging from manufacturing and real estate to utilities and technology.
Listing candidate China Netcom Group (Hong Kong) could face future earnings erosion as heavy capital expenditure in its next generation mobile business puts pressure on the fixed-line carrier's margins, according to its underwriter.

Visitors to the 2004 Autumn Housing Exhibition, held in Nanjing, capital of East China's Jiangsu Province, examine house models at the four-day show, which ended on Sunday. Houses priced at 3,000 yuan (US$360) per square metre were most popular among local residents.

President Hu Jintao meets with Cambodia's new King Norodom Sihamoni in Beijing, Oct. 18. China greatly values its friendly and cooperative relations with Cambodia, and will continue to support the Cambodian gov't and people in their efforts for national stability, unity, said President Hu.
Oct 18, 2004

Hong Kong: The SAR passport, top, is becoming as popular as the BNO document - The growing popularity of the SAR passport is a sign that public trust of the mainland is rising, according to an analyst. City University political science professor James Sung believes that besides the obvious factor of the increased convenience of the SAR passport, the trend is also the result of people's growing trust in China as the country's status on the international stage is in the ascendancy.
New World group flagship New World Development and subsidiary New World TMT reported a punishing set of losses yesterday, after receiving only qualified endorsements from their external auditors. External auditors for New World Development and New World TMT have given only qualified endorsements of the companies' income statements for last year, amid concerns over the pending US$700 million legal battle against United States-based PrediWave.

With crew members performing a traditional Maori war dance on deck, the pride of New Zealand's tiny naval fleet, Te Kaha, steamed into Hong Kong Harbor yesterday. The frigate Te Kaha, along with the tanker Endeavor, is in port for a five-day visit including shore leave for more than 230 crew members. The ships are on a five-month deployment to Australia and around Asia to maintain "combat capability and support diplomacy initiatives".
The top 10 per cent of Hong Kong earners take home more than 41 per cent of the city's total household income while the poorest tenth get less than 1 per cent - and the gap has widened significantly in the past 10 years.
A civil lawsuit demanding 15 million yuan in compensation has been lodged on behalf of 65 workers who claim they were poisoned while working at two battery-manufacturing plants in Guangdong.

Financial Secretary Henry Tang Ying-yen presents Clinico general manager Jackson Tsai with the AustCham CPA Australia Business Promotion Award in a ceremony at the Grand Hyatt hosted by the Australian Chamber of Commerce yesterday. Looking on is CPA Australia business director Marcellus Wong. Other winners included Citect Corp for Business Innovation, GFC Kilns International for the Financial Partners International Business Entrepreneurial Award and WesTrac China for the ANZ Business Excellence Award.

HSBC has made a series of changes to its online banking service after discovering that a dozen customers had lost more than $660,000. Hong Kong's biggest bank on Thursday announced it had made a series of changes to its online banking service to protect accounts from "money mules" working for overseas cyber-crime syndicates.
China Power International, a unit of China Power Investment Corp, made a sharp trading debut in Hong Kong and raised US$321.1 million in the initial public offering (IPO) on Friday, as investors were enticed by its dividend promise and stable earning prospect.

China: A Chinese embassy official escorts freed but traumatised hostage Wang Ende (right) as he arrives in Islamabad on Thursday. The abduction of two mainland engineers and the death of one during a commando raid to free them has sparked fear among Chinese citizens still working in Pakistan.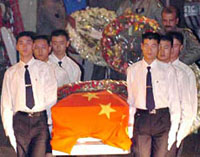 The dead body of Wang Peng, the victimized Chinese hostage in Pakistan, returns to Jinan, capital city of east China's Shandong Province, Oct. 16, 2004.
Three private airlines prepare for take-off: One of three new private airlines approved this year by the civil aviation regulator as a challenger to the state's air travel monopoly is due to begin services this year, state media reported. If given final approval, Okay Airways, based in the port city of Tianjin and using a fleet of six leased Boeing 737 aircraft, is expected to be the first private airline to take off in China, Xinhua reported, citing Civil Aviation Administration sources.
Russian President Vladimir Putin met several top Chinese leaders in Beijing yesterday, winding up two days of official talks that were rich in symbolism but left unanswered many key questions about energy supplies to China.
India and China are locked in a battle to secure stakes in oilfields in West Africa, according to officials and analysts in New Delhi.
China's money supply continued to increase at a "basically appropriate" pace in September, boosting confidence that the State's tightening measures to bring the fast-growing economy to a soft-landing are working.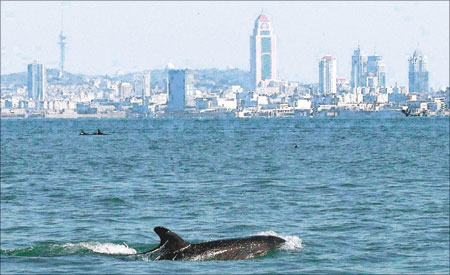 Rare whale guests: More than 40 false killer whales appear on Thursday in the sea near Qingdao, in East China's Shandong Province. Oceanic experts say the rare appearance of so many whales is probably a result of improved water quality.
The charisma of Li Xiaolin, the daughter of former premier Li Peng, outshone that of billionaire Li Ka-shing yesterday as shares of their companies went in opposite directions on their debuts.
China Banking Regulatory Commission chairman Liu Mingkang has requested a meeting with the heads of European banks in China to discuss ways to reform the country's banking system, bankers said.
The Nasdaq Stock Market will appoint a representative in China as the United States technology board steps up competition with other stock exchanges for listings of mainland companies.
Oct 15 - 17, 2004

Hong Kong: Ma Cheng-ming, the international director for Christie's department of Chinese paintings, opens up a scroll for sale in the auction house's autumn collection, Fine Classical Chinese Paintings and Calligraphy. The painting, by 18th century artist Yao Wenhan, depicts Qing dynasty Emperor Qianlong appraising horses and is expected to fetch between $4m and $5m in the auction, which starts on October 31.
The chief executive yesterday pledged to closely monitor inflation and react swiftly to ensure the poor do not suffer too much, saying the defeated legislative motions meant to help the working class were short-sighted.
Hutchison Telecommunications International Ltd (HTIL), the Hutchison Whampoa spin-off, made an unimpressive debut in New York yesterday, with shares opening 2.74 per cent below their issue price.
Hilton International wants to return to Hong Kong to cash in on the tourism boom, the second major hotelier to make such an announcement this week.
While many Hong Kong-listed mainland companies complain they cannot find qualified accountants to satisfy a new listing requirement, accountants say working with such firms is a high-risk, low-return proposition.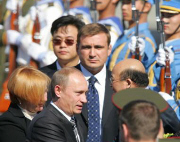 China: Russian President Vladimir Putin, bottom centre, is greeted by Russian and Chinese officials on his arrival at Beijing airport on Thursday. Mr Putin arrived for a three-day visit to mark 55 years of diplomatic relations and boost economic ties. Russia and China joined hands in a firm stand against terrorism yesterday and called for international efforts to help in their respective fights against Chechen rebels and Uygur separatists.

Chinese President Hu Jintao(R1) and his wife(R2) pose for a photo with visiting Russian President Vladimir Putin(1st L) and his wife at the Diaoyutai State Guesthouse in Beijing, capital of China Oct. 14, 2004.
Pakistani security forces on Thursday rescued two Chinese engineers taken hostage near the Afghan border and killed their five kidnappers, who were led by a former Guantanamo Bay prisoner, officials said.
The mainland is facing a severe shortage of skilled technicians and sales personnel, a survey by the Ministry of Labour and Social Security has found.
Mainland imports rose last month at their slowest pace in more than two years as government lending restrictions cooled industrial expansion, dampening demand for steel, fuel and other raw materials.
Temasek Holdings, the Singapore government's investment company, is buying into China Minsheng Banking Corp before the mainland lender's international initial public share offering.
While many Hong Kong-listed mainland companies complain they cannot find qualified accountants to satisfy a new listing requirement, accountants say working with such firms is a high-risk, low-return proposition.

Chinese Vice Premier Wu Yi views battery car developed by the Shanghai Auto Group Oct 12, 2004. at the 6th China High-Tech Fair. The fair opens in Shenzhen that day. A total of 98 delgations, 3, 916 enterprises from China, France, Germany, Russia,etc come to the five-day fair with their projects and products.
Oct 14, 2004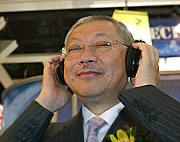 Hong Kong: Housing chief Michael Suen tries out a pair of newly designed headphones at the Hong Kong Electronics Fair at the Convention and Exhibition Centre. Hong Kong's housing chief said yesterday there were no plans to reintroduce a high land price policy following Tuesday's record-breaking auction.

Students arrange a display for World Sight Day in Mongkok in front of a poster of singer George Lam Chi-cheung. Orbis, the charity that fights blindness, says Hong Kong's primary school pupils have the highest rate of short-sightedness in the world.
Two motions promoting the welfare of the working class and the poor were defeated in the Legislative Council last night, as the business lobby showed it still has a firm grip despite a rare accord between pro-democracy and pro-Beijing legislators.

A visitor to the Hong Kong Electronics Fair and electronicAsia walks past a screen showing heat-detecting body images, used to screen people for fever during the Sars outbreak. Exhibitors predict up to 200 per cent growth in export orders this year. More than 2,000 exhibitors from 23 countries and regions are showcasing their products, a 4 per cent rise on last year's fair. Electronics are Hong Kong's largest merchandise export earner.
The government has slammed the door on an extra-judicial settlement of its long-running dispute with the River Trade Terminal (RTT) over the facility's right to handle deep-sea trade, setting the stage for a showdown in the Court of Final Appeal next month.
The mainland's largest property insurer is requesting a three-year waiver from a requirement that listed companies hire at least one qualified accountant as a full-time senior manager, officials said yesterday.

Kingboard Chemical Holdings, which manufactures laminates and printed circuit boards (PCB), yesterday made a HK$1.7 billion unsolicited offer to buy the shares it does not hold in Elec & Eltek International Holdings (E&E).
China: Russian President Vladimir Putin will arrive in Beijing today to flesh out the strategic partnership between the two countries and sign a range of agreements to boost trade and co-operation.
Beijing yesterday rejected an offer of peace talks by Taiwanese President Chen Shui-bian, saying he was being deceitful and courting disaster by trying to split Taiwan from the mainland.
Nokia (China) Investment had completed integrating its four joint ventures in the country into a new group to be launched early next year, company vice-president Deng Yuanyun said on Wednesday.

Putin was interviewed by Chinese mass media in Moscow ahead of his three-day visit to China which begins Thursday, Oct. 14. Putin expressed the hope to strengthen the strategic partnership between China and Russia and believed that the two sides will address any emerging problems through mutual consultation. Russian President Vladimir Putin expressed the hope to strengthen the strategic partnership between China and Russia and believed that the two sides will address any emerging problems through mutual consultation.

touches yesterday on the face of the world's biggest statue of a reclining Buddha, on the hills of Geyang in East China's Jiangxi Province, measuring 416 meters long and 68 meters high.
China United Telecommunications Corporation (China Unicom) announced yesterday it has inked agreements with China Telecom and China Netcom, the country's two largest fixed-line operators, on the interconnection of short messaging services between mobile phones and "little smart" wireless telephone services.
Oct 13, 2004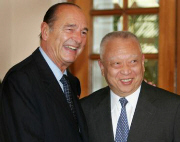 Hong Kong: French President Jacques Chirac is greeted by Chief Executive Tung Chee-hwa at Government House on Tuesday. Mr Chirac is on a brief visit that includes a meeting with French citizens who live in Hong Kong, following a state visit to China. President Jacques Chirac arrived in Hong Kong on Tuesday on the first official visit by a French leader, rounding off an Asian tour that has won billions in trade contracts but avoided confrontation with China over thorny political issues.

Hong Kong's progress towards democracy is an example for change in the rest of China, French President Jacques Chirac said during a brief visit to the territory. He arrived in the SAR on Tuesday on the last stop of his Asian tour after four days in China. It was the first official visit to the territory by a French leader.
Cheung Kong (Holdings) and Sun Hung Kai Properties, Hong Kong's largest developers, fended off fierce bidding from rivals to grab two residential sites in urban areas for a record HK$14.12 billion in the third government land auction this year. Tuesday's auction results surpassed the record HK$13.2 billion paid for two sites in March 1997 at the height of Hong Kong's property bubble.

This extremely rare early Ming blue-and-white "Dragon and Phoenix" brush washer is expected to fetch more than $20 million at Christie's autumn sale in Central on November 1. From the Yongle period (1403-1425), it is the only one in private hands.
The luxury hotel Regent is poised to return to Hong Kong next year in a move to restore its presence amid a sharp rebound in the tourism sector.
The Trade Development Council has won the right to use the Tamar site at Admiralty for trade fairs from next year to 2007.

China: Fishermen watch as empty shipping containers float around in the port of Fuzhou in Fujian province yesterday. The ship carrying the containers sank after it was hit by another ship which was carrying sand. All 15 crew members were rescued from the stricken ship.
Embarrassingly, the Beijing branches of China's big four state-owned commercial banks are ranked the least competitive of the 37 banks doing business in the capital, according to a survey conducted by the Beijing branch of the People's Bank of China (PBOC).
Poor knowledge about nutrition and a lack of government effort to educate the public about healthy diets have contributed to a sharp rise in chronic diseases and weight problems on the mainland, a senior health official said yesterday.
Beijing yesterday dismissed rumours of an imminent appreciation of the yuan as groundless and stressed that China would not take the "unwise" move of a one-off revaluation of its currency.

The Houston Rockets' Tracy McGrady plays basketball with a Shanghai youth during a promotional event for a new Adidas basketball shoe yesterday. The Rockets, including mainland hero Yao Ming, are in Shanghai for a game against the Sacramento Kings tomorrow. Adidas is taking advantage of Yao Ming fever for the global launch of its T-Mac 4 laceless shoe in Shanghai. The T-Mac 4 will sell for 1,280 yuan a pair - slightly less than the monthly wage in Shanghai.

A study released last week forecasts that China will be the largest online gaming market by 2007. However, Microsoft is still hestitant about releasing its Xbox in the mainland.
The hi-tech industry in Shenzhen is booming and entrepreneurs are leading the way. The city now lags behind only Shanghai in hi-tech industrial output and ranks alongside Shanghai and Beijing as one of China's three hi-tech dynamos.
The mainland is fast becoming a virtual Middle Kingdom and could soon dominate the global online games market, as broadband internet penetration continues to grow and vast computer gaming communities thrive.
Visiting United Nations Secretary-General Kofi Annan said yesterday that the UN would work with China to maintain world peace and security and promote co-operation and development.

Eight Alpha jets of the French stunt flying team, Patrouille de France, fly over the Simatai section of the Great Wall in Beijing Monday, Oct. 11.
Trade between China and Russia is expected to top 20 billion USD this year, a goal originally set to be attained next year. This suggests the advent of a new era for the bilateral trade and economic cooperation.
The Chinese and German finance ministers said Monday that trade between the two countries is expected to exceed 50 billion US dollars this year.
Oct 12, 2004
Hong Kong: Paris' prestigious art and design institute the Pompidou Centre has joined a bid to run a museum of modern art in Hong Kong, officials said on Monday announcing plans for its first foray outside of France.

Hang Seng Bank managing director Mok Wai-kin (centre), assistant general manager John Lam (right) and China UnionPay vice-general manager (HK) Wang Lixin launch Hang Seng Bank's yuan credit card for Hong Kong residents yesterday. The bank, and its parent HSBC, are the first two local lenders without direct mainland ties to offer yuan credit-card services for Hong Kong residents, who can use the cards to make purchases at almost 400,000 mainland shopping outlets bearing the China UnionPay logo.
Developer and hotelier Lo Yuk-sui's Century City International Holdings has agreed to a $1.79 billion debt-restructuring programme with creditors, ending a turbulent chapter in the history of Hong Kong business.
PCCW has filed for a judicial review of the telecommunications regulator's decision to let a smaller rival operate voice over internet protocol (VoIP) services over its network. PCCW is asking the court to quash the decision, calling it unlawful.
China: French President Jacques Chirac yesterday pushed for stronger economic and political ties with China, saying the countries had an obligation to balance US global influence. Visiting French President Jacques Chirac said France firmly supports the one-China principle and opposes any move that will lead to the change and deterioration of the cross-Straits situation. The China National Museum of Fine Arts greeted two special visitors yesterday, President Hu Jintao and his French counterpart Jacques Chirac, as a part of the kick-off celebration of the Year of France in China.
China's economy will slow next year, avoiding a hard landing, as fixed investment drops sharply - but more work needs to be done to restrain growth in areas like construction and commodities, according to an influential adviser to the State Council.
The 35-year-old founder of the mainland's biggest electronics retailer has replaced an internet tycoon as the country's richest man, while the three wealthiest people now control more than US$1 billion each.
The mainland is fast becoming a virtual Middle Kingdom and could soon dominate the global online games market, as broadband internet penetration continues to grow and vast computer gaming communities thrive. Just two players from the mainland were permitted to participate in this year's World Cyber Games, held in San Francisco, after the United States government denied visas to 18 competitors who had qualified for the event.

Lights in the three colours of the French flag light the stage before electronic music artist Jean Michel Jarre plays at the front gate of the Forbidden City in Beijing last night. It was Jarre's first performance in China in 23 years and kicked off the Year of France in Beijing.

The concert of the French electronic music virtuoso Jean-Michel Jarre is held at Wumen Square of the Forbidden City in Beijing, Oct. 10, 2004. Jarre's concert unveiled in China the "Year of France"--a nine-month program intended to introduce French culture.
Oct 11, 2004
Hong Kong: Taiwanese President Chen Shui-bian yesterday called for an end to decades of hostility with the mainland by holding peace talks on the basis of a landmark meeting in Hong Kong.

Watched by thousands, 19 teams from Hong Kong and Japan took part in the first sedan chair race to be held in Yokohama yesterday. Competitors fought for the chance to race again in the Matilda Sedan Chair Race in Hong Kong next month. The race was sponsored by the Hong Kong Economic and Trade Office in Tokyo, the city of Yokohoma and a number of community organizations.
Ocean Park wants the same breaks as the Disney theme park - a large injection of government money for its development and a railway line.
A mainland academic yesterday reminded Hong Kong of the challenges that will come with integration into the pan-Pearl River Delta economic zone - including a drop in salaries.

Frederick Ma will take fund managers to Beijing next month. With mainland insurers sitting on assets of 1.03 trillion yuan, he will be hoping to channel funds south.

China: A worker at Guilin's Sanjin Pharmaceuticals checks on a spinning drum of the company's top-selling product, Watermelon Frost throat drops. Guilin is transforming itself from a tourism city into a technology hub, with more than 150 major hi-tech firms operating in the city.
About 30 to 50 million young people on the mainland are suffering from behavioural and emotional problems and the figure is on the rise, a Beijing University survey shows.

Premier Wen Jiabao yesterday hailed the strong ties between China and France, saying that the two countries were enjoying the "closest co-operation over international affairs".

Premier Wen Jiabao (third from right at front row) has a photo taken with heads of state from ASEAN countries, Japan and the Republic of Korea and 25 European countries at the opening ceremony of the Fifth Asia-Europe Meeting on Friday in Hanoi. China received further affirmation of Viet Nam's commitments to keep peace and stability in the Beibu Bay and South China Sea during Premier Wen Jiabao's visit to the country.
Oct 8 - 10, 2004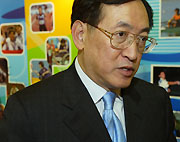 Hong Kong: The appointment of a health minister turned into a mixture of suspense, drama and comedy yesterday when the chief executive suddenly cancelled a press conference called to make the announcement. York Chow, who is believed to have been chosen as the new health chief, at a dinner last night for Hong Kong's Paralympic athletes.
A three-dimensional imaging system that uses technology developed for guided missiles has won an international award for its Hong Kong inventor.
Travelers from countries normally granted visa-free entry to the United States will have to get visas if their passports do not have a bar code that can be read by a machine.
On the first three days of the National Day holiday, a daily average of 145,000 mainlanders swamped Times Square in Causeway Bay. While some retailers have been hailing double-digit sales growth during the week-long National Day holiday that ended yesterday, the Hong Kong Retail Management Association's chairman said individual spending by mainlanders was actually down this year.
China: A girl measures her wing-span against the NBA's Cleveland Cavaliers star Lebron James at a promotional fair in Shanghai yesterday. The fair touted games between the Sacramento Kings and Chinese star Yao Ming's Houston Rockets next Wednesday and October 17.
Credit-tightening policies have so far failed to cool China's runaway economic growth, and policymakers will have to raise interest rates and revalue the yuan to rein in expansion, according to a leading private economist.
Premier Wen Jiabao yesterday confirmed that China would build up its oil reserves as part of its measures to cope with rising global oil prices and possible fuel shortages.
A ramshackle, two-storey concrete building in western Beijing is at the heart of the battle to stop piracy in China. Inside the builiding is Beijing Central Press Union Digital Technology, the target of a lawsuit by Microsoft, which alleges that the firm - along with two others - is churning out thousands of illegal copies of software

Driving into the Egyptian market:A Chery A11 passenger car is exhibited during Chery's promotional fair held on October 5 in Cairo. The fair marked the Chinese automaker's entrance into the Egyptian market.

Alphajets of the Patrouille de France (PAF) of France Air Force perform during a media preview above the Nanyuan Airport in Beijing, Oct. 6, 2004. The Air Show Tour of China of PAF, the first of its kind ever held in the capital, is an important part of China-France Culture Year.
Oct 7, 2004
Hong Kong: DBS Bank yesterday apologised for the destruction of 83 safe deposit boxes and their precious contents and unveiled a $12.45 million compensation package for victims of the embarrassing bungle.
Rita Fan Hsu Lai-tai, who was elected Legco president for the fourth time since the handover yesterday, has financial support from Li Ka-shing and some of the richest corporations in Hong Kong.

Alexa Lam, executive director of the Securities and Futures Commission, says hedge fund providers will be encouraged.
The Kwok brothers of Sun Hung Kai Properties are poised to make a back-door bid for the local port assets of American rail giant CSX Corp after their earlier tender failed to make the shortlist, according to sources close to the deal.
The Office of the Telecommunications Authority (Ofta) stood firm yesterday in the face of new legal threats from PCCW, despite losing a court battle to the dominant fixed-line carrier earlier this week.
The government has stepped up efforts to develop the nascent digital entertainment industry by going into a partnership with Microsoft Corp in an ambitious video games project.
The Office of the Commissioner of the Ministry of Foreign Affairs of the People's Republic of China in Hong Kong Special Administrative Region (HKSAR) said Tuesday that a US Congress' commission's HK related report is not true to the real situation in Hong Kong.

China: A tanker loaded with 800 tonnes of petrol burns yesterday at a wharf on the Ganjiang River in Nanchang, capital of Jiangxi province. It took firefighters about 13 hours to control the blaze. One member of the seven-man tanker crew was still missing after jumping into the river when the blaze erupted. The cause of the fire is under investigation.
China will adhere to its neighboring diplomacy of "building good-neighborly relationships and partnerships" and will work with Asian countries to maintain regional stability and common prosperity, said Premier Wen Jiabao.
The Asian Development Bank (ADB) said yesterday it is helping China prepare an east-northwest railway project through a technical assistance (TA) grant of US$500,000.
In only 14 years, China's stock market has developed into Asia's third biggest market, with more than 1,300 listed companies, 4 trillion yuan (US$483 billion) of market capitalization and more than 70 million stock traders.

Crew members of the French aerobatic flight team check up the planes parked in the Capital International Airport in Beijing Oct. 5, 2004. A total of 13 planes from France are in Beijing for the coming aerobatic flight.
Oct 6, 2004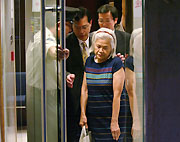 Hong Kong: A Hong Kong bank has blamed human error for an embarrassing blunder - expected to cost millions - in which 83 safe deposit boxes and their contents were discarded as scrap metal.

Children pound out a Latin beat during a showcase yesterday for a three-day Rio street carnival to be held in Lan Kwai Fong from October 15. Along with a parade of exotic dancers, the carnival will feature more than 80 stalls offering snacks, craftwork and face-painting. There will also be performances by jugglers and magicians in Wo On Lane.
Chief Executive Tung Chee-hwa is considering the possibility of appointing members of the pro-democracy Article 45 Concern Group to his cabinet, a top government adviser said yesterday.
The securities watchdog is expected to accept a record $30 million settlement from investment bank ICEA instead of suspending its operations for its role as sponsor of failed orchid grower Euro-Asia Agricultural (Holdings), according to a source.
Cathay Pacific Airways yesterday said its fuel costs were expected to rise HK$1 billion this year as surging oil prices continued to add to operating expenses.
Hutchison Telecommunications International Ltd's (HTIL) high-profile initial public offering suffered a setback yesterday as the firm was forced to trim the price range after a lukewarm response from investors.

China: A young Beijing girl peeps out from a decorated carriage during rehearsals for a wedding in traditional Chinese costume during the week-long National Day holiday.
More than two-thirds of the central and provincial government departments exposed for corruption in recent top-level investigations have yet to take responsibility for their wrongdoings, a leading mainland publication reported.

Two skydivers fly in the sky during a performance yesterday at the 2004 international BASE jump show to show off their skills and aerial techniques. The skydivers leap from the top of Jinmao Tower, 345 metres in the sky. BASE refers to building, antennae, span and earth.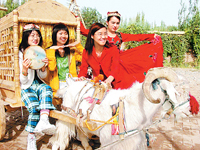 The photo taken on Oct 4th shows jubilant tourists riding a goat-drawn cart at the Karez Fairyland of Turpan, Xinjiang Autonomous Region. The "golden week" has made tourism prosperous in Turpan. There are about 25,000 tourists from home and abroad who visit Turpan every day.
Oct 5, 2004
Hong Kong: A luxury Mid-Levels apartment has been sold for more than $28,000 per square foot - topping the peak prices of 1997.

Fall fashion took on a new twist yesterday with Hong Kong's first vertical catwalk, a fashion show staged by Esprit at Miramar Shopping Centre in Tsim Sha Tsui. The nine model-acrobats were recruited from all over the world for the eye-catching promotion.
The 25 pro-democracy legislators yesterday said they would ask Chief Executive Tung Chee-hwa to help them arrange a meeting with central government officials.
The last working day for departing Secretary for Health, Welfare and Food Yeoh Eng-kiong remained uncertain yesterday amid speculation over a delay in the appointment of his successor.
A Hong Kong court has for the first time put a core investment arm of the mainland government into liquidation after a judge declared Zhuhai's overseas trade vehicle, the Zhu Kuan Group, bankrupt.
The telecommunications regulator is considering creating a special licence for internet telephony, opening the highly competitive market for voice services to new players such as internet service providers.
The Airport Authority plans to expand the scope of an electronic tagging program at Chek Lap Kok to include air cargo and passenger boarding passes in addition to baggage handling.
China: India's military chief will fly to China in December to further strengthen ties between the armed forces of the two neighbors.

Visitors swarm to Shanghai's famous shopping street Nanjing Road on Sunday for ease, sightseeing and shopping during the week-long National Day holiday, which started last Friday. The number of visitors to Nanjing Road hit its climax on Sunday, with the East China metropolis receiving more than 1 million travelers during the Friday-Saturday period.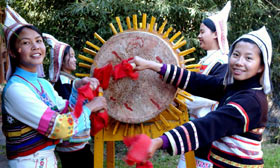 Jino (a minority people living in Kunming Yunnan) girls are playing a traditional Sun Drum in celebration of the National Day on October 3. Across the country, Chinese from all walks of life celebrated the 55th anniversary of founding of the People's Republic of China.
Oct 4, 2004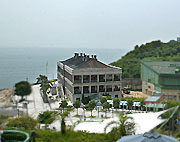 Hong Kong: Work is expected to begin early next month on the 48,477-square-metre site stretching away behind Murray House. The horticultural park is due to be completed in 2007.
A series of hearings on the proposed bridge linking Hong Kong, Zhuhai and Macau has been scheduled for this month to canvass experts' views.
Approval is being sought to dredge the seabed alongside the Ocean Terminal piers in Tsim Sha Tsui to prepare for the return of the cruise liner Queen Elizabeth 2 early next year.
HSBC's Hong Kong banking arm has appointed Laura Cha Shih May-lung, a former deputy head of both the Hong Kong and mainland securities regulators, as an independent director.

Hong Kong's retail sector has benefited greatly from the strong inflow of the "consumption engine," Chinese mainland tourists, since October 1, the start of the seven-day National Day holiday or the Golden Week.
Property tycoon Cheng Yu-tung has quietly entered the Philippine gambling market in a big way, snapping up the prestigious Hyatt Hotel & Casino Manila. According to Philippine government officials and corporate registration documents obtained by The Standard, the New World Development chairman's family, which controls the New World conglomerate and the Chow Tai Fook jewellery chain, is the owner of the new Hyatt Hotel & Casino Manila.
China: Finance Minister Jin Renqing has played down the possibility of China joining the G7 in the near future, pointing out that it is "still a developing country faced with arduous tasks of economic and social development".
Premier Wen Jiabao will pay his first official visit to Hanoi this week on a mission to consolidate trade and diplomatic exchanges while playing down differences, according to analysts.

A worker at a Toyota plant in Tianjin where the Vios model is manufactured. Japan's largest carmaker is muscling into the mainland, aiming for 10pc market share by 2010.
China Power International Development (CPI) has effectively been barred from buying its parent's assets in power-hungry Shanghai - the backyard of its A-share listed sister company.
China Resources Group has agreed to sell an office project to an unidentified investor for $1.33 billion, in the largest office transaction in Central since November 1996.

Dancers from Columbia perform on a street in the city of Huangshan, East China's Anhui Province, on Saturday. The dancers were among more than 400 from Japan, France, South Africa and other countries, who were all taking part in a folk art festival. The festival the China International Folk Art Festival was launched in 1990, and this year's is the sixth and largest.

Chinese President Hu Jintao (R2), talks to local people during his tour of inspection in Shunyi District of Beijing, October 2, 2004. Hu urged the cadres at grass roots level to improve their own capacities, safeguard people's democratic rights and always put themselves under people's supervision.
Oct 1 - 3, 2004
Hong Kong: A group of democratic legislators left for Beijing on Thursday for National Day celebrations following an invitation from the Chinese government seen by many as a goodwill gesture following months of political turmoil.
About 300 listed companies appear to have missed yesterday's deadline for having at least three independent non-executive directors on board, the poor compensation on offer having deterred qualified candidates.
In the strongest sign yet of his determination to end political wrangling in Hong Kong, President Hu Jintao on Thursday called on local leaders - including dissident voices - to be "accommodating" in resolving differences. In an afternoon address to the 339 delegates from Hong Kong and Macau - 220 representing Hong Kong, the rest from Macau - attending National Day celebrations in Beijing, Hu appealed for a spirit of harmony in language rarely used by a top official addressing an audience that includes critics.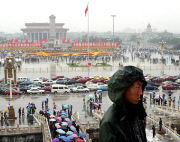 China: A guard stands on Beijing's Tiananmen Gate as thousands gather behind him in Tiananmen Square on Thursday on the eve of China's National Day. Thousands have been visiting the square since it was decorated in preparation for celebrations of the 55th anniversary of the founding of communist China by late leader Mao Zedong on October 1, 1949.

Actresses of the China Central Ballet Troupe perform during a rehearsal of the ballet Sylvia at Beijing University. The China Central Ballet Troupe and the French Paris Opera ballet troupe will jointly perform the world-known ballet in Beijing from September 30 to October 4, as one activity in the Sino-French cultural year.
Premier Wen Jiabao is expected to lobby European leaders to end what Beijing sees as an outdated embargo on arms sales to the mainland at an Asia-Europe forum in Vietnam, a senior diplomat said yesterday.
The International Monetary Fund has warned that the mainland's economy is still in danger of overheating, despite measures by Beijing to slow the momentum.

A worker serves a customer at a drug store owned by China's largest drug manufacturer, Sanjiu Enterprise Group, in Beijing. The company is one of many Chinese enterprises buying into overseas companies in a corporate buying spree to feed the country's growing industrial juggernaut.
The Bank of China plans to hire key executives to oversee risk management and technology operations ahead of its planned public listing expected next year in a move that follows clean-up efforts by its Hong Kong subsidiary.

Chinese riot police train on the outskirts of Beijing yesterday. China is to deploy riot police in Haiti next month as part of the UN peacekeeping mission there, seeking to boost its profile internationally by helping the revolt-racked country.
Top Chinese representatives to the World Trade Organization (WTO) say the elimination of quota restrictions on textiles and garments next year will bring open competition to the sector, but China is against any attempt to block China's exports of textile products.

Carrefour, the French-based retail giant, holds an outsourcing fair in East China's Zhejiang Province in June. China-France trade reached US$9.5 billion in the first seven months of this year, up 39.6 per cent year-on-year.
Shanghai International Port (Group) Co Ltd signed a contract yesterday with Hutchison Port Holding Limited, the daughter company of Hutchison Whampoa controlled by the Hong Kong tycoon Li Ka-shing, for the Waigaoqiao Phase 5 joint venture project.

*News information are obtained via various sources deemed reliable, but not guaranteed