Hong Kong, China & Hawaii Biz*


How to Do Business with China, through Hong Kong & Setting up Business in China? - last update Feb 8, 2003
Do you know our dues paying members attend events sponsored by our collaboration partners worldwide at their membership rates - go to our event page to find out more! After attended a China/Hong Kong Business/Trade Seminar in Hawaii...still unsure what to do next, contact us, our Officers, Directors and Founding Members are actively engaged in China/Hong Kong/Asia trade - we can help!
China Projects Bidding Information - update daily Scholarship & Grants
Are you ready to export your product or service? You will find out in 3 minutes with resources to help you - enter to give it a try
Feb 28, 2005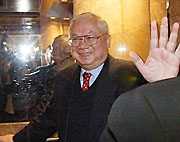 Hong Kong: The Town Planning Board yesterday rejected Sir Gordon Wu Ying-sheung's Mega Tower proposal. But the defiant Hopewell Holdings chairman vowed to pursue his dream to build the city's biggest hotel, despite likely lengthy delays due to the appeal process. An upbeat Sir Gordon Wu after meeting the Town Planning Board. He believes the hotel project is reasonable and legal.
The number of new flats coming on the market next year will plunge to a 30-year low, but analysts and officials are not expecting a further big surge in residential property prices, which leapt almost a third last year.

The giant aircraft carrier USS Kitty Hawk enters Hong Kong waters in foggy weather at the start of a visit yesterday. Aircraft carriers are noisy places. With all the aircraft coming and going, the massive engines, the something-a-bit-dangerous-is-about-to-happen-alarms and the noise of 5,300 American servicemen and women moving about, it's pretty much impossible to get a quiet moment. Thick fog created chaos for air and sea traffic yesterday, with dozens of flights delayed or diverted, ferry services cancelled and a collision in waters off Tsing Yi.
Health officials hope to ban smoking in bars and restaurants by the middle of next year as they adopt a tough approach on new anti-tobacco laws.

The MTR Corp, with one Beijing subway project already in the bag, now has its sights on three more in the capital costing nearly 32 billion yuan as it steps up efforts to boost its overseas portfolio.
Hong Kong's seven-year mortgage price war may have reached a turning point but analysts warn that a return of so-called hot money chasing a possible revaluation of the yuan could delay the final ceasefire.
Hong Kong Broadband Network (HKBN) has increased its broadband internet fees by 50 per cent after a public rebuke from Hong Kong's telecommunications regulator this week about misleading advertising of the service.
Beijing's rare move to appoint two executive councillors to its advisory body, the Chinese People's Political Consultative Committee (CPPCC), suggests it wants to keep a firmer grip on Chief Executive Tung Chee-hwa's governance, according to a critic.
China: European Union's trade chief, Peter Mandelson has criticized a 15-year-old European arms embargo on China, saying it was high time to lift the ban given the rapidly developing relations between the two sides.
Owning a limited company in China may not be the exclusive domain of wealthy investors for much longer if an amendment to the corporation law is passed.
The government may soon raise electricity rates to help power firms get over the hike in coal prices, a vice-chairman of State Electricity Regulatory Commission said on Friday.

A worker checks a Soviet-made machine in the old section of the Shanghai Electric Power Company's Wujing thermal power plant. Shao Bingren, vice-minister of the State Electricity Regulatory Commission, said 24 provinces experienced power shortages last year and were expected to face the same problem in coming months. Electricity shortages will remain severe this year, although last year's large-scale power cuts will be replaced by "seasonal and periodical blackouts", according to the mainland's top electricity regulator.
The mainland's capital and financial account surplus more than doubled last year thanks to strong investor inflows fanned by talk of a yuan revaluation, Xinhua quoted a senior foreign-exchange official as saying.
South China port operators are to impose a security surcharge on most goods moving across their docks under an initiative that will add more than $1 billion a year to the cost of shipping manufactured goods.
China will gradually open its capital account in 2005, another step in its plan to make the yuan currency fully convertible, China Central Television said on Saturday.
Feb 25 - 27, 2005

Hong Kong: Candidates demonstrate their flair during a cooking test at the Chinese Cuisine Training Institute in Pokfulam yesterday. Fifty-eight students were required to cook six specific dishes in three hours and pass a written test to obtain two certificates recognised in Hong Kong and on the mainland.

Netcom president Zhang Chunjiang (left) and PCCW chief Richard Li shake hands after unveiling plans for four joint ventures at a press conference yesterday. PCCW will spearhead the development of China Network Communications Group's (Netcom) massive property portfolio - one of four planned areas of co-operation between the telecommunications carriers.
Esprit Holdings, the Hong Kong-listed fashion retailer, has forecast its revenue to jump by a fifth every year after recording a higher-than-expected 76 per cent first-half profit growth amid better sales in Europe and currency gains from a strong euro.
Shares of Sunday Communications, the smallest mobile operator in Hong Kong, rose 11.54 percent on speculation China Mobile or China Telecom, the country's two largest phone companies, will become its strategic shareholder.
American Airlines and Continental Airlines have won United States permission to begin passenger flights to China this year and next.
SK Corp is suing to recover US$14.35 million (HK$111.93 million) from China Aviation Oil (Singapore), the third such action against the jet fuel trader since it sought court protection from creditors last year.
The number of people with more than $1 million in liquid assets rose to more than 274,000 last year from about 260,000 in 2003, according to a Citibank survey.

People enjoy watching the lanterns display in the Urban Lunar New Year Lantern Carnival at the Ko Shan Road Park.
Food premises in Hong Kong will have to hire hygiene managers and supervisors by the end of May, according to new measures announced by the Food and Environmental Hygiene Department on Wednesday.
American trade authorities have put the final touches to security guidelines for firms exporting goods to the United States and are now looking to reward companies that opt to use "smart" technology for seaborne trade.

China: A foreign oil tanker unloads its cargo at East China's Ningbo. China's January crude oil imports fell 24 per cent year-on-year to 7.8 million tons, the first decrease in more than two years.
US-based Invista, an integrated polymers, intermediaries and fibers manufacturer, started construction of a US$128 million spandex plant in Foshan in Guangdong Province on Wednesday, to tap the "explosively growing" southern China market.

Baby Ni is in a stable condition in a Shanghai hospital, after his heart surgery on Tuesday. A 38-day-old baby who was born two months prematurely has become the smallest patient in China to undergo heart surgery.

Sina Corp, China's largest Internet portal, announced that it has adopted a shareholder rights plan to fight against a possible purchase by top Chinese online game operator Shanda.
Britain and the rest of Europe are at grave risk of falling behind China and other fast-developing nations unless they reform their economies and become more ambitious, British Chancellor of the Exchequer Gordon Brown has warned.

China's largest marine inspection vessel, Haixun-31, joins the country's marine patrol fleet at a wharf in Guangzhou, capital of south China's Guangdong Province Feb. 22, 2005. The ship, with the largest displacement, is the first civilian vessel in China to be equipped with a helicopter, which will greatly improve search-and-rescue efficiency.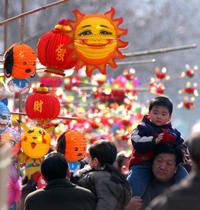 People choose and buy lanterns in a lantern market in Nanjing, China's Jiangsu Province, Feb. 22, 2005. People in the city rushed to buy lanterns for the Chinese traditional Lantern Festival, which falls on Feb. 23 this year.
International rail engineering companies are expected to bid next week on the planned Beijing-Tianjin high-speed railway project, a well-placed source from the Ministry of Railways said yesterday.
German Chancellor Gerhard Schroeder reiterated his confidence that the European Union will lift an arms embargo on China despite US opposition, saying he hopes the US Congress can be swayed.
Beijing's controversial anti-secession law will be officially submitted for approval by the full session of the National People's Congress on March 6, a report says.
The head of Taiwan's opposition People First Party (PFP) is to visit the mainland in an attempt to ease cross-strait tensions, a senior party official said yesterday.
The city's biggest public land auction was held yesterday with land covering 26,800 square meters in the city's downtown area being sold off for 1.14 billion yuan (US$137.85 million).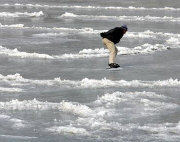 A man skates between piles of snow on a frozen lake in Beijing on Wednesday. Temperatures have dropped after Beijing was hit by a late winter cold snap, extending the winter sports season.
China's steel price rose moderately at the beginning of 2005, continuing last year's trend. Mainland steel producers are bracing for a margin squeeze after Asia's largest steel firm, Nippon Steel, agreed to pay 71.5 per cent more for its iron ore supply this year.
A regulation on the collective management of copyrighted materials, approved by the State Council, is to become effective on March 1, better protecting the interests of copyright owners throughout the nation.
Feb 24, 2005
Hong Kong: Hong Kong's first auction of a commercial site since 2001 attracted frenzied bidding from developers, boosting confidence in the commercial property sector and swelling the government's coffers.

Gao Siren, director of the central government liaison office, with Chief Executive Tung Chee-hwa at the office's spring reception at the Convention and Exhibition Centre. Mr Gao said Hong Kong should seek harmony and mutual trust in order to develop.
Hong Kong is expected to balance its budget in 2006-2007 - two years ahead of the government's target - because of sustained economic growth, says the International Monetary Fund.
Hong Kong's tax system is an antiquated beast ill-suited to the realities of the modern economy and poorly equipped to help deal with some of the city's more pressing issues, the Taxation Institute said yesterday.

Eva Koo, a fortune teller in phone-loving Hong Kong, uses mobile numbers to find out people's fates.
Sino Land stormed back on to centre stage in the property market yesterday, but its aggressive $1.82 billion winning bid for a Kowloon Bay commercial site baffled analysts.

China: Workers lift 10-year-old giant panda Sisi onto a table as before trying to gather his sperm to refrigerate for artificial insemination in the future. However, yesterday's attempt at the Giant Panda Breeding Centre in Chengdu, Sichuan province, was not a success.
French President Jacques Chirac yesterday called for the lifting of a European embargo on arms sales to China, but said the US and Europe should work together to ensure the conditions were right.
University graduates who take jobs in the undeveloped west will not have to repay their student loans, sources at the Education Ministry have revealed.
Second-tier players in the mainland's internet industry are likely to consider acquisitions or alliances of their own should Shanda Interactive Entertainment and Sina Corp link up.
Three global nuclear power heavyweights now competing for designing and building four nuclear units in China will submit their proposals next Monday, a national nuclear technology company said yesterday.
Beijing is expected to announce a new policy about cross-Straits cargo charter flights on Friday in a major effort to push for direct air links with Taiwan, China Daily learned yesterday.
A regulation on the collective management of copyrighted materials, approved by the State Council, is to become effective on March 1, better protecting the interests of copyright owners throughout the nation

Chong Cheng Cheng (2nd L), a student of the Macao Workers' Children High School in Macao Special Administrative Region (SAR), displays Chinese President Hu Jintao's letter written to her and her schoolmates at the school-opening ceremony Feb. 21, 2005. The letter, dated on Feb. 16, was conveyed to them by Macao Chief Executive Edmund Ho Hau Wah on Monday.
China and Britain agreed Monday to expand cooperation to meet the challenges faced by the world economy, realize the United Nations Millennium Development targets, and reform the international financial system.
Japan's trade with China is likely to exceed 190 billion US dollars in 2005, setting a record for the seventh straight year, the Japan External Trade Organization (JETRO) said Monday.
Feb 23, 2005
Hong Kong: Hong Kong's top security official yesterday expressed serious concern over two shooting incidents in less than three weeks, saying that authorities will do whatever is necessary to stem the flow of guns into the region.

HKEx chairman Charles Lee says the fund houses' success will strengthen the city's position as a premier capital formation center. Hong Kong Exchanges and Clearing chairman Charles Lee Yeh-kwong credits Hong Kong's rapidly developing financial market and the establishment of the Mandatory Provident Fund in 2000 for the fast growth in the fund management industry.
Bank of East Asia chairman and chief executive David Li Kwok-po took home a 44 per cent fatter pay packet of up to $24.5 million last year, sparking market concerns about remuneration policy at the bank where profit grew 26 per cent.
In an unprecedented move to tackle the declining birth rate and the burden of providing financial security for an aging population, Chief Secretary for Administration Donald Tsang Monday urged each family to have at least three children. Tsang also said the government would consider expanding its immigration schemes to attract more young and single men to offset the increasing number of single women in the territory. Hong Kong's tax breaks for families pale in comparison to the wide-ranging incentives available in Singapore, where couples experiencing difficulties getting pregnant are allowed to claim for fertility treatment through the medical savings plan, Medisave.
Hong Kong's unemployment rate fell to a three-year low of 6.4 percent in January, down from 6.5 percent in December, with the economy creating more than 100,000 jobs in the past 12 months, the Census and Statistics department said.

Windsurfing queen Lee Lai-shan will put her competition schedule on hold as she prepares for a new challenge in her life - motherhood. The announcement coincides with a change in the government's policy on birth control to encourage families to have three children.
The chief secretary warned again yesterday that planning for the West Kowloon cultural district project could be restarted from scratch if none of the three shortlisted proposals won public support. The West Kowloon debate appears to have shifted focus with Chief Secretary for Administration Donald Tsang revealing further details of alternative options should the project, especially the single-developer approach, face more public opposition.
CSL will shift its call centre to Guangdong by the middle of this year to cut staff costs by 30 per cent.
Internet protocol television (IPTV) is shaping up to be one of this year's star industries. On the mainland, however, market watchers are warning against swallowing the hype.
Dell, armed with a strategy that has served it well in the personal computer market, is looking to break into Asia's highly competitive plasma display television market this year.
China: The growth of China's producer price index (PPI) slowed to 5.8 per cent year-on-year in January, giving fresh evidence in support of China's austerity measures aimed at reining in its economy.

Workers process IT components at the production line of the factory of Taiwan-based Gigabyte Technology Co Ltd in East China's Ningbo. China's processing trade sector has developed soundly in the past year, witnessing volume increases and better utilization of overseas capital.

British finance minister Gordon Brown, visiting the Forbidden City yesterday, credits China with being a driving force behind world economic growth.
China's entry into the World Trade Organisation has resulted in US$40 billion in annual economic gains for the mainland and added about US$75 billion a year to real incomes worldwide, according to a new World Bank study. Visiting British finance minister Gordon Brown and his mainland counterpart, Jin Renqing, have called for reforms of international financial institutions to help deal with rapid economic change.
Beijing is digging in its heels over the right to conduct research on cloning for therapeutic purposes, having rejected a United Nations declaration calling for a ban on all human cloning.
The mainland's long-struggling stock markets rallied yesterday on news that banks would be allowed to set up fund management companies, which could inject fresh liquidity into the markets.

Harvard University genetics researchers George Church and Gary Gao aim to challenge Google and Baidu for the mainland market with software originally designed to understand human genes.
Feb 22, 2005
Hong Kong: Macau's rapidly developing casino industry is taking between HK$10 billion and HK$15 billion in gambling dollars out of Hong Kong every year, Jockey Club chairman Ronald Arculli said Sunday. This represents a serious threat to the Jockey Club's financial fortunes and could result in a loss of revenue for the government, he told Radio Television Hong Kong in an interview. Arculli also said that should the government agree to establish a tourist-only casino on Lantau, the Jockey Club should be allowed to run it to ensure that the gaming dollars and the profits remained in Hong Kong.

Only three bidders - consisting of major developers - have been shortlisted for the proposed $40 billion West Kowloon Cultural District project. Hong Kong should proceed with the West Kowloon Cultural District project without further delay or risk losing out to other regional centers, the boss of a world-famous museum has warned.
More than 100 anti-globalization activists will arrive in Hong Kong this week to draft protest plans for the WTO's sixth ministerial conference in December.
More than 450 filmmakers and financiers are expected to attend this year's movie "match-making" forum in Hong Kong next month. The Hong Kong-Asia Film Financing Forum, from March 22-24, is one of eight events being held as part of Entertainment Expo. It will feature filmmakers from 28 selected projects by leading directors from Hong Kong, the mainland, South Korea, Japan, Thailand, the Philippines, Indonesia and Iran who are seeking investors. The forum, co-organized by the Trade Development Council and the Hong Kong, Kowloon and New Territories Motion Picture Industry Association, is modeled on the International Film Festival CineMart in Rotterdam, the world's most celebrated film market fair, launched 21 years ago.
New World China Land, a listed unit of property conglomerate New World Development, is to raise up to HK$6.4 billion to cut debt by selling rights shares. The proposed rights issue is the biggest by a developer in 18 years. Its parent New World Development raised HK$5.3 billion through a rights issue a year ago, its first since it listed in 1972.
HSBC's chief executive of China business, Dicky Yip, will be seconded to Bank of Communications (BoCom) next month to oversee credit controls and risk management during the bank's Hong Kong stock offering, sources said.
The government's surprise decision not to renew the lease on Ocean Terminal held by Wharf (Holdings) has shaken developers' confidence in making investments, Hong Kong's largest law firm warned.
Managing short-term cash flows for China's domestic companies remains difficult despite government reform and positive steps by the banking industry to provide a wider array of services, market observers said.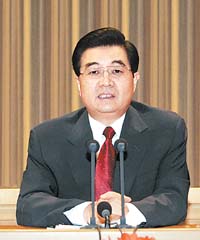 China: Hu Jintao delivers an important speech at the opening ceremony of a 7-day training course in Beijing, capital of China, on Feb. 19, 2005. The course was was offered by the Party School of the CPC Central Committee and attended by major provincial-and ministerial-level leaders. Officials and Party cadres should place "building a harmonious society" top on their work agenda, urged President Hu at a seminar held on Saturday in Beijing.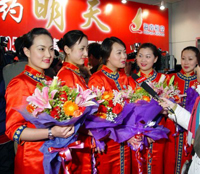 Staff members of Hainan Airlines taking interviews, Feb. 20, 2005. The HU 7952 flight of the Chinese mainland-based Hainan Airlines landed Sunday night at the Capital International Airport of Beijing, ending the non-stop charter flight service across the Taiwan Straits for this year's Lunar New Year holidays.
Britain and China have developed a "shared agenda" to tackle global economic issues, Chancellor of the Exchequer Gordon Brown said as he began a three-day visit aimed at boosting trade with the world's fastest-growing major economy.
Foreign direct investment in China rose 10.7 percent last month from a year earlier as companies such as Wal-Mart Stores and Coca-Cola expanded to tap demand in the world's fastest-growing major economy. Investment increased to US$4.1 billion (HK$31.98 billion), as the government allowed 3,563 foreign companies to build stores and factories in January, the Commerce Ministry said on its Web site. Contracted foreign investment, or investment pledged but not yet delivered, also surged 27.7 percent to US$12.8 billion, the ministry said. This figure is an indicator of future investment.
The China Construction Bank (CCB) is investigating the disappearance of at least US$8 million from a branch in Jilin province in the latest scandal to hit mainland banks.
Some residents of a luxury Shenzhen housing estate who have accused its management company of intimidation say the situation has worsened since one of them spoke to the media about their plight.
Pilgrims perform a ritual prostration called kyangcha yesterday on a road 4km from Xiahe in western Gansu province. Thousands of Tibetan pilgrims are making their way to Xiahe and its Labrang Monastery for the annual celebration of Monlam, or the Great Prayer Festival, one of Tibetan Buddhism's most important celebrations.

China Banking Regulatory Commission chairman Liu Mingkang has been telling mainland banks about good lending practices and corporate governance. China should build new official lending channels to free up stagnant capital and avoid choking off economic growth, says the deputy governor of the central bank.
Shanghai Automotive Industry Corp (SAIC) appears likely to seal a US$1 billion joint-venture agreement with troubled British carmaker MG Rover, a source familiar with the negotiations said yesterday.
Online game operator Shanda Interactive Entertainment is a step closer towards its goal of becoming a diversified internet media company by acquiring 19.5 per cent of web portal Sina.com.

Thousands of job seekers flock to a job fair in Shijiazhuang, capital of North China's Hebei Province, on Saturday. Despite some achievements in various areas, China still faces unemployment challenges. Many cities, including Beijing, are holding job fairs for students, laid-off workers and young migrants from the countryside over the weekend, the first after Spring Festival.
China is to maintain its opposition to human reproductive cloning, but will continue to allow closely monitored embryo stem cell research for the treatment and prevention of disease, a senior Chinese expert said yesterday.
The export price for China's metallurgic coke is expected to further increase this year, as a result of the country's reduced coke exports and continued demand from the international market, especially from the United States, Japan and the European Union (EU).
Feb 21, 2005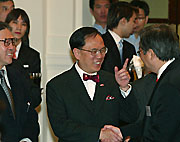 Hong Kong: Donald Tsang greets former lawmaker Eric Li Ka-cheung (right) at a Lunar New Year gathering in Legco, watched by legislator Timothy Fok Tsun-ting (left ). A second property tycoon heaped praise on Chief Secretary Donald Tsang Yam-kuen yesterday as the race to succeed Chief Executive Tung Chee-hwa heats up.
Pro-government parties yesterday voted down a motion by the Democrats to invoke Legco special powers so they could demand access to government papers related to the Cyberport project.
Lim Por-yen, chairman and founder of the Lai Sun Group, a hard-nosed garment and property tycoon who late in life was sullied by allegations of bribery in Taiwan, has died at the age of 93.
Hutchison Telecommunications International (HTIL), the emerging markets telecoms arm of Hutchison Whampoa, has received approval from the Vietnam government to start a US$650 million (HK$5.07 billion) mobile services joint venture in the country.

China: Police yesterday escort train-ticket scalpers - their faces obscured by stocking masks - to a public trial at a train station in Fuyang, Anhui province. Authorities have been cracking down on scalping as mainlanders return home from Lunar New Year holidays.
Taiwanese chipmaker United Microelectronics Corp (UMC) yesterday admitted using its "mainland foundry ally" He Jian Technology to win market share in China's burgeoning chip market before a future acquisition of the company.
The result of the investigation into the cause of the fatal collapse of the terminal of the Charles de Gaulle airport in Paris will not influence the ongoing construction of the China National Grand Theatre, said a proprietor committee official on Friday.

The National Theatre, located near Beijing's Tiananmen Square, stands aloft as workers put some final touch to its enormous glass cover. The 2.68-billion-yuan (US$ 328 million), egg-shaped opera house will seat 6,000 people and is due for completion this year. So far, around 70 per cent of the project has been completed.
Judicial reform is closely related to everybody, be they are involved in a specific case, or the general public. In 2005, China will further intensify efforts for judicial reform to bring out frequent flashpoints in this respect.
Swiss Re has become the first foreign investor in a mainland insurance asset management firm, with the venture slated to start business this month to tap the domestic stock market after the regulator relaxed rules on direct investment by insurers. Ownership in the new firm, China Re Asset Management Co (CRAMC), is divided between 50.1 percent for China Re Group, 9.9 percent for Fuxi Investment and 10 percent each for China P&C Re, China Life Re, China Continent P&C and Swiss Re Asset Management Asia.
Feb 18 - 20, 2005

Hong Kong: Leading property tycoon Stanley Ho Hung-sun yesterday openly backed Chief Secretary Donald Tsang Yam-kuen, who is in charge of the controversial West Kowloon cultural district project, to become the next chief executive. The race for the next chief executive election, due in early 2007, began in earnest Thursday with Macau casino tycoon Stanley Ho openly voicing his support for Chief Secretary for Administration, Donald Tsang.
Courts must not allow political expediency to deflect them from their duty, Chief Justice Andrew Li Kwok-nang said yesterday in an apparent reference to the Housing Authority's attempts to speed up determination of the Link Reit case.
Concerns about over-aggressive mortgage lending by banks were voiced yesterday by Joseph Yam Chi-kwong, chief executive of the Hong Kong Monetary Authority (HKMA).

Chief Executive Tung Chee-hwa and Sir Run Run Shaw officiate at last night's opening ceremony of the 2005 Hong Kong Arts Festival, at the Cultural Centre in Tsim Sha Tsui. Sir Run Run is the life president of the festival. They are pictured with Charles Lee Yeh-kwong (left), Michael Smith and Anissa Wong Sean-yee.
The individual traveller scheme for mainlanders - credited with giving Hong Kong's tourism and economy a boost since its introduction in 2003 - will be extended to two more cities next month.

Earnings at L'Oreal are under pressure as European shoppers seeking bargains turn to discount chains such as Aldi and Ed.
The brutally competitive telecommunications sector can expect at least seven players wielding broadband wireless access (BWA) technology by next year, the industry regulator said yesterday.
International luxury hotel chain Four Seasons Hotels and Resorts is laying the groundwork for a new project in Macau, according to Scott Woroch, the group's senior vice-president for business development.
The government's proposal to split the top post at the Securities and Futures Commission ignited a heated debate at the financial affairs panel yesterday with some legislators vowing to continue their fight against the plan in the Legislative Council.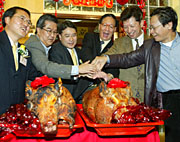 Political rivals buried the hatchet, along with the carving knife, as they helped legislator Albert Cheng King-hon celebrate the opening of his new office in Wong Tai Sin yesterday. Allen Lee Peng-fei and Democratic Party leader Lee Wing-tat had clashed over Allen Lee's role in the release of Democrat Alex Ho Wai-to from detention in Guangdong. Lee Wing-tat - pictured (left) with broadcaster Peter Lam Yuk-wah, Democrat legislator Fred Li Wah-ming, Mr Cheng, legislator Ronny Tong Ka-wah and broadcaster Wong Yuk-man - said he and Allen Lee were "old friends", as both insisted their spat was over.
Hong Kong's biggest party and the city's most pro-business political grouping completed their merger yesterday, and pledged to "actively participate" in the election of the next chief executive, in which the new party could nominate a candidate.
More than 7,000 workers with university degrees made less than $5,000 a month in the second quarter of last year - a sign that poorly educated labourers are not the only ones affected by a growing trend towards low wages.
Hong Kong and Canadian scientists believe they may have found a potential cure for Alzheimer's disease, which affects up to 15 per cent of people aged over 65.
Sun Microsystems appears to have implemented a sweeping management revamp at its Hong Kong office, with sources saying three top executives, including managing director Danny Tam, have been suspended indefinitely.
Hong Kong-listed Shangri-La Asia is set to open 15 new mainland hotels in the next five years and hire 10,000 people as it moves to consolidate its position in the world's fastest growing hotel market, chief executive Giovanni Angelini said.
After teasing shareholders for two months with the possibility of a Macau gambling investment deal, Fortuna International Holdings has at last announced a HK$50 million agreement to take a 30 percent stake in a casino hotel in the territory.
Fortuna unveiled its aims on the Grand Hotel, a vintage property near the city's central square that closed five years ago.
The Hong Kong firm will invest in a venture that began renovating the hotel in December but Fortuna will not contribute to the upgrade costs.
Director of Broadcasting Chu Pui-hing said funding for government-owned Radio and Television Hong Kong (RTHK) will be cut 5 percent for the coming financial year.
China: The Yantai municipal government in Shandong province plans to sell a 33 per cent stake in one of the country's leading winemakers to Italy's Illva Saronno Investments, as the mainland accelerates its privatization drive.

Three Chinese performers play traditional Chinese instruments at the Beijing Tourism Reception in London, capital of Britain, Feb. 16, 2005. The Beijing Tourism Bureau of China held the activity to introduce Beijing and attract more British tourists.
"With more manufacturers achieving more production capacities in the next two years, the auto market is still set to see a production surplus and fierce competition this year,"
Anyone who wants to use images of Chinese currency (RMB) on the Internet will have to get approval from China's central bank, and otherwise will face fines of up to 30,000 yuan (3,627 US dollars).
Bank of Communications, China's fifth-largest lender, will probably scrap the Shanghai portion of its planned US$3 billion (HK$23.4 billion) initial share sale and sell stock only in Hong Kong, sources close to the deal said.
Finance Minister Jin Renqing is expected to reveal a budget deficit of 300 billion yuan in his report to the National People's Congress next month, Caijing magazine reports in its latest issue.
The go-ahead has been given to resume construction work on most of the 26 power projects halted last month by the mainland's environmental watchdog because they lacked necessary approvals.

Now that the Kyoto Protocol has come into force, Beijing will face further pressures to reduce its greenhouse gas emissions, according to experts. A man and his son ride pass the giant cooling towers of a power station in Beijing, yesterday. China, the world's second biggest greenhouse gas emitter after the United States and a member of the Kyoto Protocol, which took effect worldwide yesterday, has shown its commitment to reducing pollution and switching to renewable energy. However, analysts say it still has a long way to go.

Boeing set down a cheeky challenge to European rival Airbus yesterday when it unveiled the first 777-200LR jetliner, which, it claims, has the longest range of any commercial plane. Under a sign written in French imploring "Courvrir la distance" (go the whole way), the ceremony was attended by more than 5,000 Boeing employees, airline representatives, suppliers, and government and community leaders in Seattle. Boeing says the plane can fly from London to Sydney.
China hopes to be accepted as a member of the Financial Action Task Force (FATF) by the summer, according to People's Bank of China deputy governor Li Ruogu.
An insider in Beijing confirmed that the Ministry of the Information Industry would grant licenses for the third generation (3G) services before the end of this year. Shenzhen will be one of the cities to first commence 3G operations.
Feb 17, 2005
Hong Kong: Standard Chartered, the British-based emerging markets bank, posted a 39 per cent rise in annual pretax profits on Wednesday and said its recent acquisition, Korea First Bank, would be an engine driving the group's growth in earnings.
Hong Kong may be an expensive city, but folks who want to spend some quality time with Mickey Mouse may find it is the cheapest place around. Walt Disney, the United States entertainment company whose new theme park opens on Lantau in September, started taking reservations Tuesday for the resort's two new hotels, and the asking price is half the tariff charged at the company's swankiest hotel at its Walt Disney World theme park in Orlando, Florida.
Hong Kong's belated entry in the race to become a regional technology centre may have hit a snag with the sudden retirement of outspoken science park supremo Tam Chung-ding.

Children gather around giant pieces of bread carrying the Chinese characters for hunger during an event yesterday to promote World Vision's famine camp in April. World Vision hopes 3,000 people will take part in its annual 30-hour famine camp in April, which will help hungry children worldwide, especially those affected by the Indian Ocean tsunami.
Hong Kong police have been stocking up on rubber bullets and sandbags to deal with violent protests that could break out during a World Trade Organization conference in December.
Hong Kong is getting set to toughen laws to prevent money laundering by monitoring more categories of financial transactions and hopes to submit a bill to the Legislative Council in the fourth quarter. One of the proposals would draw in five non-financial sectors as "gatekeepers'' against money laundering while another will authorize officials to stop visitors at border checkpoints and ask them to declare the amount of cash in their possession. The United States in particular has been pushing worldwide for tougher controls on money laundering as part of its campaign against terrorists since 2001 and anti-narcotics efforts.

Swire director Jolyon Culbertson (centre) takes part in an eye-dotting ceremony at Pacific Place. Tenants at the shopping centre reported strong growth in sales last year.
A tightened mechanism governing the employment of retired senior civil servants is expected to be in place by the second half of this year to prevent any conflict of interest, civil service chief Joseph Wong said.
Hong Kong University has asked the government for HK$2.5 billion (US$320 millions) to build a new campus on 5.8 hectares of land. The additional space will be needed to cope with the government's proposal to change university courses from three to four years, probably in 2011 or 2012. University vice-chancellor Tsui Lap-chee said the new campus will be located west of its current main campus of 14.5 hectares on Pok Fu Lam Road.
China: Two Greenpeace activists, one impersonating an animal, hold a sign supporting the Kyoto Protocol at a demonstration in a Beijing park, near the Forbidden City on Wednesday. Greenpeace said its offices around the world celebrated the coming into force of the protocol today.

Passengers walk out of a railway station in east China's Shanghai, Feb. 15, 2005. Railway stations in Shanghai received and saw off 150,000 passengers on Tuesday, the last day of the week-long Spring Festival, or lunar New Year holidays. Among the 150,000 passengers, more than 100,000 were migrant workers from Sichuan, Anhui and Henan provinces.
Bowing to years of pressure from its securities industry, the Taiwanese government is allowing its brokerages to take a stake in mainland securities firms for the first time and to do real business through offices on the mainland.
China Central Television (CCTV) and News Corp's partly owned National Geographic Channel are negotiating a mainland television production joint venture, the first investment of its type for both firms since China opened its television market to foreign competition late last year.
Kunming Iron & Steel (Kungang), which wants to list on the main board, faces softer earnings growth as steel prices erode and the cost of raw materials continues to rise, according to the steelmaker's listing sponsor.

Planes at the Capital International Airport in Beijing wait for take-off in the first snow in the lunar Year of the Rooster. Heavy snow delayed some flights at the airport and more at other cities in northern China yesterday. Heavy snow that began falling yesterday morning throughout the mid-east parts of China poses a great challenge to ongoing peak travel crowds trying to return to work on the last day of the week-long Spring Festival holiday.

The investment, from both Chinese and overseas professional venture capital investment enterprises, is 28 percent higher than in 2003.
ZTE, one of China's largest telecom equipment makers, said it will jointly develop new mobile telecom systems with French firm Alcatel - a move analysts said could help ZTE win its way into richer overseas markets.
Feb 16, 2005
Hong Kong: Hong Kong's population is continuing to rise and reached 6.89 million at the end of 2004, latest statistics released on Tuesday showed.
The landmark Kyoto Protocol, which hopes to slow down global warming, goes into effect on Wednesday with most of the industrialised world committed to slash gas emissions but the United States and Australia holding out.
Hong Kong Cyberport will host the second annual Digital Entertainment Leadership Forum (DELF) on March 23, a spokesman confirmed on Tuesday. He said high-technology industry players considered the forum to be an important event. "For [this year], DELF will be a feature event of the Entertainment Expo in Hong Kong, Asia's new mega event in film and digital entertainment," he said. The government in January provided a HK$4 (US$500,000) million subsidy for the Entertainment Expo (HK Filmmart or HK Film Festival) to help promote Hong Kong. The spokesman said a number of well-known people in the hi-tech industry would attend the forum. They include Tang Jun, president of Shanda Interactive Entertainment, a Shenzhen-based Nasdaq listed company; Michael Hedges, Academy Award winning recording mixer for the The Lord of the Rings: The Return of the King, Dan Sarto, publisher and co-founder of Animation World Network and others. The spokesman said the Cyberport would also hold the first Digital Entertainment Consumer Extravaganza from March 23 to 28 to showcase digital entertainment products.
Taipei Mayor Ma Ying-jeou ended months of speculation yesterday by announcing his intention to run for the leadership of Taiwan's main opposition party, the Kuomintang. With his hat officially in the ring, Taipei Mayor Ma Ying-jeou is a certainty to take over as Kuomintang chairman if he can overcome opposition from the party's old guard and a potential challenger, analysts say.
Hong Kong children are poised to set up the city's first non-governmental organisation to be run entirely by and for young people.
The Tourism Commission has proposed sprucing up islands and piers in the northeast New Territories to provide ecotourists with an "Islands Odyssey" lasting six to seven hours.
Hong Kong Exchanges and Clearing is considering introducing the main board's delisting mechanism into the Growth Enterprise Market, chief executive Paul Chow Man-yiu said.

Stock exchange chairman Charles Lee hands out red packets to traders on the first trading session of the Lunar New Year.
It may have been less than six months since the composition of the Hang Seng Index was changed, but when HSI Services announces the result of its latest quarterly review on Friday the index may see another reshuffle.
Uncertainties, such as the pace of interest-rate rises, are affecting demand for investment funds this year despite a 4.3 per cent rise in gross sales to US$20.33 billion last year, according to the Hong Kong Investment Funds Association.

Trading houses such as CSFB, Citigroup and Morgan Stanley are testing new software that translates market movements into sound.
Sun Hung Kai Real Estate Agency, a subsidiary of Sun Hung Kai Properties which operates 45 malls in Hong Kong, said most ot its tenants saw sales volume double and foot traffic increase by up to 20 percent from February 4 to 8, ahead of the three-day public holiday. The days preceding the official holiday are usually the busiest for merchants.
Standard Chartered, the London-based bank that generates nearly a third of its revenue in Hong Kong, should report a 36 percent increase in profit to about US$1.37 billion (HK$10.69 billion) when it unveils its results for last year tomorrow, according to a Thomson First Call survey of 10 banking analysts.
China: PetroChina will spend 27.2 billion yuan on an oil refinery and petrochemical project in one of the sector's largest investments in recent years as the mainland government seeks to diversify energy supply sources.
Top entertainers from across China will take part in a concert later this month to promote the fight against fake goods.
Feb 15, 2005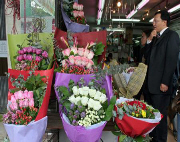 Hong Kong: A Hong Kong man considers which bouquet of flowers he should buy at a flower market during Valentine's Day on Monday.
Mainland transport authorities have called for stricter safety measures after two fatal road accidents over the Lunar New Year holiday killed eight people, including four from Hong Kong,

At Lowu, which was the busiest checkpoint yesterday, up to 19,000 travellers an hour were entering Hong Kong.
Commissioner for Narcotics Rosanna Ure Lui Hang-sai said on Monday the government was planning to introduce a new publicity campaign to combat money laundering practices in Hong Kong.
Secretary for Constitutional Affairs Stephen Lam Sui-lung said Hong Kong people want the election committee - which chooses the Chief Executive - to have its membership expanded.
The Hong Kong government has vigorously supported the development of the local film industry since Hong Kong's return to China in 1997.

China: Fireworks light up the sky over Dalian, a port city in Liaoning Province, Northeast China, during the Spring Festival holiday. The city has been holding fireworks displays every evening until February 24 as a major part of festival celebrations. Ringing out the old and bringing in the new over Spring Festival has a fundamental meaning in today's booming China.
The European Union has assured China's textile firms that it will not follow Turkey's lead by imposing quotas on textile imports from the nation.
This year's Fortune Global Forum 500 to be held in Beijing will be the first ever to host a sports roundtable meeting, a senior official of the Time Warner Corporation has revealed to China Daily.
The municipal government has unveiled its new plan to attract more foreign investment, especially to the service sector, boosting the city's overall export and import volume.

On Monday more than 19 million railway trips were made on Saturday, compared with 3.34 million on Friday.
Migrant workers from all over the country have been pouring into Guangdong in search of work since the provincial authorities lifted the ban on large-scale recruiting at the start of the new lunar year.
Hong Kong-listed eyewear firm Moulin International Holdings said it will not need additional funds to complete the acquisition of US optical retail chain Eye Care Centers of America despite the collapse last week of a $520 million share placement.
Two mainland technology companies have vowed to go ahead with their initial public offerings this month and aim to raise up to US$300 million between them, undaunted by investor reservations in the sector.
By the end of 2004, local people in China's western regions had rehabilitated and cultivated 118 million mu (7.87 million hectares) of land into forests.
Buoyed by a record year for China initial share sales, officials at the tech-laden Nasdaq stock market in the United States are on the prowl for new mainland firms to list this year.
Feb 14, 2005 Happy Valentine Day

Hong Kong: The Fortune King was on hand to distribute lai see packets to mainlanders who entered Hong Kong through the Lowu border checkpoint during the holiday period.
The supply of land for public auction will increase substantially in the next financial year to meet demand from property developers, according to a government source.
The number of mainland tourists visiting Hong Kong as independent travellers for the Lunar New Year holiday has jumped 76 per cent over the same period last year.

Ye Shanghai, a stylish restaurant tucked into a corner of Pacific Place's third floor, markets itself as the embodiment of its namesake city's "past, present and future.'' It is an ambitious goal, one that is only partly accomplished.

Jockey Club officials were crowing Friday after the first meeting of the Year of the Rooster saw a HK$1 billion turnover, the highest single day's take since the start of the racing season in September. The turnover of HK$1.04 billion was an increase of HK$20 million over the first meeting of the Year of the Monkey.
With the government set to present lawmakers with its proposal for splitting the top role at the Securities and Futures Commission (SFC) next week, some market watchers remain unconvinced the move is necessary, saying the current arrangement is working well and that there are sufficient checks and balances on the market watchdog.
Canadian insurance giant Manulife Financial Corp said net profit jumped 66 percent to C$2.56 billion (HK$15.97 billion) last year on strong sales growth, favorable global equity markets and a major acquisition.
Only one in four residents believes the improvement in the SAR's economy will lead to better jobs in the near future, while even fewer think salaries will go up this year, according to a survey. The survey also found university graduates were more positive than others about finding jobs, while both the financial and tourism sectors had high hopes of better careers.
The number of reported cross-border corruption cases decreased by 21 per cent last year, against a backdrop of closer co-operation between Hong Kong and mainland law enforcers.
The number of newly registered residential leases dropped to the lowest level in a year last month as a growing number of tenants took advantage of 95 per cent mortgages to buy their own homes, according to figures released by Ricacorp Properties.
A lack of big-ticket home sales dragged down the luxury property segment for the third consecutive month last month, despite a jump in the number of transactions.
Industrial building sales remained strong last month, with both sales value and the number of transactions reaching new highs on the back of growing demand.
China: A bunch of red roses can cost hundreds of yuan in Beijing's wholesale flower markets leading up to Valentine's Day - earning wholesalers up to 20,000 yuan a day. It's all about roses, chocolates and romantic dining at fancy restaurants. But couples in Beijing, Shanghai and Guangzhou differ in the ways they express their love on Valentine's Day.
The mainland is digging deeper in the search for oil, boosting its reserves by at least 25 per cent over the past year as part of a strategy to locate new energy sources at home and abroad, state media reports.

A recent proposal by Li Tiejun, a deputy to Beijing People's Congress, to cancel the monthly rent fee of fixed phones, has raised controversy. Operators argue it is an "international practice". The Ministry of Information Industry said it would make its decision public after it informed Li first. It is widely believed the fee will continue to be charged at least this year.
Mainland exports of quota-free apparel to the United States, including bras and home furnishing products, surged 55 per cent last year to claim a record 70 per cent share of the US import market.

Annual temple fairs are reigniting the atmosphere of spring festival in Beijing, residents are rambling in cheer and harmony. The temple fair is a traditional activity during the spring festival which mainly consists of culture show, performances, folk acrobatics and food.
The volume of trade between Shenyang, capital of northeast China's Liaoning Province, and the European Union (EU) shot up 61.8 percent year-on-year to 1.27 billion US dollars last year.
After many false starts, China is finally expected to impose a fuel tax this year - a move many expect will cool the mainland's love affair with large, gasoline-guzzling cars and spur sales of smaller, cheaper and more fuel-efficient models.
Feb 11 - 13, 2005
Hong Kong: With hopes for a fiscal surplus running high, Financial Secretary Henry Tang pledged to try not to increase taxes when presenting the budget next month. Tang also held out the possibility of bringing forward the timetable for a balanced budget, currently set at 2008-09. However, he warned against false expectations, saying there will not be many "sweets" or tax relief measures. "I realise that the past year was a difficult one for the middle class in particular which has shouldered a great deal of the financial burden. I know what they want to hear most is that there won't be any tax increases. I can only say that I will refrain from raising taxes if the situation allows me," he said.

Financial accounts relating to the controversial Cyberport project published in the Legislative Council last month were ``sanitized'' and did not give the full details because of confidentiality agreements between the government and three Cyberport companies.
Interest rates in Hong Kong could surge by as much as 100 basis points in coming months, as the widening gap between the Hong Kong and the London interbank offered rate (Hibor and Libor) inevitably begins to close, perhaps abruptly.
A shortage of truck drivers has constricted the supply of live chickens into Hong Kong, New Territories Poultry vice-chairman Hung Yuet-kin said, forcing many residents to buy frozen chicken instead of the favored live chicken for Lunar New Year banquets.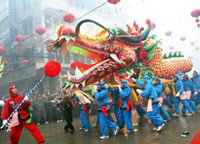 China: People across China are celebrating the Spring Festival, the New Year on China's lunar calendar, in a variety of ways.
The US music, movie and software industries has for the first time called for the United States to begin legal action against China at the World Trade Organization (WTO) to stop widespread piracy they said cost them at least US$2.5 billion (HK$19.5 billion) in potential revenue last year. In a formal filing with the US Trade Representative's Office (USTR), the International Intellectual Property Alliance said the Bush administration should ask China for immediate consultations on the issue at the WTO. That would be a first step towards asking for a WTO panel to rule on whether China was meeting its commitments to stamp out piracy.
Chinese traditionally go door-to-door to wish their friends and family well over the Lunar New Year, but modernity is fast taking over with text messaging now all the rage. According to Beijing Mobile, it handled more than one billion outgoing short messages on Lunar New Year's Eve alone.
United Parcel Service (UPS) plans to spend about US$500 million (HK$3.9 billion) in the next two years to expand package deliveries, warehousing, inventory and customs services in the mainland.
Driven by rising land costs and speculative investment, Beijing's property market is poised to keep growing robustly in the new year after reaching a seven-year peak in average flat prices in the last quarter in 2004.
China State-owned Assets Supervision and Administration Commission of the State Council (also known as SASAC) says China's top 180 SOEs own more than nine trillion yuan assets. These SOEs revenues hit five trillion yuan last year, with an increase of nearly a quarter over the previous year. Most of them see a big jump of profits. Eight of them are on the list of Fortune 500 in 2004. China adopts a two-level supervision of the SOEs. Big SOEs are under the direct supervision of the central government, while the rest to the local authorities.
Once again China's top leaders spent the most important family reunion holiday outside their own homes. President Hu made Jiaozi (dumplings) at a farmer home on the Spring Festival eve last year when Premier Wen ate Jiaozi with miners hundreds of meters down the earth two years ago.
China spent 17.29 billion yuan (2.1billion US dollars) in 2004 to help more than 22 million urban residents living below the minimum standard of living.
Feb 10, 2005
Hong Kong: Hong Kong Special Administrative Region's Chief Executive Tung Chee Hwa Tuesday expressed his hope that Hong Kong's economic growth be sustained and employment continue to improve in the coming year. Delivering his Lunar New Year message, Tung said this year's spring festival will be greeted by a buoyant market, as Hong Kong's economy is at its best in seven years. Tung said recent economic development is the result of the collective efforts of all residents. "In the coming year, we expect economic growth to be sustained and employment to continue to improve. I believe that as long as we press ahead with one heart and respect for different views, we will build a more prosperous and harmonious society," Tung said.

Rosanna Li Wei-han stands beside her clay figurine creation People Passing By, People Lazing By at the Yau Tong MTR, part of a project by the company to add local art to the stations. Li chose the name to contrast with the usual rush at the MTR. "One of them is eating a doughnut while another one is feeding birds. I want to remind people to slow down and enjoy life."
The decision to award the Cyberport contract to Richard Li Tzar-kai was taken before the tycoon took a trip overseas with the chief executive and before a top official questioned the lack of tendering for the development, the government said yesterday.

Stanley Wong, a director and deputy general manager of Industrial and Commercial Bank of China (Asia), says the acquisition of Chinese Mercantile Bank will be completed next month. ICBC Asia shareholders approved the US$96.06 million deal yesterday. It will buy 75 per cent of the bank from parent ICBC and 25 per cent from Citic Ka Wah.
A group of Hong Kong residents who have bought flats at a luxury complex in Shenzhen say they have been intimidated after trying to set up an owners' committee to improve management of the estate.
Electricity bills might rise if Hong Kong's two power companies connect their grids, Secretary for Economic Development and Labour Stephen Ip Shu-kwan has warned.
The government may soon start a global recruitment effort for a new Securities and Futures Commission chairman despite stubborn opposition in the Legislative Council to proposed changes in the job description.
Hong Kong's leading stocks saw their biggest rally in seven weeks yesterday, defying the pessimists who had said the market lacked sufficient momentum for a pre-Lunar New Year rally.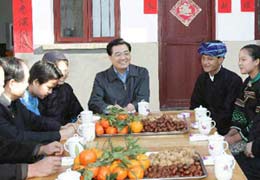 China: President Hu Jintao Tuesday asked local officials to help farmer Zha Lanming to build up family fortunes and improve living standards when he visited Zha's home in a village in Xingyi City of Guizhou Province, southwest China, on the eve of the Spring Festival.
Taiwanese investors have pumped 1.17 billion US dollars into 748 ventures in Chongqing Municipality,the biggest industrial center in west China.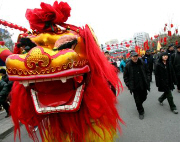 A lion dancer is followed by a crowd as they head into the Temple of the Earth after the opening ceremony of the annual fair on the eve of Chinese New Year in Beijing on Tuesday. Fairs are opening at temples and parks across the city to celebrate the beginning of the Year of the Rooster, kicking off a week-long Spring Festival holiday.
Guangzhou has seen a sharp rise in the number of divorces in recent years, and officials say it is a result of more streamlined procedures for tying - and untying - the knot.
Two more bird flu vaccines for poultry have been developed by mainland scientists, agricultural authorities have announced.
The world's two largest retailers, Carrefour and Wal-Mart Stores, posted sales growth of more than 20 per cent in the mainland last year as its retail market swung open to foreign competition.
Feb 9, 2005 - HAPPY CHINESE NEW YEAR - YEAR OF THE ROOSTER
Hong Kong: Retail banks' profits surged by one-fifth in the SAR last year as the reduction of bad debts more than offset shrinking margins, the Hong Kong Monetary Authority (HKMA) said.
Hong Kong stores expect this year's Lunar New Year sales to be up to 20 percent higher than last year's, and most major operators have decided to stay open the whole time so as not to miss a penny of this manna from retail heaven.
The Hong Kong government plans to split the post of chairman of the Insurance Authority in two as soon as it completes a similar operation at the Securities and Futures Commission (SFC), a government source said.
HONG KONG'S busy airport at Chek Lap Kok will get even busier during the Chinese New Year period. It is set to break a record tomorrow, the first day of the Chinese New Year, when 762 planes are scheduled to zip in and out of the territory.
That is a 13 per cent increase over the daily average of 675, according to the Civil Aviation Department (CAD). The previous record of 746 flights in a day was set on April 9 last year during the Easter holiday. This number will again be surpassed on Sunday, when 752 planes are scheduled to land or take off at Chek Lap Kok, Asia's third-busiest airport in terms of passenger traffic.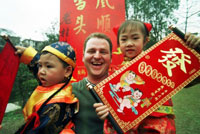 China: A tourist from the United States poses with a Chinese boy and a girl during a visit to the Guangxi Museum in Nanning, capital of southwest China's Guangxi Zhuang Autonomous Region, Feb. 6, 2005.
GERMAN industrial giant Bayer MaterialScience AG is turning Shanghai into its biggest production site for coating materials in the Asia-Pacific region, launching a heavily-invested HDI project in the city's Caojing Chemical Industry Park.

SOFTBRANDS, a supplier of enterprise application software focusing on the hospitality and manufacturing industries, introduced Medallion, a Windows-based hospitality management system, to China's market in Shanghai recently.

A 15,000 yuan (US$1,800) Valentine's Day banquet for two at Three on the Bund has been put up for auction, with a minimum bid set at 21,400 yuan (US$2,588), reported the Shanghai Morning Post.

CHINA'S banking watchdog has ordered the Bank of China (BOC) to step up its risk control and thoroughly investigate a fraud case, which the bank admitted involves funds worth hundreds of millions of yuan (tens of millions of US dollars).
French electronics and telecommunications company Alcatel says its Shanghai Bell unit has won a contract from China Netcom Group to provide a third generation, or 3G, field trial network in Beijing. Upon completion of such a 3G pilot network, China Netcom will be able to test innovative high-quality voice, data and multi-media mobile services in true-to-life conditions in the capital city. This agreement strengthens Alcatel's position in 3G technolgy in China, having already successfully set-up a similar 3G trial network with China Telecom earlier in the year.
Chinese companies invested 3.62 billion US dollars in non-financial sectors overseas in 2004, an increase of 27 percent year-on-year, the Ministry of Commerce said Monday. Up to the end of last year, China's direct investment overseas reached 37 billion US dollars. Last year, according to the ministry, nearly half of Chinese investment went to Latin America and some 40 percent to the other parts of Asia, mainly in the fields of mining, commercial service, manufacturing, wholesale and retail sales. Chinese companies that were engaged in engineering projects overseas reported a business turnover of 17.5 billion US dollars last year, up 26 percent year-on-year. They also signed new contracts worth 23.8 billion US dollars, according to the ministry. So far, China has dispatched 3.2 million individuals overseas under labor service contracts and earned 30.8 billion US dollars.
Chinese Lang Ping, known as the "Iron Hammer" during her playing days as an ace spiker of the Chinese women's volleyball team, has been named the new head coach of the USA women's national team, the USA Volleyball announced in Colorado Springs on Monday.
Statistics from Chinese Ministry of Commerce (MOC) showed that the country's 30 largest chain-store enterprises did 384.56 billion yuan (about 46.56 billion US dollars) in sales in 2004, increasing 32.9 percent from the previous year.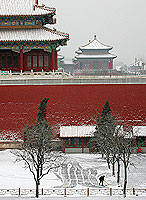 The Forbidden City, once the dwelling of emperors, was turned into a Palace Museum on Oct 10, 1925. The museum will celebrate its 80th anniversary this year. THE Palace Museum, also known as the Forbidden City in Beijing, is holding a competition to select an emblem for its 80th anniversary celebrations in October. The country's largest museum is offering a prize of 80,000 yuan (S$15,800) to the winner. Six designs have been short-listed by a panel of experts from 2,788 proposals submitted worldwide since June last year. They are posted on the museum's website (www.dpm.org.cn) for the public to vote on from Jan 25 to Feb 15.
Sumitomo Life Insurance, Japan's fourth-largest life insurer, said it will pay 3.7 billion yen (HK$277 million) for a 29 percent stake in a life insurance venture with China's PICC Holding to gain a foothold on the mainland.
China's stellar economy will continue to drive Asian merger and acquisition (M&A) activity this year, fueled by rising cross-border transactions and a relative newcomer to the stage - leveraged buyouts by private equity firms.
In a move to profit from eased restrictions on clothing exports, garment maker Luen Thai Holdings says it will spend about HK$340 million to set up two factories in Dongguan and a production plant in Qingyuan.
Feb 8, 2005
Hong Kong: On the back of rising consumer demand, the total value of Hong Kong's retail sales reached $18 billion in December 2004 — up 8.7 per cent compared with the same period last year, statistics released on Monday showed.
The Labor Department said on Monday that severe acute respiratory syndrome (Sars) and avian flu would be listed as "occupational diseases" under the Employees Compensation Ordinance.

Metro Radio deputy managing director Bianca Ma sees wisdom in going into the mainland as an escape from Hong Kong's highly competitive broadcast media market. Metro Radio hopes to tune in to the mainland's untapped radio market, the world's second-largest after the United States, by repositioning itself as a bilingual broadcaster in co-operation with Radio Guangdong.
NWS Holdings, the services and infrastructure unit of Hong Kong's New World Development, on Monday said it would sell its port assets to Singapore's PSA International for HK$3 billion.
Hong Kong-based luxury hotel chain Shangri-La on Monday said it had signed a deal to open its first European property in London.
Bank of China has poached Hongkong and Shanghai Banking Corp executive Lonnie Dounn to serve as its new chief credit officer, the highest-ranking foreign manager at the country's state-controlled Big Four commercial banks so far.
The government is in a race against time to gain new trade concessions in the mainland for Hong Kong technology firms, as Beijing authorities curb public-sector purchases of foreign-made software.
Although the renminbi is not yet fully convertible, it has been circulating increasingly in neighboring regions in recent years. As an international financial centre close to the Chinese mainland, Hong Kong witnesses the most frequent use of the renminbi.
Establishing a grid connection between mainland power companies and Hong Kong's electricity network will be more feasible and less financially demanding in the long run than creating a joint connection between two local electric companies, a top government official has said.

China: British chancellor Gordon Brown greets Finance Minister Jin Renqing at the G7 meeting in London.
Rising land prices on the mainland are due partly to escalating property prices, especially in cities like Beijing and Tianjin , according to the Ministry of Land Resources.
A former transport department official from Jilin province who was on the mainland's most-wanted list for allegedly gambling away 3.5 million yuan in public funds was caught on a passenger train yesterday.

Passengers check in at Beijing International Airport in Beijing, Feb. 6, 2005. The number of flights at this airport reached 961 Sunday. The number of people traveling to or from Beijing by air had reached an average of 100,000 everyday since Feb. 4. Beijing entered peak travel period for Lunar New Year.
Beijing is under no pressure to revalue the yuan given its modest trade surplus, the central bank governor said after the central government agreed to support the call by main western countries for more flexible exchange-rate regimes.

Police officers rehearse a dragon dance in Hongshan District, Wuhan, capital of Hubei Province, Central China. They are to attend Lunar New Year celebrations during the coming Spring Festival holiday. The Chinese Lunar New Year of the Rooster starts on February 9 this year.

Three consumers admire a Dongfeng Citroen in a car sales outlet in Beijing. In the run-up to the Spring Festival, car sales are gathering momentum in major cities such as Beijing, Shanghai and Guangzhou. Some car models are out of stock.
Feb 7, 2005
Hong Kong: Top students can opt to study in English-medium secondary schools to get a better exposure to the language, Education Commission working group chairman Michael Tien said Friday.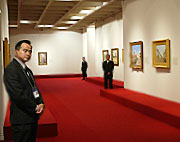 Art lovers will have a chance to observe everyday life in 19th century France through the eyes of some of the world's greatest painters over the next 10 weeks at the Museum of Art in Tsim Sha Tsui.
The government yesterday lost a second key legal battle on civil service pay cuts, with the Court of First Instance ruling that legislation enacted in 2003 to facilitate a negotiated deal with unions was unconstitutional.
Tycoon Sir Gordon Wu Ying-sheung last night apologised to civil servants for allegations he made of possible collusion between business and the government.
New international rules on banks' capital management, known as Basel II, will be costly to implement and slow to yield capital savings, David Eldon, chairman of Hong Kong and Shanghai Banking Corp, a unit of the world's second largest banking group HSBC, said.
Fewer than 10 per cent of IBM Corp's existing personal computer customers are unhappy about mainland giant Lenovo Group acquiring the business division, according a customer survey carried out by both companies.
The international investment arm of Singapore's PSA Corp made another audacious bid for Hong Kong port assets yesterday, agreeing to a $3 billion cash payment for a stake in three berths held by NWS Holdings, according to sources close to the deal.
Hong Kong textile manufacturers say poor implementation of the mainland's new export tax on garments, intended as token concession to aggrieved trade partners after the abolition of global textile quotas last month, is causing damage to their industry.

Wilson Fung Wing-yip, Hong Kong's lead negotiator in air-services talks with Japan, says he is quite pleased with the deal reached yesterday allowing both sides to substantially increase cargo services. "We were able to increase cargo services by some 40 per cent in a short time," Mr Fung said.
China is cracking down on illegal sales of insurance policies by unlicensed companies from Hong Kong and Macau and warning that violators may get locked out of the mainland market, a state newspaper reported Thursday.

China: Taiwanese passengers prepare for ticket checking procedure before boarding a charter plane of mainland in Beijing Feb. 5, 2005. The Air China charter flight CA1087 with 112 Taiwanese business people on board took off for Taipei at 10 a.m. of Saturday. The flight, carrying 136 Taiwan businessmen, was Air China's last charter flight before the Spring Festival, which falls on Feb. 9. A source with the China Southern Airlines said that 566 passengers flew from Guangzhou to Taipei. An additional 132 passengers flew from Taipei to Guangzhou. According to a schedule published by the General Administration of Civil Aviation of China (CAAC), there will be altogether 34 charter flights before the start of the traditional Chinese Spring Festival, which falls on next Wednesday.

Water of love: Bride Fang Ying gives a helping hand to her husband Hao Jun to water a newly planted cypress at the Beijing Botanic Garden on Friday, the beginning of spring according to the Chinese lunar calendar. The symbolic watering is a new marriage custom in China.
The environment of the nation's vast and economically underdeveloped western region will be protected forever as a new regulation is to be introduced by the end of the year, a senior official with the State Council's Office of the Leading Group for Western Region Development has revealed.
'Olympic gold' hits market: A gold shop in Beijing displays "Beijing Olympic" gold bullion on Friday. The China Banknote Printing Minting Corp and China Gold Coin Inc started issuing the special edition bullion nationwide on Friday. The bullion is the first in a five-piece set, each of which will be issued one by one.
The nation's economy is expected to face an easier year in 2005 compared with the previous 12 months thanks to a favourable environment both internally and internationally, the World Bank said on Friday in its quarterly report about the economy.

Zhang Herong from the archeology institute of Guizhou Province shows a pottery unearthed at Weining County in southwest China's Guizhou Province Feb. 5, 2005. After over three months excavation, the archeologist team unearthed over 700 pieces of relics dated from late Neolithic age to late Western Han Dynasty in this autonomous county of China's Yi Nationality here.
China is expected to churn out 6 million cars in 2005, replacing Germany as the 3rd largest manufacturer of motor vehicles.
Feb 4 - 6, 2005
Hong Kong: China's top offshore oil and gas producer CNOOC Ltd, said yesterday that it would increase development spending and target a 19 per cent year-on-year growth in oil and gas production in 2005.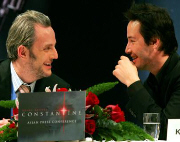 Hollywood star Keanu Reeves, right, shares a light moment with film director Francis Lawrence during a press conference to promote his latest film "Constantine" at a hotel in Hong Kong on Thursday. The film will have its world premiere in the territory on February 8, 10 days before its opening in the US. Hollywood star Keanu Reeves said on Thursday he trained with an exorcist for his latest film "Constantine," and he was relieved that no supernatural forces plagued the movie set.

Hollywood star Keanu Reeves arrives at Chek Lap Kok airport for a three-day promotional visit for his latest movie, Constantine, in which he stars as a modern-day sorcerer in a battle of good versus evil. Reeves, who is visiting Hong Kong for the first time, will attend the gala premiere of the film at Times Square at 8pm Thursday.
Hong Kong's central bank on Thursday matched the quarter percentage point interest rate hike by its US counterpart, raising its base rate to four per cent. Banking giants HSBC Holdings, its subsidiary Hang Seng Bank, and Standard Chartered Bank on Thursday said they would keep their lending rates unchanged at 5 per cent in Hong Kong. Hong Kong banks will unveil strong profit growth for last year as the reporting season starts today, according to Hong Kong Monetary Authority deputy chief executive William Ryback.
The Immigration Department estimates that about eight million people would travel in and out of Hong Kong over the Lunar New Year period, a spokesman said on Thursday.

Hong Kong Monetary Authority deputy chief executive William Ryback stresses the boards of banking institutions need to define the amount of risk the organizations may wish to take.
A former chief executive of Hong Kong Dragon Airlines is to launch a new long-haul airline, with hopes of giving established carriers operating from Chek Lap Kok a run for their money in the budget tourism sector.
Handset-maker Foxconn International Holdings ended its trading debut on Thursday at HK$3.775, down 10.5 cents or 2.71 per cent from its initial public offering price.
China: New Year's style: A mother and her child choose Lunar New Year decorations at a wholesale market on Shanghai's Fuyou Road. These days, such small items are selling fast across the nation as Spring Festival approaches on February 9.
Airbus China claimed yesterday that national flag carrier Air China could become another operator of the super-jumbo A380 of the European aviation giant, which recently won a big deal from China Southern Airlines.
As the most important festival in China, the Chinese Spring Festival is always celebrated with year-round anticipation and an ultimate feast to fill revellers to their hearts' content. The seven-day vacation marks not only a turning page on the Chinese lunar calendar, but also a time for people to indulge themselves for a thorough rest from the daily routine. But there are two sides of this coin, the festival brings along its own chaos that can often catch people by surprise.

This is the sixth ERJ145 jet made by the Sino-Brazilian joint venture, Embraer Aircraft Industry Co., Ltd. in Harbin, capital of northeast China's Heilongjiang Province. The 50-seat aircraft for flying on short-haul airlines was delivered to the China Southern Airlines Tuesday.
Chinese stock prices rose dramatically Wednesday, closing up more than 5 percent after the market hit a six-year low Tuesday.

Old foreign-style villas are seen surrounded by newly-bulit high rises in downtown Shanghai. The city has about 6,000 such villas in old urban areas such as Xuhui, Luwan, Jing'an and Changning, with a total area of 1.47 million square metres.
Competition in the Chinese e-commerce market is intensifying, as two major players, eBay Eachnet under the US giant eBay and the largest Chinese e-commerce company Alibaba, pump resources and effort into building secure online payment systems.
SHANGHAI's second-hand property sector experienced its strongest growth of 2004 in December, as previously owned housing in downtown areas continued to win the favor of foreign investors. The benchmark index, which tracks both prices and volumes of housing, climbed 2.9 per cent in December, the greatest gain of the year, according to a monthly report from the Shanghai Existing Property Index Office, released recently.
Millions of Chinese were hitting the road on Thursday for the Lunar New Year, as officials struggled to ensure they did not carry meningitis and other hazardous diseases to the furthest corners of the country.
The China Three Gorges Project Corporation has halted construction of three large hydroelectric power projects due to environmental concerns, yielding to pressure from the mainland's top environmental watchdog.
The central government on Thursday said a threatened United States bill giving it six months to revalue its currency, the yuan, would be the wrong way to handle the sensitive issue.
Feb 3, 2005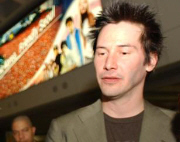 Hong Kong: Hollywood film star Keanu Reeves is asked by a fan to sign an autograph as he arrives at Hong Kong airport on Wednesday. Reeves is in the territory on a three day visit to promote his new film "Constantine".

Felix Lo Diving great Fu Mingxia (left), Andy Lau Tak-wah and Miriam Yeung Chin-wah officiate at an event at the Hong Kong Museum of History to mark the start of production of the television show Hong Kong -Through the Eyes of Celebrities. The eight-episode travel programme, starring celebrities from Hong Kong and the mainland, will be broadcast in 100 mainland cities in May.
The Secretary for Economic Development and Labor Stephen Ip Shu-kwan on Wednesday said the government would hire an independent consultant to study competition among oil companies in Hong Kong.

Chief Executive Tung Chee-hwa said Hong Kong was the ideal place for international firms to set up their research and development facilities.
Fledgling Hong Kong budget airline is determined to succeed where few no-frills operators have yet dared to venture - in the international long-haul market. By late this year, Oasis Hong Kong Airlines hopes to offer flights to about six leading cities not now served by Cathay Pacific Airways. Berlin and Cologne, Germany, are possibilities, as is Milan, Italy.

China: US Deputy Undersecretary of Defence Richard Lawless listens to General Xiong Guangkai, the PLA's deputy chief of general staff, during their talks in Beijing yesterday. Beijing and Washington had "clear and direct exchanges" on bilateral military ties in two days of talks, said Richard Lawless, US deputy undersecretary of defence for Asia-Pacific affairs.
Rail authorities on the mainland are on high alert for meningitis in case the infectious disease spreads among the 140 million-plus passengers taking trains over the Lunar New Year holiday.

Vice-President of the Association for Relations Across the Taiwan Straits (ARATS) Sun Yafu (second right) offers condolences to Koo Yen Chuo-yun, widow of Koo Chen-fu, late chairman of the Straits Exchange Foundation, in Taipei yesterday. Sun and ARATS Secretary-General Li Yafei (right), personal representatives of ARATS President Wang Daohan, flew to Taiwan to pay special homage to Koo.
Yangtze Electric Power Co Ltd, operator of the Three Gorges Dam hydroelectric project, said it will spend 9.8 billion yuan (US$1.2 billion) to buy two generators from its parent in March.
Chinese software firms have launched a new round of attacks in the heated government procurement market by donating free copies of software to provincial governments in western China, as a move to win more government users and improve their image.
Feb 2, 2005
Hong Kong: The Court of Appeal on Tuesday rejected the Housing Authority's request to accelerate the proceedings in its legal contest with a public housing tenant over the sale of the authority's car parks and shopping centres.
New European Union environmental requirements will affect about US$25 billion worth of Hong Kong exports annually and force manufacturers to invest heavily in compliance, according to industry groups.
PCCW and China Network Communications Group (Netcom) are planning a joint venture that will supply programming to providers of internet-protocol television (IPTV) services, a senior executive at the mainland company says.
The battle over the future structure of Hong Kong's electricity industry escalated when CLP Power vowed to fight any new regulatory framework that would negatively affect service levels or returns to shareholders, and warned the risks of opening the electricity market to competition are far greater than any potential benefits. "CLP would be a strong voice against any regulatory change which puts in doubt our ability to continue to provide first-class service to the community and fails to allow our shareholders to make a proper return on the investment which they have made in providing the necessary infrastructure,'' CLP managing director Betty Yuen warned on Tuesday.
With the United States Federal Reserve set to raise interest rates another quarter point on Thursday, Hong Kong banks will again find themselves in a bind: If they do not follow suit, capital could seep out of the market, undermining the Hong Kong dollar's peg to its US counterpart. If they do raise rates in the face of weak loan demand, they could further discourage borrowers and dampen a property market whose recovery from a near seven-year slump is already flagging.
China: Welcome to the Year of the Rooster:A woman helps a girl paste a rooster paper-cut on a window at their home in Shitou Village, Jixian County of Tianjin, North China, yesterday. Paper-cut works are widely used for decoration during Spring Festival, the most celebrated Chinese festival, which falls on February 9 this year.
The developer of the giant Three Gorges hydroelectric project and the mainland's top environmental regulator are on a collision course that could determine whether Beijing is serious about cracking down on the country's worsening environmental problems. If the State Environmental Protection Administration (SEPA) wins its struggle with China Three Gorges Project Corp, that could mark its emergence as a serious power in Beijing.
A US envoy and a senior Chinese general held talks on Tuesday on building closer military ties between Beijing and Washington amid tensions over Taiwan and other disputes.
Tensions in rural areas remain a threat to social stability, a leading official says, despite central government measures to address complaints by impoverished farmers.
China, seeking to cut its reliance on Middle Eastern oil, has helped Russia's state oil firm Rosneft fund a US$9.3 billion purchase of Yukos Oil's biggest unit in exchange for five years of supplies, Russian officials say.
Top mainland Internet search engine Baidu.com aims to raise roughly US$200 million (HK$1.56 billion) in a United States initial public offering (IPO) this year, sources said, looking to emulate last year's blockbuster listing by search king Google, which holds a small stake in the mainland firm.
Marine industries of the Chinese mainland have stepped into the "best period in its history," reaching 1.284 trillion yuan (US$155 billion) value in output last year, officials with the State Oceanic Administration said yesterday in Beijing.
China's top telecoms equipment maker Huawei Technologies yesterday formed a partnership with British telecoms equipment maker Marconi Corp Plc, which could help the Chinese giant extend its reach into the European market.
Feb 1, 2005

Hong Kong: Leading international film and television luminaries are expected to gather in HK for the glittering Entertainment Expo showcasing the city's artistic talents, technological March 22 - 24 2005 in Hong Kong.
Visitor arrivals in December reached 2.08 million, the highest single-month total on record, and an increase of 16.3 per cent over last year, according to the Hong Kong Tourism Board.
New Zealand Trade and Enterprise is to open the first ever "New Zealand Centre" in Hong Kong later this year, as part of a move to make the most of trade opportunities in China, Hong Kong and the Asian region.
Chinese mainland-based Dynasty Fine Wines Group, a joint venture between Tianjin Development and French luxury drinks business Rémy Cointreau, listed on the Hong Kong Stock Exchange on 26 January. Shares soared 39 per cent on their first day of trading.
Hong Kong and Macau are locked in a battle to become the home for Asia's newest low-cost-airline start-up.
Early-bird tax payments helped shave a further $248 million off the government's deficit during December, making the prospect of a balanced budget for the year even more likely.
The public consultation on the Airport Authority's privatisation plans has been extended by three months, with the government keen to avoid a repeat of the Housing Authority's Link Reit debacle.
With their bustling trade, transport and telecommunications sectors, Hong Kong and Singapore appear poised to lead an extensive integration of diverse radio frequency identification (RFID) networks used by consumers across Asia.
China: The China Banking Regulatory Commission yesterday took the unusual move of publicly criticising the Bank of China for lax governance over a scandal involving the loss of more than 1 billion yuan at one of its branches.

Frank Ning Gaoning reflects on his vintage years at the helm of China Resources Enterprise during his farewell yesterday. After 18 years at China Resources, he is moving back to Beijing to head the country's largest foodstuffs company, China National Cereals, Oils & Foodstuffs Import & Export Corp.
Sinochem Corp yesterday failed in its quest for a global presence after creditors rejected its 680 billion won ($5.17 billion) offer for South Korean refiner Inchon Oil and a judge ordered a fresh round of bidding.
The Hong Kong Institute of Certified Public Accountants plans to change the way developers book revenues from property sales this year, which may inject more volatility into reported earnings.
This year is going to see more than 300,000 villagers' committees in 18 provinces, municipalities and autonomous regions to be voted by direct ballot.

A citizen chooses ornaments in a market for the Spring Festival in Kunming, capital of China's Yunan Province, Jan. 30. As the Festival is coming, lots of ornaments emerged in the market.
January 31, 2005

Hong Kong: Environment secretary Sarah Liao opens the Environmental Protection Festival at The Peak Galleria's Open Plaza yesterday.
Four senior serving Cathay Pacific pilots have written to colleagues urging them to throw out a deal offered by the airline to settle the dispute involving sacked pilots known as the 49ers.
Alliance Capital Management, one of the world's largest fund management companies, plans to enter the mainland market by teaming up with Ping An Insurance (Group), according to global chairman and chief executive Lewis Sanders.
China: The first summit of finance ministers from 20 countries including the United States, Britain, France, Germany, Japan, the Republic of Korea (ROK), India and Russia will be held in Beijing in October this year.
President Hu Jintao is presiding over one of the largest reshuffles of local and central government officials in recent years, to cement his power and loyalty base.
Beijing will send two senior officials to pay respects at a memorial service for top Taiwanese cross-strait negotiator Koo Chen-fu, which will also be attended by the island's President Chen Shui-bian.
Vice-Premier Huang Ju has told global leaders that China cannot fully develop on its own, saying that Beijing sees a socialist market economy as being far from perfect.
More corporate governance improvements are needed to prepare China's Big Four state-owned commercial banks for stock market listing, according to an international adviser to the mainland banking regulator.
Global DVD giants Philips Electronics and Sony are expected to respond officially today to a class-action complaint by two Chinese manufacturers alleging price fixing, conspiracy to monopolise and five other acts in violation of United States antitrust laws.
The State-owned Assets Supervision and Administration Commission (Sasac) yesterday quashed mounting rumours of a break-up of No 3 telecommunications carrier China United Telecommunications Corp (China Unicom).
Manulife Financial is gearing up for expansion in China with plans for a tenfold increase in the number of its mainland agents as the country relaxes its restrictions on overseas insurance companies. Manulife's mainland joint venture with Sinochem was one of six given approval by the China Insurance Regulatory Commission last week to expand from offering individual life insurance to group life, health and pension business.

After a half-century without non-stop airline links between the Chinese mainland and Taiwan, nine charter flights took place on Saturday under a cross-Straits agreement for Spring Festival travel. Officials from airlines across the Taiwan Straits shake hands after China Southern Airlines' Charter Flight CZ3097 arrived in Taipei, China's Taiwan Province, Jan. 29, 2005. Landing here at 9:28 (0128 GMT) Jan. 29, the flight became the first Chinese mainland-based civil aviation airplane flying to Taiwan in 56 years.

China's corn exports will experience a partial revival this year thanks to the central government's policy adjustment, but this rise will remain moderate, analysts said.
Chinese Vice Premier Huang Ju said Sunday in Zurich, Switzerland, that foreign businesses are welcomed to continue their participation in China's growth and development.
January 26 - 30, 2005
Hong Kong: The government has decided to appoint solicitor Daniel Fung as chairman of the Securities and Futures Commission (SFC), replacing Andrew Sheng, whose resignation takes effect in September, sources said. However, the sources said the government feared a political backlash against the appointment from some lawmakers with whom Fung clashed during last month's battle over the abortive Link Real Estate Investment Trust (Reit) listing. The sources said Fung has agreed to accept the appointment. He could not be reached for comment.
Cathay Pacific is offering payouts of about $1 million or the chance to reapply for jobs to pilots sacked during a 2001 industrial dispute - if they agree to drop legal action against the airline.
Hong Kong Polytechnic University has distinguished itself by winning seven awards at an international innovation exhibition in Brussels.
Unemployment in Hong Kong is unlikely to improve much in the short term without a better match between job vacancies and job seekers, Hong Kong and Shanghai Banking Corporation chairman David Eldon said.
Financial Secretary Henry Tang Ying-yen declined to say yesterday whether tax breaks would be offered in his budget in view of the lower-than-expected deficit.

SHKP's Raymond Kwok (right) and Jimmy Wong welcome anchor tenants to the APM mall. Sun Hung Kai Properties has fully leased out the first shopping centre to stay open until midnight. The success of the 18-month campaign to find late-night tenants for the mall next to the Kwun Tong MTR station is prompting the company to consider lengthening the opening hours of other shopping centres in its Hong Kong portfolio.
China: China's securities watchdog, in an effort to breathe life into the mainland's moribund equities markets, is considering creating a stabilization fund of up to 100 billion yuan (HK$94.26 billion) to aid increasingly desperate investors who have largely given up trading. Average daily trading has fallen well below 10 billion yuan on the Shanghai and Shenzhen exchanges. Their market capitalization at the end of 2004 was 1.168 trillion yuan. The establishment of such a fund, under consideration by the China Securities Regulatory Commission (CSRC) for the past six months, gained urgency last week when the Shanghai Composite Index dropped to 1,199.17 on Thursday, its lowest level since May 1999.China's securities watchdog, in an effort to breathe life into the mainland's moribund equities markets, is considering creating a stabilization fund of up to 100 billion yuan (HK$94.26 billion) to aid increasingly desperate investors who have largely given up trading. Average daily trading has fallen well below 10 billion yuan on the Shanghai and Shenzhen exchanges. Their market capitalization at the end of 2004 was 1.168 trillion yuan. The establishment of such a fund, under consideration by the China Securities Regulatory Commission (CSRC) for the past six months, gained urgency last week when the Shanghai Composite Index dropped to 1,199.17 on Thursday, its lowest level since May 1999.
The Beijing municipal government's new emphasis on rural development will transform the city's layout over the next 15 years from a metropolis with the Forbidden City at its core to a capital with several main satellite urban centers.
The Communist Party has announced plans to tighten its grip on top state-owned enterprises (SOEs) and gain more influence in corporate decision-making.
While the row over the West Kowloon cultural hub drags on, across the border the city of Foshan is launching a musical academy that will enable hundreds of young people to receive tuition from international performers.

Workers process silk thread at a factory in Yunyang County, in Southwest China's Chongqing Municipality. Some 28 major silk exporters in China have formed a group to watch and co-ordinate silk exports, especially silk fabric exports to India.
China Aviation Oil (Singapore) Corp (CAO) unveiled a plan to avoid liquidation yesterday, leaving creditors with only 40 per cent of what is owed to them.
A simmering embezzlement scandal at a provincial branch of Bank of China (BOC) is threatening to delay the lender's much-anticipated domestic and overseas listings.
Advertising expenditure in the mainland surged 31.51 per cent to 261.4 billion yuan last year, as multinational companies ramped up their marketing.

Swinging, hi-tech singles are using Bluetooth phones to flirt with strangers only 10 metres away.

China and relevant countries will begin a feasibility study very soon for an East Asia Free Trade Area which will cover China, Japan, the Republic of Korea and the 10 member ASEAN nations, a senior Chinese trade official said yesterday in Beijing.
Anheuser-Busch, the world's largest brewery, hopes to have an active role in conforming the Chinese beer industry and plans to continue developing Northeast China's beer market, according to Patrick Stokes, president and chief executive officer of Anheuser-Busch Companies.
January 25, 2005

Hong Kong: Bernard Hill, Ofta's head of competition affairs, says pricing for internet services needs to be determined by the market, not by the telecommunications regulator. The competition tsar for the telecoms sector has hit back at suggestions he is not doing enough to protect small internet service providers (ISP). He also indicated that the Office of the Telecommunications Authority (Ofta) is happy to sit back and watch a Darwinian shake-out in the marketplace.
The flush days of big bonuses for senior investment bankers are back as bulge-bracket firms fattened the pay packets of top staff on the back of strong earnings from a steady flow of initial public offerings from the mainland, say industry insiders. According to investment banking sources and headhunters, senior deal makers at investment banks were paid between six months to one year's salaries as bonuses for last year.

The health industry in Hong Kong, with standard services like this infrared slimming machine, is now branching out into more offbeat products such as bottled oxygen.
Car-industry executives around the globe have underestimated the severity of over-capacity in China's car industry, a KPMG survey found.
Four candidates from three continents seeking to lead the World Trade Organisation are to state their cases at a meeting in Geneva on Wednesday at the start of a campaign that remains too close to call.
PCCW's share price closed 1.6 per cent lower at $4.625 on Friday after Hong Kong's leading fixed-line telecommunications firm sold a 20 per cent stake to China Network Communications Group.
China: A group of air crew of the Shanghai Airlines, who are to offer service on spring festivel charter flights for Taiwan businessmen debut in Shanghai on Jan 21. The group headed by Wu Eryu, a model worker of the airlines will serve on four flights during the festival. The air stewardesses are having a preparation meeting.
The mainland's fledgling private airline industry may take off in the first half, using busy holiday travel seasons to get their services off to a good start, state media said. The first group of private airlines may begin operations during the week-long May Day public holiday, China Business Weekly reported Sunday, citing unnamed industry observers. New rules by civil aviation authorities that took effect last week have set a low bar for entrants into the industry, allowing anyone with three planes to run an airline. The rules, as reported earlier by China News Service, also permit foreigners to have up to 25 percent ownership in the companies.
Guangdong Governor Huang Huahua has vowed to slow the province's economy, setting a 10 per cent growth target for this year.
The eight Chinese nationals taken hostage in Iraq returned to the embassy in Baghdad last night, one day after being freed by their abductors.
With no more import duties on digital models, foreign firms are zooming in China.
China's first ever home-made digital TV chip "Zhongshi No. 1" Saturday passed technical appraisal.
Chinese Vice-Minister of Commerce Ma Xiuhong talks with James Peterson (left), Canadian minister of international trade, in Beijing on Friday. The Canadian minister heads a delegation of 250 people, from the industries such as financial service, education, energy, aviation and tourism, meeting Chinese decision-makers and business elites at a business conference.
China plans to allow private firms to directly participate in the oil and gas exploration sector, an area traditionally controlled by the mainland's state oil giants. The move should pave the way for more private investment in energy, according to government officials. Currently, only the three state firms - China National Petroleum Corp, China Petrochemical Corp (Sinopec) and China National Offshore Oil Corp - have exploration rights.
January 24, 2005
Hong Kong: Legislative Council President Rita Fan Hsu Lai-tai may order lawmakers who violate procedural rules in future to leave the chamber without suspending the meeting if such a move is backed by the majority of lawmakers.
Hutchison Global Communications and Television Broadcasts will next week announce a formal agreement to jointly market the Galaxy pay-television channel, highlighting the rapid consolidation of the cable, internet and telecommunications industries.
Hongkong Land Holdings has succeeded in its five-year campaign to acquire 36-year-old Lai Sing Court on Tai Hang Road with a $1.71 billion bid at a public auction.
TSI Terminal Systems, a wholly owned subsidiary of Orient Overseas (International) Ltd (OOIL), has moved to protect itself against legal action arising from severe congestion at the port of Vancouver.
Shenzhen, Hong Kong's perennially jilted suitor, is trying once again integrate with its more glamorous neighbor, this time coming up with a "Shenzhen-Hong Kong twin city plan'' that would rely on the SAR to achieve its long-running internationalization strategy.
China: Chinese people are expected to buy 5.8 million cars this year, a year-on-year rise of 12 percent, said Xu Changming, director of the economic consultative center under the State Information Center on Saturday.

Foreign Minister Li Zhaoxing meets British counterpart Jack Straw in Beijing, where the EU arms embargo was discussed. British Foreign Secretary Jack Straw expressed hope yesterday for a code of conduct linking arms exports to human rights ahead of an expected decision this year to lift the European Union arms embargo on the mainland.

Adding 100 outlets a year in the mainland is a goal McDonald's president for Asia, the Middle East and Africa Marvin Whaley has his sights on for the near future.
Mainland banking regulators plan to reform the country's sprawling Postal Savings & Remittance Bureau, possibly transforming it into a proper commercial bank and bringing billions of yuan in household deposits into the mainstream banking system.
More than 80 agreements and contracts were signed yesterday in Beijing between Canadian and Chinese enterprises, covering a raft of areas including food processing, energy, tourism and communications.
China and Canada agreed Thursday to take on the energy sector -- oil and gas, nuclear energy, energy efficiency and cleaner energy -- as "priority areas" of long-term mutual co-operation.
January 21 - 23, 2005
Hong Kong: Hong Kong's leading fixed-line telecommunications firm PCCW confirmed on Thursday that it would sell a 20 per cent stake in the company to China Network Communications Group , the mainland's second-largest fixed-line carrier, for HK$7.9 billion to become PCCW's second-largest shareholder.
From next month, Hong Kong people will be able to enjoy 47 Impressionist paintings by 13 French masters at one exhibition.
Canadian Prime Minister Paul Martin will arrive in Hong Kong on Saturday for a two-day visit, a government spokesman confirmed on Thursday.

Luxury-brand distributor Dickson Poon aims to restore the lustre to Bertolucci watches. Dickson Concepts (International) is diversifying into the high-margin brand-building business by acquiring a Swiss-based watch company and will spend up to $200 million to rejuvenate the ailing brand.
Hong Kong's largest life insurer has barred its employees from selling policies to mainland residents, a move that will deny hundreds of company agents their primary source of business.

China: Chinese Premier Wen Jiabao (R) shakes hands with visiting Canadian Prime Minister Paul Martin during the welcome ceremony in the Great Hall of the People in Beijing, capital of China, Jan. 20, 2005.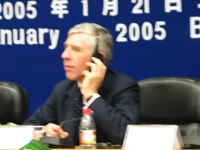 The relationship between Britain and China "is going from strength to strength," said Jack Straw in a keynote speech at the seminar which is attended by more than 30 government officials and scholars from the two countries. Britain strongly supports the lift of EU arms embargo on China and EU's recognition of China's market economy status, and will continue to make efforts on the two questions, said British Secretary of State for Foreign and Commonwealth Affairs Jack Straw when talking about EU-China relations, who is on his second visit to China in the last three years.

This new cross-border footbridge at Lowu opened to the public yesterday. It is part of new measures being taken at three border crossings to speed up the flow of travelers, including more automatic channels and checkpoints.
Mainlanders have been warned against traveling to Iraq as the central government steps up its efforts to free eight Chinese citizens being held hostage in the war-torn country.
A draft version of the mainland's personal privacy protection law has been finished and submitted to state authorities for review, state media reports say.
Visiting Irish Prime Minister Bertie Ahern yesterday reaffirmed in Beijing that the European Union's 15-year-old embargo on arms sales to the mainland could be lifted by July.

Franco Marmottini(R),counselor to the Italian Consul Travel Company recommends Italian sweets to a customer in a hotel in Beijing, capital of China, Jan. 19, 2005. Italian National Tourism Bureau held a Italy-China Tourism Seminar in the hotel on Wednesday. 66 Italian tourism companies went to Beijing to discuss cooperation with several Chinese travel agencies.
The mainland's National Social Security Fund (NSSF) last year achieved a paltry 2.35 per cent return on its portfolio - lower than the rate of inflation - underscoring the need to expand the scope of its investments to include overseas markets.
Creditors of the bankrupt Zhu Kuan Group owed about $8 billion are being offered $2.5 billion in cash by the Zhuhai government in an attempt to bring the window company out of liquidation.

Prize-winning entrepreneurs pose at an awards ceremony held yesterday in Beijing to mark the excellent entrepreneurs of 2004. The event, organized by the China Enterprise Confederation and the China Enterprises Directors Association, aims to award the nation's most influential businesses and excellent entrepreneurs.
January 20, 2005
Hong Kong: Customs and the police officers seized counterfeit goods worth HK$340,000 in a joint operation in Tsimshatsui on Wednesday, a spokesman said.

Chief Secretary Donald Tsang Yam-kuen signs a visitors' book at the opening of new checkpoint facilities at the Lok Ma Chau/Huanggang border crossing. Measures being introduced to speed the flow of passengers and traffic across the border include the installation of more automated customs and immigration clearance channels and more checkpoints.
Entertainment Expo Hong Kong - to be held from March to April - would bring considerable economic benefits to the territory, Secretary for Commerce, Industry and Technology John Tsang Chun-wah said on Wednesday.
Irish Prime Minister Bertie Ahern would visit Hong Kong on Friday for an official two-day visit, the government announced on Wednesday.
Evergreen Marine has sealed the first mainland port investment by a Taiwanese company, agreeing to take a 50 per cent stake in a US$250 million, two-berth container port project in Ningbo.
After offering an unprecedented incentive to encourage bids from smaller developers, MTR Corp has awarded its $5 billion residential-retail project in what has been dubbed Dreamcity to Cheung Kong (Holdings).
The government will close down its $750 million Applied Research Fund, ending a failed experiment in high-technology venture capitalism lasting more than a decade.
China: Shanghai Mayor Han Zheng has set a lower economic growth target of 11 per cent for this year - a figure that is still 3 percentage points above the national target of 8 per cent.
A former vice-governor of Sichuan has been arrested for allegedly misappropriating 100 million yuan in public funds.

Airbus Industrie rolled out the future of long-haul travel yesterday amid heavy speculation that China would be the next frontier for the A380, the world's biggest commercial aircraft.
Chinese polar explorers have become the first people to reach the summit of the highest icecap in Antarctica, Dome A, planting their flag there at 3.16 am Beijing time yesterday.
China's trust companies will be obliged to disclose their financial information from this year, as the industry's watchdog pushes for increased transparency in the once chaotic trust sector.
Chinese people will buy more than 100 million handsets in 2007, spurred by an increasing user population and a desire to swap old phones for new ones, the domestic research house Analysys International said.
January 19, 2005
Hong Kong: Hong Kong's unemployment rate fell to a 35-month low of 6.5 per cent, Census and Statistics Department's statistics released on Tuesday showed.

Hong Kong people are now more aware of the importance of protecting intellectual property rights, a new survey released on Tuesday shows. The government will spend HK$7 million to promote public awareness of pirated DVDs and VCDs, such as these taken in a Customs raid, along with file-sharing in 2005.
Standard Chartered Bank has appointed its staff training head, Katherine Tsang King-suen, to the key post of chief executive for China.
Hong Kong's mid-size business owners are among the world's most stressed-out - and it's getting worse, according to a survey by Grant Thornton, a business advisory firm.
Cheung Kong (Holdings), Hong Kong's No2 developer by market capitalization, plans to raise HK$500 million to replenish its land bank with a 30-month equity-linked note, the third retail issue under its HK$10 billion retail bond program.
Visitor arrivals jumped 40 per cent last year compared with the year before to a higher than expected record 21.8 million on surging mainland tourist figures, the Hong Kong Tourism Board said.
China: Beijing has given local authorities deadlines to settle petition appeals filed by aggrieved citizens in an attempt to shed the image of petition offices as powerless "mailboxes".

Tang Bingquan, vice governor of Guangdong Province addresses the "Conference on economic and trade cooperation among Macao, Guangdong and Portugal" in Macao on Jan 17. About 600 officials, entrepreneurs from Macao, Guangdong and Portugal present the conference. The meeting aims to enhance exchanges in trade and economy between the Pearl River Delta and Macao, Portugal.
China's foreign trade volume of high-tech products exceeded 326.97 billion US dollars in 2004, up 43.8 per cent year-on-year, according to sources with Chinese Ministry of Commerce in Beijing recently.
Almost 590 billion yuan (HK$555.96 billion) in loans were handed out by China's banks last year in violation of the government's crackdown on lending to overheated industries such as steel, cement, aluminum, coal, property and automobiles, the government's banking watchdog announced. The amount of such "irregular'' loans was up 70 percent from 2003 despite Beijing's imposition of sweeping austerity measures last year, although the China Banking Regulatory Commission (CBRC) said the increase in detections reflected its intensified inspection program.
Economic growth in Shanghai, used to living life in the fast lane, is expected to slow this year as China's richest city grapples with power crunches, a property bubble and traffic snarls, the mayor has warned.
Two American nationals face up to 15 years in a Chinese jail after they were tried by a court in Shanghai, charged with selling pirated DVDs on the Internet, officials and state newspapers reported Tuesday.
January 18, 2005
Hong Kong: Luxury property developer Pacific Century Premium Developments (PCPD) is branching out into the highly competitive mass residential market by redeveloping a telephone exchange building in Sheung Wan.
Hong Kong and China Gas (Towngas) has hinted at possible higher charges this year due to stagnant sales growth and snowballing investment.
Some 34 people from Hong Kong are still missing in areas hit by the Indian Ocean earthquake and tsunami, the government said, adding for the first time it has resolved all uncertain cases. All those missing have now been identified - 31 are reported to have been in Thailand, and three in Indonesia. Previously, the government had scores of people on lists of individuals thought to be in the region. On Sunday there were 25 such cases.
The Hong Kong government will not only book a budget surplus of at least HK$11 billion this fiscal year but possibly balance its books next year, ahead of its 2008/09 target. The upturn is thanks to stronger than expected revenues and controlled expenditures, tax experts say.
Legislators yesterday demanded that justice chief Elsie Leung Oi-sie explain why her department advised against prosecuting two mainland security officers who were arrested in possession of a set of handcuffs during an apparent stake-out in Pokfulam last June.
Rival government-invested exhibition centers appear to have reached a truce after a dispute about expansion plans for the Convention and Exhibition Centre in Wan Chai.
Legal uncertainties clouding the Link Reit may be cleared up sooner than expected if an elderly welfare recipient agrees to shorten the timetable for her lawsuit in exchange for government funding of her legal costs.

Hong Kong's funds industry faces chaos unless local regulators respond to European rules that widen the scope of managers to cover derivatives and modern investment techniques.

China: President Hu Jintao expresses his condolences to Zhong Yuelin, widow of Song Renqiong, at the funeral of the former leading Communist Party official in Beijing. Song, one of the "eight immortals" who ruled the country behind the scenes in the 1980s, died on January 8, aged 96.
Guangdong authorities yesterday began diverting 900 million cubic metres of water into the Pearl River Delta system to try to ease a water salinity problem in Macau, Zhuhai and Zhongshan.

Zhao Ziyang will be remembered for his reforms and the mediating role he tried to play in events leading to the Tiananmen crackdown.

Hangzhou Xiaoshan International Airport chairman Chen Haimei (left) and Airport Authority chief David Pang officiate at the contract signing ceremony yesterday. Mr Pang says the authority has not yet decided on the size of the investment or equity stake, while Mr Chen describes the deal as a 'very important step'.
Zhao Ziyang, the reformist Communist Party leader purged for opposing the 1989 military crackdown on the Tiananmen Square democracy movement, died Monday at the age of 85.

China Eastern stewardess tries on a new uniform, specially tailored for the landmark direct flights across the Taiwan Straits in Shanghai January 17, 2005. This will be the first direct air links in decades between the mainland and Taiwan. China Eastern is likely to be one of the mainland airlines to operate such flights.
By the end of December 2004, China's national foreign exchange reserve amounted to 609.9 billion US dollars, up 51.3 percent year on year.
Economists have been debating whether the mainland has entered a period of continuous interest rate rises since the central bank raised the cost of borrowing for the first time in nine years last October.
More than 80 Guangdong party officials have been punished by central disciplinary and supervision authorities after problem loans amounting to 10 billion yuan were granted to a businessman, Xinhua reported yesterday.

Jerry Yang, co-founder of Yahoo!, says the table has been set for China and while pleased with the company's progress, its "aspiration is to be No 1".
China's futures industry will be opened further to allow for the launch of joint ventures on the mainland by qualified overseas financial institutions and let more domestic enterprises trade futures overseas for arbitrage under sound risk control, according to an industry regulator.
South China's Guangdong Province notched up a record foreign trade volume of US$38.08 billion in December, a year-on-year increase of 27.6 per cent. The figure was the highest for a single month in the history of the province's foreign trade, accounting for 32.7 per cent of the national total in December.
Deloitte, one of the "Big Four" professional services firms, plans to merge with top-quality Chinese accounting firms this year to further localize itself and strengthen its position in the Chinese market.
January 14 - 17, 2005
Hong Kong: Accountants in the SAR are lobbying the government and mainland authorities to support their inclusion in the next phase of the Closer Economic Partnership Arrangement (CEPA) to qualify as liquidators of failing enterprises on the mainland.
While Hong Kong's economy is expected to grow steadily this year on the back of a strong economic rebound in 2004, the government should continue to pay attention to the territory's unemployment problem to alleviate poverty, according to a recent study.
Hong Kong tycoon Li Ka-shing said yesterday he had sold his 4.9 per cent stake in Canadian Imperial Bank of Commerce (CIBC) at C$70 per share, for total proceeds of about C$1.2 billion (US$1 billion).
Gaming and entertainment company Greek Mythology (Macau) Entertainment Group said yesterday it was planning to join with A-Max Holdings of Hong Kong to make casino investments in the United States and Singapore.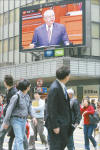 Hong Kong residents on a downtown street catch a quick glimpse of Hong Kong Chief Executive Tung Chee-hwa on a giant TV screen as he makes his 2005 policy address to the Legislative Council yesterday. Chief Executive Tung Chee-hwa yesterday showed a resolve to instill a pro-people culture in the government as he pledged to use the remainder of his term to consolidate the economy, help the underprivileged and promote social harmony in his eighth policy address. Public support for Chief Executive Tung Chee-hwa rose after he delivered his eighth policy address on Wednesday, a survey released on Thursday showed.
A new film bureau has not been ruled out, Secretary for Home Affairs Patrick Ho Chi-ping says, but discussions should start with an advisory body as proposed by the chief executive.
Expectations that a film classification system will be introduced soon have been dashed by an official who says there is no timetable for the complex scheme.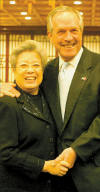 China: Vice-Premier Wu Yi meets with Donald L. Evans, US secretary of commerce, at a banquet held in his honour in Beijing. They both attended an IPR roundtable yesterday and later exchanged views on the prospects of bilateral trade and commerce.
An employee puts up an advertisement for "paper gold" services on Tuesday at an outlet of the Bank of China in Beijing. The new service will allow investors to trade in the precious metal via their bank accounts.
Scientists working in a rich fossil field in Liaoning have unearthed the skeleton of a small mammal whose stomach contained the remains of a baby dinosaur, a startling finding that sheds new light on the struggle for survival 130 million years ago.

David Farr, chairman and chief executive of industrial technology and equipment maker Emerson, expects mainland sales to double to US$2 billion within the next five to six years.
The mainland's leading commercial banks reduced their non-performing loan (NPL) burden by 395 billion yuan last year, lowering their overall problem-loan ratio by 4.6 percentage points to 13.2 per cent, the banking regulator announced yesterday.
China will not allow the establishment of new cigarette factories including foreign-funded ones, the State Tobacco Monopoly Administration (STMA) insisted yesterday.
Japan's Konica Minolta Holdings Inc, one of the world's leading maker of optical instruments and printers, announced the launch of two new subsidiaries in China yesterday, taking a step further towards integrating its resources in the fast-moving market.

Chinese President Hu Jintao (R) meets with visiting President Jorge Sampaio of the Portuguese Republic in Beijing, Jan. 12, 2005. The two presidents pledged that the two countries will promote exchanges and cooperation in various fields and at all levels for the full growth of bilateral ties in the new century.
In a huge burst of infrastructure spending, China plans to invest two trillion yuan (HK$1.88 trillion) over the next 25 years to nearly triple its express network to 85,000 kilometers from the current 30,000-odd, linking all of China's cities with populations of more than 200,000. The plan includes a grandiose scheme for an expressway, possibly in a tunnel, to link Beijing to Taipei, the capital of arch-rival Taiwan, 120 kilometers across the Taiwan Strait. It would dwarf the longest undersea tunnel in the world today, which links the islands of Honshu and Hokkaido in Japan. The Seikan Tunnel, at 53.8 kilometers, took 26 years to build. Only 23 kilometers of the US$7 billion (HK$54.6 billion) tunnel are underwater.
January 13, 2005
Hong Kong: Chief Executive Tung Chee Hwa on Wednesday said the government would establish a commission to tackle the growing problem of poverty in Hong Kong. Hong Kong faced difficult challenges in the future, said Chief Executive Tung Chee-hwa on Wednesday, adding that even though the economy had recovered, many problems and hidden dangers still remained. Chief Executive Tung Chee-hwa remained coy about the introduction of a goods and services tax in Hong Kong on Wednesday. In his policy address on Wednesday, Chief Executive Tung Chee-hwa paid tribute to the "staunch support" his government had enjoyed from Beijing. Hong Kong was now enjoying a "broad-based" economic recovery and was well-placed for future development, Chief Executive Tung Chee-hwa said on Wednesday.


More than 100 worshippers, including Buddhist monks, take part in a seven-hour prayer session for the tsunami victims at Sai Fong Temple in Lo Wai Village, Tsuen Wan yesterday. The worshippers hope their prayers will help release the deceased from the pain they suffered in the natural disaster that killed more than 150,000 and left millions homeless.

PCCW chairman Richard Li at the hastily convened press conference at Cyberport yesterday. PCCW chairman Richard Li Tzar-kai has resurfaced from his diving holiday to assure investors that rumours of his death are greatly exaggerated - and leak more information about the fixed-line provider's talks on the still pending tie-up with China Netcom Group.
An agreement set to be signed tomorrow could pave the way for a big Hong Kong investment in a key airport near Shanghai.
The 12 non-executive directors of Hong Kong Exchanges and Clearing (HKEx) are asking for a 140 per cent pay rise, according to an exchange source.

China: The future of China's communist leadership depends on rooting out corruption, President Hu Jintao said in remarks to other top leaders published on Wednesday. Top leader of the Communist Party of China (CPC) Hu Jintao called for an urgent end to corruption with the introduction of both a temporary solution and a permanent cure.
The Ministry of Public Security has set up telephone hotlines and a designated website for public tip-offs as part of a renewed clampdown against officials and groups of mainlanders gambling overseas, the China News Service reports.
Beijing yesterday renewed its warning against any kind of official involvement by Taiwan in the talks to lay down arrangements for cross-strait charter flights, but Taipei continued to sidestep the issue.
Expectations that a film classification system will be introduced soon have been dashed by an official who says there is no timetable for the complex scheme.
China is poised to liberalize the mobile-phone manufacturing industry by scrapping its six-year-old licensing system to allow any company to produce handsets.
The latest statistics shows China imported 120 million tons of crude oil in 2004. That is a year-on-year leap of 34.8 percent.
January 12, 2005

Hong Kong: Latest creations by local designers were shown yesterday at the sneak preview of World Boutique, which will run simultaneously with Hong Kong Fashion Week, both organized by the Hong Kong Trade Development Council. Yesterday's event showcased 15 outfits from the participating designers and brands, including Ika and Ranee K. World Boutique will be held from January 18 to 21.
An adviser to tycoon Henry Fok Ying-tung has criticized the government for approving an airport ferry link to Lianhuashan in Guangzhou instead of to Nansha, where Mr Fok has extensive investments.
Standard Chartered was fast to fire off the numbers in its US$3.3 billion acquisition of Korea First Bank yesterday: the lender is gaining a market share of 6 per cent, more than three million customers and 400 branches in Asia's third-largest banking sector, forecast to grow 4.3 per cent this year.

China: Beijing is prepared to expand the Lunar New Year cross-strait charter flight arrangement to cover all Taiwanese people living on the mainland, provided the airlines reach a deal on the practicalities. Taiwanese airlines yesterday appealed to the island's authorities to strike a deal on direct, two-way charter flights across the strait, following initial approval from Beijing.
The State Administration of Foreign Exchange has given Ping An Insurance approval to invest as much as US$1.75 billion overseas, marking the first concrete liberalisation of outbound portfolio flows from the mainland.

A woman scans information on an electronic board at a job centre in Hefei , capital of Anhui province. The central government officially expects 25 million people to be out of work this year, but the actual number of jobless could be much higher. Eleven million people, including 3.4 million university graduates, are expected to enter the labor market this year, adding to about 14 million unemployed at the end of last year.
The central government wants Shenzhen to set an example in sustainable development for the rest of the country, an analyst said after Premier Wen Jiabao's whirlwind visit last week.

A visitor looks at items on display at an exhibition on the designs of France in Nanjing, capital of East China's Jiangsu Province. China's exhibition industry has grown rapidly in recent years, with some of the nation's key cities becoming hubs of internationally famous expositions, helped by the construction of new exhibition centers.
A lack of resources, rising medical fees and a dearth of government funds mean only half the mainland's population are able to consult a doctor when they are sick, a senior health official says.
The mainland's plan to unify corporate tax rates and get rid of special tax concessions to foreign firms as early as next year has suffered a setback because of opposition from the Ministry of Commerce, according to accounting sources.

China chipmakers subject to changes in global demand. As it prepared for its US$1.8 billion initial public offering last year, Semiconductor Manufacturing International Corp told investors not to worry about the impending global downturn.
Beijing's top macroeconomic regulator will give up its power to approve non-government investment projects this year in a significant boost to the role of the market in the economy.
The rail traffic under construction in Beijing extends 88 km with a total investment of 40 billion yuan; an investment of 4 billion yuan has been fulfilled in 2004.
January 11, 2005
Hong Kong: British-based Standard Chartered on Monday said it had agreed to buy Korea First Bank (KFB) for US$3.3 billion (HK$25.6 billion) in cash, the largest single foreign investment in South Korea's financial industry.
Parents of children joining the Primary One Admission System for September and who have not secured a place yet can chose a school this weekend, the Education and Manpower Bureau said on Monday.
The Immigration Department would add six more "e-channels" — automated immigration clearance systems — to the Lo Wu Border Crossing before the Chinese New Year, Secretary for Security Ambrose Lee Siu-kwong said on Monday.
Modern Terminals (MTL) will spend $1.2 billion over the next 18 months to upgrade facilities at Kwai Chung, an investment the operator says will increase its annual handling capacity by as much as 25 per cent.
The Singapore stock exchange could not have prevented the derivatives trading scandal of China Aviation Oil (Singapore) Corp (CAO), the chief executive of the city-state's bourse said in Beijing yesterday.
After a poor 2004, Asian technology stocks are in a good position to surprise on the upside this year, according to some investment banks which have also elevated the battered Taiwan market to among their favourite picks.
Hong Kong's security chief denied his bureau rejected a visa application by Taipei Mayor Ma Ying-jeou last month. Secretary for Security Ambrose Lee's denial contradicted a statement issued by Ma's office last Tuesday saying his visa application had been turned down by the SAR.
China: In 2004 China managed to have its foreign trade top 1 trillion USD. It is an exciting milestone which makes China a big trading nation in the world. But this does not mean China is a trade power.
The mainland and Taiwan may be on the verge of a deal that could pave the way for resumption of direct air links - provided the island's complex internal politics do not get in the way. The Kuomintang, Taiwan's main opposition party, said on Monday it had persuaded Beijing authorities to accept an exchange of Lunar New Year charter flights that would let mainland commercial jetliners land in Taipei for the first time since the end of the Chinese civil war more than half a century ago.
Chinese civil affairs officials are urging a modernization of the nation's disaster warning system and the integration of information sharing with neighbouring countries, state press reported on Monday.

Ranks of competitors take part in the national chess championships for primary school pupils, which are being held in Wenzhou , Zhejiang province. More than 500 pupils from 10 provinces and municipalities are involved in the four-day event, which ends tomorrow.
A culture of inept auditing at state-owned companies has been uncovered in an investigation by the nation's top assets regulator.
Guangdong's economy will have no problem sustaining double-digit growth this year provided there is no revaluation of the yuan or further rises in oil prices, experts say.

Building of the 72,000-ton crude oil tanker "Lianpinghu" for China Ocean Shipping (Group) Company is completed on Jan 6, 2005 in Dalian. The Dalian New Shipbuilding Heavy Industry Co., Ltd takes only 320 days to build the tanker, 84 days ahead of the contractual date.
The mainland is unlikely to make its currency fully convertible by 2008 due to fluctuations in the international currency markets and the central government's inadequate ability to manage foreign exchange, according to two influential economists.
A bid by China to become a member of the global anti-money laundering body, the Financial Action Task Force (FATF), is likely to trigger a potent clampdown on illicit capital flows, observers warn.
Lenovo Group will move into negative equity as a result of its purchase of IBM's computer division, which will arrive packaged with $14.86 billion in liabilities derived from goodwill and other intangibles.

Cheng Siwei, the vice-chairman of the NPC standing committee, strikes a gong to announce the opening of the first Global Young Chinese Business Leaders Forum in Beijing on Saturday. Both domestic and overseas young Chinese entrepreneurs were welcome at the forum to tap the potential in China's fast economic growth.
Thousands of companies in Northeast China's Heilongjiang, Jilin and Liaoning provinces have benefited from the central government's pilot reform of value-added tax, which aims to increase companies' enthusiasm for investment and forms an important part of the authorities' measures to revitalize this old industrial base.
January 8 - 10, 2005
Hong Kong: The Hong Kong Organic Resource Centre (HKORC) has set up a new certification scheme to promote organic products.
The government has proposed giving the Securities and Futures Commission (SFC) powers to impose steep civil fines on listed firms and their directors for market misconduct such as late disclosure and failure to report connected transactions.
Hong Kong Exchanges and Clearing (HKEx) has mapped out its major plans this year, including launching dual listing with China's stock market, setting up market makers for the Tracker Fund and shortening settlement time for stock trading.
AS Watson, the Hutchison Whampoa retail arm that runs ParknShop and Watsons, said it will invest up to 500 million yuan (HK$470.8 million) to open 10 hypermarkets on the mainland this year.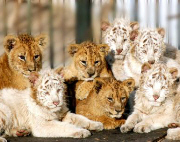 China: Three lion cubs lie together in the same cage with four tiger cubs in the Jinan Wildlife World in Jinan, capital of east China's Shandong Province. The lion cubs have been put in the same cage with the tiger cubs with an aim of fostering intimacy among them.
United States chip developer SigmaTel has filed a lawsuit in a federal court against Zhuhai-based Actions Semiconductor for alleged infringement of multiple patents related to components used in portable MP3 players.
Chinese Premier Wen Jiabao attends the opening of the Special ASEAN Leaders' Meeting on Aftermath Quake and Tsunami Summit at the Jakarta Convention Centre in Jakarta, Jan. 6, 2005.
The EU has surpassed Japan and the US to become China's largest trade partner; and China has become the second largest trade partner of the EU, only next to the US.
The number of foreigners coming to work in China has increased dramatically in recent years. At present there are approximately 100,000 such workers.
Beijing-based developer Soho China expects revenues from property sales to rise by 24 per cent this year to 4.5 billion yuan (HK$4.23 billion), predicting prices will probably climb by more than 10 per cent despite the government's measures to curb growth.
The United States and China have agreed to a reciprocal visa arrangement that will see both sides offering 12-month multiple-entry business and tourist visas, the US embassy said.
January 7, 2005
Hong Kong: The Pacific Basin Economic Council (PBEC) announced Thursday to hold its 38th International General Meeting (IGM) in June in Hong Kong.
Legislators' demands that an extra $100 million be added to the government's tsunami relief package were yesterday rejected by the chief secretary, who said enough had been donated and the main problem was the distribution of aid.
The government's commerce and telecommunications chief yesterday lashed out at Hutchison Whampoa's claim that heavy-handed regulation by the Office of the Telecommunications Authority was at least partly to blame for company lay-offs.
Some 764 prisoners serving time in Stanley Prison have donated over $100,000 to help victims of the tsunami disaster in South Asia, a government spokesman said on Thursday.
People wanting to travel overseas during the Chinese New Year holidays should apply for travel documents as early as possible, an Immigration Department spokesman said on Thursday.

Hong Kong will send 50 tones of relief supplies to Indonesia as the list of SAR residents missing continues to shorten, the government said on Thursday. However, with only 59 people still missing and many of their relatives in the tsunami-hit region searching for their loved ones, the government said more members of the rescue team deployed to Thailand have returned as the situation stabilizes.
Hong Kong stocks fell 2 per cent yesterday in the busiest trade in more than a year. Investors scrambled to cover losses and tried to determine whether the bearish start to the year was merely a warranted correction or the arrival of something more sinister.
Over the first 11 months of 2004, Latin America surpassed Hong Kong as the largest investment absorber, attracting 889 million US dollars.
Pressure on the government to abandon the single developer approach for the West Kowloon project is mounting with Macau tycoon Stanley Ho set to unveil an alternative proposal that he claims will ``help generate more than HK$200 billion'' in government revenue. Ho, who is the chairman of the Real Estate Developers Association, refused to provide any details of his proposal, but said about 20 members of the developers' association have been invited to discuss the idea today in an emergency meeting.

China: Armoured speedboats seized by mainland customs are among the items seized from smugglers on display during the first day of a six-day anti-smuggling exhibition in Shenzhen. Hundreds of seized speedboats will be destroyed starting today. The exhibition, opened by Guangdong Governor Huang Huahua, is aimed at raising awareness and showcasing the fight against smuggling.
Vice-Premier Huang Ju has told the mainland's leading central bank officials they should continue to pursue a stable monetary policy this year, noting that macroeconomic control measures were still at a critical phase.

Siemens chief executive Heinrich von Pierer says the company's overall performance in the mainland has surpassed his expectations. Robust demand for products from mobile phones to gas turbines drove the German group's sales 28 per cent higher in the past financial year to September to 38.4 billion yuan, Mr von Pierer told reporters in Beijing yesterday.

An investor takes a nap at a securities brokerage in Guangzhou. China's securities houses have suffered from declining income from brokering as the stock market remains low and investment sentiment weak.
The Industrial and Commercial Bank of China, the country's largest lender, chalked up a roughly 20 percent year-on-year growth in operating profits in 2004.

Medical staffers hold a newly-born baby boy at a hospital in Beijing Jan.6, 2005. The lucky baby counted China's 1.3 billionth citizen. "Both mother and son are in good condition," said midwife Wang Chujie of Beijing Maternity Hospital. The newborn weighs 3,660 grams and is 52 cm long.
In a move that underscores just how badly it needs state aid, Industrial and Commercial Bank of China (ICBC) used most of last year's operating profit of 74.4 billion yuan (HK$70 billion) to write off bad loans and make set-asides against future losses - and managed to shave its ratio of non-performing loans by just 0.1 percent.
Broadband subscribers more than doubled on the mainland to 26.3 million in 2004, signaling good news for leading providers such as China Telecom and China Network Communications Group, technology market research company BDA China said.
China Datang, one of the nation's five largest electricity producers and the parent of Datang International Power Generation, is investing an initial 306 million yuan (HK$288 million) to build a wind-powered generator in Fujian to help ease shortages.
January 6, 2005
Hong Kong: Hutchison Whampoa has cut 750 jobs from its telecoms arm, blaming the government for creating an operating environment worse than in the 1998 financial crisis.
Police and immigration officers in Phuket are losing their race against time to find Hong Kong people still listed as missing from the tsunami disaster and admit the chances of finding anyone alive are slim.
Hong Kong stocks fell 2 per cent yesterday in the busiest trade in more than a year. Investors scrambled to cover losses and tried to determine whether the bearish start to the year was merely a warranted correction or the arrival of something more sinister.
Hong Kong's financial institutions are moving to tie up rental deals for additional office space, with at least one of them having already committed to increase its floor space by nearly 25 per cent.
Mainland coal producer Shenhua Group, which had planned to be the first company to list simultaneously in Hong Kong and Shanghai, may postpone the A-share portion of the listing, despite new policies in the mainland to encourage quality companies to list at home.

PCCW and China Network Communications Group are reportedly nearing a deal in which the mainland firm will pay a hefty premium for a minority stake in Hong Kong's dominant fixed-line carrier.
China: The mainland has asked a group of Japanese lawmakers to postpone a visit to Beijing that was due to begin on Sunday, an official from Tokyo's ruling coalition said yesterday.

Gamblers queue for hours to enter the Golden Dragon Casino, unveiled in Macau yesterday. As Golden Dragon opens to gamblers, Stanley Ho Hung-sun brushes aside fears of a casino glut in announcing further investment.
In the latest example of its battle against fraud and mismanagement in the mainland's securities industry, the regulator has ordered the closure of a brokerage in Yunnan province that lost 200 million yuan in the property market.
Premier Wen Jiabao has pledged more help for quake and tsunami-hit Indonesia and other nations after flying to Jakarta to attend a summit today.
China has sent relief materials worth 60 million yuan in two batches to Indonesia, Sri Lanka and Thailand by Jan. 4, the largest foreign relief campaign so far.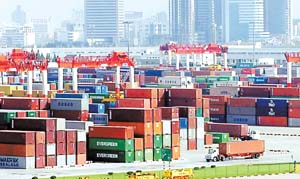 The throughput of China's largest port-Shanghai Port has reached 382 million tons in 2004, which makes the Shanghai Port exceed the Rotterdam Port of the Netherlands, the world No.1 for many years, for the first time. The container throughput has risen 29 percent as against 2003 to 14.55 million, ranking the third in the world.
There is no perfectly 100 percent market economy in the world and in China's case, it is 70 to 80 percent,comfortably above the world benchmark of 60 percent.
Zhou Xiaochuan, Governor of the People's Bank of China, sets the growth of this year's money supply, including both the narrow money M1 and broad money M2, at 15 percent. He expects 2.5 trillion yuan loans grants from all financial institutions in 2005.
January 5, 2005
Hong Kong: Hong Kong Customs officers seized 67 grams of cocaine and 94 grams of herbal cannabis, worth about $60,000, in an anti-drug operation on Monday night, a spokesman said on Tuesday.

BOCI Securities executive director Polly Wong denies that the New Year release of the company's Flexibond had been timed to take advantage of the Link Reit collapse.
Securities and Futures Commission chairman Andrew Sheng is determined to quit when his contract expires in September amid a controversial government proposal to split his post into a non-executive chairman and a chief executive.
City Telecom (CTI), Hong Kong's second-largest fixed-line operator, plans to raise US$110 million (HK$858 million) by selling 10-year bonds to boost its capital reserve and fund expansion, including a possible bid for a wireless broadband license, sources close to the firm said.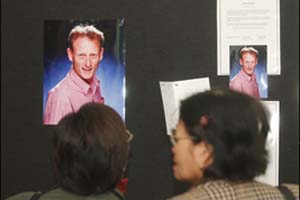 Hong Kong schools report that 58 students have not returned to classes after the holidays, increasing fears for their safety, as an international army of aid workers races to get help to millions of people across tsunami-devastated areas of Asia. The number of Hong Kong residents confirmed killed rose to 10 on Tuesday, while those missing fell from 74 to 70. Of these, 33 are believed to be in Thailand. Deputy Secretary for Security Michael Wong said the latest confirmed deaths were of Vivian Slot, a Croatian student from Hong Lok Yuen International School, and an unnamed Dutch child, both of whom had been in Thailand with their parents.
The Food and Environmental Hygiene Department (FEHD) warned Hong Kong seafood vendors on Tuesday against importing seafood from the South Asia tsunami disaster area.
The international investment arm of state-owned Dubai Ports Authority will spend US$200 million to increase its stake in Asia Container Terminals, Hong Kong's third-biggest terminal operator by capacity.

China: Koo Chen-fu, who led landmark talks with Beijing, is irreplaceable, Taiwanese politicians agree. Taiwan's top negotiator with the mainland, Koo Chen-fu, died of kidney failure in Taipei yesterday at the age of 87, leaving unfinished his mission to achieve cross-strait peace and reconciliation.
China jumped 16 places higher and Hong Kong maintained the top spot on an annual ``economic freedom'' ranking as membership in the World Trade Organization opened Chinese markets and a free trade agreement between the two economies knocked down yet more barriers to trade.

Chinese Premier Wen Jiaobao (R) comforts the son of Niu Tieqi, associate chief engineer of the Chenjiashan Coal Mine who died in the Nov. 28 gas explosion in the mine, at Niu's home in Tongchuan, a city in northwest China's Shaanxi Province, Jan. 2, 2005. Premier Wen visited coalmines under the Tongchuan Mining Administration and expressed his sympathy and solicitude to the relatives of the miners dead in the Nov. 28 gas explosion in the Chenjiashan Coal Mine, on the New Year's Day.
The Communist Party should run the country in accordance with the law, instead of substituting itself for the government, China's chief justice has said.
The on-again, off-again talks on direct chartered passenger flights across the Taiwan Strait for the Lunar New Year picked up momentum yesterday, with a sign of flexibility from Beijing.

Mainland property developer Emperor (China Concept) Investments is reinventing itself into a "gaming and entertainment play" as it seeks to expand into Russia.
Last week's court action in the United States temporarily blocking restrictions on Chinese garment imports is a sign that anti-protectionist forces in the US are becoming more effective, observers say.
When China recently moved to curb public-sector purchases of foreign-made software, the policy was widely expected to limit business for multinational information technology companies and prevent the mainland from expanding its software industry.

Customers flock to the Luoyang store of the Beijing Wangfujing Department Store Co Ltd, which opened on Saturday in Luoyang in Central China's Henan Province. The store, the 15th chain store of Beijing Wangfujing, reported robust business revenue of 2 million yuan (US$242 thousand) on the first day of its opening.
Cheerful songs broadcasting, colorful decorations shining, and smiling faces. Outlets of both KFC (Kentucky Fried Chicken) and McDonald's, the two top foreign fast-food chains in China, were crowded as usual during the New Year holiday.
January 4, 2005
Hong Kong: The confirmed number killed in the massive earthquake and tidal waves that hit Indian Ocean shorelines a week ago passed 144,000 on Monday, as over 14,000 more deaths were confirmed by Indonesian officials.
The Immigration Department said it was planning to introduce more penalties against illegal employment, a spokesman said on Monday.
Industrial and Commercial Bank of China (Asia) has become the latest foreign lender to seek instant access to the mainland's mammoth banking sector by buying Shenzhen-based China Mercantile Bank for US$96.06 million.
Hollywood studios are seeking greater access to the mainland market by giving a co-starring role to their Greater China counterparts.


Competition in mobile data services in Hong Kong has been thrown wide open, but cut-price tariffs are some way ahead. The battle is on and the celebrities have been recruited for an intensive television campaign - 3G is on the march. SmarTone and CSL are looking to end Hutchison's third-generation (3G) monopoly.
If there's one thing Hong Kong's crowded telecom industry can do without, it's more competition. Yet this year begins with the promise of competition ratcheting up yet further as new high-speed wireless technologies take off.



China: Chinese President Hu Jintao delivers a New Year's message to all Chinese on the mainland, and in Hong Kong, Macao and Taiwan, overseas Chinese and friends of different nations on China Radio International (CRI), China National Radio and China Central Television (CCTV) in Beijing on Dec. 31, 2004.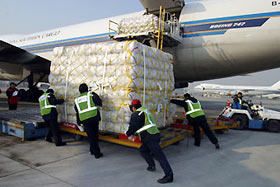 Chinese workers load relief goods for tsunami victims onto a cargo plane to Indonesia on Sunday, Jan. 2, 2004, at the Beijing Capital International Airport. The batch of relief goods, 56.01 ton in weight, include bedsheets, tents, blankets, mosquito-curtains, generators, biscuits, milk powder, medicine and disinfector. More humanitarian aid goods are bound to be flied to Indonesia from Beijing in the coming days.
Pollution and improved diagnostic standards are the main reasons behind the recent increase in children diagnosed at birth with health problems on the mainland, a Ministry of Health official says.
A federal court in the United States has derailed attempts to limit Chinese textile imports based on the threat they pose to American manufacturers, after US retailers and importers successfully argued that new quotas would cause "irreparable" harm to their businesses.
China Petroleum & Chemical Corp (Sinopec), Asia's largest oil refiner, confirmed yesterday that it would spend HK$3.846 billion (US$494 million) to privatize its subsidiary Sinopec Beijing Yanhua Petrochemical, the largest resin and plastics maker in China, in the first major move to streamline its petrochemical business.
Shanghai Automotive Industry Corp (SAIC), China's biggest passenger car maker, officially launched a shareholding company to pave the way for its overseas listings yesterday.

China's first national economic census entered its registration phase on New Year's Day after months' of preparation, according to the National Bureau of Statistics. The population in the Chinese mainland is expected to reach 1.3 billion on Jan. 6, according to a prediction the National Statistics Bureau (NSB) released Sunday.
December 31, 2004 to January 3, 2005 - Happy New Year
Hong Kong: Celebrities from Hong Kong, Taiwan, and China will perform a fund-raising show next week for tsunami victims in devastated southern Asia, organizers said on Friday.
Hong Kong is requesting incoming flights from Vietnam to broadcast health announcements urging passengers with bird flu symptoms such as coughs or fever to wear a mask and report to an airport medical post, the government said on Friday.

Finet chief executive George Yu says Japanese content provider T&C Holdings will take a 5 per cent stake in the financial information provider's enlarged share capital before the forthcoming listing on the Growth Enterprise Market. Finet will use the proceeds to fund expansion into the mainland where it sees a growing number of opportunities. It hopes to partner China Unicom or China Mobile in offering content to mainland mobile-phone subscribers.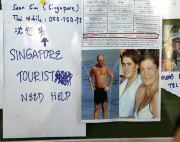 Posters searching for missing loved ones are displayed at a community centre on Thursday in Takuapa, Thailand. More than 1,500 are known dead in last Sunday's tsunami that struck the southern coast of Thailand following a massive earthquake off the coast of Sumatra, Indonesia. The dead toll in Thailand, according to authorities, is expected to rise above 3,000. Worldwide more than 70,000 are reported killed. Another Hong Kong person has died as a result of Sunday's devastating earthquake and tsunamis in South Asia, Deputy-Secretary for Security Michael Wong Wai-lun said on Thursday afternoon. Hong Kong's top pop stars will perform at a charity concert to help raise funds for relief efforts in tsunami-stricken countries across southern Asia, officials said on Thursday.
The decline in Hong Kong wages accelerated in September compared with three months earlier, bucking expectations that companies are raising salaries amid robust economic growth.
In a surprise move, 19 pro-democracy organizations and the Liberal Party have agreed to set aside their differences and turn two opposing protests on January1 into a large-scale joint fund-raising campaign for victims of Sunday's devastating tsunamis.
From midnight tonight, arrangements governing crucial water supplies by Guangdong province to the territory will expire, leaving no formal agreement in place for the quantity and price of supplies.
China: About 700 officials have been punished and 21 billion yuan recovered in the six months since the National Audit Office published shocking revelations about rampant government corruption and the misuse of public funds, state media reports say.
The mainland's foreign debt stood at US$223 billion at the end of the September quarter, up 1 per cent from the end of June, in a sign that a clampdown on corporate yuan speculation is working.
The mainland's first comprehensive anti-monopoly law is expected to be passed by the National People's Congress next year.
China's largest life insurer misused 750 million yuan to build a Beijing office tower before its initial public offering last year, mainland legislators were told this week.
China is expected to post an unprecedented US$5.5 billion agricultural trade deficit this year, the Ministry of Agriculture sources said yesterday.

Bridegroom Li Gang picks up his wife Liu Yuxi on a decorative tricycle to celebrate their wedding in October in North China's Tianjin. China's wedding planning sector has become a promising industry and has grown by leaps and bounds in recent years.

Members of the Chinese International Search and Rescue team get prepared to leave for Indonesia at Capital International Airport in Beijing, Dec. 30, 2004. The team of 30 experienced Chinese rescuers flew to Indonesia Dec. 30 to assist the rescue work in areas hit by quake and tsunami in the Southeast Asian country.

Hong Kong's top pop stars will perform at a charity concert to help raise funds for relief efforts in tsunami-stricken countries across southern Asia, officials said on Thursday. The death toll in Sunday's earthquake and tsunami in the Indian Ocean could top 100,000, IRC said Wednesday.
China's top telecoms equipment maker, Huawei Technologies, said on Thursday that China Development Bank will support its export drive with up to US$10 billion (HK$78 billion) in financing over the next five years.
Shares in China Life Insurance, the mainland's largest insurer, fell 4.6 per cent to HK$5.15 on Thursday after a report that the United States Securities and Exchange Commission had opened a formal investigation into the company's 2003 initial public offering.
Mainland oil companies could soon become major investors in Canada's vast reserves of oil sands as they seek to expand and diversify their sources of supply.

*News information are obtained via various sources deemed reliable, but not guaranteed