Hong Kong, China & Hawaii Biz*


How to Do Business with China, through Hong Kong & Setting up Business in China? - last update Feb 8, 2003
Do you know our dues paying members attend events sponsored by our collaboration partners worldwide at their membership rates - go to our event page to find out more! After attended a China/Hong Kong Business/Trade Seminar in Hawaii...still unsure what to do next, contact us, our Officers, Directors and Founding Members are actively engaged in China/Hong Kong/Asia trade - we can help!
China Projects Bidding Information - update daily Scholarship & Grants
Are you ready to export your product or service? You will find out in 3 minutes with resources to help you - enter to give it a try

China Central TV - English Channel 24 hours live webcast
Holidays Greeting from President Obama & Johnson Choi
http://www.youtube.com/watch?v=pNk4Z4lUV-k
http://www.facebook.com/video/video.php?v=219896871983&ref=mf
Wine-Biz - Hong Kong
Brand Hong Kong Video
June 30, 2005

Hong Kong: The September 12 opening of Hong Kong Disneyland promises not only an exciting ride for theme park patrons, but for the hotel, retail, stock market and even property sectors which all stand to benefit.

Understanding how Hong Kong can help American companies grow their business in China was the main subject of discussion at two events held in Boston and Philadelphia in early June.

Hong Kong is emerging as the glamour shopping capital of Asia, with a wave of "lifestyle" boutiques and avant-garde department stores setting new standards in retail elegance.
In a symbolic move to bring more openness to government, the controversial iron barriers in front of Government Headquarters are set to be removed after new Chief Executive Donald Tsang moves his new office into the former governor's mansion on Upper Albert Road this October. A key post overseeing the operation of the Chief Executive's Office is likely to remain vacant until early next year because Donald Tsang prefers to wait for a favorite aide to become available, according to a senior government source.
The Hong Kong Airport Authority, which operates the territory's international airport, on Wednesday reported a sharp rise in full-year net profit on record passenger numbers and cost-control measures.
Hong Kong managers' salaries have greater purchasing power than their British and Japanese counterparts, a new survey released this week shows.
Chief Executive Donald Tsang Kam-yuen is expected on Thursday to name Rafael Hui Si-yan — a Harvard-educated, career civil servant with expertise in financial affairs — the government's No. 2 ranking official.
Sales contributions from Cathay Pacific Airways' cargo partnership with logistics giant DHL could almost triple by 2007 as demand expands in the Asia Pacific, according to a statement from the carrier to the stock exchange yesterday.

China: On June 28 the Boeing 777-200LR Worldliner, the world's longest-range commercial airplane, debuts at Beijing's Capital International Airport. It was officially named "Zhenghe" to commemorate the first voyage of the great Chinese navigator and explorer Zhenghe 600 years ago. Its "Going the Distance" world tour started in Canada and will visit more than 20 cities through August. In service it can carry 301 passengers and baggage up to 17,445 kilometers.
Almost 9.1 billion yuan (US$1.1 billion) was misused by 38 central government departments last financial year, China's Auditor-General Li Jinhua announced yesterday. He has stirred up a storm across China's cumbersome government departments and is considered one of the most influential people controlling the country's economic activites - not bad for somebody whose job title would usually only elicit stifled yawns. But Li Jinhua is no ordinary auditor, he is the "iron-faced" auditor charged with whipping government budgets into shape.
Bucking growth in a bearish market environment, Everbright Pramerica Fund Management Co Ltd, a joint venture between Everbright Securities and Prudential Financial, plans to launch a new equity fund product in China before October, according to the company's shareholders.
Microsoft has joined hands with Chinese company Amoi Electronics as the US software giant tries to penetrate the communications and consumer electronics markets in China alongside its traditional stronghold in computer operating systems.
China expects to sign agreements with Russia to step up energy cooperation during President Hu Jintao's visit next month, boosting trade that reached a record US$21.2 billion (HK$165.3 billion) last year, according to the Ministry of Foreign Affairs.
An outcry in America over a mainland state oil firm's bid for a US energy outfit recalls 1980s friction with Japan, but similarities are superficial, said experts on the two Asian economies. CNOOC offered US$18.5 billion (HK$144.3 billion) in cash last week to acquire California-based Unocal, in a bid richer than the US$16 billion-plus cash and stock offer Unocal had accepted from Chevron.

Shanghai's state-controlled Catholic Church yesterday named Xing Wenzhi as an auxiliary bishop, making him the likely future leader of one of the mainland's most important dioceses.
June 29, 2005
Hong Kong: Chief Executive Donald Tsang played down the lure of democracy for Hong Kong Monday, saying the issue would be a low priority for his new government. Government polling, he told lawmakers, shows Hong Kongers to be far more concerned about the economy and livelihood matters than democracy. Insisting that the official polls accurately reflect popular sentiment, Tsang said: ''My governance platform will be based on the poll results, same as my priorities.'' In his first question-and-answer session with legislators since being officially appointed chief executive, Tsang also suggested that many of the 500,000 marchers who took part in two consecutive July 1 protests were concerned with issues other than democracy.

Allan Zeman says Ocean Park will not only serve as an amusement park but also as a venue for ecological education. Ocean Park Monday revealed a new fee formula to be charged after its refurbishment is completed in five years' time.
The funding formula for universities will be changed to allow students greater flexibility in choosing courses in institutions other than their own under a new four-year tertiary education scheme to be implemented in 2012. The new formula, to be finalized in 2009, will encourage the transfer of study credits among institutions and improve their quality, University Grants Committee secretary-general Michael Stone said Monday.
Hong Kong's leading carrier Cathay Pacific Airways has announced this week that it would launch a fourth daily non-stop service to London - with a new morning departure from Hong Kong.
China: Chinese President Hu Jintao and Russian President Vladimir Putin will hold talks during Hu's visit to Russia beginning this Thursday, FM official said on Tuesday.

Meteorological workers prepare to launch a silver-iodide missile at 11:45 am yesterday in Liyang, Changzhou city, East China's Jiangsu Province, to artificially induce rain. Six missiles, each costing about 2,000 yuan (US$240), were fired to alleviate the dry spells that have lasted since late May. Rain started to fall 15 minutes after the launch.
Customers purchase Hisense air conditioners at a shopping mall in Shanghai yesterday. Manufacturers have been urged by the Ministry of Commerce to police themselves better to make sure competition is fair.
China and the Association of Southeast Asian Nations are scheduled to lower tariffs on traded industrial goods from July 20, according to the Ministry of Commerce.

The name is familiar and a stranger in China might do a double take. But Wumart of Beijing is proudly independent of the world's largest supermarket group, Wal-Mart of Bentonville, Arkansas. In just over 10 years, Wumart has become the leading retailer in Beijing with 453 stores. It has seen sales growth that would make Lee Scott, Wal-Mart's chief executive, choke on his cheeseburger, and it has ambitious plans to double in size within five years.

Burger King, the second-largest United States hamburger chain, plans to open 10 stores in China in 12 months, aiming to catch up with McDonald's and Yum! Brands. ''China is huge and could be one of the most important market for Burger King in the next five years,'' said chief executive Greg Brenneman in Shanghai, where China's first Burger King opened Monday.
Guangzhou Shipyard International, the largest shipbuilder in South China, said it has orders on hand worth 7.2 billion yuan (HK$6.76 billion) for 32 ships totaling 1.12 million deadweight tonnes, according to analysts who attended a briefing by management.

Premier Wen Jiabao enjoys a joke with workers as he inspects a water-recycling plant in Tianjin. During his visit to his home city at the weekend, Mr. Wen also delivered a speech at the 6th Asia-Europe Meeting of finance ministers on Sunday.
Bars and karaoke parlous in Shanghai have been told not to use air conditioners in the daytime to ease the strain on power supplies after weekend temperatures hit 36 degrees Celsius, a power company spokesman said yesterday.
The mainland's top stock market regulator yesterday said all state-owned shares in listed firms would soon become tradable but promised that the government would sell its holdings gradually and retain "substantial" stakes to ensure market stability.
The number of internet users in China now exceeds 100 million, consolidating the country's position as second only to the United States in terms of online population, according to state media.
Central government authorities on Tuesday voiced their determination to stamp out rampant piracy of intellectual property but lashed out at the United States for threatening to bring Beijing before World Trade Organisation arbitrators.
June 28, 2005
Hong Kong: Hong Kong's unsuspecting broadband Internet users are the most vulnerable on the planet to attacks by so-called ''zombie'' computers, according to a report by a British Internet security firm. While Hong Kong has increased its efforts to become more secure for shopping and banking, there are vulnerabilities in the system that broadband users are not even aware of, officials say. The fact is that clandestine users piggybacking on the unaware have multiplied so fast that it is nearly impossible to go onto the Internet without being victimized or hijacked. These hijacked computers send thousands of spam e-mails per minute, set up fake Web sites and cripple servers, according to the report, by Prolexic Technologies, a British firm that has presented Internet security solutions to the US Department of Homeland Security.
Beijing Jingkelong Supermarket Chain Group, the mainland's 27th largest chain retailer, aims to raise about HK$300 million to HK$400 million in a Hong Kong initial public offering by the end of this year to add more stores and improve its logistics and computer systems, sources said. Jingkelong has appointed Singapore-based DBS Asia Capital as sponsor to arrange the share sale, and has submitted the listing application to the China Securities Regulatory Commission, people close to the deal said. Founded in 1994, Jingkelong had 140 outlets including supermarkets, convenience stores and drug stores in Beijing at the end of last year - generating 5.24 billion yuan (HK$4.91 billion) of sales, up 12.7 percent from 2003 - making it the 27th largest retail chain in China, according to the statistics from Department of Commercial Reform and Development, Ministry of Commerce.
To win back its declining audience and put it on the international stage, Hong Kong's flagship orchestra not only has to make sure it gets the funding and develops the local audience, but rather surprisingly it must cut down on celebrity performances, says its new chief executive.
The first meeting between new Chief Executive Donald Tsang Yam-kuen and Hong Kong legislators was brought to an abrupt end just 10 minutes into the debate ob Monday amid chaotic scenes as a legislator staged a noisy protest. Chief Executive Donald Tsang Yam-kuen has pledged not to reintroduce the controversial anti-subversion Article 23 legislation during his two-year office, local radio reported on Monday.
Ocean Park was planning to spend $5.5 billion renovating its facilities to enable it to compete with Hong Kong Disneyland, local media reported on Monday.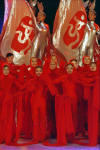 China: Actors and actresses perform during a ceremony held by the BOCOG to announce the slogan for the Beijing 2008 Olympics in Beijing, June 26, 2005. The slogan for the 2008 Olympics is "One World, One Dream".
European finance officials on Sunday acknowledged the timing of China's exchange rate reform should be upon the country's own decision.
The largest auto glass maker in China, the Fuyao Glass Industry Group, is celebrating the launch of three new float glass production lines, which is expected to help ease the nation's lack of production technology of float glass, a kind of glass that is perfectly flat and clear - a major raw material for producing automobile glass.

Global life insurer Manulife Financial will spend 200 million yuan (HK$187.7 million) over the next two years to expand its presence in the mainland to more than 20 cities. Manulife has branches and sales offices in seven mainland cities through Manulife-Sinochem Life Insurance, a joint venture 51 percent owned by Manulife and 49 percent owned by China Foreign Economic and Trade Trust & Investment Co, a member of the Sinochem group. ''We should have 10 to 12 offices by the end of this year, which will give us the largest geographical spread of any foreign companies,'' said Marc Sterling, executive vice president of Asia Regional Operations at Manulife in Hong Kong.
Faced with greater competition when the mainland's wholesale oil market opens to foreign competition next year, the China Chamber of Commerce for Petroleum Industry, the country's first nationwide private oil association, is urging provincial governments to set up oil associations to help private firms build up their scale, sources say. Led by Hubei Tianfa Petroleum, one of the mainland's largest private oil firms, the CCCPI, which was set up last December, is calling for private oil firms across the country to unite by merging their retail operations to beat a new government directive which aims to consolidate smaller players.
June 27, 2005
Hong Kong: Hong Kong Tourism Board (HKTB) Saturday night launched the city's largest shopping promotion -- 2005 Hong Kong Shopping Festival. With the highest number of participating organizations, great support from markets in creating special packages and extensive overseas media exposure for the "Shopper of the Year' contest, the two-month long festival promises the best of the world's shopping experience for visitors and local residents, the HKTB claimed. This year, the festival has already set a number of new records. Over 6,800 retail and dining outlets have confirmed their participation. And the HKTB is confident that the final number is expected to reach beyond 7,000. Together with 29 major shopping malls and department stores, the festival promises a citywide festive ambiance. HKTB Chairman Selina Chow said at the launching ceremony that the record number reflected the strong support for the festival among the retail and dining sectors. "As shown by the encouraging figure this year, the festival hasattracted not only the veterans' continued strong support, but also many new owners, demonstrating that this mega event offers a truly successful platform for promoting our tourism business." To encourage more incentives to spend, the HKTB is once again organizing a lucky draw featuring 25 percent more fabulous prices than last year. Together they worth over 2.2 million HK dollars (280,051 US dollars).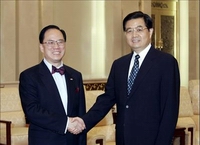 Chinese President Hu Jintao (R) shakes hands with newly sworn-in Chief Executive of Hong Kong Special Administrative Region Donald Tsang Yam-kuen during their meeting in the Great Hall of the People in Beijing June 24, 2005. Donald Tsang Yam-kuen hit the ground running on his first day in the top job yesterday when he re-appointed the cabinet and told Beijing his choice of a No2, before embarking on an impromptu walkabout in the city's flood-hit areas.

An Architectural Scene commemorating the fight against Sars was unveiled at the Tai Chi Garden in Hong Kong Park.

China: China's development is, by no means, a threat to any other countries, Chinese Premier Wen Jiabao said Sunday at the opening ceremony of the Sixth ASEM Finance Ministers' Meeting (FMM). "China's development is conducive to the stability and prosperity of our region and peace and development of the whole world, and will not threaten or exert an adverse impact on any country," Wen told Asian and European financial officials at the meeting. China has achieved sustained and rapid economic growth, markedly enhanced overall national strength and constantly improved people's life since its adoption of the reform and opening-up policy, he said in a keynote speech. Wen urged Asian and European countries to strengthen cooperation in all areas in a bid to lift Asia-Europe cooperation to a new high.

Chinese Finance Minister Jin Renqing (R) shakes hands with his Japanese counterpart Tanigaki Sadakazu during their meeting in Tianjin, North China, June 25, 2005. Jin and Sadakazu were in Tianjin to attend the Asia-Europe Finance Ministers Meeting, part of the Asia-Europe Meeting, slated for June 26. Chinese and Japanese finance ministers agreed on Saturday to work for the establishment of a bilateral financial dialogue mechanism and hoped the first ministerial dialogue could be held "at the earliest possible time."
Federal Reserve Chairman Alan Greenspan urged Congress on Thursday to find a "less destructive" outlet for its frustration over China's trade and exchange-rate policies, saying a proposal to slap tariffs on Chinese imports would have "extraordinarily negative" consequences for the world economy. People's Bank of China governor Zhou Xiaochuan said yesterday it was too soon to drop the yuan's decade-old peg and that he had no plans to discuss the currency's link to the US dollar at a weekend meeting of the world's central bankers in Basel, Switzerland.

In a week dominated by news of plans for mainland banks to pursue overseas public offerings, China's tech sector continues to attract the attention of investors looking for high growth stories. Shanghai-based commercial building narrowcaster Focus Media, which last week filed for a Nasdaq initial public offering, amended its filing this week to increase its maximum amount raised from US$100 million (HK$780 million) to US$185 million. The new filing also gave an estimated share price of between US$14 and US$16 per American depositary share. It was reported this week that Focus Media competitor Target Media received an additional US$20 million investment from a group of investors led by Carlyle Group subsidiary, Carlyle Ventures.
China Leather Association on Friday warned Chinese shoe-makers to prepare to respond ahead of an European anti-dumping investigation that is expected to open officially at the end of the month.
June 24 - 26, 2005
Hong Kong: New Chief Executive Donald Tsang Yam-kuen flew to Beijing on Thursday to prepare for a swearing-in ceremony that would cap the city's first leadership change since it returned to Chinese rule eight years ago.

Denise Yue Chung-yee, the permanent secretary for commerce and industry, makes her way to Victoria House on The Peak to join commerce minister John Tsang Chun-wah and heads of overseas economic and trade offices in briefing Chief Executive Donald Tsang Yam-kuen on their work. Mr Tsang also met Central Policy Unit head Lau Siu-kai, who declined to comment on the purpose of their meeting.
Hong Kong was now the largest investor in China's Hebei province - making up over 32 per cent of total direct investment there, Director General of InvestHK Mike Rowse said on Thursday.

Dickson Poon, the chairman of upmarket fashion retailer Dickson Concepts (International), enjoys the moment after announcing the firm's best earnings result since the Asian financial crisis. Profit rose 68.9 per cent to $203 million for the year to March, which coincided with the company's silver jubilee - an occasion marked by a special dividend and a bonus share offer.
Jardine Strategic Holdings will pay US$185 million for a 20 per cent stake in the parent company of NM Rothschild & Sons, in a deal that reunites the hong with its 19th century European peer and marks Jardines' return to the investment banking sphere after a seven-year absence.
Privately-owned Chinese mainland car-maker Geely Automobile yesterday said it is in talks to buy British collapsed automaker MG Rover's moulds and production equipment business, and intends to build cars in Hong Kong.
The Bank of Communications (BoCom), China's fifth-largest commercial lender, will make its debut in Hong Kong today, selling 5.856 billion H shares at HK$2.5 per share.

Angry tour operators are warning Hong Kong Disneyland of chaos at the gates when it opens in September because the park operator plans to sell most of its tickets in advance through the Internet, effectively shutting them out. The warning came after Disneyland said 70 percent to 90 percent of its tickets would be sold in advance through the Internet, with a cap for daily visitors set at 30,000. Disney's ticket allocation plan would leave tour and travel operators with far fewer tickets than expected. The operators are not satisfied with the arrangement, saying the allocation for tour agents is insufficient and that chaos might ensue if visitors fail to get tickets on arrival at the theme park. A comprehensive transport system is being arranged for the opening of Hong Kong Disneyland, including the introduction of new franchised bus services and cross-boundary coaches for mainland visitors.

Hutchison Whampoa, the ports-to-telecoms conglomerate controlled by tycoon Li Ka-shing, is raising one billion euro (HK$9.4 billion) by selling 10-year bonds, its first global bond sale in 1½ years, sources close to the deal said. The offer attracted more 5.5 billion euro in orders from 300 accounts in 25 countries. Sources attributed the strong demand to Hutchison's good credit rating. "This week is a quiet week in terms so there's nothing to rock the market. They are beating the crowd as there is a crowd coming [of issuance] in the next two weeks so its good to be the first,'' said Dilip Parameswaran, executive director of credit research at Calyon Corporate and Investment Bank.

China: Terrace of Hani nationality, geographically located in Ailao mountain range southwest of Yunnan province, is an agricultural and farming landscape created by locals, mainly Hanis, while making use of local climatic condition. There are 170,000 mus of terrace in Yuanyang couty, the core region of Hani terraces. The highest terrace has over 3,000 steps from the mountain foot.

A visitor walks past a stand at the Beijing International Tourism Expo, which opens on June 22, 2005 in the Beijing Exhibition Hall. The Expo has attracted numerous tourism enterprises and airline companies from home and abroad. By setting up special exhibition zones, the Expo has made it easier for exhibitors to promote their products, service and resources.
US natural gas and oil company Unocal Corp. said on Wednesday it intended to evaluate an 18.5- billion-US-dollar merger proposal from the CNOOC.
The Wuhan-Guangzhou high-speed railway scheduled to start construction on June 23 will select from domestic and overseas investors to raise 24 billion yuan.
Nearly 9,000 Chinese credit card holders' accounts have been exposed to potential fraud because of a security breach at a US-based card data processing company last week, Visa and MasterCard have admitted.
China will promote the development of its software industry over the coming years, especially encouraging brand-building and innovations with self-owned intellectual property rights (IPRs), according to senior officials.
China's industrial firms earned profits of 496.8 billion yuan (US$59.9 billion) during the first five months of this year, an increase of 15.8 per cent from a year ago, the National Bureau of Statistics said yesterday.

China is moving into the merger and acquisitions major league, as its star corporations shop for American household names like Maytag, IBM and Unocal, hoping that global ambitions will mean bigger profits. Chinese appliance maker Haier Group would not immediately comment Wednesday on its plans after whitegoods competitor Maytag said it was reviewing a US$1.28 billion (HK$9.98 billion) buyout offer from Haier and two private equity firms, Bain Capital and Blackstone Group.
June 23, 2005

Hong Kong: Premier Wen Jiabao shows the decree he signed to appoint Donald Tsang, 60, as new Chief Executive (CE) of the HK Special Administrative Region (HKSAR) at the plenary meeting of the State Council, or the Chinese central government, in Beijing June 21, 2005. According to HK Basic law, Tsang should assume his CE office on June 21 and his term will expire by June 30, 2007.

Premier Wen Jiabao has endorsed Donald Tsang as Hong Kong's chief executive, appointing him to a truncated term that will end June 30, 2007 - the two years left in the term of office of his predecessor, Tung Chee-hwa. Wen praised Tsang as having "relatively strong'' capabilities in administrative management, saying in Beijing that he believes the new chief executive and his team will steer Hong Kong through rough waters. Tsang, whose term begins immediately, will fly to Beijing tomorrow where Wen is to swear him in Friday, completing a 38-year rise from lowly salesman to the territory's highest office. In a press conference Tuesday, Tsang dodged questions on controversial issues, including whether there will be more tinkering with the Basic Law, whether he will seek a second term in 2007 and whether he will fight for the release of detained journalist Ching Cheong.
China COSCO Holdings Co Ltd, the country's biggest container shipping firm, will raise up to HK$12.9 billion (US$1.6 billion) in a Hong Kong IPO, according to the company's prospectus released yesterday.
The Lands Department has announced a revamp of the controversial land application list system - which has been criticised by developers, local radio reported on Tuesday.
China: China will step up efforts in exploiting the gas and oil resources in northwest Xinjiang Uygur Autonomous Region, turning it into the country's largest oil and gas production base.

Ping-pong diplomacy: Foreign Minister Li Zhaoxing (right) plays table tennis with his Israeli counterpart Silvan Shalom after a meeting in Jerusalem on Sunday.
China's four State-owned asset management companies (AMCs) are to be restructured into joint-stock commercial ventures once bad loan clearing tasks are completed at the end of next year.
Manulife-Sinochem, the first joint venture life insurance company in China, announced a strategic expansion plan yesterday to establish a nationwide subsidiary network for its bulging business.
CNOOC, China's largest offshore oil and gas producer, may bid about US$20 billion (HK$156 billion) in cash for Unocal, the eighth-biggest US oil company, trumping an offer from Chevron, people familiar with the plan said. The state-controlled firm would offer about US$71.50 a share, the people said, asking not to be identified. That's 15 percent higher than the price San Ramon, California-based Chevron agreed to pay in stock and cash April4. Unocal shares rose 3.2 percent to US$65.50 in early Tuesday trading on the New York Stock Exchange.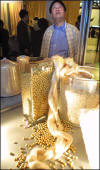 While farmers around the world are switching in droves to hardy, genetically modified soybeans, China's producers are finding an unexpected windfall growing the conventional crop. "We can't meet all the orders,'' said Li Yanmei, vice president of Beijing Gingko-Group Biological Technology, which produces vitamin E from non-GMO soybeans. "Even some US customers pick non-GMO health products...that's why we have decided to make only non-GMO products.'' The firm is now building a second production line in Beijing to quadruple its capacity. Gingko is one of a handful of vitamin E producers that have acquired a GMO-free certificate known as identity preservation certification, or IP, which requires strict quality controls for the entire supply chain starting at the farms.
Top United States do-it-yourself chain Home Depot is seeking to buy a stake in a mainland peer for up to US$500 million (HK$3.9 billion) to win a foothold in China's fast-growing home improvement market. It is in talks with Orient Group to take a stake in its unit, Orient Home, which operates more than 20 DIY outlets nationwide, the China Business News cited sources as saying.
In what could prove to be a milestone in its quest to become a global super brand, the Haier Group, the mainland's biggest white goods producer, has made a bid to acquire the third-biggest home appliance maker in the United States.
June 22, 2005

Hong Kong: China COSCO Holdings' HK$12.9 billion initial public offering received a lukewarm response from retail investors on its first day, with brokers saying that even cut-rate margin financing as low as 2.5 percent failed to stir much interest. The weak demand for shares in the shipping unit of state-controlled China Ocean Shipping (Group) stands in sharp contrast to Bank of Communications' IPO, which last week drew heavy demand from institutional and retail investors alike. The retail portion of the offering was 204 times oversubscribed, with orders totaling HK$153 billion, making it the sixth most popular IPO ever in Hong Kong. The much larger institutional part of the sale was 19 times oversubscribed. Investor enthusiasm for BoCom shares may have indirectly helped make China COSCO a harder sell. Prudential Securities associate director Kingston Lin said BoCom's IPO locked up so much money in ultimately unsuccessful orders that it drove up interbank interest rates. That forced brokers to charge more - as much as 4.3 to 4.5 percent - for loans to buy COSCO shares.
Hongkong and Shanghai Banking Corp, Standard Chartered Bank, Hang Seng Bank, Bank of East Asia, Bank of China and DBS Bank said some of their Hong Kong credit cardholders might be affected by a security breach of card payment data in the United States last week.
Chief Executive-elect Donald Tsang has poured scorn on casino tycoon Stanley Ho's suggestion for a return to the colonial-era policy of high land prices, declaring the policy is "totally unacceptable.''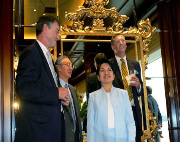 Philippine president Gloria Macapagal-Arroyo appears at a business luncheon in Hong Kong on Monday. Mrs Arroyo is on a one-day visit to meet with business leaders and drum up investment. Filipino labour activists and workers in Hong Kong protested her visit. Philippine President Gloria Macapagal-Arroyo yesterday announced during a whirlwind visit to Hong Kong that she has expanded the role of an ICAC official in her fight against corruption as twin scandals threaten to sink her administration.
PCCW's takeover of Sunday Communications adds a mobile dimension to the company's existing "triple play" of voice, data and pay-television services. But while much of the analysis has focused the company's new-found capacity to provide mobile data, it is in the voice market that PCCW can have arguably the most immediate impact.

China: Turbo fan 500 engine made its debut lately at the Paris Air Show and drew great attention from specialists. As a small engine with a driving force of 500daN, the engine can provide power for an unmanned jet, or be modified into an engine of small-scale business planes.

A visitor bought herb medicines at the 16th Harbin Fair for Trade and Economic Cooperation in Harbin, capital of northeast China's Heilongjiang Province on June 19, 2005. The fair closed on that day. More than 10,000 exhibitors from 81 countries and regions have participated in the fair, and contracts with a value of US$ 3.96 billon have been signed during the fair.
China's faltering attempts to dispose of a mountain of non-performing bank loans were dealt another blow when the central bank abruptly canceled an auction of 400 billion yuan (HK$376 billion) of bad debt after the country's biggest bank was accused of misleading bidders about the nature of the loans on offer. The Industrial and Commercial Bank of China stands accused of secretly adding a batch of class-five loans - those deemed least likely to be collected - into a batch of higher-grade, class-four loans set for auction this past weekend. The news appeared on the Web site of Huarong Asset Management Company, one of four state agencies charged with disposing of the bad loans from state-owned banks.
Guangzhou Investment, the Guangdong provincial capital's biggest property developer, plans to raise about HK$2 billion by listing a real estate investment trust (REIT) in Hong Kong or Singapore, a company source said.
China is offering rewards of up to 300,000 yuan (HK$281,820) for tips on illegal video and audio factories to stamp out theft of intellectual property. An IP piracy hotline came online as Beijing announced a further round in its campaign to combat piracy of movies, music and other copyrighted materials.
US luxury mall operator Taubman Centers is setting up shop in Asia, hoping to cash in on a surge in consumer spending in China, where liberalization has unleashed an influx of retailers. It is considering developing malls in China that could be worth hundreds of millions of dollars a year, said its Hong Kong-based Asia president Morgan Parker.
June 21, 2005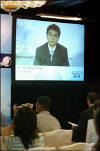 Hong Kong: Listing candidate GST Holdings, which plans to raise as much as HK$412 million in its Hong Kong initial public offering, says it will boost its revenue growth by expanding exports and diversifying its product mix. "We intend to continue to expand our international sales by accessing new markets in the United States and Europe in particular and by seeking accreditation for more of our products in overseas markets,'' executive director and president Cao Yu said, adding that exports sales have a higher gross profit margin than domestic sales "as the price is higher and we can enjoy a tax rebate for exports.' Founded by its chairman Song Jiacheng and Cao in 1993, GST began selling fire alarm systems outside of China in 2001. Last year, exports made up only 3 percent of GST's total sales.
After donating HK$1 billion to the University of Hong Kong's faculty of medicine, billionaire Li Ka-shing will donate US$40 million (HK$312 million) to the prestigious University of California at Berkeley.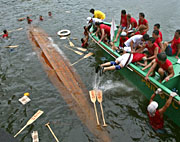 At least a dozen boats sank in Victoria Harbour yesterday afternoon as a second day of chaos hit the international dragon boat races.

Members of the police dragon boat club head for safety after their vessels sank after crossing the finish line yesterday. At least 12 boats were swamped in choppy conditions during the International Dragon Boat Races, held off the Tsim Sha Tsui waterfront.
China: A medicine currently used to treat schizophrenia was found to be effective in inhibiting the coronavirus of deadly Severe Acute Respiratory Syndrome (SARS). A medicine currently used to treat schizophrenia was found to be effective in inhibiting the coronavirus of the deadly severe acute respiratory syndrome (SARS), announced a group of Chinese and European scientists in Hangzhou, capital of East China's Zhejiang Province, yesterday.
China's securities regulator announced its decision to select 42 of its domestically listed firms for its second round of experiments to make it possible for all those firms to sell their non-tradable shares on the stock markets.
Technological progress has played a key role in the rapid development of China's shipbuilding industry, said Zhang Guangqin, deputy director of the Commission of Science, Technology and Industry for National Defense.
The future of China's business hub will require a careful balance of resources, people and development goals, the city's mayor told a delegation of business leaders over the weekend.
Top officials at Britain's public broadcaster, the British Broadcasting Corp (BBC), are planning a high-profile visit to Beijing this summer with the aim of setting up a television channel.
Many mainland textile firms have enjoyed better business since China agreed with the European Union just over a week ago to limit exports, state media have reported, attributing the rise to the removal of uncertainty. "Over the past week, our orders have recovered quickly,'' Xinhua News Agency Sunday quoted Li Lingmin, vice president of the China National Textiles Import & Export Corp, as saying. "Prices are also on the rise. The gloomy days are now gone.''
June 20, 2005

Hong Kong: The democratic opposition served notice on chief executive designate Donald Tsang Friday that he must clarify his position on several controversial issues when he takes office next month. Chief Executive-designate Donald Tsang said Friday he is attempting to introduce democracy with Hong Kong characteristics by revamping the Executive Council and inviting more social representatives into the advisory Strategic Commission.
Kaizer Lau, a former legislator who lost his functional constituency seat in the 2004 Legislative Council elections, was Friday acquitted of a charge of trying to discourage another candidate from running after the main prosecution witness said he did not believe he had been offered any material advantage.
A Legislative Council subcommittee has taken on board recommendations by the Independent Commission Against Corruption to enhance accountability among lawmakers.
A fast-track attempt to abolish Hong Kong death duties was derailed in the Legislative Council Friday. The move was delayed for at least three months after it was voted down 20-17. Under current law, estates of HK$7.5 million or more are taxed between 5 and 15 percent.
The cost of renting movie discs and comic books could soar if the government goes ahead with proposals released yesterday for extending laws protecting copyright ownership.
Former legislator Christine Loh Kung-wai and boyfriend Craig Ehrlich are celebrating Father's Day this weekend with a baby girl born to a surrogate mother in the United States - but bracing for controversy when they bring her home.

China: President Hu Jintao meets with visiting Russian State Duma Chairman Boris Gryzlov in Beijing, June 17, 2005. The relationship between China and Russia has reached unprecedented heights over the past decade, President Hu said.
The Bank of America said Friday that it will invest 2.5 billion US dollars in Construction Bank and earmark an additional 500 million US dollars when the CCB goes public later this year as scheduled. Bank of America will initially spend US$2.5 billion for its shareholding, and agreed to buy another US$500 million worth of shares in Construction Bank's initial public offering in order to maintain its percentage stake. Construction Bank, the mainland's biggest property lender, hopes to sell up to US$5 billion worth of shares in an IPO that could come as early as November.

China Construction Bank Chairman Guo Shuqing (L) shakes hands with Bank of America Board Chairman Kenneth D. Lewis at the signing ceremony in Beijing June 17, 2005. The two banks signed an agreement that Bank of America would invest 2.5 billion US dollars in China Construction Bank (CCB) for stake in the country's leading property lender. This was the most-ever foreign investment in a Chinese company made by a single foreign company.
The Handan Steel Company, which is based in north China's Hebei Province and listed at the Shanghai Stock Exchange, announced on Friday that it will pay about 350 million yuan (42 million US dollars) to buy back its own public stocks.

China Aviation Industry Corp (AVIC I) - a maker of airplanes and rockets - said France-based Airbus will raise subcontracting deals by 12 times to US$120 million (HK$936 million) a year in 2010 as the two firms move closer by establishing a center to design the proposed A350 aircraft. AVIC I has signed an agreement with Airbus to set up the Airbus Beijing Engineering Center in Beijing, which will open by the end of this year, the General Administration of Civil Aviation of China said Friday. Airbus will increase its annual subcontracting deals to AVIC I to US$60 million by 2007 from US$10 million now and to US$120 million from 2010, said AVIC I.
Property prices increased at a slower pace in the first five months of the year after the government unveiled measures to curb speculation. Prices rose by 8.9 percent on average from a year earlier, the National Bureau of Statistics said. Prices rose 12.5 percent in the first four months of the year. Residential prices increased by an average of 11.3 percent from January to May, compared with a 13.6 percent gain in the first four months.
June 17 - 19, 2005
Hong Kong: Cheung Kong (Holdings) and Hutchison Whampoa - two blue chips controlled by tycoon Li Ka-shing - have bought their third land site in Sichuan province in seven months.
Hong Kong is the only economy in Asia Pacific where improved job prospects are expected in the third quarter, according to a survey by Manpower Inc, a global employment services firm.

China: A journalist shot an Airbus A380 airliner exhibited at the Paris Air Show June 14, 2005. With participation of about 1,900 aerospace enterprises from 41 countries and regions, the Paris Air Show is regarded as the largest air show in the world ever.
Intel will set up the global headquarters of its channel product group in China, the first US microprocessor maker to do so.
China National Petroleum Corporation (CNPC), China's largest oil producer, announced Tuesday that it has absorbed China Huanqiu Contracting and Engineering Corporation (HQCEC).
To meet the requirements of the World Trade Organization (WTO), the government is pushing ahead with policies encouraging the development of the software industry, a senior official from the Ministry of Information Industry said.
June 16, 2005
Hong Kong: Hong Kong's small and medium-sized companies, the backbone of the city's economy, are finding it increasingly tough to arrange syndicated bank loans as lenders pull back amid concern over growing credit risks and rock-bottom margins that make loans barely profitable, bankers said. These outfits, which have market capitalizations ranging roughly from HK$400 million to HK$3.2 billion, have always had a harder time arranging credit than their bigger corporate cousins, in part because they tend to be more vulnerable to business downturns thanks to their smaller revenue bases and less diversified lines of business.

PCCW says its takeover of Sunday Communications makes it a natural investment partner for China Netcom, which hopes to win a license to provide third-generation (3G) mobile phone services in the mainland. Sunday, Hong Kong's smallest wireless operator, has just launched 3G services. Netcom, a fixed-line operator, acquired 20 percent of PCCW in January. The acquisition of Sunday "will definitely allow PCCW to be China Netcom's preferred mobile partner in China, since we have experience in the Hong Kong mobile market,'' said PCCW deputy chairman Jack So. The long-anticipated convergence of fixed-line and mobile-telephone services is being cited by PCCW as the key reason for its planned takeover of Sunday Communications, highlighting a potential industry transformation whereby bundles of telephone services will be sold by one provider for a single price.
Chief executive frontrunner rules out link to mainland currency during his two-year term Donald Tsang, the frontrunner for the chief executive's post, dismissed Tuesday the possibility of linking the Hong Kong dollar with the yuan, saying he has no such plan for the next two years as the yuan has yet to become fully convertible.
With just two days remaining before the end of the nomination period, 25 Election Committee members from the information technology and health service sub-sectors have jumped on the Donald Tsang bandwagon, bringing to 670 the number of nominations the former chief secretary can now count on.
Donald Tsang Yam-kuen yesterday spelled out the criteria for new Executive Council appointments, saying they should be able to raise the cabinet's sensitivity to public opinion and strengthen ties with the Legislative Council.

Oasis Hong Kong Airlines is seeking permission to fly to six destinations in Europe and the United States in a move that may be contested by Cathay Pacific Airways for breaking established practices for applications to the Air Transport Licensing Authority (Atla).

China: Chinese President Hu Jintao, who is also general secretary of the CPC Central Committee and chairman of the Central Military Commission, delivers a speech at the centennial commemoration of late Chinese leader Chen Yun, hailed as one of the founders of China's socialist economic construction, at the Great Hall of the People in Beijing June 13.
The construction of Shanghai Int'l Shipping Center is expected to bring a change to the layout of Asian-Pacific Pacific seaways.
China is rising to be an economic power, but not a military threat, said former US Secretary of State Powell on June 13.

A girl passenger uses an electronic ticket at an entrance to the elevated light railway in Chongqing, a municipality in southwest China June 13, 2005. The rechargeable tickets for the elevated light railway were put into trial use Monday before the formal operation of China's first single-track elevated light railway set on June 18.
The total volume of foreign trade in the first five months this year stands at 522.78 billion US dollars, a year-on-year increase of 23.2 percent.
Disputes, she said, should be settled within the World Trade Organization (WTO) framework, said Wu Yi while rebuking the US for unilaterally limiting textile imports from China.
The families of school children killed by last Friday's devastating flood in Northeast China's Heilongjiang Province are to receive 150,000 yuan (US$18,200) compensation, a local government spokesman announced last night.
South China's Guangdong Province, the nation's leading foreign trader, reached an import and export volume of more than US$150.58 billion from January to May this year.
Carlsberg, one of the world's leading brewers, will buy a 46 per cent stake in Xinjiang Hops Co, previously the country's largest beer barley and hops producer, through its new joint venture.
Mainland retail sales rose at a faster pace last month as higher incomes spurred spending on products such as Tsingtao beer, Hitachi televisions and General Motors cars. Sales rose 12.8 percent from a year earlier to 489.9 billion yuan (HK$460.6 billion), after climbing 12.2 percent in April, said the National Bureau of Statistics Tuesday. Sales surged 20 percent at restaurants, 15 percent at car dealers and 19 percent at clothing stores. Rising consumer spending is helping sustain growth in the economy, which expanded 9.5 percent last year, as Beijing restricts investment in manufacturing and real estate. Premier Wen Jiabao may take more steps to boost farm incomes and discourage saving because household demand is not growing fast enough, said economists.
Beijing has quietly been conducting exchanges with the Vatican to pave the way for diplomatic ties to be re-established, according to church sources and academics.
The mainland markets for mobile phones and personal computers were likely to grow larger than those in Japan in value for the first time this year, a Japanese think tank said on Tuesday.
June 15, 2005
Hong Kong: Eavesdropping devices have been discovered throughout Government House, delaying Donald Tsang's plan to use the mansion as his official residence as chief executive. Bugs were found in the walls and fixtures of living and sleeping areas, bathrooms and in a guest suite, and in upstairs areas that were once used by Chris Patten, the last British governor of Hong Kong, an aide to presumptive chief executive Donald Tsang has told The Standard. The bugs were uncovered during renovation work that involved cutting into walls, said the source. It is not known who bugged the mansion, or if any of the devices still work.
Donald Tsang, frontrunner for the chief executive's post, is expected to be formally appointed Hong Kong's leader by the central government June 21 if he is declared the uncontested winner when nominations close Thursday.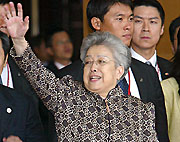 Vice-Premier Wu Yi yesterday renewed Beijing's criticism of US moves to fend off surging imports of Chinese textiles, saying the compromise reached last week with the European Union was a better way to handle the problem. Wu Yi leaves the convention centre following her address to the Pacific Basin Economic Council's annual meeting. Vice-Premier Wu Yi made a point of highlighting improved economic ties between Hong Kong and the mainland.
Richard Li's PCCW has mapped out a return to the mobile phone business that it abandoned in 2002 during the worst of its financial crisis, offering HK$1.94 billion to buy Sunday Communications, Hong Kong's smallest mobile operator. Analysts cautioned, though, that PCCW may face heavy capital commitments to help Sunday roll out its third-generation (3G) mobile service, and this could accelerate the decline of its fixed-line business, where it is the market leader.
With the World Trade Organization 6th Ministerial Conference just six months away, foreign governments are increasingly nervous about security preparations for the meeting amid worries that anti-globalization protesters could seek to disrupt the high profile talks.

China: Miss Tourism Queen International contestants pose in front of the gate to Baima Temple (White Horse Temple) during a visit to Luoyang, central China's Henan Province, June 12, 2005. Seventy-five international contestants are in China for the final which takes place in Hangzhou on July 2.
The National Bureau of Statistics of China revealed on June that the consumer price index (CPI) increased by 1.8 percent in May over the same month of last year.
Foreign direct investment (FDI) in China dropped slightly in the first five months of the year, but within a reasonable fluctuation. New global investment trends, rising protectionism and domestic industrial restructuring are behind the recent downturn in foreign direct investment (FDI) on the mainland, according to a UN investment official and a mainland scholar.
China National Nuclear Corp plans to spend US$4.33 billion (HK$33.77 billion) to more than double capacity at its Qinshan generator to meet energy demand. Capacity at the Zhejiang province plant will rise to 6,300 megawatts from 3,000 megawatts, said Hu Haiyun, Communist Party secretary at the Qinshan Nuclear Power Base.
Mainland banks, including the central bank, brought a record US$16 billion (HK$125 billion) home from overseas in the fourth quarter, according to the Bank for International Settlements. The withdrawal, including from deposits in the United States and United Kingdom, came amid speculation that China will loosen the yuan's fixed exchange rate of about 8.3 per US dollar.
China regulators halved the dividend tax on A shares and repealed taxes on transfers of state shares to shareholders yesterday, as part of a flurry of measures aimed at reviving the moribund stock markets.
HSBC Holdings holds a "unique" position among foreign players in the mainland's financial services industry as its capital commitment approaches US$5 billion, according to group chairman Sir John Bond.
June 14, 2005
Hong Kong: In an historic deal, the world's leading industrial nations have agreed to immediately write off all multilateral debt owed by 18 of the world's poorest countries, most of them in Africa, amounting to US$40 billion.

Brand new superstar of tomorrow's brave new skies - the Airbus A380. The 555-passenger, double-decker juggernaut, escorted by French police, will take pride of place at the world's biggest air show at Le Bourget, north of Paris, which opens today. The superjumbo will take aviation to a higher plane, although Airbus' ambitious plan for its take-off has been delayed by up to six months.
More senior executives and business professionals are being prosecuted in corruption cases, a reflection of the increasingly sophisticated tactics and collusion practices being employed, said the Independent Commission Against Corruption. Of the commercial corruption cases prosecuted last year, 73 percent of those involved were senior executives and business professionals, compared with 69 percent in 2003 and 52 percent in 2002, statistics from the anti-graft watchdog show. "Many commercial cases are related to listed companies and their senior executives,'' said Helen Lee, program co-ordinator (business sector) of the community relations department at the ICAC. "This could affect Hong Kong's reputation as an international financial center and the ICAC is obviously very concerned.'' Commercial cases made up more than half of the corruption complaints over the past 10 years - complaints from the public involving both the business and government sectors.

Once considered vital to the territory's economic recovery and a source of cheap food for the army of blue and white collar workers, dai pai dongs, or roadside stalls, have now become a dirty word in post-SARS Hong Kong.

Fans and press bombard Jay Chou Jie-lun at the Grand Century Plaza in Mongkok yesterday, where he was promoting Initial D, in which the Taiwanese singer makes his screen debut. The $93 million Hong Kong-mainland co-production was shot in Japan and is based on the popular Japanese car-racing comic of the same name. Directed by Infernal Affairs' Andrew Lau Wai-keung and Alan Mak Siu-fai, it will premiere at Times Square on June 20 and open on June 23. Initial D also stars Edison Chen Koon-hei, Anne Suzuki, Shawn Yue Man-lok and Anthony Wong Chau-sang.
China: On June 11, a delegation of 75 Miss International Tourism, the "international tourism image ambassadors", from 75 countries and regions, set out their traveling around the central China. They enjoyed the traditional Chinese Dragon Boat Festival in Henan province.
An increasing number of overseas businesses are eyeing the lucrative business opportunities of China's market against the backdrop of worldwide economic stagnation.
Northeast China's Heilongjiang Province, a major grain producer in China, will expand its acreage of organic food to 3.33 million hectares by the year 2010, according to a plan of the provincial government.

Visitors look at X-ray equipment on show at the Fourth China (Jiangsu) International Medical Instrument Exhibition on Thursday in Nanjing, capital of East China's Jiangsu Province. The three-day event has lured over 60 medial instrument manufacturers from home and abroad.
To boost stagnant domestic reserves and forge a platform for overseas expansion, PetroChina, China's largest oil and gas company, has agreed to pay 20.7 billion yuan (US$2.5 billion) for overseas assets in its State-owned parent.
June 13, 2005

Hong Kong: Fishermen from Chai Wan, Hong Kong, vie on the sea on Thursday to celebrate the upcoming Dragon Boat Festival. Saturday's Dragon Boat Festival will be celebrated across the country, but, while boat races and the sticky rice dumplings known as zongzi may be growing in popularity, it seems the roots of the festival are being forgotten.
The sudden scramble caused by a last-minute switch of venue - to the Tsim Sha Tsui waterfront - may help explain why the Hong Kong International Dragon Boat Races have yet to find a major sponsor and are close to $2 million in debt, race officials said.
Hong Kong-listed PetroChina, the mainland's largest oil producer, will pay 24.74 billion yuan (HK$23.25 billion) in cash for a 50 percent stake in most of its parent's overseas assets as it seeks to bolster foreign production to offset a projected decline in output from its aging domestic fields. The assets, which range across 10 countries but don't include the parent's prize Sudan operations, won't add much to the firm's reserves but will provide an immediate boost to production.
China Power International Holding, controlled by former premier Li Peng's daughter Li Xiaolin, said China Southern Power Grid will take a 30 percent stake in its joint venture to supply power to Hong Kong.
Hong Kong's three largest developers, Cheung Kong (Holdings), Sun Hung Kai Properties and Henderson Land Development, and five others have submitted tenders for Kowloon-Canton Railway Corp's residential project atop Wu Kai Sha station, which has an estimated value of up to HK$9 billion.

Laying the foundation stone for the HK$538 million infectious disease center at Princess Margaret Hospital Friday are, from left, hospital executive director Lily Chiu, Hospital Authority chairman Anthony Wu, mainland health minister Gao Qiang, health chief York Chow and authority chief executive William Ho. The 17-story, 108-bed center is due to open in June 2007. The pediatric intensive care unit at the Pamela Youde Nethersole Eastern Hospital has stopped admitting new patients following the isolation of three babies with gastrointestinal inflammation.
Donald Tsang Yam-kuen's election campaign was given a boost yesterday as nearly half of the 40 Election Committee members from the social welfare sector - which rival Lee Wing-tat had regarded as a bedrock of support - decided to nominate the former chief secretary based on a survey.
The last of Hong Kong's four licensed 3G operators, Sunday Communications, launched its network yesterday to great fanfare but without a handset in sight.

China: Chinese Commerce Minister Bo Xilai (R) shakes hands with European Union (EU) Trade Commissioner Peter Mandelson at the signing ceremony of the China-EU textile trade agreement in Shanghai, June 11, 2005. China and the EU have reached a deal to manage the growth of Chinese textile exports to the EU in the coming three years after a lengthy close-door meeting between senior trade officials from the two sides.
China is well on the way of a more balanced economic development this year due to its effective macro economic adjustment policy, said Jin Renqing.
Chinese and Russian companies have signed seven agreements to invest a total of 1.5 billion US dollars in joint projects.

On a high cliff perched on Wuyi Mountain, one of the most scenic spots in southern China's Fujian province, there grow three tea trees. This fact may not in itself seem significant. Tea is the common drink for common people in China, a beverage to accompany most activities through the day. Tea trees abound and are nothing special. But these are not like other tea trees, the ones that live at most 40 years before dying out.
A government investment firm will inject 10 billion yuan (HK$9.4 billion) into Galaxy Securities and take control of the country's second biggest brokerage as part of a broad overhaul of the troubled financial sector, said sources. Central Huijin Investment, also the controlling shareholder of top property lender China Construction Bank, will become the largest shareholder in Galaxy Securities through the deal. The deal, set to be announced in the next few days, is intended in part to help boost sentiment towards stocks, the sources said Friday. Galaxy and Huijin spokesmen could not immediately be reached for comment late Friday.
June 10 - 12, 2005
Hong Kong: The world's third-largest PC maker, China's Lenovo Group Ltd, announced its results as largely unchanged from the previous year and slightly below market expectations yesterday.
Horse-race betting remains in the doldrums in Hong Kong but punters are making up the shortfall with a vengeance by turning to football gambling, allowing the Jockey Club to get close to the revenue record set in the last year of colonial rule. With just five meetings left to the end of the racing season, club officials admit they are expecting their lowest turnover in 12 years. But, in what is seen as a partial victory over illegal bookmakers and offshore betting syndicates, the revenue from horse racing and football combined is tantalizingly close to the all-time record of HK$92.35 billion set in 1997.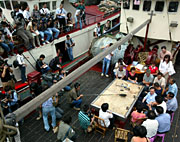 Donald Tsang holds court on a fishing boat in Aberdeen, exchanging views with a fishing family, as part of a district tour. Donald Tsang Yam-kuen is streets ahead of Tung Chee-hwa in terms of his handling of major issues, and his likely ascent to the top post is being credited with a return of confidence to pre-handover levels. Fewer than 100 more nominations for chief executive are needed by Donald Tsang Yam-kuen to win the top post without a contest, sources say, and he will fight to the last to knock out his rivals.
Publicly-listed MTR Corp is in talks on opportunities to help develop a subway system in Hangzhou city at a cost of 100 billion yuan (HK$94.05 billion).
Government House is being considered as the permanent residence for future chief executives, clearing the way for Donald Tsang to move in if elected.

China: Two giant pandas eat bamboo in Wolong Giant Panda Research and Breeding Centre in Chengdu, southwest China's Sichuan Province June 8, 2005. China's wildlife experts are busy choosing two giant pandas, as a goodwill gift to Taiwan people. It is reported that experts from Taiwan will come to Wolong later this month to choose a pair from over a dozen candidates.

Commerce Minister Bo Xilai said United States and European Union plans to limit mainland textile exports are a "yardstick'' of their commitment to opening markets for developing nations. "Developed countries should respect developing countries' right to global trade,'' he told a World Trade Organization forum in Shanghai Thursday. China has said it will take the dispute to the WTO should the United States and European Union restrict its textile exports, which surged 18 percent in the first four months of this year from a year ago to US$31.2 billion (HK$243.36 billion).

Starbucks Coffee International will take control of its south China joint venture as the biggest US coffee chain steps up its bid to persuade mainland tea drinkers to savor the darker brew instead. Starbucks agreed to raise its stake in Coffee Concepts (Southern China), its joint venture with Hong Kong's privately held Maxim's Caterers, to 51percent from 5 percent. The two also agreed to set up another venture in Chengdu, which will be 70percent owned by Starbucks, and extended the life of their five-year-old Hong Kong joint venture for an additional 10 years through at least 2037. The terms of the deal were not disclosed.

A man chooses pineapple from southeast China's Taiwan Province in Hangzhou, capital city of east China's Zhejiang Province June 8, 2005. The first batch of tariff-free fruits from Taiwan came into the supermarkets of Hangzhou Wednesday. Around 14.94 tons of fruits from Taiwan were transported to Ningbo, a coastal city of Zhejiang via Hong Kong on June 6, the first batch of tariff-free fruits from Taiwan to Zhejiang.

Visitors view at shoes on display at a recent expo in Shanghai. China's footwear exports to the European Union reached 257 million pairs in the first three months of this year, up 2.8 per cent year-on-year. The European Commission, the executive arm of the European Union (EU), said on Wednesday that shoe imports from China had surged in the first four months of this year.
Finance Minister Jin Renqing will fly to London for a meeting between finance ministers of the Group Eight industrialized nations and of China, India, Brazil and South Africa, scheduled for next week.
China's shares yesterday achieved their highest daily increase in three years, buoyed up by positive news and a wave of investor confidence.
Bank of China, the country's largest foreign exchange lender, said yesterday it plans to take nine measures including the exchange of work posts among staff to enhance the management of its low-level organizations in an effort to avoid further fraud scandals.
June 9, 2005
Hong Kong: The pro-government lobby in the Legislative Council won the upper hand Wednesday when it approved a request for an additional HK$27 million for technical studies on the planned Hong Kong-Zhuhai-Macau Bridge.
York Chow not swayed by legislators on proposals to introduce nutritional details for food packaging The government plans to stick to its timetable to introduce nutritional details on food labels despite conflicting cries from legislators that measures are too strong or not strong enough.
Donald Tsang hopes to meet Macau chief executive Edmund Ho to discuss a plan that would prevent local taxpayers escaping the tax net by setting up offshore companies in Macau, according to the accountancy sector in the 800-strong Election Committee.
Persistence paid off for Donald Tsang Yam-kuen yesterday as he finally won some supporters in the social welfare sector during a meeting with 27 members of the largely pro-democratic group.
Television Broadcasts is moving closer to relaunching its struggling satellite pay-television service, with reports claiming the company is in the final test stages.
The details of the long-awaited fare adjustment mechanism for franchised buses can be endorsed by the end of the year, the transport chief told legislators Wednesday. At the Legco meeting, lawmakers were worried that the mechanism, proposed by Secretary for the Environment, Transport and Works Sarah Liao when she took up her post in 2003, was stalled or even scrapped after the franchised bus operators failed to agree on terms with the government.



This year's winners of the Hong Kong Women Professionals & Entrepreneurs Association's awards: (from left) Vivien Chan, senior partner at Vivien Chan and Co; designer Vivienne Tam; Sandy Yip Fung-ying, chairwoman and president of V.ABC Group; Nancy Ip Yuk-yu, head professor of biochemistry at the University of Science and Technology; Chiang Lai-yuen, chief executive of Chen Hsong Holdings; and Grace Tang Wai-king, obstetrics and gynaecology professor at University of Hong Kong.

Chairman Yang Yuanqing and chief executive Steve Ward announce the annual results of the "old Lenovo" at the Ritz-Carlton Hotel. Lenovo Group, hurt by fierce competition in the mainland and the divestment of its non-core businesses, saw turnover slip 2.6 per cent to $22.55 billion in the year to March.
Hutchison Whampoa will cash in some of its most prized port assets this month in a sale to Singapore's PSA Corp, seen as the surest sign yet that Hong Kong has entered its sunset years as a leading global container hub.
China: China Tuesday issued a position paper on the United Nations reforms, emphasizing multilateralism and urging the reforms to meet the need of developing countries.
US President Bush said on Tuesday that he is looking forward to meeting with Chinese President Hu Jintao during their exchange of visits later this year.
China's foreign debt (excluding that from Hong Kong, Macao and Taiwan) totaled 233.4 billion US dollars by the end of March of this year.

Chinese Vice-Premier Wu Yi (R) meets with a delegation of Belgian business people headed by Jean-Claude Daoust (L), president of the Federation of Enterprises in Belgium, who accompanied Belgian King Albert II on his China trip June 7, 2005 in Beijing.
Creditors of China Aviation Oil (CAO) Wednesday accepted a sweetened debt restructuring plan as Singapore police arrested five company executives in connection with US$550 million (HK$4.2 billion) losses in oil futures trading that brought the mainland-controlled company to its knees. Holders of more than 75 percent of of the company's US$550 million in debt - the minimum needed to win approval - voted to accept a plan that will pay them 53.9 US cents on the dollar, paving the way for the company's mainland parent and another investor to pour fresh capital into the struggling unit, China's biggest importer of aviation fuel. One other creditor settled separately with CAO, bringing the total recovery to 56.6 US cents on the dollar.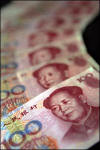 Some of the most aggressive investment bank forecasts of a yuan revaluation are being pushed back in the wake of a growing spat over textiles between China and its key trade partners. Despite US Federal Reserve chairman Alan Greenspan on Tuesday saying he believed China would adopt a more flexible exchange rate system "reasonably soon,'' bankers are changing their calls on an early revaluation. Many had previously predicted Beijing would adjust the decade-old yuan peg to the US dollar in the current quarter or earlier, but now they say the row over China's booming textile exports has politicized any decision.

China Shenhua Energy, the country's largest coal miner, has priced its initial share offer near the bottom of the range after getting a modest response from investors. Shenhua priced the shares at HK$7.50 each from the range of between HK$7.25 and HK$9.25. The company is selling 3.064 billion shares before the overallotment option and it will raise HK$23 billion, making it the world's biggest initial public offering this year. "The pricing is reasonable. Fixing the price at a lower range could allow upside. Investors are cautious as the firm's corporate governance remains an unknown,'' KDB Asia assistant manager Sam Ho said. The pricing represents about 10 times of Shenhua's 2005 forecast earnings, higher than smaller rival Hong Kong-listed Yanzhou Coal Mining's eight times price-to-earnings multiple. However, it was in line with nine to 12 times earnings multiple of Rio Tinto and BHP Billiton. "A coal miner with 8.5 times forecasted earnings and a 30 percent annual growth will be attractive,'' said Liu Yang, managing director of Atlantis Investment Management.

Contestants in a beauty pageant meet youngsters at a training school for mentally handicapped children in Beijing yesterday. Seventy-five competitors from around the world will take part in the final stage of the 2005 Miss Tourism Queen International contest on July 2 in Hangzhou, Zhejiang province.
The head of the mainland's largest shirt maker yesterday criticised "unfair treatment" by the United States and European Union in limiting Chinese textile exports, but he expressed hope that negotiations would resolve the growing trade dispute.
June 7 - 8, 2005
Hong Kong: Caution greets IPO wave - Fund managers watch fundamentals as share sales worth $65b come to market - with four mega-offerings worth a combined HK$65 billion about to hit a market that's trading where it was seven months ago, you'd have to figure buyers will have the upper hand. That's the situation facing investment bankers tasked with selling shares in four mainland newcomers to Hong Kong's main board - China Shenhua Energy, Bank of Communications, China COSCO and China Minsheng Banking Corp - all of whom plan to sell shares in the next few weeks in the biggest wave of IPOs to hit the market this year. caution is the byword among fund managers. "We have to make sure the valuation and fundamentals of the company are really good to make a buy,'' says Standard Life Investments investment manager Agnes Deng in a typical comment. "We may not invest'' otherwise.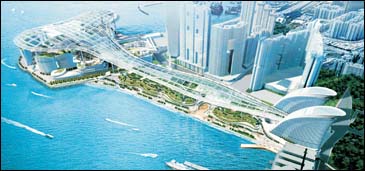 Tsang vows to shut out single developer - As he has increasingly hinted over recent days, Donald Tsang said Monday that he would scrap the much-criticized single-developer approach for the HK$40 billion West Kowloon cultural district project. However, he told 20 architectural representatives from the 800-strong Election Committee whom he is lobbying for votes, he intends to retain the much-maligned canopy over the project. And, he said, he intends to revive long-delayed plans to build the HK$4.7 billion new government complex at Tamar, which would include a new Legislative Council building. "He told us that he was considering putting the plans back on the table,'' said lawmaker Patrick Lau, who represents the architectural sector.
Hong Kong's three dominant lenders have raised home mortgage rates for new customers by a quarter-point, their second mortgage rate move since the Hong Kong Monetary Authority acted last month to curb fund inflows.

Chinese Estates Holdings - a publicly-listed developer controlled by tycoon Thomas Lau - plans to spend HK$1 billion to redevelop the 40-year-old Tung Ying Building in Tsim Sha Tsui into a retail-oriented property to ride on the tourism boom. The company said Monday it would demolish the Nathan Road building and rebuild it into an office-retail complex. The redevelopment will cost between HK$800 million and HK$1 billion. "The initial plan is to redevelop Tung Ying Building into a retail-predominated complex together with entertainment and other commercial usage,'' Chinese Estates said.
Grade A office rent in Central has doubled over the past year as companies seek to expand amid the city's solid economic growth, but new supply has been slow.

Members of the Hong Kong Society for the Aged dragon boat team practise on Sha Tin's Shing Mun River yesterday in preparation for the Tuen Ng festival races on Saturday. Eight veteran teams, made up of 171 paddlers aged 55 to 92, will compete. Their combined ages add up to 10,930 years.

Jockey Club's likely next chief vows to keep tax contributions to government despite falling revenues Hong Kong Jockey club vice-chairman John Chan says he's ready to take the reins once current chairman Ronald Arculli steps down next year, but he will stay on as managing director of Kowloon Motor Bus (KMB).
Hong Kong Exchanges and Clearing chairman Charles Lee Yeh-kwong yesterday dismissed criticism from legislator Emily Lau Wai-hing over his possible candidacy for a top job at the securities watchdog, calling it irrelevant and premature.

China: Chinese investors look at an electronic board showing share prices at a securities company in Shanghai June 6, 2005. The leading stock index of Shanghai Stock Exchange, one of China's two bourses, once dropped to 998.23 points during the morning session on Monday, the lowest in nearly eight years.
As the commercial use of China's 3G (3rd generation) mobile phone technology draws near, the country's mobile industry is showing stronger enthusiasm than ever.

Quarantine officials sampled fruits from Taiwan at the Xiamen Port June 5, 2005. The first container of fruits from Taiwan, which enters via Xiamen Port has entered markets in Xiamen. Xiamen Customs and quarantine authority have opened an express passage for the Taiwan fruits in order to ensure they pass the customs in shortest time.
A 2,000-billion-yuan (US$240 billion) gap in the country's rail construction fund has prompted a search for private and foreign financing for the government-monopolized transport sector.

Work officially commenced on the world's largest shipyard in Shanghai on Friday, marking a major step in China's ambition to become the world's No 1 ship builder.
European Union trade chief Peter Mandelson is hopeful a solution can be negotiated over how to moderate a flood of mainland textile products. Europe is set to decide by Saturday whether to impose emergency quotas on mainland T-shirt and flax yarn imports. It is also considering formal talks with China on seven other types of textiles products, and watching closely imports of another 11 categories, Mandelson told textile producers in Florence, Italy.

New recruits pose in front of a logo for the Beijing Olympic Volunteer Program yesterday as the city kicked off the project, hoping to find 100,000 to help in staging the 2008 Games. International Olympic Committee president Jacques Rogge said volunteers would follow millions in a Games tradition. Liu Qi, president of the Beijing organising committee, said the program aimed for "unique and high-standard services with Chinese characteristics".
June 4 - 6, 2005
Hong Kong: Donald Tsang yesterday kick-started his campaign for Hong Kong's highest public office with a blueprint of trust building, calling on the people to focus on the future rather than dwelling on past grumbles. In contrast to former Chief Executive Tung Chee-hwa's vague aims to promote Hong Kong as "Asia's World City,'' his would-be successor spelled out specific criteria he believes Hong Kong can achieve under his leadership. Donald Tsang aims to formulate sensible, pragmatic economic policies; welcome businesses from around the world; and maintain a level playing field without corruption, that upholds the rule of law and respects individual freedom.

Hunan's week-long trade fair in Hong Kong has resulted in the signing of 329 contracts worth US$7.65 billion. Highlighting yesterday's signing ceremony was a US$50 million high-end residential project by a joint venture of Cheung Kong (Holdings) and Hutchison Whampoa Property, with deputy managing director Tony Tsui Kin-tung (left) and Hunan vice-governor Yu Youjun shaking hands on the deal.
R&F Properties Group, one of the three biggest developers in Guangzhou, plans to go ahead with a planned initial share sale in Hong Kong though it will cut the offering's size by 15 to 20 percent to HK$2.0 billion to HK$2.5 billion, market sources said. The reduction reflects waning investor interest in mainland property stocks in the face of repeated efforts by Beijing to rein in rising property prices.

USS Nimitz crew members "Buzz" (on the guns) and "OC" set their sights on Hong Kong as the American navy's largest aircraft carrier made a stopover to give its crew some R&R. This is the first tour of duty for many of the young crew members, and Hong Kong is their first stop.
Henderson Land Development, Hong Kong's third-biggest property firm, is preparing a last-chance sweetened offer to privatize Henderson China, its 65 percent-held mainland property unit.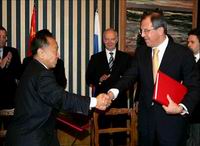 China: Chinese Foreign Minster Li Zhaoxing (L) and his Russian counterpart Sergei Lavrov shake hands after signing an additional agreement on the eastern part of the Russian-Chinese border in Vladivostok, Russia, June 2, 2005.
An Asian Development Bank (ADB) research paper published on Thursday said a revaluation of the renminbi of China would have little impact on US trade deficit. ADB made the statement on the basis of a research paper done by ADB economist Cyn-Young Park, "Coping with Global Imbalances and Asian Currencies."
China and Peru signed in Beijing Thursday seven documents to boost bilateral cooperation on transportation, traditional medicine, education and tourism.

Boeing Commercial Airplanes Vice-President and General Manager of Airplane Production Carolyn Corvi (L) introduced Beoing's cooperation with AVIC at a signing ceremony held in Beijing on June 2, 2005 for its US$600 million worth of contracts with Chinese companies. China's aviation industry will produce commercial airplane components according to their contract. The first-ever confirmed agreement to produce parts for the brand new Boeing 787 Dreamliner was also signed.
Almost all tourists from the Chinese mainland shop when they travel abroad, according to a recent survey conducted jointly by AC Nielsen and Tax Free World Association (TFWA).
China International Trust & Investment Corp, China's leading investment arm, has announced it is in talks to acquire 75 per cent of Thai Petrochemical Industry Pcl, which has a market value of about US$2.7 billion.
Schroders, a 201-year-old London-based money manager, plans to set up a fund venture with Bank of Communications to gain a slice of the mainland's 300 billion yuan (HK$282.24 billion) fund industry. Schroders will own 30 percent of the venture, which will be set up with registered capital of 200 million yuan, pending government approval, according to a document sent to participants at a preparatory meeting for the fund venture last month. China International Marine Containers (Group) will hold 5 percent.
The top US trade negotiator yesterday defended restrictions placed on Chinese textile imports as being consistent with a World Trade Organisation deal, but Commerce Minister Bo Xilai called them "protectionist".
June 3, 2005

Hong Kong: Formerly secret proceedings to let in members of public as Judiciary strives for greater transparency - Hong Kong's legal system took a major step toward greater transparency Wednesday with the decision that many previously secret civil proceedings will be opened to the public. Civil matters previously heard in chambers in the High Court, District Court, Lands Tribunal and Family Court, will now be open to the public in a long-awaited recognition of the open-justice principle. The purpose of the move by the Judiciary is "to effect the opening up to the public of chambers hearings in civil proceedings,'' so that "the hearings may be reported in the same way as hearings in court.''
American International Group, one of the three largest foreign life insurers in China, has withdrawn its application to sell group life insurance on the mainland citing regulatory issues related to unauthorized sales there by its Hong Kong-based agents. AIG, which is embroiled in a US accounting scandal that saw the forced departure of its long-time chairman, withdrew the application to the China Insurance Regulatory Commission in March, saying it would not re-apply "until certain regulatory issues are resolved,'' according to a company filing with the United States Securities and Exchange Commission dated May 31
Hong Kong people are divided over how they identify themselves, according to a government-sponsored study by the Committee on the Promotion of Civic Education. An academic said those who identified themselves as "Hongkongers'' and "Hong Kong Chinese'' might be giving voice to their dissatisfaction with the mainland, and wanted to differentiate between the mainland and the SAR.
China approved Donald Tsang's resignation as acting chief executive of Hong Kong, clearing the way for the front-runner on Thursday to launch his bid to be the territory's leader. Hong Kong's likely next leader said on Thursday he wants to move toward full democracy gradually, echoing China's line on the matter and rejecting popular demands for quick democratic reform.
Hong Kong and Singapore have the best judicial systems in Asia, while those of Indonesia and Vietnam suffer the worst, according to a survey of expatriate business executives working in the region released on Thursday.
Hong Kong action star Jackie Chan battled copyright pirates on Thursday, smashing fake designer watches with a hammer and using a chainsaw to destroy a streetside stand hawking counterfeit bags and clothes.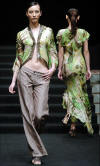 China: A model displays an outfit of Italian brand during the Italian Women's Wear Collective Show at the European Style Conference Center of Chaoyang Park in Beijing May 31, 2005. The show is one of the series activities with a theme of ITALY in Chaoyang Park held by Italian Trade Commission Government Agency.
China's chief securities regulator has vowed to better legislate China's ailing stock markets, acknowledging that much work lay ahead to restore investor confidence. Shanghai's benchmark stock index closed at a fresh eight-year low on Thursday as investor confidence continued to wane.
President Hu has said China needs to optimize its foreign trade structure and raise its export competitiveness.
The US gov't hopes to solve the US-China textile issue through consultations and continue strengthening economic and trade relations with China. Beijing is confident it would beat Washington and Brussels if the dispute over textile exports goes to formal proceedings at the World Trade Organisation, according to the mainland's deputy chief WTO negotiator.

Yet another ground-breaking ceremony for a new casino project in Macau prompted a rare public outing by four daughters of tycoon Stanley Ho Hung-sun yesterday. Flanking MGM Mirage chief executive Terry Lanni are (from left): Maisy Ho Chiu-ha, Josie Ho Chiu-yee, Pansy Ho Chiu-king and Daisy Ho Chiu-fung. They were there for the launch of the US$975 million, 600-room MGM Grand Macau on the waterfront, a joint-venture project between Mr Lanni's firm and Pansy Ho.
Shenhua Energy, the Chinese mainland's largest coal producer, is today set to launch the world's largest initial public offering (IPO) so far this year. China Shenhua Energy, the mainland's biggest coal producer, is meeting resistance from investors worried that coal prices may be nearing a peak, suggesting that the institutional part of its initial public offering may come in no higher than HK$8.25 a share, the middle of the pricing range, sources said.
ZTE Corporation, China's second-largest telecommunications equipment maker, said it has won an exclusive contract to build a nationwide fixed-line voice network for China Telecom Corp.
Across the country house sellers scrambled to cut deals to avoid paying a stiff tax on home sales introduced yesterday in a bid to curb spiralling prices.
China's largest auto glass manufacturer, the Fuyao Glass Industry Group, has become the nation's first glass supplier for the Audi Group's car production in Europe.

It is business as usual at the Bo Tak garment factory in Dongguan, Guangdong, as rows of young women toil over cutting boards and sewing machines, pumping out a steady stream of T-shirts and trousers. Most workers at the plant are unaware of the heated dispute between Beijing and the West over China's booming textile exports.
In an exclusive interview with China Daily, the president and CEO of the Philips Electronics' medical business group has said China is to become one of the company's most important development and manufacturing bases.
The national auditor has taken on four local governments for bypassing State Council land-use approval in the development of university towns, an infamous form of development usually accompanied by other more commercial projects - at the expense of farmland.
June 2, 2005

Hong Kong: Legislator Andrew Cheng Kar-foo (left), leads district councillor Bruce Liu Sing-lee and fellow legislators Kwok Ka-ki, Sin Chung-kai, Fernando Cheung Chiu-hung and Kwong Chi-kin in breaking two giant cigarettes at Chater Garden, Central, to show their determination to combat smoking. Dr Kwok said yesterday's World No Tobacco Day was particularly important to Hong Kong because of extensive discussions over proposed smoking bans in indoor public areas and the workplace.
The government has no plans introduce legislation to regulate sales of residential flats, Secretary for Housing, Planning and Lands, Michael Suen Ming-yeun said on Wednesday.

Accor's managing director for Asia-Pacific, Michael Issenberg (seated), and Brian Deeson, chief executive for Greater China, will oversee the firm's $480 million expansion.
After standing sentinel at one of Tsim Sha Tsui's busiest intersections for 39 years, the Tung Ying Building at Nathan Road is set to be bulldozed for a flashy new shopping centre.
Japanese disk maker TDK on Wednesday said it had bought Hong Kong-based Amperex Technology for US$100 million (HK$780 million) to seize on the firm's progress in eco-friendly thin batteries.
China: The latest report on economic climate published by the State Information Center records a year-on-year 23 percent increase of China's foreign trade for the first 4 months which values $415 billion.
China and Japan agreed to discuss drilling rights in the resource-rich East China Sea when the talks move to Tokyo, Foreign Ministry spokesman Kong Quan said yesterday.
As China's one-child parents pamper their kids with fancy gifts and expensive outings today-the International Children's Day-the plight of two youngsters in Beijing and Guangzhou shows the harsh sides of life.
Bank of China, the country's largest foreign exchange lender, yesterday announced a 21.3 per cent rise in operating profit last year.
China and Chile signed an agreement yesterday to establish a joint venture (JV) to develop copper mines in Chile. China's biggest metal trading company, China Minmetal Corporation (Minmetals), is to team up with Chile's biggest copper producer, Codelco, to establish a 50-50 joint venture with an initial investment of US$550 million.
Singapore Exchange Ltd (SGX) on Monday issued a public consultation paper to seek feedback on the exchange's proposals for specific rule changes concerning corporate governance standards and regulatory practices, according to a top exchange official.
May 31 - June 1, 2005
Hong Kong: Hong Kong listed mainland car maker Geely Automobile Holdings Ltd yesterday signed a partnership agreement to assemble its own brand cars in Malaysia.
A third death that may have been caused by the drug-dispensing blunder at a private clinic in Wong Tai Sin has prompted the government to call on private doctors to hire pharmacists. Secretary for Health, Welfare and Food York Chow said Tuesday the government will review the present system under which private doctors are allowed to prescribe and dispense drugs.
Customs officers on Monday arrested five men as part of a crack-down on two illegal handbag and scarf vendors selling fake European handbag brands in Central, a spokesman said on Tuesday.
The euro fell slightly against the US dollar yesterday after French voters rejected a new constitution for the European Union, complicating efforts to kick-start the continental economy and giving pause to Asian central banks looking to diversify their US dollar reserves.
China: Nobel Prize Laureate Robert A. Mundell reaffirmed on Monday his position that China should maintain its currency exchange policy. The US New York Times published an article Sunday, which points out that RMB exchange rate policy brought stability to Asia and increased prosperity worldwide.
A survey by the Federal Association of German Industries (BDI) in September last year showed that China would be the favorite in the eyes of German manufacturers in the next 5 to 10 years.

Workers in Hainan Province wash Luofeiyu before further processing of the local fish product, which is exported to Europe, United States, Japan and South Korea. Total export volume of the product reached US$9 million last year.
In a move to safeguard thousands of jobs, China declared it will scrap - after only 10 days - its sharply increased export duties on Chinese-made textiles.
China's largest producer and supplier of crude oil and natural gas has become the latest sponsor of the Beijing 2008 Olympic Games.
Industrial and Commercial Bank of China sold 246 billion yuan (HK$231.3 billion) of bad loans to Huarong Asset Management, a move that will slash its non-performing loans to just under 13 percent and move it a step closer to an eventual multibillion-dollar share sale. The bank, which is saddled with dud loans dating back to its days as the prime lender to big state-owned enterprises, will dispose of a further US$30 billion (HK$234 billion) in NPLs later this month in an auction open to all four of China's main asset management companies. That will chop its sour loan ratio to less than 6 percent. "We have already finished the process of transferring assets [from ICBC],'' said a spokeswoman for Beijing-based Huarong. "It took place at the end of last week, and we are now completing all of the documentation.''
China Petrochemical Corporation (Sinopec Group), the state-owned parent of Asia's largest oil refiner, agreed to pay C$150 million (HK$928.2 million) for a 40 percent stake in a joint venture to produce synthetic crude from western Canada's vast oil sands reserves.
Mainland newspapers recorded stellar growth last year, with sales reaching 93.5 million copies and the country surpassing Japan in having the most publications ranked among the world's top-100 best-selling dailies, the World Association of Newspapers (WAN) said yesterday.
May 27 - 30, 2005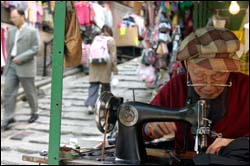 Hong Kong: Hong Kong's gross domestic product grew 6 percent in the first quarter compared to a year ago, in line with government forecasts, driven by continued growth in exports and consumer spending. The government warned, however, that export growth could be weakened in the rest of the year thanks to a strengthening of the US dollar and slowing demand from the Asia Pacific region. The government said it will stick by its March forecast of between 4.5 percent and 5.5 percent GDP growth for this year. "We believe any slowdown in exports would be offset by the continued strength in consumer spending this year,'' government economist KC Kwok said. "We remain cautiously optimistic in our outlook for the economy."
Twenty developers, including Hong Kong's biggest, expressed interest in developing a HK$2 billion, 1,000-unit housing and commercial complex in Western in the Urban Renewal Authority's biggest tender project this year.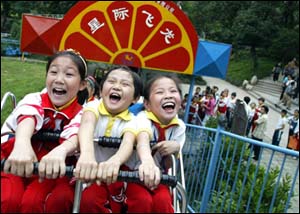 Shui On Group, a Hong Kong developer, plans to build a US$1.5 billion (HK$11.7 billion) theme park in Hangzhou in partnership with media giant Viacom's Paramount Parks, according to the municipal government and the builder. A preliminary agreement was signed Wednesday, said Tang Jinxiang, a planning official at Hangzhou's Yuhang District Tourism Bureau. Shui On spokeswoman Christine Mui said no time frame was agreed. Viacom spokesman's Carl Folta said he could not comment. Paramount, whose five North American theme parks have rides based on movies such as Crocodile Dundee, may vie for visitors with Walt Disney's US$3.5 billion Hong Kong park, due to open in September.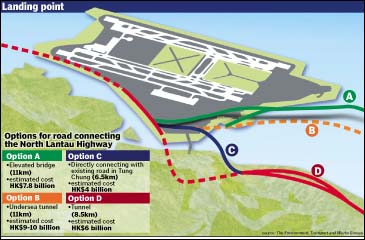 Following the precedent set by the sharp toll increase imposed by the management of the Eastern Harbor Crossing, legislators fear the government may lose its power to control toll levels for the proposed Hong Kong-Zhuhai-Macau bridge in a public-private partnership.
An independent consultant study — commissioned by the Hong Kong Trade Development Council (TDC) — has affirmed the huge export potential of the territory's higher education services.

Marisa Kwok, the managing director of PCCW's commercial group, and Nicolis Borit, the chief executive of AsiaWorld Expo Management, toast the signing of a 10-year contract that makes PCCW the exclusive provider of telecommunications and information technology services to AsiaWorld Expo, the city's new exhibition center.
PCCW, Hong Kong's largest fixed-line telephone company, will save up to HK$24 million in interest costs by redeeming US$61.4 million (HK$478.92 million) worth of convertible bonds from its long-term partner, Australia's Telstra, by the end of next month.
MTR Corp has picked up two more metro projects in Shenzhen costing at least 10 billion yuan as it pushes for economies of scale in offshore investments.

Air travellers will pay more to fly next month after Cathay Pacific Airways, Hong Kong Dragon Airlines (Dragonair) and other carriers were yesterday allowed to at least double their fuel surcharges on passenger fares.

China: Miss China Tao Siyuan presents traditional Chinese costume at the first round of Miss Universe 2005 competition on May 25 in Bangkok. The Miss Universe Pageant has brought together 82 beauties from 82 countries to compete for the most coveted beauty title of the world. The final will take place on May 31.
China has established a new top level task force headed by Premier Wen Jiabao to handle its urgent energy needs, as the country prepares for a new wave of severe power shortages. The panel, made up of "heavyweights from the country's economic and military sectors,'' will regulate and oversee the unruly and fragmented energy industry, the China Daily newspaper reported. Assisting Wen will be vice premiers Huang Ju and Zeng Peiyan, both members of China's all-powerful nine-member politburo standing committee, as well as leaders from the commerce and foreign affairs ministries.
The total import volume of top 500 import and export enterprises hit US$487.11 billion, taking up 42.3% of the nation's total.
US Secretary of State Rice said Thursday that the overall relationship between the US and China have been strengthened.
Third-generation (3G) mobile telecommunications technology will begin to serve in China, the world's largest mobile telecom market, before 2008, according an official from the Ministry of Information Industry (MII).
The People's Bank of China, or the central bank, reiterated in a report issued Thursday that China will keep its currency "basically stable at a rational equilibrium" while improving the regime that determines the yuan's exchange rate.

Closed-door space training intensifies Astronaut candidates for China's second manned space flight are undergoing strict training to prepare for the sophisticated mission to be staged later this year, sources close to the country's space program said.
Falling retail property prices in Shanghai, the mainland's commercial capital, mean fast and easy profits in the country's red-hot property market could be a thing of the past, analysts say.

An aeroplane engine provided by French firm Snecma is displayed on Friday at the sixth Western China Expo, held in Chengdu, Sichuan Province. The expo highlighted French businesses in the province.
May 25 - 26, 2005
Hong Kong: Hutchison Whampoa, a ports-to-telecom conglomerate, and COSCO Pacific, a state-backed conglomerate, have been shortlisted for the right to invest in the next phase of Shanghai's multibillion container port project, a senior official said Tuesday.
China Glass Holdings, which makes glass products for cars and buildings, plans to raise US$20-25 million (HK$156-195 million) next month by listing its shares on Hong Kong's main board, market sources said.

Vincent Cheng Hoi-chuen today becomes the first Chinese chairman of Hongkong and Shanghai Banking Corp, replacing David Eldon, who is retiring from the bank after 37 years. Mr Cheng joined the HSBC Group in 1978 and has been vice-chairman and chief executive of Hang Seng Bank since 1998.
AS Watson, a subsidiary of Hutchison Whampoa, has launched a £221.9 million ($3.16 billion) takeover bid for British perfume seller Merchant Retail Group.
New World Development has sold 262 million shares of subsidiary New World China Land, pricing the placement at a rarely seen premium while bundling it with a put option to protect investors.
Shark's fin soup is giving Hong Kong Disneyland a public relations stomach ache as environmentalists ramp up demands that the company drop plans to serve the dish at lavish wedding banquets, citing what they say are contradictions in the company's policy.
The road to the chief executive's office may not come cheap as it could cost up to HK$9.5 million, but the hot favorite to succeed Tung Chee-hwa as Hong Kong's next leader, Donald Tsang, has powerful allies with the financial muscle to bring in the dollars to finance his bid. Beijing favorite Tsang is expected to resign as Acting Chief Executive and Chief Secretary for Administration tomorrow.
While the Education and Manpower Bureau is either suspending or canceling 22 school building projects, it says it is still willing to grant a site and inject HK$85.4 million into a direct subsidy scheme that offers creative education to senior secondary students. The Hong Kong School of Creativity is being built on Inverness Road, Kowloon Tong. Sponsors of the school are forking out the remaining HK$25 million in construction costs.
All residential developments will provide a price list to consumers, the Real Estate Developers' Association promised yesterday after a closed-door meeting with housing officials.

China: Workers are busy with the track-laying of the Qinghai-Tibet railway project in southwest China's Tibet Autonomous Region on May 23, 2005. Nearly 1,000 kilometers railway of the project has been finished so far. Linking Golmud in the northwestern Qinghai Province and Lhasa, capital city of Tibet, the 1,142-kilometer railway is expected to open to traffic in 2007.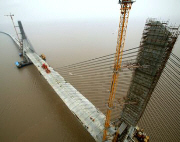 A view of the 32.5-kilometre-long East Sea Bridge in Shanghai. The main sections of the body of the bridge have been finished, but work leading to its full completion is expected to continue until the end of 2005.
Traditional Chinese medical science has attracted an increasing number of foreign students to China for advanced course studies in recent years.

A driver fuels a vehicle at a gas station in BeiJing, capital of China, May 24, 2005. The retail price of fuel in BeiJing lowered 0.13 yuan per liter from Tuesday. The State Development and Reform Commission (SDRC) of China decided to cut the oil price by 150 yuan (about 18 US dollars) per ton beginning Tuesday due to the price fluctuations in the global oil markets.
Experts estimate that China will consume 2.2 billion tons of coal by 2010, causing a shortage of 330 million tons, Wang Xianzheng, vice director of the State Administration of Work Safety, said Tuesday at an annual exposition.
The European Trade Commissioner Peter Mandelson said yesterday the European Union was glad to see China's voluntary measures to increase its export tariffs on textiles.

National branch launched: United States Ambassador to China Clark T. Randt, Jr. (third from left) attends the opening ceremony of the China branch of the Consortium for Standards and Conformity Assessment, which was held yesterday in Beijing. The agency aims to help Chinese products follow WTO standards.
Honeywell decided to launch the Experion Process Knowledge System (PKS) R300, an upgrade of its proven automation and control platform hardware, yesterday in Beijing, ahead of the rest of Asia.
Foreign companies captured 13 percent of China's rapidly-growing insurance market in the first four months of this year, up from 2.3 percent a year earlier, thanks in large part to one huge sale by Italian insurer Assicurazioni General's local joint venture to China National Petroleum Corp, parent of PetroChina.
Mainland electricity output in the first four months of the year rose 12.6 percent year on year to 730 billion kilowatt-hours, according to China Electricity Council secretary-general Wang Yonggan.
May 24, 2005
Hong Kong: Top aides take brunt of shareholders' ire at firm's slide as Li is third time lucky - Frustrated small shareholders of PCCW, Hong Kong's largest fixed-line phone company, have taken turns berating management for accepting generous stock options despite being unable to restore the firm's share price or arrest the slide of its market share.
Betrayal, social connections and misguided trust were all on display in the High Court Monday as the youngest son of Henry Leong, a former agent for Jardines who liaised between the British and the Chinese community in the 1920s, was accused of using his social contacts to set up a money-losing fund-management company. The fund lost more than US$8.4 million (HK$65.5 million) of his contacts' money. Now, one of them is suing for damages in a case that is bringing many of Hong Kong's most prominent names into court.

Staff clean up at Pacific Place last night after fire sprinklers on the top floor were accidentally activated. Water rained down from the sprinklers on the Wan Chai side of the busy shopping centre at about 7pm. It was suspected heat from a burnt-out light fitting set off the sprinklers. It took almost an hour for the sprinkler pipes to run dry after the tap was shut off. The building's management sealed off the soaked area and set up buckets to catch the falling water.
A conceptual design for the bridge that will link Hong Kong, Zhuhai and Macau is to be developed soon, with the costs split evenly among the three governments.
China Resources Peoples Telephone, Hong Kong's fourth-largest mobile operator, said it will invest most of the budgeted HK$200 million capital spending this year to increase capacity for cheaper pre-paid voice instead of data services to improve quality.
Chevalier iTech Holdings (CiTL) said its newly acquired Pacific Coffee Company plans to open five to 10 new Hong Kong outlets per year and make its first foray into the mainland market in 2005.
Customers who pay their bills online run the risk of inadvertently disclosing their personal data, warn security experts. Identity thieves could steal personal information from online customers because of lax security by some local companies on their billing sites, Internet security specialists have warned.

China: Model presents LG's LT 1000 mobile phone, which is capable to receive satellite digital broadcasting at any moment and connect with TV at the 8th Beijing Int'l High-tech Expo May 23.
The central government, keen to maximize oil production, is forcing the country's major producers to reconsider exploration licences they are sitting on and has threatened them with fines if they do not deliver on investment promises.

Spanish crew members with Air Europa pose for a photo at the Capital International Airport in Beijing, capital of China, on May 23, 2005. Air Europa launched its direct Madrid-Beijing flight on Monday.
In 2004, the shipping capacity of containers in China's ports stood at 616 million standardizing boxes, ranking the world's top.
With a total length of 85,000 km, the expressway network connects all the national major traffic hubs and covers more than 1 billion people.
China Three Gorges Project Corporation plans to break ground for two power plants along the Yangtze River which combine to generate more electricity than the Three Gorges project.
The United States could close its borders to more imports of Chinese textiles, a move that could backfire, industry experts warned yesterday. China's textile makers, who spent US$14.3 billion (HK$111.54 billion) last year on factories and materials, say domestic sales will buffer a slowdown in orders from Wal-Mart Stores and Carrefour that may result from US and European Union import curbs.

A solicitor representing two private companies is interviewed by reporters after the firms bought a controlling 65 per cent stake in Shenzhen Airlines yesterday afternoon. Two little-known private companies beat the country's largest carrier to win a controlling 65 per cent stake in Shenzhen Airlines yesterday afternoon.
May 23, 2005
Hong Kong: Wong Kwong-yu - the mainland's second-richest man and chairman of Hong Kong-listed Gome Electrical Appliances Holdings - plans to spin off his privately-owned property business next year for an initial public offering or a listed real-estate investment trust in Hong Kong or Singapore.
Ping An Insurance (Group), the mainland's second-largest life insurer, has received approval to set up a specialized health insurance firm amid shrinking market share and premium income.
New World Development, a telecom-to-property conglomerate, is placing New World China Land shares worth up to HK$760 million on the market to comply with listing requirements on the minimum public float, according to market sources.
A row has broken out over a decision to rename Hong Kong's oldest medical faculty after Li Ka-shing following a $1 billion donation by the tycoon. A group of senior doctors will launch a campaign tomorrow to preserve the status of the 118-year-old medical school at the University of Hong Kong. Legislator Kwok Ka-ki, a graduate of the faculty, said more than 25 senior doctors were organising a campaign to appeal to both the university and Mr Li to abandon the renaming plan which, he said, would hurt the feelings of many alumni. Dr Kwok, who represents the medical sector in the Legislative Council, said his office had received hundreds of e-mails and telephone calls from former students, including doctors living abroad, who were incensed at the news, which was announced on Wednesday.

Cathay Pacific's chief executive, Philip Chen Nan-lok (centre), and marketing director James Barrington (far right) get in party mood at last night's premiere of Saturday Night Fever at the Hong Kong Academy for Performing Arts. Joining them (from left) are producers James Cundall, David Atkins and Adam Spiegel. Cathay sponsors the show.
China Netcom Group Corp (Hong Kong) (CNC) chairman Zhang Chunjiang says the company is working with investment banks to acquire four provincial fixed telecommunications network assets from parent China Network Communications Group Corp (Netcom).
China: Stronger yuan is no answer for Greenspan - Revaluation could mean higher prices, dearer credit in America, Fed chief Alan Greenspan has spelled out what a revaluation of the yuan will mean for Americans: higher prices and no dent in the huge United States trade gap. Answering questions after addressing the Economic Club of New York, Mr Greenspan said there was little doubt the Chinese government would let the yuan appreciate against the dollar since it was also under internal pressure to do so.
Chinese aquatic experts have successfully bred 36,800 fries of Bighead fish, an endangered species endemic to the Tarim River in northwest China's Xinjiang Uygur Autonomous Region. The fries, after about half a month, were freed into the Kezir Reservoir in Aksu Saturday. "We choose the reservoir because its good ecological environment is desirable for the fish to grow and spawn," said Ren Mulian, a professor with Heilongjiang Fishery Research Institute under the Chinese Academy of Fishery Sciences. When grown up, Bighead fish, or big head schizothracin, can be as long as 1.5 meters, weighing more than 25 kilograms with nearly40 years of life span, Ren said.
The Chinese Ministry of Agriculture(MOA) Saturday required the whole country to take emergency measures to curb further spreading bird flu shortly after they confirmed that the reported death of migratory birds in West China's Qinghai Province was caused by the deadly bird flu virus. The ministry said the national bird flu reference laboratory confirmed that the latest death of migratory birds in Niannaisuoma village, in Gangcha County of Qinghai Province, reported on May 4 was caused by the deadly H5N1 strain of the bird flu virus.

Twenty-four Chinese researchers and mountaineers started their assault on Mount Qomolangma, the summit of the earth, which is known as Mount Everest in the West, to remeasure its height at 3:30 a.m. on Sunday. The photo shows five female mountaineers.
Visiting Sudanese Minister of External Affairs Mustafa Othman Ismail said that Sudan and China have good prospects for economic cooperation.
China took decisive action to ease rising concern from trading partners by hiking textile tariffs on more than 70 products by 400%.
May 19 - 22, 2005
Hong Kong: Hot money flows out in wake of HKMA move to clamp down on speculators Hong Kong banks boosted their prime rate by half a percentage point Thursday, after interbank borrowing rates climbed sharply following the Hong Kong Monetary Authority's move to clamp down on speculators using the local dollar as a way to place a bet on the yuan. That is bad, if not unexpected, news for homeowners, most of whose mortgages are floating rate. And there could be more to come as local rates more closely track United States rates in coming months. Hong Kong's revised currency peg passed its first test yesterday, closing down bets on a big jump in the dollar's exchange rate and nudging interest rates higher - the twin objectives set for the new system by the Hong Kong Monetary Authority.
Kenford Group Holdings last night called off its initial public offering due to the recent economic changes. The hair care product maker had been hoping to raise $85 million by issuing 100 million shares at 65 to 85 cents each on the main board next Tuesday.
Two of the biggest Hong Kong stock sales of the year - Bank of Communications and China Cosco Holdings, should finally be approved next week, with bankers hopeful that both will hit the markets running by the time June is out.
Hong Kong has taken up a leading role as a capital market to attract new listings in the Greater China region over the past three years with the average size of initial public offerings in the city surpassing those in Europe, a research by global accounting firm PricewaterhouseCoopers has found.

Cheung Kong chief Li Ka-shing at yesterday's annual meeting at the Harbour Plaza, Hunghom. He does not fear transparency but believes more rules could hit business. Cheung Kong (Holdings) chairman Li Ka-shing has defended the group's offer to take Hutchison Global Communications Holdings (HGC) private, saying investors should instead be grateful for the huge returns realised on the parent firm's stock since its debut in 1972.
Cheung Kong (Holdings) and Hutchison Whampoa, both controlled by tycoon Li Ka-shing, will pay 100 million (HK$1.43 billion) to acquire a 16-hectare residential-commercial redevelopment project in Britain.
Jewelry retailer Hang Fung Gold Technology may further expand its flagship exhibition hall in Hung Hom, which is home to the world's most expensive toilet, by 25 percent in expectation of more tourists after the opening of the Disneyland theme park.
Regulations controlling the types of jobs a retired chief executive can accept should be more stringent than those governing former principal government officials. That was the finding Thursday of the independent commission examining the remuneration package of Hong Kong's leader.
China: Chinese online auctioneer Taobao.com on Friday said it expected to dominate the local market despite the challenge from United States giant eBay, which has also set its eyes on the world's most populous country.
China announced Friday it would raise the export tariffs on 74 categories of textile products, beginning June 1,2005.
The People's Bank of China announced Thursday to raise the deposit interest rate of US dollar and HK dollar as of May 20. The central bank yesterday raised interest rates on deposits of two major overseas currencies, which analysts are calling a natural response to the United States' rate hikes in recent months. The Bank of China and Fujian Industrial Bank finished the Center's first trading between the greenback and the HK currency at 7.7993 HK dollar against one USD, with a turnover of one million USD.
"The more I come to China, the more I become frustrated with the simplistic, naive and stereotyped view of China when I go back to the United States," said Robert Lawrence Kuhn, author of the book "The Man Who Changed China: The Life and Legacy of Jiang Zemin." Many Westerners do not know much about China, viewing the current China as it was 25 or 30 years ago, said Kuhn when talking about his book on Jiang with Chinese readers at the on-going 15th National Book Fair of China in Tianjin, a port city in north China. In the eyes of many westerners, he said, China is either backward or gloomy -- totally different from the China he has seen with his own eyes. Out of his frustration, Kuhn embarked on a range of programs to introduce the real China to people in western countries including his first book concerning China, "Made in China," and a 90-minute English TV series "In Search of China: Voices from the New Revolution."
Chinese Vice Premier Wu Yi speaks at the opening ceremony of China's Day during the Expo 2005 Aichi in Nagoya, Japan, May 19, 2005. More than 1.5 million people have visited the Chinese pavilion at the site of the Aichi Expo by May 19 when the jubilant ceremony was held to mark the China's Day.
The final winner of a US$8-billion contract to build four nuclear reactors at two power plants in Zhejiang and Guangdong provinces will most likely be hammered out by October.
Taiwan has become one of the most important sources of investment for South China's Guangdong Province. So-much-so that the mainland province is now stepping up efforts to encourage business people in Taiwan to play a more active role in the economic development of the region.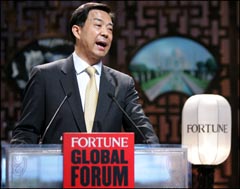 Beijing said it will not yield to calls from the United States to limit its textile exports because such a move will be a forfeit of rights guaranteed as a member of the World Trade Organization. China has a right to take advantage of its low costs to export low value-added products such as textiles, just as the United States has the advantage in "high-end products,'' many of which are shipped to China, the trade ministry said, citing comments minister Bo Xilai's made to US Chamber of Commerce president Thomas Donohue.
Swedish telecommunications giant Ericsson on Thursday said it had teamed up with China's leading telecommunications equipment maker ZTE for mobile network solutions in China and that it would open a third-generation (3G) wireless research and development centre in the country.
May 18, 2005
Hong Kong: Illegal bookmakers, widely believed to be draining billions of dollars from the Jockey Club are being squeezed out thanks to the legalization of soccer betting two years ago, according to Deputy Secretary for Home Affairs Stephen Fisher. Since the Jockey Club began to take bets on soccer matches, 90 percent of bettors have stopped placing bets with illegal bookmakers, Fisher said in an interview Monday.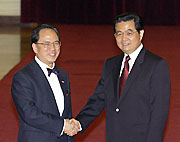 Hu Jintao greets acting Chief Executive Donald Tsang before the start of the Fortune Global Forum in the Great Hall of the People.
Stanley Ho's Melco International Development is seeking a syndicated loan of around HK$1 billion in initial funding for its planned HK$8 billion Macau casino, bankers familiar with the situation said. The loan, part of a financing package that includes the sale of shares and convertible bonds, will go towards the HK$1.68 billion required to purchase the land and pay the land premium for a resort in Macau's Cotai district.
Some local banks said yuan-denominated deposits have surged rapidly over the past month as retail customers follow speculation that China's currency will appreciate when the government relaxes the pegged exchange rate.
Huadian Power International, the third-largest Hong Kong-listed mainland power producer by market value, has won approval to build two 1,200-megawatt thermal power plants in Ningxia and Shandong, with a total investment of 10.3 billion yuan (HK$9.7 billion).
Shenzhen's Lowu border checkpoints have begun taking photos and the fingerprints of visitors from Hong Kong and Macau for the automated clearance system set to be introduced from the middle of next month.
A jump in lending and a fall in bad loan provisions helped first-quarter earnings at HSBC Holdings' consumer finance unit in the United States surge 33 per cent from a year ago.

China: China's Gao Ling (L3) and Zhang Jun (R2) hold up the Sudirman Cup in the podium ceremony after China winning the final match at the 2005 World Mixed Team Badminton Championships for the Sudirman Cup in Beijing, China, May 15, 2005. China beat Indonesia 3-0 to win the Sudirman Cup.
The question of revaluing the yuan is a matter of China's sovereignty, Premier Wen Jiabao said yesterday, the strongest statement yet from Beijing that it would not bend to external pressure in determining the pace of currency reform. Premier Wen Jiabao said China will not bow to outside pressures to revalue its currency and said politicizing the issue helps nobody - in comments apparently aimed at the United States.

Hu Jintao, followed by Time Warner chairman Richard Parsons (left), waves as he takes to the stage to deliver his speech at the Great Hall of the People yesterday. President Hu Jintao pledged yesterday to promote the mainland's integration with the global economy as he acknowledged the benefits that globalization had brought to the country.
China's mountain of bad loans shrank slightly in the first three months of this year, said its banking regulator. The China Banking Regulatory Commission said on its Web site Monday that the nonperforming loan ratio declined 0.5 percentage points to 12.4 percent of total lending.
China's consumer inflation rate eased to 1.8 percent last month for the lowest figure so far this year, official data showed, but analysts warned the price relief would be short-lived.
A Guangzhou court has warned of the growing number of unlicensed medical clinics in the city run by doctors without proper qualifications, saying the reported cases are only the tip of the iceberg.
The mainland central bank yesterday said it would allow trading of interbank bond forwards from the middle of next month, a move seen by analysts as an incremental but critical step in the liberalization of its capital and currency markets.
May 17, 2005
Hong Kong: New World Development, a property-to-telecom conglomerate, and Sino Land, a mid-sized property developer, have returned to the stock market benchmark, the Hang Seng Index, after a two-year absence, replacing property investors, Wheelock & Co and Henderson Investment.

China: Fufu and Linyang are said to be the pair to move in Taiwan
China and the United States are preparing to exchange presidents' visits within the year, according to a press release from China's Foreign Ministry issued Friday. The release said Chinese Foreign Minister Li Zhaoxing discussed the issue with US Secretary of State Condoleezza Rice on the phone Friday night. "They agreed to make good preparations for the two heads of state to visit each other within the year," the release said, adding that "efforts will be made to make sure the visits are succes.
China notched up a trade surplus of US$21.17 billion in the first four months this year, according to statistics published by the General Administration of Customs.

The 928-meter-long Lhasa River Railroad Bridge, a landmark project of the Qinghai-Tibet Railway, is shown under the blue sky near Lhasa, capital of southwest China's Tibet Autonomous Region May 12, 2005. The main body of the bridge was accomplished on Friday.
"China story" will bring world's best known CEOs and senior executives back to China, this time to Beijing, after they gathered in Shanghai in 1999 and Hong Kong in 2001.
Failure to invest in PetroChina's West-to-East gas pipeline megaproject has done nothing to dampen Royal Dutch/Shell's enthusiasm to participate in other China gas projects. The supermajor and PetroChina are close to signing a final agreement to jointly develop the Changbei gas field in northwest China's Ordos Basin, Shell's first onshore upstream development in the country, sources said. When foreign firms have failed to reach agreement with potential Chinese partners, the reasons have varied according to the project. In the case of the West-to-East pipeline, it was more a case of PetroChina wanting to go solo. But when companies including Shell and Unocal pulled out of the Xihu project, it was for commercial reasons. Clearly, Shell still wants to play a big role in China's gas sector. It formed a US$91 million (HK$709.8 million) joint venture recently with Hangzhou Gas (Group) to operate and manage a high-pressure gas pipeline system in Hangzhou, possibly paving the way for other investments, including liquefied natural gas (LNG) terminals, in east China.
May 16, 2005
Hong Kong: Security chief's warning follows death of senior customs official arrested by ICAC on bribery charges Secretary for Security Ambrose Lee made it clear Friday the government has zero tolerance for corruption in high places. His comment came one day after the death of Customs senior superintendent Simon Wong who, along with five other men, had been arrested by the Independent Commission Against Corruption (ICAC) Tuesday for alleged bribery.
Jones Lang LaSalle, one of the world's leading real estate services and money management firms, is planning to launch a Hong Kong or Singapore listed realty trust product targeting the Chinese market.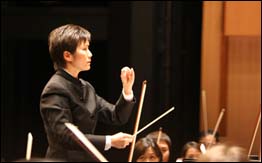 Both Margaret Yang and the troupe's other mastermind, Yip Wing-sie, a local classical music icon and the Sinfonietta's music director and conductor, have unflinching faith in their players and remain resolutely optimistic about the young group's future. More importantly, they are ready to try anything - including comedy, multimedia and Chinese musical instruments - to make sure their audience has fun and gets involved once lured into the concert hall.
Hong Kong-listed China Overseas Land and Investment, a property developer with holdings in the territory and on the mainland, plans to sell a 10-year, US$300 million (HK$2.34 billion) bond, sources familiar with the situation said.
Hong Kong's 21-year-old currency peg is likely to be adjusted to stem the flow of "hot money" into the banking system that threatens to ignite inflation by keeping interest rates artificially low.
Four former senior executives of the collapsed China Southern Securities went on trial in Shenzhen yesterday for stealing US$780 million through accounts they operated at local branches of foreign banking giants Citibank and Standard Chartered Bank.

PCPD chief executive Robert Lee says the company's acquisitions in the mainland and the development of China Netcom's property portfolio will work as a twin engine to drive the firm's profit growth. Pacific Century Premium Developments (PCPD), the property arm of PCCW, plans to transform itself into a mainland property play despite official measures to restrict investment in the overheated sector.
Taxing betting profits rather than turnover would enable the Hong Kong Jockey Club to recoup up to $24 billion a year from illegal bookmakers, chairman Ronald Arculli said yesterday. This would return annual racing revenue to about $80 billion.
China: Governor Zhou Xiaochuan of China's central bank said Friday overseas media reports on the expected appreciation of the Chinese currency, yuan, or Renminbi( RMB), on May 18 is not "correct." Currently, the yuan is pegged to the US dollar at a stable rate of about 8.27 to 1. China has maintained a unified, managed floating exchange rate regime based on supply and demand of foreign exchange in the market since 1994. The yuan appreciated 38 percent against the US dollar between 1994 to 1997.
China is considering building five cross-sea tunnels in the next 20 to 30 years, according to Qian Qihu, an expert in protection engineering and academician of the Chinese Academy of Engineering, at a Sino-Russian symposium on engineering technologies held on May 12. The five tunnels are the Dalian-Yantai sea tunnel at Bohai Bay linking Dalian in northeast China's Liaoning Province and Yantai in east China's Shandong Province, the project linking Shanghai city to Ningbo in east China's Zhejiang Province, the project in Lingding Sea connecting Hong Kong, Macao with Guangzhou, Shenzhen and Zhuhai, Qiongzhou Strait project connecting Guangdong Province with Hainan Province, and that across Taiwan Strait from Fujian Province to Taiwan.

Hu Jintao (right), general secretary of the Communist Party of China Central Committee, and James Soong, chairman of Taiwan opposition People First Party, historically shake hands as the two parties met yesterday in the Great Hall of the People in Beijing. The Communist Party of China (CPC) and Taiwan opposition People First Party (PFP) yesterday reached wide-ranging consensus on cross-Straits dialogue, ending the state of hostility and building up a peace framework. People First Party (PFP) chairman James Soong Chu-yu has heaped praise on Communist Party general secretary Hu Jintao, describing him as a man of true sincerity. The leader of Taiwan's second largest opposition party, James Soong Chu-yu, has rejected accusations he strayed beyond an agreement with the island's leader by coining a new phrase critics say will make a resumption of cross-strait talks even harder. The six-point agreement between People First Party chairman James Soong Chu-yu and Chinese Communist Party chief Hu Jintao increases the pressure on Taiwanese President Chen Shui-bian to resume talks with the mainland, according to analysts.
Economic hubs in East and South China face summer blackouts because of the continuing power shortage, energy watchdogs warned yesterday.
The Guangdong government will spend up to 1.6 billion yuan (HK$1.5 billion) on subsidies designed to encourage oil-fired power plants to boost output during periods of peak demand in a bid to alleviate its chronic power shortages. China faces a third straight year of power shortages, even as new generation capacity starts operating, as the nation's surging economic growth boosts demand for electricity. The country may have about 25,000 megawatts less than it needs when demand peaks this summer, said State Electricity Regulatory Commission vice chairman Shi Yubo Thursday. Last year, the shortfall was 30,000 MW, the most severe since the 1980s.
Shanghai plans to build the world's tallest Ferris wheel with a diameter of 170 meters, just 10 meters shorter than One ifc tower in Central, the state newspaper Shanghai Daily reported Thursday. The wheel, to be completed by 2008, would best the record holder, the London Eye, which rises 135 meters above the English capital.
China Eastern Airlines, the country's third-largest carrier, is splashing out almost one billion yuan (HK$943 million) and taking up nine billion yuan in debt for its parent's aviation assets to boost its fleet by nearly 60 percent.
May 13 - 15, 2005
Hong Kong: Reforms aimed at saving sport by swelling Jockey Club coffers face opposition amid gambling fears - Sweeping changes to the way horse racing is taxed and regulated in Hong Kong are a last ditch effort to save the sport here and restore its financial health, the Jockey Club has warned. A Home Affairs Bureau paper, to be discussed by the Legislative Council's home affairs panel tomorrow, says club turnover from racing fell 30 percent from HK$92.4 billion in 1997 to HK$65 billion last year, and may fall by another 30 percent to HK$45 billion by 2008 if nothing is done. The warning, which is contained in the paper, and the fact that the club is one of the SAR's largest employers with 19,000 people on its payroll, adds to the pressure on the government to help it regain its financial health.

Shun Tak Holdings, a Hong Kong-listed company controlled by the family of casino tycoon Stanley Ho, will continue talks to set up a budget airline with Air Macau despite the withdrawal of Virgin Blue from discussions. "We have been mentally prepared that Virgin Blue would drop out,'' a Shun Tak source said. "As a foreign partner, Virgin Blue does not quite understand the Macau market nor whether its strategy would fit Air Macau or the government.'' The source said the venture will "add value'' to the company since it also runs logistics and transportation businesses, adding it hopes to speed up the negotiations and work out details within three months.
Several of Hong Kong's wealthiest tycoons are being lined up to pump up to US$600 million (HK$4.68 billion) into China Shenhua Energy's US$3 billion initial public offering, said sources close to the deal. Li Ka-shing, who controls conglomerate Hutchison Whampoa, and is one of the world's richest men, has been asked to buy shares in Shenhua's Hong Kong IPO, the sources said. The other tycoons approached to buy pre-IPO stock are Chow Tai Fook Enterprises chief Cheng Yu-tung, Henderson Land Development chairman Lee Shau-kee and the Kwok brothers, owners of property firm Sun Hung Kai.
Secretary for Justice Elsie Leung Oi-sie on Wednesday defended role played by the National People's Congress Standing Committee's (NPCSC) role in interpreting Hong Kong's Basic Law.
The government introduced a bill into the Legislative Council on Wednesday to charge non-residents a minimum of $20,000 for giving birth at public hospitals in Hong Kong.
China: The user evaluation center of Shanghai Association of Quality recently published the survey results of "Shanghai in foreign eyes". The survey, conducted for three successive years, gives questionnaires to foreigners working, studying or doing business in Shanghai. In 2004, more than 500 foreigners from 19 countries took part in the survey, 47.5 percent of them from developed countries. The result was that foreign evaluation on the general living environment of Shanghai reached a rather high level of 75.23 (the full mark is 100). The figures in 2002 and 2003 were 67.86 and 71.63 respectively.
The US Wall Street Journal published an article Monday pointing out that RMB's exchange rate against the US dollar has not been undervalued and the America's trade deficit would not be reduced because of the adjustment of RMB exchange rate. The article says that in the 1980s and early 1990s America blamed its increasing trade deficit on Japan and went out of its way to punish Japan. America said either Japan appreciated the yen or it would face sanction. Japan caved in eventually. However, America's trade deficit and Japan's trade surplus continued to grow. Meanwhile it created a monster in Japan - deflation and economic depression. Now America's trade deficit almost doubled over the last five years. This time China became the "defendant". To deal with China Washington again picked up the trick it used to criticize Japan, which has been shelved for years.

Chairman James CY Soong of the People First Party in Taiwan gives a speech to students and teachers of the prestigious Qinghua University in Beijing, capital of China, May 11, 2005. Soong and his delegation arrived in Beijing Tuesday to continue their mainland tour. It is the first time for Soong to visit Beijing.
Premier Wen Jiabao reminded the EU Wednesday of the good relationship China and the EU enjoy and said they should work to resolve the textile trade disputes.

He Tongxin (L), vice governor of Hunan Province and commercial counsellor with EU's delegation to China Christophe Doucerain unveil the cover for the Euro Info Centres (EICs)'s Changsha Office on May 9th 2005 in Changsha, captial of central China's Hunan Province. The Euro Info Centres (EICs) support SMEs in all phases of their development by providing them with information, assistance and advice in all EU-related areas.The Changsha Office is its first office in the Chinese mainland.
The Ministry of Commerce released Tuesday the first batch of guidebooks detailing technical standards on export goods, helping Chinese companies to better acquaint themselves with possible technical barriers in foreign trade.

Web services leader Google has won a license to operate in China and has bought a Web address as it battles Yahoo in the world's second-largest Internet market. The US Web services giant, which makes its money from searches, advertising and other services, is hiring staff with the aim of opening an office in China this year, according to several sources within or close to the company.
The mainland's central bank will allow commercial banks and financial companies to sell bonds on the highly liquid interbank market in the latest move aimed at spurring the growth of the country's nascent debt markets. Until now, only the "big four'' state-owned banks - Bank of China, China Construction Bank, Industrial and Commercial Bank and Agricultural Bank - as well as policy banks such as China Development Bank and China Export-Import Bank, could operate freely in the interbank market, which handles bond trading and borrowing among banks.
May 12, 2005
Hong Kong: China Netcom Group Corp (Hong Kong) Ltd, the country's second-largest fixed-line carrier, is likely to finish its acquisition of networks in four mainland provinces before September, analysts expect.
Hong Kong and NASDAQ-listed Tom Online Inc said it had become the biggest wireless Internet provider in China thanks to continued growth, although the company's revenues "unexpectedly" fell short of its previous estimates.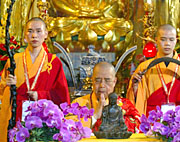 Sik Chi Wai leads a dual ceremony to mark his installation as abbot of Po Lin Monastery and honouring Buddha's Birthday ahead of Sunday's celebrations.
A dearth of talented university graduates and the rebounding economy has inflated starting salaries by more than 20 per cent, with one Hong Kong University of Science and Technology business graduate earning $49,000 a month.
The government no longer insists its heavily criticized system for releasing land for development works well. The housing minister yesterday acknowledged for the first time that many property developers had problems with the application list system.

Stephen Ip Shu-kwan, Secretary for Economic Development and Labour, joins a CLP Power cooked food demonstration at the expo. As trade shows go, it has everything - including the kitchen sink. In fact, the four-day Hofex 2005 under way at the Hong Kong Convention and Exhibition Centre is Asia's largest food and hospitality trade show.
Horse racing in Hong Kong is set to undergo a major overhaul after at least three key policy secretaries gave the green light to sweeping changes that will give the Jockey Club more revenue and greater flexibility to set race schedules and offer new betting products to compete with illegal bookmakers. The changes, according to government sources, may come with a price, as the government is discussing a new licensing scheme that could end the Jockey Club's grip on racing. The full details of the changes will be made public later this week and be presented to the Legislative Council and opened to public consultation. According to a senior government source, new legislation is expected to be tabled before the Legislative Council that will give the government regulatory control over horse racing as well as changing the betting duty scheme, which is subject to a review after three years.
Hutchison Whampoa will book one-off accounting profits of $9.4 billion by buying the remaining 35 per cent of its British 3G operations from its estranged minority shareholders, NTT DoCoMo and Royal KPN, earlier than scheduled.
MTR Corp is looking at Wuhan's subway expansion plans as it explores beyond its home turf for new income to offset slowing growth in Hong Kong.
China: The statistic report issued May 8 by the national office for holiday administration indicates that the tourist number hosted nationwide reached 121 million in total during the golden week, harvested an earning of RMB 46.7 billion yuan, telling a respective increase of 332 and 231 percent as against that in the first golden week set in motion in 1999. The "May 1" is the 18th golden week for the Chinese people. The golden week, through a development of 7 years has witnessed a change for diversified ways for holiday-making of the Chinese people, aside from the big increase in tourist number and revenue, in which the holiday consumption is tending to be more reasonable with a much stronger consciousness for leisure and relaxation. The ways of Chinese people in holiday making is in the period of transition and escalation.
China raised diesel retail prices by 4 per cent to 4,509 yuan (US$545) per ton yesterday in a bid to increase oil refiners' profit margins.
The State Administration of Radio, Film and TV (SARFT) will strengthen supervision of content broadcast on the Internet, TV and mobile communications networks, while at the same time issuing the first licence for Internet protocol TV (IPTV) and mobile phone TV programs.
Air Canada, one of the world's largest airlines, said yesterday it will launch non-stop flights between Beijing and Toronto from June 3.

Global venture capital funds slowed investment into Chinese companies in the first quarter after the country's foreign exchange regulator issued rules that may hinder international share sales and capital raising by China businesses. Chinese residents must for the first time get approval from the State Administration of Foreign Exchange before starting or investing in an offshore firm, according to notices dated January 24 and April 8. Venture capital into China slowed by one-third to US$552.6 million (HK$4.31 billion) in the first quarter from a year earlier, the Asian Venture Capital Journal said.
A meeting of specialists from the People's Bank of China and the US Treasury Monday was "a very productive exchange,'' helping the mainland on the way toward a more flexible exchange rate policy, a Treasury spokesman said. China has made "continued progress'' in its ability to move toward a more flexible exchange rate, "and along that continuum they've made sufficient progress to introduce flexibility now,'' said Tony Fratto Monday. "This meeting furthered that.''
Guangdong party and government workers will be able to sleep in an extra half hour but will have to cut their lunch break, under changes to working hours from July 1.
Bank of Communications (Bocom) has followed the example of China Shenhua Energy in requesting a special listing hearing to ensure the launch of its US$1.5 billion H-share initial public offering before the end of next month.

Beijing student Yang Ge, 18, demonstrates his SRT2 robot at the 2005 Intel International Science and Engineering Fair in Phoenix, Arizona which has drawn 1,447 young inventors from 45 countries.
May 11, 2005
Hong Kong: The private equity arms of Goldman Sachs and Morgan Stanley will reap a gain of almost US$1 billion (HK$7.8 billion) from HSBC Holdings' HK$8.1 billion purchase of most of their holdings in Ping An Insurance (Group), the mainland's second-largest insurer. The purchase of 9.91 percent of the company's shares will double HSBC's stake to 19.9 percent, as the biggest foreign investor in China's financial services industry further expands into the fast-growing mainland insurance market. The purchase values Ping An at HK$13.20 per share, a 9 percent premium to the insurer's closing price in Hong Kong Friday. Shares of Ping An rose 5.37 percent Monday to close at HK$12.75. HSBC Holdings will double its stake in Ping An Insurance (Group) in an $8.1 billion show of confidence in the mainland's second-largest life insurer, despite a revenue slowdown at the insurer last year.
The Hospital Authority's budget deficit will balloon to HK$7.3 billion in five years, posing a serious threat to public medical services, the health body's chief warned Monday. The authority's chief executive William Ho urged the government to finalize a comprehensive financing scheme, including the option of medical insurance.
Award winning Polytechnic University scientists, from left to right, Paul Cheng, Thomas Leung and Thomas Lo have created a drug that offers hope to sufferers of liver cancer. Scientists from Polytechnic University have created a drug they say can treat liver cancer and prolong a sufferer's life for several months without killing normal cells.
The government will not seek the chief executive's approval for waiving air-quality requirements when building the proposed bridge from Hong Kong to Macau and Zhuhai, officials stressed yesterday.

Companies Registrar Gordon Jones says while 90 per cent of users have opted for internet searches, physical on-site searches at government premises will still be available.
One of Morgan Stanley's most senior investment bankers in the region has been hired by a rival in a move expected to focus attention on staff solidarity in light of key departures from its main dealing centers.
China: The seven-day holiday week has become a virtual opportunity for the development China's tourism market despite disputes about the rationality of the "Golden Week," which has exerted great pressure on transportation catering and hotel and tourism infrastructures, according to relevant experts. China now has three "Golden Week" holidays in the year -- Spring Festival, International Labor Day, and National Day. This new holiday scheme was set up by the Chinese government in 1999 so as to boost domestic demand, stimulate consumption, and restructure the economy. As the prolonged holidays turned out to be "golden" for the economy, they became known as "Golden Week". According to statistics published by the National Tourism Administration (NTA), during this May day holiday, China received 121 million tourists, 16 percent higher than last May day holiday, with tourism income rising by 20 percent to 46.7 billion yuan (5.64 billion US dollars).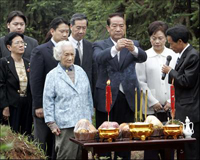 Chairman of the People First Party (PFP) James CY Soong (3rd R) pays homage to his great grandfather in Juyu Village in Xiangtan, central China's Hunan Province, on May 9, 2005. Cross-Straits relations should follow a path of peaceful development and mutually beneficial co-operation to ensure the rejuvenation of the Chinese nation, Beijing's top negotiator with Taiwan said yesterday.
US 'playing with fire' on yuan drive - Restive members of the US Congress are demanding China revalue the yuan or face trade sanctions. And Bush administration officials are joining the chorus, led by Treasury Secretary John Snow's insistence "the time has come'' for the mainland to move. Some analysts said they should be careful what they wish for. While a rise in the yuan may lead to an increase in the exports of some US-made products, it may also lead to higher interest rates, leaner stock portfolios, more expensive shopping trips, weaker hiring prospects and lower profits at companies such as General Motors, Wal-Mart Stores, Dell and Coca-Cola.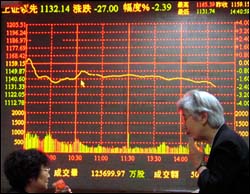 A shares hammered as tap for state holdings opens - The Shanghai Composite Index dives to a six-year low as investors warn prices may fall further in the coming days. China's A shares plunged Monday, the first day of trading since the government said it would begin allowing previously nontradable shares to change hands, propelling the Shanghai Composite Index to a new six-year low and driving the Shenzhen index to 1996 levels. Investors warned that prices could sink further in coming days as the implications of the long-awaited decision sink in.
May 10, 2005

Hong Kong: Grandiose sales hit $3.5b in two weeks - More than 400 units at The Grandiose were sold Sunday. POON PO-LUN. A consortium led by New World Development and MTR Corp has raked in more than HK$3.5 billion from the sale of more than two thirds of the 1,472-unit The Grandiose project. The developers sold a second batch of more than 400 apartments at the Tseung Kwan O development Sunday for more than HK$1.6 billion after selling the first batch of 600 flats for about HK$1.9 billion the previous week. The developer said prices of the remaining 400 units are likely to be raised by up to 10 percent.

Hong Kong destinations such as Ocean Park are at the forefront of making the most of the huge potential of mainland tourists. eLong chief executive Justin Tang, says it has a US$130 million war chest, double that of Ctrip, after Barry Diller acquired a majority stake in the company to challenge Ctrip's dominance of the China Internet travel market. Diller's Expedia is already carrying hotel room inventory from eLong. Since its founding in 1999, Ctrip has pretty much had its own way in China's virgin online travel market. The Shanghai-based company has easily outdistanced its principal competitor eLong, established the same year, in market share, profitability and, now that both are listed on Nasdaq, market capitalization. If nothing else had changed, Ctrip's management would probably be feeling complacent. Instead, they have a fight on their hands, and one of the most aggressive Internet companies in the United States is supplying their rival with ammunition. Late last year, Barry Diller, the former studio head turned Internet mogul, and his InterActive Corp acquired 52percent of eLong.
Hong Kong manufacturers with factories across the border will soon be offered loan guarantees to help them reduce pollution.
A government energy adviser says the attitude of "not in my backyard" will be a major obstacle to electricity generation from wind turbines, with residents expected to object to huge windmills ruining their views.

China: Li Yu is crowned Miss Bikini China in Linfen, Shanxi Province on May 6, 2005. Li will represent China to compete in the Miss Universal Bikini contest, also in Linfen, on July-12-14. Contestants from 50 countries will then take part in the competition.
Ahead of a meeting with President Hu Jintao, Taiwanese politician James Soong said in comments sure to please Beijing that he is opposed to moves by Taiwan toward formal independence from the mainland. "Taiwan independence will bring war and disaster,'' Soong told a group of Taiwanese business executives Sunday in Shanghai. "We want factories and markets, not battlefields.''
A Japanese senior official said in Beijing Sunday that Japan attaches importance on its relations with Asian countries, China in particular, and spokes highly of Chinese President Hu Jintao's proposal on promoting development of China-Japan ties. "Only by keeping sound relations with other countries across the world, especially the neighboring countries, can Japan subsist, develop and maintain prosperity," said Yamazaki Taku, assistant to the Japanese prime minister, quoted by a Chinese Foreign Ministry official.
China has succeeded in developing electronic fuel injection (EFI) for the first time. The DH series of fuel injectors developed by Liuzhou Guoji Industrial Co. in Guangxi has been proved recently to work well by a experts' team led by Guo Konghui, academician of Chinese Academy of Engineering. Fuel injector is an important component in an EFI system for auto making. European, American and Japanese makers dominate the world market for the system. China has to depend on imported products. The EFI system is a key R&D project in the industry in China.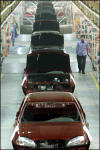 China Special Steel Holdings, which will raise up to HK$333 million from an initial public offering in Hong Kong this month, said it plans to expand production capacity through mergers and acquisitions in the medium term. The expansion plan aims to fully capture the opportunities arising from the fast-growing special steel market in China, said chairman Dong Shutong without disclosing specific targets. According to the China Special Steel Association, the world's average special steel output accounted for about 12 percent to 15 percent of the total steel output in 2003, and the ratio in China was only 8.1 percent.
A sample survey jointly conducted by a Beijing-based parenthood magazine and a market monitoring institution showed that Chinese youngsters have become the most active consumer group. Although the per capita disposable income of Chinese urban residents is no more than 9,000 yuan, the per capita average annual consumption of those surveyed has reached 15,288 yuan, more than 70 percent higher than the former figure.
China's biggest made-to-order chip maker, Semiconductor Manufacturing International Corp, is turning to home-grown lenders for a US$600 million (HK$4.68 billion) syndicated loan after a larger deal was rebuffed by a US bank earlier this year, bankers said. In March, the company failed to receive a US$769 million guarantee from the US Export-Import Bank, under pressure from rival chipmakers and politicians in the United States worried about losing jobs to Chinese manufacturers. Concerns over the international chip market and the company's future prospects also made some international lenders wary.

China Merchants Bank was the largest seller of convertible bonds last year with an issue size of 6.5 billion yuan. They have a step-up coupon of 2.5 percent. Convertible bonds are increasingly popular with both Chinese investors and companies as domestic stock markets continue to drop. Convertible bond issuance more than doubled last year to 9.7 billion yuan (HK$9.02 billion) with China Merchants Bank being the largest seller from 4.4 billion yuan in 2003, surpassing both rights issues and additional public offerings to become the most popular method of raising capital for listed companies in the mainland. Sales this year have totaled 350 million yuan.
South China's crowded port scene may soon add another player after the Philippines' largest port operator said it was looking to invest in a mainland portfolio of up to five terminals in the next three years.
China Special Steel Holdings has begun marketing an initial public offering to raise up to $333 million, brushing aside delays in the share sales by two mainland industry peers in Hong Kong recently amid domestic austerity measures and rising costs.
May 9, 2005
Hong Kong: Hong Kong Acting Chief Executive Donald Tsang and Electoral Affairs Commission Chairman Justice WooKwok-hing on Friday welcomed the Report of the Independent Committee of Experts for the Review of the Management, Planning & Conduct of Elections. The report affirms the integrity, fairness and impartiality of the 2004 Legislative Council (LegCo) Election on July 1 was not compromised.
The value of Hong Kong's total retail sales rose 6.4 percent to 16.5 billion Hong Kong dollars (2.12 billion US dollars) in March compared with the same period of 2004.
The political battle over land reclamation threatens to further inflate the costs of a planned housing mega project in Yau Tong, Kowloon East, which has already been marked up by 50 percent in two years. Henderson Land, heading the consortium behind the project, now estimates it will cost about HK$15 billion. The original estimate of HK$10 billion was raised to reflect increased building materials costs since the property market trough of 2003. The wild card now is a plan to reclaim 600,000 square feet of land to form part of the two-million-square-foot site. Environmentalists have already lodged objections.

Actress Nancy Sit Kar-yin shares a light-hearted moment with 100-year-old Poon Loi-kui at the Madam Fung Yiu King Elders Hostel in Lam Tin yesterday. The Society for the Aged appointed Sit to officiate at the home's Mother's Day celebrations including a decorations workshop and a party to highlight care of the elderly.
Tourism Board chairman Selina Chow Friday denied suggestions the board was wasting public money, saying the extra funding was necessary to lift tourism from the depths to which it had sunk during the SARS outbreak.
Hong Kong Monetary Authority chief executive Joseph Yam Chi-kwong yesterday raised the spectre of rising inflation and warned that measures might be needed to stop the flow of hot money.
China: Construction of China's first railway across the Ulan Buh Desert and Badain Jaran Desert in north China's Inner Mongolia Autonomous Region will begin this year, local railway sources said.
Vice Finance Minister Li Yong said he does not think upward pressure on the yuan is so great and that he believes the pressure for the currency to appreciate stems from domestic, not external, factors. He also said there is no timeframe for China to adopt a floating currency regime and said establishing market mechanisms and financial sector reform are prerequisites for floating the yuan, the subject of intense speculation in global markets.
James Soong and his wife, Viola Chan, pay homage at the Huangdi Mausoleum at Qiao Mountain, north of Xian, Friday. People First Party (PFP) chairman James Soong Chu-yu called on both sides of the Taiwan Strait yesterday to break the stalemate in relations by focusing on their common cultural roots.
China Techfaith Wireless Communication Technology, which designs mobile handsets, has raised US$142 million in an initial public offering in the United States.
May 6 - 8, 2005
Hong Kong: April saw 16,280 sale and purchase agreements for all types of building units for registration in Hong Kong.
The unfettered discretion of the Independent Commission Against Corruption to intercept telephone conversations and then destroy the recordings before they can be reviewed in a court of law is a "necessary evil,'' a district court judge said, clearing the way for the resumption of a high-profile fraud case. Judge Fergal Sweeney said Thursday the ICAC is not acting in bad faith by destroying material before a trial as it is under no obligation to retain it.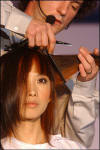 Kenford Industrial, a Hong Kong-based firm that makes hairdressing apparatus for Vidal Sassoon, Marie Clarie and Siemens, aims to raise between HK$70 million and HK$80 million in a Hong Kong initial public offering to fund expansion, sources said. The company is selling 100 million new shares, representing 25 percent of its enlarged share capital, with an option to sell 15 percent more. One-tenth of the offer will initially be set aside for retail investors and the remainder for institutional investors. The public offering will be open next Tuesday to Friday, and the shares will begin trading on May 23. Partners Capital is the share sale's sponsor. Sources said Kenford's shares will be valued at a similar level to other listed electrical household appliances manufacturers. Raymond Industrial and Warderly International Holdings, are trading at about 6 to 8 times earnings.
Datang International Power Generation, the second-biggest Hong Kong-listed mainland electricity supplier, said it will seek shareholder approval for the renewal of the one-year period on its proposed six billion yuan (HK$5.65 billion) share sale in China's domestic share market.

Christie's ceramic specialist Pola Antebi (left) holds a Ming underglazed-blue "dragon" jar (estimate $10 million) and Tsang Chi-fan a rare early Ming blue and white basin of the Yongle period (1403-1425) (estimate $20 million) at a preview of Christie's spring auctions.
Privately held Zhejiang Kasen Industrial, one of China's largest tanneries, plans to raise more than US$150 million (HK$1.17 billion) in a third-quarter Hong Kong stock sale, sources said.
Hutchison Telecommunications International Ltd (HTIL) has refused to raise its asking price for shares of fixed-line unit Hutchison Global Communications Holdings (HGC), despite protests from minority shareholders who say the $2.4 billion buyout offer is too low.
Corporate secretarial firms will have to register and be subjected to police spot checks under proposed anti-money laundering laws to be unveiled next year.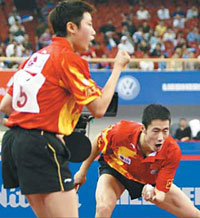 China: Chinese players Guo Yue (left) and Wang Liqin react during their mixed doubles final against compatriots Bai Yang and Liu Guozheng May 4, 2005. Contested over the best of seven games, Guo and Wang won 4-3.
ASEAN has turned out to be China's fourth largest trade partner with trade volume between the two sides topping 27.5 billion US dollars in the first quarter of this year.

Leader of Taiwan's opposition People First Party James Soong and his wife Viola Chen wave on arrival in Xi'an, Shaanxi Province, yesterday. Soong arrived in the mainland just days after the end of a historic visit by Kuomintang leader Lien Chan. Taiwan opposition heavyweight James Soong arrived on the mainland yesterday as the head of a 50-member delegation hoping to build a "bridge of trust" between both sides of the Taiwan Straits. Analysts expect concrete results from the upcoming talks between the leaders of the Communist Party and Taiwan's second opposition party, saying they could pave the way for direct official contact or the resumption of suspended semi-official negotiations.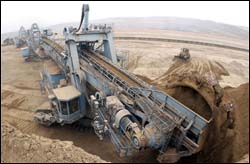 Shenhua's Heidaigou mine in the Inner Mongolia Autonomous Region produced 7.9 million tons of coal in the first half of 2003. Mainland coal giant Shenhua Group's plan to sell shares in Hong Kong and Shanghai remains on track even though Bank of Communications, China's fifth-largest lender, will most likely delay the Shanghai half of its planned dual listing, market sources said.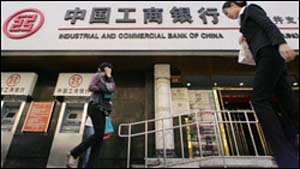 ICBC, which received a US$15 billion bailout last month in preparation for its listing next year, accounts for 18.6 percent of all loans at the country's financial institutions. China's banks need up to US$220 billion (HK$1.72 trillion) in fresh capital to meet global capital requirements and allow the troubled sector to better support the mainland's booming growth, according to ABN AMRO. Beijing gave Industrial and Commercial Bank of China (ICBC), the country's biggest lender, a US$15 billion bailout April 22 and injected Bank of China and China Construction Bank with US$45 billion in late 2003.
May 5, 2005
Hong Kong: The Hong Kong SAR government has held on to arbitrary powers allowing the secret recordings of telephone conversations and the destruction of material relevant to a criminal investigation, despite approved legislative provisions for an open process. It has therefore failed in its duty to safeguard the rights and freedoms of its residents, a district court was told Tuesday in a hearing that was to be held behind closed doors but was thrown open by the court. District court judge Fergal Sweeney was told that the chief executive has chosen not to enact legislation that was submitted to Legco and passed in 1996.
A new incineration plant designed to turn solid waste into ash for the manufacture of cement encountered technical problems during a trial run late last month, one of Hong Kong's biggest cement makers admitted Tuesday.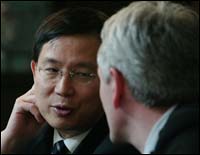 Hutchison Telecommunications International (HTIL) has offered as much as HK$2.4 billion to buy out minority shareholders of its Hutchison Global Communications (HGC), a mediocre performer in Hong Kong's fiercely contested, marginally profitable fixed-line phone market. But the offer price is well below those at which the group parent, billionaire Li Ka-shing's Hutchison Whampoa, sold some of its HGC shares shortly after the company was listed in January 2004.
SAR retailers said sales growth slowed during the first three days of the Labor Day Golden Week, as some mainland tourists have delayed their travel plans until the opening of the Disneyland theme park in September.
Hong Kong banks said on Wednesday they would not increase their prime lending rates despite the territory's central bank raising its base rate in unison with a quarter-point rise in the United States.
The Hong Kong Monetary Authority today launches a $300 million two-year note, signalling the start of a new bid to promote the bond market to retail investors with an issue every quarter.
Forward contracts on the yuan were yesterday projecting a 6 per cent revaluation of the mainland currency, with many traders betting on an imminent announcement, according to analysts.

China: Visiting Chinese Kuomintang (KMT) Party Chairman Lien Chan and his wife Lien Fang-yu bid farewell as they board the plane to Taiwan with a stopover in Hong Kong at the Shanghai Pudong Airport May 3, 2005. Lien said his mainland tour is "pleasant, smooth and successful", and thanked the mainland side for their hospitality. The Kuomintang (KMT) Party of China Chairman Lien Chan said Tuesday that Taiwan's best chance to achieve another "economic miracle" lies in the mainland.
Renowned French architect Paul Andreu on Tuesday unveiled his latest work on the blueprint of a multi-functional commercial block in China's Macao Special Administrative Region (SAR). Entrusted by casino tycoon Stanley Ho, Andreau put forward the concept of "Oceanus" in his plan to build a commercial, residential, shopping, entertainment and recreational complex at the Outer Harbor area in the gaming city.

The Chinese mainland has decided to expand access of Taiwan fruits from 12 to 18 species, and offer zero tariff on at least 10 species of fruits from the island province, according to Chen Yunlin, director of the Taiwan Work Office of CPC Central Committee and the Taiwan Affairs Office of the State Council.
Northwest China's Xinjiang Uygur Autonomous Region plans to launch construction of the second desert highway running through the Taklimakan Desert in May this year.
China's multiple world and Olympic champion Wang Nan crashed out of the 48th World Table Tennis Championships yesterday, becoming the highest-ranked seed casualty in the third round of the women's competition as she was outclassed by unseeded South Korean Moon Hyung-jung.
Shanghai chipmaker Semiconductor Manufacturing International Corp (SMIC) yesterday announced it will establish a US$100 million joint venture with Singapore's United Test and Assembly Centre (UTAC) to provide semiconductor assembly and packaging services in Chengdu.
May 3 - 4, 2005
Hong Kong: The by-elections to fill the 15 seats in the Election Committee out of 40 candidates were completed Sunday, according to a government press release.
Hong Kong's Immigration Department expects 4.25 million people to pass through Hong Kong during the Golden Week.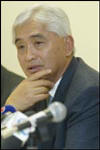 A crisis looms on Hong Kong's roads as the city returns to work after a holiday weekend to face dramatically higher tolls on the Eastern Harbor Tunnel. But Larry Yung, chairman of tunnel owner CITIC Pacific, will not bow to pressure and rescind the toll hike - from HK$15 to HK$25 for cars - according to a source close to the tycoon. Eastern Harbor Crossing, which is 71 percent-owned by the Hong Kong-listed, mainland-backed conglomerate, raised its toll by around 67 per cent Sunday. The franchise for the road portion of the eastern tunnel is held by New Hong Kong Tunnel Company. Central-Hung Hom crossing faces crunch with drivers set to flee Eastern toll squeeze en-masse Transport officials and emergency services are bracing for massive traffic jams today at the Cross-Harbour Tunnel as a result of toll rises that came into effect at the Eastern Harbor Tunnel Sunday.
Towry Law (Asia) HK, the financial planning company at the center of a lengthy investigation, is currently in negotiations with the Securities and Futures Commission that could lead to compensation for investors in two additional funds it sold. The SFC and Towry Law last August reached a US$37.7 million (HK$294.06 million) settlement in which the company agreed to compensate investors who lost money in two hedge funds they had been sold by Towry Law.
Debate on labor rights is set to escalate with the Democratic Party planning to bring a private member's bill to the Legislative Council in a push for a limit on the hours companies can ask employees to put in as well as for set overtime payments.
The campaign to select the chief executive suffered a setback yesterday when less than 15 per cent of eligible voters turned out for by-elections to pick members of the Election Committee that will choose the next leader.

China: Visiting Chinese Kuomintang (KMT) Party Chairman Lien Chan (L) shakes hands with Wang Daohan (R), president of the mainland-based Association for Relations Across the Taiwan Straits (ARATS), during their meeting in east China's municipality Shanghai on May 2, 2005.

Hu Jintao (right), the CPC central committee general secretary, shakes hands with Lien Chan, chairman of the KMT, at the Great Hall of the People on Friday. The two leaders vowed to end cross-Straits hostility and fight "Taiwan independence."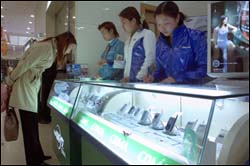 China Unicom, China's second-largest mobile phone operator, plans to sell up to three billion yuan (HK$2.83 billion) in short-term debt, a person familiar with the situation said. News of the sale of 13-month bills comes shortly after China Yangtze Power, whose unlisted parent owns and operates the Three Gorges Dam in Hebei province, said it would sell as much as four billion yuan in similarly-dated paper.
May 2, 2005

Hong Kong: The first test run of a pilot project to incinerate solid waste for reuse in cement manufacture resulted in the release of harmful gases into the atmosphere at the Green Island Cement (Holdings) plant in the Lung Kwu Tan area of Tuen Mun, according to sources at the site. Green Island, a subsidiary of Cheung Kong Infrastructure, was given a license by the government to turn solid waste into cement through the pilot incineration plan, which is supposed to be an environmentally friendly alternative to landfills.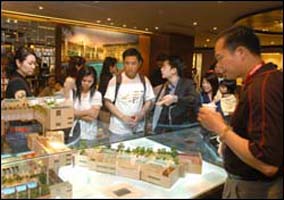 Monthly property sales reached an eight-year high in April thanks to strong demand at new projects, Centaline Property said. Hong Kong's only listed real estate agency said there were 14,268 transactions for HK$43.04 billion for the month as of April 27. Land Registry data on sales and purchase agreements reflect the transactions in the market two to four weeks ago.
Secondary five English language examinations will be changed in 2007 to better reflect the standards for students and encourage schools to improve their teaching of speaking and writing skills, officials said.
Day one of the controversial increase in tolls by the Eastern Harbor Crossing saw an immediate rise in Cross-Harbour Tunnel traffic, but transport officials said the full impact will not be known until Tuesday when the May Day holiday ends.
China: Aviation giant Airbus said Saturday it would set up its fourth biggest engineering center in Beijing to do aircraft design work for its super long-range passenger plane A350. Jean-Hugues Depigny, vice-president of customer services of Airbus China, told Xinhua that the center, which will be home to about 200 engineers, would be the second largest of its kind outside Europe after its engineering center set up in the United States. An A350 passenger plane will carry up to approximately 300 passengers, said the vice-president.

General Secretary of the Communist Party of China (CPC) Central Committee Hu Jintao and visiting Kuomintang (KMT) party chairman Lien Chan held a formal meeting Friday afternoon in Beijing. Hu said the meeting is a "historic meeting" as it is the first meeting between top leaders of the two parties in 60 years.

Chinese Kuomintang (KMT) Party Chairman Lien Chan visits his grandmother's tomb at the Qingliang Temple in Xi'an, May 1, 2005. Lien Chan made a nostalgic visit Saturday to Xi'an, capital of northwest China's Shaanxi Province, as well as the city where Lien was born and spent his childhood. Lien Chan later arrived in Shanghai from Xi'an Sunday afternoon.
In response to the country's burgeoning energy crisis, China is expected to create a vice-ministry-level office in the next few days to strengthen management of the fragmented energy sector. Huaneng Group, one's of China's largest power producers, has joined forces with Asia's largest oil refiner Sinopec to build a liquefied natural gas (LNG) terminal and an auxiliary power plant in Qingdao, East China's Shandong Province.
The World Bank has approved a loan of US$100 million to help China improve the efficiency and speed of its agriculture industry's technological development, the bank announced on Friday.

Wu Bangguo, chairman of the Standing Committee of China's National People's Congress, shakes hands with a builder during the opening ceremony of the Runyang Bridge linking Zhenjiang and Yangzhou across the Yangtze River in east China's Jiangsu Province April 30, 2005.
China, which has more communists than the rest of the world combined, celebrated May Day Sunday not by revering the toiling masses but by spending huge sums of money on shopping and traveling.
China will start a pilot program to resolve the issue of the nation's nontradable shares, a move that paves the way for the gradual release of two-thirds of China's stock market capitalization locked up in government hands. Measures require listed companies to secure shareholder approval on transforming their nontradable shares into tradable form and also call for the elimination of the distinction between tradable and nontradable shares in initial public offerings.
President Hu Jintao said Beijing was willing to discuss Taiwan's entry to the World Health Organisation provided the island agreed to join under the name of "Taiwan, China", island media reports revealed yesterday.

*News information are obtained via various sources deemed reliable, but not guaranteed