Hong Kong, China & Hawaii Biz*
How to Do Business with China, through Hong Kong & Setting up Business in China? - last update Feb 8, 2003
Do you know our dues paying members attend events sponsored by our collaboration partners worldwide at their membership rates - go to our event page to find out more! After attended a China/Hong Kong Business/Trade Seminar in Hawaii...still unsure what to do next, contact us, our Officers, Directors and Founding Members are actively engaged in China/Hong Kong/Asia trade - we can help!
China Projects Bidding Information - update daily Scholarship & Grants
Are you ready to export your product or service? You will find out in 3 minutes with resources to help you - enter to give it a try

China Central TV - English Channel 24 hours live webcast

Download Skype - FREE Voice Over IP
August 31, 2005
Hong Kong: Chief Executive Donald Tsang Monday assured unionists that he will fulfill his election pledge to consider a minimum wage and maximum working hours for workers. The pledge came during a 45-minute meeting Tsang had with three unionist legislators and six labor sector representatives ahead of his maiden policy address in October. Federation of Trade Unions legislator Wong Kwok-hing said Tsang appeared open to all suggestions during the meeting and that the atmosphere was favorable. Wong said he tried to convince Tsang of the importance the sector placed on the introduction of a minimum wage, standard working hours, and poverty, issues which were brought up during Tsang's election campaign last June and which he had then promised to address.
Chief Executive Donald Tsang's popularity has slipped for the second time in two months because of the controversy surrounding his newly-issued Executive Order regulating covert surveillance and the recent spate of food scares, according to a Chinese University poll.
Commuters can expect to pay more for minibuses and ferries as transport companies Monday began asking the government for fare hikes to cover increasing fuel prices. It is uncertain whether the three main bus companies will follow suit. Legislator Albert Chan urged the bus operators KMB, Citybus and First Bus not to increase fares. Minibus operators and First Ferry, a subsidiary of property developer New World Holdings, announced plans to raise fares 24 hours after a container drivers' union asked members to charge up to HK$144 extra for each trip to the mainland and HK$50 for each domestic trip. Crude oil prices, which broke through US$70 (HK$546) per barrel Monday, also played a role in dropping Hong Kong share prices by 0.97 percent before easing.

Fish traders gather at Yuen Long wholesale market on the first of three days of a city-wide boycott of mainland freshwater fish.
Beijing has endorsed all Hong Kong legislators for an official visit to the mainland next month, Chief Executive Donald Tsang Yam-kuen said on Tuesday.
Andy Lau wants to work with fellow Hong Kong star Maggie Cheung again, saying she inspired him during a previous collaboration, a news report on Tuesday said.
Lifestyle International Holdings, the operator of Sogo Department store in Hong Kong, plans to raise as much as HK$983 million from a share placement to fund expansion, sources said. Lifestyle is selling 75 million new shares at HK$12.50 to HK$13.10 each, raising between HK$937.5 million and HK$982.5 million, sources said. The price represents a discount of 2.6 to 7.6 percent to the share's closing of HK$13.45 Monday. Deutsche Bank is arranging the placement.
Months before the Treasury cancelled its project with IBM for persistent delays, Hong Kong's Transport Department terminated a $60 million IT systems contract with the technology giant for similar reasons.
Investment banks that bring new companies to the stock market could be sued by shareholders for any inaccurate statements made in the company listing prospectuses, under proposals unveiled by the Securities and Futures Commission. Investment banks that bring new companies to the stock market could be sued by shareholders for any inaccurate statements made in the company listing prospectuses, under proposals unveiled by the Securities and Futures Commission. The proposal is one of several sweeping reforms suggested in a consultation paper released yesterday. The securities watchdog says the reforms are aimed at improving investor protection and bringing regulations into line with practice in other leading financial markets. The commission also proposes to change the present requirement that only investors who can prove they had read a misleading prospectus can claim damages. Under its proposal, investors who trade in the shares after their listing may sue for damages if they can demonstrate that they received inaccurate prospectus information through other media, such as newspaper reports. SFC director William Pearson said the proposal was linked to two earlier sponsor regulation measures. The stock exchange earlier this year imposed new due diligence standards for sponsors, and the SFC in June issued another consultation paper to propose a range of licensing requirements for sponsors. The commission also suggests banning sponsors and other connected analysts from underwriting brokers from issuing written pre-listing reports in order to prevent conflicts of interests and avoid conflicting information from the simultaneous release of research reports and a listing prospectus.

China: Chinese President Hu Jintao speaks at the opening ceremony of a meeting commemorating the 10th anniversary of the United Nations Fourth World Conference on Women in Beijing, August 29, 2005. The UN Fourth World Conference on Women was held on Sept. 4-14, 1995 in Beijing. Chinese President Hu Jintao hailed women's contributions to social development Monday in Beijing.

A Long March-2IV rocket is launched at the Jiuquan Satellite Launch Center in northwest China's Gansu Province August 29, 2005.. China sent its 22nd return experimental satellite onto the orbit with a Long March-2IV rocket carrier from the Jiuquan Satellite Launching Center, in the northwest, Monday. It is the country's 87th launching of satellite over the past 35 years and the 45th successful launching since October 1996.

Boxes of blockaded goods from China are stacked in a warehouse in Belgium. Millions of dollars worth of sweaters, bras and other garments have been blocked by EU customs officials after Chinese exporters quickly overshot a quota agreement reached in June to protect European textile producers. European Union trade chief Peter Mandelson called on European governments on Tuesday to back his call to release blocked Chinese textile shipments, warning that failure to do so could rupture the textiles deal with Beijing and cause more economic hardship in Europe.
The China Securities Regulatory Commission (CSRC), the national capital market regulator, is considering setting up a fund to protect futures investors. The securities watchdog is playing an active role in the revision of China's Securities Law to protect the interests of small shareholders, a senior regulatory official said yesterday.
A special State grant that totals 800 million yuan (US$98.77 million) every year will be issued to poverty-stricken college students starting from next month.

PetroChina's net profit increased 36.1 per cent year-on-year to 61.6 billion yuan (US$7.6 billion) in the first half of this year. PetroChina, the nation's largest oil and gas producer, plans to upgrade oil refining and petrochemical production bases in Fushun and Dalian in the northeast, and Lanzhou and Dushanzi in the northwest.
Shanghai Electric Group, a mainland equipment maker in which Germany's Siemens owns a stake, said it plans capital spending of 1.9 billion yuan (HK$1.82 billion) this year and hopes to expand in the nuclear equipment business.
Guangdong Governor Huang Huahua has been forced to make a self-criticism over the Daxing Colliery disaster that killed at least 123 miners this month.
August 30, 2005
Hong Kong: Commuters can expect to pay more for minibuses and ferries as transport companies Monday began asking the government for fare hikes to cover increasing fuel prices. It is uncertain whether the three major bus companies will follow suit. Legislator Albert Chan urged the three bus operators -KMB, Citybus and First Bus - not to increase fares.

The start of a three-day strike by Hong Kong fishmongers Monday, compounded by a continuing mainland ban on exports, leaves the SAR virtually without any fresh fish for consumers. Local fishmongers carried out their threat to launch a three-day stoppage in protest against the government's handling of the mainland fish scare.
The Hong Kong government's silence on security arrangements for the Sixth Ministerial Conference of the World Trade Organization, to be held December 13-18, could be a sign that preparations on how to handle potential violence are all but complete.
Marine police seized $820,000 worth of smuggled vehicle parts, computer hard disks and used mobile phones from a mainland-bound speedboat near Ap Chau island in the northeastern part of the New Territories, a spokesman said on Monday.

Hang Fung Gold Technology has joined China National Publications Import and Export (Group) Corp to begin selling Harry Potter watches and stationery in China next month. The jewellery firm has signed a two-year contract with Warner Brothers, the Harry Potter movie producers, to design, manufacture and distribute jewellery and timepieces. "We expect the new products to generate several hundred million dollars worth of sales a year in China," said Lam Sai-wing, left, chairman of Hang Fung Gold Technology.

China: Members of the central art delegation perform for people at a stadium in Xigaze, southwest China's Tibet Autonomous Region, on August 28, 2005. The performance was part of the celebrations for the 40th anniversary of the founding of Tibet Autonomous Region, which was established on September 1, 1965.
China President Hu Jintao's American visits will inspire mutual trust - In a few days President Hu Jintao will fly to the United States, Canada and Mexico for two weeks of diplomacy. China's relationships with the three countries and the world summit at the United Nations will top his agenda. The visits will represent the culmination of Hu's active and realistic diplomacy this year. Hu has been busy with tours to foreign lands. In April he visited three Southeast Asian countries - Indonesia, Brunei and the Philippines. In June and July he traveled to Russia, the Kazakh capital Astana for a summit of the Shanghai Co-operative Organization leaders and attended the G8 summit in Scotland.
China's legislature Sunday passed amendments to the law on women's rights protection, which "prohibits sexual harassment of women".

China and the United States will hold the fourth round of talks on the textile issue during Aug. 30-31 as the two countries failed to reach any agreement in the third round ending in San Francisco on Aug. 17.
The European Union Trade Commissioner Peter Mandelson said on Sunday that he will on Monday propose to end a trade dispute which has stopped millions of items of Chinese clothing from entering Europe.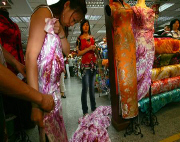 A woman tries on Chinese textiles as a saleswoman looks on at a fabric and clothing mart in Beijing on Monday. China's textile shipments have surged since the end of global quotas on January 1, prompting the United States and Europe to seek limits to protect their manufacturers.

Four thirsty candidate pandas take a drink in Wolong Nature Reserve. Hong Wen-dong, an animal expert from Taipei, couldn't hold back his childlike enthusiasm at the Wolong Nature Reserve in Southwest China's Sichuan Province.
In an effort to enhance energy efficiency and cut pollution, the National Development and Reform Commission (NDRC) has ordered the closure of small units at 64 coal-fired power plants across the nation within the next five years.
China Oilfield Services, the mainland's dominant offshore driller, said it will almost double capital spending to 2.3 billion yuan (HK$2.2 billion) this year as the country's oil industry steps up its hunt for oil and natural gas reserves.
Chief Executive Donald Tsang Monday assured unionists that he will fulfill his election pledge to consider a minimum wage and maximum working hours for workers. The pledge came during a 45-minute meeting Tsang had with three unionist legislators and six labor sector representatives ahead of his maiden policy address in October.

Fans celebrate after Li Yuchun was declared winner of the 2005 Super Girl contest in Shanghai. Li won more than 3.52 million votes from mobile phone text messages in the finals of the American Idol-type pop contest, which has broken ratings records.
Asia's largest oil and gas refiner by capacity, China Petroleum & Chemical - or Sinopec - on Monday said net profit for the first half of this year surged 17 per cent thanks to high oil prices and strong domestic demand, fuelled by the booming Chinese economy.
The Industrial and Commercial Bank of China (ICBC) may sign a memorandum of understanding as early as this week to sell a multibillion dollar stake to a consortium consisting of Goldman Sachs's private equity arm and Allianz Group.
August 29, 2005
Hong Kong: Li Ka-shing's groups earn over 22 billion HK dollars - "The Group has made significant strides in business and market expansion during the first half of 2005 by seizing the growth opportunities presented by the rising economy."
Cheung Kong Infrastructure, a unit of tycoon Li Ka-shing's Cheung Kong (Holdings), hired three global investment banks to sell at least A$1 billion (HK$5.9 billion) of shares in its Australian energy business.
In this week's earnings reports, China's instant messaging leader, Hong Kong-listed Tencent, posted strong growth in online advertising and online gaming, China's search leader Baidu reported triple digit growth but forecasted a third-quarter slowdown, and online gaming company The9 reported for the first time with contributions from hit online game World of Warcraft.

Donald Tsang is expected to receive public backing from senior state leaders when he visits Beijing to celebrate the anniversary of the end of the Sino-Japanese war.
The $1.3 billion expansion of the Hong Kong Convention and Exhibition Centre in Wan Chai was given approval yesterday despite concerns it will add to traffic congestion. Work will start in January. The plan will make room for three exhibition levels. This will add some 19,400 square metres of space, or enough area to accommodate 1,000 additional booths.

HKEx director Marvin Cheung Kin-tung says a maximum penalty of public censure for those breaching listing rules is insufficient to discourage malpractice.
Hutchison Whampoa chairman Li Ka-shing is adamant that Canadian oil venture Husky Energy is not for sale, despite persistently high oil prices that are flirting with US$70 per barrel.
The wet weather and landslips of the past couple of weeks are just a taste of what is in store for the remainder of the century, according to the Hong Kong Observatory. Results from a study released Friday by the Observatory have revealed that annual rainfall in Hong Kong will increase at a rate of about 1 percent per decade in the 21st century.
Police Commissioner Dick Lee has no intention of working again when he retires at age 57 in two years. Lee's plan is unlike his predecessor Tsang Yam-pui, the brother of Chief Executive Donald Tsang, who went to work in the private sector - a move which attracted controversy.
Hong Kong is expected to comfortably achieve economic growth of about 5.5 per cent this year after an unexpectedly strong second-quarter expansion of 6.8 per cent.
The health minister declared freshwater fish from the mainland safe to eat, nine days after warning against eating eels suspected to contain the cancer-causing chemical malachite green.

China: August 26 marks the 25th anniversary of the establishment of Shenzhen as a "special economic zone". The city has been on a road of working miracles for the 25 years.Shenzhen economy sustained steady growth for the first half of 2005, which witnessed increases in GDP, industry, commerce, foreign trade and fiscal revenue, accompanied by stable market prices, eased pressure on water and energy supply, and slowdown in the investment.
Chinese and European Union (EU) trade officials were seeking ways to resolve the issue of Chinese textile exports at their technical-level consultations in Beijing on August 25.

Fans scream for their idol Zhou Bichang, one of the three contenders at the Super Girls pop singer TV contest final, with posters in Chengdu, Southwest China's Sichuan Province on Friday afternoon.
State oil companies from China, the world's second-largest oil importer, and fifth-largest exporter Venezuela are strengthening their partnership by co-investing in oilfields in the South American country.
The Beijing Subway Operation Co Ltd is pledging to improve maintenance of its trains after an old subway carriage caught fire during the morning rush hour on Friday.

Mengniu dairy products at a supermarket in Zhengzhou, Central China's Henan Province. Mengniu Dairy Co announced it will establish a joint venture with Arla Foods to produce and sell a milk powder range in China.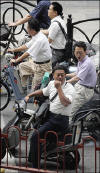 It's 7am in central Beijing and the sun's early rays percolate through the thick city smog to glint off the chrome handlebars of a throng of one-man vehicles jockeying with bicycles for position at a teeming road junction. The signal changes and the maelstrom pushes forward - a dozen bicycles followed by a pedal-driven rickshaw, two sputtering motorbikes, more bicycles and a tricycle delivery cart piled high with scrap metal. At the back of this motley procession, primary school teacher Guo Hongli appears amid the noise and dust, dodges an oncoming car and coasts across the intersection. Her vehicle is a sky-blue Mainland Dove, a quiet electric bicycle, marked out by its moped-style footboard, under-saddle battery and back wheel, drum-shaped hub motor.
Shanghai Pudong Development Bank, one of five publicly traded banks on the mainland, plans to sell 4 billion yuan (HK$3.8 billion) of subordinated debt, bringing the lender's total planned or completed debt sales in the past month to 16 billion yuan.

Leaflets and brochures litter the floor at a medical and pharmaceutical expo in Nanjing this week, in an illustration of the booming consumption of paper in China. The nation is now the second-largest consumer of paper after the US, with demand expected to rise to 50 million tonnes this year from 47 million last year, state media report.
The National People's Congress Standing Committee has received mixed signals from provincial representatives on proposals to change the threshold for personal income tax.
A prelude to the fight for two giant pandas from the mainland kicked off yesterday with Taipei apparently gaining the upper hand after a rival city was blocked from sending a senior representative to talks with mainland panda researchers.
Pope Benedict has met the founder of a Catholic lay organisation working to improve diplomatic contacts with China - including helping to arrange a secret meeting in April between the Vatican and a government delegation.
August 26 - 28, 2005
Hong Kong: HSBC is going to strengthen its co-operation with the Bank of Communications (BoCom) as its long-term strategic focus in China, with no intention of buying stakes from other commercial banks anymore, a top manager of HSBC told China Daily.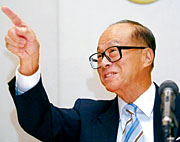 Hong Kong's richest man says he is still healthy enough to play a morning round of golf and won't be making way for a successor anytime soon. Appearing his usual energetic self yesterday to announce his conglomerate's results, Li Ka-shing also voiced his confidence in new chief executive Donald Tsang Yam-kuen. Hutchison Whampoa chairman Li Ka-shing is adamant that Canadian oil venture Husky Energy is not for sale, despite persistently high oil prices that are flirting with US$70 per barrel.

All shapes and sizes - some of the tasty treats on offer at a mooncake samples tasting session at Sogo supermarket, Causeway Bay, yesterday.

Miss Universe 2004 Jennifer Hawkins helps Henderson Land Development launch its latest residential project - the Grand Waterfront in To Kwa Wan - at Cuisine Cuisine at IFC Mall yesterday.
PetroChina, the nation's largest oil producer listed in Hong Kong, reported a 36.1 per cent rise in the first-half earnings, largely boosted by the soaring crude prices and China's growing energy demand.
Asset sales, a one-time gain from revaluing its property holdings, and an accounting profit from the repurchase of stakes in its UK mobile phone business kept Hutchison Whampoa from sliding into a loss in the first half, as the company's massive investment in third generation (3G) mobile phone operations continued to burn cash, though at a slower rate, the company reported Thursday.
The value of approved new home loans hit an 18-month low in July as rising interest rates caused buyers to hesitate before entering the market. The 33.1 percent slide in value from the month before, to HK$9.93 billion, marked the third consecutive monthly decline, according to the Hong Kong Monetary Authority.

A worker drives pigs out at the slaughterhouse at Tsuen Wan. The mainland has resumed the supply of frozen pork to Hong Kong.
Cheung Kong (Holdings), Hong Kong's largest developer by market value, said first-half net profit jumped 52 percent as profit margins on apartment sales improved due to low land costs and rising property prices.
CITIC Pacific, the overseas arm of China's biggest investment company, said first-half profit rose 60.5 percent, driven by property and special steel sales and an accounting change gain.
Shanghai Industrial Holdings, the Hong Kong-listed investment arm of the municipal government, said first-half profit slumped 43.8 percent due to a lack of exceptional gains, and losses in its computer chip and auto parts businesses.
In an apparent goodwill gesture, democrats barred from entering the mainland will likely be invited to a special reception in honor of Vice President Zeng Qinghong's official visit - except, of course, for one - volatile lawmaker Leung Kwok-hung. Zeng's three-day visit is considered to be significant as he will be the first senior Beijing leader to visit the SAR following chief executive Tung Chee-hwa's ignominious March departure from office and Donald Tsang's subsequent election to take his place.
The law under which defendants could be sentenced to up to life imprisonment for sexual acts between men was overturned yesterday in a court ruling which stated that it violated the Basic Law and Hong Kong's Bill of Rights.
China: US President George W. Bush will host President Hu Jintao at the White House on September 7 in a meeting that will cap months of trade friction as well as growing co-operation on stopping North Korea's nuclear-arms ambitions.
Premier Wen said Wednesday China will focus its efforts to push forward economic, social and institutional reforms for sustainable economic development.
Representatives from the European Commission and EU member states agreed to find a solution to the issue of stockpiled textile imports from China. Supachai Panitchpakdi, director- general of the World Trade Organization (WTO), said Wednesday that China's efforts in settling the textile issue is commendable.
Estonian President Arnold Ruutel (3rd R Front) shows interest in a 3G mobile phone during a visit to ZTE R&D (Shanghai) in Shanghai, east China, on August 24, 2005. Arnold Ruutel arrived in the economic hub of China August 24 to kick off his five-day state visit to China.
Taiwanese students studying at Chinese mainland universities will pay the same tuition fees as their mainland peers starting this coming term.
To mark the 10th anniversary of the Fourth World Conference on Women in Beijing, the government yesterday published a white paper on the position of women in China. Women's participation in government and administering social affairs keeps growing, the white paper says. In China's 397 cities, there are 368 female mayors and vice-mayors, and among NPC deputies, the proportion of female deputies always remains above 20 per cent. The status of women in the work force has also risen, the white paper says. Last year, 337 million women were employed, making up 44.8 per cent of the working population. Song Meiya of China Women's News, who has more than 20 years experience working for gender equality and women's development, acknowledged progress made in the past 10 years, adding that the picture in China is actually better than the white paper paints.

At end-June this year, China had 1,378 listed companies with the State having a stake in 65 per cent. The authorities announced yesterday that the share merger reform would be extended to the whole market, sparking a smart rally on the Shanghai and Shenzhen bourses. Beijing yesterday extended a scheme to float all non-tradable shares in more than 1,300 listed Chinese firms, its biggest capital market shake-up, aiming to ease a prolonged stock-market slump.
The maker of Post-it notes and Scotch tape 3M said yesterday that it would invest US$300 million in China over the next five years - that's the same amount the company pumped in during the past two decades in the country.
Datang International Power Generation Co Ltd, the second-largest electricity producer in China, has received government approval to build three power plants in the coastal region and obtained a 28-per-cent stake in a coal mine to secure supplies for the plants.
One of the top five travel agencies in the world is seeking to set up a wholly-owned travel agency in Guangzhou, capital of South China's Guangdong Province, a tourism official said yesterday.
Kingway Beer, a leading regional brewer in South China, said it plans to push sales up to 1.2 million tons by 2008 from 400,000 tons at the end of 2004, in a bid to become a national player in China's segmented and cutthroat beer sector.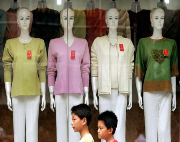 Young shoppers walk in front of mannequins with Chinese-made clothing on Thursday in Shanghai. A European Union trade delegation was in China on to fix an agreement on textile quotas that has left tonnes of garments stranded at ports, an official said. An agreement reached in June imposed quotas on cheap Chinese imports into Europe to protect European textile producers.

In an impressive climax to their first joint military exercises, nearly 9,000 Russian and Chinese air force, army and navy troops showed off their latest hardware in a mock assault on Shandong Peninsula yesterday. Thousands of Chinese and Russian troops launched a mock amphibious attack in Shandong yesterday, as Russia's defence minister said the exercises underscored a growing strategic partnership.
Two Asian men who attempted to smuggle nearly US$5 million worth of weapons and counterfeit bills into the US laundered proceeds of US$1.15 million in bank accounts in Macau, according to charges filed against them by the American government.

Tencent Holdings, which operates the mainland's largest instant messenger service QQ, plans to launch an online auction service by the end of this year, according to chairman Pony Ma.
August 25, 2005
Hong Kong: An analyst's negative report on Hutchison Whampoa and Cheung Kong (Holdings) was partly blamed as the Hong Kong stock market resumed the correction that began late last week and fell 244.7 points to its first close below 15,000 points in three weeks.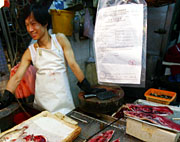 A fishmonger at Kowloon City Market displays a mainland-issued health certificate for his produce. The certificate, which says the freshwater fish has been checked for chemicals, does not cover malachite green. The new certificates announced yesterday will include the cancer-causing chemical. The Hong Kong and central governments moved to boost confidence in mainland fish yesterday with an agreement to immediately restrict exports to approved fish farms and improve communication on food safety incidents.
CLP group managing director Andrew Brandler has ruled out a spin-off in Australia, saying there is no financial reason to do so. A collection of recently acquired energy assets in Australia will power growth at CLP Holdings in the latter half of this year, a senior company official said yesterday.
The three largest United States accounting firms have ordered their partners not to poach clients or personnel from rival KPMG while it is under federal scrutiny for allegedly selling abusive tax shelters.

China: A formation of Chinese and Russian warships attending the Sino-Russian joint military exercise receives inspection of Chinese and Russian officers, on the sea to the southeast of China's Shandong Peninsula August 23, 2005. The Chinese and Russian naval and air forces taking part in the third phase of the "Peace Mission 2005" exercise held a march-past on the sea to the southeast of the Shandong Peninsula August 23.
China's top legislature Tuesday started to deliberate on the draft amendment to the personal income tax law, a major move meant to narrow the widening wealth gap.
The revised amendment draft of China's Law on Corporation submitted to Chinese top legislature has cut the minimum limitation of registered assets of stock companies by half, aiming to encourage investment. China's securities market watchdog may win stronger powers to investigate and freeze the accounts of listed companies and their management, a move that would allow quicker action to be taken against irregular activity.

China National Petroleum Corp (CNPC), the nation's biggest oil and gas producer, discovered oil reserves of 300 million tons, or 2.19 billion barrels, in the first half of this year, a senior company official who did not want to be identified said yesterday.
PetroChina shares rose 1.6 per cent yesterday in a lukewarm Hong Kong market on news of its parent company's agreed takeover of Canadian-registered PetroKazakhstan for US$4.18 billion on Monday, industry analysts said.
Aluminum Corp of China Ltd, the world's second-biggest producer of alumina, said manufacturing costs rose by nearly 1 billion yuan (US$123 million) in the first half, eroding profit that grew the slowest in two years.
Siemens plans to build a plant in Tianjin next month to manufacture sewage-treatment products and systems for the Chinese market, the company announced yesterday.
ZTE Corp, the second-largest telecom equipment manufacturer in China, said first-half net profits fell 8.8 percent to 660 million yuan (HK$633 million) on rising operating costs and product development expenses as the group shifts its focus overseas.
August 24, 2005
Hong Kong: Legislation governing covert surveillance it at least six months away, officials said Tuesday, sparking outrage from legislators who blame the government for ignoring public demands for quicker action. The Security Bureau said Tuesday the government intends to table a bill on surveillance activities in the Legislative Council in February or March next year.
Freshwater fish imported from the mainland will be regulated along the same lines as pork and poultry under a new agreement reached between Hong Kong and Beijing on Tuesday. Fish came under the microscope last week after samples taken from the market tested positive for the banned fungicide malachite green which has been known to cause cancer in mice in laboratories.

SFC chief operating officer Peter Au-Yang is keen to weed out takeover bids that set out to disrupt a target firm's business.
Cuts would seriously affect morale and service quality, welfare sector tells Tsang Social workers Tuesday urged Chief Executive Donald Tsang to scrap a 9.3 percent cut in one-off grants for non-governmental organizations planned for 2008, saying it would seriously affect the welfare sector's morale and service quality. Chua Hoi-wai, president of the Hong Kong Social Workers Association, who led social workers in a meeting with Tsang to discuss his October maiden policy address, said the sector is particularly concerned at the Social Welfare Department's plan to cut funding for NGOs starting from 2008.
Electric power company CLP Holdings on Tuesday reported a 10.6 per cent rise in net profit to $4.6 billion for the six months to June, up from $4.1 billion in the first half of last year.
Hong Kong's second airline Dragonair said on Tuesday heavy holiday traffic has boosted passenger numbers in July by 10.3 percent to 455,468 passengers but cautioned rising oil prices could hit profits.
China: Chinese Foreign Minister Li Zhaoxing said Monday that the relations between China and the United Stats have kept growing steadily over the past decades.

A Russian girl is drinking beer at the Qingdao International Beer Festival. This year the Beer Festival has attracted 36 breweries from home and abroad including Budweiser, Carlsberg, Tiger, Fosters, etc. Since its opening on Aug 13, the Festival has received more than 300 tourists groups and about 5, 000 tourists every day.
China will lift the upper limits of the deposit rates for US dollars and Hong Kong dollars in commercial banks within Chinese territory. The People's Bank of China (PBoC), the nation's central bank, declared Monday that the upper limits for one-year deposits of both US dollars and Hong Kong dollars will increase 0.375 percentage points to 2.000 percent and 1.875 percent, respectively. Tian Yaling, an expert on foreign exchange, said the PBoC's interest hike is related to the interest hike by the United State's Federal Reserve. "The interest change reflects China's efforts to act in line with the international community," said Tian, noting that the interest hike may temper the anticipation of Renminbi appreciation. This is the third time this year that the central bank increases deposit rates for the two currencies. The first was on July 22 when the country initiated the reform of Renminbi exchange rates. PBoC statistics shows that deposits of foreign currency decreased by 4.8 billion US dollars in July.
Guangdong authorities promised yesterday to expand inspection and quarantine of fish and other freshwater produce after a chemical known to cause birth defects was found in samples in Hong Kong.

Four major Chinese telecom-equipment makers - China Putian Corp, Datang Telecom, Alcatel Shanghai Bell (ASB) and Wuhan-based FiberHome Technologies Group could be merged, according to market reports.
A total of 450 coaches produced by Xiamen King Long United Automobile Industry Co Ltd, or King Long, were shipped to the Middle East yesterday, marking the largest deal in the nation's bus export record.
Data backup and backup recovery business in Chinese banks may likely see momentous growth in the coming years, as banks pay more and more attention to the security of data and big players enter the market.
Credit Suisse First Boston, Switzerland's second-largest investment bank, is moving closer to joining the advisory mandate for China Construction Bank's pending US$5 billion (HK$39 billion) initial public offering, sources familiar with the matter said.

Heavily armed Shenzhen police officers stand guard over three suspected robbers as authorities clamp down on a wave of crime that was threatening to engulf the city.
Smarting from bad loans to companies linked to troubled Greencool Technology Holdings, Bank of Communications (Bocom) yesterday vowed to tighten lending procedures for such borrowers.
August 23, 2005
Hong Kong: A New York court has suspended an attempt by US property tycoon Donald Trump to freeze US$1 billion (HK$7.8 billion) proceeds from the sale of a project in New York controlled by Hong Kong investors.

A tearful Tracy Ip Chui-chui is crowned Miss Hong Kong at the Hong Kong Coliseum last night. Twenty contestants, including five recruited from North America, took part in the event, organized by TVB. Before the final the girls had been filmed on location in tsunami-hit Phuket, Sri Lanka and the Maldives.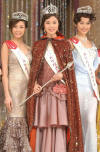 Photo taken on August 20, 2005 shows the Miss Hong Kong Tracy Ip(C), 1st runner-up Sharon Luk(L) and 2nd runner-up Carrie Lam. The final of the beauty pageant was held in Hong Kong Coliseum Saturday.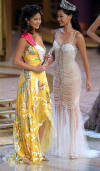 Shermon Tang(L) wins the title of "Miss Photogenic" during the final of the beauty pageant in Hong Kong Coliseum on August 20, 2005.

Licencing mainland fish farms and health inspections on both sides of the border were proposed by fish traders to the government Monday in a move to restore public confidence in eating fish and help stem losses caused by recent health scares. Health Secretary York Chow on Monday acknowledged that the mainland often fails to inform the territory of dangers in food supplies and vowed to improve communication with the mainland.

The bitter rivalry between chipmakers Advanced Micro Devices (AMD) and Intel appears set to heat up in Hong Kong, following calls for greater scrutiny of government tenders for computer hardware contracts.
Hong Kong's top developers Cheung Kong (Holdings), Sun Hung Kai Properties, Henderson Land Development, and six smaller rivals have submitted tenders for a HK$500 million housing project in Tai Kok Tsui offer by the Urban Renewal Authority.
A 42-year-old man was killed in Tsuen Wan last night when he was buried under mud in one of 59 landslides across the city caused by more than 35 hours of continuous rain. The death was the first in a Hong Kong landslide in 10 years.
Hong Kong audiences will have to wait until Christmas to see Steven Spielberg's much-anticipated film Memoirs of a Geisha, but this first official still from the movie shows how China's top three actresses will appear as Japanese geishas.
A Hong Kong-based legal firm has told the family of dead rock star Michael Hutchence that his fortune, estimated to be between $10 million and $20 million, has vanished.
Broadcaster TVB and sister network Galaxy Satellite Broadcasting were yesterday fined a total of $850,000 for breaching restrictions on programme sharing.

Reassuring message: (from left) So Ying-chiu, food critic Leung Man-to, lawmaker Wong Yung-kan and Chan Kin-yip sink their teeth into some Hong Kong pork yesterday in a bid to reassure consumers following the Streptococcus suis outbreak on the mainland and four local cases in the past month.

Far East Consortium International will see healthy cash flows over the next 12 months on sales of its overseas properties, according to deputy chairman David Chiu Tat-cheong. The developer projects cash proceeds of up to $1.1 billion this year from the disposal of properties in Australia and the United States, including the waterfront site in New York at the centre of a dispute with US tycoon Donald Trump.
Singapore's government-backed Temasek Holdings and private equity fund Primus Pacific Partners are among several investors in talks to buy a stake in China Pacific Insurance (Group), parent of the country's third-largest life insurer.
New World Mobility will continue to invest in its existing 2G network, noting that demand does not yet warrant a move into third-generation services (3G).

China: Horse racing at the Onkor Festival held in Mozhugongka county of Lhasa on Aug. 19, 2005. The "Onkor Festival", or "Fruit-Awaiting Festival" is quite popular in the agricultural region in Tibet. Every year when crops are ripe, local farmers in Tibet, dressed in festival clothes, holding "Qiema" and Qingke barley wine that symbolize abundant harvest, sing and dance in the farmland, celebrating the annual "Onkor Festival" indicating plenteous harvest. Once a simple religious festival, the "Onkor Festival", in which people enjoy horse-racing games, archery contests, songs and dances, Tibetan opera as well as material exchange, now has become a festival featuring culture, sports and trade.
More Chinese officials are expected to receive training in the United States, as both sides consider extending a joint programme at Harvard University, education officials said yesterday.

Ni Zheng, executive director of packing container maker Huali Holdings, brushes aside concerns about the rising cost of paper. Equity-raising is expected to move up a gear with the return of fund managers from summer holidays next month and among the first of the new offers likely to be lining up are mainland watch distributor Xin Yu Hengdeli and paper-based packaging container maker Huali Holdings.
State-owned China National Petroleum Corp (CNPC) on Monday said the board of PetroKazakhstan, a Canadian firm that is a major oil producer in the Central Asian republic of Kazakhstan, has accepted a US$4.2 billion (HK$33 billion) takeover offer.
China has succeeded in raising its grain output steadily through the introduction of reform and opening-up drive, along with the development of agrosciences.
The 17th National Congress of the Kuomintang (KMT),adopted a policy platform to promote peace across the Taiwan Straits.
The Communist Party of China (CPC) Central Committee on Friday sent a congratulation message to the Kuomintang (KMT) Central Committee and its new Chairman Ma Ying-jeou on the opening of the KMT's 17th Party Congress.
China's current production, consumption, stockpile as well as import and export of oil products are well-balanced in general, with sufficient supply guaranteed, Li Yang, an official with the National Development and Reform Commission told Xinhua in an interview.
Reform plans proposed by the 42 pilot companies in the second round of shareholding reforms have been passed by their shareholders, the Beijing News reported on Saturday. Ninety-six per cent - 172 of 179 State-owned enterprises (SOEs) - passed their performance evaluations for 2004, the State-owned Assets Supervision and Administration Commission (SASAC) announced on Friday.

Grabbing bigger market share: A man walks past the flagship store of home appliance retail giant Gome on Friday in Liaocheng, Shandong Province. The store, opening on Saturday, marks another step in Gome's nationwide market expansion.
Sinopec Corp, one of China's largest oil producers, wins the crown of leading the 2005 Top 500 Chinese Enterprises list with a revenue of 634 billion yuan (US$78 billion), the China Enterprise Confederation (CEC) said on Friday.
A final decision on the bidding for South Korea-based Inchon Oil Refinery Co by six multinational rivals, including China's largest chemicals trader Sinochem, is expected within days, Sinochem sources said on Friday.
August 22, 2005
Hong Kong: Tourist arrivals grew to a record high of 1,742,745 in June, up 5.8 percent on the same month last year, Hong Kong Tourism Board announced Wednesday. Growth in the first six months brought the total half-yearly arrivals to 10,978,048, up 9.6 percent on last year. Long-haul markets continued to be the strongest performers, while most key markets registered increases. Among the regional markets, the best performers were Europe, Africa and the Middle East with 121,759 visitors, up 37 percent on the same month last year. Arrivals from Australia, New Zealand and South Pacific rose 33. 9 percent to 55,928, followed by arrivals from North Asia with 147, 898 and from the Americas with 128,866. The Chinese mainland registered a rise of 2.1 percent to 885, 596. Tourism Board Executive Director Clara Chong said with the exceptional performances of many long- and short-haul markets, the board comfortably surpassed its half-yearly target by attracting more than 10.97 million visitors. Occupancies for all categories of hotels and guest houses in June stood at 83 percent, a three-percentage-point drop that partially reflects the 7 percent rise in Hong Kong's room supply during the past 12 months. The average achieved hotel room rate across all hotel categories and districts was 810 Hong Kong dollars (about 104 US dollars), which is 15.1 percent higher than in June 2004.

Managing director Jack So at PCCW's interim results announcement yesterday says telecoms earnings may turn around this year. The decline of PCCW's core fixed-line business has bottomed and the signing up of new customers last month for the first time in more than two years indicated a turnaround, the company said yesterday. Lower subscriber revenues and heavy 3G roll-out expenses pushed Sunday Communications into an interim net loss of $61.81 million in the last set of results not influencing the financial performance of its new parent firm, PCCW.
BOC Hong Kong (Holdings) aims to capitalize on its "unique position" by increasing earnings from its mainland business to 10 per cent of the group's total profit in the next three to five years, according to vice-chairman and chief executive He Guangbei.
The Hong Kong Monetary Authority (HKMA) announced on Monday that the official foreign currency reserve assets of Hong Kong amounted to 121.9 billion US dollars at the end of July 2005. In terms of foreign currency reserves ranking, Hong Kong is the world's seventh largest holder of foreign currency reserves, after Japan, Chinese mainland, China's Taiwan, Korea, Russia and India, said a government press release. The total foreign currency reserve assets of 121.9 billion US dollars represent over six times the currency in circulation or about 43 percent of Hong Kong dollar M3.
The need for manufacturers of consumer products and related parts and accessories to go "green" is becoming increasingly urgent, Hong Kong Trade Development Council (HKTDC) said in Hong Kong Wednesday. According to the council, the warning is further underlined by the announcement that two new European Union (EU) directives will be introduced soon: one on Waste Electrical and Electronic Equipment (WEEE) which takes effect on Aug. 13, 2005, and the other, called Restriction of Hazardous Substances (RoHS), which will go into operation on July 1, 2006.
Chief Secretary Rafael Hui was quoted Friday as saying that construction of the new government headquarters at Tamar could start as early as 2007. But a government spokesman said later that Hui had not put a definite date as the proposal made by Chief Executive Donald Tsang two weeks ago which still had to be approved and funds raised.

Sisters Wong Chor-yan (left) and Wong Chor-wing join their 15-year-old brother Wong Chor-fung at the launch yesterday of the "Four Great Inventions of Ancient China" special stamps. Celebrating the ingenuity of Chinese inventors, the stamps have realised a two-year dream of patriotic secondary school student Chor-fung. He said he had proposed the idea in 2003. The four great inventions of ancient China are the compass, printing, gunpowder and paper.

China: Honor guard of Russia's Pacific Fleet greet the chiefs of the general staff of the Chinese and Russian armed forces and representatives of the veterans of the WWII arrive during a ceremony held in Russia's Vladivostok on August 18. The first Chinese-Russian joint military exercise, code-named "Peace Mission 2005", started at 11:00 a.m. local time (8:00 a.m. Beijing time) on August 18, 2005.
The "China threat" theory, first appeared in the early 1990s, chiefly targets China's high-speed economic development and has been on and off for over a decade.
The 17th Party Congress of the KMT party in Taiwan opened in Taipei on Friday, as Taipei Mayor Ma Ying-jeou formally assumed office as party chairman.

"Chinese Star", enjoying the laudatory fame of "the fastest locomotive in China", officially kicked off its maiden journey on August 1st from Shenyang north station. Some 200 people, the first batch of passengers onboard the "Chinese Star", arrived at Shanhaiguan station in Hebei province on time.
The Bank of China (BOC) announced that it had signed a strategic investment and cooperation agreement with the Royal Bank of Scotland Group (RBS) Thursday, according to which RBS will acquire a 10 percent stake in BOC for 3.1 billion US dollars.
China will receive 64 million tourists by 2010, ranking third in the world, according to Shao Qiwei, director of China National Tourism Administration. He predicted China will rake in 42.6 billion US dollars of foreign currency income by 2010, up eight percent year on year, ranking third in the world. The number of domestic travelers will increase by a big margin, with domestic tourism income reaching 881 billion yuan. And 9.8 million people will be direct employees of the tourism industry. Shao said tourism will also stimulate domestic demand, increase investment, and promote regional economic growth and urban construction. China will further promote tourism development, and increase tourism quality in the next five years.
Alcatel Shanghai Bell (ASB), the first foreign-invested company limited by shares in China's telecoms industry, is aiming for a 20 per cent business growth this year, a company executive said yesterday.

Chinese steel pipes have become the latest target of US safeguard investigations, according to the China Chamber of Commerce of Metals, Minerals and Chemicals Importers and Exporters.
August 19 -21, 2005
Hong Kong: Shareholders of the nation's largest oil and gas producer PetroChina have agreed to pay 20.7 billion yuan (US$2.5 billion) for half the overseas assets of its State-owned parent, the oil major told the Hong Kong Stock Exchange in a statement.
Bank of China (BOC), the country's second-biggest lender, will sell 10 percent of the company to investors, including a US$750 million (HK$5.85 billion) stake to billionaire Li Ka-shing, as it prepares to list in Hong Kong. Li, who bought stakes in the mainland's three leading oil companies and four telecoms before they were listed in Hong Kong, will take a 2percent stake in the mainland bank through the Li Ka Shing Foundation, Li's son, Victor, said.
BOC Hong Kong (Holdings), a unit of China's second-largest lender by assets, reported an unexpected 17 percent first-half net profit growth, but investors dumped its shares as its earnings were mainly driven by accounting gains while core business remained sluggish.
Hong Kong is set to allow imports of frozen pork from Shenzhen and Henan to resume as early as next week, the health chief said Thursday. The decision was made after mainland authorities confirmed the meat is safe, despite fears that a mysterious pig-borne bacteria may be spreading.
Modern Terminals (MTL), the port operator majority-owned by Wharf, is seeking a HK$5 billion loan to fund expansion in Shenzhen and refinance existing debt, bankers familiar with the situation said.
Allegations of dangerous work conditions, overwork and underpayment in mainland factories manufacturing merchandise for Hong Kong Disneyland will be investigated, the theme park's officials said. Disney's response came after a group of Hong Kong students and scholars claimed in a 29-page report that factory workers in Dongguan, Shenzhen and Zhongshan are being abused by their bosses.
Chief Executive Donald Tsang was asked Thursday to ensure a more prominent role for women in politics, with a special seat in the Legislative Council and a prominent role in the Election Committee. Ann Chiang, convenor of the Hong Kong Business Economic Forum, suggested the government creates a functional constituency to represent women in Legco and ensure women are in the committee that elects the chief executive.
Hong Kong's largest telecom player PCCW reported half-year net profit of US$122 million (HK$952 million) on Thursday, an improvement on the US$98 million earned in the first six months of last year.

A visitor gets a preview of the Hello Kitty Hide and Seek Exhibition that opens today.
The number of Hong Kong people in work rose to an all-time high of 3.37 million in the three months to July, while the jobless rate was stable at 5.7 per cent, government statistics released on Thursday showed.
Up-and-coming Thai martial arts film actor Tony Jaa may star in a Hong Kong action film directed by Yuen Woo-ping, a fight choreographer for two of the Matrix films, a newspaper reported on Thursday.

Dah Sing managing director Derek Wong said interim profits were hurt by a steep increase in interbank funding costs.
Hong Kong Exchanges and Clearing (HKEx) by the end of next year will abolish its rule that listed companies publish announcements in newspapers as it pushes electronic distribution of information to match international practice.
United States private equity giant Carlyle Group has raised US$410 million for its first Asian real estate investment fund and will be able to buy assets worth as much US$1.5 billion once additional loans are included.
The misuse of antibiotics and poor hygiene on mainland pig farms could be the cause of spreading Streptococcus suis infections in the mainland, according to a leading Hong Kong microbiologist. Speaking a day after it was revealed that a butcher in a Wellcome supermarket had contracted the disease, former Medical Association president Lo Wing-lok said the misuse of antibiotics creates resistance to the same bacteria the drugs are intended to combat.

One day after a New Territories butcher was confirmed to have contracted the deadly streptococcus suis bacterial infection, most Hong Kong residents were unfazed by the latest food scare as they continued shopping for food including fresh pork.
PCCW, which is rebuilding its mobile-phone business in Hong Kong, sold a minority stake in Singapore's MobileOne for US$77 million (HK$600 million) to a Telecom Malaysia venture.
The attempted laundering of HK$180 million via a casino cruise ship highlights a loophole in Hong Kong's money laundering control system. The Australian Federal Police this week said it would charge five men with defrauding the Commonwealth Superannuation Scheme, the equivalent of Hong Kong's Mandatory Provident Fund, of A$150 million (HK$891.3 million).
Banking and financial services company Wing Lung Bank on Wednesday reported a 13 per cent increase in net profit to $530.4 million for the six months to June.

China: Liang Guanglie (R), chief of the General Staff of the Chinese People's Liberation Army and his Russian counterpart Yury Baluyevsky announce the official commencement of the first Chinese-Russian joint military exercise, code-named "Peace Mission 2005", in Russia's Vladivostok at 11:00 a.m. local time (8:00 a.m. Beijing time) on August 18, 2005.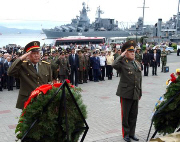 General Liang Guanglie, the chief of the general staff of the Chinese People's Liberation Army, left and General Yuri Baluyevsky, the head of the Russian armed forces general staff, salute at a WWII memorial in Vladivostok, Russia on Thursday. Russia and China have launched unprecedented joint military exercises.
The United States and China are closer to a deal to regulate rocketing volumes of Chinese textile shipments that have exacerbated trade tensions between the heavyweight rivals.
The General Administration of Civil Aviation of China (CAAC) will handle applications by Taiwanese airlines to fly through mainland airspace as soon as possible, a senior official said yesterday.
DBS and Deutsche Bank are to purchase 10 billion shares in Guangdong Development Bank (GDB) at a price of 17.7 billion yuan (US$2.18 billion). But they will not take a controlling stake, according to a source near the top management of GDB.
China's first special economic zone celebrated its 25th anniversary by pledging yesterday to consolidate its leading position with further reform.

Workers process electric tools at Ningbo Zhongqiang Electric Tools Corp in Ningbo of East China's Zhejiang Province. Chinese exporters have been warned to be more cautious about technical barriers in overseas markets following the seizure of electric tools worth about US$80 million in Germany.
Eli Lilly & Company, one of the world's leading pharmaceutical companies, expects to double or triple its sales revenues in China in five years by investing more in research and development (R&D).
Shanghai Electric Group Co, China's largest maker of coal-fired power equipment, was among four companies worldwide that will be added to Morgan Stanley Capital International Inc's global stock indexes this month.
Rising crude oil prices and the province-wide fuel shortage have increased the cost of production in Guangdong, but overall economic growth is expected to remain strong this year, according to a mainland economist.
China is conducting a massive census of environmental organizations amid growing wariness within the central government about the role of green non-government organisations in "color revolutions" in Central Asia.

China's first astronaut Yang Liwei poses at the exhibition post of China Great Wall Industry Corp. at the Moscow Int'l Air Show in Zhukovsky, Russia, August 16, 2005. Aerospace companies from 40 countries gathered here with about 200 aircrafts, spacecrafts and over 650 exhibits for display at the biennial event.
South Korea's Samsung announced on August 16 that it plans to make China its second R&D base and its global R&D center.
China United Telecommunications will become the first borrower to sell asset-backed securities on the mainland, having found a way to legally circumvent government restrictions that have precluded such sales until now. The company, China's second-largest mobile operator and parent of Hong Kong-listed China Unicom, plans to sell up to 3.2 billion yuan (HK$3.07 billion) in short-term securities, ahead of two state-owned banks picked by the State Council to pioneer the market. China Unicom's securities would be backed by revenues gained from leasing one of its mobile phone networks to its Hong Kong-listed subsidiary.
August 18, 2005
Hong Kong: A legal challenge to Donald Tsang Yam-kuen's order on covert surveillance filed in the High Court yesterday alleges the chief executive was in dereliction of his duty by failing to bring a law on bugging into force eight years after it was passed in Legco.
Hong Kong Disneyland treated 5,000 cast members and their families to a rain-soaked first full day of rehearsals yesterday, while hundreds experienced the Inspiration Lake Recreation Centre outside the theme park.

Five young musicians and dancers celebrate receiving $2.17 million from the Hong Kong Jockey Club's music and dance fund to pursue further studies in piano, singing and dancing at top institutions in the US and Britain. The fund was set up in 1980 and has already handed out 239 scholarships to the tune of $29.7 million to promote and develop music and dance education and training in Hong Kong.
The consultant carrying out the government's pay review will disclose how it arrived at earlier findings for a private client - which found discrepancies of up to 229 per cent between government and private-sector salaries - in an effort to defuse a row with civil service unions.
Pay-television services could be pitched into another round of price competition following the rate discount being marketed by SuperSun, the pay-television business of Television Broadcasts (TVB).

China: A bird's-eye view of Benxi Steel Corp in Northeast China's Liaoning Province. Two of the 10 biggest steelmakers, Anshan Iron & Steel Group and Benxi Steel, are to be merged to form Anben Steel Group Company, creating an industry giant with an annual capacity of 20 million tons.
Dalian, which is competing with Beijing to be the information technology (IT) outsourcing centre in China, yesterday started a worldwide talent hunt for software professionals.
China Yangtze Power Co Ltd, owner of the world's biggest hydropower Three Gorges Project, increased its on-grid charges by some 38 per cent from August 5.

Shenzhen China Bicycle has a production capacity of more than three million bicycles but is now saddled with a mountain of debt. Shenzhen China Bicycle, the mainland's biggest bicycle exporter, yesterday warned shareholders that Huarong Asset Management Corp had applied to the Shenzhen Intermediate People's Court to have it declared bankrupt.
China National Petroleum Corp (CNPC) is set to lock horns with India's Oil and Natural Gas Corp (ONGC) in a battle to acquire Canada's PetroKazakhstan.
August 17, 2005
Hong Kong: Advertising spending by Hong Kong companies rose 12 percent to HK$1.58 billion in July from a year earlier, spurred by developer Cheung Kong's heavy promotion of its luxury housing project The Legend. It was the best month this year to date for the SAR's advertising industry, according to market research company admanGo.
The International Olympic Committee (IOC) was upbeat on Tuesday about Hong Kong's ability to stage equestrian events for the 2008 Beijing Olympic Games, Hong Kong radio reported.
About 5,000 visitors were invited to try out the rides at Hong Kong Disneyland on Tuesday as the park launched into final rehearsals before its September 12 opening.

Staff of the Wellcome Supermarket at Leung King Estate in Tuen Mun remove fresh frozen pork from the shelves after sales were suspended. China's deadly swine disease appears to have made its way into pork sold at one of Hong Kong's leading supermarket chains. Government health sources confirmed Tuesday that a 44-year-old male butcher working in the fresh pork section of a Wellcome Supermarket at Leung King Estate in Tuen Mun was admitted to Tuen Mun Hospital Friday suffering from a fever caused by the Streptococcus suis bacteria that has claimed 39 lives and infected more than 200 people in Sichuan province.
The amount of illicit gasoline seized in the first six months of this year is almost double that for the same period last year but a senior customs officer said Tuesday this was more the result of a change in enforcement tactics by the department rather than an increase in smuggling. In fact there is a shortage of gasoline in many parts of Guangdong at present with nearly half the number of gas stations in Shenzhen closed to conserve supplies. Suppliers says the bad weather has disrupted the supply chain.
Pro-Beijing party challenges Tsang plan for government complex by proposing move to Kowloon Chief Executive Donald Tsang's plan to revive the idea of converting the unused Tamar site near Central into a HK$6 billion government headquarters and legislative complex is facing a challenge from the Democratic Alliance for the Betterment and Progress of Hong Kong. The pro-Beijing party instead wants to see the government complex moved to the former Kai Tak airport in Kowloon.
Eighty-five percent of mainland counterfeiters operate as Hong Kong-based companies and hold local bank accounts, a private investigation firm claims. "They have Hong Kong bank accounts and give their buyers a false perception that they are reliable,'' said Derek Elmer, managing director of I-OnAsia, which bills itself as "a contract provider of investigation services to security directors and risk managers of the world's largest companies.''

Wheelock and Co chairman Peter Woo Kwong-ching says the company will consider launching a real estate investment trust. Before making the decision, Mr Woo said the company would decide which assets would be suitable for the portfolio. After the company's annual general meeting yesterday, Mr Woo also commented on a renewed call by some small developers for a restart of regular land auctions, saying that it was the right time for the government to consider such proposals.
Lenovo Group will relaunch its line of low-cost consumer desktop and notebook personal computers in Hong Kong next quarter, riding on a new global brand strategy that is built on IBM's "Think" product family.
China: Chinese President Hu Jintao will pay a state visit to the United States next month, and President George W. Bush will return a visit within this year, said Zhou Wenzhong, Chinese Ambassador to the United States.
If there is no major problem, Chinese people will have their long-cherished moon dream realized in 2007, said chief commander of the program.
The World Bank said Tuesday China's economy is expected to grow by 9 percent in 2005, and about 8 percent in 2006.
China Southern Airlines Co Ltd has removed Peng Anfa from its board after he was arrested on suspicion of corruption.
China's real estate loans will keep its the rising momentum in the coming years due to people's demands to improve their living conditions, according to a report released yesterday by People's Bank of China (PBOC), the country's central bank.
Chinese Internet search engine company Baidu.com Inc said it will continue to focus on its core competence and the rapidly growing Chinese market, after the firm made the best initial public offering (IPO) on the NASDAQ stock market in five years on August 5.
A joint venture between PetroChina and China National Petroleum Corp, its unlisted parent, offered to pay about US$3.2 billion (HK$24.9 billion) for Central Asian oil producer PetroKazakhstan, a source familiar with the situation said.
A low-cost telephone technology developed in Japan continues to make strides in China, amid an industry-wide preoccupation with whiz-bang third-generation telephony and the long wait for licences to offer such services.
August 16, 2005
Hong Kong: Shun Tak investing in low-cost Air Macau mainland routes Shun Tak Holdings, owned by the family of casino tycoon Stanley Ho, will have a stake of not more than 30 percent in Air Macau's planned US$30 million (HK$234 million) low-cost carrier, which aims to operate mainland and regional routes, a source said. Air Macau, which is facing increased competition after losing its 25-year concession as the territory's exclusive home carrier, will transfer 22 routes to the venture and hold a 51 percent stake, the source said. Air Macau parent China National Aviation will hold the remainder.
In seeking to fulfill his election pledge of strong and resolute governance, Donald Tsang has made a series of daring moves, one of which may be a bit too daring, and taken on without thinking it through. That is the issue of legislation governing covert surveillance. 'Long Hair' announces he will launch a legal challenge to Donald Tsang over covert surveillance In a murky squabble, radical activist ''Long Hair'' Leung Kwok-hung Monday declared his intention to launch a legal challenge against Chief Executive Donald Tsang's controversial Executive Order regulating covert surveillance, claiming he has been a victim of wiretapping. ''I will file a judicial review within the next few days seeking to overturn the order and demand the government to bring into effect the Interception of Communications Ordinance that was enacted in 1997.
Hong Kong Disneyland has rejected a request to to install air and noise pollution monitors around its Penny's Bay site to gauge the effects of the theme park's nightly fireworks display, a government environmental advisory body said Monday. The rejection followed a meeting with officials from Disney, the Environmental Protection Department (EPD) and the Advisory Committee on Environment. Commissioner of Transport Alan Wong is confident the public transport arrangements for today's soft opening of Hong Kong Disneyland will be satisfactory despite the prospect of heavy rain and storms. The Disneyland Resort Public Transport Interchange (PTI), which began operating Monday, will be fully operational every rehearsal day and public holiday before the park's official opening on September 12.

Tensions are rising in the legal fight between Donald Trump and his partners, Henry Cheng Kar-shun and Vincent Lo Hong-sui, with the Hong Kong businessmen allegedly refusing to provide details of their planned US$1.76 billion property sale in New York and making threats to exclude Mr Trump on his share of the proceeds.
Competition in Hong Kong's broadband access market could heat up when the telecommunications regulator begins reporting the results of its speed tests later this month, with the winner receiving bragging rights as the city's fastest service provider.
China: Asia commemorated the 60th anniversary of Japan's World War II surrender on Monday by honoring the dead and searching for reconciliation, while Japan's leader tried to salve wounds by apologizing for the "great damages and pain" it inflicted on its neighbors.
China attaches importance to the role of the African Union, and would like to further the bilateral friendly relations, said President Hu Jintao on Monday.
For 5,000 years China's silk has written a splendid chapter in history, reaching an astonishing level both in terms of art and techniques. The rich variety, fine quality, exquisite pattern and grain and masterly crafts all make people acclaim as the peak of perfection! For example, the formation of Kesi, Zhijin (picture-weaving in silk) and embroidery represents the high level China's silk has accomplished and the great wisdom of the Chinese people. These traditional weaving techniques are insurmountable even with today's high-tech means.

Two Hongqi (Red Flag) HQD sedans are displayed during the Fourth China Chungchun International Auto Fair held in the capital city of northeast China's Jilin Province August 14, 2005. China's First Automobile Works (FAW) Group Company was making efforts to forge a luxurious limousine image of Hongqi.
China will fulfill its WTO commitment by allowing qualified foreign investors into the domestic auto trade sphere and giving them full national treatment in business operations.
The July Shanghai housing index released yesterday dropped 41 points, or 2.82 per cent, from June, the biggest monthly drop since December 1999.
The nation's largest power producer, China Huaneng Group (CHNG) signed an agreement on Friday with Shanxi-based Datong Coal Mine Group to build a 100-million-ton-per-annum coal mine in the northern province. The two energy producers will set up a 700-million-yuan (US$86.3 million)-registered joint-venture for the Fengyu coal mine project, which is located south of Shuozhou, Shanxi Province.
The Industrial and Commercial Bank of China (ICBC), the nation's largest commercial bank, is poised to issue the first batch of subordinated bond valued 35 billion yuan (US$4.3 billion) after the ICBC bond underwriting group was set up on Friday.

An oil pond at Karamay in Xinjiang. Crude oil flows into a number of natural ponds on the hill, formed over thousands of years.
Adobe Systems Inc is to become the first foreign software company to adopt China specific prices for its products.
When China revalued the yuan by 2.1 percent to 8.11 against the dollar last month and dropped its decade-old peg against the US currency, the move shook foreign exchange markets world-wide. Yet as a paper published on the website of a key Beijing policy-making body yesterday makes clear, the changes were less sweeping than many in the government apparently wanted.
China Eastern Airlines - the country's second-largest carrier by fleet size - plans to arrange a US$90 million (HK$702 million) 10-year bank loan to fund its newly acquired aircraft, sources close to the deal said.
China's sixth-busiest airport is planning a 12-13 billion yuan (HK$11.03 billion to HK$12.47 billion) expansion that it hopes to bankroll with strategic investment and an overseas stock listing, two senior executives said Monday.

Students check out two of the 62 competitors at a robot contest in Jinan, Shandong province. The weekend event was organized to encourage student interest in science.
August 15, 2005
Hong Kong: The former head of Bank of China (Hong Kong) was given a suspended death sentence by a mainland court Friday after being convicted of embezzlement and receiving bribes.
Angang New Steel - a Hong Kong-listed unit of China's second-largest steelmaker - said net profit leapt 71 percent in the first half amid higher selling prices and demand for the metal.
Henderson Investment, the property investment arm of Henderson Land Development controlled by tycoon Lee Shau-kee, will offer more than 50 percent premium to buy out unprofitable second board-listed unit Henderson Cyber, market sources said.

Panva Gas managing director Chen Wei says the company is in talks to supply piped gas to areas in northeast China and hopes to conclude six to eight new projects this year.
Li & Fung, the world's largest export trading company, said it will pay US$124 million (HK$967 million) for Dutch apparel trading firm Briefly Stated and will keep looking for other purchases since the strategy helped first-half profit grow 23 percent.
Environmentalists continued to lambast Hong Kong Disneyland Friday even though the fallout from its fireworks tests fell within permitted limits. According to the results submitted to the Environmental Protection Department Friday, the noise levels during the fireworks rehearsal on August 8 reached 53 decibels compared with 48.7 decibels the previous day. The maximum level was 55 decibels.
A law on bugging passed before the handover but never enacted would severely hinder law enforcement and not address public concerns on covert surveillance, the Secretary for Security said yesterday.

China: A couple in Chinese traditional dresses, an Australian young man of Chinese descent and a American teacher, sit on the bed during a event marking the Chinese Valentine's Day, which falls on July 7 according to the Chinese Lunar Calendar or August 11 in 2005, in Suzhou, China's Jiangsu August 10, 2005.
China's foreign exchange savings dipped 4.8 billion yuan (US$592 million) in July after the revaluation of RMB three weeks ago, to 160.5 billion yuan (US$19.8 billion), according to a statement from the People's Bank of China (PBOC) on Friday.
Some Chinese economists have warned that China's economy could see deflation in near future, as the country's consumer price index (CPI) grew less than 2 percent for four consecutive months, the Beijing-based Economic Information Daily reported Friday.

World table tennis champion Wang Liqin raises a torch for the 10th National Games of the People's Republic of China at the Great Hall of the People yesterday. The torch will be relayed through 31 provinces, autonomous regions, municipalities directly under the central government, and Hong Kong and Macao special administrative regions. It will arrive in Nanjing, capital of East China's Jiangsu Province, on September 20.
Law experts have called for the death penalty to be dropped as punishment for non-violent crimes to ease the extradition of some 4,000 suspected corrupt officials who have fled abroad.

People look at models of real estate projects at a recent housing fair in Shanghai. The July Shanghai housing index released yesterday dropped 41 points, or 2.82 per cent, from June, the biggest monthly drop since December 1999.
The nation's largest power producer, China Huaneng Group (CHNG) signed an agreement on Friday with Shanxi-based Datong Coal Mine Group to build a 100-million-ton-per-annum coal mine in the northern province. The two energy producers will set up a 700-million-yuan (US$86.3 million)-registered joint-venture for the Fengyu coal mine project, which is located south of Shuozhou, Shanxi Province.
The Industrial and Commercial Bank of China (ICBC), the nation's largest commercial bank, is poised to issue the first batch of subordinated bond valued 35 billion yuan (US$4.3 billion) after the ICBC bond underwriting group was set up on Friday.
Surging oil prices are threatening to crimp the mainland's economic growth and could even cause social unrest as everyone from taxi drivers to farmers complains about higher costs, analysts said yesterday.
August 12 - 14, 2005
Hong Kong: Hong Kong tourist arrivals in June rose 5.8 per cent compared to the same period last year to 1.74 million, tourism chiefs said on Thursday.

Mickey and Minnie Mouse have a field day yesterday soaking up the sights and sounds of their new home in Hong Kong. With just 33 days until Hong Kong Disneyland opens to the public, the cartoon characters joined 14 children and their parents for a walk about town.
Hong Kong conglomerate Swire Pacific on Thursday reported a large increase in net profit on the back of property valuation under new accounting rules and strong performance in the company's marine services, trading and industrial businesses.

China: A couple presents their "chocolate for lovers" specially made for the upcoming "Double Seven Festival" in Hangzhou, capital of east China's Zhejiang province. The "Double Seven Festival", dubbed as Chinese Valentines Day will fall on Aug 11, 2005. As the legend goes, in ancient China, Niulang, a poor young man, fell in love with the fairy Zhinu. Zhinu's mother, the Queen of Heaven, was angry with them both and drew a line between them to separate them.

Zhou Xiaochuan (R4), governor of China's central bank, and Chen Liangyu (L4), Secretary of the Shanghai Municipal Committee of the Communist Party of China, attend the inauguration ceremony of the Shanghai headquaters of the People's Bank of China in Shanghai, August 10th, 2005. The People's Bank of China, or the central bank, inaugurates its second headquarters in Shanghai, the financial hub of China on Wednesday. The People's Bank of China (PBOC), the nation's central bank, further boosted the development of the inter-bank foreign exchange market by expanding the scope of transaction participants, diversifying the ways of trading and increasing product choices, a move to improve the currency exchange rate adjustment mechanism, said a PBOC notice.
China has built a complete legal system for intellectual property rights protection and the next-stage work is to establish an IPR early warning system.

A worker at a textile enterprise in Huaibei of East China's Anhui Province. The EU was caught in an intense conflict with China over the textile issue as the domestic textile and the garment industry moved to curb Chinese textile imports.
China is gearing up to develop clean energy by using nuclear, wind and solar sources to generate power in order to cut reliance on coal and oil, said a senior official from the National Development and Reform Commission (NDRC).
British Royal & Sun Alliance Insurance Company (RSA), one of the world's top 10 property insurance companies, intends to boost its presence in China by changing its Shanghai branch company into a wholly foreign-funded subsidiary company.

Chinese online retailer Alibaba.com has signed a strategic partnership to sell 40 per cent of the company to Yahoo for US$1 billion (HK$7.8 billion) cash, the companies said on Thursday. A tie-up between United States-based Yahoo and Chinese website Alibaba.com reflected the growing drive to tap the massive unexploited potential offered by Asia's fastest-growing internet market, analysts said.
August 11, 2005
Hong Kong: Major Hong Kong banks, including HSBC, Bank of China (Hong Kong) announced Wednesday to raise its prime rate 25 basis points to 6.75 percent, effective from Thursday.
Hong Kong-based carrier Cathay Pacific on Wednesday reported its first half net profit had fallen to $1.67 billion from $1.77 billion a year earlier, hit by the soaring cost of jet fuel.
The government planned to spend $9.5 million renovating Government House to make it the official residence for Chief Executive Donald Tsang Yam-kuen, local radio reported on Wednesday.

Lenovo Group president and chief executive Stephen Ward (left), chairman Yang Yuanqing and executive director and chief financial officer Mary Ma confer at yesterday's annual general meeting and extraordinary general meeting at the Conrad Hotel in Admiralty. The mainland computer giant will announce its first-quarter results today, providing a first glimpse on how its recent acquisition of IBM's former personal computing unit has affected profitability.
China Mobile (Hong Kong), the Hong Kong-listed unit of China's largest mobile network, on Wednesday said first-half net profit rose 28 per cent, with nearly 20 million subscribers joining during the period.
China: China disclosed for the first time on Wednesday the composition of the basket of currencies used to set the yuan's value, saying it mainly includes the US dollar, euro, Japanese yen and South Korean won.
King of Cambodia Norodom Sihamoni arrived in Beijing Wednesday afternoon for a five-day state visit to China at the invitation of President Hu Jintao.
The People's Bank of China inaugurated its 2nd headquarters in Shanghai, the country's financial hub, on Wednesday.

Soldiers prepare to free a female giant panda named Shenglin No1 in the Longxi-Hongkou Nature Reserve in Sichuan province. A transmitter attached to the animal will enable experts to track it for the next year and monitor its habits and health. The panda, thought to be about five years old, was found wandering in Dujiangyan city last month.
A new regulation requiring Hong Kong, Macau and Taiwanese residents working on the mainland to contribute to the national social security fund will only cover those who have signed mainland employment contracts, according to a labor official.
China is expected to launch its first ever lunar probe satellite in 2007, given that the country's moon exploration project has so far been proceeding smoothly.
China will import some 240 million tons of iron ore throughout this year, about 30 million tons, or 15 percent higher than last year, with the growth rate dropping back 25.5 percentage points.
China's Ministry of Finance and the State Administration of Taxation announced Tuesday on their websites that the government has raised taxes on oil and natural gas resources starting from July 1, 2005.
The Export-Import Bank of China (China Exim Bank) said yesterday it would help domestic companies to hedge market risks brought about by reforms in China's foreign exchange rate regime.
Ports in Shanghai observed a record monthly freight volume of 39.78 million tonnes in July, approximately a 14 per cent increase than in June.
August 10, 2005
Hong Kong: Conglomerate Swire Pacific will book a profit of almost HK$700 million in the first half after agreeing with the government on a HK$2.9 billion land premium for its Taikoo Shing office developments on Hong Kong Island.
Angela Leong, wife of casino tycoon Stanley Ho, has bought a retail and parking complex at 26 Kimberley Road, Tsim Sha Tsui, from Lai Sun Development and Guoco Group for more than HK$500 million, according to sources.
Chief Secretary for Administration Rafael Hui Tuesday joined other top officials in defending Chief Executive Donald Tsang's executive order allowing covert surveillance by investigating authorities under certain conditions.

Standard Chartered chief executive Peter Sullivan said the Hong Kong unit contributed more than 25 per cent of global earnings. Although Standard Chartered Bank's Hong Kong unit yesterday weighed in with interim results that surpassed analysts' expectations, they were delivered with warnings from management that Hong Kong's banking sector may face tough times ahead. Under chief executive Mervyn Davies, Standard Chartered Bank has finally shaken off its reputation as the accident-prone bank. Yet despite yesterday's impressive interim results, the London-headquartered bank still faces some big challenges.

Hong Kong's ambulance services are 20 years behind the United States in speed of responding to emergencies, unnecessarily putting patients' lives at risk, according to the Chinese University of Hong Kong. The relatively slow response time by ambulances cuts the chance of survival for patients suffering from cardiac arrest to a mere 1 percent, the university's study found.
Mother-tongue teaching is the major reason for improvement in English and overall Hong Kong Certificate of Education Examination (HKCEE) results, Education and Manpower Bureau officials said Tuesday.
Oil prices struck new highs in Asian trade on Tuesday over security worries in the Middle East and supply concerns in the United States, the world's biggest energy consumer, dealers said.
The honeymoon is over for Chief Executive Donald Tsang Yam-kuen whose popularity has seen a steep drop in the past two weeks, a survey released on Tuesday showed.

Henderson Land Development plans to invest $2.5 billion redeveloping a North Point industrial parcel facing the harbor, after acquiring the site through a private tender last week.

China: Jiang Baige from Spain weeps after winning the final competition of "Miss China" in Europe, which was held on August 8 in Lido nightclub at the avenue des Champs-Elysees, Paris.
In this obscure corner of southern China, General Motors seems to have hit on a hot new formula: $5,000 minivans that get 43 miles to the gallon in city driving. That combination of advantages has captivated Chinese buyers, propelling G.M. into the leading spot in this nascent car market. Compact and utilitarian, these vehicles, called Wuling Sunshine minivans, hardly fit the big-is-better image of G.M., known in the United States for producing some of the largest gas guzzlers on the market, like Hummers.
The Australian government announced Tuesday in Canberra to start negotiations with China on a bilateral nuclear cooperation agreement.
Foreign parents who have adopted Chinese children have paid great attention to their children's relations with China in both their daily life habit and education. For instance, on such occasions of Spring Festival, Dragon-boat Festival and Mid-autumn Festival, the American adoptive parents will bring their children to the "China Towns" in all parts of the United States and take part in the celebrations held by some local overseas Chinese or China-funded institutions. They worry about that their children would forget China. In addition, they urge their Chinese children to learn to speak and write Chinese, or even they themselves learn Chinese. The rush of adopting Chinese children has also brought along the "China Cultural Fever" and "China Fever" in the United States. Not only the families adopting Chinese children, but also more other Americans love China's culture and concern about China.
China's export of finished sedan cars (including CKD) grew rapidly during the first six months of this year, with the total number hitting a record of 9,600.
China's biggest e-commerce website Alibaba will acquire Yahoo!China, a person within the industry who refused to reveal his name told the Shanghai-based International Finance News.

A plane is refuelled at an airport in Ningbo, East China's Zhejiang Province. China's two largest oil producers will team up with the country's top aviation oil dealer to establish a new shareholding aviation oil company that will introduce more competition into China's jet fuel market.

Huaneng sets the stage for dismal results by mainland utilities as coal prices, tariff curbs weigh. Huaneng Power International Tuesday set the stage for a dismal first-half performance by mainland electric utilities, reporting net profits plunged 32 percent, a victim of soaring coal prices and government restrictions on power prices. There may be even darker news to come. ''Chinese independent power producers are likely to report their worst-ever interim results against a backdrop of escalating coal prices and a delay in granting tariff hikes,'' wrote Citigroup analyst Adam Lau in a report.
China wants textile makers to stop expanding domestic production capacity and buy overseas clothing brands to boost profit margins as they face trade barriers that may block US$2.6 billion (HK$20.28 billion) worth of exports this year, said government officials. Clothing makers should modernize existing production lines rather than relying on expansion to boost revenue because oversupply in the domestic and international markets has caused prices to fall, Yan Hui, deputy director-general of the Commerce Ministry's bureau of industrial losses, told a textile conference in Beijing.

Installation of a turbogenerator shell starts yesterday at the Three Gorges Dam. After it is completed in 2009, the project will generate 84.7 billion kWh of electricity annually.
The mainland's second-largest lender, Bank of China (BOC), may sell as much as 25 per cent of its shares to foreign investors for US$6 billion, an influential mainland financial magazine reported yesterday.
August 9, 2005

Hong Kong: New rules governing covert surveillance by law enforcement agencies may backfire, claim experts. Chief Executive Donald Tsang's executive order to regulate covert surveillance by law enforcement agencies may be well intended, but will only legalize tapping and bugging activities recently branded ``illegal'' by Hong Kong's courts, legal sources warned Sunday. According to the sources, Tsang's aim in issuing the order is to salvage the morale and reputation of the embattled Independent Commission Against Corruption that could otherwise see more cases collapse in addition to further criticism of its controversial wiretapping practices. The executive order, which serves as an interim measure pending legislation on the use of covert surveillance, will provide legal cover for the ICAC to collect evidence by such surveillance without the risk of a legal challenge while keeping an eye on its use.
Hong Kong residents waste about 850 million kilowatt hours of electricity every year and this is equal to releasing more than 500 kilotons of the greenhouse gas carbon dioxide into the atmosphere, according to a pro-Beijing political party. That finding came after the Democratic Alliance for the Betterment and Progress of Hong Kong interviewed 1,126 residents in an attempt to gauge usage patterns in their households.
Research by the School of Chinese Medicine at the University of Hong Kong has revealed that about 15 per cent of patients who had acupuncture completely recovered from strokes, local media reported on Monday.
Pakistani Prime Minister Shaukat Aziz will arrive in Hong Kong on Thursday for an official visit - after high-level talks in Japan on the war on terrorism and other key issues.
The European Union's executive commission on Monday said it had cleared the acquisition of parts of the computer monitor and flat-screen TV business of Dutch group Philips by Hong Kong-based firm TPV Technology.
China: China's trade surplus is likely to drop from US$39.6 billion in the first six months to US$30 billion in the latter half year.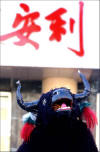 Tibet has been increasingly attractive to investors with its improvement on the infrastructure and business environment since China began to implement the strategy of developing the country's west region. Contracts were signed for 313 projects which were worth 4.72 billion yuan in 2004, with 1.566 billion yuan already in place. The contracts involved farming and stock raising, the ecological construction, tourism, Tibetan medicine, mining and real estate. This picture shows the inauguration ceremony for US-based Amway's Tibet company on Dec. 15, 2004.
China already announced Iran as tourism destination nation for Chinese tourists, which will enable two peoples to learn more about the ancient Silk Road. Iran now started to consider special demands of Chinese tourists, such as opening more Chinese restaurants, training more Chinese tourist guides.
Representatives of 28 multinationals ranking world's top 500 gathered at Urumqi, capital of northwest China's Xinjiang Uygur Autonomous Region, to discuss the economic cooperation with Xinjiang and central Asian countries.
The European Union is planning an anti-dumping investigation against fabric shoes made in China, following charges against labour safety shoes and leather shoes, said the China Leather Association.

Visitors look at a Cadillac SRX at the Auto Changchun 2005 which kicks off on Friday in Changchun, capital of Northeast China's Jilin Province. The expo features trade stands from auto and auto-related manufacturers.
China's lack of key extradition treaties and heavy hand with the death penalty is allowing many escaped corrupt officials to stay far from the arm of the law, according to the Xinhua Daily Telegraph. The report cited a Commerce Ministry report of last year that said 4,000 officials have escaped the country in recent years and taken five billion yuan (HK$4.80 billion) in embezzled funds with them, giving China the world's fourth-most serious problem with capital flight.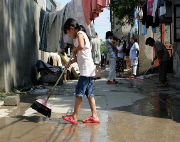 Shanghai residents clean dirt from their houses and dry their belongings following flooding by Typhoon Matsa on Monday. At least seven people were killed as Typhoon Matsa swept through eastern China over the weekend, causing billions of yuan in losses and disrupting transport for two days, reports said on Monday.
Beijing has stepped in to establish order in the country's nascent liquefied natural gas (LNG) market, ordering that only one LNG import terminal can be built in each province, an informed source said.
British telecommunications equipment maker Marconi is in talks to be taken over by its Chinese partner, Huawei Technologies, for more than £600 million ($8.29 billion), Britain's Sunday Times newspaper reports.
August 8, 2005
Hong Kong: Cheung Kong (Holdings), Sun Hung Kai Properties, Henderson Land Development and seven other smaller rivals have submitted expressions of interest for a property development project at Tuen Mun offered by Kowloon Canton Railway Corp.

Hong Kong-based journalist Ching Cheong has been formally arrested and charged by the mainland with spying for Taiwan, 106 days after the Singapore Straits Times correspondent was first detained in Guangzhou.
The chief executive yesterday issued a rare executive order to regulate the use of covert surveillance by law enforcement authorities, a month after the District Court threw out a case because the ICAC secretly taped a defendant's conversation with his lawyers.

Orient Overseas (International) chief financial officer Nick Sims says the firm may expand its port facilities in North America. Orient Overseas (International) (OOIL) will invest in more container terminal assets to diversify its core revenue streams beyond the more volatile shipping sector, despite record interim earnings, the company said yesterday.
Cheung Kong (Holdings) is trying to convince Hong Kong banks to provide buyers at its new Metro Town residential development in Tseung Kwan O mortgages with tenors of up to 40 years - 10 years longer than those normally available.
China: In the second quarter of 2005, China's grain price fell for the first time in recent years, which experts believe will reduce incomes in rural areas.

Local residents choose fruits from Taiwan Province at a department store in Beijing, capital of China, on August 5, 2005. The first batch of Taiwan's fruits exempted from import tariffs were on sale in the department store on Friday. The 1,000-kilogram tariff-free fruits, including cherimoyas and mangos, were flied from Gaoxiong, south of Taiwan province, to Beijing via Hong Kong on Thursday.
China's crude oil production in the first half of this year grew more than 30 million barrels from the same period last year, hitting a record high since 2000, according to the National Bureau of Statistics.
China and the United States have agreed to block a plan by Japan, Germany, Brazil and India to expand the UN Security Council, Chinese Ambassador to the UN Wang Guangya said on Thursday.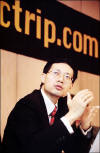 China's online travel market continued its breakneck growth in the second quarter, with Ctrip and eLong, the market leaders, reporting sales up 30 percent from the previous three months and 50 percent from year-earlier levels. No1-ranked Ctrip said second-quarter revenue jumped to 137.4 million yuan (HK$131.77 million), a 61 percent increase from the same period last year, while profit climbed 58 percent to 56 million yuan. ''As scale increases, so do our profit margins,'' said Neil Shen, Ctrip president and chief financial officer.

Investor interest in mainland China tech IPOs remains strong as online search company Baidu increased its offer and priced the shares above the indicated range. Continued excitement over mainland Internet stocks may be justified when considering the impressive earnings results that were announced this week by gaming company Netease and travel services company Ctrip. The initial public offering on Nasdaq of Baidu had investors scrambling for a piece of the leading search engine in the mainland. Baidu increased its planned offering this week from 3.7 million to four million shares. Baidu priced the shares at US$27 (HK$210.60) Thursday, above already raised expectations of US$23-US$25.
August 5 - 7, 2005
Hong Kong: Hong Kong Monetary Authority Chief Executive Joseph Yam said the Renminbi exchange rate regime reform has been smooth and there has been no sign of destabilizing impacts on the local and global financial markets. In his latest Viewpoint article issued at the website of the Monetary Authority, Yam said the re-introduction of flexibility in the yuan exchange rate on July 21 is "one of the rare examples of a smooth change." "For Hong Kong in particular, given that our financial markets are more sensitive than those of other jurisdictions to the change because of our proximity to and economic dependence on the Chinese mainland, it is very encouraging that it has turned out to be a non-event. Our exchange rate remains stable and our interest rates close to those of the US dollar," he said. Yam added that the new regime has been described as "a managed floating exchange rate system," where the exchange rate is adjusted on the foundation of "market supply and demand with reference to a basket of currencies." He believed that the yuan exchange-rate will fluctuate in the short-term and the yuan may depreciate against a particular currency.
Chief Executive Donald Tsang said that he is reviving a plan to convert the long-disused Tamar site near Central into an extensive new HK$6 billion government headquarters and Legislative Council complex. Tsang said he is confident the move would generate a profit because it would free up prime sites housing the SAR Government Headquarters in Lower Albert Road and the Murray Building for sale. Some analysts said, however, that it would be better if the government were to vacate both prime sites to allow commercial development and move out of Central altogether.
More Hong Kongers are getting married, doing so later in life, getting divorced - and doing it all over again, according to the Census and Statistics Department. The trend worries some academics, who warn that more divorces will lead to increasing family and social problems. The Women & Men in Hong Kong - Key Statistics survey released by the Census and Statistics Department in late July shows he number of marriages has increased over the past 10 years.
The new top American diplomat in Hong Kong on Friday called for more democracy in Hong Kong. "The United States wants Hong Kong to succeed," US Consul General James Cunningham said, adding that Washington supported "a high degree of autonomy for Hong Kong and the expansion of democracy."
The government said on Friday it was considering drafting a new law to regulate covert surveillance by law enforcement bodies.

The Hong Kong Monetary Authority (HKMA) may invite other public sector bodies and private companies to use its electronic bond issuing platform to issue multi-currency bonds to investors. By using the platform, set up by the HKMA to issue Exchange Fund Notes, Hong Kong companies could invite investors to tender for their bonds and raise debt at the cheapest rates available in the market, said Eddie Yue Wai-man, executive director of the monetary management and infrastructure department at the HKMA. Even yuan bonds could be issued on the platform if mainland authorities allowed it in the future, which would enhance Hong Kong's role as a regional bond issuing centre, he said.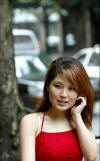 China: A lady makes a call with her mobile phone in Shanghai street. Shanghai Mobile's "GoTone 60 special offer" is sweeping the market these days. Users only pay 0.12 to 0.15 yuan for a minute's service, very close to the charge of fixed phones. There are four choices for the offer: flat charge of 60 yuan, 120 yuan, 180 yuan, 240 yuan per month. Service within any of the service package can cost as low as 0.15 yuan per minute while the lowest possible service out of the package costs 0.12 yuan per minute. Using fixed phones, a customer spends 0.20 yuan for the first 3 minutes and 0.10 yuan for every minute after that. The price strategy of "GoTone 60" has successfully made the special offer known to all within a few days in Shanghai.
China will adjust the float range of its currency exchange rate at proper time according to the market situation and economic and financial circumstances, said a report released on Thursday by the People's Bank of China on the monetary policy in the second quarter this year.
A recent investigation by the Ministry of Commerce showed that 86.9 percent of the 84 categories of textile goods in China are oversupplied, demonstrating the urgency for China's textile industry to regroup and upgrade its technology.

CNOOC may pursue talks to invest in Australia's A$11 billion (HK$65.62 billion) Gorgon gas project, a venture led by Chevron, after the US company repelled CNOOC's bid for Unocal. Talks with CNOOC on the sale of a stake in Gorgon and on an LNG supply agreement are continuing, Scott Walker, a Gorgon spokesman, said Thursday, declining to give details.

Murmuring Buddhist scripture and spinning hand-held prayer wheels, tens of thousands of people crowded the hills around Tibet's largest monastery Thursday for the annual unveiling of its sacred art. Many had walked hours to the Drepung Monastery for the beginning of the seven-day Shoton or ''Yogurt'' Festival. As a massive 35-by-30-meter silk embroidered image of the Buddha was unfurled across a hillside, celebrants threw white Tibetan scarves into the air and took pictures with their cell phones.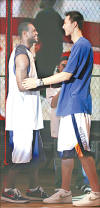 NBA star LeBron James of the Cleveland Cavaliers and Chinese national team player Yi Jianlian pose during the "Nike 2005 Battlegrounds" basketball finals in Beijing yesterday. James is on the China leg of his 2005 Asia Tour, which aims to create a cultural basketball exchange amongst Asian youth.

Cottons are collected in Gaoyou in East China's Jiangsu Province. The gap between China's cotton output and demand might be not as large as expected, according to an expert from the China Cotton Association.
China's top Internet portal Sina Corp yesterday reported a fall in its business results in the second quarter, due to a continued slow-down in its wireless revenues. However, the company said it would continue to focus on and increase its advertising business.
China's largest search engine, Baidu.com Inc, yesterday said it would increase the number of shares, and their price, in its initial public offering (IPO) only one day before its trading debut on the NASDAQ stock market.
Baidu.com, an online search engine maker vying to become the Google of China, priced its initial public offering at US$27 (HK$211) per share, cashing in on the high hopes riding on a startup with a large audience and puny profits.
August 4, 2005
Hong Kong: Hong Kong's blue-chip stock index broke through 15,000 for the first time in more than four years, and is set to go higher, analysts said. Buying was spurred on by better-than-expected first-half earnings from HSBC Holdings. The benchmark Hang Seng Index closed up 158.2 points, or 1.05 percent, at 15,137. It was the fifth consecutive rise in the index, which last closed above 15,000, at 15,230, on February 26, 2001. ''Foreign investors are buying Hong Kong stocks amid low interest rates and excess capital,'' Investec Asset Management Asia regional business development director KK Cheung said. ''Prices of blue chips are still attractive and sectors like property, bank and retail will benefit from tourism in the second half.''
It's been three years in the making, but the government has finally devised a formula to regulate fare increases, as well as decreases, on public transport, legislator Albert Chan said Tuesday. He said Chief Executive Donald Tsang will announce the mechanism during his inaugural Policy Address in October. But he warned that, because of the way the economy is improving, what is intended to be a public service could turn into a catastrophe if the government does not take pre-emptive action.
The honeymoon could be over for chief executive as his satisfaction rating slides It could be Hong Kong's angry horseracing fans, disgruntled car dealers or people's disgust at the government's slow response to the pig disease now causing havoc in Sichuan Province. Or it could just be the lack of media exposure.
The government Tuesday sought to stop a public airing of the Independent Commission Against Corruption's investigation methods, on day two in the trial of Sandy Mo Yuk-ping, claiming that exposing the ICAC's methods to greater scrutiny could compromise security.

Some of about 800 secondary school students and teachers from Hong Kong and Macau gather at Shenzhen railway station yesterday before departing on a 24-hour journey to Beijing, where they will spend a week studying under an exchange programme. The programme is aimed at giving secondary school students of grades four to seven an opportunity to enrich their knowledge of Chinese history, as well as cultural, socio-economic and technological developments.
A robust property market and strong passenger numbers doubled earnings at MTR Corp for the first six months of the year and further improvement can be expected this year, the company said yesterday.
Hong Kong Express, chaired by Macau casino tycoon Stanley Ho Hung-sun, launched the city's first executive airline on Wednesday with its main target the lucrative Chinese market.

China: A Long March-2III Rocket Carrier with China's 21st return science and technology experimental satellite takes off from the Jiuquan Satellite Launch Center in NW China August 2, 2005. The satellite will be used to carry out scientific research, land surveying and mapping, and experiments in outer space.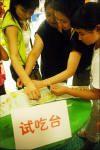 Some residents taste fruits from Taiwan Province at a department store in Beijing, capital of China, on August 1, 2005. The Chinese mainland will exempt import tariffs on 15 kinds of fruits from Taiwan as of August 1, 2005.
State-owned China Shipping Group has joined forces with France-based CMA CGM to bid for Canadian Pacific Ships (CP Ships), a move, experts say, which will greatly enhance the Chinese shipping giant's global network.
NOOC, China's largest offshore oil producer, has dropped its US$18.5 billion bid (HK$144.3 billion) to buy United States-based Unocal because of the ''regrettable and unjustified'' political opposition. CNOOC said Tuesday that although it has ''given active consideration'' to further improving its offer, it decided to withdraw because of the difficult political environment in the United States. The offer, first unveiled June 23, would have become the largest acquisition ever by a mainland firm.
China has 900 million good reasons to proceed slowly with the reform of its currency regime: that's the size of the rural population whose welfare has been a top priority for a government eager to maintain social stability. The modest scale of last month's 2.1 percent revaluation had a lot to do with protecting farmers' livelihoods, and analysts say rural incomes will be squeezed if Beijing allows the yuan to keep rising. A stronger yuan makes it cheaper for Chinese to buy foreign goods, including grain, soybeans and fruit. At the same time, exports such as corn become that much more expensive for overseas buyers.
August 3, 2005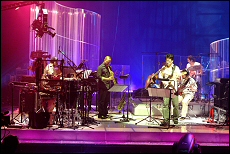 Hong Kong: Hong Kong has for many years been well known as an important centre for movie and television program makers. Now, it is making its mark in concert films. Local expertise in film and video production is internationally recognized thanks to industry leaders such as Centro Digital Pictures, which invests heavily in state-of-the-art equipment to produce special effects for Hollywood directors. At the other end of the scale, increasingly powerful computers and high quality video cameras have allowed individual operators with creative minds to enter the business at a relatively low cost. Something else Hong Kong is becoming known for is one of the most vibrant jazz scenes in Asia. At least two of its leading lights - guitarist Eugene Pao and keyboard player Ted Lo - enjoy both critical acclaim and an international following. To some extent the two worlds overlap. Musicians like Pao and Lo are involved in advertising jingle and movie soundtrack work, and their advanced musical skills are also called upon by Cantopop artists (Cantopop is a Hong Kong term for Western styled popular songs sung in Cantonese by local artists - it is a massive industry with followings in Chinese communities around the world).
Stiffening its approach to combating Hong Kong's air pollution woes, the government's Environmental Protection Department has imposed emission caps for the first time as a condition of renewing CLP Power's license for its Castle Peak Power Station. In addition to capping emissions, the government also changed the licensing agreement for Castle Peak from five years to two so as to gain better control in the future, according to a senior government source. The department said the same terms would apply to the Li Ka-shing-controlled Hongkong Electric when its license comes up for renewal.
HSBC Holdings surpassed investor expectations with a first-half profit increase of 9 percent. Net profit in the six months to June was US$7.6 billion (HK$59.28 billion), compared with US$6.9 billion in the same period of last year. This beat the US$7.09 billion median estimate of nine analysts surveyed by Bloomberg News. Group chairman John Bond credited the outperformance to organic growth. About 59 percent of the US$656 million net profit growth was organic, he said, while 25 percent came from acquisitions, including investments in China's Bank of Communications and Bank of Bermuda, and 16 percent from currency translation.
Swire Pacific, a conglomerate which runs businesses from aviation to property, said it will book a HK$2.3 billion one-off gain from selling its 17.62 percent stake in Modern Terminals (MTL) to two partners as it withdraws from Hong Kong's port business.
Hong Kong has signed a new air-services agreement with China to increase the number of passenger flights between the SAR and 12 second-tier mainland cities. The agreement allows for an immediate 57 percent capacity increase on all routes.
China: China will produce 5.83 million vehicles in 2005, up 15 percent over last year, according to the Ministry of Commerce. The ministry also predicted that the demand for vehicles will be 5.75 ones, up 12 percent on a year-on-year base.
China Tuesday succeeded in launching its 21st return science and technology experimental satellite from the Jiuquan Satellite Launch Center in NW China.

Some residents choose fruits from Taiwan Province at a department store in Beijing, capital of China, on August 1, 2005.
China's output of crude oil will go up to 180 million of ton this year, increasing by 3 percent over last year,predicted by the Ministry of Commerce.
The Intel Corporation has announced it will locate the global headquarters of its Channel Platforms Group (CPG) in the city's Minhang District, highlighting its commitment to pushing forward the IT industry in China.
NCR Corp, the world's largest ATM (Automated Teller Machine) manufacturer, has set up a currency data processing centre in Beijing to help combat a rising tide of forged currency, according to the company yesterday.
The United States government on Monday said it was considering an industry demand to limit imports of five extra categories of Chinese textiles, while pursuing debate about a broader textiles accord with Beijing.
August 2, 2005
Hong Kong: Hong Kong Disneyland is facing pressure to consider a quieter, more environmentally friendly technology that can significantly reduce pollution from its nightly fireworks displays when the park opens next month. Air-launch technology, which uses compressed air to launch the pyrotechnics as an alternative to gunpowder, in combination with low-gunpowder fireworks, reduces noise and air pollution levels caused by fireworks by up to 60 percent and is currently used by California's Disneyland under an agreement with state pollution-control authorities. Despite complaints from residents, Hong Kong Disneyland has so far rejected the new fireworks technology, which made its debut earlier this year, saying it is technically impossible and ''unnecessary'' for the SAR. However, in an Orlando Business Journal article published last year entitled ''Smoke-free pyrotechnics, the future of theme park fireworks'' - the spokeswoman for Walt Disney Imagineering, Marilyn Waters, was quoted as saying ''it's possible the next place to install the new [air-launch] system will be the new Disney theme park in Hong Kong.''
Hong Kong is proposing to rate thousands of buildings for their ''environmental friendliness.'' Under a Buildings Department proposal, all buildings - commercial and residential - will soon be eligible for the ''five-star'' rating system, which will be based on dozens of criteria put together by the department after a study in 2002.
Global banking giant HSBC on Monday posted better-than-expected results for the six months to June, with pretax profit up 5 per cent to US$10.64 billion (HK$83 billion) and net profit up 9 per cent to US$7.6 billion.
The chairman of Chinese electronics group Kelon has been placed under house arrest for allegedly embezzling 300 million yuan (HK$281 million) in company funds, officials and state press reported on Monday.

Mandatory Provident Fund Schemes Authority chairman Charles Lee says the proportion of Hong Kong people aged 65 or above is expected to rise to 24 per cent by 2031. At that time, one in four would have retired. Contributions to Hong Kong's employee savings system are running at twice the level envisaged by government planners when the scheme was introduced five years ago, and overall fund returns have been unveiled for the first time.

China: Miss Macedonia Marjana Stanojkovska tears after she is crowned as "Miss Bikini of the Universe" during the final of "Miss Bikini of the Universe" in Beihai, SW China's Guangxi Zhuang Autonomous Region, July 30. Miss Turkey Deniz Sirin and Miss Russia Olga Shylova Nova won the first and second runners-up.

An employee demonstrates a game during the 2005 Beijing Global Carnival held in the International Sculpture Park in Beijing, July 29, 2005. The carnival, opened July 29, will last until October 9.
Premier Wen Jiabao met in Beijing yesterday with US Deputy Secretary of State Robert B. Zoellick, who is here for the first China-US strategic dialogue slated for today.
China's power supply is expected to remain squeezed in the second half of the year, with the toughest time being in the summer, according to a forecast from the China Electricity Council.

President Hu Jintao talks to war veterans and residents during a tour in northern Shanxi province.
August 1, 2005

Hong Kong: Wan Chai residents will tonight get a chance to approve or veto a design aimed at turning Southorn Playground into a tranquil but hypermodern urban space, Wan Chai District Council chairman Ada Wong said Friday.
China will speed up turning the Postal Savings into a commercial bank and strive for a breakthrough within this year, sources from the China Banking Regulatory Commission (CBRC) said Thursday.

Members of the Flying Lotahs practise underwater acrobatics at Wonderful Worlds of Whampoa yesterday before a series of shows this weekend and next weekend (daily at 2pm, 3.30pm, 5pm and 6.30pm). The team includes Canadian and Australian national diving champions, Commonwealth Games finalists and former members of the Australian Olympic synchronised swimming squad. The shows will feature diving, synchronised swimming and an underwater escape.
WTO chief Supachai Panitchpakdi warned the organisation's members that they must settle their differences over trade liberalisation by October, ahead of their December ministerial meeting in Hong Kong.
Angela Leong On-kei, wife of Macau gambling tycoon Stanley Ho Hung-sun, may walk away from a deal to buy Vicwood Plaza from Morgan Stanley and Pamfleet (HK).

China: Foreign interest in setting up factories in China is flagging, a trend that over time could help Beijing wean the economy off its over-reliance on exports and investment and even ease upward pressure on the yuan. China's accession to the World Trade Organization in late 2001 cemented its role as the workshop of the world, and foreign direct investment has since poured in at the rate of US$1 billion (HK$7.8 billion) a week to take advantage of its cheap, industrious labor.
The People's Bank of China will issue some ''technical'' details of how the yuan's currency basket works because of demands from the market, governor Zhou Xiaochuan said. He also said Friday China will introduce more currency derivatives. Zhou said there are no plans for further revaluations to the value of the yuan and that fluctuations under the system started last week are not the result of government directives.

Members of Chinese Art Ensemble of disabled people perform a dance named "Guanyin Buddha", Buddhist goddess of mercy at Guangxi People's Hall in Nanning, capital of south China's Guangxi Zhuang Autonomous Region, July 28, 2005.

Construction teams bustle yesterday at the park, located next to Macau Ferry terminal. Attractions at Fisherman's Wharf will include a Roman amphitheatre and an erupting volcano. Instead of staging a face-off with Hong Kong Disneyland, Macau's first theme park - Fisherman's Wharf - will not fully open until December 31.
China's Ministry of Finance yesterday announced it was punishing and suspending the licences of 18 accounting firms, including the Shanghai joint venture of PricewaterhouseCoopers (PwC), for falsifying company figures and other irregularities.

Employees of the National Art Museum of China hang 'Napoleon at St. Bernard' on Friday as they prepare for the Saturday opening of an exhibition entitled "Midsummer France." The exhibition, featuring three themed displays of works from three prestigious museums in France, will run until September 19.
Chinese airlines are expected to finalize contracts worth US$ 6 billion for 50 Boeing 787 Dreamliners early next month.

CITIC Securities, one of China's heavyweight brokers, has got the nod from the market watchdog China Securities Regulatory Commission to expand its business outside the mainland for the first time by setting up a Hong Kong unit.
July 29 - 31, 2005

Hong Kong: Hong Kong International Airport (HKIA) has just celebrated its seventh birthday by posting a record-breaking financial performance,
The Unisys Corporation yesterday announced that the Bank of China (Hong Kong) Limited (BOCHK) has awarded Unisys in Hong Kong, a contract to build a new voucher imaging system to help the bank better manage its document processing.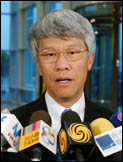 The Hong Kong Monetary Authority's Exchange Fund earned HK$13.6 billion in the second quarter, rebounding from a first-quarter loss, as income from bonds and other investments almost tripled to HK$15.8 billion from HK$5.3 billion in the first three months of the year. The fund profited mightily from the surprisingly strong performance of US government debt in the second quarter, which helped drive its bond income to HK$21.1 billion in the first half of the year, from HK$6.3 billion in the same period last year.
New World China Land, the mainland property arm of conglomerate New World Development, said it may invest up to five billion yuan (HK$4.81 billion) in a housing project in the northeastern city of Dalian.
Hong Kong is becoming a bachelor's paradise, according to latest figures from the Census and Statistics Department. In a survey entitled ``Women & Men in Hong Kong Key Statistics'' released Thursday, the department attributed the switch from a male-dominated society to one in which there are more women than men to the large inflow of female one-way permit holders from the mainland and the arrival of domestic helpers.

China: Tang Jiaxuan, China's State Councilor, said Wednesday that the international situation in the new century and the development of Sino-US relations have proved that the common interests between the China and the United States have increased continuously and the two countries enjoy a new opportunity of development. Tang, who arrived in Washington on Tuesday for a visit, made the remarks in a meeting with US Secretary of State Condoleezza Rice, according to a Chinese diplomatic source. He said that cooperation is the mainstream though the two countries face some challenges that need to be handled properly.
US President George W. Bush said on Wednesday that he looks forward to meeting with Chinese President Hu Jintao this year and believes the exchange of visits between the two leaders will be of positive results. Bush made the remarks during a meeting with visiting Chinese State Councilor Tang Jiaxuan in the White House. Bush also extended his welcome for Tang's visit to the United States. For his part, Tang said that it will be of great significance for the two presidents to have an exchange of visits this year, as it will be very beneficial for dialogue, mutual trust and cooperation between the two sides and will promote the Sino-US constructive and cooperative relations.

Riot policewomen take part in a training secession in Jinzhou, Northeast China's Liaoning Province. The Public Security Bureau in Jinzhou city set up China's first female riot police force on Dec 26, 2003. Since the establishment of the female riot police force, it has uncovered 35 various cases, caught 48 criminal suspects and 5 escaped criminals wanted online.
The central government has ordered its departments, private businesses and other institutions to redress their financial malfeasance in reaction to a recent state audit report that revealed that billions of yuan were embezzled or misappropriated last year.

ASEAN Foreign ministers and their counterparts from China, Japan and the Republic of Korea join hands during a group photo session before a meeting in Vientiane yesterday. Foreign Minister Li Zhaoxing yesterday reiterated China's support for the strengthening of regional co-operation in East Asia.

Packaging equipment show: Automatic soft drinks packaging equipment is displayed at the 11th International Processing, Packaging & Equipment Exhibition, which opened at Shanghai New International Expo Centre yesterday and will last for three days.
Shanghai Chengtou, or City Construction & Investment Development Company is planning to issue 3 billion yuan (US$370 million) worth of 2005 Shanghai City Construction Bonds to help finance the city's infrastructure projects.
The high land and labor costs of China's key cities are forcing multinational companies (MNCs) to move their industrial facilities to second-tier areas. Shanghai, Beijing and Guangzhou should rethink their role, said Jones Lang LaSalle, the world's leading real estate consulting firm.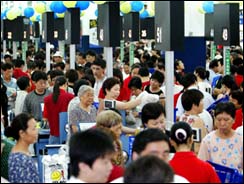 Tang Ling spent hours on a bus just so she could catch the grand opening of Wal-Mart's first store in Shanghai. "I left Shaoxing last night so I could be among the first to get in today. I've waited so long for a Wal-Mart to open near me,'' the 32-year-old secretary said Thursday, as she struggled with several bags of toilet paper.
Top domestic carmaker Shanghai Automotive Industry Corp, General Motors' mainland partner, will spend 3.7 billion yuan (HK$3.56 billion) building a plant to begin making its own Rover-based cars from 2007, said executives.
July 28, 2005
Hong Kong: Exports in Hong Kong continued to rise in June with the total value up 12.6 percent over a year earlier, reaching 189.5 billion Hong Kong dollars, said the Census & Statistics Department Tuesday. The recent strong export performance was supported by the continued expansion of the global economy, particularly the robust growth in the U.S. and the Chinese mainland. The value of re-exports surged 14.1 percent to 179.4 billion Hong Kong dollars in June, while the value of domestic exports dipped 8.6 percent to 10.1 billion Hong Kong dollars. During the same month, the value of goods imports grew 10.5 percent to 196.5 billion Hong Kong dollars. A visible trade deficit of 7.1 billion Hong Kong dollars, equivalent to 3.6 percent of the value of imports of goods, was recorded. For the first half of this year, the value of total goods exports recorded an 11.6 percent year-on-year increase, with the value of re-exports up 12.8 percent and the value of domestic exports down 6.6 percent. The value of imports rose 9.1 percent during the first six months. A visible trade deficit of 51.4 billion Hong Kong dollars, equivalent to 4.7 percent of the value of imports of goods, was recorded.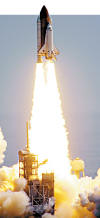 The Space Shuttle Discovery lifts off from Launch Pad 39B at Kennedy Space Center yesterday carrying a crew of seven headed for a rendezvous with the International Space Station. The launch of Discovery is the first space shuttle launch since the loss of the Shuttle Columbia during re-entry on February 1, 2003.
Riding a wave of overseas interest in Asian equities in general, and China in particular, Hong Kong fund managers saw assets under management soar 23 percent last year to HK$3.6 trillion, according to the Securities and Futures Commission. ''People are definitely looking to Asia to invest in the longer term,'' said Aberdeen Asset Management director Alex Boggis. The business is highly dependent on foreign money for growth, with HK$2.3 trillion, or 63 percent of the money under management, coming from overseas. SFC-licensed managers accounted for about 80 percent of the total, with the rest under the wing of banks. The city, whose only serious rival in the business outside Japan is Singapore, boasts regional headquarters for 34 money managers and 12 banks.
Customs officers have smashed what they say is the city's biggest fake goods syndicate, a pirate-goods distributorship that stocked HK$62.5 million worth of fake apparel destined for the Japanese market. Agents arrested 11 people and seized 157,000 bogus bags, clothing and other accessories, most of which were Burberry knockoffs. The seizure was called the biggest such haul ever in the SAR. The investigation involved some 100 officers who spent three months investigating the scam before springing into action Tuesday with raids on 18 separate locations operated by the syndicate, including warehouses, offices and shops serving as fronts for the underground trade.
Last September, Tom Online, the Beijing-based Internet company controlled by Hong Kong billionaire Li Ka-shing, was ready to start a version of America Online's ICQ instant messaging service. At the last minute, executive vice president Elaine Feng agreed to meet Geoffrey Prentice, Skype Technologies' director of new business.
The exhibit at the Pan-Pearl River Delta Expo aims to show Hong Kong's trendy side.
Hong Kong Disneyland faces one last environmental challenge before Mickey, Goofy and Donald can welcome the SAR and China to the Magic Kingdom in a burst of pyrotechnics September 12. The Environment Protection Department said Wednesday it has ordered Disney to undertake an additional monitoring program in August, following criticism over flaws in its fireworks trial in May.
Wheelock & Co's Lane Crawford House on Queen's Road Central is on the market, and with the office and retail property rebound and tight supply of new commercial properties in Central, property consultants said it would draw keen competition from Hong Kong developers and overseas firms.
Hutchison Telecommunications International Ltd (HTIL) has put a US$120 million bid for a stake in Indonesia's third-generation (3G) mobile-phone service on hold, citing concerns over Jakarta's plans to license more players and reallocate spectrum.
China: China will continue its prudent fiscal and monetary policies as well as maintain the continuity and stability of its macro-economic policy, said Hu Jintao, general secretary of the Communist Party of China (CPC) Central Committee, here on Tuesday. With the long-awaited yuan revaluation behind them, China's planners are turning attention back to fine-tuning economic cooling policies and other reforms needed to cushion the impact of last week's move. Proposals under consideration include making macro policies more flexible against changing economic performance and equalizing the tax rates paid by domestic and foreign-funded companies, officials said.
China's position on intellectual property rights protection and crackdown on piracy is consistent and firm, and the work would never stop.
The central bank yesterday denied there would be further appreciation of the Chinese currency, saying last week's 2 per cent revaluation did not mean more adjustments.
Huawei Technologies, China's largest maker of telecommunications equipment, said its overseas sales surpassed domestic proceeds in the first half, underscoring the firm's increasingly global presence. Shenzhen-based Huawei said Wednesday its global sales jumped 85 percent to 33 billion yuan (HK31.61 billion) compared with a year ago.
China has accelerated a campaign to prosecute police who extract confessions by torture as part of a wider drive to curb human rights abuses in police custody, state media reported on Wednesday.
Royal Bank of Scotland (RBS) is poised to pay up to US$5 billion for as much as 15 per cent of Bank of China (BOC) in a deal that could set a record for the largest ever single foreign direct investment in the mainland.
July 27, 2005
Hong Kong: A government plan to save Hong Kong's public health system may require a 1 percent to 3 percent salary deduction, similar to the existing Mandatory Provident Fund scheme. Sources say the idea is being considered by Secretary for Health, Welfare and Food, York Chow, who is to suggest ways to increase funding for the overloaded medical system in a consultation paper due out within months. The government idea is to promote a ''young subsidizing the old'' concept, a source said, to allow the system to continue to serve the needs of Hong Kong's aging population. While details remain scanty, the deduction would essentially constitute a backdoor income tax increase and would be non-refundable.
The Hong Kong University of Science and Technology is considering the possibility of renaming one of its buildings after philanthropist Henry Fok in recognition of his HK$800 million donation.

China: Chinese FM Li Zhaoxing (C) and heads of delegations to the fourth round of six-party talks hold hands together at the opening ceremony of the fourth round of the six-party talks on the Korean Peninsula nuclear issue in Beijing July 26, 2005.
China's central bank Tuesday ruled out what few investors expected anyway - another sudden revaluation of the yuan - but said nothing about what traders think is the more likely course of action, allowing it to gradually appreciate against the US dollar and other major currencies. ''The notion'' that last week's 2.1 percent revaluation of the mainland currency ''is only an initial adjustment and that the central bank will further adjust the rate in the foreseeable future is wrong,'' the People's Bank of China said in a statement.
Caterpillar - the world's top maker of earth-moving equipment - is negotiating to buy control of the core unit of China's number-one machinery maker to tap the nation's building boom, executives with the mainland firm said Tuesday. Caterpillar was negotiating to buy at least 51 percent of Xugong Machinery, they said. Xugong Machinery holds most of the assets of its parent, Xuzhou Construction Machinery Group, which as the country's leading maker of machinery, posted sales of 17 billion yuan (HK$16.29 billion) last year.
China and the United States have agreed to hold the next round of textile trade talks as soon as possible with smooth exchange channels maintained.
China announced Monday it will scrap the export tariffs imposed on 17 Chinese-made textile goods subject to European Union's new trade restrictions as of August 1.
The delivery service UPS yesterday announced it will start a non-stop flight service from Liuting International Airport in Qingdao, East China's Shandong Province, to South Korea.
Robust global economic growth, particularly in the United States and China, pushed Hong Kong exports up 12.6 per cent to $189.5 billion in June after a gain of 16.9 per cent in May, official figures showed on Tuesday.
July 26, 2005

Hong Kong: From second left to right: Hong Kong SAR Chief Executive Donald Tsang, Secretary-General of the State Council Hua Jianmin, Sichuan Party Chief Zhang Xuezhong, Macao SAR Chief Executive Ho Hau Wah and other officials attend the Pan-Pearl River Delta Co-operation Forum in Chengdu, provincial capital of Sichuan yesterday.
Jiangxi Copper, the largest copper producer in China, has raised about HK$880 million by selling new shares to boost capacity as prices of the metal rose to a record, market sources said.
Disneyland Resort Line, the rail link running between the new Tung Chung Line Sunny Bay Station and the Disneyland Resort Station, will be open to the public August 1. MTRC's head of operations, Wilfred Lau, said the opening is part of the final preparation work for Hong Kong Disneyland, which will open September 12.

Secretary for Health, Welfare and Food York Chow Yat-ngok says in future, Hongkongers' health care may well be financed by a combination of savings and insurance.
Hong Kong should expand its involvement in intellectual property protection in the pan-Pearl River Delta region even though violations are rampant in areas where strong co-operation already exists, such as Guangdong, Hong Kong's watchdog chief says.
Xu Huizhong, president of Oriental Metals (Holdings) speaks to reporters in Hong Kong yesterday after independent shareholders approved a $2.89 billion restructuring deal under which it will acquire the alumina and aluminium businesses of its mainland parent, China Minmetals Corp.
An $880 million share placement announced yesterday by Jiangxi Copper is likely to be the first of many cash calls made on the Hong Kong bourse this year, with blue-chip property companies next in the queue, analysts said.
Last week's yuan revaluation may result in unusual volatility in the United States government bond market, posing challenges for Hong Kong's Exchange Fund in the second half, a senior banking regulator said yesterday.
Hong Kong has entered a period of steady and smarter investment in computer storage capacity, boosting the ability of more businesses to secure their data and gain a competitive advantage through information technology.
M-Gen Mobile Technology will launch a mobile blogging site on Thursday, giving Hong Kong's online diarists an additional outlet for their musings and photos while providing mobile operators with a source of amateur content.

China: Director-general of the Japanese Foreign Ministry's Asian and Oceanian Affairs Bureau Kenichiro Sasae (left) chats with US Assistant Secretary of State Christopher Hill (second left), while Russian Deputy Foreign Minister Alexander Alexeyev (second right) and Chinese Vice-Foreign Minister Wu Dawei (right) look on while attending a welcoming banquet for the Six-Party Talks delegations, held by Chinese Foreign Minister Li Zhaoxing at the Diaoyutai State Guesthouse in Beijing yesterday. The fourth round of Six-Party Talks on the DPRK's nuclear program will take place in Beijing today.
Chinese State-owned conglomerates China Electronics Corp (CEC) and the China Great Wall Computer Group Co could soon be merged with each other as part of the government's bold plan to restructure State-owned enterprises (SOEs).
China Life, the country's biggest life insurer, said it may not fully recover 372.7 million yuan (HK$355.7 million) in government bonds held in its account at bankrupt Min Fa Securities.
July 25, 2005
Hong Kong: Cathay Pacific Airways, Hong Kong's de facto flag carrier, will raise the surcharge on long-haul tickets by almost one third next month to help offset rising fuel costs. The surcharge, which has been approved by the Civil Aviation Department, will be increased to HK$332 for a ticket on each leg, an increase of 32.8 percent from the current HK$250. Cathay Pacific, which will keep the short-haul flights surcharge steady, last raised the long-haul surcharge in May. The department said it approved surcharge extensions for a total of 18 airlines. The extensions will expire on July 31.

A woman adjusts the buying price of yuan against the HK dollar at a money changer in Hong Kong on Friday. The HK dollar stabilized on Friday morning but the market appeared to be taking revaluation of the yuan in its stride, indicating confidence that the region's currency peg would remain intact.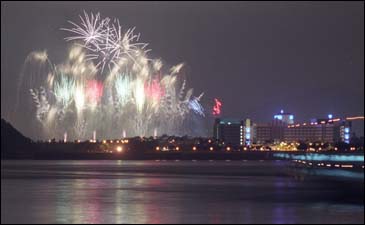 Disneyland Hong Kong rehearses for its nightly fireworks display.
Chief Executive Donald Tsang Yam-kuen said Hong Kong would benefit by building closer ties with regions in the pan-Pearl River Delta, as he embarked on a visit to Sichuan to meet nine provincial leaders.
Electronic commerce services provider Tradelink, which is controlled by the Hong Kong government, plans to raise about HK$200 million to HK$300 million from an initial public offering on the Hong Kong stock exchange in October, according to sources close to the deal.
Hongkong Land Holdings plans to convert the top two office floors of Prince's Building into Hong Kong's largest luxury restaurant, as Central's biggest landlord seeks to fend off competition from rival developments and inject new nightlife into the business district.
China: China's central bank governor Zhou Xiaochuan elaborated on the guidelines, principles, key parts and impacts of the Renminbi exchange rate reform on July 23 in an interview with CCTV. Zhou summarized up the general guidelines of the reform in two sentences: first, to exercise a managed floating exchange rate regime based on market supply and demand; second, to improve the exchange rate mechanism to keep the RMB exchange rate basically stable at a reasonable and balanced level. China's final revocation of the yuan's pegging to the dollar on Thursday has broken a decade-long rigid exchange rate system and allowed the currency to regain its leverage on the economy. China won't make its currency fully convertible for at least five years because it worries hedge funds may force the yuan to plunge, much as happened to the Korean won and Thai baht during the 1997 Asian financial crisis, said Li Deshui, a member of the central bank's monetary committee. ''There's more than US$800 billion [HK$6.24 trillion] to US$1 trillion of hedge funds in the world and the Chinese financial system is relatively weak,'' Li, 61, said. ''If the [yuan] becomes fully convertible it would be attacked by these hedge funds.''

The first Chinese tourist group to UK arrived at the Heathrow Airport, Longdon on 3:30 pm July 24 as scheduled. Their 6-day tour will also take them to several other destinations beyond London. British officials said Prince Andrew and Chairman of VisitBritain both would meet the 40 guests from Beijing. Another 40 tourists from Shanghai is scheduled to arrive in London later the same day. The MOU between China and UK on UK's Approved Destination Status signed in Jan. 2005 takes effect on July 18. The picture shows an old couple are ready for their first trip to UK at the Pudong Airport, Shanghai.
Beijing's efforts to cool property speculation have finally borne fruit, as the mainland's property outlook index in June fell to its lowest level in four years. This doesn't mean the market is headed for a bust, since the index remains in positive territory at 101.65, down 0.18 points from May, the National Bureau of Statistics said. June's index was 3.31 points below the corresponding period of last year and the lowest since the second half of 2001. The positive national figures mask tougher times in some key markets, however. Last week, the bureau said the confidence of Shanghai property developers plunged to its lowest level since 2000 as the Shanghai Real Estate Confidence Index of Entrepreneurs fell to 95.8 in the second quarter, a drop of 64 points, or 40 percent, from the first quarter.

Geng Xiaoping, chairman of Zhejiang Expressway, says Beijing's intensified measures to cool down the economy have delayed the building of the 9.3 billion yuan Jiaxing-Shaoxing expressway, a 70km toll road. As a result, the project will not be completed until the end of next year, he tells the South China Morning Post. Mr Geng says the State Council is also dragging its feet in approving major infrastructure projects.

Wal-Mart Stores, the world's biggest retailer, plans to more than double its outlets in China and run 90 stores by the end of 2006, a senior executive said Monday, as it fights to expand market share. Wal-Mart, like rivals Carrefour and Metro, has been building stores in Asia's largest retail market after Japan at a rapid clip, taking advantage of growing incomes and a gradually liberalizing retail industry.
Weiqiao Textile, China's biggest cotton textile maker, has upsized its syndicated loan by 25 percent to US$125 million (HK$975 million) on strong demand from over a dozen banks, bankers said. Mandated arrangers BNP Paribas and ABN Amro, which contributed US$15 million each, have accepted final bids from 13 banks including China Construction Bank, Commerz Bank, Banco di Roma, Mizuho Corporate Bank and Ping An Bank.
July 22 - 24, 2005
Hong Kong: The government has agreed ''in principle'' that more than one property developer will be allowed to participate in the West Kowloon Cultural District Project, according to Macau casino tycoon Stanley Ho.

'There would be no Bruce Lee and no David Beckham,'' said the old lady. "If it weren't for Zheng He, you wouldn't have our kung fu and we wouldn't have your football.'' Well, maybe. And maybe it wouldn't matter all that much. Still, the old woman speaking at a Shanghai celebration of the explorer Zheng He earlier this month certainly caught the spirit of celebration surrounding the Ming-era admiral, a man honored as never before for being the "Chinese Columbus,'' a seafaring adventurer with no peer.

Taiwanese model Lin Chi-ling, who was injured falling from a horse earlier this month, can fly home from the mainland in a special medical evacuation plane, but only if she stops first in either Hong Kong or Macau. Lin, Taiwan's top model, was injured July 8 when she fell from a horse while shooting a commercial in the northeastern port of Dalian. Her mainland doctor has reportedly said Lin suffered from six fractured ribs, but that they would heal naturally. Her relatives have said they hoped to arrange a special charter to take her home Saturday.
When Disney's newest theme park opens in Hong Kong in just over 50 days time, green hats will be banished, clocks will be kept to a minimum and fried rice rather than hot dogs will top the menu.

Champion shoppers: Kenny Santana (left) and Venerdi Handoyo from Jakarta are honored at the Grand Ballroom, Kowloon Shangri-la, after winning the Shopper of the Year contest organized by the Hong Kong Tourism Board. The contestants had $3,000 to buy one product in each of four categories - fashion and beauty, electronics, jewellery and watches, and Chinese traditions - in a four-hour shopping spree on Tuesday.
Hong Kong people have to be vigilant about infectious diseases when traveling to Southeast Asia this summer, the Health Department warned on Thursday.

China: A staff worker with the China Minsheng Bank counts US dollar notes in Nanjing, China's Jiangsu, Friday, July 22. China's central bank announced to scrap the yuan's decade-old peg to the US dollar, and in stead phase in a flexible mechanism of the yuan exchange rates by taking into account of a basket of major world currencies. The exchange rate of yuan vs US dollar was announced at 8.11 vs 1. US Federal Reserve (Fed) Chairman Alan Greenspan welcomed on Thursday China's decision to move to a more flexible currency system, calling it "a good start. "
The People's Bank of China's revaluation of the yuan Thursday evening sent most US-listed Chinese technology stocks up. The PBOC did away with the yuan-US dollar peg and said it will instead tie the yuan to a basket of currencies. The yuan was allowed to rise about two percent against the dollar, and most US listed Chinese tech stocks responded with comparable increases in price.
By June 30, the number of China's Internet users has topped 100 million to reach 103 million, second only to the US.
Air China signed a contract with Airbus Thursday for purchasing 20 Airbus A330-200s.
The State Administration of Radio, Film and TV (SARFT) yesterday made an unusual move, giving the green light for private capital to be invested in the digitalization of China's TV network. This is an attempt to push forward the slow transformation from an analog system to a digital one.

Two ladies pass by ads billboards of an insurance company by bike. Figures released by China Insurance Regulatory Commission most recently show that the country's insurance sector managed a 14.2 year-on-year percent increase in their premium income which reached 270.9 billion yuan for the first half of the year. By the end of June, insurers had hold 1.36 trillion yuan of total assets, a rise of 15 percent over the end of last year. Property insurance generated 67.8 billion yuan of premium, a rise of 15.6 percent and 180.2 billion yuan premium from life insurance reflected an increase of 13.4 percent. The fast growing insurance for health and accidents has brought 22.9 billion yuan premium.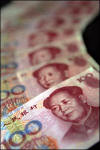 China late on Thursday revalued its currency for the first time in about a decade, pegging the yuan to the greenback at 8.11 per US dollar, up from 8.28, and also scrapping the decades-old peg to the US unit in a favor of basket of currencies. The People's Bank of China will make adjustment of the RMB exchange rate band when necessary according to market development as well as the economic and financial situation. The RMB exchange rate will be more flexible based on market condition with reference to a basket of currencies. The People's Bank of China is responsible for maintaining the RMB exchange rate basically stable at an adaptive and equilibrium level, so as to promote the basic equilibrium of the balance of payments and safeguard macroeconomic and financial stability.
US Federal Reserve (Fed) Chairman Alan Greenspan said that he would not endorse a significant increase in tariffs on imports from China as a way to force China to change its currency policy.
Afternoon traffic flows as normal along Beijing's East Chang'An Avenue as construction workers on their way to a building site walk past yesterday. China's economy grew faster than expected in the first half of the year, expanding 9.5 per cent to reveal a country still in a period of quick but stable growth.
Operation of Xi'an Iron and Steel Ltd in Northwest China's Shaanxi Province. China welcomes foreign investment to its iron and steel sector, although a controlling stake is not allowed.
The US search giant Google announced its formal plans to enter the Chinese market with the appointment of new head of its Chinese operations and the establishment of a development centre in China, one day after it was sued by Microsoft.
Shanghai Pudong Water Supply and Drainage Construction Engineering Co Ltd, the first water supply and discharge joint venture across China, officially started its business yesterday in the nation's economic hub.
Outmaneuvered by bigger rivals, China's rising corporate empires are hitting setbacks in their quest for prize foreign acquisitions. China's biggest appliance maker, Haier, made no comment on its decision to withdraw a US$1.28 billion (HK$9.98 billion), or US$16 per share, offer for Maytag after Whirlpool made a proposal of US$1.37 billion.
July 21, 2005
Hong Kong: Investors may have to pay 10 to 15 percent more for units in the Link Real Estate Investment Trust when the Hong Kong government relaunches the offer, probably late this fall, analysts say. But the government may also have to tempt buyers with a substantially higher yield than the 6.5 to 6.8 percent it offered last December, to offset rising interest rates and the allure of property investment stocks. The government won the right to revive the Link REIT Wednesday when the Court of Final Appeal dismissed a citizen's challenge that held up the initial public offering for eight months. Sources with knowledge of the relaunch strategy said a fresh valuation of the assets could begin next month. If Link REIT published its listing prospectus in October, it could list on the stock exchange in November, they said.
Gambling cruises from Guangzhou will begin calling in Hong Kong next year under a HK$150 million deal unveiled Wednesday by Zhong Hua International Holdings, a small Hong Kong-listed outfit with property, telecommunications and equipment-leasing businesses on the mainland.
Global rating agency Standard & Poor's has raised ratings on China and Hong Kong by one notch, saying the mainland's strong economic growth and financial reforms have strengthened the country's creditworthiness. S&P upgraded China's long-term sovereign rating to A- from BBB+ and Hong Kong's to AA- from A+, as well as their short-term ratings. Higher ratings can help cut borrowing costs. ''The upgrade reflects the Chinese government's aggressive restructuring of its financial sector combined with improved profitability of the state-owned enterprises,'' said S&P credit analyst Ping Chew.
China: China's GDP for the first half of this year reached 812.3 billion US dollars, a year-on-year increase of 9.5 percent.
China and Vietnam has agreed to join hands to promote the joint exploitation on the South China Sea during Vietnamese President Luong's China tour.

Photo taken on July 18, 2005 shows the construction site of the Qinghai-Tibet Railway at the Duilong Deqing County, western Lhasa, capital of southwest China's Tibet Autonomous Region. The Qinghai-Tibet railway from Gelmud in Qinghai Province to Lhasa runs 1,142 kilometers on the Qinghai-Tibet Plateau, and its completion is due at the end of 2005. By date, construction workers have laid tracks of over 1,000 kilometers.
China's central bank said Tuesday it will continue to keep the exchange rate of Renminbi, China's currency, basically stable at a reasonable and balanced level in the second half of this year.
China announced Tuesday it will lower the tariff rate imposed on goods from six members of the Association of Southeast Asian Nations (ASEAN) from 9.9 percent on average to 8.1 percent as of July 20.
China's registered urban unemployment rate remained unchanged from last year at 4.2 per cent in the first half of this year, a spokesperson of the Ministry of Labour and Social Security said yesterday.
Having failed to persuade Unocal's board to abandon their support for Chevron's offer to buy the company, CNOOC may have little choice but to raise its already more generous, all-cash offer in hopes of convincing shareholders next month to vote down the deal.
July 20, 2005
Hong Kong: Hong Kong's leading bank engaged in the ''devil's work'' when it pressured a former client to hastily sell a lucrative property to a close associate of the bank, a High Court judge ruled Tuesday, saying the deal showed a ''total lack of morality or legality.'' The unusually harsh words directed by the court at HSBC, one of the core pillars of Hong Kong's business community, came as an 11-year court battle ended in defeat for the financial giant. ''This for me is a most unhappy page in the history of the bank,'' a High Court judge wrote in a stinging, richly detailed and unrelenting dissection of the bank's interaction with a failed electronics firm. The judge ruled that defendant Hongkong and Shanghai Banking Corporation Ltd used ''economic duress,'' breached fiduciary duty and exerted ''undue influence'' against the now-defunct Esquire Group.
Saying the public health-care system is suffering from ''cancer'' and in need of urgent treatment, Hong Kong's health chief has offered a prescription that would result in a substantial increase in medical bills for the middle-class. A three-month consultation period has begun for a reform plan offered by Secretary for Health, Welfare and Food York Chow that aims to relieve rising costs and the crush at public clinics by reducing subsidies and channeling patients toward private clinics by raising fees and narrowing the price gap between the public and private systems.
The number of people in work jumped by about 5,400 in June from the previous month to a new high of 3.364 million, although a similar increase in the size of the workforce left the unemployment rate unchanged at 5.7 per cent.

K Wah deputy chief Francis Lui, at yesterday's shareholders' meeting, says Galaxy will open three new casinos within a year.
The government wants to lower port charges and build five new anchorages near Lantau Island to boost maritime trade in Hong Kong, which is losing out to competitors in the region.
China: China, which accounted for a 10th of global economic growth last year, probably expanded at a slower pace in the second quarter as the government restricted investment to ease power shortages and keep inflation in check. Gross domestic product likely rose 9.2 percent from a year earlier, according to the median estimate of 13 economists surveyed by Bloomberg News, after climbing 9.4 percent in the first quarter. That would be the smallest gain in three quarters. The National Bureau of Statistics is due to report second-quarter growth today.
Lenovo Group, the largest personal computer maker in China, increased its PC shipments in Asia-Pacific outside Japan by over 18 percent in the second quarter compared with a year earlier, benefiting from its US$1.75 billion (HK$13.65 billion) takeover of IBM's PC unit, research firm IDC said. However, Lenovo's sales growth in the region lagged that of bigger rival Dell, whose Asian PC shipments grew by nearly 50 percent. And Lenovo sales in the United States declined despite an overall growth in PC shipments in the American market. Asia-Pacific ex-Japan accounted for over half of the 3.54 million PCs Lenovo sold in the second quarter, IDC said. It was the first quarter in which combined Lenovo and IBM data were reported, after the Chinese firm completed the IBM acquisition in May.
July 19, 2005

Hong Kong: Master Kok Kwong (L2), chairman of the Hong Kong Buddhist Association, presents kha-btag to Living Buddha Xi Na (R3) in Hong Kong, July 17,2005. Tibetan living Buddhas held religious ceremonies in Hong Kong on that day, attracting about 5,000 Buddhist believers during the on-going "China Tibetan Cultural Week" activities in Hong Kong. The "China Tibetan Cultural Week" is being held in Hong Kong from July 15 to 21 to celebrate the 40th anniversary of the establishment of the Tibet Autonomous Region.
It is Barroso's first visit to China as president of EU Commission. Hong Kong is the last stop of his five-day official visit.
Hong Kong's law enforcement agencies expect to complete a sweeping review of secret surveillance practices within a month and present the results to the Legislative Council for discussion, the Security Bureau said Monday. A Security Bureau paper to the Legislative Council Security Panel dated July 15 also asks the government to reconsider enacting wiretapping legislation that has remained unsigned by both colonial governor Chris Patten and former chief executive Tung Chee-hwa since 1997. The moves follow two controversial cases in which SAR judges threw out evidence gained from wiretaps by the Independent Commission Against Corruption on the basis that it constituted illegal surveillance. In April, District Court Judge Fergal Sweeney said secret surveillance in the form of tape recordings was not ''in accordance with legal procedure'' and that therefore covert surveillance was unlawful. And earlier this month, Deputy Judge Julia Livesey condemned the ICAC for violating Basic Law provisions that safeguard privacy and legal privilege and called on legislators to curb some powers of the anti-graft body to prevent a recurrence. As a result she stayed proceedings against four defendants. Livesey further recommended that ''regulations for lawful covert surveillance'' should be introduced.
A Hong Kong judge yesterday ordered the associates of three former Bank of China branch managers to repay more than $220 million stolen in China's biggest bank fraud, during which about 4 billion yuan went missing.
Job seekers look for work at a government fair yesterday in Tsing Yi, where 5,000 vacancies were on offer. A similar fair will be held in Kwai Chung next month. The number of people in work jumped by about 5,400 in June from the previous month to a new high of 3.364 million, although a similar increase in the size of the workforce left the unemployment rate unchanged at 5.7 per cent.
Hong Kong Economic Times Holdings (HKET), owner of the territory's leading Chinese-language financial newspaper, aims to tap the mainland advertising market by setting up three representative offices, according to the company's share sale underwriter UOB Kay Hian.
China: As foreign banks double their efforts to court partners in China, the country's banking industry, scheduled to be fully open by 2006, has been thrust into a heated battle.
Shanghai-based private budget carrier Spring Airlines made its maiden flight yesterday, becoming the newest player in China's fledgling aviation market.
Newly-elected Chairman of Taiwan's Kuomintang (KMT) party Ma Ying-jeou has promised to promote exchanges between the KMT and the Communist Party of China (CPC) for peace, prosperity and development across the Taiwan Straits.

An investor in Shanghai registers for a gold transaction account yesterday, at a local ICBC outlet. Individual investors did not get excited after gold trading opened. Landmark gold trading available to individual investors as of yesterday was getting the cold shoulder from local residents on the first trading day in China's financial hub, perhaps due to high costs and low profitability prospects.
A trade group led by top Hollywood studios such as Warner Bros has signed an anti-piracy pact with China, making an advance in a long-running battle against endemic piracy in the country. The Motion Picture Association hailed it as progress in the fight against rampant piracy in China that costs Western firms an estimated hundreds of millions of dollars annually. Piracy has been a perennial thorn in the side of US-China relations. The group's announcement comes days after a US delegation led by Commerce Secretary Carlos Gutierrez descended on Beijing for trade and intellectual property talks.
July 18, 2005
Hong Kong: Hong Kong's biggest Beijing-backed trade union will undergo dramatic changes in its attempt to wield greater political clout and challenge the pro-democracy camp in the 2008 Legislative Council elections. The Federation of Trade Unions, which was formed in 1948, boasted a 300,000-strong membership in 2000 and has four legislators, will form a political wing and reposition itself as it tries to attract the greatest number of votes. ''We may call the new political wing of the FTU `The Federation for Justice' to defend the rights of those who are deprived and to protect labor interests,'' said chairman Cheng Yiu-tong. Cheng, an executive councilor, who is a veteran local deputy of the National People's Congress, said poverty is also an issue the union wants to address.
Days before CNOOC announced its bid for Unocal, a lobbyist from rival Chevron approached the staff of a sympathetic congressman to enlist their help to scuttle the deal. On June 24, just two days after CNOOC's US$18.5 billion (HK$144.3 billion) bid was announced, Democratic Congressman William Jefferson was ready with a letter requesting a review of the offer by the Republican administration. In the scramble for Unocal, Chevron was once a reluctant bidder, almost outbid by Italy's ENI. But the California energy giant is stirring the political pot in Washington to convince Unocal's shareholders that CNOOC's higher all-cash offer is not worth the risk of an extensive regulatory and security review. A few million dollars in lobbying fees could prove far cheaper than the extra US$2 billion Chevron would need to offer to match CNOOC's bid.
The capital expenditure plans for CLP Holdings and Hongkong Electric, the territory's only suppliers of electricity, may be rejected by the Legislative Council if the plans go beyond 2008 because that is when the current scheme of control agreement expires.
Freedom of expression and the press in Hong Kong are declining and Chief Executive Donald Tsang must stand firm in their defense instead of merely paying lip service to these principles, according to the Journalists Association in its annual report.
Up to 3,000 protesters have booked hotels and guesthouses for the World Trade Organisation meeting in December, but Hong Kong's hotels chief insists hard-core activists will not be given rooms.
After almost 20 years the trading floor of the Hong Kong stock exchange closed yesterday and with it an era typified by local companies, frenzied floor traders and very long lunches. As the stock exchange trading hall closes for its makeover, the line-up of top officials will also take on a new look.
China: EU Chief Barroso said that China's development and growth should be regarded as an opportunity rather than a threat. Europe and China must always keep the big picture in mind and not let one or two issues overshadow their relationship, the visiting European Commission chief said on Friday in Beijing.
Hu Jintao on Sunday extended congratulations to Taipei Mayor Ma Ying-jeou on the latter's victory in the just-ended election of the KMT chairman.
China's central bank announced that the country's foreign exchange reserve surged to 711 billion US dollars by the end of June, representing a year-on-year increase of 51.1 percent.

A girl receives acupuncture treatment at a College of Traditional Chinese Medicine (TCM) clinic in Hefei, East China's Anhui Province. According to TCM theory, many diseases caused by cold weather should be treated in summer. According to the Chinese lunar calendar, yesterday marked the hottest day of summer.

Farmers in Turpan, the Xinjiang Ugyur Autonomous Region, prepare grapes for sale in Guangdong. A good harvest is expected for the grapes this year, which are now sold both in and outside of Xinjiang.
July 15 - 17, 2005
Hong Kong: The third-ranked officer in the Independent Commission Against Corruption will leave his job today amid controversy over the graft-busters' covert surveillance activities and suggestions that Beijing has ordered the chief executive to "tidy up" the agency.
Hong Kong is seeking a comprehensive double taxation treaty with the mainland that will reduce the tax burden for many companies with cross-border operations, but could also open the way for both governments to share tax data.
Hong Kong, the mainland and Macau have agreed to begin joint research on combining western and traditional Chinese medicine to fight a possible flu pandemic. Health chiefs will also create an internet forum to encourage discussion about bird flu outbreaks.

After serving the market for almost 20 years, the trading floor in Exchange Square is to undergo its first overall renovation. Today will be the hall's last day of trading in its present guise, and the work, starting on Saturday, will last until April next year. Once completed, the hall will be a fraction of its original size, with 300 trading booths instead of 900. It will house a visitor's gallery, a media booth, seminar rooms and a museum.
Cheung Kong, the Li Ka-shing-controlled No2 property developer in Hong Kong, has won a tender with its partners to develop a site in a prime commercial district of Singapore.
Hong Kong Economic Times, publisher of a leading local financial newspaper of the same name, has received the green light from the stock exchange to proceed with its HK$150 million initial public offering next month, sources close to the deal said.
Hong Kong's consumer confidence has been ranked second among 13 Asia-Pacific economies over the next half year, boosted by strong income and employment growth, a MasterCard International survey shows.

The closure of Ocean Palace Restaurant, pictured on its last day of operation, left 230 employees without pay. Legislators Thursday called on the government not to back down from its demand for bank guarantees from restaurant owners.

The government has approved a $1 million grant to the Association of Chinese Evangelical Ministry for relief to flood victims in Hunan and Guizhou provinces, a spokesman said on Thursday.

Wu Keli, of the electronic engineering department at Chinese University, compares his newly designed Bluetooth module (left) — the world's smallest — to a model currently in use. The size of wireless electronic goods such as mobile phones and headphones is about to get a whole lot smaller with the Chinese University's invention of the world's tiniest Bluetooth communication module.

China: Namtso Lake is located on the north Tibetan grassland, more than 200 kilometers away from Lhasa. 4,718 meters above the sea level and covering an area of 1,920 square kilometers, the lake has 70 kilometers in length from east to west and 30 kilometers in width from south to north. The lake is the second largest saltwater lake in China next to Qinghai Lake. Meaning Heavenly Lake in Tibetan, Namtso is a holy place for Tibetan Buddhism.

Chinese Ambassador to Japan Wang Yi (1st L, front) accompanies Japanese Emperor Akihito (2nd L, front) and Empress Michiko (2nd R, front) to enjoy a musical performance at China Pavilion of the 2005 World Exposition in Aichi, Japan, July 13, 2005. Japanese Emperor Akihito and Empress Michiko paid a visit here on Wednesday.

A waterfall runs down crags in the Shennongjia Nature Reserve. Covering 600 square kilometers, Shennongjia Nature Reserve is located in the west of central China's Hubei province.

A concrete production line, with a scheduled daily output of 6,000 tons of concrete, is ready for operation in Chaohu, East China's Anhui Province. The project will increase the annual concrete output of its owner, Wanwei Group, to 3 million tons.
The Carlyle Group, the global leading private equity firm, has announced it will inject an extra US$20 million into the Shanghai-based Target Media Holdings Ltd (Target Media), according to Nicholas Shao, vice-president of Carlyle Asia Investment Advisors Lt Shanghai Office.

A Chinese gas drilling platform in the East China Sea, where China and Japan dispute their respective claims to lucrative undersea resources. The United Nations has until May 2009 to rule on their claims.
The Second ASEAN, China, Japan and South Korea Ministers on Energy Meeting (AMEM+3) was held in Siem Reap on Wednesday, focusing on "Promoting Greater Energy Stability, Security and Sustainability through ASEAN+3 Energy Partnership."
Chinese Premier Wen Jiabao presided over an executive meeting of the State Council, China's cabinet, on Wednesday, to analyze China's current economic situation and discuss economic work in the second half of the year.
China's listed firms are to be asked to do more to protect the interests of public investors through effective communication, adequate information disclosure and improved corporate transparency, according to guidelines issued yesterday by China Securities Regulatory Committee, the market watchdog.

China, the world's largest energy consumer after the United States, may spend about US$24 billion (HK$187.2 billion) constructing 18 nuclear reactors in three provinces along its eastern coast to meet increasing power demand. China National Nuclear Corp plans to build about six 1,000-megawatt reactors each in Fujian, Shandong and Liaoning, said Yu Jianfeng, assistant president of the nation's biggest nuclear power company. The projects need central government approval and are in addition to 19 either operating, being built or due to start construction, he said.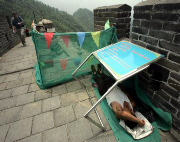 A Chinese worker takes a nap from repair work at a section of China's Great Wall on Thursday. According to a government report, the wall is gradually crumbling away. This is due to tourist traffic, new developments and neglect. The report indicated that only one-third of the wall still exists and parts of surviving portions are falling away.
CNOOC will set aside US$2.5 billion to compensate Unocal shareholders should it sign a takeover agreement with the California-based oil firm's board but subsequently fail to complete it, according to sources close to the situation.
July 14, 2005
Hong Kong: The Chinese central government started to implement tough measures to curb the over-heated real estate market from June 1. China Daily is running a series of stories to find out the impact of these policies and how consumers and developers nationwide are responding to them. Reporter Vincent Lam found the mainland's policies have also reduced Hong Kong residents desire to buy mainland properties.

Hong Kong's Court of Final Appeal has granted the government a HK$10 billion reprieve with its decision that cuts in civil servant salaries are legal. Secretary for Civil Service Joseph Wong subsequently promised Wednesday not to cut salaries further, a pledge greeted with bitter disappointment by civil servants who warned that the morale of public officers, described as ''already shattered'' would fall further. Had the decision not gone with the government, it would have had to pay back HK$9.6 billion to civil servants since the wages were cut in 2002.

Lawmakers fear a proposed law giving Chinese-medicine practitioners the same authority to issue sick-leave certificates as doctors of Western medicine will cause labor disputes and conflict between the two professions.

China: A young girl presents flowers to Meimei, the world's oldest domestic giant panda that died at 5:37 p.m. of Beijing time after 20 years' dwelling in the Guilin City Zoo July 12, 2005. The macrobian female giant panda passed away at the age of 36, equivalent to a human being aged 108 on Tuesday. Meimei had been suffering from eating difficulties and gradual failure of varied organs lately, according to sources with the Guilin City Zoo.
China has built the world's sharpest space solar telescope, scheduled to be launched into space in 2008, to observe the macular outburst in the following year.

Tshering Lhamo, a Tibetan stewardess is serving Tibetan passengers on the Beijing-Chengdu-Lhasa flight on July 12. Till now, China National Aviation Holding Company has operated flight to Tibet safely for 40 years; more than 7 million passengers have taken the flight. Air China also successively opens twelve air routes to the "roof of the world", such as from Chongqing, Beijing, Shanghai, Guangzhou, Xi'an, Xining, Qamdo, Hong Kong, Kunming and Shangri-La to Lhasa, and from Chengdu to Qamdo, etc.
The securities watchdog in China has promised to add six billion US dollars of investment quotas for qualified foreign institutional investors (QFII).

FedEx Asia President David Cunningham and Liu Zijing, a senior official with Guangdong Airport Management Corporation attend the signing ceremony of the construction of the Asian Pacific transport hub.
China's banking authority is pushing forwards with reform of the nation's city credit co-operatives. It's a response to investors becoming more attentive to every detail of the initial public offerings of China's state-owned banks, as well as to foreign banks searching for opportunities to buy stakes in the country's best-run national joint stock or city commercial banks.

Foreign direct investment in China fell 3.2 percent in the first half as falling prices and rising costs prompted global manufacturers to cool expansion in the world's fastest-growing major economy. Overseas investment fell to US$28.6 billion (HK$223.08 billion) after declining 0.8 percent in the first five months, said the Ministry of Commerce Wednesday. Contracted foreign investment, or investment pledged but not yet used, rose 19 percent from a year earlier to US$86.2 billion in the period.
July 13, 2005
Hong Kong: A decade after losing control of one of Manhattan's choicest development sites to Hong Kong investors, tycoon Donald Trump is suing the group, alleging they sold the property for only half of what it was worth. In a lawsuit, Trump claims at least US$500 million (HK$3.9 billion) in compensatory damages from New World Development managing director Henry Cheng and the others - despite being entitled to 30 percent of the US$1.76 billion for which the riverside development was sold early last month.

Hong Kong's property tycoons not only supported Chief Executive Donald Tsang with their nominations in his uncontested election last month, but dug deeply in their pockets to bolster his war chest. Tsang received a total of HK$27.15 million from more than 1,000 donors in various sectors, according to a declaration of election expense and donation documents lodged by Tsang's campaign office with the Registration and Electoral Office Tuesday. Chief Executive Donald Tsang's love affair with the people of Hong Kong is helping to raise the popularity of those around him, according to the latest poll conducted by Hong Kong University.
Some of the world's biggest corporate supporters of international sports events, including Philips Electronics and the AXA Group, are looking at potential sponsorship opportunities for the Olympic equestrian events to be staged in Hong Kong as part of the 2008 Beijing Games.
A leading Hong Kong virologist has been warned he may have leaked state secrets, just days after his studies on the bird flu virus in Qinghai appeared in international scientific journals.
Asia Television (ATV), Hong Kong's No2 free-to-air broadcaster, is in the process of selecting two strategic shareholders before it goes public at the end of the year, according to a source at the station.
Hong Kong students have won a gold, silver, two bronze medals and received an honourable mention at the 36th International Physics Olympiad in Spain.
Western influences give Hong Kong's designers an edge over their Asian rivals, the former British colony's young fashion talents said, as Hong Kong's four-day "fashion week" kicked off on Tuesday with the New Fashion Awards.

China: Hu Jintao (R), general secretary of the Central Committee of the Communist Party of China (CPC), meets with visiting New Party Chairman Yok Mu-ming from Taiwan in the Great Hall of the People in Beijing, Tuesday afternoon.


China has had a double summer surprise with two pairs of twin pandas born at a remote and foggy mountain reserve. Guo Guo, seven years old and a first-time mother, gave birth to two cubs Friday at the Wolong panda reserve in southwest Sichuan province a week after her neighbor, Ying Ying, had twins, Xinhua News Agency reported Tuesday. ''Under our experts' 24-hour wardship, the mother panda and her baby cubs have safely passed the first three post-delivery risky days,'' Li Desheng, assistant director of the reserve, was quoted as saying of Guo Guo. Guo Guo appeared flustered by her crying cubs at first and reserve staff had to intervene when she accidentally dropped one of her babies the day they were born, according to Xinhua.

US Trade Representative Rob Portman and Commerce Minister Bo Xilai talk before the preliminary trade meeting opened in Dalian yesterday.
A senior Ministry of Commerce official has rejected mounting calls for domestic and foreign-invested businesses to be taxed at the same rate, saying preferential treatment to attract foreign investment will help sustain China's long-term economic growth.
China's foreign trade registered $645.03 billion in the first half of this year, increasing by 23.2 percent year on year.
The Export-Import Bank of China, which helps finance the mainland's booming international trade, set a tentative price range of 87-92 basis points over comparable United States government debt for its upcoming US$1 billion (HK$7.8 billion) bond sale, bankers familiar with the situation said.

Day after sweltering day on the banks of the Modi stream in Sichuan, archaeologists are dealing shattering blows to traditional views of Chinese history as they work their way through the parched, yellow earth. One of the world's great cities once flourished at Jinsha village, the 1000 BC equivalent of New York or Paris, and then inexplicably vanished, leaving no trace in historical records.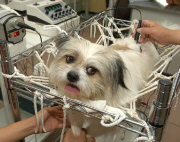 Dudu, a 5-year-old dog, receives medical treatment for hernia of the intervertebral disc by electric acupuncture at an animal hospital in Beijing on Tuesday. As living standards improve for the average Chinese, many are willing to spend their hard earned money to pamper their pets as well.
July 12, 2005
Hong Kong: PCCW will help newly acquired Sunday Communications make an early repayment of HK$799 million in debt, including HK$374 million owed to Sunday's second-largest shareholder, Huawei Technologies.
Harbour Plaza Resort City in Tin Shui Wai, a unit of Hutchison Whampoa and Cheung Kong (Holdings), said it is almost fully booked in the second quarter and could ''easily double'' its rates when the Disneyland theme park opens in September.
The Olympic equestrian events may provide the spark that ignites Hong Kong's sporting future, according to International Olympic Committee president Jacques Rogge. Speaking during a whirlwind visit Monday, only days after the SAR was granted the right to host the Olympic events, the Belgian said he hopes the events will trigger a ''flame'' in Hong Kong sports.
The high degree of familiarity that new Chief Executive Donald Tsang and Chief Secretary for Administration Rafael Hui have with the workings of Legco should lead to a considerable improvement in relations between the executive and legislature in the coming year, Legco president Rita Fan said Monday.
Lawmakers call for more incentives to keep native English speaking teachers as departures mount Legislators, shocked by the high attrition rate of native English speaking teachers (NETs), say the government must increase incentives to retain quality educators.
More than 400 wealthy immigrants have pumped HK$3.2 billion into the local economy in return for gaining the right of abode since the government launched its Capital Investment Entrant Scheme 1½ years ago. The investment immigration scheme was introduced in October 2003 to ''improve the population mix'' by attracting rich people with more than HK$6.5 million in assets to Hong Kong. Successful applicants can bring their family members once they obtain the right to live here.

Nearly 7,000 mainland professionals, including an ''artiste'' who earns HK$600,000 a month, have been admitted to Hong Kong over the past two years under the government's talent admission scheme.

Disney has won official backing for its fireworks after deeming its own tests met enviromental standards, despite gaps in the information it provided to an environmental watchdog.

China: Chinese Premier Wen Jiabao (R), shakes hands with US Secretary of Commerce Carlos Gutierrez during their meeting in Beijing July 11, 2005. China and the United States held their annual session of the Joint Committee on Commerce and Trade (JCCT) in Beijing Monday.
Top officials from the China Council for the Promotion of International Trade (CCPIT) and the US Commerce Department signed a Memorandum of Understanding (MOU) Monday in Beijing to launch a new US-China International Partner Network in 14 cities across China.
China cracked down on 2,451 infringement cases involving foreign trademarks in the first half of 2005, up 55.8 percent over the same period last year.
Although China and the United States failed to reach an agreement on their textile row yesterday at the 16th Joint Commission on Commerce and Trade, the US side has promised to be prudent when applying safeguards against Chinese textile exports.
Foreign institutional investors will be happy with China's plans to more than double the amount of A shares they can buy, even though few are buying now, analysts say. The central government will raise the overall quota for purchases under the Qualified Foreign Institutional Investor (QFII) scheme to US$10 billion (HK$78 billion) from US$4 billion, Bloomberg reported on Monday, quoting an unidentified regulatory official. The China Securities Regulatory Commission could not be reached for comment.
The Chinese government's latest attempt to revive slumping domestic stock markets failed to impress yesterday as investors shrugged off a new series of emergency measures that could potentially bring in billions of dollars of foreign and domestic capital.

Fang Xingdong - founder and chief executive of China's top weblog site - is targeting a Nasdaq listing by the end of next year and hopes the double billing of China and blogging can help his company achieve a market capitalisation of more than US$1 billion.
July 11, 2005
Hong Kong: Swire Resources, which owns Hong Kong's largest sportswear retail chain Marathon, said it plans to further expand its presence in the city by opening more stores this year.
The Jockey Club's request to retain a portion of the Sports Institute land after the Olympics equestrian events have been completed is linked to its betting reform package now being discussed by the Legislative Council, according to a senior Jockey Club official.
The Hong Kong government ''absolutely has the right'' to tighten its grip on programming at Radio Television Hong Kong - the territory's only public broadcaster - said a mainland official Sunday.
Property tycoon Nina Wang Kung Yu-sum took the fight for her late husband's fortune to the highest court on Monday, insisting that Teddy Wang's will awarded his $1 billion estate to her.
Anson Chan Fang On-sang, vice-chairwoman of the Hong Kong Committee for Unicef, views entries in a photographic competition in Kowloon Bay yesterday. Twelve students from 334 competing schools won awards for best expressing their concerns to Chief Executive Donald Tsang Yam-kuen and government officials through photographs. The photographs will be on show at Telford Plaza until Sunday.
The Hong Kong Airport Authority has resumed talks with Malaysian budget carrier AirAsia about services to Hong Kong just a year after the last round of negotiations ended abruptly.

China: Chinese President Hu Jintao (R) shakes hands with US Secretary of State Condoleezza Rice, in Beijing on July 10, 2005. Rice arrived in Beijing Saturday evening for a 20-hour visit.
Chinese Vice-Premier Wu Yi and top US officials met Monday in Beijing to exchange views on settling their trade disputes. Chinese Vice-Premier Hui Liangyu has said the "fundamental" role of agriculture should be cemented continuously while the country is endeavoring to promote industrialization and urbanization.

Sinopec chairman Chen Tonghai (left), ExxonMobil chairman L. R. Raymond (centre) and Jia Xitai (right), vice-chairman of Fujian provincial people's congress, attend the launch ceremony for China's largest oil refining and ethylene production joint venture in Quanzhou.
German Investment and Development Bank (DEG), a member of Germany's leading bank KfW, poured 30 million yuan (US$3.61 million) into Nanchong City Commercial Bank (NCCB) on Friday, becoming the first foreign institution to invest in a small bank in Southwest China.
PepsiCo Investment (China) Ltd, the largest consumer goods manufacturer in the world, has pledged to enhance its business presence in Chongqing municipality by launching Gatorade, a leading sports beverage brand, Zhu Huaxu, the firm's president, told China Daily on Friday.
Beijing has issued its long-expected draft on the first comprehensive legislation on property rights, which says the state could seize private property in the name of "public interest" but skirts the issue of compensation.

GE Insurance Solutions chairman Ron Pressman says the company has big plans in China. It has opened representative offices and is seeking partnerships.
July 8 - 10, 2005
Hong Kong: After a stunning rebuke from the judiciary, graft-busters say they need a clearer basis for operations An unprecedented court ruling over improper surveillance activities has spurred the Independent Commission Against Corruption to seek new legislation governing its controversial operational procedures. In a written statement Wednesday, the agency's commissioner Raymond Wong said it was also looking at ''enhancing its internal guidelines.''

Rafael Hui Si-yan returned yesterday to the cut and thrust of politics, making his first appearance in Legco since being named chief secretary last month. He said his first visit to Legco was 20 years ago - the same year Hong Kong had indirect elections - when he was the assistant secretary-general of the then executive and legislative councils office.
Police are observing security strategies at the G8 summit and ready to apply "robust" tactics against violent protests at an upcoming World Trade Organisation (WTO) meeting, an official said on Thursday.

Sun Life Financial, Canada's largest life insurer, will buy CMG Asia and sister firm CommServe Financial for $3.5 billion in cash, in what could mark the beginning of a long-overdue consolidation in Hong Kong's profitable but crowded insurance sector.
China: President Hu Jintao arrived in Prestwick, Scotland on July 6 for an informal meeting between Group of Eight (G8) leaders and leaders of five developing countries.

The world's smallest USB mobile storage disk, developed and manufactured by Taiwan-based C-One Technology Corporation, was shown at the Cross-Straits Forum on Industrial Standards in the Information Industry held in Beijing on July 6, 2005. The 1G disk can be used as earring, and will be available on the mainland market next month.
Unocal will consider backing the takeover bid from the China National Offshore Oil Company (CNOOC) Ltd. if the latter pledges to meet such requirements from US regulators as divestment, reported the Financial Time on its Wednesday webpage.
Alcatel Shanghai Bell (ASB) announced yesterday that it has completed deployment of China's largest intelligent optical metro network for Beijing Netcom, a China Netcom subsidiary.
Bausch & Lomb, the global eye health company, will buy a controlling 55 per cent stake in Shandong Chia Tai Freda Pharmaceutical Group, further expanding into the rapidly growing ophthalmic pharmaceuticals market in China.

A solar power station in Tanggu, Tibet, is the latest step in the Roof of the World's efforts to make the most of its sunny position. It has an average altitude of 4,000 metres and receives 2,400 to 2,800 hours of sunlight a year, offering great potential for solar energy. Tibet boasts 300 solar power stations with generating capacity of three to five kW each. As well, 150,000 solar cookers have been installed for the benefit of 500,000 farmers and herdsmen who might otherwise have had no access to electricity.
July 7, 2005
Hong Kong: A harshly worded Legislative Council report released Wednesday called for a thorough revision of the West Kowloon cultural district project and the abandonment of the single-developer approach. Calling a series of major decisions ''most disturbing,'' the report faulted a steering committee headed by then chief secretary for administration Donald Tsang on the HK$40 billion megaproject for failing to sufficiently consult the legislature and the Executive Council. The 112-page phase one report by a Legislative Council subcommittee said its authors were ''amazed at the limited role played by the Executive Council in the development process.''
Sun Life Financial, Canada's second-largest insurer, has agreed to pay HK$3.5 billion for the Hong Kong insurance and pension unit of the Commonwealth Bank of Australia, the country's No 2 bank by market value.
PCCW, Hong Kong's leading fixed-line phone company, is in talks with mainland authorities about building a 20 billion yuan (HK$18.79 billion) resort in Sanya city on Hainan Island.

At least 300 horses and 1,150 athletes would come to Hong Kong should it host the Olympic equestrian events in 2008. Hosting the 2008 Olympic equestrian events could bring up to HK$351 million to Hong Kong, Secretary for Home Affairs Patrick Ho said Wednesday.

The government wants more financial details from the MTR Corporation before it decides to subsidize the proposed West Island Line project, transport chief Sarah Liao told legislators Wednesday. During a question period, Democratic lawmaker Andrew Cheng questioned the reasons for the funding presented by MTRC chief executive Chow Chung-kong, who last week urged the government to subsidize part of the project to allow the rail operator a commercial return on its investment. Cheng urged Liao to think twice before funding the HK$7 billion West Island Line, as MTRC is a publicly listed company with substantial earnings.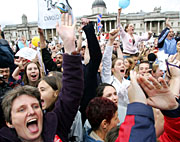 London erupts with joy after it was named the host of the 2012 Olympic Games, beating arch rival Paris and three other cities in a nail-biting contest.
The future of the Link Real Estate Investment Trust (REIT), expected to generate around HK$30 billion in capital for the cash-strapped Housing Authority, is now in the hands of the five final appeal judges who, Wednesday, heard the government's reasons for selling off car parks and retail spaces in public housing estates.

The finer points of searching for explosives are demonstrated by Customs and Excise Department officer Lee Lok-foon and sniffer dog Jade. The exercise was conducted for the department's mainland counterparts at a cargo examination compound in Kwai Chung.
PCCW's acquisition of Sunday Communications gives the incumbent fixed-line operator the ability to offer a "quadruple play" of telecommunications services, but the increased marketing clout should not raise competition worries, according to the industry regulator.
Standard and Poor's said on Wednesday Hong Kong's property sector recovered strongly in 2004 but its 2005 outlook is challenging as rising interest rates cool down the market and reduce investment demand.
Secretary for Constitutional Affairs Stephen Lam Sui-lung said the Chief Executive would provide details of a new plan to hire assistants to ministers from outside the government in the Policy Address. The address, the first for new leader Donald Tsang Yam-kuen, will be delivered in October.

China: Chairman and chief executive Fu Chengyu says CNOOC welcomes any US review of its bid for Unocal as he is convinced that regulators will find it does not pose any threat to the United States. He says the company will satisfy any request from the US regulators and make necessary adjustments to the deal.
Yok Mu-ming, chairman of Taiwan's New Party, arrived in Guangzhou at Wednesday to begin an eight-day mainland visit.
In light of the EU and US' limits on Chinese textiles the Chinese government adopts a proactive attitude and reached a consensus with the EU on the textile issue.
China on Wednesday launched another science experimental satellite into a preset orbit, atop a Long March 2D carrier rocket from Jiuquan launching center.
More than half of China's young people say they want to make friends with their Japanese peers even though many of them do not have a positive opinion of Japan, and 80 per cent have never met anyone from the country, according to a survey published yesterday.
Giant panda Ying Ying has given birth to twins, the first pair this year, in Southwest China's Sichuan Province, the State Forestry Administration (SFA) announced yesterday.

A giant panda cools off with the help of blocks of ice during a hot day at a zoo in Fuzhou, Fujian province. The ice was brought in to keep the endangered animals comfortable in the stifling summer heat, with temperatures hovering around 37 degrees Celsius.
Ping An Bank, a joint venture between the Ping An Insurance (Group) Company of China and the Hongkong and Shanghai Banking Corporation (HSBC), yesterday announced the relocation of its headquarters to Shanghai from Fuzhou, capital of East China's Fujian Province.
Shanghai Medea Hospital Group (Medea), a foreign joint venture, has invested more than 100 million yuan (US$12.08 million) in establishing the largest private hospital in Wenzhou, a prosperous industrial city in East China's Zhejiang Province.
China Mobile (HK), the world's largest cell phone company by users, said it will keep a larger share of revenue from non-voice services under new revenue-sharing arrangements. It will keep 30 percent of gross revenues on short messaging services and other value-added services offered by its partners in return for helping them with after-sales and support services. Its share will rise to 50 percent if it helps market services. Service providers such as Sina.com and Tom Online now keep 85 percent of gross revenues from messaging and value-added services to China Mobile users.
July 6, 2005
Hong Kong:

A NASA probe collides with comet Tempel 1 in this image taken by the impactor's mother ship, capturing the climax to the Deep Impact mission.
Hutchison Telecommunications (Hong Kong), a unit of Li Ka-shing's Hutchison Whampoa, said half of its daily new subscribers for third-generation mobile phone services are from rivals and that it has signed up 348,000 customers so far.
Hong Kong has sent two police officers to Scotland to observe protests at the G8 summit as part of preparations for a World Trade Organisation meeting here, British diplomatic sources said on Tuesday.
A unanimous ruling by the United States Supreme Court gives the music industry more muscle in its fight against illegal peer-to-peer music downloads - and the decision's impact is likely to be felt far beyond US borders.
China: Up to date, there are 226 passenger flights and 60 cargo flights between ten Chinese cities and 15 European cities of 13 EU member nations.
Temasek Holdings (Private) Limited, headquartered in Singapore, will invest 1 billion US dollars at the initial public offering (IPO) price during the China Construction Bank's planned international IPO.
In the wake of last week's auditing report by the government's top accounting watchdog, an increasing number of Chinese firms have been busy hammering out better internal auditing systems to plug management loopholes and curb operating risks.

After controversies over its design and construction costs, Beijing's National Theatre has found itself at the heart of another row. Its chief engineering contractor, the Zhuhai Jingyi Engineering Co, is suing four construction firms over their alleged failure to pay 36 million yuan in back payments, state media reports say. The four defendants are the contracting department of the National Theatre, the Hong Kong Construction Co, the Beijing Municipal Construction Group and the Shanghai Construction and Engineering Group.
A leading mainland economist has cautioned that China is moving towards deflation, with its consumer price index (CPI) set to chart negative territory by the end of the year.
Temperatures reached 38 degrees Celsius on Tuesday in Shanghai. Shanghai has warned that its energy supplies are being pushed to the limit as residents crank up air conditioning to cope with a ten-day heat wave.
July 5, 2005

Hong Kong: Far East Consortium International, a Hong Kong-listed hotel operator and property development, is seeking a seven-year loan of up to HK$600 million to fund its hotel and casino development in Macau, bankers familiar with the situation said.

NASA space probe strikes comet Tempel 1 - A NASA space probe struck the comet Tempel 1 as planned early Monday, by which scientists hope to have a peek at the comet's heart to expand understanding of the formation of the solar system. The collision occurred about 24 hours after the copper projectile was released from its mothership, the so-called flyby craft. When mission scientists and engineers confirmed the image, they cheered at the control center at the JPL based in Pasadena, California.
Hong Kong is choosing its own ways to address shortcomings in future teaching of English, the chairman of Hong Kong's examination body said Monday, but a native English teacher has warned of massive problems developing in the Native English Teaching (NET) scheme. Marnie Evans, who teaches English at Buddhist Fat Ho Memorial College in Toi Ho on Lantau, and others said that the NET scheme may fall into disarray next year, despite efforts to reform English-language teaching. ''There's going to be droves leaving,'' she said.
Hong Kong's leading banks HSBC, Bank of China and Standard Chartered Bank announced they would raise interest rates by 0.5 per cent from Tuesday - following the latest rate rise by the US Federal Reserve, local radio reported on Monday.
A pilot scheme to levy a tax on the secondary property market, tried out in several cities, will not be introduced nationwide any time soon, a senior official has said. His assurance comes amid concerns that austerity measures aimed at cooling the property market may be going too far.
China: China entered in 2004 the fourth year in the implementation of its brand-building strategy and selection of famous products. In the four years, 479 enterprises had developed 547 famous products, which fall into 95 categories. The products were from in 29 provinces, autonomous regions and municipalities except Qinghai and Tibet. The campaign effectively promoted the management in enterprises and the quality of products. Famous products had grown markedly in their competitiveness.

July 2, a saleswoman is displaying a pen-shaped mobile phone of Haier. Haier released many new types of mobile phones with the functions of super-clear photographing, mp3 playing and long stand-by time, etc., in China's International Consumer Electronics Show 2005 (SINOCES) held in Qingdao of east China's Shandong Province.
China's third-largest oil and gas producer CNOOC Ltd has voluntarily requested the Committee on Foreign Investment in the United States (CFIUS) to review its acquisition plan for Unocal Corp, in a bid to clear up doubts about the deal.
China's Ministry of Commerce (MOC) will take five concrete measures to promote trade and investment cooperation between the six member countries of the Greater Mekong Subregion (GMS) economic cooperation mechanism.
Thai Prime Minister Thaksin Shinawatra visited his ancestral home in South China on Saturday, ending his three-day official visit as guest of Premier Wen Jiabao.

A visitor looks at silk products on show at a fashion expo in Hangzhou, East China's Zhejiang Province on Thursday. The event draws leading clothing manufactures to showcase their latest products.
With China set to become the world's biggest consumer electronics market in three years, the country is to enhance its co-operation with foreign companies in the area of standardization, a senior Chinese official said on Friday at the 2005 SinoCES in East China's Shandong Province.
The Shanghai Yinmin Department Stores Co Ltd (Yinmin) has agreed to sell 78 per cent of its subsidiary company, Shanghai Hongxing Optical Co Ltd (Hongxing), to the Dutch-based HAL Investments (Asia) B.V, one of Europe's leading optical retailers, for 214 million yuan (US$25.78 million).
FedEx, the United States courier and logistics company, will sign an agreement early next month to make Guangzhou's Baiyun Airport its second Asia-Pacific hub, according to a source close to the negotiations. Under the agreement, the Guangzhou Baiyun Airport Authority would spend up to 1.5 billion yuan (HK$1.4 billion) to build a warehouse and a cargo runway for FedEx's use.
China Eastern Airlines, the mainland's third-largest carrier, obtained shareholder approval to issue short-term debt to buy planes from Airbus and acquire two regional airlines from its parent, though some minority owners opposed the resolutions.

Kazakh President Nursultan Nazarbayev escorts President Hu Jintao and his wife, Liu Yongqing, on a tour of the presidential residence in Astana. Mr Hu arrived in Kazakhstan yesterday for talks aimed at boosting strategic ties with the energy rich neighbour in volatile Central Asia. He flew to Astana from Russia, where a joint communiqué detailed an 11-point co-operation agreement between Moscow and Beijing after a four-day visit.
Nissan Motor's car-making joint venture more than doubled sales in the first half to become the country's fastest-growing auto producer, but that pace of expansion suggested it might still undershoot a full-year target. Dongfeng Motor Co - a 50-50 joint venture between Japan's second-largest automaker and Dongfeng Motor Corp - said Monday it sold 66,476 cars, versus 27,204 units in the same period last year.
July 1 - 4, 2005 (Happy July 4th)

Hong Kong: Beijing completed its overhaul of Hong Kong's government with the swearing-in Thursday of Rafael Hui, its hand-picked choice to serve as No2 during Donald Tsang's two-year term as chief executive. "Beijing's trust and Donald Tsang's sincerity deeply touch me,'' Hui said after a brief ceremony in the chief executive's office. "Being back at the Government Secretariat today to me is almost like a homecoming.'' Tsang praised his old friend, saying, "he and I will work well together.'' Donald Tsang said although his two-year office term is short, he will not "start painting on a white paper" and will start his work with restoring citizens' confidence and offering more job opportunities for them.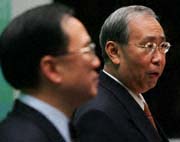 Newly appointed Chief Secretary for Administration Rafael Hui Si-yan began his term of office yesterday by coming clean on his business dealings and personal views about the controversial West Kowloon cultural hub project.
The husband of Philippine President Gloria Macapagal-Arroyo arrived in Hong Kong last night, a day after the beleaguered leader said her spouse would go into exile to allow her to fight allegations of election fraud at home.

Macau Galaxy Casino, which is being injected into Hong Kong-listed K Wah Construction Materials, has delayed a HK$1.5 billion to HK$2 billion initial stock sale of its VIP rooms until after the summer break, sources said. The delay comes shortly after a spree of local stock sales that, with the exception of Bank of Communications, provided disappointed investors with limp returns. Galaxy still plans to sell shares in eight VIP rooms - special gambling dens where high-rolling clients shell out, on average, HK$2,300 in a single game of baccarat. Officials at the two investment banks underwriting the stock sale, Deutsche Bank and BNP Paribas, declined to comment on the reasons for the delay. But with the summer break looming and investors already thinking of the beach rather than the boardroom, a delay would make some good sense.
James Ting, former chairman of Semi-Tech, was sentenced to six years in prison for his role in Hong Kong's biggest financial collapse, in which some US$1.8 billion (HK$14.04 billion) in cash and assets disappeared.

Green light for $7b West Island Line, with three new stations due for completion in four to five years. The end of a 20-year wait by the 200,000 travel-weary residents of Western District is in sight after the MTR Corp said Thursday it will extend the Island Line to cover the area. Construction cost of the West Island Line is expected to be HK$6 billion-HK$7 billion, said MTRC chief executive Chow Chung-kong. The new line, Chow said, will take four to five years to complete, and will be a three-kilometer extension of the Island Line starting from Sheung Wan, with three new stations at Sai Ying Pun, University and Kennedy Town.

China: Visiting Chinese President Hu Jintao (L) shakes hands with Russian President Vladimir Putin in Moscow, Russia, June 30, 2005. Putin Gives a home dinner for Hu's Visit Thursday evening. Hu arrived in Moscow earlier Thursday for a four-day state visit, before proceeding to visit Kazakhstan, the second leg of his ongoing three-nation tour, which will also take him to Britain where he will attend the G8 plus five summit.
Photo dated May 14, 2005 shows the signing ceremony of the Baltic Pearl residential complex, a project in Russia's St. Petersburg with a total investment from Chinses corporations of 1.3 billion US dollars, is held in east China's Shanghai Municipality. Sino-Russian relations have maintained a good momentum of growth in the past several years, with mutual political trust deepening and economic cooperation improving.

The central bank has denied it is set to announce a revaluation of the yuan after two US senators said US Federal Reserve chief Alan Greenspan and senior administration officials believe Beijing will make changes to the yuan soon. ''With regard to the yuan's revaluation, we never make predictions and there is no timetable,'' said a spokesman for the People's Bank of China.
China has officially started formulating its national strategy for intellectual property rights(IPR), which was announced at Thursday's meeting of the leading group for IPR strategy formulation chaired by Vice Premier Wu Yi.
China National Offshore Oil Corporation (CNOOC)'s bid for US Unocal Corp. is essentially a normal business action and on no account should it be affected by political factors, said Foreign Ministry spokesman Liu Jianchao on Thursday.
Spanish telecommunications giant Telefonica took a step into the mainland market yesterday with a €240 million ($2.25 billion) purchase of a 3 per cent stake in China Netcom Group, the country's second-biggest fixed-line carrier.
Three famous astronauts are expected to visit China during from July 19 to August 3 this year for a non-governmental trip sponsored by chemical giant DuPont, a Chinese space group announced Thursday in Beijing. Yang Junhua, deputy director of the Chinese Society of Astronautics (CSA), said the three astronauts, Charles M. Duke, Charles F. Bolden, and Mae C. Jemison, will visit China's space research and development institutes, including those that develop China's spaceships, satellites and carrier rockets.




The top of Three Gorges Dam will be open to tourists from July 1, 2005 and till Sept. 30, as initially planned. Only 1, 000 tourists will be allowed per day, from 9:00 to 17: 00. To ensure safety, tourists to the top of the dam must take safety inspection. Video camera and drink are not allowed. They will take electromobile to the top of the dam.

Representatives celebrate at the establishing ceremony of China's first private petroleum group corporation in Beijing, June 29, 2005. The corporation, named Changlian or Great United, has integrated well-performing assets of more than 30 big private enterprises in petroleum and gas industries. It will form a complete petroleum industrial chain covering fields from mining, refinery to sale.
Money brokers will be permitted to operate on the currency and foreign exchange markets on a trial basis for financial institutions, according to a statement released yesterday by the China Banking Regulatory Commission (CBRC).
The largest petrochemical joint venture in China, the Shanghai SECCO Ethylene Project - able to produce 900,000 tons of ethylene a year - yesterday went into commercial operation in Shanghai to meet surging demand.

*News information are obtained via various sources deemed reliable, but not guaranteed