Hong Kong, China & Hawaii Biz*
How to Do Business with China, through Hong Kong & Setting up Business in China? - last update Feb 8, 2003
Do you know our dues paying members attend events sponsored by our collaboration partners worldwide at their membership rates - go to our event page to find out more! After attended a China/Hong Kong Business/Trade Seminar in Hawaii...still unsure what to do next, contact us, our Officers, Directors and Founding Members are actively engaged in China/Hong Kong/Asia trade - we can help!
China Projects Bidding Information - update daily Scholarship & Grants
Are you ready to export your product or service? You will find out in 3 minutes with resources to help you - enter to give it a try

China Central TV - English Channel 24/7 live webcast

Download Skype - FREE Voice Over IP
Holidays Greeting from President Obama & Johnson Choi
http://www.youtube.com/watch?v=pNk4Z4lUV-k
http://www.facebook.com/video/video.php?v=219896871983&ref=mf
Wine-Biz - Hong Kong
Brand Hong Kong Video
Oct 31, 2005

Hong Kong: DBS Bank (Hong Kong), the unit of the Singapore-based DBS Group Holdings, reported a 14 percent dive in third- quarter profit, hit by paper losses from derivative instrument trading, slower sales of treasury investment products and higher cost.
TCL Multimedia Technology and TCL Communication Technology, two Hong Kong-listed consumer electronics makers controlled by China's TCL Corp, reported more than three-fold increases in third-quarter losses due to difficulties in integrating overseas operations acquired last year.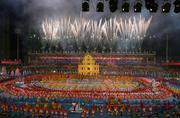 A cast of thousands kicks off the 4th East Asian nGames last night in Macau, with a stunning display of dancing, music and fireworks that left spectators enthralled. Guest of honour Vice-Premier Wu Yi declared the Games open, and a young boy, representing a traditional fisherman, lit the flame. Nearly 2,000 athletes will vie for 234 gold medals over eight days. Hong Kong is represented by 168 athletes.
British officials have leapt to the defence of their army following Donald Tsang Yam-kuen's comments that troops based in Hong Kong before 1997 were involved in weekly bar fights and were far more badly behaved than their PLA counterparts.

A terrified girl seems unable to tell the difference as she clings to her dad at the Nine Big Head Halloween Mascots parade in the Open Piazza in Times Square yesterday. Prince Vampire, Frankenstein, the Pumpkin Head Twins, Ruby Devil, Spirit, Scare-crow and the Witch Twins ensured a fiendishly good time.
As the central government this week announced sweeping new measures to combat air pollution, an internationally respected local scientist described Hong Kong's air quality as nothing short of a medical emergency.

China: The relations between China and Vietnam have maintained a good momentum of development and Chinese President Hu Jintao's upcoming visit will promote the friendly ties to a new high, said both Chinese and Vietnamese officials.
Jean-Michel Contant, secretary general of the International Academy of Astronautics (IAA), announced that Chinese Minister of Science and Technology Xu Guanhua, a remote-sensing expert, to be elected academician of the international non-governmental academy.
China had invested 44.8 billion US dollars in 149 countries and regions by the end of 2004 and the figure would rise at 22 percent every year, said an official with MOFCOM.
President Hu Jintao received assurance on Friday that the Democratic People's Republic of Korea (DPRK) will return to the Korean Peninsula denuclearization negotiation table early next month.

Central bank Governor Zhou Xiaochuan (left) and Jiang Jianqing, chairman of the Industrial and Commercial Bank of China (ICBC) Ltd, attend ICBC Ltd's opening ceremony on Friday in Beijing.
China Unicom, the smaller of the mainland's mobile operators, reported a 21 percent jump in third-quarter profit as its struggling code division multiple access business returned to profitability after a cut in handset subsidies.
Oct 28 - 30, 2005

Hong Kong: China Construction Bank (CCB), the mainland's third-largest lender, listed on the Stock Exchange of Hong Kong on Thursday unchanged from its initial public offering price of $2.35 per share.
The Executive Council has approved Ocean Park's planned $5.55 billion renewal designed to maintain its attractiveness to visitors, a government spokesman said on Thursday.
Causeway Bay has outpaced the glamorous Avenue des Champs-Elysees in Paris to charge the world's second-most expensive retail rents, behind only New York, according to a survey.
Macau has pledged to combat money-laundering that could finance terrorism, a top United States Treasury Department official said yesterday.
HSI Services, the compiler of the benchmark Hang Seng Index, has turned down a call by Hong Kong Exchanges and Clearing (HKEx) to set up a new index that would include blue chips and H shares.

Listed companies do not want the maximum amount of new shares they can sell lowered, according to the Chamber of Hong Kong Listed Companies, which represents 10 percent of the market capitalization of the local capital market. Chamber of Hong Kong Listed Companies chairman Lawrence Ho Yau-lung is opposed to a stock exchange proposal to halve the number of new shares companies can issue to raise cash under a general mandate to 10 per cent. "The regulation is already very comprehensive," said Mr Ho at a briefing to mark the chamber's third anniversary yesterday. "We definitely would not like to see the Hong Kong market become over-regulated."
China Construction Bank Corp, which last week raised $62.24 billion in the world's largest share offer in four years, may be in for a tough first day of trading today as much of the "natural" demand from index-tracking funds may have already been satisfied through the initial allocation, brokers and analysts said yesterday.
The Housing Authority may reduce the allocation of Link Reit units to strategic partner CapitaLand by about 30 per cent to US$120 million when it relaunches the public offer next month.

An outbreak of bird flu would spell the end for sellers of live poultry. The government plans to introduce a centralised slaughtering house if the virus hits.
Senegal's sudden abandonment of Taiwan and restoration of diplomatic ties with Beijing could trigger a domino effect to further isolate the island, analysts said Wednesday.
Hong Kong's Copyright Ordinance, the territory's main line of defense against intellectual property theft, will be reviewed to provide better online protection of intellectual property, Secretary for Commerce, Industry and Technology John Tsang said.

China: Rong Yiren dies aged 89 - China's "Red Capitalist," former vice president Rong Yiren, died this week at the age of 89, a source in Beijing said. China's "Red Capitalist," former vice president Rong Yiren, died this week at the age of 89, a source in Beijing said. Rong's son Larry Yung left his CITIC Pacific conglomerate in Hong Kong two weeks ago to visit his ailing father, who was in intensive care. The Rong family have gathered in Beijing to participate in the funeral, to be held at the end of this week. Rong was founder of the CITIC Group. He was appointed Shanghai's vice mayor in 1957, although he and his family fell into disgrace during the Cultural Revolution. It was not until 1979 that Rong was rehabilitated. His role as director of CITIC Group served as the catalyst for bringing many capitalists back into society and also spurred foreign investment. He was named by America's Fortune magazine in 1986 as one of the world's top 50 entrepreneurs.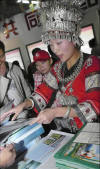 A Miao girl introduces Miao medicine to visitors at the second traditional Miao medical expo on Oct. 18 in southwest China's Guizhou province. In recent years the national pharmaceutical industry has taken off in Guizhou where there is rich traditional national medicine resources and the base for the industrialization of modern science and technology of the traditional Chinese medicine. At present more than 70 Guizhou-based producers of Miao medicine turn out 15 varieties with more than hundreds of millions yuan output value for each type.
Warnings from industry and labor groups last year that cheap Chinese clothing and textile would crush producers in other countries have so far proven unfounded, according to a UN report issued at a conference which ended on Wednesday.
Gobi, a China-based venture capital firm, started a US$50 million (HK$390 million) fund to invest in mainland technology companies, backed by IBM, NTT DoCoMo, and publishing house McGraw-Hill, following recent overseas interest in the sector.
Tyco International, the world's leading manufacturing conglomerate of fire and security equipment, electronic parts, water treatment and healthcare products, launched its China headquarters in Beijing yesterday in order to develop more than 60 business entities in the country.

China will introduce a raft of economic and legal measures to curb blind investment in the copper smelting industry, the National Development and Reform Commission said in Beijing yesterday.
China National Petroleum Corp says it is ready to discuss cooperation with the Kazakhstan government now that an Alberta court has approved its US$4.18 billion (HK$32.6 billion) acquisition of Canadian-based PetroKazakhstan.
The Airport Authority plans to open a check-in counter in Shekou to attract more foreign passengers to Hong Kong International Airport as it competes with rivals such as Guangzhou Baiyun Airport.
Profits at mainland industrial companies amounted to 988.3 billion yuan (HK$948.97 billion) in the first nine months of this year, up 20.1 percent from the same period last year, the National Bureau of Statistics said.
Oct 27, 2005

Hong Kong: Hong Kong people have spent 9.4 billion yuan (US$116 million) in buying as many as 18,000 flats on the mainland in the first nine months of this year, up 8 per cent year-on-year, according to a survey.
The greater Pearl River Delta is going all out to get more investors in America. This month three business promotional events have been held, in San Francisco, Mexico City in Mexico and Canada's Vancouver. The forums, with the last in Canada taking place yesterday, were jointly organized by Guangdong and the Hong Kong Special Administrative Region (SAR). As of yesterday morning Vancouver time, the total contracted amount of foreign investment was US$7.2 billion, with 320 foreign investment projects, said Huang Huahua, the governor of Guangdong at the Vancouver forum. It attracted more than 1,200 guests from Canada's business circles. Donald Tsang, the chief executive of the Hong Kong SAR, also presided over yesterday's forum in Vancouver. Governor Huang said Guangdong has one of the most dynamic marketplaces in China plus well-developed foreign trade, and is overall an attractive place to invest in. It has many advantages, he said, such as a massive economy, a high level of internationalization, strong industrial supporting capabilities, a huge market capacity and a superb investment environment. The future prospects of the delta were the main topic of the three forums. The region is made up of Guangdong, Hong Kong and Macao.
Shares in New World Mobile Holdings, the mobile telecoms unit of conglomerate New World Development, jumped 20.8 percent to HK$2.90 on reports that it could be merged with another local mobile operator, CSL, a unit of Australia's Telstra.

Asset deal to widen Netcom's reach: China Netcom Group Corp (Hong Kong) chairman Zhang Chunjiang addresses the media after shareholders yesterday approved a plan to acquire the telecommunications assets of Heilongjiang, Jilin, Shanxi and Inner Mongolia provinces from the parent company for 12.8 billion yuan. The deal will bring the number of Netcom's franchise areas to 12. The fixed-line carrier will pay 9.8 billion yuan of the total through a five-year loan from the parent firm.
Former financial secretary Antony Leung Kam-chung and ex-Goldman Sachs president John Thornton are to be appointed independent directors of the reborn Industrial and Commercial Bank of China (ICBC).
Cheung Kong (Holdings) will retain no more than 30 per cent of its new real estate investment trust, due to list next month, while up to 40 per cent, or $390 million to $700 million, will be reserved for two to four cornerstone investors, sources said. Ten per cent will be offered to retail investors.
The National People's Congress Standing Committee has supplemented the Basic Law for the first time in seven years, offering legal protection to hundreds of billions of dollars in foreign central bank assets.
Warner Music will become the first foreign recording label to establish a majority-owned distribution company on the mainland, taking advantage of the closer economic partnership arrangement.
Shares of China Construction Bank, the world's biggest initial public offering this year, are unlikely to rise by more than 5 percent on the trading debut tomorrow because of the weak stock market and the high pricing, analysts and fund managers said.
Buyout firm Carlyle Group has paid US$375 million (HK$2.92 billion) for a majority stake in Xugong Construction Machinery, China's largest manufacturer of construction equipment, marking the first time a foreign group has gained such a share of a major state- owned mainland firm.
Dongfeng Motor Group, China's No3 carmaker, plans to bring in Standard Chartered and Temasek Holdings as strategic investors for its US$500 million (HK$3.9 billion) initial public offering in Hong Kong next month, sources close to the deal said.
Hong Kong is no closer to amending an ordinance regulating the search and seizure of journalistic material despite the controversy that erupted last year when several newsrooms were raided by Independent Commission Against Corruption officials, legislators and lawyers said.
Commerce chief John Tsang has sharply dismissed media reports that the upcoming World Trade Organization ministerial meeting at the Hong Kong Convention and Exhibition Centre in Wan Chai could be delayed or stalled due to infighting over agricultural subsidy issues in Geneva.

China: Chinese President Hu Jintao will pay state visits to Britain, Germany and Spain from Nov. 8 to 17, Foreign Ministry spokesman Kong Quan said Tuesday in Beijing.
Chinese Premier Wen Jiabao and his Singaporean counterpart Lee Hsien Loong held talks Tuesday, vowing to enhance political and economic cooperation.

Doctor Hector Ruiz (R), chairman of the board of AMD, shakes hands with Feng Jichun (L), director of Hi-tech Department of the Ministry of Science and Technology of China, at the signing ceremony in the Great Hall of the People in Beijing, capital of China on Oct. 24, 2005. China's Ministry of Science and Technology signed a memorandum of understanding on the commission of CPU designing technology with AMD, a world-famous CPU maker, on Monday.
Renminbi's further appreciation is megatrend in the future, but uncertainties will still exist on the way, said Wu Xiaoling, vice governor of the People's Bank of China (PBOC).
China's refined oil consumption increased only by 5.6 percent year-on-year in the first nine months on stable coal supply, sharply lower than the 19.7 percent growth in the same period last year.

The Star Anise, a rare herb grown in China used to flavour duck dishes and treat infants for colic, on sale together with other spices at a market in Nanning, South China's Guangxi Zhuang Autonomous Region yesterday. The herb is at the centre of a worldwide search for a cure for avian flu. It contains a vital function as the source of shikimic acid from which the drug Tamiflu is made, the only defence the world currently has against the threatened flu pandemic.Inset: A Thai boy feeds pigeons that have flocked together at a park in Bangkok yesterday. Thailand suffered its latest bird flu death this month.
Refuting a spate of recent media reports, China's banking regulator says the nation is unlikely to revise rules on equity investment by foreign investors in local banks by the end of next year.
Bureau Veritas (BV), the France-based world leader in quality, health, safety and environmental management and a consulting service provider, aims to strengthen ties with China's domestic firms to drive its China business growth onwards and upwards.
Australia will strengthen co-operation with China to facilitate the travel of athletes, visitors and business people during the 2008 Beijing Olympics.
Earnings by China's securities companies plunged more than 30 percent in the first nine months, led by a slump in revenue from underwriting fees and trading of yuan-denominated shares, according to a mainland consulting company.
Oct 26, 2005

Hong Kong: An apple juice concentrate maker, a packaging company and a manufacturer of casings for notebook computers are out for a combined HK$787 million in initial public share offerings next month despite continuing weakness in the Hong Kong stock market.

Plans for a Hong Kong-Shenzhen Eastern Corridor - with direct road links to Shanghai - are under consideration, finance chief Henry Tang revealed Monday.

Shenzhou International Group Holdings, the top mainland knitwear exporter, has called off its HK$897 million Hong Kong initial public offering after refusing to set the price at a low level despite a weak market, sources said.

MTR Corp has reorganized its Octopus Cards subsidiary to separate its unregulated non-payment businesses from its payment business which is subject to regulation by the Hong Kong Monetary Authority.
The effects of the brain drain - where highly skilled workers leave developing nations for economic opportunities abroad - are worse than previously reported, a World Bank study has found.

MegaBox director Tom Tong, with B&Q's chief, Steve Gilman, says B&Q is the biggest tenant to date for the Kowloon Bay project. The leading European do-it-yourself and home improvements retailer will open its first store in Hong Kong in 2007 and expects to break even in 18 months.
Legislators have cast doubt on whether the government's proposed cash incentives will be effective in reducing the number of native English-speaking teachers who leave at the end of their contracts, a figure which reached a record high during the last school year.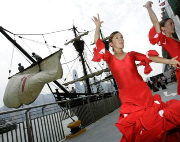 Dancers perform in front of a replica of the Nao Victoria the first Spanish ship to circumnavigate the globe which docked at Hong Kong's Ocean Terminal on Tuesday as part of the celebration of the Spain in Hong Kong festival. The main purpose of the Nao Victoria project was to commemorate the trip of the first ship - the original Nao Victoria - to circumnavigate the world.

A performer escorts former secretary for justice Elsie Leung Oi-sie into North Point's Sunbeam Theatre last night for a Chinese opera. The performance was the first of three to raise funds for the cash-strapped theatre, the city's only venue for the art form.
Hong Kong's economy is continuing to enjoy strong export-led growth — including a significant rise in re-exports year on year in August, latest statistics released on Tuesday confirmed.

China: Bird flu: Beijing demands rapid response - Three hours. That's the maximum it should take for a bird-flu outbreak anywhere in the country to be reported to Beijing. Swiss drug manufacturer Roche yesterday said it would not be able to meet demand on the mainland for Tamiflu should a bird flu pandemic erupt, but voiced willingness to work with the central government to boost production.
The top US military commander in the Pacific can pick up the phone and call military leaders in dozens of countries scattered around the Pacific and Indian oceans - except China.
The alarming number of cases of contaminated farm produce in markets have prodded Chinese legislators to draft a law improving the quality and safety of agricultural products.

Singaporean Prime Minister Lee Hsien Loong arrived in Beijing yesterday afternoon, starting his first official visit to China since taking office last year. Visiting Singaporean Prime Minister Lee Hsien Loong looks out at Vice-Foreign Minister Wu Dawei, who is reflected in the car window, after his arrival at Beijing Capital International Airport yesterday. Mr Lee is on an official visit until Sunday, his third to the mainland since taking office last year. Sitting beside Mr Lee is Singapore's ambassador to the mainland, Chin Siat Yoon.

A shopper buys shoes at a mall in the city of Yichang, in Hubei Province. Shoemakers in China are feeling the effects of European dumping charges. Some Chinese shoemakers are likely to suffer following charges from the European Union (EU) that they have dumped cheap footwear onto the EU market.
US microprocessor maker AMD made an unusual move yesterday to transfer its core technologies in industrial-use microprocessors, as a gesture of its commitment to the Chinese market and in preparation for its future growth.
METRO Jinjiang Cash & Carry Co Ltd, a joint venture involving the world's third largest retailer METRO Group, opened a store in Zhengzhou recently in an attempt to begin its penetration of Central China's market.
Wyse Technology Inc, a leader in thin computing, has announced the opening of its Asia-Pacific headquarters, and a research and development centre, in Beijing.
China's foreign exchange reserves are expected to surpass Japan's this year as strong fund inflows and a burgeoning trade surplus make it the world's largest holder of foreign currency, state press reported on Tuesday.
Oct 25, 2005

Hong Kong: China Mobile (Hong Kong) Ltd (CMHK), the world's largest mobile carrier by user base, has agreed to buy out Hong Kong-based China Resources Peoples Telephone (CR Peoples), the city's fourth-largest mobile operator.
China Infrastructure Machinery Holdings, China's third-largest wheel-loader manufacturer, will secure Singapore's largest banking group, DBS Bank, as its foreign substantial shareholder after CIMH's initial public offering in Hong Kong next month.
CSMC Technologies, a mainland semiconductor foundry, is to cooperate with Imecas, an academic institution under the Chinese Academy of Science, to set up a new company to produce four and six-inch wafers with an initial investment of US$10.7 million (HK$83.5 million).
China National Petroleum's proposed purchase of Canada's PetroKazakhstan for US$4.18 billion (HK$32.6 billion) has cleared key obstacles, but uncertainty remains over a Canadian court ruling and upcoming Kazakhstan presidential elections, a CNPC source said.

Breast cancer survivors pose with the charity wristbands launched to raise funds for the "Pink Revolution" awareness drive.
A leading Hong Kong microbiologist warned Sunday that the Mai Po nature reserve, which is host to some 100,000 migratory birds annually, could become a reservoir for the deadly H5N1 avian influenza virus.
Britain's largest home improvement retailer B&Q announced on Monday it planned to open its first store in Hong Kong in early 2007.
The government's plan to force flat owners to get old residential buildings inspected and repaired has drawn fire from a number of poor elderly people who said they are prepared to have their properties deregistered or even go to jail.
Hong Kong will host a weeklong Bruce Lee festival next month featuring films, a fan gathering and tours of Lee-related sites, to mark the unveiling of a statue of the martial arts movie legend, organizers said on Monday.

China: A report released by the statistics authority in Jiangsu on the province's economy during the first three quarters shows that Jiangsu's GDP during the first three months totaled 1,247.1 billion yuan growing by 14.3 percent.

Xie Zhenhua (C), director of the State Environmental Protection Administration of China, South Korean Environment Minister Lee Jae-yong (1st R) and Japanese Environment Minister Koike Yuriko shake hands during a press conference held after the end of the 7th Tripartite Environment Ministers' Meeting (TEMM) in Seoul, capital of South Korea, Oct, 23, 2005.
China's foreign exchange regulator has announced a new regulation relating to local citizens' overseas fundraising and return investment.

Performers put on a grand show at the closing ceremony of the 10th Chinese National Games, which ended yesterday in Nanjing of Jiangsu. The 12-day event was the biggest ever of its kind. The curtain came down on China's 10th National Games widely considered a rehearsal for the 2008 Olympic Games with Premier Wen Jiabao presiding over a dazzling closing ceremony.
The threshold for monthly personal income tax is set to double to 1,600 yuan (US$198) a move experts hail as creating a more equitable society.
China's long-term energy conservation and renewable energy development blueprint will generate an investment worth hundreds of billions of yuan within the following five years, senior analysts with the National Development and Reform Commission (NDRC) on Friday told an energy forum hosted by China Daily.

Tianjin Capital Environmental Protection, the municipal investment arm which operates sewage treatment plants, said it has won a Hangzhou sewage project through public tender, involving a total investment of 858 million yuan (HK$823.16 million).
Oct 24, 2005

Hong Kong: The mainland's largest property lender, China Construction Bank (CCB), raised US$8 billion in the world's largest initial public offering (IPO) in four years, after it priced its shares at HK$2.35 apiece Friday, close to the top end of the indicative range.

Owners of buildings that are at least 30 years old will have to ensure their properties are inspected every seven years, the government said. They will also be responsible for all necessary repairs under a planned new law.
Hong Kong and China Gas, the city's only piped-gas supplier, is seeking a loan of up to HK$3 billion to refinance existing debt, a source familiar with the matter said.

Finance chief Henry Tang Ying-yen checks out the products at the 14th Hong Kong International Toys and Gifts Show and 13th Asian Gifts Premium and Household Products Show. About 65,000 visitors are expected to flock to the Convention and Exhibition Centre for the four-day show. More than 3,700 exhibitors, mainly from Hong Kong, Taiwan and the mainland, have snapped up 5,384 booths, 15 per cent more than last year.
The Hong Kong government will soon begin a study on the most polluting industries in Guangdong in an attempt to come up with a solution to the worsening air quality in Hong Kong and the Pearl River Delta, the government's top environmental official told a Legislative Council panel Friday.

Angang New Steel, the second-largest Hong Kong-listed steelmaker, has accelerated its drive to buy its parent's upstream assets by unveiling a restructuring plan for its state-owned shares and canceling a rights issue.
Hong Kong may face a shortage of new apartments as supply dwindled 17 percent to 15,800 units in the first three quarters of the year from 19,100 units a year earlier, according to the government's quarterly statistics on housing stocks.
The Hong Kong Association of Banks (HKAB) today is likely to reject the banking regulator's proposal to introduce a composite rate to replace the prime lending rate as a benchmark for mortgage loans, according to an industry source.

China: Chinese President Hu Jintao will pay official good-will visits to the Democratic People's Republic of Korea (DPRK) and Vietnam between Oct. 28 and Nov. 2.

Olympic champion Liu Xiang retained the National Games men's 110m hurdles title on Thursday, Oct. 20. Liu, who won the Olympic champion in a world record-tying 12.91 seconds, clocked 13.10 seconds for win.

Two models present a new car to the audience. Auto Hanghzou 2005 opened on that day in Hangzhou, capital city of east China's Zhejiang Province. More than 260 enterprises bring over 1, 000 cars to the exhibition.
"The consumer market in China will have a growth rate of 18 per cent annually to reach the second position globally'', pointed out Jonathan Garner, managing director with Credit Suisse First Boston Corp in a recent exclusive interview with Wei Rongzhi, a reporter with the International Finance News, according to the paper on October 21. He said in the coming 10 years, the consumer market will be in fast growth. Consumption enhancement and stable increase of foreign exchanges will bring an annual growth rate of 18 per cent to the country's consumer market calculated in US dollar. The growth rate will persist for a comparatively long period of time. By 2014, the proportion of the consumer market will reach 11 per cent in the global total, second only to the United States, while in 2004 China was only ranked the seventh with the share of only 3 per cent.
Rising consumer spending coupled with strong fixed-asset investment helped China's economy grow by a sizzling 9.4 per cent year-on-year in the third quarter, the National Bureau of Statistics (NBS) said yesterday.

The Chinese Government will enhance the legal environment and create conditions for more large businesses to issue corporate bonds, according to China's central bank Governor Zhou Xiaochuan. Brief History: Corporate Bond market developments, Mid-1980s: China began to issue corporate bonds. 1987: The first regulation covering the market was issued by the State Council. Early 1990s: The government began to check corporate bond issuers. 1993: Regulations covering the market were tightened. 2003: National Development and Reform Commission was established to monitor bonds.
Chaoda Modern Agriculture, the mainland's largest listed vegetable grower, will start investing 200 million yuan (HK$191.88 million) in buying and raising cows next year, as it steps into the mainland's 60 billion yuan dairy business.



Senior military officials present US Secretary of State Donald Rumsfeld with a photograph album as a memento of his visit to China before he left Beijing for Seoul yesterday.
Oct 21 - 23, 2005

Hong Kong: Great Wall Motor, a mainland auto manufacturer that trades its shares on the Hong Kong Stock Exchange, said it plans to export 15,000 vehicles this year. That will account for 25 per cent of its estimated yearly output.
Cheung Kong (Holdings) plans to borrow approximately HK$1.8 billion to help make its HK$2 billion real estate investment trust more attractive to investors, sources familiar with the transaction said.
Cheung Kong Infrastructure Holdings, a unit of billionaire Li Ka-shing's Cheung Kong (Holdings), plans to list its power assets in Australia within a month, after a state government removed an uncertainty by making a final decision on a tariff cut. Cheung Kong Infrastructure Holdings (CKI) is expected to sell almost all of its 50 per cent interest in Australian power distributors for more than $10 billion as part of a separate asset listing that moved closer yesterday after concessions on energy price cuts.
China Construction Bank, the country's third largest lender, received less than HK$150 billion retail orders for its initial public offering, short of market expectations, as investors balked at the steep price amid a slumping market.

Chef Lui Yau-wing shows off his gold medal and award-winning dish: deep-fried prawns coated with mashed squid and shredded pastry served with mango sauce, at this year's culinary awards organised by the Hong Kong Tourism Board. Lui works at the Golden Bauhinia Cantonese Restaurant at the Convention and Exhibition Centre and won the top prize in the "Gold with Distinction Awards" in the deep-fried category. The competition was held at the Chinese Cuisine Training Institute, Pok Fu Lam.
Cathay Pacific Airways may not add Airbus Industrie's giant A380 to its fleet in the short term, though the airliner, which made its maiden flight in April, burns 12 percent less fuel than the industry benchmark, the Boeing 747.
Hopewell Highway Infrastructure, a 75 percent-owned unit of Gordon Wu's Hopewell Holdings, is seeking approval for a seven billion yuan (HK$6.71 billion) expansion of its Guangzhou- Shenzhen expressway.
The government on Thursday appointed barrister Wong Yan-lung to replace Elise Leung Oi-sie as Secretary for Justice.
Donald Tsang Yam-kuen would serve a maximum of seven years as chief executive under proposals laid out by the government determining how Hong Kong's leaders and legislators are elected.

China: China's currency exchange rate will remain stable for a period of time, Zhen Jingping, a spokesman for the National Bureau of Statistics (NBS), said Thursday in Beijing.

An official displays an International Olympic Committee flag retrieved from the re-entry capsule of the Shenzhou VI spacecraft Wednesday October 19, 2005 in Beijing. Sixty-four articles were retrieved, including a national flag that marched with Chinese scientists on a polar expedition, a flag for the 2010 Shanghai Expo, stamps and art works by children and noted Chinese artists.
The Chinese economy grew a robust 9.4 percent in the first nine months, a spokesman for the National Bureau of Statistics announced Thursday.

Huang Tianwen (FL), president of Sinosteel Corporation shakes hands with president of Australia's Midwest Iron Mine Company after signing the agreement of jointly developing iron mine in Perth, capita city of State of Midwest Australia on Oct. 18, 2005. The agreement sets many "firsts" in China's iron mining industry in Australia in terms of sharing-holding and investment infrastructure. Australia is so far one of China's most important iron ores sources. To quench the thirst of iron ore supply in China, large Chinese enterprises are now speeding up the process of investment in the iron mining industry in Australia. Photo taken on Oct. 17, 2005 shows that electric forklift truck is leveling the new iron mine site before full operation.

US Defence Secretary Donald Rumsfeld (left) shares a joke with Chinese Defence Minister Cao Gangchuan following a welcome ceremony at the ministry in Beijing yesterday. Rumsfeld is making a brief three-day visit to Beijing, his first visit to China in his current tenure as defence secretary.
Oct 20, 2005

Hong Kong: The mainland will waive import duties on all Hong Kong-made products from next year and will allow more Hong Kong residents to set up wholly owned businesses in China, as part of the new Closer Economic Partnership Arrangement 3 unveiled Tuesday.
CITIC Trust and Investment, a government-backed investment arm, will buy 49 percent of a life insurance joint venture part-owned by Allianz to join China's more than one trillion yuan (HK$959.3 million) insurance industry.
A maximum of 14,300 people can be hospitalized if there is a bird flu outbreak, occupying about half of all available public hospital beds in Hong Kong, the health authority said Tuesday.
The sister of an investment banker killed in Hong Kong in what became known as the "milkshake murder" in some circles was made guardian of her dead brother's three wealthy children on Tuesday (overnight Wednesday HK time) by a Manhattan judge.

"I can make it" was the message the government was trying to get across when Chief Executive Donald Tsang Yam-kuen attended a youth employment function yesterday. He was joined by Permanent Secretary for Economic Development and Labour Matthew Cheung Kin-chung (left) and youth pre-employment trainers. Mr Tsang reminded youngsters of the importance of having dreams.
Jackie Chan, Andy Lau and Sammi Cheng didn't get nominated for Taiwan's Golden Horse Awards — the Chinese-speaking world's equivalent of the Oscars — as some of the region's biggest stars failed to impress a panel of judges with an academic bent.

BNP executive Philippe Blavier says the bank will expand its China business through mainly organic growth rather than acquisitions.
Retail investors seem unlikely to take up more than 10 per cent of China Construction Bank Corp's $63.56 billion share offering, as the amount of financing from brokerages suggests the subscription rate will fall short of the 100 times needed to raise their share to 20 per cent.
Cathay Pacific Airways yesterday became the last carrier blocking Oasis Hong Kong Airlines' bid to become the city's newest airline after CR Airways withdrew objections filed with the licensing authorities.

China: China's GDP is expected to exceed 15 trillion yuan (1.85 trillion US dollars) this year, said Premier Wen Jiabao at the Fifth Session of the 16th CPC (Communist Party of China) Central Committee. China's import and export volume in 2005 is to exceed US$1.38 trillion, over 1.9 times than that in 2000, which stood at US$474.3 billion, said Premier Wen Jiabao. A five-year economic blueprint proposed by the Communist Party of China (CPC) has set a goal to double the nation's 2000 per capita gross domestic product (GDP) by 2010, along the way to build a harmonious society.

United States Defence Secretary Donald Rumsfeld Tuesday started his first visit to China since taking office five years ago. His trip, coming hot on the heels of the visits to China made by US Treasury Secretary John Snow and Federal Reserve Chairman Alan Greenspan, is of great symbolic significance and serves as a further sign of improved Sino-US relations. It also shows the importance US President George W. Bush and his administration place on maintaining broad ties with China. During his visit, Rumsfeld is expected to meet his Chinese counterpart Cao Gangchuan and President Hu Jintao to boost exchanges with the Chinese military and to discuss matters of mutual concern. The defence secretary is also expected to make an unprecedented visit to the headquarters of China's strategic missile forces, the Second Artillery Corps.

Technicians move with the help of a crane the re-entry capsule of China's second manned spacecraft, Shenzhou-6, onto a truck at a railway station in Beijing, capital of China, Oct. 18, 2005. The re-entry capsule of the Shenzhou-6 spacecraft touched down at its landing site in north China's Inner Mongolia Autonomous Region Oct. 17 following a five-day mission. It was transported to Beijing by a special train on Oct. 18.
A joint declaration is signed by Wan Jifei(Front right), chairman of the China Council for the Promotion of International Trade (CCPIT), and Mr. Freddy Lam Fong Loi (Front left), President of the ASEAN Chamber of Commerce and Industry in Nanning on Oct.18. Some 100 delegates from enterprises, associations and chambers of commerce of China and the 10 ASEAN countries attended the 4th China-ASEAN Business Council.

Tribute to a literary great: People lay wreaths in front of a huge portrait of Ba Jin, one of the past century's literary greats, at the National Museum of Modern Chinese Literature in Beijing yesterday. Ba died in Shanghai on Monday at the age of 101.
A precise, painstaking drug-bust operation spanning 11 months and involving co-ordination between the police forces of four countries has yielded a big catch and is a testament to increased co-operation between China and its neighbors.

PetroChina saw a total output of 722 million barrels of oil equivalent for the first three quarters of this year, an increase of 36.3 million barrels, or 5.3 per cent, year-on-year. In the first three quarters, the company saw its crude oil output amount to an accumulated 595 million barrels, representing a year-on-year increase of 1.7 per cent. The accumulated output of marketable natural gas reached 763.3 billion cubic feet, rising by 26.1 per cent over the same period in 2004. In the first three quarters, PetroChina's average realized price of crude oil reached US$47.35 per barrel, 50.08 per cent higher than a year ago.
The nation's third largest oil producer, China National Offshore Oil Corp (CNOOC), yesterday signed agreements with Texas American Resources Company (TARC) to explore two offshore areas in the eastern South China Sea.
China Unicom Ltd yesterday started operations of a CDMA 1x mobile network in Macao, as part of its expansion drive outside the Chinese mainland.
The Fourth China Suzhou Electronics Manufacturing Expo (eMEX) begins today in Suzhou, East China's Jiangsu Province. The four-day expo aims to be the top electronics exhibition in China in terms of scale and the number of multinational participants, including those from Taiwan.
Japan's biggest carmaker Toyota Motor Corp yesterday said that it has agreed with China's Guangzhou Automobile Group to spend 1.9 billion yuan (US$234.5 million) in expanding production capacity for their engine joint venture.
Oct 19, 2005

Hong Kong: Hong Kong Exchanges and Clearing chairman Charles Lee Yeh-kwong yesterday hit back at a United States regulator who said mainland companies shied away from listing on the New York Stock Exchange because they could not meet the regulatory requirements.
The mainland will waive import duties on all Hong Kong-made products from next year and will allow more Hong Kong residents to set up wholly owned businesses in China, as part of the new Closer Economic Partnership Arrangement 3 unveiled Tuesday.
Hutchison Port Holdings Group, a wholly owned subsidiary of Li Ka- shing's Hutchison Whampoa, will develop a two-berth ore terminal in Dalian, northeast China, with Dalian Ports Corp, involving a total investment of 2.2 billion yuan (HK$2.11 billion).
Advertising spending by Hong Kong companies rose 11 percent to HK$4.72 billion in the third quarter from a year earlier, driven by increased marketing by property companies, banks and retailers, market research firm Admango said.
Kerry Properties expects to reap annual rental income of HK$300 million from 2007 when it opens Enterprise Square 5, a retail-office project in Kowloon Bay being built at a cost of HK$2 billion.
Huaneng Power International, the largest Hong Kong-listed electricity supplier in the mainland, said third-quarter net profit rose 7.5 percent as sales grew amid continued strong demand for power and coal prices softened.
Hong Kong's jobless rate fell to a four- year low in the third quarter, as more companies hired amid the rising economy and many part-time workers returned to school after the summer vacation ends.

Hong Kong's richest woman, Nina Wang Kung Yu-sum, leaves Eastern Court in Sai Wan Ho yesterday with her lawyer, Jonathan Midgley, after appearing over a forgery case. Amid speculation the government could drop charges against the Chinachem chairwoman, prosecutor Giles Surman sought an adjournment until January. Ms Wang has been charged with forgery, using a false instrument and doing acts tending and intended to pervert the course of public justice for allegedly forging the will of her late husband, Teddy Wang Teh-huei.
Hong Kong's postal service will issue a stamp set honouring late local pop stars Leslie Cheung, Anita Mui, Roman Tam, Danny Chan and Wong Ka-kui on November 8.
Chief Secretary for Administration Rafael Hui will present the controversial Fifth Report on Constitutional Reform to the Legislative Council today, along with the usual surveys and justifications for following Beijing's wishes on political change for the 2007 and 2008 elections.
The Housing Authority told the Court of Final Appeal that no law requires that the authority conduct rent reviews of public housing every three years, and initiate rent reductions if levels are found to be too high. The authority was defending its legal position in another review of its statutory performance Tuesday.
Thanks to typhoons and robust intra-Asian trade, Hong Kong has regained its position as the world's busiest port, dislodging Singapore. But analysts do not expect Hong Kong to hold on to the top slot for long.

China: Ba Jin, one of China's most acclaimed novelists of the past century, died yesterday evening in a Shanghai hospital, aged 101.
A senior Chinese space program official said they have spent 900 million yuan (about US$110 million) on its second manned space mission and have great interest in commercial satellite launch for global clients.

Chinese Premier Wen Jiabao (R) meets with US Treasury Secretary John Snow in Beijing, capital of China, Oct. 17, 2005. China on Monday affirmed its intention to enhance the flexibility and strengthen the role of market forces in its managed, floating exchange rate regime. United States Treasury Secretary John Snow on Tuesday headed home after a week of criss-crossing China confident that his agenda for deep-seated change in the booming country's financial markets was getting through.
The balance of the country's foreign exchange reserve reached US$769 billion at the end of September, US$159.1 billion more than early this year, and an increase of US$47.8 billion year on year. The exchange rate of RMB (people's currency) was 8.093 yuan against one US dollar.

Astronauts Fei Junlong (left) and Nie Haisheng wave to cheering crowds as they stand in an open-topped limousine on the way to a grand welcoming ceremony held at the Beijing Space City yesterday. They attended the welcoming ceremony hours after their safe landing in the Inner Mongolia Autonomous Region.
A consortium made up of Deutsche Bank and Sal Oppenheim jr & Cie KGaA yesterday signed a binding agreement with Huaxia Bank to buy a total of 587.2 million shares. This amounts to a 14 per cent share of the Beijing-based joint stock bank.
PetroKazakhstan shareholders approved on Tuesday an offer by China's CNPC to acquire the Canadian-based company for US$4.2 billion (HK$32.76 billion), setting the stage for the deal to be completed after weeks of political wrangling and uncertainty.
Hainan Airlines will form a company and list its enlarged aviation assets in Hong Kong next year to raise funds for a further expansion of its fleet and service network.
Oct 18, 2005

Hong Kong: The International Monetary Fund (IMF) projected global economic growth at 4.3 percent in both 2005 and 2006, its managing director Rodrigo de Rato said here Saturday. China and India are set to play a bigger role in the world's principal financial institutions after the Group of 20 reached an agreement yesterday paving the way for reforms to the World Bank and the International Monetary Fund.
Chief Executive Donald Tsang Yam-kuen told businessmen on Monday to reduce pollution emissions from their factories in southern China blamed for the choking smog which often hits the region.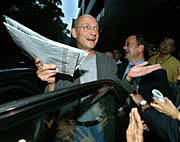 WTO Director-General Pascal Lamy said "Hong Kong is not just another Port of Call for Doha round negotiations, it is our best opportunity to bring the round to conclusion by the end of 2006." Pascal Lamy, director general of the World Trade Organization, warned in two separate speeches in Hong Kong Sunday that the meeting in the city in mid-December would be the critical make-or-break few days for the future of world trade.
Kasen International Holdings, the mainland's top leather products and furniture manufacturer, priced its initial public offering at the bottom end of its indicated range, raising HK$775 million after a tough sell to retail investors, people close to the deal said.
CNPC (Hong Kong), a Hong Kong- listed unit of state-owned China National Petroleum Corp, has arranged a US$120 million (HK$936 million) loan to help fund the acquisition of a 20 percent stake in a Kazahkstan oil venture.
China Infrastructure Machinery Holdings, the country's third-largest wheel loader manufacturer, plans to use the bulk of the proceeds from its HK$600 million initial public offering in Hong Kong to expand and become the leader in the industry on the mainland in three years.

China: China has seen steady export of electro-mechanical products over the past several years, accounting for 53-55 percent of China's total export.



Chinese astronauts Fei Junlong and Nie Haisheng wave flowers beside the re-entry capsule of China's second manned spacecraft, Shenzhou-6, at its landing site in Siziwang Banner (County), north China's Inner Mongolia Autonomous Region, early Oct. 17, 2005. The capsule touched down at the landing site at 4:33 am Oct. 17 (2033 GMT) following a five-day mission.

Chinese President Hu Jintao (1st L, on the podium) gives a speech with the title of "Strengthening Global Cooperation to Promote Common Development" in the opening ceremony of the G20 Finance Ministers and Central Bank Governors Meeting in Beijing, Oct. 15, 2005.

Renault's World Champion Formula 1 driver Fernando Alonso of Spain (left) celebrates on the podium with Renault team Managing Director Flavio Briatore after winning the Chinese Grand Prix in Shanghai yesterday.
Shui On Land, the mainland property developer controlled by businessman Vincent Lo, will start selling its new "live-work lofts" units at its Knowledge & Innovation Community project in Shanghai next month.
Lien Chan (centre) the honorary chairman of Taiwan's Kuomintang (KMT), and family members gather to pay homage to his maternal grandparents' tombs at Lansheng village on the outskirts of Shenyang in Liaoning province, on Saturday.
Oct 17, 2005

Hong Kong: Kowloon Development, a middle-tier Hong Kong-listed developer, will buy control of Polytec Asset Holdings for HK$826 million and use the firm to speed up Macau real estate investments.

Residents queue up outside a bank for a copy of the prospectus for the initial public offering. The initial public offering (IPO) of China Construction Bank (CCB), the world's largest offering this year so far, has received a huge demand from subscribers at the first day of its public offering in Hong Kong on Friday.
Datang International Power Generation, the second-largest Hong Kong- listed mainland electricity producer, has agreed to build a 2.7 billion yuan (HK$2.59 billion) power project in Chongqing city to meet rising demand.
KWah Construction Materials, a Hong Kong-listed concrete products maker- turned-casino operator, is likely to face difficulty in selling its US$300 million (HK$2.34 billion) bonds later this month as high-yield markets hit turbulence once again, forcing companies to rethink planned sales, market sources said.
A Hong Kong Polytechnic University team has developed detection equipment that is becoming a valuable part of the Immigration Department's anti- terrorism efforts, said Raymond Wong, the department's assistant director of information systems.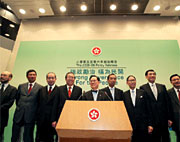 Donald Tsang (centre) presents the new members of his cabinet: (from left) Victor Lo; Marvin Cheung, David Li, Charles Lee, Ronald Arculli, Leong Che-hung, Henry Fan and Anthony Cheung.
Macau will set up a financial intelligence unit next year and adopt rules requiring casinos to establish programs for problem gamblers, Commissioner for Legal Affairs Jorge Costa Oliveira said.

China: China has set up an effective, sophisticated space tracking and communications network, which can track and control 20 to 50 satellites at a time, a top engineer said. China's space tracking and control network was initiated in 1960s and basically completed in 1980s, able to provide tracking services for satellite launchings, according to Yu Zhijian, chief designer for the tracking and communications system of China's manned space program. Space tracking, control and communications are key components of space technologies, he said.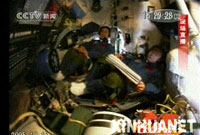 Chinese President Hu Jintao Saturday afternoon talked with Fei Junlong and Nie Haisheng, the two taikonauts aboard Shenzhou-VI, China's second manned spacecraft. Nie said the spacecraft is working well and we are feeling good and all space scientific experiments are carried out as planned. Fei thanked the president for the support encouragement, promising they will fulfill the mission.
The seventh G20 meeting of finance ministers and central bank governors opened at the Great Hall of the People in Beijing on Saturday (full tex)
China announced on Saturday completion of the world's highest railway, the Qinghai-Tibet Railway, which stretches 1,956 kilometers from Xining to Lhasa cities in western China.
In the following weeks, Beijing is to host a series of US high-level officials, among whom Treasury Secretary John W. Snow, Federal Reserve Chairman Alan Greenspan.

Chinese Finance Minister Jin Renqing (R) and President of the People's Bank of China Zhou Xiaochuan preside over the 7th G20 meeting of Finance Ministers and Central Bank Governors held in Xianghe County, Hebei Province, Oct. 15, 2005. The seventh G20 meeting of finance ministers and central bank governors opened on Saturday.
China's central bank, the People's Bank of China (PBOC), has decided to further raise the deposit interest rate of US and Hong Kong dollars starting Saturday, bank sources said on Friday.
Five leading corporations on the Chinese mainland ranked in a list of top 50 transnational ones in developing countries, according to a report by the United Nations Conference on Trade and Development.
World Bank President Paul Wolfowitz Thursday said the achievement of the poorest people of China in poverty reduction is stunning.

Renault's World Champion Formula 1 driver Fernando Alonso drives his car during the second practice session for the Chinese F1 Grand Prix in Shanghai on Friday.
China will not sign any agreement that will hurt China's interests and harm the healthy development of the country's textile industry, the Ministry of Commerce said in a strongly-worded statement on Friday
Beijing has won diplomatic support from London for its cautious approach to freeing up the yuan in the face of demands from Washington for a quicker rise in the currency to help ease global economic imbalances.
Oct 14 - 16, 2005

Hong Kong: Northeast-based Longmei Mining (Group) Co Ltd has chosen South Korean steel giant Posco and Japan-based trading company Itochu Corporation as the strategic investors for its planned Hong Kong IPO (initial public offering) in the first half of next year.
China Construction Bank, whose Hong Kong initial public offering kicks off today, says it expects to comply in three years with the new mainland requirement that banks set aside at least 1percent of total loans to cover "impairment losses" from bad loans.
Hopewell Holdings, a Hong Kong- listed developer controlled by tycoon Gordon Wu, said it will invest up to 600 million yuan (HK$575.5 million) in a planned electricity project in Guangdong province.

York Chow Yat-ngok addresses a WHO conference on patient care yesterday as the plans for reform of Hong Kong's food safety system were detailed in Legco.
US financier George Soros may invest another US$25 million (HK$195 million) in Hainan Airlines, part of a plan to reorganize China's fourth-largest carrier, fund acquisitions and growth, three company executives said.

China Construction Bank officials discuss the lender's forthcoming initial public offering through a video link at the Conrad hotel. China Construction Bank's record initial public offering is helping to push the Hong Kong dollar to two-year highs and forcing up short-term interest rates as demand for the local currency tightens credit market conditions.
World Trade Organization director general Pascal Lamy arrives tomorrow to participate in a roundtable discussion arranged by Hong Kong and Geneva officials to allow nongovernmental organizations to express their views on the WTO Sixth Ministerial Conference to be held here in December.

China: US Treasury Secretary John Snow said in Shanghai Wednesday China's renminbi (RMB) exchange rate reform inJuly was "very positive". Finance Minister Jin Renqing on Thursday rejected United States pressure for a quick end to currency controls, saying before a visit by his American counterpart that Beijing would move at its own pace.

Astronauts Nie Haisheng (left) and Fei Junlong, orbiting the Earth in the Shenzhou VI spacecraft, talk through phones with their family members October 12, 2005. China launched its second manned space mission Wednesday morning. The two astronauts talked with their family members for about seven minutes beginning around 9:30 p. m. Wednesday.

Astronauts Fei Junlong (left) and Nie Haisheng wave before they walk towards the launch pad of Shenzhou VI early yesterday morning. The spacecraft was launched at 9:00 am, sending the pair into the Earth's orbit for a several-day trip.

Vice-President of Hyundai Motor Seol Yong-heung is present at a forum of the leading Korean and Chinese CEOs on the sidelines of the 8th World Chinese Entrepreneurs Convention (WCEC) in Seoul Oct. 12, 2005. CEOs of leading South Korean and Chinese companies were present at the forum, confirmed the potential of the two sides as optimal economic partners and discussed means for co-prosperity.
The added value of China's hi-tech products will reach 800 billion yuan (100 billion US dollars) this year, two times up compared with that of the year 2000.
Throughout the next decade, Formula 1 motor racing will become a doorway that will allow Chinese businesses to step up to the global stage, according to one of the men behind the sport.
US technology giant Cisco Systems yesterday opened a research and development (R&D) centre in Shanghai as part of its intensifying investment activities in the world's most dynamic telecoms market.
YANZHOU, Shandong Province: Italy-based tyre producer Pirelli launched its first joint venture in China yesterday in order to get a foothold in the world's fastest growing market, and help further expansion in the Asia-Pacific region.

Two pandas will be selected from the Wolong reserve as gifts for Taiwan, but some Taipei officials say they won't help improve cross-strait relations.
Lien Chan, the former head of Taiwan's main opposition Kuomintang, will travel to the mainland city of Shenyang today for a private visit after his landmark, fence-mending mainland trip less than six months ago.
Oct 13, 2005

Hong Kong: Hong Kong Chief Executive Donald Tsang pledged here Wednesday to secure a "people-based" government which pursues excellent governance, a harmonious community and widespread economic growth. He made the remarks while delivering his first Policy Address at the Legislative Council. Tsang said that since the last Policy Address, Hong Kong has undergone significant changes. It is moving forward with new vigor, confidence and ambition to embrace the future, he added. He noted that pursuing excellent governance is the most pressing public demand in Hong Kong at the moment. To achieve this target, he will increase the membership of both the Executive Council and reorganize the Chief Executive Office. He will also rejuvenate the membership of advisory boards and statutory bodies to harvest the experience of leaders in their fields and provide them with an opportunity to play a greater role in the different levels of leadership. Chief Executive Donald Tsang's maiden policy speech today is expected to include plans to develop an eco- industry to combat the SAR's worsening waste problem and create jobs for low-skilled workers, a source close to the government said.
An ancient vase with a floor price of HK$90 million (US$11.6 million) is expected to set a world record for a piece of Chinese art at an upcoming auction in Hong Kong.
Chief Executive Donald Tsang Yam-kuen on Wednesday announced an extension to the individual visit scheme for mainlanders coming to Hong Kong as well as a relaxation of yuan exchange limits.

China: BNP Paribas, France's second largest bank, is expected to get a 19.7 per cent stake of Nanjing City Commercial Bank, a move that will accelerate its expansion in the Chinese market.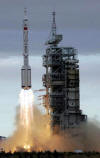 China launches its second manned spacecraft Shenzhou-VI at the Jiuquan Satellite Launch Center in northwest China's Gansu Province at 9:00 a.m. on Oct. 12, 2005. China put two astronauts in preset orbit Wednesday for a multi-day mission, turning to a new chapter of the country's space history. The Shenzhou-VI spaceship remains to be a three-cabin structure -- a propulsive cabin, a return cabin and an orbital cabin. Six astronaut candidates meet the press at the Jiuquan Satellite Launch Centre in Northwest China's Gansu Province yesterday. Two of them have been selected for the Shenzhou VI mission whose launch is set for today. They are (from left): Zhai Zhigang, Wu Jie, Fei Junlong, Nie Haisheng, Liu Boming and Jing Haipeng.
The wealth of China's 100 richest people grew 40 per cent during the past year, with property and manufacturing the most profitable sectors. Being born in Zhejiang province and carrying a Communist Party membership card also gave mainland entrepreneurs a better than even chance to join the rich list, judging by its members. These are the findings of the China Rich List due to be published today by Rupert Hoogewerf, who has produced such a ranking for the seven years. This time, however, the number of wealthy was expanded to 400 from 100 in previous years and their total wealth amounted to US$75 billion, equal to 7 per cent of China's gross domestic product last year. One in five are believed to be members of the Communist Party, including eight National People's Congress delegates, and 11 China People's Political Consultative Congress members.
German carmaker Volkswagen said yesterday that it sold almost 53,000 cars in China in September, its best monthly performance over the past 12 months in the world's third largest car market.
China Wheel Holdings, a mainland maker of aluminum alloy wheels, plans to raise S$14.4 million (HK$66.33 million) from an initial public offering in Singapore to expand and upgrade production facilities.
US Treasury Secretary John Snow arrived in China yesterday at the start of a week-long visit crucial to his department's decision on whether Beijing is manipulating its currency and should be subject to trade sanctions. United States Treasury Secretary John Snow said he was "astonished" by Shanghai's economic transformation on Wednesday as he began a visit expected to focus on China's currency policies and its huge and growing trade surplus with the United States.
Liaoning will pioneer the boldest restructuring of the socialist business sector yet attempted on the mainland, allowing foreign investors to take full control of large state-owned enterprises (SOEs).
Oct 12, 2005

Hong Kong: Ian Fok Chun-wan, chairman of the Hong Kong General Chamber of Commerce answered questions at the press conference of the 8th World Chinese Entrepreneurs Convention in Seoul Oct 10, 2005. The convention calls for unity of Chinese entrepreneurs around the world to handle challenges of globalization and realized futher development.
Shanghai Land Holdings Ltd was officially delisted from the Hong Kong Stock Exchange (HKEx) yesterday, marking the end of the troubled Shanghai property developer.
China Paradise Electronics Retail Ltd, the mainland's third-largest white goods retailer, is expected to raise US$131.5 million through an initial public offering (IPO) in Hong Kong, sources say.

Chief Executive Donald Tsang is expected to announce his vision of a HK$2 billion plan to turn the former Kai Tak airport site into a world-class sports venue for elite and recreational athletes alike in his maiden policy address tomorrow.
Hang Lung Properties, Hong Kong's fourth-largest developer, will undertake a 2.5 billion yuan (HK$2.4 billion) shopping center project in Shenyang City in northeastern Liaoning province.
United Asia Finance, a licensed money lender controlled by Hong Kong-listed Allied Group Holdings, has secured a HK$250 million three-year term loan to fund the buyout of Hong Kong Building & Loan Agency, a Hong Kong- listed mortgage provider.
MTR Corp, which runs rail services to Hong Kong International Airport, invested HK$275 million to extend its express services to the AsiaWorld-Expo exhibition center on Lantau, the company said Monday.
China Paradise Electronics, the country's third-largest electronics retail chain, has priced its initial public offering at HK$2.25 per share, near the top end of the indicated range, amid strong demand for the stocks, market sources said.
The effect of Hong Kong's declining birth rate will be felt keenly in secondary schools over the next few years, prompting the government to propose that schools operating with fewer than 12 classes be merged with others.
The stock exchange has called on the securities watchdog to review its rules for a form of investment suspected of contributing to market turmoil that sent the Hang Seng Index plunging 300 points early last month.
No state leader will visit Hong Kong for the opening of the World Trade Organization ministerial conference in December, amid security concerns over protests and riots. The decision has disappointed protest leaders who had hoped to get their message across directly to leaders during the conference between December 13 and 18.
A packed calendar of about 30 trade fairs next year at the city's newest exhibition centre is expected to generate more than $4 billion for Hong Kong, its managers say.
Shenzhen workers yesterday took their employer, Hong Kong battery maker Gold Peak Industries (Holdings), to court for allegedly failing to provide them with adequate protection against a cancer-causing chemical they handled.
China: China's trade surplus narrowed to $7.57 billion in September, as exports grew at their slowest pace so far this year, but economists say it is too early to view the weaker numbers as a trend.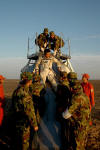 The last comprehensive drill of China's second manned spacecraft Shenzhou-VI was conducted at 9 p.m. Oct. 10 at the Jiuquan Satellite Launch Center. China will launch Shenzhou-6 at a proper time between October 12 and 15, said an official of the China manned space program Tuesday. A panel of aerospace experts will select the two astronauts for China's second manned space mission today - just a day before the Shenzhou VI is launched.
Commission of European Union worries that in the coming five years, the proportion of China's investment in research and development in its GDP will be higher than that of the European Union.
The International Finance Corporation under the World Bank Group issued their Panda Bonds on the Chinese mainland's market on October 10, according to People's Daily.
From October 12, US Treasury Secretary John Snow will lead a delegation, composed of top financial officials, to start a visit to China.
China stands ready to provide whatever help it can for the reconstruction work in Pakistan, India and Afghanistan, which were rocked by a 7.6-magnitude quake on Saturday morning.

China's largest foreign exchange bank said yesterday it had signed an agreement on a US$75 million investment from the Asian Development Bank (ADB), the region's development finance agency.
Chinese enterprises' overseas acquisition increased by 182.5 per cent year-on-year in volume in the first half of this year, according to the latest information published by China's Ministry of Commerce (MOFCOM).
Despite its apparently vast labor supply, China faces a looming shortage of home-grown talent, with serious implications for the multinationals now in China and for the growing number of Chinese companies with global ambitions.
A mainland legislator re-emerged in his home province of Hubei last night after he was badly beaten in Guangdong's Taishi village, where residents are fighting to oust their allegedly corrupt village chief.

Enric Energy Equipment executive director Cai Hongqiu says as the company is expanding, it will not pay a dividend until 2007.
Oct 11, 2005
Hong Kong: More than 10,000 Hong Kong residents have bought real estate in Beijing, most for investment, local media reported Sunday. The report said the property market in Beijing has kept "heated" for years because of the Olympic Games scheduled to be held in the capital city in 2008. Since 2002, many Hong Kong residents who are employed in Beijing have started to buy real estate. They preferred luxury houses in the beginning, but now, they'd rather buy mediocre apartments at an average price around 10,000 yuan (1,235 US dollars) per square meter. Commercial centers in the east, hi-technical centers at Zhongguancun and embassy areas are atop their list for purchasing real estate, the report said. Among those who have bought properties in Beijing, some are representatives for international corporations or Hong Kong enterprises, and some stay there for their own business when their contracts with those companies were over. They all regard Beijing as a base for long-term development.

Chairman of the Elderly Commission, Leong Che-hung, who stepped down as Hospital Authority chairman last year in the aftermath of the 2003 SARS outbreak, is expected to join Chief Executive Donald Tsang's revamped cabinet, spearheading a ground-breaking reform in elderly services.
Hutchison Telecommunications International Ltd, the emerging-markets telecoms arm of Li Ka-shing's empire, is set to launch this week a syndicated loan of US$1 billion (HK$7.8 billion) to finance its expansion in India, Indonesia and Vietnam, sources familiar with the transaction said.
Mainlanders spent some 270 billion yuan (HK$258.93 billion) during the week-long National Day holiday, up 14.2 percent over the same period last year, the government said.

Performers from the Chinese YMCA's Home of Love, Wah Oi Hostel and two other groups for mentally handicapped people take part in a carnival for both the able-bodied and people with disabilities at Stanley Plaza yesterday. The purpose of the games, exhibitions and shows was to build a harmonious community, according to organisers at the Chinese YMCA.
HK, Guangdong plan first joint promotion in US Government representatives plan to emphasise to American entrepreneurs the unique benefits of investing in southern China. The Hong Kong and Guangdong governments will launch their first ever joint promotional-conference in the United States this week — as part of a strategy to attract more US companies to invest in southern China. The Hong Kong–Guangdong Business Conference USA 2005 will be held in San Francisco on Friday. It will begin on Friday morning (Hong Kong time). Director-General of Investment Promotion at Invest Hong Kong Mike Rowse on Monday stressed the importance of attracting more US investment. "The US has been one of our largest sources of foreign investment with cumulative investment amounting to HK$187.6 billion," he said. In the latest survey of regional offices representing overseas companies in Hong Kong, the US again tops the list of having the most regional headquarters (262) and regional offices (606) in Hong Kong, he noted.
A senior labor official has expressed optimism over the government's attempt to get textiles manufacturers to relocate their factories back to Hong Kong with the promise that they can hire between 50 and 80 percent of their labor force from the mainland.
Local banks will meet formally for the first time this week to prepare their response to a Hong Kong Monetary Authority proposal that mortgage rates be priced against a reference composite index rather than against prime lending rates, as is currently the practice.

China: Shenzhou VI, a spaceship to carry two astronauts into orbit, sits atop of the LM-2F carrier rocket at the launching pad in Jiuquan satellite launch center in northwest China October 7, 2005. It is widely reported that China's second manned spaceship will be launched on October 13.
China has decided to offer emergency aid worth 6.2 million US dollars to Pakistan, which was rocked by a 7.6-magnitude quake Saturday morning together with India and Afghanistan. China flew a 49-member rescue team and tons of materials to Pakistan yesterday as a first batch of relief to its quake-hit neighbour.
The International Finance Corporation (IFC) and the Asian Development Bank (ADB) have been allowed to issue their initial batch of yuan-dominated bonds of 1.13 billion yuan (140 million US dollars) and 1 billion yuan (124 million dollars), respectively.

A woman learns about Chinese space exploration from an exhibition at the Science and Technology Museum in Beijing. Shenzhou VI, China's second manned space mission and the first to carry two astronauts, is scheduled to lift off this week, depending on weather conditions. The spacecraft will return the astronauts home after orbiting the Earth for five days.
Oct 10, 2005
Hong Kong: Cheung Kong plans to raise as much as HK$2 billion from the sale of a real estate investment trust by the end of the year, possibly beating the government to the punch on its planned HK$23.4 billion Link REIT to become the first such listing in Hong Kong.

Hong Kong's 6.9 million crowded, stressed, sedentary citizens seem to be confounding everything that environmentalists and healthcare specialists argue for. Despite inhaling filthy air while dodging malachite green, dengue fever and Japanese encephalitis, and bracing for an avian flu pandemic, they are also - improbably as it sounds - among the world's longest-lived people.
Shenzhou International Group Holdings, a knitwear maker planning an initial public offering in Hong Kong, is expected to bring in Japanese retailer Uniqlo as a strategic investor, market sources said.
Heilongjiang Longmei Mining (Group), China's third largest coal miner by sales volume, aims to raise more than HK$2 billion in a Hong Kong initial public offering in the first half of 2006, despite concerns over peaking coal prices, sources said.

Adoring youngsters catch the community spirit: Actress and singer Niki Chow Lai-kei, above, entertained about 4,000 youngsters at Sha Tin Racecourse yesterday. Centred on the themes of caring and contribution, the variety show, highlighted the different fads and leisure interests among teenagers today. The variety show aimed to inspire young people to feel a sense of belonging and caring for their community.

the official opening celebrations on Thursday of AIG's Asia regional headquarters at AIG Tower, Central. Top global insurer American International Group (AIG), the beneficiary of preferential treatment in China, is sticking with its 100 per cent ownership model as it looks to expand in the mainland but did not rule out another approach if warranted.
Hong Kong retail sales rose for the 25th straight month in August, though at a slower pace than expected as sluggish tourist arrivals and interest rate hikes hampered consumer spending.
China: The Fifth Plenary Session of the 16th CPC Central Committee that attracted the public's attention was opened in Beijing on the morning of October 8. China's economy is now at a key period for softlanding in light of growing investment, the driving force of its fast economic expansion, according to a report by a taskforce for the State Development and Reform Commission.

Digby Jones (R), Director-General of the Confederation of British Industry (CBI), shakes hands in London with Guy Dru Drury, Chief Representative of CBI office in Beijing, after the announcement of setting up the office Oct.7, 2005. The CBI office in Beijing was announced set up on Friday in an attempt to promote trade between Britain and China and to provide support and service to British enterprises operating in China at the same time.
China's banking industry watchdog said Saturday it had approved in principle two specific regulations on the trial securitization of credit assets and money brokerage.

Passengers wait for their turn to board trains on Thursday at a railway station in the city of Qingdao, East China's Shandong Province. As the week-long holiday draws to its close, travellers are making their way back home, putting pressure on the railway system. Trains from Qingdao to Beijing and some other cities have added extra carriages, but are still finding it hard to meet the needs of all passengers. Passengers wait for their turn to board trains on Thursday at a railway station in the city of Qingdao, East China's Shandong Province. As the week-long holiday draws to its close, travellers are making their way back home, putting pressure on the railway system. Trains from Qingdao to Beijing and some other cities have added extra carriages, but are still finding it hard to meet the needs of all passengers.
Oct 7 - 9, 2005
Hong Kong: Hong Kong's retailers have reported disappointing sales for National Day Golden Week, with only moderate growth reported midway through the mainland holiday break and less than the expected benefit coming through from newly opened Disneyland.

New World Development (NWD) yesterday claimed to have put two difficult years behind it and entered a new era of steady earnings growth and aggressive debt reduction. New World managing director Henry Cheng says at a press briefing yesterday the group is expecting a stable revenue stream.
The government plans to press ahead as early as December with controversial plans to redevelop the Tamar site in Central as a massive government headquarters, government sources said.
Modern Terminals Limited, a major Hong Kong port operator, has agreed to buy back some shares from China Merchants Holdings (International) and Wharf (Holdings) for about HK$1.4 billion.
Hong Kong Airport Authority, the government-owned unit which runs the airport, plans to spend HK$300 million to add another 10 cargo stands by 2007 to capture the growing cargo market.
The H5N1 virus, seen in gold in this electron micrograph image, is expected to cause the next pandemic. One million Hong Kong people could be hit by bird flu in an eight-week pandemic that would grind the city to a halt, a top local disease expert warned yesterday. Thomas Tsang Ho-fai, consultant at the Centre for Health Protection, outlined contingency measures that could be used to cope with a worst-case scenario that left 15 per cent of the population sick. He warned that anti-viral drugs would have limited effectiveness given how infectious bird flu could be.
Elsie Leung Oi-sie remained tight-lipped about her future as justice minister yesterday, even as legal circles continued to buzz with the name of her likely successor, Wong Yan-lung. A farewell party has been organized for outgoing justice chief Elsie Leung, according to veteran leftist and local National People's Congress deputy Tsang Hin-chi. The occasion, hosted by local National People's Congress deputies, will be to pay tribute to Leung's dedication and contribution to Hong Kong's legal system during her eight years in office. Leung's departure is imminent but government sources said she will continue to serve as special adviser to Chief Executive Donald Tsang. However, Leung's likely new status was criticized by pro-democrats politicians, including the Article 45 Concern Group. Democratic Party vice chairman Albert Ho and barrister-lawmaker Ronny Tong said Leung's new role will mean she can still "influence" government policy. Ho and Tong said they plan to raise questions in the Legislative Council on the "extraordinary arrangement for a retired top official." Leung's successor is 42-year-old barrister Wong Yan-lung, but his appointment needs Beijing's approval.

The longest running show in Broadway history comes to Hong Kong this Christmas with a local twist - singer and actress Karen Mok Man-wai as its lead star. Rent, a musical that focuses on the trials and tribulations of a community of artists, will be staged at the Academy for Performing Arts between December 13 and 25. Mok will cast as a 19-year-old exotic dancer and HIV-positive junkie. The cast will also perform next month in Singapore, Beijing, Shanghai and Japan.
Jardine Matheson Holdings taipan Percy Weatherall is to step down in March next year and be replaced by Anthony Nightingale, a long-time employee of the Keswick family-controlled group, according to a company statement filed with the London Stock Exchange yesterday.

China: Cartoons are hung in an emporium to tout customers in Shenyang, capital of northeast China's Liaoning Province, on Oct. 5, 2005. Various measures were taken by local businesses to enlarge their market share during the weeklong National Day holidays starting from Oct. 1.
China's Commerce Ministry has forecast a trade surplus of $90 billion to $100 billion for 2005, and the country's two-way foreign trade would hit $1.4 trillion, the Reuters reported on Thursday.
Farmer Zheng Chanzi in North China's Hebei Province has many reasons to be pleased this summer. When he was busy cutting wheat, which grew better than previous years, news came that the government had further cut down the agriculture tax and raised the grain price by 60 percent, to 1.5 yuan (about 8.10 yuan against the US dollar) per kilogram.

Visitors search for books under the watchful gaze of China's former leaders (from left to right) Sun Yat-sen, Mao Zedong, Liu Shaoqi and Zhu De, and further behind (from left to right) Zhou Enlai and Deng Xiaoping, at a book fair in Beijing on Tuesday. The book fair held every year in Ditan Park attracts many visitors.
A report completed by the Ministry of Commerce's Department of Foreign Trade said yesterday the country's two-way foreign trade will hit US$1.4 trillion, according to International Business Daily, a newspaper published by the ministry.
Oct 6, 2005
Hong Kong: Wong Yan-lung, a relatively unknown barrister, is poised to take over from the retiring Elsie Leung as secretary for justice - the fourth most senior position in the government.
Taisheng Furniture, Asia's largest furniture exporter, plans to raise US$300 million to US$500 million (HK$2.34- HK$3.9 billion) in a Hong Kong initial public offering in mid-November, according to market sources.
Office rents in almost all prime districts in Hong Kong have jumped to new highs not seen since the dotcom boom in 2000, boosted by robust demand and shrinking supply, according to property consultants DTZ Debenham Tie Leung.
A record number of people visited Hong Kong in August, boosted by surging growth in long-haul visitors even as arrivals from the mainland fell, according to Tourism Board figures.

PCCW has partnered with UA Cinema Circuit to provide a movie ticket booking system through its customers' set-top box remote controls. Acting head of television and content Dominic Leung (above) says the company is in negotiations with a range of content providers on broadcasting rights for video-on-demand programs.
NOW TV, the pay-television unit of Hong Kong's largest phone company PCCW, plans to relaunch a video-on- demand service before Christmas to compete against larger rival i-Cable Communications. PCCW's Now Broadband TV will launch its long-awaited high-resolution service in December, targeting more than 10,000 movie and sports lovers with connection speeds of up to 12 megabits per second (Mbps).
China Infrastructure Machinery Holdings, the country's third-largest maker of wheel loaders, plans to raise up to HK$600 million in Hong Kong to help boost production capacity by 20 percent over the next three years.
In an attempt to crack down on the trade in endangered species of plants and animals, officers of the Agriculture, Fisheries and Conservation Department may soon be empowered to arrest suspects without having to pass such cases to the police.
Hard on the heels of last month's historic visit by 59 legislators to Guangdong, mainland authorities are rolling out the welcome mat for 31 Kwun Tong District councillors - including four democrats.
A trust fund will be set up to promote community interest in equestrian events in Hong Kong, which will host the event during the 2008 Olympic Games, the city's organizing committee said on Wednesday.
Link Reit will not be reserving any units in the relaunch of its initial public offering for so-called cornerstone investors, so it can make more room for retail investors.
Receiving banks, share registration firms and brokerage houses are taking up positions before the mega initial public offering of China Construction Bank (CCB), which launches its roadshow today.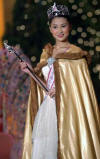 China: Miss Asia Pageant 2005 winner Kitty Wang of China poses at the Miss Asia Pageant 2005 in Hong Kong October 4, 2005.Hong In Young of Korea is the first runner-up and Anna Zhai of China is the second runner-up. Eighteen contestants from China, Hong Kong, Japan, South Korea, Vietnam, Thailand and other Asia countries, participate in the contest.

The U.S. Treasury Department on Monday named David Loevinger as permanent financial attache to China -- a new, Beijing-based position meant to encourage close ties on economic issues including foreign exchange.
Chinese scientists are planning super-efficient nuclear reactors that can maximize uranium burn-up and minimize waste in the generation of electricity.
Luxottica, the world's largest maker of eyeglasses, based in Italy, will buy optical retailer Ming Long Optical for 290 million yuan (HK$278.11 million) as part of an expansion into the 16 billion yuan China eyewear industry.
Shanghai's Waigaoqiao terminal has received Communications Ministry permission to raise its container handling fees by 10 percent from January 1, a move that should benefit its nearby competitor Yangshan Port, whose first phase is scheduled to open next year.

A bank worker counts yuan banknotes on the Taiwan-held island of Quemoy. Starting yesterday, Taipei allows banks on Quemoy and the nearby island of Matsu to exchange yuan and the New Taiwan dollar for the first time, despite lingering hostility across the Taiwan Strait.
Oct 5, 2005
Hong Kong: Secretary for Financial Services and the Treasury Frederick Ma predicts that the size of Hong Kong's stock market will rise to seventh or eighth largest in the world from ninth in the next two to three years on the the back of more fund- raising activities from the mainland's mega enterprises.
DHL International plans to double its express cargo terminal capacity at Chek Lap Kok with a new US$100 million (HK$780 million) building to deal with the relentless stream of high-value manufactured goods from factories in Guangdong.
Hong Kong Broadband Network, the fixed-line telecoms arm of City Telecom, hopes to grab 100,000 low-end customers through its cheaper broadband "2b" phone service in the first year of operations, as the company seeks more revenue from the overseas Chinese market.
AS Watson, a retail unit of billionaire Li Ka-shing's Hutchison Whampoa, has agreed to buy St Petersburg-based retailer Spektr Group in its first investment in Russia.
Hutchison Whampoa, Li Ka-shing's flagship company, is seeking a loan of three billion euros (HK$27.99 billion) for its Italian telecoms subsidiary, 3Italia, market sources said.
China Paradise Electronics Retail, which hopes to raise as much as HK$1.05 billion in an initial public offering, drew orders for five times the number of shares on offer to institutional investors, sources said.
Zhejiang Kasen Industrial, one of China's largest leather tanneries, has cut the size of its planned initial public offering by a quarter to US$150 million (HK$1.17 billion) in the face of tepid investor interest.
Shares of China Yurun Food Group, the mainland's third-largest meat processor, rose a scant 2.03 percent in their Hong Kong trading debut even though the HK$1.54 billion initial public offering drew hefty demand from investors.
Hong Kong-listed Cheuk Nang (Holdings) and Macau Success, together with their business partners, will invest a combined HK$4 billion in property and tourism projects in Macau, hoping to gain from the city's fast- growing economy.
Demand for steel in China - the world's largest consumer - will probably increase by up to 10 percent next year to 330 million tonnes, the International Iron and Steel Institute said.
In an attempt to lure firms and factories back to Hong Kong from the mainland, Secretary for Economic Development and Labour Stephen Ip is to revive a plan to import mainland workers in exchange for them creating the same number of jobs for local workers.
Public support for the government and Chief Executive Donald Tsang Yam-kuen rose to a record-high in late September, a university poll released on Tuesday showed.
The total number of sale and purchase agreements for registered buildings in Hong Kong was 8,670 in September, the Land Registry said on Tuesday.
The proposed separate listing of Cheung Kong Infrastructure Holdings' Australian operations will bundle A$10 billion ($59.03 billion) worth of jointly owned power assets in an investment trust as early as next month, according to sources familiar with the deal.

China: A man and a little girl stand in front of a huge poster of the photo exhibition "Charming Beijing" at the Kennedy Center for Performing Arts in Washington, on Oct. 2, 2005. The exhibition showing both ancient and modern city of Beijing to visitors was one part of the Festival of China which was kicked off here on the Saturday's evening. The month-long Festival of China, the largest-ever joint culture event co-organized by the United States and China, would feature dozens of cultural events, including performances, exhibitions, outreaching programs and educational activities, including dance, theater, instrument music, visual arts, literature and film.
US Treasury Secretary John Snow will be in Asia next week for high-level talks in Japan and China including a meeting of the Group of 20 nations.
A government-affiliated research body announced Tuesday in Beijing that it will develop China's own DVD format in order to break monopoly of foreign companies.
China has started building a 200 kilometer-per-hour railway from Fuzhou, capital city of southeast China's Fujian Province, to Xiamen, a coastal city in the province.
Oct 4, 2005
Hong Kong: Dongfeng Motor Corp, a state-run automaker based in Hubei province, has applied to the Hong Kong stock exchange for a listing before the year-end, which may compete with two larger initial public offerings from China Construction Bank and Hong Kong Link REIT, market sources said.
With Hong Kong Disneyland now in full swing, the focus has shifted back to older rival Ocean Park, whose future will be decided by the end of the year. According to a spokeswoman from the government's Economic Development and Labour Bureau, the evaluation of the park's redevelopment plans are at an advanced stage. "We hope to arrive at a decision [on whether or not the development will go ahead] before the end of this year," she said. The redevelopment of Ocean Park is crucial to the 28-year-old theme park's survival, especially with the opening of Disneyland last month. Six months after Ocean Park chairman Allan Zeman announced the HK$5.5 billion plan to redevelop the park, he said there have been no major obstacles to the plans. Zeman said many parties are involved in the approval process since it is such a large undertaking. The park is undergoing an environmental impact assessment and is working with Legco, the Executive Council and various government departments simultaneously.

Friends of the Earth volunteers put the finishing touches to a domino display made up of more than 10,000 empty mooncake boxes in Hollywood Plaza, Diamond Hill. About 1,000 people watched the event, which was designed to encourage consumers to reuse, rather than discard the tins.
Jewelry chain Luk Fook Group said it is hoping the Golden Week holidays this month will generate higher sales to make up for a lackluster April-August, which saw turnover decline 3 percent compared to the same period last year.
New World Development, the Hong Kong property developer controlled by billionaire Cheng Yu-tung, has purchased a lot in Tai Hang on Hong Kong Island for HK$614.6 million.

Main-board listing candidate Tradelink Electronic Commerce will target the mainland and overseas markets to push its digital trade and transport network, according to chief executive Justin Yue Kwok-hung. According to market sources, Tradelink is expected to raise about $300 million through an initial public offering later this month. The government, which owns a 42 per cent stake in the company, is expected to offload some of its shares in the offering. Other existing shareholders from the local business community such as PCCW, Swire Pacific and the Hong Kong General Chamber of Commerce will not sell shares in the offering. DBS is the deal's sponsor. The company expects to pay 80 per cent of its net profit as a dividend to lure shareholders.
MTR Corp is working to export its property development expertise to Britain, where it wants to help municipal and national rail operators build and operate station facilities.
Hong Kong universities have lost out to the mainland in their attempt to team up with a new Japanese institute specialising in digital content production. Digital Hollywood University, which opened in April, trains people in computer graphics, web design and digital imaging suitable for films and animation. School president Tomoyuki Sugiyama said the university, formed by the Digital Hollywood Graduate School and owned by the Digital Hollywood Corporation, received offers for collaboration from leading universities in Hong Kong but the proposals were not attractive enough. "We met three to four top universities in Hong Kong but they offered nothing concrete," Mr Sugiyama said. Instead, the university chose the mainland as its new partner. The first step will be a collaboration with Beijing's Tsinghua University. The Japanese university will recruit up to 30 mainland students for the next academic year. It will hold a recruitment seminar at Tsinghua on November 7. Shinsuke Fujimoto, chief executive officer of the Digital Hollywood Corporation, said universities in other Asian cities also offered attractive proposals, but the mainland was the best option.

China: A Chinese dancer performs at the opening ceremony of the Festival of China, an unprecedented culture event cosponsored by China and the United States, in the Kennedy Center for Performing Arts in Washington October 1, 2005. The Festival of China kicked off here on Saturday with dazzling art shows, joyous celebrations and firework displays. Serving as a medium to show the Chinese people's openness to the world, it will run through October and feature dozens of shows, exhibitions and performances.

Chinese Premier Wen Jiabao talks with a rural resident in his visit in Luanping County in north China's Hebei Province on Oct. 1, China's National Day. In Pianqiao Village, local residents told Wen that their life is much better, but they can not afford to go to hospital for any serious illnesses while the local clinics can only take care of slight illnesses. "And the most important is that measures should be taken to increase income of farmers and not to let the grain prices fall down," Wen emphasized. Chinese Premier Wen Jiabao visited rural residents in Luanping County in north China's Hebei Province on Oct. 1, China's National Day. Luanping, about 200 kilometers away from Beijing, used to be a poor county and is a focus of national poverty-relief program. Wen had inspected the county in the year of 2000.
A major oil and natural gas project off the Sakhalin island began its industrial production Sunday as Russia looks increasingly to its Far East region to tap energy reserves.

One little Beijinger was less than impressed with being nursed by a woman in Chinese opera costume at National Day holiday celebrations yesterday. The babies and women are both sets of twins. They are among scores of twins and triplets at the second annual multiple births festival held as part of week-long events to commemorate the founding of the People's Republic of China in 1949.
Oct 3, 2005
Hong Kong: Over 400,000 people, including Chinese mainland tourists, have arrived in Hong Kong from marine, land and air check points from Friday to Saturday noon, to spend the National Day "Golden Week" holidays starting on Saturday.

Chief Executive Donald Tsang attends the flag-rising ceremony at Golden Bauhinia Square Saturday.
At least three Hong Kong tour groups are in Bali but all their members were said to be safe. Hong Thai Travel Services has a party of 25 on the island. "After the bombing, we contacted our tour party and confirmed all members were safe. According to our staff, the tour leader is not sure what has happened," general manager Susanna Lau Mei-sze said. "We have decided to proceed as planned but we will continue to make inquiries. We do not rule out the possibility of altering the itinerary." Sunflower Travel also has a tour group in Bali. The 18 members left Hong Kong on Friday for a five-day tour. "They are all safe and well in the hotel," a spokesman said.

Shun Tak's Daisy Ho and Hongkong Land's Robert Wong, who says the deal will not be the firm's last in Macau. Hongkong Land Holdings has made its first foray into Macau's property market in a joint venture with Shun Tak Holdings to build a $6 billion residential-retail-hotel project on the waterfront.
Hong Kong's big spenders are bidding farewell to the economic slump and celebrating by shopping with a vengeance - spending more than $2 billion on jets, cars and yachts this year.
A senior customs official has disputed claims by mainland authorities that about 1,200 tonnes of illicit petrol was funnelled into Hong Kong each day during August, causing widespread shortages across Guangdong.
High-quality Hong Kong garment manufacturers yesterday hailed the results of the first auction of European Union quotas on Chinese textiles as transparent and beneficial to them, while those producing low-end products complained they were unable to get what they had wanted.
China: Chinese President Hu Jintao and his US counterpart George W. Bush hailed the opening of the Festival of China in Washington on Saturday, saying the event will further promote mutual understanding, cooperation and friendship between the two countries. The Chinese president said in his message that "It is a great pleasure for me to express, on behalf of the government of the People's Republic of China, my sincere congratulations on the Festival of China to be opened in October in Washington, D.C.." "Culture is a window reflecting the history, culture and spiritual world of a nation," Hu said. "Cultural exchange is a bridge to enhance the mutual understanding and friendship between the people of different nations." The Chinese president expressed his belief that the Festival ofChina, in a variety of artistic forms, is conducive to deepening the understanding of China by American audience, to promoting exchanges and cooperation between the two great nations of China and the United States.
More than 200,000 gathered in Tiananmen Square early yesterday for the ceremonial raising of the national flag as the country celebrated the 56th anniversary of the founding of the People's Republic.
President Hu Jintao on Thursday urged to continue the country's urbanization process with Chinese characteristics in a healthy and orderly way.
The investment of small and medium-sized enterprises (SME) in information technology (IT) willreach over 230 billion yuan (28.36 billion US dollars) in 2009, according to a report released recently by a Chinese global consulting company.
Japan will ask China to disclose information about its exploration of oil and gas fields in the East China Sea during the current round of talks, which began on Friday.
Computer giant Lenovo Group has sped up consolidation with IBM's PC business, and formed a unit in India to transfer its success in China to other emerging markets.

Stone carving artefacts on display at the five-day 3rd Haikou Tourism Commodity Expo, which opened on Friday in Haikou, capital of South China's Hainan Province.
A new regulation taking effect on Saturday will better protect the Qinshihuang Mausoleum, China's first feudal emperor's tomb and a world heritage site popular with tourists in Northwest China's Shaanxi Province.
BHP Billiton, the world's biggest mining company, expects Chinese sales to rise to between 15 and 20 per cent of its revenue in five years, led by soaring iron ore demand, Chief Executive Charles Goodyear said.
Shenyang Yuanda Enterprises Group, one of China's leading structural curtain wall manufacturers, won its biggest ever international project bid recently in Russia.
The growing number of CFA candidates in China will reach 4,935 this year, a trend expected to continue at a strong pace, according to the CFA Institute, the global professional association that administers the Chartered Financial Analyst (CFA) curriculum and examination program.

Vice-Premier Hui Liangyu (left), Politburo Standing Committee member Luo Gan and Xinjiang party secretary Wang Lequan at a celebration in Urumqi , Xinjiang.
Oct 1 - 2, 2005
Hong Kong: This is the eighth subsidiary branch of the Bank of East Asia in the Chinese mainland to be licensed to run RMB service.The subsidiary bank will provide RMB services for domestic enterprises, foreign-funded enterprises as well as overseas citizens.
Chief Executive Donald Tsang's plan to build a HK$6 billion government headquarters on the long-vacant Tamar site in Central is crystalizing the debate over the direction Hong Kong's urban environment should take.
Shun Tak Holdings, run by casino mogul Stanley Ho, has formed a joint venture with Central's biggest landlord Hongkong Land to develop a mixed- use property project in Macau.
Sun Hung Kai Properties, Hong Kong's second-largest property developer by market value, has formed a joint venture with conglomerate China Resources (Holdings) to invest up to HK$700 million in a multi-purpose project in Zhejiang province.
China Power International Holding has called off the share subscription of China Sciences Conservational Power after its chairman was arrested by the local anti-graft watchdog.

Children hold copies of some of the 1,065 personal photographs selected to create the giant collage behind them of Hong Kong Disneyland. The pictures, mainly of babies and families, were chosen from more than 4,000 images submitted in July. The collage will be on display just inside the theme park's entrance until October 28. Eastman Kodak, which produced the collage with the theme park, is planning another display, which will combine pictures of visitors enjoying themselves at the park.
Hong Kong ranked seventh in the world in attracting foreign direct investment in 2004, up four notches from a year ago, amid continued robust fund inflows into China, according to a report released by the UN Conference on Trade and Development.
Lenovo Group, the largest personal computer manufacturer in Asia, said it will standardize its product offering worldwide starting next month as it moves to integrate its own products with those offered by the IBM PC business it purchased earlier this year.

A massive supply of office space from Sun Hung Kai Properties' International Commerce Centre in West Kowloon - to be the fourth-tallest building in the world - will start coming on the market in the second half of 2007, three years before the building is completed.
Bucking the trend for building shopping centers underneath high-rise residential developments, Sino Land is being creative with its latest West Kowloon waterfront project One Silver Sea, which will house a 100-room boutique hotel in its podium.
The Independent Commission Against Corruption's Operation Sounding Arrow - an investigation of a HK$100 million scam allegedly perpetrated by the so-called father of mainland concerts, Chan Tat-chee - continued with three more arrests Friday.
Chief Secretary for Administration Rafael Hui told members of a cultural advocacy group he will seek the advice of the government's top decision-making body next Tuesday on a package of proposals, including the creation of a statutory body to monitor the West Kowloon cultural district.

Investors see a window of opportunity in a fund management joint venture between the Bank of Communications (Bocom) and British asset management giant Schroders. The fund has raised 4.87 billion yuan, attracting more than 114,000 subscribers by Monday. David Lui, chief executive of the fund company, attributed the success to improved sentiment and pent-up demand for the A-share market. The medium-risk equity fund will hold about 40 per cent in defensive stocks. Bocom has a 65 per cent stake in the venture, Schroders 30 per cent and China International Marine Containers Group the rest.
A Hong Kong delegation overnight (HK time) visited the United States Centre for Food Safety and Applied Nutrition (CFSAN) in the capital city, Washington DC.

Ruili Holdings, the flagship media business of dealmaker Charles Chan Kwok-keung, plans to invest more than $10 million to produce 30 digital movies each year in a bid to stimulate a local film industry struggling under the threat of internet downloads.

China: On October 1, 2005, the People's Republic of China, or "New China" as it is fondly referred to by the entire Chinese people, turns 56 years old. With a population counted at 1.3 billion on the first day of this year and a land mass of 9.6 million square kilometers, plus 4.73 million square kilometers of territorial waters, China is the largest developing country in the world.

A new portrait of late leader Mao Zedong is lifted into its position on Tiananmen Gate in Beijing ahead of National Day. The fifth plenum of the Communist Party's Central Committee - a key annual meeting that maps out economic policy for the next five years - will run from October 8 to 11 in Beijing, Xinhua reported yesterday. It was the first official announcement of the meeting's timing.
The mainland's Supreme People's Court has issued a reminder to lower courts that they are not part of the bureaucracy and should remain impartial in adjudicating local cases.

A huge banner promoting the "Festival of China" hangs above the entrance to the John F. Kennedy Center in Washington, on Sept. 28, 2005. The festival, the largest celebration of the Chinese performing arts in American history, will debut in the center this October.

In festive mood: Pinwheels at a market in Tianjin yesterday catch the attention of a boy carrying Chinese national flags. The country will celebrate the 56th anniversary of the founding of the People's Republic of China on October 1.
Fifty foreign experts were honored with the Friendship Award at a ceremony for their contributions to China's economic and social development. During the current harvest season, Australian agriculturalist Robert Clements reaped gold in China - the State-level Friendship Award, the highest honour conferred on foreigners by the central government.
As the 3G (third generation) mobile communication technology matures, China, Japan and the Republic of Korea (ROK) will host a "Beyond 3G" international conference on October 18 in Shanghai.
As one part of the China-Association of Southeast Asian Nations (ASEAN) Exposition, the first phase of the Sino-ASEAN commercial park was completed Thursday in Nanning, capital of southwest China's Guangxi Zhuang Autonomous Region.
China is spreading the net wider in its fight against money laundering by aiming to cover not just banking but also other financial sectors such as insurance and securities, state media said.
Sept 30, 2005
Hong Kong: Hong Kong is headed for a record year of initial public offerings, surpassing the old peak of HK$132 billion in 2000 on the back of a surge in mainland firms selling shares to overseas investors.

Guangdong, long viewed as the mainland's most prosperous province, is facing a series of crises, provincial Communist Party secretary Zhang Dejiang admitted to Chief Executive Donald Tsang and Hong Kong legislators during a private meeting last Sunday. In a wide-ranging series of measures, Hong Kong and Guangdong have agreed to cooperate on regional environmental and economic matters, including infrastructure and planning, bilateral trade, education and cross-border transport.
Henderson Land Development, Hong Kong's No3 developer, has posted a 76 percent jump in full-year net profit and unveiled two mega housing projects in the New Territories that analysts estimate to cost HK$10 billion each.
Hong Kong has become less competitive, with political concerns helping to drag it down seven places to rank 28 in an annual worldwide table, according to the latest Global Competitiveness Report drawn up by the World Economic Forum.

Nicolas Chow, Sotheby's director for China and Southeast Asia, examines the GuYueXuan pheasant vase yesterday. A price double the previous record for Qing dynasty porcelain is expected to be realized in Hong Kong next month when Sotheby's sells the vase.
The top US diplomat in Hong Kong applauded a historic trip to southern China this week by the city's lawmakers, including many who had been banned from the mainland for their pro-democracy views and condemnation of the bloody Tiananmen Square crackdown in 1989.
Independent Commission Against Corruption (ICAC) officers on Thursday confiscated a number of boxes of documents from the Sheung Wan office of a leading Hong Kong entertainment company.
Japanese and Chinese officials will gather in Tokyo this week hoping to defuse a simmering dispute over gas exploration in the East China Sea that could chill already frosty relations if left unresolved.
Hong Kong's consumers and tourists should not be unduly worried about being sold counterfeit goods, the director of the Intellectual Property Department said Wednesday, despite concerns that his department's "No Fakes" scheme is ineffective.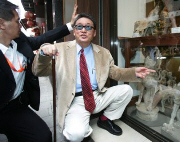 Taiwanese legislator Li Ao, centre, tours an antique street for tourists in Central, Hong Kong on Thursday. Wrapping up a tour of China, Mr Li praised the mainland and criticised Taiwan as 'lawless', but insisted he hadn't toned down his message. Mr Li moved from the mainland to Taiwan with his parents after the Nationalists were driven to Taiwan in 1949. His recent 12-day tour of China is his first time back. Hong Kong should focus on economic development and not push the pace of democratic development too hard, flamboyant Taiwanese author-turned-legislator Li Ao said.
China: By the end of August, foreign investors from more than 190 countries and regions had set up more than 530,000 foreign-funded companies in China with a combined actual foreign investment exceeding 600 billion US dollars, disclosed Zhou Ming, deputy director of the Investment Promotion Bureau of China's Ministry of Commerce, on September 28 at the released ceremony of the "World Investment Report 2005'' by the United Nations Conference on Trade and Development (UNCTAD). The companies cover almost all trades, including manufacturing, agricultural, infrastructural, and service industries. Among the top 500 transnational companies in the world, nearly 450 have invested in China, and some of them have also set up regional headquarters in the country. In the first eight months of this year, the state approved 28,393 foreign-funded enterprises with a combined actual foreign investment reaching 27.993 billion USD.

Lu Jianhua (L), Chinese chief negotiator as well as the director of the Foreign Trade Department of the Ministry of Commerce, shakes hands with David Spooner, special negotiator for textile at the US Trade Representative's office, before their talks in Washington D. C. on Sept. 27, 2005. The fifth round of Sino-US talks on textiles was in the pipeline on Tuesday. After four rounds of talks without reaching any agreement, China is yet to strike a "win-win" deal with the United States on export quantities and growth rates for the coming few years.

Primary students from Nanchang, capital of East China's Jiangxi Province, stage a performance as part of activities marking the 2,556th anniversary of Confucius' birth. Chinese restaurants across North America have a custom that does not yet exist in China: They give out free "fortune cookies" at the end of a meal. In each cookie is a hidden slip of paper containing a catch phrase that, more often than not, is credited to Confucius (551-479 BC).
China could be the first country in the world to approve genetically modified (GM) rice.

Proposed by China's Datang Telecom in 1998; Accepted by ITU (International Telecommunication Union) as a global 3G standard in 2000;
Has not been put into commercial use yet WCDMA: Developed mainly by European firms including Ericsson, Nokia and Siemens; Dominant in Europe
CDMA 2000: Developed by US firm Qualcomm; Popular in the United States, Japan and South Korea. The Chinese Government is calling for an intensive industry-wide effort to speed up the development of TD-SCDMA mobile phones, to help turn the home-grown standard for third-generation (3G) mobile communications into a commercial reality.
China yesterday announced the International Finance Corporation (IFC) and the Asian Development Bank (ADB) had been approved to issue their first batch of yuan-denominated bonds on the Chinese mainland, making them the first multilateral financial group to do so on the mainland.
The grand 2005 China Hunan Tourism Exposition, held in Changsha, capital of Central China's Hunan Province from September 13 to 14, offered eye-catching activities for visitors from all over the world.
General Electric plans to buy a seven per cent stake in China's Shenzhen Development Bank in the latest foreign strategic investment in China's increasingly competitive banking market, reports said on Thursday.

China Development Bank (CDB), which has helped fund the Three Gorges Dam, sees the yield guidance for its latest US$1 billion bond tightened amid strong demand.
Sept 29, 2005

Hong Kong: Young musicians perform at the Government Primary Schools' Flag-guards Marching and Variety Show held yesterday at Queen Elizabeth Stadium in Wan Chai in celebration of National Day. The show included dancing, marching drills and musical performances. The event is one of the key programmes organised by the Education and Manpower Bureau to celebrate National Day, which falls on Saturday.
The Social Welfare Department on Wednesday announced that applicants for the Social Security Allowance (SSA) would soon be able to download welfare application forms from the department's website.
The Hong Kong dollar remained firm against the US dollar yesterday, supported by rising interest rates and the prospect of a rise in funding requirements to meet the increasing number of initial public offerings in the pipeline.
China: Sixteen transport ministers from Asia and Europe vowed to cooperate on road transport in Beijing Tuesday. The ministers issued a joint statement after a ministerial meeting held in Beijing. The ministers or the their representatives were from Azerbaijan, Belarus, China, Czech, Georgia, Greece, Iran, Kazakhstan, Mongolia, Pakistan, Poland, Romania, Slovak, Turkey, Ukraine and Vietnam. Extensive and intensive discussions were conducted on the theme of Enhancing the Development and Cooperation of the Euro-Asian Road Transport. They agreed that economic and trade development in Asia and Europe would be greatly enhanced by strengthening mutual cooperation in road infrastructure.
It is time for foreign investors to enter Chinese market through mergers and acquisitions, said Hu Jingyan, director of the Foreign Investment Department under the Ministry of Commerce, recently. Hu made the remark at an international seminar on mergers and acquisitions, the Economic Information Daily reported on Tuesday. Hu said his conclusion was based on the rebound of global mergers and acquisitions, the continued and fast development of the Chinese economy, and foreign investors' optimistic stances on China's market.

Mengniu Dairy (Group) Co Ltd has become the first mainland company known to have launched a global search for a group chief executive officer, who will have the title of president.
Chang'an Motor, China's fourth biggest producer of automobiles, and the Japanese partner Suzuki Motor, plan to add a further 2.96 billion yuan (US$364.98 million) in their joint venture within the next two years to expand production capacity and introduce new models, according to a company executive.
The US Aviation Capital Group (ACG), one of the worlds top three airplane purchasing and leasing companies, showed its confidence and ambition in China by appointing a first-rate team of industry specialists to serve the Chinese booming aircraft leasing market yesterday in Beijing,
Several prominent management consultants from some of the largest international and domestic consulting firms yesterday pinpointed the challenges of building and managing consulting firms in China, such as lack of sophistication on the part of clients, a shortage of qualified talent and an absence of industry standards.

Tea waiters show off their skills during a prelude to the International Tea Convention with Tea and Coffee Exhibition in Hangzhou, Zhejiang province. The three-day event, which started yesterday, is being attended by about 500 delegates from China and abroad.
The mainland yesterday launched large-scale annual war games in Inner Mongolia , pitting 16,000 troops against each other in a spontaneous mock battle observed by military officers from a record 24 nations.

Shanghai Automotive workers assemble a Volkswagen car. A raging price war has eroded profits of mainland car producers.
International ratings agency Standard & Poor's Ratings Services on Wednesday said it had raised its counterparty credit ratings on five leading Chinese lenders and institutions.
China's state-run press on Wednesday named the likely astronauts to pilot the nation's second manned space flight tentatively scheduled to be launched during the first 20 days of October. "At present, the team of Zhai Zhigang and Nie Haisheng has the biggest possibility of undertaking the task of piloting the Shenzhou VI," the Shanghai Morning Post said, citing unnamed space experts. "But adjustments can still be made up until the last minute and no one is willing to guarantee who will go up." Officials at the China National Space Administration refused to confirm or deny the reports. Mr Zhai and Mr Nie are one of three teams of finalists in the running to pilot the Shenzhou VI, whittled down from a pool of 14 former fighter pilots who are being trained as China's first generation of astronauts.
Sept 28, 2005
Hong Kong: A study conducted by HKTDC advises Hong Kong companies to keep abreast of the EU's WEEE and RoHS directives and look at ways in which they could capitalize on the increasing demand for green products. Meanwhile, the Hong Kong Green Manufacturing Alliance is also helping manufacturers to adopt a green culture to enhance their competitiveness. Hong Kong Green Manufacturing Alliance was established in February 2005 with an objective to facilitating "Green" transformation of Hong Kong manufacturing industry and enhancing its competitive advantages. Four industries, including electronics, electrical appliances, toys and watches were represented.
Hutchison Telecom said its joint venture in India agreed to pay $1.16 billion to acquire two BPL Mobile operations as well as start-up firm Essar Spacetel.
Retail yuan non-deliverable forward contracts will be launched in Hong Kong early November, the Treasury Markets Forum of Hong Kong said in Hong Kong Monday.
HSBC Holdings Plc and Citigroup Inc are reportedly being considered to be among the first foreign banks to act as market makers for renminbi-US dollar trading.

Hong Kong's first residential land sales in a year raised HK$10.15 billion - at the high end of analysts' expectations - in a sign that developers are betting the recent slowdown in property sales won't last.

Beijing Automotive Industry Holding Co, China's fourth-largest carmaker by sales volume, said it plans to float its shares in Hong Kong.
Fosun Group, one of the largest privately owned conglomerates in China, is tapping the international debt market for the first time by selling US$500 million (HK$3.9 billion) worth of high-yield bonds, sources close to the deal said.
Hong Kong Pharmaceutical Holdings, a drugmaker facing liquidation, plans to raise HK$80.2 million by selling new shares and other securities to entrepreneur Johnson Ko, who will become the company's largest shareholder.
Hard on the heels of this week's historic trip to Guangdong by 59 Hong Kong legislators, Chief Executive Donald Tsang will co-chair a high-level meeting today at the Grand Hyatt in Wan Chai with top mainland officials, including Guangdong governor Huang Huahua, Shenzhen mayor Xu Zhonghang and various provincial mayors, on co-operation on various cross-border issues.
China: China's economy is expected to expand by 9.2% this year, the research bureau of the People's Bank of China said, higher than the original projection of 9% growth. The research bureau also cut its full-year outlook for China's consumer prices to a 2% rise from a previous forecast of 2.7%. The central bank's research bureau publishes its economic forecasts quarterly. The bureau's previous forecasts were issued in early July, before China revalued the yuan 2.1% against the dollar and started referencing its value to a basket of currencies. The bureau's targets aren't the official forecast of the central bank. The bank's official forecast for consumer prices this year is a rise of 3% to 3.5%. China's vice premier, Zeng Peiyan, recently said the country's gross domestic product is expected to grow around 9% this year. Last year, China's consumer prices rose 3.9% and GDP grew 9.5%.
The Chinese people could have a second reason to cheer next month - the first is the National Day holiday and the second, the likely launch of Shenzhou VI.

China on Monday started using its first power transmission and transformer project of 750 kilovolts,which links Guanting in northwest Qinghai Province and Lanzhou in northwest Gansu Province.Built by the State Power Grid Company,it is the country's grid project of highest voltage so far. Local people in Lanzhou play drums to celebrate the operation.
China and the United States will hold the fifth round of talks on textiles from Sept. 26 to 27 in Washington D. C., and Chinese experts said it is hard for the two sides to make important breakthroughs due to their distinct divergence.
The state work safety watchdog announced in Beijing Monday that 497 officials have withdrawn their investment in coal mines amid a nationwide crackdown.

Waves caused by Typhoon Damrey hit a dock in Haikou, capital of South China's Hainan Province, yesterday. Damrey made landfall on the southern island province yesterday morning, knocking out power and leaving at least six dead in the strongest storm to hit the island in over 30 years.
A trade delegation from war-torn Iraq came to China yesterday for the first time with a US$1-billion shopping list - and there was no shortage of potential suppliers.
Shanghai's fastest son, Olympic gold medallist and Grand Prix champion Liu Xiang, yesterday joined the city's tallest export as Shanghai's newest ambassador.

Shanghai investors examine stock index board yesterday. News that more firms announced merging of their tradable and non-tradable shares cheered up the market slightly with the Shanghai Composite Index closing at 1155.04 points, up 0.27 per cent.
Shanghai Volkswagen Automobile Co, the German carmaker Volkswagen's joint venture with the Shanghai Automotive Industry Corp (SAIC), has vowed to take aggressive marketing and sales measures to maintain its two-decade lead in China's car market.
Microsoft invested US$20 million in a Beijing-based domestic software firm yesterday, aiming to strengthen its commitment to the Chinese market and tap into the nation's software engineering talent pool.
As many as 11,500 hotel jobs remain vacant in the SAR after a flurry of new hotel openings that will leave the industry severely understaffed, according to the Hong Kong Hotels Association, a 92-member alliance that represents all of Hong Kong's leading hotels.
Sept 27, 2005
Hong Kong: Hong Kong Chief Executive Donald Tsang yesterday hailed the discussions between the SAR's Legislative Council (LegCo) members and Guangdong Party Secretary Zhang Dejiang as "frank and candid."

What began as an ice-breaking trip to the mainland by Hong Kong's lawmakers turned ice cold Sunday when a war of words erupted between pro- democracy lawmakers and Guangdong's top Communist Party official.
Hudson Waterfront Associates, which is in the middle of a lawsuit with US tycoon Donald Trump, has wasted no time in acting on a court's decision that it is free to spend the proceeds of a recent property sale by buying a San Francisco building.
Hong Kong property tycoon Cecil Chao threw his hat into the Macau gambling ring with the announcement that his company Cheuk Nang (Holdings) will pay HK$800 million in cash for a site to build a casino-equipped apartment complex.
Hong Kong's blue-chip Hang Seng Index could undergo a big overhaul as a result of a flood of new listings from China and the mainland's share-market reforms, says an executive at the benchmark index's compiler.

Kerry chairman Ang Keng Lam says interest-rate rises are unlikely to have a significantly negative impact on the property sector.
Strong winds buffeted Hong Kong yesterday as Typhoon Damrey blew past Hong Kong on its way to Hainan last night - the second typhoon in as many weeks to skirt the city.
The mega listing by China Construction Bank (CCB) is expected to unleash a wave of buying among retail investors able to grab a piece of Hong Kong's biggest-ever initial public offering for as little as $1,930.

China: Two women take part in a performance of the Eighth Beijing International Cultural and Tourism Festival in Beijing September 24, 2005. The festival is organized to promote the 2008 Beijing Olympic Games and to promote greater understanding between people in China and other countries and regions in the world.
China on Sunday started building another 200 kilometer-per-hour passenger railway from Zhengzhou in central China's Henan Province to Xi'an in northwest China's Shaanxi Province. This is the fourth special railway line for passengers to startconstruction in the country this year. The line, with a length of 484.5 kilometers, will be completed in 2009. Liu Zhijun, minister of Railways, said this railway line will make the relations between central and northwest China more closer and be conducive to the development of the western region.

Chinese Finance Minister Jin Renqing addresses the joint annual meeting of the International Monetary Fund (IMF) and the World Bank in Washington, Sept. 24, 2005. Jin said that economic growth is the most effective way to improve people's welfare.

Beijing has relented on an export tax policy that was causing bureaucratic gridlock in the mainland.
A massive voting was kicked off Sunday morning to generate the third Legislative Assembly (LA) of China's Macao Special Administrative Region (MSAR).
Shanghai Fudan University celebrated its centennial anniversary Saturday and Chinese President Hu Jintao sent a letter of congratulation.
China is becoming the world's biggest potential helicopter market, said Henri Stell, chief representative of Eurocopter company in Beijing. China is likely to open "most or even all of its low-altitude airspace" around 2010, according to a top official at one of the country's leading helicopter manufacturers.
The China Export & Credit Insurance Company (Sinosure) signed a strategic co-operation agreement with the Changhong Electric Appliance Co on Friday, providing a package of insurance services to enhance Changhong's exports and sharpen its competitiveness in the global market.
The world's biggest cosmetics company L'Oreal announced on Friday the opening of a new research facility in China, the Pudong L'Oreal Research Centre.
W. R. Grace & Co, the world's leading global supplier of specialty chemicals and materials, is expanding in China with the opening of a regional headquarters in Shanghai and a technical service centre in Beijing this week.
Eager to explore the city's market potential, the Pudong Shangri-La, Shanghai is to officially launch its second tower on Monday, making it the largest luxury hotel in Asia with 981 rooms.
Brilliance China Automotive Holdings, the country's biggest minivan maker, has slashed its sales target by 11 percent after reporting a first-half loss of 300 million yuan (HK$287.9 million) amid slumping sales and prices.
Semiconductor Manufacturing International Corp, China's largest chipmaker, said slower growth in shipments and selling prices during the third quarter will mean lower-than-predicted profit margins following delays in the group's plans for a new technology rollout.

Japanese women were in traditional costumes at an annual international tourism parade held in Beijing yesterday. The mainland is expected to receive 64 million foreign tourists annually by 2010.
Sept 26, 2005
Hong Kong: Electrical and electronic manufacturers in the SAR will be forced to use environmentally friendly materials to comply with tough new European Union regulations.
Hong Kong-based charity climbers, who raised more than HK$1.3 million for underprivileged children in Vietnam and Mongolia, will brave dangerous altitudes when they embark on a 100 kilometer journey on Mount Kilimanjaro next week.
The newly-opened Hong Kong Disneyland said on Friday it prefers that its 5,000 workers not unionise as activists described tough work conditions at the park such as long hours, harsh turnarounds and lack of breaks.
Chief Executive Donald Tsang Yam-kuen and legislators will leave for a historic visit to Guangdong on Sunday. It is the first official visit to the mainland by Hong Kong's pro-democracy legislators. Previously, the central government had not allowed them to visit China in an official capacity. The tour will also be the fist time many democrats have entered the mainland since 1989. The central government barred them from crossing the border after they launched major pro-democracy demonstrations in Hong Kong following the Tiananmen crackdown on June 4 that year. All 60 legislators have been invited to join the trip organised by Mr Tsang. Fifty-eight have signed up. The two expected to miss the trip include the Liberal Party's Miriam Lau Kin-yee and independent Chim Pui-chung. Mr Tsang, who will lead the group, described the visit as the first step in a long journey.
Hong Kong-based property firm Kerry Properties on Friday reported a net profit of $1.6 billion for the sixth months to June, up 131 per cent from the same period last year.
Hong Kong was preparing on Friday for the arrival of Tropical Cyclone Damrey as the storm headed towards the territory - having left 16 people dead in the Philippines.
The popularity of the city's three free dailies is affecting the advertising revenue of the more established Chinese-language newspapers, according to a new survey.
China: Ford Motor Company introduced the brand new Ford Focus at a motor show in Shanghai on Sep 21. Three editions are given this time: 1.8 classic with manual transmission priced at 129,800 yuan; 1.8 fashionable with automated manual transmission priced at 149,800 yuan and luxurious 2.0 with automated manual transmission at 175,800-yuan.
China's on-going experiment to standardize corporate governance of the major state-owned firms, most likely to follow the Temasek model, has entered a new era.
China will trial produce the advanced regional jet for the 21st century, (ARJ-21), or a kind of short-haul passenger plane wherein the country possesses the intellectual property, late this year. It will be the first advanced jet China designs its own in accordance with international practices, which has passed an appraisal for airworthiness. It is believed that the looks of the plane will do away with the monopoly formed by Boeing and Airbus on the Chinese market of airplanes. Huang Qiang, president of the first Airplane Designing Institute with China Aviation Industry Corporation I (AVIC I), said his institute, based at Yanliang near Xi'an, capital of northwest China's Shaanxi Province, had been busy with the jet's final interface designing, but details of the designing for the plane will be completed by the end of the year.
The IMF published World Economic Outlook on Sept. 21 saying China's economy would grow at a rate of 9 percent and 8.2 percent in 2005 and 2006 respectively.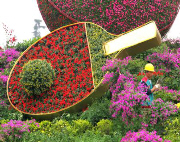 A worker prepares a flower arrangement in the shape of a table tennis bat, in Beijing's Tiananmen Square on Friday. The square is being decorated with an Olympic theme for celebrations of China's National Day, on October 1. Beijing will host the 2008 Olympic Games.
China's central bank on Friday widened the yuan's trading band in its new currency basket on the eve of the Group of Seven leading industrialised nations meeting in a move seen as deflecting United States criticism that it was foot-dragging on currency reform.
China's central bank on Friday widened the yuan's trading band on the non-US dollar currencies in its new currency basket system to 3 per cent either side but kept the yuan-US dollar band unchanged at 0.3 per cent.
Sept 23 - 25, 2005
Hong Kong: Hopewell Holdings, a property developer controlled by tycoon Gordon Wu, said its multipurpose project in Guangzhou near Baiyun International Airport will require an investment of more than HK$3 billion.
City Telecom chairman Ricky Wong said the move by the Office of the Telecommunications Authority to block his company's entry into mobile service, despite the availability of new wireless licenses, has created an unfair business environment for fixed-line operators.
"The government cannot hide behind the word `security"' in denying people entry to Hong Kong, a High Court judge said Thursday in a case that could have far-reaching implications for immigration procedures.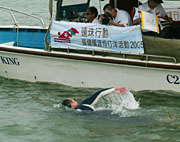 Mainland teacher Zhang Jian sets out from Tai O, Lantau, to enter the record books by becoming the first person to swim to Macau. Zhang completed the 35km trip in 10-1/2 hours, making shore at Hac Sa beach on Coloane Island. The trip to Macau was a mere sprint compared with his other aquatic efforts, which include a 109km swim across the Bohai Gulf in 2000.
A newly revamped Executive Council will feature six leading financial and legal luminaries - including the chairman of the Jockey Club and the outgoing chairman of the stock exchange - who will be named to the Cabinet during Chief Executive Donald Tsang's October 12 policy address, according to a source close to Tsang.
The government yesterday announced a milder-than-expected plan to cut civil servants' benefits, including a reduction in subsidies for officials planning to send their children to study overseas, and the scrapping of various "outdated" allowances.

Grape, Lotus, Orchid, Bamboo by Wu Changshuo impresses a guest at the Museum of Art, one of 150 works in an exhibit titled Chinese Paintings from the C.P. Lin Collection, which was opened by Director of Leisure and Cultural Services Anissa Wong Sean-yee yesterday. The exhibition runs until January 8.

Cosco International Holdings vice-chairman Liu Guoyuan said the firm would keep looking for shipping-related acquisitions to boost core revenues after it announced yesterday that its recurrent interim earnings had jumped 34 per cent to $129 million. Ship trading and supply services - carried out largely in support of the activities of its parent, China Ocean Shipping (Group) - contributed $96 million to the company's bottom line.
The expensive and complex royalty-based spectrum fee structure used for third-generation licensing is unlikely to be a guide in the auction for broadband wireless access (BWA) expected by the first half of next year, according to the telecommunications regulator.
Macau urged to pass law on money laundering - Days after the US Treasury accused a Macau bank of money laundering and sparked a HK$300 million bank run, new US Consul General James Cunningham has kept up the pressure by urging quick action.

President Hu Jintao has given Hong Kong the green light for greater democracy for the 2007 and 2008 elections.

Actions Semiconductor, China's third- largest chip design firm, plans to sell up to US$150 million (HK$1.17 billion) of shares in an initial public offering on Nasdaq.
China's largest international commerce agency and its investment partners aim to raise more than US$100 million (HK$780 million) in 2006 to invest in mainland firms via a private-equity fund, advisers to the agreement said Wednesday.
China Resources Power Holdings, the fourth-largest Hong Kong-listed mainland electricity supplier, said it has obtained government approval to build a power plant in Hunan province for 5.4 billion yuan (HK$5.19 billion).
The government is having second thoughts about cutting funds to public radio and television, the broadcasting chief said Wednesday.
A senior Pentagon official has bluntly warned Taiwan it must invest in its own defences against a growing threat from Beijing if it expects the United States to come to its aid in a crisis.

China Merchants group president Fu Yuning says the mainland offers the most attractive value for the firm's terminal businesses.
The telecommunications regulator hopes to begin issuing a single license to mobile and fixed-line operators as early as the first quarter of next year, as technological advances blur the distinction between traditional and mobile telephones. The Office of the Telecommunications Authority's consultation paper on fixed-mobile convergence launched yesterday marks the first step towards regulating what is widely touted as a quantum leap in telecommunications services for the benefits it offers operators and consumers.
The lure of big-spending visitors from the mainland has attracted international jewellers to set up shop in Hong Kong and Macau - among them Fred Leighton, jeweller to Hollywood stars and the wives of world leaders.
The Hong Kong Monetary Authority on Wednesday raised its base rate by 0.25 percentage points to 5.25 per cent, matching the overnight interest rate hike by the US Federal Reserve.
Computer sales in the Asia Pacific excluding Japan are tipped to rise almost 15 per cent to 40.03 million this year, led by strong demand for notebooks as prices tumble, an industry report said on Wednesday.
China: Model of Xiaolong fighter developed by China Aviation Industry Corporation I with newly-designed wings. The 11th Beijing International Aviation Exhibition was opened on September 21, 2005, attracting 175 exhibitors from 21 countries and regions.
China plans to launch a constellation of eight satellites to warn of natural calamities, and help in the aftermath, a senior official of the country's disaster-relief watchdog announced yesterday.

L15 advanced trainer, produced by Hongdu Aviation Industry Group, is on show at the International Aviation Expo on Wednesday in Beijing.
State-owned infrastructure and energy investor, State Development & Investment Corp (SDIC), plans to inject some 140 billion yuan (US$17.3 billion) to build at least six more hydro-power plants on the upper reaches of the Yangtze River in Sichuan Province.

Winner Zhao Tingting (C), runner-up Cui Xinxin (L) and the third place Mao Huan (R) at the awarding ceremony of the Chinese final of the 55th Miss World in Beijing, September 20, 2005. The Chinese final of the 55th Miss World contest was held in Beijing's Huairou on that day. Zhao Tingting from Beijing, Cui Xinxin from Jiangsu and Mao Huan from Xinjiang won the championship, second and third places respectively. Zhao Tingting will, as Miss China, take part in the final of the 55th Miss World contest to be held in south China's Sanya city in November.
Ernst & Young, one of the largest accountants in the world, believes China to be the second largest luxuries consumer in the world, 2nd only to the US by 2015.
All the 50 companies listed in the small and medium-sized enterprise (SME) board in the Shenzhen Stock Exchange have started the reform process aiming to make all shares tradable.

Miners move coal in Tangshan. Peabody Energy, the world's largest private coal company, smells opportunity in China's lucrative coal market amid growing demand for energy.
Industrial Bank, China's 12th-largest lender, has approved plans to sell stock to its shareholders and bonds to financial institutions to raise capital after a change in government policy delayed its initial public offering.
Deutsche Bank signed an initial agreement Wednesday to lead a US$330 million (HK$2.57 billion) purchase of almost 14 percent of Huaxia Bank, Huaxia sources said, in the first investment by Germany's biggest lender in a Chinese bank.
The first corrupt official extradited by the US to the mainland, Yu Zhendong, has testified against his accomplices in what is believed to be the first series of US criminal depositions recorded in China.
Sept 22, 2005
Hong Kong: Hong Kong-based conglomerate China Resources Enterprise Ltd (CRE) said it has agreed to buy two local retailers in Tianjin and Zhejiang for a total of 380 million yuan (US$47.5 million).
The Bank of East Asia (BEA), Hong Kong's fifth largest lender in terms of assets, said yesterday it plans to open two more sub-branches in the mainland's less developed provinces, boosting its outlets there to 25 by early next year.
China Construction Bank (CCB) will rewrite the record books with a higher than expected US$6.5 billion share offer next month that is set to be Hong Kong's biggest initial public offering.
Cosco Pacific will agree to sell 20 per cent of its stake in the four billion yuan second phase at the port of Nansha this week to APM Terminals, giving south China's newest container port a much needed foreign investor and new business potential.
Mainland basketball star Yao Ming towers above Permanent Secretary for Home Affairs Shelley Lee Lai-kuen as he arrives for a three-day visit to Hong Kong in his role as an ambassador to the China Aids Initiative to promote public awareness on HIV/Aids. Yao will take part in a fund-raising dinner tonight, talk to 3,000 young people and show off his skills tomorrow.
The government is considering a new scheme for the West Kowloon reclamation that would award the planned arts hub to one of the three short-listed developers, and put the rest of the 40-hectare site up for tender, sources say.
Hong Kong Disneyland would be unable to cope with the influx of mainland visitors during the "golden week" holiday following National Day, the tourism industry predicted yesterday.
The brother of Asia's richest woman Nina Wang Kung Yu-sum who was attacked by a gang of four men last Thursday, returned to work at his clinic under police protection yesterday.
Top security experts at the world's two biggest credit card associations said on Monday that the battle against internet-based thieves had reached a stalemate and the industry would have to spend millions of dollars over the next decade just to keep up with the criminals.

China: The National Development and Reform Commission has allocated 894,000 tons of import quotas of cotton, the first load for next year. China's recently-signed textile agreement with the European Union (EU) will not affect the country's textile exports to the European economic bloc in the next year, according to Commerce Minister Bo Xilai.
Foreign dotcoms are increasing efforts to acquire leading Chinese Internet companies - a trend that will continue over the next few years, according to the latest findings released on Monday by US-based financial consulting firm Morgan Stanley.
Seeing China's huge demand for energy, Peabody Energy, the world's largest private-sector coal company based in the United States, is looking at opportunities for both coal trading and investment in the country's coalmines.
China United Coalbed Methane Corp Ltd (CUCBM) signed a production-sharing contract with the Canadian firm AsiaCanada Energy Inc in Beijing yesterday to jointly exploit the coalbed methane resources in Southwest China's Guizhou Province.
Recreational drug use is rising throughout the mainland's large and medium-sized cities, and is reaching into all sectors of society, the Ministry of Public Security warned yesterday as it foreshadowed changes in the law to deal with the epidemic.
Sept 21, 2005
Hong Kong: Hong Kong's unemployment rate stood at 5.7 percent in August, remaining unchanged for four straight months with a record increase in total employment matched by a record growth in labor force as fresh graduates and school- leavers joined the job market.
Golden Resorts Group, a Hong Kong watchmaker turned Macau hotel-casino operator, said its first-half loss widened sharply to HK$365.9 million from HK$3.2 million a year earlier thanks largely to new accounting rules.
Shanghai Forte Land, a Hong Kong- listed mainland property developer, plans to spend about 1 billion yuan (HK$959.7 million) to buy and develop a prime office project in Tianjin as it expands outside of China's financial hub.

HSBC executive director Peter Wong says the bank will join forces with partner Bank of Communications if it decides to venture into securities trading in the mainland. HSBC Holdings, the parent company of Hong Kong's biggest lender, may acquire a mainland brokerage house to tap into China's securities trading business, according to Peter Wong Tung-shun, an executive director of Hongkong and Shanghai Banking Corp. HSBC Holdings has won mainland regulatory approval to offer yuan forward contracts, enabling clients to hedge against exchange-rate swings.
Wheelock and Co has scrapped plans to sell Lane Crawford House in Central and will instead redevelop the 28-year-old building into a prime office and retail complex.
Guangzhou Investment has outbid Hong Kong companies including Sun Hung Kai Properties and New World Development for the right to build China's second-highest building, a six billion yuan (HK$5.76 billion) project in Guangzhou.
Silver Grant International, which specializes in the disposal of distressed assets, reported its first-half net profits nearly tripled to HK$355 million on higher distressed asset sales and a one- time gain from property revaluations.
Li Ka-shing's Hutchison Whampoa has applied to list its third-generation (3G) mobile phone unit on the Milan bourse in Italy, which may raise as much as 2.5 billion euros (HK$23.55 billion).
"Private kitchens" - havens for interesting and affordable cuisine in expensive Hong Kong - are facing pressure to meet new legal requirements to continue operating their businesses.
The number of people in Hong Kong's workforce rose to a record high in the three months to August while the jobless rate remained at 5.7 per cent, government statistics released on Tuesday showed.

Porsches line up for the start of the 2005 Hong Kong-Shanghai Charity Grand Tour at the China Merchants Wharf in Sai Wan. The journey is expected to take six nights and seven days, with stops in Guangdong, Fujian, Zhejiang and Jiangsu provinces. Organisers say the 51 cars with a 120-strong team of drivers and passengers will travel between 500km to 800km a day. It is hoped the event will raise $1 million for the China Foundation for Poverty Alleviation, the Shanghai Charity Foundation and the Mercy Corps.
Customs officers on Sunday seized $8.5 million of illicit goods from a river trade vessel off Tap Shek Kok in Tuen Mun.

China: The heads of the delegations to the six-party talks shake hands following their press conference after the end of the talks' fourth round in Beijing, Sept. 19, 2005. The talks concluded Monday afternoon in Beijing with the adoption of a much-expected common statement. The DPRK, the United States, South Korea, Japan, Russia and China take part in the six-party talks on the Korean Peninsular nuclear issue.

Photo shows the oil city in Taklimakan Desert, Xinjiang Uygur Autonomous Region. The year of 2005 marks the 50th anniversary of the founding of Xinjiang Uygur Autonomous Region. In the past 50 years, Xinjiang has adapted itself into the tide of both domestic and international economic circulation though graphically located in the hinterland of Euro-Asian continent.
The Organization of Economic Cooperation and Development (OECD) made a comprehensive assessment of Chinese economy for the first time in its latest report.
Chinese Olympic champion Liu Xiang won the 110-metre hurdles at the Yokohama track and field meet yesterday, his second victory in three days after powering his way to the title at the Shanghai Golden Grand Prix on Saturday.

Foreign companies still have opportunities to invest in China's refinery business, even though the government adopts a policy restricting foreign cash flow into the sector, said a senior official from the Ministry of Commerce (MOFCOM) yesterday.
China's fast moving consumer goods (FMCG) sector recorded a 7 per cent increase in sales value in 2004, with 20 out of 30 major categories recording growth and 10 of them experiencing double-digit growth, according to ACNielsen's 2005 China Market Information Digest.
Sept 20, 2005
Hong Kong: Restaurant chain Pizza Hut Hong Kong, which last year increased revenue for the first time since 1997, aims to boost takeaway sales by 20 percent with a HK$30 million customer call center in Guangzhou.
Cathay Pacific Airways, Asia's second- largest airline by market value, is in talks with Hungary's flag carrier to start direct flights between Hong Kong and Budapest to meet demand for tourism in central Europe, a senior Hungarian government official said.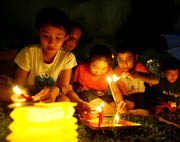 Children prepare their lanterns at Victoria Park last night as part of the Mid-Autumn Festival celebrations. Thousands of people braved the elements and flocked to the government's five carnivals at Victoria Park, Ko Shan Road Park, Tsing Yi Park, Kowloon Park and Tai Po Waterfront Park. Many were left damp - but not so disappointed - after rain and clouds spoiled their view of the full moon. Six people were admitted to hospital with burns related to candle-burning.
Chia Tai Enterprises International, a Hong Kong-listed operator of warehouse grocery and general merchandise stores in China, said it will sell its 75 percent stake in Fortune Shanghai, a mainland property company, for HK$411 million in cash and assumed debt to its chairman Dhanin Chearavanont.
Outspoken Bishop Joseph Zen will retire in January 2007 when he reaches the age of 75, a senior official of the Catholic diocese in Hong Kong confirmed Monday.

Chief Executive Donald Tsang Yam-kuen, flanked by the president of the Sports Federation and Olympic Committee of Hong Kong, Timothy Fok Tsun-ting (left), and Secretary for Home Affairs Patrick Ho Chi-ping, presents a torch to the city's delegation to the 10th National Games. Hong Kong will send more than 180 athletes to the games in Nanjing , Jiangsu province , from October 12 to 23. The National Games are the proving ground for top athletes from around the country.
The hosting of Olympic equestrian games in Hong Kong can help advance the development of sports policy and further popularize local sports, according to Secretary for Home Affairs Patrick Ho.
Detailed emergency plans are being compiled by every government department to prepare for potential chaos during the World Trade Organisation meeting in December.
Hong Kong director Stanley Tong Kwai-lai and the University of California in Los Angeles will launch a bilingual Chinese-English film school in Shanghai next year, the director said yesterday.
Hong Kong banks are likely to match an expected move by the United States Federal Reserve to raise its Fed funds rate by another 0.25 percentage point tomorrow, raising their prime lending rates and saving deposit rates by the same margin, according to bankers.Competition in the residential mortgage market is expected to intensify as more Hong Kong lenders offer better mortgage terms to lure homebuyers, but the reemergence of a cut-throat price war is unlikely, bankers said.
A stealth digital invasion of personal computers around the world has intensified, with schools, small businesses and financial services firms hit by waves of botnet, spam, spyware, phishing and virus attacks in the first half of this year. On the internet, a botnet refers to a group of software robots - called "bots" - covertly embedded on vulnerable personal computers by an attacker. Through these hidden bots, the attacker can remotely control these compromised machines, usually through internet relay chat - a form of instant communication online.
Investors looking for indications of a boom or bust in China's red-hot internet sector received evidence of both last week, with Nasdaq-listed Baidu shedding 32.27 per cent on Wednesday and Morgan Stanley starting coverage of the sector with an "attractive" rating from global internet analyst Mary Meeker.
China: Track laying of the Qinghai-Tibet railway arrived at Lhasa West Station on Sept 18. More than 1,100 km of the Qinghai-Tibet railway (total length of the railway is 1,142 km) was completed at present. By mid-October the track laying will be completed. On a snowy morning on August 24, Chinese workers in heavy padded blue overalls laid two 25-metre-long railway tracks at Tangula Shankou, marking a technological triumph and signalling that construction of the world's highest railway was almost finished.

China wants to invest 130 billion yuan a year in new railways up to 2020, but with an annual budget of only 50 billion yuan, it will need foreign capital.
China's population and family planning minister said China would work to limit its mainland population to below 1.37 billion by 2010.

Residential housing fair opens in Weihai : Scene of the 2nd International Habitation Festival in Weihai, a coastal city in East China's Shandong Province. More than 130 property developers are participating in the fair, which opened on Friday.
With the push of a button Friday morning, Chinese Vice-Premier Zeng Peiyan commissioned another 700,000 kilowatt generating set in the giant Three Gorges Project in central China's Hubei Province. China's power regulator is supporting a test scheme that, if adopted, would open electricity generation to a wider range of players, allowing small independent operators to sell into the centrally administered distribution grid.
A major cotton breeding breakthrough has made China the first country in the world to commercialize a cotton strain that can resist bollworms and increase output by 25 per cent.
Top management at Baosteel Group, China's largest steel manufacturer, unveiled their new development plan to increase output to 30 million tons of crude steel by the end of the year 2008.

COSCO Shipbuilding Industry, the shipyard arm of state-owned China Ocean Shipping Group, plans to spend as much as 6 billion yuan (HK$5.76 billion) over the next few years to boost its production capacity sevenfold amid a global boom in ship construction.
China's exchange rate policy will ensure that the value of the yuan remains stable and that speculators will be disappointed, a senior central bank official was quoted as saying Monday.

Police present a group of fishermen who were caught using their nets to fish out the various porcelain bowls near an archaeology site off the coast of Fuzhou, Fujian. The theft of cultural relics from ancient sites and museums in the mainland jumped by 80 per cent last year, driven by demand from overseas as smuggling of relics has become a lucrative business, while officials have announced plans to stop the plunder.
Guangdong public security officials are taking action against the province's worsening drug problem by upgrading a low-level drug-control section to a full bureau and setting up special taskforces at every government level.
Sept 19, 2005
Hong Kong: Flamboyant businesswoman Nina Wang's long battle for control of her late husband's Chinachem business empire ended in victory as the Court of Final Appeal unanimously ruled in her favor Friday. Asia's richest woman, Nina Wang Kung Yu-sum, last night held out an olive branch to her father-in-law after winning an eight-year legal battle with him that finally gave her control over her late husband's $24 billion Chinachem empire.
Guangdong Kelon Electrical Holdings, a Hong Kong and Shenzhen-listed maker of refrigerators and air-conditioners, said its former chairman Gu Chujun and six executives were arrested in Guangdong province, just a month after the chairman was ousted for suspected economic crimes.
Enric Energy Equipment Holdings, sister company of Hong Kong-listed Xinao Gas Holdings, has sold US$5 million (HK$39 million) of convertible bonds to a unit of financial firm Investec ahead of its initial public offering next month, market sources said.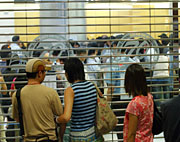 Labeling Macau's Banco Delta Asia a threat and a pawn of North Korea, the United States Treasury Department announced its intent to sever the bank's ties with US counterparts. As word of looming US government action against Banco Delta Asia began to spread yesterday morning, panicky depositors swamped the lender's eight branches in Macau hoping to withdraw savings.

While locals swing lanterns this Mid-Autumn Festival, four fire-dancers will be in action. FlameOz, comprising Dimitri Ogden from the Virgin Islands (left) and three Australians - Grace Billings, David Knox and Vanessa Tai, will give two performances each night at 7pm and 8.30pm from this evening through to Monday at Wonderful Worlds of Whampoa in Hunghom. Admission is free. The shows will also include local and international dancers and fireworks.
Hong Kong people are generally afraid of speaking to foreigners as they fear their English is not up to standard, international students at Hong Kong University said Friday.
District Court 31 Friday was the scene of laughter tinged with sadness as senior counsels and top-ranking officials from the Department of Justice bade farewell to Judge Fergal Sweeney.
China United Telecommunications Corp, parent company of Hong Kong-listed China Unicom, believes the lure of mobile television will attract mainland mobile phone users to 3G services and is fine-tuning video telephony technology as it gets ready for 3G licensing in China.

China: Tourists sightsee the Kanas Nature Reserve, 150 kilometers north of Burqin in northwest China's Xinjiang Uygur Autonomous Region, September 14, 2005. The reserve is famous for the Kanas Lake, China's deepest alpine lake with a depth of 188.5 meters. The reserve with a total area of 5,588 square kilometers is a tourism destination.
China's strong growth has provided an important stimulus for export-led growth in the world during the past years as it follows through the implementation of its WTO commitments which are now in a decisive phase.
China Development Bank, the country's largest policy lender, plans to sell 5.8 billion yuan (HK$5.56 billion) of two-year asset-backed securities in what many are calling a landmark transaction for China's domestic capital markets.
CNOOC Ltd, China's biggest offshore oil producer, may let its parent negotiate future oil and gas deals on its behalf, said CNOOC Ltd chief executive Yang Hua.
Baidu.com suffered a legal setback yesterday after a Beijing court ruled the mainland search engine had infringed copyrights by providing links to music MP3 files uploaded on the internet.
Sept 16 - 18, 2005
Hong Kong: Google, the most-used Internet search engine, may expand its business in China and purchase faster computers to support new services after the company raised US$4.18 billion (HK$32.6 billion) in a stock sale.
IMediaHouse Asia, which sells lift- lobby TV advertising in Hong Kong and Singapore, aims to follow partner Focus Media and seek a Nasdaq listing by the middle of next year to fund acquisitions and technology upgrades.
Regal Hotels International Holdings, which operates five hotels in Hong Kong, and controlling shareholder Paliburg, a property developer, plan to build two hotels in the mainland as Beijing prepares to host the 2008 Summer Olympics.
Sun Hung Kai Properties and China Resources Group have won the right to develop a five-million-square-foot project in Hangzhou, capital of Zhejiang province, that analysts say could cost up to 10 billion yuan.
Donald Trump got a taste of what it is like to be a loser in his TV show The Apprentice with its catchphrase "You're fired" when a court refused to freeze US$1.76 billion (HK$13.73 billion) from a New York real estate sale led by Hong Kong investors.
Pro-Beijing lawmakers have scheduled an urgent meeting today in Dongguan with local customs authorities to discuss what the lawmakers and businessmen describe as a "harsh" and "threatening" demand for additional revenue payments from foreign investors, including many Hong Kong businessmen.

China: Chinese President Hu Jintao delivers an important speech on the United Nations summit in New York on September 15, 2005. Hu said China will continue to hold high the banner of peace, development and cooperation, and firmly pursue the independent foreign policy of peace.

PICC Property and Casualty Co. Ltd. was named the official insurance partner of the Beijing 2008 Olympic Games on Thursday. The largest non-life insurer in China, PICC P&C was the 10th company to join the elite club of the 2008 Olympic partners, following in the footsteps of Germany's automobile giant Volkswagen, Sinopec, PetroChina and Bank of China, etc.
China's strong growth has provided an important stimulus for export-led growth in the world during the past years as it follows through the implementation of its WTO commitments which are now in a decisive phase.
The country's taxation departments also collected a total of 1.245 billion yuan in workplace injury premiums and 639 million yuan in birth insurance.
According to the European Commission, a number of technology platforms have been created recently to identify the strategic challenges for these industries.
An attendant stands beside a test train on the Qinghai-Tibet railway line at Kunlun Mountain in Northwest China's Qinghai Province yesterday. At 4,757 metres above sea level, the Qinghai-Tibet railway line at Kunlun Mountain is one of the highest railway lines in the world. The link to Lhasa is due to be completed in June 2006.
International investors may take full control of almost all State-owned enterprises (SOEs) in Northeast China's Liaoning Province, according to an announcement yesterday by the province's Vice-Governor Li Wancai. The only exceptions to the new rules are SOEs under control of the central government and coal mines.
Taiwan-based People First Party (PFP) Chairman James Soong proposed at a forum yesterday the initiation of direct flights between Shanghai and Taipei as a first step to promoting all-round direct flights between Taiwan and the mainland.
CITIC Securities, China's first and largest publicly traded brokerage, announced it is to establish a joint venture (JV) with Standard & Poor (S&P), one of the world's major providers of credit ratings, to develop and sell indexes.
US businesses have benefited from China's entry into the World Trade Organization (WTO), says a report released by the US-China Business Council.

The world's biggest music companies are suing Baidu, the mainland search engine that captivated Wall Street investors, for copyright infringement in a move that could force the company to shut down its MP3 search engine, a key to the company's popularity among young Chinese Internet users.
Sept 15, 2005

Hong Kong: Taking a case to court could soon be a less risky financial proposition if changes in the fee structure for civil litigation being proposed by the Law Reform Commission take effect.
Vimicro, a leading mainland chip designer, is planning a US$100 million (HK$780 million) initial public offering on Nasdaq, seeking to lure US investors in the wake of the hugely successful listing there of mainland search engine Baidu.com.
Kohlberg Kravis Roberts, one of the first and best-known US buyout firms, plans to open its first Asian offices in Hong Kong and Tokyo, the company said.
A-Max Technology, a Hong Kong- based digital audio player maker, is seeking to raise up to US$150 million (HK$1.17 billion) in an initial public offering on the United States' Nasdaq share market.
A Washington judge cleared the way for a former Microsoft executive to work for Google in China but placed tough restrictions on confidential information he had gleaned while working at Microsoft.
Chief Executive Donald Tsang defended the government's coming political reform proposals before the mainland's biggest allies in Hong Kong Wednesday, urging them to trust in what he is doing.
Hong Kong investors across the border are seeking help from local National People's Congress deputy Ma Lik to deal with a harsh new maze of confusing customs regulations that call for them to hand over cash and even admit to committing fraud.
Secretary for the Civil Service Joseph Wong Wing-ping on Wednesday acknowledged that the Civil Service would shed employees who were not performing.
Premier Wen Jiabao yesterday met senior Shenzhen officials for talks aimed at setting the tone for the city's attempts to reposition itself, including working on stronger ties with Hong Kong.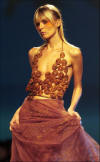 China: A model presents women's dress designed by noted Italian designer Marella Ferrera at the 17th Dalian International Garment Festival Sept. 13, 2005 in Dalian, northeast China's Liaoning province. The event, which includes underwear show and design competition, will be concluded on Sept. 16.
Chinese and US presidents agreed to enhance mutual trust and cooperation and make concerted efforts to develop bilateral constructive and cooperative relations. US President George W. Bush has accepted Chinese President Hu Jintao's invitation to visit China after November's Asia-Pacific meeting in South Korea, a senior White House official said on Tuesday.
Some 94 percent of China's energy consumption depends on its own supply, with an external dependency rate standing merely at 6 percent.

Performers of the Chinese traditional Beijing Opera pose in front of a Geely sports car during the 61st International Car Show in Frankfurt, Germany, Sept. 13, 2005. China's first private car maker Geely was the only one being invited to the show among China's home-grown brands. The show will end on Sept. 25.
China produced 2.5 million passenger cars in the first eight months this year, up 10.24 percent year on year, and sold 2.45 million passenger cars, up 15.09 percent.
Citibank and China Union Pay announced to form a strategic alliance. Agent business for ATM will be their first cooperation program.

President Hu Jintao (left) and Mexican President Vicente Fox wave after a press conference in front of Los Pinos presidential residence in Mexico City on Monday. He arrived in Mexico on Sunday, kicking off his three-day visit to the Central American country. They witnessed on Monday the signing of a series of co-operative documents between the two nations concerning avoidance of double taxation, culture, plant quarantine, agriculture, social development and mining.
China is likely to adopt a bidding method in allocating the textile quotas for the next year, in order to ensure fair play during the process, according to information from the China Chamber of Commerce for Import and Export of Textiles.
People shop at the newly-opened Wal-Mart supermarket in Shanghai.
Sept 14, 2005

Hong Kong: Donald Tsang, Chief Executive of HKSAR Government; Zeng Qinghong, Vice-President of the People's Republic of China; Michael D. Eisner, Walt Disney Company Chief Executive Officer and Robert A. Iger, Walt Disney Company President, Chief Operating Officer and CEO-elect at the opening ceremony for Hong Kong Disneyland yesterday. Hong Kong Disneyland, Disney's first-ever vacation resort in China, includes a theme park, two hotels and a lakeside recreation. Hong Kong Disneyland is not only a new tourist destination, but also a potent example of the confidence overseas investors have in Hong Kong as a global financial, trade and shipping center. Mainland tourists gave Hong Kong Disneyland two thumbs up on its debut. A day after Hong Kong Disneyland opened, Disney chairman George Mitchell said on Tuesday the company hopes to build a second theme park next to it to create a multi-day tourist destination.
China Netcom Group (Hong Kong), the mainland's second-largest fixed-line operator, said it will buy phone assets in four provinces from its unlisted parent for 36 billion yuan (HK$34.5 billion) in cash and assumed debt, boosting earnings as much as 13.8 percent this year.
Tom Online, a mainland Internet firm controlled by tycoon Li Ka-shing, said its Internet telephony joint venture with Skype Technology will be unaffected by the Luxembourg company's proposed US$4.1 billion (HK$31.98 billion) sale to United States-based online auction firm eBay.

Insurance commissioner Richard Yuen says insurers should learn from the brokerage scams that affected the industry last year.
Hong Kong newcomer Martin Wheatley is the new head of the Securities and Futures Commission, according to a government source, ending months of speculation about who will lead the regulatory body after chairman Andrew Sheng leaves at the end of the month.
A Taiwanese insurance company is attempting to enter the Hong Kong property market by bidding for Wheelock and Co's Lane Crawford House in Queen's Road Central.
The Executive Council has approved the draft Kowloon Southern Link (KSL) Project Agreement - to be carried out by the government and the Kowloon-Canton Railway Corporation (KCRC).
Marine police have seized more than $8 million worth of smuggled goods and arrested two men in the west of Lantau Island, a spokesman said on Tuesday.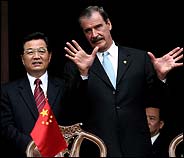 China: China and Mexico agreed in Mexico City Monday morning to strengthen dialogues, enhance mutual trust and enrich the content of their strategic partnership.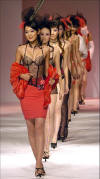 Models present a "show of underwear" at the 17th Dalian International Garment Festival. The event, which includes garment fair, design competition and a show of famous designs, will be concluded on September 16.

Chinese business people at an exhibition booth of a French drying device maker in Guangzhou at the Sino-France Small and Medium Enterprise Fair that opened here on Sept.12. Chinese Vice Premier Zeng Peiyan called for cooperation between Chinese and French SMEs at the event which has attracted 5,400 odd businesses and 80,000 visitors from the two countries.
The country's foreign trade grew 27.9 per cent to US$125.6 billion in August, keeping the monthly figure above US$100 billion for six months in succession.
China's Hainan Airlines Co., Ltd. Group transferred 49 percent of its subsidiary company, Yangtze River Express Airlines Co., Ltd. to four Taiwan companies.
After the success of a pilot project, the nationwide reform of split (tradable and non-tradable) share merger was officially launched yesterday as 40 companies listed on the A-share market unveiled their detailed proposals to float their non-tradable shares. Twelve Shanghai-listed companies and 32 Shenzhen-listed companies including 8 listed on SME (small and medium-sized enterprise) Board were allowed by the two stock exchanges to take measures to float the non-tradable shares. The 40 companies cover a range of industries such as banking, manufacturing and pharmaceuticals. These companies offered more generous compensation to the holders of tradable shares. The 12 Shanghai-listed companies offered, on average, 3.2 shares to the holders of tradable shares for each 10 held, higher than the number of 3 shares for the pilot firms. The China Minsheng Banking Corp, China's first joint stock commercial bank, offered 1.55 shares to all its shareholders for each 10 held. The holders of non-tradable shares gave up their part of new shares and transferred them to the holder of the tradable shares. Minsheng's holders of tradable shares will get 5.2 shares for each 10 at hand. State-owned enterprises (SOEs) accounted for about half of these 40 companies. Nine of the 12 Shanghai-listed companies and 10 of the 28 Shenzhen-listed companies are SOEs. About 67 per cent of the 12 Shanghai-listed companies' shares are State shares and are non-tradable.
Nissan Motor Co, Japan's second biggest carmaker, has opened a car design office in Shanghai in a new effort to make its products more suitable for the Chinese car market.
CNOOC Ltd's bid to buy a stake in Australia's Gorgon gas project and to import gas from the US$11 billion (HK$69 billion) development into China is stalled, more than two years after the company reached a preliminary agreement, industry sources say.
Hong Kong insurance agents and brokers, whose business often straddles the boundary between traditional policies and wealth management, will soon receive guidelines on investment advice they can give to clients, the insurance regulator said.
China will no longer consider death tolls and other relevant information about natural disasters to be state secrets, an official said Monday, saying the move was aimed at boosting government transparency.
China was working to finalize a strategy to deal with high world oil prices but so far had only decided that it would not import crude to set up a strategic oil reserve, a top planning official said Tuesday.
Two former Bank of China officials who fled with their families to the United States to escape embezzlement charges have rejected a plea bargain jointly arranged by Chinese and American authorities, co-operation which could pave the way for further such deals.
Sept 13, 2005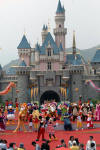 Hong Kong: Hong Kong Disneyland, the 11th theme park of Walt Disney Co., officially opens to the public September 12, 2005 in Hong Kong, China. Chinese Vice President Zeng Qinghong, Hong Kong Chief Executive Donald Tsang, Walt Disney Company CEO Michael Eisner and Walt Disney Company CEO-elect Bob Iger attended the opening ceremony.

Chinese Vice President Zeng Qinghong delivers a speech at a welcome banquet in Hong Kong, China, September 11, 2005. Zeng called on Hong Kong's various sectors, strata and political organizations to make concerted efforts to build a prosperous and harmonious Hong Kong.
Radical legislator Leung "Long Hair" Kwok-hung lived up to expectations Sunday when he was evicted from an official banquet for shouting slogans as visiting Vice President Zeng Qinghong delivered his speech before 400 guests.
It was a visit to promote harmony, but Vice President Zeng Qinghong's tour of Hong Kong had some members of the territory's influential business community grumbling. They felt there was a hint of favoritism when Zeng had a breakfast meeting with Cheung Kong Holdings chairman Li Ka-shing and his two sons, Victor Li, vice chairman of Cheung Kong, and Richard Li, chairman of PCCW, at the Harbour Plaza Hotel in Hung Hom. After lunch Sunday, Zeng headed for the Hong Kong Monetary Authority's headquarters at the International Finance Centre in Central, where he met authority chairman Joseph Yam and Financial Secretary Henry Tang. Zeng was received by the IFC's co- owners, Henderson Land chairman Lee Shau-kee, Walter Kwok and Thomas Kwok, chairman and vice chairman of Sun Hung Kai Properties, during his 25-minute stay. According to business sources, some developers were unhappy at being left out, saying that it appeared to them that some in their industry were favoured over others. However, the point was taken and eventually Zeng met with New World Development chairman Cheng Yu-tung and Kerry Properties' Robert Kuok. The government's explanation for the breakfast meeting with Li and his sons was that Zeng's accommodation was provided by Li Ka-shing's Harbour Plaza Hotel in Hung Hom.

Edward Tian says China Netcom is buying its parent's fixed-line telephony and broadband internet operations in four provinces. China Netcom Group Corp (Hong Kong) is to announce today the acquisition of fixed-line telecommunications network operations in four provinces from parent China Network Communications Group Corp, according to chief executive Edward Tian Suning.
Hong Kong's securities regulator may be given the power to fine offenders for listing violations if its decisions are first subject to scrutiny by a statutory review body, according to sources.
Lee Kai-fu, the former Microsoft executive caught in the tug-of-war between two feuding tech giants, is prized as much for his knowledge of Chinese government officials and business practices as for his technical knowledge.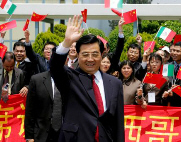 China: Chinese President Hu Jintao waves to supporters at the Mexico City Airport, overnight Monday HK time. Mr Hu arrived in Mexico for two-day official visit. Chinese President Hu Jintao is visiting Mexico on invitation September 12. During the visit, President Hu will meet with President Vicente Fox and with Speaker of the Senate and President of the Supreme Court, and will deliver a speech at the Mexican Senate. The two sides will sign a number of cooperation agreements. The present visit, the first one to Mexico paid by President Hu as head of state, will give a strong impetus to the in-depth development of the strategic partnership between the two countries and will open a new phase in Sino-Mexican relations.
China Insurance Regulatory Commission Sunday promulgated the detailed rules on overseas investment of the foreign exchange capital by the country's insurance companies.
Chinese agronomists have cultivated new species of "super rice," the Super Rice II YOU 28, with average per hectare yield reaching a record high of 18,449.55 kilograms.

Typhoon Khanun, the 15th typhoon this year, attacked East China's Zhejiang Province yesterday afternoon with strong winds and torrential rains. Meanwhile, Shanghai, the country's largest city, issued a warning yesterday morning, saying that it is expected to be hit overnight.

Beijing-based Air China has won government approval for a 2.27 billion yuan (HK$2.18 billion) plan to expand Beijing Capital International Airport as the carrier focuses on the city in anticipation of increased traffic as a result of the 2008 Olympic Games.
Anhui Conch Cement, China's largest cement producer, is in talks to secure a long-term loan of 600 million-700 million yuan (HK$576 million- HK$672 million), the company said.
Baoye Group Company, which makes building materials for the property sector, is engaged in a tussle with the Wuhan government to acquire five construction firms for 150 million yuan (HK$144 million), the management said.
Sept 12, 2005

Hong Kong: Parts of the commemorative Disney stamps are displayed at a preview ceremony at the Central Post Office Sept. 8, 2005. Commemorative Disney stamps will be issued to coincide with the inauguration of the Disneyland on Sept. 12. All of the 16,000 tickets for the opening day have been sold out and the park will open to the public from 1:00 p.m. (0300 GMT) that day.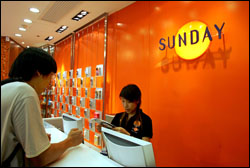 PCCW, the dominant fixed-line operator in Hong Kong, has failed to buy out its newly acquired mobile unit Sunday Communications as Huawei Technologies rejected its offer, market sources said. PCCW closed its offer to buy all Sunday shares it does not own Friday, but only secured 79 percent of the mobile unit's total shares, shy of the 90 percent it needs to trigger a mandatory privatization.
Cheung Kong (Holdings), Nan Fung Development and MTR Corp have raked in nearly HK$1 billion in two days from selling 234 flats at the new Metro Town residential project, atop Tiu Keng Leng MTR station.
The blueprint of political reforms for the 2007-08 electoral systems is progressing smoothly and there have been no hitches, Chief Secretary for Administration Rafael Hui declared Friday.
The Disneyland Resort Line said Thursday it can handle up to 40,000 passengers per day and does not foresee any problem with the opening of the theme park Monday. Head of operations Wilfred Lau said the line was able to adequately cope with the 30,000 people who turned up for last Sunday's charity day and he expects the number of passengers to fall once the park opens as many of the visitors will be traveling in tours or by bus. "Most of the visitors to the park so far have been local and most of them have traveled on our line," Lau said. "But with about one-third of the visitors from Sunday expected to come from the mainland, we expect our share of passengers to fall between 30 percent and 40 percent.
Mainland tourists are expected to spend more and stay longer in Hong Kong once Disneyland opens, according to the Tourism Commission. The government's commission, which will oversee Disney's operation once it opens on Monday, said most mainland visitors from four neighboring cities will visit Disneyland and inject more than HK$200 million into the economy between September and October, which includes the Golden Week holiday period in the mainland. A consultant's survey found half of 3,000 respondents from Guangzhou, Shenzhen, Zhongshan and Dongguan will go to the theme park and they will each spend an extra HK$500 in the SAR. The government on Friday announced cross-border transport arrangements for mainland visitors attending the opening of Disneyland next week.
Pop stars Jacky Cheung, Coco Lee and Broadway singers Lea Salonga and Paige O'Hara will be part of Hong Kong Disneyland's opening festivities. Other performers are Hong Kong pop stars Joey Yung, Eason Chan, Andy Hui and Taiwan's Emil Chau, according to a statement issued by Hong Kong Disneyland. Chinese actresses Gong Li and Zhang Ziyi are also scheduled to appear, China's official Xinhua News Agency reported Thursday. Jackie Chan, Chow Yun-fat, Michelle Yeoh and Julie Andrews are also reportedly among the guests, but Disney hasn't confirmed them yet. The park is officially opening on Monday, but the pre-opening festivities begin Saturday with a celebrity red-carpet reception. Cheung, Lee, Salonga and O'Hara are to perform at The Voices of Disney concert on Sunday. Chinese pop star Cheung is a Hong Kong Disneyland celebrity spokesman. Salonga, best known for her performance in the Broadway show Miss Saigon, is the singing voice behind Disney animated characters Mulan and Princess Jasmine in Aladdin.
A top mainland quarantine official denied making a blunder when he released a list of certified safe fish farms to Hong Kong last week, instead blaming flawed news reporting and smugglers for the tainted fish outcry.

Retiring Permanent Secretary for Home Affairs Shelley Lee Lai-kuen yesterday likened Hong Kong's recent tribulations to the "seven years' famine in ancient Egypt" but expressed hope the city would "scale new heights". She also voiced her support for the ministerial system introduced by former chief executive Tung Chee-hwa, saying she believed it would mature over the next seven to eight years. "I also hope that social harmony will continue. Just like the seven years of famine in ancient Egypt, we suffered over the past seven or eight years," she said. "We have learned our lessons. If there are mistakes, we should admit them. I really hope Hong Kong will scale new heights." The retiring top administrative officer met the media yesterday and attended a radio phone-in before flying to Beijing for discussions on the 2008 Olympic equestrian events to be held in Hong Kong. Nicknamed "mother of everyone", the popular official won recognition for her care of the disadvantaged, such as Sars victims and the students who survived the Pat Sin Leng hill fire nine years ago.
Hong Kong Catholic leader Bishop Joseph Zen Ze-kiun on Friday welcomed the pope's invitation to bishops from the official and underground churches in China to attend a synod in October.
Finance ministers from Pacific rim nations wrapped up a two-day meeting on Friday with a pledge to share responsibility to fight high oil prices and other impending risks to the global and regional economies.
Hong Kong and China's economic relationship had grown and developed in a number of important ways, acting Financial Secretary Stephen Ip Shu-kwan said on Friday.
American congressional staff, who serve and even advise US lawmakers, have a significantly lower opinion of China than the general public, a member of a Chinese-American business group says. The Asia Society's Hong Kong chapter invited Carolyn Chin, who is the vice chair of research at Committee of 100 to speak about her group's study Thursday. The Asia Society aims to foster relations between the United States and the Asia-Pacific region. The Committee of 100 is a similar organization that focuses specifically on Sino-US ties. Chin said only 19 percent of congressional staff polled had a positive view of China whereas 59 percent of the public and 63 percent of opinion and business leaders had a favorable view. She said congressional staff were "out of sync" with the rest of the United States, citing special interest groups as a possible reason for staffers' unfavorable attitude towards China.
The Securities and Futures Commission said it is looking into dubious warrant trades as it starts a comprehensive review of Hong Kong's increasingly active warrants market. The regulator said it is investigating specific instances of suspicious activities relating to the trading of derivative warrants on the stock exchange, but cannot detail the specifics due to confidentiality requirements. Sources said the SFC's review and investigations came after it received complaints about warrant trading that may have led to the "abnormal fluctuations" in the stock market recently. One particular area it is looking into is trading aimed at creating a false active turnover because retail investors tend to buy warrants based on turnover rather than other valuation, sources said.
Techtronic Industries, a power-tool and vacuum-cleaner manufacturer, is seeking to raise as much as HK$1.87 billion through a share placement, sources familiar with the situation said.
PCCW, Hong Kong's largest phone company, more than doubled its net residential fixed lines last month, its second straight month of gains, thanks to its promotional campaign launched early this year.
Kingboard Chemical Holdings, one of the world's largest copper laminate manufacturers, reported first-half net profit rose 26 percent to HK$688.3 million due mainly to contributions from Elec & Eltek, a printed circuit board maker it acquired last year.
Bank of China, Seng Heng Bank and Banco Delta Asia SARL said they weren't aware of a reported investigation by US authorities over funding of North Korea's nuclear weapons program.
The Hongkong and Shanghai Banking Corp, a Hong Kong banking unit of HSBC Holdings, is to sell 56 percent of its credit card merchant acquiring businesses to Global Payments for US$67.2 million (HK$524.16 million).

China: Visiting Chinese President Hu Jintao (R) shakes hands with Canadian Prime Minister Paul Martin during their meeting in Ottawa, capital of Canada September 9, 2005. Hu said to enhance Sino-Canadian friendly and cooperative relations constitutes an important component of the Chinese foreign policy and the development of bilateral relations boasts a sound foundation and a good opportunity. Both sides should push forward all-round cooperation in various fields. China and Canada agreed on building a strategic partnership aimed at promoting the long-term and steady development of bilateral relations.

President Hu Jintao and his wife Liu Yongqing arrive at Ridea Hall in Ottawa on Thursday, escorted by Royal Canadian Mounted Police. Hu said he aimed to expand relations between China and "the country of maple leafs" when he met with Governor-General Adrienne Clarkson on the first day of a landmark trip to North America.
A senior official said Friday that with a new floating exchange rate regime in place, the yuan's value "will no longer be adjusted through administrative measures."
The degree of self-sufficiency in China's energy use achieved 94 percent last year, the highest in the world, said Zhu Zhixin, vice minister in charge of the National Development and Reform Commission.
Beijing formally removed the 12-year ban on setting off firecrackers on Friday, although there are still some restrictions on the time and the place of this traditional Chinese activity.
Beijing's actual foreign direct investment (FDI) reached US$2.5 billion in the first eight months of this year, up by 34 per cent year-on-year, said Beijing's Vice-Mayor Lu Hao.
Visitors look at a miniature of a small and-medium-sized housing project at the Shenyang Autumn Real Estate Fair, which opened in Shenyang, capital of Northeast China's Liaoning Province, on Friday. Small and-medium-sized houses are very popular among purchasers nowadays due to high property prices.
China Telecom, the larger of the mainland's two fixed-line operators, plans to prevent its customers from using a low-cost Internet phone service offered by Luxembourg-based Skype Technologies in a bid to protect its dwindling long-distance revenues, according to a source close to the Chinese company.
President Hu Jintao has agreed to restore the standing of reform-minded Communist Party leader Hu Yaobang whose death triggered the 1989 Tiananmen Square demonstrations in a surprising reversal of party dogma that could prompt new calls for democratic change, according to people informed of the decision.

Journalists cover the arrival of relief aid from China to the US for victims of Hurricane Katrina at the Little Rock Air Force Base in Arkansas on Sept. 7, 2005. The relief goods, weighing 104 tons, included light power generators, tents, bedsheets and clothes, etc. China announced last Saturday that it had decided to offer disaster relief up to US$5 million along with emergency supplies to the US people victimized by Katrina.

Chinese President Hu Jintao (C, front) arrives in the Canadian capital of Ottawa Sept. 8, 2005. Hu Jintao arrived in Ottawa Thursday for a state visit aimed at promoting the all-round partnership of cooperation between China and Canada.
According to the EC, the stockpiles of blocked Chinese garments hit 87 million pieces at the time when Chinese Commerce Minister Bo Xilai and EU Trade Commissioner Mandelson signed the unblocking deal on Sept. 5 in Beijing. The deadline for applying for license to unblock the goods is Sept. 20.

Meeting AIDS orphans: Former US President Bill Clinton is all smiles after receiving a framed painting by AIDS orphans from Shangcai County in Central China's Henan Province. Clinton met eight orphans whose parents died from AIDS in the provincial capital Zhengzhou yesterday. Clinton is also scheduled to visit Beijing on his China visit.
The Six-Party Talks aimed at ending the nuclear stand-off on the Korean Peninsula will resume on Tuesday in Beijing, the Foreign Ministry announced yesterday.
Russian President Vladimir Putin has confirmed that his nation's trans-Siberian oil pipeline's first exports will be to China, instead of Japan, according to a Wall Street Journal report. In a meeting with Western analysts and journalists at the Kremlin late on Monday, Putin said shipments initially would go to China's oil centre in Daqing, Heilongjiang Province, according to the US newspaper, citing participants of the meeting. "The Daqing pipeline will be built first," Putin reportedly told the group. "But we will also build to Nakhodka."

Visitors to the 2005 China International Fair for Investment and Trade, which kicked off in Xiamen yesterday. Imaging giant Eastman Kodak announced yesterday that it would invest up to US$100 million to build a computer-to-plate plant at its Xiamen campus to serve the fast-growing commercial printing industry.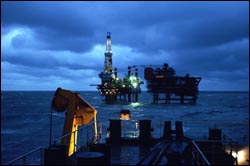 Landlocked Kazakhstan is keen to increase its oil export routes, but does not have enough cash to build long-distance pipelines. However, it hopes that cash- rich Chinese oil companies can help it fulfill that ambition as China mulls how to transport more oil from its next door neighbor to the mainland.
Paul Y-ITC Construction Holdings, which recently spun off its construction business to focus on mainland ports and logistics, said three new piers at the company's Yangtze River Nantong port will boost capacity by 50 percent.
Beijing Enterprises Holdings, which posted an 11.5 percent rise in first-half earnings, plans to invest in two infrastructure joint ventures in the capital with a combined investment of 2.9 billion yuan (HK$2.78 billion).
The private equity arm of JPMorgan Chase Bank, the third-largest lender in the United States, has raised US$1.58 billion (HK$12.32 billion) for a new Asian fund and is casting a keen eye on China.
China, fresh from clinching a deal with Europe, is likely to hold another round of textile talks with the United States ahead of next week's Sino-US summit in New York, political sources said.

US customs attaché Andy Yu announces that the suspects behind the 40 million yuan fake drug syndicate have been arrested. China and the United States have cracked a large counterfeiting case involving pharmaceuticals sold on the internet in 11 countries.
Commercial banks in Beijing want the central government to slow the pace at which the yuan is climbing and keep interest rates low to deter speculative buying of the currency, the central bank found in a survey published yesterday.
Sept 9 - 11, 2005
Hong Kong: Geely, the mainland parent of Hong Kong-listed Geely Automobile Co Ltd, yesterday forecast a 20-fold increase in annual output by 2015 with two-thirds to be sold in the international market.

Regal Hotels International Holdings has ended talks to construct a billion-dollar casino resort within Las Vegas Sands' Cotai Strip project and will try to push ahead with development of the site on its own. Regal shareholders took the news badly, selling the stock down 9.1 percent to 70 HK cents Wednesday.
A flashy new mobile betting service launched Wednesday by the Hong Kong Jockey Club is designed to make gambling easier for mobile-phone users with access to 2G and 3G technology - but the club said it is not trying to attract minors to gamble.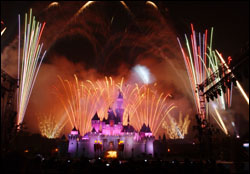 Hong Kong Disneyland's nightly fireworks display will make air quality in 2005 even worse than it was in 2004, environmental group Friends of the Earth said Wednesday. Hong Kong Disneyland Wednesday bowed to intense public pressure and said it would extend its operating hours if necessary on days of high attendance. The decision followed last Sunday's chaos when 30,000 visitors attended the theme park's charity day, filling the restaurants to capacity and resulting in long and ill-tempered queues for the various attractions. Hong Kong Disneyland Group managing director Don Robinson said the park would probably remain open until 10pm for special occasions such as Christmas Eve and Chinese New Year Eve.
Ocean Park's animals, tradition and constantly evolving attractions will prove more than a match for rival Disneyland, its chairman Allan Zeman said Wednesday, adding he is confident of his park's future. "What is Disney? It's castles, cartoons and fantasy. Ocean Park is real, with animals, education and ecology," he said, days before Disney opens. When people visit Disneyland once, it's over, and not a place they return to, Zeman said. "Ocean Park is different. It's got animals and new attractions every month or two." The 28-year-old park sits on the south side of Hong Kong Island. Spread over more than 870,000 square meters, the park bills itself as an educational theme park with live animals and scenic surroundings.
A high-ranking mainland official Wednesday played down fears that the publication of a compendium on the legislative intent of the Basic Law would put pressure on Hong Kong judges. National People's Congress Standing Committee deputy secretary- general Qiao Shaoyang also said the compendium would not reduce or increase the need for a law interpretation at some future date. He was speaking about the compendium to a delegation from the Basic Law Institute in Beijing. The State Council's Hong Kong and Macau Research Institute director Zhu Yucheng said Tuesday the compendium would include opinions from the members of both the Basic Law Drafting Committee and Basic Law Consultative Committee, and would provide further information on the legislative intent of the constitutional articles in the Basic Law.
The Asia-Pacific Economic Co-operation forum had leant from mistakes made during the 1997-98 Asian economic crisis, Financial Secretary Henry Tang ying-yen said on Thursday.

Chief Executive Donald Tsang Yam-kuen learns how mahjong can help to keep the mind sharp in old age during a visit to a home for the elderly in Kwai Tsing yesterday. Mr Tsang, who made the visit as part of an unannounced district tour, was briefed on the effectiveness of mahjong playing in treating senile dementia. He also visited a nursery. "Talking to youngsters helps me stay energetic and young at heart," he said.
The Leisure and Cultural Services Department said on Thursday people must keep LCSD venues clean and tidy during Mid-Autumn Festival celebrations, which start next Saturday.
China: President Hu has left Beijing for state visits to Canada and Mexico. Hu will also attend the UN summit marking the 60th anniversary of the world body.
US Secretary of Defense Donald Rumsfeld will visit China next month, Admiral William J. Fallon, commander of US Pacific Command, said in Beijing Wednesday. It would be Rumsfeld's first visit to China since assuming office in 2001, but the specific timing and schedule has not been decided yet, Fallon said. Fallon is visiting China for the first time since taking over as Pacific commander in February. He held talks with Foreign Minister Li Zhaoxing yesterday afternoon before heading to Shanghai and South China's Guangdong Province. Rumsfeld's visit is expected to add momentum to the increased diplomatic exchanges between China and the United States.
The Taishet-Nakhodka oil pipeline would reach China first and then arrive at Russia's Pacific coasts, said Putin.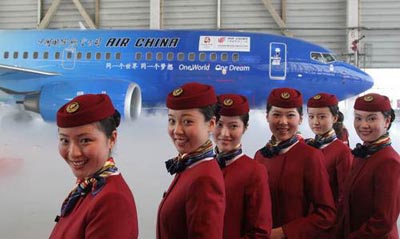 Air China's first colorful aircraft with a theme of Olympics made its debut in Beijing Wednesday. The Boeing 737-700 model aircraft was designed in three typical Olympic colors - blue, red and white. Blue and red are also colors in Air China's logo. Designers hope to bring more Olympic spirit into Air China's service.
European Union (EU) member nations on Wednesday approved the EU-China deal to give green light to around 80 million Chinese imports garments blocked at EU ports, the EU's executive body, the European Commission (EC) said.
The annual growth rate of China's gross domestic product is expected to hit nine percent in 2005, said Chinese Vice-Premier Zeng Peiyan on Wednesday.
Customs officials examine relief materials donated by the Chinese Government to the victims of Hurricane Katrina, as they are put into an aeroplane at Beijing Capital International Airport yesterday. China has offered US$5 million in aid to the US. A China Southern cargo plane carrying the country's first batch of emergency supplies for US Hurricane Katrina victims left Beijing for Houston yesterday afternoon.
China Development Bank has agreed to provide up to 30 billion yuan (US$3.7 billion) in loans within five years to fund Taiwan-invested companies on the mainland.
China Life earned 5.21 billion yuan (US$643 million) in the first six months through June, versus 2.81 billion yuan (US$347 million) in the same period last year. Insurance premiums rose 13.4 per cent to 180.2 billion yuan (US$22.2 billion) in the first half. Turnover rose 27 per cent to 49.4 billion yuan (US$6.1 billion), while net investment income rose 55 per cent to 7.8 billion yuan (US$962 million).
Shanghai Electric Group (SEG) signed a contract with Qinshan Nuclear Power Station yesterday to supply equipment valued at 900 million yuan (US$111 million) for the latter's second-phase expansion project.
Swedish telecommunication giant Ericsson will invest US$1 billion in China over the next five years to further engage the world's largest mobile communications market, the company announced yesterday.
Wal-Mart Inc, the world's largest retailer, plans to accelerate store openings in China and expand into smaller Chinese cities after the government relaxed laws on foreign retailers operating in the country, an executive said.
Carlyle Group, manager of the biggest US buyout fund, will invest US$400 million to buy 24.9 per cent of China Pacific Insurance (Group) Co's life insurance business, people familiar with the matter said.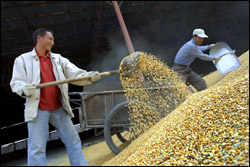 First-half earnings of COFCO International, a unit of China's largest grain trader, rebounded - thanks to increased wine sales and a good performance in trading, even though profits of its core edible oil and soy meal business fell short of expectations.
Net profit for the six months to June 30 climbed 73 percent to HK$204 million, or 11.6 HK cents a share, from HK$118 million, or 6.7 cents, a year earlier. Turnover increased 5 percent to HK$7.86 billion. COFCO declared an interim dividend of 4.35 HK cents per share, versus 2.76 HK cents a year earlier. The company relies on soybean imports to make soy meal, which is used as animal feed, and its Fortune-brand cooking oil. Last year, the firm, which is controlled by China National Cereals, Oils and Foodstuffs, suffered a 27 percent plunge in net profit to HK$301 million, as it was unable to pass on rising costs of soybeans and other raw materials. This year's second-quarter results were again hurt by foreign soybean prices and domestic soy meal and edible oil prices moving in opposite directions, managing director Yu Guangquan said.
Conglomerate Citic Pacific has entered the tourism business in scenic Hainan island by committing to a two billion yuan initial investment in a huge tourism and property project.
Sept 8, 2005
Hong Kong: Hang Seng Bank's strategic investment in Industrial Bank is part of its long-term business focus in the country - and it has currently no intention of buying stakes in other commercial banks, a top manager of the Hong Kong-based lender told China Daily yesterday.
Ogilvy Public Relations Worldwide (Ogilvy PR) yesterday announced that it had acquired a majority stake in Hong Kong-based communications firm iPR Asia Ltd (iPR).
Soaring property values may force the government to take out a loan to keep the Link Real Estate Investment Trust affordable for retail investors, sources familiar with the relaunch strategy say. Bankers familiar with the planned relaunch of Link Reit said it would take three to four more weeks to finalise the basic numbers needed to determine the valuation of the initial public offering and stressed there were still a lot of uncertainties with regard to the final outcome.

Chairwoman Eva Cheng says the easing of sales regulations will cut Amway (China)'s costs, as it will not be obliged to operate so many stores.
Agitation from Hong Kong's transport industry for relief from skyrocketing oil prices continued Tuesday as workers petitioned Chief Executive Donald Tsang for an immediate fuel tax exemption. About 25 representatives from the Motor Transport Workers General Union and the Container Transportation Employees General Union marched from Chater Gardens to the Central Government Offices, where they delivered their petition to a government representative.
The central government's decision to discover the intentions behind provisions in the Basic Law was "logical and democratic", Basic Law Committee member Raymond Wu said on Wednesday.
Hong Kong's Food and Environmental Hygiene Department said on Wednesday it had learnt of the discovery of a potentially dangerous drug in a crab sample tested in Taiwan.
The 45-storey Four Seasons Hotel, the final piece of the jigsaw in the nine-year Hong Kong Station development in Central, opens its doors tomorrow with bookings for 38 per cent of the 399 deluxe rooms.
China: A plane carrying China's first batch of humanitarian aid to the United States for victims of Hurricane Katrina left Beijing Wednesday afternoon. According to the information from the Ministry of Commerce, the relief goods include power generators, tents, bed sheets and child clothing, which are due to arrive in Houston, the United States, at 2:30 a.m. local time Wednesday. Wang Hanjiang, head of the ministry's Department for Foreign Aid, said that China would send more relief goods to the hurricane-hit regions in the United States "if it is needed." China announced last Saturday that it had decided to offer disaster relief up to 5 million US dollars along with emergency supplies to the US people victimized by Hurricane Katrina, and that if necessary the Chinese government would send rescue workers to help in medical treatment and epidemic prevention in the disaster-stricken areas.

Hao Jun (C) winner of the finals of World Super Model Contest in China's northwest region, Li Na (L) the 1st runner-up and Ma Dan, 2nd runner up pose for a photo on Sept 5 in Turpan, Xinjiang Uygur Autonomous Region. A total of 50 contestants participated the contest and the winners will take part in the finals of China region.

Hao Jun, the winner presents swimming suit during the contest.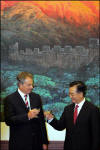 British Prime Minister Tony Blair says he is optimistic that China will match its fast-paced economic development with greater respect for human rights and movement towards democracy. British Prime Minister Tony Blair held wide-ranging talks with Premier Wen Jiabao Tuesday, the second day of a visit to China, and presided over banking and airliner deals. Airbus, the European aircraft maker in which Britain's BAE Systems has a 20 percent stake, signed a deal to sell 10 A330 jets to China Southern Air, while British bank Standard Chartered sealed the purchase of a 19.99 percent stake in Bohai Bank. The deals underlined the main theme of Blair's trip - that the mainland's cheap workforce poses a competitive challenge but its 1.3 billion- strong market also offers rich rewards for British and European business.
According to the latest statistics released by the central bank, there are more than 160 bank card issuing institutions in China which have issued 875 million cards by the end of June this year. With a compatible network, the industrial chain has formed. In addition, the on-line payment system in China has joined the global payment network. The gross transaction volume paid by bank cards in China totaled 24.06 trillion yuan from January to June this year. In those economically developed cities such as Beijing, Shanghai, Guangzhou, Shenzhen, payment by bank cards has taken up nearly 30 percent of the total retail consumption, close to the level of the developed countries. The relevant departments vows to better perfect the environment in which bank cards are allowed to use, setting the objective that 60 percent of businesses with annual turnover over 1 million yuan will accept bank card payment, and consumption with bank cards payment in large and medium cities across the countries will account for 30 percent of the nation's total.
Former US Secretary of State Henry Kissinger said on Tuesday that he disagreed with the assertion that a stronger China could pose a threat to regional peace and stability. In a joint interview with Xinhua and China Central Television, Kissinger said he does not agree with those who made the above presumption of "China threat." "Fundamentally, China is making a contribution to international peace and prosperity." "China poses no challenges to the United States militarily, there are challenges presented by its rapid economic development. But they can be dealt with on a competitive basis," he noted.

A businessman visits the European Showcase for Brands of China in Birmingham on Sept.5. 80 Chinese enterprises display their products ranging from gifts, stationery, toys, arts and crafts to jewelry, bedclothes, etc. The European Showcase, an international commodity expo for autumn, has attracted thousands of businesses from some 30 European and Asian countries.
China will set up a new bank to serve the economically dynamic region around the Bohai Bay, with north China's biggest port city, Tianjin, as its center -- and the bank's business will be expanded to other parts of the country.

British Prime Minister Tony Blair (centre) kicks a football as former England manager Sir Bobby Robson (right) coaches him whilst Chinese children look on yesterday. Blair attended a soccer master class given by Robson to local children. Visiting British Prime Minister Tony Blair's football skills have been the least successful part of his visit to China. Premier Wen Jiabao and British Prime Minister Tony Blair, after three hours of wide-ranging discussion, yesterday oversaw the signing of a series of trade contracts including airline and banking deals.

Tianjin TEDA Investment Holding Company Ltd, 25 per cent, Standard Chartered, 19.99 per cent, China Ocean Shipping (Group) Co, 13.67 per cent, Shanghai Baosteel Group Corp, 11.67 per cent and State Development and Investment Corp, 11.67 per cent.
Anheuser-Busch Cos, the brewer of Budweiser and Michelob beer, may make more acquisitions in China to tap a market that's growing as much as seven times faster than the US, according to the head of the company's international operations.
Pangaea Capital Management, a new Singapore-based private equity firm, could become the first foreign investor to acquire a significant stake in a mainland bank through a share auction.
Swedish telecommunications giant Ericsson will invest US$1 billion (HK$7.8 billion) in China over the coming five years, betting on more demand for wireless services in the world's largest mobile phone market.
Sept 7, 2005
Hong Kong: Hong Kong's first real estate investment trust, the Link Reit, would be re-launched by the end of the year, Secretary for Housing, Planning and Lands Michael Suen Ming-yeung said on Tuesday.
British bank Standard Chartered on Tuesday announced plans to invest US$123 million (HK$959 million) to help create a mainland bank, joining a wave of foreign investors looking for a share of China's banking industry.
Shenzhen Mayor Xu Zongheng will host a media stand-up briefing on Wednesday before the completion of a three-day official visit to Hong Kong, a government spokesman said on Tuesday
The total value of retail sales in Hong Kong has increased by 7.0 per cent to $17.4 billion in July compared with the same month last year, government figures released on Tuesday showed.

China: Chinese Premier Wen Jiabao proposes a toast to British Prime Minister Tony Blair (second from right), President of the European Commission Jose Manuel Barroso (second from left), and EU Council Secretary-General Javier Solana at the Great Hall of the People in Beijing September 5, 2005, after witnessing the signing of a number of deals. They were attending the eighth China-EU summit.

China's Minister of Commerce Bo Xilai (R) shakes hands with EU Trade Commissioner Peter Mandelson after they signed a textile trade agreement in Beijing September 5, 2005. All the China-made textile products blocked in the ports of EU countries will be freed up, according to an agreement reached here on Monday night by China and the European Union (EU).

CITIC Industrial Bank is expected to receive 8 billion yuan (US$986 million) in a capital top-up from parent company CITIC Group to boost its capital adequacy ratio above 8 per cent. By the end of last year, CITIC Industrial Bank had 18 billion yuan (US$2.22 billion) of non-performing loans (NPLs), accounting for 5.8 per cent of its total lending, above the average 5 per cent for joint-stock banks and way above the average 3 per cent for listed banks.
China Petroleum and Chemical Corporation (Sinopec), the country's largest oil refiner, plans to pour 338 million yuan (US$41.7 million) into Anbang Property & Casualty Insurance Co for a 20 per cent stake to become the joint largest shareholder with Shanghai Automotive Industry Corp, an insider told China Daily.
Chengdu, capital of Southwest China's Sichuan Province, is becoming a major 3G research and development (R&D) centre for leading communications firms.
Red Flag Software Co Ltd, a leading domestic Linux developer, has said that it will set up a joint venture with Japanese and South Korean partners to promote its latest Linux software in South and Southeast Asia.
China Southern Airlines on Tuesday signed an agreement with European consortium Airbus to buy 10 A330 jets for US$1.5 billion (HK$11.7 billion), officials said.
Sept 6, 2005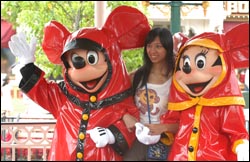 Hong Kong: Two politicians say they will demand that the government reveal full details of its joint-venture agreement with Hong Kong Disneyland. Frontier Party legislator Emily Lau and Central and Western district councillor Cyd Ho said they will demand that the government allow public scrutiny of the agreement when Legco reconvenes after its summer break on October 12. "The [government's] economic services panel should ... give a much fuller picture about the financial side [of the agreement] with Disney," Lau said. The secrecy has left the public in doubt about the territory's relationship with Disney, she claimed. In response, Disney's Esther Wong said: "Disney is a commercial entity, so I think those are commercial terms. As with any business entity, [privacy] is something that should be respected."
In the wake of a chaotic "charity day" trial last Sunday, government and Hong Kong Disneyland officials acknowledged Monday that the theme park may have to retreat from its insistence it can efficiently handle a capacity crowd of 30,000 every day. The park is due to open officially next Monday. Disney drew fierce criticism from legislators and the public following Sunday's trial run, which drew almost 30,000 visitors on a rainy, humid day. Visitors had to wait more than two hours for rides and some could not get a seat in any of the nine restaurants.
A record number of people visited Hong Kong in July, according to Tourism Board figures. A total of 2.07 million visitors arrived in the month, up 3.8 percent on the previous high, set the previous July. Extensive promotion of Hong Kong as a destination resulted in all long-haul market regions growing by 20 percent, the board said. Arrivals from Australia, New Zealand and South Pacific increased 35.3 percent during the period. The record defied the fact July is a traditionally low tourism season, with fewer business travelers on long-haul markets, said board chairman Selina Chow. "We're encouraged by the fact that the growth has spread across all regions, and particularly in the long-haul markets," she said. Travelers from Europe, Africa and the Middle East increased 27.5 percent, and 8.1 percent more came from the Americas.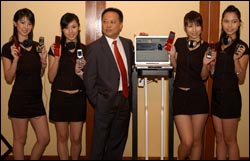 SmarTone Telecommunications, a mobile phone company controlled by Sun Hung Kai Properties, said earnings will be under pressure this year amid higher subsidies to customers and increasing depreciation on its network. "We will see a short-term pressure on profits, with a further increase in costs related to the 3G business," chief executive Douglas Li said Monday. "Aggressive handset subsidies and tariffs have become the only way to lure customers." SmarTone reported a 27 percent drop in profit to HK$339 million for the 12 months ended June 30, from HK$466 million a year earlier, amid fierce competition. Turnover rose 7 percent to HK$3.62 billion. Profit was less than market expectations of HK$360 million.
The chief executive is likely to announce the expansion of yuan-related business in Hong Kong during his policy address next month. A senior government source said several requests had been made to the mainland authorities on the issue. The source did not specify what form the measures might take but bankers said mainland authorities were unlikely to allow Hong Kong banks to issue yuan loans for the time being. They said an expansion of existing business, such as a lifting of the exchange cap - that limits customers to transactions of 20,000 yuan a day - was a likely first step. In his address, Donald Tsang Yam-kuen is also expected to predict a robust improvement in the economy which would pave the way for a tax cut in the budget in February. The chief executive, who met Hong Kong and Macau Affairs Office director Liao Hui on Sunday, will finalize this part of his policy address in the coming weeks after hearing the central government's decision. The source said that while easing of constraints on yuan-related business could take months to be implemented, such measures would be another indication of Beijing's support for Mr Tsang.

A fireman stores uniform hats at the new fire station at Penny's Bay. The station will be manned by 116 firemen and 20 medical officers, who will also serve other areas such as Tung Chung and Discovery Bay.
Hongkongers visiting the mainland were yesterday advised to avoid crossing the border at the rush hours when mainland tourists will be flocking to the Disney theme park.
Two months after completing its US$13.5billion acquisition of Veritas Software, Symantec is sharpening its investment focus in Asia, pursuing new alliances and stepping up the release of integrated security and storage software products to market.
China: Chinese President Hu Jintao met Monday with British Prime Minister Tony Blair, President of the European Union (EU) Commission Manuel Barroso, and EU Council Secretary-General Javier Solana, who are here to attend the eighth China-EU summit. Hu said he had "very good talks" with Blair and Barroso not long ago in Gleneagles, Scotland, and Beijing, respectively. He is very glad to meet them again in Beijing. China-EU leaders keeping frequent exchanges is conducive to enhancing mutual understanding, expanding mutually beneficial cooperation and boosting the development of China-EU comprehensive strategic partnership, he said.
President Hu Jintao on Saturday postponed his official visit to Washington this week because of Hurricane Katrina, though he and US President George W. Bush will meet at a UN meeting in New York in mid-September. Hu talked with Bush by phone, and the two leaders agreed to the postponement "due to the special conditions faced by the US Government in handling the serious disaster caused by Hurricane Katrina," said a statement issued by the Foreign Ministry. Hu was scheduled to leave for the United States today for a four-day visit. It would have been Hu's first US visit since becoming president in 2003. The Foreign Ministry said both sides agreed to rearrange the visit at a time of mutual convenience. Hu and Bush also agreed to hold a bilateral meeting when they attend ceremonies in New York for the 60th anniversary of the founding of the United Nations, the Foreign Ministry said. That event takes place from September 14 to 16.
Finnair Group's vice president Henrik Arle (2nd from right), Chinese ambassador to Finland Zhang Zhijian (2nd from left) and Finland ambassador to China Benjamin Bassin (1st from right) attend ribbon-cutting ceremony for the maiden flight of the direct air route from Helsinki to Guangzhou Sept 5, 2005 in the Helsinki Airport.
The China-Russia trade volume hit a record 21.2 billion US dollars last year, up 34.7 percent over 2003. Bilateral trade in the first seven months of this year reached 15 billion US dollars.
China Resources Land and parent China Resources Holdings will invest six billion yuan (HK$5.77 billion) to develop a housing project near Tsinghua University and Peking University in Beijing. The group unveiled the project cost Monday after securing last month the 456,140 square meter residential- commercial site at Qinghe town, Haidian district, for 2.57 billion yuan. The site, the largest to be sold at auction in the capital, could yield a gross floor area of up to 800,000 sqm when completed in 2010, according to CR Land's managing director, Wang Yin. The site is 51 percent owned by CR Land and the rest by the state-owned parent. Construction will begin early next year and the first of the project's three or four phases is scheduled to be put on the market by late 2006. The entire project will provide up to 7,000 residential units
Taiwanese carriers have begun regular flights through the mainland's airspace for the first time in more than five decades. Monday's flights by the island's two largest airlines came days after Beijing approved their applications and a month after Taipei agreed to allow them to fly over its rival's territory. While charter flights to select mainland cities had been allowed in the past on special occasions such as the Lunar New Year holiday, and Taiwanese carriers have long flown to Hong Kong, it is the first time they have flown over the mainland to other destinations. An EVA Airways passenger flight departed for Paris and another for Vientiane in Laos, both scheduled to cross mainland airspace, the carrier said. China Airlines flew a cargo flight bound for Vienna in Austria and a passenger flight to the Vietnamese capital of Hanoi, the carrier said. China Airlines said it expects a total of 52 flights, including both cargo and passenger flights, to go over the mainland's airspace each week, while an EVA spokesman put its number at 42.

China Resources Land chairman Wang Yin expects property prices in Beijing will rise 10 per cent next year.
China will extend investigations into money laundering to the securities and insurance industries, according to officials, who say the country has a long way to go to meet international standards.
China and the European Union have reached a deal that will open the door to all the mainland textile products stranded at ports because quotas are full. But the solution reached yesterday in Beijing must still be ratified by most of the EU member nations.

On the mainland, the Net is more a medium for entertainment than business, so the search needs of mainlanders are different from those of US residents. Mainlanders also like to belong to an online community. The website of Chinese search engine Baidu.com might mimic the clean, minimalist design of its American rival Google, but there are striking differences behind the homepage that set the two apart.
A senior Communist Party leader said yesterday that Beijing is reviewing a key international human rights treaty, prompting speculation about mainland ratification of the sensitive International Covenant on Civil and Political Rights after years of delay.
Sept 5, 2005
Hong Kong: High earners and young people from the Chinese mainland are the most enthusiastic groups for visiting Hong Kong Disneyland, after it fully opens on September 12, according to a recent survey.

Athletes - both able-bodied and handicapped - and the people of Hong Kong will be the main beneficiaries of the HK$800 million being spent on hosting the equestrian events for the 2008 Olympics, Jockey Club chairman Ronald Arculli argued in an interview. The club also stands to gain, but that depends on whether or not the government will allow it to keep the stables being built to accommodate the visiting horses, Arculli said when asked to expand on his previous statement to the club's annual general meeting that the money was a "legacy investment." "Much has been said about the athletes being moved from the Sports Institute for the equestrian events, but it must also be mentioned that the whole building is being refurbished and fittings and facilities upgraded to make it truly world class in order to host the games," he said. The Sports Institute, the main training ground for eight of the 15 elite sports in Hong Kong, will be vacated from early 2007 to the end of 2008 to prepare for the games. During this period, athletes will train at the Wu Kai Sha Youth Village and other venues managed by the Leisure and Cultural Services Department.
Hong Kong stocks rose 0.52 percent Friday as investors snapped up property stocks after a string of robust earnings reports and awaited a government land auction later this month. The Hang Seng properties sub-index rose 1.5 percent to 19,369.86, extending its gains to 4 percent for the week. Sun Hung Kai Properties rose 2.3 percent to HK$82.15. The blue-chip Hang Seng Index ended up 78.14 points to 15,221.89. "Investor confidence over the opening of Disneyland in Hong Kong and a government land auction will probably lift property stocks next week," said Kenny Tang, associate director at Tung Tai Securities. The Disney theme park, which opens September 12, is expected to provide a huge boost to the territory's tourism-related businesses, while the last government land auction saw frenzied bidding from developers.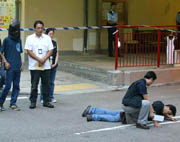 Police officers re-enact the chopping of seven-year-old Shum Ho-yin at Lei Muk Shue estate as one of the suspects looks on yesterday. After cordoning off the scene, officers led the hooded suspect through the attack and his escape route, watched by a large crowd of residents. Three more men suspected of involvement in the vicious attack were arrested yesterday, bringing the total to 11, including the boy's stepmother.
The government yesterday was awarded $553 million damages over the Tin Shui Wai short-piling scandal. But it could be a hollow victory as the contractor responsible is insolvent and its insurer is contesting the court's decision to make it a co-defendant.
British naval ship HMS York and its Royal Fleet Auxiliary ship, the Black Rover, berth at Ocean Terminal in Tsim Sha Tsui. The visit aims to highlight the continuing close ties between the UK and Hong Kong. HMS York is manned by 287 crew, who will be involved in voluntary work and official functions.
China: Chinese President Hu Jintao is to pay a State visit to the United States next week at the invitation of US President George W. Bush. The US president is scheduled to visit China in November. The exchange of visits will surely push bilateral ties to a new level. How Sino-US relations will play out in the future and in what direction the relationship will head have drawn widespread concern in the international community. China and the United States have achieved all-dimensional development in bilateral ties, from being pushed by external forces to being driven by internal demands. The former Soviet Union factor during the Cold War prompted China and the United States to club together. Since September 11, 2001, Sino-US ties have once again improved due to a common demand to counter terrorism. The upcoming exchange of mutual visits by heads of the two countries and the launching of a high-level strategic dialogue symbolize a turning point in bilateral ties. The significant events signify that Sino-US ties will no longer simply depend on external forces in a passive way, but will be mainly determined by internal factors and the drive for self-development. Both countries are expected to strengthen bilateral ties in a more active manner.
Latest data released by the National Development and Reform Commission show that Chinese enterprises of scale realized 581.1 billion yuan added value in July, up by 16.1 percent year on year, with the growth rate slowing down by 0.3 percentage point compared with the first half year and speeding up 0.6 percentage point year on year.
China had 5.5 billion US dollars of net overseas investment in 2004, a year-on-year increase of 93 percent, according to the Ministry of Commerce Thursday.
Chinese regulators have made a bold move to relax its grip on the long-held charging scheme on telecoms voice services, allowing operators to freely set fees for some voice services under caps set by the government.
China and Britain will sign agreements worth US$2.4 billion in the fields of aerospace technology and banking next week.

Visitors look at the art sculptures at the 13th Guangzhou Fair. The four-day event opened at the Guangzhou International Convention & Exhibition Centre on Friday.

The Chinese Government issued the long-awaited direct selling rules on Friday, giving a legal standing to a business model that had been banned in the country since 1998. The State Council issued the Regulation of Direct Selling Administration, which will become effective from December 1, and the Anti-Pyramid Selling Regulation. "The legislation is to guide and regulate the development of the direct selling sector in China," the Xinhua News Agency quoted the spokesperson from the State Council as saying. It is also to fulfill China's commitment to the World Trade Organization. The country promised to open the direct selling business within three years of its WTO entry. However, the lack of regulations made it practically impossible. Direct selling giants like Amway Corp and Avon Products Inc expressed their welcome and support for the new regulations.
France's second-biggest bank, is in discussions to buy a stake in a Chinese consumer bank, following competitors such as Royal Bank of Scotland Group Plc in seeking to expand in the world's most populous nation.
The mainland's aviation authorities approved applications Friday from four Taiwanese airlines to fly over its airspace after Taipei urged the permission amid rising oil prices. The General Administration of Civil Aviation gave the green light to China Airlines and its subsidiary, Mandarin Airlines, as well as EVA Airways and its subsidiary, Uni Airways, Xinhua reported. It is the first time Beijing has given permission for the use of China's airspace to Taiwan, which has been off limits for 56 years. The airlines said they wanted to operate routes over the mainland to destinations in Europe and Southeast Asia in a bid to cut costs to combat soaring oil prices. The permission will be effective as of midnight Monday for the four airlines' passenger and cargo flights from Taipei and Kaohsiung. "Anything that is beneficial to the Taiwanese compatriots and aviation industry ... we will, as ever, actively promote and provide help for as much as possible," Xinhua said, quoting aviation authorities. Under a ban Taiwan imposed on direct transport exchanges with China in 1949, when the two split after a civil war, the island's airlines have to take a detour to bypass mainland airspace en route to Europe and parts of Asia.
China's wealthy, weary of their luxury villas and imported cars, are now seeking the ultimate symbol of capitalist excess: private aircraft.
Sept 2 - 4, 2005
Hong Kong: China Telecom, the country's biggest fixed-line operator, plans to issue a total of 30 billion yuan (US$3.6 billion) in bonds to fund diversified business development in the face of a saturated core business, the company chief revealed yesterday.
Offshore futures brokerages registered in Hong Kong and Macao can apply for the establishment of joint venture futures companies on the mainland, market watchdog China Securities Regulatory Commission (CSRC) announced late on Tuesday.
PetroChina, the mainland's biggest oil producer, and its parent company will sell shares worth between US$2.4 billion and US$2.7 billion (HK$21.06 billion) to build its war chest for the purchase of oil and natural gas reserves in the region, said sources familiar with the sale.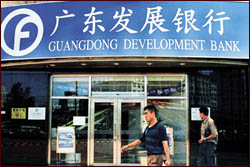 Henderson Land Development's chairman Lee Shau-kee said he may invest in a stake in Guangdong Development Bank as the lender seeks foreign investors as shareholders. Lee said he will consider using his privately held firms to team up with other strategic investors for a stake in the bank. However, neither Henderson nor his own firms have submitted bids, Lee said. "We're interested in [investing in] all major Chinese banks," he said Wednesday after the annual general meeting of Henderson's unit, Miramar Hotel & Investment.
Mainland crabs, along with people, now have to go through metal detectors when entering South Korea after lead- weighted crabs were found to have been imported from China. Since August 2000, South Korea's health authorities said they have sporadically found lead pellets in some mainland crabs entering the country.
Hong Kong inspectors will return to Guangdong province to actually visit fish farms supposedly approved by mainland authorities to export freshwater fish to Hong Kong, the health chief said Thursday. Health, Welfare and Food Secretary York Chow was forced to make the admission after local media reported Wednesday that many of the 18 registered fish farms in Guangdong were no longer in operation or did not even exist. The disclosure comes as yet another embarrassing sign that Hong Kong officials are being kept in the dark by their mainland counterparts who have insisted that safe food supplies to the SAR can be guaranteed. Food and Environmental Hygiene Department staff who visited the province earlier did not actually tour the farms, a government spokeswoman admitted. Department director Gregory Leung was merely asked to discuss "details" with mainland officials during a two-day visit that ended Tuesday.

Job seekers crowd a Labour Department recruitment forum at Tuen Mun Town offering 2,000 jobs. The Labour Department recorded a record 43,300 job vacancies last month - up 12 per cent from July and 53 per cent on the same month last year. Giving the figures yesterday, Permanent Secretary for Economic Development and Labour Matthew Cheung Kin-chung said 94 per cent of the jobs were permanent, offering $5,000 to $10,000 a month.
Some fish from Taiwan have tested positive for the cancer-causing chemical malachite green, a government spokesman confirmed on Thursday afternoon.
Marine police have seized $1.5 million worth of smuggled goods near an island east of Sai Kung, a spokesman said on Thursday.
Hong Kong's top health official apologised on Thursday for releasing a list of mainland Chinese fish farms deemed safe to export uncontaminated fish to the city, after press investigations showed that many of the farms do not exist.



Hang Lung chairman Ronnie Chan says the developer will concentrate its resources in China.
The Office of the Telecommunications Authority (Ofta) has rejected calls from several mobile operators to delay licensing for broadband wireless access (BWA) services pending upcoming reviews on spectrum policy and fixed-mobile convergence.
China: China and the United States ended their three-day negotiations on textile disputes, without reaching a broader agreement, according to a statement of the US Embassy to China Thursday.
Students in China will from today be allowed to decide for themselves whether to get married. However, a recent survey shows that an overwhelming majority of them are saying no.
Domestic coal prices have retreated slightly on the back of a moderate oversupply in the fragmented sector and analysts predict the downtrend will continue through 2007.
Dow Chemical Co has become the first foreign-invested enterprise located in a bonded zone to receive official approval to secure trading and distribution rights in China, the leading global chemical company said yesterday.
China Southern, one of the top three airlines in China, has recently ordered 10 Boeing 787 Dreamliner aircraft. The first of the aircraft, each with a catalogue price of US$123 million, will be delivered in July 2008 ready for operation just before the 2008 Beijing Olympic Games and the last in 2010.
The rate of profit increases slowed down for Chinese companies as government measures to cool down overheated sectors began to bite, according to data on half-yearly results compiled by the Shanghai and Shenzhen exchanges and released yesterday.
China is to set up an anti-terrorism police center in its restive Muslim region of Xinjiang that will serve as an international training post, state press said Wednesday. "This center will undertake the task of cooperative anti-terrorism training of police forces from each country in central and south Asia," said the Xinjiang Tianshan Web site. Some 700 million yuan (HK$671.93 million) will be spent building the site which will be operational in five years. Research and education courses on "terrorism, separatism and religious extremism" would also be carried out in the 368-hectare center that would serve the member states of the Shanghai Cooperation Organization, it said. The group includes China, Russia, Kazahkstan, Kyrgyzstan, Tajikistan and Uzbekistan.

Police officers are put through their paces during training at a military base in Wuhan, Hubei province. The mainland is setting up elite police squads, to be based in 36 cities, to counter the threat of terrorism and handle riots. Security in Beijing has already been stepped up in preparation for the 2008 Olympic Games.
Beijing will try to offset the economic pain inflicted by rising crude oil prices by working to curb the development of energy-intensive industries, according to a senior economist.
Beijing has signed an accord with the UN human rights agency to collaborate on reforming the mainland's legal system in preparation for adopting a key UN treaty on civil and political rights, a UN statement said.
Dominant fixed-line operator China Telecom Corp is confident it will emerge with one of the mainland's 3G mobile licences to be handed out amid an industry restructuring and is preparing the ground to fund the network.
Troubled Guangdong Kelon Electrical Holdings yesterday revealed it had overstated revenue by 430.55 million yuan last year due to a series of unauthorised transactions involving its former chairman, who has since been detained by mainland authorities on suspicion of committing economic crimes.
Sept 1, 2005
Hong Kong: Wharf (Holdings), a conglomerate with major investments in Hong Kong property and ports, posted a more than fivefold jump in first-half earnings, thanks to new accounting rules. Net profit of HK$9.04 billion included a HK$7.11 billion after-tax gain in the "fair value" of its investment property. Excluding this net surplus, its underlying profit for the first six months was HK$1.92 billion, up 15 percent from HK$1.67 billion a year earlier. Underlying profit was within the HK$1.8 billion to HK$2 billion range of analysts' estimates. Turnover rose nearly 8 percent to HK$6.18 billion. The company raised its interim dividend by 10 percent to 36 HK cents per share.

Sun Hung Kai Properties, Hong Kong's second-largest developer by market value, said it will start a HK$1 billion hotel project in Sha Tin after it has won district council support. A four-star 700-room hotel will be built on a 68,000-square-foot industrial site in Siu Lek Yuen, a spokeswoman said Tuesday. The project will require total investment of about HK$1 billion, including construction costs and land premiums for rezoning. The project has yet to be given the go-ahead by the Town Planning Board, and talks are still to be held with the Lands Department on a land premium. With a plot ratio of five times, the 26-story hotel project could generate a gross floor area of 340,000 sqft when completed in mid-2008.
Cattle and lamb traders have sought help from mainland authorities in Hong Kong over rising wholesale prices as supplies of beef and mutton fell short of demand. Demand for pork and freshwater fish has plunged after the outbreak in the mainland of a fatal bacterial disease linked to pigs and the discovery of the cancer-causing fungicide malachite green in farmed mainland fish. Consumers have turned to chicken, beef and mutton but the supply of cattle has shrunk about 10 percent, traders said.
With the days of cheap oil fading into memory, renewable energy development is the way forward - but it's unlikely that Hong Kong has the taste for it, a former China Light and Power researcher says. Renewable resources engineer Richard Entwistle, 54, believes the next financial schemes of control that govern the profits for Hong Kong Electric and CLP Power are unlikely to change Hong Kong's reliance on fossil-fuel based energy. Even so, he's been willing to consult a local inventor on the development of a machine that produces electricity from ocean waves. "I've worked in utilities for a long time. From a moralistic point of view, things have to change," said Entwistle, who came to Hong Kong in 1981 to help build CLP Power's Castle Peak facilities. He says the government needs to guide the market towards this kind of change.
Half the Shenzhen fish farms "designated" for producing safe freshwater fish for Hong Kong do not exist. And the farms that are operating have not been inspected, investigations have revealed.

Actor Stephen Chow Sing-chi and David Garcia, chairman of the Foreign Correspondents' Club ball committee, visit the Po Leung Kuk language training centre in Causeway Bay. The charity, the FCC and the JP Morgan Chase Foundation have launched a programme to improve the language skills of children in the kuk's residential care.
Hong Kong's biggest insurer, American International Assurance (AIA), has paid a high price in terms of lost business for banning its agents from selling policies to mainland buyers.
Mainland internet service company FibrLink Communications is planning a $400 million listing on the Growth Enterprise Market (GEM) next month - the largest fund-raising on the second board since Tom Online's $1.5 billion float in March last year.
The mainland's biggest lender, Industrial and Commercial Bank of China (ICBC), has signed a memorandum of understanding to sell a combined 10 per cent stake to Goldman Sachs, Allianz Group and American Express (Amex) for about US$3 billion, sources close to the agreement said.

China: NBA star Tracy McGrady of the Houston Rockets coaches students of Beijing Union Universty yesterday. McGrady is in China to attend a series of promotional activities hosted by Adidas.
In the face of a rising death toll this year, China has ordered one-third of its coal mines to suspend production by the end of this year because they are unsafe.
Visitors check out the products on show at the fourth China International Equipment Manufacturing Exposition, which opened yesterday in Shenyang and lasts till Saturday.
Bank of China (BOC) announced yesterday that Bank of China International, Goldman Sachs Group and UBS would be the financial advisers and lead underwriters for its planned initial public offering (IPO) sometime next year.
China Life Insurance Co, the nation's biggest life insurer, said it plans to set up a pension insurance company with its parent and investors as the country encourages voluntary contributions for retirement.
CNOOC Ltd, China's third-largest oil producer, said first-half profit soared 69 per cent as the nation's economic expansion increased demand and international prices for the fuel climbed to all-time highs.
United Airlines, the world's second-largest airline, will use the services of Beijing-based Aircraft Maintenance and Engineering Corporation (Ameco) for the heavy maintenance of its Boeing 777 fleet.
United Nations Health Partners Group in China, led by the World Health Organization (WHO), working closely with the Ministry of Health, recently released their China country health assessment report in July 2005. International experts at the said group agree China has made huge progress in its health situation during the past half century, but they also call for major efforts from the government and the society to co-operate to take China's healthcare reform to the next level.

Sri Lankan President Chandrika Kumaratunga receives full honours in Beijing yesterday, but it remains to be seen whether Hu Jintao will get the same treatment in the US.
President Hu Jintao will ask United States President George W. Bush to relax controls on exports of energy-related technologies to China and increase co-operation to avoid future conflicts between the world's two biggest energy users, diplomats say.

CNOOC chairman Fu Chengyu announces details of the company's results via a video-link from Hangzhou in Zhejiang province. Mainland oil producer CNOOC is still interested in making an overseas acquisition despite the setback suffered earlier this month when political opposition derailed its bid to buy United States oil firm Unocal Corp, according to chief financial officer Yang Hua.

*News information are obtained via various sources deemed reliable, but not guaranteed