Hong Kong, China & Hawaii Biz*


How to Do Business with China, through Hong Kong & Setting up Business in China? - last update Feb 8, 2003
Do you know our dues paying members attend events sponsored by our collaboration partners worldwide at their membership rates - go to our event page to find out more! After attended a China/Hong Kong Business/Trade Seminar in Hawaii...still unsure what to do next, contact us, our Officers, Directors and Founding Members are actively engaged in China/Hong Kong/Asia trade - we can help!
China Projects Bidding Information - update daily Scholarship & Grants
Are you ready to export your product or service? You will find out in 3 minutes with resources to help you - enter to give it a try

China Central TV - English Channel 24/7 live webcast

Download Skype - FREE Voice Over IP


"From Aloha to China Guanxi" - Friday, February 24, 2006 Honolulu Hawaii USA

MIKE ROWSE, Director General - Invest Hong Kong, HKSAR Government - This is a business program targeted at Hawaiian executives who have been tasked to achieve success in the Pacific Century spearheaded by the fast growing China phenomenon. Mr. Rowse is the Director-General of Invest Hong Kong, the Hong Kong SAR Government Department dedicated to attracting foreign direct investments to Hong Kong. The department provides free information, advice and support services to help US companies to capitalize on the Hong Kong advantage. GO to our Event page for detail
December 31, 2005 - January 2, 2006 Happy New Year

Hong Kong: Hong Kong stocks fell, dragging the Hang Seng Index to its biggest drop in three weeks. Esprit Holdings slid after trading in US Treasuries raised concern of a slowdown in the US economy.
Macau Chief Executive Edmund Ho said 2009-10 would be "too early" for Macau to tackle political reform of its electoral system.
Hong Kong on Thursday said it had partially lifted a ban on United States beef imports that became effective two years ago.
About 35 South Korean protesters marched through Hong Kong on Thursday, demanding that charges be dropped against 11 family members and comrades arrested at a WTO riot in this city.
The case of Hong Kong journalist Ching Cheong, whose detention on the mainland has entered its eighth month, is to be referred to prosecutors by the end of next week, the chief executive said.
The value of new home loans drawn down by borrowers fell for the sixth consecutive month last month as fears of interest rate rises continued to weigh on an increasingly sluggish property market.

China: China's legislature abolishes 2,600-year-old agricultural tax - China's agricultural tax will be rescinded as of Jan. 1, 2006, after China's top legislature voted to adopt a motion on the regulations revoking the agricultural tax.
China is putting its marathon anti-graft crackdown online, launching a website for the public to report corrupt officials, state media said on Thursday. The site adds to efforts to assure China's public that the ruling Communist Party takes complaints seriously at a time when many say they face retaliation for reporting abuses. The new site is run by the party's Central Commission for Discipline Inspection, the official Xinhua News Agency reported on Thursday. Liu Fengyan, the commission's deputy secretary, said it marks "another step forward by the government in curbing corruption through the introduction of strict prevention and punishment measures", according to Xinhua. Beijing has punished thousands of officials in an effort to stem graft and other abuses that have outraged China's public, threatening to erode acceptance of communist rule. On Tuesday, a former Cabinet minister was sentenced to life in prison on charges of taking bribes. The new website offers Chinese villagers and others a way to lodge complaints while avoiding local authorities, who some complain refuse to take action or retaliate against petitioners. Mr Liu said more than 67,000 songs with anti-corruption themes were composed and over 24,000 singing concerts held in the past year "to educate key officials about self-discipline", the report said.
By 2020, renewable energy is expected to account for 15 percent of national consumption, up from the current seven percent.

Deng Zhonghan, president of Vimicro Corporation, shares with nine others as CCTV 2005 Chinese business figures of the year, which is regarded the most prestigious honor in business circle. It is the sixth time for China Central Television (CCTV) to organize the selection of Chinese business figures of the year.
China's stock indexes rose to the highest in two months Wednesday. China Petroleum & Chemical Corp, known as Sinopec, gained after it announced it would receive government subsidies to cover the cost of increasing oil prices.
JAPANESE Prime Minister Junichiro Koizumi said yesterday that he will strive to develop friendly ties with China in 2006 after a year in which bilateral relations hit their lowest in decades. Political ties between the two nations went into deep freeze following a series of bilateral spats over history textbooks, disputed gas fields and violent anti-Japanese protests in several Chinese cities in April. Ties with South Korea have also soured over Japan's refusal to atone for wartime atrocities.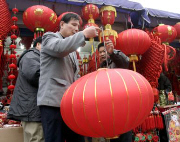 A man checks a traditional lantern, which is used as a New Year decoration, on Thursday in Shanghai. Shanghai residents are busy preparing to usher in the Year of the Dog, and the Chinese New Year, called the Spring Festival, which falls on January 29.
December 30, 2005

Hong Kong: Mainland water supplies to Hong Kong could be under threat if the present drought in the Pearl River Delta continues, a mainland maritime geologist warned yesterday.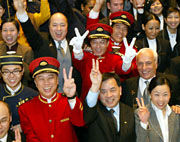 Staff of the Mandarin Oriental wave farewell to the last guests yesterday as the hotel shuts for an eight-month renovation. But many of them and - they hope - visitors who have become like friends since the Mandarin opened in Central in 1963 will be back. Local guest Catherine Carlton hopes it won't end up "all glass and no personality". Don't worry, said general manager Peter French, the ambience will be preserved. Luca Birindelli, the last to check out, was in no doubt how big a task that will be. The Italian, who has spent nine of the past 18 years there, said: "Keeping the unique blend of English mid-60s elegance with Chinese touches is going to be the biggest challenge."

Chief Executive Donald Tsang Yam-kuen greets State Councillor Tang Jiaxuan at yesterday's opening of the Hong Kong administration's new office in Beijing, located close to the central government complex.
Retired officers upset by Bishop Joseph Zen Ze-kiun's criticism of the police handling of WTO protesters called off a planned sit-in at the Caine Road cathedral just hours before it was due to start last night.

Luo Chaogeng, president of China Eastern Airlines (left) pops the corks with David Pang, chief executive of the Airport Authority, to celebrate the opening of the first business office of a mainland carrier in Hong Kong. Mr Luo said while he was confident jet fuel prices on the mainland would soon be liberalised, he dismissed reports that air ticket prices would be deregulated in the near term.

China: China is building its first airport free trade zone within the Beijing Capital International Airport, a move that is expected to strengthen the country's logistics competitiveness in Northeast Asia.
Analysts said that the entry into the IOPS would allow the country a say in international regulations about commercial pensions and promote the healthy development of the country's commercial pension market.
By 2020, renewable energy is expected to account for 15 percent of national consumption, up from the current seven percent.

A Russian rocket carrying a satellite of the Galileo network is seen at its launching pad at Baikonur cosmodrome in Kazakhstan yesterday. China is the first non-EU nation to have signed on to the Galileo programme. With a promised investment of 200 million euros (US$244 million), Beijing inked the Galileo Project Co-operation Agreement on Civil Global Satellite Navigation with the European Commission in October 2003. The rocket blasted off yesterday, carrying the first of what European states hope will be a network of satellites that will create a global navigation system.
Zhengzhou Commodity Exchange has got the long-awaited go-ahead to trade sugar futures, an exchange official disclosed. However, the specific start date has not been decided.

A farmer in Fengtai District in Beijing introduces fresh-grown flowers at a flower market in Beijing on Tuesday. With the New Year drawing near, these types of vendors are luring retailers with their comparatively low prices.

Workers at Shaanxi Automobile Group Co Ltd applaud a new truck model, which rolled off the production line yesterday in Xi'an, capital of Northwest China's Shaanxi Province. The company will soon start mass production of the model to meet the surging market demand.

Fishermen toss their catches into the air during the celebration of the winter fishing festival at Chagan Lake in Jilin province. The traditional festival started on Tuesday and ends on February 6. The amount of fish caught will be limited to a total of 2,000 tonnes.
Beijing reacted angrily yesterday to a US decision to place sanctions on six mainland companies for allegedly supplying Iran with military equipment and technology and demanded the trade bans be lifted.
Information technology company Chinasoft International plans an outsourcing spending spree in China after its US$20 million capital injection from Microsoft and International Finance Corp (IFC) this September.
December 29, 2005

Hong Kong: In a further attempt by mainland leaders to use economic lures as diversions from the thorny issue of universal suffrage, Premier Wen Jiabao is considering granting Hong Kong more financial sweeteners while calling on the territory to focus on livelihood issues. Chinese Premier Wen Jiabao told Hong Kong Chief Executive Donald Tsang Yam-kuen on Wednesday that the city should unite to solve "deep-rooted conflicts and problems," a week after Hong Kong's pro-democracy opposition rejected a Beijing-backed proposal for political reform.
An inquiry into allegations of insider dealing in securities of information technology group Vanda Systems and Communications Holdings - now called Hutchison Global Communications Holdings - has again been put on hold after complaints that hearings were being carried out unfairly.
While many Hong Kongers are taking advantage of the brief interlude between Christmas and New Year to hunt for bargains, return unwanted gifts or sleep off lingering hangovers, a handful of locals are fighting desperately just to keep a roof over their heads.
The mainland needs to tighten its criminal code to bolster its financial security and crack down on people manipulating the domestic and Hong Kong stock markets, according to Wang Maolin, a vice-chairman of the National People's Congress's (NPC) law committee.

China: This is the fifth time this year that the central bank increases deposit rates for the two currencies. The willingness of Chinese residents to make more deposits in foreign currencies continues to decline.

The photo taken in a shop on Dec. 22, 2005 shows dolls depicting the newlywed in ancient wedding in Huaibei, east China's Anhui Province. As the New Year comes closer, dolls depicting ancient wedding are well received when lovers decide to get married during the New Year holiday.

Passengers walk from the Metrol Line 2 to Metro Line 3 in Guangzhou. The world's fastest underground train speeding 135 kilometers an hour is put into service on the Metro Line 3 Dec. 26, 2005.Consisting of three train cars and worth more than 36 million yuan (US$4.5 million), it is the most advanced underground train on the Chinese mainland.
Listing no longer required when approved, listing candidates will only need to sign a contract with the SSEwhich announced at the same time that the rules are amended to fit in with the new Securities Law and Company Law.
The Sinopec Group, Asia's biggest oil refiner, will receive a one-time payment of 10 billion yuan (HK$9.61 billion) from the finance ministry to cover losses resulting from government price controls that prevent it from passing on the cost of imported crude oil to consumers.
Mainland fabric makers face cotton price increases of as much as 15 percent and a squeeze on margins as the United States, the world's largest exporter of the commodity, eliminates export subsidies on the raw material in 2006, according to one manufacturer.
Six city commercial banks in eastern China's Anhui province are merging in a bid to compete more effectively against their far bigger national rivals - the first such combination since mainland regulators eased restrictions that had precluded them from operating outside their home markets.
December 28, 2005

Hong Kong: President Hu Jintao yesterday pledged consistent support for Hong Kong's democratic development "in a step-by-step, substantial and orderly way" one week after lawmakers in the special administrative region (SAR) blocked a government-endorsed constitutional reform package.

President Hu Jintao (right) meets Hong Kong Chief Executive Donald Tsang in Beijing yesterday. Tsang is on a two-day duty visit.
China will spend an average of more than 1.5 billion yuan (US$185 million) annually in the next two years for prevention and control of HIV/AIDS almost double the 800 million yuan (US$98.7 million) earmarked for this year, Xinhua reported yesterday.
Donald Tsang came away from what could have been a bad day with the boss Tuesday saying Beijing's support for his government is undiminished in the wake of last week's defeat of the government's political reform proposal.
Hongkong Electric and its parent company Cheung Kong Infrastructure, both controlled by tycoon Li Ka-shing, will spend more than A$25 million (HK$141.7 million) to acquire and expand the telecoms business of its Australian subsidiary Powercor Holdings.
What electricity giant CLP Power is touting as its latest "eco-friendly project" - the planting of about 30 bamboo palms on the roof of its new Tseung Kwan O substation - was actually just part of an "agreement" with star customer MTR Corp not to degrade the view of its new 33-hectare housing development, a CLP architect has revealed.
Some 319,989 people left Hong Kong through different checkpoints on Boxing Day. The Immigration Department expects about 6.12 million people to travel through the checkpoints during the festive period, up 12.2 percent on the same period last year.
A Hong Kong student was wounded during a shoot-out in a busy Toronto street that left one woman dead and six people injured.
The deaths of two Hong Kong workers after a Macau construction site accident on Monday has brought calls for employees heading for the former enclave to take out adequate insurance cover and secure proper work permits.

China: China's imports and exports of high-tech products are expected to exceed US$400 billion this year, according to the latest prediction from the Ministry of Commerce (MOFCOM).

Revenue from telecoms services: 638 billion yuan (US$78.7 billion), Number of telephone subscribers: 750 million, Number of Internet users: 100 million, Fixed-asset investment: 200 billion yuan (US$24.7 billion).
China Energy Conservation Investment Corporation (CECIC), one of the country's flagship State-owned enterprises for alternative energy development, plans to invest at least 20 billion yuan (US$2.47 billion) over the next five years to build new projects across the nation.
China raised interest rates on US dollar and Hong Kong dollar deposits yesterday, a move that analysts say is a response to higher interest rates on the international market.

Shoppers wait to purchase commodities at the new Wal-Mart store in Wuhu of East China's Anhui Province. The store, which opened yesterday, is the first Wal-Mart store opened in a second-tier city in the Chinese mainland.
An overwhelming 77 per cent of investors lost money on mainland stocks this year, with only 12 per cent making a profit and 11 per cent breaking even, according to a survey by China Securities Journal and Huading Market Survey Corp of Shenzhen.
December 27, 2005

Hong Kong: While the Hong Kong Jockey Club is in line for a record year, the first six months of 2006 could decide whether horseracing in Hong Kong trips up or arrests the bleeding.
Lingbao Gold, China's second-largest gold miner, has already won orders to cover the full tranche allotted to institutional investors in the firm's HK$861 million initial public offering, and more will follow after the Christmas break, sources familiar with the deal said.
The Hong Kong Housing Authority, which sold its entire stake in the Link Real Estate Investment Trust in an initial public offering last month, has come under heavy fire from politicians and some investors for failing to put in place safeguards that would protect the REIT's management from pressure by outside investors. Though their purchases have raised concern among politicians, the media and some investors, hedge funds are most likely buying big stakes in some local deals such as the Link Real Estate Investment Trust simply because they are attractively priced, market observers say.
In a year that was marked by major government reshuffles, health scares and public unrest, Hong Kong has, quite convincingly, lived up to expectations that 2005 would be a banner year for the city's economic growth.
Google and Microsoft Corp have ended their legal wrangling over the defection of Taiwan-born researcher Lee Kai-fu to the search engine firm in July that at times degenerated into a bitter public spat between the two technology giants.
At first glance, Hutchison Whampoa's sale of a substantial stake in its telecommunications arm to a relatively unknown - in this part of the world at least - Egyptian operator bears all the marks of the conglomerate's recent history of using one-off gains to offset the spiralling cost of rolling out 3G.

China: Experts estimate China's population is likely to hit a peak between 2025 and 2030 earlier than expected. The peak population, however, will probably be about 1.45bln.

A worker makes adjustments to a 46-inch LCD TV at an assembly line of the Soyea Technology Co., LTD of the Westlake Electronics Group in east China's Zhejiang Province on Dec 23. Soyea launched its self-developed 46-inch LCD TV, biggest of its kind in China on Dec 24. The TV sales for 26,800 yuan at market.
Statistics with the SIPC show that only 2,000-plus Chinese enterprises, or every three out of 10,000 enterprises, have proprietary IPRs.
Following the operational start-ups of 11 nuclear reactors in the south and east, China next year will begin building two nuclear plants which contain two reactors each, in Northeast China's Liaoning Province and East China's Shandong Province.
US firm Citigroup, one of the world's leading financial services firms, has cleared the way for it to bid for a stake in Guangdong Development Bank (GDB) by ending the clause with its current Chinese partner which says it cannot invest in other Chinese lenders.

Steel exports hit record high: A member of staff checks steel products for export at the Laiwu Iron & Steel Corp in Laiwu in East China's Shandong Province yesterday. The company has exported 155,570 tons of steel products so far this year, worth US$60 million, a company record.
At least 26 people were killed and 11 injured in Zhongshan, Guangdong, when fire broke out at an unlicensed bar lacking the most basic fire escape facilities. The tragedy occurred at 10.55pm on Sunday at a bar in Tanzhou. Most of the victims were locals aged under 30 and none was reported to be from Hong Kong.
December 24 - 26, 2005 Happy Holidays

Hong Kong: The listing of the first mainland-launched real estate investment trust (REIT) in Hong Kong has failed to generate an immediate "bell-cow" effect, as a number of mainland developers say they are not considering launching REITs anytime soon.

As the political establishment digests the Legislative Council's rejection of the government's constitutional reform proposals, Donald Tsang has warned that the pro-democracy camp has damaged its relationship with Beijing just as a modicum of trust was developing between the two sides. The central government quickly came out in support of embattled Chief Executive Donald Tsang following his failure to push through the contentious constitutional reform package Wednesday and warned that this has put the journey toward democracy on hold for at least seven years.
Despite violent protests, traffic inconveniences and business losses caused by the World Trade Organization meetings taking over Wan Chai last week, Hong Kongers support the event because they think it will ultimately promote the SAR's reputation, a survey has found.
The judge at the center of a high-profile Independent Commission Against Corruption case involving the secret recording of lawyer-client conversations erred when she failed to give the agency a fair chance to explain the bugging decision, the High Court has ruled.
Hong Kong's only rape crisis center, which had been facing closure at the end of the year when its Jockey Club funding ends, was thrown a HK$1 million lifeline by the Community Chest.
A doctor questions Hong Kong's strategy of relying on Tamiflu to fight bird flu after a strain resistant to the drug is implicated in deaths in Vietnam. But health chiefs are sticking by the antiviral.
More than 6 million travellers are expected to pass through land border checkpoints during the Christmas and New Year holiday season, the Immigration Department said yesterday.
Hang Seng Bank plans to sell its 43-year-old Hang Seng Building in Central next year and property consultants expect it to fetch more than $2 billion in light of a shortage of prime office space.
New World Development will slash the size of its planned share sale by more than $2 billion in a move sources say will prevent some big-name investors facing scrutiny by the Takeovers and Mergers Panel.
Businessman adventurer Simon Murray, best known for his role as Li Ka-shing's right-hand man at Hutchison Whampoa in the 1980s and 1990s, is joining Australian investment bank Macquarie as chairman of its Asian corporate finance arm.

China: The municipal Shanwei government in Guandong province defended police who fired on rioters December 6 in nearby Dongzhou, blaming the incident on "a few instigators" who stirred unrest among villagers with "unreasonable demands" of compensation after they had been evicted from land expropriated for power plant construction. The statement, published in Guangdong's Nanfang Daily said had police had not fired more lives would have been put at risk. The statement repeated the official casualty figure of three dead, eight wounded, and listed the dead for the first time: Wei Jin, 31, Lin Yidui, 26 and Jiang Guangge, 35. Villagers have disputed the government's count, with many witnesses claiming upwards of 20 dead.
Siemens will launch a massive campaign to tap into the business of digital television over the Internet, known as IPTV, in the Chinese market.
China yesterday tried to allay fears it was a threat to its neighbors or the US by repeating in a State Council white paper it would remain peaceful. The paper was released by the State Council Information Office against a backdrop of mounting pressure from the US and Japan over the mainland's enormous economy and rising military power, and two days after the mainland revised last year's GDP figures upwards by 16.8 per cent.

An anti-hijack drill is held at Beijiang Airport in southwest China's Chongqing Dec 21. The drill comprises three parts: air transportation of the anti-hijack team, attack and emergency rescue. More than 600 people from departments including civil aviation, armed police, public security, health and fire prevention participated in the drill. The drill aims to examine China's ability in decision-making, organizing and coordination in handling hijack.

This is the counter for Christmas toys at the Beijing Department Store in Wangfujing Street on Dec. 20. As the Christmas is drawing near, the Wangfujing Street, which is called a "golden street", is in a growing festive mood.
China will set up asset-management companies (AMCs) as a platform to push forward the restructuring of State-owned enterprises (SOEs) next year, a senior official said yesterday.

Beijing Mayor Wang Qishan (left) and An Qingheng (right), chairman of Beijing Benz-DaimlerChrysler Automotive Co Ltd, yesterday unveiled a Mercedes-Benz E-Class sedan made in Beijing. The 3.0-litre E 280 and 1.8-litre E 200K will sell for 620,000 yuan (US$76, 540) and 525,000 yuan (US$64, 814) respectively. An said the joint venture would assemble nearly 1,000 E-Class sedans this year.
Contracts for the design of the Ling'ao phase II nuclear project in South China's Guangdong Province were signed yesterday.
For the first time in China's history, the number of employees working in private enterprise exceeded 100 million, and is expected to reach at least 180 million within the next five years, a 2005 survey found.

A shopper examines products at the Coca Cola store that opened on Wednesday in Beijing's Wangfujing. Many brand names, such as Audi and Sony, have opened similar shops in the area to sell items ranging from souvenirs to stationery.

A girl chooses a Christmas hat at a store in South China's Guangxi Zhuang Autonomous Region on Wednesday. Increasingly-affluent Chinese are spending more money on Christmas decorations, as the Western holiday gains popularity.
Information technology (IT) spending in this country is swelling, and the amount spent by China's financial sector looks likely to increase 10 per cent annually for the next three years.
Listing candidate Lingbao Gold, the mainland's second-largest gold miner, has boosted the size of its planned initial public offering - the new year's first - by as much as 15 percent to up to HK$861 million after arranging to sell 12 percent of the shares on offer to a mainland competitor and a specialist investment fund, market sources said.
The State Council has approved in principle a controversial plan by the Industrial and Commercial Bank of China (ICBC) to sell a 10 per cent stake to a consortium led by a Goldman Sachs fund but is holding out for a higher price, sources said yesterday.
December 23, 2005

Hong Kong: Guangzhou Investment Real Estate Investment Trust (GZI REIT), the first mainland property trust listed in Hong Kong, had a solid debut yesterday, with its share price rising 14 per cent.
In a stinging blow to Chief Executive Donald Tsang, pro-democracy lawmakers have successfully struck down the government's constitutional reform package, likely bringing to an end any chance of widening the election base in the next election cycle.
Hong Kong's new exhibition centre, AsiaWorld-Expo, will be a significant boon to companies working in the territory, Chief Executive Donald Tsang Yam-kuen says. Speaking at the opening ceremony on Wednesday, Mr Tsang said the new facility at Hong Kong International Airport would help international and mainland companies to manage their businesses in East Asia. Hong Kong currently has a world-class exhibition centre in Wan Chai, but the increasing popularity of trade exhibitions and other international business events has encouraged the government to build another. The chief executive said the facility would also help companies access the growing China market. "A complementary role is to serve as a two-way springboard: for companies from around the world wishing to access the mainland, in particular the Pearl River Delta, and for mainland companies to launch themselves into the international marketplace," he explained. Mr Tsang noted that a number of exhibitions to be held at the new centre in coming years would showcase Chinese goods and services.

A model displays a dancing suit that creates drumbeats to her steps in a computer at ITC Fashion and Textile Resource Centre at Polytechnic University.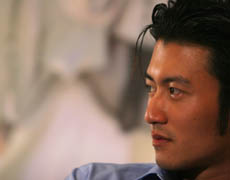 Nicholas Tse plays a misunderstood scoundrel in Chen Kaige's The Promise. He tells Donald Asprey why the role was such an easy fit after two relatively quiet years away from the spotlight.

China: China stands at the top of the list of the ten countries in the world representing the most investment potential, according to the World Union of VIP Enterprises.

Workers check electric vehicles for export to the United States in North China's Tianjin on Tuesday. The 100 environmentally-friendly vehicles, produced by Tianjin Qingyuan Electric Vehicle Co, shows electric vehicle manufacturing in China is catching up with international standards.
Citigroup Inc is leading a bid of at least 22 billion yuan (US$2.7 billion) for 85 per cent of Guangdong Development Bank, the first State-owned Chinese lender to offer investors a majority stake, people familiar with the plan said.

China exported about 810 million pairs of shoes, worth more than US$2.2 billion, to the EU last year.
China exported about 805 million pairs of shoes to the EU in the first 10 months this year, up 19.2 per cent over the previous year. This was worth US$2.6 billion, up 47.8 per cent year-on-year.

An employee with the China Banknote Printing and Minting Co yesterday displays gold and silver bricks with dog logos on them. To mark the approach of the year of the dog, the products will go on sale on Sunday in Beijing.
Lenovo declared today to install William J. Amelio as its CEO to replace Steve Ward. Mr. Amelio was Dell's head of Asia Pacific operation before joining Lenovo and had been a veteran executive in NCR, Honeywell, AlliedSignal, and IBM. In Mr. Amelio's time with Dell, the company's sales in the Asia Pacific region doubled and the customer satisfaction improved. Mr. Ward will stay at Lenovo as an advisor to help smooth the transition. Lenovo's chairman Yang Yuanqing spoke of Ward highly, praising him for "successfully integrating two independent businesses into an international PC company and creating notable value for our shareholders." Ward, on the other hand, responded that it took Yang and himself much time to deliberate on the transition. He said he believed Lenovo, a great company, would make a great success in the future. Lenovo Group, Asia's largest manufacturer of personal computers, named William Amelio, a former executive with larger rival Dell, as its new chief executive as it prepares to launch an aggressive sales push after months spent consolidating its US$1.75 billion (HK$13.65 billion) acquisition of IBM's PC unit.
In a major development, a joint venture of India's state-owned Oil and Natural Gas Corporation ( ONGC) and the China National Petroleum Corporation (CNPC) has bagged some of Petro-Canada's assets in Syria in a 578 million US dollars deal.
Residents in Weihai, East China's Shandong Province, brave the snowstorm to go to work and school yesterday after public transport was brought to a halt.
December 22, 2005

Hong Kong: AP Moeller-Maersk A/S, Hutchison Whampoa Ltd and three other companies will invest 4 billion yuan (US$495 million) in Shanghai's Yangshan port as growing global trade is increasing cargo demand in China.

Ministers and lawmakers take a break from their tour of Wan Chai to share a meal with Paul Chung Kan (centre back), the owner of the Victoria City Restaurant. Chief Executive Donald Tsang Yam-kuen apologised yesterday to businesses in Wan Chai and Causeway Bay for damage to their trade during the World Trade Organisation conference - but assured them things were going to improve.
The second-in-command at the Securities and Futures Commission has confirmed he will leave when his contract expires in the middle of next year, in the latest in a series of resignations at the market watchdog over the past two years.
Hong Kong consumers have overcome their fear of online security issues to hand Visa 248 per cent year-on-year growth in the third quarter, spending US$45 million on overseas transactions in the three months to September.

China: The country's gross domestic product (GDP) in 2004 ranked 107th based on methodology used by the International Monetary Fund, while the World Bank listed China as the 129th in this regard. To prevent future miscalculations the government will put more focus on acquiring accurate statistics in the service sector. The Standing Committee of China's National People's Congress is amending the Statistics Law, which will improve the quality and veracity of economic figures in China.

China's two deep-water ports, Ningbo Port and Zhoushan Port in the east Zhejiang Province, officially merged into one on Dec.20, 2005 in a bid to forge the third biggest port in the world. The new port will be named "Ningbo-Zhoushan Port" and start formal operation on Jan. 1 of 2006.

The current West-East Gas Pipeline is designed to pump 12 billion cubic metres of gas annually in 2007. China, foreseeing major potential in natural gas to reduce heavy reliance on coal and oil, plans to build a second pipeline linking gas deposits in the west to the energy-guzzling Guangdong Province in the south.
Wuhan Iron & Steel Group has agreed to pay 6.5 billion yuan (US$805 million) to own 51 per cent of the State-owned Liuzhou Iron & Steel Group, boosting its production capacity by a third.
Chinese workers are rushing to finish a temporary dam meant to reduce the impact on a Russian city of 580,000 people from a river-borne chemical spill, a Chinese official said.
Analysts expect that the sharp upward revision of gross domestic product will lead to more foreign pressure on Beijing to further appreciate the yuan and to speed up reform of the country's rigid foreign exchange regime.

Boeing Commercial Airplanes vice-president of China sales Robert Laird and CR Airways chairman Chen Feng celebrate after the signing of the memorandum. Newly appointed CR Airways chairman Chen Feng is confident the company will maintain its air traffic rights despite industry speculation that they will be lost when the business is acquired by Hainan Airlines.
Guangdong yesterday revised its 2004 economic output upwards by 17.6 per cent following the revision of national economic data. The new figure for gross domestic product last year is 1.88 trillion yuan.
December 21, 2005

Hong Kong: Hong Kong stock market's performance was merely range-bound for 2005. Market sentiment has been dictated largely by interest rate outlook, and the anticipation that an end to the rate hike is in sight contributed to November's upward reversal.
Hongkong Electric Holdings, the smaller of the two electric-power suppliers in Hong Kong, is seeking a A$600 million (HK$3.46 billion) term loan to help refinance its Australian subsidiary's existing debt, sources close to the deal said.

Li firm eyes 10b yuan Shanghai project - Hutchison Whampoa, controlled by billionaire Li Ka-shing, and a Shanghai investment company plan to develop a mixed-use property project near the mainland city's historic Chenghuang Temple, sources said. Hutchison is also planning a US$683 million (HK$5.33 billion) development in Shanghai's Lujiazui district with another Li-controlled developer, Cheung Kong (Holdings), the two companies said Tuesday.
Privately owned, Hong Kong-based CR Airways, which serves mostly Chinese and Philippine destinations, has signed a memorandum of understanding to acquire 40 Boeing aircraft over the next five years.
PCCW chairman Richard Li, whose media business includes NOW Broadband TV, is in talks to buy out Hong Kong Economic Journal, a Chinese- language financial newspaper.
Despite a year beset with high-profile court cases which questioned the conduct of its officers, the Independent Commission Against Corruption gave itself a pat on the back Tuesday for another year of work well done, while announcing that the morale of staff is "quite high."
During a surprise visit to neighborhoods financially hit by the World Trade Organization conference, leading officials, including Chief Executive Donald Tsang, called on people to help these areas rebound but said there will not be any compensation doled out to the affected businesses.
Hong Kong-based container ship firm MSC Ship Management agreed to plead guilty and pay a US$10.5 million (HK$81.6 million) fine in connection with an oil spill in Boston Harbour in May 2005, officials said overnight (HK time).

China: China on Tuesday revised its GDP figure for 2004 to 15.9878 trillion yuan (about US$2 trillion), up 2.3 trillion yuan, or 16.8 percent from the preliminary figures. Chinese Finance Minister Jin Renqing said Monday government revenues are expected to exceed 3 trillion yuan (about 375 billion US dollars) this fiscal year up more than 15 percent over last year's 2.6 trillion yuan (325 billion US dollars).
China will scrap all agricultural taxes, putting an end to a levy that has burdened China's farmers for 2,600 years in China.

A groundbreaking ceremony was held for the three railway arteries in south China's Guangdong Province: the Guangzhou-Shenzhen-Hong Kong railway passenger line, the railway linking Guangzhou and Zhuhai and Cenxi to Maoming section of the Luoyang-Zhanjiang railway on Dec 18 in Shenzhen. The three railways, with total investment of 37.65 billion yuan and length of 400.3 km, will be completed before 2009.
Chinese teenager Ding Junhui confirmed his status as a snooker superstar in the making when he beat six-time world champion Steve Davis 10-6 to win the UK Championship here on Sunday.

On October 25, 2005, Carlyle signed an agreement to acquire an 85 per cent stake in Xugong Group Construction Machinery Co Ltd for US$375 million. On December 19, Carlyle Group signed an agreement to buy a 3.3 billion yuan (US$408.7 million) stake in China Pacific Life Insurance Co (CPIC). Established in 1987, the Carlyle Group is a private global investment firm that originates, structures and acts as lead equity investor in management-led buyouts and growth capital financing.
The deputy chief of general staff of the People's Liberation Army, who once warned China could use nuclear weapons in a conflict over Taiwan, will step down this month, Hong Kong's Beijing-backed Wen Wei Po said.
December 20, 2005

Hong Kong: The Sixth Ministerial Conference of WTO concluded Sunday with a HK Ministerial Declaration, finally unveiling some tangible results of the six-day wrangle.

Chairman of the conference John Tsang speaks at the closing ceremony of the Sixth Ministerial Conference of the World Trade Organization (WTO) in Hong Kong of China. The Sixth Ministerial Conference of the World Trade Organization (WTO) concluded on Dec. 18 with a Hong Kong Ministerial Declaration, finally unveiling some tangible results of the six-day wrangle. The final result came through vehement argument and compromises. At first, developing countries called on developed countries to completely eliminate export support measures by 2010, but the EU insisted to set the end date at 2013.
Huaneng Power International, the biggest Hong Kong-listed mainland electricity producer, has bought 20 percent of a finance firm, a move that may help future financing activities.
Thirty-three out of 88 Hong Kong-listed companies that faced financial difficulties between 1998 and last year ended up in liquidation, a sign that firms are incapable of recovering after being hit by a financial crisis, according to a survey conducted by accountancy firm Grant Thornton.

Around 280 anti-WTO protesters were held in virtual isolation at Kwun Tong Magistracy Sunday after being arrested following violent disturbances in Wan Chai.
Researchers in Hong Kong have uncovered a genetic quirk that may explain why some people fell sick with SARS during the outbreak of the pneumonia-like disease in 2003 while others remained healthy.
Chief Secretary Rafael Hui Si-yan said on Monday the government will make changes boosting the proportion of elected officials on a panel that chooses the territory's leader as part of a reform proposal backed by Beijing but denounced by protesters.

China: China's domestic market developed stably this year with the total demand expected to surpass 2 trillion U.S. dollars, said Yu Guangzhou, vice minister of commerce.

Workers watch as the last beam for the 249.9-metre Beijing Yintai Centre is put in place. It is the city's tallest building and when completed the 63-storey skyscraper will house a hotel and flats.
The Shanwei local government has defended the handling of the protest in Dongzhou that ended in fatal police shootings two weeks ago.
Reforms of the mainland's electricity sector aimed at breaking the monopoly of the power conglomerates have failed because of inadequate government support and an ineffective regulatory system, an industry watchdog report says.
Two hedge funds have joined a consortium led by Royal Bank of Scotland (RBS) which recently received approval to buy 10 per cent of the Bank of China (BOC).
December 19, 2005

Hong Kong: As another day at the World Trade Organization talks finished with little apparent progress or signs that countries have narrowed their differences over fundamental issues, negotiators have turned their minds to further high-level meetings after the conference in Hong Kong comes to a close Sunday.
Shares in Link REIT, in which UK- based hedge fund Children's Investment Fund Management has accumulated roughly an 18 percent stake, fell 9.6 percent Friday after the Securities and Futures Commission tightened disclosure requirements on real estate investment trust shareholders.
GZI Real Estate Investment Trust, the first REIT to be sold in Hong Kong by a mainland company, raised HK$1.8 billion after pricing its initial public offering at the top end of the indicative range on the back of strong investor demand, market sources said.
Emperor Entertainment Hotel, a casino hotel firm controlled by tycoon Albert Yeung, expects the HK$1.5 billion Macau gambling property it will open next month to turn a profit in two or three years.
S Korean protesters scuffle with police officers near the Hong Kong Convention and Exhibition Centre on Saturday. Hundreds of protesters fought riot police on Saturday in the most violent demonstrations since trade ministers from around the world began meeting five days ago. Thousands of people were stranded in Wan Chai yesterday when police halted public transport as hordes of South Korean farmers went on the rampage.
Secretary for Security Ambrose Lee Siu-kwong on Saturday evening condemned the violence exerted by anti-World Trade Organisation (WTO) protesters on Hong Kong streets.

Paul Chan Mo-po (centre), who runs his own accounting firm, was last night elected president of the Hong Kong Institute of Certified Public Accountants for the next year. Moores Rowland Mazars senior partner Mark Fong Chung (right) and KPMG partner Carlson Tong Ka-shing were elected vice-presidents. Mr Chan said his priorities were working with the government to introduce the proposed Financial Reporting Council to investigate accounting scandals and lobbying the government to change the law on limited liability partnership of accountants.
Sunday Communications shareholders sold the stock yesterday after PCCW's $401.3 million privatisation bid failed, but analysts expect the unprofitable mobile operator to turn around soon.
Semiconductor Manufacturing International Corp (SMIC), China's largest contract chipmaker, is expected to produce 90 nanometer chips by the first quarter of next year, closing the technology gap with its Taiwanese counterparts, a company official said yesterday.

China: Chinese workers on Friday began to build a temporary diversion dam on the Fuyuan waterway of the Heilong River to prevent a toxic slick from reaching a Russian city.
The UN Development Program published its "China Human Development Report 2005" Friday in Beijing, calling on the Chinese gov't to fight social inequality.

The valve of the first station of the China-Kazakhstan oil pipe is switched on by Zhou Jiping (3rd left), Vice President of China National Petroleum Corp. (CNPC)and Uzakbai Karabalin (1st left), President of KazMunaiGaz, Kazakhstan's state oil and gas company at Atasu on Dec. 15. This marks the operation of the program's 962-kilometre first phase which will carry 10 million tons of crude oil a year from Atasu to Alashankou of China's Xinjiang Uygur Autonomous Region. Plans are underway for a second phase, which is expected to pipe at least 20 million tons of oil from Kazakhstan to China.
The crude oil output of the Tarim oilfield in northwest China's Xinjiang Uygur Autonomous Region this year hit 10 million tons Friday, sources with the Tarim Oilfield Company said.
China declared on Dec. 15 that export of some resource products, including rare earth, coke and refined oil would be put under control. Refined oil in processing trade, particularly, will be constrained strictly.
China's largest commercial bank launched the nation's first chip bank cards on Friday that are compliant with the EMV standard, currently the safest bank card standard globally.
PetroChina, the nation's biggest oil producer, is in talks with its parent company about buying PetroKazakhstan assets through a joint venture, the Hong Kong-listed oil company announced on Friday.
Bank of Shanghai plans to sell shares in an initial public offering on overseas markets and is in talks to buy stakes in other city commercial lenders on the mainland, senior executives of the bank said. The lender, in which HSBC Holdings has an 8 percent stake, already has preliminary approval from Chinese banking regulators to sell shares, bank chairman Fu Jianhua said Friday.
December 14 - 18, 2005

Hong Kong: John Tsang, chairman of the World Trade Organization Hong Kong Ministerial Conference, said the target of the conference is to build a platform for the Doha Development Agenda negotiations toward a successful conclusion in 2006.
China Orient Asset Management Corporation is inviting international bidders to an auction of 3.12 billion yuan's (US$385.1 million) worth of non-performing assets (NPAs) due to be held early next year.
New World Development, the Hong Kong property developer controlled by billionaire Cheng Yu-tung, is selling HK$3.33 billion in new shares at an 11 percent discount to its last trading price, market sources said.

Cheung Kong (Holdings), Hong Kong's largest property developer by market value, may take part in a 10 billion yuan (HK$9.6 billion) property project in suburban Shanghai.
For the thousands of demonstrators descending on Hong Kong to protest this week's gathering of world trade ministers, free trade boosters have a ready reply: look around you, see how free trade has transformed this city.
Kowloon-Canton Railway Corp plans to retender its Tuen Mun station property development, which attracted only one developer's bid, after it renegotiates the land conversion premium with the Hong Kong government.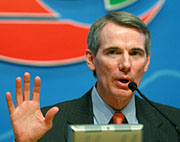 Chances of a breakthrough in this week's troubled World Trade Organisation talks appeared to receed further yesterday when United States negotiators suggested on the eve of the meeting that a deal on cotton should be part of a larger agricultural agreement.
Most people had been expecting chaos, but rush-hour traffic on the eve of the WTO conference was surprisingly light yesterday, with one driver making his cross-harbour journey in half the normal time.
French farmer and unionist Jose Bove, best known for his actions against the "McDonaldisation" of food, was allowed into Hong Kong last night after being detained for six hours at the airport following diplomatic intervention.

A lot is on the mind of Pascal Lamy, director-general of the World Trade Organisation, which opens its ministerial conference in Hong Kong today. Labour standards, for one. Yesterday, Mr Lamy told trade unions he supported the inclusion of standards for workers. He urged labour leaders to ensure they have enough lobbying capacity and leverage on their governments to make sure labour standards are included in WTO negotiations after next year.

China: China's imports and exports of new and high-tech products totaled 371.69 billion US dollars in the first 11 months this year, up 26.9 percent year-on-year, the Ministry of Commerce (MOC) said Monday.

Li Jiange, deputy director of Research Center for Development under the State Council gives a lecture during the 7th China Economists Forum which is held in Beijing, capital of China, Dec. 11, 2005. Around 900 delegates form different countries and regions from all over the world took part in the 3-day Forum which includes experts dialogue and theme lectures discussing the peoblemes and improvements on China's economic and social development.

From left: Republic of Korea's President Roh Moo-hyun, Premier Wen Jiabao, Malaysia's Prime Minister Abdullah Ahmad Badawi and Japan's Prime Minister Junichiro Koizumi, laugh as they hold hands posing for a group photo after the signing of a declaration on the ASEAN + 3 Summit during the 11th ASEAN Summit in Kuala Lumpur.

Two girls choose dog-shaped handbags at a Beijing market on Sunday. With Lunar New Year also called the Year of the Dog drawing closer, many manufacturers are busy promoting dog-related products.
China's national social security fund has secured permission from the central government to buy stakes in two of the country's Big Four state banks for a combined 20 billion yuan (HK$19.2 billion), following its purchase of shares in Bank of Communications last year.
China's booming economy, already the seventh largest in the world, has been understated by as much as US$300 billion, the country's first nationwide economic census has discovered.

Fresh pork proves popular at this Chongqing market, but food prices overall only rose 1.6 per cent year on year last month.
The pace of consumer price rises last month was markedly below that for the year to date, prompting some economists to warn the data could signal a looming return of deflation on the mainland.
The yuan exchange rate was "properly adjusted" this year and took into account effects on China's neighbours and the rest of the world, Premier Wen Jiabao told a regional meeting yesterday.
December 13, 2005

Hong Kong: Hong Kong's merchandise exports to the mainland are expected to experience a double-digit growth in 2006, said Hong Kong Trade Development Council (TDC) on Friday.
Macao's income from direct gaming tax is expected to reach 16 billion patacas (two billion US dollars) this year, a new high in the history, local media reported Monday. The Macao Post Daily quoted Tam Pak Yuen, Macao's Secretary for Economic and Finance, as saying that the year-on-year growth of the casino tax income will thus amount to around 8.8 percent.
Hong Kong remains on high alert despite ungrounded fears of a demonstration by anti-globalization protesters Sunday turning violent. Wan Chai residents said that, while they welcome the World Trade Organization's ministerial conference and the thousands of protesters in ideological tow, so far they aren't getting much out of it.
The Children's Investment Fund Management, or TCI, a British-based hedge fund, made its third major foray into the Hong Kong equity market this month, subscribing to shares in property-to- energy conglomerate Sinolink Worldwide Holdings' HK$546 million placement.
Crown Macau, a joint venture between Stanley Ho's Melco International Development and Australia's largest casino operator, plans to arrange a syndicated loan of up to HK$4.8 billion to help fund a hotel and casino project in Macau, market sources said.

Chief Executive Donald Tsang Yam-kuen and his wife Selina Tsang Pou Siu-mei start the Lifeline Express Walkalong for Light on The Peak. The Lifeline Express is an eye hospital on a train which offers free surgery to cataract patients in rural China.

Standard Chartered chief Peter Sullivan says Hong Kong's prime rate is still 25 basis points behind the US increases. The lender, however, will not exceed an expected rise in US Fed funds rate.
Hong Kong is a great destination. I love it. It's out of this world. But within my lifetime, I want to be sending people literally out of this world. I plan to open the Virgin Space Hotel, a 20-room luxury property located in orbit around the moon.

China: China signed exchanges of letters on special and preferential tariff treatment with Cambodia, Laos and Myanmar on Sunday.
China is drafting the law on recycling-based economy, and the country's top legislature is scheduled to deliberate the draft law in 2007.
Major industrial enterprises in Beijing realized 16.7 billion yuan (2.1 billion US dollars) in value-added output in November, a growth of 16.6 percent over the same month of 2004 in comparable prices, according to latest data provided by the municipal bureau of statistics.

Staff at the National Museum of China show examples of ancient currencies. The museum held the exhibition on Friday to promote basic financial knowledge among everyday residents.
Pakistani mangos and oranges will be imported into China at zero tariff from January 1, 2006, while Chinese-made textile machinery and organic chemicals will enjoy free duty in Pakistan at the same time.
Dangdang.com, a mainland online bookstore, hopes to fund its expanding internet auction business by attracting venture capital investors next year as a prelude to seeking a Nasdaq listing by 2007.
Mainland property and power group Sinolink Worldwide Holdings, which has just announced a tie-up with New York-based Rockefeller Group to set up a fund to invest in the mainland property market, will raise $546 million through a top-up share placement to finance its existing property development activities.
Taiwan's semiconductor makers are losing their competitive edge after they were restricted from tapping the Chinese mainland market, the chief executive officer of a leading Chinese microchip company told a Taipei newspaper on Monday.
December 12, 2005

Hong Kong: China Gas Holdings Ltd, a Hong Kong-listed distributor of piped gas, will pay 140 million yuan (US$17 million) for a stake in a gas company that supplies gas to the biggest industrial city in South China's Guangxi Zhuang Autonomous Region.
In the continuing aftermath of Sunday's protest for full democracy, Chief Executive Donald Tsang is poised to announce the elimination of appointed district councillors in three phases - provided lawmakers pass the government's controversial political reform package this month, sources said.

Hongkong and Shanghai Banking Corp chairman Vincent Cheng Hoi-chuen receives an honorary degree yesterday from his alma mater, Chinese University of Hong Kong. The trained economist rose from Shamshuipo's backstreets to the pinnacle of Hong Kong's banking sector and was cited for his contribution to public life and community service in the city. Other leading figures to be honored included former Kuomintang leader Lien Chan.
With garbage dumps rapidly reaching their saturation point, the government plans as early as 2008 to charge people for the trash they throw out as part of a comprehensive overhaul in the city's waste policy, the government said.
Sun Hung Kai Properties, Hong Kong's second-largest real estate developer by market value, is likely to make its first foray into Singapore's prime shopping district in partnership with CapitaLand, after making the top bid of S$1.38 billion (HK$6.34 billion) for a retail- residential site atop Orchard Road subway station.

Hong Kong Air Cargo Terminals Ltd, the larger of two terminal operators at the city's airport, is seeking a HK$2 billion loan to refinance existing debt, as it hopes to capture the current favorable interest rate environment, people familiar with the situation said.
Wheelock and Co, a Hong Kong-listed property developer that also has interests in ports and pay-television, said underlying profit jumped 64 percent for the first half of its fiscal year thanks to higher apartment sales.
The Hong Kong Monetary Authority, which is urging banks and other lenders to use its composite rate as an interest benchmark, said the rate was 2.33 percent for the third quarter ended September, almost three times the rate in the first quarter.
City Telecom, Hong Kong's second- largest residential fixed-line telephone service provider, said it plans to boost headcount by about 12 percent next year to strengthen its sales force amid increased competition.
With a plethora of fundamentally divisive issues still unresolved, Secretary of Commerce, Industry and Technology John Tsang called next week's World Trade Organization ministerial meeting, which he is chairing, "100 fateful hours for world trade," and urged the arriving national delegations to come to the table with optimism and a spirit of cooperation.
Australia's dominant telecommunications firm, Telstra, announced on Friday that its wholly owned unit Hong Kong CSL would merge with New World Mobility to become the largest mobile phone company in Hong Kong.

China: 486 categories of Chinese goods exported to Pakistan will enjoy the zero-tariff treatment.China will give zero-tariff treatment to 769 categories of goods imported from Pakistan.The "early harvest" program is the first step to establish Sino-Pakistan Free Trade Area.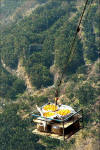 A ropeway built by Zhou Lichao, a farmer in Zigui County, central China's Hubei Province, is in operation on Dec. 8. Zhou has spent 50,000 yuan on this ropeway which is used to convey navel oranges. That will save him 9,000 yuan for transporting his 170,000 kilogram navel oranges this year. It is the first ropeway funded by a local farmer in the Three Gorges area.
Businessmen from 202 countries invested in China this year, involving 600 billion US dollars covering almost all fields like the service, manufacturing and rural infrastructure construction sectors.The high-tech and trade service industries were most favored by overseas investors.
The total throughput at Shanghai port for the whole year is expected to hit 443 million tons, ranking first in the world.

Italian opera star Luciano Pavarotti wears a Peking Opera headdress presented to him after a news conference in Beijing yesterday. Pavarotti will hold a concert tomorrow in Beijing as part of his round-the-world farewell tour concerts that will end with his retirement.
All death-sentence appeals will be heard in open court from next year, the Supreme People's Court has announced a move experts say would raise transparency and deliver full justice in cases involving capital punishment.
US software big name BEA plans to conduct acquisitions in China to increase its presence in the Chinese market, especially within the fast-growing telecommunications sector, said the company Chairman and Chief Executive Alfred Chuang in Beijing.
December 9 - 11, 2005

Hong Kong: Hong Kong is the world's seventh largest holder of foreign currency reserves. The total foreign currency reserve assets of 122.4 billion US dollars represent over six times the currency in circulation, or about 42 percent of Hong Kong dollar M3.
Mainland enterprises are expected to increase their spending on information technology (IT) to improve their research and development (R&D) capabilities, according to a survey.
Guangzhou Investment Co Ltd's (GZI) Real Estate Investment Trust (REIT), the first mainland REIT to be listed overseas, is expected to receive a strong response from Hong Kong investors and set a good example for mainland property developers, analysts say.

Sandy Mo, wife of jailed mainland tycoon Chau Ching-ngai, was convicted by a Hong Kong court Wednesday for conspiring with several others to defraud investors in Shanghai Land, a failed property company controlled by Mo and her husband.

Cathay Pacific Airways, the biggest client of Hong Kong Air Cargo Terminals Ltd, plans to set up a rival cargo terminal capacity at Hong Kong International Airport to deal with the airline's rapid growth in cargo volume, a source said.
ParknShop, a supermarket chain operated by Hutchison Whampoa's retail arm AS Watson, said sales by comparable stores may have single digital growth next year, and it sees no potential for product price increases.
John Tsang, the chairman of next week's World Trade Organization Ministerial Conference, is optimistic the gathering will see progress leading to a successful conclusion of the Doha round in 2006.
Hong Kong's largest labor group has added its voice to the chorus of protest awaiting next week's World Trade Organization ministerial conference, urging the government to stand up for SAR workers at a time they describe as particularly desperate for those in the local construction and printing industries. Tourists have been advised to go shopping or visit amusement parks to avoid protests and possible traffic snarl-ups arising from the World Trade Organization's Sixth Ministerial Conference in Hong Kong next week.
The government was committed to promoting Hong Kong as a leading asset-management centre in Asia, Secretary for Financial Services and the Treasury Frederick Ma Si-hang said on Thursday.

Dongfeng Motor Group chairman Xu Ping (right) celebrates the stock market trading debut of the mainland carmaker with Anthony Lo Kai-yiu, a member of the listing committee, yesterday. Mr Xu had every reason to be cheerful as the stock, which was expected to make a flat debut in view of the competitive marketplace in which the firm operates, beat market forecast by surging 8.75 per cent above its offer price of $1.60 to $1.74.
The first audited circulation figures for Hong Kong's newest free dailies have confirmed a new dynamic in the intensifying battle for newspaper readership and advertising revenue.

China: China is considering a proposal to build a temporary dam at the confluence of its Heilong and Wusuli rivers to prevent the water source of a neighboring Russian city being contaminated.
The sequencing the dog genome sheds light on both the genetic similarities between dogs and humans and the genetic differences between dog breeds
The banker's confidence index continued its soaring trend for the sixth consecutive quarter after dropping to its lowest point in the second quarter of last year and making its record high of 78.4 percent in the fourth quarter of this year. The banking climate index surged to 67.2 percent in the fourth quarter, a record high of this year.
Although China's monthly textile export volume exceeded 10 billion US dollars for the consecutive five months this year, its year-on-year growth rate has slowed down. In the first ten months of this year, China exported its textile goods to 224 overseas markets.
Senior employees working for multinational firms in China have received on average a 4-5 per cent salary increase this year, according to a survey conducted by Hewitt Associates, a global human resources firm.

Visitors check laptops on show at a recent IT fair in Fuzhou, capital of East China's Fujian Province. It is predicted that mainland enterprises will spend US$62.3 billion on IT in 2006.

The world's largest retailer, Wal-Mart, opened its third store in Xuanwu District of Beijing yesterday, which means the firm now has 52 outlets in China.
China United Telecommunications, parent of the mainland's second-largest mobile phone operator, China Unicom, plans to sell six billion yuan (HK$5.76 billion) of asset-backed securities in the largest such sale so far, market sources said.
China plans to trim its budget deficit by about 1.7 percent to 295 billion yuan (HK$283.32 billion) in 2006 while continuing to wind down infrastructure spending, the official China Securities Journal said.
China National Offshore Oil Corp (CNOOC) has expressed interest in acquiring US$10 billion (HK$78 billion) of assets in dismembered Russian oil group Yukos, state press reported on Thursday.
Shanghai yesterday began a Communist Party meeting designed to set policy for next year, as the city grapples with how to deliver economic growth despite more competition from other centers and central government moves to dampen property speculation.
The mainland's biggest oil company, PetroChina, has formed an alliance with Kuwait Petroleum Corp, paving the way for the construction of an oil refinery and a petrochemical plant in Guangdong at an estimated cost of US$5 billion.
December 8, 2005

Hong Kong: The central bank still bans inland travelers who hold inland credit cards from gambling and investing in stocks or properties, saying that their renminbi cards should only be used for tourism- or shopping-related purposes.
British actor Colin Firth (R) poses for photographers as European Trade Commissioner Peter Mandelson looks at a dragon before receiving Oxfam's Big Noise petition from Firth at the European Commission headquarters in Brussels December 5, 2005. Over 10 million people signed the petition, ahead of the Hong Kong WTO ministerial meeting, which calls on EU to do more to help the developing countries in WTO talks. The amendment allows countries to override patent rights when necessary to export life-saving drugs to developing countries that face public health crises but cannot produce drugs for themselves. The WTO said members have set themselves until Dec. 1, 2007 to do this.
Two Chinese companies, Fittec International Group and Xiwang Sugar Holdings, have raised over HK$1 billion in initial public offerings amid surging demand from retail investors for newly listed stocks, market sources said.
Hong Kong retail sales growth slowed for the third month running in October as the projected boost from the opening of Disneyland lagged analysts' expectations and rising interest rates damped consumer spending.
Hutchison Whampoa will outsource management of its British third-generation (3G) mobile-phone network to Swedish wireless equipment maker Ericsson, a deal worth more than £1.1 billion ($14.8 billion) and a bellwether of potential developments in the industry.

China: Australia & New Zealand Banking Group (ANZ), a major international banking and financial services provider, has bought a 19.9 per cent stake in Tianjin City Commercial Bank for US$120 million.

Premier Wen Jiabao puts on the traditional two-cornered hat of the Ecole Polytechnique in Palaiseau, France yesterday. The hat was presented to Wen by students at the prestigious French university.

Unionpay accepted in US: Liu Tinghua (second from right), chairman of China Unionpay, holds up a China Unionpay bank card on Monday and the tie he bought with it at Macy's in New York. The transaction marked the first-ever acceptance of a China Unionpay bankcard in the US.
Intel, the world's largest chipmaker, yesterday opened its second chip plant in China, in a move to cement its position in this fast-growing market at Chengdu.
The booming private sector expanded nearly 50 per cent between 2001 and 2004 amid a government drive for a diversified economy centring on privatising less efficient state firms, a national economic survey has found.
The toxic spill on the Songhua River arrived in Jiamusi yesterday, the last major Chinese city affected by the three-week water crisis, with local authorities forced to shut all riverside water facilities and experts undecided on how to clean up one of the country's worst chemical accidents.
Spurred on by record oil prices, US-based Devon Energy has become the latest firm to join the rush for a slice of China's untapped offshore oil and gas resources.

Virgin Atlantic Airways will pay visa costs for its mainland passengers next year to press the British government into changing its travel policies for Chinese tourists and business executives, Sir Richard Branson said yesterday.
December 7, 2005

Hong Kong: Bank of China (Hong Kong) Limited (BOCHK) Monday expanded Renminbi (RMB) services in Hong Kong, allowing designated merchants to open RMB accounts and raising maximum limit for locals to exchange and remit the currency.
China hopes that the upcoming World Trade Organization (WTO) meeting to be held in Hong Kong this month will act as a platform to reach a consensus on certain trade issues.
Hong Kong conglomerate Hutchison Whampoa Ltd has confirmed that it has signed a deal with Shanghai WhiteCat Group Co Ltd, the domestic provider of household cleaning products.
Four newly-listed mainland firms have witnessed share price jumps on their trading debut in Hong Kong, heralding a recovery in the pre-Christmas stock market.
Hong Kong's mandatory provident funds, to which all the territory's workers have to contribute, should offer overseas REITs (real estate investment trusts) and hedge funds as investment choices so employees can further diversify their portfolios, an industry body said as it called for a review of the five- year-old retirement scheme.
The institutional tranche of Prosperity REIT, a property trust formed by Cheung Kong (Holdings), has been 10 times subscribed with institutional book building ending today, one day earlier than planned, market sources said. The retail tranche will stay open as scheduled until noon tomorrow.
About 1,000 top-quality fish, bred and raised in Hong Kong as part of a move to restore confidence in seafood following the malachite green health scares in the mainland, were made available in local markets Tuesday.
At least nine rallies — instead of just three — would be held next week in Hong Kong when the World Trade Organisation ministerial meeting takes place, protest organisers said on Tuesday.
The Labor Department on Tuesday urged companies to devise work arrangements as early as possible due to possible traffic disruptions during next week's World Trade Organization (WTO) conference.
Kerry Properties and its associates have agreed to commit at least US$489 million in a property development project in Pudong, Shanghai - the latest Hong Kong developer to snap up a prime site in the burgeoning financial district.

China: China said it would be buying between 1,800 and 2,700 planes from the two companies over the next two decades. An MOU for "a further upgrade of the cooperation" between China's civil aviation industry and Airbus includes the "possibility" of building an assembly plant for mid-range Airbus planes in China.

French President Jacques Chirac (R) shakes hand with Chinese Premier Wen Jiabao during their meeting in Paris, Dec. 5, 2005. Wen arrived in France Dec. 4 for a four-day official visit. Chinese Premier Wen Jiabao met Monday with French President Jacques Chirac to exchange views on further promotion of Sino-French cooperation.
Chief banking regulator Liu Mingkang said Monday that foreign investors should hold a minimum of 5 percent stake at a Chinese bank, and are forbidden to sell that holding in three years in order to "maintain long-term cooperation with Chinese banks and achieve win-win results."
Jiangxi Copper Corporation, the largest integrated copper smelting and refining enterprise in China, announced it would invest 3.4 billion yuan (US$421 million) in an expansion project to almost double capacity, according to a company statement to the Shanghai Stock Exchange yesterday.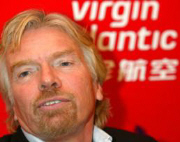 British founder of Virgin Atlantic airways Richard Branson takes part in an event to promote daily direct flights between Shanghai and London during a press conference in Shanghai on Tuesday. Virgin Airlines is to offer frequent-flyer "Space Miles" that passengers can put towards flights in space with the company's soon-to-be-launched Virgin Galactic, boss Richard Branson said in Hong Kong.
The Singapore government's stalled investment in Bank of China was being revised and was "very close" to completion, China Banking Regulatory Commission chairman Liu Mingkang said yesterday.
December 6, 2005

Hong Kong: In the latest round in the war of words between US and Hong Kong securities regulators, a New York Stock Exchange official hit back at the head of the local securities watchdog who had dismissed the world's largest bourse as merely offering a "trophy listing".
The government is to seek funding for an overhaul of the Companies Ordinance this week in what is being billed as the biggest law reform exercise conducted in Hong Kong, with the process expected to span five years and cost up to $156 million.
Kerry Properties is seeking a HK$4.5 billion loan to refinance its debt as syndicated loans in Hong Kong reach their highest level since 2001, boosted by borrowings from property developers.
Broad Intelligence International Pharmaceutical, a Hong Kong-listed mainland drugmaker, expects sales of new over-the-counter medicines to account for half its turnover in two years as it increases capacity and seeks new acquisitions to diversify from its core prescription-drugs business.
The government's main interest in its proposed centralized procurement of flu vaccines is public safety and not fiscal concerns, Secretary for Health, Welfare and Food York Chow said.
One in three police officers in Hong Kong would be working on next week's World Trade Organisation meeting — the largest police team for a single event in Hong Kong history.
The Immigration Department said on Monday it would continue to provide services at its headquarters in Immigration Tower at 7 Gloucester Road, Wan Chai, during the World Trade Organisation (WTO) Sixth Ministerial Conference later this month.
Prosperity Reit, which launches its Hong Kong initial public offering today, will not invest in retail properties to avoid conflicts with its sister real estate investment trust listed in Singapore.
A buoyant initial public offering market looks set to hit a climax for the year with two giant offers - Prosperity Reit and Agile Property Holdings - starting their public sale today.

China: From the viewpoint of national development when the per capita GDP of a country reaches a certain level it cannot sustain its development without some world-class brands.
Chinese Premier Wen Jiabao (2nd R), accompanied by French Foreign Minister Philippe Douste-Blazy, reviews the honor guards at Orly Airport in Paris, France on Dec. 4, 2005. Wen arrived in France Sunday on the start of a four-day official visit. Wen said that he hopes to further promote continued development of an all-round strategic partnership between China and France. Wen is expected to hold talks with French President Jacques Chirac, Prime Minister Dominique de Villepin and President of the French National Assembly Jean-louis Debre.
China's chief banking regulator said Monday the country did not sell too cheaply its state banks through stock market listings on the back of stringent requirement for foreign investors.
Airbus has also offered the Chinese aviation industry participation in the A350 program of up to 5 percent of the airframe. Such participation will include both design and manufacturing. China is likely to become only the third country assembling Airbus aircraft after France and Germany, according to an agreement signed yesterday during Premier Wen Jiabao's visit to France.
Taiwan leader Chen Shui-bian and his ruling Democratic Progressive Party (DPP) face mounting pressure to improve ties with the mainland following the crushing defeat in weekend local elections, analysts said yesterday.
Chinese regulators reshuffled the board of directors of telecoms operator China Tietong Telecommunications Corp on Friday as part of the government's bold move to reform State-owned enterprises (SOEs).
Apple juice concentrate maker China Haisheng Juice says an apple shortage has not affected its operations and is confident of hitting its profit forecast of 122.7 million yuan (HK$117.81 million) for this year because most of the rising cost for the fruit will be passed on to customers.
A Chinese official has been sentenced to death with a two-year reprieve for stealing funds earmarked for the Three Gorges Dam, in one of the biggest graft cases to emerge from the project, state media said on Monday.
China will open up its struggling banking sector on schedule next year, the nation's top bank regulator said on Monday, as he warned the government would no longer inject fresh capital into unprofitable banks.
December 5, 2005

Hong Kong: Home sales in Hong Kong sank to a 15-month low in November, as rising interest rates kept buyers away and discouraged property developers from launching new projects.
In a bid to lure investors, the Cheung Kong (Holdings) Prosperity REIT will pay out its entire annual income to shareholders, rather than the typical 90 percent, according to the sales document distributed to fund managers.
Cheung Kong (Holdings), Sun Hung Kai Properties, Henderson Land Development and 11 other smaller rivals have submitted expressions of interest for Dream City Phase 2, the HK$15 billion residential project atop MTR Corp's future Tseung Kwan O south station.

One of Hong Kong's most riveting legal dramas ended Friday when Nina Wang walked out of the Eastern Magistracy, free of the woes that have beset her for the past eight years.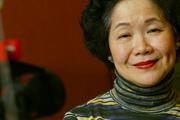 Hong Kong's former second in command Anson Chan Fang On-sang is likely to take to the streets today for a demonstration billed as one of the city's most significant mass pro-democracy protests in recent years.

China: China's cabinet on Friday approved the resignation of environmental chief following a chemical spill that has seriously polluted the Songhua River. More people are expected to be held responsible over the Songhua River chemical spill after the unprecedented sacking of the country's top environmental official, according to authorities.
Chinese experts lashed out Friday at a report claiming that the Three Gorges Project triggered last weekend's earthquake in east China's Jiangxi.
Taiwan's main opposition party swept to a clean victory yesterday in local elections, in what analysts view as a no-confidence vote in President Chen Shui-bian.

A worker operates a tracklayer at a building site in Dunhuang, a famous tourist city in northwest China's Gansu Province, on Dec. 1, 2005. The construction of Dunhuang Raiway entered its final stage for the laying rails within the station on Tuesday. Dunhuang Railway linking Liugou Station of Lanzhou-Urumqi Railway to Dunhuang City runs 165 kilometres, and its test run is due on Dec. 18, 2005.
US Federal Reserve Chairman Alan Greenspan Friday cautioned that the adjustment of the world economy could be "painful" if the United States fails to cut its high budget deficit and if the trade barriers remain across borders.

A sales assistant in Hai'an, East China's Jiangsu Province, displays a gold souvenir for the upcoming year of the dog. The price of gold topped US$500 per ounce this week, with a weekly growth rate of more than 10 per cent over the last three weeks. The last time gold reached such a high price was 1987.
Honeywell, a global leading provider of automation and control solutions, signed an exclusive trademark licensing agreement on Friday with major Chinese electrical appliances manufacturer Lonon.
December 2 - 4, 2005

Hong Kong: Dongfeng Motors, China's third-largest car maker, raised HK$3.97 billion (US$512 million) after it priced its initial public offering (IPO) at HK$1.6 (US 20.5 cents) per share yesterday.

A man walks past a billboard showing the Hang Seng Index in Hong Kong yesterday. Several small mainland firms plan to float their shares in Hong Kong in the next few weeks to capitalize on the current market vacuum. A number of small firms from the mainland plan to float their shares in Hong Kong in the next few weeks, capitalizing on the current market vacuum to avoid clashes with massive initial public offerings (IPO) due early next year.

With his political reform package in danger of being vetoed by angry democrats and a protest march set for Sunday, Chief Executive Donald Tsang has taken the unprecedented step of going on television to appeal directly to the people to support his administration's modest changes to the electoral system. Donald Tsang Yam-kuen might have given housewives and television addicts a nasty shock last night when they found their favourite entertainment news and soap dramas dropped for a prime-time political address.
Shares of Parkson Retail Group, a mainland department store operator, climbed 24 percent on their Hong Kong trading debut Wednesday, as investors continued to flock to consumer-related China stocks, encouraged by the country's growing affluence.

Cosmetic retailer Sa Sa International Holdings reported a 4.7 percent drop in its fiscal first-half profit as rent increases in Hong Kong outstripped sales growth and a move into the mainland resulted in a loss. Net profit declined to HK$68 million, while sales rose 15 percent to HK$1.2 billion, compared with 30 percent increase a year earlier. Rent consumed 9.9 percent of sales in the first half, compared with 7.8 percent a year ago. The company's first mainland store, which opened in Shanghai in March, lost HK$6 million during the first half. Of the proposed mainland stores, 70 percent will be franchise outlets and the rest operated directly.
Macau's economic growth, heavily reliant on the casino business, slumped in the third quarter to its slowest since the negative growth linked to the SARS outbreak and the 9/11 terror attacks in the United States.
Beijing's invitation to legislators to troop across the border to Shenzhen for a pep talk tomorrow with Qiao Xiaoyang, deputy secretary general of the National People's Congress Standing Committee, in advance of Sunday's planned pro-democracy march prompted most of Hong Kong's Chinese- language newspapers Wednesday to urge the democrats to mute their demands for a timetable for universal suffrage.

Hip Hair Culture's top stylist Ritz Lam Tsz-wai (centre) gave shoppers at the Gateway Arcade in Harbour City, Tsim Sha Tsui, tips for the festive season at the preview of the World Boutique fashion show yesterday. And curly is in, so put away your straighteners and go for dark, wintery tones, such as dark purple, with loads of volume. World Boutique will be held next month together with the Hong Kong Fashion Week Fall/Winter 2006 and the Hong Kong Young Fashion Designers' Contest 2006.
The government plans to push a new scheme to limit the smog-inducing emissions of about 60 types of consumer products - which include paint, insect repellent, air freshener and hairspray - despite worries that the regulations might force some overseas manufacturers to cease exporting to Hong Kong.
Hong Kong airline Cathay Pacific announced on Thursday that it planned to buy 36 new long-range Boeing 777-300ERs aircraft in what it described as its biggest ever single order of new planes.

Four Seasons Place is setting a benchmark for the most expensive serviced apartments in Hong Kong, leasing out two penthouses at an average of $115 per square foot.

China: US Treasury Secretary Snow said in a report that there is no evidence that China is manipulating its currency to gain unfair competitive advantages.

Students of a nursing school let go of balloons in an event to promote HIV/AIDS prevention in Wenzhou, East China's Zhejiang Province November 30, 2005. China will contain the number of HIV carriers to less than 1.5 million by the end of 2010, Health Minister Gao Qiang pledged Wednesday on the eve of World AIDS Day which falls on Dec. 1.

Volunteers give free condoms to taxi drivers yesterday in Nanjing, capital of Jiangsu Provice, to raise public awareness of HIV/AIDS prevention. Today is World AIDS Day.
The China National Offshore Oil Corporation (CNOOC), China's largest offshore oil company, announced Wednesday that it discovered 200 million cubic meters of oil in Bohai Bay this year.
China's textile export volume is expected to hit 116 billion US dollars this year despite increasing trade disputes, said sources with the China Textile Industry Association.
The Chinese government said overnight (HK time) that despite being one of the world's worst polluters, it was already cutting greenhouse gases and called on the United States to join the global community under the Kyoto Protocol to protect the earth's atmosphere.
December 1, 2005

Hong Kong: Modern Terminals Limited, a Hong Kong port operator majority-owned by Wharf (Holdings), is to invest seven billion yuan (HK$6.72 billion) in developing phase two of Dachan Bay container terminal in Shenzhen as the company seeks to benefit from the mainland's booming economy.
Next Media, Hong Kong-listed publisher of Apple Daily and Next Magazine, is seeking to borrow as much as HK$200 million to refinance existing debts, people familiar with the deal said.
Some public hospitals are postponing non-urgent surgeries to keep doctors, operating rooms and beds free in case of violent protests during next month's World Trade Organization summit, according to documents seen Tuesday.
Most companies listed on the second board, the Growth Enterprise Market, just barely meet the disclosure standards of the stock exchange, according to the Hong Kong Institute of Certified Public Accountants.
Standard Chartered Bank and Bank of East Asia plan to tap the debt market for a combined total of at least US$700 million (HK$5.46 billion) to boost their capital adequacy ratios, according to market sources.
Cheung Kong's Prosperity REIT will offer a higher-than-expected yield of as much as 5.73 percent after sweeteners were added in a bid to make the offering more competitive with other deals in the market, according to sources familiar with the situation.
Hong Kong's pro-democracy lawmakers on Wednesday accepted an invitation by Beijing to attend a meeting with senior Chinese officials ahead of a major democracy protest, saying it was a welcome chance to exchange views on the city's hotly debated democratic reforms.

After 27 years with the company, outgoing MTR Corp managing director Phil Gaffney has told the corporation the future for its international investments lies on the mainland and in Europe.
The delegation of the Shenzhou-6 Manned Space Flight Mission was farewelled on Wednesday morning at Government House hosted by Chief Executive Donald Tsang Yam-kuen.
Hong Kong visitor arrivals grew 6.4 percent to 2.14 million, a record number seen in a single month, driven by strong growth in long-haul markets and in Chinese travellers, tourism chiefs said on Wednesday.
Hong Kong aviation authorities on Wednesday granted licences for Oasis Hong Kong Airlines, a low-cost long-haul airline, to operate European and American routes from Chek Lap Kok.

China: A report by Morgan Stanley shows China's low-priced quality products have saved American consumers over $600 billion over the last ten years and $100 billion in 2004 alone.
The economy is still in its upward movement now and the intrinsic driving force will be maintained.It is crucial to have stable macro-control policy, adjust economic structure and transform the economic growth model to secure a steady outlook in the future.
China's foreign exchange regulator clarified Tuesday that local banks were not breaching exchange rate rules when they quoted the renminbi at an unprecedentedly strong 7.9997 against the US dollar last week.

Suggestions and blueprints are being collected from home and abroad to help renovate the Great Wall, which now faces unprecedented devastation due to natural weathering, graffiti and out-of-order construction.

China's farm product exports reached US$21.8 billion from January to October this year, up 21.4 per cent over the previous year. Exports of horticultural, aquatic, and animal products grew about 19.3 per cent year-on-year in this period to US$14.6 billion. Exports to the traditional six overseas markets, Japan, European Union, South Korea, the United States, Hong Kong and the Association of South East Asian Nations, reached US$17.7 billion, up 18.8 per cent year-on-year.
SinoCom Software Group Ltd wants to buy a Japanese software company, a rare attempt to make an overseas acquisition by a small information technology (IT) firm from the mainland.

A sales girl in Hangzhou, capital of East China's Zhejiang Province, displays digital cameras shaped like Shenzhou VI space craft. Sales of the commemorative cameras are going well.
Shanda Interactive, China's largest online games operator, said it will stop charging subscription fees for two of its most popular games titles, as it seeks to retain users at the expense of short- term revenues.
November 30, 2005

Hong Kong: Hong Kong is the first choice for mainlanders who want to go on holiday overseas, while Beijing is trying to lure more Hongkongers to the capital.
In a sign that Hong Kong remains an important Asian base for European companies, Bloemers De Neree Advocates on Tuesday became the first Dutch law firm to open in the territory.
The Peninsular & Oriental Steam Navigation Company (P&O) on Tuesday said it was recommending a £3.3 billion (HK$44.5 billion) takeover bid by Thunder FZE, a wholly owned subsidiary of Ports, Customs and Free Zone Corp of Dubai.

Facing contempt charges, former director of buildings Leung Chin-man finally agreed to testify at a Legislative Council hearing following a dramatic day of unprecedented twists in the land bonus scandal.
Investment bankers are trying to persuade China's Ministry of Railways to break with past practice and sell off assets rather than whole operating units of the country's vast rail network, saying it would speed the pace of what promises to be one of China's biggest initial public offerings, sources said.
MTR Corp, which is seeking developers for its housing project atop Tseung Kwan O station, is offering to lend half the estimated HK$7 billion land premium for the site to boost interest.
Underwriting profit of non-life insurance business in Hong Kong plunged 66 percent in the first three quarters this year, hit by losses in the ships and statutory compulsory sectors.
Economists in the private sector have raised their 2005 forecasts for Hong Kong's economic growth to between 7.1 and 7.5 percent, prompted by the faster-than-expected expansion in the third quarter.
China Resources Peoples Telephone, a Hong Kong-based mobile carrier to which China Mobile (Hong Kong) has made a HK$3.6 billion buyout offer, said subscribers surged 21 percent to 1.29 million for 12 months since September last year, driven by a surge in prepaid customers.
Learning from Macau's experience, it will be best to host the 2009 East Asian Games in Hong Kong during the winter holidays or the end of summer to increase spectator attendance, Secretary for Home Affairs Patrick Ho said.

China: China cut off water supplies to more communities along a poisoned river in its northeast Monday as it celebrated the return of running water to the city of Harbin.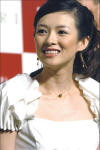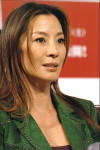 Chinese actress Zhang Ziyi poses for a photo in Tokyo, capital of Japan, Nov. 28, 2005. A dream team of movie stars from China and Japan gathered in Tokyo on Monday to promote "Memoirs of a Geisha," the first big-budget Hollywood romance to feature an almost entirely Asian cast. Chinese actresses Zhang Ziyi, Gong Li and Michelle Yeoh played leading roles in the film.

Chinese President Hu Jintao (L) holds a welcome ceremony for Mongolian President Nambaryn Enkhbayar at the Great Hall of the People in Beijing, Nov. 28, 2005. During the talks with Mongolian President Nambaryn Enkhbayar, Chinese President Hu Jintao said Sino-Mongolian relations have entered a new stage, and the political trust has increased and economic and trade cooperation has developed.
Construction of China Nuclear Industrial Group's biggest R&D Center for war industry, nuclear power, and related instruments for civil use at the Yangtze River Delta kicked off in Shanghai on Nov 27.
The senior Manager of China National Offshore Oil Corporation (CNOOC), China's largest offshore oil corporation, said Monday that CNOOC's negotiation on Liquefied Natural Gas (LNG) in the Gorgon project in Australia is still under way.
China's coal production is expected to rise 4.9 percent over this year to 2.16 billion tons in 2006, more than enough to meet demand which is also expected to rise next year.
China's top oil and gas producers PetroChina and Sinopec yesterday said government-controlled prices for natural gas discouraged them from investing in gasfields, because they fear they will not make a profit. Sinopec, China's biggest oil refiner, yesterday said they had replaced three senior officials of the Hong Kong-listed company.
A venture run by Citigroup Inc, the world's biggest financial services company, agreed to buy non-performing loans worth 36.4 billion yuan (US$4.5 billion) in China, Asia's biggest bad-debt market.
Australia & New Zealand Banking Group Ltd, Australia's No 3 lender, will announce an investment in China's Tianjin City Commercial Bank next week, its second foray into the world's fastest-growing major economy.

Steel facility operational: A cold-rolled coil production line goes operational in Lianyuan Steel in Central China's Hunan Province. The facility, which opened yesterday, will be able to produce 1.5 million tons of steel plates per year.

A customer tries out a newly-launched DVD camcorder at a shopping mall in Beijing on Sunday. Many of the city's retailers used the weekend to get customers to test new products with the aim of increasing market presence.
Former minister of land and natural resources Tian Fengshan has been charged with accepting bribes, the Beijing News said, the most senior official ensnared for graft since President Hu Jintao took office.
November 29, 2005

Hong Kong: Sun Hung Kai Properties, Hong Kong's second-largest developer by market value, is seeking two separate bank loans to raise at least HK$12 billion before an anticipated rise in interest rates in coming months, sources close to the deal said.
The two mainland astronauts who made China's second manned space flight last month arrived to a tumultuous welcome in Hong Kong to promote the nation's space program to students and businessmen.

Chinese astronauts Fei Junlong (R) and Nie Haisheng wave as they arrive with the delegation of Shenzhou-6 Manned Space Mission at Hong Kong International Airport in Hong Kong, Nov. 27, 2005.

Delegation of Shenzhou-6 Manned Space Mission arrives in Hong Kong Nov. 27, 2005, beginning its three-day visit and academic exchange at the invitation of Hong Kong Chief Executive Donald Tsang.

The delegation of Shenzhou-6 Manned Space Mission arrives in Hong Kong Nov. 27, 2005, beginning its three-day visit and academic exchange at the invitation of Hong Kong Chief Executive Donald Tsang.

Chinese astronauts Fei Junlong (R) and Nie Haisheng wave as they arrive with the delegation of Shenzhou-6 Manned Space Mission at Hong Kong International Airport in Hong Kong, Nov. 27, 2005.

Members of the delegation of Shenzhou-6 Manned Space Mission are welcomed as they arrive at Hong Kong International Airport in Hong Kong, Nov. 27, 2005.

Gao Siren (L1), director of the Liaison Office of the Central People's Government in the Hong Kong Special Administrative Region (HKSAR), and HKSAR Financial Secretary Tang Ying-yen (C) welcome Hu Shixiang (R2), head of the delegation of Shenzhou-6 Manned Space Mission, and taikonauts Fei Junlong (R1) and Nie Haisheng (L2) at Hong Kong International Airport in Hong Kong, Nov. 27, 2005. The delegation arrived in Hong Kong on Sunday morning for a three-day visit and academic exchange at the invitation of Hong Kong Chief Executive Donald Tsang.

Local children wave flags and placards as they welcome the delegation of Shenzhou-6 Manned Space Mission at Hong Kong International Airport in Hong Kong, Nov. 27, 2005. Chinese astronauts Fei Junlong and Nie Haisheng and leading engineers of Shenzhou-6, China's second manned space mission, arrived in Hong Kong on Sunday morning for a three-day visit and academic exchange at the invitation of Hong Kong Chief Executive Donald Tsang.
Jiangsu Expressway, the biggest Hong Kong-listed mainland toll road operator by market value, expects to resume buying assets from its state-owned parent as early as 2008 after a delay to reduce its debt burden.
United Parcel Service, the US delivery giant, is urging the Hong Kong government to speed up its open skies policy and hopes to capture the Japanese and Taiwanese cargo markets by launching daily flights in the near future.
The Australian subsidiary of Hongkong Electric, the smaller of two electric power suppliers in Hong Kong, plans to refinance its existing debt totalling A$1.1 billion (HK$6.3 billion), people familiar with the situation said.

China: Red-chip conglomerate China Resources Enterprise said it expects to reap an exceptional gain of 67 million yuan (HK$64.31 million) from disposing of all its interest in a petroleum and chemicals outfit to Sinopec for 98 million yuan.

Premier Wen Jiabao (2nd R) inspects the water pollution of the Songhuajiang River in Harbin, capital of northeast China's Heilongjiang Province, Nov. 26.
The World Health Organization (WHO) on Friday refuted rumors that China was hiding human cases of bird flu.
China's net export of aluminium is expected to reach 660,000 tons this year, but the figure will drop to 300,000 tons in 2006, the Economic Information Daily reported.
China has become the largest target of investment from the Republic of Korea, according to information from the 9th East Asian Economic Cooperation Forum.
China plans to increase its hydroelectric power installed capacity by 80 percent to 180 million kilowatts in the next five years, said a senior development and reform official said.

PLA soldiers unload trucks carrying active carbon, which can better absorb pollutants, on Friday, to prepare for the resumption of the water supply at a Harbin water plant.
November 28, 2005

Hong Kong: Link REIT, Hong Kong's first real estate investment trust, jumped 14.6 percent in its trading debut as institutional investors anticipating an end to the rate- rise cycle chased its high-yielding shares.
Hong Kong's economy continued its more than two-year expansion, as robust exports and strong local demand helped gross domestic product grow a greater-than-expected 8.2 percent year- on-year.
The Securities and Futures Commission has proposed a ban on the payment of incentives and rebates in warrants trading, a practice it said has artificially boosted turnover in Hong Kong's warrants market, the largest in the world.
Agile Property Holdings, a developer in the mainland's Pearl River Delta region, plans to use almost 90 percent of the proceeds from a HK$3.2 billion initial public offering to fund up to 18 existing projects over the next three years, sources close to the deal said.
Kowloon-Canton Railway Corp has received only one tender from 10 property developers it invited to bid for an estimated HK$7.5 billion residential project atop West Rail's Tuen Mun station, with developers balking over the high land premium payment to be paid to the government.
Three protests scheduled for the December World Trade Organization conference in Wan Chai have been given the official go-ahead but are restricted to smaller than requested areas and will be governed under a special ordinance giving the police commissioner sweeping powers to terminate the marches.

A bronze statue honouring martial arts legend Bruce Lee was unveiled in the southern Bosnian city of Mostar yesterday, beating Hong Kong to the punch by 24 hours.
The government should consider including an environmental blueprint containing fiscal and educational initiatives to reduce pollution when preparing the budget, the British Chamber of Commerce has suggested.
A high land premium has kept developers away from a massive Kowloon-Canton Railway Corp residential project above the Tuen Mun station, according to property surveyors and consultants.
The telecommunications regulator is pressing ahead with plans to issue wireless broadband permits by the fourth quarter of next year, brushing aside pleas from 13 mobile, fixed-line and satellite firms which say it should address more pressing issues first.

China: The world's top mobile phone maker Nokia expects subscriber growth in China to continue roaring ahead in the coming five years.

This capital of Northeast China's Heilongjiang Province is racing against time to make sure drinking water will be safe once the supply is resumed.
CITIC Industrial Bank, one of China's leading joint-stock lenders, is stepping up its financial restructuring as the bank prepares to receive 9 billion yuan (US$1.1 billion) from its parent company in mid-December.

Chefs make cakes at an international food expo, which opened on Friday in Beijing. The three-day event has attracted more than 300 exhibitors from 20 countries and regions.
The flagship state energy firms of China and India, normally arch-rivals in the race for overseas oilfields, are teaming up for the first time to bid for a US$1 billion (HK$7.8 billion) package of assets in Syria.
Shenzhen-based Tencent Holdings, which operates China's most popular instant messaging service QQ, wrapped up third quarter earnings season for China's Internet companies this week with reports of a large drop in profits despite quarter on quarter growth in revenue.
China yesterday announced the start of a long-awaited system of market makers for trading of the yuan against foreign currencies, another step in allowing a rise of the currency.
November 25 - 27, 2005

Hong Kong: Yunnan Copper Industry (Group) Co Ltd, the third-largest copper smelting and refining enterprise in China, and Hong Kong-listed investment company Regent Pacific Group Ltd plan to invest in a copper mine in Simao, Southwest China's Yunnan Province, according to Regent Pacific's website.
Beijing Capital International Airport yesterday invited bids for a 600 million yuan (US$74 million) hotel complex, the first time a State-owned giant has asked private investors to get involved in such a project.
China's third-largest car maker, Dongfeng Motor Group Ltd, is expected to raise as much as US$590 million through an initial public offering (IPO) in Hong Kong to repay its debts and develop new models.
Smaller mainland listing candidates were forced to delay, scale back or even cancel their listing attempts in Hong Kong recently, due to competition from other huge initial public offerings (IPO) and lukewarm investment sentiment.

Hidden under countless layers of plastic wrapping in Tsim Sha Tsui is the statue of martial arts legend Bruce Lee, which will become Hong Kong's first permanent memorial to Lee more than 30 years after his death. The 2.5-metre statue, resembling Lee's famous pose in his 1972 kung fu classic Fist of Fury, was shaped by mainland sculptor Cao Chongen and cost more than $800,000. Sunday's unveiling ceremony is part of the week-long Bruce Lee Festival on the Avenue of Stars.

Nie Haisheng (left) and Fei Junlong will be in Hong Kong for three days next week. The pair completed a five-day space mission last month. The visit, which involves a 30-strong delegation, will start with a variety show at Hong Kong Stadium on Sunday afternoon, soon after their arrival.
The mainland's largest instant messaging (IM) service provider Tencent yesterday posted a worse-than-expected profit growth for the third quarter of this year, as the yuan appreciation and a lower tax rebate ate away at the company's bottom line.
Key members of the World Trade Organization have acknowledged they will be unable to agree on a framework for a trade liberalization pact at next month's Hong Kong summit.
State-owned HNA Group, the parent of Hainan Airlines, is in talks to take a controlling interest in CR Airways, Hong Kong's third carrier which offers mainly charter flights to the mainland and regional destinations.

PCCW group chief financial officer Alexander Arena and deputy chairman Jack So hammer the idea of expanding overseas yesterday during a ceremony to celebrate Now Broadband TV's 500,000th subscriber at PCCW Tower in Quarry Bay.
The listing of Hutchison Whampoa's 3G telecommunications operations in Italy will be a catalyst for a re-rating of the stock by making the hidden value in the unlisted part of the business more visible, the regional head of conglomerates research at UBS said yesterday.

China: Residents in a northeast China's Harbin city got the official confirmation Wednesday that their upriver water source was badly contaminated by a toxic chemical leak.

On Nov. 23, 2005 shows a job fair held for college students at the Technology Exhibition Center in Chongqing, southwest China. Some 88,000 students will graduate from 44 colleges and universities in Chongqing Municipality in 2006, 20,000 more than in 2005.
In the next few years, with the three important concepts of "Green Olympics, Cultural Olympics and High-tech Olympics" in mind, China will further consolidate its tourism resources and develop new tourist products. Liu said, owing to the favorable growth momentum and tremendous potential of China's tourism market, the World Tourism Organization forecast as early as 1997 that China would turn out to be No. 1 tourist destination and the No. 4 tourist-generating country in the world by the year 2020. The great objectives of the development of the tourism industry have also been outlined by the Chinese government. In the next few years, with the three important concepts of "Green Olympics, Cultural Olympics and High-tech Olympics" in mind, China will further consolidate its tourism resources and develop new tourist products to present to the world the diversified and colorful tourist resources and the magnificent culture.
The trade of electronic and machinery products will continue to grow stably, unstable factors such as fluctuations in the international trade structure, raw material supply shortages and a Renminbi exchange rate change will have a negative impact. China's innovation capacity in this area is still weak.
The China Export Credit Insurance Company has begun providing export credit insurance service to small and medium-sized enterprises (SMEs) with annual export volumes under 2 million US dollars.
After two auctions in eight days, China plans to sell another 20,000 tons of copper next Wednesday a move which, traders and analysts say, shows its resolve to bring down the price of the metal.

A worker hauls a cart behind copper plates at Shanghai Dachang Copper Industry Co yesterday. Copper futures prices on the Shanghai Futures Exchange ranged between 37,600 yuan (US$4,648) and 38,000 yuan (US$4,697) a ton yesterday, up from 16,000 yuan (US$1,978) a ton in October 2003.
November 24, 2005

Hong Kong: Morgan Stanley Real Estate Fund and a partner, which earlier refused to sell Vicwood Plaza in Sheung Wan for treble their initial outlay, are seeking a syndicated loan of up to HK$1.2 billion with the office building as collateral, sources close to the deal said.
Regent Pacific Group, a Hong Kong- listed fund management firm, said it will pay 160 million yuan (HK$153.6 million) to buy a 40 percent stake in a copper mine in Yunnan province as the company shifts its focus to investments in commodity and metal ventures.
Lai Fung Holdings, the mainland property arm of Lai Sun Garment (International), will team up with Singapore- based CapitaLand to develop a housing project near a new subway station in Guangzhou.
SW Kingsway Capital Holdings, a Hong Kong-listed financial services provider, plans to set up a real estate fund of between US$50 million and US$100 million (HK$390-780 million) to invest in the growing mainland market.

With the aim of preserving views of Hong Kong's harborfront, the government will adopt a plot ratio of seven for the new government headquarters to be built at Tamar, which is about half the ratio of neighboring commercial buildings.
The government would implement additional precautionary measures to prepare for a possible influenza pandemic, a spokesman for the Health, Welfare and Food Bureau said on Wednesday.

China: China's largest city, Shanghai, will ban sales of canaries, parakeets and other pet birds as part of increasingly drastic measures aimed at preventing a wide-scale bird flu outbreak, a city official and government media said on Wednesday.

Chinese actress He Lin poses after winning 'Best Performance by an Actress' for her role in 'Slave Mother' at the International Emmy Awards Gala in New York November 21, 2005. Thierry Fremont of France won the Best Actor category for his role in 'Dans la Tete du Tueur'
Vice Minister of Commerce Gao Hucheng forecast that China will overtake Germany to become the world's second largest trading country in 2008 if foreign trade could maintain a 15 percent annual growth. China's output of 172 sorts of commodities ranks first in the world, with the output of tractors and containers accounting for above 80 percent of the world's total, and that of watches and radio cassettes, 60 percent. China's foreign trade volume will surpass 1400 billion US dollars this year, up 20 percent from the previous year, with exports to grow 26 percent, and imports around 18 percent. The picture shows visitors for a tractor made in Luoyang, China at the 29th Dar es Salaam International Trade Fair on June 30, 2005.
The money will be mainly used in exploring copper, aluminium, plumbum and zinc resources.Due to the high risks, foreign and commercial capitals are entering the metal prospecting sector slowly.
The industrial enterprises, which include all state-owned firms and non-state-owned enterprises with annual sales income of more than five million yuan each, suffered losses of 172.5 billion yuan in the January-October period, a 62.6% year-on-year increase.
Chinese Ministry of Agriculture will build experimental bases throughout the country, and use GE's silicone-based additive to develop new types of pesticide spraying technologies.

The Beijing Wangfujing Department Store Co Ltd (Group) operates 13 large department stores in 11 Chinese cities. These include the Beijing Department Store, Dong An Plaza, Chang An Market and Shuangan Mall in the capital city and the rest in Guangzhou, Wuhan, Chengdu, Baotou, Chongqing, Nanning, Huhhot, Changsha and Luoyang.

A store clerk stocks bottles of Chinese wines in Beijing yesterday. China, the world's sixth-biggest winemaker, is hiring foreign managers, investing in Italian presses and sending its staff to winemaking schools to raise the quality of its vintages and compete for sales at home and abroad.
November 23, 2005

Hong Kong: Ministers attending the conference will work towards a common position on individual issues under Doha Development Agenda (DDA) in preparation for the Sixth Ministerial Conference (MC6) of the WTO in Hong Kong.
The Minth Group Ltd, one of the mainland's largest automobile parts manufacturers, is expected to raise up to HK$512 million (US$66 million) in an initial public offering (IPO) in Hong Kong.

Hutchison Whampoa will make its first development foray into Shanghai's Lujiazui district, fast becoming the financial hub of the mainland's business capital. The Hong Kong firm, controlled by Li Ka-shing, will purchase two plots of land in the district from Shanghai Lujiazui Finance & Trade Zone Development, which announced the deal Monday in a mainland stock exchange filing.

The Cultural Centre and the Museum of Art are lit by $4 million in special effects as part of the Symphony of Lights tourism promotion. Running daily from 8pm for 13 minutes since the beginning of last year, the display has been named the world's largest permanent light and sound show by Guinness World Records. Receiving the Guinness World Records certificate at Golden Bauhinia Square last night, Tourism Commissioner Eva Cheng Yu-wah said she would continue to work hard to enhance the attraction and the night vista of Victoria Harbor.

Hutchison Whampoa has beaten two of its fiercest rivals to secure a commercial property project in Shanghai's Pudong district, as Hong Kong's leading developers continue to snap up prime sites in the city. Li Ka-shing's conglomerate bid 4.56 billion yuan for the 89,320 square metre site on Century Avenue, one of the main thoroughfares in Lujiazui, the financial area of Pudong.

China: The two presidents pledged joint efforts to promote the all-round development of constructive and cooperative relations between the two countries.

Chinese movie star Zhang Ziyi poses for photographs in New York on Nov. 21, 2005. Zhang Ziyi and Malaysian Chinese movie star Michelle Yeoh arrived in New York to promote their new movie " Memoirs of a Geisha" which will premiere in the U.S. in December, 2005.

Representatives of China Aviation Supplies Import & Export Group Corporation (CASGC) (R Front) and Boeing shake hands after signing a general purchase agreement to buy seventy B737-700/800 aircrafts in Beijing, capital of China, Nov. 20, 2005. The catalog price of the aircraft purchase agreement was about 4 billion US dollars and the planes will be delivered to eight leading Chinese airline companies between 2006 and 2008.
3M Co., a US-based Fortune Top 500 company which makes Scotch tape, Post-it notes and a range of industrial products, announced Monday it will invest more in West China in the coming years.
Visit Britain hoped to enhance cooperation with China, with the target of attracting at least 200,000 Chinese tourists by around 2010, generating a revenue of approximately 200 million pounds.
BP, Europe's biggest oil company, is among several potential investors, to buy at least a 20 per cent stake in China Aviation Oil (CAO) Singapore Co Ltd, people familiar with deal said yesterday.
US conglomerate DuPont yesterday announced it will invest US$1 billion in a titanium dioxide (TiO2) plant in China the company's largest single investment project outside the United States. It has previously spent a total of US$700 million in China since entering the country in 1989.
Although Washington is not fully satisfied with the outcome of US President George W. Bush's Beijing visit, the recent high-level exchanges between the two world powers have set a positive tone for stable bilateral ties, as well as peace and security in the region, according to Chinese and US analysts.
Red-chip developer China Resources Land is expected to gain more than 340 million yuan in fresh rental income after its mainland parent China Resources (Holdings) moved to inject its portfolio with investment properties from residential sales.
November 22, 2005

Hong Kong: An up to HK$3 billion syndicated loan sought by Hong Kong and China Gas, the city's only piped-gas supplier, has been slowed up by the privatization plans of shareholder Henderson Land Development, sources said.
Hans Energy, an oil and gas storage service provider, plans to expand from Guangdong province to the Yangtze River Region by building a petrochemical product storage depot next year in Shanghai that will be larger than its 800 million yuan (HK$767.76 million) project in Dongguan.
The Link Management priced its 1.926 billion shares at HK$10.30 apiece, the top end of the marketed range, enabling Hong Kong's maiden real-estate investment trust issue to raise HK$19.43 billion, the government said in a statement Sunday.
Now that Hong Kong's famous Wedding Card Street has officially become a developer's playground, four long- term residents of the Soho area of Central are fighting to save their community from the same fate.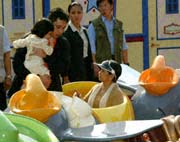 Philippine President Gloria Macapagal-Arroyo tries out a ride at Hong Kong Disneyland as she waits for youngest son Dato Arroyo to hand over his daughter, Eva Victoria. Mrs Arroyo flew into Hong Kong for a break after attending the Apec summit in Pusan, South Korea. She flies back to Manila today.
A South China Morning Post headcount of visitors to Disneyland has revealed that fewer than 13,000 people visited on a weekend day less than a week after the amusement park introduced discounted rates for Hong Kong residents.

Visitors get a close look at a Government Flying Service helicopter during an open day yesterday, held for the first time at the service's headquarters at Chek Lap Kok. There were flight demonstrations and performances, including the Police Dog Unit and the Civil Aid Service motorcycle team.

Models displaying Toshiba's new TS10 handset flank Seiji Yasunaga, chief marketing executive for Toshiba Mobile Communications, (centre) with Marco Chau (left), general manager of PacRim Technologies - Toshiba Mobile Communications' agent in Macau, and Douglas Li, chief executive of SmarTone-Vodafone.

China: In a bid to stem what is seen as a major source of corruption, Beijing is to overhaul the system dictating the use of official limousines by senior government officials. The move is aimed at sharply reducing the government's purchase of cars and offering some officials a transport subsidy to buy their own vehicles, although it is feared that the subsidies themselves may fuel corruption. The practice of top officials driving around at public expense has been widely criticized in the official media. National People's Congress deputies have been demanding that the authorities crack down on the use of official cars as an abuse of authority. At a conference in Chongqing early this month, Wang Yuanshen, secretary general of the All-China Association of Government Organ Affairs, outlined the pilot reforms.

Chinese President Hu Jintao (R) shakes hands with United States President George W. Bush following a joint press conference they hold after talks at the Great Hall of the People in Beijing, Nov. 20, 2005. The two leaders agreed Beijing Sunday to promote the all-round development of constructive ties between the two countries.

Chinese Premier Wen Jiabao (R) meets with former US president George Bush in Beijing, China, Nov. 15, 2005. Bush said US-China ties are very important and the relationship is currently "in good shape." I didn't expect that Sino-US relations could have developed so well and so fast when I lived in China in 1974 and 1975, said former US President George Bush.

President Hu Jintao chats with visiting US President George W. Bush yesterday during a welcome ceremony at the Great Hall of the People in Beijing. This is the third time Bush has come to China since becoming president. He leaves Beijing today after a three-day visit.

George W. Bush, reliving a Beijing cycling experience 30 years later, albeit on a different track, leads a group of hopefuls for China's Olympic mountain biking team on the Laoshan course in Beijing. "Good day for a bike ride," he said as he strode towards the six cyclists - three women and three men - at the Laoshan Olympic Mountain Bike Course.
Beijing is expected to implement concrete measures to address Washington's concerns over the trade imbalance, the value of the yuan and intellectual property rights after the success of yesterday's summit between presidents Hu Jintao and George W. Bush, analysts say.
The China Aviation Supplies Import & Export Group Corporation (CASGC) signed a general purchase agreement with Boeing to buy seventy B737-700/800 aircraft in Beijing on Sunday, the biggest purchase agreement in China's aviation history.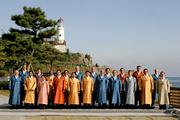 The Asia-Pacific Economic Co-operation (Apec) forum's 21 leaders ended the two-day summit by also vowing to fight threats to their economies from a possible bird flu pandemic and high oil prices, and agreeing on the need for more progress in resolving the North Korea nuclear crisis, a potential threat to the stability of the region.
Consolidation of China's construction machinery industry is expected to pick up pace after Beijing's austerity measures, imposed since last year, takes effect and US-based private equity firm, Carlyle Group, completes the buyout of Xugong Construction Machinery.
November 21, 2005

Hong Kong: Melco International Development, a Hong Kong-listed firm controlled by the family of casino mogul Stanley Ho, is considering whether to raise its bid for Singapore's first casino resort project, as its joint offer with Australia's Publishing and Broadcasting Limited is well below rivals from the United States.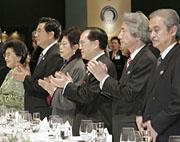 President Hu Jintao, Chief Executive Donald Tsang and Japanese Prime Minister Junichiro Koizumi join in the applause at a dinner in Pusan. President Hu Jintao yesterday called on Hong Kong people to engage in rational discussion and forge a consensus on constitutional reform, adding the city's political system should progress in a "stable, solid and an orderly manner".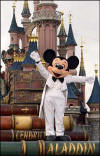 Hong Kong Disneyland, which opened in September, cut Walt Disney's earnings by about US$100 million (HK$780 million) in the year ended October 1, the US entertainment group revealed. "The order of magnitude of impact because of the pre-opening of [Hong Kong Disneyland] was about US$100 million on [the group's] consolidated income in [fiscal] 2005," Walt Disney chief financial officer Thomas Staggs told analysts in a telephone conference on the firm's full-year results. The entertainment giant, whose portfolio includes the Pixar and Miramax film studios and the ABC cable television networks, in addition to several other theme parks, reported net profits rose 8 percent to US$2.53 billion in the year ended October 1 after sales increased 3.8 percent to US$31.94 billion.
Hong Kong Exchanges and Clearing, which runs the city's stock and futures markets, has proposed allowing listed companies to publish short-form announcements online instead of in newspapers in 2006, although the change is unlikely to be enforced until the second half of the year.
Lai Sun Development, a Hong Kong- listed developer, has reported net loss of HK$706 million for the year ended July 31 from a HK$381.4 million profit a year ago, dragged by a one-time loss arising from debt restructuring and a drop in turnover.

California Governor Arnold Schwarzenegger came to Hong Kong at the end of a six-day trade mission to the mainland and praised the SAR for joining the fight against intellectual piracy.

Arnold Schwarzenegger meets fans at the festival in Victoria Park. A smiling Arnold Schwarzenegger was more Kindergarten Cop than Terminator as he met the masses at Victoria Park yesterday.
Hong Kong's international schools are being offered funds to upgrade their security under a global scheme to protect US citizens against terrorist attack.
Native English-speaking teachers, or NETs, brought to Hong Kong under a special program to raise language proficiency, will receive an increased allowance and other incentives, after the Legislative Council's Finance Committee approved a government's proposal to stem the flow of resignations.
Legislator Philip Wong said his Public Accounts Committee will prepare for a possible public hearing on Henderson Land Development's Grand Promenade project in Sai Wan Ho, which the Audit Commission said cost the public purse at least HK$125 million in potential revenue.

Stanley and Lawrence Ho at the opening of Melco's latest Mocha Slot club in Macau yesterday. More Mocha clubs are planned.

China: APEC leaders vowed to unite on global trade talks and measures against avian influenza when they wrapped up their two-day summit, but daunting tasks lay ahead. President Hu Jintao expounded China's stance on APEC cooperation at the 13th APEC Economic Leaders' Meeting which kicked off in S. Korea's Busan on Friday. Chinese President Hu and his Russian counterpart Vladimir Putin exchanged in-depth views on bilateral relations and other issues of common concern on Friday.

President George W. Bush is accompanied by a PLA officer on his arrival at Beijing airport yesterday. He was to attend a service in the capital this morning at Gangwashi church. Beijing has stepped up security for the 40-hour visit of President George W. Bush, who will attend a Christian religious service this morning prior to his meetings with the country's leaders.
China will import less oil and oil products in 2006 than previous years, an official with the Ministry of Commerce (MOC) said.
China's foreign trade volume is expected to reach 2.5 trillion US dollars by the year 2010, making it the second largest trade country in the world.

President Hu Jintao talks with his Russian counterpart Vladimir Putin at the start of a bilateral meeting on Friday on the sideline of the Asia-Pacific Economic Cooperation (APEC) forum in Busan of the Republic of Korea. They pledged to further expand strategic partnership between China and Russia, discussing their growing security ties and prospective energy supplies.

A shopper asks about products on display at the new store opened by French luxury-goods maker Louis Vuitton. The shop, opened on Friday in Beijing, is the second store in the city. It has a new collection of merchandise.
Bank of Communications, the fifth- largest lender in China, posted a profit of 6.73 billion yuan (HK$6.46 billion) for the first nine months of this year on higher interest income and a vibrant economy.
China is expected to agree to buy up to 150 aircraft on the sidelines of US President George W. Bush's visit to Beijing this weekend, senior aviation sources revealed yesterday. The deal, for Boeing's 150-seat 737 family of aircraft, could be worth up to US$6.5 billion after discounts. It is expected to include the purchase of 45 planes approved by China Southern's board in April but not rubber stamped by the official China Aviation Supplies Import and Export Corp.
November 18 - 20, 2005

Hong Kong: Parkson Retail Group, a leading Malaysian-invested department store operator on the mainland, is expected to raise up to US$208 million in its Hong Kong initial public offering (IPO), which opens to retail investors today.

The Boeing Company officially launched the new Boeing 747-8 program aimed to compete with Airbus A380 on Nov 14, 2005. The 747-8 Intercontinental passenger airplane will be stretched 3.6 m compared to the 747-400 to accommodate 34 additional seats in a typical three-class configuration. The only jetliner in the 400- to 500-seat category, it will have a range of 14,815 km.
Hong Kong investors placed HK$110 billion in orders for the Housing Authority's Link REIT as the retail tranche of the initial public offering was 19 times oversubscribed, or less than half the HK$280 billion placed in an aborted sale last year, market sources said.
While China has made big changes relating to real estate contract law over the years to meet the needs of a modern economy, the system remains vastly different to that in Hong Kong, and parties intending to do business in the mainland should be aware of the dissimilarities.

Medical staff test temperature-scanning equipment at the border ahead of today's reintroduction.


It's no Terminator 4 but California Governor Arnold Schwarzenegger has returned to the screen - teaming up with action hero Jackie Chan on Friday to launch a TV ad in Hong Kong against copyright piracy.

Legislator Bernard Chan, HKEx chief Paul Chow, Linmark chairman Wang Lu-yen, City Telecom chairman Ricky Wong, Boys' and Girls' Association representative Mok Bong-ho, Melco managing director Lawrence Ho and Automatic Manufacturing chairman John Mok at the Director of the Year Awards 2005.
Prime office rents in Hong Kong's financial hub rose more than twice as fast as in any other Asia-Pacific city in the third quarter compared with a year earlier, boosted by robust demand and tight supply, according to real estate consultants Jones Lang LaSalle.
Link REIT, a government-owned portfolio of shopping malls and parking spaces, has received sufficient orders in its initial public offering to secure a successful Hong Kong listing, in spite of a much cooler response from institutional and retail investors compared with an aborted share sale last year.
Giordano International, a clothing retailer with more than 1,500 outlets worldwide, reported slower sales growth in the first nine months than in the same period a year earlier, when the retail market was rebounding from the 2003 SARS outbreak.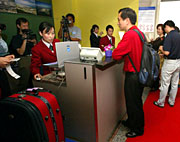 Travelers bound for Chek Lap Kok airport offload their luggage at Shekou port, where a convenient new cross-border check-in service was launched yesterday. Passengers traveling via Shekou to the airport can now obtain their boarding passes and check in their luggage at the port. The baggage is transferred directly to their flights in Hong Kong. Hong Kong Airport Authority chief executive David Pang Ding-jung said the cross-border service would attract more transit travelers.
Advertising spending in Hong Kong rose 11 percent year-on-year to HK$1.6 billion in October, the highest monthly total for the year to date, driven by increased marketing by property developers such as Sino Land and MTR Corp, according to market research firm admanGo.
The government is considering imposing a height restriction of 130 to 160 meters for the new government complex to be built at the Tamar site in Central to ensure views of the harbor.

Chew Fook Seng (left), Parkson Retail Group chief executive, and Clarence Wong Kang-yean, chief financial officer, promote the mainland department store operator's initial public offering via video link yesterday. The firm, which aims to raise up to $1.6 billion from the sale, is vying for investor attention among the latest batch of companies seeking to tap the market.
Democratic Party legislator James To Kun-sun will not be prosecuted for using public money to pay above-market rent for a property he co-owned.
Integrated circuits maker O2Micro International is set to become the first Nasdaq-listed firm to secure a secondary listing in Hong Kong.
Internet auction house eBay, a global e-commerce pioneer, on Wednesday said it had selected Seoul as its Asia Pacific regional management centre, citing South Korea's sophisticated user base.

China: Guangdong's foreign trade volume with Hong Kong, the United States and European Union (EU) hit US$160.33 billion in the first 10 months this year.
China has strengthened supervision and monitoring on the bird flu as new cases of the epidemic outbreak were reported in two counties of NW China's Xinjiang.

Chinese Premier Wen Jiabao (2nd R) listens to a researcher on the latest development of bird flu human vaccine in Beijing, capital of China, Nov. 17, 2005, as Wen inspected the research work on bird flu vaccines and medicines.
China's energy mainly relies on the domestic supply.Its total energy dependence on foreign supply (including oil, coal and gas) is less than 5 percent.
German telecoms gear supplier Siemens says it will set up more research and development (R&D) offices and look for merger and acquisition (M & A) opportunities in China.

At the International Consultative Conference on the Future Economic Development of Guangdong 2005, which opened yesterday, Guangdong Governor Huang Huahua hands a certificate to Eastman Kodak President Antonio Perez, the province's new economic adviser.
Chinese President Hu Jintao is welcomed by his South Korean counterpart Roh Moo-hyun upon arrival at BEXCO (Busan Exhibition and Convention Centre) for the Asia Pacific Economic Co-operation (APEC) forum in Busan, South Korea on Friday.
China currently produces only 7 per cent of its electricity from renewable sources. It hopes this figure will rise to 15 per cent by 2020. China's hydro-power stations will have a generation capacity of 300 gigawatts by 2020. Power-generating capacities of wind farms and biomass will each reach 30 gigawatts by 2020.
China-US trade will be worth US$200 billion by the end of this year and is expected to soar to US$300 billion by 2010.
The world's largest cement producer, Lafarge, announced it has acquired a controlling stake of a State-owned cement producer, and analysts believe more M&As (mergers and acquisitions) are on the horizon in the currently fragmented industry.
Hu Yaobang's palatial memorial hall and extensive square in Cangfang village, Hunan province, were all part of the plan to commemorate the 90th anniversary of the late reformist leader's birth.
Best Buy, the world's largest electronics and home appliance retailer, declared that it would open "lab stores" in China next year during the opening ceremony of its new office in Shanghai yesterday.
Beijing has called for renewed direct flights to Taiwan during the 2006 Spring Festival, but on an even larger scale than when they were launched under much fanfare early this year.
November 17, 2005

Hong Kong: Nod for China textile workers - HK set to import 5,000 mainlanders on minimum wages

Eden Woon Yi-Teng, chief executive of the Hong Kong General Chamber of Commerce, will resign early next year to become the Shanghai-based Greater China vice-president for US Coffee giant Starbucks (complete information on member's news page)
Minth Group, China's third-largest auto-parts manufacturer, plans to price its shares at 7.7 times to 10 times expected 2005 earnings in a Hong Kong initial public offering that could raise as much as HK$600 million, bankers said.
Bank of China, the nation's second- biggest lender, is expected to sell shares in an initial public offering early next year that will match the US$8 billion (HK$62.4 billion) IPO last month of smaller domestic rival China Construction Bank.
Credit card debts written off by Hong Kong's banks dropped by 0.32 percent in the third quarter from the previous quarter to the lowest level in seven years, according to theHong Kong Monetary Authority.
New World CyberBase, a Hong Kong- listed property investor, plans to buy two aircraft for US$34 million (HK$265.2 million) to start a charter business to China, and will fund the purchases by the sale of convertible bonds and rights shares.

HKMA chief executive Joseph Yam says financial integration of Asian countries is lagging behind economic integration.
A former employee of a US domestic appliances manufacturer charged by the Independent Commission Against Corruption admitted in the District Court Tuesday he had accepted more than HK$11 million and US$102,000 (HK$795,600) in illegal commissions from two suppliers.
Hong Kong's prison authorities are hiring translators for what they believe may be a 24-hours-a-day procession of people being detained for breaking public order laws during the World Trade Organization talks next month, the Correctional Services Department said Tuesday.
A court order requiring internet service providers to disclose the personal data of their users so entertainment companies can sue illegal downloaders could set a precedent for how ISPs deal with such cases, and lead to a deluge of lawsuits.
After toiling for years to boost Macau's economy, Chief Executive Edmund Ho Hau-wah focused on internal issues in his policy address yesterday, pledging civil service reforms and an increase in spending on education, health and housing.

China: President Hu arrived in the S. Korean capital of Seoul on Wednesday for a state visit to push forward bilateral relations. Chinese President Hu Jintao delivers a speech at the opening of a summit of Sino-Spanish industrial and business leaders in Madrid, Spain, Nov. 15, 2005. Hu Jintao called on Chinese and Spanish entrepreneurs to conduct win-win cooperation in more fields and regions as well.
Chinese Premier Wen Jiabao told former US President George Bush in Beijing Tuesday that China's peaceful development will not threaten any country.
China's first money broker obtains go-ahead - The money broker is a joint venture between British interdealer Collins Stewart Tullett and Shanghai International Trust and Investment Corp.
China detects fifth largest natural gas field in northeastern province - A preliminary probe shows that the gas field has reserves of at least 100 billion cubic meters.

China Securities Regulatory Commission (CSRC), the market watchdog, yesterday issued a draft circular providing standards for domestically listed companies offering share incentives to their board directors, supervisors, managers and other company staff. Companies found in the following situations are prohibited from offering share incentives: Its registered accountant negated the company's recent fiscal report; A company that has been punished by CSRC in recent years for misconduct; Other situations stipulated by CSRC. The following company staff are not eligible for incentives: An individual that has been publicly condemned in the past three years by stock exchanges; An individual being punished by CSRC in the past three years; An individual prohibited by Corporate Law to act as a board director, supervisor or manager.
Chinese computer giant Lenovo Group has made another step towards becoming a more significant world player, fully endorsing the adoption of genuine software in its computers in partnership with US giant Microsoft and Chinese top software firms UFIDA and Kingsoft.
China's hospitality industry represents tremendous potential but may face a number of challenges, a group of chief executive officers and industry watchers said on Monday at the 17th CEO roundtable, with the theme "Hotel and Tourism Development in China," organized by China Daily.

Christopher Bachran (left), president of Jin Jiang International Hotel Management Co Ltd and the honorary chairman of the 17th China Daily CEO Roundtable, delivers a speech at the roundtable as Ralph Grippo, vice president and area general manager of the Portman Ritz-Carlton Shanghai, looks on.

Christopher Bachran (left) and Peter Alatsas, general manager of the Westin Shanghai Hotel exchange views before the 17th China Daily CEO Roundtable.
Banca Lombarda, an Italian lender, and United States-based investment firm Lord Abbett are planning to become the first foreign investors to take control of Chinese fund management ventures as they tap into the country's US$50 billion (HK$390 billion) industry.
Arnold Schwarzenegger started the business portion of his China trade mission by focusing on renewable energy, praising a Silicon Valley-designed solar chip as part of "the future" of energy efficiency in China and at home.
November 16, 2005

Hong Kong: Telefonica, Spain's biggest phone operator, will double its stake in China Netcom Group (Hong Kong) to 10 percent to increase its presence in the country's large but uncertain telecommunications market, informed sources said.

Property investment: A woman takes a prospectus for the public offering of LINK REIT in Hong Kong yesterday. The Hong Kong government plans to allocate more than 60 per cent of the HK$220 billion (US$28 billion) Link Real Estate Investment Trust IPO to local investors, should there be good demand, a top official said on Sunday. The offering, the world's largest IPO by a property trust, had attracted a record HK$280 billion (US$36 billion) in orders from Hong Kong residents.
New Heritage Holdings, a mainland property developer, aims to raise up to HK$148 million from a Hong Kong initial public offering to expand and repay debts, sources familiar with the deal said.
Panva Gas Holdings, in which Li Ka- shing's Hutchison Whampoa owns a stake, will invest 800 million yuan (HK$768 million) to one billion yuan in six to eight projects over next year, after its expansion strategy helped lift its nine-month profit by 29 percent.
ZTE, China's second-largest phone equipment maker, unveiled plans to convert its nontradable shares into tradable securities in a move that will see holders of its Shenzhen-listed A shares - but not holders of its Hong Kong-listed H shares - compensated for the dilution of their holdings with free stock.
Hong Kongers need to remain vigilant over security, but not because of Sunday's warning from the United States Consulate General of a terrorist threat to Americans traveling to Guangzhou, a senior policeman said.
The Chief Executive said on Tuesday he has appointed 153 members of the public — including pro-democracy lawmakers — to join the government's largest advisory body that will study how to make the Chinese territory fully democratic.
Secretary for Commerce, Industry and Technology John Tsang Chun-wah on Tuesday stressed the importance of next month's World Trade Organisation meeting in Hong Kong for resolving pressing international trade issues.
The government on Tuesday said the Director of Agriculture, Fisheries and Conservation Thomas Chan Chun-yuen would become permanent secretary for Housing, Planning and Lands on January 3 next year.

China: President Hu and Spanish PM Zapatero announced the establishment of a comprehensive strategic partnership between the two countries.

Chinese President Hu Jintao (L2) attends the welcome ceremony held by Spanish King Juan Carlos I (R2) in Madrid, Nov. 14, 2005. Hu said in a banquet held by Spanish King Juan Carlos I that furthering bilateral relations between China and Spain is in the fundamental interests of both peoples. Hu arrived here Sunday for a state visit, which aims to expand cooperation between China and Spain.
Technicians do the welding after connecting the oil pipeline linking China and Kazakhstan in the Alataw Pass Monday November 14, 2005.
During Chinese President Hu Jintao's visit to Germany, Siemens chief executive Klaus Kleinfeld and Chinese Railway Minister Liu Zhijun signed in Berlin on Nov. 10. a deal worth 669 million euros on 60 high-speed trains.

Arnold Schwarzenegger, the millionaire movie star and governor of the US state of California, poses with Chinese athlete Yang Yan at a torch relay ceremony for the Special Olympics.
Willis Group, the world's third largest insurance broker, told China Daily yesterday that it has received written approval from the China Insurance Regulatory Commission (CIRC) to increase its stake in Willis Pudong Insurance Brokers Co to 51 per cent, the first foreign insurance broker to hold a majority share in a fully licensed broking operation in China.
China Petroleum & Chemical Corporation (Sinopec) will pay HK$7.672 billion (US$784 million) to buy shares of Sinopec Zhenhai Refining & Chemical Co Ltd (ZRCC) it does not yet own, to streamline its corporate structure and eliminate intra-group competition, the two companies said.
The government of Shenzhen, where home prices have jumped as much as 15 percent this year, have tightened rules on property sales in a direct swipe at speculators who have defied central government efforts to crimp their activity.
China is not doing enough under its WTO commitments, particularly in the areas of market access and protection of intellectual property rights, US Trade Representative Rob Portman said in Beijing yesterday.
November 15, 2005

Hong Kong: GOME Electrical Appliances Holdings, China's largest home appliances retailer, posted a jump of 34 per cent in year-on-year revenue from January to September as the number of its outlets grew amid China's robust consumer demand.
US officials Sunday warned Americans traveling in South China that they could face terrorist attacks in clubs, restaurants, churches or schools.

Link REIT, the world's biggest publicly traded real estate investment trust, has relaunched its initial public offering after being delayed by a lawsuit last year. It gives retail investors inducements including a bigger discount to the offer price than last year and a much greater allocation.
Lane Crawford plans to open wholly owned department stores in the mainland in the next two to three years to cash in on the liberalization of the country's retail sector.
Hutchison Whampoa, Li Ka-shing's flagship company, is facing a challenge to meet the December spin-off target for its Italian mobile telecom unit, 3Italia, on the Milan stock exchange, but the group is still confident of completing the share sale by February at the latest.
Hong Kong's last governor Chris Patten says he was lucky not to have faced the Asian economic crisis — which plunged the economy into a recession in the late 1990s.
The 21 Apec members fear that next month's WTO meeting in Hong Kong could collapse, causing the failure of five years of negotiations on trade liberalization.
Mainland companies and power generators are set to tap into a market worth at least US$400 million a year by reducing their greenhouse gas emissions, something the government is already encouraging through preferential policies.
Astronauts Fei Junlong and Nie Haisheng , who completed a historic five-day space mission last month, will visit Hong Kong on November 27.

China: President Hu Jintao (R) met with Honorary President of the Int'l Olympic Committee (IOC) and Spain-side chairman of the China-Spain forum Juan Antonio Samaranch (L) in Madrid, on Nov. 13, 2005. President Hu arrived here Sunday for a state visit, which aims to expand cooperation between China and Spain.
A constructor is working at the construction site of Jinping No.1 Hydropower Station on the Yalong River. The construction of the station kicked off on Nov 12. The station, with installed capacity of 3.6 million kilowatts will generate 16.62 billion kilowatt-hours annually.
During Chinese President Hu Jintao's visit to Germany, Siemens chief executive Klaus Kleinfeld and Chinese Railway Minister Liu Zhijun signed in Berlin on Nov. 10. a deal worth 669 million euros on 60 high-speed trains.
China's combined imports and exports hit US$1.148 trillion in the first 10 months of this year, approaching last year's total, according to the latest statistics published yesterday.

Residents stop to watch thick smoke billowing from the No 101 Chemical Plant of Jilin Petrochemical Company after a blast that wounded nearly 70 people in Northeast China's Jilin Province. The explosion in the city of Jilin forced the evacuation of more than 10,000 as a precaution against more explosions and pollution. (Inset): An armed policeman, who was wounded during rescue work, is taken for treatment.
A Spanish civil guard (left) looks on as Chinese community and business leaders hold flags and a banner welcoming President Hu Jintao to Spain as they await his arrival at Madrid airport yesterday. Hu arrived in Spain for a two-day state visit. The banner reads: "We warmly welcome President Hu Jintao."
Acorn International, China's largest television home-shopping company, plans to raise between US$100 million and US$150 million (HK$780 million and HK$1.17 billion) in an initial public offering on the US Nasdaq, market sources said.

Hu Jintao and his wife are presented with a miner's lamp by a mine technician during a visit to Germany's industrial Ruhr valley.
November 14, 2005

Hong Kong: The H5N1 bird flu virus provokes an excessive immune reaction so deadly that it overwhelms the patient's defenses and it appears to disproportionately affect the young, according to a study by a Hong Kong University team published in the online medical journal Respiratory Research.
Gross sales of Hong Kong's retail funds jumped 41 percent in the third quarter to US$3.78 billion (HK$29.48 billion), driven by equity funds and solid economic growth, the Hong Kong Investment Funds Association said.
Small developers have shied away from the Kowloon-Canton Railway Corp's tender for the development of residential property atop Tai Wai station, even though it has been divided into two packages to ease the cost burden.
Hong Kong Exchanges and Clearing, which runs the city's stock and futures markets, said it is trying to figure out what went wrong in its futures and options trading system that delayed the opening of futures trading by almost one hour Friday.
The Hang Seng China Enterprises Index, which tracks the value of H shares of mainland companies listed in Hong Kong, will no longer be calculated based on the total market value of constituent companies but instead will be based on the value of their free-floating shares, subject to a 15 percent cap.

China: China's combined imports and exports hit US$1.148 trillion in the first 10 months of this year, approaching last year's total, according to the latest statistics published yesterday.
China denied that Islamic extremists plan to attack luxury hotels in Beijing, describing such reports as "false news."

Chinese President Hu Jintao (R2) and his wife Liu Yongqing (L2) pose with German President Horst Koehler (R1) and his wife Eva before a welcoming ceremony at the Charlottenburg Palace in Berlin, capital of Germany, Nov. 10, 2005. Hu is on a three-day state visit to Germany with the aim to promote bilateral partnership.

Beijing unveiled a set of five doll mascots for the 2008 Olympic Games Friday evening, exactly 1,000 days before the event's opening ceremony. The long-anticipated mascots, which embody the natural characteristics of four of China's popular animals -- the Fish, the Panda, the Tibetan Antelope, the Swallow -- and the Olympic Flame, were presented at a televised grand ceremony inside the Workers' Gymnasium.

Wu Bangguo(C), chairman of the Standing Committee of China's National People's Congress (NPC), Akil Akilov(L), Prime Minister of Tajikistan, and D.F. Mezentsev, vice chairman of the Federal Council of the Federal Assembly of Russia , attend the opening ceremony of the First Euro-Asia Economic Forum held in Xi'an, capital of northwest China's Shaanxi Province, on Nov. 10, 2005.

Changhong recorded a net profit of 260 million yuan (US$32.5 million) during the January-September period. It has generated 6.32 billion yuan (US$790 million) from its TV business. Its revenues from IT-related products in the period amounted to 1.4 billion yuan (US$175 million), compared to less than 100 million yuan (US$12.5 million) at the end of last year
State-owned Kuwait Petroleum Corp (KPC) said it is in talks with Sinopec, BP and Shell about building a joint-venture refinery with a daily crude processing capacity of 300,000 barrels in South China's Guangdong Province.

Chairman of Hainan Airline Group, Chen Feng, receives a warm welcome yesterday at Haikou Airport after receiving Asia's best business leader award for 2005 on Wednesday in Malaysia. The group's assets have increased to 42.3 billion yuan (US$5.21 billion) from 10 million yuan (US$1.23 million) in 1993 when it was set up.
PetroChina, the mainland's largest oil producer, will insure 13 members of its board of directors against financial liability in light of stricter stock exchange rules on executive responsibility for corporate governance, company sources said.
November 11 - 13, 2005

Hong Kong: Stanley Ho's Sociedade de Jogos de Macau (SJM) has invited investment banks to submit proposals for an initial public offering of up to HK$7.8 billion in Hong Kong, said sources familiar with the situation.

Government plans to redevelop Kai Tak were criticized Wednesday for lacking vision and failing to realize the potential of the scenic harborfront location of the former airport.
Hong Kong stocks witnessed their biggest one-day gain in more than a month Wednesday, climbing 1.35 percent, with recent laggards gaining ground and newly listed China Construction Bank surging above its IPO price for the first time.
Hong Kong Exchanges & Clearing, which runs the city's stock and futures markets, said its nine-month profit jumped 29 percent on higher turnover in both cash and derivatives markets, higher listing fees and stronger investment income.
Cheung Kong Infrastructure, a unit of billionaire Li Ka-shing's Cheung Kong (Holdings), said it may spin off more assets outside Hong Kong to unlock higher values, as the company unveiled the listing plan for its Australian power business.
A senior immigration assistant of the Immigration Department has been charged by the Independent Commission Against Corruption for alleged misconduct over the unauthorized use of arrival and departure chops to help mainlanders stay illegally in Hong Kong.
PCCW aims to boost revenue from its Now Broadband TV service by encouraging subscribers to install several high-definition television (HDTV) sets to soak up the increased bandwidth from a planned 25 megabits per second (mbps) upgrade.
Hong Kong's first legitimate internet movie downloading service will be launched next month, but the film industry is sceptical about its feasibility.
PCCW aims to boost revenue from its Now Broadband TV service by encouraging subscribers to install several high-definition television (HDTV) sets to soak up the increased bandwidth from a planned 25 megabits per second (mbps) upgrade.

China: Chinese President Hu sent a message of condolence on Wednesday to Jordanian King Abdullah II on the heavy casualties caused by explosions in Amman.
President Hu Jintao is set to pay his first official visit as head of state to Washington next year, a reciprocal mission after George W. Bush's China trip next week, sources have told the South China Morning Post.

President Hu Jintao (R2) and his wife Liu Yongqing (L2) pose for a group photo with British PM Tony Blair (R1) and his wife Cherie Booth (L1) in Downing Street in London, capital of UK, Nov. 9, 2005. Hu and Blair reached vital consensus on promoting the existing comprehensive strategic partnership to a higher level. President Hu Jintao and British PM Blair reached vital consensus on Wednesday on promoting the existing comprehensive strategic partnership to a higher level.

Britain's Prime Minister Tony Blair toasts President Hu Jintao at No 10, Downing Street in London yesterday. Britain and China signed US$1.3 billion worth of business deals during Hu's visit.

One of Chen Yifei's masterpieces which sold for 2.97 million yuan (US$367 ,000) in a 1999 auction.

Chinese Premier Wen Jiabao visits medical and epidemic control staff in a medical station in Yingfang Village, Zhen'an Town of Heishan County in northeast China's Liaoning Province, Nov. 9, 2005. Wen called on the nation to intensify efforts to fight bird flu as the country is facing a "very serious situation" in controlling the epidemic.
The People's Bank of China said Wednesday the country's increased money supplies for this year is forecast at 2.3 trillion (283 billion US dollars) to 2.5 trillion yuan (308 billion US dollars), or up about 17 percent.

Pedalling of products finishes: A fashionable bike attracts visitors to the seventh Shanghai International Industry Fair, which concluded yesterday. The five-day show attracted 1,298 companies which displayed their latest technologies and products.
China may sell a US$1 billion (HK$7.8 billion) stake in its biggest bank to Abu Dhabi and Kuwait government investment funds to help strengthen ties with oil producers, people familiar with the matter said.

Alibaba chief executive Jack Ma says he has been given three years by Yahoo co-founder Jerry Yang to turn around the struggling Yahoo China operation. Yahoo China's search engine services had a 32 per cent market share on the mainland in the first quarter, as measured by search queries, according to iResearch. Leader Baidu had a 37 per cent share. Mainland internet giant Alibaba will commit all of its considerable resources to take on search engines Google and Baidu in the China market, chairman and chief executive Jack Ma said yesterday.
November 10, 2005

Hong Kong: HONG KONG: Wumart Stores Inc, one of China's biggest retailers, posted yesterday a 55 per cent jump in its net profit, as the mainland's consumption spree continues.
Shui On Land, Vincent Lo's mainland property arm, plans to raise up to HK$7.8 billion in an initial public offering in the first quarter of next year in what is set to be the largest property IPO in Hong Kong to date, sources said.
China Aviation Oil, the Singapore- based company whose US$550 million (HK$4.29 billion) derivatives trading loss drove it to the brink of bankruptcy last year, is in talks with several potential investors, possibly including oil major BP.
The battle intensified Tuesday over who will pay to clean up Hong Kong's smog-filled air and how quickly action can be taken, with CLP Power laying down demands in response to calls to lower its emissions.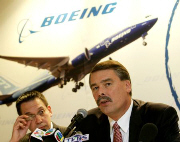 Lars Andersen, vice-president, programme manager of 777 program at Boeing Commercial Airplanes, talks to reporters during a press conference in Hong Kong on Wednesday. Boeing attempts to break a world record on Wednesday by flying its new long-distance 777-200LR plane non-stop from Hong Kong east to London, farther than any previous commercial jet.

China: China and the UK have important historical responsibilities and broad common interests in safeguarding world peace and promoting common development. China and the United Kingdom have a great potential to tap in bilateral trade and investment, China's Minister of Commerce Bo Xilai and his British counterpart Alan Johnson, Secretary of State for Trade and Industry, said in London on Tuesday.

British Queen Elizabeth (1st L, front) stands with Chinese President Hu Jintao (2nd L, front) and his wife Liu Yongqing (3rd L, front) at the Horse Guards Parade in London, Nov. 8, 2005. President Hu arrived in London Nov. 8 to pay a state visit to Britain at the invitation of British Queen Elizabeth II.

President Hu Jintao receives a warm welcome at a ceremony hosted by Britain's Queen Elizabeth II at Buckingham Palace after his arrival in London yesterday. Hu was on the first day of a three-day official state visit to Britain.
US President Bush said the relationship between China and US is "important" and "good," and that he is looking forward to visiting China once again.


Chinese Minister of Commerce Bo Xilai (L) shakes hands with US Trade Representative Rob Portman in London, Nov. 8, 2005, after signing a memorandum of understanding on trade in textile and apparel. It is probably fair to say that the economic and trade ties between China and US are the most complicated economic and trade ties that the world has ever seen in the recent 30 years. Since 2003, frictions over textile have been a hot issue for the China-US economic and trade relations.
The China Southern Power Grid Company will supply Vietnam with annual electricity of 1.3 billion kwh in a purchase term of ten years, said sources with the State-owned Assets Supervision and Administration Commission.
NetEase.com Inc, China's second largest online game operator, saw its net profit jump 137 per cent in the third quarter from a year earlier, but its share price fell as that figure was below investors' expectations.
November 9, 2005

Hong Kong: The Hong Kong Monetary Authority's Exchange Fund, which backs the territory's currency peg to the US dollar and is a source of government revenue, may fail to meet its targeted returns for the government this fiscal year as market conditions worsen, according to HKMA chief executive Joseph Yam.
A parcel bomb attack on a leading Chinese-language newspaper office, which injured two employees, drew widespread condemnation Monday.

The Hong Kong government's Link REIT, or real estate investment trust, plans to offer retail investors a larger discount in its second attempt to list shares on the city's stock exchange, sources familiar with the situation said.
Shenzhou International Group Holdings, the top mainland knitwear exporter, and China's third-largest wheel loader, China Infrastructure Machinery Holding, have relaunched their Hong Kong initial public offerings at lower pricings, hoping to complete the listings this month as market conditions improve.
Parkson Retail Group, a major department store operator in the mainland, plans to spend almost one billion yuan (HK$959 million) from its HK$1.95 billion Hong Kong initial public offering to expand over the next three years, according to a report by its IPO lead manager.
Kerry Properties, controlled by the family of Malaysian tycoon Robert Kuok, outbid fellow Hong Kong developer Sun Hung Kai Properties to buy a prime site beside Hangzhou City's West Lake, in Zhejiang province, where it will build commercial properties.
One of Hong Kong's largest class actions, filed by more than 3,000 Correctional Services Department officers who want an estimated HK$650 million compensation for what they allege was unpaid overtime work was unanimously dismissed by the Court of Appeal Monday.

Students use signboards to spell out the University of Hong Kong's name at the launch of the facility's "global lounge". The launch was attended by heads of 15 universities from seven countries. The purpose-built lounge will provide a focal point for cross-cultural mixing between international and local students at HKU. It includes an internet cafe, international news in print and on TV, and information and advice about exchange programs.

China: President Hu Jintao left Beijing Tuesday for a state visit to Britain, Germany, Spain and the Republic of Korea (ROK).
Chinese president Monday called on the international community to improve cooperation in R&D, technological transfer for the use of renewable resources.
According to its first report on the country's financial stability, the central bank said China needs to pay special attention to 10 major problems facing the country in order to maintain financial stability.
In the coming 15 years, China will actively develop biomass liquid fuel with crops to reach the capacity of replacing ten million tons of petroleum each year. It plans to expand the heat collection area of solar heater to 300 million cubic meters by 2020, replacing about 40 million tons of standard coal annually.
The sale of software rose 19.1 percent in the period to 15 billion yuan and the IT service market was 22.059 billion yuan, up 18 percent year-on-year.

A saleswoman displays a bottle-opener with the pattern of Chinese traditional opera's facial makeups at a store in Jinan, capital of east China's Shandong Province, Nov. 5, 2005. Such bottle-openers are quite popular in the market because of its unique design and bright colors.
Pet-bird vendors sit by empty cages at a bird market in Beijing yesterday after the capital city ordered the shutdown of all live poultry and pet-bird markets.
China and the United States are close to an agreement on the textile frictions, with hopes that the two-way textile trade situation will soon be stabilized.
Xi'an Aircraft Industry (Group) Company Ltd (XAC), one of the largest plane manufacturers in China, delivered its first special freight parts to Boeing 747-400 yesterday in the capital of Northwest China's Shaanxi Province
The United Nations Development Programme (UNDP) and Arcelor, the world's second-biggest steel maker based in Europe, yesterday signed a Memorandum of Understanding (MOU) to strengthen public-private partnerships and promote sustainable development in China.
Foreign strategic investors are now allowed to buy China's tradable A-shares in addition to buying through the incumbent Qualified Foreign Institutional Investors (QFIIs) system, according to a joint announcement issued late last Friday by the Ministry of Commerce and China Securities Regulatory Commission (CSRC).
Sohu.com Inc has been chosen as the official sponsor of Internet content services for the Beijing 2008 Olympic Games.
Norstar Automobile Industrial Holdings, a unit of China's second-largest car parts maker, has increased to US$96 million (HK$748.8 million) a three- year syndicated loan aimed at refinancing an existing loan and general working capital, bankers said.

A wall of containers dominates the port area in Shanghai. Despite the Shanghai government's offer to give container trucks toll-free access to Yangshan's deepwater port, some shipping firms are unimpressed. "I think barges would be more economical. I can ship 200 to 300 containers in each barge, which would take 200 to 300 trucks to do so," said Wang Rongliang, general manager at SITC Development Holding, the mainland's third largest shipper. Others worry that Shanghai's traffic will hinder throughput at the US$12 billion facility, which opens next month.
November 7 - 8, 2005

Hong Kong: Manulife Financial, whose Hong Kong unit outpaced the group in third-quarter profit growth, plans to expand its sales force in the city by more than half in the next five years.

Police will undertake their largest operation yet to maintain order during the World Trade Organization's Sixth Ministerial Conference next month. "This is unprecedented. It's a very, very large operation," police spokesman Chief Superintendent Alfred Ma said Friday. Citing "specific intelligence," he said violent protests are possible and that "the public order risk assessment is high." The entire 27,000-strong police force will be put on high alert, all vacation will be cancelled and officers will work 12-hour shifts during the event.

The Hong Kong government hopes to announce a merger of its commuter rail operators, Kowloon-Canton Railway Corp and MTR Corp, next year, said Secretary for Financial Services and the Treasury Frederick Ma. "Talks on merging the two rail operators have reached the final stage," Ma said Friday in Shenzhen. "We hope the companies will reach an agreement before the end of this year and we can make an announcement in 2006 after approval by the Executive Council." The merger has been under discussion since mid-2002. According to a report by Credit Suisse First Boston, the government favors a partial merger under which MTRC will operate and maintain KCRC's lines, though KCRC will retain ownership of the assets.
Police have been given the go-ahead to conduct tests on the handwritten final will of the late Teddy Wang in the ongoing investigation of his wife Nina Wang for forgery and perjury, despite the top court's opinion that the will is good enough to grant her a multi-billion business empire.
Larry Yung, chairman of Citic Pacific, the Hong Kong arm of the Chinese government's main investment company, is the mainland's wealthiest tycoon, the United States business magazine Forbes says in its latest China "rich list."
China Merchants Securities (HK) chairman Yu Weijia (left) and parent company director and president Yang Jun announced plans yesterday to increase capital to fund business expansion. Detailing the plans at the Island Shangri-La Hotel, Admiralty, Ms Yang said the Shenzhen-based parent firm and its Hong Kong unit planned to increase capital through such channels as bank loans and debts. "Now we have the formal approval from regulators, we plan to increase our capital and move towards bigger clients," said Mr Yu.
Competition pressure forced 12 lenders to ignore the banking regulator's criticism and raise their interest rates by 50 basis points yesterday.
Hong Kong's legal profession hoped restrictions on them practising in the mainland could be relaxed further, Secretary for Justice Wong Yan-lung told a lawyers' forum in Tianjin on Friday.
Prosperity Reit has encountered an unexpected delay to its listing schedule as regulators have decided to take another look at some issues of the real estate investment trust that were believed to have been cleared, a source said.
American gaming magnate Sheldon Adelson's Las Vegas Sands continues to muscle in on Macau's lucrative high-roller market at the expense of former monopolist Stanley Ho Hung-sun and Hong Kong tycoon Lui Che-woo's flagship Galaxy Entertainment Group.

China: China and Russia yesterday reaffirmed that the construction of a cross-border crude oil pipeline will go ahead as per an earlier agreement and vowed to enhance energy co-operation.

Chinese Premier Wen Jiabao and Russian Prime Minister Mikhail Fradkov held the 10th regular meeting between Chinese and Russian prime ministers in Beijing on Nov. 3. Chinese and Russian prime ministers drew up a blueprint of goals for future bilateral cooperation, highlighting the results already achieved.
The UN Conference on Trade and Development (UNCTAD) released on November 2 a report on developing countries in international trade 2005, publishing the latest ranking of various countries in trade and development.
The richest on the Chinese mainland are getting richer there are 10 billionaires this year in Forbes magazine's annual ranking of the nation's wealthiest people compared with three last year.
By the end of last year, China had over US$10 billion in foreign exchange in its insurance sector. This mainly comprised: The funding three domestic insurers received from overseas listing; US$3.5 billion raised by China Life in Hong Kong and New York in 2003; US$800 million raised by PICC P&C in Hong Kong in 2003; US$1.84 billion raised by Ping An in Hong Kong in 2004. Foreign exchange stakes and operating capital from foreign insurers in China. Proceeds from foreign currency insurance products of domestic insurers.
XI'AN: Northwest China's high-tech centre aims to tap into the promising business process outsourcing (BPO) market, in order to differentiate itself from leading Chinese information technology (IT) cities, as the wave of IT outsourcing sweeps the country's software parks.

Farewell to 'red capitalist': Dignitaries attend the funeral of former vice-president Rong Yiren at the Babaoshan Revolutionary Cemetery in Beijing yesterday. Rong, dubbed China's "red capitalist" and once its richest man, died from an unspecified disease in Beijing on October 26 at the age of 89. The founder of the China International Trust and Investment Corp, Rong played a key role in the 1980s economic reforms pioneered by late paramount leader Deng Xiaoping.
US software giant Computer Associates (CA) has vowed to change its slow progress in the Chinese market with a large increase in investment and a stabilized management team, said its chief operation officer Jeff Clarke on a visit to its top strategic market.
Industrial and Commercial Bank of China, the mainland's largest financial institution, and Germany's Deutsche Bank plan to jointly develop corporate and investment banking projects.

A robot plays a harp at the Shanghai International Industry Fair on Friday. The fair showcases China's industrial achievements.
November 4 - 6, 2005

Hong Kong: Flat prices in the secondary market will fall between 5 and 8 percent in the fourth quarter, developers and real estate agents said Wednesday after some Hong Kong banks lifted their best lending rate by half a percentage point in the wake of a smaller increase in the United States.

For the first time, a government minister gave a detailed breakdown of the HK$25 billion it has spent so far to get the Disneyland Hong Kong theme park up and running, and then startled lawmakers by saying the government might ultimately sell its share. Less than two months after Disneyland Hong Kong opened, Frederick Ma said Wednesday that the government could sell off its 57 percent share in the theme park.
Shandong Luoxin Pharmaceutical, a drugmaker based in China's Linyi city, plans to raise HK$60 million from its first share sale on Hong Kong's second board, to boost production capacity, a market source said.
China Shipping Group, parent of Hong Kong-listed China Shipping Container Lines and China Shipping Development, is in talks to buy a controlling stake in Shanghai-based cargo carrier Yangtze River Express to fulfill its aim to become an integrated transportation firm.
The thorny issue of a timetable for universal suffrage will be handled by a government-appointed political body under the Commission on Strategic Development, Secretary for Constitutional Affairs Stephen Lam said.
Hong Kong and China's southern Guangdong province agreed Thursday to boost surveillance of bird flu to better combat the disease amid recent reports of outbreaks on the mainland and in Europe.

Some of more than 50 performers from 18 countries take part in a full dress rehearsal of Cirque du Soleil's Quidam last night at Cyberport. The 2-1/2-hour show, a combination of acrobatics, live music and special effects, opens today. The South China Morning Post is the print media partner of Quidam, which is a Latin word meaning anonymous passerby.

China's banking sector was improving but still faced a long road ahead in terms of reform, central bank governor Zhou Xiaochuan said yesterday. He added that it was too soon to be complacent about the health of the sector, despite progress made in the past five years.

China: US president George W. Bush will meet with Chinese leaders during his upcoming visit to China, said FM spokesman Kong Quan on Thursday.
By the end of June this year, the number of Chinese netizens had reached 103 million, including 53 million broadband users and 49.5 million people having access to Internet through dialing.
Sony China Ltd. held an introduction conference on Nov. 2 for four new modes of Sony Cyber-shot for the autumn and winter of 2005. Sony's big shot this time includes the year's most characteristic DSC-R1, DSC-N1, DSC-T9 and DSC-M2.
The World Bank said Thursday China's economy is expected to grow by 9.3 percent in 2005, and will slow down to 8.7 percent next year.
Two thirds of foreign businesses in China have made profits and two fifths of multinational enterprises in China have reported a profit margin larger than their global average, a leading Chinese entrepreneur said in Haikou Wednesday.
China's fight against bird flu received a strong shot in the arm yesterday the government has earmarked a special fund of 2 billion yuan (US$246.6 million) for epidemic control.
Agere Systems, the world's leading chipmaker, is gearing up to strengthen its research and development capabilities in China as well as its co-operation with Chinese high-tech and telecommunications companies.
DaimlerChrysler Financial Services, the finance arm of the German-US auto giant, yesterday kicked off operations in China with the official opening of a wholly-owned subsidiary in Beijing.

Interspar enters Henan: Gorden Campbell from the European supermarket giant Interspar examines goods on sale on Tuesday in an outlet of Star Group, a local chain store giant in Zhengzhou, Henan Province. Interspar will co-operate with Star to set up two of its outlets in the province this year.
Beijing Yanjing Brewery, which dominates the capital's beer market, said it has entered the bidding for control of Fujian Sedrin Brewery, whose assets exceed 1.1 billion yuan (HK$1.05 billion).
November 3, 2005

Hong Kong: The Hong Kong Monetary Authority (HKMA) will continue to work with the People's Bank of China in exploring the proposals for trade settlement in RMB and the issuance of RMB bonds in Hong Kong.

Improving the current RMB business arrangement: Designated merchants eligible for RMB business have been expanded to include those engaged in the provision of transportation, telecommunication, medical and educational services. The People's Bank of China (PBOC), the nation's central bank, announced new steps yesterday to allow Hong Kong lenders to do more yuan-denominated business, giving them a greater opportunity to tap into the mainland's rosy economy. Hong Kong banks will soon be able to accept yuan deposits from some local merchants, clear yuan checks for local individuals and raise limits on yuan credit cards and transfers - but banks see few significant benefits for themselves or the local economy. Hong Kong lenders were not impressed with the People's Bank of China's announcement yesterday that it would widen the scope for them to do business in yuan, saying the concessions were less than expected and would yield little profit.

Lenovo Group Ltd, the world's third largest personal computer (PC) maker, posted a 22 per cent jump in its earnings in the July-September quarter, thanks to strong growth in the emerging marketplace. But investors knocked its shares down 7.2 percent as the lower profitability of the IBM personal computer business it acquired in May hurt the Chinese firm's overall margins.
Arguing that Hong Kong faces unprecedented security risks during next month's World Trade Organization talks, the government has asked the Legislative Council to give the chief of police sweeping powers to stop protests.
Container liners may be facing the end of a three-year upturn based on soaring Chinese trade, with the cyclical shipping business already at a peak and in doubt on how long present freight rate levels will last, Orient Overseas (International) chairman CC Tung said.

China: Russia and China are considering a joint project to study the moon, a senior Russian official said in a report made available to China Daily Tuesday.

Hu Jintao, general secretary of the Central Committee of the Communist Party of China (CPC) and president of China, delivers an important speech in Hanoi, capital of Vietnam, on November 1, 2005. Hu arrived here on Monday for a three-day official goodwill visit to Vietnam. The visit to Vietnam by General Secretary of the Central Committee of the Communist Party of China (CPC) and Chinese President Hu Jintao is "successful". The land border demarcation will be finished and a new border administration document signed by 2008 on schedule. China and Vietnam on Wednesday expressed satisfaction over their economic and trade relations, pledging to bring their bilateral trade volumes to 10 billion US dollars by 2010.
GE Healthcare yesterday announced a US$37.5 million investment to extend its production facility in Shanghai in order to meet increasing customer demand in China and throughout the globe.
PetroChina, the nation's biggest oil producer, is to buy back all the public shares of its three listed subsidiaries based in northeastern China for 6.15 billion yuan (US$758 million). Analysts say the move is aimed at improving standards and paves the way for an integrated listing on the Chinese A-share market.
Kunlun Lubricant Oil, a subsidiary of PetroChina, aims to increase its market share in China to 60 per cent by 2010 from the current 50 per cent. It wants to do this through an investment of 2 billion yuan (US$246.6 million), focused on branding integration and improving its sales network.
Relatives of 20 people killed in last year's China Eastern Airlines plane crash in Baotou, Inner Mongolia, have filed a civil suit in a US court against the carrier and makers of the aircraft and its engine.
November 2, 2005

Hong Kong: The new supplement to the Closer Economic Partnership Arrangement, commonly known as CEPA III, will be extended to Hong Kong's film sector, said industry players and analysts.
China Haisheng Juice Holdings Co Ltd (China Haisheng) is expected to raise HK$311 million (US$40 million) at most by offering 305.55 million shares at an indicative price ranging from HK$0.82 to HK$1.02 per share. Meanwhile, machine manufacturer China Infrastructure Machinery Holdings Ltd (CIMH) is also offering a total of 300 million shares with a price range between HK$1.51 and HK$1.94 per share, to amass as much as HK$582 million to fuel its growth.
Hong Kong Disneyland is seeking a syndicated loan of about HK$3.2 billion to refinance a similar-sized loan taken out in 2000 to partially fund construction of the theme park, said a source familiar with the situation.
With fears of a global bird flu pandemic rising, pressure is mounting on government to revive its controversial plan to set up a centralized poultry slaughterhouse to help control the spread of the disease in Hong Kong.

Cheung Kong (Holdings), Hong Kong's largest real estate developer by market value, aims to almost double to HK$7.8 billion the size of its planned Prosperity REIT, which at present comprises HK$4 billion worth of commercial and industrial properties, mostly in Kowloon.
Hutchison Telecommunications International Limited, the emerging markets telecoms arm of Li Ka-shing-controlled Hutchison Whampoa, is in talks to sell its majority stake in Israel's second- largest mobile operator, one of the prospective buyers said.

China: On Oct. 27,2005, the amendment of the Corporate Law of China was adopted in majority by the Standing Committee of the 10th National People's Congress at its 18th session (go to our trade issues page for details)

Hu Jintao (C), general secretary of the Central Committee of the Communist Party of China (CPC) and president of China shakes hands with Nong Duc Manh (R), general secretary of the Central Committee of the Communist Party of Vietnam (CPV) and Vietnamese President Tran Duc Luong (L) during their meeting in Hanoi, Vietnam Oct. 31, 2005.

ATM machine for VISA at the Forbidden City Museum in Beijing, capital of China, on Oct. 31, 2005. The ATM machine was the one-millionth ATM machine for VISA in the world which brought into use in Beijing on Oct. 31.
China and Chile are expected to sign the agreement on trade of cargo during the Asian and Pacific Economic Co-operation (APEC) meeting scheduled to be held this month in South Korea.
The world's oldest observatory, dating back about 4,100 years has been discovered in North China's Shanxi Province, Chinese archaeologists have said.
Big emerging markets like China and India will play a significant role for the growth of the US software big name Autodesk, which has led to the firm's decision to set up a China-India operation, said the company's chief Carol Bartz in Beijing.
China Eastern Airlines, the mainland's third-largest airline, more than doubled its third-quarter profit, thanks to the July revaluation of the yuan and revenue from recent acquisitions.

A bank official shows members of the public how to tell the difference between genuine yuan banknotes and counterfeit cash in Guiyang, Guizhou province. Banks in the city have teamed up to launch a campaign aimed at fighting counterfeit currency.
November 1, 2005

Hong Kong: Improper maintenance of sewage drain pipes and bathroom traps may accelerate the SARS-like spread of avian flu during a pandemic, a leading Hong Kong microbiologist said Sunday.

Chitaly Holdings, a Hong Kong-listed furniture maker, plans to invest HK$100 million in a new plant in the next three to five years, which could double its sales to HK$ 1.2 billion from last year's HK$404 million.
Cheung Kong (Holdings) and Hutchison Whampoa will subscribe up to a combined 29 percent in Prosperity REIT, a portfolio of seven properties worth HK$4 billion that is expected to become the first real estate investment trust to be listed in Hong Kong.
Hong Kong will spend more than HK$1 billion building an international standard sports ground and upgrading existing sports venues for the 5th East Asian Games, to be staged in the SAR in 2009.
Constant accusations of collusion between government and big business in large-scale public-private partnerships - such as Cyberport and the West Kowloon Cultural District - has led to Independent Commission Against Corruption involvement in such projects.

Witches, vampires and mummies come out to embrace the city with Halloween "spirits" last night in Harbour City, Tsim Sha Tsui.
Hong Kong may relax its recruitment freeze on civil service jobs over the coming two years, Secretary for the Civil Service Joseph Wong Wing-ping said on Monday.
Leading Shanghai restaurant chain Nanxiang Steamed Bun Restaurant opened its first restaurant in Hong Kong on Monday.

Monetary authority chief Joseph Yam co-leads a team of bankers to China that may come back with good news for Hong Kong.
China's central bank is likely to announce details of the next phase of liberalisation of yuan business that can be done by Hong Kong lenders during the annual visit to Beijing this week by a delegation from the Hong Kong Association of Banks (HKAB), say local bankers.

China: Hu Jintao, general secretary of the CPC Central Committee and president of China, arrived in Hanoi Monday for an official goodwill visit to Vietnam.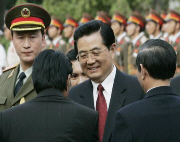 President Hu Jintao talks with Vietnamese officials after reviewing an honour guard at the Presidential Palace in Hanoi on Monday. Mr Hu arrived in Vietnam on a mission to expand already booming trade ties between the two countries, as the Vietnamese look to China as a model for economic development.
China's total foreign trade volume may increase more than 20 per cent year-on-year to exceed US$1.4 trillion this year.

Li Xinmiao wins the champion of the Miss China Beauty Pageant, which was held in Xianghe, Hebei Province on Oct 29, 2005. A total of 48 contestants from 12 countries and regions took part in the final of the 2005 Phoenix TV Miss China Beauty Pageant. Yang Shuang and Ma Wanlin won the second and third place respectively.
Shanghai Huaye Iron & Steel Group, a leading steel processing and logistics firm in the mainland, aims to raise about HK$780 million in a Hong Kong initial public offering next year, according to market sources.

A man works until the day's last light on a lake in the suburbs of Nanjing, in east China's Jiangsu.

*News information are obtained via various sources deemed reliable, but not guaranteed