Hong Kong, China & Hawaii Biz*


How to Do Business with China, through Hong Kong & Setting up Business in China? - last update Feb 8, 2003
Do you know our dues paying members attend events sponsored by our collaboration partners worldwide at their membership rates - go to our event page to find out more! After attended a China/Hong Kong Business/Trade Seminar in Hawaii...still unsure what to do next, contact us, our Officers, Directors and Founding Members are actively engaged in China/Hong Kong/Asia trade - we can help!
China Projects Bidding Information - update daily Scholarship & Grants
Are you ready to export your product or service? You will find out in 3 minutes with resources to help you - enter to give it a try

China Central TV - English Channel 24/7 live webcast

Download Skype - FREE Voice Over IP
February 28, 2006

Hong Kong: China National Building Material Group Corporation (CNBM), China's largest building materials manufacturer, plans to raise about 1.2 billion yuan (US$150 million) in the initial public offering (IPO) on the Hong Kong Stock Exchange at the end of March, sources close to the deal told China Daily.
Hopewell Holdings could soon join other Hong Kong property developers packaging their assets for sale as real estate investment trusts.

Managing director Thomas Jefferson Wu says Hopewell is eagerly awaiting central government approval for its 29km bridge project, which is estimated to cost as much as $60 billion. Toll road operator Hopewell Highway Infrastructure has boosted its reserves for the long-awaited Hong Kong-Zhuhai-Macau bridge project after delivering a forecast-beating 31.1 per cent jump in interim profit to $563.79 million.
Education chief Arthur Li has announced a series of measures to alleviate the pressure on teachers, improve the teaching of poorly performing children and allow for the introduction of small-class teaching in some schools.
Esprit Holdings, the world's fifth most valuable clothing retailer, expects growth in comparative store sales to slow this fiscal year as it clears marked- down inventory in women's wear, a senior executive said.
Kenneth Courtis, a top Goldman Sachs executive and economist who had a controversial role as an independent non-executive director of China's dominant offshore oil producer CNOOC, is expected to leave the United States investment bank at the end of next month.
Hopewell Highway Infrastructure, a toll road operator in the Pearl River Delta region, plans to spend HK$1.43 billion to build two road projects, after first- half profit jumped 31 percent on higher traffic flow.
Financial Secretary Henry Tang said his bid to expand yuan trading in Hong Kong is to pave the way for future economic development and has nothing to do with electioneering.

Nearly 200 drivers of taxis, and also minibuses, that run on LPG drove slowly through Central yesterday to protest against a new price-adjustment mechanism they blame for a rise in fuel prices by up to 40 per cent. Disgruntled drivers say the new mechanism, which allows an LPG price review every month instead of twice a year, is costing them up to $2,000 a month.
Barrister Kevin Egan and solicitor Andrew Lam Ping-cheung were yesterday accused of launching a campaign involving the court and the press to pressure the ICAC into releasing a woman who was a potential witness against their client.

China: The world's largest personal credit information databank has been put into operation in China, with the number of persons covered reaching 486 million by late January, the People's Bank of China has said.

Undated photo shows a Su-30 fighter. The Russian Airforce held a press conference about an upcoming aerobatic flight, in Beijing, capital of China, on Feb. 27, 2006. As part of the "Year of Russia in China", the Russian Airforce will hold an aerobatic flight over the Tianmen Mountains in Zhangjiajie, central-south China's Hunan Province, on March 17-19.
The economic and trade cooperation between China and Portuguese-speaking countries has made remarkable progress in recent years, said Vice Minister of Commerce Wei Jianguo.
The new draft requires foreign insurance institutions to have at least 20 years of continuous experience in running an insurance business when applying for a license to set up a representative office in China.
US cosmetics giant Avon Products Inc was awarded China's first licence for direct sales, after the country lifted a seven-year ban on the business on December 1.
The new Lenovo C Series notebooks and J Series desktops are based on Intel and AMD processors, feature ThinkPad-inspired technologies and offer Lenovo Care productivity tools to take the guesswork out of system maintenance. With a sleek silver case, the C100 notebook weighs 2.8kg and is 3.3cm thin.
February 27, 2006

Hong Kong: China's largest packaging paper supplier Nine Dragons Paper (Holdings) Ltd raised HK$3.4 billion (US$436 million) after pricing its initial public offering (IPO) at the top of an indicated range amid strong demand, sources close to the deal said on Friday.
Banco Delta Asia - taken over by the Macau government after a money- laundering scandal last year - is seeking a buyer, becoming the latest lender to put itself on the block as a wave of consolidation sweeps the regional banking industry, people familiar with the situation said.
China Telecommunications Group, the parent of Hong Kong-listed China Telecom Corp, plans to spin off its engineering and telecom services arm for a Hong Kong initial public offering to raise between US$200 million (HK$1.56 billion) and US$400 million in the second half this year, industry sources said.
Golden Eagle, a mainland department store chain which hopes to raise HK$1.2 billion to HK1.3 billion in its Hong Kong IPO, said it plans to open three stores in the cities of Xian, Nanjing and Taizhou at a total cost of HK$320 million.
As the tension between the government and the territory's two power companies over the development of the electricity market intensifies, Hong Kong Electric has taken a calculated risk in building the city's first wind-power station in the hopes of gaining favorable business conditions later.
The value Hong Kong's exports surged 34.8 per cent year-on-year in January to $13.1 billion, official statistics released on Monday showed.
Hong Kong-based Phoenix Satellite Television Monday rejected a report that media-entertainment giant News Corp has discussed pulling out of its Chinese television joint venture.
China Merchants Bank (CMB) aims to launch a US$2 billion H-share offering this year, becoming the first mainland lender to trade on both the domestic and Hong Kong stock exchanges, sources said.


Wheeling out the big guns ... Justin Chiu of Cheung Kong says the developer hopes to benefit from improving market conditions by bringing its 924-unit Apex development to market as soon as this week.
The mobile-phone market will remain stable this year with about 300,000 handsets sold every month, 15 per cent of them for 3G services, says Motorola Asia-Pacific vice-president Cedric So.

China: Chinese farmers witnessed the highest annual income increase in eight years last year, according Agricultural Minister Du Qinglin.

Craig Merrigan, a vice-president with Lenovo Group Ltd, poses with the Lenovo 3000 desktop and notebook PCs in New York on Thursday. The company began selling computers under its own name outside China for the first time since buying IBM's PC unit.
Luxembourg-based steel giant Arcelor SA has reached an agreement in principle to buy an undisclosed stake in Laiwu Steel Corporation, China's second biggest fully integrated steel plant, officials of Laigang Group, Laiwu Steel's parent company, said on Friday.
Bank of America, the second-largest US bank, and Cargill, the largest US agricultural company, have emerged winners in the latest bad debt auction organized by Huarong Asset Management.
China Rare Earth Holdings, the nation's biggest processor of elements used in magnets and mobile phone batteries, may bring in General Electric, one of the world's largest conglomerates, as a strategic investor, a senior official at the firm said.

Fighting pollution, Beijing is keen to ensure the 2008 Olympics showcase environmental management.
Although it has been endorsed by the central leadership, the concept of a "green GDP" has been controversial from the beginning and is sure to be debated at the annual National People's Congress session that convenes on Sunday.

Quanta Computer, the world's largest contract notebook computer maker, will invest US$27.8 million (HK$217 million) to expand its Shanghai operations, a company spokeswoman said on Monday.
February 24 - 26, 2006

Hong Kong: Financial Secretary of HKSAR Henry Tang said the government proposed the current tax cuts in the 2006-2007 budget according to its capability, denying the budget was "too conservative."

He Guangbei, vice-chairman and chief executive at Bank of China (Hong Kong), said Hong Kong should play a more active role in yuan business to help "internationalise" the currency. His comments at the bank's spring reception yesterday came just a day after Financial Secretary Henry Tang Ying-yen called on the central government in his budget speech to expand the scope of yuan business conducted by Hong Kong lenders. However, Mr He said although the central government was taking an active approach towards Hong Kong banks conducting more yuan business, mainland regulations had to be taken into consideration.
Hong Kong Exchanges and Clearing has launched a crackdown on leakage of pre-deal research as listing candidate Golden Eagle International came under fire for leaks from its prospectus.

Knots to kilowatts: The wind-driven turbine on Lamma Island, which was officially opened yesterday.
Hong Kong blue chips rose to a five- year high Thursday amid the heaviest trading since the SAR government intervened in the stock market in 1998, as investors switched their holdings to property stocks from H shares.
Pacific Century Insurance Holdings, a Hong Kong-based insurer controlled by tycoon Richard Li, said its chief financial officer Sam Cheung has resigned after the company found an accounting error that inflated profit by 13 times.
Esprit Holdings was downgraded at Merrill Lynch and Credit Suisse after the company reported earnings dented by a poor choice of merchandise at its women's clothing division. The stock slid 9 percent.
Mandarin Oriental International, which manages luxury hotels in Asia, Europe and the Americas, said profit almost tripled last year as it booked a one-time gain from selling a hotel stake and charged more for rooms.
Chief Executive Donald Tsang told top Beijing advisers Thursday that he will stay a few days in Beijing to meet the greater Pearl River Delta region's nine provincial governors and their mayors to enhance cross-border cooperation.
The government announced on Thursday that it would launch a scheme aimed at attracting talented people from the mainland and overseas to settle in Hong Kong.

China: President Hu Jintao on Thursday said that China will work with Germany to enhance bilateral ties within the framework of Sino-EU strategic partnerships.

Han Xiaopeng of China celebrates the gold in the men's aerials freestyle competition at the Torino 2006 Winter Olympic Games in Sauze d'Oulx, Italy on Feb. 23, 2006. This is China's second gold at the ongoing event.

Vice-Premier Wu Yi vowed yesterday to intensify her fight against illegally copied goods - not to fend off complaints from Washington but to spur the mainland's own ambitions to become a technological power.
European steel giant Arcelor has won initial approval to buy a 38.41 per cent stake in China's Laiwu Steel for 2.09 billion yuan (HK$2.01 billion), a source close to the deal said on Friday.

The picture taken on Feb. 21, 2006 shows a pair of horn sculptured with hieroglyph of Shui Minority in Libo county in southwest China's Guizhou Province. A pair of horns sculptured with pictures such as peacock, sun and moon,as well as more than 20 hieroglyphs of Shui Minority that can not be translated was collected by experts recently in Libo county, one of Shui minority residences.

Technicians at De'an county, Jiangxi Province, test soil for farmers. A specific formula of fertilizer will be worked out after that. The service, called formula fertilization by soil testing, helps farmers use fertilizer more efficiently. Giving the rising fertilizer prices, the government has promised to increase the financial support to this practice to at least 500 million yuan this year from 200 million yuan in 2005. More than 40 million rural households will get the service free of charge.
China will allow foreign investors to own equity stakes of up to 25 per cent in rural financial institutions, seeking their expertise and capital.
Human trials for a new drug to fight HIV and hepatitis B have begun in the mainland, raising hope for a cheaper alternative treatment for Aids sufferers, state media reported on Thursday.
February 23, 2006

Hong Kong: The Securities and Futures Commission said it would comply with the principles set by Joint Forum, an international regulatory body, to propose the contingency plan of the local financial institutions.
Hong Kong Financial Secretary Henry Tang Ying-yen , going some way to meet public demand, announced on Wednesday modest tax breaks but balanced them with the start of consultations on a goods and services tax (GST).
Hong Kong's economy grew by 7.3 per cent last year, showing it has fully recovered from the 1997-1998 Asian financial crisis, the financial chief said on Wednesday.

The Western Market celebrates its 100th anniversary this year with a carnival starting on Sunday that will include heritage-photograph and stamp-design competitions, ballroom and Latin dance contests and a made-in-Hong Kong fashion competition. The operator, Lifestyle Group, will spend $1 million on events throughout the year.
The Hong Kong Monetary Authority (HKMA) on Wednesday said it was concerned about a fake bank website that has been put on the internet.

Ronnie Chan was upbeat on prospects as he announced Hang Lung's results yesterday. Hang Lung Properties posted a 0.76 per cent rise in interim profit yesterday, with rental growth and a revaluation of investment properties offsetting a fall in residential sales.

PCCW deputy chairman and managing director Jack So Chak-kwong (right) and Supersun's Charles Chan seal their network alliance.

China: China will improve the interest rate formation mechanism by developing a market benchmark system in order to increase the bank's ability to influence market interest rates.

The file photo shows the excavating spot in Sanyangzhuang archaeological site in Huangxin county, north China's Henan Province. A large ancient village, buried by the mud of the flood for more than 2000 years, was discovered in the old course of the Yellow river. Its Till-on farmland is well preserved. The find provides the first-hand materials for studies on the culture and system of farming in Chinese Western Han Dynasty (206 B.C.-24A.D.).
While the Chinese economy faces a favorable domestic environment for stable growth this year, challenges such as imbalances in international payments are still ahead, said the People's Bank of China.
Foreign exchange officials have sounded out the market about further easing of capital outflow restrictions this year as political pressure mounts for further yuan appreciation and exchange-rate flexibility.
Search engine Baidu.com reported stronger-than-expected quarterly profits on Wednesday despite growing competition from industry giants Google and Yahoo in its home market, sending its United States shares up in after-hours trading.
February 22, 2006

Hong Kong: China's leading catering chain Inner Mongolia Little Sheep Catering Co Ltd, famous for its hot pot dishes, plans to raise HK$1 billion (US$128 million) through an initial public offering (IPO) in Hong Kong in 2008, a company executive said.

Director Ang Lee is awarded THE DAVID LEAN AWARD for Achievement in Direction at the BAFTA (British Academy of Film and Television Arts) awards at the Leicester Square in London, Feb. 19, 2006. Brokeback Mountain directed by Lee was bestowed four BAFTA awards and turned into the biggest winner of Sunday.

Plans for the West Kowloon cultural district - including the controversial mandate for a canopy - have been scrapped and will again be redrawn because the three short-listed developers were unhappy about changes to the initial proposal. A developers' group welcomed the government decision to rethink the West Kowloon project, while a delay in the area's home supply may benefit the district's residential market, according to other real estate interests. Putting the best face on the backtracking over the West Kowloon arts hub, which follows closely on the heels of the political reform debacle, Chief Secretary for Administration Rafael Hui insisted the move was ultimately made to avoid accusations of "collusion."
Shares of Hang Lung Properties, Hong Kong's fourth-largest developer by market value, closed almost 4 percent down after the company reported its interim profit little changed as revaluation gains and rental income growth offset a steep decline in home sales.
SuperSun, a small pay-TV operator part-owned by dominant free-to-air broadcaster TVB, has signed a five-year agreement to distribute its programs via PCCW's NOW Broadband TV, which has half a million customers.
After months of anticipation, the Hospital Authority's new chief executive has arrived in Hong Kong, armed with a plan to look at "every option" to reduce the medical deficit and leaving little doubt that there will be changes.
Hong Kong inflation rose sharply in January to 2.6 per cent, from a 1.8 per cent increase in December last year, official figures showed on Tuesday.

Secretary for Financial Services and the Treasury Frederick Ma Si-hang refused to give away any secrets about tomorrow's government budget when he attended last night's South China Morning Post Fund Manager of the Year awards ceremony. However, he was happy to tell the fund managers that the bill exempting offshore funds from paying profit tax would be voted on in a Legislative Council meeting next week.

China: China's central authorities released Tuesday its first major document of the year which calls for the construction of a "new socialist countryside" as the foremost task facing China in 2006-2010.

The rendering of National Swimming Centre (Water Cube)usinessWeek issued on Dec. 23, 2005 selected top ten miraculous buildings in China, including main venue for Beijing 2008 Olympic Games, National Swimming Centre, Beijing Capital International Airport, Shanghai World Financial Centre, National Grand theatre (The Water Cube), China Central Television (CCTV), Dongtan Eco City in Shanghai, MOMA, Commune by the Great Wall as well as Donghai Bridge (Shanghai).
The People's Bank of China, or the central bank, said on Tuesday the country's currency will be kept "basically stable" at a reasonable and balanced level in 2006.
The world's biggest aircraft, the 555-seat Airbus A380, will arrive in China during Zhuhai Airshow in November this year.

President Hu Jintao and his Pakistani counterpart Pervez Musharraf inspect an honour guard at the Great Hall of the People in Beijing yesterday. Visiting Pakistani President Pervez Musharraf yesterday strongly condemned the killing of three Chinese engineers by tribal militants in his country, and promised "harshest punishment" to the perpetrators.

Camus "Spirit of China" project, Kweichow Moutai, Chinese liquor, Gu Yue Long Shan, yellow rice wine, Chunghwa XO, cognac Osmanthus King, osmanthus wine, Dragon Seal, grape wine. Bottles of made-in-China wine will, for the first time in history, be available in duty-free stores at the world's major airports.
With booming business between China and India, State Bank of India (SBI), the largest commercial bank in India, plans to upgrade its Shanghai representative office into a branch company this April, making it the first Indian bank to open its branch in China.
The European Union on Monday said it may impose protective duties on imports of shoes from China and Vietnam after finding evidence that the Asian nations were unfairly dumping footwear on European markets.
Guangdong's land watchdog has sought provincial government approval to implement a raft of land requisition rules introducing uniform compensation standards.
China and the European Union signed an agreement yesterday on developing technology to reduce emissions from burning coal, as a top EU official called on the mainland to play a greater role in fighting climate change.
The Ministry of Commerce yesterday said foreign direct investment on the mainland increased 11 per cent year on year to US$4.55 billion last month, as efforts by overseas firms to tap the country's cheap labour and booming consumer market showed no sign of flagging.

Chinese authorities are investigating United States Internet giant Google for launching its local service without the proper license, state press reported on Tuesday.
February 21, 2006

Hong Kong: Brokeback Mountain was bestowed four Orange British Academy Film (BAFTA) awards Sunday night, turning into the biggest winner of the night.
Hong Kong's Peter Kam won the Silver Bear for Best Music for "Isabella" at the 56th Berlin Film Festival which ended on Saturday (Sunday HK time).

Financial Secretary Henry Tang will announce the start of consultations on the introduction of a goods and services tax in his budget speech Wednesday, which many hope will also offer tax breaks.
A British-based renewable energy company is planning to build Hong Kong's first commercial wind farm off Sai Kung. Under the plan, up to 50 massive wind turbines - described as being "as tall as Jardine House with blades as long as a Boeing jet" - will be built on the Ninepin islands, or Kwo Chau Kwan To.

China: The Chinese government has decided to offer one million US dollars worth of emergency relief for the Philippine government to help its disaster-relief efforts in the landslide area.
China Aviation Industry Corporation I (AVIC I) and China Aviation Industry Corporation II (AVIC II) will undertake the design and manufacture of Airbus' newest aircraft, the A350, after joining the Airbus engineering center.

More than 30,000 job seekers swarm the Chongqing Technology Exhibition Centre in Southwest China's Chongqing Municipality yesterday for 4,000-odd job openings in the electronics, machinery, real estate and marketing sectors. Imagine 25 million men and women about the combined population of Australia and New Zealand pressing for new jobs. That is the daunting reality that the Chinese economy faces this year, the National Development and Reform Commission (NDRC) has reported.
Chinese e-commerce sales last year hit a record 553.1 billion yuan (US$68.72 billion), an increase of 58 per cent over 2004; and the momentum is set to continue this year, says a new study.
Ningbo Port Group, a state-owned enterprise and the mainland's fourth- largest port operator, plans to spend 10 billion yuan (HK$ 9.65 billion) on building a port in Zhoushan to meet growing demand for container space from the Yangtze River Delta region.

Some of Shanghai's growing population of 2.6 million elderly are lucky to get a place at the table at a government home as the city wonders how to cope.
China's new role as a stakeholder in the global system will receive its most important test in April when President Hu Jintao makes his long-delayed state visit to Washington.
A United States congressman has introduced draft legislation that would make it illegal for mainland internet firms listed in the US to comply with Chinese government demands on censorship and disclosure of personal information.
February 20, 2006

Hong Kong: Hong Kong's unemployment rate fell to a new four-year low of 5.2 percent in January, in line with market forecasts, though economists warned the downward trend could end as early as the second half if the economy slows.
Billionaire Li Ka-shing has spent HK$517 million to increase his stake in property developer Cheung Kong (Holdings) amid expectations the company will continue to benefit from Hong Kong's rising economy and peaking interest rates.
Hong Kong's Airport Authority has obtained approval from the General Administration of Civil Aviation of China to set up a joint venture to operate the under-utilized Zhuhai Airport.

China: Last year saw the most significant reduction of population in poverty since China began to implement its Rural Poverty Reduction and Development Program in 2001.
Oil and natural gas mining are the most profitable industries in China in 2005, according to a study by the State Information Center released Friday.
International crude oil price rise will exert seven impacts on Chinese economy including GDP slash, rising pressure of inflation and other aspects, according to a report released by Forecasting Research Center of Chinese Academy of Sciences on February 16.
Multinational companies are taking on more corporate social responsibility in China, according to a report released on Friday by the Transnational Corporation Research Centre under the Ministry of Commerce.
Chinese consumers will purchase 30 million computer units each year by 2008, a leading domestic market consultancy said yesterday. However competition will get more heated, leading to falling prices and profit margins.
February 16 - 19, 2006

Hong Kong: The growing investment from the mainland shows Hong Kong has served an increasingly important role as the springboard for companies to expand out of China.

Staff members perform at the Hong Kong Disneyland in Hong Kong, south China, on Feb. 13, 2006. The Hong Kong Disneyland reported on Feb. 7 a profit since its opening.
Property stocks rallied a day after banking giant HSBC's move to lower mortgage rates, with investors expecting residential sales to pick up amid a home- loan price war.
Regal Hotels International Holdings, a mid-sized Hong Kong-listed hotel owner, plans to raise at least HK$4 billion by selling units in a real estate investment trust in Hong Kong as early as the first half, people familiar with the situation said.
Tycoon Charles Chan has no plans to sell his stake in pay-television firm SuperSun at the moment, as the company hopes a new tie-up with PCCW will turn its business around, informed sources said.
Financial Secretary Henry Tang should raise personal and dependent parent tax allowances as well as extend the home loan interest relief period in next week's budget, according to a survey by real estate agent Midland Realty.
Casino tycoon Stanley Ho has elbowed his way through the crowds of merely wealthy to join the top five richest people in Hong Kong, Taiwan and Macau, three notches behind Asia's richest man, Li Ka-shing, according to a list compiled by Forbes Asia magazine.

Former secretary for justice Elsie Leung is set to be appointed as a top Basic Law adviser to Beijing as part of a campaign to better promote the mainland's viewpoint in disputes over the mini- constitution.

Despite strong protests from islanders, New World First Ferry will increase its fares by an average of 6.5 percent from next week, affecting 30,000 passengers daily.

China: China has announced that it will not evacuate engineers and technicians from Pakistan after three Chinese engineers were shot dead on Wednesday.
China will begin a comprehensive audit of the Three Gorges Project, the world's largest hydropower project, in March of this year, according to audit sources.
In 2005, China imported iron ore of 275 million tons, up 32.3 percent year on year and accounting for 43 percent of the world's total ore shipment.

Wang Meng holds China's national flag yesterday (Beijing time) after winning the women's 500-metre short track speedskating final, the country's first gold medal at the Turin Winter Olympics.
American companies in China are prospering as they gain more access to domestic markets despite the ongoing trade frictions between the two countries, according to an American Chamber of Commerce (AmCham) survey released yesterday.
China's top oil refiner, Sinopec Corp yesterday said it had got final government approval to upgrade its ethylene production facility in Guangzhou, South China's Guangdong Province. This could involve an investment of up to 8.4 billion yuan (US$1.03 billion).

Chinese-American crew members of the USS Blue Ridge look forward to shore leave shortly after the Pacific fleet flagship docked in Hong Kong. The 35-year-old Blue Ridge, which crew members said would stay in Hong Kong for four days, docked at Ocean Terminal in Tsim Sha Tsui. There are up to 20 native Chinese on board.

Biosino president Wu Lebin says the mainland pharmaceuticals manufacturer plans to raise up to $99 million from its initial offering.
February 15, 2006

Hong Kong: From giant hearts flashing from the world's tallest building to romantic messages printed on delicate rose petals and wrapped in millions of boxes of high-priced chocolates, Asians found many ways to say "I love you" yesterday as the region marked Valentine's Day.
Automated Systems Holdings Ltd, the Hong Kong-listed arm of Singapore information technology (IT) firm CSA, plans to set up its first office on the Chinese mainland.
Some mainland property developers are expected to buck the trend and deliver big profits for investors this year, despite the cooling-down of the sector, local analysts said.
The International Monetary Fund has urged the Hong Kong government to tackle long-term fiscal problems presented by the city's aging population and avoid granting tax cuts in next week's budget despite forecasts for financial surpluses in the near term.
With the inclusion of some eligible H-share giants such as China Construction Bank, the benchmark Hang Seng Index will become more representative of the Hong Kong stock market. But more important, the change reflects the fact that the SAR is now the major market for mainland companies to raise capital despite Shanghai's challenge.
The government and the Hong Kong Amateur Athletic Association will hold an emergency meeting today to review future arrangements for the Hong Kong Marathon, which has suffered its first fatality after a crowded race run in bad air pollution Sunday.

China: Chinese President Hu Jintao Tuesday asked provincial and ministerial heads to attach importance and take concrete actions to boost rural development.

An 150-seat Airbus A320, the world's first subsonic adopting FBW system (flying by wire) lands at the Harbin international airport in northeast China on Feb. 13, 2006. It is the first time that China Southern Airlines Heilongjiang company has introduced A320 which will make its first flight from Harbin to Beijing on Feb. 14. The company will have five A320 planes and replace all its MD planes with A320 in the first half of 2006.
The country will continue to be challenged by the great transfer of the rural labor force in 2006 and have to deal with employment risks posed by overcapacity, trade conflicts, or economic fluctuations.

Zhang Hao carries Zhang Dan after they won the silver medal in Pairs Free Skating at the 2006 Winter Olympic Games in Turin, Italy on Monday. Zhang Dan fell and injured her leg before recovering to stage a stirring performance to win the medal.

The president of Shenzhen Development Bank (SDB) Jeffrey Williams has resigned after a 13-month stint at the Shenzhen-based lender that has been plagued by bad loans and capital shortage.
Industrial and Commercial Bank of China, the country's largest commercial lender, expects its operating profits to rise by more than 10 percent this year as it diversifies revenue sources and continues to cut bad loans.
Shares of Dongfeng Motor Group, China's No3 automaker, and Agile Property Holdings, a Guangdong-based property developer, have been added in Morgan Stanley Capital International indexes, a move that will likely attract fund flow to the stocks.
February 14, 2006

Hong Kong: Officials yesterday fanned around rural areas to enforce a ban on raising poultry as the special administrative region tries to prevent bird flu from taking hold. The government will consider expanding the ban on backyard poultry to four other species, turkeys, pheasants, partridges and silky chickens - a bantam variety often kept for ornamental purposes, and found with H5N1 in the past. Vets are being called in to work part-time for $292 an hour in the Agriculture, Fisheries and Conservation Department, which has been overwhelmed by work to seek and destroy backyard poultry.
China's biggest baby-goods supplier Goodbaby Group has been bought out by a Hong Kong private equity fund in one of the mainland's first leveraged buyouts (LBO), a company executive confirmed.

Hong Kong stocks fell 0.7 percent Monday in reaction to Hutchison Whampoa's decision to delay the spin-off of its Italian 3G mobile phone unit and to changes that will make it possible for H shares to join the Hang Seng Index as early as this summer.

Asia's largest aerospace show is heading to Hong Kong, marking the end of the event's 26-year stint in Singapore and signaling the aviation industry's growing appetite for mainland business.
Nine Dragons Paper (Holdings), the biggest containerboard maker in China, plans to sell US$60 million (HK$468 million) worth of shares to tycoons Lee Shau-kee, Cheng Yu-tung and Robert Kuok in its Hong Kong initial public offering, according to a preliminary prospectus obtained by institutional investors.
The benchmark Hang Seng Index is set to reflect more the influence of mainland stocks, particularly in the financial and energy sectors, as China continues with reform to make state-owned shares tradable, a move that will also make the shares eligible for inclusion in the index under new rules.
Hong Kong Science and Technology Park Corp, which manages the HK$12 billion Science Park in Sha Tin, said it may have to repay the government more than HK$5 billion as rental income increases.
China Glass Holdings, which listed its shares on Hong Kong's main board last June, is sealing a deal to buy eight factories, a move that will expand production capacity fivefold and make the company the country's largest glassmaker, industry sources said.
The Hong Kong Amateur Athletic Association is considering changes to the Standard Chartered Hong Kong Marathon after nearly 5,000 people needed medical treatment during Sunday's race.

Foreign Ministry Commissioner Yang Wenchang (left) joins Chief Executive Donald Tsang Yam-kuen at the Lunar New Year reception hosted by the Hong Kong Federation of Fujian Associations. Mr Yang confirmed he would retire next week and said he would miss Hong Kong, a city he loves, after returning to the mainland. In a new move to woo the pro-Beijing sector, Mr Tsang will invite Hong Kong deputies to the National People's Congress to a seminar at Government House on February 24.
Financial Secretary Henry Tang is likely to widen the current tax bands and extend the eligible period of home loan interest deductions to benefit the middle class when he announces his budget on February 22, a source close to the government said.
TVB has won its battle to show the full Oscar awards ceremony live after the broadcasting regulator allowed it to delay the start of educational television by an hour.

Although much has been achieved on the international accounting front since the collapse of Enron four years ago, even more changes lie ahead, according to Sir David Tweedie. The chairman of the International Accounting Standards Board, on one of his regular visits to Hong Kong, yesterday said more had to be done in cases of consolidation where the transparency of off-balance items of listed companies needed to be improved to prevent subsidiaries being used to hide debt problems, as was the case with Enron.
The Planning Department plans to rezone a former government office site in Causeway Bay, paving the way for a $6.1 billion sale for commercial or low-density housing.

China: The discipline watchdog of the Communist Party of China (CPC) pledged heavier crackdown on corruption and other acts violating the CPC's disciplines.

A girl chooses roses, each of which is sold for 199 yuan, at a flower shop on the eve of Valentine's Day February 13, 2006 in Shenyang, Northeast China's Liaoning Province. Valentine's Day is getting increasingly popular in China.
In January 2006, China's foreign trade volume totaled US$120.49 billion, up 26.8 percent year on year. China's currency strengthened to its highest level against the US dollar yesterday since its July 21 revaluation.

People buy porcelain ware at the trade fair in Turkish capital Ankara. The fair, held by a porcelain company from China's ceramics metropolis Jingdezhen City in Jiangxi Province, lasts from Jan. 28 to Mar. 10, 2006. More than 20,000 pieces of porcelain wares in some 1,000 categories are exhibited.
Alliant Energy Corporation, a US-based power firm, announced late last week that it has sold its interests in eight power facilities in China for a combined US$123 million, and is planning to sell its remaining two plants, with local companies rumoured to be in the running.
US-based 3M, a Fortune 500 multinational company, yesterday announced the establishment of a US$30 million material technology company in Guangzhou Development District.

Fishing gear lures in visitors: Visitors look at fishing gears on show at the 16th China International Fishing Tackle and Trade Exhibition yesterday in Beijing. The event, the first large-scale expo in the Lunar New Year, attracted 324 manufacturers from more than 30 countries worldwide to showcase new fishing equipment.

A crowd gathers at a temple fair dedicated to candied haws, a traditional sweet on a stick, held yesterday in Qingdao city, Shandong province. The fair dates to the Ming dynasty (1368-1644) and is celebrated from the 16th to 18th day of the first lunar month.
The mainland yesterday said retail sales in the first half are likely to grow about 12.5 per cent from a year earlier, indicating a sturdy trend as the government tries to promote consumption to help rebalance the economy.
The central government is planning to force large state-owned enterprises to pay dividends to the state after companies overseen by State-owned Assets Supervision and Administration Commission (Sasac) posted more than 600 billion yuan in net profit last year.
February 13, 2006

Hong Kong: Mainland companies with H shares listed in Hong Kong will become eligible for inclusion in the benchmark Hang Seng Index starting in August, said HSI Services, the index compiler.

Bank of East Asia, the fifth-largest listed lender in Hong Kong, beat analyst expectations with a 17 percent gain in profit last year on the back of higher interest and non-interest income, strong earnings growth in China and one-time gains from property sales.
Neo-China Group (Holdings), a Hong Kong-listed mainland property firm, raised HK$619 million in a share placement to fund property developments in China, market sources said.
Agriculture officers may break into private homes to seize chickens after a prohibition on domestic poultry farming comes into effect Monday, warned Stella Hung, director of the Agriculture, Fisheries and Conservation Department.

The 20th Winter Olympic Games raised its curtain in a passionate, star-studded ceremony on Friday night. Italian President Carlo Azeglio Ciampi officially opened the country's first Winter Olympics in 50 years, which offers 84 gold medals over seven sports.
It will be business as usual for law enforcement authorities carrying out covert surveillance until the six-month grace period provided by the High Court expires, a senior government source said yesterday.

More than 1,000 students and teachers gather at the HKCWC Fung Yiu King Memorial Secondary School in Ma On Shan yesterday to remember two teachers and three students who died in the Pat Sin Leng hill fire 10 years ago. On the second of a two-day commemoration of the hiking trip that went tragically wrong, speakers recalled how one of the teachers, Chau Chi-chai, kept indicating an escape route to fleeing children, even though he was engulfed in flames.

Virginia Tam gave up her job as an insurance broker to sell paintings online. About 724,000 people in the US make their living trading on auction sites. While there are no figures available for Hong Kong, operators say the number using auction sites as a business channel is growing rapidly. Yahoo! Hong Kong, for example, estimates that budding entrepreneurs account for half the items sold on its site.

China: Brilliance China Automotive Holdings, the country's biggest minivan maker, said Friday it aims to sell 43 percent more cars in 2006, after it failed to meet its sales target last year amid slumping sales and prices.
Xinao Gas Holdings, China's largest privately owned piped-gas distributor, said growth over the year will come from expanding its existing distribution systems, rather than buying new ones, a decision that will allow it to hold its capital spending at last year's 800 million yuan (HK$770.4 million) level for the next two to three years.
In 2005 China exported 172,639 autos, 11,031 more than the import, according to latest figures from the Ministry of Commerce.
When authentic figures on the Chinese and world oil markets in 2005 finally became available, the truth about the so-called "Chinese factor" in the soaring international oil price was also disclosed -- it has been seriously overplayed.
China Development Bank and China Everbright Bank completed the country's first RMB interest rate swap transaction Thursday.

Performers wearing masks present a ritual dance known as Nuo in Lanzhou, Gansu province. Nuo is an ancient festival aimed at exorcising evil spirits believed to cause disease. The festival is traditionally held around the Lunar New Year period.
The Ministry of Health hopes an experiment with low-cost hospitals will serve as a model in the government's efforts to restructure the health-care system and curb malpractices that result in exorbitant medical bills.
The organizers of the Beijing Olympics have launched a charm offensive to convince the international media that they have nothing to fear from China.
The threat of legal action from disgruntled offshore investors is delaying mainland companies with dual listings at home and abroad from carrying out their state share reforms, analysts say.
February 10 - 12, 2006

Hong Kong: Walt Disney Co yesterday moved to quell speculation that it is on the verge of reaching a deal with the government over a proposal for a Disneyland theme park in Shanghai. Rumours of an impending agreement reached fever pitch on Tuesday after Robert Iger, Disney's president and CEO, was quoted on Hong Kong Cable TV as saying talks with the Chinese Government were "ongoing." On Wall Street, Disney stock climbed almost 7 per cent by the market's close on Tuesday, its highest price in six months, but company spokeswoman Allanah Goss was quick to dispel any ideas that an agreement was imminent. "There is nothing new to report on the progress of Shanghai discussions," she said. "The Walt Disney Co has not reached an agreement with Shanghai to build a second theme park in China. If we were to reach an agreement for a second park in China, it would not open before 2010. "China is a priority for the entire company and we have a continuing dialogue about a variety of Disney initiatives, including television, motion pictures and consumer products, of which theme parks are only a part."
The planned spinoff of Hutchison Whampoa's 3 Italia unit will depend on efforts to bridge a gap of as much as 2 billion euros (HK$18.62 billion) between what the parent company and fund managers think the Italian third- generation mobile phone company is worth.
China Resources Snow Breweries, a joint venture between Hong Kong- listed China Resources Enterprise and the world's third-largest brewer SABMiller, has bought 85 percent of a Fujian-based brewer for 72 million yuan (HK$69.3 million).
COSCO Container Lines (COSCON) - a unit of Hong Kong-listed COSCO China Holdings - and 14 other Asian shippers plan to raise freight rates by an average 10 to 20 percent on US- Asian routes, brushing aside concerns of overcapacity in the global shipping industry.
Most of Hong Kong's leading lenders, like HSBC's Hang Seng Bank and Bank of East Asia, will eke out small earnings growth for 2005 after a second-half rebound in net interest margins, analysts say.
Mid-tier developer Chinese Estates plans to bundle assets in a real estate investment trust that may comprise five prime Hong Kong commercial properties worth HK$10 billion, sources told Sing Tao Daily.

Owners of racing pigeons have begun killing them or releasing them into the wild in the face of a new law requiring a $10,000 licence for keeping the birds, with heavy fines for non-compliance.
Pacific Century Premium Developments has unveiled the final phase of its Bel-Air Residence at Cyberport, with a developable floor area of one million square feet, which analysts estimate will involve construction costs of HK$2 billion.
Hong Kong Exchanges and Clearing (HKEx), China Netcom and Foxconn International Holdings are all likely candidates to be added to the benchmark Hang Seng Index, replacing Denway Motors, Johnson Electric or Lenovo tomorrow when the index comes up for quarterly review, market analysts reckoned.
Tsui Hark's martial arts epic Seven Swords faces a battle with Peter Chan Ho-sun's musical Perhaps Love at this year's Hong Kong Film Awards after both movies garnered 11 nominations each.
Prolonged questioning in the contentious internal surveillance case roiling Hong Kong's anti-graft agency focused Wednesday on whether top directors acted before receiving legal advice about initiating a criminal investigation against one of its senior investigators.
The WHO's top pandemic flu official has applauded Hong Kong's ban on backyard poultry farming, saying the city was seen as setting the global "gold standard" for bird-flu precautions.

Cathay Pacific Airways' bid to begin flights to Moscow next month has met turbulence with unresolved commercial and operational issues delaying the maiden flight to the Russian capital.
Small airline Hong Kong Express will scrap its Guangzhou leg - one of the shortest hops in the aviation business - at the end of the month due to low passenger numbers and heavy competition.

China: Foreigners working in China have to pay personal income tax only if their monthly pay is above 4,800 yuan (US$592), up from the previous 4,000 yuan (US$493).
Export-Import Bank of China will borrow US$260 million from nine banks to support expanding trade financing and overseas investment by Chinese companies, according to Bank of China, which is arranging the loan.

Top Chinese LCD panel maker BOE Technology has signed a US$2.3 billion sales memorandum of understanding with TPV Technology and OTPV, which make computer monitors.
Sinopec Corp, the country's biggest oil refiner, plans to spend about US$1.46 billion to buy out four domestic-listed subsidiaries, said people close to the deal yesterday, fuelling expectations of further privatization.
Eight Chinese shoe makers set up an alliance on Wednesday in south China's Guangdong Province to summon the country's shoe manufacturing industry to act in unity in responding to European Union's (EU) anti-dumping probe on China-made shoes.
China on Wednesday imposed a temporary ban on pork imports from Belgium, Germany and the Netherlands over a dioxin scare in the European countries.
Chinese mainland has decided to resume the export of fishery labor services to Taiwan in the upcoming fishing season after four-year-long suspension, announced by an official with the Ministry of Commerce.
Authorities in Shanghai released figures yesterday confirming the slowdown in the city's property sector last year, which some see as signal that it is time to jump back into the market.

At least six China internet firms will tap overseas markets this year to raise between US$500 million and US$1 billion in initial public offerings, according to an industry research report. Mainland internet companies are expecting new controls over their content that would prevent them from posting political and current affairs articles published by metropolitan newspapers on their websites, sources said.
February 9, 2006

Hong Kong: Bank of China will delay its planned US$8 billion to US$10 billion (HK$62.4 billion to HK$78 billion) initial public offering until as late as June after it came under pressure from Beijing to sell shares both in the mainland market and in Hong Kong, sources familiar with the situation said.
In a sign that a deal may be imminent, Disney officials have for the first time admitted it's negotiating to build a theme park in Shanghai, shortly after disclosing that the Lantau park contributed to the California-based entertainment giant's stellar results in the quarter ended December.
Think twice before you take home a live chicken from the market because you could face a fine of up to HK$100,000, health officials warned while introducing a proposal to ban backyard poultry farming.
The local exhibition industry put HK$19 billion into the economy last year, driven by increased mainland business visitors, exceeding the percentage of contributions to the gross domestic product when compared with Germany and England, the industry's chairman said Tuesday.
Most of the abuse of elderly people in Hong Kong involved physical or psychological mistreatment, Secretary for Health, Welfare and Food York Chow Yat-ngok said on Wednesday.

Rogue trader Nick Leeson, who brought down Barings Bank in the mid-1990s after recording £862 million ($11.7 billion) of derivatives trading losses, says inadequate internal controls are the main culprit of corporate collapses such as Barings, China Aviation Oil and Livedoor. "There was massive negligence [at Barings]. They should have exposed my activities long before [they did]," he said at the IFR Asia investment banking award ceremony last night.
Hong Kong conglomerate Hutchison Whampoa on Wednesday said it had cleared all regulatory hurdles for the initial public offering of its Italian third-generation mobile phone unit 3 Italia but that final approval rested with 3 Italia's board of directors.
Television Broadcasts' pay-television operation, Supersun, is banking on yet another name change to turn the struggling business around, and on a partnership with rival PCCW Now Broadband TV to lift its battered fortunes.
The Mandarin Oriental Hotel Group yesterday finalised its first project in China, sealing a contract to manage a 292-room resort in Sanya, Hainan.
The management of Link Reit is looking to refinance its $12 billion loan facility provided by HSBC during the initial public offering last year with a five-year debt facility, sources said.

China: American Airlines announced February 8 it has signed a strategic technology agreement with Lenovo, China's largest personal computer manufacturer, to provide Admirals Club members with access to Lenovo PCs.
As learned from the website of the Ministry of Commerce, China customs statistics show the bilateral trade between China and Vietnam recorded a 21.6 percent increase to 8.2 billion US dollars in 2005.
China Aviation Oil (Singapore) Corp. had its yearly financial report of 2004 approved at the shareholders' meeting early this month, paving the way for its relist.
Passengers disembark from Xiamen Airlines' Flight MF884 yesterday afternoon at Gaoqi airport in Xiamen, a port city in East China's Fujian Province. The flight, on its return from Kaohsiung, marked the end of the cross-Straits charter flights for this Spring Festival.
Insurance Australia Group (IAG), the largest car and home insurer in Australia, has signed a memorandum of understanding (MOU) to buy 24.9 per cent of China Pacific Property Insurance Company (CPIC Property).
Chinese Internet portal Sohu.com yesterday said revenue for the fourth quarter rose by 27 per cent year-on-year and 8 per cent quarter-on-quarter to US$30.50 million.

Wumart Stores, a Beijing-based retail chain, plans to raise as much as HK$464 million with an issue of new shares to fund its latest supermarket acquisition.
Six senior mainland officials from the State Food and Drug Administration (SFDA) have been taken into custody after being accused of taking bribes, the China Daily reported on Wednesday.

Students wait to register for the general university entrance examination for art students yesterday in Jinan, capital of eastern Shandong province. The exam is held today.
February 8, 2006

Hong Kong: The number of worldwide tourists this year was forecast to grow by 4.4 percent from the figure last year, which stood at 800 million people, visiting United Nations ( UN) Secretary General for World Tourism Organization Fragialli told Xinhua Monday.

A second quarterly rise in the number of Hong Kong homes worth less than the debt on the properties poses no threat to the banking system, banking chief Joseph Yam said.

After two years of operation, the positive credit data sharing system has benefited both borrowers and lenders, reducing borrowers' financing costs and lenders' credit risks, Hong Kong Monetary Authority chief executive Joseph Yam said.
Yorkey Optical International and Modern Beauty Salon Holdings, the first two Hong Kong initial public offerings in the Year of the Dog, priced their shares towards the top end of indicative price ranges amid a buoyant market for new stock.
CK Life Sciences International, tycoon Li Ka-shing's biotechnology flagship, has agreed to pay US$166 million (HK$1.29 billion) for 80 percent of an American nutraceutical company, its largest acquisition since listing on the stock exchange in 2002.
Hong Kong Disneyland's gestures to calm the anger sparked by the Lunar New Year's chaos, when hundreds of people were turned away at the gates, has failed to appease tourists.
The Chinese University of Hong Kong will soon be looking for philanthropists who are willing to cough up up to HK$500 million and may in exchange have new colleges named after them.
The KCRC has been asked to proceed with in-depth planning for an express rail link between Hong Kong and Guangzhou using its West Rail line rather than a dedicated new line.

China: Chinese banks are becoming more willing to extend their loan business to small domestic companies, said a report in Monday's China Youth Daily.
China's banking supervisor said it uncovered 767.1 billion yuan (HK$738 billion) of irregularities at domestic financial institutions last year - about a third more than in 2004.
Nine Dragons Paper, the largest containerboard maker in China, plans to use the US$400 million (HK$3.12 billion) proceeds from its Hong Kong share sale for debt repayment and to increase production capacity by 64 percent over the next three years, according to a research report by the co-arranger of the IPO.
February 7, 2006

Hong Kong: The Asian Development Bank (ADB) will issue an Asian currency unit (ACU) in March and float ACU-denominated bonds.

Standard Chartered Bank, which makes about two thirds of its profit in Asia, expects high growth in the mainland and Taiwan markets in the future, according to the bank's vice chairman in Asia, Norman Chan.
Home World Group, a mainland retail chain store operator, plans to raise almost HK$4 billion in an initial public share offering in the second quarter to benefit from the country's growing middle class, people familiar with the situation said.

Chinese Estates, a mid-sized property developer controlled by Joseph Lau, plans to raise about HK$1.6 billion from the sale of a real estate investment trust (REIT) featuring grade-A properties in some of Hong Kong's priciest districts, market sources said.
China Life Insurance, the mainland's largest insurer with half of the life coverage market, plans to sell a 10 percent stake in the company to three strategic investors - two from overseas, and one from the mainland - chairman Yang Chao said, according to Caijing Magazine.
Jockey Club officials were all smiles Sunday when, for the second time in six days, racing turnover topped the HK$1 billion mark.
Hong Kong's customs officials said on Monday they had stepped up surveillance at the border with China to stop people smuggling birds and poultry into the territory.

A time to remember: Richard Li Tzar-kai, younger son of tycoon Li Ka-shing, visits the tomb of his mother Li Chong Yuet-ming, at the Hong Kong Buddhist Cemetery at Cape Collinson Road, Chai Wan, yesterday, a week after it was damaged by tomb raiders on Lunar New Year's Day. Richard Li, who brought incense and offerings to the grave, said he had been overseas and had only returned to the city on Saturday.
The Securities and Futures Commission will today ask lawmakers to approve new rules governing customer margin financing provided by brokers, including a limit on how much of client stock held as collateral can be repledged by brokers to obtain bank loans.
Hutchison Whampoa's Italian mobile unit, 3 Italia, has gained listing approval but is still awaiting final clearance from the securities market regulator before it begins its long-awaited €2 billion ($18.6 billion) initial public offering.
Hong Kong Exchanges and Clearing is looking to introduce additional guidelines to vet listing applications from gaming companies because of concerns about money laundering, according to sources.

Squadrons of loyal followers are defending US skater Michelle Kwan's name on the Internet in the run-up to the Winter Olympics.


China: The ratio of non-performing loan of China's major commercial banks (state-owned and joint-stock commercial banks) has fallen from two digits to one digit.

A three-year old boy plays in a park in Beijing on Feb. 5, 2006. In the first week of the year of dog, Beijing received 2.1 million domestic visitors with the tourism income reaching 1.87 billion yuan, an average of 270 million yuan a day, which has made Beijing the most attractive city across the country.
The government will continue to regulate land supply for real estate development this year but promised to transfer more to construct economical housing for low-income families, said a cabinet official.

Olympic mascots on overseas tour - The five mascots for the 2008 Beijing Olympic Games, which embody four of China's popular animals the fish, the panda, the Tibetan antelope and the swallow and the Olympic Flame, yesterday appear in a street of the Australian city of Sydney during a Chinese Lunar New Year performance tour. The tour, organized by Beijing Municipal Tourism Bureau, marks the first time the mascots have appeared in a performance tour overseas.
China's currency closed on Monday at a post-revaluation high against the US dollar, as local banks sold some of their excess dollar positions after the lunar New Year holiday, traders said.

Higher standards of living have seen people spend more money during the Lunar New Year holiday and greater numbers on the move. Guangzhou has experienced a big surge in travellers, with more than 200,000 arrivals expected at Guangzhou Railway Station yesterday.

China Construction Bank is restructuring in order to become a modern commercial lender, says chairman Guo Shuqing. China Construction Bank is to revamp its bloated middle management - an exercise involving 30,000 staff - to strengthen risk management and curb corruption.
February 6, 2006

Hong Kong: The identity of 14 Hong Kong residents in bus crashed near the Red Sea on Jan. 31 had been confirmed, a Hong Kong official said Thursday.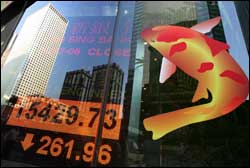 Hong Kong stocks plunged Friday, posting their biggest loss in eight weeks, on investor concern that signs of accelerating inflation in the United States might lead the Federal Reserve to push interest rates higher. The benchmark Hang Seng Index fell 261.96 points, or 1.67 percent, to 15,429.73. However, turnover was HK$32.1 billion, slightly lower than HK$33 billion a day earlier, suggesting that the concern remained relatively low-key thus far.
Hong Kong Exchanges and Clearing (HKEx), which operates the city's stock and futures exchanges, said it will add more independent members to the listing committee as it launched a two- phase reform program Friday.

Hong Kong Disneyland is considering changing its ticketing system following three days of chaos outside the park sparked by ticket holders being turned away because the park was full. A Disney spokeswoman said Friday that the company has learned from the unruly behavior over the Lunar New Year, and will consider making changes to ticket arrangements for peak holidays.
In a high-stakes power play, Chief Secretary for Administration Rafael Hui has promised to attend a Legislative Council hearing on the proposed West Kowloon cultural district only after legislators failed in their attempt to compel him to appear before them.
Commercial development appears to have been ruled out in an expanse of woodland and wetland near Sai Kung Country Park where a property giant wants to build a golf course.

Jardine Aviation Services will become the first Hong Kong company to tap the lucrative ground-handling business in the mainland.

China: The chairman of the US Joint Chiefs of Staff said the risk of war with China is diminishing with the growth of economic ties between the emerging superpower and the United States.
Warburg Pincus, a leading global private equity investment fund, will invest in GOME through the issuance of 125 million U.S. dollars convertible bonds and 25 million U.S. dollars warrants.
China approved requests by 31 foreign institutional investors to pour US$5.64 billion (HK$43.99 billion) into yuan- denominated stocks and bonds by the end of 2005 as demand for access to the domestic market heats up.

Peking University professor He Weifang says China needs more professionally trained public intellectuals who can freely voice opinions on social issues.
China Aviation Oil (CAO) yesterday said it would appoint two new board members from its new investor, BP Investment Asia, to improve corporate governance at the scandal-tainted jet fuel company.
February 3 - 5, 2006

Hong Kong: Hong Kong retail sales growth picked up in December, breaking a four-month streak of slowing gains, as the public spent more during the Christmas festival amid a buoyant economy and better work prospects.
Hong Kong's home sales rose by 10.7 percent in January month-on-month, the first increase in the number of transactions in three months, as buyers return to the market on expectations that interest rates are peaking.

A girl cries as she is pushed over the fence at Disneyland after the gates were closed, leaving unlucky holidaymakers irate. Travel agencies have warned of legal action against Hong Kong Disneyland for losses and damage to their reputation caused by a ticketing system they say is flawed.
Hong Kong Secretary for Financial Services & the Treasury Frederick Ma has expressed the hope that the Revenue (Profits Tax Exemption for Offshore Funds) Bill, which helps attract more overseas investors to Hong Kong, will be endorsed in this year's first quarter.
Television Broadcasts, Hong Kong's dominant free-to-air broadcaster, said it applied for land from the government to build base stations for its planned launch of HDTV (high-definition television) service in the city by the end of next year.
The Securities and Futures Commission has begun an investigation into whether some analysts improperly used price- sensitive information selectively disclosed by Techtronic Industries in their research reports, sources close to the regulatory body said.

Visitors to the Disney theme park remonstrate with a security officer after being refused entry. Hundreds were disappointed when the gates closed at 11.30am. Angry scenes shattered the holiday mood at Hong Kong Disneyland on Thursday as hundreds of ticket-holders stormed the gates and climbed over security fences after being told the park was full.
Hong Kong's retail sales rose 6.9 per cent to $19.3 billion year-on-year in December 2005, latest statistics released on Thursday showed.

Secretary for Financial Services Frederick Ma at yesterday's inauguration of the Gold & Silver Exchange in Sheung Wan.
Most local lenders yesterday left interest rates unchanged in the wake of the latest increase in US rates - with the notable exception Bank of China (Hong Kong), which decided to raise its prime rate by 0.25 percentage point to 8 per cent to catch up with its medium and smaller rivals.

China: Three people hospitalized after they were found to have been in contact with an H5N1 bird-flu infected chicken have been declared free of the disease, government health officials said on Thursday.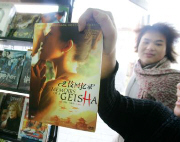 A Chinese sales girl displays a Chinese copy of the movie "Memoirs of a Geisha" at a video store in Beijing, on Thursday. The Chinese government has canceled the release of the film — a decision made amid speculation that officials are worried the sight of Chinese actresses playing Japanese geishas could stir a backlash
Nortel Networks on Wednesday said it was joining hands with a major Chinese competitor, Huawei Technologies, in a global partnership to develop "ultra broadband" projects.
French telecommunications equipment manufacturer Alcatel on Thursday reported a 61 per cent increase in net profit for last year and forecast that it would outperform the market this year.
February 2, 2006

Hong Kong: Ang Lee's gay cowboy romance `` Brokeback Mountain'' topped the list of Oscar nominations announced here Tuesday, receiving eight nods including best picture, best director and best actor.
With Hong Kong's money market awash in liquidity, all major banks except Bank of China (Hong Kong) left their interest rates unchanged despite the quarter-percentage-point hike in US rates Tuesday.
Hutchison Whampoa, the world's largest port operator, has won approval from the British government to build a new container terminal at Felixstowe, the biggest port in the United Kingdom.
Six government officers would arrive in Egypt on Wednesday evening (HK time) - a day after a bus crash that killed 14 Hong Kong people, Secretary for Security Ambrose Lee Siu-kwong said.
A record 853 flights had come in or out of Chek Lap Kok airport last Friday as the Lunar New Year holidays began, a Civil Aviation Department spokesman said on Wednesday.

China: China's high-tech industrial output was likely to hit 3.2 trillion yuan (about 400 billion U.S. dollars) in 2005, a surge from 1.23 trillion yuan in 2001.

People pose for photos on Tian'an-men Tower in Beijing at the beginning of the Chinese Lunar New Year - the Spring Festival, January 31, 2006. Millions of visitors home and abroad visited Tian'an-men Square around the Spring Festival for the New Year celebration.
Two former branch managers at Bank of China, the mainland's second- biggest lender, have been charged by a Las Vegas federal grand jury with defrauding the bank of more than US$485 million (HK$3.78 billion), 10 months after another former official of the bank was sentenced on related charges in the United States and returned to China.
February 1, 2006

Hong Kong: Immigration Department officials and family members of injured Hong Kong tourists cut short their Lunar New Year festivities Tuesday night, rushing out to southeast Egypt to be with the victims of a horrific bus crash that left at least 14 holidaymakers from the territory dead and 30 people injured.
Venetian Macau's US$2.5 billion (HK$19.5 billion) syndicated loan has proved a hard sell to some banks in the region, and its arrangers are turning to lenders elsewhere, mainly in the United States, to line up funds, sources familiar with the deal said.

China Mobile (Hong Kong), the world's largest mobile phone carrier by subscribers, may shun the homegrown technology standard as it develops its third-generation (3G) services, chief executive Wang Xiaochu said.

Scores of families visited Man Mo Taoist temple on Hollywood Road Tuesday, making the annual pilgrimage to the patron gods of scholastic success.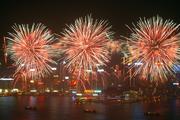 Good fortune may well lie ahead in this Year of the Dog, following the rare clear January skies and mild weather which helped make last night's fireworks display the most dazzling in years.

Tse Wai-chuen is surrounded by scrolls as she gives youngsters a lesson in calligraphy at her Tung Chung MTR station stall.
Hutchison Telecommunications International Ltd's (HTIL) Indonesian mobile unit will soon lose its place as one of only two operators licensed to run both 2G and 3G services, with the Indonesian government likely to award 3G spectrum to another two local operators.
Office rents in Hong Kong's tallest skyscraper, Two International Financial Centre (Two IFC), have been raised to more than $100 per square foot - a fivefold increase on the $20 per sq ft at which the development first came to the market when it opened for business in the first half of 2003.

China: This Spring Festival is special for the people in China's revolutionary base Yan'an in in northwest China's Shaanxi Province as Chinese President Hu Jintao joined them in celebrating the Spring Festival from Jan. 27 to 29.

London Mayor Ken Livingstone (L) and Chinese ambassador to the United Kingdom Zha Peixin(R) dot the eyeballs of a dragon to launch the celebration of Chinese Spring Festival in london, January 3, 2006. A grand parade streaming along from China Town to the famous Trafalgar Square drew tens of thousands of Londoners to join the cheers of the Chinese New Year celebrations.
New breakthroughs in oil and gas exploration were made in the past five years as the traditional oil fields in East China maintained a steady growth. Petroleum and natural gas began to play bigger roles in China's energy consumption structure.

The construction of the Three Gorges Project progressed well during the period and is expected to be completed in the new Five-Year Plan period (2006-2010), reports the National Development and Reform Commission (NDRC). China's hydroelectric power capacity reached 115 million kilowatts at the end of 2005.

China's banks should further tighten their lending policies this year to help combat the country's excess production capacity, according to the country's banking regulator. "Tightening loans is the main route for macroeconomic control at this time," China Banking Regulatory Commission chairman Liu Mingkang said in a statement published on the commission's Web site on Tuesday.

Most would happily trade the quality of life that a place like Hangzhou offers with its breathtaking West Lake (left), for the pollution of Beijing (right).
January 31, 2006

Hong Kong: Hong Kong Special Administrative Region government will continue to give unlimited support to tourism, consolidating Hong Kong's status as the first destination for Chinese mainland and overseas tourists, Chief Executive Donald Tsang said Sunday.
Britain's top appeals court has given some employees of Cathay Pacific Airways recourse to British labour laws in a decision that has wider implications for how British-controlled firms in Hong Kong handle staff dismissals.

China: The World Economic Forum annual meeting at Davos drew to a close on Sunday after four days of vibrant debate with China in the spotlight.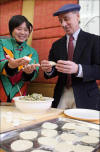 Chinese dumplings at a local citizen's home in Qinhuangdao, a coastal city in north China's Hebei Province Jan. 28, 2006, the Spring Festival Eve. More and more foreigners visit China during the Spring Festival vacation to enjoy Chinese native culture.
Chinese Premier Wen Jiabao visited the No.65 well of Zhongyuan Oil-field in Dongming County of Shandong Province on the eve of the lunar New Year and celebrated the festival with oil workers.
The total investment in China's booming real estate sector has rocketed to an estimated 5.3 trillion yuan (657.6 billion US dollars) over the last five years.
January 30, 2006

Hong Kong: When the High Court ruled Thursday that uploaders of copyrighted music could no longer hide behind a "cloak of anonymity" on the Internet, it did far more than just send a strong message to the local online community - it solidified Hong Kong's place as a global leader in the fight against online piracy.
The Hong Kong government ran a deficit of HK$6 billion in the nine months ending December 31, putting it on track to achieve a surplus for the full fiscal year, analysts said.
The Hong Kong Monetary Authority, the city's de facto central bank, may tighten rules on its senior officials who join private companies after leaving the authority to avoid conflict of interest.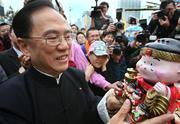 Donald Tsang checks goods at the Victoria Park fair yesterday in celebration of the Lunar New Year.
Nine Dragons Paper Industries, a paper manufacturer based in Dongguan, has won approval from the Hong Kong stock exchange to raise HK$3 billion in an initial public offering, market sources said.
The contentious West Kowloon cultural district project has been saved from collapse at the 11th hour, with two shortlisted bidders expressing continued interest in developing the cultural hub hours before the deadline.

Here's to a banner year: Hong Kong Exchanges and Clearing chairman Charles Lee Yeh-kwong (left) and chief executive Paul Chow Man-yiu extend their best wishes for the Year of the Dog. Mr Lee's banner wishes everyone to have a "prosperous business", while Mr Chow's says "enter and leave safely". The blessing usually applies to travelers but Mr Chow says in this case it wishes safe investments for brokers and investors.
British-based Man Group held its annual board meeting in its new Hong Kong offices this week in a sign of how important the Asian market has become for the world's largest hedge fund company.

Three executives who are role models for the next generation in the IT industry: (from left) Alfred Chuang, John Chen and James Lau. Picture by Jonathan Wong, Antony Dickson.
About 6.5 million people, nearly equivalent to the total population of Hong Kong, are expected to enter or leave the SAR over the next few days, the Immigration Department said.

China: Dispersing the looming shadows regarding whether there would be price hikes and growth slumps, China's economy finally rolled along the fast track of 9.9 percent steadily in 2005. That marks a happy ending to the country's 10th Five-year Plan Period (2001-2005).

Local residents buy foods for the fSpring Festival, or the Chinese lunar New Year, which falls on Jan. 29, at a supermarket in Shenyang, capital of northeast China's Liaoning Province, on Jan. 27, 2006. The shops in the city have busier business than usual.
Xinhua PR Newswire, a news and information distributor, is aiming to "significantly expand" its business in China, hoping to cash in on opportunities in the fast-growing economy.
US investment bank Goldman Sachs, German insurer Allianz and credit card and travel services giant American Express formally signed a deal Friday to buy a combined stake of almost 10 percent in Industrial and Commercial Bank of China for US$3.78 billion (HK$29.48 billion), the mainland's largest lender said.

Chongqing police take part in an anti-crime drill on inline roller skates. They are the mainland's first roller-skating police.
January 27 - 29, 2006

Hong Kong: China is to issue guidelines to gauge whether a mainland futures firm is qualified to do business in Hong Kong, giving local futures firms their first opportunity to expand overseas.
Datang International Power Generation Co Ltd, China's second-largest Hong Kong-listed generator, is diversifying by taking a stake in a new nuclear project in East China's Fujian Province.
Lenovo Group, Asia's largest personal computer manufacturer, has blamed a lack of competitive products in the business it acquired from IBM last year for worse-than-expected results in the three months to December, when profit margins and market share outside the mainland fell sharply.

The Airport Authority will spend HK$4.5 billion to upgrade Hong Kong International Airport to cope with expected increases in passenger and cargo flow.

PCCW, Hong Kong's largest phone company, has failed to block Galaxy Satellite Broadcasting from entering the city's Internet television market after the High Court rejected its judicial review Thursday.

Hong Kong's world-class image may be jeopardized if the government pushes ahead with plans to construct high- density commercial developments in the Central waterfront area, harborfront activists have warned.
Hong Kong's High Court on Thursday ordered four internet service providers (ISPs) in the territory to supply users' personal data to help with the prosecution of people distributing copyrighted files illegally

Executives of Dongfeng Motor Group Co toast to the first day quotations of the company in the Hong Kong Stock Exchange in December last year. Mainland companies sold US$18.9 billion of shares in Hong Kong last year, more than four times the amount raised at home after regulators halted public share sales in May to allow for conversions of non-tradable stock.
The value of Hong Kong's exports increased by 6.7 per cent to $188.8 billion in the year ending December 2005, latest statistics released on Thursday showed.
Newly-appointed Secretary for Commerce, Industry and Technology, Joseph Wong Wing-ping, flew to Switzerland on Thursday to attend an informal World Trade Organisation (WTO) ministerial meeting in Davos.

Passengers cross into Shenzhen at the Lok Ma Chau border checkpoint yesterday. Immigration officers will be redeployed to cope with holiday travelers.

Tommei Tong holds court as Tom Group's new chief executive yesterday. She says it will be pretty much business as usual direction-wise but she plans to strengthen investor relations so that the market will learn more about the company's publishing, outdoor media, sports and television businesses. She hopes this will result in a better performance of the company's share price. Ms Tong says the group will grow through acquisitions and by organic expansion.
The Peninsular & Oriental Steam Navigation on Thursday said it had agreed to a £3.5 billion (HK$49 billion) offer from Singapore port operator PSA International - a switch of alliances that is likely to spark a bidding war for the 165-year-old British maritime icon.
Macau is planning to double the passenger capacity of its airport to handle the anticipated influx of international travellers as the city's investment boom boosts its reputation as a leisure destination, according to an official.

China: China has set major poverty reduction objectives for the 2006-2010 period, including more efforts to help the poor obtain sufficient food and clothing.

Chinese Yan Zi (L) and Zheng Jie raise women's doubles trophy of the Australia Open tennis tournament in Melbourne Friday. The 12-seeded Chinese duo won the country's first ever Grand Slam title after beating the top seeded pair of Lisa Raymond and Samantha Stosur 2-6, 7-6, 6-3.

A Beijing police officer skips rope with her sniffer dog in front of the China Science & Technology Museum at an exhibition focusing on knowledge about dogs. The event was held yesterday as part of the celebrations for the Year of the Dog, which begins from tomorrow at midnight.
China could face the risk of either deflation or inflation this year, the nation's top statistician warned yesterday, saying domestic oversupply and global oil price rises would exert conflicting pressures on the economy.

Air China stewardesses prepare to present Beijing 2008 Olympics mascots to Taiwan passengers as souvenirs at Capital International Airport in Beijing, Jan. 25, 2006. Air China's first Spring Festival charter flight CA197 flew from Beijing to Taipei in southeast China's Taiwan on Jan. 25. The fuselage of the jetliner bears the logo for the Beijing 2008 Olympics and the games' slogan, "One World One Dream".

World Economic Forum founder and executive chairman, Klaus Schwab(R), signed in Davos, Switzerland, with Zhang Xiaoqiang, Vice Director of National Development and Reform Commission, on Jan. 25 a memorandum of understanding on the establishment of WEF Beijing office that will lead to an annual global industry summit in the Chinese capital as of 2007.
The sizzling Zheng Jie and Yan Zi kept on creating tennis history yesterday as they outclassed Shinobu Asagoe of Japan and Katarina Srebotnik of Slovenia to reach the finals of the women's doubles at the Australian Open.

China's steel sector, the biggest in the world, could see a sharp decline in profits this year due to weakening prices for steel products.
A majority of chief executive officers plan to invest in China in the next three years to win customers in the world's fastest-growing major economy, a survey by PricewaterhouseCoopers LLP showed.
Four Seasons Hotels Inc, the world's largest operator of luxury hotels, said it will open three new hotels in China, which the United Nations predicts will be the globe's most visited country by 2020.
InterContinental Hotels Group Plc, whose Holiday Inn chain benefited from the construction of the US Interstate Highway system in the 1950s, is counting on Chinese roads to fuel demand for overnight stays.

New Airbus carrier: An Airbus A330-300 arrives at Shanghai's Hongqiao International Airport yesterday. Shanghai-based China Eastern Airlines will be the first Chinese airliner to use the Airbus model, which is capable of carrying 300 passengers.
Japan's trade surplus saw its first fall in four years last year, driven down by high energy prices, and in another first, slipped below that of China - now the world's workshop - official figures showed on Thursday.
Lenovo Group, China's largest personal computer maker by shipments, on Thursday said net profit for the October-December quarter rose 12 per cent from a year earlier, led by growth in local and overseas markets.
January 26, 2006

Hong Kong: A budget airline, called Macau Asia Express, has been established with the aim of carrying more passengers between Macao and other East Asian destinations.
Sing Wang, chief executive of Tom Group, a media company controlled by tycoon Li Ka-shing, abruptly resigned and was replaced by chief financial officer Tommei Tong, following media reports questioning the amount of time he was spending on personal investments while remaining at the helm of the publicly traded company.
The Hong Kong Monetary Authority expects profitability indicators for Hong Kong's banks to continue to improve as robust economic growth overshadows the effects of increasing competition and mounting cost pressures.
Members of the government's newly- appointed public broadcasting review committee have hit back over allegations they had been "bought out" by the administration as part of an ongoing plan to turn Radio and Television Hong Kong into a government mouthpiece.
Permanent Secretary for Education and Manpower Fanny Law has acknowledged for the first time calls for her resignation by saying she sees no reason why she should step down.

When it come to maths, Ho Ching-yin (above) has the answers. At just 11, the Lam Tin Methodist Primary School pupil has won a first-division prize in the elite phase of the World Class Arena mathematics and problem-solving tests ... making him the youngest student to win an award at the top level. The World Class Arena tests, which are open to students from Hong Kong, England and the mainland, attracted 2,400 local students, with 20 per cent managing to achieve distinctions. The three best performers won scholarships to an academy in the UK. Ching-yin missed out.
The government on Wednesday announced the appointment of four senior secretaries.
This is the second reshuffle Chief Executive Donald Tsang Yam-kuen has made to his cabinet in two days. On Tuesday, former commerce secretary John Tsang Chun-wah was named head of the Chief Executive's Office. A government spokesman said on Wednesday Carrie Lam Cheng Yuet-ngor, Director-General in London, would take over the post of Permanent Secretary for Home Affairs. Andrew Wong Ho-yuen, Permanent Secretary of the Chief Executive's Office, would assume the post of Permanent Secretary for the Civil Service. He will replace Rebecca Lai Ko Wing-yee who will be leaving the civil service in July. Yvonne Choi Ying-pik, Director of Information Services, would become Permanent Secretary for Commerce, Industry and Technology. Chang King-yiu, Director of Administration, will assume the post of Permanent Secretary of the Chief Executive's Office. New Secretary for the Civil Service, Denise Yue Chung-Yee said the appointees were people with valuable experience in public administration.
An accounting error at Pacific Century Insurance Holdings has resulted in the overstatement of profits by up to 13 times, forcing it to revise its figures and bringing it under the spotlight of regulators.

China: China's economy surged 9.9 percent last year, putting it in fourth place behind the United States, Japan and Germany on the back of record exports and rising capital investment.
US President Bush spoke highly about his personal relationship with President Hu Jintao on Monday, saying that he "enjoys" visits with the Chinese leader. Beijing wants better communications with Washington, Premier Wen Jiabao said yesterday as he met a senior US official amid recent tensions over trade, the mainland's military build-up and its human rights record.
The Chinese government has decided to regulate the country's real estate mortgage evaluation sector to reduce loan risks of the banking sector.
The annual anti-tax avoidance investigation by State Administration of Taxation (SAT) over an average of 230 enterprises shows that the accumulative adjustment of taxable amount reached some 20 billion yuan.

Chinese tennis players Zheng Jie (left) and Yan Zi celebrate after a hard-fought three-set victory yesterday to advance to the semi-finals of the women's doubles tournament at the Australian Open in Melbourne. They defeated fourth seeds Paola Suarez of Argentina and Virginia Ruano Pascual from Spain. It is China's best Grand Slam achievement.

China, taking advantage of its stable economy, will continue to cut the amount of long-term treasury bonds it issues this year, predicting the economy will not suffer a slowdown.
Credit Suisse, a global financial services provider, has made its first ever direct investment in China's real estate sector, marking an important step for the 150-year-old bank's expansion plan on the Chinese mainland.

Online search engine leader Google, in a bid to strengthen its competitive position in the world's second-largest Internet market, launched its first local site, Google.cn.
China's State Reserve Bureau has banned its employees from trading in a broad range of financial instruments after one of them ran up huge losses on copper futures last year.
January 25, 2006

Hong Kong: Commerce Secretary John Tsang Chun-wah on Tuesday was appointed to be the new head of the office of Chief Executive Donald Tsang Yam-kuen.
Health Secretary York Chow Yat-ngok said on Tuesday businesses would be given a grace period of at least three years to prepare for the government's proposed smoking ban.
Mainland retail and consumption stocks will continue to be investment favourites among local investors this year, thanks to the mainland's shift from an investment-driven economy to a consumption-driven one, analysts said.
One of Hong Kong oldest travel agencies, boasting 30 years' experience in the industry, informed the Tourism Industry Association Monday that it has closed all six of its branches due to financial problems.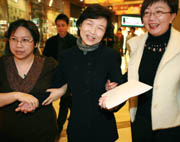 Education bureau staff link arms with Fanny Law in a show of support as they leave yesterday's meeting with schoolteachers. The education minister unveiled an independent commission to investigate teachers' workload and pressure, a day after thousands of teachers and their families marched to voice their anger at the pace of education reforms.
Hong Kong is among a handful of cities shortlisted to host the Asian Aerospace civilian and military air show from 2008, an event that could contribute as much as $2 billion to the local economy every two years.

Immigration Department cadets demonstrate self-defense skills at the department's new training school in Tuen Mun. A scheme allowing foreign workers a maximum of a year to find jobs or start their own businesses in Hong Kong could be introduced within six months, the immigration chief said yesterday.

China: United States shipping company FedEx on Tuesday said it had agreed to acquire its Chinese partner's 50 per cent share in their joint venture, converting it into a wholly owned subsidiary.
Chinese Premier Wen Jiabao met with US Deputy Secretary of State Robert B. Zoellick Tuesday in Beijing.

Centenarian Li Jingxuan (L), a resident in Jinan, capital city of east China's Shandong Province chats with his daughter in Beijing online on Jan 23. Four of Li's six children live in other cities. To "see" these children often, Li began to learn to use computer in December 2005. Now Internet has become a link between Li and his children.
China on Tuesday called for talks to make the current holiday-only charter flights to Taiwan year-round in an effort to skirt the self-governing island's 57-year-old ban on direct transport links
United States-based Travelocity has fully acquired regional online travel booking firm ZUJI for US$34 million (HK$265 million) to boost its Asia-Pacific business.
Profit of China's 169 central state-owned enterprises (SOEs) grew 27.9 percent year on year to 628 billion yuan (78 billion US dollars in 2005, a senior official said Monday in Beijing.
The trade volume between Chinese mainland and Taiwan reached 91.23 billion US dollars last year as more and more Taiwan businesses, hi-tech ones in particular, come to invest in the most populous market, said a mainland official on Taiwan affairs here Monday.

Chinese President Hu Jintao (R) shakes hands with visiting Saudi King Abdullah bin Abdul-Aziz at the Great Hall of the People in Beijing, Jan. 23, 2006. China and Saudi Arabia have agreed to further increase bilateral substantial cooperation and promote the in-depth development of bilateral strategic friendship and cooperation. China and Saudi Arabia signed five agreements yesterday, including one on increased co-operation in oil, natural gas and mineral deposits.

A man walks through a display of red lanterns, hung as a symbol of good luck, yesterday in Beijing's Ditan (Temple of Earth) Park, decorated for a Lunar New Year temple fair. Visits to the city's various temple fairs remain one of the most popular ways for Beijingers to spend the weeklong public holiday.
European aviation giant Airbus is likely to establish a final assembly line for single-aisle aircraft in China this year, Airbus said yesterday.
China's flagship grid company, the State Grid Corp of China (SGCC), said it will spend 800 billion yuan (US$98.6 billion) over the next five years to upgrade the country's electricity transmission network.
Guangdong Kelon Electrical Holdings Co, China's biggest refrigerator maker, said an investigation found that former executives had inflated sales and embezzled at least 592 million yuan (US$73 million). The company's shares fell after the news.
January 24, 2006

Hong Kong: CLP Holdings, the larger of Hong Kong's two electricity suppliers, has agreed to spend 110 million yuan (HK$105.8 million) for a 25 percent stake in a wind power project in Guangdong, its third renewable energy investment in the mainland.

First runner-up Ginney Kanchanawat from Bangkok, winner Ina Lu from Johannesburg and second runner-up Annabelle Kong from Kuala Lumpur (L-R) pose after the Miss Chinese International Pageant 2006 beauty contest in Hong Kong Jan. 21.

A substantial majority of Hong Kongers want to see a "large green park" with cultural and leisure facilities replace the planned West Kowloon cultural district mega-development, according to a survey.
Shangri-La Asia, a luxury hotel operator controlled by Malaysian tycoon Robert Kuok, is spending 92 million euros (HK$865.63 million) buying Paris mansion and converting it to a hotel.
Hong Kong, faced with a rapidly aging population, will gradually open its tightly guarded borders to professionals from the mainland and elsewhere, the Immigration Department said.
The Agriculture, Fisheries and Conservation Department on Monday urged the public not to bring orchids into Hong Kong without a licence — especially during the forthcoming Chinese New Year holiday.

China: President Hu Jintao is set to visit the United States in April, Hong Kong-based Wenweipo reported yesterday, citing diplomatic sources.
The latest MasterIndex of Consumer Confidence survey shows Chinese consumers confidence reached 82.3, hitting historical highs in terms of the Quality of Life, Economy and Regular Income. That indicates Chinese consumers continue to have an optimistic economic outlook, despite of many existing and soon-to-emerge economic challenges.
Managerial staffs of China's major state-owned enterprises (SOEs) are permitted to hold shares of their own firms during assets or shares increase of the SOEs.
China saw a record high of 14 trillion yuan (1.73 trillion US dollars) in domestic saving deposits last year with the cooling down of personal investment and downturn of domestic consumption.
In the past months, a number of industry players including Ericsson and Nokia have jumped on the TD-SCDMA bandwagon. The TD-SCDMA Industrial Alliance now has more than 420 members.

After a 12-year ban on the sale of fireworks in Beijing, Kang Guoliang, 50, was able to resume his old trade yesterday.
Australian wool growers have enlisted movie star Yin Xiaotian to prove to China's businessmen that wearing a 1,200 yuan (US$149) Australian wool suit is the key to success.
CNOOC Ltd, China's largest offshore oil producer, said it is boosting capital spending by 35 percent to US$3.06 billion (HK$23.87 billion) this year in an attempt to increase reserves and output after failing last year to meet production targets. Yang Hua is optimistic about risks to CNOOC's Nigerian operations and says the firm has confidence in its deep-water prospecting.
Saudi King Abdullah with Foreign Minister Li Zhaoxing greets mainland officials as he arrives in Beijing for a visit.
Beijing's real estate sector now constitutes 7.2 per cent of its gross domestic product, representing an annual growth rate of nearly 20 per cent during the past five years.
January 20 - 23, 2006

Hong Kong: Five Star Appliance Co Ltd, the mainland's fourth largest electrical appliance retailer, filed an application to the Hong Kong bourse for an initial public offering (IPO) of as much as HK$500 million (US$64 million), a local report said.
China Merchants Bank, which is seeking to become the first mainland bank to be listed both at home and overseas, plans to raise more than HK$10 billion through an initial public offering in Hong Kong, possibly before June, market sources said.

The Hong Kong Monetary Authority's Exchange Fund, whose earnings are an important source of government revenue, turned in its worst performance since 2001 as the US dollar's gains against the euro and the Japanese yen slashed the value of its non-dollar investments.
With the United States and European Union holding fast to tariffs on mainland textiles and clothing until the end of 2008, Hong Kong has a "golden opportunity" to redevelop its local industry and boost employment, the government's top labor chief told lawmakers.

Troupe members rehearse for their return to Taikoo Shing, where they will entertain audiences at the Cityplaza mall. The troupe has performed in Hong Kong for the past two Lunar New Years. This year, it will comprise 40 elite acrobats, contortionists and gymnasts. The group has won numerous awards, including the gold prize at the 14th International Acrobatic Competition of Belgium and a Silver Clown Award at the Monte Carlo Circus Festival.
Senior Hospital Authority managers will be the first target of restructuring by incoming chief Shane Solomon, the health bureaucrat recruited from Australia to reform Hong Kong's health system. Shane Solomon is more worried about not being able to speak Cantonese than about his lack of medical training. Mr Solomon, 49, who began his career as a social worker, believes management experience and understanding the health system are crucial to health-system management, but being a doctor is not.

Shun Tak Holdings' Daisy Ho (left), Stanley Ho and Pansy Ho say the group will secure the best terms for its projects in Macau.
The telecommunications regulator plans to withhold new licences for broadband wireless technologies such as WiMAX until it becomes clearer how the merging of fixed and mobile services will affect the regulatory regime.
Travel and financial services provider American Express said on Tuesday it is considering applying for a banking licence on the Chinese mainland to enhance the company's diversified presence in the market.
Yantai North Andre Juice Co Ltd, an apple juice supplier to beverage giants such as Coca Cola, Pepsi and Nestle, plans to more than double its output in the next two years.

A sales representative chats with a foreign visitor in front of a booth for a mainland fashion company on the opening day of Hong Kong Fashion Week for Fall/Winter 2006. The event started on Tuesday in Hong Kong.
The embattled KCRC disclosed two new incidents yesterday as the transport minister vowed to remove any grey areas from the rail company's regulations.
Combating piracy and air pollution is key to enhancing Hong Kong's attractiveness to foreign investors, the new chairman of the American Chamber of Commerce said.
The government has no policy or mechanism to exchange land with the Housing Authority, which is facing a shortage of sites for public housing development, the housing chief said yesterday.

China: China feels it has an obligation to provide humanitarian aid to countries in need of help despite its relatively low per capita economic output.

Commuters in Shanghai ride on a bus with EBay Inc advertising. US online trading giant eBay yesterday cancelled transaction fees for its users in China amid intensifying competition from Taobao and Tencent.
Two years after people began to hear about China's economic "soft landing," now it has finally come about. At least, the buzz word has materialized in the real estate industry, China's most important engine for domestic spending.
The nation's biggest oil producer, PetroChina, yesterday said it has obtained the government's final approval to build two cross-China pipelines.

BenQ Corp Chaiman K.Y.Lee displays a BenQ-Siemens mobile phone in Beijing. The product is the first model following BenQ's acquisition of Siemens' mobile phone business last year.
January 19, 2006

Hong Kong: Hong Kong is striving to cater for the needs of disabled people using rail services, Transport Secretary Sarah Liao Sau-tung said on Wednesday.

Ang Lee (L) with actress Anne Hathaway in "Brokeback Mountain" pose for a photo at Hollywood, Jan. 16, 2005. Lee was awarded Best Director - Motion Picture with his "Brokeback Mountain" and the movie also won Best Motion Picture - Drama at the 63rd Golden Globe Awards.

Clint Eastwood (right) poses with Ang Lee after presenting him the Golden Globe award for the Best Director for his gay cowboy romance "Brokeback Mountain" which also won three other honours at the 63rd Annual Golden Globe Awards in Beverly Hills, California, on Monday.

Chinese Cuisine Training Institute students serve prawn cakes, silver flower and mulberry teas and soups at a seminar yesterday on preventing bird flu. The dishes are recommended by Chen Jian-ping, of the University of Hong Kong's School of Chinese Medicine, to boost immunity and metabolism.
Dragonair, Hong Kong's No. 2 carrier, said on Wednesday it flew a record number of 5 millions passengers in 2005.

The MTR carried a record 857.95 million passengers last year, 2.87 per cent up on 2004, driven by a stronger economy and the opening of the Disneyland Resort line. The corporation's Airport Express line saw the biggest increase, 6.12 per cent to 8.49 million passengers, on the back of a buoyant tourism sector. The 2km line serving the Disney theme park that opened in August has seen a monthly average of about 10,000 passengers.

China: The overseas direct investment from Chinese enterprises surpassed 50 billion US dollars by the end of 2005, according to the latest statistics released by China's Ministry of Commerce Tuesday.
A model poses at a foreign auto trading hall in Shanghai on Jan. 16. A report on business information statistics shows foreign luxury goods expanded the share in the "best-selling brands" on the Shanghai market to 6.8 percent in 2005, compared with 4 percent in 2004.
Trade between China and the Association of Southeast Asian Nations (ASEAN) rose to 130.4 billion U.S. dollars last year, up 23.1 percent on a year-on-year basis.
China's taxation administration said Tuesday that the administration is still working on a proposal for a unified income tax system both for domestic and overseas-funded firms.
The Italian sportswear company Lotto Sport Italia has formed a joint venture with Scienward International Holdings Ltd in a bid to enhance its presence in China.

Driving back in time: Visitors look at a Mercedes-Benz vintage car manufactured in 1907 at a Benz car exhibition in Beijing yesterday. The expo aims to reveal the development history of cars by displaying Benz vehicles made in the past 100 years.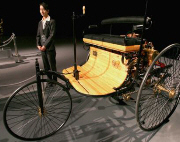 A replica of the first car made by Karl Benz in 1886 is displayed during the "Never Fading Legend" circuit show of Mercedes-Benz's classic cars at the China International Trade Centre in Beijing. The show includes six cars from the Mercedes-Benz Museum. These cars represent the history of the auto industry between 1886 and 1980.

A worker lifts a copper plate at Shanghai Dachang Copper Industry Co Ltd. Copper futures shot up to a record for the second day in Shanghai on speculation that demand from wire and cable makers is outpacing supply in China, the world's biggest consumer of the metal.

A young boy holds a placard pleading for his mother, a migrant worker who left home in search of work, to return home to Xian, Shaanxi province, for the Lunar New Year holiday.
The State Administration of Taxation released a breakdown of tax revenue yesterday that showed income from corporate tax grew 35 per cent last year, largely due to a 38.1 per cent rise in profits in 2004.
January 18, 2006

Hong Kong: The government said it may make more small to medium land sites available for auction after receiving no application to trigger a sale for four months amid rising interest rates, higher land prices and constant supply from public tenders offered by the two railway operators.
Chinese director Ang Lee stands on the top of the podium with award in hands for Best Director Motion Picture for "Brokeback Mountain" at the 63rd Annual Golden Globe Awards in Beverly Hills, California January 16, 2006.

Shun Tak Holdings, the ferry-services- to-real estate group run by casino mogul Stanley Ho, plans to arrange a syndicated loan of HK$4 billion to fund property developments in Macau, people familiar with the situation said.
Hong Kong-listed companies will have to pay more to their independent non- executive directors if they are to expand the pool of potential recruits at a time of higher workloads and increased responsibility, according to the Hong Kong Institute of Chartered Secretaries.
Expatriate pay packages will not be illegal under proposed racial discrimination legislation, but setting remuneration according to race will be, the official overseeing the new law said Tuesday.
More cracks have been discovered on Kowloon-Canton Railway Corporation trains, but the legislative subcommittee overseeing rail transport is satisfied at the emergency safety measures adopted to secure the rolling stock.
The government announced on Tuesday that it had set up a seven-member committee - formed by senior media professionals and an academic - to review Hong Kong's public broadcasting policy.

The new trading hall at the Hong Kong stock exchange, which began operating yesterday, has fewer booths than the old square-shaped design.

China: Beijing has unveiled an ambitious plan to build a Disney theme park by 2010, in a move that could see the capital leapfrog Shanghai in the race to become the first mainland city to compete with Hong Kong Disneyland.
Shanghai Airlines, China's fifth-biggest carrier, is likely to join the world's largest airline club Star Alliance in the first half of this year, in a move to expand its international market, a source close to the alliance said.

Statistics from Shanghai port administration show that the Shanghai port registered 443 million tons of cargo throughput in 2005, outracing Singapore to become the largest freight port in the world. Its container handling capacity ranks the third in the world. In this picture is a view of the Waigaoqiao dock at the Shanghai port.

You can eat it, too!: Chinese workers celebrate after they broke the Guinness World Record for the biggest ice-cream cake in Beijing yesterday. The cake is 4.8 metres long, 3 metres wide, and 1 metre high, and weighs 8 tons. It has been recognized as the largest ice-cream cake, according to the Guinness World Records.
China's personal savings rose to a record 14 trillion yuan (US$1.7 trillion) at the end of last year, mainly because people put aside more money to pay for education, health care and housing, analysts said yesterday.

A journalist looks at a map which is said to be an 18th century copy of the 1418 original, showing both North and South America in unusual details, during a news conference in Beijing yesterday. The controversial yet tantalizing theory that Chinese explorers may have discovered America 70 years before Christopher Columbus gained credence yesterday with a new map unveiled in Beijing.

Visitors browse the selection of fruit imported from Taiwan at a cross-Straits fruit exposition in Suzhou, East China's Jiangsu Province yesterday. Fruit from Taiwan is gaining increasing popularity since the mainland exempted import tariffs on Taiwan fruit last year.
China's biggest telecommunications equipment maker, Huawei Technologies, saw its global sales jump 40 per cent last year to US$8.2 billion (HK$64 billion) last year, the company reported.
January 17, 2006

Hong Kong: Sandy Mo, wife of disgraced mainland tycoon Chau Ching-ngai and former general manager of failed property company Shanghai Land Holdings, was jailed Monday for 3 years in Hong Kong for conspiracy to defraud and to pervert the course of justice.
Complaining of "arbitrary" environmental standards and "shocking" cuts in its rate of return, CLP Power raised dire warnings Monday that the government's latest proposal to regulate Hong Kong's two electricity providers will hurt power generation and perhaps even lead to the collapse of the long-standing partnership between government and the industry.
Lenovo Group, the largest computer maker in the Asia-Pacific excluding Japan, is seeking a US$300 million (HK$2.34 billion) loan to partially refinance loans taken out to fund last year's acquisition of International Business Machines' personal computer division, market sources said.
UBS, the largest qualified foreign institutional investor in the mainland's yuan-denominated stock markets, is applying for an additional quota of up to US$500 million (HK$3.9 billion) to meet increasing demand from clients.
The Hong Kong government will probably post a smaller budget surplus this fiscal year due to a shortfall in land sales and reduced investment income, despite higher tax revenues and cuts in public spending, according to forecasts by audit firm PricewaterhouseCoopers.

The government will lead a joint investigation with the Kowloon-Canton Railway Corp to determine who is responsible for and how to rectify the company's spate of train defects and its untimely disclosure of these problems.
Annual passenger figures for Hong Kong International Airport soared to a record 40.74 million in 2005 — up 9.7 per cent from the previous year, latest statistics released on Monday showed.
High rents and stiff competition among incumbent retailers have led China Paradise Electronics Retail chairman Chen Xiao to reconsider opening in Hong Kong and renew the firm's mainland focus, with 90 new stores planned this year.

China: A local girl looks at decorations at a store in Zhengzhou, capital of central China's Henan Province, Jan. 15, 2006. Chinese people began to purchase gifts and decorations for the traditional Spring Festival, or the lunar new year due on Jan. 29, 2006.

A local girl looks at decorations at a store in Zhengzhou, capital of central China's Henan Province, Jan. 15, 2006. Chinese people began to purchase gifts and decorations for the traditional Spring Festival, or the lunar new year due on Jan. 29, 2006.
The Asian Development Bank (ADB) will conduct a study to help China draw up a policy reform plan for the country's railway passenger and freight transport, through a technical assistance grant of 400,000 US dollars.
China's increasingly marginalized B-share markets, where share prices are denominated in U.S. dollars and which are available to overseas investors, are set to be merged into the country's A-share market, experts said.
Industry sources predicted that in 2006 China's foreign exchange policies will be more flexible, but the exchange rate will remain basically stable. China's foreign exchange reserved has reached US$819 Billions in 2005. China's official foreign exchange reserves look set to cross the US$1 trillion mark sometime this year after the People's Bank of China announced yesterday that the stockpile had swollen US$209 billion, or 34.3 per cent, to US$818.9 billion last year.
January 16, 2006

Hong Kong: Individual investors may gain access to the preliminary prospectus companies seeking to sell shares must file with the stock exchange at the same time institutions receive copies in a bid to put retail buyers on a more equal footing, according to Richard Williams, head of the listing division of Hong Kong Exchanges & Clearing. Hong Kong Exchanges and Clearing, aiming to maintain momentum after a record year for initial public offerings, is introducing measures to enhance transparency in the vetting process of listing applicants and improve corporate governance.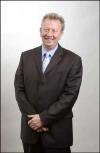 Shane Solomon, an administrator rather than a medical professional, is to become the Hospital Authority's chief executive on March1, chairman Anthony Wu announced Friday.

New World TMT, the loss-making telecommunications and media investment arm of New World Development, has asked for five more months to claw back the $2 billion in deposits and loans outstanding from the failure of its fibre-optic network project in China. "We have extended the deadline on getting back the payments for five months until the end of May," chief executive Albert Wong Chi-chiu (right) said. Independent shareholders in New World TMT, a heavily indebted Internet and media business, brushed aside analyst warnings that the offer was too low and overwhelmingly approved a plan by controlling shareholder New World Development to buy the 46 percent of the shares it does not already own.

The high roller is no longer king in Macau. The city's casinos took in less last year from VIP baccarat tables, long the industry's main source of revenue, than the year before, according to data published by the Macau Gaming Inspection & Coordination Bureau. Not that Stanley Ho and his gaming rivals are hurting. Macau casino revenue for the year rose 11.3 percent to 44.73 billion patacas (HK$43.43 billion), due almost entirely to growth in play at public baccarat tables. This shift to reliance on the mass market represents a crucial stage in the transformation of the city into an entertainment center that might one day live up to its hype as an Asian Las Vegas - and could justify the billions that US and Hong Kong-based casino firms are pouring into building massive resorts that could never hope to live on the take from high rollers alone.
Greentown China Holdings, a mainland propert developer, raised US$150 million (HK$1.17 billion) by selling bonds convertible into shares in the run-up to a potential initial public offering in Hong Kong, market sources said.
Tianjin Port Development Holdings, a spinoff unit of red-chip conglomerate Tianjin Development, has been asked to submit further information for its US$100 million (HK$780 million) initial public offering, which may further delay the listing plan, an informed source said.
Sun Hung Kai Properties has obtained a prime site in Shanghai which it will develop into office, retail and hotel space in a joint venture with the owner which will retain a minority share in the project, property agents said.
Sunday Communications will pay its parent PCCW up to $117 million this year to market its 3G mobile sales but will get back only $68 million from wholesaling its network capacity and related services to PCCW.

China: China has made impressive commitment to monitoring the Songhua River pollution in a regular and systematic way and to sharing results and other information with neighboring Russia and the United Nations Environment Programme, a UNEP report said.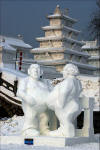 The photo taken on Jan. 13, 2006 show the third-prize snow statue "Dialogue" during the 11th Harbin Int'l Snow Statue Contest in Harbin, capital city of China's Heilongjiang. The four-day event closed its curtain here on Friday, with a Russian team scooping the first prize. A total of 27 teams from 17 countries and regions, including the US, Canada and Russia, took part in the contest.
Diplomats from Britain, Germany, France, Russia, China and US will meet in London Monday to discuss the escalating dispute over Iran's nuclear program.

Denying China's shoe-making industry the status of a fair competitor was wrong, industry officials said on Friday, adding that the European Commission's decision runs against the interest of the EU economy.
Both output and sales of vehicles made in China topped 5.7 million units last year, mainly due to strong passenger vehicle demand, according to an industry organization.

A police officer checks confiscated fireworks in Mudanjiang city of Northeast China's Heilongjiang Province on Friday. Local police destroyed the batch of illegally produced or poor quality fireworks, which were worth more than 400,000 yuan (US$49,000), as part of a safety crackdown ahead of the upcoming Spring Festival.
The Hangzhou restaurant's exorbitant banquet will feature abalone of the rarest kind from Japan and Pu'er tea preserved for 50 years. Dinner on Lunar New Year's Eve has always been a big deal. Mothers spend days or weeks buying up all kinds of delicacies for this annual family gathering. In recent years restaurants have jumped into the fray to get a slice of the business.

The mini version of the third series of RMB, made of pure gold, starts selling on Friday in Caishikou Department Store of Beijing. Altogether 8,000 sets have been made for worldwide sale.
China plans to allow its banks and postal services to set up insurance companies as it moves to diversify the structure of the expanding industry.
China has told power companies that 5 percent of their electricity will have to come from renewable energy sources by 2010, as the country tries to diversify away from fossil fuels to power its fast- growing economy, according to a news report.
January 13 - 15, 2006

Hong Kong: Pro-business politicians and other groups are worried that workaholic Hong Kong will be forced to ease up on workers after Chief Executive Donald Tsang announced a five-day week will be introduced for civil servants, starting July.
Hutchison Whampoa plans to kick off the 2 billion euro (HK$18.69 billion) IPO of its Italian 3G mobile business as soon as next week, people familiar with the situation said Thursday.
PCCW, the largest fixed-line operator in Hong Kong, will team up with global sports broadcaster ESPN STAR Sports in an effort to wrest one of i-Cable Communications' prize offerings - English Premier League football coverage - from the city's largest pay-TV network. The current contract expires this year.
Chief Executive Donald Tsang has jumped to the defense of Permanent Secretary for Education and Manpower Fanny Law, asking legislators to give her the benefit of the doubt just days after her controversial remarks on the recent suicides of two teachers.
The government will launch a retraining scheme for local garment workers and allow skilled staff to be brought in to help get the local textile and clothing industry back on its feet, Secretary for Economic Development and Labor Stephen Ip said.
China Aviation Industry Corp II (AVIC II), parent of the Hong Kong-listed mini-car and helicopter maker AviChina Industry & Technology Co Ltd, said yesterday its 2005 sales income rose 10.8 per cent year-on-year.

Sun Hung Kai Properties, the largest developer in Hong Kong by market capitalization, plans to raise as much as US$300 million (HK$2.34 billion) by selling a real estate investment trust in the territory, people familiar with the situation said.
The management of Link REIT, the world's largest property trust, is looking to arrange a commercial mortgage- backed security, or CMBS, to replace the HK$12.5 billion bridge loan arranged last year prior to the trust's initial public offering in Hong Kong, sources said.
The number of tourists visiting Macau leapt 12 percent to a record in 2005, a pace local officials hope to maintain despite a sharp slowdown in the growth of mainland tourism.
Investment property transactions may reach HK$70 billion in value this year - the highest since the 1997 market peak - boosted by overseas funds expanding their real estate investment trust portfolios, according to a report.
Shares in Skyworth Digital Holdings, a mainland television maker, slumped as much as 62 percent Wednesday after ending a 13-month suspension, on concern over the TV market outlook and impending legal proceedings against two former executives who own 40 percent of the company.

China: The second round of China-India Strategic Dialogue has concluded with a manifestation that both sides are satisfied with the progress.

Mazda 3 coming soon: A Mazda 3 car on display at the Brussels International Auto Expo on Wednesday. The model will be manufactured and sold in China this year.
CNOOC, the mainland's largest offshore oil producer, is likely to bid for a Kazakhstan oil company just days after it unveiled plans to spend US$2.3 billion (HK$17.94 billion) on offshore oil and gas assets in Nigeria, sources familiar with the situation said.
Shanghai, China's premier financial city, surpassed Singapore as the world's biggest cargo port in terms of throughput last year as the mainland's export growth boosted demand for sea freight, the local port authority said.
The census which showed the national economy is 17 per cent bigger than previously thought has also revealed the output of 12 provinces to be smaller than they have been reporting.

Richard Genthe (R), co-chairman of the 2005 show presents a special award to Li Shufu, president of China Geely Group at a press conference held on Jan 10 in Detroit. The preparatory committee of the auto show gives Geely the award to honor the first Chinese automaker to display at the Detroit Auto Show.
China's GDP will grow at an estimated rate of 8.5 to 9 percent in 2006. The NDRC study also predicts a slight deflation in the second half of the year.
China is now Russia's fourth largest trade partner, and Russia is China's eighth largest trade partner.

The Chinese mainland recorded US$1.4 trillion in foreign trade volume last year, helping China to remain the third largest trader in the world. Behind the big figures though, a widening trade surplus is arousing the concerns of trade partners.
Datang Power, one of China's leading power producers is planning to add up to six 600 MW (megawatt) coal-fired power generating units in Tangshan, North China's Hebei Province, said a spokesman from Datang Power yesterday. There are two units there already.

A girl in Bozhou, East China's Anhui Province, compares two piggy banks at a local shop. They are becoming more popular with children as the Spring Festival approaches.

Olympic souvenirs: Visitors look at Olympic souvenirs for the Beijing 2008 Olympic Games on the sidelines of a business conference of licensed commodity manufacturing enterprises in Beijing yesterday. By the end of 2005, the Beijing Organizing Committee for the Games of the XXIX Olympiad had signed contracts with 28 enterprises to produce over 1,000 licensed commodities for the Games.
Singapore's Temasek Holdings can buy 5 percent of Bank of China - half the initial agreed stake - under a preliminary decision by the mainland's State Council and banking regulator. They also approved stake purchases by three other foreign investors, according to a source.
China Poly Group, which has diversified into real estate and the art market since starting life as the trading arm of the mainland military, plans to set up a financial venture this year with Credit Suisse, Switzerland's second-biggest bank, as a 15 percent partner.
January 12, 2006

Hong Kong: PCCW, the largest fixed-line operator in Hong Kong, may trigger a new price war in the hotly competitive 3G mobile phone market with its offer of a free third-generation handset and up to 10,000 minutes of free airtime a month.

Less than four months after its grand opening, Hong Kong's Disneyland theme park has announced a major executive reshuffle by replacing managing director Don Robinson.
A unit of Macquarie Bank, Australia's largest investment bank, and Dalian- based property developer Wanda Group plan to raise at least US$100 million (HK$780 million) by listing a real estate investment trust in Hong Kong, in only the second such listing based on mainland properties.
The value of new home loans in Hong Kong probably plunged by half to HK$50 billion in the second half of 2005 from HK$93 billion in the first as rising interest rates discouraged flat buyers, according to a mortgage referral agency.

Facing a barrage of criticism for her callous remarks about the suicide of two teachers last week, Permanent Secretary for Education and Manpower Fanny Law apologized, admitting her comments were "improper."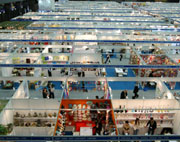 Sellers outnumber buyers on the opening day of the inaugural Hong Kong Spring Fair, the first trade event to be held at the new AsiaWorld-Expo near the airport. "We knew it would be somewhat quiet given the location and newness of the fair, but we didn't expect it to be this quiet," one stallholder said. The fair, with exhibitors from 17 countries and regions, will run until Friday.
Hong Kong companies will have to justify their offers of generous "expat packages" to foreign employees under an anti-racism bill now in an "advanced stage of drafting".
The government last night pledged to look into the relationship between PCCW and other associated entities if company boss Richard Li Tzar-kai wants to buy other media in person or through PCCW.

Tycoon Stanley Ho Hung-sun (left) and Director of Social Welfare Paul Tang Kwok-wai yesterday distribute lai see packets to Chan Yuk-ying, Chan Yuk-chi and Yun Lai-ying. The event took place at a Tang Shiu Kin and Ho Tim Charitable Fund New Year celebration for the elderly at Tung Wah Hospital in Sheung Wan.
A senior health official from Australia - who is not a doctor and cannot speak Cantonese - has been selected as the new chief executive of the 50,000-strong Hospital Authority after a six-month search.
Hutchison Whampoa, the ports-to-telecommunications conglomerate, is considering spinning off its Chinese herbal medicine business on the Alternative Investment Market (AIM) of the London Stock Exchange, the second board that is equivalent to the Growth Enterprise Market in Hong Kong, according to a source close to the company.

China: China's national business climate index (BCI) was 131.7 in the fourth quarter of 2005, down 3.0 points year on year, and remained at the same level in the third quarter. In 2005, the Sino-U.S. economic and trade relations were further enhanced, with China becoming the fourth largest export market of the United States. China will become the world's biggest inbound tourism nation by 2019, one year earlier than the World Tourism Organization predicted.

The boss of a US multinational which was a strong advocate of China's entry to the World Trade Organization was yesterday bestowed the nation's highest honor given to a foreign business leader. H. Edward Hanway, the chairman and chief executive officer of insurance giant CIGNA, was presented the Marco Polo Award for his great contributions to pushing forward Sino-US relations. "The award is for friendly envoys who make contributions to exchanges between China and other countries, like Marco Polo did for the relations between China and the West 750 years ago," said Zhang Jianguo, vice-director of the State Administration of Foreign Experts Affairs. Accepting the award, Hanway said: "With this award you honour me and my company. You also encourage all of us in the business arena to further promote and enhance bilateral relations between our two nations." Foreign Minister Li Zhaoxing sent his congratulations, saying he appreciated Hanway's contributions towards Sino-US exchanges.
Forecasts of the growth of China's telecoms market (2006-10), Compound annual growth rate of mobile phone users: 9%, Compound annual growth rate of 3G subscribers:268%, Compound annual growth rate of broadband Internet users: 22%.
China could become the most important Asian destination port for Qantas Airways, as the Australian airline plans to turn the country into its primary transit port for Aussies traveling to Europe.

Citizens look at a cabbage-shaped porcelain sculpture at an exhibition in Suzhou, East China's Jiangsu Province yesterday. The "cabbage," 20-kilograms in weight and 65 centimetres in length, sells for about 10,000 yuan (US$1,234).

Geely Automobile Holdings, which is racing to be the among the first mainland carmakers in the US market, will have low-priced sedans on sale in the United States within two years, chairman and founder Li Shufu announced Tuesday at the Detroit Auto Show.
Four Seasons Hotels and Resorts is negotiating to open a luxury hotel on the upper floors of the 432-metre high West Tower being built in Guangzhou, according to property industry sources.
January 11, 2006

Hong Kong: Lawyers for some of the recording industry's biggest players asked the High Court Monday to pull back the "cloak of anonymity" on illegal music file-sharers by forcing Hong Kong's four largest Internet service providers to divulge the identities of 22 alleged wrongdoers.

MTR's Thomas Ho expresses his confidence in the property market as developers' representatives submit their Dreamcity bids yesterday. MTR Corp has received only five tenders from the 14 real estate developers it invited to bid for the HK$15 billion Dream City Phase 2 housing project atop the future Tseung Kwan O South subway station.
Hong Kong has become the third most expensive place in the world to have an office, according to the 2006 Global Office Occupancy Costs Survey by DTZ Debenham Tie Leung.
Education reforms are driving teachers to suicide and should be temporarily suspended, teacher representatives have warned. The call Monday follows the deaths of two teachers, who jumped from their flats last week after complaining about work pressure.
Secretary for Justice Wong Yan-lung has rebuffed a new wave of threats from South Korean politicians and union members, vowing the 14 detainees will face charges of unlawful assembly arising from last month's anti-World Trade Organization protests.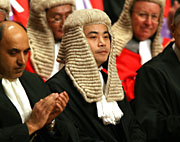 Secretary for Justice Wong Yan-lung (centre), joins Court of Final Appeal Justice Kemal Bokhary and Chief Justice Andrew Li Kwok-nang for the ceremonial opening of the legal year at City Hall yesterday, the first time Mr Wong has taken part in his role as the government's top lawyer and the first time he has addressed the full legal community. The function was attended by 165 judges, judicial officers and senior counsel in full ceremonial gear and 670 other guests.
The Hang Seng Index closed at its highest level in almost five years yesterday in the heaviest day of trading since the government intervened in August 1998 to prop up the market during the financial crisis.

Lo Chung-mau performs a transplant last night. HK surgeons win top honour for liver transplants - Four surgeons from the University of Hong Kong's liver transplant team were awarded a top scientific prize by Beijing yesterday. It is the first time local scientists have won first-class honours at the mainland's top science and technology award. The team's achievement in "adult-to-adult right lobe live donor liver transplantation" was one of 800 entries competing for the State Scientific and Technological Progress Award. Fan Sheung-tat, from HKU's surgery department, and team members Lo Chung-mau, Liu Chi-leung and Chan See-ching have successfully refined surgical procedures to increase patients' chances of survival. Conventionally, liver grafts from a living donor are from the left lobe, which is generally too small for most adult recipients.

Passers-by in Mongkok take shelter from a burst pipe that soaked shoppers and flooded shops and a nightclub yesterday. The pipe burst when workers were carrying out excavation work at the junction of Soy Street and Portland Street at about 2.15pm. Police cordoned off the two roads until Water Supplies Department staff switched off the water at 3pm. The Drainage Services Department said affected tenants could seek compensation from the government and that the incident is under investigation.
The recent real estate investment trust frenzy has lured another property developer to the fray, with sources saying Henderson Land Development has mandated Macquarie, Deutsche Bank and HSBC to help spin off a US$400 million to US$500 million reit.
Credit Suisse First Boston had poached a senior executive from Morgan Stanley's India brokerage joint venture to revive its dormant securities sales and trading business in the South Asian powerhouse, sources said yesterday.

The government is pursuing an expanded and aggressive new outsourcing plan after it was forced to terminate two information technology services contracts last year.

China: The General Office of the State Council has issued a circular to demand a nationwide canceling of restrictions on low-emission, economical cars.

CNOOC and Its subsidiary signed an agreement with South Atlantic Petroleum Limited (SAPETRO) to acquire a 45 percent stake in an offshore oil mining license (OML) 130 in Nigeria for 2.268 billion USD in cash.
Brazil's Gerdau SA, Latin America's largest steelmaker, is talking with Chinese steel makers about possible acquisitions or new plant constructions in the nation, which is vigorously consolidating the fragmented steel sector. "We are looking at opportunities in China," Claudio Gerdau Johannpeter, executive vice-president of the company, told China Daily yesterday. "It could be acquisitions, or building green-filed plants through partnership with a Chinese company." Johannpeter said the company is talking with the local firms in China for possible deals, but no concrete project has been secured.
Chinese President Hu Jintao said in Beijing Monday that the relationship between China and the Republic of Korea (ROK) has seen rapid development over the past year.
China and Japan agreed in Beijing Monday to hold a new round of consultations on the East China Sea gas issue in Beijing at an early date to resolve their gas dispute.

China Daily Editor-in-Chief Emeritus Zhu Yinghuang (centre) shakes hands with Pana Janviroj, president of The Nation, at the launch ceremony yesterday in Bangkok. China Business Weekly is doubling the number of its Asian readers as it is now being published by The Nation, one of the Thailand's leading English-language newspapers.

Kodak's Graphic Communications Group (GCG), as part of its overall growth strategy in Asia, is establishing a new greater China region and named the newly retired Chinese publishing tycoon Shen Haixiang its chairman and executive director. Kodak's sales revenues hit US$13.5 billion in 2004, up 5 per cent year-on-year. The company entered China in 1981. In 1998, it made its largest ever-overseas investment of US$1.2 billion to acquire all domestic imaging factories, except for Lucky Film. So far, it has invested nearly US$1.5 billion in China, making it the firm's largest emerging market.
China's biggest out-of-home audio-visual advertising company, Focus Media, announced it will buy rival Target Media in a friendly takeover valued at US$325 million in cash and stock, the largest acquisition so far in China's media industry.
Doll Capital Management (DCM), a leading US-based venture capital firm, is strengthening its position in China by bringing in Hurst Lin, co-founder and chief operating officer of Sina Corporation, as a general partner.
The National Bureau of Statistics has revised the mainland's economic growth for 2004 to 10.1 per cent from 9.5 per cent after taking into account data from an economic census completed last year.
January 10, 2006

Hong Kong: Lippo Group plans to increase its shareholdings in Export and Industry Bank, through the capital injection of HK$179 million, to help the Philippine bank strengthen its capital base amid the imposition of new accounting standards.

Kerry Properties, the eighth largest property developer by market capitalization in Hong Kong, plans to upsize a pending syndicated loan to as much as HK$7 billion to boost its war chest in the face of upcoming property deals, market sources said.
Tom Online, a China-focused dot.com business controlled by tycoon Li Ka- shing, said its turnover this year will be given a one-time boost by the football World Cup in Germany in June, after it was awarded exclusive mainland rights by state-owned broadcaster China Central Television to sell mobile phone content based on the tournament.

We promise to love each other and ride roller-coasters and ferris wheels till death do us part. And with that unusual vow, two couples got married at Ocean Park - where weddings were held for the first time since it opened 29 years ago.
Secretary for Justice Wong Yan-lung said on Monday the government would handle the detention of 14 protesters arrested during last month's anti-globalisation demonstrations as soon as possible.
The Bank of China (BOC) has secured key approval from the State Council to launch a $60 billion Hong Kong initial public offering in the first half of this year, sources close to the situation have revealed.
Mainland leaders appear ready to take tougher measures to combat rampant official corruption and bribery among businessmen this year, judging from President Hu Jintao's keynote speech and the communiqué issued after a two-day meeting of the Communist Party's Central Commission for Discipline Inspection over the weekend.
Morgan Stanley is bracing for a major reshuffle of its top China management with its Hong Kong-based chief executive set to resign.
China-based CSM Media Research last week issued its preliminary ratings for Hong Kong television programs - a month earlier than scheduled after the incumbent provider, AC Nielsen, refused to extend its contract to this month after losing a renewal bid.

China: RailPartners, a China-based private rail company, plans to take out a US$130 million (HK$1.01 billion) loan to finance a luxury "Dragon Express" train service between Shanghai and Tibet that seeks to emulate such trains as the famed Orient Express.

Chinese President Hu Jintao (C) poses for a photo with Ye Duzheng (R) and Wu Mengchao, winnners of China's 2005 national science and technology awards, at the Fourth National Conference on Science and Technology held January 9, 2006. China's Fourth National Conference on Science and Technology opened at the Great Hall of the People in Beijing on Monday.

Ten million pieces of one-yuan RMB coin will be issued in China to welcome the forthcoming "lunar year of dog". On Jan. 8, 2006, the coins are launched in Jinan, capital city of east China's Shandong province. Minted with brass alloy, the coin with 25-millimeter diameter carries the Chinese character of "People's Bank of China" and "1 yuan", as well as "YIYUAN" (one yuan in Pinyin) and "2006" in its obverse. In its reverse a little girl plays with a doggy.
It is a rise of 11.26 percent, said the sources. China has lowered its customs rate for many times. This did not affect the customs revenue due to the soaring foreign trade, especially imports.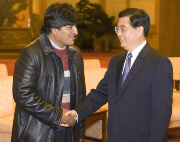 Bolivian President-elect Evo Morales meets with Chinese President Hu Jintao at the Great Hall of the People in Beijing on Monday. Mr Morales arrived in China on Sunday on his world tour that includes stops in Europe and South Africa.

Farmers in Anhui province are brought up to date on technology as Beijing moves to modernise farming in the countryside.
January 9, 2006

Hong Kong: Panva Gas Holdings Ltd, a gas distributor partly-owned by Hong Kong billionaire Li Ka-shing, has been taking advantage of the nation's eased control of gas distribution over the last three years and is now focusing on further expansion.
Danish-based ISS Group, one of the world's largest property services companies, is planning to buy out its joint venture partner in Beijing and boost its Shanghai workforce.

Chief Secretary Rafael Hui has rejected recommendations by a Legislative Council subcommittee on the West Kowloon cultural district project, saying they "deviated substantially" from the government's original concept.
The Office of the Telecommunications Authority said it will permit fixed-line customers to use their Hong Kong telephone numbers as gateways for overseas calls at Hong Kong prices.
Regal Hotels International expects selling prices at its flagship Regalia Bay housing project in Stanley will rise 10 to 20 percent this year amid a shortage of new luxury flats on the market.
A Korean lawmaker will meet with Secretary for Justice Wong Yan-lung to try and negotiate a deal for the release of the 11 Korean anti-World Trade Organization protesters who have been detained in Hong Kong since December 18, a Korean government official said.

Hong Kong enhanced its reputation and the world stands to benefit from the territory's hosting of the Sixth Ministerial Conference of the World Trade Organization, the meeting's chairman, John Tsang, said.
Hong Kong movie star Tony Leung Ka-fai was sentenced on Friday to two months in jail for drunk driving after ramming his car into the back of a bus last year. Leung, who had pleaded guilty to the charge, was also fined $10,000 and was disqualified from driving for three years, according to a court document. The jail sentence was to be suspended for three years, the document said. The actor, 47, is best known to international audiences as "the Chinaman" in the 1992 romance The Lover. Leung was arrested last October, after his car hit a bus and a breathalyzer test showed that his blood-alcohol level was more than twice the legal limit, the document said. He was arrested and fined for another drunk driving case in 2002. The actor has won numerous acting awards. Recently he was nominated as best leading actor in the upcoming 42nd Golden Horse Film Festival - the equivalent of the Oscars for Mandarin Chinese-language films - for his role as a gangster in Hong Kong triad movie Election.

Miss Chinese International contestants meet the media yesterday at the Kowloon Shangri-La. They are (from left) Bangkok's Ginney Tanida Kanchanawa, Johannesburg's Ina Lu Yi-hui, Montreal's Vicki Ng-wan, Toronto's Elva Ni Chen-xi and Hong Kong's Tracy Ip Chui-chui. The pageant takes place on January 21 at TVB City.
The Education and Manpower Bureau announced on Friday that day schools and education organisations could now nominate candidates for the seventh election of the Council on Professional Conduct in Education.

China: Guangdong party chief Zhang Dejiang has issued a stern warning to provincial officials overseeing land requisitions to ensure paperwork and compensation payments are in order before allowing any construction to go ahead.
China has suggested it may diversify its foreign reserve holdings away from a current heavy focus on the US dollar although analysts said Friday Beijing did not intend a substantial change in policy.
Yao Wenyuan, member of the Gang of Four that terrorized China during the 1966-76 Cultural Revolution, has died. He was 74.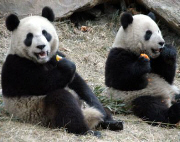 Two pandas play at the China Giant Panda Research Centre in Wolong, Southwest China's Sichuan Province in this undated photo. The pair has been chosen as a goodwill gift to the Taiwan compatriots, the State Forestry Administration said Friday.

The Bank of Tokyo-Mitsubishi UFJ, the world's biggest bank by assets, is open to business on Jan. 4, 2006. Held by Mitsubishi UFJ Financial Group, Inc., it was born on Oct. 1, 2005 as the result of the merger between the Bank of Tokyo-Mitsubishi and UFJ Bank Limited. The Tokyo-based bank, with asset of 1.62 trillion yen, says it may buy a stake in a Chinese lender.
The PBC will maintain a reasonable growth of loans by using a variety of monetary policy tools and advance the market-oriented interest rate forming mechanism. SAFE will improve the management of forex in current accounts,facilitate trade and investment,make further progress in the forex market and improve the managed, floating exchange rate regime.

China started developing digital cinemas in 2002. It pledged to develop 500 digital screens in the coming three to five years. By the end of 2004, there are 162 digital screens across the country. By the end of 2005, the number exceeded 200. China's first digital cinema server using the international standard is expected to debut in June, which could lower movie ticket prices and increase the export of Chinese films globally. Warner Brothers has moved its cinema design centre from London to Shanghai to get closer to China's fast-expanding film market.

David Chen (left), president of the Beijing ZXHH Investment Consultant Co Ltd, shakes hands with Liang Yuan, president of the Kun Lun Holdings Pte Ltd of Singapore, after the two companies signed a contract yesterday in Beijing. According to the deal, the two companies will jointly develop the coal mine sector in Indonesia to export 6 million tons of coal this summer to China, attempting to ease the power shortage of China's southern provinces.
The owners of nontradable shares in toll-road operator Shenzhen Expressway sweetened their offer to the company's A-share holders in a bid to win their approval of a plan to convert all nontradable shares into ordinary securities.
Shenzhen has launched an ambitious plan to turn the border city into a "national innovation centre" by teaming up with Hong Kong universities and opening its doors to talent from across the country.
Silver Grant International Industries is on track to recoup by the end of March its 830 million yuan initial investment in a 56.9 billion yuan batch of bad loans bought from its ultimate mainland controlling shareholder, China Cinda Asset Management. Managing director Gao Jianmin yesterday told the media that by the end of last year, it had disposed of about 700 million yuan of the loans and recovered more than 600 million yuan of cash in the process.
January 6 - 8, 2006

Hong Kong: China National Building Material Group Corporation (CNBM), one of China's largest provider of products used in construction, plans to list its shares on the Hong Kong stock exchange this quarter, according to an official in the company who declines to be identified.
World-leading financial service firm PricewaterhouseCoopers predicts that funds raised through new IPOs (initial public offerings) in Hong Kong are likely to top the record high of HK$200 billion (US$25.6 billion) this year, surpassing the upward momentum of 2005.
Hong Kong recorded the weakest monthly number of home sales in December since the Sars outbreak devastated the property market in 2003, according to official statistics.

A public housing resident uses a new e-card to pay her rent at Ho Man Tin estate. The e-card is intended to make rent payment more convenient and hopes are that it may cut down late payments by 2 per cent. Public tenants can bring along the new e-card for quick identification and pay with cash at any estate offices under the Housing Authority. The department will expand the payment network to convenience stores by the middle of this year.
A Hong Kong climber has returned to the city from a trek to the South Pole that made him the first Chinese to conquer the highest peaks on seven continents and the two poles.

Li Xiaolin says the new venture will source electricity from Guangdong to Hong Kong. After spending almost a year formulating its business plan on breaking into Hong Kong's electricity market, a consortium led by Li Xiaolin, the daughter of former Chinese premier Li Peng, has left more questions unanswered.

China: During the past five years, China stood the test of difficult situations and achieved its goal of fast economic development, while still facing great challenges ahead. China will put all data survey teams under the direct management of the National Bureau of Statistics (NBS), according to a State Council decision.

A giant panda holds a feeder's legs at the Chinese Giant Panda Protection Center in Wolong, southwest China's Sichuan Province, Jan. 4, 2006. China's State Forestry Administration said on Jan. 4 that the mainland would unveil a giant panda couple for Taiwan on Jan. 6. The Chinese mainland would present the selected pair of giant pandas to Taiwanese compatriots as a symbol of peace, unity and friendship.
China's total retail sales of consumer goods in 2005 to top 6 trillion yuan. The rapid expansion of the consumer goods circulating sector helps resolve employment problems. The contradiction between supply and demand in the sector was also eased.
The country's biggest oil refiner Sinopec got the government's go-ahead to build a US$3.1-billion petrochemical complex in North China's port city of Tianjin.
Seventy-three accountancy firms should be closed down because they have been involved in various illegal activities, such as taking bribes and kickbacks, according to the industry licensing body.
China, the world's second-largest soy oil consumer, will launch soy oil futures next Monday in the Dalian Commodity Exchange, a move that is expected to attract more participants and capital to the market.

China has been the largest motorcycle producer for 12 years in succession and the largest exporter for five years in succession. China exported 5.9 million motorcycles in the first 10 months of last year, up 87.3 per cent over the previous year. The value of motorcycle exports totaled US$1.8 billion in the first 10 months of last year, up 57.9 per cent over 2004.

Zhou Li (left), producer of the China Daily CEO Roundtable, shakes hands with Wang Renzhou, director of Ningbo Foreign Trade and Economic Co-operation Bureau after signing a contract yesterday to co-host a China Daily CEO Roundtable in June in Ningbo.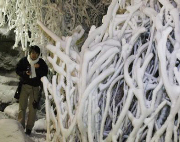 A tourist walks among icicles formed on tree branches at a park as part of the annual winter festival held in Harbin, in northern China's Heilongjiang province. The northern city which enjoys minus 30 degress celsius temperature and abundant snow promotes the winter festival annually to bring in needed tourism dollars.

A visitor stares in awe at a glass reproduction of Beijing's famed Nine Dragon Wall, at the Jiaojiang Wu Zixiong Glass Artwork Museum in Taizhou city, Zhejiang province.
Underground banking accounts for more than 28 per cent of new lending on the mainland, or about 800 billion yuan a year, according to a government-funded study.
Controversial regulations barring vehicles with small engines from driving on main thoroughfares will be eliminated by the end of March, the central government announced yesterday.
Two pulp mills and a county-level agency responsible for water discharges have agreed to pay a landmark 2.3 million yuan in compensation to a Baotou water supplier for losses caused by pollution in China's second-biggest river.
January 5, 2006

Hong Kong: Hong Kong has been named the world's freest economy for the 12th year in succession in an annual report published on Wednesday by the right-wing American think-tank The Heritage Foundation.
The government is poised to announce a reshuffle that will likely see a new civil service chief appointed when Secretary for Commerce, Industry and Technology John Tsang leaves for a new job, sources said Wednesday.

December was the worst month for new home sales in Hong Kong since the SARS epidemic as rising interest rates sidelined buyers and developers held new flats off the market in hopes of better prices down the road.
China Power International Holdings, one of the mainland's five largest power companies, said it will break into the Hong Kong electricity market as early as the first half of this year as a joint venture in which it has a controlling stake begins supplying power to a small group of industrial and commercial users.
Hong Kong's economic growth will slow this year as rising interest rates curb consumer demand and appreciation of the mainland currency crimps export growth, according to Hong Kong University's school of economics and finance.
Modern Beauty, one of Hong Kong's leading spa and fitness centers, plans to raise up to HK$194 million from its first share sale to fund expansion at home and in the mainland, sources close to the deal said.

Students from Sun Fong Chung Primary School in Tai Po inspect a 19th-century hand pump once used by firefighters on Cheung Chau. The pump is among relics relating to the civil service on display at the Hong Kong Museum of History.
Hong Kong suspended poultry imports on Wednesday from Sichuan following an outbreak of bird flu in the southwestern Chinese province, the government said.
Sun Hung Kai Properties is confident of posting double-digit growth this year, with bigger margins from its property developments offsetting the recent slowdown in the sector, according to a senior executive.

China: China has not only put an end to its 26-year history of receiving food aid, but also become one of the strong donor countries in the world.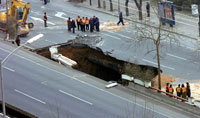 Beijing scored highly yesterday for its efficient response to an incident in the city's CBD. Its reaction reflected a growing capability to cope with emergencies. This capability is crucial for a mega-city that is home to 15 million people and is to play host to the Olympic Games in less than three years. All subscribers to China Mobile's service in Beijing yesterday received a text message telling them to circumvent a stretch of the eastern Third Ring Road, where a sewage plumbing leakage caused a part of the road to cave in. The message played a key role in spreading the news and alleviating traffic congestion, which could have been much more serious than it was. Following its prepared plan for contingencies, the city also immediately mobilized different teams to stem the leakage, to repair the road and to adjust routes of 31 bus lines originally running along the stretch of the road. Everything was dealt with in good order. Progress was also well publicized by radio, television, and the Internet. The city, with its effective measures, appeared totally different from the one which acted clumsily following a snowfall that caused a city-wide standstill four years ago.

Chinese tourists enjoy the scenery of the Huangshan Mountain in East China's Anhui Province Tuesday January 3, 2006. Many Chinese flock to tourist destinations to celebrate the New Year.
China is to introduce over-the-counter transactions in the interbank foreign exchange market and introduce market makers to provide liquidity.

facts & figures for coal-power: China's demand for coal is expected to be 2.17 billion tons this year, with production capacity expected to be 2.26 billion tons. Of the total demand for coal, 1.21 billion tons will come from the power generation sector. China's biggest grid company, State Grid Corp of China, predicts 81.17 GW of new power generation facilities will come on line this year. Total installed electricity generating capacity is expected to reach 590 GW this year.
The negotiations for the creation of a mega-software outsourcing company by Chinese companies, India's software giant Tata Consultancy Services (TCS) and Microsoft are expected to be concluded in one month, giving China's ambition to develop its software industry a big boost.

Shareholders of CNOOC, China's third-largest oil company, have blocked a proposal for the State-owned parent to lead overseas acquisitions, defending their influence over the group's expansion strategy.

Total auto production capacity in China now stands at 8 million units a year, but only three-quarters of that capacity is used.
The completed vehicle sector reported 17.4 billion yuan (US$2.1 billion) in profits during the first 10 months of last year, down 49 per cent from a year ago.

The Bank of Tokyo-Mitsubishi UFJ plans to become the fourth direct foreign investor in Bank of China, the country's second-largest commercial lender, to tap the growing personal wealth in the fast-growing economy.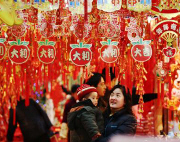 People choose decorations for the coming traditional Spring Festival in a shop in Nanjing, capital of east China's Jiangsu Province. Hundreds of festival decorations have surged into market as the Chinese Lunar New Year, which falls on January 29 this year, draws near.
Guangzhou has raised the cost of water and bottled gas in the face of public resistance but an economist says the impact is likely to be confined to restaurants unless the prices of transportation, piped gas and electricity also rise.
Dangdang.com, the mainland online bookstore and electronic-commerce site, is hopeful of growing into a company with a market capitalisation of at least US$500 million when it gets its United States listing, which could be as soon as the third quarter of this year.
January 4, 2006

Hong Kong: The Stanley Ho-controlled Melco International Development and Australia's Publishing and Broadcasting Ltd have scrapped their joint bid for Singapore's first casino project, saying the development cost is too high.

A salesman promotes his products to customers at a winter shopping festival in Hong Kong. The festival opened at Hong Kong Convention and Exhibition Centre on Friday.
Hong Kong's largest pay-TV operator, i-Cable Communications, said it is creating separate business units for its content production and program procurement divisions in an attempt to drive advertising and content sales growth.
North Asia Strategic Holdings, a GEM board-listed steel trading company formerly known as iSteelAsia Holdings, said it plans to raise HK$1.18 billion by selling preference shares to 20 investors, including US investment bank Goldman Sachs, which will become the largest shareholder once the preference shares are converted into ordinary shares.
The days of cheap fuel for taxi and minibuses appear numbered as the administration intends to review liquefied petroleum gas prices monthly instead of twice a year to help alleviate long queues and supply problems at government dedicated filling stations.
A senior officer for the Agriculture, Fisheries and Conservation Department (AFCD) died on Tuesday after falling from a hillside on Lantau Island.
Hong Kong's retail sales rose 4.2 per cent year on year to $15.8 billion in November, government statistics released on Tuesday showed.
Hong Kong's police force and South Korean anti-globalisation protesters who battled during last month's WTO summit here have topped a year-end popularity poll, local radio reported on Tuesday.

China: The Chinese Government welcomed U.S. President George W. Bush's rejection of a request to impose quotas on steel pipe imported from China, Commerce Ministry spokesman said Monday.
Auditors concluded that the number of cases involving irregularities was on the decrease while budget management was improving.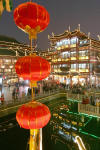 Photo taken on Jan. 2, 2006 shows the night view of Chenghuangmiao, or Town God Temple, in Shanghai, east China. Tourists and local residents gathered here to enjoy various snacks and brilliant night scene during the New Year holidays.
The previous estimate for last year's economic growth was 9.4 percent. This figure was adjusted according to the newly-revised GDP in 2004.

Tourists from Finland and Sweden attend the 2006 welcoming ceremony for the first overseas tour group to Beijing in front of Zhonggulou (Bell and Drum Tower) in Beijing, capital of China, on Jan. 1, 2005. A total of 57 people from Finland and Sweden became the first overseas tourists visiting Beijing in 2006.

Sun Quanhui, an expert with the International Foundation for Animal Welfare, spreads corn grains at Yandunjiao, one of the swan habitats.
Major Forbidden City hall to close for two-year repair - The most important building in one of China's top tourist attractions is closing for two years for renovation work. Repairs on the Hall of Supreme Harmony Taihedian in Chinese at the Forbidden City, or Palace Museum, are due to begin on Friday. They are expected to be completed by 2008, in time for the Beijing Olympic Games. To make the hall look how it did when first built, workers will use original materials and procedures.

Sinotrans, the mainland's largest freight forwarder, announced a management reshuffle that may be a first step towards a share sale by its parent of a shipping subsidiary, according to analysts.
China Life Insurance (Group) is in talks to buy a majority stake in Dazhong Insurance of China for more than 270 million yuan (HK$259.55 million) as the largest life insurer in the country moves to expand into the property insurance market.
Guangdong's economy is expected to have weathered the effects of a stronger yuan and power and labour shortages and grown 13 per cent last year, beating the official 8 per cent target, economists said.
January 3, 2006

Hong Kong: The Temasek Holdings Ptd Ltd., the investment arm of the Singaporean government, is reported to buy 5 percent stake of the Bank of China (BOC) which is to seek stock market listing in Hong Kong.
Australian telecoms giant Telstra plans to boost its presence in the Chinese mainland, possibly using its newly merged business unit in Hong Kong as a springboard, due to increasing activities from foreign telecom operators.
The government has proposed radically changing its relationship with the power companies to encourage steep tariff cuts and cleaner emissions, but critics worry this will not do enough to reduce pollution.
Poly (Hong Kong) Investments, an electricity supplier and property investor, plans to develop eight million square meters of space in the mainland over the next five years as it realigns the company to make property development its main business.
Hang Lung Group has defeated a court appeal by rival developer Sino Land, which had refused to pay it nearly HK$750 million owed on a hotel completed soon after the 1997 property market crash.
Morgan Stanley and a division of the World Bank announced the purchase of a 14.33 per cent stake in China's largest cement producer yesterday, heralding what industry insiders expect will be a new flood of private equity cash into the mainland.
Securities and Futures Commission director of enforcement Alan Linning has quit to join investment bank JP Morgan Chase Bank next year, the latest executive to leave the watchdog for greener pastures.
Listings by leading mainland banks should help propel Hong Kong's stock market to another fund-raising record next year, with $200 billion likely to be tapped through initial public offerings, according to PricewaterhouseCoopers.
The chairman of United Microelectronics, one of Taiwan's most prominent companies, announced his resignation amid an unusually public row with the island's regulators. United Microelectronics Corp (UMC) chairman Robert Tsao plans to quit to help fend off investigations by Taiwan's regulator on the world's second-largest maker of made-to-order chips.
City Telecom chairman Ricky Wong Wai-kay has complained against the telecommunications regulator for delaying the release of a report that he says could help consumers when choosing a broadband service.
Mainland television maker Skyworth Digital Holdings yesterday blamed cut-throat market competition for a 75.3 per cent decline in net profit for the six months to September, the latest setback for the scandal-hit firm still suspended from trading on the Hong Kong stock exchange.
The closely watched trial of 14 overseas protesters charged with illegal assembly at this month's anti-World Trade Organization demonstrations was delayed again during preliminary hearings, with prosecutors asking for a two-week break to complete police investigations and identification parades.

China: It had been decided that China's lunar fly-by mission program has overall proceeded from an initial design stage to the production of a satellite and its carrier rocket, announced Luan Enjie, commander-in-chief of the country's lunar exploration program. The monitoring system, launching field and ground application system have entered the stage of system integration and joint test. The first lunar satellite Chang'e-I will be launched in the year 2007.
The 10 pieces of most highlighted Chinese economic news in 2005 have been unveiled on Dec. 29 in Beijing. The evaluation and selection was sponsored by the Economic Information Daily and China Mobile and selected by editors-in-chief of 17 Beijing-based media, including People's Daily, as well as well-known Chinese economists. The top ten, sequenced chronologically, are:
1 The government imposes a series of measures to cool down the overheating real estate sector.
2 The reform on split share holding structure is launched.
3 Bird flu cases take place in 11 provinces and regions.
4 A managed floating exchange rate regime is carried out for the Chinese currency RMB.
5 Government officials are banned from holding stakes in coalmine businesses.
6 Proposal is put forward for the blueprint of the 11th Five-Year Plan adopted by the Fifth Plenary Session of the 16th Central Committee of the Communist Party of China.
7 Disputes over the Sino-US and Sino-EU textile trade are settled through talks.
8 The Songhua River suffers from a serious water pollution incident.
9 China's GDP data is revised after the first national economic census is concluded.
10 Farmers are freed from agricultural taxes and the threshold of taxable personal income is raised.

Photo taken on Dec. 28, 2005 shows the excavation site of the ancient Baidicheng city in Fengjie, Chongqing Municipality in SW China. After 3 months' excavation, three ancient cities respectively built in the age of three kingdoms (220-280), Tang Dynasty (618-907), and Southern Song Dynasty (1127-1279), were unveiled, which had significant meanings to the study of the historical change and development.
Foreign journalists will have increased and wider access to government departments and find it easier to cover emergencies, China's top information officials said.
Though China's national grain output in 2005 hit 480 million tons, the demand in 2006 is to exceed the output by 15 million tons.

New purchases for a New Year: Customers select clothes at a shopping centre in Beijing. Department stores and shopping centres across the capital city have stocked up on goods in anticipation of the upcoming New Year arrival.
The nation's biggest oil producer, PetroChina got the government's go-ahead to build an ethylene plant worth over 20 billion yuan (US$2.5 billion) in the south-western region, and is pondering a refinery nearby, the company said.
Chinese color picture tube exporters should prepare for the coming European Union anti-dumping investigation, the Chamber of Commerce for Import and Export of Machinery and Electronic Products warned.
China's shipbuilding tonnage is expected to reach a record high of more than 12.5 million this year, grabbing 17 per cent of the global shipbuilding market, up from 14.3 per cent in 2004.

China's first self-developed ship powered by liquefied natural gas rolls off the production line on Wednesday. The ship was built by China State Shipbuilding Corp's shipyard in Shanghai.
A group led by Citigroup raised its bid for a controlling stake in Guangdong Development Bank to 24.1 billion yuan (HK$23.16 billion), topping two rival offers, in a move that could leave the US-based financial services giant with the largest shareholding in a mainland bank of any foreign investor.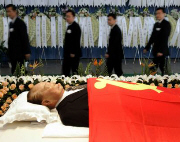 Mourners walk around the body of late Taiwan envoy Wang Daohan on Friday in Shanghai, China. Hundreds of officials and Shanghai residents attended the funeral of Wang, a former mayor who served as China's longtime envoy on Taiwan issues. Wang died on December 24 aged 90. Former president Jiang Zemin and other senior communist officials joined hundreds of Shanghai residents in a final farewell to Wang Daohan, a former mayor who served as the mainland's longtime envoy on Taiwan issues.
December 31, 2005 - January 2, 2006 Happy New Year

Hong Kong: Hong Kong stocks fell, dragging the Hang Seng Index to its biggest drop in three weeks. Esprit Holdings slid after trading in US Treasuries raised concern of a slowdown in the US economy.
Macau Chief Executive Edmund Ho said 2009-10 would be "too early" for Macau to tackle political reform of its electoral system.
Hong Kong on Thursday said it had partially lifted a ban on United States beef imports that became effective two years ago.
About 35 South Korean protesters marched through Hong Kong on Thursday, demanding that charges be dropped against 11 family members and comrades arrested at a WTO riot in this city.
The case of Hong Kong journalist Ching Cheong, whose detention on the mainland has entered its eighth month, is to be referred to prosecutors by the end of next week, the chief executive said.
The value of new home loans drawn down by borrowers fell for the sixth consecutive month last month as fears of interest rate rises continued to weigh on an increasingly sluggish property market.

China: China's legislature abolishes 2,600-year-old agricultural tax - China's agricultural tax will be rescinded as of Jan. 1, 2006, after China's top legislature voted to adopt a motion on the regulations revoking the agricultural tax.
China is putting its marathon anti-graft crackdown online, launching a website for the public to report corrupt officials, state media said on Thursday. The site adds to efforts to assure China's public that the ruling Communist Party takes complaints seriously at a time when many say they face retaliation for reporting abuses. The new site is run by the party's Central Commission for Discipline Inspection, the official Xinhua News Agency reported on Thursday. Liu Fengyan, the commission's deputy secretary, said it marks "another step forward by the government in curbing corruption through the introduction of strict prevention and punishment measures", according to Xinhua. Beijing has punished thousands of officials in an effort to stem graft and other abuses that have outraged China's public, threatening to erode acceptance of communist rule. On Tuesday, a former Cabinet minister was sentenced to life in prison on charges of taking bribes. The new website offers Chinese villagers and others a way to lodge complaints while avoiding local authorities, who some complain refuse to take action or retaliate against petitioners. Mr Liu said more than 67,000 songs with anti-corruption themes were composed and over 24,000 singing concerts held in the past year "to educate key officials about self-discipline", the report said.
By 2020, renewable energy is expected to account for 15 percent of national consumption, up from the current seven percent.

Deng Zhonghan, president of Vimicro Corporation, shares with nine others as CCTV 2005 Chinese business figures of the year, which is regarded the most prestigious honor in business circle. It is the sixth time for China Central Television (CCTV) to organize the selection of Chinese business figures of the year.
China's stock indexes rose to the highest in two months Wednesday. China Petroleum & Chemical Corp, known as Sinopec, gained after it announced it would receive government subsidies to cover the cost of increasing oil prices.
JAPANESE Prime Minister Junichiro Koizumi said yesterday that he will strive to develop friendly ties with China in 2006 after a year in which bilateral relations hit their lowest in decades. Political ties between the two nations went into deep freeze following a series of bilateral spats over history textbooks, disputed gas fields and violent anti-Japanese protests in several Chinese cities in April. Ties with South Korea have also soured over Japan's refusal to atone for wartime atrocities.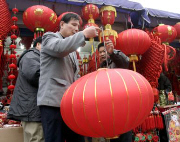 A man checks a traditional lantern, which is used as a New Year decoration, on Thursday in Shanghai. Shanghai residents are busy preparing to usher in the Year of the Dog, and the Chinese New Year, called the Spring Festival, which falls on January 29.

*News information are obtained via various sources deemed reliable, but not guaranteed