Hong Kong, China & Hawaii Biz*


How to Do Business with China, through Hong Kong & Setting up Business in China? - last update Feb 8, 2003
Do you know our dues paying members attend events sponsored by our collaboration partners worldwide at their membership rates - go to our event page to find out more! After attended a China/Hong Kong Business/Trade Seminar in Hawaii...still unsure what to do next, contact us, our Officers, Directors and Founding Members are actively engaged in China/Hong Kong/Asia trade - we can help!
China Projects Bidding Information - update daily Scholarship & Grants
Are you ready to export your product or service? You will find out in 3 minutes with resources to help you - enter to give it a try

China Central TV - live webcast

Skype - FREE Voice Over IP

View Hawaii's China Connection Video Trailer
April 28 - 30, 2006

Hong Kong: Hong Kong airlines will soon gain more access to the lucrative Shanghai and Beijing markets, but liberalization of the aviation regime with the mainland is expected to fall several items short of Cathay Pacific Airways' wish list, say officials close to ongoing air service negotiations.
Stockholders of market operator Hong Kong Exchanges and Clearing responded strongly to calls for reform, electing former legislator Christine Loh Kung-wai and shareholder rights activist David Webb to its board.
Former monopoly casino operator Sociedade de Jogos de Macau, currently preparing for an initial public stock offering in Hong Kong, saw its gaming revenue decline by 2.3 percent last year in the face of new competition.
Hong Kong's largest developers including Cheung Kong (Holdings) and Sun Hung Kai Properties have submitted bids to buy the HK$2 billion former headquarters of Hang Seng Bank in Central, market sources said.

Adding fire to the controversy embroiling Radio Television Hong Kong, the administration announced it will establish a high-level audit committee within the public broadcaster for internal monitoring, citing evidence of a "noncompliance culture" among staff.

To stop the continued hemorrhaging of public funds, Director of Audit Benjamin Tang Kwok-bun has suggested the Leisure and Culture Services Department consider measures such as setting up a statutory governing body and commercial sponsorship to increase efficiency and income for public museums.
Tourism Board chief Selina Chow Liang Shuk-yee will step down from her post as chairman of the Tourism Association and the Tourism Board after six years.

More than 100 chicken traders converge on the Murray Building yesterday to submit a petition to the Health, Welfare and Food Bureau over restrictions on live poultry imports. But the traders remained disgruntled, despite a later government announcement that the supply of day-old chicks would resume later this week, and live chicken imports from the mainland would be increased for three days at the end of next month.
Hong Kong will launch a new deposit protection scheme later this year to discourage any possible runs on the banking system, Chief Executive Donald Tsang Yam-kuen said on Wednesday.

China: China's non-financial overseas direct investment surged 280 percent to 2.68 billion U.S. dollars in the first quarter of this year, a source with the Ministry of Commerce said on Tuesday.

The nerves of the donated tissue received by China's first face transplant recipient are alive and active, reports the Xijing Hospital in China's Shaanxi Province. A doctor removes stitches from the face of Li Guoxing, who underwent a partial face transplant after being attacked by a black bear. The 30-year-old from Yunnan was healing well, but could still reject tissue from a brain-dead patient used to give him a new nose, lip and cheek, reports said. Mr Li had much of the right side of his face reconstructed by doctors at the Xijing Hospital in Xian during a 15-hour procedure on April 14.

The first Chinese Chery automobile assembled by Avtotor of Russia is unveiled in Kaliningrad, Russia, April 24, 2006. Locally-assembled Chery automobiles will come into the Russian market soon. The fittings and technology were provided by Chinese automobile manufacturer Chery and the assembly work was accomplished by Avtotor under the instruction of Chinese technicians. At present, Avtotor-Chery automobile assembly line has a capacity of finishing working on 2,000 vehicles per month, with a goal of assembling 15,000 cars in 2006.
By the end of 2005, Chinese banks had issued 960 million bank cards. About 20 countries and regions around the world accept China UnionPay (CUP) bankcards.
A draft bill to combat money laundering widens the scope of the proposed law from financial institutions to realtors, law and accounting firms and jewellers.
A tour guide (L) leads a group of travellers past the portrait of late Chairman Mao Zedong at the Forbidden City in Beijing April 25, 2006. China will grab the world's second-largest share of global travel and tourism spending after the United States by 2016.

Zhejiang Expressway, China's biggest publicly traded toll-road operator, will buy control of a brokerage to recover funds that it invested. The company's stock closed at its lowest level in almost two years.
Nigeria will give China four oil drilling licenses in exchange for commitments to invest US$4 billion (HK$31.2 billion) in downstream oil and infrastructure projects, a top Nigerian oil adviser said.
About 2,000 overseas Chinese entrepreneurs are scheduled to meet in the Japanese city of Kobe in September next year for a business ideas convention which organizers hope will promote person-to-person relations despite the deep freeze in Sino-Japanese diplomacy.
April 27, 2006

Hong Kong: Hong Kong-listed China stocks had their largest plunge in almost three months as investors worried over expected central government measures to curb an overheated economy.


Beijing views John Woo's latest film about an ancient war as a showcase of Chinese history and is pushing for it to be released before the Beijing Olympics, according to a business partner of the director. Terence Chang said the mainland is treating Battle Of Red Cliff, starring Chow Yun-fat, as a marketing device for the 2008 Games. "This movie has government backing. The government is taking it seriously because they want us to release it before the 2008 Olympics," Chang said on the sidelines of a film finance forum in Hong Kong. The movie is a co-production between the state-owned China Film Group and Woo's Los Angeles-based Lion Rock Productions, which Chang helps run. Chang said the importance attached to the project has made it easier to seek help from provincial officials. Woo aims to start filming, mainly in the northern Hebei province next March. Chang said Woo's vision for the movie is ambitious but that he has asked the director to keep the budget within US$50 million (HK$390 million) - which is generous funding by Chinese standards - because the market for Chinese-language movies is limited. Chinese films are generally viewed across Asia, but the biggest potential market, the mainland, is still developing. Chang said the movie, which may also feature Cannes best actor winner Tony Leung Chiu-wai, has already been sold to distributors in the mainland, Taiwan and Japan. He said he hasn't given up on the US and European markets because one selling point will be the movie's epic scale, "like Titanic or Pearl Harbor." The producer said one scene would feature the burning of 2,000 boats with horses jumping around on them. Another will involve a booby-trapped battleship. Battle Of Red Cliff is set in the ancient "three kingdoms" period in the third century, when China was split into three rival states. Chang said Crouching Tiger, Hidden Dragon writer Wang Hui-ling worked on the script and Lu Wei, who worked on Chen Kaige's Farewell My Concubine and Zhang Yimou's To Live, have recently joined the writing team.

A young Solomon Islander of Hong Kong descent is carried onto a bus after arriving in Guangzhou, southern China's Guangdong province, April 25, 2006. More than 300 Chinese, including some from Hong Kong, board a chartered flight provided by Beijing that evacuated them from the troubled Solomon Islands after they lost all their possessions in the recent riots in Honiara. More ethnic Chinese fled the country amid rising tensions before parliament opens for the first time since post-election rioting.

Actor Jackie Chan (L) feeds a baby actor carried by actress Cherrie Ying during the filming of their movie 'Project BB' in Hong Kong April 25, 2006. "Project BB" is Chan's latest action comedy.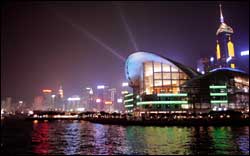 CLP Holdings, the larger of the two electricity companies, has argued that opening up the local power market to new competition might backfire. Justifying his company's predominance in the market, chief executive Andrew Brandler said after its annual meeting that, in trying to give users cheaper electricity by introducing competition, the city may get the opposite instead. This could affect the stability of power supplies. The government is conducting a review of its deal with the two power suppliers - CLP and Li Ka-shing- controlled Hongkong Electric - which distribute power to different parts of the territory. As well as suggesting reducing the allowable profit margin for the pair as part of the regulatory scheme of control, the administration is also considering introducing new players in the hope that competition will mean better services and cheaper prices.
The value of new home loan approvals jumped 63 percent month-on-month to HK$12.6 billion in March as refinancing deals more than doubled amid a home-loan price war.
Bank of China, the mainland's second- largest lender, has been forced by Hong Kong Exchanges & Clearing to boost the size of its initial public offering to 20 percent of its share capital in a deal that is likely to raise US$7 billion (HK$54.6 billion), market sources said.

Empathy, she wrote: A book written by two children whose father died from Sars inspired Vance Yip Sze-kei to write an award-winning poem to express her empathy for the children. Yesterday she collected her second prize in the junior category of a Sun Hung Kai Properties book club competition, with To Kit-ming, 65, who took first place in the senior category. Vanceˇ¦s own father died when she was a year old. Mr To wrote a love poem to his wife.
The Mandatory Provident Fund Schemes Authority (MPFA) on Tuesday pursued six claims in the Small Claims Tribunal for some $130,000 on behalf of eight employees — owed MPF contributions by their employers.
Hong Kong would temporarily raise the number of live chicken imports from the mainland for the three days preceding the Tuen Ng Festival, or Dragon Boat Festival, the Health, Welfare and Food Bureau announced on Tuesday.

China: China welcomes foreign cooperation on press and publication - China encourages foreign media, press and publication groups to cooperate with China to tap the international cultural market potential for common prosperity and bring China's cultural products to the world. Liu Binjie, Vice Minister of the General Administration of Press and Publication made the remarks when answering questions by foreign journalists in Beijing. Liu Binjie said China has honored its WTO commitments on opening its publishing market and Chinese laws and regulations have clearly framed the sectors that are accessible to overseas investors. He reiterated the rule of prohibiting non-Chinese mainland citizens from setting up press and publication entities within the Chinese territory. But he said that does not rule out cooperation with overseas press and publication industry.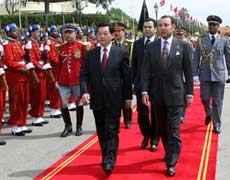 China and Morocco agreed in Rabat Monday to make joint efforts towards continuous and further development of bilateral friendship and cooperation in various fields. Hu said both China and Morocco are undergoing reform and development and bilateral cooperation has entered a new development stage.
Saudi Aramco to push ahead China venture, supply 1 mln bpd crude by 2010 - On April 23 the company announced a memorandum of understanding was signed in Riyadh last Saturday between Aramco and China Petroleum and Chemical Corporation (Sinopec), China's largest petroleum products producer and supplier. The two sides pledged further cooperation on the refining plant in Qingdao and promised to reach consensus on Aramco's participation in the project to make sure that the plant would be operational by 2008 as scheduled. Aramco, which turns out 8 million barrels of oil per day, or one-tenth of the world's total, has promised a daily supply of 1 million barrels of crude oil to Sinopec by 2010.

Premier Wen Jiabao talks to farmers at Xinjian Village of Wujian Township in Chongqing on Sunday."Are the prices of fertilizer high?" Wen asked farmer Zhang Guangyuan, who answered that farmers have received subsidies from the township government. "We have to do more to help the rural areas," Wen said. During his four-day inspection tour of the municipality in Southwest China that ended yesterday, the premier visited the Three Gorges Dam site and local communities to discuss employment, sanitation and migrant workers' incomes.

Large balloons with flowery prints floating above boats form part of an art work displayed at a lake in Hangzhou, east China's Zhejiang province, April 24. With May Day celebrations just round the corner, authorities in various cities are gearing up for the tour peak with cultural promotional events.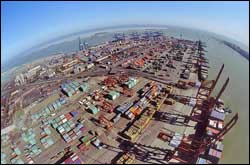 Tianjin Port Development Holdings, a unit of Hong Kong-listed conglomerate Tianjin Development Holdings, has upsized its planned initial public offering to HK$1.26 billion, market sources said. The company plans to sell 578 million shares on an indicative price range of about HK$1.80 to HK$2.19 a share, market sources said. That's about 20 percent higher than the HK$1.50 to HK$1.83 a share the company announced last week and came before initial talks with investors, when a general price range is typically hammered out, had begun. "The exchange required them to put out a price range to give current shareholders some guidance for the annual general meeting on whether to approve the spinoff," a market source said. The annual general meeting is scheduled for May 8.
April 26, 2006

Hong Kong: The Kowloon-Canton Railway Corporation will prosecute any passengers who try to take shortcuts across the tracks on its East Rail line as the number of such incidents continues to rise.
Hong Kong Disneyland and Inner Mongolia Meng Niu Dairy Industry (Group) Co. Ltd announced Monday the launch of a new alliance, making Meng Niu the milk supplier for Hong Kong Disneyland Park, HK Disneyland Hotel and Disney's Hollywood Hotel. To celebrate this alliance, starting from April 15 to June 30, Hong Kong Disneyland is also holding a special lucky draw with Meng Niu, with 400 lucky consumers of Future Star, one of Meng Niu's serial products, receiving a free visit to Hong Kong Disneyland. A further 1 million customers will receive a pack of Future Star milk. Bill Ernest, Executive President of Hong Kong Disneyland Resort said, "Hong Kong Disneyland is pleased to announce the appointment of Meng Niu as the official milk sponsor and official milk supplier for the park." Meng Niu President Yang Wenjun said Meng Niu brings good health to everyone while Hong Kong Disneyland brings dreams and happiness to adults and children alike. "The alliance between the two brands signifies a marriage of health and happiness and will bring a whole new experience to guests," he said. A joint venture of the Walt Disney Company and Hong Kong Special Administrative Region government, Hong Kong Disneyland opened on September, 2005. Meng Niu is one of the leading dairy suppliers in the Chinese mainland, with over 20 production bases in 15 provinces.

Musical film Perhaps Love, a production of director Peter Chan Ho-sun. The acclaimed film was used to launch an international film festival in the US last week. For the first time in the San Francisco International Film Festival's 49 years, a Hong Kong film was selected as the opening-night feature. Perhaps Love, a heartfelt love story told through a kaleidoscope of flashbacks and the plot of a film-within-a-film, is directed by the highly acclaimed Peter Chan Ho-sun. Another Hong Kong film All About Love was also featured in the festival. Starring Andy Lau Tak-wah, the melodrama is the latest work of film director Daniel Yu Wai-kwok and will be screened on April 23 and 26. Hong Kong Economic and Trade Office Los Angeles director Doris Cheung on Monday said the screening recognised the outstanding work of directors Chan and Yu. It was also an honour for the Hong Kong film industry, she added. "Hong Kong has a long history of film-making. With our historical background which makes Hong Kong the meeting point for Eastern and Western culture, and our emphasis on free flow of information and talents, Hong Kong has been the place for creativity and movie production," she said. Ms Cheung also highlighted benefits the Closer Economic Partnership Arrangement (Cepa) could bring for Hong Kong film-making companies and how foreign companies could enjoy such benefits in Hong Kong. "Under our partnership arrangement with the mainland, Chinese language films produced by Hong Kong companies can enjoy a quota-free access to the China market," Ms Cheung said. She added that the film was a flagship of Hong Kong's creative industry and the government was dedicated to building a favourable environment for the industry to flourish.
The International Society for the Performing Arts (ISPA) would hold its 20th international congress in Hong Kong from June 6-11, a spokesman said on Monday. This year the congress will be held under the theme ''The New Silk Road for the Performing Arts''. This is a reference to the Silk Road during the Tang Dynasty in the 7th Century, when the arts and cultural exchange between the East and the West was flourishing. ''Hong Kong is honoured to offer a special opportunity for ISPA delegates to meet their peers from around the world to explore areas of common interest,'' said Agnes Tang In-kwan, assistant director with the Leisure and Cultural Services Department.

Maanshan Iron and Steel, the largest Hong Kong-listed steelmaker, which posted a 19 percent drop in 2005 net profit, aims to double its revenue to 80 billion yuan (HK$77.44 billion) over the next three years, boosted by a new five million-tonne thin-plate production line, according to an official.
The volume of Hong Kong's total exports expanded by 23.4 per cent in February 2006 compared with the same month in 2005, latest statistics released on Monday showed.
Taiwanese investments on the mainland have continued to rise despite a recent order by Taiwanese President Chen Shui-bian to tighten up on such activities.

Singers Gillian Chung Yan-tung, Charlene Choi Cheuk-yin and Aaron Kwok Fu-shing join yesterday's launch of PCCW's "moov.now.com.hk", Hong Kong's biggest online music portal with a library of more than 40,000 songs. PCCW, which has joined forces with 16 local music publishers, is charging users $39 a month to gain unlimited access to the online music.
Champion Real Estate Investment Trust, the prime office property spin-off from Great Eagle Holdings, aims to attract investors with an above-average yield of between 4.8 per cent and 5.5 per cent as it hopes to raise as much as US$900 million in next month's float.
HSBC, Hong Kong's biggest card issuer, aims to boost its credit cards to more than three million from the current 2.8 million using rewards and offers to woo customers, according to regional head of customer acquisition Lucia Ku Sai-wing.

China: The sales volume of Volkswagen China, together with Shanghai Volkswagen and FAW-Volkswagen have registered a sharp increase of 40 percent in the first quarter this year.

Morocco's King Mohammed directs Hu Jintao and wife Liu Yongqing after the president arrived at the royal palace in Rabat yesterday for talks on trade and other issues.
The mainland's push for companies to "go out" and invest abroad by buying foreign firms is facing political and commercial obstacles that could hinder Beijing's goal of raising total outward investment to US$60 billion in the next five years.
Shanghai faces a huge challenge to balance the books when it hosts the 2010 World Expo, organisers said yesterday as they announced an imminent victory in relocating thousands of people for the event.
Online payment systems, which barely existed in China a decade ago, are sprawling across the internet to compete for once-distrustful mainland consumers suddenly hooked on instant purchases.
A new deal between mainland internet portal Sina.com and a collection of independent British musicians is being hailed as a model for promoting foreign acts in China while legitimising the online music business.

Visiting Chinese President Hu Jintao said on Sunday that his country was committed to developing strategic cooperation with Saudi Arabia. Hu made the remarks at a meeting with Saudi Crown Prince Sultanbin Abdul-Aziz in Riyadh, capital of Saudi Arabia.


The concrete pouring for the dam on the right bank of the Three Gorges Project has entered the final phase, and the full completion of the Three Gorges Dam is coming soon. The concrete pouring for the 2309-meter-long dam, with a total concrete amount of 16.1 million cubic meters started in 1998. The concrete gravity dam is 181 meters high, 15 meters wide at the top and 185 meters wide at the bottom. The axis of the dam is 2,309 meters long.
The volume of R&D investment will become an important tool to assess the performance of the senior managers of China's 167 central state-owned enterprises (SOEs).
Global finance chiefs wrapped up three days of talks in Washington DC, calling for action against runaway oil prices and monitoring of China's currency policies.

World and Olympics diving Champion Guo Jingjing prepares for a dive during the 2006 World Diving Grang Prix women's three-meter springboard in south Chinese city of Zhuhai, April 23, 2006.
Wang Shengchang, former director of the law department of the China Council for the Promotion of International Trade (CCPIT), has been arrested for alleged fraudulent activities, according to official sources. Judicial department officials have declined to give details about Wang's case, noting that it is being investigated. Wang, who was also the former secretary-general of the arbitration committee of the CCPIT, had participated in several hundreds of arbitrary cases, including a dispute between the international soft drinks giant Pepsi Cola and its local partner in Sichuan Province, southwest China.
April 25, 2006

Hong Kong: Dah Sing Banking Group, the eighth largest Hong Kong-listed lender by market value, has agreed to sell its general and life insurance units, Companhia de Seguros de Macau (CSM) and Companhia de Seguros de Macau Vida (CSM Vida) to its parent company, Dah Sing Financial Holdings for HK$285 million.

The last Japanese department store in Hong Kong, owned by operator Mitsukoshi, is to close in September. After the planned closure, all Japanese department store operators will have pulled out of Hong Kong, the Nihon Keizai Shimbun newspaper said.

Maanshan Iron and Steel, the largest Hong Kong-listed steelmaker, which posted a 19 percent drop in 2005 net profit, aims to double its revenue to 80 billion yuan (HK$77.44 billion) over the next three years, boosted by a new five million-tonne thin-plate production line, according to an official.
Famed movie director Tsui Siu-ming seems to be getting in on the financial and creative action at just the right time. Hong Kong filmmaking took a nose dive during and after the Asian financial crisis, but Tsui says he can turn around the decline in filmmaking and restore the glory days of its golden era in just two years. Tsui, president of Sundream Motion Pictures, a production company launched in March 2003, plans to make in- house movie production - the crafting of a film almost exclusively from start to finish-- a hallmark of Hong Kong moviemaking. The first thing Tsui's public relations manager, James Chick, shows off before the interview is the office of i-Cable Satellite Television, where Tsui wears his second hat as chief operating officer. This is Tsui's attempt to develop the first Rupert Murdoch-type institution for making, marketing and distributing major motion pictures in a territory that used to be the pinnacle of the industry but has seen a total slump in the past 10 years. The industry famous for producing about 200 films a year in the 1970s and 80s only managed about 90 a year in the late 90s due to the Asian financial crisis. Moviegoers could not afford to visit theaters. Producers refused to back risky ideas and did not financially support a movie unless it promised a big profit. So movies started to decline in quality as the industry became mired in stereotypes.
Nearly 300 ethnic-Chinese residents, including Hongkongers, fled the troubled Solomon Islands yesterday on chartered aircraft provided by Beijing, after losing all their possessions in riots last week.

Riding a golf buggy "sleigh" and attended by ballerinas and elves, Santa Claus arrived eight months early yesterday at the opening of the China Sourcing Fair, the biggest event yet at the AsiaWorld-Expo exhibition centre. "Can you keep a secret?" he said at the opening ceremony. "I outsource everything. I heard that the China Sourcing Fair was the fair to go to. I just had to come here and do my shopping." InvestHK director Mike Rowse, who is also chairman of AsiaWorld-Expo, said Santa's early visit was to emphasize that the trade fair was important to retailers around the world. Running till Tuesday, it is the largest event held at the AsiaWorld-Expo exhibition centre at Chek Lap Kok since it opened four months ago - in direct competition to the established Convention and Exhibition Centre in Wan Chai. More than 3,600 exhibitors from all parts of Asia - including the mainland, Hong Kong, Taiwan, South Korea, Thailand, Malaysia, the Philippines, Indonesia and India - are taking part. The exhibits occupy all 10 halls of the exhibition centre, which has a floor area of 753,480 sq ft.

China: It was impossible to mistake China's message to its neighbors at yesterday's opening of the Boao Forum for Asia - Vice-President Zeng Qinghong referred to "peaceful development" repeatedly to describe the economic benefits the country has brought to the region as it asserts itself on the international stage.
Governor of People's Bank of China called on all countries to take advantage the current favorable global economic growth to address structural problems and be against the trade protectionism.

Mr. Hu is offered a cup of the local coffee on the first day of his trip to Saudi Arabia.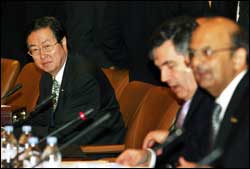 The opening of China's economy to market forces, including changes to the exchange rate, can be accelerated, People's Bank governor Zhou Xiaochuan said on the sidelines of the Group of Seven industrialized nations' meeting in Washington. "Chinese economic reform follows the philosophy of being gradualist," he said when asked if the yuan will be allowed to strengthen faster. Change "probably can be a little bit faster." The United States has the biggest stake in the 184-member IMF with a 17 percent voting rights. Asian members of the fund have a combined 13 percent voting stake, yet accounted for 19 percent of the world economy in 2004.

President Hu Jintao and Emir Saud al-Thn are at a welcoming ceremony in Riyadh April 22, 2006. China and Saudi Arabia signed energy and trade deals on the first day of a visit by President Hu Jintao to the oil-rich kingdom focusing on economic and energy cooperation. Hu also discussed a proposed 5.2-billion-dollar energy venture in China with officials of Saudi petrochemical giant SABIC. Hu's visit, which will take him to the headquarters of state oil conglomerate Saudi Aramco, comes just three months after Saudi King Abdullah went to China. The trip underlines the fast growing ties between the two countries as Beijing looks for oil to fuel its growth and Riyadh forges partnerships with Asian powers.

President Hu Jintao (R) is greeted by a Saudi girl dressed in traditional outfit as he arrives to visit the Sabek plant in Riyadh April 22, 2006. Hu is in Saudi Arabia on an official visit.

Table tennis World Champion Zhang Yining arrives at the airport of Bremen, Germany, April 23, 2006. Defending Champions China have sent a strong team to Bremen for the upcoming World Championship starting on April 24.

Chinese actress Zhang Ziyi joined the Chinese delegation at the White House Reception for visiting Chinese President Hu Jintao on April 20, 2006 in Washington D.C..

China Construction Bank Chairman Guo Shuqing (L) talks with Stephen Roach, Managing Director & Chief Economist of investment bank Morgan Stanley during the Boao Forum for Asia (BFA) annual meeting 2006 held in Boao, on April 22, 2006.
The world's leading auction company of used vehicles Manheim Auctions and Shanghai International Commodity Auction Co., Ltd, have announced the establishment of a joint auction venture.

The 2006 Hangzhou World Leisure Expo, opened Saturday in Hangzhou, capital of East China's Zhejiang Province, is expected to receive 11 million domestic visitors and one million from overseas, according to the organizers.
April 24, 2006

Hong Kong: Hong Kong's consumer prices rose in March, driven largely by an acceleration in private housing rents, a trend analysts predict will continue, pushing up inflation for the rest of the year.

Hutchison Whampoa has once again surprised the market by selling a 20 percent stake in its entire worldwide port assets to Singapore's PSA International for HK$34 billion, putting a net value on the assets of HK$170 billion.
Supply of new apartments has risen sufficiently to meet demand for the next three years, according to the government's quarterly statistics on private housing stocks, undercutting speculation that the city is facing a serious residential shortfall.
Hong Kong's banks will probably see the quality of their loans worsen this year amid high interest rates, and smaller lenders will continue to find the operating environment challenging, the Hong Kong Monetary Authority said.

Legislators have strongly objected to the government's plans to link Kowloon to Guangzhou through the existing KCRC West Rail, arguing it is inconvenient, economically impractical and incomplete.
Vice-President Zeng Qinghong yesterday called on Hong Kong business leaders to help unite the community and support the government.
The chief secretary has invited the government's advisers on the future of the troubled West Kowloon Cultural District project to propose changes to the arts hub blueprint.
Expatriates in Hong Kong and foreigners planning to move to the city are being mobilised in an online signature campaign to pressure the government into taking urgent measures to curb air pollution.



Hong Kong Construction chief executive and managing director Eric Oei Kang announces a 44.7 per cent jump in last year's net profit to $367.8 million.

China: Seeking new opportunities for Asian economic development, the 850-odd delegates attending an Asia-oriented forum will focus their discussions on many hot issues concerning China.

Chinese President Hu Jintao gestures to the audience at the beginning of his address during his visit to Yale University in New Haven, Connecticut, April 21, 2006. President Hu put forward a six-point proposal aimed at further promoting the all-round development of the constructive and cooperative relationship.

A girl displays balsam pears at the Taiwan booth during the 7th China (Shouguang) International Vegetable Sci-tech Fair in Shouguang, east China's Shandong Province April 20, 2006. Seasonal fruits, vegetables and some processed agricultural products from Taiwan Province made a debut during the fair which opened Thursday here. According to a beneficial policy package coming after the cross-Strait Economic and Trade Forum, Chinese mainland would add four species to an import list of Taiwan-grown fruits, bringing the total to 22, adopt a zero-tax on imports of 11 kinds of vegetables produced by Taiwan farmers and allow more imports of Taiwan's aquatic products, etc.
The annual report of the Japanese Ministry of Finance released Thursday shows Japan's export to China has kept increasing for 7 years.

Dongfeng Motor Group Co Ltd saw its turnover surge to 41.7 billion yuan (US$5.2 billion) in 2005. The Hubei-based company reported a sales volume of 595,000 units in 2005, 40.7 per cent up from the previous year. The company saw its sales of passenger vehicles amount to 351,219 units in 2005, shooting up by 98.5 per cent from the previous year.

President Hu raises his glass during a toast at a corporate dinner organised by the business community in Washington, in which he vowed to improve democracy in China.
President Hu Jintao's visits to the Middle East, which begins today, and Africa underline China's growing interest in two regions which can help feed its unquenchable thirst for energy assets and resources to fuel rapid economic expansion.
China's powerful Ministry of Communications has taken the unprecedented step of fingering international shipping lines for anti-competitive behaviour, saying their cartel-like application of terminal handling charges at mainland ports must change.
Hong Kong's best-paid official, monetary authority chief executive Joseph Yam Chi-kwong, took home a pay cheque of $9.97 million last year - an increase of 12 per cent compared with 2004.
Net profit at wireless telecommunications equipment provider Comba Telecom Systems Holdings plunged 65 per cent last year due to a slowdown in capital expenditure plans for wireless enhancement of the CDMA network in China.
April 21 - 23, 2006

Hong Kong: Bank of China, the mainland's second-largest lender, yesterday got approval from Hong Kong's listing watchdog to count a large parcel of pre-float shares already sold to strategic investors as part of its proposed $54.6 billion initial public offering in the city.
The government is to establish a voluntary registration system for local farms and require the two main supermarket chains to establish a comprehensive tracking system for farm produce, legislators have heard.

It's a homemaker's dream without a homemaker in sight. The 21st Hong Kong Houseware Fair opens at the Convention and Exhibition Centre in Wan Chai today. But eager wives will not be dragging husbands along on a big shopping spree - the four-day fair is only open to major overseas and local trade buyers. More than 2,300 exhibitors from 36 countries, including 1,000 from Hong Kong and 400 from the mainland, will display their products.
The lifting of an unpopular ban prohibiting dependents of foreign nationals from working in Hong Kong is expected to take place in June, and will extend to dependents of mainland professionals, immigration officials said.
Jackie Chan, Andy Lau, Alan Tam and other Hong Kong entertainers will record a pop song to promote the 2008 Beijing Olympics, an assistant to Tam said. The song, titled Olympics Beijing, is separate from the official theme song for the 2008 Games, said the assistant, who only gave her surname, Lam. She said the Putonghua song, written by Eddie Ng, will be aired in the mainland. Lau, Tam, Hacken Lee, Shirley Kwan, Andy Hui, William So and Jordan Chan have recorded their parts, she said. Other big names are involved with the Beijing Olympics, a major source of pride for the Chinese. Famed Chinese director Zhang Yimou will oversee the design of the opening and closing ceremonies. US director Steven Spielberg has signed on as a consultant for the two ceremonies.

China: Chinese President Hu Jintao on Wednesday called for joint efforts to resolve the issue of trade imbalance between China and the US. Chinese President Hu Jintao said on Wednesday China will unswervingly follow the path of peaceful development.

Chinese President Hu Jintao (L) and U.S. President George W. Bush shake hands during their meeting at the White House for talks on issues ranging from Sino-U.S. relations to major international and regional issues in Washington April 20. Bush reiterated opposition to Taiwan independence and called for the avoidance of "confrontational and provocative" actions threatening cross Straits stability.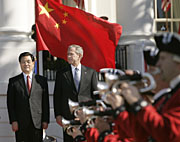 George Bush watches a Revolution-era band welcome Hu Jintao to the White House. Though not a state visit, there was plenty of pageantry.

Hu Jintao hugs Paul Dernier, who called it "probably the premier event" after children and marriage.

Fuel costs for China Southern Airlines have doubled but company chairman Liu Shaoyong says hedging is too risky.

Nam K. Woo, president of LG Electronics (China) Co, left, and Leeyoungae, a hot Korean movie star, attend 2006 LG product releasing conference in Beijing, April 19, 2006. Leeyoungae represents LG Electronics' latest products.
ZTE Corporation, one of the nation's leading telecom equipment makers, has been crowned the best corporate governance performer last year among China's top 100 listed companies.
China Telecom showed signs of halting the slide of market share to mobile operators, adding 2.64 million fixed lines in the three months ending last month and booking a net profit of 5.91 billion yuan.

US President George W Bush reported no concrete advances Thursday during a White House summit with President Hu Jintao toward narrowing differences in disputes over trade and a nuclear standoff with Iran. Bush praised China for previous progress in what is perhaps the major irritant in the relationship, China's tightly controlled currency, which the United States considers undervalued. "We would hope there would be more appreciation," Bush said after talks with Hu in the Oval Office.

President Hu Jintao (L2, front) talks with a student as his wife Liu Yongqing (L4, front) listens during a visit to Microsoft headquarters in Redmond, near Seattle, Washington State on April 18.
China's investment in fixed assets in the first quarter of this year totaled 1,390.8 billion yuan (173.85 billion U.S. dollars), up 27.7 percent, or an increase of 4.9 percentage points year on year. China's consumer price index (CPI) rose 1.2 percent in the first quarter of this year, down by 1.6 percentage points year-on-year.
Beijing is likely to unleash another set of austerity measures this year to curb runaway business investment and tighten bank credit after faster-than-expected economic growth in the first quarter prompted fresh concerns about economic overheating and rising inflation.
Tianjin Port Development Holdings, a unit of Hong Kong-listed conglomerate Tianjin Development Holdings, plans to sell its initial public offering shares at a higher price level than those of rival Dalian Port to take advantage of the strong demand for new offerings.
Jiangxi Copper, the largest mainland producer of the metal, plans to spend nine billion yuan (HK$8.71 billion) over the next three years to boost its smelting capacity and explore resources to take advantage of strong demand growth in the country.
Hong Kong's unemployment rate was at 5.2 per cent in the first quarter of 2006, the same as in the three months to February, latest statistics released on Thursday showed.
The government has launched five research and development centres to cater for the technology needs of businesses in the region, Technology Secretary Joseph Wong Wing-ping said on Thursday.
April 20, 2006

Hong Kong: The Chief Executive's Office would be expanded by a third if it moved to new government headquarters at the Tamar site in four years' time. But the space for policy bureaus would be reduced by 10 per cent.

Thousands of people prayed and burnt incense at Tin Hau temples, including this one at Cha Kwo Ling, yesterday, the eve of the sea goddess' birthday. Hong Kong has about 60 temples dedicated, at least partially, to Tin Hau. Most were built in the early Qing dynasty, from 1644 to 1911.
Bank of China, the mainland's second-largest lender, is scheduled to meet the Hong Kong stock exchange's listing committee for a "preliminary listing hearing" today - taking a big step closer to a May launch of its proposed $54.6 billion float, market sources said.
Falling government spending and a sound economy have led ratings agency Standard & Poor's to lift Hong Kong's outlook from "stable" to "positive".

Paliburg Holdings plans to build the tallest skyscraper in Beijing as part of the once-troubled developer's ambitious plan to seek new earnings growth on the mainland. The company, controlled by Lo Yuk-sui, will scrap approved plans for a 200-metre twin-tower residential-hotel-office complex in the Chaoyang district, and will instead embark on a 300-metre, 80-storey single tower that will contain the same components. Total investment for the project will rise to more than $5 billion from an original budget of about $4 billion. Paliburg, which jointly owns a 59 per cent stake of the project with its hotel arm Regal Hotels International Holdings, will be responsible for extra investments in proportion with its mainland partners. The funds will come from internal resources. "This will be the flagship development for our expansion into China," Mr Lo said while announcing the group's annual results. "We don't have the opportunity of building such a mega project in Hong Kong." Under its revised plan, the project would comprise about two million square feet of hotel and office space, about 1.26 million sqft of commercial space and 750,000 sqft of residential space, he said. He said the project would be completed by 2009 at the earliest.
Henderson Investment, the investment arm of Hong Kong's No3 property developer Henderson Land Development, is seeking to raise HK$3.12 billion through a top-up share placement, according to a sale document obtained by fund managers.
The benchmark Hang Seng Index rose to a fresh 5-year high Tuesday, while the Hang Seng China Enterprise Index jumped to its highest level since August 1997, as investors expect Hong Kong- listed stocks to gain from the mainland's recent announcement allowing domestic financial institutions to invest overseas.
Regal Hotels International, a Hong Kong-listed hotel operator and developer, is switching its real estate focus from a planned Macau hotel-retail complex to a joint-venture project in Beijing. The cost of the Beijing project is set to surge 25 percent to H$5 billion as it awaits approval.

The most powerful woman within the Independent Commission Against Corruption was Tuesday accused of lying to the court about the circumstances leading to the prosecution of criminal lawyers Andrew Lam Ping-cheung and Kevin Egan. Lam's defense counsel, Graham Harris, suggested to assistant director Rebecca Li Bo-lan she was not telling the truth when she testified she was ignorant of facts significant to the trial while briefing a government counsel in July 2004. The focus of the case, being heard in the District Court, is whether a suspect in the process of being turned into a witness had said she was safe and sound, or had sought legal assistance and a way out of ICAC custody in calls to her friend, Mandy Chui Man-si. The prosecution alleges that Lam, 53, Egan, 58, Chui, 25 and Derek Wong Chong-kwong, 37, ostensibly acted in the interest of the suspect, but were really hoping to prevent the suspect from turning witness and incriminating Wong in a share manipulation probe. Li said Tuesday she did not know the suspect had used a concealed SIM card to make secret calls to Chui and then to a law clerk in the middle of the night, when Li briefed government prosecutor Bernard Ryan on July 14.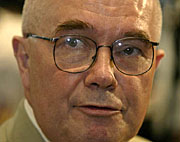 To strengthen Hong Kong's position as an economic springboard in and out of the mainland, InvestHK will open two new economic and trade offices in China by the end of the year, the government said. However, the opening of offices in Shanghai and Chengdu will cause some reshuffling inside the government agency which promotes foreign investment in the territory, according to investment promotion director-general Mike Rowse. InvestHK's East China team will be subjected to review as the new Shanghai office will take over most of its duties. In addition, the two offices will each set up an Investment Promotion Unit, Rowse told a Legco commerce and industry panel Tuesday. Rowse said the SAR has already joined forces with mainland cities and provinces to promote China abroad. Hong Kong and Guangdong held seminars in Vancouver and San Francisco in October. In November, Hong Kong and Shanghai joined hands to offer an audience in Tokyo an insight into investment opportunities there, Rowse said.

This jadeite bead necklace, comprising 35 graduated highly translucent beads, is expected to fetch about $12 million when auctioned by Christie's in Hong Kong on June 1. The jadeite ring is estimated to be worth $3.5 million and the pair of jadeite earrings $3.8 million. The jewellery spring auction will also feature a rare 9.25 carat ruby ring of Myanmese origin estimated to be worth $9.5 million.

China: Chinese President Hu Jintao's state visit to the United States is a great event in the history of the China-US relations, and it is also a key visit that sets the tone for the relations in the new ear and under new conditions. The visit will influence the ties in quite a period of time to come, and lay a new milestone for the stable development of the China-US relations.

President Hu Jintao on Wednesday stood firm against U.S. demands to significantly revalue China's currency as a way of reducing his country's vast trade surplus with the United States. President Hu Jintao (L) puts on a Boeing baseball hat presented to him by employee Paul Demier during his visit to the plane manufacturing plant in Washington April 19, 2006. Speaking at a Boeing Co. plant outside Seattle on the eve of a White House summit with President Bush, Hu said he wanted to make foreign-exchange markets more efficient. But he said China was not ready for a drastic change in the value of renminbi currency, also known as the yuan.

A job hunter talks with a potential employer yesterday via the Internet at a job market in Suining of Southwest China's Sichuan Province. Internet facilities were available to help applicants get in touch with companies.[

Chinese actress Zhang Ziyi is present at a news conference as the 2006 Chinese Film Festival is inaugurated in Washington, US, April 17, 2006. Seven Chinese films, including Ke Ke Xi Li, House of Flying Daggers and Beauty Remains, will be showed during the week-long film festival.

Denway Motors, which makes cars in Guangzhou with Japan's Honda Motor, said profit fell 7.6 percent in 2005, the first decline in seven years, amid increased price competition in the mainland market.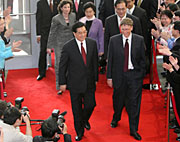 Hu Jintao and Bill Gates enter Microsoft headquarters in Redmond, near Seattle. "Bill Gates is a friend of China and I'm a friend of Microsoft," Mr Hu told his host.
China will likely emerge as India's largest trading partner, overtaking the United States within a few years, with the two-way trade hitting US$100 billion in the near future, predicts a senior Indian businessman. Saroj Kumar Poddar, president of the Federation of Indian Chambers of Commerce and Industry (FICCI), said yesterday in Beijing that "tremendous potentials" exist in regards to bilateral trade between the world's two fastest-growing economies. The trade between China and India last year hit a record of US$18.7 billion, jumping 38 per cent year-on-year. If the growth is sustained, the bilateral trade could soon overtake Indo-US trade, which is hovering around US$30 billion, said Poddar, who is leading a FICCI CEO delegation in China this week.

Chinese vice premier Wu Yi visits the Exhibition of China's Achievements in Intellectual Property Protection, held in Beijing, capital of China, April 17, 2006. The exhibition, opened on Sunday, focuses on intellectual property protection in China. Wu said China's efforts in IPR protection over the recent years have produced significant results.
Japan's direct investment in China rose 19.8 percent to a record 6.53 billion US dollars in 2005, according to a recent report issued by Japan External Trade Organization.

President Hu Jintao's arrival in Sseatle, the first visit by the head of state of a major country in recent years, is generating a lot of buzz among the media, businesses and the Chinese community. More than 340 journalists from different media organizations worldwide have applied for press passes to cover Hu's visit. Although Sino-US talks over major issues will be held in Washington DC, there is still much to report from the local perspective, William B. Stafford, president of the Trade Development Alliance of Greater Seattle, told China Daily. The alliance estimates that two-way trade between China and Washington state home to Boeing, Microsoft and Starbucks totalled more than US$20 billion two years ago. China has been the third-largest trading partner of the state since 1995, behind Japan and Canada.

President Hu Jintao (L) and his wife, Liu Yongqing, arrive at Paine Field in Everett, Washington, April 18, 2006. Hu will tour Boeing and Microsoft during his two-day stay before heading to Washington, D.C. to meet with US President George W. Bush.

Microsoft chairman Bill Gates sits between director general of China's National Development and Reform Commission Xu Qin (L) and Lenovo chairman Yang Yuanqing during a signing agreement ceremony that expands the strategic cooperation between Microsoft and Lenovo in Washington, April 17, 2006. Hong Kong-listed mainland stocks will be the largest beneficiaries in the long run, they said.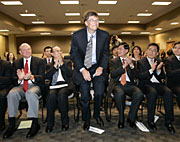 Microsoft chairman Bill Gates is introduced at the signing ceremony for the Lenovo deal. President Hu Jintao was touring Microsoft's headquarters with Mr Gates yesterday. Beijing has offered up another big sweetener to deflect US criticism over China's huge trade surplus and rampant copyright piracy - a US$1.2 billion deal between its biggest computer maker, Lenovo, and software giant Microsoft.
The mainland's qualified domestic institutional investor scheme, which allows selected institutions to invest abroad, may see at least US$1 billion (HK$7.8 billion) channeled into overseas bonds, stocks and money markets this year, analysts said.

China Life Insurance, the country's largest insurer, said it intends to bring in mainland or overseas financial companies as strategic partners to strengthen its management, products and technology. "We are considering two to three potential partners," chairman Yang Chao said in Hong Kong Tuesday. The strategic investors are "not only for the listed company," he said. "Our parent China Life Group is also seeking potential partners for its pension insurance and property insurance business." China Life also hopes eventually to invest in domestic financial institutions through equity swaps. "As some of our shares are not tradable, the authority does not allow us to do this at present," Yang said. The Beijing-based company earlier said full-year net profit rose 30 percent to 9.3 billion yuan (HK$9.0 billion) in 2005, compared with a restated 7.17 billion yuan a year earlier. The result lagged an average estimate of 10 billion yuan based on 28 analysts surveyed by IBES. China Life, which has 44 percent of the mainland's life insurance market, said its premium income surged 32 percent to 63.7 billion yuan in the first quarter, outpacing overall market growth of 8 percent, driven by increased sales outlets and a better product mix.
April 19, 2006

Hong Kong: West Mining, a mainland producer of copper, zinc and lead, plans to raise about HK$2 billion from an initial public offering in Hong Kong by the end of the year to capitalize on rising share prices of metal producers, people familiar with the situation said.
Chongqing Changan Automobile, a Shenzhen-listed minivan maker planning to list its shares in Hong Kong, saw its profits dive by more than 80 percent due to severe competition and rising costs. The company said net profit based on mainland accounting standards was 236.75 million yuan (HK$229.19 million) in 2005, down 82 percent from 2004, despite turnover rising 3.46 percent to 19.17 billion yuan. Net profit would have been 199.3 million using international accounting standards.

Environmental watchdog Greenpeace warned of a new public health risk Monday when it said Hong Kong's two main supermarket chains - ParknShop and Wellcome - were selling vegetables containing excessive levels of pesticides, at least one of them illegal in the territory.
Criticism that the railway merger deal favored the MTR Corporation has been rejected by executive councillor Ronald Arculli, who says the company has to bear the risk of the property price cycle.
Wharf (Holdings) and parent company Wheelock and Co are planning a real estate investment trust consisting of office, retail and industrial properties to tap the market for between $2.34 billion and $3.12 billion in the second half of this year, according to sources.

China: China Construction Bank, the mainland's third-biggest lender in terms of assets, denied a report it planned to spend up to US$4 billion (HK$31.2 billion) to buy part of New York securities firm Bear Stearns.
People visit the Exhibition of China's Achievements in Intellectual Property Protection, held in Beijing, capital of China, April 16, 2006. The exhibition, opened on Sunday, focuses on intellectual property protection in China.
More than 20 delegations have visited the zone and 12 have set up businesses with an investment of 15 million US dollars.
Zhang Yimou was appointed chief director for both opening and closing ceremonies of Beijing Olympics while Steven Spielberg was named artistic adviser.

Two pet dogs play during a dog beauty contest in Hefei, East China's Anhui Province Sunday April 16, 2006. Some 50 dogs will compete for the awards of best image and best costume.
Chinese Kuomintang (KMT) Honorary Chairman Lien Chan arrived in Fuzhou, capital of southeast China's Fujian Province, on Monday evening to warship his ancestors in his hometown Zhangzhou City.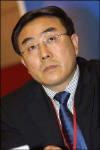 The mainland's securities regulator, which has banned share sales since last May, has proposed new rules for listed firms seeking to raise funds through the Shanghai and Shenzhen stock markets when the government resumes sales, which is expected next month. The China Securities Regulatory Commission will gradually allow companies to finance themselves through the stock markets in three steps, the regulator said, without specifying dates for the changes. "The regulator needs to handle the speed of the three steps properly, so that it will not affect investors' confidence toward the stock market," said Liu Jipeng, a professor at Capital University of Business and Economics. Listed companies will probably be allowed to sell shares to selected investors through placements in the first half of May before a go-ahead for public sales of additional shares in one or two months and a final move to new initial public offerings in the second half of the year, Liu said. Fund-raising on mainland stock markets has been paralyzed since last May, when the regulators urged listed companies to convert their nontraded state shares, which accounted for almost two-thirds of the overall mainland stock market value, into exchange-traded shares. With the ban on equity fund-raising, including IPOs and share placements in the secondary market, the supply of new shares to the stock market ground to a halt. "It is the time to lift the year-long ban on equity fund-raising after the effort of transforming nontradable shares has yielded some progress," a securities watchdog spokesman said.
China plans to let investors buy shares using borrowed money and speculate on price declines by selling stock they don't own for the first time, to tap the nation's US$4 trillion (HK$31.2 trillion) of bank deposits and boost trading.
Li Guoxing, a 30-year-old patient from Yunnan province, is recovering from the ground-breaking face transplant surgery. This is believed to be the world's second face transplant.
April 18, 2006

Hong Kong: Less than three years after enforcing a ban on holders of dependant visas taking up jobs in Hong Kong, the government has announced a change of heart. "As Hong Kong's economic and employment conditions continue to improve, we've decided to remove this restriction to enhance our edge in attracting professionals," an Immigration Department spokesman said. The announcement was made discreetly at a Security Bureau press briefing on the new Quality Migrant Scheme - the latest in a string of efforts to open Hong Kong's doors, albeit cautiously, to "top-notch" foreign professionals. Though the exact date of the lifting has yet to be announced, officials said the new policy will also apply retroactively to all dependants of persons admitted for employment or capital investment who have entered the territory since July 2003. But they declined to reveal whether the change will apply to dependants under the Admission Scheme for Mainland Talents and Professionals, also launched in 2003.

Faces from a turbulent chapter in China's history stare out from a wall in Nelson Street, Mongkok, attracting the interest of a passer-by. The photo exhibit of Sun Yat-sen, the first president of the Republic of China after the end of imperial rule in 1912, was organised by the Hong Kong and Kowloon Trades Union Council as part of an appeal for a peaceful reconciliation between Beijing and Taipei.
The Hong Kong government is likely to urge the merged MTR Corp and Kowloon-Canton Railway Corp to buy electricity from a supplier other than CLP Power and Hongkong Electric. Tying subway fares to inflation indicators may leave travelers vulnerable to unchecked fare increases in coming years, critics of last week's merger between the city's two mass transit operators said.
Hong Kong started hosting two large trade fairs at the weekend, adding further credibility to the city's middleman role for trade between the mainland and the rest of the world.
Private doctors in Hong Kong are performing up to four times the number of Caesarean sections than recommended by the World Health Organisation, as pregnant mainland women on week-long visas flock to private wards to give birth.

China: China has made very important progress in intellectual property protection and Microsoft Corp. hopes for long-standing cooperation with China, Microsoft's Vice President Pamela S. Passman has said in an interview with Xinhua.

Hu Jintao (R), General Secretary of the Communist Party of China (CPC) Central Committee, meets with Honorary Chairman of the Chinese Kuomintang (KMT) Lien Chan at the Great Hall of the People in Beijing, capital of China, April 16, 2006. The Chinese mainland scored a 10.2% growth in its gross domestic product in first quarter of this year, said Hu Jintao.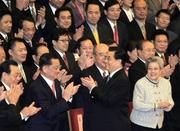 Hu Jintao (front, second right) applauds after a group photo yesterday in Beijing with the Taiwanese delegation headed by Lien Chan (front, second left). President Hu Jintao yesterday called for new talks with Taipei, but warned that the Taiwanese government's refusal to accept the preconditions for dialogue was worsening relations across the Taiwan Strait.
China's foreign exchange authority has awarded investment quotas totaling 350 million U.S. dollars to three qualified foreign institutional investors (QFII), according to the China Securities Journal.
Mindray Bio-Medical Electronics, China's largest maker of blood pressure and blood-oxygen-level monitoring equipment, plans to raise up to US$300 million (HK$2.34 billion) in the largest initial public offering on the US Nasdaq by a mainland company, people familiar with the situation said.
Internationally acclaimed filmmaker Zhang Yimou has been chosen to direct the opening and closing ceremonies of the Beijing Olympic Games, the organiser announced yesterday. The Beijing Organising Committee for the Olympic Games (Bocog) also said eight consultants, including American filmmaker Steven Spielberg, would help Zhang ensure the ceremonies were a success. Zhang said at a Bocog ceremony: "I thank Bocog for trusting me with this huge task. To complete it will require the efforts of the whole team and advisers from home and abroad. I make a solemn promise to the Chinese people that I will complete the task beautifully and successfully." Zhang, 54, has co-operated closely with the organisers and had been widely tipped to direct the ceremonies in 2008. He directed a critically acclaimed performance showcasing Chinese culture at the closing ceremony of the Athens Olympics in 2004, and he shot a short promotional film that helped secure Beijing's bid for the Games in 2001.

Geely chief Li Shufu says the first exports to the US will be a model costing less than US$10,000 for budget-conscious families. Geely Auto has signed a contract to invest 18.8 billion yuan on a plant in Zhejiang province that will produce one million cars a year, making it the biggest private car factory in China.
April 17, 2006

Hong Kong: The government's proposed new taxation system on horse racing may give a lifeline to the Hong Kong Jockey Club but it could also spell labor shortages, salary cuts and less rest time for telephone and other betting staff, according to the spokesman of a workers' union.
Visiting Chinese vice health minister Huang Jiefu said Friday he hoped the introduction of a standardized medical examination and registration mechanism for specialist doctors in the mainland will help lessen costs and ease the difficulties of Hong Kong patients seeking treatment across the border.

Hongkong Land, the biggest landlord in Central, is seeking a HK$5 billion syndicated loan to refinance existing debt, people familiar with the situation said.

Li & Fung, the world's largest export trading company, plans to buy the whole sourcing operation of Germany- based retailer KarstadtQuelle AG for between US$100 million (HK$780 million) and US$200 million.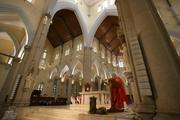 Cardinal Joseph Zen Ze-kiun conducts the Good Friday service at the Cathedral of the Immaculate Conception in Caine Road as Catholics around the world marked the crucifixion of Jesus Christ.
As more than 1,000 retail outlets join "No Plastic Bag Day" today, the plastic bag makers are hitting back. They will stage a counter-campaign in Causeway Bay, handing out 3,000 leaflets aimed at correcting "misconceptions" about the bags that are blamed for clogging landfills and killing marine life.
The mainland will draw on Hong Kong's system of registration for medical specialists in a bid to boost its health service.

Sourcing fairs on the double: Global Sources chairman Merle Hinrichs (centre) and Agentrics executive chairman Christopher Sellers (second from left) at yesterday's press conference on Global Sources' electronics and fashion accessories fairs, which both open today at AsiaWorld-Expo in Chek Lap Kok. Mr Hinrichs says the China Sourcing Fair: Electronics & Components, which runs until Tuesday, showcases the latest electronics products and components from China.
China's move to relax rules to allow mainland banks, insurers and asset managers to invest in offshore securities will open new offshore investment channels to the country's vast domestic savings, says the chief executive of the Hong Kong Monetary Authority.
Trading firm Li & Fung is expected to buy German retailer KarstadtQuelle's sourcing operations next month for between US$100 million and US$200 million, sources said yesterday.

China: This week witnessed several significant developments in China's online gaming sector. While announcements from Nasdaq-listed gaming companies The9 and Shanda that they have selected Chinese names for new Korean games Soul of the Ultimate Nation (The9's game) and ArchLord (Shanda) may not seem significant, the move indicates the games are getting closer to being launched.

The picture shows the maiden flight of Xiaolong 01. The maiden flight of China's third generation fighter Xiaolong 04 will take place at the end of April 2006, according to China Aviation News. Xiaolong 04 is equipped with complete avionics systems. In addition, its structure has been optimized and appearance adjusted, which gives certain boost to the combat capability.

Jia Qinglin (1st R), chairman of the National Committee of the Chinese People's Political Consultative Conference, poses with Honorary Chairman of the Chinese Kuomintang (KMT) Lien Chan (C) and his wife Lien Fang-yu during a banquet at the Great Hall of the People in Beijing, capital of China, April 14, 2006. Jia hosted the banquet for all participants of the Cross-Straits Economic and Trade Forum, opened in Beijing on April 14.
Foreign investment in China reached 14.246 billion US dollars in the first quarter, up 6.4 percent year on year.
Doctors in northwest China have performed the country's first face transplant, and the second such operation in the world.
The passenger ferry boat, the first made in China for Russia, is ready for launch in Harbin, capital of northeast China's Heilongjiang Province, April 14, 2006. The ferry boat, designed and built by Harbin Beifang Shipyard Co. Ltd., was launched in the Songhuajiang River in Harbin on Friday. It has a capacity of 200 passengers and will be delivered to Russia in May.
Foreign ventures in China's electronic information industry reported a year-on-year rise of 32.3 percent in sales revenue in the first two months.
Leading international credit rating agency Moody's Corporation has entered agreement to buy a 49 percent stake in China Cheng Xin International Credit Rating Co. Ltd., (CCXI).
Russia's Amur regional government has agreed with Heihe City, northeast China's Heilongjiang Province, to begin work on a cross-border bridge.

The central government, whose record holdings of foreign reserves are adding to strong upward pressure on the yuan, will allow certain institutional investors to channel part of their yuan holdings into overseas bonds and stock markets.
The mainland's Public Security Bureau is to clamp down on beauty parlors not recognized by the health authority to perform breast enlargement surgery, a senior health official said.

In scenes similar to those of pilgrims following the Stations of the Cross along Jerusalem's Via Dolorosa, Chinese Catholics make their way to a shrine for the Virgin Mary on the outskirts of Taiyuan, capital of Shanxi province. Clerics based in the town are optimistic that a resumption of diplomatic ties between Beijing and Vatican will help the church to grow on the mainland.
Poor lobbying is partly to blame for the mounting pressure from the US Congress over America's trade imbalance with China, according to a former top US trade representative. Charles Freeman, a former assistant US trade representative for China Affairs, said that ironically, in the years leading up to China's accession to the World Trade Organization in 2001, the annual hearing to grant Most Favoured Nation status (MFN) motivated the US business community to lobby Congress for free trade with China.
April 14 - 16, 2006

Hong Kong: Shares of MTR Corp, Hong Kong's urban subway rail operator, rose 6.1 percent Wednesday as investors welcomed its plan to lease the railway network and buy property assets from government-owned Kowloon-Canton Railway Corp. MTRC shares surged as much as 9.7 percent to HK$21.50 in early trading before closing at HK$20.80. More than 48.5 million shares changed hands during the day. "The deal was favorable to MTRC, and not so good for the government," said Fullbright Securities general manager Francis Lun. "Signing a 50-year lease is nearly the same as granting MTRC full equity ownership, though the government still needs to shoulder all of KCRC's liabilities." Under the proposal unveiled by the government this week, MTRC will lease KCRC's rail network for 50 years in return for an upfront payment of HK$4.25 billion and an annual payment of HK$750 million. Starting in the fourth year of the lease, MTRC will also pay KCRC between 10 percent and 35 percent of the revenues from KCRC's rail services. Over the 50-year duration of the lease, MTRC could end up paying KCRC more than HK$100 billion for the service concession. "Given that none of KCRC's debt obligation and assets will be transferred to MTRC, earnings accretion for MTRC would therefore be rather significant," a report by investment bank JPMorgan said. "The deal has been well structured [for] meeting the needs of MTRC's minority shareholders." The bank expects MTRC's earnings per share will be boosted by 26 percent in 2008, when it will start to feel the full benefits of the deal, expected to be completed in 12 months. Financial Services and Treasury Secretary Frederick Ma Si-hang Wednesday denied legislators' claims that the decision to sell development rights of eight sites owned by Kowloon-Canton Railway Corp for HK$7.79 billion to MTR Corp was designed to give MTR an advantage as part of the proposed merger deal.
Cheung Kong (Holdings), Hong Kong's second-largest real estate developer by market value, has outbid three groups of developers to win development rights to a Tai Wai housing project estimated to require HK$20 billion in total investment.
Disneyland managing director Bill Ernest said Tuesday the government should speed up the reclamation work for phase two of the theme park. However, he agreed that several phase-one attractions have still to come on line, but will soon. Ernest said concrete plans for phase two have still to be agreed between the two sides and will take some time. He said that, apart from three "coming soon" attractions, there is room for other shows and exhibits in phase one. "It is not the number of attractions, but their size," Ernest said, adding that designing the various attractions was similar to fitting pieces of a jigsaw puzzle. Ernest said that, when completed, phase one will be able to handle 10 million guests annually. He said the most popular attraction is the Hong Kong Disneyland Railroad, which runs from Mainstreet USA through Fantasyland. In order to avoid the chaos that occurred during the Lunar New Year holidays, Ernest said the park will be adding 11 more "special days" for Easter and the May Day holidays, during which sales of tickets will be limited to prevent overcrowding. During the Easter holidays the park will adopt a "cross utilization" system whereby back office staff will help those at the front line handle the crowd.

A reception full of French pomp and splendour was held aboard the surveillance frigate Prairial last night by Commander Alexis Latty to celebrate the relationship between France and Hong Kong. The Prairial is part of the French Pacific Fleet. The ship's visit to Hong Kong follows last year's "Year of France in China". Tomorrow, the ship will be open to the public at its berth at Ocean Terminal, Tsim Sha Tsui, from 9am until 11am and then again from 2pm until 5pm, but only to a maximum of 300 people.

BOCHK deputy chief David Lam says the acquisition will broaden the bank's income stream and enhance its profit margin. BOC Hong Kong (Holdings) has agreed to pay its parent company $900 million for a majority stake in a life insurance unit as the bank implements the first stage of its plan to become a fully fledged financial services group. The lender said yesterday it would acquire 51 per cent of BOC Group Life Assurance, a Hong Kong company, from Bank of China in a deal that should receive shareholders' approval by early June. BOCHK chief financial officer Raymond Lee Wing-hung said the price represented 1.8 times BOC Life's book value, or 1.3 times its appraisal value, in line with recent transactions in the sector. BOC Life's assets amounted to $9.34 billion at the end of last year. Its profit after tax was $200 million from an income of $3.69 billion. BOCHK deputy chief executive David Lam Yim-nam said the acquisition represented a key step in implementing the bank's strategic plan for 2006 to 2010. He said the bank had acted as a distribution agent for BOC Life for many years, but now it could move into product manufacturing, while restructuring the bank's sales and marketing efforts. "It can broaden our income stream and enhance our profit margin," Mr Lam said. "As we have a customer base of 2.5 million, there is a lot of room for developing wealth management business and life insurance is a key factor."

China: Hu Jintao, the General Secretary of the Communist Party of China (CPC) Central Committee, will meet with Kuomintang Honorary Chairman Lien Chan during a forum on cross-Strait economic and trade affairs in Beijing, Chen Yunlin, director of the Taiwan Work Office of the CPC Central Committee, said Wednesday.

United States President George W. Bush (R) meets with Chinese Vice-Premier Wu Yi at the White House in Washington April 12, 2006. U.S. President George W. Bush said on Wednesday in Washington that the success of the 17th meeting of the U.S.-China Joint Commission on Commerce and Trade (JCCT) would help reduce trade frictions between the two countries. During a meeting in the White House with Chinese Vice Premier Wu Yi, who had just co-chaired the 17th JCCT meeting, Bush praised the Chinese side's efforts to solve the problems in U.S.-China trade.

A Peking Opera performer waits for the opening of IKEA store in Beijing April 12, 2006.The Beijing store will be the retailer's second-largest worldwide, smaller only than its flagship store in the Swedish capital of Stockholm.

The Shenzhen government is offering cash and land-purchase incentives to Hong Kong financial institutions and benefits for their senior management in a bid to lure their back-office operations across the border. The new policies are an attempt to tighten ties between Hong Kong and Shenzhen in the financial sector rather than compete in the high-value-added industry, said Shenzhen mayor Xu Zongheng at a seminar on Shenzhen- Hong Kong financial cooperation Wednesday. "We hope to be the principal bulwark for Hong Kong's financial groups to expand in China," Xu said. One-off cash incentives worth up to five million yuan (HK$4.84 million) will be given to financial institutions that win approval to establish back- office or service support operations in Shenzhen. Rebates of as much as 40 percent of the land price will be available if the institutions apply to build headquarters and office space. Subsidies will be offered for buying or renting office space, while senior management can receive 1,000 yuan in housing benefit and their children will be offered preferential treatment on their education. The Shenzhen government may be seeking to compete with other mainland cities rather than with Hong Kong, as most banks there have already moved varying amounts of back-office functions to the mainland to benefit from much lower operating costs, according to analysts.
Commerce Minister Bo Xilai yesterday pleaded for Washington's understanding of Beijing's determination and efforts in cracking down on rampant infringement of intellectual property rights ahead of President Hu Jintao's US visit next week.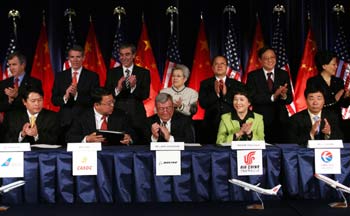 Visiting Chinese Vice-Premier Wu Yi (C rear) applauds during a ceremony at which the China Aviation Supplies Import and Export Group. signed an agreement with U.S. Boeing Co. to buy 80 Boeing 737 planes, in Washington April 11, 2006.


Chinese Vice Premier Wu Yi (L) attend the signing ceremony for 4.44 billion US dollar-procurement order for US products in Los Angeles on April 6. By April 11, the Chinese business delegation has inked 16.21 billion US dollars of deals with the US, the largest single procurement order ever placed by China.
China is expected to ratify international treaties on the Internet with the World Intellectual Property Organization (WIPO) in the second half of this year, an official said.
China Eastern Airlines, the country's third-largest carrier, is seeking to sell at least a fifth of its shares to a strategic investor to raise funds and help improve management expertise, chairman Li Fenghua said.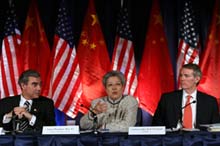 Chinese Vice-Premier Wu Yi (C) co-chairs the 17th meeting of the Sino-U.S. Joint Commission on Commerce and Trade with U.S. Secretary of Commerce Carlos Gutierrez (L) and Trade Representative Rob Portman in Washington on April 11, 2006. China and the United States wrapped up their annual trade negotiations here Tuesday with consensus reached on a series of issues. At the day-long meeting, the two sides agreed that the China-U.S. High Technology and Strategic Item Trading Working Group will be established under the China-U.S. Joint Commission on Commerce and Trade (JCCT) framework, the officials said at a press conference on Tuesday.
China's crude oil imports rose 25.3 per cent in the first quarter of the year as vehicle sales also soared, official statistics showed on Wednesday, putting further pressure on world oil prices.
Google chief executive Eric Schmidt defended the search engine's decision to co-operate with Chinese censorship as the company on Wednesday announced the creation of a Beijing research centre and unveiled its new Chinese-language brand name.

Photo taken on April 6, 2006, shows the Pamirs Plateau in the sun in northwest China's Xinjiang Uygur Autonomous Region. Surrounded by Tianshan Mountains, Kunlun Mountains, and Karakorum Mountains, the Pamirs Plateau has an average altitude of over 4000 meters.
April 13, 2006

Hong Kong: BOC Hong Kong (Holdings), a local unit of China's second-largest bank, has agreed to acquire a controlling stake in its parent's life insurance outfit in the territory in a bid to boost its fee income and improve overall profitability.



MTR Corp, Hong Kong's publicly listed urban subway rail operator, may end up spending more than HK$100 billion to lease the assets of wholly government-owned Kowloon-Canton Railway Corp for the next 50 years, according to a deal announced Tuesday. As part of a merger the government first proposed two years ago, the MTRC will pay HK$4.25 billion up front - for the service concession and to acquire KCRC railway assets, such as stores and spares - and HK$750 million annually to lease KCRC rail services. The subway operator will also pay a variable profit share to the KCRC which, according to government estimates, could be as high as HK$56.5 billion over the life of the deal. MTRC will also pay HK$7.79 billion for the acquisition of KCRC development rights along the East Rail, Ma On Shan Rail, Light Rail and Kowloon Southern Link, but not along the more valuable West Rail. "It looks positive for the MTRC," said JPMorgan analyst Raymond Lee. Largely in anticipation of the merger, shares in the MTRC have shot up 31 percent since November. Hailing the deal, Secretary for the Environment, Transport and Works Sarah Liao Sau-tung said once it goes through - probably in about two years - "the public will gain immediately" through a 5 percent to 10 percent reduction in fares. According to the profit share outline, from the fourth year of the life of the deal the MTRC will have to pay the KCRC a 10 percent share of the income generated by its assets exceeding HK$2.5 billion and a 35 percent share for revenue beyond HK$7.5 billion. The KCRC recorded operating revenue of HK$4.6 billion in 2004. According to a document on the deal submitted Tuesday to the Legislative Council Transport Panel, which is holding a special hearing on the merger today, the total annual fixed and variable payment that the MTRC will have to fork out will range from HK$30 billion to HK$56.5 billion. MTRC chairman Raymond Ch'ien Kuo-fung said it does not plan to issue bonds to pay for the merger. But according to a government source, the urban subway operator might finance up to HK$12 billion through a bank loan. The source also said income generated from the MTRC will be used to pay off the KCRC's outstanding HK$20 billion bonds. The merger, signed off by the Executive Council, still needs the approval of Legco, followed by a majority of MTRC's independent shareholders.

China: Chinese President Hu Jintao will pay his first state visit to the United States this month in a bid to boost the steady development of long-term China-U.S. relations. Hu will visit the United States from April 18 to 21, stopping in Seattle and Washington D.C., and giving a speech at Yale University, Foreign Ministry spokesman Liu Jianchao said on Tuesday. Hu will meet U.S. President George W. Bush and other U.S. officials for in-depth discussions on China-U.S. relations and other international and regional issues of common concern. The goal of the visit was to enhance exchanges and mutual trust and expand consensus and cooperation so as to jointly promote constructive and cooperative relations, according to Liu. "This visit will represent one of the key milestones in the broad and complex undertaking that both countries work together to contribute to international growth and stability in ways that benefit both countries," the U.S. State Department deputy spokesman Adam Ereli said earlier.

Minister of Commerce Bo Xilai explains China's efforts to protect intellectual property rights (IPR) during a news conference in Beijing yesterday. Bo rejected claims that IPR problems are a major factor affecting the China-US trade balance. Sitting beside him is Jiang Zengwei, director of State Office of Intellectual Property Protection. China plans to set up special service centers in 50 cities within three years to handle domestic complaints on the infringement of intellectual property rights (IPR), Chinese Vice Minister of Commerce Jiang Zengwei said here Tuesday. Also Director of the State Office of Intellectual Property Protection, Jiang told a press conference held by the Information Office of the State Council that these centers will provide IPR-related consulting services so as to raise the general public's awareness of IPR protection. Upon completion, these service centers will be connected to official websites of departments in charge of IPR protection, he said. According to Jiang, the emphasis of China's IPR protection in 2006 is to establish a vertical IPR protection system from the central government to local governments at all levels. IPR protection will be high on the agenda of local governments and their programs for economic and social development, said Jiang.
China is expected to ratify international treaties on the Internet with the World Intellectual Property Organization (WIPO) in the second half of this year, an official said.
To help reduce a massive trade gap, Beijing has agreed to lift a ban on US beef exports during latest bilateral trade talks in Washington, said a joint statement.
BNSF railway company is expected to establish an office in Shanghai to become the first US rail firm to set up in the country. The Shanghai office, to be opened soon, represents the growing importance of Chinese exports to BNSF, the second-largest rail freight company in the US. "China is a key driver in BNSF's international business and we will continue to expand our network and services to accommodate that growth," said Steve Branscum, vice-president of BNSF, at a conference yesterday. BNSF's business from China has been growing by more than 13 per cent annually since 2000. China now accounts for 60 per cent of BNSF's international intermodal business, which adds up to 3 million containers. BNSF, the world's largest intermodal rail carrier, moves 5 million containers and trailers each year.
China will open a new air route for international traffic tomorrow, a move that could reduce flight times between China and Europe by an average of 30 minutes and save airlines US$30 million in fuel cost every year. "Initially, 110 flights a week could benefit from the route, including those linking Europe and Southeast Asia," said Gunther Matschnigg, the International Air Transport Association (IATA)'s senior vice-president for safety, operations and infrastructure. Flights from Europe to Manila, for example, have to stop at Bangkok to refuel. But the new route will make non-stop flights possible. "The opening of the new route demonstrates the Chinese Government's determination to increase the efficiency of its air space, which is definitely needed to prepare for the 2008 Olympic Games in Beijing," Matschnigg said at a press conference on Monday. "We expect a traffic increase of at least 50 per cent in China by 2008, plus about 15 per cent more for the Games itself." Officials from the Air Traffic Management Bureau and the General Administration of Civil Aviation declined to comment on the new route. The route, also called IATA-1, is an alternative to the existing route that is just north of the Himalaya Mountains.
China COSCO Holdings, the mainland's biggest container shipping company, said its profit surged more than 30 percent last year, boosted by strong growth in both its shipping and terminals business.
April 12, 2006

Hong Kong: The US$6 billion (HK$46.8 billion) initial public offering of Bank of China, one of the most eagerly awaited share sales of the year, has already been covered as Hong Kong tycoons scramble to become cornerstone investors, market sources said. The US$6 billion (HK$46.8 billion) initial public offering of Bank of China, one of the most eagerly awaited share sales of the year, has already been covered as Hong Kong tycoons scramble to become cornerstone investors, market sources said. Hutchison Whampoa's Li Ka-shing, Henderson Land's Lee Shau-kee, and Cheng Yu-tung of New World Development have succeeded with others in getting shares in the bank, the mainland's second-largest lender.
Two large-scale events - the Hong Kong Electronics Fair and the China Sourcing Electronics & Components Fair - both to be held this weekend risk creating a conflict for buyers and putting a strain on their budgets.
In the face of opposition from the industry, the Securities and Futures Commission backed away from some of its reform proposals, watering down a package aimed at ensuring that initial public offering sponsors have sufficient capital, experience and resources to handle growing business from the mainland.
Shareholders of Cathay Pacific Airways, Hong Kong Dragon Airlines and Air China are in talks to realign their interests in the airlines and strengthen cooperation, the companies said in a joint announcement late Monday.
Paralyzed police constable Jacky Chu Chun-kwok has been given a ray of hope following a three-hour examination by renowned Beijing neurosurgeon Ling Feng who expressed confidence that the officer's condition will improve after two years of treatment.
A Kwun Tong couple has been sentenced to 240 hours of community service for defrauding the government of HK$223,273 in financial aid for their two university student children, claiming they had no income despite earning about HK$400,000 a year in rent from the five flats they owned.


Ocean Park opens new jellyfish aquarium - Ocean Park has unveiled a jellyfish aquarium. And in what is seen as a preview of things to come, with a HK$5.5 billion refurbishment due to begin in September, the park opened two restaurants with stunning sea views, the first new additions to the park in 20 years. The HK$6 million aquarium will house more than 1,000 jellyfish, some of which are never seen in Hong Kong waters. About 10 are said to be rare species. Park chairman Allan Zeman, dressed in a jellyfish costume, told guests at the opening ceremony Monday the aquarium will help teach people about the importance of clean oceans. The park previously exhibited jellyfish in another aquarium and, noting the intensity of public interest, decided to build a second aquarium especially for the delicate creatures.
The Executive Council has agreed to the merger of Hong Kong's two railway corporations, Chief Executive Donald Tsang Yam-kuen announced on Tuesday. The announcement came after Exco members held a special meeting on the merger between the Mass Transit Railway Corporation (MTRC) and the Kowloon-Canton Railway Corporation (KCRC) on Tuesday morning. Mr Tsang said he was glad to see an agreement had been reached. He said the merger would bring considerable benefits. "Following the merger, the general public can enjoy an immediate fare reduction and more convenient railway services," he said. Announcing financial arrangements for the merger, Secretary for Financial Services and the Treasury Frederick Ma Si-hang said the KCRC would grant a service concession to the MTRC. This would allow it to operate its existing and new railway lines and related transport businesses, he explained. According to the agreement, the MTRC will pay a $4.25 billion lump sum as well as $4.7 million in rent annually to the KCRC for the franchise to operate its services. The term will last 50 years and is renewable. From the fourth year of the merger, the MTRC will also pay a share of its annual revenue from KCRC operations back to the KCRC. "The post-merger corporation would be responsible for operating the two integrated railway networks. This would include undertaking and funding maintenance, improvement, and replacement of assets of the KCRC system," Mr Ma said. As part of the package, the government will also sell property interests to the MTRC for $7.79 billion. These would include the property development rights, investment properties and property management business, but not include the land premium to be paid by the developers to the government, Mr Ma added. Secretary for Environment, Transports and Works Sarah Liao Sau-tung said fares at the two railways would be cut immediately after the merger was completed. Dr Liao also said the two rail operators had agreed not to raise fares in the coming 24 months. The government would introduce an amendment bill to the MTRC and KCRC ordinances to the Legislative Council by this summer, she said. Dr Liao said she expected the bill could be passed in early 2007. Mr Tsang said it could help Hong Kong improve connections with the mainland. "With the fast expanding railway network on the mainland, the rail merger is a timely move for Hong Kong which will enhance our ability and potential in connecting with a railway route on the mainland," he said.
Flight attendants and passengers sign a petition at Chek Lap Kok yesterday calling for the mandatory retirement age for attendants to be raised from 45 to at least 50. Attendants have gained more than 1,000 signatures in support of their claims for an extension of their career life. Cabin crews from Cathay Pacific, British Airways and Dragonair gathered the signatures over two hours outside the airport passenger terminal.
Executive Councillor and Hong Kong Jockey Club chairman Ronald Arculli is favoured to succeed Hong Kong Exchanges and Clearing chairman Charles Lee Yeh-kwong, who steps down later this month after serving a maximum six-year term.

China: Chinese President Hu Jintao will pay state visits to the United States, Saudi Arabia, Morocco, Nigeria and Kenya from April 18 to 29, said Chinese Foreign Ministry spokesman Liu Jianchao Tuesday. Hu's four-day U.S. trip, starting from April 18, will take him to Seattle and Washington D.C. and Hu is also expected to give a speech at the Yale University, Liu said. The spokesman said Hu will meet with U.S. President George W. Bush and other U.S. officials during his visit. The two sides will have in-depth discussions on China-U.S. relations and other international or regional issues of common concern. Liu said the two sides will have discussions "candidly, equally and in mutual respect". "I hope and believe that the Chinese president's visit will further boost the development of China-U.S. relations," Liu said. He said the goal of Hu's U.S. visit was to enhance exchanges and mutual trust and expand consensus and cooperation so as to jointly promote the China-U.S. constructive cooperative relations. Liu said both China and the United States were deeply concerned with certain key international issues and had some disputes, frictions and differences. "Hu's visit will be a good opportunity for China and U.S. to narrow and even remove the differences," he said.
Beijing-Hangzhou Grand Canal has once again become the focus as 18 Chinese cities along its banks are ready for the application of World Heritage site.
On April 10 Sony Ericsson (China) launched Z530c mobile phone in Beijing, the first which is designed, developed and made in China by Sony Ericsson. It will be marketed globally. Sony Ericsson's China R&D center is one of the five global R&D centers of the world leading mobile maker. It will offer more products embedded with Chinese culture and life fashion and expand its 150-person research team to some 350 staffs by 2008.
German firm Allianz Insurance Group has been given the go-ahead by regulators to invest in China's largest bank.
Acquisitions of Chinese enterprises by foreign companies are increasingly being challenged amidst a growing mood of "economic patriotism."
Dalian Port, the largest container terminal operator on northeast China's Bohai Sea, has allocated 30 percent of its US$277 million (HK$2.16 billion) initial public offering to four strategic investors, people familiar with the situation said. Listing candidate Dalian Port, operator of China's largest oil terminal, plans to sell 10 per cent of its shares to Hutchison Whampoa and three other investors in its $2.16 billion initial public offering in Hong Kong, market sources said.
While the international hotel giants battle to expand their empires in China and mull over branding and marketing strategies, there is something critical they can never ignore - staff. "Talents are given priority in Marriott, their potential, loyalty, interest and team spirit matters," says J. Willard Marriott, the founder of US-based Marriott International. "Take good care of your associates and they will take good care of customers, who will then return." As one of the leading international hotel groups, Marriott began operations in China in 1989. Now, its local presence is represented by 26 hotels, and by 2008, the portfolio will grow to 35. Marriott is not alone in its rapid growth. By 2008, Shangri-La Hotels and Resorts, Asia-Pacific's leading luxury hotel group, will add 17 more to its local list which already numbers 19; UK-based InterContinental Hotel Group (IHG), a worldwide hotel group, has a portfolio of 51 hotels, and plans to develop 74 more by 2008. Ritz-Carlton Hotel Company, the world's leading high-end hotel brand, plans to have nine projects by 2009. The aggressive expansion can be attributed to the upcoming 2008 Beijing Olympics and the development of China's economy. "But how to attract and retain staff remains a pressing task," says Michael Malik, general manager with Beijing Marriott Hotel West, considered one of the best hotels in the Marriott chain. Generally, academic credentials, work experience and English skills are the basic requirements on hotel recruitment lists. However, for most hotels, there are two things even more important personality and potential. "We hire people for their attitudes," Malik says. "Passion is the key." The recruitment policy of Portman Ritz-Carlton Shanghai (PRC), which has been ranked as the best employer in Asia and China for three consecutive years by Hewitt Associates, is simple. "We only get highly-talented people," says Ralph Grippo, vice-president area general manager.
April 11, 2006


Hawaii: China Vice Premier Wu Yi lead a business delegation of over 100 members representing the Major Agriculture Sectors, Aerospace, Automobile, Electronics and Heavy Machinery, stopped by Hawaii on April 3rd for 2 days to meet with Hawaii Business Leaders and Government Representatives. A Memorandum of Understanding and Cooperation was signed between Hawaii Governor Linda Lingle and Chairman Shao Qiwei of the China National Tourism Administration at a reception hosted by Governor Lingle at the Washington Place. Vice-Premier Wu Yi and her entourage of more than 200 business executives were preparing to sign nearly US$4 billion worth of deals in Los Angeles overnight, according to a statement released by the Chinese consulate in Los Angeles.

Hong Kong: The triad epic Election scooped the top honours at last night's Hong Kong Film Awards, while Tsui Hark, whose martial arts spectacular Seven Swords had been nominated in 11 categories, went home empty-handed. But neither best director Johnnie To Kei-fung nor best actor Tony Leung Ka-fai were able to pick up their awards at the Coliseum. Leung, who was in the middle of his stage show Love in a Fallen City, thanked organisers through a live broadcast from the Academy of Performing Arts. To was busy preparing his latest projects and thanked the film's crew through an assistant. Election was also voted best film, beating the much-fancied musical Perhaps Love, while the script, by Yau Nai-hoi and Yip Tin-shing, won for best screenplay. Perhaps Love did win six awards, including best actress for Zhou Xun . Mainlander Zhou, who will appear in Feng Xiaogang's highly anticipated The Banquet with Zhang Ziyi , burst into tears as she collected her award. "I was very excited when they called my name," she said. "Before, I didn't think that I would win. I was only thinking of participating at a Hong Kong event." Andrew Lau Wai-keung and Alan Mak Siu-fai's comic adaptation Initial D was the other big winner, picking up four awards, including best supporting actor for Anthony Wong Chau-sang. Organizers of the Hong Kong International Film Festival have blasted the government for devoting all its attention to Disneyland and the Rugby Sevens and ignoring local events to attract overseas travelers.

Chinese mainland actress Zhou Xun holds the trophy after winning the Best Actress award for the movie "Perhaps Love" during the 25th Hong Kong Film Awards April 8, 2006.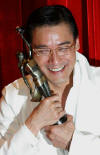 Hong Kong actor Tony Leung Ka-fai celebrates his win of the Best Actor award for his role in "Election" at the 25th Hong Kong Film Awards April 8, 2006.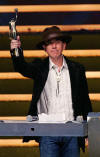 Hong Kong actor Anthony Wong holds the trophy after winning the Best Supporting Actor award for the movie "Initial D" during the 25th Hong Kong Film Awards April 8, 2006.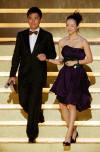 Hong Kong actor Tony Leung and Chinese mainland actress Zhang Ziyi prepare to present an award for the 25th Hong Kong Film Awards April 8, 2006.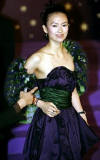 Chinese actress Zhang Ziyi arrives at the 25th Hong Kong Film Award Presentation Ceremony in Hong Kong on Saturday, April 8, 2006 - She has been savaged by the media for her Beijing accent and frumpy outfits, but Zhang Ziyi shrugged off the vicious headlines and turned up looking radiant in black at last night's Hong Kong Film Awards / Hong Kong director Peter Chan holds the trophy for the Best Art Director for the movie 'Perhaps Love' at the 25th Hong Kong Film Awards in Hong Kong Saturday, April 8, 2006.

U.S.-based Hong Kong kung fu star Donnie Yen wins the Best Action Choreography award for the movie 'SPL' during the 25th Hong Kong Film Awards April 8, 2006.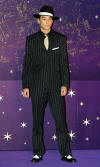 Hong Kong actor Daniel Ng & Hong Kong actor Tony Leung, left, and actress Carina Lau arrives at the 25th Hong Kong Film Awards April 8, 2006.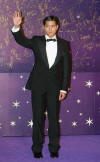 Hong Kong actor Aaron Kwok & Andy Lau arrives for the 25th Hong Kong Film Awards April 8, 2006. Kwok is nominated for the Best Actor Award for his film 'Divergence'.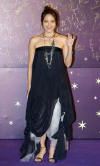 Hong Kong actress Karena Lam, singer and actress Gillian Chung, actress Miriam Yeung arrives at the 25th Hong Kong Film Awards April 8, 2006. Lam is nominated for the Best Actress award for her role in 'Home Sweet Home'.

Chinese actress Geng Song Yong Cuo kisses the trophy for Best Asian Film for 'Ke Ke Xi Li' during the 25th Hong Kong Film Award Presentation Ceremony in Hong Kong on Saturday, April 8, 2006.
Simon Murray, a former managing director at conglomerate Hutchison Whampoa, has confirmed a group he is leading is close to buying Asia Netcom from China Netcom Group in a deal said to be worth around US$350 million.
Hong Kong's official foreign currency reserve assets amounted to 125.9 billion US dollars at the end of March, 200 million US dollars less than February, the Monetary Authority said in Hong Kong Friday.
Hong Kong could be a role model for China in terms of sustainable mass public transport, an expert in the field said yesterday while suggesting the mainland public was becoming too dependent on the use of cars rather than railways.
Legislators yesterday proposed "chicken boutiques" designed to keep customers away from live birds as a way of keeping at least part of the live trade going after central slaughtering is introduced.

China: China has a long way to go before fully attaining the rule of law as the central government stated in its 11th Five-Year Program, a senior official said. Cao Kangtai , director of the Legislative Affairs Office of the State Council, said the government had to achieve "breakthrough progress" by 2010. Speaking to the People's Daily, which carried his remarks in a report yesterday, Mr Cao said the central government had made "important progress" and had seen "distinct results" in the past five years towards becoming an administration that supports and was governed by the rule of law. "But there is still a huge gap to what was proposed in the 11th five-year plan as to fully effecting an administration in accordance with the law and accelerating the development of a rule-of-law government," said Mr. Cao. The central government introduced guidelines in 2004 detailing its shift to rule of law. "Time is tight and workloads are heavy. The 11th five-year plan (2006 to 2010) is a key period to attain these goals," he said. In the guidelines, the State Council outlined targets for the next decade: a separation of government and enterprises; a set of administrative and local rules in line with the constitution and legal procedures; a fair and transparent system with which the public can reflect its views; an efficient and low-cost system to solve social conflicts; a separation between administration power and profits and an administration to support and respect the rule of law. Mr. Cao said one of the top priorities in the next five years was accelerating management reforms within the administration to streamline the role of each unit. Without elaborating further, Mr. Cao said Beijing would also raise efficiency in the administrative approval procedure. The government would also reduce the number of administratively charged projects, which in the past have resulted in wastage and bucked market demand.
China has accepted a request from both the EU and the US for talks with China on auto parts tariffs under the WTO trade dispute settlement mechanism. EU Finance ministers struggled to put recent spats over protectionism behind them and show a strong commitment to strengthening competition in the face of globalization challenges.
China has banned commercial donation and supply of human eggs and tightened the control over sperm banks, in a bid to control the commercial use of ART.

Austrian Finance Minister Karl-Heinz Grasser (L) shakes hands with China's Finance Minister Jin Renqing before an ASEM Finance Ministers' meeting in Vienna, capital of Austria, April 8, 2006. Finance Ministers and delegates from 13 East Asian countries and 25 EU members attended the ASEM Finance Ministers' meeting.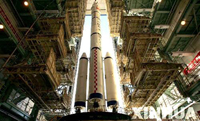 China has begun production of the rocket carrier for the launch of Shenzhou-7 spaceship in 2008, a senior project official has announced. Jing Muchun, chief designer of the launch vehicle system of China's Manned Space Program, told China Central Television that procurement and production of the parts for the rocket carrier had commenced. Jing said better quality parts would be used for the rocket carrier and scientists would upgrade sections to improve its reliability. Under the manned space program, Chinese astronauts will conduct space walks and rendezvous in space during the second stage of the program starting with Shenzhou-7.

Rock'n'roll circus hits town: Its thumbs-up and all smiles as 8,000 fans wait for the lights to dim and the Rolling Stones to take the stage at the Shanghai Grand Stage last night, the band's first mainland show. After waiting 30 years for approval, Mick Jagger kicked off with Start Me Up, with suggestive lyrics that made it past censors who banned five other songs.

Chairman Feng Xiaozeng is happy with China Insurance International Holdings' progress. China Insurance International Holdings (CIIH) has vowed to turn in a net profit this year after posting a higher than expected loss for last year. It will aim to limit expenses at its life and property and casualty businesses to last year's levels while growing their income.
Sino-US economic cooperation serves interests of two countries - Visiting Chinese Vice Premier Wu Yi said in Memphis Friday that developing sound and stable Sino-US economic and trade relations was in the interests of both countries. Trade between China and the United States was mutually beneficial, Wu noted while meeting Tennessee Governor Phil Bredesen in Memphis, the second largest city in the state of Tennessee. She said that China was the third biggest export market for Tennessee and bilateral trade has grown rapidly. In 2005, China purchased 1.4 billion US dollars of products from Tennessee including grain, cotton, chemical products and electronic parts. China's market was open, the vice premier said, adding that China welcomed the export of more US products to China and encouraged more Tennessee enterprises to invest there. Bredesen said the economic and trade cooperation between Tennessee and China was very close. He expressed his hope that the friendship between the people of Tennessee and Chinese people would be further enhanced through strengthening bilateral economic and trade cooperation. On Friday, Wu also visited the headquarters of the US FedEx Corporation in Memphis accompanied by its Chief Executive Officer Fred Smith. Memphis is the third stop of Wu's visit to the United States. She arrived here Friday afternoon after having visited Hawaii and Los Angeles, California.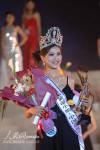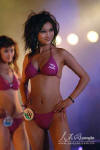 Yu Chenyan claims the title of Miss Tourism International China and Miss Tourism Xitang in the ancient town of Xitang, east China's Zhejiang Province April 7, 2006. A total of 39 contestants from across China participated in the finals of the Miss Tourism International contest in China region that day.

Miss Tourism International China - Yu Chenyan (C) and the first and second runner-ups Zhang Xue, Liang Shuang pose for a photo.

Visitors to the ninth international hardware tool expo examine displayed products. The three-day show opened on April 7 in Shenyang, capital of Northeast China's Liaoning Province.
A senior Guangdong health official has declared an end to this year's peak human bird flu season in the province, but the claim was dismissed by other health specialists.
China Insurance International Holdings (CIIH) has vowed to turn in a net profit this year after posting a higher than expected loss for last year. It will aim to limit expenses at its life and property and casualty businesses to last year's levels while growing their income.
April 10, 2006

Hong Kong: The Securities and Futures Commission has placed limits on the number of client-owned shares that Hong Kong's smallest brokers may pledge as security for margin-financing loans.
Hong Kong will retain its own currency even if the yuan continues its rising trend and becomes the stronger of the two units, said the Hong Kong Monetary Authority's chief executive, Joseph Yam. The value of the yuan could equal or surpass that of the Hong Kong dollar before the year is out, Monetary Authority chief executive Joseph Yam Chi-kwong predicted last night.
Bank of East Asia, a mid-sized Hong Kong-based lender, has held talks with several mainland banks to buy stakes, as it seeks to further expand in China, chairman David Li said.
Shanghai Prime Machinery, a unit of state-owned Shanghai Electric Corp, plans to raise up to HK$1.3 billion in an initial public offering in Hong Kong to upgrade production facilities at its four primary divisions, sources said.
After months of intense lobbying by the government, lawmakers have approved funding for an administrative post to oversee the implementation of the Tamar project, bringing one step closer to reality the administration's proposal to build its headquarters at the prime waterfront site.
Hong Kong has slapped a ban on imports from a United States meat- packing plant after authorities found bone fragments in a shipment of boneless beef at the airport. This is the second time this year a packaging plant has been delisted for sending shipments of beef that included bone shards.

China: China's central bank has given its approval for Citigroup, HSBC Holdings and 16 other banks to start trading yuan- denominated interest-rate swaps, the People's Bank of China said in a statement.
A Chinese entrepreneur delegation and the Los Angeles municipality signed Thursday an array of procurement contracts worth US$4.44 billion.
The upcoming visit to the United States by Chinese President Hu Jintao will represent a key milestone in efforts that the two countries work together to contribute to international growth and stability, State Department deputy spokesman Adam Ereli said at a briefing on Thursday. "This visit will represent one of the key milestones" in the " broad and complex undertaking" that both countries work together " to contribute to international growth and stability in ways that benefit both our countries," Ereli said at the National Press Center briefing. "This is an opportunity for the leaders of these two great nations to once again meet, to once again reaffirm their strong commitment to a healthy relationship, one in which there are many convergent interests," Ereli said when answering questions from Xinhua. The visit will also offer the United States an opportunity to raise the Chinese side issues that "we feel strong about," Ereli said. As U.S. Deputy Secretary of State Robert Zoellick has pointed out, China is an important player on the international stage and the United States wants to work together with China in ways that help China meet its own development challenge as well as contribute to the growth and stability worldwide that benefits both countries, Ereli said. "That is going to be the fundamental nature of the discussions between the two leaders," Ereli said, noting that the United States regards its relationship with China as a "critical" one both for the United States and for the world.

Local women perform at the opening ceremony of the expressway from Simao city to Xiaomengyang in Puwen town, Jinghong city of southwest China's Yunnan Province on April 6, 2006.
SriLankan Airlines will increase its Colombo-Beijing service and hopes to expand services to Shanghai by the end of 2006 in a bid to become the No 1 choice for Chinese travelers, according to a chief representative from the company.
London mayor Ken Livingstone is set for his China visit starting from Saturday to woo Chinese investors, tourists and students to put London on their map of destination. The mayor, who will lead a 70-member delegation from the business, education, tourism sectors as well as the creative industry to embark on a week-long visit in Beijing and Shanghai. During the trip, Livingstone will open the London Economic Development and Inward Investment office in Beijing and a representative office in Shanghai. "I'm honored that the opening of London's office in Beijing will be the first opened by myself, as Mayor of London, to any country in the world," he said, adding "London's growing relationship with the fastest growing market in the world is already bringing significant economic benefit to the city. I regard it as the highest strategic priority for London that we develop the strongest possible links with the Chinese economy." During the visit in Beijing, the mayor will visit the site of the 2008 Olympics and meet with members of the Beijing Olympic Games to discuss the planning of the Olympic Games and the building of sustainable communities. In Shanghai, Livingstone will have the opportunity to meet with key officials planning the 2010 World Expo, which London first hosted in 1851. The mayor noted earlier this year "It is central to the continued strength of London, as a financial center, that we remain open to the most important developments in the global economy." According to him, Britain is the largest European recipient of Chinese foreign direct investment projects, of which London attracts 30 percent. And trade and tourism are rapidly expanding.

The manager of Harley-Davidson's first authorised dealership in China, in Beijing, anticipates customers as consumer confidence rises.
Chinese leaders have become more proactive in a changing international environment, seeking to expand the country's economic interests while diluting rising international concern about its growing power, according to mainland analysts.
Advanced Semiconductor Manufacturing Corp, a Shanghai-based chipmaker, gained 33 percent in its trading debut Friday despite its high valuation and lukewarm market interest, as the frenzy for initial public offerings continues amid a rallying stock market.
April 7 - 9, 2006

Hong Kong: The government has fleshed out the details of the MTR-KCR merger - confirming it will be an asset-leasing arrangement, with a full merger of the two corporations put off for 20 years. Lawmakers have warned that the merger plan for the two rail companies may not be endorsed by the Legislative Council if the fare concession is lower than the proposed 10 per cent.
The Hang Seng Index continued its bull run Thursday to close at 16,411.13 - the highest since September 12, 2000 - on the back of a strong inflow of funds from Europe. Some analysts revised up their forecast for the year to above 17,000.
The Court of Final Appeal has ruled that the Hong Kong Stock Exchange did not deprive New World executives of their right to a fair hearing when it drew up preliminary directions for their disciplinary hearing.

Yuen Kit-ying, with her son (centre) and nephew, are impressed by the exhibition of fossilised dinosaur eggs at Olympic City in Tai Kok Tsui yesterday.
Hong Kong's independent watchdog has issued a damning report of the government's medical welfare program, blaming the Social Welfare Department and the Hospital Authority for widespread abuses and gaping loopholes in a system that approved more than 99 percent of applications for medical fee waivers between November 2002 and March 2005.
Cambridge University will name its new cancer research centre after tycoon Li Ka-shing after he donated $224.6 million for the building.
Listed companies will come under direct scrutiny from Hong Kong Exchanges and Clearing following a decision by the Court of Final Appeal yesterday that backed the stock exchange regulator in barring lawyers from fronting disciplinary tribunals for their corporate clients.
Last year was a banner year for corporate Hong Kong, but analysts note the city's economic importance to these companies is shrinking because they now generate an expanding proportion of their earnings externally.

The debate on Hong Kong being marginalized by the rapid development across the border has gained new impetus, with Premier Wen Jiabao saying it will not happen. " I don't think the economic development of Hong Kong will be marginalized ... I have sufficient confidence in the future economic development of Hong Kong," he said Wednesday in an interview with Asia Television and Phoenix Satellite Television. ATV chief executive Chan Wing-kee is a member of the Chinese People's Political Consultative Conference Standing Committee while Phoenix Satellite Television chairman Liu Changle, is the majority shareholder of ATV. Wen was quoted as saying that Hong Kong enjoys "the freest economy in the world, the most comprehensive legal system, a group of entrepreneurs with international experience and a wide economic network with different countries and regions." Because of this, Hong Kong has been able to maintain its edge as a trading center, a financial center and an international metropolis. "Its position is irreplaceable," Wen said.

Shimao Property Holdings, a Shanghai- based property developer controlled by tycoon Hui Wing-mau, will make a second attempt at an initial public offering worth up to US$300 million (HK$2.34 billion) in June, sources said.
Hong Kong's international business community is urging the government to act quickly to tackle air pollution before conditions deteriorate further and deter top expatriate professionals from moving to the city.
Hong Kong could take more nuclear energy from Guangdong after the current purchase agreement expires in 2014, says a senior official of a mainland power company.
The government is proposing fixed penalties of HK$1,500 for those who flout the proposed ban on smoking in public places in a bid to save court resources, it was revealed in the Smoking Bill Legco meeting Tuesday.
The ICAC trial of criminal lawyers Kevin Egan and Andrew Lam on a charge of perverting justice continued in the District Court Tuesday, with a witness being asked to shed some light over whether a gift of a car to a co-defendant could be considered a "reward" for her alleged conspiracy.

Election winner: Andy Lau Tak-wah joins notables and stars in a toast as the Hong Kong International Film Festival kicked off last night with the sold-out world premier of Johnnie To Kei-fung's Election 2, the sequel to last year's triad epic launched at the Cannes Film Festival. To earlier said the film, starring Simon Yam Tat-wah and Louis Koo, examined post-handover Hong Kong and its impact on local people, especially in the triad world.
Less than three years after his brother Robert Kissel was murdered by wife Nancy in Hong Kong, Andrew Kissel, a US real estate developer charged with fraud, forgery and theft, was found dead in his Greenwich, Connecticut, home with multiple stab wounds.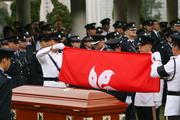 Officers remove the Hong Kong flag from Constable Tsang Kwok-hang's coffin during yesterday's moving farewell to the slain officer. The police force is considering recommending an award for bravery be granted posthumously to constable Tsang Kwok-hang, who died of his wounds after gunning down a suspect in the bloody shoot-out in a Tsim Sha Tsui underpass last month.
Three mainland firms - Beijing-based retailer Jingkelong Supermarket Chain, Tianjin Port Development Holdings and Dalian Port - will launch initial public offerings (IPO) in Hong Kong, following approval from the stock exchange's listing committee.
The Executive Council yesterday endorsed betting tax reforms, introducing a long-sought switch from a turnover-based tax to one based on profit, after concessions by the Jockey Club.
United States gaming company Las Vegas Sands is considering a Hong Kong real estate investment trust listing for the 1.2 million square feet of retail space being built as part of its billion-dollar flagship Venetian casino resort in Macau.

China: Blue chips and China plays, particularly financial and property stocks, will remain attractive because the stock market is expected to rise higher amid strong fund inflows, fund managers and analysts said.

Premier Wen Jiabao says free-trade talks with New Zealand are ready to enter their final stage, although difficulties remain. New Zealand looks set to become the first western developed country to sign a free-trade agreement with China after Premier Wen Jiabao and New Zealand Prime Minister Helen Clark agreed yesterday to conclude negotiations in two years.
Japan's Hitachi Global Storage Technologies will move all production of its 3.5-inch hard disk drives to Shenzhen within the next two years as the company seeks to tap growing demand for products such as digital video recorders and television set-top boxes.
The China Foreign Exchange Trade System (CFETS) and the Chicago Mercantile Exchange (CME) Wednesday exchanged copies of an agreement on cooperation in trading of foreign exchange and interest rate futures and options on futures.

A jewelry shop attendant shows a pair of gold bracelet in Hangzhou, capital city of east China's Zhejiang Province, Apr 5, 2006. The price of gold jewelry at Hangzhou Mansion rose from 197 yuan (approx $24.6) per gram to 202 (approx $25.2) yuan per gram on Wednesday.

A golden monkey holds her one-month-old baby in the arms while eating a strawberry at a zoo in Jinan, East China's Shandong Province, April 5, 2006. The monkey baby went on public display for the first time on Wednesday. Unique to the country, the golden monkey is under top state protection in China.
Dalian Commodity Exchange, one of country's three futures bourses, is considering introducing palm oil futures, a move that it said would help the industry hedge risks and strengthen its position as the country's leading agricultural futures bourse.
Small Hong Kong-listed mainland developer Coastal Greenland is selling US$40 million (HK$312 million) of senior notes to fund a property project in the northeast Chinese city Dalian, Liaoning province.

Chairman Li Mohua says the purchase of the parent company's upstream assets will allow Bengang to have a complete industry chain. Bengang Steel Plates yesterday unveiled a massive A-share issue plan to fund its acquisition of 10.3 billion yuan worth of assets from its parent firm as the group gets into shape to negotiate a better merger deal with bigger rival Anshan Iron & Steel Group Corp.
How fast is fast? According to China's road planners, the answer is 24,000 kilometres per five years not driving, but building expressways. That total length of new expressways will roughly equal that in Canada and Germany combined. The two countries rank third and fourth in the world in expressway length. The length of expressways in China was 41,000 kilometres at the end of 2005, the world's second longest only after the United States. About 24,000 kilometres were added in 2001-05, or 4,800 kilometres per year. In 1988, China did not have an inch of expressway, according to Dai Dongchang, director of Transport Planning and Research Institute affiliated to the Ministry of Communications. But in 2010, the total length is expected to be around 65,000 kilometres. The United States had some 90,000 kilometres in 2005. At least 60 per cent of the Chinese economy is facilitated by road transportation, the planning official said. After its completion in 2010, the Chinese expressway network will connect all provincial capitals and cities with at least half-a-million population, as well as some with population ranging between 200,000 and 500,000.
60 national firms have global potential - Sixty Chinese companies are set to become global players over the next decade, according to a paper released yesterday by the IBM Institute for Business Value. The 60 companies, 47 State owned and the rest privately owned, were selected by IBM after passing three tests relating to their global potential. Among the firms, there are relatively well-known players such as telecom equipment maker Huawei, and oil firms CNPC and CNOOC. There were also less well-known companies, such as Galanz, the Wanxiang Group, the Midea Group, Chery, Lifan and Ningbo Bird. "We used three filters, company size, industry characteristics and company characteristics, to select Chinese companies.
ABB, the world's largest maker of power networks, has moved the headquarters of its robotics division from Detroit to Shanghai to head off competitors in the car business and force its executives to think Asian and not western.

Chinese Premier Wen Jiabao (L) is welcomed with the traditional Hongi greeting by a Maori elder during a welcoming ceremony upon his arrival at an airport in Wellington, New Zealand on April 5, 2006.

Chinese Premier Wen Jiabao (L) shakes hands with New Zealand Prime Minister Helen Clark upon his arrival at an airport in Wellington, New Zealand on April 5, 2006. New Zealand is the third-leg of Premier Wen's four-nation tour which will also take him to Cambodia. He had paid official visits to Australia and Fiji before his arrival in Wellington.
China has reached a landmark agreement with its Southeast Asian neighbors on oil shipping along the Mekong River.

Built on the "roof of the world", the 1,142 km long Qinghai-Tibet railway from Golmud to Lhasa has been linked up recently. The railway is expected to be put into test run on July 1 after a cargo train's trial operation. The completion of the railway has rewritten the history of railway construction in China.

American Airlines' Flight AA289 arrives in Shanghai Pudong International Airport from Chicago on the afternoon of April 3, 2006, marking that the world's largest airline company has entered China's civil aviation market.
Beijing is to seal agreements to purchase US agricultural products, software, passenger aircraft, cars, automotive spare parts and electrical products ahead of President Hu Jintao's US visit later this month, Xinhua reported yesterday. Representatives of 111 mainland companies would soon begin negotiations with authorities, commerce associations and companies in 13 US states, it said. It is the first time the official media has confirmed widespread speculation about the likelihood of big-ticket purchases. In recent years, Beijing has usually sent a delegation of businessmen to place orders for US goods worth billions of US dollars ahead of a Chinese leader's visit to Washington. Although the size and other details of Beijing's planned purchases remain unclear, the cost could easily run into billions of US dollars, judging from the shopping list. It has agreed to purchase 80 Boeing passenger aircraft, and earlier reports indicate officials plan to lift the ban on imports of US beef and have agreed to buy more American soya beans. President Hu is due to visit the United States from April 18 to April 22. At his first stop, in Seattle, he is scheduled to visit the Boeing company and have dinner with Microsoft chairman Bill Gates at his palatial home. As computer software is on the shopping list, it is possible that Beijing could promise to purchase more Microsoft Windows operating systems and other US-made software as part of efforts to crack down on the widespread use of pirated computer software on the mainland, which costs US software makers billions of dollars in lost revenue each year. Vice-Premier Wu Yi who paid a stopover visit to Hawaii on Monday, is responsible for overseeing the purchases in the United States. She was on her way to Washington for the China-US Joint Commission on Commerce and Trade. While in Hawaii, she oversaw the signing of an agreement that will boost the number of mainland visitors to the island. The agreement "helps us to continue to spread the word in China about Hawaii", the Pacific state's Governor Linda Lingle said. The number of mainland visitors to Hawaii has been rising - up 34.5 per cent in 2004 from the year earlier to 34,216 travellers. But it captured just a tiny fraction of the about 27 million mainlanders who travelled to overseas destinations that year. Ms Wu said Hawaii had expertise in tourism planning, management and personnel training which could "serve as a valuable reference for the Chinese tourism industry".
China regrets that the United States has rebuffed space cooperation with China, the head of China's space agency told his American counterpart in Washington.

Yahoo China relaunched its search site yeaterday, providing more easy-to-use categories. Tianjian, CEO of Yahoo China, claimed that the old pure search mode failed to catch up with growing multi-demand of surfers in the new internet era.
In a recent study, analysts from one of the world's leading banks, Credit Suisse, say China is poised to become the world's second largest consumer market by 2014.
China is poised to become the world's second largest consumer market by 2014. In a recent study, analysts from one of the world's leading banks, Credit Suisse, say China is poised to become the world's second largest consumer market by 2014. The bank has issued a report entitled "The Rise of the Chinese Consumer Revisited", indicating that China now represents 3.8 percent of global household consumption spending and remains on track to become the world's second largest consumer market in US dollars. In the report, Credit Suisse cites results from a proprietary survey conducted in China in December of 2005. This is the second major survey by Credit Suisse on this topic, with the first one released in September 2004. The 2005 study confirms Chinese consumption spending will likely represent approximately 11 percent of total global consumption spending for 2014, or about 3.7 trillion US dollars, versus 3.8 percent for household spending in 2005, up from an estimate of 2.9 percent in 2004. By 2014, Chinese consumers are expected to incrementally spend more US dollars than their US counterparts. China remains the seventh largest household consumer marketplace but looks poised to overtake Italy in 2006, France in 2007 and Japan by 2014. Head of Emerging Equity Market Strategy and Global Coordinator of China Research at Credit Suisse, Jonathan Garner has commented on the survey. He is quoted as saying: "The new survey increases our confidence in our original base case that China is set to become the world's second largest consumer spending market within ten years. However, it also points to the challenges of tapping into this growth with only a handful of companies achieving dominance within their individual sectors."
Aviation officials from China and the United States will meet in about two weeks to discuss expansion of air services, which may give American airlines more direct passenger flights to the mainland and Chinese carriers more international routes, sources said.
The United States and China are close to reaching an agreement that could eventually see the repatriation of 39,000 illegal Chinese immigrants, the US homeland security chief said yesterday.
April 6, 2006

Hong Kong: Starwin Media Holdings, a US-based satellite TV services provider, said it has bought 70 percent of Strategic Media International (SMI), whose assets include Hong Kong's Sing Pao newspaper and three Hong Kong-listed companies.

Skip a meal for a good cause: Schoolchildren across the city will go hungry today when they join World Vision's skip-a-meal day to raise cash for the charity's food programs. Children from the Christian and Missionary Alliance Sun Kei Primary School were the first to give up lunch yesterday, using their empty lunch boxes to form the Chinese words "skip a meal" to encourage other children to participate.
Local residents generally still strongly support Hong Kong Disneyland, but most believe the company could communicate better with the public, a tourism academic said.
Hong Kong's recording industry has declared victory in the first round of its fight against illegal filesharers and rolled out a second wave of 50 new potential lawsuits that it says shows the industry's determination to crack down on online music piracy.

Chief Executive Donald Tsang has made a last-ditch attempt to get the Democratic Alliance for the Betterment and Progress of Hong Kong to back his HK$5 billion new government headquarters project at Tamar.
China Minsheng Banking Corp, the mainland's only privately controlled lender, has spurned Belgium-based Fortis Bank's interest in taking a strategic stake and is considering other banks including National Australian Bank, market sources said.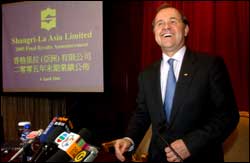 The performance of Shangri-La Hotels & Resorts' flagship properties in Hong Kong finally crested its pre-handover peak, boosted by the flood of visitors. While announcing the 2005 results for the region's largest luxury hotel and resort chain Tuesday, chief executive and managing director Giovanni Angelini revealed that average room rates at the Island Shangri-La in Admiralty reached US$340 (HK$2,652) in the first quarter, when the the hotel filled 85 percent of available rooms. The rate for Kowloon Shangri-La in Tsim Sha Tsui reached US$250 on 82 percent occupancy. "We expect those room rates to increase another 6-8 percent this year," Angelini said. Since 1997, Hong Kong hoteliers have been staggered by blows from the first bird flu outbreak, the Asian financial crisis and SARS, but tourism has rebounded strongly the past 18 months. Boosted by big gains in its Hong Kong and Fiji operations in 2005, Hong Kong-listed Shangri-La Asia - which owns the two SAR hotels and most others managed by its Shangri-La Hotels subsidiary - reported a 33 percent rise in net profits to US$151 million for the year. The gain fell slightly shy of the US$152.5 million consensus estimate of analysts surveyed by IBES. Revenues at the company rose 16 percent to US$842 million. For the year, Shangri-La, controlled by the family of Malaysian tycoon Robert Kuok, filled 73 percent of the 23,000 rooms in its 36 owned hotels, two percentage points more than in 2004. Average daily room rates rose more strongly, increasing US$15 to US$117. Revenue per available room rose in every market, though occupancy declined slightly in a few places.

A policeman gunned down in a pedestrian subway last month has been given a hero's funeral. With a 52-piece police band leading the funeral cortege, the body of Tsang Kwok-hang was taken from the Universal Funeral Parlor in Hung Hom to its final resting place in Gallant Garden, which is reserved for civil servants who die while carrying out extraordinary acts of courage. Guests at the ceremony included the slain constable's patrol partner, Sin Ka- keung, 28, who was seriously wounded in the shootout. Sin is still being treated in hospital for his wounds but was given a temporary discharge Tuesday to attend the funeral. Wearing a dark suit, a face mask and baseball cap, Sin arrived in a wheelchair. Numerous government and police officials, including Police Commissioner Dick Lee, paid their last respects to Tsang who lay in an open casket wearing his police uniform. Democratic Alliance for the Betterment and Progress of Hong Kong member Choy So-yuk was one of a handful of legislative councilors at the ceremony.
Hong Kong customs authorities have seized an aircraft believed to be a Soviet-made Mig-29 Fulcrum fighter jet at the Kwai Chung Container Terminal after a routine check revealed the shipment was missing an import license.

China: Oil giant Sinopec Corporation has discovered China's biggest ever natural gas field with proven deposits of 251 billion cubic meters in the southwestern Sichuan Province. Sinopec said in its annual report released Monday that it has submitted a plan to authorities for the development of the Puguang natural gas field in northeast Sichuan. The plan proposes commercial production from 2008 with an annual production of 4 billion cubic meters, which could double by 2010. Sinopec plans to build a pipeline to supply natural gas from Puguang to Jinan, capital of Shandong Province in East China. Prior to Puguang, China only had four natural gas fields with deposits exceeding 200 billion cubic meters each, the report says.
ChemChina acquires Australia's biggest ethene producer - ChemChina said the deal means its total assets now exceed 10 billion US dollars and its total sales revenues for this year is expected to hit 10 billion US dollars.
China has completed the main part of a high-tech radio telescope which will serve China's ambitious moon-probe project.

A L15 Falcon advanced trainer aircraft is taking off on Apr 3, 2006. The new generation trainer aircraft Falcon L15 developed by Jiangxi Hongdu Aviation Industry Co., Ltd made public appearance.
Aviation officials from China and the United States will meet in about two weeks to discuss expansion of air services, which may give American airlines more direct passenger flights to the mainland and Chinese carriers more international routes, sources said.
Beijing's reaction to the Holy See's efforts to re-establish diplomatic ties is "positive", but outstanding issues still need to be resolved through negotiations, which are at an early stage, a Vatican official said yesterday.

Mainland oil companies have been hit with a windfall tax of between 20 per cent and 40 per cent every time the price of a barrel of crude oil goes above US$40. Sinopec chairman Chen Tonghai says the impact of the domestic oil price increase on the company's bottom line this year will outstrip that of the crude special levy.
April 5, 2006

Hong Kong: Hong Kong-listed Guangzhou Pharmaceutical hopes to cooperate with international drug manufacturing and trading firms to boost the development of its fast-growing pharmaceutical trading businesses in the mainland.
Conglomerate Citic Group will deepen cross-ownership between its mainland and Hong Kong stable of companies in a $5.54 billion deal that will further transform its Hong Kong-listed unit into an international financial flagship with strong business links in China.
Business activity in Hong Kong hit an almost two-year high last month amid improved market demand and the launch of new products, but the buoyant mood has also contributed to higher overhead costs due to rising raw material prices and higher wages.

The Hang Seng Index finally broke through the 16,000 barrier, closing at 16,063.75 Monday - a peak not scaled since February 2001.
Hong Kong home sales jumped almost 40 percent last month - the third consecutive month of rebound - as mortgage loan discounts offered by banks prompted more purchases despite high interest rates.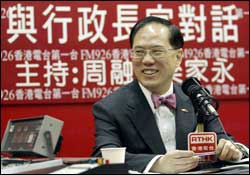 Chief Executive Donald Tsang said Monday that when he retires, he will leave Hong Kong for a few years so as not to affect the work of his successor. However, a political analyst said it was possible that Tsang was not just talking about himself but also hinting at other government retirees, and in particular former chief secretary for administration Anson Chan, not to fiddle in government affairs.
A hurdle in the troubled Hong Kong- Macau-Zhuhai bridge plan appears to have been overcome after Chief Secretary Rafael Hui told businessmen the SAR government will drop its proposal for a one-stop customs and immigration checkpoint for Guangdong province and the two Special Administrative Regions, a source said.
New York-based theatre company Mabou Mines will stage an avant garde production of Henrik Ibsen's A Doll's House in Hong Kong to mark the centenary of the great Norwegian playwright's death.
Marine police seized $8.1 million worth of smuggled goods off Black Point in Tuen Mun last Saturday, a spokesman said on Monday.
Chief Secretary Rafael Hui Si-yan on Monday stressed the importance of Hong Kong maintaining a business-friendly environment and a well managed public sector. In a speech to the Public Sector Reform Conference, Mr Hui noted that all international cities were facing similar challenges. "Our challenge is to excel in performance management and people-based services, taking full advantage of the modern methods, expertise and technology at our disposal." He also noted that Hong Kong's gross domestic product grew 7.3 per cent last year. An operating surplus for 2005-2006 had been forecast - three years ahead of schedule. Hong Kong's public service has a reputation for efficiency, but it has also been criticised for being too large and too costly - particularly in regard to civil servants' salaries. These are one of the biggest single items of government spending. Mr Hui was appointed Chief Secretary last year, taking over from Donald Tsang Yam-kuen who became Chief Executive.

China: The Beijing-Shanghai high-speed railway will be put into operation in 2010, China's Ministry of Railway said in Beijing Monday.
It was signed in Beijing on Sunday on mutual assistance and cooperation in law enforcement, information exchange, technical cooperation and personnel training.
The consumer price in China is expected to rise one percent this year, according to a latest report by experts from Peking University and National Bureau of Statistics.
The Pan-American Aviation Holdings Ltd.(PAAH) is to become a shareholder of Grand China Airline (GCA), a subsidiary of the Hainan Airlines, China's fourth largest airline company.

Australian Prime Minister John Howard (L) greets Chinese Premier Wen Jiabao as Wen makes his way to the visitors' book at Parliament House in Canberra April 3, 2006. Australia and China are set to sign a nuclear safeguards deal to allow Beijing to import Australian uranium for power generation when Wen meets Howard on Monday morning. Wen is the first Chinese Premier to visit Australia in 18 years.


Premier Wen Jiabao (2nd from L) and Australian Prime Minister John Howard (2nd from R) watch foreign ministers Li Zhaoxing (L) from China and Alexander Downer (R) from Australia exchange the Nuclear Safeguard Agreement during a signing ceremony in Canberra's Parliament House April 3, 2006.
A week after the European Union announced an antidumping tax on Chinese shoes on March 23, the EU and the United States have filed a WTO complaint against China over auto parts and the EU said it would resume an antidumping tax on Chinese color televisions.
Foreign retail giants are continuing their expansion in the China both in terms of opening stores and buying huge quantities of goods to sell overseas. According to a local newspaper, the world's leading retailers, including Walmart, Carrefour and Metro, will purchases goods in China worth more than 200 billion yuan (US$25 billion) this year. The world's largest retailer spent a whopping US$18 billion worth of goods in China in 2004 up five billion from the year before, reported the newspaper, which did not quote figures from last year. The France-based Anchan buys two billion euros worth of goods every year in China, said the newspaper. Carrefour, also from France, bought US$3.2 billion worth of commodities in China in 2004. The figure rose to US$4.58 billion in 2005. The Germany-based retail mogul Metro plans to purchase 300 million yuan (US$37 million) worth of goods, including meat products, fruits and vegetables, in Beijing alone this year, company sources said recently. More than 90 percent of commodities in Metro's supermarkets on the mainland are provided by Chinese manufacturers, company sources said, adding the retail giant plans to recruit 150 suppliers in Beijing alone this year. Metro annually purchases approximately two billion euros worth of commodities in China to support its global marketing, the sources said.
The China National Offshore Oil Company Limited (CNOOC Ltd.) announced Monday that it has signed agreements for exploration permits on four blocks off Australia. CNOOC Ltd signed the agreements with BHP Billiton Limited (BHP Billiton) and Kerr-McGee Australia Exploration and Production Company Ltd. (Kerr-McGee) through its subsidiary, the CNOOC Australia E&P Company for a 25 percent interest in each of the exploration permits. The four blocks, WA-301-P, WA-303-P, WA-304-P and WA-305-P, are located in the Outer Browse Basin, off Australia's northwest coast.
China's new windfall tax on oil producers will hit the companies at a sliding rate between 20-40 percent once their realized price of crude oil hits US$40 (HK$312) per barrel.

A decked-out handset is a must-have accessory for young and trendy mainlanders. Several firms are betting that music will play an even bigger role in purchasing decisions. Several mainland companies are positioning themselves to take advantage of what is expected to be the next phase of the mobile music sector's evolution, where songs will be downloaded from the internet or over mobile phone networks.
The 2008 Beijing Games could hasten the adoption of high-definition television (HDTV) on the mainland, resulting in the installation of more than 600,000 sets in rural communities around the country so that villagers can watch Chinese Olympians in action.
April 4, 2006

Hong Kong: Ken Ng Kin, president of EDPS Systems - the company accused of releasing the personal details of 20,000 police complainants on the internet - faced off with the man who exposed the blunder and a packed room of computer security experts last night.
Actress-turned-solicitor Mary Jean Reimer and her mother were behind the "vicious" attack on high-profile lawyer Andrew Lam Ping-cheung in which his face was slashed last April, the District Court heard yesterday.
Sevens fans queen it in the South Stand at Hong Kong Stadium. With the Six Nations tournament over, England fans are out in force. Sevens fans set an attendance record for the first day of Hong Kong's annual rugby festival, with 26,900 turning out to cheer on their teams and soak up the atmosphere.

Fancy adorning your sweetheart's finger with this rare pink 10.04 carat diamond ring? It'll cost you a cool $40 million. Perhaps a $6.5 million heart-shaped jadite and diamond pendant might appeal more? The sparklers are among a spectacular array of jewellery that will go under Sotheby's hammer on April 9 at the Convention and Exhibition Centre.
The Securities and Futures Commission will introduce measures, including a ban on commission rebates given by issuers to brokers of derivative warrants, to avoid misleading the market.

Sociedade De Jogos De Macau directors Louis Ng Chi-sing (left) and Ambrose So flank Stanley Ho as they meet the media after the closed-door meeting of shareholders of Sociedade de Turismo e Diversoes De Macau. Lawyers representing the estranged sister of gaming magnate Stanley Ho Hung-sun were barred from entering the family firm's annual general meeting in Macau yesterday, as the remaining shareholders signed off on a restructuring plan pushing Mr Ho's privately held gaming assets closer towards a Hong Kong stock listing expected to be worth about $15 billion.
China Mobile (Hong Kong) will look to developing markets to further its overseas expansion following the acquisition of China Resources Peoples Telephone, according to chairman Wang Jianzhou.

China: Premier Wen left Beijing on Saturday on official visits to Australia, Fiji, New Zealand and Cambodia from April 1 to 8.

Chinese Premier Wen Jiabao arrived in Perth Saturday for an official visit to Australia, the first visit by a Chinese premier to the country in nearly 18 years.
China's foreign debts (excluding those of Hong Kong, Macao and Taiwan) totaled US$281.04 billion at the end of 2005. The mainland's foreign debt growth slowed last year as Beijing continued efforts to limit the amount banks can borrow overseas on concern speculators are using loans to bet on a strengthening yuan.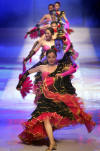 Chinese dancers perform during the 6th China Professional Model Contest Final at the 14th China International Fashion Week in Beijing March 31, 2006.
Kazakhstan and China plan to jointly build a large-scale coal-fired power plant in Kazakh's northern state of Pavlodar, the first venture of its kind between the two nations, a Kazakh official said on Friday.
Beijing Capital Land, the property arm of Beijing's municipal government, has posted a worse than expected 19 percent drop in profits last year on the back of central government austerity measures to curb property speculation.
China's big four state banks are still far from operating healthily despite billions of dollars in government bailouts and changes to corporate governance structures, the International Monetary Fund has said.

Taiwan on Friday declined to accept a goodwill gift of two giant pandas from the mainland, a decision that has met with criticism from across the Taiwan Straits.
IKEA, one of world's largest furniture retailers, plans to open new branches in Beijing and Shanghai, according to sources from the Swedish furniture company.

Statues of emperors Yan and Huang under construction in the Yellow River Park in Zhengzhou, Henan province. Yan and Huang are regarded as the founders of the nation. The 100-metre high statues will be opened to the public soon.
Thieves found siphoning off fuel from mainland pipelines could face the death penalty if sentencing proposals from the Ministry of Public Security are adopted by judicial authorities.
April 3, 2006

Hong Kong: Hong Kong Monetary Authority ( HKMA) Chief Executive Joseph Yam said Thursday the authority has been refining the Linked Exchange Rate system over the years, trying to strike a fine balance among transparency, discretion and credibility.
CITIC Pacific, a state-backed property- to-telecom conglomerate, said it will buy and develop two iron ore projects in Australia for almost US$3 billion (HK$23.4 billion) as it aims to shift more focus on the steel industry.

Hongkong & Shanghai Banking Corp, Hong Kong's largest lender, has extended its discount on mortgage rate after rivals launched new home loan plans, and some bankers expect the price war will intensify to lure buyers amid climbing interest rates.
The Hong Kong Monetary Authority, the city's de facto central bank, has said it will raise the salaries of its workers by an average of 4.2 percent this year but that its chief executive Joseph Yam's pay will remain steady at his own request.
The Housing Society and the Urban Renewal Authority have unveiled a HK$100 million plan to preserve nine Chinese-style buildings in Wan Chai that were constructed during the 1920s.
The US Secretary of Homeland Security Michael Chertoff visits Hong Kong this weekend to view the port security installed at Modern Terminals and Hutchison International Terminals, according to Stephen Flynn, fellow at the American think-tank Council on Foreign Relations.

China: National Bureau of Statistics (NBS) Thursday confirmed that parts of the media had reported incorrectly on the profits and losses of China's state-owned enterprises (SOEs) in 2005.


Vice Minister Ma Xiuhong, is the Vice Minister of the Ministry of Commerce (MOFCOM) and Chairman Shao Qiwei is Secretary of the Chinese Communist Party (CPC) Leadership Group and Chairman of the China National Tourism Administration stopped by Honolulu Hawaii on their way to the Mainland USA.

Liang Shuang, a contestant from Xinjiang poses for a photo at the ancient town of Xitang in east China's Zhejiang, March 30. A total of 38 contestants to the Miss Tourism Int'l contest in China region made public appearance in the ancient town that day.

Hunan Nonferrous Metals rose 73 percent in its trading debut Friday - the biggest jump for a new listing on Hong Kong's main board in more than two years. The shares closed at HK$2.85 after rising as much as 82 percent to HK$3. Their IPO price was HK$1.65. About 947 million shares changed hands for a total transaction value of HK$2.7 billion.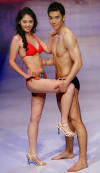 Chinese contestants, dressed in swimsuits, pose during the 6th China Professional Model Contest Finals at the 14th China International Fashion Week in Beijing March 31, 2006.

Peter T. S. Wong, chairman of the Hong Kong Association of Banks, and Chen Gang, chief of Beijing's Chaoyang District Government, speak at the CEO Seminar on Finance Industry Development of Beijing CBD yesterday in Hong Kong.
March 31 - April 2, 2006

Hong Kong: Henderson Land Development, Hong Kong's third-largest property developer by market value, and its partly owned International Finance Centre are seeking to raise at least HK$11 billion in loans.

CITIC Bank, a wholly-owned subsidiary of the major investment arm the CITIC Group, is expected to float on the Hong Kong Stock Exchange this year, a top manager at the bank has revealed.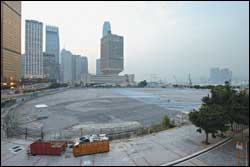 Chief Executive Donald Tsang made it crystal clear Thursday that Tamar is the best possible site for the new government headquarters - and that he will not entertain any further arguments against it. His statement put an end to a determined bid by the Democratic Alliance for the Betterment and Progress of Hong Kong to get the headquarters relocated to southeast Kowloon. The HK$5 billion headquarters development was one of the main topics discussed during Tsang's 90-minute question-and-answer session in the Legislative Council Thursday.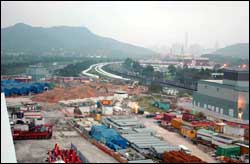 While safeguarding public health against the deadly avian flu remains a top priority for the SAR, a central poultry slaughterhouse will replace live poultry sales in wet markets in about three years, according to the chief executive.
Prolonged interest rate hikes could further damage the local property market after the latest quarter percentage point increase by the US Federal Reserve Bank, the Hong Kong Monetary Authority has warned.

Despite being described as a miser and a super-Scrooge, Financial Secretary Henry Tang was the man of the moment Wednesday after the Legislative Council overwhelmingly passed his budget proposals. The slew of support followed a number of concessions and measures Tang made over the past few days in a bid to appease his critics. And they certainly paid off in the legislative chamber when the Democratic Party said it would support the budget bringing the number of "ayes" after the third reading to 50, with just four voting against the motion.

PCCW, the largest fixed-line operator in Hong Kong, reported a weaker-than- expected 2.5 percent gain in full-year profit on a lack of growth in its core business and declining contribution from its property unit.
A European institutional shareholder in China Life Insurance, the Hong Kong- listed subsidiary of the mainland's largest life insurer, plans to sell its holdings for up to HK$980 million, market sources said.
Datang International Power Generation, the second-largest Hong Kong- listed mainland electricity producer, said increases in its unit fuel costs will be capped at 5 percent to 7 percent this year as investment in coal mines and railways will help guarantee coal supply and stabilize prices.
The Securities and Futures Commission has mapped out a three-year strategic plan aimed at strengthening governance of corporates and financial intermediaries in Hong Kong, as well as protecting retail investors amid a rising number of complicated products.
Jardine Matheson Holdings said underlying profit grew 17 percent to US$463 million (HK$3.61 billion) last year on higher earnings from retail and motor units, but it warned higher interest rates and oil prices may crimp income this year.
Stanley Ho's Sociedade de Jogos de Macau plans to file a listing application with the Hong Kong stock exchange by the end of the week now that its shareholders have given the green light on an up to HK$15 billion initial public offering, market sources said.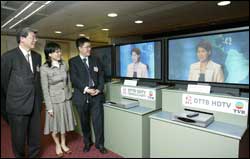 Beijing's 2008 Olympic Games are the driving force speeding up the introduction of digital terrestrial television in Hong Kong, the government said. The administration will require the territory's two terrestrial television broadcasters to start digital transmissions by next year. Deputy Secretary for Commerce, Industry and Technology Marion Lai, speaking at a press conference announcing the digital TV plan Wednesday, said the Beijing Olympics were a "golden opportunity" to encourage viewers to switch to digital TV and the government does not want to "miss this chance." ATV will invest more than HK$400 million before 2009 to provide a hybrid digital service of HDTV and multi- channel broadcasting, while TVB has committed a similar amount to provide an HDTV channel by December 2007. This HDTV channel will include not less than 14 hours a day of HDTV programs.
A new bill being introduced into the Legislative Council aimed to strike a balance between the interests of copyright owners and users of copyright works, Secretary for Commerce, Industry and Technology Joseph Wong Wing-ping explained on Wednesday.
Despite the need to stop the spread of bird-flu in Hong Kong, current laws need to be amended to allow pet owners to keep specified birds as pets, Secretary for Health, Welfare and Food York Chow Yat-ngok said on Wednesday.

China: China, U.S. hold round-table meeting on intellectual property - Both sides exchanged views on global intellectual property strategy and how to improve competitiveness and agreed to strengthen exchange and cooperation in intellectual property.

Nine-year-old Chinese carmaker Chery has created a miracle in China's automobile manufacture history by producing a total of 500,000 cars Chery, which is based in eastern China's Anhui Province, is one of the few successful auto companies in China producing cars with Chinese brands.
China launches massive reconstruction of buildings for energy saving - Work on buildings of the 10 central government ministries including the Ministry of Construction has begun and will be finished in one and half a years.
A reality show in which would-be Chinese entrepreneurs from around the world compete to become bosses of new businesses is set to debut on China's largest national TV network in May.

A robot designed to carry nuclear materials is on display at the ninth International Nuclear Industry Expo, which concludes tomorrow. One hundred and twenty firms from 16 countries showed off nuclear technology at the four-day event in Beijing.
There will be greater demand for foreign professionals in fields such as manufacturing, English teaching and overseas marketing in Guangzhou, the capital of South China's Guangdong Province, in coming years.
China's State Council approved in principle a plan to prevent and control pollution in the drainage area of Northeast China's Songhua River, which flows into a river on the China-Russia border. The State Council ordered the launch of a batch of projects to tackle industrial sources of pollution and treat urban sewage.

People visit the 2006 China international dress expo in Beijing, capital of China, March 28, 2006. Some 1,000 brands of dress from 18 countries and regions took part in the expo, opened on March 28.

US Treasury Secretary John Snow (centre) discusses China trade policy with senators Charles Schumer (left) and Lindsey Graham. Within hours of Tuesday's decision by two United States senators to delay legislation targeting China's currency regime, another bill focusing on the yuan was announced in Washington by a separate pair of upper house legislators.
The National Audit Office yesterday released details for the first time of the fallout from its annual inspection of state finances, saying dozens of people were prosecuted, charged or arrested after the 2004 audit.
President Hu Jintao will visit Saudi Arabia soon, and securing oil supplies for China's power-hungry economy is expected to be high on the agenda, according to a senior Chinese diplomat.
State-owned HNA Group, which partly owns Hainan Airlines, is expected to get the approval in its protracted bid for CR Airways after the group's chairman agreed to take only 45 per cent of the Hong Kong company, instead of the original 60 per cent, sources said yesterday.
Sunday Communications' integration with PCCW took another step forward yesterday with the appointment of Ian Stone, chief executive of its UK Broadband unit, to head the mobile arm from June.
March 30, 2006

Hong Kong: Shares of Wing On Travel rose 21.1 percent to 86 HK cents after Hutchison Whampoa agreed to buy 20 percent of its convertible notes issue, positioning itself to become the package tour operator's No 2 shareholder if the notes are fully converted.

Bank of East Asia chairman and chief executive David Li and Esprit Holdings chairman Michael Ying were praised for their outstanding roles in Hong Kong's business community when they were named 2005 Leader of the Year recipients in the annual awards organized by Sing Tao Daily, The Standard and Headline Daily. Li, with more than 30 years' experience in banking, has developed Bank of East Asia, which he joined in 1969, into Hong Kong's largest independent local lender. Under his leadership, BEA achieved record results last year, with net profit hitting HK$2.75 billion, a 17 percent increase from 2004. Esprit net profit rose 15.7 percent to HK$1.9 billion in the six months to the end of December. The company derived 85 percent of its first-half turnover of HK$11.8 billion from Europe, 12 percent from the Asia-Pacific region and 3 percent from North America.

New World Development chairman Cheng Yu-tung says high reserve prices for lots on the land sale application list dampen interest in government site auctions. New World Development chairman Cheng Yu-tung yesterday joined a chorus of smaller developers urging the government to resume regular land sales, saying such auctions could be held at least once or twice a month.
Hong Kong's gross domestic product (GDP) grew 7.3 percent in real terms over 2004, Hong Kong Census & Statistics Department says.
Horses coming for the 2008 Olympics will be quarantined for a week before coming to Hong Kong and then isolated for another 10 days when they reach the city, the Agriculture, Fisheries and Conservation Department said.
Singapore's Temasek Holdings on Tuesday said it would buy a nearly 12 per cent stake in Standard Chartered, making the state-linked investment firm the biggest shareholder of the British-based bank.
Hong Kong people should develop a better understanding of China's latest five-year plan, Secretary for Constitutional Affairs Stephen Lam Sui-lung advised on Tuesday.

China: The total assets of China's Social Security Fund totaled 211.78 bln yuan at the end of 2005.

Members of the American delegation take part in a colloquium commemorating the 35th anniversary of the history-making Ping-Pong Diplomacy, March 27, 2006. The 25-member delegation of the United States will participate in a series of commemorations during the ten-day visit.

Former coach of China's national table tennis team Zhang Xielin (L) gives speech during a colloquium commemorating the 35th anniversary of the history-making Ping-Pong Diplomacy, March 27, 2006.
China's Cabinet, the State Council, has approved regulations for the country's welfare fund to invest overseas, according to state media reports, a move analysts said is a signal that the long- awaited qualified domestic institutional investor program will also be launched soon.
Bank of Communications, the fifth- largest commercial lender in the mainland, has posted stronger- than-expected profit growth for last year after its non-interest income soared and the government gave it a major tax break.
Two US senators behind legislation to impose punitive 27.5 per cent tariffs on Chinese goods if Beijing failed to revalue its currency said yesterday they would delay a vote on the bill until September 29 at the latest.
Tianjin is in talks with a division of US entertainment giant Paramount about a US$7 billion investment in a theme park in the municipality, city government officials said yesterday.

US Commerce Secretary Carlos Gutierrez is greeted by Commerce Minister Bo Xilai in Beijing yesterday, following talks on Tuesday to press for more access to mainland markets.
Ma Ying-jeou, chairman of Taiwan's opposition Kuomintang party, has secured his unchallenged status as the United States' preferred choice as the island's next leader, according to analysts. Mr. Ma, who is returning to Taipei today after a highly watched 10-day visit to the US, succeeded in convincing decision-makers in Washington that he would be a responsible stakeholder in East Asia and not a troublemaker if the KMT was returned to power in 2008, analysts said. Senior officials, including Deputy Secretary of State Robert Zoellick, Deputy National Security Adviser Jack Crouch and Defence Deputy Undersecretary for Asia and Pacific Affairs Richard Lawless, reportedly met Mr. Ma for talks, indicating that Washington was eager to learn what the KMT chairman would offer if he became Taiwan's president. Mr. Ma's trip was also closely watched by Beijing, which hopes to understand the KMT leader's position. Mr. Ma has previously criticized the mainland for its suppression of the student-led Tiananmen protests of 1989 and activities by the Falun Gong spiritual group, which is banned on the mainland.
China's banking regulator will make active efforts to set up a national postal savings bank this year, based on the existing savings deposit business at far-flung postal stations, a senior banking official said.

Celebrated model Dai Xiaoyi (R), winner of the second "prettiest girl" China Model Competition Ding Jie (C) and champion of the first 'prettiest girl" China Model Competition Li Yahong (L) pose for photo at the opening ceremony of "prettiest girl" China model competition 2006 in Beijing, Mar. 27.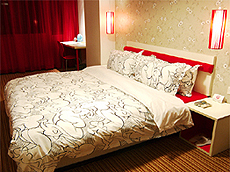 Super 8's new hotel in Fujian (its first) is scheduled to open for business in the Xiamen district this month or next, with local hostelry New Era Garden becoming a partner. New Era Garden general manager Xu Deqing reported that Super 8 is currently looking for a suitable site. Super 8 indeed is quite pleased with the prospects in Fujian and expects to have at least nine new hotels established throughout the province by 2008.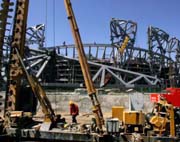 A view of China's 91,000-seat National Stadium. It requires 42,000 tonnes of steel. Work continues on Tuesday at a fast pace towards the 2008 Olympics in Beijing.
China's foreign currency reserves reached US$853.7 billion (HK$6.66 trillion) by the end of February, probably topping Japan's to become the world's largest, a state-run newspaper reported on Tuesday, citing an unnamed source.
March 29, 2006

Hong Kong: Advanced Semiconductor Manufacturing, which is seeking to raise HK$752 million amid strong demand for new stocks in Hong Kong, attracted little interest from retail investors on the first day of its initial share offering Monday, according to brokers who cited a high valuation on the stock.

Beijing-backed conglomerate CITIC Pacific will reduce its minority stake in Cathay Pacific Airways and Hong Kong Dragon Airlines if a merger between the territory's two main carriers goes ahead, the firm's managing director Henry Fan said Monday, further signaling his support for such a restructuring.
CITIC Ka Wah Bank and mReferral Corp, a mortgage agency unit of Cheung Kong (Holdings), plan to team up with developers to offer mortgage products in which interest payments are linked to the Monetary Authority's composite rate.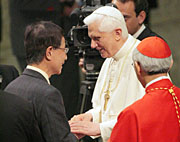 Martin Lee Chu-ming and Cardinal Joseph Zen greet the Pope during an audience at the Vatican. Hundreds of people from Hong Kong and elsewhere attended the audience in the Paul VI Auditorium yesterday. Pope Benedict yesterday expressed his wish to visit China but said the timing would be decided by God.

Artist Erin Crowe with her painting of Chief Executive Donald Tsang Yam-kuen, which is among many portraits in her exhibition, titled Hong Kong Financial Gurus, that opened at Citibank Plaza yesterday.
Savings of around 10 per cent will be passed on to customers when Hong Kong and China Gas starts using less expensive natural gas as part of its production in the fourth quarter of this year.
Live chickens from the mainland returned to local wet markets for the first time in three weeks yesterday after the Agriculture, Fisheries and Conservation Department pronounced the first batch of imports safe despite the presence of seven dead chickens.
Gaming boss Lawrence Ho Yau-lung is considering running for a place on the board of the Hong Kong stock exchange next month, putting pressure on two directors, David Webb and Dannis Lee Jor-hung, who will seek re-election.
State shareholders in Bank of China (BOC), the mainland's second-largest lender, have agreed to a political compromise not to convert their holdings into H shares upon the lender's planned US$7 billion Hong Kong public share sale in May.
A joint-venture investment fund managed by Morgan Stanley has sold Vicwood Plaza in Sheung Wan for about $2.6 billion - more than three times its investment of $842.8 million three years ago.

China: China's securities regulator will lift a ban on new mainland share issuances "in the near future", most likely within the coming month, high-level sources said yesterday.
Shares of China Petroleum & Chemical Corp, better known as Sinopec, and its unit Sinopec Shanghai Petrochemical, slumped on investors' concerns that the government will delay a reform on state-controlled oil product prices.

The photo taken on March 14, 2006 shows the Experimental Advanced Superconducting Tokamak (EAST) (formerly HT-7U), which is also known as "artificial sun". The EAST, the world's first all-superconducting Tokamak designed by designed and developed by China, has completed successfully its first engineering adjustment, which lays groundwork for its operation and state appraisal.

On Mar. 26, diners queue up at an old reputable restaurant in Qianmen Street, Beijing before it will be demolished and relocated the next day. A face-lifting project is under way in the Qianmen Street, but some old buildings will survive.
Shares of China Petroleum & Chemical Corp, better known as Sinopec, and its unit Sinopec Shanghai Petrochemical, slumped on investors' concerns that the government will delay a reform on state-controlled oil product prices.

Christopher Bachran, the first foreigner to head a state-owned company in China, has lost his job as president of Jinjiang group's hotel-management unit after presiding over an eightfold profit increase in two years. Bachran, 56, will leave Jinjiang International Hotel Management, which operates Shanghai's famous Peace Hotel, next month after his contract was not renewed, the US hotelier said. "I achieved the company's plan," the former Sheraton and Radisson hotels executive said. "Maybe it's time for them to pass the more mature company to someone else." The departure highlights the lack of top foreign executives at state-owned companies, three years after Beijing started a campaign to recruit overseas talent. Jinjiang, China's biggest hotel operator, hired Bachran to modernize its management. Jinjiang operates more than 200 hotels in 59 cities, according to its Web site, including the Peace Hotel, a 1929-built landmark on the Bund that is Shanghai's oldest and best-known luxury hotel. Bachran was hired on a two-year contract in March 2004. Under his tenure, net income at the hotel-management unit, which operates 85 of the group's hotels, rose to 72.1 million yuan (HK$69.69 million) last year from 9.01 million yuan in 2003, and revenue almost doubled to 201.7 million yuan, from 113.6 million yuan. Bachran is the second foreign president of a Chinese company to leave his job this year. Jeffrey Williams quit on February 11 as president of Shenzhen Development Bank after 13 months. Jinjiang International Hotels Development, the mainland's largest hotel operator, plans to raise about HK$2 billion in an initial public offering in Hong Kong in the third quarter, according to market sources.



US Commerce Secretary Carlos Gutierrez speaks at Chongqing University yesterday. In Chongqing yesterday, Mr Gutierrez welcomed Chinese efforts to crack down on counterfeiting and praised Vice-Premier Wu Yi for taking the lead in tackling what he said was clearly a complex issue. "We need to see results, but we should also recognise the tremendous effort that's being made. That's a very positive development," Mr Gutierrez said.
Beijing has renewed its pledge to step up the fight against pirated products and enhance international co-operation, with a top copyright official saying rampant use of pirated software among large mainland companies has been curbed significantly.
A long-awaited raft of rules to govern human organ transplants on the mainland - including the sale of body parts - were issued by the Ministry of Health yesterday, but a leading surgeon said they failed to address the unregulated trade in organs.
March 28, 2006

Hong Kong: Former buildings chief Leung Chin-man committed procedural errors in granting bonus land to Henderson Land for its Grand Promenade project, an independent panel investigating the incident has found.
A decade after a law to make Hong Kong's police watchdog truly independent was derailed, the government will renew attempts to turn it into a statutory body - but it will still lack investigate powers. The saga of upgrading the Independent Police Complaints Council (IPCC) into a statutory body goes back to 1986 when the Police Complaints Committee (PCC) was set up to monitor the Complaints Against Police Office (Capo).

Szeto Mei paints a prospective design for the West Kowloon Cultural District during a workshop at the waterfront promenade yesterday that aimed to revive interest in the project. The government announced last month that it was giving up its plan to assign a single contractor to developing the proposed cultural hub, which has been plagued with controversy since the project was first mooted in 1998.
Public hospitals may face a serious shortage of doctors in five years, with a survey finding nearly 80 per cent of junior doctors have decided to leave the Hospital Authority after obtaining specialist qualifications.
More than 600 aspiring athletes - including those with the potential to take part in the Olympics - may be forced to abandon training at the end of the year after the Hong Kong Sports Institute hands over its venues to the Jockey Club for the 2008 Olympic Games equestrian events.

Tony Liu, the president of Advanced Semiconductor Manufacturing Corp, says he is confident the company will see an increase in orders. Listing candidate Advanced Semiconductor Manufacturing Corp may turn in a net profit for the six months to June as it banks on a jump in orders for its loss-making eight-inch wafers, the company said yesterday.
Golden Harvest Entertainment (Holdings), once one of Hong Kong's most successful film production houses, is back in the black after several unprofitable years.

China: China announced Sunday to lift the prices of processed oil as of March 26 while setting up a mechanism to offer some subsidies to disadvantaged communities and public service sectors. China plans to spend 180 billion yuan (22.5 billion U.S. dollars) in the oil refining and petrochemical sector in the next five years, an insider said.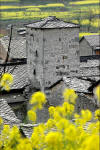 The photo taken on March 24, 2006 shows an ancient watchtower in Benzhai Village, Qiyanqiao County, Anshui city, southwest China's Guizhou Province. Flowers of cole are in full blossom in the village as spring comes in March.
Chinese Finance Minister Jin Renqing and his Japanese counterpart Sadakazu Tanigaki held talks Saturday over bilateral, regional and global financial and economic situations.
More and more rural Tibetans, who traditionally live on farming and husbandry, have found a new way to shake off poverty - catering for the tourists swarming into the autonomous region.
Beijing will accelerate plans to reorganize the State Post Bureau, which involve splitting off its banking component to create the nation's fifth- biggest lender by deposits, the China Banking Regulatory Commission said.
US software firms are looking for significant progress in combating mainland piracy at trade talks before President Hu Jintao visits Washington next month, a US industry official said.
March 27, 2006

Hong Kong: The United States government is to hire Hutchison Whampoa to help detect nuclear materials inside cargo passing through the Bahamas to the United States and elsewhere. Li Ka-shing, for years under fire from right-wing United States politicians for his links to Beijing, was at the centre of a new row yesterday with the news that he is on the verge of securing a sensitive contract to screen US-bound goods for radioactive materials.

Kerry Properties, a land developer and logistics operator controlled by the family of Malaysian tycoon Robert Kuok, has unveiled a HK$2.7 billion office redevelopment project in North Point after reporting an 11 percent rise in underlying profit last year.

Hutchison Whampoa shares fell almost 1 percent Friday despite better-than- expected full-year results as investors remained skeptical about management's rosy view of its loss-making third-generation (3G) mobile phone business.
A Hong Kong Disneyland committee has come up with three suggestions to avoid serious overcrowding problems, and the park is "actively considering" which of them to implement, a spokeswoman said. The solutions include creating a "fast pass" system that will encourage visitors to enter the park at staggered times. The park may also "dispatch" guests to its Inspiration Lake so they can take pictures. It is also considering hiring more staff to entertain guests while they wait in the humidity and heat. "We are enhancing our in-park procedures just in case crowds gather outside the park or overcrowding situations happen," said Glendy Chu, media relations manager for Disney. Chu said that the instructions to modify the park's logistical operations on busy days did not come from the government.
Macau's first traditional Chinese medicine hospital opens Saturday at the Macau University of Science and Technology.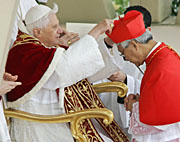 Cardinal Zen receives his biretta from Pope Benedict yesterday. "I am very touched by the Holy Father's great love [for] China and, with God's grace, I will do whatever I can to help," says Cardinal Zen. Pope Benedict would not hesitate to travel to Beijing to show his "admiration for the great Chinese people" and all he is waiting for is an invitation from Beijing and the fulfilment of necessary conditions, the Vatican foreign minister says.
A nationwide tour by Hong Kong Disneyland suffered a setback in Shenzhen after police forced the cancellation of a show yesterday coinciding with the city's annual congress meetings.

KMT chairman Ma Ying-jeou, at Washington's National Press Club, says he hopes there will be no more surprises in cross-strait relations.

China: Five foreign experts were awarded the annual int'l sci-tech cooperation award of China for their outstanding contributions to China's scientific progress.

Paula Bronstein from Time magazine wins "Photo of the Year" on Friday, at the second China International Press Photo Contest, with her picture depicting earthquake survivors in Kashmir. The picture was taken last October in the town of Balakot, where 90 per cent of buildings were destroyed.The 13 jury members, including seven from foreign countries, selected a total of 129 award winning pictures in Shenzhen, Guangdong Province. The organizing committee received more than 27,000 entries from 2,389 photographers in 77 countries and regions. The number of entries was 5,000 more than last year and 58 per cent of the contestants were foreign photographers.
A New Zealand university's research has suggested a 243-year-old map indicating a famous Chinese explorer discovered NZ, Australia and America before Europeans.
Best Buy, the largest consumer electronics retailer in the United States, may acquire a 66.6 percent stake in Five Star Appliance, China's fourth largest retailer, valued at US$200 million (HK$1.56 billion), market sources said.
Mainland Internet portal Sohu has announced that it will broadcast video content from this summer's FIFA World Cup on its Web site.

China National Offshore Oil president Fu Chengyu is keen for the group's fertiliser unit to seek merger opportunities. China National Offshore Oil Corp planned to list its fertiliser unit in Hong Kong after waiting two years for approval for a Shanghai listing, president Fu Chengyu said.
China Unicom executive director William Lo Wing-yan says although there have been many ups and downs for the mainland's No2 mobile operator during his four-year stint, he is heartened by how much the company has progressed in corporate governance.
March 24 - 26, 2006

Hong Kong: In an attempt to protect its world- leading derivatives market, Hong Kong Exchanges and Clearing, which runs local stock and futures markets, wants the government to raise this year the number of index futures and options contracts that investors can hold.

A combination of huge exceptional gains from asset sales and strong growth from its core operations helped Hutchison Whampoa report a better-than- expected annual profit for 2005, once again heartily beating analysts' bearish projections. Cheung Kong (Holdings), Hong Kong's second-largest developer by market value, has posted a higher- than-expected net profit of HK$14 billion last year, mainly driven by strong property revenue and a contribution from associate Hutchison Whampoa. Hutchison Whampoa's third-generation mobile operations, the conglomerate's most high-profile business, added fewer subscribers in the second half last year than in the previous six months - a sign it was more interested in meeting profitability targets than achieving subscriber growth, analysts said. Hutchison Whampoa has renewed the timetable for its global US$22 billion 3G investment to break even, saying the business will only edge closer to an operating profit by next year, one year later than its original target.
Li Ka-shing, Hong Kong's most powerful and richest businessman, has pledged his support for Chief Executive Donald Tsang to seek re-election next year, and praised Tsang as an outstanding leader in tackling complicated issues.

BOC Hong Kong (Holdings), which reported a 12.8 percent gain in net profit last year, plans acquisitions in Hong Kong, China and Asia in the next five years, as well as expansion into new businesses such as life insurance, asset management and securities brokerage. BOC Hong Kong (Holdings) is in talks to buy the life insurance business from its parent firm. It may also expand in the mainland and Asia through acquisitions, according to vice-chairman and chief executive He Guangbei.
Hong Kong should further strengthen its financial ties with the mainland to avoid the risk of being marginalized as the country's financial markets become increasingly globalized, says Hong Kong Monetary Authority chief executive Joseph Yam.
COSCO Pacific, the Hong Kong-listed unit of state-owned China Ocean Shipping (Group), plans capital expenditure of US$354 million (HK$2.76 billion) this year to buy mainland ports, after 2005 profit jumped 62 percent on strong container terminal business.
Hong Kong's overheated retail leasing market cooled in the fourth quarter of last year as many store owners adopted a wait-and-see approach after the recent spate of rental hikes.

Hong Kong's cardinal-designate Joseph Zen has suggested the Vatican might be willing to compromise on the biggest obstacle to its tense relations with Beijing - the question of who should appoint bishops in China.

New World First Bus' new managing director, Samuel Cheng Wai-po, proves he means to be hands-on at the company's Heng Fa Chuen depot yesterday. He warned that a fare rise was inevitable in light of rising wages and operating costs, but it would not happen this year. Mr Cheng, who succeeded Lyndon Rees this month, said concessions offered under the bus fare adjustment mechanism would cost the company $20 million a year.
Hong Kong's total exports rose 20.5 per cent in February compared with the same corresponding period last year to $153.6 billion, latest statistics released on Friday showed.

HKMC chief executive James Lau says the c-rate is a less volatile and more transparent index for mortgage loans.
China Netcom Group (Hong Kong), the mainland's second largest fixed-line phone operator, expects to receive one of the third-generation mobile phone licenses likely to be awarded later this year.
Shares in mainland department store operator Golden Eagle Retail Group rose a less than anticipated 13.5 percent on their Hong Kong debut Tuesday, but market watchers say this is not a sign of fading enthusiasm for new listings.
Giordano International, a Hong Kong- listed casual wear retailer, plans to more than double its pace of expansion in the mainland this year as it announced a 5 percent profit growth in 2005.
Tom Group, a media company controlled by tycoon Li Ka-shing, said it could sell some of its unprofitable businesses to make its sprawling portfolio of media assets easier to manage, as well as slow the pace of new acquisitions after reporting lower earnings last year.
Cheung Kong (Holdings) has increased by nearly one-third the planned gross floor area for its HK$1 billion luxury housing project to be built on the Asia Television's headquarters site.
Hutchison Port Holding, wholly owned by Li Ka-shing's Hutchison Whampoa, and Christchurch City Holding are "continuing to consider" whether to team up to buy out the outstanding shares of a New Zealand port company after its board recommended that its shareholders reject the offer.
Hutchison Whampoa plans to take control of a Beijing hotel company as the city prepares to host the 2008 Olympic Games.
A Hong Kong mother of two, dramatically rescued off Phuket following the devastating Indian Ocean tsunami in 2004, was sentenced to eight months in prison, suspended for two years, for lying to the government while receiving HK$100,000 in welfare payments.
Transport chief Sarah Liao told legislators Tuesday that neither she, nor anyone else in government, could have anticipated the magnitude of the management meltdown that gripped the Kowloon-Canton Railway Corporation last week.
Education chief Arthur Li expects the number of year two and three university places to increase "several times" in the coming years to meet the demand of associate degree students taking articulation courses to enter university.
Incidents involving passengers falling onto MTR's railway tracks have decreased since platform screen doors were installed, government figures unveiled at the Legislative Council showed.

China: President Hu Jintao will pay a state visit to the United States in April, FM spokesman said on Thursday.
The Chinese government has approved the outline for mid-and long-term development of nuclear power generation (2005-2020), in a bid to boost clean energy production. The outline was examined and approved at a State Council executive meeting presided over by Chinese Premier Wen Jiabao in Beijing on Wednesday.

European Commission President Jose Manuel Durao Barroso (R) and Austrian Chancellor Wolfgang Schuessel response to questions during a news conference at the headquarters of the European Union (EU) in Brussels, capital of Belgium, March 23, 2006. Barroso said Thursday that the EU "favors dialogue" in handling trade disputes about textiles and shoes with China.
Mainland sportswear brand Li Ning, which recorded higher profits for last year, plans to substantially boost its vast retail network by 50 percent over the next three years to take advantage of the enthusiasm for sports that will likely be sparked by the Beijing Olympics.
China's largest offshore oil producer by output, CNOOC, on Friday said last year's net profit rose 57 per cent on soaring oil prices and strong output growth.
The mainland's highest-paid official may have to start looking for a new job unless he can meet investment targets, Oriental Morning Post reports. The Wuxi government hired Yan Bing two years ago on a 500,000 yuan annual salary as its chief business development representative with Japan, but he has failed to attract US$50 million in investment as promised.
Lenovo Group and Coco-Cola announced a strategic partnership in Shanghai March 20. The two sides will cooperate in marketing and sales after alliance, according to Chen Shaopeng, general manager of Lenovo China. Su Boliang, vice president of Coco-Cola China, said the two will launch a series of promotion activities in April. Lenovo will become Coco-cola's authorized supplier and will design IT products for Coco-cola. It will also make 1000 PCs, 1000 laptops and 10,000 printers for the promotion activity.
China announced Tuesday its plan to impose a consumption tax on disposable wooden chopsticks, wooden floor panels, yachts, luxury watches and more oil based products as of April 1 of this year.

President Hu Jintao and his Russian counterpart Vladimir Putin attend the opening ceremony of the Year of Russia at the Great Hall of the People, March 21. The year-long festival, which features more than 200 cultural, economic and educational events, was agreed upon by the two countries in 2004. Chinese Vice Minister of Commerce Yu Guangzhou said the Sino-Russian trade relations have experienced fast and steady growth and promised to take concrete measures to achieve the targets set by the leaders of the two countries.
Chinese Premier Wen Jiabao will pay official visits to Australia, Fiji, New Zealand and Cambodia from April 1 to 8, according to Chinese Foreign Ministry.
CPC and KMT agreed that a forum on economic and trade affairs between the Chinese mainland and Taiwan will be held in Beijing from April 14 to 15.
Chinese mainland made-to-order chipmakers, including Hua Hong NEC and Advanced Semiconductor Manufacturing Corp, are raising investment to catch up with overseas rivals, industry officials said during a semiconductor fair in Shanghai yesterday. Hua Hong's 12-inch wafer plant, the first in Shanghai, will start operation by the end of 2006 and its monthly capacity will reach 20,000 8-inch equivalent wafers, Carolina Ng, Hua Hong NEC's senior sales manager, said at the Shanghai-based firm's booth at Semicon China 2006, which ends tomorrow. "The capacity is in its initial stage and we will increase the capacity depending on the market demand," said Ng, adding the firm's production capacity is 50,000 wafers.
March 23, 2006

Hong Kong: A comprehensive review of the government's controversial hiring of non- contracted staff - which has been widely criticized as abusive of employees' rights - will be completed in about six months, the new civil service chief said.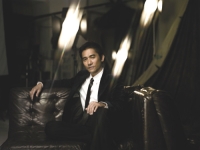 As Ambassador to the Hong Kong Entertainment Expo (20 March to 19 April 2006), Tony Leung calls for public support for this multimedia extravaganza. He says the expo showcases the strength of Hong Kong's entertainment sector and multinational cooperation in production is set to further expand.
The Industrial and Commercial Bank of China (Asia) on Tuesday posted a 29 per cent growth in net profit to $980.6 million for the year ending December 31, 2005.
Netcom Group Corp (Hong Kong), the Hong Kong-listed unit of China's No2 phone company, on Tuesday said net profit for last year jumped more than five times to 13.89 billion yuan (HK$13.5 billion).

China: Chen Jiulin, the former chief executive officer (CEO) of China Aviation Oil (Singapore) Corp. Ltd. (CAO), was sentenced to four years and three months in jail and a fine of 335,000 Singapore dollars (about 207,443 U.S. dollars) in a subordinate court in Singapore Tuesday.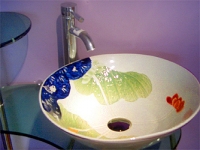 A Yunnan company has decided to turn convention on its head and make washbasins items of beauty as well as cleanliness. The otherwise utilitarian washbasin has been given the full treatment of graphic design, using traditional Chinese art disciplines.

Chinese President Hu Jintao (R) meets with visiting Russian President Vladimir Putin in Beijing, China, March 21, 2006. Putin arrived on Tuesday morning, kicking off a two-day state visit to China at the invitation of Chinese President Hu Jintao. State-owned China National Petroleum Corp plans to sign a package of agreements with Russia during President Vladimir Putin's visit today, according to a company executive.
The European Commission is likely to impose a provisional tax on imports of Chinese leather shoes, despite disagreement about the move among member states.
Signs of a sharp downturn are emerging in Shanghai's once-sizzling property market with prices slumping more than 30 per cent for some flats and increasing reports of mortgage defaults.
The National Council for Social Security Fund (NSSF) has opened an account in the local stock market's clearing house, indicating that it has successfully lobbied mainland authorities to allow it to receive shares, rather than cash, from the initial public offerings of state-owned enterprises.
Internet and media company TOM Group on Tuesday said net profit last year fell 66 per cent, a decline largely caused by gains it booked in 2004 from the spinoff of its Internet unit, TOM Online; earnings after exceptionals expanded five-fold.
March 22, 2006

Hong Kong: Hong Kong's status as China's pre- eminent business center has been reinforced by a study in which the SAR was ranked the country's most competitive city, ahead of second-placed Taipei.
Hong Kong and China Gas, the city's dominant gas utility, will save 1.59 million customers 5 percent to 10 percent next year when it introduces by phases cheaper and cleaner natural gas.

Shares of BOC Hong Kong (Holdings), the local arm of Bank of China, rose as much as 2 percent Monday after a report said its parent would inject its Hong Kong insurance operations into the company.
Two Hong Kong-listed mainland drugmakers, Lijun International Pharmaceutical (Holding) and China Shineway Pharmaceutical Group, reported net profit growth in 2005.
Hong Kong airlines will gain the right this year to pick up passengers and cargo in the mainland on their way to third- country destinations, according to Xu Jialu, a vice chairman of the Standing Committee of the National People's Congress.
Hutchison Whampoa, a conglomerate controlled by tycoon Li Ka-shing, may report net profit fell by up to 26 percent last year while analysts are split in their forecasts on its major shareholder, Cheung Kong (Holdings), as it will depend on accounting gains from property revaluations.
In an attempt to end mounting speculation over the deadly shoot-out in a Tsim Sha Tsui pedestrian subway last week, in which two policemen were killed, the police said Monday the rogue cop at the center of the incident was working alone and that the ambush of the two uniformed officers was premeditated.

Despite the Kowloon-Canton Railway Corporation's recent leadership crisis, the railway operator's long-expected merger with MTR Corp is now in its "final stages," said Frederick Ma, secretary for the treasury.
Fresh chicken will be available again in Hong Kong markets from Monday when a three-week ban on live imports from the mainland is lifted, the government said.
A 10-member delegation from the Immigration Department would visit Beijing, Chengdu and Dalian on Wednesday for a study visit, a spokesman said on Monday.
Ma Ying-jeou, chairman of Taiwan's main opposition Kuomintang, left yesterday for a highly watched trip to the US, where he will reportedly talk to President George W. Bush on the phone and meet senior State Department officials.

China: China Southern Airlines, the mainland's largest carrier by fleet size, and red chip conglomerate China Resources Enterprise plan to arrange syndicated loans totaling the equivalent of HK$6.1 billion, market sources said.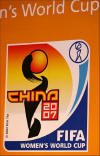 The picture dated March 19, 2006 shows the logo of FIFA Women's World Cup China 2007 unveiled in Shanghai Sunday. The 5th FIFA Women's World Cup will be held in China in September 2007.

Mr. Kamal Nath, the Minister for Commerce and Industry of India, delivers a speech at the China-India Business Forum in New Delhi on Mar. 16. Many Chinese and Indian entrepreneurs attend the meeting.
Kuroda said with about 60 percent of its population engaged in the agriculture sector, China should give priority to the development in the poorest rural areas.

PetroChina, the mainland's largest oil producer, said its net profit surged 28.4 percent to a record 133.36 billion yuan (HK$128.85 billion) last year, buoyed by high oil prices and hungry demand in the world's fastest-growing economy.

Premier Wen Jiabao chats to villagers in Nanshi, during a tour of rural areas in Shanxi province. He assured them policies he outlined at the end of the National People's Congress would be honoured within two years. They include free school education, increased subsidies for farming, more investment for water projects and improved health care.
March 21, 2006

Hong Kong: James Blake pledged on Friday to meet with staff to learn their concerns and work to ensure good morale after power struggle between managers had besieged the public company for a week.

Keen mortgage-loan competition among Hong Kong lenders is expected to continue until August because of high liquidity in the banking system, according to Hong Kong Monetary Authority deputy chief executive William Ryback.
Pacific Concord, a mid-sized property developer, plans to raise up to HK$3.1 billion by spinning off Hong Kong and mainland property assets only three years after going private, according to market sources.
Several major listed local contractors including Paul Y Engineering and China State Construction Engineering - as well as overseas contractors such as Leighton - are among the applicants hoping to qualify for the government's controversial Tamar office building project.
Viva Macau, one of the three discount airlines which will operate from the former Portuguese colony, plans to bring in strategic investors including other carriers to provide financing and other support, chief executive Andrew Pyne said.
Police have seized HK$2.1 million and are looking for more cash from the suspected rogue cop who allegedly killed another officer before being killed in the shootout that shocked Hong Kong late last week. The off-duty police officer who shot dead one of his colleagues and critically wounded another had long-standing connections to an underground soccer gambling syndicate, a police source has told the Sunday Morning Post.
The chief executive and most of his top ministers yesterday appeared at the opening ceremony for DAB legislator Tsang Yok-sing's new office in an apparent bid to counter reports of antagonism between the party and the government.
Seven developers have lined up with bids for the Kowloon-Canton Railway Corp's $21.5 billion residential project in Sha Tin, lured by a lower land premium than for the Tuen Mun station development, which they ignored because the levy was too pricey.

China: China produced 1.77 million tons of alumina in the first two months of 2006, up 44 percent year on year, due partly to the heavy domestic demand, according to the National Bureau of Statistics.

A trainer kisses a white whale at an aquarium in Harbin, Northeast China's Heilongjiang Province, before giving her a physical check-up on Friday. It was the first examination given to the whale since she settled down at the park last November. The white whale, or beluga, is found mainly in Arctic waters.
Workers in Mudanjiang, Northeast China's Heilongjiang Province, set up electricity transmission facilities. As the second power transmission line connecting the province with neighbouring Jilin Province, the facilities will help ease power shortages of the region upon completion.
Chinese computer giant Lenovo Group started a large-scale restructuring plan on Friday, including cutting its workforce in the Americas, Asia Pacific and Europe by 1,000.
PetroChina, which will kick off the earnings season for the oil sector today is expected to report a 36 percent rise in net income last year, boosted by high oil prices and the mainland's almost insatiable demand for energy.
China will approve the first mainland fund to invest abroad as early as next month under the long-awaited qualified domestic institutional investor (QDII) scheme as the government makes good on promises to ease controls on capital outflows.
More than 33 per cent of China's city commercial banks are technically bankrupt, and most of them are not real banks but serve as cash cows for the local governments that control them, according to a just-published scathing report.
Yao Ming, China's richest and most famous sports star, has invested in a music website, one of the few that pays copyright to publishers and charges users for music they download.
March 20, 2006

Hong Kong: China Merchants Bank (CMB), the nation's sixth-largest bank, plans to sell 2.2 billion shares in Hong Kong to fuel its expansion.
China Mobile (Hong Kong) Ltd, the world's largest mobile phone operator by users, posted a 27 per cent gain in fourth-quarter profit as customers used handsets to download games and send text messages. China Mobile (Hong Kong), the mobile phone company with the most subscribers in the world, exceeded market expectations by delivering a nearly 30 percent surge in net profit for last year, driven by a spurt in its data business and a substantial influx of new customers.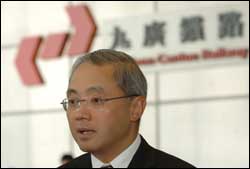 The Kowloon-Canton Railway Corporation has plunged headlong into a new crisis just a day after government intervention ended a week-long management feud. Acting chief executive Samuel Lai - who triggered the resignation of the railway's chairman Michael Tien - quit, another top official had his contract terminated and 19 senior managers and department heads received warning letters.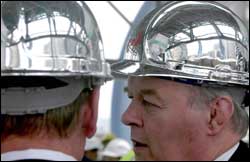 The government was strongly criticized Thursday for appointing a controversial former Kowloon-Canton Railway Corporation executive to replace acting chief executive Samuel Lai, who submitted his resignation earlier in the day. The criticisms came from both sides of the political divide, with Legislative Council transport panel chairman Lau Kong-wah, of the Democratic Alliance for the Betterment and Progress of Hong Kong, saying he hoped the appointment was only temporary, and the panel's vice chairman Andrew Cheng, a democrat, describing it as "unwise." His misjudgment resulted in the corporation paying an additional HK$100 million to the German firm to ensure the project was completed on time.
Cheung Kong Infrastructure, a Li Ka- shing controlled company with toll road and utilities assets in Europe and the region, said it is studying plans to buy British-based Thames Water as part of a consortium involving associate company Hongkong Electric and other third-party investors.
Paving the way for the listing of Sociedade de Jogos de Macau in Hong Kong, gambling tycoon Stanley Ho has given up his top posts at Melco International Development to comply with the listing rules against conflicts of interest.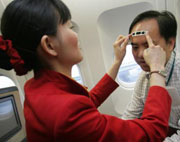 A Cathay Pacific flight attendant takes a passenger's temperature during an exercise at Hong Kong International Airport. This is to simulate a scenario in which a highly contagious disease such as Sars or avian influenza (H5N1) is suspected to have infected a passenger on board a Cathay Pacific flight arriving in Hong Kong on Friday.
Leading Hong Kong film stars including Jackie Chan and Maggie Cheung Ho-yee will open the southern Chinese territory's biggest entertainment event on Monday, organisers said on Friday.

China: Russian President Putin is expected to discuss the possibility of extending the Siberia-Pacific coast oil pipeline to China when he meets President Hu next week.
U.S. Secretary of States Rice said that her country had no policy of containment against China and was striving to engineer a greater role for China.
China's population could hit 1.30756 billion by the end of 2005 (excluding those in Hong Kong, Macao and Taiwan).
China is concerned about the international iron ore price talks in 2006, and hopes that iron ore prices should be fixed fairly to achieve a win-win result between producers and consumers, Chinese officials said on Thursday.
The nation's biggest oil producer, PetroChina, is stepping up efforts to source oil reserves in China's offshore areas, and expects to locate assets in the China South Sea within the next five years, a senior company executive said yesterday.
March 17 - 19, 2006

Hong Kong: KCRC acting chief executive Samuel Lai Man-hay — who has been at the centre of a management feud within the rail operator — announced his resignation on Thursday. A railway workers union yesterday reassured members that no disciplinary action would be taken against those who signed a letter in support of KCRC acting chief executive officer Samuel Lai Man-hay. Under a compromise hammered out over the past three days, the KCRC's Michael Tien Puk-sun will continue to lead the board as chairman, but withdraw as the main public face of the rail company.

Award-winning composer Peter Kam Pui-tat yesterday promotes the movie Isabella at a media conference. It will be screened as the opening feature of the Hong Kong International Film Festival, to be staged between April 4 and 19. The film won a prestigious Silver Bear award for best music at the Berlin Film Festival last month.

China: Premier Wen stated in his work report that China 's GDP would grow by eight percent in 2006, higher than the 7.5 percent set for the next five years, although two percent lower than the ten percent in the past three years.

Photo taken on March 14, 2006 shows the peach blossoms bursting forth into bloom, bringing in luxuriant sense of mild spring back to the scenic spot of Thousand Buddhas Mountain, in Jinan, east China's Shandong.
18.2 percent of rural residents, a record-low figure, are intending to buy houses in the coming three months.

Well-known Japanese table tennis player Fukuhara Ai poses with fans after signing a contract yesterday to join the Guangdong team. Ai, 18, has close ties with China after being coached by Chinese coaches since childhood and living in the country for a long time.

Pamela Luecke (left) and other US newspaper editors admire handicrafts in the southern suburbs of Beijing as Zhang Guanghui (right), deputy director of Liuminying Farm, explains the significance of Chinese zodiac science. The American Society of Newspaper Editors is making its first trip since 1978 to Beijing and Shanghai, meeting senior Chinese officials and visiting places of interest to gain more insight into China.
US mobile communications giant Motorola has invested in three Chinese companies as a strategic move to penetrate into the mobile value-added services sector. This area is thought to be critical for the coming third generation mobile communications (3G) sector.
The mainland's industrial output rose 16.2 per cent year on year in January and last month, driven by brisk investment, booming exports and rising consumer spending.
The yuan yesterday made its biggest gain against the US dollar since it was revalued in July last year, hitting more than 8.03 per dollar, with analysts saying it could rise to as much as 7.80 by the end of the year.
March 16, 2006

Hong Kong: Mainland department store operator Golden Eagle Retail Group priced its initial public offering at HK$3.15 (40 US cents), the top end of the price range.
The world's second largest alumina producer, Aluminum Corporation of China (Chalco), yesterday issued about US$375 million in one-year corporate bonds to repay short-term debts and supply it with working capital.
Conglomerate New World Development, which posted a higher-than-expected 30 percent jump in first-half underlying profit, said it may spin off its department store businesses for a separate listing.
Wharf (Holdings), a Hong Kong conglomerate with interests in properties and ports, said its underlying profit rose 20 percent last year because of higher rental income and cargo throughput.
New World China Land, a unit of conglomerate New World Development, said half-year net income jumped by nearly five times despite a decline in property sales profit, as earnings were boosted by a gain from the revaluation of investment properties.
Chipmaker Advanced Semiconductor Manufacturing is hoping to capitalize on Hong Kong's IPO frenzy by setting a higher valuation than its larger rival when launching its US$100 million (HK$780 million) initial public offering.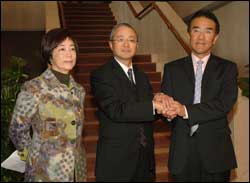 There were smiles, sighs of relief and even a media-orchestrated handshake between the two dueling officials at the helm of the embattled Kowloon-Canton Railway Corporation. Both Tsang and Liao refrained from naming names, but there was little doubt the admonition was aimed at the 20 senior KCRC managers and department heads who rushed to Lai's side just minutes before the emergency KCRC board meeting Tuesday that apparently patched up Lai and Tien's differences. Their highly publicized press conference stopped just short of calling for Tien's ouster, but its open assault on his management style - they cited a "blame culture" and a "lack of mutual trust" - sent a sufficiently strong message to raise the ire of Tsang and other government Tien-backers. Exactly what form of punishment will come down may not be known for some time. But the KCRC managers who boldly faced the press Tuesday certainly felt the tide turning Wednesday, with Tsang's move clearly designed to reaffirm his support for Tien. Chief Executive Donald Tsang said he has accepted the new power-sharing deal between Kowloon-Canton Railway Corporation chairman Michael Tien and his chief executive Samuel Lai under which Tien will withdraw the resignation he submitted last Saturday.
In a bid to avoid a repeat of last weekend's chaotic scenes at Lok Ma Chau and to cope with a new influx of mainland visitors, the number of automated immigration processing devices will be nearly doubled at the border crossing, the immigration chief announced Wednesday.

Former governor Lord Wilson of Tillyorn receives an honorary Doctor of Letters degree conferred by Chief Executive Donald Tsang Yam-kuen at the University of Hong Kong. Other recipients of honorary doctorates included executive councillor Leong Che-hung and professor Wu Jinglian.

Shun Tak's Pansy Ho says the firm has yet to decide whether to increase its investment in the Nam Van project.
Cheung Kong (Holdings) raised the stakes in the mortgage war yesterday, pitching an aggressive plan to homebuyers despite signs that property market sentiment may be improving.

China: Premier Wen ruled out a further one-off revaluation of the local currency, but said efforts will be made to have more flexibility in the exchange-rate regime.

A passenger stands by a poster of Shanghai magnetic-levitation train in Pudong International Airport Station in Shanghai, east China, on March 13, 2006. The Shanghai-Hangzhou high-speed maglev railway has been approved by the State Council recently. With a total length of 175 kilometers, the project is expected to be completed in 2008 and to be in operation before the 2010 World Expo in Shanghai.

Premier Wen stated in his work report that China 's GDP would grow by eight percent in 2006, higher than the 7.5 percent set for the next five years, although two percent lower than the ten percent in the past three years.
China's automobile imports more than doubled to 29,000 units in the first two months of this year at lower import costs, the General Administration of Customs said on Tuesday.
Sinopec processed 139.94 million tons of crude last year, or 2.8 million barrels a day, Its crude oil output rose by 1.7 per cent to 278.82 million barrels (763,890 barrels per day) for the period, in line with the company's target. Gas production increased by 7.2 per cent to 221.92 billion cubic feet during the year, exceeding its target of 214.3 billon.
HSBC, Europe's biggest bank, will quicken its expansion in China thanks to foreign banks being allowed to provide a retail renminbi business to local residents at the end of the year.
March 15, 2006

Hong Kong: One out of every 10 Hongkongers has property on the mainland, and more are joining the club every year, a survey suggests.

Secretary for Financial Services and the Treasury Frederick Ma expects Hong Kong's fund industry to double its size in under five years as more fund houses use the SAR as a platform for investing in mainland stocks.
Hong Kong's midsize companies surged ahead of competitors around the world last year, according to results of an international accounting firm's annual poll.
Property-to-airline conglomerate Swire Pacific plans to sell HK$1.8 billion worth of bonds to partially fund the purchase of a 50 percent stake in Festival Walk shopping mall.
NOW Broadband TV - the pay- television unit of Hong Kong's largest fixed-line operator, PCCW - will launch a 24-hour, all-business channel next week, hoping to capture the eyeballs of Hong Kong's one million private investors and further underpin the company's late charge against i-Cable.
Human error is to blame for a leakage of personal information of more than 20,000 people who have lodged complaints against Hong Kong police over the past decade, a two-day investigation has revealed.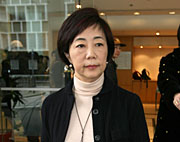 Transport minister Sarah Liao leaves after crisis meetings with KCRC officials. The board of the KCRC will hold an emergency meeting today in a bid to find a solution to the dispute between the corporation's chairman and acting chief executive. The resignation of KCRC chairman Michael Tien Puk-sun should prompt a review of the government's stance towards the corporation when problems arise, says executive councillor Selina Chow Liang Shuk-yee. The unprecedented feud among the KCRC's top management has added uncertainty to the planned merger with the MTR Corporation, but the plan remains on track, the transport minister said yesterday. Chief Executive Donald Tsang Yam-kuen has been caught between a rock and a hard place in trying to resolve the dispute between the KCRC's senior management and staff and its chairman.
Hong Kong-listed shoemaker Kingmaker Footwear Holdings will slash about 8,000 jobs, mainly on the mainland, as European Union anti-dumping measures begin to bite.
Hong Kong and Russian negotiators have agreed to a big expansion of passenger and cargo services in their latest bilateral talks but no progress was made on Cathay Pacific Airways' troubled bid to launch services to Manchester through Moscow.

China: The Shanghai-Hangzhou high-speed maglev railway and the Beijing-Shanghai high-speed railway have both been approved by the State Council.
The initial joint project of stowing coals onto the exclusive coal-freight ship of Yonglongjiu is well underway, at the newly-built No. 5 dock in Qinhuangdao port, north China's Hebei Province, March 11, 2006. The very first combined loading project marks the completion of the fifth phase construction project of the Qinhuangdao port for coal transport, a national key project with the designed annual transport capacity up to 50 million tons, poised to be put into full swing.
Organizations from overseas in China are not permitted to promote foreign exchange business unless approved by the China Banking Regulatory Commission, the commission said here on Monday. In an announcement the commission said an online service was also prohibited. "The Chinese laws and regulations do not protect such businesses and consumers should take care," it said. The commission said the reason it issued such an announcement was that it had recently found foreign organizations promoting their foreign exchange business online or when holding seminars and training projects. "This act has violated Chinese regulations and the cases in which consumers suffer losses have occurred," the commission said.
Foreign direct investment (FDI) into China in the first two months of this year grew by nearly 8 per cent from a year ago, the Ministry of Commerce said yesterday. The figures show China continues to attract foreign investors.
Morgan Stanley, which bought US$8 billion of Japanese real estate last year, said it will triple investment in Chinese property this year, shifting emphasis from Japan in a bet on the world's fastest-growing major economy.

Network equipment giant Juniper Networks Inc will move some of its manufacturing contracts to China, a move that could cut costs and take advantage of the nation's electronics manufacturing strength, said a top company executive.

Eyeing a bigger slice of the market: A worker holds a TCL T31 laptop produced by home-appliance maker TCL Corp yesterday in Beijing. TCL yesterday launched a series of new laptops and vows to provide more after-sales services in a bid to grab a bigger market share in the domestic market.

Industrial & Commercial Bank of China (ICBC) in Beijing. The bank, which controls a fifth of China's US$4.6 trillion of banking assets, is the nation's most coveted lender with more than 100 million customers at 21,223 nationwide outlets.

Aluminum Corp of China, or Chalco - the mainland's dominant producer of the metal - posted a worse-than- expected full-year profit increase of less than 10 percent, hurt by higher electricity cost dampening rising sales.
China Shenhua Energy, the mainland's biggest coal producer, said it will pay its parent 1.16 billion yuan (HK$1.12 billion) to acquire a coal and power project in Shaanxi province that will boost its coal reserves by 9.1 percent and increase its power-generating capacity by 55 percent by 2010.
care system is badly needed from Hong Kong and overseas to help fund its reform programmes, the health minister said.
Record fund-raising combined with a dearth of deal-making has caused a venture capital overhang in China, leading to higher valuations and some observers to warn of a boom and bust in the most competitive sectors.
March 14, 2006

Hong Kong: The Independent Police Complaints Council has set up a four-man taskforce to investigate how its files, containing details of thousands of complainants, were released on the internet.

China: Industrial and Commercial Bank of China Ltd. (ICBC), China's biggest bank in terms of assets, has singled out five underwriters for its planned initial public offering, it has announced. The long-awaited syndicate comprises Merrill Lynch, Credit Suisse Group, Industrial and Commercial East Asia Finance Holdings Ltd., Deutsche Bank AG and an investment bank group set up by the China International Capital Corporation Ltd. and Goldman Sachs, ICBC said in a brief statement. It did not touch on the bank's possible listing place or IPO size, but the bank is widely expected to list on the Hong Kong stock market, following last October's 9.2 billion U.S. dollars IPO on the same market by China Construction Bank. Earlier media reports have estimated the size of ICBC's expected IPO at around 10 billion U.S. dollars, and the bank has said it is endeavoring to go public at an "appropriate time" this year.
With China's cotton market shortfall expected to reach 4 million tons this year, thousands of textile producers are under pressure from rising costs and insufficient supplies of raw cotton materials.
March 13, 2006

Hong Kong: Orient Overseas (International) Ltd, a shipping firm controlled by former chief executive Tung Chee-hwa's family, says profit slid 2.9 percent last year and its executives warn that industry supply may outstrip demand in the future.

About 47 percent of Hong Kong retail investors who traded warrants last year suffered losses, while 31 percent pocketed gains, according to a Securities and Futures Commission survey.

Hong Kong tycoon Li Ka-shing, whose companies operate businesses from ports to telecommunications in dozens of countries, jumped 12 places to 10th position on an annual list of the world's richest people compiled by Forbes magazine, after his wealth rose 44 percent on buoyant stock prices.
Shares of Melco International Development, controlled by the family of casino tycoon Stanley Ho, soared by more than a quarter to a record HK$14.60, after the company said it has clinched the last available gambling subconcession in Macau.
China Resources Cement, a unit of state-controlled conglomerate China Resources (Holdings), plans to invest HK$1.8 billion to boost capacity over the next three years, despite profits plunging 85 percent last year amid high costs.
The city's banking sector and regulator yesterday warned of a continued climb in interest rates as the rise in US rates looks set to go on longer than expected.
The Securities and Futures Commission is concerned that the recent spate of companies announcing plans to launch real estate investment trusts could lead to market malpractices, according to chairman Martin Wheatley.

Orient Overseas chief financial officer Nicholas Sims says the company has not hedged any fuel, which increased 58 per cent in the second half. Senior management from Orient Overseas (International) have forecast a tough year ahead after the container shipping line posted its first six-month profit decline in three years on rising fuel costs.

China: China is planning to build another natural gas pipeline from the energy-rich West to the energy-thirsty East in next five years.

Residents, many wearing masks or gauze scarves, brave sandstorms on Friday in Changchun, the capital of Jilin Province in Northeast China. The storm ravaged most parts of northern China, causing temperature drops of up to 10 C and low visibility of only a few hundred metres. The sandstorms are forecast to continue over the weekend.

A Ferrari attracts the attention of visitors to the five-day 2006 Shanghai Imported Auto Expo, which opened on Friday at the Shanghai Automobile Exhibition Centre.
China's first joint venture life insurer Manulife-Sinochem Life Insurance Co Ltd (MSL) expects its premium earnings to rise rapidly this year, on the strength of quick geographical expansion in the past two years, top executives said in Shanghai on Friday.
Guangdong Development Bank has retrieved 400 million yuan (HK$385.9 million) from an auction of its bad assets - less than 10 percent of the assets' value - as it rushes to improve its balance sheet before selling a stake to foreign investors.
Intensified efforts against corrupt officials on the run resulted in record levels of state funds being recovered last year, according to reports by the Supreme People's Court and Supreme People's Procuratorate.

The Imported Auto Expo Shanghai 2006 is opened March 10 in Shanghai. The photo shows visitors taking picture. The 2006 exhibition for imported autos is held at Shanghai Automobile Exhibition Center.
China's Internet auctioneer flagship Alibaba will continue to focus on integrating the Yahoo China operation, Jack Ma, CEO of Alibaba.com, said.
To promote meticulosity in meting out capital punishment, top judge Xiao Yang said Saturday that Chinese courts will start from this year to open court session when hearing death sentence trials in second instance, after taking steps to retrieve the power of death penalty review from provincial courts. "As of July 1, 2006, all the second-instance trials of death sentence cases shall be heard in open court," Xiao, who is also the president of the Supreme People's Court (SPC) said in his report on the work of the Supreme People's Court.
A special court to prosecute product piracy cases has been created, according to a government spokesman, amid demands for Beijing to step up action against rampant illegal copying of movies, music, software and other goods. China, known for its rampant piracy of everything from high-fashion handbags to software, vowed yesterday to crack down on intellectual property rights theft and urged foreign companies to take their complaints to its courts
March 9 - 12, 2006

Hong Kong: Hong Kong Exchanges and Clearing, which manages Asia's second-biggest stock market, reported a 27 percent increase in net profit last year on soaring trading volumes and a record wave of mainland listings.

Cathay Pacific Airways said its net profit fell 25.3 percent last year as record jet fuel prices offset strong growth in passenger demand. Property to airlines conglomerate Swire Pacific on Thursday reported that earnings for last year were almost unchanged, with profit after tax and minority interests falling just 0.32 per cent to $18.76 billion, from $18.82 billion for 2004. Cathay Pacific Airways has applied to build and operate its own air cargo terminal at the Hong Kong airport, according to newly appointed chairman Christopher Pratt.
The Hong Kong stock market, which has fallen for two consecutive days, has been dented by renewed worries about rising interest rates in the United States, where the yield on long-term treasuries has reached its highest level in 21 months.
Guangdong's agriculture department says the province has done a thorough job in keeping its poultry safe from bird flu and has appealed to Hong Kong to lift its ban on chicken imports, even though the Food and Agriculture Organization has warned that backyard farms still pose a risk.

Saudi Arabia's princess Loulwah Al-Faisal yesterday urged Hong Kong investors to explore business opportunities in her country as it was now "completely open" to foreign investment. Speaking at a Hong Kong General Chamber of Commerce conference yesterday, the princess said foreign investors could wholly own businesses without having to form joint ventures with local companies. The market had been opened to show that Saudi Arabia, the world's largest oil supplier, was determined in its bid to gain World Trade Organization accession.
The parent firm of Lenovo Group plans to spin off its mainland commercial property subsidiary as a real estate investment trust in Hong Kong and may consider listing the world's third-largest computer maker in the United States, the group's founder and president said yesterday in Beijing.
PCCW chairman Richard Li Tzar-kai is reported to be moving into the print world, potentially escalating the price war in the industry, especially if he links up his new acquisition with his online and television ventures.

China: Foreign technology will not be used to build the Beijing-Shanghai high-speed rail link, it was announced yesterday.
A world-leading helicopter manufacturer announced Wednesday in Beijing a plan to co-develop in China new, advanced heavy-lifting aircraft in the hope of capitalizing on soaring demand in this country and around the globe.
China is planning a massive reshuffle of local politicians, linking promotions to how well they adhere to the central leadership's efforts to address social imbalances, an official newspaper said.
There are signs the central government may step up coordination and see to it that Hong Kong's status as an international hub in finance, trade and shipping will not be shaken as rivalry from other key mainland cities, especially Shanghai, intensifies.
Globalization scares people. Security threats scare people. By fusing these fears during the Dubai ports flap, US demagogues have had a field day. Now, having demonstrated this formula, the demagogues are poised to strike again. Their next target will be arriving soon, in the person of President Hu Jintao.

NPC law committee chairman Yang Jingyu says he hopes the property law will be submitted for approval at next year's session. A contentious bill to define property rights will undergo further review in August, a top law drafter said yesterday, denying it had been shelved because of a conservative backlash.
China's space technology is unlikely to catch up with America's in the next decade, according to a mainland space expert who also called for Hong Kong's involvement in the nation's first lunar mission, scheduled for April next year.
March 8, 2006

Hong Kong: King & Wood, one of the largest law firms on the mainland, yesterday opened an office in Hong Kong, becoming the first mainland legal service provider to set up shop in the Special Administrative Region.

A sparkling showcase: A visitor to the 23rd Hong Kong International Jewellery Expo examines exhibits. The show, which opened yesterday, will last for four days.
MTR Corp, which runs Hong Kong's subway system and develops the land around its stations, said its net profit rose 29.1 percent to HK$8.45 billion last year thanks to another one-time gain from revaluation of investment properties and higher property sales.
Hong Kong will reduce its chicken population by a third within three months, control the importation of live birds and restrict the granting of new licenses for poultry farms, following the death of a man from bird flu last week in neighboring Guangdong province, officials said.
Hysan Development, the largest commercial landlord in Causeway Bay, said net profit of its core business rose 9.4 percent last year, as it lifted rents amid strong demand for shopping and office space.
Hong Kong's banks, some of which have slashed mortgage rates to boost a sluggish home-loan market, said they face a challenging year as downward pressure will continue on lending interest spreads.
Legislative Council president Rita Fan has been picked by Beijing to replace the ailing and controversial Tsang Hin- chi when he steps down as the only Hong Kong member of the Standing Committee of the National People's Congress in 2008, according to NPC sources.

China: China will increase its total volume of trade in goods and services to 2.3 trillion U.S. dollars and 400 billion dollars respectively by the year 2010.

Chinese Foreign Minister Li Zhaoxing holds a press conference at the Great Hall of the People of Beijing March 7, 2006. Li talks about China's foreign policy and international affairs and answer reporters' questions.

A manager of a vegetable processing company from southeast China's Fujian province elaborates how to grow better chives. The listeners are ethnic Miao minorities in Yuanmou county in southwest China's Yunnan province. Their chives are shipped to European and American markets, which brings more income to them.
The Shanghai Futures Exchange is steadily moving ahead with its proposed trading of liquefied petroleum gas (LPG) futures, a sign the bourse is quickening its pace to introduce a full range of energy futures.
March 7, 2006

Hong Kong: Starting as of Monday, China Netcom Group Corporation was added into the list of the HSI companies, and Denway Motors Limited was removed from the HSI list at the same time, according to HSI (Hang Seng Index) Services Limited. HSI Services Limited said that China Netcom Group Corporation Limited had been listed for 13 months and ranked 13 in terms of average market value for the 12 months ending on Dec. 30, 2005. Accordingly, it has met the requirements of the Guidelines for Handing Large-Cap Stocks listed for less than 24 months and has been selected to join the HSI.

Ang Lee wins best director for "Brokeback Mountain" at the 78th annual Academy Awards at the Kodak Theatre in Hollywood, California March 5, 2006.

HSBC Holdings, Europe's largest bank by market value, had a 17 percent gain in full-year net profit as the bank benefited from well-balanced geographic markets and business segments, chief executive Stephen Green said Monday.
Hang Seng Bank, the second-largest bank in Hong Kong by market capitalization, disappointed analysts with a flat full-year profit as contributions from its treasury division slumped and on bad-loan provisions.
Melco International Development, controlled by the family of casino tycoon Stanley Ho, has upgraded its status as a casino player after its partner, Australian media giant Publishing and Broadcasting Limited, agreed to pay Wynn Resorts US$900 million (HK$7.02 billion) to secure the last available gambling subconcession in Macau.
China National Building Material, the country's largest provider of products used in construction, plans to raise up to HK$1.7 billion in a larger-than-expected initial public offering later this month, people familiar with the situation said.
Secretary for Justice Wong Yan-lung said Monday the rising number of judicial review cases involving human rights clauses under the Basic Law since the handover was a normal phenomenon.

Trainees work on high-voltage cables at the CLP Power Overhead Line Training Centre in Tai Wai. The school, which relocated from Lai Chi Kok in 1980, has trained more than 2,000 people in the past two years. Facilities include classrooms, workshops and a warehouse, plus overhead cables of various voltages on which trainees practice in different conditions. Enrolment for 17 different courses on overhead lines starts in March and April.
The Transport Department on Monday signed a $70 million contract with Siemens and Siemens PLC Joint Venture to construct an area traffic control (ATC) system for Tuen Mun and Yuen Long.
The Industrial and Commercial Bank of China (ICBC), the largest lender on the mainland, has decided in principle to hire Merrill Lynch, Credit Suisse, China International Capital Corp and its own Hong Kong investment bank arm, ICEA, to arrange its initial public offering of more than US$10 billion, well-placed sources say.

China: China will put into operation its first national oil reserve facilities under construction in Zhenhai of eastern Zhejiang Province at the end of this year, while speeding up construction of three others.
China will continue to gradually increase the flexibility of the RMB exchange rate, said Zhou Xiaochuan, governor of the People's Bank of China, on Sunday.
Chinese President Hu Jintao said that the country must earnestly implement the scientific concept of development if it wants to attain various development goals set for the 11th Five-Year Plan period (2006-2010). "The scientific concept of development is a guiding principle that must be adhered to for a long period in order to promote our country's reform, opening-up and socialist modernization drive," said Hu while joining in a group discussion of lawmakers from Tibet Autonomous Region.

Premier Wen Jiabao delivers his government work report before NPC delegates yesterday. Premier Wen Jiabao's pledge to improve the much-criticised medical care and education system seems a distant dream to Shenzhen migrant worker Zhou Lifeng. As widely expected, Premier Wen Jiabao pledged yesterday to boost spending on health care, education and social security for the country's poor, particularly for the 800 million living in rural areas, as part of the mainland's ambitious efforts to narrow the growing wealth gap between its richer urban areas and the restive countryside.
The mainland will not reduce the US dollar component of its ballooning foreign-exchange reserves, even as it makes "adjustments" to protect its principal and maximise returns on the already formidable stockpile, the central bank governor said yesterday.
Chinese technology entrepreneurs are a special breed and Justin Tang, chairman and founder of online travel company ELong, is a typical specimen. Casually dressed, urbane and well-spoken, Mr Tang is a member of the exclusive group that has built the Chinese internet business from scratch.
March 6, 2006

Hong Kong: In 2005, trade value between mainland and Hong Kong amounted to 136.7 billion U.S. dollars, reflecting a year-on-year increase of 21.3 percent and accounting for 9.6 percent of mainland's total external trade, ministry figures show.
Sun Hung Kai Properties, which posted a 10.5 percent rise in first-half underlying profit, said it spent HK$17 billion to replenish its land bank in the six months to December.
General insurance underwriting profit reaped by Hong Kong agents slipped 5.6 percent last year as widening losses from motor insurance and workers' compensation more than offset gains from property damage cover, according to the Office of the Commissioner of Insurance.

Shares in Nine Dragons Paper (Holdings), China's largest containerboard maker, surged as much as 45.6 percent on their Hong Kong trading debut after the company's initial public offering attracted strong demand.
Marking another major step in his political comeback, Tung administration top aide Lam Woon-kwong has been named chief executive officer of equestrian events for the 2008 Beijing Olympic Games.
Chief Executive Donald Tsang Yam-kuen last night joined the pro-Beijing camp in playing down suggestions of antagonism between the two sides.
The government has proposed merging the Telecommunications Authority and Broadcasting Authority to create a powerful unified regulator to deal with spiralling competition issues stemming from the convergence of telecom and media services.

China: Chinese, U.S. NGOs sign memo to cooperate in film copyright protection, The China Film Copyright Protection Association (CFCPA) and the Motion Picture Association of America (MPAA) signed a memorandum of understanding in Beijing on Friday aimed at combating piracy. According to the memo, the two organizations are expected to share information on the prevention and verification of film products to help prevent illegal copying of films.
The two will also assist enforcement personnel from China and the United States to fight piracy, the memo said.
Sinopec, the nation's biggest oil refiner, said it planned to build two crude oil importing facilities in North China's Tangshan, involving a total investment of 6 billion yuan (US$739.8 million).
Xingda Steel Tire Cord Group and China National Coal Group's planned initial public share offerings have been pushed back to the second half while Advanced Semiconductor Manufacturing Corp finally received approval to list shares, market sources said.
Continental Airlines, which last year broke a two-decade grip held by two US rivals on nonstop Beijing-to-New York flights, aims to become the first carrier to offer passengers direct Shanghai-to- New York travel, starting next year.
China's securities regulator will continue its clean-up of the distressed brokerage sector and will not approve any new securities companies or foreign investments this year without the intervention of the State Council, according to sources.
March 3 - 5, 2006

Hong Kong: Shares in Hutchison Telecommunications International, the emerging- market telecoms arm of Hutchison Whampoa, had their biggest daily gain since listing in 2004 after the company restructured ownership of its Indian unit to comply with foreign investment rules, paving the way for an initial share sale in the unit later this year.

Standard Chartered, which reported a 26 percent jump in profits for 2005, forecast double-digit earnings growth again this year on strong momentum from Asia.
i-Cable Communications, the dominant pay-television operator in Hong Kong, saw operating profit fall 5.5 percent last year as competition heated up after its major rival boosted services.
HSBC Holdings, which controls two banks in Hong Kong, will probably report an 11 percent increase in net profit Monday as it expanded in emerging markets when those in more developed regions became uncertain.
Legislators have pounced on the government's newly unveiled surveillance bill, threatening to derail it unless the administration amends a provision which, they say, gives the executive branch overreaching powers to install politically reliable judges to approve surveillance operations.

Dianthus is the theme flower chosen for the Hong Kong Flower Show, which runs from today until March 12 at Victoria Park. The show features more than 350,000 flowers, plus floral displays of the Olympic emblem and that of the East Asian Games, as well as a sea of more than 15,000 tulips.

Kerry's Semy Ng says the developer has been liaising with possible tenants about leasing in Enterprise Square Five, scheduled to be completed in the middle of next year.

China: Nearly 200 central government employees were punished or face judicial proceedings for misusing funds in the 2004 financial year, the nation's top legislative body said yesterday.

Delegates from Southwest China's Sichuan Province arrive in Beijing yesterday for the country's most important political event of the year. The annual sessions of the National Committee of the Chinese People's Political Consultative Conference and the National People's Congress are slated to open today and on Sunday.
China's steel sector, the biggest in the world, is expected to reap meagre profits and even losses this year due to sagging steel prices and rising material costs, an industrial regulator warned yesterday.
Aluminum Corp of China Ltd, the world's second-biggest alumina producer, is poised to make China's single largest investment in Australia as it seeks to ease shortages of materials used to make aircraft and car bodies.
United Airlines, the world's largest transpacific airline, is applying to run daily nonstop flights between Guangzhou and San Francisco, a move that could make it the first US carrier flying to South China.
China Post is talking to China Telecom and China Unicom about their taking stakes in a savings bank it hopes to set up in June and eventually list on the stock market, industry sources said yesterday.
The Lands Department has set a levy of about $7 billion for the Kowloon-Canton Railway Corp's Tai Wai maintenance centre residential project, having learned a lesson from the Tuen Mun station tender withdrawal late last year.
March 2, 2006

Hong Kong: Sun Hung Kai Properties, Hong Kong's largest developer by market value, is expected to report first-half earnings rose by up to 24 percent, due to wider margins mainly underpinned by the luxury project, The Arch.
Sociedade de Jogos de Macau, a casino operator controlled by tycoon Stanley Ho, may almost double the size of its initial public offering in Hong Kong and list it shares earlier than expected.
The Hospital Authority was spared a debilitating blow Wednesday, when the High Court ruled that the 4,600 public doctors are only entitled to cash compensation for "actual work" done on rest days and statutory holidays, and not for being on call.
The administration has unveiled its highly-anticipated wiretapping and covert surveillance bill, officially kickstarting what is sure to be a contentious fight in the coming months, especially because the proposal leaves open the possibility that the mainland could influence who is targeted.

Swire Pacific's new chairman, Christopher Pratt, received a warm reception at his first extraordinary general meeting yesterday as the firm announced it had received overwhelming support for the buyout of the remaining 50 per cent stake in Festival Walk for $6.18 billion. With the company's annual results due out next Friday, Mr Pratt declined to comment on any business, although he said Swire would be interested in the government's new tender for the West Kowloon cultural district.
Hong Kong Disneyland is adding 11 more "special days" - during which only date-specific tickets can be used - to avoid a repeat of the Lunar New Year chaos, when hundreds of visitors were turned away from the theme park.
Lunar New Year tourist arrivals shot up 25 percent compared with the 2005 holiday, boosted by big gains from Australia, the Philippines and South Korea, the Hong Kong Tourism Board said.
Hong Kong's fund industry yesterday claimed victory in a two-year lobbying war to exempt offshore funds from profit tax and bring the city into line with other leading financial centres.
The central government plans to ease restrictions on capital outflows and accelerate the transition to a "basically convertible" yuan for capital account transactions, according to the State Administration of Foreign Exchange official in charge of China's capital account.

China: Chinese Premier Wen Jiabao and former Premier Zhu Rongji display quite different temperaments, but they are simply the same in being faithful to their job.
China eyes a 40 percent annual increase in its auto and auto parts exports over the 11th Five-year Plan period and expects the exports to reach US$70 billion.
China plans to build more overseas sales platforms abroad to make domestic agricultural products available in the overseas market.
SAFE official Zou Lin was quoted saying that the government will encourage a greater outflow of capital while maintaining the balance of capital entry and exit.
The Shanghai Futures Exchange, one of China's three futures bourses, may get the greenlight to trade steel wire rod futures this year, China Securities Journal newspaper reported yesterday. The move is expected to boost the industry.
Residential property prices in Beijing last year surpassed Shanghai, the country's hottest real estate market, and remained the fastest-growing market in China in January. Analysts, however, indicate this is temporary and general price growth nationwide will gradually slow down
The yuan rose to its highest against the US dollar since last July's revaluation of the currency after reports that Beijing plans to make the yuan basically convertible under the capital account "soon." US Treasury Secretary John Snow and his undersecretary, Tim Adams, have called on Beijing to allow the yuan to trade more freely and to make it more responsive to market forces.
China will test fly its first homemade commercial jet in 2008, state press said Wednesday, a feat that will bring the country one step closer to achieving its goal of becoming an aviation power.
Guangzhou will spend 13.5 billion yuan in the next five years to speed up construction of phase II of Baiyun International Airport to enable it to meet its goal of becoming an international passenger and logistics hub, a senior airport official said.
March 1, 2006

Hong Kong: Trade between the Chinese mainland and Hong Kong is expected to pick up speed in the coming years with the further implementation of the Closer Economic Partnership Arrangement (CEPA) and the economic integration between the two areas.
Peace Mark Holdings, Hong Kong's largest timepiece maker, will invest HK$300 million (US$38 million) to HK$400 million (US$51 million) in opening 30 luxury watch stores in the mainland over three years.
The Children's Investment Fund, a British-based hedge fund that has been adding shares of Hong Kong property firms in its portfolio, is buying a 9 to 10 percent stake in Chinese Estates Holdings for about US$200 million (HK$1.56 billion), a source familiar with the situation said.
Shau Kee Financial Enterprises and Henderson Land Development are planning a May launch for a real estate investment trust comprising about 25 office and retail properties worth $10 billion, sources say.

Electricity supplier CLP Holdings is beefing up overseas investment in the wake of a government plan to slash its future return on Hong Kong's regulated business, according to group managing director Andrew Brandler. "We are diversifying outside Hong Kong and in good progress," Mr Brandler said at the utility's annual results announcement yesterday.

China: Sinosteel Corp, China's second-largest iron ore trader, is seeking a majority stake in Grange Resources Ltd's US$1.1 billion iron ore pellet project in Western Australia to secure supplies of the steelmaking ingredient.
China will spend 140 billion yuan (HK$135 billion) in the next five years to expand airport infrastructure to meet a forecast 14 percent annual growth in domestic air traffic, an official said.
Flat panels will replace conventional cathode ray tube televisions by 2010 in China and mainland manufacturers must work hard to catch up with their foreign rivals if they are to survive, the head of a Hong Kong-listed television components maker said yesterday.

*News information are obtained via various sources deemed reliable, but not guaranteed