Hong Kong, China & Hawaii Biz*


How to Do Business with China, through Hong Kong & Setting up Business in China? - last update Feb 8, 2003
Do you know our dues paying members attend events sponsored by our collaboration partners worldwide at their membership rates - go to our event page to find out more! After attended a China/Hong Kong Business/Trade Seminar in Hawaii...still unsure what to do next, contact us, our Officers, Directors and Founding Members are actively engaged in China/Hong Kong/Asia trade - we can help!
China Projects Bidding Information - update daily Scholarship & Grants
Are you ready to export your product or service? You will find out in 3 minutes with resources to help you - enter to give it a try

China Central TV - live webcast

Skype - FREE Voice Over IP

View Hawaii's China Connection Video Trailer










Hawaii's China Connection Video - click on the picture to view live video
June 28 - 29, 2006

Hong Kong: Shoemaker and retailer Le Saunda plans to raise another HK$111.6 million by selling new shares to finance expansion of its mainland retail business, sources close to the share placement said Wednesday.

Hong Kong has seldom had it so good - enjoying its best period of prosperity since the handover. State leader Jia Qinglin last night urged Hong Kong people to focus their energies on economic development and set aside their differences.

China will likely disclose a long- awaited plan today allowing Hong Kong banks to issue yuan-denominated bonds, a top banker said Wednesday.
Attempts by Australia's Macquarie Bank to mount a renewed bid for PCCW's main telecom and media assets with the aid of Rupert Murdoch's News Corp could be designed to make the deal more palatable for Beijing, despite the Australian tycoon's checkered business record in the mainland, analysts said.
Shimao Property, a Shanghai-based developer, has raised HK$3.72 billion by selling new shares at HK$6.25, the bottom end of the indicative range, because of poor market sentiment as well as deep concerns over the mainland's latest real estate cooling measures, market sources said.
Hong Kong-listed China Life Insurance and its parent have paid a combined 4.65 billion yuan (HK$4.51 billion) to purchase 500,000 new shares in Shanghai-listed CITIC Securities, allowing the parties to form a strategic alliance as part of the central government's plans to permit more interaction among the country's banking, insurance and brokerage industries.

The operation of Hong Kong's new "e-Channel" border control system is in jeopardy after a transnational commercial dispute erupted between two contractors involved in setting up the award-winning system.

Olympic medalists, Nobel prize winners and recipients of lifetime achievement awards will be among those given a full score of 165 points under the Immigration Department's Quality Migrant Admission Scheme.
Mainland and SAR creative and digital industry operators should strengthen their cooperation in the light of favorable conditions brought about by the Closer Economic Partnership Arrangement, visiting Chinese People's Political Consultative Conference chairman Jia Qinglin said Wednesday.

Mission Hills vice-chairman Ken Chu says the new construction will be financed through property sales and internal cash flow. Shenzhen's Mission Hills, the world's largest golf facility, plans to add a $1 billion, 1.61 million square foot retail, entertainment and hotel complex to its mix of apartments, villas, tennis courts and 10 golf links, says group vice-chairman Ken Chu.
Chinese People's Political Consultative Conference chairman Jia Qinglin is expected to give Hong Kong a handover anniversary gift today by announcing plans to make it easier to conduct yuan-denominated business in the city.

China: Premier Wen and Australian PM Howard opened the first ever Sino-Australian liquefied natural gas (LNG) project in south China's Guangdong on Wednesday.
Archaeologists have discovered remains of what may prove to be the country's first foreign worker, who labored on the mausoleum of China's first emperor.
China's State Council, the cabinet, said in a circular that the country's insurers can invest their funds overseas to expand their investment horizons.
China's fiscal revenue soared almost 20 percent in 2005 to hit a record 3.16 trillion yuan (395 billion U.S. dollars), Finance Minister Jin Renqing said on Tuesday. A leading Chinese central bank official said that countries around the world should gradually rely less on the U.S. dollar for trade and their foreign exchange reserves. The World Bank's Board of Executive Directors on Tuesday approved 218 million U.S. dollars in a loan for infrastructure projects in northeast China's medium-sized cities to enhance the performance and quality of their existing urban transport infrastructure.
China has publicized plans to build Tianjin into a financial center in the north by introducing a range of reforms in the city's Binhai New Area.

Lenovo's booth in an exhibition, the computer giant aims to further expand its presence in China by creating new market demand and building brands, although the firm already has more than a third of the market cornered.
China Southern Airlines, the mainland's largest carrier in terms of fleet size, has signed a agreement ultimately leading to membership of the SkyTeam alliance.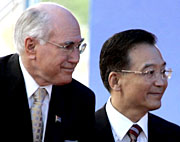 Wen Jiabao and John Howard arrive for a ceremony to mark the official opening of the liquefied natural gas terminal in Dapeng, Shenzhen, under a US$25 billion contract. Premier Wen Jiabao yesterday hailed Australia as a reliable energy partner for China as the two countries officially launched a liquefied natural gas project in Guangdong.

An eel farmer goes about his business in Xiantao, Hubei. Finance Minister Jin Renqing announced on Tuesday that 297. 5 billion yuan was allocated to boost rural development and increase farmers' incomes last year, up 13.3 per cent from 2004.
June 27, 2006

Hong Kong: The government plans to slash the land conversion premium for a Tuen Mun station property development by a third, possibly as soon as this week, to reflect the recent softening of the real-estate market, sources said.

Warren E. Buffett (L) talks to Bill Gates, Chairman of Microsoft Corporation at a press conference in Washington (file photo). The world's second-richest man has decided on Sunday to donate around $37 billion to a foundation established by Bill Gates and his wife. In what some are calling the biggest philanthropic gift ever, Warren Buffett, the 75-year-old business titan who is the world's second-richest person, has pledged to begin giving away 85 percent of his US$40 billion (HK$312 billion)-plus fortune in July - most of it to the Bill & Melinda Gates Foundation.
Hong Kong Economic Times, which publishes a local Chinese-language financial newspaper of the same name, reported its fiscal second half earnings rose 35.5 percent on higher advertising sales.
Hong Kong-listed Lee & Man Paper Manufacturing, one of world's largest containerboard makers, has announced a 44 percent growth in net profit for the fiscal year ended March 31.
The fact that fruit and vegetables containing high levels of chemicals are entering Hong Kong shows that the government's food-inspection system has failed to keep pace with growing abuse of pesticides in mainland agriculture, a green group warns.
To launch Beijing's next major boost to Hong Kong's financial and professional services, the chairman of the Chinese People's Political Consultative Conference, Jia Qinglin, will make the Monetary Authority his first stop when he arrives this morning before paying a visit to a middle-class family during his 55-hour whistle-stop visit to the SAR.
Hong Kong Disneyland has introduced an unlimited-visit summer pass to stimulate business going into the last quarter of its first year.
Hong Kong on Monday reported an 8.2 per cent growth in gross domestic product for the first quarter of 2006 over a year earlier, figures published on Monday showed
The government would adopt a 'zero tolerance' approach to used clothes collection cages on streets, Permanent Secretary for Home Affairs Carrie Lam Cheng Yuet-ngor said on Monday.
The bidding war that has emerged over PCCW has turned into a political hot potato for all parties involved - majority shareholder Richard Li Tzar-kai, the Chinese government and rival suitors Macquarie Group and TPG-Newbridge Capital.
Shenzhen Bus Group, in which Kowloon Motor Bus Holdings owns a 35 per cent stake, plans to raise at least US$100 million in an initial public offering in Hong Kong early next year, sources said.

China: China's aircraft import value reached 3.73 billion U.S. dollars in the first five months, up 137.9 percent year on year, said sources with the General Administration of Customs (GAC).
Chinese Vice-Premier Hui Liangyu has called on northwest China's Xinjiang Uygur Autonomous Region to unite all ethnic groups in the region for faster economic and social development.
Australian PM John Howard's upcoming visit to China reflectsa readiness to accept Beijing's growing economic and political clout as an opportunity, not a threat. Australian Prime Minister John Howard will pay a two-day visit to China from today to promote gas exports and plans for a free-trade deal with the booming, energy-famished economy.
China's economy will grow by 10.3 percent in the first half of 2006, then slow marginally for a full-year expansion of 10 percent, the central bank said in a new report.
China's Ministry of Finance said on Monday it would issue the country's first ever savings bonds, worth up to 15 billion yuan (US$1.9 billion), offering Chinese citizens a new investment option.
China Everbright International, a Beijing-backed investment company, said Monday it will pay 400 million yuan (HK$388.6 million) to acquire two waste water treatment plants from the Jinan municipal government to strengthen its presence in the mainland's burgeoning environmental protection industry.
China Airlines, Taiwan's largest air carrier, said it plans to apply for permission to fly cargo to China, after the island's government eased restrictions on transport links to the mainland.

Hawkers offer ice to thousands of people packed into a stadium in sweltering heat to look for jobs at an employment fair in Nanjing, Jiangsu province yesterday. Vast numbers of graduates each year are finding it increasingly hard to find well-paying jobs.
June 26, 2006

Hong Kong: GEM board-listed International Entertainment, 51 percent owned by Hong Kong tycoon Cheng Yu-tung's investment arm Chow Tai Fook, said it will seek a review of a decision by Hong Kong Exchanges and Clearing to reject its plan to buy interests in the Philippines and Macau.
The Earth is running a slight fever from greenhouse gases, after enjoying relatively stable temperatures for 2,000 years, according to a research.

China Network Communications Group could hold up to a 50 percent stake in a new firm holding PCCW's existing core telecom and media assets if Australia's Macquarie Bank successfully outbids US buyout firm Newbridge, market sources said. PCCW's plans for a Beijing property project involving its real estate arm and the mainland's China Network Communications Group, or Netcom, are in doubt following disagreement between the two groups over the Hong Kong company's proposed sale of telecom assets, observers said.
The government's HK$5.1 billion Tamar development project will go ahead following a landslide 40-10 victory in the Legislative Council's Finance Committee Friday - but the controversy continues as legislators still have a host of unanswered questions on how the government will proceed with the money.
The administration has presented a thick bundle of amendments to its surveillance bill, hoping to appease jittery lawmakers as time winds down on the legislative year - potentially depriving Hong Kong of a vital law enforcement tool.
Hong Kong's low HIV infection rate owed much to the unstinting efforts of the Red Ribbon Centre of the Department of Health, Selina Tsang Pou Siu-mei said on Friday.
The government on Friday proposed tougher penalties on forms of cruelty to animals such as beating, kicking and torturing them.

Models dressed and painted in the colours of various national teams ramp up World Cup fever at Park Central in Tseung Kwan O as the competition heads into the nail-biting knock-out stage. Many shopping malls are running similar events to cash in on the excitement.

HKMA chief executive Joseph Yam says even if some funds had left Hong Kong, he was unconcerned about panic withdrawals.

China: China began offering aid to African nations in 1956. Over the past 50 years, in spite of economic difficulties, China has offered valuable support to African peoples.
China's population will peak at 1.5 billion in the mid-2030s, but it will begin to gradually drop after reaching the peak.

The Lhasa River Railway Bridge is under construction in Lhasa, capital of northwest China's Tibetan Autonomous Region, in this file photo taken in 2005. The 928.85-meter-long railway bridge, with the main span of 108 meters, is a landmark on the Qinghai-Tibet Railway, which is expected to start operation on July 1.
The Chinese currency on Wednesday strengthened to below 8 against the US dollar at inquiry system for the first time since the reform of RMB exchange rate mechanism last July.

Canadian Prime Minister Stephen Harper, left, poses for a photo with an unidentified Chinese head tax survivor, center, and her descendants during a ceremony acknowledging the government's official apology for the tax in Ottawa Thursday, June 22, 2006. More than a century ago, Canada forced tens of thousands of Chinese who helped build the nation's railroads to pay a 'head tax' to stay in the country and bring in their families. The head tax, which started in 1885 at $50 and grew to $500 by 1903 _ then two years' wages for Chinese laborers was collected from some 81,000 Chinese immigrants. Collections ended in 1923, when immigration from China was banned; Canada began admitting Chinese again in 1947.

Steel products of a Shanghai-based steel enterprise. A Chinese steel association and a chamber of metals trade said Thursday China's steel mills have agreed to a 19 percent price hike for iron ore, while voicing a pity that "negotiations breached rules."
China is poised to issue new regulations which would allow insurers to invest in more stocks, asset-backed securities and property and take part in venture capital projects, the China Securities Journal said.

Mengniu Dairy, the mainland's biggest liquid milk supplier, said its sales growth in the first quarter to March would outstrip the industry's performance and meet its internal sales target.

Overseas institutions bought property worth US$3.4 billion on the mainland last year. Beijing plans to restrict purchases of real estate by foreign investors to reduce speculation and prevent a property bubble, a government official said yesterday.
An Olympic construction official has been linked to an apparently deepening graft investigation that has already brought about the downfall of a former Beijing vice-mayor, but Beijing Games organisers were silent on the issue yesterday.
United States-based data storage system company EMC on Friday said it planned to invest an additional US$500 million (HK$3.9 billion) in China by 2010, extending its push into Asia.
June 23 - 25, 2006

Hong Kong: Developers including units of Sun Hung Kai Properties, Cheung Kong (Holdings) and MTR Corp - facing a combined HK$1 billion rent bill for undeveloped land - Wednesday defended delays in their long-running legal battles with the government over how such land should be assessed.

PCCW will propose paying a special dividend of about HK$7 a share from the sale of its telecom and media assets to gain backing for the deal from its shareholders and to temper any opposition from 20 percent stakeholder China Network Communications Group (China Netcom), according to a source close to PCCW's controlling shareholder Richard Li Tzar-kai. PCCW is expected to face political pressure from the mainland government over the sale of its core assets. Telecoms giant PCCW on Thursday said it would consult major shareholder China Netcom about any possible sale of its telecommunications and media assets to Australian bank Macquarie or United States investment firm Newbridge. The government would like to keep PCCW's telecommunications assets out of foreign hands for national security reasons but the law gives it little power to intervene in such a deal, according to an official source.

Hang Lung Properties plans to spend up to HK$7 billion to build commercial projects in China this year to tap into the mainland's fast-growing retail property market.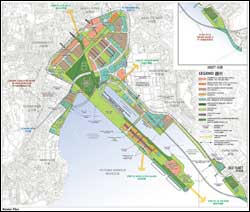 A blueprint for the old Kai Tak airport runway, released by the administration Wednesday, met with mixed reviews as a number of lawmakers and activists questioned the sustainability of the largely commercially focused design. Under the preliminary outline development plan, the site will provide 700,000 square meters of Grade-A office space - with a plot ratio of up to 9.5 - more than that at Island East and almost four times the area proposed in one of the original concept plans. The runway will also house 17 large hotels, providing a total of 6,800 new hotel rooms - the equivalent of half of the hotels in Tsim Sha Tsui. Hotel operators will be responsible for building adjacent public facilities, such as a bus terminus, a government source said. A two-berth cruise terminal, helipad and 50,000-capacity sports stadium have all been retained from the three concept plans to ensure the site becomes a tourism and sports hub. While the government will undertake development of the controversial cruise terminal to "avoid allegations of collusion with developers," the source said tenders will still be invited for the operation of services at the terminal. About 90 hectares of road network, comprising 25 percent of the site area, will be provided to link the site to the surrounding districts of Kowloon City, Kowloon Bay and Ngau Tau Kok, and an underwater trunk road will link the runway to Kwun Tong and Tseung Kwan O. The site is expected to become one of the city's four new "icons" - including the Tamar headquarters, the Convention and Exhibition Centre and the West Kowloon cultural district - centered around Victoria Park. The government could reap more than HK$200 billion from the expected sale of residential, office and hotel sites, industry observers said.
A steering committee headed by Chief Secretary for Administration Rafael Hui Si-yan will be formed to promote Hong Kong as a regional education hub. Secretary for Education and Manpower Arthur Li Kwok-cheung made the announcement Wednesday as lawmakers passed a motion raised by Jasper Tsang Yok-sing in support of the move. Speaking at a Legislative Council debate on the motion, Li agreed with Tsang's motion, which is to develop Hong Kong into a regional education hub. "[Creating an education hub] can help Hong Kong attract talent, enhance its competitiveness and help broaden the horizons of local students," Li said during the motion debate. He said the ratio of admissions for non-local students in government-funded tertiary education has been rising in the past decade, from 2 percent in 1993 to 10 percent in 2005-06.
Computer programming errors were not the sole cause of the two-hour breakdown of Lantau's Ngong Ping 360 cable cars last Saturday, according to a source who told The Standard about a combination of factors including underestimating how humidity at the site would affect sensors, disconnection of staff walkie-talkies and a lack of staff training.
East-Asian countries had reformed their financial markets since the 1998 Asian financial crisis, but more needed to be done, Hong Kong Monetary Authority chief executive Joseph Yam Chi-kwong said on Thursday.
Total employment in Hong Kong's private sector grew by 2.0 per cent, or 47,200 people, in March compared with a year earlier, latest figures released on Thursday showed.

China: Chinese vice finance minister Lou Jiwei recently pointed out that a large income distribution disparity exists in China, and for some, such inequality is determined "at the very beginning."

Photo taken on June 21, 2006 shows the bridge under construction spanning Zhanjiang Gulf in Zhanjiang, south China's Guangdong Province. The two sections of the main bridge were joined on the morning of Wednesday. The length of the bridge is 3,981 meters and its main tower is 155.11 meters high.
The first exclusive BMW clothes store opened in Beijing Oriental Plaza, selling men and women formal clothes, sports and casual wears and clothes ornaments.
China aims to increase the number of software export bases to up to 15 by 2010 to boost the fledgling software export and outsourcing industry.

A boy makes a phone call. Statistics issued by the Ministry of Information Industry of China (MII) on the 21st show that by the end of this May, the number of mobile phone users in China has exceeded 420 million.
Profits of China's iron and steel industry in the first five months dropped 37.4 percent over the corresponding period of last year, the National Bureau of Statistics (NBS) said on Thursday.
China will spend at least 34 billion yuan (4.3 billion U.S. dollars) to phase out persistent organic pollutants (POPs) in 10 years, a Chinese environmental official said on Wednesday.
Average housing prices in Guangdong rose by 10 per cent year on year in the first five months of this year, with prices in Guangzhou increasing 15 per cent, the provincial Bureau of Statistics said.
The Bank of China, the country's second-biggest lender, has set its share price for an initial public offering in Shanghai, raising 20 billion yuan (HK$19.5 billion) in the mainland's biggest IPO ever.
Chinese flagship carrier Air China on Thursday said it had proposed buying the shares of unit China National Aviation Co that it did not already own in a deal worth up to $3.2 billion.
June 22, 2006

Hong Kong: Shares in leading telecommunications firm PCCW were suspended on Wednesday pending the announcement of a possible deal as Australia's Macquarie Bank confirmed it was in talks to buy the company's core telecom and media assets.
The government has been liaising with the mainland to prevent its fishing vessels entering Hong Kong waters to fish, Secretary for Security Ambrose Lee Siu-kwong said on Wednesday.
Secretary for Security Ambrose Lee Siu-kwong said on Wednesday Hong Kong had set up new measures to help SAR citizens who get into difficulty overseas.

China: The Chinese government is firmly advocating the appointment of an Asian as the next UN secretary-general, Foreign Ministry spokeswoman Jiang Yu said in Beijing Tuesday. The government believed that Asia had the ability to select a prestigious and competent candidate acceptable to the world community, Jiang said. The Indian government named Shashi Tharoor, a senior UN official, as its candidate to succeed UN Secretary-General Kofi Annan last Thursday. Asked to comment on India's candidate, Jiang said selection of next secretary-general is a major event of the United Nations and no Asian had held the post for 34 years. The Chinese government holds comprehensive consultations should be held on the selection of the next UN secretary-general, Jiang added. Three other Asian countries have also named candidates for the post: Sri Lankan diplomat and former UN disarmament chief Jayantha Dhanapala, Thailand's Deputy Prime Minister Surakiart Sathirathai and the Republic of Korea's Foreign Minister Ban Ki-moon. The next UN secretary-general will be selected in October.
Chinese President Hu Jintao will attend a meeting of dialogues between the Group of Eight (G8) and developing countries in St. Petersburg in July.

Three hydrogen-powered buses appeared in streets of Beijing on Tuesday, bringing emission-free public transport to China for the first time, also one of the first in a developing country. Made by Daimler-Chrysler, each of the bus is worth nearly 2 million USD.The buses will run 18.2 kilometers from the North Gate of the Summer Palace to the university district at Wudaokou.
China's banking regulator is likely to complete a revised administrative rule soon that would allow foreign banks to deal with renminbi retail business across the country.
China finally agreed to a 19 per cent iron ore price increase from the world's three big miners but lashed out on Wednesday over "flawed" negotiations which ignored the country's interests and simply forced it to fall into line and pay more.
June 21, 2006

Hong Kong: Share prices of PCCW and its two related companies rose sharply Tuesday, when the stocks resumed trading a day after they were suspended, pending a proposed HK$40 billion buyout led by Australia's Macquarie Bank. US buyout firm Newbridge offered to pay more than $50 billion in an all-cash offer for the telecom and media assets of Hong Kong's dominant phone operator PCCW just a day after Macquarie Group made a similar-sized bid, a person familiar with the situation said.

China Mobile's deal with Phoenix Satellite Television last week was part of a three-year-old plan for the broadcaster to help it expand into new media, its chairman Liu Changle told The Standard.

Taxpayers may have to foot a more than HK$600 million bill to the Hospital Authority - not for health services, but to help compensate 6,000 doctors' holiday claims, ending a six-year-legal battle, according to the authority. About 6,200 doctors will be offered a larger-than-expected $629 million package to settle a six-year dispute over on-call work during holidays, under a deal agreed in principle by the Hospital Authority and doctors' representatives.
Retrofitting existing government offices to the highest standard would cost about HK$250 million, or less than 5 percent of the proposed price tag to build a new government headquarters at Tamar, according to a study.
Hong Kong services companies are in line for more preferential access to the mainland under the Closer Economic Partnership Arrangement (Cepa), the city's director-general of trade and industry says.
A call by unionists yesterday for paternity leave to be made a legal right for working fathers was brushed aside by the government.

China: China and India agreed on Sunday to reopen border trade at the Nathu La Pass on July 6 after 44 years' closure.
The People's Bank of China (PBOC) on Monday ordered commercial banks to further cut back on lending, following last Friday's move that requires them to keep more reserves at the central bank.

A book about the Regulation on Compulsory Traffic Accident Liability Insurance for Motor Vehicles. Drivers across China will be forced to cough up around 1,000 yuan (US$125) for the compulsory insurance before taking to the road next month.
China and India are the favoured markets of investors living outside their home countries, while fears about corporate governance standards in emerging markets have waned, according to a brokerage firm's survey on Monday.
The Chinese government will firmly pursue its financial reform and continue to push forward opening-up in financial sector according to its WTO commitments so as to improve the ability of supervision and risk-prevention, Chinese Vice Premier Huang Ju said on Monday.

China Unicom, the mainland's second- largest mobile-phone operator, may sell US$1 billion (HK$7.8 billion) worth of convertible bonds to SK Telecom as the South Korean company seeks to expand in the world's biggest cell-phone market, sources close to the deal said.
China Petroleum & Chemical Corp, the mainland's second-biggest oil company, has agreed to buy an oil- producing unit of a venture controlled by BP in Beijing's first significant energy asset in Russia.
The resignation of US Deputy Secretary of State Robert Zoellick, a leading architect of Washington's China policy, is unlikely to affect bilateral ties, according to mainland analysts.

Mike Roberts of McDonald's and Sinopec president Wang Tianpu. Mr Roberts says half of his firm's new stores will have drive-through.
China Life Insurance, the mainland's largest insurer, plans to take a 16.77 per cent stake in Citic Securities, the second most profitable domestic brokerage last year, in a deal worth at least 4.18 billion yuan.
Chicago Mercantile Exchange (CME), the largest futures exchange in the United States, will launch the first yuan futures and options contracts this summer to capture growing investor demand to hedge against the Chinese currency.
Liu Xiaoguang, the chairman of Beijing Capital Group, the parent firm of Hong Kong-listed Beijing Capital Land, was arrested on Saturday in connection with a corruption scandal involving former Beijing vice-mayor Liu Zhihua, sources said.
Swiss investment bank UBS has obtained written preparatory approval from the China Securities Regulatory Commission for its 1.7 billion yuan plan to take management control of troubled Beijing Securities.
June 20, 2006

Hong Kong: Fears of corporate fraud are causing one in five companies contemplating investments in the mainland and other emerging-market economies to ditch their plans, according to a global survey by audit firm Ernst & Young.
A consortium thought to be led by Hong Kong investor Cheung Kong Infrastructure Holdings is considering joining a bid battle for Associated British Ports, London-based newspaper The Business said Sunday.

One of China largest law firms, Jun He Law Offices, which handles legal issues for Bank of China's H and A share offerings, expects large mainland companies to continue to list in Hong Kong rather than the mainland since the SAR has a superior legal structure and a regulated market despite the re-opening of the A share IPO market.
Disgruntled bus drivers will conduct a territory-wide "slow drive" today that could lead to a full-scale strike by Wednesday after pay negotiations with bus operators broke down Sunday.
Hong Kong's unemployment rate fell to a 57-month low of 4.9 per cent between March and May, from 5.1 per cent in the three months to April due to a sustained economic revival, official figures showed on Monday.
The mainland's largest lender, the Industrial and Commercial Bank of China (ICBC), has delayed its planned US$12 billion (HK$94 billion) initial public offering in Hong Kong to October, a newspaper reported Monday.

China: China and India agreed on Sunday to reopen border trade at the Nathu La Pass on July 6 after 44 years' closure.
Lenovo is still struggling to improve its profit performance. Lenovo is still a relatively unknown brand in US despite the extensive media coverage in recent years.
A homemade Toyota Camry sedan on show at the release ceremony held in Beijing, June 17, 2006. Guangzhou Toyota Motor Co Ltd, a joint venture established by Janpanese carmaker Toyota and Guangzhou Automobile Group, introduced the Chinese made Camry sedan to the Chinese market yesterday. The Camrys are priced between 197,800 yuan (US$24,700) and 269,800 yuan (US33,700).
The bank plans to sell up to 10 billion yuan-denominated A-shares, or 3.886 percent of its share capital, on the Shanghai Stock Exchange, making it the number one heavyweight in China's stock market.
China's Social Security Fund will invest more than 18 billion yuan (2.25 billion U.S. dollars) in the Industrial and Commercial Bank of China.

A record 85 candidates from various countries and regions gather in Southwest China's Chongqing Municipality on June 18 to attend the "Miss Tourism Queen International", one of the three largest beauty pageants in the world. The candidates will have a 20-day tour around China.
Worried that it may be selling industrial assets to foreigners too cheaply, China will tighten screening of deals and impose new curbs on foreign acquisitions in its heavy industry, a Beijing-funded newspaper said.

Egyptian President Hosni Mubarak (R) and Chinese Premier Wen Jiabao talk during their meeting in Cairo June 18, 2006. Wen said on Sunday that China's efforts of boosting relations with African and Latin American countries in a bid to expand trade and energy cooperation posed no threat to US interests. Wen was in Egypt, his first stop on a seven-nation tour of Africa.

Afghanistan's President Hamid Karzai (L) and Chinese President Hu Jintao attend a welcome ceremony inside the Great Hall of the People in Beijing June 19, 2006.
Many visitors to the Chinese capital - who often find themselves stranded in the daily traffic gridlock and choked by toxic smog - must ask themselves what it will be like in August 2008 when millions of officials, athletes and tourists from around the world congregate for the Beijing Olympics.

Yuan Bin, director of marketing for the Beijing Olympics Organising Committee, will address representatives of more than 500 leading brands in New York tomorrow.
The path to global expansion is getting narrower for Chinese telecommunications equipment vendors as their multinational rivals merge and transform into more formidable industry suppliers.
June 19, 2006

Hong Kong: CITIC is joining a Chinese bank listing parade ahead of the full opening of China's financial market to foreign rivals. China hopes its banks will improve corporate governance and business through public listings.

Secretary for Security Ambrose Lee Siu-kwong officiates yesterday at the passing-out parade for 38 customs inspectors on completion of their 32-week training programme. The ceremony was held at the Customs and Excise Training School in Tuen Mun.
The government will soon propose an alternative site for the controversial central poultry slaughtering plant. Since proposing a site for the slaughterhouse in Sheung Shui in April, the Health, Welfare and Food Bureau has faced strong opposition to the project from local residents.
A top international school in Beijing is locked in a tug of war with angry parents - mostly expatriates, Hong Kong residents, and mainlander returnees - after announcing a 700 per cent fee increase.
Minority shareholders in China Resources Cement, whose profit slumped 85 percent last year, have voted overwhelmingly to accept a HK$428 million privatization offer by the Hong Kong-listed company's controlling shareholder.

CNOOC - China's largest offshore oil producer - and its partner, Li Ka- shing's Husky Energy, said they have discovered a deepwater gas field 250 kilometers off Hong Kong that analysts estimate to be worth as much as US$1.6 billion (HK$12.5 billion). Husky Oil China, a wholly owned subsidiary of Husky Energy, has made a "significant" discovery at a depth of 1,500 meters on block 29/26 in the Pearl River Mouth Basin, the first deepwater find off China, Calgary-based Husky Energy said Wednesday. "It's CNOOC's first deep-sea offshore drill and it's very substantial," said Liu Yang, a fund manager at Atlantis Investment Management, which holds CNOOC shares. He expects a significant rerating of CNOOC shares. CNOOC has the right to participate in the development of any discovery for up to a 51 percent working interest. The field may contain potential recoverable resources of four trillion to six trillion cubic feet of natural gas, which would make it one of the largest such discoveries offshore China, said John Lau, president and chief executive of Husky Energy. The news pushed CNOOC shares to a high of HK$5.70 before they slid back to close at HK$5.55 Thursday. About HK$1.2 billion worth of shares changed hands. Shares in Hutchison Whampoa, which controls 35 percent of Husky, closed 0.9 percent higher at HK$69. Shares in China Oilfield Services, which provides drilling and other services to sister firm CNOOC, gained 5.4 percent to close at HK$3.40.
Hong Kong-listed China COSCO Holdings, the mainland's biggest container shipping company, said it expects average freight rates, which dropped in this year's first quarter, to rebound in the second half due to strong cargo demand, particularly during the summer peak.
Shares in Next Media, publisher of the Apple Daily newspaper, rose 5.5 percent Thursday after the company reported a more-than-threefold increase in earnings in the fiscal year ended March 31, as its Taiwanese operations broke even for the first time.

Renowned barrister Kevin Egan spent his first night behind bars after having had his bail revoked in a high-profile case stemming from an Independent Commission Against Corruption probe into a breach of its witness protection program.
Workplace discrimination in Hong Kong has increased markedly in the past five months, a sign that many employers are still unfamiliar with anti-discrimination legislation, according to the Equal Opportunities Commission.
Sun Hung Kai Financial will pay more than $4 billion to buy out the entire 50 per cent stake of privately held United Asia Finance from its parent firm Allied Group as part of its strategy to enter the mainland securities market, sources familiar with the deal said.

China: The People's Bank of China, the nation's central bank, said Friday that it will raise the required reserves of the financial institutions at the central bank by 0.5 percentage points starting on July 5.

A coal-fired power plant in East China's Anhui Province. Chinese power firms plan to build three 3,600-MW (megawatt) coal-fired power plants in neighboring Mongolia to meet growing electricity demands in North China.

Liu Yongqing (second right), wife of President Hu Jintao, and spouses of representatives at the Shanghai Co-operation Organisation summit view a paper-cut show.

Workers tend a furnace at the Hebei steelworks of Handan, an attractive takeover target as it is the most important mill in the province. China's 11th-largest steel producer, Handan Iron & Steel, is fighting a hostile takeover by the country's No 1 producer, Baoshan Iron & Steel, in a Chinese version of the Mittal-Arcelor battle.

Chinese President Hu Jintao (R) shakes hands with Iranian President Mahmud Ahmadinejad in Shanghai, east China, June 16, 2006. The two president exchange views on bilateral relations and the Iranian nuclear issue.
Hopson Development Holdings, one of China's largest developers, said mainland property sales have almost doubled since the central government announced its latest round of real estate speculation curbs in late May.

The number of bicycles on mainland roads has dropped dramatically since the 500 million recorded in the late 1980s. China cities must put cyclists back on the road by restoring bicycle lanes in a bid to cope with worsening pollution, energy shortages and traffic chaos, according to a top official.

Shenhua and Sasol have been in talks on the stakes and the transfer of technology in the mainland company's coal-to-oil projects. Shenhua Group Corp, the parent company of Hong Kong-listed China Shenhua Energy, is close to signing an agreement to co-operate with South African coal-to-oil producer Sasol on the construction of mainland coal liquefaction projects, according to a senior official of the company.
Ping An Insurance, China's second-largest life insurer, has entered into exclusive talks to buy more than 60 per cent of Shenzhen Commercial Bank from the government, sources say.
June 16 - 18, 2006

Hong Kong: Health chief York Chow Yat-ngok has raised the specter of "a silent infection among poultry" in the wake of a suspected human bird-flu case just across the Hong Kong border.
The government has no plans to change its seven-year residency qualification for welfare assistance, the health chief said Wednesday.
Hong Kong Commercial Radio on Thursday was fined $140,000 and ordered to broadcast an apology for holding a controversial poll asking listeners to name an actress they would most like to sexually harass.

Chief Executive Donald Tsang Yam-kuen (centre) takes his first ride on the Tung Chung cable car, describing the view of Lantau as very impressive. The Ngong Ping 360 cable car runs from Tung Chung to Ngong Ping village and the Big Buddha. Its trial run started last Thursday and official services are scheduled to begin on June 24.
The number of reported drug abusers in Hong Kong in the first quarter of the year has fallen, figures released on Thursday show.
Construction work in Hong Kong shrank in the first quarter of 2006 — following completion of some large projects, government figures released on Thursday showed.
Ping An Insurance (Group) has approached undercapitalised Everbright Bank about taking a stake in the medium-sized lender, industry and regulatory sources say, as China's second-biggest life insurer seeks to remodel itself as a financial services firm.

China: Goldman Sachs warned again this year that if there is a halt in oil production by any major supplier, the price could escalate to US$ 105 per barrel at the very least.

Chinese President Hu Jintao (3rd R), Kazakh President Nursultan Nazarbayev (3rd L), Tajik President Emomali Rakhmonov (2nd R), Russian President Vladimir Putin (2nd L), Kyrgyz President Kurmanbek Bakiyev (1st R) and Uzbek President Islam Karimov pose for a group photo ahead of the summit talks of the Shanghai Cooperation Organization (SCO) at Shanghai International Convention Center in Shanghai, on June 15, 2006.
JETRO Chairman Mr. Osamu Watanabe recently said that talks on the free trade zone between Japan and China were not likely to be launched until 2008.

Visitors watch a solar lawn lamp at the Zhejiang exhibition of energy efficient products in Hangzhou on June 11, 2006. Some one hundred kinds of new technologies and products are showcased at the three-day exhibition. They can bring difference to production and life.
China will further cut import taxes on some cars and auto parts as of July 1, the Ministry of Finance announced Thursday.
The Foreign Exchange Trade Center announced by the authority of the People's Bank of China on June 15 that the parity rate of the Chinese currency on the inter-bank foreign exchange market is 7.9999 yuan against 1 US dollar.
Germany's biggest lender Deutsche Bank AG has raised its stake in Zhengzhou Yutong Bus Co Ltd, the Chinese partner of German engineering group MAN AG, to 5.21 per cent. Yutong said so yesterday.
China reported Thursday a 30-percent- strong year-on-year growth of urban fixed asset investment in the first five months of 2006, following the State Council's warning to "firmly curb" the trend.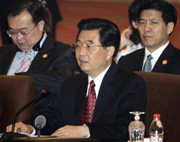 Chinese President Hu Jintao makes a speech at a session of the Shanghai Cooperation Organisation in Shanghai Thursday June 15, 2006. During the session Iranian President Mahmoud Ahmadinejad invited China, Russia and other Central and South Asian nations to convene a special meeting to boost energy cooperation.

Despite high oil prices, Air China reported profit growth of 1 per cent last year while rival mainland carriers posted losses.
Disputes between China and Germany over money and opposition from the Ministry of Railways threatened a proposed 35 billion yuan high-speed maglev line between Shanghai and Hangzhou, industry sources said yesterday.
China Mobile has cut prices for its international roaming calls in Sichuan and Zhejiang province in a move that is likely to bite deeply into the market share of China's fixed-line operators.
June 15, 2006

Hong Kong: Hong Kong legislators, who have fought an 18-month battle against government moves to reshape the city's stock market regulator, agreed Wednesday to split the role of Securities and Futures Commission chairman into two.
Datang International Power Generation, the second-largest Hong Kong- listed mainland electricity producer, may lower its dividend payout ratio over the next two years as it seeks to cut reliance on coal by investing in renewable energy power projects, analysts said.
David Li Kwok-po, a prominent business leader and legislator, has expressed concern over Hong Kong's diminishing attractiveness as a regional base for US- based companies, adding to worries that its competitive advantages may be undermined by growing pollution problems and decreasing financial incentives.
Secretary for the Environment, Transport and Works Sarah Liao Sau-tung on Wednesday dismissed suggestions that the soil at the Tamar site has been contaminated by dioxin, a highly toxic chemical..

A cheerleading team from a Korean university gees up more than 2,000 Korean fans at Victoria Park last night before the start of their nation's World Cup match against Togo. The fans were also treated to an outdoor screen to watch the game live and demonstrations of taekwondo and traditional percussion performances.

China: Eight out of 10 mainlanders say they are satisfied with the way things are going in China, according to a survey, in a sign that robust economic growth is outweighing social tensions over the income gap between rich and poor. The 81 percent satisfaction rate is an increase from the 72 percent recorded last year, the Pew Global Attitudes Project said in a public opinion poll of 15 countries.
China Life said the US Securities and Exchange Commission (SEC) has ended a probe into its HK and US IPO in 2003, and no action was recommended.
Air China, China's biggest air carrier, plans to get listed on the Chinese mainland later this year, a company official said on Wednesday.
Contracts and credit agreements worth US$2 billion are expected to be signed at the Shanghai Co-operation Organization (SCO) summit that starts tomorrow, a senior official said yesterday.
Stephen Roach, chief economist of Morgan Stanley, said in his latest economic review that although China is more influential than any other economy in the world in terms of pushing up global demand for bulk commodities, the new policy made by the Chinese leadership indicates a major shift of the country's growth model --- from high-resources consumption manner to low-resources consumption. He believes this strategy would not only facilitate China's sustainable development, but also well serve the global economy.

Chinese schoolgirl presents a bouquet of flowers to Russian President Vladimir Putin (L) after he arrived in Shanghai, where he will attend the Shanghai Cooperation Organization (SCO) Summit, June 14, 2006.
Aviation organizations of the Chinese mainland and Taiwan have agreed to open chartered flights for more traditional festivals in addition to the Spring Festival.

A part of Qinghai-Tibet railway. The launching of the railway will promote local tourism development, provide new opportunities for tourism industry, said an official with China National Tourism Administration (CNTA).
The annual sales income of China's software industry will climb to 1.3 trillion yuan (162.5 billion U.S. dollars) by 2010, as against 390.1 billion yuan (18.8 billion U.S. dollars) in 2005, according to a prediction recently.
A Chinese shoemakers' alliance says it will send a delegation to attend a hearing organized by the European Union Trade Commission on the levy of anti-dumping taxes on Chinese shoes.

Beijing-based Air China aims to raise about eight billion yuan (HK$7.76 billion) from a sale of shares on the mainland yuan-denominated market, a company spokesman confirmed.
New World China Land, a unit of New World Development, has secured three bank loans totaling more than 1.4 billion yuan (HK$1.36 billion) to partly fund its mainland property projects.
Eight out of 10 mainlanders say they are satisfied with the way things are going in China, according to a survey, in a sign that robust economic growth is outweighing social tensions over the income gap between rich and poor.

Folk craftsman Xu Zhiqiang displays one of his works in Bozhou city, Anhui province. A large-scale clay sculpture entitled Children Welcome The Olympic Games was shown in Bozhou on Monday. Xu spent more than four years creating the more than 1,400 statues of children.

The main proposals by the Shanghai stock exchange are to allow a 20 per cent daily trading limit on A shares and end a ban on same-day buying and selling of stocks.
China Petrochemical Corp, the parent company of listed China Petroleum & Chemical Corp (Sinopec), is considering subscribing for shares in the mega initial public offering of Russia's second-largest oil and gas producer Rosneft.
China Postal Savings Bank, the latest financial institution to be created by Beijing, is seeking to raise at least $2 billion in an initial public offering as early as next year, according to sources.
June 14, 2006

Hong Kong: Hong Kong Mandatory Provident Funds on average lost 2.2 percent in May, surrendering the 2.49 percent gain of a month earlier as fears over high interest rates and oil prices ended a six- month rally in global stock markets.
Cathay Pacific Airways says cargo handling capabilities at Hong Kong International Airport will be stretched in three years despite a counter-claim by Hong Kong Air Cargo Terminals, or HACTL, the world's leading air cargo terminal operator, that it is able to meet demand for at least the next 11 years.
The initial public offering of Shui On Land drew a lackluster response from investors on its first day of retail subscriptions, signaling a break in the IPO fever that has gripped the market since the beginning of the year.
Hong Kong-listed Kowloon Development plans to invest more than one billion yuan (HK$969 million) to build the first phase of a housing project in Shenyang, the capital of Liaoning province in northeastern China.
Tom Online, controlled by Hong Kong tycoon Li Ka-shing, is to pay up to 600 million yuan (HK$581.4 million) for mainland mobile-phone content provider Infomax to offset a loss of income as the Chinese government tightens rules on methods of paying phone bills.
Hong Kong is in danger of losing its competitiveness as a result of the mainland's continued economic growth, the Commission on Strategic Development has warned ahead of its executive committee meeting today to be chaired by Chief Executive Donald Tsang Yam-kuen.

Two dragon boat teams from Boston in the United States slug it out on the city's Charles River in Boston in a 500-metre dash. Sunday's rowers were paddling for a place in the national finals in New York in August. The national winners will go on to compete in the Hong Kong International Dragon Boat Races next year.
The Food and Environmental Hygiene Department (FEHD) said on Tuesday it would begin implementing the government's five-day working week from July 1 This follows the lead of other leading government departments in Hong Kong.
A Hong Kong-China construction industry delegation is visiting the Philippines and Cambodia to explore infrastructure development opportunities there, Permanent Secretary for the Environment, Transport and Works Lo Yiu-ching said on Tuesday.
Henderson Land Development has shelved its $3.9 billion real estate investment trust as sentiment towards the property trusts has soured in the face of a more volatile global market, sources said.

China: China's trade surplus in May stood at 13 billion U.S. dollars, with a year-on-year rise of 44 percent, said sources with the General Administration of Customs (GAC).

A train stops at Erweilu Station in Tianjin metro. After four years' construction, the Line 1 of the Tianjin Metro opens to trial operation on Monday. The 26.2-km line that goes through six districts is the first line in the fast track communication network of the city.
Preferential taxes may have been a major attraction for foreign companies investing in China but that could all be about to change.

Pit girls pose for a photo during 2006 Asian Festival of Speed (AFOS) in Beijing, June 11, 2006. The Beijing leg of the Asian Festival of Speed had fast cars, scantily-clad pit girls, high speed crashes and other things pleasing to track-side spectators. Picture taken June 11, 2006.
China's foreign exchange reserves, the world's largest, have risen above $900 billion as a result of the nation's growing trade surplus. According to statistics released by customs yesterday, exports reached US$73.1 billion last month, up 25.1 per cent year-on-year, while imports reached US$60.1 billion, up 21.7 per cent.
China will build five liquid natural gas (LNG) tankers in the next three years to cope with rising demand for the import, according to a ship maker here on Monday.
The sacking of an allegedly corrupt Beijing vice mayor who was in charge of overseeing construction projects for the 2008 Olympics will not affect the Games, organizers said.
The mainland economy showed no signs of cooling down last month despite an intensified clampdown by the central government, with official data released yesterday showing yet another record trade surplus and a pick up in inflation.
June 13, 2006

Hong Kong: More than 40 flat buyers at Caribbean Coast, a joint Cheung Kong and MTR Corp development in Tung Chung, defaulted on their payment as the outlook for Hong Kong property turned starkly bearish.

Cathay's takeover of Dragonair puts severe pressure on competitors, who must now consider their own alliances. The takeover would make a combined Cathay and Dragonair dominant as feeder to and from mainland China through Hong Kong, which currently accounts for around 70 percent of arrivals in China. Dragonair serves 23 mainland cities from Hong Kong, while Cathay - ranked 16th-largest in the world in terms of revenue passenger kilometers and a member of the "oneworld alliance" - has been limited to servicing directly only Beijing and Xiamen. "The link-up will attract even more transit passengers on Cathay and Dragonair through Hong Kong," said analyst Karen Chan of Credit Suisse First Boston (Hong Kong). And Chan says that, currently, there is no real equivalent of the Cathay- Dragonair combination.
Chronically ill welfare recipient Chow Chin-sun will start seeing his life savings of HK$60,000 evaporate from next month when he has to start paying monthly bills of HK$20,000 for medications that will no longer be subsidized for a disease public hospital doctors have been unable to diagnose.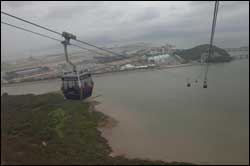 With 13 days to go until the Ngong Ping 360 - a cable car linking Tung Chung and Ngong Ping opens - Democratic Alliance for the Betterment and Progress of Hong Kong legislator Tam Yiu-chung said the transportation infrastructure near the Tung Chung terminal was not adequate for dealing with large crowds. "There are still no signs to direct coaches or private cars [to the cable car]. The roads nearby are not wide enough, which might easily lead to traffic jams," Tam said after a visit to the Tung Chung site.
A listed company chairman, his lover and a veteran solicitor were convicted on Monday of conspiring to prevent a potential witness from assisting the ICAC's investigations into an alleged market manipulation. Semtech International Holdings chairman Derek Wong Chong-kwong, his lover Mandy Chui Man-si and his lawyer Andrew Lam Ping-cheung were found guilty of a joint charge of conspiracy to pervert the course of justice, local radio reported.
Co-defendant Barrister Kevin Egan was acquitted of the charge. But he was found guilty of trying to disclose to the media the identity of a suspect in the Independent Commission Against Corruption's witness protection programme. Chui was also convicted of perjury, local radio reported. The charges stemmed from the four's campaign in July 2004 to use the media and the court to press the ICAC into releasing Becky Wong, a personal secretary of Derek Wong, who is a potential witness against him. Ms Wong later entered the witness protection programme. The prosecution alleged that the motive was to hinder Ms Wong — a potential witness against the Semtech chairman in an investigation of alleged market manipulation — from assisting the anti-graft agency. The four had denied the charges.
Higher courts in Hong Kong have ruled more often against the government in cases involving the Basic Law than lower ones, according to the first study on the subject by a central government think tank.
The annual volume of initial public offerings in Hong Kong is unlikely to slow and could increase over the next two to three years, even though there are no more mega-sized deals by China's financial institutions in the offing.
Shui On Land, the mainland developer seeking to float shares in Hong Kong, will spend up to four billion yuan to relocate existing residents at its project developments in Shanghai this year.

China: Figures released by the Chinese government departments have shown China is becoming one of the world's most popular education and employment destinations. Statistics released by the Ministry of Education showed that in 2005, 141,000 overseas students came to China to study, up 27.28 percent from the previous year, with 86,679 studying Mandarin (Putonghua). "The year 2005 saw China attracting the largest number of overseas students since the People's Republic of China was founded in 1949, thanks to the country's stable political environment, rapid economic growth and growing international influence," said Zhang Xiuqin, secretary-general of the China Scholarship Council.
The Honolulu-based U.S. Coast Guard cutter Rush arrived in east China's coastal city of Qingdao on Sunday afternoon, kicking off a five-day visit at the invitation of China's Ministry of Public Security (MPS). Rush is the first major Coast Guard vessel to visit China since World War II, according to Capt. Dana Ware, commanding officer of Rush. The 115-meter ship and its crew of 190 were warmly welcomed by Chinese counterparts and local people upon its arrival at the Qingdao Pier. Major General Chen Weiming of the MPS Border Control Department and Vice Admiral Charles D. Wurster of the U.S. Coast Guard addressed the welcoming ceremony. During Rush's stay in Qingdao, the two sides will conduct professional law enforcement exchanges, which will serve to enhance international cooperation in the area of law enforcement at sea. Both Chinese and U.S. law enforcement teams will also hold a forum to discuss and demonstrate techniques for boarding and searching suspected vessels, sharing information in combating at-sea crimes. Rush crew members will also participate in friendly events such as basketball and cultural tours with the Chinese counterparts to deepen mutual understanding.
China's Consumer Price Index (CPI) in May rose 1.4 percent year on year, said sources with the National Bureau of Statistics (NBS) on Monday. The growth rate was higher than the 1.2-percent rise in April.
The Korea Trade-Investment Promotion Agency (KOTRA) said Sunday that a group of South Korean buyers would leave for China this week as an effort to reduce the country's increasing trade surplus with China.
China is considering a change in energy policy to encourage the wider use of ethanol in a bid to allievate the nation's worsening air pollution.

Agriculture Bank of China's foreign exchange business. The central bank is planning on combining the nation's traditional foreign exchange trading system with a new system initiated last year by the end of 2006, the China Securities Journal said Saturday.

Hong Kong-listed Bank of Communications, the mainland's fifth-biggest lender, is investigating a fraud case involving 200 million yuan (HK$193.62 million) at one of its branches in northeastern China, according to a statement on its Web site.
China National Coal, a unit of the mainland's largest exporter of coal, is in talks with some of world's largest coal firms to take strategic stakes as it plans to file an initial public offering application in Hong Kong this month to raise US$1 billion, people familiar with the situation said.
June 12, 2006

Hong Kong: Heavy and persistent rain has once again lashed through Hong Kong, breaking up roads, disrupting school classes and adding to the workload of workers still trying to repair the damage caused by last week's heavy downpour.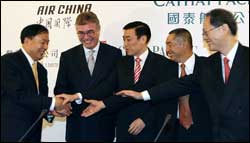 Cathay Pacific Airways may gain air rights from Dragon Airlines to Shanghai this year after it buys out the rival, according to Air China's senior management. "We are cost sharing, profit sharing and route sharing after the buyout deal," Air China chairman Li Jiaxiang said right after a press conference. "It is not an important issue who flies the Shanghai route," he added. Cathay, which resumed flights to the mainland in 2003 after a 13-year absence, has been slow in getting access to the world's most populous nation. It flies only to Beijing and Xiamen in the southeast, and has cargo flights to Shanghai. In the first round of talks with the mainland on April 10, Cathay did not obtain approval to open its third mainland destination. Dragonair and China Eastern Airlines are the only carriers that fly passengers between Hong Kong, which is Asia's third busiest airport, and the mainland's commercial center of Shanghai. "We badly wanted a significant presence in the mainland," Cathay chairman Christopher Pratt said. Dragonair's network "fits very, very well." Dragonair flies to 23 destinations in the mainland from Hong Kong.

Cheung Kong (Holdings), controlled by Li Ka-shing, has brought in private firm Nan Fung Development to develop the HK$15 billion Dream City Phase 2 housing project atop MTR Corp's planned Tseung Kwan O South station.
Hong Kong will soon allow Taiwanese to visit the territory for up to seven days without having to pay for an entry permit, the government said on Friday.

China: China's economy is facing heightened overheating signs, as outstanding bank loans surged 15.97 percent year on year by the end of May amid a seemingly unabated investment binge.
China's actual foreign direct investment(FDI) in 2005 amounted to 72.4 billion U.S. dollars, up 19.42 percent over that of 2004, the revised statistics released by the Ministry of Commerce showed here Thursday.

China Mobile Limited yesterday acquired almost 20 percent of Phoenix Satellite TV Holdings Limited from News Corp, a breakthrough in China's regulatory system on telecom and broadcasting networks.
Bank of China's A-share offer price has been set at between three yuan and 3.10 yuan (HK$2.90-HK$3) after the China Securities Regulatory Commission approved its mainland listing Friday, sources said.
CEC Telecom, the mobile-phone manufacturing subsidiary of Nasdaq-listed consumer electronics firm Qiao Xing Universal, plans to seek a listing on the same board to raise US$150 million by the fourth quarter of this year.
June 9 - 11, 2006

Hong Kong: Hedge funds and their derivative products, which came under close scrutiny during the Asian financial crisis of 1998, should again be watched closely by the world's financial regulators to limit possible systemic risk, Acting Chief Executive Rafael Hui Si-yan said Wednesday.

Cathay Pacific Airways, Hong Kong's largest airline, plans to spend HK$4 billion to double its holding in Air China to 20 percent to strengthen the relationship between the two companies, according to reports.
Cathay Pacific Airways and Hong Kong Dragon Airlines would probably wrap up talks on Thursday about Cathay's bid to take over the smaller carrier that has highly coveted routes to the booming mainland market, a person familiar with the negotiations said.
The Independent Commission Against Corruption has arrested four people, including a disc jockey and a deputy head of Radio Television Hong Kong, on corruption-related charges.
A police officer flags down a bus during a search for a robbery suspect who fled in handcuffs last night. About 6pm, three South American women entered a jewellery and clothing shop near Southorn Playground in Wan Chai. Suspecting they were thieves, the shopkeeper called police, who arrived soon after the trio fled. With the shopkeeper's help, police managed to arrest and handcuff one suspect. However, while she was being searched, she bit an officer's arm and fled. Roadblocks were set up and buses stopped to check for the woman. Late last night, she was still at large.
The ratings agency Standard and Poor's said on Thursday Macau may overtake the Las Vegas Strip as the biggest gaming market in the world in terms of revenue within the next few years.

China: What do the American enterprises in China think about Sino-US economic and trade relations? Perhaps the annual White Paper on American Businesses in China issued by the American Chamber of Commerce in China has something to say. The paper shows that almost all the US companies polled, highlight the importance of US-China commercial relations and are optimistic about their prospects in China, most regarding China as top priority for investment and have thus provided tempting offers for their entry into the Chinese market.

The electric passenger locomotive developed by China independently debuts in Shanghai on June 6 and will run on the Beijing-Shanghai rail. The SS9, as it is called, is the highest powered of its kind on China's trunk lines. It has integrated many advanced technologies and the highest speed is 170 kilometers per hour.
China's national planning agency has approved Airbus' selection of Tianjin for the location of its A320 jets assembly line, the first outside the aircraft maker's European base.
China has strengthened the enforcement of IPR protection laws and launched campaigns against violations, Bo said while meeting European Union Trade Commissioner Peter Mandelson.

Customers look at economy cars for sale in Nanjing, East China's Jiangsu Province. Economy cars with low emission were among the best-selling cars in China in the first five months of the year.
The cabinet yesterday gave in principle approval to a draft anti-monopoly law which would provide a free and fair competitive environment to all enterprises.
Multinationals will be allowed to invest in the Chinese currency-dominated A share market through their investment subsidiaries in China as of July 1.
June 8, 2006

Hong Kong: Far East Consortium International, the last remaining independent developer participating in Las Vegas Sands' Cotai Strip project in Macau, is in talks to give up half its stake to the US gaming giant. Gaming company Las Vegas Sands plans to develop and own a resort in Macau that will be managed by Fairmont Raffles Holdings International, the two companies have announced.

Sinopec Shanghai Petrochemical shares surged 13 percent before its suspension from trading in Hong Kong, after being suspended in Shanghai more than an hour earlier without any reason given.
The Independent Police Complaints Council, comprising members appointed by the chief executive, has "attacked and interfered with the right to privacy" after it misused and negligently leaked on the Internet details of police complainants, according to a writ filed in the High Court.

Miss Hong Kong 1998 second runner-up Natalie Ng Man-yan hams it up at the Festival Walk premiere of The Omen yesterday. The show started at 6.06pm to correspond with the "666" mark of the anti-Christ.
Hong Kong helped raise about US$21 billion (HK$163 billion) last year through initial public offerings, acting-Chief Executive Rafael Hui Si-yan revealed on Wednesday.
Oscar-winning Taiwanese director Ang Lee was in Taipei on Wednesday casting for his new project, the spy thriller Lust, Caution, which will be filmed in Hong Kong later this year.



Carlson Tong thinks the listing committee should adjust the profitability criteria according to the nature of the companies.

China: As the fastest changing city in Europe, Moscow now has a strong Chinese imprint - Chinese workers are building Tower A of its tallest building - Complex Federation.

A Thai company sells Thai fruits at the Kunming Conference and Exhibition Center, Yunan Province, on June 6, 2006. It took three days to convey more than 40 tons of Thai fruits under 7 categories in refrigerated containers from east Thailand to Kunming via the water and land route along the Mekong-Lancang River.
Zhou Xiaochuan, Governor of the People's Bank of China says there is no plan to further increase the interest rate, because the results of last increase still needs to be observed.
9.5 Million sit for College Exam this year - today's college entrance exam is often likened to thousands of people and horses trying to cross a narrow footbridge

It took less than 13 seconds yesterday for nearly 200 tons of explosives to tear down the Three Gorges cofferdam, built in 2003 to enable construction of the main dam.
Citigroup Inc's property unit plans to increase its investment in Chinese mainland's real estate market tenfold to US$800 million in the next three years, a senior company official said.

Bank of China, which raised almost US$10 billion (HK$78 billion) before listing in Hong Kong last week, has applied to raise up to 20 billion yuan (HK$19.37 billion) on the Shanghai Stock Exchange.
Deloitte Touche Tohmatsu became the latest international audit firm to cite the mainland's shortage of accounting talent as its biggest obstacle to expansion in the country, where runaway economic growth and a thirst for capital is fueling demand for audit services.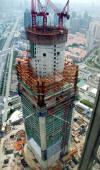 The 101-storey Global Financial Centre takes shape in Shanghai. At 492 metres, the Japanese-built structure will be among the world's tallest when completed in 2008, but shy of the 509-metre Taipei 101.
The State Council has set the tone for the development of Tianjin's Binhai New Area, giving its backing to financial and land reform experiments along with promising a wealth of tax breaks to investors and subsidies to local authorities.
June 7, 2006

Hong Kong: Shares of five companies, including Cathay Pacific Airways and Air China, were suspended from trading Monday amid a pending takeover of Dragonair by Hong Kong's flag carrier, Cathay Pacific. Cathay Pacific Airways shares remained suspended for a second day on Tuesday amid growing speculation that it was planning to take over rival Dragonair as part of a substantial industry restructuring.

Shui On Land, a mainland property developer controlled by tycoon Vincent Lo Hong-sui, launched its HK$7.68 billion initial public offering Monday at a relatively wide indicative price range due to the volatility of China related property plays.
Morgan Stanley, Standard Chartered and China Construction Bank have paid nearly HK$1.5 billion to become strategic investors in mainland developer Shimao Properties Holdings ahead of its HK$5.3 billion initial public offering, planned for early next month.

Financier Francis Yuen Tin-fan is to quit Richard Li Tzar-kai's flagship Pacific Century Group after 10 years with the company, allowing him to focus full-time on Pacific Century Insurance, a Hong Kong-listed insurance company founded by Yuen in 1994.
Government officials have told legislators the chief executive will not be subject to any criminal sanctions if he violates a new law set to be passed under a surveillance bill before the Legislative Council because the chief executive doesn't count as a "public officer."

US Consul-General James Cunningham tries his hand at cooking with San Francisco-based celebrity chef Martin Yan at the launch of United Tastes of America, a month-long promotion of American food and agricultural products in Hong Kong.
Fresh from a share listing in Hong Kong that raised US$9.7 billion (HK$76 billion), the Bank of China on Tuesday said it planned to move ahead with a US$2.5 billion initial public offering in Shanghai.

China: By 2010 the expenditure of Chinese luxury goods will amount to 500 billion Yuan, becoming the third largest luxury goods market, only after the US and Japan.

Explosives are set off to demolish the last cofferdam protecting the just-completed main wall of Three Gorges Dam on the Yangtze River in Yichang, central China's Hubei Province, on June 6, 2006. The removal of the cofferdam means the main dam will formally begin its role in flood control, two years ahead of the schedule. Demolition of the last cofferdam protecting the just-completed main wall of the Three Gorges Dam, the world's largest, started at 4:00 on Tuesday afternoon in the middle reaches of the Yangtze River, China's longest, with explosives enough to topple down 400 10-storey buildings.

The majestic appearance of Hangzhou Bay Trans-sea Bridge. Till now, 65% of the Hangzhou Bay Trans-sea Bridge that was contracted to China Railway Engineering Corporation (CREC) has been completed. From a bird's-eye view, the Hangzhou Bay Bridge will look just like a dragon lying curled on the waves of the Hangzhou Bay area, east China's Zhejiang Province. The 10 billion yuan, S-shaped bridge will shorten the ground distance between Ningbo and Shanghai. Its completion will add two records to bridge construction history. Around 36 kilometers in length, it will be the longest trans-ocean bridge in the world. It will also have been the most difficult to construct. A bridge over Hangzhou Bay was once little more than a fantasy for most experts in the field. At an early meeting to discuss the feasibility of the project, one expert said, "I think it is the infeasibility report, not the feasibility report that we should study." The expert's opinion was justified. At the time, China had no bridge-building program and lacked the technology, equipment and experienced personnel to undertake such a project. Hangzhou Bay is one of the world's three major gulfs and has strongest winds and biggest waves of them all. The waves frequently change direction making it difficult for construction vessels to maintain a position. Maritime operations are only possible for half the year. Seawater and strong currents have a corrosive effect on the steel infrastructure and just 10 kilometers beneath the seabed there are large pockets of natural gas, making construction extremely hazardous.
Zhou Xiaochuan, Governor of the People's Bank of China (PBC), says today that there is no plan to further increase the interest rate at present, because the results of last increase still needs to be observed.

Haier's booth at an exhibition. As China's leading electric appliances manufacturer, Haier ranks seventh in most valuable brands in China published on the latest-issued Chinese version of the Fortune magazine.
A new draft of a law unifying income tax rates for local and foreign companies will be tabled for a first reading by the National People's Congress Standing Committee in August and could be approved as early as March, according to finance and taxation officials.
The mainland faces an uphill battle to control environmental damage caused by the overheated economy, with pollution costing an estimated 10 per cent of gross domestic product, according to a senior environmental official.
Driven by surging domestic demand, China will overtake Australia as the largest market for professional information technology services in the Asia Pacific, excluding Japan, in the next four year.
June 6, 2006

Hong Kong: Hong Kong Special Administrative Region (HKSAR) and Yunnan Province agreed on Sunday to strengthen cooperation in logistics and tourism.

Cathay Pacific is expected to buy out its 17.8 percent-owned subsidiary Dragon Airlines for at least HK$10 billion to establish a firmer foothold in the fast- growing mainland aviation market, sources said.
First Shanghai Investments, a Hong Kong-listed investment holding firm with interests in mainland property and hotels, said its 80 percent-owned subsidiary has agreed to pay 85 million yuan (HK$82.3 million) to acquire commercial and residential properties in Zhongshan in Guangdong province.

There may not be 23 elite sportsmen representing Hong Kong in the World Cup, but businesses across the territory are going through intensive preparations to capitalize on what is perhaps the most popular quadrennial global event.
Chief Executive Donald Tsang Yam- kuen says Hong Kong can perform a middleman role to assist investors and entrepreneurs from the Pan-Pearl River Delta region develop closer ties with the 10-member Association of Southeast Asian Nations.
The Hong Kong Cyberport Management on Monday announced that Kowloon Motor Bus executive director Winnie Ng Wing-mui was appointed to its board of directors.

The Las Vegas Sands' planned "Marina Bay Sands" model is inspected by (from left) Sands executive vice-president Bradley Stone and president William Weidner, with City Developments executive chairman Kwek Leng Beng and complex architect Moshe Safdie. The head of the Las Vegas Sands on Tuesday said the US$3.6 billion (HK$28 billion) casino resort project it recently won the license to build in Singapore would make the Southeast Asian nation a key conference and tourism destination.
NagaCorp, a Cambodian casino operator owned by Malaysian tycoon Chen Lip Keong, plans to float its shares in Hong Kong this month, before the proposed share sale of Stanley Ho Hung-sun's giant casino operation Sociedade de Jogos de Macau (SJM) in July.

China: Construction began on Saturday on the Chinese side of a cross-border trade zone between China and Kazakhstan at Korgas in the Xinjiang Uygur Autonomous Region.

A surveyor measures a watchtower on a part of the Great Wall in Yanqing County of Beijing, capital of China, June 4, 2006. The first full scale survey on the over 600 kilometers of the Great Wall in Beijing is going on. It began last March and will be finished in two years.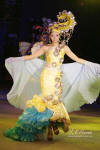 A model catwalks in fashion made from wastes in Beijing on June 4. This is the biggest and highest environmental friendly fashion show that has ever been held in China. Apparels presented are all made by waste ring-pull cans, plastic colts and CDs. It is sponsored by China Environment Culture Promotion Association.
Guangzhou R&F Properties, one of the largest developers on the mainland, plans to pour 10 billion yuan (HK$9.68 billion) into China projects this year, undeterred by government measures to cool the real estate market.
June 5, 2006

Hong Kong: It took five months for gold price to rise from 500$ to 600$ per ounce and one month from 600 to 700$. But this time the 100$ decline only took 20 days.
The CAD has entered into similar arrangements with Singapore and Canada and is in active discussions with the regulators in other countries to establish similar arrangements.
US nuclear scientist Wen Ho Lee, once a suspected spy for China, settled lawsuits against the US government and major news media for 1.64 million dollars.
Embarking on a six-day trade and investment mission to the developing southwestern provinces of Guangxi and Yunnan, Chief Executive Donald Tsang Yam-kuen appealed to Hong Kong investors to consider the region's huge business potential and to take part in its infrastructure development.
Hong Kong Disneyland has reacted cautiously to news that Ocean Park has been ranked the world's seventh most popular amusement park in a survey by Forbes magazine, urging critics to wait and see before passing judgment on Disneyland.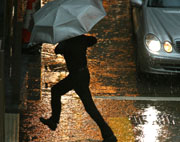 Red rainstorm, black sky: A pedestrian runs for cover on Pedder Street at 1pm yesterday, when nighttime darkness came to daytime Central. Parts of Hong Kong recorded up to 150mm of rainfall after the Observatory upgraded its rainstorm warning from amber to red at 11am. Floods also hit the New Territories and Kowloon.
The Hong Kong Exchanges and Clearing board yesterday caved in to pressure from brokers, backing down on a controversial plan to cut the trading spreads for all shares less than $20 next month. Hong Kong Exchanges and Clearing, Asia's largest stock exchange by market value, will cut the size of its stock's board lots to 500 shares from 2,000 shares on June 26, making it easier for retail investors to buy the shares.
Hutchison Telecommunications International Ltd (HTIL), a unit of conglomerate Hutchison Whampoa, has agreed to license the mobile internet platform i-mode from Japanese mobile-phone carrier NTT DoCoMo for use in Hong Kong and Macau.

China: Developer Kerry Properties and hotel operator Shangri-La Asia, both controlled by the family of Malaysian tycoon Robert Kuok, have formed a joint venture with a Singaporean company - also controlled by Kuok - to build a multibillion-dollar mixed-use project in Tianjin.

Xiao Gang (C), chairman of Bank of China Limited (BOC), and Li Lihui (R), vice-chairman of BOC, celebrate the successful listing of H share of Bank of China Limited (BOC) in Hong Kong, south China, June 1, 2006. BOC was officially listed on the main board of the Hong Kong Exchange and Clearing Limited (HKEx) and the trading of the bank's H share began on Thursday. Its initial public offering was the world's biggest of the kind in six years.

A Benz booth at an auto exhibition in China. Daimler Chrysler plans to increase its input on China-made auto parts by eight fold over the next two years in a bid to step up localized production in its Chinese joint ventures.

A couple sample Cuban cigars at a Shanghai luxury goods fair. Soaring property prices have put home ownership out of the reach of all people except the wealthy. On Monday, the State Council unveiled new measures to control property prices, including requiring higher minimum deposits.
CNOOC, China's largest offshore oil producer, has arranged a 12.8 billion yuan loan at cut-rate interest to fund the acquisition of a Nigerian oilfield stake, its parent firm said yesterday.
June 1 - 4, 2006

Hong Kong: Bank of China Limited (BOC) was officially listed on the main board of HK Exchange and Clearing Limited and the trading of the bank's H share began on Thursday.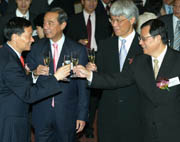 A toast at the Hong Kong Stock Exchange marks the market debut of the Bank of China, whose shares surged by an impressive 15.25 per cent. From left: bank chairman Xiao Gang, Hong Kong Exchanges and Clearing chairman Ronald Arculli, Hong Kong Monetary Authority chief executive Joseph Yam Chi-kwong and deputy director of the central government liaison office Zheng Kunsheng.
Hutchison Telecom Hong Kong, a unit of tycoon Li Ka-shing's Hutchison Telecommunications International, has teamed up with shareholder NTT DoCoMo to launch i-mode services in Hong Kong before the end of the year in a bid to boost sales.
The police force has announced a large- scale crackdown on illegal football gambling to coincide with the month of the World Cup - while at the same time asserting that illegal betting is "not serious."

China: Nearly 1.6 million Chinese policemen will work with unified certificates for the first time since the founding of the People's Republic in 1949.

Chinese President Hu Jintao talks with a handicapped child who is assisted by her teacher in the Beijing Children's Welfare Institute May 31, 2006 to mark the coming Children's Day.
A ban on land allotment for building villas will be strictly implemented, the Ministry of Land and Resources (MLR) announced on Wednesday.

An Airbus A340-600 wide-bodied passenger airliner at Shanghai Pudong International Airport. The north China city of Tianjin is to be the site of the European aircraft manufacturer's first overseas assembly plant.
China Development Bank, a state-run policy bank that mainly funds government-backed infrastructure projects, plans to raise between US$300 million and US$500 million from the first sale of asset-backed securities to international investors by a mainland financial institution, bank sources said.
May 31, 2006

Hong Kong: A rare underglaze copper-red Ming Dynasty vase was sold at a price of 78.52 million HK dollars (10. 13 million U.S. dollars) on Tuesday in Hong Kong, setting a world auction record for any Ming porcelain.
HSBC Holdings said it is going to hire about 1,000 employees to support rising demand for financial services in China, the fastest growing major economy.
A day after predicting that Bank of China H shares would rise up to 10 percent from the offer price of HK$2.95, analysts revised their forecast downward Tuesday, saying the shares are more likely to gain less than 5 percent in value on their trading debut tomorrow.

Hong Kong Housing Society boss David Lee Tsung-hei insists he will not step down as chairman despite having to wind up his surveying company due to a dispute over ownership, which has resulted in the loss of 120 jobs.
In light of the improving economy, a 2 percent wage hike for foreign domestic helpers in Hong Kong will come into effect today.
Hong Kong may be Asia's World City - but not when it comes to romance, it seems. Overworked, overstressed or perhaps just plain dull Hong Kongers are not only among the world's least frequent lovers, but some of its most miserable ones too, a global survey showed Tuesday.

Eastern District racers practise at the Chai Wan typhoon shelter for today's events.
The head of the beleaguered monitoring body that oversees complaints against police has been reappointed for a two-year term despite the recent controversial leaking of personal data on the internet.
A state leader who chairs the nation's top political advisory body will visit Hong Kong at the end of next month for activities celebrating the ninth anniversary of the handover.

China: A Bank of China (BOC) spokesman has confirmed the second biggest Chinese lender has "no concrete timetable" for a planned listing on China's mainland stock exchange, following its recent share offering in Hong Kong.

China and Japan sign agreements on holding dialogues and personnel training on energy efficiency at the first Sino-Japanese forum on energy saving in Tokyo, Japan on May 29. The three-day forum which was launched that day is attended by nearly 800 Chinese and Japanese representatives and focuses exchanges on energy saving and environmental protection.
Zhu Jianjun, director of the system reform section under the China National Petroleum Corporation's development research department, revealed that based on three major changes facing the oil industry.
US Treasury Secretary John Snow, the White House official credited with convincing Beijing to scrap its peg of the yuan to the dollar, resigned yesterday, with President George W. Bush nominating Goldman Sachs chairman Henry Paulson as his replacement.
Beijing's new measures to cool the red-hot property market will go some way to slow growth in capital investment and help rein in economic growth in some cities, analysts said. But the effectiveness of the measures would depend on how the policy was implemented, they added.
Asean and Beijing are expected to complete talks on the services component of a free-trade agreement this year, Malaysian Minister of International Trade and Industry Rafidah Aziz said in Hong Kong yesterday.
May 30, 2006

Hong Kong: Beijing North Star, the Hong Kong- listed property arm of Beijing city government, said it is ready to seek up to 3.5 billion yuan (HK$3.4 billion) through a listing on the mainland stock market, pending an announcement on the timing of the issue from the state securities regulator.

Leveraging on its unique position in emerging markets, Standard Chartered wants to focus its loan business in the mainland on small-to-medium enterprises, according to the China head of the UK-based lender.
Galaxy Semi-Conductor Holdings - which supplies electronic diodes to mainland TV makers TCL, Konda, Hiense and Changhong - said it will use 95 percent of the proceeds in its initial public offering in Hong Kong to expand production capacity.
Ocean Park has announced another record-breaking year at the ticket office after matching last year's figure of 4.03 million visitors in 10 months and 28 days.
The government is in discussions with Hong Kong hotel and travel organizations to enhance transparency in information regarding hotel bookings, Secretary for Economic Development and Labour Stephen Ip Shu-kwan said.
The Hong Kong Medical Association and the Consumer Council Sunday expressed concern over the loosely regulated cosmetic-treatment industry, saying the government should establish a standardized system to monitor the quality of beauty salons.
The Home Affairs Bureau, responsible for district administration and community liaison, is poised for a top-level reshuffle soon, as the chief executive moves to strengthen his work in this area.
Main features of the future Central harbor front would include an 18-storey hotel, two 14-storey office complexes, a 1.4km promenade and an arts precinct, under government plans unveiled yesterday.
Industrial and Commercial Bank of China, the mainland's largest lender, has earmarked US$3 billion worth of shares in its Hong Kong initial public offering to about 10 Hong Kong tycoons and groups, sources have said.

China: China should work out a national IPR strategy backed up by a sound legal and policy system, President Hu said in a study meeting.

A China Eastern's air hostess of India poses during an interview on May 26, 2006. A group of Indian air hostesses will be hired by China Eastern from May 27, 2006 and 16 of them will serve on the Beijing-Shanghai-New Delhi flights from June 1st, 2006.
The World Bank has promised in its new China strategy to lend up to 1.5 billion US dollars in loans to China annually during 2006 and 2010 through the International Bank for Reconstruction and Development, the bank said in a statement.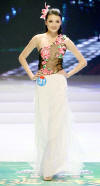 Chinese Yao Lan parades during the finals of Asia Super Model Contest in Nanning, Guangxi Zhuang Autonomous Region May 27, 2006. Yao won the "Best Stature Award." A South Korean model won the "International Friendship Award" and Wang Hui, another Chinese model, won the "T-stage Performance Award." Models from China, Japan and South Korea are competing in the contest.

A saleswoman at a gold shop in Zhengzhou, Central China's Henan Province, demonstrates a set of gold and silver badges decorated with the mascots for the 2008 Beijing Olympics Games. The badges were issued on May 26 across the country.
The mainland's biggest airfreight company, Sinotrans, plans to invest 1 billion yuan in the next three to five years to expand its network of container yards and container freight stations, as well as boost the capacity of its coastal shipping services in the Pearl River Delta area.
Vice-Premier Huang Ju, China's sixth-highest-ranking official, who was diagnosed with cancer, is planning to make a public appearance early next month to quell speculation about his health and reaffirm his political standing, mainland banking sources said.
Mainland companies catering to the country's growing appetite for consumer goods - everything from refrigerators to spirits - are attracting a growing share of the inflow of private equity capital as investors bet the economy will become less reliant on exports and more dependent on domestic demand.
May 29, 2006

Hong Kong: Las Vegas Sands Corp, the world's biggest casino company by market value, beat three rival bids to build Singapore's first casino-resort with an offer valued at more than S$5 billion (HK$24.5 billion). Its shares jumped 11 percent Friday morning in New York.

Henderson Group, controlled by tycoon Lee Shau-kee, has strengthened the portfolio and enhanced the competitive edge of its planned Sunlight Real Estate Investment Trust by throwing in nine more commercial properties.

Fish Chan, a 16-year-old student has been accepted by the Hong Kong University of Science and Technology for a degree course even though he has not yet completed sitting for his Hong Kong Certificate of Education Examination.

China: European Union Ambassador to China Serge Abou Thursday called on European intellectual property rights holders and Chinese retailers to sign a memorandum of understanding to jointly monitor IPR infringements.

ALATAW PASS, Xinjiang: Crude oil from Kazakhstan began flowing into Xinjiang in Northwest China yesterday the first time a pipeline has been used for imports. Crude oil from Kazakhstan began to fill the pipeline at Alashankou port in northwest China's Xinjiang Uygur Autonomous Region at 3:10 in the early morning, May 25, which marks the official operation of China-Kazakhstan oil pipeline. It is said that this is the first time for China to import crude oil from abroad via pipeline. Started in September 2004 and completed in October 2005, the 962.2-km km oil pipeline starts at Kazakhstan's Atasu in the west and terminates at China's Alashankou in the east.

Photo taken on May 25 shows actors and actresses at the press conference for the fourth piece of dance drama My Dream. The dance drama, including 13 pragrammes such as Qianshou Guanyin (Bodhisattva with 1,000 hands) and Butterfly Lover will be staged in Beijing on June 3 and 4.
France Telecom Beijing R&D Co., Ltd. recently joined the TD-SCDMA Forum to become the first foreign telecom in the China-developed 3G standard camp.

China has released Shanghai property tycoon Zhou Zhengyi on Friday after he completed a three-year sentence for stock market fraud and falsifying documents.

Geely's plant in Ningbo City, East China's Zhejiang Porvince, the independent Chinese carmaker expects Malaysia to further relax sales restrictions on vehicles it will build in the Southeast Asian nation.
A total of 103 Chinese companies are listed on the Singapore Stock Exchange (SGX), more than 14 percent of all companies listed in the country.
The Shanghai municipal government has outlined plans to support the city's small, competitive high-tech companies to enhance the city's technological competitiveness.
With property markets in leading mainland cities continuing their red-hot growth last month, a top banking regulator has urged commercial banks to tighten mortgage lending for buyers of luxury properties.

Chairman Xiao Gang says the departure of Bank of China's first chief credit officer would have no impact on its risk management.
American International Group (AIG), Hong Kong's biggest insurer, has been granted official approval to tap into the mainland's burgeoning group insurance business.
May 25 - 28, 2006

Hong Kong: Shares of Champion Real Estate Investment Trust tumbled 16 percent on their debut Wednesday, marking the first stock price slump among Hong Kong's real estate investment trusts and casting doubt over the prospects facing other upcoming property trust listings.

Chinese actors Daniel Wu (L), Zhou Xun (2nd L), Zhang Ziyi and director Feng Xiaogang (R) pose at a photocall for Feng's film "The Banquet" at the 59th Cannes Film Festival May 23, 2006.
Shares of Melco International Development and Publishing & Broadcasting soared Wednesday, after a report said the two companies have reactivated plans to list their Macau gambling joint venture on the Nasdaq stock market.
Shares in mainland port operator Tianjin Port Development, rose 26.33 percent on their Hong Kong debut Wednesday, less than the expected 30-40 percent rise due to weak market sentiment.
Bank of China, the mainland's second- largest commercial lender, has priced its initial public offering near the top of its indicative range, raising a record HK$75.4 billion, said sources close to the deal.
Economic losses as a result of air pollution has been estimated at HK$1.7 billion a year, Secretary for the Environment, Transport and Works Sarah Liao Sau-tung told the Legislative Council Wednesday.
Secretary for Environment, Transport and Works Sarah Liao Sau-tung recommends the novel Wolf Totem, written by Jiang Rong, at a ceremony to launch the "My Favourite Ten Books" poll yesterday. Forty-four local personalities have selected 42 books (some pictured left) for a list of recommended reading. Readers of all ages can vote for their 10 favourite books until June 25 through the website of RTHK, which organised the competition with the Leisure and Cultural Services Department.
A former Hong Kong official has dropped a legal challenge against a probe into a $125-million land scandal, judicial sources said Wednesday, ending a saga that had sparked accusations of government collusion with big business.
Star actors Jude Law, Rachel Weisz and Natalie Portman are to star in Hong Kong director Wong Kar-Wai's first English-language film My Blueberry Nights, his production company said in Cannes on Wednesday. The film, which will start shooting later this year, will also star pop jazz singer Norah Jones making her acting debut, according to a statement by Jet Tone. Grammy award winner Jones plays a young woman who sets off to travel across the United States in a quest to uncover the true meaning of love in the sensual romance. Wong, who is currently heading the jury at the Cannes Film festival, is known for his films such as In The Mood For Love and Happy Together. He is to start filming once the festival is over. Briton Weisz won an Oscar in March for her supporting role in The Constant Gardener. Her compatriot Jude Law, who played in The Aviator and former child star Portman, who appeared in The Professional (aka Leon) and more recently V for Vendetta are also slated for the cast. The Hong Kong Chinese director is also preparing a thriller called Lady from Shanghai starring Nicole Kidman, which is to start production next year.

"HSBC will go forward under the existing team and new leadership, and will continue to thrive and go from strength to strength," Sir John Bond said yesterday at his final informal annual general meeting with HSBC.
China Telecom Corp chairman Wang Xiaochu yesterday confirmed the mainland fixed-line telecommunications giant would spin off its network and engineering services unit for a Hong Kong listing.

China: The Chinese economy grew 10.3% in the first quarter, a tenth of a percentage point higher than earlier reported by the National Bureau of Statistics (NBS).

Accompanied by Chinese Vice Premier Zeng Peiyan (R), German Chancellor Angela Merkel rides the maglev (magnetic levitation) rail line in Shanghai, east China, May 23, 2006. Merkel arrived in China's financial hub of Shanghai on Monday night and wrapped up her China visit on Tuesday. History has proved that German leaders have adopted a more positive policy towards China after visiting the country. We believe Merkel will do the same.
Photo taken at night on May 23 shows that cars queue up in long line at a filling station for refueling in Beijing at the news that oil price would likely be raised the next day. According to National development and Reform Commission, China will raise the retail price of petrol, diesel and aviation fuel by 500 yuan per ton respectively starting from May 24. In Beijing, the price of 93-octane petrol will be raised up by 0.44 yuan to 5.09 yuan per ton.
China is scheduled to issue 30.56 billion yuan (3.82 billion US dollars) worth of treasury bonds as of Thursday, the Ministry of Finance announced Wednesday.
China's Ministry of Commerce has issued guidelines to the country's farmers and farm produce exporters on how to meet new Japanese import standards and avoid having their goods rejected.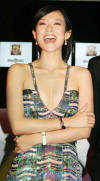 Chinese actress Zhang Ziyi smiles at a party for her movie "The Banquet" at the Majestic Beach during the 59th Cannes Film Festival May 22, 2006. Picture taken May 22, 2006.

Panasonic shows its 103-inch plasma television, world's largest at the Ninth China Beijing International High-Tech Expo, which opened at Beijing's China International Exhibition Centre yesterday. International firms, such as LG and Nokia, all presented their latest products at the event.
The Industrial and Commercial Bank of China (ICBC) and Alibaba Group teamed up yesterday to further promote the development of e-commerce and e-banking.
Lenovo Group chairman Yang Yuanqing branded a United States government decision not to use his firm's computers over security concerns as unfair and deeply concerning, state press reported on Wednesday.
May 24, 2006

Hong Kong: Hong Kong Chief Executive Donald Tsang said Saturday that Hong Kong's future will be the in hands of young people and their future will be Hong Kong's future. He said at an inauguration ceremony of "Hong Kong 200" -- a leadership development program for young people, that since Hong Kong's return to the motherland, Hong Kong has been implementing "one country, two systems," "Hong Kong people governing Hong Kong" and a high degree of autonomy. He said Hong Kong people, especially young people, should shoulder more important responsibilities in the new process of the history. The "Hong Kong 200" was initiated by The Hong Kong Federation of Youth Groups, and is aimed at enhancing their social responsibility and reinforcing their willingness to give back to the community. The 10-year-program will select 200 youth leaders every year for intensive training in Hong Kong and Beijing. The criteria for selection will be based on outstanding academic performance, already demonstrated early leadership potential and a commitment to serve the community.
Cathay Pacific Airways has been named "Airline of the Year 2006" by global travel and transport information company OAG (Official Airline Guide) at its prestigious 24th annual awards ceremony in London earlier this week.

A spokesman from the Chief Executive's Office has downplayed any political implications of a weekend meeting between Donald Tsang Yam-kuen and his former colleague, Anson Chan Fang On-sang. Chan, a long-time favorite of pan- democrats to replace Tsang, served as Hong Kong's second-ranking official from 1993 to 2001. The two met after Chan went to Macau for an informal "reunion" with former Executive Council members Rosanna Wong Yick-ming, Denis Chang Khen-lee, Vincent Cheng Hoi- chuen and Edward Chen Kwan-yiu, local Chinese-language papers reported Sunday, splashing the news across their front pages. Tsang was quoted as saying he showed up at the reunion to "have a good time together." But when asked by reporters whether or not the secret meeting had been arranged by Beijing, Tsang answered: "No comment, no comment, absolutely no comment. Sorry." The meeting was widely interpreted as a softening of relations between the pair. Chan, who marched alongside pro- democracy protesters on July 1 last year, has been seen as a political rival to Tsang.

Li & Fung has bought the purchasing arm of KarstadtQuelle, according to the German retailer. Karstadt did not say how much the Hong Kong trading firm had paid for KarstadtQuelle International Services but sources last month said that the price was between US$100 million and US$200 million (HK$780 million and HK$1.56 billion). The German retailer said its goal was to expand future import volume to over two billion euros (HK$19.81 billion) a year, and that Karstadt by 2008 planned to settle 80 percent of its volume in Asia. Li & Fung will also be in charge of imports for Karstadt. The retailer said Saturday it expects "significant savings" from the cooperation with Li & Fung, a reduction of up to 10 percent on purchase prices and a considerable extension of terms of payment.
Chief Executive Donald Tsang Yam- kuen, top officials and soldiers of the People's Liberation Army's Hong Kong garrison have been invited to join pro-Beijing groups in celebrating the ninth anniversary of the handover on July 1.
Hong Kong Convention and Exhibition Centre's sister company has entered into a joint venture with China's Zhengzhou International Convention and Exhibition to run and manage a 270,000-square- meter facility in Zhengzhou near Shanghai.
China Citic Bank, the mainland's seventh-largest commercial lender by assets, is close to appointing Citigroup, Lehman Brothers and HSBC to help arrange a US$1 billion Hong Kong initial public offering, sources said.
Wharf (Holdings) and parent Wheelock and Co are seeking a loan of up to $5 billion to acquire properties for a real estate investment trust with a net asset value of more than $11 billion, according to people familiar with the situation.

China: Two German engineering companies have won contracts to jointly design the world's largest shiplift project with the design institute of the world's largest hydropower project at the Three Gorges on the Yangtze River. The information has been confirmed by both the China Yangtze River Three Gorges Development Corporation, developer of the project, and the Survey and the Design Institute of the Yangtze Water Resources Committee (YWRC). The vertical hoisting shiplift will raise vessels to the higher water level on the upstream side of the dam much more quickly than the operating five-stage shiplock of the gigantic hydropower project. The shiplift designing is the first Sino-foreign cooperation program in the designing of China's self-developed Three Gorges Hydropower Project, which went into construction at the end of 1994. The two German companies, Lahmeyeb and Krebs und Kiefer (K & K), have been entrusted to submit designs for the ship-container part of the structure by the end of this year, according to the project undertaker.

A hearing-handicapped college student (1st R) uses gesture language to answer questions raised by a representative of a corporation in Beijing, capital of China, May 20, 2006. A special job-hunting fair for handicapped students was held in Beijing on Saturday. Over 350 handicapped college graduates attended the fair. The date of May 21 is the the 16th National Day for Helping the Disabled.
Saudi Basic Industries (SABIC) confirmed on Saturday it was in talks with China's Sinopec on a petrochemical plant deal worth more than $1 billion.
A total of 1.27 million Chinese people entered for a two-day national accounting qualification examination which last from Saturday to Sunday, the Ministry of Finance said at its web site.
China National Heavy Duty Truck, the third largest heavy truck manufacturer in the mainland, plans to raise up to HK$3.9 billion through an initial public offering in Hong Kong by the end of the year to boost production capacity, bankers familiar with the situation said.
Using BitTorrent software to download Chinese-language films could be legal by year's end - the owner of the world's most popular file-sharing program plans to offer them for legitimate downloading.
The central bank chief has proposed dismantling the Agricultural Bank of China, the weakest of the big four state banks, but the lender is fiercely opposed to the idea and wants to list in Hong Kong.
Mainland locomotive parts supplier Zhuzhou Times Electric Group plans to raise US$200 million in a Hong Kong initial public offering by the third quarter of this year, according to sources.
The mobile device display unit of Compal Electronics has received approval from the Taiwan government to invest US$21 million in the Shanghai arm of a subsidiary it recently acquired from Philips Electronics.
May 23, 2006

Hong Kong: Having voiced concerns over Hong Kong's competitive edge amid the robust economic development in the mainland and after calling for better financial and economic integration, Chief Executive Donald Tsang Yam- kuen said Hong Kong could consider pegging its currency to the yuan.
Gas supplier Hong Kong & China Gas, or Towngas, plans to double its investment in the mainland to HK$12 billion over the next three years to capitalize on accelerating growth across the border.

Undeterred by the central government's plan to curb home prices, Henderson Land Development is actively pursuing investments in various projects, with intentions of pouring more than HK$1 billion into each project.
Asia Satellite Telecommunications, in which state-owned CITIC Group holds a 34.5 percent stake, plans to invest HK$1.4 billion to launch a new satellite to cash in on the growing demand from the broadcasting industry during the 2008 Beijing Olympics.
The decision by a High Court judge to give the government six months in which to get its unconstitutional covert surveillance bill put right will now be scrutinized by Hong Kong's top judges.
The troubled Hong Kong-Macau- Zhuhai bridge plan will be brought to the attention of Vice President Zeng Qinghong in the middle of next week by a leading pro-Beijing trade union as part of discussions on a variety of issues relating to cross-border cooperation between the governments of the SAR, Shenzhen and Guangdong province.

Pupils shout "no more smoking" at Olympian City 2 in West Kowloon yesterday as part of the Hong Kong Council on Smoking and Health campaign "Speak for All - Back Smoking Ban". The council will also launch a TV commercial and radio programme to promote awareness of second-hand smoke exposure and the coming smoking-ban legislation.
In a positive sign for Hong Kong's economy, re-exports of goods increased more than 16 per cent year on year in March, government trade figures released on Friday showed.

China: Foreign estimates of the construction costs of the Three Gorges Project, which are more than double the official budget, are wrong, said an official on Friday.

Workers place the final part of concrete for the main section of the Three Gorges Dam in the first rays of sun on Friday. The final part of concrete (about 1,017.5 cubic meters) placement for the main section of the Three Gorges Dam started at 4:00 a.m. on Friday in the middle reach of the Yangtze River.

Member of the Jury Chinese actress Zhang Ziyi arrives to attend the opening ceremony of the 59th Cannes Film Festival in South France's Cannes, May 17, 2006. The 59th Cannes Film Festival kicked off on May 17.
The Chinese Catholic church issued a notice Friday to all its branches nationwide asking all followers to "firmly boycott" "The Da Vinci Code".
China's newly-revised regulations on initial public offerings (IPO) came into effect on Thursday, another strong indication that China will soon allow IPO trading to resume.
A long-term grassland development strategy has been drawn up by the Chinese Ministry of Agriculture, which aims to restrict grazing and restore pasture in the next five decades.
China National Petroleum Corporation (CNPC), the nation's biggest oil producer, has cut its exports by 62 percent so as to help ease domestic short supply. CNPC's domestic supply has been increased by 9.2 percent, said the statement. Currently, the output capacity of CNPC's refineries has reached 99 percent, the highest level in history, it read. The oil producer's refineries will continue operating at full steam in May, ordering its sales enterprises not to raise the price of oil for any reason. It has also decided to postpone the maintenance of part of its refineries that should have been finished in the second quarter of the year.

U.N. Secretary-General Kofi Annan (L) and Chinese President Hu Jintao meet in the Great Hall of the People with the help of two translators in Beijing, China, May 19, 2006.
After months of discussion and planning, Beijing is finally set to raise taxi fares from 1.6 yuan (20 US cents) to 2 yuan (25 US cents) per kilometer from May 20, 2006.

Visitors stroll at the ruins of ancient Heishui City of the Xixia Dynasty (1038-1227), surrounded by drifting dunes, near Ejina Banner in west Inner Mongolia Autonomous Region. The city used to be an important part of the Silk Road, but most of its city walls are now buried in sand, and is threatened by encroaching gobi and desert. This picture was taken on May 14, 2006.
China's first pilot able to fly the A380 super jumbo jet, built by Europe's Airbus, is likely to be trained in autumn next year. Airbus will meet the Chinese aviation authorities and China Southern Airlines, China's first A380 customer, in June to decide detailed training plans for Chinese pilots and maintenance engineers. China Southern will receive its first A380 at the end of next year. "Usually flight training starts two or three months before the aircraft arrives and we will ensure the smooth transfer of knowledge to China Southern," said Guillaume Mille, customer support director at Airbus China Ltd. Pilots will be trained at Airbus' headquarters in Toulouse, France, where the company's only A380 simulator is currently located. Airbus is holding a five-day A380 technical seminar in Guangzhou this week. It is the first time the European aircraft maker has given detailed technical briefings to the Chinese aviation industry. Four Airbus A380 engineers from Toulouse have shared their knowledge about the aircraft's systems and technology with 30 engineers and officials from China Southern, the General Administration of Civil Aviation of China, and GAMECO (Guangzhou Aircraft Maintenance Engineering Co Ltd).
The State Department says 16,000 computers it bought from a United States-based company partially owned by the Chinese government should be used only for unclassified work after a legislator blasted the purchase as potentially dangerous to national security.
Urban fixed-asset investment in the first four months of the year grew 29.6 per cent year on year, well above the government's projection - increasing the likelihood of more measures to rein in mainland economic growth.
May 22, 2006

Hong Kong: The Hongkong and Shanghai Hotels, owner of the Peninsula Hotels, expects to go ahead with its planned Shanghai project at the end of the year if the hotel development wins approval from the city's environment and transport departments.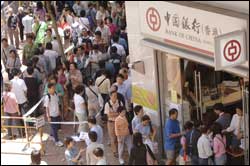 Bank of China Limited (BOC) started its Hong Kong public offering Thursday, and Hong Kong citizens lined in queues in a number banks in Hong Kong for getting application forms in the morning. Investors snaked around banks to get a prospectus and a form to sign up for a piece of what is expected to be the world's biggest IPO this year. The Beijing-based lender is offering 25.6 billion new shares at between HK$2.50 and HK$3 each to raise up to HK$76.7 billion.

Hong Kong will host an economic summit in a bid to avoid being overshadowed by the mainland's robust economic development. The summit will be held in September to gather views on short-term strategies for Hong Kong to better integrate with the mainland's economy, Chief Executive Donald Tsang Yam-kuen said Thursday. Top businessmen, labor representatives, economists and academics will be invited to discuss ways for Hong Kong to act as China's intermediary in areas such as yuan trading, demand for raw materials, consumption patterns of the mainland market, and to help the mainland address its energy shortage. Tsang said he and Financial Secretary Henry Tang Ying-yen will jointly lead the high-level summit and draw up a report on new strategies next year. Tsang also announced that ties between Hong Kong officials and central, provincial and municipal governments would be improved. There will be more cross-border visits and exchanges. Outlining the implications for Hong Kong in the mainland's 11th Five-year Plan announced in March, Tsang stressed the SAR should closely look at the new economic blueprint for 2006 to 2011 and identify more trade and investment opportunities in national policies on social-economic transformation. "Despite Hong Kong's privileged position being reaffirmed in the national social and economic policy blueprint, we should not be complacent but mindful about the mounting pressures we are facing over the coming years. With China's flourishing economic growth and the impact from globalization, Hong Kong will be overtaken if we do not progress. "As an international financial center we differ from London, New York and Paris because the currency of our country is not convertible despite the free flow of the Hong Kong dollar," Tsang said. But he expressed optimism that ample opportunities are arising from the yuan liberalization policy. He said top financial officials had been examining ways to tap the currency's development - ways to activate yuan banking services and corresponding measures such as new derivatives.
Hong Kong's unemployment rate dropped to 5.1 per cent in April - the lowest in more than four years, government statistics released on Thursday showed.

China: The Three Gorges Dam is strong enough to resist terrorist attacks, said official of China Yangtze River Three Gorges Project Development Corporation.

Chinese actress Zhang Ziyi, a members of the Jury of the 59th International Cannes Film Festival attends a press conference in Cannes, Southern France, May 17. The 59th Cannes film festival opened officially on Wednesday.
China's first independently developed modern steel production line was put into operation on Wednesday at the Anben Steel Group in Liaoning Province in China's northeast, expanding the producer's capacity to 15 million tons from 10 million tons. The base for the steel plates in west Anben Steel, as the program is called, is internationally advanced in terms of design, techniques, equipment and management by applying numerous state-of-art metallurgy technologies. The project is smart, efficient and environmental friendly. It has made many records nationally and internationally. There is China's largest 260-ton converter and the world's first double four-strand casting production line which makes it possible to have billets automatically conveyed and processed into a converter. It also has China's first 2-meter plus wide localized hot rolling and cool rolling production line, which is at the world's advanced level.
China ended a yearlong ban on initial public offerings today, allowing companies to submit applications for share sales to the securities regulator. The China Securities Regulatory Commission issued new rules on initial share sales on its Web site today, after a government program to trade more than $200 billion of mostly state-owned stockholdings was implemented without causing a market slump. China halted share sales in May last year to prevent a flood of equity as companies converted non-tradable, mostly government holdings into common stock. Industrial & Commercial Bank of China and Air China Ltd. are among the nation's biggest companies that plan to sell domestic shares once the ban is lifted, tapping $1.9 trillion of household savings. "It's the natural next step," said Geoff Lewis, head of investment services at JF Asset Management Ltd. in Hong Kong, which holds about $73 billion in Asian assets. "It's a testimony to the success of their policy. That's what the A share market is there for, to raise money," he said before the announcement. Ending the ban may lure some of the $1.9 trillion of Chinese household savings out of banks and into equity markets as companies that are only listed overseas such as PetroChina Co. come back home to sell shares.
China's pension fund - the National Social Security Fund - raked in HK$258.5 million last Friday by selling part of its stake in two newly listed state- owned enterprises amid the start of the Hong Kong stocks correction.
May 19 - 21, 2006

Hong Kong: Despite the roller-coaster movement of global stock markets in recent days, today's Bank of China initial public offering is expected to receive strong demand from investors, with the response set to surpass that for its predecessor, China Construction Bank.

An exchange store staff shows a Chinese 100 yuan banknote (L) and a US$100 banknote in Hong Kong May 16, 2006. A recent rise in the yuan signals China has a more flexible currency and the government will press ahead with reforms, a Foreign Ministry spokesman said on Tuesday.
Hong Kong Disneyland has admitted that visitor numbers were lower than it expected during the May Golden Week, and said it will introduce new measures to boost figures during the summer. While Disney's corporate policy prohibits it from releasing attendance figures, managing director Bill Ernest admitted the numbers were behind initial predictions, though he is confident of hitting a first-year target of 5.6 million visitors. Ernest said the company has stepped up its marketing campaign in the mainland and Taiwan. Disney also brought thousands of its travel trade partners from Beijing, Shanghai and Guangdong to the Lantau theme park and its two hotels. Ernest said he expects the park to be busy during the summer, and that operating hours will be extended. The fireworks show would begin an hour later at 9pm. Responding to criticism that the park is too small and lacks the popular attractions of its counterparts in the United States, Tokyo and Paris, Ernest revealed Hong Kong Disneyland is planning to build an attraction, to be called Small World, in Fantasyland within two years.

Model brides parade after receiving a makeover from hairstyling and makeup artists taking part in a regional competition in Wan Chai yesterday. More than 300 participants from the mainland, Taiwan, Hong Kong and Macau showcased their grooming skills in the event, organised by the Hong Kong Hairdressing and Makeup Trade Workers General Union.
Hutchison Telecommunications International Ltd (HTIL), the emerging markets arm of Hutchison Whampoa, said its first-quarter net loss narrowed to $24 million from "about $100 million" a year ago on the back of strong subscriber growth in its two biggest markets, India and Israel. The growth more than offset lower per customer spending.

China: Chinese Minister of Commerce Bo Xilai said on Monday that China hopes the European Union (EU) to give full consideration to recognize China's market economy status at an early date. Bo made the remarks on May 15 when he met with the visiting EU Internal Market Commissioner Charlie McCreevy. Bo pointed out that EU's denial of market economy status to Chinese footwear manufacturers is apparently the practice of trade protectionism and does not conform to objective fact. China hopes the EU could face up to the fact that China's market economy system has been constantly improved. With China's steady development, the country's domestic market reached 2.6 trillion US dollars last year, which has created important conditions for a balanced trade between China the rest of the world, and the trend would continue, said Bo. China now attaches great importance to the intellectual property rights (IPR) protection and has achieved remarkable progress in rectifying and standardizing the market order. China is ready to cooperate with the EU in promoting a fair play field, setting up a complete market rule system and promoting business exchanges with the EU members, said Bo. China is so far the EU's second largest trade partner and the EU is China's No.1 trade partner, a long-term cooperation between the two will see bright prospect, said Charlie McCreevy.
China is expected to start negotiations for its entry into the WTO Government Procurement Agreement (GPA) and submit a list on the opening of the government procurement market before the end of next year.

Luan Enjie, chief commander of China's lunar orbiting program, speaks at a lecture on the development of China's space flight and moon probe at the China University of Geosciences in Wuhan, central China's Hubei Province on May 16, 2006.
Premier Wen Jiabao hosted a general meeting of the State Council Wednesday, discussing proposals aimed at helping the mainland property market develop in a healthy and balanced way.
Industrial and Commercial Bank of China, the mainland's largest bank, said it sold 5.8 billion yuan (HK$5.62 billion) worth of insurance products for China Life Insurance in the first three months this year, benefiting from the launch of new products and an improving insurance product system.
After weeks of hand-wringing over soaring property prices, the central government yesterday announced six measures to cool the overheating property market, with promises to build low-cost housing and punish developers who hoard land or drive up prices.
Three months after launching a nationwide campaign against corruption, the top anti-graft body said yesterday that it has received leads in more than 9,000 cases of commercial bribery, nearly half of which were already being investigated.

Shanghai Pudong Development Bank says its new credit card will lead to a "revolution" in the mainland's payment card industry.
Tianjin Port Development Holdings closed the retail portion of its initial public offering yesterday almost 1,700 times covered, setting a new record for Hong Kong and ensuring the stock will be priced at the top of its indicated range.
NetEase.com, China's biggest online games provider, said first-quarter net profit and revenue were better than expected as a result of strong sales of its popular games such as Fantasy Westward Journey.
May 18, 2006

Hong Kong: The recent IPO frenzy is still attractive to retail investors betting on two upcoming initial public offerings - Tianjin Port Development and Champion REIT - which will lead to at least HK$90 billion in funds being tied up.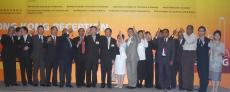 The Trade Development Council has opened a consultant office in India, an economic and trade partner of increasing importance to Hong Kong. Located in the business capital of Mumbai, the office was formally inaugurated on Monday (8 May) at the start of a high-level TDC mission to India. "It will serve as a first contact point for all Indian companies interested in doing business with Hong Kong or in using Hong Kong's platform to do business with China," said Deputy Executive Director Alan Wong. "India is becoming more important as a market for Hong Kong products and a consumer of Hong Kong's business services by Indian companies reaching out to the Asia Pacific, especially China," he added. "TDC will provide practical advice as well as sourcing information and contacts in Hong Kong, so as to bring them closer to this region." The formal office opening coincided with TDC's largest-yet event in India: a business seminar entitled 'Hong Kong - India: partners for a new era of opportunity'. It attracted capacity attendance of more than 500 Indian business executives. The keynote speaker was TDC Council Member Dr David Wong who outlined the advantages of working with Hong Kong both for China business and expansion by Indian companies into other parts of Asia. Also on the mission, which continued to New Delhi, were leaders of 10 Hong Kong companies from various industries and sectors including garments and jewellery, finance, logistics and retail. All were looking for new opportunities in India. India is a priority emerging market in TDC's 2006/07 promotional programme. More large-scale promotions are planned for the months ahead.
Hutchison Telecommunications International Ltd, a unit of tycoon Li Ka-shing's Hutchison Whampoa conglomerate, has no urgent plans to spin off its Indian telecom unit because it has strong capital reserves, chief executive Dennis Lui said.
New World China Land, a subsidiary of conglomerate New World Development controlled by Hong Kong tycoon Cheng Yu-tung, has agreed to acquire controlling interest in housing projects in Chengdu and Changsha for a combined HK$1.1 billion.
Phoenix Satellite Television has been granted a 12-year license to provide satellite broadcasting services from Hong Kong. The non-domestic TV program service license takes effect today until May 16, 2018.

China: US policies on visa approvals and technology exports are hindering American companies' efforts to develop markets in the mainland, the American Chamber of Commerce in China said. Visa procedures deter mainland businessmen from visiting potential trading partners in the United States, it said in an annual white paper, released Tuesday. Many technology products barred from US export are already "readily available" within China or from other exporters, it said.
The Shanghai and Shenzhen stock exchanges issued new trading rules yesterday, helping drive the country's stock market to a nearly two-year high.

The picture taken on May 14, 2006 shows a view of the giant dam of the Three Gorges hydropower project under construction on the Yangtze River. There are less than 3,000 cubic meters of concrete left to be placed before the dam is finally completed on May 20, 2006, nine months ahead of the schedule. The completion of the construction for the dam, 2,309 meters long and 185 meters high, marks the principal part of the project is done.
Japan and China will hold talks aimed at solving their tow over gas and oil exploration rights in the East China Sea on Thursday in Tokyo.
The China Securities Regulatory Commission (CSRC) announced Monday its decision to approve the program by the Yantgze Hydroelectric Power Co. to issue warrants, the first financing project by a listed firm that has been given the green light by the regulator for a year.
Microsoft launched a technology center in China's southern coastal city of Guangzhou on Monday which aims to promote the advance of information technology (IT) in China through cooperation with local software developers.
The fact that the psychologically important level of 8 yuan per US dollar was breached yesterday justifies the Chinese monetary authorities' growing concern over excessive liquidity. Yesterday, constant appreciation pressure finally pushed the official central parity rate for the Chinese currency versus the US dollar up to 7.9982 yuan per US dollar - the highest level since a 2.1-per-cent revaluation last July.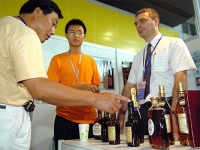 Imported wines are a familiar sight in restaurants and shopping centres in Shenzhen. The number of retailers selling imported wines is also on the rise. First-tier cities like Shenzhen are in fact the beachhead for all kinds of foreign wines after China slashed import tariffs.
May 17, 2006

Hong Kong: The yuan may appreciate faster and even strengthen to gain parity with the Hong Kong dollar this year after the mainland currency broke through an important psychological barrier against the US dollar.
Two applications from developers relating to a Cheung Chau residential site were received but rejected by the government in April, according to the Lands Department, after authorities entertained no auction applications from developers in the seven months to March.

The property arm of tycoon Li Ka-shing's ports-to-property conglomerate Hutchison Whampoa Holdings will raise prices for phase two of its luxury residential project in Beijing by up to 15 percent on the back of brisk sales for the first phase.
Hong Kong's low mandatory retirement age - coupled with its rapidly aging population and one of the world's lowest birth rates - will lead to a "brain drain" unless the government and individuals plan for the future, a researcher on aging and a legislator said.

A number of so-called health or fat-free food products on the market have a sugar content greater than that claimed on the labels, the Consumer Council said Monday.

Buyers browse through the wares on offer at the International Museum Day carnival in Tsim Sha Tsui yesterday. About 7,200 old museum publications, some of which had gathered dust after being left unsold since being published 16 years ago, were snapped up during the two-day carnival, aimed at arousing young people's interest in museums.
Hong Kong began preparing for its first typhoon of the storm season Monday as Chanchu began whirling toward the city after killing nearly 40 people and leaving thousands homeless in the Philippines.

Stephen Weaver says the Venetian casino resort is being developed on a mega scale and will dwarf the Venetian in Las Vegas. US gaming company Las Vegas Sands expects to generate US$130 million annual operating income from the 1.2 million square foot shopping mall at its flagship Venetian casino resort in Macau, company executives said.

China: The exchange rate of the U.S. dollar against yuan hit a record 1:7.9982 on Monday, the highest level since China appreciated its currency on last July 21.

(University of Illinois at Urbana-Champaign Chancellor Richard Herman interviewed by Yong Tang of China Daily (highlights)) - "We share so many things with the Chinese people" - In 2005. I have been to Zhongshan University, Fudan University. In Beijing I met with Chinese Minister of Education and Minister of Science and Technology. Then I went to Tsinghua University. The campus of the Tsinghua University was designed by a graduate from here. I was in an effort to see how we can increase our relations with Chinese universities and Chinese private sectors. So far we partnered with Tsinghua University, Peking University, Fudan University, Zhongshan University, Wuhan University, Xiamen University, Lanzhou University, Gansu Agriculture University, Xibei University, Sichuan University. We are also trying to create a different kind of partnership which involves private sectors. Caterpillar is an American company with many plants in China. Chinese students could study in China for three years and come here for two years plus an internship in the company so they will get a Bachelors degree from Chinese universities and then they get Masters degree here and then do internship in the company. When they finish everything for five years they will go back to China and work in Kraft and Caterpillars and Motorola and Johnson and Johnson, etc. Gu Binlin, Tsinghua University President, came here and we talked about this. He liked the idea and so Tsinghua University will probably be the first Chinese university who sign up for this program. Instead of studying abroad in a university, our students will also study abroad in a company in China. We will provide our students Chinese language training here and then send them to China to work in a company for six months and then they could get some academic credits for it and then they come back. Chinese students are very hardworking. At the undergraduate level we have 67 Chinese students. There are 806 graduate Chinese students. I want to increase the number of undergraduate Chinese students here. Students learn from each other. If you want to become a citizen of the world, you should meet students from other countries. Most students here have negative perceptions about China or even have no perceptions at all. But when they come back from China, they will change in a very positive way. Chinese film director Ang Lee (An Li), who is also a UIUC alumnus recently we were just together in the Carnegie Hall in New York. He and his wife both were students here. His wife got a PHD degree in microbiology. He sent me a greeting card. He is a wonderful person. At the very beginning I found him very quiet. But when he heard the school songs of Illinois being played at Carnegie Hall, he got very animated. He is very much a basketball fan and very loyal to the university. Actually his wife just sent us a very nice donation. They are very generous. We count on them as friends. When Ang Lee won 2006 Best Director Oscar for Brokeback Mountain, we sent him congratulation.

China's largest nuclear power generator has been connected to the national power grid, the China National Nuclear Corporation (CNNC) announced Saturday.

Soccer shaped clocks at a shop in Huaibei city, Anhui Province. Some shops have offered products related to soccer to exploit business opportunities brought about by the upcoming 2006 FIFA World Cup which will kick off in Munich on June 9.
Machinery and electronics products remain the major driving force of China's exports.In imports, China saw a slight increase in refined oil and soybean, but a sharp decrease in steel.
Global auditing firm Ernst and Young has withdrawn a report saying China's non-performing loans (NPLs) totaled over 900 billion dollars, apologizing for what it called an "erroneous" publication.
Diesel shortages have re-emerged in Guangdong with the provincial government urging gas stations to give priority to public transport and prevent hoarding, state press said.
Chinese retail sales, the main indicator of consumer spending in Asia's second-largest economy, rose a brisk 13.6 per cent last month, state media said on Monday.
May 16, 2006

Hong Kong: Hong Kong PCCW Global and China Telecom Group announced Thursday they have launched the first-ever private line Ethernet service providing high bandwidth connectivity between Hong Kong and China.
The amount of construction waste disposed of at public landfills has decreased 40 per cent over the last four years, Secretary for the Environment, Transport and Works Sarah Liao Sau-tung said on Friday.
HSI Services, the compiler of the Hang Seng Index, said 15 H shares are eligible for inclusion in the benchmark index in August. Meanwhile, changes to the index compilation methodology are being recommended to better fit prospective H shares in the blue-chip index. The index compiler said in February that H-share firms, whose businesses are registered in the mainland while their shares are traded in Hong Kong, will be eligible for inclusion in the 37-year-old Hang Seng Index for the first time. In February, only four H shares - China Construction Bank, Angang New Steel, China Shipping Development and ZTE Corp - satisfied the new guidelines for inclusion. Now with more H-share firms having completed their share reform plans, a total of 15 are eligible for inclusion, said HSI Services Friday, after the market closed. A mainland company eligible for HSI inclusion will be able to have H shares alone, or both H shares and mainland-listed A shares, but in neither case will it be allowed to have any nontradable state-owned shares. But for index compilation purposes, only the H-share portion is counted if a company has other forms of share capital such as A shares. HSI Services is proposing six alternative methods to compile the index in order to fit the inclusion of H shares and react to the increasing influence of H shares in the stock market.
Asia Television, the smaller of Hong Kong's two terrestrial broadcasters, has agreed to sell a 22.2 percent stake to mainland cable-TV operator CITIC Guoan, a unit of state-owned CITIC Group.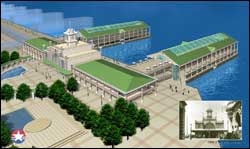 Star Ferry says the outlook remains bleak for its new ferry terminal in Central, scheduled to open mid-July, as the company faces the prospect of losing more than a third of its passengers. "We are under huge financial stress right now, so we're looking for all possible alternatives," said Frankie Yick Chi-ming, Star Ferry managing director. Speaking Friday at the Hong Kong General Chamber of Commerce, Yick said the relocation of the pier to the area behind the International Finance Center 2 means commuters will have to walk an additional 200 meters each way. According to a survey commissioned by the company last year, the extra distance could dissuade as many as 13 percent of regular passengers. In addition, the government has proposed relocating the bus terminal at Tsim Sha Tsui ferry terminal and turning the area into a public plaza, taking away the pier's most important transport link.
Bank of China, the second largest lender in the mainland, received at least US$30 billion (HK$234 billion) worth of orders Friday, the first day of its international offering, market sources said.
Hong Kong-listed Li Ning, the mainland sportswear retailer, plans to cash in on the enthusiasm for sports generated by the 2008 Summer Olympics in Beijing to boost the number of outlets to a total of 5,100, up from the current 3,500 stores, the company's chief financial officer Tan Wee Seng said Friday.
CITIC Pacific, a Hong Kong-listed, Beijing-backed conglomerate run by billionaire Larry Yung Chi-kin, is negotiating to sell a 50 percent stake in its planned iron ore project in Australia to Chinese state-owned Wuhan Iron & Steel Group for about US$100 million (HK$780 million).

The US has sounded a blunt warning against Taiwan seeking independence, saying such a move would only mean war. In a hearing before a congressional committee on Wednesday, Deputy Secretary of State Robert Zoellick said that if Taiwan declared independence, the United States would be drawn into a war that it did not want between Taiwan and the mainland. During a hearing in which he highlighted the mainland's "near-term military build-up", Mr Zoellick said Washington had to be "very careful" in its balancing act between Taiwan and Beijing. "The balance is that we want to be supportive of Taiwan while we're not encouraging those that try to move toward independence," he said. "Because, let me be very clear: independence means war. And that means American soldiers, sailors, airmen and marines."

China: The People's Bank of China denounced Thursday a report by an unidentified overseas accounting company which said that the bad loan of China's commercial banks reached 900 billion U.S. dollars.
Though long and arduous the process might be, China will not make any discount on the principles and goals on its IPR Protection, said Yan Xiaohong, deputy chief of the National Copyright Administration of China at a seminar on encouraging self-innovation and advocating the use of authentic software. If we do not protect IPR, we could not realize the goal of building an innovation-oriented nation. China will continue to improve legislation and law enforcement in IPR protection to create a sound market environment for enterprises, said Yan. More than 40 representatives from foreign and domestic PC and software manufactures including Microsoft and Lenovo attended the seminar. Over the two years, Chinese government has done a lot of work in IPR protection. Generally speaking, China has achieved some progress, but meanwhile, it has to realize that IPR protection is a protracted and arduous task, it is impossible for China to establish a complete IPR protection mechanism in one day, we must make unswervingly efforts based on China's real situation, said Yan.
China's central bank is considering plans to require bigger deposits for housing loans as a way to rein in soaring property prices.
The average initial public offering in the Greater China area tended to be larger than in the United States and Europe even if the total value of the deals remain smaller, a report said on Friday.
Global music broadcaster MTV said it wanted to expand its presence in China by venturing into internet and mobile value-added services, a press report said on Friday.
May 12 - 15, 2006

Hong Kong: Hong Kong Monetary Authority Chief Executive Joseph Yam expected there might be differences in the pace of interest-rate revisions between Hong Kong and the United States, adding the U.S. interest rates will not be adjusted downward in the near term. Speaking to the media on Thursday, Yam said it is hard to say whether the U.S. interest rates have reached their peak as adjustments are made according to the country's economic situation, a Hong Kong government press release said. When asked whether local banks will raise interest rates, Yam said banks will make the decision having regard to their situation. Noting the Hong Kong Interbank Offered Rates are currently lower than the U.S. dollar London Interbank Offer Rate. Yam expected differences in Hong Kong and U.S. interest rates --but that they would be on the same level in the long run.
The Hong Kong Monetary Authority on Thursday raised its key interest rate a quarter percentage point, matching the overnight interest rate increase by the United States Federal Reserve.
Hong Kong's improving residential property market is expected to remain firm as leading banks did not follow the US Federal Reserve's quarter-point interest rate hike, and local lenders continue to offer mortgage incentives, industry observers said.
Bank of China, the mainland's second- largest lender, plans to distribute 35 and 45 percent of its net profits as dividends in 2007 and 2008 to lure investors to its initial public offering, according to the bank's preliminary listing document.
Tianjin Port Development Holdings, majority-owned by Hong Kong-listed conglomerate Tianjin Development Holdings, kicks off its public offering today, with plans to distribute 30 to 50 percent of its profit as shareholder dividends in order to attract investors.
Conglomerate Swire Pacific will seek to raise at least another HK$5 billion in the second half this year for capital expenditure and refinancing, officials said after the company's annual general meeting.

Six months after the world's first criminal conviction of a movie uploader, Hong Kong customs authorities have arrested a 16-year-old Kwun Tong student for using his home computer to make more than 600 songs and 20 movies available for free download on a personal Web site.
The level of awareness about intellectual property rights among businesses in Hong Kong remained "very high", a survey released on Thursday has found.
The value of exports of electrical and electronic products and wearing apparel recorded significant year-on-year increases in the three months ended March, figures released on Thursday showed.

KCRC's chief says the rail operator will shoulder the $115 million cost of fixing fractures in rolling stock and of replacing bad tracks.
The competitiveness of the United States economy, still the highest in the world, was being undermined by the US government, allowing more efficient and smaller Asian and Nordic economies to catch up, a leading ranking of the most competitive nations showed on Thursday.

China: China's 168 central state-owned enterprises (SOEs) made a combined profit of 157 billion yuan (19.6 billion US dollars) from January to March, up 10.3 percent on last year.

A 300,000-ton floating dock, the largest of its kind in the world, went into production on Wednesday in northeast China's coastal city of Dalian. Developed and built by the COSCO Shipyard Group Co., Ltd, the dock, which is 340 meters long, 76 meters wide and 27 meters deep, is capable of repairing 300,000-ton crude oil carriers, bulk freighters, and container ships, and rebuilding or converting other large watercraft.
In IMD's World Competitiveness Yearbook rankings 2006, China and India have leapt up the rankings, China from 31 to 19 and India from 39 to 29.
The U.S. said Wednesday that China was not a currency manipulator but pledged to "actively and frankly" push China toward faster exchange-rate flexibility.

A brick plant in Qidong coal mine of the Wanbei Coal Electricity makes 60 million bricks a year from some 200,000 tons of coal gangues. Qidong mine is a highly gas-intensive modernized coal mine. The non-coal production operation built on the cyclic use of gas, gangues and sewage saves the coal producer more than 30 million yuan a year.
The rally of Chinese shares is restoring confidence of investors. Experts attribute the rally to the reform of split shares and influx of capital into the market and forecast a bull.

Shaolin students perform at Shaolin Epo Wushu College in Dengfeng City in China's central eastern province of Henan May 11, 2006. Dengfeng is the largest centre for martial arts education in China with more than 80 kung fu schools and some 35,000 domestic and international students, according to local officials. The 1500-year-old Shaolin Temple is regarded as the birthplace of Chinese kung fu.
The booming Zhejiang Province in east China recorded 28.05 billion U.S. dollars in foreign trade in the first quarter, rising 24.7 percent from the same period last year.
According to the General Administration of Civil Aviation of China's statistics unveiled on May 10, Chinese airlines report 2.5 billion yuan (US$312.17 million) loss in the first quarter due to high oil cost, relatively excessive transport capacity and high operation cost.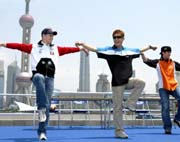 MotoGP riders, Casey Stoner, left, of Australia, Makoto Tamada, centre, of Japan, and 250cc rider Andrea Dovizioso of Italy, perform Kung Fu exercises during a photo session on Shanghai's Bund, with the skyline of the Pudong New Area behind on Thursday. The three riders are in Shanghai in preparation for the motorcycle Grand Prix of China, which will be held on Sunday.

General Cao Gangchuan, with Admiral William Fallon (centre), measures up an unidentified officer during their meeting in Beijing. Defence Minister Cao Gangchuan called for expanded contacts with the US armed forces yesterday, at the start of a visit by the commander of US Pacific forces aimed at rebuilding military ties.
Another mobile price war is on the way now that China Mobile has introduced lower tariff plans for domestic long-distance calls in Henan and Shanghai, its second tariff cut this week.
China's biggest Internet search engine has launched an online encyclopedia modelled on the United States-based website Wikipedia, which is blocked by Beijing.
May 11, 2006

Hong Kong: Hongkong and Shanghai Banking Corp and its subsidiary, Hang Seng Bank - sister banks and two of the three largest lenders by assets in the city - have seemingly opposing views on whether Hong Kong will follow the US lead in raising interest rates, given the bountiful liquidity in the banking system.

US financial services giant Citigroup will have to make up the difference after investor demand for the Sun Hung Kai Properties' HK$7.8 billion secondary share issue turned out to be cooler than expected.
With the Hang Seng Index soaring and hot initial public offerings coming one after another, Hong Kong Exchanges and Clearing nearly doubled its earnings in the first quarter.
Hutchison Telecommunications Australia, the nation's fourth-largest mobile phone company, said its controlling shareholder, Li Ka-shing, may take it private. Shares in the Sydney-based company rose 6 percent Wednesday.

Cardinal Joseph Zen Ze-kiun has a duty as a Hong Kong resident to help convince the Vatican to accept China's views on how to put relations back on an even keel, the mainland's most senior official in the SAR said Wednesday.
The government had increased measures to deal with badly behaved children who were under the age of 10 years, Secretary for Security Ambrose Lee Siu-kwong said on Wednesday.
The government was installing devices designed to segregate people from live poultry in wet market stalls - before a centralised slaughtering plant is built in 2009, Secretary for Health, Welfare and Food York Chow Yat-ngok said on Wednesday.

China: The Top 10 New Archaeological Discoveries of 2005 were unveiled last night in Beijing and more than half of them from outside the Yellow River Valley, considered the cradle of Chinese civilization: Xiaohuangshan Relics, Zhejiang Province Neolithic culture; Gaomiao Relics, Hunan Province Earliest white pottery; Zhongshui Relics, Guizhou Province Sacrifice pits; Liuzhuang Relics, Henan Province Neolithic culture; Maoershan Relics, Fujian Province Kiln group; Hengshui Relics, Shanxi Province Cemetery decoration; Liangdaicun Relics, Shaanxi Province Graveyard for nobles; Jurong and Jintan Relics, Jiangsu Province Mound graveyards; Huangyangzhuang Relics, Henan Province Courtyards in Han Dynasty (206 BC - AD 220); Datong Relics, Shanxi Province Tomb mural

On the occasion of the foundation stone laying ceremony of New China Science and Technology Museum on May 9, two kinds of homemade biped humanoid robots developed by Institute of Automation, Chinese Academy of Sciences made first appearance at Beijing Olympic Park.

On May 9 a man passes by a screen with Chinese basketball star Yao Ming's digital image at the Los Angeles Convention Center where the world's premiere electronic entertainment expo E3 2006 will be held from May 10 to 12. More than 400 exhibitors will showcase their products at the event.
China's stronger-than-expected economic growth in the first quarter prompted the bank to revise its forecast of economic growth for this year from 9.2 percent to 9.5 percent.

The commander of U.S. Pacific Command Admiral William Fallon (L) listens as Chinese Defence Minister General Cao Gangchuan speaks during a meeting at the Chinese Ministry of Defense in Beijing May 10, 2006. The commander of US forces in the Pacific is in China for a seven-day visit aimed at improving military ties between the two countries, the US embassy said.
China's biggest publicly traded brokerage plans to issue 500 million domestic shares in a private placement to institutional investors, becoming the first firm to announce a stock sale.
China, as a newly-elected member of the UN Human Rights Council, pledged Wednesday to fulfill its obligations under the terms of international human rights accords.

China Construction Bank, the country's third-largest lender, paid chairman Guo Shuqing 854,000 yuan (HK$826,928) in 2005, according to its annual report. The lender's top earner made as much as 4.5 million yuan, it said, without saying who that person was.
Shenzhen is one of the biggest mainland gateways for the import and export of illicit drugs. The city accounted for more than a quarter of all drug-smuggling cases cracked nationwide in the first three months of the year, mainland customs authorities said yesterday.

Chairman and chief executive Zhang Wenzhong expects retailer Xinhua, 27.7 per cent owned by Wumart, to open more stores in northwestern China to gain market share.
One of China's leading Web portals, Sina Corp, on Wednesday reported that its first-quarter profit fell 32 per cent and announced that chief executive Yan Wang had been replaced.
May 10, 2006

Hong Kong: Do you have a background in accounting and international finance? If so, Hong Kong's corruption busters may have a job for you. In an effort to keep abreast of increasingly sophisticated and rising white-collar fraud cases, the Independent Commission Against Corruption will hire a new team of specialist financial investigators to combat growing private corporate fraud. ICAC commissioner Raymond Wong Hung-chiu said at a symposium on corporate corruption Tuesday that the additional staff are needed because of a worrying increase in large-scale company fraud cases that involve listed companies and senior corporate executives. Wong said new funds would allow it to hire a new team of 11 people to investigate white-collar crime. These would effectively double the ICAC's corporate fraud team, an ICAC spokeswoman said. "We already have one team of about 11 investigators, plus or minus one or two [staff]," she said. Neither she nor Wong would provide an estimate of the cost of hiring the new staff.
Hong Kong's movie industry won a court order demanding that four local internet service providers identify users who downloaded pirated copies of movies using the file-sharing software BitTorrent, a broadcaster reported on Tuesday.

An undated picture of Hong Kong Disneyland. Hong Kong received over 387,000 Chinese mainland tourists from April 29 to May 7, less than the expected tourist arrival number of 430,000 for the Golden Week.

Sun Hung Kai Properties, Hong Kong's largest developer by market value, is raising up to HK$10 billion through a top-up placement, sources close to the deal said, taking advantage of the company's near-record share price.

Bank of China, the country's second- largest lender, is set to raise as much as US$9.8 billion (HK$76.4 billion) when it floats in June, sources familiar with the situation said, in what would be China's largest IPO.
AIG Private Bank, an arm of the mammoth US insurance company, American International Group, opened it regional headquarters in Hong Kong Tuesday, hoping to expand the business seven-fold in the next seven years.

Hong Kong and Shenzhen customs officers, and the US Drug Enforcement Administration have shut down a Colombia-based cocaine trafficking syndicate after the mainland's largest haul of the drug, worth HK$105 million.

The Hong Kong Shaolin Wushu Culture Centre in Tai O is to be promoted internationally as a tourist attraction to lure martial arts fans to the city. But the courses on offer at the centre, which will open in July, are to be made easier for local students. The centre will offer martial arts training to locals and visitors, and showcase the history of Tai O, the historic fishing village on Lantau Island. Master Yan Kang, who helped design the training courses, said he understood the constitution of local students after spending several training sessions in Hong Kong.
Internationally acclaimed violinist Anne-Sophie Mutter would give a recital in Hong Kong in June, a spokesman for the Leisure and Cultural Services Department said on Tuesday.

Tianjin's economy will grow by more than 12 per cent a year over the next five years, its mayor said yesterday, as the northeastern port city moves towards becoming the third-largest economic hub in the country. Mayor Dai Xianglong said in Hong Kong that the city's gross domestic product had already grown by an average 13.9 per cent a year over the past five years. Riding on that momentum and the central government's approval of development of the Binhai New Area, the city's economic growth rate would continue at a fast pace, he said. "I predict that the rate of growth will greatly exceed the forecast," Mr Dai said. The mayor was in Hong Kong to launch Hong Kong-Tianjin Week 2006, which opens today at the Convention and Exhibition Centre in Wan Chai. From here, he will fly to London and Paris to meet government officials and business executives and brief them about investment opportunities in Tianjin.

Steve Forbes, president and chief executive of Forbes, tries out an exercise bike after officiating at the grand opening of Club Bel-Air Peak Wing in Cyberport. "This luxury market is the gold standard of luxury markets," the editor-in-chief of Forbes magazine said of the exclusive residential development, built by Pacific Century Premium Development. The 60,000 square foot Club Bel-Air Peak Wing is in phase three of the development. Phases one and two share an 80,000 sq ft facility, with both costing more than $200 million to construct.
China Rich Airways (CR Airways) and the Ho family-owned Hong Kong Express Airways are discussing a merger to create an airline that will focus on the growing demand for passenger services to China's secondary cities and some regional destinations, according to sources close to the talks.

China: Chinese stock markets opened their morning session with their major index at 1,503.24 points, a record high this year.The Composite Stock Index on the Shanghai Stock Exchange, which comprises yuan-enominated A shares and foreign-currency B shares, opened at 1,503.24 points, up 6.14 points over the closing level of 1,497.1 points on Monday.

At the Lily Pagoda Plaza, China International Horticultural Exposition 2006 in Shenyang, capital of northeast China's Liaoning province where the activity of "First writing brush under heaven creates great 'Chinese dragon'"is held, well-known calligrapher Zhang Kesi briefs the audiences with fantastic performance on May 8.
Tianjin registered a gross domestic product (GDP) of 86.034 billion yuan (10.75 billion U.S. dollars) in the first quarter this year, a rise of 14.2 percent year on year, according to the latest statistics. A total of 39.5 billion yuan will be invested on 66 projects in southwest China's Tibet Autonomous region this year, said sources with Tibet's key project office.
GE plastics, a global supplier of plastic resins and an arm of the General Electric Company, is expanding its production lines in China to achieve double digit growth for this year.

Scotiabank, Canada's third-largest bank by assets, is looking to buy part of Shenzhen Commercial Bank, according to sources close to the Chinese lender.

China is set to spend on airport development in the next five years more than it did in the last 15 opening up huge investment opportunities for overseas and domestic investors.
According to the Civil Aviation Administration of China (CAAC), the industry regulator, 140 billion yuan (US$17.4 billion) has been earmarked from this year to 2010, compared to the 120 billion yuan (US$14.8 billion) from 1990 to last year. The spending will be focused on 42 new airports and upgrading existing infrastructure. Zhao Hongyuan, a senior CAAC official, told China Daily that the number of airports would rise to about 190 from the current 142, with the figure reaching 220 by 2020. The fleet strength of commercial aircraft will grow to 1,580 by 2010, up from the current 863, before reaching about 4,000 in 2020. The first step is to strengthen Beijing, Shanghai and Guangzhou airports as key international hubs. The CAAC also wants Chengdu, Kunming, Xi'an, Wuhan and Shenyang to become regional hubs. It is not just the developed coastal and eastern areas which will hog the funds other regions, too, get a big chunk of the spending pie. For example, Southwest China's Yunnan Province plans to invest more than 20 billion yuan (US$2.5 billion) in airport projects in the next five years, accounting for nearly one-seventh of the country's total, Xinhua News Agency reported
An affiliate of Macquarie Bank, Australia's largest investment bank, plans to launch a commercial mortgage-backed securitisation (CMBS) of about one billion yuan based on mainland properties in the first deal of its kind for a foreign fund in China, market sources said.
May 9, 2006

Hong Kong: Heavyweights HSBC, China Mobile and the property companies helped push the Hang Seng Index to its highest level since September 2000 on the back of the expected peaking of the interest-rate cycle and good residential sales over the weekend.

Tianjin Port Development Holdings has seen its US$115 million (HK$897 million) to US$139 million Hong Kong offering covered shortly after the official launch, with Hutchison Whampoa taking almost 9percent of the IPO shares, sources familiar with the matter said.

With workplace stress in Hong Kong pushing family life and sleep to the margins, the government has outlined plans to give most of the territory's 163,000 civil servants Saturdays off.

About 10,000 youngsters staged a colorful parade in Victoria Park yesterday to commemorate the May Fourth Movement of 1919, when Chinese scholars advocated the use of science and democracy to modernize China. Organizers also used the occasion to promote patriotism and the 2008 Beijing Olympic Games.
Hong Kong residents were more optimistic about the city's economic outlook than they were six months ago, but they were less satisfied with their leader, a poll reported on Monday.

China: China's port and shipping facilities are to be upgraded to include two major new regions, the Ministry of Communications has announced. Five port "clusters," rather than the existing three surrounding Shanghai, Shenzhen and Tianjin, will become the new priorities as part of a new port development plan. The outline of the plan to revise Chinese port facilities was made by Communications Minister Li Shenglin. The minister said the two additional port groups are located on the mainland side of the Taiwan Straits in southern Fujian; and in Hainan and southern Guangdong. The plan is part of an effort to match the national 2006-10 social and economic development program, Li said.
Dam of Three Gorges Project to be completed in late May - Construction for the giant dam of the Three Gorges hydropower project on the Yangtze River was expected to finish on May 20, an executive with the China Yangtze River Three Gorges Project Development Corporation said Sunday. "There are less than 3,000 cubic meters of concrete left to be placed before the dam will finally complete nine months ahead of the schedule," said Cao Guangjing, deputy general manager of the corporation. The completion of the construction for the dam, 2,309 meters long and 185 meters high, marks the principal part of the project, which is often compared to the Great Wall in its scale, is done, said Cao. The dam is situated near the Xiling Gorge, the eastern most gorge of the Three Gorges on the middle reaches of the Yangtze River.The construction of the dam was divided into two phases -- the right and the left banks.

Tea farmers pick leaves from tea trees in Minhou County, South China's Fujian Province, May 6, 2006. Lin Soung-Koung, a tea trader from China's Taiwan Province, began to invest on tea planting in Minhou County and bring the planting technology and new varieties here 13 years ago. The tea garden of some 2.3 square kilometers now produces over 80 tons of tea every year, sold well all over China and exported to foreign nations such as Japan, South Korea, US and Britain.
Beijing posted 168.16 billion yuan (21 billion U.S. dollars) of gross domestic product (GDP) in the first quarter this year, a year-on-year rise of 13.3 percent, according to Beijing Municipal Statistics Bureau.
China exported 62,628 units of vehicles in the first three months of this year, up 139 percent from a year ago.
Stocks rose early Monday after China ended a yearlong moratorium on new share sales by companies already traded on its exchanges.

A general view shows the Tiger Leaping Gorge April 4, 2006. Dam builders are setting their sights on building a dam at China's spectacular Tiger Leaping Gorge to create more hydropower to feed the county's insatiable energy needs. Another 80,000 people will be moved this year from areas to be flooded by rising waters behind the colossal Three Gorges Dam, Xinhua News Agency said
Aluminum Corp of China (Chalco), the mainland's only alumina producer, is planning to sell up to HK$4.67 billion worth of shares to help fund its aggressive capital spending program, amid rising alumina prices, sources familiar with the situation said.

Horsemen in a Shenyang park show their off skills during the depiction of an ancient battle during the "golden week" holiday.
China's insurers have asked the regulator to let them invest a larger proportion of their capital in the domestic stock market, fuelling a mood of optimism for mainland exchanges, which reopen today after the May Day holiday.
May 8, 2006

Hong Kong: Despite bountiful liquidity, Hong Kong banks may follow the likely interest rate hike in the United States next week to compensate for their price-cutting mortgages and to prepare for the massive margin demand from the upcoming jumbo Bank of China initial public offering, bankers said.

Sun Hung Kai Properties has bucked the market trend by slashing the price for some of its remaining flats at Chelsea Court in Tsuen Wan. Sales of backlog homes have been well received by the market as Sun Hung Kai Properties and Cheung Kong (Holdings), Hong Kong's largest developers, embarked on price-slashing tactics. Sun Hung Kai Properties plans to join other developers launching real estate investment trusts, transferring 10 office and industrial properties valued at $7.3 billion to a reit next month, sources have said.
Startup carrier Viva Macau will attempt to beat Oasis Hong Kong Airlines in a race to be the first in the area to operate discount flights to Europe and other long-haul destinations.
Hong Kong-listed Manulife Financial, Canada's largest insurer, said its first- quarter profits increased 19 percent, boosted by higher sales in insurance and wealth management in the United States and Canada.
A global umbrella group for movie companies has announced the start of an aggressive anti-piracy operation in Hong Kong and the Asia-Pacific region, while confirming the worst for the territory's film industry: Where there are pirates, local movies die first.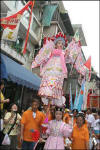 Six-year-old floating girl Mimi Leung Hei-lam symbolized both how the two- day Cheung Chau Bun Festival has changed and yet honors its more than 100-year-old tradition. Leung, a kindergarten student, was one of the parade's floating girls, five- and six-year-olds who in costumes and heavy makeup ride a tiny seat attached to steel rods - creating the illusion they are floating as the parade winds through the streets of Cheung Chau. The characters began as traditional Chinese historical and mythological beings but this year some have morphed into contemporary roles such as a "doctor" in scrubs who sprayed the crowd with "bird flu vaccine" and a "protester" in a T-shirt decrying a proposed Cheung Chau First Ferry fare increase.
In the wake of Macau's largest demonstration since its handover in 1999, Chief Executive Edmund Ho Hau-wah has pledged to initiate an employer- worker communication mechanism to examine the severity of the illegal worker problem and its impact on the local labor force.
Cathay Pacific Airways will offer early retirement to as many as 1,600 of its most experienced and highest paid cabin crew in an effort to offset rising fuel and operating costs.
Hundreds of students attend a flag-raising ceremony at Golden Bauhinia Square, Wan Chai, to mark the 87th anniversary of the foundation of the May Fourth Movement in 1919. Students in kindergartens, primary and secondary schools across the city also held flag-raising ceremonies to mark the occasion. The May Fourth Movement grew out of the contempt for traditional Chinese culture felt by many intellectuals, who blamed it for the nation's decline in international importance.
Banking and securities regulators are set to tighten conditions for departing senior executives who join the private sector, to avoid possible conflict of interest.

China: The yuan may rally next week through eight to the US dollar, according to forwards contracts in Hong Kong, a level unseen since the Communist Party Central Committee first documented plans in 1993 to move to a floating exchange rate.
From July 1 it will be mandatory for all organ transplant operations in China to be discussed with and approved by a medical science and ethics committee.
In a nation that for thousands of years held diligence and hard work in the highest esteem, the Chinese have learned to relax, travel and loosen their wallets since their country began its thrice annual holidays seven years ago, known as Golden Weeks.

The China Shenyang International Horticultural Exposition drew a total of 950,000 visitors in the first three days of the nationwide May Day holiday season.
The United States is planning to scale back a proposal to toughen restrictions on technology exports to China after encountering opposition from US firms doing business in the mainland.
Zhejiang could become the first mainland province to abolish the rural household classification system if the provincial government goes ahead with plans to scrap it by the end of next year.
China Cosco Holdings, which operates the country's largest container shipping line, said sales from moving cargo dropped 4.79 per cent in the first quarter following a substantial drop in freight rates.
Barred from exploring for oil at home, a consortium of private mainland companies had secured six fields abroad for the first time - four in Indonesia and two in the Middle East - for US$400 million, industry sources said yesterday.
May 5 - 7, 2006

Hong Kong: Hong Kong's total tax revenue has soared to a record high of 145 billion HK dollars (18.7 billion U. S. dollars) in the 2005-06 fiscal year, up 14 percent from a year earlier.

Hong Kong expecting to receive about 420,000 visitors from the mainland, Disneyland also announced the seven-day holidays as its "golden week" for guests. Related publicity activities included custom-made shining golden dresses for Mickey and Minnie Mouses, set meal of Chinese dishes and uplifted ticket price for special dates.

Cheung Kong (Holdings) will offer cash rebates to buyers of its Cheung Sha Wan housing project to boost sales if, as expected, US interest rates go up next week.
Kerry Properties, a Hong Kong-listed mid-sized property developer, is hoping to reap a one-off profit of about HK$1 billion from the listing of its partly owned Champion Real Estate Investment Trust.
Minority shareholders of Asia Aluminum Holdings have accepted the HK$3.11 billion privatization offer by controlling shareholder and chairman Kwong Wui-chun after he sweetened his bid by 11.5 percent.
The Hong Kong stock market's capitalization surpassed HK$10 trillion for the first time in history Wednesday, helped by a strong rally of HSBC and property stocks that pushed the blue-chip index over the 17,000 level.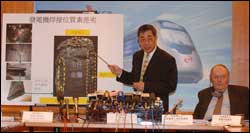 Government transport chief Sarah Liao Sau-tung has promised to apportion blame for cracks discovered in the undercarriages of Kowloon-Canton Railway Corporation trains after an internal report by the transit operator concluded the company had managed the safety crisis properly. Liao's response, which will hinge on a month-long investigation by a panel of four into the KCRC handling of the failure, came just minutes after top railway officials refused to assign blame for the hairline cracks that caused a public scare when they were discovered last December. The KCRC report also included a little bit of back-patting, noting that a team of international experts brought in after the incident concluded that the maintenance staff had "an impressive level of professional performance," while the trains showed "high levels of reliability."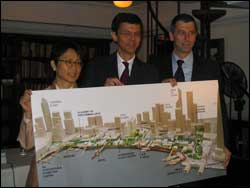 In a last-ditch effort to influence lawmakers against issuing a "blank check" for the proposed government headquarters at Tamar, a group of activists has hatched an alternative vision for the site and its surrounding areas that involve simple adjustments while conforming with the administration's current plans. According to the alternative plans - unveiled Wednesday by Civic Exchange, Designing Hong Kong Harbor District and World Wildlife Fund - the 2.2-hectare government complex at Tamar will be broken up into five units, creating more human-scale pedestrian spaces between buildings.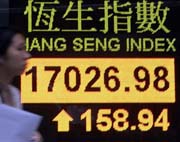 A passerby walks past a display showing the movements of the Hang Seng Index on an electronic board of the Hong Kong Stock Exchange in Hong Kong on Wednesday. Hong Kong shares rose to their highest level in more than 5 1/2 years on buying in banking giant HSBC, but traders said there is limited upside for the benchmark index.
Hong Kong Disneyland has offered free entry to more than 40,000 taxi drivers in a bid to promote the theme park, a spokeswoman for the park said on Wednesday.

China (public holiday May 1 - 7): The booming Shanghai Municipality approved the establishment of 910 foreign-invested businesses in the first quarter of this year, according to the local statistical bureau.

A local woman works at a textile factory in Liaocheng, east China's Shandong province May 3, 2006. China's 2006/2007 cotton imports are forecast to be a record 4.1 million metric tonnes, up 2.5 percent from a year earlier, according to a U.S. Agriculture Department attache report.
China's four big state-owned banks are carrying US$358 billion (HK$2.79 trillion) in bad loans, almost triple the officially reported figure, according to audit firm Ernst & Young.
CSRC Chairman Shang Fulin and SEC Chairman Christopher Cox signed terms of reference that establish the structure of the enhanced dialogue and discussion subjects for the agenda during 2006.

Bodies of the four Chinese fishermen who were shot dead by unkown gunmen on an unidentified foreign boat in South China Sea are carried back to Tanmen port, Hainan Province on May 2. The three who were wounded are still in hospital and said to have no life danger.The attack happened at 18:00 pm on April 27 when they were fishing on the waters near the Nansha Islands. All the equipments on their boat including radios and navigation apparatus, were robbed. This was the vilest attack to Chinese fishermen ever happened in waters of the Nansha Islands in recent years.
A Chinese acrobat performs at the booth of China's Beijing Industrial Arts Group during the Paris Expo in Paris, capital of France, May 2, 2006. The 102nd Paris Expo was opened here with the participation of China's Qingdao Haier Group Co. and Beijing Industrial Arts Group. The expo is to be ended on May 8.
Data from the Ministry of Commerce showed on Monday that the average unit price of imported cars in China reached nearly 40,000 U.S. dollars in the first three months this year.
May 4, 2006

Hong Kong: The Hong Kong stock market climbed more than 1 percent Tuesday, fueled by HSBC Holdings, which rallied to a one- year high amid expectations that the rising pound and euro will boost the lender's earnings and China's social security fund will pick the shares as part of its overseas investment.

Investors waiting for the chance next month to buy a piece of the Bank of China will have to pay far more than foreign banks paid last year for stakes in the mainland's flagship bank.

Towry Law's Hong Kong arm has agreed to offer more than HK$400 million to investors who suffered losses due to its financial advice to settle the dispute, a record high compensation payout in the city.
Hong Kong Trade Development Council trade shows in April contributed HK$1.5 billion to the local economy, the quasi-governmental agency said. Three returning trade fairs and two new ones - the Autoparts Fair and the Printing and Packaging Fair - drew 9,252 exhibitors and 180,479 buyers. About half the buyers and exhibitors came from outside Hong Kong. The largest show of the month, the Hong Kong Gifts & Premium Fair, drew 10 percent more exhibitors than last year, though attendance was flat at 54,875. The new Autoparts Fair drew participants from 18 countries. "The fair will no doubt raise Hong Kong's profile on the global stage as a quality source of automotive parts and accessories," said assistant executive director Benjamin Chau Kai-leung. "Hong Kong must expand its exhibition facilities, stage more new shows and continue to upgrade its exhibition services in order to stay competitive," he added. "Competition is intensifying as neighboring cities such as Guangzhou, Beijing, Shanghai, Macau, Singapore and Seoul are expanding their facilities." Both of last month's new TDC shows were held at the AsiaWorld- Expo center, which opened in December at Hong Kong International Airport, while the returning ones were held at the Hong Kong Convention and Exhibition Centre in Wan Chai.

Booming business and a bullish stock market have helped the government rake in a record HK$145 billion in tax revenue for the 2005/06 fiscal year, some 14 percent more than last year.
Long before a May Day demonstration turned violent, Macau Chief Executive Edmund Ho Hau-wah had warned about a time bomb of social unrest ticking away due to economic transformations and contradictions that have turned the former Portuguese colony from a tiny fishing village with gambling dens into a well-established tourist spot with modern casinos.
The central government's non- intervention in Hong Kong affairs has helped boost public trust in the SAR government and Beijing to post-handover highs. In a survey conducted by the Hong Kong University's Public Opinion Programme in the middle of last month, 68.8 percent of 1,015 respondents said they had full trust in the SAR government, representing a surge of 10.6 percentage points when compared with 58.2 percent in February. Those who expressed their trust in the Beijing government rose to 52.8 percent last month, an increase of 5.6 percentage points from February. Program director Robert Chung Ting-yiu said Tuesday that the people's trust in the local government was at a record high following the handover and very close to the historical high registered six months before July 1, 1997, when the figure stood at 69.7 percent. The people's trust in Beijing was its highest since the survey series began in 1992. "All the signs show that when the central government becomes more relaxed with Hong Kong's autonomy, it earns more trust from the people of Hong Kong," Chung said. Some 79.6 percent of the respondents said they are confident in Hong Kong's future, up by 3.3 percentage points. Respondents who are confident in the "one country, two systems" principle increased by 3.9 percentage points to 70.9 percent.
The Hospital Authority has to shell out $110 million a year on patients who just won't go home. Now, doctors are calling for harsher measures to encourage hospitals' unwanted, overstaying guests to move on.

China (public holiday May 1 - 7): Defending champion China stunned South Korea 3-0 to retain the Swaythling Cup at the 48th World Team Table Tennis Championships in Bremen on Monday.
"I'm very happy that I can celebrate the festival and have lunch with you guys," Chinese Premier Wen told the workers at Beijing's Capital Iron and Steel Company on May 1, 2006. Wen came to the canteen of the company's third factory at noon, and bought a plate of oil seed rape, fried sliced potato and steamed bun. He asked about the workers' daily lives, housing conditions, income, and leisure activities.
China is working on fiscal policies to encourage production of biological energy as substitutes for oil, a move experts say would help China reduce its reliance on oil and build an environmentally friendly society.

Lingni northern bank of Wenzhou, in East China's Zhejiang Province opens to traffic April 29, 2006. The 14.5 kilometer-long bank, the longest cross-sea bank of China, connects downtown Wenzhou and Niyu Island in Dongtou County of Wenzhou.

Reforms aim to give all migrant children schooling, like these at Fusheng Migrant School in Shanghai.
The mainland's increasing trade surplus and foreign exchange reserves are enabling policy-makers to take bolder steps in their long-standing plan to make the yuan convertible, according to the chief foreign exchange regulator.

Gome executive director Du Juan says the mainland's rate rises have not eroded the spending ability of mainland consumers.
Chinese Estates Holdings' plans for a $4 billion real estate investment trust have been rejected by the Securities and Futures Commission as the properties to be included are only partially owned by the company, sources have said.
May 3, 2006

Hong Kong: It's boom time for Hong Kong's economy - but without the sufficient manpower resources to capitalize on surging demand, local businesses say they risk seeing business opportunities slip right through their fingers. For PricewaterhouseCoopers, a flurry of new market activity in Hong Kong and the mainland is driving up demand for the accounting firm's services - but partner and head of hiring Dave McCann bemoaned the shortage of qualified professionals in Hong Kong. "We have far more needs than we can meet. There is simply a lack of enough candidates of sufficient quality," McCann was quoted as saying in a Reuters news report. "Hong Kong needs to make itself a more attractive location ... Accommodation is small and expensive, the air pollution is bad and education costs may be higher than people are used to elsewhere." McCann is not alone in his observations. This year, Hong Kong's ranking as a desirable place to live for expatriate workers fell sharply due to worsening air pollution - from 20th to 32nd place - according to a survey of world cities by consultants ECA International. Rival city Singapore nabbed the top spot, followed by eco- friendly Australian cities Sydney, Melbourne and Canberra.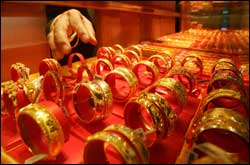 The Hong Kong bullion exchange plans to take advantage of rising gold prices by launching a long-awaited 24-hour electronic trading system by the middle of next year which it hopes will turn around its declining fortunes. The 96-year-old Chinese Gold & Silver Exchange Society, which operates from 9am to 5pm, still uses the open-outcry system, where traders shout out offers and bids. As recently as 1980, the exchange was trading an average of one million taels per day. But, according to exchange president Alvin Ching Man- kit, the market has been hit both by a two-decade slump in the demand for gold and rising competition from the London market.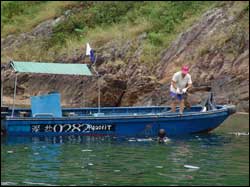 On a typical day, the trail through the Hoi Ha Wan marine reserve is littered with soda cans, tissues, hats and pipes. A sign on the trail coming into Hoi Ha Wan village reminds visitors to respect the villagers, but there is no sign for travelers heading toward the beach urging them to take care of the marine environment, one of the unique water spots in the New Territories. It is the kind of thing that sustainable tourism advocates say is emblematic of the planning and infrastructure missing from Hong Kong's country parks, a potential gold mine for low-impact green tourism. More than 12 million visitors trekked into Hong Kong's country parks last year, two million more than in the early 1990s. And with projections that tourist numbers to Hong Kong will rise to between 50 million and 70 million by 2020, conservationists and nature- lovers wonder if the territory is overlooking a new way to create revenue in a city saturated with mass tourism offerings, such as shopping and Disneyland.
One of Hong Kong's top anti-corruption officials has called for more advanced professional training to "outsmart" increasingly sophisticated criminals, despite a decrease in the number of corruption cases last year. The Independent Commission Against Corruption said Monday that it received 820 corruption reports in the first quarter of 2006, which puts Hong Kong on pace for another decline in graft cases from previous years. The ICAC reported 3,685 cases in 2005, a decline of 2 percent from 2004. But Daniel Li Ming-chak, head of operations at the government anti-graft agency, warned Monday that public investigators needed to maintain an "edge" against criminals in more specialized areas such as financial transactions and computer forensics. "We will continue to combat vigorously corruption cases in the business and finance sectors to maintain Hong Kong's reputation as a clean city," Li said. Last year, the caseload in the ICAC's Computer Forensic Section tripled from six years ago to 538 computer data investigations. Li said it was "impossible to wipe out corruption completely" in an international financial center such as Hong Kong, but continuous training and new facilities at the ICAC's new headquarters in North Point will keep investigators up to date. The ICAC, which is also hosting a symposium of global law enforcement agencies in Hong Kong next week, said that there is still much for the agency to learn. Li said the ICAC had helped to clamp down on civil service corruption, declaring the government bureaucracy basically clean. "After three decades of hard work, Hong Kong has evolved from being a city plagued with rampant corruption to one of the world's cleanest places," Li said. He said cases involving civil servants were typically isolated incidents, rather than broad graft cases.

China (public holiday May 1 - 7): NASA Administrator Mike Griffin said he has accepted the invitation to visit Beijing and will have negotiation with China on the possibility for the US-China cooperation.

The general office of the State Council issued a notice Sunday to stress safety during the upcoming Labor Day vacation from May 1 to 7. According to the notification, the safety of tourism, transportation, fire prevention should be guaranteed.

China on Sunday successfully tested a low-to medium-speed magnetic levitation train, the first domestically developed one in the country, in Southwest China's Sichuan Province. The test maglev train is 11.2 meters long, 2.6 meters wide and 3.3 meters high. It ran steadily on a 425-meter-long experimental line in the provincial capital of Chengdu. "The successful test of the train shows that China has mastered the technology of low-to medium-speed maglev trains," said Zhang Kunlun, deputy director of the School of Electrical Engineering of the Southwest Jiaotong University in Chengdu. The maglev train is developed by a maglev research team of the university, one of China's key engineering universities. The cost of this maglev train is low, and is suitable for urban traffic, Zhang said. With a weight of 18 tons, the test train can hold 60 people. It can travel at speeds of up to 160 kilometers per hour, according to Zhang, also a maglev expert with the Ministry of Science and Technology. China is expected to build a 175-kilometer-long maglev railway this year between Shanghai, the country's largest metropolis, and Hangzhou, a famous tourist destination and capital of East China's Zhejiang Province.
Baker & McKenzie, a US-based law firm, is joining forces with Chinese businesses and governments to build up an effective mechanism to fight against brand name infringement.
May 2, 2006

Hong Kong: The Hong Kong Special Administrative Region (HKSAR) Saturday reported a budget surplus of 14 billion HK dollars (1.8 billion U.S. dollars ) for the 2005 financial year, almost 30 percent higher than earlier expectation. Expenditure for the year ended March 31, amounted to 233.1 billion HK dollars (30.1 billion U.S. dollars) and revenue to 247.1 billion HK dollars (31.9 billion U.S. dollars). The market turned active in this year's first quarter, leading to an unexpected yet significant surge in government revenue, the HKSAR Financial Secretary Henry Tang said in a statement issued on Saturday. The surplus of 14 billion HK dollars represented an improvement of 9.9 billion HK dollars (1.28 billion U.S. dollars) over the 4.1 billion HK dollars (529.71 million U.S. dollars) surplus forecast in the government budget for 2006 financial year, said a government spokesman. He said the improved financial situation was mainly due to higher collections in stamp duties, salaries tax, profits tax and land premium towards the end of the financial year. These increases in revenue totaled 5.4 billion HK dollars (697.67 million U.S. dollars).
Sales of new flats were brisk over the first two days of the May Day long weekend as prospective buyers sought special deals, some with expectations of interest rates peaking.

Hutchison Whampoa, the ports-to- telecoms conglomerate controlled by Li Ka-shing, is in talks to build a two billion yuan (HK$1.94 billion) container terminal in Zhanjiang port in Guangdong to expand its burgeoning port interests in the mainland.
The unauthorized ordination of a new Catholic bishop in China will only delay the establishment of formal diplomatic ties between China and the Vatican, Hong Kong Catholic church head Cardinal Joseph Zen Ze-kiun said Sunday.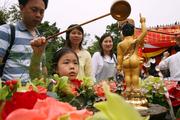 A young pilgrim washes a miniature of Buddha during ceremonies at the Po Lin Monastery on Lantau Island to mark the 2,550th anniversary of Buddha's birth, which falls on Friday. Yesterday's event, which drew hundreds of people, was part of several days of celebrations to mark the occasion.

Young monks at Po Lin Monastery demonstrate Shaolin-style martial arts. Buddhist monks at the monastery are bargaining for a 50 per cent discount on charges for a piece of land that they intend to build a multimillion-dollar exhibition hall to draw in more tourists. Buddhist monks at the Po Lin Monastery on Lantau Island have been bargaining with the government in the hope of obtaining a 50 per cent discount on charges required for the development rights to a piece of land inside the monastery.
A decision to downgrade Hong Kong's representative in Beijing will not undermine relations with the central government, the head of the office said.

China (public holiday May 1 - 7): Kazakhstan's oil will arrive at China's Alashankou of northwestern Xinjiang Uygur Autonomous Region April 30 through the Kazakhstan-China oil pipeline which spans about 1800 kilometeres.
Russia launched the construction of its longest oil pipeline from eastern Siberia to the Pacific Ocean on Friday, the builder said in the Siberian city of Irkutsk.
Barcelona FC's super soccer star Ronaldo de Assis Moriera of Brazil has been named as the official representative of china's PC giant Lenovo.
Microsoft Wednesday declared that it had signed a Memorandum of Understanding with National Development and Reform Commission of China during Chinese President Hu Jintao's visit to the company. It is a further commitment on its China strategy which seems to be working better now. An article by China News Service (CNS) Friday gives analysis as the following. Microsoft has reasons to be particularly proud these days. It hosted the reception for Chinese President Hu Jintao during the latter's visit to the US and won big orders from four major Chinese PC makers. The giant company finally began to see its good days on horizon in China. The favorable environment in China helps Microsoft's success here. China has been increasingly integrated into and bound by the rules of the international community. The intellectual property rights protection is one of them.

Chinese President Hu Jintao (L) examines a wooden buffalo statue he received during his visit to Kenya's Rift Valley view point at 2,438 meters (8,000 feet) above sea level, some 50 km (31 miles) west of capital Nairobi April 29, 2006. President Hu Jintao couldn't resist the rhythm of a drum beat on the last day of his African tour Saturday, and walked off the red carpet at Nairobi's airport to beat a skin drum for traditional dancers. A smiling Hu squatted beside a surprised Kenyan drummer to demonstrate his drumming skills, catching onlookers off guard with a break in official protocol. The display was also a break from tradition for Chinese leaders, who are normally reserved in public. Hu appeared to be in an upbeat mood a day after clinching yet another oil deal, cementing China's growing influence on a continent that is rich in natural resources but is also the world's poorest. "It is our wish that your country will continue to use its growing economic strength to support developing countries," Kenya's President Mwai Kibaki, who is under pressure from Western donors to curb corruption in the country, said during a state banquet late Friday. Hu said China was stepping up plans to assist developing countries, including zero-tariff on some exports, more aid, debt reduction and exemptions for exports from heavily indebted poor nations. Earlier this week, Hu signed a series of major business deals with Nigeria, Africa's biggest oil producer.
Lion dancers perform in front of the Hall of Prayer for Good Harvest in the Temple of Heaven in Beijing, China, Saturday April 29, 2006. The Temple of Heaven, first built in the Qing Dynasty (1644-1911), will be reopened on May 1 to the public after a renovation costing 47 million yuan (US$5.9 million).

The photo shows the expansion construction site of Qinshan Phase II Nuclear Power Station located in Haiyan County, east China's Zhejiang province, April 28, 2006. China's first self-designed and self-made Qinshan Phase II Nuclear Power Project successfully passed the national acceptance and commenced its expansion project on the day. With a maxium nuclear power generating capacity of 2.6 million kw after the accomplishment of the expansion, Qinshan Phase II nuclear power station, together with Qinshan Phase I and Qinshan Phase III, will play a more and more important role in electric power generation in east China.

Tang Wanxin (centre), who founded D'Long with his brother, was found guilty of illegal banking and stock manipulation by a court in Wuhan. A mainland tycoon whose investment conglomerate once was the nation's biggest stockholder has been sentenced to eight years in jail after being found guilty of illegal banking and stock price manipulation, according to state media.
Four major Chinese manufacturers of power equipment will sign a deal in August worth more than US$7 billion with Indonesia, in the industry's biggest overseas contract, offering a speed and price their competitors could not match, according to industry sources.
May 1, 2006

Hong Kong: The Hang Seng Index fell 0.5 percent Friday after China lifted lending rates for the first time in 18 months to slow economic growth, although property stocks were well supported on US Federal Reserve chairman Ben Bernanke's hint that there might be a pause soon in US interest-rate increases.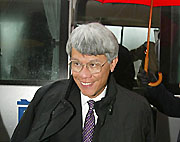 Hong Kong investors should beware of greater volatility in the local stock market following Thursday's interest-rate rise in the mainland, as well as a possible end to further rate hikes in the United States, Hong Kong Monetary Authority chief executive Joseph Yam Chi- kong warned.
Shares of Dalian Port soared 68 percent on their first day of trading, showing the continued appeal of new mainland stocks despite the slide of the wider market.
The Hong Kong Mortgage Corporation (HKMC), a government-owned agency which buys home loans from banks, said it will offer up to 20 percent discounts on mortgage insurance premiums for first-time home buyers.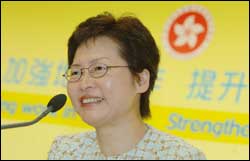 The government's proposal to give district councillors more power and money has disappointed some, Permanent Secretary for Home Affairs Carrie Lam Cheng Yuet-ngor said Friday. She said that the disappointment is understandable as there are councillors who wanted to have the same autonomous powers enjoyed by the now- defunct municipal councils.
The government's bid to get the private sector involved in its land conservation policy in 12 sensitive areas is lagging behind schedule, Director of Environmental Protection Keith Kwok Ka- keung has admitted.

Democratic Party chairman Lee Wing-tat (right) and legislator Yeung Sum (left) accompany fellow member Nelson Wong Kin-shing (centre) to submit his nomination as a candidate for the Central and Western District Council by-election on June 11. Mr Wong is vying to fill a vacancy left by late Democrat councillor Henry Leung Yiu-cho, who died six months after a car accident in October. Mr Wong has been vice-chairman of the party's Hong Kong Island branch for the past eight years.

Clara Lau, a senior vice-president at Moody's, says the debt levels of major property firms in Hong Kong have been on the increase over the past three years.
The newly elected chairman of Hong Kong Exchanges and Clearing, Ronald Arculli, is prepared to resign as a director of eight listed companies after being challenged by fellow exchange board members and legislators over potential conflict of interest.
China Construction Bank Corp (CCB) and Yue Yuen Industrial (Holdings) yesterday tapped the market for a combined $2.6 billion through share placements, following the mega deal by CNOOC.

China (public holiday May 1 - 7): Microsoft will invest US$200 million in Chinese software firms and guarantee mainland procurement worth US$700 million annually over the next five years, according to a deal it signed with the government's central planning bureau.
TCL Corp, China's biggest publicly traded consumer-electronics maker, has said that its first-quarter loss narrowed to 130.3 million yuan, from 327.2 million yuan the previous year, as it emerged from an "earnings trough" caused by previous acquisitions.
Procrastinators be warned - finish those degrees or hit the road. In a first for the school, Tianjin's prestigious Nankai University has expelled a group of doctoral students for failing to finish their degrees, even after nine years.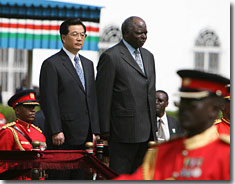 Chinese President Hu Jintao and Kenyan President Mwai Kibaki agreed Friday to make joint efforts to further promote bilateral long-term, stable and reciprocal cooperation in various fields. To enhance bilateral cooperation in various fields, President Hu made a four-point proposal.

A Xiaolong 04 fighter plane is seen during its test flight at Wenjiang Airport in Chengdu, capital of southwest China's Sichuan Province, April 28, 2006. Xiaolong 04 is an improved home-built multi-purpose light fighter of a new generation. It succeeded in its first flight April 28.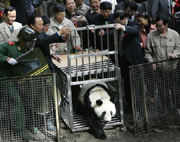 A crowd looks on as Xiang Xiang, a 4-year-old male panda raised at the Wolong Giant Panda Research Centre, is released into the wild at Dengshenggou in Wolong, in Sichuan Province on Friday. It is the first time a panda raised in captivity has been released into the wild in China.

Special police squads take part in a drill for the 2008 Beijing Olympics at a police academy north of the capital yesterday. Authorities involved in staging the games are keen to show they have properly trained staff to handle an unprecedented number of foreign visitors and that the city can deal with any terrorist threats.
Mainland incomes continued to surge in the first quarter of the year, with both urban and rural earnings rising more than 10 per cent year-on-year, according to the National Bureau of Statistics.
Shanghai Prime Machinery extended the winning streak for companies making their debut on the stock exchange, soaring 42.85 per cent above its $2.10 offer price yesterday and setting the pace for today's newcomer Dalian Port.

*News information are obtained via various sources deemed reliable, but not guaranteed