Hong Kong, China & Hawaii Biz*


How to Do Business with China, through Hong Kong & Setting up Business in China? - last update Feb 8, 2003
Do you know our dues paying members attend events sponsored by our collaboration partners worldwide at their membership rates - go to our event page to find out more! After attended a China/Hong Kong Business/Trade Seminar in Hawaii...still unsure what to do next, contact us, our Officers, Directors and Founding Members are actively engaged in China/Hong Kong/Asia trade - we can help!
China Projects Bidding Information - update daily Scholarship & Grants
Are you ready to export your product or service? You will find out in 3 minutes with resources to help you - enter to give it a try

China Central TV - live webcast

Skype - FREE Voice Over IP

View Hawaii's China Connection Video Trailer










Hawaii's China Connection Video - click on the picture to view live video
Oct 31, 2006

Hong Kong: Restaurants and entertainment establishments are likely to see a 20 percent drop in business in the first six months after the anti-smoking law comes into force next year, according to a restaurant and karaoke operator. The number of female smokers in Hong Kong has soared 45 per cent in the past eight years even though the total number of smokers in the city dropped slightly in the same period, government figures show.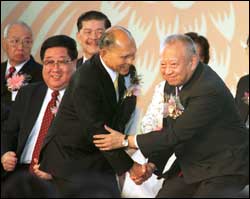 A who's who of Hong Kong's political power players has stepped forward to pay tribute to Henry Fok Ying-tung, one of the territory's most important ties to the mainland and a local symbol of loyalty to China and rags-to-riches prosperity. Fok, who for more than a decade served as one of Hong Kong's highest ranking representatives in Beijing, died Saturday night at Peking Union Medical College, where he was being treated for cancer. He was 83. His body is expected to be returned to Hong Kong as early as tomorrow, and the stature of the committee overseeing Fok's funeral arrangements - rumored to be headed by high-level state leader Wang Zhongyu - suggests Fok's farewell will be on a par with that of Ann Tse-kai. Like Fok, Ann served as a vice chairman of the National Committee of the Chinese People's Political Consultative Conference. At his funeral in 2000, Ann's coffin was draped in the national flag and was surrounded by wreaths from Beijing's top brass, including then-leader Jiang Zemin. The mainland's state media organization Sunday called Fok "a renowned patriot" and "a close friend of the Communist Party of China." News of Fok's death sent ripples through the upper tiers of Hong Kong's political class and left many observers with a sense that an important era in Hong Kong's relations with Beijing had ended. One of Hong Kong's most powerful men, Fok first made his name as a businessman in the 1950s and 1960s, staking his claim in the local real-estate boom and in Macau's blossoming casino industry before turning his gaze northward to the mainland. As he broke ground in the 1970s with investments in the mainland, his political influence grew. He was named a member of the CPPCC in 1980, and was elevated to vice chairman in 1993 - a position he held until his death. Timothy Fok Tsun-ting, Fok's eldest son, appeared shaken during brief interviews with the press in Beijing Sunday. "It all happened rather suddenly," said Fok, a legislator who, like his father, is also a member of the CPPCC. He added that many friends and national leaders had come to visit his father over the past month. "Those visits brought him comfort," said Fok, wearing sunglasses and visibly restraining his emotions. Family members, he added, were at his father's side during his last moments. Both Timothy Fok and second son Ian Fok Chun-wan were in Beijing to be with their father. Timothy Fok said the original intention had been to conduct a simple ceremony in Beijing - where his father had built many friendships. But plans for that memorial have since been scrapped to return the body to Hong Kong as soon as possible. Ian Fok said a service would likely be held at the Hong Kong Funeral Home in North Point.
Outgoing Permanent Secretary for Education and Manpower Fanny Law Fan Chiu-fun has dismissed rumors that her imminent departure from her post is because of her unpopularity, but because "today" is the most suitable time given the progress of education reforms. Permanent Secretary for Education and Manpower Fanny Law Fan Chiu-fun, who is expected to be named the new ICAC commissioner, yesterday said it was an appropriate time for her to change jobs.
Hong Kong is likely to get a giant panda next year to mark the 10th anniversary of the handover.
"We are working hard on this," sources close to the planning of celebrations said. "There should be at least one new panda coming to town next year." The sources said Hong Kong and mainland authorities were exploring "retirement" arrangements for An An and Jia Jia, the two pandas who are top attractions at Ocean Park. "But they will probably stay in town rather than be returned to Sichuan." An An, 19, and Jia Jia, 28, are getting on. Jia Jia, one of the oldest pandas in captivity, has exceeded the average lifespan of 24 years. The park, which last year made a request to the mainland authorities for two young pandas, wants to expand its Panda House to accommodate any new additions. Officials in Beijing said earlier they were ready to send a replacement if one of the pandas died. An Ocean Park spokeswoman declined to comment, saying the matter was being handled by the government. Giant pandas, a national treasure, have often been used as gifts to foreign countries and as diplomatic pawns. In April, Beijing offered two pandas to Taiwan, an offer rejected by the island's leader, Chen Shui-bian. The 10th anniversary celebrations will be marked by a visit from President Hu Jintao. Apart from officiating at the event, Mr Hu will also preside at the inauguration ceremony for the next chief executive on July 1. It is understood the government also aims to have the Hong Kong-Shenzhen Western Corridor opened during the anniversary. Officials are now drafting a master plan of celebratory activities, including an exhibition of national treasures, a concert by a national orchestra, a world-class soccer game and fireworks. There have been reports that soccer clubs Chelsea or Barcelona, or the Brazilian national team, will play in Hong Kong next summer. "Details of the activities have not yet been decided," the sources said.

Deputy Director of Health Leung Ting-hung and windsurfing star Lee Lai-san, who has been appointed a smoke-free ambassador by the Department of Health, distribute pamphlets about the coming anti-smoking law at a Chinese restaurant in Mong Kok yesterday.
Hong Kong-listed Cofco International has hired Goldman Sachs and Bank of China International to arrange the US$200 million spin-off of an agri-business subsidiary next year, market sources said.

China: China's foreign exchange reserves look set to hit the US$1 trillion mark at the end of this month or beginning of November. But as the figure rises, so does the debate over how to best manage it.

China will encourage foreign insurance companies to operate in the domestic market. "China will allow foreign insurance companies to buy stakes in China-owned insurance firms so that the foreign companies can get involved in the day-to-day running of the business and deploy their management expertise," said Meng Zhaoyi, head of the international department of CRIC.
China's Ministry of Commerce defended its duties on imported auto parts on Friday and expressed "regret" over the World Trade Organization's decision to launch a panel to oversee the issue.
China and Iraq are reviving a 1997 deal worth US$1.2 billion (HK$9.36 billion) signed by Beijing and Saddam Hussein's government to develop an Iraqi oil field, Baghdad's oil minister said Saturday.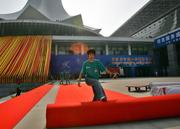 Workers prepare the venue of a summit in Nanning, Guangxi, where Premier Wen Jiabao and the 10 leaders of the Association of Southeast Asian Nations are expected to underline their commitment to creating a huge free-trade zone by 2010. The two-day summit marks the 15th anniversary of dialogue relations.

Soliders rehearse an honor guard for today's China-Asean summit, at which Premier Wen Jiabao will meet leaders from 10 nations. Chinese and Southeast Asian leaders will underline at a two-day summit starting today their commitment to creating a giant free-trade zone by 2010, according to a draft statement seen yesterday.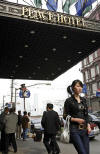 The Peace Hotel in Shanghai is one of more than 250 hotels in China managed by Jinjiang Hotels. Jinjiang International Hotels Development, the mainland's largest hotel operator, may have to delay its US$300 million initial public offering until next year because Chinese regulators, busy until now with the mammoth Industrial and Commercial Bank listing, have an approvals backlog to get through, market sources said.
Oct 30, 2006

Hong Kong: Chief Executive Donald Tsang Yam- kuen joined the listing ceremony of Industrial and Commercial Bank of China (1398) Friday, demonstrating to Hong Kong people once again his emphasis and determination on "economic development" and "wealth creation" as stated in his recent policy address.

Jiang Jianqing (R), chairman of the Commercial Bank of China (ICBC), receives congratulations from Chief Executive Donald Tsang Yam-kuen(L) at the launching ceremony of ICBC in the Hong Kong stock exchange in Hong Kong, Oct. 27, 2006. The largest IPO in the world, the commercial bank in China, started trading in the Hong Kong stock exchange Friday.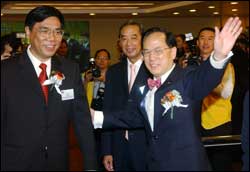 Shares in Industrial and Commercial Bank of China (1398), which raised about US$22 billion (HK$171.6 billion) in the world's largest initial public offering, surged on their Hong Kong trading debut Friday. Its H shares opened at HK$3.60 and hit an intraday high of HK$3.63, before closing at HK$3.52, nearly 14.66 percent above the IPO price of HK$3.07. Meanwhile on the Shanghai Stock Exchange, the lender's A shares closed at 3.28 yuan (HK$3.23), up 5 percent from the offering's 3.12 yuan. A shares opened at 3.4 yuan. Analysts said they remain bullish about the stock's upside potential in the medium to long term. "A 15 percent rise for the first trading day is already very impressive," said an equity broker at a US securities house. "If you believe China's economy will be boosted, then you will believe ICBC will have upside potential of 20 percent more than its listing price." During ICBC's local listing ceremony, bank chairman Jiang Jianqing said the company aims to deliver "rich dividends" to investors. In their Hong Kong debut, ICBC shares were heavily traded, as 10.63 billion shares changed hands with dollar volume totaling HK$37.45 billion, representing nearly half of Friday's market turnover of HK$76.17 billion. On the flip side, ICBC's peers experienced falls of 1.5 percent to 3 percent in their share prices. China Construction Bank (0939) closed at HK$3.52, down 3.02 percent; China Merchants Bank (3968) closed at HK$11.82, down 2.64 percent; while Bank of Communications (3328), and Bank of China (3988) fell 2.02 percent and 1.47 percent, closing at HK$5.82 and HK$3.34, respectively. Merrill Lynch, ICBC's global coordinator, and other bookrunners dominated share transactions Friday. Brokers said Merrill Lynch and Credit Suisse, one of five bookrunners, were the major buyers and sellers, with Merrill Lynch accounting for nearly 35 percent of ICBC's turnover. "This is the world's largest IPO with the biggest ever subscription rate," said Damian Chunilal, president of Pacific Rim Global Markets & Investment Banking at Merrill Lynch. A US fund manager said: "Many investors are holding the stock for a longer term because they have confidence in the bank, as it is the largest lender in the fastest- growing economy. "People are also buying the stock because many of them are speculating on the prospects of the yuan and the future of China's economy." An analyst from the investment arm of an European bank said: "Investors would not be disappointed if they were expecting a rise as high as that of China Merchants Bank." China Merchants leaped 24.91 percent on its first trading day September 22 to HK$10.68, up from its IPO price of HK$8.55.
The Hang Seng Index scaled to a new record in the morning session Friday, on a day when dealing in shares of market debutant Industrial and Commercial Bank of China (1398) made trading volumes swell to levels not seen since 1998. But the blue-chip measure lost steam and ended the day in negative territory.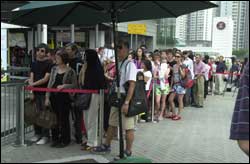 A lawmaker has called on the government to either take over or replace the operator of the Ngong Ping 360 cable car system, saying its frequent interruptions of service are hurting Hong Kong's tourism image. The call by the Democratic Party's Andrew Cheng Kar-foo, chairman of the Legislative Council's transport panel, followed a four-hour service suspension Friday that affected more than 200 passengers. It was the longest of eight suspensions that have been recorded since the new tourist attraction was opened on September 18. "Public confidence in the Ngong Ping 360 cable car service is already at a red light," Cheng said. "The government should seriously consider whether it needs to replace, or even take over the management, as the service has reached a level that is unacceptable to the public and to tourists."
A mainland contract killer who shot dead Hong Kong millionaire Harry Lam Hon-lit with a bullet to the head in Central four years ago apologised to the victim's family yesterday and asked a Shenzhen court to sentence him to death.
by primary schools in a key assessment test, but they have called on the government to do more to help weaker schools and to prevent a clear downward trend in performance as students progress through school.

China: Four mainland judges have been charged with taking bribes to fix cases, a news report said, following a warning by President Hu Jintao that corruption is threatening China's well-being.
Meeting with the 14th Japanese "Great Wall" Program Delegation to China on Friday afternoon in Beijing, Chinese top legislator Wu Bangguo called for lifting Sino-Japanese ties "to a higher level".
Zimbabwe's President Robert Mugabe has hailed the upcoming Africa-China summit in Beijing as being a crucial one for building closer bilateral relations between the two nations.

Chinese President Hu Jintao (R) meets with U.N. Secretary General-designate and South Korean Minister of Foreign Affairs and Trade Ban Ki-moon in Beijing, Oct. 27, 2006. Hu said he believes Ban Ki-Moon will play an important role in the United Nations and make important contributions to promoting the world peace and common development. Ban also held talks with Chinese State Councilor Tang Jiaxuan and Foreign Minister Li Zhaoxing the same day. Tang said China will support the work of Ban Ki-Moon.
China inked on Friday the Regional Cooperation Agreement on Combating Piracy and Armed Robbery against Ships in Asia (ReCAAP), which was concluded in Tokyo in November 2004 and came into force on Sept. 4, 2006.
The China National BlueStar (Group) Corporation became the largest Chinese investor in Europe after an acquisition deal announced Friday with the France-based specialty chemicals producer Rhodia Group.
China has announced the minimum hourly-wage standard in its 29 provinces and autonomous regions excluding Guangdong and Xinjiang.
The 638 mainland-listed companies who have released their quarterly reports for the third quarter reported total net profit of 45 billion yuan (5.6 billion U.S. dollars) in the first nine months.
The daily 0.3 percent floating band between the RMB and the U.S. dollar is wide enough, even if the RMB is under heavy pressure to appreciate, said a senior official with the People's Bank of China (PBOC) recently.

Shares of TCL Multimedia (1070), one of the world's largest television makers, were halted Friday as parent company TCL Corp suspended trading on the Shenzhen stock exchange and announced it will raise up to 1.05 billion yuan (HK$1.03 billion) through a private placement.
China is expected to recentralise the power to approve death sentences as soon as next year, with the issue up for discussion at a new round of National People's Congress Standing Committee meetings convened in Beijing yesterday.
Oct 27 - 29, 2006

Hong Kong: Market heavyweight China Mobile (0941) drove the Hang Seng Index a step closer to its all-time high Thursday, as the United States benchmark index continued to break new ground and the Federal Reserve kept the short-term interest rate unchanged.
Shares of Industrial and Commercial Bank of China changed hands at HK$3.50 apiece Thursday, 14.66 percent above the initial public offering price of HK$3.07, in gray market trading before the formal start of dealing in its shares today.
Taking advantage of strong market sentiment, three mainland property developers - Beijing Capital Land (2868), Shenzhen Investment (0604) and Greentown China Holdings (3900) - were seeking Thursday to raise at least a combined HK$4 billion for land acquisition through share placement and bond offer.
Oasis Hong Kong Airlines - the territory's first long-haul budget airline - finally got off the ground Thursday after an overnight delay caused by Russia's refusal to allow the carrier's maiden flight over its airspace.

Award-winning chef Feng Yongbo shows off his culinary skills with this fried Daliang milk dish yesterday at the Chinese Cuisine Training Institute in Pok Fu Lam. The dish was among others he showed to promote the cuisine of his home town Shunde, a city in Guangdong province.
With just two days to go, promoters said on Thursday that they have cancelled Mariah Carey's concert in Hong Kong due to a poor response and what they characterized as "unreasonable demands" from the US pop singer.
The value of Hong Kong's goods exports grew 4.7 per cent year on year last month to HK$220.1 billion, figures released on Thursday showed.

China: China and France on Thursday called on the EU lift its arms embargo against China that has been in place since 1989 and grant China market economy status.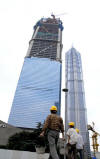 The Shanghai World Financial Centre, is seen under construction near Jin Mao Tower, China's tallest building, in Shanghai's Lu Jia Zui financial district on October 24, 2006. The skyscraper, when finished in early 2008, will be 101 storeys and 492 metres high, a new record of the highest roof in the world.

Halloween pumpkins are on sale at a store in Shanghai on October 23, 2006. Halloween, a festival in Europe and North America and celebrated on the night of October 31, is becoming increasingly popular in China.

Lenovo Group Vice-President Li Lan exchanges souvenirs with Mark Fisher on Oct. 24, managing director of the NBA's Beijing office. Lenovo established a partnership with the NBA yesterday, the latest effort by the world's third-largest PC manufacturer to raise the international profile of its brand.
China and European Aircraft giant Airbus Thursday signed a framework agreement and a letter of intent for 150 Airbus A320 aircrafts and 20 Airbus A350 airplanes.
China will built a new nuclear power plant in Hunan Province with an investment of 60 billion yuan (7.5 billion U.S. dollars), a local government source said Wednesday.
A branch manager at the Bank of Shanghai, part- owned by HSBC Holdings (0005), was sentenced to nine years in prison after he embezzled 110 million yuan (HK$108.4 million) of the bank's capital, state media reported.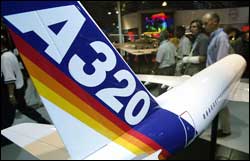 European plane maker Airbus and French engineering and utility firms landed deals worth more than US$10 billion (HK$78 billion) in Beijing as China rolled out the red carpet for French President Jacques Chirac.
French President Jacques Chirac, leading a business contingent on a four-day visit, is accompanied on his arrival at Beijing airport yesterday by Foreign Minister Li Zhaoxing. Mr Chirac said the 2008 Olympics would put the spotlight on human rights in China. Airbus on Thursday scored a Chinese order of 150 A320 aircraft and finalised an agreement to set up a plant in China as part of a deal bonanza unleashed by French President Jacques Chirac's visit to Beijing.
Oct 26, 2006

Hong Kong: A second coveted residential plot is scheduled to go under the hammer next month after K Wah International (0173) triggered the release of a site in Ma On Shan, together with a Kowloon Tong site which was activated for sale by the same developer.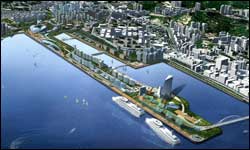 The successful bidder for the two-berth cruise terminal at the old Kai Tak airport site will have the right to operate the terminal and its supporting facilities for 50 years, at a total cost of HK$2.4 billion. The Economic Development and Labour Bureau Tuesday announced its decision to surrender the 7.6-hectare site to the private sector, saying it would be better suited to developing a competitive, world-class terminal in a short period of time. If all goes well, the successful bidder could be reaping between HK$1.2 billion and HK$2.4 billion a year by 2020, the bureau estimated. The new terminal could also help create up to 10,900 new jobs by the same year. Citing time pressure, bureau secretary Stephen Ip Shu-kwan said the government will invite tenders for the site in the fourth quarter of 2007, with the aim of awarding the tender in the first quarter of 2008. The successful bidder is then expected to complete construction on at least one of the two 400-meter-long cruise berths by 2012. The berths must be able to accommodate "mega" vessels weighing up to 100,000 tons - a limit that will still rule out many of the industry's newer cruise ships. A third cruise berth, while also in the government plans, will undergo a separate tender exercise sometime "further down the road." "All along, the tourism sector has expressed concern about the provision of cruise facilities in Hong Kong. We have been approached by some of the largest cruise companies in the world," Ip said during a press conference Tuesday. "The sooner the first berth is built, the better. If it can be done before 2012, that is even better." The bidder will be limited to 50,000 square meters of gross floor area for the development of the terminal and any accompanying retail facilities, which can be built in phases. The bidder must also build requisite ticketing, security, customs and baggage facilities. The bureau estimates site formation will cost HK$1.3 billion and berth construction about HK$300 million.
British mobile telecoms operator 3 UK, a unit of tycoon Li Ka-shing's flagship Hutchison Whampoa (0013), said it will acquire 95 stores from a rival operator and open another 30 outlets by the end of this year, nearly doubling its sales outlets in the UK.
Hong Kong's press freedom ranking slipped to its lowest point in the past five years after a year that saw vandalism committed against a local newspaper office and a parcel bomb sent to two reporters, according to an annual report by Paris-based Reporters Without Borders.
The Independent Commission Against Corruption has arrested a prominent disc jockey at Radio Television Hong Kong in connection with an illicit money scheme, in the latest setback for the public broadcaster.
The confrontation between disgruntled tour guides and the tourism watchdog, the Travel Industry Council, has worsened after the council called for the scrapping of shopping trips - the main source of income for guides - from the itinerary of inbound tour groups.

The financial secretary yesterday held out the possibility of more relief for poor people if a goods and services tax is introduced. Renewing his campaign to gain support for the tax - in the face of a Legislative Council motion overwhelmingly rejecting it - Henry Tang Ying-yen said subsidies set out in the original proposal for low-income people could be increased. Speaking after a tax reform forum, the finance chief also said the government was prepared to broaden the debate to cover alternatives raised by opponents of a GST. These include discussing the feasibility of widening the tax base by introducing progressive profits tax rates. Other options included a capital gains tax and dividends tax. But Mr Tang insisted that a GST remained the best way forward. The government, he said, was considering a mid-term summary on the consultation before it closes in March. The government estimates a 5 per cent GST will generate net additional revenue of HK$20 billion a year. Low-income households may be compensated with annual subsidies worth HK$5,500. Asked if the government would consider raising the proposed subsidies to ease public opposition, Mr Tang said: "Certainly. We have repeatedly stressed that what we have proposed is not cast in stone. "Our first priority is to ensure the standard of living of low-income earners will be protected." He also hit out at critics for making "biased and misleading" remarks, after some claimed a GST would aggravate the problem of a widening wealth gap. "Those who have higher purchasing power spend more and end up paying more," he told the forum.
The MTR Corporation and the Kowloon-Canton Railway Corporation declined to guarantee yesterday that their staff will not be worse off after the impending merger of their railway operations.
A city-wide review of road safety to be conducted over the next three months could result in new restrictions on the use of some roads - particularly narrow cul-de-sacs - and additional safety equipment being required for goods vehicles.



The football World Cup this year drove up illegal connections of pay TV. The Satellite and Cable Broadcasting Association for Asia said piracy in Hong Kong will cost broadcasters US$32 million this year while in Asia, excluding Japan and mainland China, the cost will be US$1.13 billion.
Macau's gaming revenue leapt 37 per cent in September to HK$4.5 billion, boosted by the September 6 opening of the US$1.2 billion Wynn Macau casino resort, according to official statistics released yesterday.

China: US consumer products giant Procter & Gamble Company announced it would resume sales of SK-II skincare cosmetics in the Chinese mainland within weeks.

International Olympic Committee President Jacques Rogge (R2) visits the construction site of the National Stadium Tuesday, October 24, 2006. The 91,000-seat stadium, known as the "Bird's Nest" for its giant lattice work structure of metal girders, will host the opening and closing ceremonies and athletics events during the 2008 Games. "It is, in my opinion, one of the icons in the world," Rogge told reporters.
Ling Baoheng, director of Shanghai's Assets Supervision and Administration Commission, was detained at the weekend. Also held was his deputy, Wu Hongmei.
Chinese newspapers and magazines will be prohibited from accepting misleading advertising effective November 1, says the State Press and Publication Administration and the State Administration for Industry and Commerce (SAIC).

Freshmen at the Special Police College in Beijing are put through strenuous muscle-building exercises during a week-long drill. The new recruits must complete 25 difficult tasks during the week with less that 45 hours of rest, to ready them for their role in combating terrorism.
French President Jacques Chirac begins a four-day visit to China today, aiming to strengthen economic and business co-operation, against a backdrop of the North Korean nuclear weapons crisis.
Profits at China's industrial firms rose 29.6 per cent year on year in the first three quarters of 2006 to 1.302 trillion yuan, the National Bureau of Statistics said yesterday.

Starbucks, the world's largest coffee-shop chain, said yesterday it bought 90 per cent of the operator of its Beijing and Tianjin stores for an undisclosed sum in a move to cement control over business in what the company calls its most important market outside the United States.
Huaneng Power International, China's largest publicly traded power producer, said third-quarter net profit growth slowed to 2.65 per cent year on year amid falling plant utilization.
Oct 25, 2006

Hong Kong: A second residential site had been successfully triggered for sale this month under the application list system, the Lands Department said on Tuesday.

A pregnant woman presses a Mark Six ticket she has just bought at a Wan Chai Jockey Club outlet on her stomach, hoping her baby will bring her luck in tonight's draw, with a first prize as high as HK$65 million. Tonight's first-prize jackpot includes HK$50 million carried over from previous draws.
The Housing Authority's (HA) Commercial Properties Committee (CPC) on Tuesday approved new arrangements for tenants affected by the clearance of Kwun Tong Factory Estate.
Secretary for Economic Development and Labor Stephen Ip Shu-kwan on Tuesday said more talks were planned with travel industry members and tour guides to resolve the controversy of "zero charge tours".
China and Hong Kong face a shortage of skilled professional information technology workers that along with similar shortfalls across Asia could derail economic development across the region, according to a study.

China: China National Offshore Oil Corp (CNOOC), the nation's third-biggest oil company, has been authorized by the central government to take over China National Chemical Construction Corp (CNCCC) in a bid to boost its market share in the downstream business.

China successfully launched two satellites for space environment exploration into space with a Long March-4B carrier rocket Tuesday, Oct. 24, 2006. They were launched from the Taiyuan Satellite Launch Center in north China's Shanxi province at 7:34 a.m.

A train from Beijing to Wuhan enters a railway station in Wuhan, central China's Hubei province, October 22, 2006. The 201-metre-long passenger train runs with a speed of 200 kilometers per hour, the fastest in China. It has two warhead-shaped train heads on both end.
Two senior managers at China Eastern Airlines, one of the country's three leading carriers, had been detained by authorities in Shanghai for unspecified wrongdoing, an official said on Tuesday.

Members of a special forces squad from the paramilitary police storm a China Eastern Airlines plane during a simulation exercise to prepare for a terrorist hijacking at Lukou International Airport in Nanjing, Jiangsu province.
China has punished 17,505 officials this year on corruption charges, and its top prosecutor has warned that the rule of law could be in danger if graft isn't stamped out, a government news agency said on Tuesday.
Chinese shares closed sharply higher on Tuesday, adding 2.61 per cent in a technical rebound from losses sustained on Monday as fresh funds came into the market for heavyweight blue chips and banks, dealers said.
Wal-Mart Stores and General Electric's finance arm were joining the race for a share of China's growing consumer credit market by launching their own credit card this week, a Wal-Mart spokesman said on Tuesday.
Semiconductor Manufacturing International Corp (SMIC), China's biggest microchip maker, is considering whether to sell shares in its profitable Shanghai business for a listing in the city's A-share market next year or wait until the end of 2008 to list the entire group in the mainland, president and chief executive Richard Chang Ru-gin said.
Oct 24, 2006

Hong Kong: Positive analyst reactions to third- quarter results from China Mobile (Hong Kong) (0941) - the world's largest cellular phone operator - drove the company's share price to a six-year high Monday. The stock closed at HK$59.15, up 5 HK cents. Monday's close was the highest since HK$61.25 on September 8, 2000.

The Independent Commission against Corruption obtained approval from a Hong Kong court Monday to arrest disgraced mainland tycoon Chau Ching-ngai for allegedly providing false information to the city's stock market regulators in relation to his acquisition of a listed company in 2002.

A Standard Chartered (2888) executive responsible for the bank's strategic merger and acquisition activities in Asia said Monday that the London-based lender may take over Singapore's largest bank, in what appeared to be an indication of its intentions to further expand the regional footprint of the emerging markets bank.

Good Fellow Group (0910), whose stock price rose more than threefold this year, said it plans to spend more than HK$1 billion to acquire more forest land in the mainland to triple its inventory to one million hectares by 2008.
Discontented tour guides who complain about being made scapegoats as confidence in the tourism industry plummets have been told to "take a good look at themselves" before trying to "shift responsibility."
Hundreds of thousands of smokers are now more willing to quit the habit following last week's passage of the anti- smoking bill into law, according to a Hong Kong University survey.
Hong Kong residents assigned to mainland posts have seen their salaries increase by 20 to 30 percent this year, while their counterparts in Hong Kong received only a modest 3 percent rise, according to a human resources study.
The government was set to commission an independent software asset management (SAM) contractor to provide free consultancy services to firms, Secretary for Commerce, Industry and Technology Joseph Wong Wing-ping said.

China: President Hu on Sunday emphasized that the Chinese government is fully committed to fighting corruption and is working vigorously to prevent it from happening.

China will loosen controls on its currency gradually and should step up development of financial tools such as derivatives to help banks and companies cope with a more flexible exchange-rate system, offcial from the People's Bank of China said.
China BlueChemical (3983) said it will consider merging with China National Chemical Construction Corporation after its parent China National Offshore Oil Corp (CNOOC Group) confirmed it will acquire the state-owned company at no cost to strengthen its fertilizer and petrochemical businesses.
Beijing-based Dazhong Electronics - the mainland's fifth-largest electrical appliances retailer - said Monday it is seeking arbitration from a Chinese trade panel to terminate a cooperation agreement with China Paradise Electronics (0503) since the latter has been taken over by industry leader Gome (0493).

The head of a commission supervising state-owned companies in Shanghai has joined more than 50 people detained in the city's snowballing corruption scandal, government sources said. Ling Baoheng, director of the city government's Assets Supervision and Administration Commission, was detained at the weekend as President Hu Jintao pledged publicly to clean up the government. Also held was one of Ling's deputies, Wu Hongmei, two government sources said. A city government spokesman said he had not heard of the detentions, while an official at Ling's offices said nobody there could comment. Beijing has sent more than 100 anti- corruption investigators to Shanghai to investigate money reportedly siphoned off from the city's 10 billion yuan (HK$9.85 billion) social security fund for illicit loans and investments. Ta Kung Pao, a Beijing-backed newspaper based in Hong Kong, reported more than 50 businessmen and government officials had been taken into custody since the scandal erupted several months ago. Hu has reined in defiant provincial leaders and tightened his grip on power by taking on Shanghai, political stronghold of his predecessor Jiang Zemin, analysts and sources said.

Taiwan's opposition Kuomintang wants to negotiate a peace agreement with China if it wins the presidential election in 2008, seeking to end five decades of hostility, chairman Ma Ying-jeou said.
China's rulers are now beginning to embrace religion in efforts to build a fairer society but the persecution of religious groups remains a worry, the head of the world's Anglican Church said. Wrapping up a rare two-week visit, Archbishop of Canterbury Rowan Williams said Monday that China is in the middle of a "watershed moment" with many people looking to religion amid huge economic and social changes.
The Industrial and Commercial Bank of China is set to reap a record US$22 billion (HK$172 billion) bonanza after pricing its much-anticipated initial public offering at the top end of expectations on Monday.
The European Union warned China on Monday that it must redouble market reform efforts and its commitment to economic openness or face a protectionist backlash.
This year's Nobel Peace Prize winner Muhammad Yunus yesterday called for the mainland to allow micro-credit institutions to take deposits and described a recent experiment to develop China's version of Grameen Bank as "cutting one leg off before it starts to run".
Oct 23, 2006

Hong Kong: The Industrial and Commercial Bank of China (ICBC), the largest Chinese lender, prices its shares at the top line of 3.07 HK dollars, the highest price for state-owned Chinese banks listed in Hong Kong.
The government will spend HK$12.6 million to buy 36 fuel-inefficient luxury saloons, even as environment chiefs said yesterday that most of the official fleet of 1,071 cars will be replaced by environmentally friendly vehicles by 2014.
K Wah International, a developer run by Galaxy Entertainment Group chairman Lui Che-woo, has triggered the auction of a Kowloon Tong luxury residential site with a HK$1.1 billion bid.
A bill outlawing idling engines could be presented to the Legislative Council as early as March if there is a favourable response in a public consultation, the transport minister said yesterday.
A day after heated debates on two controversial motions, lawmakers and government officials put aside their differences yesterday to wish Donald Tsang Yam-kuen happy birthday. And as they tucked into the traditional dessert chu bao - a symbol of long life - the chief executive said his birthday wish was not to make legislators angry.

New Securities and Futures Commission non-executive chairman Eddy Fong Ching meets the press on his first day in the post, when he agreed it was time to review the vetting system for new listings.
Hong Kong-listed TCL Multimedia Technology Holdings and TCL Communication Technology Holdings have returned to profit in the third quarter, while their parent company TCL Corp predicted a full-year loss.
The popular United States-based video-sharing website YouTube has deleted nearly 30,000 files over copyright concerns after being asked by a group representing Japan's entertainment industry.

China: Major industrial enterprises in China's capital chalked up 127.9 billion yuan (16.2 billion US dollars) in value-added output in the first three quarters of the year, a growth of 15.6 percent year-on-year, according to the local statistical bureau.

Chinese President Hu Jintao (R) shakes hands with visiting U.S. Secretary of State Condoleezza Rice during their meeting at the Great Hall of the People in Beijing, capital of China, on Oct. 20, 2006. Hu said the Chinese side continues to advocate the denuclearization of the Korean Peninsula, opposes nuclear weapons proliferation and seeks a peaceful solution to the nuclear issue.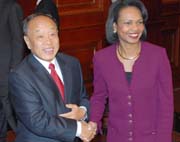 Li Zhaoxing greets Condoleezza Rice in Beijing yesterday. The US secretary of state stood firm on financial sanctions against North Korea.
IOC President Jacques Rogge arrived in Beijing Saturday afternoon, beginning a five-day inspection tour of the host city of the 2008 Olympic Games.

Photo taken on Oct. 15, 2006 shows people crowd in the Bazhou exhibition hall during the 100th session of the Chinese Export Commodities Fair (CECF) in Guangzhou, capital of south China's Guangdong Province. China's gross domestic product (GDP) grew by 10.4 percent in the third quarter of 2006, down 0.9 of a percentage point from the second quarter, the National Bureau of Statistics (NBS) announced Thursday.
China's first airport-based bonded logistics center will begin operation in the first quarter of next year and is expected to make Beijing an important Northeast Asian air cargo transportation hub.

Two workers make a precarious escape during a dramatic rescue from a fire that engulfed a club in Nanjing, Jiangsu. The cause of the fire is still under investigation.
Economists have warned of the danger of a rebound in capital investment and predict the central government will continue to steer the same macroeconomic course despite data suggesting a moderation of economic growth in the past quarter.
With less than two years to go before the Beijing Olympics, China is still vulnerable to security challenges with widespread discontent, environmental disasters and disease outbreaks posing threats to the country's showcase events and projects such as the Three Gorges Dam, according to mainland scholars and officials.
The estuaries of two of China's major waterways, the Yangtze and Pearl Rivers, have been declared marine "dead zones" as the United Nations warns that the number of such sites around the world is on the rise.
China Mobile (Hong Kong), the world's largest wireless carrier in subscriber terms, said nine-month profit rose 25 per cent, driven by better average spending by users and higher data contribution amid a less competitive operating environment.
China Telecom Corp, the larger of the country's two fixed-line operators, posted an 8 per cent drop in third-quarter profit from the previous quarter due to tough competition from mobile phone operators and higher operating expenses.
China Cinda Asset Management and China Orient Asset Management, two of the five firms set up by Beijing to clear state-owned banks' bad debt, will for the first time be able to securitise their non-performing loans for sale to mainland investors, according to a senior banking government official.
Oct 20 - 22, 2006

Hong Kong: Hedge funds activity has grown significantly in Hong Kong, with assets under management jumping 2.6 times to US$33.5 billion (HK$261.3 billion) over the past two years, the Securities and Futures Commission said Wednesday.

With orders for shares of Industrial and Commercial Bank of China reaching a frenzy, the world's largest IPO is expected to be priced at the top of the indicative price ranges, at HK$3.07 and 3.12 yuan respectively for the Hong Kong and Shanghai tranches, market sources said.
China's austerity measures have failed to curtail the expansion plans of Shui On Land (0272) as the developer prepares to put 86 homes with a cumulative price tag of 400 million yuan (HK$393 million) on sale Sunday.
Thirty people, including 19 employees of Centaline Property Agency, have been arrested in the past three days for allegedly violating the Prevention of Bribery Ordinance in connection with property transactions, the Independent Commission Against Corruption confirmed Wednesday.
Hongkong and Shanghai Banking Corp will become the first bank in Hong Kong to launch online money transfer services to India, acting as one of the agents to channel some of the US$23 billion (HK$179.4 billion) worth of funds flowing into India annually.
Legislators have overwhelmingly passed the controversial anti-smoking bill banning smoking in all indoor workplaces and restaurants and selected outdoor areas such as parks and beaches after a marathon nine-hour debate.
A Hong Kong man and his Japanese wife, who punished their 10-year-old boy by locking him in a hard-shell suitcase for two hours, have been sentenced to 18 months and two years jail, respectively, for manslaughter.
Six environmental concern groups in Hong Kong on Thursday signed a joint statement opposing plans to build a liquified natural gas processing plant on the Soko Islands.
Competition in Macau's burgeoning gaming sector is expected to heat up on Thursday as new casino StarWorld Hotel opens in the city that could soon overtake Las Vegas as the world's gaming capital. The HK$3 billion StarWorld, owned by Hong Kong's Galaxy Entertainment Group, features a 34-story hotel offering 500 rooms. It also boasts an outdoor pool, a modern exterior with a huge LED wall that lights up the whole building's exterior at night, and a casino with 300 gaming tables and 371 slot machines. StarWorld's opening follows hot on the heels of two casino openings in Macau last month. The HK$3.2 billion Grand Waldo Casino and Hotel - also owned by Galaxy - debuted on September 29, weeks after Las Vegas gambling tycoon Stephen Wynn threw open the doors to his Wynn Macau, a lavish US$1.2 billion (HK$9.4 billion) resort. StarWorld is Galaxy's fifth casino in Macau, marking the group's increasing presence in the territory's crowded gaming sector. The current gaming market is dominated by tycoon Stanley Ho Hung-sun's gambling flagship, followed by Las Vegas magnate Sheldon Adelson's Sands Macau casino.

China: China's gross domestic product (GDP) grew by 10.7 percent in the first three quarters of 2006, down 0.2 percentage points from the first half year.

A woman visit exhibits at 2006 China Jingdezhen International Ceramic Fair in Jingdezhen, east China's Jiangxi, Oct. 18. Over 4,000 ceramic manufactures and dealers from 38 countries and regions will exhibit and trade during the 5-day long fair.
The country's first experimental fast nuclear reactor will begin trials in 2010, said Kang Rixin, general manager of China National Nuclear Corporation.
The argument by American scholar Lester Brown that China would become a hungry dinosaur, triggering a global food crisis in 2030, appears weak on Monday - the 26th World Food Day - given China has emerged as the world's third largest food donor.
China's fixed asset investment rose to 7.19 trillion yuan (899.3 billion U.S. dollars) in the first nine months of this year, up by 27.3 percent from the same period last year.
Gome Electrical Appliances Holdings Ltd said Wednesday its 5.27 billion-HK-dolar (675 million U.S. dollars) takeover offer was accepted by China Paradise Electronics Retail Ltd.

Chinese Vice Premier Wu Yi (R) talks with Chinese Kuomintang (KMT) Honorary Chairman Lien Chan at a banquet in Xiamen, southeast China's Fujian Province, Oct. 18, 2006. Wu held the banquet Wednesday night in honor of the representatives of the Cross-strait Agricultural Cooperation Trade Fair.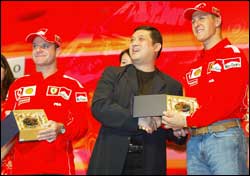 A massive investigation of corruption in Shanghai has spread to the sporting world, implicating the host of the city's Formula One Grand Prix. Yu Zhifei, general manager of Shanghai International Circuit, was "assisting investigations" into a scandal involving the city's social security system and breaches of rules in running his company, the official Shanghai Securities News reported. The Chinese Grand Prix, last held early this month, is staged with government support on a US$350 million (HK$2.73 billion) track outside Shanghai that is operated by Shanghai International Circuit. Senior officials of the company declined to comment on the report. A team of more than 100 investigators is probing suspicions some of Shanghai's social security funds, which total over 10 billion yuan (HK$9.84 billion), were siphoned off in illicit loans and investments. The scandal has implicated at least 10 city officials and businessmen, including the head of Shanghai's Communist Party Chen Liangyu, who was dismissed late last month. Yu, 54, is a flamboyant figure who moved from running a small manufacturing firm to controlling a Shanghai soccer club before he took the racing job. He brought Manchester United to Shanghai to play against his club in 1999. The newspaper said Shanghai's holding of the Formula One race in future would not be jeopardized by the scandal. Authorities postponed summoning Yu for questioning until after this year's race to avoid affecting it.

A laborer works at a construction site in Haikou, Hainan. China says it will continue to rein in the property market despite a slowdown in the sector.
Chinese financial regulators might lift a moratorium on new foreign investment in securities brokerages in the second half of next year, an official newspaper said on Thursday.
Oct 19, 2006

Hong Kong: Hong Kong, a base for more than 1,200 regional headquarters and transnational corporations such as Hutchison Whampoa, has been ranked once again Asia's second leading destination for foreign direct investment, after the mainland. The city also ranked sixth globally in FDI inflows.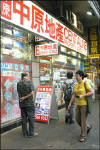 At least 15 employees - including some senior executives - of leading real estate consultancy Centaline Property Agency have been asked by graftbusters to assist in an investigation in connection with illegal commissions on property transactions. This was confirmed by the Independent Commission Against Corruption a day after it swooped on Centaline offices in Kowloon and Hong Kong Island to collect evidence and take staff away for questioning. Among these staff are managerial- grade employees, including senior executives and frontline staff who handle sale and lease transactions. Centaline Property Agency chairman Shih Wing-ching welcomed the ICAC investigation at a hastily arranged press conference Tuesday, saying it will be a deterrent against people considering illegal commissions. Shih blamed longstanding malpractice and competition in the estate agency industry for the situation. "They [Centaline staff] may be the victim of the unhealthy environment of our industry," he said.

Retired accountant Eddy Fong Ching has been appointed by Chief Executive Donald Tsang Yam-kuen as non- executive chairman of the Securities and Futures Commission, the regulatory body for the Hong Kong stock exchange.
The Planning Department has rolled out a major reworking of its plans for the old Kai Tak airport site, consolidating a block of luxury hotels near the runway's two planned cruise terminals and drawing up plans for an eight-station monorail linking the tourist hub with neighboring Kwun Tong.
Financial Secretary Henry Tang Ying- yen, whose goods and services tax proposal faces almost certain defeat in the Legislative Council today, has made a last-ditch effort to save his proposal, asking legislators not to terminate consultations on the controversial levy six months ahead of schedule.
The wage protection movement to help cleaners and security guards, proposed by the chief executive in his policy address last week, got off to a flying start Tuesday with four major business groups and an employers' association pledging support for the voluntary campaign.
Secretary for Economic Development and Labour Stephen Ip Shu-kwan Tuesday called on the Travel Industry Council to be tough and take swift action to discipline unscrupulous tour operators who jeopardize Hong Kong's reputation as a tourist destination.

A fence goes up around 15 seven-storey residential blocks at the city's oldest public housing estate yesterday as it is closed off ahead of demolition. A dozen onlookers, mainly elderly residents who have been given a two-week grace period before they must leave, came to watch the barriers go up around the 53-year-old Shek Kip Mei Estate.
Taiwan is investigating the trading of shares in one of the island's banks just before Standard Chartered announced it was planning to buy the financial institution, a senior prosecutor said on Wednesday.

China: Chinese President Hu Jintao highlighted the upturn in China-Japan relations, saying the two countries need to fulfill their pledge to advance bilateral relations.

Chinese Kuomintang (KMT) Honorary Chairman Lien Chan (C) and other members of the think tank of Kuomintang give a news conference after the closing ceremony of the Cross-Strait Agricultural Cooperation Forum in Boao of China's southernmost island province of Hainan, on Oct. 17, 2006. The cross-Strait agricultural cooperation forum has yielded fruitful results, turning over a newpage in cross-Strait agricultural cooperation.
The China joint ventures of Hyundai Motor and Ford Motor have recalled 151,397 locally made cars due to mechanical faults.
US retail giant Wal-Mart appears to be rethinking its "pile it high, sell it cheap" philosophy in China at least with the billion-dollar purchase of a community supermarket chain.
The central banks of China and Indonesia have signed a third currency swap arrangement under the Chiang Mai Initiative, according to a joint statement issued on Tuesday.
China will blacklist the producers and distributors of spy software, or spyware, in a bid to safeguard Internet safety, Wednesday People's Daily reported.
Shares of Guangzhou Shipyard (0317) soared to a record high after the company said it expects third-quarter net profit to increase sixfold year on year, thanks to higher gross margin and sales volume.
A range of mainland banks have suspended or restricted transactions with North Korea following United Nations sanctions imposed against Pyongyang for its nuclear test.
MTV and search engine Baidu.com Tuesday unveiled a venture to distribute music videos by Internet in China, boosting the music video channel's exposure in a market where regulation has limited its presence.
Three former top executives of China Southern Airlines, one of the nation's leading carriers, have gone on trial in a massive graft case involving up to 1.25 billion yuan (HK$1.2 billion), press reports said on Wednesday.

Martial arts practitioners perform at the second World Traditional Wushu Festival yesterday in Zhengzhou, Henan province. More than 1,900 competitors from 66 countries and regions were to compete in four martial arts events during the five-day festival, which started on Saturday. Chen Guorong, of the Chinese Wushu Association, said the martial art would probably appear during the 2008 Beijing Olympics as a demonstration sport.
China is expected to sign a multinational treaty next month on developing what is hoped will be a highly efficient form of nuclear energy, accelerating its search for alternative sources to meet its voracious demand for energy.
Shanghai Electric Group, one of the city's biggest industrial groups, on Wednesday said several executives are under investigation for allegedly violating Communist Party rules, the latest reported suspects in a widening corruption scandal.
Oct 18, 2006

Hong Kong: Industrial and Commercial Bank of China, which has launched the world's largest ever IPO, mopped up more than HK$60 billion of capital from the margin lending pool from frenzied retail investors Monday on the first day of the shares' public offering, market sources said.
Hong Kong Exchanges & Clearing (0388) said Monday it granted a waiver to Industrial and Commercial Bank of China allowing warrants on the stock to be traded on the day ICBC shares begin trading on the main board, the first such arrangement aimed at increasing transparency in over-the-counter trading.

The Hang Seng Index closed above 18,000 Monday for the first time in more than six years, tracking the United States benchmark index, which set a record last week.
Total land income has reached HK$27 billion in the current fiscal year, not far short of the government's full-year target of HK$30.5 billion, as higher revenues from private treaty grants and lease modifications helped offset lower proceeds from land auctions.
New government proposals to promote development of the local insurance industry, contained in Chief Executive Donald Tsang Yam-kuen's policy address last week, have been criticized by legislator Bernard Chan Chi-sze as a reiteration of earlier policies.
A local tourist guide has been given a two-week ban, and a travel agency issued with a warning letter after a group of mainland tourists complained they were left unattended for not making sufficient purchases at a shop.
Financial Secretary Henry Tang Ying- yen has introduced three sweeteners to the proposed goods and services tax ahead of what is expected to be a hot debate on the issue at the Legislative Council tomorrow. He told a media briefing Monday the government is prepared to consider exemptions on public transport and medical services, and subsidies on primary and secondary school fees, which would reduce projected revenue by up to HK$1.4 billion a year. Tang also suggested the government might consider a progressive tax on luxury goods. He also said political parties were keen to make suggestions that would increase the expenditure of different sectors but seldom raised proposals to boost income. "One should not turn a blind eye to the narrow tax base problem and keep opposing the tax reform without making constructive suggestions," Tang said. His sweeteners came just one day after Secretary for Financial Services and the Treasury Frederick Ma Si-hang accused lawmakers of being "short- sighted" and irresponsible in blocking the proposed levy. "As mature political parties, they should offer some counterproposals when opposing the government's initiatives," Tang said. He also rolled out the income and expenditure checklist, seen as a further attempt to get support: A HK$5.2 billion revenue cut if the salary tax is returned to the 2003/2003 level. HK$2.4 billion in annual expenditure if the government is to implement small class teaching, reducing class sizes from the current 30 plus to 25. HK$8 billion annual expenditure to increase the tertiary education admission rate from the current 18 percent to more than 30 percent. A total cost of HK$50 billion on medical bills in 2023. Tang said he would also consider the non-GST options such as increases in salary tax and profit tax and the introduction of a green tax. The GST proposal suggests a 5 percent levy on goods and services. The government originally estimated it could earn HK$20 billion from the tax. Tang said that over the past 13 weeks of consultation, the government had received 1,300 submissions with more than 50 percent agreeing the current tax base is narrow though they did not necessarily accept the new levy. Tang said the public does not oppose discussion on the levy. However, representatives from the Democratic Party, the Liberal Party and the Democratic Alliance for the Betterment and Progress of Hong Kong said Monday they are not convinced and will not change their opposition to the GST. The Liberal Party's Vincent Fang Kang argued the exemption is "a piecemeal sweetener" and he insisted the GST would ruin the business environment and increase the burden on the general public. Liberal Party leader James Tien Pei- chun said this is not the time to ask the question: "Where does the money come from?" Tien said: "This question comes when the government is suffering financial hardship. We have a lot of money [with HK$1.15 trillion in the reserve fund] and we should not have to worry about this question." Tien urged the government to return some of the surplus money to the public before asking them for more. DAB's Chan Kam-lam said he fears the proposed exemptions would increase the GST administration fee and that the government would not gain much eventually. The Democratic Party's Yeung Sum, who is tabling a motion on the tax, said the opposition is against the GST as it would widen the wealth gap. Democratic Party lawmaker Sin Chung-kai said: "After the exemptions and the concessions, there will not be much left, so why bother with the levy?"
The Independent Commission Against Corruption was investigating a number of Centaline staff members over alleged corruption, the property agency's chairman Shih Wing-ching confirmed on Tuesday afternoon.

Percussionist Lung Heung-wing demonstrates his drum kit - cobbled together from household items - before performing at a concert at the University of Hong Kong yesterday as part of the global Stand Up Against Poverty campaign. The campaign called on people around the world to stand up for one minute to raise awareness of poverty.

China: China, Japan on Monday launched regular exchange mechanism between their top legislative bodies as Japan upper house president Chikage Ogi visits China.

Chinese President Hu Jintao (front), who is also general secretary of the Communist Party of China (CPC) Central Committee, and chairman of the Central Military Commission (CMC),visits the exhibition marking the 70th anniversary of the Communist Party's epic military maneuver "Long March" from 1934 to 1936 in Beijing, capital of China, on Oct. 16, 2006.
China Southern Airlines (1055), the mainland's largest carrier in terms of fleet size, plans to purchase 12 new passenger and freight aircraft in a deal worth nearly US$1 billion (HK$7.8 billion), according to a market source.
A prominent Shanghai businessman implicated in a corruption scandal that toppled the city's top leader has been removed from a government advisory post, the China News Service said Monday. Zhang Rongkun, chairman of privately held Fuxi Investment Holding and former director of state-run Shanghai Electric Group, is under investigation for fraud and thus is no longer qualified to be a member of the Chinese People's Political Consultative Conference. It said the CPPCC, an advisory group that works in parallel with the national legislature, formally removed Zhang as a member during a meeting earlier Monday. Zhang was reported by Forbes financial magazine to be China's 16th- wealthiest businessman in 2005. Shanghai courts froze the assets of Fuxi Investment Holding, a company controlled by Zhang that holds shares in Shanghai Electric, amid allegations Fuxi used funds illicitly loaned by a city pension fund to buy toll roads and other assets. Last month, Shanghai's Communist Party secretary and top leader Chen Liangyu was ousted in connection with the scandal, which has widened to include several prominent businessmen and an unknown number of senior city officials.
China's wealthiest lavished 500 million yuan (HK$493 million) on Hennessy XO spirits, Porsche sedans, South African diamonds and other luxury goods during a show in Shanghai, double the value of transactions a year ago.

Interpreters wait for business outside the 100th Chinese Export Commodities Fair in Guangzhou. The fair will add the word "import" to its name in the spring as a gesture of China's efforts to attain balanced trade with partners, Premier Wen Jiabao said at the weekend.
Oct 17, 2006

Hong Kong: Initial public offerings will continue to be the focus of investors in the remaining months of the year, even after the mega listing of Industrial and Commercial Bank of China, considering the quality of share sales and the prevailing upbeat market sentiment, brokers say.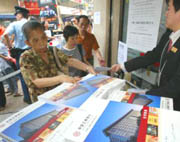 Investors pick up ICBC initial public offering applications and prospectuses in Kwun Tong as people across Hong Kong flock to try for a slice of the action in what is likely to be the world's biggest IPO. Thousands of people across Hong Kong flocked to banks on Monday in a rush to buy into what could be the world's largest initial public offering from Industrial and Commercial Bank of China.

Value Partners, a fund management company controlled by Cheah Cheng- hye, plans to raise up to US$200 million (HK$1.56 billion) in an initial public offering in the first half of next year, becoming the first such local firm to float shares in Hong Kong, market sources said.
The central government will give higher priority to helping yuan business develop further in Hong Kong. Premier Wen Jiabao made the promise at a closed-door meeting with Chief Executive Donald Tsang Yam-kuen before the opening ceremony of the 100th Chinese Export Commodities Fair in Guangzhou, Tsang's spokesman, Andy Ho On-tat, said Sunday night. Vice Premier Wu Yi, Commerce Minister Bo Xilai, Macau Chief Executive Edmund Ho Hau-wah, Guangdong party secretary Zhang Dejiang and provincial governor Huang Huahua were also at the meeting. Andy Ho said the premier was positive about Hong Kong's general situation. Tsang had used the opportunity to ask if yuan business could be further developed in Hong Kong - an issue the chief executive took up at length in his policy address last week. According to Ho, Wen replied that Beijing would speed up dealing with the matter. At the opening ceremony, Wen drew on the Guangzhou fair - the country's largest trade expo - to encourage more "two-way" investments between mainland and foreign companies while emphasizing the country's commitment to market reforms. In a speech launching what is also known as the Canton Fair, Wen said China will continue to abide by World Trade Organization rules to pursue a more open market and protect intellectual property. He also announced that next year, the fair will be renamed the Chinese Import and Export Commodities Fair in order to recharacterize the event and encourage more imports in a bid to balance its trade surplus, one of the issues that causes tensions with the US administration. Mainland businessmen, however, are raising export quotations and fearing loss of business because of the government's attempts to address the trade surplus, according to Beijing- based journal Economic Observer. More than 14,000 companies with a record 31,408 standard booths are participating in the Guangzhou fair, which takes place every spring and autumn. China's downward adjustment of export rebates, a move seen as an attempt to appease American critics of its trade surplus, has caused mainland businessmen to raise quotations on their products by 3 percent to 5 percent at the Canton Fair, according to the Economic Observer. Last month mainland exports exceeded imports with a record US$110.9 billion (HK$865.02 billion) for the first nine months, surpassing the US$102 billion surplus for the whole of last year.
Private kindergartens have lashed out at Secretary for Education and Manpower Arthur Li Kwok- cheung for saying that many of them are below par, and warned they could be driven out of business unless they are subsidized by the government.
Secretary for Financial Services and the Treasury Frederick Ma Si-hang has launched a scathing attack on political parties working against the proposed goods and services tax, accusing them of harboring political motives and being "short-sighted."
The chief executive has outlined his strategy and specific measures to fight pollution in his policy address, promising carrots and sticks for everyone from the public to big industries, spurring them to put their acts together to clean up the environment on all fronts with special emphasis on air quality.

A heavy pollution haze hangs over the Victoria Harbour skyline yesterday. Chief Executive Donald Tsang says the reality is "that we will not see major improvements for a few more years yet".
Asia had become the driving force behind demand for mobile music services which would make up for lost revenue by telecom firms in their voice-only services, United States recording label Warner Music said on Monday.

China: The 50-year-old Chinese Export Commodities Fair will change its name to the Chinese Import and Export Commodities Fair from next session.

Overseas buyers crowd into the Bazhou exhibition hall in Guangzhou yesterday at the opening of the 15-day fair. China will rename its oldest trade fair as a gesture to reflect its efforts to attain balanced trade with its partners, Premier Wen Jiabao said yesterday as he officiated at a ceremony marking the 100th consecutive session of the Chinese Export Commodities Fair.

Ian Carton of Merrill Lynch & Co., one of the Joint Global Coordinators of the H share global offering of the Industrial and Commercial Bank of China (ICBC), hosts the question and answer session during the press conference in Hong Kong, south China, Oct. 15, 2006. The Industrial and Commercial Bank of China (ICBC), the largest Chinese commercial bank, announced Sunday it will start its initial public offering (IPO) here on Monday.
More foreign venture capital will pour into China's promising high and new technology industries in the coming five to ten years.
China's State Council, or the cabinet, has decided to send six teams of officials to 12 provinces to assess their performance in halting illicit investment projects.

Chinese Kuomintang (KMT) Honorary Chairman Lien Chan and wife Lien Fangyu arrived at Meilan Airport in the capital of Hainan Province on Monday, to attend a cross-Strait agricultural cooperation forum to be held at Boao in the southernmost island province of China on Tuesday.
China's national drug watchdog hasrevoked Anhui Huayuan Worldbest Biology Pharmacy Co.'s production license for injections and dismissed the company's top management.
China's richest rural areas are concentrated in the coastal Pearl River and Yangtze River deltas, according to the latest ranking of the nation's top 1,000 towns.

Farmers dry grain in Anhui Province. Eight to ten percent of the grain nationwide, or 15 to 20 million tons valuing 18 to 24 billion yuan (2.25 to 3 billion US dollars), are spoiled each year in storage and transportation, according to research released by the State Administration of Grain (SGA) yesterday.
PetroChina, the country's largest integrated oil firm by capacity, on Monday said output rose 5.8 per cent in the first nine months of the year as the country's robust demand for natural gas cushioned the company's slower crude oil output growth.
Oct 16, 2006

Hong Kong: The government will favor a review of the dual filing system under which companies are vetted and approved by the market operator and regulator before they are listed, as long as the quality of listed corporations can be maintained, Secretary for Financial Services and the Treasury Frederick Ma Si-hang said Friday.
Hong Kong's jobless rate for July to September is likely to have dropped to a five-year low of 4.7 percent as economic growth and strong domestic consumption continued to create employment, economists and analysts said.
Cambodian casino operator NagaCorp will price its Hong Kong initial public offering in the middle of the indicative range even though retail investor demand for the issue has been high.
Government contractors will from Saturday be required to purchase bonds or bank guarantees of up to 10 percent of the contract value to cover unpaid wages in the event of companies going into liquidation, it was announced Friday.
The government is considering the use of medical vouchers for health care, but the scheme might not cover all services, the health minister said yesterday. Profit-making preschools yesterday formed an alliance to fight for the right to be included in a voucher scheme introduced by the chief executive in last week's policy address.
Customs has developed state-of-the-art software to monitor and track down copyright pirates on the internet. Jointly developed with University of Hong Kong software engineers, the program automatically tracks suspicious activities that may involve uploading and downloading.
The organisation that runs English Premier League football matches has invited bids for a three-year contract to carry live matches starting next year, triggering what could be a bidding war between rival pay-television operators PCCW Now TV and i-Cable Communications for one of the most valuable franchises in local television.

China: China Southern Airlines (CSA) denied reports that it will receive 250 million U.S. dollars in compensation from Airbus for delayed delivery of it new A380s.

Ban Ki-moon, left, newly appointed secretary-general of United Nations and Kofi Annan , current secretary-general of U.N. meet the press after a meeting at the General Assembly Hall at U.N. headquarter Friday, Oct. 13, 2006.
Russia could wrap up talks with the United States on its accession to the World Trade Organization (WTO) in two weeks, Economic Development and Trade Minister German Gref said on Friday.

China Southern Airlines (1055), the mainland's largest airline by fleet size, said its net profit in the first three quarters is expected to rise sharply from the year-earlier period, thanks to the booming mainland economy and strengthening yuan.

Laborers move sacks of grain at a food processing factory on the outskirts of Wuhu, Anhui province. China's grain output is expected to rise for the third consecutive year to more than 490 million tons, according to the State Grain and Oil Information Centre.

Oct 15, 2006 Hawaii:



15 SECONDS: In a fraction of a minute, a piece of the earth's crust ruptures, generating Hawaii's biggest earthquake since 1975. THE 6.6-MAGNITUDE EARTHQUAKE RATTLED HAWAII JUST BEFORE 7:08 A.M. YESTERDAY, FOLLOWED BY A SECOND, 5.8 TEMBLOR AND DOZENS OF AFTERSHOCKS. THIS SEISMOGRAM WAS TAKEN AT THE "STEAM CRACKS" SEISMOMETER AT HAWAII VOLCANOES NATIONAL PARK.
Oct 13 - 15, 2006

Hong Kong: Mainland and Hong Kong police have arrested four men in connection with the vicious baseball-bat attack on legislator Albert Ho Chun-yan 52 days ago.
Shoe manufacturer and retailer Le Saunda Group (0738) has put itself up for sale, and is negotiating with several potential bidders including Singapore- listed Hongguo International for the possible disposal of its retail stores, sources said.

China Petroleum & Chemical Corp (0386), also known as Sinopec, will invest 2.99 billion yuan (HK$2.94 billion) to acquire a 75 percent stake in an oil refiner from its parent in the southern province of Hainan.
Hong Kong Exchanges & Clearing (0388) will study market data next month before deciding whether to make permanent new mininum trading spreads for stocks, HKEx chairman Ronald Arculli said Thursday.
With the rapid slowdown of the United States economy next year, US interest rates are expected to start falling from the end of this year, dropping as low as 3 percent by the end of the third quarter in 2007, the Asia-Pacific chief economist and head of credit research at investment bank BNP Paribas said Thursday.
Offering birthday greetings to those born 23 years ago this month, Hong Kong Monetary Authority chief executive Joseph Yam Chi-kwong reminded the young celebrants how the linked exchange rate system, introduced October 17, 1983, has served Hong Kong well through various economic and financial shocks.
Hongkong and Shanghai Banking Corporation, a unit of HSBC Holdings (0005), has appealed successfully against a Hong Kong court decision that ruled the bank had used unduly forceful methods to pressure a former client to sell a property to repay debt.

Chief Executive Donald Tsang Yam- kuen, reacting to strong criticism he had sidestepped the question of political development in his policy address, said Thursday the introduction of universal suffrage would not immediately solve all of Hong Kong's problems.

A senior economist and bureaucrat in Beijing has penned a blistering condemnation of the Hong Kong government in a local Chinese-language newspaper, denouncing the administration for inserting itself into the free market and relying too heavily on the mainland for economic handouts since the 1997 Asian financial crisis. "Relations between the Hong Kong government and central authorities are not based on market principles, but more upon the desire for greater interests and handouts," wrote Yi Xianrong, a director at the Institute of Finance and Banking of the high-level Chinese Academy of Social Sciences. Yi, writing in Ming Pao Thursday, said Hong Kong's economic integration with the mainland was inevitable. But he called on Hong Kong to hold on to its laissez-faire principles in the process, arguing that those principles had served as a guiding example for the mainland's own dramatic liberalization and development over the past three decades. "The laws of market economics not only allowed Hong Kong's economy to reach spectacular heights, but was also the key to the success of China's reform and opening in the 1970s and 1980s," wrote Yi, the author of about a dozen books on Chinese economic markets.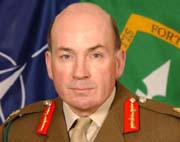 General Sir Richard Dannatt, Britain's new army commander, said in an interview with a British newspaper that British troops in Iraq are making the situation worse and must leave the country soon. He also called Prime Minister Tony Blair's policies ''naive'' and said, ''Our presence exacerbates the security problems'' . Britain should aim for less than a liberal, pro-West democracy in Iraq and withdraw its troops "sometime soon" because their presence there "exacerbates" British security problems, the head of the country's army said in an interview published on Friday.
Hong Kong's strategic location offered international exhibition organizers easy access to Southeast Asian countries, Commerce Secretary Joseph Wong Wing-ping said at the opening ceremony of Hong Kong Electronics Fair 2006 (Autumn Edition) and Electronic Asia 2006.
Advance orders for the Industrial and Commercial Bank of China (ICBC) float have topped US$100 billion (HK$780 billion), five times the amount the deal is expected to net, a report said on Friday.



The 13-storey South Court residential building (above) in Happy Valley will be redeveloped together with the neighbouring properties on Village Terrace into a HK$2 billion luxury housing project with a total floor area of 260,000 square feet.
Chinese banks last month stepped up their lending compared with August, marking the second consecutive month-on-month increase as the economy continued to move ahead strongly, analysts said on Friday.

China: China's foreign exchange reserves climbed to 987.9 billion U.S. dollars by the end of September, up 28.46 percent from a year earlier, the People's Bank of China reported Friday. China's monthly trade surplus was narrowed to US$15.3 billion in September from the record high of US$18.8 billion in August. The European Union (EU) continues to be the largest trading partner of China in the first nine months.

U.S. President George W. Bush (R) met with Chinese President Hu Jintao's special envoy, State Councilor Tang Jiaxuan, in the Oval Office on Thursday.During the meeting, Tang delivered a verbal message from President Hu to Bush, and stressed that it is in the interests of China and the United States, as well as the interests of Northeast Asian countries to realize the denuclearization of the Korean Peninsula, maintain peace and stability on the Korean Peninsula and Northeast Asia.

The Ministry of Commerce's 11th Five-Year Plan sets goals for businesses in various sectors to achieve by 2010: A total import and export value of US$2,300 billion, with annual growth of 10 per cent.

South Korea's President Roh Moo-hyun (L) meets China's President Hu Jintao at the Great Hall of the People in Beijing October 13, 2006. Leaders of China and South Korea meet on Friday to find a response to Pyongyang's nuclear defiance. Chinese President Hu Jintao and ROK President Roh Moo-hyun have reached "important" consensus on the Korean Peninsula nuclear issue.
US Treasury Secretary Henry Paulson said that China is unlikely to overtake the United States as the world's largest economy, and faces important "downside" risks. U.S. Treasury Secretary Henry Paulson said Thursday that China's economic development is "very, very important" to China and the rest of the world.
In a first for China, global information technology giant IBM yesterday announced it will move its global procurement headquarters from New York to Shenzhen in South China.

A shop vendor waits for customers at her tea counter in Shanghai October 12, 2006. China's monthly trade surplus was narrowed to US$15.3 billion in September from the record high of US$18.8 billion in August.
Shanghai's property market is expected to remain stable in the fourth quarter as home buyers and investors brush off concerns about ongoing government measures to cool the market and recent real estate scandals involving senior Communist Party officials in the city.
China's audit authority - which has achieved popular acclaim for its exposure of corruption, malpractice and misspent public funds - is opening itself to scrutiny by other government departments to fight corruption in its own ranks.
China has finished assembling a satellite for an unmanned moon mission next year and is planning to carry out its first space walk by 2008.
Oct 12, 2006

Hong Kong: Orient Overseas (International) Ltd (0316), owned by the family of former Hong Kong chief executive Tung Chee- hwa, said it has short-listed fewer than five bidders in the company's attempt to sell four container terminals in North America, valued at up to US$1.6 billion (HK$12.5 billion).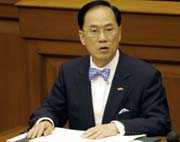 Donald Tsang: Hong Kong ready to launch two new types of RMB business - The central government is actively studying the scope for further expansion of Renminbi (RMB) business in Hong Kong, said Donald Tsang, chief executive of the Hong Kong Special Administrative Region (HKSAR), here Wednesday. The business includes allowing Hong Kong importers to settle in RMB accounts of direct imports from the mainland and the issuance of RMB bonds in Hong Kong, he said while delivering his policy address at the Legislative Council. This is Tsang's second and last policy address of his term of office after he became chief executive of the HKSAR in June 2005. "The SAR Government is fully prepared to launch these two types of new business as soon as possible," he noted, adding that Hong Kong is now experienced in the RMB business after running it smoothly for two years. Expanding RMB business represents a natural progression and a development priority for Hong Kong that is consistent with the national policy, he said. Boosting economic development, helping families and intensified efforts to protect the environment would be the main thrust of government's policies in the next year, Chief Executive Donald Tsang Yam-kuen said in his Policy Address on Wednesday. Hong Kong Chief Executive Donald Tsang delivers his policy speech at Hong Kong's Legislative Council. Tsang focused on economic development and fighting air pollution in his annual policy address on Wednesday, avoiding mention of hot topics such as when the territory could have full democracy.
Hong Kong's success prospects lay in the convergence of talent, capital, logistical support and information, Chief Executive Donald Tsang Yam-kuen said on Wednesday. Discussing the future of information technology, media and the internet in his second policy address, Mr Tsang said the government intended to continue promoting the application of information technology. "In terms of e-Government, we will provide more user-friendly integrated public services through a one-stop portal," the chief executive pledged. He noted that Hong Kong was a forerunner in promoting media convergence with a single platform supporting telephony, broadcasting and internet access services (triple-play). "Media convergence technology and business models are rapidly developing," he added. "To tie in with the transformation of traditional telecommunications services into integrated information services, we consulted the public early this year on the reform of the regulatory regime and proposed merging the functions of the Office of the Telecommunications Authority and the Broadcasting Authority to form a new Communications Authority," Mr Tsang said. "We aim to adopt a regulatory framework to promote innovation and competition to a level on par with advanced international standards," he added.
In a gimmick to see off competition from other online recruitment firms, Hong Kong-headquartered company Recruit Holdings Ltd plans to offer free lunches to corporate recruiters for five years.
Dragged down by a huge provision for a failed telecommunications investment in China and escalating financing costs, conglomerate New World Development (0017) posted a 61 percent drop in net profit to HK$1.06 billion for the fiscal year ended June 30.
Within the first two days of the Industrial and Commercial Bank of China's H-share roadshow for its giant initial public offering, the institutional portion is already nine times oversubscribed, pulling in more than US$100 billion (HK$780 billion) worth of orders as of Tuesday evening, market sources said.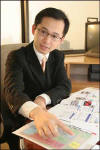 Hopewell Holdings (0054) will spend HK$600 million to revamp the Hongkong International Trade & Exhibition Centre, in Kowloon Bay, in a move to boost occupancy and rental income. The company, controlled by tycoon Gordon Wu Ying-sheung, said it will redevelop HITEC and rebrand the complex as EMax, transforming it into an entertainment, shopping and dining destination, as well as a venue for conventions, exhibitions and concerts. EMax, which the company said stood for "entertainment maximized," will consist of eight floors, from the basement floors to the sixth floor of HITEC, with a total of 900,000 square feet of space. The first phase of work, from ground floor to sixth floor, is due for completion in mid-2007, while a multi-purpose hall with seating for up to 3,500 will be completed in the third quarter of 2007. So far, more than 50 percent of the area has been leased out at rents ranging from HK$20 to HK$50 per square foot. Hopewell deputy managing director Thomas Wu said EMax will benefit from government and private plans to redevelop Kai Tak, Kowloon Bay and Kwun Tong. Wu declined to comment on estimated rental income per month on project completion but said: "It will be one of the main sources of revenue for the company."
Hong Kong's telecommunications regulator said Tuesday, it could implement new rules to force the city's fixed-line operators to lease their networks to providers of voice over Internet protocol services, following complaints that fixed-line operators were blocking such sales to protect market share.
Asia Netcom, a Hong Kong-based undersea cable operator, said it could invest up to US$1 billion (HK$7.8 billion) along with its partners, to build new trans-Pacific capacity to take advantage of increased demand, ahead of plans to sell shares in an initial public offering in 2008.
Businesses including banks, utility companies and telecommunications providers could face criminal charges for sending customers e-mails or electronic invoices under the government's proposed anti-spam legislation.
Scientists in Hong Kong and the United States are investigating a new way of controlling bleeding during surgery with high-tech liquids that could dramatically reduce time in the operating room, a study said Tuesday.
Twenty-six of the world's top 40 horses on turf have been entered for what the Hong Kong Jockey Club calls the Turf World Championships to be run at Sha Tin racecourse on December 10.

Sik Sik Yuen secretary Lee Yiu-fai (left) and Social Welfare Department officer Lee Wing-wai deliver winter clothes to 83-year-old Wu Lai-pok in a drive to help the elderly weather the winter. The Taoist group launched its winter programme to prevent the death of elderly people at an event at the Lok Fu Centre, Wong Tai Sin. It will set up sites in the area's elderly and family service centres to help distribute blankets and clothing. The group donated HK$350,000 to the department to buy clothes and other winter items.

Orient Overseas (International) Ltd (OOIL) may raise US$1.2 billion to US$1.5 billion from the sale of its North American port assets.

China: Foreign lenders will only have to wait a few more weeks before China issues a rule allowing overseas banks to deal with renminbi business across the country.

A diamond weighing more than 100 carats (20 grams), the fourth largest ever found in China, will be on public display next month in Beijing. The 101.4695-carat (20.2939 grams) diamond 29.4 millimetres in length and 17.853 millimetres in height was discovered in May in a diamond mine in Mengyin, East China's Shandong Province. The three larger diamonds, weighing 158.786, 124.27 and 119 carats, were discovered in 1977, 1981 and 1983, also in Shandong.

Models parade design shoes of famous Chinese brands on the catwalk right in front of the Duanmen Gate at the capital's Forbidden City on October 10, 2006. The fashion show featuring well-known home-grown brands of shoes is part of the ongoing 2006 China International Footwear Exposition.

Customers look at air conditioners at a department store in Nanjing, Jiangsu Province. Skyrocketing exports of Chinese air conditioners may make manufacturers the target of anti-dumping investigations.
SHANGHAI: The city is catching up with Tokyo to become the top station for Cargo Portal Services (CPS) bookings, a leading electronic booking and shipment management service for the air cargo industry.

A laborer helps pile bags of wheat at a grain market in Xining, Qinghai province. The China National Grain and Oils Information Centre yesterday forecast China's grain output this year would exceed 490 million tonnes, marking the third consecutive year of growth.
Chinese President Hu Jintao may visit Japan in January, in the first trip by a Chinese head of state to Tokyo in nearly a decade, as the Asian powers repair ties, a newspaper said on Wednesday.
China's wealthiest person prospered by turning recycled paper from the United States into Chinese packaging products - and like many fellow tycoons, by listing her company on an overseas stock market.
Oct 11, 2006

Hong Kong: A new business corruption survey claims 76 percent of Hong Kong businessmen lost a deal in the past five years because a competitor had paid a bribe, slapping Hong Kong with a label it is not accustomed to bearing - that of a corrupt marketplace.
Shares of COFCO International (0506) surged more than 13 percent Monday after it announced plans to acquire the food, beverage and agricultural businesses - including Coca-Cola bottling plants - from its parent company for HK$5.33 billion.
Google Inc., the leading Web search engine, agreed to purchase top video-sharing website YouTube for 1.65 billion U.S. dollars in stock.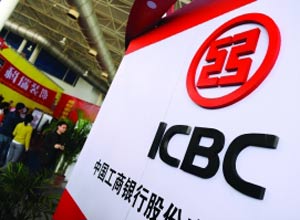 Industrial and Commercial Bank of China kicked off the roadshow for its Hong Kong share sale Monday, with the H-share institutional portion subscribed six times, attracting orders of US$56 billion (HK$436.8 billion), sources said. Industrial and Commercial Bank of China, which began marketing its initial public offering of up to US$19 billion yesterday, drew a record HK$300 billion in orders from international investors on the first day, market sources said.
NWS Holdings (0659), the infrastructure and services unit of New World Development (0017), posted a HK$1.65 billion net profit for the fiscal year ended June 30, a decline of 43 percent from HK$2.89 billion the previous year.
Hong Kong had about 77,200 US-dollar millionaires at the end of 2005, up 14.4 percent from 2004, according to the first Asia-Pacific Wealth Report published by investment bank Merrill Lynch and business consultancy firm Capgemini.
Staff at Radio Television Hong Kong have challenged proposals that would open the territory's public broadcasting market to competitors, warning such measures could strain public resources and degrade the quality of public service broadcasting in Hong Kong.
The long-awaited "green tax," charging shoppers 50 HK cents for each plastic bag from next year, is expected to be announced by Chief Executive Donald Tsang Yam-kuen in his policy address tomorrow.
Members of the Hong Kong Federation of Trade Unions rally in Chater Garden in Central yesterday to call for the drafting of legislation that would pave the way for the introduction of a minimum wage.

China: Chinese shoemakers plan to file a suit against the European Union (EU) contesting the legal and factual basis of the anti-dumping measures the EU has just taken against them.
Bilateral trade between China and Japan is expected to experience renewed growth over the next few months.
Aluminum Corp of China, the country's biggest aluminium producer, plans to invest six billion yuan (HK$5.91 billion) in Fushun Aluminum Co to expand and upgrade production, a Fushun official said Monday.
Citigroup, the world's largest financial services company, and Northern Trust were picked as custodians for overseas investments of China's US$29 billion (HK$226.2 billion) national pension fund.
A judge inspects entrants in a cosmetics and hair-styling contest held in Hefei, Anhui province. The Chinese cosmetics market is worth about US$45 billion a year, according to official figures, and is growing at a record rate each year.
Oct 10, 2006

Hong Kong: *Note start required* Cash registers have not been ringing frequently enough at retail shops during the latest "Golden Week" holiday despite pyrotechnics on the harbor front, Ngong Ping 360, dining promotions, fire dragon dances, gift sets, and a number of outdoor activities offered by the Hong Kong Tourism Board to pull in more visitors from the north. China's urban millions spent 14.5 percent more on consumption during this year's National Day "Golden Week" holiday than in the same period a year ago, state media reported Sunday.

Industrial and Commercial Bank of China set a price range of between HK$2.56 and HK$3.07 per share for its mega initial public offering in Hong Kong, sources said Sunday.
Conglomerate New World Development (0017) is expected to report little change in annual underlying profit of more than HK$3 billion despite improved property earnings and rental income, analysts said.
Dubai has acquired a stake of around 2.7 percent in Standard Chartered for US$1 billion (HK$7.8 billion), saying it is attracted to the bank's strong focus on Asia and strategy of acquisition-led growth.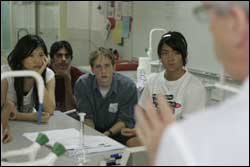 While it was a disaster for many, the SARS crisis in 2003 was a stroke of luck for Australian investment banker Simon Masnick, when he was considering relocating to Hong Kong with his family. In addition to a professional boost, a quality education for his children was a paramount concern and, thanks to the SARS scare, he had no problem finding room for them at a private school. "At that time it wasn't too hard to get kids in," Masnick said. "And once you're in it makes it easy for the others because the schools give siblings priority in private schools." Chief Executive Donald Tsang Yam- kuen wants Hong Kong to become an international education hub, among other aspirations for "Asia's World City" and seemingly the time is right. The economy is booming and more talented foreigners, as well as mainlanders and overseas Chinese - and their families - are knocking at Hong Kong's door.
Despite his frequent insistence on the need for Hong Kong to respond to changes in the rapidly evolving mainland economy, Chief Executive Donald Tsang Yam-kuen is unlikely to spring many surprises in economic initiatives in his policy address, as experts believe his options are crimped by the impending elections next year.
Savantas Policy Institute director and former Hong Kong security chief Regina Ip Lau Suk-yee said the contest for the post of chief executive between Civic Party barrister Alan Leong Kah- kit and incumbent Donald Tsang Yam- kuen would be a good thing for the territory.
A funding scheme established to help develop innovative technology in Hong Kong and Guangdong has attracted 338 applications this year, the government said on Monday.

USI plans to develop its Central Park residential property in Beijing into a Lanson Place serviced-apartment complex.

China: The Foreign Ministry of the People's Republic of China issued a statement on a nuclear test conducted by the Democratic People's Republic of Korea.

With the Japanese flag flying overhead, workers lay out the red carpet for Japanese Prime Minister Shinzo Abe at the Great hall of the People in Beijing. The ice may have broken but it has still to melt. The next few months will prove crucial if Japanese Prime Minister Shinzo Abe is to convert the honeymoon awarded him by the Chinese leadership into a more substantial relationship.

President Hu Jintao met with Japanese Prime Minister Shinzo Abe Sunday afternoon, soon after Abe's talks with Chinese Premier Wen Jiabao. The upbeat remarks by visiting Japanese Prime Minister Shinzo Abe and Chinese leaders in Beijing yesterday will no doubt heighten expectations of a rapid thaw in bilateral ties chilled by wartime history.
China's average per capita GDP will reach US$2,400 in 2010, said a senior official with the National Development and Reform Commission (NDRC) on Monday.
In the first eight months, China's auto sales reached 2.3688 million. Car sales of the top 10 auto manufacturers account for 70.14% of China's total car sales.

Passengers prepare to board trains at the Nanjing Railway Station in Nanjing, East China's Jiangsu Province October 7, 2006, the last day of the week-long National Day holidays or "Golden Week" holidays. China's railways carried a record 5.18 million passengers on October 1, the first day of the country's week-long holiday, said an official with the Ministry of Railways on October 3.
China's economy will maintain its momentum over the next five years, with GDP growing at around 9.5 percent annually, a leading economist was quoted as saying on Monday's Shanghai Securities News.
Chinese shares surged to a five-year high on Monday in anticipation of a strong debut by China's biggest lender, Industrial & Commercial Bank of China, later this month.
Oct 9, 2006

Hong Kong: Cambodian casino operator NagaCorp, which launched its retail initial public offering Friday, has received lukewarm response from investors as its shares only generated about HK$100 million worth of margin orders, according to five major brokers polled by The Standard.

A mother and daughter enjoy the Mid-Autumn lantern carnival at Victoria Park, which drew about 130,000 visitors before it closed at 11pm last night.

Visitors walk past giant lanterns which are part of the Lantern Wonderland exhibition at Victoria Park. The exhibition was held to mark the mid-autumn festival.

Five days before Donald Tsang Yam- kuen delivers his policy address, Nobel Prize-winning economist Milton Friedman has slammed the chief executive for creating more "imperfections" in the Hong Kong market.

Stocks paused at the end of the week to halt a six-session winning streak that drove the market to a fresh six-year closing high Thursday.
Three companies, including Cathay Pacific Airways (0293) and Cheung Kong (Holdings) (0001), are about to kick off or have finished fundraising activities for business expansion or to refinance previous debt.
Kowloon-Canton Railway Corporation has received 13 expressions of interest from major and mid-tier property developers for an estimated HK$6 billion housing project at West Rail's Tsuen Wan West station.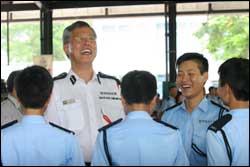 The good news is that Hong Kong is one of the safest cities in the world, graft is rare and the police and courts are respected. The bad news is that consumer fraud is high and some Hong Kong residents are "too busy" to report crimes against them. Those were some of the findings of a survey of 2,283 men and women aged 16 and above on crime victimization in Hong Kong. The survey was held from February through June and conducted as part of the United Nations International Crime Victim Survey in which 29 other countries participated. Hong Kong was the only Chinese city surveyed. Professors Rod Broadhurst, an honorary sociology professor at Hong Kong University, John Bacon-Shone, acting director of HKU's criminology center, and Kent Lee King-wa, also of the criminology center, presented the preliminary findings Friday. "It's the first time Hong Kong has participated," said Broadhurst, who went on to add the global survey was important because it was independent of any police force. The government has been urged to beef up the Consumer Council to better protect shoppers after a UN crime survey found Hong Kong second only to Cambodia for consumer fraud.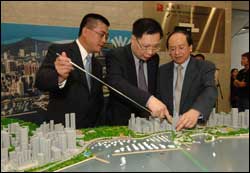 Debate over planning of the Central waterfront area reignited Friday when legislators passed a motion calling on the government to revise existing plans, reducing space allotted for commercial development and increasing green, open areas for public use. It also urged the government to explain details of the 6,000-page tender document for the Tamar headquarters project and consult the community on what public facilities should be included. The motion comes just before an eight-month urban-design study and public consultation on the area, expected to be launched by the Planning Department later this month. But while department officials said the study would seek to incorporate changes suggested by the public, existing statutory zoning plans restricted modifications to land use or gross floor areas and building heights. So plans for structures such as the hotly contested "groundscraper" and a crop of new high-rises near IFC2 will most likely remain unchanged.
The surprise support of four pro- government legislators saw Frontier convenor Emily Lau Wai-hing re- elected to the chair of the Legislative Council Finance Committee for the next legislative year.

China: The fates of deposed Shanghai boss Chen Liangyu and other political heavyweights from China's financial hub hang in the balance ahead of a closed-door meeting of the Communist Party elite Sunday.
China's Minister of Railways Liu Zhijun says that in the five years from now to 2010, China will adopt an ambitious plan for the country's railway development.

A staff member feeds a panda a special moon cake made up of banboo leaves, fruit and so on in the zoo of Jinan, capital of east China's Shandong Province, Oct. 6, 2006. The staff in the zoo of Jinan made different kinds of moon cakes for varied animals according to their distinct eating habits in order to let them enjoy the Mid-autumn Day.
China announced a list of 30 songs to be broadcast to Earth next year from its first lunar-probing satellite, the authorities said.
China maintained a favorable balance of international payments under current and capital accounts in first half of 2006, official statistics show.

Japan's PM Shinzo Abe endorsed a 1995 apology by former leader Tomiichi Murayama for Japan' aggression in Asia during World War II, his spokesman said. Improving Sino-Japanese relations is a political imperative for the leaders of the two countries and a wish of the international community, mainland media said yesterday. Hardened sentiments highlight the difficulties facing Japan's newly installed prime minister, Shinzo Abe, who is visiting Beijing tomorrow saying he wants to improve ties that have been inflamed in recent years by contemporary rivalries, and by unresolved issues from the second world war and the Japanese invasion that preceded it.
Chinese airlines are being forced to rearrange their seating as the burgeoning number of overweight Chinese complain about the discomfort of ill-fitting seats.
Oct 6 - 8, 2006

Hong Kong: An ongoing mortgage price war among lenders led by Bank of China (Hong Kong) (2388) prompted more home purchases in September, when residential sales rebounded to their highest in 15 months. Less than a week after Hongkong and Shanghai Banking Corp announced a two-month waiver on its mortgage loans, Bank of China (Hong Kong) (2388) said Wednesday it will give customers exactly the same deal.
Shares of Shui On Land (0272), a Shanghai-based property developer, climbed 10 percent on their Hong Kong trading debut Wednesday, surprising some brokers.
Manulife Financial Corp (0945) said it expects profit to grow 15 percent a year, driven mainly by Asia, the fastest- growing region for Canada's biggest insurer.
Shares in Sunday Communications (0866) gained 18.9 percent Wednesday amid expectations shareholders will approve a HK$1.94 billion plan to sell the company's main operating assets to parent PCCW (0008).

The Hospital Authority has announced the formation of a steering committee to prescribe remedies for a public hospital system that has left doctors overworked and overstressed. The committee, which will be headed by former authority chairman and executive councillor Leong Che- hung, is part of a broader attempt to address the long-standing grievances over working conditions that drove 165 public doctors to file a high-profile lawsuit demanding overtime compensation. That four-year legal campaign, which began in 2002, came to a temporary halt in March when the High Court dismissed the lawsuit. But the legal action unearthed a deep well of resentment among public doctors who work longer hours for less money than their private counterparts. In the wake of the lawsuit, authority chairman Anthony Wu Ting-yuk promised in March to "work towards limiting working hours for most doctors to no more than 65 hours per week within three years."
A territory-wide unofficial referendum on Hong Kong's leader, the goods and services tax and universal suffrage will be held on March 25 next year at the same time as 800 Election Committee members will be voting for the next chief executive, it was revealed Wednesday.

A group of 27 doctors and lawyers take part in a Sik Sik Yuen ceremony to become Taoists at Wong Tai Sin Temple yesterday. The ancient Taoist ceremony, which was the first of its kind held in the city, was part of 85th anniversary celebrations for Sik Sik Yuen, which is a Taoist order based on a mixture of Taoism, Confucianism and Buddhism. A 10-day lantern light show depicting ancient folk tales will also be held.
Hong Kong film industry officials on Thursday welcomed a reported government plan to appoint a film commissioner and fund local productions, but also urged authorities to combat film piracy outside the territory.

Occupancy at Cyberport has reached 73 per cent. Half of its tenants come from overseas, such as Microsoft and Sybase, while the remainder are local companies.
A blunt e-mail criticising Singapore and Indonesia was behind the resignation last week of one of Asia's leading economists, sources and media reports said on Wednesday. Andy Xie stepped down as Morgan Stanley's Hong Kong-based analyst on Friday with little explanation beyond a company spokeswoman saying he had left for "personal reasons". However, industry sources and the Asian edition of the Financial Times said that days before his departure, Mr Xie had sent an email to colleagues in which he expressed bold opinions about Southeast Asian countries. In the email, a copy of which has been obtained by AFP, Mr Xie questioned the sense of holding last month's International Monetary Fund and World Bank summit in the island state, before making unsubstantiated allegations about the city's economic development and its links to Indonesia. The email also attacks the Association of Southeast Asian Nations as a "failure" and recalled that during a dinner with Singaporean Prime Minister Lee Hsien Loong, "people fawned him like a prince". Mr Xie is well known for voicing often unorthodox opinions of Asian economic issues but a source in the company said he realised that with this email he had "crossed a line" and resigned. Morgan Stanley, which has large investments in Singapore, sought to distance itself from Mr Xie's comments.

China: The General Administration of Civil Aviation of China (CAAC) forecast that 3.06 million people will travel by air during the upcoming National Day holiday, an increase of 13.5 percent from a year ago. CAAC predicts the peak times for air travel will be on September 29 and 30. Airlines have been urged to take preventative measures to deal with passengers stranded due to postponement of flights during the"Golden Week" holiday from October 1 to 7.
The shoe making industry is a leading light industry in China, and a driving force in exports, said a senior official of the Ministry. However, while demand for Chinese shoes soars both at home and abroad, there is a dearth of design skills in the country. European business and consumer groups criticized the European Union (EU) for its decision to impose anti-dumping duties on Chinese and Vietnamese shoes.

A soldier of the People's Liberation Army (PLA) Garrison Troops in Hong Kong cleans up in a rest home in Hong Kong, south China, Oct. 4. Some soldiers and officers of the PLA Garrison Troops came to a rest home in Hong Kong on Wednesday, making performance and presenting moon cakes to the elderly people.

People shop for mooncakes in Beijing on the eve of the Mid-Autumn Festival. With Mid-Autumn Day coming tomorrow, saleswoman Wang Xiurong is finding her business less buoyant than expected."The best seller was a box of Cantonese flavoured mooncakes priced at 189 yuan (US$23.9)," Wang said.[
The French group Peugeot Motorcycles announced on Wednesday that it would set up a JV with the Chinese company Qingqi Motorcycle to produce scooters in China.

A boy makes the most of the ongoing week-long National Day holiday, cavorting inside a giant plastic balloon at a park in Beijing yesterday. The mainland's economy continues to benefit from upper- and middle-class spending during the holiday season, with tens of millions of visitors packing popular spots in the capital.
The biggest annual event for China's Communist Party begins on Sunday, with President Hu Jintao expected to use the meeting to cement political power and push his agenda of building a "harmonious society."
Oct 5, 2006

Hong Kong: The Hang Seng Index rose for a fourth day Tuesday. China Construction Bank (0939) had its biggest gain in seven months as the listing of Industrial and Commercial Bank of China later this month renewed interest in mainland lenders.

Shares of China Merchants Bank (3968) and Bank of Communications (3328) climbed Tuesday to all-time highs since listing, as heavy trading in warrants drove the lenders.
PCCW (0008) has offered to buy the telecom assets of its mobile telecoms unit Sunday Communication (0866) by paying independent Sunday shareholders HK$401.5 million, in an effective reprise of the privatization offer it tabled last year.

Raymond Wu Wai-yung, a National People's Congress local deputy and Basic Law Committee member, died Tuesday at Queen Mary Hospital. He was 69.
A lantern carnival would be held on Thursday night to celebrate the Mid-Autumn Festival in Hong Kong, a spokesman for the Leisure and Cultural Services Department said on Wednesday

Three-time world champion of blind golfing David Morris (left) and International Blind Golf Association president David Blyth practise at the Island Golf Club in Sai Wan Ho yesterday. The two have been invited to tee off at the University of Hong Kong's Class of 1981 reunion and fund-raising project, Social Inclusion, which aims to promote opportunity and inclusion for people with disabilities. The alumni body said the theme was chosen because 1981 was also declared the International Year of Disabled Persons by the UN.
The Hong Kong Economic and Trade Office in Canada (HKETO) overnight (HK time) hosted a "Hong Kong film night" at the Vancouver International Film Centre.
The United States, China and India are moving to assert control over the sea lanes through which they receive critical energy supplies amid fears in Beijing of a US blockade of the Malacca Strait in the event of a crisis over Taiwan, experts said here.

PCCW, Hong Kong's largest telecommunications operator, will buy all the network assets and business operations of listed subsidiary Sunday Communications for HK$1.9 billion, the company said yesterday.

China: A visit to China by Japan's new leader became possible after the two sides agreed to overcome a "political obstacle", China said on Wednesday in an apparent reference to a dispute over a Tokyo war shrine. Japanese Prime Minister Shinzo Abe will pay an official visit to China from October 8 to 9, Chinese Foreign Ministry spokesman Liu Jianchao announced on Wednesday.
About 60 per cent of adults in China's west are confident they will have a promising future despite current heath and education woes, international researchers have revealed.
China imported 95.80 million tons of crude oil in the first eight months, up 15.3 percent over the same period of last year, according to sources with the State Development and Reform Commission (SDRC).
Xi'an Aircraft Industry Company (XAC), a major Chinese aircraft producer, has taken export orders for 32 Xinzhou-60 (MA60) twin turbo-prop regional passenger planes.

Chinese Premier Wen Jiabao (2nd L) inspects crops during his visit to a drought-stricken area in Suining City, Southwest China's Sichuan Province October 1 2006. Premier Wen Jiabao told farmers Tuesday the government would continue to improve and strengthen its agricultural policy in an effort to boost their living standards.
President Roh Moo-hyun of the Republic of Korea (ROK) will pay a working visit to China on October 13 at the invitation of Chinese President Hu Jintao.

Two Tibetan women treat a tourist with a cup of Qingke barley wine. A charter flight with 109 tourists aboard arrived Tuesday afternoon in Tibet from Singapore, becoming the first nonstop overseas charter flight for tourists to this southwest China autonomous region.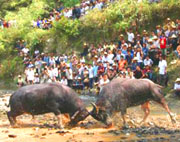 The Dong people in Guangxi took time out this week to stage a traditional buffalo fighting contest. The spectacle, held during the Golden Week holidays, drew thousands of residents and tourists.
European Union states agreed on Wednesday to impose tariffs on Chinese and Vietnamese shoe imports for two years to prevent cheap imports from flooding local markets

When Jenny Bowen, a scriptwriter and mother of two adopted Chinese girls, began helping other mainland orphans eight years ago, she had no idea her decision would turn into a lifetime commitment and result in moving her family from California to Beijing.
Oct 4, 2006

Hong Kong: Secretary for Economic Development and Labour Stephen Ip Shu-kwan Monday gave a personal push to the SAR's two tourism icons - Hong Kong Disneyland and Ngong Ping 360 - as the mainland's "Golden Week" entered its second day.

Fireworks explode over Hong Kong's Victoria Harbour to celebrate China's National Day October 1, 2006.
The value of Hong Hong¡¦s retail sales was HK$17.9 billion in August, up by 8.3 per cent from a year earlier, latest statistics released on Tuesday showed.

China: Premier Wen has celebrated the National Day with the people and called for improvements to their living standards during a tour of drought-hit regions.
China's electrified rail network reached 24,000 kilometers after the Zhejiang-Jiangxi electrified railway went into use this month, making it the second largest such network after Russia.
China's airlines will carry an estimated carry 270 million passengers in 2010, with an average annual growth rate of 14.5 percent, said an official with the General Administration of Civil Aviation of China (CAAC).

Tourists visit Yuyuan Garden, one of Shanghai's main attractions, as it rains in China's financial capital on October 2, 2006. China is celebrating a week-long National Day holiday or "Golden Week" holiday, which runs from October 1 to 7.
The China Export Commodities Fair, once the only major window for Chinese products to the outside world, will hold its 100th session in mid-October in Guangzhou.
China Eastern Airlines has agreed to pay 21.40 million yuan (US$2.68 million) to a park in northern China in compensation after a plane crash nearly two years ago spilled gallons of jet fuel into a lake.
Two top leaders of an environmental protection bureau in central China have been sacked over a massive arsenic spill which poisoned a major river, state media said on Tuesday.
Oct 3, 2006

Hong Kong: Li & Fung (0494), a top global export trading company, has agreed to acquire the sourcing arm of German retailer Karstadt Quelle for 60 million euros (HK$594 million).

Fireworks explode over the Victoria Harbor as part of ceremony celebrating the Chinese National Day in Hong Kong Sunday night, Oct. 1, 2006. China celebrates the 57th anniversary of the founding of the People's Republic of China.
Hong Kong could position itself as an international education hub, bridging the West with the mainland by utilizing its special historical background and extensive international network built up in the past, according to several academics from Britain and Hong Kong.
Hong Kong could position itself as an international education hub, bridging the West with the mainland by utilizing its special historical background and extensive international network built up in the past, according to several academics from Britain and Hong Kong.
The four major business chambers have decided it would be impossible to impose sanctions on members who do not comply with a charter on a minimum wage, a chamber leader said yesterday. More than 600 demonstrators from over 40 unions took to the streets yesterday in the latest of a month-long series of protests to demand a minimum wage.
More than 168,000 people in the capital, including students from Hong Kong, have applied to become volunteers for the Beijing Olympics since the launch of the recruitment exercise in August.
Illegal migrants using fake travel documents are steering clear of Hong Kong as a transit point because of toughened surveillance, the Immigration Department says.

Regal Hotels International Holdings, controlled by Lo Yuk-sui, hopes to raise at least HK$4 billion from the sale of units in a real estate investment trust based on its five hotels in the city, sources familiar with the deal said.
Starlight International Holdings, a Hong Kong-listed consumer electronic products maker, plans to merge its retail subsidiaries Cosmo Communications Corp and recently bought Singing Machine Co (SMC) and sell shares in the combined company on the Nasdaq Stock Market at the end of next year.

China: China's automobile sales is expected to reach 6.8 million to 7 million this year, making up one-tenth of the world's total.

Chinese President Hu Jintao (C) listens to the introduction of the construction of the National Stadium for Beijing Olympics in Beijing, capital of China, Oct. 1, 2006. President Hu visited the construction sites of major venues for 2008 Olympic Games and conveyed greetings to workers for their contribution in days when most of the people in the country are enjoying the week-long National Day holiday. Hu stressed that to hold the Olympic Games is a dream of all ethnic groups in the country and a desire the nation has been conceiving for long.
Two thousand, five hundred and fifty-six years after his birth in China, Confucius is reliving his mission of "touring various kingdoms". This time, he has gone beyond China and settled in 36 countries.

Guan Yonggen, driver of the Shanghai-Lhasa train, prepares before departure in Shanghai, east China, on Oct. 1, 2006. The first passenger train from China's leading metropolis Shanghai to Lhasa, capital of Tibet Autonomous Region, began its 4,373 km journey on Sunday. The train, departing every other day, is composed of two soft sleeping berth carriages, seven hard sleeping berth carriages, four hard seaters, one dining carriage and one for staff members. Oct. 1 to 7 is China's National Holidays. Lots of tourists home and abroad take the new Qinghai-Tibet Railway which began service on July 1 to visit Tibet.
China will launch a nationwide railway speed acceleration in 2007, the 6th in nine years, with train speed reaching 200 kilometers per hour for the first time, said sources with the Ministry of Railways.
US investment bank Morgan Stanley said it has completed the acquisition of Nan Tung Bank, in a move that may allow the Wall Street firm to offer commercial banking services in addition to its existing securities business in China. Zhuhai-based Nan Tung Bank was owned by Bank of China Macau, a wholly owned Bank of China (3988) unit.
Air China (0753), the mainland's largest international carrier, is set to post a profit of 2.9 billion yuan (HK$2.86 billion) in the third quarter, thanks to strong growth in passenger traffic and rising fuel surcharges on domestic and overseas routes, analysts said.
Guangzhou will release enough land over the next five years to increase the city's new housing supply by almost 25 per cent in what an analyst says is an effective measure to reassure buyers of continued supply and to control prices.
MBK Partners, a private equity group set up by former employees of the Carlyle Group of the United States, will spend about US$100 million for a 30 to 40 per cent stake in DHI-DCW, one of the largest heavy machinery makers in China, according to sources.

EBay, led by president and chief executive Meg Whitman, says it will not retreat from the mainland despite losing money and market share. EBay, the world's largest online auction site, is ready to pack up and leave China, if rumours on the internet are to be believed. Not so, says eBay China's spokeswoman Lilian Liu, who insists the company has a long-term commitment to the mainland.

People in Xiamen, Qingdao, and Baoding will be able to receive phone calls through the country's domestically developed TD-SCDMA network this month and by January the various authorities involved will decide on how to extend the network to Olympic host cities, sources said
Oct 2 , 2006

Hong Kong: In an attempt to lure more visitors to Hong Kong Disneyland, its management will today push out annual passes for as low as HK$370 for senior citizens and HK$460 for children.
Hong Kong Dragon Airlines, wholly owned by Cathay Pacific Airways (0293), will eliminate 191 jobs, or 5 percent of its Hong Kong and overseas workforce. The layoffs will cost the carrier HK$30 million. Dragonair employs 3,847 people, with 3,097 based in Hong Kong and 750 overseas. Chief executive Kenny Tang said the carrier has no plans for further reductions in headcount. "It is both difficult and painful to eliminate positions, but great care has been taken to minimize job losses," he said. Dragonair is now under Cathay management. The changes are part of the integration following Cathay's takeover of Dragonair in June in a HK$8.2 billion deal under which Air China will also acquire a strategic stake in Cathay. Cathay took complete control of Dragonair Thursday. Most of those being laid off are from information management and finance departments. They have an average six years' experience. There will be no changes to Dragonair's crew or airport staff. Thursday, Cathay offered 215 positions for Dragonair's office-based staff to transfer, while 46 positions are available for application as a result of the lifting of a recent recruitment freeze at Cathay. Meanwhile, 174 staff will depart Dragonair in Hong Kong, while 17 staff in overseas offices will be affected. Dragonair employees in Hong Kong, who are being laid off will be given a package of two-thirds of their last monthly salary, multiplied by years of service, with a minimum of not less than two months and no maximum ceiling.
The Hong Kong Jockey Club has chosen as its next chief executive an inhouse racing expert who considers being innovative the key to surviving competition in the region. The appointment Thursday of Winfried Engelbrecht-Bresges, currently the club's executive director for racing, ended seven months of searching for a replacement for Lawrence Wong Chi- kong, who will retire from the top administrative post in February. Engelbrecht-Bresges' promotion completes an ongoing reshuffle in the club's top hierarchy that also saw former government official John Chan Cho-chak succeed Executive Council member Ronald Arculli as the club's chairman at the start of this month. Both have inherited from their predecessors a set of betting tax reforms which the second-in-command-designate says will give the club the flexibility it needs to upgrade and export the gaming product to overseas markets.
One of Hong Kong's top hotels - the 43-year-old Mandarin Oriental - reopened its doors Thursday to an emotional reunion with its loyal fans after a nine-month renovation costing US$140 million (HK$1.09 billion).
Two top Shanghai executives already under investigation over the city's widening pension graft scandal have been kicked out of the local parliament, a spokesman for the legislative body said on Friday. Wang Chengming, the sacked chairman of state-owned and Hong Kong-listed Shanghai Electric, was expelled from the Shanghai congress for "serious disciplinary problems", parliament spokesman Wei Bin said. Wu Minglie, chief of the Hong Kong-listed property firm New Huangpu, was removed from the Shanghai Municipal People's Congress for the same reasons, he said. "Both of them have been stripped of their membership [of the congress]." Their dismissals came after the central government announced this week that Shanghai Communist Party leader Chen Liangyu had been fired as city boss and suspended from the national politburo for his role in the pension fund scandal. The probe, which has already ensnared several other top city officials, centres on the alleged misuse of up to US$400 million (HK$3.1 billion) from Shanghai's US$1.2 billion retirement fund. The money was allegedly siphoned off into unauthorised investments, mainly property and toll road projects.
Hong Kong expects about 5.67 million people - a number equal to Finland's population - to travel through its air, sea and land border points during the upcoming holiday week, the government said on Friday.
Standard Chartered on Friday said it would buy a mid-sized Taiwanese lender Hsinchu International Bank for US$1.2 billion (HK$9.36 billion), the largest foreign acquisition of a financial institution in the island's history.

Visitors walk along the "star road" in front of giant musical lanterns that are part of the Mid-Autumn Lantern Celebration in Causeway Bay and Tsim Sha Tsui, officially from tomorrow until October 6. Victoria Park is being transformed into a lantern wonderland that includes eight mechanical water installations with audio and visual effects. Park Lane Shopper's Boulevard in Tsim Sha Tsui is set to host 18 giant lanterns.

China: Lenovo and IBM Corporation have announced the voluntary recall of some 526,000 lithium-ion batteries used in ThinkPad notebook computers worldwide due to the latest problem with batteries made by Sony Corp.

A street decorated with national flags in Tianjin during National Day Holiday. More than half of Chinese people consider the Golden Week holiday favorable rather than a time of stress.
China is studying the possibility of transferring state-owned shares in listed firms to the national pension fund, the State Assets Supervision and Administration Commission confirmed to Xinhua Friday.

A total of nine panda cubs pose for a group photo at the Wolong Giant Panda Protection Center in Wolong, Southwest of China's Sichuan Province September 28, 2006. All of them were born in this year when China witnesses a panda cub baby boom.
The Chinese government will launch a new crackdown on local authority protection of illegal enterprises in its campaign of reducing environmental pollution.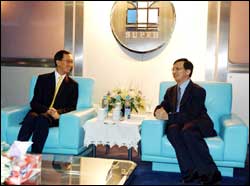 The Shanghai corruption scandal that triggered the fall of the financial hub's top politician widened Thursday following confirmation that another senior government official has been implicated. Sun Luyi, vice secretary-general of the Shanghai municipal committee, had "seriously violated party discipline," and is assisting the inquiry into the misuse of the city's pension funds, Agence France-Presse quoted spokeswoman Jiao Yang as saying. Sun, 52, an engineer, was appointed to his position in the municipal committee, which is the Communist Party's main governing body for Shanghai, in 2004. A source in Shanghai told The Standard more than 20 senior officials, including Sun, are under investigation. The development comes after central government officials announced Monday that Shanghai Communist Party leader Chen Liangyu had been sacked and suspended from the national politburo for his role in the pension fund scandal. The probe centers on the alleged misuse of up to US$400 million (HK$3.12 billion) from Shanghai's US$1.2 billion pension fund.
Beijing has ordered eight teams from various ministries to a dozen cities and provinces to check whether measures to rein in the real-estate sector have achieved the desired effect, as the policies so far seem to be inadequate nationwide.
Air China (0753), China Southern Airlines (1055) and other Chinese carriers will increase surcharges on international routes by as much as 60 percent from October 1 to cover higher fuel costs.

A descendant of Confucius, Kong Xiangkai, yesterday reads from The Analects during a ceremony marking the 2,557th anniversary of the philosopher's birth at the family's ancestral temple in Quzhou, Zhejiang province.
China National Offshore Oil Corp on Friday said it plans work to build a liquified natural gas terminal that will operate by 2010 in the southern city of Zhuhai.
Sept 29 - Oct 1 , 2006

Hong Kong: The United States fell to sixth place in the World Economic Forum's 2006 global competitiveness rankings, ceding the top place to Switzerland as macroeconomic concerns eroded prospects for the world's largest economy.

The Securities and Futures Commission should lose its power to approve new stock listings in the city, leaving Hong Kong Exchanges and Clearing (0388) as the sole regulatory body in charge of handling listing applications, a government-appointed body of industry experts has recommended, a source familiar with the situation said.

Hongkong and Shanghai Banking Corp has announced a promotional offer that would waive the first two months of interest payments for new home buyers, or those who wish to refinance their mortgages. Meanwhile, the bank, an arm of international giant HSBC Holdings (0005), said it is maintaining its best mortgage lending rate at prime minus 2.75 percent, or 5.25 percent.

Former chief secretary for administration Anson Chan Fang On-sang has taken a swipe at the government's proposed political appointments system, saying its aim is not to nurture political talent but to empower the chief executive to appoint like-minded officials in an expanded political tier.
Defenders of press freedom have lashed out at a fresh set of governance and funding proposals for Hong Kong's sole public service broadcaster (RTHK), arguing the new powers granted to the chief executive to "appease" government could spell trouble for the station's editorial independence. Controversy and tensions regarding RTHK's structure and editorial freedom are not confined to the past few years. Debate dogged the 80-year-old station more than 10 years before the 1997 handover.
Hong Kong saw its competitiveness ranking jump three places to 11th in the world, according to the latest edition of the World Economic Forum's annual index. But the SAR was kept out of the top 10 by a flagging performance in education.

Practising for a pandemic: Hong Kong yesterday mounted its first large-scale flu preparedness drill, moving mock patients, with officials reporting no disruption to emergency services at the two participating hospitals. The eight-hour drill involved 500 personnel, with 80 tour group members attending Princess Margaret and Queen Elizabeth hospitals after two "fell ill" with bird flu, causing a "serious" alert.

Asia Standard, which co-developed Grosvenor Place in Repulse Bay, has joined the rush among property firms to raise money.

China: US Treasury Secretary Henry Paulson said he told two legislators that threatening tariffs is "not the right way to negotiate with China."
The largest United States business group urged China on Wednesday to clamp down on rampant copyright abuses and reform its currency to avert protectionist retaliation by Congress.
EBay China, the mainland operation of the world largest online auction platform, is in early talks with Hutchison Whampoa's media flagship Tom Group to sell or merge part of the company with internet portal business Tom Online, market sources said.
Japanese Prime Minister Shinzo Abe is ready for top-level talks with China, his spokesman said on the leader's first full day in office yesterday.
Overseas media will be able to freely travel around China and enjoy uncensored access to the Internet during the 2008 Beijing Olympics, organizers promised yesterday.
A senior official predicted China's economy would grow at around 10 percent this year and the consumer price index would stay at two percent.
The central parity rate of the Renminbi (RMB) against the U.S. dollar hit a new high Thursday, breaking the 7.90 mark.
China has slipped six places to 54th in the World Economic Forum's (WEF) global competitiveness rankings, said a report.

The China Securities Regulatory Commission (CSRC) yesterday released a detailed explanation of its recently issued rules on qualified foreign institutional investors.
Visitors touch the new 'Zero Point' sign near the Zhengyangmen Gate in Tian'anmen Square on September 27, 2006. According to the Communication Ministry, the sign symbolizes the starting point of China's major highways and is now open to the public, along with the Zhengyangmen Gate after a year of renovation.

The Experimental Advanced Superconducting Tokamak fusion device, nicknamed "artificial sun", is tested at the Institute of Plasma Physics under the Chinese Academy of Sciences in Hefei, capital city of east China's Anhui Province September 28, 2006. Chinese scientists on Thursday successfully conducted the first test of an experimental thermonuclear fusion reactor, which replicates the same energy generation process that fuels the sun, Xinhua News Agency reported.

"We will stick to a market-oriented approach, boosting the helicopter industry in terms of R&D and manufacturing capability, marketing and servicing," Ni Xianping, deputy chief engineer of China Aviation Industry Corp II said.
China's State Council has decided to send high-level officials to 11 provinces to check on how the central government's macro control policies aimed at cooling down red hot property markets are being enforced.
Copper demand growth in China, the world's biggest consumer of the metal, may slow to 5.6 percent this year, as record prices prompt makers of cables, wires and air conditioners to switch to cheaper substitutes.
Industrial and Commercial Bank of China, which started pre-marketing its giant initial public offering Monday, is in talks to buy a majority stake in Bank Halim Indonesia.
China has widened its dragnet in a corruption scandal, questioning Shanghai's top policeman, who is a nephew of retired president Jiang Zemin, and detaining two relatives of the city's deposed Communist Party chief, sources said Wednesday.
Sept 28, 2006

Hong Kong: The government on Wednesday welcomed the decision by rating agency Moody's Investors Service to upgrade Hong Kong's long-term foreign currency rating.
Former chief secretary Anson Chan Fang On-sang on Wednesday was not impressed with a government proposal to create a new layer of politically-appointed deputy ministers.
A Chinese court has cut the prison term of a Hong Kong scholar who was jailed on spying charges by nine months, but he faces six more years behind bars, a US-based monitoring group said on Wednesday.
One of the world's iconic hotels — Hong Kong's Mandarin Oriental — is ready to reopen this week after a nine-month refit. But while the new-look property is designed to suit the new generation of luxury traveller, many in Hong Kong are already missing the old-style "Grand Dame". Opened in 1963, the Mandarin Oriental quickly established itself at the heart of the burgeoning city's social scene, with top-flight parties in its elegant bars and restaurants and visiting VIPS staying in its rooms. By the turn of the century, however, it was facing stiff competition from a new generation of super-luxury hotels housed in sleek skyscrapers that made the Mandarin look dowdy by comparison. When its doors are flung open again on Thursday guests will find a greatly changed hotel with hi-tech facilities and state-of-the-art fittings replacing its sixties-era decor. But in the drive to modernise, many locals who had come to view the Mandarin as a familiar old friend are concerned it has lost some of the charm that made it the one time talk of the town. "It looks quite bland — I hope they haven't changed the insides the way they have the outside," said veteran photographer Bob Davis, who recalls many a happy evening spent in its rooms or at its famous Captain's Bar. "It used to be the one of only about two places you could go for a drink in the 1960s and 1970s," Mr Davis added. "Everyone would go there." Its well-heeled customers of the past have included the British Royal Family, former US Presidents Richard Nixon, Gerald Ford and George Bush and Hollywood stars like Tom Cruise and top models such as Kate Moss. In the new Mandarin, gone are the balconies that made its 502 guestrooms unique in a city of air-conditioned claustrophobia and mirror-windowed conformity. Also gone is the exterior stonework and tiling that gave the building an almost organic feel, replaced by near-ubiquitous gleaming prefabricated panels.

Industrial and Commercial Bank of China, the nation's largest lender, on Wednesday announced it would list in Shanghai and Hong Kong on October 27 in what could be a world-record initial public offering.
Chinese regulators have approved the sale by News Corp of a 19.9 per cent stake in Hong Kong-based Phoenix Satellite Television to the mainland's largest mobile phone operator, state media said on Tuesday.

China: Chinese Premier Wen Jiabao sent an upbeat message to new Japanese Prime Minister Shinzo Abe on Tuesday, pledging to work tirelessly to improve relations between the estranged Asian powers.
Beijing may have already issued its first batch of measures to help cool down the city's real estate sector, but Shanghai is still awaiting the publication of a similar package intended to take the heat out of the city's property market.

Commodore Bruce Donaldson (R Front), commander of Canadian Fleet Pacific, shakes hands with Rear Admiral Wang Fushan, deputy commander of the Chinese Navy North Sea Fleet, at Esquimalt Harbor outside Victoria, capital of Canada's British Columbia. Chinese naval fleet at Esquimalt Harbor outside Victoria, capital of Canada's British Columbia Province, Sept. 25, 2006. A Chinese naval fleet comprising of guided-missile destroyer "Qingdao" and supply ship "Hongzehu" sailed into Esquimalt Harbor, Canada's Pacific Naval Headquaters, on Sept. 25 for a five-day visit.

Neusoft Group Ltd, a leading Chinese software and solutions provider, announced yesterday that Intel Corp has agreed to invest 40 million U.S. dollars in the company to help it strengthen its presence in the health care and financing software market.
The Chinese government is to scrap its decades-old policy of banning private cars from the roads after 15 years of use, an official with the Ministry of Commerce said

China's President Hu Jintao (C) and Lithuania's President Valdas Adamkus (L) attend a welcome ceremony at the Great Hall of the People in Beijing September 26, 2006. Adamkus is in China on an official visit till Sept. 28.

Changhong's flat screen televisions are displayed at an exhibizion. A fierce price war among China's flat screen television producers has seen prices drop by 30 percent in the first nine months.
China is unlikely to tap the global bond market this year amid concerns that such borrowing could drive up foreign exchange reserves, a senior Finance Ministry official said on Wednesday.
The biggest public pension fund in the United States is considering investing in Chinese firms for the first time in a move that could have a major flow-on effect, the Financial Times reported on Wednesday.
The central government is considering a plan to restructure Guangdong Development Bank, including an offer by Citigroup and other investors to pay 24.1 billion yuan (HK$23.4 billion) for the troubled south China lender, a report said on Wednesday.
Sept 27, 2006

Hong Kong: With property developers launching new residential projects, Hong Kong banks - armed with ample liquidity - are likely to offer more lucrative mortgage packages to homebuyers, triggering another round in the mortgage war among lenders.
Hong Kong stocks fell the most in more than a month as the market was hit by rumors that China Mobile (Hong Kong) (0941) and China Life (2628) are planning share placements to take advantage of the recent rise in their share prices.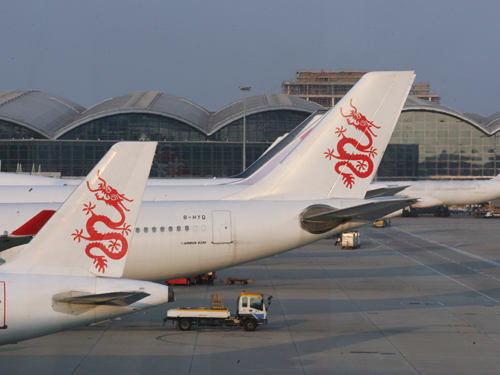 Cathay Pacific Airways (0293) will take complete control of Hong Kong Dragon Airlines tomorrow, creating a major airline group operating from Hong Kong that will also benefit from the synergies the partnership brings.
PCCW (0008) chairman Richard Li Tzar-kai has offered to privatize his 75-percent-owned Pacific Century Regional Developments in Singapore, after US private equity group Newbridge Capital agreed to drop a HK$1.1 billion plan to buy out minority shareholders in the Singapore company.
Hong Kong remains the preferred base for international companies to oversee their regional operations, with the number of regional headquarters and local offices run by overseas enterprises reaching its highest-ever level this year, topping 6,350.
The government is expected to announce tomorrow a pilot scheme to give more power - and money - to the territory's 18 district councils, a source at the Home Affairs Bureau said.
Chief Executive Donald Tsang Yam- kuen's popularity ratings plunged to a record low Tuesday following his proclamation last week that Hong Kong's laissez-faire economic policy is dead, according to a study by Hong Kong University.
Nobel Prize-winning economist Milton Friedman, who once lauded Hong Kong as the perfect model of a free-market economy, said he was disappointed - though not surprised - to see the city had moved away from a laissez-faire economic policy.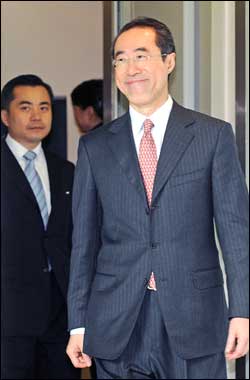 Financial Secretary Henry Tang Ying-yen (centre) shares a toast with Hong Kong Shipping Circles Association chairman Su Xingang (right) at a shipping sector banquet last night to mark the coming National Day. Mr Su said mainland support would boost Hong Kong's strength.
PCCW, which in December last year failed in an attempt to buy out minority shareholders in its listed subsidiary, Sunday Communications, plans to make an offer to buy all the firm's network assets and mobile-telephone operations, a source said yesterday.

China: China will stop the circulation of the 1, 2, 5-cent paper money of the second version of the Renminbi from next April 1, the People's Bank of China announced on Monday.
China said on Tuesday that it hopes Japan's new leadership could make efforts to improve and develop bilateral relations. Shinzo Abe (C), the new president of the Liberal Democratic Party, is applauded by colleagues after being elected as Japan's new prime minister at the Lower House of Parliament in Tokyo September 26, 2006.
Beijing's Central Business District. Statistics show that in August, the actual use of foreign investment in local real estate market reached 470 million US dollars, 66 percent more than the same period last year.
A corruption probe that brought down Shanghai Communist Party secretary Chen Liangyu is progressing further and others might be implicated, a party anti-graft official said.
Bank of Beijing, the second municipal lender allowed to operate outside its home city, plans to raise about US$500 million from an initial public share offering by the second quarter of next year at the earliest, market sources said.
Sept 26, 2006

Hong Kong: Mid-tier developer Kowloon Development (0034) has joined forces with mainland developer CITIC South China to win the tender for seven plots of land in Foshan city, Guangdong, for 3.03 billion yuan (HK$2.98 billion).
Shares of Hong Kong-listed Shanghai- focused developers fell Monday after news emerged about the sacking of Chen Liangyu.
Macau casino tycoon Stanley Ho Hung- sun's flagship company is sailing ahead with plans to publicly list casino operator Sociedade de Jogos de Macau on the Hong Kong stock exchange by the end of the year, voting Monday to incorporate a new Hong Kong subsidiary to facilitate the planned HK$15 billion offering.
Sun Hung Kai Properties (0016) will raise office rents by as much as 20 percent on completion of HK$600 million worth of office upgrading work.
Initial public offerings of two Shanghai-based developers - Shui On Land, and SPG Land - are unaffected by the city's social security fund scandal and will proceed with their listing plans on schedule, sources said Monday.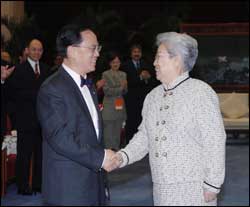 Vice Premier Wu Yi has given her stamp of approval to Chief Executive Donald Tsang Yam-kuen's administration, saying that in just two years it had successfully lifted Hong Kong from an economic trough and put it on the road to full recovery. Wu also appealed Monday to Hong Kong investors to jump aboard the central China express and grab the economic opportunities that were becoming available as part of China's 11th Five- Year Plan. The pat on the back for Hong Kong's leader and its entrepreneurs came on the fringes of the Expo Central China 2006 which Wu opened Monday night at the Jiusuo Convention Center in Changsha. Tsang, who is leading a 90-member Hong Kong delegation to the expo, met with Wu, Minister of Commerce Bo Xilai and the heads of six central China provinces. Wu, after shaking hands with Tsang and a few delegation members before the meeting, hailed the chief executive's success in reviving the economy.
Not satisfied with Chief Executive Donald Tsang Yam-kuen's public editorial response last week to her open letter asking him to clarify his remarks that Hong Kong's laissez-faire - or "positive non-intervention" - policy is dead, Civic Party chairwoman Audrey Eu Yuet-mee is attempting to keep up the pressure on Tsang with another open letter.

A PLA soldier shows Tan Fang, a Hong Kong University of Science and Technology student, an assault rifle during a fete at San Wai Barracks in Fanling yesterday. More than 220 students and the heads from 10 tertiary institutions joined the activities.
The Correctional Services Department is concerned about illegal activities in penal institutions — following the recent discovery of soccer betting notes inside Stanley Prison, a department spokeswoman said on Monday.

China: The China Securities Journal, a financial newspaper run by Xinhua, has called for the widening of the yuan's flotation range to reduce the pressure on further appreciation of China's currency.

Shanghai Communist Party secretary Chen Liangyu was sacked and put under house arrest Sunday for his alleged role in the city's 3.2 billion yuan (HK$3.15 billion) pension fund scandal in a move that observers said is part of central government efforts to install favored candidates in key positions as it shores up support ahead of party elections next year. Apart from "his involvement in a social security fund scandal," said Xinhua News Agency, in announcing the arrest Monday, Chen, 59, also unlawfully aided family members and "illegal entrepreneurs," as well as protected staff who had been guilty of wrongdoing. Mayor Han Zheng, 51, will become acting party secretary in Shanghai. Chen's dismissal followed the sacking last month of Zhu Junyi as the chief of Shanghai Social Security Fund. Zhu is alleged to have diverted up to 3.2 billion yuan to business associate Zhang Rongkun, a former director in Hong Kong-listed Shanghai Electric Group (2727). Wang Chengming, former chairman of Shanghai Electric, is also implicated in the scandal.

Dongyue, Hanyan and Shiyan took 1st, 2nd and 3rd place at the 2006 Miss Asia Pageant (Chinese mainland).The finals of the 2006 Miss Asia Pageant, for the Chinese mainland were held in a studio at the Dalian Broadcast and TV Center on the evening of September 23.These three will go to Hong Kong to receive training with five other contestants who received special awards in the competition. They will participate in the finals of the 2006 Miss Asia Pageant to be held in Macao.
China has offered a four-point proposal to boost Sino-US space cooperation, said Sun Laiyan, administrator of China National Space Administration. Nasa administrator Michael Griffin was in Beijing on Monday for talks with Chinese officials that China¡¦s government hopes will lead to cooperation in space exploration.
China successfully built the core network of its next generation Internet, leading the world in developing a larger, faster and safer Internet that is to dominate the future.

Citigroup Inc, the world's biggest financial services company, was keen to attract more of China's small and medium enterprises as potential clients at an expo this month in Guangzhou, Guangdong Province. It's the first time the U.S. financial giant has participated in the Third Small and Medium Enterprises Fair, which is co-sponsored by government bodies including the nation's top banking regulator, top planning agency and the Ministry of Finance.
China and seven Portuguese-speaking countries adopted a new "Action Plan for Economic and Trade Cooperation" in Macao Sunday afternoon, striving for increasing the bilateral trade volume to 45-50-billion U.S. dollars by 2009.

Some of a total of 138 newly-wed couples kiss each other during a grand wedding ceremony held on the sidelines of the Forum of Historical and Cultural Cities, in Nanjing, China, on Monday Sept. 25, 2006. The wedding service industry is booming in China with an estimated 10 million couples expected to get married this year.
Sept 25, 2006

Hong Kong: Richard Li Tzar-kai, chairman of PCCW (0008), will step down as chairman of Pacific Century Premium Developments (0432), a source said.

The 2.03 carat, a highlight from Rio Tinto Diamond's Pink Tender, demonstrates the diamonds' rich colouring. The largest collection of the world's rarest and most valuable diamonds were brought to Hong Kong for a closed auction.
Shanghai ranked high for living conditions, as well as law and order for professionals living in the city, but lagged Hong Kong for shopping and entertainment, a survey by a developer in the mainland financial hub has found.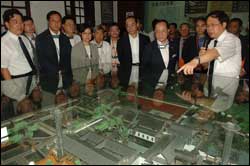 Chief Executive Donald Tsang Yam-kuen called on Hong Kong investors Sunday to grab the opportunity to foster closer trade and commercial ties with fast-growing Hunan province. Leading a 90-strong delegation from the business, retailing, logistics and professional sectors participating in the first Central China Expo in Hunan, Tsang said on the first day of a three-day visit that the province is strategically positioned and possesses extensive road and rail networks. He believes the development of Hunan, which lies adjacent to Guangdong, will take off in the next few years.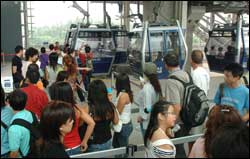 Strong winds forced Lantau's Skyrail to suspend operations for half an hour and to reduce travel speeds by 20 percent Sunday, the second such suspension in two days. The safety measure resulted in a loss of about 1,500 passengers on what was the first Sunday since the troubled cable car system began operating Monday. Skyrail-ITM, the operator, had earlier said it expected the number of passengers to reach its full capacity of 7,500 return trips Sunday. However, the so-called "journey of enlightenment" was halted for 32 minutes by high winds and, with the speed lowered for most of the rest of the afternoon, the number of people traveling between Tung Chung and Ngong Ping reached only 6,000. The wind gusts were not unexpected and, early Sunday morning, the company had posted a sign outside the terminal telling visitors "due to strong wind, there may be delay in boarding." The service was suspended at 1.24pm when gusts of 90 kilometers per hour were recorded, winds that one would associate with a No 8 typhoon signal. Skyrail managing director Bill Calderwood said in addition to the suspension, the speed of the system was reduced from five meters a second to four for added safety.
The Independent Commission Against Corruption has taken a new step to protect an economic sector that has been of increasing importance to the city's economy - tourism.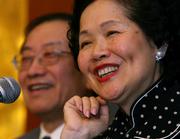 Anson Chan, with new core group member Allen Lee at her side, announces her decision yesterday. She insisted she had never intended to run for chief executive. Leaders of the political parties preparing to challenge Donald Tsang Yam-kuen in next year's election struggled to contain their disappointment yesterday at Anson Chan Fang On-sang's decision not to run. The former chief secretary struggled to get businesspeople to join her core group because they apparently feared upsetting the authorities. Beaming with confidence and a sense of purpose, Anson Chan Fang On-sang sought to impress on the public yesterday that she was not down or out after declaring she would not run for chief executive.

China: US Secretary of Treasury Paulson and Vice-Premier Wu Yi announced the creation of a new China-US "strategic economic dialogue" on Sept. 20.
China's seed-breeding satellite, Shijian-8, successfully landed in Sichuan Province, SW China, at 10:43 a.m. Beijing time on Sunday after a 15-day flight in space.

The Industrial & Commercial Bank of China (ICBC), the country's top lender, is preparing to launch its 48.4 billion shares of IPO (initial public offering) simultaneously in Hong Kong and Shanghai in October. The bank expects to raise between 18 billion U.S. dollars to 21 billion U.S. dollars through the IPO, which could be the world's largest since Japan's top mobile phone operator NTT DoCoMo Inc. raised 18.4 billion dollars in 1998.
Afghanistan's Ministry for Transport and Aviation is considering buying some passenger planes from China, a Kabul-based English newspaper reported Sunday. In talks with the daily Afghanistan Times, Minister for Transport and Aviation Nimatullah Ehsan Jawid said his ministry would buy five small planes from China to restore Afghanistan's former domestic airliner company the Bakhter. "With buying such planes from China the Bakhter's activities would be revived," Ehsan Jawid told Afghanistan Times. Bakhter, a small company providing domestic flight services in the past, stopped its services due to over two and a half decades of war. Currently Afghanistan's state-owned national carrier Ariana and a private airline company the KamAir are in operation. Ariana has only three Boeing 727 and two Air Bus 300 and KamAir has a few planes connecting post-Taliban Afghanistan with outside world.
China is drafting an anti-monopoly law that might force companies such as Microsoft to give up leading market shares in the world's fastest-growing economy.

Eagle Electric Appliance, another brand of Gome, China's biggest home appliance retailer, opened in Beijing on September 23
China's industrial firms scored 1.1327 trillion yuan (143 billion U.S.dollars) of profits in the first eight months, up 29.1 percent from a year earlier, according to the National Bureau of Statistics (NBS).
A State Council-level government economist predicts new measures to rein in rapid economic growth are unlikely because fresh signs are emerging that fixed-asset investment is slowing and the rise in property prices has moderated.
China will reinforce auditing of banks and other financial firms over the next several years, the National Audit Office said, as the country opens its financial sector and allows major lenders to list on overseas markets.
Sept 22 - 24, 2006

Hong Kong: The ongoing political crisis in Thailand is unlikely to have widespread repercussions for other financial markets in the region, fund managers and analysts said, though some of the funds fleeing the country could find their way to Hong Kong to boost local shares. The ongoing political crisis in Thailand is unlikely to have widespread repercussions for other financial markets in the region, fund managers and analysts said, though some of the funds fleeing the country could find their way to Hong Kong to boost local shares.
Hong Kong tourists were still flying to Thailand Wednesday. "There were more tourists going to Thailand than those canceling trips," said Joseph Tung Yiu-chung, executive director of the Travel Industry Council, without giving exact numbers.
Dealmaker Francis Leung Pak-to secured a HK$500 million bridging loan in July from a fund he managed privately for tycoon Li Ka-shing to cover an initial deposit for Leung's purchase of a 22.66 percent stake in PCCW (0008) that was indirectly held by Li's son, Richard Li Tzar-kai.

Chinese Estates expects the Zenith residential project in Wan Chai may generate more than HK$3 billion in sales.
Hong Kong shares rose to close at a six-year high on Thursday after the US Federal Reserve held rates steady, boosting hopes that the global economy can stage a soft landing and allow Hong Kong corporate earnings to keep growing.
The total number of drug abusers in Hong Kong fell in the first half of the year — although the number of psychotropic drug abusers is up, latest figures released on Thursday found.
Hong Kong's economy was now enjoying strong growth after dealing with some difficult problems, Secretary for Commerce, Industry and Technology Joseph Wong Wing-ping said on Thursday.
The controversial sale of Hong Kong telecoms operator PCCW by businessman Richard Li Tzar-kai was initially financed by his father, Asia's richest man Li Ka-shing, the company confirmed in a statement on Thursday.
The Hong Kong Monetary Authority early on Thursday said it was keeping its base rate unchanged at 6.75 per cent following the United States Federal Reserve's decision to leave its key interest rate unchanged.

China: High-ranking Chinese and US officials will meet twice a year for wide-ranging discussions on their economic relationship, the first such mechanism between the two nations.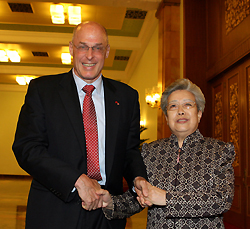 Chinese Vice Premier Wu Yi (R) meets with United States Secretary of Treasury Henry Paulson at the Great Hall of the People in Beijing, capital of China, Sept. 20, 2006. As special representatives of Chinese President Hu Jintao and US President George W. Bush, Wu and Paulson announced on Wednesday the establishment of the China-US economic strategic dialog.

Customers line up for return and refund on SK-II cosmetics. SK-II, a top Japanese cosmetic maker, took back its products sold and refunded customers at Shanghai International Hotel on September 20.
China National Offshore Oil Corp (CNOOC) finalized a deal yesterday to buy liquefied natural gas (LNG) from the Indonesian Tangguh gas project for its LNG terminal in Fujian Province.

Chen Qian (C), winner of the China final for Miss International Beauty Pageant 2006, poses with the first and second runners-up Chen Xiaomeng (R) and Jiao Jian in Beijing, Sept. 20, 2006.

Chinese marine soldiers launch haul lines to the distressed personnel during a joint search-and-rescue exercise between visiting Chinese military ships and US navies at the Naval Base San Diego Wednesday, September 20, 2006. Chinese navy wrapped up their three-day port visit there Wednesday.
Banking regulators may further loosen rules on foreign lenders dealing with renminbi business in response to complaints by overseas players.
The Asian Development Bank will lend China US$3 billion (HK$23.4 billion) over the next two years with the farm and energy sectors becoming the new focal points, the Philippines-based lender said Wednesday.
China National Offshore Oil Corp (CNOOC) had finalized a deal worth US$8.5 billion (HK$66 billion) to supply the nation's southeast with 2.6 million tonnes of liquefied natural gas (LNG) annually over 25 years, state press said on Thursday.
Sept 21, 2006

Hong Kong: Some of the financial investors of Shui On Land are taking the opportunity of its upcoming listing to halve their shareholdings or are going for good, according to the developer's offer prospectus.

Hong Kong's labor force hit a new record high of 3.663 million as the city's unemployment rate in the three months ended August 31 dropped to its lowest level in five years.
Banks are unlikely to embark on a new round of interest rate cuts even if, as expected, the US Federal Reserve refrains from raising interest rates today.
Sinotrans Air Transportation Development, a subsidiary of Hong Kong-listed Sinotrans (0598), and Korean Air, the world's largest international commercial cargo carrier, will offer logistics and airfreight services in the mainland next year through a joint-venture cargo operation.
Despite a projected annual loss of HK$1 million, Hong Kong Baptist Hospital has joined Shatin Baptist Church in setting up a community clinic in Sha Tin to provide inexpensive health care for low-income residents.
New Hong Kong Jockey Club chairman John Chan Cho-chak said Tuesday should the government decide to impose a goods and services tax on horse racing, it would constitute a double-tax and cut deeply into the club's legal betting operations.
Professor Larry Diamond - former security chief Regina Ip Lau Suk-yee's academic mentor at Stanford University - has proposed a parliamentary system for Hong Kong to revamp its "presidential-like system," and urged Beijing to amend the Basic Law to plug loopholes in the SAR's democratic setup.
Secretary for Security Ambrose Lee Siu-kwong on Wednesday warned Hong Kong people to be careful if they visited Thailand - after a bloodless military coup on Tuesday toppled the country's civilian government.

Toasting the People's Republic: Front from left, lawmaker Lau Wong-fat, Chief Executive Donald Tsang Yam-kuen, central government liaison office director Gao Siren and local deputy to the National People's Congress Standing Committee Tsang Hin-chi join a toast at a reception to celebrate the forthcoming 57th anniversary, on October 1, of the founding of the People's Republic of China.
Secretary for Commerce, Industry and Technology Joseph Wong Wing-ping said Hong Kong offered considerable opportunities for Australian companies intending to enter the mainland market.
Chief Executive Donald Tsang Yam-kuen on Wednesday urged Hong Kong students to continue to improving themselves — in the face of growing competition from the mainland.

China: Ports operator China Merchants Holdings (International) (0144) has reported first-half net profit rose 3.8 percent to HK$1.2 billion over the same period the previous year, thanks to earnings contributions from associate Shanghai International Port Group, which it acquired two years ago.

"Important progress has been made in the exchange regime to allow greater flexibility," People's Bank of China Governor Zhou Xiaochuan said at the International Monetary Fund and World Bank annual meetings in Singapore yesterday. US Treasury Secretary Henry Paulson's ongoing China visit has stirred much debate about a possible appreciation of the renminbi.
China's quota in the International Monetary Fund (IMF) has increased from 2.98 per cent to 3.72 per cent, a release by the People's Bank of China said yesterday.
US-based Ford Motor announced yesterday that it would acquire the Rover brand from German premium carmaker BMW AG.
The United States and China said on Wednesday that they would hold regular high-level talks about their long-term economic relationship.

U.S. Treasury Secretary Henry Paulson (R) chats with Xi Jinping, Secretary of the Communist Party of China's Zhejiang Provincial Committee, in Hangzhou, China September 19, 2006.
The authorities do not have a concrete plan or timetable for reforming the system of foreign-currency B shares earmarked for foreign investors, domestic media reported yesterday, denying a rumor that swept the market Monday.
China will soon release a rule on the management of State-owned capital, requiring State-owned enterprises to submit their dividends to the government.
News Corp chairman Rupert Murdoch said his Chinese-born wife Wendi Deng was in China with the company's executives to help launch a Chinese version of its popular MySpace social networking website, a newspaper reported on Wednesday.
Sept 20, 2006

Hong Kong: State Councilor Tang Jiaxuan is the latest state leader to throw his support behind former Hong Kong health chief Margaret Chan Fung Fu-chun's bid to head the World Health Organization.
A government-advisory council Monday relegated the burden of Hong Kong's worsening air pollution onto US and European consumers, in response to calls for a certification program that would discourage business with the region's polluting factories.
Businessmen Ngan In Leng and Ngan Iek are suing Golden Resorts Group managing director and chief executive Pollyana Chu for almost HK$500 million. The Ngans and three relatives sold the Casa Real casino hotel to Hong Kong-listed Golden Resorts for HK$750 million in cash and 110 million shares last year.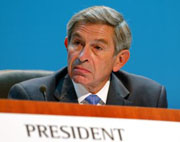 World Bank President Paul Wolfowitz listens to a speech during the opening of the IMF and World Bank annual meetings on Tuesday in Singapore. Wealthy nations must make Africa their top poverty-fighting priority, Mr Wolfowitz said on Tuesday, urging wealthy countries to follow through on promised aid.
Hong Kong's unemployment rate fell to a five-year low last month as an expanding economy created more jobs for school leavers, government figures released on Tuesday showed.
Some 40 per cent of the Hong Kong's exports to China in the second quarter were for outward processing, latest statistics of the Census and Statistics Department released on Tuesday showed.

China: The central parity rate of the RMB against the U.S. dollar was set by the People's Bank of China at 7.9342 yuan on Tuesday. The previous day the central parity rate was set at 7.9431 yuan to the U.S. dollar. China's foreign exchange reforms had made ''significant progress'' though the impact would be seen over time, the People's Bank of China governor told fellow financial leaders on Tuesday.
China will host a meeting of top US and Asian energy officials next month, as Beijing steps up efforts to co-ordinate consumer nation policy and rein in oil prices.

A panda cub yawns at the Wolong Giant Panda Protection Center in Wolong, southwest China's Sichuan province September 18, 2006. Picture taken September 18, 2006.
COSCO International (0517), the ship trading and property arm of state-owned COSCO (HK) Group, said it will sell at least 300,000 square meters of residential property in China in the second half.
Over 330 Shanghai residents have been poisoned by pork tainted with a weight-loss steroid popular among bodybuilders, state media said on Tuesday.
China wants more foreign investors in its shipbuilding industry but will restrict their ownership to a maximum 49 per cent, the government says.
United States Treasury Secretary Henry Paulson says he will be patient in dealings with China during a visit this week that is expected to include talks on Washington's appeals for a stronger yuan.
Sept 19, 2006

Hong Kong: Chief Executive Donald Tsang Yam- kuen has defended his stance that Hong Kong's laissez-faire - or "positive non-intervention" - economic policy is dead, saying the brouhaha over his remarks is mere quibbling over economic vernacular.
Industrial and Commercial Bank of China, which is preparing for what is expected to be the world's largest initial public offering, will also break new ground in Hong Kong when it posts the preliminary offer document on the Web sites of the Hong Kong and Shanghai stock exchanges.
Shares of Cathay Pacific Airways (293) jumped to their highest level in more than two years Monday after the price of jet fuel dropped Friday to US$78.75 (HK$614.25) a barrel in Singapore, its lowest level in more than five months.
The Lands Department has promised to inspect all of Hong Kong's 4,500 short- term tenancies after a land abuse scandal involving a cousin of the chief executive last month triggered an avalanche of public criticism.

Hong Kong's newest tourist attraction - Ngong Ping 360 - finally got off the ground Monday after a three-month delay due to technical glitches.
Hong's Kong's hospitality industry is mounting a concerted effort to block the government's latest proposal that may require hotel bars to obtain separate licenses in order to be exempt from the anti-smoking law until 2009.
Hong Kong's position as the world's third biggest jewelry exporter will be in jeopardy should the government introduce a goods and services tax, the Coalition Against Sales Tax has warned.
The government admitted yesterday its supervision of short-term land tenancies was lax, as it revealed that prominent rural leader Daniel Heung Cheuk-kei had received eight warnings in 23 years over his use of a site in Sha Tin.
Sino Land, the fifth-largest property developer in Hong Kong by market value, said underlying profits jumped 91 per cent to HK$4.73 billion in the year ended June on the back of strong home sales.
Major stakeholders in listing candidate Shui On Land have increased the allotment of shares they hope to sell in its revived, lower-priced initial public offering, as the developer slashes its earnings forecast and reports a loss-making first quarter.

China: China and Italy pledged Monday to cement their comprehensive strategic partnership to benefit the two nations and peoples.
The Board of governors of the International Monetary Fund (IMF) Monday overwhelmingly approved a resolution to give more voting power to China, South Korea, Mexico and Turkey.
Jin Renqing, Minister of Finance of China, outlined six principles yesterday to ensure the effectiveness of the World Bank's governance and anti-corruption campaign.

New office buildings at the Financial Street in west Beijing. Beijing Financial Street, one of China's most specialized financial services centers, aims to develop further toward an international financial hub. With largest density of banking deposits and capital flows among all such centers in China, the street hosts headquarters of top banking, insurance and securities companies from around the country.
A 1.5 billion yuan (HK$1.47 billion) methanol plant jointly owned by Kingboard Chemical Holdings (0148) and China BlueChemical (3983) is gearing up in Hainan Island, capable of producing 600,000 tonnes of methanol per year.
Niche apparel supplier and retailer Hembly International (3989) said it plans to form two retail joint ventures with an international luxury apparel company during the remaining months of the year, in an effort to raise the contribution from its retail and distribution business to one-third of overall revenue from the current 10 percent.
Italian Prime Minister Romano Prodi yesterday said his country was leaning towards supporting the end of a 17-year-old European Union ban on arms sales to China, as he signed trade agreements and pledged stronger ties with Beijing.
China's foreign-currency B-share indices had their biggest gains in almost three years yesterday on speculation the almost moribund market would soon be merged with its far larger and more active yuan-denominated A-share sibling.
Grand China Airline Holdings, the parent firm of Hainan Airlines, may scrap plans to seek "red chip" status for its planned US$1 billion initial public offering in Hong Kong next year, given new mainland regulations that make it difficult to transfer assets out of China, market sources said.
Sept 18, 2006

Hong Kong: The central government leader in charge of Hong Kong affairs told the Liberal Party yesterday it should join hands in building Hong Kong. Vice-President Zeng Qinghong's stress on co-operation came as delegates told him the Liberals wanted to "co-govern" the city. Speaking after a 90-minute meeting with Mr Zeng, party chairman James Tien Pei-chun said: "He told us to cherish opportunities and join hands to build Hong Kong." Eleven representatives of the party's 43-strong delegation to Beijing met the vice-president. Mr Tien said the party asked that it be allowed to govern Hong Kong jointly with the city's administration. Mr Zeng did not give any positive answer to the demand, he said. The Liberal Party is the second Hong Kong political party to have been received in Beijing this week. The visits come as the city's political groups and professionals gear up for December's balloting to form the Election Committee that will pick the next chief executive. On Thursday, the Liberals, who have recently taken a critical stance towards the government of Chief Executive Donald Tsang Yam-kuen, took up with the central government the proposal for a goods and services tax. A Hong Kong government source interpreted the Liberals' stance as a bid for more support from Beijing for its candidates in the Election Committee poll. Mr Tien said Mr Zeng told the delegation his remark about them joining hands to build Hong Kong meant the Liberals, whose legislators representing functional constituencies were elected by supporters in various trades and industries, should grasp the opportunities offered by economic development on the mainland and overseas.
Central government leaders trod cautiously this week to ensure that the visits of two major government-friendly political parties came off without a fuss at what is a sensitive time, given the ongoing debates about politics and tax in Hong Kong.
The Law Reform Commission will consider whether Hong Kong should set up a register of sex offenders - a change of tack that follows recent comments by judges in support of such a register.
Both Hang Seng Bank and its parent company, HSBC Holdings, hope to gain a mainland share listing, Hang Seng chairman Michael Smith said yesterday, although they will have to clear a host of regulatory hurdles first.
LK Machinery, the mainland's largest die-casting machine manufacturer, plans to raise up to HK$300 million in a Hong Kong initial public offering this month to expand its production capacity, market sources said.

China: Beijing officials have been quick to deny mainland media reports that the city will expel millions of migrant workers during the 2008 Olympics and declare a 16-day holiday for the public.

Coal exporters will suffer the most pain from Beijing's new tax policy as they will no longer receive any value-added tax rebate.
Geely Automobile Holdings, China's biggest private carmaker, yesterday said profit jumped 196 per cent in the first half of the year as sales were fuelled by strong demand for its compact cars and the launch of more expensive models.
Aluminum Corp of China (Chalco), the world's second-largest alumina producer, has won final approval from the Queensland state government in Australia to develop a A$3 billion (HK$17.54 billion) bauxite mine and refinery project.
Sept 15 - 17, 2006

Hong Kong: China Merchants Bank, the sixth largest commercial lender in the mainland, had locked up about HK$22 billion capital in the banking system when its initial public offering closed Wednesday, according to market sources.

Blue-chip fashion retailer Esprit Holdings (0330) said chairman Michael Ying Lee-yuen will step down in December - 13 years after founding the company - to be replaced by chief executive Heinz Krogner.
Li & Fung (0494), an exporter and trader of consumer products, plans to raise HK$2.45 billion by selling 140 million shares in a top-up placement, according to a deal term sheet.

The Airport Authority is studying the feasibility of building a third runway in Hong Kong in expectation of exponential growth in mainland air traffic.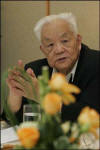 The US$1 million (HK$7.8 million) Shaw Prize was established by film and television mogul and philanthropist Sir Run Run Shaw in November 2002 to honor scientists who have achieved breakthroughs in academic and scientific research or application and whose work has benefited mankind. Six 2006 Shaw laureates were honored earlier this week in a ceremony at the Hong Kong Cultural Centre for their contributions to mathematical sciences, astronomy, and life science and medicine. Profiles of the honorees begin today with a joint- winner in mathematical sciences, Wu Wentsun of the Chinese Academy of Science in Beijing. From tomorrow, Justin Mitchell will spotlight the three people who shared the astronomy prize While China's Cultural Revolution meant disaster for many educated professionals and intellectuals who were persecuted and tortured as "black anti-Party gangsters," "imperialist intellectuals" and "counter-revolutionaries," its horrors also meant opportunities. As fate would have it, the revolution's horrors eventually won a Shaw Prize for two 2006 laureates. Mathematician Wu Wentsun, 87, is one of them. This year, Wu shared the Shaw Prize in Mathematical Sciences with Brown University professor David Mumford for his work in pure and applied mathematics, as well as his research in melding computer science and mathematics. Wu was specifically honored for finding ways of using machine proofs that transform an elementary geometry problem into an algebraic statement. By doing so, he revolutionized the field of geometry.
But in the beginning, Wu, a professor at the Chinese Academy of Sciences at Beijing, did not dream nor even conceive of revolution - either a "cultural one" or in geometry.
The Court of Appeal has upheld the conviction of a former company director who had argued that evidence gathered by the Independent Commission Against Corruption before the passing of the Interception of Communications and Surveillance Ordinance should not have been used against him.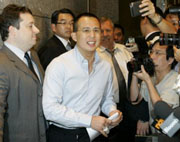 PCCW chairman Richard Li speaks after a meeting in Hong Kong in July. On Thursday PCCW reported a 17 per cent fall in interim earnings to HK$796 million.

The goddess of the moon, with the assistance of a group of eager young children decked out in traditional clothing, hands out moon cakes and lanterns at the entrance to the World Trade Centre in Causeway Bay. The Mid-Autumn Festival promotional event was organised by Sun Hung Kai Properties' shopping malls.

China: The International Monetary Fund (IMF) predicted China's economic growth would reach 10 percent for both 2006 and 2007, according to its latest "World Economic Outlook" released in Singapore on Thursday. China's industrial output grew 15.7 per cent in August from a year earlier, the slowest pace in 17 months, indicating the government's cooling measures are beginning to work.

The photo shows some of the 136 villas at Xingshisi Village in Gannan County of northeast China's Heilongjiang Province. Xingshisi Village of 196 families was built by resettled people in 1950s. After 50 years, Heilongjiang Fuhua Group, a large commercial group of various industrial corporations with a personnel of more than 1,800 and an assets of 1 billion RMB yuan, developed rapidly in the village and produced a general income of 650 million RMB yuan (81 million USD) for the village in 2005.
Macro-economic controls imposed to cool down the housing market, especially high-end properties, are beginning to bite, according to a survey released yesterday.
First-half profits at Beijing Enterprises Holdings (0392) plunged 95.72 percent after a brewery unit turned in a net loss of HK$233 million and the gain from the sale of its 50.13 percent stake in the Shanghai-listed Wangfujing Department Store could not be booked within the period.
Sept 14, 2006

Hong Kong: China Mobile (Hong Kong) (0941), the world's largest cellular operator, said it plans to launch new third- generation services only in selected mainland cities, allaying concerns the company's future finances would be weighed down by the commitments of a full nationwide rollout.

Sun Hung Kai Properties (0016) won its second residential site in a month, fending off four rivals with a surprising bid of HK$53 million for a minor plot in Tsuen Wan at Tuesday's government land auction.
Shares of Melco International Development (0200), controlled by tycoon Stanley Ho's son Lawrence Ho, slumped 5 percent Tuesday after its plan to spin off its Macau gaming business on the Nasdaq encountered regulatory hurdles in Hong Kong.
Jardine Matheson Holdings, which runs drugstores and supermarkets across Asia and owns the Mandarin Oriental hotel chain, said first-half profit fell 18 percent on lower earnings from its Indonesian car unit and smaller gains from the revaluation of property.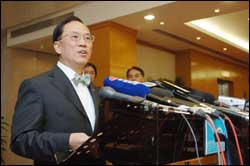 Chief Executive Donald Tsang Yam- kuen has waded into the battle over the administration's proposed goods and services tax, calling the unpopular plan a "bitter pill" that would better prepare Hong Kong for its next recession. From government headquarters in Central, Tsang Tuesday aimed his fire at GST critics who, he said, were "pretending not to see the clear and present challenges that Hong Kong is facing." "I am ... convinced that the government should never refrain from doing the right thing even though it is unpopular," Tsang said, adding that "good medicine often comes as a bitter pill." Tsang put no new spin on the administration's attempts to sell its tax plan, but instead restated the fundamental rationale behind it.
Leaders of the pro-Beijing Democratic Alliance for Betterment and Progress of Hong Kong earned high praise from state leaders for the rapid growth in the party's membership, which has swollen to almost 7,400 from just 2,000 following its merger with the now-defunct Hong Kong Progressive Alliance in May last year.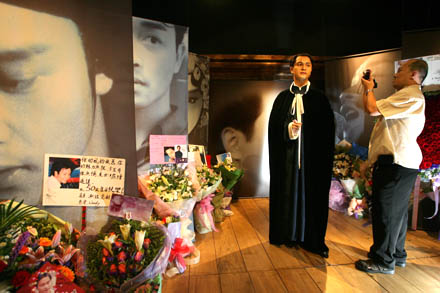 Fans took photos, laid tributes and bouquets of flowers beside the wax figure of the late Canto-pop star and film icon Leslie Cheung Kwok-wing at Madame Tussauds yesterday to mark what would have been his 50th birthday. The sculpture of the Hong Kong-born star, affectionately known as Gor Gor (Big Brother), was unveiled at the museum on April 1, 2004, the first anniversary of his death. Cheung, who died at age 46 and had battled depression, leapt to his death from the Mandarin Oriental hotel, leaving a suicide note.
Hong Kong had made significant progress in the past eight years in its management of information and communications technology (ICT), Secretary for Commerce, Industry and Technology Joseph Wong Wing-ping said on Wednesday.

China: China launched a new telecom satellite, Zhongxing-22A, with a Long March-3A rocket carrier, at the Xichang Satellite Launch Center, at 00:02 on Wednesday.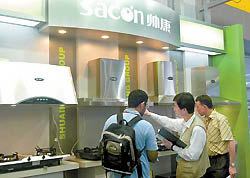 A Ningbo Shuaikang Co Ltd employee shows the company's range hoods and cooktops to foreign businessmen at an export commodities fair. Shuaikang is a leading Chinese manufacturer and exporter of kitchen appliances. Most Chinese manufacturers plan to increase their export prices in the next 12 months, under pressure from growing raw material prices.
Most Chinese manufacturers plan to increase their export prices in the next 12 months, under pressure from growing raw material prices.
Following Zhongsou.com, Yahoo! China, one of the country's leading Internet search websites, has become the second defendant in a legal campaign launched by a grassroots netizen organization against 'hooligan' software applications.

New initial public offering rules proposed by the mainland's securities watchdog have opened the door for Industrial and Commercial Bank of China to become the first candidate to list its shares simultaneously in both the mainland and Hong Kong.
Despite net profit surging 169 percent to HK$203 million in the first half, Tianjin Port Development Holdings (3382) declared no dividend, but announced plans to raise terminal charges in the second half of the year.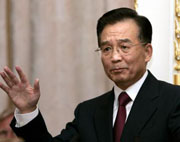 China's Prime Minister Wen Jiabao gives a speech during a dinner hosted by China-Britain Business Council in London on Wednesday (HK time). He said the mainland would continue to open up to the rest of the world. Mr Wen is on a two day visit to the UK.
Japan and China will hold vice foreign ministerial talks in Tokyo on September 22 and 23, Japan's Mainichi newspaper reported on Wednesday.
Rampant financial malpractices, ranging from budgetary abuses to spending state funds on staff housing, expensive villas and bankrupt, shut-down coal mines, have been revealed in the annual audit of 42 government institutions by China's National Audit Office.
China's industrial output growth slowed for a second consecutive month last month, showing a year-on-year increase of 15.7 per cent after months of breakneck gains, official figures showed on Wednesday.
The mainland's Semiconductor Manufacturing International Corp (SMIC) on Wednesday said it had filed a complaint against Taiwan Semiconductor Manufacturing Co (TSMC) for alleged breach of contract in a rancorous dispute between the rival chip makers.
Sept 13, 2006

Hong Kong: On the eve of a visit to Hong Kong by former United States vice president Al Gore to speak on global warming, a lawmaker and environmentalists have urged the government to regulate gas emissions by power plants and save Hong Kong becoming a "hot port."
The business community may resort to legal action should the government legislate to include commissions in the calculation of holiday pay, said convenors of the Hong Kong Business Community Joint Conference, which represents 34 business councils.
Airport Authority Hong Kong is on target to finalize deals to manage the Zhuhai Airport and Hangzhou Xiaoshan International Airport before the end of this year, a senior executive said.
Chief Executive Donald Tsang Yam-kuen on Tuesday launched a strong defence of the proposed goods and services tax - saying it could safeguard Hong Kong against future economic problems.
China Merchants Bank has attracted at least 10 Hong Kong blue-chip corporations as strategic investors for its H-share sale and the institutional portion is 25 times oversubscribed with orders amounting to HK$446.7 billion as of Monday, sources said. Eleven Hong Kong tycoons who have subscribed to the institutional tranche of China Merchants Bank's HK$18.8 billion initial public offering are receiving preferential treatment by not having the sizes of their orders capped, sources say.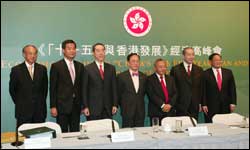 The government is studying plans to resurrect the failed commodities exchange in Hong Kong as part of efforts to diversify the city's financial markets and boost their appeal to mainland companies and international investors. "We are hoping to explore the trading of other financial instruments in which Hong Kong is lacking at the moment," Financial Secretary Henry Tang Ying-yen told reporters Monday at the conclusion of a high-level meeting attended by SAR business leaders.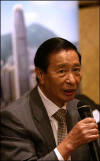 Tycoon Lee Shau-kee is among four corporate investors who have agreed to pay an aggregate of HK$646 million to purchase 25 percent of the total shares being offered by China BlueChemical, a subsidiary of China National Offshore Oil Corp, the mainland's third-largest petroleum company. In its prospectus, China BlueChemical, the country's dominant fertilizer producer, said it aims to raise at least HK$2.2 billion by issuing 1.4 billion H shares - including 140 million reserved for the public - at between HK$1.38 to HK$1.90 per share.
Melco International Development (0200) - controlled by Stanley Ho Hung-sun's son Lawrence Ho - said Hong Kong Exchanges and Clearing had ruled against the listing plan of its Macau gaming joint venture on New York's Nasdaq exchange.
In a rare move, the Independent Commission Against Corruption has rejected allegations it had used "improper tactics" to threaten a top anti-triad police officer who committed suicide last week.
Hong Kong's lawmakers got their first chance Monday to weigh in on a potential new paparazzi law in the wake of last month's Easy Finder incident, calling it high time the government introduced legislation to strike back at intrusive media.
An exhibition of traditional Thai dancing at Tuen Mun Town Plaza yesterday opened a three-day Thai Longan Fest. More than 450kg of the fruit, known locally as "dragon eye", were given away to the first 1,000 shoppers spending more than HK$100. The organisers, Thailand's Ministry of Agriculture, said August was the harvest period for longan and this year's harvest was abundant.
The Industrial and Commercial Bank of China (ICBC), the nation's top lender, would price its upcoming Initial Public Offering at HK$2.70-HK$2.80, state media said on Tuesday.
The International Monetary Fund warned on Tuesday that the risks of a global slowdown had increased due to higher interest rates, surging oil prices and an apparent cooling in the United States housing market that could slow the American economy.

China: President Hu concluded his six-day inspection to Xinjiang, and urged local officials to effectively improve the living standard of all ethnic people in the region.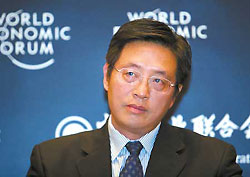 Tu Guangshao, vice-chairman of the China Securities Regulatory Commission, speaks at the World Economic Forum China Business Summit in Beijing yesterday. China is committed to speeding up the development and opening up of its capital markets, but the government prefers a gradual approach to achieving the objective, a securities regulator said.
The Asia-Europe Business Forum held on Monday in Helsinki urged the removal of trade barriers and saving the Doha round of World Trade Organization talks on liberalizing global trade.
China's trade surplus hit a monthly record of US$18.8 billion (HK$146.6 billion) last month, just days before a key international meeting where the country's currency and trading practices could be a top agenda item.
The senior managers of two factories in central China blamed for tainting a river with toxic arsenide have been detained and could face criminal charges, state media said.

China National Coal produced a record 72 million tonnes of coal last year and plans to boost output to 150 million tonnes by 2010. Ahead of its IPO this year in Hong Kong, the mainland's leading exporter has turned away strategic foreign investors.
Sept 12, 2006

Hong Kong: Sun Hung Kai Properties (0016), Hong Kong's largest developer by market capitalization, plans to bid for the proposed third air cargo terminal in Hong Kong, according to a source.
The government has reached an agreement with the city's two electricity suppliers to keep the concession period of the revised Scheme of Control at 15 years, although negotiations are continuing on the new guaranteed rate of returns, a source familiar with the situation said.

Luk Fook Holdings International (0590), the second-largest Hong Kong- listed gold and jewelry retailer by market value, said sales in the past four months were up more than 10 percent compared with the corresponding period last year.
South Sea Petroleum (0076), a Hong Kong-based oil and gas explorer, said it has agreed to sell a 48 percent stake in fully-owned subsidiary SSP Philippines to a United States-based financial firm for US$36 million (HK$280.8 million).
China Motion Telecom International (0989), a loss-making Hong Kong telecom operator, said an independent investor has offered to buy 76.6 percent of the firm for HK$36 million, and has pledged to lend a further HK$30 million to ease the difficulties it is facing.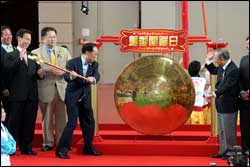 Chief Executive Donald Tsang Yam- kuen Sunday struck the ceremonial gong at Sha Tin racecourse to usher in a new era of horse racing as first-day betting turnover returned to the level it was two years ago with close to 50,000 people at the track. For the first time in the Jockey Club's 120-year history, there was no upfront tax on various bets following the government's decision last July to tax gross profits instead, with guaranteed minimum revenue of HK$8 billion annually for the first three years. In return, the club has been given some flexibility in changing or adapting bets to meet market demand and to give high rollers rebates of 10 percent on losing tickets with a face value of at least HK$10,000. Betting director Henry Chan Shing- kai, while refusing to give specific details, said he believed the new system would see total turnover rise from last season's HK$60 billion to at least HK$69 billion, although projections by former club chairman Ronald Arculli suggested it could go as high as HK$80 billion. The club's record turnover was HK$92.3 billion in the 1996/1997 racing season. Sunday's betting figures were satisfactory, according to chief executive Lawrence Wong Chi-kong, reaching HK$733.7 million as against HK$684.6 million on the first day of the past season. Wong said the figures were even more satisfactory considering that last year's total was boosted by a HK$25 million triple trio jackpot. He said there were no hiccups with the new system and that everything went as expected.
Hong Kong's increasingly infamous air pollution situation, which is damaging its reputation as a first-class city, could be significantly improved within two years if only there were enough political will and understanding of the crisis, according to environmental experts.
The public furor over intrusive front- page photos of Twins star Gillian Chung Yan-tung, which touched on issues of media freedom and privacy rights, may leave a lasting mark on the territory's lawbooks, some academics predict.

More than 200 people joined the ninth annual swimming contest organised by the Hong Kong Life Saving Society yesterday morning to swim the 1,600 metres from South Bay to Repulse Bay. The youngest swimmer was a seven-year-old girl, while the oldest was a 62-year-old man. Yuen Kai-lai won the lifeguard section of the competition.

SHKP and Henderson Land are raising the size of their refinancing loan amid a liquid market to refinance their HK$7 billion loan. Sun Hung Kai Properties and Henderson Land Development have boosted the size of their refinancing syndication loan for the International Finance Centre by almost 43 per cent, taking advantage of a loan market awash in liquidity, banking sources said.
Gushan Environmental Energy, a biodiesel fuel producer, will delay its Hong Kong initial public offering until at least the first half of next year to await clarification of new mainland rules that bring red-chip listings under much closer regulatory scrutiny.

China: Chinese Premier Wen Jiabao put forward an eight-point proposal aimed at further developing new Asia-Europe relations on Sunday in Helsinki. Premier Wen urged European leaders to "make the correct political decision" to lift the arms embargo and recognize China's market economy status. Visit by China's top legislator to Brazil, Uruguay and Chile has been highly fruitful and will have significant bearings on China's relations with the whole region.

A model beside a Mercedes-Benz 600 sedan at the sixth Ningbo International Automotive Expo, September 7, 2006. The four-day expo opened at the International Convention and Exhibition Center in Ningbo, East China's Zhejiang Province yesterday. Over 50 exhibitors at home and abroad, including Ferrari, Porsche and Benz, will showcase 300 models.
Chinese Vice-Premier Zeng Peiyan has called for innovations in science and technology as well as in social and economic systems to ensure a sustainable growth for the country.
Chinese and foreign participants of the 2006 China Business Summit, opened in Beijing on Sunday, focused their topics on China's development pattern and the way to achieve sustainable economic and social growth.
China is debating the establishment of a new "super regulator" for its finance and banking industries to improve co-ordination in a sector in which reform has been increasingly hamstrung by infighting and inertia.

Overseas investment is welcome in the water sector, which will be opened up further, Vice-Premier Zeng Peiyan said yesterday.
Tsingtao Brewery (0168), the mainland's largest brewer, said holders of nontradable shares in the company have offered to pay A-share investors 1.5 free shares for every 10 they hold, as it becomes the latest company to overhaul its shareholding structure under China's stock market reforms.
China Petroleum & Chemical Corp (0386), Asia's biggest oil refiner that is also known as Sinopec, will sustain profit gains in the second half as state fuel price increases compensate for rising crude costs, chairman Chen Tonghai said.

A mainland movie about the construction of the Three Gorges Dam and its impact on villagers has stunned more-fancied rivals by winning the Golden Lion for best film at the Venice Film Festival. Still Life, directed by Jia Zhangke , was a surprise last-minute entry. It tells the story of people who return to a village during the social upheaval caused by the project. Jia, 36, said: "We all know that China is undergoing enormous change and daily life is experiencing change as a consequence, and I focused my film on this." Jia earlier said he was keen to spotlight the problems associated with the dam now that media attention had faded. "Many journalists, international and national, wrote reports and questioned the Three Gorges project, but once it was completed they stopped. I know the population is still suffering from it."
Although China is committed under World Trade Organisation rules to opening its fertiliser market to foreign competition by December 11, full liberalisation will take three to five years to achieve, according to the chief executive of listing candidate China Blue Chemical.
Alibaba, the largest business-to-business e-commerce site in China, plans to go global in the next few years.
Sept 11, 2006

Hong Kong: Strong retail orders for Shenzhen-based China Merchants Bank's initial public offering, which kicks off today, has ignited competition among banks jostling to offer margin financing.
Hong Kong and mainland postal authorities will again team up for the Mid-Autumn Festival to allow local residents to send mooncake packages to friends or associates in more than 200 mainland cities.
Hong Kong's Olympic organizers will hold an invitational event next August to test facilities for the 2008 Olympics.
Hong Kong would hold a major economic summit next week to analyse ways to boost its international status, Chief Executive Donald Tsang Yam-kuen announced on Friday. Financial Secretary Henry Tang Ying-yen on Friday again defended the government's public consultation on the goods and services tax (GST).
Hong Kong's port cargo throughput increased 2 per cent year on year in the second quarter to 59.6 million tonnes, figures released on Friday showed.
Pacific Rim finance ministers vowed on Friday to work with their trade authorities to help restart global trade talks and to readjust trade and investment imbalances, while China insisted its currency policy was not to blame for such lopsided patterns.

China: Pollution caused losses of 511.8 billion yuan (US$64 billion) in 2004, which was 3.05 per cent of the 16 trillion yuan (US$2 trillion) gross domestic product (GDP) that year.

American and Chinese flags wave as the Chinese naval destroyer, Qingdao, docks at Naval Station Pearl Harbor, Wednesday, Sept. 6, 2006 in Pearl Harbor, Hawaii. Two Chinese Navy ships, the Qingdao and the oiler Hongzehua arrived for a visit.

Chinese Vice Premier Wu Yi speaks at the Symposium for Multinational Corporations during the 10th China International Fair for Investment and Trade (CIFIT) in Xiamen, a coastal city in southeast China's Fujian Province, Sept. 7, 2006.

Residents pass a Motorola mobile phone advertisement in Beijing. Motorola Inc said on Thursday it expects to claim a quarter of China's handset market by the end of this year.
Japan's likely next prime minister, Shinzo Abe, wants to hold talks with Chinese President Hu Jintao during a regional conference in Vietnam in November to improve the strained ties between the two Asian powers, a Japanese newspaper reported on Friday.
China has appointed a new ambassador to North Korea, state media said, as concern remained high over whether the communist regime was preparing to conduct its first-ever nuclear test.
Sept 8 - 10, 2006

Hong Kong: Dragged down by weaker sales at its container manufacturing unit and lower-than-expected profit contribution from Hong Kong port, mainland ports investor COSCO Pacific (1199) reported a 37 percent decline in earnings for the first half ended June.
Lai Sun Development (0488) has joined forces with AIG Global Real Estate Investment (Asia) to build a residential- commercial complex on a newly acquired site in Wan Chai at a cost of nearly HK$1 billion.
Technology company SUNeVision's (8008) share price shot up by nearly 25 percent as investors piled in on the back of continuing profitability and expectations of a privatization by parent Sun Hung Kai Properties (0016).
About 2,000 hectares of land bordering the mainland in what is now the Frontier Closed Area could be released for development as early as 2010, the government has revealed. The government's proposal to open up the border areas in the New Territories should be seen as just a beginning, the Heung Yee Kuk and the chairman of a chamber of commerce in the area said yesterday. Without sustainable planning and conservation measures, the border area when opened up will quickly come to resemble the northwestern New Territories - blighted by container storage sites and car dumps, environmentalists warn.

Fiona Tsang of Hongkong Post explains the range of mooncake gift sets launched with China Post for the Mid-Autumn Festival under the Hong Kong/Mainland Gift Fulfilment service yesterday. Via the service, customers can send the gift sets to relatives in 2,000 cities across the mainland. All orders will be delivered on or before October 6.

Steve Wynn says Sands offered to pay a commission increase to a VIP junket agent if he did not go to work for Wynn's new Macau casino.
Hutchison Port Holdings, the world's biggest container terminal operator, yesterday agreed to spend up to HK$4 billion to develop and manage the port of Manta in Ecuador.
The Industrial and Commercial Bank of China plans to seek approval for a US$19 billion initial public offering from the Hong Kong stock exchange listing committee on September 21 in a first step towards what is likely to be the world's largest listing.
Former Citigroup banker Margaret Ren was cleared by United States regulators of wrongdoing stemming from China Life Insurance's US$3.5 billion initial share sale, the world's biggest in 2003.

China: Since China's accession to the World Trade Organization (WTO) in 2001, foreign investors remitted abroad profits of 57.94 billion U.S. dollars from China.

A man shows a ticket for the cross-straits charter flight for the Mid-Autumn Festival in Shanghai, Sept 6. The cross-straits charter flights for Mid-Autumn Festival, which compromises 12 round-trip flights in all, will be undertaken by China Eastern Airlines, Shanghai Airlines and Taiwan's companies.
China has lifted the ban on residents and organizations investing their foreign exchange savings in overseas stock markets, in a latest move to ease the pressure produced by its swelling foreign exchange reserves.
The number of China's phone subscribers has risen to 791 million by June this year from 746 million in 2005, said a source with the country's Ministry of Information.
With the Chinese Naval missile cruiser, the Qingdao, in the background, Chinese lion dancers perform for U.S. Navy Rear Adm. Townsend G. Alexander, left, and Chinese Rear Adm. Wang Fushan, center, and Chinese Ambassador to the United States Zhou Wenzhong, Wednesday, Sept. 6, 2006, in Pearl Harbor, Hawaii. The Qingdao, a Luhu-class guided missile cruiser, and the Hongzehu, a refueling ship, arrived for four days of exercises, personnel exchanges, and touring.
Premier Wen Jiabao has reiterated the country's determination to improve the protection of intellectual property rights and urged for more time to deal with copyright piracy.
Intel said yesterday that it would shed 10,500 jobs from its workforce of 100,250 at the end of last quarter, including 7,500 this year and another 3,000 next year.
Top mainland internet portals sold display advertising worth 1.5 billion yuan in the three months ending in July, although their actual revenue was probably only about 600 million yuan due to widespread discounting, media research firm Nielsen/Net Ratings said yesterday.
Sept 7, 2006

Hong Kong: Hong Kong risks being left behind by Shanghai and other mainland financial centers unless it takes steps to harmonize its financial system with the mainland to benefit from further liberalizations in the country's economy, a report by the SAR's de facto central bank has warned.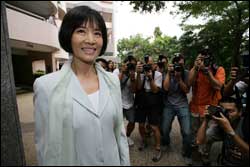 Dancing queen and high-flying banker Mimi Monica Wong won a HK$62 million lawsuit Wednesday against her Latin-American dance teachers after the High Court ruled she was humiliated in front of her friends and business associates. The court heard that Wong, 61, who once won the accolade of "Top Gold Lady" at a dancing competition, had agreed to pay her teachers, Mirko Saccani, 31, and his wife, Gaynor Fairweather, 49, HK$120 million for unlimited private lessons and priority bookings for a period of 10 years, and had put down a deposit of HK$62 million. But, in August 2004, after two "humiliating" public dance sessions at the Li Hua Restaurant in Causeway Bay, in which Saccani, her dancing partner, reduced her to tears with his verbal abuse, Wong felt she could no longer continue the relationship. Deputy Judge Gerard Muttrie ordered that the plaintiff be repaid damages equalling HK$62 million, plus interest. The judgment brought to an end a story that had begun as a beautiful relationship between three dancing enthusiasts that soured because of jealousy and self-doubt of one's own dancing performance.
Li Ka-shing's flagship firms Hutchison Whampoa (0013) and Cheung Kong (Holdings) (0001) sold down their interests in US online travel agency Priceline.com for about US$304 million (HK$2.37 billion) to bolster their profits this year amid continuing market concerns about the health of Hutchison's third-generation mobile business.
Hong Kong-listed Macau gaming stocks may lose their market share gradually in the medium-to-long-term in the face of new competition, including Wednesday's entry of Wynn Macau casino and hotel, analysts said.
In a bid to prevent Hong Kong from being marginalized by massive transport developments in Guangdong as part of China's 11th Five-Year Plan, the Hong Kong government has proposed setting up a high-level cross-bureau committee to coordinate and oversee all cross- border transport infrastructure projects.
Democratic Party legislators are joining the chorus of support for stricter limits on what the media can publish in the wake of last month's indecent magazine photo controversy.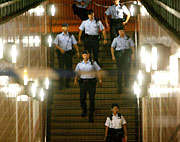 Police officers search the Aberdeen underpass where last night's shooting took place. A police sergeant was shot in the thigh after a struggle with an off-duty constable who police say was emotionally disturbed.

We're not for sale, says Shaw Brothers: Shaw Brothers (Hong Kong) chairman Sir Run Run Shaw had not put the company up for sale and no agreement had been reached with other parties, company secretary Jeremiah Rajajulendran said yesterday at the annual general meeting. The company last month said several parties had made approaches on taking over the group. Non-executive director and Chevalier chairman Chow Yei-ching yesterday also denied an interest in the firm.
Las Vegas casino magnate Stephen Wynn, whose US$1.2 billion Macau casino resort opened this week, has poached a VIP junket operator from one of his rivals and raised marketing agents' commissions as he moves to grab a share of the enclave's high-stakes gaming market, sources say.
Sunevision Holdings, a unit of Sun Hung Kai Properties, said full-year profit at its core business rose 16 per cent on increased sales at its internet data centres and improved margins.
The government's new one-stop portal - GovHK (www.gov.hk) - was launched on Wednesday to provide more online data.

China: The floating of the RMB exchange rate will be mainly determined by market supply and demand and there will be no more "surprise" adjustments, said Premier Wen.

Chinese Premier Wen Jiabao (R) meets visiting WTO Director-General Pascal Lamy at the Great Hall of the People in Beijing yesterday. Premier Wen Jiabao said China is ready to work with other World Trade Organization (WTO) members to revive stalled global trade talks.
The International Monetary Fund Chief Rodrigo Rato said Tuesday that the global growth will clock in at close to 5 percent this year and next.
The Three Gorges Project is ready to store water to the 156 meter mark following this year's flood season.
Premier Wen pledged progress on sustainable economic growth, currency reform and democracy but stressed change would be gradual rather than radical.
Bank of China and China Construction Bank will initiate employee stock ownership plans in the near future as part of their employee incentive programs.

The second phase of the Shanghai Yangshan Deep-Water Port will be operational at the end of this year, adding another 2.1 million TEUs of annual container capacity in the city.
The State Postal Bureau (SPB), or China Post, yesterday launched five provincial post management bureaux in Shanghai, Hebei, Fujian, Ningxia and Chongqing.
China has picked up the pace of its reforms and ranks the fourth reformer on the ease of doing business in 175 countries or regions, the World Bank said Wednesday.
China is ready to work with other World Trade Organization (WTO) members to revive stalled global trade talks, Premier Wen Jiabao said yesterday.

An image of former leader Mao Zedong undergoes cleaning at a factory in Haikou, Hainan province. Saturday marks the 30th anniversary of Mao's death.
Shanghai Industrial Holdings, the Hong Kong-listed arm of the Shanghai municipal government, plans to raise up to US$600 million by selling shares in a water services joint venture as early as next year, according to market sources.
Red-chip conglomerate China Resources Enterprise (CRE) said first-half underlying profit rose 16 per cent as earnings from its retail, beverage and food businesses surged.
Shares of Win Hanverky Holdings, a mainland sportswear maker and distributor, jumped 33.33 per cent on their trading debut yesterday despite a lacklustre market, as investors hungry for new issues after the summer break chased the stock.
Sept 1 - 6, 2006

Hong Kong: More than 100,000 people a week could be stopped from flying unless the United States and European Union struck a deal over the provision of sensitive information on passengers, the top industry body said on Thursday.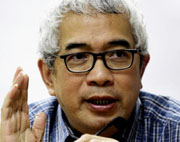 Ching Cheong, Chief China Correspondent for Singapore's Straits Times newspaper. Ching Cheong was convicted of spying on Thursday and sentenced to five years in prison in China, the state-run Xinhua News Agency reported.
The central government had approved Hong Kong airline Cathay Pacific Airways' takeover of its rival Dragonair in a deal that would also see the carrier increase its stake in state-owned Air China, the mainland airline said on Thursday.

China: China and Brazil on Wednesday pledged to promote their strategic partnership during a meeting between China's top legislator and Brazil's president.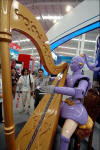 A robot harpist developed by Shanghai Electric Group plays music at the Fifth China International Equipment Manufacturing Exposition held in Shenyang, capital city of China's Liaoning, on Aug. 29, 2006.

Binhai new area tops China's development areas. Through more than 20 years of development, Tianjin Binhai New Area has authorized 4,000 foreign investors from 74 countries and areas with total investment capital of over 30 billion US dollars to invest in the area.
China's National Bureau of Statistics (NBS) has revised the preliminary statistics they released for last year, raising the GDP growth rate from 9.9 to 10.2 percent on August 30.
U.S. proposals to expand licence requirements for its high technology companies to export to China will stifle business and increase uncertainty over the state of bilateral trade.
Chinese scientists have completed the country's largest gene bank of ethnic minorities with over 8,000 DNA samples from 54 recognised ethnic groups, state media said on Thursday.
China's largest electricity provider Huaneng planned to invest more than US$31 billion (HK$242 billion) over the next four years in a bid to double its generation capacity, a state press report said on Thursday.
Australian telecoms giant Telstra on Thursday said it had paid US$254 million (HK$1.98 billion) for a majority stake in Chinese real-estate and home furnishing website SouFun Holdings.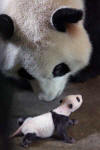 A panda approaches it's 4 week old cub at Changdu Research Base of Giant Panda Breeding in China's western province of Sichuan August 26, 2006.
The Chinese Government finally released the nation's digital TV terrestrial transmission standard yesterday, but it will take some time before digital terrestrial broadcasting becomes a significant business in the world's largest TV market.
Cutting the number of in-flight magazines from four to two may not matter much to the average passengers. However, such a move can save an airline millions of dollars a year.

*News information are obtained via various sources deemed reliable, but not guaranteed