Hong Kong, China & Hawaii Biz*


How to Do Business with China, through Hong Kong & Setting up Business in China? - last update Feb 8, 2003
Do you know our dues paying members attend events sponsored by our collaboration partners worldwide at their membership rates - go to our event page to find out more! After attended a China/Hong Kong Business/Trade Seminar in Hawaii...still unsure what to do next, contact us, our Officers, Directors and Founding Members are actively engaged in China/Hong Kong/Asia trade - we can help!
China Projects Bidding Information - update daily Scholarship & Grants
Are you ready to export your product or service? You will find out in 3 minutes with resources to help you - enter to give it a try

China Central TV - live webcast

Skype - FREE Voice Over IP

View Hawaii's China Connection Video Trailer










Hawaii's China Connection Video - click on the picture to view live video


Direct link PDF file

Year of the Pig - February 18, 2007

Wishing You a Merry Christmas & Happy New Year
Holidays Greeting from President Obama & Johnson Choi
http://www.youtube.com/watch?v=pNk4Z4lUV-k
http://www.facebook.com/video/video.php?v=219896871983&ref=mf
Wine-Biz - Hong Kong
Brand Hong Kong Video
Dec 29, 2006 - January 4, 2007 Happy New Year

Hong Kong: Rising rents and irreconcilable differences with its head office in the United States have seen fast-food chain Hardee's end its 16-year relationship with Hong Kong. Its last two restaurants closed Wednesday.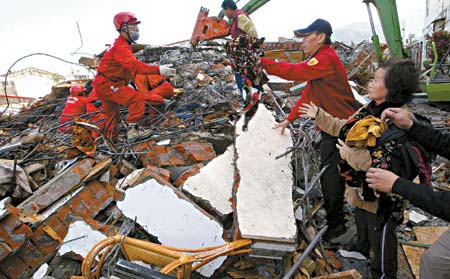 Internet access slows to a crawl after quake - Rescue workers search for survivors at a collapsed building in southern Pingtung county December 27, 2006 after a strong earthquake shook Taiwan. Access to overseas websites from the Chinese mainland slowed to a crawl yesterday as a powerful earthquake off the Taiwan coast knocked off international undersea fibre-optic cables on Tuesday, affecting communications around Asia. It is believed to be the most serious disruption since 2001, when a submarine cable connecting the mainland with the United States was cut off more than four times, mostly by fishing boats. It is not clear when normal service will be restored. China Telecom Corp, the mainland's largest fixed-line carrier, said six undersea cables were cut off 15 kilometres from the southern coast of Taiwan, causing severe Internet congestion on the mainland. International voice calls were also affected. A survey by Internet portal Sina.com yesterday showed that 97 per cent of Internet users on the mainland had difficulty accessing overseas websites, and 57 per cent said their lives and work were affected. But access to mainland websites remains normal. Such disruptions underscore the increasing importance of back-up systems. "We have to use alternative cables as well as satellite communications," said Xu Yongming, an official in charge of China Netcom's international network. He added that mainland operators are working with their overseas counterparts to repair the damaged cables. "Aftershocks off Taiwan make it even harder to repair the damaged cables," said a China Telecom spokeswoman. The disruption affected telecommunications services in Hong Kong, Taiwan, South Korea, Singapore and Japan and paralyzed some banking services. In Hong Kong, Internet connection, long distance calls and online financial transactions were affected, but the stock exchange said operations were normal. Internet connection speed was much slower than normal. Some overseas websites in the United States, Britain and Taiwan could not be accessed. Emails and online chatting were barely functioning. Internet Society of Hong Kong Chairman Charles Mok said overseas users connecting to Hong Kong and the mainland's websites were also affected. Hong Kong Computer Emergency Response Team Coordination Centre Manager Roy Ko said it might take months to repair the cables. Taiwan's Chunghwa Telecom may be hardest hit. It said repairing the cable could take three weeks, adding that almost no calls could be made to Southeast Asia. Chunghwa said voice calls to the mainland, Japan and the United States were down 10, 11 and 40 per cent of normal capacity. The Chinese mainland is less affected as operators here have alternative lines away from quake-hit Taiwan, said Xu with Netcom. He said it may take a shorter time to restore communications on the mainland but limited capacity could slow down access to overseas websites, especially during peak hours. Current Internet networks on the mainland already face a bottleneck in capacity given the growing popularity of broadband Internet access as well as data-heavy services such as video downloads. At the end of November, the mainland had 51 million broadband Internet subscribers, an increase of 13.7 million compared to the end of last year, according to the Ministry of Information Industry. China Telecom Executive Vice-President Leng Rongquan last week said the current submarine cable network linking China and the US will not be able to meet demand after 2008. Six operators from China, South Korea and the United States including Verizon Business last week signed a deal to build a submarine cable linking China and the United States at an investment of US$500 million. The new cable will have more than 60 times the overall capacity of the existing one linking the United States and China.
Hong Kong Consumer Council chief executive Pamela Chan Wong-shui is to receive an international award for her contribution to Hong Kong consumers' welfare and China's consumer movement, the American Council on Consumer Interests said.

China: China Petroleum & Chemical Corporation disclosed that it would get State subsidy of 5 billion yuan (US$639 million) to cover its losses from oil refining.
Unabated desire for mainland financial and telecom stocks pushed up the Shanghai bourse and consequently the H-share index in Hong Kong, but analysts say both fund managers and retail investors have been too carried away to notice the looming risk of a stock market bubble.
Dec 28, 2006

Hong Kong: Mainland utilities and mineral resources will sustain Hong Kong's resurgence as an international financial hub after a wave of public listings from mainland banks and corporations, said Financial Secretary Henry Tang Ying- yen. Mainland utilities and mineral resources will sustain Hong Kong's resurgence as an international financial hub after a wave of public listings from mainland banks and corporations, said Financial Secretary Henry Tang Ying- yen. His comments come as figures from the World Federation of Exchanges show Hong Kong has leapfrogged New York to become the second most popular market, after London, for companies to float new stock listings this year. With less than a week left in the year, Hong Kong has raised HK$307 billion (US$39.57 billion) in initial public offerings. This is nearly double the HK$165.7 billion raised last year and surpasses the New York Stock Exchange, which is in third place with US$33.61 billion. London topped the table with US$48.92 billion raised. Speaking to The Standard's sister newspaper Sing Tao Daily, Tang admitted the listing of several of the mainland's biggest banks may have produced an anomaly this year, including the October US$21.9 billion offering - the world's biggest ever - by Industrial & Commercial Bank of China, the mainland's largest money lender. Local growth in IPO issuance has been largely driven by mainland companies eager to tap into international capital markets. Mainland firms make up nearly 50 percent of the total market capitalization of HK$12.43 trillion, and 73 percent of total equity funds raised, according to Hong Kong Exchanges and Clearing. Tang would not discuss whether Hong Kong could maintain those figures going into 2007, but predicted several big companies from the mainland would continue to list in Hong Kong, such as electricity network operators and mineral exploration companies. He said the government would consider lifting restrictions to attract companies from Thailand, Singapore and Southeast Asia to the stock exchange and cement Hong Kong as Asia's international financial services hub. Describing financial services as the central pillar of Hong Kong's economy, Tang said the government would continue to provide the infrastructure for its development. He noted that financial services made up between more than 20 and 30 percent of the economies of London and New York, but only 10 to 20 percent of the local economy, so there was capacity to further develop the industry. He added that the yuan was the vital foundation stone on which to expand financial services, which would become increasingly important in the trading of capital and bonds. He hoped import trades could be settled using the yuan as soon as possible. Asked whether there would be good news regarding yuan services emanating from the mainland next year to mark the 10th anniversary of the handover, Tang laughed and said: "I hope it doesn't have to be so late." Tang dismissed the threat from mainland markets such as the Shanghai Stock Exchange, saying financial services in Hong Kong and in the mainland were complementary to each other. "People think the competition between Hong Kong and mainland stock markets are a fight to the death, but this does not accurately reflect the situation. China is now the fourth biggest economy in the world, and soon to be the third, so it can afford more than one financial center ... Europe has London and Frankfurt, America has New York and Chicago, why can't China have two financial centers?" he said. Tang added there were additional benefits for China in developing two financial centers while it slowly opens up its markets. "Hong Kong can act as a firewall for mainland financial services, a platform where mainland companies can come to seek international capital, without conflicting with mainland markets," he said.

Beijing prepares good news to mark Tsang visit - Central government leaders are expected to announce some good news about the liberalization of yuan trading during Chief Executive Donald Tsang Yam-kuen's four-day visit to Beijing, which began Tuesday. According to an inside source, Beijing leaders will announce a number of pleasant surprises after Tsang's visits to several financial ministries and the central bank. There will also be some news on the progress of the Hong Kong-Zhuhai- Macau Bridge after Tsang meets Ma Kai, director of the National Development and Reform Committee, today. Arriving on a chilly Boxing Day night in the capital, the Hong Kong leader was in buoyant mood in expectation of gifts from the central government to boost his popularity in the run- up to the chief executive election next March. Meetings with top leaders in Zhongnanhai were not announced Tuesday but have been fixed for Thursday and Friday, the source said. Tsang will have separate meetings with President Hu Jintao and Premier Wen Jiabao on Friday. Tsang will also have a three-hour working meeting with Liao Hui, director of the Hong Kong and Macau Affairs Office of the State Council, Thursday and a working dinner with Vice President Zeng Qinghong, who oversees Hong Kong affairs, that night. The fourth-generation leaders, unlike their predecessors, will not pledge open support for Tsang but have arranged a top-level reception to lift Tsang's standing. "The chief executive's annual visits have become a regular event," said Tsang. "But this visit will be very hectic as I will stay for two more days on top of the two-day schedule. "I will call on quite a number of ministries to discuss finance- and livelihood-related issues. I hope to bring up topics like [yuan] trading, infrastructure, pregnant mainlanders going into labor in Hong Kong and food safety issues. "As this year has been a good one for our economy, a number of cross- border follow-up actions and enhancement works can help to further our cooperation with our mainland counterpart ministries." Tsang made it clear his mission was mainly socio-economic oriented. In a well-orchestrated plan to exhibit Beijing's full backing for Tsang, the Hong Kong and Macau Affairs Office packed his itinerary with meetings with several financial ministries, indicating Hong Kong will continue to gain from yuan reform and mainland enterprises listing in Hong Kong. Heads or ministers of the top finance institutes will receive Tsang today. The addition of Environmental Protection Commissioner Zhou Shengyan to Tsang's list of meetings Thursday is intended to help Tsang deflect criticism from his potential rival, Alan Leong Kah-kit of the Civic Party. Health scares caused by imported mainland food will be another issue that Tsang will raise Thursday with vice commissioner of State General Administration for Quality Supervision and Inspection and Quarantine Li Chuanqing. Significant and sensitive political issues like the set-up of the chief executive election in 2012, the pace of Hong Kong's democratization and Tsang's new ruling team will be also be on the agenda. But the inside source said Tsang preferred to keep a low profile on these political issues.
CITIC Pacific (0267) has agreed to purchase the remaining 10 percent stake in Shanghai CITIC Square from Swire Pacific (0019) for HK$280 million, giving it 100 percent control of the commercial project in China's largest city.
The strength of China's A-share market looks set to spur mainland shares listed in Hong Kong to outperform blue chips, but in the wake of the low offer price range set by China Life (2628) for its A-share listing, the insurer's stock may suffer an initial setback.
China Overseas Land and Investment (0688), the Hong Kong-listed flagship development arm of the mainland's construction ministry, has acquired a property management business from its parent for 128 million yuan (HK$127.35 million) to boost the value of its development projects.
London-based Standard Chartered (2888), which derives 90 percent of its earnings from Asia, Africa and the Middle East, plans to expand its coverage in China by doubling the number of its outlets to 44 in 18 months, according to mainland weekly newspaper The Economic Observer.

China: Westinghouse Electric Company this month won the contract to build four nuclear power units in China, edging out its French competitor Areva in a two-year-long bid.
A tycoon who heads China's largest private oil group has been detained on suspicion of embezzling 1 billion yuan (HK$994.2 million) in private and government funds, media reported Tuesday.
Two managers of a China power generating company have been sacked for lax supervision that led to a diesel spill that polluted the Yangtze River and hit water supplies, state media said Tuesday.
Consumer electronics retailer Best Buy is opening its first outlet in China, teaming up with a local partner to tackle the hyper-competitive market for gadgets and appliances.
Nation to focus on key resources to support growth - China will strengthen its exploration of key resources like oil, gas and coal to support its growth, a senior official said yesterday. Vice-Premier Zeng Peiyan said the country's exploration work of mineral resources achieved new progress with a number of large oil and gas fields found in recent years. He was addressing the 25th session of National People's Congress's 10th Standing Committee yesterday, at which a work report on the subject was tabled for discussion. Eight large-scale oil fields with proven reserves of more than 100 million tons have been discovered, in Tahe, Xinjiang Uygur Autonomous Region, and Penglai in East China's Shandong Province. Five gasfields, with an estimated reserve of more than 100 billion cubic metres, were discovered in Puguang in the Sichuan Province, and Sulige in Inner Mongolia Autonomous Region. A series of large and medium size non-ferrous mines have been found in west China. And the net increase of the newly discovered coal reserves was 18.8 billion tons in the 10th Five-Year Plan period (2000-05). Zeng said the country has increased construction speed of energy bases. Oil and gas development bases have been set up in Tarim, Xinjiang and Bohai Bay, and coal bases in Shanxi, Inner Mongolia and Shaanxi Provinces. The country's output of coal and iron ore has doubled compared with five years ago.
About 155 aircraft will be delivered to China next year as the country's airlines expand their fleets, a top official said yesterday. Twenty-five aircraft will be taken out of service. The airlines, combined, will have a fleet of more than 1,000 aircraft next year. Meanwhile, 26 billion yuan (US$3.25 billion) will be invested in the civil aviation infrastructure next year, said Yang Yuanyuan, head of the General Administration of Civil Aviation (CAAC) at a two-day working conference in Beijing yesterday. The money will be used to build and expand 33 airports. "The ongoing expansion of the Beijing Capital International Airport will be the most important project next year," Yang said. So far, the concrete structure of the third terminal at the airport has been completed at a cost of 21 billion yuan (US$2.63 billion), he said. Yang also called for the speeding up of airport projects in Shanghai, Tianjin, Qingdao in Shandong, Shenyang in Liaoning and Qinhuangdao in Hebei, where the Olympic football preliminaries will be held. Next year the CAAC will also explore the possibility of building an energy-saving, environmental friendly, high-tech airport in Kunming, capital of Southwest China's Yunnan Province.
China's auto part sector will see more overseas mergers and acquisitions in the years ahead, as more local manufacturers eye overseas, insiders predicted. China's threshold for investment in new auto projects is to rise to curb emerging overcapacity, the National Development and Reform Commission (NDRC) announced on Tuesday.
Renminbi savings in Chinese bank accounts are slowing, but economists hesitate to conclude that it will lead to increased domestic demand, believing the savings are shifting to the bullish stock market.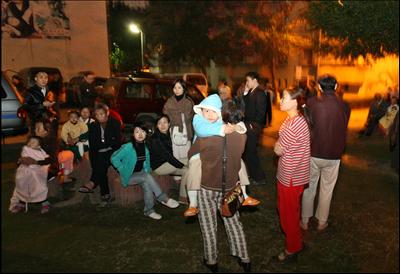 Residents in Fuzhou, the capital of southeast China's Fujian Province, fled their houses in fear they would collapse when they felt the tremor caused by an earthquake in southwestern Taiwan on December 26, 2006. Two powerful earthquakes struck southwestern Taiwan at 8:26 p.m. and 8:34 p.m.
Dec 27, 2006

Hong Kong: Industrial and Commercial Bank of China (ICBC), has overtaken global banking giant HSBC Holdings to become the world's third-largest bank by market value.
Regal REIT, a property trust spun off from Regal Hotels International (0078), has decided to shelve its initial public offering plan as the continuing lackluster performance of Sunlight REIT (0435) shows how little investors regard REITs as long-term holdings.
China Life Insurance (2628), the first insurer to plan a listing in the mainland, has finished its price consultation and expects to set the range between 20 yuan and 24 yuan (HK$19.88 and HK$23.86) a share, fund managers said.
The initial public offering market closed on a high heading into the Christmas break with a record HK$330 billion and a 35 percent surge by Ming An Holdings (1389) in its trading debut.
Shares in Hutchison Telecommunications International Limited (2332), the emerging-markets mobile-phone firm controlled by Hong Kong billionaire Li Ka-shing, hit an all-time high of HK$19.08 Friday as reports Vodafone would bid for the Indian operations of the company sparked thoughts of a bidding war.
Four men have earned the dubious distinction of being the first to be jailed in Hong Kong for butchering two dogs for food, after a judge sent them to prison for 30 days each.
Curbing the influx of pregnant mainland women into Hong Kong will be high on the agenda when Chief Executive Donald Tsang Yam-kuen meets tops officials during his duty visit to Beijing next week.

China: China's increased dues to the United Nations for the next three years reflects the country's active participation in the affairs of the world body, according to observers.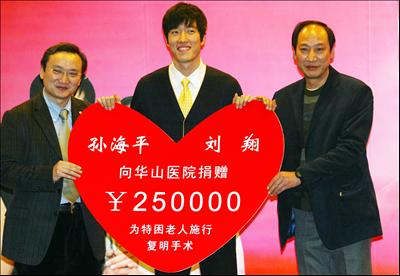 Olympic champion 110m hurdler Liu Xiang(C) and his coach (R) Sun Haiping hold a donation tablet for Shanghai-based Huashan Hospital December 25, 2006. Liu and his coach are reported to have donated 250,000 yuan to the hospital in Shanghai to help treat elderly people suffering from cataract.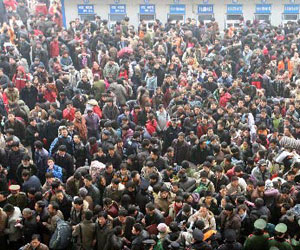 Passengers flock to the railway station during the Spring Festival travel peak. China's railways will transport an unprecedented 156 million passengers during the upcoming Spring Festival travel peak in 2007, up 4.3 percent year-on-year, said sources with the Ministry of Railways on Monday.
China Life Insurance Co, the country's largest life insurer, may raise as much as 28.3 billion yuan (US$3.6 billion) in a domestic stock offering after it set a lower than expected price range.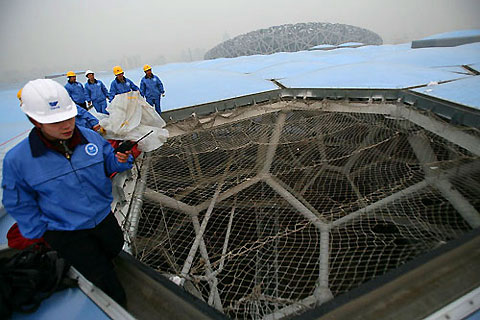 Workers prepare to install the last cushion on the roof of the National Aquatics Center at Beijing's Olympic Green on December 26, 2008. The stadium, also known as the Water Cube, is the world's biggest ETFE-clad building, which will be put in use in February of 2008.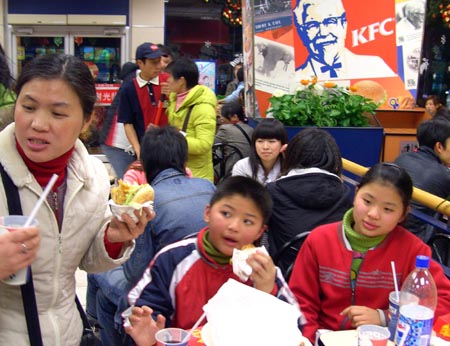 People dine at a KFC restaurant in Yichang, Central China's Hubei Province, December 24, 2006. Staring December 25, the prices of KFC's hamburger, egg tart and ice cream will rise 0.5 yuan (6 US cents) on average in China. It is the second time that KFC has lifted its prices.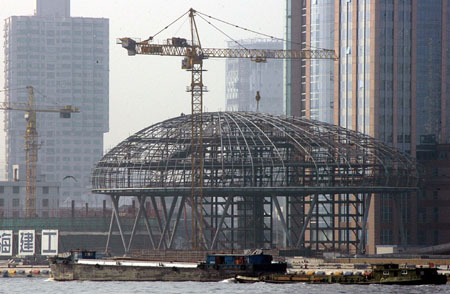 Construction of the Shanghai Port International Cruise Terminal's passenger building is basically completed, December 23, 2006. The 160,000-square-metre Shanghai Port International Cruise Terminal, in the downtown Gaoyang pier, will include an 850-metre international port that has three 80,000-ton berths for international passenger liners. The project is due to be completed by the end of 2007.
In a rare display of official tolerance, outspoken Chinese human rights lawyer Gao Zhisheng was sentenced to three years in prison for subversion but execution of his sentence was suspended, meaning he could walk free.
The mainland's richest people are earning on average about 18 times more than its poorest, and most mainlanders see themselves as being on the lower rungs of the income ladder, reports by a leading government think-tank show.
The Shanghai-listed arm of Haier Group, the country's top home appliance maker, said yesterday it plans to grant stock options to select staff, joining a growing list of state firms to reward managers with shares.
Dec 23 - 26, 2006 Merry Christmas

Hong Kong: When Hong Kong action star Jackie Chan announced he would leave half his fortune to his charity for helping young people, the news created barely a ripple in his home city. The kungfu star named this year in Forbes magazine's list of 10 most generous celebrities - took his cue from US billionaire investor Warren Buffet and Microsoft founder Bill Gates, who have pledged large legacies to charity. Chan's estimated wealth of US$128 million hardly puts him in the billionaire league, but his largesse is typical in Hong Kong. The city's residents are also among the world's most generous donors to charity, a trend that is accelerating. We've seen a huge increase in donating in Hong Kong in the past five years," said Terry Farris, the Asian head of philanthropy services at investment bank UBS. In Hong Kong, letters requesting donations from the general community yield an average cash gift of US$60 compared with US$10 in the United States and US$5 in Britain, Farris said. Ahead of Christmas, the charity gala season is in full swing. At a fund-raising dinner hosted by the Changing Young Lives Foundation at the luxury Shangri-La Hotel, the silver and red decorations on Christmas trees atop tables in the ballroom are as lavish as the designer dresses adorned by many of the guests. The event brings out the region's glitterati, who preen for photographers from Hong Kong Tatler magazine. Generous donations - But fund-raising at the dinner was not confined to the rich and famous. Sandra Yu, a 30-something marketing executive with a finance company, is also there with a few co-workers. She might not make it into Tatler - or have Jackie Chan's sort of money to give away - but she has been donating HK$200 (US$25) a month to World Vision, which aids people in poor countries, for the past three years. "I feel it's a tiny amount, but it's a lot to those people," she said. "In Hong Kong we are very lucky. We live well and we seldom have any disasters like earthquakes or flooding, so it's good to help people who suffer." Charitable donations by Hong Kong companies surged 83 per cent between 2000 and 2004 to HK$1.28 billion (US$164 million), while donations by individuals jumped 56 per cent to HK$2.89 billion, according to latest data from the Inland Revenue. Donations by registered charitable funds are not disclosed. Charity-giving is expected to increase in Hong Kong, analysts say, explaining that the abolition of estate duty this year is likely to boost legacies to charities. They say charities are also gaining support from a younger generation that is traveling, witnessing first-hand the huge gap in living standards between Hong Kong and other parts of Asia. A new generation of businessmen is behind the recent surge in donations, said Farris. "In the past few years we've seen a new breed of givers, the social entrepreneurs who would want to be more engaged," he said. "Typically they are aged between 40 and 55. Unlike previous generations of entrepreneurs, they've been to business school and are taking a businesslike approach. They are saying, `How can my gift make the greatest difference?'" The region's economic rebound in the past few years and the Asian tsunami in December 2004 have been catalysts for higher donations to charity, analysts say. Hong Kong was the biggest fundraiser for tsunami relief after Australia. At a cocktail party in the region to raise funds for San Francisco-based literacy charity Room to Read, founder John Wood showed photographs of smiling children at Room to Read schools in Nepal. Whipping up the crowd, he raises US$75,000 in 10 minutes. "Anywhere else, it would take weeks," he said. Truffles for charity. Hong Kong's commitment to charity is at odds with its laissez-faire economic policy that encourages self-reliance. Young people are digging deep because there is no volunteer organization like the Peace Corps. That suits Wood: volunteer work often ends up costing more than it saves,he said. "Hong Kong is a culture of performance and results," he said. "People want to know that if they give, they can see a direct result." Hong Kong's richest man, Li Kashing,who has funded research at Cambridge University in England as well as the University of California, recently vowed to leave at least a third of his estimated US$19 billion fortune to his charitable foundation. Much of the region's fundraising is discreet, although Sir Gordon Wu, chairman of the infrastructure group Hopewell Holdings, made headlines last month when he paid a record US$160,000 for a 1.5-kg (3.3 lb) Alba white truffle. Outbidding connoisseurs from Italy and France for the delicacy even though he doesn't even like truffles, Wu said the money would go to a charity that supports adoptions for unwanted babies.
Despite softening economic data in China, the People's Bank of China may still raise interest rates next year to prevent excessive liquidity in the mainland stock market, said Dong Tao, Credit Suisse's chief economist for Asia, excluding Japan.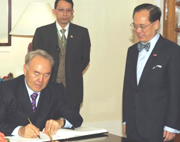 Kazakhstan's President Nursultan Nazarbayev (left) signs the visitors book at Hong Kong's Government House while meeting Chief Executive Donald Tsang Yam-kuen (right). Mr Nazarbayev is in Hong Kong as part of a wider tour of China to foster greater economic ties between the country and its big, oil-rich Central Asian neighbor. Chief Executive Donald Tsang Yam-kuen on Friday paid tribute to Kazakhstan's progress since it gained independence upon the breakup of the Soviet Union - saying the country had a bright future.
The Hong Kong Export Credit Insurance Corp has advised exporters to watch the operating performance of overseas buyers and closely monitor payment status in the post-Christmas period, in order to minimize the risk of non-payment.
Television maker Skyworth Digital Holdings (0751) saw net profit surge more than 200 percent in its first half ended September 30, but its overall gross margin slipped slightly because of higher sales of liquid crystal display sets in China.
Hong Kong is to introduce tough new measures to deter non-resident mothers from abusing the territory's maternity services, including almost doubling child delivery fees in public hospitals, and cracking down on defaulters.
Chief Executive Donald Tsang Yam- kuen will use his annual duty visit to Beijing next week to consult top state leaders on his blueprint governance proposals for the next five years, and build up his links with the heads of mainland financial and banking institutions.

Hutchison Telecommunications International on Friday said various parties were interested in its stake in Hutchison Essar, its mobile phone services joint venture in India, while the world's top mobile firm Vodafone indicated in London that it may use Essar to expand into India.
To improve safety for bush walkers and campers digital maps covered the most popular hiking trails in Hong Kong, the Office of the Telecommunications Authority (OFTA) said on Friday.
The Airport Authority will soon begin feasibility studies on building a third runway at Chek Lap Kok, according to a document outlining its 20-year vision released yesterday.

China: Between January and October, the amount of China's FDI actually utilized was US$48.576 billion, 0.34% more than during the same period last year.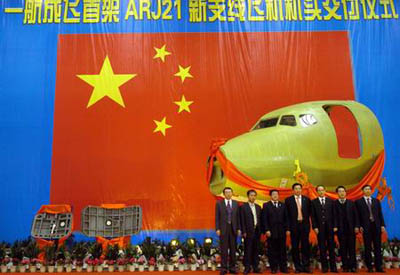 A ceremony marking the delivery of the nose of ARJ21 jet is held on Dec 20, 2006 in Chengdu, capital of southwest China's Sichuan Province. ARJ21 is China's first internally-developed regional jet, which is expected to go into commercial operation in 2008. Powered by turbofan engine, the plane has a range of 2,000 nautical miles and can carry between 70 and 110 passengers.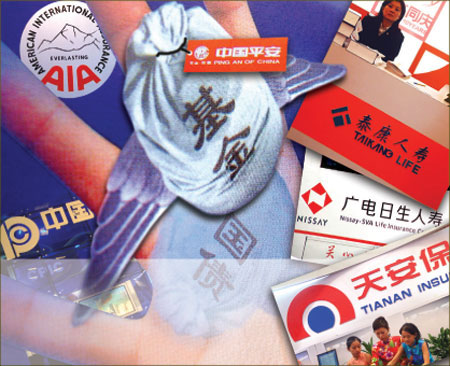 The China Insurance Regulatory Commission (CIRC) published the draft regulation on overseas investment of insurance capital on Thursday and invited submissions. Chinese insurance companies will be able to invest up to 15 percent of their total assets in international markets.
Chinese Vice Premier Zeng Peiyan said on Thursday the development of a recycling economy is the key link between saving resources and environmental protection.
China's bullish stock market saw total market value hit a record high of eight trillion yuan (over one trillion U.S. dollars) on Dec. 20, making it the largest emerging stock market in the world.
The Ford Motor Company expects Toyota of Japan to unseat it for good next year as the No. 2 company, behind General Motors, in the American car market, a position Ford has held since the 1920s.
China Eastern Airlines has sacked a third senior manager for alleged corruption. The dismissal of Zhou Liguo follows the firing of two other deputy general managers who are being investigated by local authorities for alleged corruption. Zhou, deputy general manager, was removed from his post, the Shanghai-based company said in a statement to the Shanghai Stock Exchange on Wednesday, without revealing reasons. In October, deputy general managers Wu Jiuhong and Tong Guozhao were axed and probed on suspicion of taking bribes of more than 10 million yuan (US$1.28 million) at the airline's cargo division. The China Business News said yesterday that Zhou, former general manager of China Eastern, might be related to the corruption case and had been restricted from travelling abroad earlier, quoting unidentified sources. Zhou, also the chief economist of China Eastern, was originally a pilot. He joined the company in 1988 and served as general manager and deputy Party secretary of China Cargo Airlines between 2000 and 2003. The company refused to comment on the issue yesterday. China Eastern, the nation's third largest airline, is competing with two other major carriers Southern Airlines and Air China nationwide. It has witnessed frequent senior management changes in the past months. It nominated Fan Ru as deputy general manager in charge of flight business in August. One month earlier Cao Jianxiong had been appointed general manager when former executives Luo Chaogeng and Wan Mingwu were stripped of their duties. The frequent personnel replacements come on the heels of the airline's heavy losses between January and June. In August, the Shanghai-based carrier posted a net loss in the first half of 2006 of 1.46 billion yuan (US$187 million), while its fuel costs rocketed 86 per cent year-on-year on the back of rising fuel prices and an expansion of its fleet. Even though the company managed profits of 491 million yuan (US$63 million), it still reported a loss of 970 million yuan (US$124 million) for the first nine months of 2006, and estimated a negative growth for the whole year. To stave off the impact of soaring fuel prices, the cash-strapped company has gone as far as cutting the number of in-flight magazines to reduce redundant weight and save fuel. The company has also established an airline operations control (AOC) system to enhance overall efficiency. Other measures to cut costs include urging pilots to fly higher to reduce air pressure and to close down unnecessary equipment during flights. The company has also introduced an awards system to encourage staff to suggest cost-saving measures.

Experts from the Mengdingshan mountains demonstrate a traditional tea ceremony in Chengdu, Sichuan Province.
Brazilian and Chinese firms have agreed to a 9.5 per cent increase in iron ore prices for next year in a surprisingly swift deal that analysts on Friday said would set the benchmark for global contracts.
Mesa Air Group on Thursday said it would become the first United States passenger airline to operate flights out of mainland China. The Phoenix-based carrier said it planned to sign a joint operating agreement with Shenzhen Airlines in Beijing on Thursday. The new airline had not yet been named, Mesa Air Group spokesman Paul Skellon said. Mr Skellon said the two airlines would operate the flights together, with Shenzhen holding majority control of the company. Mr Skellon said Mesa Air Group would not move any operations offices to China. The flights were expected to begin within a year, with 20 50-seat regional jets ready before the 2008 Beijing Olympic Games. Mr Skellon said the fleet would grow to more than 100 planes in five years. Overall, Mesa operates 199 aircraft with more than 1,300 daily flights to 173 cities, 43 states, Canada, Mexico and the Bahamas. It has contractual agreements to operate as America West Express, Delta Connection, US Airways Express and United Express. The company said it expected to end this year with a US$34 million profit. It carried almost 15 million passengers through the first 11 months of this year.
Dec 22, 2006

Hong Kong: Hong Kong Electric is set to raise its tariff by 2.5 percent, while CLP Power will keep its basic rates unchanged, according to sources.
Shares of Hong Kong-listed Datang International Power Generation (0991) soared nearly 10 percent and Tsingtao Brewery (0168) rose over 20 percent Wednesday, thanks to a flood of capital chasing their mainland-listed shares which also sent the price of both companies' H shares to record highs.
Hong Kong-listed mainland companies, boosted by their A shares traded in the mainland, sent the market capitalization of the Hong Kong exchange soaring to an all-time high Wednesday, after Thailand's government lifted the capital controls on equity investment in the country late Tuesday, clearing the uncertainties overhanging the regional markets.
China Mobile (0941), the largest mobile operator in the world by number of users, added a record 4.67 million new customers in November as mainland telecom firms continued to wait for the government to provide details on licenses for third-generation (3G) services.
Industries are expected to give a lukewarm response to the government's HK$3.2-billion scheme to replace old diesel vehicles, prompting lawmakers to cast doubt on the effectiveness of the program.
Hong Kong's inflation accelerated in November to 2.2 per cent on higher clothing, housing and food prices, and could head higher if Hong Kong imports more inflation from China due to its stronger currency, the government said.
United States-based Carlyle Group and Hong Kong's Dah Sing Bank on Thursday joined the fast-expanding club of foreigners in China's banking sector with a combined stake in a small city.

Broadway comes to the Ice Palace: Skating school students in cat costumes perform in on-ice versions of Broadway musicals at Cityplaza Ice Palace, yesterday. The shows are choreographed by US professional figure skater Craig Heath, who is performing and teaching at the centre until the end of February. The shows at the rink will run daily until Saturday.
More than seven million people were expected to pass through Hong Kong's border checkpoints during the Christmas and New Year festive period, the Immigration Department said on Thursday.
Hong Kong won three bronze medals at the Third International Junior Science Olympiad (IJSO) held in Sao Paulo, Brazil, from December 3 to 12, a government spokesman said on Thursday.
Hong Kong stocks yesterday rallied and recouped Tuesday's losses with H shares hitting record highs, spurred by a sharp rebound in Thailand after the government there abruptly revoked restrictions on foreign investments in its exchange.

China: China and Kazakhstan will expand collaboration in the oil and gas sector, according to an agreement signed by President Hu Jintao and his visiting Kazakh counterpart Nursultan Nazarbayev in Beijing yesterday.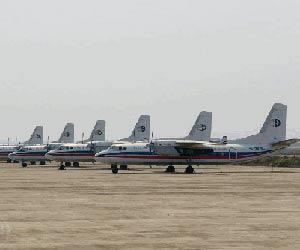 Wuhan, capital of Central China's Hubei Province, is tipped to become the country's fourth air hub after Beijing, Shanghai and Guangzhou. International flights will soon start arriving at and leaving from Wuhan Tianhe Airport without first stopping at Beijing, Shanghai or Guangzhou. At present, international flights to inland cities all stop at one of the three hubs first.
The average housing prices for newly-built apartments in China's 70 major cities rose 5.8 percent year-on-year in November, sources with the National Development and Reform Commission (NDRC) said Wednesday.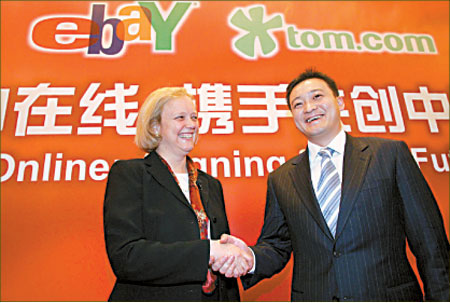 EBay President and CEO Meg Whitman (left) and Tom Online CEO Wang Leilei (right) shake hands at the launch ceremony of their joint venture in Shanghai yesterday. Tom Online will hold a 51 per cent stake in the joint venture.
US Treasury Secretary Henry Paulson is heading for a confrontation on China with the new Democratic- controlled Congress after his department softened its criticism of the country's currency policy.

Warm welcome: Kazakh President Nursultan Nazarbayev (second left) shares a light moment with President Hu Jintao during a welcoming ceremony in Beijing's Great Hall of the People yesterday. Mr Nazarbayev arrived on Tuesday for a five-day state visit.
Officials from Japan and China met on Thursday to plan an operation to clear chemical weapons abandoned in China by Japan's Imperial Army at the end of World War II.

China Southern Power is boosting its investment to capitalise on booming energy demand in southern provinces such as Guangdong.
China's top energy firm PetroChina confirmed on Thursday that Iran would supply liquefied natural gas (LNG) in a key deal announced by Iran's state press earlier this month.
Dec 21, 2006

Hong Kong: Lingering concerns that Asian economic turmoil is approaching are mounting after a small-scale financial crisis broke out in Thailand Tuesday as a result of ruthless measures introduced by the country's central bank to rein in inflows of speculative money. The Thai government performed an abrupt U-turn Tuesday after the stock market suffered its worst fall in 16 years as foreign investors pulled the plug in response to drastic measures to rein in the baht.
Shares of Tom Online (8282), Hong Kong tycoon Li Ka-shing's Internet and media venture in China, were suspended Tuesday afternoon after surging nearly 15 percent on news US online auction giant eBay will pour US$40 million (HK$312 million) into a new joint venture to be controlled by the Chinese company.
Fearing a repeat of the clashes between police and protesters over the demolition of the old Star Ferry pier, lawmakers have rejected a HK$99 million funding request for an engineering study on the Central-Kowloon route project without a guarantee that the 80-year-old Yau Ma Tei police station will not be torn down.
Hong Kong Disneyland is set for a bumper Lunar New Year in February after being given the green light to increase its daily visitor intake from 28,000 to 34,000. With additional seating areas and dining and supporting facilities, the theme park has won approval from the Food and Environmental Hygiene Department to expand its visitor capacity. Managing director Bill Ernest said he was hopeful the festive mood would continue through Christmas and the New Year period to bolster ticket sales during the Lunar New Year, which falls on February 18. It will be the second Lunar New Year since Hong Kong Disneyland opened, and is expected to be a litmus test for the park's new management team headed by Ernest. The last Lunar New Year saw chaotic scenes at the theme park as scores of mainland tourists tried to barge their way in by climbing over the fences at the main entrance after being denied entry due to confusion over the type of tickets issued to mainland travel agencies and sold to tourists. The incident seriously tarnished the attraction's image abroad and in the mainland despite the park management's public apologies. The new management said it has learned a lesson from the incident and taken "well-orchestrated" measures to prevent a repeat of the chaos during the coming Lunar New Year golden-week break. It said communication with mainland travel agents has been stepped up, and a sophisticated reservation ticketing system has been introduced, particularly for tour groups. According to Glendy Chu Yee-lin, Hong Kong Disneyland's media relations director, a publicity campaign has been launched in major mainland cities to promote the new ticketing system and improve communication with major travel agencies. "We're unable to estimate individual ticket sales at this stage, but close monitoring of tourist flow during the week-long peak period can help us adjust ticket sales at MTR stations and at our booths at the main entrance," Ernest said.
A Hong Kong policeman has been jailed for six months after taking photographs up a woman's skirt on his mobile phone, a media report here said Wednesday. Chow Koon-sing, 49, took two shots of a 29-year old woman in July as she filled in forms at a magistrates' court where he worked, the Chinese-language newspaper Sing Tao reported. The woman told the court that Chow, who had been an officer for 20 years, was helping her with her papers when she felt something touch her leg. She looked down to find Chow crouching near her and holding his camera-phone, the report said. He told her "I'm just playing with you," it added. When questioned, Chow told police he had lost the phone for two days but officers found it dumped in a nearby gutter with two skirt shots in its memory. Chow was released on bail pending an appeal.

Customs and Excise Department officer Ng Hing-tong holds up a toy plane with sharp points that could pose a hazard to young children. It was one of seven toys found to be potentially hazardous from 13 samples checked by the department. Seventy spot safety checks were conducted on festive toys across the city. The authority has issued warnings to more than 220 toy suppliers this year.
The world's largest mobile phone company, London-based Vodafone Group, was set to enter a bidding war to buy Indian mobile firm Hutchison Essar, The Economic Times newspaper reported on Wednesday.

China: China does not manipulate its currency to gain unfair trade advantage, the U.S. Treasury Department said Tuesday. The Treasury "concluded that no major trading partner of the United States met the technical requirements for designation" of a country that is manipulating its currency to gain unfair trade advantages, said the department in its report to Congress on international economic and exchange rate policies. In the first half of 2006, China had taken further steps to strengthen and reform its financial sector to accommodate currency and interest rate fluctuations, said the report. During the six months, China took further steps to reform the currency market and RMB flexibility increased compared to the last six months of 2005, the report said. This increased flexibility, however, is considerably less than is needed, it added. The report, which the Treasury is required to deliver to Congress every six months, also said "China's economy needs a more balanced pattern of growth that is more consumption-based with a flexible exchange rate regime and a modernized financial sector."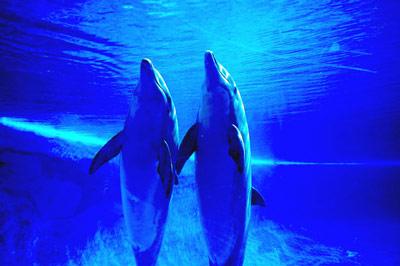 We could blame our accents and different dialects on self-imposed borders but that doesn't explain why animals like whales from different regions speak in dialects. Using underwater microphones, scientists eavesdropped on some whale talk and found that the blue whales off the Pacific Northwest sound different than those living in the western Pacific Ocean or near Chile. The reason for the different whale tongues is still unknown.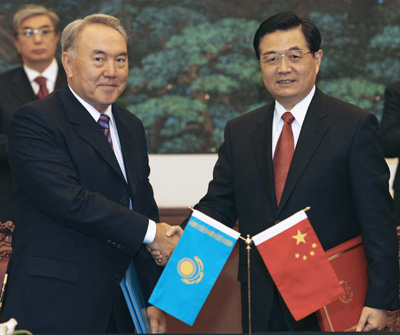 Kazakhstan's President Nursultan Nazarbayev and China's President Hu Jintao (R) shake hands after signing cooperation agreements during a meeting at the Great Hall of the People in Beijing December 20, 2006. Nazarbayev is in China on a five-day state visit.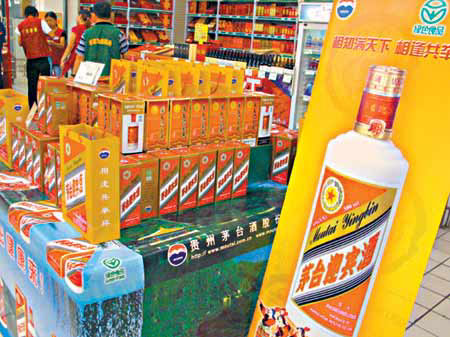 Classic Chinese liquor Maotai is sold at a supermarket in Shanghai. The liquor has more than 100 years of venerable history. During his first visit to China in 1972, former US President Richard Nixon received two pandas from the Chinese Government as a sign of friendship a gesture widely appreciated in the United States. What's less known is that he also took home some milk candy as a special gift from then Premier Zhou Enlai. White Rabbit milk candy is even today a household name in China the story goes that it was Zhou's favourite snack when he worked late at night. And it was also the secret love weapon of world champion weightlifter Zhang Guozheng, who moved his girlfriend with 20 kilograms of the candy. White Rabbit is one of many long-standing and famous Chinese brands tied to social development and key historical events. Yesterday, the Ministry of Commerce gave the designation of "time-honoured brand" to 430 brands around China. According to selection criteria, these brands must have been in existence before 1956 and highly popular among customers. Worldwide, China-made textiles and home appliances enjoy great popularity and contribute greatly to the country's trade surplus because of their low price and good quality. At home, however, old brands are struggling to gain a foothold in the domestic market, where competition from multinational giants is intensifying. These brands have experienced hardships during their long history. After being established by a family or an individual hundreds of years earlier, most of the enterprises became State-owned in the 1950s. After decades under the planned economy, they've started to face fierce competition under the market economy. Fang Shuying, chairwoman and general manager of Tianjin Laomeihua shoe shop, said a heritage brand is more than a product; it represents the culture of China and has deep traditional roots. Set up in 1911, her shop first became well-known for its specially made shoes for the bound feet of Chinese women living in the era before the People's Republic of China was founded in 1949. Back then, the saying "3-inch golden lotus" described the ideal foot of Chinese women. Many of these enterprises face various problems. Patents and intellectual property rights, for instance, are two concepts that are foreign to these long-standing brands. Wangmazi, the most famous and long-standing brand of scissors in China after being established in 1651, went bankrupt in 2004. "We were defeated by fake and inferior Wangmazi products," a spokesman for the enterprise said. Chairman Mao Zedong was often quoted as saying "Wangmazi, Donglaishun (the famous hotpot restaurant) and Quanjude (the famous Beijing duck restaurant) need to be preserved forever." In 2004, however, more than 5 million fake Wangmazi scissors were found in the market, three times the output of the brand itself. Goubuli, a famous brand of traditional baozi, based in Tianjin, faces a similar problem. Thousands of stores with the name are found nationwide, but a company spokesman said that only few of them have been authorized. The fake stores, he said, without the company's special recipe, have ruined the product's image. As new brands emerge every day in China, traditional brands attract more middle-aged and old people rather than young people. The famous Beijing bakery Daoxiangcun has long queues in the store most of the time, but the customers are generally in their 50s or 60s. The younger generation are more frequently seen in KFC or Pizza Hut. But some old brands are criticized for bad service and low efficiency. Tourists to Tianjin are often urged to taste the best baozi ever, but they often complain about the service at the flagship store of Goubuli. Heritage has become something they take for granted, and sometimes they become so proud of their brands that they pay little heed to customers. Faced with competition, many brands have started to reform and build new images to attract new customers. The Flying Pigeon brand, the biggest bicycle maker in the 1980s, sold only single-gear bicycles in only one colour back then. Now it has diversified its product range to include more than 300 models of racing and mountain bikes to meet new demands and tastes. Some brands have flourished with new products and the courage to renovate. The sales volume of Wong Lo Kat herbal tea, for instance, is increasing by more than 40 per cent each year since its canned product entered the market three years ago. As a famous brand in southern China, the herbal tea was often sold at the market with a bowl at a cheap price. Wong Lo Kat combined the recipe with the convenience of a canned beverage. Though each can is priced at over 3 yuan (38 US cents), compared with less than 2 yuan (25 US cents) for Coca-Cola, its sales volume in China is higher than Coca-Cola's, according to an official from the Guangdong Food Industry Association. The delicate craftsmanship that made Laomeihua shoes famous in Tianjin has continued with its new target market. It now employs more than 70 workers, who make comfortable, low-priced shoes for the middle-aged and the elderly, its chairwoman Fang said. And sometimes, tradition simply wins out. In a recent survey of Chinese women consumers, Tongrentang surpassed other pharmaceutical brands. Founded in 1669, Tongrentang supplied medicines and prescriptions to royal families for 188 years. Today it has overcome the outdated, parochial connotations that go with being a heritage brand with new medicines and opening chain stores in shopping malls. A spokesman for Huogongdian, a snack food shop in Changsha, Hunan Province, said it had imported more varieties of food to attract new customers. They previously had only eight kinds of food; now more than 40 are available at the shop, whose annual volume is more than 100 million yuan (US$12.7 million). Minister of Commerce Bo Xilai said the first group of time-honoured brands employ more than 120,000 people, and all the time-honoured brands employ more than 600,000. The longevity of these brands, Bo said, shows that China has begun paying attention to building brands.
The Chinese government is to set a single national standard on mobile phone chargers sold in the country to avoid waste and to lower costs, the Ministry of Information Industry (MII) has announced. Under the new standard, all mobile phones, regardless of the brand, will be able to share one charger with a USB access, allowing users to charge handsets through laptops. The unified standard will cut the cost of a new handset and reduce electronic waste and consumption of resources, an MII official said. The official said no deadline had been set, so as to allow charger makers to adjust their production. China has almost 450 million cell phone subscribers, with up to 100 million replacing their phones every year. The chargers are often disposed of with the phones. Under the new standard, cell phone manufacturers are expected to change their sales strategy, putting an end to the package sales of cell phones and chargers to save resources. Lou Peide, executive secretary general with China Mobile Communications Association, estimated the new standard could save nearly 2.4 billion yuan (306 million US dollars) each year for handsets made in China if the cost of each charger was seven to eight yuan.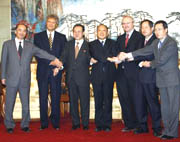 Top envoys representing their respective countries for six-party talks over North Korea's nuclear ambitions join hands during a photo call with Chinese Foreign Minister Li Zhaoxing, centre, on Wednesday at the Diaoyutai State Guesthouse in Beijing. From left are, Japan's Kenichiro Sasae, Russia's Sergey Razov, North Korea's Kim Kye Gwan, Li, the United States' Christopher Hill, South Korea's Chung Yung-woo and China's Wu Dawei.

Li Rongrong, chairman of the State-owned Assets Supervision and Administration Commission, says firms will soon pay dividends to the state.
Avnet Technology Solutions, a unit of multinational technology products distributor Avnet, on Wednesday opened a new global integration centre in Tianjin to serve North American original equipment manufacturers (OEMs) operating in China.
Dec 20, 2006

Hong Kong: The Hang Seng Index gained 82.26 points Monday as shares in the mainland's largest insurance companies, China Life Insurance (2628) and Ping An Insurance (2318), were sent soaring to record highs on the strength of planned A-share debuts next year.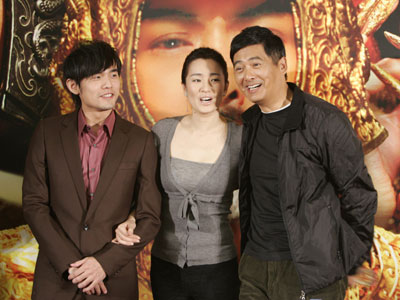 Taiwan actor-singer Jay Chou (L), mainland actress Gong Li (C) and Hong Kong actor Chow Yun Fat pose during a news conference to promote their movie "Curse of the Golden Flower" in Taipei December 16, 2006.
Sun Hung Kai Properties (0016) said its "wtc more," shopping mall in Causeway Bay will attract 60 percent more visitors during the Christmas and New Year period compared with the same period last year.

Regal Hotels International Holdings (0078) will look for suitable financial investments, including shares, to park its expected cash mountain of about HK$5 billion from the proceeds of its upcoming REIT, while it looks for suitable projects in the mainland.
Shares in Hutchison Telecom International Limited (2332), the emerging- markets phone division of Hutchison Whampoa (0013), rose to a record high Monday as media reports said a bidding war for Indian operation Hutchison Essar is heating up with other firms preparing to best existing offers of US$14 billion (HK$109.2 billion).
The fate of the mechanical remnants of the clock tower at the old Star Ferry pier will be decided in a study on the planning of the new harborfront that will start ticking in the first quarter of next year, it was revealed Monday.
About 4,000 contract staff will be phased out from the civil service when their terms expire, Secretary for the Civil Service Denise Yue Chung-yee has announced.
Melco PBL Entertainment, a developer of casinos and resorts in Macau, on Tuesday said it had priced its initial public offering on the Nasdaq Global Market at US$19 (HK$148) per share, higher than initial guidance due to strong demand.

Elsie Leung toasts new federation: Former justice secretary Elsie Leung Oi-sie, now the deputy head of the Basic Law Committee, attends the inauguration of the Federation of Guangxi Community Organisations in Wan Chai yesterday. Formed by 16 groups of Guangxi natives in Hong Kong, the federation hopes to strengthen ties between the city and the autonomous region, which is part of the pan-Pearl River Delta area.
Hong Kong's jobless rate fell to less than 4.5 per cent last month - the lowest level since the beginning of 2001, latest statistics released on Tuesday showed.
Privately run Shun Yan College has been granted the title of a university - and becomes the first private university in Hong Kong. The change of its status was announced on Tuesday by Secretary for Education and Manpower Arthur Li Kwok-cheung after the Executive Council approved its application. Mr Lee said the approval showed tertiary education in Hong Kong could count on resources from outside the government. Before Tuesday, Hong Kong had seven universities, all of which were government-subsidised. Shun Yan College, established in 1971, began its quest for recognition as a university in 1995 when it moved into its HK$100 million Braemar Hill campus.
A new book British Hong: Kong Fact and Fable by local author Arthur Hacker offers an entertaining and amusing look at Hong Kong history through cartoons. The more than 100 cartoons and drawings in the book vividly capture 19th and 20th century colonial Hong Kong - depicting prominent citizens, former governors, sailors, soldiers, and local Chinese - often in traditional dress. Most of the cartoons feature the Victorian era. "The best stories happened during the Victorian era, so they take more space in the book," explains Hacker. The cartoons not only reveal some interesting historical details but also fascinating aspects of daily life, work, sport, and the customs and mores of the time. There are also excellent drawings of ships, Chinese junks, and famous Hong Kong buildings such as the Wan Chai Clock tower and the 1886 bank building in Des Voeux Road. Few of the cartoons deal with Hong Kong since 1945. As an artist, Hacker is well-known for his distinctive style as well as the endearing characters he has drawn over the years.

China: Chinese leaders agree in principle to visit Japan next year, said State Councilor Tang Jiaxuan on Monday in Beijing. Tang made the remarks when meeting with Koichi Kato, former Secretary-General of the Liberal Democratic Party (LDP) and a member of the House of Representatives. Tang said the two sides should regard the visit as an opportunity to promote friendly exchanges and cooperation in various fields and map out a long-term development plan for bilateral relations. The two countries should also further consolidate the "three foundations" for the sound, long-term, stable development of bilateral relations, namely the political foundation, economic foundation and people-to-people relations, he added. New Japanese Prime Minister Shinzo Abe paid an official visit to China in October after assuming the premiership, the first visit to China by a Japanese prime minister in the past five years. During his visit, the two sides issued a joint press communique, in which the Japanese side invited Chinese leaders to visit Japan, and the Chinese side expressed gratitude and consent in principle for the invitation. Tang said relations between China and Japan are improving. The elimination of political obstacles and the resumption of high-level visits will inject vigor into bilateral relations and benefit the two countries and two peoples.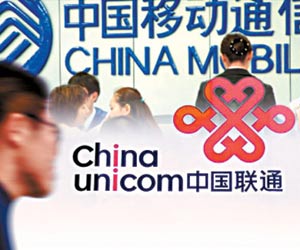 The Ministry of Information Industry denies a media report that it will introduce a caller-pays system for cell phone users. Chinese regulators and cellular operators yesterday refuted reports that they are ready to introduce a caller-pays charging scheme for mobile phone calls as early as next month. The South China Morning Post, citing an anonymous source from the Ministry of Information Industry (MII), yesterday reported that regulators and operators had made a decision to adopt the caller-pays approach, which could be implemented or phased in as early as January 1. Xi Guohua, vice minister of the MII, said: "We have discussed the caller-pays system for years, but we have yet to make a decision." "Even if it is introduced, it will not be implemented nationwide," he told China Daily. A spokesperson with China Mobile Communications Corporation, parent of Hong Kong-listed China Mobile Ltd., said he has not heard of such a policy. Currently, both callers and receivers in China are required to pay for mobile phone conversations, a focus of criticism from consumers. Increasing complaints have put regulators under pressure in the past 10 years to allow a switch to the caller-pays approach, or the so-called "one-way billing" scheme. But regulators' efforts to adopt such an approach have failed. Media reports of such an intention in recent years have led to sell-offs of China Mobile Ltd. and China Unicom Ltd. stocks, both of which are now listed companies. Some industry observers said the two listed companies have become "hostages" held by investors, who fear the one-way billing approach would lead to declining revenues for China Mobile and China Unicom. Sell-off of stocks of China Mobile and China Unicom have put regulators under pressure as they are seen as "losses of state-owned assets." Both parents of China Mobile and China Unicom are state-owned companies. Wang Guoping, an analyst with China Galaxy Securities, said the regulators are unlikely to introduce the caller-pays approach in a unified ruling.
Major telecommunication operators from China's mainland, Taiwan, the United States and the Republic of Korea announced on Monday that they had started laying a submarine optical cable link across the Pacific Ocean.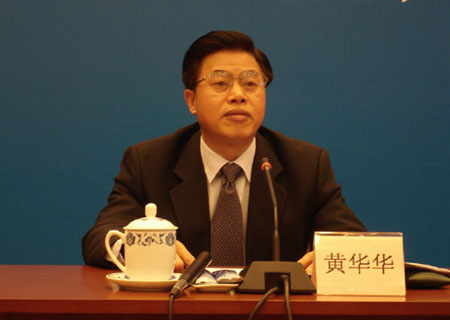 Huang Huahua, governor of South China's Guangdong Province, gestures at a press conference in Guangzhou, capital of the province, December 18, 2006. The gross domestic product (GDP) in South China's Guangdong Province is expected to reach 2.58 trillion yuan this year (US$329.67 billion), an increase of 14 percent from a year earlier, said provincial governor Huang Huahua in Guangzhou on Monday. Guangdong's gross domestic product rose 14.1 percent year-on-year to hit 2.34 trillion yuan (US$299 billion) during the first eleven months of this year. The average yearly GDP growth rate in the province from 1979 to 2005 is 13.7 percent. The year 1979 marks the time when China began to adopt the policy of reform and opening up to the outside world. Guangdong's GDP growth rate is 4.1 percentage points higher than the national average and over four times that of the international average, Huang said at a press conference. Guangdong's GDP reached 223.66 trillion yuan (US$273 billion) last year, surpassing Hong Kong Special Administrative Region and Singapore, previously two of the strongest economies in Asia. The figure also represents US$65.50 less than that of Taiwan, whose GDP stood at US$323.4 billion last year. "It will take about three years for Guangdong to catch up with or surpass Taiwan in terms of GDP," said Huang. Gungdong's GDP grows by more than US$30 billion a year, while Taiwan's grows by US$10 billion a year, Li Huiwu, deputy director of the provincial government's development research center, said last week. The governor admitted there are existing problems which have caused great concern about the province's development in the past such as unbalanced economic development between cities and rural areas, the fact that social development has lagged behind economic development and environmental pollution. Huang promised that the provincial administration will speed up its efforts to turn Guangdong, dubbed as "the factory of the world", into a people-oriented, environmentally friendly and harmonious province in the 11th Five-Year-Plan period (2006-10). Guangdong raised up to 113.3 billion yuan in fixed assets investment in rural areas in the province during the first ten months of this year, up 39.5 percent year-on-year and 29.7 percentage points higher than in urban areas, he said.
China's largest milk producer, Mengniu Dairy Co, announced yesterday it would form a joint venture to make yogurt with the French giant Groupe Danone.
A Citigroup-led consortium has won approval to buy a Guangdong bank in a US$3.1 billion (HK$24.1 billion) deal that would give a foreign lender control of a mainland institution for the first time in the country's newly opened market.

Bridging the divide: A dual-function bridge now under construction in Binzhou city, Shandong province, is the first of its kind on the Yellow River. The 7km railway and highway bridge will be completed by December 30 and open to traffic on July 1.
Dec 19, 2006

Hong Kong: Developers are expected to fight tooth and nail at a land auction tomorrow for a rare residential site at The Peak, and in the process may set a new record price per square foot for land.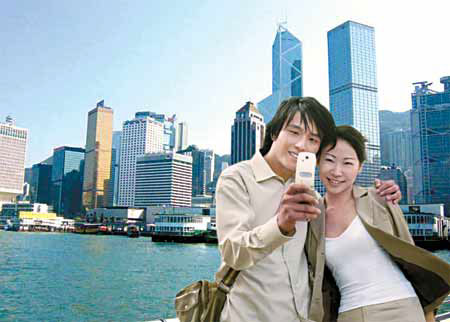 Next year in Paris - Alice Wang and Eric Deng, newly married, are busy preparing for their honeymoon this Christmas in Hong Kong, Asia's shopping paradise and most prosperous international metropolis. With China's affluent packing their bags, travel professionals are working on making dream destinations easier to reach. "Actually, my dream honeymoon destination is France, so romantic and elegant," acknowledges the bride, "However, given limited budget and complex visa procedures, we gave up." The couple is not alone. A travel survey of affluent Chinese, conducted by American Express Global Network Services, found that France is the top dream destination for leisure and honeymoon trips whilst Hong Kong is the No 1 planned destination for shopping and family trips. Dream destinations are defined as places people desire to travel to but may face numerous difficulties. Planned destinations are ones that people can arrange to tour in a practical way. With China's affluent increasing their travel, the country is expected to become the world's fourth largest outbound travel market by 2020, according to the World Tourism Organization. Streamlining dreams - With the growth in high-end travel, one major goal of the travel sector is understanding Chinese travel preferences and turning dream destinations into planned ones, according to Dave Keung, vice president and general manager of Global Network & Establishment Service of American Express Company Greater China. The survey asked 1,220 affluent Chinese living in the eight key cities of Beijing, Shanghai, Guangzhou, Shenzhen, Hangzhou, Chengdu, Shenyang and Xi'an, for their preference for honeymoons, shopping and family trips. The interviewees, aged 24 to 44, had all travelled within China or abroad in the past year and planned leisure trips in the coming year. Respondents' income level ranked in the top 5 per cent of their cities' population. The survey found that France slightly surpassed the United States as the top leisure destination, with 12 per cent of those interviewed choosing either of the two nations if factors such as time, money and visas were not issues.
The plan by tycoon Michael Kadoorie's CLP Holdings (0002) to build another liquefied natural gas terminal in Hong Kong has met strong resistance from a legislator, who questioned the company's claims over the depletion of its Yacheng gas field.
A group of Hong Kong legislators said on Monday they would launch a campaign to protect the city's heritage after the demolition of the territory's iconic Star Ferry pier. "We will ask citizens to name 100 buildings and monuments that they believe are worth saving before we talk to the government to discuss how we should have a proper policy to preserve our heritage," legislator Albert Chan Wai-yip said. He said the public's awareness about the need to preserve the city's historical structures had increased since the government continued to tear down the half-century old Star Ferry pier and clock tower. On Sunday, local activists clashed with police for the third time in a week over the demolition of the Victoria Harbour landmark. More than a dozen of campaigners had been on hunger strike. They and around 200 others marched towards the residence of Chief Executive Donald Tsang Yam-kuen on Sunday but were stopped by police. A protest last week led to 13 arrests. Mr Tsang has insisted that demolition would go ahead but said the government was considering rebuilding the clock tower to the same design in a suitable location. The pier was closed last month and is being demolished to make way for a six-lane highway and a shopping centre. Local campaigners say it is one of the last architectural reminders of the southern Chinese city's maritime history. Queen's Pier has emerged as the next front line in the battle over the Star Ferry demolition as activists have demanded the preservation of the pier because of its role in Hong Kong's colonial past.
Hong Kong's international airport handled nine per cent more passengers in November than it did a year earlier, boosted by an increase in visitor traffic from China and Southeast Asia, the city's airport authority said on Monday.
The Hong Kong Institute of Certified Public Accountants plans to complete next year about 10 investigations of alleged auditing failures but will pass on all new dossiers to the newly formed Financial Reporting Council, according to institute president Mark Fong Chung.
CLSA Capital Partners, the private investment arm of CLSA Asia-Pacific Markets with more than US$1.4 billion in funds, aims to complete four acquisitions across the region valued at US$75 million within the next three months, according to a senior official of the direct investment fund.
Shares in Hutchison Whampoa rose 2.89 per cent to a one-year high of HK$78.20 yesterday amid rumours the company may be selling its loss-making third-generation mobile-telephone business in Britain and Italy to mainland telecommunications operators.

China: Landmark trade talks between China and the US concluded in Beijing on Friday, reflecting the increased interaction between the two countries this year.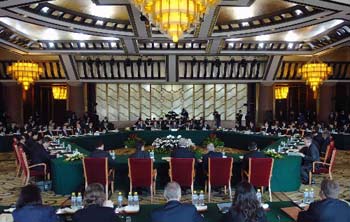 Members of the six delegations, namely, China, the Democratic People's Republic of Korea (DPRK), the United States, the Republic of Korea (ROK), Japan and Russia, attend the opening ceremony of the six-party talks on the Korean Peninsula nuclear issue opened at the Diaoyutai State Guesthouse in Beijing on Dec. 18, 2006.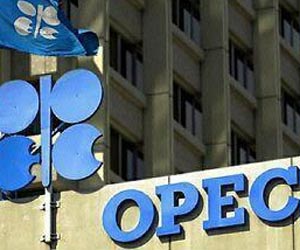 The Organization of Petroleum Exporting Countries said it will reduce its daily oil production by 500,000 barrels with effect from Feb.1, 2007. China, hosting its first major energy summit, urged top oil consumers to unite in the face of fluctuating global oil prices and maintain energy security.
China seems to be in the middle of a smiling deficit, but one group in Shanghai is doing what it can to turn those frowns upside down. According to a recent online survey by Extrawhite, a maker of chewing gum, a quarter of the people in China never smile or smile less than five times a day. The survey found that only 2 per cent of Chinese people are willing to smile at strangers. To reverse this situation, a group of 40 students from the Humanities and Communications College of Shanghai Normal University launched a team of "smiling volunteers" last month. Their technique is simple enough: they smile at people. They carried out their first "smiling task" on Saturday at the Shanghai Film Art Centre, where they smiled at all the visitors and asked if anyone needed any help. "We started to prepare for this special team back in October," said Dai Ningning, a teacher at the college who is in charge of the team. "Wang Shengmin, a member of the Shanghai Municipal Committee of Chinese People's Political Consultative Conference and an alumni of the university, has been urging Shanghai residents to polish their manners. She recently published a book about the importance of good manners. She basically inspired us to create the team." But the team's work is not all fun and games. Dai suggested that the team's work also had a professional component. "Most of our students will be teachers after they graduate. Smiling is necessary for good teachers. We hope they will learn how to smile at each other properly before they become teachers," she said.
Beijing has joined a global partnership to build FutureGen, a US$1 billion (HK$7.8 billion) project billed as the world's cleanest coal-burning power plant, the US Energy Department said. The proposed 275-megawatt plant, which would burn coal to produce electricity as well as hydrogen, is being developed by a consortium including the Energy Department and major utilities and mining companies. The plant would also suck heat-trapping carbon dioxide emissions in underground reservoirs. China Huaneng Group, China's largest coal- based power generator, is a member of the consortium, but the new agreement adds the Chinese government to its government steering committee, the Energy Department said. US and China need to find ways to use abundant domestic coal supplies without polluting the air.
As China's economy grows rapidly, it faces a shortage of locally educated managers with international experience. More Chinese - who previously left to study abroad - are returning, the International Labor Organisation (ILO) said on Monday.
Starbucks Corp, the US coffee chain with more than 12,000 outlets worldwide, will issue stock options to all mainland employees of ventures in which it has a controlling stake.

Shenzhen Development Bank, a mainland lender controlled by buyout company Newbridge Capital, said it will revise an agreement to sell a 7 per cent stake to General Electric.
Dec 18, 2006

Hong Kong: Investors should think carefully before they get carried away with the recent enthusiasm for stock investment, according to General Chamber of Commerce chairman David Eldon. He said although a bubble has not appeared on the local stock market, he is concerned about the recent fervent speculation, especially on stocks of mainland companies. "People buying the IPOs don't read the IPO documents," he said, so they frequently cannot understand the business of those companies. As such, this increased the risk for those would-be investors and many of them would find it difficult to bear losses if the stock prices drops, Eldon said. Eldon pointed to the 1997 Asian financial crisis as an example of what happens when investors forget their main business and go headlong into real estate speculation. He advised investors to consider their appetite for risk of losing money on stocks. On the issue of a goods and services tax, Eldon said the government was still doing consultation and, with the business sector concerned about air pollution, it might consider introducing green taxes. However, he said the function of green taxes was to improve the environment rather than broaden the tax base like GST. He said there was no need for Hong Kong to introduce a competition law. The major business sectors maintain good practice, he said, and "the law would only capture a small number of people." Chamber chief economist David O'Rear expects local economic growth to slow down to a 5 percent increase next year. O'Rear added government revenue in the first half exceeded estimates for the period, so it will record a huge surplus for the 2006/07 fiscal year.
Discussions between the government and the city's two power companies over regulating electricity charges next year should be finalized over the next few days, Secretary for Economic Development and Labour Stephen Ip Shu- kwun said Thursday.

Bank of East Asia chairman David Li (right) accepts the Business Person of the Year award as South China Morning Post editor-in-chief Mark Clifford and Great Eagle Holdings chairman Lo Ka-shui look on.
CITIC Pacific (0267) managing director and executive councillor Henry Fan Hung-ling said he has confidence in Hong Kong's competitiveness for the next 10 years. Speaking at a business summit held by the Hong Kong General Chamber of Commerce Thursday, Fan said Hong Kong is still in a superior position, despite facing increasing competition from other cities, such as Shanghai. "Shanghai is definitely up and coming. But, due to its hierarchy, it cannot have the freedom Hong Kong enjoys," Fan said. The Chinese government has the right to intervene in the market "and China has the freedom to change contract terms," said Fan, while Hong Kong imposes a contractual bind. He cited the Eastern Harbour Tunnel as an example, saying operator CITIC was able to raise tolls last year despite government and public opposition. Taxi operators, citing high operating costs in an increasingly competitive environment, had been at the forefront of protests to have the fee hikes revoked. Fan said the government had called him "several times" regarding the toll rise, but it went ahead regardless. "At this point, so long as China doesn't change, Hong Kong is always superior, " Fan said. "It is not easy for Shanghai to catch up." However, Fan believes: "At the end of the day, nothing can stop this super powerhouse from connecting with the world." The largest challenge to Hong Kong is inadequate talent, he said. "We don't have enough talent who can operate under both systems - China and Hong Kong." He proposed that the government should bring in more mainland students to Hong Kong to study, and establish them in the city. He also commented on the Hong Kong dollar peg to the greenback, saying the link should not be altered to the yuan. The yuan jumped to 7.8195 versus the US dollar in Shanghai Thursday, hitting a fresh high since its revaluation on July 21 last year. "Stability is very important in doing business. Since the existing system has been working well, why should we bother to change it?" Fan said.
The volume of transactions in the retail property market is likely to rebound by up to 30 percent on the back of the government's decision not to pursue the goods and services tax proposal, a real estate agent said.
Conservation activists again broke through a police cordon Thursday night, in a renewed attempt to prevent workers from tearing down the famous clock tower at the old Star Ferry pier. We fully understand that there are views that the Star Ferry pier and its clock tower should be preserved as part of our collective memory. In response to community appeals, the Planning Department will examine how to incorporate some special features of the old Star Ferry pier and its clock tower into the design of the new Central Harborfront. We will consider rebuilding the clock tower at the open space on the new harborfront.

It takes two to tango: Liberal Party chairman James Tien Pei-chun and his wife rule the dance floor at a Christmas banquet at Belair Gardens in Sha Tin attended by fellow party members and district councillors.

China: US Secretary of Treasury Henry Paulson has begun Thursday his China trip at the head of a super US financial and economic delegation, which comprises Ben Bernanke, chairman of the U.S. Federal Reserve Bank, and the U.S. Trade Representative Susan Schwab, and other senior financial officials of the Bush Administration. The visit of such a "high-profile" delegation to China epitomizes the importance and closeness of Sino-US economic ties and the keen attention paid by the American side to problems existing in bilateral relations. When talking to media reporters on his ongoing trip to China recently, Paulson said this move constitutes the first step in the US-China strategic dialogue, in which the protracted nature of the dialogue would be dealt with. Meanwhile, he said, he hoped that people should not pin too higher hopes on the substantial outcome of his trip. Public opinions estimate the US side will possibly set forth the ensuing topics for deliberation, such as subjects on further promotion of China's economic reform and the enforcement of a still more flexible exchange rate system and a somewhat high trade surplus with the Chinese side in the bilateral trade, on China's further opening of financial capital market, steady opening up of the medical and health care and the sphere of communications, and on intensified protection of intellectual property right. All these topics can be said to be long-standing issues over recent years. Since the assumption of his post as US secretary of treasury, Paulson has taken a rather enlightened and open approach. With possible excessive pressures imposed by the American interest groups, however, Paulson said prior to his China visit that the pace for the RMB exchange reform was too slow and the international community would soon lose patience with no more due tolerance to be granted. On the issue of RMB exchange rate reform, the general orientation is to be decided by the market, and China is precisely heading for this right direction. The RMB exchange rate to the US dollar has risen over five percent in recent years and the pace cannot be reckoned as slow. There is a drastic shortage of Christmas commodities in the United States at the end of this year due to a decline in China's exports to the U.S. and, for this situation, American consumers were not contented and unhappy. As far as China's demand is concerned, it is all the more essential for the country to make the exchange rate more elastic and flexible but too rash moves in this regard are no good for the global financial stability or for Sino-US trade. The imbalanced Sino-US trade has numerous factors. It is related to economic globalization and to the shift or reorganization of global industries, and it also has something to do with China's relative advantages in a number of low-end industries and the United States' excessive control on technological exports to China. China-made products have contributed to some extent to the US control on inflation, and punitive measures imposed upon Chinese products will be taken for penalizing American consumers. With regard to the issue of opening up its banking and other spheres, China has opened RMB business in compliance with the commitment it had made upon its entry to the World Trade Organization (WTO) and the conventional international rules. Chinese banks will also open to foreign financial institutions and social funds from both at home and from overseas, and this process will advance steadily under the precondition of maintaining financial stability. Some US trade official have reproached China on the issue of observing the commitment it pledged upon the entry of WHO, which is not in line with the accepted international views and opinions. WTO Director General Pascal Lamy has spoken highly of China's conduct following its entry to the global trade body. In a word, the economic and trade issue between China and the U.S. should be discussed from the strategic height, proceeding from the long-term interests of both sides, and consulted patiently from the overall angle with comprehensive planning and all-round consideration.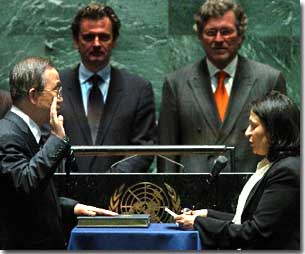 UN Secretary-General-designate Ban Ki-moon is sworn in as the next Secretary-General to succeed Kofi Annan at an oath of office ceremony Dec. 14, 2006.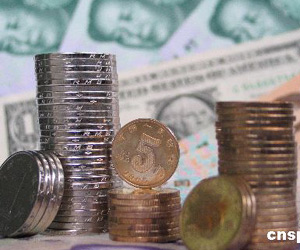 China's currency rose to a new high Thursday as American and Chinese officials tackled thorny trade issues in Beijing, hitting 7.8180 per U.S. dollar in early trading.
China will invest over one trillion yuan (about 127 billion U.S. dollars) in developing an alternative coal-based energy source to ease the country's dependence on oil imports, according to the National Development and Reform Commission (NDRC). The project aims to produce 30 million tons of liquefied coal and 20 million tons of dimethyl ether (DME) by 2020. Coal-to-olefin (CTO) output is expected to hit 8 million tons and coal methanol to reach 66 million tons. Traditional coal-chemical industries that have been guilty of overproduction, such as calcium carbide and coke, will be kept under control. The money will also be spent on building seven industrial bases nationwide to produce coal-based energy source on a massive scale, including the biggest alternative fuel production base in the lower reaches of the Yellow River. Xinjiang is projected to produce 10 million tons of liquefied coal, and the eastern region of Inner Mongolia will become the major methanol supplier, with an annual capacity of 10 million tons.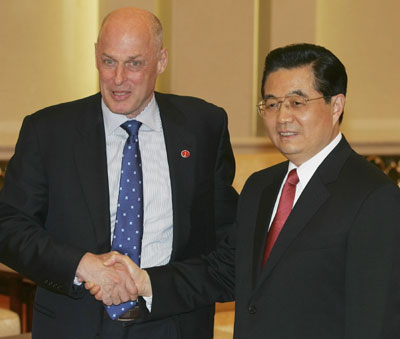 U.S. Treasury Secretary Henry Paulson (L) greets China's President Hu Jintao after the closing of the Strategic Economic Dialogue at the Great Hall of the People in Beijing December 15, 2006. US Treasury Secretary Henry Paulson urged China Thursday to introduce more currency flexibility in the short term as a stepping stone to a freely floating exchange rate, but he was faced with comments from the mainland's most powerful woman that America does not understand the reality in China. The high-powered group of US officials led by Henry Paulson pressed China over its currency and trade policies Thursday while Chinese officials stressed changes were being made over the long term. Kicking off the first biannual talks between Chinese and American economic policy makers in Beijing, US Treasury Secretary Henry Paulson said Thursday that the effort must produce "tangible results" to prevent protectionism in both nations from damaging trade between them. Analysts expect participants in this week's Sino-US strategic economic dialogue, the highest-level economic talks between the two countries, to agree on a framework for addressing points of friction in the medium term, rather than produce any immediate and tangible results.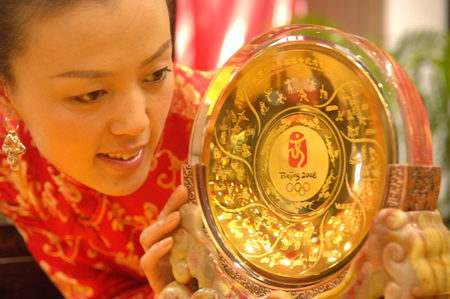 A salesperson poses with a gold plate embossed with the Beijing Olympic symbol in Beijing, December 15,2006.The Olympic gold plate and set of Olympic gold and sliver bricks unveiled today are licensed by the Beijing Organizing Committee for the Games of the XXIX Olympiad (BOCOG), and are first gold plate and gold brick set in Olympic history.[
British energy giant BP and China National Offshore Oil Corp (CNOOC) had invested US$100 million (HK$780 million) in a gas drilling deal in the South China Sea, press reported on Friday.
Dec 15 - 17, 2006

Hong Kong: The US Federal Reserve's decision to keep interest rates unchanged squares with the "plateau" prophecy of Hong Kong Monetary Authority chief executive Joseph Yam Chi-kwong, who said Wednesday a stabilized interest rate will have a positive impact on borrowers and depositors.
Hutchison Telecommunications International (2332) is keeping quiet on reports that Indian mobile phone company Reliance Communications plans to acquire its mobile phone operations in India for more than US$14 billion (HK$109.2 billion) by teaming up with US private equity funds.
Shui On Construction and Materials (0983) interim profit has shot up by nearly five times thanks to the booking of the increase in investment value of its stake in its newly listed property business Shui On Land (0272).
More than half of local companies are not satisfied with employees' language skills and do not believe Hong Kong's competitiveness will improve in the next few years, according to a poll released by Hong Kong General Chamber of Commerce Wednesday.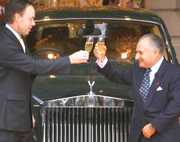 Rolls-Royce chairman Ian Robertson (left) and Hong Kong and Shanghai Hotels chairman Michael Kadoorie toast the unveiling of the Peninsula Hotel's new 14-strong Rolls-Royce Phantom fleet. China has overtaken Japan as the strongest market for Rolls-Royce in Asia.
Ten years after Hong Kong returned to Chinese rule, it was time the territory reflected on its experiences to prepare for the future, Financial Secretary Henry Tang Ying-yen said on Thursday.

Lifetime achievement: Xu Jialu , a vice-chairman of the Standing Committee of the National People's Congress, Sinologist and artist Jao Tsung-i, Chief Executive Donald Tsang Yam-kuen and Mr Tsang's wife, Selina Tsang Pou Siu-mei (pictured left to right) attend the opening of an exhibition of Professor Jao's work at the Central Library's exhibition gallery. The exhibition, part of events being held to celebrate Professor Jao's 90th birthday, will run from today until January 4.
Border officials could turn away mainland women tourists suspected of travelling to Hong Kong to give birth here, Secretary for Security Ambrose Lee Siu-kwong said on Thursday.
Television Broadcasts will increase its advertising revenue less than 5 per cent next year, as advertisers hold back from placing big budgets for marketing, an executive said.

China: US President George W Bush sent his top economic brass to Beijing for the first of what will become a semi-annual meeting to discuss trade and other issues. The recently created "Strategic Economic Dialogue" will cover a broad range of topics, including energy and environmental policy as well as the familiar economic concerns like China's ballooning trade surplus and foreign exchange reserves. Both Presidents Bush and Hu have anointed famed officials to lead their respective sides in the talks. Secretary of the Treasury Hank Paulson, whose thick China rolodex was built during his years at the helm of Goldman Sachs, will head the US delegation; while Vice Premier Wu Yi, known as the "Iron Lady" of Chinese politics and ranked third on Forbes magazine's "100 Most Powerful Women 2006", will captain the Chinese side. America is considering bringing charges against China at the WTO for IPR violations and murky "trade-distorting measures". In the time (five years this week) that China has been a member of the WTO, the US has filed only one complaint against it, related to car parts.

China Coal Energy raised US$1.7 billion in its Hong Kong IPO, with both retail and institutional offerings vastly oversubscribed. China's second-largest coal producer proved with its offering that the market is still hungry for mainland China companies to list, as the share price of US$0.52 was 14.6 times its estimated 2006 earnings. Meanwhile, regulators in Beijing approved a bailout for China Everbright Bank in anticipation of an eventual Hong Kong IPO; and Jiangsu Bank, a new second-tier bank cobbled together from 10 former small banks and cooperatives, opened for business with US$16.6 billion in assets.

In an announcement that could only be described as Orwellian, the government said it would introduce a freedom of information act to boost citizens' rights. No timetable was set for the debut of the new law, which would likely not lead to much transparency in government. Normality was restored when Beijing announced new, tighter regulations on the content of online games and music. The online community becomes more of a concern for the net nannies in government every day – a new report from Baidu claimed there are now nearly 20 million bloggers in China, up 24% from last year. China has 123 million internet users.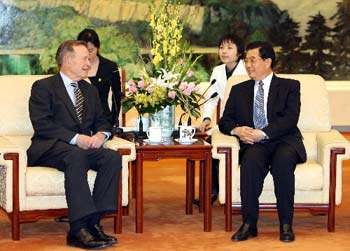 Chinese President Hu Jintao (R) meets with visiting former U.S. President George Herbert Walker Bush in Beijing Wednesday, Dec. 13, 2006. The relationship between China and the United States is "the best ever in history", said the former U.S. President.
A boat-shaped coffin dating back nearly 2,500 years has unearthed recently in China's Sichuan, giving expectation to reveal history of a mysterious kingdom.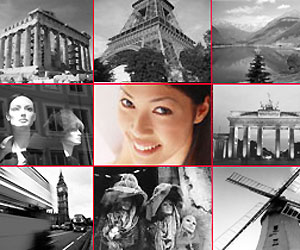 China is consolidating its status as Asia's largest outbound tourism market as 28.55 million people travelled abroad in the first 10 months of this year. China is consolidating its status as Asia's largest outbound tourism market as 28.55 million people travelled abroad in the first 10 months of this year. The State Tourism Administration said on its website that the number is 10.8 per cent more than for the same period last year. Shao Qiwei, head of the administration, said it is a result of the tourism industry's opening up since China's entry into the World Trade Organization (WTO) in 2001. Mainland travellers can now visit 132 countries and regions, up from 18 in 2001, including the Hong Kong and Macao special administrative regions. In 2001, 12.13 million Chinese travelled overseas. Last year, the number soared to 31 million. In the past five years, China has overtaken Japan to become the largest source of outbound travellers in Asia. The administration, however, has not provided figures on the expenditure of Chinese outbound travellers. In the latest list of the world's leading outbound tourism markets, based on statistics in 2004, the World Tourism Organization placed China behind Japan in terms of expenditure. China ranked seventh and Japan fourth. China is also gaining appeal as a top tourist destination. Official statistics show that China received 46.8 million tourists last year, ranking fourth globally. The tourists spent a total of US$29.3 billion, placing China sixth globally. In the past five years, China has been fulfilling or has fulfilled, its tourism sector promises in accordance with WTO requirements. They include allowing foreign capital to open wholly-owned hotels and restaurants, allowing foreign capital to hold major shares in travel agencies, and open wholly-funded travel agencies. There are now 49 overseas hotel brands and 25 foreign-funded travel agencies in China. Foreign-funded travel agencies are allowed to run inbound tours, but are not permitted to organize outbound tours yet. Next year, China will allow foreign-funded travel agencies to set up branches and lower the registry capital demand for foreign travel agencies to the same level as domestic ones. The administration also mentioned on the website that China has a huge domestic travel market. At least 1.21 billion person-times of Chinese traveled within the country last year, an increase of 53 per cent over 2001.
The value of the Renminbi (RMB) yuan against the U.S. dollar hit a new record high on Thursday with a central parity rate of 7.8197 yuan to one dollar, according to the Chinese Foreign Exchange Trade System.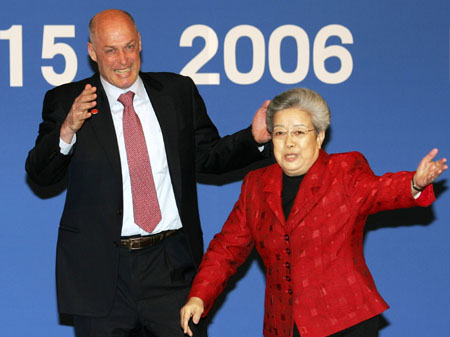 Chinese Vice Premier Wu Yi (R) and U.S. Treasury Secretary Henry Paulson (L) smile at the Great Hall of the People in Beijing, December 14, 2006, ahead of their Strategic Economic Dialogue.
Chinese exports will encounter increasing technical barriers among major trading partners like the United States and the European Union in the coming years because of strict new rules on energy use and chemical content in those markets, a top official warned.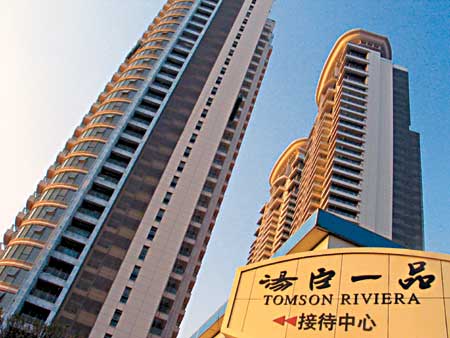 Asking price for Beijing's tallest apartments is 70,000 yuan (US$8,974) per square meter - Tomson Group, the developer behind the Tomson Riviera, is struggling to find buyers in what is now a depressed housing market in the city.
State-owned lender China Everbright Bank is likely to speed up its planned listing in Hong Kong after receiving a boost to its balance sheet from the government through a 20 billion yuan (HK$19.84 billion) capital injection, market sources said.
American retailer giant Home Depot has signed an agreement to buy a chain of mainland home-improvement stores and GE Aviation announced a jet engine sale as US and Chinese companies announced deals ahead of the inaugural strategic economic dialogue talks starting today.
Dec 14, 2006

Hong Kong: Secretary for Financial Services and the Treasury Frederick Ma Si-hang said the government is watching the revaluation of the yuan closely, but has no intention of altering the Hong Kong dollar peg to the greenback.
Hong Kong property tycoon Lee Shau- kee has reiterated his view that investing in equities is now more profitable than real-estate development - but insists he is not abandoning his main business.
Protesters Tuesday night stormed the construction site surrounding the old Central Star Ferry Pier after constructors began the demotion of the clock tower by removing its antique bell. About 20 protesters, among them members of the See Network and led by legislator Leung Kwok-hung, broke through a cordon of policemen and constructors shortly after 6pm. They occupied part of the construction site, shouting slogans from the roof of an excavator and demanded to meet Secretary for Housing, Planning and Lands Michael Suen Ming-yeung. One journalist was slightly injured when he was pushed to the ground during the fracas and taken to hospital. The protesters were supported at the scene by Civic Party legislators Kwok Ka-ki, Fernando Cheung Chiu-hung and Democratic Alliance for the Betterment and Progress of Hong Kong legislator Choy So-yuk. The police, paramedics and firemen arrived to cordon off the protesters and stand by in case of further injuries. At midnight, they were still at the site and refused to leave until Suen met them to assure them that the clock will stay. At press time, no arrest was made. The move followed the removal of the bell of Hong Kong's last antique mechanical clock in the afternoon. Its signature Westminster chimes could be heard ringing at the heart of Central every quarter-hour for half a century. The demolition drew outrage from legislators and conservationists, who said it goes against the wishes of most residents. The issue has united legislators from all sides of the political spectrum. The Civic Party's Mandy Tam Heung-man accused the government of being hellbent on its destruction. "The people of Hong Kong have an attachment to the clock tower. It is a true Hong Kong landmark. "The clock tower occupies a tiny space. There is absolutely no need to take it down. It hardly blocks the bypass. Why can't we save the clock tower in the same way as we have saved the Kowloon Fire Station or the lighthouse in Tseung Kwan O?" Choy, who last week asked for the minutes of the Antiques Advisory Board meeting in which the fate of the clock tower was decided, said the government was rushing the demolition before anyone had time to object. "They told me before it wasn't worth preserving because it is too young. Now they say the Antiques Advisory Board decided it was not worth preserving. I asked for the minutes of the meeting, but they told me it would take at least a week to get them to me. "Now I think they were just delaying until after the demolition when it is too late. "One of my Italian friends, who has traveled all over the world, has described Star Ferry as the most beautiful ride in the world. Now it is gone. Our cultural identity is eroding away every day and there is nothing we can do about it. That's the tragedy of Hong Kong." The third-generation Star Ferry Pier, built in 1957, is being demolished to give way to the six-lane Central-Wan Chai Bypass and a low-rise "groundscraper" shopping mall. It will be replaced with a mock- Edwardian pier that will feature a clock tower with digital chimes.
The mainland's largest life insurer, China Life Insurance (2628), plans to kick off its up to 28 billion yuan (HK$27.8 billion) A-share sale premarketing activities next Tuesday, if the China Securities Regulatory Commission approves its A-share application Friday.
CNOOC (0883), the largest offshore oil company in China, said the Yacheng gas field off Hainan Island has sufficient reserves to supply Hong Kong for more than 30 years, contradicting assertions by CLP Holdings (0002) that the field will be depleted by 2010. CNOOC, China's largest offshore oil company, has sought to assure customer CLP that its Yacheng gas field off Hainan Island had enough reserves to last 30 more years, a Hong Kong media report said on Wednesday.

In for the high jump: Canto-pop star Edison Chen Koon-hei is to take part in a bungee jump at the Macau Tower on Sunday, with Guinness world record holder and father of the extreme sport A.J. Hackett. Chen (pictured) hopes to set the record for the "Highest Commercial Bungee Jump Facility". Hackett will challenge the record for the "Highest Bungee Jump from a Building". The tower is 223 metres high at the observation level and stands 338 metres at its highest point.
Imports of seafood from the mainland will resume today after a three-day suspension, the Health, Welfare and Food Bureau announced. In a brief statement Tuesday night, the bureau said the local authority had been informed by the Guangdong Entry-Exit Inspection and Quarantine Bureau that supplies will resume. It did not say whether supplies will include freshwater fish, which have been suspended for more than two weeks. The Food and Environmental Hygiene Department said it would make every effort to stop fish products entering from improper channels.
The government's decision to scrap the goods and services tax has given Financial Secretary Henry Tang Ying-yen's popularity a significant boost though it has done precious little for his boss, Chief Executive Donald Tsang Yam- kuen. Robert Chung Ting-yiu of Hong Kong University's Public Opinion Program said Tuesday a survey of 1,010 respondents, which spanned the announcement of the scrapping of the tax December 5, saw Tang's popularity shoot up 1.6 points overall to 58.1. He said even allowing for a sampling error of plus or minus 1.2 marks, the rise was noticeable. It was also Tang's highest score since July when he announced the proposed tax and the consultation exercise. Chung said Tang's popularity boost was even more significant if the seven- day survey period was broken down to before and after the announcement. He said between November 30 and December 4, a total of 626 respondents had given the financial secretary an average mark of 57.4 but after his announcement, a further 350 respondents marked his scoresheet at 59.5. "There is no doubt the halt to the GST consultation had a very positive and instant effect on Tang's popularity ... The change was statistically quite significant," Chung said. Confidence in Tang's handling of Hong Kong's financial affairs also rose, climbing one percentage point to 54 percent overall, while those who had no confidence in his ability slipped one percentage point to 15. Tsang's popularity, on the other hand, remained stagnant, moving up just 0.4 marks to 62 last week, compared with the previous poll taken in late-November. A breakdown of scores taken before and after the December 5 announcement were also flat, at 62.2 and 61.7, respectively. Meanwhile, Secretary for Security Ambrose Lee Siu-kwong remains the most popular policy bureau director with his support rate climbing two percentage points from October to 70 last week. However, the most significant change was in the support levels for Secretary for Economic Development and Labour Stephen Ip Shu-kwan which rose a staggering 10 percentage points to 57.
The government would not interfere with banks' commercial decisions under Hong Kong's commitment to free market principles, Secretary for Financial Services and the Treasury Frederick Ma Si Hang emphasised on Wednesday.

China: United States Treasury Secretary Henry Paulson arrived on Wednesday for crunch talks in Beijing at the head of the most high-profile US trade delegation to visit China in recent years. Nearly half of the Bush administration is in Beijing this week for the first-ever Sino-U.S. strategic economic dialogue slated for Thursday and Friday. China on Wednesday announced a new crackdown on pirated goods, a key source of tension with Washington, before talks with United States Treasury Secretary Henry Paulson on currency and other irritants in their thriving trade ties.
The Communist Party has expelled former Beijing vice-mayor Liu Zhihua who oversaw the city's Olympic construction projects and handed him to prosecutors over corruption charges, state media reported yesterday.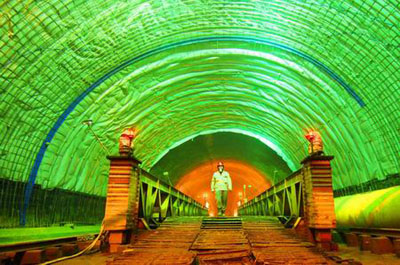 A worker walks along sub-aqueous tunnel on December 9.China's first sub-aqueous tunnel is now under construction. The tunnel will be 9 kilometers long in total and sub-aqueous for 5.9 kilometers. With a total investment of 3.22 billion yuan, it is expected to be finished within the next four years.
New broadband network 3TNet, integrating telephone, Internet, radio and TV, and capable of offering video on demand, has begun formal operation in China.
China is conducting an investigation into the sale of a rare fossilized dinosaur nest, reportedly discovered in China, for US$420,000 at an auction in Los Angeles.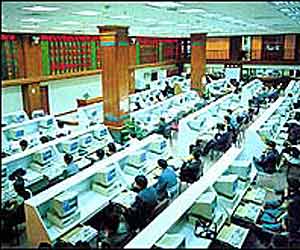 The China Securities Regulatory Commission is mapping out regulations to standardize the upcoming trade of stock index futures, a brand new risk hedging tool in China.
A senior Chinese TV and film administration official has rejected claims that the government is back-pedaling on its policy of allowing foreign investment.
Siemens China Co. Ltd. announced on Tuesday that it plans to invest an additional 10 billion yuan (1.25 billion U.S. dollars) in China and double its sales volume by 2010.
The Hongkong and Shanghai Banking Corporation Limited (HSBC), Standard Chartered Bank (SCB) and Citigroup have been approved to provide accounts for Chinese citizens for amounts of at least one million yuan (127,550 U.S. dollars).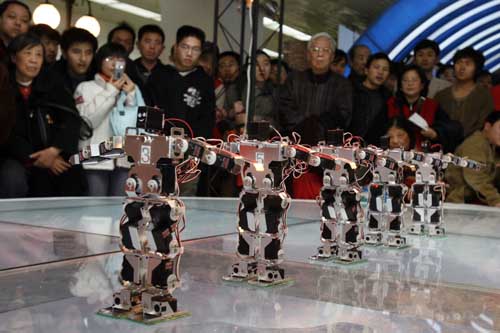 Visitors watch robots perform at "The First China Beijing International Cultural and Creative Industry Expo" in Beijing December 12, 2006. The robots were made by students from the University of Science and Technology Beijing. The expo, which features some 1,500 cultural and creative enterprises from China and overseas, will run till December 14.
Beijing is facing an escalating water crisis amid relentless population growth, with 2010 seen as a crucial time when the capital may have to take drastic measures. There was enough water in Beijing to adequately supply just over 14 million people in 2005, but the city had 15 million permanent residents and four million migrant workers at the end of last year, Xinhua News Agency said. The situation, complicated by a drought that has gripped northern China for years, will steadily worsen by 2010, when another three million people are expected to have joined the city's permanent population, it said. To deal with the problem, the city may have to slash water consumption to levels "that would result in water rationing and higher prices that would affect the quality of the average resident's life," Xinhua said, citing a study in the China Economic Weekly. The city government is pinning its remaining hopes on central government policies aimed at producing more geographically balanced growth throughout the country. Like many cities leading China's economic boom, Beijing has become a beacon to vast numbers of migrants from rural areas, with the prospect of work on 2008 Olympic Games building projects serving as an added lure.
Walt Disney is exploring other locations beside Shanghai for a theme park in China amid concern that the central government may not support its plans in Shanghai. The US entertainment giant has been exploring the possibility of opening a park in Shanghai for more than a year, said city government officials. But the chances of Beijing approving the project have shrunk since Shanghai's Communist Party boss was implicated in a corruption investigation in September, leading Disney to consider other options, sources said. Shanghai had hoped to have the park built by 2010, when thousands will visit the city for the World Expo, but that schedule may become unrealistic if Beijing does not give its approval early next year. "It's hard for Shanghai to win approval from the central government at the moment," said a government source. The source cited the political climate created by this year's corruption scandal, which implicated the city's Communist Party chief at the time, Chen Liangyu, and other senior city officials and businessmen suspected of embezzling local pension funds. "I won't say Beijing will never give its approval for the Shanghai park. But nobody knows when, and the timing is the biggest problem," the source said. Disney has, in the past, confirmed that it was considering Shanghai as a site for a park, but has not revealed details of talks with the city government. A Disney spokeswoman in Hong Kong said: "The Walt Disney Company has not reached an agreement with Shanghai to build a second destination resort in China. Our focus is on the successful operation of our first theme park in China - Hong Kong Disneyland."

Mainland solar companies are racing to raise funds so they can buy the high-grade silicon needed to make photovoltaic cells.
The Home Depot on Wednesday said it had bought one of China's biggest home improvement chains, becoming the latest in a slew of United States retail giants to have entered the booming Chinese market.
Dec 13, 2006

Hong Kong: Investors rushed to get a slice of the city's latest initial public offerings Monday, ignoring repeated calls for caution from local brokers. Sharp gains by recent IPO candidates on their first day of trade, which allowed some investors to make quick gains, have convinced others that any new stock about to debut in Hong Kong is worth buying, brokers said. "The investors are mad about IPOs at the moment. Even Ming An, which does not have very bright prospects, managed to draw huge orders," said Kingston Lin King-ham, associate director at Prudential Securities, which received applications for HK$800 million worth of margin financing to buy Ming An Insurance shares. Besides the insurer, the two other companies that started their public offering Monday are plastic injection machines maker Haitian International Holdings and mobile phone battery maker SCUD Group. The three issues coincided with an ongoing order period for four other IPO candidates, which started their public offerings Friday. "Seven IPOs being offered at the same time is an unusual phenomena. Even in 1997 during the red-chip fever, so many IPOs were never offered at the same time," said Alex Wong Kwok- ying, fund manager at Shenyin Wanguo Securities. Still, the punters' appetite remained insatiable. At the Bank of China's Kwun Tong branch, people packed the premises throughout the day for Ming An prospectuses and application forms. "The IPOs are a sure win for now." said a woman eager to buy into the insurer. Retail investors now expect to double their money from ongoing IPOs, following the strong performance by new listings last week, said Bright Smart Securities general manager Nelson Chan. China Communications Services (0552), for example, surged 85 percent on its trading debut Friday. Its gains were unexpected, but they came amid strong speculation the engineering unit of China Telecom (0728) will derive huge benefits from the mainland rollout of 3G mobile services. The unit closed at HK$4.11 Monday, almost double its offer price of HK$2.20 per share. Ming An saw the largest order for margin financing among the three new IPO candidates this week. Applications for loans to buy shares of the Hong Kong-based non-life insurer amounted to HK$4.8 billion, at least 36 times more than shares available in the retail tranche, a poll of four brokerage by The Standard, showed. Haitian and SCUD received orders for about HK$700 million and HK$300 million, respectively - 4.5 times and six times more than shares allocated. Margin financing for the three IPOs commanded interest rates ranging from 5.2 percent to 6 percent, compared with 5 percent to 5.5 percent for Zhaojin Gold Mining (1818) and Kingboard Laminates (1888), which started trading last week. The range was wider for the three IPOs as a lot of funds had been allocated to previous listings in the last two months, brokers said. Some brokerages did not provide any margin financing for the four candidates that started their public offerings Friday - Sunlight REIT, Xingda, Zhuzhou CSR Times and 3 CEMS - due to a lack of funds. Many securities houses have lent heavily to IPOs such as Shanghai Jin Jiang International Hotels, China Communication Construction and China Coal Energy, brokers said. Wong described the current IPO fever as speculative, as valuations for some of the newly-listed firms are relatively higher than even some of the most expensive stocks such as Kingdom Holdings (0528). Kingdom is currently priced at 10 times price-earnings. Lin urged investors to know what they are buying into before rushing in to grab a piece of this year's last IPOs. Monday marked the end of the public offering season. Regal REIT, the next candidate, is due to start marketing by the third week of next month.
Basic Law drafter Lo Tak-shing has died peacefully at Queen Mary Hospital. He was 71. The former Executive Council unofficial member had been suffering from heart problems in recent years. He apparently had a stroke Monday and died shortly after 8pm. Lo was the first person to announce his intention to run for the post of Hong Kong's first chief executive in May 1996. But the renowned solicitor abandoned his bid in October 1996 to lobby for his ally, Simon Li Fook-sean, deputy director of the preliminary working committee of the preparatory committee who was taking on Oriental Overseas boss Tung Chee-hwa, former Chief Justice Yang Ti-liang and Wharf chairman Peter Woo Kwong-ching. However, in 1997, Chief Executive Tung awarded him the Great Bauhinia Medal, the highest honor the SAR government can bestow on a citizen. Lo's most famous idea was the current controversial split-voting system in the Legislative Council to offset the influence of directly elected lawmakers with functional constituency legislators. Chief Executive Donald Tsang Yam-kuen, in a statement Monday, extended his and the government's condolences to Lo's family.
Major developers are expected to show keen interest in next month's public tender for over 90 percent ownership of a residential building which sits on a prime Mid-Levels site that could be worth nearly HK$5 billion.
A high-level delegation to Beijing from the United States led by US Treasury Secretary Henry Paulson and Federal Reserve chairman Ben Bernanke will meet with their mainland counterparts Thursday for two days of talks aimed at resolving trade disputes.

A tug boat pulls a lighter past a barely visible Wan Chai, which is obscured by haze. The Air Pollution Index at the time this photo was taken from Star Ferry was 83 in Causeway Bay and 93 in Central. A reading of 51 to 100 is considered high. The Observatory said visibility was 4,000 metres at Chek Lap Kok. The API for general stations ranged from 65 to 85 in the afternoon and the Central roadside station read 93.
Hang Lung Properties (0101) says it is in talks to add one or two new property projects in the mainland to its portfolio, which will likely be anchored by retail malls to tap into the consumer spending. The company is already investing HK$20 billion on developing commercial properties as part of an aggressive expansion in recent years in China by Hong Kong developers. Executive director Terry Ng said the developer will likely invest about HK$2.5 billion in each of the new projects being discussed. "We will try to do our best to secure one or two new projects before the end of the year," Ng told Dow Jones Newswires. "We need to iron out bits and pieces. We want to make sure they become secure before making any announcement," said the executive from Hong Kong's fourth-largest developer by market capitalization. Ng declined to give further details, including the location and the physical size of the projects. The developer has focused on expanding its portfolio of retail malls in the mainland recently, rather than drawing on its experience of developing residential properties, as China's urban consumers are becoming increasingly acquisitive. Hang Lung Properties has two commercial complexes in Shanghai comprising retail malls, offices, and serviced apartments. The company said earlier rental revenue from its Shanghai commercial portfolio increased 27 percent in the fiscal year ended June 30 from HK$721.9 million a year earlier. The company is also developing five commercial projects comprising retail malls and offices in four mainland cities - Tianjin, Shenyang, Changsha, and Jinan. Ng said the company has made financial commitments to invest a total of about HK$20 billion on the five projects, which includes land acquisition and construction costs. The executive said the main thrust of Hang Lung Properties' China strategy is to quickly secure more land in prime locations across mainland cities to develop retail malls. He said these will become harder to secure in the coming years as more rivals enter the sector. "Supply of residential land in China remains unlimited," said Ng, explaining the company's strategy. Last month, the company boosted its war chest to fund expansion in China through an US$859 million (HK6.67 billion) share placement. The fund- raising by the developer came as its shares hit a five-month record high amid a strong market rally. Following the share placement, Hang Lung Properties is in a net cash position of HK$2.7 billion. This, along with access to bank loans, will give Hang Lung Properties funds of about HK$20 billion to compete with its peers in China and Hong Kong, said Ng. "Regarding gearing, Hang Lung Properties' comfort zone is 30 percent. So, we have lots of firepower," he said. Ng said the company will be interested in a plot of land for luxury residential development on The Peak, when it is put up for auction next Tuesday, in the fourth land auction this year.
Industrial Bank, in which Hang Seng Bank has a minority stake, will offer up to 18 billion yuan of financial bonds for sale this week to expand its long-term lending capacity before going public with a 10 billion yuan A-share offering next year.

Champion Reit, the only single-property investment trust in Asia, has raised HK$765 million from selling bonds convertible into shares to buy more floor space, according to a term sheet distributed to investors. The reit, which raised HK$6.29 billion in an initial public offering in May, sold the five-year bonds with a 2 per cent yield. The bonds can be converted into units at HK$4.60 each, a 17 per cent premium to the HK$3.93 the units traded at before they were suspended yesterday. Each bond can be converted into 2,172 reit units. Investors can begin to convert the bonds into units from February next year. Champion can buy the bonds back after three years. Merrill Lynch, Citigroup and JP Morgan arranged the sale. Proceeds from the sale will be used to acquire three more floors and three car park spaces at Citibank Plaza, an office building in Central. Champion's gearing ratio will increase to 30.2 per cent from 28.4 per cent because of the bond sale, assuming none of the bonds are converted into units. Hong Kong reit regulations limit a trust's gearing ratio to 45 per cent of the property's net asset value. Champion's unit price has fallen 23 per cent since its debut and yields about 7.2 per cent. The Hang Seng Index has risen 27 per cent this year. The deal marks the first time a reit in Hong Kong has sold convertible bonds in the territory's property trust market, which is barely a year old. The government spun off car parks and retail space at housing estates in the Link Reit in November last year, the territory's first property trust. Champion's initial public offering has been widely cited as bringing the new market to a halt after investors raised questions about a series of interest rate swaps that boosted the trust's yield in the early years of the reit. The swaps could make it harder for the trust to pay such strong dividends later. Investor reaction against such financial engineering and a weak stock market over the summer months forced the postponement of trusts from Sun Hung Kai Properties and Henderson Land Development. Henderson has since returned to the market with the up to HK$2.73 billion Sunlight Reit. It is selling 1.05 billion units at between HK$2.45 and HK$2.60 each and offering a prospective yield of 8.49 to 9.01 per cent. The retail offering continues until tomorrow when the units will be priced. Trading will begin on December 21. HSBC, Deutsche Bank and Macquarie are arranging the sale.

China: Five years after entering the WTO, sales of locally made vehicles have almost doubled, and sales of sedans have more than quadrupled. The national car enterprises quickly become large and strong, the market share of own-brand cars increase from some percent to 26.4 percent in the third quarter of this year.
A U.S. government report said on Monday that the United States has benefited "significantly" from China's entry into WTO during the past five years. "The United States -- including U.S. workers, businesses, farmers, service providers and customers -- has benefited significantly from these steps (by China) and continue to do so as U.S.- China trade grows," said the annual report released by the U. S. Trade Representative Office (USTR). The report, presented to Congress on Monday, also noted that China has made broad progress in implementing its World Trade Organization obligations. "China has taken significant and often impressive steps to reform its economy since acceding to the WTO five years ago," said the report. "The United States and China have both benefited greatly from our growing trade relationship, and China's participation in the rules-based international trading system has aided China greatly as it transforms itself into a modern commercial power," said U.S. Trade Representative Susan C. Schwab on Monday. But she also said: "China has taken many important steps to implement its WTO obligations, but on the fifth anniversary of its WTO membership, China's overall record is decidedly mixed." The U.S. government will continue to work cooperatively and pragmatically with China on WTO implementation issues in bilateral forums such as the Joint Commission on Commerce and Trade, said the USTR in a statement. The administration will also work on strengthening commitment to the WTO's underlying economic principles through the newly created Strategic Economic Dialogue, said the statement. Since China entered the World Trade Organization on Dec. 11, 2001, exports of U.S. goods to China have grown by 190 percent and China has gone from being the United States' fifteenth to fourth largest export market, according to the statement.
China, Japan and South Korea agreed to begin negotiations toward a three-way pact aimed at expanding investment among the three neighbors.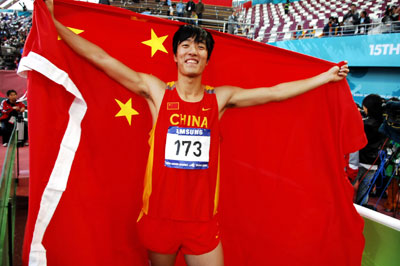 World record holder China's Liu Xiang holds his national flag as he celebrates after winning the men's 110m hurdles final during the 15th Asian Games in Doha December 12, 2006.
Chinese Minister of Commerce Bo Xilai yesterday urged Chinese enterprises to take precautions against economic, political and personal risks as they step up their investments in overseas markets.
China Telecommunications Corporation (China Telecom), the country's dominant fixed-line telephone carrier, will not join its domestic rivals in an overseas takeover spree, a company executive said.
The property investment arm of Deutsche Bank and private equity firm H&Q Asia Pacific have signed a deal to build more than 20 hotels in China to be managed by Hilton Hotels.
Continental Airlines has handed out 5,000 fortune cookies to members of Congress, Transportation Department officials and other Washington decision makers. Among the messages inside: "Shanghai: The right route for the most people."
China's Ministry of Commerce had given a green light for a Goldman Sachs unit to buy China's biggest meat processor, Shuanghui Group, the company said on Tuesday.
Dec 12, 2006

Hong Kong: Yuxing Infotech Holdings (8005), whose stock resumes trading today following a 27-month suspension, said it may book a gain of nearly HK$139 million if it sells its domestic institutional stake in Ping An Insurance (2318).
A new museum - commemorating one of the great figures of modern China - will open this week in Hong Kong. Chief Executive Donald Tsang Yam-kuen officially launched the Dr Sun Yat-sen Museum in Central on Monday. It will be open to the public from Tuesday to celebrate the 140th anniversary of Dr Sun's birth. Converted from Kom Tong Hall, the Dr Sun Yat-sen Museum is a four-storey building with a floor area of 2,560 square metres. Sun Yat-sen remains an important figure to both China and Taiwan because he helped to unite post-imperial China. The great Nationalist leader was born on November 12, 1866 and died on March 12, 1925. Born in Guangzhou, Sun was a medical doctor who had lived in Hong Kong and Macau before becoming a revolutionary early in the 20th century. He is often known as the "father of modern China". Sun played a pivotal role in the overthrow of the Qing Dynasty in 1911. He was the first provisional president when the Republic of China was founded in 1912. He later co-founded the Kuomintang (KMT) and served as its first leader. A government spokesman on Monday said the museum would have two permanent exhibition galleries. One would stage "Dr Sun Yat-sen and Modern China" and the other, "Hong Kong in Dr Sun Yat-sen's Time". This would illustrate the history of Dr Sun and the role of Hong Kong in modern Chinese history. "With support from relevant organisations and individuals in the mainland, Taiwan, overseas and Hong Kong, the museum has assembled valuable relics and artifacts to enrich the exhibition contents," the spokesman said. These include Guan Jingliang's marriage certificate bearing the name of Dr Sun Yat-sen as a witness, and a seal of "Long Live the Republic of China". "Other important relics include Dr Sun's accessories in his early years, announcement of election results of his provisional presidency, imperial edict of abdication of Emperor Xuantong, and Dr Sun's inscription to Huang Xing," he added. Invaluable items that are showcased for the first time after many years include Dr Sun's answer sheet at an examination in the Hong Kong College of Medicine for Chinese, a dinner menu of the College's graduation ceremony, as well as a reply letter from Stewart Lockhart, Colonial Secretary of the Hong Kong Government, to Dr Sun Yat-sen on the latter's banishment. The museum also has a thematic exhibition and lecture hall, reading room, video rooms, interactive study rooms and activity room for organising special exhibitions and various activities. The Dr Sun Yat-sen Museum is located at 7 Castle Road in Central. It is opens from 10am to 6pm from Monday to Saturday and from 10am to 7pm on Sundays and public holidays.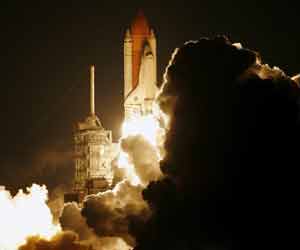 U.S. space shuttle Discovery successfully lifted off at 8:47 p.m. EST Saturday (0147 GMT on Sunday) at Kennedy Space Center in Florida, flying to the International Space Station (ISS), according to NASA TV. This was the first night launch in four years, also marking the third and last shuttle flight in 2006.
China Communications Construction and Kingdom Holdings received overwhelming response from retail investors for their first-time share sales at prices at the top end of the indicative range.
Chevalier International Holdings (0025), a construction and engineering services firm, reported an 18 percent decrease in net profit for the six months ended September to HK$160 million, owing to increased finance costs, and development costs incurred in exploring new markets and businesses.
Despite hitting a record high, the turnout in Sunday's Election Committee subsector elections fell short of pan- democrats' expectations, leaving chief executive hopeful Alan Leong Kah-kit "disappointed" in his bid for the territory's top job.
Mainland authorities had not imposed a ban on live seafood supplied to Hong Kong - but had stepped up inspections to ensure the seafood was safe to eat, a spokesman for the Health, Welfare and Food Bureau said on Monday.

Caught in globalization's net: Protesters draped in chains and covered in nets march in Causeway Bay yesterday to protest against globalisation. The rally, organised by the Hong Kong People on Globalization, gathered outside the Sogo department store and demanded greater protection for workers around the world. Many were dressed to convey a message of being enslaved.

Macau Fisherman's Wharf yesterday unveiled an ambitious 5 billion pataca expansion plan ahead of the official opening of its first phase. Although the theme park's soft opening day was successful, it has been followed by 11 months of lacklustre business. The park is now preparing for its grand opening on December 23, which will see the opening of a boutique casino, a slot machine centre and a luxury hotel. Yesterday, developer David Chow Kam-fai revealed his plan to build an opera house and four hotels in two years as the second phase of the park, which will grow from 9 to about 23 hectares. "We are building a 16th century-style opera house with 1,300 seats, which, forming a triangle with the Macau Cultural Centre and a youth science centre, will greatly enhance local musical culture," said Mr Chow. Besides the opera house, the company plans to build the 4-star Prague Harbor View Hotel with 400 rooms, a boat-shaped Mississippi Queen Hotel with 130 rooms, a Legend Hotel with 250 rooms and a Key West Marina Resort incorporating Moroccan and Middle East styles. The new hotels will have a total of between 1,000 and 1,100 rooms, said Mr Chow. "We are planning a budget of between 4.5 and 5 billion patacas, which will increase the cost of the whole park to about 7 billion patacas."

China: Beijing's top representative in Macau yesterday said no one, including senior executives of mainland-funded companies in the former Portuguese enclave, would have any privilege in the graft probe surrounding a former minister.
Eight foreign banks would file applications on Monday for incorporation in the mainland in a bid to gain easier access to the nation's enormous army of potential customers, according to media reports. HSBC, Citigroup and six other foreign lenders asked on Monday to be considered local entities in China in a bid to gain easier access to the nation's enormous army of potential customers, media reported. The eight filed their applications exactly five years after China's entry into the World Trade Organisation, as new liberalisation of the industry made local incorporation possible, the China Daily reported. "HSBC seeks to be one of the first to incorporate in mainland China," HSBC's Hong Kong chairman Vincent Cheng Hoi-chuen said in a statement. "It will enable us to further expand our network and service range, in particular our yuan financing ability for the benefit of our customers in the China market." In addition to HSBC and Citigroup, the eight comprised Standard Chartered Bank, Bank of East Asia, Hang Seng Bank, Mizuho Corporate Bank, DBS Bank and ABN AMRO, according to the newspaper. The applications were handed in as new rules on foreign bank operations in China took effect as part of the central government's promises to the WTO to open up the sector to global competition. "Chinese banks will face more competition but they have been here for such a long time and are familiar with the clients and their culture and habits," said Wu Yonggan, a Shanghai-based banking analyst with Guotai Junan Securities. "The opening up of the Chinese market is an opportunity for foreign banks but I think they still need at least another two years to pose substantial competition threat to Chinese banks." Zhang Jianguo, the president of China Construction Bank, the nation's third-largest lender, said he was not too worried, despite the foreign lenders' reputation and experience. "Many Chinese banks, including our bank, are strong in terms of the following three aspects - broad network, abundant fund resources and many excellent clients," he told a gathering in Beijing. The new rules place different requirements on foreign banks, depending on whether or not they choose to incorporate here. Banks that incorporate in China can, in theory at least, do business in the local currency with the vast majority of the nation's billion-plus potential market of retail customers. By contrast, banks that failed to incorporate locally could not take deposits of less than one million yuan, restricting them to China's growing but still relatively small club of millionaires. Local incorporation also entails disadvantages as it forces banks to conform with rules applying to local players, such as that total outstanding loans in the local currency cannot exceed 75 per cent of deposits. China has promised to give foreign banks a grace period to comply with some of the requirements. "It is very time- and energy-consuming to get approvals to set up a new outlet in China," Guotai Junan Securities' Mr Wu said. "Because of their limited outlets in China, I think foreign banks will focus on high-end customers. Their advantages mainly lie in quality services and their wide range of products."
Chinese Premier Wen has postponed an official visit to the Philippines which was originally scheduled for Dec. 13-14, FM spokesman announced Sunday.
China's central bank will start to issue benchmark interest rate daily from Jan. 1 next year to give more play to the market force in rate setting, said an official with the bank Sunday.
China has made great efforts to faithfully implement its obligations in the World Trade Organization (WTO) since it joined the body five years ago, Chinese Ambassador to the WTO Sun Zhenyu has said. Membership in the WTO has dramatically altered the character of the Chinese economy; and the country is ready to play a bigger role in globalization.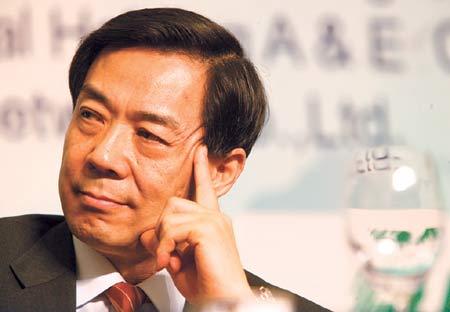 Membership in the World Trade Organization (WTO) has dramatically altered the character of the Chinese economy; and the country is ready to play a bigger role in globalization. That is the assessment of Minister of Commerce Bo Xilai on the eve of the fifth anniversary of the nation's accession to the WTO. "China's performance (since its entry to the WTO in 2001) has outpaced the expectations of not only foreigners but also ourselves," Bo said yesterday. The past five years saw China become the third-largest trader in the world; and its share in global trade nearly doubled to 7.7 per cent from 3.9 per cent. "It is a splendid record for the country as the market share of other major traders, such as Japan, the United States and Germany, declined or leveled off during this period, " Bo said. When China joined the WTO, many people were worried that domestic industries, such as steel-making, telecommunications and banking sectors, would lose out to their international rivals. The growth in imports and exports, however, has become a driving force for the improved performance of domestic industries. "We feel confident and optimistic when analyzing the structure of China's foreign trade," Bo said. Exports of machinery and electronics products climbed to 56 per cent of the country's total exports in the past five years; high-tech products claimed 28 per cent; and completed products accounted for 94 per cent of total exports, according to statistics from the commerce ministry. "Domestic industries did meet some challenges," Bo said. "But industries that opened up the most were the ones to have made the greatest progress." Production of steel and vehicles increased by 25 per cent during the period while exports increased by around half. More importantly, WTO membership perceptibly changed Chinese people's opinions on employment, intellectual property rights protection and innovation, Bo said, adding that he was proud of China completely fulfilling its commitments and strictly complying with WTO rules. The government has revised more than 3,000 laws and regulations since the country joined the global trade body to optimize its market system. China's average tariff s were lowered to 9.9 per cent in 2005 from 15.3 per cent in 2001, while tariffs on industrial products were reduced to 9 per cent and those on agricultural products were cut to 15.3 per cent.
Talks on a deal to purchase the Karazhanbas oil field in western Kazakhstan by mainland conglomerate CITIC Group is proceeding normally amid reports of resistance from some members of the Kazakhstan government, said the consul of the Republic of Kazakhstan to Hong Kong and Macau.
TD-SCDMA, the third-generation mobile telecommunications standard developed by China, is ready for commercial operation with more than 40 handsets available to support the mainland's homegrown technology, said Doug Grant, director of business development at American chipmaker Analog Devices.
Samsung Electronics, the world's largest electronics company, said it is close to finalizing a deal with a leading mainland telecom operator to develop widespread wireless broadband networks across China, possibly covering the entire country, including remote rural areas.
China's leaders have pledged to cut its soaring trade surplus in an economic plan for next year issued ahead of a visit next week by US Treasury chief Henry Paulson for talks on commerce and other contentious issues. The plan, reported Friday by the media, calls for boosting imports with an aim to bringing them in line with booming exports, and encouraging domestic consumption. It was issued after a three-day economic meeting this week led by President Hu Jintao and Premier Wen Jiabao. "Chinese leaders pledged to redouble efforts to vigorously expand imports and overseas investment," Xinhua News Agency said. They called for making "balancing international payments a major goal for next year." The plan calls for maintaining controls imposed to cool off a boom in construction and bank lending that leaders worry could ignite a financial crisis. The Bush administration is hoping its negotiating team can produce better results than previous efforts in persuading China to help restrain the burgeoning trade gap. The US plans to start making its case with a briefing on what it sees as China's failures over the past five years to live up to market-opening commitments it made when it joined the World Trade Organization in December 2001. In addition to Paulson and Fed chairman Ben Bernanke, the US team will include four other members of George WBush's Cabinet, including Commerce Secretary Carlos Gutierrez and Labor Secretary Elaine Chao.
China's consumer prices picked up speed last month, rising by the largest margin since January, the government said on Monday, as the central bank governor called inflation "a matter of concern".

Huawei Technologies and ZTE Corp, China's two largest telecommunications equipment makers, are expanding to emerging markets such as Russia, India, Indonesia and Brazil to drive up annual overseas sales by 40 to 50 per cent amid doubts over the opening of the domestic third-generation telecommunications market.
The information and communications technology (ICT) market in China will remain the largest in Asia next year at US$42.1 billion, up from US$37.1 billion this year, driven by continued business and 2008 Olympics-related infrastructure expansion, according to industry experts.
Fujitsu, whose products range from notebook computers to telecommunications networks, aims to double its revenue in China by 2010 by helping to develop third-generation mobile-telephone services and handling work for other multinationals expanding in the country.
Dec 11, 2006

Hong Kong: Cheung Kong (Holdings) (0001) has maintained its support for the government's present application list system for land auctions, saying any change back to regular land sales would result in volatility in land prices. Company executive director Grace Woo Chia-ching said the application system was market driven, was working well so far and was fair and transparent. "If there are regular land sales and the government does not know what type of land the market needs and how much, it may release land that the market does not want. It the market does not want it, it will use price to assess it and as such the price could decrease and that means there could be greater volatility [in price]," Woo said. Under the application system, a site is triggered for auction when a developer submits a price that is at least 80 percent of the government's reserve price. Cheung Kong's position stands in contrast to rival developer Sun Hung Kai Properties (0016) which advocates regular auctions. SHKP vice chairman Thomas Kwok Ping-kwong said the government should review the land sales arrangement for the next fiscal year since the economy and property market were performing well.
Pay-television service provider Now TV, a unit of PCCW (0008), has dealt another blow to rival i-Cable Communications (1097) by securing an exclusive license to broadcast the European Championship in 2008.
Wang Chen (right) and Yip Pui-yin are elated with their medals after winning the women's badminton singles final in the 15th Asian Games. For the first time in the city's sporting history, two SAR flags were raised at a victory ceremony after Hong Kong competitors won gold and silver in the women's badminton singles final in the 15th Asian Games.
Secretary for Commerce, Industry and Technology Joseph Wong Wing-ping said he believes the economic benefits derived from the five-day ITU Telecom World 2006 exceeded the government's predictions of HK$900 million. "This is the largest exhibition Hong Kong has ever held," Wong said. "In the hotel sector, the average occupancy rate has exceeded 90 percent or more and the revenue derived [from the hotel sector] has been over HK$400 million." The event, held under the theme "Living the Digital World," wrapped up Friday with a forum. ITU is the United Nations agency for information and communication technology and Telecom World takes place every three years. Speaking after the forum ended, Wong said he was satisfied with the number of visitors. "The success of this event proves Hong Kong is capable of holding such a large-scale international event and also highlighted the fact that Hong Kong is a very important gateway into China," he said. According to Chinese media reports, some foreign visitors complained about the setup at the venue and the level of service provided by the hotels. Others had gripes about the lack of broadband Internet access at their hotels. While declining to comment on individual laments, Wong reiterated the event had been a success, saying the views of those he spoke to indicated they were "very satisfied with the overall arrangement." "I think this is something which we Hongkongers should be proud of," he said. A representative of a large telecom player said he wondered about the large number of elderly Hong Kong people browsing the booths Wednesday afternoon. According to Wong, the Hong Kong government distributed tickets to social minorities to broaden their exposure to the latest developments in information and communication technologies. "They just came for freebies," said the exhibitor, referring to the premiums handed out by many exhibitors at the venue. "They are not interested in telecom." ITU Telecom World will return to its home base in Geneva for the next gathering in 2009. This year's conference, hosted by China, marked the first time it was held outside Geneva. "We will keep on supporting ITU and we may consider bidding to be the organizer for the next ITU Telecom Asia," said Wong. Hong Kong hosted ITU Telecom Asia in 2000 and 2002 with Pusan, South Korea, being the most recent host of the regional telecom conference.
Hong Kong-listed Wang On Group (1222) said it plans to invest up to 1.1 billion yuan (HK$1.07 billion) to develop a joint-venture company in Guangxi to create an agricultural product wholesale distribution market.

Kam Kinsen at Yung Kee Restaurant, which has been roasting goose for 64 years. There are certainly some advantages to being the boss' eldest son. For Kam Kinsen, who holds that title in the Yung Kee Restaurant founder's family, it meant his favourite quick lunch from his teens - noodles with roast goose oil - has been memorialised on the menu as "prince noodle".
Barrister Alan Leong Kah-kit's bid to become a candidate in next year's chief executive election has received a boost with a group of 25 social welfare candidates pledging to nominate him should they be returned in Sunday's Election Committee election.
All trains traveling between Hong Kong and Guangzhou were suspended for more than four hours Friday for what mainland officials said was emergency repair work.

China: Gas output of the Tarim Oil Field this year had exceeded 10 billion cubic meters by Dec. 5, according to sources with the China National Petroleum Corporation (CNPC).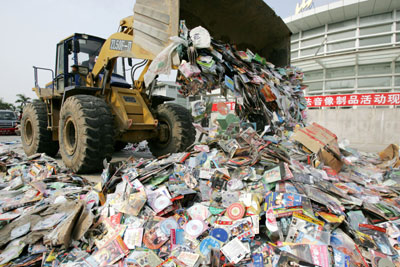 A bulldozer crushes confiscated pirated audio&video disks during a crackdown on piracy in Fuzhou, South China's Fujian Province December 8, 2006. The Chinese government has notched up efforts to crack down on piracy and further protect the Intellectual Property Rights.
About 3.41 million cars were sold in between January and November, an increase of 40 percent year-on-year.
Aluminium Corp of China Ltd has offered as much as 8.17 billion yuan worth of its stocks to swap with the remaining shares it does not own in two Shanghai-listed companies under its control. Aluminum Corporation of China (2600) said it will privatize two mainland-listed subsidiaries by offering as much as 8.17 billion yuan (HK$8 billion) for the shares it does not own in two Shanghai-listed units as part of a plan to trade its shares in Shanghai.
China's rapid economic growth has brought about double-digit growth in the incomes for urban residents this year, said a report of the Chinese Academy of Social Sciences (CASS), a major government think tank. The average per capita disposable income of urban residents is likely to increase by 10.5 percent this year and by 10 percent next year, said the CASS in analysis and forecast for 2007. Rural residents are expected to see incomes up by 6.1 percent this year and 6 percent next year. According to the National Development and Reform Commission, urban residents' per capita disposable income reached 5,997 yuan (749.6 US dollars) in the first half of this year, an increase of 10.2 percent. The disposable incomes of rural residents was 1,797 yuan (224.6 dollars), up 11.9 percent. The CASS report warned that China's serious unemployment situation is likely to continue next year, with more than 15 million urban people unable to find jobs and more than 100 million laborers in rural areas yet to be fully employed, widening the rural-urban income gap.
Dec 8 - 10, 2006

Hong Kong: Banking giant HSBC Holdings (0005) has terminated close to 30 of its senior employees worldwide after the lender reported slowing revenues in both its investment banking unit and New York bond groups, people familiar with the situation said.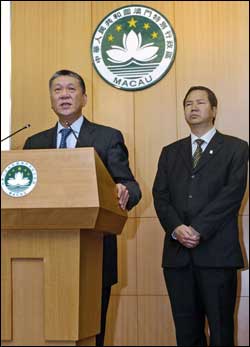 Macau's Secretary for Transport and Public Works Ao Man-long has been arrested on suspicion of graft, the highest ranking government official in the enclave to face corruption charges. Macau Chief Executive Edmund Ho Hau-wah said Ao was arrested Wednesday night by Macau's Commission Against Corruption, or CCAC, on suspicion of accepting bribes and performing irregular financial activities. He said "irrefutable evidence" pointed to the alleged abuse of power by Ao relating to his portfolio as head of the Land, Public Works and Transport Bureau, but so far there was nothing to implicate other government officials. "Due to the severity of the case, I have already suggested to the central government under [Macau's] Basic Law for Mr Ao to be stripped of his position," Ho said. According to a source close to investigators, the corruption scandal came to light when Hong Kong Independent Commission Against Corruption officers detected "unusual" transactions in several bank accounts during regular anti-money laundering activities in Hong Kong. "During our recent routine checks we noticed large sums of money being deposited into several accounts in at least two banks, but within days the money was either transferred or withdrawn," the source said.
Sun Hung Kai Properties (0016) has thrown its weight behind growing calls for the government to resume regular land sales, saying developers are bearing the risk of winning land sites under the current application list system.
China Life Insurance (2628), the mainland's top life insurer, will buy a US$4.5 billion (HK$35.1 billion) stake in state-run China Southern Power Grid in a deal that diversifies its investments and helps clean up the books of Guangdong Development Bank.
China Petroleum & Chemical Corp (0386), which became a Hang Seng Index constituent Monday, said it will spend 3.5 billion yuan (HK$3.47 billion) to acquire oil production assets from controlling shareholder Sinopec Group.
Hutchison Telecommunications International (2332), controlled by Li Ka- shing, is keeping mum on rumors that private US equity firms are pitching to buy its wireless assets in India for up to US$8 billion (HK$62.4 billion).
Hong Kong clinched its second gold medal of the Asian Games in Doha when Li Ching and Ko Lai-chak derailed the mainland's attempt for a table tennis clean sweep, beating Ma Lin and Chen Qi in the men's doubles. It was a reverse of the Athens Olympics final. Hong Kong also picked up four silver medals and a bronze Wednesday to take its Games medal tally so far to two gold, five silver and four bronze. In a message sent to the team Thursday, Secretary for Home Affairs Patrick Ho Chi-ping said: "We are very much impressed by the remarkable performance of the Hong Kong delegation. We are all proud of their unfailing efforts to do their best in the Games." In table tennis, Tie Ya-na and Zhang Rui won silver in the women's doubles, Tie took silver in the women's singles and Li won bronze in the men's singles. Another silver medal came through Marco Fu Ka-chun, Chan Wai-ki and Fung Kwok-wai in the snooker men's team final.
The government said on Thursday it wanted to amend the District Councils Ordinance. This is to provide a legal basis for a financial assistance scheme for district council election candidates.

China: China has installed a new supervisor for construction projects for the 2008 Beijing Olympics as part of efforts to prevent corruption, following the dismissal of a vice mayor in charge of Games construction, an official said on Thursday.
China's monthly trade surplus stood at US$23.37 billion in November, slightly dropping from October's US$23.83 billion, this year's fifth monthly record high.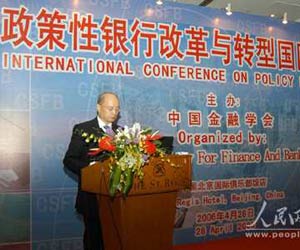 Chen Yuan, president of China Development Bank, speaks at the International Conference on Policy Bank Reform. China Development Bank may become fully commercialized next year as part of a movement to reform the country's policy banks.
There will be 48 direct charter flights between four cities on the mainland and two in Taiwan during the coming Lunar New Year holiday.
Furukawa Kazuo, president of Japanese Telecom giant Hitachi, Ltd, said in Hong Kong Wednesday that his company is to strengthen its foothold in China.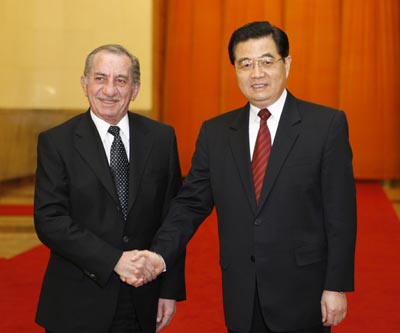 Chinese President Hu Jintao (R) shakes hands with visiting Cyprus President Tassos Papadopoulos during a welcome ceremony at the Great Hall of the People in Beijing December 7, 2006.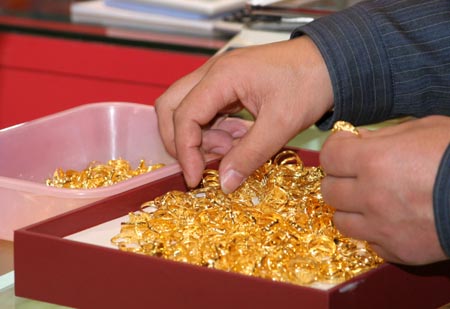 China is expected to consume 350 tons of gold in 2006, according to China Gold Association chairman Cheng Fumin.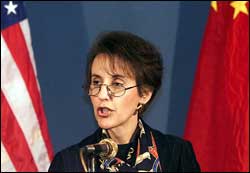 China has made remarkable progress in opening its economy since it joined the World Trade Organization five years ago, said former US Trade Representative Charlene Barshefsky. "China's implementation of WTO commitments has in general been good, though there are several areas of concerns expressed by the US, the EU and others," Barshefsky said. "Most notably, with respect to intellectual property protection, with respect to services market opening, China is still completing its commitments under the WTO." In view of its economic size, it is increasingly important for China to do everything it can to implement fully its WTO commitments, Barshefsky said, but she also thought "as a general matter, China has made quite remarkable progress in opening its economy, in welcoming imports and in inviting foreign investments." The fact that China has remade its economy, as a spur to global growth should not be ignored, she said. Barshefsky said China has actively assisted the management of the global economy and played an important role in policymaking alongside the European Union, the United States, Japan and others. When asked about trade disputes between China and the United States and the EU, Barshefsky said she is "very much in favor of negotiation." "I am not in the position to say whether China or the US fully explored all possible negotiated solutions, or whether China or Europe fully explored all possible negotiated solutions. I certainly hope all sides did, because that would take out better outcomes for everybody," she said. "Trade sanctions often do not solve problems, but sometimes mutual cooperation can. So, every opportunity always has to be given to try to find the negotiated solution before any further steps are taken," noted the chief trade negotiator and principal trade policymaker for the United States from 1997 to 2001." Barshefsky mentioned that "trade is the foundation of the US-China relationship. It causes friction, of course, but also great benefits for both countries." "I think the challenge for the US and China is to learn how to cooperate in a meaningful way." Now a Senior International Partner at Wilmer Cutler Pickering Hale and Dorr, Barshefsky said the famous law company represents many American companies and European and Japanese companies investing in China. "We are very actively involved in China," she said.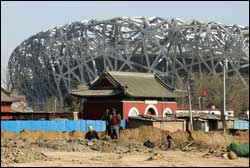 Another senior official has become embroiled in a Beijing Olympics corruption scandal which has already cost a vice mayor his job, but Games organizers said they have stepped up vigilance against graft. Wu Jingjun, chief engineer of Olympic venue construction, said Jin Yan, one-time deputy to sacked Beijing vice mayor Liu Zhihua, was "helping" with the investigation into Liu. Liu had been in charge of building Olympic venues as well as the US$40 billion (HK$312 billion) upgrade of the city's infrastructure in time for the Games. He was fired in June accused of corruption and bad morals. China has installed a new supervisor for construction projects, Xu Bo, an engineer in the Ministry of Construction, Wu said. Xu, a 41-year-old engineer, has been in charge of building quality and safety at the construction ministry. "The city government pays great attention to this problem of how to make sure we tackle corruption in the light of the Liu Zhihua issue and make sure we have a transparent Olympics," Wu said. "After the Liu Zhihua case came out, although it was a personal problem, the city government increased supervision over Olympic venue construction. We are confident that the building process will be even more transparent," he added.
A bid by the State Grid Corporation of China, the nation's biggest electricity distributor, for the Philippines national power transmission system could be decided soon, state media said on Thursday.
China had 19.87 million internet bloggers at the beginning of last month, 24 per cent more than a year before, the Xinhua news agency said on Wednesday, quoting a study by search engine Baidu.
Dec 7, 2006

Hong Kong: Hong Kong people have the highest individual net worth in the world - US$202,000 - the largest study yet of wealth distribution shows. Japan ranked ninth, with per capita wealth of US$124,858, and Singapore was ranked 12th on US$113,631. The figures, from 2000, are expressed on a purchasing power parity basis, which takes into account exchange rate fluctuations. The global study - from the UN's World Institute for Development Economics Research - is the first to chart wealth distribution in every country as opposed to just income. It includes significant components of wealth, including financial assets and debts, land, buildings and other tangible property. Blair Pickerell, Asia-Pacific chief executive of HSBC Investments (Hong Kong), said he was not surprised by the result given the city's relatively high savings rates and penchant for property investment. Hong Kong General Chamber of Commerce chief economist David O'Rear warned against reading too much into the data. "We don't have very good information about people's wealth in Hong Kong because we don't tax it," he said. "If you're retired and own your own house, you fall outside of the tax system. We have no idea about how much people have." The study found that the world's richest 1 per cent owned 40 per cent of its wealth, while half the world's adult population together owned barely 1 per cent of global wealth.
The U.S. government's top energy forecaster on Tuesday said in an annual report that world crude oil prices are projected to decline gradually from their 2006 average level through 2015 as new supplies come to market.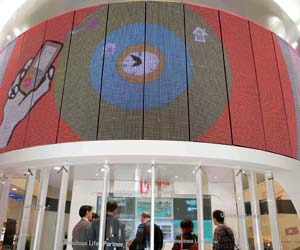 People visit the ITU World Telecom 2006 in Hong Kong, Dec. 5, 2006. Hong Kong officials Tuesday portrayed Hong Kong as an important gateway making telecommunication world closer to Chinese mainland, a fast growing and profitable market in the eyes of the industry.
Market watchers urged Hong Kong Exchanges and Clearing (0388) to review the notification mechanism for information exchange between Hong Kong and the mainland for dual-listed companies in a bid to enhance the protection of Hong Kong investors' interests.
China Coal Energy, the second-largest coal miner in the mainland, received an overwhelming response from retail investors on the first day of its Hong Kong public offering.
In another move to consolidate control of PCCW (0008), Richard Li Tzar-kai has raised his holdings in the telecom giant for the second time since he failed to sell his stake in the firm that would have made China Network Communications the largest stockholder.
Former Dragonair chief Stanley Hui Hon-chung has been appointed chief executive officer of the Airport Authority Hong Kong, replacing David Pang, sources told The Standard Wednesday.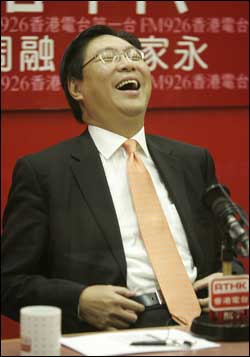 A levy on electricity is one of the alternatives to the proposed goods and services tax that was scrapped, Secretary for Financial Services and the Treasury Frederick Ma Si-hang said. Ma Wednesday dismissed speculation that the decision to shelve the GST was made in a rush, saying the government had been considering the move for "several weeks." He stressed that the about-turn had nothing to do with recent remarks by state leader Wu Bangguo, who exhorted government officials last Saturday to "keep their fingers on the pulse of the people," and strive to foster social harmony. Ma told Radio Television Hong Kong that although the planned GST has now been dropped, the problem of a narrow tax base still exists and an urgent solution is needed. In casual remarks, he brought up the idea of an electricity tax which he said is "worth considering." "During the [GST] consultation process, we received some interesting and constructive suggestions. A few months ago, when I attended a meeting, someone suggested to me an electricity bill tax, claiming this would be environmentally friendly," Ma recalled. "It was suggested that, to provide a stable revenue base for the government, a levy could be imposed on the city's two power companies - CLP Power and Hongkong Electric - which could collect up to HK$10 billion in tariffs annually.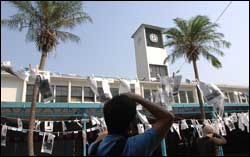 The campaign to save the old Star Ferry pier was dealt a potentially fatal blow Wednesday as the government ruled out declaring the pier a monument or a graded historical building worthy of preservation. The news came as a human chain of protesters surrounding the Star Ferry clock tower was breached by contractors who proceeded to erect scaffolding in preparation for its demolition. Secretary for Home Affairs Patrick Ho Chi-ping told the Legislative Council a heritage impact assessment for the Central reclamation in 2001 recommended the relocation of the Star Ferry, and relocation was approved by the Antiquities Advisory Board in 2002.
Hong Kong's telecommunications regulator may issue two more third-generation mobile licences based on China's home-grown technology standard, a move market observers expect to open the market for mainland operators.

China: The sacking of Shanghai's Communist Party boss in September was a signal that a fundamental policy shift is in the works by Hu Jintao, an analyst who has advised Beijing said. China watchers say Hu, who became party general secretary in 2002 and president the next year, is still consolidating power, but will be in a position after the 17th party congress late next year to firmly stamp his imprimatur on policy with a "New Deal." The finely engineered ouster of Chen Liangyu, also a member of the politburo, demonstrated Hu's unwillingness to tolerate insubordination from local officials, said Huang Jing of the Brookings Institution. "Chen Liangyu and his people have been very defiant [towards] the central government ever since 2003," he said Wednesday in a lecture to the Asia Society. Chen has been involved in misusing social security funds in Shanghai and helped enrich crony companies and relatives, Xinhua News Agency has said. But his ouster also showed Hu's ability to convince would-be foes - including his predecessor, the retired but still influential Jiang Zemin, and members of his so-called "Shanghai Gang" - that their common interests in tackling corruption and following a more balanced growth model trumped their differences, Huang said. After the 17th party congress, he said, Hu would push what some are calling his "New Deal," emphasizing development of the domestic market, investment in the hinterland, enhancing living standards in rural areas and tackling corruption. China's reforms of the past 30 years have created impressive, but uneven growth, leaving a dangerous east-west development divide and a growing wealth gap. Huang said China was going through "a bottleneck" that was forcing Hu to make difficult choices shifting the development emphasis to the rural hinterland from the eastern seaboard and focusing on more equitable distribution of wealth rather than just its creation. But his vision for change has been troubled by regions doing as they please, groups with entrenched interests in the coast-focused model of growth and conflict between local areas and the central government. Chen opposed centralization and represented "interest groups that have benefited so much from previous policies, who stand to lose something if Hu's so-called "New Deal" becomes premier policy," Huang said.
It is no longer simply economists who are discussing the strength of the Renminbi (RMB) yuan. As the yuan increases in value, affecting people's lives, its vigour has become a matter of daily conversation among Chinese citizens. Tian Yu, a young Beijing-based English teacher who is going on a business trip to the United States next week, has been following the fluctuations in the yuan's value closely. "Guess I will find cosmetics there even cheaper this time," she said with a smile. The value of the yuan against the U.S. dollar hit a new high Wednesday, with a central parity rate of 7.8226 yuan to one dollar. The appreciation followed previous records that broke the 7.87 mark, 7.86 mark, 7.85 mark, 7.84 mark in November and 7.83 mark two days ago. The exchange rate stayed at around 8.28 yuan per U.S. dollar for a considerable period prior to China's reform of the exchange rate system in July last year, when the government began to allow the yuan to float against the U.S. dollar within a daily 0.3 percent band from the official central parity rate. "A stronger RMB is good news for those planning overseas travel, study, investment and large-scale company procurement," said Dr. Mao Danping with Zhongdajunrong Investment and Consulting Company. "But it is a double-edged sword," Mao was quoted as saying by Wednesday's Internet edition of the Guangzhou Daily. The higher value of the yuan will further push up soaring Chinese housing prices, he said.
China wants to establish a dialogue with the Organization of Petroleum Exporting Countries to secure a stable oil supply and ensure global energy needs.
The Chinese government plans to launch an option market for its currency, the Renminbi (RMB), to help its banks avoid risks incurred by the partial flotation of exchange rates.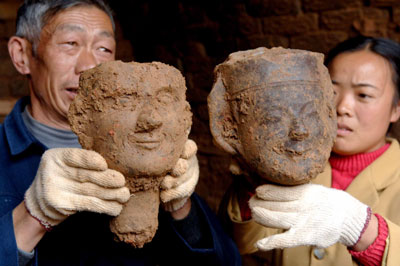 Archaeologists display a couple of clay skulls excavated from a tomb that dates back to the Eastern Han (25-220 AD) in Jintang county, Chengdu, Southwest China's Sichuan Province December 5, 2006. Archaeologists have not identified the tomb's owner and find it to have been dug out by tomb raiders.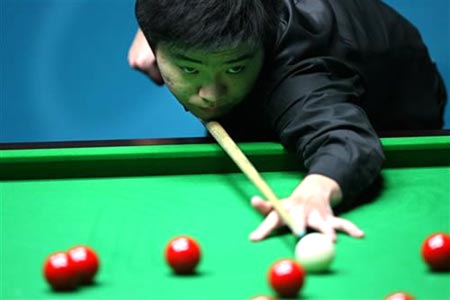 Ding Junhui of China takes a shoot in the Men's snooker doubles final at the Asian Games, in Doha, December 6, 2006. China's Ding Junhui and Tian Pengfei beats Chan Wai Ki and Marco Fu Ka Chun of Hong Kong, China to win the gold medal.
China accounts for about half of the global annual death toll from stomach cancer due to the Chinese taste for pickled and smoked food and enthusiasm for smoking.
The Shanghai government yesterday confirmed for the first time that prosecutors had placed property developer Chau Ching-ngai under investigation again and were limiting his movements. Mr Chau, once China's 11th richest person, was released from jail in late May after serving three years for manipulating stock prices and falsifying registered capital of subsidiaries of his flagship company Nongkai Development Group. Since his release, there have been repeated media reports that the tycoon had been detained, especially following the removal of Shanghai party secretary Chen Liangyu for corruption in late September. Shanghai's top leader was sacked for misusing the city's pension fund, but his brother has been linked to Mr Chau's company and property projects. "Shanghai procuratorial departments have taken coercive measures against Zhou Zhengyi [Mr Chau]. They will take further steps to investigate relevant problems," a Shanghai government spokeswoman said. She declined further comment. Mr Chau is wanted by the ICAC on charges relating to his listed companies. His wife, Mo Yuk-ping, is serving a 3-1/2-year jail term in Hong Kong. A spokeswoman for the ICAC said it would not comment on individual cases.
Dec 6, 2006

Hong Kong: Tingyi (Cayman Islands) Holdings (0322), China's biggest packaged-food maker, is aiming for a 30 percent market share in the mineralized water segment in the next three years in an effort to grab a bigger slice of the mainland's beverage market.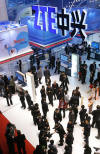 The World Telecom 2006 of the International Telecommunications Union (ITU) opens in Hong Kong Dec 4th. As the International Telecommunication Union's Telecom World 2006 industry conference began in Hong Kong Sunday, a top official committed China to further opening up its information and communication technology (ICT) industries to foreign investors.
Hong Kong-listed companies need to review their internal controls and social responsibility more effectively to maintain the city's reputation as a financial center, says international accounting firm Grant Thornton.
Financial Secretary Henry Tang Ying-yen on Monday urged world leaders to direct more resources towards helping underprivileged people learn about digital media technologies.
Australian gaming giant Publishing and Broadcasting Ltd (PBL) on Monday said its Macau casino joint venture with Hong Kong businessman Lawrence Ho had filed documents with United States authorities paving the way to raise almost US$1 billion (HK$7.8 billion) in a float on the Nasdaq Stock Market.
Some HK$25.9 billion worth of property transactions were recorded in November, representing a 19.3 per cent per cent rise over last month, latest Land Registry figures released on Monday showed.

China: The Chinese government should moderately expand the high-yield assets in its hefty foreign exchange reserves and diversify their uses, says Li Yang, a finance expert with the Chinese Academy of Social Sciences.

Olympic champion Chen Yanqing sets three weightlifting world records yesterday to win the women's 58-kilogram gold medal at the Asian Games. Chen hoisted 111 kg to eclipse the snatch record of 110 kg set by fellow Chinese Wang Li in 2003 and lifted 140 kg in the clean and jerk and 251 overall to beat compatriot Qu Wei's marks of 139 kg and 241 kg set last year.

Nokia said China's mobile phone suscribers will grow 11 percent to 500 million in 2007,given strong demand from rural markets and second-time buyers.
China has overtaken Japan to become the second biggest spender on research and development behind the US, an OECD report revealed.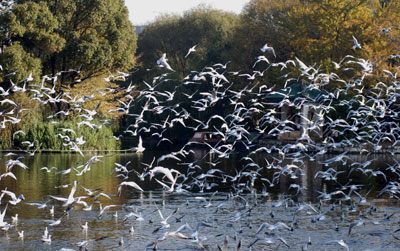 Thousands of black-headed gulls fly over the Cui Hu in Kunming, Southwest China's Yunnan Province November 15, 2006. Gulls migrate to the reputed spring city every winter to escape chilly weather.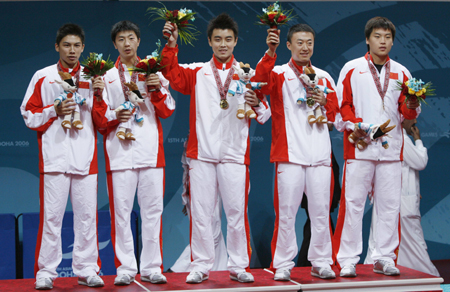 The Chinese men's team table tennis team stands on the podium after winning gold at the Asian Games in Doha December 3, 2006.
.China has ordered local governments to make up shortfalls in their social security funds after it found 7.1 billion yuan had been misappropriated, state media reported on Monday.
A Chinese construction firm was fined 500,000 yuan for building a highway through the Great Wall, the maximum penalty under new rules protecting the structure, state press said.
The yuan rose to a fresh high against the US dollar on Monday as reports cited officials urging diversified investments of the country's US$1 trillion (HK$7.8 trillion) in foreign exchange reserves.

Communication business: China Mobile chairman Wang Jianzhou (front, at left), NPC Standing Committee Chairman Wu Bangguo (centre) and Hong Kong Chief Executive Donald Tsang visit the China Mobile booth during a tour at ITU Telecom World 2006.
China's own technology for "third generation" mobile phones is ready for large-scale commercial use, the Financial Times said on Monday, citing ZTE, the country's second-largest telecom equipment maker.
Dec 5, 2006

Hong Kong: Wu Bangguo, China's top legislature, arrived in Hong Kong on Saturday to start his visit to the Hong Kong Special Administrative Region (HKSAR). Chinese top legislator Wu Bangguo said on Saturday night development and harmony are two major themes to keep Hong Kong in long-term prosperity and stability.
Macao's exports and imports saw year-on-year rise of 12.4 percent and 17.9 percent respectively in the first 10 months, according to official statistics issued on Friday.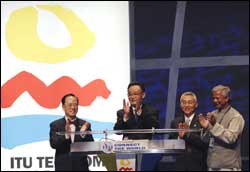 Wu pledges greater opening on telecoms- As the International Telecommunication Union's Telecom World 2006 industry conference began in Hong Kong Sunday, a top official committed China to further opening up its information and communication technology (ICT) industries to foreign investors. He also said it would devote more efforts to protecting intellectual property rights. Wu Bangguo, chairman of the Standing Committee of the National People's Congress and a Communist Party politburo member, made the pledge while inaugurating the opening ceremony of the world's biggest telecommunications trade show, which will be held at AsiaWorld-Expo from today until Friday. He said the opening of ITU Telecom World in Hong Kong - marking the first time the event has taken place outside the ITU's home base in Geneva since its inception in 1971 - "gives China's ICT industry a rare opportunity to learn from its foreign peers." Wu said the fast ICT advances brought unprecedented opportunities and challenges for all countries and telecom operators as well as equipment suppliers. "China will persist with its basic state policy of opening up and continue to enhance ICT cooperation with all other countries on the basis of equality and mutual benefit," he said. He said multinationals who want to enter the mainland market are welcome to establish research and development centers and work together with mainland companies on new technologies and products.
The institutional portion of Neo-Neon Holdings' IPO has been fully covered, even though the mainland lighting company increased the offering to HK$1.38 billion amid strong response from investors, the deal sponsor said.
Tingyi (Cayman Islands) Holdings (0322), China's biggest packaged-food maker, is aiming for a 30 percent market share in the mineralized water segment in the next three years in an effort to grab a bigger slice of the mainland's beverage market.
While few doubt the importance of the September 11 terrorist attacks, analysts say China's entry into the World Trade Organization three months later may eventually be seen as having even greater reverberations.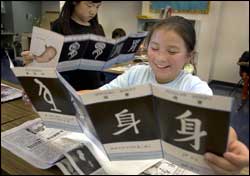 Putonghua a hot subject in US classes - Bursting in from recess, 15 children take their seats and face the woman they know as Teacher Yang. "What day is this?" she asks, in Putonghua. "Confucius' birthday!" the fifth- graders shout in Chinese. "Why do we celebrate Confucius' birthday?" "Because he's the greatest teacher in the history of China," exclaims a brown-haired girl with decidedly European features. She too is speaking Putonghua. English is rarely heard in Lisa Yang's class at the Chinese American International School in San Francisco, despite the fact that few students are native speakers of Putonghua and fewer than half come from families with Chinese ancestry. At a time when the United States is frantically trying to increase the ranks of students in "critical languages" such as Putonghua, students in the school are ahead of the curve. Founded 25 years ago, the small private school in San Francisco's Hayes Valley does what few other American schools do: It produces fully fluent speakers of Putonghua, by far the most commonly spoken language in the world.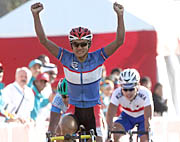 Wong Kam-po raises his arms in triumph yesterday as he wins the men's cycling road race - Hong Kong's first gold medal at the Asian Games in Doha, Qatar. The 33-year-old, who won the same event in Bangkok eight years ago, beat Iran's Mehdi Sohrabi and South Korea's Park Sung-baek in a sprint to the finish on a course shortened because of high winds.
About 1,000 taxis equipped with global positioning satellite systems will be on the road this summer, part of a plan between one of the city's biggest taxi associations and a technology company that aims to boost taxis' competitiveness.
Basic Law Committee vice-chairwoman Elsie Leung Oi-sie and State Administration for Religious Affairs director Ye Xiaowen joined hundreds of Buddhists and members of the public at the opening of a calligraphy exhibition featuring works by Venerable Master Hsing Yun at the Central Library yesterday. After the ceremony, Master Hsing said that although Hong Kong people had felt uneasy about the reunion with the mainland before 1997, their attitude had changed. He said Hong Kong people should integrate more with the mainland in the cultural sphere.
Hong Kong companies, especially H-share firms, are lagging behind their British counterparts in corporate governance practices such as internal control reviews and corporate social responsibility, according to a study conducted by international accounting firm Grant Thornton.
Ming An Insurance, a Hong Kong-based non-life insurer 29 per cent owned by Cheung Kong (Holdings), has received regulatory approval to raise US$120 million to US$130 million in an initial public offering before the Christmas holidays, sources close to the deal said.

China: A northeastern provincial official embezzled 11.5 million yuan in rural pension funds for stock investments in the mainland's latest case of social security funds being abused, according to media reports.

Members of Chinese men's team stand on the winners podium on the Medal ceremony for the gold medal of the men's team of Gymnastics Artistic at the 15th Asian Games in Doha, Qatar, Dec. 2, 2006. They swept 16 out of 20 gold medals on offer on the first day, getting off to flying start towards its seventh consecutive feat of topping the medal tally since 1982.
The Chinese government should moderately expand the high-yield assets in its hefty foreign exchange reserves and diversify their uses, says Li Yang, a finance expert with the Chinese Academy of Social Sciences.
Authorities in China's commercial center Shanghai has uncovered a five billion yuan (633 million U.S. dollars) money laundering case, the largest ever in the country's history.
China's first biomass-fired power plant, with an installed generating capacity of 25,000 kilowatts, went into commercial operation in east China's Shandong Province on Friday.

Workers arrange eggs, which have the labels of the place and date of production attached to them, during a fair in Haikou, Hainan, yesterday. The mainland has been hit by a series of food safety scandals in recent years as profit-hungry small-time manufacturers and traders ignore the regulations.
"Food is the god for the people." This traditional Chinese wisdom highlights the utmost importance of having sufficient food to feed China's huge population. These days, however, the wisdom is being severely tested from a new angle, as shown by the latest food scare hitting Hong Kong and the mainland.
Dec 4, 2006

Hong Kong: Venezuelan President Hugo Chavez said on Thursday that the Organization of Petroleum Exporting Countries (OPEC) had agreed that oil price should be 50 U.S. dollars per barrel.
The appreciation of renminbi (RMB) will not affect Hong Kong's Linked Exchange Rate system, Hong Kong's monetary chief Joseph Yam said Thursday. In his weekly Viewpoint column issued Thursday on the authority's website, Yam said the recent changes in the renminbi exchange rate have arisen naturally out of the development of the mainland economy, which may actually positively impact the city's competitiveness. He said although the appreciation of renminbi may raise the cost of trips to the mainland and the price of imported goods, there are also likely to be some beneficial effects on Hong Kong's economy, benefiting local tourism and retail sectors. Therefore, Yam said, the recent movement in the renminbi exchange rate has had no effect on the Hong Kong dollar exchange rate and will not affect the city's monetary policy. "It is clear that our Currency Board system is functioning effectively. Of course we can not rule out the possibility that there may be some psychological effect on the markets as the renminbi exchange rate reaches 7.8, and we will be keeping a close watch on developments," Yam said. However, Yam said he believed there is no logical reason why appreciation in the renminbi exchange rate should lead to any change.
Flights in and out of Shanghai's international airport were abruptly delayed or canceled Friday, with television reports and airline staff blaming military exercises for the massive disruption. The Hong Kong Airport Authority said 16 flights to Shanghai Pudong International Airport were delayed, while two flights had to be canceled. Eleven flights to Hong Kong were delayed amid conflicting reports over the temporary closure. The city government said flights were suspended "to control air traffic volume," and gave no further explanation. An air command official at the airport said closure was on the orders of the Central Military Commission and added: "It is a state secret."

Investors fear that growing rifts between PCCW (0008) chairman Richard Li Tzar-kai and second-largest shareholder, Beijing-controlled China Network Communications Group, will set back the company's efforts to expand into the mainland.
Retail investors piled in Friday to the share sales of China Communications Construction Company and Shanghai Jin Jiang International Hotels as the two companies opened subscriptions for their initial public offerings.
The Court of Final Appeal has ended a seven-year quest by Hong Kong's prison officers to win HK$600 million in overtime pay, unanimously dismissing one of the largest compensation claims ever brought against the government.
Construction work on the facilities for the 2008 Olympics' equestrian events at Sha Tin Racecourse is on schedule as a result of fine summer weather conditions, the Hong Kong Jockey Club's corporate development director Kim Mak Kin-wah said.

Hong Kong Aids Foundation supporters hold a candle-light vigil at the Star Ferry Pier in Tsim Sha Tsui last night to commemorate those who have died of Aids. Earlier, they toured the city, handing out red ribbons to passers-by to mark World Aids Day. Across the city, activities spread the message. Activists say that recorded cases of HIV/Aids infection in Hong Kong rose from 776 in 1996 to 3,004 in June this year.
Hong Kong Economic Journal director Cho Chi-ming said he expects the sale of a 50 per cent stake in the newspaper to Richard Li Tzar-kai will remain intact, arguing that Mr Li did not break any rule by controlling two media entities.

China: President Hu met with WHO chief Margaret Chan on Friday, vowing to support her work and strengthen cooperation with the WHO.

A live beetle levitated by sound pressure in an experiment at Northwestern Polytechnic University. China have used ultrasound to levitate drops of iridium and mercury, recently they have turned to live subjects and lifted insects and fish -- no strings attached.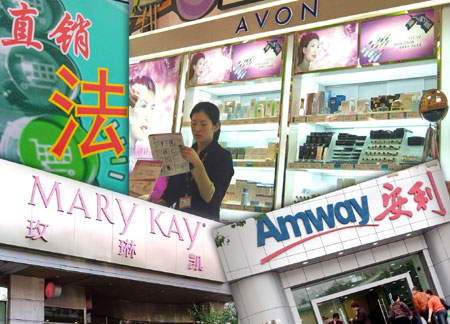 Several major foreign-invested firms, such as Amway, Mary Kay, and Perfect, are waiting for the final approval of their direct selling businesses in China, without which they may have to close down, as their operations are considered illegal as of today. According to the website of the Ministry of Commerce, up to yesterday only two of those 10 direct selling companies have obtained licenses. The two firms are Avon, the world's biggest direct seller of beauty products, and For You, a manufacturer of health products.
Premier Wen Jiabao signed a decree to issue regulations on reporting activities by foreign journalists during the Beijing Olympic Games and the preparatory period.
WASHINGTON - The United States has been exaggerating China's nuclear clout in a process that could lock the two into a Cold War-style arms race, two arms-control advocacy groups said in a report Thursday. The Defense Department and US intelligence agencies have portrayed Chinese weapons developments as more threatening than warranted, to justify building a new generation of weapons, according to the study by the Federation of American Scientists and the Natural Resources Defense Council. "The report's main finding is that the Pentagon and others routinely highlight specific incidents out of context that inaccurately portray a looming Chinese threat," the groups said in a statement. Specifically, they said, the Defense Department and US intelligence agencies had been "embellishing China's submarine and long-range missile capabilities." China, in turn, views US arms upgrades as a reason for modernizing its arsenal, said the 250-page report, which is based on an analysis of declassified and unclassified US government documents as well as commercial satellite images of Chinese installations. This could pitch the two into "a dangerous action-and-reaction competition reminiscent of the Cold War," the two groups said. But they said China was unlikely to build large nuclear forces of its own despite a desire to make its arsenal more powerful. "Military planners always need a rationale -- a real or potential danger -- for why they must have new weapons or new strategies and plans," said the study, "Chinese Nuclear Forces and US Nuclear War Planning." "With the dissolution of the Soviet Union, which occupied that role for almost 50 years, the United States has turned its attention to China to help fill the vacuum," it said. The report faulted China for cloaking its nuclear forces in secrecy, amid what it portrayed as a US government scare campaign bolstered by conservative media and think tanks. Beijing has not made clear of the scale, scope and purpose of its military modernization, it said, adding: "Inflated and worst-case descriptions of China's nuclear programs feed on the lack of information." The Pentagon and the office of the Director of National Intelligence had no immediate comment. The report said the US arsenal of about 10,000 nuclear weapons dwarfed China's roughly 200 and would continue to do so. In a long-range planning document published in February, the Pentagon sounded an alarm at China's investments in "sophisticated land and sea-based (nuclear strike) systems." The threat puts a premium on developing US forces "capable of sustained operations at great distances into denied areas," the Pentagon's planning review said. China is about to field three new long-range ballistic missiles that US intelligence says were developed in response to Washington's deployment of more-accurate Trident II sea-launched ballistic missiles. China has about 20 ballistic missiles capable of reaching the continental United States; the United States has more than 830 missiles -- most with multiple warheads -- that can hit China, it added. "China is no Soviet Union," said Robert Norris, a Natural Resources Defense Council analyst and a report co-author. He said the Pentagon had been using China to justify buying new missiles, destroyers, submarines and fighter planes. Hans Kristensen, project director at the Federation of American Scientists and the report's lead author, told Reuters: "The hype has occurred, as far as we can see, in the assessments of the size of the Chinese nuclear arsenal, predicting and reporting when new systems will be deployed, and in 'cherry-picking' dramatic new developments taken out of context that overstate a threat."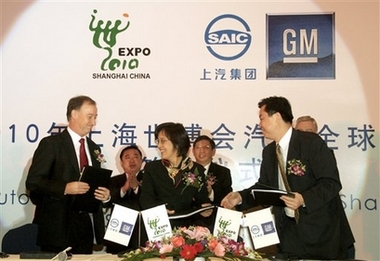 Kevin Wale, President and Executive Director of GM China Group, left, Zhong Yanqun, Communist Party Secretary of Shanghai Expo Executive Committee, center, and Chen Hong, Shanghai Automotive Industry Corporation Group (SAIC) president, right, exchange the signed document at Global automobile Partner of Expo 2010 signing ceremony in Shanghai, November 28, 2006. SAIC and GM formalized an agreement to become exclusive automotive partners for the World Expo 2010 Shanghai.
Intel is likely to make China an individual branch and have it directly report to global headquarters as early as January, as the company is trying to fend off aggressive attacks from rival AMD.
The Guangdong government has approved a 15-year plan to develop Hengqin island off Zhuhai for high-technology industries, scientific research and recreation.
The World Health Organisation has urged Beijing to become more involved in the production of new anti-retroviral drugs for Aids patients as resistance to first-line drugs emerges in developing countries, including the mainland.
Shares of PetroChina rose to a record yesterday, boosting billionaire Warren Buffett's 2003 investment in the company more than sixfold and ranking it alongside Royal Dutch Shell in value.
November 30 - Dec 3, 2006

Hong Kong: Chinese companies already listed in China's stock market should still consider listing on U.S. market. New York Stock Exchange (NYSE) could provide them with broader exposure, better valuation and more liquid market, said NYSE Chief Executive John Thain in an interview with Xinhua before his visit to China.
Chinese Premier Wen Jiabao greets newly-nominated UN World Health Organisation (WHO) Director-General Margaret Chan during their meeting at the Great Hall of the People in Beijing November 28, 2006.
A healthy land auction and pending futures settlement failed to deter the sharpest single-day plunge in the Hang Seng Index since September 12, 2001, a day after the deadly terrorist attacks in the United States.
Hong Kong's biggest land sale this fiscal year produced mixed results Tuesday when two residential plots went to Cheung Kong (Holdings) (0001) and Sino Land (0083) for a combined HK$5.18 billion.
Although corporate governance practices and disclosure at Hong Kong corporations are improving, many companies listed on the Growth Enterprise Market seem to view compliance purely as an obligation, according to judges in the annual Best Corporate Governance Disclosure Awards.
Digital China Holdings (0861) - the largest distributor of information technology products in the mainland - posted a 22.94 percent fall in net profit for the six months ended September to HK$91.5 million from HK$119 million the year before.
EPI (Holdings) (0689), an electronics products manufacturer which plans to diversify into the non-ferrous metal business, said Tuesday it will form a 180 million yuan (HK$178.51 million) joint- venture with Hong Kong-listed Jiangxi Copper (0358) and Qingyuan Tongde Electric Industrial to produce copper anodes exclusively for Jiangxi Copper.
Datang International Power Generation (0991), which plans to issue A shares in Shanghai to raise an estimated 2.5 billion yuan (HK$2.48 billion) to finance new power projects, said Tuesday the new shares will be available for subscription starting December 6.
Tensions in the food fight between Hong Kong and the mainland were ratcheted up again as Guangdong fish suppliers abruptly halted their exports to the territory, accusing local officials of being too "picky" on safety standards. Almost all stalls selling freshwater fish at the Cheung Sha Wan wholesale market were closed yesterday after most suppliers on the mainland halted exports to the city, claiming they had been victimised in the latest contamination scare.
Ensuring public safety at the International Telecommunication Union Telecom World 2006 expo beginning next week will be a breeze compared with the mayhem that surrounded the sixth World Trade Organization ministerial conference in December last year, assistant police commissioner Henrique Koo Shue-hung said Tuesday.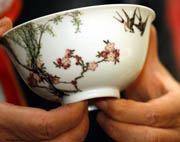 A Chinese ceramic bowl dating from the 18th century is displayed at Christie's auction house in Hong Kong on Tuesday. The famille rose bowl, from the court of Emperor Qianlong's 1736-1795 reign was sold for HK$151 million, breaking the world record price for Qing dynasty ceramics, Christie's said.

A woman joins pan-democrat district councillors and other protesters outside the Tsuen Wan District Council office to oppose any introduction of a goods and services tax. Secretary for Financial Services and the Treasury Frederick Ma Si-hang attended the council's meeting yesterday afternoon. The protesters said the government should concentrate on livelihood issues such as medical financing.
A think-tank close to Chief Executive Donald Tsang Yam-kuen yesterday added to the warnings that Hong Kong faced being marginalised unless it could integrate quickly with the mainland.
From taxi drivers to traders, Shenzhen's wheelers and dealers know what the mainland's official foreign exchange market has not yet admitted: the yuan has reached de facto parity with the Hong Kong dollar.

Neo-Neon, a mainland manufacturer of decorative lamps and lights, is offering 200 million shares to raise HK$1.28 billion for expansion.
Li Ka-shing's flagship Cheung Kong (Holdings) and Sino Land, controlled by Robert Ng Chee Siong, yesterday paid a total of HK$5.18 billion for two separate residential plots in the first land auction for key Hong Kong sites in the past 14 months.

China: Chinese President Hu Jintao and his U.S. counterpart, George W. Bush, on Monday exchanged views on Sino-U.S. relations and other issues of common concern in a telephone conversation, the Chinese Foreign Ministry said. In the phone call, which had been arranged earlier, Hu again talked about the consensuses that he had reached with Bush on a lot of issues, when the two met earlier, on the sidelines of the 14th Economic Leaders' Meeting of the Asia-Pacific Economic Cooperation (APEC) forum in the Vietnamese capital of Hanoi. China is willing to work with the United States to implement these consensuses and promote the sustained, stable and sound development of the constructive and cooperative Sino-U.S. relations, Hu said. Bush spoke highly of his meeting with Hu in Hanoi, saying the two sides held sincere and useful discussions on important issues of common concern. During the phone conversation, the two leaders also touched on Darfur, a conflict-plagued region in west Sudan. Bush briefed Hu on the U.S.'s stance in the Darfur issue. For his part, Hu noted that positive progress has recently been made toward efforts to resolve the Darfur issue. Hu expressed his hope that all the concerned parties will maintain the momentum of dialogue, and taking into account the concerns of all the parties involved, mutually agree on a settlement at an early date, in order to bring peace and stability to the region.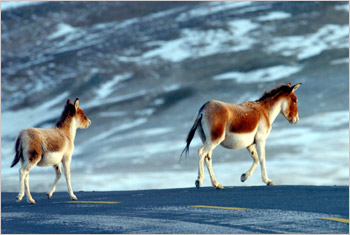 Two kiang venture across a road near the Qinghai-Tibet railway on the Qinghai-Tibet Plateau, west China, Nov. 27, 2006. Unique species of wild animals on the world's highest plateau, like chiru, kiang and goa, are gradually adapting themselves to the 1,956-kilometer-long Qinghai-Tibet railway connecting the Tibet Autonomous Region with other parts of China, which was put into operation last summer.
China is to launch "SinoSat 3", another satellite for television broadcasting, in May next year, said spokesman Fan Xinming of the SinoSat on Tuesday.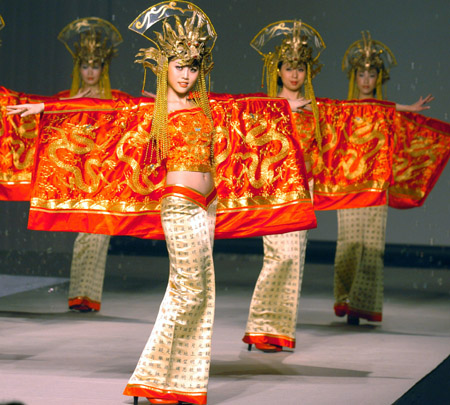 Models perform on the fashion show of 'Floating Forbidden City' by Chinese designer Zhou Xiaodan staged in Tokyo, Japan November 28. Jointly hosted by the Ministry of Culture of China and the Chinese Embassy in Japan, the show was part of the month-long 2006 Chinese Culture Festival, during which more than twenty performances and exhibitions will be held.
China will spend more than 14 billion yuan (US$1.72 billion) on vocational education during the 11th Five-Year Plan (2006-10), with the ultimate goal of cultivating some 36 million skilled workers.

China Communications Construction Company, which builds ports, roads and airports, has attracted interest from a Saudi prince for its planned HK$16.1 billion initial public offering of H shares on the Hong Kong market, according to a source.
Yahoo China president Xie Wen shocked the online industry by resigning after only 40 days on the job. Mr Xie, who was chief executive of Chinese online community site Hexun.com before joining Yahoo China, decided to quit for personal reasons, the company said yesterday. He had joined Yahoo China on October 17. "Xie Wen has his own foresighted views on the development of the internet in China," said Jack Ma, the chief executive of Alibaba, which owns Yahoo China. "Although he has worked for Yahoo China for only a short time, our team is deeply impressed with his passion and noble character." Yahoo China was absorbed by Alibaba last year when Yahoo bought a 40 per cent stake for US$1 billion. Right after the takeover, Mr Ma tried to brand Yahoo China as a search engine to compete with Baidu and Google. So far, it remains a distant third, with 12.9 per cent market share by revenue, compared with 56 per cent for Baidu, according to Beijing-based market research firm Analysys' third-quarter survey. Since then, Yahoo China has switched back to a more portal-based format, further adding to confusion as to what its identity is. One year ago, Mr Xie left Hexun also for personal reasons and started to pitch the merits of web 2.0, typified by sites such as YouTube and MySpace. His hiring by Mr Ma was viewed by the industry as a move by Yahoo China into the online community. "Mr Xie is a strong character who wants to do what he likes. However, the Yahoo headquarters wants its China division to stay on the course of developing its search engine. That is the major reason why Mr Xie resigned," said an analyst who did not want to be named. "The two, Jack Ma and Xie Wen, went to the US. When they returned, Mr Xie resigned," the analyst said. Mr Xie will become a strategic adviser to Alibaba, while Yahoo China's head of strategy development, Zeng Ming, will serve as acting president, the company said. Recently, Yahoo China launched a marketing campaign to change people's perception that Baidu is better at Chinese searches. It offers the top three search results from Baidu, Google and Yahoo China and asks players to guess which search engine provided them. "It is the right move," the analyst said.
November 29, 2006

Hong Kong: David Eldon, the head of the General Chamber of Commerce, on Monday slammed the city's firms for failing to join an initiative to help clean up the territory's chronic pollution problem. Options that may drastically change people's lifestyles - including ways to commute on days when air pollution becomes critical - have been proposed by the Council for Sustainable Development to solve Hong Kong's worsening air pollution.
The yuan rose to a fresh high against the US dollar on Monday as the central bank set its rate at 7.8402 yuan per dollar, the highest level since the current exchange system was set up in July last year, and inside the Hong Kong dollar's official trading band of HK$7.75 to HK$7.85.
The launch of the Hang Seng China H-Financials Index on Monday was blamed for the fall of mainland financial stocks, as investors took profit and prepared for the pending new wave of initial public offerings.
The retail tranche of China Communications Services' initial public offering received robust response from investors Monday as the shares generated at least HK$5.8 billion in margin orders, according to five top brokers polled by The Standard.
Neo-China Group (Holdings) (0563), a Hong Kong-listed developer operating in the mainland, will raise up to HK$1.11 billion through a share sale to institutional investors to fund further acquisitions.
Airport Authority Hong Kong is extending ferry links to four more destinations in the mainland and building a permanent cross-boundary ferry terminal at SkyPier at a cost of HK$1 billion as part of a plan to encourage more mainland travelers to use the airport.
Financial Secretary Henry Tang Ying- yen said Monday he will continue to follow the guidelines of prudent management of public finances in the budget for 2007-2008, adding that the projected revenue and expenditure proposals will provide room for the next chief executive to launch new plans and policies.
Sunlight REIT, the property trust which aims to raise US$350 million (HK$2.73 billion) through an initial public offering, plans to acquire assets from Henderson Land (0012) and its major shareholder, property tycoon Lee Shau-kee, to drive future growth, according to a report by the sponsor of the deal.
Drastic changes to people's lifestyle on days when air pollution becomes critical, including ways to commute to the office, are some of the contingency plans being considered by government advisers on the Council for Sustainable Development.
Secretary for Housing, Planning and Lands Michael Suen Ming-yeung has expressed confidence the new housing bill will get through the Legislative Council following Monday's decision by the Housing Authority to grant a one- month rent remission to 600,000 tenants in February.
Hong Kongers returning to the SAR from the United Kingdom will be asked to participate in a trial program devised by the UK government to strengthen airport security.
The administration has stood firm on plans to grant 50-year operating rights on the new cruise terminal at Kai Tak, saying it is necessary to ensure profitable returns for the winning bidder.
Hong Kong's four year-old political appointment system was functioning well enough for it to be developed further in future, Secretary for Constitutional Affairs Stephen Lam Sui-lung said on Monday
Hong Kong's total exports grew by nearly eight per cent year-on-year in October - on the back of a buoyant economy and increased trade with China, latest statistics released on Monday showed.

Shinhint chairman Jacky Cheung is bullish about the performance of the communication products division in the second half of the year. Shinhint Acoustic Link Holdings, a manufacturer of headphones and loudspeakers, plans to sell flat speakers, whose gross profit margin is 10 per cent higher than that of traditional speakers, in the first half of next year.

China: China needs to monitor the sustainability of economic growth, taking measures to bring unsustainable factors under control, said PBOC Vice Governor. Monthly data showing slowed investment and industrial production growth may not be enough to convince Chinese policy-makers to rapidly relax macroeconomic control.

The value of the Renminbi (RMB) against the U.S. dollar hit a new high on Monday, with the central parity rate at 7.8402 yuan to one dollar, breaking the 7.85 mark. The yuan edged a step closer to reaching the psychological threshold of matching the US dollar-Hong Kong dollar exchange rate Monday, as the mainland currency advanced to a new high.

A train runs on the heat-stick experimental zone of the frozen earth at the Kunlun Mountains pass of the Qinghai-Tibet Railway in Qinghai, northwest China, Nov. 25, 2006. The railway department adopted measures such as installing heat-sticks and vent-pipes to ensure winter operation of the highest railway in the world.
Shenzhen seeks free port despite calls against - This southern coastal city said it is looking to turn its bonded logistics zone into a free port, despite reports that authorities were calling to suspend the approval of such ports. "We are actively preparing the materials and plan to submit them to the provincial authority soon, with the final decision in the hands of the central government," said Li Zongjie, spokesman of the Shenzhen Administration Bureau of Bonded Zone. Shenzhen is launching the plan despite media reports that a number of top authorities suggested suspending the approval of new free ports in a bid to ensure the healthy development of existing bonded logistics zones. "It makes no sense that the country would stop approving new free ports as long as the conditions are ripe, new free ports are possible," said Zhou Tianlin, director of the Shenzhen Port & Shipping Administration Department, a division of the Shenzhen Port Administration. If the application is approved, Yantian would be the fourth free port on the mainland. The current three are Yangshan free port of East China's Shanghai, Dongjiang free port of North China's Tianjin and the newly approved Dayao Bay free port of Northeast China's Dalian. Yantian port, the mainland's No 1 single container terminal, handled about 6 million TEUs (twenty-foot equivalent units) in the first nine months of this year, accounting for 44.7 per cent of total container throughput of Shenzhen ports. Compared with the country's three free ports, all of which are quite new, Yantian has a strong position in the country, Zhou said. It was among the second group of seven pilot bonded zones on the Chinese mainland, following Waigaoqiao of Shanghai, to get permission to carry out "port-zone interaction," the first step to becoming a free port, in mid-2004. A free port would mean earlier rebates for exporters, Zhou said. Another advantage would be a reduction in costs for shipping companies thanks to easier container loading. Industrial experts said Shenzhen is qualified to become a free port, but they doubted whether the upgrade could have a real impact on the growth of the ports. "It will make no difference if you go from the previous port-zone interaction to a free port if the latter can't launch free currency exchanges and opener financial arrangements," said Wang Guowen, a senior researcher with China Development Institute, a leading policy consultancy company. If Shenzhen could have a real free port, such as Hong Kong, it could work together with Hong Kong to compete with other Asian ports, including Pusan of South Korean and Singapore, Wang noted. Both Zhou and Wang forecast cargo and container throughput handled by Shenzhen ports will rise thanks to booming foreign trade in the Pearl River Delta. "Shenzhen ports will keep growing, though growth rates will slow given the bigger base," Zhou said. "Meanwhile, the value of every container is expected to rise since more costly products such as electronics components are replacing goods with low added value such as shoes and toys." Wang said Shenzhen ports will remain very busy in the next two to three years. But with the operation of new ports and new berths, bottlenecks may be reduced in a decade, he said.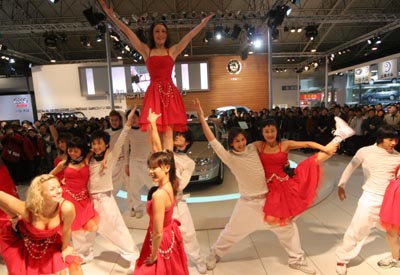 Models from China and abroad perform during the closing ceremony of the Beijing International Automotive Exhibition in Beijing November 27, 2006. The 10-day exhibition for automotives by the world's top manufacturers closed on Monday.

A diamond, weighing 26.62 karats, is on display in Nanning, south China's Guangxi Zhuang Autonomous Region November 27, 2006. The diamond, named Aurora Borealis due to its color and place of discovery, is said to be valued at 40 million yuan (US$5.1 million). The diamond will go on an exhibition tour to other cities in China.
Before Olympic tourists benefit from the massive construction of the Beijing and Tianjin high-speed railway, local residents will be able to enjoy the ride.
ZTE Corp (0736) - the mainland's second largest telecommunications equipment manufacturer - has won a US$700 million (HK$5.46 billion) contract to supply mobile equipment to India's Reliance Communications, according to a Sina.com report.
Shanghai Jin Jiang International Hotels, the mainland's largest hotel chain, is expected to pay at least 35 percent of net profit as dividends to lure investors, according to the company's preliminary offering circular.
The New York Stock Exchange planned to open an office in Beijing, its chief executive was quoted as saying on Monday, as he prepared to head to China to encourage more companies to list on the United States' leading exchange.
November 28, 2006

Hong Kong: November has been the warmest on record for the past 120 years, with an average record high temperature of 23.6 degrees Celsius so far this month - 2.2 degrees higher than in November last year, according to the Hong Kong Observatory.
The Smileangel foundation set up by Faye Wang and her husband Li Yapeng will hold a charity fundraising dinner next month. Faye Wang will sing at the party. Hong Kong star Carina Lau will attend the party together with 50 other friends. The entrance fee is 200 thousand yuan. The Smileangel Foundation for children who are born with cleft palate or cleft lip was launched by Faye Wang and Li Yapeng after their daughter was born with a cleft lip earlier this year. Its goal is to help 230 children during its first year. Faye Wang hasn't performed in public for a couple of years, but this time she is singing for her daughter.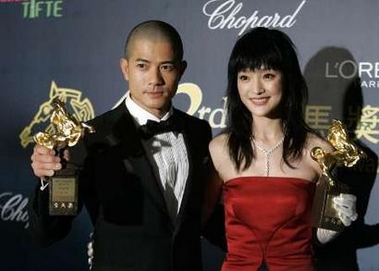 HK actor Aaron Kwok and mainland actress Zhou Xun display their trophies after winning the Best Leading Actor and Best Leading Actress awards during the 43rd Golden Horse Awards in Taipei November 25, 2006.
There is "effectively no limit" on how much capital Hongkong and Shanghai Banking Corp will pour into the mainland, where it sees ample room to expand its "rudimentary" coverage, chief executive Michael Smith told The Standard.
China Communications Services Corp, the telecommunications engineering and technical service arm of China Telecom (0728), made a commitment to investors by fixing a dividend payout ratio of not less than 40 percent of net profit in the post-listing period.
Goldman Sachs Group agreed to pay 716.6 million yuan (HK$709.74 million) for 10.7 percent of Guangdong Midea Electric Appliance, China's biggest publicly traded appliance maker by sales, Midea said Saturday.

Another type of freshwater fish imported from the mainland and sold in Hong Kong has been found to be contaminated with cancer-causing chemical malachite green.
The English Schools Foundation - known for being the largest provider of English-language education in Hong Kong - has reformed its process for student admissions, unifying enrolment for its 20 schools scattered across the territory.
World Health Organization director-general-elect Margaret Chan Fung Fu-chun has called on all member countries, including China, to exercise a high level of transparency in efforts to fight bird flu, saying she is fully aware of many countries' concerns about public health administration in the mainland.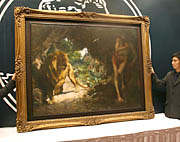 Christie's staff display late Chinese artist Xu Beihong's Slave and Lion, painted in 1924, which a private buyer bought by phone at an auction in Hong Kong yesterday. The rare work by Xu smashed the record price for a Chinese oil painting, fetching HK$53.9 million.

Hong Kong Girls Guides president Selina Tsang Pou Siu-mei and vice-president Stanley Ho Hung-sun (both at centre) salute a parade marking the guides' 90th anniversary at Hong Kong Stadium.
At least 84,000 tonnes of jet fuel - which creates 250,000 tonnes of carbon dioxide emissions - could be saved every year if aviation authorities changed arrival and departure procedures at Hong Kong's airport, according to the International Air Transport Association.

China: Amid signs of a possible slowdown in world economic growth next year, Chinese and overseas experts are divided about whether China should beef up macro-economic control.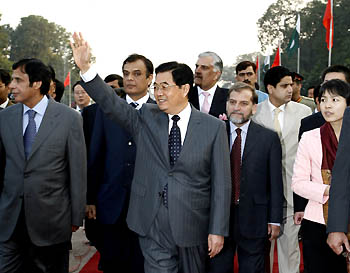 Chinese President Hu Jintao(C) waves hands during the welcome reception hosted by the government of Punjab province and Lahore city council in Lahore, Pakistan, Nov.25, 2006. Hu addressed the general public in Lahore Saturday afternoon, speaking highly of Sino-Pakistani friendship and cooperation.
Zimbabwe will soon take the delivery of the second consignment of 35,000 tons of urea fertilizer that was shipped from China on Tuesday this week.
China's fixed-assets investments in the transport sector are scheduled to reach 938.4 billion yuan (119 billion U.S. dollars) this year, a growth of 18.4 percent year-on-year. The figures were provided by Zhang Mao, deputy head of the State Development and Reform Commission, at a national meeting on communications development held recently in Guiyang, capital city of southwest China's Guizhou Province. According to Zhang, the transport sector invested 612.4 billion yuan (78 billion U.S. dollars) in fixed assets in the first three quarters of this year, up 25.96 percent over a year earlier. Of the total, 124.2 billion yuan (16 billion U.S. dollars ) went to railway construction and upgrading, up 100 percent, 418.3 billion yuan (53 billion U.S. dollars) went to highway projects, up 12.7 percent, and 43.9 billion yuan to coastal harbor construction, up 37.4 percent.
Southwest China's Guizhou province, one of the poorest in the nation, has planned to build an express railway between its capital Guiyang and Guangzhou, capital of rich Guangdong province.
In an environment in which short-term speculation in mainland real estate is being reined in and the way is cleared for the long-term development of the sector, developer China Overseas Land & Investment (0688) says more opportunities are arising for future projects.
South China Industries (0413) has agreed to sell its 95.35 percent shareholding in footwear maker Nority International (0660) to individual investor Lam Chung-kui for HK$105.43 million, while agreeing to operate the business with him as a joint venture, it announced Sunday.
Iran and China moved a step closer to signing an energy deal worth up to US$100 billion (HK$780 billion), with the Islamic republic saying it invited China Petrochemical's managing director to Teheran to sign an accord first reached in 2004.
Shanghai Jin Jiang International Hotels Development plans to raise as much as HK$2.42 billion in an initial public offering next month, pricing its shares in an indicative range of HK$1.81 to HK$2.20, market sources said. Jin Jiang, the mainland's largest hotel operator, will offer 1.1 billion shares or 25 per cent of its enlarged issued capital. The retail offering will open on Wednesday and close on December 7. The shares will be priced on December 9 and start trading on December 15, the sources said. The initial offering will be one of the largest to hit the market before the end of this year. It hopes to lift the profit contribution of its budget hotels to more than 30 per cent by more than tripling the number of budget hotels in its portfolio between now and 2010. "We plan to expand the number of budget hotels to about 600 in 2010 from 180 at the end of this year," said Yang Wei-min, the managing director and chief executive of Jin Jiang. "We set up our first budget hotel in 1997 in anticipation of the huge development potential of China's budget hotel business." With a boost from the Beijing Olympic Games in 2008 and more than 200 large exhibitions planned for Shanghai and Beijing from now until 2010, Mr Yang said the demand for hotel rooms is bound to rise. China's travel industry is projected to grow 23 per cent to US$301 billion by the end of the year, according to the World Travel & Tourism Council. That would make it the third-largest market in the world behind the United States and Japan. The mainland attracted a record 120 million foreign tourists last year. Mr Yang said the profit contribution from budget hotels would reach 30 per cent at the turn of the decade compared with about 10 per cent now. Despite increasing demand for budget hotels, Mr Yang said room rates may rise at a slower pace from next year because competition from foreign rivals is increasing. Jin Jiang's average budget-sector room rates rose to about 180 yuan per room per night last year from 160 yuan in 2004 before levelling out this year. Jin Jiang owns and operates a mix of 263 budget and luxury hotels with a total of 51,588 rooms in 24 provinces. The company said its earnings grew 75 per cent to 313 million yuan last year from 179 million yuan in 2004, according to a report by ICEA, one of the share offering's arrangers. BNP Paribas and UBS are the sponsors of the deal.
China will give foreign banks three to five years to comply fully with its new rules on their participation in the banking industry, a senior official of the China Banking Regulatory Commission said.
The board of directors of Hong Kong Exchanges and Clearing has decided to introduce yuan futures trading within six months in a bid to fend off competition from rival exchanges, according to a source at HKEx, which runs both the stock and futures markets.
November 27, 2006

Hong Kong: China Communications Construction Co will sell shares worth as much as US$240 million to three investors, paving the way for its imminent initial public offering (IPO) in Hong Kong.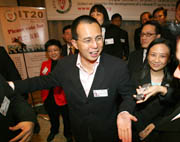 Richard Li ducked questions yesterday about next week's ballot of minority shareholders of Pacific Century Regional Developments on the sale of its stake in PCCW.
The city's major fish importers have agreed to a request by the Centre for Food Safety not to sell freshwater garoupa, after the cancer-causing preservative malachite green was found in 11 of 15 samples of the fish.

Food safety chiefs are meeting their mainland counterparts this week to discuss the supply of tainted food to Hong Kong, including turbot fish treated with banned antibiotics, eggs contaminated with carcinogenic dyes and bean curd sheets that possibly contain cancer-causing chemicals. Carrie Yau Tsang Ka-lai, the permanent secretary for health, welfare and food, will meet officials from the State General Administration of Quality Supervision, Inspection and Quarantine on Tuesday to discuss food safety issues.
The controversial idea of electronic road pricing, which has been debated in the city for more than two decades, will return to the agenda next year when the government's top advisory body consults the public on whether the scheme should be adopted to help improve the city's air quality.
A high-level commission should be set up to combat air pollution in Hong Kong, according to the vice-chairman of the Council on Sustainable Development. Edgar Cheng Wai-kin said the body should be headed by the chief executive or chief secretary, and given specific tasks, targets and a timetable to clean up the sky. "The community is focused on this matter and the chief executive has styled himself as a champion on the issue. We need a body to tie the different angles up and create a big bang," he said. Mr Cheng suggested the commission should be similar to Team Clean, the body set up during the Sars outbreak in 2003 that improved hygiene through steps such as increasing the fine for littering. "The commission could co-ordinate work between different departments, liaise with the business sector and team up with NGOs and the community," he said. "Such a commission could bring people together and break down the barriers." The proposal was presented to the council earlier and was well received, he said.

China: The Shanghai International Creative Industry Expo was held in Shanghai on November 23. At the forum it was announced that China is now the third largest exporter of creative products and services. The Shanghai Gold Exchange in China's economic hub reported continuing robust performance with more than 3,000 tons of gold changing hands over the past four years.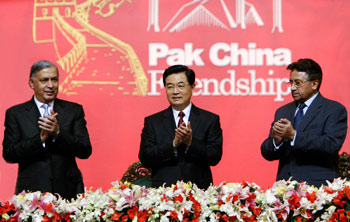 Chinese President Hu Jintao (C) proposed five steps to further promote Sino-Pakistan relations, covering strategic cooperation, win-win business ties, cultural and social exchanges, cooperation in international affairs and exchanges among civilization in the presence of his Pakistani counterpart Pervez Musharraf (R) and Pakistani Prime Minister Shaukat Aziz at Islamabad Convention Center in Islamabad, Nov. 24, 2006. China and Pakistan signed a free trade agreement (FTA) on Friday, which is projected to triple their current bilateral trade to US$15 billion within five years. Chinese President Hu Jintao is currently in Pakistan for a state visit since Thursday, which is aimed to deepen the strategic and economic and trade cooperation between the two neighboring countries.
The Airbus A380 super airliner concluded its ten-day trial journey in China and took off from Shanghai Pudong International Airport for Toulouse at 2:40 p.m. on Friday.
China will issue two laws to regulate the management of its social security funds in the wake of a number of scandals in the sector, according to officials.
China's commercial banks have been warned that competition will sharpen after the country fully opens its banking sector to foreign-funded banks.

President Hu Jintao sings a Chinese song with Pakistani college students who are studying Putonghua in Islamabad.
China vehicle market has been performing marvellously and is on track this year to overtake Japan as the world's second biggest. Within 10 to 15 years, it could even overtake the United States as number one. For the first 10 months of the year, domestic vehicle production grew 27.6 per cent and sales were up 25.7 per cent, compared with the same period last year, according to the China Association of Automobile Manufacturers. The trend seems to be picking up steam. In October alone, 588,800 vehicles were produced and 576,300 sold, up from 41.43 per cent and 27.55 per cent, respectively, over last year. Sales and production for the year are both expected to exceed 7 million units.
November 27, 2006

Hong Kong: China Communications Construction, the mainland's largest port builder, plans to sell as much as HK$240 million worth of shares to three cornerstone investors including New World Development (0017) chairman Cheng Yu- tung and the parent of China Life Insurance (2628) during its proposed US$2 billion (HK$15.6 billion) Hong Kong initial public offering.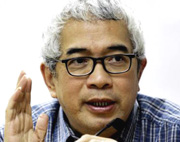 The Beijing Higher People's Court on Friday rejected Hong Kong journalist Ching Cheong's appeal and upheld his original five-year sentence for espionage.
Donald Tsang (centre), chief executive of the Hong Kong Special Administrative Region, visits the Guizhou plant of Aluminum Corp of China Ltd, November 21, 2006. Tsang and his business delegation will participate in an economic and trade conference today in Guiyang, the capital of Southwest China's Guizhou Province, to promote business co-operation between Hong Kong and the Pan-Pearl River Delta region.
China CITIC Bank said it will float its shares in Hong Kong early next year after Spanish banking group BBVA agreed to spend US$635 million to purchase a 5 per cent stake in the bank.

Minority shareholders in Singapore- listed Pacific Century Regional Developments overwhelmingly voted down a privatization bid by the company chairman, Richard Li Tzar-kai, on Friday.
US stocks fell Friday, retreating from highs reached the previous session, as a steep drop in the dollar heightened inflation worries and left US shares less appealing to overseas investors.

Macau casino mogul Stanley Ho Hung- sun sold HK$1.02 billion worth of Melco International Development (0200) shares Friday, paving the way to clear the regulatory hurdle for gaming company Sociedade de Jogos de Macau's US$2 billion (HK$15.6 billion) listing in Hong Kong.

Casino mogul Stanley Ho Hung-sun competes in the 150 years or over combined age men's doubles at the Chinese Recreation Club open tennis tournament in Causeway Bay. Mr Ho, 85, teamed up with regular partner Leung Kim-siu and together they won their category eight games to four. This year's tournament has attracted more than 900 players.
Retail investors piled in Friday to the share sales of Zhaojin Mining and Kingboard Laminates as the two companies opened subscriptions for their mainboard initial public offerings.
Orient Overseas (International) Limited (0316) said it will sell its four container terminals in North America to the Ontario Teachers' Pension Plan Board for US$2.35 billion (HK$18.33 billion) in cash.
New approvals for home loans in Hong Kong rose 2 percent month on month in October when Bank of China (Hong Kong) (2388) emerged as the biggest mortgage lender for the second straight month.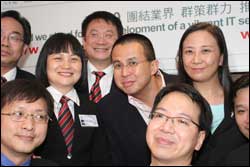 PCCW chairman Richard Li Tzar-kai has stepped up the campaign of his "IT 20" team for next month's Election Committee election by visiting electors at the City University of Hong Kong in Kowloon Tong. Li's team of 20 candidates is hoping to be returned en masse for the information technology subsector in which 39 candidates are vying for 20 seats. Li, who appeared to be unaffected by the fact the controversial sale of his PCCW stake was hanging in the balance, had earlier launched his campaign to meet voters for the December 10 poll at a private clubhouse at Dorset House, which is adjacent to the PCCW Tower in Quarry Bay. Li said he would soon appeal to his staff who are eligible voters in the IT subsector.
The Interpol Strategic Advisory Panel urged police and immigration authorities in the region to get linked to Interpol's stolen passport database to curb the mobility of transnational criminals and terrorists.
The final wave of more than a dozen initial public offerings before the end of the year started with a bang yesterday, with overwhelming margin orders for Zhaojin Mining Industry and Kingboard Laminates Holdings during their first day open to retail subscriptions, securities brokers said.
Bank of East Asia, Hong Kong's fifth-largest bank, plans to buy a stake in Malaysia's Affin Holdings to increase its presence in the fast-growing Southeast Asian market.

China: Federal Reserve chairman Ben Bernanke will accompany Treasury Secretary Henry Paulson and other Cabinet officials to Beijing next month to try to persuade China to alter its economic policies, senior US government officials said.

The outspoken son of late reformist leader Hu Yaobang has mounted a strong public defence of the booming but politically troubled private sector after the arrest of a number of leading businessmen for corruption and misuse of funds. He also rejected widespread calls for a national probe into how China's richest entrepreneurs made their first millions. Hu Deping , first vice-chairman of the All China Federation of Industry and Commerce - a semi-official national organisation representing the private sector - said a probe to discover how private businessmen got rich would be a retrograde step for reform. "The view `to settle accounts with the first bucket of gold' is, in effect, a denial of the remarkable achievements made by reform," Mr Hu, also a deputy minister of the Communist Party's United Front Work Department, said in an interview published yesterday in the Southern Weekend newspaper. There have been growing calls for the government to investigate how mainland millionaires and billionaires acquired their "first bucket of gold". The calls have been getting louder after reports of a string of corruption scandals pointing to collusion between government officials and businessmen. The snowballing pension fund scandal in Shanghai has led to the sacking of the city's Communist Party boss, Chen Liangyu , and the arrest of Zhang Rongkun , one of the mainland's richest men, along with dozens of well-connected officials and businessmen. Shanghai tycoon Chau Ching-ngai was also believed to be involved in the scandal. Mr Hu admitted there were widespread irregularities in private firms when they first started in the early days of economic liberalisation in the 1970s and 1980s. But he said historical conditions should be taken into account. "If [we] just use law and the constitution to measure [economic activity] without taking into account the historic environment and conditions, [we] can only scare people but not convince them," he said. Private business began to thrive in the late 1970s after Deng Xiaoping took drastic steps to push economic liberalisation and urged some people to get rich first. However, as the mainland began its chaotic transition into a market economy, most private firms operated on the fringes of the law as they were denied access to bank loans and proper legal protection. Many were forced to take advantage of economic loopholes or use illegal methods, including bribery, to obtain bank loans or business permits.
It's predicted that by the end of this year, a total of 7 million cars will have been manufactured, making China only 2nd in size to the US as a manufacturer.

President Hu Jintao (L) is welcomed by Pakistani President Pervez Musharraf upon his arrival in Islamabad, Pakistan for a state visit to Pakistan intended to forge closer ties between China and Pakistan, Nov. 23, 2006. Chinese, Pakistani presidents agreed in Islambad on Friday to continue to enrich the contents of bilateral strategic and cooperative partnership. Actively exploring free trade between China and India will elevate the two countries' economic and trade relations to a new plane and promote regional economic integration, according to President Hu Jintao.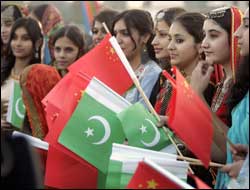 President Hu Jintao signed a five-year free-trade pact with Pakistan, promised to continue joint development of nuclear energy and pledged to play a "constructive" role in resolving disputes between Pakistan and neighboring rival India. The announcements came Friday, a day after President Hu Jintao arrived in the Pakistani capital following a trip to India. The South Asia tour is seen as a way for the region's most populous nation to raise its profile and bolster trade, economic, and military ties in a sometimes unstable region. Addressing the nation's 150 million people live on state television - the first foreign leader to receive the privilege since then-US president Bill Clinton in March 2000 - Hu said: "Our relations are higher than the Himalayas, deeper than the Indian Ocean and sweeter than honey." He spoke in Chinese translated into English by an interpreter and the live footage was intercut with pictures of an audience of Pakistani and foreign dignitaries. Pakistan and China signed 18 economic, social and defense deals, topped by a free-trade agreement and a five- year pact to boost "trade relations, joint ventures and investment opportunities in Pakistan," Pakistani President General Pervez Musharraf said.

A farmer in Central China's Hunan Province holds a handful of newly harvested corn. China is becoming a net corn importer as a result of robust domestic demand from the corn deep processing sector. The nation's corn exports stood at 2.27 million tons in the first three quarters of this year, down 68.3 per cent year-on-year, while imports hit 60,000 tons, up 43 times year-on-year.
China Cinda Asset Management plans to securitise 4.75 billion yuan in bad loans acquired from Bank of China, creating the first debt instruments formed from the country's non-performing bank assets.

Pakistan President Pervez Musharraf (R) presents Pakistan's highest civilian award "Nishan-e-Pakistan" to China's President Hu Jintao during a ceremony in Islamabad November 24, 2006. China signed a free trade pact with Pakistan on Friday as Hu promised to bolster ties to a new level.
An audit report published yesterday found that about 7.1 billion yuan (US$900 million) of the country's 2 trillion yuan social security fund had been misappropriated. Increasingly sophisticated white-collar criminals have defrauded Chinese citizens of about US$10 billion (HK$78 billion) so far this year, state media reported on Friday. The Public Security Bureau has warned mainlanders to be cautious of financial schemes offering a quick route to wealth as economic crimes jumped 9 per cent in the first 10 months of the year.

Laborers demolish unauthorised buildings yesterday in Kunming, Yunnan province. A plan to slow investment by doubling the land-use fee for new construction projects next year may have little impact on the booming property market, real-estate watchers say.
Germany's Siemens may withdraw from China's internet protocol television market after failing to win a bid for a lucrative contract, state media reported on Friday.
November 23 - 26, 2006 Happy Thanksgiving

Hong Kong: Hong Kong's economy expanded more than expected in the third quarter as soaring stock prices and an improved job market boosted private consumption while export growth regained momentum.
Dealmaker Francis Leung Pak-to disputes PCCW (0008) chairman Richard Li Tzar-kai's claim that he did not know his father Li Ka-shing was involved in purchasing part of the 22.65 percent stake in PCCW that was being sold to Leung or to a consortium put together by him. In the latest twist of a complicated deal, Singapore-listed Pacific Century Regional Developments chairman and controlling shareholder Richard Li Tzar-kai hopes the company's minority shareholders will reject the sale of its PCCW stake, sources familiar with the situation said, since he considers the deal has become too politicised.
The Link REIT (0823), which operates a portfolio of former Housing Authority shopping malls and car parks, posted a forecast-beating first-half distributable income to shareholders.
Hong Kong-based shoemaker and retailer Le Saunda Holdings (0738) said Tuesday it will focus on expanding the mainland market in the coming five to 10 years, because returns generated in China are much higher than that from Hong Kong.
If the government allows MTR Corporation to expand the Causeway Bay station concourse by up to three times, pedestrian traffic along nearby surface streets could be reduced by half, the corporation claimed Tuesday.
Rotary International will increase its presence in the mainland step by step, the non-government organization's international chief said Tuesday. Visiting Hong Kong as part of his Asia tour, Rotary International president William Boyd had a cautious approach for the future of Rotary in the mainland. "China is a very important country in world terms. It's important for a long- term future for [Rotary] to be careful, to do things step by step," Boyd told The Standard. "Things have to be acceptable to the government and we're taking it slowly. Operating in China since 1989, Rotary International has recently upgraded its clubs in Shanghai and Beijing from provisional to official status. There are now 112 club members in the mainland. Unlike Rotarians in Hong Kong and other countries, membership in China is restricted to holders of foreign passports because of local regulations. "Until non-governmental organization regulations are relaxed - and these are still being reviewed - we will not be able to admit Chinese nationals," said Stanley Mok Siu-kwok, international services director of The Rotary Club of Hong Kong Sunrise. Until the review is complete, the restriction on membership will limit the Rotarians' ability to operate and grow a local base, which is essential to their mission and presence. Local clubs, based on the networking of members, produce and initiate programs pertinent to their situation, with Rotary International matching their budget upon approval, Boyd said. But this is not the case with its mainland chapter, and may prove difficult since the beneficiaries there are currently restricted from participating within the Rotary family. "We want the beneficiaries to have a sense of ownership," Boyd said. The contrast in growth of Rotary in the mainland compared with the unhampered expansion of Rotary clubs in other countries does not mean Rotary is not committed. In 1989 after a 36-year hiatus, the organization took its Polio Plus program to China with the mission to eradicate polio worldwide. As it stands, the international body is 99 percent of the way to its goal, with only four endemic countries left. In 2003, Rotary International began its own Hepatitis B immunization program with the target of immunizing one million babies and children in the mainland. From 2003 to 2005, about 200,000 newborn babies had been immunized, with another projected 190,000 to be vaccinated by 2007. The average cost per immunization is 16 yuan. The project was paid for entirely by the club, with Chinese government assistance for logistics, equipment, and vaccines. From 1990 to 2004, Rotary spent more than US$100 million (HK$780 million) on multiple humanitarian programs in the mainland. "Rotary's goal is to foster world understanding and peace," Boyd said. The Rotary Club has been active in Hong Kong since 1932 with 32 chapters in operation. Asked about Hong Kong's role in Rotary's return to China, Brenda Lee, deputy chairman of The Rotary Club HK said: "Hong Kong's role is as a mentor." Rotary is a worldwide organization of business and professional leaders that provides humanitarian service, encourages high ethical standards in all vocations, and helps build goodwill and peace in the world.

Chinese cultural master Jao Tsung-I, honorary professor of Chinese studies at the University of Hong Kong, in front of some of his work yesterday at the HKU Museum and Art Gallery, which is holding an exhibition of his recent work to celebrate his 90th birthday. The exhibition runs from today until January 7.
Hong Kong factory owners with operations on the mainland have been given a reprieve after Beijing delayed by one year reforms to rebates for value-added tax they pay on overseas sales, the Federation of Hong Kong Industries has said.
Hong Kong's first long-haul budget carrier has been granted approval to fly through Russian airspace on a permanent basis, the airline's boss, Raymond Lee Cho-min, said yesterday.

Shui On Land chairman Vincent Lo says digital communities represent the future China. Shui On Land, a mainland property developer that raised HK$6.2 billion from an initial public offering in September, is linking up with Cisco Systems to design and build highly automated, internet-linked residential and commercial projects across China.

China: China will send 30 scientists to France for the construction of the Int'l Thermonuclear Experimental Reactor, the world's most advanced nuclear fusion reactor.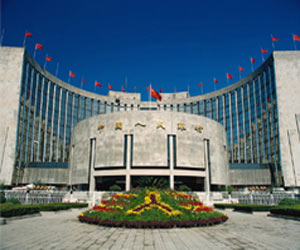 The People's Bank of China opened its south Pacific office in Sydney of Australia last Sunday. This is the seventh overseas office of the Chinese central bank. The opening of the office will help expand the bank's cooperation with monetary authorities in the south Pacific region in monetary and financial policy research, development of the financial markets, personnel training and other areas, the spokesperson said.
A plan to slow investment in fixed assets by doubling the land-use fee for new construction projects next year may have little impact on the country's burgeoning property market.
Chinese telecom equipment maker Huawei Technologies has made a counteroffer to take full control of Huawei-3Com (H3C), a joint venture with 3Com, a US-based maker of computer-networking equipment.
China's stock regulator has ordered all brokers to designate third-party custodians for clients' securities trading and settlement by next August.

A model presents a creation from a wedding dress collection by designer Tsai Meiyue at China Fashion Week in Beijing November 18, 2006.
The leaders of China and India declared that cooperation will trump competition between the Asian giants, saying there is enough room for both to become global powers and pledging to double trade between the countries in the next three years.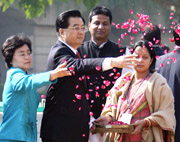 President Hu Jintao and his wife, Liu Yongqing, sprinkle rose petals yesterday at Rajghat, a memorial for Mahatma Gandhi, in New Delhi. Mr Hu's visit to India aims to improve trade ties between the two countries.
Taiwan's BenQ on Tuesday said it would lay off approximately 400 employees, about half of the workforce at its Shanghai handset manufacturing plant, to streamline production there.
November 22, 2006

Hong Kong: Another wave of H-share initial public offerings hit Hong Kong Monday, as at least five mainland enterprises - mainly resources companies - announced they will start inviting share orders by the end of this month.
HSBC Holdings (0005) Group chief executive Michael Geoghegan said Monday, the bank intends to keep its shareholding in its two strategic partners Bank of Communications (3288) and Ping An Insurance (2318) unchanged after they both announced plans to sell A shares on the Shanghai stock exchange.
Hutchison China MediTech, a mainland-based subsidiary of Hutchison Whampoa (0013) listed on London's Alternative Investment Market, Monday announced an agreement with German pharmaceutical company Merck to jointly research cancer treatments that may be found in traditional Chinese medicine.
Standard Chartered (2888) - the London-based bank that relies on Asian markets for one-third of its earnings - announced a surprise reshuffle of top management Monday, with chief executive Mervyn Davies becoming chairman, replacing Bryan Sanderson, who steps down from the non-executive role.
More than 11 million square feet of factory space in Hong Kong has been left vacant over the past five years, wasting HK$7.5 billion in government resources, a study by Polytechnic University has found.

Demonstrators from People for the Ethical Treatment of Animals wear nothing but a protest banner outside a Kentucky Fried Chicken restaurant in Yee Wo Street, Causeway Bay, to highlight what the group says is the fast food chain's abusive treatment of chickens in "animal factories" and abattoirs. Peta claims more than 850 million chickens are being tortured to death in ways that would result in cruelty charges if animals other than poultry were the victims. Peta members from the US, Britain and the Philippines took part in the protest.
Eggs sold in Hong Kong are safe because none of the eggs involved in the contamination scare in the mainland has been imported into the territory, the Centre for Food Safety has assured the public.
Asia's most renowned dancing banker, Mimi Monica Wong, may have won back her HK$62 million in prepaid dancing fees, but the legal battle is not over with a HK$4.8 million question yet to be answered: how much more would the HSBC private banking chief have earned through interest while the two- year litigation took place?
Hong Kong has revised upwards its expected economic growth for this year to 6.5 per cent from around 4-5 per cent, as a boost in exports sent third quarter figures zooming, the government said on Tuesday. Inflation in Hong Kong slowed for the second straight month in October, with consumer prices rising by 2.0 per cent from the same month last year compared to 2.1 per cent in September, the government said on Tuesday.
Financial Secretary Henry Tang Yen-ying said on Tuesday a competition law would be beneficial for Hong Kong's economy, and particularly for small-and-medium sized companies
Hong Kong's Cathay Pacific Airways said on Tuesday it will begin code-sharing with newly acquired Hong Kong Dragon Airlines on their flights to several Chinese and Asian destinations from December.
Hong Kong stocks had their biggest decline in six weeks yesterday, ending a four-day winning streak as investors took profits amid rumours of a share placement by China Mobile's parent company and worry over HSBC Holdings' earnings prospects.

China: China's high savings rate and sound public finances offer the right conditions for the authorities to proceed with social security and healthcare system reforms, People's Bank of China Governor said.

China's President Hu Jintao (R) shakes hands with Indian Prime Minister Manmohan Singh as Hu's wife Liu Yongqing (C) watches during a ceremonial reception at the presidential palace in New Delhi November 21, 2006. China and India, the world's two fastest-growing major economies, signed 13 agreements in an effort to boost trade and investment. India and China will speed up work to resolve a decades-old border dispute that led to a brief war in 1962, the leaders of both nations said on Tuesday after a landmark meeting.

A model poses by a car of Chery Automobile Co displayed at the 2006 Beijing International Automotive Exhibition in Beijing,capital of China, November 19, 2006. With sales soaring for cars of every size and shape, China will pass Japan as the second-largest vehicle market this year, after the United States. But the Chinese market may still not be big enough to support all the homegrown manufacturers as well as the foreign automakers trying to do business here.
Mercedes Benz, the premium car unit of DaimlerChrysler AG, said it aims to overtake main rival BMW in annual China sales within two years, but needs more time to beat Audi.
A US-led international economic slowdown will reduce growth in the Chinese economy to single figures in the next few years, leading to a depreciation of the yuan in three years' time, according to a senior official at BNP Paribas Peregrine.
Foxconn International Holdings (2038), the mobile phone arm of Taiwan's Hon Hai, plans to invest about US$1.2 billion (HK$9.36 billion) to build a new plant in China to beef up its presence in the country.
Beijing's biggest supermarket operator Wumart Stores (8277) has maintained steady growth and a good relationship with suppliers despite the scandal surrounding its founder, Zhang Wenzhong,who resigned as chairman earlier this month, management said Monday.
Beijing is planning to build the world's biggest subway rail system, and dramatically expand its bus network to help combat the city's fast-increasing traffic gridlock, state press said.
A young girl has the final touches put on her elaborate costume in preparation for the Shanghai Youth Peking Opera Competition at the weekend. Children from 20 schools across the city took part in the contest, with the youngest entrant being just four years old.
Australia's third-largest bank, ANZ Banking Group on Tuesday said it had bought nearly a 20 per cent stake in China's biggest rural commercial lender for US$252 million (HK$1.97 billion).
China Southern Power Grid, the smaller of the nation's two power distributors, has agreed to spend US$900 million on Vietnam's largest power generation project, marking its first large foray into the generation business overseas.
November 21, 2006

Hong Kong: PCCW (0008) chairman Richard Li Tzar-kai has said he had no prior knowledge of his father Li Ka-shing's involvement in the change in shareholding at PCCW in the initial stages and would have removed himself from negotiations had he known.

Actor Tom Cruise and Katie Holmes pose for their official wedding portrait in Lake Braccino, Italy in this photo released to Reuters November 18, 2006. Tom Cruise and Katie Holmes flew out of Rome Sunday for a honeymoon in the Maldives, while the rest of the wedding party was due to fly to Los Angeles later.

Shanghai-based Bank of Communications (3328), the mainland's fifth- largest lender, plans to raise up to 57.31 billion yuan (HK$56.71 billion) through an initial public offering of A shares and a sale of bonds to domestic investors.
Lai Sun Development (0488) is the latest Hong Kong-listed developer to join the race to tap the equity market, kicking off a share placement to raise up to HK$524 million.
Neo-China Group (0563), a Hong Kong-listed mainland developer, has agreed to acquire a 71.5 percent interest in a residential-commercial project in Shanxi province for 926 million yuan (HK$915.8 million).
Hong Kong Exchanges and Clearing (0388) has given the green light for 23 more stocks to be eligible for callable bull/bear contracts issuance, including 10 H shares, increasing to 28 the stocks issuers can use as underlying assets.
The Housing Authority is confident the resumption of sales of Home Ownership Scheme housing flats next January after a four-year moratorium will not have any significant impact on the private residential market.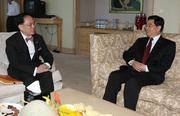 Chief Executive Donald Tsang Yam- kuen Friday had an informal meeting with President Hu Jintao in Hanoi during which they discussed the appointment of former health director Margaret Chan Fung Fu-chun as director general of the World Health Organization. President Hu Jintao yesterday urged Chief Executive Donald Tsang Yam-kuen to make "utmost efforts" to "maintain and consolidate" Hong Kong's economic growth, social stability, and the improvement of people's livelihoods.
Chief executive challenger Alan Leong Kah-kit yesterday announced that he would also likely compete in the next election in 2012.
Kindergarten operators yesterday reluctantly accepted the government's revised voucher scheme, which has been attacked for not being inclusive enough, after a two-hour meeting with the education chief, Arthur Li Kwok-cheung.

China: Chinese President Hu Jintao and U.S. President George W. Bush agreed in Hanoi Sunday morning to further promote Sino-U.S. relations. Chinese President Hu Jintao on Saturday called for bigger APEC role in backing multilateral trading system and enhancing economic and technical cooperation in the region and the world as a whole. President Hu and Japanese PM Abe expressed the willingness to maintain the good momentum of the development of bilateral ties during their meet Saturday.
Preparations are under way for President Hu Jintao to visit Japan early next year after he held a second successful meeting yesterday with new Japanese Prime Minister Shinzo Abe.
Fifty years of excavation work on the ancient city of Chang'an have now passed and archaeologists have been able to map out a clear layout of the former capital of the Han Dynasty.
A model poses on the concept vehicle I-Swing of Toyota Motor Corp. during the 2006 Beijing International Automotive Exhibition in Beijing, Nov. 18, 2006. The 2006 Beijing automotive exhibition opening at the weekend has seen an unprecedented presence of China's home-grown brands, a reflection of their growing strength in one of the world's fastest expanding auto markets.
The Bank of Communications, the first commercial bank on the Chinese mainland listed overseas, has become the fourth official partner of World Expo 2010 in Shanghai.
China will enter the top 10 chart of sources of tourists for the United States by 2007, a U.S. tourism official said in Shanghai on Saturday. Tourism observers have noticed that Chinese tourists were constituting a growing part in the market, although Europe and Japan are still the major sources, said Mark A. Turner, a tourism official with the U.S. Embassy to China, at the China International Travel Mart here on Saturday. More than 50 U.S. tourism companies and agencies have come to the fair to woo Chinese sightseers. China is currently the 12th largest tourist source for the United States. The number of Chinese tourists to the country surged 24 percent last year. Turner said that the U.S. embassy had begun a pilot program which offers interview appointments through seven qualified travel agencies in a bid to speed up the visa application process. The program may be extended to consulates in Shanghai, Chengdu, Shenyang and Guangzhou if it goes well in the Chinese capital, Turner said. China and the United States have made progress in negotiations on making the United States a destination for Chinese tourists, Shao Qiwei, director of the China National Tourism Administration (CNTA), said in Los Angeles last September. According to Shao, China registered 30 million overseas travels last year, with only 530,000 to the United States. Last year, 1.56 million Americans visited China, according to the CNTA. "With the boom in the economy and healthy development of Sino-U.S. ties, more Chinese tourists are hoping to travel to the United States," he said.

US President George W. Bush meets with China's President Hu Jintao at the Asia-Pacific Economic Cooperation (APEC) Summit in Hanoi November 19, 2006.
The central bank may need to raise interest rates again to keep investment in check but would face opposition in doing so, Fan Gang , an adviser to the People's Bank of China, said in remarks reported yesterday.
November 20, 2006

Hong Kong: Sales of Housing Ownership Scheme (HOS) flats - which have been frozen for more than three years - would resume early next year, the government announced on Friday.

Lau Wong-fat, chairman of the Heung Yee Kuk rural body, plants a joss stick for prayers at yesterday's groundbreaking ceremony for its new headquarters in Shek Mun, Sha Tin. The building, in On Muk Street, will cost HK$70 million and be built in traditional clan style to reflect the lifestyles and traditions of the area. The headquarters was approved by the Executive Council last year.
Secretary for Health, Welfare and Food York Chow Yat-ngok said on Friday looking after its growing ageing population was one of the biggest challenges facing Hong Kong.
American private equity firm Carlyle has received approval from one of the three bureaucracies with authority over its bid to take a 50% stake in Chinese construction company Xugong. The commission overseeing state-owned assets has given the deal the go-ahead, but the Ministry of Commerce and the stock market regulator are yet to issue their rulings. Carlyle expressed confidence that the deal would be finalized soon, putting an end to their year-long bidding game. But it was not all good news for the company, as a suit was filed in New York accusing Carlyle and 12 other private equity firms of rigging buyouts to rip off investors. A judge will decide whether to grant the suit class-action status.
Beijing published its long-awaited new rules allowing foreign banks to conduct local currency business in China without restriction. The reforms are part of China's WTO commitment of further opening its financial services sector to foreign competition and will go into effect next month. Foreign banks were mostly satisfied with the regulations, as the capital requirements for incorporating on the mainland (and thereby gaining greater access to the market) were lower than most expected.
China's economic imbalances were once again the subject of much discussion. US Secretary of Commerce Carlos Gutierrez offered an olive branch, saying his country should work with China amicably to reduce its increasingly massive surplus. The World Bank predicted that China's growth would hit 10.4% this year but taper off next year, partly due to a coming slowdown in the US economy, and also recommended that China concentrate on expanding its service sector and increasing domestic consumption. And a government economist suggested that China move its vast foreign exchange reserves into gold, exciting gold miners and shareholders the world over, no doubt.

China: China and Vietnam yesterday signed a dozen agreements ranging from economic development to joint exploration in the Beibu Bay during President Hu Jintao's state visit to the Southeast Asian country.

United States Pacific Fleet Commander Gary Roughead (1st L) views an automatic rifle used by the Chinese Marine Corps in Zhanjiang, a port city in south China's Guangdong Province, Nov. 16, 2006. Roughead said that the Chinese Navy is adopting a more open approach, after he watched a demonstration of military skills by soldiers of the Chinese Marine Corps.

Lion dance is performed during the inauguration of HSBC Yansha branch in Beijing, capital of China, Sept. 11, 2006. China will allow foreign-funded banks to conduct Renminbi business for Chinese citizens before Dec. 11 in line with its commitments to the World Trade Organization, said Song Dahan, deputy director of the Legislative Affairs Office of China's State Council (Cabinet), on Thursday. Foreign banks need to convert their branches in China into locally incorporated companies to conduct the coveted renminbi retail business.

Foreign banks may be seeking a part in China's growth, but getting that market share will be difficult considering the country's size.
China Construction Bank (CCB) has denied a report by the New York Times which accused the bank of hiding three billion U.S. dollars in bad loans before it went public last year.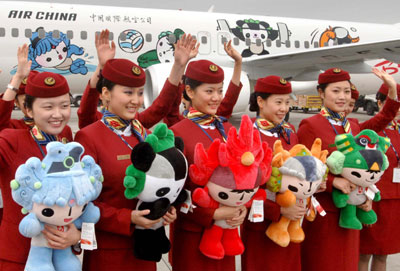 Air China stewardesses holding Fuwa, official mascots for 2008 Beijing Olympic Games wave to Olympic Fuwa airliner passengers at an airport in Chengdu, Southwest China's Sichuan Province November 17, 2006. The company, a partner of the 2008 Beijing Olympic Games decorated its aircrafts with official mascots to promote the Olympic Games.
Bank of China (BOC) will make a bid for Singapore Aircraft Leasing Enterprise, the largest aircraft leasing enterprise in Asia.

A market vendor sets out his duck eggs for sale in Kunming, Yunnan province. Quality inspection departments are responding to calls to inspect egg-related businesses after traces of an industrial dye were found in duck eggs. The General Administration of Quality Supervision, Inspection and Quarantine yesterday said all kinds of cancer-causing Sudan red colouring were banned from use in foods.
Huawei Technologies, China's largest telecommunications equipment maker, will make a higher counter-offer to buy out its partner 3Com in a mainland internet infrastructure venture after the US firm placed a bid to acquire its stake, market sources said.
November 17 - 19, 2006

Hong Kong: A Hong Kong man early on Thursday (HK time) purchased Andy Warhol's iconic image of Communist Party chairman Mao Zedong for a record US$17.4 million (HK$135.3 million).
On the back of a robust economy, Hong Kong's unemployment rate has fallen to 4.5 per cent - its lowest level for five years, government figures released on Thursday showed.
Sino Land (0083) has raked in more than HK$4 billion from the sale of 700 residential apartments so far this year, and has reached its home sales target.

Investing in equities is now more profitable than real estate, property tycoon Lee Shau-kee - nicknamed "Hong Kong's Warren Buffett" - said Thursday.

China Life (2628), the mainland's largest life insurer, has announced its long-awaited 86 percent stake acquisition of Guangdong Development Bank, in partnership with US banking giant, Citigroup, IBM and three mainland companies.
Kiu Hung International (0381), whose shares have risen more than three-fold this year so far, plans to invest 700 million yuan (HK$692.72 million) from 2007 to 2011 to raise the output volume at its newly acquired coal mine as it seeks to cash in on the unquenchable thirst for energy in the mainland.
China Communications Construction, which builds ports, roads and airports, plans to spend between 6.7 billion yuan (HK$6.63 billion) and 7.5 billion yuan on capital expenditure in the coming two years to upgrade and expand existing equipment and invest in construction projects, according to a report by the sponsor of its public float in Hong Kong.
Bank of Communications (3328) - China's fifth-largest lender - Thursday posted a 34 percent increase in net profit for the first nine months, driven by strong loan growth in the mainland's thriving economy.
The Social Welfare Department paid out more than HK$21 million in disability allowances to people who did not qualify for such aid, including nearly HK$200,000 to one who had been dead since 1990, the Ombudsman's office has reported.
In what is almost certain to rankle some sections of the community, Secretary for Health, Welfare and Food York Chow Yat-ngok has come up with a "pay before we treat you" suggestion to prevent patients absconding without paying their hospital bills.
Macau Chief Executive Edmund Ho Hau-wah has gone well ahead of his Hong Kong counterpart Donald Tsang Yam-kuen by introducing a minimum wage for the Special Administrative Region's poorest paid workers.
Researchers at the Chinese University of Hong Kong have discovered two new plant-derived compounds that could lead to the production of antiviral drugs in place of Tamiflu, which the World Health Organization has advised all governments to stock up on as part of preparations for a possible avian flu pandemic.
The company run by billionaire Steve Wynn has announced an expansion for the Wynn Macau casino resort, just two months after its opening.

China: China will allow foreign-funded banks to conduct RMB business for Chinese citizens before Dec. 11 in line with its commitments to the WTO. A consortium led by US banking giant Citigroup has signed a deal to buy a controlling stake in China's Guangdong Development Bank after a lengthy battle.

Hu Jintao (front), general secretary of the Central Committee of the Communist Party of China and president of China, waves to people upon his arrival in Danang, Vietnam, Nov. 15, 2006. Hu Jintao arrived in the central Vietnamese city of Danang on Wednesday, kicking off a state visit to the Southeast Asian nation. Hu Jintao, general secretary of the CPC Central Committee and China's President, and Vietnamese leaders met in Hanoi Thursday for talks on bilateral relations.
Models present creations during an innovative design contest at China Fashion Week in Beijing November 16, 2006.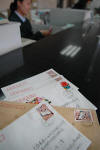 China raises postage as of November 15, 2006. Base prices of sending mails and postcards lower than 100 grams are adjusted to 0.8 yuan (10 US cents) for a local post and 1.2 yuan for inter-city service, compared with the former charges of 0.6 yuan and 0.8 yuan respectively.
Each developing country will be provided at least one exhibition hall free of charge at the Shanghai World Expo scheduled to take place in 2010. The proposal was part of a package of plans published on Wednesday by the Chinese government with the purpose of attracting more exhibitors to the world expo. Foreign nationals who work at the Shanghai World Expo for its duration will be exempt from income tax. Exhibitors will be exempt from tariffs, value-added import tax and consumption tax on certain foodstuffs. One of the organizers, Bureau of International Expositions (BIE), will also be exempt from income tax and will be entitled to two percent of ticket revenues. Hua Junduo, the government's representative-in-chief for the Shanghai World Expo, said the plans reflected the sincerity of the government and would make it easier for other countries and international organizations to enter the Chinese market via the expo. The first exhibitors conference of China Shanghai World Expo 2010 opened here on Wednesday with organizers saying they would provide developed nations and international organizations with more than 500 patches, each with an area of 500 square meters, to design and build exhibition booths according to their needs. Expo organizers will finance construction of 324-sq-m halls in which developing countries could stage exhibitions. In special cases, one developing nation could apply for an extra hall free of charge. The organizers will also construct three types of hall for rent at a rate of 3,900 to 4,100 yuan per square meters for the six-month expo. The organizers added they had been working on detailed guidelines regarding intellectual property protection during the Shanghai World Expo. China is hoping to attract 200 countries and international organizations to the Shanghai World Expo, making it the largest ever. A total of 94 countries and international organizations had applied to attend the Shanghai world expo by November 8.
Anti-corruption investigators have begun investigating more than 300 real estate projects in Beijing, domestic media reported, as the central government seeks to tame rapid land development.
Tourist spending abroad rose 14 percent last year to US$21.8 billion (HK$170.04 billion) compared to 2004 as more and more people in the world's most populous nation get the travel bug, the World Tourism Organization reported in Madrid Wednesday.
November 16, 2006

Hong Kong: Pay-TV operator NOW Broadband - a unit of PCCW (0008), which is awaiting an ownership reshuffle - has outbid rival i-Cable Communications (1097), paying an estimated HK$1.56 billion to secure the license to exclusively broadcast football matches of the English Premier League from next year to 2010, market sources say.
Developers of all shapes and sizes are expected to engage in a heated bidding battle next month when a rare residential site on the Peak, which could be worth more than HK$1 billion, will go under the hammer.
Hong Kong Monetary Authority chief executive Joseph Yam Chi-kwong will lead top local banking executives to meet today with Vice Premier Huang Ju to lobby for concessions on enlarging their presence in China's 40 trillion yuan (HK$39.59 trillion) banking industry, and allowing more yuan- denominated products in Hong Kong.
Express cargo carrier Federal Express has called on the Hong Kong government to provide more fifth-freedom rights to US air cargo operators to run freighter services between Hong Kong and other northeast Asian cities.
Hong Kong Exchanges and Clearing, which runs Asia's second-biggest stock market, said net profit was up 74 percent in the first three quarters as trading volumes soared and more mainland enterprises listed on the bourse.

Children admitted to profit-making kindergartens between now and the end of 2007 will qualify for government subsidies under the HK$2 billion voucher scheme for early childhood education, it was announced Tuesday. The decision to extend the scheme to profit-making kindergartens was arrived at during a meeting of the Executive Council following a growing outcry from parents and private kindergarten operators against the original design announced by Chief Executive Donald Tsang Yam-kuen last month. "This is not a concession, nor are we bowing to pressure," Secretary for Education and Manpower Arthur Li Kwok-cheung said. Li said to qualify for the subsidies, the kindergartens to which the children are admitted will have to open their books to public scrutiny - a condition education officials believe will cause the kindergartens to become more accountable to parents. However, children enrolled in these kindergartens in 2008 or after will not receive the subsidies as parents would, by then, have been fully informed of the scheme's limited scope and would be free to choose between subsidized and profit-making kindergartens.
The father of Canto-pop star Eason Chan Yik-shun was Tuesday sentenced to six years' jail for corruption offenses which, the judge said, brought about "a dark day" for government transparency.
Customs officers had arrested 11 people after seizing 71,000 allegedly pirated disks during two operations earlier this week, a spokesman said on Wednesday. More than 3,800 mainland women giving birth in Hong Kong public hospitals had defaulted on medical fees in the past two years, the Legislative Council heard on Wednesday.
Acting-Permanent Secretary for Commerce, Industry and Technology Marion Lai Chan Chi-kuen on Wednesday made a strong case for mobile TV in Hong Kong - noting it had become "all the rage" overseas.

The Peak site may fetch as much as HK$1.07 billion, translating into an accommodation value of HK$25,000 per square foot.

China: Chinese Premier Wen Jiabao said on Tuesday that the development of China-U.S. relations has always been the consensus of the Democrats and Republicans of the United States.

U.S. Commerce Secretary Carlos Gutierrez delivers a speech during the signing ceremony between Twentieth Century Fox Home Entertainment and Zoke Culture Group in Beijing November 13, 2006. Gutierrez said on Monday he wanted to accelerate U.S. export growth to China as Washington seeks to narrow a gaping trade imbalance between the two countries.
Already one of the country's most famous brands, Haier Group was yesterday awarded the title of "China's Most Admired Company" for 2006, based on the findings of a survey conducted by Fortune China and Chinese firm Hay Group.
China is considering further tax increases on some unspecified luxury goods after slapping taxes on watches, golf clubs and other high-end items in April.
The USS Juneau (LPD 10) arrives at Zhanjiang Port, South China's Guangdong Province November 15, 2006. Juneau, the US navy's amphibious transport dock, arrived in Zhanjiang Wednesday for a joint search-and-rescue exercise with the Chinese Navy, which will be held in the South China Sea on Sunday, according to Chinese Defense Ministry.

Xu Xingwen is dressed up for wedding photos at a studio in Nanjing, east China's Jiangsu Province, November 14, 2006. The 22-year-old leukaemia patient posed for wedding photos without a bridegroom Tuesday. Her doctors predicted that Xu could hardly live through the next two month.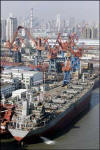 China's shipyards are expected to tap capital markets in the next two years to fund Beijing's ambition for the country to become the world's largest shipbuilder. While industry experts worry about overcapacity after 2010, order volumes are rising and margins on new ships are recovering thanks to China's booming trade, driving some Asian shipbuilders' shares up by more than 600 percent this year. Big shipbuilders such as Guangzhou Shipyard International and IPO candidate China State Shipbuilding Corp should see bumper profits next year and beyond, as domestic demand enables China to displace industry heavyweights South Korea and Japan. "There is strong investor interest in the market for Chinese shipyards due to the industry boom and a scarcity of listed companies," said Michael Chan, an analyst at Macquarie Research. Guangzhou Shipyard International is the lone listed player in a country that has more than 3,000 shipbuilders, three-quarters of which are unqualified. "I expect more Chinese shipyards will tap the market, though we've not heard of many yet," Chan said. Major yards around the world are booked through 2009, but some shipbuilders such as Japan's Kawasaki Heavy Industries warn of possible overcapacity beyond then as yards expand to capture growth. Analysts expect leading Chinese shipbuilders to see steady top-line growth as global shipbuilding relocates to tap China's cheap labor. Strong local demand and price advantage will drive order growth. A ship ordered today will take three years to delivery.
China retail sales - the main indicator of consumer spending levels - rose 14.3 percent last month from the same month a year earlier to 699.8 billion yuan (HK$685.8 billion), official data showed.
Beijing was yesterday urged by the US commerce secretary to toughen a crackdown on pirated goods and other copyright infringements, saying failure to do so could fuel an American backlash against trade with China.
November 15, 2006

Hong Kong: Star Cruises (0678), the world's third- largest cruise operator, reported a net loss of US$8.63 million (HK$67.31 million) for the first nine months of the year, compared with a net profit of US$43.6 million a year earlier.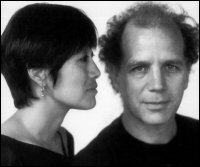 Building bridges across the Pacific - New York architects Tod Williams and Billie Tsien won an international competition to design the new Asia Society centre in Hong Kong. The New York-based Asia Society is spending over half of a HK$778 million (US$100 million) expansion on a new centre in Hong Kong. The non-profit organization was founded in 1956 by John D. Rockerfeller 3rd to foster understanding between Asians and Americans. Its aim is to build bridges across more than 30 countries through art exhibitions and performances, films, lectures, seminars, conferences and education. New York architects Tod Williams and Billie Tsien won an international competition to design the Society's new Hong Kong showpiece, which occupies an historically and environmentally significant site behind Pacific Place in Central. They enlisted a local partner, AGC Design Ltd, to help materialize their visionary design, which involves a delicate mix of restoring old colonial buildings and creating new ones. The HK$404 million (US$52 million) centre located near the British Consulate includes a café, conference centre, gift shop and exhibition space. It will take the form of a glass and granite box cantilevering over a ravine filled with giant banyan trees. The building will be nearly hidden by the trees and its lush roof garden, which will include a reflecting pool. The project will also include the renovation of two mid-19th century munitions buildings and a lab building that will be turned into a theatre, a museum, and offices. Unique site - "The site is an amazing one topographically (combining a flat area, a very hilly area and a water channel); horticulturally (an incredibly green area with huge banyan trees and date palms); and historically," architect Tod Williams said. "It would be hard to find such a site anywhere else in the world." Billie Tsien, his wife and architectural partner, added that as a US-born Chinese American, it was exciting to have such a symbolic project as their first public work in China. The hands-on supervision that local architectural firm AGC brings to the partnership will be invaluable in bringing the project to fruition, Ms Tsien added. "I think that the partnership allows us to better understand how things are built in Asia. Being from the US, we can design with a certain freedom from a perspective outside of the local scene, while Grace Cheng (from AGC) is the day to day person who has the most contact with the site. "We never come with preconceptions about what the design answer will be. We always want to start anew with an understanding of the site, the clients' needs, the local building material and the knowledge that can come from working with a good partner." The project is now under way, and due for completion at the end of 2008.

Hang Seng Index heavyweight HSBC Holdings is likely to bear the brunt today of disappointing third-quarter results at its US operations.

Madrid-based global telecom player Telefonica has entered into an agreement with China Netcom (0906) to increase its stake in the Chinese phone company from 5 to 9.9 percent and nominate a second representative to the Netcom board.
Lawmakers, academics and social workers have stepped up calls for a review of housing policies for victims of domestic violence to prevent a repeat of incidents like Saturday's slaying of a woman and her two daughters in a Wong Tai Sin flat, which is believed to have arisen from a broken marriage.
Organizers of the proposed large-scale unofficial referendum on the public's choice for chief executive said they will not back down whatever pressure they encounter from local interest groups or Beijing.

Chief Executive Donald Tsang Yam-kuen delivers a speech at the opening of the InnoCentre in Kowloon Tong. He said the government was strongly committed to supporting creative industries and promoting applied research through funding schemes. The centre is a first-class office complex aimed at bridging design professionals and industries.
The government has extended its voucher scheme to cover all kindergartens for the next few years, Secretary for Education and Manpower Arthur Li Kwong-cheung said on Tuesday afternoon.
With global trade talks suspended, the Asia-Pacific Economic Co-operation forum, a club of 21 Pacific-Rim economies, is exploring the possibility of creating a massive free trade zone stretching across the Pacific Ocean but analysts warn it is a monumental task fraught with political and technical difficulties.

China: Senior officials from China and the United States have vowed to further strengthen cooperation on intellectual property protection.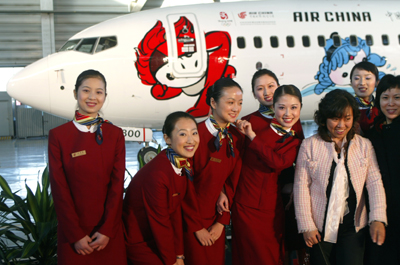 Air stewardesses take a photo in front of an Olympic Fuwa airliner unveiled by Air China in Beijing Monday, November 13, 2006. The company, a partner of the 2008 Beijing Olympic Games, is considering decorating two more aircraft with the Olympic mascots to promote the Games. It adorned three aircraft with the "Beijing 2008" logo last year. Air China has a fleet of 206 planes.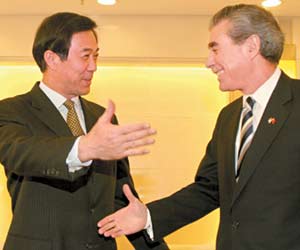 Minister of Commerce Bo Xilai meets visiting U.S. Commerce Secretary Carlos Gutierrez in Beijing Monday. China will endeavor to balance trade with the United States, said Minister of Commerce Bo Xilai, denying that China was pursuing a trade deficit. China's huge trade surplus with the United States should be addressed through increased US exports to China rather than protectionist moves by Washington, commerce chiefs from the two sides agreed.
India and China were engaged in a spat over a region both claim as part of a decades-old border dispute, days ahead of a visit by Chinese President Hu Jintao.
China will soon overtake the United States as the largest consumer of the world's resources as rising oil prices and a slowing housing market continues to dampen the US economy, a report by the Pacific Economic Cooperation Council said.
News Corp, the media company run by Rupert Murdoch, plans to introduce a music-sharing service for cell-phone users with China Mobile (0941) in an effort to tap the world's biggest mobile market.
CNOOC (0883), the mainland's biggest offshore oil producer, will complete the nation's first deep-water drilling vessel by 2010 as the company intensifies its search for oil in the South China Sea.
November 14, 2006

Hong Kong: An increasing array of electronic gadgets in households worldwide will drive demand for electricity, but power- generation capacity will not be able to keep pace, an analyst said.

Chinese actress Gong Li (C), Chinese director Zhang Yimou (R) and actor Chow Yun-Fat from Hong Kong pose at a screening of their new film "Curse of the Golden Flower", written and directed by Zhang Yimou, during the Closing Night at the AFI Fest 2006 in Hollywood, California November 12, 2006.

Financier Francis Leung Pak-to has revealed the members of the consortium that has acquired a 22.65 percent stake in PCCW (0008). Under the deal China Netcom (0906) emerges as the largest single shareholder of the telecom giant and Li Ka-shing is next after acquiring a 12 percent stake for HK$4.85 billion. Spanish telecom company Telefonica - whose chief executive is Cesar Alierta - will buy 8 percent and form an alliance with China Netcom, which already holds 20 percent, giving the vehicle a 28 percent stake. Leung agreed in July to pay Richard Li Tzar-kai, Li's youngest son, US$1.17 billion (HK$9.13 billion) for the controlling stake in PCCW held by his Pacific Century Regional Developments. Li Ka-shing will not be a part of management, but will decide later whether or not to have a representative on the board, a Li spokesman said.

Hong Kong needs a third general cargo terminal at the airport to boost competition among air freight companies and defend its market-leading position against ambitious regional rivals, a senior executive of an express services provider said.
Beijing Jingkelong (8245), the second- largest supermarket operator in the capital, said net profit for the first three quarters was up 48 percent, thanks to a one-off gain of 23 million yuan (HK$22.76 million) in interest income generated by its initial public offering proceeds.
Rupert Murdoch's News Corp, which is looking for a partner as it aims to launch its popular MySpace Internet social network in China, is in early talks with prominent mainland blog companies Bokee.com and BlogCN.com, industry sources said.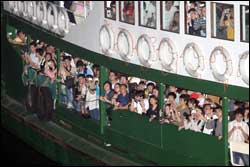 Some said it marked a new beginning, others felt it marked an end, and yet others believed it represented the beginning of an end. That was the divided reaction to the new Star Ferry pier in Central Sunday as thousands of curious locals and tourists flocked there for its grand opening. The new three-story terminal opened for service Sunday morning, following a festive farewell the night before to the historical 48-year-old landmark at Edinburgh Place, which will be demolished early next year to make way for a six-lane highway. But while visitors generally agreed the new terminal was cleaner, larger, and retained the original pier's Edwardian feel, many continued to mourn what they called the "casualties of commercialization." Tourist Peter Makepeace, a 51-year- old property surveyor from Bahrain who visits the territory five or six times a year, said he felt Hong Kong was growing more "sterile" with each visit. "Forty-eight years still represents history for Hong Kong because there's so much new development going on. It's difficult to find interesting places here," said Makepeace, who rode the ferry over from Tsim Sha Tsui Sunday.
IBM was joining Citigroup in a bid to take a majority stake in China's Guangdong Development Bank, a news report said on Monday.
The Hong Kong Monetary Authority (HKMA) and Bank Negara Malaysia on Monday announced new cross-border bank payment arrangements.
Hong Kong businessman Jimmy Lai Chee-ying has apologised for voyeuristic photos of local pop star Gillian Chung Yan-tung that ran in one of his magazines, but says he won't fire anyone despite the uproar they caused.

China: China will endeavor to balance trade with the United States, said Minister of Commerce Bo Xilai in Beijing on Monday, denying that China was pursuing a trade deficit. The Ministry of Commerce yesterday threw its weight behind domestic shoemakers seeking legal action against the European Union for anti-dumping tariffs.

Hu Jintao, general secretary of the Communist Party of China (CPC) Central Committee, Chinese president and chairman of the Central Military Commission, delivers a speech in the meeting to mark the 140th birthday anniversary of Dr. Sun Yat-sen at the Great Hall of the People in Beijing, Nov. 12, 2006. Chinese President Hu Jintao praised Dr. Sun Yat-sen, forerunner of China's democratic revolution, as an outstanding patriot and national hero at a grand gathering to commemorate Sun's 140th birth anniversary in Beijing on Sunday. Hu, also general secretary of the Communist Party of China (CPC) Central Committee, said in a speech delivered at the gathering that Dr. Sun's pioneering spirit in seeking truth, patriotism, devotion to the public and broad vision are valuable legacies for the Chinese people. "In our great cause of rejuvenating the Chinese nation, these legacies remain enlightening and instructive, and we should always learn from them and carry them forward," Hu said. Hu called on people of all ethnic groups, compatriots on both sides of the Taiwan Strait, and all Chinese in the world who respect Dr. Sun Yat-sen to unite and strive harder for China's full reunification, the great rejuvenation of the Chinese nation, and the building of a harmonious world featuring lasting peace and common prosperity. Top CPC and state officials Wu Bangguo, Wen Jiabao, Jia Qinglin, Zeng Qinghong, Wu Guanzheng, Li Changchun and Luo Gan also attended the gathering in the Great Hall of the People, together with about 3,000 people including CPC, government and military officials, non-Communist personages, Dr. Sun's relatives and delegates from all walks of life. Dr. Sun is known across the country as a "great revolutionist and statesman" who fought against feudalism and imperialist aggression and for the independence and freedom of the Chinese people. He was born in 1866 in Xiangshan County (now Zhongshan City) in south China's Guangdong Province and died of illness in Beijing (then called Beiping) on March 12, 1925. At the commemoration meeting, Hu recalled Dr. Sun's life. Dr. Sun Yat-sen lived through the second half of the 19th century to the early part of the 20th century, a period when China, invaded and bullied by imperialist powers and ruled by the decadent feudal forces, was reduced to a semi-colonial and semi-feudal society, Hu said. Dr. Sun led the people in overthrowing the Qing Dynasty during the 1911 Revolution, thus ending the feudal autocratic monarchy that had lasted for more than 2,000 years in China. He dedicated all his life to the nation's independence, reunification and prosperity, and also to the people's rights, freedom, democracy and livelihood, Hu noted. Dr. Sun Yat-sen regarded Chinese Communists as his good friends, and Chinese communists have always been staunch supporters, cooperators and successors of Sun Yat-sen's revolutionary cause, Hu said. Since his death, Chinese Communists have carried on his cause. They have rallied and led the Chinese people of various ethnic groups and all patriotic forces in winning victory of the new democratic revolution, establishing a socialist state, and implementing socialist construction. Since the reform and opening in the 1970s, the Chinese Communist Party has led the Chinese people in building socialism with Chinese characteristics and scored great achievements recognized by the whole world, bringing about fundamental changes in China. We have put an end to the worries of Dr. Sun Yat-sen by transforming forever the old China that was poor and weak, the livelihood of Chinese people Dr. Sun cared about so much has improved tremendously, China's modernization, which was always in his mind, is gradually becoming a reality, and the prospect of great rejuvenation of the Chinese nation is unfolding before us, Hu said. Dr. Sun said that "the unity of the nation is the wish of all the Chinese nationals. Once the reunification is achieved, the people of China will enjoy happiness; if the reunification cannot be accomplished, they will suffer." Hu quoted these remarks of Dr. Sun and said to realize the full reunification of the country is in the fundamental interests of the Chinese nation and it is the sacred responsibility of the sons and daughters of the Chinese nation, Hu said. He called on people on both sides of the Taiwan Strait to work hand in hand to contribute to the development of cross-Strait relations and the full reunification of the country. In the evening, the National Committee of the Chinese People's Political Consultative Conference held a reception for relatives of Dr. Sun, noted personages from Taiwan, delegates of overseas Chinese and foreign friends, who came to attend the commemoration gathering.

A postal savings outlet in Shaoyang City, Central China's Hunan Province . China' s postal bank is in the pipeline and is expected to be launched this year, according to the China Banking Regulatory Commission's vice-director Cai Esheng on November 9. China' s postal savings hit 1.2 trillion yuan (US$152.58 billion) as of the end of 2005, only lower than the level of the nation's four big banks.
A pair of giant pandas eats bamboo shoots at Chengdu Research Base of Giant Panda Breeding in Chengdu, Southwest China's Sichuan Province November 13, 2006. Pandas can enjoy their favorite food in the early winter due to warm weather this year.
The commander of the US Pacific Fleet began a visit to China on Monday in a trip aimed at strengthening ties between the two navies.

Students pick up textbooks at a bookstore of Zhengjiang Xinhua Publishing Group. By November 12, Zhejiang Xinhua finished a difficult reform campaign. The focus of the reform was on setting up scientific and modern human resource and employment systems. Since the beginning of the reform, Zhejiang Xinhua has seen continuous growth in profit, as a result of increase of shipment and sales of its published products.
China will expedite a proposed law to keep overseas companies from controlling businesses critical to its security, the National Development and Reform Commission said. The commission said it was concerned that a number of leading firms had been bought by overseas capital due to the lack of adequate regulation.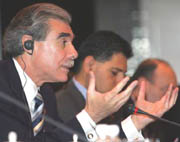 United States Commerce Secretary Carlos Gutierrez addresses a meeting hosted by Commerce Minister Bo Xilai in Beijing. The US commerce head is seeking to tackle trade barriers and help a delegation of American entrepreneurs make deals.
20th Century Fox Home Entertainment signed an agreement on Monday with China's largest video distributor, Zoke Culture Group, to distribute the United States entertainment giant's DVDs in China.
November 13, 2006

Hong Kong: Lenovo Group said it would actively endorse Microsoft's new operating system Windows Vista and Intel's four-core microprocessors and that the two products would significantly boost its sales of desktop computers.

Newly elected UN World Health Organisation (WHO) Director-General Margaret Chan of China gives a speech in Geneva of Switzerland, Nov. 9, 2006. WHO on Thursday formally approved China's Dr. Margaret Chan as its new chief, to succeed Dr. Lee Jong-wook of South Korea who died suddenly in May.

Taxing times for treasury minister: Members of the Democratic Party and the Neighbourhood and Workers' Services Centre lobby Secretary for Financial Services and the Treasury Frederick Ma Si-hang over the proposed goods and services tax before a Kwai Chung District Council meeting yesterday.
Hong Kong and France have signed an agreement that allows their citizens sentenced to jail to serve their terms in their own country, a government spokesman said on Friday.
Melco PBL Entertainment, the joint venture between Australian gaming and media company Publishing & Broadcasting and Hong Kong-based Melco International Development, on Friday said it was hiring 3,800 people for its first gaming project in Macau.
A top adviser to China's State Council has warned that Hong Kong's interest rate stability may be at risk in the wake of the influx of hot money into the local equity market as a proxy to speculate on yuan revaluation.

China: Premier Wen and Russian PM Mikhail Yefimovich Fradkov pledged to further promote bilateral oil, gas and nuclear energy cooperation on Thursday in Beijing.

An old building is blown up in Shanghai to make way for new construction. Investment in property reached 1.63 trillion yuan during the first eight months of the year and is up 28 per cent on the same period last year, despite Beijing's calls to rein in lending to the real estate sector.
China smashed its previous record monthly trade surplus by 27% in October as it exported US$23.8 billion more than it imported. The news was disappointing for the government as a slowdown in September seemed to indicate its tightening policies were successfully slowing massive and unsustainable swelling in the key macroeconomic measure. The previous record of US$18.8 billion was set in August, the fourth consecutive month the record was raised. The trade surplus had dropped back briefly to $15.3 billion in September before October's increase took it off the charts. Most of the surplus was due to unusually low growth in imports (14% y-o-y), with exports rising in line with previous months. China's total 2006 trade surplus is now US$133 billion, with two months still to go.

Meanwhile, China's foreign reserves, already the largest in the world, hit the US$1 trillion mark. The number, which represents 20% of the world's foreign reserves, is enough to buy all the gold bullion in all the world's central banks – twice. "It's kind of like shooting cocaine into the veins of the economy, it's a stimulant," said Standard Chartered senior economist Stephen Green. The reserves are a growing problem for China, which has no way to dispose of them without affecting markets adversely. The sheer magnitude makes diversifying into gold or oil futile, while selling down dollar reserves, which account for 70% of the total holdings, would depreciate the value of the dollar itself and hence erode the value of China's holdings. Spending the money on healthcare or pension funds would mean first converting it to RMB, pushing up the value of the yuan – something the government has tried to avoid, but may just have to accept.

EU Trade Commissioner Peter Mandelson spoke at Tsinghua University in Beijing this week about the need for China to further open its markets to foreign competition. Mandelson, who recently presided over the introduction of punitive tariffs for Chinese shoemakers in the EU market, has been highly critical of China's adherence to its WTO pledges. He also demanded that China improve its shoddy record with regard to IPR enforcement during his meeting with China's trade minister, Bo Xilai.

Leaders and top officials from 48 African nations signed US$1.9 billion-worth in economic deals in Beijing at a summit last week. Trade between Africa and China hit nearly US$40 billion last year, and Premier Wen Jiabao vowed during the summit to increase levels to US$100 billion by 2020. Western countries who have been trying to effect human rights reform in African nations are worried about Africa's increasingly close ties to China, which could not care less about such reform. In a telling example, Zimbabwe's President Robert Mugabe – in power for 26 years – said in an interview with Xinhua that China's investment there lessened his country's "vulnerability to pressure and political manipulation by the West."

In a series of announcements this week, it was revealed that China could be the world's top producer of carbon dioxide emissions by 2009, and that the country could run out of water by 2030. As these bits of dire news were making headlines, GM made a timely announcement of its decision to sell environmentally-friendly autos in China, beginning in 2008. The company's Sequel model will run on a hydrogen fuel cell and compete with petrol-electric hybrid models from Toyota (out earlier this year) and Volkswagen (due out in 2008).
China's Minister of Health refuted a report by the U.S. National Academy of Sciences that a new strain of the H5N1 bird flu virus has emerged in southern China.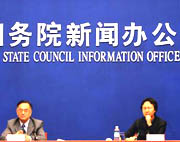 China's chief veterinary officer Jia Youlin, left and Ministry of Agriculture, Animal Health Bureau director Chen Hualan, right, speak during a press conference on H5N1 influenza - bird flu - strains in China in Beijing on Friday. Mainland health authorities fear future outbreaks of bird flu.

The Luxury cruise ship Costa Allegra berths at the Fenghuangdao International Liner Port in Sanya, a city of south China's Hainan Province Nov. 9, 2006. World top Italian liner company Costa Crociere S.p.A has started a regular line from Hong Kong to Sanya days ago.
Share prices at China's Shanghai and Shenzhen stock exchanges rallied Friday morning, with the major index in Shanghai surpassing 1,900 for the first time in five years.
As of the end of September, China had lured an accumulated 665 billion U.S. dollars of foreign funds, according to the Ministry of Commerce figures.

Olympic champion hurdler Liu Xiang undergoes intensive training at Er'sha Island training base in south China's Guangdong Province November 10,2006.Liu Xiang is preparing for the upcoming Doha Asian Games to be held from December 1st to 15th.
The new regulation that requires those earning more than 120,000 yuan (US$15,000) a year to directly report their income will enhance public awareness of paying tax.
Some couples in China - notorious for its draconian one-child policy - are now being urged to have two children, state media reported on Friday.
A senior Shanghai property official has been detained on suspicion of accepting bribes in return for land approvals, a mainland newspaper reported yesterday amid a crackdown on corruption in the wake of the city's pension fund scandal.
November 10 - 12, 2006

Hong Kong: Hong Kong stocks fell 0.7 percent Wednesday, halting five straight sessions of record closes, as China Mobile (0941), the benchmark's best performer in the past month, slumped on concern its recent rally more than reflected prospects for earnings growth, and more talk of a share placement.

The World Health Organization's governing body Wednesday nominated Hong Kong's Margaret Chan Fung Fu-chun as its new chief to guide the global struggle against a threatened flu pandemic, infectious disease and chronic illness.
Shares in Hong Kong fixed-line operator PCCW (0008) surged nearly 7percent Wednesday after more media reports that Spanish global telecom giant Telefonica will acquire an 8percent stake in the firm. PCCW stock closed at HK$5.12, up 30 HK cents.
As US midterm elections brought the the legislature and most state governments firmly under Democratic Party control, analysts voiced concerns about a potential shift toward protectionism, increased regulation in key industries, and harsher rhetoric toward China that could erode investor confidence.
Shares of Hang Seng Bank (0011) have picked up HK$2.39 over the past six trading days, closing Wednesday at HK$101.70, up 60 HK cents, as the market speculates the bank's loan growth and strong development in the fee income business will send net profits soaring in the next two years.

The government's proposal to grant a 50-year contract for the new cruise terminal at Kai Tak encountered its first stumbling block Wednesday when an advisory body criticized officials for jeopardizing public interest by giving "free rein" to the successful bidder.
The American Chamber of Commerce in Hong Kong said Wednesday it would be premature to gauge the impact the Democrats' dominance in the US Congress would have on Sino-US relations.
Nina Wang Kung Yu-sum's father-in- law is defying the Court of Final Appeal by refusing to disclose who lent him HK$41 million to launch what was described as "hostile litigation" for control of the Chinachem empire.
A travel agency has been given a HK$100,000 fine and its membership of the Travel Industry Council suspended for one month following an incident last month in which one of its tour guides abandoned 12 members of a mainland tour group at a ferry pier after they refused to buy souvenirs at a shop he had recommended.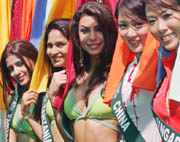 Miss Earth 2006 candidates - (from left) Sehr Mahmood of Pakistan, Richa Adhia of Tanzania, Jessica Jordan of Bolivia, Zhou Mengting of China and Shn Juay of Singapore – line up for the media in Manila. The six-year-old pageant aims to inspire people to make a stand on saving the Earth.
Lenovo Group, the world's No3 maker of personal computers, posted a 52.7 per cent tumble in fiscal first-half net profit, the company said on Thursday, amid price-cutting and efforts to absorb IBM's PC division.

French ''action'' artist Jean Francois Detaille uses his bare hands to capture Lan Kwai Fong Holdings chief Allan Zeman at the opening of the ''Christmas Fantasy'' in Olympian City, Tai Kok Tsui.
Hong Kong was preparing to host one of the world's most important information technology and telecommunications exhibitions next month, the deputy secretary for Commerce, Industry and Technology Marion Lai Chan Chi-kuen said on Thursday. The ITU Telecom World exhibition would be held at the AsiaWorld Expo at Chek Lap Kok from December 4 to 8, she said. The premier telecoms event would be organised by the International Telecommunications Union (ITU) and was being staged outside its usual home, Geneva, for the first time in more than 30 years. Mrs Lai said 66,000 square metres of exhibition space had already been leased out for the event. More than 600 international telecommunications firms, as well as information and communications technology companies, would showcase their latest products. "It is expected that the event may attract up to 60,000 visitors, comprising 35,000 to 50,000 trade visitors, 2,500 forum delegates, 2,000 VIPs and 1,500 international media representatives, generating about HK$900 million of direct economic benefit for Hong Kong," Mrs Lai said. Some well-known technology companies have signed up as exhibitors. They include Microsoft, Samsung Electronics, Hitachi, Alcatel, LG Electronics, Ericsson, Fujitsu and a number of mainland telecommunications carriers.
The opening of the Ngong Ping 360 cable car on Lantau Island would help Hong Kong attract more visitors, Financial Secretary Henry Tang Ying-yen said on Thursday.

China: China published its 11th five-year-plan (2006-2010) for utilizing foreign investment, which says the priority of policy will be given to the quality rather than quantity.
The value of the Renminbi (RMB) yuan against the U.S. dollar hit a new high Thursday, with the central parity rate at 7.8697 yuan to one dollar, breaking the 7.87 mark.
China's trade surplus surged to a record US$23.8 billion in October as imports slowed and exports further accelerated, putting more pressure on the yuan's appreciation and ballooning foreign exchange reserves.

Russian Prime Minister Mikhail Fradkov arrived in China on Thursday for a two-day visit likely to focus on growing energy ties between the giant neighbors. China's Premier Wen Jiabao (R) and Russia's Prime Minister Mikhail Fradkov toast during a signing ceremony at the Great Hall of the People in Beijing November 9, 2006. Russia may decide against linking its new Asian pipeline with the Chinese oil network and deliver crude across the border in rail trucks instead, Russian Economy Minister German Gref said on Wednesday.

Visitors choose craftwork at the fourth China International Tourism Fair, which concluded in Haikou, Hainan Province, on November 7. More than 200 enterprises from Malaysia, the Philippines and Cambodia, as well as from China's Hong Kong and 15 provinces like Zhejiang, Jiangsu, Sichuan and Fujian, attended the five-day fair.
The handling capacity of Chinese ports will grow 18 percent to 5.5 billion tons by the end of this year, said Minister of Communications Xu Zuyuan on Wednesday. These ports are expected to handle 94 million TEUs (twenty-foot equivalent units) this year, up 24 percent over 2005, said the minister at a national navigation industry meeting held in Tianjin, the largest port in north China. By the end of 2006, the minister said, China will have invested 60 billion yuan in building 166 new port projects. With completion of these projects, the country's seaports handling capacity will be increased by 548 million tons to reach 3.44 billion tons. Investment in inland river ports will reach 22 billion yuan, which were used to build 165 new berths with an additional handling capacity of 19.5 million tons, Xu said. At the end of the year, China's investment in coastal harbor construction will reach 60 billion yuan (7.5 billion U.S. dollars), accounting for 45 percent of the total investment in the country's 10th five-year plan period (2000-2005). Over the next five years, China will increase investment in infrastructure construction of waterway transportation, Xu said. The construction will focus on building specialized ports for handling coal, oil, ore and container in inland waterway transportation. By 2010, the minister said, China will further upgrade the handling capacity of coastal harbors by 2.1 billion tons.

China, renowned for knockoff brand- name watches and pirated DVDs, is now producing fake Taiwan mangoes, guavas and other produce for which the island is famous.
Japan's Mizuho Bank is set to steal a march on other foreign banks by winning approval to open a branch in the northern city of Tianjin, where China is planning to experiment with making the yuan freely convertible.

Nicholas Burns and Foreign Minister Li Zhaoxing discuss the North Korean nuclear standoff, at a meeting in Beijing yesterday. China and the United States resumed their long-delayed third round of strategic dialogue in Beijing yesterday, but the talks were downgraded to an encounter between deputy ministers.
Two veteran authors from a military background and a feminist writer are the top contenders in the race to become chairman of the Chinese Writers' Association at its national congress starting in Beijing tomorrow.
Rolls-Royce expects to sell 800 Phantoms this year, many of them in China which has become its No3 market after the United States and Britain. BMW's Rolls-Royce was adding 200 employees to meet demand from China for its £200,000 (HK$2.96 million) luxury Phantom cars, a news report said on Thursday.
Bank of Communications, the country's fifth-biggest lender, plans to raise almost 20 billion yuan in a Shanghai initial public offering in the first half of next year, according to a person familiar with the deal.
November 9, 2006

Hong Kong: Interest rates in Hong Kong may not continue dropping as the city usually follows the lead of the United States, Hong Kong Monetary Authority chief executive Joseph Yam Chi-kwong warned Tuesday, as more banks sliced their prime lending rate by 25 basis points.
Tycoon Richard Li Tzar-kai's indirectly held controlling stake in PCCW (0008) will be acquired by a consortium that includes the trust fund of his father, billionaire Li Ka-shing, unconfirmed media reports said Tuesday.
Hong Kong sees no compelling reason to link its currency to the yuan in the next decade despite a psychological relationship between the two currencies, a senior Hong Kong monetary official told Reuters Tuesday.

Henry Fok Ying-tung, renowned entrepreneur and state leader, was given an emotional farewell Tuesday with state honors, as glowing tributes continued to flow for the man hailed as an "outstanding patriot" and "one of the architects of economic integration" between Hong Kong and the mainland.
A day after former director of health Margaret Chan Fung Fu-chun topped the short list of five candidates in the race to become the next World Health Organization chief, mainland officials are optimistic that African representatives will swing their support behind Chan when the final round of voting takes place today.
Hong Kong could be welcoming some very big names before the end of the year, according to immigration officials who announced the first batch of successful candidates for the government's new talent-importation scheme.
The poor air quality in Hong Kong and around the Pearl River Delta is not only a regional problem, but a global concern that could undermine the SAR's competitiveness, the International Monetary Fund has warned.
Public trust in the government has rebounded from a low of 55 percent in August to 60 percent late last month, a recent survey by the Public Opinion Program at Hong Kong University has found.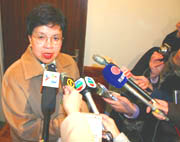 The World Health Organisation's 34-nation governing board on Wednesday selected former Hong Kong health chief Margaret Chan as its nominee for director general of the agency. The World Health Organization's 34-nation governing board on Wednesday selected former Hong Kong health chief Margaret Chan Fung Fu-chun as its nominee for director general of the agency, a diplomat said.
Spanish telecommunications giant Telefonica said it was considering taking a small stake in PCCW after reports it will buy shares in Hong Kong's dominant phone operator, according to a Wednesday report.

A statue of Sun Yat-sen is unveiled yesterday at the Sun Yat-sen Museum on Castle Road to celebrate the 140th anniversary of his birthday. Unlike most images, which depict Sun after he joined the revolution to oust the Qing dynasty, the new statue portrays him as a young student in Hong Kong. Holding two books, one Chinese and one western, he is shown walking with determination. "The two books represent the fact he was reading extensively and was well versed in Chinese and western cultures," said sculptor Chu Tat-shing, who spent almost a year crafting the statue.
Secretary for Economic Development and Labour Stephen Ip Shu-kwan said the government was still examining ways to deal with the controversy over so-called zero-fares in the travel industry.

ICBC's shares are up more than 17 per cent from their IPO price in Hong Kong and up 8.97 per cent from the issue price in Shanghai.
About 120 European Union-linked firms had secured service supplier certificates under the Closer Economic Partnership Arrangement, Chief Executive Donald Tsang Yam-kuen said late yesterday.
Hong Kong was updating its copyright laws to face the difficult challenge of protecting so many intellectual property rights, Permanent Secretary for Commerce, Industry and Technology Yvonne Choi Ying-pik said on Wednesday.
Effective supply chain management was vital if firms were to survive Hong Kong's competitive business environment, Secretary for Economic Development and Labour, Stephen Ip Shu-kwan said on Wednesday.

China: Five senior judges from the southern Chinese city of Shenzhen have been arrested on corruption charges in the special economic zone's biggest ever graft scandal, state media reported on Wednesday.
President Hu Jintao will make proposals on deepening cooperation of the Asia-Pacific region at the 14th APEC Economic Leaders' Informal Meeting.

China's guided missile destroyer "Qingdao" docks at a harbor in Qingdao, a coastal city in East China's Shandong Nov. 7, 2006. China's guided missile destroyer "Qingdao" and replenishment oiler "Hongzehu" concluded their goodwill visit to the United States, Canada and Philippines after a 79-day tour covering over 20,000 sea miles.
No specific timetable is now available for work to begin on the 1,320-km-long high-speed railway connecting China's capital with the economic hub of Shanghai.

Representatives from China's Ministry of Commerce and European Commission (EC) attend the meeting held in Beijing, capital of China, Nov. 7, 2006. Chinese Minister of Commerce Bo Xilai, and EU Trade Commissioner Peter Mandelson jointly presided over the meeting. China and the European Union (EU) reached eight-point consensus and signed new agreements on further developing trade relations and enhancing IPR protection in Beijing Tuesday. China and the European Union (EU) reached eight-point consensus and signed new agreements on further developing trade relations and enhancing IPR protection in Beijing Tuesday. Commerce Minister Bo Xilai yesterday defended China's trade policies and market access when he met visiting EU Trade Commissioner Peter Mandelson.
Buoyed by new store openings and acquisitions, Beijing's top supermarket operator Wumart Stores (8277) said net profit surged 53 percent to 55 million yuan (HK$54.31 million) in the third quarter. Revenue rose 54 percent to 1.46 billion yuan for three months ended September, boosted by same-store growth, or those that have been in operation for at least a year by 8.4 percent. "We will continue to execute regional development strategies, expand our scale of operation and increase market penetration through the organic growth and acquisition approach," chairman Zhang Wenzhong said. The Growth Enterprise Market- listed retailer tipped stronger growth next year, due to three newly acquired companies - Times Supermarket, MerryMart and Xinhua - and the opening of new stores. The retailer aims to expand total sales by 30 percent next year. All three acquisitions contributed to profits in the third quarter. The company bought a 75 percent stake in MerryMart, the fourth-largest supermarket operator in Beijing, for 374 million yuan in February and a 27.7 percent stake in Shanghai-listed Yinchuan Xinhua Department Store for 176.7 million yuan in April. Wumart, which operated 567 stores at the end of September, has actively sought acquisitions to cash in on booming consumption in the world's fastest growing economy. "Our key business strategies are to increase the selling area of supermarkets and make sure our profit jumps at the same rate," finance director Xu Ying said Tuesday. During the third quarter, Wumart's gross profit margin fell slightly to 17.9 percent, compared with 18.1 percent in the same period last year. For the nine months this year, Wumart's net profit was 164 million yuan, up 47.1 percent on the 112 million yuan it earned in the same period last year. Revenue rose 47.2 percent to 4billion yuan.
Xinyi Glass Holdings (0868), China's largest exporter of auto glass, said it plans to invest 600 million yuan (HK$592.5 million) over the next two years to raise production capacity in order to meet rising demand, particularly in the mainland.

McDonald's is not satisfied with how its fast-food restaurants are performing in China but is content to grow slower there than it has elsewhere, the head of the company's Asia unit said.
Shanghai New Huangpu Real Estate said its chairman Wang Zheng has resigned, following a report in China's state-run media of his detention as part of a pension fund probe. His predecessor quit in April.
Deutsche Bank, which is launching a joint venture to tap the mainland's surging property market, said the tie- up's first project will be a US$225 million (HK$1.76 billion) residential flats project in Zhuhai, which borders the booming gaming enclave of Macau.

Panda cubs who were all born this year at the Wolong Giant Panda Research Centre near Chengdu in Sichuan province play together in an enclosure at the complex yesterday.
November 8, 2006

Hong Kong: Hongkong and Shanghai Banking Corp, the Asia unit of global giant HSBC Holdings (0005), surprised the market Monday by trimming its prime lending rate by 25 basis points to 7.75 percent - the lowest prime rate in the city.
Hong Kong blue chips gained 1percent Monday to end at their fourth straight record close, as investors chased property shares and other laggards while China Mobile (0941) set fresh six-year peaks. Hong Kong shares closed flat in volatile trade on Tuesday, coming off record highs as investors turned cautious after the market breached strong resistance at 19,000 points, dealers said.

Zhang follows route to US in Rush Hour debut - Rising mainland actress Zhang Jingchu will make her Hollywood debut in the Jackie Chan movie Rush Hour 3, following in the footsteps of fellow star Zhang Ziyi, a publicist for the film said Monday.
Buoyed by a strong performance in equity markets and improving interest income from bond investments, the Hong Kong Monetary Authority said Monday the Exchange Fund's investment income for the first nine months amounted to HK$67.8 billion, up nearly 80 percent from last year's total of HK$37.8 billion.

The Hong Kong Monetary Authority said the Chinese yuan will soon test the 7.8 to the US dollar, the level at which the local currency is pegged to the greenback, chief executive Joseph Yam Chi-kwong said Monday.
Hong Kong's secondary residential market is expected to pick up in the fourth quarter, although overall home prices are forecast to remain stable, on the back of some major lenders' decisions Monday to lower interest rates.
Cathay Pacific Airways (0293), Hong Kong's de facto flag carrier, plans to borrow US$280 million (HK$2.18 billion) to finance the purchase of five Boeing 747 aircraft.

The race for the world's top health job entered its final round Monday with Hong Kong's former director of health Margaret Chan Fung Fu-chun among those shortlisted to become the director- general of the World Health Organization.

Hundreds of people from all walks of life flocked to the Hong Kong Funeral Home Monday to pay their last respects to entrepreneur and state leader Henry Fok Ying-tung, who died last month after a long battle with cancer.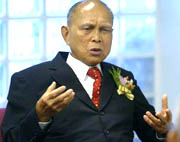 A file photo of the late tycoon, Henry Fok Ying-tung. A memorial service was held at the Hong Kong Funeral Home in North Point on Tuesday morning. Fok died in Beijing on October 28, at 83, following a long fight with cancer. Leading politicians, businessmen and mainland officials paid their last respects to tycoon Henry Fok Ying-tung on Tuesday morning.
The mainland's biggest bank, Industrial and Commercial Bank of China, on Tuesday said it exercised the greenshoe option for the Hong Kong portion of its massive initial public offering, bringing the total amount raised to US$21.2 billion (HK$165.4 billion).
Middle managers and professionals in Hong Kong averagely enjoyed a 2.4 per cent rise in their salary in June compared with a year earlier, figures released on Tuesday showed.
The World Trade Organization's 149 members on Tuesday admitted communist Vietnam to the global free trade system, a spokesman said, opening up a new era of greater international commerce and investment for one of East Asia's fastest growing economies.
The controversial stake in Hong Kong telecommunications operator PCCW put up for sale by its chairman Richard Li Tzar-kai will reportedly be bought by a consortium that includes his father Li Ka-shing's trust fund.

China: President Hu will meet Japanese PM Shinzo Abe and U.S. President Bush respectively during the 14th APEC Economic Leaders Informal Meeting.

Chinese President Hu Jintao (R Front) and Algerian President Abdelaziz Bouteflika shake hands after signing a document in Beijing, Nov. 6, 2006. Hu Jintao and Abdelaziz Bouteflika signed the joint statement to facilitate strategic partnership between the two countries.
President Hu Jintao and Egyptian President Mohammed Hosni Mubarak Tuesday pledged to further strengthen bilateral strategic cooperative relations. Chinese language learning has become increasingly popular on the African continent. China has sent delegations of language teachers as many as 210 times.

An African woman counts Chinese banknotes at the 2-day African Commodities Exposition in Beijing Monday, November 6, 2006. On display are products of more than 170 companies from 23 African countries. Raw materials and farm produce are still major African exports to China, but the export of high-tech products is also on the rise.
Lenovo Group (0992), the world's third-largest computer maker, should post a second straight quarterly profit - albeit down on a year ago - as it rides a robust home market and makes headway in turning around a loss- making business inherited from IBM.
China's auto insurance premiums will triple to 240 billion yuan (HK$237.16 billion) by the end of the decade as consumers buy more cars, a McKinsey & Co report released Monday said.
China's capital restricted traffic during the recent summit with African leaders, keeping normally jammed traffic flowing and previewing measures Beijing is considering for the 2008 Olympics, officials said Monday.
China's air show closed at the weekend with 15 deals signed, involving 98 aircraft and valued at an estimated US$3 billion (HK$23.4 billion), state press reported Monday.
For many years two tax rates have co- existed in China, giving preferential rates to foreign-funded enterprises. Economists and entrepreneurs have appealed for the two to be consolidated, arguing on the grounds of equal competition. But the government seems hesitant about changing its policies on foreign investment and interests.

Top Chinese tycoons have a history of being brought down by scandal after they land on the country's rich list. But China's wealthiest woman, Zhang Yin, says she has grown rich through honest, hard work and has nothing to hide.
November 7, 2006

Hong Kong: Daqing Petroleum and Chemical Group (0362) has agreed to pay HK$200 million to acquire Mudanjiang Better Day Power, a mainland power and steam generator and supplier in northern Heilongjiang province.

Dongfeng Motor Group (0489), one of the mainland's largest automakers, said its parent company plans to launch its own original brand of commercial vehicles in 2008 and the business may be injected into the Hong Kong-listed subsidiary when it becomes mature.
Red-chip conglomerate China Resources Enterprise (0291) said it has set aside HK$4 billion to HK$5 billion for capital expenditures annually for the next few years to cash in on the mainland's fast-growing consumer market.
Investment bankers say capital will flow more and more to Asia as high regulatory costs and overzealous litigators in the United States chip away at New York's status as the world's primary financial center.
The Hang Seng Index looks set to shake off political uncertainty in both Taiwan and the United States to test the 19,000 level this week, with property stocks joining heavyweights China Mobile (0941) and HSBC (0005) to boost the benchmark index.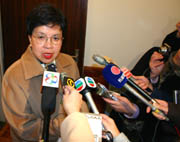 Health Minister Gao Qiang arrived in Geneva Sunday and had a breakfast meeting with World Health Organization chief hopeful Margaret Chan Fung Fu-chun on the eve of the beginning of the vetting process. Hong Kong's former director of health Margaret Chan Fung Fu-chun, who is vying for the position of World Health Organization director-general, on Monday said she felt good about the election and has done her best to gain support for her candidacy.
The Housing Authority is stuck in a dilemma over the pricing of more than 300 Home Ownership Scheme flats in Tin Fu Court, Tin Shui Wai, which are due to go on sale early next year, according to property market observers.
St Stephen's College, an elite government-funded secondary school, will join the direct-subsidy scheme from September 2008, according to its principal, Louise Law Yi-shu.
Legislators have given the thumbs up for Ocean Park's plan to call for tenders to build and operate hotels on its land.

Veteran actor Patrick Tse Yin climbs onto his Harley-Davidson at the Hong Kong Automobile Association's celebration of motorcycles event at Chater Garden in Central yesterday, where about 500 two-wheelers of a multitude of makes and vintages were on display.
Regulators in Beijing have rejected a restructuring plan submitted by Agricultural Bank of China, the most troubled of the country's four largest banks and the last to try to sell shares in an initial public offering, according to market sources.
China Urban Resources Opportunity Investment says it plans to raise at least HK$150 million to invest in projects or businesses related to China's urban development with an initial public offering before the end of this year.
Thomson, the French electronics company, may sell more shares in troubled Chinese television manufacturer TCL Multimedia Technology Holdings, even after cutting its stake in the Hong Kong-listed firm to 19.32 per cent from 29.32 per cent on Friday.

China: China's imports and exports volume is expected to hit US$1.7 trillion this year, up more than 20% over last year, said assistant minister of commerce Sunday.

The construction of the National Grand Theatre in China's capital is expected to be completed in July 2007, local government sources revealed on Sunday. The theatre, designed by French architect Paul Andreu, will be put into use next autumn.
China and Africa ended an unprecedented summit Sunday, signing deals worth US$1.9 billion (HK$14.82 billion) and pledging to boost trade and development between the world's fastest-growing economy and its poorest continent.
China raised the bank deposit reserve ratio on Friday for the third time this year in a bid to rein in excessive liquidity in the banking system.
Three unnamed mainland pharmaceutical companies plan to seek listings on New York's Nasdaq stock exchange in the first half of 2007, each looking to raise US$100 million (HK$780 million), sources close to the deal sponsors say.
Anhui boss sacked for graft - A provincial vice governor has been expelled from the ruling Communist Party and removed from office for taking bribes and abusing power, the latest casualty of a nationwide crackdown on corruption.

New wells drilled in the Tarim Basin in the vast Taklamakan desert may only slow the rise in China's dependence on imported crude, which is now nearing the halfway mark.
The central government was considering holding talks with India on creating a free-trade area, said an official quoted Monday by a state news agency, before a visit by President Hu Jintao to New Delhi.
November 6, 2006

Hong Kong: Shares of Manulife Financial (0945) jumped 4.36 percent Friday after the Canadian-based company reported record third-quarter net earnings of C$975 million (HK$6.69 billion), up 30.7 percent over the previous year.

Taiwan President Chen Shui-bian's hopes of staying in power look bleak in the wake of an announcement by prosecutors that they have enough evidence to indict him on corruption charges in connection with his handling of a secret diplomatic fund. Taiwan affairs experts in Hong Kong say President Chen Shui-bian is unlikely to resign immediately despite being accused, along with his wife Wu Shu-chen, of corruption and forging documents. Follow the money: June 12: Businesswoman Gigi Lee Hui-fen tells KMT legislator Chiu Yi that her cousin Lee Bi-chun took Grand Hyatt hotel receipts from her for Chen Shui-bian's wife Wu Shu- chen so she could claim reimbursements from a secret fund normally used to support diplomatic efforts. June 28: Ministry of Audit staff member goes to the presidential office and hands seized documents to a special Taiwan High Court Prosecutor's Office taskforce probing political corruption. July 10: Prosecutors question Ma Yung-cheng, former deputy secretary-general of the presidential office. August 7: Chen questioned. August 9: Lee Bi-chun admits under questioning she asked Gigi Lee for hotel receipts but denies knowing how they ended up with the presidential office. August 14: Gigi Lee goes to Taipei from Australia to be questioned. August 20: Wu questioned. August 24: Taskforce starts calling in 33 witnesses in probe of secret fund. September 15: Former president Lee Teng-hui questioned. November 3: Wu indicted.

Hong Kong blue chips rose 0.2 percent to their third straight record close on Friday, as investors chased property stocks after a US Federal Reserve policy maker said inflation is expected to slow, heightening speculation central banks in the US and Hong Kong will cut interest rates early next year.
Hopson Development Holdings (0754) raised HK$996 million by selling shares Friday, joining the ranks of other developers raising funds in the capital market, while automaker Dongfeng Group (0489) said it will raise up to HK$355 million through a share placement.

A self-confessed loner with personality disorders Friday spent his first night in a jail cell after pleading guilty to stealing a kiss from model-turned-pop star Ella Koon Yun-na, in a televised show.
Beijing Friday threw in another heavyweight to support Hong Kong's former director of health Margaret Chan Fung Fu-chun in what has become a high profile race for the top post in the World Health Organization.
Entertainment tycoons, film producers and song composers Friday pledged support for Chief Executive Donald Tsang Yam-kuen as they filed their nomination papers for the Election Committee election next month.
The 300-year-old Beijing Tong Ren Tang, a leading producer of traditional Chinese medicine, has set up its first factory outside the mainland in an attempt to reach the global market.

China: China will use domestically-produced high-speed trains that can run at speeds of 200 kilometers per hour, when it raises permissible train speeds in April next year, the Ministry of Railways has said.

Photo taken on Nov. 2, 2006 shows the H425 multi-purpose helicopter at the Air Show China 2006, in Zhuhai, south China's Guangdong Province. Now China can manufacture four series of helicopters, such as Z-8 series, Z-9 series, Z-11 series and HC120, thanks to the developments over the last five decades.
The first transcontinental container train running between north China to Germany has begun formal operation after a 20-month test run, said a local railway official.

China Construction Bank's (0939) former chairman Zhang Enzhao was jailed Friday for accepting bribes, the second top executive at the nation's fourth- largest lender to be punished amid a government crackdown on corruption.
China's central bank announced Friday it is raising the reserve ratio for banks once again, as the huge trade surplus continues to generate massive volumes of liquidity. This is the third such move in five months.
Shares of China Power International Development (2380) jumped more than 5 percent to a record high since listing in 2004, after the company announced the acquisition of a 25 percent interest in Shanghai Electric Power. The purchase is aimed at increasing power- generating capacity by a quarter.
China is unlikely to introduce a fuel tax before 2008 and may bring it in gradually to avoid hurting low- income earners and economic growth, an official in a key government energy think-tank said.
Shenzhen Development Bank - the only mainland bank to have a Westerner as chairman - expects growth from its retail and small business units to remain buoyant as it eyes more outlets in the country next year.

A worker at the Beijing Raptor Rescue Centre (above) holds an eagle owl rescued last month in Hebei province, while other centre employees treat rescued goshawks which had been bundled up to be smuggled overseas. Many of the prized hunting birds are captured by illegal traders to be sent to the Middle East, where they can be sold for as much as HK$500,000. The centre, which opened in 2001, was mainland's first non-profit wildlife rescue facility.
Listed Chinese companies may face trading restrictions on their stock if they could not complete their state share reform plans by the end of this year, state media said on Friday.
November 3 - 5, 2006

Hong Kong: Hong Kong shares rallied to hit another fresh record high on Thursday, led by heavyweight blue chips China Mobile (Hong Kong) and HSBC Holdings, as investors chased China's growth story.
Hang Seng Bank (0011) said Wednesday it will cease weekend counter services as the extended service hours Saturdays have proved unnecessary among customers ever since their implementation on September 4.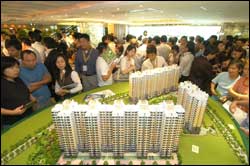 The Estate Agents' Authority, which regulates property agents, has received a complaint about property agents booking new flats with checks which they know will not be honored. This was done, the potential buyer complained, to increase demand for the new units during internal sales at a property project. Property projects in Hong Kong usually undergo two stages of sale. Even before construction is complete, a certain number of flats can be put on the market to gauge demand. These are called internal sales. Prices of homes during internal sales are usually priced below what they will cost when the rest of the project is offered for sale. For example, in a 100-flat project, typically 20 will be put on the block as internal sales. Some agents are eager to book such flats because they will command a higher price in the near future. Although the EAA did not single out any property project, market sources said that such strategies were used to book some of the 315 flats put on internal sale at Henderson Land's 1,576-home Sherwood project in Tuen Mun. During a six-day registration running from last Friday to Wednesday, the project received 10,000 deposits from eager buyers. It was highly unlikely that all the deposits were genuine, market sources said.
Taking advantage of the rally in the benchmark Hang Seng Index, a shareholder of Tianjin Development (0882) shed his stake in the company to rake in HK$203 million while China Rare Earth Holdings raised HK$346 million through a share placement.
Ferry-to-property company Shun Tak Holdings (0242) and its Singapore- listed partner, Hongkong Land, will generate HK$782 million from the sale of an entire block of flats from its upcoming Macau property development project to an insurance company from Iceland.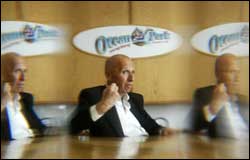 Ocean Park is likely to call for tenders to build and operate three hotels on its land in the near future, it was disclosed Wednesday. Park chairman Allan Zeman said the HK$5.5 billion raised for its redevelopment plan did not cover the costs of the proposed hotels and that the build- operate-transfer model had been agreed in principle. The successful tenderers would be allowed to build the hotels and operate them for 20 to 30 years before turning them over to the park. He said a feasibility study was now underway and that the park would discuss the plan with the government by the end of this month. A final plan was expected early next year. "The preliminary plan calls for three hotels. One, the Ocean Hotel at the main entrance, will have approximately 600 rooms, the Fisherman's Wharf Hotel at the Tai Shue Wan entrance will have 450 rooms and the Summit Hotel and Spa will have 160 rooms," Zeman said. LCH (Asia Pacific) Surveyors managing director Joseph Ho Chin-choi said the BOT plan was rare for hotels. "As far as I know, this is the first time the model is being used for hotels. It is normally used for public facilities, such as tunnels, but never in hotels," Ho said. One reason for the current scheme, Ho said, was because Ocean Park's redevelopment plan was already large and the management did not want to incur further risks of investing in three hotels.
Owners of old private buildings may be compelled to carry out maintenance work on their properties, Secretary for Housing, Planning and Lands Michael Suen Ming-yeung revealed Wednesday.
Secretary for Financial Services and the Treasury Frederick Ma Si-hang has stepped up campaigning for the controversial goods and services tax, assuring lawmakers that the levy will create more stable revenue for the government.

Students of the Maritime Services Training Institute in Tuen Mun practice for the school's open days tomorrow and on Saturday. Among other activities, students will demonstrate what to do in an engine room when a water pipe has burst. They will also show other skills they have learned, such as moving swiftly over water and manoeuvring handmade rafts.
Las Vegas Sands, the casino company run by billionaire Sheldon Adelson, posted a 21 per cent rise in net income for the third quarter, bolstered by another record period at its Macau casino.
Pacific Century Regional Developments (PCRD), Richard Li Tzar-kai's Singapore-listed investment flagship, is concerned that its minority shareholders might vote to reject the proposed sale of its 23 per cent interest in subsidiary PCCW to a consortium led by investment banker Francis Leung Pak-to, sources close to the deal said yesterday.
China Mobile, the nation's largest telecommunications operator, will focus its overseas expansion on emerging markets in Asia and Latin America, the company's chief executive Wang Jianzhou said on Thursday.

China: China and India should establish more co-operation mechanisms in order to complement their strengths, senior business leaders said in Beijing yesterday.

Chinese President Hu Jintao (L) holds a welcoming ceremony for President of Guinea-Bissau Joao Bernardo Vieira at the Great Hall of the People in Beijing, Nov. 1, 2006. Joao Bernardo Vieira is in Beijing for a state visit to China and also for the Beijing Summit of the Forum on China-Africa Cooperation (FOCAC) scheduled for Nov. 4-5. The Forum on China-Africa Co-operation has become an important platform for dialogue and an effective mechanism for pragmatic collaboration, said Hu.

Invited guests attend a discussion session at the 10th Annual CEO Forum in Beijing, capital of China, Nov. 1, 2006. The CEO Forum is a flagship event of the American magazine Business Week in Asia. Over 50 CEOs and business leaders around the world will attend the event from Nov. 1 to 3.
China Shipping Development (1138), the mainland's largest carrier of crude oil, will acquire 42 dry bulk vessels from its parent company for 2.47 billion yuan (HK$2.44 billion) to boost capacity amid soaring cargo demand in China.
Ambitious Chinese automaker Chery Automobile is mulling an initial public offering of shares to fund its expansion strategy overseas, state media reported Wednesday.
Manufacturing activity in China expanded at a slower pace in October as growth in output and new orders eased, according to two surveys of purchasing managers published Wednesday.
Intel Corp, the world's largest semiconductor maker, signed an agreement with China's Ministry of Education to train teachers and promote the use of technology in the rural areas over the next five years.
Baidu.com, the leading Chinese Internet search engine, said Wednesday third-quarter profits rose sharply, but shares fell after its fourth-quarter revenue forecast missed analyst expectations as it switched to a new advertising sales system.

Chefs serve up a variety of celery dishes in Xian, Shaanxi province, this week as part of a campaign to get more people to eat the vegetable. The province has witnessed a bumper celery crop, causing prices of the vegetable to drop below cost.
Reforms of the currency regime must proceed cautiously because a sharp rise in the yuan could have a serious impact on jobs and the banking system, Chinese policymakers have told the International Monetary Fund.
China National Offshore Oil Corp (CNOOC), the nation's third-largest energy company, was in talks to explore a major Iranian natural gas field, Chinese state media said on Thursday.
November 2, 2006

Hong Kong: New York risked losing its position as one of the world's leading finance centres because of over-regulation, unnecessary litigation and incompatible accounting standards, the city's Mayor Michael Bloomberg said in a newspaper piece on Wednesday. Hong Kong had surpassed New York in terms of total capital raised by initial public offerings this year - and was second only to London, Chief Secretary Rafael Hui Si-yan said in London late yesterday.
Hong Kong shares climbed to a record high on Wednesday, buoyed by heavyweights HSBC Holdings and China Mobile (Hong Kong), as China plays outperformed the general market on hopes of further yuan appreciation.
The fate of Richard Li Tzar-kai's proposed sale of his indirectly held controlling stake in PCCW (0008) rests with the minority shareholders of his Singapore holding company after the Singapore stock exchange ruled that Li is disqualified from voting on the deal.

Helped by higher oil and gas production, Asia's top refiner Sinopec (0386) reported a 51 percent surge in net profit in the third quarter, although refining losses increased to 12.58 billion yuan (HK$12.42 billion) from 6.63 billion yuan during the period.
Mainland chip manufacturer Semiconductor Manufacturing International Corp (0981) said Tuesday, third quarter net loss widened to US$35.1 million (HK$273.78 million) from US$26.1 million a year earlier, mainly due to weak prices and lower production capacity.
TCL Multimedia Technology (1070) said it will spend 45 million euros (HK$444.9 million) to restructure its loss-making European business by closing down its television-making unit in Europe and shifting its focus back to the mainland market.
Conglomerate Swire Pacific (0019) plans to raise an additional US$200 million (HK$1.56 billion) for working capital by upsizing its 10-year, fixed- rate bonds offered in March, sources said.
With the possible slowdown of the United States economy and an anticipated rise in the country's unemployment rate in 2007, Washington's calls for faster yuan appreciation will intensify, the Bank of East Asia (0023) said Tuesday.

Permanent Secretary for Education and Manpower Fanny Law Fan Chiu-fun and Independent Commission Against Corruption Commissioner Raymond Wong Hung-chiu will swap posts, the government has confirmed, sparking concerns the anti-corruption body was being used as just another seat in a game of musical chairs. Academics have given former ICAC chief Raymond Wong Hung-chiu a cautious welcome as the new Permanent Secretary for Education and Manpower, but said Fanny Law Fan Chiu-fan would be a hard act to follow.
The first report of the cross-border air- quality monitoring network depicts a worrying picture of the worsening air pollution of the Pearl River Delta, an environmentalist said Tuesday.
Chief Secretary Rafael Hui Si-yan said overnight (HK time) that those trying to bring greater democracy to the Chinese territory need to create more trust and indulge in less posturing.

A reveller dressed as a skeleton tries to scare a child on the shoulders of his father with a severed head in Lan Kwai Fong during Halloween celebrations last night. The entertainment area was packed by 8pm and police had to impose crowd controls shortly afterwards.
The Office of the Telecommunications Authority (OFTA) had no immediate plans to revise the charge levied by fixed-line operators on IDD providers for international calls, Secretary for Commerce, Industry and Technology Joseph Wong Wing-ping said on Wednesday.
Ambitious mainland vehicle maker Chery Automobile was considering an initial public offering of shares to fund its expansion strategy overseas, state media reported on Wednesday.

China: The price of crude oil dropped to 58 U.S. dollars per barrel this week -- down from a record high of 77.03 U.S. dollars in the middle of July -- making a mockery of the so-called "China factor".
China's highest court will have the final decision on every death sentence under a change to the law approved Tuesday that seeks to end miscarriages of justice, a move applauded by overseas experts.

Chinese Premier Wen Jiabao delivers a keynote speech during the opening ceremony of the third China-ASEAN Investment and Business Summit in Nanning, capital of southwest China's Guangxi Zhuang Autonomous Region, on Oct. 31, 2006. China's trade with the Association of Southeast Asian Nations may expand by 54 percent to an estimated US$200 billion (HK$1.56 trillion) by 2010, Premier Wen Jiabao said.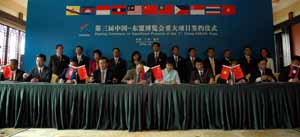 The Signing Ceremony of Significant Projects of the 3rd China-ASEAN Expo is held in Nanning, capital of southwest China's Guangxi Zhuang Autonomous Region, on Oct. 31, 2006. China inked 10 contracts respectively with 10 ASEAN member countries here on Tuesday, with the contract value standing at 600 million U.S. dollars.
China Aviation Industry Corporation (AVIC) I, a state-owned company, on Tuesday forecast that China's aviation industry would need more than 3,000 civil aircraft in next 20 years.

CNOOC (0883), China's biggest offshore oil producer, said its revenues rose 25 percent to 18.6 billion yuan (HK$18.36 billion) in the third quarter, largely driven by production growth and higher oil and gas prices.
China's steel exports rose steeply in the first nine months of this year as the industry association warned it would actively defend its interests against any anti-dumping measures, state media said Tuesday.
Boeing has no plans to imitate rival Airbus by opening a mainland factory, said the president of Boeing China, dismissing it as a symbolic step the US aircraft maker does not need to take to win orders.

A photo exhibition aimed at encouraging social activities for elderly people attracts the eye of a man in a Shanghai park yesterday. A state media report suggests Shanghai's elderly people are a lonely group with little to do except spend their days gathering in parks. The city now has 2.7 million people aged above 60 and 771 above 100.
The guilty verdict of a blind Chinese activist who was sentenced to more than four years in prison after he documented villagers' claims of forced abortions has been overturned because evidence against him did not hold up, his lawyer said on Wednesday.
November 1, 2006

Hong Kong: Bank of China (3988), the mainland's second-largest bank, said Monday it earned net profit of 32.5 billion yuan (HK$32.06 billion) for the first nine months, almost reaching the 33 billion yuan full-year target forecast in its initial public offering prospectus in May.

Standard Chartered (2888), which makes two-thirds of its profit in Asia, said it plans to incorporate its China- based business in the country, following HSBC Holdings (0005) and Hang Seng Bank (0011) in meeting the Chinese government's rule.
Hong Kong-listed Angang Steel (0347), the mainland's second-largest steelmaker, reported net profit tripled to 5.15 billion yuan (HK$5.08 billion) for the first nine months and expects the momentum to continue on a larger scale of operations with enhanced productivity and business synergy.

The body of tycoon-politician Henry Fok Ying-tung was flown back to Hong Kong from the Chinese capital on Tuesday as tributes flooded in for a man considered key in opening up communist China to the global market. As tributes continued to pour in for Henry Fok Ying-tung Monday, more than a few political analysts were left wondering whether the death of one of Hong Kong's most influential voices in the mainland will leave the territory without a strong advocate in Beijing.

Hong Kong and Shanghai are both listed as coastal cities that may disappear underwater as a result of global climate change, according to a report released by the British government Monday.
Hong Kong has a real chance of being represented at the equestrian events for the 2008 Olympics, according to the new president of the Hong Kong Equestrian Federation, Simon Ip Sik-on.
Permanent Secretary for Education and Manpower Fanny Law Fan Chiu-fun has been appointed new head of the Independent Commission Against Corruption (ICAC), the government announced on Tuesday.

Arthur Gomes, 89, chairman of the Hong Kong Prisoners of War Association, is escorted at the City Hall Memorial Garden in Central yesterday for the official ceremony to commemorate those who died in the defence of Hong Kong between 1941 and 1945.
Taiwan's opposition on Tuesday kept a measure to purchase a multibillion dollar package of US weapons bottled up in a legislative committee, spurning American pressure to pass the bill quickly.

Casino firm Eighth Wonder, which is teaming up with Australia's PBL and Hong Kong's Melco to bid for Singapore's second casino, says it will regularly bring Brazilian soccer legend Pele to the city state if it wins the deal.

China: China's top legislature adopted a change to the law on the country's court system requiring all death sentences to be approved by the Supreme People's Court.
China's gross domestic product (GDP) is expected to grow by about 7.5 percent annually in the next five years, said Ma Kai, Minister of the National Development and Reform Commission (NDRC), on Monday.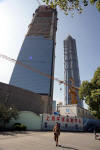 The Shanghai World Financial Center, a Shanghai-based skyscraper of 492 meters tall and 101 stories, will be completed on March 23 in 2008.
China and the 10-member Association of Southeast Asian Nations (ASEAN) are determined to establish a Free Trade Area (FTA) by 2010 as scheduled. Mainland and Southeast Asian leaders vowed at a summit Monday to hasten creation of a free trade zone, while also discussing the North Korean nuclear crisis and regional political concerns.
The 100th session of the Chinese Export Commodities Fair (CECF), also known as the Canton Fair, ended on Monday with an estimated 34.06 billion U.S. dollars in deals.
China's National Council for Social Security Fund may end up managing up to 500 billion yuan (HK$493.3 billion) worth of pension schemes, a senior official at the fund told The Standard.
Landune International (0245), a mainland television marketing company, said it will increase advertising spending next year to 270 million yuan (HK$266.38 million), and set up a dedicated 24-hour home-shopping channel to broaden its customer base and boost sales.
Malaysia's national oil company Petronas has sealed its first deal to supply liquefied natural gas to a mainland company, marking a major breakthrough into China's energy market.
US investment bank Lehman Brothers is teaming up with International Business Machines to form a US$180 million (HK$1.4 billion) joint venture to invest in a range of public and private mainland companies.
China Petroleum & Chemical Corp, Asia's largest refiner by capacity, on Tuesday reported a better-than-expected 51.4 per cent jump in its third-quarter net profit, as high crude oil prices and energy demand in China outweighed refinery losses and a windfall tax on oil sales.

Clam harvesters weave their way along a path leading through tidal flats in Zhuanghe in Dalian, Liaoning province. The area's 1,200 hectares of shoreline in northeastern China is famed for its abundance of high-quality molluscs.
Nigeria and China on Monday signed an US$8.3 billion (HK$65 billion) contract for the construction of a railway line from the nation's economic capital Lagos to Kano, the largest commercial city in the north, the official News Agency of Nigeria (NAN) reported.

*News information are obtained via various sources deemed reliable, but not guaranteed