Hong Kong, China & Hawaii Biz*


How to Do Business with China, through Hong Kong & Setting up Business in China? - last update Feb 8, 2003
Do you know our dues paying members attend events sponsored by our collaboration partners worldwide at their membership rates - go to our event page to find out more! After attended a China/Hong Kong Business/Trade Seminar in Hawaii...still unsure what to do next, contact us, our Officers, Directors and Founding Members are actively engaged in China/Hong Kong/Asia trade - we can help!
China Projects Bidding Information - update daily Scholarship & Grants
Are you ready to export your product or service? You will find out in 3 minutes with resources to help you - enter to give it a try

China Central TV - live webcast

Skype - FREE Voice Over IP

View Hawaii's China Connection Video Trailer










Hawaii's China Connection Video - click on the picture to view live video


Direct link PDF file


Year of the Pig - February 18, 2007
Holidays Greeting from President Obama & Johnson Choi
http://www.youtube.com/watch?v=pNk4Z4lUV-k
http://www.facebook.com/video/video.php?v=219896871983&ref=mf
Wine-Biz - Hong Kong
Brand Hong Kong Video
February 28, 2007

Hong Kong: Some 200 people chosen as volunteer leaders for the 2008 Olympic equestrian event on Saturday joined in a ceremony which kicked off the Hong Kong equestrian volunteer program. The leaders, who are fluent in Cantonese, mandarin Chinese and English, will take part in a two-day course to learn basic knowledge on the event. The volunteers will be deployed to a myriad of responsibility areas ranging from competition venues to translation to media support, said the organizers. At the ceremony, the equestrian company's chief executive officer Lam Woon-Kwong reminded the volunteer leaders that they should be aware that they are serving on the very front-line as goodwill ambassadors and that they are making part of the Olympic history. Each volunteer was given a "smile wristlet", a token of their unity with other Chinese host cities. Following the ceremony, volunteers will receive some 80 hours of training, including residential training, which will be held in Pl Leung Kuk holiday camp in Sai Kung for two consecutive weekends in March. The leadership training programs are tailored for volunteers in Hong Kong by expert trainers. Riordan, who also trained volunteers at the Athens and Sydney Olympic Games, said the training program is not simple despite it comes with just one Olympic event. "The reality is that the equestrian event will be held far away from Beijing and in a separated environment. We need to have volunteers trained to greet guests from the airport, Olympic village and the transport hubs. It like putting on a mini-Olympics, " he said.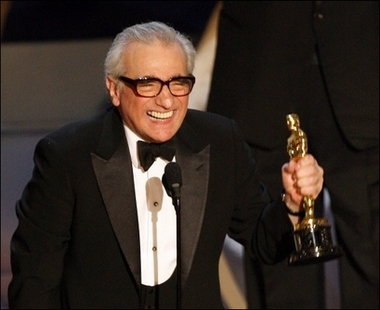 The crime drama "The Departed, " Hollywood's adaption of a Hong Kong thriller, fought off the upstart "Little Miss Sunshine" on Sunday night to win the Oscar for best picture of the year, while its director Martin Scorsese ended a long losing streak and finally won an Academy Award.
About 4,200 kilograms of freshwater fish were seized from a mainland fishing boat Sunday morning as Hong Kong customs and food safety authorities stepped up the crackdown on the illicit trade of such unmanifested supplies.
Directors of TXU, the largest electricity producer in Texas, gave tentative approval to sell the company to two private-equity firms in a deal that could be worth as much as US$44 billion (HK$343 billion) according to people close to the situation.

China: The 2007 Chinese Lunar New Year once again reflected the emergence of a new trend: Chinese New Year is being celebrated by people around the world. It has become a festival celebrated by ordinary people in many countries and one that is enjoyed by both Chinese and non-Chinese. Since the 1990s, the Spring Festival has become increasingly fashionable in countries and regions where Chinese have immigrated. Many festivities are held. Heads of state and government leaders convey their greetings to the local Chinese community. Some cities and regions have listed Spring Festival as a public holiday. On the eve of Spring Festival this year, more than 1,000 red and gold lights were lit on the top of the Empire State Building. London Mayor Ken Livingstone, joined by footballers Frank Lampard from Chelsea and Wang Dalei from Shanghai, turned on huge Chinese lanterns at Oxford Circus to launch celebrations arranged to coincide with the Lunar New Year. A Chinese friend residing in Paris told me on the phone that farmers from Brittany had arranged a special Spring Festival promotion. Each person purchasing their cheese was entitled to a free pair of Chinese chopsticks. The farmers said they were taking advantage of the Spring Festival to generate business in this beautiful season. From the president to local villagers, French people are celebrating the Chinese Lunar New Year, each in their own way. With more and more people around the world aware of the cultural value of the Chinese Lunar New Year, the Spring Festival is becoming more internationalized. Different to Western religious holidays and festivals, Spring Festival celebrations reflect people's desire for well-being in their current life. People pray for happiness, look forward to the future, guard their family, and seek smooth and harmonious interpersonal relations during these holidays. All these philosophies are well demonstrated in a series of festive activities. Jubilant drums and firecrackers, lion dances, and the ubiquitous Chinese red color, reflect an optimistic outlook on life. To Chinese people, the Spring Festival is a folk show. To people in other countries, it has a broader and deeper implication: it is a festival of cultural exchange and an opportunity for people across the world to appreciate different cultures and communicate. Owing to the efforts of tens of millions of overseas Chinese in more than 150 countries, the beautiful festival is receiving more and more international recognition. It is these people's love of Chinese culture and high degree of cultural consciousness that has encouraged the spread of Chinese Lunar New Year traditions and customs to other countries and peoples. Chinese language fever has also played a role in increasing the popularity of the Spring Festival. Since the first Confucius Institute was opened in Seoul, the capital of South Korea in November 2004, China has signed agreements with 52 countries to establish 131 Confucius Institutes across the world. Eighty-seven of these have already been opened. There are a large number of people studying Chinese through a variety of channels. Moreover, these people are sharing their interest and love of Chinese language and culture with their family and friends. These people realize that learning the language and studying Chinese culture will allow them a shortcut to a dynamic country and the world's fourth largest economy, as well as improve ties with a great nation that has a growing economic, diplomatic and cultural influence in the world. They also understand that mastering the Chinese language and understanding the culture is a prerequisite for fully understanding the world. In such circumstances, how could Spring Festival, the largest folk festival of the Chinese nation, be left out? Thanks to China's development and increasing prosperity, the world is embracing a great new cultural celebration, the Spring Festival.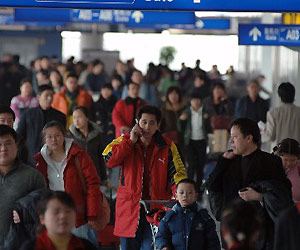 China's airlines carried 3.71 million passengers during this year's week-long Spring Festival holiday, up 21 percent year on year, according to preliminary estimate by the Civil Aviation Administration of China.
China's food additive industry sees promising future as 4.8 million tons of food additive are in demand by 2010, said the latest report on China's biological industry development.
China's used car market is expected to speed ahead over the next two years, the China Association of Automobile Manufacturers (CAAM) predicted.
The organizer of the Internet-based TOEFL test has so far set up 48 test rooms in 26 Chinese cities, said the Examination Center of the Chinese Ministry of Education Saturday.
China will build 12 major technological infrastructure projects and about 30 national science centers and labs, aiming to enhance its innovative capability, according to a plan released by the State Development and Reform Commission (SDRC) on Sunday. The 12 major technological infrastructures, such as spallation neutron source (SNS) and large-sized astronomical telescope, cover areas like aviation, bio-tech and life science, the plan shows. However, SDRC didn't specify in the plan the amount of money China will invest in the projects. In 2006, China implemented the national guidelines for medium and long-term science and technology development and the 11th five-year plan for science and technology.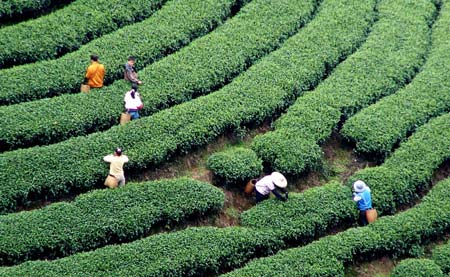 Chinese workers pluck tea at a pollution-free tea garden in Zhaoping County, Southwest China's Guangxi Zhuang Autonomous Region, February 25, 2007. Due to the abundant rain and warm weather, workers began to pluck the Spring tea ten days earlier than last year.
The central government had formally approved a 15.3 billion yuan expansion of Shanghai's domestic airport, including a second runway and new terminal, a mainland newspaper said on Monday. The National Development and Reform Commission approved the expansion of the Shanghai Hongqiao Airport at the weekend, the Shanghai Securities News said. Shanghai has another airport, Pudong, which handles all overseas flights and some domestic ones as well. Shanghai has ambitions to become a key aviation hub and the Hongqiao Airport is already operating at over-capacity. The airport handled 19 million passengers last year, double its designed capacity of 9.6 million, the newspaper said. The expansion plan included a new 3,300 metre runway and a 250,000 square metre terminal, it said. The airport currently has a single 3,400 metre runway and terminal space of 81,600 square metres. Shanghai already started clearing land for the project last year, sparking massive protests by residents living on the site. Although the project has been tainted by the sacking of former Party Secretary Chen Liangyu, who was dismissed for corruption last September, it is still moving ahead.
Bank of Communications, the country's sixth-largest lender, says it will sell subordinated bonds worth 25 billion yuan to increase its capital adequacy ratio before its possible A-share listing in the first half of this year.
China became a net importer of coal in January for the first time, an official said on Monday, as the globe's largest consumer turned overseas to supply its booming economy.
February 27, 2007

Hong Kong: Financial Secretary Henry Tang Ying- yen will not announce any major tax cuts in his budget, preferring instead to hand out subsidies to some sectors of society, The Standard has learned.
ICBC unit rejects rumors of deal - Despite more and more local banks applying for mainland incorporation, ICBC (Asia) (0349) prefers to tap yuan business through its mainland subsidiary and retail banking expansion.

Henry Tang Ying-yen will unveil his fourth budget Wednesday - but if the financial secretary's record is anything to go by, we are not likely to see any dramatic departures from the cautious steps he has taken so far.

Sik Kok Kwong, Hong Kong Buddhist Association chairman, leads other local Buddhist leaders in prayer at the association's spring reception at the Buddhist Cultural Centre in Causeway Bay yesterday. Sik Chi Wai, abbot of Po Lin Monastery on Lantau, said seven Buddhist Association members of the Election Committee had nominated Donald Tsang Yam-kuen for chief executive, and he believed Mr Tsang would get most of the 40 religious sub-sector votes.
Attendances at Hong Kong's conventions and exhibitions last year jumped almost 25 per cent compared with 2005 and expectations are that growth in the high-yield market will continue despite intensifying regional competition, the Tourism Board says.
The arrival in Hong Kong next month of aggressively expanding apparel retailer H&M of Sweden could have a big impact on some local retailers that are already reeling from shrinking profitability.

TSMT wants a share sale in Hong Kong for its mainland operations to skirt Taiwan's curbs on China investment, analysts say. Taiwan Surface Mounting Technology Corp (TSMT), a printed circuit board assembly service supplier, plans to spin off its mainland operations to raise between HK$400 million and HK$500 million for capacity expansion around June, market sources said.
Two banks responded immediately to the gauntlet thrown down by Hongkong and Shanghai Banking Corp by announcing mortgage rate reductions which undercut HSBC.
The value of new home loans approved in January by Hong Kong's lenders fell for the second consecutive month to HK$12.5 billion as falling primary- market transactions offset a recovery in the secondary market.
Ysan Development (0014) - the largest commercial landlord in Causeway Bay - said retail tenants in the group's shopping malls recorded double-digit growth in sales volume during the Christmas and New Year holidays as last year's buoyant equities market fueled greater spending power.

With the first televised debate between Chief Executive Donald Tsang Yam-kuen and challenger Alan Leong Kah-kit just days away, the organizing committee has come up with the final blueprint to censor questions with derogatory or unflattering nicknames or abusive language.
The Sands Macau casino must pay a HK$740,000 jackpot to the mother of an underage girl who won the money earlier this week while playing a slot machine at the casino, gaming regulators in Macau have said.



Members of the City Contemporary Dance Company perform a lion dance in front of a backdrop for longevity and prosperity during Lunar New Year celebrations at Broadcasting House, Kowloon Tong.
Guangxi State Farm's plan to raise at least US$200 million from spinning off its sugar unit for a Hong Kong initial public offering has stalled after its bookrunner Credit Suisse abandoned the deal, sources said.

China: A record 56.53 million people were expected to travel around the country on Saturday, the last day of the week-long holiday of the Chinese Spring Festival. More than 2.79 million tourists visited Shanghai during the week-long Spring Festival holiday which began on Feb. 18, a year-on-year increase of 12.98 percent.
China Southern Airlines, the biggest mainland airline by fleet size, plans to grow its freighter fleet to 14 aircraft from two by 2011.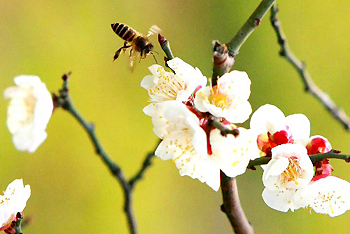 A bee collects pollen from plum blossom in a garden in Suzhou City, east China's Jiangsu Province, Feb. 23, 2007. Warm weather has accelerated the florescence of plum blossom, attracting swarms of bees in Suzhou.
Amid falling mobile tariffs and the availability of more affordable handsets in the mainland, Xiaolingtong, the limited wireless service offered by China Telecom (0728) and China Netcom (0906), may soon become extinct, as a growing number of users opt for mobile phone service, market watchers say.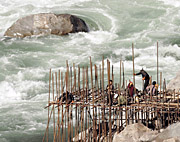 Laborers begin preliminary work on the construction of a dam on the Nu River in Lushui, Yunnan province . A proposed series of hydroelectric dams on the river, which is also known as the Salween, has caused an outcry among environmental groups and human rights activists. The 2,815km river runs through the mainland's Three Rivers area, a Unesco World Heritage site, and through Myanmar and Thailand, and is Asia's last international undammed river.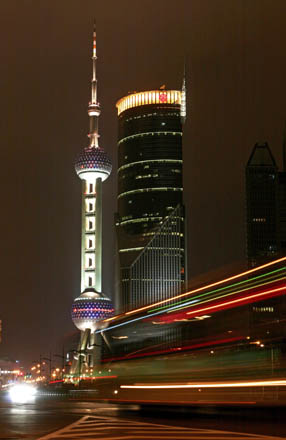 Tianjin may be touting its Binhai New Area as the nation's next financial hub, but one of the country's top advisers on urban planning says it will not replicate the success of Shanghai's Pudong district. Binhai has been widely promoted by local authorities as the mainland's third economic engine since the State Council announced last year that the municipality would host experimental national financial and land reforms. For the local government, the idea is for the region to follow in the footsteps of Shenzhen, an important contributor to the rise of the Pearl River Delta in the 1980s, and Pudong, the development zone that powered the Yangtze River Delta's boom in the 1990s. But Lu Dadao , a geographical economist with the Chinese Academy of Sciences and leader of an expert team advising the country on planning programmes for the Beijing, Tianjin and Hebei zone and the Yangtze River Delta zone, said the expectations were flawed. "It's impossible for Binhai to become comparable to Pudong in many important aspects. They are at two different levels," Mr Lu said. Entrusted by the National Development and Reform Commission (NDRC), Mr Lu and his team have spent the past two years working on economic plans for the two zones and, after discussions with the NDRC, expect to wrap up the project in the next couple of months and send their recommendations to the State Council for approval. The NDRC's urban planning takes precedence over all others, including those compiled by other ministries and city governments. Mr Lu said his team's plan called for Tianjin to be positioned as a manufacturing and logistics centre, instead of a financial hub. Tianjin Mayor Dai Xianglong , a former central bank governor, is pushing for financial innovation in the Binhai zone and earlier this month expressed a desire to see the city compete with Pudong and Beijing's Financial Street area to attract finance companies, banks and brokerages. However, Mr Lu said Binhai would not receive as much central government financial and policy support as Pudong. "Pudong's development was determined by the central government. Binhai's different, though it appears to be the same," he said. Pudong received more than 40 billion yuan from the central government and in bank loans in the 1990s to fund its airport, subway and other infrastructure. In addition, the state allowed the area to keep a share of its fiscal revenue. A solid foundation was laid for the financial centre by moving national stock, futures, property rights and commodities exchanges into Pudong and establishing a diamond exchange. There have also been a string of preferential policies in corporate tax, land and other sectors, allowing it to pioneer financial and trade services. Tianjin's gains from the state are minor in comparison. Local officials have said they will not get money from the central government to develop the zone, but the municipality is allowed to increase the amount of land for industrial purposes at a faster speed than other cities and grant hi-tech companies a 15 per cent corporate income tax rate, the national average tax break for offshore enterprises.
Mr Lu said this would not be enough to secure Tianjin a position as a national financial and commercial hub. "To Shanghai, the hinterland [area it services] is the whole nation. To Tianjin, the market is mainly the Hebei cities in the zone. They differ a lot in market scale." And then there was Tianjin's unavoidable competitor in the zone. The plan describes Beijing as the national political and culture centre and, although political considerations mean the capital was never referred to as a financial centre, it would continue to act as one. "Beijing has attracted a cluster of domestic and overseas financial institutions. It's a favoured place for multinationals' headquarters. Its robust new and high-technology companies also create considerable demand for services. The role will not be replaced by Tianjin," he said. In the 2005-2006 China Regional Economy report launched by the Chinese Academy of Social Sciences, the NDRC land development and regional economy research team expressed similar concerns over Binhai's development. The economic situation of smaller cities in the zone lags behind their counterparts in the eastern Yangtze River Delta. Industry synergy within the zone pales and the private sector is underdeveloped compared with the eastern zone. In 2001, Beijing, Tianjin and Hebei had 240,000 private companies. Shanghai, Jiangsu and Zhejiang had a combined 600,000, according to the report. Mr Lu acknowledges that there are financial experiments well under way in Binhai which will aid the region's development. The Bohai Bank, set up in 2005, was the first national bank approved since 1996 and the first mainland bank to have a foreign investor - Standard Chartered - as a founding partner. The State Council has also approved the establishment of a 20-billion-yuan Bohai industry development fund to encourage hi-tech industries in the area, even though the mainland has no legislation covering such funds. Mr Lu said these advances in Binhai were certain to bring more development opportunities to Tianjin and support an economy largely reliant on industries such as steel, petrochemicals and logistics.
Guangdong's labour shortage is expected to worsen this year as migrant workers - especially those with skills - shun the province because of its relatively poor working conditions and low wages, local media reported.
Russia's Year of China, a series of high-level forums and festivals that underscores a growing relationship with strategic and economic implications from Beijing to Moscow to Washington, will be launched today by the Chinese ambassador to Russia, Liu Guchang.
Saudi Basic Industries Corp (Sabic) may find another location for a US$5.2 billion petrochemical plant planned for China if Beijing keeps delaying approval for the project, the company's chairman said.
Linktone, a Shanghai-based mobile value-added service provider, failed in its bid to take over Monstermob Group as shareholders in the British firm accepted an agreement with a Spanish internet company.
Billionaire Warren Buffett's Berkshire Hathaway has rejected investor calls to sell shares of PetroChina (0857), whose parent has an oilfield stake in Sudan, accused by the US Congress of genocide.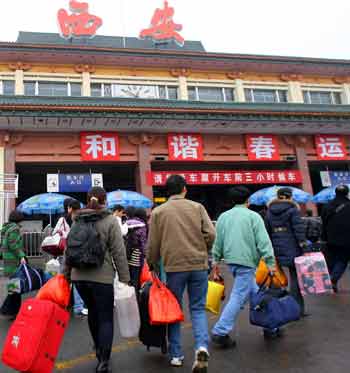 Passengers arrive in Xi'an railway station in Xi'an, Shaanxi Province, Feb. 23, 2007. The Spring Festival travel period begins to see its post-festival passenger peak on Friday in some cities as college students started to return to schools and migrant workers returned to the cities.
China has collected more than a million ancient ethnic books and published more than 5,000 of them during the 10th "Five-Year" Plan period (2001-2005).
China's State Administration of Foreign Exchange (SAFE) granted 15 banks overseas investment quotas totaling 13.4 billion U.S. dollars last year.
Total investment in third-generation telecom network construction in China is estimated to reach 114.1 billion yuan (HK$115 billion) in the first year after its commercial launch, and the number of users is estimated to reach 10 million in one year, said a mainland media report which quoted a Ministry of Information Industry official.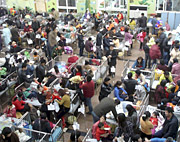 Scores of youngsters are treated for indigestion at a hospital in Suzhou, Jiangsu province, yesterday as Lunar New Year excesses take their toll on the mainland's pampered children. State media blamed the indigestion epidemic on an inappropriate diet over the holiday period, when children are not only offered packets of lucky money, but piles of sweets and chocolates on which to pig out.
Gao Shan , the fugitive banker who fled China and emerged publicly in Vancouver after his arrest there this month, will be allowed to return to his home in Canada after an immigration adjudicator ordered his release on Thursday.
February 26, 2007

Hong Kong: Stock in Hutchison Telecommunications International Ltd (2332) plunged 7.1 percent Friday after the company announced a lower-than- expected dividend payout from its off- loading of Indian operator Hutchison Essar.
The aging trend in Hong Kong's population continued during the past 10 years, with the median age rising from 34 in 1996 to 39 in 2006, according to the 2006 Population By-census results released Thursday. Speaking at a press conference, Commissioner for Census & Statistics Fung Hing-wang attributed this to the continuing low fertility rate and mortality improvement over the period. Anticipating that the aging pace will accelerate in 2015 or 2016, Fung said about 27 percent of Hong Kong's population will reach the age of 65 or above in the 2030s. Hong Kong's resident population was 6,864,000 in mid-July 2006.Of this total, 6,645,000 were usual residents and 219,000 were mobile residents. The sex ratio has fallen from 1,000 men per 1,000 women in 1996, to 911 men per 1,000 women in 2006. The corresponding sex ratios after excluding foreign domestic helpers were 1,037 men per 1,000 women in 1996, and 961 men per 1,000 women in 2006. The proportion of never-married people among the male population of age 15 and over dropped from 34.2 percent in 1996 to 33.9 percent in 2001, but rose to 34.3 percent in 2006. The figure for women was 28.9 percent in 1996, rising to 30.1 percent in 2001 and to 30.7 percent in 2006. About 95 percent of the population were of Chinese ethnicity. The largest non-Chinese ethnic groups in Hong Kong were Filipinos and Indonesians, the report result said.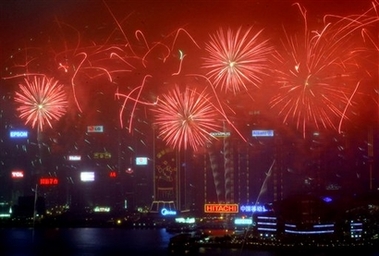 Fireworks explode over Hong Kong's Victoria Harbor Feb. 19, 2007, the second day of the year of the pig.
Macao logged some 300,000 visitors during the Chinese Lunar New Year holidays from Sunday to Tuesday, 20 percent up over the same period in 2006, according to official statistics issued Friday. The figures from the Government Tourist Office showed that the visitor arrivals covered 140,000 from the Chinese mainland and 120, 000 from Hong Kong. The average hotel occupancy rate reached 92.88 percent during the three-day term, a year-on-year rise of 0.23 percent, the figures displayed.
Hongkong and Shanghai Banking Corp is expected to trigger another home- loan price war after it dropped its mortgage lending rate Thursday to 4.87 percent from 5 percent.
The Hang Seng Index continued its rally for the fifth consecutive day Thursday, led by China Mobile (0941), which was boosted by strong subscriber growth, amid good market sentiment in the region. Japan's benchmark index crossed the 18,000 mark.
Hang Lung Properties (0101) will invest 2.5 billion yuan (HK$2.52 billion) in developing a shopping mall on a site in Shandong province that it has bought for 570 million yuan in its first purchase for 2007.
Market regulator Securities and Futures Commission said revenues for the October to December period last year rose 40 percent to HK$372 million from HK$266 million in the previous quarter on strong growth in levy income resulting from increased market turnover and activities.

Sai Kung resident Kiki Sun Wai-ki, 8, plays the xiao ruan during the Beauty of Sai Kung Traditions carnival yesterday. Organised by the Sai Kung Rural Committee, the two-day event featured traditional folk music, dancing and acrobatics to celebrate the Lunar New Year and the 10th anniversary of the handover. The festival attracted 300 people on Friday.
Women with pregnant bellies seemed to have invaded her working-class neighborhood, Joanna Leung recalls. They strolled in pairs through the fish market, and along the lanes running past concrete buildings stained grey with soot. And they spoke with thick accents.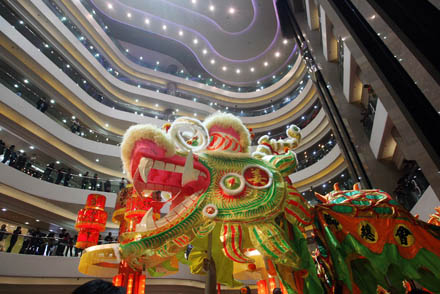 A dragon and lion dance at Times Square welcomes in the Year of the Pig. Tenant rents are set to rise after excellent holiday sales.

China: Young people in Beijing attend the matchmaking party held in Ditan Park last Saturday Feb. 17, 2007. The ongoing Spring Festival holiday seems has given single young professionals a chance to think about something just as important as their career, namely: marriage. The Beijing Times reports that over 2,000 people in Beijing on Monday took part in a matchmaking party held in Ditan Park, in the hope of finding a lifelong partner. According to the format of 8 minute dating, the participants were divided into three groups according to their ages. People in different groups were required to introduce themselves first, and then to perform in various games, according to the terms either of the organizer or of other daters. With the initial activities are suggested by the organizers, those who have already found a spark have the right to investigate their own methods of contact. Though not everyone can find love though just one meeting, most think that it has offered them a chance to extend their social involvement and to meet more people from different backgrounds. The Ditan matchmaking party is held from February 17 to February 24, the traditional Lunar New Year holiday for most Chinese people. Single people above 18 years old, and holding a college degree or above, can take part in the party, with the theme of taking love seriously.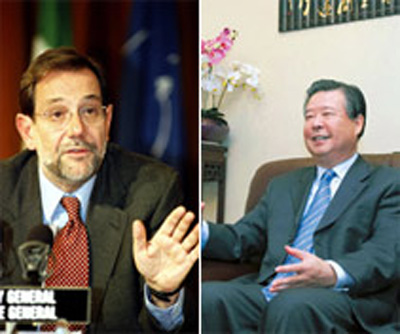 European Union foreign policy chief Javier Solana (L) and Chinese ambassador to the EU, Guan Chengyuan. Solana extended on Thursday his best wishes to the EU-China relations in 2007.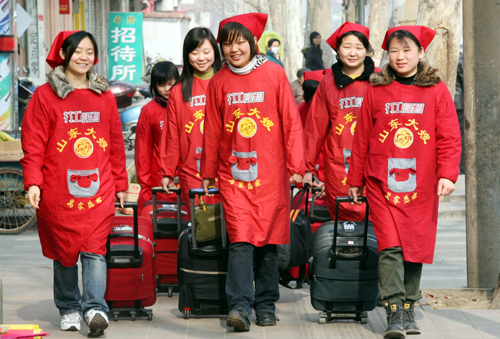 30 college graduates depart from Jinan, capital of eastern China's Shandong Province, for Shenzhen in southern Guangdong Province to fill jobs as domestic servants on Thursday, February 22, 2007. Reports say the graduates learned how to manage household chores, childhood education, and home healthcare in college and have received qualification certificates. The move is a part of a project to introduce ten-thousand Shandong housekeepers to Guangdong.
China's import and export volume of stone slabs amounted to more than US$3.7 billion last year, a growth of 23.3 percent from the previous year, according to the China Chamber of Commerce of Metals, Minerals & Chemicals Importers & Exporters. The rise is attributed to China's abundant stone resources and the fast-growing real estate sector. Xiamen Port, in east China's Fujian Province, handled 9.3 million tons of stone slab imports and exports, valued at 2.3 billion U.S. dollars, more than 60 percent of the country's total, the local chamber of commerce said. The exports stood at 1.67 billion U.S. dollars and imports at 630 million U.S. dollars. Most of the imports came from India, Brazil and Spain.Xiamen has become China's largest stone trading center. There are now more than 600 stone importers and exporters in the city, the chamber of commerce added. Sponsored by the China Chamber of Commerce of Metals, Minerals & Chemicals Importers & Exporters, the 7th Xiamen International Stone Slab Exhibition is due to be held from March 8 to 11 this year in the eastern coastal city. Around 850 enterprises from 30-plus countries and regions will participate in the four-day event.
February 24 - 25, 2007

Hong Kong: Hong Kong shares went up on Wednesday with the benchmark Hang Seng Index rose 83.51 points, or 0.41 percent, to 20,651.42 after trading between 20,540.32 and 20, 677.29 during the session.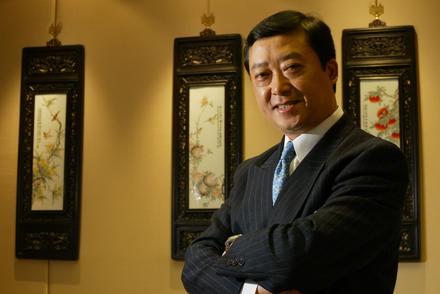 Chan Tze-ching, the head of Citigroup's Hong Kong operations, has resigned and will leave at the end of April after spending 27 years at the world's largest banking group. His retirement was announced on Friday by Robert Morse, chief executive of Citigroup's corporate and investment banking in the Asia-Pacific, who said in an internal memo to management that Mr Chan hoped to pursue other interests, according to sources. "We don't expect any significant impact on the Hong Kong operation as it is well established and has been doing very well for the past few years," a bank spokesman said. Mr Chan was not joining a rival, the spokesman added. Sources said Mr Chan, better known as T.C. Chan rather than by his Christian name of Ignatius, told his staff privately that as the bank's businesses had been well established, he should spend more time with his family and help those who were in need. Mr Chan, 50, and married with two daughters, is Citigroup's Hong Kong country officer and head of the Greater China corporate and investment banking unit. He joined Citibank Hong Kong in 1980 after serving in various positions in finance, operations, investment and corporate banking organizations in the city. He was transferred to Japan in the mid-1980s and stayed there for eight years before he returned to Hong Kong in 1994 to become Citigroup's country treasurer and head of sales and trading. "He made Citigroup's treasury business well recognised by the market while in Tokyo," a banker close to Mr Chan said. He was promoted in 1997 as head of the Hong Kong corporate banking business and two years later as country officer. In 2003, Mr Chan left Hong Kong again to become the Taiwan country officer after his predecessor Eric Chen left with about 20 senior staff for Chinatrust Financial Holding, a major financial firm on the island. His colleagues at that time called him a "firefighter", as he faced the daunting task of filling the sudden void in senior management and restoring morale at the bank's Taiwan operation, sources said. Mr Chan came back to Hong Kong in January 2005 and assumed his current position. A market watcher said Mr Chan was partly in charge of the group corporate and investment banking business in the mainland, a "challenging" job that would be difficult for the bank to fill. A banker familiar with Mr Chan said he was "smart" and very committed to his work as well as to interest groups in the local financial service industry and to community service. Mr Chan, a Justice of the Peace, is a council member of the Treasury Market Association of the Hong Kong Monetary Authority and chairman of the government advisory committee on human resources development in the financial services sector.
Regal Hotels International Holdings (0078) has applied to the Securities and Futures Commission and the Hong Kong stock exchange to spin off its real estate investment trust, Regal REIT, for separate listing.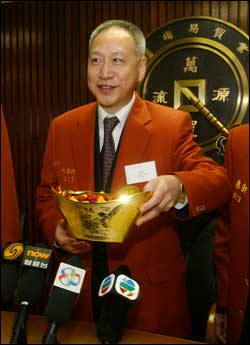 Gold will touch US$730 (HK$5,694) per ounce this year, closing in on last year's peak, according to William Lee Tak-lun, president of the Chinese Gold and Silver Exchange Society. Lee reflected the bullish sentiment in the gold market as the exchange Wednesday marked the first trading day in the Year of the Pig. In May 2006 , gold hit a 26-year high of US$730 per ounce. In London Wednesday it was trading at US$657.75 per ounce. Lee said the 97-year-old exchange is gradually paving the way for a public listing while also building up market infrastructure. "The first step this year is to launch an electronic trading platform," Lee said. Currently, the exchange uses an open outcry method of dealing, with trading from 9am to 5pm. Lee predicts trading volumes will multiply once the exchange begins electronic trading. Trials will be carried out in the second quarter, with the aim of going electronic in the third quarter. A HK$12 million investment has been made in the new computer-based trading platform, provided by i-Asia Online Systems. Lee said the system will allow for multi-currency trading and enable after- hours trading to match the opening hours of overseas markets. Secretary for Financial Services and the Treasury Frederick Ma Si-hang attended the ceremony marking the first trade Wednesday. Ma said the economy had performed well in the Year of the Dog and growth would continue this year. But he cautioned investors to assess their own capacity and targets before putting money into an equities market that was at new highs. He said the market was easily affected by external factors, including the US property market and US interest rates, as well as mainland economic growth. Referring to the US$730 per ounce projection for gold, Ma said the price was "basically supported by the real demand for gold globally, especially from countries including China and Britain." The appreciation of the yuan and the weakening greenback would stimulate gold demand in the mainland, Ma said. The first trade for 99 tael gold in the Year of the Pig was quoted at HK$6,128 per tael, the highest Lunar New Year opening price in the past five years. It compared with HK$5,228 last year, HK$3,888 in 2005, HK$3,763 in 2004 and HK$3,438 in 2003. The price of 99 tael gold slipped 1.35 percent to HK$6,133 per tael from the closing price last Friday.
Hutchison Port Holdings, a unit of the Li Ka-shing-controlled Hutchison Whampoa (0013), plans to bid for a new container terminal near Vancouver, according to Canadian media reports.
Hong Kong Monetary Authority chief executive Joseph Yam Chi- kwong said Wednesday the Chinese central bank's decision to raise the reserve requirement ratio on deposits will have little impact on mainland lenders as the banking system is filled with excess liquidity.
Hong Kong's consumer price inflation in January probably remained steady at 2.3 percent, as food prices rose at a slower pace than they did 12 months ago due to the Lunar New Year holiday falling later this year, according to economists.
The Chinese University of Hong Kong intends to have at least eight colleges by 2012 to cope with the expected increase in student numbers following the introduction of four-year degree courses.
Hong Kong's population hit 6.9 million at the end of last year - a 0.9 per cent rise from a year earlier, Census and Statistics Department figures released on Thursday showed.
Police had arrested a 55-year-old man on suspicion of trafficking in dangerous drugs following the seizure of about HK$2.4 million worth of suspected cocaine at the airport on Wednesday, a spokesman confirmed on Thursday.

Chief executive candidate Alan Leong takes his campaign to the people outside the Kowloon Tong KCR station on Thursday.

Hong Kong Exchanges and Clearing chief executive Paul Chow Man-yiu has dismissed the proposal by a leading mainland official to create an A- and H-share arbitrage platform, saying that widespread cross-border stock trading is not feasible as long as the yuan is not fully convertible.

China: China planned to cut its water consumption for per unit GDP growth by 20 percent by the end of 2010, or an annual drop of four percent during the 2006-2010 period, according to the Ministry of Water Resources.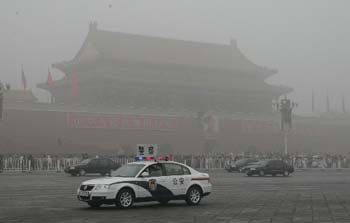 A police car is seen at the fog-covered Tian'anmen Square in Beijing, capital of China, Feb. 21, 2007. Sections of seven Beijing and ten Tianjin highways closed due to the thick fog that smothered north China on Wednesday morning.
US Treasury Secretary Henry Paulson, continuing efforts to deal with America's huge trade gap with China, will make his third visit to the country next month.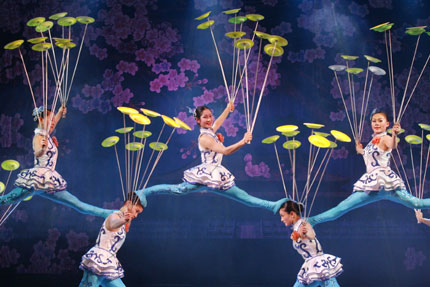 Artistes display their plate-spinning skills during an acrobatics show in Beijing February 21, 2007. Acrobatics, dating back to more than 2,000 years, is one of China's oldest art forms.
As China is ushering in the Year of Pig, many young couples are welcoming the Lunar New Year not only with firecrackers, but also with diapers. More members of the generation born under the one-child policy have reached the age of marriage and child-bearing and China is bracing itself for a comparative baby boom. But a mixture of tradition and superstition means that 2007 will be set to the tune of some serious dummy sucking. According to the Chinese lunar calendar, 2007 is the year of the Golden Pig, a particularly auspicious year that only comes round once every 60 years. Xu Wen, a young woman in Shanghai, became pregnant a few months ago and is just one of the millions of Chinese parents who succumbed to the belief that a 2007 baby would be showered with good fortune. "The oldies in my family said the Golden Pig will bring luck and blessings to my child," said Xu. "2007 is the year of "Jin", meaning gold, according to the rotation of five elements of gold, wood, fire, water and earth," said Yu Yue, an expert on folk culture. "The pig, as a major livestock, has been a symbol of wealth and abundance in China since ancient times," Yu explained.
About 1,600 volunteers for the 2008 Beijing Olympics started a week-long training program on Sunday, the beginning of the Spring Festival, offering information, translation or interpretation services and emergency aid.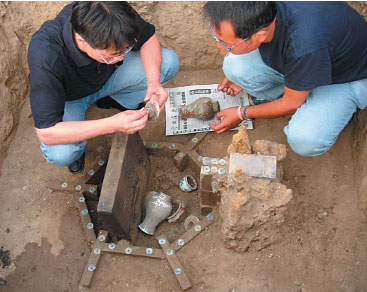 Two archaeologists work on a tomb nearby the Olympic Forest Park with special arrangement that represents a turtle. The six bricks that strech out of the hexagon pit are the head, tail and four feet of a turtle, its tail pointing to the north. When the world's top athletes gather at the 31 newly-built arenas for the Beijing Olympics to compete for gold, silver and bronze, many might not realize that right beneath where they stand were buried mounds of "gold, silver and bronze" treasures, some dating back 2,000 years. A: Five-color Porcelain Jar; B: Jade Belt; Crane-and-cloud pot; Gold Gawu; C: Jade Fish; Terra-cotta Jar; Terra-cotta pot. Archaeologists surveyed about 1.6 million square meters of land at about 17 under-construction Olympic venues between April 2004 and last November, and unearthed 700 ancient tombs with 1,500 artifacts, according to Kong Fanzhi, head of Beijing Administration of Cultural Heritage. Fittingly, Kong's briefing was held at the reconstruction sites of two ancient temples, one next to the National Aquatics Center and the other near the neighboring Olympic Village. "Beijing has inherited a rich collection of cultural relics, so the construction of Olympic venues had to take their preservation into consideration. This is part of the government's promise to host a 'Cultural Olympics'". As most of the city's relics rest inside Beijing's ancient city walls - a fortification built around 1435 in the Ming Dynasty (1368-1644) and now replaced by the city's second ring road - and the city wall of the Yuan Dynasty (1279-1368), which is located a little north of the North Third Ring Road, none of the Olympic venues were built inside or nearby these relics-rich city walls. The foundation of the Water Cube, the aquatics center, was laid 100 meters further north to its original chosen site so that a nearby 500-year-old Taoist temple dedicated to the fertility goddess, could survive. Yet due to unavoidable construction at the chosen sites, Kong's team had to excavate 9,787 square meters of land, about 0.6 percent of the total area they surveyed. The artifacts unearthed from the mostly-civilian tombs will be used for research and displays.
Taiwan's parliament speaker, a prospective presidential candidate who favors improved ties with Beijing, would visit the mainland and meet President Hu Jintao in March, it was reported on Thursday.

Fugitive Chinese banker Gao Shan, 42 - accused of embezzling millions of dollars - was quietly arrested last week in Vancouver on Canada's Pacific coast, media reported on Wednesday.
February 23, 2007

Hong Kong: Police have begun investigating alleged incidents of investors subscribing to H-share sales of mainland companies in the second half of last year using multiple identities. The illegal practice was noticed in particular during the mega initial public offerings of Industrial and Commercial Bank of China (1398), the world's biggest IPO, and Bank of China (3988) on the Hong Kong bourse. It is believed punters - ranging from housewives to the elderly - opted to take the illegal route to raise their odds of share allotments amid massive oversubscriptions for the popular mainland financial plays. In the wake of concerns raised by the Securities and Futures Commission, subscriptions for this month's IPO of juicemaker China Huiyuan Juice are being tracked, reported Sing Tao Daily, the sister paper of The Standard. Huiyuan Juice, which is offering 400 million shares with the aim of raising HK$2.4 billion, is one of the most sought-after issues. Demand for its retail portion was more than 900 times oversubscribed. Huiyuan Juice, which is due to start trading Friday, closed its order books February 13. Police are scrutinizing the subscription documentation relating to IPOs from June to October last year, when the multibillion-dollar offerings of BOC and ICBC came on the market, sources said. ICBC raised US$22 billion (HK$171.6 billion) in a dual listing on the Hong and Shanghai bourse. Commercial Crime Bureau investigators are preparing to question some individuals, the sources said. Considering the sheer volume of orders, with about a million investors clamoring for a piece of the IPO action, the organizations which processed the share applications had been unable to verify adequately the authenticity of all subscriptions, the sources said. Investors could have used their Hong Kong identity card numbers as well as passport numbers in different applications, while others are suspected to have opened multiple accounts at brokerages and banks to subscribe for shares. The organization responsible for the registration of new issues does not vet the applications of those who subscribe through brokerages and banks, leaving the task in the hands of the intermediaries. The SFC warned that the abuse of the system for IPO subscriptions is tantamount to fraud. Anyone who makes a false declaration in securities trading is committing a crime, according to the regulations. The maximum penalty is two years' imprisonment and a HK$100,000 fine.

Hutchison Telecommunications International (2332) said Tuesday its net profit for the first three quarters of last year reached HK$1.13 billion, rebounding from a loss of HK$128 million for the same period the previous year.
Airport Authority Hong Kong - operator of Asia's third busiest passenger airport - expects a higher percentage of its revenue to come from airport retail when the HK$2.8 billion Terminal 2 officially opens February 26, a senior authority official said. "Income from retail business may account a third of our latest result," commercial director Hans Bakker told The Standard. He hopes at least 30 percent of revenue will come from retail in the 2007 fiscal year. The authority's turnover soared to more than HK$ 7 billion - its highest ever - in the year ending March 2006. Much of that growth was in airport retail, the authority's second main income stream, which accounted 26 percent of turnover. Airport charges accounted for 38 percent. A quarter of the 140,000-square- meter Terminal 2, located next to the Airport Express station, comprises the 130 shops, catering outlets and entertainment attractions of SkyPlaza. Bakker said all the retail shop and 50 percent of office space above the terminal had been let. Retail and advertising general manager Eva Tsang added that rents for new lease shops were on par with Tsim Sha Tsui rents. Terminal 2 will also have 56 check- in counters that can be doubled to 112, and more immigration facilities for departing passengers. "These additional facilities will handle passenger demand for the next 10 years," Bakker said. Hong Kong's airport handled a record 44.45 million passengers last year, 9.1 percent more than 2005. The authority expects to handle 80 million passengers in 2025. Bakker said having more check-in counters and a 36-bay cross-border coach station will attract more travelers from the Pearl River Delta. Mainland travelers account for 20 percent of passengers, while Koreans and Taiwanese are the next largest groups. Several other projects are under way to boost capacity, Bakker said. The authority is in discussions with the government to set up check-in counters for travelers from the Pearl River Delta by ferry. The authority will also seek Board approval to expand Asia- World Expo by a third. Hong Kong airport was Asia's third- busiest by passenger numbers last year after Tokyo's Haneda and Beijing Capital International Airport, according to Airports Council International.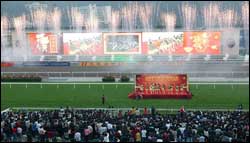 More than 85,000 people turned up at the two racecourses Tuesday to welcome the Year of the Pig, the largest single-day attendance in four years. They also poured more than HK$1 billion into the tote, the highest single- day turnover for the current season, though this was marginally down on the Lunar New Year turnovers for the first racing days of the Monkey, Rooster and Dog. "The turnover may have been affected by the late withdrawal of a well- supported runner in the Hong Kong Derby Trial," said Jockey Club chief executive Winfried Engelbrecht- Bresges, who insisted the day was still a "marvelous success in every way." The day also saw the creation of at least four more Hong Kong multimillionaires, with more than HK$40 worth of winning tickets for the Triple Trio which paid HK$8 million for each HK$10 ticket. Opening the celebrations to mark the Year of the Pig was Chief Secretary Rafael Hui Si-yan, who with Jockey Club chairman John Chan dotted the eyes of the ceremonial lions. Hui said he hoped Hong Kong would have a stable if not prosperous Year of the Pig and wished the Jockey Club luck in its bid to win back punters and betting dollars from illegal bookmakers and offshore betting pools. Hui's remarks were followed by performances from the popular Cantopop singing duet Twins, the Haicheng Stilt Walkers, Sichuan Opera Face Changing master Liu Zhiyong and Red Poppies Percussion, the world's first all- woman percussion band. By the time the races got under way, a total of 85,967 people had crossed the turnstiles at Sha Tin and Happy Valley racecourses, a 4 percent rise on the 82,703 who turned up last year. Total turnover for the 10-event card reached HK$1.011 billion - about HK$40 million short of last year's figure.
Hong Kong International Airport handled a record 872 flight movements last Friday - a daily record, a Civil Aviation Department spokesman said on Wednesday.

China: Sun Xiang makes debut in European Champions League - Left back Sun Xiang made his debut here in the duel between Eindhoven PSV and Arsenal on Tuesday night, making him the first Chinese soccer player playing at European Champions League. Five minutes after Sun Xiang's teammate Edison Mendez scored the goal for the host team, PSV head coach Ronald Koeman sent Sun Xiang to the field, helping create the history for the Chinese. "This is the first Chinese player to appear at the Champions league, it is good for China," Koeman told Xinhua after the match. Koeman said he made this decision from the "technical way", and Sun Xiang got this chance because of his "quality". "Last Saturday, he started in the team. He had a good position, he did very well during the past half an hour," he added. Sun Xiang, for himself, said he was "very happy with" and "proud of" becoming the first Chinese player playing at the European Champions League. "I'm well prepared. I did not feel pressure when the head coach sent me to the field," the 25-year-old told Xinhua. "The head coach told me that my task is to defend the winger, and I lived up to this task," he added.
China is still lacking in logistics professionals despite the rapid expansion of its logistics industry and development of training for logistics professionals.
European Union firms are denied business opportunities in China worth at least 20 billion euros (HK$205 billion) a year because of non-tariff trade barriers, a study published by the European Commission said.

Believers rub their hands on a bas relief sculpture of a pig for good luck at Baiyunguan Taoist temple (White Cloud Temple) on the third day of the Lunar New Year in Beijing.
Lenovo Group has hired another former executive from rival computer-maker Dell to a key company position, with the appointment of Yolanda Conyers yesterday as vice-president for cultural integration and diversity.
February 22, 2007

Hong Kong: Australian wagering firm Tabcorp Holdings is no longer in talks with Richard Branson's Virgin Group on plans to develop a US$3 billion (HK$23.4 billion) casino in Macau, sources familiar with the situation said Monday.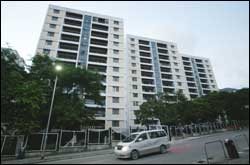 Higher revenue from private treaty grants and lease modifications will boost total land income this fiscal year to HK$43 billion - 50 percent more than last year, market watchers say. In the first three quarters of the year ended December 31, total land income reached about HK$34 billion - already surpassing the government's full-year target of HK$30.5 billion. The government will book more than HK$9 billion in this last quarter when three residential sites in Tai Po valued at HK$5.7 billion go under the hammer next month, as well as a finalized HK$3.34 billion land-conversion premium for a property project above Tseung Kwan O MTR station. Financial Secretary Henry Tang Ying-yen will unveil land income figures for the year ending March 31, as well as land revenue forecast for the next fiscal year in his budget next week. Total land income totaled HK$28.7 billion in 2005-2006.

Kerry Logistics, an arm of Kerry Properties (0683), is continuing its expansion into the fast-growing chemical logistics business as it is looks for a site near Shanghai to set up a warehouse to further its expansion drive, according to senior management.
HSBC Holdings' (0005) Canadian operations recorded an 8.8 percent increase in 2006 net income on strong growth in the commercial banking sector and wealth management business.
The travel industry is hoping the government will pave the way for it to operate freely in the mainland under the Closer Economic Partnership Arrangement, according to an Election Committee tourism subsector member.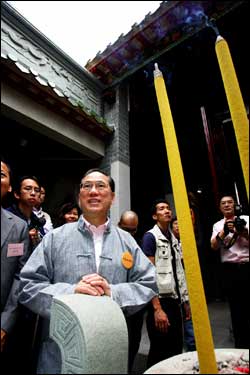 Brilliant chrysanthemums several stories high lit up the dull skies over Victoria Harbor Monday night as 330,000 residents welcomed in the Year of the Pig on the second day of the Lunar New Year. Despite the poor visibility and low cloud ceiling brought about by a northeasterly monsoon, 12 displays comprising 28,000 shells were discharged from three boats in the harbor in the 23-minute display. The show was sponsored by the Association of Hong Kong Members of Guangdong's Chinese People's Political Consultative Conference at a cost of HK$4 million and coordinated by the Home Affairs Bureau. Several piers and roads near the waterfront were closed to accommodate spectators. The fireworks took place after Chief Executive Donald Tsang Yam-kuen appealed for community harmony while continuing to expound his family theme during visits to two villages in Tai Po as part of his election campaign. "The Lunar New Year has a significance to the Chinese people as the time to gather the family that may be dispersed across the globe," Tsang said. Speaking casually to villagers at Nam Wah Po during a tour of the 400-year old ancestral hall in Hang Ha Po, Tsang appeared impressed with the Confucian atmosphere of the hamlets, adding that family harmony was the foundation for social unity.
Amid stepped-up efforts by the government to boost medical tourism, former Hospital Authority director Ko Wing-man has raised one key concern - services capacity. He warns that capacity in public and private hospitals would be far from adequate if the idea gained ground. "My personal view is that many people consider medical services a charity rather than an enterprise. "Therefore, the capacity available is often at a bare minimum, or just enough, and the incentive to increase capacity is rather limited," Ko told The Standard. However, the situation could change. The debate over non-Hong Kong pregnant women giving birth in the city has gained momentum as the concept of medical tourism is being promoted. Faced with arrivals of mainland mothers-to- be, critics argue it is time to give serious thought to developing this "potential enterprise." According to the Immigration Department, the number of babies born to mainlanders in Hong Kong climbed from 10,128 in 2003 to 19,523 in 2005. In the first 10 months of last year, a total of 20,577 mainland mothers gave birth in Hong Kong. The Trade Development Council and China Travel Service last July agreed to introduce tours for mainlanders that would include a "must- go" attraction - private hospitals. The idea is to attract mainland tourists who can afford Hong Kong's quality private medical services - unavailable in most parts of the mainland - even for the relatively few who can afford them. Hong Kong Baptist Hospital recently signed a cooperation agreement with the University Hospital in Macau to boost medical tourism by attracting expatriates in Macau to cross to Hong Kong for medical services. This is the first such program in Hong Kong. The report on the Economic Summit on China's 11th Five-Year Plan released last month attempts to further explore this area and link it with the idea of a "Hong Kong medical center of excellence." Ko is the key contributor to the section on the medical profession in the report, which suggests consolidating and further developing Hong Kong's position as a professional medical center of excellence in the region "through exploring the feasibility of setting up medical centers of excellence, promoting Hong Kong's medical services in the mainland and our neighboring regions, and considering measures to facilitate patients from the mainland to seek medical treatment in Hong Kong." In his election platform released last Friday, Chief Executive Donald Tsang Yam-kuen reiterated the idea of setting up a medical center of excellence. "The center would, in the long run, become the focal point for medical experts, provide opportunities for the medical profession and render quality specialist medical services to the people of Hong Kong and those from the mainland and other regions," Tsang's election platform notes. The idea is to intensify the flow of medical services between two places, rather than simply academic exchanges at the clinical level, Ko said. Yet, some questions remain unanswered, and choosing the center's site is not easy. "The center can't be too remote, but if it were located in a busy area already crowded with private clinics, it might spark vicious competition," Ko said. Other factors, such as resources including people and avoiding conflicts of interest, need to be considered. Tung Chung, with a population of about 100,000, could be one possible site. Ko, an orthopedic specialist, served at Princess Margaret Hospital for 24 years before taking up an executive post with the Hospital Authority in 1991.
Ta Yang Group, one of the world's top three elastomeric keypad makers, plans to raise at least HK$1 billion by listing shares in Hong Kong to upgrade its production capacity on the mainland, market sources said.
Energy World Corp, a developer of gas and electricity projects, said it signed an initial accord with an undisclosed mainland company for long-term sales of liquefied natural gas.

China: The Industrial and Commercial Bank of China (ICBC) and the China Aluminum have signed an agreement on long-term strategic cooperation.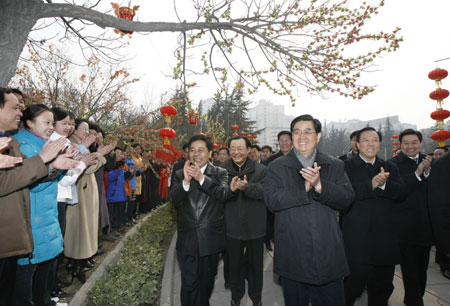 In the first three days of the Spring Festival, President Hu visited local residents, workers who stuck to their posts in the week-long holidays and needy families in Gansu Province. Chinese President Hu Jintao greets local residents at "small West Lake" park of Lanzhou, capital city of Northwest China's Gansu Province February 18, 2007, China's Lunar New Year's Day. In the first three days of the Spring Festival, Hu and other officials visited local residents who stuck to their post during the week-long holidays.
China has made substantial breakthroughs in shipbuilding as the first liquefied natural gas (LNG) ship made in China, one of the most advanced in the world, will be delivered in September.
China's automobile industry made a profit of 76.8 billion yuan (approximately 10 billion US dollars) in 2006, up 46 percent from the previous year, according to figures from the China Association of Automobile Manufacturers (CAAM).
As Wal-Mart, Carrefour and other foreign retailers crowd into China, they are greeted with open arms by a government that, in this industry at least, shows few protectionist proclivities. A major reason for the welcoming attitude is that the foreigners, for all their lofty ambitions and deep pockets, remain minor players in a giant market where 1.3 billion people are learning the joys of mass consumption. "Excessive market share [by a foreign company] is not a concern for the government," said Candy Huang, an analyst with BNP Paribas in Shanghai. "The biggest player in China currently has only around a 5 percent national market share," she said. The foreigners are working hard to become bigger. Earlier this month, British retailer Tesco said it would open 10 more outlets in China this year after its first store in Beijing opened last month. With a 90 percent stake in Hymall - a grocery brand under Taiwan-based Ting Hsin International Group - Tesco now effectively has 45 Hymall stores across China. Home Depot of the United States also recently signed an agreement to buy China-based retailer Homeway's 14 home furnishing stores to better compete with British rival B and Q, which has 52 stores.
February 21, 2007

Hong Kong: Northwest China's Ningxia region launched on Monday its first direct flight to Hong Kong, marking the official opening of the airport in the region's capital to overseas flights.
Legislative Council education panel vice chairman Yeung Sum has warned education secretary Arthur Li Kwok- cheung and his former deputy that Legco may use the powers and privileges ordinance to force them to appear before a special panel meeting on February 28.
Filings for personal bankruptcy increased to 1,006 cases in January, a rise of 32 percent over December, mainly due to lenient approval systems for credit card lending, a legal expert said.

Heung Yee Kuk chairman Lau Wong-fat (right, red scarf) and Alex Choy Kan-pui of Sha Tin Rural Committee officiate pray for good fortune at the popular Che Kung Temple in Sha Tin.
Richard Branson's Virgin Group is looking for other partners to develop and run a casino in Macau after the collapse of talks with Australian betting firm Tabcorp Holdings, sources said.
Ta Yang Group, one of the world's top three elastomeric keypad makers, plans to raise at least HK$1 billion by listing shares in Hong Kong to upgrade its production capacity on the mainland, market sources said.
Energy World Corp, a developer of gas and electricity projects, said it signed an initial accord with an undisclosed mainland company for long-term sales of liquefied natural gas.

China: China plans to produce 260 tons of gold in 2007, nearly 20 tons more than last year, according to the National Development and Reform Commission (NDRC).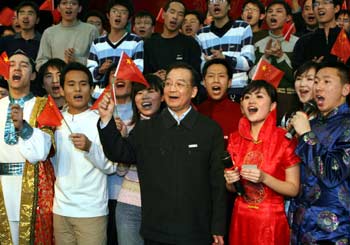 Chinese President Wen Jiabao sings on the eve of Chinese Lunar New Year, or the Spring Festival with college students in Northeast University, Liaoning province.
China Unionpay, China's largest credit card service company, had extended its overseas network to 24 countries and regions by the end of 2006, according to sources from the company's headquarters in Shanghai.
China produced 110 million kilowatts of power generators in 2006, up 27 percent from the previous year, the National Development and Reform Commission (NDRC) said in its latest report.
Life expectancy for Chinese will increase to 85 years by 2050 from the current figure of 72; the average schooling period will increase from the current 8.2 years to 14 by 2050; and by that year, ecological degradation will cease.
Beijing has sufficient hotel rooms to accommodate the influx of visitors from home and abroad during the 2008 Olympic Games, an official at the Beijing Olympic Organizing Committee (BOCOG) said. Some worry that there won't be enough rooms available to ordinary tourists during the August 8-24 Games after 122 star hotels have been signed up by BOCOG to provide accommodation to the Olympic Family. "Such worries are unnecessary," said Xiang Ping, deputy director of BOCOG's games service department. Xiang said that those hotels contracted to BOCOG account for merely 20 per cent of the total in Beijing. "What we take is only a small fraction of the resources," she said. The Chinese capital currently has over 700 star-rated hotels and, along with other developments, the total number of hotels is expected to reach 800 with 130,000 rooms before the 2008 Olympics. Besides star-rated hotels, there are more than 4,000 non-rated hotels in Beijing which can be upgraded to help accommodate tourists, Xiang added. According to the forecast by the Beijing municipal tourism bureau, 500,000 to 550,000 overseas tourists and 675,000 to 774,000 domestic visitors will descend on Beijing during the Games.
February 20, 2007

Hong Kong: Richard Li Tzar-kai continues to be haunted by the ghost of failed plans to pull out of his telecom flagship, PCCW (0008), as major shareholder China Network Communications Group declared its intentions Friday to withdraw from a joint venture with the Hong Kong company.
Banking conglomerate HSBC Holdings (0005) said Friday it plans to sell its 27 percent stake in Ping An Bank to Shenzhen Commercial Bank for about US$29.4 million (HK$229.32 million).
The China Securities Regulatory Committee is studying a proposal that could help disperse China's 1.06 trillion yuan (HK$1.066 trillion) trade surplus into foreign countries by adding more channels for capital outflow.
The government confirmed Friday it has received four tenders for the biggest public works contract in recent years - the controversial Tamar government headquarters, worth HK$5.2 billion.
Filings for personal bankruptcy increased to 1,006 cases in January, a rise of 32 percent over December, mainly due to lenient approval systems for credit card lending, a legal expert said.
China's advertising market revenue reached 386.6 billion yuan (HK$388.91 billion) last year, led by television, which claimed 81 percent of the total, Nielsen Media Research said Friday.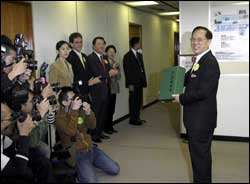 Assured of victory even before the nomination period has closed, and with the strong backing of Beijing, incumbent Chief Executive Donald Tsang Yam- kuen has got his first job done. Armed with 641 nominations - four times that of his challenger Alan Leong Kah-kit - Tsang formally registered as an eligible candidate for the chief executive election Friday. And to show that he is not resting on his laurels, Tsang plans to stage a mass election rally on March 23, two days before polling day. Tsang's 641 nominations represent 81 percent of 796 electors in the Election Committee, which will vote for the next chief executive on March 25. His challenger Leong, who registered Wednesday, had 132 nominations, 17 percent of the Election Committee members. Tsang's 641 nominations represent a wide swath of the Election Committee with 24 out of the 38 subsectors represented, most of whom are pro-business or pro-Beijing.
The public will not be allowed to attend the first chief executive election debate between incumbent Donald Tsang Yam-kuen and challenger Alan Leong Kah-kit on March 1, though they can send in questions through e-mail or fax.
Legislative Council education panel vice chairman Yeung Sum has warned education secretary Arthur Li Kwok- cheung and his former deputy that Legco may use the powers and privileges ordinance to force them to appear before a special panel meeting on February 28.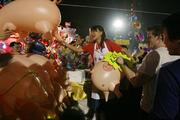 A stallholder enjoys brisk trade in inflatable pigs last night at the Lunar New Year fair in Victoria Park. Elsewhere, shoe shops rushed to sell their stock, restaurants did a roaring trade and florists battled the bargain hunters. Everywhere there were crowds as hundreds of thousands put thoughts of work and school behind them and prepared for the city's most important holiday and the coming of the Year of the Pig. About 386,000 people left the city yesterday, half of them through Lo Wu.

A family shares a reunion dinner yesterday at Hoi Tin Harbour Restaurant in Causeway Bay. Wu Ka-chun, of the Hoi Tin eatery, expects a 20 per cent increase in turnover.
Swire Properties has teamed up with Hong Kong property fund Gateway Capital to buy a multi-purpose project in Beijing's Sanlitun district - the capital's diplomatic quarter and entertainment area - for more than four billion yuan, a source said.

China: China's State Council promulgated amendments to its regulations regarding the export of nuclear goods and technologies, requiring the importers to fulfill more obligations to ward off acts of nuclear terrorism.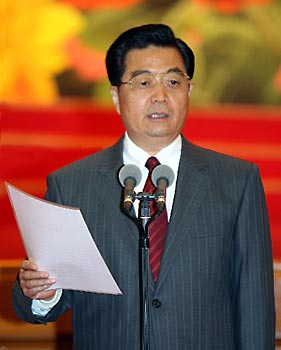 Chinese President Hu Jintao speaks at a grand gathering held in the Great Hall of the People in Beijing, Feb. 16, 2007. Chinese leaders attended the grand gathering to celebrate the upcoming Spring Festival and extend festival greetings to the Chinese people. Chinese Premier Wen Jiabao on Friday pledged to continue to boost economic development, deepen reform and opening-up and listen to the people in his New Year speech.
China's tax burden is still lower than that of most developing and developed countries despite the rapid growth in its tax revenue, an analyst has said.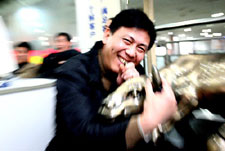 Man grasps the bull horn of a statue in excitement in east China's Shanghai Feb. 16, 2007. The benchmark Shanghai Composite Index, a major index of Chinese shares, hit an all-time high of 3036.35 points and closed at a record high of 2,998.47 points on Friday, up 5.46 points over the previous close. The component index of the smaller Shenzhen Stock Exchange also hit an all-time high of 8740.91 points but closed at 8,572.27 points, down 10.64 points.
China's exports of textiles, clothing and accessories in January grew 18.55 percent year-on-year, but the growth rate was much lower than in previous months.
The required reserve ratio for financial institutes engaging in deposit business will be raised by 0.5 percentage points from Feb. 25 to 10 percent, the second hike in two straight months, sources with China's central bank said here on Friday.
Chinese actress Fan Bingbing poses during a photocall to present the film 'Lost In Beijing' running in competition at the 57th Berlinale International Film Festival in Berlin February 16, 2007. The festival runs from February 8-18.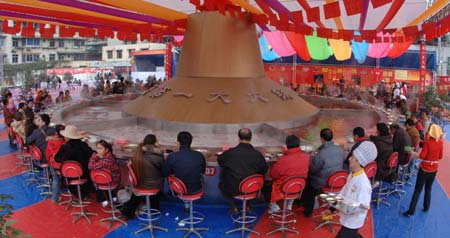 Local residents dine around a huge hot pot in Chengdu, Southwest China's Sichuan Province, February 16, 2007. The huge hot pot measures 12 meters (39 feet) in diameter, and 4 meters (13 feet) in total height. The maker of the pot has applied for a World Guinness Record as the world's largest hot pot.
China's foreign sales of machinery will likely grow at a rate of 20 percent or so this year, with high-value-added products expected to claim a bigger share.
Indonesia's State-run plantation company PTPN-11 has bought 13,000 tons of sugar from China to meet demands mainly in Sulawesi island.
Shares of fixed-line operator China Telecom (0728) gained nearly 4.6 percent Friday, while rival China Netcom Group (0906) was up nearly 3 percent on the back of talk from managers at China Netcom implying restructuring in the mainland telecom sector is likely.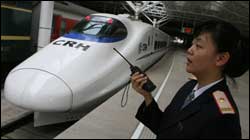 China has chosen the Lunar New Year holidays, when 70 million people will travel by rail, to showcase its first high- speed trains, but pains are being taken to downplay the fact they were made abroad.

Li Zhaoxing (right) shares a light moment with his Japanese counterpart, Taro Aso, before talks in Tokyo yesterday. Foreign Minister Li Zhaoxing offered yesterday to reopen negotiations with Japan in a heated dispute over the East China Sea as the two neighbours further mend strained relations, Japanese officials said.
The United States gave China more time last year to reduce widespread piracy of US goods but is again considering legal action through the World Trade Organisation, US trade officials said.
February 19, 2007

Hong Kong: A positive inflation outlook for the major economies of China and the United States eased concerns over interest rate hikes, sparking rallies in global markets, with Hong Kong's Hang Seng Index jumping more than 300 points after the Dow Jones Industrial Average reached a new record high, as did several bourses in Asia.
Singapore will introduce a widely anticipated corporate tax cut, placing Hong Kong under pressure to do the same. Singapore's Second Minister for Finance Tharman Shanmugaratnam, announced in his budget speech that the island state would cut the corporate tax rate, known in Hong Kong as profit tax, by 2 percent from 2008.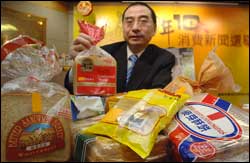 More than a quarter of bakery products taken from major local supermarkets and chain bakeries have been found to be mislabeled and may contain trans fat, which can cause coronary heart disease, the Consumer Council has warned.
Financial services secretary Frederick Ma Si-hang (centre) attends the opening of the Democratic Alliance for the Betterment and Progress of Hong Kong's booth at the Lunar New Year fair in Victoria Park, with lawmakers Tam Yiu-chung (left) and Ma Lik.
Swire Properties has teamed up with Hong Kong property fund Gateway Capital to buy a multi-purpose project in Beijing's Sanlitun district - the capital's diplomatic quarter and entertainment area - for more than four billion yuan, a source said.

China: The exchange rate of the RMB against the U.S. dollar climbed a further 94 basis points to a new high of 7.7408 yuan to one dollar on Friday.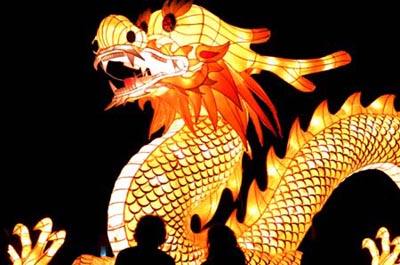 the shape of a dragon during a lantern fair to celebrate the upcoming Spring Festival at a park in Shenyang, Northeast China's Liaoning Province, February 15, 2007. About 13,000 lanterns are displayed during the fair that begins on February 15 and runs through March 5.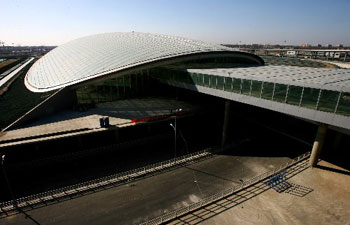 The photo taken on Feb. 14, 2007 shows the newly-completed No. 3 terminal building and parking building in Beijing Capital Airport in Beijing, China. The extension project of the airport, with overall investment of 27 billion yuan (about 3.3 billion US dollars), started on March 28, 2004 and is expected to finish at the end of 2007. The extension will contribute to the 2008 Olympic Games.
The benchmark Shanghai Composite Index, a major index of Chinese shares, closed at a record 2,993.01 points on Thursday.
London Mayor Ken Livingstone launched a campaign of celebrations to coincide with Lunar New Year, his latest effort to build stronger links with China.
"Beijing promises not to set a double standard for Games ticket prices", Beijing vice mayor Liu Jingmin said on an Olympic themed-program yesterday that aired on Beijing Television(BTV). "If Chinese and Westerners are charged different prices, it will not honor the Olympic spirit." After more than one year of research, including an online survey, the Beijing Organizing Committee for the Games of the XXIX Olympiad (BOCOG), instituted the final ticket prices based on how much people can pay, said Liu, who is also the vice executive president of BOCOG. Liu further explained the conclusion drawn from in-depth research on both the country's urban and rural consumption levels was to adopt the relatively low-price system during the Beijing Games. "The amount of the 2008 competition fares less than 100 yuan (US$12.5) accounts for the 58 percent of the total," Liu stressed. Olympic ticket prices have not blindly followed international practices but fully considered the capability of ordinary people,"Compared to the tickets fee of Athens and Sydney Olympic Games, that price policy could be much cheaper in 2008." When asked if westerners with higher incomes would be charged more, Liu said "that's absolutely forbidden;it goes against the Olympic spirit of justice, equality and openness to all." "That's really good,"a Beijing freelance Ms.Fan told chinadaily.com upon hearing Liu's guarantee on Olympic tickets policy, "It should be a fair scheme that assures that each spectator can afford a match." It may seem to be a mistake from a commercial perspective, but low ticket prices will enable more people,regardless of east or west,to watch the Games and feel the atmosphere and the spirit of competition, Fan said. More than 7 million tickets for the Beijing 2008 Olympics will go on sale this year, and the fair distribution of low-price Olympic tickets will be the centre of attention. The long-awaited prices for the 2008 Beijing Olympics were published on Nov.29 last year on the official site of the Games and the prices for seats at the opening ceremony are as low as 200 yuan (US$25.50). More than 58 per cent of all tickets for open sale will cost 100 yuan (US$13) or less, with the lowest price being 30 yuan (US$4). The BOCOG will also offer student tickets, which account for about 14 per cent of all domestically available tickets and cost merely 5 yuan (US$0.64) for preliminaries and 10 yuan (US$1.28) for finals.

Chen Ling is packing for her Spring Festival holiday: a mobile phone for her father, scarf for her mother, hongbao for siblings, souvenirs for good friends and above all, a ticket home. Altogether it will cost her at least 3,000 yuan more than the 2,500 yuan monthly salary of the 25-year-old Chen. Chen's experience is common, according to a survey conducted by China Daily's website. Half of the respondents, although their shopping list may differ, said they would spend a fortune over Spring Festival on Sunday. Of the 1,042 respondents, 533, or more than half, said they had to spend several thousand renminbi during Spring Festival, which many considered a burden. One netizen, Mark, said his expenditure included food, clothing, firecrackers, gifts and travel expenses, and that "this adds up to a big sum, several thousand yuan at least". Average expenditure is 3,000 yuan a person, according to the survey. But many people are willing to spend the money, which generally exceeds their monthly incomes. This is because Spring Festival is the most important holiday for Chinese and "it is the best time for family reunions and spending", one respondent said. Travel expenses are one of the biggest costs over the period, although train ticket prices, which previously went up 20 percent over the peak period, will stay the same this year. Train tickets are still difficult to secure, and many people choose to take planes, with little discount over the holiday season. For a family of three living in Beijing to return to their hometown in South China, the minimum cost for plane tickets is usually around 8,000 yuan. After travel expenses, the main costs are gifts and entertainment. Over half of those surveyed said they spend over 60 percent of their Spring Festival budget on gifts for friends and family members. Spring Festival is traditionally a time for Chinese to say thanks, with health food, gift boxes of spirits and baked goods the most common gifts, according to the survey. Spring Festival dinner and other family gatherings can also be expensive. Family events can last for the entire seven-day holiday period. Many people will spend over 1,000 yuan for Spring Festival eve dinner, choosing to eat out, according to the survey. Many hotels and restaurants in Beijing and Shanghai are offering 10- and 11-course set menus until February 25. In some star-rated hotels, the price for a table of 10 usually ranges from 2,000 to 5,000 yuan. Affluent people tend to spend money on travel. And of the nearly 20 percent of Chinese who plan to travel, nearly 74 percent will visit Hong Kong. Other popular destinations include Macao, Singapore, South Korea, Taiwan, Japan, Thailand and Malaysia. More than half of those traveling over the Spring Festival week said they would spend 1,000 to 5,000 yuan, and nearly one-fifth will spend over 5,000 yuan.
Ping An Insurance (Group), the mainland's second-largest life insurer, will buy out HSBC Holdings' stake in subsidiary Ping An Bank and then transfer the lender to the group's 89.36 per cent-owned Shenzhen Commercial Bank.
February 17 - 18, 2007

Hong Kong: Market operator Hong Kong Exchanges and Clearing (0388) abandoned initiatives aimed at tightening the trading spreads for cheaper stocks in the face of intractable opposition from securities brokers.
Market regulators are looking into whether HSBC Holdings (0005) failed to abide by certain requirements outlined by Hong Kong Exchanges and Clearing (0388), inside sources said.
Shares of regional satellite operator Asia Satellite Telecommunications (1135) jumped more than 25 percent Wednesday after the company announced that its major shareholder proposed to take the company private for HK$2.31 billion.
Canada-based Manulife Financial (0945) said Wednesday its net income rose 21 percent last year as strong performance in equity markets helped offset the negative impact brought on by a strengthening Canadian dollar.
Hong Kong listed Clear Media (0100), the mainland's second largest outdoor advertiser in terms of sales, has posted a 14 percent increase in full-year net profit to HK$120 million on the back of robust demand and higher average selling prices.
Mainland port operator China Merchants Holdings International (0144) said it plans to invest 3 billion yuan (HK$3.02 billion) in its parent's container terminal project in Tianjin in a bid to take advantage of accelerated development in the Bohai Rim region.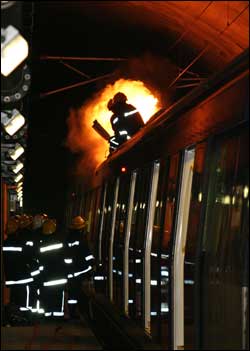 The Kowloon-Canton Railway Corporation has promised a thorough review of its safety systems after a blown transformer disrupted the morning commute for more than 1,000 West Rail passengers Wednesday. This latest snag - which forced 650 angry passengers to walk about two kilometers through a dark Tai Lam Tunnel and others to find another way to the office - adds to the woes that have plagued the railway over the past 12 months. Last year the railway operator - which is merging with MTR Corporation - came under heavy fire for cracks discovered in the undercarriages of its trains. According to eyewitness accounts, passengers riding the Tsuen Wan- bound train Wednesday heard a loud bang at about 9.13am and saw smoke pouring from the top of one of the train compartments. The carriages and the tunnel were filled with thick smoke, according to some accounts. Passengers panicked. The KCRC confirmed the conductor heard a loud bang and received reports from passengers over the train's intercom about smoke in the carriage. A spokesman for the Fire Department said the fire was quickly put out, but at least 11 people were taken to hospital. All were discharged, except for one male passenger who is listed as satisfactory. Passengers walked for nearly half an hour to Tsuen Wan West station. The delay lasted for more than three hours, with regular service through the tunnel resuming just before 1pm. Senior officials at the KCRC said the fire was caused by oil leaking from a transformer on the roof of a carriage.
All commercial fishing in Hong Kong's marine parks should be banned as intensive efforts to control fishing in the past 10 years have failed, World Wide Fund for Nature Hong Kong claims.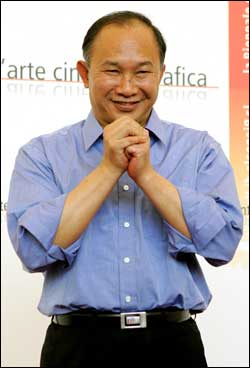 The budget for John Woo's new Chinese historical epic has grown from US$50 million (HK$390 million) to more than US$80 million, Woo's production partner said Wednesday. The movie's title, previously called Battle of Red Cliff, has been shortened to Red Cliff, said the producer, Terence Chang. Red Cliff is based on a war of the same name in AD208 that determined the geography of the Three Kingdoms period, when China had three separate rulers. It stars Chow Yun-fat, Cannes best actor winner Tony Leung Chiu-wai and Taiwanese model Lin Chi-ling. Chang said shooting will start in late March near Beijing. The producer said earlier the Chinese government regarded Red Cliff, a co-production between state-owned China Film Group and Woo's Los Angeles-based Lion Rock Productions, as a showcase of Chinese history. He said the government would like the film to be released before the 2008 Beijing Olympics. Chang said Wednesday the movie will be split into two installments for Asian audiences and screened as one film in the rest of the world. He added that he had failed to land South Korean movie star Jung Woo Sung for a part in the film.
Independent commission to probe accusations over academic freedom - A new inquiry would investigate allegations of government interference in academic freedom at the Hong Kong Institute of Education, Chief Executive Donald Tsang Yam-kuen announced on Thursday.
The total amount owed on credit cards in Hong Kong rose almost 12 per cent in the fourth quarter of last year, the Hong Kong Monetary Authority said on Thursday.

China: A total of 5.2 billion U.S. dollars of foreign direct investment were used in January, up 13.9 percent over last year, the Ministry of Commerce reported on Wednesday.
Optimistic caution - Once again, China's economic growth shattered records; and once again, predictions for the coming year foresee a slight slowdown. The World Bank sees China's GDP growing at 9.6% this year, down from last year's blistering 10.7%, the highest in 11 years. A year ago, the World Bank predicted 2006 growth would be 9.5%, and the Chinese government - in a move characteristic of its command-economy roots - set its own growth target at 8% (a rate that would have been remarkable for its own reasons had it been achieved). Meanwhile, the trade surplus continued to wag tongues around the world, as the G7 cited China's trade imbalance as a problem for the global economy and Hank Paulson named a new special envoy to help him deal with China. The US and China cannot even agree on what their bilateral trade imbalance actually is: the Americans put it at US$232.5 billion, while the Chinese say it's US$144.3 billion.

Market roundup - In securities news, CITIC, the nation's seventh-largest bank, announced it will list on both the Hong Kong and Shanghai stock exchanges later this year. The IPO is still waiting for an official green light, but is expected to raise up to US$3 billion. This week, Huiyuan Juice raised over US$300 million in its IPO, taking the title of biggest Hong Kong listing of the year, at least for now. The Shandong-based company is a leader in China's soft-drinks market, and the country's largest fruit-juice maker by market share. Finally, Longmay Coal decided to shelve its plans for an IPO this year, citing poor safety records at its mines. It was thought that the mining firm could have raised US$1 billion.

Commodities crunch - Despite the bad news for Longmay's IPO, the mineral industries all took heart from recent discoveries of vast reserves of copper, lead, zinc and iron ore in the Tibetan plateau. The state has already planned the sites of 600 potential new mines. No doubt the local Tibetans are taking at least a small comfort in the fact that the sheer height of the plateau will prevent mining in many of these places. Separately, it was announced that China may cut tin exports to sate rising domestic demand.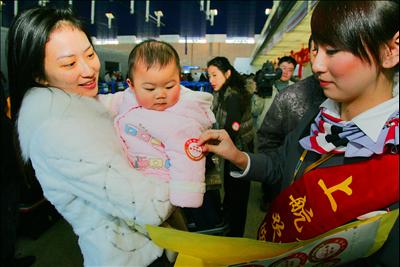 A woman (L) holding her child waits to board Shanghai Airlines flight 9501 bound for Taipei in southeast China's Taiwan Province, in Shanghai, east China, on Feb. 14, 2007. Shanghai Airlines on Wednesday started this year's direct charter flight service across the Taiwan Straits for the Spring Festival, the Chinese lunar New Year which falls on Feb. 18 this year.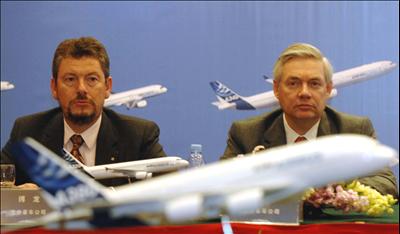 John Leahy (R), Airbus's chief operating officer and Airbus China President Laurence Barron attend a press conference, Feb 14, 2007. The Chinese mainland will need 3,000 aircraft over the next 20 years, including 2,650 passenger planes, Leahy predicted.
Chinese stocks hit a record high Thursday over easing inflation concerns and the return of funds after failing to procure shares in Ping An Insurance's A-share IPO.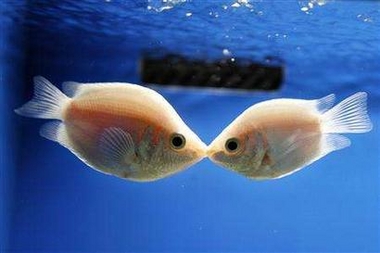 A pair of Kissing Gourami fish kiss at the Shanghai Ocean Aquarium on Valentine's Day in Shanghai February 14, 2007.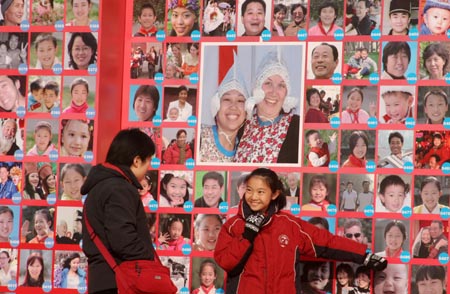 A girl with her Mum pose for a photo beside the "Smile Wall" decorated with smiling head portraits of common people. In total of 2008 photos of smiling faces, screened out of over 4000 pieces of works, has been put up onto a six metres in height, 30 meters in length 'Smile Wall' that stands on the lawn at Beijing Chaoyang Park in honor of Beijing 2008 Olympic Games in Beijing Feb 15, 2007.
Compulsory education for 150 million rural middle and primary school students will be free in the real sense when all miscellaneous fees are scrapped in rural schools nationwide starting this spring semester. Rural families will save 140 yuan ($18) a year on the average for each child receiving free education. But will every rural student be able to enjoy this benefit? Will every rural student get education of the same quality as before the fees are scrapped? Will rural teachers be paid what they are entitled to? The Ministries of Education and Finance will jointly organize a team to check for possible problems in nine western and central provinces and autonomous regions, starting next month. The central government will cover 80 percent of the expenses in underdeveloped western provinces and autonomous regions, and the remaining 20 percent will be locally financed. In the central regions, the central government will finance 60 percent, with the remaining 40 percent locally financed. Misappropriation of education funds was found in South China's Guangdong Province when the miscellaneous fees were first scrapped there last year. Some local education authorities withheld funds allocated by the central and provincial governments or put them to other uses rather than deliver them to the schools. As a result, some schools were forced into even more difficult financial straits and some teachers were underpaid or unpaid. Such irregularities or even corruption at local levels has undermined the policies of the central government. The education and finance ministries' team is to make sure the policy is carried out to the letter. Another important concern the team will examine is whether education conditions in rural schools are improved. This will be key in determining whether the central government policy is achieving its desired goal. Along with the team's investigations, a mechanism needs to be established to stop local officials from diverting this vitally needed funding.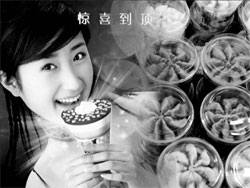 Sweet rise in ice cream possible - After a chilly 2006 for domestic companies, China's ice cream industry is expected to see more consolidation due to rising costs of raw materials and increasing competition, although overall growth should continue. Companies in the sector are expected to focus on product innovation and wiser marketing. Last year the domestic ice cream industry entered a period when large brands from home and abroad including Yili, Mengniu, Nestle and Wall's rose to key positions by utilizing advantages in capital, advanced technology, management and marketing. It was a very different picture from 10 years ago when the number of companies reached a peak of more than 3,000. Rising costs of the major four ingredients used to make ice cream milk powder, sugar, chocolate and palm oil led to bankruptcy for a number of small- and mid-sized enterprises (SMEs). Price increases since 2003 of sugar were the sharpest, at some 111 percent. Milk powder has also become more costly, increasing in price 20 percent over three years, while chocolate prices have risen about 22 percent. All of this caused severe problems for SMEs. Few of them survived and grew up, due to insufficient capital, inefficient distribution and immature management skills. But surviving players have opportunities in the coming years. In 2006, the industry generated sales revenue worth 27 billion yuan, with an output of 2.2 million tons of ice cream. Sales and output volume are estimated to grow to more than 30 billion yuan and 2.5 million tons. Despite the positive figures, the consumption of ice cream in China still lags that of the developed nations. Sales per capita is currently 1.7 kilograms, which contrasts sharply with that of Western nations, ranging in consumption from 11 to 23 kilograms per person. Such a gap leaves room for growth in the industry, and raises interest from investors at home and abroad. But companies should exercise caution due to raw material costs and fierce competition.
Former Shanghai leader Chen Liangyu will go on trial for his alleged role in a multimillion dollar graft scandal. But, in comments published by state press, Shanghai Higher People's Court deputy chief Liu Hua did not say what charges Chen faced, or even if he had yet been charged. But it was the first time that any official had announced publicly that Chen, who was sacked as Shanghai's Communist Party boss in September last year, would go on trial. Liu revealed that Chen would have to stand trial when making comments about the court's determination to ensure no favors would be given to powerful people. Property tycoon Chau Ching-ngai, known as Zhou Zhengyi in the mainland, who was charged last month with bribery and forging tax invoices, could also expect no favors from the court, Liu told Xinhua News Agency. "If Chen and Zhou are proved guilty, we will adhere to the principle of giving the same punishment for the same crimes, and will show no leniency toward the two," Liu said. "Both cases have drawn wide attention from society, so we ought to handle the two cases strictly according to law." Chen, who was a member of the party's national politburo, was sacked for his alleged involvement in using the city's US$1.25 billion (HK$9.75 billion) pension fund for speculative property projects. A total of 3.7 billion yuan (HK$3.73 billion) went missing before the scandal was uncovered. Few details of Chen's role in the case have surfaced, although the media has reported that the 60-year- old was responsible for lending out 3billion yuan from the fund. At least 20 officials and businessmen have so far been implicated.
Chinese Foreign Minister Li Zhaoxing said his country firmly supported the peaceful use of space as he started a visit to Japan for talks on ways to improve the two countries' strained ties, officials said on Thursday.

A visitor gazes at a gilt and silver saddle in the "Silk Road in Inner Mongolia" exhibition organised by the University Museum and Art Gallery at Hong Kong University. The show features 80 artefacts from the Tang dynasty (618-907) to the Yuan dynasty (1271-1368) that were found along the Steppe Silk Road, which traversed Mongolia and Siberia and ran to central Asia and eastern Europe. The exhibition runs until May 13.
Legislators in crime-ridden Guangzhou wanted to set up an information database to track the activities of foreigners blamed for some of the lawlessness, state media said on Thursday.

Yangtze Power says the Hubei Energy stake purchase complements its business and helps it diversify into non-hydropower projects.
China may ask state-owned energy companies to establish oil reserves as a supplement to a national reserve being set up as the Asian giant struggled to fuel future growth, state media said on Thursday.
China's leading internet search engine Baidu.com reported a fivefold increase in fourth-quarter net income as online marketing revenue more than doubled.
China Mobile, the world's largest cellular network operator, has joined a group of its industry peers to lead a worldwide program to extend the use of mobile phones for payments at any point of sale.
February 16, 2007

Hong Kong: Funds raced out of Hong Kong Tuesday on profit-taking from local stocks ahead of the Lunar New Year holidays to further shrink liquidity in a banking system already facing a series of upcoming initial public offerings and a weakening Hong Kong dollar. Investors found excuses to quit the Hong Kong equity market Tuesday ahead of the Lunar New Year holidays, leading to heavy selling on the local bourse as negative news like shares placement and speculation of an interest rate hike in the mainland emerged.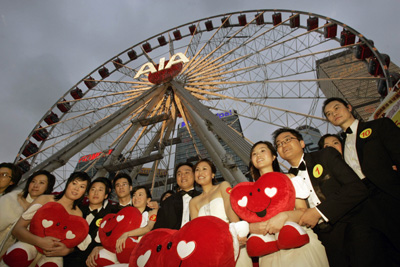 Soon-to-be-married couples pose under the a Ferris wheel during a ceremony marking Valentine's Day in Hong Kong February 14, 2007.
Former Taipei mayor Ma Ying-jeou has announced he will run for president of Taiwan next year, defying an indictment for alleged misuse of funds that prompted him to step down as chairman of the island's main opposition Kuomintang.
Despite the company reporting a 69 percent jump in first-half net profit, shares of Nine Dragons Paper (Holdings) (2689), the mainland's largest containerboard maker, fell 9percent Tuesday, swept along by the outflow of funds from the Hong Kong market.
Jewelry chain Hang Fung Gold Technology (0870) said it will open 200 stores across the mainland, expanding its network to 300 to capture business opportunities during the 2008 Beijing Games.
Casino mogul Stanley Ho Hung-sun has outbid Orient Overseas (International) (0316) and a Singapore company to secure a prime commercial site in Shanghai for 1.43 billion yuan (HK$1.44 billion) at a public auction.
The High Court has dismissed PCCW's (0008) request for a judicial review of the Office of the Telecommunications Authority's proposal to deregulate the connection fees that fixed-line operators receive from mobile-phone firms.
Flat buyers will be spoiled for choice as Henderson Land Development (0012) gets ready to cash in on buoyant buying sentiment with the release of more than 1,000 inventory and new units during the Lunar New Year holidays.
Hutchison Telecommunications International's (2332) exit from India triggered an investor exodus, as the stock plunged a record 15 percent amid concerns the company was left as an expensive cash shell stuck with operations in unexciting markets.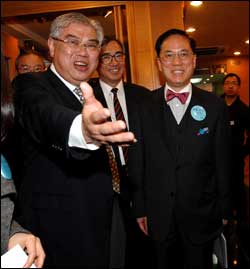 Buying an uninhabited island in mainland waters to build a Hong Kong checkpoint would be a "quick-fix solution" in expediting construction of the trouble-plagued Hong Kong-Zhuhai- Macau bridge, Chief Executive Donald Tsang Yam-kuen said. The idea was revealed at a closed- door meeting Tuesday between Tsang and representatives of the Hong Kong Chinese Importers and Exporters Association, and follows his duty visit to Beijing in December. Tsang also met Election Committee members affiliated to the import export subsector members of the Election Committee to secure their vote in the race to be the next chief executive. Tsang's confidence in pushing ahead with the multi-billion-dollar project was bolstered after Beijing gave the green light for an ice-breaking meeting headed by the State Council's National Reform and Development Commission vice chairman Zhang Xiaoqiang to discuss ways of getting the long-delayed project off the ground. Tsang told association members that since the plan to build a joint checkpoint for the three places was dropped because it would involve a vast piece of land, it would be more practical and feasible for Hong Kong to find a site to achieve the agreed "three places, three checkpoints." At the meeting, Tse Long, a Hong Kong delegate to the Guangdong provincial Chinese People's Political Consultative Conference, pressed Tsang to speed up the building of the bridge, quoting Guangdong vice governor Tang Bingquan as saying "everything is now ready" but Hong Kong has still to decide on its checkpoint location. Tsang said the SAR is very keen to build the bridge, saying that the airport, which is close to the proposed bridge's starting point at San Shek Wan on northern Lantau, had once been picked as a possible site for the checkpoint. The plan was dropped after a study showed there is insufficient land there to house immigration, customs and police facilities. Tse quoted Tsang as saying that an island in mainland waters would cut out concerns about pollution that could arise from a San Shek Wan checkpoint. According to a source, Macau Chief Executive Edmund Ho Hau-wah, for his part, has proposed purchasing a site on Hengqin Island off Zhuhai for Macau's checkpoint. Negotiations on the plan are underway between the Macau and Zhuhai municipal governments.
Internet access in Hong Kong had been fully restored - after repairs to undersea cables damaged by last December's earthquake off Taiwan were completed, the Office of the Telecommunications Authority (Ofta) said on Wednesday.

Hospital Authority chief executive Shane Solomon and health minister York Chow Yat-ngok give blood at King's Park, Jordan, yesterday to show their support for a campaign by the Hong Kong Red Cross Blood Transfusion Service to recruit more donors.
PCCW, the city's largest telecommunications operator, says it will appeal against a Court of First Instance ruling yesterday that rejected its application for a judicial review seeking to halt a regulatory consultation on a fixed-mobile convergence proposal.
IBM has devised a way to triple the amount of memory stored on computer chips and double the performance of data-hungry processors by replacing a problematic type of memory with a variety that uses much less space on the slice of silicon, the company said on Wednesday.

China: US President George W Bush cleared the way for a private sector sale to China of high-tech products linked to its railway system and its testing of parts for Boeing aircraft.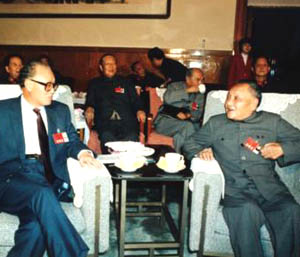 It is a decade since the death of China's great modernising leader Deng Xiaoping. This photograph shows Deng (right) and Zhao Ziyang at the 13th CPC National Congress held in Beijing in 1987. Though he died 10 years ago, former Chinese leader Deng Xiaoping is still revered, albeit quietly, as the man who truly awakened the sleeping giant that was China.
The World Bank said Wednesday that China's economy may still enjoy favorable prospects in the near time, with a possible high growth rate of 9.6 percent this year.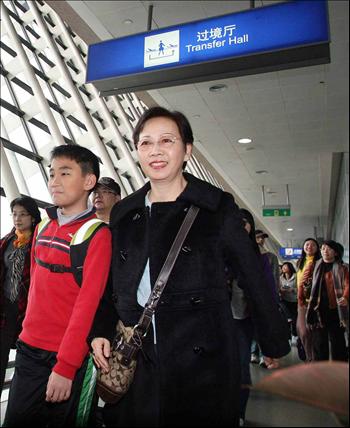 More than 200 Taiwan compatriots arrive in Shanghai on Wednesday aboard a charter flight of Taiwan-based Mandarin Airlines, Feb 13, 2007. This is the first Spring Festival charter flight from Taiwan in 2007.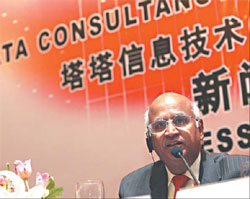 Tata Consultancy Services Managing Director and CEO S. Ramadorai at a news conference in Beijing yesterday announcing the launch of a joint venture. India's biggest IT company, Tata Consultancy Services (TCS), officially launched a joint venture in Beijing yesterday and announced a contract with China's Foreign Exchange Trade System (CFETS), a part of the central banking system.
U.S. Treasury Secretary Henry M. Paulson announced Tuesday that he has appointed Alan F. Holmer as Special Envoy for China and for the Strategic Economic Dialogue.
The total assets of China's banking industry rose 17.3 percent to 43.9 trillion yuan (US$5.65 trillion) at the end of 2006.
Northwest China's Xinjiang Uygur Autonomous Region plans to invest 10 billion yuan (US$1.29 billion) in the construction of highways.
China suffers the most severe brain drain of any country, raising fears there may not be enough talent and skill around to manage the world's fourth- largest economy. Out of about one million Chinese who have studied abroad since the 1980s, two thirds have chosen to stay overseas after graduation, the highest ratio of any economy, according to official data. "It has been a great loss for China ... to see well-educated professionals leave after the country has invested a lot in them," said Li Xiaoli, a researcher at the Chinese Academy of Social Sciences. "China is now in dire need of people of expertise," said Li, the coauthor of a new report on the problem. Since 2002, more than 100,000 students have gone abroad to study each year, but in the same period, the number of returnees has hovered between 20,000 and 30,000 annually, according to Ministry of Education figures. To a certain degree, the trend is unavoidable as it reflects China's growing integration with the outside world. But experts have called on the government to stem the tide by making the domestic job market more attractive to professionals overseas and offer incentives to encourage their return. "We need to set up a system to manage the outflow and inflow of talent," said Bian Binbing, the Shanghai-based chief executive of CBP Career Consultants. "Right now, China is adopting an overall approach, looking at the outflow as a whole, but we need to look at the individual cases, especially the people with much-needed skills in high and new technologies." There are already some preferential policies in place, such as low-interest loans for business start-ups, but more is needed. "Many talented Chinese emigrated overseas because they could not find opportunity at home," the China Daily said in an editorial. "It's time to nurture the reverse migration." This may be easier said than done, as Chinese companies will find it hard to compete with US or European firms, both in terms of the salaries they can offer, and in terms of less easily quantifiable benefits. "Chinese enterprises are just not mature enough," said Chen Bo, a Shanghai-based human resources consultant with McAllen International.
Up to 29 Chinese brokerages that are under special regulatory oversight will likely be closed or merged with bigger rivals by the end of August, state press reported Wednesday.
February 15, 2007

Hong Kong: Many observers expect Hong Kong property stocks to catch up with the recent rally in the local bourse on strong expectations that the property market will finally spring back to life this year, supported by strong economic growth and low interest rates.
Yahoo Inc. announced on Monday an integration between mail and instant messenger, a move to consolidate its leading position on web mail and online communication.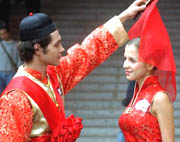 A Russian couple dress up in traditional Chinese costumes at a promotional event for a mall ahead of Valentines' Day and Chinese New Year festivities in Hong Kong on Tuesday. The Lunar New Year begins this year on Sunday.
Hong Kong's exports increased 13.4 per cent in volume in December last year compared with the same period in 2005, government data released on Tuesday showed.

An immigration officer checks the papers of a pregnant mainland woman yesterday at the Lok Ma Chau border checkpoint, where officers are watching for heavily pregnant women without obstetric bookings. Legislator Lau Kong-wah said yesterday such border surveilance was not cost-effective, with 20 immigration officers being deployed each day at Lok Ma Chau on the checks, but only 20 to 30 mothers-to-be seeking to use the border crossing. He said at least 100 more officers would be needed for the checks when train services began and the Western Corridor road opened in July, adding further pressure to the operations of the Immigration Department.

China: China's currency posted its biggest loss in about a month, following comments by the central bank governor that the pace of the yuan's appreciation was "appropriate."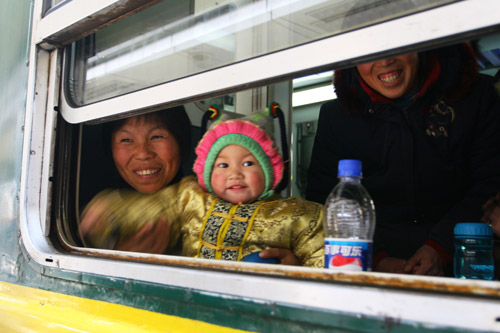 Looking forward to the festivities ahead, a mother and child settle down happily on the train leaving Zhengzhou, Central China's Henan Province on February 5. China's railway system is expected to carry some 155 million people over the upcoming Lunar New Year period as people return home for the festival, Xinhua News Agency reported.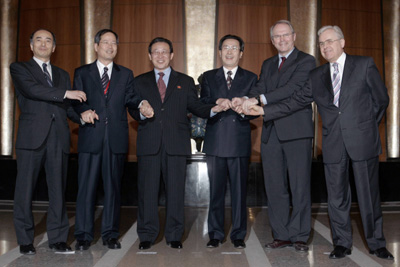 Negotiators pose before the closing ceremony of the six-party talks on North Korea's nuclear program, in Beijing February 13, 2007. A groundbreaking plan to curtail North Korea's nuclear arms ambitions in return for energy aid and security assurances edged towards approval on Tuesday as envoys to six-party talks waited for Pyongyang to give its nod. The two Koreas, the United States, Japan, Russia and China had "resolved the technical issues in the agreement", Xinhua news agency reported. But a diplomatic source at the talks said North Korea had not yet responded "formally" to the draft deal. In picture (L to R) Japan's chief negotiator Kenichiro Sasae, South Korea's Chun Yung-woo, North Korea's Vice Foreign Minister Kim Kye Gwan, China's envoy Wu Dawei, US envoy Christopher Hill and Russia's Alexander Losyukov.
China's mainland real estate market remained in the global investment spotlight last year, according to the latest market review released by international property adviser DTZ.

A planned US$2.6 billion (HK$20.28 billion) government bail-out of China's Everbright Bank is being complicated by its state parent's reluctance to give up direct control of the lender, three sources close to the situation said.
Fourth quarter 2006 EARNINGS reports from two of China's leading Internet portals, Sina Corp and Sohu.com, last week made it clear that online advertising is continuing its solid growth in China.
Bank of China has ended a fund product that invests clients' funds overseas because the appreciation of yuan has limited returns, news agency reported on Tuesday.
Philippines-based International Container Terminal Services said on Tuesday it has plans to acquire a majority stake in a Shandong province port operator in its first foray into the China market.
China is expected to encourage more imports from the United States in a bid to narrow the yawning trade gap between the two countries, experts said on Tuesday.

Kingsoft chief executive Lei Jun (left) and chairman Kau Pak Kwan say the company's fortunes are improving and it is expanding overseas. Kingsoft, regarded as the mainland's Microsoft before rampant piracy helped to destroy its dominance in the personal computer market, has staged a recovery by relying on online games and anti-virus software - areas where piracy is difficult.
China Mobile and China Unicom, which continue to lead mobile-telephone connections in the Asia-Pacific, are being chased hard by mobile network operators in India that have started to increase their subscriber numbers at a faster rate, industry experts say.
February 14, 2007

Hong Kong: Hutchison Telecommunications International Ltd (2332) cashed out its 67 percent stake in Indian mobile operator Hutchison Essar to British giant Vodafone in a deal worth US$11.1 billion (HK$86.58 billion), the fourth-largest Asian merger and acquisition activity ever. Li Ka-shing has succeeded in selling the main asset of Hutchison Telecommunications International Limited (2332) - control of an operator in the world's fastest- growing mobile phone market - at a premium price. His pullout from Hutchison Essar, which was launched in the Indian boomtown Mumbai in 1994, marks the latest well-timed exit by Hong Kong's dealmaker extraordinaire.
Several listed firms simultaneously announced plans Monday for share placements, hurrying to cash in as investors remain uncertain when the market will eventually fail to accommodate such fundraising.
A District Court judge has jailed four men for their role in the brutal attack last summer on Democratic legislator Albert Ho Chun-yan, but added that the nature of the crime convinced him there was a "far more sinister motive than has been revealed."
The Legislative Council's education panel has decided to hold a special meeting February 28 to investigate allegations the government had interfered in academic freedom and the autonomy of the Hong Kong Institute of Education.
Australian jockey Chris Munce on Monday pleaded not guilty in Hong Kong court to a bribery charge in relation to an alleged betting scam.

Thousands of people spell out the Chinese character fook, meaning "fortune", in an attempt to set a world record at the Siu Sai Wan Sports Ground.
Two International Financial Centre, the tallest building in Hong Kong and partly owned by Sun Hung Kai Properties, has granted an office rental lease to a global financial firm at a record HK$150 per square foot, sources said.

China: China will launch a geographical survey of the Great Wall, which is on the World Heritage of the UNESCO, in April to determine its exact length, layout and current conditions.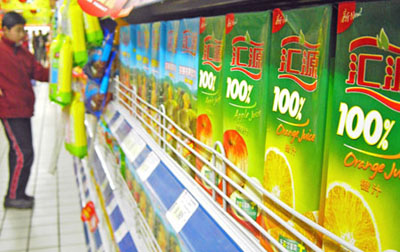 Huiyuan juice products for sale at a supermarket in Yichang, Central China's Hubei Province, February 9, 2007. China Huiyuan Juice Group, the mainland's largest fruit juice maker, now aims to sell 400 million shares in its initial public offering in Hong Kong. It is expected to start trading its shares on the Hong Kong Stock Exchange on February 23, 2007.
The government will take absolute control of seven of China's industries. However, this will not prevent foreign-funded and private enterprises from entering these sectors, said Shao Ning, vice chairman of the State-owned Assets Supervision and Administration Commission of the State Council.
China will adopt strict measures to standardize the transfer of bad loans of domestic financial institutions to foreign investors, so as to protect the legitimate rights and interests of investors and enhance smooth treatment of domestic bad loans.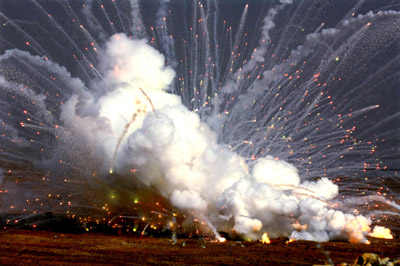 A total of 2600 boxes of substandard firecracks are destroyed by detonation in northwest China's Ningxia Hui Autonomous Region on February 11, 2007, a week before the Chinese lunar new year. It's a Chinese tradition to celebrate the Spring Festival by setting off fireworks, which gives rise to rampant illegal fireworks. The destruction was launched to ensure a safe new year.
Two piglets rest on a barrier at a zoo in Nanning, capital of the Guangxi Zhuang Autonomous region in southern China, February 9, 2007. The upcoming Chinese lunar new year, which is the year of the pig, generally regarded as one of abundance and good fortune, will fall on February 18.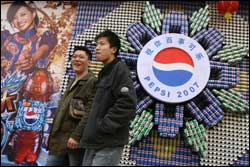 China's trade surplus in January reached US$15.9 billion (HK$124 billion) as exports grew at the fastest pace in 17 months, pumping more money into the economy and adding pressure for faster appreciation of the yuan.
Aluminum Corp of China (2600) - the mainland's largest alumina producer that is also known as Chalco - plans to issue 5 billion yuan (HK$5.04 billion) long-term corporate bonds this year as it seeks relatively cheaper financing for capacity expansion.
February 13, 2007

Hong Kong: HSBC Holdings (0005) had an unusually troubled year in 2006. The group's nightmare started November 14 when it reported burgeoning impaired loans in its US operations for the third quarter. Its shares have slipped 1.6 percent in the past three months versus an 11 percent advance in the Hang Seng Index.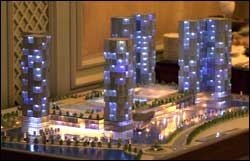 Macau overtook Las Vegas in terms of gaming revenue in 2006 to become the world's largest gambling market, and the outlook for the enclave looks promising on the back of China's surging economy. However, the road ahead for gaming company Melco International Development (0200), remains rough. Melco's shares surged 106 percent in 2006, while the Bloomberg/Standard Newspaper Macau Gambling Index, which comprise of 22 Hong Kong- listed companies involved in gambling- related business, jumped 43.3 percent. The benchmark Hang Seng Index rose more than 7 percent in the same period. But Melco shares have slumped 27 percent since hitting a record high in mid-December after the firm lost its bid to build Singapore's second casino and Melco PBL, its joint venture with Australia's Publishing and Broadcasting Limited, listed on the Nasdaq. "[After] the Melco-PBL share sale on Nasdaq in December, Melco became a holding company with few assets outside the US listing," Morgan Stanley's Rob Hart wrote in a recent report. He believes there are limited prospects for sizable assets outside of Macau in the medium term. "The spin-off greatly reduced Melco's asset value and people may invest directly in Melco PBL if they are optimistic on the latter," Tung Tai Securities associate director Kenny Tang Sing-hing said. After the spin-off, Melco's Macau gaming project fell under Melco PBL, leaving it's 41.3 percent stake in Melco PBL as the company's major asset, accounting for 89.1 percent of its total net asset value, JPMorgan said in a report. Melco's 68 percent stake in brokerage Value Convergence (8101); IT firm Elixir, Jumbo Restaurant and other businesses, accounted for 2 percent of Net Asset Value, while the HK$2.6 billion in net cash accounted for the remaining 8 percent, according to JPMorgan estimates. "Melco PBL's separate listing makes Melco largely a holding company, meaning a holding company discount should be applicable," Citigroup said in a report. Both Citigroup and JPMorgan have applied a 10 percent discount to Melco's NAV to set it's target price. Citigroup has lowered the target price from HK$21 to HK$19.5 and downgraded its rating to hold from buy, while JPMorgan lowered the target price to HK$19.5 from HK$21.7. Morgan Stanley tuned up the target price from HK$12 to HK$15. "Melco PBL accounts for nearly 90 percent of the company's valuation, so its performance is instrumental to Melco's share," JPMorgan said. Melco PBL currently owns one of the six gaming concessions and subconcessions in Macau, and six Mocha slot-machine entertainment centers. Three casino projects are also in the pipeline including Crown Macau and City of Dreams on Cotai Strip. The company also plans to develop a mixed- use project comprising a casino, hotel and serviced apartments. Also, starting from 2009, Melco PBL will run the 400-table casino at eSun's (0571) Macau Studio City. With Crown Macau, a six-star hotel and casino, commencing operations in April and as the new major income stream for Melco PBL, analysts believe its battle in Macau's gaming sector will not be easy. Crown Macau will be competing with the Venetian, scheduled to open mid-2007 and the Grand Lisboa, which will open in the first quarter. "The fight for dealers and hospitality staff is expected to intensify over the next few months, also hurting the group's ability to execute its initial phase," Citigroup said. Morgan Stanley says Crown Macau will open into a competitive environment, given similar quality, established VIP rooms run by experienced US operators, and it's less desirable location on Taipa Island. "With Wynn and Las Vegas Sands both using junkets, the VIP niche that Melco PBL claims to have is eroding." Though Melco PBL seems to be a more direct Macau play than Melco, analysts say Melco is not totally unattractive. Unlike other passive holding companies, Melco is actively traded. The free flow of Melco PBL is less than 20 percent and investors still need to own Melco PBL through Melco. Also, it is expected that Melco will seek projects outside Macau gaming and eventually list those projects separately, which promises to bring additional gains to the company.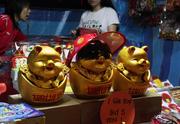 If you think the next lunar year is going to be an incredibly lucky one, think again; you may have fallen victim to commercial hype. It will not be the year of the golden pig, fortune tellers say. Rather, it is the fire pig which will rule our destinies in the coming 12 months. So mothers who want their children born under a sign that supposedly brings wealth and good fortune will have to wait until 2031 for golden pig offspring. Veteran fung shui master Peter So Man-fung said the popular misconception that 2007 is a golden pig year may have come about because restaurants and shops often advertise each year as a "golden" one to help their business. "This year is definitely the ding hai, the fire pig. The people who run restaurants like to say it's a golden year. Last year they said it was the golden dog, in 2005 they said it was the golden rooster," Mr So said. But he said the Hospital Authority, whose director of professional services and operations, Allen Cheung Wai-lun, has also called 2007 a golden pig year, may not be entirely wrong in predicting 11 per cent more babies will be born in the next lunar year. "Last year was very lucky for marriage and there were a lot of weddings, so it's normal that the following year, there will be a lot of babies," Mr So said. Another fung shui expert, Raymond Lo, agreed that commercial interests had likely been responsible for the year being mistaken for a golden pig year. And astrologer Jin Peh said: "I guess it sounds more attractive to say it's the golden pig. People are happier with the vision of the golden pig and it's certainly easier to sell a golden pig than a fire pig." Mr Lo said: "The Chinese element for the year is the fire pig. "It's fire over a water element, but I think probably because all Chinese usually use gold as something auspicious - it's a commercial thing. Shops like jewellery stores want to sell gold. "The last year of the golden pig was in 1971, and in 1911 before that, as it falls every 60 years," he said. Mr Lo said women who fell pregnant thinking their children would be born in an auspicious year should not be disappointed. Their children may not be destined for great wealth, but under their astrological sign they will be protected by a nobleman who will help them through troubled times. "All through their lives, they'll have someone to help and guide them through danger," he said, and noted that US President George W. Bush and thriller writer Steven King are both fire pigs. Mr Peh debunked another new year myth - the year of the pig does not begin on February 18, it's already here. "We use the solar new year for astrology, so anyone born since February 4 is already born under the sign of the pig," he said.

China: China on Saturday started the construction of its first cross-sea power grid connection project to link the grids of coastal Guangdong Province and the southernmost island province of Hainan.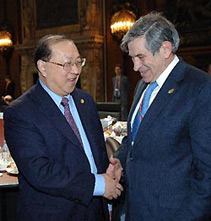 Chinese Finance Minister Jin Renqing (L) shakes hands with World Bank President Paul Wolfowitz, during the G7 Finance Ministers and Central Bank Governors Meeting held in Essen, Germany, Feb. 10, 2007.
The government will make efforts to ensure farm produce safety in the run-up to the traditional Spring Festival, said Chinese Agriculture Minister Sun Zhengcai Saturday. Agricultural products, if found harmful to health, will not be allowed to enter the market as the Chinese lunar new year is approaching, Sun said when inspecting supermarkets and wholesale markets in Beijing. The ministry launched a three-month long nationwide campaign last December to check pesticide remains and other chemicals in farm produce. Chinese people, especially rural residents, have a tradition to prepare a good many foods for Spring Festival, which falls on Feb. 18 this year.
China will develop its own magnetically levitated (maglev) trains that can travel at speeds of up to 500 kilometers per hour, according to a government report.
China will expand the special subsidy program for rural parents aged 60 and above who have followed the nation's family planning policy after more than two years' trial.
Two of China's leading Internet portals announce 2006 fourth quarter earnings this week. Sina Corp and Sohu.com continue to be two of the top destinations for Chinese citizens online, despite increasing competition for online advertising spending from formidable companies such as Tencent (which operates the portal qq.com) and the search engine Baidu.com.

China's top Communist Party training academy has slammed Oscar-nominated director Zhang Yimou's latest film Curse of the Golden Flower as the latest in a line of bloodthirsty blockbusters smearing modern Chinese cinema.
February 12, 2007

Hong Kong: Three residential sites in Tai Po will be available in next month's government auction after Wheelock Properties (0049) successfully triggered another residential site sale in the area.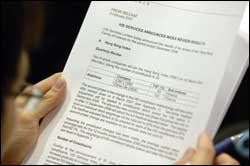 Companies listed on the Hang Seng Index will reflect the growing influence of the mainland on Hong Kong's exchange when two more Chinese financial stocks join the blue-chip benchmark next month. Index compiler HSI Services named China Life Insurance (2628) and Industrial and Commercial Bank of China (1398) Friday as the two companies to become new constituent members of the index from March 12. The compiler also said the overall number of index members would increase to 50 - from a total 38 next month - in due course. "This is an appropriate number," said Macquarie Research analyst Tacky Cheng. "More large mainland companies will list on the Hong Kong bourse and meet the criteria for joining the index, so increasing the number to 50 will allow more local companies to stay in the index." But according to Vincent Kwan Wing-shing, director and general manager of HSI Services, no actual timetable has been set to increase the number of index members. "Increasing the number of members to 50 will make the index cover 70 percent of total market capitalization," Kwan said, adding it has always been the objective for the Hang Seng Index to account for 70 percent of the local equity market. Increasing the number of members aims to ensure that the HSI will continue to be comprised of the largest and most liquid stocks in the market, to serve as the most representative market benchmark as well as being a basis for index- linked derivative products, Kwan said.

The primary task for Stephen Green, chairman of beleaguered HSBC Holdings (0005), is to remove the plague left behind by his predecessor and revamp the group's US consumer finance arm.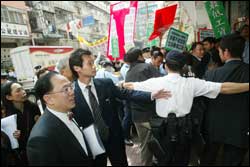 Chief Executive Donald Tsang Yam- kuen has pledged to progressively introduce small-class teaching to most secondary and primary schools over the next five years should he be re-elected March 25. The pledge was made at a meeting Friday with six Election Committee members representing the higher education subsector. The 800 members in the committee will elect the next chief executive. One of those at the meeting, City University finance professor Stephen Cheung Yan-leung, said Tsang pledged to bring class sizes down to no more than 25 students. He said Tsang also pledged to consider the implementation of a 12-year free education program after the small-class teaching policy had been implemented.
Octopus cardholders using EPS add- value services at MTR and KCR stations have had more than HK$140,000 deducted from their bank accounts in 571 transactions over the past two months even though the transactions did not complete, Octopus Holdings said Friday.

Models sport hairdos featuring Beijing's Temple of Heaven and the Great Wall styled by Yeung King-hung at a preview for his Lunar New Year hair show at Sha Tin New Town Plaza. Yeung's show will be held on February 17 and 19.The renowned Chongqing Acrobatic Troupe will also perform at the mall from February 13 to 19, with a break on February 18.
Galaxy Entertainment Group, which runs five Macau casinos, said its share of the enclave's booming gaming market reached a record 22 per cent last month, second only to Stanley Ho Hung-sun's Sociedade de Jogos de Macau (SJM).
Hutchison Telecommunications International, a unit of Hutchison Whampoa, began taking bids for its Indian telecommunications subsidiary last night in a deal that has been valued as high as US$18 billion, market sources said.

China: Online copyright violations are "still rampant" despite the first nationwide campaign to crack down on the activities, China's top copyright official admitted yesterday.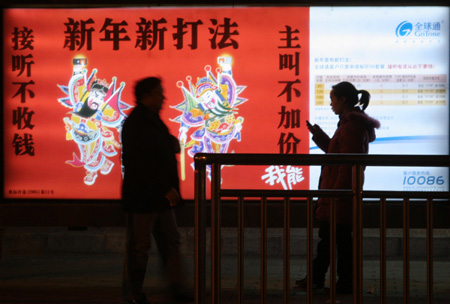 Passengers wait near a Beijing Mobile advertisement at a bus station February 7, 2007. Starting today, Beijing Mobile will offer several new plans that include free incoming calls. The telecom company said the monthly plan is based on a one-way billing scheme. The new plan will dramatically slash mobile call charges for users.
China will become the world's top tourist destination before 2020, Francesco Frangialli, secretary general of the United Nations World Tourism Organization (UNWTO) said in Beijng at a ceremony Thursday.
Beijing plans to develop a list of some 300 "tasty restaurants" featuring various types of cuisine that will be recommended to foreign guests attending the Beijing Olympic Games.
Inbound, outbound and domestic tourism are all showing expansive growth, with tourism revenues now accounting for 6.1% of total GDP.
With Fufeng Group's (0546) auspicious trading debut whetting investors' appetites, China Huiyuan Juice Group is believed to have snapped up more than HK$100 billion worth of margin orders from retail investors in its initial public offering.
China, the world's fourth-largest economy, targets an 8 percent growth rate this year and is becoming more concerned over inflation, according to the central bank's quarterly monetary policy report.
China is catching up with India in providing call-center services, one of the fastest-growing areas of global outsourcing. The number of employees at call centers in China is likely to rise 22 percent this year to 158,000, while in India the workforce is predicted to rise 16 percent to 312,500, Sydney-based research firm Callcentres.net said Friday. "The world is becoming flat," said Francis Scricco, senior vice president of US telecom firm Avaya, which has just set up an "intelligent communication center" in the northern Chinese city of Dalian. "More international corporations are entering the Chinese market while more Chinese companies are expanding into other markets." As telecommunications become cheaper, corporations are now looking to save money by outsourcing call- center services to countries with lower labor costs. China is particularly competitive in this area, with employee hourly costs of just US$3.62 (HK$28.24), compared with US$4.24 in India and US$18.46 in Singapore, Callcentres.net said. While China has been widely characterized as being up against the formidable challenge of an Indian workforce with far better English-language skills, the report seemed to suggest China did not face any particular disadvantage. Twenty-nine percent of call centers in China service international markets, compared with 33 percent in India, www.Callcentres.net said. As many as 93 percent of China's centers require a proportion of their agents to speak English to customers, the report said. India, the global leader in outsourcing services, including software development and call centers, employs about 350,000 people in an industry that earned US$6.7 billion in the year ended March 2005. India's global leadership in outsourcing has so far been undisputed but its position may gradually be challenged because of rising costs.

A policeman photographs the destruction of 20 tonnes of illegal fireworks during a campaign organised by police in Fuzhou, Fujian province. The public was warned ahead of Lunar New Year that 30 per cent of firecrackers on the market are substandard.
Former Sina Corp co-chairman Daniel Chiang and his wife Eva Chen have been fined for insider trading, according to the US Securities and Exchange Commission.
February 10 - 11, 2007

Hong Kong: Hong Kong's year-on-year tourist arrival growth is expected to slow to 4.6 percent in 2007, compared with 8.1 percent last year and 7.1 percent in 2005, said Selina Chow Liang Shuk-yee, outgoing chairwoman of the Hong Kong Tourism Board.
Funds are likely to exit Hong Kong after the yuan - which advanced to a record high Wednesday - eventually marches beyond the Hong Kong dollar's convertibility zone with the US dollar, analysts say. Lehman Brothers economist Sun Mingchun said Wednesday the market will dismiss the idea of the Hong Kong dollar depegging from the greenback as the yuan breaches the level of 7.75, triggering an outflow of funds from the territory. The yuan hit 7.7480 against the US dollar, up from Tuesday's close of 7.7555, while the Hong Kong dollar was traded at 7.8084, around the mid- point of its trading band of 7.75 to 7.85 to the greenback. Economist Fan Gang, a monetary committee member of the People's Bank of China, denied the yuan's rise resulted from mounting pressure from US Treasury chairman Henry Paulson. Fan said the yuan's gradual appreciation is in the interests of the mainland's economy, as it could help slow down rapid inflows of speculative money. Fan, who once said "allowing more than 5 percent annual appreciation of the yuan will result in a catastrophe," reiterated China's longstanding view that allowing its currency more flexibility is neither a resolution to the global economic imbalance, nor a favorable move for the country's economy.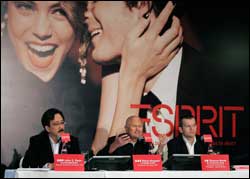 Esprit Holdings (0330) has announced plans to open more than 400 stores worldwide over the next three years, after reporting a 28 percent rise in interim profit. The company said Wednesday that it will make an annual investment of between HK$1 billion and HK$1.5 billion to develop the new stores. The apparel giant recorded a profit of HK$2.4 billion for the six months to December 31. If the euro appreciation over the same period is discounted, the company's profit increase was about 23 percent, well within the market expectations of 17 to 33 percent. Espirit's turnover rose 23.4 percent to reach HK$14.59 billion. Earnings before interest and tax margin increased 0.6 percent to 21 percent, while net profit margin was up 0.6 percent to 16.4 percent. The company declared an interim dividend of 70 HK cents per share. "The surprise is that its retail business performed better than market estimates," said Theresa Lo, an analyst at BOC International. The retail division, which accounts for 44 percent of sales, surged 32.8 percent during the period, while same- store sales growth was more than 20 percent. Same stores are defined as those which have been open for more than a year. Esprit's plans to open another 400 stores worldwide will take the number of stores from the current 640 to more than 1,000. In order to implement a multi-brand strategy, Esprit started to open standalone "edc" stores 18 months ago, and the company now has between 40-45 such stores worldwide. Edc is the secondary brand under the Esprit label targeting younger customers. Sales for this brand now accounts for 19 percent of worldwide sales. "One third of the new stores will be standalone edc stores," said John Poon Cho-ing, deputy chairman and group chief financial officer.
The row over the government's alleged interference with academic freedom has widened with Hong Kong Institute of Education vice president Bernard Luk Hung-kay dragging former permanent secretary for education and manpower Fanny Law Fan Chiu-fan into the morass.
Global banking giant HSBC Holdings on Thursday warned that increased provisions at its United States mortgage business would result in much higher than expected loan impairment and risk costs for last year.

The God of Fortune, in the guise of Democratic Party legislator Fred Li Wah-ming, distributes sweets outside the Legislative Council yesterday. The Democratic Party was making a video for the Lunar New Year to wish the public health and prosperity.
A government report on Thursday has outlined the five misconduct charges against InvestHK director-general Mike Rowse in relation to his mishandling of the Harbour Fest show. In a report tabled to the Legislative Council on Thursday, the Civil Service Bureau revealed that a year-long disciplinary inquiry had found one charge against Mr Rowse fully substantiated and four other charges partly substantiated. The charges referred to his monitoring of the Harbour Fest, a series of concerts staged to restore Hong Kong's image in 2003 following the severe acute respiratory syndrome (Sars) outbreak. The bureau said the inquiry found Mr Rowse failed to strictly audit the budget proposed by the Hong Kong American Chamber of Commerce, the event's organiser. At the stage of signing memorandums of understanding with the chamber, he failed to ensure pre-payments would be reimbursed if the event was cancelled, the report said. Other charges included failure to adequately monitor ticket pricing, causing losses to the government, the report said. As punishment, Mr Rowse had been warned of dismissal if a similar incident took place. He would also be reprimanded and fined a month's salary - about HK$156,000, the bureau said. Mr Rowse declined to comment on the findings on Thursday. A disciplinary inquiry began in September 2004 after Mr Rowse was criticised in a Legislative Council report for failing to properly monitor the use of HK$100 million in government money for the event. Proceedings were concluded in October 2005 and found the misconduct charges substantiated. However, details of the ruling were not made public at the time. In the same month, Mr Rowse filed an appeal to Chief Executive Donald Tsang Yam-kuen. Mr Tsang later referred the case to Chief Secretary Rafael Hui Si-yan to show impartiality. In late January Mr Hui told Mr Rowse his appeal was rejected.
The Landmark's decade-long reputation as Central's most expensive shopping centre is being challenged by rival IFC Mall, where a branded Italian leather bag retailer agreed to pay HK$600 per square foot a month.

China: Domestic banks in China's major cities are tightening supervision on loans, particularly mortgages, to prevent money from being diverted to the bullish but possibly overvalued stock market.

Chinese President, Hu Jintao, delivers a keynote address at South Africa's prestigious University of Pretoria Wednesday, Feb. 7, 2007. Visiting Chinese President Hu Jintao said in Pretoria on Wednesday that China will consolidate traditional friendship, expand practical cooperation and strengthen a new type of strategic partnership with Africa.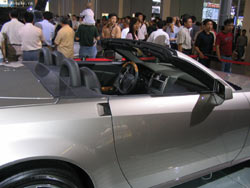 Visitors at an international auto industry exhibition in Beijing. Boosted by buoyant sales, China's auto sector reported a surprisingly sharp rebound in profits for 2006.Combined profits for the industry, including vehicles, engines, spare parts and motorcycles, jumped by 46 percent to 76.8 billion yuan last year.

The US appears to have reached a "crossover point" in trade with China after years of steadily rising deficits, US Treasury Secretary Henry Paulson has said. "The good news with the current account deficit and with the deficit with China ... is that we've hit what looks like a crossover point," Mr Paulson told the Senate Finance Committee in testimony on the Bush administration's budget plan. Trade data due out next week is expected to show the US trade deficit with China hit a record somewhere near US$230 billion last year, compared with US$39.5 billion 10 years ago. The explosive growth in the deficit has led to calls in Congress for the Bush administration to be tougher on trade with China. Many American lawmakers in particular believe that China unfairly manipulates its currency to give Chinese companies an unfair advantage in international trade. Mr Paulson noted US exports to China grew by 33 per cent last year, while imports from China rose 19 per cent. A People's Bank of China adviser defended Beijing's exchange policy yesterday, saying that a modest, gradual appreciation of the yuan would be in the interests of China and the global economy. The dispute over the trade imbalance between China and the US was inevitable and adjusting China's foreign exchange rate could not solve it, Fan Gang , a member of the central bank's monetary policy committee, said in an online interview on Sina.com. "Global imbalances are an international problem, not just China's. The other side needs to solve the problem too," he said, citing the US financial deficit and America's low savings rate as adding to the imbalances. Dr Fan, a leading mainland economist, said the recent rise in the yuan was not a response to US pressure for the currency to be allowed to appreciate. He said the relatively modest appreciation of the currency was designed to meet China's economic needs.
China's securities regulator has resumed approving new mutual funds after a two-month suspension, sources confirmed yesterday, a move that pushed the stock market up on expectations of a flood of new liquidity.
February 9, 2007

Hong Kong: The Consumer Council has strongly defended the government's proposed cross-sector competition law, saying it will not jeopardize Hong Kong's favorable business environment, but rather protect small and medium-sized enterprises from monopolization by big corporations.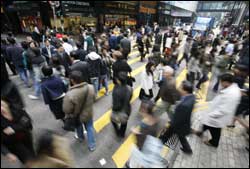 A projected 1.5 percent rise in real wages for SAR workers this year due to rising inflation, coupled with a rapidly narrowing salary gap between Hong Kong and the mainland, has fueled fears of an accelerating northbound migration of management talent. The average real wage rise forecast for the territory is the lowest in Hong Kong since the handover and less than half the regional average, according to ECA International - a leading global human resources organization. "Although annual salary increases have risen in the past few years, any increase in real terms has been negated by rising inflation," said Lee Quane, general manager of ECA. "In 2002, for instance, average salary increases in Hong Kong were 3 percent and inflation was minus 3 percent, giving workers a 6 percent real wage rise. However, the forecast increase of 4 percent in 2007 will be undervalued by forecast inflation of 2.5 percent," he said. According to ECA's latest survey, the salary differential between Hong Kong and the mainland has continued to narrow. It shows that while the average senior manager in the mainland earned just over a third of what his or her counterpart earned in the SAR in 2002, this difference narrowed to about 50 percent last year. "That salary increases at the senior level have outstripped China's gross domestic product growth shows the impact of a talent shortage in this market," Quane said. "While you can't expect senior salary levels in China to be in line with more mature economies in Asia, the rapid rise in mainland salary levels presents a huge challenge to businesses." The study revealed that mainland wage increases (with consideration for inflation) will be four times higher than those afforded to Hong Kong managers this year. "Assessing whether to continue to use cash to attract and retain staff will continue to be one of the main challenges facing human resources managers now and in the next few years," Quane said. He said recent economic performance has resulted in higher annual wage increases in Asia, with increases forecast to be 50 percent higher compared with last year, and well above the global average of 2.2 percent. Economic growth in the region has placed a premium on skilled workers, producing talent shortages that further drive up salary increases, he said. Businesses benefiting from China's low labor costs have encouraged moving manufacturing to countries such as Cambodia and Vietnam as rising wages impact on current business models, Quane added. Of the 45 countries surveyed by ECA, the top five real wage increases were all centered in Asia with forecasts for Indian real salary increases at 7 percent. Workers in Indonesia and the mainland are both expected to see 6 percent increases, while the Philippines and Thailand are expected to see real wage rises of 4 percent. Hong Kong's projected real wage increase of 1.5 percent ranks the city at 33 out of 45 countries and territories. According to the study, the scarcity of talent in many Asian economies has resulted in significant salary increases at all management levels. A junior manager's average salary last year was HK$368,000 while a senior manager earned, on average, HK$980,000. Compared with 2002 figures, junior managers had realized a wage increase of 17 percent, and senior management a 26 percent surge. It was within the senior management level that the pay disparity between the mainland and Hong Kong was at its least. Tania Mendez, Asia Pacific compensation database manager with Towers Perrin, another global human resources firm, did not presently see any trends resembling a brain drain but did not rule out such a possibility in the near future. "We do find Hong Kong employees are supporting more businesses in China, but we do not see more people mobilizing to China to work for Chinese companies at the moment," she said. According to a 2006 study by the Census and Statistics Department, of the 237,500 Hong Kong residents working in the mainland, more than four-fifths were engaged at the higher end of the occupation hierarchy. The study also found the median monthly earnings for SAR workers in the mainland was HK$16,000, much higher than the local average of HK$10,000. "There's a trend of mainland Chinese CEOs favoring Hong Kong executives because of their international exposure, negotiation, ethics and communication skills. It has already attracted a large number of local talent. If wages on the mainland surpass local offers, these two factors could pave the way for an accelerated brain drain," said Lai Kin-keung, chair professor of management science at the City University of Hong Kong.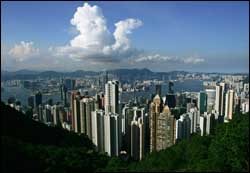 Despite a good start, the lower-than- expected performance of Hong Kong's real estate investment trust market last year meant a disappointing performance in the overall Asian REIT market in 2006 compared with other regions, Standard & Poor's said Tuesday, citing findings from its Global Property and REIT report.
Despite the recent weakening of the Hong Kong dollar caused by arbitrage, the peg with the US dollar can run smoothly without Hong Kong Monetary Authority intervention, Bank of China Hong Kong has said.
Rent rises at shopping centres controlled by the Link Reit were mild compared with increases at other private commercial malls, Secretary for Housing, Planning and Lands Michael Suen Ming-yeung said on Wednesday.
Broadband services in Hong Kong had a penetration rate of 68 per cent - among the highest in the world - Secretary for Commerce, Industry and Technology Joseph Wong Wing-ping said on Wednesday.

China: Beijing reported record high temperature of 16 degrees Celsius on the afternoon of February 5, the highest recorded temperature on that date in the last 167 years.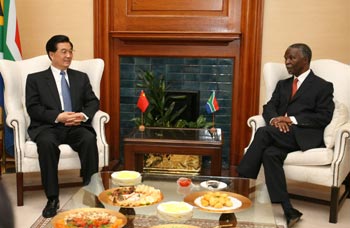 Chinese President Hu Jintao and his South African counterpart, Thabo Mbeki, hold talks in Pretoria Tuesday. China and South Africa issued a joint communique on Tuesday laying out a variety of priorities for the two countries to strengthen bilateral cooperation in such areas as politics, economy and trade, international affairs and people-to-people interactions.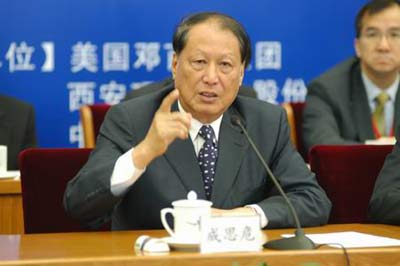 Senior Chinese lawmaker Cheng Siwei has urged people to take a rational approach to stock investment decisions particularly in a bull market. He also urged listed companies, not only the heavyweights, to lift their profitability so as to provide a solid basis for the healthy development of the stock markets.
The Chinese Renminbi (RMB) again climbed to a new high against the U.S. dollar on Wednesday to reach a central parity rate of 7.7496 yuan to the dollar.
North China's Shanxi Province, the country's largest coal reserve, has produced 580 million tons of coal last year, year-on-year growth of 7 percent, officials said Tuesday.
Jia Changbin has been ordered to resign as general manager of the China Aviation Oil for his involvement in a scandal concerning the Singapore Exchange.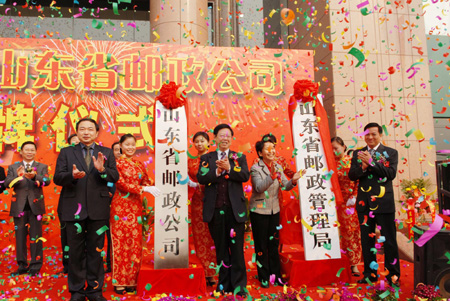 A ceremony is held to announce the official separation and establishment of Shandong Post Corp and Shandong Postal Administration Bureau in Jinan, East China's Shandong Province today. Shandong Post Corp is the first provincial post company to be established since China Post Group was founded in Beijing on January 29, 2007.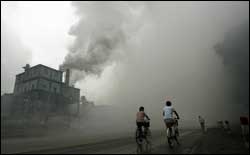 China is concerned about global warming but lacks the money and technology to significantly reduce its own greenhouse gas emissions that are worsening the problem, a top government scientist has said. The mainland is the world's biggest consumer and producer of coal, and is expected to surpass the United States as the world's No1 greenhouse gas emitter in the next decade. It wants to reduce its dependence on coal but converting to cleaner energies on a mass scale would be prohibitively costly. It also "lags behind Europe and the United States" in the technology needed to burn coal, which accounts for 69 percent of its energy output, that was cleaner, said Qin Dahe, chief of the China Meteorological Administration, and an adviser on climate change, Monday. "It takes time to catch up," he said. Qin served as one of the mainland's representatives to the UN Intergovernmental Panel on Climate Change, which last week announced that global warming is very likely caused by mankind and that climate change will continue for centuries. He said the mainland agrees with, and is concerned about, the report's conclusions.
Beijing has announced that Foreign Minister Li Zhaoxing will visit Japan this month, paving the way for a trip by Premier Wen Jiabao, even as the two Asian powers reignite a quarrel over sea boundaries.
China had chosen the site for a new satellite launching centre, the country's fourth, on Hainan Island in the South China Sea, Xinhua News Agency reported on Wednesday.

Huadian Power, a listed unit of one of the five national state-owned power producers, faces greater than average cost pressure as its plant utilisation rate may fall 5.4 per cent.
Companies were turning to banks for loans to repay money borrowed from a Shanghai pension fund, reports said on Wednesday, as city government advisers called for more public information to be released regarding a corruption probe linked to those loans.
The world's biggest miner BHP Billiton on Wednesday reported a record first-half profit of A$6.17 billion (HK$37.4 billion), and said it expected China to continue to drive global demand for commodities.
February 8, 2007

Hong Kong: A projected 1.5 percent rise in real wages for SAR workers this year due to rising inflation, coupled with a rapidly narrowing salary gap between Hong Kong and the mainland, has fueled fears of an accelerating northbound migration of management talent.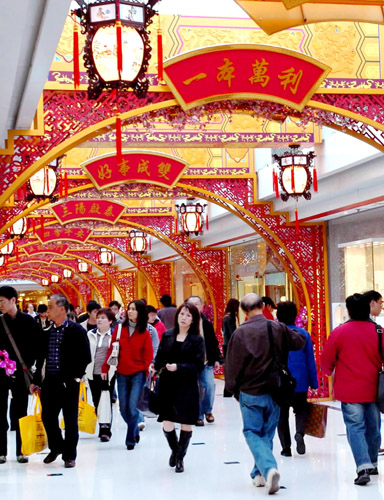 A Hong Kong department store is brightly furnished with new-year decorations as the traditional Chinese Spring Festival draws near Tuesday, February 6, 2007.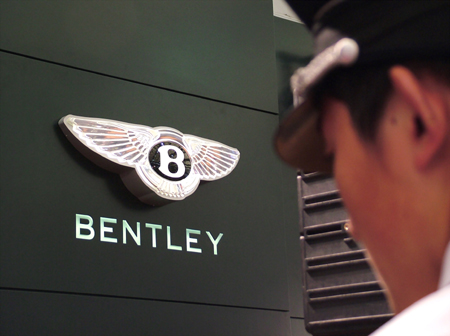 Sources from Bentley said it sold 174 units on the Chinese mainland and in Hong Kong in 2006, with 127 units sold on the Chinese mainland, up almost 100 percent over last year.
China has become the third-biggest nuclear energy producer in Asia, after Japan and South Korea, according a 2006 BP Statistical Review of World Energy. Nuclear power has become the third important method of electricity generation in China, following coal power and hydropower.
Ending a freefall over five consecutive trading days, the mainland stock market climbed 2.42 percent Tuesday amid a second warning from Chinese lawmaker Cheng Siwei about a potential bubble forming in the A-share market.
Despite a good start, the lower-than- expected performance of Hong Kong's real estate investment trust market last year meant a disappointing performance in the overall Asian REIT market in 2006 compared with other regions, Standard & Poor's said Tuesday, citing findings from its Global Property and REIT report.
Despite the recent weakening of the Hong Kong dollar caused by arbitrage, the peg with the US dollar can run smoothly without Hong Kong Monetary Authority intervention, Bank of China Hong Kong has said.
Qin Jia Yuan Media Services (2366), a Hong Kong-listed mainland television production house, said it plans to spend between 50 million yuan (HK$50.3 million) and 100 million yuan to set up a TV program and distribution network jointly with Chongqing Television.
Executive councillor Henry Fan Hung-ling has been appointed chairman of the Mandatory Provident Fund Schemes Authority, putting paid to speculation he would become a government minister in July.

The Hong Kong stock exchange will ask computer maker Lenovo Group to explain why it delayed notifying the market yesterday of a 3.5 per cent stake sale by a major shareholder and in asking for its shares to be suspended from trading over the deal.

China: China took over Japan to place second behind the US in terms of R&D spending in 2006. Can we now replace the phrase "Made in China" with "Created in China"?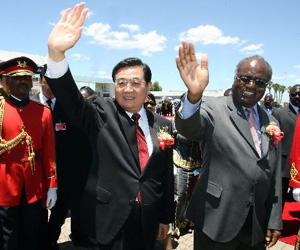 Chinese President Hu Jintao and his Namibian counterpart Hifikepunye Pohamba wave at the airport of Namibia's capital Windoek on Monday. Chinese President Hu Jintao proposed in Windhoek on Monday that China and Namibia strengthen cooperation in politics, economy and international affairs and increase people-to-people exchanges in an effort to uplift bilateral ties.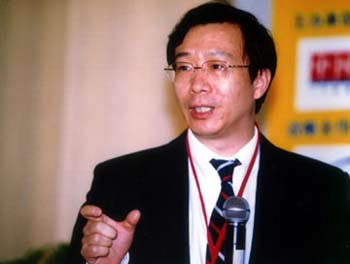 Yi Gang, assistant governor of the People's Bank of China, the central bank, said further observations are needed to decide whether to raise the interest rate as the current CPI rise fueled by a jump in grain prices was not sustainable.
The value of the Chinese currency yuan against the U.S. dollar hit a new high on Tuesday with a central parity rate of 7.7595 yuan to the dollar, according to the Chinese Foreign Exchange Trade System.
The Chinese Ministry of Commerce (MOC) announced on Monday it would begin imposing an anti-dumping tax on potato starch imported from the European Union (EU) from Feb. 6 this year.

About 2,300 migrant workers attend a dinner paid for by their employer to celebrate the upcoming Lunar New Year in Chengdu, Sichuan province. Migrant workers earn an average of 1,020 yuan per month and work 8.7 hours a day, a Ministry of Labour and Social Security survey shows.

Sohu's exclusive contracts for the Beijing Olympics in the summer of next year may pave the way for higher revenue in future. Shares in Sohu.com, the second-largest online portal in China, tumbled after the company said fourth-quarter profit fell 32 per cent amid a declining profit margin in online advertising and deteriorating sales of wireless services.
February 7, 2007

Hong Kong: Saudi Prince Alwaleed bin Talal bin Abdulaziz Alsaud may be visiting Hong Kong accompanied by a group of Middle East financiers eager to channel their ample "oil money" into Hong Kong and China.

Stressing he would get the job done, incumbent Chief Executive Donald Tsang Yam-kuen vowed Thursday that, if re-elected, he would reduce salaries and profits tax, introduce other tax-relief measures and take positive action to reduce pollution. Donald Tsang promised to take Hong Kong's economy to the next level by strengthening its role as China's financial center and to revive the city's infrastructure investment if he is re- elected March 25. Donald Tsang Yam-kuen waded into a hot issue that his rival Alan Leong Kah- kit had left out in his election platform - public health care and medical financing - by pledging to reform the system during his next term in office. Alan Leong Kah-kit ratcheted up the pressure on Donald Tsang Yam-kuen Thursday in his bid to score more political points against the incumbent, calling his rival a "job seeker," with no grand vision for Hong Kong, and accusing him of "passing the hot potato," to Beijing over universal suffrage.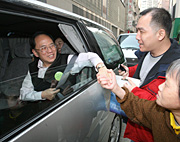 Donald Tsang greets members of the public during a visit to Wan Chai after announcing he plans to run for chief executive. Mr Tsang yesterday made his long-awaited declaration to run for a second term, with a platform of tax cuts and building a "new Hong Kong", with more jobs, a greener environment and better governance. The dilemma for Donald Tsang Yam-kuen in finding a balance between continuity and change could not have been more obvious than when he pledged in his declaration speech to build a new Hong Kong.
The US Federal Reserve's indication of a steady economic growth with tame inflation, while keeping the benchmark interest rate unchanged, spurred the global markets Thursday, helping the Hang Seng Index recover most of the ground lost the day before.
While still embroiled in an inquiry into possible cross-media ownership violations, PCCW (0008) chairman Richard Li has denied reports of a possible merger between his media units - Now TV and local Chinese-language daily Hong Kong Economic Journal - and those owned by Malaysian tycoon Datuk Tiong Hiew King.
Lenovo Group (0992), the world's third-largest personal computer maker, reported a 23.3 percent increase in net profit in the quarter ending December to US$57.7 million (HK$450.06 million), buoyed by cost reductions and higher worldwide shipments of PCs.
Most Hong Kong banks decided Thursday to follow the US Federal Reserve's lead to keep interest rates unchanged, but the Hong Kong Monetary Authority put investors on alert to the possibility of local lenders raising rates later this year.
At least two pregnant mainland women were turned away from a local hospital Thursday as new measures to deter nonresident mothers from abusing Hong Kong's maternity services took effect.
Members of the Independent Police Complaints Commission have expressed concern at the arbitrary stop-and- search powers exercised by police officers and the continuing complaints of improper conduct and foul language while on duty.
The Securities and Futures Commission plans to relax restrictions on short selling for the first time since they were introduced as part of a packet of measures to combat market-grating speculation during the Asian financial crisis.

China: China will test the world's first ever Deep Submergence Vehicle (DSV) capable of plunging depths of 7,000 meters in the second half of 2007.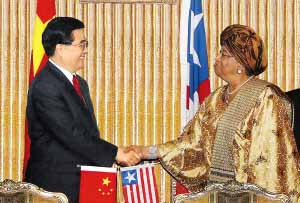 Chinese President Hu Jintao (L) meets with his Liberian counterpart Ellen Johnson-Sirleaf in Monrovia, capital of Liberia, Feb. 1, 2007. The two president agreed to make common efforts to implement the consensus the two sides have reached on bilateral cooperation. Hu arrived here on Thursday starting his state visit to Liberia.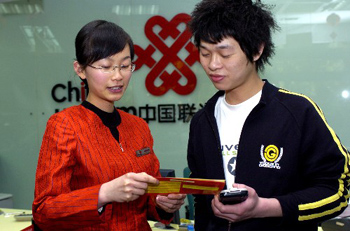 A sales girl gives explanation to a customer about a new charging scheme introduced by China Unicom, one of Chinese major mobile phone service operators, in Guangzhou, capital of south China's Guangdong Province, Feb. 1, 2007. China Unicom subscribers in Guangdong Province do not have to pay for the incoming calls from Feb. 1 as the company has launched a caller-pays scheme in which incoming calls are free for the person who receives the call.
China is under great pressure and facing many challenges if it hopes to achieve its goal of cutting by 20 percent the amount of energy it uses to produce a unit of GDP, according to a official of the State Council research center.
Lenovo Group Ltd, China's top personal computer (PC) maker, has posted its best quarterly results since purchasing IBM's PC arm in 2005.
China is ready to work with other countries on an agreement to prevent an arms race in space, amid international uproar over its test of an anti- satellite missile, an official said Thursday.

Delays, cancellations and confusion mark the first day of Guangdong's high-speed rail service at Guangzhou as travellers waited hours to get on a train.
China National Offshore Oil Corp, the parent firm of listed CNOOC, posted a 24 per cent rise in profit last year to 48.1 billion yuan on the back of higher oil prices.
February 6, 2007

Hong Kong: Hong Kong's housing chief has dismissed concerns of a land shortage by saying potential residential land supply in Hong Kong over the next five years is expected to be 536 hectares, providing an estimated 139,000 flats.
Investors should be cautious about investing in H shares as the mainland is trying to curb the overheating mainland stock market, brokers say.
Mainland banks will see their market share in Hong Kong shooting up to 40 percent by 2010, Hong Kong Monetary Authority deputy chief executive William Ryback said Wednesday, amid growing integration between the territory and China.
CNOOC (0883), the mainland's largest offshore oil producer, had its profit estimates cut by investment banks after the company lowered production guidance for last year, although output is forecast to recover in 2008.
Shun Tak Holdings (0242) said more than HK$6 billion has been generated from sales of One Central Residences, the company's joint-venture luxury residential project in Macau with Hongkong Land.
Chief Executive Donald Tsang Yam- kuen is expected to take the unprecedented step of handing out his election manifesto on a busy Central street today after officially declaring his decision to run for the March 25 chief executive election, an inside source said.
About 80 percent of people polled agree that paparazzi trespassing and using devices to snoop on others in private premises should be criminalized, according to a Hong Kong University survey.

China: China and Portugal pledged to further their trade ties and seek cooperation in more areas as Portuguese PM Jose Socrates pays his first China visit.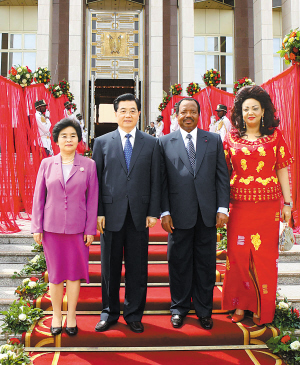 Chinese President Hu Jintao and his wife Liu Yongqing pose for a photo with Cameroonian President Paul Biya and his wife before their meeting in Yaounde, capital of Cameroon, Jan. 31, 2007.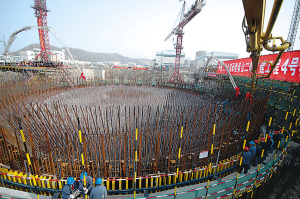 Construction has begun on a second power unit, power unit No. 4, as part of the Qinshan Phase II Extension Project, in Haiyan, Jiaxing of east China's Zhejiang province on January 28, 2007.When the project is complete, the plant will hold two new 650,000 kilowatt pressurized water reactors (PWR) - the No. 3 and No.4 generating units at Qinshan II power plant - and will be completed by the end of 2011.
U.S. Treasury Secretary Henry Paulson told Congress on Wednesday that America's economy and workers benefit significantly from the trade with China.
The China Banking Regulatory Commission detected 113 bribery cases in the banking sector in 2006 that involved 26.08 million yuan ($3.34 million), and detained 164 people.
China will intensify its fight against advertisements for fake or scientifically unproven medical treatments, drugs, health foods, cosmetics and beauty services, says a government document.
China is laying on a fleet of 15 brand- new high-speed bullet trains to tackle the passenger rush before and after this month's Lunar New Year holiday when just about the whole country is on the move.
February 2 - 5, 2007

Hong Kong: The Hong Kong Monetary Authority said Tuesday that traders have abandoned using the Hong Kong dollar as a proxy to the appreciation of the yuan as the two currencies' paths continue to diverge, but there are no signs of reverse flows of HKD back to the territory.
Shares in The Link REIT (0823), which operates the formerly government- owned shopping malls and carparks, climbed as much as 4.52 percent Tuesday to an historic high of HK$18.50 per share as investors sprang into action over plans to replace chairman Paul Cheng Ming-fun.
CNOOC (0883), China's largest offshore oil producer, expects output to have dropped nearly 2 percent from a year ago after it missed its production forecast as oil fields in the South China Sea were damaged by typhoons last May.
Pacific Textiles, a Hong Kong-based textile manufacturer, has picked Citigroup and Morgan Stanley to handle its US$200 million (HK$1.56 billion) initial public offering scheduled for the middle of this year, market sources said.
Shares of China Travel International (0308), the Hong Kong-listed arm of the state-owned mainland travel service, soared more than 21 percent after its Zhuhai Ocean Spring Resort project recorded higher than expected revenue.
Cheung Kong (Holdings) (0001) and associate Hutchison Whampoa (0013) plan to invest HK$3.6 billion in a housing project in Shanghai, shrugging off concerns over further macroeconomic tightening measures that are likely to impact the real estate sector.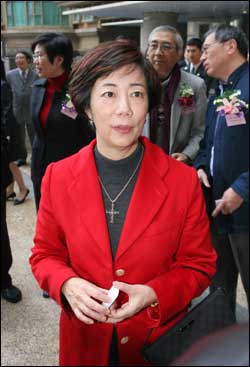 The long-awaited cross-border emission-trading scheme is ready to get off the ground but Hong Kong's two power giants, the key players, remain noncommittal even as a local think tank says the scheme fails to address the small- scale polluting factories in the mainland. The Environmental Protection Department in Hong Kong and the Guangdong Environmental Protection Bureau announced Tuesday the implementation framework for a pilot emission-trading scheme for thermal power plants in the Pearl River Delta region, a major step in introducing new economically driven measures to tackle the worsening air quality in the region. The scheme is the pet project of Secretary for Environment, Transport and Works Sarah Liao Sau-tung and part of an attempt to help power companies in Guangdong and Hong Kong achieve emission-reduction targets by 2010. Hong Kong and Guangdong agreed to cut four major air pollutants - sulfur dioxide, nitrogen oxides, respirable suspended particulates and volatile organic compounds - by 20 percent to 55 percent by 2010, taking 1997 as the base year. However, Hongkong Electric and CLP Power, the city's major polluters, remained noncommittal Tuesday, saying they needed further information for consideration but promising to continue discussions with the government.
The government yesterday unveiled a pilot cross-border scheme for trading in power station emission quotas, and said it could be a more cost-effective way of cutting Pearl River Delta air pollution than investing in costly facilities such as a liquefied natural gas (LNG) terminal
The Link Reit's chief executive has sought to allay shop tenants' fears of rent rises a day after it was announced that outgoing Hongkong Land Holdings chief executive Nicholas Sallnow-Smith will replace Paul Cheng Ming-fun as chairman of the listed company.
Foreign investors, including Cheung Kong (Holdings), Hutchison Whampoa and United States private equity firm Warburg Pincus, continue to splash out on mainland property even as Beijing tries to temper the real estate market and analysts warn of a bubble.

China: 2006 marked the 50th anniversary of the establishment of diplomatic ties between China and African countries, during which time economic cooperation and trade between the two parties has developed steadily with noticeable results.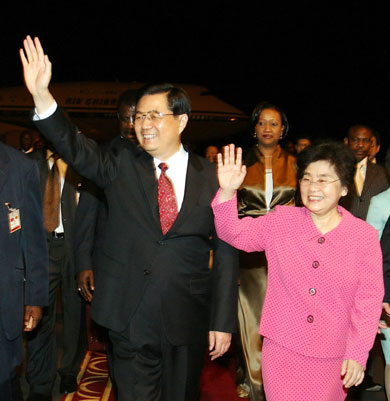 President Hu Jintao (L) and his wife Liu Yongqing wave well-wishers upon their arrival in the Cameroonian capital of Yaounde January 30, 2007, kicking off his eight-nation Africa tour. Hu will also visit Liberia, Sudan, Zambia, Namibia, South Africa, Mozambique and Seychelles.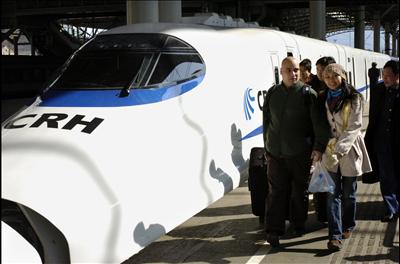 Bullet train leaving from Nanjing, capital of Jiangsu Province, for Shanghai Jan. 28, 2007. The new China-made train, which can travel at 250 kilometers per hour, made debut on the Shanghai-Hangzhou route Sunday. The train is expected to operate on test runs on the Shanghai-Beijing route during the coming Spring Festival holidays when there is sharp rise in demand for transportation.
US President George W. Bush, launching a two-day campaign to tout his economic priorities, defended growing US trade with China.
One of China's largest pharmaceutical firms, Hangzhou-based Kangliyuan Group, has been ordered to stop its operations for its alleged involvement with former head of the State Food and Drug Administration Zheng Xiaoyu.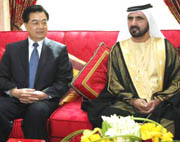 President Hu Jintao (left) meets United Arab Emirates Vice-President and Prime Minister Sheikh Mohammed Bin Rashid Al Maktoum in Dubai during a brief visit to the oil-rich country before he started his eight-nation tour of Africa.
Taiwan and China are close to reaching an agreement on allowing tourists to visit the island directly from the mainland, but the two sides currently do not plan to extend the nonstop passenger charter flights that take place during major holidays to weekends, a senior Taiwan government official said Tuesday.
February 1, 2007

Hong Kong: Hong Kong Exchanges and Clearing (0388) will study the development of gold futures in Hong Kong in its first move to wrest the running of this market from its local gold-trading counterpart.
CITIC Pacific (0267), CITIC Group's Hong Kong listed arm, may book a profit of about HK$1.8 billion through the spin-off of its telecom business CITIC 1616, according to market sources.
The cash holdings of institutional investors have not been reduced to tight levels, even after the strong rallies in the global markets particularly in Hong Kong in December, according to JPMorgan Asset Management.
Neo-China Group (0563), a Hong Kong-listed property developer operating in the mainland, is acquiring a Tianjin real-estate firm for HK$655 million to further strengthen its foothold in China.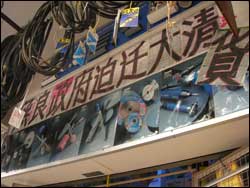 The curtain has finally come down on a run-down area of Tai Kok Tsui - famous for its caged homes, metal workshops and ramshackle grocery stores - with clearance teams set to evict the last tenants to make way for a HK$1.4 billion residential and shopping mall complex. The massive facelift for the 25,000-square-foot Kowloon site, bounded by Pine and Anchor streets, is being undertaken by the Urban Renewal Authority under the Lands Resumption Ordinance for redevelopment. It will be resumed along with another site of about 23,000 sqft, bounded by Larch and Fir streets. The 167 business operators and some 220 tenants of Pine and Anchor streets have fought a long and tiring battle with the government in an effort to stay put, but lost after the Lands Tribunal ruled in favor of the project amid a bitter row over compensation. Tai Kok Tsui may be a Hong Kong district that is unappealing to many. As Professor Ho Pui-yin of the Chinese University of Hong Kong's Department of History put it, it is an area "that gives people a cramped-up and messy feeling" and "people don't want this side of Hong Kong to be left." The metal workshops, watch-repair masters, dilapidated grocery stores and everything else that is "so Tai Kok Tsui" will soon be a thing of the past. On completion, the Pine/Anchor Street redevelopment project will offer 250 flats for about 1,500 people, and some 4,000 sqft of open space. But the district's history will probably not be forgotten - bits and pieces of its narrow streets are woven into a collective memory shared by residents who have lived and worked there for decades.
Chief executive challenger Alan Leong Kah-kit is set to announce on Wednesday he has secured enough nominations to stand in the election for the top job - a day before incumbent Donald Tsang Yam-kuen declares his candidacy.
Researchers from Chinese University on Monday said they had discovered fake ingredients in some fat choy being sold in Hong Kong, Fat choy is a black, hair-like vegetable which is a very popular in Chinese cuisine -particularly during the Lunar New Year.
Children race to "Beat the Banana" during yesterday's fund-raising event along the Tsim Sha Tsui waterfront. This was the second year the 3.5km race was held for the World Cancer Research Fund Hong Kong. The group promotes community awareness about reducing the risk of cancer by eating fruit, vegetables and other healthy foods, keeping weight in check and getting exercise. The organisation said 30 to 40 per cent of cancers could be prevented if people were more conscious of these factors.
International news organisations covering the 10th anniversary ceremony of the handover on July 1 are likely to focus on Hong Kong's development as China's economic gateway rather than official pomp and pageantry.
Malaysian gaming conglomerate Genting had said queries by Singapore authorities into its tie-up with Hong Kong-based casino magnate Stanley Ho Hung-sun would pose no problems to a planned gaming resort in the city-state, according to a report.

China: China has so far approved 132 countries and regions as destinations for outbound tourism, with 86 receiving Chinese tourist groups, said the China National Tourism Administration. Fifteen new destinations were approved last year, said the administration. The increase of outbound tourist destinations has played an active role in promoting the country's bilateral and multilateral relations with other countries and regions, said the administration. Statistics show China remains Asia's largest source of outbound tourism, with 34 million Chinese tourists traveling abroad last year, up 10 percent year on year. Insiders say East and South Asia account for more than half of the country's outbound tourist market, with Japan and Republic of Korea taking up about 30 percent of the total. Europe, Australia and South America have a market share of around 20 percent. Meanwhile, the United States and Taiwan island, which are considered to have great appeals to Chinese mainland tourists, have yet to gain the Approved Destination Status from the mainland authorities. China will further expand tourist exchanges with foreign countries, said the administration. The country received more than 22.21 million inbound travelers from foreign countries last year, up 9.65 percent on 2005.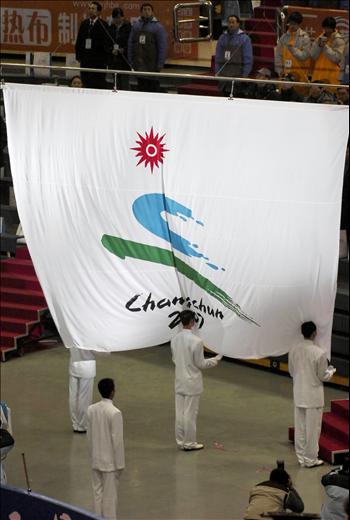 The flag of the sixth Asian Winter Games is raised in Changchun, capital of northeast China's Jilin Province, Jan. 28, 2007. The largest-ever Asian Winter Games raised its curtain here Sunday evening in Changchun, a northeast city in China. Chinese president Hu Jintao declared open of the sixth Asian Winter Games, which featured all 45 members of the Olympic Council of Asia (OCA) for the first time in its 21-year-old history. Dignitaries at the opening ceremony included OCA president Sheikh Ahmad Al-Fahad Al-Sabah. DPR Korea and South Korea marched together under the flag with an image of the Korean peninsula for the second time in the Asian Winter Games, with the first in Aomori, Japan in 2003. The Games to be co-hosted by Changchun and nearby Jilin cities in China's northeast Jilin province, has been attracting a total of 816 athletes from 26 countries and regions, compared to 741 athletes from 20 members in 2003.
China retrieved a total of 41.2 billion yuan (5.28 billion U.S. dollars) from droughts and floods last year, thanks to efforts to improve anti-drought and floods capabilities, according to the State Flood Control and Drought Relief Headquarters on Sunday.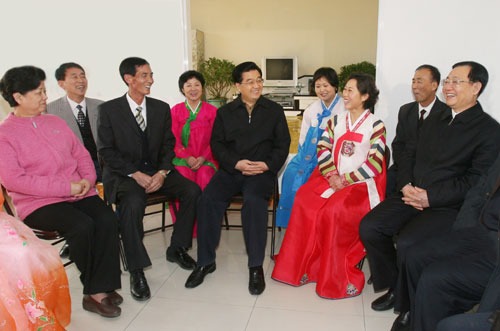 Chinese President Hu Jintao (C) talks with the members of an ethnic Korea family during a visit to Dahuangdi Village near Jilin city in northeast China's Jilin Province January 27, 2007. President Hu made an inspection tour in Jilin Province from January 26 to 28, and declared the 6th Asian Winter Games open in Changchun Sunday evening.
Shanghai's mayor said investigators recovered all the money siphoned away from city social security funds in one of China's most politically divisive corruption scandals.
Portuguese Prime Minister Jose Socrates begins a five-day official visit to China tomorrow, aiming to boost the flow of trade and investment between Portugal and the fast- growing nation.
A university graduate checks out her options at a Hangzhou job fair on Monday, after the International Labour Organisation warned developing countries such as China could face a skilled labor shortage, especially among mid-level technicians, as rural migrants streaming into cities received no training.
Mind your language, please. This is Shanghai. China's financial centre was mulling over a law against using swear words in public, reports said on Monday, in a sign of just how far the city had traveled from its famously profane 19th-century dockside origins.

Beijing is accelerating its drive to unionize the mainland workplaces of foreign corporations by ordering all multinational companies in Guangdong to set up labour unions by the end of this year, state media reported.
China had launched a trial run of home-grown fourth-generation mobile technology in Shanghai in what it called the world's first rollout of the wireless application, state press reported on Monday.
January 30 - 31, 2007

Hong Kong: NowTV, a unit of PCCW (0008), launches a new pricing plan today for its sports channels - a so-called mega- sports pack - after they were restructured to include the English Premier League soccer games.
China's benchmark stock indexes fell 4 percent Thursday after comments from "Commodities King" Jim Rogers that a bubble was forming in the domestic market. Rogers appeared for 30 minutes during prime time on China Central Television, a mouthpiece of the central government, in what market observers saw as a sign Beijing was seeking to cool the overheating market by airing a shrewd investor's professional opinions. Rogers, who co-founded the Quantum Fund with global financier George Soros, said the market was at bubble stage after he saw people crowding into Galaxy Securities, a mainland brokerage firm. Retail investors are now in a "hysterical" state of mind - a dangerous sign, Rogers said. As soon as the central government introduces more powerful measures to assert control on the overheating economy, the bubble will burst, Rogers said. His prediction has an ominous ring as his previous statements regarding China's stock market have proven correct. In May 2004, Rogers predicted the Chinese stock market would hit a record low within four to 16 months. Thirteen months later in June 2005, the market plunged to an historic low. The China Banking Regulatory Commission has also warned banks in the country to be on the alert for any personal loans from their clients which may be misused for stock speculation as the regulator attempts to cool down the equity market. During a recent meeting with local banks the CBRC issued guidelines for the lenders to follow, according to a report Thursday in government paper China Securities Journal. However, Eugene Law Sheung-pui, head of research at Celestial Securities, said the market was over-reacting. "Although the China market will experience some short-term volatility, I think the fundamentals are sound. The Shanghai Composite Index could reach 3,500 points this year," he said. Despite China announcing gross domestic product growth of 10.7 percent for last year, the benchmark Shanghai Composite Index fell Thursday to 2,857.36, down 3.96 percent. The Shenzhen Composite Index slumped 4.3 percent to 675.78. In Hong Kong, the Hang Seng China Enterprises Index followed suit, sliding 148.26 points to 9,864.31. Economists have expressed concerns that investments risks in China will grow as Beijing is likely to kick off another round of cooling measures.
Shares of Star Cruises (0678) plunged as much as 16.8 percent Thursday after news broke that the Singapore government was raising questions over the planned partnership between its sister Genting International and Macau casino tycoon Stanley Ho Hung-sun.
Honesty Treasure International (0600), which sells finished leather to garment makers, acknowledged Thursday that chairman Pedro Chiang and executive director Miguel Wu Ka-i are being investigated over allegations of bribery by the Commission Against Corruption of Macau.
Mid-size developer K Wah International (0173) expects revenues from its Hong Kong property sales to drop nearly 30 percent year-on-year to about HK$2 billion for 2007 as the company clears its remaining inventory units to focus on the high-end sector.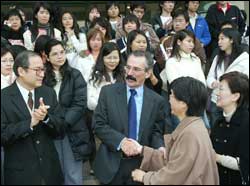 The Hong Kong Institute of Education's governing council has decided not to renew the contract of the institute's president, giving rise to speculation the government is trying to force the institute to merge with universities. The council Thursday decided by 10 votes to three, with three abstentions, not to renew the contract of Paul Morris, who became the head of the education faculty in 2000 and institute president two years later. Morris said he was not surprised as he had been informed earlier his contract would not be renewed if he did not support a merger. "Basically I was told in June that the renewal of my contract was dependent on my support of a merger. So the exercise has come as no surprise," Morris said. Council chairman Thomas Leung Kwok-fai said he could not comment on what Morris said but insisted the decision was not linked with any proposed merger. Morris' contract will end in September. Under the rules of the institute he can choose to become a teacher or participate in the selection process for a new president. Morris said he had not made any decision as yet.
British billionaire Sir Richard Branson said his Virgin Group was in advanced talks to build a US$3 billion (HK$23 billion) casino resort complex in the Chinese gambling haven of Macau, a report said on Friday.

Animal ambassadors for the "first pets mass wedding in Hong Kong", collie bitch Naughty (right) and males Gas, a sharpei, and Piggy, join forces with two human counterparts at the World Trade Centre, Causeway Bay. They called for all species of pets to take part in the mass wedding, organised by Sun Hung Kai Properties, on February 13 to celebrate Valentine's Day.
Some Hong Kong hospitals are fully booked by expectant mothers from outside the territory as new measures to stem an influx of mainland women giving birth in the city loom, officials said on Friday.

Hong Kong Airlines chairman Ren Weidong has big plans. He wants the carrier to be bigger than Dragonair in terms of destinations by 2009.
Leading United States-based private equity investors Warburg Pincus and Carlyle Group were in a battle for a stake in a top Chinese retailer with lucrative property assets, media reported on Friday.

China: The vice foreign ministers for China and Japan smiled and traded jokes prior to the start of the 7th round of strategic dialogue, a sure sign of warming relations between the two countries.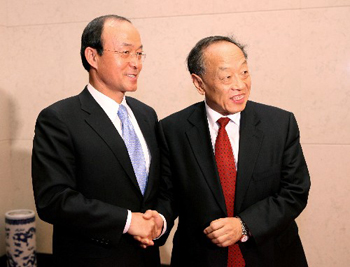 Chinese Foreign Minister Li Zhaoxing (R) shakes hands with the Republic of Korea (ROK) Foreign Minister Song Min-soon in Beijing, capital of China, Jan. 25, 2007. Song, who starts his three-day official visit to China on Thursday, said that the ROK is engaged in peaceful solution to the nuclear issue through dialogue and will work closely with host China to make the talks achieve new progress.
Locally made high-speed trains will make their debut on Sunday, operating routes from Shanghai to Nanjing, and from Shanghai to Hangzhou.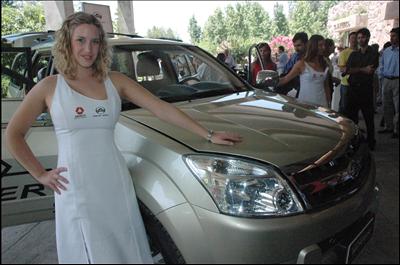 A girl poses with a China-made Hover CUV during a promotion held in Santiago, Chile, Jan 24, 2007. The Hover CUV of China's Great Wall Motors, priced at US$ 16,000, will be sold in Chile on Feb 1.
China's gross domestic product (GDP) surged by 10.7 percent year-on-year to reach 20.94 trillion yuan (2.7 trillion U.S. dollars) in 2006, said Xie Fuzhan, head of the National Bureau of Statistics in Beijing on Thursday. The economy turned in another sparkling performance last year, with gross domestic product (GDP) growing at the fastest clip in 11 years and inflation moving below 2 percent. China is likely to kick off another round of austerity measures to rein in unabated economic growth after the National Bureau of Statistics reported Thursday the mainland has recorded the highest increase in gross domestic product in 11 years.
Microsoft Corp, operator of the world's second-most visited Website, partnered China's largest Internet travel agent to tap the country's growing market for online hotel reservations and airline ticket sales.
Foreign investors are vying for a stake in Beijing Wangfujing Department Store (Group) Co Ltd, China's top Shanghai-listed retailer with 15 department stores across the country.

Fake cigarettes worth more than 23 million yuan, which were seized in raids over the past few months, are destroyed in Xian, Shaanxi province. China is the world's largest tobacco market, with about 350 million smokers and nearly 1.8 trillion cigarettes sold in 2003. Tobacco-related taxes are a main source of income for the government.
Chinese auditors believed 289 million yuan had been embezzled from funds earmarked for resettling residents displaced by the Three Gorges Dam project, state press reported on Friday.
Soccer star Ronaldo was suing a Chinese drug company for using his image in a television commercial without his authorisation, reports said on Friday.
Shanghai's mayor and acting party secretary has issued a stern warning to corrupt entrepreneurs, saying the city will not allow such businessmen to get a foothold in the eastern metropolis, local media reported late on Wednesday.

Beijing Novel-Tongfang Information Engineer, a digital television device maker partly controlled by China's Tsinghua University, plans to raise as much as US$400 million in an initial public offering on the New York Stock Exchange, according to sources.
January 29, 2007

Hong Kong: Legislators from across the political spectrum Wednesday passed a non- binding motion at the Legislative Council calling on the government to put some of its fiscal reserves back into the community.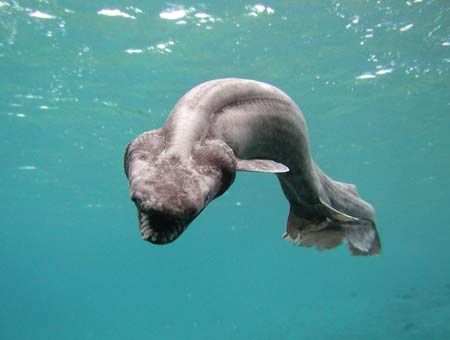 A frilled shark, rarely seen alive because its natural habitat is 600 metres or more under the sea, is seen in this photo released by the Awashima Marine Park in Numazu, south of Tokyo January 24, 2007. The primitive shark was caught and filmed at the Japanese marine park after receiving a call from a fisherman at a nearby port on Sunday when he came across the odd-looking eel-like creature with a mouthful of sharp teeth.
In a market continuing to find support at record high levels, Lee & Man Paper Manufacturing (2314), a leading containerboard producer, is seeking to raise as much as HK$1.52 billion by selling new shares.
Hong Kong Monetary Authority denied Wednesday that it was responsible for the Hong Kong dollar's sharp fall in recent weeks, saying it has not sold the currency to push it down to the weaker side.
Hong Kong's exports, which showed signs of slowing last year, are expected to grow at a more moderate rate this year because of China's tighter export policy and the potential US slowdown, the Bank of East Asia (0023) said Wednesday. The value of Hong Kong's exports increased 13.7 per cent year on year last month to HK$214.7 billion, government figures released on Thursday showed.
Supermarket giant ParknShop may be prosecuted over a food scare involving codfish as public pressure for a probe into the incident mounts.
Jockey Club betting director Henry Chan Shing-kai has called on the SAR government to sustain the long-term future of Hong Kong racing by relaxing the current ceiling of 78 race meetings per season in addition to the limitations on simulcast overseas races.

Students from Island School and Polytechnic University and environmentalists from WWF Hong Kong hand in petitions at the Environmental Protection Department against CLP Power's proposal to build a liquefied natural gas receiving terminal on South Soko Island. The WWF says an environmental impact assessment is misleading the public to believe the South Sokos, a designated marine park, is the preferred and acceptable site.
The Singapore government had questioned Malaysia's Genting International over plans to give Macau casino tycoon Stanley Ho Hung-sun a stake in the company's gaming resort in the city state, a report said on Thursday.

China: In contrast to the massive deficit in trade in goods, the United States is chalking up a rare surplus in services trade with China that could balloon to US$67 billion (HK$522.6 billion) in eight years' time, says a report commissioned by US companies.
Preliminary estimation shows China's GDP totaled 20.9407 trillion yuan (2.7 trillion U.S. dollars) in 2006, up 10.7 percent year on year.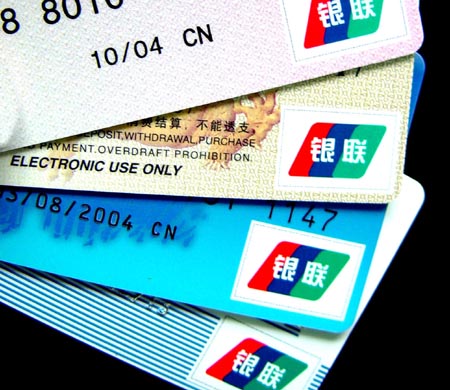 China UnionPay Co expects double-digit growth on its overseas card-based transactions this year as more Chinese travel overseas. Bankcard-based transactions topped 25.5 billion yuan (US$3.19 billion) last year in overseas markets, nearly double the level of a year ago.
The Chinese government will reduce taxes for low-income groups and tighten controls on tax evasion by high earners to ensure fairness and social justice and to close the wealth gap, said State Administration of Taxation commissioner Xie Xuren on Wednesday.
China fined the Jilin Petrochemical Company, a subsidiary of PetroChina, the maximum 1 million yuan (US$125,000), for seriously polluting the Songhua River.
A new regulation restricting surveying and mapping by foreigners will be implemented in China on March 1. "The regulation will protect national security."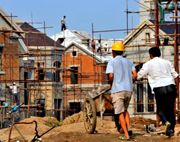 China's sizzling economy grew 10.7 per cent last year but faces strains from a soaring trade surplus and excessive investment especially in property, such as this luxury villa project under construction in Beijing.
China Metallurgical Group had sealed an agreement to develop an iron ore mine project worth A$1.98 billion (HK$12 million) in Australia, media reported on Thursday.
January 27 - 28, 2007

Hong Kong: Cheung Kong (Holdings) (0001), Hong Kong's second-largest developer by market value, plans to build up its war chest and put itself in a strong position to compete for property tender projects of nearly HK$10 billion, sources said.
Macao gaming revenues overtake Las Vegas in 2006 - Macao logged a gambling revenue of 55.9 billion patacas (7 billion U.S. dollars) in 2006, overtaking Las Vegas as the world top casino hut, local media reported in Macao Wednesday. Macao Daily News, the region's leading Chinese newspaper, quoted international analysts as saying that gaming revenues of Las Vegas in 2006 was expected to range between 5.59 billion to 6.6 billion U.S. dollars. Macao, on the southern tip of China, witnessed a year-on-year rise of 22 percent in the gaming revenues, according to the city's Gaming and Inspection Coordination Bureau. Macao, with a population of merely 500,800, has boomed in recent years as a number of Las Vegas giants including Las Vegas Sands, GM Mirage and Wynn Resorts started gigantic projects here.
The Hong Kong dollar's sudden jump toward the weaker side of its trading band against the US dollar as the yuan edges closer to parity with the SAR's currency is due to "squeeze play" as authorities on both sides speed up the process of the yuan overtaking the Hong Kong dollar to minimize market speculation and volatility, UBS said Tuesday.
CITIC Pacific (0267), a state-backed conglomerate controlled by billionaire Larry Yung Chi-kin, has applied to the stock exchange to spin off its wholly owned telecom unit to "unlock its value," and the unit may command a separate listing, it said Tuesday.
Guangzhou Automobile Group, a unit of red-chip Denway Motors (0203), is planning a share offering to raise funds for expansion this year and the listing is likely to be in Hong Kong, according to a senior executive.
Hong Kong Exchanges and Clearing (0388) will launch yuan futures trading in the middle of this year as part of its plan to forge closer relations with mainland financial markets, chairman Ronald Arculli said Tuesday.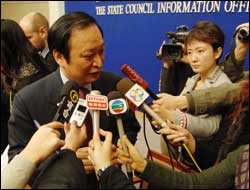 A week after Hong Kong placed entry restrictions on mainlanders who are in the late stages of pregnancy, Beijing has weighed in with a stern warning that babies born in the SAR could lose their mainland residency rights. National Population and Family Planning Commission vice president Wang Guoqiang said in Beijing that some mothers were attempting to get around the "one-child policy" by giving birth outside the mainland. He warned these mothers to bear in mind that children who have acquired Hong Kong residency could lose their mainland household registration and benefits. "The reasons why they choose to give birth in Hong Kong, I think, are many and complicated," Wang said. "But they have to ask themselves why they want to give birth in Hong Kong and make their own judgment ... they can't enjoy the benefits of both places." He also reiterated medical resources and obstetric services in the mainland are sufficient and that there is no need for them to give birth in Hong Kong.
Hong Kong officials are hopeful a high- level business and trade mission they are sending to the Middle East this week will help boost the city's status as an international financial center and strengthen economic ties.



Workers clean a building in Sham Shui Po as part of an initiative where 40 unemployed middle-aged people scrub buildings ahead of the Lunar New Year. The Caritas Lai Chi Kok Workers Centre has been organising the event for three years, providing short-term employment for those jobless because of their age or health status.

China: President Hu Jintao had ordered a swift investigation into the murder of a newspaper employee at an illegal mine in northern China, state media said on Wednesday. The rare public intervention by Mr Hu, reported by the China News Service, came after a public outcry from reporters in China and media watchdogs abroad for better protection for Chinese journalists. Seven people have already been detained in the beating death of Lan Chengzhang of the China Trade News, who was attacked along with a colleague when they went to interview Hou Zhenrun, the owner of the unlicensed coal mine, on January 10. China News Service reported that Politburo standing member Li Changchun and Public Security Minister Zhou Yongkang also demanded "a swift and thorough investigation". Hou is accused of organising a group of people to assault Lan and Chang Hanwen at the small mine outside the northern city of Datong. In addition to the seven who have been arrested, police are hunting for three others allegedly involved in the attack. Lan and Chang were set upon by as many as 20 men, according to some media accounts, on their way to meet Hou. Chang's right arm was broken and his body was bruised, the China Trade News said in a weekend statement. The statement said the two were hired late last month and identified them not as reporters but only as "employees". The killing and the questions about Lan's status have highlighted the communist government's uncomfortable relationship with the media, which it tries to control. Police have been quoted as saying that Lan sought out Hou, the mine owner, to extort money, offering not to report on his illegal mining operation in return for a bribe.
A feature article in US-based Time magazine published on January 11 assessed the rise of China, calling it the "dawn of a new dynasty" and "the China century". It reviewed China's rapid development in recent years: from investment in Africa to diplomatic activities in Latin America, from energy needs to geographical influence, from domestic challenges to diplomatic achievements, and from democracy and human rights to sovereignty and territory. It ended by concluding that "China's rise to global prominence¡­doesn't have to lead to the sort of horror that accompanied the emerging power of Germany or Japan¡­There need be no wars between China and the US, no catastrophes, no economic competition that gets out of hand. But in this century the relative power of the US is going to decline, and that of China is going to rise. That cake was baked long ago." This article one of the most comprehensive, deep and balanced analyses of China to come from mainstream US media so far; it reflects a change in American society's view of China, and is largely in line with Washington's current China policy. This quiet change in the US' attitude towards China should be affirmed. Unlike past judgments which were simple, sentimental and tried to demonize China, the Time article indicates that US politicians, academics and journalists have become more objective and rational in their way of looking at China, which is critical for the development of sound, stable Sino-US relations. However, reading between the lines, we can see the US is still constrained by a deep-rooted US-centric mentality. Ideologically it has not moved away from democracy and peace or "historic fatalism" when it comes to the rise and fall of powers. As a result, it has failed to subscribe to the idea of constructive cooperation for mutual benefit and clung to traditional "power" thinking in which the western world will "manage" China's rise together. It will probably take time for America to really understand China.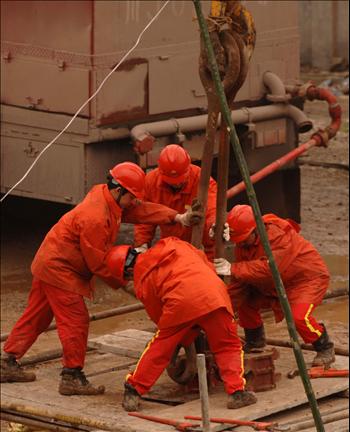 An Emergency task force work at the gas leak site in Shuangqiao district, southwest China's Chongqing Municipality on Jan. 23, 2007. Authorities in southwest China's Chongqing Municipality have successfully capped an abandoned well where leaking gas led to the evacuation of more than 3,500 people on Sunday.
Multinationals can learn from Chinese companies - For foreign multinationals, the way to get ahead in China's fast lane is to take advantage of what these companies are missing in their race to secure a global presence. There are three important areas where Chinese companies get stalled. The most significant is customer loyalty, in terms of both the end consumer and intermediate distributors. Chinese companies historically dealt with fewer distributors, relying instead on mega-retail channels. Customer insight takes time to develop, and global firms have many more years of experience to draw upon. The battle for talent will also be critical, as firms seek out people with global experience. Multinationals are experienced in developing strong leadership, and will rely on their best-in-class programs for recruiting, developing and deploying management. Then there's innovation. Corporations today are unlikely to repeat this mistake. Constant innovation and compressed product cycles will characterize Chinese and multinational firms alike. Not only development phases, but various industries and sectors will be integrated: One day soon, R&D will converge across cosmetics, pharmaceuticals and food industries. Emulation will become progressively more difficult; Chinese companies may find themselves continually playing catch-up. In the end, however, it's important to remember that the race will be won by those who endure the longest. Here, China has another advantage: The centuries have taught its people to be patient. With their emphasis on quarterly earnings, today's multinationals may have yet another lesson to learn from China's companies: the idea of thinking forward in decades.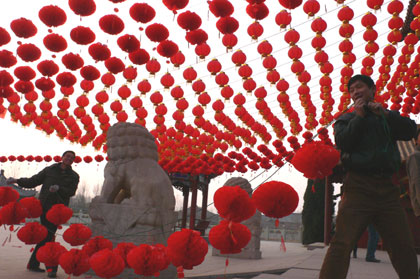 Workers are busy hanging red lanterns to add festival atmosphere in a park in Kaifeng, central China's Henan Province January 23, 2007. The streets, stores and parks in the city are decorated for the traditional Spring Festival that begins on February 18 this year.
Visa, the world's largest credit card payment system, signed strategic Olympic alliance Tuesday with the Bank of China in a bid to boost their business through the 2008 Olympic Games in Beijing.

Beijing is masterminding a top management reshuffle at its mainland insurance companies, with plans to install Yang Chao - current chairman of China Life Insurance (2628) - to assume chairmanship of PICC Property and Casualty (2328), market sources said.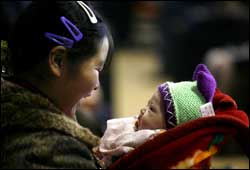 It could take up to 15 years for China's gender imbalance to sort itself out, the country's top family planner said Tuesday, admitting three decades of strict population policies had contributed to the problem. In 2005, there were 118 boys to every 100 girls born in China as wider use of ultrasound and easy availability of abortions compounded a traditional preference for boys. In some parts of the country, the imbalance is as high as 130 to 100.
"There are many reasons for the gender imbalance, and the first is the existence for thousands of years of a deep-rooted traditional view that men are worth more than women," said Zhang Weiqing, head of the National Population and Family Planning Commission.
Chery Automobile, the nation's biggest domestic automaker, plans to set up three assembly plants in the Middle East, Eastern Europe and South America, a news report and a company spokeswoman said.

Yang Chao's successful leadership of China Life makes him an ideal candidate to head PICC.
China's financial derivatives exchange will delay the launch of its first futures product to at least the second quarter due to the lack of regulations covering the product and a well-working billing system, as well as worries over its effect on the domestic stock markets.
January 26, 2007

Hong Kong: Hong Kong's stock market roared out the gate Monday and soared to a new high, driven by HSBC Holdings (0005) and China Mobile (0941), as well as some laggard property stocks. Shares in blue-chip laggard HSBC Holdings (0005) climbed 1.7 percent Monday to a two-month high, showing impressive gains for the second consecutive day as investors began to temper their unbridled optimism towards mainland financial stocks. Mid-sized companies Meadville Holdings and Wuyi International Pharmaceutical both received a lukewarm response from retail investors in their respective initial public offerings Monday, a day when investors chose to focus on buying blue-chip stocks.

Democratic Party members (from left) Wong Shing-chi - dressed as the God of Fortune - Sin Chung-kai and Lee Wing-tat distribute Lunar New Year calendars to the public in Central, featuring the party's budget proposals and urging the government to reduce salaries tax.
A Hong Kong distributor of Hollywood film thriller "The Departed" said on Tuesday it was in talks with Chinese authorities to get the film in cinemas on the mainland after it was recently banned. The Departed, a Martin Scorsese remake of the hugely popular 2002 Hong Kong cop thriller Infernal Affairs, tells a story of an Irish-American mob boss who is trying to sell military hardware to the Chinese. The film's Hong Kong distributor, Media Asia, said it was informed by its Chinese counterparts that the film had been barred from showing in mainland theatres. "We've been told by our distribution company in China that the film is not appropriate to be shown there. They told us we can't import it," said Media Asia marketing manager Chan Ka-li. Chu Yam-chi, deputy general manager at Media Asia's distribution and marketing department, said although their first attempt to distribute the film in China had failed, they were trying to find other ways to get past the censors. "At the moment, we are trying to find other ways to do it. They don't tell you clearly why we can't show it, but we are following up the matter to see whether we can cut or change anything [in the film] so we can get it passed," Mr Chu said. "We will give it a try again. If we get rejected on the second or third attempt, then we might give up," he added. The Departed, which won Scorsese a Golden Globe award for best director, is seen as a likely Oscar nominee. It stars Leonardo DiCaprio, Matt Damon and Jack Nicholson.
Riding the latest rally in the Hang Seng Index, a shareholder of Bank of China (3988) - the mainland's second- largest state-owned lender - plans to sell HK$1.42 billion worth of shares in the bank, according to term sheets obtained from a fund manager.
China Mobile Communications, the parent of cellular giant China Mobile (0941), said it has agreed to pay US$284 million (HK$2.2 billion) to acquire an 88.8 percent stake in a Pakistani cellphone firm.

Shanghai International Port Group, the operator of China's busiest port, is expected to raise handling charges as throughput is likely to grow 20 per cent this year, analysts said. The expectation came as the company, which completed the listing of the entire group in October, said net profit rose 36 per cent on the back of 20 per cent throughput growth. About 21.7 million teu (20-foot equivalent units) were moved at the Shanghai port last year and throughput was expected to hit 26 million teu this year, said Niu Yuming, a port and transport analyst for Hai Tong Securities. Shanghai is likely to overtake Hong Kong as the world's second-busiest port after Singapore given that Hong Kong's port is expected to post low single-digit growth this year from 23.2 million teu last year.

Chief Executive Donald Tsang Yam- kuen's election machinery swung into motion Monday with the formal setting up of his campaign office that will prepare for his re-election bid.

China: China's Ministry of Finance is to end tariff exemptions on 192 types of equipment imported for use in Chinese-invested projects from March 1. The list of equipment to lose tariff-free status includes general machinery, smelting and mining machinery, packing materials and electronic devices, the ministry announced on Monday. The change will apply to Chinese-funded projects approved after March 1. Those approved before March 1 can maintain the tariff-free status on imports until January 1, 2008. Meanwhile, the tariff-free policy on equipment used in foreign-funded projects, which includes 20 items such as cars and electronic office fittings, will be maintained. The ministry said the move would create a fair environment for domestic equipment makers to compete with foreign rivals through innovation. The tariff-exemption policy on equipment used in projects where domestic and foreign investment was encouraged began in 1998, but 580 types of equipment for use in Chinese-invested projects and 20 types for foreign-funded ones were excluded in order to protect domestic industries. Chinese enterprises have been suggesting that more types of equipment be removed from the list, as the country has been able to develop more equipment with higher technological standards and the old threshold for import tariff exemption was hurting domestic producers. The government shortened the list of tariff-free equipment imported for Chinese-invested projects for the first time in 2000, but has kept that for foreign-invested projects unchanged. Experts say while China gave foreign investors tariff benefits to address a lack of investment after the Asian financial crisis, they were less necessary now the country had seen an improving investing environment after joining the World Trade Organization. A unified tariff policy on equipment import for domestic and foreign investors will effectively boost the country's own equipment manufacturing industry, experts say.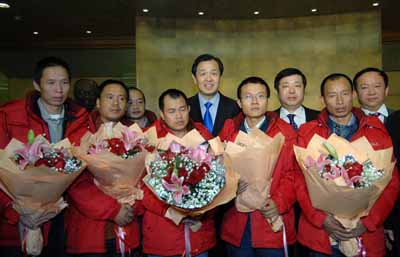 Officials, headed by Assistant Foreign Minister Kong Quan (R-C) pose with five Chinese workers who were abducted on January 5 in Nigeria and released 12 days later after they arrive at the Capital International Airport in Beijing January 22, 2007.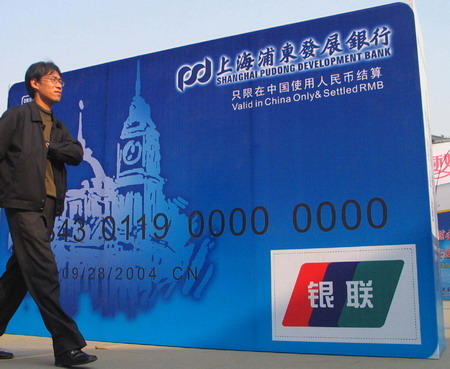 A pedestrian passes a Shanghai Pudong Development Bank billboard for its bank card. The bank said yesterday it had received China Banking Regulatory Commission approval to set up a fund management joint venture.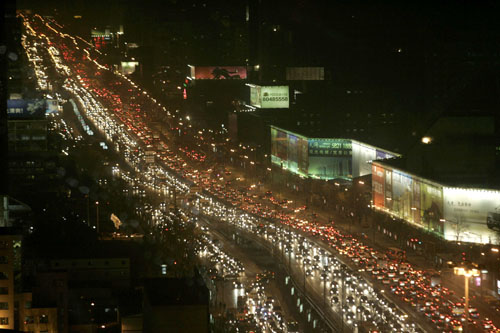 A general view of heavy traffic on the 3rd ring road during rush hour in Beijing January 22, 2007. A record number of more than 22,000 new vehicles were registered in Beijing in the first 18 days of 2007. And an estimated three million will be on the roads by May, according to Xinhua.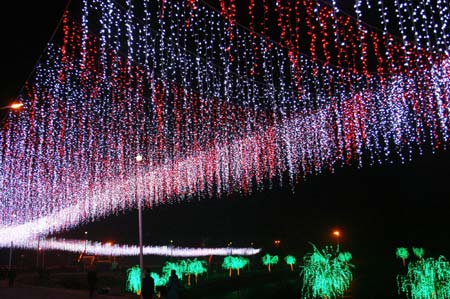 A park with illuminated decorations to celebrate the upcoming of Lunar New Year in Laiwu, East China's Shandong Province, January 21, 2007. The Lunar New Year's Day falls on February 18 this year.[
Diamond trade soars 44.4% due to tax cut - China's imports and exports of diamonds hit a record high of 610 million U.S. dollars in 2006, jumping 44.4 percent year on year.
Chery Automobile, China's fourth-largest passenger vehicle producer, was in talks with potential partners to set up three new vehicle plants abroad, a company executive said on Tuesday.
Embattled Linux software distributor Red Hat is charting a fresh course to expand into China, as new threats from separate open-source initiatives led by Oracle Corp and Microsoft Corp appear not to have hurt its business yet.
January 25, 2007

Hong Kong: Singapore is planning to cut its corporate tax by at least 1 percentage point from the current 20 percent in order to compete with Hong Kong's low tax regime, former prime minister Lee Kuan Yew said in Singapore's Strait Times newspaper.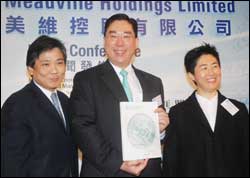 On the back of a record-breaking year for the stock market, two more companies are opening their order books for retail subscriptions today to raise a combined HK$2.06 billion. Investors expect the year ahead to bring another bumper period for the capital market, especially in terms of public flotations. Initial public offerings accounted for HK$329.5 billion of the total HK$497.8 billion in equity capital raised in the city in the year to December 20, with H-share firms soaking up most of it. Some analysts say that with mainland enterprises accounting for more than 90 percent of all funds raised last year, the stock market will continue to remain a magnet for companies seeking capital. Privately held mid-sized companies Meadville Holdings and Wuyi International Pharmaceutical will be among the first in the IPO queue this year. Meadville Holdings, a printed circuit board and laminates maker controlled by the family of Financial Secretary Henry Tang Ying-yen, plans to sell 526 million shares in an indicative price range of between HK$1.90 and HK$2.40, raising up to HK$1.26 billion. The price range represents 8.2 to 10.35 times Meadville's 2007 forecast earnings.
The advertising industry grew 8 percent in 2006, because of the growth in the economy and because more enterprises were willing to invest in marketing, said Royce Yuen Man-chun, chairman of the Association of Accredited Advertising Agents of Hong Kong.
Capital Estate (0193), an investment holding company with interests in property investment, has announced it has entered into a non-legally binding memorandum of understanding with Fulvid Investment to acquire a 45 percent interest in the issued share capital of Fulvid Investment for HK$330 million.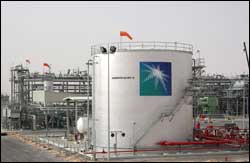 A government delegation will leave for the Middle East this week. Jonathan Cheng looks at the SAR's efforts to promote the city as an investment hub in the first of a two-part series With China's economy booming, oil- rich Islamic investors are pouring more dollars than ever into the region - and increasingly raising concerns that Hong Kong is missing their message and losing their business. Instead of drawing in these eager investors, diplomats and experts from these countries said in a series of interviews this month there is evidence that Hong Kong's financial community and its government officials have alienated potential investors through ignorance, indifference and arrogance. "Do you want me to be frank? Hong Kong does not pay positive attention to wealth management from the [Persian] Gulf, and they're making a serious mistake," Saeed Hamad Ali al-Junaibi, consul-general of the United Arab Emirates and its booming center of Dubai, told The Standard earlier this month. "Hong Kong officials don't pay any attention to Gulf countries, and that's their own choice." Al-Junaibi's words stand out in their directness, and the underlying themes were echoed in interviews this month with analysts, fund managers and top diplomats of five oil-rich countries in the Middle East and Central Asia - countries whose government investment authorities control trillions of dollars of funds. Abdollah Nekounam, consul-general from the Islamic Republic of Iran, used softer language, but made a similar point, warning Hong Kong that its apparent unwillingness to accommodate Iranian investors was turning the country's vast investment dollars elsewhere - to places like Singapore. "There's a lack of knowledge and understanding from Hong Kong about the Middle East region and the Persian Gulf," Nekounam said in an interview last week. "More emphasis is made on [Hong Kong's] neighboring countries rather than on other countries. And this is [all happening] while Singapore's view and policy have dramatically changed." The themes highlight a growing trend that is both a rebuke to and a potential lost opportunity for Hong Kong.

Work of hearts: The forecourt of Happy Valley Racecourse blazes with colour as patients, rehabilitation workers, students from special education institutes and artists join more than 1,500 of their paintings to make a 5,000 sq ft artwork entitled Happy Care, in an attempt to break the Guinness World Record for hospital art. The organiser, Art in Hospital, invited patients in its city-wide "Big Happy Heart" community arts programme to enter paintings in the belief that art can help healing.
Hong Kong's veteran director Johnnie To earned two top honors on Monday, winning prizes for best picture and best director in awards voted by local critics. To's gangster flick, Election 2, a sequel to the popular Election movie, was named the best film, beating six others including his own gang war epic "Exiled", which won him the best director prize, the Hong Kong Film Critics Society said. To takes his fascination with the former British colony's underworld to its next logical step with Election 2 and explores how the triads cope under the iron rule of a Chinese regime that regained control of the city in 1997. Kung fu icon Jet Li was named best actor for his role that portrays martial arts master Huo Yuanjiain in Fearless. Chinese starlet Gong Li bagged the best actress gong for her empress role in Curse of the Golden Flower, the most expensive film made in Hong Kong with a budget of US$45 million (HK$350 million). The organisation said the decision came after a heated debate and voting that lasted over 10 hours. The awards ceremony has been scheduled for March.
Hutchison Telecommunications International, which wants subscribers to its third-generation mobile-telephone business to try more non-voice applications, is offering Hong Kong users a flat-rate tariff for unlimited use of a new series of services, according to a company executive.

China: China's stock indices surged more than 3 percent to an all-time high on Monday, boosted by the positive tone of a government meeting at the weekend.
Chinese Olympic champion Liu Xiang (R) presents his gold-colored track shoes in Wuxi, south China's Jiangsu Province Jan 21, 2007. Liu's shoes has been auctinoed at 150,000 yuan(US$18,750).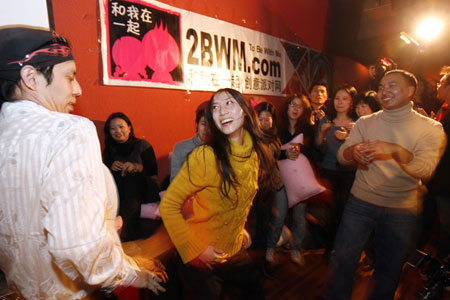 Chinese dance in a club in Shanghai, as part of a matching game, during an event organised by a dating website January 20, 2007.
Despite last year's stock market rally and strong liquidity in the A-share market, mainland economists and professional investors warn it is time for a major correction and investors should be cautious as the high growth rate might not be sustained after the 2008 Olympics.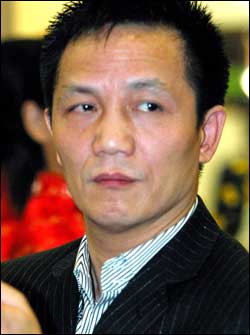 A Shanghai real estate tycoon was arrested Sunday on charges of bribery and using phony tax receipts amid a sweeping corruption probe, a mainland news report said. Chau Ching-ngai, also known as Zhou Zhengyi, was released in May last year after serving a three-year sentence for fraud and securities manipulation. He was detained in October on new charges, with authorities formally arresting him Sunday, Shanghai- based Dragon TV said on its Web site. The report gave no other details of the charges against Chau. Chau is also on the most-wanted list of the Hong Kong Independent Commission Against Corruption for economic crimes committed in the city.

Respects for an immortal: The remains of revolutionary hero Bo Yibo were cremated in Beijing yesterday, following a ceremony attended by the nation's highest leaders, including President Hu Jintao (right) and Bo's son, Commerce Minister Bo Xilai (far left). Bo, a member of the post-Mao circle of leaders known as the "eight immortals", died last Monday at the age of 99. He was cremated at Babaoshan Revolutionary Cemetery.
International Monetary Fund managing director Rodrigo Rato on Monday called for China to be "more flexible" in setting its exchange rates, renewing a demand frequently made by Western nations.
January 24, 2007

Hong Kong: The scarcity of land in Hong Kong will quicken the pace of expansion by developers on the mainland this year, say analysts, with medium-sized firms especially aggressive buying property. Hong Kong property developers spent more than 15 billion yuan buying 4.5 million square feet of land across the border last year. Expanding land holdings on the mainland will remain a key strategy, especially for the small- and medium-sized companies that are unable to compete with large players in the Hong Kong land auction. "With low development costs, especially in the second-tier cities, we will see more and more developers scaling up their mainland businesses," said Patrick Yiu, an associate director of CASH Asset Management. Stone Shi, analyst of Sun Hung Kai Financial Group, said medium-sized Hang Lung Group will outpace its peers on this mainland drive. "Given the enormous sizes of giants like Cheung Kong and SHK, contribution to their business from the mainland is still limited in the short run," Shi said. "In contrast, Hang Lung has entered its harvest period, when its mainland revenue will account for a significant portion of the company's income." Hang Lung Group, with a 15-year history in the mainland market, earned HK$555.1 million from its Shanghai properties in the financial year ending on June 30, 2006, about 12.7 percent of the group's total profit. Terry Ng, executive director of Hang Lung Development, said that Hong Kong land prices are simply too high for it to buy more.
Large corporates clearly believe that financial rewards get results, as a number will give "outstanding performers" more generous salary packages this year.
The Hong Kong dollar continued to fall against the US dollar Friday, dropping to its lowest level in 17 years. The currency reached a low of 7.8120/22 against the US dollar before closing at 7.8111/13. The Hong Kong dollar has been weakening in recent days after it fell below the official US dollar peg of 7.8 Wednesday. The Hong Kong Monetary Authority has said it does not see any abnormality in the falling local currency, as it continues to trade within the convertibility range of 7.75 and 7.85. The Hong Kong dollar is officially pegged at 7.80 against the US dollar, and the HKMA allows the currency to trade between HK$7.75 and HK$7.85 under a convertibility band the city's de facto central bank set in May 2005. Observers say one of the reasons for the weakening Hong Kong dollar is that speculation traders are cutting bets the currency will be allowed to gain along with the rising yuan. The Hong Kong dollar sold off sharply after yuan-Hong Kong dollar traded through one-to-one parity without a change to the US dollar-Hong Kong dollar peg, "reducing speculation of a change," Standard Chartered Bank (2888) said in a research note Friday.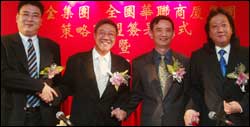 Four people - including the former chairman and deputy chairman of RNA Holdings, a one-time gold-refining and trading company - were convicted Friday of conspiracy to defraud the firm of HK$100 million. A fifth defendant was acquitted by Deputy District Court judge Timothy Casewell. Sentencing on the four accused was adjourned to next Friday. The judge found former RNA chairman Raymond Chan Fat-chu, 54, and his brother Alexander Chan Fat-leung, 51, the former deputy chairman, made a bogus HK$100 million loan to the company, then pocketed HK$55 million in cash and HK$45 million in RNA stock as repayment. The offenses occurred between December 28, 2000 and September 18, 2001. The other co-accused were Tsui Muk-ming, 47, an RNA director at the time, and his brother Chui Muk-hing, 40, who was party to the conspiracy. Tsui Yuk-hing - who was previously Raymond Chan's secretary and was believed to have assisted her boss in making 20 bank transactions involving eight shell companies - was acquitted after the judge ruled she did not play a significant enough role in the scheme. In convicting four of the accused, Casewell accepted the testimony provided by Andie Lo Chi-kin, former finance manager of RNA, and Tze Ka- yi, a former director of a shell company, who had both been granted immunity from prosecution in exchange for their evidence. The judge rejected a submission by defense lawyer Eugene Wong Yu- ching, who argued that Raymond Chan did not receive any personal benefit from the scheme.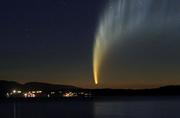 Comet McNaught, one of only seven which people have been able to see in daytime in the past 263 years, is captured early on Friday from Pucon in the Calafquen Lake area, 900km south of Santiago, Chile. It may still be visible in the southern hemisphere but is expected to fade by early next month, space.com said. The comet swept past the Sun on January 12, at a distance of 25.6 million km. Astronomer Robert McNaught, of Australia's Siding Spring Observatory, discovered it in August.

Businessman Paul Zimmerman's love for Hong Kong has led him to become involved fight to protect the harbour and in politics.

Consultant Wong Man-chiu shows off his fung shui compass at his office in Causeway Bay where he also holds classes. Like many others before him, Wong Man-chiu thought he could do a better job than the fung shui specialist whom he had just paid a fortune for some work. But instead of just fuming and thinking, Mr Wong went out and did something about it.

China: Shanghai authorities have detained 22 company executives, some working for major multinationals such as McDonald's and Whirlpool, in connection with a bribery investigation, local reports said Friday, citing a police notice. The probe comes amid a wider crackdown on economic crimes and a citywide probe into corruption allegations against top city leaders that resulted in the ouster of Shanghai's Communist Party secretary, Chen Liangyu. Foreign companies are facing increased scrutiny over compliance with government regulations, with powerhouses like Wal-Mart Stores Inc., for example, installing labor unions. The police notice was sent to local media by the Shanghai General Team of Economic Investigation and reported in several state-run newspapers including the Shanghai Youth Daily and Xinmin Evening News. It said bribes worth 4 million yuan (US$514,000) allegedly were given to staff at seven companies by local computer network operators, in return for equipment orders. The reports did not name the suspects, but said those accused of taking bribes headed the information technology departments at the local offices of US consulting firm McKinsey & Co., McDonald's, Swiss engineering firm ABB Ltd. and American appliances maker Whirlpool Corp., among other companies. Police would not immediately comment on the report and requested questions in writing. McDonald's Corp. said in a statement, "This incident occurred several months ago. As result, Mr. Tao was immediately terminated," apparently referring to an employee implicated in the investigation. It provided no further comment. Whirlpool's Shanghai office and Asian spokeswoman would not comment, referring inquiries to the company's headquarters. "We will look into the reported cases. ABB does not tolerate any improper business conduct and we apply globally the highest business standards," Thomas Schmidt, spokesman for ABB, said in a statement. McKinsey issued a statement saying "we are not aware of any information other than that printed in the press. McKinsey has not in any way been accused of any bribery or corruption." The company's Shanghai office declined further comment.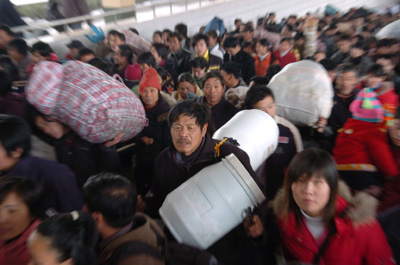 Migrant workers pack into the railway station to board a train in Fuyang, east China's Anhui Province January 19, 2007. China's 'Chun Yun', which means travelling during traditional Chinese Spring Festival, kicked off half a month ahead of the official time between February 3 and March 14, which the Railway Ministry predicted would saw a passenger flow of million. The annual train fare hike during the holiday season was scrapped begining this year.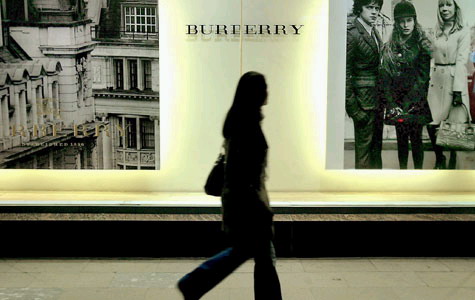 Garments sold at upscale malls in the city under famous brands such as Chanel, Burberry and Dior, with price tags of at least 1,000 yuan ($120), have been declared substandard. Coats, jackets and pants made under 17 international brands failed quality tests, with either high concentrations of a potentially dangerous chemical, shoddy dye or excessive fiber content, according to an online statement from the Shanghai Industrial and Commercial Administration. Zara, MNG, Armani, Ermenegildo Zegna, S.T.Dupont, PINK and MaxMara were also found to have substandard products. In a recent test, 24 kinds of garments bearing these fancy brands were found to be faulty in more than 10 department stores, including Plaza 66 on Nanjing Road and Gateway Mall in Xujiahui. A Zara skirt was found to contain twice the allowable quantity of formaldehyde, a chemical that threatens respiratory health and the skin. And an MNG coat, labeled 20 percent cashmere, was found to have only 1.7 percent cashmere. Dealers will stop selling the faulty garments, remove them from the malls and take responsibility for any later charges, the statement said. Giorgio Armani's Hong Kong branch said the company was very sorry for its faulty goods and promised to take immediate action. It told the Shanghai Morning Post that it would ensure all its garments were modified to comply with Chinese quality standards.
China plans to set up a unified gross domestic product (GDP) calculation system nationwide in a move to prevent provinces from cooking their economic figures, said top officials at the National Bureau of Statistics. Provincial governments will no longer have the right to calculate regional GDP. Instead, survey teams will be set up in each province to investigate and report figures directly to the state bureau. The decision was made after complaints surfaced that the regional GDP was usually exaggerated as local governments tried to give the impression that they have fulfilled, or even exceeded, their targets, said Xinhua, citing a conference held on Thursday in Beijing by the bureau. "The fact that regional GDP is not in line with the state figure prompts moves for a unified calculating measure," said Xie Fuzhan, head of the bureau at the conference. Xie didn't give a detailed timetable of the move, but said so far the survey teams, under direct leadership of the bureau, have been formed in nearly all provinces. "For the sake of their political performance, local governments often interfere with the accounting procedure to make the figures look better than they actually are," said Li Mingliang, an analyst at Haitong Securities Co. China's GDP grew 10.9 percent in the first half of 2006, but all the provinces and regions reported double-digit growth rate for the same period of time, with 23 of them above 12 percent, according to Xinhua. "Therefore, it is necessary to make the process of calculation independent to better reflect the local economic status and help the central government check if its restraining measures are working well," Li said.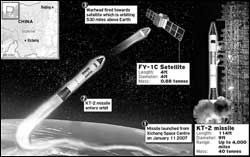 Beijing has played down fears of a military space race after US spy agencies said China had shot down a satellite for the first time, drawing condemnation from Washington and its Asian allies. A foreign ministry spokesman, while declining to confirm the incident, said other countries should not be alarmed. "There's no need to feel threatened about this," Liu Jianchao said. "So far, we have not got any confirmed information about this." He said China had no intention of triggering an arms race in space. "We are not going to get into any arms race in space." Washington said China fired a missile to destroy an orbiting weather satellite last week, making it the third country after the United States and the former Soviet Union to shoot down anything in space. If confirmed, the test would mean China could now theoretically shoot down spy satellites operated by other nations. The aging Chinese weather satellite was hit on January 11 and may have left considerable debris behind, a US official said. The US magazine Aviation Week and Space Technology first reported a missile launch, which was confirmed by the White House. The magazine said the missile was fired from the Xichang space center in central Sichuan province and had destroyed a Chinese weather satellite that was launched in 1999. The impact reportedly occurred more than 800 kilometers above Earth, high enough to hit orbiting satellites.
McDonald's opened its first drive-thru in Beijing Friday, launching a partnership with a major Chinese oil company to set up dozens of drive-thrus to exploit the country's growing taste for both cars and Western fast food. The Beijing drive-thru is McDonald's 16th in China but the first in its venture with China Petroleum and Chemical Corp, or Sinopec (0386), which McDonald's China chief executive Jeffrey Schwartz said would open 25 to 30 more in the next 12 to 18 months. China's booming market is a key growth area for the hamburger chain, Schwartz said.
China Mobile, the country's largest mobile-telephone carrier, added a record 4.83 million users last month, outpacing its smaller rivals China Unicom and China Telecom Corp.
Reader, reportedly China's highest-circulation monthly magazine, has launched an online edition, hoping to expand its reach on the internet and into foreign markets, the publisher was quoted as saying on Friday.
January 23, 2007

Hong Kong: HSBC and the Hong Kong Monetary Authority yesterday warned of more volatility in Hong Kong's stock market following the surge they said was driven by liquidity rather than fundamentals. The warning came as the Hang Seng Index, which surged 34.2 per cent last year, yesterday rose 1.06 per cent to close at 20,277.51 points, boosted by property stocks. Turnover yesterday was a heavy HK$64.24 billion. Releasing its outlook for this year, HSBC predicted a "sharp" correction in the Hang Seng Index of between 10 and 25 per cent before returning to positive territory and closing out at about 21,500 points. Garry Evans, the lender's pan-Asian equity strategist, would not provide a timetable for the downturn, noting only that liquidity had a track record of leaving the market between March and May.
Hong Kong-listed TPV Technology, the world's largest computer monitor maker, will see Philips Electronics become its largest shareholder as BOE Technology Group of China plans to sell half its stake for up to HK$1.1 billion, market sources said.
The Exchange Fund's investment income nearly tripled in 2006 - boosted by robust equity markets - adding HK$28.9 billion to the government's treasury, Hong Kong Monetary Authority said Thursday.
Hong Kong stocks climbed Thursday to their highest close in more than two weeks as property developers were buoyed by speculation that banks may cut mortgage rates because of the continuing influx of foreign capital.
Henderson Land Development (0012) has won a legal battle to keep a site it owns in Mid-Levels out of the clutches of the Urban Renewal Authority, frustrating the URA's attempt to spruce up the area under a redevelopment plan.
DHL has announced a US$35 million (HK$273 million) investment program in its Hong Kong facilities that will increase DHL Express ground handling capacity by about 20 percent.
Hutchison Telecom Hong Kong, the subsidiary of Hutchison Telecommunications International (2332), said it expects average revenue per wireless user to rise 10 percent this year, as a result of a new bundle of mobile broadband services it launched Thursday.
Asia's richest are getting richer. The tycoons listed on this year's Forbes Asia Greater China's 40 Richest List, which covers Hong Kong, Taiwan and China, saw their combined wealth grow by a staggering US$28 billion (HK$218.4 billion) to reach US$158 billion.
Hutchison Whampoa (0013) is preparing to offer compensation to homeowners at its first large-scale housing development in Beijing following complaints of inferior quality in the construction.
The mainland stock market is likely to rise modestly in 2007 after a correction by 10 percent in the first quarter, HSBC (0005) said Thursday, recommending investors stay invested in mainland equities but trim positions in "overvalued" sectors such as financials, telecom and consumer staples.
A Hong Kong couple, convicted of laundering billions of dollars embezzled from a Bank of China branch in the mainland, were on Friday both sentenced to six and a half years in jail. The District Court on Thursday found Hui Yat-sing, 48, and his wife, Wong Suet-mei, 48, guilty of laundering HK$6.4 billion misappropriated from the bank's branch in Kaiping, Guangdong, between September 1995 and October 2001. A government spokesman confirmed the court had sentenced to the pair on Friday. The embezzlement at the branch - known as the "Kaiping Incident" - began in 1991 and only came to light in 2001. It was one of the largest cases of its kind in the mainland - involving funds amounting to US$485 million (HK$3.8 billion). Three former managers at the branch, including Hui's cousin, Xu Chaofan, fled to the United States in late 2001. They were arrested and charged in the US in 2004, with one later extradited to China and jailed. Hui was a former general manager of Ever Joint Properties and Wong a former manager of Yau Hip Trading, the trading arm of Ever Joint. Prosecutors said the couple used the Hong Kong-registered company as a vehicle to siphon off the stolen money. The couple had received the money through complicit mainland companies which received loans from BoC, unauthorised direct lending, and black market underground banks, the court heard. The couple then used the money to generate profits in property, shares, futures and foreign exchange in Hong Kong, the court heard.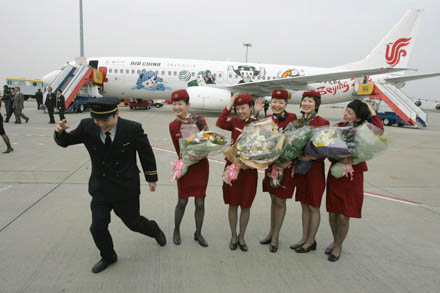 A crew member chases after a flight attendant's hat, blown off by a gust of wind, after an Air China flight touched down at Chek Lap Kok yesterday, for the first time sporting the 2008 Beijing Olympic mascots on its livery. Arriving from Beijing shortly after 1pm, the Boeing 737-800's passengers included Air China and Games representatives. It was greeted on the tarmac by Timothy Fok Tsun-ting, president of the Sports Federation and Olympic Committee of Hong Kong.
Sex appeal is hot new selling point in HK tutoring business - Angela Yiu and Stella Cheng spent weeks meeting with fashion stylists and photographers before deciding on the miniskirts and high heels to wear in their promotion campaign.

China: China's Social Security Fund Management Center plans to publicize regular reports on the collection and utilization of funds this year to avoid a repeat of September's high-profile scandal in Shanghai.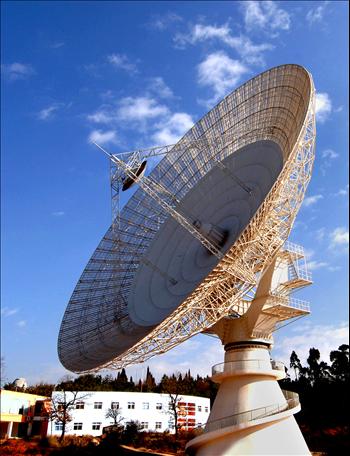 The large radio telescope at Yunnan Observatory weighs approximately 400 tons and has a diameter of 40 meters, photo taken on January 17, 2007. Four radio telescopes have been put into trial operation to measure orbits and receive data for "Chang'e I" Lunar Orbiter, to be launched later this year. They are located in Fenghuang Mount in Kunming, Yunnan, Miyun in Beijing, Sheshan Mount in Shanghai and Southern Mount in Urumqi, Xinjiang. When Chinese astronauts eventually walk in space, a small satellite will be used to monitor their movements, said a satellite expert on Thursday.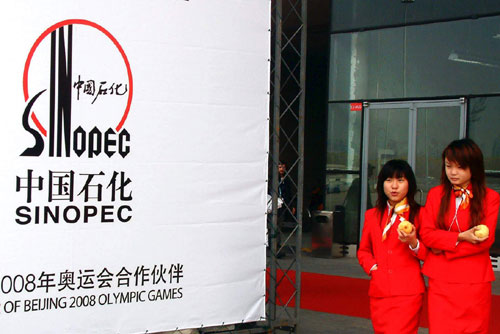 A Sinopec billboard in Shanghai. The company wants pump prices to follow market fundamentals after world crude oil prices soared to all-time highs in 2006.It has called for a more market-oriented oil pricing mechanism in 2007 after struggling last year to refine more oil at higher cost for local consumption.
Custom officers display confiscated stuffed specimens of endangered species in Shenyang, northeast China's Liaoning Province, January 18, 2007.
International intellectual property rights (IPR) laws will take precedence whenever they are applied in domestic trials even if they differ from domestic laws, a senior judicial figure told a national conference on IPR-related trials. Chinese IPR laws are typically in tune with international IPR laws, so equal protection is accorded to both overseas and domestic IPR owners, Cao Jianming, vice-president of the Supreme People's Court (SPC), said yesterday.
The value of the Renminbi (RMB) yuan dropped slightly against the U.S. dollar on Friday after rising for four days in a row earlier in the week, according to the Chinese Foreign Exchange Trade System.
The average price of newly built commercial homes in 70 major cities rose 6.3 percent last month compared to a year ago, up 0.5 percentage point from November, according to the top planning body.
Property owners will be required to reduce energy use in buildings, leading to at least 1.5 trillion yuan (HK$1.5 trillion) in renovations by 2020 and increased scrutiny of new projects.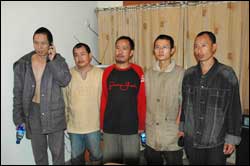 Five China telecommunications workers kidnapped nearly two weeks ago in Nigeria have been freed by their captors, the Foreign Ministry said. The workers were released Wednesday, ministry spokesman Liu Jianchao said Thursday. "We want to express our thanks and support for the assistance on the Nigerian side," Liu said. Asked if a ransom had been paid to ensure the workers' release, Liu said: "I'm sorry. I can't give any details on the specific process." In Nigeria, Emeke Woke, a government official in Rivers state where the kidnappings occurred, said the five were handed over to their company's lawyers in the state. The ministry said its diplomats and officials from the Commerce Ministry worked with the Nigerian government to secure the workers' release. Teleken, based in the southwestern city of Chengdu, had been contracted to install equipment to upgrade rural telephone services in Nigeria. It is a subsidiary of China Telecom, the country's biggest telephone company.
China's official Catholic Church said on Friday troubled ties with the Vatican would improve if reports that the Holy See had approved the appointment of a new Beijing-appointed bishop proved accurate.
January 22, 2007

Hong Kong: The Hong Kong dollar weakened below its peg against the US dollar Wednesday for the first time in 20 months, raising fears about a quicker pace of inflation if the problem persists.
China Unicom (0762) is rumored to be talking with top mainland search engine Baidu about launching a mobile search engine service, after a similar deal was signed between China Mobile (0941) and Google China earlier this month.
Cardinal Joseph Zen Ze-kiun is in Rome to attend high-level meetings and discuss the Vatican's deteriorating relations with Beijing.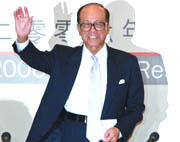 HAsia's richest tycoons were profiting mightily from China's economic rise, with Hong Kong real estate and ports magnate Li Ka-shing once again in the lead. Hong Kong real estate and ports magnate Li Ka-shing was once again at the top of Forbes magazine rich list for Asia's wealthiest tycoons, the magazine said on Thursday. The magazine estimates Mr Li's wealth has reached HK$172b.
Hong Kong's unemployment rate remains static - at just more than 4 per cent - government figures released on Thursday show.
A former Hong Kong property executive and his wife involved in a high-profile embezzlement case at Bank of China in the mainland were convicted in Hong Kong on Thursday.

China: China is on the way to becoming a scientific superpower, thanks to the massive increase in its spending on research, a leading British think tank said.
China has overtaken Germany as the world's biggest producer of electrical products, said a report released by one of the key German research institutes on Wednesday.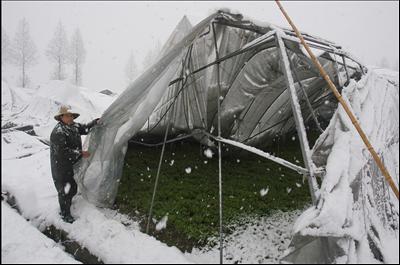 Central China's Hubei Province is recovering from the recent heavy snowfall, which crippled southeastern parts of the province. Water and power supplies, traffic and communications were all restored on Wednesday, Jan. 17, 2006.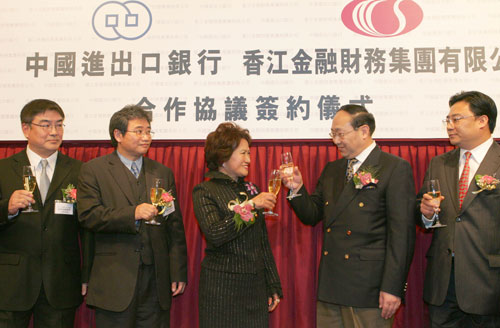 Chairwoman of CS Finance & Investment Ltd Susie Chiang Su-hui (third from left) offers a toast with Li Ruogu (second from right), chairman and president of the Export-Import Bank of China (China Eximbank), during a signing ceremony in Hong Hong yesterday. China Eximbank, a policy bank that backs up the mainland's foreign trade, will study the renminbi market in Hong Kong to decide whether it will issue yuan-denominated bonds there.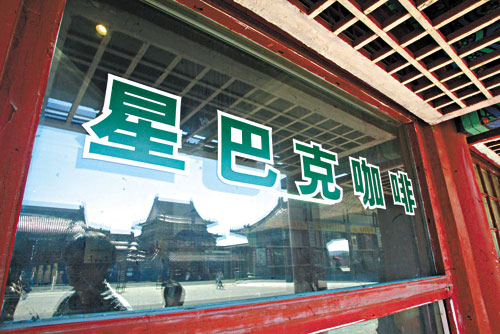 Starbuck's outlet at the Forbidden City - He wrote in his popular blog that "it is not globalizing, but trampling Chinese culture" to have a Starbucks in the Forbidden City, a symbol of Chinese civilization. He added that more than 300 multinational CEOs he had interviewed including Microsoft boss Bill Gates were surprised at the commercialization of the landmark. Rui said he met the Starbucks CEO Jim Donald at a summit in Yale University, and suggested he relocate the outlet. However, Donald said the decision was made by his predecessor; and that the chain was invited by the Forbidden City to open an outlet. Rui said he plans to write another letter to Donald, telling him that the company's withdrawal would win more respect from, and more patronage of, Chinese. His blog attracted 530,000 hits and comments have flooded the Web. Many called the outlet a "disgrace" and the Palace Museum, the administrative organ of the Forbidden City, a "slave of money".
Beijing Xinwei Telecom Technology Inc, the core developer of China's home-grown TD-SCDMA 3G standard, will hold its long-awaited initial public offering (IPO) in Shenzhen by the end of March, a source close to the situation said.
Foreign sports fans on the mainland may be in for a frustrating time this year - the region's top pay-TV sports channels, ESPN and Star Sports, have lost their permission to broadcast to hotels and overseas residents' homes.
January 19 - 21, 2007

Hong Kong: Rents at street-level shops in core shopping areas are set to jump by up to 10 percent in the first half of this year as the increased buying power of the yuan attracts more mainland tourists to Hong Kong.
Hongkong and Shanghai Banking Corp has reached an agreement to acquire a 100 percent stake in a factoring company in Taiwan, the world's second-largest factoring market.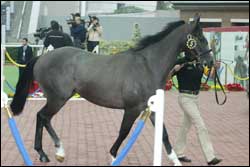 There is no conflict of interest in housing chief Michael Suen Ming-yeung co- owning a racehorse with property tycoon Stanley Ho Hung-sun, according to the head of the constitutional affairs bureau. Suen and Ho, who is chairman of Shun Tak Holdings and president of the Real Estate Developers' Association, are among 17 members of the Po Chek On Leung Syndicate which purchased a New Zealand-bred horse at the Hong Kong International Sale held at Sha Tin racecourse on December 9. Each of the 17 members paid about HK$130,000 for the HK$2.2 million gray-colored colt, Tale of Friendship. The new Democratic Party chairman Albert Ho Chun-yan expressed concern at the apparently close relationship between the secretary for housing, planning and lands and Ho. He said Suen's decision to join the syndicate might be in breach of the Code for Principal Officials under the accountability system, which requires policy bureau chiefs to avoid putting themselves in a position where their acts could be seen as a conflict of interest.

The number of visitors to Macau, lured by the city's booming gaming industry, has soared to a new high and is closing in on Hong Kong's total. Macau welcomed 21.9 million visitors last year, a 17 per cent increase on 2005, while Hong Kong saw 25.2 million, an 8 per cent increase but short of tourism authorities' 27 million target. "The year 2006 was a fruitful year for the Macau tourism industry, as total visitor arrivals scored a new high," the city's secretary for social affairs and culture, Chui Sai-on, said yesterday. "The largest source market continues to be the mainland ... followed by Hong Kong and Taiwan." A total of 11.9 million mainland residents visited Macau last year, up 14 per cent on 2005, while Hong Kong visitors to the city reached 6.9 million, up 23 per cent on 2005. Taiwanese visitors to Macau fell by 3 per cent, to 1.4 million. The number of visitors to the former Portuguese enclave has nearly doubled since 2003, the year before the opening of the Las Vegas-style Sands casino, which spearheaded the city's gaming boom. Large hotel-casino projects in the pipeline are expected to fuel even greater growth in visitors this year. These include the 3,000-room Venetian Macau, scheduled to open in the summer, and the Grand Lisboa, flagship of casino magnate Stanley Ho Hung-sun's company, Sociedade de Jogos de Macau, expected to open later this year. "The completion of several tourism and entertainment facilities this year is bound to add various new elements to the tourism industry of Macau," Dr Chui said. Joao Manuel Costa Antunes, director of the Macau Government Tourism Office, said the city's tourism sector would receive a big boost this year from new conference and exhibition facilities, but these would not pose a threat to Hong Kong. "Conditions are far from mature for Macau to become a conference and exhibition hub. Hong Kong's sector is way more advanced.

More economic and trade offices should be set up by the government across the border to speed the opening of the mainland market, the head of an advisory group on the nation's 11th five-year plan said yesterday. Hong Kong should also strive to play a part in the drafting of the next five-year plan, rather than merely staying on the receiving end as it did for the current one, said Leung Chun-ying, who is also an executive councillor. The action agenda for the city's strategy on the plan was unveiled on Monday. The administration has three economic and trade offices, in Guangdong, Shanghai and Chengdu , to enhance cross-border economic ties and promote professional exchanges. The Beijing office of the Hong Kong government also has a department performing the same function. The number of offices was far from sufficient, said Mr Leung, convenor of the professional services, information and technology and tourism group, one of the four focus groups appointed by Chief Executive Donald Tsang Yam-kuen to advise him on ways to implement the plan. "Today, any established bank or professional firm from Hong Kong has at least 10 offices in the mainland. As a government, how can it only have four economic and trade offices?" The Trade Development Council has 11 offices on the mainland to market opportunities and organise promotional activities, but Mr Leung said with the culture of the mainland, discussions must be initiated on the government-to-government level. He said Hong Kong had to intensify exchanges with Beijing to dispel concerns that Hong Kong professionals wanted to compete rather than collaborate with their mainland counterparts. He also urged legislators to approve the funding for more economic and trade offices. "There is no need to ask consultants to conduct a feasibility study," he said. Mr Leung said Hong Kong should take part in the drafting of the 12th five-year plan, so that the city's needs and interests could be reflected and incorporated into the blueprint.

Hopewell has invested HK$600m to convert its Hongkong International Trade and Exhibition Centre into the EMax shopping mall.

China: The moderate appreciation of the Renminbi will help the balanced development of foreign trade and the national economy in the long run.
Photo taken on Jan. 16, 2007 shows a model wearing the fur-lined coat at China International Exhibition Center in Beijing, capital of China, Jan. 16, 2007. The 33rd China Fur and Leather Products Fair opened here on Tuesday.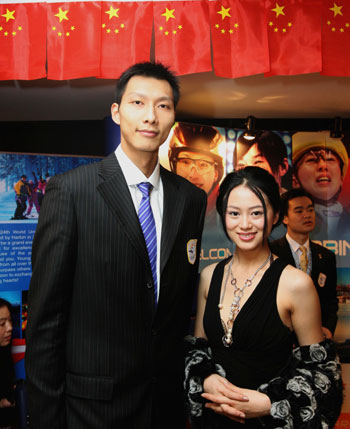 Yi Jianlian (L), basketball player and an NBA hopeful, and Dai Feifei, a gymnast, pose for a photo in Turin, Italy January 16, 2007. They represented Shenzhen to bid for the hosting rights of the 26th world Universiade. Shenzhen won.
Hunan Zhuye Torch Metals Co, the publicly traded arm of China's biggest zinc maker, said yesterday it will add 100,000 tons of annual capacity when it completes upgrading a production line next year.
The People's Daily carried a letter yesterday from a few citizens of Yexian County, Henan Province, complaining about the county government's banning solar powered water heaters in their community - a residential area called Xinxin Garden.
Chinese property stocks experienced a small crash Wednesday, the day after mainland tax authorities announced they are toughening the collection of land appreciation taxes that can range up to 60 percent, from February 1.
China Unicom (0762) is rumored to be talking with top mainland search engine Baidu about launching a mobile search engine service, after a similar deal was signed between China Mobile (0941) and Google China earlier this month.
Pope Benedict has approved the ordination of a mainland-selected Catholic priest to become bishop of Guangzhou diocese, the first such backing given by the Holy See after bilateral ties were strained with the appointment since May of "illicit" bishops.

A contestant in a children's modelling competition in Beijing gets made up for his turn on the catwalk. Fashion shows are booming on the mainland along with rising incomes and a growing taste for luxury western goods. Child models are a recent phenomenon.
The management of the Forbidden City will decide in the first half of the year whether a Starbucks outlet inside the historic site will continue operating following an internet outcry sparked by a mainland newscaster on his website.
China's anaemic corporate bond market will be revived this weekend when the country's top leaders transfer regulatory authority from the conservative National Development and Reform Commission to the more market-friendly China Securities Regulatory Commission, sources said.
Britain must fight against rising "techno-nationalism" and must collaborate with China, India and South Korea on scientific research to avoid being sidelined within a decade, a report warned on Wednesday.
January 18, 2007

Hong Kong: Hong Kong's economy still the world's freest: survey - Hong Kong has remained the world's freest economy for 13 consecutive years, according to a new study released on Tuesday. Among 10 areas assessed in the 2007 Index of Economic Freedom, the territory ranked first in four: trade freedom, investment freedom, financial freedom and property rights. The study, compiled by the Washington DC-based Heritage foundation and The Wall Street Journal, assessed the degree of economic freedom of 157 world economies. Hong Kong has topped the list every year since it was published in 1995. In the 2007 list, Singapore ranked second and Australia third.
The value of the Renminbi (RMB) yuan overtook the HK dollar on Monday for the first time in history.
2007 will be a "bumpy boom" year, Standard Chartered Bank's (SCB) economists said Monday in their global and regional economic and interest rate outlook for 2007.
The future well-being of Hong Kong will be determined largely by how well it can maintain and reinforce its status as a "globally significant" international financial-services center to the mainland, a focus group said Monday in the SAR's action agenda on China's 11th Five-Year Plan.

The Hang Seng Index came back up above 20,000 Monday on improved market sentiment after a new record was set by the US benchmark index, while mainland markets also recorded a strong rebound.
The Hong Kong government should co- operate with mainland authorities in overseas promotions of multi destinations within China, according to Leung Chun-ying, executive councillor and convenor of the professional services, information and technology and tourism group.
To strengthen the ability of Hong Kong port to compete with China's western ports, a report from the Economic Summit on China's 11th Five-Year Plan and the Development of Hong Kong has suggested a multiple-entry permit system for river trade vessels aiming to connect the channels along the Pearl River.
The Hong Kong Airport Authority has been urged by the economic summit on China's 11th Five-Year Plan and the Development of Hong Kong to work as quickly as possible to introduce an additional cargo terminal and to conduct a study on the need for a third runway at Hong Kong International Airport.
The Federation of Hong Kong Industries expressed approval for the 11th Five-Year Plan issued Monday, referring to the report on maritime, logistics and infrastructure as "a good thing" for Hong Kong enterprises.
Imagi International Holdings (0585), a Hong Kong-based computer-graphics company, is looking to sell up to HK$370 million worth of shares in a top-up share placement, market sources said.
Hong Kong's mandatory provident funds had the best rate of return last year for the second year running, with equity funds from the greater China region and Asia-Pacific excluding Japan showing an impressive performance, a mutual funds analyst said in a report.

Models strut the catwalk as part of designer Ika Butoni's "Heritage" series at yesterday's launch of the annual Hong Kong Fashion Week. The expo, which runs until Thursday, showcases more than 1,500 exhibitors from 24 countries and regions.

Hong Kong is a "critical stepping stone" for small and medium-sized Canadian firms wishing to break into the China market, said David Emerson, Canada's Minister for International Trade. Emerson told the Canadian Chamber of Commerce Monday that there are some similarities between the economies of Hong Kong and Canada, with the SAR being a gateway to China and Canada being a gateway to North America. This means both economies are "evolving on somewhat parallel paths and there are powerful opportunities for convergence." Canada can learn from Hong Kong, said Emerson, as it has successfully changed its economy from one of low- cost manufacturing to take advantage of its relationship with China and move to the top of the global value chain. "Canada can no longer base its prosperity solely on raw materials, and like Hong Kong, it must learn to add value to its products," he said. Emerson, who is also the Minister for the Pacific Gateway and the Vancouver-Whistler Olympics, is leading a Canadian business delegation from the science, technology, transportation and logistics sectors to China to strengthen bilateral commercial relationships. The delegation will concentrate on highlighting Canada's green energy technologies and promoting the country's advantages as a gateway into North America for goods from Asia. These advantages, Emerson said, include shorter sailing times to Canadian ports, such as Vancouver and Prince Rupert, compared with competing US West Coast ports, and an integrated transport system that is continually being upgraded to take advantage of the latest technologies. Emerson admitted that Canada, which imported C$29.5 billion (HK$196.6 billion) worth of goods from China in 2005, while exporting C$7.1 billion worth, has not been as successful as other countries, such as the United States and Australia, in developing trade relations with China, a situation the delegation hopes to address. Emerson described trade between Hong Kong and Canada as solid rather than spectacular, with C$3.8 billion in Canadian investment in Hong Kong and C$6.3 billion of Hong Kong investment in Canada. He said Canada is taking steps to align tax policies, fiscal policies and regulations with Hong Kong in an effort to boost investment opportunities between the two trading partners.
Six Taiwan and six mainland airlines will operate a total of 96 round-trip charter flights across the strait from February 13 to February 26 for the Lunar New Year holiday.
Hong Kong people buying homes in the mainland are to get greater protection under a proposed new property law. The new law, which would strike a balance between private property and state ownership, would strengthen the confidence and desire of Hong Kong people who plan to purchase properties in the mainland, local National People's Congress deputy Ip Kwok-him said Monday. Hong Kong and Macau deputies to the NPC and the Chinese People's Political Consultative Conference were briefed on the new law by NPC vice chairman Sheng Huaren, who hosted a preparatory meeting in Shenzhen Monday ahead of the annual NPC session starting in Beijing March 5. The proposed law will be submitted to the NPC session for approval.
The Hong Kong Police Force bade farewell Monday to outgoing Commissioner Dick Lee Ming- kwai. More than 100 people were present at the ceremony including senior officers, former secretary for security Regina Ip Lau Suk-yee and Lee's replacement, Tang King- shing.
Legislators have accused the Office of the Telecommunications Authority of sitting on its hands during the recent Internet outage caused by an earthquake off Taiwan and called for a report on the incident to include recommendations and contingency measures.
The government plans to absorb into the civil service about one-fourth of the more than 16,000 jobs now under contract terms, Secretary for the Civil Service Denise Yue Chung-yee said Monday. However, those holding the 4,000 positions would not automatically become civil servants, she said.
Macau casino magnate Stanley Ho Hung-sun is set to buy a stake of up to 10 per cent in Star Cruises, which is to build a casino in Singapore with its partner Genting International, a report said on Tuesday.
Hong Kong border officials would from next month deny entry to mainland women who were seven months or more pregnant and did not have hospital bookings, the Immigration Department announced on Tuesday.
The chief executive yesterday unveiled more than 200 initiatives to boost Hong Kong's economic competitiveness under the nation's 11th five-year plan, saying they posed a "win win" situation for China.
Macau casino magnate Stanley Ho Hung-sun is set to buy a stake of up to 10 per cent in Star Cruises, which is to build a casino in Singapore with its partner Genting International, a report said Tuesday.

China: China is expected to witness a net population increase of about 200 million, its population peaking at 1.5 billion after 2033.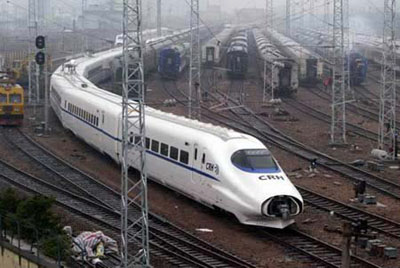 A bullet train at a railway station in Shanghai January 15, 2007. After completing a trial run in Shanghai, the new CRH (China Railway High-speed) bullet train will be tested for operation during the coming Spring Festival holidays where there is a sharp rise in demand for transportation. The train can run at 250km per hour.
China's balance of forex reserves had exceeded one trillion US dollars in 2006 to reach of US$1.0663 trillion, an annual increase of $247.3 billion.
Canadian Trade Minister David Emerson signed a technology deal with China Tuesday at the opening of a trip aimed at reinvigorating bilateral trade and investment.
China Netcom Group (0906), the largest fixed-line operator in northern China, said its parent company China Network Communications Group has agreed to buy its assets in Guangdong province and Shanghai Municipality for 3.5 billion yuan (HK$3.5 billion).
The number of China Internet users reached 130 million by the end of 2006 with total revenue reaching 276.7 billion yuan (HK$276.7 billion), according to a report released by the Internet Society of China and the Internet Professional Association.
Germany will use its presidency of the European Union in the first half of this year to push for an end to discrimination against European companies in China, according to the country's ambassador.

Police in Jieshou, Anhui province, inspect some of the 6.45 million yuan in counterfeit currency that was seized from two women last week. The Guangming Daily reports that the women claimed to have bought the fake cash in Guangdong.
China is on its way in becoming the world's fastest-growing wine market with growth in consumption seen far outstripping global rates, a study released on Tuesday said.

State Grid, which is planning an initial public offering next year, is aiming to further increase net profit this year by 30 per cent.
Air China is expected to remain the country's most profitable carrier this year while the rest of the pack battles it out in a fast-growing but increasingly competitive market, according to analysts.
China Construction Bank Corp, China Mengniu Dairy, China Southern Airlines, Datang International Power Generation and three other Hong Kong-listed stocks will outperform their global peers in delivering returns to investors this year, according to Standard & Poor's Equity Research.
January 17, 2007

Hong Kong: The Link Real Estate Investment Trust (0823) has started a reshuffle of its top- level management which sources say will probably include a new chairman to replace Paul Cheng Ming-fun.
Hong Kong unveiled on Monday a series of economic proposals as part of a wider move aiming to strengthen its status as a financial centre and to assist China's rapid economic development.
Hong Kong food authorities on Monday suspended imports of poultry and frozen poultry meat from Japan - after bird-flu virus infections were confirmed at a farm in the country.
Hong Kong can be a reliable platform for any moves to make the yuan fully convertible in the future, having accumulated a great deal of experience in conducting yuan-denominated business since 2004, Monetary Authority deputy chief executive William Ryback said.
The Airport Authority said the number of passengers handled rose to a record 44.45 million last year, 9.1 percent higher than in 2005.
A decision on HSBC Holdings' (0005) plan to maintain its current stake in Bank of Communications (3328) following the latter's A-share sale is yet to be determined by the mainland regulator, according to a senior official at the United Kingdom-based lender, cited by a mainland newspaper.
The past year saw a steadily increasing trend of foreigners acquiring mainland companies, especially in the retail and consumer sector, as Western firms, attracted by the promise of a rising middle class in China's boomtowns, took advantage of lower barriers to entry after the country's accession to the World Trade Organization.

Secretary for Home Affairs Patrick Ho Chi-ping (centre) sports a traditional cap at a colourful celebration of Nepal's multicultural society in Kowloon Park piazza yesterday. Dr Ho, seen with Hem L. Bhattarai (left) acting consul-general of Nepal, and Hejen Rai, chairman of the Hong Kong Nepalese Federation, attended the Culture in Motion festival organised by his bureau, the Hong Kong Nepalese Federation and the consulate of Nepal to promote cultural diversity and understanding.
Hong Kong unveiled on Monday a series of economic proposals as part of a wider move aiming to strengthen its status as a financial centre and to assist China's rapid economic development.
The demand for chickens and pet birds for upcoming Chinese New Year festivities has raised fears of a surge in bird smuggling into Hong Kong, heightening the risk of outbreaks of deadly bird flu.
Hong Kong was examining the viability of desalinating sea water to meet its future needs, Secretary for the Environment, Transport and Works Sarah Liao Sau-tung revealed on Monday.



Civic Party lawmaker Alan Leong Kah- kit has thrown down the gauntlet to Chief Executive Donald Tsang Yam- kuen, urging him to clearly declare his re-election hopes and challenging him to a televised political debate.

China: Premier Wen Jiabao said China will accelerate construction of the Chinese section of the Kunming-Singapore Rail Link, also known as the Pan-Asian railway network.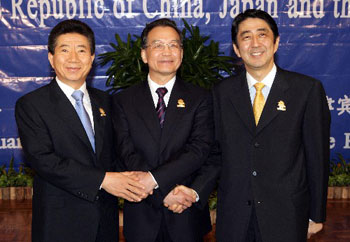 Chinese Premier Wen Jiabao (C) shakes hands with South Korean President Roh Moo-Hyun (L) and Japanese Prime Minister Shinzo Abe in Cebu of the Philippines, Jan. 14, 2007. China, Japan and S.Korea agreed to hold aperiodic meetings on a rotating basis to further enhance political trust. China, Japan and South Korea Sunday held their first joint summit in two years, finding common ground on North Korea and on mending their own fractured relations.
Foreign direct investment (FDI) used in China in 2006 topped 63 billion U.S. dollars, up 5 percentover the previous year, said Commerce Minister Bo Xilai on Monday.
Chinese shares closed sharply higher on Monday, rebounding 4.74 per cent in the biggest one-day gain in seven months as fresh funds came into the market following heavy losses on Friday, dealers said.
The central government has cut domestic gasoline and jet fuel prices for the second time in five years, in response to the recent decline in world oil prices.
China earned US$33.5 billion (HK$261.3 billion) from tourism last year, making the country the sixth highest tourism revenue earner globally, Xinhua News Agency reported. China received 124 million visitors, Xinhua said, citing statistics from the China National Tourism Administration. Many of those, however, would be residents of Hong Kong and Macau making brief trips across the internal border. The number of tourists from Japan, South Korea and Southeast Asia increased steadily last year, and there was "accelerated" growth from newer markets such as Europe, North America and India, Xinhua said, without providing details. "Inbound tourism has become China's biggest service trade area," it said. Officials expect visitor numbers to rise further in coming years, boosted by next year's Beijing Olympics.
A worker changes the price markers for fuel sold at a station operated by the China National Petroleum Corporation in Chongqing, western China. The cut, which is too small to make much difference to consumers, is expected to serve as a small step towards price reforms for the oil sector.
The retail price of petrol on the mainland was cut by about 4 per cent yesterday - the first reduction in nearly 19 months by the world's second-largest oil consumer and the second in five years - after international crude oil prices hit a 19-month low.
Barring any last-minute changes, Beijing is expected to open its much-delayed central financial work conference on Friday, setting the pace and scale of financial reforms over the next five or more years.

Industrial Bank on Monday said it was set to offer shares to institutional and retail investors next week, becoming the latest mainland financial group to float on home stock markets.
China National Petroleum Corp (CNPC), the country's biggest oil producer, would invest US$3.6 billion (HK$28 billion) to develop a block in Iran's offshore gas field, state media reported on Monday.
January 16, 2007

Hong Kong: One day before his appointment was announced, Police Commissioner-designate Tang King-shing got a taste of some of the problems he faces with the appearance of six debt- collection posters at a police station in Kowloon Bay.
The Soko Islands, on which CLP Power hopes to build a liquefied natural gas terminal, are steep with archaeological treasures, according to a report submitted to the government last month.

Secretary for Home Affairs Patrick Ho Chi-ping joins guests for the opening of the Hong Kong Computer Festival 2006-07 in Sham Shui Po yesterday. The fair, organized jointly by the Sham Shui Po District Council and the Chamber of Hong Kong Computer Industry, this year focuses on the application of digital technology. The fair runs until Monday.
A green group has expressed fears over plans by Cheung Kong (Holdings) to build a housing project among fish ponds currently serving as a buffer along the Mai Po wetland park and nature reserve.
Health officials from Hong Kong and the mainland yesterday pledged to ensure the city's food is safe by stepping up cross-border co-operation, especially on the import of pastries and puddings for the forthcoming Lunar New Year celebration.
The mainland needs to institute Hong Kong-style surveillance of bird flu in addition to its vaccination programme if it is to trace the sources of human infections, the WHO said.

China: A powerful magnitude 8.2 earthquake off northern Japan triggered tsunami warnings Sunday, sending thousands fleeing to higher ground.
Beijing should keep its interest rate high and the real estate sector cool, according to a recent report from top research body the Chinese Academy of Social Sciences.
Dr. Fang Xiang, deputy director of Remote Sensing Service Office, China Meteorological Administration, introduces the first images of weather satellite Fengyun-2D in Beijing January 12, 2007. Fengyun-2D, launched on December 8, 2006, is expected to provide better weather forecast services for the Beijing 2008 Olympics
Despite the fact that China slapped a ten-percent tariff on steel billets in November 2006 to contain output, steel billet exports have soared, jumping 54.4 percent the very month the tariff came into force.
Tax authorities have reached the first agreement with their US counterparts that could resolve potential double taxation disputes involving retail giant Wal-Mart.
Beijing-based developer Soho China, which scrapped a planned initial public offering in 2003 amid poor market sentiment, aims to raise about US$400 million (HK$3.12 billion) in a Hong Kong listing in June, sources familiar with the situation said Friday.
Schoolchildren recite a selection of The Analects of Confucius in Chinese and English at a grand launch for a 100-volume edition of Chinese literary classics in Beijing yesterday. The state-supported venture brings works dating back to the Warring States (477-221 BC) up to the 19th century, with translations in English and modern Chinese. The books are targeted at the growing number of students of Putonghua around the world, estimated to be more than 30 million.
January 15, 2007

Hong Kong: Monetary Authority Chief Executive Joseph Yam Thursday hailed the Central Government's decision to expand renminbi business in Hong Kong, adding the move is a milestone for renminbi entering the international arena.

Retired High Court Judge Miles Henry Jackson-Lipkin and his wife Lucille Fung Yung-shim, a former barrister, have been convicted of three charges of welfare fraud.
Shares in Hong Kong fixed-line operator City Telecom (1137) rocketed 37.5 percent Friday amid rumors the company may be the target of a takeover by China Mobile (0941).
The largest shareholder of Xinyu Hengdeli Holdings (3389), a distributor and retailer of high-end Swiss watches in the mainland, is seeking to sell 43.48 million shares, or 3.5 percent of the company, for up to US$32.9 million (HK$256.6 million).
Beijing-based developer Soho China, which scrapped a planned initial public offering in 2003 amid poor market sentiment, aims to raise about US$400 million (HK$3.12 billion) in a Hong Kong listing in June, sources familiar with the situation said Friday.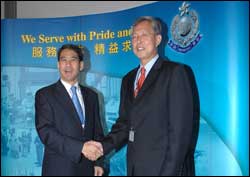 The Hong Kong Police Force has reshuffled its top tier after the government announced the appointment of Tang King-shing to replace Dick Lee Ming-kwai, who retires as police commissioner. The appointment, which was approved by the State Council, takes effect Monday. Tang, who joined the force as a probationary inspector in 1976, becomes the fourth Chinese police commissioner to lead the 31,000-strong force. Tang, 52, described his appointment as an honor and vowed, with the support of all members of the force, to maintain Hong Kong's public order and stability and its status as one of the safest in the world. Tang outlined four measures he will implement upon assuming office: enhancing internal communications by understanding the problems encountered by frontline policemen and lessening their stress; enhancing liaison work with the community and all sectors of society; strengthening cooperation with mainland authorities and foreign intelligence agencies to combat cross-border crimes and terrorist activities; and enhancing staff training to lift the force's service standards.
All food products entering Hong Kong from the mainland will be closely monitored to ensure the Lunar New Year is as risk-free as possible, the mainland's Import and Export Food Safety Bureau said.
Cathay Pacific Airways' stock price soared on Friday after it said it was planning an annual capital expenditure of HK$9.5 billion to HK$10 billion between now and 2009, mainly for fleet expansion.
Customs officials seized HK$10.4 million worth of counterfeit goods and pirated DVDs during a month-long operation — which also led to the arrest 130 people, a spokesman said on Friday.

Landing a championship: Jenny So Ming-wai (left) lands a punch on Wong Chi-shan on the way to becoming the city's first woman Muay Thai boxing champion last night at Queen Elizabeth Stadium. "I feel good," she said after four rounds in the flyweight A division. "My elbow joint was hurt earlier and it dislocated in the third round, but luckily I still won."

The MTR's project, next to the Tseung Kwan O station, is expected to have its land premium set before the Lunar New Year. MTR Corp's proposed multi-purpose complex in Tseung Kwan O, estimated to cost HK$8 billion, has attracted keen interest from most large developers, boding well for a bigger residential project that the railway operator plans to launch later this year. MTR Corp's proposed multi-purpose complex in Tseung Kwan O, estimated to cost HK$8 billion, has attracted keen interest from most large developers, boding well for a bigger residential project that the railway operator plans to launch later this year. Property director Thomas Ho Hang-kwong yesterday said the company had received 14 expressions of interest for the project in Tseung Kwan O's Area 56, which is due for tender by the Lunar New Year. The submissions came from Cheung Kong (Holdings), Sun Hung Kai Properties, Sino Land, Nan Fung Development, New World Development, Henderson Land Development, Hang Lung Properties, Kerry Properties, Wharf (Holdings), K Wah International, Wing Tai Asia, Kowloon Development, Chinachem Group and Chun Wo Holdings. "The positive response doesn't mean the tender would draw many developers to submit bids," said Charles Chan Chiu-kwok, the managing director of Savills Valuation and Professional Services. "It will depend on how much the land premium will cost." The MTR expects the Lands Department to set the land premium, a payment to the government for changing land use, on the Tseung Kwan O project before the Lunar New Year. The development right will be awarded in the first quarter. The winning bidder will have to pay the land premium and bear the construction costs of five footbridges and the park nearby, according to the requirements of the tender. Mr Ho estimated that the total investment cost, including the land premium and building expenses, would be HK$8 billion. The surveyor expects the mid-tier developers to team up. The project, above the MTR's Tseung Kwan O station, has a site area of 430,452 square feet that could provide a gross floor area of 1.8 million sq ft. The project comprises four 42 to 45-storey residential blocks and two 36-storey hotel and office towers. It will provide 1,150 residential units and 1,290 hotel rooms. The MTR cannot book sales from the project until 2011 under new accounting rules that allow revenue to be booked only from completed projects. The company yesterday also announced plans to release the development right for the third phase of Dreamcity, a residential project in the district, in the third quarter. The third phase of the complex is in Tseung Kwan O's Area 86. It will provide eight residential blocks with more than 3,000 units. Cheung Kong has been awarded the rights to develop the first two phases.

China: The fear of a bubble forming in China's stock market has prompted Beijing to take further measures to slow down the inflow of capital pouring into the mainland's A-share market, according to media reports.

Eunice Brock, a 90-year-old American, holds her award after winning the title as one of the "10 People Who Moved Shandong Province in 2006" at a ceremony in Jinan on Thursday. She received the honor for donating more than 300,000 yuan (US$38,462) to buy computers for schools, build roads and plant trees in her adopted permanent home of Liaocheng City. Brock was born and spent her early days in China where her parents worked as Christian missionaries. She left in 1930 but, after her husband passed away, returned to Shandong in 1999.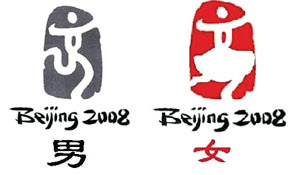 The Beijing 2008 Olympics emblem suffers parody and has been transformed to washroom signs by mischievous netizens Beijing Legal Evening reports Friday. Mischievous internet users have mocked up and changed the emblem for the 2008 Beijing Olympics to public toilet signs. The pranked version of Olympic emblem was originally posted on a domestic well-know sports online community and the emblem, namely "Chinese Seal, Dancing Beijing", has been changed into male and female rest rooms nameplates respectively. The entangled five rings embodying Olympic spirit, the symbol of "Beijing 2008", was cleaned away from the bottom in both of the redesigned ones. The Chinese characters for the two genders stand instead. The color of the sign for male turns to be gray, not red like the original, while the Chinese calligraphy character for "Jing", standing for the city of Beijing in the prototype was redesigned as a female toilet sign looking like a girl dressed in a skirt. The paper said by now the emblems has been widespread on the Internet. Web users can easily find them on famous search engines such as Google and Baidu. The prank mischief evokes netizens' backlash, who criticize it's unacceptable to see these originally beautiful emblems fiddled with into such ugly signs; while supporters said prank that amuse netizens is just a prank, but without any vicious intentions. The director of that online community said in the interview with the paper they won't remove the poster from their website since it didn't violate laws. "Any position of netizens didn't represent that of the website as well as the editors, but I admit the poster is eye-catching and brings into high amount of hits," she added. An official with the Beijing Olympic organizer, BOCOG, condemned the mock "indeed improperly", warning its spread online is likely to do harm to Beijing Games and the image of the city. BOCOG published a regulation in 2003 on the protection of intellectual property rights concerning the Beijing Games' emblem. It prohibited actions from setting apart, distorting or juggling the emblem by any organization and individual in any case. Making the emblem part of other incorporated logos is also banned. Fang Yu, however, a lawyer of Beijing Dadi Law Office, said the juggle did not violate the BOCOG regulation for it only spread online without any attempt for commercial purposes. Fang also claimed the BOCOG regulation doesn't bear any legal force. In a similar online mischief recently, the Beijing Olympic mascots, the five Fuwas, did not escape from the mean-spirited zeal of netizens either. The heads of the five mascots kids were replaced with famous Chinese comedians, like Zhao Benshan and Ge You. Embodied traditional Olympic spirit, filled with Beijing's hospitality and hopes, carrying out the city's commitment to the world, 'Dancing Beijing" was unveiled for the Beijing Olympics on August 3, 2003.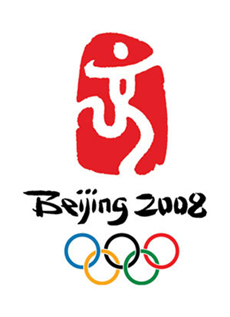 The original version of Beijing Olympic emblem, "Chinese Seal,Dancing Beijing". [BOCOG/File Photo]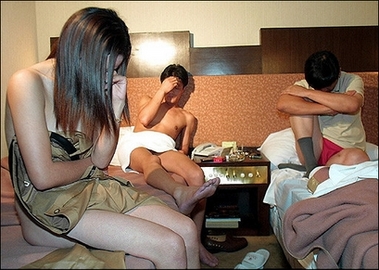 Syphilis, virtually eradicated after the founding New China in 1949, has become a viciously-growing epidemic there, driven by prostitution, internal migration and poor health controls, a new study warns. In 1993, the reported rate of syphilis in China was a mere 0.2 cases per 100,000. A Chinese prostitute is caught in bed with two men at a brothel in Guangzhou, July 2003. Syphilis has become a viciously-growing epidemic there, driven by prostitution, internal migration and poor health controls, a new study warns.[AFP] In 2005, it had surged to 5.7 cases per 100,000, a figure that may well be a serious under-estimate, according to the paper by Chinese epidemiologists. In addition, the number of babies born with syphilis has shot up. Congenital syphilis occurred among just 0.01 per 100,000 live births in 1991; in 2005 it was 19.68 -- an annual rise of nearly 72 percent over that time. "Surveillance data and focussed reports from throughout China provide compelling evidence of a substantial and worsening syphilis epidemic in individuals at high risk and in the general population," the research says. "The spread of syphilis in China has been insidious and has only recently attracted the attention it deserves." The paper, written by experts from China's National Centre for STD (Sexually Transmitted Diseases) Control, appears in Saturday's issue of the British health journal The Lancet. Syphilis is a sexually transmitted disease caused by a bacterium, Treponema pallidum, that can be treated by antibiotics. If untreated, it can cause genital ulcers, damage the cardiovascular and nervous systems and brain, affect fertility and foetal health. By the time New China was founded in 1949, China had one of the biggest syphilis epidemics in history: one person in 20 in some large cities had the disease, and the rate was two to three percent among dwellers in the countryside.
The mainland's largest lender Industrial and Commercial Bank of China (1398), together with several other banks around the world, has indicated an interest in taking over Korea Exchange Bank, South Korea's fifth-largest lender, according to a report by Yonhap News Agency.

A fisherman surveys the damage after Typhoon Saomai, which slammed into two provinces. It and another typhoon accounted for 41 per cent of the disaster death toll last year.
China would have 30 million more men of marriageable age than women in less than 15 years as a gender imbalance resulting from the country's tough one-child policy became more pronounced, state media reported on Friday.
Leading management consultancy firm McKinsey & Company confirmed yesterday that two employees of its Shanghai office are under investigation by police on suspicion of accepting bribes. "Two employees of our company's IT department in charge of logistics support are suspected of accepting bribes for purchases. But McKinsey itself wasn't accused of involvement," a member of the company's public relations department said. The company declined to give the nationality of the two employees or other details because the police investigation was continuing. "We're co-operating with the Shanghai Public Security Bureau in the investigation, including providing related documents," the public relations official said, referring to the police. On Tuesday, the Ministry of Public Security hailed its achievements in rooting out commercial corruption around the nation, saying it cracked nearly 1,000 cases in the first 11 months of last year, up 54 per cent from the same period in 2005. Nationwide, police arrested 781 people for involvement in the cases.
PetroChina, the nation's largest oil and gas producer, has signed a preliminary agreement with the State Forestry Administration to develop biofuel projects in Yunnan and Sichuan provinces, as it seeks to diversify into renewable sources of energy.
January 12 - 14, 2007

Hong Kong: China's National Development and Reform Commission (NDRC) said here Wednesday that it has set up a special panel to accelerate preparations for the bridge linking up Zhuhai city on the mainland with Hong Kong and Macao. The commission said that the panel has already held its first meeting and identified the major issues and tasks in the project. The 35-kilometer bridge connecting Hong Kong, Macao and Zhuhai in southern Guangdong province was approved by the central government in 2003. It is believed that the bridge will contribute to the integration of the two special administrative regions with the mainland. The design of the bridge has triggered controversy among experts and the panel is expected to come up with an acceptable solution. Headed by the NDRC, the panel includes representatives from the Ministry of Communications, Hong Kong and Macao Affairs Office of the State Council, and the governments of Guangdong, Hong Kong and Macao.
Models compete during the Miss Chinese International Pageant 2007 in Hong Kong, January 10, 2007.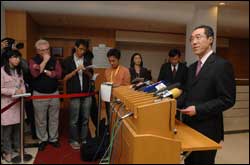 The State Council Wednesday gave Hong Kong wider scope in its yuan business by allowing mainland financial institutions the right to issue yuan- denominated bonds in Hong Kong as well as allowing importers to settle their trade accounts with yuan. Details of the market operation are expected to be discussed next week in Beijing when representatives of the Hong Kong Monetary Authority and the People's Bank of China meet, Financial Secretary Henry Tang Ying- yen said. Hong Kong banks welcomed the development but expressed concern that the present limited source of yuan may hinder the yuan-denominated bonds business. They urged the central government to allow greater relaxation in the yuan- deposits business to support an active secondary market in the future. "Whether the approval of yuan- denominated bonds issued in Hong Kong could bring us [local banks] potential income is yet to be seen," said Raymond Or Ching-fai, Hang Seng Bank (0011) deputy chairman. "It all depends on other aspects such as whether the regulations surrounding the yuan-deposits business could be relaxed." A banker who preferred not be named said: "The important thing is where will the money [yuan] come from? "Since the yuan is not freely convertible, how can foreigners obtain the currency to buy the financial bonds? Not having enough yuan will mean a very thin trade in the secondary market." At present, yuan deposits in Hong Kong banks amount only to 20 billion yuan (HK$19.97 billion), while no official figures on corporate yuan savings have been announced. ICBC (Asia) (0349) director and general manager Stanley Wong Yuen- fai, however, was optimistic about the growth of yuan deposits in Hong Kong. "The annual return for yuan bond holders could be as high as 6 percent to 7 percent, when you take the potential for yuan appreciation into account, and use the 3 percent average yield of mainland yuan bonds as a reference." The announcement by the central government has been a long time coming, and happens just days before the submission of the first phase of a report by Hong Kong's working committee on the 11th Five Year Plan. The report is due to be published Monday. Chief Executive Donald Tsang Yam-kuen said Wednesday he was pleased the State Council had formally approved the further expansion of the yuan business in Hong Kong. He said: "This new category of renminbi business is conducive to business opportunities for banks and enhancing financial flows between Hong Kong and the mainland, and embodies the support of the central government in strengthening Hong Kong's position as an international financial center." The acting chairman of the Hong Kong Association of Banks, Julian Fong, also welcomed the move, saying "it will facilitate more efficient cross- border capital flows and provide new business opportunities for underwriting and distribution on Hong Kong." The Hong Kong Monetary Authority said the move could provide the ample yuan currently circulating in Hong Kong with a channel back to the mainland and enhance the convergence of the two economies.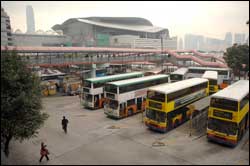 The government is studying the development of phase 3 of the Hong Kong Convention and Exhibition Centre and the early expansion of the AsiaWorld- Expo site to maintain Hong Kong's competitiveness in the exhibitions sector, Secretary for Commerce, Industry and Technology Joseph Wong Wing- ping said Wednesday. Last month Premier Wen Jiabao said the central government would ensure that Hong Kong's position as an international exhibition and conference center, as well as its logistics and financial hub status, was strengthened. "The government and the Hong Kong Trade Development Council see a need to further expand Hong Kong's exhibition facilities, including the development of HKCEC phase 3," Wong said during a Legislative Council meeting. Sources said the land between Great Eagle Centre and the Wan Chai ferry pier, currently used as a bus terminal, is one option being considered for the HKCEC phase 3 development. The plot has the strategic advantage of being adjacent to the existing HKCEC building, and further harbor reclamation under the current government policy may be difficult. The council is currently expanding the atrium link between HKCEC phase 1 and phase 2 which will provide an additional 19,400 square meters of exhibition space, boosting HKCEC's total dedicated exhibition space by 42 percent. The expansion project is expected to be completed in 2009, and will increase the exhibition area to 65,000 sqm from the current 46,000 sqm. Frederick Lam Tin-fook, executive director of the council, would not comment directly on the location of phase 3, but said the development would be close to the existing building, that reclamation would not be required and would not add to the traffic pressure in the area. He said he hopes to have a final decision on the site within a few months as the council aims to finish the phase 3 project by 2015. Upon completion the total exhibition area in the HKCEC would be more than 100,000 sqm. Lam warned that the lack of exhibition space is stifling the development of Hong Kong's exhibition business, so a confirmation on the expansion plan is urgently needed as Hong Kong also faces severe competition in the region. Lam also said more hotels are needed to cater to the increasing numbers of business travelers and exhibition delegates. However, Lam said Hong Kong retained several advantages over the competition namely a swift visa process, easy customs procedures and strong flight connections. He suggested Hong Kong should host more exhibitions with varied themes such as art, antiques, music, gardening and medical expos, to attract more visitors from China and throughout Asia. The government is also liaising with AsiaWorld-Expo to urge an early commencement of its phase 2 which will increase the center's total exhibition space to 100,000 sqm. Since opening in 2005, AsiaWorld- Expo has hosted more than 40 events, of which more than 90 percent were in Hong Kong for the first time. These include ITU Telecom World 2006 held in December, which brought direct economic benefits of about HK$900 million to the city.
China Construction Bank (0939) plans to increase its Hong Kong and Macau presence by doubling its number of branches to 28 in three years, with a total investment of about HK$200 million, said senior officials during an inauguration ceremony Wednesday.
London-based Standard Chartered (2888) said Wednesday it has spent HK$273 million to acquire a stake in Sino Ocean Real Estate Development, a Chinese property developer which plans to launch its initial public offering in Hong Kong in the third quarter.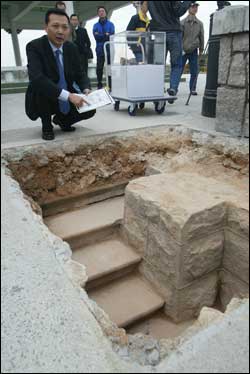 The remains of a former British governor's summer residence has been found buried beneath the streets at The Peak, the Economic Development and Labor Bureau said Wednesday. The find, near the pavilion at Victoria Peak Garden, comprised some granite steps, a few boulders and small pieces of a wall and roof tiles. The site is believed to be the remains of the entrance at a former governor's summer residence built in 1902. These remains were discovered during the Architectural Services Department's standard procedure of checking for underground obstructions on a site where a Victorian-style pavilion was to be built as part of the Tourism Commission's Peak Improvement Project. "It was an unexpected discovery," said Permanent Secretary for Economic Development and Labour Eva Cheng Yu-wah, adding the remains would match the Victorian-era architectural style being used in the improvement project. Architectural Services Department chief architect Stephen Tang Man-bun said since the tiles contained the name of the manufacturer, which no longer exists, they were definitely historical. Tang said all construction work in the area had been halted and the Antiquities and Monuments Office had been informed.

The yuan hit a record post-revaluation high in Thursday trade, one day after Beijing announced a walloping rise in the country's full-year trade surplus, taking the mainland unit to parity with the Hong Kong dollar.

An An, 18, has been assured of his spot in the limelight even after the new pandas arrive. His minders promised he will continue a contented life of eating and sleeping.
Hong Kong is expected to enjoy its fourth straight year of above-trend economic growth in 2007, fuelled by robust consumer spending, healthy exports and falling unemployment, the University of Hong Kong says.

China: The Ministry of Railways (MOR) vows to begin work on the high-speed rail link between Beijing and Shanghai this year, said the Minister of Railways.
The Chinese economy is not immune to a slowdown in the global economy, even more so if such a slowdown is dragged by the U.S. economy, warned a UN report on Wednesday.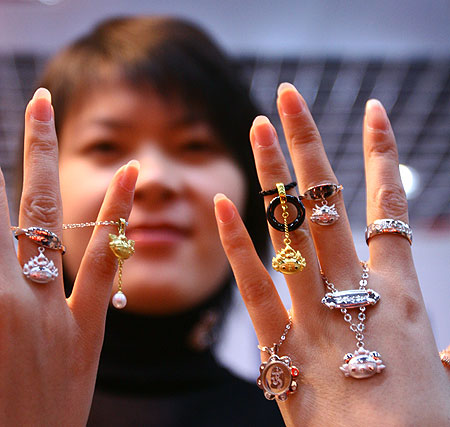 Olympic licensed products fascinates customers - Beijing 2008 official licensed products- jewelry.
A trio of US House Republicans has reintroduced legislation threatening to slap duties on mainland goods, a sign congressional concern over China's exchange rate policy remains strong despite US Treasury Secretary Henry Paulson's recent efforts to calm tensions.
United Airlines has won tentative approval to operate the first non-stop daily flight between Washington and Beijing, a 14-hour trip that links the countries' capitals as their economies become more intertwined. Final approval from the US Department of Transportation would give United a route coveted by rivals and government officials and potentially worth US$200 million (HK$1.56 billion) a year. "It means that I probably save two to three hours in my flight," said Richard Bush, a senior fellow at the Brookings Institution. "Anything that gets you into the hotel ahead of the evening rush hour [in Beijing] is great." United did not immediately say how much it would charge for the flight. Existing fares for travel between Washington and Beijing start at under US$1,000 for economy class and can top US$15,000 for first class. If it wins final approval, the airline can begin a non-stop service between Washington Dulles International Airport and Beijing Capital International Airport March 25. "It is overdue," said James Millward, associate professor of Chinese history at Georgetown University. "It shortens the time and shortens the fatigue that is part of international travel." United beat out competitors American Airlines, which sought to fly between Dallas/Fort Worth and Beijing; Continental Airlines, which applied for a service between Newark, New Jersey, and Shanghai; and Northwest Airlines, which applied for a Detroit-Shanghai service. The Transportation Department said United's rivals have 14 days to file objections. The new route would strengthen United's already-extensive Pacific network and provide an injection of cash when the carrier is still trying to regain its former financial strength after a three-year bankruptcy restructuring that ended in February. Analyst Roger King said the cachet of capital-to-capital flights was probably the deciding factor in United's win. Another analyst Terry Trippler said in Minnesota a flight to Shanghai would have offered more economic benefits and predicted it is likely to get stronger consideration for the next US route to be awarded next year.
China's newly wealthy ranked travel as their top leisure activity, while spending time with their families placed a distant seventh, according to survey results released on Thursday.
January 11, 2007

Hong Kong: Qin Jia Yuan Media Services (2366) has agreed to pay HK$62.63 million to acquire the exclusive rights for three years to broadcast a television drama series through a Hubei TV station, as well as sell advertising airtime and provide public relations services.
Wharf T&T, a Hong Kong fixed-line phone operator wholly owned by conglomerate Wharf Group (0004), said it is considering bidding for a third- generation CDMA 2000 license which is expected to be granted by the Office of the Telecommunications Authority in October.

A fishmonger who was caught smoking at the Ngau Tau Kok wet market has become the first offender to be prosecuted under the new anti-smoking law which came into effect New Year's Day.
Customers at a Tuen Mun filling station had to pay an extra HK$30 for every 50 liters of fuel purchased due to a defective dispenser that had over-recorded the amount of fuel sold by 5percent.
More than half of middle-income earners polled in a survey want the salaries tax returned to 2002-2003 levels as the budget surplus for the current fiscal year is expected to exceed HK$30 billion.
Ke Zaishuo, a senior mainland official who played a key role in the Sino- British negotiations leading to Hong Kong's reunification with China, passed away in a Beijing hospital Tuesday morning.
China will give a pair of pandas to Hong Kong this year to mark the 10th anniversary of the former British colony's return to China, state media reported on Wednesday. The pandas will be sent to the territory in the first half of the year, Xinhua News Agency said, citing State Forestry Administration spokesman Cao Qingyao. China gave another pair of pandas, "An An" and "Jia Jia", to the territory in 1999, and last September the Hong Kong government requested a second pair. Mr Cao said the administration will select two "lively, healthy and young" pandas for Hong Kong.
After more than two months into its service, Hong Kong's long-haul budget airline Oasis said on Wednesday its performance has lived up to expectations and a second route will be launched in June.

China: The sharp fluctuation of two Chinese bank stocks in the past few days indicated that an investment bubble is developing among Chinese financial stocks due to the massive flow of funds into the A-share market.
China's entrepreneur confidence index, a key indicator of economic performance, hit a record high of 135.3 points in the fourth quarter of 2006.
Enterprises that have poor environmental records risk being rejected for bank loans under a nationwide credit system that factors environmental information into loan applications.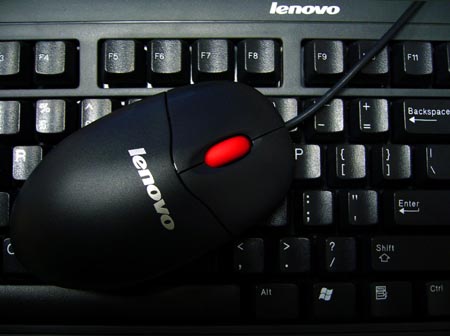 Ten marketing leaders in consumer electronics were recognized on Monday as "Top Brands from China" in awards presented by TWICE China, an event coinciding with the opening of the Consumer Electronics Show (CES), which is North America's largest trade show. The awards were presented to Haier, Lenovo, TCL, Hisense, Great Wall, Skyworth, Konka, BenQ, Tongfang and Desay.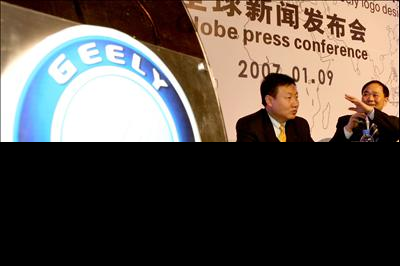 Li Shufu (R), chairman of Chinese car maker Geely Group Co., Ltd attends a press conference for its global logo design contest, Jan 9, 2006. Geely announced to launch a global logo design contest in an attempt to find a new logo that will help the internationalization of its cars. The winner will win prize money of two million yuan.
China approved 10,538 technology import contracts in 2006, involving a contract value of 22.02 billion U.S. dollars, up 15.6 percent year on year, according to statistics from the Ministry of Commerce.
The U.S. government on Tuesday tentatively gave United Airlines the right to operate a new daily flight from Washington to Beijing, China.
China's trade surplus reached US$177.47 billion in 2006, the General Administration of Customs said Wednesday.
Despite the ongoing frenzy in the A-share market and the listing of China Life Insurance Tuesday, mainland retail investors in Shenzhen were more cautious towards the buoyant market than was expected, contrary to what the share prices showed.
Air China (0753) shares hit a new high Tuesday after it announced record passenger and cargo figures for 2006 which is expected to boost its earnings for the year.
The United Arab Emirates, the second- largest Arab economy, will sign an accord with China to better protect 100,000 mainland construction workers from what Human Rights Watch has called "unscrupulous" employers.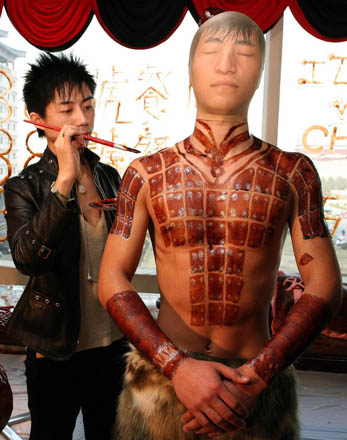 An artist paints chocolate on a model during a sales promotion at a candy store in Xian, Shaanxi province, on Monday. Western manufacturers only recently rediscovered the cosmetic virtues of cocoa more than 3,000 years after the Mayans, tapping into the trend for and benefits of "tasty" beauty treatments.
Chinese television presenter Mao Wei had been ordered detained for 10 days on drunk driving charges after driving down the wrong side of one of Shanghai's main downtown freeways, newspapers said on Wednesday.

Roots from the cassava bush (left) and palm oil fruit (right) will be used in a US$5.5 billion CNOOC-backed project to produce biofuel in Indonesia.
Philippine port operator International Container Terminal Services Incorporated (ICTSI) on Wednesday said it had bought 60 per cent of a container terminal operator in Shandong.
China Unicom, the country's No2 mobile operator, will sell CDMA handsets at 400 yuan each next month to compete with larger rival China Mobile for rural users.
January 10, 2007

Hong Kong: Foreign investment in Hong Kong continued to grow last year, investment promotion director-general at Invest Hong Kong Mike Rowse said on Tuesday.
Microsoft co-founder Bill Gates believes the future will be one in which room decor changes with a person's mood and kitchens guide amateur cooks through recipes.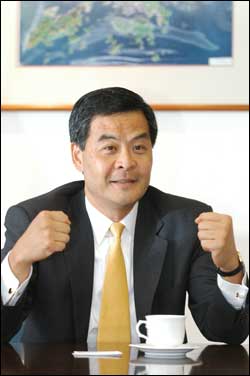 Taking advantage of its strong business presence in China, global property consultancy group DTZ plans to diversify into fund management by using a US$400 million (HK$3.12 billion) Middle East capital fund to explore opportunities in mainland real estate. Leung Chun-ying, DTZ Asia- Pacific's chairman, who in just 14 years has built his business up to become the largest international property adviser in China, said the investment fund marks the group's first foray into the new business. Given its corporate finance knowledge, coupled with its expertise in the mainland real estate market, the new business is a major part of the group's expansion strategy in the region. "We are familiar with the China market and that will be an advantage to us in diversifying and expanding our business there," Leung said in an interview with The Standard. The veteran real estate man, who has been in the industry for almost three decades, said he is upbeat about prospects in the office market in Shanghai and Beijing as demand remains robust. Leung, who used to be a partner of Jones Lang Wootton - renamed Jones Lang LaSalle in 1999 - built up his consultancy expertise in Shanghai in 1988 when he handled the first public property tender in the city. In 1993, he set up its own consultancy firm after leaving Jones Lang Wootton. DTZ now has real estate consultancy offices in 12 mainland cities since entering China 14 years ago under its former name CY Leung & Co. After setting up offices in Shanghai, Shenzhen, Beijing, Chengdu, Guangzhou, Tianjin, Dalian, Chongqing, Hangzhou, Wuhan and Xian, the company now has its sights set on expansion opportunities in Shandong, Jiangsu and Fujian. Leung said the Middle East fund DTZ will manage is keen to buy non- residential property in the mainland as a long-term investment. Overseas interest in office properties in Beijing and Shanghai has risen sharply in recent years. Foreign institutions, including Morgan Stanley, have invested in the mainland real estate market, seeking to capitalize on China's economic boom. "As a fund manager, DTZ will not invest in properties, to avoid a conflict of interest," Leung said. In addition to its ambitions in China, DTZ aims to become one of the world's three largest property advisers after consolidating its North Asia equity shareholding with a London-listed holding company DTZ Holdings. CB Richard Ellis and Jones Lang LaSalle are the world's two largest property consultants. "Globally, DTZ has a good business foundation in Asia-Pacific, Europe and the United States. To achieve the group's goal to become one of the world's largest property consultants in one to two years, we can continue to acquire real estate firms in the United States as there is much room to propel our business development there," Leung said. He said DTZ would speed up its expansion in the Asia-Pacific region including China, India and Japan after restructuring the group's business in the region last month. Leung, who also built up the DTZ Debenham Tie Leung property consultancy, agreed with his partners to sell their remaining 70 percent stake in the North Asia equity shareholding to DTZ Holdings for HK$330.3 million in mid- December involving a share swap and cash payment. The share swap allowed Leung to increase his holdings in DTZ Holdings to 4.61 percent, making him the fourth- largest shareholder and a board member of the London-listed company. The transaction involved DTZ Holdings shares worth HK$278.4 million, with the remainder in cash. Leung did not build up his personal fortune by cashing in his shares in DTZ Debenham Tie Leung. Instead, he took his share of the consideration entirely in DTZ Holdings shares. In 2000, CY Leung & Co announced a merger with DTZ in Britain and Edmund Tie & Co in Singapore. CY Leung was renamed DTZ Debenham Tie Leung. DTZ Holdings took 30 percent of the North Asia business. "Personally, I don't have much spare money, as the company's previous earnings were mainly used to re-invest in business development," Leung said. Aiming to reward and retain outstanding management staff, DTZ Debenham Tie Leung has launched an employee share incentive plan. To share the fruits of the company's development with its employees, Leung, DTZ Holdings and other four shareholders, will distribute shares amounting to HK$30 million to more than 70 employees in Hong Kong, the mainland and Taiwan. The shares will be distributed in batches over the next three years. "As the North Asian shareholders are now significant owners of the holding company, we hope to motivate our staff by making them stakeholders, which encourages them to continuously build up the business with the company, and also their personal stake in the business," Leung said. Commenting on Hong Kong's real estate market, Leung supports the current application list system of land sales, saying the system is market driven and working fine.
Two of the largest United States investment banks are urging investors to stop pursuing Chinese financial stocks, amid subsiding interest in the sector and the emergence of "late-stage peak- market" symptoms which hint at a bubble developing.
Meadville Holdings, owned by the family of Hong Kong Financial Secretary Henry Tang Ying-yen, aims to raise up to US$200 million (HK$1.56 billion) through an initial public offering before Lunar New Year, according to a preliminary offer document.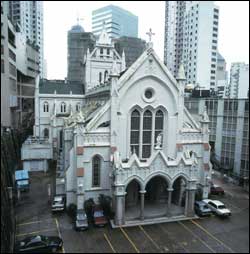 The government, acknowledging a growing chorus of discontent over its heritage policy, made active strides Monday to show it is taking preservation seriously. It vowed to create more public consultation channels and to consider protecting buildings that carry a strong sense of "collective memory." The government will also appoint new members to an advisory board that will actively seek public views before any historic building is demolished. But heritage groups and local activists remained cool to the government's new policies, saying the administration had not done enough to win back their trust after last month's debacle over the iconic Star Ferry clock tower. Introducing the new proposals Monday, Secretary for Home Affairs Patrick Ho Chi-ping promised to take a more sensitive approach to heritage preservation. Historic buildings "bear witness to Hong Kong people's way of life, culture, social movements and collective experience of historical events," Ho said. He asked the public to tell the government which buildings it deemed worthy of protection, while making public for the first time an internal government list of 496 buildings that were being monitored based on their age, distinctive characteristics and ties to historical events. None of these buildings has legal protection from demolition, Ho said, but a team of professionals was reassessing a total of 1,440 sites based on a new set of "abstract" criteria that includes collective memory, historical significance and value to society.

Secretary for Justice Wong Yan-lung marks the opening of the legal year with a speech at City Hall in Central yesterday.
Customs officers have discovered copyright-infringing toys during the Hong Kong Toys and Games Fair 2007, and arrested three mainlanders, a spokesman said on Tuesday.
Hong Kong Cardinal Joseph Zen Ze-kiun will travel to the Vatican later this month for a high-level meeting at which the Holy See's latest China strategy will be mapped out.

Hutchison Essar, India's fourth-largest mobile-telephone company by subscribers, has attracted four potential bidders so far. Indian Commerce Minister Kamal Nath on Tuesday said Vodafone Group's chief executive had sought to meeting him to discuss a possible bid to purchase Hutchison Whampoa's controlling stake in a leading Indian mobile phone company.
The International Monetary Fund on Tuesday gave its backing to the Hong Kong dollar's peg to the US unit, saying the exchange rate system could withstand Chinese yuan strength, helped by reforms introduced two years ago.

China: Flexible measures to attract overseas talented people - Chinese Ministry of Personnel has vowed to work harder to provide better channels for overseas talented people to serve the motherland. According to MOP's 11th five year plan, China will implement three major measures to attract three types of talented people including leading persons in academic research, senior managerial personnel and special talents in need to help build a well-off society and independent innovation.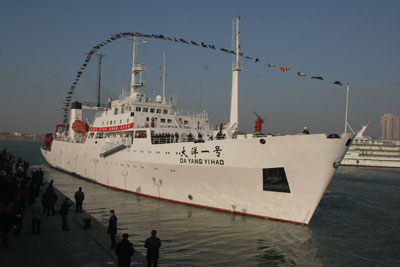 China's scientific survey ship "Da Yang Yi Hao" departs for its 220-day scientific ocean expedition from Qingdao, a city in east China's Shandong Province January 8, 2007. The ship will finish a 30,000 sea mile-voyage, covering sea areas of the southwest Pacific Ocean, southwest Indian Ocean and west Pacific Ocean . The ship started its maiden long distance ocean expedition on April 2, 2005.
The China Life Insurance Co., the nation's largest life insurer, listed its shares on the Shanghai Stock Exchange Tuesday at 37 yuan (4.74 U.S. dollars) per share.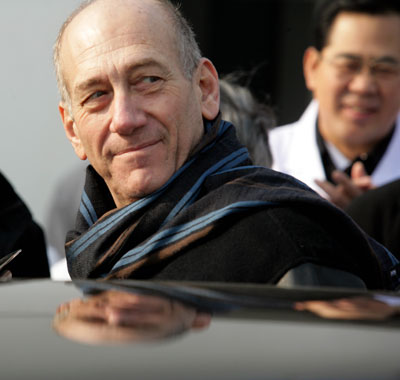 Israel's Prime Minister Ehud Olmert smiles during a visit to a Sino-Israeli experimental cattle farm outside Beijing January 9, 2007. Olmert, the first Israeli Prime Minister to visit China in eight years, starts his state visit to the country at the invitation of Chinese Premier Wen Jiabao, aiming to promote bilateral trade ties and discuss regional and global issues of mutual concern.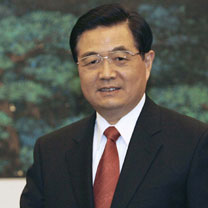 Chinese President Hu Jintao on Tuesday pledged a more severe and systematic crackdown on corruption in a key-note speech delivered at a national anti-graft conference. Hu, who is also the General Secretary of the Central Committee of the Communist Party of China (CPC), made the call at the Seventh Plenary Session of the CPC Central Commission for Discipline Inspection (CCDI), a three-day meeting that started on Monday. Acknowledging the progress the commission had made in the past year, Hu said the Party still faced an "arduous fight against corruption". Hu told senior Party officials and the 110 CCDI members attending the session that they should continue to work on investigating "major and high-level corruption cases" and sternly punishing crooked officials. China's anti-graft fight last year led to the downfall of several senior officials, including former Shanghai party chief Chen Liangyu,former Beijing Vice Mayor Liu Zhihua, and former top statistician Qiu Xiaohua. Chen was China's highest ranking official to fall in a corruption scandal in a decade. Hu called on government officials and Party cadres at all levels to establish a comprehensive system to prevent and punish corrupt officials, and to blend anti-graft efforts into the country's economic, political, and cultural developments.
Timetable set for making large planes - Hundreds of large planes fly in and out of Chinese airports daily but none sports a Made-in-China label. The picture will change in 10 to 15 years, when indigenously-developed large aircraft offer more choice to airlines which fly only Boeing or Airbus. "The large-plane project is being carefully studied," Huang Qiang, secretary-general of the Commission of Science, Technology and Industry for National Defense, said yesterday. "We estimate that within two or three Five-Year-Plan periods, our large plane will come into use." It was the first time officials specified a timetable for a project which Huang said has led to widespread interest among the public and would cause some nervous moments for foreign aircraft makers. In China, key projects are usually part of national five-year plans; and a large plane was listed as a priority project in the 11th Five-Year Plan (2006-10), during which design of the aircraft would start, commission officials said earlier. There have been mounting calls from the public for an early implementation of the large plane project, a program that "has also kept some in (global aviation giants) Boeing and Airbus on their toes," Huang told a press conference on the sidelines of the commission's annual work conference yesterday in Beijing. Used for both military and civilian purposes, large aircraft have a load capacity of at least 100 tons; and a passenger carrier of that size usually has 200 seats, experts said. Huang said the large-aircraft project can build on the expertise and experience of the aviation industry, particularly of the ARJ21, China's advanced regional jet whose manufacture started in December 2003. The China Aviation Industry Corp I (AVIC I) has clinched 71 orders for ARJ21 jets, even though the regional plane will have test flights only next year, according to Huang. The reasons for its success are that the company offers medium-capacity jets of the best quality at a competitive price, which best suits Chinese market needs, according to Liu Gaozhuo, former AVIC I president, who said he believed the same would be true for China's large aircraft. In its latest market outlook, the AVIC I-affiliated Aviation Industry Development Research Centre said China needs 2,230 large-sized planes through 2025, by which time Boeing expects the number to reach 3,900. Boeing and Airbus are sole suppliers of large planes to China. The announcement of the large-plane program comes on the heels of last week's unveiling of Jian-10, the home-made new-generation fighter jet made by AVIC I.
Alibaba Group, China's biggest e-commerce company, rolled out a new business software venture yesterday as the IT giant sought to strengthen its position in the country's rapidly expanding e-commerce market.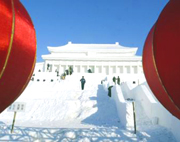 Workers put the finishing touch to a snow sculpture of a Han Dynasty palace before the Shenyang International Ice and Snow Festival which starts on Wednesday in Shenyang, Liaoning Province.
China would mull a new financial super inter-agency to manage its US$5 trillion (HK$39 trillion) held in the nation's various state-run financial institutions, media reported on Tuesday.
Digital Media Group (DMG), a Beijing-based start-up battling for a share of Asia's surging LCD advertising market, has secured a new round of financing from Oak Investment Partners and other investors backing its bid to make a profit underground.
January 9, 2007

Hong Kong: Investors believe the Hong Kong stock market will become more volatile in the short term, as market watchers expect further monetary tightening policy after the mainland's central bank lifted the reserve requirement ratio for financial institutions by 50 basis points Friday.

The Hong Kong Airport Authority is on target to take a direct majority stake in Zhuhai Airport after signing a joint- venture management deal, aiming to capitalize on emerging demand in the western area of the Pearl River Delta for high-technology cargoes, according to senior officials at Zhuhai Airport.
Despite the tumble in share prices last week for H shares and American Depository Receipts, China Life Insurance's (2628) A-share listing tomorrow will be a catalyst in the A-share market, although its H shares may not benefit, fund managers say.
Despite Chief Executive Donald Tsang Yam-kuen's claim Hong Kong's economic situation is the best in almost 20 years, with the benchmark Hang Seng Index hitting record highs, great differences in the performance of retailers show not all have benefited.
The coming Lunar New Year is shaping up to be the best for local outbound travel agents in the past 10 years, thanks to the booming economy and a longer break between Christmas and the New Year holidays.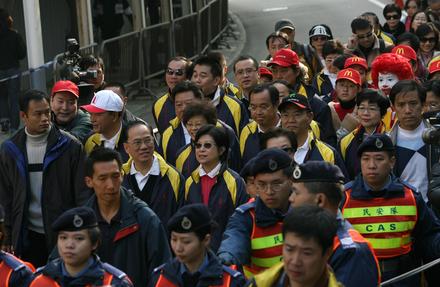 Chief Executive Donald Tsang Yam-kuen and his wife Selina Tsang Pou Siu-mei donned their walking shoes for the launch of the "2006-07 Hong Kong and Kowloon Walk for Millions" at Hong Kong Stadium, Causeway Bay. The Community Chest event, to raise funds for children and youth services, attracted about 13,000 participants and a record of 150 teams. The 10km walk ended at Aberdeen Country Park.
As internet services return to normal after being disrupted by the Boxing Day earthquake off Taiwan, Hong Kong users face a possible new blow - higher charges.

China: The revised personal income tax law has benefited up to 20 million medium- and low-income citizens, relieving them from tax burdens and helping promote social equality, according to the State Administration of Taxation (SAT).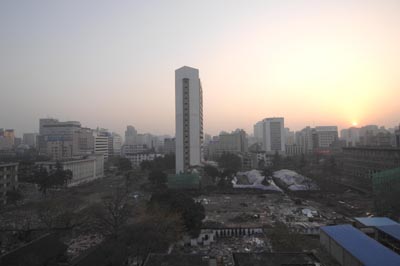 A 67-meter-high building near the West Lake in Hangzhou, capital of east China's Zhejiang Province, looms large in the morning ray before the demolition blast on January 6, 2006. The building, also the highest within the lake area, was torn down successfully Saturday, causing no casualty. It served as the main teaching building of the Hubin district of Zhejiang University before the demolition.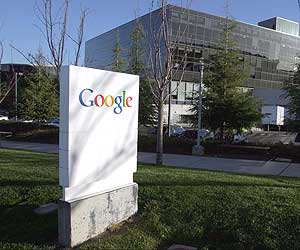 The Internet search giant Google Inc. has bought a stake in a Chinese software provider as part of the company's bid to extend its dominance beyond Internet searches to other online services, The Wall Street Journal reported on Friday.
Foreign trade in industrial powerhouse Guangdong province topped US$500 billion (HK$3.9 trillion) last year, up US$100 billion over the previous year, state press reported.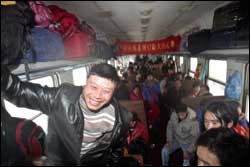 Zhang Xiaochun's son is 14 years old, but she has not seen him since she left her village in southwest China to work in the capital eight years ago. She thinks it's too expensive to go home. "I want to save as much as I can," said Zhang, 36. "Money is what drove us here." Zhang sweeps the corridors of a 33-story Beijing office building. Her husband, who also left home when their son was six, works at a construction site. They spend money only on the most basic necessities, and together they manage to put as much as 9,000 yuan (HK$8,982) in the bank every year. Zhang's mother cares for their teenage son back home. The incomes of farming communities - the primary source of the country's migrant workforce - have risen significantly in recent years. But the stories told by Zhang and other migrant workers suggest that the extra money may not be translating into more consumption, which the government sees as crucial for growth in the world's fourth-largest economy. "Growth in consumption has been declining even as income has kept rising," said Huo Deming, an economics professor at Peking University.
January 8, 2007

Hong Kong: As part of its investigation into whether tycoon Richard Li Tzar-kai violated cross-media ownership laws when he purchased a local newspaper, Hong Kong's broadcasting regulator is requiring the media division of PCCW (0008) to provide information on its voting controllers.
Despite the recent weakening of the local currency, Hong Kong Monetary Authority chief executive Joseph Yam Chi-kwong said he does not see liquidity flowing out of the Hong Kong financial market.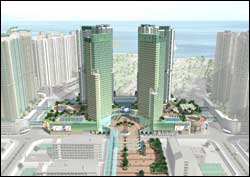 Land hungry developers are likely to show keen enthusiasm in the MTR Corp's (0066) HK$8 billion Tseung Kwan O Area 56 development project after the company asked developers to register to tender. The railway company invited expressions of interest Friday from developers for the project atop its Tseung Kwan O station. The site, with an area of 430,452 square feet, offers a gross floor area of between 1.11 million and 1.81 million sqft for residential, commercial and hotel use. The maximum number of residential units is 1,150 while the hotel is limited to 1,290 rooms. An MTR spokesman said there was no timetable for the tender yet. "If everything goes smoothly, we hope to start work within this year." The land premium negotiations with the government are expected to be concluded soon. In railway tenders, developers submit their best offers, including the profit-sharing scheme, and bear all the costs of development, including land premium, construction and financing costs. Henderson Land Development (0012) and Wheelock Properties (0049) said they would study the project. Surveyors reckon the land premium could reach up to HK$54 billion, equivalent to an accommodation value of HK$2,976 per square foot if the upper GFA limit is used. "With such a large investment amount, it can only be the big developers," said chartered surveyor Pang Siu-kee of SK Pang Surveyors, adding it was premature to say if the MTR would pay half the premium as it did for the first phase of Dream City in Tseung Kwan O's Area 86 in early 2005 to attract smaller developers. In the end, that tender went to Cheung Kong (Holdings) (0001). Midland Surveyors director Alvin Lam Tze-pun said on completion, the flats could sell for HK$5,000 psf. Developers have until next Friday to submit their expressions of interest. Meanwhile, the government has sold Block A of Wylie Court, a former government quarters in Ho Man Tin, for HK$410.8 million through public tender to New World Development (0017). Last month developers and investors submitted eight tenders for the 20-year- old property comprising 40 flats and car-park spaces. New World said last month that it is upbeat on the high-end residential market, and the firm would refurbish the Ho Man Tin residential tower if it won the bidding. Each flat in Block A, located at 15-23 Wylie Path, has a saleable area of about 1,629 sq ft.
Hopes of mobile giant Vodafone taking over the Indian operations of Hutchison Telecommunications International Ltd (2332) may have been dashed, as a Vodafone investor warned the rumored US$20 billion (HK$156 billion) price tag may be too high.
COSCO Pacific (1199), the Hong Kong-listed unit of the mainland's largest shipper, China Ocean Shipping, plans to invest HK$4 billion to expand port capacity to boost its freight traffic by 20 percent.
In Geneva, the new head of the World Health Organization Margaret Chan Fung Fu-chun Friday expressed confidence that Hong Kong's health officials can cope with bird flu, the key concern of global health.
Hong Kong has lost two of the four pillars of its economy, Lingnan University president Edward Chen Kwan-yiu warned yesterday. The economics professor said that of the pillars - logistics, tourism, finance and trade-related support services - the city had lost the opportunity to develop into a logistics hub and a "breakthrough" would be needed in tourism. He said Hong Kong could claim to have maintained only its status as a financial centre with its trade-support services. "[Guangzhou] Baiyun International Airport will certainly replace Hong Kong as a logistics centre," the former executive council member told a seminar on Hong Kong's economic outlook for 2007 to 2012. "Hong Kong has not understood what was meant by logistics from the very beginning." He also said that unless there was a breakthrough, tourism could not be counted on as a pillar. "It does not have historical sites, no Star Ferry pier, no artefacts and no scenic spots." Professor Chen also criticised the fact that few people understood the true meaning of "positive non-interventionism" - a term coined by Chief Executive Donald Tsang Yam-kuen that sparked heated debate. The economist said the term referred to the fact that the market was imperfect and intervention was needed whenever there was a market distortion. While calling for a population policy, he urged local universities and other sectors to attract talent not only from the mainland but also from overseas to make the city a "desirable place for people to settle down", not just make money. Professor Chen also criticised Hong Kong for failing to achieve equality in society. Executive councillor Henry Fan Fung-ling, another seminar speaker, expressed more confidence in Hong Kong's development, saying it would benefit from the mainland's fast economic growth. While saying the individual traveller scheme had provided a market for local tourism, he said Hong Kong should take advantage of the business opportunities arising from the mergers and procurements of mainland enterprises. "What we lack [are people] who are experts in their field, yet also understand the thinking of mainland people," said Mr Fan, managing director of Citic Pacific and deputy chairman of Cathay Pacific Airways.

China: The required reserve ratio for financial institutes engaging in deposit business will be raised by 0.5 percentage points from Jan. 15, the People's Bank of China announced Friday.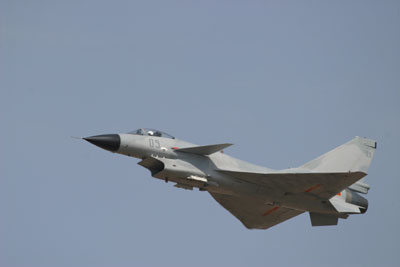 China's indigenous third-generation Jian-10 (Fighter-10) makes its debut in Beijing January 5, 2007. The airplane is manufactured by the China Aviation Industry Corporation I (AVIC I) based on the country's own Intellectual Property Rights.
The Internet search giant Google Inc. has bought a stake in a Chinese software provider as part of the company's bid to extend its dominance beyond Internet searches to other online services, The Wall Street Journal reported on Friday.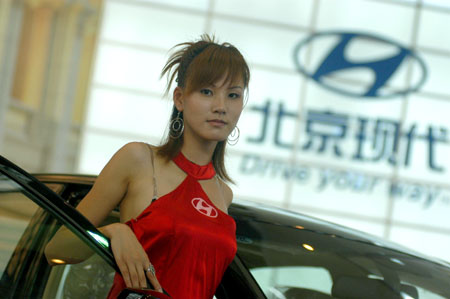 A model poses before a Hyundai car at an auto show in Nanjing, East China's Jiangsu province in this file photo. Beijing Hyundai Motor Co, a joint venture between South korean-based Hyundai Motor and Beijing Automotive Industry Holding Co, sold 290,000 vehicles last year, having failed to meet its sales target of 300,000 units. The joint venture expects to boost its sales to 310,000 units in China in 2007.
China's domain name managers and Internet service providers refuted on Friday recent media reports about the loss of domestic domain names following the Taiwan earthquake that severed undersea cables last month.
China's central bank moved Friday to rein in the sizzling growth of the A-share stock market by raising the reserve requirement ratio for financial institutions by 50 basis points in order to mop up excess liquidity in the market.
January 5 - 7, 2007

Hong Kong: People in Hong Kong may be in for a psychological blow. If economists are to be believed, the HK dollar is likely to be overtaken by the once humble yuan "within days".

Hong Kong stocks suffered a major setback Thursday as hot mainland shares tumbled on profit-taking in the wake of the China market reopening after the holidays and pulling funds back to the mainland.
With a slowing property market due to the central government's tightening measures, mainlanders have been moving quickly into the red-hot domestic equity market, resulting in a record high in the total number of investors. According to China Securities Depository and Clearing, there were 72.6 million investor accounts throughout the country as of end November. Of these, 72.3 million or 99.5 percent are individual accounts. With the A-share market reopening for new offerings in June after closing for a year, new A-share investor accounts tripled to 2.76 million in 2006. An average 30,000 new accounts per day were recorded amid the A-share market's strong run towards the end of last year.
China Mobile (0941) said it will cooperate with Google, the world's largest search engine, to provide mobile search services in the mainland.

Margaret Chan Fung Fu-chun took up her position as new head of the World Health Organization Thursday, saying her priority is to improve the health of women and Africans. Margaret Chan is welcomed by WHO staff on her first day in office yesterday in Geneva. She said there would be no organisational upheavals in the international agency.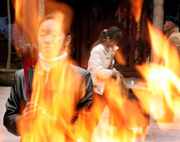 A Chinese Buddhist prays as people celebrate the start of the new year on Thursday at Yuyuan Temple in Shanghai, China. According to the 12 signs of the Chinese zodiac, the year 2007 marks the year of the pig.
Hong Kong's Central has maintained its position as the most expensive business district in the Asia-Pacific region and the third most expensive in the world, as rents in the office hub continue to rise, according to a survey released yesterday.
Sino Gold, an Australian-listed gold-mining company, plans to seek approval for a secondary listing of about US$100 million in Hong Kong on January 25, market sources said.

India's Essar group, which has a minority stake in the nation's fourth-largest mobile phone group Hutchison Essar, was poised to offer US$14 billion (HK$109 billion) to buy out majority shareholder Hutchison Telecommunications, the Economic Times said on Thursday.

China: China's new adoption rules are not meant to restrict the number of foreigners who can adopt Chinese children, but to ensure that kids receive the best possible family care, according to an official with the Ministry of Civil Affairs. Lu Ying, director of the China Center for Adoption Affairs (CCAA) under the ministry, explained that China now has far fewer children available for adoption by foreign couples. "More domestic families have adopted children from our center in recent years and economic and social development has meant that fewer children have been abandoned or orphaned," Lu said. According to international conventions, preference is given to domestic families rather than foreign couples. The number of foreigners applying to adopt a child in China has increased, and they usually have to wait 14 to 15 months, Lu said. "The new rules will help shorten waiting time for qualified foreigners and speed up the process for children, especially the disabled, so that they can go to their new families, where they can get better education and medical treatment, more quickly," he said. The rules have been made in the interests of the children, to guarantee them optimal family conditions, he said. The new rules, to take effect on May 1, 2007, make it more difficult for overweight, single and economically precarious foreigners to adopt. They give priority to stable, well-off foreign couples aged between 30 and 50. Reports by foreign media said the new rules were aimed at curbing the number of foreigners who can adopt Chinese children. Xing Kaimin, a CCAA official, denied this, saying that the new criteria were meant to protect children's interests and not to show prejudice against less qualified applicants, who can still apply. Obese people, for example, are more likely to suffer from disease and might have a shorter life expectancy, which is not without consequence for the life of the adopted child, China Daily quoted Xing as saying. Other criteria state that the applicant couple must have been married for at least two years, and those who were divorced must have remarried at least five years previously. The current law allows single foreigners to adopt Chinese children, but requires the father to be at least 40 years older than the adopted girl. A new requirement states that adopters must have less than four children.
China's trade surplus may surge to a record new high of around 190 billion U.S. dollars this year despite government efforts to curb exports and encourage imports, the Chinese Academy of Sciences predicted in its latest analytical report.
Chinese shares opened stronger on Thursday, the first trading day of 2007, with the major index, the Shanghai Composite, at 2,728.19 points, up 52.71 points or 1.97 percent.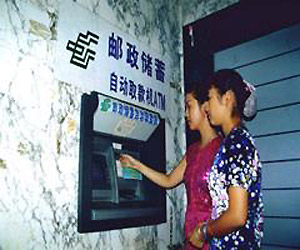 China's banking regulator has formally approved the launch of the postal savings bank, setting a new stage in the development of the country's postal savings services.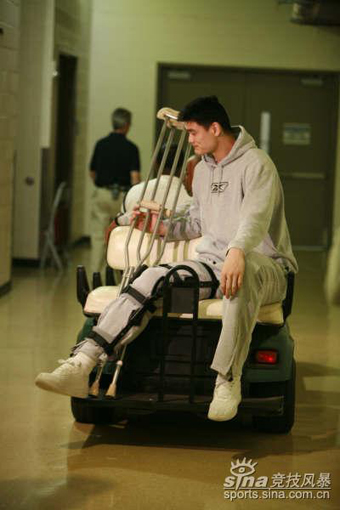 NBA Rocket centre Yao Ming of China sits on a special dolly in Houston,United States. Yao has been under treatment after he fractured the right tibial plateau under his knee Dec. 23 when he jumped to block a shot and his knee got caught under Tim Thomas' body. Yao immediately grabbed his knee and screamed in pain. Yao was averaging 26 points and nine rebounds before the injury.[
New accounting and audit rules began on Monday after months of preparation and training by firms to ease the transition. "The transition may bring about the undulation of corporate accounting profits and thus influence the results of 2006 financial reports and activate the market revaluation," said Cao Deming, head of Renmin University of China's accounting department. The accounting reform will initially target listed companies. But the Ministry of Finance (MOF) has also asked other non-listed companies such as insurers to kick off the accounting change. Enterprises owned by the central government will also adopt the new accounting rules. Among them, 24 giants such as China Mobile and China Telecom will pioneer the new system, while the rest will follow suit before the end of 2008. The banking industry will be most affected by the change, and the new rules are expected to greatly impact performance indices such as net profits and assets. "Preparations for the link-up of the old and new accounting rules should be done before December 31, 2006," said a Bank of China (BOC) spokesman. Staff members at BOC have been busy revising its corporate accounting manual and redesigning, testing and adjusting its accounts system. China Construction Bank (CCB) has spent the past month intensively training its financial staff for the change. It invited professionals from IBM to help debug the financial software system. "Due to the nature of the change, the system readjustment is complicated," said a CCB employee.
Per capita gross domestic product in Guangzhou was likely to have surpassed US$10,000 (HK$78,000) last year, making Guangdong's capital the first leading mainland city to break that mark, state media reported on Thursday.
Israeli Prime Minister Ehud Olmert will visit China next week to mark the 15-year anniversary of the establishment of diplomatic ties and to discuss the situation in the Middle East, a Chinese Foreign Ministry spokesman said on Thursday.
Semiconductor Manufacturing International Corp, China's biggest chipmaker, yesterday denied it had been approached by buyout firms, adding to confusion surrounding the company after rumours triggered the stock's biggest gain in more than two years.
Dec 29, 2006 - January 4, 2007 Happy New Year

Hong Kong: Rising rents and irreconcilable differences with its head office in the United States have seen fast-food chain Hardee's end its 16-year relationship with Hong Kong. Its last two restaurants closed Wednesday.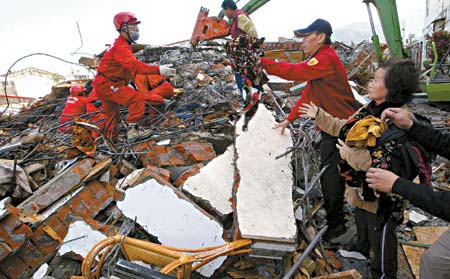 Internet access slows to a crawl after quake - Rescue workers search for survivors at a collapsed building in southern Pingtung county December 27, 2006 after a strong earthquake shook Taiwan. Access to overseas websites from the Chinese mainland slowed to a crawl yesterday as a powerful earthquake off the Taiwan coast knocked off international undersea fibre-optic cables on Tuesday, affecting communications around Asia. It is believed to be the most serious disruption since 2001, when a submarine cable connecting the mainland with the United States was cut off more than four times, mostly by fishing boats. It is not clear when normal service will be restored. China Telecom Corp, the mainland's largest fixed-line carrier, said six undersea cables were cut off 15 kilometres from the southern coast of Taiwan, causing severe Internet congestion on the mainland. International voice calls were also affected. A survey by Internet portal Sina.com yesterday showed that 97 per cent of Internet users on the mainland had difficulty accessing overseas websites, and 57 per cent said their lives and work were affected. But access to mainland websites remains normal. Such disruptions underscore the increasing importance of back-up systems. "We have to use alternative cables as well as satellite communications," said Xu Yongming, an official in charge of China Netcom's international network. He added that mainland operators are working with their overseas counterparts to repair the damaged cables. "Aftershocks off Taiwan make it even harder to repair the damaged cables," said a China Telecom spokeswoman. The disruption affected telecommunications services in Hong Kong, Taiwan, South Korea, Singapore and Japan and paralyzed some banking services. In Hong Kong, Internet connection, long distance calls and online financial transactions were affected, but the stock exchange said operations were normal. Internet connection speed was much slower than normal. Some overseas websites in the United States, Britain and Taiwan could not be accessed. Emails and online chatting were barely functioning. Internet Society of Hong Kong Chairman Charles Mok said overseas users connecting to Hong Kong and the mainland's websites were also affected. Hong Kong Computer Emergency Response Team Coordination Centre Manager Roy Ko said it might take months to repair the cables. Taiwan's Chunghwa Telecom may be hardest hit. It said repairing the cable could take three weeks, adding that almost no calls could be made to Southeast Asia. Chunghwa said voice calls to the mainland, Japan and the United States were down 10, 11 and 40 per cent of normal capacity. The Chinese mainland is less affected as operators here have alternative lines away from quake-hit Taiwan, said Xu with Netcom. He said it may take a shorter time to restore communications on the mainland but limited capacity could slow down access to overseas websites, especially during peak hours. Current Internet networks on the mainland already face a bottleneck in capacity given the growing popularity of broadband Internet access as well as data-heavy services such as video downloads. At the end of November, the mainland had 51 million broadband Internet subscribers, an increase of 13.7 million compared to the end of last year, according to the Ministry of Information Industry. China Telecom Executive Vice-President Leng Rongquan last week said the current submarine cable network linking China and the US will not be able to meet demand after 2008. Six operators from China, South Korea and the United States including Verizon Business last week signed a deal to build a submarine cable linking China and the United States at an investment of US$500 million. The new cable will have more than 60 times the overall capacity of the existing one linking the United States and China.
Hong Kong Consumer Council chief executive Pamela Chan Wong-shui is to receive an international award for her contribution to Hong Kong consumers' welfare and China's consumer movement, the American Council on Consumer Interests said.

China: China Petroleum & Chemical Corporation disclosed that it would get State subsidy of 5 billion yuan (US$639 million) to cover its losses from oil refining.
Unabated desire for mainland financial and telecom stocks pushed up the Shanghai bourse and consequently the H-share index in Hong Kong, but analysts say both fund managers and retail investors have been too carried away to notice the looming risk of a stock market bubble.

*News information are obtained via various sources deemed reliable, but not guaranteed