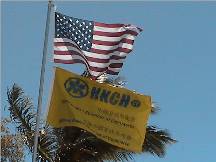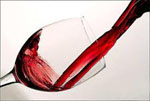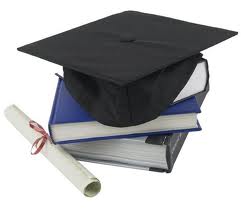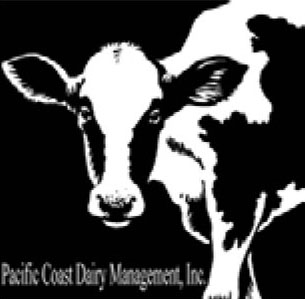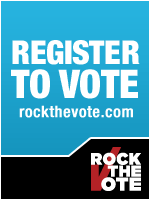 Biz-Video

Hawaii's China Connection

Doing Business in Hong Kong & China
Hong Kong, China & Hawaii Biz*
How to Do Business with China, through Hong Kong & Setting up Business in China? - last update Feb 8, 2003
Do you know our dues paying members attend events sponsored by our collaboration partners worldwide at their membership rates - go to our event page to find out more! After attended a China/Hong Kong Business/Trade Seminar in Hawaii...still unsure what to do next, contact us, our Officers, Directors and Founding Members are actively engaged in China/Hong Kong/Asia trade - we can help!
Are you ready to export your product or service? You will find out in 3 minutes with resources to help you - enter to give it a try

China Central TV - live webcast

Skype - FREE Voice Over IP

View Hawaii's China Connection Video Trailer










Hawaii's China Connection Video - click on the picture to view live video


Direct link PDF file


Year of the Pig - February 18, 2007
Holidays Greeting from President Obama & Johnson Choi
http://www.youtube.com/watch?v=pNk4Z4lUV-k
http://www.facebook.com/video/video.php?v=219896871983&ref=mf
Wine-Biz - Hong Kong
Brand Hong Kong Video
April 30, 2007

Hong Kong: A top official at the Hong Kong stock exchange said Thursday the bourse will stick to the international standards of suspending listed shares and and said he hopes the mainland will adopt the same practice.
Hong Kong Mortgage Corp said it will extend the repayment tenor of borrowers under its mortgage insurance program to 40 years from 30 years, but they will have to pay an insurance premium 6 percent to 15 percent higher if they are seeking the longer repayment period.
Macau will continue to outperform the Las Vegas Strip as the world's largest gaming hub in the future, but increased supply will hurt casino operators' margins, according to Morgan Stanley managing director Rob Hart.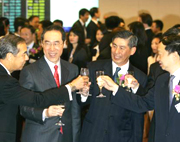 Kong Dan, second from right, chairman of China Citic Bank Corp, toasts with Henry Tang, second from left, the Financial Secretary and Ronald Arculli, left, Independent Non-Executive Chairman of HKEx Corporate during the listing ceremony of initial public offerings of China Citic Bank at the Hong Kong Stock Exchange on Friday. China Citic Bank, the mainland's seventh-largest bank, put in a modest Hong Kong performance on Friday compared with an explosive Shanghai debut, providing a study in contrasts with China's runaway markets.
About 20 million racing enthusiasts around the world will be tuned in to Sha Tin racecourse Sunday to witness the crowning of the world's best middle- distance runner on turf. The 2,000-meter Queen Elizabeth II Cup, which carries stake money of HK$14 million, has attracted two of the world's top gallopers in Japan's Admire Moon (rated 125) and Hong Kong's Vengeance of Rain (122). Also in the lineup are South Africa's Oracle West and Sushisan and the United Arab Emirates' Seihali in addition to Hong Kong Derby winners Viva Pataca and Vital King. Admire Moon earned his high rating four weeks ago with an emphatic victory over 1,777m in Dubai, beating the cream of Europe and the Mideast. An hour later, Vengeance Of Rain did the same, brushing aside challengers from around the world to win the Dubai Sheema Classic over 2,400m. The "compromise" distance makes for a mouth-watering clash between the two horses, Jockey Club chief executive Winfried Engelbrecht-Bresges said. "For now we have just one guarantee: a unique day of world-class racing entertainment on Sunday," he said. Admire Moon will have to overcome a wide barrier if he is to justify likely favoritism for the event. While the excellent Japanese colt drew outside in gate 10, the outcome was greeted with some indifference by his trainer. "I really don't care what draw he has," Hiroyoshi Matsuda said. "He's a Group 1 winner and he will race from behind the pace. The draw doesn't impact on that." Vengeance Of Rain will start from stall eight. "I'm not unhappy with that alley," jockey Anthony Delpech said. His trainer David Ferraris said Vengeance of Rain's current form was still very good and the drop back in trip to 2,000 meters would not trouble him. Casino tycoon Stanley Ho Hung- sun has two horses in the race, Viva Pataca and Viva Macau, who drew gates seven and two respectively. Vital King will jump from gate nine. Viva Pataca endured a wide passage in this race last year and trainer John Moore, wary of a repeat occurrence, may deploy Viva Macau in a more forward position this weekend. "Viva Macau raced up with the pace when he ran third in the Prix Jean Prat at Chantilly a year ago but Viva Pataca will race from midfield as usual - he's as fit as I can get him and I'm hoping [race jockey] Michael Kinane can weave his magic," Moore said. Seihali from the Emirates and the South African runners Sushisan and Oracle West are positioned in gates three, four and five. A total of 16 organizations outside Hong Kong will telecast the event to around 20 million viewers, with eight countries and regions accepting bets on all or some of the races for the day.
Many tourists believed Hong Kong's reputation as a shopping paradise had been harmed following reports of shopping scams, a survey released on Friday has found. The Democratic Alliance for the Betterment and Progress of Hong Kong (DAB) survey polled 262 tourists - mostly from the mainland - between April 11 and 22.
This survey follows a report early this month by the China Central Television, the national broadcaster. The report claimed mainland tourists were talked into buying fake and over-priced goods on visits to Hong Kong. More than 50 per cent of survey respondents said they were affected by the controversy, while 30 per cent said they themselves had ''unpleasant experiences'' shopping in the city, the survey found. About 50 per cent claimed they had been subjected to patronising tour guides who had tried to pressure them into buying goods. Starry Lee Wai-king, DAB party's deputy spokeswoman on economic affairs, said the government would complete a legislative review of the matter soon. She also called for more inspections by customs and police officers. Ms Lee said it was crucial that the government took swift action to restore the confidence of tourists. She noted that the ''golden week'' holidays over Labour Day would start on May 1. The holiday usually attracted many mainland tourists to the territory. ''It is of utmost importance all the measures be put in place and be made known to mainland tourists before the May 1 holiday,'' she said.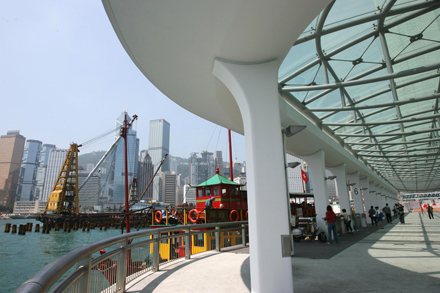 A pleasure craft docks at Central's pier 9 on its first day in operation yesterday. Tourists arriving at the pier to board leisure cruises, which until Wednesday had sailed from Queen's Pier, praised the facility but were unaware they were among its first users. American tourist Julie Bonneau said: "It is beautiful. It certainly makes people feel welcome in Hong Kong." Queen's Pier will be demolished to make way for a new road, then be rebuilt.
A 29-year-old man in Hong Kong had been jailed for five years for handling illegal gambling gains worth more than HK$20 million, a government spokesman said on Friday.

China: China's top legislature on Friday approved the cabinet nomination of Yang Jiechi, former ambassador to the United States, as the country's new foreign minister.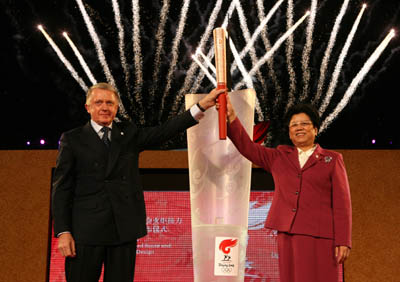 IOC Coordination Commission Chairman Hein Verbruggen (L) and Chinese State Councillor Chen Zhili hold the Beijing Olympic Torch during its unveiling in Beijing April 26, 2007. Beijing announced the 2008 Olympic torch relay route and unveiled the Olympic torch on Thursday in China's capital.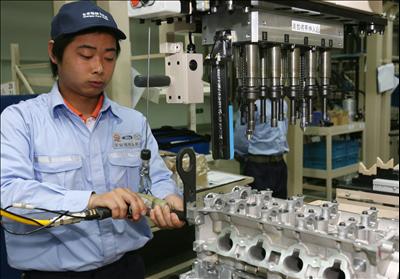 Chang'an Ford Mazda's new engine plant went into mass production on Thursday in Nanjing, east China's Jiangsu province. The engine plant would provide strong support for the development of the Shaanxi-based Chang'an Auto, Ford Motor and Mazda Motor in the Chinese market, said Phil Spender, president and chief operating officer of Ford China.
China CITIC Bank went public on the Shanghai stock market on Friday, with opening price at 9.21 yuan, higher than its IPO price of 5.8 yuan.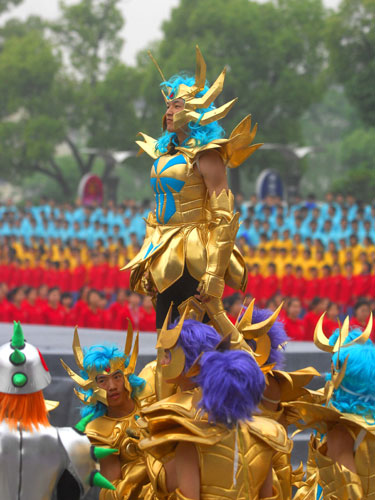 Participants dressed in cartoon costumes perform in the rehearsal of an approaching cartoon carnival in Hangzhou, East China's Zhejiang Province April 27, 2007. The cartoon festival will be held from April 28 to May 4 there, and more than 3000 participants will join the celebration.

Beijing 2008 Olympic Torch Relay Planned Route Unveiled - click on picture for FULL view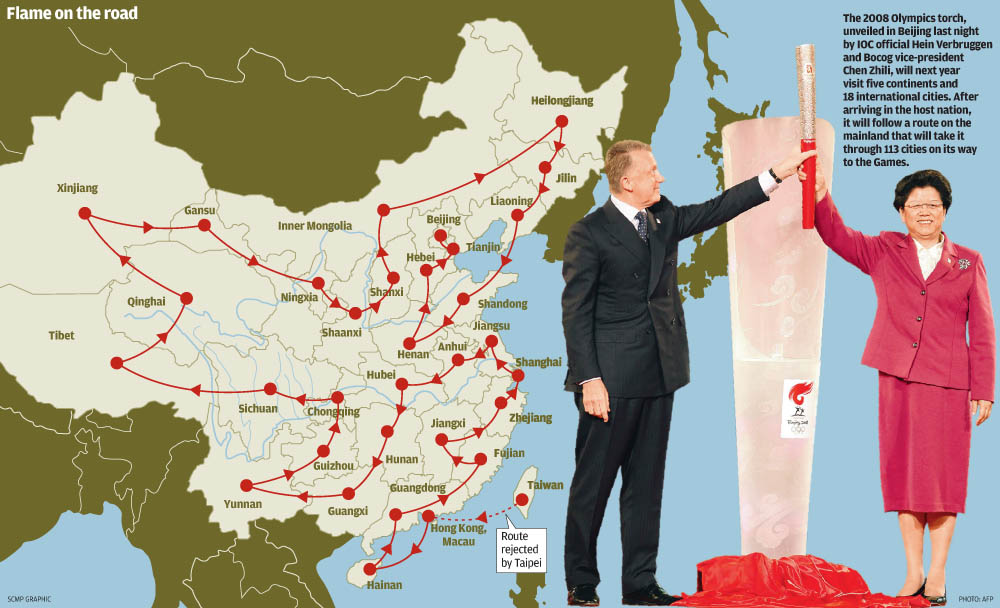 Organizers of the Beijing Olympics yesterday unveiled an ambitious route for a torch relay that would cross five continents and all of China in 130 days ahead of the Games' opening in August next year. The route includes Mount Everest and Taiwan, although the latter was last night rejected by Taipei. Bocog president Liu Qi said the torch would be carried around the world in a "journey of harmony" covering 137,000km in 130 days, 97 of them in China. "It will be a relay that covers the longest distance, is most inclusive and involves the most people in modern Olympic history," he said. The route was unveiled by Politburo Standing Committee member Luo Gan and International Olympic Committee president Jacques Rogge after the IOC's executive board approved it yesterday. The flame will be lit in Athens and the relay will start in Beijing and go to Almaty, Kazakhstan. The torch will be carried through 18 countries and five continents - Europe, Africa, the Americas and Asia, including North Korea. Before officials in Taipei raised their objections, the route was planned to go from Ho Chi Minh City in Vietnam to Taipei, and from there to Hong Kong and Macau. The flame will arrive in the mainland on March 31 and travel to 113 cities and regions, including Lhasa in Tibet. Beijing Organizing Committee for the Olympic Games vice-president Jiang Xiaoyu said the ancient Silk Road was the inspiration for the route. Eleven out of the 19 international cities along the route are along the Silk Road. A senior IOC official said the route could change before the relay began. A second torch will be carried to Mount Everest, where a team will try to take it to the summit in May. The torch's design, a red-and-silver tube 72cm tall and shaped like a Chinese scroll, was chosen from among 300 competing entries. It was unveiled yesterday by State Councilor Chen Zhili and Hein Verbruggen, head of the IOC body that co-ordinates with the Beijing Games organisers. Developed by a team at computer maker Lenovo the torch boasts technological innovations to keep it lit in winds of up to 65km/h and in rain of up to 50mm/h. Mr Rogge said the relay embodied the Olympic values of excellence, respect and friendship and would add a Chinese note to the Olympic flame. "By travelling along the historic Silk Road, a symbol of ancient trade links between China and the rest of the world, crossing the five continents and going to new places ... I have no doubt the Beijing 2008 Olympic torch relay will leave many extraordinary memories and create new dreams for people around the world," said Mr Rogge. Beijing has viewed the torch relay as an opportunity to promote China's international image ahead of the Olympics and as a political test. Organisers have vowed to make the relay highlight the country's culture and "national character", with Taiwan and Mount Everest included on their route. But officials did not provide details of any contingency measures they planned to take to tackle what they described as trouble-makers, including followers of the banned Falun Gong spiritual movement, supporters of separatism in Taiwan, Tibet and Xinjiang , and pro-democracy and human rights groups.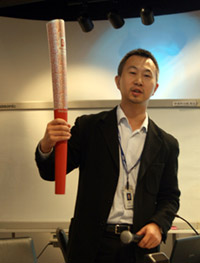 Yao Yingjia, chief of the torch design team at the Innovation Design Center of Lenovo Group,holds the torch while explaining the design concept. Designed to resemble an ancient scroll and featuring a 'lucky cloud,' the red and silver torch for the 2008 Beijing Olympic Games settled the debate over whether to foreground Chinese traditional or modern elements by incorporating both. Yao Yingjia, chief of the torch design team at the Innovation Design Center of Lenovo Group, said some of their initial ideas were a bit too far outside the box. "After receiving the invitation letter for the Olympic torch (in 2005), our team was very excited and some crazy ideas came up during brainstorming. "Some basic ideas impressed us, though, such as images of lucky clouds, jade and bamboo. From the very beginning, we realized that we should show the world something with clear Chinese elements." Lucky clouds, or auspicious clouds, are commonly used in Chinese mythology, on with deities often perched on top. Chinese people expect the auspicious clouds to bring blessings and harmony society. The designers finally whittled down their ideas into three designs - featuring a lucky cloud, a phoenix and the Great Wall, respectively - and proposed these to the Beijing Organizing Committee for the Games of the XXIX Olympiad (BOCOG). BOCOG's judges were impressed and selected the lucky cloud theme. "The lucky cloud is a symbol of traditional Chinese culture that is rooted in the everyday lives of Chinese people. We can see it in many things from sculptures to architecture to utensils to furniture," said Yao.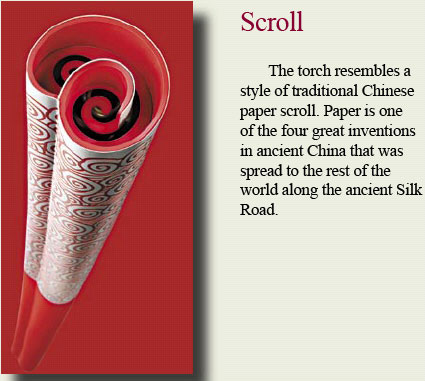 "It also bears the Asian spirit of harmony. Through this image, we would like to spread a message of peace and promote Chinese culture to the rest of the world." Choosing the scroll theme was also a lucky accident, said senior team member Qiu Jiayu. "We came up with the idea when a colleague rolled up a piece of paper casually at a meeting and we saw that it naturally resembled the shape of the torch."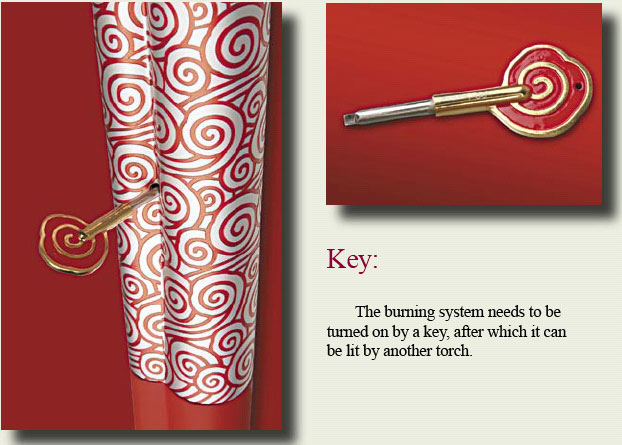 "Paper is one of the four great inventions in ancient China that was spread to the rest of the world along the ancient Silk Road. Since the planned torch relay route borrowed the idea of the Silk Road, we thought the idea was perfect." The team decided to cover the torch with rubberized paint to make it more 'human.'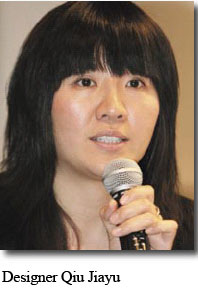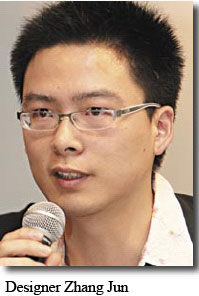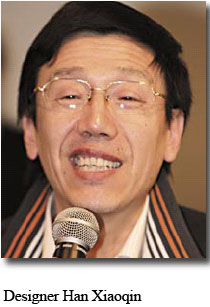 From April 3 - 9 last year, the team conquered technical problems like corrosion and carving on a curved surface to produce the sample, which was finally named the winner last June. For Lenovo, the design process was a team effort that tied up almost all of its 87 staff - more than double its core team of 34. Looking at the final aluminium product, standing 72 centimeters and weighing some 985 grams, Yao said it was worth the effort. Besides designing the shape, the inside burning system was produced by China Aerospace Science & Industry Corporation (CASIC). Now the torch can withstand winds of up to 65 km/hour and stay alight in rain, hail or snow. The light yellow flame can burn for over 15 minutes at a time and will be fueled by propane, a relatively clean energy source. Scheduled to scale Everest (Mount Qomolangma), the torch will have to withstand extremely low pressure, low temperatures and strong winds. To cope with this, a special design is required to keep it burning. BOCOG officials said testing is currently under way.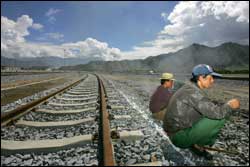 A state-run Chinese film company plans to release a movie extolling the hardship workers endured building the world's highest railway into Tibet, a project activists have denounced as a bid to dilute the region's indigenous culture. The film - helmed by director Feng Xiaoning - has finished shooting and is currently in the editing and dubbing process, China Film Group publicist Wen Wengli said Wednesday. The film's title, translated into English as Qingzang Line, combines the names of Tibet, or Xizang in Putonghua, and the neighboring province Qinghai. Wen said a release date has not been set. Film rights have not been sold overseas. The China-Tibet railway, a decades- long dream for officials, was launched in July. The scenic rail line passes through the 5,072-meter Tanggula Pass.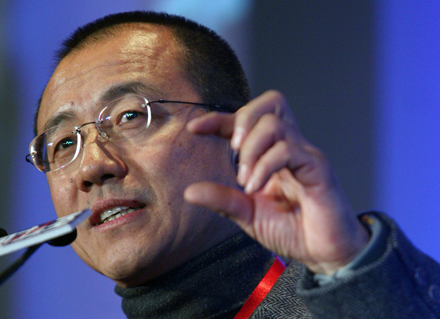 Gao Xiqing, vice-chairman of National Council for Social Security Fund, says about 39 per cent of the pension fund's assets by market value are in equities, and that the managers will try to cut that by the end of the year to about 30 per cent of the 450 billion yuan held.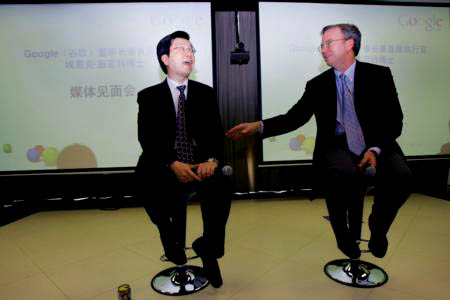 Google chief Eric Schmidt (right) and Google Greater China president Lee Kai-fu announce their China drive at a press conference in Beijing. Google, No2 in China's Web search market, was expanding its investment and technology in an effort to make up for its late entry and become the industry leader, chief executive Eric Schmidt said on Friday. "We are catching up, our investment is working and we will eventually be the leader," Mr Schmidt told reporters. He declined to provide any investment figures. Baidu.com has about 55 per cent of China's search engine market, ahead of Google with 21.7 per cent, according to market data company iResearch. Mr Schmidt said Google was gaining market share but he declined to give figures. He expressed confidence that the company's greater financial and technical resources would help close the gap. Mr Schmidt said Google planned to give its China operation greater autonomy to develop new products and respond to local needs. China has the world's second-largest population of internet users, with 137 million people online, and is on track to surpass the United States as the largest online population in two years.
April 28 - 29, 2007

Hong Kong: Richard Li Tzar-kai, thwarted in his previous efforts to unload PCCW (0008), is looking once again to sell Hong Kong's dominant fixed-line phone company or at least his own stake, market sources said.
HSBC Holdings (0005), once the "oversold" blue-chip laggard, is on the way to regaining its shine as the most- wanted heavyweight stock.
Hong Kong Export Credit Insurance Corporation said Wednesday local exporters have been deprived of HK$94.07 million in payments for the year ended March for goods shipped and services offered. Non-payments increased by 28 percent from a year ago.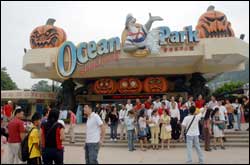 Undercover agents will infiltrate mainland tour groups traveling to Hong Kong, in order to identify unscrupulous retailers and crackdown on shopping scams associated with zero-fee package tours being run to the territory. The measure is among several proposals put forward by top tourism officials from the SAR and the mainland following talks in Beijing Wednesday on how to deal with Hong Kong shop operators and travel agencies who swindle mainland tourists. The measures - announced by the China National Tourism Administration - come less than a week before the start of the May Day "golden week" holidays when thousands of mainlanders are expected to flock to the territory. The CNTA said it will also renew a list of approved mainland tour organizers and a list of unqualified travel firms will be posted on the Internet. This is all designed to discourage tour organizers who are offering so- called zero-fee tours during which mainland visitors are forced to shop at stores that are not of their choosing and threatened by tour guides if they refuse. Hong Kong and mainland authorities will also exchange information regarding unscrupulous travel agencies. These agencies are also likely to be blacklisted if there is sufficient evidence against them. Hong Kong officials have warned that problems arising from zero-fee tours, such as shopping scams and rude tour guides, together with growing complaints from mainland tourists, have tarnished the territory's reputation as a regional center for tourism and shopping, and eroded visitor confidence. The Beijing talks were attended by top officials from the CNTA, Hong Kong Tourism Commissioner Au King-chi, Hong Kong Tourism Board chairman James Tien Pei-chun, Travel Industry Council chief Ronnie Ho Pak- ting and the new chief executive of the Consumer Council, Connie Lau Yin- hing. "We'll show no mercy and crack down on these bad agents ruthlessly. They'll be pursued one by one to the end," CNTA deputy director Zhang Xiqin said in Beijing.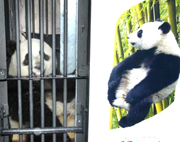 In this photo released by Xinhua news agency, giant panda known as No. 606 rests in a cage as it leaves the China Panda Protection and Research Center in Wolong, Sichuan Province, on Thursday. A pair of young pandas traveled on Thursday from Sichuan Province to their new home in Hong Kong, where their new names will be revealed when they arrive. Two pandas - selected as gifts for Hong Kong to mark the 10-year anniversary of the territory's handover to the mainland -have arrived in the territory and received new names. The pandas arrived on Thursday afternoon and their names were announced during a ceremony held after the chartered flight carrying them landed at Chek Kap Kok airport at 3.40pm. The male cub, previously known as 606, is called ''Le Le''. The female, known as 610, was named ''Ying Ying''. Both names mean ''happiness'' in Chinese. Secretary for Home Affairs Patrick Ho Chi-ping said the names had been chosen from 7,600 entries submitted by about 13,000 member of the public. ''We hope they will breed some offspring soon,'' Mr Ho said during the ceremony. The cubs would be carried to their new homes in Ocean Park. They will be quarantined for about 30 days. Officials from Ocean Park said the van carrying the pandas to the park had been disinfected. Temperatures would be maintained between 18 and 21 degrees Celsius in the van. The public will not be able to see the pandas until July 1 - the 10th anniversary of Hong Kong's handover to mainland rule. Earlier on Thursday, the 20-month cubs their left their home at a breeding centre in Wolong, Sichuan province, in a truck. They then would flew from the provincial capital of Chengdu to Hong Kong.
Blue chips closed 0.64 per cent higher in Hong Kong on Thursday as investors cheered a record performance on Wall Street on Wednesday and further gains on the mainland's A-share markets, dealers said.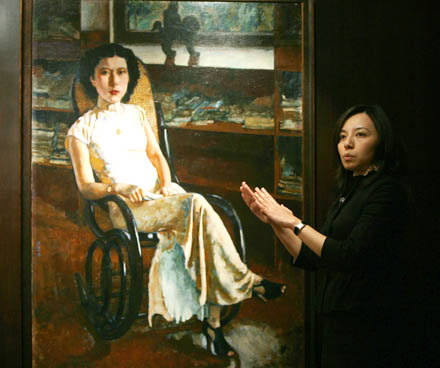 Vinci Chang Chia-chen, head of sales for 20th century Chinese and Asian contemporary art at Christie's Hong Kong explains Portrait of a Lady which will be auctioned on May 27. The 1939 painting by renowned Chinese artist Xu Beihong during his Southeast Asia period, features Jenny, who was a friend of the vice-consul of Belgium in Singapore. It is expected to fetch between HK$20 million and HK$25 million.
Over the past three years, 135 Hong Kong people had been arrested for drug-related offences in Guangdong, of which 14 were younger than 21, Secretary for Security Ambrose Lee Siu-kwong told legislators on Thursday.
China Molybdenum Co (CMOC) leapt on its Thursday debut on the Hong Kong Stock Exchange, closing the day at HK$10.82 - a rise of 59.1 per cent from its initial public offering price of HK$6.80.
Assets under management for the mainland's retail fund industry surpassed one trillion yuan for the first time in the first quarter, thanks to eager domestic investors moving their cash savings into equity investments.

China: Ethiopian troops are searching for seven Chinese workers kidnapped in a rebel attack on an oilfield that killed 74 people in the southeast of the country.
China will continue to ban land expropriation for the purpose of building villas, golf courses and training centers for government departments and institutions, sources with the Ministry of Land and Resources said on Wednesday.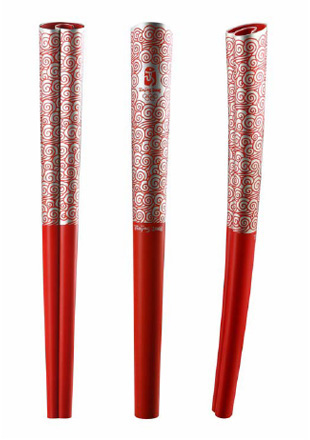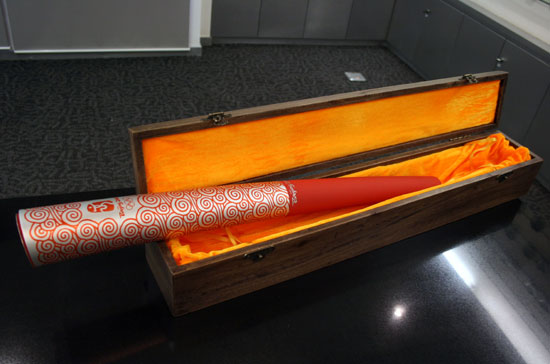 Beijing 2008 Olympic Torch Relay Plan and Torch Design are unveiled on April 26, 2007 in Beijing. The Games of the XXIX Olympiad -- Beijing 2008 will take place from 8 to 24 August 2008. The Beijing 2008 Olympic Torch Relay will traverse the longest distance, cover the greatest area and include the largest number of people, according to plans released tonight during a grand ceremony held in the China Millennium Monument in Beijing by BOCOG, the Beijing Organizing Committee for the Games of XXIX Olympiad. The planned route, revealed by Luo Gan, member of the standing committee of the Political Bureau of CPC Central Committee, and who was joined by International Olympic Committee President Jacques Rogge, would last 130 days and travel 137,000 kilometers. And the Beijing 2008 Olympic torch design was unveiled by State Councilor and BOCOG first vice-president Chen Zhili, with IOC Coordination Commission Chairman Hein Verbruggen alongside. "As the prelude to the Beijing Olympic Games, the Beijing 2008 Olympic Torch Relay is one of the most important ceremonies and a major means to spread and promote the Olympic spirit," said BOCOG President Liu Qi. "As one of the grand ceremonies for the Beijing Olympic Games, the Torch Relay of the Beijing 2008 Olympic Games has set its theme as the 'Journey of Harmony' and the slogan 'Light the Passion, Share the Dream'." Liu said,the torch will be passed in all the five continents around the world and throughout China. It is our hope that the Beijing Olympic Torch Relay will once again spread the Olympic spirit all over the world and demonstrate Chinese people's passion for the Olympic Movement. The relay will showcase the people, beautiful sceneries, cultural heritage in countries, regions and cities along the relay route. It will enhance mutual understanding and friendship among people of different countries. Moreover, it will further expound the rich implication of our theme slogan "One World One Dream". We are sending invitations to people all over the world to share the joy and glory brought by the Beijing Olympic Games, Liu added. "By traveling along the historic 'Silk Road', a symbol of ancient trade links between China and the rest of the world, crossing the five continents and going to new places, the Beijing 2008 Torch Relay will, as its theme says, be a 'Journey of Harmony', bringing friendship and respect to people of different nationalities, races and creeds," commented IOC President Rogge. "I have no doubt the Beijing 2008 Olympic Torch Relay will leave many extraordinary memories and create new dreams for people around the world." Liu Peng, minister of the State General Administration of Sport and executive president of BOCOG also attended the ceremony. And the ceremony was presided over by Wang Qishan, mayor of Beijing and executive president of BOCOG.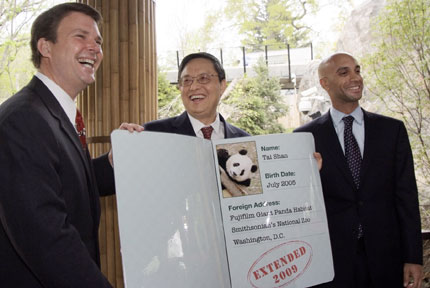 (L-R) National Zoo Director John Berry, Zhou Wenzhong, the Chinese ambassador to the United States, and D.C. Mayor Adrian Fenty present giant panda Tai Shan with an extended passport during a news conference at the Smithsonian National Zoo in Washington April 24, 2007. Sometimes strained ties between China and the United States gave way Tuesday to a new detente: Tai Shan, playful giant panda cub born at the National Zoo, will be allowed to stay in the U.S. capital two more years.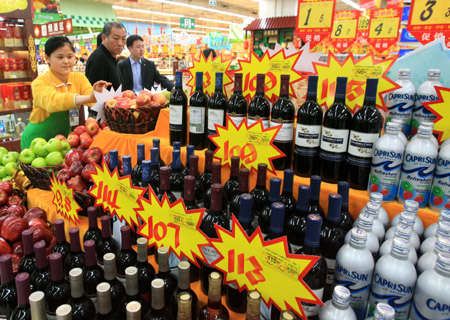 Shoppers look at American food and wine at a supermarket in Jinan, capital of East China's Shandong Province. The city held its first American Food Festival on April 25, 2007.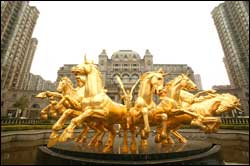 Home sales in Beijing nosedived in the first three months as hundreds of thousands of investors shifted from bricks and mortar to chase quick gains in the mainland share market where valuations are stretched and trading volumes have been ballooning to record highs. National Bureau of Statistics figures show that sales of completed residential properties in the capital tumbled almost 60 percent year on year to 615,000 square meters during the first quarter. Presales of uncompleted flats also slumped more than 40 percent to nearly 1.8 million sqm in the same period. Market watchers attribute the sharp fall to steep price increases as well as real estate speculators switching to the stock market. People from all backgrounds - from housewives and cooks to pensioners and professionals - are getting in on the act to "stir fry" shares, buying even small-caps. Mainland investors opened 4.7 million new stock trading accounts in the first two months of the year, data from the China Securities Regulatory Commission show. While transactions fell, home prices continued to climb. According to the National Development and Reform Commission, home prices in Beijing increased 9.9 percent in the first quarter.
Singapore had proposed jointly developing with Beijing an "eco city" in China to show how rapid growth can be balanced with environmental protection, a report said on Thursday.
April 27, 2007

Hong Kong: CLP Holdings (0002), Hong Kong's largest power company, is urging the government to speed up the approval process for its proposed HK$8 billion liquefied natural gas terminal on Soko Island. The company says the facility - which will have an annual capacity of 2.6 million tonnes - is needed to ensure gas supply for its gas-fired Black Point Power Station in the New Territories beyond 2010. "Our LNG project is not only necessary, it is increasingly urgent," CLP chairman Michael Kadoorie said Tuesday after the company's annual general meeting. "We first approached the government in 2003 to ask for in-principle policy support. However, we have not yet seen meaningful evidence that the government recognizes the importance of taking the necessary steps now to ensure that a replacement gas supply is available early next decade." CLP's electricity business is regulated by the Scheme of Control Agreement with the SAR government. The current agreement, signed in 1993, runs through 2008. It stipulates the company must provide an adequate, reliable electricity supply and allow the government to monitor its local activities. In return, CLP can charge tariffs designed to recover its costs, including taxation, and a net return on investment. Credit Suisse analyst Angelo Chan said he expects the approval of the LNG terminal will be tied to the post-2008 Scheme of Control negotiations that will conclude within this year. The terminal will allow CLP to add HK$8 billion to its capital expenditure program starting in 2008, Chan said. Kadoorie said: "Some projects will not impact all people in Hong Kong, like the Kai Tak airport redevelopment and West Kowloon development, but the LNG terminal project will. "The benefits to Hong Kong of securing long-term natural gas supplies are clear and overwhelming. It will further improve CLP's emissions performance and will enhance reliability and security of supply." Earlier this month, the government's environmental protection department granted CLP an environment permit, meaning only that the project was acceptable. However, before project financing and construction can proceed, the company requires legislative and regulatory approval.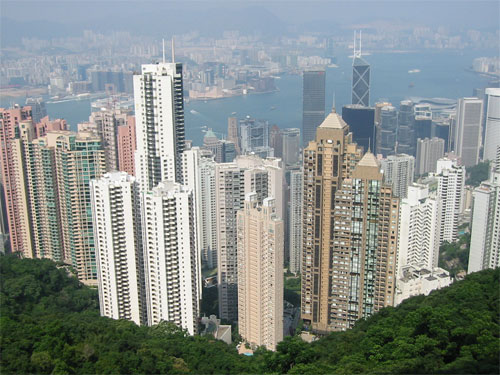 Shanghai, or Hongkong which one would be the financial center of China? Shanghai used to be the economic core of China even within the scope of the Far East areas back in 1940s. At that time Hongkong was just a small coastal village. However Hongkong made it a metroplis and a financial, cargo center among the East Asia while Shanghai lost it connection with the outside world and fell far behind. In 1980s , Shanghai has seen the fast catch with the support of central Chinese authorities. One slogan shows the Shanghai's orientation saying that Shanghai would be another New York of China and it will stands for China and East Asia as an international financial center. Here the question comes out since Hongkong wants to keep its role as the symbol and get better of any challenger. This issue has got more attention after Shanghai's political shift happened these days. It's said that Shanghai might lose its fast growth momentum without favorable policies from Central government which means the former goal would not come true and Hongkong still take the lead in this race. I guess it all depends on whether or not the mainland manages a soft landing or not. There are too many variables, including energy prices, whether or not the CCP can get to grips with inflation, possible future political unrest on the mainland and in HK etc. that will affect the future of both cities for us to be certain which will be on top in a few decades. At the moment, Hong Kong remains more than twice as wealthy as Shanghai on a per capita basis, although it is undeniable that Shanghai has succeeded in recapturing much of her former glory. Who really can tell?
Bank of Communications (3328), which plans to list on the Shanghai Stock Exchange May 14, said Tuesday it is negotiating with Chinese regulators to allow HSBC Holdings (0005) to increase its stake in the mainland's fifth- largest lender.
The China stock market may be forming a bubble as turnover ballooned to more than 300 billion yuan (HK$303.5 billion) for the first time Tuesday with the indexes setting new highs in a third straight day of trading rises.
Shares of Ming Pao Enterprises Corp (0685) jumped as much as 10.2 percent Tuesday, the day after the Hong Kong company announced plans to merge with two Malaysia-based publishing firms.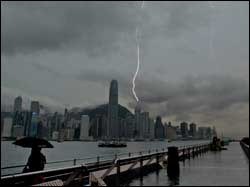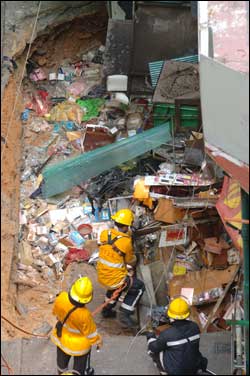 Four people were injured Tuesday when a section of the popular Li Yuen East Street in the heart of Central caved in during the lunch-hour rush. Three of the four are reported to be in a stable condition at Queen Mary Hospital, while the fourth was treated and discharged. Those still being treated are a 66-year-old vendor surnamed Chan, a man aged 56, and a woman aged 50. The cave-in occurred shortly after a thunderstorm Tuesday dumped 50 millimeters of rain around the SAR. The Hong Kong Observatory had earlier raised the yellow rainstorm warning, followed 30 minutes later by the red warning. Schools were closed and children sent home. The observatory said there were more than 1,200 flashes of lightning during the thunderstorm, which also affected air traffic with several flights to and from the territory delayed by as much as an hour. The cave-in left an eight-by-four- meter hole in the road, sucking in several stalls by the roadside. At least four people fell into the four- meter deep hole but they were quickly pulled out by passers-by. Among those hurt were roadside vendors selling towels, watches and stockings. About 30 firemen were deployed to the scene to pump water and sewage from the hole. Station Commander Pang Yat- kwong of the Central Fire Station said clearing the mess was difficult because Li Yuen East Street is narrow. "Water and sewage is still pouring into the hole and there is a lot of debris scattered around. To make sure no one is trapped, we have to remove everything manually." Pang said he would not speculate on what caused the cave-in. Hong Kong Institute of Engineers president Greg Wong Chak-yan said the incident may be related to the nearby construction work but said it would be unwise to point fingers without a full investigation. Construction work on the former Dragon Seed Building began last December.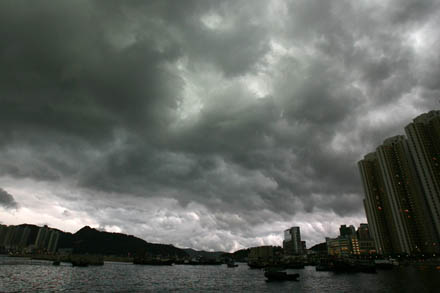 Darkness came early to Sai Wan Ho yesterday when up to 70mm of rain fell on the city in one hour. For the first time this year the Observatory issued its red rainstorm warning, at about 10.40am, the same time this picture was taken. Usually storms bring only 30 to 50mm of rain at a time, said Observatory scientific officer Yeung Kwok-chung. A trough of low pressure over southern China's coastal areas is expected to bring more cloudy weather and thunderstorms until the weekend.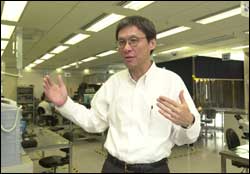 The chief executive of the government- funded Applied Science and Technology Research Institute, rapped by the government's Audit Commission for spending public money on fung shui consultation, resigned from his post Tuesday. Robert Yang Jih-chang, who took up the post in 2004, said he was prepared to accept responsibility for the damage caused to the institute by the commission's observations and the subsequent media reports. "By resigning, I also hope people can now start to move their attention toward the many outstanding achievements ASTRI has already attained as a young research and development institution," Yang said in a statement. Yang was at the center of media criticism after the commission said in its value-for-money audit report last week he had endorsed a total spending of HK$181,000 on three fung shui consultations between 2002-06, hiring staff without following formal public recruitment procedures, and allocating HK$10 million from the HK$13 million received after selling a photonic packaging project in 2004, to 23 staff members as incentive payments.
Rita Fan Hsu Lai-tai has pledged to step down from her post as Legislative Council president if she is appointed to the National People's Congress Standing Committee next year.
There were more than 3,000 children coming to Hong Kong from Shenzhen each day to attend school, Secretary for Home Affairs Patrick Ho Chi-ping revealed on Wednesday. Replying on behalf of the Secretary for Education and Manpower Arthur Li Kwok-cheung to a question from unionist legislator Wong Kwok-hing in the Legislative Council on Wednesday, Mr Ho said: ''Students who cross the boundary every day from the mainland to attend schools in Hong Kong concentrate in the North District and Yuen Long District.'' Dr Ho said information from schools indicated that in the 2006-07 school year there were 750 secondary and 2,750 primary cross-boundary students in these two districts. Dr Ho said he did not have statistics showing how many Hong Kong students went to the mainland to attend school each day. He said some mainland children attended rural schools in the New Territories. ''At present, there is no strict definition for rural schools, nor are there any schools specifically registered as rural schools. Rural schools generally refer to schools situated in remote rural areas of the New Territories, which were established by the local villagers to provide education for their children,'' Dr Ho added.

Two Japanese lawyers and an academic fighting for compensation for Chinese slave labourers during World War II were in Hong Kong on Wednesday giving their support to the local legislature's motion advocating the rights of Chinese victims.

Jiefang Daily Group, a Shanghai Communist Party publishing unit, will become the first listed newspaper stock in the mainland after the company proposed selling advertising and distribution businesses to Xinhua Media in a two billion yuan back-door listing.

China: Chinese mainland banks will become global challengers, according to an annual report on banking issued by the Boston Consulting Group (BCG) on Tuesday.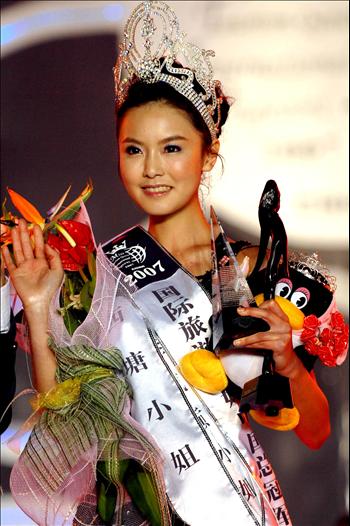 Ma Wei, from Xinjiang Uygur Autonomous Region, wins the title of Miss Tourism International 2007 for the China region. The finals of Miss Tourism International for China in 2007 were held in the ancient town of Xitang, east China's Zhejiang province on Tuesday.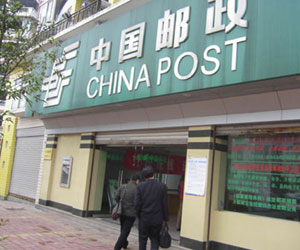 China Postal Group (CPG) plans to set up an insurance company which will be the country's first insurer with sole investment from the postal sector, Wu Dingfu, chairman of China Insurance Regulatory Commission (CIRC), said Tuesday.
In an effort to curb software piracy, the Chinese government will require all large State-owned enterprises to begin using genuine software this year, Vice-Premier Wu Yi said yesterday.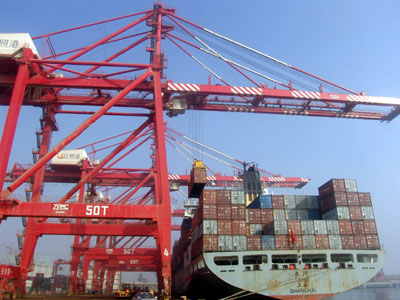 The Chinese mainland has surpassed the United States as Japan's top trading partner despite strained ties between the Asian giants. Japan's total trade with the Chinese mainland came to 25.43 trillion yen (US$214.8 billion) in the year ended March, against 25.16 trillion yen with the United States, the Japanese finance ministry said in a statement. "This reflects the gradual shift of production by Japanese firms to China. I think the trend of growing trade with China will continue," said finance ministry official Koichi Nose. The United States is still Japan's largest export destination but Japanese exports to the Chinese mainland have been growing in recent years, while imports are strong. Japanese manufacturers have been shifting more of their production operations to the Chinese mainland, seeking cheap labour costs and a foothold in the fast-growing economy. "For Japan, a very large market has emerged next door," said Senshu University economics professor Hideo Ohashi. The two economies have strong links through direct investment while the flow of goods has increased sharply, ensuring that trade relations between the two Asian giants are likely to remain strong, he added. Japan was also Chinese mainland's largest trading partner for 11 consecutive years until 2003 but was then overtaken by the United States and European Union. Diplomatic relations between the two Asian giants became severely strained in recent years over war-time memories and territorial spats.
Ten major Chinese television makers have founded a new company to develop cutting-edge technology and improve the bottom line by negotiating reductions in patent fees with foreign rivals.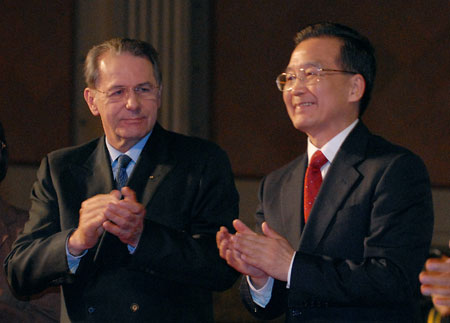 International Olympic Committee President Jacques Rogge (L) and China's Premier Wen Jiabao (R) attend the opening ceremony of SportAccord, an annual convention hosted by the General Association of International Sports Federations, in Beijing April 24, 2007.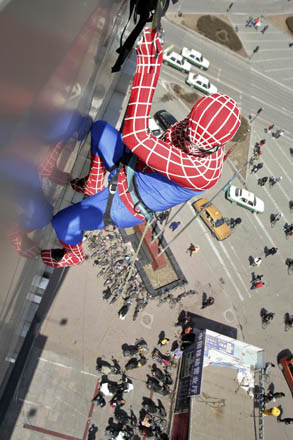 A man in a Spider-Man costume abseils outside a Jilin cinema. Mainland movie pirates are already selling copies of Spider-Man 3 - well ahead of its May 4 US premiere. China is angered by United States complaints to the World Trade Organisation that it is not doing enough to tackle piracy. It says it takes the problem seriously, but faces problems such as convincing people not to buy fakes. "It's too expensive to go to the cinema," said Beijing resident Duan Nana.
Bank of East Asia, the third-largest publicly traded lender in Hong Kong, had raised HK$5.1 billion from a bond sale, marking the largest investment grade corporate bond sale denominated in Hong Kong dollars, market sources said on Wednesday.
Top search engine Google on Wednesday said it would offer online advertisement service for more than 400 websites under China's largest internet service provider China Telecom.
April 26, 2007

Hong Kong: Saudi billionaire Maan al-Sanea, the second-largest shareholder of HSBC Holdings (0005), has recruited a prominent British banker to join the board of his investment vehicle, a move that market observers say demonstrates his unabated appetite for more shares in the London-based banking group.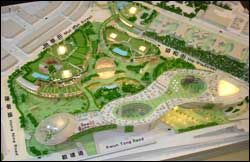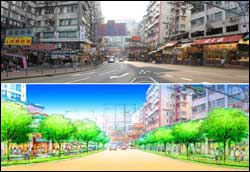 The Urban Renewal Authority is forging ahead with plans to lower the plot ratio for the HK$30 billion project to revive Kwun Tong town center, to the maximum level of market risk the authority can take. The plot ratio, which will determine the number of flats to be built, will be reduced by 6 percent to 7.5 including all community facilities, from the originally-planned ratio of 7.98. In the wake of the reduced ratio, the internal rate of return for the mega project is expected to fall to 5-6 percent from 6-7 percent. A 10 percent downward shift in the property market could mean a HK$3 billion loss for the URA. "We hope the real estate market will remain stable despite the ups and downs," said URA managing director Billy Lam Chung-lun. "After considering carefully all views expressed by various quarters of the community and a cautious assessment of the financial risks which we can cope with, we have decided to lower the plot ratio to the maximum level of market risk that we can take," he said. "We should balance factors of social mission and financial risk. We take comfort in the fact that the project will not only bring about sustainable improvement in Kwun Tong's social fabric but, more importantly, substantial long-term benefits to Hong Kong's economy." Plans for a 400,000-square-meter residential-office-retail complex to be built on the 5.3-hectare site have been submitted to the Town Planning Board. Excluding community facilities, the revised plot ratio is about 6.9, mainly due to a lower development density for flats proposed by the URA. The authority has suggested lowering the height of the five residential blocks to between 140 and 170 meters, from the originally planned 190m. The 30- to 50-story apartment blocks will provide 2,100 flats with a gross floor area of 160,000 sqm. The project will also feature a 280m office tower and a 111,000 sqm shopping mall, as well as retail properties. Destined to be Kwun Tong's tallest skyscraper, the office tower will be 82m higher than the 198m APM, in the same district, developed by Sun Hung Kai Properties (0016). URA will begin property acquisitions and rehousing of tenants after the Town Planning Board and the Chief Executive in Council approve plans. Compensating owners and rehousing affected residents could cost the URA at least HK$13 billion, representing nearly 44 percent of the total redevelopment cost. The regeneration of Kwun Tong town center on the site bounded by Hong Ning Road, Mut Wah Street, Hip Wo Street and Yue Man Square may take 12 years to complete in phases, in partnership with private developers.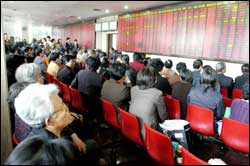 Chinese stocks - shrugging off concerns of further economic tightening measures by the central government - surged Monday, again sending indices to records as mainland retail investors flocked into the market in the hope of snapping up shares as quickly as possible before their prices climb higher. One analyst said investors are being blinded by greed and are oblivious to the consequences. "The China market rose sharply because the local people do not understand the risk they are facing in chasing after shares," said Alex Tang Yee-yuk, research director at Core Pacific-Yamaichi International. "They only focus on getting into the market as soon as possible for fear of missing the rally. Their passion for shares creates a very vulnerable situation." If bad news emerges, it may trigger unloading of shares initially among a small group of investors, which, if it snowballs into a large-scale exodus, would lead to a collapse in the equity market, Tang said. Hong Kong stocks did not join Monday's party in the mainland market, with the Hang Seng Index down 10 points at the close of trading. Unlike the mainland, Tang said Hong Kong market players include many foreign investors who are more sensible and base their investment decisions on the calculation of corporate profits. In the mainland, the CSI 300 Index - which tracks the 300 most representative A shares in the Shanghai and Shenzhen stock markets - jumped 142.04 points, or 4.3 percent, Monday to close at 3,431.32, near the intraday high of 3,433.52. In the last two trading days, the index soared 281.02 points, or 8.9 percent, after it lost 154.2 points, or 4.6 percent, to end at 3,150.3 last Thursday. Meanwhile, the Shanghai Composite Index rose 126.68 points, or 3.5 percent, to close Monday at 3,710.89, while the Shenzhen Composite Index gained 38.95 points, or 3.9 percent, to 1,042.82. Monday's turnover in the mainland bourses totaled 286 billion yuan (HK$289.6 billion), compared with Friday's 241 billion yuan. Tang said while Beijing does not plan to impose any direct measures to curb the bull run of the stock market, further austerity measures aimed at cooling the economy generally may spill over, triggering a China market sell-off. "They only hope that as more stocks list A shares in Shanghai and Shenzhen, liquidity in the market can be absorbed, balancing demand and supply," he said. HSBC China economist Qu Hongbin predicts that another 27-basis-point rise in interest rates and more hikes on banks' reserve requirement ratio are in the pipeline after strong economic data was released last week. The HSI closed at 20,556.57 Monday with turnover of HK$50.55 billion. The Hang Seng China Enterprises Index ended at 10,234, gaining 54.13 points, or 0.5 percent.
Belle International Holdings, the mainland's largest women's footwear chain that aims to raise US$1 billion (HK$7.8 billion) in an initial public offering, is expected to record net profit of about 1.5 billion yuan (HK$1.52 billion) this year, up 53 percent from a year earlier, market sources said.
Shareholders of Richard Li Tzar-kai's Singapore-listed holding company, Pacific Century Regional Developments, have voted in favor of a proposal to sell 47.1 percent of Pacific Century Insurance (0065) to Belgian-Dutch bank Fortis.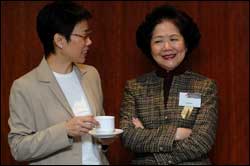 Hong Kong's march toward full democracy will come to a halt if no specific changes concerning universal suffrage are introduced for next year's Legislative Council elections, former Chief Secretary Anson Chan Fang On-sang has warned. She said the SAR cannot afford to see a stalemate in the 2008 elections, saying "there is a lack of political will standing in the way despite the fact that Hong Kong people are ready for universal suffrage." Chan made the remarks at a ceremony in Vancouver last week during which she was presented with the T Patrick Boyle Founder's Award by the Canada-based Fraser Institute in recognition of her contributions to the SAR's political and economic freedoms. She took the opportunity to espouse the universal suffrage proposal raised by herself and her core group, which includes a timetable and roadmap for moving Hong Kong to full democracy by 2012 or 2016. Having reiterated her hopes that her proposal would be seriously considered by Chief Executive Donald Tsang Yam-kuen and his government, Chan is optimistic the SAR will attain universal suffrage one day. "That is why I have got involved again. I believe it is achievable," she said. "Opinion surveys have shown a clear desire by Hong Kong people for greater democracy. The question is how do we move from where we now stand to achieve our goal." A Constitutional Affairs Bureau spokeswoman said what Chan proposed is not viable. "The immediate priority of the community should be to focus on the models for implementing universal suffrage and to seek a community-wide consensus on the roadmap, rather than to seek a fundamental reorganization of functional constituencies prior to the 2008 Legislative Council election," the spokeswoman said. "It will be extremely difficult to secure consensus to combine functional constituencies of different backgrounds at this point in time." Meanwhile, Jasper Tsang Yok- shing, former chairman of the pro- Beijing Democratic Alliance for the Betterment and Progress of Hong Kong, said in an interview with Sing Tao Daily, sister publication of The Standard, it would not take too long before the central government works out a timetable granting universal suffrage to the SAR. Beijing has remained tight-lipped on the issue so far despite repeated demands from the pan-democrat camp. Any model of universal suffrage that disregards the central government's power of appointment would risk a ''serious confrontation'' between the Hong Kong electorate and Beijing, an Executive Councillor warned on Tuesday.
The battle for the estimated HK$32- billion empire of late Chinachem boss Nina Wang Kung Yu-sum has moved into high gear, with fung shui master Tony Chan Chun-chuen - already declared the sole beneficiary of Wang's assets - filing the legal papers staking his claim to the fortune.

The yuan was becoming increasingly important for people doing business in Asia, Secretary for Financial Services and the Treasury Frederick Ma Si-hang said early on Tuesday (HK time).

China: China's Action Plan on IPR Protection 2007 - To give a comprehensive, systematic and substantive outline of China's measures for IPR protection in 2007, to effectively dictate nationwide IPR protection efforts and to follow guidelines of the National Working Group for IPR Protection, member agencies of the Working Group Office are pleased to present this Action Plan on IPR Protection for 2007, which details 276 measures in 10 areas. In line with the 2007 Action Plan, relevant authorities will draft, formulate and revise 14 laws, regulations, rules and administrative measures on trademark, copyright, patent and customs protection as well as 7 judicial interpretations and guidelines. On the enforcement side, 14 dedicated campaigns including Fight Piracy Every Day, crackdown on pirated textbooks and teaching supplements and Operation Blue-sky, coupled with 11 standing enforcement programs will be carried out. With regard to trails, 8 measures will be in place to keep self-innovation and IPR inventiveness alive. With regard to institutional building, 8 areas of efforts involving 46 measures will follow to establish a highly potent enforcement coordination mechanism and to improve and standardize the functions of the IPR Service Centers. 74 publicity measures in 8 forms such as large promotion events, media programming and press conferences will continue. 36 training measures in the forms of reading materials, training courses and workshops will target party and government leaderships, grass-rote enforcement agents, corporate and non-corporate organizations, lawmakers as well as university, middle and primary school students. In international exchange and partnership programs, 26 measures such as dialogues, study visits, exchanges and training cooperation will be implemented to further engage China in international activities of trademark, copyright and patent protection. To advance IPR protection at the business level, 9 measures such as building a business priority watch-directory in the public security system and formulating Opinions on Strengthening IPR Protection in Large State-owned Enterprises will be introduced. In addition, 8 measures will be at the service of right-holders, including a regular meeting mechanism to consult and coordinate with foreign-invested enterprises, and a hotline and online platform for overseas IPR disputes. Last but certainly not the least, 23 thematic studies on IPR protection will be organized.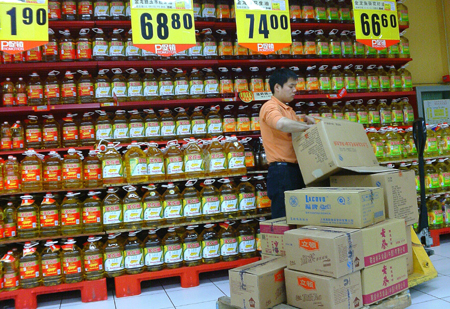 China's retail and consumer sector will see growing merger and acquisition activity in the years ahead, according to a report released on April 23, 2007 by PricewaterhouseCoopers (PwC), a worldwide accounting and consulting firm.
The State Council, China's cabinet, on Tuesday issued what some commentators are calling a milestone regulation to boost official transparency by ordering government departments to be more open in reporting information. The decree, signed by Premier Wen Jiabao, is likely to become the country's most specific and progressive set of rules encouraging the release of government information, when it takes effect on May 1, 2008. Governments at various levels are required to release information which "affects the immediate interests of individuals and groups" or which "should be known by the masses", within 20 working days, the regulation says. Listed as priorities by the State Council are details of how government departments plan to deal with emergencies, government spending, specific fees for public services and results of investigations into environmental protection, public health and food and drugs safety. Local governments are required to publicize data on land acquisitions, residence relocations and related compensation. Village authorities will have to publicize information on land use, financial accounting, the operation of rural collective enterprises and the family situations of village residents in order to ensure the fair enforcement of the family planning policy. But the regulation also contains a clause saying official information released "should not cause social instability and threaten the safety of the state, the public and the economy". Commentators say it is remarkable progress for China, a country where announcing the death toll of natural calamities was considered taboo for decades. The official death toll of the Tangshan earthquake on July 28, 1976, in north China's Hebei Province was not released for three years. More than 240,000 people were killed in that disaster. It was not until the outbreak of Severe Acute Respiratory Syndrome (SARS) in 2003, did the authority realize the importance of the timely release of official information. The new regulation, is seen by the government as a move to improve efficiency and prevent abuses of power. "It will also safeguard the public's right to know, the right to participate and the right to supervise," said Zhang Qiong, deputy director of the Legislative Office of the State Council. "The regulation will help curb corruption at its source, largely reducing its occurrence," Zhang said at a press conference on Tuesday. Governments at all levels will be required to compile information directories, that will include the name, address, telephone and fax numbers, and e-mail addresses of departments and people who are responsible for releasing official information. Government departments will be checked regularly to see whether they are withholding information and the public is encouraged to report information blackouts, the decree says. "In case the government fails to carry out its obligations defined by this decree, officials responsible should be punished if the violations are serious," it says. It did not stipulate specific penalties but noted that serious offenders could be prosecuted. The rules also give the citizens the right to seek information that has been not included in official announcements through a written inquiry. Upon receiving the inquiry, the administrative staff should respond immediately or within 30 days at the latest. The regulation also reminds governments to steer clear of releasing "state secrets, confidential commercial information and infringing on an individual's privacy". When in doubt, officials should consult the country's laws to determine whether or not it is inappropriate to make certain information public, the regulation says. If they cannot decide, they should first report to higher authorities," it says. Confidential business information and private information of individuals contained in government databases should not be released without the consent of the person. Administrative staff can only make public confidential information when they believe not releasing it would seriously harm the public interest. Zhang Qiong said information regarding major economic crimes, business fraud and sex offences are examples of cases where the public interest out weights the protection of individual privacy. Individuals who believe their interests have been harmed by the release of confidential information can sue for compensation, the rules say. Government transparency must strike a balance between keeping state secrets, making government affairs public and safeguarding the public's right to know, said Qin Hai, head of the task force charged with promoting government transparency. Wang Yukai, a professor with China National School of Administration, says the regulation will ensure both the public and the government share the same information and effectively prevent under table operations of government affairs."
The total national auto merchandise export was valued at US$28.144bn at the end of 2006, an increase of 42.76% over the same period of the previous year.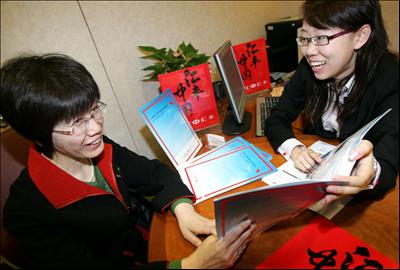 Chinese woman (L) consults an employee for RMB services at a branch of British-based HSBC in Beijing, April 23, 2007. Four foreign-funded banks --- HSBC, Citibank, Standard Chartered Bank and Bank of East Asia --- officially launched RMB retail banking business for ordinary Chinese citizens in China on Monday.
BMW AG says it is talking with the Chinese government about hydrogen-powered vehicles, trying to win Chinese support to promote hydrogen as a mainstream new energy solution.
While Shanghai witnessed gains in almost all real estate sectors as seen by higher rents in the first quarter, Beijing and Guangzhou, the country's two other first-tier cities, saw comparatively mixed performances in leasing and sales activities, according to a CB Richard Ellis report. Offices In Beijing, the average rental rate for prime office space edged up 0.7 percent to 175.2 yuan (US$22.70) per square meter per month from a quarter earlier. The average vacancy rate rose 0.7 percentage points to 12.6 percent in the same period as a result of new supply. Two office buildings were completed in the first quarter - China Central Place (Tower I & II) and Financial City B. The two centrally located projects have provided a combined space of 150,000 square meters for lease. Asking rentals of prime office space rose 1.5 percent and 3.5 percent to reach 201.2 yuan and 192.6 yuan per square meter per month respectively in the central business district and Financial Street areas. Rents for the same level of properties in the Zhongguancun area dropped 2.2 percent to 142.8 yuan per square meter per month from a quarter earlier. However, with an additional 150,000 square meters of prime office space expected to come on stream in Beijing in the second quarter, downwards pressure is also anticipated in some properties. Meanwhile, in Guangzhou, prime office rents witnessed a drop of 0.8 percent to 90.9 yuan per square meter per month from a quarter earlier since total new supply in the quarter exceeded 330,000 square meters. Unable to absorb such space within a short time, prime office vacancy rates rose 2.6 percentage points to 17.9 percent in the period. It is expected the average office vacancy levels in Guangzhou will continue to rise this year since a total of more than one million square meters of office will be completed within the year.within a short time, prime office vacancy rate rose 2.6 percentage points to 17.9 percent in the period. Four prime retail properties opened in Beijing in the first quarter - Gate City Mall, Landao Jinyu Department Store, Ginza Mall and The Place - bringing total prime property area to 3.45 million square meters as of March 31. The average rent for ground floor space in shopping malls increased one percent to 29.7 yuan per square meter per day and the average retail vacancy rate also rose 0.1 percentage point to 6.4 percent from a quarter earlier due to adequate new supply. Meanwhile, world class retailing brands - including Louis Vuitton, Gucci, Hugo Boss, Prada, Chanel, Zegna, Cartier and Giorgio Armani - have already shown great interest in new shopping centers, which are scheduled to open later this year. And at the same time, Tesco, the United Kingdom's No. 1 retailer, also opened its first store. In Guangzhou, rents for ground-floor and first-floor shops edged up 2.4 percent and 0.9 percent respectively to 18.8 yuan and 11.8 yuan per square meter per day in the first quarter. Residential Demand for luxury units softened slightly in Beijing in the first quarter. The average rental of luxury apartments dropped three percent to 101.7 yuan per square meter per month and that of luxury villas fell 0.7 percent to 138.1 yuan per square meter per month. In the serviced apartment sector, the average rental dropped 1.3 percent from a quarter earlier to 208.1 per square meter per month. However, despite a newly introduced government policy to curb foreign investment in luxury residential properties, the average sales price for luxury apartments and villas rose 2.1 percent and 4.9 percent to 22,623 yuan and 21,636 yuan per square meter respectively in the first three months, mainly because of the launch of a number of high quality properties during the period. In Guangzhou, rents for luxury apartments and serviced apartments rose 1.2 percent and 1.1 percent to 61.1 yuan and 177.7 yuan per square meter per month respectively. The rise was driven by buoyant demand for high-quality downtown residential accommodation, Rents for villas dropped 1.7 percent to 144.4 yuan per square meter per month from a quarter earlier.
Shanghai Jin Jiang International Hotel (2006), China's largest hotel operator, plans to acquire one-star and two-star hotels in south and north China because of an oversupply of hotels in Shanghai. The company, which floated shares on the Hong Kong stock exchange in December, announced that net profit for the year ended December 31 increased by 7.1 percent to 335 million yuan (HK$339.2 million). The result is in line with its own prelisting net profit forecast of at least 331 million yuan. Earnings per share were 0.99 yuan, compared with 0.95 yuan a year ago. Revenue rose 7.9 percent to 3 billion yuan from 2.8 billion yuan in 2005. A final dividend of 0.26 yuan per share was declared. "We are aiming to acquire one to two hotels in southern areas like Guangzhou and Shenzhen, and in northwest areas like Xian, where we do not already have flagship hotels," said managing director Chen Hao in Hong Kong Monday. Chen said the company is considering expanding overseas but did not give details. The company is facing fierce competition in Shanghai after the number of hotels increased by 44 percent over the past three years. "Because the supply of hotels grew rapidly in the past year - aiming to capture the strong demand from the 2008 Beijing Olympic Games and the 2010 Shanghai World Expo - we are facing a big challenge," chairman Yang Weimin said. Jin Jiang operates 78 budget hotels with 11,043 rooms and six landmark hotels, and also owns interests in, or manages, 44 luxury hotels in China and 23 two-star to three-star commercial hotels. It plans to increase the number of rated hotels in which it holds an interest to more than 130 by 2010 from 92 hotels in 2006.
China produced 46 million tonnes of crude oil in the first quarter, up 1.5 per cent from a year earlier, while coal output rose 14.8 per cent to 494.9 million tonnes, the National Bureau of Statistics said.
A court ruled against Yahoo's China arm in a lawsuit by recording companies over music piracy, Xinhua News Agency reported on Tuesday, amid United States pressure on Beijing to crack down on widespread copying of music, movies and other goods.
April 25, 2007

Hong Kong: Hong Kong companies operating in the mainland should keep an eye on aspects of China's unified corporate tax law, the Hong Kong-China treaty on avoidance of double taxation, which will allow them to avoid additional tax burdens or in some cases benefit, tax experts said.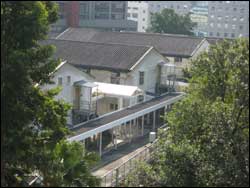 A group of Sham Shui Po politicians is up in arms against a Correctional Services Department plan to redevelop a Victorian-style heritage building into staff quarters. At a meeting with members of the Legislative Council's home affairs panel, district councillor David Tam Kwok-hung argued that preserving the 80-year-old former Lai Chi Kok Hospital, which has been left vacant for two years, could create more economic benefits for the district if used in other ways. The politicians accused the government of continuing to ignore the public's desire for the territory's graded heritage structures to be maintained. They said the sagas involving the Star Ferry pier, Queen's Pier and Central Police Station are stark reminders that Hong Kong lacks a comprehensive approach to the preservation of heritage buildings. According to information obtained from the Antiquities and Monuments Office, the Lai Chi Kok building on Castle Peak Road was erected as a prison in the 1920s before being converted into a hospital in 1930. Within the government's three- grade system of heritage assessment, in which Grade One is the most valuable, the hospital is rated as a Grade Three building. It stands among two-story Victorian-style buildings and red-brick bungalows scattered across the hill behind the Lai Chi Kok Reception Centre maximum security prison. "This is a rare survival of heritage buildings which have lived through World War II, with a hospital used for treating lepers being tu
rned into a psychiatric hospital later," Tam said.
Hong Kong's secondary school students are increasingly acknowledging themselves as Chinese, but say local- born Chinese still see themselves as being generally superior to their mainland counterparts, a survey shows.
Legislators did better than government officials in cutting electricity consumption last year, achieving a remarkable 20 per cent reduction compared with a 14 per cent reduction by the latter, according to a green group.
The city's most eagerly awaited 10th anniversary handover gift from Beijing - two panda cubs - will not be unwrapped for the public until July 1, even though they will arrive on Thursday. In a handover ceremony for the cubs, their names, chosen in a public competition, will be announced by senior officials from both sides. But because of the nature of their transport containers and strict medical procedures, the public will not get a glimpse of them for two months. There had been suggestions that a webcam could be set up to chart the progress of the cubs during their adaptation period, "but after discussions with the relevant specialists ... at this moment we do not feel it is appropriate to broadcast any images", said Timothy Ng Sau-kin, Ocean Park's assistant director of zoological operations and education division. Currently known as 610 and 606, the pandas will begin their long journey from Wolong Nature Reserve in Sichuan province at 7.30am on Thursday with a rocky, four-hour drive to Chengdu airport. Mr Ng said that health problems could often surface after a tiring journey, although preliminary tests had shown the animals were healthy and well equipped to handle the journey. The cubs will travel in separate 1.4 square metre boxes, large enough for them to turn around in and containing food and water. Although firmly sealed, the boxes will be well ventilated, and the chartered aeroplane and the vans would be air-conditioned, Mr Ng said. The flight will take off at noon and arrive at 4pm. The cubs will immediately undergo medical checks. They are expected to arrive at Ocean Park by 5pm and will be quarantined for a month. Another 30 days of intense monitoring by Ocean Park staff will follow. The transport containers were sent to Sichuan 2-1/2 weeks ago so the pandas could get used to them. Zhao Xuemin , State Forestry Administration chief, is expected to preside over the handover ceremony with Secretary for Home Affairs Patrick Ho Chi-ping, although the official guest list has yet to be confirmed.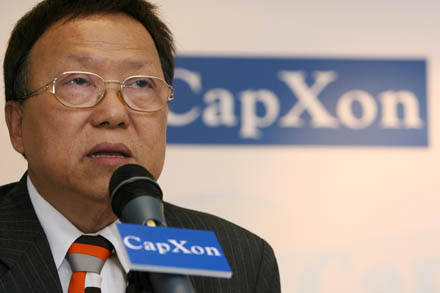 CapXon International Electronic, an aluminum electrolytic capacitor maker, planned to offer 211.2 million shares at between 88 HK cents and HK$1.48 per share to raise up to HK$312.6 million, its chairman Lin Chin-tsun said yesterday. The placing, which began on April 16, will end on Friday. The initial public offering opens today and will close on Friday.
Bank of Communications, the sixth-largest mainland commercial bank by assets, set the price range for its Shanghai listing at a discount to its Hong Kong traded shares, a policy ensuring first-day gains that critics have cited for helping fuel overheating in the country's stock markets.
Morgan Stanley, the second-largest securities firm in the world, has promoted its influential chief economist, Stephen Roach, to Asia chairman, as it aims to strengthen links with the mainland where demand for financial services is soaring.

China: China Insurance Regulatory Commission (CIRC) said on Monday that the country's insurance companies reported premiums worth 196.45 billion yuan (25.5 billion U.S. dollars) under the new accounting rules in the first quarter of 2007, up 22.7 percent over the same period last year.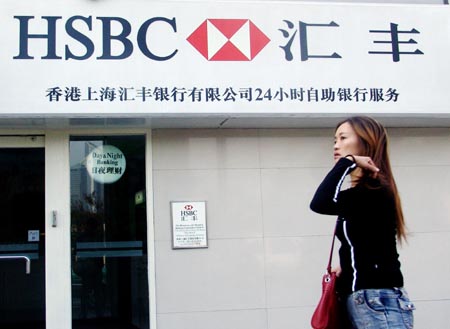 A Shanghai HSBC branch. HSBC, Citigroup, Standard Chartered Bank and the Bank of East Asia passed the regulator's audit and now have unlimited access to the country's $2-trillion domestic household savings. The banks, however, have said they mainly intend to promote wealth management services and target China's wealthier customers. The four overseas institutions have more than 100 outlets across China. They said over the weekend that their Shanghai branches would offer full yuan services from today while others are expected to do so shortly.
Amid beating of drums and exchange of flowers, Shanghai resident Lu Lugang received a deposit slip from his local Citibank branch on Monday and became the first client to take advantage of the bank's newly launched Renminbi retail banking services.
In another government attempt to control China's excess liquidity, on April 16, it was ruled that domestic commercial banks have to comply with the new deposit reserve rate of 10.5 percent.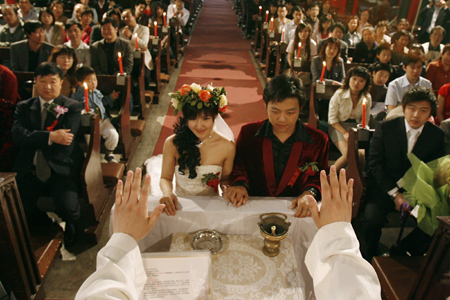 A priest weds Song Xue (centre L) and Liu Xiao at the state-controlled Chinese Catholic Patriotic church in Beijing April 22, 2007.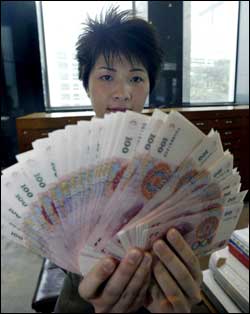 The limited response of the mainland stock market to austerity measures and the high economic growth rate have spurred rapid action from Beijing, with the banking watchdog asking lenders to be more stringent in making loans. With only about a week to go before the Labor Day Golden Week holiday, China Banking Regulatory Commission chairman Liu Mingkang warned lenders to guard against the risk of a resurgence in nonperforming loans. The warning came Sunday in a statement on the watchdog's Web site, quoting comments Liu made in a CBRC teleconference meeting Thursday, the day first-quarter economic data were released by the National Bureau of Statistics. Ten banks were named at the meeting, according to sources quoted by the mainland paper 21st Century Business Herald, in an effort to ensure "their fast loans growth was justified." The 10 are Construction Bank (0939), Bank of China (3988), Bank of Communications (3328), Merchants Bank (3968), CITIC Bank, Shanghai Pudong Development Bank, Minsheng Bank, Industrial Bank, Huaxia Bank and Zheshang Bank. Economic growth was a stronger- than-expected 11.1 percent in the first quarter, compared with a year earlier, while inflation hit a two-year high last month at 3.3 percent. Mainland equity markets slumped between 4 percent and 5 percent the day the figures were released, but recovered Friday after the market had digested the data. Economists said the data showed a possible rebound in upward momentum and would lead to stricter curbs. Even an interest rate hike and bank reserve requirement increases have had little impact on the stock market, so further monetary and administrative measures are expected earlier than previously anticipated, observers said. Although investment in fixed assets in the quarter slowed four percentage points to 23.7 percent, showing a continuous fall from last year, the current level is still alarming, and more austerity measures will be implemented to prevent a rebound, economists said. Fixed asset investment rose 31.3 percent in the second quarter of last year compared with a year earlier before slipping to 28.2 percent and 24.5 percent in the third and fourth quarters. To ensure that bank lending stays in line with government directives to maintain a balanced loan mix, the industry watchdog stressed its concerns about faster-than-expected loan growth. Liu said banks, especially large state-owned banks, should not shrug off responsibility for curbing overheating. "They should watch out for risks arising from accelerated loan growth. Banks also need to keep their capital requirement ratio within the required 8 percent level and ensure the downward trend in nonperforming loans and NPL ratios continues." Another senior CBRC official said: "Banks have seen faster loan growth in the first quarter than the other quarters, usually about 30 percent to 40 percent of the full year's loan growth." The official said the move to name the banks served only as a reminder, not a warning, to senior bank officials who also attended the meeting. The People's Bank of China has ordered lenders to increase the reserve requirement six times since July to remove more than 1 trillion yuan from the market. New credit growth jumped 41 percent last year, while in the first quarter new loans of about 1.4 trillion yuan (HK$1.42 trillion) were made, more than the total for half of last year.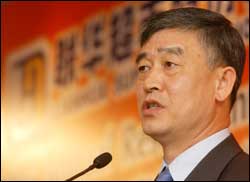 Lianhua Supermarket Holdings (0980) aims to boost same-store sales growth to between 8 and 10 percent this year, mainly driven by its hypermarket operation, which was restructured last year. "The hypermarket business will definitely turn into positive figures this year," said Liang Wei, general manager of Lianhua, in an interview. Same-store sales growth last year was 3.52 percent. Liang added that the margin for supermarket and convenience stores will be maintained this year, with an operating profit margin of approximately 3.4 percent and 1.92 percent, respectively. But the hypermarkets operation will see a significant improvement. The unit, which contributed more than 50 percent of sales, incurred a 46 million yuan (HK$46.58 million) loss last year, the first time to enter the red since Lianhua listed in 2003. This was the result of a 60 million yuan one-off non-operating loss from the the closure of two Shanghai stores in prime locations because of changes in city planning and streamlining of outlets. Increased competition from overseas retailers also increased operating costs Competition in the supermarket and hypermarket sectors has intensified since December 2004 when Wal-Mart, the world's largest chainstore operator, and Europe's Carrefour were allowed to operate wholly owned stores in the mainland. Carrefour, for example, boosted its sales 53 percent to 24.8 billion yuan last year, after increasing its network by 50 percent to 95 outlets in the mainland. Wal-Mart's China sales surged 30 percent to 15 billion yuan. To cope with the intense competition, Lianhua decided this year to focus on eastern China, where the company is dominant, for the next few years. The Shanghai-based company, which operates more than 3,700 convenience stores, supermarkets and hypermarkets, aims to open 400 new stores this year. Eighty percent of these will be in eastern China. "Eastern China is not only Shanghai city. There is also potential in areas such as Jiangsu province and Zhejiang province," Liang said. Eighty-one percent of Lianhua's stores are in eastern China. JPMorgan said that it is a positive move for the company to concentrate its distribution network, because it will be easier for the company to gain critical mass and economies of scale. Liang declined to comment on the long-awaited Hualian acquisition from the parent company. "We don't expect this low-quality asset to bring a lot of earnings per share," said a Merrill Lynch report. Hualian operates more than 1,600 stores in at least 10 cities, including Shanghai, Beijing and Jiangsu, according to the company Web site.
The ancient teachings of Confucius, centering on peace and social harmony, are finding a new resonance amid the chaos and rapid development of modern China.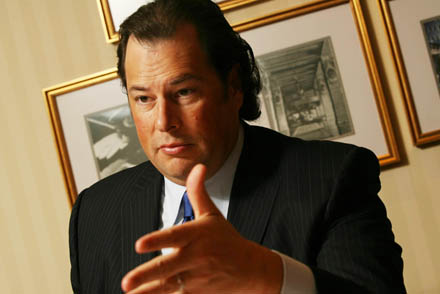 Salesforce.com chairman Marc Benioff says the heavy lifting has been done in China, now other vendors must focus on innovation. "We are uniquely positioned to be a catalyst for growth for the emerging generation of Chinese entrepreneurs," Mr Benioff said, noting that the target market covered more than 10 million small and medium-sized enterprises, including independent software vendors. Salesforce, the world's leading provider of customer relationship management (CRM) software-as-a-service, hopes that expansion will take off with the release this week of its 888-yuan China Edition CRM and the Platform Edition products, which cost up to US$100 per user per month. Software-as-a-service is an on-demand distribution model in which a business-management application, such as CRM, is hosted by a service provider and made available to customers over the internet. Mr Benioff said the story in China over the next decade, as more small entrepreneurs gain access to on-demand products and the platform to enable that deployment, was: "Who will be the next Salesforce.com?" "It is the next-generation of independent software vendors in this market who are developing, deploying and marketing their own on-demand applications that will form a new service ecosystem," he said. "We've already done the heavy lifting, the software platform engineering. [The vendor's] focus will be on innovation." The on-demand software market in Asia-Pacific, excluding Japan, will grow 27.1 per cent a year to reach US$144.3 million by 2009, from US$70.3 million last year, according to information technology consultancy Frost & Sullivan. "The advantages of web-based accessibility, cost feasibility, faster implementation cycles, and manageability would appeal to businesses; more so for SMEs," Frost & Sullivan director Subba Iyer said. Popular on-demand enterprise applications worldwide include web conferencing and collaboration software, human resource, finance and accounting, enterprise resource planning, supply chain management, business intelligence and product lifecycle management.
China Mobile, the nation's largest mobile-telephone operator, wants to charge for access to all mobile internet portals that offer content downloads as the company tries to boost revenue from the sector from last year's 1 per cent of turnover, industry sources said.
Taobao, the mainland's largest online auction site, said it would continue to allow trading of QQ coins and other virtual currencies that have raised government concern about an alternative currency developing outside its control.
April 24, 2007

Hong Kong: An unidentified shareholder of HSBC Holdings (0005) is seeking to cash in US$55 million (HK$429 million) by placing three million shares priced at HK$144.30 apiece after the banking conglomerate's 10-day winning streak on the Hong Kong stock exchange.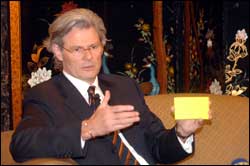 Fung shui master Tony Chan Chun- chuen had gained the "trust and affection" of Asia's wealthiest woman Nina Wang Kung Yu-sum before he was named the sole beneficiary of her HK$32 billion fortune, according to Chan's lawyer. Jonathan Midgley, a partner at legal firm Haldanes, said Friday his client reckoned that Wang's decision to hand over her empire to a person who has the necessary experience would be "consistent with her own business philosophy." Midgley gave the reasons as he revealed for the first time the identity of the mysterious 48-year-old beneficiary who was named in a will allegedly written by Wang and dated October 16, 2006 - less than six months before the Chinachem chairwoman died at the age of 69, reportedly from ovarian cancer. He also released a rare photograph of Wang and Chan together, apparently taken in the early 1990s. The picture, which depicts a somewhat intimate relationship between them, offers an insight into the personal life of one of Hong Kong's most colorful and mysterious tycoons. Midgley - who was Wang's personal lawyer in her marathon eight-year legal battle with her father-in-law Wang Din-shin over the estate of her late husband, Teddy Wang Teh-huei - said: "Mr Chan is very honored by the trust and affection which Nina Wang has shown in passing her entire estate to his care. In dealing with it, Chan will at all times have regard to the values by which Nina Wang managed her business interests and personal affairs during her life. "He is aware that Wang had established a charitable foundation and will continue to assist it." Midgley said his client was touched and honored that Wang had found him suitable to manage the Chinachem Group as he reckoned Wang's decision to leave her business interests to a person who has the necessary experience would be "consistent with her own business philosophy." Haldanes released the picture of Chan and Wang from a series of photos of the two. "We thought that, in the circumstances, this was appropriate," Midgley said. He stressed that Chan is the sole beneficiary of Wang's estate, but declined to confirm if the purported document dated October16 last year was the magnate's final will. Shedding more light on Chan's background, Midgley said his client's business interests are mainly in property development, in which he had been successful in recent years. Chan used to offer advice to local celebrities on fung shui, but now he is doing it as a hobby, Midgley said. The businessman is married with three children, and his lawyer stressed his client would like to continue leading a private life. The low-profile property developer was a former medical student in Canada in the 1980s. But he did not practice as a doctor on his return to Hong Kong.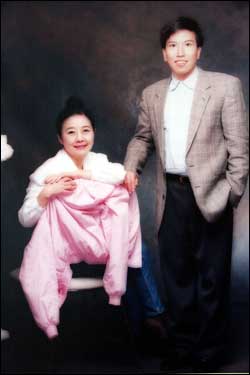 A seemingly intimate couple - that is the impression from a photograph provided by legal firm Haldanes to lend authenticity to a 2006 will purportedly written by Asia's wealthiest woman Nina Wang Kung Yu-sum bequeathing her multibillion-dollar fortune to her entrusted fung shui master, Tony Chan Chun-chuen. The photo - believed to have been taken in the early 1990s - depicts Wang in a casual pose with the 48-year- old medical practitioner-turned-fortune teller, and offers an insight into the personal life of one of Hong Kong's most colorful and mysterious tycoons. Wang is pictured wearing no earrings, necklaces or rings, sitting elegantly and dressed in a white long- sleeved silk blouse in contrast to her usual blue jeans. The late Chinachem chairwoman, with her hair tied back at the top of her head, smiles gently with her arms crossed on a chair and her legs stretched and parted. Chan, believed to have been in his early thirties when the picture was taken, is smiling, dressed in a smart, casual light-colored checked suit, dark trousers and a light blue shirt. He has his left hand in his trouser pocket and his right hand touching Wang's elbow on top of her chair.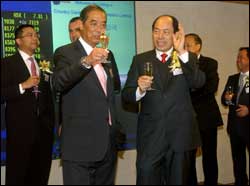 Country Garden (2007) saw a strong trading debut Friday amid a rebound in regional stock markets and an insatiable investor appetite for new listings. Shares of the mainland property developer rose as high as HK$7.35 before easing to close at HK$7.27, 35 percent higher than the offering price of HK$5.38. One billion shares changed hands, while turnover was HK$7.2 billion.
Lenovo Group (0992) will lay off 650 workers worldwide, marking the beginning of a second round of major restructuring as it struggles to integrate the loss-making personal computer business it acquired from IBM in 2005 for US$1.27 billion (HK$9.9 billion).
Chief Executive Donald Tsang Yam- kuen spent HK$8.3 million on his recent reelection campaign - double the amount he spent on the uncontested chief executive election in 2005 - according to his campaign manager David Li Kwok-po.
The casting changes on John Woo's new epic The Battle for Red Cliff are beginning to resemble a game of musical chairs. First, Tony Leung Chiu-wai dropped out, then Crouching Tiger, Hidden Dragon star Chow Yun-fat. But a film investor said Thursday Leung is returning to the movie out of respect for Woo. Adding to the confusion, Leung will play Chow's role, the general Zhou Yu. He was originally cast as the strategist Zhuge Liang. Taiwanese-Japanese actor Takeshi Kaneshiro will play Zhuge. Leung, who won best actor at Cannes for In the Mood of Love in 2000, pulled out initially because it came too closely after his last movie, Ang Lee's Lust, Caution. Leung and John Woo "go back more than 20 years. When a situation like this happens, he's willing to help out," Wen Wengli, a publicist at the investor, state-run China Film Group, said. Woo directed Leung in the 1992 gangster movie Hard Boiled, which also featured Chow. Chow, whom Woo made an icon in the classic 1986 movie A Better Tomorrow, said he wanted to quit Red Cliff because he got the script late and did not have enough time to prepare. Woo's producer Terence Chang has disputed this, saying Chow got a copy of the script last year and that the movie's Hollywood insurers rejected dozens of clauses in Chow's contract.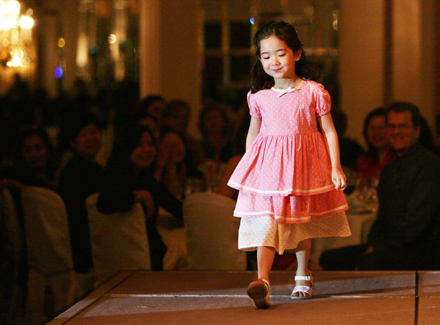 A girl struts the catwalk in a fashion show at the Children's Heart Foundation Ladies Luncheon at the Aberdeen Marina Club. Themed "Little Angel", the show featured children with congenital heart disease dressed in the latest designer clothes. The day is aimed at displaying the spirit and determination that has helped these children tackle their illness.

China: China's gross domestic product, or GDP, totaled 5.03 trillion yuan, or 653 billion US dollars in the first quarter of 2007, a rise of 11.1 percent year-on-year.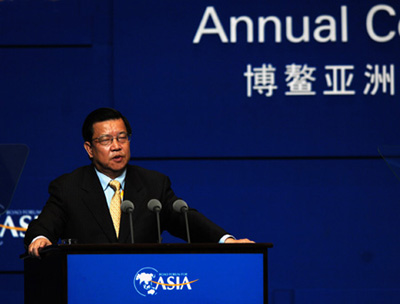 Long Yongtu, secretary-general of the Boao Forum for Asia, delivers a speech at the opening ceremony of the annual conference in Boao, south China's Hainan Provincel, April 21, 2007. The theme for this year's forum is "Asia Winning in Today's Global Economy"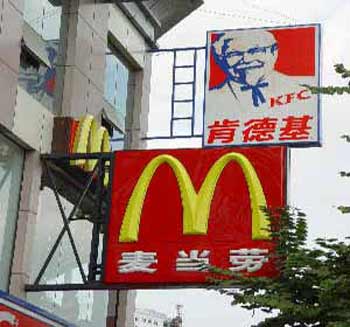 McDonald's and KFC have been heavily criticised recently for underpaying their part-time workers in Guangdong.
U.S. Treasury Secretary Henry Paulson reiterated here on Friday that Sino-U.S. economic relations are very important amid trade tensions. On the 16th annual meeting of Committee of 100, a group of prominent Chinese Americans, he said that the Sino-China economic relationship is very important, which benefits both nations. The U.S.-China economic relations have been in tensions since last month when the U.S. government announced sanctions against Chinese paper imports and filed two new complaints against China at the World Trade Organization. "As our relationship with China grows, matures, tensions were naturally emerged," said Paulson, who is to meet Chinese Vice Premier Wu Yi next month for the second round of Strategic Economic Dialogue in Washington. "Today with the U.S.-China trade expands rapidly, there is clear sense of frustration with China in political circles, and a number of industries," said the former Goldman Sachs chief. However, "when disagreement arrives, it's important to discuss it kindly, find a way to bring the differences, and make process, so the both country benefit," he emphasized. "America runs a huge deficit with China, but exports to China are growing rapidly, and should continue to do so in the future," said Paulson. According to the Commerce Department, U.S. trade deficit with China decreased by 13.3 percent in February to 18.4 billion U.S. dollars, the smallest since last May.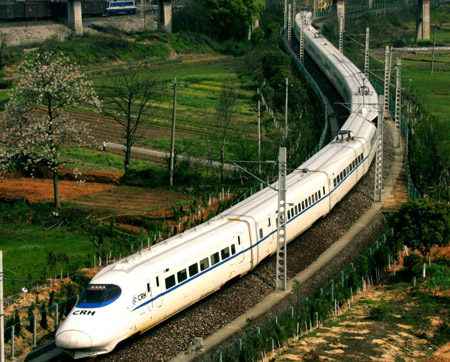 A CRH train, China's first high-speed train, runs from Nanchang to Hangzhou, on the inaugural day of the train in China on April 18, 2007. The bullet trains have been running smoothly these days, with seats 100 percent occupied on most of the trains, according to source of the Ministry of Railways on Friday.
The first quarter saw 41 Chinese companies go public, raising 14 billion U.S. dollars, according to a quarterly report from consultancy Zero2IPO. The report said fourteen "China concept shares" debuted on NASDAQ, NYSE, SGX, HKMB and AIM, raising more than two billion U.S. dollars; meanwhile, 27 domestic IPOs pulled in more than 12 billion U.S. dollars on the Shenzhen SME Board and the Shanghai Stock Exchange. Fourteen overseas IPOs netted 3.65 billion U.S. dollars, nine of which were backed by venture capital (VC) or private equity (PE) funds. Five out of 27 domestic debuts were backed by VC/PE funds. Some Chinese companies went public in Tokyo recently, Zero2IPO CEO Ni Zhengdong said, adding that the second quarter will witness a similar number of overseas IPOs. The HKMB stood out from the eight overseas markets by attracting seven Chinese debuts with 1.5 billion U.S. dollars raised. The SGX followed with three IPOs. The U.S. NASDAQ and NYSE attracted three Chinese debuts. While 21 companies or 78 percent of the domestic IPOs happened on the Shenzhen SME Board, the Shanghai Stock Exchange raised 11 billion U.S. dollars, 93 percent of the mainland's total. Ping An Insurance, China Life and Industrial Bank raised an aggregate of 10.8 billion U.S. dollars, accounting for 90 percent of the total amount. The three blue chips further augmented the market capitalization of the Shanghai Exchange after ICBC, BOC, Guangzhou-Shenzhen Railway and Datang International Power Generation, which went public in 2006. Traditional sectors were active in listing overseas. Eight companies in traditional industries raised nearly 1.2 billion U.S. dollars, accounting for 57 percent of the total. As in 2006, the biological and healthcare sectors witnessed four IPOs. The first three months witnessed 24 mergers, a sharp decrease on the last quarter of 2006, but nearly the same as the first quarter of last year. The report estimated that the world's stock market will continue to rise because of excessive global liquidity which will incite more China enterprises to debut on overseas markets. Nevertheless China's M&A Rules, the Provisions for Foreign Investors to Merge and Acquire Domestic Enterprises, will limit listings of private companies, the main force of China-based overseas IPOs. It is expected that overseas IPOs will remain steady in the second quarter. The VC/PE-backed IPOs will considerably increase in both domestic and overseas markets. In addition, with mainland-based enterprises debuting on the Tokyo Stock Exchange, Chinese enterprises will have more options to explore overseas markets, said the report.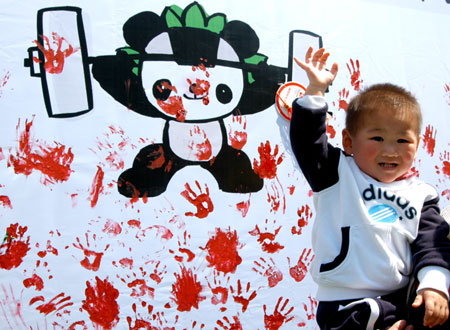 A boy leaves his fingerprint on a blessing wall for the 2008 Beijing Olympics Games in Nanjing, capital city of east China's Province April 19, 2007.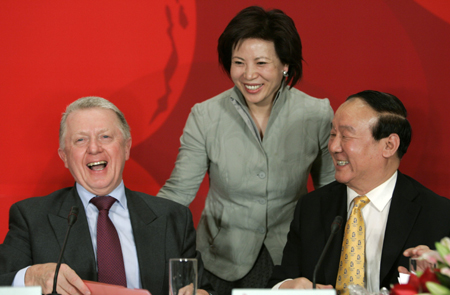 Chief International Olympic Committee (IOC) inspector Hein Verbruggen (L), executive vice president of Beijing organising committee (BOCOG) Jiang Xiaoyu (R) and Wang Hui,the deputy director general of the media and communications department of BOCOG talk after a news conference in Beijing April 19, 2007. Beijing organisers still believe a solution is possible to the problem of taking the 2008 Beijing Olympic torch relay to Taiwan, an official said on Thursday.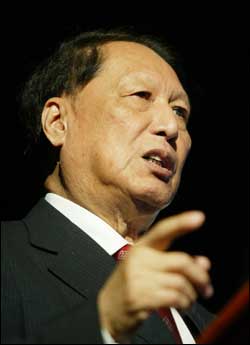 Although China's economy recorded rapid growth in the first quarter with an 11.1 percent year-on-year rise, mainland experts believe GDP growth will slow to a single-digit increase over the full year. "The government will take an integrated approach to restraining growth which will result in the increase in gross domestic product slowing in the second quarter and falling further in the third, leading to a lower rate for the full year," said Cheng Siwei, vice chairman of the National People's Congress Standing Committee, during a conference Friday in Hong Kong. The official Xinhua News Agency Friday also cited a government think- tank that forecast growth in gross domestic product will be down to 9 percent in 2007, one percentage point above the government goal of 8 percent. "The economy will continue to expand some 7 to 8 percent during the coming decade, with the real estate and automotive sectors the major drivers," Liu Shijin, deputy director of the State Council's Development Research Center, was quoted as saying by the official agency. China's statistics bureau announced Thursday that the economy expanded 11.1 percent year on year, during the first quarter. The data also showed that in March the year-on-year monthly inflation rate hit a two-year high of 3.3 percent. The shock spread from the domestic markets to Hong Kong and the rest of the world, leading to significant falls in major indexes Thursday. But mainland markets recovered Friday with the Shanghai Composite Index and Shenzhen Composite Index rebounding 3.9 percent and 4.5 percent respectively to close at 3,584 and 1,003 points. Fear of stringent government curbs increased market volatility.
China Eastern Airlines (0670), the country's third-biggest carrier, reported net loss in 2006 widened to 3.3 billion yuan (HK$3.34 billion) from 467 million yuan the previous year, largely due to high fuel prices and fierce competition among mainland and international airlines.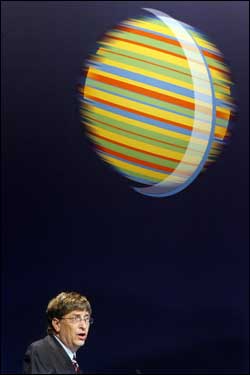 China will remain the world's largest broadband market after recently overtaking the United States, Bill Gates, chairman of Microsoft, told a forum in Beijing Friday. "China has surpassed the US in the number of broadband users. And once this is the largest market, it will stay the largest market," Gates said. He noted that price constraints for fast, reliable Internet access were falling by the wayside. "The price of broadband has been a limiting factor, but competition is bringing the price down," he said. According to the state-controlled China Internet Network Information Center, China had 104 million broadband users at the end of last year. China, currently a global leader in hardware, would soon become a leader in software, he added. "Innovation here is really growing at a rapid pace. I give a lot of credit here to the universities. China will be a leader ... it's already true for hardware, but it will also be true for software," Gates said. Microsoft had China's affection for mobile communications in mind when it recently signed a joint research deal with China's leading computer maker, Lenovo, he said.

The next edition of Survivor will be filmed in China, making the reality show the first American network TV production to shoot an entire series in the communist nation, trade paper Daily Variety reported. The report did not say when CBS would begin production on the 14th cycle of the castaway saga, or where in China the action would be set. The CBS unit is airing Survivor: Fiji, which is averaging about 15.8 million viewers, on par with the viewership for the previous installment, Survivor: Cook Islands. Daily Variety said the move to China takes the series away from an island setting for the first time since 2003's sixth installment, which was set in the Amazon jungle. A China setting should boost the show's international appeal but it is a difficult place to film because of logistical and government restrictions.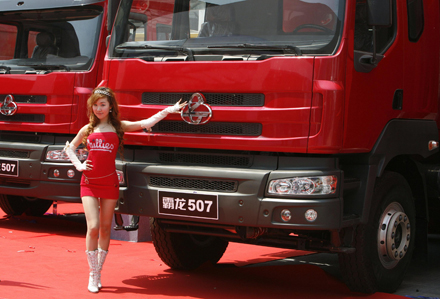 Dongfeng Motor trucks at the Shanghai International Auto Show. Sales may rise to 300,000 vehicles this year from 200,000 last year, the company said at the show yesterday. Dongfeng Motor is Nissan's venture with Dongfeng Motor Group, the mainland's third-largest carmaker.
China Mobile, the nation's largest mobile-telephone operator, said first-quarter profit jumped 22 per cent as it expanded into the lower-margin rural areas, while fixed-line rival China Telecom Corp reported a slower 3.9 per cent growth.
April 23, 2007

Hong Kong: Mainland property developer Country Garden Holdings, which will make its trading debut tomorrow, priced its shares at HK$5.38 - the top end of the indicative price range - after it tied up HK$329 billion in its retail tranche during its public offering, the second largest lock-up in history.

London-based Standard Chartered (2888), which reaps two-thirds of its profits in Asia, said Wednesday it will spend S$800 million (HK$4.13 billion) on a new office in Singapore that will become the company's biggest, a move that will see the bank increase its headcount in the city-state by 60 percent.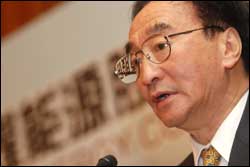 Despite lower unit cost of sales and higher sales price, China Coal Energy (1898) posted a 5 percent drop in net profit last year, as heavier income tax expenses hurt earnings. The mainland's second-biggest coal producer also said it earmarked 10.22 billion yuan (HK$10.33 billion) for capital expenditure this year, almost twice that of last year, mainly to boost coal production and develop coal-to- liquid fuel. Of this amount, 5.91 billion yuan and 2.84 billion yuan will be used to develop coal-related business and coal- based chemicals and coke business respectively, chairman Jing Tianliang said Wednesday. Capex may also fund potential acquisitions from parent China Coal Group, including assets or mining rights in Shuonan, located in Shanxi province. Coal production is expected to reach 88.7 million tons this year and exceed 100 million tons by 2008. China Coal plans to supply coal for a three-million- ton coal-based dimethyl ether project in Erdos in Inner Mongolia, jointly owned by Sinopec (0386) and Shenenergy Group. Meanwhile, China Coal plans to build a plant in Heilongjiang province to turn coal into methanol, with an annual production capacity of 250,000 tons of methanol, and a project to produce naphtha and light diesel from oil shale in the same province, Jing said.
Bank of China (3988) said Wednesday that it has raised US$100 million (HK$780 million) for a qualified domestic institutional investor fund targeting overseas mutual funds that invest mainly in Hong Kong-listed mainland stocks.
After making handsome returns from equity investments last year, China Life Insurance (2628), the mainland's largest life insurer, has decided to increase its equity investments this year, in the belief that the frenzy in the mainland stock market will continue.
A prolonged legal tussle over more than HK$32 billion in assets is likely between Nina Wang Kung Yu-sum's heir named after she won a court ruling on her husband's estate and those involved in a former will in which she suggested creating a charity trust fund.
Hong Kong's unemployment rate remains stable at just over four per cent, latest statistics released on Thursday showed.

The view of Tsing Ma Bridge looked exceptionally clear from Sham Tseng's Anglers Beach yesterday, the second driest April day since 1965. A dry continental air stream pulled relative humidity down to as low as 26 per cent, prompting a red fire danger warning from the Observatory. Dryness in April is uncommon and humidity is expected to rebound today. The thermometer read as low as 17 degrees Celsius early yesterday but rose to 28 Celsius in the afternoon.
The claim former permanent Secretary for Education and Manpower Fanny Law Fan Chiu-fun said Hong Kong teachers were "all so stupid" was a manufactured story to create media sound bites, an inquiry heard on Thursday.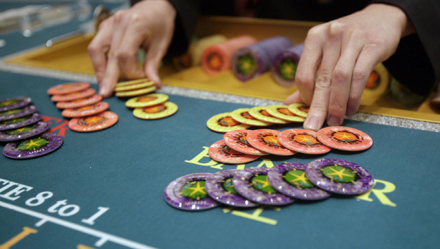 Casino revenue in Macau surged 45 per cent to a record HK$17.87 billion in the first quarter as new resort openings almost doubled the number of gaming tables from a year earlier. The growth further solidifies Macau's position as the world's largest gaming market.
Shanghai has overtaken Hong Kong as the world's second-busiest port behind Singapore, according to first-quarter throughput figures released by the Hong Kong Port Development Council, marking another drop down the rankings for the former No1.
China Citic Bank Corp and China Molybdenum Co (CMOC) have attracted at least HK$439 billion worth of retail orders for their Hong Kong initial public offerings, thanks to investors' persistently strong appetite for new offerings and ample market liquidity.
PCCW, the city's largest telecommunications service provider, slashed 32 per cent off its directors' pay last year, when it suffered a 21 per cent fall in net profit, the company said in its annual report yesterday.

China: China's currency, the yuan, hit a new high on Thursday, breaking the 7.72 mark for the first time, according to the Chinese Foreign Exchange Trading System.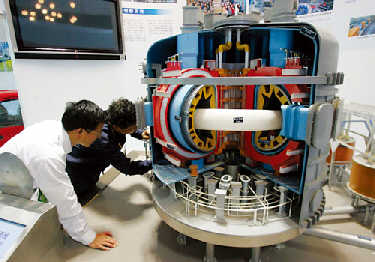 A 1:8 miniature model of the world's first Experimental Advanced Superconducting Tokamak (EAST) will be on display at the China Chongqing Investment and Global Sourcing Fair. Also known as an "artificial sun", the device was developed independently by China. The "artificial sun" is a super-conducting non-circular section nuclear fusion experiment device, and this is the first time that a mode of it has been exhibited in western China.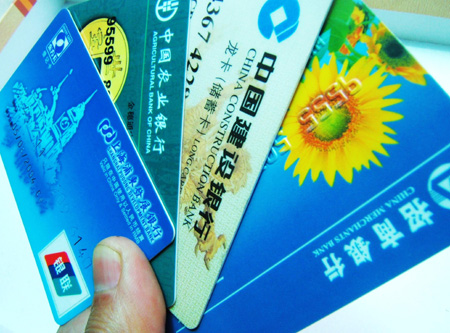 A report from the People's Bank of China, the central bank, on April 18, 2007 said Chinese banks have issued 1.1 billion bank cards, and the figure included 1.08 billion debit cards and 50 million credit cards. China's bank card payment system had basically taken shape, with the bank card market rapidly expanding and an increasing number of people paying by card, said Su Ning, vice governor of the central bank.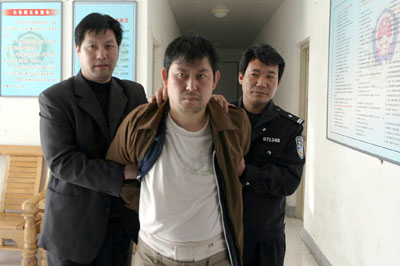 Ren Xiaofeng, 34, who is suspected of stealing nearly 51 million yuan (US$6.5 million) from the Handan branch of the Agricultural Bank of China in Hebei Province last Saturday has been seized by policemen in Lianyungang, east China's Jiangsu province April 19, 2007. Ren's complice 37-year-old Ma Xiangjing was arrested in Beijing Wednesday. Police has recovered 3.4 million yuan.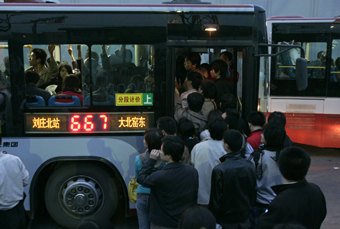 Passengers board a bus during rush hour, at a bus stop, in Beijing April 18, 2007. Beijing is hoping a 100 billion yuan (US$13 billion) investment in public transport will be enough to keep the traffic flowing at next year's Olympic Games, an official said on April 18.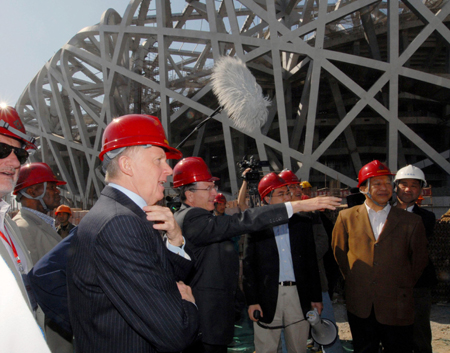 IOC Coordination Commission Chairman Hein Verbruggen (3rd L) visits the construction site of the Olympic Stadium in Beijing April 17, 2007.
US software giant Microsoft plans to set up a multimillion-dollar joint research and development center in Beijing with China's leading computer maker Lenovo.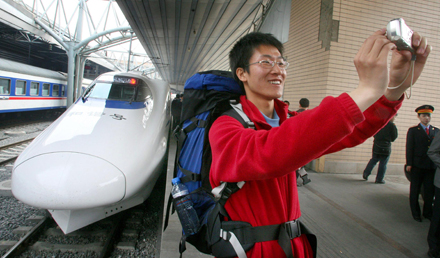 A traveller takes a snapshot of himself with one of the new bullet trains in the background at a Beijing station. China declared a new era of high-speed rail travel as a home-made bullet train left Shanghai for Suzhou early yesterday morning, the first day of the sixth round of nationwide upgrades.
April 21 - 22, 2007

Hong Kong: Casino revenues in Macau surged 45 per cent to a record haul of HK$17.87 billion in the first quarter, as new resort openings nearly doubled the number of gaming tables from a year ago. Revenues on a sequential basis climbed nine per cent from the fourth quarter of last year, which set the previous record of HK$16.4 billion in casino winnings. This record was set after the opening of Stanley Ho Hung-sun's HK$5 billion Grand Lisboa casino in February and included the first full quarter of operations at Galaxy Entertainment's StarWorld casino hotel. The spectacular growth in the first three months of this year further consolidates Macau's position as the world's single largest gaming market. This was after casino revenues in the enclave of 508,000 residents last year overtook the iconic Las Vegas Strip. Despite rising costs in Macau, investors are hoping a series of new resorts set to open later this year will extend the boom. "There has been a lot of news about rising costs and infrastructure bottlenecks in Macau, but so what?" said US-based Ahrens Advisors president Dan Ahrens, who manages the Gaming and Casinos Fund. "I think revenues are going to be through the roof." Revenues from VIP baccarat, the game of choice among Chinese high-rollers but a low-margin, high-turnover business for casino operators, soared 50 per cent to HK$11.65 billion during the quarter, data released on Wednesday by the enclave's gaming regulator showed.
The Hong Kong government's budget for 2007/08 was passed on Wednesday by the Legislative Council by a large number of votes.
Hong Kong has lifted a ban on poultry imports from most parts of Japan after health officials sounded the all-clear following deadly bird flu outbreaks, the government said on Wednesday.
PICC Property and Casualty, the country's largest non-life insurer, said earnings surged 121.49 per cent last year on higher investment gains and net premium. Net profit for Hong Kong-listed PICC rose to 2.08 billion yuan, or 18.7 fen a share, from 940 million yuan, or 8.4 fen a share, in 2005. The profit surge was mainly driven by net investment gains of 2.32 billion yuan. Net premium earned grew 4.18 per cent to 55.62 billion yuan, which the company said was due to higher demand in compulsory motor vehicle third-party liability insurance. "However, the effect was partially offset by a 476 million yuan decrease in the turnover of the commercial property insurance segment," it said. The company plans to move into life insurance business by spending 841 million yuan for a 29 per cent stake in sister firm PICC Life. PICC said it was only in talks for the deal and there was no definite agreement yet.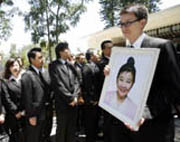 Nina Wang's godson Anthony Cheung, clutches a picture of the late businesswoman after a cremation service on Wednesday. Ms Wang, Asia's richest woman according to Forbes magazine, was known for her garish outfits and the legal battle over her kidnapped husband's fortune. Asia's richest woman Nina Wang Kung Yu-sum was given an extravagant funeral send-off on Wednesday attended by many of Hong Kong's rich and powerful, amid speculation over who will inherit her fortune.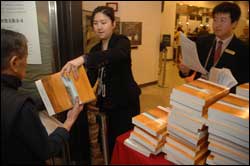 The term IPO requires no elaboration. After a flurry of initial public offerings last year, many people have come to see IPOs as guaranteed means of wealth creation. A random survey of 500 local residents by the Securities and Futures Commission and Hong Kong Baptist University found that between September 2005 and February 2006, about 401 of them had either subscribed, or attempted to subscribe, to an IPO. The US$22 billion (HK$171.6 billion) Shanghai-Hong Kong listing of the Industrial and Commercial Bank of China (1398) last October drew subscriptions worth HK$410 billion from a record 970,000 local residents. Earlier this month, Country Garden locked HK$322.5 billion of retail investors' money - the second highest since ICBC. The Guangdong- based property developer is due to start trading Friday. But how can Hongkongers keep lining up for more IPOs after investing in so many offerings last year? Where do they get the funds to vie for a slice of the latest issue? For answers, we can look to Marcus Huang, a 52-year-old former senior executive of a local conglomerate. Huang retired two years ago partly because he wanted to devote more time to chasing IPOs. His latest target is China Molybdenum, which started taking retail orders Friday and will start trading next Thursday. "After I retired, I received substantial retirement funds, consisting of a lump-sum payment of my monthly salary multiplied by the years of service at the company, plus my MPF [mandatory provident fund]." Huang said he had used 90 percent of his retirement funds to buy four lots of Foxconn International (2038) before its debut in February 2005. Foxconn shares rose 600 percent within their first year of listing.

China: China slashes US untruthful reports on Virginia Tech shooting - Chinese Foreign Ministry spokesman Liu Jianchao Wednesday criticized some US media's irresponsible reports on the Virginia Tech shooting before finding out the truth, calling on relevant sides to eliminate baneful impact of the incident. Following Monday's shooting tragedy at Virginia Tech, some US media reported the gunman was a Chinese student. Later, the US police identified the gunman who killed 32 people as a student from the Republic of Korea, Cho Seung-Hui. Calling the mass shooting a "very serious" incident, Liu said it was a terribly wrong move to give irresponsible reports before finding out the truth, which had violated the professional moral of the press. The Chinese government and people are very concerned about this incident and lamented the deaths, the spokesman said, adding China expresses sincere sympathy and condolences to the families of the victims as well as the injured, hoping they will recover at an early date. Foreign Minister Li Zhaoxing conveyed condolences to US Secretary of State Condoleezza Rice over the shooting in a telegram Tuesday, expressing sincere concern to the US government and those affected by the shooting. Monday's shooting rampage is the deadliest mass shooting in the U.S. history. Liu Jianchao said on Tuesday evening China is "shocked" by the tragedy and strongly condemns the violence.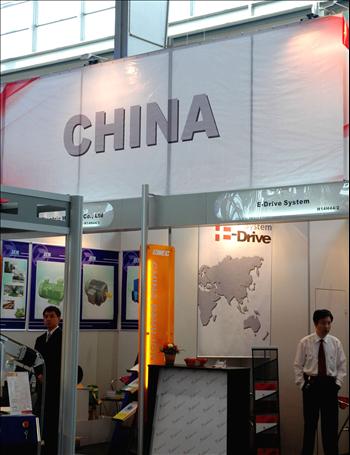 Hannover Trade Fair, the world's largest ever industrial expo, kicked off in Hannver, Germany, on Sunday. A total of 400 Chinese businesses are presented at the expo.
China plans to set up a national strategic reserve of natural uranium as part of a five-year plan for its nuclear industry, according to a document released by the Commission of Science Technology and Industry for National Defense.
Dialogue key to resolving IPR disputes, trade partners told - China yesterday called on its trading partners to engage in dialogue to resolve disputes on intellectual property rights (IPR) protection amid reports that Japan is considering joining the United States in filing a complaint at the World Trade Organization (WTO). Wang Ziqiang, spokesman for the National Copyright Administration, said yesterday that piracy and counterfeiting are global problems and countries need to address them through talks rather than filing complaints at the global trade body. "Piracy and counterfeiting do exist in China, but this does not justify the US' move to file a complaint at the WTO," said Wang at a press briefing hosted by the State Council Information Office on IPR protection in the country. Japanese media reports said Tokyo had received a request from the United States - and is considering it - to join consultations between Beijing and Washington as a third party. It is expected to decide this week. Washington filed two complaints at the WTO earlier this month, alleging China was not forceful enough in enforcing copyright and trademark protection and failed to lift restrictions on imports of foreign newspapers, magazines and video games. The Ministry of Commerce said China has yet to receive requests from other countries to join either of the two cases and declined to comment. Meanwhile, the country's largest trade partner - the European Union - said it will not join the United States in the action against China. EU Trade Commissioner Peter Mandelson was quoted by Xinhua News Agency as saying he prefers negotiations to solve disputes of this kind. "I, as you know, favor dialogue over WTO cases. Dialogue is my preference," Mandelson said. Mei Xinyu, a trade researcher with the Chinese Academy of International Trade and Economic Cooperation, said Japan is reportedly keen on joining the consultations between China and the United States rather than file a separate request. Any WTO member can ask to join the consultations as a third party or file a separate complaint. Japan chose the latter option when the US accused China over industrial subsidies earlier this year and restrictions on imports of auto parts last year. Wang also refuted US accusations that China's "restrictions" on imports of audio and video product created the conditions for piracy as "groundless". He said that China does have a limit of 20 foreign movies that can be imported a year, but that is in line with its WTO commitments. As for audio and video imports, there is no limit on their numbers, he said.
China must be ready to play the WTO game by Li Zhongzhou, China's former senior WTO negotiator, works with EU-China Trade Project. China had legitimate grounds for complaint when the US Trade Representative filed two intellectual property right (IPR) cases against China in the World Trade Organization. The cases were taken to the WTO while the Chinese authorities were dealing with the issue of IPR protection. Enforcement of laws have been strengthened to protect the interests of IPR holders. But that didn't impress the US. Welcome to the world of international litigation. China has to realize that these cases herald a new phase in the country's participation in the multilateral trading system six years into joining the WTO. As China increases its impact on the world economy, countries affected by Chinese competition will tend to resort to the WTO dispute settlement mechanism. China should not have illusions about the effectiveness of quiet diplomacy in resolving disputes over fundamental trade interests unless the country can afford to make endless unilateral concessions. Otherwise, it will have to keep defending its trade interests with the legitimate right accorded to it by the WTO. From now on, China must stand ready to play the WTO game. US officials characterized the situation as reflecting the maturity of US-China trade relations. This is probably true. China's strong protest can reach a very limited audience in the United States and will have little impact on the US Congress. A WTO ruling provides more effective protection of legitimate interests of WTO members. It is advisable for China to act in a way that will avert the recurrence of political meddling in China-US economic and trade relations as occurred before China joined the WTO. China's joining the WTO makes no sense if the country shies away from using WTO rules to defend its legitimate interests. Settling a dispute in the WTO on a specific subject would probably help the US administration siphon off Congressional pressure to pass comprehensive protectionist legislation against China. The dispute settlement procedure provides flexibility to reach an amicable solution. If China wins the case, there is no need to make any concessions. If China is found in breach of WTO obligations, it should face the fact and take action to rectify it. That is something a responsible WTO member is obliged to do. If China has met her obligations, no sanctions against her are justified. The two IPR cases filed by the United States have very weak arguments. The accusation of China's failure to enforce IPR protection law is unjustifiable. In some cases China has gone to great lengths to accommodate the interests of foreign IPR holders. For example, the government endorsed anti-competitive practices by requiring pre-loading of software in imported computer hardware. This product tie-in will run into conflict with the competition law now in the offing. China has met its obligations when legal remedies are available. The Chinese authorities are making continuous efforts to take strong administrative measures against piracy. But severe criminal prosecution cannot completely eliminate piracy, just as in the case of drug trafficking. The case of market access for DVDs, CDs and publications is a non-case. The US increased pressure on China over the IPR issue in an attempt to secure concessions in audio-visual market access. But market access is a subject for negotiations on a reciprocal basis. There is no relation between market access and IPR piracy. When the US has not had legal access to the Chinese market, there is no question of economic loss. The message of WTO membership is clear: China should not hesitate to resort to WTO mechanisms for settling trade disputes. More frequent use of the WTO dispute settlement mechanism is inevitable. Now that China is the world's third largest trading country, it cannot avoid conflicts in trade interests with other WTO members. China is entitled to use the dispute settlement mechanism to defend its legitimate interests. Seeking to resolve a trade dispute in a multilateral forum is in full compliance with China's policy of building a harmonious world.
New regulations to safeguard trademark logos and images of the 2008 Olympic Games will be issued soon, Zhao Gang, deputy director of the trademark office of the State Administration for Industry and Commerce (SAIC), said yesterday at a news conference. At the briefing, organized by the State Council Information Office, officials said that the new regulation is part of the country's efforts to protect intellectual property rights (IPR), including those associated with the Games next summer. This is China's first regulatory effort specifically designed to protect Olympic intellectual properties in accordance with international practice. Zhao said that with the new regulation, law enforcement offices and administrative bodies will share a unified guideline and launch campaigns to stop counterfeiting or pirating related to the Olympics. "It is incorrect to say that China is only serious in protecting IPRs related to the Olympic Games," said Zhao, "Actually, we have been very consistent and serious about IPR protection in all areas." He said China is determined to stop counterfeiting, a problem that has triggered many complaints from countries such as the United States and European nations. On one hand, the country is trying to boost awareness by the public and organizations about the issue. Last year, retail marketplaces in Beijing, Shanghai and Shenzhen were warned that no vendors will be allowed to sell fake products of more than 40 famous international brands. On the other hand, administrations for industry and commerce and police have built cooperation mechanisms to speed up investigations and enforcement processes. Last year, the Chinese authorities investigated more than 50,000 counterfeiting incidents and confiscated or destroyed 30 million pieces of such goods. In addition, customs found almost 200 million pieces of goods infringing IPRs. This year, rural marketplaces will become a priority in fighting counterfeits, according to SAIC. Zhao said online traders and e-commerce websites should not get involved in sales of counterfeits, otherwise they risk punishments given to those in real world marketplaces. As traditional marketplaces build up pressure on vendors that sell counterfeits, many shop owners have turned to websites such as Taobao.com and eBay's website in China. Yin Xintian, a spokesman with the State Intellectual Property Office, said that with the technology like the Internet and mobile phones, the battle against piracy and counterfeiting are more difficult.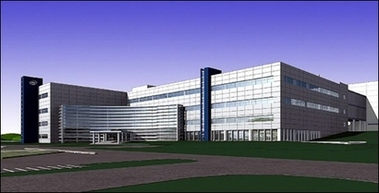 Illustration of Intel's new wafer plant in the Chinese city of Dalian. Intel have revealed that their upcoming Penryn processors will boost computer speed by 40 percent for gaming compared to existing top-line chips.
Taiwan's leading telephone operator Chunghwa Telecom is looking to the mainland's third-generation mobile phone market despite the island's strict government restrictions on such investments, a report said.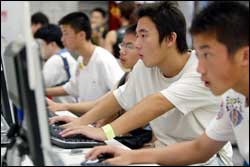 As warmer temperatures begin to set in, China's online - Video gaming industry is also starting to heat up once again. While investors have been waiting months for the likes of Shanda, Netease and The to launch new games, China's leading online game operators are now starting to get serious about rolling out new titles. The is preparing for a major upgrade to its flagship game and virtually only source of revenue, World of Warcraft, in the second quarter and possibly in time for the national week-long May holiday coming up. World of Warcraft is the dominant game in China's top-tier cities and has more than six million paying accounts in the mainland alone. The update, or expansion pack, called Burning Crusade, should generate a fresh round of buzz for the game and provide a boost in user numbers for The. In preparation for the update, The recently opened a Burning Crusade blog. The also said last week that it will begin a public test for its licensed online game Soul of the Ultimate Nation Wednesday.
April 20, 2007

Hong Kong: Hong Kong shops catering to tourists could be subject to some of the world's toughest consumer protection measures from as early as June 1, it was revealed Tuesday. The Travel Industry Council agreed at a board meeting Tuesday on measures, proposed in conjunction with the Tourism Commission, the Tourism Board and the Consumer Council, to regain the confidence of mainland tourists in Hong Kong shops. "We will extend the unconditional refund period from 14 days to six months and lift the condition the packing of the goods must be intact," TIC chairman Ronnie Ho Pak-ting said. "We will also strengthen the demerit points system under which shops are currently subject to 10 demerit points out of a maximum of 30 if they do not comply with the refund policy," Ho said, adding that the number of points to be deducted and the conditions had still to be drafted. Ho said tour operators would be advised not to take tourists to shops with more than 30 demerit points. Other measures included banning company directors of offending shops from changing the names of their business within one year; putting the names of dishonest shops and tour companies on the Web sites of TIC and the China National Tourism Association; and opening the shops, which are currently restricted to tour groups, to the public to facilitate inspection. He said the measures, in effect, would be the most stringent for retailers in the world, and hoped they would help regain the confidence of tourists in Hong Kong shops. He said the canceling of the zero tour fee arrangement was difficult as it concerned the business operations of tour agencies. Ho said the council still had to draft the details and he hoped the new measures would be passed at a board meeting May 8. If this was done, the contracts could be sent to all shops for signatures around June 1.
InvestHK chief Mike Rowse Tuesday filed an application in the High Court for leave to seek judicial review of the disciplinary action taken against him by the government. Rowse was found guilty by an internal inquiry of one count of misconduct, and partially guilty of four others, in relation to the Hong Kong Harbour Fest held in 2003. Rowse was fined HK$156,600. The application said it was irrational or unlawful for the secretary for the civil service to deny Rowse the right of legal representation at the internal inquiry. The application also said the inquiry committee's finding might have been tainted by bias given press reports at the time suggesting one member of the inquiry had been given an extension beyond his retirement age while the sanitation period for another member who was retiring from civil service was waived. The rationale of the application also suggested the inquiry committee erred by applying the same standard of proof to each of the charges. The application claimed it was unreasonable for the secretary for the civil service to accept the inquiry committe's findings in relation to each of the charges, where the multiple roles played by the Department of Justice breached the rules of natural justice and compromised the integrity of the entire disciplinary process. The charge that Rowse had failed to critically examine the Harbour Fest budget and to adequately advise the government's Economic Relaunch Working Group on the finances, was judged to be substantiated in February. Secretary for the Civil Service Denise Yue Chung-yee declined to comment on specifics when the report was released and said the outcome might face a court challenge. Harbour Fest was held in 2003 to help Hong Kong restore its image after the SARS outbreak. It was a collaboration between the American Chamber of Commerce and InvestHK.
HKC (Holdings) (0190), formerly Hong Kong Construction, is set to add another three mainland development projects to its portfolio, despite fears of further macroeconomic measures to cool the economy.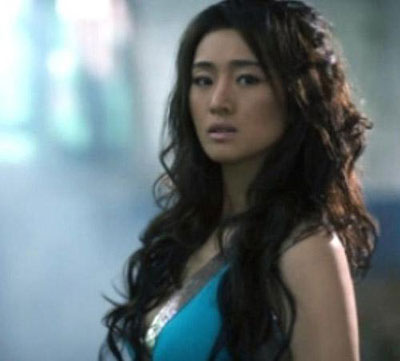 Gong Li claimed the best actress crown at the 26th Hong Kong Film Awards Sunday night, which is the third consecutive year that Chinese mainland actress has won the title. The previous winners for the title were Zhang Ziyi and Zhou Xun. Nine-year-old Gouw Ian Iskandar, who starred in "After This Our Exile," brought home two awards - best supporting actor and best new performer. He has already won the best supporting actor award at the 43rd Taipei Golden Horse Film Festival for the same role. The film was also the best film and best screenplay winners of this year. Its director Patrick Tam, trumped rivals - Jonnie To, Zhang Yimou and Jacob Cheung, for the best director title. "After This Our Exile," Tam's first film in 17 years, is an art film about the relationship between a single and abusive father who turns to gamble and his son. Lau Ching-Wan starring "My Name Is Fame" unexpectedly claimed the best actor crown by beating Tony Leung, Chow Yun-Fat and Jet Li. Thirteen nominations garner, Zhang Yimou's "Curse of The Golden Flower," finally won four awards - best actress, best original song, best costume design and best art. Zhang's another film, "Riding Alone for Thousands of Miles," beat Korea film "The Host" for the best Asian film. The latter won the best Asian film at the first Asian Film Awards hosted by the 31st Hong Kong International Film Festival two weeks ago.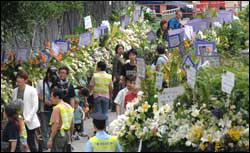 Chinachem Group chairwoman Nina Wang Kung Yu-sum, who died earlier this month aged 69, was remembered and mourned by family members, friends, Beijing state leaders, local politicians, business tycoons and Chinachem staff at her funeral vigil Tuesday at the Hong Kong Funeral Home in North Point. Her two younger sisters, Kung Yun- sum and Kung Chung-sum, their younger brother Kung Yan-sum, a doctor, and other family members hosted the memorial service. Mystery has clouded Wang's life right to the end - her husband Teddy Wang Teh-huei disappeared after probably being kidnapped and then killed in 1990. Mystery also hangs over who will inherit her business empire which has a net worth estimated at US$4.2 billion (HK$32.76 billion). Chief Executive Donald Tsang Yam-kuen, Chinese People's Political Consultative Conference vice-chairman Tung Chee-hwa, Director of the Central Government Liaison Office, Gao Siren, Cheung Kong (Holdings) chairman Li Ka-shing and Executive Council convenor Leung Chun-ying all expressed condolences to Wang's family at the service. Other mourners included Mona Fong Yat-wah, managing director of Television Broadcasts, former Democratic Party chairman Martin Lee Chu- ming and local Chinese People's Political Consultative Committee and National People's Congress delegates. Tributes also came from Beijing leaders, including State Councillor Tang Jiaxuan and three CPPCC vice- chairmen - Tung, Director of the Hong Kong and Macau Affairs Office Liao Hui and head of the United Front Work Department Liu Yandong. One notable attendee was Jia Chunwang, Procurator-General of the Supreme People's Procuratorate and former Minister of Public Security, together with Chen Muhua, chairperson of All-China Women's Federation.
Hutchison Global Communications, one of the city's fixed-line network players, has launched a service offering unlimited viewing of Hollywood films through downloads to personal computers.

China: The Chinese government has launched another crackdown on cover-ups and dishonest reports of colliery accidents filed by mine owners as the falling death toll rebounded in March.
The warm winter is cited as a factor in the trade surplus in January-February by Chinese experts, in response to renewed calls for RMB revaluation.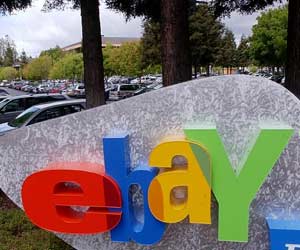 The Chinese market share of U.S. e-commerce giant eBay plunged to a record low last year as local rival Taobao.com gained further ground, according to an industry report. China IntelliConsulting Corp, founded by Internet industry analyst Lu Bowang, said Monday that eBay's share in the Chinese consumer-to-consumer e-commerce market in 2006 was 15.4 percent. That was in sharp contrast to its 29.1-percent market share in 2005.
Huge profits has propelled Wal- Mart Stores Inc. to the top of the 2007 Fortune 500 list, and pushed aside Exxon Mobil Corp. to the No. 2 spot on the magazine's annual ranking of largest 500 U.S. companies.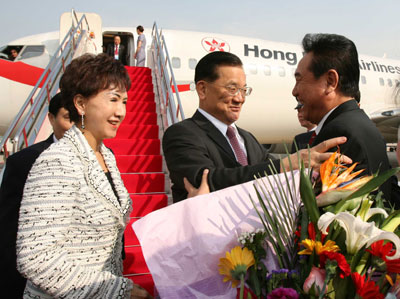 Lien Chan (M), Taiwan's Nationalist Party Honorary Chairman and his wife Lien Fangyu (L) are welcomed by an official upon their arrival at an airport in Zhengzhou, central China's Henan province April 16, 2007. Lien will attend the 3rd Cross-Strait Economic and Cultural Forum in Beijing April 28-29. Lien Chan, Honorary Chairman of the Kuomintang Party, arrived in Zhengzhou, capital city of central China's Henan Province, on Monday afternoon, heading a 27-person Taiwan delegation.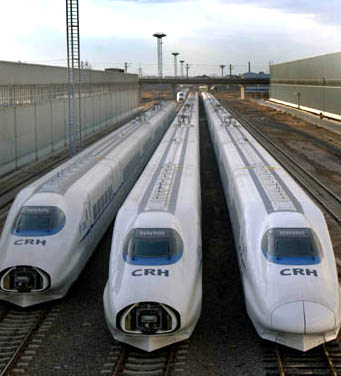 Brand new homemade high-speed trains CRH are seen at a railway station in Jinan, East China's Shandong Province, April 12, 2007. The CRH trains which could run at least 200km per hour, will serve on high speed routes between major cities after the sixth nationwide railway speedup from April 18.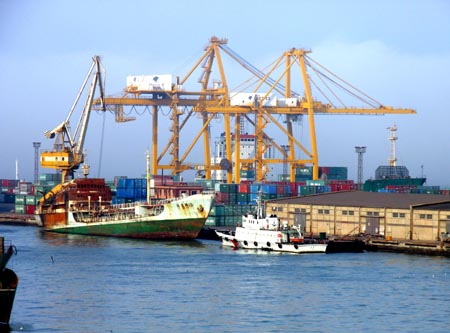 Dalian Port Co, operator of China's largest crude-oil terminal, yesterday raised its second-half profit 45 percent as the country's economic growth boosted demand for energy and container shipments. Net income for the six months ended December 31 rose to 256.4 million yuan (US$33 million) from 177.3 million yuan a year earlier, according to calculations based on 2006 earnings announced by the Dalian, northeast China-based company. Sales surged 25 percent to 820 million yuan, Bloomberg News said. Dalian Port and its ventures handled 14 percent more crude oil last year and 21 percent more containers, as China's exports surged 27 percent. The port operator has formed ventures to build additional container berths and it also plans to open six new crude-oil storage tanks this year. "Growth in container throughput is more stable and faster than crude oil throughput as Dalian Port mainly serves northeastern provinces, the main hub of China's heavy industries," said Edward Wong, an analyst at Quam Ltd in Hong Kong. "Imports of crude oil partly depend on oil prices." Dalian Port handled 3.15 million standard 20-foot boxes last year, it said. Sales from container traffic rose 20 percent in the period to 690.5 million yuan, or 45 percent of its total revenue. Gross profit totaled 360.7 million yuan, or 43 percent of total profit. Crude oil volume totaled 20.9 million tons in 2006. Refined oil volumes fell 17 percent to 11 million tons. The company's revenue from oil and liquefied chemicals rose 22 percent to 594.8 million yuan, equal to 39 percent of total revenue. The unit's gross profit was 352.9 million yuan, or 42 percent of the company's total profit. China consumed about 6.9 million barrels a day of oil last year, according to the Ministry of Commerce. Crude-oil imports may rise five percent by 2010, the National Development and Reform Commission, China's top economic planning body, said on April 10. For the full year, Dalian Port's profit rose 51 percent to 631.6 million yuan. That exceeded the 610 million yuan average of five analysts' estimates compiled by Bloomberg. Sales climbed 22 percent to 1.55 billion yuan. Dalian Port and Modern Terminals Ltd, controlled by Hong Kong-based Wharf (Holdings) Ltd, agreed in March to build deep-water container terminals in Dalian. The venture followed a similar tie-up between Dalian Port, Nippon Yusen K.K. and China Shipping (Group) Co announced in December.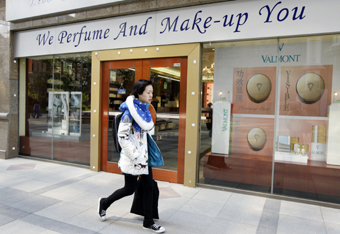 A woman walks past a sign that reads: "We Perfume and Make-up You" outside a store selling perfumes and cosmetic products in Beijing April 16, 2007. Beijing is unlikely to be totally free of Chinglish signs by the 2008 Olympics, but the government is increasing efforts to improve the capital's once lamentable English, a senior official said last week. China is littered with wrong, embarrassing and sometimes plain rude signs in Chinese English, examples of which often end up on the Internet, such as writing "oil gate" for a petrol station, and "the slippery are very crafty"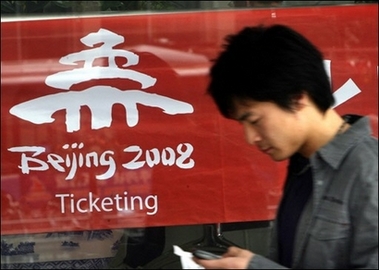 A pedestrian walks past a banner promoting the Beijing 2008 Olympic Games tickets in Beijing, 14 April 2007. The mad scramble for Beijing Olympics tickets began Sunday with organisers putting on sale more than seven million seats for the world's premier sporting event. Tickets for the 2008 Beijing Olympics will be embedded with a wireless memory chip and printed with specialty ink in a bid to curb fakes. China is taking measures to avoid counterfeits after the 7 million tickets for the Aug. 8-24 event went on sale on Sunday. Three-quarters of the tickets - priced from 30 yuan ($4) to 5,000 yuan - are for the home market and the rest overseas. High-demand sports events including the 2006 Soccer World Cup and Champions League final have been targeted by forgers. "Fake tickets are bound to surface during every Olympic Games,'' Rong Jun, director of ticketing sales at the Beijing Organizing Committee, said at a briefing in the Chinese capital on Sunday. "We want to use the most advanced technology to stop fake tickets." The use of so-called radio frequency identification memory chips will help organizers combat pirated tickets as well as speeding up entry into venues, Rong said. Competition tickets will sell for between 30 yuan and 1,000 yuan, while entry to the opening and closing ceremonies will cost 150 yuan to 5,000 yuan, according to the Beijing Organizing Committee. Tickets will be available for collection a month or more before the start, organizers said. Overseas sales will be handled by the individual country's National Olympic Committee and its ticketing agent, Rong said. About 14 percent of tickets will go to students on the Chinese mainland, Hong Kong, Macau and Taiwan and will cost between 5 yuan and 10 yuan. Ticket sales will raise $140 million.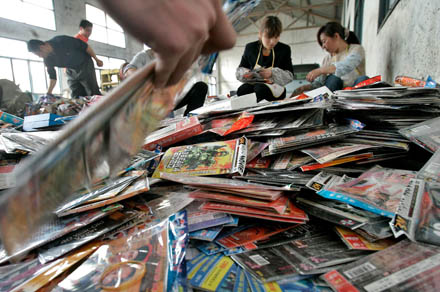 Workers prepare to destroy pirated video and music discs on Saturday in Chengdu, Sichuan province.
Trade officials have rejected a complaint by the US to the World Trade Organisation that Beijing's restrictions on American movies, music and books were hindering its crackdown on the rampant infringement of intellectual property rights.
April 19, 2007

Hong Kong: Investors swamped the retail offer of mid-sized lender China CITIC Bank as it opened for subscriptions Monday, soaking up nearly 70 percent of margin financing offered by securities brokers in one day.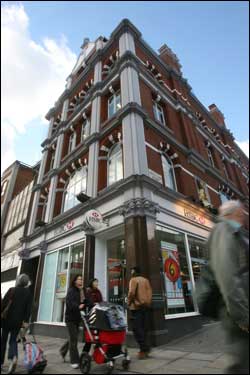 HSBC Holdings (0005) said Singularis Holdings, a Cayman Islands-based company in which billionaire Maan al- Sanea has an indirect interest, owns 3.1 percent of the London-based bank. The Saudi Arabian investor has bought a 3.3 billion (HK$51.2 billion) stake in Europe's biggest bank, HSBC Holdings, in the past two months and sees the stake as a long-term investment, his spokesman said. Al-Sanea made his wealth in construction and has a net worth of US$7.5 billion (HK$58.5 billion), Forbes magazine's annual survey of billionaires said last month. He is chairman of The Saad Group, whose businesses interests range from banking and finance to travel and real estate, according to the Saad Web site. "They are long-term investors in HSBC and have accumulated the holding since mid-February," said Singularis spokesman Tim Robertson. A regulatory filing said al-Sanea owned 360 million HSBC shares, or a 3.1 percent stake, through Singularis Holdings. He started buying the shares in mid-February, after problems in HSBC's US mortgage business hit its share price. Robertson declined to comment on whether al-Sanea would continue buying shares. Al-Sanea has long-term shareholdings in other leading financial firms, including Citigroup, Bank of China (3988) and several Middle East companies. He is also the man behind Saad Investments - another investment firm based in the Cayman Islands but not linked to Singularis' purchase of HSBC shares. HSBC's American depositary receipts were advancing at the opening of the US session Monday in New York, by the equivalent of HK$1.63 per share to HK$144.53 on a comparative basis. In London, HSBC shares rose to 928 pence (HK$144) in late trading Monday. Earlier, the bank's Hong Kong-listed stock rose 1.56 percent or HK$2.20 to close at HK$142.90.
China Overseas Land and Investment (0688), the Hong Kong-listed flagship of the mainland government's construction ministry, plans to issue a US$500 million (HK$3.9 billion) convertible bond, market sources said.
Nine Dragons Paper Holdings (2689), the mainland's largest containerboard manufacturer, is set to raise up to HK$2.04 billion through a share placement, taking advantage of a share rally that lifted the market to a seven-week high Monday.
Sing Tao News Corporation (1105), publisher of The Standard and Chinese- language newspaper Sing Tao Daily, has announced net profit last year reached HK$178.1 million, with earnings per share of 20.06 HK cents, on the back of a robust economy and strong advertising revenues.
Shun Tak Holdings (0242), a ferry services, luxury hotels and property group, run by casino mogul Stanley Ho Hung- sun, posted an 82.2 percent jump in net profit last year. Bottom-line growth was driven by housing developments in Macau and high-speed ferry services.
Lawmakers have passed a resolution calling on the MTR Corp to cut fares immediately while barring fare increases for two years after its merger with the Kowloon-Canton Railway Corp. The nonbinding motion, passed Monday at a meeting of the Bills Committee studying the Rail Merger Bill, called for adoption of a fare adjustment mechanism at the end of the capped-fare period, limiting future fare hikes to a maximum of 10 percent. The legislators' move followed remarks by MTRC chairman Raymond Ch'ien Kuo-fung Sunday that MTR fares are likely to go up. Although Ch'ien did not specify any date for possible increases, his comments were interpreted by critics as an attempt to speed up the merger of the two rail operators. Responding to the lawmakers' criticisms, the MTRC has decided to withdraw the television advertising campaign starting today. Legislators have condemned public relations campaigns launched recently by the two rail operators, which promote merger benefits like fare cuts, saying they are geared toward misleading the public. An MTRC spokeswoman said the corporation has decided to halt the ad campaign for the time being. "We decided to remind the public of the benefits of the merger through a light- hearted approach, but we don't intend to cause any misunderstanding," she said.
The Hospital Authority is considering a reduced HK$20,000 maternity package for pregnant mainland women married to local men, following a plea from legislators. But the move might not be enough to satisfy the women, who hit out at the government's lack of compassion and its discriminatory policy. From September 2005 to January this year, non-local pregnant women had to pay HK$20,000 to have their babies in the city's public hospitals. But from February 1, the non-refundable charge was raised to HK$39,000 - which provided a confirmed booking certificate, antenatal checks, delivery and three days in hospital. Mainland women who arrive without bookings are charged HK$48,000.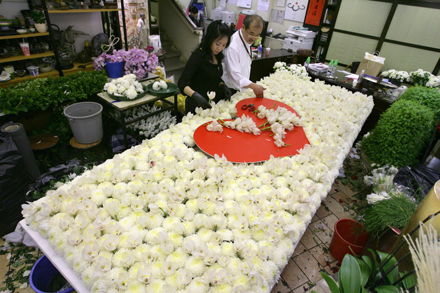 Tonnes of flowers are prepared at a Causeway Bay florist's shop for the funeral of Chinachem Group chairwoman Nina Wang Kung Yu-sum tomorrow. The florist's premises were packed with lilies, roses, daisies and other blooms, which were being taken to the Hong Kong Funeral Home in North Point. Many flowers were arranged in the shape of large hearts in keeping with the character "heart" in Wang's Chinese name. The funeral vigil will be held today.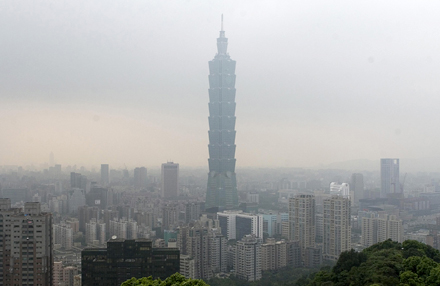 Taipei 101, the tallest building in the world at 508 metres, is seen in a haze of dust yesterday. A sandstorm from Mongolia that blew particles across the Taiwan Strait has been blamed.

China: At 4:11 am, April 14, China sent a "Compass" navigation satellite into space on a Long March 3-A carrier rocket. About 14 minutes after blast-off, the satellite separated from the carrier rocket and entered its pre-set orbit "accurately", according to data from Xi'an Satellite Tele-Tracking and Controlling Center. This latest Compass-M1 satellite, orbiting at 21,500 kilometers above the earth, is part of China's plan to construct the "Compass" navigational system, sources say. No longer just an "experimental" satellite, its successful launch heralds the beginning of a new era in the system's construction. China to meet its navigation needs and those of neighbors by 2008 - Over the next few years China will launch more Compass series satellites to meet its own and others navigation needs by 2008, gradually building a global system through network construction and experimentation. The system will chiefly serve the national economy by providing efficient positioning services for transportation, meteorology, petroleum prospecting, forest fire monitoring, disaster forecasting, telecommunications and public security, among others. The satellite and carrier rocket were developed by the China Academy of Space Technology and the China Academy of Launch Vehicle Technology under the China Aerospace Science and Technology Corporation. The launch represents the 97th flight of China's Long March series of rockets. Experimental "Compass" system high-functioning - Important space infrastructure, a satellite navigation system, like a radio navigation station in space, combines the advantages of traditional celestial navigation and ground radio navigation systems, experts say. It can have tremendous economic benefits but only a few countries in the world are currently capable of developing their own navigation systems. Since 2000, China has sent four experimental "Compass" satellites into space to form a test navigation system. The system is capable of providing time and GPS information to China and neighboring countries. It has played a big role in prospecting, telecommunications, water conservation, transportation and many other fields. China needs to have its own global positioning system - A satellite navigation and positioning system is of great significance in defending national interests as it touches political, economic and military fields. The first GPS network was put into operation by the United States in 1973, for both military and civilian purposes. Since then, the US has provided highly accurate positioning signals to its military but lower-accuracy signals to other users. Currently, only an elite group of Americans know the accurate position of any object on earth, while other countries are only provided with the "rough" details. China has been a big country in terms of GPS application since it introduced its first GPS receiver in the 1980s. China is not only capable of having its own global position system; it needs one given its vast territory.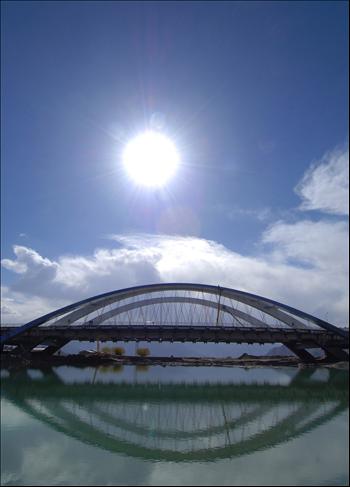 The picture dated Apr 15, 2007 shows Liuwu overpass, the first modern overpass in Tibet. The overpass, 1,660 meters in length and 29 meters in width, will open to traffic on May 1.
Bank of America on Monday announced an agreement with China Construction Bank (CCB) on a memorandum of understanding to jointly enter into a new credit card collaboration.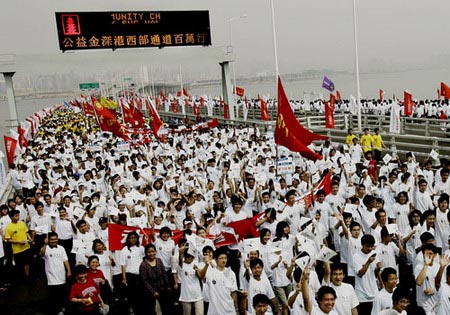 About 20,000 People, led by Shenzhen city leaders, walk on the Shenzhen Bay Bridge to celebrate the bridge's completion in Shenzhen, South China's Guangdong Province, April 15, 2007. The Shenzhen Bay Bridge that links Shenzhen and Hong Kong has a total length of 4770 meters.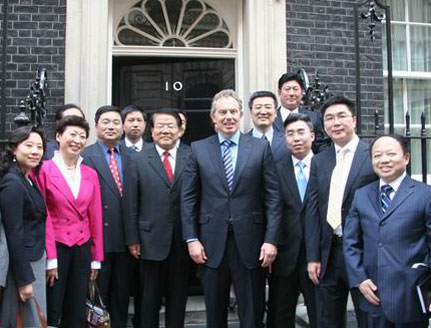 British Prime Minister Tony Blair poses with Chinese media delegation headed by Cai Wu (sixth from left), minister of the State Council Information Office, at 10 Downing Street in London, April 15, 2007. Blair said the visit of the Chinese media delegation will help promote understanding and media exchanges between the two countries will play an important role for hosting the Olympic Games, 2008 in Beijing and 2012 in London.
China is expected to post a double-digit rise in gross domestic product in the first quarter, which economists say will put Beijing under greater pressure to implement more tightening measures.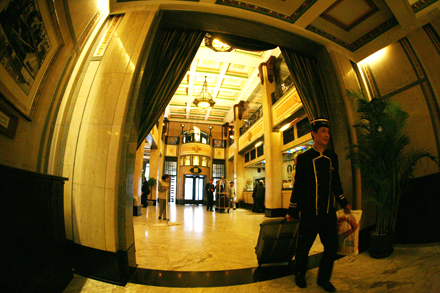 The owner of the historic art deco Peace Hotel in Shanghai has brought in two foreign partners in a surprise move that has raised concerns that the historical integrity of the building could be under threat. Shanghai Jin Jiang International Hotels (Group) yesterday signed separate agreements with the Swatch Group and Canada's largest luxury hotelier, Fairmount Hotels and Resorts. The deals are aimed at helping the foreign partners break into the mainland hotel market and Jin Jiang to make use of international management expertise. The Peace Hotel, which closed at the beginning of this month for a near 500-million yuan facelift, will be re-opened in 2009 with a fresh appearance and a new name - Fairmount Peace Hotel Shanghai. Jin Jiang said Fairmount would help renovate and manage the 12-storey hotel, which marks the Canadian firm's first venture in Asia. Fairmount operates about 51 luxury hotels and resorts largely in North America, according to its website. Jin Jiang would help Swatch open shops in the hotel selling Breguet, Blancpain and Omega watches following the renovation, the mainland company said, without revealing financial details of the deal. The agreements would help the Peace Hotel fend off punishing competition from the expanding number of overseas hotel brands in Shanghai, but some consultants say the deals will inevitably challenge the history of the hotel, which lies at the heart of the Bund district. Controversy over the renovations at the Peace Hotel, and the name change, follows the row over the Starbucks outlet in Beijing's Forbidden City. Lawmakers have called for the coffee shop to be removed from the former home of the emperors of the Ming and Qing dynasties. "It will never be the same again," a consultant based in Hong Kong said of the hotel changes. "The partnership brings about an identity crisis." Jin Jiang, which went public in Hong Kong last December netting HK$2.6 billion in proceeds, had not previously indicated a desire to bring in partners to the hotel.
April 18, 2007

Hong Kong: Warrants on the Hang Seng China H-Financials Index are being launched simultaneously with new index futures today as issuers wrestle for a slice of the highly competitive derivatives market.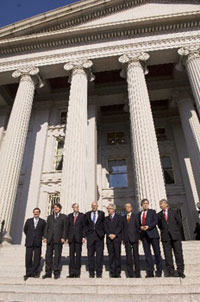 G7 Central Bank Governors pose for their official photo at the U.S. Treasury Building in Washington April 13, 2007. Finance officials from the world's seven richest nations said on Friday that the global economy is becoming more balanced and will continue its strong expansion despite risks.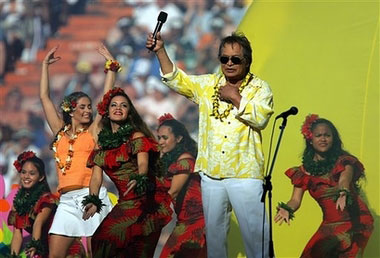 Legendary crooner Don Ho, who entertained tourists for decades wearing raspberry-tinted sunglasses and singing the catchy signature tune "Tiny Bubbles," has died. He was 76. He died Saturday morning of heart failure, publicist Donna Jung said. Donald Tai Loy Ho, who was Hawaiian, Chinese, Portuguese, Dutch and German, was born Aug. 13, 1930, in Honolulu and grew up in the then-rural countryside of Kaneohe. In high school, he was a star football player and worked for a brief time in a pineapple cannery. After graduating in 1949, he attended Springfield College in Massachusetts on an athletic scholarship. He grew homesick, returned to the islands and ended up graduating from the University of Hawaii in 1953 with a degree in sociology.
With a strong partner and a broad network, Hongkong and Shanghai Banking Corporation is tipped to emerge as this year's winner among foreign banks in China. Some of the larger foreign banks have already incorporated in China and are gearing up to battle for US$4.9 trillion (HK$38.2 trillion) in banking assets once the banking regulator gives the green light. HSBC, Standard Chartered Bank (2888), Bank of East Asia (0023) and Citigroup are the first four foreign players to set up locally incorporated units in the mainland. "HSBC is not a comparable contestant with the state-owned big four, which control more than US$2.6 trillion of the banking assets in the country, as the foreigners combined control only about US$120 billion of these assets," one Beijing-based banker said. "But among peer foreign rivals - and with the help of Bank of Communications (3328) - they [HSBC] could get their hands on lucrative sectors at a much quicker pace than their rivals." HSBC Holdings (0005) has a 19.9 percent stake in BoCom, but the holding could be slightly diluted after the mainland lender starts floating its shares on the Shanghai Stock Exchange. Apart from the common niche market of wealth management among foreign banks, retail banking is also one of the fastest growing businesses, and foreign banks are desperate to get their credit cards into the wallets of mainland consumers. "The credit card service in China is like the cellular phone market," according to one analyst.
Lai Sun Development (0488) said its net profit for the six months ended January 31 skyrocketed 159 percent to HK$600 million compared with the corresponding period last year, due to a 515 percent jump in profit contribution from associate companies including eSun Holdings (0571).
Without a "magic wallet," Hospital Authority chief executive Shane Solomon feels that channeling hospitalized mentally ill patients back into the community is the best way to proceed while overhauling Hong Kong's outdated mental health service model. He has pledged to frame a mental health service strategy for Hong Kong by the end of this year, and his Australian background will not allow him to take things for granted. "In Hong Kong, you don't work on ideals, the culture is different," Solomon told The Standard when comparing the provision of local psychiatric services with that of other developed countries. No one would deny the pressing problem - an acute shortage of psychiatry services - should be a priority on the public health agenda in 2007. A 2001 special report from the Census and Statistics Department put the number of mentally disabled in the territory at 50,500, or 0.7 percent of the population. But lawmakers have put the figure at 600,000. It is a well-accepted estimation in the medical sector to align Hong Kong's mentally ill with international prevalence, which is 10 percent of the population. They said there are up to 25,000 new cases approaching the public health system every year with the longest waiting time for a consultation being 53 weeks, as was revealed in the Legislative Council after it passed a nonbinding motion in February urging the government to move more quickly on the problem. Last July three women ended their lives, apparently in a suicide pact, by burning charcoal together in a flat in Tin Shui Wai. One of them was found to have made multiple suicide attempts since 2002 and was a mental outpatient. The tragedy drew heavy criticism, highlighting the acute shortage of psychiatrists in the community.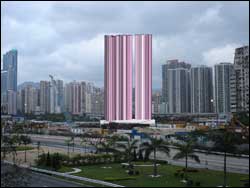 The government is under mounting pressure to change its building guidelines to reduce the health threat posed to residents by the "wall-like effects" of skyscrapers to be built in densely populated areas. Environmental group Green Sense has called for the withdrawal of prime West Kowloon sites from the land application list for public auction to eliminate what it calls the "grave danger" to the health of residents, particularly the elderly, if high-rises are built there. "We want the government to lower the plot ratio to five or even less and set limits on the alignment of buildings immediately. Air ventilation tests should also be done before the master layout plan is drafted," Green Sense president Roy Tam Hoi-pong said Sunday. Last month a number of legislators lashed out at the construction of two skyscrapers on northern Hong Kong Island facing Tsim Sha Tsui, warning they will create a "wall-like effect" and block air flow and sunlight in Central. The tight disposition of high-rises above the Kowloon-Canton Railway stations at Tai Wai and at Tai Kok Tsui also stirred controversy because of the potential "wall-like effect" in the districts. Green Sense said it investigated all 46 lots now on the Buildings Department's land application list and found at least 12 sites in Yau Ma Tei, Hung Hom, Wong Tai Sin and Tung Chung that are likely to be packed with high- rises along the coastline that may create a "wall-like effect." It said such an effect will result in poor air ventilation and cause temperatures to rise in the inner parts of the city, threatening residents' health.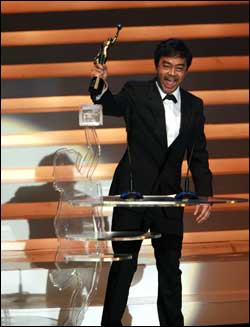 Family drama After This Our Exile swept the top honors at the Hong Kong Film Awards, winning five prizes, including best film and best director for Patrick Tam Kar-ming. "Thank you for the judges' support for me ... I thank all the actors and crew members and also God, who gave me such a great gift," Tam told an audience of more than 1,000 at the harborfront Hong Kong Cultural Centre, Tsim Sha Tsui, Sunday night. The movie was Tam's first feature film since his My Heart Is That Eternal Rose in 1989. The art-house film about a single and abusive father who turns to gambling won child star Gouw Ian Iskandar two gongs in the best new performer and supporting actor categories. The movie also won the best screenplay title. "I didn't think I would win another prize again. I've learned a lot from making the film. I'm very happy," the child star said. The movie beat strong contenders in the best film category, including world-renowned Chinese director Zhang Yimou's Curse of the Golden Flower and veteran Hong Kong filmmaker Johnnie To's gangster flick Election 2. To did not win a single prize despite being tipped to win one of the major gongs. His triad movies, Election 2 and Exile received five and four nominations respectively, including for best director and best film. Dark horse Lau Ching-wan bagged the best actor gong for his role in My Name is Fame, trumping strong competition from charismatic actor Chow Yun-fat of Golden Flower, martial arts master Jet Li of Fearless and heart-throb Tony Leung Chiu-wai of Confession of Pain. Golden Flower, the most expensive Chinese film to date, with a budget of US$45 million (HK$351 million), won four prizes in mostly minor categories including art direction, with starlet Gong Li being crowned the best actress. The film, which was nominated for best costume design at this year's Oscars, picked up the best costume and make-up design award here. Taiwanese singer, actor and composer Jay Chou won the best original film song gong for the movie. The sumptuous movie tells the story of an imperial family falling into turmoil, with the emperor (Chow) gradually poisoning the empress (Gong) after she had an affair with her stepson. Although Zhang lost out in the best director award, his Riding Alone for Thousands of Miles picked up the best Asian film prize. Fearless, starring Li, who portrayed martial arts master Huo Yuanjia in the movie, had seven nominations but only took home one prize, with Yuen Wo- ping beating kung fu hero Jackie Chan Kong-sang of comedy Rob B Hood for the best action choreography. Composer Peter Kam, who won top honors for his music in Isabella at the Berlin Film Festival last year, was also recognized for the best original film score for the same movie. Movie guru Run Run Shaw, who is in his 100th year and whose film career spans more than 40 years, received a special honor for his contribution to the local film industry. The 26th awards struggled to attract some of the big-name stars. Zhang, Li, Gong, Chow and To were all absent from the gala evening. Among those who stepped onto the red carpet were Tony Leung Chiu-wai, Tony Leung Ka-fai, Aaron Kwok, Jay Chou, Donnie Yen as well as South Korean stars Song Hye Kyo and Kwon Sang Woo.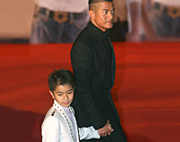 Gouw Ian Iskandar arrives at the awards last night with his on-screen dad Aaron Kwok. Gouw, who starred in After This Our Exile - which was the big winner of the night with five gongs - stole the hearts of the audience and media after accepting his first award, saying it was heavier than he had expected.

China: Tickets for China's new high-speed trains went on sale on Saturday as the first bullet trains will hit the track next Wednesday, said a spokesman for the Ministry of Railways Saturday in Beijing.

China will not bow to international pressure to allow the yuan to appreciate by more than 4 per cent a year, a leading Chinese economist said. The comments from Peking University professor Lin Yifu coincided with China's reiterated commitments to balance trade by boosting financial reforms and domestic demand despite calls from the US at an International Monetary Fund meeting in Washington over the weekend urging Beijing to allow the yuan to strengthen faster. In an interview, the professor said the currency would appreciate by no more than 4 per cent a year despite the political pressure coming mainly from the US. The yuan continues to strengthen against the US dollar, firming to around 7.7250 last week, a new best under the two-year-old, managed-float regime. This has brought cumulative appreciation to 5 per cent, on top of the initial 2.1 per cent revaluation as part of the de-pegging from the American currency in July 2005. But most of the gain - 2.9 per cent - was made after Henry Paulson's first visit to Beijing as US Treasury Secretary, in September. "Beijing will definitely not let the yuan strengthen at a faster pace, as this would be to China's disadvantage. The US has called for a faster appreciation out of political concerns. Economically, it would also harm the US economy as higher import value after the appreciation would mean a worse trade imbalance for the country," said Professor Lin. The professor is a regular visitor to Zhongnanhai, the leadership compound in Beijing, and one of the five experts who in April drafted the Asian Development Bank's Eminent Persons Group report. The economist said China was going in the right direction by reiterating its stance of allowing the yuan to strengthen gradually. But he said China should make this clearer in order to "break the dreams of international players who expect 20-30 per cent appreciation this year". Hot money, or capital intended for short-term speculation, showed its obvious presence in China's first-quarter financial figures. The US$15.9 billion in foreign direct investment, with a trade surplus of US$46.4 billion, came to US$62.3 billion. This total was US$73.4 billion short of the US$135.7 billion foreign reserves increase in the first quarter. To address this excess liquidity, other domestic economists have suggested allowing the yuan to appreciate more quickly. However, Professor Lin believes the solution lies in boosting domestic demand and pushing ahead with financial reforms. As an advocate of the "New Socialist Countryside" programme, Professor Lin is pinning hopes on rural financial, welfare and infrastructure projects to benefit 800 million rural dwellers. In addition, setting up and further developing the current 100-plus regional commercial banks is a key task for Beijing in serving small- and medium-sized enterprises.
The Bank of Communications which is already listed in Hong Kong hoped it could get back to local yuan-denominated A-share market by June. The company's application to issue 3.2 billion A-shares for initial public offering, to be traded on the Shanghai Stock Exchange, will be examined Monday by the China Securities Regulatory Commission. Once approved, the new issue will turn the country's first joint-stock commercial bank established in 1987 into the third bank to have a dual listing in Shanghai and Hong Kong after the Industrial and Commercial Bank of China and the CITIC Bank. The new issue was expected to account up 6.5 percent of the enlarged total shareholdings. Analysts say that the IPO would likely raise 20 to 24 billion yuan although the prices are yet to be decided by the bid price of buyers and the situation of the A-share market. The bank announced in February that it would issue subordinated bonds worth 25 billion yuan through the country's interbank market. The bank reported net profits of 12.27 billion yuan in 2006, a sharp increase of 32.7 percent from the previous year. The value of its assets totaled 1.71 trillion yuan, up 20.8 percent, according to a report released by the bank in March. The Bank of Communications, established in 1908, became China's first joint-stock commercial bank in 1987 and listed on the Hong Kong stock market in 2005. (One U.S. dollars equals to 7.728 yuan)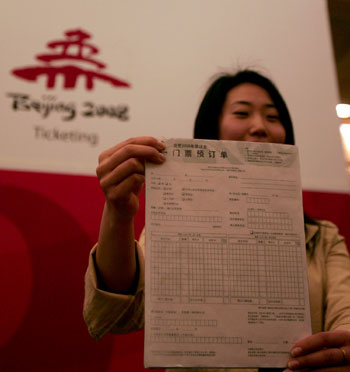 An organizing committee staff shows a 2008 Beijing Olympics Games tickets order sheet April 15, 2008. More than 7 million affordable tickets are on sale for the 2008 Olympic Games, the Beijing Organizing Committee for the Games of the XXIX Olympiad (BOCOG) said on Sunday.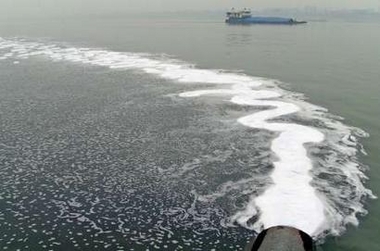 Industrial sewage from a textile dyeing factory is drained from a pipe into the Yangtze River in Yichang, in central China's Hubei province in this March 22, 2007 picture. China's economy could face problems unless the country shifts to a more sustainable and environmentally friendly growth pattern, said Ma Kai, head of the National Development and Reform Commission. Picture taken March 22, 2007. The first annual health report on the Yangtze River indicates that the billions of tons of waste that continue to be dumped into China's longest waterway are taking a serious toll its aquatic life.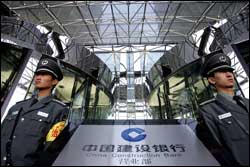 China Construction Bank (0939) reported net profit fell 1.65 percent to 46.319 billion yuan (HK$46.838 billion) last year, the worst performance so far among its peers, despite showing robust growth in both net interest and non-interest income business. Among its peers, Bank of China (3988) recorded the best performance last year with a 65.2 percent jump in net profit to 42.83 billion yuan, while Bank of Communications (3328) and Industrial and Commercial Bank of China (1398) posted rises in net profit of 32.74 percent and 31.2 percent, to 12.26 billion yuan and 49.2 billion yuan, respectively.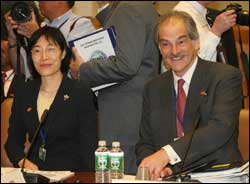 People's Bank of China deputy governor Hu Xiaolian said the role of currency exchange rates should not be overestimated as the International Monetary Fund seeks to strengthen surveillance. "The fund should be realistic - and not overestimate - the role of the exchange rate," said Hu, who also heads the State Administration of Foreign Exchange, at an IMF meeting in Washington Saturday. "External stability can only contribute to overall sustained stability when anchored by domestic stability." The IMF has tried to strengthen safeguards for global financial stability, amid US calls for the fund to convince China to quicken reform of its yuan exchange-rate regime. US Treasury Secretary Henry Paulson urged the IMF to take action "very soon." The IMF calls came a day after Group of Seven finance ministers and central bank governors reiterated calls for a quicker pace of yuan appreciation. Hu said China aims to reduce its balance of trade with countries such as the United States. China's reserves passed US$1.2 trillion (HK$9.36 trillion) at the end of last month. The yuan gained 3.4 percent against the US dollar last year, compared with an 11 percent surge in the euro and a 14 percent climb in the pound. China's massive trade surplus with the United States fell to US$9.5 billion last month from US$12.3 billion in February, and its surplus with Europe shrank to US$6.4 billion from US$11.8 billion. One of China's major objectives this year is to reduce the imbalance in trade. Policymakers intend to increase imports by encouraging domestic consumption, while also cutting export incentives. China April 10 announced export rebates on 76 steel products such as stainless steel and cold-rolled coil will be cut to 5 percent, effective Sunday. Tax breaks on another 83 grades of the metal will be abolished. The US Commerce Department, reversing more than two decades of practice, decided March 30 to levy countervailing duties on Chinese coated paper to compensate for alleged subsidies to exporters. This opens the way for further protectionist measures. "With trade protectionism pressures growing, measures taken by certain countries - under the pretext of righting global imbalances - will hinder the trade liberalization process," Hu warned.
China Mobile Communications, parent of telecom giant China Mobile (0941), has begun calling for tenders for equipment, valued about 3 billion yuan (HK$3.03 billion), needed to build the network for the country's home-grown third-generation service, an industry source said.
April 17, 2007

Hong Kong: The World Bank and the IMF on Friday said that the world have made great progress in poverty reduction, but it also warned many challenges ahead before reaching the Millennium Development Goals (MDG).
The high-profile visit to Hong Kong earlier this month by a member of the Saudi royal family who was looking for investment opportunities both here and in the mainland has enticed another group of wealthy Middle Eastern investors to Asia. Middle East investment consultant company Family Group was in town this week scouting for suitable investment opportunities for its clients, sources said. The company was leading a group of 30 of its wealthiest clients on a fact- finding trip to Hong Kong and China. However, the combined net worth of the investors and the sum they hope to invest remains unknown. According to sources, about 90 percent of the investors had never visited Hong Kong or China before. The group arrived in Hong Kong Wednesday and was treated to a closed- door lunch Friday with Secretary for Financial Services and the Treasury Frederick Ma Si-hang, who also made a speech. The group also visited the Hong Kong stock exchange before moving on to China where they were expected to attend a number of investment conferences. Middle Eastern investors, buoyed by robust oil revenue, have been looking for places in Asia to invest their money. The richest person in the Middle East, Prince Alwaleed bin Talal of Saudi Arabia, arrived in Hong Kong on April 3 as part of a 10-day tour of Asia looking for business opportunities. During his visit, he said he was planning to spend US$1 billion (HK$7.8 billion) in Asia and there was no upper limit on his investment in China. Last year, Alwaleed and a group of Saudi investors threw US$2 billion into the initial public offering of Bank of China (3988). The world's largest IPO last year, Industrial and Commercial Bank of China (1398), which was looking to raise HK$154 billion, allocated shares to two corporate investors from the Middle East, according to its listing prospectus. The Kuwait Investment Authority, which manages the country's funds and assets, invested HK$5.6 billion in ICBC. The Qatar Investment Authority invested HK$1.6 billion.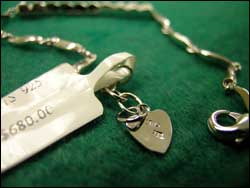 The Customs and Excise Department has formally charged the executive of a Hung Hom shop with selling fake jewelry - the first prosecution following allegations of mainland tourists being ripped off with fake goods. The 31-year-old man, who was in charge of Diamond Industrial at the time it was raided by Customs officers on April 6, has been charged with one count of importing and another of possessing goods with a false trade description. Customs said investigations showed the seized jewelry was manufactured in the mainland and not Italy. The suspect will appear at the Kowloon City Courts Thursday and faces a maximum fine of HK$500,000 and a five-year prison term for contravening the Trade Descriptions Ordinance. During the raid, Customs officers seized 1,807 pieces of gold-plated rings, pendants, necklaces, bracelets, earrings and brooches with a total retail price of HK$1.4 million. While Diamond Industrial is not one of the stores exposed in a CCTV television program which aired on the mainland April 1, it has received a summons for failing to display the required receipts or invoices showing descriptions of the jewelry as required by the Trade Descriptions (Marking) (Gold and Gold Alloy) Order. The two shops cited in the program are Majestic Watch and Jewellery and Hang Fung Gold Jewellery in To Kwa Wan. Customs and Excise Commissioner Timothy Tong Hin-ming said Friday there were only a "very small number" of dishonest shops. "The shops under complaint are a very small number when compared with the thousands of shops which mainly cater to mainland and overseas tourists ... Would you call [the problem] very serious?" Tong said after a meeting with more than 20 trade associations. Since April 2, Customs has carried out surprise checks on 49 shops that mainly serve mainland visitors. Tong said Deputy Commissioner Lawrence Wong Sau-pui was currently handling the investigation into the complaints. He said the support of the trade associations was vital in combating dishonest shopowners and it was important to regain the trust and confidence of visitors, especially with the Labor Day golden week holiday imminent. Hong Kong Chamber of Small and Medium Business president Dennis Ng Wang-pun urged the government to take action, such as a large-scale promotional campaign, to regain the confidence of visitors. "Prosecution is not the best measure, prevention is better," Ng said. He added the media exposure of dishonest shops did not reflect the whole picture and he feared the negative coverage would have a snowball effect on consumer confidence. At the government headquarters, about a dozen retailers and trade association representatives handed a petition to the government, urging tougher measures against unscrupulous shop operators. Retailers said since the media exposure their business had dropped by up to 10 percent. Meanwhile, tour guides said their low basic salaries, which range from zero to about HK$1,000, as well as pressure from tour operators, forced them to take tourists to shops where they could receive commissions. They urged the government to amend the "zero-fee" tour group arrangement and to insist on a basic salary for tour guides. On Friday the Travel Industry Council and Customs organized a seminar to help explain the Trade Descriptions Ordinance. Some of the 30 retailers who attended were among those who have had complaints lodged against them.

Despite Country Garden Holdings locking up HK$322.5 billion capital with its initial public offering, China Molybdenum received overwhelming investor response when retail subscriptions opened Friday.
Bank of East Asia (0023) chairman David Li Kwok-po said the lender is in talks with 30 mainland city commercial lenders about possible stake purchases. BEA has reportedly been involved in discussions with Guangzhou Commercial Bank to purchase a stake. Deputy chief executive Chan Kay- cheung has previously said the lender is keen to acquire interests in mainland players and is actively seeking to form joint ventures with them. Meanwhile, BEA, which has been exploring a tie-up with Affin Holdings since November, expects to raise its stake in the Malaysian lender from 3.97 percent to 20 to 25 percent. BEA is close to completing a deal with Affin, pending regulatory approval, Li said Friday in Shanghai. But regulatory approval is likely to be tricky. According to Bank Negara Malaysia, the country's central bank, foreign ownership in a commercial bank can be up to 30 percent, but any single corporate holding or institutional holding is capped at 20 percent by the Banking and Financial Institution Act. "They have to go for a special approval for things like that," a source told The Standard. "Some special arrangements need to be made," the source said, declining to elaborate. The Malaysian bank hopes to seal the deal by the end of the year, managing director Lodin Wok Kamaruddin said Friday after Affin's annual shareholder meeting in Kuala Lumpur. "This kind of diversification from Hong Kong is ongoing for them [BEA]," said Core Pacific analyst Kent Yau Ho-yin. "They are going into overseas markets where they can be a niche player to the local Chinese."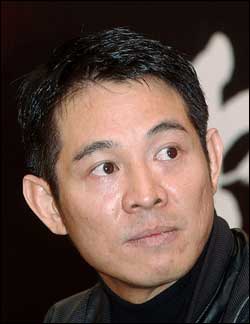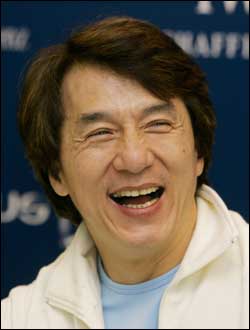 Jackie Chan Kong-sang and Jet Li's first movie together will be about an American teenager's fantasy journey to ancient China to rescue a mythological monkey king. The Forbidden Kingdom will start shooting May 2 in China, the movie's producer Casey Silver said. The action movie has drawn attention because it pairs the world's top two kung fu stars. Both Chan and Li had revealed the collaboration earlier but did not give details about the plot. Chan, however, did not appear too enthusiastic about the movie. "I don't have any expectations. It's just making an American movie," he said Thursday, suggesting the movie was being dictated by Hollywood producers. The idea for the film originates with the classic Chinese novel Journey to the West, in which a monkey king, a pig and a friar help guard a Buddhist monk searching for religious texts. The movie's US distributor, Lionsgate, said The Forbidden Kingdom is set in ancient China and follows an American teenager's attempt to help rescue the monkey king from captors. Li will play the monkey king and a silent monk while Chan will play another monk called T'sa-Ho. Chan had said he prefers shooting in Hong Kong because he can veer away from the action fare he normally produces in the United States. "I believe the world is anticipating the movie, but I'm not too involved," he said. The film could offer a sharp contrast of fighting styles. Chan is known for his improvizational, defensive moves while Li tends to dominate his on-screen opponents. Famed kung fu choreographer Yuen Woo-ping, known for his work on the Matrix trilogy, will design the action sequences.
Ho Ting-kwan, whose resignation from his post as director and audit committee member at Television Broadcast (0511) was announced Friday, is joining rival Asia Television to become its chief operating officer, sources said.
Taiwan presidential candidate Ma Ying-jeou said that if elected he would triple the proposed volume of mainland tourists to the island, which is generally off limits to mainlanders. Ma said he would aim to bring up to 3,000 mainland tourists per day to the island and as many as three million annually four years later. A plan expected to win approval later this year would allow up to 1,000 mainland tourists per day, and would also establish nonstop weekend flights between the mainland and Taiwan with a condition that they pass over a third place such as Hong Kong. Ma said he would ease curbs that limit Taiwan firms from putting more than 40 percent of their assets into China, and implement a more flexible system that would look at companies on a case by case basis. Another initiative would be to convince the world that Taiwan can be trusted to maintain peace with the mainland.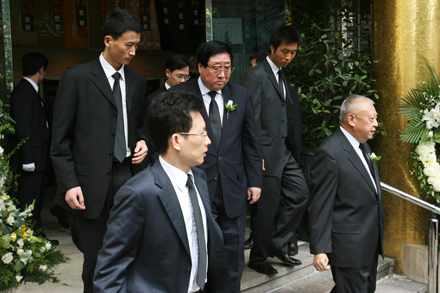 Liaison office director Gao Siren (centre) and former chief executive Tung Chee-hwa (right) attend the funeral of Cha Chi-ming, tycoon and former Basic Law Drafting Committee member, in North Point.
Despite differences in the judicial systems of Hong Kong and the mainland, the territory has been able to adjust "with less pain than some had forecast," according to a top European judge. Sir Konrad Schiemann, who was the UK's Lord Justice of Appeal from 1995-2003, said Friday the two legal systems had come together in a "successful marriage." Schiemann is currently one of 27 judges of the European Communities' Court of Justice. Citing examples of European states, Schiemann said Hong Kong's judicial relationship with the mainland was comparable to a happy couple. "Much like a successful marriage, it is sometimes more important to get on and live in a state of constructive tension" rather than to focus on the theoretical question of deciding each others' judicial role, he said. Calling himself an "outsider," Schiemann said Hong Kong had seemingly been able to adjust to a different way of life and legal structure over the past 10 years. July 1 is the 10th anniversary of Hong Kong's reunification with China. On whether full democracy suits Hong Kong, Schiemann said, given the complexity of its status as a Special Administration Region under the "one country, two systems" arrangement and a former British colony, he was unsure whether universal suffrage would be beneficial to the city. He noted, however, that "an important value in Europe is that the individual deserves to be safeguarded against the majority." Schiemann said local air pollution was not as bad as he had expected, but he declined to comment on whether the city needed to enact legislation comparable to the Clean Air Act overseas. Schiemann is in town to give a public speech on A Union with Several Legal Systems: the European Experience. The event, at a Central hotel Saturday, is organized by the Law Society of Hong Kong, which is celebrating its centennial anniversary this year.
PCCW's deputy chairman and managing director Jack So Chak-kwong, who will leave the company at the end of this month, sold 21.9 million PCCW shares to chairman Richard Li Tzar-kai for about HK$103 million, a source said yesterday.
Three Hong Kong third-generation mobile operators may take legal action against the government over its policy to offer free wireless internet broadband service in its premises, a source said yesterday.

China: Senior managers of China's Ping An Insurance, listed in both Shanghai and Hong Kong, were hit by a pleasant surprise this week when the company announced a huge bonus for them.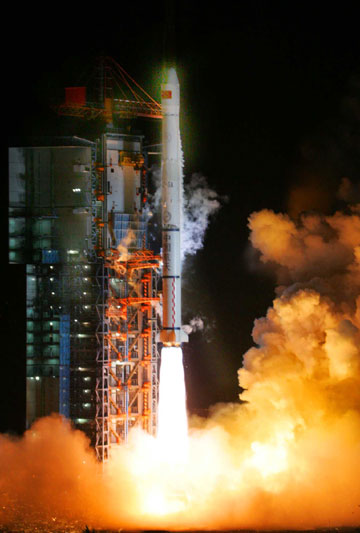 A Compass navigation satellite is successfully launched from Xichang, Sichuan Province April 14, 2007. China on early Saturday morning launched a navigation satellite, part of the country's "Compass" navigational system, which is expected to provide services to customers all over China and neighboring countries by 2008.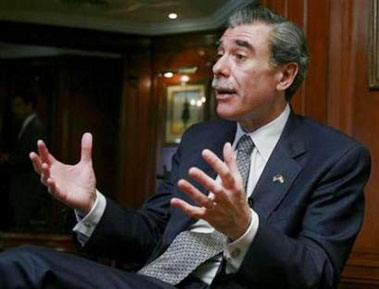 Commerce Secretary Carlos Gutierrez speaks during an interview with Reuters in New Delhi February 14, 2007. Worries that recent U.S. trade actions against China signal the two countries are on the verge of a trade war are 'way overblown,' Gutierrez said on Friday. Worries that recent US trade actions against China signal an impending trade war between the two countries are "way overblown," US Commerce Secretary Carlos Gutierrez said on Friday. The United States has filed a pair of cases against China at the World Trade Organization for movie, music and software piracy violations and market access barriers that it says keep legitimate US copyrighted products out. Those cases followed a Commerce Department policy change in late March that opened the door for US companies to seek new duties on subsidized imports from China. Gutierrez said those steps were legitimate ways of handling frictions in the trade relationship. "The speculation about a trade war -- those comments are way overblown. We have a massive trading relationship with China and you know we'll have some differences and we'll have some issues," he said in an interview. "But the bulk of the relationship is very strong and continues to flow very smoothly," he said. Gutierrez spoke a few hours after the Commerce Department released data showing the massive US trade deficit with the rest of the world narrowed unexpectedly in February to $58.4 billion from $59.1 billion in January. But the gap with China for the first two months of the year was still 25.1 percent wider than in the same period of 2006. Democrats blame the huge US trade deficit, which hit a record $765.3 billion in 2006, on what they say is lax enforcement of international trade rules and mismanagement of the economy by the Bush administration. Gutierrez said he was encouraged that exports in the first two months of this year rose 10 percent, while imports grew only 3 percent. "Our strategy continues to be to grow exports, not to reduce the deficit by limiting imports," Gutierrez said. He stopped short of predicting the US trade deficit would fall in 2007 for the first time in several years. "What we're staying focused on is our exports. We're well ahead of our trend line. Last year was a banner year and year-to-date we're growing up against that," he said. US and EU officials will discuss options for increasing bilateral trade at an annual summit meeting on April 30 in Washington, as well as the importance of bringing world trade talks to a successful close, Gutierrez said. German Chancellor Angela Merkel, whose country currently holds the presidency of the EU, has been pushing an initiative to expand transatlantic trade by reducing regulatory barriers. "Clearly, we've been having discussions and that is a priority with the European Union -- to look for ways to make our commercial relationship more efficient and one way to do that is through regulatory efficiencies," Gutierrez said.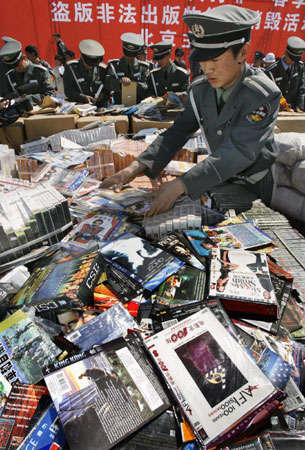 Chinese security officers prepare to destroy pirated DVDs and software during a ceremony in Beijing April 14, 2007. Over 42 million pirated materials, from music CDs to computer software, DVDs to books, were destroyed in China on Saturday.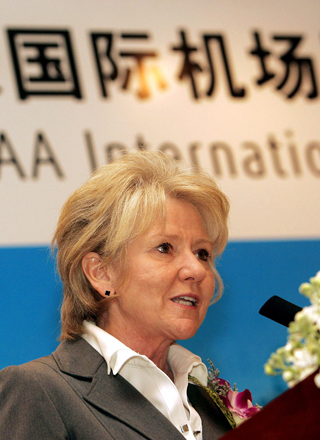 China and the United States are on the verge of agreeing a landmark aviation deal that would greatly increase the number of flights between the two countries, US Secretary of Transportation Mary Peters said yesterday. The "open skies" agreement would scrap restrictions on the number of flights between two of the world's largest trading partners. The ultimate goal is to emulate last month's deal between the US and the European Union that opened up the lucrative transatlantic airline market. "Without question, we have the groundwork for another landmark aviation agreement," Mrs Peters told an audience of business executives in Beijing. "There is no better time than the present to build on this foundation by opening the skies between China and the United States." She added: "Restricting cargo and passenger flights restrains commerce. This makes little sense when two countries are trying to broaden and deepen their economic relationship." Mrs Peters, who was in Beijing to meet top Chinese transport officials, said senior officials on both sides agreed that a framework for a "liberalised aviation agreement" should be settled "in a short time", preferably before the reconvention of the strategic economic dialogue in Washington next month. In 2004, the US and China increased the number of airlines permitted to serve US-China routes from four to nine and increased the number of flights a week fivefold to 249, but supply has failed to keep up with demand. About 16 per cent of US-China passenger traffic is now lost to third country carriers. US officials regard opening the skies to more competition as vital for maintaining smooth economic relations between the two countries, which recorded US$343 billion worth of trade last year. A single daily flight by a jumbo jet from the airport is estimated to generate an annual US$213 million in economic activity in China. "The global economy depends on the mobility of people, products and capital across oceans and borders. One of the most effective ways to facilitate the global flow of goods is to open international aviation markets," Mrs Peters said. The US also hopes more flights will translate into fresh orders for Boeing aircraft, the US' leading maker of commercial aircraft. When President Hu Jintao visited Boeing's facilities last year, he noted that China had ordered 678 aircraft from the company since 1972 at a total cost of US$37 billion. Demand for aircraft is rising as China invests heavily in new airports. It plans to build 42 new airports, expand a further 73, and move another 11 facilities at a cost of US$17.4 billion over the next five years.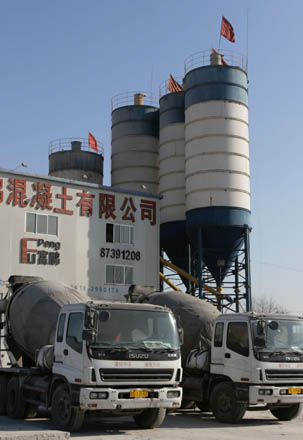 Anhui Conch Cement, the mainland's largest maker of the material, said profit rose sharply last year as the country's fast economic growth helped it rebound from an industry slump in 2005. Net income rose to 1.48 billion yuan from 385.83 million yuan in 2005, while earnings per share increased to 1.14 yuan from 32 fen. Sales jumped 40.83 per cent to 15.25 billion yuan. "China's economy will continue to have robust growth this year but it is believed that the government will keep implementing financial and currency policies in order to facilitate economic structural adjustment and massive investment," said chairman Guo Wensen. Anhui Conch suffered a 60 per cent slump in full-year profit in 2005 amid the government's austerity measures begun in 2004 to curb growth in several industrial sectors including cement. High coal prices also increased the company's costs in 2005. However, the strong growth in the property sector and continued urbanisation last year fuelled demand for cement. Anhui Conch increased annual production capacity by about 30 per cent to 75.51 million tonnes last year, and plans to add another 50 million tonnes of capacity this year. Earnings were also boosted by a 6.2 per cent increase in average selling price to 201.9 yuan per tonne. Mr Guo estimated the price would grow 3 per cent this year. The company has budgeted 5.3 billion yuan as capital expenditure for this year, including three billion yuan to expand its production facilities. Anhui Conch exported 13.96 million tonnes of cement last year, up 66 per cent from 2005. Exports accounted for 19 per cent of total sales, company secretary Zhang Mingjin said. "We will keep the level at around 18 to 19 per cent in future," Mr Zhang said. The company has an 80 per cent market share in the eastern region and 20 per cent in the southern. According to industry magazine China Cement, the mainland produced 1.2 billion tonnes of cement last year, up 19.07 per cent from 2005. Overseas sales jumped 70.65 per cent to 19.41 million tonnes. Anhui Conch is one of the 12 pillar cement manufacturers chosen by the State-owned Assets Supervision and Administration Commission, which encourages consolidation in the industry. Mr Guo said the company had no plans for more acquisitions this year. A final dividend of 20 fen per share will be declared from seven fen per share a year earlier. Shares in Anhui Conch have risen 155 per cent in the past 12 months, closing 5.77 per cent higher yesterday at HK$33.90 after the results were announced.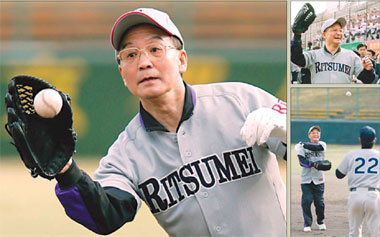 Premier Wen Jiabao catches a baseball during an exchange event with Ritsumeikan University's baseball team at Nishikyogoku stadium in Kyoto, western Japan, on Friday. Top right: Wen waves to the audience after the game. Right: Wen throws a ball during the event. The premier wraps up his visit to Japan on Friday.
The sale of mutual funds in China is booming. A total of 11 funds, valued at more than 100 billion yuan (US$12.94 billion), were raised in the past 40 days. The number is 10 times that for the same period last year.
The dispute between Chinese beverage company Wahaha and its French partner Danone took another unusual and very pubic twist on Friday with the Wahaha president admitting he made mistakes but insisting the original contract he signed isn't valid.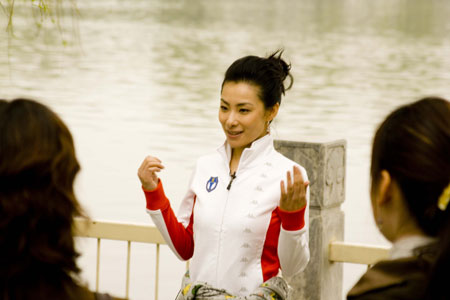 China's Olympic gymnastics champion Liu Xuan shoots a new Beijing Olympic promotion advertisement in Beijing's Shi Chahai Park, a well-known touring site for its Beijing traditional flavor.
China's national broadcaster has begun filming a 40-part series on martial arts icon Bruce Lee, state media reported Tuesday, as part of an apparent bid to promote Chinese culture in the run-up to next year's Beijing Summer Olympics. China Central Television started shooting The Legend of Bruce Lee over the weekend in Shunde, Guangdong province, Xinhua News Agency said Tuesday. Shunde is the ancestral home of Lee, who was born in San Francisco. The 50 million yuan (HK$50.56 million) production will also be filmed in Hong Kong and the United States, where Lee studied and launched his acting career. Well-known Hong Kong actor, Chen Guokun, who plays Lee, said he has mixed feelings about playing the role of the icon. "I'm nervous and also excited, but I will do my best," Chen, also known as Danny Chan Kwok- kwan, was quoted as saying Chen, best known for appearing in the action comedy Kung Fu Hustle, says Lee has been his role model since he was a child and that he has practiced kung fu for many years. Lee died in 1973 at age 32 from swelling of the brain. In Bruce Lee, filmmakers have seized on a powerful symbol of nationalism. Lee is known for films in which he portrayed characters that defended the Chinese and the working classes from oppressors. The best-known biographical film on Lee is Dragon: The Bruce Lee Story, starring Jason Scott Lee, which was released in 1993. Jason Scott Lee is not related to Bruce Lee.
April 16, 2007

Hong Kong: The possibility of introducing universal suffrage for both the chief executive and Legislative Council elections in 2012 was dashed Thursday when constitutional affairs chief Stephen Lam Sui- lung admitted views among members of the Commission on Strategic Development remained far apart. Hong Kong people could choose the chief executive by universal suffrage in 2017 "at the earliest" as it would be in line with the gradual, orderly progress stated in the Basic Law, the DAB chairman said on Friday.

In direct contrast to the bullish market sentiment, China CITIC Bank Tuesday lowered the top end of the indicative price range for its initial public offering by 5 percent to HK$5.86 per share, cutting the potential total funds raised to HK$42.13 billion, market sources said.

Even though a subprime mortgage market is virtually non-existent in Hong Kong, banks and industry regulators should remain vigilant and learn from the recent US experience, said Joseph Yam Chi-kwong, chief executive of the Hong Kong Monetary Authority

Local bankers widely expect the US Federal Reserve to start lowering interest rates again in September as the central bank is concerned with a slowdown in the American economy although inflation pressure remains.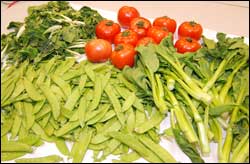 Lawmakers and environmentalists have called for urgent enforcement of legislation to guarantee food safety as fears about Hong Kong's food supplies increased with the discovery of more harmful chemicals on vegetables. They said a timetable should be set for such laws to be implemented, with the public's safety at stake. The call came after the government announced Thursday that tough checks on imported food, particularly vegetables imported from the mainland, will be introduced. It did not give a date, but said a bill is being drafted and it hoped to present it to the Legislative Council in the next financial year. Environmental group Greenpeace said Thursday it had detected harmful chemicals, including pesticides, in more vegetable samples collected from wet markets across the territory. According to the group, four of 20 samples collected were found to be contaminated with banned pesticides or pesticide residues that exceeded European Union standards. The highly toxic pesticide carbofuran was found on a Dutch bean sample collected from Pei Ho Street Market in Sham Shui Po, while beta- HCH was found in a choi sum sample taken from Luen Wo Hui Market in Fan Ling.
An Octopus card belonging to the wife of slain police constable Tsui Po-ko suggested her husband may have traveled to Belvedere Gardens just minutes before a bank robbery took place in the area on December 5, 2001, the coroner's inquest was told Thursday.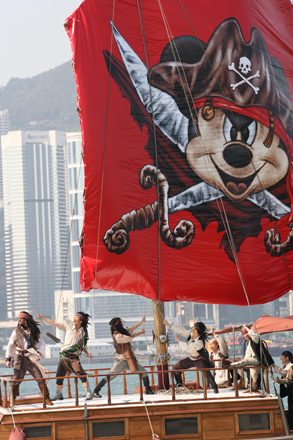 Performers promote the coming Disney film Pirates of the Caribbean: At World's End in Victoria Harbour. Disneyland director Bill Ernest yesterday joined in the promotion. He said he received a favourable response from mainland guests during a trip to Guangzhou on Wednesday.

China: April is springtime in Beijing. It is also the cherry blossom season in Japan. On April 11, Chinese Premier Wen Jiabao traveled to Japan. It was the first visit by a Chinese Premier in seven years. Wen referred to his visit as an "ice-melting trip", a follow-up to Shinzo Abe's "ice-breaking" visit to China last year. China and Japan are finally welcoming spring after five years of wintry relations. Last October, Japanese Prime Minister Shinzo Abe visited China and proposed establishing a "mutually beneficial strategic relationship based on common strategic interests". Now, Chinese Premier Wen Jiabao has gone to Japan to pass on China's goodwill and wisdom to the Japanese people and, on the basis of the three political documents, help the two countries to agree on a new document which will strengthen the relationship and lead Sino-Japanese relations into a new era. China and Japan, two countries of great importance in Asia and the world, have made great efforts to "melt the ice" in bilateral and geo-political relations. Just a week before the visit, the volume of Sino-Japanese trade exceeded US$200 million. Sino-Japanese economic and trade cooperation may be what is driving the two countries towards a late spring after a long period of trials and hardships. Economic and trade cooperation the "ballast stone" of Sino-Japanese relations - Separated by just a narrow strip of water, China and Japan are very complimentary economically. The opening of the Chinese market has stimulated Japanese industries that were slowing or losing their comparative advantage. By taking advantage of cheap Chinese labor, Japanese enterprises have been able to "dynamically transfer their comparative advantage" and regain their competitive edge. With Abe's "ice-breaking" journey to China last year and Wen's current "ice-melting trip" to Japan, the Sino-Japanese economic relationship is no longer ambiguous. The chairman of the Japanese Chamber of Commerce and Industry in China, Mari Isogai, is very optimistic about this. Six months ago, the proposal of a "mutually beneficial strategic relationship" helped relieve a lot worries people had about deteriorating relations between the two countries. Since then, the Sino-Japanese friendship has been replaced by "strategic reciprocity," which pushes Sino-Japanese relations to a higher level and increases benefits for both. Asian Studies expert Amako Satoshi calls this period a "post-era of Sino-Japanese relations." However, even though people have replaced the original criteria of Sino-Japanese relations with "strategic reciprocity", the bilateral relationship will not undergo a fundamental change overnight. In 2006, the trade volume between China and Japan exceeded US$200 billion. This year, China expects to replace the United States as Japan's largest trading partner. Given the scale of its economy and economic complimentarity, China has many outstanding advantages in the global market. Therefore, to a certain extent, Premier Wen's visit to Japan will have an "ice-melting" effect on the bilateral relationship. With the development of economic globalization since the end of the Cold War, emerging markets have grown rapidly and become significant players in the global market. The world's resources, including capital and labor as well as other production factors have been restructured and redistributed. In this process, some Japanese industrial enterprises started to lose their comparative advantages and competitiveness. The opening of the Chinese market has helped to stimulate floundering Japanese industries. By taking advantage of China's cheap labor, they have been able to "dynamically transfer their comparative advantage" and regain their global advantage. Since 2001, the bilateral trade structure has been further optimized. More than 90% of imports and exports between the two countries are finished products, indicating that economic cooperation between the two countries is characterized by a specific division of labor. To a certain extent, the potential of cooperation has been realized. Japan has become China's third largest trading partner behind the EU and the US. China has become Japan's second largest trading partner behind the US. The vast Chinese market, its rapid economic development, and low labor costs have brought enterprises from all over the world, including Japan, to China. As of the end of 2006, Japan had invested $57.98 billion in 30,000 projects in China. Half of this money was invested after 2000. In recent years, Japan's investment in China has accounted for approximately 10% of its total foreign investment. Multi-layer energy cooperation between the two countries - All cooperation in the fields of environmental protection, energy and finance fall into the category of strategic market cooperation. To invest in these areas in China, Japanese enterprises have to be directly involved in the formulation of some government policies. The governments of both countries need to participate in regular, high-level economic dialogue for this to happen. Premier Wen Jiabao's entourage on his Japan visit includes senior managers of 50 large Chinese enterprises from a variety of industries including oil, electricity and coal. They will speak with senior Japanese entrepreneurs from 50 related enterprises to advise them on how Japanese enterprises can better enter China and cooperate with Chinese enterprises. Wen Jiabao and Shinzo Abe will chair the opening conference for the high-level dialogue, in which participants will decide on a time, place and agenda for the first meeting. An official from the Agency of Natural Resources and Energy of Japan noted that by sending senior managers of energy and environment enterprises to Japan, China is sending a signal to Japan ¨C "we will, for the first time, give top priority to economic issues in Sino-Japanese relations, not political issues." This is what Japanese enterprises want too. Cooperation in environmental protection, energy and finance are part of strategic market cooperation. However, there are a lot of risks involved in this. Therefore, governments of both countries need to create more opportunities for high-level economic dialogue, said Liu Junhong, a research fellow at the Institute of Japanese Studies under the China Institute of Contemporary International Relations. During Premier Wen Jiabao's visit to Japan, leaders will also hold a ministerial-level dialogue on energy policies. The governments of both countries will reach an agreement on Japan's offer to help China by promoting energy saving in the country. According to Japanese media reports, China began to enact a series of energy-saving regulations in 1997. However, it still needs to do more to implement these policies. Going forward, Japan's Ministry of Economy, Trade and Industry will send experts in energy conservation and energy saving law to China, who will work with Chinese officials and experts. Meanwhile, Japan will begin to accept Chinese graduate students majoring in related areas of study. Japan hopes it can reach an agreement with China on an environmental certification system to adopt a uniform system and standard across Asia. This will help to improve safety standards, quality supervision and effective energy use. According to industry experts, Japan has the world's leading energy-saving and environmentally-friendly technology. China needs to cooperate with Japan in this area. Of course, such Sino-Japanese economic cooperation is beneficial to both nations. Therefore the Japanese are also willing to work together with China. According to official statistics, 20 of the world's 30 most polluted cities are in China. China's next tax laws are aimed at encouraging foreign investment in energy efficient equipment and technology. Sino-Japanese cooperation saves Japan 2 trillion yen in foreign exchange annually - Despite small changes in Japan's industrial growth index over the last decade (just 1.5 percentage points) Japan's export and import trade has increased remarkably. In 2005, Japanese exports rose 27% from 2000, and overall trade by 39%. This is the major reason for the Japanese economy's recovery over the last five years. A turning point in the data is when China became the largest exporter to Japan. In 1980 the value of products exported from China to Japan accounted for just 3.1% of Japan's total import trade. The ratio rose to 5.1% in 1990 and to 14.5% in 2000. In 2005, China replaced the United States as Japan's largest exporter, occupying 21% of the Japanese market. The rapid growth of the share of Chinese products in the conservative Japanese market demonstrates the rapid improvement of China's trade competitiveness. As a result, Japan's dependence on the Chinese market has grown rapidly. In 1980, the value of products exported from Japan to China accounted for 3.9% of total exports. This situation has not changed much in the 1990s. At one stage the ratio dropped to just 2.1%. In 2000, the ratio rose to 6.3%. By 2005 it had doubled to reach 13.5%. How will growing Japanese imports of Chinese good influence bilateral relations? Who stands to benefit more? A senior research fellow from Nomura Securities believes that "by improving its trade terms with China, Japan actually facilitated the transfer of a tremendous amount of revenue from China to Japan. As a result, Japan can save as much as 1.9 trillion yen [approximately 123.5 billion yuan] of foreign exchange, equivalent to 0.4% of its GDP and 10 times the size of its direct investment in China in 2002 [statistics from the Japanese Ministry of Finance]." People in Japanese industry circles generally agree that it was the "special demand from China" that helped industries such as iron, steel and petrochemicals out of the shadow of the economic crisis. Meanwhile, given the aging population and low birth rate in Japan, people have reached a consensus that there are great benefits to be had from taking advantage of labor divisions within China and entering the Chinese market. A few years ago, there were concerns of an "industrial hollowing-out". Today very few people mention this. "Floating ice" ahead - Although the "ice" between the two countries has been "broken" there are still blocks of "floating ice" in the seas ahead. Disagreements on some touchy issues such as Taiwan and various chapters of history have damaged Sino-Japanese relations, and will not be resolved during a single visit. Premier Wen Jiabao said in an interview with Japanese media that during his visit, the two countries will issue a joint document which will give a more pragmatic interpretation of the "mutually beneficial strategic relationship" that has been outlined. It has been learned that the forthcoming joint document will cover political, economic, cultural, regional and internal issues of mutual interest and concern. A comprehensive document, it will have an important and far-reaching influence on Sino-Japanese relations. Media say that the joint document will explain the strategic positioning, meaning, goals and tasks of the mutually beneficial strategic relationship between China and Japan. In addition, it may also touch on the development of gas fields in the East China Sea, Sino-Japanese cooperation in energy-saving and environmental protection, and Sino-Japanese military defense exchanges. It will help to promote investment in China by small and medium-sized Japanese enterprises, increase economic and trade cooperation, and promoting exchanges and cooperation in education, culture and youth activities. Some important issues of common concern such as Taiwan, the reform of the United Nations, a nuclear North Korea and Japanese hostages in North Korea will also be included. Japanese media have revealed that the joint document will define the relationship as one characterized by "mutual respect". This respect will enable the two countries to surmount differences in social systems and values, as well as contribute to peace and stability in Asia and the world. Currently there are still many problems between China and Japan and they need to talk further about it what it means to "maintain peace and development," the report said. Any political tensions between these two major Asian powers will create uncertainty in the political environment and affect neighboring countries. Booming non-government economic and trade exchanges are not enough to sustain the relationship. Many large, state-level cooperative projects can only go ahead if political relations are good. Consequently, economic circles in Japan are also looking forward to an improvement in Sino-Japanese relations. Some experts believe that former Japanese Prime Minister Koizumi focused too much on ethnic conflicts and neglected the comprehensive economic development of Japan. Koizumi has repeatedly visited Yasukuni Shrine, which has had a negative impact on Japan's relationship with China. His actions led to a six-year stalemate in politics and economics. The two countries have experienced many trials and hardships. Now, let us listen to the echo of the footsteps of China and Japan as they work to maintain and develop their friendship.
Visiting Chinese Premier Wen Jiabao (L) shakes hands with Japanese Emperor Akihito in Tokyo, capital of Japan on April 12, 2007. The two reviewed the development of Sino-Japanese relations and agreed that the harmonious co-existence of the two peoples is conducive to the two countries, Asia and the world as a whole.
Ken Torok (left, first row), president of UPS Asia-Pacific, and Wu Nianzu (right, first row), chairman and president of Shanghai Airport Authority, at a signing ceremony for the UPS-SAA International Air Hub in Shanghai April 12, 2007. United Parcel Service Inc, the world's largest package delivery provider, will build an international air hub in the city as the US freight company accelerates its expansion drive in China.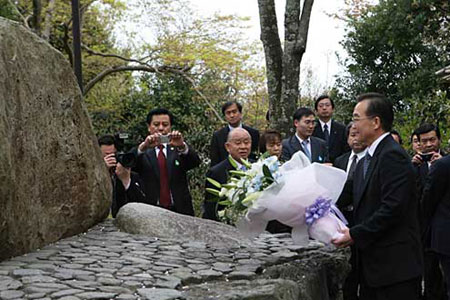 Visiting Chinese Premier Wen Jiabao lays flowers at a memorial monument of late Chinese Premier Zhou Enlai at a park in Arashiyama in Kyoto April 13, 2007.
Many Chinese producers, previously manufacturing according to the buyers' designs, are innovating and designing new products for global market in the second wave of sourcing from China, an article in the Business Week said last week. The article by Jim Hemerling of Boston Consulting Group divided the sourcing of components and products from China into three stages: Wave 1.0, China for low cost; Wave 2.0, China participates in innovation; Wave 3.0, China as global center for procurement. The first wave of Chinese sourcing was driven by Western companies' competitive search for low cost components and finished goods, with numerous U.S., Japanese, and European companies establishing corporate beachheads in China, according to Hemerling. Wave One sourcing from China took off when manufacturers demonstrated they could produce quality products for less money, more often than not using the buyers' own designs, said the article. Gradually, many Chinese suppliers moved far beyond being arm's length suppliers, in a wide range of industries, from consumer electronics and IT equipment to automotive manufacturing. They started to innovate and collaborate with their customers on component and product design, marking the transition to sourcing 2.0, the article said. That was evidenced by China's skyrocketing investment in R&D. China was the world's second biggest investor in R&D after the US in 2006, estimated the Organization for Economic Cooperation and Development, according to the author. Using purchasing power parity as its measure, OECD estimated that the U.S. would spend $330 billion on R&D, China $136 billion, Japan $130 billion, and the EU-15 a combined $230 billion. The author also referred to the establishment of more than 700 R&D facilities in China by multinationals, citing statistics from the 2005 World Investment Report by the United Nations Conference on Trade and Development. The article went on to claim that sourcing wave 3.0 is underway, citing the IBM announcement that it is moving its global procurement headquarters to Shenzhen as the most visible sign. "Today's China is the center of an economic maelstrom that grows larger and more powerful (and increasingly complex) every day," the author said. R&D centers originally set up to support product localization for the Chinese market are now going full force in developing new products for the global market, according to Hemerling. These rapid changes, which will continue to accelerate, mean that many Western companies have to rethink their global procurement operations, the article said. The author made specific reference to the electronics as a combination of low cost R&D capabilities and deep multi-layer networks of electronic suppliers clustered together has turned China into the dominant global electronics hub. But wave 3.0 does not stop within the electronic industry. The author also mentioned General Motors which has relocated its power-train electronics procurement offices to China. Other companies and industries will follow suit, Hemerling predicted. An evaluation of China sourcing operations of leading multinationals by the Boston Consulting Group indicated that many are still struggling with sourcing 2.0; only a few have started to come to grips with wave 3.0.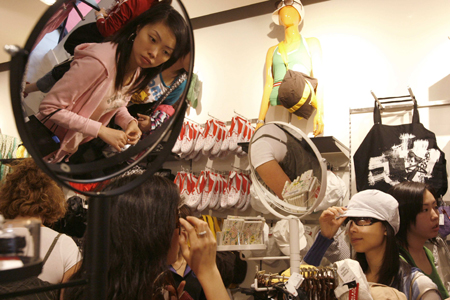 Customers shop in the newly opened H&M shop in Shanghai April 12, 2007. Global fashion chain Hennes & Mauritz is planning more stores in Asia and believes that China will eventually be comparable to its European business, its chief executive said on Wednesday.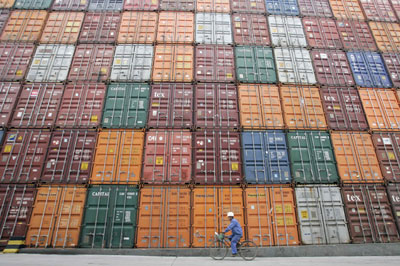 A worker rides a bicycle past containers at a port in Shanghai December 13, 2006. A World Trade Organization report on Thursday, April 12, 2007 says China surpassed the United States as the world's second-largest exporter in the middle of last year. China surpassed the United States as the world's second-largest exporter in the middle of last year, according to figures released Thursday by the World Trade Organization, and the Asian country is pulling further and further ahead. Export growth from China boomed 27 percent last year, outpacing all other major trading nations, the WTO (find more in WTO package)said in releasing its first batch of global trade statistics for 2006. While China finished behind Germany and the United States in total exports for the full year, it overtook the United States in the last six months of 2006 and will almost certainly finish above the US in the 2007 totals. At current growth rates, China is projected to overtake Germany as the world's biggest exporter in 2008. "China's merchandise trade expansion remained outstandingly strong," the WTO said in its 21-page report. "Office and telecom equipment continued to be the mainstay of Chinese export growth, but significant gains in world market shares in 2006 could be observed in 'traditional' exports such as clothing and 'new' products such as iron and steel." The WTO report comes at a time of rising tension between China and the United States and some of the findings will surely fuel debate that Beijing's trade policies are preventing American goods from entering its vast market. US critics accuse the Chinese economy of benefiting from an undervalued currency, government subsidies, unfair barriers to foreign competition and widespread piracy. The United States filed two new complaints against China at the WTO on Tuesday over copyright policy and restrictions on the sale of American movies, music and books. The new cases are the latest move against China by the Bush administration, which is trying to deal with America's rising political anger over its soaring trade deficit that set a record for the fifth consecutive year in 2006 at US$765.3 billion. The US imbalance with China grew to US$232.5 billion, the highest ever with a single country. The WTO report said China's imports rose 20 percent last year to US$792 billion - a surge that was "faster than global trade but continued to lag behind export growth." The commerce body partly attributed the weaker import figures to lower oil prices, but did not cite any other factors. The WTO tends to avoid issues tied to energy or currency valuation.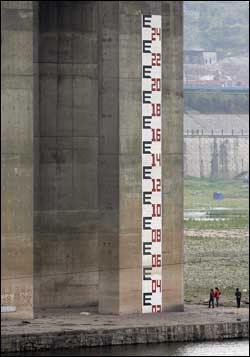 As a respected United Nations panel unveils a hard-hitting report on the danger of global warming, farmers in one of China's most fertile crop- growing regions fear another year of devastating drought. "I have never seen a drought like last year's - we had nearly 70 days without rain," said Wang Laoer, a farmer in southwest Chongqing municipality who lost one of two annual vegetable harvests to the dry spell. "Everyone here is afraid that the drought will continue this year." The region's worst drought in a century hit last year, bringing scorching temperatures and water shortages to the Sichuan Basin, a fertile area where a group of rivers flow down from the Himalayas into the mighty Yangtze. The basin is home to about 85 million Sichuanese and another 31 million in Chongqing municipality, two of China's most densely populated regions. The drought affected 11.1 million hectares of cropland, roughly 9 percent of China's total farming area, the State Flood Control and Drought Relief Headquarters said. "We think that global warming was a factor," said Yuan Yonghui, a drought-relief official at the Chongqing Water Bureau. "We believe Chongqing will again suffer from drought in the coming months." Mainland fears of more extreme weather came as the world's top climate scientists finalized a grim 1,400-page report last week on the current and future impact of global warming caused by fossil fuel pollution.
An engraver creates jade artwork in Ruili, Yunnan province. Yunnan, rich in precious stones, is one of the mainland's five major jewellery producers, home to 600 companies dealing in stones, 2,500 jewellery enterprises and 3,000 gem-processing plants. The industry contributes 5 billion yuan to the province's economy each year.
April 14 - 15, 2007

Hong Kong: The world economy is expected to continue to grow robustly by 4.9 percent in both 2007 and 2008, according to the World Economic Outlook released by the International Monetary Fund on Wednesday.
Hong Kong's economic growth will moderate in the second quarter as exports slow, an academic research group said Wednesday in its quarterly macroeconomic forecast. Real gross domestic product will expand 5.3 percent, year-on-year, from an estimated 5.6 percent growth in the first quarter of the year, said the Apec Study Center of the University of Hong Kong. The center said a weakening of the net external trade position will weigh on second quarter growth, while imports will increase supported by domestic consumption and investment spending. For the year as a whole, the economy is forecast to expand between 5 percent and 6 percent, following three consecutive years of strong growth from 2004 to 2006. Strong domestic demand amid a healthy job market, a stable interest rates outlook and a steady global economy will help growth to remain strong at 5.3 percent in the second quarter, the center forecast. Private consumption is estimated to grow at 4.5 percent in the second quarter, down from an estimated 5.8 percent in the first quarter, the researchers said. "Growth in private consumption is very important [indicator] for Hong Kong's economy," said Alan Siu Kai- fat, executive director at the Apec Study Center. "It accounted for 53 percent of real GDP last year." The wealth effect created by tax relief measures introduced in the budget will also help boost the private consumption, Siu said. The researchers forecast the inflation rate to moderate to 1.7 percent in the second quarter, as the waiver of property rates in the second and third quarter is expected to ease upward pressure on the price level. The budget, unveiled at the end of February, proposed to waive the property tax for the second and third quarters up to HK$5,000 for each quarter. If the property rates waiver were to be excluded, inflation will increase by another 1 percentage point, as underlying inflationary pressures such as rising labor and rental cost remain, Siu said. Still, he emphasized the inflation rate is "manageable." For the year as a whole, the inflation rate will edge up slightly to 2.2 percent from 2 percent last year, the center forecast.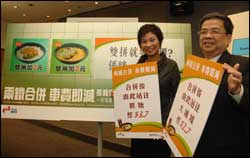 More than 50 percent of people are unhappy with the Legislative Council's delay in approving the merger of Hong Kong's two railway networks, according to a survey commissioned by the MTR Corp. However, a legislator said the fault lay with the government, which has so far resisted calls to give Legco the right to approve or reject future fare adjustments. The proposed merger between the MTR and the Kowloon-Canton Railway Corp was announced a year ago but progress toward approval has been painfully slow. In the survey, conducted by Hong Kong University, 52 percent of the 509 respondents expressed displeasure at the slow process. MTR general manager of corporate relations Miranda Leung Chan Chi- ming added that 84 percent of interviewees supported the rail merger in general, while 76 percent found the proposed fare reductions immediately after the merger acceptable. "It's clear that if there is a further delay to finalizing the merger bill, it'll be the commuters who suffer," Leung said. She reiterated her hope that the merger would be completed by the end of this year, though this would still require the approval of shareholders even after the proposal gets through Legco. "The completion of the merger can only benefit all stakeholders concerned, and obviously the key advantage would be for citizens to enjoy the fare reductions straight away," said Leung, adding finalizing the deal could clear up the cloud of uncertainty hanging over staff of both railways. When asked whether the MTR was putting pressure on the legislature to speed up the process, Leung said it was the "common goal" of all parties to reach a deal. She acknowledged that Legco had scheduled extra meetings in the hope of finalizing the review of the bill by July, which is the end of the current legislative session. Lau Kong-wah, of the Democratic Alliance for the Betterment and Progress of Hong Kong, said while the survey findings reflected public desire for lower fares, legislators needed to strike a balance between the interests of the public and the concerned companies. "It's also our goal to finalize the bill within this legislative year," Lau said. However, to safeguard public interest, "the government has to empower Legco to have the right to disapprove future price adjustment applications by the new company." There should be more room for fare reductions after the merger, and future fare adjustments, either upward or downward, should be limited to 5 percent instead of 10 percent. When signing the memorandum a year ago, the MTR promised to hold the prices steady until April 2008. Under the current MTR proposal, fare reductions after the merger could be as high as 31.4 percent, with passengers on longer journeys receiving better fare cuts.
About 80 percent of insurance companies in Hong Kong have agreed to extend accident and employees compensation insurance coverage to include the Hong Kong port area when a bridge linking the territory to Shenzhen opens July 1, a lawmaker said Wednesday.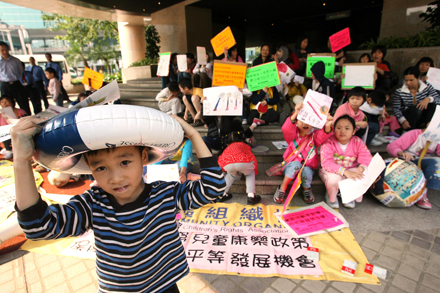 More than 50 children from poor families pleaded outside the Leisure and Cultural Services headquarters in Sha Tin yesterday for amenity vouchers. Sze Lai-shan of the Society for Community Organisation urged the department to give a HK$3,000 voucher - for recreational activities - each year to children living on social security or from low-income families. The concern group said more than 150,000 children were living on social security.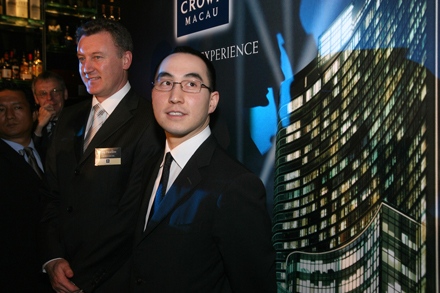 Lawrence Ho Yau-lung (right), chief executive of Nasdaq-listed Melco PBL Entertainment, with Crown Macau chief executive Greg Hawkins at the launch of a television advertising campaign for the gaming company's US$583.6 million casino hotel. The ads, which will air in Hong Kong, Macau and Guangdong starting tonight, feature Chow Yun-fat. The Crown Macau, which opens on May 9, will employ nearly 4,000 staff.
Angang Steel, the mainland's third-largest steel producer by output, saw its share price fall as much as 3.18 per cent after it unveiled a second attempt to launch the first dual A and H-share rights issue to raise more than HK$20 billion.

China: Visiting Chinese Premier Wen Jiabao on Thursday advocated five principles for guiding the future development of China-Japan relations. China's aim is to push forward China-Japan relations to a historic stage and realize the goal of "peaceful coexistence, friendship for generations, mutually-beneficial cooperation and common development," Wen said in his speech delivered in the Japanese parliament. In order to achieve the goal, the Chinese premier said that the following principles should be practised. To enhance mutual trust and honor commitments - The three political documents including the Sino-Japanese Joint Statement are the bedrock for China-Japan relations. Under whatever circumstances, as long as both sides adhere to the principles prescribed in the documents, bilateral ties will be able to develop smoothly. China hopes that Japan recognizes the high sensitivity of the Taiwan issue, honors its commitment and handles it discreetly. To consider the overall interests of both countries and in the meantime seek common ground and shelve differences - It should be admitted that China and Japan differ in opinion on some concrete interests and issues. Their common interests, however, outweigh the divergence of views. As long as the two countries, from the long-term, strategic perspective, conduct dialogue and consultations with confidence and sincerity, the problems will be resolved in time. To pursue common development on the basis of equality and mutual benefit - China and Japan, as two highly complementary economies, have great potential and promise broad prospects for cooperation, and the two countries are increasingly dependent on each other in economy. The economic development of China and Japan is by no means a threat but an opportunity for the two countries. To strengthen exchanges with an eye on the future - Economic cooperation and cultural exchanges serve as two important links among countries. Leaders of both countries have agreed to enhance personnel and cultural exchanges. The Chinese side is willing to work with Japan to formulate and implement a large-scale exchange program between young Chinese and Japanese. To conduct close consultations to cope with challenges - China and Japan are two major nations in Asia and in the world at large, and China-Japan relations exert great influence on the region as well as the world. Thus, the two sides need to strengthen coordination and cooperation in a concerted effort to safeguard peace and stability in Northeast Asia, to promote a regional cooperative process and invigorate Asia. China's development will contribute to the development of neighboring countries as well as across the world, he said, adding that China has always carried on a fine tradition of advocating virtues, sincerity and trust, and good-neighborly relations instead of resorting to force. In his speech, Wen also called for a future-oriented attitude in Sino-Japanese relations and proposed putting aside differences to further bilateral relations. "Peace benefits both, while rifts hurt both," he said, adding that in the course of a nation's historical development, both positive and negative experiences become a nation's valuable assets. Wen recalled the long history of friendship and exchanges between the two neighbors, from the early exchanges of agricultural techniques between their ancestors to late Chinese Premier Zhou Enlai's student days in Japan, which has lasted for more than 2,000 years, only to be disrupted by a 50-plus-year painful, unfortunate history. Japan's aggression caused great sufferings and tremendous human and economic losses to the Chinese people, Wen said. "The deep scars left in the hearts of the Chinese people are beyond description." When dealing with Sino-Japanese relations, the Chinese government and its people have always advocated using history as a mirror and looking toward the future, said Wen. To reflect on history is not to dwell on hard feelings but to remember and learn from the past in order to open a better future, he said, urging Japan to turn its apologies and commitments into concrete actions. Since the normalization of Sino-Japanese ties, the Japanese government and Japanese leaders have on many occasions openly acknowledged Japan's invasions and expressed remorse and apologies to countries which became victim of the invasions. Ensuring the future of Sino-Japanese friendship for generations to come conforms not only with the historical trend and the wishes of the two peoples, but also with the aspirations of Asia and the world as a whole, he said. The Chinese premier arrived here Wednesday for a three-day official visit to Japan.
China's foreign exchange reserve had reached US$1.202 trillion by the end of March, 2007, up 37.36 percent year on year, said sources with the PBOC.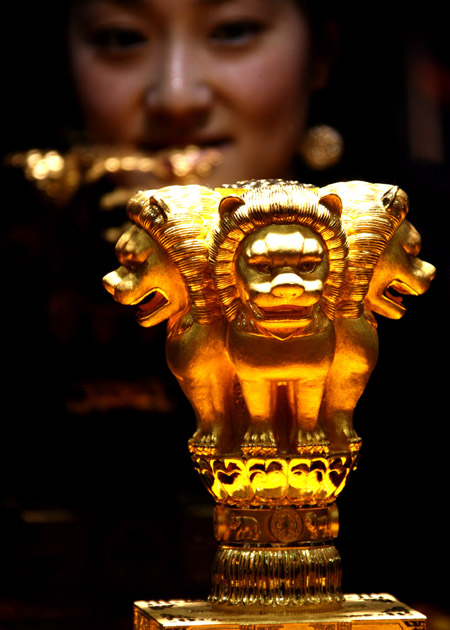 The 12-kg gold "Jing'an Temple Seal" showed in the Jewelry Shanghai 2007 on April 10, 2007. China's jewelry sales are expected to top 300 billion yuan by 2011, and sales hit 190 billion yuan in 2006, up from 2005's 140 billion yuan.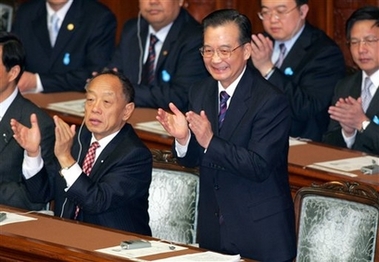 Chinese Premier Wen Jiabao, right, claps his hands as he is applauded by members of Parliament before delivering a speech in Tokyo Thursday, April 12, 2007. Wen, who arrived in Tokyo Wednesday for a three-day visit, called for improved ties with Japan, but urged Tokyo not to forget its past military aggressions in Asia. At left is Chinese Foreign Minister Li Zhaoxing.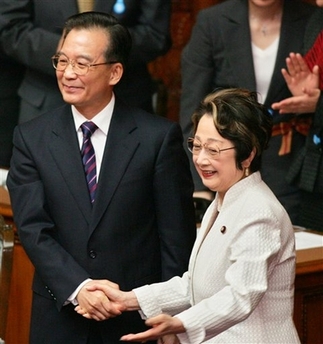 Chinese Premier Wen Jiabao is greeted by Chikage Ogi, speaker of Japan's Upper House, after delivering a speech at Parliament in Tokyo Thursday, April 12, 2007. Wen, who arrived in Tokyo Wednesday for a three-day visit, called for improved ties with Japan, but urged Tokyo not to forget its past military aggressions in Asia.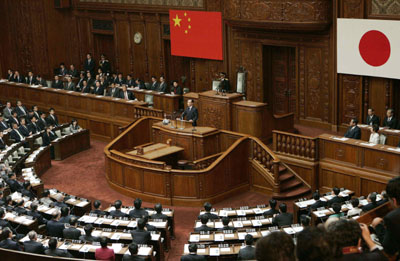 Chinese Premier Wen Jiabao delivers a speech to the Japanese parliament in Tokyo April 12, 2007. Wen made a pitch for new strategic ties with rival and neighbor Japan, but also urged Tokyo to live up to its apologies for wartime aggression and never to support an independent Taiwan.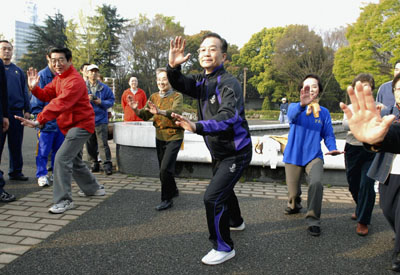 Visiting Chinese Premier Wen Jiabao does tai chi with locals in a park in Tokyo April 12, 2007. Wen did some stretching exercises with locals after an early morning run on Thursday, smiling and chatting to them on the second day of his visit to Japan.
Premier Wen Jiabao and Japanese Prime Minister Shinzo Abe agreed Wednesday to build a new "strategic" relationship - but Wen warned disputes over the wartime past could still hurt the fragile rapprochement. Wen's three-day visit to Japan, the first by a Chinese leader since 2000, aims to showcase a thaw begun with a trip by Abe to Beijing in October. "In today's meeting with Premier Wen, we were able to agree to push forward many specific points of cooperation towards building a mutually beneficial strategic relationship," Abe said in a banquet speech. Sino-Japanese ties grew chilly under Abe's predecessor Junichiro Koizumi, who made annual visits to Tokyo's Yasukuni war shrine - seen in Asia as a symbol of Japan's past militarism. "China-Japan ties are at a crucial point of inheriting the past and opening up the future," Wen said. "How the ties develop will have an important effect on the future of our two nations and Asia." Wen was blunter when the cameras stopped rolling. "If we can handle the history issue well, it would be a good foundation for the development of bilateral ties," a Japanese official quoted Wen as telling Abe. Wen reportedly added: "If not, it will become an impediment to Sino- Japanese ties." Abe accepted an invitation by Wen to visit Beijing again this year, and the two sides issued documents on cooperation in energy and environmental protection, as well as a joint press release that included better dialogue on defense matters and an agreement to hold high-level economic talks in Beijing by the end of the year. The two countries' economies are already inextricably intertwined. China, including Hong Kong, is already Japan's biggest trade partner, ahead of the United States, with two-way trade totaling nearly 29 trillion yen (HK$1.9 trillion) last year. But on one of the thorniest economic disputes - a feud over oil and gas fields in disputed waters in the East China Sea - the leaders agreed only to speed up talks and seek a report on ways to jointly develop the resources by autumn. Even as they met, China's CNOOC said it produced gas at a field in the East China Sea last year, despite Japanese objections to development. Beijing and Tokyo are at loggerheads over the boundary between their exclusive economic zones, and Tokyo fears Chinese development might drain off its resources. Koizumi's visits to Yasukuni, where Japanese World War II leaders convicted as war criminals are honored along with war dead, has angered China and led it to reject bilateral summits. Abe had paid his respects at the shrine before taking office but has declined to say whether he will do so as prime minister. In an interview last week, Wen pointedly pressed him not to go. The two East Asian powers are also suspicious of each other's military ambitions and regional policies. Abe called for greater transparency in Beijing's double-digit defense spending, to which Wen replied that its defense capability would "never become a threat of any kind," the Japanese official said. Abe reassured Wen Japan would not back independence for Taiwan. The two leaders also agreed to cooperate to get North Korea to implement a February agreement to abandon its nuclear arms program.
Beijing will endeavor to correct bad English translations including those in museums, hospitals, sports venues and on restaurant menus to embrace the 2008 Games.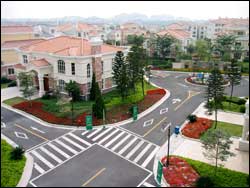 The frenzy for new initial public offerings shows no signs of abating as China Molybdenum was warmly embraced by international investors after Country Garden Holdings received strong institutional and retail orders. In fact, the IPO fever is expected to intensify as another flurry of Chinese companies gears up to float shares in Hong Kong, aimed at tying up hundreds of billions of funds from insatiable investors trying for a piece of the action. Country Garden's share sale has frozen HK$310 billion from retail investors, the second-largest amount in the history of the local bourse. Sources said the Guangzhou-based developer's retail allotment is 240 times oversubscribed while the institutional portion is more than 50 times covered. China Moly, the mainland's largest molybdenum miner which kicked off its international roadshow Monday, has already seen its institutional tranche five times oversubscribed, a market source said Wednesday. The average order size amounted to US$50 million (HK$390 million), the source said. Country Garden, which ended its public offering Wednesday with robust investor response, looks set to fix its offer price at HK$5.38 per share, the top end of the indicative price range. The sale of 2.4 billion shares at that price would generate HK$12.9 billion, making it the largest IPO ever by a Chinese developer. Luoyang-based China Moly plans to raise up to HK$6.9 billion by issuing 1.08 billion new shares at HK$5 to HK$6.40, representing 10.8 to 13.8 times 2007 forecast earnings. Proceeds are to be used for future acquisitions. The company posted net profit last year of 1.515 billion yuan (HK$1.531 billion), up 31 percent from 2005. According to the offer document, the firm estimates net profit for the first half of this year will be not less than 950 million yuan. Molybdenum, a transition metal, is used in high-strength alloys and in high- temperature steels. It is also used in oil pipelines, aircraft, missile parts and the automotive industry. Eight cornerstone investors, including Henderson Land Development (0012) chairman Lee Shau-kee, Cheung Kong (Holdings) (0001) chairman Li Ka-shing and Bank of East Asia (0023) chairman David Li Kwok-po, have agreed to take up about 20 percent of the total shares.
Ping An Insurance (2318), the second- largest life insurer in the mainland, said Wednesday the group's net profit soared 87.57 percent in 2006 to 8 billion yuan (HK$8.08 billion) on robust investment income growth brought by the continuous rise of the mainland stock markets.
Premier Wen Jiabao said Wednesday that trade with South Korea could soon leap to US$200 billion (HK$1.56 trillion) from US$134 billion last year, urging the two leading Asian economies to open up their markets more to each other.
New US complaints about China to the World Trade Organization may harm trade relations, China said Wednesday. But at the same time, Beijing signaled further cuts in export subsidies that have also angered Washington. The flurry of comments followed two separate US complaints to the WTO over intellectual property rights and market access for films, music and other media. Washington said it wanted the mainland to respect the obligations it made when it joined the WTO in 2001, but Commerce Ministry spokesman Wang Xinpei said the complaints would "seriously undermine" trade relations between the two countries. However, separate comments by another Chinese trade official suggested that, despite the tough talk, Beijing was moving to respond to another complaint that the United States brought before the WTO earlier this year. Wang Shouwen, head of the commerce ministry's foreign trade department, was quoted by China Business News as saying Beijing would make it a priority this year to scrap export subsidies that violate WTO rules. Washington filed a complaint in February over nine such Chinese subsidy programs, saying they unfairly harmed US companies and workers. Then, at the end of March, the US administration imposed countervailing duties on imports of coated paper from China, a policy reversal that analysts said could spark a flood of cases. Wang of the ministry's foreign trade department said the overhaul to subsidies would be part of Beijing's efforts to shift policy away from actively encouraging exports to being more neutral towards them. China would also review other subsidies that could be legally challenged, Wang said. Qing Wang, an economist with Bank of America in Hong Kong, said Beijing's mixed response reflected that while it was frustrated at the US move, it understood it needed to make changes to its trade regime for its own good. "Although China gave a strong statement, in practice I think they are being pragmatic," Qing Wang said. "I don't think this will evolve into a major trade war between the two countries. I think what we see now is just two countries playing this rhetoric at that level, but at the same time China is trying to resolve the issue." Last month, Beijing announced it was eliminating one of the subsidies the United States had challenged - a program for offering discount loans to big exporters. Wang, the ministry spokesman, said China would push ahead with steps to bring its trade into better balance. He added that recent cuts to export tax rebates for some products would help rein in the trade surplus, which doubled in the first quarter from a year earlier to US$46.4 billion (HK$361.9 billion).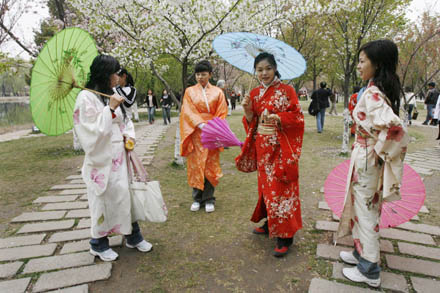 Chinese women rent kimonos to take photos under the blooming cherry blossoms in a Beijing park. Hopes are high for better Sino-Japan ties as Premier Wen Jiabao arrived in Tokyo yesterday.
April 13, 2007

Hong Kong: The mainland's banking regulator said it will widen the scope of the qualified domestic institutional investor program, expanding choices for commercial banks and fund managers to invest in overseas assets such as fixed income instruments.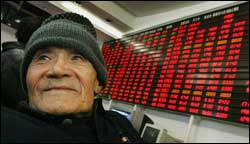 The buoyant China stock market has become the world's sixth largest - displacing Hong Kong - after mainland shares extended their spectacular gains in the past month. The combined market capitalization of the Shanghai and Shenzhen bourses, including A shares and B shares, reached 13.95 trillion yuan (HK$14.106 trillion) Tuesday after the Shanghai Composite Index and the Shenzhen Composite Index surged 28.74 percent and 66.85 percent year-to-date, respectively. After the benchmark Hang Seng Index jumped another 138 points Tuesday, Hong Kong's bourse had market capitalization of HK$13.9666 trillion. China's 56 percent leap in market cap from 8.94 trillion yuan at year-end 2006 to Tuesday's 13.95 trillion yuan knocked the SAR from sixth to seventh in global stock market rankings. But market watchers say it is not a fair comparison to make between the mainland and the Hong Kong market. "The mainland market includes all the nontradable shares in the calculations of market capitalization, swelling the numbers," said BOCI research vice president Peter Pak Ngan. "[Hong Kong's] H shares only take into account the freefloated shares." Ngan said the China market is unique in the way it has tradable and nontradable shares. As both categories are included in the the market cap in China, the base for calculations is very different from other markets. "It is just a matter of time for China's market capitalization to be consistently and significantly higher than that of Hong Kong," said Steven Sun Yu, regional equity strategist at Hongkong and Shanghai Banking Corp. The mainland market could even move up to the top three in global rankings in the long term, Sun said. As at January 31, Hong Kong was ranked sixth internationally with market cap of US$1.71 trillion, according to statistics from the World Federation of Exchanges. The New York Stock Exchange has by far the world's largest market capitalization at US$15.55 trillion (HK$121.29 trillion), followed by the Tokyo Stock Exchange at US$4.65 trillion, New York's technology-heavy Nasdaq bourse at US$3.95 trillion and the London Stock Exchange at US$3.76 trillion. The combined market value of Shanghai and Shenzhen was about US$1.362 trillion as at January 31, ranking it ninth, one notch below Germany at US$1.66 trillion. Since the market caps of Hong Kong and Toronto (US$1.68 trillion) are very close and the ranking of these two bourses may switch month by month, after the mainland market grabbed the No6 ranking, the local exchange may need to step up expansion in order to maintain seventh spot. But Pak said the China market will grow faster than Hong Kong's bourse going forward, as an increasing number of H-share-listed mainland enterprises plan to go back and float A shares.
Hong Kong has launched a three- pronged attack on unscrupulous retailers who deceive tourists by selling counterfeit goods - a practice that is threatening to tarnish the territory's reputation as a shopper's paradise. The Consumer Council, the police and the Customs and Excise Department have teamed up to set up a channel to deal with future complaints from mainland tourists swindled by shop operators. The consumer watchdog will look into complaints immediately and decide on what action to take, while Customs officers may be assigned to seize suspected fake products from retailers. The police, for their part, will investigate allegations of deception and prosecute the businessmen involved if there are sufficient grounds. Consumer Council chief executive Connie Lau Yin-hing, who announced the moves Tuesday, said the police will not hesitate to crack down on fraud, while customs officials will deal with any copyright infringement. Chief Executive Donald Tsang Yam-kuen warned in Beijing Monday the government will not allow such commercial malpractices to continue. Tsang said he has zero tolerance for dishonest business practices that affect the city's image as a major shopping destination. The outcry against deceptive retailers followed a scathing report on China Central Television earlier this month that singled out two Hong Kong watch and jewelry retailers as having cheated mainland tourists of hundreds of thousands of dollars by selling fakes passed off as genuine luxury goods. The Consumer Council said it has so far dealt with five cases referred to them by the police and that only one case has been solved. Most of the complaints were directed at Majestic Watch & Jewellery in To Kwa Wan - one of the shops named in the CCTV report. The council said it had already contacted the shop, but received no response. Customs officers continued raids on suspect tourist shops in Hung Hom, To Kwa Wan and Tsim Sha Tsui Tuesday but is not known whether more suspected fake items were seized. Officers raided Majestic Watch Friday, seizing some 500 suspected counterfeit watches worth about HK$4 million. In Tuesday's raids, officers distributed leaflets at various establishments, warning against dishonest business practices and reminding shopowners and staff of the stiff penalties for selling fake products. Customs officers checked 25 shops at tourist hot spots last week and detained three people for questioning. Assistant Superintendent Chiu Yuk- hung said officials are very concerned about the problem and have invited a Swiss watch expert to check on products seized from Majestic Watch. More mainland tourists continued to swamp the To Kwa Wan shop Tuesday to demand refunds, but it has remained shut since Friday. A company employee, surnamed Lee, said the firm will make an official announcement later to explain the incident. Wang Guohua, a tourist from Harbin in northern China who alleged he had been cheated by Majestic Watch, lodged a complaint with the Consumer Council Tuesday. He said he asked some experts to examine two "Vacheron Constantin" watches he had purchased last year for HK$120,000, and the timepieces were found to be modified second-hand products. Wang said he had lost confidence in shopping in Hong Kong. "We used to think Hong Kong is a shopping paradise, but it has now turned out to be just the same as the mainland. "At least we know they are fake products [in the mainland] when they are sold at 10 yuan or so, but you never know in Hong Kong."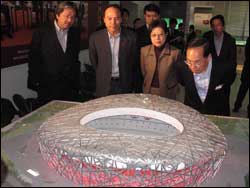 Hong Kong and Beijing will step up cooperation and exchanges in various fields for the benefit of both cities, Chief Executive Donald Tsang Yam-kuen said Tuesday after spending the last day of his visit to the capital touring major tourist attractions and inspecting the preparatory work and venues for next year's Olympic Games. He enlisted the support of the Beijing Palace Museum in enriching Hong Kong's celebrations to mark the 10th anniversary of the handover, with the museum agreeing to send a national treasure-class painting produced almost 900 years ago to the SAR for an exhibition during the summer. Rounding off his three-day stay in the capital, during which he received the instrument formally appointing him as Hong Kong's next chief executive from Premier Wen Jiabao, Tsang visited the Beijing National Stadium and the Beijing National Aquatic Center, and met Liu Qi - Beijing's communist party secretary and president of the Beijing Olympic Games Organizing Committee. Tsang said he was amazed by the city's efforts to prepare for the Games. "Previously, I had only seen the two stadia in photos. But now after having visited the venues personally, I think the whole structure and the interior technology design [of the stadia] are gorgeous. It's amazing," he said. While inspecting the aquatic center, dubbed the "watercube," Tsang showed keen interest in the membrane samples prepared by the Games organizers. He repeatedly pressed and touched the material that will be used to build the center's outer wall. A senior architect at Hong Kong's Architectural Services Department said last week Tsang had originally intended to build a structure using similar materials at the proposed West Kowloon cultural district project, which has since been scrapped. Tsang also attended a luncheon with Beijing mayor Wang Qishan at which they exchanged views on city management. Tsang said Wang was interested in learning from the SAR's experience in transport, housing and medical services management, while he himself was keen to learn from Beijing's experience and policies in preserving its heritage and ancient buildings. "As two major cities of China, I think the frequency of these exchanges and interaction should be further increased. I think we can share our experience and learn more from each other, particularly in technical matters," Tsang said. According to Tsang, the Beijing Palace Museum has agreed to send the Qingming Scroll to the SAR to be shown in a short-term exhibition in the territory. The work, by Northern Song Dynasty painter Zhang Zeduan, in 1127, was a favorite item of the last Qing emperor, Puyi. "Such an exhibit has never been displayed outside Beijing and I have to offer my heartfelt thanks to the museum," Tsang said.
The idea of merging the Hong Kong Institute of Education with the Chinese University of Hong Kong was supported by the government, and Chief Executive Donald Tsang Yam-kuen had also wanted the merger to take place as soon as possible, a commission of inquiry heard Tuesday.

China: Microsoft Corp. Chairman Bill Gates will visit China from April 18-21, according to a press release from the Shanghai office of Microsoft China.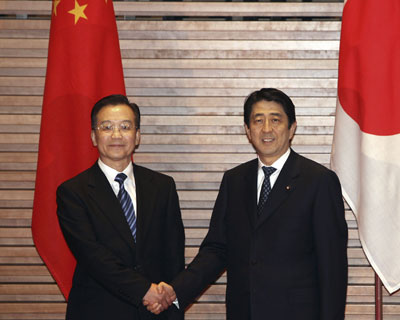 Visiting Chinese Premier Wen Jiabao (L) is greeted by Japanese Prime Minister Shinzo Abe upon his arrival at Abe's official residence in Tokyo April 11, 2007. Wen arrived in Japan on Wednesday. Chinese Premier Wen Jiabao arrived in Tokyo Wednesday for a three-day official visit he described as an "ice thawer" of Sino-Japanese ties.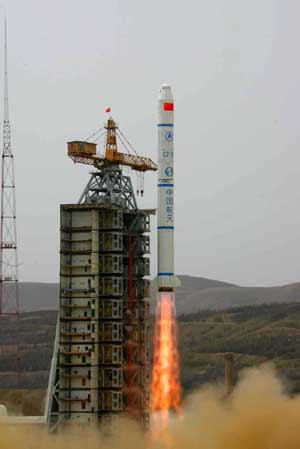 Self-made "Haiyang-1B" satellite is launched from the Taiyuan Satellite Launch Center of north China's Shanxi Province at 11:27 a.m. on April 11, 2007.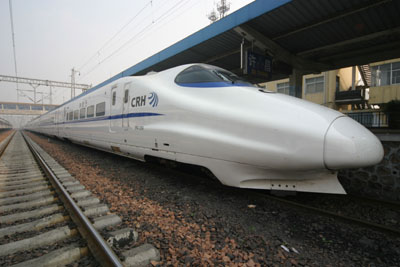 A China Railway High (CRH) speed bullet train pulls in after completing its test operation on Xuchang-Anyang route of the Beijing-Guangzhou railway in this picture taken April 10, 2007. The train has a top speed of 250 kph (155 mph).
Google may soon find itself in a legal soup in China as top managers from Sohu.com yesterday said the US Internet giant's Chinese input method violated its patent rights, for which it can be sued.
China plans to produce 193 million tons of crude oil and 92 billion cubic meters of natural gas in 2010 as rapid economic growth boosts energy demand, said the nation's top planning agency.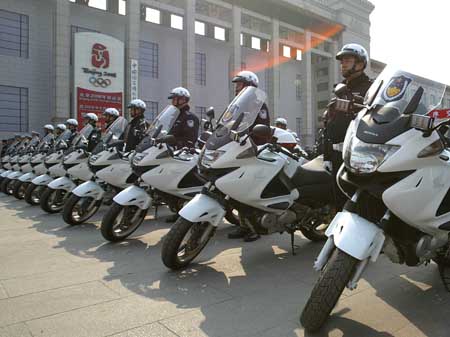 An array of police stand beside the motorcycles at Tiananmen Square in central Beijing Apirl, 10, 2007. Beijing Traffic Management Bureau has equipped the police with up-to-date motorcycles and patrol wagons, who are on duty in central Beijing's Chang An Avenue, gearing up the drilling of traffic management for the upcoming Olympic Games.
Fueled by a large inflow of investment funds, the Shanghai stock market surged for the seventh consecutive day, sending the key indicator up 1.33 percent Wednesday to a record high of 3,444.29.
Weaker oil prices and a one-off state subsidy helped China Petroleum and Chemical Corp (0386), or Sinopec, deliver a forecast-beating 30 percent jump in 2006 net profit. It also expects first- quarter profit to have leaped more than 50 percent due to increasing output and improved margin.
McDonald's and KFC are allowing unions in their mainland outlets in a nod to the state-sanctioned labor federation, while labor officials in Shanghai said Tuesday that a probe cleared the companies of any labor violations in that city.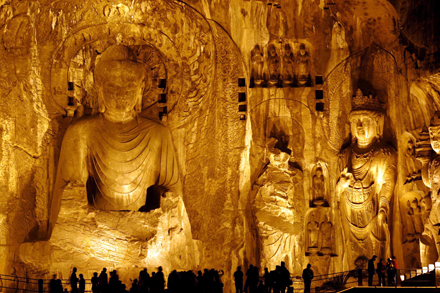 Visitors admire the recently renovated Longmen Buddhist Grottoes in Luoyang, Henan province. The new lighting was installed in the 8 million yuan renovation that took three years to complete on the fourth century sculptures. The UN World Tourism Organisation said China could soon replace Spain as the world's second most popular tourist destination.
US moves to lodge complaints against China through the World Trade Organisation over piracy and market access marked a worsening of the economic relationship, but the countries still had room to avert a full-blown trade war, analysts said yesterday.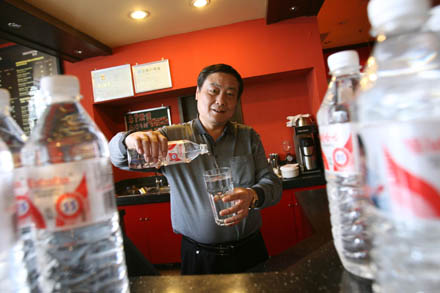 Wahaha chairman Zong Qinghou said on Sunday the company rejected Danone's four billion yuan hostile takeover of the beverage maker. Groupe Danone, the world's biggest yogurt maker, said it is ready to take legal action against Hangzhou Wahaha Group, claiming that the mainland beverage maker breached a co-operation agreement by using other units to sell Wahaha brand products. Danone's accusation was carried in a public letter to Sina.com yesterday after Wahaha chairman Zong Qinghou said on Sunday the company rejected its four billion yuan hostile takeover amid the government's increasing scrutiny on foreigners buying local assets. Mr Zong, a representative of the National People's Congress, has the support of the company's staff, who said in a public announcement that Danone was "eating up" a Chinese brand. Wahaha's staff also said they had seen no contribution from Danone despite the large revenue from Wahaha's products. Requests for pay rises were always rejected, the announcement said. Spokesmen for Danone and Wahaha could not be reached for comment. Foreign firms are finding it increasingly difficult to gain control of mainland firms. One example is Carlyle Group's proposed acquisition of Xugong Group Construction Machinery. Carlyle, a United States buyout fund, cut its planned purchase from 85 per cent to 50 per cent last year, and then to 45 per cent last month, but the deal is still pending final approval. Arcelor Mittal, the world's largest steelmaker, is revising its purchase in Laiwu Steel after its initial proposal was turned down. France's SEB, the world's largest kitchen appliance maker, also faces objections from mainland competitors to its plan to buy 61 per cent of Supor Zhejiang Cookware. Danone said that it remained in talks with Wahaha on "some important issues", adding that "[the offer's rejection] is a strategy of Wahaha for negotiating better terms". Analysts said the agreement should be for Danone to buy 51 per cent of five joint ventures with Wahaha, instead of 51 per cent of the mainland company. "We don't know what kind of assets Danone is considering buying," an analyst said. The contract terms between the two companies are not known. Mr Zong told China Daily that Danone had invested 1.5 billion yuan in the ventures with Wahaha since 1996 and made a combined profit of 3.8 billion yuan. Founded in 1988 in Zhejiang province, privately owned Wahaha Group is China's biggest beverage maker. The company has assets of 8.8 billion yuan and about 20,000 employees. Its pre-tax profit jumped 48 per cent to 3.2 billion last year. Danone owns a 22 per cent stake in Hong Kong-listed China Huiyuan Juice Group, the nation's largest maker of pure fruit drinks. It also runs ventures with China Mengniu Dairy, the country's biggest liquid milk maker. Danone's other investments include Shanghai's Bright Dairy & Food, Shenzhen Health Food, Guangdong Robust Group and Shanghai Aquarius Drinking Water Corp.
April 12, 2007

Hong Kong: Hu told HK's newly re-appointed Chief Executive Donald Tsang on Monday that the central government will provide "all-out support" for his government. Citing a chapter from traditional Chinese analects, Premier Wen Jiabao urged Chief Executive Donald Tsang Yam-kuen Monday to devote his life to the SAR. Donald Tsang Yam-kuen remained tight-lipped Monday on the composition of his new Cabinet or whether he had raised the matter at all during his meetings with state leaders in Beijing. President Hu Jintao yesterday acknowledged the advancement of democracy as one of the common wishes and fundamental interests of the people of Hong Kong, while insisting that it should progress in a "gradual and orderly" manner. Premier Wen Monday officially appointed Donald Tsang as the third-term Chief Executive of HKSAR, confirming the result of an election in March. Chief Executive Donald Tsang Yam-kuen will seek state leaders' views on his plans for the next five years when he meets them today in Beijing. The talks will precede discussions between Mr Tsang and top civil servants on implementing his second-term policy platform, and preparations for forming his new cabinet. Arriving yesterday for his first visit to the capital since being re-elected, Mr Tsang said his election manifesto and work priorities should be high on the talks agenda. "I hope to be able to exchange views with them [state leaders] on my manifesto, particularly in areas of common interest where we are able to complement each other's development," he said. The chief executive did not say, however, whether he would raise the issue of universal suffrage during the meetings, despite calls by the pan-democrats for him to gauge Beijing's bottom line on the implementation of universal suffrage in 2012. Mr Tsang will receive his appointment from Premier Wen Jiabao this morning. He will meet President Hu Jintao and other state leaders today. "During the election process, I made a very concrete platform outlining the focus of our future five-year development," he said. "This [visit] serves as a very good opportunity to listen to state leaders' views on the main focus of our future tasks ... [and] from the mainland's perspective, what else can be done to strengthen the areas where we can complement each other." On his return from Beijing, Mr Tsang would hold a series of sessions with directorate-grade officials and all administrative officers over the next few weeks to expound his plans for his second term, a source said. "Mr Tsang would like to explain the ideas and initiatives he has announced in his election platform with senior civil servants." In his declaration speech, Mr Tsang pledged to lead a new-style, open government and to encourage government officials to change their mindset, from being policy formulators to "interest coordinators". He also unveiled plans to restructure the policy bureaus to streamline their operation and better handle a host of difficult issues to be faced. The source said that in addition to a new bureau overseeing infrastructure development, one or two more bureaus would be created, including one dealing with welfare and labor. Details of the restructuring had yet to be finalised and were being studied by the Central Policy Unit, source said. Once a decision had been made by Mr Tsang, approval would be sought from the Legislative Council Finance Committee for the funding to create a number of ministerial and related posts. The source said Mr Tsang would begin forming his next ruling team once Legco gave its consent to the new posts. "Nothing can be taken for granted. The Liberal Party, for example, always opposes the creation of new posts at the senior level," he said. "Details of the new team will only be finalized and publicized in June at the earliest. This will also help avoid embarrassment to ministers who will not serve after July 1."

Hongkong and Shanghai Banking Corp is unlikely to buy anything in the near future as there is no acquisition target in sight that is cheap, and free from political constraint and regulatory barriers, according to chief executive Michael Smith.
Bank of China (Hong Kong) (2388) continued to dominate home lending in the city for the seventh month in an environment in which lenders dangled aggressive deals to wrestle market share.
The three Hong Kong-listed mainland insurers are expected to have been big winners last year, doubling their net profit from 2005, thanks to the frenzied equity market, the stable bond market and further investment liberalization, analysts say.
The Jockey Club last night confirmed a contagious virus, assumed to be a strain of equine herpes, is sweeping through the thoroughbred population at Sha Tin, with its latest victim being the world's leading turf sprinter, Absolute Champion.

Twenty-two Hong Kong Mini Fan Club members cram into a Mini Cooper yesterday at a classic Mini charity show in Chater Road, Central. About 70 of the tiny cars built between 1963 and 2000 were on display to raise funds for the Senior Citizen Home Safety Association's around-the-clock Personal Emergency Link service for elderly in need.
Shenzhen will offer a one-off concession of as much as five million yuan to international shipping lines and freight forwarders that increase their presence in the city, increasing the pressure on rival Hong Kong's harbour operations.

China: KFC will accept whatever ruling the Chinese government makes over its alleged illegal exploitation of part-time staff in China, said a president of Yum Brands Inc. at a press conference celebrating the company's 20 years in China on Monday.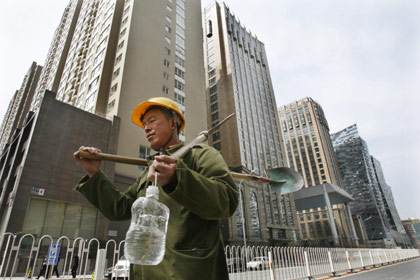 A migrant worker walks past a row of new property buildings in Beijing April 4, 2007. As Beijing's migrant population continues to grow, some experts believe the decades-old hukou system is outmoded and broken. As Beijing's migrant population continues to grow, some experts believe the decades-old hukou system is outmoded and broken. The policy requires migrants to get temporary permits, or the much harder to obtain hukou, once they move to the city. These days, a growing number of those who relocate to find better jobs in Beijing tend to stay longer or even resettle with their entire families, according to a study by the Renmin University of China. The investigation revealed that this "floating population" in Beijing, currently at 3.57 million, stays an average of 4.8 years in the city. In addition, over 51 percent of those remain for more than five years while over 41 percent bring the whole family. "It is getting trendier for them to come and reside with the whole family," said Zhai Zhenwu, dean of the School of Social and Population Science. Representing 23 percent of local residents, most migrants live in the nearby suburban areas and villages within downtown. The thriving low-skilled labor market in Beijing has been a major source of jobs for unskilled migrants. Zhai said the most basic jobs in the city offer higher wages that far exceed what migrants would have earned in rural areas. But city life also means a poor quality of life and inadequate social services. For example, statistics show that the urban per capita disposable income in Beijing is five times more than the average in rural areas of neighboring Hebei Province and 6.7 times more than that in Anhui Province. China's hukou system, established in the 1950s, divided the Chinese into two categories: rural and non-rural households. The policy was established to control population migration, largely from rural to urban areas. Under the policy, rural people are not granted social security in cities and are restricted from receiving public services such as education, medical care, housing and employment. On the other hand, their urban compatriots have no access to farmland in the countryside. For years, non-rural residency, especially in cities like Beijing and Shanghai, has been a difficult goal for outsiders, particularly rural migrant workers.
Hu Jintao, general secretary of the CPC Central Committee, extended his congratulations yesterday to Wu Poh-hsiung, chairman-elect of the Chinese KMT in Taiwan.
Only two days after Robert Greifeld, CEO of Nasdaq, announced in Beijing the introduction of a China equities index, Noreen Culhane, executive vice president of the NYSE, also arrived in the Chinese capital hunting for potential listings.
Switzerland is aiming to start talks to clinch a free trade agreement with China, Swiss Economics Minister Doris Leuthard said on Sunday.
China's home-made passenger car sales surged 22.36 percent year on year to nearly 1.54 million units in the first quarter of this year, according to the China Association of Automobile Manufacturers.
Technology firm Baidu.com and Alibaba.com plan to offer Japanese services this year in an effort to look for more room to grow in overseas markets.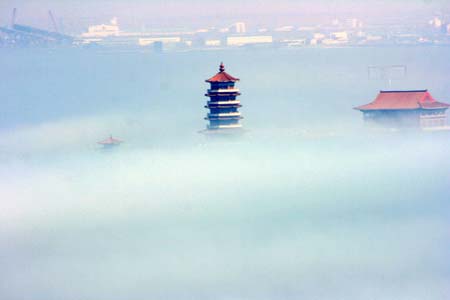 Penglai, a coastal city in east China's Shandong Province, is blanketed in thick fog April 8, 2007.The spectacular scenery lasted for about 30 minutes.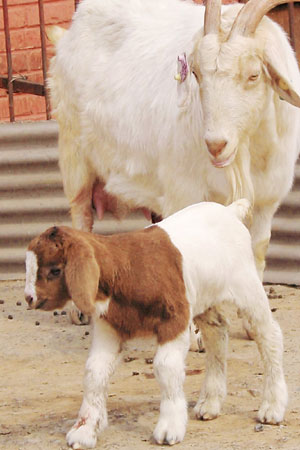 The world's second and China's first Boer goat cloned from somatic cells was born in the northern Chinese city of Tianjin April 9, 2007, indicating that the nation has reached world's advanced level in somatic cell cloning technology.
The Third Network of East Asian Think-Tank (NEAT) Financial Cooperation Conference, held in Shanghai on April 7, the issue of "establishing a brought the issue of "a unified currency in East Asia" to the table.
The scandal involving US fast-food giants McDonald's and KFC for alleged underpaying part-time employees should serve as a reminder of the need to strengthen enforcement of China's labor regulations. The labor bureau in South China's Guangdong Province has reportedly begun its probe into the case, in which McDonald's and Yum Brands Inc, which operates KFC and Pizza Hut, are accused of paying part-timers less than the Guangzhou minimum wage of 7.5 yuan ($0.97) per hour. The cases make clear the necessity of increasing protection under our existing labor laws. For a long time, labor controversies concerning underpaid workers have cropped up in both foreign and domestic enterprises. They include world-renowned firms as well as obscure local companies. The number of victims is believed to be large. According to a survey by the Guangdong labor bureau and a local university last year, the issue of underpaid farmers-turned-city-workers has become a serious problem. The 600 enterprises surveyed included foreign, Macao- and Hong Kong-financed and domestic enterprises. In Beijing, a survey of housekeepers last year by non-governmental organizations found about half of those surveyed were paid less than the local minimum wage. In Shanghai, local regulators uncovered 907 cases involving 28,000 underpaid workers in the January-August period of 2006. These cases occurred in big cities, where implementation of labor laws is much stricter than elsewhere. It would be no surprise if labor laws were even more commonly disregarded outside major cities. McDonald's and KFC were singled out, admittedly, not only because they allegedly violated labor laws but because they are major fast-food brands. They are high-profile targets for those interested in protecting labor rights. The equally important question is, how many other companies are violating labor laws? This is the larger issue raised as labor officials investigate the McDonald's and KFC scandals.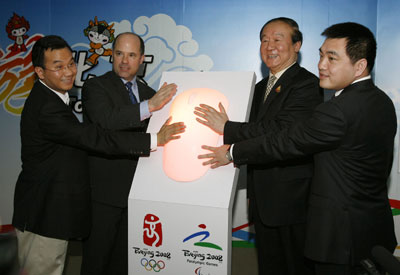 Jiang Xiaoyu (second left), executive vice-president of Beijing Organizing Committee for the Games of the XXIX Olympiad (BOCOG) and three other guests launch the "Olympic Families Tour Beijing" campaign in Beijing April 9, 2007. On April 9, the official website of the BEIJING 2008 Olympic Games, in cooperation with China Mobile, launched the "Olympic Families Tour Beijing" campaign, which will make it possible for ten families, five from China and five from the rest of the world, to tour Beijing and the co-host cities ahead of the Olympic Games.
Olympic ball, designed by a Beijing resident Huang He, aiming at promoting all-people sports concept, becomes a new fad among many Beijing residents communities.[
Much will be at stake when Premier Wen Jiabao embarks on a three-day visit to Japan Wednesday - not least the future of economic ties between East Asia's two giants. Wen's trip is part of what increasingly looks like a thaw, coming after a freeze lasting nearly a decade - but much can still go wrong and the business community is not uncorking the champagne just yet. "If the political atmosphere stays cold for some time, the economy can also cool," said Mitsuyuki Kagami, a professor of Chinese political thinking at Japan's Aichi University. "That poses big concerns for both China and Japan." Wen's visit is the first such trip in seven years by a Chinese premier, after a groundbreaking visit to China by Japanese Prime Minister Shinzo Abe last year. It is happening none too soon, according to analysts. Japan was China's largest trading partner for 11 consecutive years until 2003, but was then overtaken by the United States and European Union - and politics may have been a factor, they argued. "It's hard to avoid bad political relations having an impact on the economic side," said Liu Jiangyong, a Japan expert at Beijing's Tsinghua University. "Just look at 2005." That was the year when latent anti- Japanese sentiment in the mainland burst out into the open over Tokyo's desire for a permanent United Nations Security Council seat. Further enraged by a Japanese history textbook glossing over World War II crimes, angry crowds marched through China's leading cities, smashing Japanese property. In Beijing, they pelted the Japanese ambassador's residence with bricks. A month after the protests - the worst riots in at least six years - a survey showed the portion of Japanese firms planning to expand existing business or start new business in China slumped to 54.8 percent from 86.2 percent in late 2004. The figure later rebounded, but even at 76.8 percent in late 2006, it remains almost 10 percentage points below the pre-riot figure. Trade is growing, but not as much as one would expect, when an export- dependent economy such as the mainland's expands at double-digit rates. Bilateral trade rose about 12 percent in both 2005 and last year, only around half of the growth rate between China and its other two major trading partners. But Liu noted that Japan's exports to China - mainly high-grade electronics and automobiles - have been expanding faster since Abe visited China in October just after taking office, and the tendency will continue. Bilateral trade rose by 22.4 percent year-on-year to US$33.49 billion (HK$261.22 billion) in the first two months of this year, with the growth pace 10.7 percentage points higher than a year earlier, according to figures from the mainland customs. The sluggish political relations will not deter Beijing from buying capital equipment and technologies from Japanese firms, analysts said. "[The Japanese enterprises] have very good opportunities here. I think the government should basically make its decision based on technologies," Hong Kong-based economist with Lehman Brothers Sun Mingchun said. "It's more important to focus on the economic side, less on the political side." Akihiko Tanaka, a professor of international politics at the University of Tokyo, said China will not allow economic ties to deteriorate too much, as they serve its own interests too.
April 11, 2007

Hong Kong: Guangzhou Shipyard International (0317), the mainland's only publicly- traded shipbuilder, will take advantage of its substantial cash reserves to invest 2 million yuan (HK$2.02 million) in mainland shipping-related companies at their initial public offering stage, a senior official said.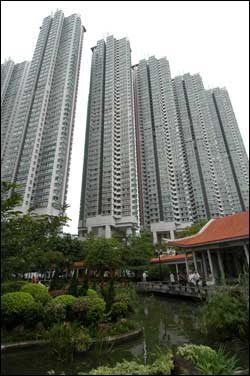 Developers are expected to launch more new projects this quarter to meet demand mainly in the mass residential market. Property agent Ricacorp estimates that up to 4,323 homes in 25 projects could hit the market. The New Territories will account for most of the new supply with 2,131 units, followed by Kowloon with 1,574 and Hong Kong Island with 618. The single biggest project is phase one of Central Park Towers in Tin Shui Wai, being built by Cheung Kong (Holdings) (0001), which has 1,902 flats in total. Other projects are more modest in scale, with the next three projects, all in Kowloon, offering about 300 homes each. SEA Holdings (0251) is building a 48-story residential and retail project with 304 flats at Po Kong Village Road in Diamond Hill. The company said in its 2006 interim results that pre-sales are planned for early this year. Henderson Land Development (0012) will offer 312 units in phase three of Metro Harbour View at Tai Kok Tsui, and another 326 in a mixed-use project at 500-502 Tung Chau Street, Cheung Sha Wan. On the island, Swire Pacific (0019) and China Motor Bus (0026) are offering 184 flats at the junction of Kam Hong Street and Java Road, North Point. Asia Standard International Group (0129) will offer 180 flats at its project at 238-242 Aberdeen Main Road. Ricacorp Properties executive director Willy Liu Wai-keung said developers were quite active with new launches in the first quarter, especially last month, pointing to brisk sales at projects such as The Vineyard by Sun Hung Kai Properties (0016) and Bel- Air phase six by Pacific Century Premium Developments (0432). Henderson Land managed to sell all 119 units at The Verdancy in Yuen Long in one weekend two weeks ago, generating HK$163 million. "In the second quarter, there will not be much luxury property, but more mass residential such as Central Park Towers," Liu said. Midland Realty chief analyst Buggle Lau Ka-fai said the market performed respectably in the first quarter. "We believe the momentum will carry on to April and May but it may slow in June at the end of the quarter," Lau said, referring to the start of the summer holiday season. Asked if the market would see more primary market sales, Lau said the first quarter saw about 2,700 deals involving new flats but more than 20,000 transactions in the secondary market. "The secondary market will remain the driver in terms of quantity," he said.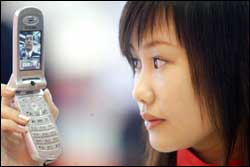 China Mobile Communications, the parent of Hong Kong-listed China Mobile (0941), will launch its third- generation business with a new subsidiary specifically designed to take charge of the firm's construction of the TD- SCDMA network, China's homegrown 3G telecommunications standard. TD-SCDMA, or time division- synchronous code division multiple access, was chosen in January 2006 as the homegrown alternative which would allow a decrease in dependence on Western telecommunications technology. Market watchers say that a new unit controlled by the parent company, instead of the Hong Kong-listed one, will allow the National Development and Reform Commission better control over the scale and direction of the project. "This unit will mainly be responsible for constructing the network for TD-SCDMA, and will lease the completed network to the listed China Mobile," an industry source told the China Business Journal. The network for TD-SCDMA will be completed and commence operations by the end of October, China Business Journal reported Sunday. Bidding by equipment suppliers has finished, and China Mobile will announce the results by the end of April. The first phase of the TD-SCDMA bidding was originally planned to start February 9, but NDRC was not happy with the initial investment plan because of the large capital expenditure involved, so China Mobile had to delay the bidding until March. The price for building the 15,000 stations for the TD-SCDMA network has risen to 26.7 billion yuan (HK$27 billion) from 18 billion yuan, owing to rising prices of equipment, which will benefit suppliers. A European fund house said China Mobile Communications' assumption of control over the 3G development project will have only a mild impact on the share price of its Hong Kong-listed unit as setting up a 3G business is seen as a long-term investment proposition.
Trade show organizers motivated by profit are oversaturating the market with exhibitions and events, according to Ken Lo, vice chairman of the Hong Kong Jewellery and Jade Manufacturers Association. "Over the past 20 years, exhibitions and trade shows have played a very important role for us in providing trading platforms, but for the past 10 years exhibition organizers have been abusing this industry as they organize events to make profits from the shows, rather than meet the demand of the market," Lo said. An exhibition is supposed to be an event led by industry, but trade show organizers have gradually gained more and more control, he said. Lo cites jewelry exhibitions in Hong Kong as one example, pointing out that five such events are held each year, When trade shows are held so frequently, companies feel pressured to sign up for fear of missing an opportunity to meet buyers, despite knowing that potential benefits are limited. They are also burdened with unnecessary expenses, Lo said. Daniel Cheung Wai-hung, vice chairman of the Hong Kong Exhibition and Convention Industry Association, agrees with Lo's comments on the burgeoning number of trade show organizers. However, in reality, those organizers cannot force companies to take part in any particular event, he said. "At the end of the day, it is the market that regulates or decides which trade shows will survive and which will phase out. The exhibition industry in Hong Kong is a perfect free market. There is no entry barrier and anybody can enter it. But this does not mean everybody will survive. "In the exhibition industry, there is no loyalty. As long as you can produce good shows with good results, industry associations will return and support your shows next time. But if you underperform, you will disappear." Cheung said there is a huge demand among local companies for exhibitions and trade shows to enable them to explore opportunities internationally. According to an HKECIA survey, 41,599 companies participated in Hong Kong exhibitions in 2005, up 59 percent from 26,097 firms in 2000. Local companies accounted for about half the 41,599 participants.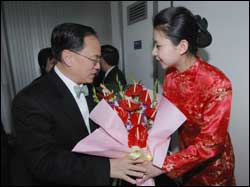 Hong Kong will seek the views of central government leaders on the territory's future political development and strive for a a solution acceptable to all sides, Chief Executive Donald Tsang Yam-kuen said Sunday. "I hope to be able to exchange views with them on my manifesto, particularly in areas of common interest where we're able to complement each other's development and make sure we develop a further win-win situation for both sides in the coming five years," Tsang told reporters in Beijing Sunday on arrival in the capital where he will receive his instrument of appointment today from Premier Wen Jiabao as the SAR's third-term chief executive. Tsang, who had just finished a holiday with his family in Japan after winning the chief executive election on March 25, is in Beijing for three days. Besides receiving his letter of appointment from Wen, he will meet President Hu Jintao at Zhongnanhai this afternoon. Tsang was welcomed at Beijing's Capital International Airport Sunday by deputy director of the State Council's Hong Kong and Macao Affairs Office Chen Zuo'er. On his arrival, Tsang thanked the central government for the support and trust it had extended to the government and people of Hong Kong, and for giving him the chance to be reappointed for another five-year term. He said apart from receiving the instrument of appointment, he will seek the views of Wen and Hu on the SAR's future political development. Tsang is also expected to discuss with the state leaders the list of principal officials he is proposing to nominate as members of his next administration. Tsang and his aides forgot to claim their luggage before leaving Beijing airport, including two bags belonging to the incumbent leader and his wife, Selina Pow Siu-mei. Eight pieces of luggage, which were found left behind at the airport's baggage collection area, were later collected by two officials from the Hong Kong and Macao Affairs Office and taken to Tsang's guesthouse. Apart from meeting the top leaders, Tsang will call on Beijing mayor Wang Qishan whom he described as an "old friend." The chief executive will also take time off to inspect Beijing's preparations for the 2008 Olympic Games and visit two Olympic sites, including the Beijing National Stadium, which will be the main venue for next year's Games. Tsang will also visit the Palace Museum and the Beijing Capital Museum before returning to Hong Kong tomorrow night.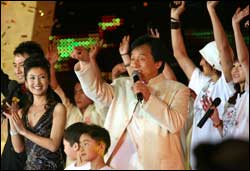 Actor Jackie Chan Kong-sang has launched a mainland TV competition aimed at scouting new action movie talent, saying more than 100,000 people have already signed up. "A lot of actors are good at fighting but [their style] is not beautiful," said Chan, who turned 53 Saturday, in Beijing. "If you can incorporate dance with an ability to perform kung fu, that would be better." The TV show, The Disciple, is jointly produced by Chan and Beijing TV Station, known as BTV. It will run from March to October, with 10 winners appearing in a movie to be produced by Chan. The movie will be released before the 2008 Beijing Olympics.
Retailers who repeatedly cheat tourists should be banned from the industry, the tourism chief has said. James Tien Pei-chun, chairman of the Hong Kong Tourism Board, made the comment yesterday as he called for the government to introduce tougher laws to punish unscrupulous retailers. Mr Tien said shop owners caught cheating consumers could presently remain in business by changing the name of the outlet. "I suggest changing the law to forbid these people from running retail or similar business again if they have been caught cheating consumers a certain number of times," he said. "But the [tourism] board, Legco and the government have to hold more discussion on this to see if this is an effective solution." Under the Travel Industry Council's penalty system, once a shop has accumulated 30 demerits, the council can either suspend or revoke its registration, which removes it from the list of stores that have been approved for tour groups. To make the system more effective, Mr Tien suggested the names of shops deregistered by the council be posted at the Lo Wu border checkpoint, the entry point for 80 per cent of tour groups from the mainland. "A shop name should be announced publicly even if only five marks are deducted from it, and a reason for the deduction should also be revealed so that tourists will know they should not buy things at certain shops," he said. Mr Tien said the board would discuss the matter with the Shenzhen Tourism Bureau as 70 to 80 per cent of mainland low-cost or "zero-fee" tour packages were organised by travel agents in Shenzhen. "Hong Kong cannot solve this problem alone," he said. "We must work with the mainland authorities to remind travellers to join quality tours by education and promotion. "We have to inform visitors that it is more likely they will be taken to dishonest shops if they join `zero-fee' tour packages as travel agents have to cover their operation costs and make profits by getting commission from these shops." Travel Industry Council chairman Ronnie Ho Pak-ting said the mainland's tourism market was very immature, but was developing rapidly. "Hong Kong travel agents offer many low-budget package tours to other countries, but we do not experience the problems we have with mainland travellers," he said. The council devoted 70 per cent of its resources to cases related to mainland package tours, Mr Ho said. "More than half the complaints filed against shops in Hong Kong are to do with getting refunds. But we really do not have the manpower to find out the reason behind these complaints," he said. "We have no authority to check if goods on sale at certain shops are genuine. This is the job of the customs officers." A mainland visitor went to the Majestic Watch & Jewellery Company in To Kwa Wan yesterday in the hope of getting a refund after seeing a CCTV report that alleged a diamond pendant and watch sold to tourists were fake. The traveller said he spent more than HK$3,000 on a watch last May, but later discovered it did not keep proper time. He tried calling a number posted outside the shop, but was told it was closed during holidays.
Lawyers have reported rising demand for pre-nuptial agreements, a trend prompted by a shifting perception in both British and Hong Kong courts towards an equal division of assets for divorcing couples.

China: China Radio International (CRI), the country's only multi-language broadcaster, has begun providing mobile phone TV services.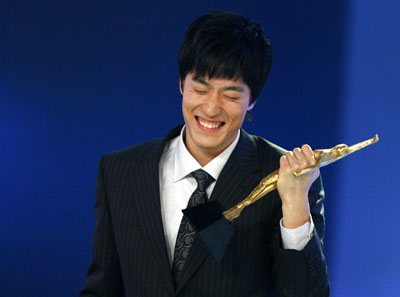 China's 110-m hurdler and Olympic champion Liu Xiang holds a trophy to celebrate after he is named Sportsman of the Year during an award ceremony organized by China Central Television (CCTV) in Beijing April 7, 2007.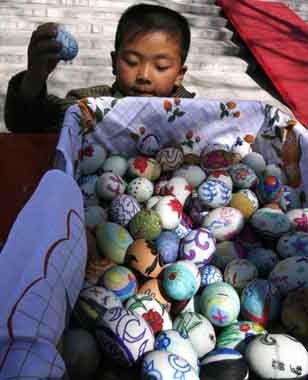 A Chinese child takes an Easter egg from a basket at the Southern Cathedral in Beijing on Easter Sunday April 8, 2007.
Civil aviation, construction, tourism, catering ... the Chinese media have started compiling a list of sectors set to reap benefits from the Beijing Olympic Games.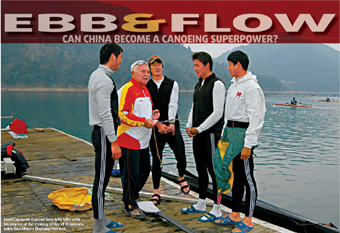 Josef Capousek (second from left) talks with his players at the training centre of Qiandaohu Lake, East China's Zhejiang Province. Several things stand between China and canoeing greatness - Europe, for one, diet another - but Josef Capousek thinks one change could shift the balance beyond doubt. "If they improve the quality of the coaches, I think China will be world No 1," the head coach of China's Olympic canoe-kayak squad told China Daily in Beijing. "Most of them are former athletes, so they don't understand physiology, biometrics, which are things they need to grow up with and implement at the children's level." Capousek, 61, was drafted in to bolster China's prospects at the 2008 Beijing Games in March 2005 as part of the nation's 119 Project. This refers to the number of Olympic medals on offer at the Athens Games in track and field, swimming and canoe-kayak, three areas where China is still playing catch-up. It will rise to 122 during the Beijing Games. The significance of the project can be seen in the results at Athens, where China ranked second with 32 gold, four fewer than the United States. Twenty of the US' gold came in track and field and swimming, compared to three for China. Officials now hope that a costly drive to import foreign coaches across the whole spectrum of Olympic sports will pay dividends and tilt the balance. Former Sweden coach Marika Domanski-Lyfors took over China's women's soccer team last week, following in the footsteps of Japan's Masayo Imura (synchronized swimming), Ratomir Dujkovic of Serbia (men's soccer), American Michael Bastian (women's softball), Lithuanian Jonas Kazlauskas (men's basketball), and South Korean Kim Sang-ryul (men's field hockey) among others. In Athens four years ago, China had seven foreign coaches with its teams. Now expectations of Capousek are high after Meng Guanliang and Yang Wenjun took China's first canoeing gold in Athens three years ago in the flatwater C2 500 with a dramatic photo finish that could have seen any of a handful of competitors win it. Capousek aims to make sure events in Beijing are not so hit or miss. Having spent a quarter of a century coaching Germany's national squad, he can see what is wrong, and what needs fixing. "The problem in China is that everything must go fast," he said. "They go like this (clicks his fingers) and you must have an Olympic champion. They forget it's a long process to build an athlete." "We need to develop more professionals," China Canoeing Association Secretary-General Song Guangli told China Daily. "We have sent people overseas to learn new skills and ideas, but the number of coaches here is still quite limited." So are Capousek's changes welcome? "The results of the athletes speak for themselves," Song said. "In foreign countries, there are many kayaking clubs, but in China there are almost none, and many of the boats are owned by the state," Chen Chunxin, competition manager for kayaking at the Beijing Games, told People's Daily last week, adding that he had only kayaked once or twice himself.

China CITIC Bank - the second mainland commercial bank headed for a simultaneous listing in Hong Kong and Shanghai - intends to price its H and A shares in a range of 2.48 times to 2.81 times 2007 estimated book value, sources familiar with the multibillion dollar deal told The Standard.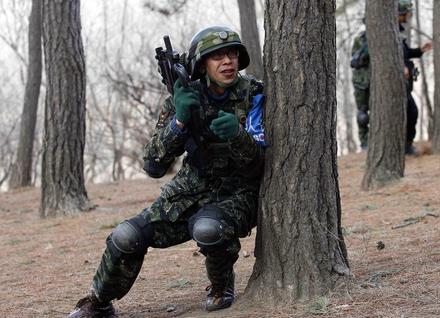 Office workers indulge in a game of paintball at a park in Shenyang, Liaoning province. Paintball is one of the latest recommended remedies for stress, which is taking its toll on city folks' sex lives. A recent survey found 30 per cent of middle-aged couples have no intimate relations, and family and job stress was affecting all marriages.
April 10, 2007

Hong Kong: Vodafone has acknowledged that foreign-investment caps prevent it from directly holding the entire 67 percent interest in Hutchison Essar it is acquiring from Hutchison Telecommunications International (2332) for US$11.1 billion (HK$86.58 billion), according to a media report Thursday.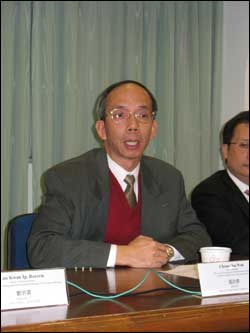 Forty percent of civil servants taking part in training programs have had the opportunity to train in the mainland over the past three years, and the training and development institute of the Civil Service Bureau is to looking for ways to increase that number. Most exchange programs in the first few years following the handover saw civil servants going overseas, but in 2002 the SAR government reached an exchange agreement with the Shanghai city government. Since then, further cooperation with the mainland authorities has also seen the establishment of exchange programs in Beijing, Hangzhou and Guangdong Province. Over the past three years, a total of 40 SAR government professionals, administrative officers and general-grade staff have been involved in mainland exchange programs lasting from four to eight weeks. A further 60 civil servants were sent on similar programs to the United States and the EU countries during the same period. Cheung Siu-wah, a senior manager in the Office of the Government Chief Information Officer of the Commerce, Industry and Technology Bureau, was one of those who took part in a mainland exchange program last year. He was attached to the scientific and technological development committee of Beijing in February 2006. Cheung, who stayed in the capital for six weeks, said he was impressed with the way the city government went about developing the digital entertainment industry in Shijingshan district, in the western section of Beijing, which had been designated a digital entertainment development zone. "The city leaders placed great importance in the development of that district and made constant site inspections to check on the progress," Cheung said. "My main contribution was to tell my Beijing counterparts about the latest developments in digital entertainment in the SAR, and share Hong Kong's experience in developing Cyberport." Cheung hoped there could be closer cooperation between digital entertainment industry operators in Hong Kong and the mainland. Recerio Lau Kwan-ip, a senior training officer at the institute, said the number of civil servants willing to join exchange programs in the mainland had been steadily increasing. "It is a balanced approach," Lau said. "With Hong Kong being an international city, our civil servants need to have an international vision. "At the same time, we need to develop closer ties with our mainland counterparts and authorities because of our proximity." Anthony Mak Chi-yuen, assistant principal training officer at the institute, hoped agreements could soon be reached with other mainland cities. "We are actively considering the issue and liaising with a few city governments," Mak said. He would not say which mainland cities or provincial governments had been approached, but reiterated the bureau would continue to arrange for SAR civil servants to take part in exchange programs with the US and EU governments.
Key developers in Hong Kong are adopting different strategies to replenish their land banks in China, in particular main and second-tier cities where they have a strong presence. New World China Land (0917), one of the earliest entrants to the mainland real estate market, intends to focus on developing its existing cheaper land bank in the next couple of years. But the mainland property arm of New World Development (0017) has no plans to accelerate the pace of new and large-scale land acquisitions as its existing land reserve of 15 million square meters is sufficient for development until 2014, according to NWD senior manager of corporate affairs Aldous Chiu. Henderson Land Development (0012), controlled by Lee Shau-kee, however, aims to more than double its land bank to more than 14 million sq m this year. NWD's Chiu said capital spending of affiliate New World China Land for fiscal 2008 would be mainly construction expenditure. Between 2 billion yuan (HK$2.02 billion) and 3 billion yuan, or 2,000 yuan to 3,000 yuan per sq m, will be spent on property developments for the financial year ending June 30, 2008. In fiscal 2006, the company acquired several new projects in mid-western China, saying the decision was based on its positive view of the property market in that region, shrugging off concerns over central government measures to cool the sector. Lower land costs in these secondary cities will translate into better margins, it added. It will speed up the pace of developing these projects. New World China Land also expects fiscal 2008 to be another bumper year amid more property completions and healthy margins after more than doubling its net profit to HK$406.4 million for the six months to December. The company said its projects slated for completion in fiscal 2008 will jump by half in terms of gross floor area. Developers can only book income from property sales after projects are completed. Project completions in fiscal 2008 will increase to as much as 1.2 million sq m from more than 800,000 sq m in the current year ending June 30, 2007, Chiu said. New projects with a total gross floor area of 187,200 sq m were completed in the first six months to December 2006, with a further 630,000 sq m scheduled for completion in the second half ending June 2007. Its margins recently rose to about 33 percent from about 21 percent in fiscal 2005. Henderson Land, meanwhile, has redefined its strategy in the mainland, saying that apart from developing prime sites in Beijing, Shanghai and Guangzhou, it also focused on second-tier cities with good growth potential. The company plans to splash out 7.5 billion yuan to replenish its mainland land bank this year with a potential total buildable floor area of 7.7 million sq m. The developer said the group is in the final stages of acquiring several sites, for which agreements have been reached. With formalities for these land purchases likely to be completed before the end of June, the group's mainland land bank will more than double to over 14 million sq m of gross floor area from the present 6.8 million sq m. Henderson did not identify the location of its latest land acquisitions. It has also joined forces with Singapore-based Temasek Holdings to acquire a riverside residential site in Xian, Shaanxi province, for 1.72 billion yuan. Recently, Henderson also won a plot in Suzhou, Jiangsu province, with a bid of 865 million yuan. Cheung Kong (Holdings) (0001) and Sun Hung Kai Properties (0016), Hong Kong's largest developers by sales and market capitalization, also want to buy more land in the mainland. Cheung Kong deputy chairman Victor Li Tzar-kuoi said the company has a strong presence in both first-tier and second-tier cities and will continue to increase its holdings. "In just Shanghai alone, the land bank from our two recent projects is already over 1 million square meters," Li added. He said contribution from properties in the mainland was not substantial last year, as projects have yet to be completed. "Contributions will increase in 2007. All of our projects in China are making money," Li said, adding that including its share in associate Hutchison Whampoa (0013), Cheung Kong's mainland land bank exceeds 10 million sq m. Meanwhile, SHKP also intends to step up the pace of its property investment in China where its investments now account for about 10 percent of its total assets. "We hope our China investments will account for 15 percent of our total assets in the next few years when new projects are completed," SHKP chairman Walter Kwok Ping-sheung said. The company has committed over HK$22 billion to new China projects. SHKP owns an attributable 2 million sq m of gross floor area in the mainland, comprising completed investment properties and properties under development. "We are emphasizing quality of our projects more rather than the size of our land bank," Kwok said.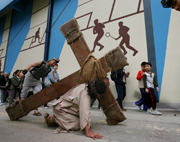 Worshippers from the Sha Tin Baptist Church leave young passers-by perplexed as they re-enact the crucifixion of Christ through the streets of the New Territories town. Similar processions were staged in many parts of the world as Christians marked Good Friday.

A shopper takes a peek at the opening ceremony for the People's Liberation Army Hong Kong Garrison exhibition at Olympic City, Kowloon. The exhibition, which runs until April 15, features PLA uniforms and performances. Officiating at the opening were Miss Hong Kong Aimee Chan Yan-mei and Legco member Chan Yuen-han.
Despite the barriers to installing alternative electricity generation equipment, the rooftops of Hong Kong's skyscraper jungle may soon be generating wind power. Energy consultant Louis Cheng Ming-tat, who is drawing up a plan to install wind turbines on top of about 100 buildings, said that "by pooling development, we could generate a sizeable amount of power on par with the generation capacity of the wind turbine on Lamma". Mr Cheng plans to install at least 500 turbines, each with a capacity of 1.5 kilowatts, using a new model that he says suits the urban settings much better than conventional wind turbines. CLP Power's experimental Lamma wind turbine has a capacity of 400 kilowatts. The new design's vertical axis turbine, in which vertical blades revolve at a fixed distance from a central shaft, can use wind coming from any direction, unlike the three-bladed horizontal-axis model on Lamma, which has to face the wind. The Electrical and Mechanical Services Department is testing the turbines at its Kowloon Bay headquarters to see if they work more effectively in a city landscape. "We are trying out different [turbine] models to see which one is better in Hong Kong's environment," said Lo Siu-kuen, a senior building services engineer. The new, Taiwan-made turbine is expected to provide up to 2,000 kilowatt-hours of electricity a year. It could support up to 75 energy-efficient fluorescent light bulbs. Mr Cheng said there was increasing demand from both private and public property developers for the installation of renewable energy features in their developments. A prominent developer in Central is considering installing a dozen wind turbines in an open area, while a commercial building under re-development in Aberdeen plans to incorporate four turbines. "This is increasingly popular in the private sector," he said.
The Hong Kong government may have run up a budget surplus of HK$60 billion or even more in the last financial year, exceeding its HK$55.1 billion forecast, tax experts say.

China: China on Friday issued its first regulation on human organ transplants, banning organizations and individuals from trading human organs in any form.
Chinese Premier Wen Jiabao shakes hands with visiting Spanish first deputy Prime Minister Maria Teresa Fernandez de la Vega in Beijing, capital of China, April 6, 2007. Besides Beijing, Fernandez de la Vega also visited Shanghai, China's economic hub, and is scheduled to visit Xi'an, capital of China's northwestern Shaanxi Province.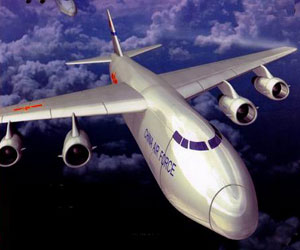 A Chinese official said on Friday that home-developed jumbo aircraft will be assembled in both Shanghai and Xi'an, capital of northwest China's Shaanxi Province.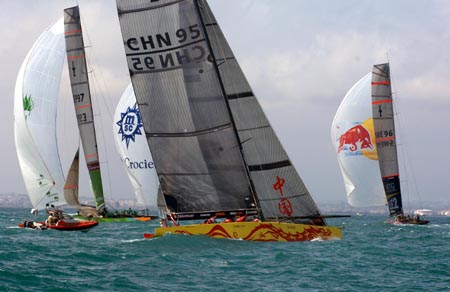 The China Team yacht (front) of America's Cup races during the Valencia Louis Vuitton Act 13 fleet race competition in Valencia April 6, 2007.
The Industrial and Commercial Bank of China (ICBC) has become China's No.1 company after registering total assets of more than US$1 trillion at the end of March 2007.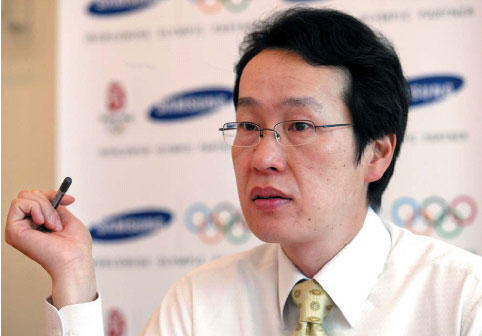 Imagine watching Liu Xiang sprint to victory or Yao Ming shoot a buzzer-beating 3-pointer at the Beijing Games with a video download to your mobile phone as it happens. Kim Ju-hwan,managing director of Samsung's Beijing Olympics Office. Olympic partner Samsung Electronics hopes to make this a reality next year as it moves beyond the text and still picture messages it provided at the last Winter and Summer Games. Participants in 2008 will be able to enjoy another wireless Olympics complete with moving pictures and video content on their cell phones. Samsung Electronics will also offer an Olympic Community Messaging service to circulate information freely using the instant messaging service available on most phones. "We are a TOP partner, so we have a responsibility to show everything about the Olympic Games in the best way," said Kim Ju-hwan, managing director of Samsung's Beijing Olympics Office. The world's third-largest mobile phone maker is expected to supply around 18,000 handsets to the International Olympic Committee, sports confederations and national sports delegations during the Beijing Games. A sea of skeptics - Three years ago, Lee Ki-tae unveiled Samsung's first mobile phone based on the Chinese TD-SCDMA standard as part of his vision for the future, but few people believed that the third-generation mobile technology would become a commercial success. The former president of Samsung Electronics' mobile communications business was telling an audience at the Great Hall of the People in Beijing, where China's National People's Congress is located, that his company aimed to make inroads into China's 3G mobile telecom market. His comments were greeted with skepticism at the time because TD-SCDMA was not showing any signs of being commercialized. But Lee, since promoted to vice-chairman of the South Korean electronics giant, stuck to his vision of a digitally converging and increasingly connected region.
China commercial lenders have been ordered by China's central bank to set aside more money as reserves in a further bid to rein in credit growth and slow inflation in the world's fastest- growing major economy.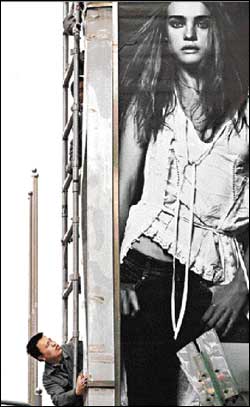 China will see "very strong" growth in 2007, but the government does not need to be too concerned about bottlenecks and other signs of overheating, the World Bank said Thursday. Domestically the world's fourth- largest economy seems to have few problems accommodating fast expansion. But there are vast external imbalances, the World Bank warned. "We continue to think that growth in China will remain very strong this year, and we think that it's OK," said Louis Kuijs, senior economist with the World Bank in Beijing. "We don't think the government needs to be overly worried about that," he told a briefing in the Chinese capital as the World Bank released its six- monthly report on East Asia's economic and social health. China's central bank said last week it expects the economy to expand by 10 percent this year, marking the fifth consecutive year of double-digit economic growth following a 10.7 percent rise in 2006. The World Bank officially forecasts 9.6 percent growth in the Chinese economy this year. But it suggested Thursday the growth will probably be more than that, based on macroeconomic data released so far in 2007. "Growth is high, but it's not obvious that the economy is overheated from the macroeconomic perspective," Kuijs said. An overheated economy usually shows up in soaring inflation or bottlenecks such as goods piling up in the ports, he said. "We don't observe those kinds of tensions, and we think the macroeconomic situation is quite benign."
Beijing has set up a network of regular air and sea patrols in the East China Sea to monitor traffic and strengthen its claims over the area - efforts that have already resulted in warnings to several US military vessels surveying the zone.
Guangzhou is planning to set up a centre to monitor food safety in markets after struggling with a succession of food-security problems over the past few years.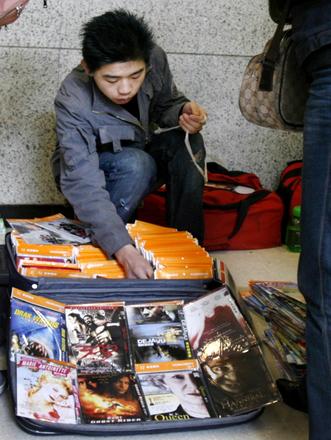 The United States may file a complaint as early as next week with the World Trade Organisation against China's alleged leThe planned complaint, the second this year and the fourth to be lodged by the US against China since Beijing joined the WTO in 2001, comes on the heels of the US decision on March 30 to impose duties on imports of coated paper from China. Four people briefed by the Bush administration said officials had prepared two cases, one saying that China had set too high a threshold for the number of pirated movie or music discs to be eligible for prosecution, and another objecting to restrictions on the sale of foreign books and movies on the mainland. The complaints are planned despite China's announcement this week to lower by half the criminal threshold for prosecuting pirates. The Supreme People's Court now allows criminal prosecution of individuals caught in possession of 500 pirated discs, instead of 1,000, according to a notice issued by the Chinese Embassy in Washington. However, Charles Li Kui-wai, an associate professor of economics and finance at City University of Hong Kong, said such improvement was unlikely to satisfy the US. "For the US, producing one pirated disc is enough ground for prosecution," Mr Li said, adding the complaint aimed to boost US exports. Some US lawmakers blamed the Sino-US trade gap of US$232.5 billion on the undervalued yuan, which they claimed was due to deliberate manipulation, and the piracy of patented and copyrighted goods. "By filing a case at the WTO, the US is exerting pressure on China to combat piracy through the WTO," Mr Li said. Guan Anping, a former legal adviser to Vice-Premier Wu Yi, said: "[Intellectual property rights] is a powerful tool to control nations like China, which are dependent on low-cost manufacturing." The US Trade Office said in a report released this week that China had "little success" in combating counterfeiting and piracy. Mr Li expects Washington's latest action to add tension to the relationship between the two countries after the Department of Commerce's decision last week to impose preliminary duties - ranging from 10.9 to 20.35 per cent - immediately on Chinese coated paper. It was the first time in 23 years that the US imposed the so-called countervailing duties on a country it classified as a "non-market economy". Under WTO agreements, a country can impose countervailing duties on imports if they can prove that a foreign country's subsidies have "an adverse effect on its interests". The levy is limited to coated paper but is widely expected to lead to a series of filings against mainland producers in other industries ranging from metals to textiles and machinery. Other WTO complaints made by the US against China included its challenge in February to a series of mainland tax laws and loan provisions allegedly intended to promote exports and encourage companies to buy domestic equipment. The complaint is still in the mandatory 60-day consultation period. In March last year, the US, European Union and Canada filed a joint complaint against Chinese duties on imported car parts. The WTO has set up a panel to examine the claims. In March 2004, the US challenged a Chinese value-added tax rebate on semiconductors. China agreed to scrap the law four months later.
niency towards piracy of movies and books, a move analysts see as another attempt to boost exports to the mainland so Washington can narrow its trade deficit.
China plans to spend up to 100 billion yuan to build a pipeline next year to carry natural gas to the manufacturing hub of Guangdong province from Xinjiang, according to the Shanghai Securities News.
April 9, 2007

Hong Kong: Asia's richest women Nina Wang Kung Yu-sum knew in December last year she only had only about three months to live, close friend and Macau casino magnate Stanley Ho Hung-sun said Thursday.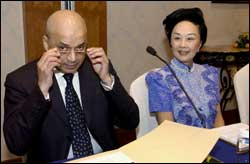 Veteran broadcaster Louis Rajkumar Page, a former top aide of Hong Kong cinema and television magnate Run Run Shaw, will become the executive director of Asia Television if Mingly Corp's HK$800 million deal for a 58 percent stake in the station is approved by the Broadcasting Authority. According to an ATV source, Page's close ties to Shaw date back half a century when Page's grandfather held the Sri Lankan rights to screen Chinese movies produced by Shaw Brothers' Studio. Page, from Northern Ireland, is also no stranger to the local broadcasting trade having been active in the TV business for more than three decades. He worked as a private secretary to Shaw in 1975 before becoming company secretary at Television Broadcast (0511) in 1983. He joined the television station's board of directors in 1987 and was TVB managing director from 1995 until his resignation on May 31, 2006, when he was succeeded by Shaw's wife Mona Fong Yat-wah.
ZTE Corp (0763) may have secured close to half of the 26.7 billion yuan (HK$26.99 billion) worth of contracts to build network equipment for the commercial trial based on China's homegrown third- generation mobile standard, according to a mainland media report.
Forty percent of civil servants taking part in training programs have had the opportunity to train in the mainland over the past three years, and the training and development institute of the Civil Service Bureau is to looking for ways to increase that number.
Hong Kong holidaymakers poured across border checkpoints Thursday at the start of the territory's own "Golden Week" with immigration officials estimating more than a quarter of a million people streaming through the Lo Wu checkpoint alone.
Shek Kip Mei Estate - Hong Kong's oldest public-housing complex - can expect to see its greenery almost intact after redevelopment, with plans afoot to preserve most of the estate's aging trees, some of which have been there for four decades.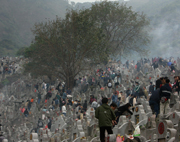 Crowds throng Diamond Hill Cemetery yesterday to mark the Ching Ming Festival by sweeping the graves of relatives. Hundreds of thousands of people climbed steep hills across Hong Kong loaded with offerings to pay tribute to their ancestors.
The mainland official in charge of Hong Kong affairs will visit the city in the second half of the month as preparations for the Tsang administration's next term gather steam. Liao Hui will meet officials in charge of the 10th anniversary of the handover to prepare for a visit by President Hu Jintao. Sources familiar with the arrangements said the president would lead a team of central government representatives to the city for two to three days to mark the anniversary. Beijing has yet to confirm the line-up of leaders who will visit. Mr Hu will also preside over the inauguration of the chief executive and his team of principal officials. During his visit, Mr Liao will also meet incumbent principal officials, whose terms will end at the end of June, to thank them for their support of the government and Chief Executive Donald Tsang Yam-kuen during his term, one source said. The visit will follow Mr Tsang's trip to Beijing on Sunday and Monday to receive his appointment, following his election on March 25 to a new five-year term starting on July 1. While in the capital, he will meet Mr Hu and Premier Wen Jiabao. The chief executive has listed the naming of his new ministers as a post-election priority. He is expected to brief state leaders on his plan to shake up the portfolios of policy bureaus and the candidates for the ministerial positions during his visit. James Sung Lap-kung, a political scientist at City University, believes Mr Liao may also make use of his visit to meet the candidates for the ministerial posts. "As the official in charge of Hong Kong affairs, Mr Liao's views definitely carry weight in the appointment of principal officials," he said. Meanwhile, Permanent Secretary for Home Affairs Carrie Lam Cheng Yuet-ngor, one of the officials in charge of the anniversary celebrations - for which the government has earmarked about HK$90 million - flew to Beijing on Wednesday to finalise arrangements for receiving two giant pandas next month.

German Sorbian Easter egg master Sylvia Panoscha teaches Kenton Lai Yu-yeung, 7, in a workshop at the World Trade Centre in Causeway Bay. Ms Panoscha, who is from the Sorbian Culture Centre in Sleife, will teach the vibrantly colourful, 1,000-year-old craft until Monday.
A tour bus carrying Hong Kong and mainland passengers from Shenzhen to the city of Zhanjiang in Guangdong was waylaid and attacked by an armed gang yesterday.

China: China's top court has stepped up the fight against intellectual piracy by lowering the threshold to prosecute people manufacture or sell counterfeit intellectual property products. Mainland courts will invite representatives from other countries and international organisations to attend hearings on intellectual property rights lawsuits in an effort to make the system more transparent.
Tens of thousands of people attend the Dahuaishu Ancestor Worship Ceremony in Hongtong County of north China's Shanxi Province on April 5, 2007, the Qingming Festival or Tomb-Sweeping Day to mourn one's ancestors in China. The Dahuaishu ruined site in Hongtong is usually deemed to be the hometown from where Chinese ancestors left for other parts of the country.
China has banned processing trade companies to export and import heavy diesel oil and fuel for the first time amid rising concern from home and abroad on the country's hefty energy consumption.
Daqing of Heilongjiang Province, where China's top oilfield is located, will be transformed from a resource-dependent industrial city to a broad-based industrial powerhouse.
China National Petroleum Corp. (CNPC) is to start building a second west-east natural gas pipeline next year, the Shanghai Securities News reported on Friday. The new pipeline will run 6,500 kilometers from northwest China's gas-rich Xinjiang to the populous southern province of Guangdong, carrying 30 billion cubic meters of gas a year. CNPC would start by laying a pipeline in Xinjiang in August or September next year and the project would be completed in 2010, the report quoted Xue Zhenkui, director of the China Petroleum Pipeline Scientific Research Institute, as saying. Between Xinjiang and Gansu, the new pipeline would run parallel with the country's first west-east gas pipeline, which went into commercial operation at the end of 2004, extending 4,000 kilometers from the Tarim Basin of Xinjiang and Shanghai. Branch lines would also be built to connect the two west-east pipelines and gas fields, forming a natural gas network to cover the country. The project, involving 20,000 kilometers of pipelines, would cost 100 billion yuan, Zhao Zhiming, secretary general of the China Petroleum and Petrochemical Equipment Industry Association, was quoted as saying. China Petroleum and Chemical Corp. (Sinopec) was likely to participate because its Puguang gas field in southwest China's Sichuan Basin would be part of the network, said Zhao. The network would probably be connected with a natural gas pipeline between China and Kazakhstan. The first phase of the cross-border project would be completed in 2009 with a capacity of 10 billion cubic meters a year and the remainder would be finished in 2012, increasing capacity by 30 billion cubic meters. The Xinjiang-Guangdong project was expected to rejuvenate CNPC's manufacturing unit and bring opportunities for Chinese and foreign companies that make compressors, valves and steel products, said Zhao. CNPC had plans to raise the sales revenues of its manufacturing unit to 26 billion yuan by 2010 period.
The China Banking Association has made a resolution on abolishing charges for cross-bank enquiries on ATMs between its member banks, the China News Service reported today.
Statistics show that China's exports of highly competitive industrial products, such as textiles, shoes, furniture and steel, have been strong. Exports to its major trade partners outpaced last year.
An attractive low-price scheme, a population of more than 1.3 billion, an army of overseas Chinese dreaming of an Olympic Games on the home soil, plus the whole world's huge interest in the ancient oriental land of China and the Games. With all these factors combined, some people have given the tag of "scarcest resource" to the tickets for the 2008 Beijing Games. The long-waited low price plan, released in November last year is really a welcome surprise for all. When it costs dozens of yuan for a movie and hundreds of yuan for a performance in China, 30 yuan (US$) for an international sports event is extraordinary. More than 58 per cent of all tickets for open sale will cost 100 yuan (US$13) or less, with the lowest price for ordinary tickets being 30 yuan (US$4), according to the plan. Special tickets for students will also be offered, which account for about 14 per cent of all domestically available tickets and cost merely 5 yuan (US$0.64) for preliminaries and 10 yuan (US$1.28) for finals. "China is a developing country with an average income level lower than that of Sydney or Athens, therefore the ticket prices should be much lower," the official statement said. Another key reason why the Olympic Games has lasted so long lies in its care for the common folks. "The low-price scheme fully embodied the Olympic spirit that everyone can enjoy the games and participate in it," noted Wei Jizhong, former secretary-general of Chinese Olympic Committee and current senior consultant with Beijing Organizing Committee for the Games of the XXIX Olympiad (BOCOG). "It will enable more people who love the Games to feel the atmosphere and the spirit of competition," a netizen named River echoed Wei's comment. But problems remain to be solved to let people benefit from the plan. For example, how can the plan ensure those who are really in need get the tickets while reducing the number of tickets-holders who don't check in? Reports said that the tickets will be sold under real names and each person can only buy a limited number of tickets. This is a good solution. But what about those tickets that is not on open sale? How will they be managed? "Beijing will guarantee a fair distribution of the tickets and will also not set multiple standards for ticket prices", Vice Mayor Liu Jingmin promised in a program aired on Beijing Television. "If Chinese and Westerners, the rich and the poor, are charged different prices, it will go against the Olympic spirit," said Liu.
An official from China's top sports body said he wants no doping scandals in the run up to the Summer Olympics next year, a state-run sports newspaper reported Thursday. "There should be no big doping scandals in all central and local sports departments before the Beijing Olympic Games," the China Sports Daily quoted Jiang Zhixue of the General Administration of Sports as saying. Jiang is from the administration's science and education department. He said China will boost its anti-doping education for all national team athletes. "Education is the key," Jiang was quoted as saying. Olympic officials announced last year the number of doping tests at the 2008 Olympics will be increased from the number performed in Athens. About 4,500 doping tests will be conducted in Beijing, compared to about 3,500 tests at the 2004 Games.
China will see "very strong" growth in 2007, but the government does not need to be too concerned about bottlenecks and other signs of overheating, the World Bank said Thursday.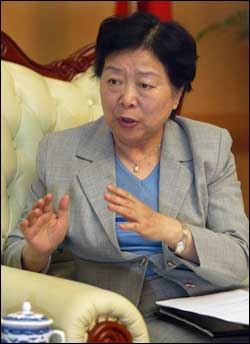 US trade protectionism against Beijing will hurt not only the bilateral parties involved but also the rest of the world, China's deputy central bank governor said Thursday. Wu Xiaoling told reporters on a trip to India that China will continue to reform its currency in a gradual manner. "If the United States takes protectionist measures against China's trade, that will not only undermine the Chinese interests, but it will also harm the interests of the United States and the rest of the world," she said. "Trade protectionism is good for no country and it is not good for the development of the world," said Wu, when asked about China's response to the US decision last week to slap anti- subsidy duties on some Chinese imports. Anger over the US trade deficit with China, which hit a record US$233 billion (HK$1.82 trillion) last year, has spurred demands in the United States for a tougher response to Chinese subsidies which many US lawmakers believe boost China's exports. Wu already said Wednesday that a large trade surplus was not good for China's sustainable development, but the exchange rate was only one factor contributing to the swelling surplus. Talking to reporters Thursday, she outlined the central bank's policy towards exchange rate reform. "The Chinese reform agenda is based on specific national situations. We will continue to reform the renminbi exchange rate in a self-initiated, controllable and gradual manner." China uncoupled the yuan from a dollar peg in July 2005 and allowed it to float within managed bands. Since then it has appreciated about 5 percent. The United States is pressing China for more currency reform.
The United States asked China to join a global effort to maintain international maritime security, as the Pentagon welcomed Beijing's navy chief Vice Admiral Wu Shengli on a rare visit. Admiral Michael Mullen, the US chief of naval operations, called on Wu Wednesday to consider "China's potential participation in global maritime partnership initiatives" during talks at the Pentagon, said his spokesman, Commander John Kirby. Mullen was referring to the "1,000-ship Navy" concept, first proposed at an international seapower symposium in 2005, aimed at building - on a voluntary basis - a transnational network of navies, the shipping industry and law enforcement agencies to respond to crises or emergencies at sea.

Guangzhou is trying to play down its 1 billion yuan social-security fund scandal but an investigation is under way that is expected to cost some leaders their jobs. A government insider said a gag order was placed on newspapers after they reported on Tuesday that Mayor Zhang Guangning had told a group of lawmakers that the government would inject 500 million yuan into the fund, half the amount diverted to risky investments. "I was going to write an analysis on the case for [a local newspaper] and they told me that night they would not need it," the insider said. The director of the social security funds bureau, Cui Renquan , excused the government, saying the funds were misappropriated "due to historical reasons". He issued a statement on Wednesday after a day's silence, saying no funds had been misappropriated since 2000. The insider said: "An investigation should be going on now. Someone will have to bear responsibility. This is the problem of the direct operators. It may not have anything to do with the party and government." Foreign media have speculated that the scandal will be costly for Guangdong party boss Zhang Dejiang's political ambitions. In 2004, the social security funds bureau first admitted the scandal, which resurfaced last year when the government reported that only half the money was recoverable. Chen Weiqiu, a city information officer, said he was not sure if the case involved Guangdong leaders. "We have dealt with two people from the Guangzhou government," he said. But a source at a Guangdong government think-tank said provincial leaders were not involved. "This is Guangzhou's problem, not Guangdong's. Guangzhou's leaders have to take responsibility because they are directly involved with the funds. If he [Zhang Dejiang] were to be blamed, then Beijing leaders must be blamed," he said. "Besides, the misappropriation happened before he arrived in Guangzhou." Mr Zhang arrived in Guangzhou as party boss at the end of 2002. The insider said that even if Guangzhou leaders were involved, it would not affect governor Huang Huahua , who was Guangzhou party boss from 1998 to 2002, and Guizhou governor Lin Shusen , mayor from 1997 to 2003. He said Mr Huang usually went along with what Mr Lin proposed. Guangzhou's case differed from Shanghai's, which cost former party boss Chen Liangyu and several officials their jobs, he said, pointing out that Mr Chen personally directed the misuse of funds. The funds were diverted from 1993 when the labour ministry approved their use for investment but the approval was rescinded the next year. They continued to be invested in violation of the order until the end of 1999. Guangzhou party secretary from 1991-1998 was Gao Siren , director of the central government's mainland's liaison office in Hong Kong, while Li Ziliu was mayor from 1991-96.



Shanghai GM plans to introduce about 10 new or revamped models in the mainland this year to help it meet a 2007 sales target of close to one million units.
April 7 - 8, 2007

Hong Kong: A decade has passed since Hong Kong returned to China. What changes have taken place over the last ten years? Mr. Thomas Tso, the director of the Government of the HKSAR in Beijing, visited People's Daily Online last Friday.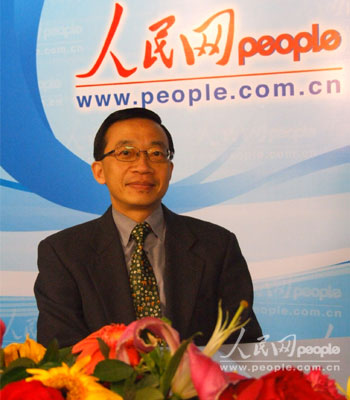 Emotional build up during the ten years - Mr. Tso was first asked what the most noticeable changes in Hong Kong have been over the last decade. "In terms of social development," he said, "Hong Kong people have a stronger sense of belonging to China. Their understanding of the nation has gradually increased." The emotional transformation is perhaps more profound and touching than any changes to things like the economy. "I believe many people still remember the day in 1997 when Hong Kong returned to the motherland. Numerous Hong Kong people gathered in the central square to countdown to the dawn, waiting for the beginning of a new era for the region." The Hong Kong economy has moved in harmonious step with that of the mainland. As the two parts of the country learn more about each other, the economy and trade have grown steadily. Mr. Tso reported some pleasing figures; as of the end of last year, trade between Hong Kong and the mainland had doubled over 1997 levels, valued at more than 233.3 billion HK dollars. "Hong Kong is the largest investor in the mainland, while the mainland provides strong economic backing to HK to ensure its healthy development." Bridge between central and Hong Kong governments - Mr. Tso gave a detailed explanation of the functions of the Hong Kong government's Beijing Office. "We have five main duties. First and foremost, we serve as a bridge between the central government and the HKSAR government; secondly, we are responsible for promoting Hong Kong to the mainland; thirdly, we are responsible for improving economic and trade ties between the two parts of the country, by, for example, facilitating the exchange of investment information; fourthly, we provide visa services for mainlanders who want to visit or study in Hong Kong; finally we provide aid to Hong Kong residents who travel to the mainland. We can reissue lost documents and provide emergency assistance." The Beijing Office, established according to the Basic Law two years after Hong Kong's return, has been working diligently for better communication and closer cooperation between the two parts of the country. Free economy a source of pride - An international trade center, Hong Kong has been recognized for ten consecutive years as having the world's freest economic system. Mr. Tso did not attempt to conceal his pride when talking about this. Asked about the reasons for this, he thought carefully before answering. "Firstly, our market is completely open, and Hong Kong is a free harbor. The government system is very open and perfect, with an independent judicial system and highly transparent supervision institutions. Businessmen here are very well protected, especially with low tax rates and good IPR protection. Another important point is that our information sector is highly developed, without any restrictions on information flow. Consequently Hong Kong as a trade city is the freest in the world. We can use our advantages to help mainland enterprises to go global," he added. Speaking about the guidelines for economic development, reform and opening up put forward at the "two sessions" this year, Mr. Tso said, "I believe the State is correct to switch from 'fast and good' to 'good and fast'. We must seize the opportunity to expand our investment in the mainland to help the country's economic transformation."
Not even the net worth of Queen Elizabeth II could compare with that of the widowed Nina Wang, the world's 154th wealthiest person. Nina Wang Kung Yu-sum, Asia's richest woman, has died, leaving behind a fortune of HK$32.7 billion. Nina Wang Kung Yu-sum once said she wanted to leave all her personal fortune to charity. She also expressed an ambition to set up an international prize similar to the Nobel prizes. Nina Wang Kung Yu-sum's business empire will be left in the hands of a triumvirate including her younger sister, sources said Wednesday. The death of Nina Wang Kung Yu-sum has broken Hong Kong's stranglehold as the home of Asia's richest man and woman. The death of the Chinachem Group chairwoman has fuelled speculation in business circles about the fate of property worth tens of billions of dollars owned by the company.
Asia Television, which operates the smaller of Hong Kong's two terrestrial TV stations, has agreed to sell a 58 percent stake to Mingly Corp, an investment company controlled by the family of deceased property magnate Cha Chi-ming, a source at ATV said.
Huaneng Power International (0902), the mainland's largest listed electricity producer, said it will set aside 17.5 billion yuan (HK$17.7 billion) as capital investment this year, mainly to expand coal-fired plants and for technical improvements as demand continues rising.
Shares of container port operator China Merchants Holdings ( International ) (0144) jumped 12.1 percent Wednesday after it indicated it may invest in the parent's proposed US$1 billion (HK$7.8 billion) six-berth container port project in Vietnam.
The initial public offering of Mainland property developer Country Garden received HK$50 billion of margin financing Wednesday, the second day of its retail subscription period, and the share offering frenzy is likely to continue with another huge upcoming IPO.
Hong Kong Exchanges and Clearing (0388) may need to change its practice of allowing sponsors of listing applicants to issue pre-listing research reports with profit forecasts which are not in the same form as the ones stated in the prospectuses of the new listings, according to the Securities and Futures Commission.
Supermarket giant ParknShop has been formally charged by the government for selling oilfish that was wrongly labeled as cod.
Macau's former transport and public works secretary Ao Man-long, who was arrested in December on suspicion of graft, had assets exceeding 800 million patacas (HK$776.7 million), Macau's anti-graft agency alleges.
Secretary for Constitutional Affairs Stephen Lam Sui-lung categorically rejected charges by pro-democracy lawmaker and unionist Lee Cheuk-yan that the government has ruled out the possibility of implementing universal suffrage for both the chief executive and legislative elections in 2012.
Travel agents, tour guides and retailers receiving complaints from tourists in the city are likely to be named and shamed on the China National Tourism Association website starting this month, Travel Industry Council executive director Joseph Tung Yao-chung said.

Andy Warhol's Lemon Marilyn is displayed at an exhibition of an auction preview at the Grand Hyatt Hotel in Wan Chai. With an estimated value of HK$140 million, the piece is expected to set a new record at the Christie's auction on May 16. The exhibition runs until Saturday. The auction record is US$17.4 million for Warhol's Mao sold in New York last year.

China: The required reserve ratio for financial institutions engaged in deposit business will be raised by 0.5 percentage points as of April 16 to 10.5 percent, said sources with the People's Bank of China on Thursday.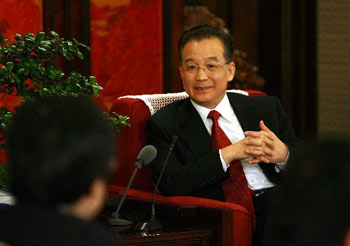 Chinese Premier Wen Jiabao gives an interview to 16 Japanese news organizations in Beijing prior to his upcoming visit to Japan, April 4, 2007. Wen Jiabao said he expected his Japan visit next week to be a success, but said that he hoped there would be no further visits to the Yasukuni shrine by Japanese leaders. Premier Wen on Wednesday said he expected his Japan visit next week to be a success, but said that he hoped there would be no further visits to the Yasukuni shrine by Japanese leaders.
The days of being unable to swap a document created in one program into another are numbered. China is promoting a new document standard in which software everywhere will possess all the general functions of unstructured documents.
China has decided to start the trial of an expanded basic health insurance from urban workers to all urban residents in the latest move to improve the country's health care system.
Norwegian move paves way for trade ties - The two countries signed a memorandum of understanding last week granting China market economy status and the two sides agreed to launch a feasibility study on FTA.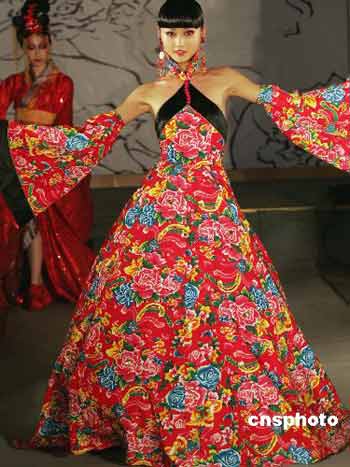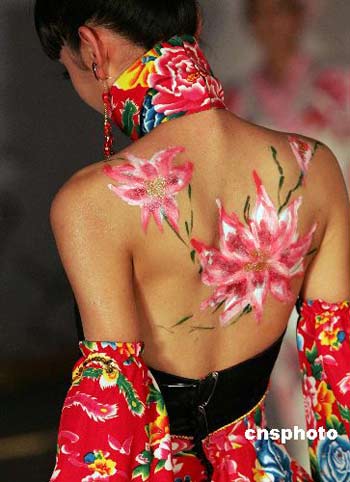 Graduates display creations designed by themselves in Beijing at the night of March 31. The vogue and unconventional fashion show brings fresh air to the fashion domain.
China Southern Airlines (1055), the nation's biggest carrier in terms of fleet size, plans to invest 720 million yuan (HK$727.63 million) to form a regional carrier in Chongqing, aiming to tap passenger and cargo business in western China.
South Korean movie star Jang Dong Gun will debut in Hollywood in a film that will also star top Chinese actress Zhang Ziyi, it was reported Wednesday.
Carlyle Group's bid to buy part of Chongqing City Commercial Bank would be rejected as the mainland stiffened opposition to buyout firms on concerns they were not adding enough value, sources said.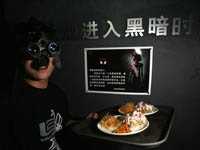 Food is served, but you can't see it. The wine is ready, but pouring it into your glass is a challenge. And don't even think about leaving the table on your own. Such is the scene at Beijing's latest dining hot spot. Whale Inside, a restaurant where customers eat in complete darkness, borrows a concept invented in Zurich that spread to other parts of Europe and the US. Since it opened last Christmas, the 88-seat establishment in the Jianwai Soho business district has been booked solid at night and most lunch times although its set meals of 138 and 158 yuan are pricey by Beijing standards. Manager He Zaijian is delighted his restaurant is catching the fancy of the nouveau riche who are increasingly alert to new trends. "Many wealthy Chinese are keen to try new things," He says. "They're afraid of being labelled `outdated'. Eating out [has become] a lifestyle statement, so the dining environment is becoming more and more important." The spread of theme restaurants on the mainland reflects this new emphasis on setting and atmosphere, whether romantic, sinister, nostalgic or silly fun. Since last August, for example, Shenzhen patrons have had the added choice of dining at an eatery with a toilet theme (food is served in containers shaped like toilet bowls). And last month, a restaurant opened in Chengdu touting the aphrodisiac qualities of its dishes.
April 6, 2007

Hong Kong: The mainland's No1 retail lender, Industrial and Commercial Bank of China (1398), posted a lower-than-expected 31.2 percent rise in net profit to 49.2 billion yuan (HK$49.75 billion) last year, with interest income still the largest driver of profit growth. ICBC is the first Hong Kong-listed mainland bank to fall short of market forecasts.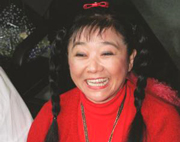 Nina Wang, Hong Kong's richest woman has died from an illness, her spokesman said on Wednesday. She was 69. Wang made headlines in Hong Kong with her legal fight against her father-in-law over her missing husband's estate. Her firm, the Chinachem Group, was one of Hong Kong's largest companies. She was nicknamed "Little Sweetie (Siu Tim Tim in Cantonese).
Beijing Enterprises Holdings (0392), the Hong Kong-listed investment arm of the capital's municipal government, is planning to go back to its domestic market to issue A shares this year or next, vice chairman and chief executive Zhang Honghai said Tuesday.

The government has accepted a revised Wan Chai development plan which will trim 15 percent off the size of land to be reclaimed and ensure the Hong Kong Convention and Exhibition Center remains the most prominent landmark on the waterfront. Ma Lee-tak, project manager for Hong Kong Island in the Civil Engineering and Development Department, told the Town Planning Board Tuesday the government had accepted changes to the HK$4.638 billion project. He said the land to be reclaimed for the Wan Chai Phase II development would be reduced from 15 hectares to 12.7ha while buildings to be constructed along the shorefront would not exceed 50 meters in height, ensuring the convention center remains the most outstanding structure. "After further studies and indepth design work, the consultant firm believes the amount of land to be reclaimed can be reduced to 12.7 hectares, including 0.4ha where part of the flyover extends over the sea," Ma said. The most notable reduction was a proposed harborfront promenade for public use located at the western end of the convention center but which failed to meet public needs, Ma said. Consultant firm representative Ma Siu-cheung suggested the government use a ladder-like design and limit both the height and density of buildings along the waterfront. "It can protect the present landscape of our ridgeline and reinforce the image of HKCEC as a prominent landmark of the harborfront area," he said.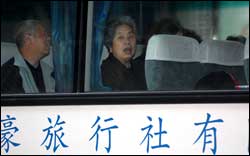 A top-level team from the Travel Industry Council is in Beijing for talks on ways of granting better protection for mainland tourists in Hong Kong after it was alleged two tourists had been cheated by jewelry shops. The four-member delegation, led by chairman Ronnie Ho Pak-ting and executive director Joseph Tung Yao- chung, are expected to meet officials of the China National Tourism Administration and China Central Television. In a report aired during primetime mainland television Sunday, CCTV said two mainland tourists had each paid nearly HK$26,000 for what they claimed were an 18-carat diamond necklace and a luxury watch. Both items were later alleged to be fakes. The report has sparked concern that Hong Kong's tourism image is being hurt by dishonest shop operators and traders. The report also comes a month before the start of the annual Labor Day "Golden Week" during which tens of thousands of mainlanders are expected to visit the territory for shopping and sightseeing. The delegation's talks with the mainland officials will center on how both sides can crack down on dishonest practices by local businessmen and prevent similar incidents from occurring. The CCTV reporter who filed the report, Yang Qing, said she launched her investigation after CCTV received complaints from mainland tourists who claimed they had been swindled while shopping in the territory. Yang said her report "reflected the reality" faced by mainland visitors in the territory.
Chief Executive Donald Tsang Yam- kuen can enjoy a second honeymoon with the people of Hong Kong with his support rate reaching an 18-month high, the director of a public opinion poll said Tuesday.

Kindergarten pupils in People's Liberation Army uniforms salute before members of the PLA Art Ensemble in Tai Kok Tsui. They were marking the opening of an exhibition of PLA uniforms at the Olympian City mall in celebration of the 10th anniversary of the handover.

China: Chinese Foreign Ministry spokesman Qin Gang confirmed Tuesday that Premier Wen Jiabao is expected to deliver a speech at the Diet of Japan during the upcoming visit.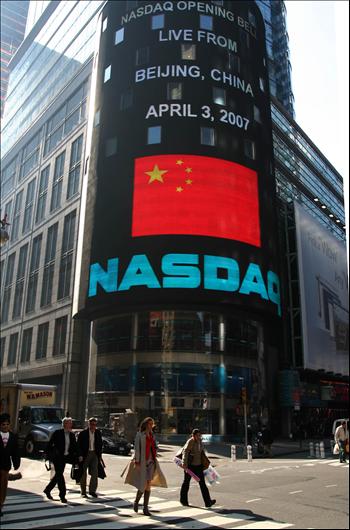 A TV screen at New York Times Square shows the Nasdaq remote market open ceremony held in Beijing Apr 3, 2007. Nasdaq Chief Executive Bob Greifeld rang the opening bell of the exchange to mark 40 Chinese companies' listing on the Nasdaq on Tuesday in Beijing. With a total of 40 Chinese companies now listed on the U.S. Nasdaq exchange, representatives of the companies met with Nasdaq CEO Robert Greifeld in Beijing on Tuesday to celebrate.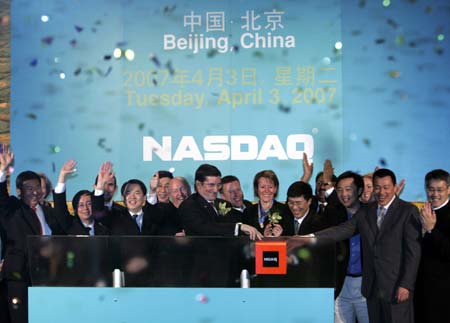 Nasdaq Chief Executive Bob Greifeld (C) rings the opening bell of the exchange as representatives from Chinese companies listed on the Nasdaq celebrate during the Nasdaq remote market open ceremony in Beijing April 3, 2007. Expected reforms to the U.S. Sarbanes-Oxley legislation on accounting would make it easier for Chinese firms to list in the United States, Greifeld said on Tuesday.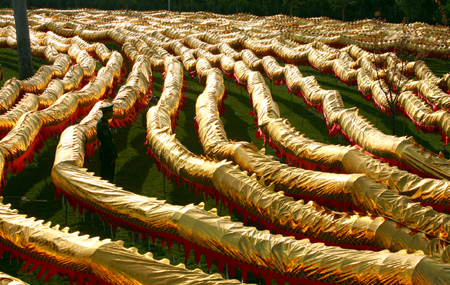 A security man guards the serpentine body of a 5,056-metre-long dragon just finished in Luoyang, central China's Henan Province, April 3, 2007. The dragon, said to be world's longest, was built for a grand dragon dance performance on the April 10 Luoyang Peony Festival opening ceremony.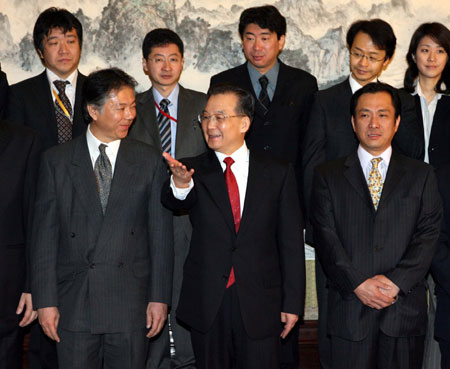 Premier Wen Jiabao meets with a group of Japanese reporters in a joint interview with 16 Japanese news organizations in Beijing April, 4. Premier Wen is scheduled to visit Japan from April 11 to 13.
China's government has ordered newspapers to stamp out the common practice of demanding money from people they cover, a China News Service report says.
PepsiCo, the world's No. 2 soft drink company, plans to double its workforce in China over the next half decade as it fights for a larger slice of the growing market, Chief Executive Indra Nooyi said.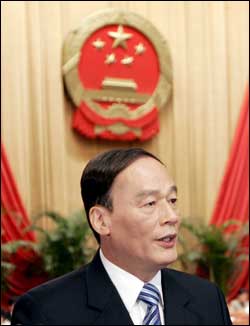 Beijing's no-nonsense mayor, who weathered the city's SARS crisis in 2003, is likely to be named Communist Party boss of booming Guangdong, a hotbed of civil unrest, two sources said. Wang Qishan's appointment is part of a reshuffle of provincial leaders ahead of the 17th party congress this fall at which President Hu Jintao will further consolidate power and tap a next generation of leaders. The party is expected to name Wang, 58, a son-in-law of late vice premier Yao Yilin, as party boss of Guangdong soon to replace Zhang Dejiang, sources said Tuesday. Zhang, a member of the party's 24-member decision-making politburo, is a candidate for the post of vice premier. "Wang Qishan will go to Guangdong and is a politburo candidate," one source said. It is not immediately known who will replace him as mayor of the capital little more than a year before it hosts the Summer Olympics. Candidates include Wang Anshun, named last month as one of the city's deputy party bosses, and vice mayor Ji Lin. The Beijing mayor, a one-time economist, is no newcomer to Guangdong. As provincial vice governor from 1998 to 2000, he oversaw a clean-up of the troubled trust sector following the 1998 collapse of Guangdong International Trust and Investment Corp. Guangzhou will restore about 500 million yuan diverted from its social security funds into risky investments more than 10 years ago, but the government will not say whether anyone will be held accountable for the loss.
China's telecommunications industry restructuring was likely to be accelerated by the sluggish operation of fixed-line operators, China Telecom and China Netcom Group Corp, market watchers and analysts said yesterday.
April 5, 2007

Hong Kong: The Hong Kong Jockey Club must be given a free hand to venture beyond the territory if it is to maintain an edge over competitors in Macau and emerging gaming hubs in Asia, a senior club executive said.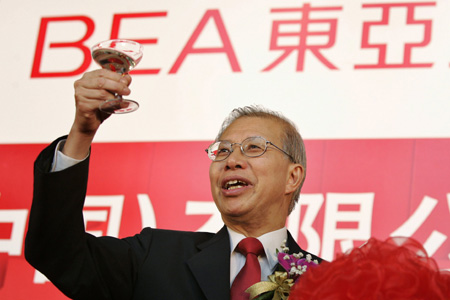 Chan Kay-cheung, deputy chief executive of Bank of East Asia, gives a toast at a ceremony for its official launch in China as a locally incorporated bank in Shanghai April 2, 2007. Four global banks, including Citigroup Inc. and HSBC Holdings Plc., kicked off domestically incorporated Chinese units on Monday, becoming the first foreign banks able to tap China's $2 trillion in personal savings.

Prince Alwaleed bin Talal, nephew of the Saudi king and known as the "Arabian Warren Buffett," is in Hong Kong to explore investment opportunities here and in China as part of a 10-day tour of Asia.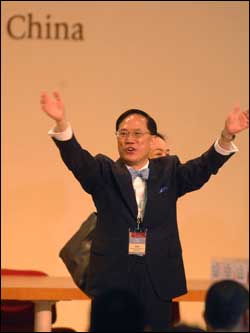 Donald Tsang Yam-kuen will fly to Beijing Sunday to formally accept his appointment as Hong Kong's chief executive starting from July 1. His appointment was announced Monday by Premier Wen Jiabao who had earlier been briefed by Hong Kong and Macao Affairs Office director Liao Hui on the March 25 election, which Tsang won by 649 votes to 123 votes against pro-democracy challenger Alan Leong Kah-kit. Wen said the election results met Hong Kong people's expectations and reflected their trust in Tsang. For his part, Tsang said he was honored by the appointment and pledged not to misplace the trust the central government and the people of Hong Kong had in him. Wen, who hosted a State Council plenary session Monday, was briefed by Liao on the Hong Kong election. Wen said the election had conformed with the principle of openness, fairness and justice and fully tallied with the Basic Law and other relevant laws. He then signed the order reappointing Tsang as the chief executive of the SAR with effect from July 1. "Tsang's victory in the election meets the Hong Kong people's expectations and reflects their trust in him," Xinhua News Agency quoted Wen as saying after the meeting. Wen also said Tsang, who succeeded Tung Chee-hwa in June 2005, had turned in an outstanding performance over the past 21 months. "Tsang has led the Hong Kong government and enhanced its governance, developed its economy, improved the livelihood of the people and actively and properly handled the various problems of public concern," Wen said. "The performance of his administration has been widely applauded by people from all walks of life." Wen said the central government hoped Tsang would make greater contributions to Hong Kong's long-term prosperity and stability, thoroughly implement the Basic Law and adhere to the principle of "one country, two systems," under which Hong Kong people can administer Hong Kong with a high degree of autonomy. Speaking about the reappointment, Tsang, who is currently on leave, said it was a great personal honor and he thanked the central government and the Hong Kong people for their support. "I have a huge mission. Over the next five years, I will strive to lead the SAR government in a pragmatic manner and to bring Hong Kong's development to a new height. I shall not fail the trust the central government and the people of Hong Kong have placed in me," Tsang said in a statement. He said he hoped everyone would join him to work toward a brighter future for all. Tsang will fly to the capital Sunday to receive his appointment from Wen. He is also set to meet President Hu Jintao. He will be accompanied to Beijing by the director of the Chief Executive's Office, John Tsang Chun- wah, and information services director Edward Yau Tang-wah. It is believed while in the capital Tsang will discuss with central leaders his preferred candidates for the posts of chief secretary for administration and financial secretary. He is also likely to discuss the vacancy that could be left by Secretary for Security Ambrose Lee Siu-kwong, who is said to be contemplating retirement when his current term ends on June 30. Apart from these top SAR appointments, Tsang is also likely to discuss with Beijing officials the universal suffrage green paper he is planning to launch for public discussion this summer as well as the detailed arrangements for state leaders attending Hong Kong's 10th reunification anniversary celebrations on July 1.
Linking heritage with commercial attractions in SoHo and Lan Kwai Fong will integrate creativity into the cityscape, Chief Secretary Rafael Hui Si- yan said. But conservationists were not excited by the idea. "Creative industries play [a role] not only in the arts and cultural sphere, but also in helping to shape the image of our cities, provide job opportunities, and contribute to economic growth," Hui Monday told an urban-planning conference. "The interface between creative industries and city development in particular is most relevant to the town planner." Hui suggested linking the historical buildings of the Central Police Station compound - comprising the Central Police Station and the former Central Magistracy and Victoria Prison - with nearby attractions, including Lan Kwai Fong, SoHo, Hollywood Road and the recently opened Dr Sun Yat-sen Museum. Hui said the Central Police Station compound not only comprised impressive examples of classical colonial architecture, but also witnessed the history of Hong Kong and the development of the city's judicial system. Hui said the location in the heart of Central could provide an effective link with other local attractions, to greatly enrich the cultural, retail and dining attractions in the area and enhance visitor's experience. However, conservationist group See Network director Patsy Cheng Man- wah did not find much creativity in the plan. "Central Police Station, SoHo and Lan Kwai Fong have always been in the same area, it's not new," Cheng said, adding that the area did not need more hardware, but software. "We don't need another sign, or changing the color and bricks of pavements. Putting more things there will just destroy the area," Cheng said.
Shares in Citic 1616 Holdings, a telecoms spin-off unit of Hong Kong-listed conglomerate Citic Pacific, surged as much as 76 per cent in the morning session of its Tuesday trading debut, making for the strongest launch-day among 14 new listings made so far this year.

Youngsters get into the Easter spirit with giant eggs at the launch of the Mickey Mouse Clubhouse at Tuen Mun Town Plaza yesterday. The clubhouse activities will continue until Monday.
Elderly Macau gambling mogul Stanley Ho Hung-sun has been hospitalised for an injury suffered when he was undergoing a procedure to relieve constipation, Hong Kong newspapers reported on Tuesday.

China: Major three equity indice for China's two bourses concluded Tuesday's trading at record high, with combined turnover expanding moderately to 170.26 billion yuan (22.1 billion U.S. dollars) from the previous trading day.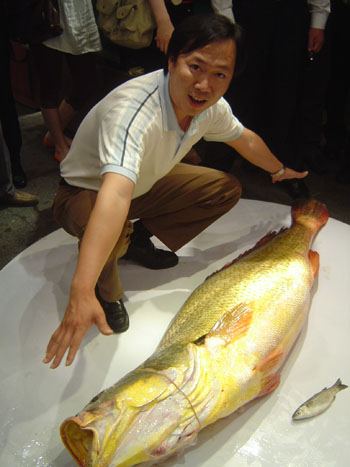 A man compares a giant cod croaker with an ordinary fish at a restaurant in Zhanjiang, south China's Guangdong Province, April 1, 2007. The codfish, netted off the coast of Zhanjiang by a fisherman, was sold to the restaurant at a record price of 580,000 yuan (US$75,000).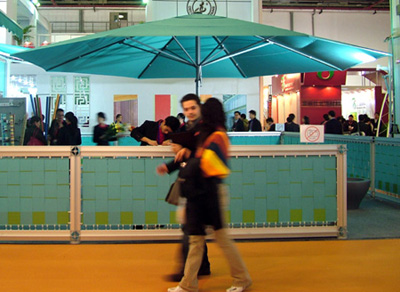 A picture taken from R+T Asia 2007 in Shanghai on Apr 2, 2007. The fair will last till Apr 4. R+T Asia is the exclusive industrial trade fair in Asia for roller shutters, doors/gates and sun protection. Originated in Europe, R+T is held in Stuttgart every three years. With more than 40 years of successful experience, R+T has always been leading the trend of product innovation and industrial development.
The United States and China should cooperate to face up a host of issues that challenge the world today, said Henry A. Kissinger, former US secretary of state.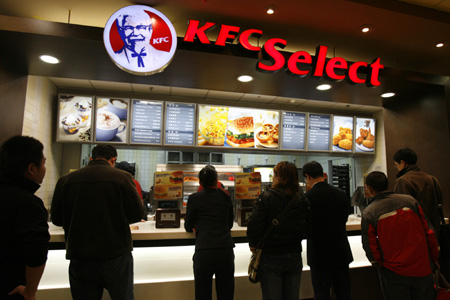 China's top trade union federation has lambasted McDonald's, KFC and Pizza Hut for "underpaying" workers in Guangzhou. Customers wait for their orders at a KFC outlet in Beijing April 2, 2007. Official trade union said no company should be allowed to have in-house rules that violate the country's law.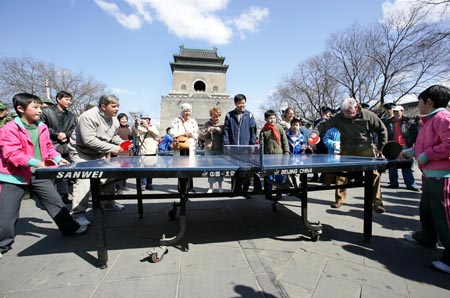 Pingpong fans compete against each other at the Table Tennis Community Arena Competition held in Zhonggulou Square of central Beijing Andingmen community April 2,2007.Hundreds of table tennis lovers take part in the competitions with honor of Beijing Olympic Games.[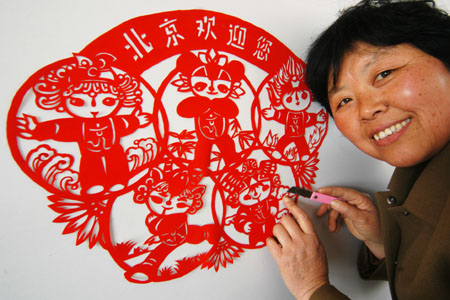 Handicraftsman Du Juan from Anhui Province poses a photo with his paper-clipping works, titled "Welcome to Beijing" in honor of upcoming Beijing Olympic Games on April 2,2007.[

After dallying about with anti-China legislation 39 times in the past two years, the US Congress has decided to get tough and now seems certain to pass protectionist legislation against the mainland by year end, says Morgan Stanley's New York-based chief economist, Stephen Roach.
China Netcom (0906), the smaller of the two mainland fixed-line telephone operators, reported 2006 net profit fell 6.7 percent to 12.96 billion yuan (HK$13.1 billion) from 13.89 billion yuan as more customers switched to mobile phones.
Industrial & Commercial Bank of China, which smashed records in October with the world's biggest initial public offering, on Tuesday said last year's profit soared 31 per cent on strong growth in lending and services.
April 4, 2007

Hong Kong: Premier Wen Jiabao on Monday appointed Donald Tsang the third-term chief executive of the HKSAR, with the term of office to start on July 1, 2007.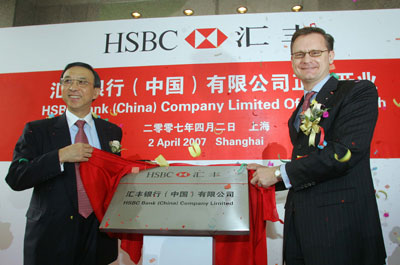 HSBC's Asia Chairman Vincent Cheng (L) and China Chief Executive Richard Yorke unveil the sign of HSBC Bank (China) Co. Ltd during a news conference in Shanghai April 2, 2007. Locally incorporated entities of four foreign banks started operations Monday in a move to tap into China's 30 trillion yuan in household savings and surging demands for mortgages, credit cards and other services. Four foreign-funded banks -- HSBC, Citibank, Standard Chartered Bank and Bank of East Asia -- officially began business on Monday as the first batch of locally incorporated overseas financial companies approved by China's banking regulator.
Retail investors plowed a record US$3.62 billion (HK$28.23 billion) into equity funds in January with US$914.03 million invested in Greater China equity funds, the highest yet.
Hong Kong-listed China Aerospace International Holdings (0031) said net profit last year plunged 59 percent to HK$115 million because of an exceptional gain of HK$176 million for 2005.
Logistics services company Pearl Oriental Innovation (0632), which had been suspended from trading for seven days, has entered into a memorandum of understanding with Inde Development to acquire a 100 percent stake in a copper mine in Xinjiang for HK$400 million.
HK Ocean Park headed for record year - HK's Ocean Park voted by Forbes magazine as one of the top ten theme parks in the world attracted more than 5 million visitors last year and 2007 looks set to be another bumper year. New projects are rolled out as part of a US$711 million redevelopment plan.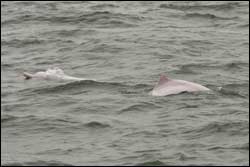 The last pink dolphins off Hong Kong's coast may be threatened by a US$1 billion (HK$7.8 billion) project to make the skies bluer. CLP Power - the city's biggest electricity producer - and ExxonMobil plan to build the territory's first liquefied natural gas terminal to fuel power plants and help clean air made sooty partly by coal-fired generators. The project on South Soko Island and an accompanying undersea pipeline would be built close to where about 200 Indo-Pacific humpback dolphins live and breed. The government may decide within weeks whether easing air pollution - one of every four days has poor visibility - is worth threatening the mammals' habitat. "It's a matter of balance and scale," said William Barron, a professor at the Hong Kong University of Science and Technology's environment institute. "They're reducing one very, very large environmental problem at the cost of a modest increase in another." Environmentalists and dolphin watchers say they are concerned the project will harm the dolphins, which are pink because of blood circulating in the outer layers of their white skin to regulate body temperature. The mammals were the official mascots for the handover ceremony in 1997.

Hong Kong should strive harder to attract skilled migrants in order to maintain its competitiveness, legislator Bernard Chan said. The lawmaker, who is also an Executive Council member, said despite having the "biggest clusters of skills and talent" in Asia, Hong Kong has been only partially successful in its bid to lure overseas talents and students, because the government feared it would harm local labor and students, Chan said Sunday in Radio Television Hong Kong's Letter to Hong Kong program. He urged the government to make visa applications by foreigners easier and improve the SAR's environment so as to compete with neighboring countries for talent. "Hong Kong can lose competitiveness by not changing when other places do change," he said. Better corporate governance is also necessary, Chan said, citing the Enron scandal which led to the US energy giant filing for bankruptcy in 2001. Chan also compared Hong Kong with London and New York, the world's two biggest financial centers. He said the tightened restrictions on US immigrants after the September 11, 2001, terrorist attacks have driven away overseas talents to the United Kingdom, while London's advantage has been reduced by its high corporate tax and poor transportation infrastructure. "We're not the only financial services center worrying about our competitiveness," but Hong Kong does not need to worry about marginalization, given its "extremely good" legal system and low tax rate, the legislator said. Chan quoted reports commissioned by the New York and London city governments, in which Hong Kong ranks high in terms of financial services in the world. "Our profit tax levels and our transportation system almost certainly beat London's," he said. MARCO LUI.

Children from the Hong Kong Chinese Christian Churches Union's Logos Academy put their palm prints on a giant map of Africa while pledging to forgo lunch and dinner to raise money for the continent's hungry. The Skip-A-Meal campaign was launched yesterday by World Vision Hong Kong as part of events to mark Children's Day, which falls on Wednesday.
Creative industries were crucial to urban renewal and development in Hong Kong, Chief Secretary Rafael Hui Si-yan said on Monday. He was addressing an urban planning conference entitled "When Creative Industries Crossover with Cities", which stressed the value of creative industries - their cultural contribution - and the way they helped shape the image of a city while providing economic benefits such as job opportunities. Creative industries include art galleries, exhibition centres, cultural centres, heritage architecture and the film industry. Mr Hui said the industries had an important role to play by interconnecting with the cityscape and community.
Chongqing City Commercial Bank had received government approval to sell a 17 per cent stake to Hong Kong's Dah Sing Bank, the mainland lender said on Monday.
Acer wants to be known as the Ferrari of personal computers. Seeking to climb past Chinese rival Lenovo to become the world's No3 PC maker, Acer has tied up with the iconic Italian vehicle maker to convey to consumers that its computers have a special sleekness to them - a distinction, it hopes, that separates its machines from the plain boxes of other manufacturers.

China: The value of the Chinese currency yuan against the U.S. dollar hits a new high on Monday with a central parity rate of 7.7306 yuan to one dollar, according to the Chinese Foreign Exchange Trading System.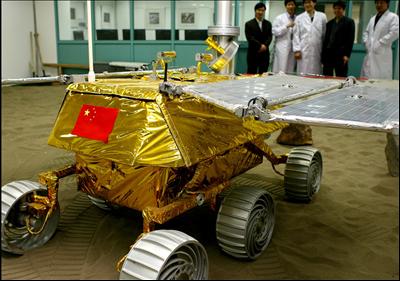 A China-made lunar rover makes its debut during the third China-UK Workshop on Space Science and Technology in Shanghai, March 31, 2007. Experts said that the vehicle could climb a 30-degree slope and overcome barriers. The lunar rover is jointly developed by Shanghai Spaceflight Agency, Shanghai Jiaotong University, Harbin Institute Of Technology, Shenyang Institute of Automation and other research institutes.
The benchmark Composite Index on the Shanghai Stock Exchange increased to 3,252.60 points at 15:00 on Monday, up 2.15 percent from the previous close.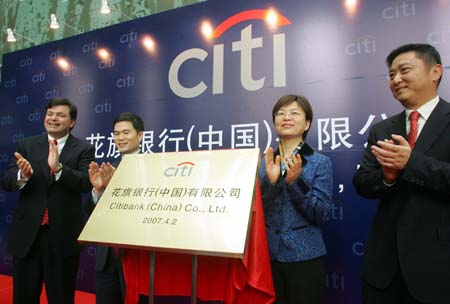 Citibank opens its businesses as locally incorporated banks in Shanghai April 2,2007. Four global banks, including Citigroup Inc. and HSBC Holdings Plc., kick off their locally registered subsidiaries, making them the first foreign banks having access to Chinese residents amid different focuses on client segments from millionaires to one-yuan accounts.

Despite facing a threat from mobile operators, China Netcom (0906) may report that its net profit rose 12.8 percent last year, thanks to gains from an asset sale and improved Internet and non- voice services revenue.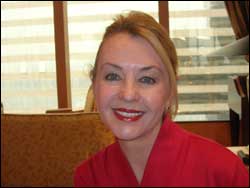 The United States is stepping up efforts to lure more mainland tourists to cash in on their growing affluence. In an interview with The Standard, Noel Irwin Hentschel, adviser to Secretary of Commerce Carlos Gutierrez, urged Beijing to grant the United States approved destination status by the end of next year. She said such a move would help simplify procedures for visa applications by Chinese and is likely to reap US$500 million (HK$3.9 billion) in tourist dollars for the US economy, with an expected 175,000 mainland visitors in the next four years. The United States has yet to be granted approved destination status by China although Beijing has already signed such an agreement with 108 countries. Following the September 11, 2001, terrorist attacks on the United States, Washington beefed up security and tightened travel restrictions on foreigners, making visa applications for citizens of non-visa waiver nations such as China more difficult. Personal interviews are required before visas can be issued, especially for younger and unmarried people. Recent statistics show that the number of mainland visitors to the United States has decreased slightly although the total number of outbound tourists from the mainland had tripled to 32 million in 2005 from 2000. Hentschel, who is also chairwoman and chief executive officer of American Tours International - one of the largest inbound US tour operators - was part of a 25-member US delegation led by Gutierrez to China last November to get a scope of China's tourism floodgate. Approved destination status carries a significant economic impact, Hentschel said, and is drawing attention from the leaders of both countries. A Chinese delegation visited ATI's Los Angeles headquarters four years ago to seek help in bringing more American tourists to China, and Hentschel believes it is time to open up two-way business as the number of affluent mainland tourists climbs. "The US Department of Commerce has been tracking the spending patterns of tourists and found that the Chinese have already outspent the Japanese," she said. Each Chinese tourist to the United States is spending US$1,250 on a four- day trip, excluding hotel accommodation, air fares and transportation costs. Their favorite shopping items include high-end fashion products. Hentschel said that, based on her 30 years' experience in selling the United States to tourists of more than 70 countries, mainlanders can match Japanese, Italian and South American tourists in terms of the length of stay and spending. Chinese visitors, like the Japanese, tend to stay for between seven and 10 days, spend a lot of money like the Italians, and often change their bookings due to their visa situation, like the South Americans. Referring to the influx of pregnant mainland mothers to Hong Kong because of the territory's better medical treatment and facilities, imposing a huge strain on the SAR's medical system, Hentschel said the United States has the same problem from Mexicans streaming across the US border. But she said it has never worried the United States that the same problem might come from Chinese tourists. "I can't think of a reason for Chinese not wanting to return home after being to America because it's such a great country with so much to offer," she said. The US government is working out a pilot program with Chinese government-owned tour operators to make recommendations to support visa applications by Chinese visitors with a guarantee they would return home. Opening two-way travel business is important, both commercially and politically, Hentschel said. She said Chinese and US leaders value the importance of the two countries in reducing their trade deficit and becoming "close allies to support each others' decisions on international security" issues. "It's a real struggle between the two countries trying to strike a balance in terms of trade," Hentschel said. Calling China her "destiny," Hentschel said her 15-year-old son has enrolled at a Beijing experimental high school, and has given himself a Chinese name, Hai Long, meaning sea dragon. ATI has already opened its first overseas bureau in Beijing with staff sent from Los Angeles. Hentschel said two mainlanders will be hired to strengthen collaboration with mainland agencies and the tourism industry and to boost chances of securing approved destination status for the United States by late 2008. Saying she has been impressed by the central government's "very pro- tourism" stance, Hentschel felt that "tourism doesn't get enough respect even though it's the largest revenue generator" in her own country. She said training mainland tour guides would also be part of her work in China by adding "an international flavor" to them and help them better meet the needs of international tourists. With ATI's advanced online retail travel agent, more visitors would be lured to visit China and "Hong Kong will benefit from the business we have brought," Hentschel said.
April 3, 2007

Hong Kong: Hong Kong Acting Director of Immigration Peh Yun-lu said on Saturday that an automated passenger-clearance system for tourists who frequently visit Hong Kong will be put on trial in the second half of this year.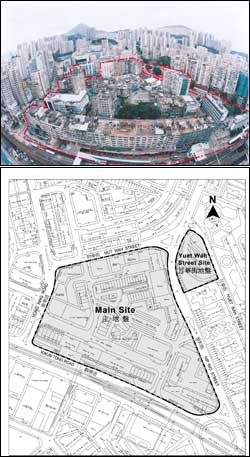 The Urban Renewal Authority has kicked off its biggest-ever project - the long-awaited HK$30 billion redevelopment of Kwun Tong town center. The URA started a three-day so- called "freezing survey" Friday of the estimated 4,500 residents of the area who will be offered compensation and rehoused. Compensating owners and rehousing affected residents is expected to cost the URA at least HK$13 billion, representing nearly 44 percent of the total redevelopment cost. The remaining cost of the proposed residential-commercial project includes construction costs and other fees. Regeneration of Kwun Tong town center on the 5.3-hectare site bounded by Hong Ning Road, Mut Wah Street, Hip Wo Street and Yue Man Square was first announced in 1998, when the URA was still called the Land Development Corp. Completed in the early 1960s, the existing 24 blocks of buildings have a total of 1,860 residential units and 300 shops. URA district development director Joseph Lee King-chi said in a media briefing Friday that an application for the redevelopment project will be made to the Town Planning Board in about three weeks' time. He said the URA has carried out four rounds of public consultation in the past two years, gathering a large number of public views and suggestions. "We are incorporating a lot of the suggestions into the final plan and design, which will be ready for submission soon," he added. He said the project would pose a formidable challenge to the URA in all aspects of urban renewal.
Wheelock Properties (0049) has successfully triggered an auction for a prime residential site at the West Kowloon Reclamation with a bid of HK$2.605 billion. The Lands Department announced Friday it had accepted the company's bid which will also be the opening bid in the auction scheduled for May 8, the first for the 2007-08 financial year. Wheelock director Ricky Wong Kwong-yiu confirmed the company had submitted the price, the biggest by a developer since September 2004, for the site at the junction of Hoi Wang Road, Yan Cheung Road and Yau Cheung Road near Yau Ma Tei district. He said the site was suitable for building between 500 and 600 mid- to large-sized residential units of more than 1,000 square feet each. The site has an area of 86,758 sqft and offers total gross floor area 650,684 sqft at a plot ratio of 7.5. Rival developers Sun Hung Kai Properties (0016), Sino Land (0083) and Henderson Land Development (0012) have said they would study the site. In the application list system, a developer must submit a bid that is at least 80 percent of the government's internal estimate for a site to be triggered for auction. Property consultant Knight Frank executive director Alnwick Chan Chi- hing estimated the site could go under the hammer for up to HK$5.2 billion, or 89 percent above the opening bid. Fierce bidding by land-starved developers in recent years has pushed up final auction prices to anywhere between 50 percent and over 100 percent of the opening bids.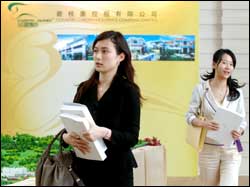 Listing candidate Country Garden Holdings will allocate HK$1 billion worth of shares each to tycoons Lee Shau-kee and Cheng Yu-tung, according to the company's preliminary offering circular. Lee's and Cheng's stakes would amount to 15.5 percent of Country Garden's total initial public offering, aimed at raising up to HK$12.9 billion by selling 2.4 billion shares at HK$4.18 to HK$5.38 each. Their shares are subject to a lockup period of 12 months. The Guangdong-based company - the mainland's fifth-largest property developer - lured various tycoons and celebrities to its investor presentation Friday in Central. Henderson Land Development (0012) vice chairman Colin Lam Ko- yin, Great Eagle (0041) chairman Lo Ka-shui, retailer Dickson Concepts (International) (0113) executive chairman Dickson Poon and banker Adrian Li Man-kiu were among those attending. "The brand name of Country Garden is very valuable, the future prospect is bright," Poon said, adding he intends making a personal investment. Lo said he hopes to grab as many shares as possible. The indicative price range represents 16.7 to 21.5 times 2007 earnings, while its rival Agile Property (3383) is trading at about 15 times. "Despite the pricing being expensive compared to its peer, the tycoons' support is definitely a positive effect for the share sale, and the company is full of potential to become the leader in the industry," said Kingston Lin King-kam of Prudential Brokerage. Retail applications for the IPO will open Tuesday, with the trading debut set for April 20. Morgan Stanley and UBS are handling the deal. Lin forecasts Country Garden will receive an overwhelming response for its retail tranche. Country Garden, founded by chairman Yeung Kwok-keung, is involved in 27 projects in areas including Hunan, Liaoning and the Inner Mongolia Autonomous Region. The largest shareholder is Yeung's daughter, Yang Huiyan, 25, who will hold about a 59.5 percent stake after the IPO. Country Garden forecasts it will record at least 4 billion yuan (HK$4.04 billion) net profit this year, up nearly 140 percent from 1.67 billion yuan last year. It also plans to pay a minimum of 40 percent of its profit as dividends in the future.
Shares in Ajisen (China) Holdings (0538) made an impressive trading debut on the Hong Kong stock exchange Friday, soaring 29.8 percent over their initial public offering price of HK$5.47, while Regal Real Estate Investment Trust (1881) closed at HK$2.69, just 1 HK cent or 0.37 percent above its IPO price.
London-based banking conglomerate HSBC Holdings (0005) is slated to tap into Japan's retail banking industry by pouring in hundreds of millions of US dollars into the country, with plans to open up to 50 branches throughout the country over the next four years.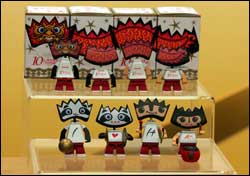 The Hong Kong SAR's 10th birthday bash will be spread over nine months and will cost HK$97 (US$12.43) million. And while the party is open to all seven million residents, not to mention the millions of visitors who will pass through Hong Kong, the biggest gainers will be the "handover babies," all children born in 1997. Describing the 460 celebratory events as "celebrations for all," Permanent Secretary for Home Affairs Carrie Lam Cheng Yuet-ngor said the government is confident the activities will manifest the vibrancy and diversity of Hong Kong. Local and foreign children born in 1997 will get gift vouchers sponsored by 11 local commercial enterprises in addition to free entry to Ocean Park in July and August and a free deluxe annual pass from Hong Kong Disneyland, to be redeemed between May 15 and July 1. Ngong Ping 360 will also offer free rides to children born in 1997 but only on their birthdays or any one day in June or September, while Hong Kong Wetland Park will distribute souvenirs to 10-year-olds in July and August. All Hong Kong residents can take part in an open competition from April 2 to 11 to name a pair of two-year-old giant pandas, which are expected to arrive in the territory by May. Lam stressed the names should be meaningful and creative and reflect the young, lovely and vivacious characteristics of the bears, presently known as pandas 606 and 610. The winner of the contest will be awarded three Smartfun Annual Passes sponsored by Ocean Park, and an Eco- tour in Wolong to visit giant pandas with two relatives or friends. The winners of eight merit entries will be offered breakfast with the giant pandas in Ocean Park with a relative or friend. All ceremonial, cultural, sporting community, district and exhibitions events will be free of charge, except those involving foreign performers according to the director of the Celebrations Coordination Office, Raymond Young Lap-moon. Admission for pay- events will be subsidized, he added. The territory's Symphony of Lights will be enhanced with a grand fireworks display on June 30, followed by a flag- raising ceremony the next day at Golden Bauhinia Square. According to Martin Hong Po-kui, chairman of the Hong Kong Football Association, Liverpool, Portsmouth and Fulham of the English Premier League and the winner of the Hong Kong FA Cup have been invited to take part in the FA Premier League Asia Trophy at Hong Kong Stadium on July 1. The first-ever Hong Kong Games will be held in April and May. The multi-sports event will be held biannually starting this year and will include competitions in athletics, basketball, badminton and table tennis, drawing teams from the 18 districts. The fourth annual Euro-Asia Snooker Challenge Master will be held in the SAR July 12 to 15, featuring world No1 Ken Doherty and 20-year-old Chinese snooker phenomenon Ding Junhui. The Leisure and Cultural Services Department will also provide free admission to all its museums, indoor sports facilities and swimming pools for the first two days of July. Hong Kong Museum chief curator Tang Hoi-chiu said 32 pieces from the Palace Museum in Beijing will leave the mainland for the first time, to be exhibited in his museum from May 29 to August 11. The Chinese painting and calligraphy masterpieces will include Zhang Zeduan's Along the River During the Qingming Festival of the Song Dynasty. The British Museum will also loan 250 artefacts from five continents, for eight weeks from September 14.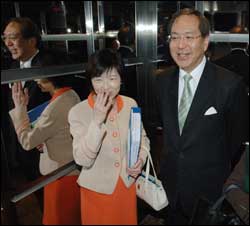 Hong Kong Institute of Education president Paul Morris said the merger of the institute was the personal idea of Secretary for Education and Manpower Arthur Li Kwok-cheung and not the government. In addition, the Commission of Inquiry into alleged government interference in the institute was told Friday Chief Executive Donald Tsang Yam- kuen had been told Li had not been "an honest broker" in his dealings with the institute. Morris, continuing his testimony for a second day, said he was told about Li's idea and the message to Tsang by the institute's council chairman Thomas Leung Kwok-fai. He said Leung met Tsang on August 4 last year to clarify whether the rumor the institute would be merged with the Chinese University was government policy or Li's private agenda. He said Leung was told it was not a government policy. Leung also told Tsang during that meeting that Li was not "an honest broker" in his dealings with the institute. Morris said April 4 last year he was informed by Li at a dinner reception his contract would not be renewed when it expires in September this year. Morris said Li telephoned him in late 2004 to seek his views about a merger as he wanted to add a "positive point" to the then Chief Executive Tung Chee- hwa's policy address. Morris said Li told him he had reserved about HK$200 million for the merger but that he could not hold on to the resources forever. Morris said he again opposed the merger proposal, saying it would damage the institute. "Fundamentally, I think it would not benefit Hong Kong and the HKIEd. It is not in their best interests," Morris said. He added that students at the institute enjoyed the distinctive culture of the institute and were welcomed by the job market. Morris was cross-examined by Johnny Mok Shiu-luen, senior counsel representing the Education and Manpower Bureau, who focused on the second of three allegations made by HKIEd's vice president for academic affairs Bernard Luk Hung-kay.

The central government, keen to halt rumours that it is banning mainland firms from listing in Hong Kong, has told city officials its securities watchdog will soon approve a new H-share listing, according to a source close to the Hong Kong government.

Albert Einstein declared time to be the fourth dimension - and where better to get a sense of eternity than waiting at the airport for a plane to leave. To this end, Hong Kong International Airport is the first airport in the world to have its own 4D cinema. The airport is hailing the cinema as a new departure in the highly competitive aviation industry, although many might have wished for a bit of light entertainment as early as last August when Typhoon Prapiroon ripped through Hong Kong, leaving thousands stranded. The cinema is part of the airport's new Terminal 2 Skyplaza, which hosts Oasis Airlines and Emirates check-in counters, as well as a Burger King before, rather than after, customs. The movies are screened in 3D with the fourth dimension provided by simulated effects such as wind, rain, snow, fog, bubbles and smoke. Most of the movies - between 15 and 25 minutes long - are specially made for the five-storey screen. But Rigo Jesu, the managing director of Intercontinental Group Holdings, which brought the US$10 million cinema to Hong Kong with Multiplex Cinema Limited - its wholly owned subsidiary - and SimEX-Iwerks, said some Hollywood classics had been adapted to fit the format and would screen to length. During Easter, the cinema will screen the Cantonese version of the animated film Meet The Robinsons, as well as an adapted version of family film Charlotte's Web. Mr Jesu said the new screen would help make time spent at the airport less of a chore. "It's really a perfect concept for the airport, the perfect distraction for people in transit," Mr Jesu said. "But it also provides an enjoyable experience for Hong Kong people who might want to come to the airport and check it out. We are going to be screening some pretty unique films that you won't be able to see anywhere else." Allan Yeung Ka-lun, general manager of airport property, said they were also building an interactive aviation centre that would feature a history of aviation in Hong Kong. The highlight of the display is a simulator that will allow airport visitors to experience the hair-raising experience of landing at the old Kai Tak airport. "The airport has been rated the best in the world for the last five years but we cannot rest on our achievements," Mr. Yeung said. "Hong Kong airport is the gateway to the whole region and we want the experience of being here - even if you are only in transit - to be as interesting as possible."
The Hong Kong Monetary Authority has appointed Choi Yiu-kwan as its deputy chief executive responsible for the banking system, making him the first ethnic Chinese to head banking regulations in the city and marking the importance of the mainland to the industry.

China: Chinese investment funds saw a new record in combined operating profits last year at 270.8 billion yuan (33.9 billion U.S. dollars) for 2006, boosted by the country's bull stock market.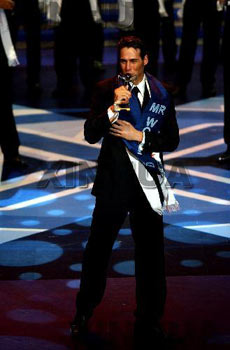 Juan Garc Postigo , a spanish Contestant wins the golden prize of the 5th Mister World Competition in Sanya, south China's Hainan Province, March 31, 2007. Fifty-six contestants from around the world arrived in Sanya to take part in the 5th Mister World Competition which kicked off on March 11.
President Hu Jintao (C) shovels soil to a tree at the Beijing Olympic Forest Park to mark the capital's 23rd tree-planting day as well the launching of the country's first "Green China Day on Sunday, April 1, 2007. Each year, the leaders take part in the national tree-planting campaign to make the country greener. More than 10,000 people in eight Chinese cities celebrated the country's first "Green China Day" by planting 5,000 trees on Sunday in respective cities.
Beijing lifts the price of household natural gas by 0.15 yuan to 2.05 yuan per cubic meter amid its efforts to establish a flexible price system.
Talented Chinese students studying abroad will be offered a range of sweet deals to lure them back home after their studies. Returned graduates in high-demand fields such as basic sciences, engineering, finance and management, will be allowed to work without residency restrictions, personnel quotas and pay limits, according to a document jointly issued by 16 ministries. The policy also applies to graduates with skills that China urgently needs, according to the document published on the website of the Ministry of Personnel on Thursday without further details. It is understood the students will be able to work and live freely even in major cities like Beijing and Shanghai, where a strict residency control policy is in place to prevent mass population flow. Graduates are encouraged to introduce advanced foreign technologies and help establish hi-tech enterprises, the document said. It is also said that the government will provide special funds to attract high-level graduates, and simplify procedures at border entry and exit points for them. Even the students' children face the prospect of getting special benefits while enrolling in Chinese universities.

China's central bank research unit Friday raised its 2007 economic growth forecast to 10 percent, two percentage points higher than the rate set during the country's parliamentary session early this month but in line with economists' estimates.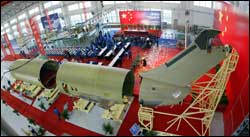 China has begun final assembly of its first home-made commercial jet, which when completed at the end of this year will bring the nation closer to its ambition of becoming an aerospace power. Built by the China Aviation Industry Corp, the country's biggest military aircraft maker, Beijing unveiled the regional airliner at a ceremony in its home plant in Shanghai Friday. "The ARJ-21 will come off the production line by December and start flight trials in March 2008," said an official with builders Shanghai Aircraft Manufacturing Factory. The small passenger plane that seats 70 to 90, is expected to enter the commercial market in the third quarter of 2009, according to previous state press reports. Since launching the project in December 2003, the wholly state-run aviation group has received 71 orders for the ARJ-21, all from domestic airlines. Production capacity is expected to be about 50 planes a year. Beijing recently announced plans to build a large passenger aircraft that could eventually take on the world's two dominant commercial jet makers Boeing and Airbus. China has repeatedly stated it wants to lessen its reliance on Boeing of the United States and Europe's Airbus by building its own planes. Nevertheless about 40 percent of the AJR-21's parts are made by foreign manufacturers, such as General Electric, Honeywell and Parker Hannifin. China is to form a new company to focus on research and development and is looking for foreign allies.

Sinopec Shanghai Petrochemical, which operates China Petroleum & Chemical Corp's (Sinopec) second-largest oil refinery, said last year's profit slumped 54.36 per cent as higher crude oil prices and domestic price controls squeezed profit margins. Net profit fell to 844.4 million yuan from 1.85 billion yuan in 2005 as turnover grew 10.46 per cent to 49.91 billion yuan on the back of higher product prices. Profit beat the 784.52 billion yuan mean estimate by 14 analysts in a Thomson First Call poll. The company's refining volume dropped 6.03 per cent to 8.92 million tonnes as it cut processing by as much as the government allowed to stem losses. Operating loss from its refining operation ballooned to 1.69 billion yuan from a loss of 446.9 million yuan in 2005, as margin was mostly negative during the year, except in the last quarter when crude oil price dropped sharply. The company's resins and plastics, synthetic fibres and intermediate petrochemicals divisions saw operating profits tumble 22 per cent, 25.5 per cent and 30.6 per cent, respectively, because it was unable to pass on all the increases in raw material prices to its customers. Unlike refined fuel products such as petrol, diesel and jet fuel, petrochemical prices are not regulated on the mainland. Shanghai Petrochemical warned that it faced tough challenges this year, including "the state's refusal to loosen the control over prices of domestic petroleum products, and intensifying market competition caused by rapid expansion of petrochemicals production capacity both domestically and abroad". Further reduction of tariffs on imported petrochemicals amid greater opening of the domestic petroleum distribution market would also enhance competition, it added. The company said it would increase cost-reduction measures, including winding up, merging and restructuring some unprofitable units. Analysts, however, are upbeat on the company's profit outlook this year. UBS analysts Thomas Wong and Lauren Wong estimated in a research report that the firm could book an 800 million to 900 million yuan net profit in the first quarter of this year, as oil prices stayed most of the quarter at or below US$60 a barrel - the break-even point of its refining business. The Thomson First Call poll had an estimate of 2.27 billion yuan profit on the company for this year. UBS's forecast is much higher at 4.08 billion yuan.
China has revised down its economically exploitable crude oil reserves life to 11 years from 14 to 15 years after it revamped its calculation method to align with international practices.
Alibaba, which provides an online trading platform on the mainland, aims to launch more advanced services for small to medium-sized firms as a new income driver, according to David Wei, the president of the company's business-to-business unit.
China Netcom Group Corp, the mainland's smaller fixed-line operator, is expected to report flat full-year profit growth on Monday, when the market's focus will be on the progress of the country's third-generation mobile-telephone licences and the management view on a possible merger with China Unicom.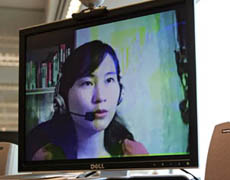 Lily Huang, who lives in the Hainan provincial capital of Haikou, is his Putonghua teacher. Rather than pay exorbitant prices for face-to-face tuition with a teacher in Britain or attend classes at night school, Campbell can take lessons in the comfort of his own home via the internet, direct from the mainland. Huang teaches students across the globe via Skype, an internet telephony system that allows people to communicate for free across the world, often using webcams. The videophone service was set up in 2003 by two Scandinavian entrepreneurs and sold to eBay in 2005 for US$4.1 billion. It's now available in 27 languages. Asia, which reportedly represents 30 per cent of its 171 million subscribers, is its fastest-growing market. The broadband technology means Huang can meet the huge demand for Putonghua teachers in countries as far away as the US, New Zealand and Malaysia - something that would have been impossible even five years ago. "Most of my students are very busy," says Huang, a qualified English teacher. "They have no time to attend classes and they want to work from home, where they can be relaxed. If you sit in a class with many students and just one tutor, the student can't talk too much - you can't practise that much. But [with Skype lessons] they can talk as much as they want." The 34-year-old, who previously taught in Chinese schools, is also able to undercut private tutors in the west. Such is the dearth of qualified Putonghua teachers in Britain that they can easily charge US$150 an hour, and even more for business clients. Huang's lessons cost about US$20 an hour, which her students pay via PayPal, an online banking service. It's a good income and the arrangement allows her to stay at home and look after her six-year-old son. Huang's husband came up with the idea of using the internet for lessons a year ago and she tentatively started putting her details on expat websites. She also set up a page on the social networking site myspace, which is where Campbell found her after a simple Google search for private Putonghua tutors.
April 1 - 2, 2007

Hong Kong: A shareholder in Li & Fung (0494) hopes to raise as much as US$190 million (HK$1.48 billion) by offloading shares in the world's largest export trading firm.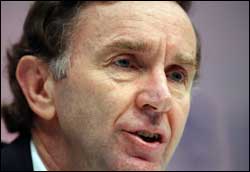 HSBC Holdings (0005) chairman Stephen Green said the US subprime mortgage division will be "run down significantly" as the world's fourth- biggest bank by market value tries to recover from loan losses. HSBC has said it will reduce mortgages to riskier borrowers after rising defaults on such credits caused US earnings to plunge. "Whether or not we completely write it off I'm not sure," Green said, speaking to reporters Thursday in Kuala Lumpur. London-based HSBC had an 87 percent drop in second-half profit in North America as delinquencies on subprime mortgages in the United States rose to a four-year high in the fourth quarter. HSBC bought its American subprime lender, Household International, in 2003 for US$15.5 billion (HK$120.9 billion). Subprime refers to mortgages granted to people with poor credit histories or high debts. More than 20 mortgage companies have closed in the United States, declared bankruptcy or sought buyers since the start of 2006. HSBC's second-half profit dropped 5.7 percent to US$7.06 billion, primarily because of the increase in US loan defaults. Bad loans in North America rose 51 percent to US$4.6 billion in the period and account for more than two- thirds of the bank's total.
Mid-tier developer K Wah International (0173) plans to splash out HK$10 billion to replenish its land bank in Hong Kong and the mainland in the next one to two years after more than doubling its net profit in 2006.
Sun Hung Kai Properties (0016) has won an Urban Renewal Authority tender to redevelop a small residential site in Tai Kok Tsui worth HK$1 billion.
Education chief Arthur Li Kwok-cheung had warned the Hong Kong Institute of Education it would be "raped" if it refused to merge with the Chinese University of Hong Kong, the institute's president Paul Morris testified Thursday at a Commission of Inquiry probing alleged government meddling in the institute's affairs and academic freedom.
Hong Kong's first environmental levy, aimed at making consumers pay 50 HK cents for a plastic bag, will kick off with a bill to the Legislative Council next month, according to a government source.
Las Vegas casino developer MGM Mirage and Macau joint venture partner Pansy Ho Chiu-king are eyeing a Cotai strip site of up to 900,000 square feet (about eight hectares) for their second resort in the enclave, according to MGM chairman and chief executive Terry Lanni.

A fan goes on display yesterday to publicise Sotheby's Fine Chinese Paintings Spring Sale, to be held on April 9 at the Convention and Exhibition Centre. The fan is expected to sell for up to HK$500,000 when it goes under the hammer with hundreds of paintings by Chinese masters.
The government on Friday said it would pass new legislation to encourage people to use energy efficient products which helped reduce emissions of greenhouse gases and other pollutants.

Models wear jewellery made by Noble Jewelry yesterday. The company plans to raise up to HK$117 million from a listing on the main board next month to help fund the construction of a factory in the mainland. The company is offering 78 million shares at HK$1.08 to HK$1.50 each, according to its listing prospectus.
PCCW, whose managing director quit this week just before the company reported a 21.5 per cent drop in full-year profits, has not received any proposal from other investors, and chairman and controlling shareholder Richard Li Tzar-kai has no plan to sell his stake, according to a source close to Mr Li.

China: As of the end of 2006, China had 2.043 bn tons of petroleum and 2,449 bn cubic meters of natural gas in remaining commercial recoverable reserves.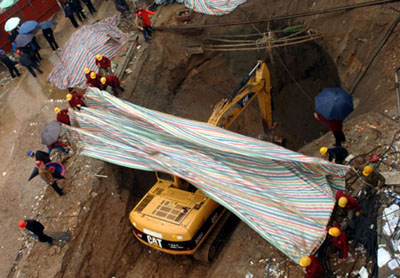 Rescue work continues in search of six laborers after they were trapped underground in a tunnel collapse on Tuesday at a subway line construction site in Beijing, March 29, 2007. A primary investigation shows that the collapsed site is roughly 20 square meters in area and 11 meters deep.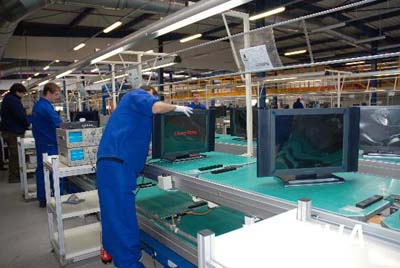 The domestically-listed Sichuan Changhong Electric Co., Ltd., a leading TV manufacturer in China, opened a production line in the Czech Republic on Wednesday. This is the first overseas production base to be wholly owned by a Chinese home electrical appliance business. Most of the products will be flat-panel televisions and CRT sets.
Chinese, Russian oil giants sign agreement on Sakhalin project - Under the accord, Rosneft will have a 74.9 percent stake and Sinopec 25.1 percent, the Itar-Tass news agency reported Thursday.
German luxury carmaker BMW is eyeing the fleet of high-ranking Chinese government officials, a segment dominated by rival Audi for a long time.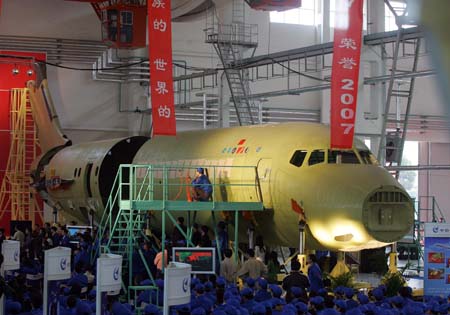 Final assembly of China's first homemade commercial jet plane ARJ21 begins in Shanghai, March 30, 2007. The turbofan regional aircraf is expected to come off the production line at the end of this year and be ready for test flights in March next year.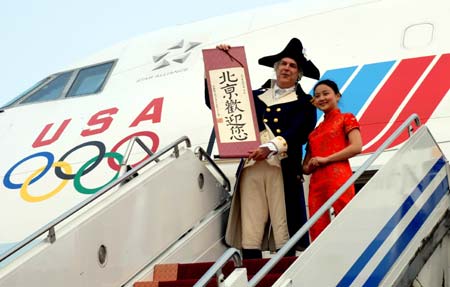 A United Airlines employee dressed as George Washington holds up a sign that reads "Welcome to Beijing" as the first-ever non-stop flight from Washington DC arrived at the Beijing Capital International Airport.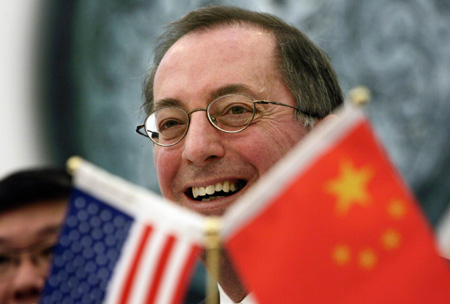 Intel Corp's Chief Executive Paul Otellini smiles at a news conference in Beijing, March 26, 2007. Chip giant Intel said on Monday it would invest $2.5 billion to build a microchip plant in northeastern China, with the production of chipsets to begin in 2010.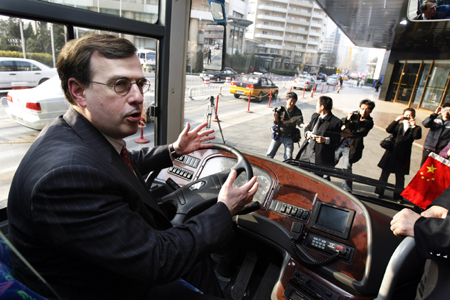 U.S. Under Secretary of Commerce for International Trade Franklin Lavin sits on the driver seat of a prototype hybrid bus in Beijing March 28, 2007. The prototype hybrid city bus, jointly developed by U.S. Eaton Corporation and Beiqi Foton Motor Corporation, will be field tested in major Chinese cities with a goal of winning as many new orders as possible for the clean bus competition for the 2008 Beijing Olympic Games and 2010 Shanghai World Expo.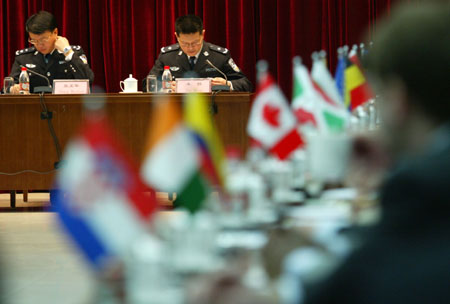 Beijing held a coordination conference on the 2008 Olympic Security March 28,2007.Dozens of security personnel from Olympic committees and foreign embassies in Beijing were invited to the conference.China will keep the rest of the world notified of security-related developments both before and during the Games in a timely fashion.[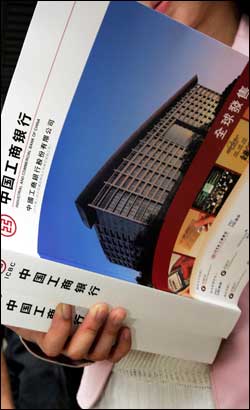 Eighteen people, including two brokerage employees, have been arrested by officers from the Commercial Crime Bureau for allegedly using multiple identities to fraudulently subscribe to seven initial public offerings in the fourth quarter last year. "The most extreme case was one suspect who used different people's ID numbers to subscribe 20 times in one IPO," senior inspector So Man-kuen said Thursday. CCB senior superintendent Tsang Cheung-tat said the 18 arrested - 10 men and eight women, aged between 20 and 60 - are alleged to have illegally used the ID-card numbers of others to submit 933 applications for the IPOs of seven companies between October and December. The CCB did not identify the seven listing candidates involved. The Standard exclusively revealed in February that punters, ranging from housewives to the elderly, are alleged to have filled out multiple application forms to increase their odds of getting share allotments in the wake of massive oversubscriptions for H-share sales of mainland companies. Unsuccessful applicants receive refund checks from the newly listed companies bearing the payee's name along with the person's purported ID number, but with the fourth and fifth digit blocked out to protect individual privacy. When the payee cashes the check at the bank, the bearer is required to produce an ID card with all but the two blocked digits. Therefore, in theory, anyone can use up to 99 different ID numbers to apply for IPO shares using other people's names and mailing addresses, such as those of friends and relatives. "If you block [out] the fourth and fifth digit of your ID card number, you will have 99 different combinations," senior superintendent Tsang said. On the trading debuts of the seven IPOs, their share prices climbed between 12.5 and 85 percent, he said. Tsang called on the public to not submit inaccurate personal information because offenses relating to fraud, conspiracy to defraud, and false accounting carry a maximum penalty of 14 years' imprisonment upon conviction. An investigation followed by arrests were the result of a complaint to CCB in January from a person who found his ID card number posted on a Web site listing successful applicants for an IPO. In the wake of concerns raised by the Securities and Futures Commission, the February IPOs of China Huiyuan Juice (1886) and Hong Long Holdings (1383) were vetted more carefully.
In a move that would reverse a decades- old policy, the US Commerce Department may announce a preliminary decision this week to impose countervailing duties against China to offset subsidies, industry officials said.
China's ambassador to the United States says Beijing is willing to resolve the growing trade row with Washington, while at the same time urging American critics, particularly those in the US Congress, to take a more "global" view of economic relations.
Sinopec, ExxonMobil and Saudi Aramco announced two joint ventures worth a total of US$5 billion (HK$39 billion) on Friday to expand a Chinese petrochemical refinery and operate a chain of 750 filling stations.
The mainland took two key steps yesterday to move up the technology value chain, signing an agreement to manufacture Chinese-designed computer processors and forming a group to set standards for locally made supercomputers.
March 27 - 31, 2007

Hong Kong: Listing candidate CITIC 1616, a telecommunications value-added service provider, will probably price its initial public offering at the top end of the indicative range after its retail tranche was more than 1,000 times oversubscribed, sources said Tuesday.

Henderson Land Development (0012) is embarking on a proposed HK$12.1 billion acquisition from its Henderson Investment (0097) unit, a move analysts say is aimed at paving the way for its third attempt to take the affiliate private.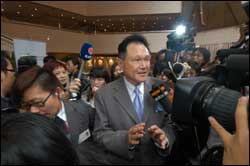 Some real estate developers, it seems, are inspired by the popular maxim "if at first you do not succeed, try, try again." Small developer Cheuk Nang (Holdings) (0131), controlled by tycoon Cecil Chao Sze-tsung, did not give up after four failed attempts to trigger a Cheung Chau site for auction. Chao finally prevailed on the fifth attempt and went on to pay HK$96.5 million, a record on the island. The company paid 147 percent above the opening bid of HK$39 million to secure the plot at the final auction for the fiscal year ending March 31. This was also the biggest margin set since December 2000, when small developer Tack Hsin Holdings (0611) paid HK$17.2 million or 187 percent above the opening bid for a site on Lantau Island. The latest bid fattened the government's land auction sales income to HK$13.34 billion in the 2006-07 financial year. In the wake of the record bid, investors sold Cheuk Nang shares, which closed down 1.75 percent at HK$6.19. The plot, with a seaview at Shui Hang in Cheung Chau, provides 111,752 square feet. It offers an allowable gross floor area of 44,692 sq ft of residential space at a plot ratio of 0.4. The final price adds up to an accommodation value of HK$2,159 psf, itself a record for Cheung Chau, and more than four times the HK$491 psf set in August 1999, the last time an island site went under the hammer. Chao confirmed the company won the bid, and hurried off immediately after the auction. Cheuk Nang will make an announcement today. Despite the jaw-dropping bid, at least for Cheung Chau, developers and property professionals reckon Cheuk Nang paid the going rate. Executive director Lui Lop-kay at Chuang's Consortium International (0367), which took part in the auction, said the final price exceeded its own limit of HK$80 million.
HSBC Holdings (0005) is taking full control of French life insurer Erisa and property and casualty insurer Erisa IARD, paying its partner, Swiss Life Holdings, 228.75 million euros (HK$2.37 billion) for the 50.01 percent stake.

Liberal Party chairman James Tien Pei- chun has denied his appointment as chairman of the Hong Kong Tourism Board was in reward for his support for Donald Tsang Yam-kuen in Sunday's chief executive election.

China: At the invitation of President of the ROK Roh Moo-hyun and Japanese PM Abe Shinzo, Premier Wen will pay an official visit to the two countries from April 10 to 13.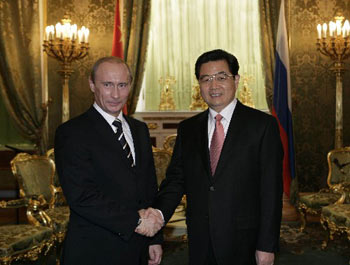 Chinese President Hu Jintao (R) shakes hands with Russian President Vladimir Putin in Moscow, capital of Russia, March 26, 2007. Visiting Chinese President Hu Jintao and his Russian counterpart Vladimir Putin Tuesday attended the opening ceremony of the Chinese National Exhibition at the Crocus Expo exhibition center in Moscow. President Hu Jintao and his Russian counterpart Vladimir Putin vowed Tuesday to expand cooperation in trade, economic, social and cultural fields.
Though the Intel project will undoubtedly be a great boost to China's IT sector, the plant will be technologically behind due to US restrictions on tech exports.
A report by the Asian Development Bank (ADB) on Tuesday predicted that China's gross domestic product (GDP) will rise by 10 percent this year.
China and Russia agreed to stage a joint unmanned mission to the Mars and one of its moons in two years, the China National Space Administration said on Tuesday.
Venezuela and China have created a US$6 billion (HK$46.8 billion) fund to boost energy cooperation and finance joint development projects between the two countries.
In a televised speech, President Hugo Chavez said the fund "will provide the fuel for the acceleration of new bilateral development projects," including two joint ventures for the exploration and production of heavy crude in Venezuela's Orinoco Basin and three oil refineries in China. The fund - aimed at increasing Venezuelan oil exports to China from 150,000 to 800,000 barrels a day - was part of a series of agreements signed following a meeting between Chavez and Li Changchun, the Chinese Communist Party's propaganda chief, at the presidential palace. "We have brought bilateral relations to a strategic point," Chavez said. "I don't think China has made a decision like this with any other country in half a century. We must thank them for their trust."
March 26, 2007

Hong Kong: Hutchison Whampoa chairman Li Ka-shing speaks during a news conference in Hong Kong March 22, 2007. Hutchison Whampoa and Cheung Kong (Holdings), Li's twin flagships, posted higher earnings for 2006 that met expectations, thanks to narrower losses at Hutchison's third generation telecoms business and exceptional gains.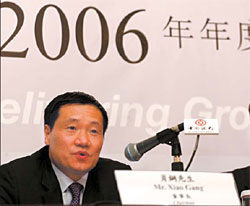 Bank of China Chairman Xiao Gang at a news conference in Hong Kong announcing the bank's results for the last year. Bank of China (BOC), the mainland's second-largest lender, said yesterday its 2006 net profit soared 65 percent, on strong operating income and reduced taxes.
HSBC Holdings (0005) chairman Stephen Green said Friday it is difficult to forecast the economy in the United States, describing the situation in the subprime mortgage sector as "unclear" and the housing market as "unstable."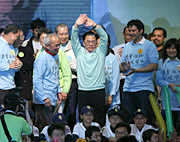 Chief Executive Donald Tsang Yam-kuen receives a rousing reception from family and friends during a rally at Southorn Playground last night. On hand to wish him luck in tomorrow's poll were brothers Yam-pui (far left), Yam-huen (left) and Yam-chuen. The 3,000 supporters were treated to performances by Canto-pop singers including Leon Lai Ming and Leo Ku Kui-kei as activists protested outside.

China: A delegation of Chinese lawmakers met with Japanese upper house legislators Friday, kicking off the first talks under a regular exchange mechanism designed to boost bilateral relations.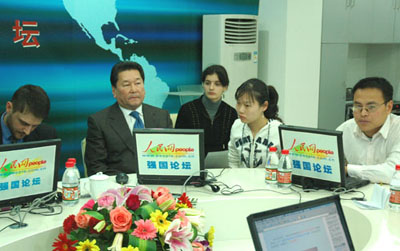 Bolat Nurgaliyev(L2), the secretary-general of the Shanghai Cooperation Organization (SCO) talks to netizens under the theme of "SCO and peace, development of today's world" on Strong China Foruma, a feature of People's Daily Online on March 23, 2007. Bolat Nurgaliyev paid a visit to the People's Daily Online Friday.
The volume of online transactions in China could surge 55 percent to 1.7 trillion yuan in 2007, 1.69 trillion yuan of which is expected to come from transactions between corporate businesses.
China will overtake Japan, Germany, Britain and Italy to become the world's second biggest consumer goods market behind the United States by 2015, according to the findings of a survey by Credit Suisse, one of the world's leading investment banks.
China generated 447.966 billion kilowatt-hours of electricity from January to February, an increase of 16.6 percent year on year, according to China Electricity Council (CEC).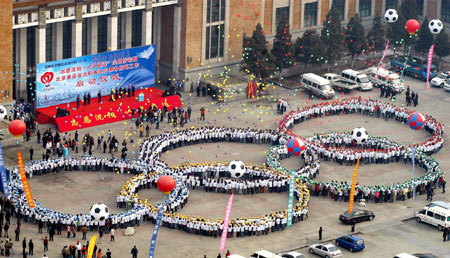 College students get into the Olympic spirit during an Olympic Games volunteer enrolment launch ceremony in Shenyang, capital of Northeast China's Liaoning Province, March 23, 2007.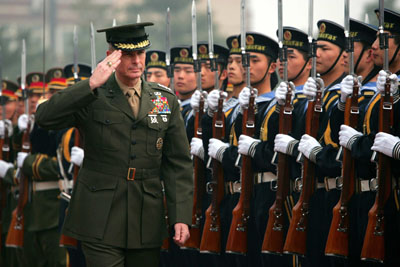 The US top general said Friday that he did not believe China's armed forces were a threat and played down the prospects for hostilities in the Taiwan strait. Chairman of the US Joint Chiefs of Staff Marine Gen. Peter Pace inspects the guard of honor during a welcome ceremony at the Defence Ministry in Beijing March 22, 2007. Clearly, both the United States and China have enormous military capacity, but equally clearly neither country has the intent to go to war with the other. So absent of intent, I don't find threat," General Peter Pace, chairman of the Joint Chiefs of Staff said. "We should not focus on how to fight each other but how to prevent military action. That is what my government is focused on, and that is what my Chinese counterparts here have said their government is focused on." Pace arrived in Beijing Thursday for a four-visit which as he said is aimed at boosting military ties Pace said he had discussed the sensitive topic of Taiwan with the Vice Chairman of the Central Military Commission, Guo Boxiong, Defence Minister Cao Gangchuan and Foreign Minister Li Zhaoxing. "It is not surprising that in each of the meetings, the issue of Taiwan came up. It is clearly a fundamental issue with China," he said. Asked about the possibility of a conflict over Taiwan, he said: "I believe there are good faith efforts among all the leadership to prevent that." Pace said he had repeated US President George W. Bush's position that the US leader "would not support Taiwan independence" and that Washington wanted the issue to be handled peacefully. Pace's visit follows a US announcement last month that it plans to provide over 400 missiles to Taiwan. China's military is proposing officer exchanges and other confidence-building measures with the US Army and may be inching closer to setting up a "hotline" for emergency communication with Washington, according to Pace. Pace said he immediately agreed to study the proposals put forward Friday by Gen. Liang Guanglie, chief of the PLA's General Staff Department. "To me this was a very good, open discussion and one that I found very encouraging," Pace told reporters in Beijing. Liang's proposals included sending Chinese cadets to the Army academy at West Point as well as participating in joint exercises and humanitarian and relief-at-sea operations "that might be able to build trust and confidence amongst our forces." Military exchanges were largely suspended following a collision between a US spy plane and a Chinese jet fighter over the South China Sea in 2001. Pace said the sides agreed to keep discussing setting up a "hotline" between either military or civilian leaders that would help ease any future friction. "The Chinese military understands as well as I do that the opportunity to pick up the phone and talk to somebody you know and smooth out misunderstandings quickly is a very important part of relations between two countries," Pace said.
Guangzhou R&F Properties (2777), the city's largest developer, said it plans to expand into eastern China and aims to spend 10 billion yuan (HK$10.1 billion) in the next two years building a land bank in that market.
China will check whether local governments are implementing central authorities' measures to control the property market and hold errant officials to account, the Ministry of Construction said. The Ministry of Commerce will add restrictions on foreign capital entering the local property market as rocketing prices raise concerns of excessive investment, CCTV reported. The ministry will also restrict foreign capital in other high energy-consuming and high-polluting sectors.
March 22 - 25, 2007

Hong Kong: Ports to property conglomerate Wharf (Holdings) (0004) expects its mainland projects to shore up the bottom line for 2007 after the company reported its 2006 annual net profit had plunged by nearly a quarter.
Li & Fung (0494), the world's largest export trading company, is confident it will meet its turnover target of US$10 billion (HK$78 billion) by the end of 2007, after the company reported a 23 percent growth in net profit last year.
Henderson Land Development (0012), which posted a 50.4 percent slump in first-half net profit, has set aside 7.5 billion yuan (HK$7.57 billion) to replenish its land bank in the mainland with a total buildable floor area of 83 million square feet.
The Hang Seng Index jumped the 19,500 mark Wednesday, extending its gains for a third straight day on speculation of strong results from big-caps like China Mobile (0941), Cheung Kong (Holdings) (0001) and Hutchison Whampoa (0013), and after the Shanghai equity market set another record.
Hong Kong is responsible for its own air pollution for more than half of the year while the Pearl River Delta is the culprit for just one-third of the time, a study says.
Hong Kong stands to lose its edge in service industries over neighboring cities like Shenzhen and Guangzhou if the government does not improve transport facilities to reduce the time cost involved in commuting across the border, an academic has warned.
Macau will extend its control of a blacklisted bank for six more months, officials said on Thursday, one week after the lender's ties with the US financial system were cut off because of its alleged involvement in illegal North Korean deals.

Eight-time trial biking world champion and Guinness World Records holder Kenny Belaey shows the accuracy and balance of his skills at the World Trade Centre in Causeway Bay yesterday. The 24-year-old rider from Belgium set a stunning world record last year by performing 31 trial bike 180-degree turns in a minute. Belaey yesterday kicked off his five-day visit to Hong Kong and Macau as part of the Red Bull Trial Biking Local Hero Tour where he is set to wow audiences and join local riders for a session of tricks.
Pope Benedict's forthcoming letter to Chinese Catholics will clear up pastoral issues troubling the mainland church while spelling out the Vatican's bottom line on diplomatic negotiations, Cardinal Joseph Zen Ze-kiun said.
Malaysia on Thursday announced tax cuts and other measures to attract foreign investors to develop a massive project in southern Johor state into a substantial regional financial hub.

China: Economic ties between China and Russia have seen marked growth and enjoy the potential for a further boost as the two sides work to overcome problems with trade structure and investment momentum, officials said.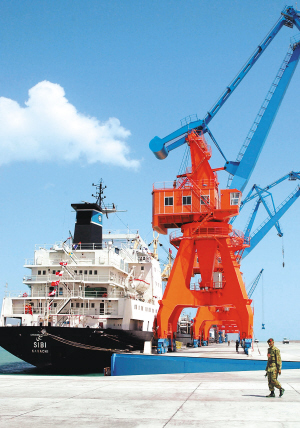 The opening ceremony for Pakistan's Gwadar Port, which is being operated with Chinese assistance, was held in Gwadar, Baluchistan Province in Pakistan on March 20, 2007.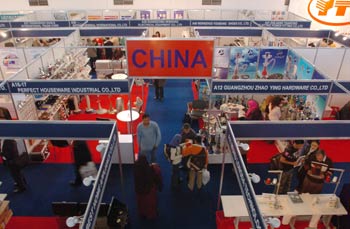 Chinese exhibition unit attracts lots of visitors during the 40th Cairo International Fair in Cairo, capital of Egypt on March 21, 2007. The ten-day fair, which opened on Wednesday, welcomed over 2000 enterprises from 24 countries, including some 50 Chinese exhibitors.
U.S. chip giant Intel Corp. may announce its plan to build a chip manufacturing plant in China as soon as next Monday, The Wall Street Journal reported on Wednesday.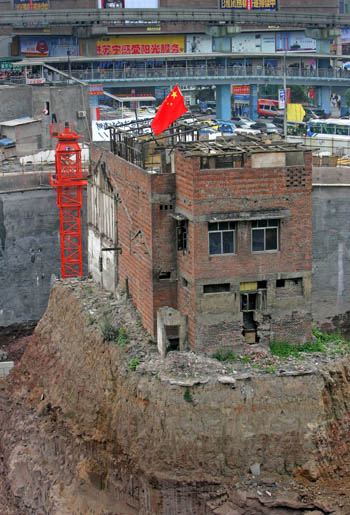 A Chinese national flag is raised atop a house whose owner refuses to move out due to compensation disagreement with the real estate developer in southwest China's Chongqing Municipality, on March 21, a day before the deadline of moving sentenced by local court.
The benchmark Shanghai Composite Index, a major index of Chinese shares, closed up 0.45 percent at 3,071.23 points, an all-time closing high, extending a record high of 3,057.38 in the previous session.
China Mobile (0941), the world's largest mobile operator by users, recorded a 23.3 percent increase in net profit for 2006, to 66 billion yuan (HK$66.65 billion), in line with analyst expectations.
Beijing will encourage the private sector to take a bigger role in health care as the government hammers out an ambitious plan to overhaul the inefficient health system, says Vice-Minister of Finance Wang Jun.
March 20 - 21, 2007

Hong Kong: Shui On Group unveiled a proposal Monday for a 15 billion yuan (HK$15.1 billion) software-park and commercial- residential complex in the northeastern port city of Dalian.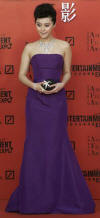 Chinese actress Fan Bingbing arrives for the Asian Film Awards as part of the Entertainment Expo Hong Kong in Hong Kong March 20, 2007.
Hong Kong actresses and members of the pop group "Twins" Gillian Chung (L) and Charlene Choi arrive for the Asian Film Awards as part of the Entertainment Expo Hong Kong in Hong Kong March 20, 2007.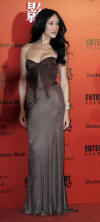 Hong Kong actress Maggie Q arrives for the Asian Film Awards as part of the Entertainment Expo Hong Kong in Hong Kong March 20, 2007.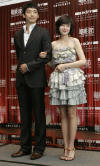 South Korean actress Lim Su-jeong (R) and actor Jung Ji-Hoon, also known as Rain, pose during a news conference in Hong Kong March 19, 2007.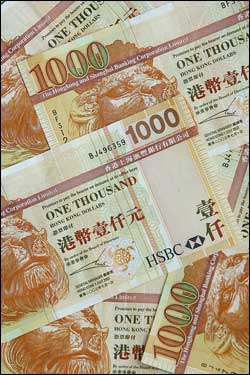 The Hong Kong Monetary Authority will give top priority to replacing the banknotes issued by HSBC in 2000 and 2002 that seem to be a favorite target of counterfeiters but has stopped short of ordering a recall. Chief executive Joseph Yam Chi- kwong said the number of such notes in circulation, issued between 2000 and 2002, is "quite small." He said joint seminars have been organized by the authority and the Commercial Crimes Bureau to educate frontline staff at banks, retailers and foreign-currency dealers on how to detect counterfeit notes, with the first of these to be held Friday. Seven seminars are scheduled to be held before the end of this month. Financial Secretary Henry Tang Ying-yen said it was not the first time the city had been hit by a wave of counterfeit banknotes and that common characteristics among the fraudulent notes made their detection easier. Reiterating there will be no recall of HK$1,000 banknotes issued by HSBC between 2000 and 2002, the financial secretary also said that such notes would not allowed to go back into general circulation.
New security measures restricting the liquids that can be taken on board aircraft will be strictly implemented at Hong Kong International Airport from tomorrow, the Airport Authority has warned.
Hong Kong's unemployment rate dropped to near nine-year lows in the three months to February at 4.3 per cent, down from 4.4 per cent in the November-January period, official figures showed on Tuesday.

Financial Secretary Henry Tang Ying-yen joins the Hong Kong Chiu Chow Chamber of Commerce's newly appointed directors during their inauguration last night. Mr Tang praised the people of Chiu Chow, Guangdong, for their contributions to the economy.
This year's Hong Kong Flower Show - featuring more than 350,000 blooms and plants - had continued to attract large crowds since its opening last Friday, the Leisure and Cultural Services Department said on Tuesday.
Multimedia company Tom Group on Tuesday said net profit fell 88 per cent last year amid fierce competition in mainland China's internet market.
Air China would set up an air cargo joint venture with Cathay Pacific Airways in Shanghai by the end of this year, chairman Li Jiaxiang said at a press conference on Tuesday.

China: "At the invitation of Russian President Vladimir Putin, President Hu Jintao will pay a state visit to Russia from March 26 to 28," said FM spokesman Liu Jianchao.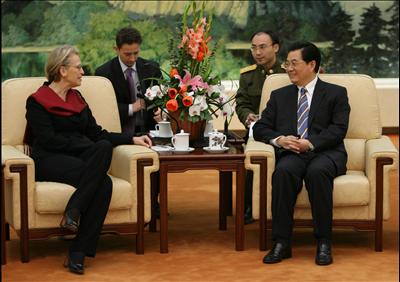 Chinese President Hu Jintao (R) meets with French Defense Minister Michele Alliot-Marie at the Great Hall of the People in Beijing, on March 19, 2007. Chinese President Hu Jintao on Monday vowed to deepen strategic dialogue and political trust with France so as to lift China-France comprehensive strategic partnership to a new height.
China's top oil producing and offshore oil companies simultaneously unveiled major discoveries yesterday. PetroChina announced it had discovered a "very rich" oil field at Bohai Bay the biggest in China in the past decade while CNOOC said it has an "exciting find", also in Bohai Bay. The PetroChina discovery, along with a new huge gas field the company discovered recently in Sichuan Province, will significantly improve the capacity of the country's biggest oil producer. With an initial daily output of 500 tons (3,700 barrels), the Bohai Bay field is "the largest find in China in 10 years," Jiang Jiemin, vice-chairman and president of PetroChina, told a press conference in Hong Kong yesterday. He did not elaborate on the total reserves of the Bohai oil field. The gas field in Sichuan has been tested to have a daily capacity of 1 million cubic meters.March 19, 2007
Two of China's leading enterprises - China State Shipbuilding Corporation (CSSC) and the Baosteel Group Corporation (Baosteel) - signed a contract in Beijing on March 16 to build China's largest and most modern shipbuilding base at Changxing. The total cost of the project is expected to exceed 10 billion yuan, with CSSC bearing 65 percent of the cost and Baosteel the remaining 35 percent.
The announcement of the expected interest rate hike on an unexpected day - Saturday - had little effect on the domestic market Monday, although economists believe the central government is on the right track in its efforts to regulate the economy.
Six people have been charged over the beating to death of a Chinese reporter who was investigating an illegal coal mine in a case that sparked nationwide outrage, an official said on Tuesday.
Analysts expect the mainland's central bank to raise interest rates and introduce other tightening measures in the coming months because they view the weekend's rate increase as far from enough to rein in overheating fuelled by excessive liquidity in the banking system.

Taiwan on Tuesday cleared an application by Taiwan Semiconductor Manufacturing Co (TSMC), the world's top contract chip maker, to upgrade the sensitive technology used at its mainland plant.
March 19, 2007

Hong Kong: Standard Chartered is expected to increase the number of its branches and sub-branches in China from the present 22 to 40 this year and upgrade its three representative offices to branches right after its incorporation upon regulatory approval.
Like the fabled hare being overtaken by a tortoise, Hong Kong risks losing its position as a international financial center if it sticks to its "old ways," National People's Congress vice chairman Cheng Siwei warned Tuesday in Beijing. Hong Kong would play a significant role in China's foreign currency reserves management company by providing expertise, said National People's Congress vice chairman Cheng Siwei in Beijing. Veteran National People's Congress local deputy Ng Hong-man said Tuesday the warning by NPC Standing Committee vice chairman Cheng Siwei against Hong Kong becoming politicized is aimed at telling the territory to focus more on economic development and refrain from stirring up political squabbles.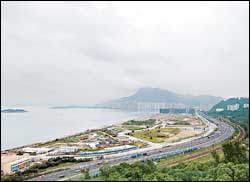 Demonstrating its power to forge alliances with developers, Sino Land (0083) teamed with another property player at the government land auction Tuesday to fork out a record HK$5.61 billion for two Tai Po residential sites. The final price exceeded the 1997 record bid for a nearby site. "With transacted land prices surpassing the 1997 record set by a nearby project, risk appetite appears to be peaking as evidenced by the decision to seek a partnerp to dilute the land cost," said Kenny Tse, executive director of Morgan Stanley. At the same auction, the other plot on Plover Cove Road in Tai Po went to private developer Chinachem Group for a higher-than-expected HK$570 million. A total HK$6.18 billion poured into the public coffers from the sale. The auction bids were within analysts' forecasts of HK$5 billion to HK$7 billion. Site A at Pak Shek Kok reclamation phase 1 in Tai Po opened for bidding at HK$1 billion, which then drew intense attention from Nan Fung Development, Wheelock Properties (0049) Henderson Land Development (0012), Chinachem, Sino, K Wah International (0173), New World Development (0017) and Hang Lung Properties (0101). As soon as the price climbed to HK$2.08 billion, Sino chairman Robert Ng Chee-siong leaned over to discuss a deal with Nan Fung director Donald Choi Wun-hing. An agreement was struck within a few minutes and a HK$2.11 billion winning bid was made. It represented HK$6,109 per square foot. This was more than double the reserve price and exceeded market expectations of HK$1.5 billion to HK$2 billion. The consortium also secured the adjacent Site C at Pak Shek Kok reclamation phase 1, separated only by a road from Site A, for HK$3.5 billion. The bidding tactic proved to be effective because the number of competitors had been reduced to three at that stage. The transaction price for Site C was in line with market expectations. The two adjacent lots would be developed into a high-end residential project, with a combined gross floor area of more than one million square feet, according to the consortium.
Banking conglomerate HSBC Holdings (0005) and other banks are seeking to strip off their high-risk mortgage clients in the United States, chasing the originators of those home loans to buy back their delinquent customers in light of a rising number of subprime mortgage lenders being put out of business.
Playmates Holdings (0635), a Hong Kong-listed toy maker which owns the distribution rights for the popular Teenage Mutant Ninja Turtles franchise, posted a 33 percent rise in yearly net profit to HK$260 million, due to a surplus from property revaluation.

The Airport Authority has failed in its second attempt to lobby the Tuen Mun District Council to back its plan to build the world's biggest aviation fuel depot in the district - right next to a steel mill's high temperature smelter. Councillors voted unanimously against the plan Tuesday as protesters, including mill workers and members of various political parties, continued to vent their anger, claiming the project, if approved, would pose a tremendous threat to the lives of workers and residents in the area. Presenting the council with a revamped environmental impact assessment report after the initial report was thrown out by the Court of Final Appeal last July, Chow Bing-sing, the authority's aviation logistics general manager, argued that Hong Kong needs a permanent fuel depot urgently as the temporary one at Sha Chau will not be able to cope with the rapid growth in air passenger and cargo traffic by 2009. "We can't delay construction of the fuel depot any more," Chow told the council meeting attended by 36 members. He said the city is already facing tough competition from regional airports, which will threaten the development of the territory's economy. If the Environmental Protection Department gives the green light for the depot, 12 giant fuel tanks would eventually be built in Tuen Mun Area 38 - located between Butterfly Beach and Lung Kwu Tan, and only about 28.5 meters away from Shiu Wing Steel Mill's smelter, which operates around the clock at more than 1,000 degrees Celsius.
The incidence of cancer - the leading killer disease of Hong Kong people - was expected to increase in future, Secretary for Health, Welfare and Food York Chow Yat-ngok warned in the Legislative Council on Wednesday.

Permanent Secretary for Economic Development and Labor Matthew Cheung Kin-chung greets a protester demanding legislation on a minimum wage be introduced. The encounter came at a spring reception hosted by legislative councillors representing labour interests.

China: The Shanghai Stock Exchange (SSE) is proposing to raise the maximum share price fluctuation for listed companies from 10 percent to 20 percent per day.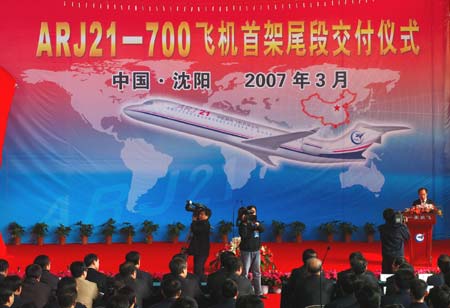 A delivery ceremony of the tail section of ARJ plane is held in Shenyang, northeast China, on Tuesday March 13, 2007. The tail section, which is the last key component of China's first home-made ARJ-21 feeder airplane, was delivered officially Tuesday.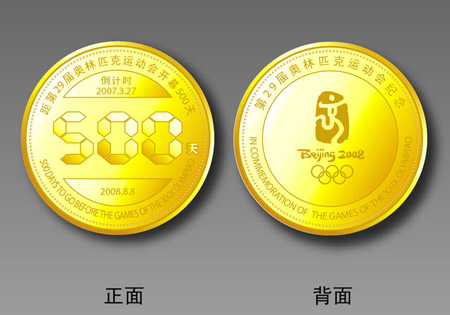 The Beijing organizing Committee for the Games of the XXIX Olympiad (BOCOG) has unveiled new licensed products under the theme of "time" to mark the 500-day countdown to the Olympic Games. One of them is a yellow commemorative badge whose obverse side bears the characters of "500 days to go before the Games of the XXIX Olympiad" in both Chinese and English as well as the description of the countdown on March 27, 2007 and the Games' opening on August 8, 2008. On its reverse side the official emblem of the Olympics is shown. The badge's issue is limited to 10,000 and each piece has a serial number which collectors pay attention to. Another product is a set of four badges whose design blends the Olympic elements with the Chinese style. Its dominant colors of yellow and red represent happiness and auspiciousness in Chinese tradition. The bi-lingual description of the 500-day countdown is also displayed on each badge and the set is imbedded in a photo frame. The issue is rather smaller ¨C only 5,000!
China's telecoms regulator has given telecom equipment maker ZTE (0763) the go-ahead to sell gear for third- generation mobile networks based on the home-grown Time Division- Synchronous Code Division Multiple Access standard, according to a mainland media report.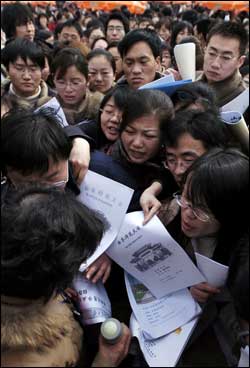 China will face huge job pressures this year with 12 million urban dwellers expected to be out of work and an army of rural workers crowding into cities, the nation's top job official said. The bleak forecast is based on estimates that 24 million people - more than the population of Australia - will enter the job market this year, Labor Minister Tian Chengping said. "With such a situation, everyone can understand that we are facing enormous pressures to create jobs," Tian said in Beijing Tuesday. The state will do its best to create 9million new jobs, while up to 3 million job vacancies will open up through retirement. But even if those objectives are met, there will still be an employment deficit of some 12 million jobs, he said. To make matters more difficult, the state will also seek to re-employ up to 5 million laid-off employees while a continual stream of rural workers will be descending on cities in search of jobs. China will seek to hold its urban unemployment rate at under 4.6 percent this year, up from a 4.1 percent rate at the end of last year, said Tian, who was speaking on the sidelines of the annual gathering of the National People's Congress. China's urban unemployment rate is difficult to calculate as it is not clear how many migrant workers are included. This is because migrants often live and work in a gray area and do not necessarily have permanent resident status in cities.
China would not impose a death sentence on a fugitive fighting in Canadian courts against being deported to face charges he ran a billion-dollar smuggling ring, a spokesman for the country's top court said.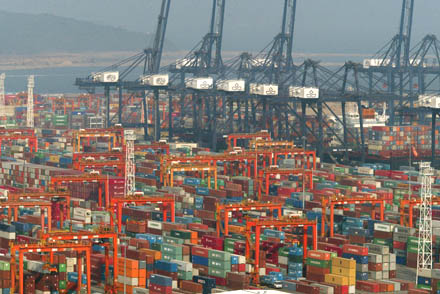 China Merchants Holdings (International), a leading mainland port operator, plans to invest directly along with others in the four billion yuan second-phase development of Dachan Bay container port in western Shenzhen in a deal to be finalised by the end of the year. China Merchants chairman Fu Yuning, who forecast 15 per cent compound annual growth for mainland container throughput until 2010, announced the move on the sidelines of an industry conference in Hong Kong yesterday. He declined to give further details. The investment aimed to alleviate any negative impact the new facility would have on the company's existing ports in western Shenzhen, analysts said. Dachan Bay is a greenfield port with potential for better logistics facilities than other western Shenzhen terminals and could put great pressure on ports in Shekou, Mawan and Chiwan, in which China Merchants has majority stakes. China Merchants, which invested indirectly in the seven billion yuan first phase of Dachan Bay through subsidiary Modern Terminals, is pursuing a strategy of gaining control of as many of its port projects as possible as the country's booming economy drives demand for capacity. China Merchants has a 27 per cent stake in Modern Terminals, which has a 65 per cent interest in phase one of the Dachan Bay port. Phase two would have three to four shareholders but Modern Terminals might not be one of them, a source said.
March 16 - 18, 2007

Hong Kong: The Hong Kong Monetary Authority warned people in Hong Kong to beware of a suspected fraudulent website that appeared to be posing as a mainland bank. The HKMA said the website had the domain name "www.unionchina.net". It said the website was operated by an alleged "Union Bank of China", which claimed to offer various banking services to people in Hong Kong. An HKMA spokesman said: "The public should be aware that the alleged 'Union Bank of China' is not authorized under the Banking Ordinance to carry on banking business or the business of taking deposits in Hong Kong. "And nor does it have the approval to establish a local representative office," he added. The HKMA has referred the case to the Hong Kong Police Force for further investigation. The spokesman said anyone who had provided personal information to the website or had conducted financial transactions through the website should contact police or the Commercial Crime Bureau on tel: (852) 2860 5012.
Almost a decade after the handover, Hong Kong was enjoying strong economic growth and closer relations with the mainland, says Financial Secretary Henry Tang Ying-yen. He was addressing the annual dinner of the Federation of Hong Kong Industries at Island Shangri-La Hotel on Monday evening. "As we are approaching a milestone in the history of Hong Kong - the 10th anniversary of the establishment of the Hong Kong Special Administrative Region, we are encouraged to see a continuing thriving economy," Mr Tang said. Hong Kong was returned to China on July 1, 1997 - during a time of political and economic uncertainty. There were concerns that China, despite having abandoned its Marxist-Leninist economic policies, might interfere with the territory's economic freedoms. Hong Kong was also rocked by the 1997-98 Asian economic crisis and severe acute respiratory syndrome (Sars) outbreak of early 2003. During this time, it experienced a substantial property crash, rising unemployment and a drop in business confidence. But today, Hong Kong's economy had recovered and remained one of the freest in the world. It is also benefiting from China's rapid economic growth. Mr Tang said Hong Kong's economic fundamentals in 2007 were impressive. "The real [gross domestic product] growth of 6.8 per cent last year marked the third consecutive year of distinctly above-trend economic growth in Hong Kong." The financial secretary said merchandise exports had achieved another year of double-digit growth. Service exports had also performed well. "Meanwhile, overall investment picked up for the fourth year in a row, attaining an 8 per cent growth [last year], signifying strong business confidence. The strong economic upturn has put the economy on a much sounder footing - the rising consumer confidence," he explained. Mr Tang said domestic demand was thus likely to be an important driving force of our future economic growth. "Looking ahead, we expect another year of broad-based economic upturn [this year], with [GDP] growth forecast at 4.5 per cent to 5.5 per cent in real terms," he predicted. He said post-handover Hong Kong had benefited considerably from its close relationship with the mainland.
Henderson Land Development (0012) chairman and billionaire Lee Shau-kee, affectionately known in Hong Kong as "Asia's Warren Buffett" for picking winners among equities, has warned retail investors to be mindful of market volatility but seek value in smaller mainland property counters. Henderson Land Development, Hong Kong's third-largest developer by market value, plans to invest more than 10 billion yuan to double the size of its developable land bank in the mainland to more than 140 million square feet, chairman Lee Shau-kee said yesterday.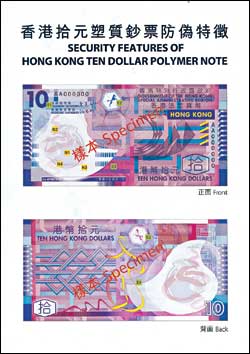 Plastic will likely be fantastic - and more durable - when new banknotes made of polymer are put into circulation in the city, starting with a HK$10 note. The Hong Kong Monetary Authority said Monday the new HK$10 notes will be introduced by mid-year on a trial basis. The notes will be able to withstand more wear and tear over a longer period compared with the current paper notes. The plastic notes will also incorporate improved security features such as a see-through window, in an attempt to prevent forgeries. And while they will cost 30 percent more to produce, their durability means they will not need to be replaced as often. The HKMA said new HK$10 notes would be issued in the initial phase with notes of other denominations following in two years' time. The monetary authority said it will get feedback from the public before proceeding further. HKMA chief executive Joseph Yam Chi-kwong said: "Other countries that have introduced polymer banknotes have seen their annual production costs cut by 40 percent due to the longer lifespan of the notes. This is despite a higher initial unit cost of production." The HKMA said polymer notes last three times longer than paper notes.
CITIC 1616, the telecom arm of conglomerate CITIC Pacific (0267), has said the company is looking to third- generation mobile business in the mainland to increase revenue in an already booming market.
Hong Kong Exchanges and Clearing (0388) chief executive Paul Chow Man- yiu said Monday the local bourse would stick to its original plan of launching yuan futures in June, fending off speculation that the China Securities Regulatory Commission has opposed the proposal.



Nicholas Chow Kuo-shih, of Sotheby's, examines seven imperial archer's rings that are expected to go for more than HK$40 million when they are put up for auction at the Convention and Exhibition Centre on April 8. The rings are inscribed with poems on the life of 18th-century emperor Qianlong. Around 220 lots from the Ming and Qing dynasties are expected to fetch HK$400 million to HK$500 million.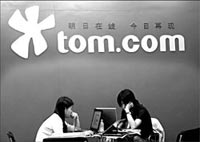 Tom Group's recent efforts to buy out Tom Online may make the company, which took over eBay's auction business in China last year, retreat from the capital market. But experts said the buyout might mark the beginning of Tom Online's business restructuring.
The government raked in HK$6.18 billion from the auctions of three Tai Po residential sites on Tuesday. Sino Group paid HK$2.11 billion, or HK$6,109 per square foot, for a waterfront site at Pak Shek Kok, next to the Science Park and known as Site A. This was more than double the staring price of HK$1 billion and above the market forecast of between HK$1.5 billion and HK$2 billion. The 107,941 sq ft site can generate a maximum gross floor area of about 340,000 sq ft when completed. Nam Fung Group won an adjacent site, known as Site C, by offering HK3.5 billion. This translates to HK$4,668 per square foot. The 214,225 sq ft site can provide a gross floor area of some 750,000 sq ft. A smaller plot at the junction of Plover Cove Road and Po Wu Lane was sold to Chinachem Group for HK$570 million, or HK$3,220 per sq ft. The 29,600 sq ft site is designated for non-industrial (excluding godown and petrol filling station) use, with a gross floor area of 103,000 sq ft.

China: The central government aims to take further steps to reinforce Hong Kong's role as an international financial centre, signalling its intention to highlight the city's importance to China's economy ahead of the 10th anniversary of the handover.
China's chief justice on Tuesday said recent reforms to the country's widespread application of the death penalty meant such sentences should be upheld only in an "extremely small" number of cases. In a report to the national legislature, Xiao Yang said returning the sole right to hear death penalty appeals to the Supreme People's Court would help rein-in use of the death penalty, which had been drawing strong criticism both from within China and among international human rights groups. "Resolutely carry out the policy of strict and solemn control to ensure the death penalty is applied only for an extremely small number of crimes and execute criminals according to the law only where the damage to society has been very severe and the evidence is sufficient," Mr Xiao said. In a separate report to the assembly, China's top prosecutor said adjusting to the rule changes had required significant retraining and rewriting of procedures. However, Jia Chunwang said prosecutors had been ordered to strictly follow rules on evidence and procedure and refer death sentences to the Supreme People's Court for appeal. China last year sought to tighten the rules over the application of the death penalty following a series of high-profile cases involving wrongful convictions and torture. since January 1, lower courts have been forbidden from approving death penalties on their own, a right given them in past years as part of an effort to speed up judicial work. China is believed to carry out more court-ordered executions than all other nations combined, with Amnesty International putting the number in 2005 at about 1,770 people - roughly 80 per cent of the world's total.
United States chip giant Intel has won China's approval to build a US$2.5 billion (HK$20 billion) semiconductor plant, the government said on Tuesday, in what would be a major expansion of its presence in the Asian nation.
Digital China Holdings, the mainland's largest distributor of information technology products, is to seek more profit from the higher-margin IT services business in the next two years as the government gradually opens up the market.
China has announced its second-largest monthly trade surplus in history even as it promises to take measures to reduce such imbalances with the outside world. "In the past few years we have taken a series of trade measures that are aimed at boosting imports and slowing the growth in exports," Commerce Minister Bo Xilai said Monday. Shortly after Bo made the comment, the customs authorities published trade figures showing a near-record US$23.8 billion (HK$185.64 billion) trade surplus last month. Exports for the month totaled US$82.1 billion, up 51.7 percent from a year earlier, while imports increased 13.1 percent to US$58.3 billion, the General Administration of Customs said. The trade surplus was only about US$70 million lower than the figure for October, the monthly record so far according to data from the Commerce Ministry.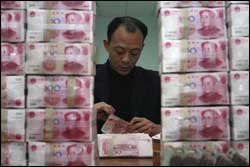 Beijing will bail out more financial institutions after its US$60 billion (HK$468 billion) capital injection into the three biggest state-owned banks reaped "distinct returns." "State bank reform has achieved major breakthroughs," said Zhou Xiaochuan, governor of the People's Bank of China, in Beijing Monday. "Given that experience, we will proceed with restructuring of other institutions this year." China has spent 3.5 trillion yuan (HK$3.53 trillion), equal to a fifth of its 2005 gross domestic product, bailing out and recapitalizing state-owned banks since 1998, according to an estimate by Moody's Investors Service. The bill may exceed 5 trillion yuan after bad loans are taken off the books at Agricultural Bank of China and other smaller banks. The government will "smoothly" restructure Agricultural Bank and China Development Bank this year, the central bank said Monday. Agricultural Bank may need up to US$140 billion to reduce bad loans to less than 5 percent from 23.55 percent and meet the central bank's 8 percent minimum capital adequacy requirement, Standard & Poor's Rating Services said.

Foreign companies want a slice of the booming mainland steel-making sector but are being hamstrung by red tape and politics. Exports remained high last month despite talk of tax amendments, which pushed up the total for the first two months of the year by almost 140 per cent. A prospective two billion yuan stake purchase by Arcelor Mittal in Laiwu Steel has stalled after Beijing rejected the offer amid new regulations and growing protectionist sentiment. This is the latest in a string of foreign deals that have run into regulatory hurdles.
The mainland has for the first time successfully lobbied the International Accounting Standards Board (IASB) to review an accounting rule, a move that will ease disclosure requirements for state-owned firms on connected transactions.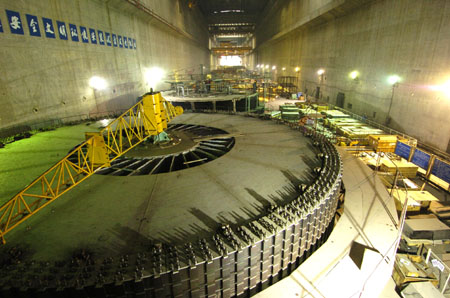 A hydroelectric generator at the Three Gorges Power Plant. The country's largest hydropower project, has generated more than 150 billion kilowatt-hours of electricity since it became operational in 2003.
China's Ministry of Railways on Monday signed two contracts worth more than 350 million euros (455 million U.S. dollars) with French company Alstom.
Beijing is considering a ban on smoking in venues for Olympic Games, said the city's vice mayor Liu Jingmin, in a response to a political advisor's concern about unbridled smoking behavior in public places.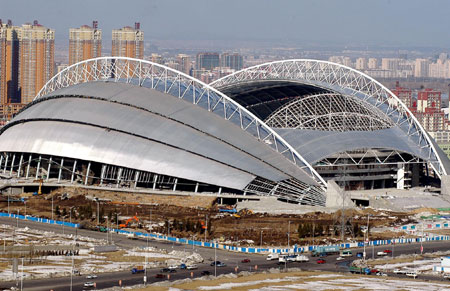 The Olympic Center is seen in Shenyang, northeast China's Liaoning province, March 12, 2007. The glass roof of the Shenyang Olympic Sports Center was installed on March 12, 2007.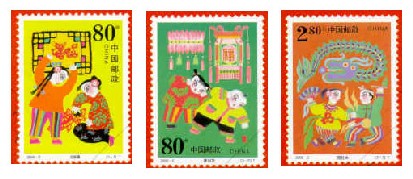 The China Post issued a set of four-piece stamps called "The Spring Festival" on January 29th 2001, including "Celebrating the New Year", "Farewell for the Last Year", "She Huo Custom" and "Happy Reunion". All of the designs of the above stamps are in the Chinese window paper-cut style. Also, Macau issued another set of paper-cut stamps called "The Chinese Year" on April 6th, 1994, which show Chinese folk-customs during the New Year. "Asking for Gift Money" shows a little girl asking her granny for gift money. This is a traditional custom for Chinese children. In "Writing Couplet", an old man is writing the Chinese character "福" (good fortune) and in the Chinese traditional couplet, both of which are done in the typical Chinese way. According to the two sets of stamps, it is clear that mainland and Macau customs are the same.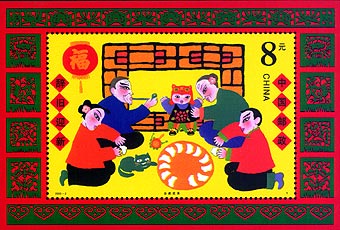 A four-piece stamp set called "Chinese Traditional Festivals" issued in Hong Kong on June 8th 1994 was designed in the style of a Chinese woodcut. One stamp of the four is called "The Lunar New Year". The design of it is very Chinese: Lion dancing, people setting off firecrackers and a typical Chinese wish on the top "吉祥如意" (Wishing you good luck and hope all you dreams come true), as well as another wood-cut-style stamp issued in Hong Kong ten years later. This time the flower wagon, Chinese dragon and red carp were added to the design.
March 15, 2007

Hong Kong: Electronics will continue to drive the export sector this year, while garments will also help, Trade Development Council assistant chief economist Daniel Poon said. "As in the past few years, electronics will drive our exports this year and in coming years because of the increasing digitalization of the world," he said. "Although some people suggest that the world electronics cycle has already peaked in the middle of last year, I think the growth rate will slow only a little bit and there will still be substantial growth." Electronics make up 50 percent of exports, compared with 30 percent a decade ago. About 70 percent of electronic exports are parts and components, for which the mainland is the largest market. Poon said that since the end users are from the US, European or other mature markets, a global slowdown led by the United States will have some impact on Hong Kong electronics, as well as overall, exports. Poon said the clothing sector will also benefit this year because US and European buyers are gradually shifting away from other Asian suppliers back to Hong Kong and the mainland. "Since the latter part of 2005, the United States and Europe have started to impose quotas on Chinese clothing imports on most sensitive items, which resulted in US and European buyers switching to other Asian countries. But the quotas have not substantially hindered mainland clothing exports. "Because of this, more US and EU buyers have started shifting their sources away from other Asian suppliers back to Hong Kong and the mainland. The trend should continue this year."
Former chief secretary Anson Chan Fang On-sang's constitutional reform package has failed to win the business community's blessing. Business leaders on Monday said they were concerned that the abolition of functional constituencies - as proposed under Mrs Chan's plan - would upset the political balance in the legislature. This could adversely affect the business environment in Hong Kong, the ventured. Sir David Akers-Jones, president of the Business and Professionals Federation (BPF), said abolishing functional constituencies, without a system to replace it, would unacceptably alter the political structure of Hong Kong as prescribed by the Basic Law. Vice-president of the Chinese Manufacturers' Association of Hong Kong, Paul Yin Tek-shing, said the community was concerned with a lack of representation in the legislative council, especially since the business community and its big companies always bore the blame for Hong Kong's ills. "Our basic worry is that without this balance of power in the legislative council, Hong Kong's business environment will be affected, and we'll start hearing more calls for protection, minimum wage laws, and accusations of collusion," said Mr Yin. Last Monday, Mrs Chan and her Core Group unveiled to the public her proposals for universal suffrage for electing both the chief executive and Legislative Council. The former chief secretary's proposals advocate the abolition of functional constituencies, preferably by 2012. It suggests steps can be made to ensure corporate voting - where a company instead of an individual is allotted a vote - is abolished next year's Legco elections.
Hong Kong would not provide free medical treatment for Aids patients who were not residents of the territory, Director of Health Lam Ping-yan said on Monday.

China: China's Minister of Commerce hit back at critics of China's yawning trade surplus with the United States on Monday morning, saying trade between the two countries was balanced and mutually beneficial. "The trade surplus may be with China, but the profits are with the US," Minister Bo Xilai said at a press conference on the sidelines of the National People's Congress. The US-China trade deficit hit a gargantuan US$232.5 billion (HK$1.8 trillion) last year, according to US trade statistics but Mr Bo said China's exports were largely made up of processed goods whose value was captured elsewhere. "More than half" of the trade surplus came from foreign firms working in China and "structural" problems were largely responsible for the US trade deficit with East Asia, he added. US enterprises last year exported US$110 billion worth of processed goods from China-based factories and recorded a surplus in service trade, Mr Bo said. "Trade relations between China and the US are balanced … Sino-US trade could only be growing smoothly because it is mutually beneficial.". Mr Bo took the opportunity to reiterate China's policy of solving trade disputes through diplomatic means and criticised a proposal by a cohort of US senators to slap a 27.5 per cent tax on Chinese exports. "If the proposal goes forward, it will be destructive to the current healthy development of bilateral trade, as well as disastrous news for the current win-win relationship between the enterprises of both countries," Mr Bo said. "If this policy is implemented, it will not just be trade protectionism, but also trade hegemony." Separately, Mr Bo pledged his support for the stalled Doha round of trade talks, which have been mired by the reluctance of the developed world to scrap agricultural subsidies. "Our tariff level for agricultural products is 15 per cent, compared to a world average of 60 per cent. With regard to this aspect, we ought to say that China's record is outstanding," he said.
Construction of the high-speed railway between Beijing and Shanghai, currently awaiting green light from the National Development and Reform Commission (NDRC), will start this year, a Chinese lawmaker said Monday. "The NDRC is reviewing the feasibility report of the project... It will get approved sooner or later this year," Lang Guoping, deputy head of the preparation team with the Beijing-Shanghai passenger line company, said on the sidelines of the fifth session of the National People's Congress (NPC). Once completed, trains on the express railway will reach speeds exceeding 350 kilometers per hour, shortening the nine-hour trip to five hours. Lang, an NPC deputy, said the railway is designed to serve 100 years and the construction "has no technological problems." More than eighty percent of the high-speed trains will be manufactured in China and only 10 to 15 percent of trains will be imported, Lang said. China has set up joint ventures with Siemens of Germany, Alsthom of France, Bombardier of Canada and Kawasaki Machinery Industrial Co. of Japan to produce the trains. Early reports said that the construction of the express railway, which was supposed to start last year, was delayed because the original budget underestimated the cost of construction by more than 50 percent. Lang dismissed such reports, saying that "there is no problem with construction funds." But he didn't elaborate. The trains now in service between China's two largest municipalities have speeds between 140 and 160 kilometers per hour.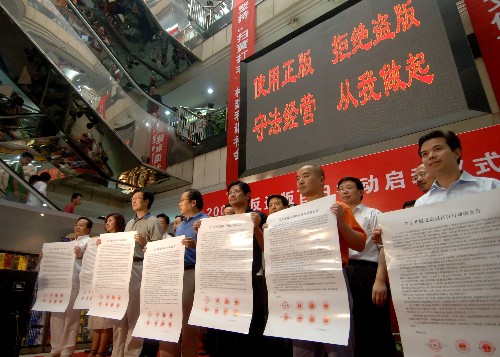 The 100-day Campaign was jointly launched by ten ministries and national departments, including the Ministry of Public Security, State Administration of Press and Publication, National Copyright Administration, Ministry of Culture. From July 15 to October 25, China will wage a 100-day Campaign with intense efforts to investigate and shut down institutions engaged in producing, renting and selling pirated audio-video products and computer software and severely punish those involved in these activities. The campaign also aims to raise the awareness of both businesses and the public of fighting piracy.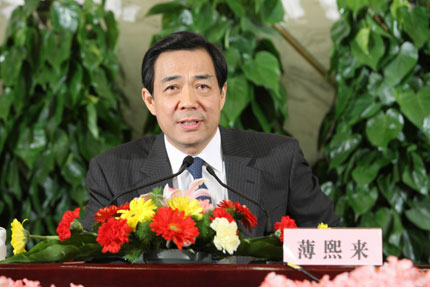 Commerce Minister Bo Xilai answers questions at a joint press conference with Zhou Xiaochuan, governor of the People's Bank of China or the central bank, on China's trade and monetary policy in the Great Hall of the People March 12, 2007. China opposes a tariff increase of 27.5 percent on Chinese goods, which was proposed by some U.S. lawmakers, Commerce Minister Bo Xilai said here Monday, adding such an increase will be destructive to healthy bilateral trade.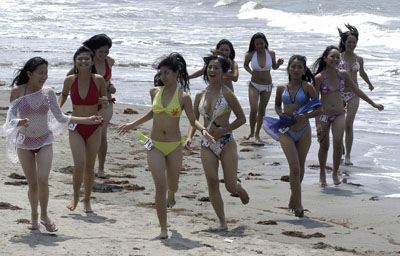 Contestants of an annual bikini contest run on the beach during a photo opportunity in Bauang, a resort town in La Union province north of Manila, March 12, 2007. Fifteen contestants are taking part in the competition aimed at promoting tourism.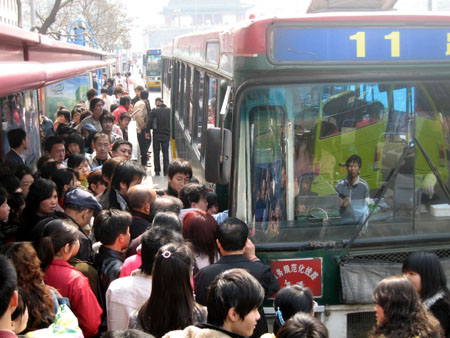 A crowd of people struggle to get on a city bus in Xi'an, capital of northwestern China's Shaanxi province on Sunday, March 11, demonstrating why experts say "Queue Days" should be introduced across China. The same day was declared the second official "Queue Day" in Beijing to remind residents of the benefits of lining up for things. Experts say the days should be introduced in other cities to provide people with a better understanding of social etiquette.
Chinese universities boasting the largest number of students in the world are endangered by severe financial crisis, a result of the rapid enrollment expansion since 1999.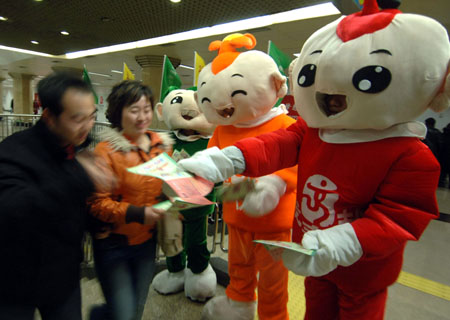 Volunteers in cartoon figures' customs send around the flysheet to passengers at Beijing Wangfujing metro station to promote the second official "Queue Day" in Beijing March,11,2007.The "Queue Day" to remind residents of the benefits of lining up for things. Experts say the days should be introduced in other cities to provide people with a better understanding of social etiquette.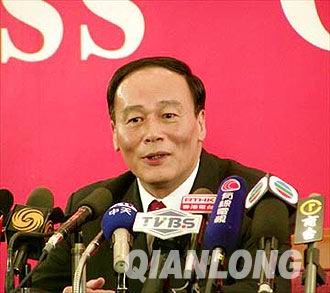 The various departments of the Beijing government need to improve collaboration if they are to deal effectively with any crises during the 2008 Olympics, said mayor Wang Qishan. Wang made the comments during wide-ranging discussions of Olympic issues -- including proposals on holidays, smoking and swearing -- at the annual session of the National People's Congress (NPC) and its advisory body on Sunday. "Airport, civil aviation, air traffic management, meteorological bureau and transportation administration, each department has its own perfect system," Wang was quoted as saying by state media. "But the collaborations are always 'one plus one equaling less than two', rather than 'one plus one equaling more than two.' "Therefore at the moment it is urgent to strengthen the combined actions and cooperation. Especially for the Olympics, we must keep practicing that ability," he added. Wang said the city government needed to take advantage of any opportunity to rehearse cooperation over the next 18 months, such as when the airport is closed by fog or railway lines are blocked by snow. "Every incident should be a drill for the Games," said Wang, who is also executive president of the Beijing Organizing Committee for the Olympic Games (BOCOG).
If there is an overall theme for this year's gathering of 3,000 lawmakers in the heart of Beijing it must be the challenge of making the economy work to the benefit of all 1.3 billion Chinese. Economic issues are never off the agenda when the National People's Congress meets, but this year they have been especially important - and for good reason, according to analysts. "China is moving towards a market economy, and it's encountering a lot of new problems because of this," said Zhang Xin, professor of public administration at People's University. "The market economy can help raise the efficiency of an economy, but it's not good at making the economy more just. It can't resolve issues such as wealth distribution," he said. As double-digit growth keep pushing China up the global ranking, it is also becoming a less equal and more divided society. There is only so much laws can do to stem this sort of development, but even so the struggle to prevent the divide widening further will be reflected in the legislation of the coming years.
March 14, 2007

Hong Kong: Geneva-based private bank Banque Piguet & Cie has opened a regional headquarters in Hong Kong to get access to more than 320,000 US-dollar millionaires in the mainland.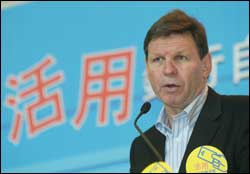 Bankers are split on whether the fierce mortgage loan war of recent weeks will continue and also divided over the direction of lending rates in the second half of the year. Standard Chartered Bank (Hong Kong) chief executive Peter Sullivan said the tussle for turf in the home mortgages market is a "good thing" as it can encourage competition among local banks, but competitors including ICBC (Asia) (0349) indicate the war is over. "Competition is still very keen, but the customer can get a better price," Sullivan said. However, ICBC (Asia) director and general manager Stanley Wong Yuen- fai told The Standard he does not see any possibility that the mortgage rate will be forced down further. "The mortgage rate is about 4.8 to 4.85 percent, but the interbank rate is about 4 percent," Wong said. "So that would be about 60 basis points in the net interest margin - which is very, very low," he said. Although Hongkong and Shanghai Banking Corp - a unit of global giant HSBC Holdings (0005) - triggered the latest round in Hong Kong's recurring mortgage wars when it cut its lending rate to 4.87 percent, from 5 percent, February 22, the bank denies being involved in any brutal battle. "I don't think it's a vicious competition," said Vincent Cheng Hoi-cheun, HSBC Asia Pacific chairman. Cheng stressed that mortgage rates depend on market forces.
Yuan-denominated corporate bonds offering a high yield have the potential to draw more fixed-income investors from Southeast Asia and help bolster Hong Kong's standing as a major regional debt market, a mainland financial expert said.
Tom Group (2383), a media firm controlled by Li Ka-shing, plans to pay HK$1.57 billion to buy out minority shareholders in its Internet business Tom Online (8282) at HK$1.52 a share, a premium of 33.3 percent over the March 2 closing price.
MTR Corp (0066), which runs Hong Kong's subway system and develops the land around its stations, is expected to post a profit of HK$6.37 billion in 2006, up 3.77 percent on a year ago.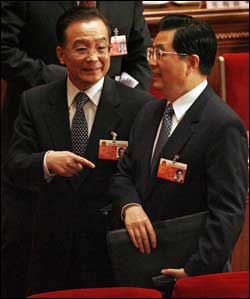 President Hu Jintao is expected to visit Hong Kong in July to officiate at celebrations marking the 10th anniversary of the handover, according to National People's Congress deputy and Executive Council member Cheng Yiu-tong. Speaking in Beijing Sunday, Cheng said the central government attaches a great deal of importance to the 10th anniversary and plans to treat the occasion with the same level of protocol as the handover ceremony in 1997, which was attended by then President Jiang Zemin and Premier Li Peng. This year's 10th anniversary celebrations may see Hu lead central government officials at the formal events. He might be accompanied by Premier Wen Jiabao or Vice President Zeng Qinghong. "Since the 10th anniversary is a big event, the central government is highly concerned with it," Cheng said. "I believe representatives of the central government who are likely to come this time will be at the same level of protocol as the handover." Asked if the annual July 1 rally to be organized by the pan-democrat camp will affect the public's emotions in welcoming Hu, Cheng said he believed Hong Kong citizens can make their choice and know how to welcome the president. Qiao Xiaoyang, deputy secretary-general of the NPC Standing Committee, said Sunday he did not know if he would visit Hong Kong as well. Top state leaders are expected to arrive in the territory before July 1. They will officiate at the ceremony for the swearing-in of the new chief executive and his team, and are likely to stay here for several days. However, Ng Hong-man, a local NPC deputy, said he believed the chances of both Hu and Wen visiting Hong Kong at the same time are slim, saying it is not good for the two top leaders to be away from the capital simultaneously. He added that it would be a surprise if both of them came. "Even only one [leader] coming is already a top honor for the SAR. But I can hardly see two top leaders visiting the same place at the same time, even for autonomous regions that have been established for 10 years," Ng said. NPC Standing Committee member Tsang Hin- chi said the visit of top state leaders will enable them to see for themselves the SAR's governance, as well as the achievements of the past decade. Central Government Liaison Office deputy director Li Gang said he has yet to receive any information about which state leader will be coming to Hong Kong. But, he believed the visit of top leaders reflects the central government's care for the SAR. "It also reflects the central government's hopes the SAR will continue to enjoy sound economic growth, be more stable and maintain its prosperity under the SAR government," Li said. Ho Sai-chu, a member of the Chinese People's Political Consultative Conference, said he felt the aim of the visits by national leaders is not to look into any weaknesses of the chief executive since Beijing is happy with the performance of Donald Tsang Yam-kuen. Secretary for Constitutional Affairs Stephen Lam Sui-lun said Sunday he could not tell which state leader will be visiting. He said the SAR government's chief executive office organizing committee is still making preparations. Meanwhile, Qiao reiterated that the Basic Law could not be amended casually. He added that even if amendments are made, they cannot change the direction Beijing has set for the SAR.

Even by recent Hong Kong standards, yesterday's view from The Peak was dismal. Humid and foggy weather reduced morning visibility around Chek Lap Kok to below 1km. Visibility in the harbour was below 3km. The air pollution index hit 113, or very high, at 9am in Tung Chung, but dropped to 77, or high, by 7pm.
An online betting network controlled by Citic Pacific that has operated from Macau for more than two years has suspended its services in the wake of a crackdown by mainland police on internet gambling, a South China Morning Post investigation has revealed.
PCCW and China Telecom have submitted separate bids for a telecommunications licence in Saudi Arabia, according to the government Communication and Information Technology Commission.

China: In a bid to strengthen drug registration, China's drug watchdog is revising the existing drug registration and management provisions and will put the new one into effect this year. State Food and Drug Administration released the revised version Saturday to solicit public opinions on drug registration and management. "The new draft is focused on closing registration loopholes in existing provisions and encouraging researches of new drugs," said Wu Zhen, deputy director of the Administration. Consisting of 15 chapters, or 211 articles, the new provisions is drafted according to China's Drug Management Law and based on extensive researches and expert opinions. Several drug safety incidents occurred in China last year, the most notorious one causing the deaths of at least six patients and severe side-effects in more than 80 others.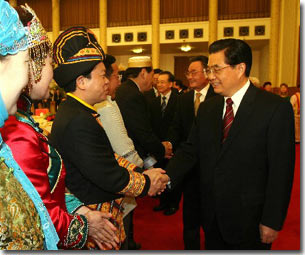 Chinese President Hu Jintao (1st R) shakes hands with the deputies to the Fifth Session of Tenth National People's Congress (NPC) and the members of the Fifth Session of the Tenth National Committee of the Chinese People's Political Consultative Conference (CPPCC) who are from the ethnic minorities in the Great Hall of the People in Beijing, capital of China, March 10, 2007. China's political advisors have vowed to keep an eye on the country's social security fund to prevent the money from being misused. China will have more women deputies to the next National People's Congress (NPC), or parliament, according to a bill being discussed at the ongoing annual session of the 10th NPC. The government should buy more domestic products to enhance the innovation capability of Chinese enterprises, said deputies to the National People's Congress, the top legislature. Small and medium-sized enterprises in China, especially those engaged in science and technology, are mostly choked by acute shortage of fund, a political advisor has warned.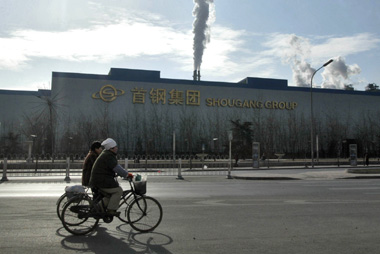 The board chairman of the Shougang Group has said the Beijing-based steel giant is planning to fully list its assets before the end of 2010 when its new production base in neighboring Hebei Province is put into full operation.
A pupil smiles as she holds a tutoring book free of charge in Caohe elementary school in Guyuan City, northwest China's Ningxia Hui Autonomous Region, March 9, 2007.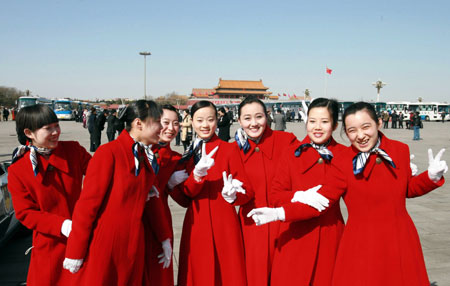 Hostesses for the National People's Congress (NPC) pose for pictures in Tiananmen Square during the third plenary session on the seventh day of the NPC in Beijing March 11, 2007.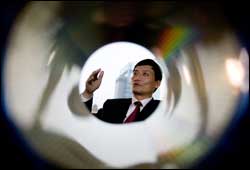 Rapidly expanding production of alumina helped Aluminum Corp of China (2600) boost annual net profit to a record 11.75 billion yuan (HK$11.86 billion), which also beat analysts' forecasts. The mainland's largest alumina producer, also known as Chalco, said profit for the year ended December 31 jumped 67 percent compared with the 7.02 billion yuan profit the previous year. The results exceeded analysts' profit expectations of between 11 billion yuan and 11.5 billion yuan.
A Shanghai World Expo official yesterday defended preparations for the 2010 extravaganza and rejected allegations that the organisers were not doing a good enough job. Wu Jianmin , the spokesman of the Chinese People's Political Consultative Conference, first made the criticism in a closed-door group discussion meeting last week, saying he was worried about the event's success, according to the Beijing-backed Wen Wei Po newspaper. "I am really concerned about the Shanghai World Expo. If it's messed up, no one can take up this responsibility," he said. Mr Wu also quoted officials from the Paris-based Bureau of International Expositions, the governing body of world expos, as saying that they felt Shanghai had not attached much importance to the event. He called on the city to allow people from other parts of China to take part in the preparations so that the whole nation could benefit. "If [people] keep the benefits to themselves, then there will only be a few opportunities," he said. Yesterday, Mr Wu would not elaborate on the criticism but said Shanghai should resolutely adhere to World Expo regulations.
Baidu.com had set up a Japanese subsidiary and would officially unveil it as early as this month, in the mainland internet search leader's first overseas expansion, sources said yesterday.
March 13, 2007

Hong Kong: Financial giant Hongkong and Shanghai Banking Corp (0005) Friday became the first foreign bank to be a primary dealer in China's central bank open market operation.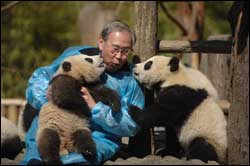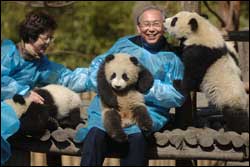 He is Hong Kong's No2 leader, responsible for looking after the SAR's seven million population when Chief Executive Donald Tsang Yam- kuen is away. But when a baby panda started pawing at his protective apron, there was little else Chief Secretary for Administration Rafael Hui Si-yan could do than to pick it up and kiss it. "They will become a big drawcard and bring pleasure to visitors - Hong Kong people and tourists alike," Hui said of the mainland's gift of two young pandas to Hong Kong. "Their presence will also reaffirm our efforts in conserving, caring for and rearing giant pandas locally." The kiss-and-tell episode came during a visit to the Wolong Giant Panda Protection and Research Center in Sichuan. The promise of two young pandas to celebrate the 10th anniversary of Hong Kong's reunification with the mainland was made some time ago, but the authorities over the border have advanced the date of delivery to help the pandas get acclimatized before the anniversary celebrations get under way. Hong Kong already has two pandas in residence at Ocean Park - the 20-year-old male An An and his 28-year-old companion Jia Jia. The two newcomers will be carefully selected by a team of experts to ensure they are healthy and fertile and - hopefully, in time - able to procreate. "I believe Ocean Park will continue to contribute to its work on nurturing giant pandas," Hui said, blushing every so slightly. Deputy Director of the State Forestry Administration Zhao Xuemin said the two pandas selected for Hong Kong must be two years old, good looking, healthy, and psychologically and genetically fit. He said the pandas were expected to reach mating age by next year. "The pandas will be in Hong Kong in time to celebrate the 10th anniversary of the handover. It is not just something Hong Kong people should be happy about, but also the whole nation," Zhao said. As a special treat, the people of Hong Kong will be allowed to name the two pandas once they are chosen, Hui said. Ocean Park has begun renovating its existing giant-panda habitat to provide a new home for the newcomers. It will be reopened to the public by the end of June.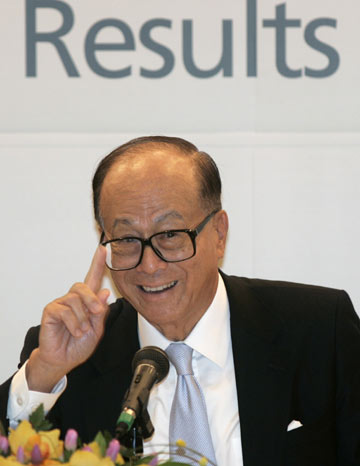 Tycoon Li Ka-shing, chairman of blue- chips Cheung Kong (Holdings) (0001) and Hutchison Whampoa (0013), has climbed a notch higher to rank as the world's ninth-wealthiest individual, with an estimated net worth of US$23 billion (HK$179.4 billion), according to US financial publication Forbes.
Earnings at Orient Overseas (International) Ltd (0316), the shipping company controlled by the family of former SAR chief executive Tung Chee-hwa, fell 11 percent after higher fuel costs and declining freight rates at its core container shipping division.
Blue-chip China Mobile (0941) - whose weighting was cut the most after the market closed Friday in the latest Hang Seng Index reshuffle - weighed on the market Friday, sending the benchmark index down despite HSBC (0005) holding up well on the back of the weighting cut.

Lo Yuk-sui, chairman of Regal Hotels International, says gross profit margins at the company's hotels exceed the industry average. Regal Hotels International (0078) aims to invest as much as HK$4 billion in hotel projects in China over the next five years to beef up its presence in Shanghai and Beijing.


Sailors from the aircraft carrier USS Ronald Reagan enjoy a lion dance by youngsters from the Salvation Army Chan Kwun Tung Kindergarten in Sham Shui Po. Earlier, the sailors took part in a community service project to help complete art work with the students.

China: Chen Hong, vice board chairman of the Shanghai Automotive Industry Corp. (SAIC), on Saturday denied earlier media reports that the Chinese automaker was considering bidding for a stake in the U.S.-based carmaker Chrysler.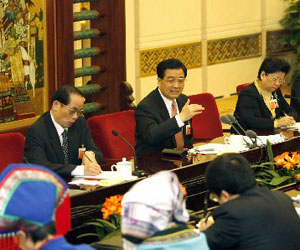 Chinese President Hu Jintao (C) attends the panel discussion of deputies from south China's Guangxi Zhuang Autonomous Region to the Fifth Session of the Tenth National People's Congress in the Great Hall of the People in Beijing, capital of China, March 9, 2007.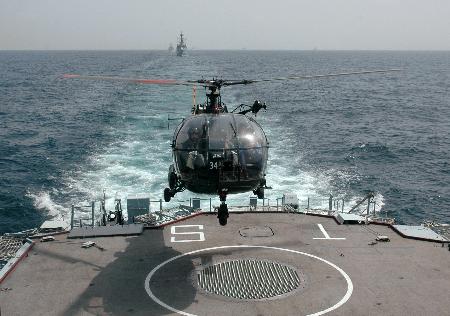 A helicopter takes off from a Pakistani naval vessel during a multinational search and rescue drill led by Chinese navy and participated by marines nvolving Bangladesh, France, Italy, Malaysia, Pakistan, Turkey, the United Kingdom, and the United States, on Friday in the Arabian Sea off the Pakistan coast.
Finance Minister Jin Renqing on Friday confirmed reports about China's plan to set up a specialized agency to invest a portion of the country's hefty foreign exchange reserves.
Chinese carmakers looking to boost market share and clear inventories of old models slashed car prices at the beginning of March as a bevy of new models wait in the wings.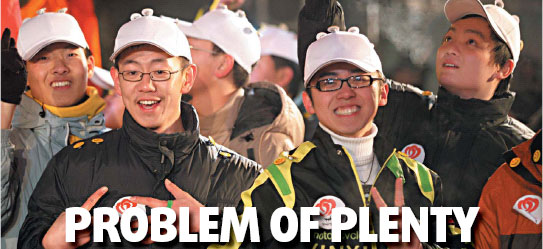 When it comes to asking not what your country can do for you, but what you can do for your country, look to the Chinese. With a record number of volunteers battling for a role in the Olympics, Beijing officials are now fretting about what to tell applicants who don't make the grade, or, just as likely, lost out to a government quota. More than 358,000 Chinese applied to volunteer at next year's Olympic and Paralympic Games by the end of last month, six months after a recruitment drive began. The resulting influx massively overshot the target quota of 70,000 for the Games, and 30,000 for the Paralympics, creating Olympic-size disappointment. Although officials raised the Olympic quota from the Sydney (47,000) and Athens (60,000) Games, they have failed to keep pace with local enthusiasm. This means telling most of the applicants that they're all out of luck. The man who gets to deliver the bad news, Li Shixin, deputy head of BOCOG's volunteer department, said it was frustrating not being able to reward such humility. "They're very experienced, yet they feel content to be a common volunteer," he said. With competition for spaces likely to heat up as the Olympic juggernaut shudders ever onward, Li said there are other options for aspiring aides-de-camp. "Voluntary services for the Olympic Games are not limited to the Games. There are other channels that allow people to serve, such as by becoming a 'city' or 'social' volunteer," he said. Beijing plans in June to begin recruiting one million so-called social volunteers to help improve the city's manners and environment ahead of the Games. They will be joined during the Olympiad by 400,000 city volunteers, stationed at major traffic hubs, scenic spots, hospitals, hotels and cultural centers. But neither title commands quite the same respect as that of a Games-time volunteer, something Beijing's population of 12 million is only too well aware of.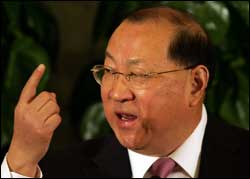 A new agency set up by the central government is likely to be given US$200 billion (HK$1.56 trillion) - one-fifth of China's US$1.07 trillion foreign currency reserve - to manage, according to an adviser to the central bank. Experts estimate 70 to 80 percent of the assets will be in bond markets, in line with international practices, while about 20 percent will be diversified into other assets such as equities and fixed- income products, through mandates to foreign professionals. Minister of Finance Jin Renqing confirmed Friday at a press conference during the National People's Congress that the central government plans to set up an agency to help manage currency reserves. He did not disclose further details as to the fund size to be given to the agency, when it will be set up or who will head it. But according to Bloomberg, Yu Yongding, an adviser to the People's Bank of China, said Lou Jiwei, the newly promoted deputy secretary- general of the State Council, who was previously the vice finance minister, will manage at least US$200 billion as head of the agency. Economists also expect the initial size of the foreign reserves to be managed by the new agency to not exceed US$200 billion. "The agency will be adopting a private equity model, ultimately diversifying into other markets and buying firms overseas," said Stephen Green, senior economist of global research at Standard Chartered.
With 55 ethnic minorities in the mainland and only half of its 1.3 billion population able to speak Putonghua, it is natural that the annual meeting of National People's Congress has to lay on some special services.
In a move expected to boost US jet sales to China's fast-growing market, the Federal Aviation Administration has opened an office in Shanghai that will aid mainland manufacturers' efforts to get certification for their aircraft.

Some 700 slaughtered pigs are placed at a local temple as a sacrificial offering during an annual three-day ceremony in Guanshan village in Shantou, Guangdong on Thursday. The event also hosts a competition to select the fattest pig which will bring the farmers good luck.
The US Congress could seriously damage "fragile" American financial markets by passing tough legislation aimed at forcing China to revalue its currency exchange rates, former US treasury secretary Lawrence Summers has told lawmakers.
Shanghai Baosteel Group and Shougang Group, two of the mainland's largest steel producers, are studying merger and acquisition opportunities overseas although the domestic market consolidation presents more cost savings and efficiency gains, their presidents said.
Shareholders of billionaire Warren Buffett's investment firm Berkshire Hathaway will have a chance to vote on whether the holding company should sell its stake in PetroChina at the annual meeting.
Zijin Mining Group, a major mainland gold miner, plans to use about 6.34 billion yuan of the proceeds from its planned A-share offering for expansion and acquisitions, almost half of which will be for buying overseas assets.
Baidu.com had set up a Japanese subsidiary and would officially unveil it as early as this month, in the mainland internet search leader's first overseas expansion, sources said yesterday.
Under threat of new multimillion euro fines, Microsoft said on Thursday that it had signed up its first licensee for a program European Union regulators told it to set up three years ago to share code that helps servers work with the Windows operating platform.
March 12, 2007

Hong Kong: Developer Cheung Kong (Holdings) (0001) and its two consortium partners have signed an agreement to build phase two of a prime waterfront financial center project in Marina Bay in Singapore for which they paid a total S$907.7 million (HK$4.64 billion) in land cost.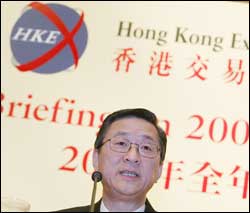 Hong Kong Exchanges and Clearing (0388) posted net profit of HK$2.52 billion in 2006, a jump of 88 percent over HK$1.34 billion the previous year, surpassing market forecasts of a 75 to 80 percent improvement. The results capped a third consecutive year of record earnings, backed by buoyant local stocks and gigantic listings of mainland enterprises. However, a cautious market in 2007 casts doubts over sustainability of revenue growth. For the year ended December 31, HKEx, which operates the city's stock and futures exchanges and related clearing houses, saw total income surge 54 percent to HK$4.147 billion, with average daily turnover soaring 85 percent to HK$33.9 billion from HK$18.3 billion. Turnover-related fees, including trading fees and tariff, and clearing and settlement fees, climbed 66 percent driven by market enthusiasm. The Hang Seng Index rose 34 percent in 2006 to close at 19,964.72 points.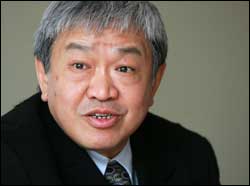 Hongkong Electric Holdings (0006), the power utility controlled by Li Ka- shing, failed to earn its permitted return for the fourth consecutive year in 2006. Net profit dropped 20 percent to HK$6.84 billion, or HK$3.21 per share, for the year ending December 31, down from HK$8.56 billion, or HK$4.01 a share, the previous year. The decline was largely due to lack of substantial exceptional gains during the year, unlike 2005, when the company booked a gain of HK$1.56 billion and a non-cash tax adjustment of HK$648 million from its international operations. A cooler than normal summer last year, coupled with the effects of various energy-saving initiatives, caused unit sales of electricity to grow by only 0.2 percent, compared with 1.5 percent the year before. Revenues rose 4 percent to HK$12.18 billion from HK$11.62 billion. Meanwhile, chairman Canning Fok Kin-ning said in a statement to the Hong Kong stock exchange that the year 2006 saw continued challenges for the firm's electricity business in Hong Kong.
Conglomerate Swire Pacific (0019) reported a 20.3 percent rise in 2006 net profit, and said the company enters 2007 with capital expenditure commitments of HK$14.2 billion.
Hong Kong and Macau deputies elected to the National People's Congress will be disqualified if they are found to be members of the Hong Kong Alliance in Support of Patriotic Democratic Movements of China or the Falun Gong, according to deputies attending the ongoing plenary sessions of the NPC and the Chinese People's Political Consultative Conference in the capital.
Hutchison Telecommunications International Ltd shareholders on Friday approved the proposed sale of its Indian mobile assets to British mobile carrier Vodafone for a total consideration of HK$85.9 billion.

Australian artist Matthew Larwood demonstrates his glass-blowing techniques at Baptist University's art studio at the Kai Tak campus in Kwun Tong, with the help of artist Sunny Wang Ling-chen from Taiwan. The demonstration and a lecture were part of a campus promotion to boost interest in the contemporary arts, which it is widely feared are losing popularity in the city.
China would give a pair of pandas to Hong Kong as a gift to mark the 10th anniversary of the territory's handover, the government said on Friday. The animals would be chosen from the 15 panda cubs born in 2005 which were being raised at the Wolong National Nature Reserve Centre in Sichuan, a State Forestry Administration official confirmed. Chief Secretary Rafael Hui Si-yan, who visited the centre on Friday, expressed gratitude to the central government for the gift. ''They will become a big drawcard and bring pleasure to visitors - Hong Kong people and tourists alike. Their presence will also reaffirm our efforts in conserving, caring and rearing giant pandas locally,'' he said. Mr Hui said the government had planned to involve Hong Kong people in the naming of the pair. The new pandas would be cared for at Ocean Park, together with two others - An An and Jia Jia - which were presented to Hong Kong in 1999.

China: China's Finance Minister said Friday that the corporate income tax law under parliament deliberation is expected to take effect as of January 1, 2008, if it is passed. The draft corporate income tax law is unlikely to cause a big financial burden to overseas-funded firms, or dampen their investment enthusiasm, finance minister said. China has fulfilled almost all its commitments to the WTO since joining it more than five years ago. And it will meet one of its last pledges next year if the ongoing session of the NPC approves a draft. Beijing has tabled a long-awaited corporate tax unification draft law along with tax breaks for preferential sectors, which analysts say reflect China's determination to be less dependent on exports and move up the value chain from cheap manufactured goods.

Navy Adm. Timothy J. Keating, nominated by President Bush to head the Hawai'i-based U.S. Pacific Command, told a Senate confirmation panel yesterday that conflict with China over security in the region remains a possibility. Keating said that if confirmed, he would engage in joint military exercises "of some sophistication and frequency" with the Chinese to try to ease tensions with the superpower, which is undergoing a military buildup. "We would pay close attention to their development of their weapons systems and capabilities and keep a weather eye on whether they intend to use those against Taiwan," he told the Senate Armed Services Committee during his confirmation hearing. "If we ensure they are aware of our capabilities, our intent, I think that would go a long way to defusing a potential strike across the Straits of Taiwan." Keating, 58, currently is head of the U.S. Northern Command and the North American Aerospace Defense Command. He would replace Adm. William J. Fallon, who now commands the U.S. Central Command and oversees the wars in Iraq and Afghanistan. Keating said he and his wife, Wandalee, also are excited about the idea of coming back to Hawai'i. "Wandalee and I are fortunate enough to have lived in Hawai'i for a little under two years in the mid-1980s, so we're coming home, if you will," he said. Sen. Carl Levin, D-Mich., chairman of the committee, said he knew of no Senate opposition to Keating and hoped to have a Senate vote on his confirmation as early as next week. Levin noted that the Pacific Command encompasses an area that includes almost 60 percent of the world's population and more than half of Earth's surface. "This assignment comes at a time when we face conflicts and challenges with China and North Korea as well as the continuing threat of terrorism in Indonesia, the Philippines and elsewhere in the region," he said. Keating said his past Pacific assignments, including a previous stint at the Pacific Command and two years in Japan commanding a carrier group, have led to a "keen appreciation for the vibrancy and complexity of this vast region." "Pacific Command's emphasis on the war on terror, on security cooperation with allies and partners, on the readiness and posture of our forwarddeployed forces and our operational plans seems appropriate to me," Keating said. "If confirmed, I intend to use these principles as the foundation during my tenure." Keating also said he believes the agreement with North Korea for it to abandon nuclear weapons in exchange for aid appears to be "positive and beneficial" and could lead to stability and peace on the peninsula. "We need to have the access to know if North Korea is upholding their side of the agreement, but it appears to be a positive step," Keating said. In the discussion about China, Keating said that country's military buildup is "impressive" in gross numbers as well as the percentage of its budget, if reports are accurate. "They are well behind us technologically," he said. "We have significant advantages now, and we're not going to yield those advantages."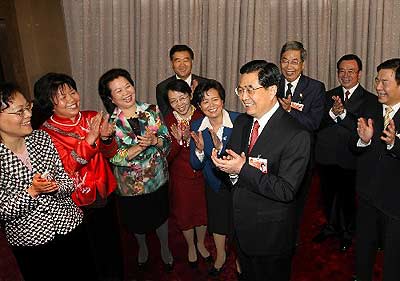 Chinese President Hu Jintao (C, front) talks to female deputies during the panel discussion of deputies from southwest China's Chongqing Municipality to the Fifth Session of the Tenth National People's Congress on the occasion of International Women's Day in Beijing, capital of China, March 8, 2007.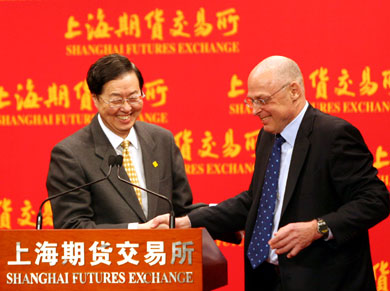 Zhou Xiaochuan, governor of the People's Bank of China or the central bank, shakes hands with US Treasury Secretary Henry Paulson after introducing Paulson to the audience at the Shanghai Futures Exchange March 8, 2007. Paulson talked about China's economy, and focused particularly on China's financial market development.
China is preparing for the establishment of a foreign exchange investment company directly under the cabinet, to make better use of its massive foreign exchange reserve, Finance Minister Jin Renqing said on Friday.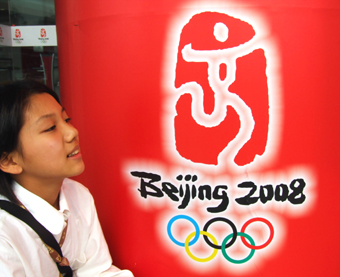 Chinese nationals and foreigners residing in China can now register to book tickets online after the Beijing Organizing Committee (BOCOG) launched the official ticketing website (www.tickets.beijing2008.cn/) on Thursday. BOCOG released full details on ticket prices on the site and said ticket sales would be in three phases starting from April 2007. The most expensive tickets will be for the opening ceremony on the evening of August 8, which will cost 5,000 yuan (US$646). The cheapest tickets for that event will be 200 yuan (US$25.8). Ticket prices for the closing ceremony will range from 150 yuan (US$19.4) to 3,000 yuan (US$388). Tickets to competition events will cost from 30-1,000 yuan (US$3.88-129.3), with the men's basketball final the highest priced. BOCOG said last year that more than seven million tickets will be available for sale, with at least half to go to local fans and 58 percent of all the tickets would cost 100 yuan (US$12.75) or less, in line with efforts to make the Olympics affordable to average Chinese citizens.
Lin Dan and Xie Xingfang, the two top-seeded titleholders and one of China's famous sporting couples, reached the quarter-finals of All-England Open.
Bank of Communications (3328), the mainland's No5 lender, said Thursday that net profit jumped by a widely expected 32.74 percent in 2006 to 12.26 billion yuan (HK$12.38 billion), lifted by strong rise in loans and non-fee income amid rapid economic growth.
China's 200 million migrant workers do not have a single representative in the nation's parliament, but that may soon change. The National People's Congress will vote on a bill stipulating provinces and municipalities with large numbers of migrant workers set aside a delegate quota for the group, Xinhua News Agency reported Thursday. The NPC brings together 3,000 delegates from across the country, but not one is a migrant worker, Xinhua said. "China's migrant laborer population has become larger ... They should have a number of lawmakers to represent their rights and interests," said Sheng Huaren, vice chairman of the NPC Standing Committee. Xinhua said there are about 200 million migrant workers, of which more than 120 million work in cities and the remainder work in towns. Another 13 million every year will become migrant workers in the coming years, the agency said.

Inner Mongolian Baotou Steel Union says net profit fell to 653.8 million yuan last year on lower revenue and higher raw material costs.
Mainland firm UUSee, which allows users to watch interactive videos and television online, has raised US$23.5 million in new financing from venture capital firms into social media firms in the world's second-largest Web market.
March 10 - 11, 2007

Hong Kong: Oasis Hong Kong Airlines, the city's first budget, long-haul passenger carrier, aims to attract strategic investors later this year to fund its fleet expansion. The carrier also announced plans to launch a Hong Kong-to-Vancouver route from late June and will offer six flights a week. "We will name an investment bank in our short list in the near term who will help us bring in strategic investors," Oasis chairman Raymond Lee Cho-min said at a press briefing Tuesday. He said the carrier intends to sell a 20 percent stake to investors through a private share placement in preparation for an initial public offering next year or in 2009. The company aims to raise about HK$10 billion through an IPO, he added. Oasis said it has signed an agreement with All Nippon Airways to purchase three Boeing 747-400s as part of its fleet expansion in preparation for the launch of its second overseas destination - Vancouver. Chief executive Stephen Miller said the airline hopes to inaugurate the service on June 28. The route is already serviced by daily direct flights by Cathay Pacific Airways (0293) and Air Canada, as well as indirect flights by about six other carriers, including Shanghai-based China Eastern Airlines, Japan Airlines and Taiwan's China Airlines. Oasis, which owns two Boeing 747s acquired from Singapore Airlines, made its maiden flight non-stop to London last October. General manager Raymond Ng said the carrier recorded 70 percent load factor in the past five months and hopes to break even within 12 to 18 months on strong cash flow performance. Property mogul Lee, who owns a 65 percent stake in Oasis with his wife Priscilla, hopes to build a fleet of 25 aircraft over the next five years, with four or five planes beginning operation by the end of this year.
The US Congress is likely to approve a bill giving US manufacturers a new tool to fight low-priced import competition from China, a Democratic lawmaker said. "I think we will pass legislation in the House [of Representatives], and I would hope the same would be true in the Senate, essentially making non- market economies open to our countervailing duty laws," said Representative Sander Levin, a Michigan Democrat. The proposed change is driven by congressional anger over the US trade deficit with China, which hit a record US$232.5 billion (HK$1.81 trillion) last year. It would allow US steel, textile and other manufacturers to ask the Commerce Department to impose steep countervailing duties on mainland goods to offset what they contend are massive government subsidies. The manufacturers currently cannot do that because the Commerce Department's long-standing position is it is too difficult to determine subsidies in nonmarket economies like China where the government has extensive control of the marketplace. Under pressure from Congress, the Commerce Department already is reassessing that policy and is expected to issue a decision in early April that could reverse its position. However, many lawmakers feel legislation is needed anyway. US anti-dumping duties on mainland goods are used to offset what the Commerce Department has determined are unfairly low prices.
Hong Kong Institute of Education president Paul Morris and vice president Bernard Luk Hung-kay will foot the bill for their legal advisers and will not receive any financial support from the institute's council, it was revealed Tuesday.

Lancy Leung Suk-mei, 17, strikes a pose amid a blaze of red and yellow fabric as she takes part in a Chinese contemporary dance interpretation of "fire".
Hong Kong flag carrier Cathay Pacific Airways posted a 24 per cent rise in annual profits for last year, spurred by strong passenger numbers and freight volume growth. Net profit came in at HK$4.09 billion from HK$3.
The government was trying curb the number of Hong Kong youths taking or trafficking drugs in the mainland, Secretary for Security Ambrose Lee Siu-kwong said on Wednesday.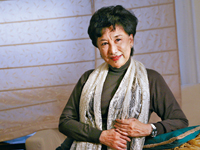 REBECCA PAN Wan-ching is nothing like the vain and petulant characters she plays in Wong Kar-wai movies. In person, the 76-year-old singer is charming, patiently retelling her life story and describing preparations for her concert on Saturday - a gala evening with a big band in Macau. Better known by her stage name, Pan Di-hua, she sees the material as her memoirs in music. The songs will retrace her life, from her teenage years in Shanghai to her debut in Hong Kong nightclubs, touring the world as a cabaret singer and supporting Louis Armstrong when the jazz great visited in 1963. "I'm looking forward to this concert because I've got material and want to see how the audience responds," says Pan.
Hong Kong experienced the coldest day this year on Wednesday as a cold front hit the territory, the Observatory said.

ORGANISERS OF the Hong Kong International Film Festival have scored some firsts for this year's event. There's the inaugural Asian Film Awards, which will open the 23-day festival on March 20, and the subsequent star-studded gala screenings at the Hong Kong Convention and Exhibition Centre. Then there's the introduction of the Dear Earth section, dedicated to films with environmental focus and spearheaded by Davis Guggenheim's Oscar-winning An Inconvenient Truth, starring Al Gore. This year, organisers are highlighting the number of premieres: there will be 16 world premieres, nine international premieres and 22 Asian premieres. It's the first time the festival has been so explicit about it, says artistic director Li Cheuk-to - and it's not something he's excited about. "What's the point of an Asian premiere anyway?"

China: Five Chinese banks are expected to soon begin dealing in financial leasing, becoming the first batch of banks to pilot the emerging industry. The Industrial and Commercial Bank of China, China Construction Bank, Bank of Communications, China Merchants Bank, and China Minsheng Banking Corp have submitted applications to the Chinese government to deal in financial leasing, a source close to the five banks said yesterday. According to the source, who refused to be named, the government is expected to start processing their applications in March since a rule that allows banks to deal in financial leasing took effect on March 1. The rule, issued in January by the China Banking Regulatory Commission (CBRC), allows both locally and overseas-incorporated commercial banks to directly set up financial leasing companies. This is the first time the country has permitted commercial banks to deal in financial leasing since 1997, when they were required to withdraw from the business after the Asian financial crisis. Dong Wenbiao, president of Minsheng, said on Monday that the bank is actively cooperating with the State Grid Corp of China and a Tianjin-based Airbus China assembly plant to set up a financial leasing joint venture in which the bank will hold 51 percent stake. If approved, the five banks including Minsheng are expected to begin financial leasing soon after. "The Chinese government wants to select those banks that have large asset scales and solid financial status to experiment on such a new business in order to reduce risks," an industry insider said on condition of anonymity. Bank of China (BOC), however, will not join the first batch of banks to develop the business on the mainland, a source close to the bank said. The bank is considering developing financial leasing overseas, instead. BOC had acquired a 100 percent stake in Singapore Aircraft Leasing Enterprise, the largest aircraft leasing company in Asia, in December. To date, there are 12 financial leasing companies under CBRC's regulation, all of which were approved before 1995. The new rule is likely to make commercial banks the most common investors in the industry. With banks entering the financial leasing business, the industry is expected to undergo a rapid expansion period after years of stagnancy caused by a limited capital supply since it was introduced into China 26 years ago. "There will be a great reshuffling among financial leasing companies, and by acquiring existing financial leasing firms or setting up new ones, commercial banks will diversify their financial services, develop non-interest income and boost competitiveness," She Minhua, banking analyst with CITIC China Securities, said. Financial leasing is an intersection of financing and leasing. Unlike renting, in which the owner remains the same after the deal is completed, financial leasing eventually leads to a transfer of ownership.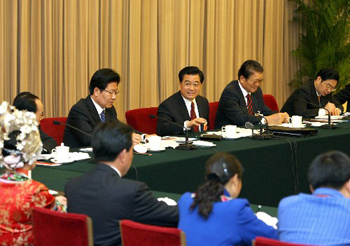 Chinese President Hu Jintao (3rd, R, back) speaks during the panel discussion of the deputies from central China's Hunan Province to the Fifth Session of the Tenth National People's Congress (NPC) in Beijing, March 6, 2007.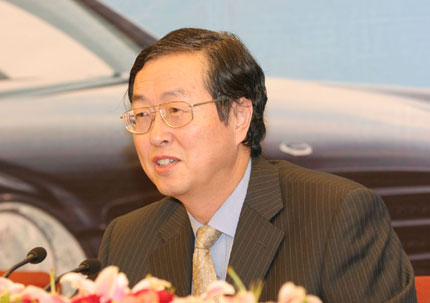 Zhou Xiaochuan, governor of the People's Bank of China or the central bank, speaks at an economic forum in Beijing in this file photo. Zhou said on March 5 at the ongoing NPC session that the renminbi foreign exchange rate's trading band could be widened this year but was "sufficient" at the moment.
China has finished assembling its first lunar satellite probe after three years of research and development, Luan Enjie, chief commander of the country's lunar exploration program, told Xinhua Tuesday. China will launch its first lunar exploration satellite, Chang'e I, in the latter half of this year, a leading Chinese aerospace expert said Tuesday. China plans to spend seven or eight years developing a new-generation large carrier rocket, called "Long March V", to be used for launching a space station.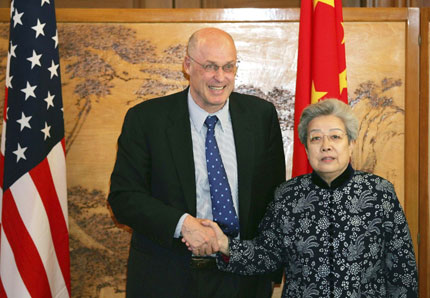 Chinese Vice Premier Wu Yi (R) shakes hands with US Treasury Secretary Henry Paulson during a meeting at Beijing airport March 7, 2007. Paulson, on his third China trip in seven months, is to prepare for the second round of China-US Strategic Economic Dialogue due to be held in May in Washington and to be co-chaired by Wu and Paulson.
France wins deal for nuke plants - China will award a contract to build two nuclear reactors in its southeast to France's Areva SA, a Chinese official said yesterday. The two sides are working on a final accord to build the reactors at Yangjiang in Guangdong Province, Qian Jihui, a senior adviser at China National Nuclear Corp, the nation's top nuclear reactor builder, said in Beijing. The contract was originally awarded to Toshiba Corp's Westinghouse Electric Co, which will get an agreement for two other reactors in Shandong. China needs to add two reactors a year to meet a 2020 target of getting four percent of its power from nuclear energy from about 2.3 percent now. Areva and Westinghouse are competing to build as many as 26 more reactors by 2020 as China turns to atomic energy to cut pollution and reliance on oil. "Awarding the contracts to two companies will give China more room in later negotiations," said Yan Shi, a Shanghai-based analyst with Core Pacific Yamaichi International Ltd. Westinghouse originally won a US$5.3 billion agreement on December 16 to build reactors at Yangjiang and Sanmen, after outbidding Areva and Russia's AtomStroyExport following almost two years of negotiation and lobbying. France's President Jacques Chirac promoted Areva's bid when he met his Chinese counterpart, Hu Jintao, during a visit to Beijing in October. The parties will sign a final agreement "very soon," Qian told reporters, without giving specific reasons for the decision to award the contract to build the reactors in Guangdong Province to Areva instead of Westinghouse. China plans to import uranium from Australia, Canada, South Africa and Kazakhstan to fuel its expanding nuclear power capacity, Qian said. China has nine reactors operating in Zhejiang and Guangdong provinces. Six are under construction in Jiangsu in the east and in Guangdong. These projects have a combined capacity of about 12,000 megawatts. China plans to use Russian technology for two reactors at the Tianwan Nuclear Plant in Jiangsu, Qian said. "China and Russia have a close relationship," he said. "Awarding nuclear reactors could be a deal boosted by political ties." Paris-based Areva may build the Yangjiang reactors, among four originally earmarked for Westinghouse, which will instead get a contract for two reactors at Haiyang in Shandong Province, according to Bloomberg News.
Macro-economic control measures would focus on curbing excessive investment in fixed assets and improving energy efficiency this year, National Development and Reform Commission director Ma Kai told a National People's Congress press conference on Wednesday.

Beijing-based Microsoft researcher Xing Xie demonstrates a program that lets users snap photos of buildings or places, such as the photo at right, and use them to search photo-maps of cities, as shown at left, during Microsoft Research's annual Techfest in Redmond.
Regulators have ordered Chinese websites to limit use of "virtual money" after concerns that online credits might be used for money laundering or illicit trade.
A group of United States venture capital firms, including Disney's investment arm, were set to announce on Wednesday that they had invested US$23.5 million (HK$183 million) in UUSee, a major Chinese site for Web video.
March 9, 2007

Hong Kong: Markets rebounded across the region Tuesday after US bourses stabilized. The Hang Seng Index jumped more than 400 points at one stage, boosted by a rally in HSBC (0005), although concerns lingered about a further unwinding of yen carry trade.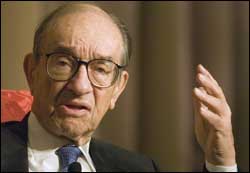 Just days after his remarks about the possibility of a recession contributed to a massive sell-off in US and world markets, former Federal Reserve chairman Alan Greenspan made even more explicit his gloomy forecast, saying there is a "one-third probability" of an American recession by year's end. The current economic expansion will not have the staying power of its decade-long predecessor, Greenspan told Bloomberg. "We are in the sixth year of a recovery; imbalances can emerge as a result," Greenspan said. The most recent remarks from the venerable economist marked his strongest words yet about the looming possibility of a recession in the world's largest economy and the third time in eight days he had issued the warning. Known during his 18-year tenure at the helm of the US central bank for his carefully planned remarks - often opaque and ambiguous - Greenspan, 81, now seems plain-spoken. This new personality has set him head to head against his successor. Greenspan's first recession warning sparked comments from current Fed chairman Ben Bernanke that he is comfortable with current interest rate levels, and that factors contributing to inflationary risks in the United States appear to be waning. A day after the global rout in equity markets last Wednesday, Bernanke said stock markets "seem to be working well" and pointed to a "reasonable possibility" the economy will strengthen in mid-2007. But after Bernanke's calming words in front of the US Congress, Greenspan repeated his comments that a US recession was possible by year's end. Bernanke declined to react to Greenspan's latest remarks. Bernanke will speak today on government-sponsored enterprises and could speak on the health of the US economy during the question-and- answer session expected afterward. Treasury Secretary Hank Paulson has also joined the chorus of officials rejecting the predictions of Greenspan, who many still consider more authoritative than Bernanke. "We are looking at a global economy now ... [that's] as strong as I have seen it any time during my business career," Paulson said Friday. He added he feels good about the economy and discounted the chance of a downturn, saying the recent volatility in equity markets was not an indicator of poor economic fundamentals. The US economy is making a successful move from an unsustainable high rate of growth to "one that is quite sustainable," Paulson said. In contrast, Greenspan's recent comments have repeatedly stressed that the current period of economic expansion is nearing its end. "It is possible that we can have a recession at the end of this year," he said. He also stressed that exact economic outlooks could not be accurately made in the near term.
New World Department Store, a subsidiary of New World Development (0017), aims to raise up to US$300 million (HK$2.34 billion) through a separate listing.
Hong Kong Aircraft Engineering Co (0044), the aviation maintenance company controlled by Swire Pacific (0019) and Cathay Pacific Airways (0293), said its 2006 profit rose 37 percent to HK$847 million on the back of strong demand for its services.
Hongkong Land, the biggest commercial landlord in Central, said underlying profit attributable to shareholders went up by nearly a third in 2006 thanks mainly to rising rents for its office and retail properties.
Taiwan has tested missiles that can hit Hong Kong and Shanghai, a newspaper reported Tuesday, amid renewed tensions between the island and Beijing triggered by recent strong pro-independence remarks by Taiwan's leader.
Chinese People's Political Consultative Conference chairman Jia Qinglin has called on all local delegates to the country's top advisory body to raise their analytical ability to distinguish between right and wrong and defend the Basic Law by refuting "distorting remarks" about Hong Kong's mini- constitution.
Chief Secretary Rafael Hui Si-yan will discuss the selection process for the pair of giant pandas to be sent to Hong Kong in May during a visit to the China Conservation and Research Centre for the Giant Panda in Sichuan .

About 2,000 catering workers and restaurant operators gather at Chater Gardens yesterday to protest against The Link Management's tenancy agreements. The protest was organised by the Estate Restaurants (Hong Kong) Merchant Association after the company, which operates a listed portfolio of former Housing Authority shopping malls and car parks, refused to renew a lease for a restaurant in Tsz Wan Shan. The protesters chanted slogans accusing the firm of breaking a promise to renew their tenancies for a further three years after their initial leases end.
China Special Steel Holdings, which makes bearings and springs for cars and machinery, has agreed to pay HK$2.73 billion to its controlling shareholder for a sourcing firm that will give it the exclusive right to buy ores from an Indonesian mine.

China: China's first lunar satellite probe has been assembled after three years of research and development, and is ready for launche, said Luan Enjie, the chief commander.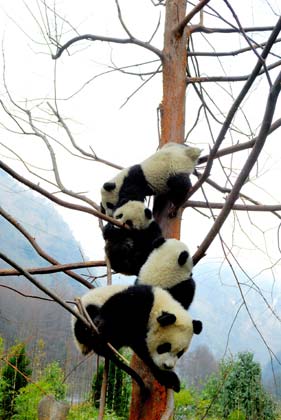 Giant pandas play on a tree at the Research and Conservation Center for Giant Panda in the Wolong Nature Reserve in southwest China's Sichuan Province, March 6, 2007.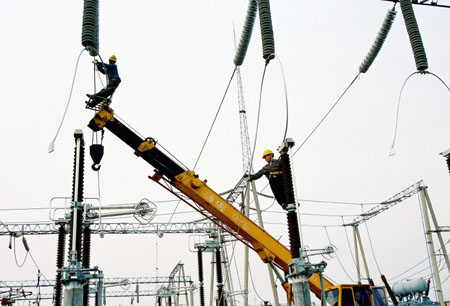 State Grid will invest a record 220 billion yuan in fixed assets this year, of which 202.5 billion yuan will be poured into construction.
Over 1 million studied abroad in past 28 years - It's been 135 years since China first sent a group of 12-to-15-year-old boys to study from the west, but there were only 30 of humble origin in that group because the powerful and rich in the Middle Kingdom were still doubtful about this aggressive and tentative project, believing there really isn't much to learn after all. Very few still have that doubt, and most people now believe there are a lot to learn in other countries. Meanwhile, the project also came at a larger scale: Statistics show that 1.067 million students chose to study outside of China during a 28-year time span from 1978 to the end of 2006, among them more than 70% studied overseas after 2000. 47.5% students majored in humanities and social sciences, which is slightly higher than the percentage of students who took engineering and technology, 44.7%. Natural and medical sciences took up 4.5% and 2.4% respectively, while students studied agriculture only accounted for 0.47%. According to Shao Wei, Vice Director of Oversea Study Center in the Ministry of Education, China is seeing a second wave of students going abroad after the first one in the early 1980s when the country first launched its reform and open-up policy. Shao said the most recent increase of students studying abroad was powered by better income of Chinese families, while Chinese society also encourages innovation, giving another incentive for many to learn new things in new countries. Besides, the number of government-sponsored students also experienced a boost. In 2006, the government sent 7,000 students to see the world, and the average per year is only 3,000. With more students getting out of the country, the number of those coming back to China also sees an increase. Since the Ministry of Education began to provide the oversea diploma authentication service in 1991, it has recognized 71,688 certificates. 42,000 people who studied abroad decided to come back to China in 2006, and the number was only 20,000 in 2003. The growth of 22,000 more students coming back is bigger than that of those going out of the country. Despite the fact that the US is still the largest destination for oversea Chinese students, those returning China are mainly from Britain, Japan, Russia, and Australia. Shao also warned that currently there are too many people studying the hot majors like management and IT in foreign countries, but China lacks professional talents in other areas like agriculture, forestry, geology, and etc in the future. However, many believe their studies abroad give them more than the knowledge in a specific major. "I think my perspectives have changed a lot, and that is going to influence the rest of my life. I am more open to different behaviors and more globalized in general," said Lei Lei, who returned China last September after acquiring her master degree in the UK.
The parent company of China Unicom (0762), the smaller of the two mainland mobile operators, has applied to halt its paging services in all regions across China excluding Shanghai, according to a circular from the Telecom Management Bureau of the Ministry of Information Industry.
Parliament is set to pass China's first law on property rights, but analysts say it will only have limited impact in the vast countryside, where illegal land seizures are a major source of unrest.
The Hainan government is in talks with domestic and overseas oil companies to establish an oil stockpile, raising the possibility the island may be used as a base for a national strategic oil reserve, an official says.
March 8, 2007

Hong Kong: Hong Kong is monitoring the global rush to develop a pandemic flu vaccine to decide which would be best for its population, the Centre for Health Protection's controller said yesterday. More people are concerned about the possibility of a flu pandemic than a bird flu outbreak, and almost all workers feel they cannot rely on employers for help in the event of either crisis, a survey has found.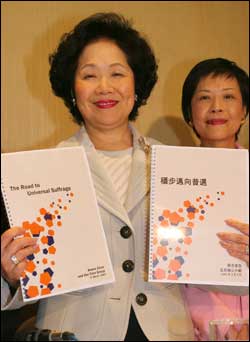 Anson Chan Fang On-sang yesterday unveiled her road map for democracy that allows for universal suffrage for the legislature in 2016 as a last resort - four years later than the target set by the pan-democrats. The proposal appeared to be more conservative than the 2012 dual universal suffrage target proposed by 21 pan- democrat legislators last Friday but Chan said it balanced idealism with realism.
Hong Kong stocks Tuesday fell the most in three years as markets throughout the region tumbled on concerns over a strengthening yen and a possible slowdown of the US economy.
Environment officers have intercepted the largest haul of electronic waste found at the city's busy container port and returned it to Japan.



With investors turning their backs on the stock market, Sino Gold Mining's difficulty in winning interest in its initial public offering is likely to be shared by other companies coming to the Hong Kong market.
HSBC Holdings says it will focus on Asia and emerging markets after the performance of its sub-prime mortgage business in the United States dragged profit growth to its lowest since 2002. The worst news has already been absorbed by the market, but HSBC Holdings shareholders might be watching their beloved bank mopping up the mess for months to come.
China Merchants Bank, China Construction Bank Corp and China Minsheng Banking Corp are looking to buy overseas lenders, according to separate statements from their chairmen, as they join their counterparts in a push for new markets.
Tom Group, Hutchison Whampoa's media arm, may offer at least HK$1.6 billion to buy all the shares it does not own in Tom Online, three years after the unit listed on the Growth Enterprise Market.

Denis Yip, president of EMC's Greater China operations, says the company's mainland customers will benefit from faster deliveries. EMC Corp, whose computer storage devices are used as part of telecommunications systems from mainland firms Huawei Technologies and ZTE, yesterday opened its Asia-Pacific logistics centre in Hong Kong.
PCCW, Hong Kong largest fixed-line operator, will launch its first broadband phone service next quarter, featuring a telephone set with a colour display panel for watching video and images, the company said last week.
The plunge in global markets looks set to continue in the near term as the unwinding of the Japanese yen carry trade keeps shares with stretched valuation lower in markets from east to west, analysts said.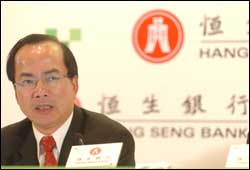 Hang Seng Bank (0011), a subsidiary of HSBC Holdings (0005), said Monday its 2006 full-year net profit rose 6.1 percent to HK$12.03 billion on strong income growth from wealth management and commercial banking, underpinned by the buoyant economy.

China: China's projected budget deficit is sustainable and increased spending on social programmes such as education and health care could eventually help the government boost consumption as a source of economic growth, analysts said yesterday. Premier Wen Jiabao has pledged to step up efforts to save energy and cut pollution this year amid government attempts to maintain sustainable growth after the sizzling double-digit economic expansion of the past four years.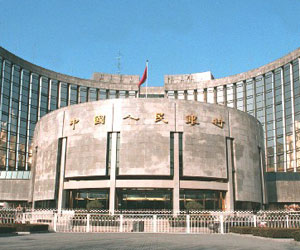 China's central bank, manager of the world's largest currency reserves, has said it will let foreign companies sell yuan-denominated bonds this year, possibly increasing demand for China's currency. Chinese Premier Wen Jiabao said Monday the nation will improve the mechanism for setting the RMB exchange rate and seek ways to use the massive state foreign exchange reserves appropriately.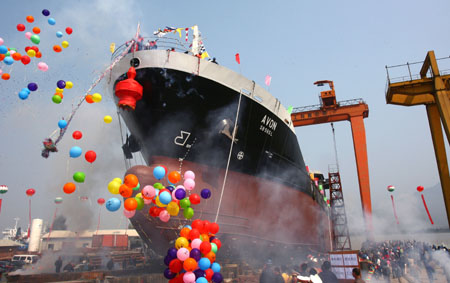 A 6800-DWT tanker made by Fujian Funing Shipbuilding Heavy Industry Co Ltd takes water in Fu'an City, East China's Fujian Province, Mar 4, 2007.
Mainland entrepreneur He Ho was burned by his first North Korean investment, a bakery in the shabby border city of Sinuiju. He lost his entire US$20,000 (HK$156,000) when the plan to make the city a special economic zone stalled in 2003.
The heaviest March snowstorm to hit northeast China in 56 years disrupted air, road and rail traffic, caused power failures and killed at least one person, state media reported.
March 7, 2007

Hong Kong: Asian investors' interest in US mortgage-backed securities has grown and diversified into more complex issues while their concerns over the problem in the subprime segment of the US mortgage market is focused more on implications for the economy than the credit quality of the securities, according to the Federal Home Loan Mortgage Corp, or Freddie Mac.
The strengthening of the yen against the US dollar has alerted currency traders to a faster pace of an unwinding of the "yen carry trade," which could expose several Asian economies and some emerging markets to higher risks of financial meltdown if it becomes too big.
Cathay Pacific Airways (0293) is expected Wednesday to post a net profit for last year of HK$3.62 billion, up 9.79 percent, due to lower oil prices and benefits from the Dragonair merger.
Sun Hung Kai Properties (0016), Hong Kong's largest developer by market value, may report a moderate decline in first-half underlying profit amid lower earnings from property development, analysts said.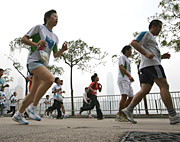 A man remained in a critical condition in hospital Sunday night after a record of nearly 44,000 runners braved steamy conditions and pollution warnings to take part in the annual Standard Chartered Hong Kong Marathon.
Unionist legislator Chan Yuen-han has proposed transforming Wong Tai Sin into a temple cultural district, believing a proposed flea market will kill a few birds with one stone - helping the unemployed start their own businesses, and energizing the district's tourist attractions with a touch of local flavor.
Hong Kong-born Princess Alexandra of Denmark, divorced from a Danish prince, gave up her royal title at the weekend when she married her cameraman boyfriend Martin Jorgensen.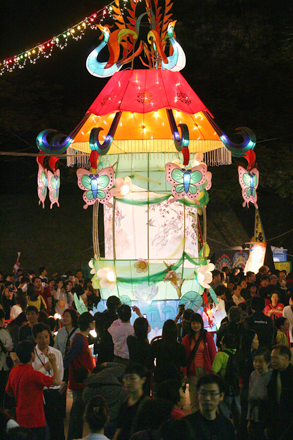 Crowds flock around one of the spectacular lanterns on display last night at a carnival at Ko Shan Road Park and Ko Shan Theatre, To Kwa Wan, to celebrate the Spring Lantern Festival. Wetland wildlife, gigantic fruit and butterflies were among the festive lanterns lighting up the fair.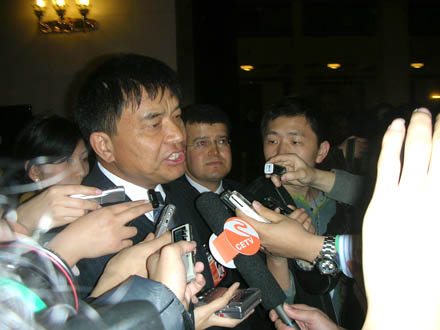 New Hope chairman Liu Yonghao says the company has made a huge gain from its initial investment in Minsheng.
Genting International and Star Cruises, units of Asia's largest publicly listed gaming operator, have swapped stakes in two multibillion-dollar casino resorts in Macau and Singapore in an attempt to salvage both projects after Singapore officials expressed concern over a partnership involving casino magnate Stanley Ho Hung-sun.

China: China's defense budget for 2007 is expected to hit 350.921 billion yuan (44.94 billion U.S. dollars), 17.8 percent higher than that last year. Premier Wen said on Sunday that he will faithfully report to deputies to the highest legislature the government's failed efforts last year to reduce energy consumption and pollutant emissions. President Hu Jintao said that a comprehensive healthcare network and an innovative system were needed to build a relatively well-off and harmonious society. China plans to achieve an 8-percent GDP (gross domestic product) growth rate this year, lower than the staggering 10.7 percent registered in 2006. Chinese Premier Wen Jiabao said Monday the nation will improve the mechanism for setting the RMB exchange rate and seek ways to use the massive state foreign exchange reserves appropriately.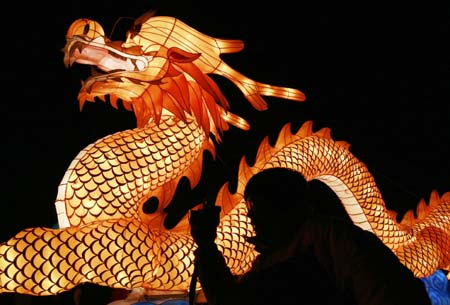 A visitor stands in front of a lantern in the shape of a dragon to celebrate Yuan Xiao Jie, or Lantern Festival, in Shenyang, Northeast China's Liaoning Province, March 3, 2007. The Lantern Festival, the last day of the Chinese Lunar New Year, falls on March 4 this year.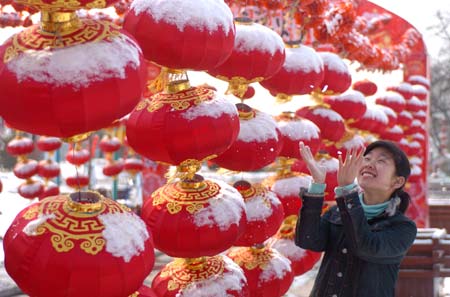 A girl plays in front of lanterns covered by snow at a zoo in Taiyuan, capital of North China's Shanxi Province, March 4, 2007. The Lantern Festival, the last day of the Chinese Lunar New Year, falls on March 4 this year.
Beijing is planning to stage a table tennis competition, which may feature 10,000 people playing simultaneously at the Tiananmen Square, the heart of the Chinese capital, a municipal sports official said. "We are waiting for approval of relevant departments of the government. If the idea is rejected, we will choose another open space to hold the competition," Sun Kanglin, heda of the Beijing Municipal Sports Bureau, told a press conference Wednesday. Every district of the city will be invited to hold preliminary tournaments to select the 10,000 entrants for the open-air spectacle, according to Sun. Tiananmen, at the southern end of Beijing's celebrated Forbidden City, is the biggest city square in the world, measuring 440,000 square meters. The ambitious table tennis competition is just one of a series of mass sports activities planned by the Beijing Municipal Sports Bureau, said Sun. Others include a lion dance fest, the Beijing Farmers Sports Meet, and the sports meet for rural immigrant workers.
Shanghai Stock Exchange, the larger of the mainland's two stock market operators, is looking into the possibility of a listing in Shanghai, according to its president.
Mainland property developer Shanghai Cred Real Estate plans to raise about US$200 million from an initial public offering later this year, sources said, as investor confidence strengthens in the ability of property companies to weather a number of attempts from Beijing to cool growth in the sector.
Blue chip conglomerate Citic Pacific has bought a site above a subway station in Shanghai to be developed into a property project estimated to involve investment of more than one billion yuan, chairman Larry Yung Chi-kin said.
March 6, 2007

Hong Kong: Despite the benchmark Hang Seng Index rebounding 95 points to close Friday at 19,442, many small-cap stocks saw a crash in their share prices. Hong Kong stocks stabilized Friday, inching up for the first time since the rout in mainland A shares Tuesday that sent shockwaves around the world.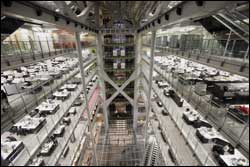 CLSA Asia Pacific flashed out a dire warning on HSBC Holdings (0005), urging investors to sell the stock ahead of its results announcement Monday as the research firm expects the banking conglomerate's shares to fall a further 15.69 percent within 12 months. "What is all too possible is that the [2006 second half] profit is closer to US$6 billion (HK$46.8 billion), which will put full-year earnings at US$14.7 billion - even below our US$15.2 billion estimate," CLSA analyst Daniel Tabbush said Friday. HSBC posted full-year earnings of US$15.08 billion in 2005. Some analysts warn of HSBC's impact on the Hang Seng Index and the trading atmosphere in the stock market, as the London-based group has the second heaviest weighting on the index, just behind China Mobile (0941). Analysts say HSBC's results announcement may trigger a further selloff of its shares. The stock ended a losing streak of seven consecutive days Friday, closing at HK$136.40, up 10 HK cents or 0.07 percent. "[HSBC] shares are just 8 percent off from [their] all-time highs and have, in the past, tended to trade at 1.4 times price-to-book or 10 times price-to-earnings at this stage in the cycle," Tabbush said. "There is at least 20 percent downside from here." Investment bank Lehman Brothers, however, expects a final dividend of 35 US cents per share from HSBC, equivalent to giving a 2 percent yield, which could "provide trading relief" for its shares. "With HSBC Finance accounting for 7 to 8 percent sum-of-the-parts, or US$18 billion, and the market value of its stakes in Ping An Insurance (2318) and Bank of Communications (3328) at US$14 billion, HSBC seems oversold," Lehman analyst Michael Siu wrote. HSBC issued an unprecedented profit warning February 8, saying the group will set aside US$10.6 billion company- wide for risk provisions, 20 percent higher than market forecasts, to cover heavy losses in its US lending business. Analysts rushed to lower the bank's target price and earnings forecast in the wake of the unexpected caution, predicting its net profit to climb only 1.8 percent to 4 percent higher than the US$15.08 billion in 2005. Credit Suisse banking analyst Bill Stacey estimates HSBC's risk provisions will leap 34.15 percent, forecasting net profit to merely edge 2.73 percent higher year-on-year to US$15.49 billion. "We do not think the numbers will be particularly important in these results," Stacey said. "Rather, the market will look to additional disclosure on trends of troubled US subprime portfolios, the management response to those problems, and the outlook for US mortgage services in asset quality and growth." HSBC subsidiary Hang Seng Bank (0011), the third-largest bank by assets in Hong Kong, is likely to report strong income growth from its wealth management and brokerage service businesses, which may, however, be partially offset by rising operating expenses. Market estimates on Hang Seng Bank's net profit growth for 2006 range from 1 percent to 5 percent, as analysts' views are scattered on the bank's non- interest income, but the market consensus is that the bank's lending business is very likely to widen its net interest margin to 2.4 percent, rising by 21 basis points. Hang Seng Bank reported net profit of HK$11.34 billion for 2005.
Banco Bilbao Vizcaya Argentaria, Spain's second-biggest bank, has announced its intention to increase its stake in Hong Kong-listed CITIC International Financial Holdings (0183) to 35 percent by early next year.
Warren Buffett, considered the most successful investor of all time, has said "over-consumption" by Americans, leading to trade imbalances in the United States, may not only cause the US dollar to weaken, but also push the economy into a hard landing.
The HK$300 (US$39) million film development fund to be given to the industry this fiscal year may be used to cultivate new talent in front of and behind the camera, according to the government-appointed Film Development Committee. "New talent is very important to the industry," committee member Crucindo Hung Cho-sing said Friday. "The decline in the industry has been mainly due to the lack of new directors and backstage talent ... we hope this fund will be used to improve the situation." A HK$300 million film development fund was one of the committee's proposals last year, but the money was only granted Wednesday when Financial Secretary Henry Tang Ying- yen announced the allocation in his budget. Committee chairman Jack So Chak- kwong said the funding will be a shot in the arm for the industry. The total number of Hong Kong movies, including those co-produced with mainland or overseas studios, came to 55 in 2005 and 51 last year, a significant decrease from the more than 300 films produced annually a decade ago. So is optimistic the fund will revive the industry, as has been the case following similar government intervention in other countries such as Britain, France and South Korea. But So warned the money would not be used as a handout. "Filmmakers interested in applying for a share of the government fund must also have their own investment plans," he said, adding that details on the maximum funding amount was still to be discussed. So also welcomed the government's plan to set up a Film Development Council to advise the Commerce, Industry and Technology Bureau on the long-term development of the film industry. Both plans will not only aid the local film industry but other industries such as tourism and the service industry will also receive a boost. Hong Kong's international reputation and local employment opportunities will also grow, So added. According to Television and Entertainment Licensing Authority commissioner Lorna Wong Lung-shi, the fund will be available to the industry during the 2007/08 fiscal year which begins April 1. The film development plan is in response to increasing problems resulting from the opening up of the mainland film market and globalization, Wong said. Local film director Chan Wing-chiu welcomed the plan, saying it would be even better if the industry could receive direct funding instead of just loans. In 2003, the government put up HK$50 million for a film guarantee fund to provide financial guarantees to local institutions offering loans to filmmakers. Turning to the wi-fi (wireless fidelity) issue So, who is also deputy chairman and group managing director of PCCW, said the free government wi-fi service will not overlap the commercial service provided by the group, and discussions are underway with the government to ensure this. There had been fears the government's provision of free wi-fi services at public venues might affect the commercial networks.



Miss Hong Kong 1977 Loletta Chu shows a photograph she took in Nanjing , which she contributed to a fund-raising exhibition that opened at Times Square yesterday. The display of works created by 18 members of the Wai Yin Association, a charity made up of former contestants and title-holders of the pageant, includes watercolours, oils, calligraphy, photos, jewellery and ceramics.
Hong Kong has experienced the warmest February on record, with a monthly mean temperature of 19.5 degrees Celsius, but there is no evidence it is a result of global warming, according to the Observatory.
After a record-breaking, stomach-churning week, Hong Kong and mainland stock market investors are expected to stay on the sidelines next week, eyeing the two-week long National People's Congress and the Chinese People's Political Consultative Conference meetings starting today, analysts said.
Mainland firm China Overseas Land & Investment has won the tender for a luxury residential project in Stanley owned by the central government's Hong Kong liaison office with a HK$25 million offer.
Richard Li Tzar-kai is seeking new investment opportunities in the media sector with almost HK$10 billion in cash he has reaped from selling holdings in property and insurance over the past 12 months, a source close to the tycoon said.

China: China is seeking more channels to use its massive foreign exchange reserves, which are expected to continue growing after it quintupled in the past five years, said some financial experts before the annual session of the country's top political advisory body that opens Saturday afternoon.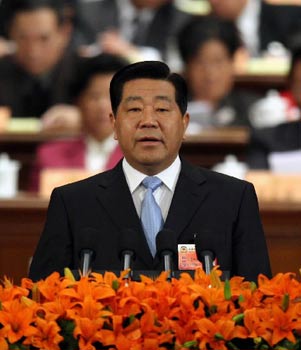 CPPCC National Committee Chairman Jia Qinglin delivers a keynote report on the work of the top advisory body in the past year at The Fifth Session of the Tenth National Committee of the Chinese People's Political Consultative Conference (CPPCC), in Beijing, March 3rd, 2007. The Fifth Session of the Tenth National Committee of the Chinese People's Political Consultative Conference (CPPCC) started in the Great Hall of the People in Beijing Saturday afternoon. As legislators roll up for the "two sessions" -- the annual meetings of China's top legislature and political advisory body -- a number of key issues are in the spotlight.
French bank Societe Generale (SG) is set to be the first foreign-funded bank to start its local registration in Beijing, Friday's China Securities Journal reports.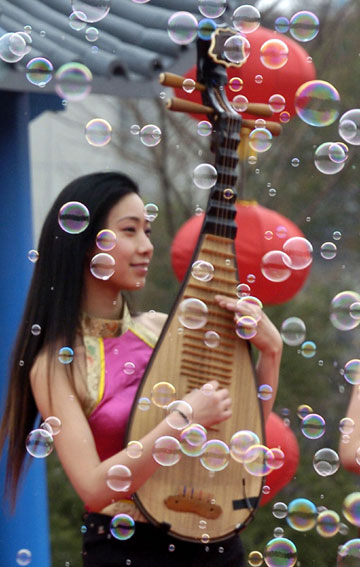 A young woman plays an ancient musical instrument at a performance to celebrate the traditional Lantern Festival in Nanjing, east China's Jiangsu Province March 3, 2007. The lantern day, which falls on Sunday, marks the end of the Lunar New Year celebration.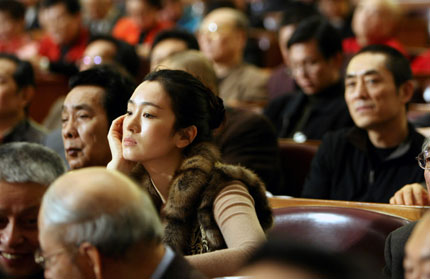 Gong Li, an internationally known actress, listens to the report delivered by Jia Qinglin, chairman of the National Committee of the 10th Chinese People's Political Consultative Conference, at the fifth session of the CPPCC in the Great Hall of the People in Beijing March 3, 2007. Gong is a CPPCC member.
China Netcom Group Corp, the Hong Kong-listed arm of the mainland's No2 fixed-line operator, said its total number of users fell 3.4 per cent in the four months to January.
March 5, 2007

Hong Kong: Former U.S. Federal Reserve Chairman Alan Greenspan Thursday toned down his warning that the United States might slip into a recession later this year, saying he doesn't think such an economic slowdown is "probable," according to a report carried by The Wall Street Journal website.

Sparks flew when Chief Executive Donald Tsang Yam-kuen and his challenger Civic Party legislator Alan Leong Kah-kit met Thursday in the first election forum since the handover. The heated debate took place in front of a live audience of 530 Election Committee members and millions of viewers and listeners on television and radio. From local democratic development to mainland-Hong Kong relations and education reforms, the two candidates gripped every opportunity to make a point at the expense of the other. Leong appeared to come out best after the bruising first round, according to an instant poll conducted after the forum by Lingnan University's public governance program. Of the 611 respondents, 36.5 percent said Leong had upped his image. This compared with 26.7 percent, who thought Tsang won the day. But it did not all go Leong's way, as 20.9 percent of respondents said his image had been damaged, compared with just 13.1 percent for Tsang. But when it came to who they would vote for if the election were held today, 61.4 percent said Tsang and just 25.9 percent favored Leong. Before the forum kicked off, Tsang likened his feelings to a child about to take his first ride in an amusement park. And this showed - throughout the 90-minute session he appeared nervous and restrained. Leong, on the other hand, appeared confident and poised throughout, probably from his court experience as a lawyer and the fact he has taken lessons from director Alfred Cheung Kin-ting on how to behave in front of a camera. A total of 22 questions were raised by committee members, while six were selected at random from questions submitted by the public in advance. The issues which drew most sparks from both candidates concerned democratic development and the relationship between central and SAR governments. Leong challenged Tsang to support the target of universal suffrage in 2012, saying the central government had always been pragmatic and rational in its policy toward Hong Kong. "Everybody can remember Mr Tsang was once branded and slammed as a remnant of the British colonial government, but the central government still showed its total trust in appointing him. It underlines the central government's pragmatic and rational attitude," Leong said. "If Hong Kong people choose a chief executive and 40 legislators who support universal suffrage and, given the central government's rational attitude and support for Hong Kong, all three barriers against universal suffrage could be removed at once. "If we can persuade central government that introducing dual universal suffrage could grant the chief executive higher recognition, I think - in regard to Beijing's pragmatic and rational attitude to Hong Kong - they would surely support it." But Tsang said it would be dangerous and unworkable if his challenger were elected and given a chance to express his views to state leaders. "If you really offer such comments, I would wish you luck. It would be infeasible. They were always very serious. "It would be important for us to tell them the concrete designs of universal suffrage, explain to them how these proposals can contribute to the good fortunes of Hong Kong and our country." Tsang also questioned Leong's knowledge of public finance since Leong was insisting that, including foreign exchange reserves, the government had fiscal reserves totaling HK$910 billion and should invest more in education and medical development. "I hope the economists have not heard what Alan has said. Otherwise, with the local stock market plunging that much today, I fear it could get even worse." To a question by Federation of Trade Unions member Choi Chun-wah as to whether the candidates would accelerate cross-border infrastructure development to create more jobs, Tsang took a jibe at the Civic Party, saying he hoped Leong and his colleagues would not obstruct the processing of these projects. It was Leong's turn to hit back when education subsector Election Committee member Woo Hawk-yan asked why the public was not admitted to the debate. Leong said Tsang kept distancing himself from the public even though he claimed he was canvassing the support of seven million Hong Kong people. "But of course, there are many kinds of contact with the public. In some, he might be surrounded by 10 bodyguards and shake hands with the public in a shopping arcade for 15 minutes," Leong said. "But since I became a legislator two years ago, I have handled more than 1,200 complaint cases from the public. I think these are real contacts with the people." There was a slight disruption to proceedings when legislator "Long Hair" Leung Kwok-hung attempted to protest against the small-circle election. He was quickly grappled by security guards and escorted out of the hall.
Richard Li Tzar-kai has agreed to sell his indirectly-held controlling stake in Hong Kong insurer Pacific Century Insurance Holdings (0065) to Belgian- Dutch financial group Fortis in a deal worth HK$3.5 billion.
Hopewell Holdings (0054), controlled by Gordon Wu Ying-sheung, posted a 19 percent rise in first-half net profit, mainly driven by housing developments in Macau and its highway business in China.
Hong Kong's retail sales in January totalled HK$20.9 billion, a 1.3 percent decline in value from the same month last year because of distortion created by the Lunar New Year, the government said Thursday.
The financial secretary has received a "fairly positive" response from the public to the last budget of his current term, according to a survey, but the lower-income group criticized the hefty tax concessions as "falling short of target."
The financial secretary's HK$210 million pledge to develop free wi-fi (wireless fidelity) services for the public at major government venues has sparked fears of security problems and stiff commercial competition.

Henry Tang discusses the finer points of his budget with youngsters at a dialogue hosted by the Federation of Youth Groups.
Asian share prices were mixed in midday trade with some calm returning to the market Friday following a volatile performance in early trade which mirrored the United States and Europe overnight.

China: Preliminary calculations show that China's gross domestic product (GDP) hit 20,940.7 billion yuan in 2006, up 10.7 percent over the previous year. The investment and trade between China and Russia keep growing rapidly in recent years, Chinese Deputy Trade Minister Yu Guangzhou told a press conference in Moscow on Thursday.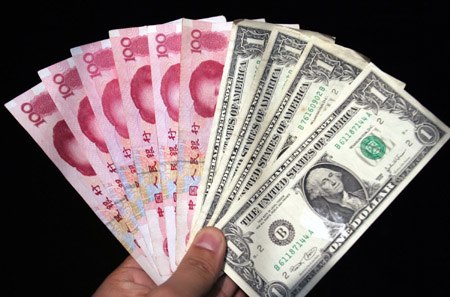 China's yuan rose to 7.7472 against the US dollar March 1, 2007, according to the China Foreign Exchange Trade System. The currency hit another new high since the Renminbi exchange rate reformed. The yen against the dollar dropped from 120.56 to 117.93 yesterday, which helped to boost the appeal of yuan, said an unnamed source.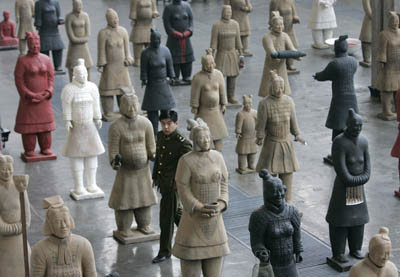 A soldier walks amid terracotta warriors sculptures by Norwegian artist Marian Heyerdahl at a gallery in Beijing March 2, 2007. Heyerdahl recontextualises the Chinese famed terracotta warriors by duplicating the terracotta warriors in their original scale, while inverting their gender from male to female, local media reported.
Parliament will consider abolishing the system of "reeducation through labor," state media reported Thursday, but cautioned that scrapping the punishment may still meet stiff opposition.
Canadian police on Friday confirmed they had arrested two Chinese brothers who had allegedly played a key role in an embezzlement scheme of nearly one billion yuan (about HK$1 billion) from the Bank of China.

Enter the firecracker dragon: Dancers take part in the Firecracker Dragon Festival, a local custom held in Binyang county, Guangxi province, every year on the 11th day of the Lunar New Year. The dancers go door to door wishing villagers well, who in return welcome them with firecrackers.
Chinese share prices rose 1.30 per cent on Friday morning amid bargain hunting after a roller-coaster week that included the biggest one-day fall in a decade, dealers said.
March 3 - 4, 2007

Hong Kong: Tax collection on land appreciation began on February 1, but it hasn't diminished Chinese property developers' determination to raise money from the HK stock exchange.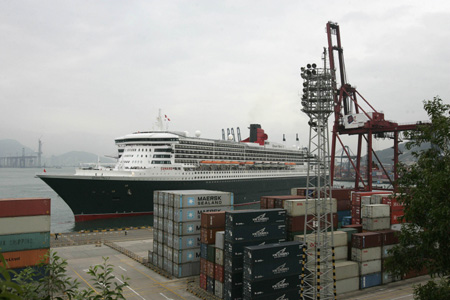 The Queen Mary 2, the world's largest ocean liner, arrives at Kwai Chung Modern Terminals in Hong Kong February 28, 2007.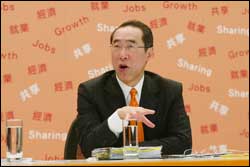 Armed with the highest fiscal surplus since the handover, Financial Secretary Henry Tang Ying-yen offered a list of sweeteners in the last budget of his tenure, which observers say will likely catapult him into the position of chief secretary in the next government. Tang proposed to hand out HK$20 billion to the community in the form of one-off tax rebates or long-term tax relief, potentially benefiting 1.1 million taxpayers. However, his 2007-08 budget barely touched on a cut in the profits tax rate and the standard rate of salaries tax, ostensibly leaving room for Chief Executive Donald Tsang Yam-kuen to do so in his second term should he win re- election - a near certainty. "I believe the [budget] proposal has adhered to the principle of `the more able should pay more,"' Tang said. His fourth budget has won the praise of his boss, Tsang, who said it reflected the government's pledge of caring about its people. Tang sidestepped the question of whether his sweetest budget proposals were aimed at moving him up the bureaucractic ladder, saying he "would not comment on rumor." Explaining the contradiction between his generous offer to the community and his previous drive to implement the controversial goods and services tax, Tang said: "It is just right that they [taxpayers] should be able to share the fruits of economic prosperity when the government financial positions have improved. "The tax concessions and one-off rebate measures in the budget have been designed to, as far as possible, avoid narrowing our tax base further and observe the principle of affordability." The proposals include an estimated total expenditure of HK$248.4 billion for the fiscal year, 60 percent of which would be allocated to education, social welfare, health and security. Tang's financial plan also hints at a pay rise for civil servants, which he said is subject to Tsang's approval. "It has long been our policy for civil service pay to offer adequate remuneration to attract, retain and motivate staff of suitable caliber who can provide the public with quality services," Tang said. Tang, a tycoon from a prominent textile industry family, has succeeded in turning around the deficit clouding the government's treasury since he became finance chief in August 2003, when the fiscal reserve was mired in a deficit of about HK$60 billion. Buoyed by a strong economy that saw economic growth of 6.8 percent last year, Tang estimated the government's reserve will total HK$365.8 billion at the end of March, with a HK$55.1 billion surplus for the rest of the fiscal year. The growth in gross domestic product beat the government's forecast of 4.5 percent to 5.5 percent made early last year. Tang's budget will largely benefit the middle-class income group as he suggests restoring the marginal bands and marginal rates to their 2002-03 level, widening the bandwidth to HK$35,000 from HK$30,000. To encourage Hong Kong residents to have more children and help ease the future social problems associated with an aging population, Tang proposed a one-off child allowance of HK$50,000 for each child in the year of birth. This is on top of raising child allowances to HK$50,000 from the existing HK$40,000 for each child. He has also made an annual provision of HK$250 million for reduced stamp duty to encourage more people to buy their own homes. Under this proposal, stamp duty on properties valued between HK$1 million and HK$2 million would be cut to a fixed HK$100 from the original 0.75 percent, or HK$15,000 for a HK$2 million purchase. Tang, a well-known wine enthusiast, also wants to lower duty on alcoholic beverages, emphasizing the move was not based on personal interests but those of the catering industry, tourism and the wholesale and retail alcoholic beverage trade.
The ripple effect of the selloffs in global markets hit Asia Wednesday, sending the Hong Kong benchmark index down more than 700 points at one point after the US blue-chips index plummeted over 400 points Tuesday following a meltdown in the mainland market.
Macau's casinos have welcomed proposed new security rules following a payout row over an underage gambler who won the jackpot on a slot machine in one of the city's mega gaming halls.
In a bid to facilitate public access to the Internet, HK$210 million has been allocated to provide wi-fi (wireless fidelity) networks at government venues for free use by people over the next two years.
The kung fu movie fan's ultimate fantasy is set to become reality. Jackie Chan Kong-san and Jet Li said Wednesday that they're ready to team up in a Hollywood film for the first time, a move that would bring together two of the biggest names in action cinema. Chan said on his Web site that his next movie will be The J&J Project, as the planned film is currently known. Li confirmed the partnership. "Coming up next, if there are no big changes, I will make The J&J Project," Li said in his blog. The plot for the movie remains unclear. Chan's spokesman, Solon So, said he didn't have more details, but the film is rumored to be based on characters and storylines from the Chinese folk novel, Journey to the West. Calls to the Los Angeles-based company producing the movie, Relativity Media, were unanswered. Chan said in August that the project was nearly a sealed deal, pending a script that both he and Li approved of. He said once they decided on it, shooting would start this month or next in Shanghai. The movie is highly anticipated because it brings together two top kung fu movie stars with contrasting styles. Chan, 52, is known for his humorous, improvizational fighting, while Li, 43, tends to dominate his opponents. Both actors parlayed early success in the Hong Kong movie industry into Hollywood fame. Chan's American credits include the Rush Hour series, Shanghai Knights and The Tuxedo, while Li appeared in Lethal Weapon 4, Romeo Must Die, and Fearless. Chan is currently shooting the third installment of the Rush Hour series, and Li is filming the ancient epic Ci Ma. After completing the The J&J Project, Chan plans to direct his first movie in nine years, along with co-directors Frankie Chan and Ricky Lau. Chan's spokesman, So, said the movie's plot is completed.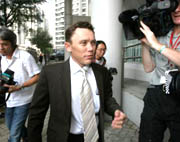 A file photo of Australian jockey Christopher Munce. Munce was convicted on Thursday of accepting HK$500,000 in winnings as rewards for offering racing tips to a businessman.
Fortis, Belgium's biggest financial-services company, has offered to buy Richard Li Tzar-kai's insurance flagship Pacific Century Insurance Holdings for HK$6.98 billion.
After 'The Departed' wins Oscars, Warner Bros. buys rights to second Hong Kong film - Warner Bros. remade the Hong Kong crime thriller Infernal Affairs into the Oscar-winning movie The Departed. Now it wants to try the formula again. The US movie outfit hopes it may produce another hit by buying the rights to another film made by the same creative team behind Infernal Affairs, and hiring Leonardo DiCaprio's company to shoot the Hollywood version. Warner Bros. spokeswoman Andrea Marozas and spokeswoman Emily Wong for Hong Kong's Media Asia film company confirmed the deal for the rights to the last year film Confession of Pain. They did not say how much the rights cost. Confession of Pain ¡X starring Cannes best actor winner Tony Leung Chiu-wai and Taiwanese-Japanese heartthrob Takeshi Kaneshiro ¡X is about a Hong Kong police officer who avenges the murder of his family after marrying the killer's daughter and earning his trust. Like Infernal Affairs, Confession of Pain was directed by Andrew Lau and Alan Mak, and written by Felix Chong. Hollywood producer Roy Lee said in an e-mail to The Associated Press that Warner Bros. has hired him and DiCaprio's production company to shoot the Confession of Pain remake. It was not immediately clear if DiCaprio, who starred in The Departed, will also star in the US version of Confession of Pain. Lee said William Monahan, who won an Oscar for the screenplay for The Departed, will also write the remake of Confession of Pain. He said producers have not decided on a director. Leung, who also starred in Infernal Affairs, said he was delighted by the two remakes. "I'm very happy, very honoured that Hong Kong has this kind of talent," he said at a news conference to promote a coming film market. In mainland China, Confession of Pain made 70 million yuan (HK$70.8 billion) ¡X a solid showing by Chinese standards and another HK$20 million in Hong Kong. The Departed, with other stars Jack Nicholson and Matt Damon, also won best editing, best picture and best director for Martin Scorsese in Oscars results announced on Sunday. Oscars organisers say that of all the films that won four or more Oscars in the competition's history, The Departed is the only one based on a foreign film.

China: Statistics show the country's export and import in January totaled US$157.36 billion, an increase of 30.5% form the same period of last year.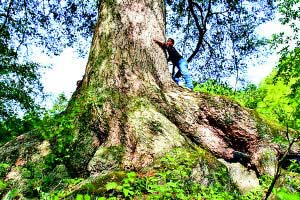 A 1000-year-old, 43-meter high keteleeria tree has been discovered in Miaotang village of Wushan county in southwest China's Chongqing Municipality. The circumference of the tree's trunk is so large that it takes 20 adults with outstretched arms to embrace it. Its branches are so big that it takes two people to fully encircle them. The tree is believed to be the second-biggest known tree in the world.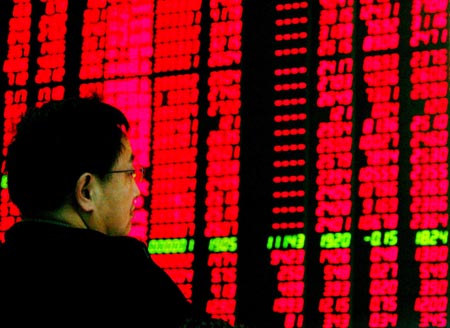 An investor checks share prices. The benchmark Shanghai Composite Index, which tracks both A- and B-shares, surged 3.94 percent, or 109 points to closed at 2,881.07 points Wednesday. The component index of the smaller Shenzhen Stock Exchange jumped 3.19 percent, or 248 points, to end at 8,039.70 points. Turnover on the two bourses totaled 136.08 billion yuan (17.01 billion U.S. dollars) Wednesday.
DaimlerChrysler has approved a plan to start selling Chinese-built cars in the United States as the carmaker sees its deal with China's Chery Motor as a cheap way to enter the growing entry-level market, the Los Angeles Times reported on Wednesday.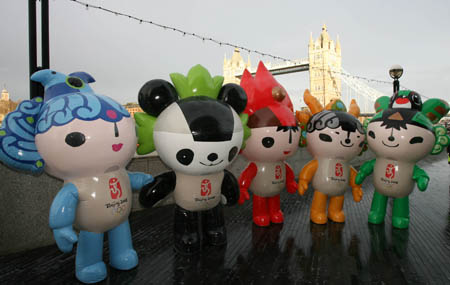 Beijing 2008 Olympic Games mascot Fuwa,Beibei,Jingjing,Huanhuan,Yingying,Nini(from left to right) strike a pose Tower Bridge in London to promote upcoming Beijing Olympic Games,Mar,1st,2007.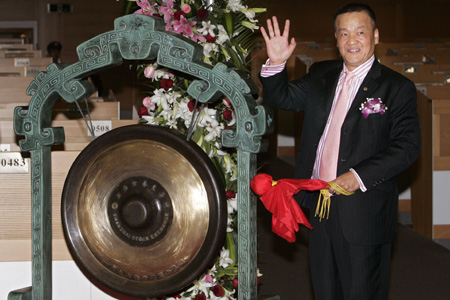 Ping An Insurance (Group) Chairman Ma Mingzhe strike a 'gong' at the Shanghai Stock Exchange in Lujiazui Financial Area in Shanghai March 1, 2007. Ma said he was pleased by his company's stock price as it listed in Shanghai on Thursday. Chinese stocks plummeted Thursday in spite of the premier's pledges to develop the capital market as Ping An Insurance (Group) Co. made China's second biggest domestic IPO.

A member of a Tibetan delegation of lawmakers is welcomed after they arrived in Beijing on the train from Lhasa for the National People's Congress.
The National People's Congress opens its annual session on Monday with hopes of passing a landmark bill that would protect private property for the first time and see communist leaders embrace another pillar of free markets.
The mainland consumed 1.23 per cent less energy per unit of gross domestic product last year, but the drop fell short of a 4 per cent target set by the government, the National Bureau of Statistics said.
March 2, 2007

Hong Kong: It could be the sweetest budget yet for Hong Kong's taxpayers and the under- privileged - with hefty salaries tax and rates rebates and increased welfare spending for the elderly and low- income groups in store.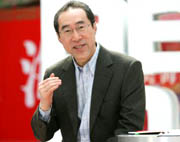 Financial Secretary Henry Tang Ying-yen. On Wednesday, Mr Tang made an upbeat budget speech, saying Hong Kong had more revenue than expected and was operating a healthy budget surplus. Financial Secretary Henry Tang Ying-yen cut back on salaries, property and alcohol taxes in his 2007-08 budget delivered to the Legislative Council on Wednesday, saying the concessions were designed to "share the fruit of economic prosperity" with the community. Financial Secretary Henry Tang Ying-yen on Wednesday said Hong Kong's controversial civil service would have a small increase in staff levels by early next year. Reducing trade barriers and maintaining fair competition was crucial to Hong Kong's economic development, Financial Secretary Henry Tang Ying-yen said on Wednesday.
The plunge in the China market struck Hong Kong shares Tuesday - particularly locally listed mainland shares - with the H-share index falling more than 300 points, the largest single-day fall in more than six weeks.
Standard Chartered (2888) said net profit rose 18 percent to US$2.25 billion (HK$17.55 billion) last year, driven by timely acquisitions and robust income growth that helped offset burgeoning impaired loans.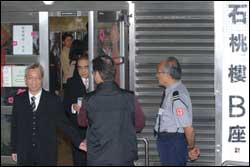 The gun of police constable Leung Shing-yan, shot dead in 2001, could have been snatched before his death by someone who had knowledge of the safety device on the holster, an inquest heard Tuesday. The inquest, for which the court has set aside 37 days, is looking into the deaths of Leung and a security guard in 2001 and two policemen in a shootout in 2006. Police have blamed a rogue cop, who was among the dead, for the deaths of the other three. In the Coroner's Court Tuesday, police supervisor Tai Wai-leung said all police holsters have an anti-snatch design feature and every policeman is required to attend anti gun-snatching drills three times a year. He said a snatcher would find it difficult to take a gun unless he or she was trained. Leung was killed around 12.30pm on March 14, 2001, when investigating a complaint about noise coming from a flat in Shek To House in Tsuen Wan.
The pro-Beijing Chinese General Chamber of Commerce has thrown its support behind Chief Executive Donald Tsang Yam-kuen, saying he has the right credentials to govern Hong Kong.
Net profit at CLP Holdings, the larger of Hong Kong's two electricity suppliers, declined for the first time in four years last year as a lack of exceptional gains dragged the profit down 13.3 per cent to HK$9.9 billion.
Hong Kong billionaire Stanley Ho's daughter Pansy Ho has been waiting four decades to get out from under the shadow of her father. After a passionate plea to Nevada gambling authorities that she is not her father's puppet, she has won initial approval to go ahead with her partnership with MGM Mirage to develop a US$1.1 billion (HK$8.56 billion) casino in Macau without his help.

China: Chinese shares bounced back from the heaviest losses in ten years Wednesday, as the major index gained 3.94 percent.
China's per unit GDP energy consumption fell 1.23 percent in 2006, missing the projected target, official figures released Wednesday show.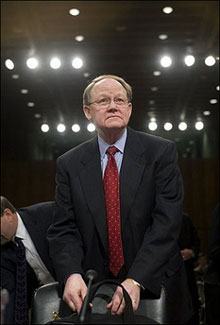 China's military modernization is aimed at achieving parity with the United States and not limited to its drive for reunification with Taiwan, the US intelligence chief said Tuesday. Retired admiral Michael McConnell, the new director of national intelligence, said China could be a threat to the United States today because of its intercontinental nuclear missiles and will be an increasing threat as it modernizes its military. But he later retracted the remark. US Intelligence chief Michael McConnell, testifies before the US Senate Armed Services Committee on current and future worldwide threats to the national security of the US on Capitol Hill in Washington, DC. "It's a matter of their building their military, in my view, to reach some sort of state of parity with the United States," he said. "So in a threat sense it becomes intention."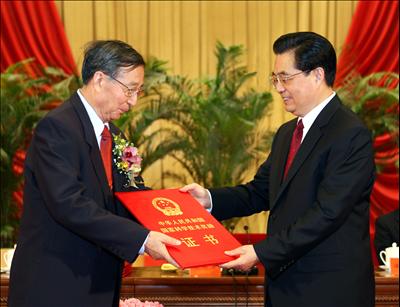 Chinese president Hu Jintao (R) presents the State Scientific and Technological Award to Li Zhensheng for his achievements in wheat breeding at the annual national science-technology prize awarding ceremony Tuesday, Feb 27, 2007. Li is the tenth Chinese scientist to win this top award.
First Automotive Works Corp (FAW), China's No 2 auto group by 2006 sales, yesterday denied a report that it would buy Chrysler Group, the floundering US arm of DaimlerChrysler.
Wal-Mart Stores Inc has sealed a deal to purchase a 35 percent interest in the parent company of Trust-Mart, a step forward for the world's largest retailer to expand its reach in the country.
The parent companies of the two mainland fixed line operators - China Telecommunications Corporation and China Netcom Communications Group - are about to sign an agreement that they will not "foray each other's territory." That is, China Telecom (0728) will stop looking for new business in northern China while China Netcom (0906) will do the same in the south, a source close to one company said.
Lifestyle International Holdings (1212), operator of two upscale Sogo department stores, plans to invest HK$2.8 billion to expand its mainland presence in the next two years amid strong consumer spending across the border.
President Hu Jintao has ordered the military to integrate its logistical support and infrastructure projects with the wider economy to avoid wastage and overlapping, the People's Liberation Army Daily said yesterday. Mainland authorities have arrested the former head of Zhejiang province's Food and Drug Administration on suspicion of accepting bribes, marking the latest in a series of corruption cases involving the pharmaceutical industry.

Datang Telecom Technology and Industry Group (Datang Group), a developer of the mainland's homegrown 3G technology TD-SCDMA, is expected to receive about four billion yuan from the government to pave the way for a corporate restructuring, a newspaper reported.
March 1, 2007

Hong Kong: Hongkong and Shanghai Banking Corp (0005), which set off the latest home- loan war last week by slashing its mortgage rate, now finds itself near the high end as three more lenders lowered their rates Monday to undercut HSBC's 4.87 percent.

The extended rally of the China market Monday following the Lunar New Year break was unable to offer support for the Hang Seng Index, which declined over 200 points led by China Mobile (0941) ahead of the settlement of index futures.
Richard Li Tzar-kai's Singapore-listed holding company, Pacific Century Regional Developments, is looking to sell its controlling stake in Hong Kong insurer Pacific Century Insurance Holdings (0065), market sources say.
Developers have agreed on supporting the government's application-list system for land auctions, according to Real Estate Developers Association chairman Stanley Ho Hung-sun.
Hong Kong University, in a bid to help bright students from low-income families enjoy a full education, will this year introduce a scheme where the first child of any family will be eligible for a subsidy of up to HK$50,000 for extramural activities for a maximum of three years.
Local property tycoon and Macau casino mogul Stanley Ho Hung-sun says no one can do a better job than incumbent Donald Tsang Yam-kuen and predicted he would win at least 80 percent of the vote in the March 25 chief executive election.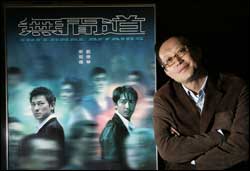 Fair organisers stage roadshows in Shanghai - The Oscars proved a glorious - and potentially lucrative - night for Hong Kong movies according to director Andrew Lau Wai-keung. At Sunday ceremony, Martin Scorsese's remake of Lau's Infernal Affairs won Academy Awards for best film, best director and best adapted sceenplay. For Lau, this will provide a shot in the arm for the SAR's troubled film industry. "Everybody was talking of a slow box office, and the decline in movie output with only 50-something films this year," he said. "The message is that we make good movies and that everybody, everywhere is now aware of this. "Now more people will pay attention to our films. Foreign movie makers will buy our screenplays. Many international companies will give us more money to invest in more new movies. "But those who say this is a brave new dawn for Hong Kong movies are missing the point," Lau said. "Hong Kong movies already play a vital role in the international scene. Wong Kar-wai (In the Mood for Love and 2046) has won several awards, and Stanley Kwan Kam-pang has won prizes at the Berlin International film festival long ago (Hold You Tight). Hong Kong films have not been neglected." Joe Cheung Tung-cho, of the Hong Kong Film Awards Association, was also delighted with the win, but sounded a note of caution. "This is a recognition of Hong Kong movie-makers' creativity," he said, but added that Hollywood recognition should not distract SAR filmmakers from their most important role - making movies that people want to go and see. Infernal Affairs, which was co- directed by Lau and Alan Mak Siu-fai, cleaned up at both the Golden Horse Awards and the Hong Kong Film Awards in 2003, and was also a huge box-office success across the region. And Lau thinks this may have had an influence on The Departed's success at the Oscars. "I think the name of Infernal Affairs is very powerful. It won the support of everybody, it won support all over the world. The name is powerful, and maybe it also influenced the Academy. We won several awards in 2003 and they are repeating our history. It's the American version of our past glories." And when asked if Scorsese's Oscars success will encourage more local movie-makers to produce better quality movies, Lau was dismissive of the idea that this was needed. "I think Hong Kong directors treat this as their target anyway. They all want to pursue a good quality plot." Despite the increased international attention on his work, Lau laughs at the idea that it will put him under greater pressure. "I always have pressure, things can't work without pressure. This just means I will have to work harder."
Exports expand 9.2pc - Hong Kong was continuing to enjoy a strong surge in exports this year on the back of a robust economy, government figures released on Tuesday showed.

Zhou Bingde, niece of late premier Zhou Enlai, launches her book My Uncle Zhou Enlai before the opening of an exhibition on his life and achievements at the Lam Woo International Conference Centre in East Kowloon. Zhou Enlai served as the nation's first premier, from 1949 to his death in 1976, and its first foreign minister, from 1949 to 1958. The exhibition is open from 9am to 7pm and runs until March 11.

Brisk consumer demand for Microsoft Corp's Windows Vista operating system, which has been on sale in Hong Kong since February 3, is providing a welcome boost to local retailers' seasonally slow first-quarter sales of personal computer hardware and software, the company said. "Some retail shops have told us that they have been selling 30 times more than what they usually sell, especially during the launch weekend on February 3 and 4. Some even said that their sales were comparable to high-selling holiday seasons like Christmas," said Adam Anger, the director of Microsoft Hong Kong's business marketing organisation, without elaborating. Healthy demand was also recorded by some branches of convenience store Circle K during the Lunar New Year break, Microsoft said. A tie-up between the two companies has put Vista on Circle K's shelves. Convenience Retail Asia, a unit of the Li & Fung Retailing Group, is selling limited numbers of Vista and Microsoft's Office software at its 250 stores in Hong Kong. "We see Vista on sale at Circle K stores as an opportunity to expand the customer base of both companies," Mr Anger said. Computer system builders in Hong Kong received 30 per cent more orders over the past few weekends, he said. Hewlett-Packard, for example, counted on an immediate trend to adopt Vista. The company was the first personal computer manufacturer to sell Vista-based personal computers across its consumer and business product portfolios from January 30. "HP has collaborated closely with Microsoft for more than five years to deliver the industry's broadest and most complete Windows Vista portfolio," said Adrian Koch, the senior vice-president for the personal systems group at HP Asia-Pacific and Japan. Bryan Ma, associate director of Asia-Pacific personal systems research at International Data Corp (IDC), said it was still too early to tell how much impact Vista would have on first-quarter computer sales in the region. IDC projected deployment of 90 million Vista units worldwide this year.

China: Angang Steel Company Limited, a plc commonly known as Ansteel, announced on Monday that Liu Jie, chairman and member on Ansteel's board of directors, had resigned from both posts because of retirement.
China stocks took a roller coaster ride in the first two post-festival sessions , suffering a record daily tumble Tuesday after reaching an all-time high the previous day. Chinese shares saw their steepest one-day drop in a decade on Tuesday, tumbling 8.84 per cent amid concerns the market was overdone after soaring to historical highs, dealers said.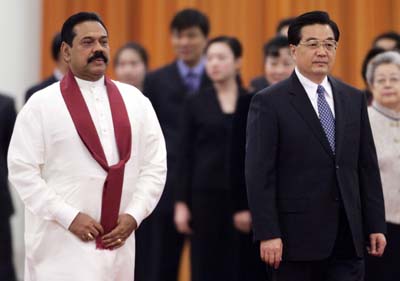 Sri Lanka's President Mahinda Rajapaksa (L) and China's President Hu Jintao attend a welcome ceremony at the Great Hall of the People in Beijing February 27, 2007. China and Sri Lanka signed a series of deals when Sri Lankan President Mahinda Rajapakse is visiting Beijing to mark the 50th anniversary of bilateral diplomatic ties.
China Rare Earth (0769), the mainland's biggest processor of elements used in magnets and mobile phone batteries, expects prices for its products to keep rising in the coming three years amid strong demand and industry consolidation.
Beijing Capital International Airport (0694) strategic shareholder Aeroports de Paris is selling its entire stake through a placement expected to raise at least HK$2 billion, capitalizing on the share price gains following news of an A-share issue and asset acquisitions from the parent company.
Retail sales surged 15 percent from a year earlier to 220 billion yuan (HK$221.78 billion) during the weeklong Lunar New Year holiday, spurred by rising incomes.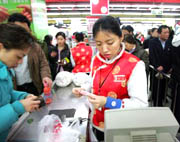 A checkout operator works at a Trust-Mart store in Beijing on Tuesday. Wal-Mart is buying a 35 per cent stake in a company that operates Trust-Mart, a major Chinese discount chain, as international competitors jostle for position in China's rapidly growing retail market.
Bank of Communications, the country's sixth-largest lender by deposits, plans to raise 25 billion yuan by selling subordinated bonds to increase its capital before its expected A-share listing in the first half.

*News information are obtained via various sources deemed reliable, but not guaranteed