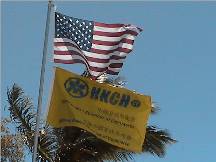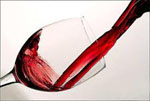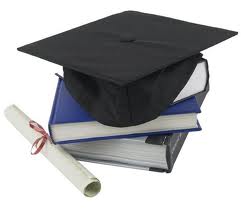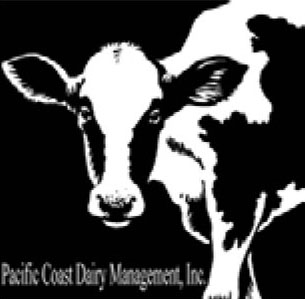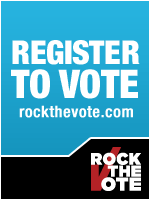 Biz-Video

Hawaii's China Connection

Doing Business in Hong Kong & China
Hong Kong, China & Hawaii Biz*
Do you know our dues paying members attend events sponsored by our collaboration partners worldwide at their membership rates - go to our event page to find out more! After attended a China/Hong Kong Business/Trade Seminar in Hawaii...still unsure what to do next, contact us, our Officers, Directors and Founding Members are actively engaged in China/Hong Kong/Asia trade - we can help!
Are you ready to export your product or service? You will find out in 3 minutes with resources to help you - enter to give it a try

China Central TV - live webcast

Skype - FREE Voice Over IP

View Hawaii's China Connection Video Trailer


Direct link PDF file


Year of the Pig - February 18, 2007
May 31, 2007

Hong Kong: Green Futures (Hong Kong) Limited, a leading Chinese mainland-based financial group Tuesday announced that it becomes the first mainland futures starting business in Hong Kong after receiving permission from Hong Kong Securities and Futures Commission. Analysts believe, Green Futures, the first out of 180 futures companies in the Chinese mainland, with its expanding business to Hong Kong is the fruit of the recently expanded Closer Economic Partnership Arrangement III (CEPA III), the provisions of the free trade between Hong Kong and Chinese Mainland, which allow for Chinese mainland securities and futures companies to run businesses in Hong Kong. Wang Shuan-hong, Chairman and President of the Green Group, believe its establishment in Hong Kong will provide a strong platform for the group to speed up alignment with international markets. While the Director-General of Investment Promotion at Invest Hong Kong, Mike Rowse, echoed that Hong Kong, aiming at strengthening its role of financial center of the region, wants to offer a highly mature financial market for qualifying mainland companies to develop closer ties with their Hong Kong and overseas counterparts and clients.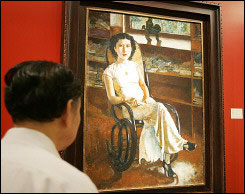 A prospective buyer views an oil on canvas painting by Chinese artist Xu Beihong entitled "Portrait of a Lady". Two contemporary Chinese works of art sold Sunday for record prices at auction in Hong Kong, underlining a growing demand for modern Asian art. An abstract painting by Zhao Wuji entitled "14.12.59" set a record for the artist when it went under the hammer for 29.44 million Hong Kong dollars (3.78 million US dollars). And two hulking brass sculptures called "Taiji Series -- Big Sparring" by Ju Ming also set a record for the artist at 14.89 million dollars. The two items were among hundreds of lots worth more than a billion dollars that are going under the hammer at the Christie's Spring sale of Asian art over the next four days. Although the identity of the buyers was not revealed, Eric Chang, senior vice-president of 20th century Chinese art at Christie's, said all buyers were Asia-based. Among other big sellers was the elegant "Portrait of a Lady" by Xu Beihong, the current darling of the Asian art world, which fetched nearly 30 million dollars with fees taken into account. Xu's "Put Down That Whip" sold earlier this year for 72 million dollars -- the highest price commanded for a Chinese painting at auction. Also on Sunday, the stark "Scenery of Northern China" by Wu Guangzhong sold for 31.68 million dollars. Christie's and its rival Sotheby's have been holding twice-yearly sales in Hong Kong since the mid-1990s as growing wealth in China has fuelled a bonanza in the Asian art market. Some art historians have criticized the recent explosion in the prices for Asian art, which 10 years ago was struggling to attract any interest, and have criticized over-exuberant first-time buyers for sending prices sky-high.
Two plots of land went under the hammer in Hong Kong on Tuesday, fetching a total of HK$1.74 billion (US$223 million), at the lower end of analysts expectations.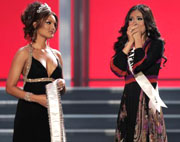 Riyo Mori, Miss Japan 2007, right, reacts as she wins the Miss Universe 2007 title in Mexico City, early on Tuesday (HK time) as Zuleyka Rivera, Miss Universe 2006, looks on.
The tax on wine should be cut further, to less than 20 per cent, to help make Hong Kong an international wine-selling hub, Liberal Party chairman James Tien Pei-chun said yesterday.
China was on course to catch up with the United States and join the front ranks of world economic powers but that was little cause for concern, even among Americans, according to a global survey released on Monday. But the same poll showed there was generally as much distrust of the United States as there was of China to "act responsibly" in world affairs. Most respondents in 13 countries agreed it was "likely that someday China's economy will grow to be as large as the US economy", according to the opinion poll by the Chicago Council on Global Affairs and WorldPublicOpinion.org. "What is particularly striking is that despite the tectonic significance of China catching up with the US, overall the world public's response is low key - almost philosophical," said Steven Kull, editor of WorldPublicOpinion.org. In no country was there a majority who felt that China's economic rise would be mostly negative, but that was not because China was particularly trusted, the pollsters said. Majorities in 10 out of 15 countries said they did not trust China "to act responsibly in the world". But the same number also said they distrusted the US. "Though people are not threatened by the rise of China, they do not appear to be assuming that it will be a new benign world leader," Mr Kull said. "They seem to have a clear-eyed view that China is largely acting on its own interests." The Chinese themselves are among the more sceptical populations, with only half saying that their economy will catch up with that of the US. Among Americans, the percentage was 60 per cent. Only in India and the Philippines did a plurality of respondents say the US would always remain a bigger economy than China. The highest level of concern about the implications of China's economic march was in the US, where one in three is worried. But 54 per cent of Americans said that its rise would be "neither positive nor negative" while one in 10 said it would be mostly positive. Only in Iran did a majority - 60 per cent - say that it would be "mostly positive for China to catch up". "Their favourable outlook may stem in part from heavy Chinese investment in Iranian oil as well as Iranian desires to have a counterweight to American power," the pollsters said. The survey included 18 countries: Australia, Argentina, Armenia, China, France, India, Iran, Israel, Mexico, Peru, the Philippines, Poland, Russia, South Korea, Thailand, Ukraine, and the US, plus the Palestinian territories. Not every question of the poll was asked in each country, so that the results for some questions covered less than 18 countries.

China: China has allowed its currency, the yuan, to appreciate by more than 7.5 percent against the U.S. dollar since it scrapped the yuan-dollar peg in July 2005, said the country's central bank.
Visiting Chinese Commerce Minister Bo Xilai in Ottawa Monday held talks with Canada's International Trade Minister David Emerson on ways to boost bilateral trade.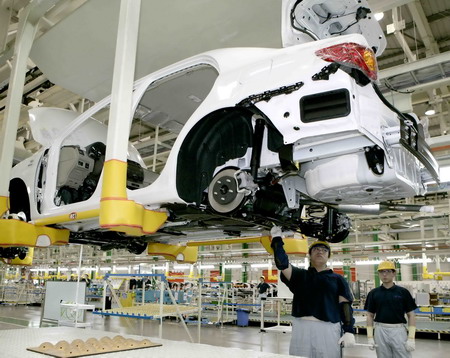 Tianjin FAW Toyota Motor Co., LTD. holds the unveiling ceremony for its third plant and Corolla at Tianjin Economic and Technological Development Zone on Monday. The plant occupies 400,000 square meters, with an annual output capacity of 200,000 popular sedans.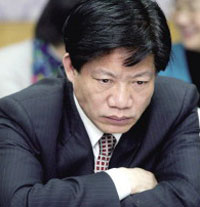 Zheng Xiaoyu, former director of China's State Food and Drug Administration (SFDA), was sentenced to death by a Beijing court Tuesday morning. Zheng, 63, was convicted of taking bribes and dereliction of duty, according to the first instance hearing of the Beijing Municipal No. 1 Intermediate People's Court. He received the death penalty on the graft charge and 7 years in imprisonment for the charge of dereliction of duty. All Zheng's personal property was confiscated and he was deprived of his political rights for life. The death sentence was appropriate, according to the court, given the "huge bribes involved and the great damage inflicted on the country and the public by Zheng's dereliction of duty". The bribes taken by Zheng, including cash and gifts, were worth more than 6.49 million yuan (about 850,000 U.S. dollars), according to the court. The bribes were given either directly or through his wife and son. The court said Zheng "sought benefits" for eight pharmaceutical companies by approving their drugs and medical devices during his tenure as China's chief drug and food official from June 1997 to December 2006. "(Zheng's acts) greatly undermined the uprightness of an official post and the efficiency of China's drug monitoring and supervision, endangered public life and health and had a very negative social impact," the court said. Zheng violated reporting rules and decision-making processes when approving medicines from 2001 to 2003. He failed to make careful arrangements for the supervision of medicine production, which is of critical importance to people's lives, said the court. The consequences of Zheng's dereliction of duty have proved extremely serious. Six types of medicine approved by the administration during that period were fake medicines. Some pharmaceutical companies used false documents to apply for approvals, the court said. It is not yet known whether Zheng will appeal.
China will release the country's first regulation on food recall by the end of this year as part of efforts to improve food safety, a senior official has said. The move by the General Administration of Quality Supervision, Inspection and Quarantine comes in response to a recent spate of food safety scandals. Wu Jianping, director general of the food production and supervision department of the administration, told China Daily that the recall system mainly targets potentially dangerous and unapproved food products. The regulation - whose final draft will be ready by the end of the year and will be in line with international practices - stipulates that food production and sales companies should take back their products which are confirmed to endanger people's health, Wu said. "All domestic and foreign food producers and distributors will be obliged to follow the system," he said. Till now, only one section in a regulation on product inspection - issued in 2002 - touches upon food recall and the need for such a system. Among major food recall cases are enterobacter sakazakii-affected Wyeth milk powder in 2002 and Sudan-red related products in 2005. "Implementing the recall system for all food products will be a gradual process," Wu emphasized. Despite tainted-food scandals in recent years, the official said the quality of food products in China has been on the rise, especially after the country set standards for food-related products in 2002. To date, more than 525 kinds of food products in 28 categories, and more than 80,000 food enterprises have acquired market access permits. This year, another seven categories, such as food utensils, additives, detergents and disinfectants, will be required to get market permits. In a related development, the State Food and Drug Administration (SFDA) plans to blacklist food producers which break rules; and serious violators could be barred from the market. The SFDA yesterday launched a nationwide campaign on drug safety inspection. From May 28 to June 8, a total of 90 officials will be sent to 15 provinces.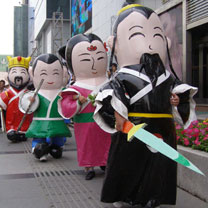 Residents dressed as cartoon characters parade during the opening of the Jinlv traditional cultural festival in Suzhou, East China's Jiangsu Province May 29, 2007.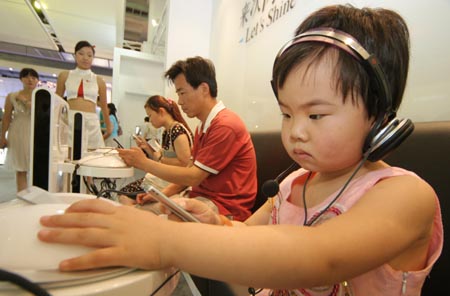 A girl is listening to cell phone music in Beijing International High-tech Expo May 27, 2007. Up to the end of April, the country's cell phone penetration ratio has hit 35.3%, according to the latest statistics from the Ministry of Information Industry. The number of China's cell phone users amounted to 480.43 million by the end of April, increasing 26.35 million from the end of last year. About 182.6 billion short messages were sent in April with a 38.1 percent growth year-on-year.
Hitachi is to build a new elevator factory in Shanghai with an annual output capacity of 10,000 units, according to company sources. Hitachi, which already has elevator factories in Guangzhou and Tianjin, expects the completion of the Shanghai facility in January. It involves a registered capital of 40 million U.S. dollars and covers a 185,000-square-meter site. Completion of the facility will boost Hitachi's annual elevator production capacity in China to 35,000 units, the company said. China's elevator market saw an annual growth rate of 25 percent since 2000. The country became the largest elevator market, buying more than 150,000 units in 2006, sources said. The upcoming Beijing Olympic Games, Shanghai's World Expo and Guangzhou's Asia Games were bound to expand the market, analysts said.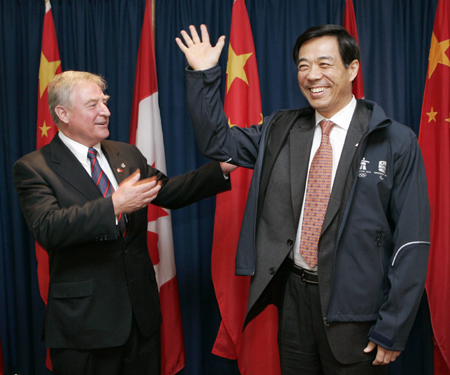 China's Commerce Minister Bo Xilai (R) reacts after being presented with a 2010 Vancouver Olympic Winter Games jacket by Canada's International Trade Minister David Emerson before the start of a meeting in Ottawa May 28, 2007.
May 30, 2007

Hong Kong: The Hong Kong Monetary Authority, the city's de-facto central bank, warned Monday that excessive liquidity in the mainland has led to soaring property prices and feverish activity in the stock market. Such signs, it said, could affect the local equity market as there is "a higher degree of volatile transmission" from the frenzied Chinese stocks. "The February fall is an example of contagion via market sentiment changes," the HKMA said in its briefing notes to the Legislative Council Panel on Financial Affairs, which meets June 4. The Hang Seng Index fell 1,157.72 points in the last four trading days of February as the plunge in Chinese stock markets triggered a massive selloff globally. The mainland bourses recorded the sharpest drop in a decade February 27, tumbling 8.84 percent when investors were worried Beijing would cool down the stock market. HKMA chief executive Joseph Yam Chi-kwong said a decline of domestic demand in the mainland could reduce exports to China as well as outbound tourist traffic. "The local equity market will be resilient to mainland shocks, although investor sentiment could be affected through the financial market channel," the briefing notes said. "The impact of [yuan] appreciation on inflation is likely to be modest." Analysts have said a rising Chinese currency could bring more consumers from the mainland into Hong Kong as the local dollar remains weak, partly because of a potential carry trade using the unit by currency traders. Yam said Hong Kong's economy remains sound as the environment is largely favorable for businesses. He attributed his optimism to "robust growth, declining unemployment, a benign inflation outlook, renewed fiscal strength and normal behavior of property and stock markets." He had suggested in February that Beijing's tightening measures may lead to "consequences beyond imagination." Its recent measures to raise interest rates, widen the currency trading band and increase the reserve requirement ratio for domestic banks have all failed to deter investors. Yam also said there are concerns in the US economy that could affect the macroeconomic environment. "A sudden and sharp depreciation of the US dollar, the disoderly unwinding of global imbalances and a spillover of US housing market weakness are external risks to the currency stability in Hong Kong," Yam said. "Financial instability and volatile capital flows are induced by an increased risk aversion of market participants and higher market volatility and the destabilizing activities of hedge funds." He said the HKMA's foreign exchange reserves have already been aggressive enough as it has a 23 percent composition of stocks in its portfolio.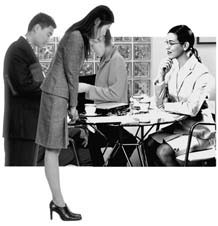 David Eldon, former chairman of the influential Hong Kong General Chamber of Commerce, published an article in the chamber newsletter urging the government to further simplify its immigration procedures for foreign employees of local businesses. His view is a reflection of the strong demand for foreign talent by local businesses. It is part of coping with economic restructuring to meet rising competition from various mainland cities, particularly Shanghai. Many business leaders in Hong Kong are beginning to realize that the biggest talent pool waiting to be tapped lies on the mainland. This was not obvious in the past. Mainland business executives and professionals were seen by many Hong Kong business people as unsuitable for a fast changing and highly competitive business environment which rewards only those with initiative and daring. But this bias against mainland managers is fast melting away. Rapid economic development and the opening of the mainland market have produced a new crop of mainland managers and professionals. They have shown that they can be as adaptable to a competitive environment as their Hong Kong counterparts. This change is anything but subtle. In our office in Shanghai, I have the pleasure of watching the transformation of a few young and timid interns, fresh out of college, into hard-charging, inquisitive and thoughtful reporters full of self-confidence. All they needed was a bit of guidance, encouragement and, more importantly, a keen sense of competitiveness not only with reporters on the rival papers but also with their colleagues in other bureaus. My personal judgment was confirmed when I had dinner with a senior expatriate editor in Beijing the other evening. He asked me about a reporter in the Shanghai bureau whom he thought was particularly outstanding on her beat. He was hugely surprised when I told him that this reporter joined us about six months ago and had never worked at any foreign media as he had assumed. She is simply more combative than others. To survive in a work environment where rewards are closely tied to individual performance, most young Hong Kong executives learn the lesson of competitiveness early on. Such a lesson has taught them to be efficient, adaptive and innovative, the common traits widely attributed to Hong Kong people. There is, of course, a less flattering side to the stereotype. Hong Kongers, who are also characterized as needlessly aggressive, inconsiderate to the point of rudeness, uncaring and impatient. But on balance, most Hong Kong people feel pretty comfortable about how they are seen by outsiders. Based on my experience in working with young reporters on the mainland, I believe that most young mainland executives will have no problem picking up the lesson on competitiveness very quickly if they have a chance to work in Hong Kong. This would be an excellent opportunity for them to gain the exposure to a free international marketplace that is so close to home. It appears that a growing number of Hong Kong business owners are keen on recruiting talent from the mainland. To satisfy their needs, it may make sense for the Chamber of Commerce, one of Hong Kong's more powerful business groups, to take the initiative of setting up recruitment offices in Beijing, Shanghai and some other major cities to publicize employment opportunities in Hong Kong and to build a data base of qualified talent willing to work in Hong Kong.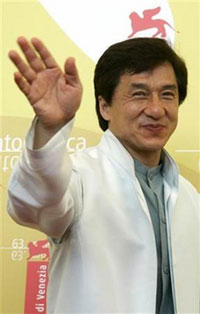 Cast member Jackie Chan attends a photocall to introduce his film 'Rob-B-Hood' at the Venice Film Festival September 8, 2006. Jackie Chan's production company has sold the remake rights for the action-comedy "Enter the Phoenix" to a producer of "The Bourne Ultimatum." The 2004 Cantonese-language original was directed and co-written by its star, Stephen Fung. The plot centers on the gay son of a boss whose dying wish is that he take over the family business. Chan was one of the producers. Hollywood remakes of Asian films are hot, with such properties as "The Grudge" and "The Ring" storming the box office. Earlier this year "The Departed," Martin Scorsese's remake of Hong Kong box office winner "Infernal Affairs," won four Oscars, including best picture and director. Andrew Tennenbaum will produce the remake, according to a statement from his L.A.-based Flashpoint Entertainment. "This is my first Asian film remake and I couldn't be more excited," said Tennenbaum, who also helped make "The Bourne Supremacy." He said he was meeting with writers and directors to create the adaptation.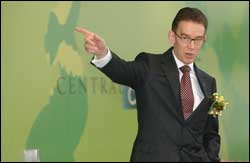 Nicholas Sallnow-Smith, chairman of the controversy-laden Link REIT (0823), has accepted a job as regional chief executive for northeast Asia at Standard Chartered (2888) - less than two months after he took over the politically charged helm at the real estate investment trust. He will assume his new position at Standard Chartered July 1, the lender announced Monday. While Sallnow-Smith plans to hold down both posts, market watchers are dubious. "It may send signals that he may not see his employment with The Link as a long-term relationship," said Phillip Securities director Louis Wong Wai-kit. "Already, for The Link, the reshuffle at the senior level has undermined confidence in the investor community." Fulbright Securities general manager Francis Leung Sheung-nim said: "He wants to work for a bigger company. Basically, he's getting the best of both worlds." His independent, non-executive role at The Link has drawn fire from lawmakers and public housing residents. "I think it's quite hard to take up two important jobs," said Tung Tai Securities director Kenny Tang Sing-hing. "I think eventually he may need to give up one job, maybe The Link." Sallnow-Smith became chairman at Link REIT April 1 after Paul Cheng Ming-fun resigned for personal reasons. It was then expected that Sallnow- Smith's extensive experience as chairman of Hongkong Land could help improve returns at The Link. "Apparently, people will be very disappointed," said Lun. "They placed their faith in the wrong person." Three senior executives have left Link REIT since the beginning of the year amid repeated demands from the largest shareholder, British hedge fund The Children's Fund Investment Management, for significant rent increases. Sallnow-Smith, whose Standard Chartered position will be based in Hong Kong, will oversee governance, strategy and financial performance in northeast Asia for the emerging- markets lender.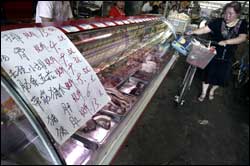 Spiraling pork prices in the mainland have fanned prices of food and agricultural products as well as shares of companies listed in Hong Kong with no direct link to the sector. Shares of China Yurun Food (1068), the mainland pork distributor and meat processor that is also a wholesale supplier to Hong Kong, hit a high of HK$9.52 Wednesday. They eased 0.85 percent to close at HK$9.37 Monday. However, edible oil trader Aptus Holdings (8212) and edible oil refiner Hop Hing Holdings (0047) started the week with surges of about 30 percent. Shares of CP Pokphand (0043), which mainly trades agricultural products as well as operate feedmills and poultry farms, also drove up 17.11 percent to close at HK$0.445. Analysts said investors believe pork prices will continue to rise for at least six to nine months and that the increases will spill over into other food categories, causing speculative buying. According to Ministry of Commerce data, wholesale pork prices in 36 major cities jumped 43.1 percent in the first three weeks of this month from a year earlier, or 17 percent up from March. "Pork accounted for about 5-6 percent of the mainland CPI basket in the past but, with the price gains, it now makes up more than 20 percent," Chen Xindong, senior economist at BNP Paribas Securities, told The Standard. With the surge in pork prices, economists said, inflation in the coming months will surpass the 3 percent target set by Premier Wen Jiabao in March. The price increases came as Beijing was having initial success in inflation, with the consumer price index dipping to 3 percent last month following a 3.3 percent increase in March over a year earlier.
Local companies sending spam e-mails have been warned of the stiff penalties when the anti-spam law comes into effect Friday, but the telecoms watchdog says it may be difficult to deal with overseas firms involved in the practice.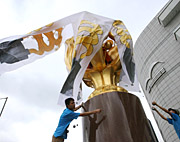 Greenpeace activists turn the Golden Bauhinia into a symbolic energy-efficient light bulb to demand stronger action on climate change. The three-day International Conference on Climate Change has brought hundreds of representatives from 26 nations to Hong Kong.
Hong Kong has been urged by a leading international environmental scientist to set its own target for reducing greenhouse gas emissions, even though Beijing has yet to set any national targets.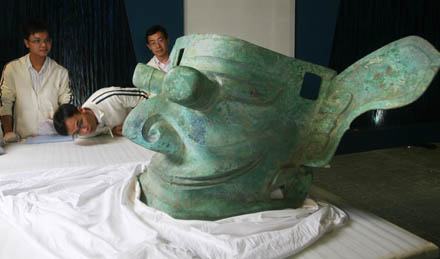 Hong Kong Heritage Museum staff check the mounting of Bronze Mask with Protruding Pupils, which will be on display at the museum from June 6. The piece, dated 1200 BC, is among 120 treasures on display from the Sanxingdui Museum, Chengdu Museum and Sichuan Provincial Institute of Archaeology, all in Sichuan.

China: The Beijing Traffic Management Bureau announced on May 26th that Beijing's motor vehicles have exceeded three million, and Beijing has become a city built on an "car's wheels." One in every five residents owns a vehicle, and the proportion of private car ownership reaches over eighty percent. With these three million cars, Beijing will endure pressure from heavy traffic and traffic jams, environmental damage, and parking availability. However, the relevant department of government expressed that Beijing has the confidence to meet these new challenges. Data shows that it took twenty-nine years for Beijing's motor vehicle ownership to increase from 2,300 in 1949 to 77,000 in 1978; but it took only six years to increase from one million to two million. Many Beijing drivers still remembered the August of 2003 when the Beijing Traffic Management Bureau announced that "Beijing's motor vehicles had reached two million." There was much surprise. Although feelings of surprise still exist, the number of motor vehicles has already exceeded three million. A chief member of the Beijing Traffic Management Bureau said that from May 26th to the end of this year, Beijing's traffic may most likely go through a tough period: motor vehicle ownership will continue to grow rapidly. The construction project that will cover the roads cannot be completed in a short time; the new subways are not put into use yet; and the organization of bus lines are still adjusting. However, it was reported that, " Beijing already has plenty of experience in dealing with traffic jams; although the number of vehicles has increased by one million, the situation of traffic jams is not as aggravating as they were in 2003."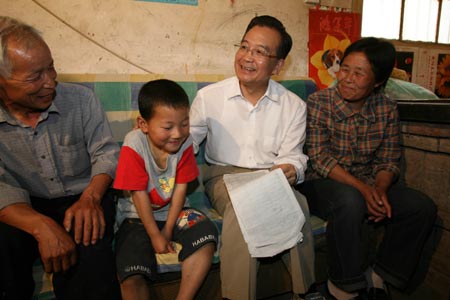 Chinese Premier Wen Jiabao looks through the exercise book of a boy Yang Saike in a village of Xingping City, North China's Shaanxi Province, May 26, 2007. Yang Saike, whose parents were working in the coastal province of Fujian, thousands of kilometers away, was cared for by his grandparents. His parents fail to go home even once a year. Wen has extended greetings to the "left-behind" children of rural migrant workers in cities ahead of the Children's Day, which falls on June 1.
Mainland piped-gas distributor China Gas Holdings (0384) will invest 1.2 billion yuan (HK$1.23 billion) in a second gas liquefaction plant in the northeast of Sichuan province.
Tingyi (Cayman Islands) Holding (0322), China's biggest packaged- food maker, reported first-quarter net profit jumped 20.6 percent year on year while market share for the group's core products continued to climb.
Shanghai reappointed Mayor Han Zheng as a Communist Party deputy secretary yesterday, indicating he will remain in the city for now after a corruption case that led to the sacking of the city's previous party secretary.
Despite official efforts to counter the soaring price of pork on the mainland, shoppers were still concerned yesterday that the price of other everyday necessities would follow the rising cost of the meat.
A former employee of BNP Paribas allegedly bribed a mainland official to gain an underwriting contract for the country's first euro-denominated foreign bonds, according to a mainland media report.
Bank of China is planning to tap the Hong Kong debt market by selling as much as three billion yuan worth of bonds denominated in the Chinese currency, the lender said.
May 29, 2007

Hong Kong: The controversial issue of Hong Kong being required to communicate with the central government over its chief executive candidates will go public when Basic Law Committee director Qiao Xiaoyang arrives in the SAR for a Basic Law seminar in mid-June.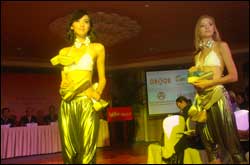 Walker Group, Hong Kong shoe maker with growing business both in Hong Kong and Chinese mainland, Sunday announced its initial public offering plan of 150 million shares starting from Monday. It said the listing on the Main Board of the Stock Exchange of Hong Kong is to raise approximately 665.9 million HK dollars (85.4 million U.S. dollars) for its business expansion. About 90 percent of the offering will be for placing and 10 percent will be offered to the public with the price range between 3.86 HK dollars to 3.18 HK dollars. The placing offer has attracted two institutional investors -- ITOCHU Corporation, a Japanese conglomerate and Gaoling Yali Fund, a investing fund indirectly owned by Yale University. The public offering will last from Monday to Thursday and start trading on June 7.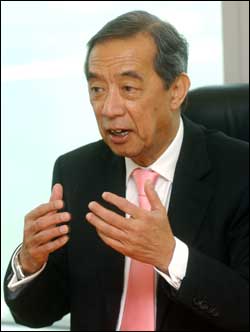 Hong Kong will continue to strengthen its role as China's international financial center, although the stock exchange will not be the sole beneficiary of mainland policies, a senior executive said. Ronald Arculli, chairman of Hong Kong Exchanges and Clearing (0388), told The Standard the exchange is ready to play a greater role in China's economic development, while also aiming to become a leading regional market by attracting more overseas listings. Arculli said the exchange could not depend entirely on the mainland to develop further despite the expansion of the qualified domestic institutional investor scheme. The move, announced May 11, helped to drive turnover May 14 up to HK$94.99 billion and lifted the Hang Seng Index to a record closing high of 20,979.24 points. "QDII is not only designed for the Hong Kong market. It is a measure to give mainlanders more investment choices," he said. "[The quotas] may be enlarged, but we can't absorb it all." Arculli said the news that about US$7 billion (HK$54.6 billion) would be made available for investment propelled daily turnover to a record and that it meant the bourse would be swamped with huge capital flows if all of the mainland's financial policies were to be decided in favor of Hong Kong. And as the bourse evolves, the exchange is strengthening its market infrastructure. "Our trading system is ready. It can handle more than 1.5 million transactions per day, while the current daily average is only 400,000 transactions." Since the 1970s, Hong Kong has played an important role in China's economic development, contributing to and benefiting from the country's robust economic growth, Arculli said. Now, 10 years after the handover, Hong Kong should look at the bigger picture and develop a tighter relationship with the nation, Arculli said. "China has upcoming macro plans. Areas such as railways development, customs cooperation and financial market convergence are areas in which Hong Kong has a role. This will be long term and might need more than three to five years to be implemented. The central government has clearly said Hong Kong's status as an international financial center is irreplaceable. Their support for us will not change." He said the bourse is eager to become the region's leading financial center. "We have been focused on attracting mainland enterprises to use Hong Kong as a platform for overseas fund raising. And now our goal is to be the time zone's regional financial center, like London or New York," Arculli said. "We do not fear competition from our mainland peers. Competition is not only from the mainland but also from overseas counterparts such as Nasdaq." Overseas exchanges such as the New York Stock Exchange, Nasdaq and Deutsche Borse are planning to set foot in China with the aim of attracting major issuers. Rules allowing them to open offices take effect July 1.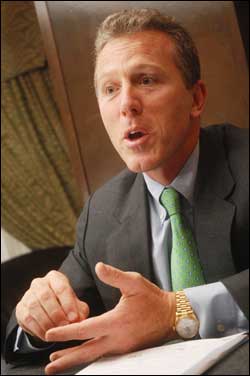 As the mainland continues to reform its economy to align its business environment with international standards, it will become one of the top three epicenters for private equity money. Gene Donnelly, global managing partner, advisory and tax, at PricewaterhouseCoopers, said there will soon be "three epicenters of private equity in the world - New York, London, and we think China is going to be the third." He told The Standard private equity activity in the mainland is "booming." "There are too many firms to mention that are opening." Changes in the tax law that take effect from the start of next year provide a high degree of certainty. The unified tax system, a major part of the mainland's accession to the World Trade Organization, provides a clarity that will help foreign investors such as private equity firms manage their risks better. At the moment, foreign-funded enterprises get preferential tax treatment - 15 percent on average as opposed to 25 percent for domestic companies. "I think this tax change is a good example of how China is quickly conforming to the rules of the game around the world," Donnelly said. Private equity firms have so far been taking smaller stakes in mainland deals, than in other markets. As they adapt to the culture, however, big value deals will become possible. "Learning the new culture, learning how to get along with regulators, who the regulators are, is all part of the natural evolution of private equity as it moves into new markets," Donnelly said. Private equity players still have a lot to learn about doing deals in China.
Shanghai Fosun Group, one of the largest privately owned conglomerates in the mainland and parent of developer Shanghai Forte (2337), is looking to raise US$1 billion (HK$7.8 billion) in a listing in Hong Kong.

The People's Liberation Army's 8-1 Parachute Brigade will make its debut in Hong Kong June 28 as part of celebrations marking the 10th anniversary of the handover. Carrying the national, HKSAR and PLA flags, members of the brigade will descend from 2,000 meters during a free 40-minute performance at the Happy Valley racecourse. The brigade, a nationally renowned team, has won about 240 championships so far and broken the world record eight times with its spectacular shows. The team performed at the Macau handover ceremony in 1999, but this is the first time for it to visit Hong Kong. Cheng Yiu-tong, convenor of the Hong Kong Celebrations Preparatory Association, said team members have visited the racecourse and are satisfied the ground is suitable for landing. The brigade will put on another show at the "Together We Grow, Together We Dream" July 1 parade. Cheng said he expects more than 20,000 people to watch the racecourse event, which will also include a flag- raising ceremony by the city's PLA garrison and marches. The parade will start from the racecourse at noon, to be followed by performances by the parachute brigade and garrison. It will pass through Tin Lok Lane and Hennessy Road and end at Southorn Playground in Wan Chai. Four performance zones will be set up along the route to allow spectators to take a closer look at the performers. Program director Lee Fung-king said the parade will include about 5,000 participants from organizations in Hong Kong and the mainland. "We already have 14 groups of performers from various mainland provinces," Lee said. "We're still contacting other parties who may be interested in taking part in the parade." The groups will perform lion dances, juggling and other traditional Chinese skills. About 30 children born July 1, 1997, have been invited to accompany a huge birthday cake during the parade. The children cut a cake with Secretary for Home Affairs Patrick Ho Chi- ping at a press conference Sunday to mark the start of the celebrations. Animals and vets from the Society for the Prevention of Cruelty to Animals will also participate in the parade. Apart from the parade and performances, a fireworks display will light up Victoria Harbour at night from July 1 to July 8. More details of tickets and performances to mark the handover will be released later. Cheng said he hopes senior officials from the mainland will attend the activities, but he is not sure who will be coming. He said the organizers will spend about HK$2 million on the parade and another HK$8 million on the fireworks displays. Asked whether the parade will clash with the democrats' planned annual march, Cheng said the event will end at about 3pm.

Nine thousand children take part in a mass drum-banging rehearsal at the Hong Kong Coliseum, for the Dragon Jamboree. The students will join hundreds of others from the mainland, Taiwan and Macau for a 10,000-strong event on June 30 in an attempt to set a Guinness world record for the largest simultaneous percussion performance.
Longhu Real Estate, a Chongqing-based luxury developer, is planning an initial public offering of up to US$1 billion in Hong Kong this year, capitalising on investors' appetite for mainland property plays.

China: Wang Liqin shut the last non-Chinese out of the world table tennis championships on Sunday, ensuring China's clean sweep of gold and silver medals for the third time.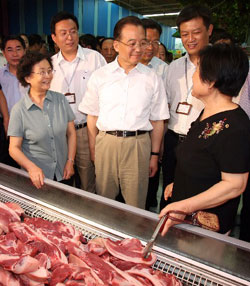 Chinese Premier Wen Jiabao (C) talks with customers on the pork prices at a supermarket in Xi'an, capital of northwest China's Shaanxi Province, May 26, 2007. Wen visited Shaanxi Saturday for an investigation into pig-raising and pork market.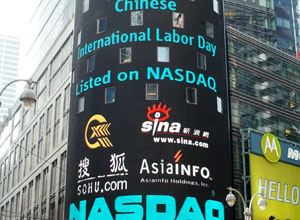 Nasdaq is working closely with the Chinese authorities to open a representative office in Beijing, said Nasdaq's chief representative of China Xu Guangxun on Sunday.
The Shanghai Stock Exchange (SSE) on Monday ordered all Special Treatment (ST) companies to publicize a biweekly report to inform investors about possible risks, according to a statement on its website.
April saw the value of total exports of goods in Hong Kong rise to 212.6 billion HK dollars (27. 2 U.S. dollars), up 12.6 percent on the same month last year, official figures indicated Monday. The figures came after a year-on-year rise of 6.9 percent in March, according to figures released by the Census and Statistics Department of the Hong Kong Special Administrative Region. Within this total, the value of re-exports grew 14.3 percent to 204 billion HK dollars, while the value of domestic exports fell 16.1 percent to 8.6 billion HK dollars. The value of imports of goods rose 14.7 percent to 233.2 billion HK dollars, after a year-on-year increase of 11.1 percent in March. A visible trade deficit of 20.6 billion HK dollars, equivalent to 8.8 percent of the value of imports of goods, was recorded in April. For the first four months of the year, the value of total exports of goods rose 10 percent over the same period last year. Within this total, the value of re-exports grew 12.5 percent, while the value of domestic exports dropped 29.3 percent. The department said the trade prospects in the near term will continue to hinge on the global economic situation, in particular the demand in the US. Also of crucial significance to Hong Kong's trade outlook is continued strength in the Mainland economy and its vibrant trade flow. (One U.S. dollar equals 7.813 HK dollars).
Xi Jinping was elected secretary of the Communist Party of China (CPC) Shanghai Municipal Committee on Monday.
Chinese actress Zhang Ziyi (L) and movie director Feng Xiaogang react after they throw paper flowers to wish the success of their movie "the Banquet" at its Japanese premiere in Tokyo May 28, 2007.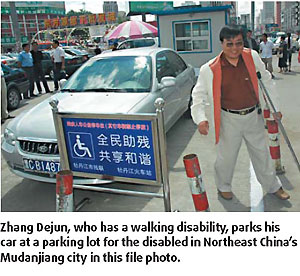 For paraplegic Wu Runling, visiting a doctor in Beijing is like climbing Qomolangma (Mt. Everest). Wu, paralyzed since the age of two, went to have a leg illness checked out last month but found a huge set of stairs blocking his way from the parking lot to the hospital's registration room. "For healthy people, those stairs are just a few steps," said Wu, who runs an NGO providing services for people with disabilities. "But for crutch users, they are like Qomolangma." Next year, thanks to a raft of changes being implemented ahead of the 2008 Beijing Games, life will become easier for Wu and China's 83-million disabled population. One of the keynote changes involves a partial makeover to the country's most famous landmark, the Great Wall. "A vertical lift will be installed at the Badaling section of the Wall. It is being designed now so that disabled people can have better access," Wang Bingyang, a senior member of the organizing committee for the Beijing Paralympics, told China Daily. Badaling lies 70km northwest of Beijing and welcomes over 5 million tourists each year. "Now there are several designs, but the government wants to see more. They hope the lift will be ready for the 2008 Beijing Games but they don't want to damage the Great Wall, so they are looking for the perfect design," said Wang. With $40 billion promised by Beijing, the 2008 Games which includes the Olymics and Paralympics, are set to be the most expensive ever and leave the biggest legacies behind. Billed as a "Games of Equal Splendor," the Paralympics will run from September 6-17 in Beijing, Qingdao and Hong Kong, one month after the Olympic Games. The planned arrival of 4,000-plus disabled athletes has breathed new life into urban renovation projects. For some officials, Beijing faces a race against time if it hopes to meet their transport requirements. "I worry more about the public transport," said Shen Zhifei,, vice-president of the China Disabled Persons' Federation (CDPF). "You cannot have all the athletes and special athletes staying in the Olympic Village all the time. The biggest challenge is the subway system, because few of the existing lines have any lifts." More special alleyways for the blind, retractable slopes on bus doors and a growing awareness of the needs of the disabled are just some of the changes taking place in the Chinese capital. Wheelchair ramps have been added at the Summer Palace and an elevating ramp at the Noon Gate of the Forbidden City. Beijing is currently building six new subway lines to complement the existing three as a way of overhauling a public transport network that has not kept pace with the city's explosive growth. The difference is that each of the new lines will include barrier-free facilities. "In the last two decades, Beijing has built a lot of accessible facilities, but after we were awarded the 2008 Olympic Games, it accelerated construction, especially in the last five years," said Wang, deputy director of the Paralympic Games Department of the Beijing Organizing Committee for the Games of the XXIX Olympiad (BOCOG). "Now, when they are planning urban construction, they take into account the needs of the disabled." International Paralympic Committee President Philip Craven likened the Great Wall makeover to the accessibility of the Acropolis at the Athens Games in 2004.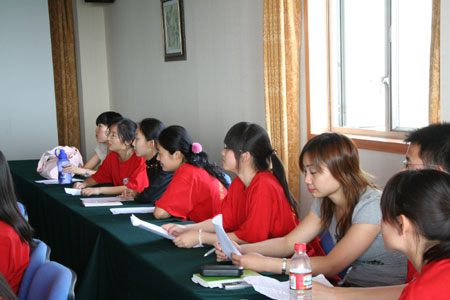 Volunteers from University of International Business and Economics gave the English traning course for desk clerks from three-star Sardonyx Hotel,located nearby Olympic main venues area.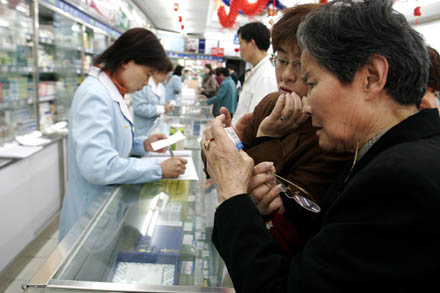 Manulife Financial, the Canadian insurer and wealth management firm, is pulling out one of its two ventures, a move that is making the industry regulator nervous as it is unprecedented and the deal could help it set up related rules, according to an industry source. Manulife's sale of its John Hancock Tianan Life stake comes as foreign insurers seek to tap China's largely uninsured 1.3 billion people. For most foreign insurance firms, a licence in the mainland is much coveted as a large portion of the country's 1.3 billion people is still uninsured and the economy has been rising rapidly, boosting policy sales. But Manulife Financial, the Canadian insurer and wealth management firm, is pulling out one of its two ventures, a move that is making the industry regulator nervous as it is unprecedented and the deal could help it set up related rules, according to an industry source. Manulife was in talks with several non-Chinese insurers to sell its 50 per cent stake in John Hancock Tianan Life Insurance because it wanted to focus on its first venture with Sinochem International, Robert Cook, Manulife Financial's newly appointed senior executive vice-president and general manager of its Asia division, said in an interview. An insurance industry source said the China Insurance Regulatory Commission was deeply worried about the deal as this would the first time the regulator had to handle a stake sale of a Sino-foreign insurance joint venture. "The procedures and regulations applied to this case may well become a precedent of how Sino-foreign joint ventures will have their stakes change hands in future," the source said. "The CIRC is very careful in making a decision because it wants to make sure the negotiations and the sale will be smooth and orderly." China has not yet set clear rules on stake sales by a foreign firm in a domestic venture because foreign insurers are still hungry for a licence to tap the market and few would consider a retreat. With more global mergers and acquisitions, it appears the CIRC will need to come up with related rules. The Netherlands-based ING also has two life insurance ventures in the mainland - Pacific Antai, which it inherited from a merger, and ING Capital Life. ING has expressed its desire to keep both ventures. Manulife bought out the global operations of US insurance company John Hancock in 2004, in a deal that also gave it 50 per cent of John Hancock Tianan Life Insurance - a joint venture between John Hancock and Tianan Insurance. That was Manulife's second venture, as the Canadian insurer and Sinochem International set up Manulife-Sinochem Life Insurance in 1996, the first and now the largest Sino-foreign insurance venture in the mainland. Mr Cook said the group wanted to sell the stake in John Hancock Tianan to allow Manulife to concentrate on its joint venture with Sinochem International. "We have a very good relationship with Sinochem for the past 10 years and we want to focus on this first joint venture. We do not want to engage in another joint venture to compete against it," Mr Cook said. "We also consider merging the two joint ventures would not work as they have different set-ups and management." Mr Cook said several non-Chinese companies had shown interest in the stake, while its mainland partner, Tianan Insurance, might also buy it out. "We are still negotiating with all the potential buyers and the regulator. We keep a close dialogue with the China Insurance Regulatory Commission. I hope we can reach a solution by the end of this year," he said. "Tianan Insurance also understands our position and why we want to sell the shares. We would continue to keep a good relationship with the company." Mr Cook said although John Hancock Tianan is smaller than Manulife-Sinochem, it was growing fast. Last year, John Hancock Tianan had premium income of 200 million yuan, three times that of 2004, compared with 890 million yuan at Manulife-Sinochem. Mr Cook said although Sinochem was not an insurance company, it provided good knowledge and network to support Manulife in China. "Manulife is an insurance company and we do not need another firm to tell us how to do insurance business," Mr Cook said. "Sinochem has been a terrific, good joint-venture partner. It helped us establish the joint venture and helped us understand the market and regulations in China. It is a true partnership and not just someone providing some money for the company to grow."
The Industrial and Commercial Bank of China, the nation's largest lender, said on Monday it plans to boost the budget for fixed-asset investment by nine billion yuan (US$1.17 billion) this year.
Beijing plans to make a major push to develop solar energy projects this year in a bid to meet its 2010 target and it is likely to award projects by open bidding to keep costs down, according to a policymaker.
Greater China has become the largest market for high-end "smart phones" made by Nokia, the world's biggest maker of mobile telephones, and is a growing source of product innovation in mobile applications, according to executives of the Finnish company.
China, the biggest producer of Bluetooth headsets, will also become one of the world's largest markets for the wireless accessories as communications network operators and mobile-telephone vendors expand their marketing efforts, an industry expert says.
Global telecommunications equipment supplier Ericsson is reviewing its alliance with mainland peer ZTE Corp on the development of TD-SCDMA wireless technology solutions, according to the Swedish company's Greater China president.
May 28, 2007

Hong Kong: Hong Kong stocks closed sharply lower Friday after the suspension on Thursday for a public holiday, tracking performance in overseas markets. The benchmark Hang Seng Index opened 1.18 percent lower, and went down 278.31 points, or 1.34 percent, to close at 20520.66, fluctuating between 20,474.03 and 20,566.26 during the day's trading. The total turnover rose to 67,976 million HK dollars (8715 million U.S. dollars) from 59,107 million dollars (7578 million U. S. dollars on Wednesday. All the four major stock categories lost ground. The Finance went down 326.79 points, or 1 percent to close at 32,309.64. The Utilities moved down 293.67 points, or 0.82 percent to close at 35, 695.40. The Properties dropped 320.05 points, or 1.27 percent to close at 24,859.88. The Commerce and Industry sank 193.02 points, or 1.70 percent to close at 11,144.35. HSBC, the largest stock by market capitalization, edged down 0. 35 percent to end at 144.3 HK dollars after Lehman Brothers cuts back holding to below 3 percent. China-related shares fell when the market reopened Friday, after the former U.S. Federal Reserve Chairman Alan Greenspan warned on Wednesday a "dramatic contraction" is in sight for China equity market. Hang Seng China Enterprises Index closed down 224.54 points, or 2.06 percent. Heavyweight China Mobile, the country's largest telecommunication operator, fell 2 percent to close at 72.15 HK dollars. Chinese financial stocks also closed lower. China Life dropped 3 percent to close at 24.85 HK dollars. ICBC fell 2 percent to close at 4.11 HK dollars, and Bank of China lost 1 percent to close at 3.85 HK dollars. The property sub-index shed 1 percent. Cheung Kong fell 1 percent to end at 102.10 HK dollars. Sun Hung Kai Properties dropped 1 percent to end at 91.60 HK dollars. Hang Lung Properties declined 2 percent to close at 24.35 HK dollars. Local properties are very sensitive to news on interest rates. The strong U.S. housing data for April have dashed hopes of an interest rate cut, and this put a drag on the property sector, said Castor Pang, a strategist at Sun Hung Kai Financial Group. Lenovo soared 14 percent to close at 3.66 HK dollars after posting better-than-expected fourth-quarter results. It recorded a 60 million U.S. dollars net profit in the fourth quarter ended March 2007, compared with a net loss of 116 million U.S. dollars the year before. "We believe Lenovo should stabilize overseas market share through increasing channel sales, while gradually improving margins through further efficiency improvement and control of operating expense," JP Morgan said in a research report Friday. "The correction in the HSI is absolutely reasonable," says Celestial's Kitty Chan, adding the index will stay around 20,5000 for now.
The officials of Hong Kong Special Administrative Region (HKSAR) will be invited to attend a fashion show and even walk on the catwalk early next month to encourage more casual dressing in the workplace for saving energy, local press reported on Friday. Chief Executive Donald Tsang has agreed to officiate the event, and all 14 secretaries have been invited to attend the show on June 3, Sing Tao Daily cited a government source as saying. The event, currently entitled "Dress smart-casual for work for energy-saving's sake", will be held two days before the annual United Nations World Environment Day on June 5, which focuses on climate change and the effects of global warming. Among those already prepared to exchange their suits and ties or formal wear for a more casual look on the catwalk are Secretary for Health, Welfare and Food York Chow and Secretary for the Environment, Transport and Works Sarah Liao, according to the report. The catwalking officials will have advice from experts on what to wear. In July 2006 the government began promoting light dressing for work in its Action Blue Sky Campaign.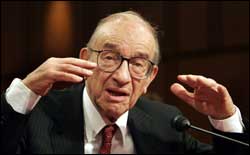 Mainland bourses are likely to remain jittery today after falling slightly in volatile trade Thursday following comments by former US Federal Reserve chairman Alan Greenspan that shares are overvalued and might be heading for a "dramatic contraction." Analysts in Hong Kong believe sentiment has weakened, while retail investors in the mainland are treating the 81-year-old retired Fed chief's comments with skepticism. Still, investor nervousness will be further exacerbated by the "Friday effect" - announcements of recent tightening measures have come as the working week winds down. Speaking to a conference in Madrid via satellite Wednesday, Greenspan said the bull run in the mainland market could not last for much longer. "It is clearly unsustainable. There is going to be a dramatic contraction at some point," he was quoted by Reuters as saying. His remarks spurred some selloffs in New York and Asia. The benchmark CSI 300, which tracks A shares listed on the two mainland exchanges, fell 19.20 points or 0.49 percent to 3,919.75 after swinging between gains and losses earlier in the day. Foreign-currency B shares, open to both Chinese and overseas investors, plunged for the third straight day after gaining 70 percent in the previous three weeks. The Shanghai B-share Index fell 7.97 percent or 25.79 after losing 5.03 percent Wednesday, while the Shenzhen B-share Index fell 4.41 percent or 32.80 points to 711.17. Stocks fell after the China Securities Regulatory Commission also demanded brokerage houses step up investor education programs. Mainland officials, senior Hong Kong government figures and tycoons have also raised the alarm about a bubble. Last week, billionaire Li Ka- shing, Financial Secretary Henry Tang Ying-yen and Lee Shau-kee, chairman of Henderson Land Development (0012), warned of a possible plunge. " I think sentiment in the A-share market has turned a little weak after several influential people warned about a bubble and a correction," said Eugene Law Sheung-pui, head of research at Cash Securities. "[Thursday's] correction will have some effect psychologically, but there is still quite a lot of liquidity, plus China expanded the QFII investment quota. So I don't think there will be a big correction in the short term." The People's Bank of China has raised interest rates four times in the past 12 months, and revised the reserve ratio for banks eight times in 10 months, but investors have continued to bet on stocks, driving a rally. Law said the Hong Kong market, closed Thursday for a holiday, is likely to track the A-share market. "Hong Kong investors are quite worried about the bubble in the A-share market. So I think both the Hang Seng and H-share indexes will have a correction Friday," he said. "I will closely look at the turnover. If the turnover, which has dropped quite a lot in the past few days, continues to fall, then it indicates investors have lost [the risk appetite] on concerns over the A-share market."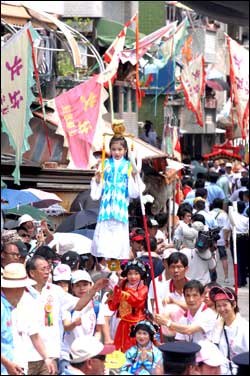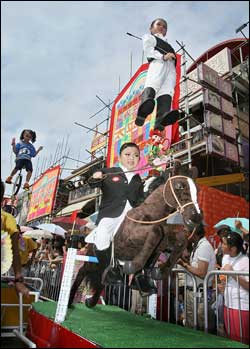 More than 20,000 visitors packed the streets of Cheung Chau Thursday as celebrations marking the annual Bun Festival got underway, with the traditional bun-scrambling competition and parade of "floating" children being the highlights. The atmosphere was jubilant, although the number of visitors was well short of the 40,000 expected by event organizers. Thousands went to the island to watch the bun-scrambling contest, held at midnight Friday as part of the festival that was started in 1894 by survivors of a deadly epidemic. Eleven men and a woman took part in the scramble up the 14-meter bun tower at the Pak Tai Temple playground, watched by an excited crowd. The scramble, restored for the third straight year with tighter security precautions after a bun tower collapse in 1978 led to the competition being banned for 26 years, involves athletes racing to the top of the tower to collect as many buns as possible. But the buns, which used to be edible, were replaced by plastic ones this year as they had become rotten and were deemed unhygienic after being exposed to rain and sunlight over the years. A three-hour parade through the island's streets, which began at 2pm from Pak Tai Temple, kicked off the celebrations. "Floating" girls, dressed in costumes denoting characters from ancient myths to current affairs personalities, riding tiny seats attached to steel rods, stole the show. Among 15 groups of "floating" children, a remarkable pair of characters were dressed like Education and Manpower Secretary Arthur Li Kwok- cheung and former permanent secretary for education Fanny Law Fan Chiu-fun - in a suit and tie and green mandarin gown, respectively.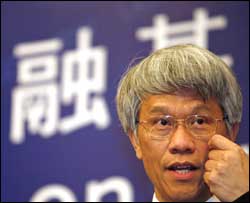 The Hong Kong Monetary Authority, the territory's de facto central bank, said Thursday it is worried about the persistent weakening of the Hong Kong dollar as the city may suffer from an interest rate shock if lagging local rates suddenly jump to match US rates. "I fear that if the gap closes abruptly, then firms and households and the financial system in Hong Kong might suffer from a large interest rate shock, which is not good for financial stability," HKMA chief executive Joseph Yam Chi-kwong said in his weekly online column Viewpoint. The local currency hit a 22-year low Wednesday, trading at 7.8256 to the US dollar as the Hong Kong dollar has been used by many arbitrage traders as a "carry trade" tool owing to its relatively low interest rates. Carry trade is the process by which traders borrow a low-interest-rate currency - in this case the Hong Kong dollar - to purchase higher-yielding equities elsewhere to make a profit. Yam said he could not be certain for now how the market would react if the Hong Kong dollar continues to fall, and the authority will have to intervene with the market, ensuring the currency is traded between the convertibility zone of 7.75 to 7.85 against the greenback. "It remains to be seen how the spot exchange rate will behave when it is close to the weak-side convertibility undertaking," Yam said. "But I can assure you that the HKMA has both the will and the wherewithal to defend the linked exchange rate system." Yam said he is not so much worried about how low the Hong Kong dollar will hit, but is more concerned about the pace of the currency's weakening. "Under the refined regime, the natural tendency for the interest rate spreads to become zero may not necessarily happen," Yam said. "It is the speed of change rather than the level of the interest rate spreads that concerns me more." HKMA introduced refinement measures in 2005 to better align Hong Kong dollar interest rates with their US dollar counterparts.
Senior government officials are to take to the catwalk early next month in an attempt to get Hong Kong's army of executives and overdressed salesmen to cut down on energy waste by dressing "smart-casual," according to a source within the administration.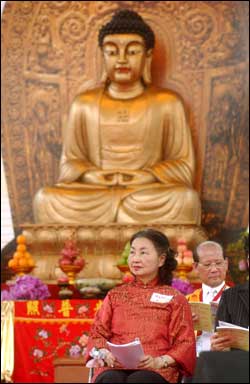 More than 10,000 people crowded into the Hong Kong Convention and Exhibition Centre in Wan Chai Thursday for the official ceremony marking the Buddha's birthday. The eighth day of the fourth lunar month marked the 2,551st anniversary of the birth of the Buddha. Hong Kong Buddhist Association president Kok Kwong presided at the ceremony and led other Buddhist leaders in prayers. The official guests included the commissioner of the Ministry of Foreign Affairs in the HKSAR Gao Siren, Secretary for Home Affairs Patrick Ho Chi-ping, Legislative Council president Rita Fan Hsu Lai-tai, and former secretary of justice Elsie Leung Oi- sie. Among others at the ceremony were National People's Congress Standing Committee delegate Tsang Hin-chi, Confucian Academy president Tong Yun-kai and Cantonese opera star Liza Wang Ming-chuen. They performed a ceremony called "bathing the Buddha," by pouring consecrated water and flower petals on a statue of the Buddha. The organizer expects that up to 50,000 people will attend the four-day function, for which entrance is free. Kok said this year's celebrations were a "doubly happy" event for Hong Kong as it marked the ninth year since the Buddha's birthday became a recognized holiday and the 10th year since the territory rejoined the motherland. "This shows the central government's commitment to the freedom of religion and the SAR's government fair treatment of all religions in Hong Kong," Kok said. "The public holiday also allows Hong Kong people the opportunity to leave their work behind and to understand more about Buddhism."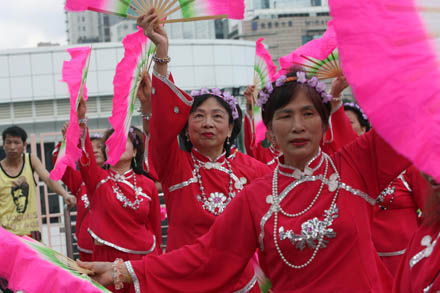 People parade in Kowloon Park as part of a project to encourage senior citizens to do more exercise. Up to 1,000 people worked out together in the park's sports centre. The project is jointly organized by 17 welfare groups.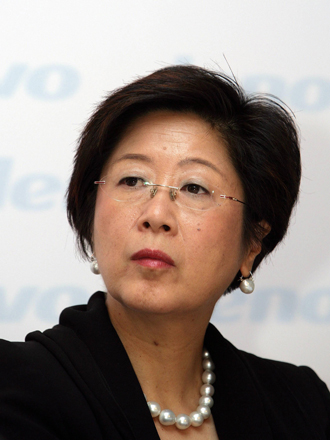 Mary Ma to take a non-executive advisory role at Lenovo.

China: Shanghai's new Communist Party chief said corruption has done enormous harm to the nation's economic hub, as he vowed to stamp out graft and build the city into a global financial center. "No matter who they are or how high their position, if they have violated party discipline or state laws they must be seriously investigated and punished severely," Xi Jinping told the opening of the city's five-yearly party congress. Xi, 53, was appointed in March in the wake of last year's financial scandal that led to the sacking of his predecessor, Chen Liangyu, and implicated more than 20 other leading communist officials and businessmen. The case, which saw US$480 million (HK$3.74 billion) of the city's retirement funds illegally plowed into speculative real estate and road investment projects, has done "enormous harm," Xi said. "It caused damage to the party and the country, harmed the prestige and image of municipal government, caused injury to Shanghai's reform and development, and had a negative impact on Shanghai cadres." Making his first public comments since taking over the city's top post, Xi said the case has revealed inadequate supervision of senior bureaucrats and a lack of integrity among some leaders. He called for improved transparency in the financial and assets management sectors. Making it clear that his loyalties lie with President Hu Jintao, Xi emphasized that Shanghai would take its orders from Beijing. "We will unite more closely with the Central Committee led by comrade Hu Jintao to accelerate the construction of a harmonious socialist society and to write a new chapter of Shanghai's reform," Xi said. Xi's appointment is regarded as a pivotal step by Hu to ensure that Shanghai toes the line. Xi gave no economic growth targets but pledged to continue the strong development of a city that over the past five years has powered ahead at annual average growth rates of 12.2 percent, pushing its gross domestic product last year to more than US$130 billion. Xi also said his administration would ensure the city continues to develop into a global center for finance, business, trade and shipping over the next five years. "The building of an international trade center has to achieve remarkable results and the building of an international shipping center has to have a major breakthrough." Critical to that plan would be the closer integration of Shanghai with Jiangsu, Zhejiang and Anhui provinces. "Shanghai should give full play to the center city's comprehensive service functions to better serve the Yangtze River Delta region and serve the country." And, while Xi said his government would be more concerned with the welfare of Shanghai's citizens, security was tight outside the venue. A photographer witnessed three arrests as an estimated 200 police including undercover and special armed officers patrolled for any sign of public unrest. Discontented citizens often use key political meetings to air grievances, which in Shanghai often have to do with claims of inadequate compensation for property.
President Hu and Japanese PM Abe are likely to meet on the sidelines of the G8 summit in Germany next month. Foreign Ministry spokeswoman Jiang Yu said yesterday that the officials of the two countries are working to coordinate the talks and the result would be announced next week. Japanese media said the nuclear issue on the Korean Peninsula and the dispute over gas exploration rights in the East China Sea would be high on the agenda of Hu-Abe talks. It would be the third meeting between the two leaders since Abe visited China last October soon after taking office in a bid to mend bilateral ties. They met again a month later in Vietnam on the sidelines of the Asia-Pacific Economic Cooperation Forum.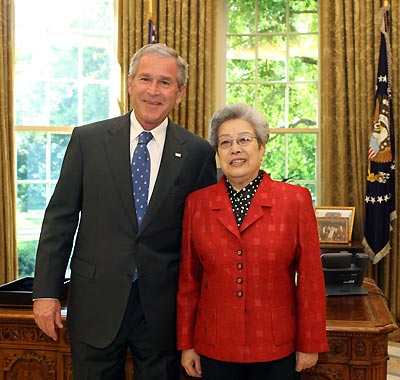 Chinese Vice Premier Wu Yi (R) meets with US President George W. Bush in the White House, Washington, capital of US, May 24, 2007. Wu Yi led a Chinese high-level delegation for the second meeting of China-U.S. Strategic Economic Dialogue (SED). Bush says China-U.S. Strategic Economic Dialogue "important" - U.S. President George W. Bush, at a White House press conference on Thursday, said the just- concluded China-U.S. Strategic Economic Dialogue is "important" and there has been some progress achieved at the dialogue. "This is an important dialogue. And it's one that I thank the Chinese government for engaging in," Bush said. Bush said he met with Chinese Vice Premier Wu Yi in the White House Oval Office on Thursday, and asked her to pass a message to Chinese President Hu Jintao that he appreciates China's willingness "to work with strategic dialogues in order to put in place the type of measures that reflect a complex relationship." Bush also said that the United States values its relationship with China. The president made the remarks after the second China-U.S. Strategic Economic Dialogue, co-chaired by Chinese Vice Premier Wu Yi and U.S. Secretary of Treasury Henry Paulson, concluded on Wednesday. During the two-day closed-door talks in Washington, top economic officials from the two countries, including dozens of cabinet ministers, discussed topics covering areas of service, investment and transparency, energy and environment, as well as growth balance and innovation. Both sides reached consensus on how to move forward in financial services, civil aviation, and energy and environment, and signed a number of specific agreements. The United States, by right of its competitive advantages, has become the biggest beneficiary of the opening of services by China, Chinese Vice Premier Wu Yi said in Washington Thursday. In the past five year, for example, shares held by American financial institutions in Chinese banks have taken up nearly 40 percent of the total FDI (foreign direct investment) used by China's banking industry, Wu said while delivering a speech at a welcome banquet hosted by six American organizations. According to Wu, the number of representative offices of American law firms in China has accounted for nearly 45 percent of the total of overseas firms, and their business revenues have accounted for more than 50 percent of the aggregate. The number of American companies awarded a direct selling license has been 55 percent of FIEs (foreign invested enterprises) in China. China has imported 121 American movies on both lump-sum and revenue-sharing basis, accounting for 52 percent of all films imported and the share of imported American AV products has always been between 50 percent to 75 percent. Of the nearly 50,000 American invested enterprises in China, over 90 percent have obtained right to trading and to distribution, the vice premier said. Wu said that the rapid development of services market in China and the notable advantages of modern American services sector mean enormous cooperation potential enjoyed by the two sides. "We agree to the U.S. proposal on developing an innovative and effective services sector," she said. "But at the same time, we want to draw the American attention to the fact that China is a developing country, whose modern services industry starts late and is still at a very low level." Further opening up of China's services sector can only be realized steadily and safely in light of its national conditions and cannot be achieved overnight, Wu said, adding "acting with undue haste will harm both sides' interests instead." China is willing to strengthen cooperation with the United States in services on the basis of equality, mutual benefit and complementarity, addressing problems emerging from bilateral cooperation through consultation and striving for a balanced outcome, the vice premier said. The six organizations are the U.S.-China Business Council, the U.S. Chamber of Commerce, the China General Chamber of Commerce-USA, the American Bankers Association, the American Council of Life Insurers and Financial Services Forum.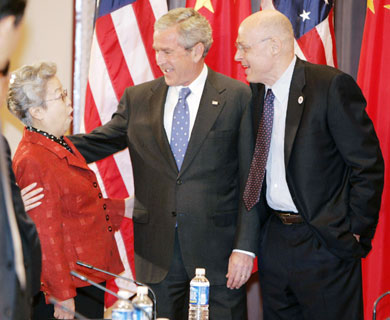 Any attempt to impose pressure on the Chinese currency, the yuan or RMB, to force a considerable revaluation cannot help at all, Chinese Vice-Premier Wu Yi said in Washington Thursday. Since China introduced a RMB exchange rate reform in July, 2005, the new RMB exchange rate mechanism has been functioning smoothly, said Wu while giving a speech at the welcome banquet hosted by six American organizations. She said that the RMB has now appreciated by 8.1 percent in cumulative terms. "I believe the floating band of the RMB exchange rate will be constantly expanded with the market change," Wu said. "China's exchange rate reform will be advanced in an orderly way under the principle of self-initiative, controllability and gradual progress," she added. Wu said that the elasticity of the RMB exchange rate will be continuously increased through the reform, with a roughly stable RMB exchange rate maintained at a reasonable equilibrium. "In the meantime, we must take measures to effectively control and duly dispose of risks within the financial system," she said. Wu said that it is recognized by many internationally renowned economists that the RMB exchange rate is not the main cause of the huge U.S. trade deficit. "Any attempt to impose pressure on the RMB for its considerable revaluation cannot help at all and could probably injure the interests of the two countries and the public," she stressed. The six organizations hosting the banquet are the U.S.-China Business Council, the U.S. Chamber of Commerce, the China General Chamber of Commerce-USA, the American Bankers Association, the American Council of Life Insurers and the Financial Services Forum.
More than 1.9 million couples got divorced in China in 2006, an increase of 128,000 couples or 7 percent on the previous year, a report said.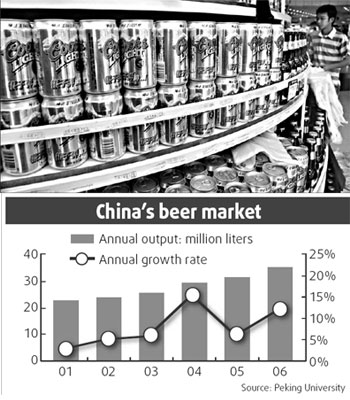 Beer firms must focus on top end - To fend off international giants from gobbling up Chinese market share, local beer makers need to produce profitable beers aimed at the high-end market. There's no doubt the local premium beer market is the key to long-tern growth: profits from one bottle of high-end beer are over 10 times of that of a low-end substitute. Additionally, market size is growing rapidly. It's estimated that by the end of 2010, China will have the largest middle-class in the world at over 490 million. Public entertainment venues, including KTV, cafs and Western-style restaurants and bars, are the hottest sellers of premium beers. Take Beijing's many bars, for example. There are about 500 bars in the capital, dotted around Sanlitun, Houhai, Chaoyang Park and Weigongcun. A recent study shows about 70 percent of beer consumption takes place in bars. Frequent bar visitors usually come from the middle-class. They are around 35 years old, fashionable and generous spenders. Local beer producers have been losing ground to international competitors in China's high-end market. Their sales volume may be smaller, but international brands continue to grow in China simply because they dominate the lucrative high-end market. They are also strengthening efforts to increase their share of the pie. Companies such as UK-based InBev and Canadian-based Molson Coors are launching their best-selling premium brands in China and are seeking out mergers and acquisitions to increase local market share. Their marketing strategy is simple but straightforward - target the bars. The study indicates four major international breweries are best sellers in Beijing's bars, and 90 percent of bars are selling all four brands, including US-based Budweiser, Holland-based Heineken, Denmark-based Carlsberg, and Mexico-based Corona. But local brands are trying to catch with their global competitors. In 2005, two local brands - Tsingtao and Yanjing - entered the Top 10 World Brewery Brands list, ranking ninth and tenth place respectively. In recent years, the top three local brands - Tsingtao, Yanjing and China Resources Snow - have been leading the way by throwing huge sums of money into high-end brands, which has lifted sales volume and revenue. Pearl River Beer, Harbin Beer, Kingway Beer and Chongqing Beer have all followed with premium brands. But there seems to be only a small difference between the high-end products and other brands, and local beers sell for much less than international competitors. More importantly, local brands haven't caught on in the bars and suffer from weak marketing and promotional initiatives. According to the study, about 70 percent of Beijing's bars sell Tsingtao beer, and just 14 percent sell Yanjing beer. There is always a misconception circling the brewery industry that says local brands can't compete with international ones. This statement is false. Local brands can eventually succeed through strategic and innovating marketing campaigns. After all, there is little difference between the brewery techniques of local and global brands. In terms of branding, local brewers should promote unique taste, top-quality packaging and novelty brand names. Marketing initiatives should be consistent and comprehensive. Prices should be set at the average premium level, or offered at a higher price than international brands to draw consumers' attention. Setting up at bars that only serve local brands' high-end beers is another effective practice, although it is costly. From a long-term perspective, the practice will drive profits and brand image as well. Lastly, local manufactures should be trendsetters and create innovate lifestyle concepts whenever launching a new product. The author is an expert in beer marketing.
People's Bank of China governor Zhou Xiaochuan said yesterday that the government will not exercise any monetary restraints in the near future. "The government needs time to observe the feedback of recent policies before taking further measures to cool down the economy," Zhou told reporters after meeting with the United States' senators during the U.S.-China Strategic Economic Dialogue in Washington. Last Friday, the central bank raised the benchmark one-year interest rate by 0.27 percentage points to 3.06 percent, and one-year lending rate by 0.18 percentage points to 6.57 percent. It also ordered commercial banks to set side 11.5 percent, of their deposits as reserves, up from 11 percent. That marked the first simultaneous use of two monetary tools in a decade, as well as the eighth increase in reserve ratio since last July and fourth interest rate hike since last April. Also on Friday, the reminbi's daily trading limit against the US dollar was widened to 0.5 percent from 0.3 percent. Undaunted by the latest tightening measures, Chinese stocks has rebounded this week, though with strong daily up-and-downs. Xiang Huaicheng, Chairman of the National Council for Social Security Fund, admitted that the Chinese mainland's stock market has turned somewhat overheated recently. "The bubbles exist", he said. "But the stock market is just like beer, it is good to have some bubbles unless there are too many." However, he pointed out that investors should be fully aware of the risksin the market.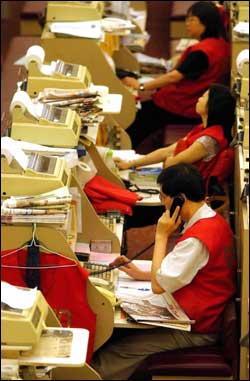 Chinese plans to resume issuing licenses for securities ventures in the second half of this year could allow a long line of foreign hopefuls to enter a market long tainted by scandals and poor management. Since a huge, two-year overhaul of the country's brokerage sector, hard lobbying for Beijing to allow foreign players to set up brokerage joint ventures has largely fallen on deaf ears. But China heeded US calls for further opening its financial sector during high-level talks in Washington Wednesday, unveiling its intention to resume licensing for securities firms, including joint ventures, this year. "It is very positive that China has agreed to give foreign financial firms greater access to the booming domestic market," said Jing Ulrich, managing director and chairman of China Equities at JPMorgan. "Over time, this will help improve the efficiency and governance of the Chinese brokerage industry," she said. Beijing was scant on detail and all eyes will be on the speed at which the securities regulator allows in foreign players. "We welcome the further opening of China's financial sector and look forward to additional details regarding the new policy," said Hans Schuettler, chief executive of Morgan Stanley Asia. Overseas players have long argued they could help bring much-needed expertise to a domestic securities market famed for its insider trading scandals and poor management. With a surging stock market, the stakes are high. As of Monday, Chinese brokerages had already earned a total of 66 billion yuan (HK$67.46 billion) in stock trading commissions this year, according to the China Securities Journal - more than double the sum for all of last year. Overseas banks looking for new sources of growth see a winning ticket as long as they can get a toe-hold in a market benefiting from growing investments by a nation of savers. Citigroup and Merrill Lynch are tipped to be among the first beneficiaries of the fresh market opening, China watchers say. Others circling China's brokerage market include HSBC (0005), Credit Suisse and JPMorgan. Those already active in China and those looking to enter will watch closely for signs that the authorities may lift investment caps in securities joint ventures.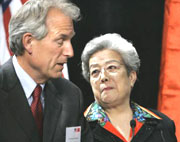 Chinese Vice Premier Wu Yi, right, looks at chairman and CEO of Boeing and chairman of the China-US Business Council Jim McNemey, left, as he reads her a question, during a dinner reception in her honor on Friday. The agreements reached during the Strategic Economic Dialogue talks between the mainland and the US in Washington this week failed to placate critics in the US Senate, who lashed out at the moves as too little too late. Many now advocate legislation to force the Bush administration to impose sanctions on Beijing. "For years we have heard vague assurances of greater market access for American financial institutions, but they rarely seem to become reality from China," Democratic Senator Charles Schumer, a leading critic of Beijing, said in a statement. "In addition, there is a glaring omission to the White House press release: an eight-letter word, `currency'." The two-day economic summit ended on Wednesday. US Secretary Treasury Henry Paulson and Vice-Premier Wu Yi announced new agreements that will lift a ban on new foreign firms and joint-ventures entering the mainland's securities industry and allow overseas banks to offer yuan-denominated credit and debit cards. Beijing will also raise the maximum limit for approved international investors to purchase domestic Chinese stocks from US$10 billion to US$30 billion. However, there was no accord on the appreciation of the yuan, although the People's Bank of China did increase the trading band for the currency last week. Democrat Max Baucus, the chairman of the Senate finance committee, expressed "deep concern" that the currency issue was not addressed. While welcoming the agreements, Democratic Senator Chris Dodd said significant discriminatory policies remained that protected the mainland's financial sector from foreign competition, such as restrictions on foreign banks offering full domestic currency services. "These policies hinder the ability of US firms to compete in China and to expand their market presence among a consumer population in need of financial services, products and expertise," Senator Dodd said. The criticism of the financial agreements follows intense negotiations during the dialogue meetings, with Mr Paulson unsuccessfully seeking to persuade Beijing to lift the 25 per cent ceiling on foreign ownership of domestic banks. At a Senate security and international trade and finance subcommittee session, Democratic Senator Evan Bayh said the financial reforms, and particularly the appreciation of the yuan, were symbolic and moving at a "glacial" pace and warned that Washington must take action. "The Chinese don't seem to take us seriously," he said. The senators said they would push legislation seeking to impose sanctions on the mainland over the value of the yuan, which they said was undervalued by as much as 40 per cent. Senator Dodd has asked the US Treasury Department to cite the mainland as a currency manipulator. The designation would allow the US to impose sanctions on imported Chinese goods.
May 26 - 27, 2007

Hong Kong: Beijing Foreign Studies University (BFSU) students won the top prize at the Third Chinese Universities Shakespeare Festival which ended yesterday at the Chinese University of Hong Kong (CUHK). Of the twelve finalists from the mainland, Hong Kong and Macao, the BFSU students came first with their interpretation of 'Othello'. Lingnan University, the only finalist from Hong Kong, was the first runner-up with their performance of 'The Taming of the Shrew'. Macao Polytechnic University that staged the same drama was the second runner-up. One of the judges of the festival, Chair Professor of English at University of Wisconsin-Madison Susanne Wofford applauded the students, saying that the productions were highly imaginative. "Some of the students conveyed an incredible understanding of Shakespeare's drama through the use of Chinese images and setting, which is a real mixture of intellectual capacity and drama," said Wofford. Besides bringing out young Chinese acting talents, the festival also served as a platform for exchanges between students from Hong Kong, Macao and mainland. "We learnt a great deal from the mainland participants, who treated drama with the utmost respect and had taken their work very seriously," said Maggie Wang, Director of the Macao Polytechnic University's team. Corroborating Wang, the students from Lingnan University noted that it was a very special occasion for the young actors to participate in a national competition and to learn from international professionals. "Drama has yet to become an important part of our cultural programme, leave alone plays in English," said Cyrus Tam. "The festival should hopefully introduce the genre to more people, especially secondary school students." Director of the Lingnan University's team, Associate Professor of English Mike Ingham, agreed that the festival was a great opportunity to promote English drama in Hong Kong. "It's not easy to get backing from local universities to organize a large-scale event of this kind," said Ingham. "Most people see English drama as an imported art, but it can be a part of our culture." The winners from Beijing will get an all-expense-paid trip to London in August, while other winners have been awarded prizes donated by Shun Hing Education and Charity Fund.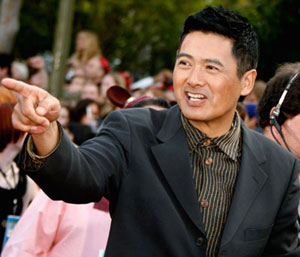 International action star and heartthrob Chow Yun-Fat, who plays the pirate lord Captain Sao Feng in "Pirates of the Caribbean: At World's End," says he'd like to snag a leading-man role in a Hollywood drama or romance but is getting lost in translation. Chow, whose acting range and stature in Asia have been compared with that of Robert De Niro, voiced frustration at racial barriers that persist in America's movie industry. "Honestly, I prefer (to do) more dramas. In American society ... Asian actors are not accepted as leading men," he said in an interview last week for the "Pirates" publicity tour. "Maybe we have to wait for a few more years." "Pirates" director Gore Verbinski said that as soon as the writers decided the plot would take the film to Singapore, he knew he would try to cast Chow. "Once we knew that, there was nobody else," Verbinski said. "Yun-Fat is a living legend." The 51-year-old Hong Kong actor is known to Asian audiences as a cross between Cary Grant and James Bond, but in Hollywood he has had trouble moving beyond the period films like "Anna and the King" and martial arts fare like "Crouching Tiger, Hidden Dragon" that U.S. audiences know best. "He has experienced a glass ceiling in Hollywood," said filmmaker Jeff Adachi, who explored the topic in his PBS documentary "The Slanted Screen." "The tragedy is that there are roles that should be offered to Asian leading men but people are not used to seeing that ... so it's something that studios are not willing to invest in," Adachi said. SILENT FILM PHENOMENON - The first Asian actor to achieve stardom rivaling that of Caucasian actors in U.S. films was Japanese actor Sessue Hayakawa, who became a silent film phenomenon after his turn as a merchant who extorts a white woman to have an affair with him, then brands her when she tries to leave him, in Cecil B. DeMille's "The Cheat" in 1915. The role propelled Hayakawa to silent film superstardom, and saw him playing romantic leads frequently opposite white actresses, said Stephen Gong, executive director of the Center for Asian American Media in San Francisco. "The amazing thing that happened is that suddenly Hayakawa overnight became a huge star and his fan base was American women," Gong said. "They didn't know what to make of him." Hawaiian-born actor James Shigeta also broke the racial barrier in the late 1950s and 1960 with leading roles including "Bridge to the Sun," opposite Carroll Baker and the 1961 musical "Flower Drum Song." But those roles have been less plentiful than "Yellow Peril" villain roles, such as Ming the Merciless from "Flash Gordon," "asexual beings" like the comic character Long Duk Dong from "Sixteen Candles," or martial arts roles made popular by Hong Kong imports Jackie Chan and Jet Li, Adachi said. Film historian David Thomson said that while Chow has a shot at landing dramatic roles of the type popularized by action star Harrison Ford, he still faces an uphill struggle for romantic leads. "We break down these barriers very slowly and I don't think we are doing we are doing it quickly enough to encourage an actor like Chow to think he will get away with it," Thomson said. "I think there is a great deal of racism in the country too."
The government Wednesday won the first round of its battle to dismantle and relocate Queen's Pier when the Legislative Council's public works subcommittee approved its request for HK$50 million to do the job.
Pavements along Mong Kok's famous Tung Choi Street - one of Hong Kong's most popular open bazaars - are to be widened under an ambitious program to improve and upgrade major shopping areas in the district.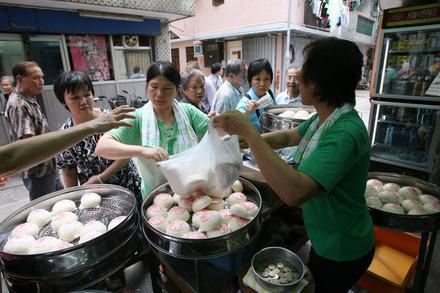 Fresh buns, with characters denoting peace and safety, are sold on Cheung Chau - Cheung Chau's bakers have been busy churning out thousands of fresh buns for today's festival after rain in the past few days ruined about 20,000 of them. As skies cleared yesterday, the festival's committee chairman, Yung Chi-ming, said he expected the festivities to run smoothly despite a forecast of a few showers for today and a few thunderstorms tomorrow. Heavy rain earlier in the week damaged buns stacked on three towers outside the Pak Tai Temple for distribution to the public. "We have made another 6,000 fresh buns to replace the loss and we will give them away at 8am on Friday," Mr Yung said. Bakers and owners of holiday villas are crossing their fingers that the mixed weather won't keep away festival visitors who usually give their businesses a boost. One of the two master bakers on the island, Kwok Kam-chuen, said yesterday he had already made 20,000 buns and was making more for customers who are expected to form long queues outside the bakery today. "As we have for the past, we keep making fresh festive buns for people. The business has been good these past two days and I expect it will get even better [today]." Mr Kwok, who sells the buns for HK$5 each, said not everyone bought the buns to eat, as many would buy one or two to perform rituals at the temple. The buns - round and white, with red characters on top denoting peace and safety - are an essential part of the Tai Ping Qing Jiao festival, which began to pacify spirits believed to haunt the island after an outbreak of the plague in 1894. The 70 rooms in the Warwick Hotel - the only hotel on Cheung Chau - are booked out, with the earliest reservation made two months ago. Agents for holiday villas say about 90 per cent of their accommodation has been let. The main event, the parade featuring children in colourful costumes "floating" above the crowd on concealed poles starts at 2pm. It will climax at midnight with the bun-scrambling competition in which 12 individuals and eight teams - including entrants from Shenzhen, Guangdong and Macau - will set out to grab the most plastic buns from a steel tower next to the three towers bearing the real buns. The 15-metre tower is decorated with 8,000 plastic replicas, which are being used for the first time this year. A crowd of 1,500 will receive tickets to enter the Pak Tai Temple playground where the competition will be held. Up to 1,000 people will be able to watch it on a big screen at the Cheung Chau Sports Centre. There will be extra ferry sailings after midnight when visitors leave after watching the bun scramble.

China: NATO Secretary General Jaap de Hoop Scheffer said on Wednesday in Taranto that the relations between the North Atlantic Treaty Organization (NATO) and China are developing "very well." The NATO chief made the remarks on the USS Roosevelt missile destroyer after a NATO naval force conducted an anti-terrorist demonstration in the Mediterranean Sea close to the Southern Italian city of Taranto. Answering a Xinhua question at a press conference, Scheffer said NATO's relations with Chinese diplomats in Brussels are developing "in a positive manner," and the NATO-China relations are developing "very well." "China is an important nation, we do not neglect China and China does not neglect NATO," he said. On the question of whether NATO might invite Chinese navy to participate in NATO's military exercise just as it invited Russian and Ukrainian navies last year and this year, Scheffer explained the differences. He said both Russia and Ukraine are NATO's partnership countries, but China is not. "I do not expect at this stage any invitation on our side," he said. However, NATO has always sent friendly signal to China aiming to improve bilateral relations, citing its invitation of the Chinese media to cover the military demonstration as an example. "Your presence here is the best example," Scheffer said.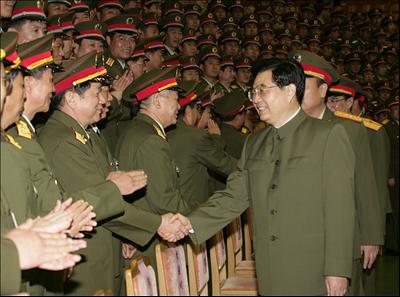 Chinese President Hu Jintao,who is also chairman of the Central Military Commission, meets delegates to the Beijing Military Area Command's ninth congress of the Communist Party of China, in Beijing, capital of China.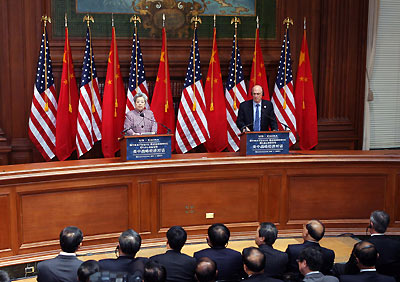 Chinese Vice Premier Wu Yi (L) and US Treasury Secretary Henry Paulson deliver statements at the conclusion of the second meeting of the China-US Strategic Economic Dialogue in Washington, capital of U.S., May 23, 2007. US Treasury Secretary Henry Paulson, ending a meeting with China's top economic leaders, said the negotiations had produced "tangible results" including agreement on financial services and aviation that would help build confidence in bilateral trade ties. His counterpart, Vice-Premier Wu Yi , called the two days of top-level talks a "great success". "While we have much more work to do, we have tangible results for our efforts thus far," Mr Paulson said at the end of the two-day "strategic economic dialogue". Ms Wu said the high-powered lineup of officials representing each side in the talks showed the importance the countries attached to maintaining an ongoing dialogue. She again called for the United States to rebuff protectionist trade pressures. "The China-US economic and trade relationship is one of the most complicated in today's world," Ms Wu said. "It calls for direct consultation and dialogue between us, instead of easy resort to threat or sanctions. "Secretary Paulson and myself have the responsibility and courage to carry out the important task of [removing] barriers of all kinds and [making] the strategic economic dialogue a genuine, important platform for China-US economic trade relations and overall bilateral relations to grow." The strategic-level talks began in Beijing last year. The "tangible results" to which Mr Paulson referred included greater access for US firms to the coveted mainland financial sector. Beijing will remove a bar on new foreign securities firms and resume licensing securities companies, including joint ventures, in the second half of this year, the US Treasury said. Beijing also agreed to allow foreign securities firms to expand their operations on the mainland to include brokerage, proprietary trading and fund management, the Treasury said. Mr Paulson said: "[We] spent a lot of time talking about financial and capital markets. One of the points I made is that China has come a long way on its economy. It has achieved meaningful reform of financial markets but this is not reflective of the overall economy." Mr Paulson made no mention of progress on achieving a stronger exchange rate for the yuan, the main bone of contention among US lawmakers, but he emphasised that the "real test of flexibility on the yuan is whether it moves on a daily basis and over time". "The way I think about it is this - the Chinese clearly see the need and stated in principle the need for greater [yuan] flexibility," he said. Legislators have pledged to proceed with sanctions on Chinese imports unless the yuan climbs faster than its 8 per cent gain against the dollar since July 2005. Mr Paulson said both sides agreed on the need for China to "rebalance its economic growth, encourage consumption and spread development more broadly among its people". The US trade deficit with China, which reached a record US$232.5 billion last year, is fuelling complaints in the Congress that the US is becoming a dumping ground for China's excess production, harming American businesses. Ms Wu will today meet President George W. Bush at the White House, and members of the US Congress. What was agreed: 1) China to allow foreign securities firms to expand their activities, including brokerage, proprietary trading and fund management 2) China to raise the quota for Qualified Foreign Institutional Investors from US$10 billion to US$30 billion 3) Foreign-invested banks to be allowed to offer own-brand, yuan-denominated credit and debit cards 4) US, China to develop up to 15 coal-mine methane capture plants 5) Enforcement of intellectual property rights laws to be strengthened through exchange of information on fake-goods seizures and dialogue among customs officers on both sides 6) Both sides committed to further liberalising air services rights and signed a declaration of intent to negotiate facilitating Chinese group tours to US.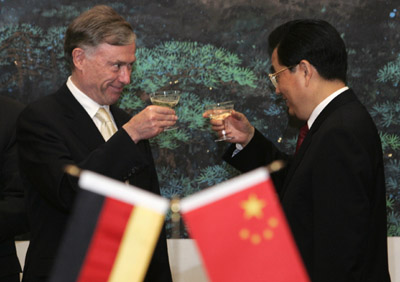 China's President Hu Jintao (R) and Germany's President Horst Koehler toast during a signing ceremony at the Great Hall of the People in Beijing May 24, 2007.
Passenger flights between the United States and China would more than double by 2012 under an agreement between the two countries on Wednesday, good news for the biggest US airlines aiming to shake their domestic woes. The announcement by the Transportation and Treasury departments at the conclusion of a US-China economic forum is the second important international aviation services agreement sealed by the Bush administration in recent months. Earlier this spring, the United States and the European Union agreed to further open transatlantic service to more competition, a deal that favored overseas rivals but still could mean more business to London and other key destinations for American carriers. The China agreement was a small surprise after transportation regulators recently concluded that full liberalization or "open skies" would have to wait. The US aviation sector dwarfs its Chinese counterpart. The two sides will resume talks in 2010 on a timetable for "open skies." "Piece by piece, we are making it easier, cheaper, and more convenient to fly people and ship goods between our two countries," Transportation Secretary Mary Peters said in a statement. Chinese officials did not comment immediately on the agreement but China would be allowed the same number of daily round-trips as US carriers, US transportation officials said. The Transportation Department estimated the increased service would be worth $5 billion to US airlines, especially those that will be able to capitalize on flights to the 2008 summer Olympic Games in Beijing. US carriers currently fly to Beijing; Shanghai, the leading financial center, and Guangzhou, a prosperous southern commercial city. Under the new agreement, the number of daily round-trip flights will jump to 23 from the current 10 within five years. One flight will be awarded this year and next followed by four in 2009, three in 2010 and two each in 2011 and 2012. The 2008 service will be limited to Guangzhou. The United States will designate three additional passenger carriers to fly to China - one in 2007 and two in 2009. Transportation officials said the 2007 slot would go to an airline that currently does not fly to China. The agreement would also knock down barriers to cargo service by 2011, a boost for FedEx and UPS. Currently, United Airlines, American Airlines, Continental Airlines and Northwest Airlines offer passenger service to China. American, Northwest, United and Delta Air Lines immediately welcomed the announcement in separate statements. All would like more international flying to offset weakness in domestic performance due to stepped up competition and sharply lower fares. Delta wants to fly from its Atlanta hub to Shanghai. US Airways also intends to seek service. Neither currently flies to China. Transportation officials said they would move as quickly as possible to award the 2007 slot, possibly this summer.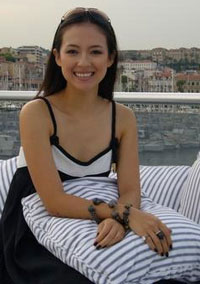 World famous Chinese actor Zhang Ziyi is expected to play a supporting role in a film about Peking Opera legend Mei Lanfang. Zhang Ziyi will play the role of Meng Xiaodong, a female friend and rumored lover of Mei Lanfang. Whilst the films director Chen Kaige has met with the actress during the Cannes Film Festival in France. He said it would "take some time" before a final agreement is reached. Another Chinese actor, Chen Hong, also the wife of the director, will play the heroine, or wife of the renowned artist. Three actors of different ages, including Hong Kong star Leon Lai, will portray the life story of Mei Lanfang. All the cast members will undergo training in performing Peking Opera before the film starts shooting in the second half of the year.
Bank of China (3988), the second- largest lender in the mainland, said Wednesday it is confident the diversification of its business will help offset the adverse effects caused by Beijing's tightening measures, as the bank has recorded robust growth in non-interest income in the first four months.
Lenovo Group (0992), which recently slipped down one place in the personal computer stakes to fourth, said its net profit for the year to the end of March jumped more than sixfold to US$161 million (HK$1.25 billion), thanks to improvement in sales and restructuring costs.
Shanghai Media Group, China's second-largest media group by revenue, is expected to launch next week the country's first TV service broadcast directly to mobile phones, sources said.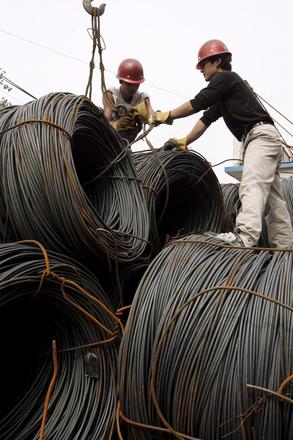 China produces more steel than the US, Russia and Japan combined. These workers are loading steel cables onto a truck in Beijing - Huang Yong, the top economic-policy official in Zhejiang province , boasts of the prosperity that textile and shoe manufacturing have brought to his area. And that's just the beginning - no matter what the officials who met in Washington this week might think - he said in an interview at a tea house in Hangzhou . The next step is developing industries like petrochemicals, pharmaceuticals and steel. Such aspirations, typical of Mr Huang's counterparts throughout mainland China, frustrate Beijing's efforts to slow expansion in industries that are plagued with overcapacity. Too much investment in unneeded factories may lead to lower profits, national financial instability and increased tensions with the US. "As long as producers have the support of local governments, who are most worried about employment and growth in their own backyards, they will find ways to put the central government off," said Jonathan Anderson, chief Asia economist for UBS in Hong Kong. As Vice-Premier Wu Yi was on her way to Washington, the Finance Ministry announced an export tax of as much as 15 per cent on steel slabs and 10 per cent on steel wire and rods to reduce exports of "energy consuming, polluting and resource-intensive products". But Tom Danjczek, the president of the Washington-based Steel Manufacturers Association, said he did not expect the tax to do much to curb overproduction. "Will the tax possibly close any of the inefficient 60 to 80 million tons of subsidized capacity?" he said. "Probably not." Since 2003 the central government has been trying to reduce overcapacity in industries including steel, aluminium, cement and cars, creating a list of "no go" sectors where investment would be restricted. The plan has not worked. "It's difficult to think of a single sector where the moratorium on investment approvals was actually effective," UBS analysts said in August. Over the past three years, mainland authorities have tightened lending and closed smaller, inefficient steel mills, efforts they predict will eliminate 35 million tonnes of capacity this year. In reality, mainland China will not only replace that amount, but add another 70 million tonnes this year, bringing total steelmaking capacity to 591 million tonnes, according to a forecast by CBI Research & Consulting in Shanghai. By comparison, total US capacity this year will be about 115 million tonnes, according to the Steel Manufacturers Association, which represents 45 mainly North American steel manufacturers. Beijing's ambitions in steelmaking date back to the 1950s, when backyard mills were part of Mao Zedong's "Great Leap Forward". Now, mainland China's modern mills turn out more than the US, Japan and Russia combined. "China has more unused capacity than we have capacity," Mr Danjczek said. More is being added. Baosteel Group, the mainland's biggest steelmaker, and Handan Iron & Steel Group plan to build a 19-billion-yuan plant in Handan , Hebei province , to boost production. "China's steel industry has no concept of profits and costs, and is only interested in creating jobs," said Daniel Dimicco, chairman of Nucor Corp, the second-largest US steelmaker. "In many product categories it has destroyed pricing." The aluminium industry looks much the same. Investment in smelting more than doubled this year, and the National Development and Reform Commission reiterated last month plans to halt construction on new plants that breach rules designed to curb overcapacity.
International hedge funds have poured as much as US$50 billion into the China's stock markets, becoming a force that regulators cannot afford to ignore, according to a top China think-tank.

PetroChina, the nation's largest oil producer, may exercise its right to pre-empt Citic Resources Holdings' planned US$150 million acquisition of the development right in a mainland oil project, according to a source close to PetroChina.
May 25, 2007

Hong Kong: It appears certain that Singapore Airlines will buy a certain stake in the money-loosing China Eastern Airlines as both companies have said they will soon make a major announcement. The two companies halted trading of their shares on Tuesday and insiders say an announcement could come as early as Friday. "We are waiting for word from the headquarters," said Wang Yong, manager of Public Relations Department of Singapore Airlines' China office when asked about the potential deal. For China Eastern, the deal would provide a major cash injection and help improve the quality of its assets. China Eastern Airlines lost 510.86 million yuan in the first quarter of 2007, down from 955.1 million yuan in losses for the same period last year, according to its unaudited quarterly report. Singapore Airlines would also bring to China Eastern managerial expertise and in return get access to China's rapidly growing mainland aviation market. Li Fenghua, chairman of China Eastern, said earlier that Singapore Airlines would not get more than 25 percent of his company, which is the maximum allowed by Chinese law. Li was also quoted earlier as saying the deal needed policy support from the government. The agreement does require approval from regulators. Goldman Sachs calculates that 25 percent of China Eastern is worth about one billion U.S. dollars based on its share price on the Hong Kong exchange on Monday of 3.73 Hong Kong dollars (0.47 U.S. dollars). China Eastern's A-share price has nearly tripled since February. It settled at 9.60 yuan before trading was suspended on the Shanghai market on Tuesday. Li Lei, analyst of China Securities Co., Ltd., says Singapore Airlines is likely to buy the relatively lower-priced Hong Kong shares. (one yuan equals about 0.13 U.S. dollars)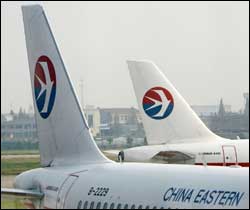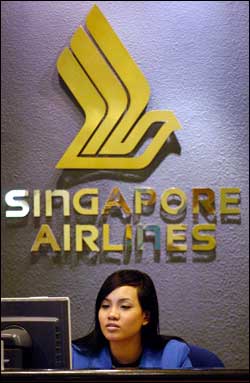 China Eastern Airlines (0670), the nation's No3 carrier, plans to bring in Singapore Airlines as a strategic investor to acquire a 24 percent stake for a total equity injection of HK$15.8 billion, in a bid to compete with rival strategic alliance Air China (0753) and Cathay Pacific Airways (0293). China Eastern and Singapore Airlines halted trading of their shares on the Hong Kong, Shanghai and Singapore bourses. China Eastern will issue new Hshares to Singapore Airlines, while the state, the major shareholder, will buy new A shares to keep its stake no lower than the regulatory requirement of 51 percent, according to one source. China Eastern's H shares closed at HK$3.73, while its A shares closed Monday at 9.6 yuan. Singapore Airlines, the world's biggest airline by market value, said in a statement late Tuesday to the Singapore exchange that it is in advanced discussions for a potential strategic investment - but did not say if it is in talks with China Eastern. At this stage, the statement said: "The agreement has not been finalized and is subject to official approval." Singapore Airlines said trading in its shares would resume today. Talks between China Eastern and Singapore Airlines have been in progress for a year. The carrier had been asking the government about restrictions on foreign strategic investors for a long time but had failed to obtain approval. Currently, a single foreign investor can own up to 25 percent of a mainland airline, while multiple investors can hold a combined 49 percent. China Eastern's share price has gained 60 percent in the past three weeks amid speculation it was close to a deal with the Singaporean carrier. China Southern Airlines (1055), the mainland's largest carrier by fleet size, has also benefited from Beijing's cash injection into China Eastern to secure a foreign partner. Its shares rose 3.37 percent Tuesday to a record HK$4.60. "Emirates and Air France-KLM [are the] most likely suitors for CSA," Merrill Lynch said earlier this month. From Singapore Airlines' viewpoint, buying a stake gives it access to Shanghai and helps it compete with rivals Cathay Pacific and Air China to attract more international travelers to China from Singapore. Meanwhile, Air China plans to use its alliance with Cathay to capitalize on networking between Hong Kong, Shanghai and Beijing and to attract more passengers through Beijing. It has also gained 12 percent of Shanghai market share while China Eastern has kept 33 percent in its hub market, Air China president Cai Jianjiang said in March. Analysts said the introduction of a foreign investor is undoubtedly positive for China Eastern, which is facing fierce competition as Air China and Shanghai Airlines increase their presence in the Shanghai passenger market. Its cargo business is also under assault from start- up cargo carriers, and Cathay Pacific. China Eastern posted a loss of 2.78 billion yuan (HK$2.84 billion) for 2006 and expects to post a first-half loss this year. Air China and China Southern Airlines were both profitable last year.
Foreign Ministry spokeswoman Jiang Yu said Hong Kong's democratic political system is developing in a steady and gradual way in accordance with its actual situation, and within the framework of the Basic Law. Jiang made the remarks after British Foreign Secretary Margaret Beckett called on Hong Kong's leaders on Monday to allow full democracy in the Special Administrative Region by introducing universal suffrage. In the 10 years after 1997, the "one country, two systems" has been successfully implemented in Hong Kong, Jiang said. "The legitimate rights of the Hong Kong people have been sufficiently safeguarded and Hong Kong is widely acknowledged as having the world's freest economy," Jiang said yesterday in a regular press briefing. She said the central government will continue to unswervingly carry out the principle of "one country, two systems", "Hong Kong people governing Hong Kong" and a high degree of autonomy to maintain its prosperity and stability. Jiang yesterday rebutted Western accusations that China was worsening Africa's debt crisis through major loan packages. She said China was not going to add to the burden of African countries. Jiang said China's assistance and interest free loans to African countries have no political strings attached and China wants them to be fair, just and transparent. Speaking just several days after Shanghai hosted the annual meeting of the African Development Bank Group, Jiang called on the international community, especially the developed countries to "make earnest efforts to reduce the debt of African nations so as to free them from the vicious cycle of debt". She also stressed Beijing's wish to help lift African people out of poverty by building their capacity for self-development. Jiang reiterated China's determination to attach great importance to food and drug safety. She said the government has gradually set up a comprehensive legal system to regulate the market to ensure food and drug safety, adding that China is willing to work together with the international community on the issue. The safety of Chinese food and pharmaceutical exports has been questioned in recent months following reports that Chinese-made medicinal ingredients have killed people in Panama, and tainted pet food in the United States. In the latest case, Chinese-made toothpaste in Panama has been found to contain a potentially deadly chemical. Jiang said investigations are continuing into "some cases".
The Town Planning Board has given the green light for a residential development in an old part of southern Wan Chai proposed by the Urban Renewal Authority and estimated to cost HK$10 billion.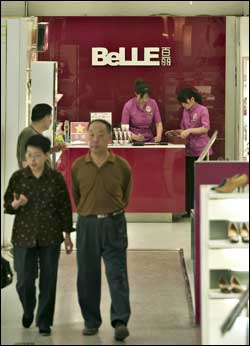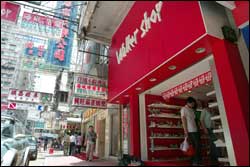 Belle International, which begins trading under the stock code 1880 today, is poised for a strong performance after surging 40 percent in the gray market Tuesday. The mainland shoe retail chain traded at HK$8.71 in the gray market, up 40 percent over its offer price of HK$6.20, according to the trading platform run by Phillip Securities. "The market likes consumer-related China stocks, encouraged by the country's growing affluence," said a fund manager. Belle, which runs more than 3,800 outlets in Greater China, was 515 times oversubscribed in its retail tranche, locking up HK$443.8 billion. It surpassed Industrial and Commercial Bank of China (1398), which tied up a record of HK$416 billion when it listed October 27 last year. Belle's HK$8.6 billion share sale received 687,000 retail application forms, and the probability of being allotted a board lot of 1,000 shares was only 25 percent, according to a company announcement. Such overwhelming demand for the shares was also partly due to support from reputable investors. The family of French billionaire Bernard Arnault, chairman of luxury goods group LVMH Moet Hennessy Louis Vuitton, took a US$30 million stake in the company's IPO. The deal is led by Morgan Stanley and Credit Suisse. Meanwhile, listing candidate Walker Group is targeting HK$579 million by offering 150 million shares in an indicative price range of HK$3.18 to HK$3.86. This values the stock at 23.3 times to 28.2 times forecast earnings, compared with its peer, footwear chain Mirabell (1179), at 27.6 times earnings. Belle is estimated to post no less than HK$80 million net profit for the year ending March 2007, a 48 percent increase over a year ago, according to a fund manager who attended the investor presentation Tuesday. Walker Group has 392 points of sale in Greater China, including 330 in the mainland, covering 23 provinces and 50 cities. It has 56 in Hong Kong and six franchise stores in Taiwan. Walker has six in-house brands - Couber.G, Artemis, Forleria, Ox-x-ox, Tru-Nari and Walaci. These account for 90 percent of turnover. The company will use 66 percent of the proceeds to expand its network while 15 percent will be used for developing two licensed brands, Acupuncture and Pink Panther. The remainder of the proceeds will be used for marketing and general working capital.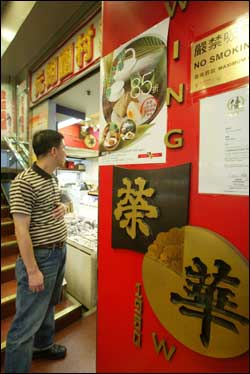 A rice dumpling sample collected from a Chinese restaurant in Yuen Long contained a trace amount of Sudan Red dye, the Centre for Food Safety said Tuesday. It was the only one of 49 samples that tested positive and contained just 0.12 parts per million of the banned dye. "The Sudan Red level is very low, under normal consumption we do not expect any adverse health effects on humans, but it is an industrial dye and is banned from being used as a food additive," said Tina Mok, the center's principal medical officer. She said the center had requested the restaurant in Yuen Long to stop selling the batch of rice dumplings in question, and also ordered the supplier - a food factory in Yuen Long - to withdraw it from the market. The center is investigating the source of the dye and the number of dumplings the food supplier had distributed. Mok said prosecutions would be brought depending on evidence. This year the center tested more than 80 food samples, including products containing eggs, meat, herbs and sauces, but has not found contamination. The tainted sample is believed to come from the Tai Wing Wah restaurant in Yuen Long, which belongs to the Wing Wah Group of restaurants and cake shops with a long history of specializing in Chinese delicacies. Wing Wah Group spokeswoman Lee Ying-kuen said the rice dumplings in question are believed to have contained duck eggs tainted with Sudan Red dye. Lee said the problematic batch comprised 1,200 rice dumplings, of which more than 170 had been sold. People may return the dumplings to the restaurant or call its hotline on 2477-9947. Apart from Sudan coloring, the center has also conducted chemical tests on the samples to detect preservatives (such as boric acid, salicylic acid and benzoic acid), heavy metals (such as arsenic, cadmium and mercury), pesticide residues (such as methamidophos and DDT) and microbiological tests on pathogenic bacteria (such as salmonella, Staphylococcus aureus and Bacillus cereus), all of which had negative results. Mok said consumers should store rice dumplings at below four degrees Celsius.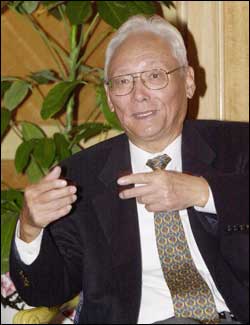 The former director of the State Council's Hong Kong and Macau Affairs Office, Lu Ping, said that when he helped draft the Basic Law he did not foresee that the right-of-abode issue would have to be reinterpreted by the Standing Committee of the National People's Congress. Lu also said Hong Kong had missed many economic partnership opportunities with mainland cities, such as the Hong Kong-Zhuhai-Macau Bridge. In a Cable TV interview broadcast Tuesday, Lu said the Basic Law drafters had intended to be very specific with the wording concerning Hong Kong citizenship, but that some others had disagreed and suggested they use the same wording that appeared in the Sino- British Joint Declaration. "We thought of the possibility that this could put pressure on the population of Hong Kong. But I thought it's a Hong Kong issue and Hong Kong would be able to solve it by passing certain laws. I did not foresee problems. I was subjective and I took it for granted." From the point of view of the mainland authority, there was no need for the Standing Committee to reinterpret the Basic Law, Lu said. "The interpretation was not done for the mainland but for Hong Kong's sake, to relieve any population pressure." Lu said another point that was not foreseen was the soaring number of pregnant mainland women traveling to Hong Kong to give birth in order to obtain citizenship rights for their children. Lu said Hong Kong's position as an international trade capital has not been marginalized - yet. But there was now a sense of crisis as there had been substantial economic development in the Pearl River Delta area. He said the construction of the Hong Kong-Zhuhai-Macau Bridge had been on the agenda for a long time. "We had forecast it would be beneficial to Hong Kong when we were in the preparatory committee of the National People's Congress on the HKSAR. It is the only way for Hong Kong to expand its transportation channels in the mainland as the Pearl River Delta area will reach its maximum capacity soon. I said to my Hong Kong friends it was a project that had to be speeded up. But Hong Kong paid no attention to the proposal and refused to talk to the mainland," he said. "Now Hong Kong is very anxious but Guangdong isn't anxious anymore. Guangdong had raised many proposals for partnership but Hong Kong kept turning a blind eye. Guangdong could not wait and conducted its own developments," Lu said. He said Hong Kong needs a strong economic structure and can not rely on CEPA or the independent visitors scheme for its future prosperity. Lu, who retired 10 years ago, has maintained contact with Hong Kong. He surfs the Web sites of Hong Kong newspapers every day and checks the Hang Seng Index at 4.30pm daily. "I do not have a single share and I do not invest in the stock market. Yet I care about it and it is a must-read, as an index of Hong Kong's economy," he said. Lu also said he believes that Hong Kong people are more concerned with economic issues rather than political ones.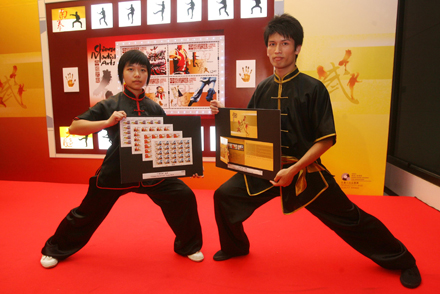 Li Sze-man (left) and Wong Wing-chung at the post office's launch of special stamps featuring the Chinese martial arts styles "Southern Lion Dance", "Nanquan", "Northern Lion Dance" and "Beitui".
The government planned to extend the use of Octopus cards to tunnel tolls, Financial Services and the Treasury Secretary Frederick Ma Si-hang said on Wednesday.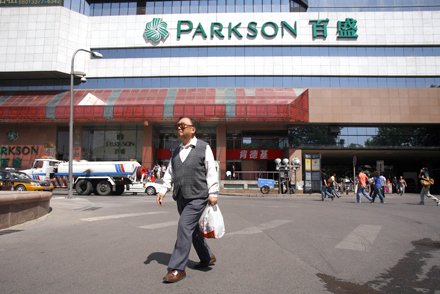 Parkson Retail Group, the Beijing department store unit of Malaysia's Lion Group, received more than US$1 billion in initial orders when it returned to the Asian high-yield bond market yesterday to raise US$125 million, a source said. Pricing for the five-year bond sale would be fixed today after the market close to include one London investor, said the source, who expected total orders to top US$2 billion. The bond was expected to be priced between 7.125 per cent and 7.25 per cent, the source said. The sale is being arranged by JP Morgan, which arranged the company's first bond sale in November last year when Parkson raised US$200 million. Parkson, which owns 25 stores and manages 11 in 26 cities, will use the new funds for acquisitions and refinancing. The only mainland retailer so far to sell high-yield or below investment-grade bonds, Parkson saw strong demand for the paper even as it faces intensifying competition from larger local rivals and overseas entrants to the mainland retail stores market. Overseas high-yield investors were keen to hold the Parkson bond as a way to gain exposure to the booming retail sector, the source said. The high-yield market in Asia has seen five new issues from the mainland this year, with four from property developers. Parkson will use US$50 million of the proceeds to repay a bridge loan from JP Morgan Chase Bank, which the company took out in March. Another US$50 million will help fund acquisitions the company announced last month. It plans to pay 730 million yuan for the 49 per cent it does not already own in its flagship store in Anshan, Liaoning province and the property in which it is located. The store's after-tax profit rose 55.5 per cent to 32.2 million yuan last year while operating revenue rose 25 per cent to 130.5 million yuan. The rest of the bond proceeds will go to general corporate and working capital purposes. The bond was not callable for three years, an option designed to help the company to seek cheaper financing on the expectation that Parkson will attract an investment-grade rating in about three years, the source said. The proposed bond was rated Ba1 by Moody's, one step below investment grade and one step lower at BB by Standard & Poor's. Parkson raised US$200 million in November by selling a five-year senior note that attracted orders of US$1.45 billion, giving room for the note to be priced tighter at 7.85 per cent from a proposed 8 per cent. The old Parkson bond was bid at 6.57 per cent mid-day yesterday, according to a Hong Kong-based trader in a European bank. Parkson, whose first-quarter earnings also jumped 55.5 per cent to 160.5 million yuan from 103.2 million yuan a year ago, earlier said that it planned to spend up to 150 million yuan to open five stores this year. The retailer last night said it would buy the 40 per cent stake it does not already own in a store in Mianyang, Sichuan province, for 99.9 million yuan. Shares of Parkson, which have gained 42 per cent this year and were suspended from trading yesterday pending an announcement, will resume trading today. The stock closed 1.28 per cent lower at HK$54 on Monday.
Shanghai Hua Hong NEC Electronics, a chipmaker half-owned by Japan's NEC, is trying to revive its long-awaited plan to list in Hong Kong by raising up to US$300 million in the next quarter, according to a source yesterday.

China: U.S. Commerce Secretary Carlos Gutierrez said on Tuesday that the key economic dialogue with China makes a good start, adding the talks would get more penetrating as dialogues continue. "What we are achieving here is a tremendously valuable strategic dialogue on two of the world's largest economies," said Gutierrez, who attended the second meeting of Strategic Economic Dialogue which kicked off earlier Tuesday. He played down the expectation for specific results from the SED, which he and other U.S. officials defined as a forum to manage the U.S.-China relationship on a long-term strategic basis. "These are not negotiating sessions," he said. "This is not intended to walk out with specific short-term deliverables." U.S. Trade Representative Susan Schwab also said the talks are candid, adding the high-level meeting is a "straightforward, mature" dialogue between the two countries. The second meeting of the Strategic Economic Dialogue, co- chaired by Chinese Vice Premier Wu Yi and U.S. Treasury Secretary Henry Paulson, was designed to address outstanding issues in bilateral economic and trade relations. Dozens of ministers from the two countries, including Gutierrez and Schwab, participated in the meeting. China and the United States held their first strategic economic dialogue last December. The dialogue mechanism has already become an important platform for the two nations to discuss long-term strategic and economic issues.
China's decades-long household registration system, which divides the population into urban and rural residents, may be reformed.
The handling capacity of China's ports is expected to hit 8 billion tons and 170 million TEUs (twenty-foot container equivalent units) in 2010, according to information from the on-going China Ports and Terminals Summit held in north China's Tianjin Municipality. The cargo handling capacity of all China's ports totaled 5.6 billion tons and 93 million TEUs last year, both the biggest in the world for four consecutive years, said Qian Yongchang, head of the China Communication and Transportation Association, at the summit on Tuesday. Last year, China had 12 ports with throughput capacities exceeding 100 million tons. Shanghai port handled 530 million tons of cargo last year, making it the busiest in the world. Qian said China has been investing heavily in port construction as the national economy sores and foreign trade increases steadily. In 2006, more than 160 construction projects kicked off on China's seaports, involving 60 billion yuan, up 30 percent year-on-year. The priority of the investment in port construction will be put on expanding capacity and improving comprehensive services, Qian said.
The China Securities Regulatory Commission (CSRC) announced Wednesday it has fined a former company manager US$26,130 in the latest case of insider trading.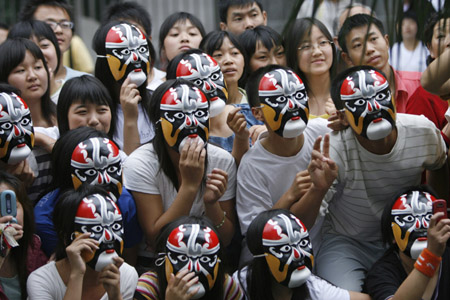 People, wearing Sichuan opera masks, watch performances during the 1st International Festival of the Intangible Cultural Heritage in Chengdu, southwest China's Sichuan province, May 23, 2007. The festival is the first one of its kind on the globe involving protection and conservation of intangible cultural heritage of the human world, according to the local government.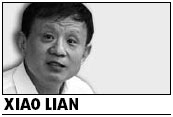 Playing to each other in the press, the stage was set for productive diplomacy at the current round of China-US Strategic Economic Dialogue with US Secretary of Treasury Henry Paulson's interview in the Chinese newspaper 21st Century Business Herald and Chinese Vice-Premier Wu Yi's writing in the Wall Street Journal. As the second day of the two-day talks unfolds in Washington, key players not at the table are the US Congresspeople putting heat on the Bush administration in its China dealings. Ignoring Congress for the moment, the two countries' expectations can be summarized as: China and the US should handle their bilateral issues with an eye on the world economy as a whole and strategic, long-term and macro-thinking rather than handling issues with local, tactical, short-term and micro-thinking; adhere to and implement the principles of the World Trade Organization (WTO) as best they can and join efforts in opposing trade protectionism; avoid politicizing bilateral trade issues and attempts to use trade issues for political gains. In the first round of dialogue last year, the two countries reached an understanding that caught the world's attention. But some US lawmakers still question the framework of the dialogue and its effectiveness. Their main argument is that China is achieving economic modernization (building the world's factory) on two wheels - one is manipulating the low exchange rate of the renminbi to gain a huge trade surplus; the other is violating intellectual property rights (IPR) and stealing other countries' technology to gain competitive advantages. They believe these two wheels have been turning faster, not slowing, since the first round of the bilateral strategic dialogue last year. As congressional pressure increased, Treasury Secretary Paulson came under attack by the "contain China" camp, which accused him of maintaining good personal relations with Chinese leaders at the expense of US interests. Soon afterwards, Washington announced the decision to slap anti-dumping tariffs on several Chinese glossy paper exporters and threatened to bring the issue of alleged China's of intellectual property rights (IPR) violation to the WTO. Some US lawmakers plan to demand an investigation into supposed exchange rate manipulation by China and launch economic sanctions accordingly. In terms of unilateral measures, the US has put China on the blacklist of countries to be investigated for unfair trade as prescribed in the US Trade Representative Special 301 Report and will apply anti-dumping or anti-subsidy tariffs on imports from China. In terms of bilateral measures, the US has signed free trade agreements with China's trade rivals including Peru, Colombia and the Republic of Korea to offset China's impact with trade favors. In terms of regional measures, the US has Europe's and Japan's cooperation in tightening their China-oriented economic policies, especially in China-specific policies on IPR and related export control, to maintain an advantage over China in science and technology. In terms of multilateral measures, the US plans to bring issues related to bilateral trade and IPR to the WTO if the unilateral and bilateral measures fail to achieve results. Of course, the second round of dialogue cannot cover all the issues, but US concerns will focus on whether Congress is satisfied with the results of the two-day meeting. In fact, the dialogue is actually between the Chinese government and the US Congress. Therefore, it is particularly important for both countries to have Paulson help steer the dialogue between Wu Yi and the United States. This arrangement will facilitate communication and understanding between the two governments. It is important in efforts to clear up misunderstandings between the two countries while building mutual trust over economic and trade issues. The checks-and-balances power struggle between the US Congress and the executive branch is one of the major factors affecting the China-US dialogue. Congresspersons answer to the voters in their districts and the bills they present usually reflect their constituents' interests. Some bills relating to Sino-US economic and trade ties may appear beneficial to local districts but could harm long-term US interests on an overall and strategic level. They could also hurt sustainable development of the two countries' economies. Above all, US lawmakers care about votes. They will say anything necessary to win votes whether the bilateral trade issue is appropriate or not. Thus, one important goal of the second round of dialogue is to placate Congress. The series of hard-hitting moves taken by the Bush administration against China was apparently meant to prevent Congress from passing legislation harmful to long-term benefits from a healthy bilateral economic and trade relationship. As for the issue of the renminbi exchange rate, which Congress seems to believe is key to the trade imbalance, both former Federal Reserve Chairman Alan Greenspan and current Chairman Ben Bernanke believe the renminbi exchange rate is China's own business and has no direct effect on the US trade deficit. Some members of Congress have linked the renminbi exchange rate to US-China trade policy, threatening trade sanctions against China if their demand for revaluation is not satisfied. But the exchange rate is an economic issue whereas trade policy is political. It will only complicate the matter if the two are forcibly tied together. As China speeds up its economic reform and process of opening to the world, the internationalization of the renminbi will also accelerate. Compared with America's mature management of its market economy, China is still faced with the problems of a weak banking industry and too many bad debts owed by State-owned enterprises. Besides, China also suffers from inadequate domestic consumption, a widening gap between rich and poor and a growing population of the unemployed. These economic and social problems dictate that it is not wise for China to appreciate the yuan too fast, a move that would seriously affect China's economic development and hurt that of the US as well. In fact, US companies with investments in China, including members of the American Manufacturers' Association, are among the loudest voices against drastic rises in the value of the renminbi. An unstable yuan will directly hurt their economic interests in China. Morgan Stanley's chief economist and Vice-President Leo Roche recently pointed out that many fundamental economic factors will cause trade imbalance between China and the US even if the yuan exchange rate is raised by a large margin. For instance, the American people's savings rate has remained at a meager 1 percent over the past three years. This has forced the country to tread the trade deficit path. It is relying on growing imports to sustain economic growth, because only by running a huge current account and trade deficit can it attract foreign investment. The fact that China accounts for a large portion of the US trade deficit indicates China enjoys a relative advantage in supplying Americans with the commodities they need. The US has only itself to blame for the economic problems it is suffering, but some US politicians refuse to acknowledge this, blaming China. It is easier to find a scapegoat elsewhere than at home. In fact, China's foreign trade policies have undertaken significant changes. The country's 11th Five-Year Plan (2006-10) states clearly that the country will try to maintain economic growth and sustain foreign trade balance and macroeconomic stability by increasing domestic demand, especially consumer demand. It will also take effective measures to limit the export of "energy-consuming, polluting and natural resource-based" products and increase imports by simplifying procedures. Obviously, it won't be so hard to solve the issue of the renminbi exchange rate in relation to bilateral trade imbalance if the two countries both make some concessions and compromises. Another bad habit the United States should get rid of is its double standards. Economists at the Federal Reserve believe it is more important to appreciate the Japanese yen against the dollar than revalue the Chinese yuan. This view is based on the fact that Japan's trade surplus with the US is increasing faster than that of China's. However, the Fed's view on Chinese yuan and Japanese yen exchange rates is different from that of the US Treasury Department. It is fair to say the Federal Reserve is more realistic. The US Treasury Department's emphasis on the appreciation of the yuan rather than on a stronger yen is apparently motivated by political concerns. This kind of double standard won't help resolve foreign exchange rate issues. The other issue that Congress has been heating up is IPR protection. Personally, I am still of the view I had during the first round of dialogue. Intellectual property rights constitute a critical part of the competitive advantages that affect America's well-being. No wonder the United States will stop at nothing to protect its property rights. China is a member of the WTO and will follow the international rules without question. When handling the issue of IPR protection, the two countries should treat three relationships with extra care. 1) The relationship between securing national interests and fulfilling international obligations. This means they should strike a balance between protecting sovereignty and being a responsible stakeholder. A country's IPR protection can only be as good as a its economic and social development. The subjects and focus of such protection change in different stages of development. No one should take a country's economic and social development out of the equation when talking about IPR protection. 2) The relationship between IPR protection (monopoly) and market competition. We should balance the promotion of creativity and competitiveness. 3) The relationship between IPR protection (monopoly) and the public interest. This refers to the need to balance the interests of IPR owners and that of society as a whole. We should oppose both the violation of IPR and violation of the public interest by abusing IPR. The strategic economic dialogue offers an opportunity for the representatives of the two countries to sit down and try to resolve WTO-related issues through amicable discussion. I believe, on the basis of the WTO mechanism for resolving trade disputes, China and the US will ultimately find a solution to each and every one of their trade disputes. The second round of China-US Strategic Economic Dialogue is all about enhancing mutual trust, reducing friction, reaching compromises and achieving win-win results. The author is a researcher with the Institute of World Economics and Politics of the Chinese Academy of Social Sciences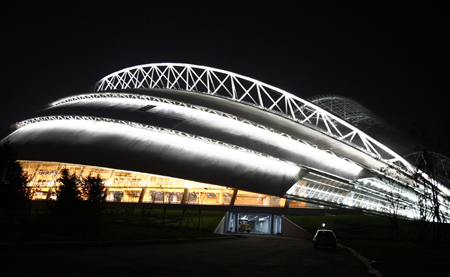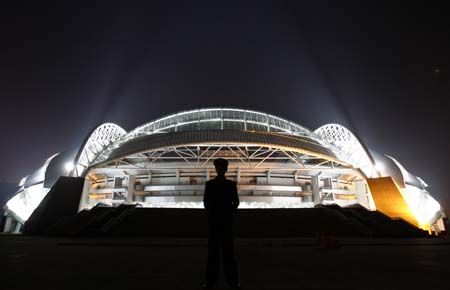 A night view of the Shenyang Olympic Sports Centre Stadium, one of the five football venues of the 2008 Beijing Olympic Games, in Shenyang, capital of northeast China's Liaoning province May 21, 2007. Picture take May 21, 2007.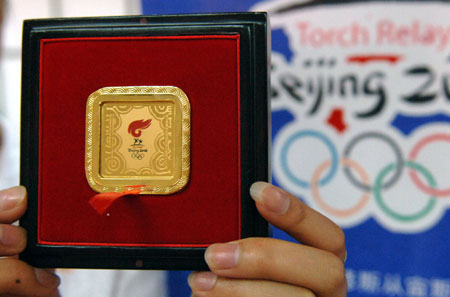 A woman displays the Olympic Torch Golden Brick in Heifei, capital city of Central China's Anhui Province. Granted by BOCOG, China Gold Coin Incorporation issued 10 Olympic Torch golden and silk bricks.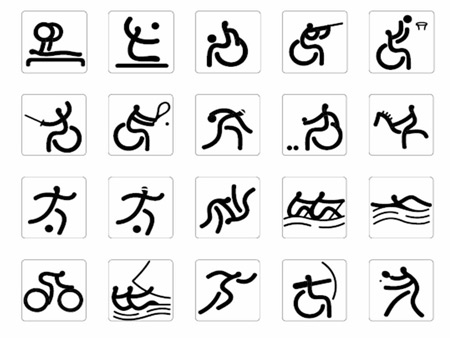 A designer was inspired by physically-challenged athletes when he created the pictograms for the Beijing 2008 Paralympic Games. The 20 logos were unveiled at a press conference Wednesday held by the Beijing Organizing Committee for the Games of the XXIX Olympiad (BOCOG), which coincided with the Month for Publicity for the 17th National Help-the-Disabled Day. Hang Hai is an associate professor of the Central Academy of Fine Arts and chief designer of the Beijing 2008 Paralympics Games Pictograms. "Before, I didn't know anything about the Paralympics. But as I got to know some physically-challenged athletes and their stories, I was moved many times," he explained. "So I just tried to convey the dynamics of their body movements through the pictograms," said Hang. Following the design styles of the pictograms of the Beijing Olympic Games, the Paralympics Pictograms use the Chinese seal script as their basic form while incorporating the pictographic elements of oracle bone writing (jia gu wen, dating back from 14th century B.C.) and the bronze-ware script (jin wen) with the individual event. The logo for wheelchair basketball features a stick figure seated in a wheelchair while getting ready to shoot the basketball. Hang explained they chose the seal script as the basic from because it is graceful and liquid, which embodies Chinese traditional aesthetics. "The pictogram is a good combination of body movement and rich cultural connotation," Hang said. "Pictograms must be easy to recognize even without captions, so we incorporated the charm of oracle bone writing," Hang told Chinadaily.com.cn. When asked if he had considered other Chinese writing styles, Hang replied the other scripts would have been too complex to modify into a pictogram.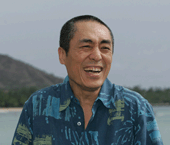 Internationally acclaimed Chinese director Zhang Yimou will chair the jury of this year's Venice film festival, organizers said on Tuesday. Zhang, a member of China's "Fifth generation" of filmmakers, is best known in the West for his movies "Raise the Red Lantern" (1991) and "House of Flying Daggers" (2004), both of which were nominated for Oscars. He is a darling on the Venice Lido, where his films have scooped four major awards in less than 10 years, making him the festival's biggest prize winner. He took the Golden Lion in 1992 and 1999 and a Silver Lion in 1991. Once the bad boy of Chinese cinema whose films were banned on the mainland, Zhang has been recruited by Beijing's Olympics organizers to direct the opening and closing ceremonies of the 2008 Games. He is the second Chinese national to have presided on the jury of the world's oldest film festival, at its 75th edition this year. Actress Gong Li, whom Zhang made into an international star and with whom he had a long personal relationship, chaired the Venice jury in 2002. She stars in Zhang's latest film, "Curse of the Golden Flower," which has been criticized at home for its violent content and skimpily attired actresses. The festival runs from Aug 29 to Sept 8.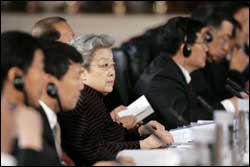 The United States and China have opened a new round of high-level economic talks with the Bush administration pushing for concrete results and China saying efforts to politicize trade disagreements would be a mistake. Breakthroughs were expected in the areas of boosting sales of American energy technology and banking services in China. Both sides were also scheduled to review the issue of food safety, highlighted by the deaths of pets after eating Chinese-made pet food. Speaking in an ornate auditorium decked out with flags from both nations, Vice Premier Wu Yi said it was important to resist "trade protectionism of all kinds." She said attempts to "politicize" the economic relationship between the two nations would be "absolutely unacceptable." "We should not easily blame the other side for our own domestic problems," she said, speaking through an interpreter. "Confrontation does no good at all to problem-solving." Treasury Secretary Henry Paulson called the second round of meetings under the Strategic Economic Dialogue historic because of the number of cabinet officials from both sides who are participating. "Never before have so many ministers from China gathered in one place in the United States. We both realize how critical it is for our countries that we get our long-term economic relationship right," Paulson said. He said it was important for the two countries to work toward "near-term agreements that build confidence on both sides." In an interview on cable television CNBC earlier, Paulson said: "We obviously need some concrete progress. It is very important to have some signposts along the way ... so we can have enough confidence on both sides to keep moving forward." The Chinese are expected to announce that they are cutting tariffs on the imports of energy services and technologies, which would boost the market for US products. The Chinese are also expected to increase the stake US and other foreign companies can own in Chinese banks. That ownership level is currently capped at 25 percent. The administration also hopes to reach a deal expanding opportunities for US airlines in China. Among the officials participating in the talks are Health and Human Services Secretary Michael Leavitt and Agriculture Secretary Mike Johanns, whose agencies are dealing with issues of food safety from Chinese imports. Paulson was leading a US delegation that includes top officials from 11 cabinet-level agencies and Federal Reserve chairman Ben Bernanke. Wu's team includes 14 cabinet-level ministers. A similar collection of high- powered talent assembled for the first session of the dialogue last December in Beijing. Under an agreement announced last fall, the two countries plan to meet twice a year to discuss a wide range of economic issues. The two sides were scheduled to dine Tuesday night at the State Department, and the Chinese delegation was scheduled to meet with President George W Bush during the visit and to have closed-door talks with key members of Congress. Unhappiness about America's growing trade deficit with China is threatening to provoke a protectionist backlash in Congress. Lawmakers are expressing outrage over a trade gap that last year hit US$232.5 billion (HK$1.81 trillion), the largest deficit ever recorded with a single country. Members of Congress are promoting a number of bills that would slam penalty tariffs on Chinese products unless China does more to halt what US critics see as unfair trade practices such as China's currency system and the rampant piracy of American products. China in recent days has made a number of moves in an effort to defuse American unhappiness. In addition to announcing the slight change in its currency band, China earlier in the month said it would purchase US$4.3 billion in American high-technology products and in recent days announced that it would invest US$3 billion of its US$1.2 trillion in foreign currency reserves in Blackstone Group, the second-largest US private equity firm.
China Netcom Group Corp, the smaller of the mainland's two dominant fixed-line telephone operators, would prefer to sell existing shares once listed on the domestic stock market in order to avoid diluting the stakes held by current shareholders, according to the company's chief financial officer Li Fushen.
May 24, 2007

Hong Kong: The Hong Kong Center for Food Safety Tuesday announced that the processing of applications for importing poultry and poultry products from Miyazaki and Okayama Prefectures of Japan would resume with immediate effect. The center suspended processing of applications following confirmation of an outbreak of the highly pathogenic avian influenza H5N1 on a poultry farm in Miyazaki in January. Another outbreak was confirmed on a poultry farm in Okayama in February. The center lifted the restrictions for Japan (except Miyazaki and Okayama) in April while continuing to monitor the situation in Miyazaki and Okayama. "In view of the control measures taken by Japan and the fact that there are no other cases of avian influenza reported in the two prefectures, we decide to resume processing of applications," a center spokesman said.
Hong Kong-based Hang Seng Bank and Singapore's DBS Group Holdings said yesterday that they had received approval from China's banking regulator to incorporate locally, paving the way for them to tap the renminbi retail business. The two lenders were among the second batch of eight overseas banks allowed to prepare for local incorporation, but names of the other six were not immediately available and the China Banking Regulatory Commission (CBRC) could not be reached last night. Earlier, HSBC, Standard Chartered Bank, Bank of East Asia and Citigroup secured the nod to start operations as locally incorporated companies and have begun offering renminbi retail services. In addition, Mizuho Corporate Bank, Bank of Tokyo-Mitsubishi UFJ Ltd, ABN AMRO, Oversea-Chinese Banking Corp, JPMorgan Chase Bank and Wing Hang Bank are preparing to register their local subsidiaries in Shanghai, Beijing or Shenzhen. "We are very pleased that the CBRC has granted approval for Hang Seng to set up a mainland-incorporated subsidiary," Raymond Or, vice-chairman and chief executive of Hang Seng Bank, said yesterday. "The establishment of Hang Seng Bank (China) Limited marks a significant new phase in Hang Seng's mainland business strategy and is in line with our longstanding commitment to this fast-growing market," he added. To be headquartered in Shanghai, Hang Seng Bank (China) Ltd is expected to begin business shortly. Or will be the chairman of the bank's mainland subsidiary and Johnson Fu, head of China Business, will serve as chief executive. DBS Group Holdings, Southeast Asia's largest bank, confirmed to China Daily last night that it had also received the green light from the regulator. "With the setting up of the local subsidiary, and in time to come, we hope to provide the full suite of wealth management services to our customers in Hong Kong and Singapore, and to local and foreign residents on the mainland," DBS spokeswoman Eunice Woo said earlier. Hang Seng Bank, a principal member of the HSBC Group, has a network of 17 outlets on the Chinese mainland, including seven branches, nine sub-branches and one representative office; while DBS has 10 outlets on the mainland, including those owned by DBS Bank (Hong Kong) Limited.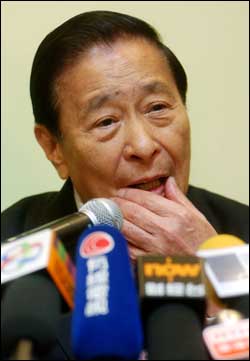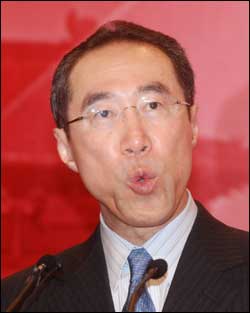 Hong Kong's financial chief and yet another billionaire weighed in with warnings Monday over a possible correction in mainland equities as investors gave a wide berth to news of monetary tightening and continued to pour money into a raging bull market, which rallied to another high. Henderson Land Development (0012) chairman Lee Shau-kee, dubbed "Asia's Warren Buffett" for his stock- picking prowess, said mainland investors were fast losing their senses chasing A shares which have reached unrealistic levels. Speaking after the annual general meeting of Hong Kong and China Gas (003), of which he is chairman, Lee said investors were "crazy," adding that Ashares are much more expensive than H shares. "Some of the A shares have a 50 percent premium over the H shares, which is unreasonable," Lee said. "Investors in the mainland are too keen to win in the stock market, chasing stocks no matter how high prices are, which is irrational." Financial Secretary Henry Tang Ying-yen said mainland stocks will become more volatile and this will also have a major impact on Hong Kong and global equity markets. "We expect the mainland authorities to heighten macroeconomic tightening measures, increasing the volatility in the Chinese stock market," Tang said. "Unavoidably, the Hong Kong market will also experience more volatility." Investment bank Morgan Stanley also said Beijing will likely introduce more macroeconomic measures. "I have always held the view that China needs unconventional tightening measures to bring domestic prices under control, especially in its stock market, [and] the People's Bank of China hints of more in the pipeline," research analyst Jerry Lou said. "Even more worrying, the last time the [central bank] raised the saving rate more than the lending rate was in 1993, before the crash of the property and stock markets." Last week, billionaire Li Ka-shing, the chairman of Cheung Kong (Holdings) (0001) and Hutchison Whampoa (0013), cautioned "there is indeed a bubble phenomenon." "As a Chinese, I am worried about the [mainland] stock market," Li said. Despite warning signals from various quarters, shares rallied again. The CSI 300 Index, which tracks yuan- denominated A shares on the Shanghai and Shenzhen exchanges, rose 1.45 percent Monday to close at a record 3,831.44 points. So far this year it has surged 87.7 percent, compared with a modest 4.8 percent gain for the Hang Seng Index. He Guangbei, vice chairman and chief executive of BOC Hong Kong (2388), said measures to curb growth were "timely and necessary" and he expects another round sooner or later. But he foresees only a limited impact on the domestic banking industry. However, sources cited China Securities Regulatory Commission chairman Shang Fulin as saying domestic retail investors were actually not as crazy as depicted by the media. In a meeting Monday, Shang said while there were 90 million investors, only 30 million were active traders, so the figure "may not be that serious."
Listing candidate Sichuan Xinhua Winshare Chainstore, which closed its order book Monday with the retail offer more than 100 times oversubscribed, will price its shares near the high end. "The response was positive, although Belle [International Holdings] locked up a huge amount of funds," a source said. Belle begins trading tomorrow. Sichuan Xinhua, which runs 193 bookstores in Sichuan, tied up at least HK$21 billion in its retail tranche, while the institutional portion is more than 30 times covered. Considering the overwhelming retail demand for its offer, the allotment will be raised from 10 percent to 50 percent of the total available shares. Sichuan Xinhua aims to raise HK$2.1 billion by offering 369.4 million H shares in an indicative price range of between HK$4.50 and HK$5.80 per share. The price range represents 11 times to 15 times 2006 earnings. Trading of its shares is set for May 30. The deal is led by BOC International. Meanwhile, Jiahua Stores Holdings (0602) surged 39 percent on its trading debut Monday as investors continued to flock to consumer-related mainland stocks. The Shenzhen-based department store operator hit a high of HK$1.48 before easing to close at HK$1.45, up 39 percent over the offer price of HK$1.04, with HK$397 million worth of shares traded. Taifook Securities is sponsoring the deal.
Hong Kong's consumer prices rose 1.3 percent last month from last April, lower than the 2.4 percent rise in March, as the headline figure was cushioned by the waiver of property rates announced in this year's budget, the government said Monday.
The government is expected to recommend a pay increase of between 4 and 6 percent for 160,000 civil servants for 2007-2008, a Civil Service Bureau spokesman said Monday.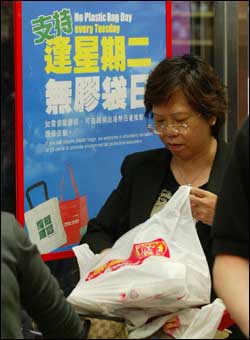 Plans are afoot to impose a tax of 50 HK cents on each plastic bag by the end of next year as part of the government's campaign to reduce indiscriminate use of bags by shoppers. The Environmental Protection Department plans to introduce the scheme in phases, with supermarkets, convenience stores, and personal health and beauty stores the first to enforce the levy. According to a government source Monday, the retailers involved in the scheme will include those selling three categories of products - food and beverages, including confectionery or snacks; nonprescribed medicine, first- aid items and dietary or herbal supplements; and personal hygiene and beauty products. Such businesses will either have two or more retail outlets owned or controlled by a person; or businesses with a single retail outlet and a retail floor area of not less than 200 square meters. The environmental levy will apply to plastic shopping bags that are made wholly or predominantly of plastic; and have carrying handles, holes or strings. Bags with no carrying handles, holes or strings for wrapping unpacked fresh food would be exempted. Sealed plastic bags applied before goods are offered for sale, such as rice, boxes of tissues; plastic bags sold as packaging materials, such as sandwich bags, or bin liners, would also not be covered. Reusable shopping bags sold for HK$5 or more each would be exempted too.
A fireman was killed and six of his colleagues injured battling a No3 alarm fire at an electroplating workshop in Tsuen Wan overnight.
Hong Kong share prices closed 0.40 per cent lower on Tuesday as caution set in ahead of US-China economic talks in Washington, driving investors to the sidelines to consolidate recent gains, dealers said.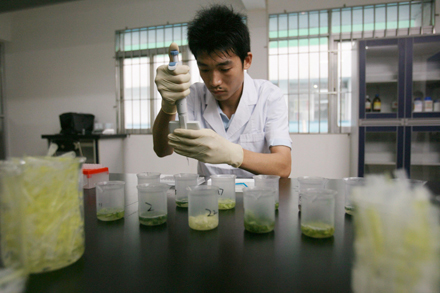 A chemist tests vegetable samples for contaminants yesterday at the Nanshan distribution centre under tightened regulations governing exports to Hong Kong. Mainland authorities have stepped up regulation of vegetable exports to Hong Kong this year, but a survey shows more than 75 per cent of Hongkongers have no confidence in the new measures. After a series of food scares last year, the Shenzhen Entry-Exit Inspection and Quarantine Bureau last month introduced a new management system to step up regulation of vegetable exports to the city. From April 1, the bureau has required all suppliers of vegetables to Hong Kong to be registered with its Nanshan agricultural products wholesale distribution centre. All vegetable exports to Hong Kong are transported to the centre, where samples are tested and the exports are labelled after preliminary inspections. The trucks are also sealed to prevent contamination before they set off to Hong Kong. But as tests may take 40 minutes to two days, some of the vegetables will be transported to Hong Kong before the results are available. The head of the quarantine bureau's department for vegetable inspection, Chen Xiaoying, said if samples were contaminated, the centre would immediately notify suppliers and importers to recall vegetables. Between April 1 and May 15, Mr Chen said, the centre took more than 4,200 samples and only six were found to be contaminated with excessive pesticides or heavy metals. The contaminated vegetables had been recalled, he told Hong Kong reporters on a media tour. Meanwhile a political party's telephone survey of 869 adults found more than three-quarters had no confidence in the new measures. But their views were not entirely the result of doubts about the mainland authorities. Almost 40 per cent said their lack of confidence was because of food smuggling, while 36.5 per cent said local inspections were not strict enough. "The government should carry out inspections at borders and in wholesale and retailing markets more often," said legislator Wong Yung-kan, food safety spokesman for the Democratic Alliance for the Betterment and Progress of Hong Kong, which carried out the poll between May 12 and 17. Nearly 60 per cent of the interviewees gave a bare pass to the Hong Kong government for its efforts in ensuring food safety. More than 30 per cent said it had totally failed. And almost 70 per cent of the respondents said they had seen little improvement in food safety since the Centre for Food Safety was set up last May.
Hong Kong's high-end apartments are the world's most expensive to rent, followed by Tokyo and New York, reflecting high living costs in those cities, a survey on expatriate accommodation showed on Tuesday.
Singapore Airlines (SIA) and China Eastern Airlines suspended trading of their shares on Tuesday amid reports of a possible investment deal. SIA did not state a reason for their suspension of trade at the Singapore Exchange but said it would make an announcement after the stock market closes at 5pm. The stock last traded at S$18.40. Trading of China Eastern Airlines was also halted at the Hong Kong stock exchange, where the stock last traded at HK$3.73. China Eastern said it requested the trading halt pending the release of a "price-sensitive" announcement. SIA chief executive Chew Choon Seng said on May 11 that the Singapore carrier was in discussions with China Eastern but that talks "have not progressed to a stage where we have any announcements to make". The Shanghai Securities News reported from Beijing on Monday that talks were going on smoothly. "So far, the talks with Singapore Airlines are smooth ... but the conclusion of an agreement will depend on the support of the government," the newspaper quoted China Eastern chairman Li Fenghua as saying. Mr Li said China Eastern planned to sell a stake of as much as 25 per cent to a foreign strategic investor.

China: The export-import banks of China and the United States signed agreements on Monday designed to expedite financing for transactions that will help support U.S. export jobs and promote China's sustainable development. These agreements, which were announced under the auspices of the upcoming U.S.-China Strategic Economic Dialogue, delivered results and established a strong foundation for working together to support America's exporters and China's development, said U.S. Export-Import Bank Chairman and President James H. Lambright. "The cooperation between our two banks embodies the essence of the Strategic Economic Dialogue," he said. Specifically, the two institutions signed a memorandum of understanding on a form of standard Long-Term Credit Agreement that will provide financing for most U.S. export transactions to China that exceed 20 million dollars. The first transaction to use this product is already underway. The U.S. Export-Import Bank also announced its willingness to consider financing the sale of 164 million dollars in heavy-duty railway maintenance equipment by the Harsco Corporation to the Chinese Ministry of Railways. "We are grateful that the Export-Import Bank is willing to consider financing which would play a pivotal role in enabling us to further expand Harsco's support of the China market," said Harsco Chairman and CEO Derek C. Hathaway. Li Ruogu, chairman and president of the Export-Import Bank of China, hailed the results. The agreements "shall be of significance in promoting the U.S. export of innovative technology to China, creating job opportunities for the U.S. people and stepping up Sino-U.S. economic and trade ties," he said.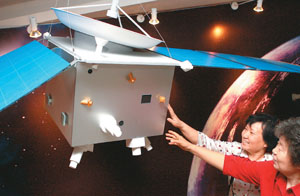 A life-sized Mars probe model is displayed on Shanghai Aerospace Technology Exhibition in on May 21, 2007. China will launch its first Mars probe in October 2009 as part of a joint mission with Russia, said sources with the Shanghai Space Administration, the main developer of the probe, on Monday.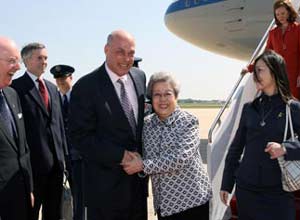 Chinese Vice-Premier Wu Yi arrived in Washington Monday morning to co-chair with US Secretary of Treasury Henry Paulson the second meeting of the Strategic Economic Dialogue (SED) scheduled to begin Tuesday. This meeting will focus on topics in areas of service, investment and transparency, energy and environment, growth balance and innovation, according to Chinese Foreign Ministry. Henry Paulson says reducing trade friction with China is mostly a matter of time - something he is running out of. Tomorrow, the US Treasury secretary opens a two-day meeting in Washington with China's top economic officials, the second such gathering of his term and the first on US soil. After December talks in Beijing failed to produce the progress Paulson wants, his strategy of seeking to coax policy changes will now play out in direct view of members of Congress who demand he employ a cudgel rather than persuasion. "Paulson, as somebody who understood China, was trying to reach a conciliatory approach," said Nobel laureate Joseph Stiglitz, an economics professor at Columbia University in New York. "The question is, has the political pressure taken away his freedom to move?" Paulson, 61, went to Capitol Hill last week to make plans for mainland officials, led by Vice Premier Wu Yi, to meet with members of the Senate Finance and House Ways and Means committees, which are responsible for trade policy. "It's up to the Chinese to give tangible signals or action on the things that concern Congress, or else they are going to end up with a piece of legislation that they are not going to like," said Senator Charles Grassley of Iowa, the ranking Republican on the finance panel. The record US trade deficit with China - US$232.5 billion (HK$1.81 trillion) last year, up from US$201.5 billion in 2005 - is feeding complaints in Congress that China artificially keeps its currency cheap to give its exporters an advantage. China said Friday it will allow the yuan to rise or fall as much as 0.5 percent from the daily fixing rate against the dollar. The government also raised interest rates and ordered banks to put aside more money for reserves. While the changes are "a useful step," the United States "will continue to press the Chinese" to move faster toward a more flexible currency, Alan Holmer, the top China official at the Treasury, said. "To widen the band is well and good, but if they don't use the band, nothing will happen," said Senator Charles Schumer, the New York Democrat sponsoring the main China sanctions bill. "In the past, most of their gestures have not produced any concrete change." One Senate subcommittee has scheduled a hearing on currency manipulation tomorrow. At this week's session, officials including Federal Reserve chairman Ben Bernanke, 53, People's Bank of China governor Zhou Xiaochuan, 59, and Wu, 68, will pick up where they left off in December. Sino-United States economic talks are under pressure to make progress because of the looming US presidential election, US Treasury Secretary Henry Paulson said in remarks published in Chinese state media on Tuesday.
As ministers and high-ranking officials gathered for the China-US Strategic Economic Dialogue discussions in Washington beginning Tuesday, the Renminbi (RMB), the Chinese currency, reached a new high of 7.65 for one US dollar.
Booming Guangdong province faces unprecedented challenges as it struggles to keep its economy ahead of the pack and maintain stability in the next five years. Guangdong's economy aims to grow at an annual rate of 9 percent and surpass 4 trillion yuan (HK$4.08 trillion) by 2011, provincial party secretary Zhang Dejiang said Monday at the opening of the province's weeklong party congress, which meets every five years. But Zhang warned that economic turbulence and social instability could undercut its ambitions. "We fully realize that development is the No1 concern, and stability is the No1 responsibility," Zhang said in a speech to delegates. "In the next five years our province faces unprecedented opportunities ... at the same time, our province faces unprecedented challenges." The export-driven province faces increasing competition from home and abroad, fluctuating energy prices, rising capital costs in the Pearl River Delta area, environmental degradation, growing sources of social conflict and "increasingly intense infiltration and sabotage activities of hostile forces," he said. Last year the province accounted for an eighth of the country's overall economic growth, Zhang said. But since he took the helm in 2002 the province has also been beset by a handful of high-profile crises. SARS surfaced in Guangdong in 2003, and a news blackout did little to help bring the mysterious disease under control. Also that year, the death in police custody of Sun Zhigang, a designer from another province who was detained for not having proper identification, sparked a national outcry. An ensuing media crackdown met with strong resistance. In 2005, thugs terrorized the Guangdong village of Taishi, where residents were petitioning to sack their elected village chief, who they said was corrupt. Then came strife in Dongzhou, where police opened fire on protesters angry over the loss of land to power projects. Protesters said up to 20 of them died. The government put the figure at three. The party must "view soberly" the problems of the past five years, Zhang said. "Public security, health care, food and drug safety, protection of the livelihood of farmers who have had their land appropriated, protection of the rights of migrant laborers and their environment, safe production and other such problems are pronounced." He added, though, that the number of "mass incidents" was down, though he did not give figures.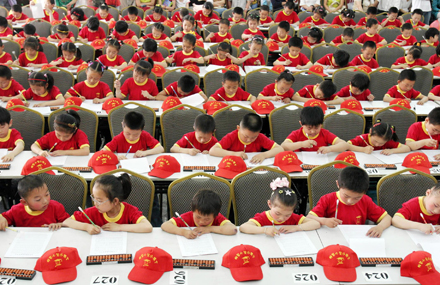 Young colleagues compare notes (front row) in an abacus and mental arithmetic contest in Huaibei in eastern Anhui province, on Sunday. The contest for the northern part of the province attracted more than 200 participants aged between 4 and 8 years old.
Shanghai has turned the flamboyant chief of Formula One racing in China, Yu Zhifei, and three government officials over to the courts for prosecution on charges of corruption.
May 23, 2007

Hong Kong: The pay package of the Hong Kong Tourism Board's new executive director will be cut by 10 percent, according to chairman and Liberal Party leader James Tien Pei-chun.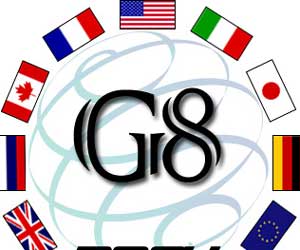 Global economic growth remains robust and is becoming more balanced across regions, finance ministers from the Group of Eight major industrial nations said on Saturday.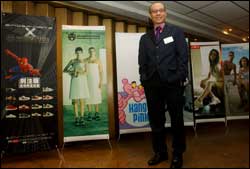 Listing candidate Walker Group, a footwear retailer with a portfolio of several brands, has earmarked HK$200 million in capital expenditure to open 190 points of sale in Hong Kong and the mainland over the next two years.
Market sources said the shoe chain plans to raise up to HK$600 million through an initial public offering in Hong Kong, which is scheduled for the end of this month. The shares are likely to debut in the middle of next month. DBS and Taifook Securities Group are handling the float. In addition to the 190 points of sale, Walker Group plans to add 150 franchise shops over next two years, chairman and chief executive Huang Wenyi said Sunday. Huang said 90 percent of the proposed shops will be in the mainland. Walker Group has 392 points of sale in Greater China, including 330 in the mainland, covering 23 provinces and 50 cities, 56 in Hong Kong and six franchise stores in Taiwan. Walker has six inhouse brands - Couber.G, Artemis, Forleria, Ox-x-ox, Tru-Nari and Walaci - that account for 90 percent of turnover. It also sells Acupuncture, Pink Panther, Borse Mogan, Kenford and Vert Dense under franchise. Compared with Belle International, the mainland's largest women's shoe retailer, also a manufacturer, Walker Group also designs and sells footwear. Itochu Corp, the Japanese trading company and The Yale Endowment are said to be among its strategic investors. "Management can put in a greater effort to develop sales and the design business if we outsource production," said executive director Kenneth Kiu, adding that not operating its own manufacturing facility can help reduce heavy capital expenditure. Chief financial officer and executive director Eamon Chu said the group, which has operated for six years in the mainland, can maintain a relatively high growth rate.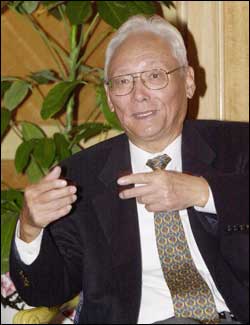 A secret working group set up by Britain and China was responsible for setting a fixed exchange rate between the Hong Kong and US currencies even before the Sino-British joint declaration was signed in 1984, according to Lu Ping, former director of the State Council's Hong Kong and Macau Affairs Office. In an interview with Cable TV broadcast Sunday, he revealed that the group was created behind-the-scenes with the aim of maintaining economic and financial stability in the territory, with pegging the local currency with the greenback one of the issues discussed. "Representatives from both sides met up regularly in complete secrecy, and the final decision was made jointly. I was the first leader of the China team in the group," Lu said in the interview - his first with the Hong Kong media since his retirement in 1997. The fixed exchange rate of HK$7.80 to US$1, announced by then-Financial Secretary John Bremridge October 17, 1983, came after the local currency experienced rapid decline for a few weeks. The Hong Kong government, then headed by Edward Youde, had been under fire for its inability to maintain confidence in the volatile and vulnerable Hong Kong dollar, which fluctuated from HK$5.13 in 1981 to an alarming HK$9.60 in 1983. Continuous budgetary deficits, a series of poor land sales and political uncertainties with regards to the 1997 handover were among the culprits for the drop, according to the then-chairman of the Forex group of companies Stanley Au. "The solution to [the problem of a wavering local currency] was a successful conclusion to the Sino-British talks on Hong Kong's future," said Baptist College economics lecturer Tang Shu- hung a week before the peg was announced. Lu, who was also formerly deputy secretary-general of the Basic Law Drafting Committee, said China had also considered setting up an insurance scheme in the form of a company in Switzerland, to cover business enterprises for politically induced losses after 1997. "To us, that was an absolutely no-loss proposal. It will definitely make money, 100 percent certain profit, because I was confident we would not let any enterprise suffer any post-reunification losses caused by political reasons. We were to insure any amount you want. You want HK$100 million coverage, we would cover it; you want HK$10 billion, we would still cover it," Lu said, referring to people who had no confidence in the future of Hong Kong. He said the top concern during pre- handover policy formulation was the interests of consortiums. "Our biggest concern was that big businesses, particularly the ones overseas, might pull out," Lu said. He said the thinking then was that the welfare of the middle-class and grassroots levels would naturally be taken care of once the worries of the consortiums were relieved. Lu admitted, looking back now, that the aspirations of the middle and lower classes could have been taken care of better. "Although we had paid attention to people in the middle-class and grassroots levels, who make up the majority after all, it wasn't enough. More could have been done for them," he said. Lu, who celebrates his 80th birthday in September, described the handover ceremony nearly 10 years ago as a "touching yet relieving" experience. "I was overwhelmed by emotions when I saw on stage the national flag being raised, the British flag being lowered, with the national anthem being played at the background. Tears just rolled down my face," he recalled. He admitted overexerting himself for many years before the 1997 watershed, when he was already 70. "The completion of the mission allowed me to bow out. I could move on and do the things I like to do. It was really a moment of relief," he said.
Hong Kong was experiencing mild annual price rises - but inflationary pressures in the economy were generally under control, a government spokesman said on Monday
Hong Kong University graduates last year had an average gross income of more than HK$15,000 a month, a survey found on Monday.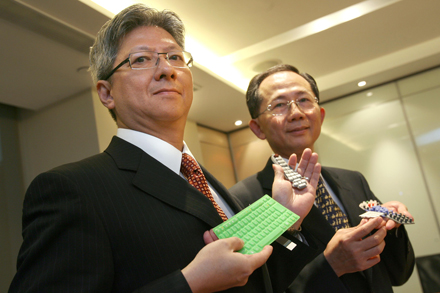 Ta Yang chairman Huang Sheng-shun (left) and chief executive Wu Ih-chen will control about 60 per cent of the firm's post IPO shares. Taiwan-based Ta Yang Group, the world's biggest maker of silicone rubber parts and components, plans to raise up to HK$700 million in a Hong Kong initial public offering next month. Sources said the company, which kicks off its roadshow today, aims to sell 200 million new shares for between HK$2.72 and HK$3.50 each. Pricing will be set on June 1, ahead of a trading debut scheduled for June 8, the source familiar with the deal said. Ta Yang will use 70 to 80 per cent of the proceeds from the share sale to increase capacity and purchase new machinery, chairman Huang Sheng-shun said yesterday at a press briefing. The deal is being arranged by Cazenove Asia. Ta Yang has five manufacturing plants on the mainland making components such as rubber-based keypad underlays for electronics companies such as Casio, Mitsubishi, Panasonic, Tectronic and Thompson. Last year, it launched a new facility in Dongguan to supply parts to mobile handset companies Nokia and Motorola. Mr Huang said revenue growth had averaged 20 per cent in the past three years while net profit had increased at a 30 per cent rate. In addition to components, the company in-sources production of steel moulds and rubber-based raw materials at a dedicated facility in Dongguan - a strategy that helps control costs and increase profit margins. Raw materials account for between 33 per cent and 50 per cent of all input costs. By next year, the company aims to lift its monthly raw materials manufacturing capacity to 700 tons, up from 500 tons. Ta Yang, the first Taiwan company in its field to establish manufacturing facilities on the mainland, employs 5,000 workers at its four plants in Dongguan and one in Huzhou, Zhejiang province. Last year the company held 9.9 per cent of the global market for silicone rubber parts, and 14.6 per cent of the mainland market, according to executives. Last year, consumer electronics companies accounted for 59 per cent of Ta Yang's revenue, with computer makers making up 21 per cent and the remainder coming from mobile phones and auto parts manufacturers. By 2010, Ta Yang hopes each of the three segments will contribute an equal share of revenue. Strategic investors in Ta Yang include Japanese partners Mitsubishi and Shin-Etsu Polymer which will each hold a 1.5 per cent stake in Ta Yang following the share shale. Their shares are subject to a one-year lockup. Following the listing, the company's public float will be 25 per cent. Mr Huang and co-founder Ted Wu Ih-chen will control around 60 per cent of Ta Yang's shares with other management and directors holding another 8 per cent. Established in 1991, Ta Yang produces a wide range of silicone and plastic-related products for global electronics and telecommunications manufacturers including Casio, Philips and Microsoft.
City Telecom, one of Hong Kong's largest fixed-line carriers, returned to profit in the first half after cutting expenditure and operating expenses and on improved performance by its broadband business.

China: China securities regulator Sunday unveiled management rules that give green lights to the establishment of representative offices of overseas stock exchanges in China.
The Ministry of Agriculture confirmed over the weekend an outbreak of the H5N1 bird flu virus among poultry in the central province of Hunan, but said there were no cases of human infection.
The central parity rate for yuan against U.S. dollar rose to new high on Monday, the first trading day when the daily floating band for the spot rate in the interbank foreign exchange market is expanded.
Europe's largest engineering firm Siemens has signed an agreement to become the sixth global partner of World Expo 2010 Shanghai.
China's state foreign exchange investment company, still under preparation for establishment, has agreed to invest three billion U.S. dollars in U.S. private equityfirm the Blackstone Group, according to a joint news release. Wang Jianxi, Chairman of the China Jianyin Investment Limited (China Jianyin), told Xinhua Monday that under an agreement signedon Sunday, the new state forex investment company will buy less than 10 percent non-voting stake in Blackstone. As a state-owned investment company, China Jianyin will be merged into the state forex investment company after its establishment. According to the joint news release from the state forex investment company and the Blackstone, the deal will be closed concurrently with Blackstone's four billion U.S. dollars initial public offering (IPO) planned to be launched in mid June. The Chinese investment company will buy the shares at 95.5 percent of the IPO price and hold them for at least four years.
China was "losing no time" in preparing its first lunar orbiter, Chang'e I, which will most likely be launched in the second half of 2007, a space official said here on Sunday. "The moon probe project is the third milestone in China's space technology after satellite and manned spacecraft projects, and a first step for us in exploring deep space," said Sun Laiyan, chief of the China National Space Administration. Sun, also vice director of the Commission of Science Technology and Industry for National Defence, made the remarks when briefing students at Beijing Jiaotong University on China's space program. China's moon exploration program is divided into three phases -- "circling the moon", "landing on the moon" and "back to earth", said Sun.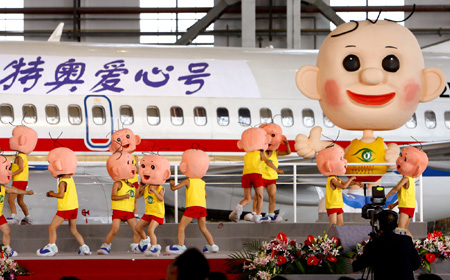 The posters of famous Chinese cartoon figure Sanmao, who was chosen as the mascot for 2007 Special Olympics World Summer Games, are unveiled in Shanghai May 20,2007.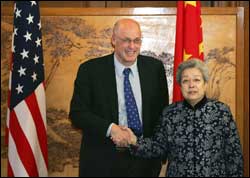 After extending an olive branch to the United States by broadening its yuan trading range, mainland officials are likely to focus on other issues to cement progress in high-level discussions this week in Washington focusing on long- term strategic issues and economic challenges. Senior officials of both countries meet in Washington tomorrow and Wednesday in the second session of the strategic economic dialogue, which was launched in December in Beijing. Vice Premier Wu Yi will head the mainland delegation, which will include 14 Cabinet-level ministers, while Treasury Secretary Henry Paulson will head the US team, which includes officials from 10 Cabinet-level departments and Federal Reserve chairman Ben Bernanke. Few analysts on either side of the Pacific read Friday's move by the People's Bank of China to let the yuan range up or down by 0.5 percent each day as a sign that it was ready to let the currency's gradual climb gather more pace, as US lawmakers, including senator Charles Schumer - one of the harshest China critics - have demanded. A bipartisan group of 42 House members Thursday filed a petition pushing for a trade case. Officials will probably aim to identify new fields - such as energy and the environment - where the two can find win-win solutions, analysts say. "There won't be any big breakthroughs on problems like the yuan and market access, but there will definitely be some small improvements," said Shi Yinhong, a professor at the People's University of China in Beijing. "China will tell the Americans: `We shouldn't just look at how much progress has been made specifically on old points of contention - we need to look at all of these little improvements in both new and old areas."' Much of the frustration in Washington over the US trade deficit with the mainland - which hit US$233 billion (HK$1.82 trillion) last year - has focused on the yuan. The mainland has plenty of reasons for standing firm on letting the yuan strengthen only gradually, said Yin Jianfeng, a researcher at the Chinese Academy of Social Sciences. "There's little chance of making concessions - not from the economic angle nor the political one," Yin said. Authorities will want to avoid mass layoffs in export industries such as textiles and light manufacturing that employ millions of rural migrant workers, Yin added. Further, with the five-yearly Communist Party congress in the fall - at which key posts in the party bureaucracy will be filled - officials will avoid bold reforms that could cause economic bumps, he said. One area where Beijing might hold out a carrot is financial services, lifting the 25 percent cap on foreign ownership of banks and allowing more joint- ventures of securities firms. Beijing's willingness to move will no doubt depend on whether the United States compromises on issues such as curbs on exports of high-tech goods with dual civil-military applications. "Everything is on a give-and-take basis. If the United States moved unilaterally on some anti-subsidy policies, it could cause the process to backfire," said Ha Jiming, chief economist at China International Capital Corp.

(Fake medicines, such as these being burned by officials in Liaoning province, will be a key point of debate at this week's Sino-US dialogue) Copyright piracy row casts shadow over Sino-US talks - American drug firms raise concerns over counterfeits, We don't have any pirated products here," the saleswoman at Chaoyang Hospital pharmacy in central Beijing said firmly, pointing towards an expensive pack of genuine Viagra. But at the sex shop across the road, anxious men could choose from an impressive array of chemical pick-me-ups, including a seductively packaged box of "Viagia", a packet of genuine-looking Viagra and fluorescent blue "Wei Ge" ("mighty brother") pills - all sold at a fraction of the price of the Viagra in the hospital pharmacy. When Vice-Premier Wu Yi and US Treasury Secretary Henry Paulson meet for the second round of the US-China Strategic Economic Dialogue (SED) in Washington this week, the abuse of intellectual property rights (IPR) - including the issue of counterfeit drugs - will be a key point of contention. Pfizer, the US pharmaceuticals company that makes Viagra, recently lost a long-running battle to block mainland drug companies from branding their product "wei ge", the popular translation for Viagra. Pfizer sells Viagra as "Wan Ai Ke", which few customers have heard of. American firms such as Pfizer, whose business is based on intellectual property ownership, complain that IPR breaches on the mainland threaten to make doing business untenable. Having spent nothing on research and development, domestic copycats undercut established foreign brands and skim off the profits. "Pharmaceutical companies are cautious about manufacturing in China because of concerns about jeopardising IPR protection. The IPR issue remains extremely significant and is a priority issue at the SED," said Lester Ross, managing partner in Beijing for US law firm WilmerHale. Another concern for US drug makers is the prevalence of chemical companies on the mainland that legally sell bulk pharmaceutical ingredients to downstream counterfeiters, which are then processed into unregulated drugs. Some of these find their way into the US market. In a recent white paper, the American Chamber of Commerce in China said "improving the IPR environment in China is a key to strengthening the US-China commercial dialogue". It also maintains that widespread counterfeiting effectively closes the mainland market to many US technology firms. Improvements in enforcement would encourage US exports and "help to redress the trade imbalance", the key sticking point of Sino-US economic relations, it said. Shi Yinhong , director of the Centre for American Studies at Renmin University in Beijing, takes the view that market access is at the heart of American aims. "The true goal of the US government is not to protect IPR per se, but to give US companies greater access to the Chinese market," he said. "IPR connects with various structural problems of the Chinese economy, as well as problems with domestic governance. "In this area, China is worse than any of the other big developing countries, and it will take a lot of time and effort to turn the situation around." Some foreign pharmaceuticals companies could also be more vigilant about protecting their intellectual property from theft, Mr Ross said. "Not everybody has been as zealous as they should have been with respect to the protection that Chinese law provides," he said. "There is a problem among western companies in not filing for patents because it is very costly and time consuming. But if you miss that opportunity, generic-drug manufacturers will move in before you have legal protection." The central government argues that it has done much to improve the general IPR situation. Aside from strengthening the legal framework for IPR protection, it conducts well-publicised periodic crackdowns on illegal DVDs and clothing. Last year, it took action before President Hu Jintao's visit to Washington by replacing pirated computer software used in government departments with legal copies. "I believe there has been a significant improvement in the overall environment for IPR, but there are still some gaps in the law and in terms of penalties for violations and enforcement," Mr Ross said.
China Automotive Systems is opening a Detroit-area office to sell steering systems to US automakers as it looks to expand beyond the mainland's own rapidly growing car companies.
Chery Automobile, China's largest carmaker with a local brand, plans to build large sedans, shedding its image as an assembler of low-priced models to attract a growing number of drivers who can afford bigger cars.
In China, irrational, speculative and herd-like investment behavior is not just endemic of retail investors in its red-hot stock markets. Erratic investment boom-bust cycles are also a hallmark of many industries, including wind power.
May 22, 2007

Hong Kong: Hong Kong's economy continued to grow in the first quarter, with GDP rising 5.6 percent in real terms, Acting Government Economist Helen Chan said on Friday. The figure marked the 14th consecutive quarter that Hong Kong's GDP growth exceeded the average trend growth. Chan said that given the outturn so far, Hong Kong's economy should be able to attain GDP growth of 4.5 to 5.5 percent as forecast in the Budget. According to the figure released from the government of Hong Kong Special Administrative Region (HKSAR), external trade still fared well in the first quarter, as the Chinese mainland's thriving trade flow and strong domestic demand cushioned the continued slack in the U.S. market. Merchandise exports grew 8.2 percent in real terms. Bolstered by the surge in exports of financial and business services and the expansion of both offshore trade and inbound tourism, exports of services rose 8.4 percent in real terms. With rising labor income and the wealth effect stemming from the buoyant performance of the stock market, private consumption expenditure grew 5.6 percent in real terms. Overall investment spending grew by 3.9 percent, after several quarters of notable growth. The economic upturn continued to give rise to a stronger demand for labor, pushing the seasonally adjusted unemployment rate lower to 4.3 percent in the first quarter, Chan said. Although the global economy is able to sustain strong growth momentum, there are uncertainties that warrant a close watch over, Chan said. However, continuous economic expansion in Europe and Japan may fill the gap from a slowing U.S. economy, and the vibrant Chinese mainland economy will continue to be a plus factor for Hong Kong, she added. Chan also said that tighter labor market conditions, the weakness of the U.S. dollar and renminbi appreciation will see cost pressure creep up.
The Hong Kong government announced Friday that the Companies Ordinance (Amendment of 8th Schedule) Order 2007, which amends the fees concerning overseas companies, has been gazetted. The order restructures the filing fees for overseas companies, introduces a new fee for the issue of registration certificates and amends Part V of the 8th Schedule insofar as it relates to the renaming of 'overseas' companies as 'non-Hong Kong' companies. The proposed single filing fee is set on the basis of the ' revenue neutral' principle, i.e. overseas companies, on average, would not pay more when compared with the fees payable at present as long as their annual returns are filed within the deadline prescribed in the Companies Ordinance (i.e. within 42 days after the anniversary date of registration). Other proposed fees are basically the same as those applicable to existing local companies. Subject to completion of the negative vetting process in the Legislative Council, the order is planned to come into effect in the fourth quarter of 2007 to synchronize with the completion of the necessary modifications to the Companies Registry's information system. The Registrar of Companies will prescribe that date by means of a commencement notice once the implementation date of the modifications is confirmed.
The government of the Macao Special Administrative Region has collected 8.95 billion patacas (1.12 billion U.S. dollars) in direct gaming taxes in the first four months of this year, a year-on-year rise of 46.8 percent. The statistics issued Friday by the Finance Services Bureau ( FSB) showed that the gaming taxes accounted for 73.9 percent of the government total revenue during the period. Macao's 26 casinos pay 35 percent of their gross receipts as direct tax to the government. The region, with a population of 508,000, has a 150-year history of gaming industry and is the only part of China where casino gaming is legitimate.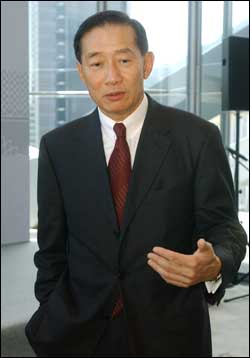 A top executive at Hongkong and Shanghai Banking Corporation said Friday that China's decision to raise interest rates is likely to dampen Hong Kong stocks, 40 percent of which are related to China. "China will definitely implement some policies to cool down the market, and when they do that, these [Chinese] stocks will be directly affected," said HSBC executive director Peter Wong Tung-shun during a radio show. As retail investors turned cautious towards the weekend, the Shanghai Composite Index closed Friday at 4,030.258 points, down 18.035 points or 0.45 percent, with turnover at 166.3 billion yuan (HK$169.48 billion). Despite widely held fears of a developing A-share market bubble, HSBC chief executive Michael Smith said the bank "would love to" bring the London-based banking group back to its roots - Shanghai. "The market will change at some stage and we would love to be first off the rail," Smith said Friday. Louis Shum Chun-ying, director at Sincere Securities, said Chinese stocks are seriously overpriced as there is too much money in the market with too few stocks to absorb the funds. "The situation in Hong Kong is not any better, with retail investors coming to us [fund managers] asking for numbers [stock codes] all the time without even bothering to know what the companies' names are."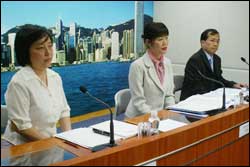 The Hong Kong economy grew slower than expected in the first quarter, due to weak investment spending and exports.
Government figures released Friday showed gross domestic product rose 5.6 percent from a year ago, lagging behind the revised 7.3 percent growth for the final quarter of last year. On a seasonally-adjusted quarter-to- quarter basis, the economy expanded by just 0.5 percent, its weakest performance since economic recovery began nearly four years ago. The first-quarter growth in GDP was well below market expectations. "It was below our expectation, largely due to the slowdown in the investment component," said Bank of East Asia chief economist Paul Tang Sai-on. Investment in building and construction fell 5.4 percent year on year, a faster decline than the 2.8 percent in the final quarter of last year. Investment in machinery and equipment, which grew rapidly throughout last year, moderated to 6.8 percent year on year, from 14.9 percent. "We think that the weak investment is a temporary adjustment, after robust growth last year, and with continued strong consumption, we expect the business sector will increase investment again in coming months," said Citigroup economist Joe Lo, who predicts the economy will grow 6 percent this year, which is unchanged from his previous estimate. The slowdown in investment may have resulted from the cautious approach taken by firm against the backdrop of uncertainty in US growth, said Daniel Chan, economist at DBS bank.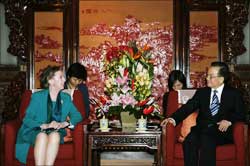 The Hong Kong and central governments have turned down requests for Britain to take part in the celebrations planned to mark the 10th anniversary of the handover. Officials have made it clear there is to be no role for Hong Kong's former rulers in the ceremonies, which include a flag-raising event on the morning of July 1 and the swearing-in of chief executive Donald Tsang Yam-kuen for a new five-year term. The Communist Party leadership in Beijing will be well represented. President Hu Jintao and Prime Minister Wen Jiabao are both expected to attend. "We were rebuffed," one diplomat in Beijing told The Daily Telegraph. A British Foreign Office source added: "We didn't quite beg. But when we asked what representation we would be likely to have, we were basically shuffled from pillar to post." The source said after initial inquiries of the Hong Kong government were unsuccessful, there was an "appeal" to the central government in Beijing which also foundered. Responding to The Standard, a spokeswoman from the Celebrations Coordination Office of the Home Affairs Bureau said: "The invitation lists to the various 10th anniversary events are still being finalized.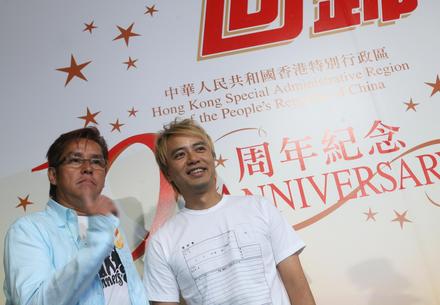 Canto-pop singers Alan Tam Wing-lun (left) and Hacken Lee Hak-kan help promote RTHK shows to mark the 10th anniversary of the handover. Tam and Lee are among stars who have recorded a theme song for the event.
Card spending in Hong Kong and Macau by mainland visitors rose 70 per cent in the first quarter, according to Wan Jianhua, the president of China UnionPay. Mr Wan (right) joined HSBC executive director Peter Wong Tung-shun at the launch of HSBC's new ATM card yesterday. UnionPay, a provider of payment networks, reported spending of HK$8.9 billion with its cards in the two markets; HK$4.2 billion was in Hong Kong.
City Telecom, one of Hong Kong's largest fixed-line carriers, returned to profit in the first half after cutting expenditure and operating expenses and on improved performance by its broadband business.

China: In the first quarter, the consumer Price Index (CPI) of China rose 2.7%, approaching the alarm line of 3%, according to latest statistics from the NBS.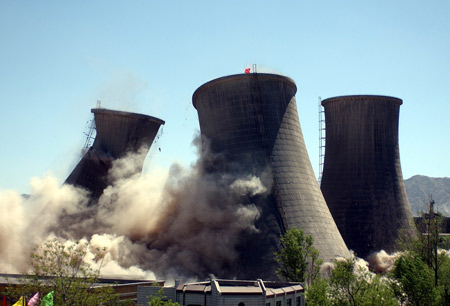 Cooling towers are imploded at Yongchang Power Plant in Yongchang, Southwest China's Gansu Province, May 16, 2007. Gansu Province plans to shut down more high-energy-consuming power stations in an effort to save the energy and reduce the pollution. Chinese Premier Wen Jiabao said in late April that the current macro-control policy must focus on energy conservation and emission reduction in order to develop the economy while protecting the environment.
China to widen RMB floating range against U.S. dollar - China will widen the floating band of yuan against U.S. dollar for daily spot trading on the interbank market from 0.3 percent to 0.5 percent as of May 21, the People's Bank of China, or the central bank, announced on Friday. "The higher flexibility indicated that the fluctuations of yuan will rely more on market forces. It's a good step forward in the correct direction, " said Zuo Xiaolei, an analyst with Galaxy Securities. The central parity rate of yuan against US dollar has accumulatively appreciated by 5.54 percent since July 21, 2005, when China scrapped the yuan-dollar peg amid drastic currency reforms. "The new move will also be conducive to containing inflow of speculative money and to mitigating pressure on yuan to appreciate more quickly," said Zuo. As a related measure against inflow of hot money, the State Administration of Foreign Exchange has since April been carrying out a special campaign to scrutinize inrush of foreign currencies in 10 coastal provinces and cities. They are Guangdong, Jiangsu, Zhejiang, Shandong, Fujian, Liaoning, Ningbo, Qingdao, Xiamen and Dalian. "These regions boast most speculative money flowing from abroad in the country. The check-up in the areas will be able to improve transparency of capital inflow," said Tan Yaling, a researcher with the global financial market department of the Bank of China. Sources with the administration said Friday that one of the major tasks for foreign exchange control at the present time is intensifying regulation over inflow of hot money.
China will raise the one-year deposit and loan interest rates by 0.27 and 0.18 percentage points, respectively, to 3.06 and 6.57 percent as of May 19.
Overseas companies earned US$31 billion last year in China from acquisitions, three times the total volume from 2001 to 2005, according to Beijing Business Today. The figures were released yesterday in a report titled "Investing In China: Working With Headquarters", jointly published by Ernst & Young and the Economist Intelligence Unit. The report shows that overseas companies spent about 12 to 24 months on a single acquisition in China. But in the United States, an acquisition needs only three to nine months. It goes on to say communication is critically important, with nearly 60 percent of those surveyed saying they spent more than 20 percent of their time involving their head offices during the transaction and execution process, whether to seek approvals or to keep them informed of developments, the study found. A little over one-quarter said they spent 10 to 20 percent of their time interacting with their headquarters. Crucially, of those surveyed reported that less than 50 percent of the deals their companies evaluated fell through, 20 percent said they spent between one-fifth to one- third of their time during the transaction process dealing with their headquarters. For those with an over-50 percent success rate, they spent twice as much time, or 44 percent dealing with their head office. Spending more time is by no means a guarantee that any of that time is spent wisely, however. What the study found was that head offices' involvement in the deal process is often beneficial, but not always. Nearly 72 percent thought it increased the likelihood of a deal happening. Conversely, 27 percent said it had no impact on a deal at all, or could even decrease the chances of success. Those that said head office involvement was detrimental to the success of a deal cited inappropriate valuation standards and a poor understanding of the China market, which meant local managers often had to spend a good deal of time explaining local conditions to executives at their headquarters. "The findings show that using China teams for negotiations, together with help from independent financial advisers, actually helps reduce deal times, and the frustration for company executives all around," said Bob Partridge, managing director and transaction advisory services leader for Ernst & Young China. "Having the right kind of help is important, and that is where local expertise plays a major role in helping deals from start to finish." In the first four months of this year, China approved 12,349 foreign-invested enterprises, down 2.29 percent from the previous year. China received US$20.4 billion in foreign direct investment (FDI) from January to April, up 10.2 percent from a year earlier, according to statistics from the Ministry of Commerce. China also saw 3,052 foreign-invested enterprises approved in April, down 18.18 percent from the previous year. The country received US$4.47 billion in FDI in April, an increase of 5.49 percent from last year, the ministry says.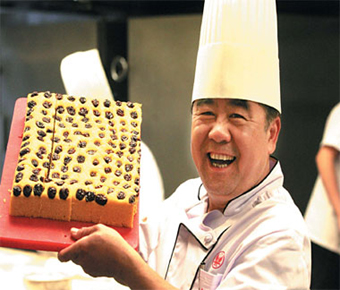 Ding Haiquan,chief chef at the pastry department,shows off his freshly baked cornflour cake topped with dates - From hamburgers to ancient herbs, cooking for China's Olympic athletes requires an element of compromise, a wide knowledge of regional cuisine and, for some, a basic grounding in traditional Chinese medicine. "I used to add some herbs into the soups to help athletes balance the yin and yang factors in their body," said Xue Yuhuan, a former director of the canteen where many of the athletes eat at their training base in Beijing. "I feel more like a doctor now." For almost 27 years, chef Han Jianjing has cooked for the 13 national sports teams who train at the General Administration of Sport in Beijing's Chongwen District. Like the rest of his colleagues, he starts at 6 a.m. and ends when the last dinner plate is clean in the evening. This grueling regime continues for six days a week, but there are no complaints from the 100-plus chefs. "I feel so happy when the athletes are scrambling for the dishes I cooked," said head chef Liu Yumin. "My family and friends all envy my job. They always ask what their favorite athletes are like in real life." Some 86 of China's 112 Olympic gold medalists graduated from the training centers of the General Administration of Sport, as well as over 782 of the country's 1,899 world champions. All of them ate at what has now been dubbed the "gold medalists' canteen." Deputy director Han said the culinary team does its best to please them all. "Different teams have different preferences about food. We try our best to satisfy their individual needs," he said. For example, most of the paddling and badminton team members are from the south of China, where people prefer lightly flavored food, while those from the athletic, swimming and weightlifting teams are mostly from the north, where people regularly eat food braised in soy sauce. "The food for those young athletes from the gymnastic and diving teams is cooked separately because they have to eat less greasy food to keep slim. "Some of the athletes in these two teams are just kids, so we have to give them pizza or McDonald's hamburgers once a week to keep them happy," said Han. The food allowance is 60 yuan ($8) a day for each of the 600 athletes - not quite enough to make ends meet at the canteen, which tries to maintain high standards. It provides everything to the athletes for free. The fridge is loaded with fruit drinks that sell for 7 yuan in the market, compared to a tin of Coca Cola that only costs 2 yuan. Some swimmers will eat as much as 500 grams of shrimp in a meal to get enough protein.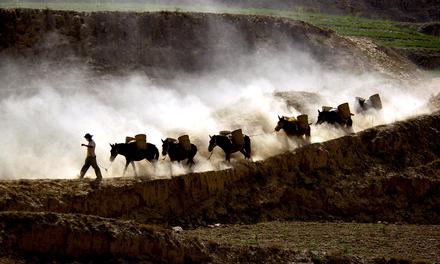 A man leads his donkeys across a dusty track in Huining county, northwestern Gansu. Drought has affected 730,000 people and about 300,000 hectares of crops in the province, where there is an acute shortage of safe drinking water, state media has said.
Beijing has appointed United States private equity firm Blackstone Group to invest US$3 billion of the country's ballooning foreign reserves, according to the semi-official China Business News.
The central government will set up an 800 million yuan fund to protect investors from failures at futures brokers, as it prepares for more trading in such contracts to spur capital market development.
China Mobile continued its strong momentum last month by adding a record of 5.26 million new users during the month at the expense of fixed-line rival China Telecom, which added only 900,000 users.
May 21, 2007

Hong Kong: The Hong Kong dollar may slide to its lowest level since 1989 in three months' time as investors use the currency for "carry trades" to fund purchases of higher-return equities in other parts of the world, Standard Chartered (2888) said.
The per-capita spending of visitors in Macao stood at 1,649 patacas (206.125 U.S. dollars) in the first quarter of this year, up 6 percent year on year, official statistics issued Thursday showed. The figures released by the government-run Statistics and Census Service (SCS) showed visitors from the Chinese mainland took the lead on the expenditure list in the January-March period with 3,192 patacas (399 U.S. dollars). The per-capita shopping spending rose by 2 percent year-on-year to 757 patacas (94.625 U.S. dollars) in the three-month period, the figures showed. Meanwhile, the per-capita non-shopping spending increased by 9 percent year-on-year to 892 patacas (111.5 U.S. dollars) in the period, according to the statistics.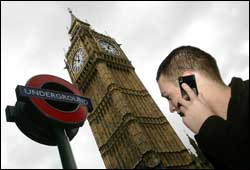 Hutchison Whampoa (0013), the ports-to-telecoms conglomerate controlled by Li Ka-shing, said its telecom business in Britain has been stabilizing and fewer customers are abandoning its network. Speaking after the company's annual general meeting, group managing director Canning Fok Kin- ning said: "The churn rate is improving. But today is not the time to announce details. The business has progressed according to plans." The churn rate refers to the rate of customer loss in the telecom industry. The company declined to give any financial data related to the telecom business. Fok also said there are no plans to spin off any of its global telecom operations. According to Hutchison, the 3 UK operation had a combined 3.9 million customers as of March this year, while the churn rate improved to 3.8 percent in the second half last year from 6 percent in the first half. The 3 Group narrowed losses, reporting a HK$19.9 billion loss before interest and tax, against HK$36.2 billion a year ago. Chairman Li Ka-shing said in March that he remained confident of achieving break-even in earnings before interest, tax, depreciation and amortization, or EBITDA, this year. "This result was achieved by effectively not competing for new subscribers last year. We estimate the average active subscriber base in the UK increased only 1.5 percent to 2,719,000 subscribers last year," Citigroup wrote in a report. "With the competitive landscape in Europe, we do not expect the group to break even on an EBIT basis until late 2009." The 3 Group operates mobile networks in Italy, Britain, Ireland, Australia, Sweden, Denmark and Austria.
Beijing's move to expand the investment scope for qualified domestic institutional investors will allow an orderly outflow of funds from the mainland and ease upward pressure on the yuan, Hong Kong Monetary Authority chief executive Joseph Yam Chi-kwong said Thursday.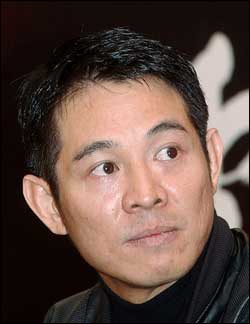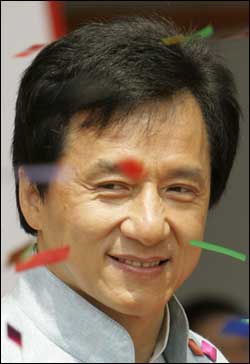 Jackie Chan Kong-sang vs Jet Li, the kung fu movie fan's fantasy has become reality. Chan and Li are currently in China shooting their first movie together, the Hollywood production The Forbidden Kingdom, and Chan said in his Chinese-language blog Thursday they recently shot their first on-screen duel. "I finally `fought' with Jet Li today. We've never fought before having known each other for so many years," he said. The fight scene went smoothly and the two actors finished what was expected to be a daylong shoot in a few hours. "The short sparring that lasted a few moves went very smoothly. It was like fighting with a brother from the same school of martial arts. We blended easily on every move, be it in terms of timing or rhythm," he said. "The feeling was like shooting with Sammo Hung or Yuen Biao. Whether it's a look, an expression or a turn, we were well coordinated. It feels great," Chan wrote, referring to two fellow action stars. He added he and Li also worked well with choreographer Yuen Woo-ping, who designed action sequences for The Matrix trilogy. "We worked together seamlessly," Chan said. The Forbidden Kingdom is about an American teenager's fantasy journey to ancient China to rescue a mythological monkey king. The idea for the film originates with the classic Chinese novel Journey to the West, in which a monkey king, a pig and a friar help guard a Buddhist monk searching for religious texts.

China: China's imports and exports of goods will likely amount to 2.1 trillion U.S. dollars for the whole year, a growth of 20 percent over the year-earlier level, according to a report released Thursday by the Ministry of Commerce. The report says in 2006, China's foreign trade stood at 1.76 trillion U.S. dollars, up 23.6 percent year-on-year, ranking third in the world. External trade has continued to grow rapidly since the beginning of the year, the report says. Foreign sales of machinery, electronics, textiles and clothing and footwear posted sustained growth. Trade with major partners, including the European Union, the United States and Japan, has increased continuously. According to the report, China realized 457.7 billion U.S. dollars in foreign trade in the first quarter of this year, up 23.2 percent from a year earlier. The trade surplus soared 99.4 percent to 46.4 billion U.S. dollars. The report believes the overall environment is still favorable for China's foreign trade.
"You have the right to remain silent. Anything you say can and will be used against you in a court of law..." These words, familiar to many from Hollywood movies or cops-and-robbers TV shows, could be uttered by Chinese police if an amendment to the Criminal Procedure Law, scheduled for October, is approved. "There's little debate over whether to include the stipulation that suspects shall not be forced to admit guilt," Chen Ruihua, a law professor at Peking University involved in the amendment of the law, said. "If approved, it means that suspects will have the right to keep silent in interrogations." Chen Guangzhong, a professor at China University of Political Science and Law who also participated in drafting the amendment, said legislators were also considering whether to allow lawyers to be present during the whole interrogation process. A draft amendment the All- China Lawyers Association (ACLA) submitted last month to the Standing Committee of the National People's Congress (NPC), the top legislature, included both stipulations. The existing Criminal Procedure Law, amended in 1997, requires suspects to truthfully answer investigators' questions during interrogations. It also stipulates that lawyers are allowed in the case only after the first interrogation.
China Unicom yesterday launched data services based on the GPRS standard, which could give the company a leg-up in the booming value-added telecoms service market. The GPRS data services will enable Unicom's GSM users to surf the mobile Internet, send MMS (multimedia messaging service) messages and download data, including music, using their mobile phones. Unicom, the smaller of China's two cellular operators, has been operating cellular networks based on second-generation (2G) mobile telephony standards, GSM and CDMA. The CDMA networks have already been upgraded to the high-speed CDMA1x-2000, usually billed as a 2.75G service, which offers users a number of data services, such as mobile Internet access and MMS. But its GSM subscribers could only make voice calls and send short text messages. An upgrade from GSM to GPRS, a 2.5G mobile technology, could boost the competitiveness of Unicom's GSM networks, said company vice-president Li Gang. The upgrade marks Unicom's shifting focus from the CDMA service to GSM networks. The company has been investing heavily on CDMA networks to snap up subscribers from its larger rival, China Mobile, while investing little in its GSM networks.
'Adept tourism staff needed' for Games - China should better train its tourism industry professionals to make the experience of millions of travelers during the 2008 Beijing Olympic Games a memorable one. That's the majority opinion of nearly 300 government officials and experts from home and abroad who have gathered for a two-day forum in Qingdao, the coastal city of East China's Shandong Province. Co-sponsored by the China National Tourism Administration and the United Nations World Tourism Organization, the forum aims to exchange knowledge and learn from other countries' experiences, such as Japan, Republic of Korea, the United States, Australia, Greece and Spain. Pacific Asia Travel Association (PATA) Chairman Brian Deeson said China's focus should be "less on stimulating travel demand and more on managing the flow (of travelers) and ensuring that satisfaction levels are maintained at an appropriately high level". "Since the choice available to the consumer continues to expand, service quality and delivery will be the key differentiators between products and destinations." The 2008 Beijing Olympic Games has acted as a stimulus for China's "tourism hardware", with a massive investment in related infrastructure. PATA estimates the cumulative public and private investment into China's tourism industry will reach $170 billion this year. "But we also need to focus on the software - the people - which plays such a critical role in delivering the Olympic experience," he said. Language is still a top issue. Staff, especially in the hospitality sector, should be trained not only in English, but also in other foreign languages, he suggested. Tu Mingde, assistant to the president of the Beijing Organizing Committee for the Games of the XXIX Olympiad (BOCOG), agreed with Deeson, saying China is indeed facing a problem because the massive influx of people would pose a challenge to the tourism industry, especially in providing high quality services. "The challenge includes the impact on the current industrial structure of tourism in China, as well as the service quality of our tourism enterprises," he said. The Beijing Olympics is being widely seen as an unprecedented opportunity for China's tourism industry. The BOCOG has estimated that several million people from home and abroad will visit Beijing to watch the Games and visit tourist attractions. They will include 16,000 athletes and officials, nearly 5,000 members of the Olympic family, 7,000 Olympic sponsors and their customers and 21,600 registered journalists. The experience of previous Olympic hosts shows such travelers also visit tourist attractions in and around the cities, and even in far off places. Six cities that will stage part of the Games, also, stand to gain from the event. Hong Kong, Shanghai, Qingdao, Tianjin, Shenyang and Qinhuangdao are expected to expand their influence worldwide and attract more tourists, he said.
Many red chips are considering a return to the domestic equity markets to raise capital or as a way of supporting Beijing's policy to enhance the quality of bourses - but only few of them can issue yuan-denominated A shares, given the relatively high requirements. Red chips are companies registered and listed in Hong Kong but controlled by mainland shareholders and have a majority of assets or business in the mainland. They are required to report a minimum annual net profit of 1 billion yuan (HK$1.02 billion) to be eligible to list on mainland bourses, state-run Securities Times reported Thursday, citing unidentified sources. The regulator aims to attract mainly large corporations to the domestic market and will not encourage small enterprises. But those with a history of less than three years in business are exempted from the 1 billion yuan rule. Red chips with a parent or subsidiaries listed in Shenzhen or Shanghai are not eligible to issue A shares. Market watchers generally believe China Mobile (0941) will be the first red chip to return to the domestic market, issuing shares in the second half of this year, to be followed on to the market by CNOOC (0883).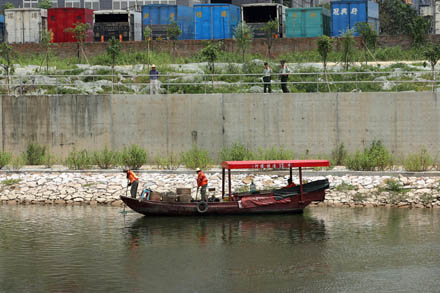 Mainland workers collect rubbish floating on the Shenzhen River, which has been widened, straightened and deepened under a 12-year project commissioned by Shenzhen and Hong Kong. The HK$645 million program, which is now complete, has made the 18km waterway four times wider on average. It should now be able to take heavier flows, ending flooding caused by downpours and water releases that has plagued parts of the northern New Territories.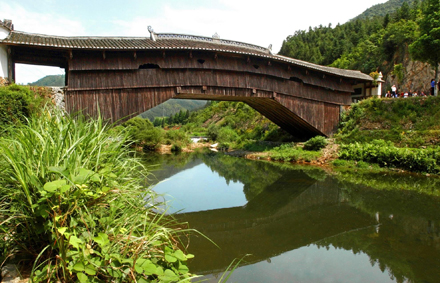 The Houkeng Timber-Arched Corridor Bridge spans a river in Qingyuan county, Zhejiang province. Originally erected during the 17th century, the bridge was built without nails. Restoration work on the bridge was rewarded with Unesco's Award of Excellence during the organisation's 2005 Asia-Pacific Heritage Award for Culture Heritage Conservation.
China Overseas Land & Investment, a mainland property developer, has shelved its planned flotation in Shanghai to make way for the initial public offering of its state-owned parent, China State Construction & Engineering Corp, chairman Kong Qingping said.
May 19 - 20, 2007

Hong Kong: The gold price in Hong Kong dipped 62 HK dollars to 6,171 HK dollars per tael on Thursday, according to the Bank of China (Hong Kong). The price is equivalent to 663 U.S. dollars a troy ounce, down seven U.S. dollars at Thursday's exchange rate of one U.S. dollar against 7.812 HK dollars.
Hong Kong Financial Secretary Henry Tang invited Swiss bankers in Geneva on Wednesday to use Hong Kong as a regional base to manage their banking businesses in Asia. According to news from Information Services Department of the government of Hong Kong Special Administrative Region (HKSAR) obtained Thursday, Tang explained to the bankers the competitive strengths of Hong Kong on the last day of his duty visit to Switzerland. Tang attended a breakfast meeting hosted by the Swiss Private Bankers' Association. The private bankers in Switzerland are a group of entrepreneurs in the privately owned banking sector who conduct their business using their own assets and assuming unlimited liabilities. Tang told them that with Asia's high savings rate and strong economic growth, Hong Kong benefited from having a relatively fast growing economic hinterland, especially the Chinese mainland, which could be one of the fastest growing wealth management markets in the world. Noting that it would take time for private bankers to build their reputation in this niche market, Tang pointed out the importance for them to come in early. "You should consider whether you wish to be a leader or a follower in this growing market," Tang said. Tang also met Chairman of the Swiss Bankers' Association Pierre Mirabaud before attending a lunch meeting hosted by the association, which is the most representative umbrella organization in the banking industry of Switzerland.
The HK financial secretary updated the Swiss banking community on Hong Kong's latest economic development and highlighted Hong Kong's role as an international financial center and a gateway to the Chinese mainland, both for overseas companies to tap into the mainland market and for mainland enterprises to reach out to the world. "Switzerland and Hong Kong are both relatively small but outward-looking economies with huge economic hinterlands," Tang said. Tang will leave Geneva on Thursday for Cannes, where he will attend promotional events for Hong Kong's film industry at the Festival de Cannes.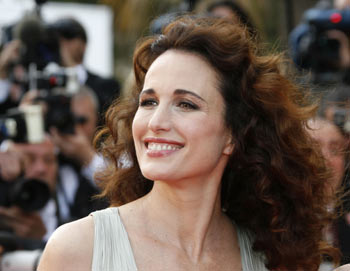 Actress Andie MacDowell arrives for an evening gala screening of Chinese director Wong Kar Wai's in-competition film "My Blueberry Nights" at the 60th Cannes Film Festival May 16, 2007.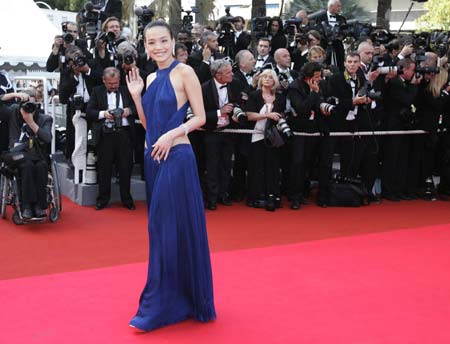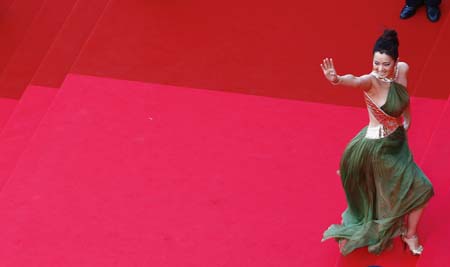 Shu Ki and Gong Li arrives for an evening gala screening of Chinese director Wong Kar Wai's in-competition film "My Blueberry Nights" at the 60th Cannes Film Festival May 16, 2007.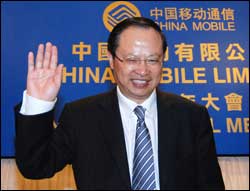 Telecom behemoth China Mobile (0941) will move to a caller-pays policy and eliminate roaming fees - two central government initiatives designed to reform the telecom industry - but in a gradual way, according to senior officials. Chairman Wang Jianzhou said the red-chip company is actively working to return home to float shares in the A-share market. The mainland authorities are supportive of the plan, according to Wang, who did not give a timetable for the listing. Current regulations prevent companies such as China Mobile, which are registered outside the mainland, from issuing yuan-denominated shares on a mainland bourse. After an annual general meeting in Hong Kong Wednesday, vice president and chief financial officer Xue Taohai said that 50 percent of its customers were already on plans under "one-way billing," or "caller-pays policy," at the end of 2006. Although he did not specify exact numbers, Xue said he believed more than 50 percent of customers were on such plans at the end of the first quarter of 2007.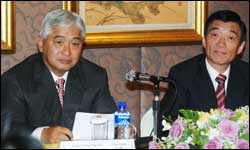 CITIC Pacific (0267) plans to sell its 25 percent interest in a mainland air cargo joint venture to Air China (0753), clearing the way for Cathay Pacific (0293) to buy a stake. "We are talking with Air China and intend to sell the whole stake," managing director Henry Fan Hung Ling said after the annual general meeting. The joint venture, in which Air China holds a 51 percent stake and Beijing Capital International Airport (0694) owns 24 percent, handles all of the carrier's international and domestic cargo and related ground service business. The total freight handled by the venture increased 15 percent to 817,178 tonnes last year compared with 2005. But it recorded a HK$1 million loss compared with a HK$44 million profit in 2005. Fan said the stake sale is intended to clear the way for Cathay Pacific to invest in the venture after Air China sold its indirectly held 43.29 percent stake in Dragonair to Cathay for HK$430 million in cash and 289 million shares in Cathay in September, giving the mainland carrier a 10.16 percent strategic stake.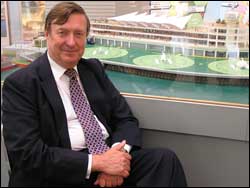 A helicopter industry group is stepping up efforts to get support for a proposal to connect Pearl River Delta cities with a "flying taxi" service following lukewarm responses from the government. The Hong Kong Regional Heliport Working Group - of which the Heliservices company, owned by the Kadoorie family, is a prominent member - has revived a 2005 proposal for a four-pad ground-level heliport at the northeast corner of Golden Bauhinia Square in Wan Chai. The working group's proposal is an expansion of a Planning Department blueprint that features two helipads in Wan Chai North, which is under review by the Town Planning Board. The two helipads on the government blueprint are primarily for Government Flying Service use even though the administration has agreed to share them with a commercial operator for domestic services on condition government operations have priority.
Hong Kong business magnate Li Ka-shing on Thursday warned that investors should be cautious in trading on mainland stock markets, saying he was ''worried'' over high share prices following their record-breaking run. "I am worried about the China stock market because of its high [price to earnings] ratio," Mr Li, Asia's wealthiest businessman, said after the annual general meeting of conglomerates Cheung Kong (Holdings) and Hutchison Whampoa, which he controls. Last week, the Shanghai Composite Index breached the historic 4,000-point level for the first time, putting stocks there on PE ratios of about 50 times compared with the Asian average of between 14 and 18. As the Chinese markets have gone from one record to the next in massive volumes sometimes second only to Wall Street, officials have repeatedly warned of the dangers of a bubble bursting which would hit small investors hardest. The extent of China's stock market fever was outlined in a recent central bank survey which showed 30.7 per cent of the public planned to tap their low-interest savings accounts to buy into equities. It is this frantic investment that has experts calling for Beijing to take action or eventually face serious economic consequences. Mr Li, who has been a buyer of shares in many mainland Chinese companies, said volatility in the mainland market and the economy could affect the Hong Kong exchange. However, he did not rule out a listing of his own in China, saying the move was possible but only when the market there had reached a certain level of maturity. "Listing on the mainland is possible but only when the market matures," he told reporters. He did not mention which of his companies might be listed on the mainland nor did he elaborate about what market conditions would make a listing possible.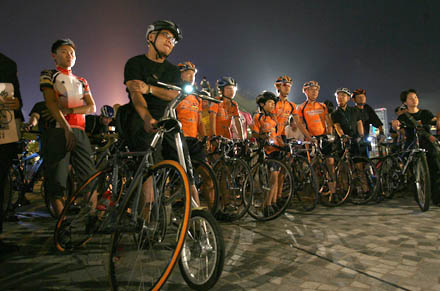 Cyclists pedal in the Ride of Silence last night in Kowloon. Yan Kin-wai, a member of the Cycling Alliance which organised the event, urged drivers to be more alert.

China: Microsoft will further expand its R&D institutes in Beijing, Shanghai and Shenzhen, as well as invest in R&D parks in Beijing and Shanghai.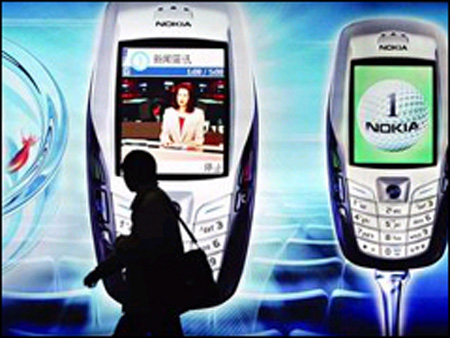 China's Ministry of Information Industry approved Wednesday the use of European and American standards for third generation (3G) mobile phones that are rivals to China's homegrown TD-SCDMA. China's TD-SCDMA has been called the "Chinese 3G standard", WCDMA is European and CDMA2000 is American. TD-SCDMA, a Chinese home-grown standard for third-generation (3G) mobile telephony, is set to dominate the country's 3G market, an industry group said.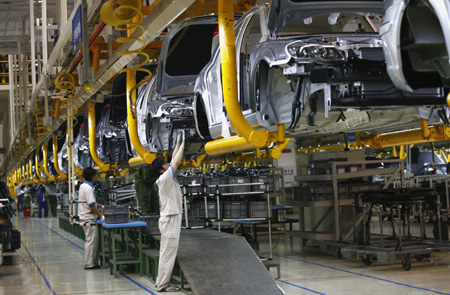 Employees of Chinese carmaker Brilliance Auto work at a factory in Shenyang, capital of northeast China's Liaoning province, May 16, 2007. Chinese factory output grew by a robust 17.4 percent in April from a year earlier, reflecting a rebound in exports and the underlying strength of the world's fourth-biggest economy.
DaimlerChrysler AG's sale of its US arm will not affect its businesses in China, the world's second-biggest vehicle market, according to the automaker's Northeast Asian operation. "China will continue to be an important market for Daimler and Chrysler, and we are continuing to move forward with all our projects," Trevor Hale, the Beijing-based spokesman for DaimlerChrysler Northeast Asia, told China Daily. Hale's remark refutes speculation that some of Chrysler's China plans will be suspended as a result of DaimlerChrysler's $7.4-billion deal on Monday to sell 80.1 percent stakes of Chrysler Group, its troubled US arm, to the private equity group Cerberus Capital Management. The automaker will be renamed Daimler AG in the fall. Chrysler agreed with China's Chery Automobile Co in January to make cars in China under the Dodge brand for the US and European markets. "It is still in the process of being approved by (Chinese) regulators," said Jin Yibo, a spokesman for Chery based in East China's Anhui Province, denying the project has run aground. Last month, Chrysler announced that the Dodge Caravan minivan will be assembled at the end of this year at a joint venture between Fujian Automotive Industry Corp and Japan's Mitsubishi Motors in coastal Fujian Province. It will also bring a Sebring mid-sized sedan into DaimlerChrysler's joint venture with Beijing Automotive Industry Corp later this year. The venture started producing the Chrysler 300C and new Mercedes-Benz E-Class sedans last year. Another source from DaimlerChrysler Northeast Asia said the plans in Fujian and Beijing will be carried out according to schedule. Yale Zhang, the Shanghai-based director of Greater China vehicle forecasts for US auto consultancy CSM Worldwide Corp, said there's no reason for Chrysler to slacken its pace in China. "I believe Chrysler will beef up its efforts in China as this market is too important to give up," Zhang said. DaimlerChrysler is lagging behind its rivals, such as General Motors, Volkswagen and Toyota, in China's fast-growing vehicle market. Sales of China-made vehicles grew by 21.46 percent year-on-year to 2.93 million units in the first four months of this year, according to data from China Association of Automobile Manufacturers. Full-year sales are predicted to reach 8.5 million units, up from 7.22 million units in 2006.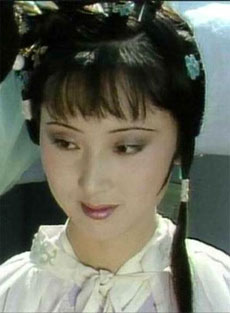 This undated photo features former Chinese actress Chen Xiaoxu in famous Chinese TV series "Dream of the Red Mansion" back in 1980s. Chen Xiaoxu, the actress starring as Lin Daiyu in "Dream of the Red Mansion" passed away on May 13 in Shenzhen. She took the tonsure at a Buddhist temple in Changchun, capital of Jilin province in northeast China in February. Chen Xiaoxu became a household name in China in the 1980s after being cast the lead role as Lin Daiyu in the TV soap opera "Dream of the Red Mansion", an adaptation of the Chinese Qing Dynasty literary classic of the same name. Following this popular role, however, Chen Xiaoxu did not pursue an acting career. She disappeared from public view for several years until re-catching people's attention as a successful businesswoman and billionaire in advertising. The news of her tonsure was first disclosed by some "well-informed" fans online and was confirmed by her husband, Hao Tong, who, he had himself said, would soon follow his wife's suit to become a monk in another monastery. Hao said such decision, which however sounds much striking to the public, was their ideal. Chen Xiaoxu was reported to be at Baiguoxinglong Temple, the Buddhist monastery where she received the tonsure ceremony. Chen then concentrated on Buddhist studies at the monastery, according to staff from her company. An unconfirmed source added that Chen Xiaoxu had been following the Buddhist life credo for seven years.
China will further increase the flexibility of its exchange rate and take measures to curb the growing trade surplus, Premier Wen Jiabao said Wednesday, a week before high-level Chinese officials meet in Washington with their US counterparts to discuss ways to reduce trade imbalances.
Beijing's top Communist Party official called on Thursday for a law-and-order crackdown as he set maintaining stability and hosting a successful Olympic Games next year as key goals facing the leadership.
Shanghai overtook Hong Kong to become the world's second-largest container port in the first quarter as containers handled rose 28.1 per cent year on year during the period, media said on Thursday.
May 18, 2007

Hong Kong: The Cannes Film Festival's best director award winner in 1997 for "Happy Together" and president of the Competition jury in 2006, Wong Kar Wai returns to the Croisette Wednesday to open the 2007 festival with his first English-language film, "My Blueberry Nights."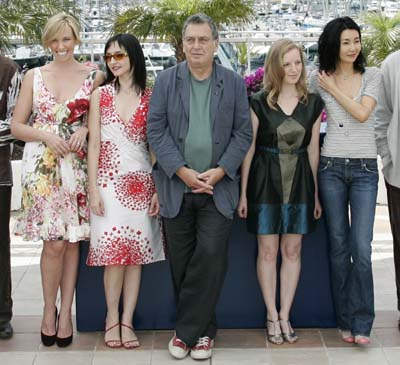 Jury president Stephen Frears (C) stands with fellow jury members, from L-R, Toni Collette, Maria De Medeiros, Sarah Polley and Maggie Cheung during a photocall at the 60th Cannes Film Festival May 16, 2007.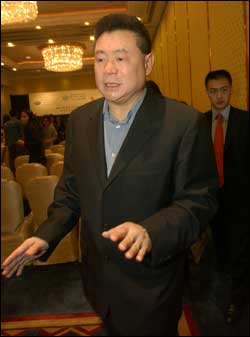 Tycoon Joseph Lau Luen-hung has abandoned a HK$30 billion privatization plan for Chinese Estates Holdings (0127) after failing to rally support from major shareholders including institutional stakeholders. Hedge fund The Children's Investment Fund Management, which holds 7.9 percent of Chinese Estates, is understood to have demanded a price too high for Lau to accept. His decision to withdraw the buyout offer came a few days after Chinese Estates announced a possible deal last Thursday. Shares of Chinese Estates jumped nearly 9 percent Tuesday. The property investment and development firm is controlled by Lau and his younger brother Thomas Lau Luen-hung, who hold a combined 53.6 interest. The shares closed at a record high HK$12.76 on the news that the buyout plan was dropped. Joseph Lau halted talks with other unidentified major shareholders, saying the gap between the price demanded by the shareholders and his expectations was between HK$3 and HK$4 per share. He declined to reveal the price. Analysts estimated the plan to acquire the shares the Lau brothers do not already own in Chinese Estates, at between HK$14 and HK$15 apiece, priced the deal at about HK$15 billion, excluding costs. TCI was not available for comment Tuesday. The HK$30 billion outlay is a combination of the buyout of shares, Chinese Estates debts of HK$9 billion, as well as its HK$6 billion property project in Chengdu, Sichuan province, Lau said after the annual general meeting Tuesday. "The privatization proposal is to make it easier for the company to operate. The [fund] shareholders are now more demanding. For example, some shareholders usually ask for share buybacks, hopefully at higher prices so they can take profit.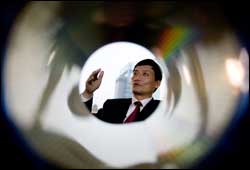 Aluminum Corp of China (2600), the mainland's largest alumina maker, said Tuesday it may sell as much as 5 billion yuan (HK$5.09 billion) of short-term financing bills to replenish capital and fund raw materials purchases. It plans to issue the bills to domestic institutional investors on the interbank debt market. The bills will have a maturity of no longer than one year, according to a statement filed with the Shanghai bourse. Chalco said the interest rate will depend on market sentiment, but will not be higher than the prime rate, with the same maturity set by the People's Bank of China. Proceeds from the bill issuance will be mainly used to buy raw materials such as alumina imports, as well as to pay off bank loans if there were to be a surplus, Chalco said. The proposed bills issuance is subject to shareholder approval at the annual general meeting Friday. Earlier, Chalco, one the biggest metals stocks traded in the domestic market in terms of market capitalization, set a target of 16 billion yuan capex to boost capacity and for acquisitions. Chalco aims to boost output of alumina - the raw material used to produce aluminum - by 13.5 percent to 10 million tonnes this year, while production of aluminum will reach 2.48 million tonnes, 28.5 percent more than last year, chairman and chief executive Xiao Yaqing said in March. Chalco produced 2.39 million tonnes of alumina in the three months ended March 31, compared with 2.11 million tonnes during the same period last year.
Blue-chip sourcing company Li & Fung (0494) said it plans to use most of the US$500 million (HK$3.9 billion) proceeds from a bond sale to acquire Hong Kong companies exporting to Europe to capture business opportunities on the continent.
China Central Properties, the specialist real-estate arm of businessman Vincent Lo Hong-sui which buys up distressed projects in the mainland, intends to raise HK$3.89 billion by selling new shares and convertible bonds in a planned listing on the London Stock Exchange's Alternative Investments Market next month.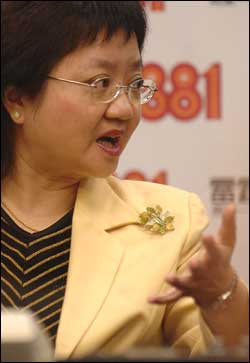 Hong Kong and the mainland are to step up food-safety measures by tightening rules on the export of food products to the territory. Vegetables from the mainland will not be allowed into the SAR unless they are from approved farms and processing plants. Live freshwater fish and eggs will need to be accompanied by certificates to be allowed into Hong Kong in the future. The measures were agreed Tuesday at the second working meeting in Beijing of mainland and SAR officials to promote cross-border food safety. Permanent Secretary for Health, Welfare and Food Carrie Yau Tsang Ka-lai, who led the Hong Kong delegation, said putting in place an effective importer or supplier registration system is very important. "This can help trace the source of food, identify problems early on and proactively guard against dubious food entering the supply chain to protect the public health," she said. Yau said Hong Kong will seek a consensus with the mainland on food-safety inspection standards. "We want the mainland authorities to issue health certificates for food, so we must reach a consensus on what these certificates will contain," Yau said.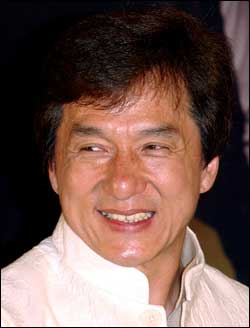 Aspiring action stars take note: You do not have to crack heads in kung fu to make it big. And that is coming from Jackie Chan Kong-sang, one of the biggest names in the business. Chan has been canvassing applicants to his new talent TV show, The Disciple, and he is frustrated by the emphasis placed on kung fu skills. He said in a blog entry on his Web site Monday that he is looking for grace in movement, be it from sports, dance or kung fu. "One of the people who registered for the competition did a sword dance on her demo tape. It was awful! But then she also did a regular dance and it was just beautiful. She was a terrific dancer," the actor wrote. Chan said a background in kung fu was not necessary to succeed as an action star, citing former Bond girl Michelle Yeoh Choo Kheng and Crouching Tiger, Hidden Dragon star Zhang Ziyi as examples. "Michelle Yeoh and Zhang Ziyi knew nothing about kung fu - but they were dancers. "With their dancing skills, they quickly and easily learned the stunts and movements from the stunt choreographers." Chan said modern movie technology can enhance the look of kung fu moves. "Action actors today are not required to be able to knock down an opponent such as George Foreman! "As long as you have basic skills in action or movement and you can take direction from the stunt choreographers, the skills of the cameraman and the other technical staff will make you look like a kung fu master even if you're not," he said. "In my movies, I don't want any violent action. "I'm looking for people who have beautiful and rhythmic movement so that the action can look something like dancing." Chan was trained in Peking Opera and is known for his comical, dance-like moves and stunts. By contrast, another action star, Jet Li, was a national kung fu champion in China before he crossed over to the film industry.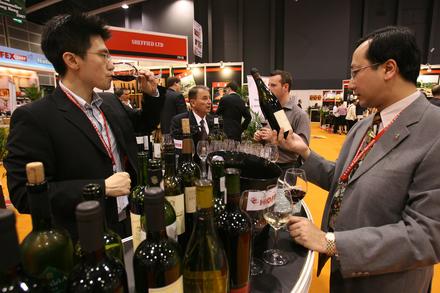 Connoisseurs try out a range of boutique red and white Australian wines at the Convention and Exhibition Centre yesterday during Hofex, the international food, drink and hospitality exhibition.

China: Germany plays forward in EU-China relations - German ambassador to China Dr. Volker Stanzel visited Strong China Forum hosted by People's Daily and answered questions by netizens on the subject of "The Role Germany plays in EU and EU-China Relations" on May 14. Germany's role in EU and EU-China relations - In responding to a reader's analogy that the Sino-EU relations are like a friendly soccer game, Dr. Stanzel said Germany played the forward in the game and what he wanted to know was whether a goal would be scored. The foreign policies in Europe have been based on agreement of all its member countries. As an EU country which has very close and friendly relationship with China, Germany has been devoted to contributing to the development of the EU-China relations. Germany, as one of the six founding nations of the EU, has been promoting the integration process of the biggest unity of nations in the world. It is still making efforts on the formulation of the EU Constitution. The EU has expanded to 27 members from 6. It is much easier to take care of interests of six nations than to reach consensus among 27 members. But it will make much more sense to achieve the goal of bringing all members together in such a big union. The theory of "China threat" - Dr. Stanzel held that an emerging power, economically or politically, normally draws much attention of the rest of the world, which leads to both positive and negative assumptions. The theory of "China threat", for example, reflects the feeling some people have on the new reality that China is rising. Dr. Stanzel explained that by making Japan as an example. There were many books on the "Japan threat", shortly after the East Asian country's rise on the international arena. To that point, he maintained that people should adopt an easy attitude when handling this sensitive issue. More and more people now are focusing on China. Some are concerned about the rise of China. Others hold a more positive attitude toward China. For China itself, the most important thing is to hold rational, pragmatic as well as concrete dialogues with all these people. Germany-China relations - Some Chinese think the Sino-German relationship is not as good as that in former Chancellor Schroeder's era. Dr. Stanzel assured that there was no "problem" in the relationship. He explained it is just a matter of the different styles. Chinese government and Merkel's administration are still making sustained efforts in improving bilateral relations. German Chancellor Angela Merkel and Chinese Premier Wen Jiabao have decided to launch a three-year campaign to facilitate the cultural, economic, social as well as political understanding and exchanges between the two countries. The German Embassy has been working on this big project for some time. The Nationalism - Many countries in Europe have euro as common currency in trade, and European citizens do not need passport when traveling around EU member countries. There is desire for competition among the youth as the result of the integration. However, the patriotism now is quite different from the nationalism in the past. Dr. Stanzel's impression about the Chinese youth comes from his experience with Chinese college students. He is quite impressed by their pride in the achievements made in China's modernization drive. However, the ambassador does not hope the youth feel complacent over the success, because the achievements are made by their parents or older generations instead of themselves. It is understandable that the youth are proud of the success achieved by their parents or grand-parents. But sometimes such pride may turn into a kind of nationalism. What's more, if a country achieves success, it does not mean the country can exercise its power at will on anybody and any other countries. On 2008 Beijing Olympic Games - Dr. Stanzel thinks that the year 2008 is crucial not only for Beijing, but also for China, because it offers the world a wonderful opportunity to learn more about China and the development made in the past ten years. He stressed that the prime goal of Olympic Game is to compete in sports. He hopes journalists could pay more attention to that point when covering this great international sporting event. He looks forward to a wonderful sporting feast for all.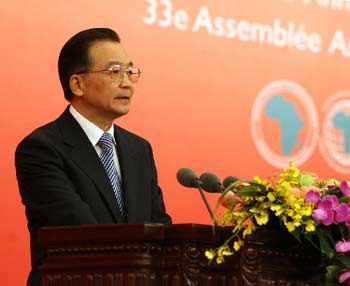 Chinese Premier Wen Jiabao speaks during the opening ceremony of the 2007 Annual Meetings of the Boards of Governors of the African Development Bank (ADB) Group in Shanghai, east China, May 16, 2007. The ADB Wednesday opened its annual board meetings in Shanghai, which are widely seen as a move to deepen China-Africa cooperation.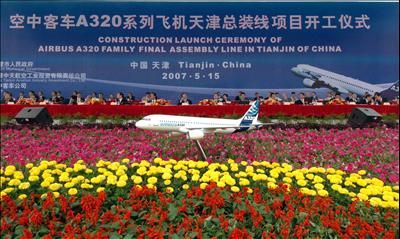 Construction of an assembly line for Airbus A320 planes began on Tuesday in north China's port city Tianjin with a ceremony to mark the occasion. The plant in the Tianjin Binhai New Area, the first for Airbus outside Europe, is expected to start operating in August next year and have an annual capacity of 44 aircraft in 2011, sources with the project said.
China and the United States will hold talks on the protection of intellectual property rights and the market access of publications in China from June 5 to 8, said Wang Xinpei, spokesman for the Ministry of Commerce on Wednesday. The Chinese delegation to the World Trade Organization formally accepted the request from the U.S. side to talk on these issues on April 20, and both sides agreed to have the discussion in Geneva next month, Wang told a routine press conference. The United States filed two WTO complaints against China over copyright piracy and restrictions on the sale of U.S. books, music, videos and movies on April 10, maintaining that piracy levels in China "remain unacceptably high". The Chinese government expressed "great regret and strong dissatisfaction" over the U.S. action on the same day, saying the decision runs contrary to the consensus between leaders of the two nations on strengthening bilateral trade ties and properly solving trade disputes. The new cases were reported to be aimed at easing "rising political anger over America's soaring trade deficit", as some U.S. officials believed American companies were losing billions of dollars every year due to piracy activities in China.
Chinese Premier Wen Jiabao told the ongoing 2007 Annual Meetings of the Board of Governors of the African Development Bank Group in Shanghai that China is deepening reforms of its foreign exchange management system. The nation is improving the Renminbi exchange rate mechanism, giving greater scope to the role of the market and introducing greater interest rate flexibility, according to Wen. The premier's remarks are testimony to China's continuing commitment to progressive reform of the Renminbi exchange rate, said Tan Yaling, an expert in international finance in Shanghai. Wen's words on "giving great scope to the role of the market" showed that China intends to follow the global trend in its ongoing exchange rate reform, according to Ding Chun, deputy head of the European issues research institute in Shanghai-based Fudan University. Ding said this implied a move from a controlled to a market-oriented economy and the gradual abandonment of administrative instruments in exchange rate fixing. "One of the major problems challenging China's development is the long-term trade surplus, which has led to swollen foreign exchange reserves and excess liquidity at home," said Li Yang, head of the finance research institute of the Chinese Academy of Social Sciences. Reforming the Renminbi foreign exchange rate mechanism will aid China's fast-growing economy, Li said.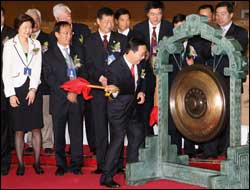 Bank of Communications (3328), the fifth-largest lender in China, saw its A shares soar as much as 80 percent on its first trading day, bucking the plunge of stock markets in the mainland and registering a substantial premium over its Hong Kong-listed counterpart. The wider investment scope for the mainland's Qualified Domestic Institutional Investor scheme - intended in part to narrow the gap between the yuan-denominated A shares and Hong Kong's H shares - did not sour the mood as investors grabbed the more expensive BoCom A shares. These beat analysts' forecasts to close at 14.11 yuan in the morning trading session on the Shanghai Stock Exchange. The early surge brought BoCom's Hong Kong-listed counterpart to HK$8.88 per share, the highest in four months. BoCom's A shares closed at 13.54 yuan Tuesday. This represented a 58.9 percent premium over the H shares, which closed at HK$8.52 per share, up 1.07 percent or 9 HK cents. The China Banking Regulatory Commission said last week it would permit banks to invest in overseas equity markets, allowing them to place up to 50 percent of their existing QDII quotas into foreign stock markets.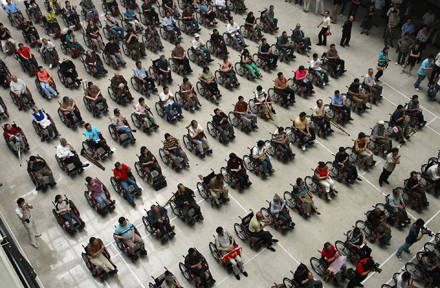 Handicapped people gather in wheelchairs given by the Beilin district government of Xian, Shaanxi province, ahead of Aiding the Handicapped Day on Sunday. The gift was organised by the Beilin District Handicapped Association and the World Wheelchair Foundation.
Treasury Secretary Henry Paulson will lead a high-level delegation when United States and Chinese officials get together next week for a second round of talks on economic issues.
May 17, 2007

Hong Kong: Hong Kong Ocean Park announced Tuesday its attendance record has reached 4.5 million within this fiscal year, breaking last year's record. Welcoming the 4.5 millionth visitor of Ocean Park in a ceremony on Tuesday, Chairman of the park Allan Zeman said that in just about 10 months within this fiscal year beginning July 1, 2006, the park surpassed its previous attendance record of 4.38 million, and has reached a new height as the record of 4.5 million was first broken. "We have topped our records for three successive years, and we are confident the trend will continue into the future," said Zeman. The lucky guest, the Cheng's family who visit the park almost once every week, received a giant gift box filled with panda toys and souvenirs from the park's gift shop. Of the 4.5 million visitors, 48 percent were from the Chinese mainland and 45 percent from the local, Zeman said, adding that during the Labor Day Golden Week in early May, mainland visitors' attendance was 157,000, which surpassed last year's 123,000. When asked about the latest condition of the pandas pairs, a gift presented to Hong Kong by the Central Government of China which arrived at the park last month, Zeman said that the cubs are doing well and they have gained weights. "The park will double the amount of attractions in the coming five years," said Zeman. The park has started a 5.5 billion six- year redevelopment project which is expected to be finished in 2010. Forbes Traveler, a famous international travel magazine, recently ranked Ocean Park in their list of the top 50 most visited tourist attractions in the world.
The Hong Kong Special Administrative Region (HKSAR) government announced on Tuesday it will join the Chinese mainland departments to study ways to better the food regulatory mechanism. According to news from the Information Services Department of HKSAR government, Hong Kong Permanent Secretary for Health, Welfare and Food Carrie Yau attended the Inaugural Meeting of Steering Group on Safe Food Supply to Hong Kong held in Beijing on Tuesday. Speaking at the meeting, Yau said the HKSAR government will review the food regulatory infrastructure and complementary facilities to cope with developments in the testing and regulatory mechanism. According to Yau, the HKSAR government and its counterparts in the Chinese mainland are considering widening the scope of imported food that needs to be accompanied with health certificates, putting more categories of food under regulation and control, and opening new modes of food testing. At Tuesday's meeting, Hong Kong health officials told their mainland counterparts that the food safety bill now being drafted will integrate the existing laws regulating food safety. It will bring under regulation food which has higher safety risk or of wide public concern, including farmed aquatic products, vegetables and fruit. To comply with the legislative requirements, the Chinese mainland and other exporting sources have to provide health certificates for their food supplies to Hong Kong. The city will also introduce a more comprehensive and clearer subsidiary legislation to impose control on the standard of pesticide residues, Yau said.
Most Asian markets fell Tuesday, as Japanese stocks were dragged down by worse-than-expected machinery order data, while warnings from Chinese regulators against speculative trading triggered losses in the Chinese mainland and Hong Kong. Philippine shares, however, surged to their highest level in 10 years, inspired by relatively smooth midterm elections. In Tokyo, the benchmark Nikkei 225 stock index fell 164.96 points, or 0.93 percent, to finish at 17,512.98 points. Losers included machinery makers Okuma Ltd., which fell 4.06 percent to 1,559 yen (US$12.99), and Fanuc, which lost 0.97 percent to 11,200 yen (US$93.33). Japanese core machinery orders in March fell 4.5 percent on month for a second straight month as firms predicted gloomier performance ahead, raising concerns that lower capital spending could dampen economic growth. "Machinery numbers are affecting us on an intraday basis, but overall there is very little directional trend for this market," said Stefan Rheinwald, strategist at CLSA Asia-Pacific Markets in Tokyo. In Hong Kong, shares retreated from a record high in the previous session, dragged down by profit taking in blue chips and lingering worries of economic tightening measures in China. The blue chip Hang Seng Index fell 111.09 points, or 0.53 percent, to 20,868.15. Traders said the index was taking a breather after hitting a record close of 20,979 Monday. But the index is still on an upward trend, they said, due to abundant liquidity and an expected influx of funds from China's expanded overseas investment program.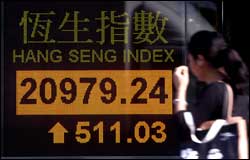 Hong Kong-listed mainland shares surged Monday after Beijing Friday allowed mainland investors to purchase overseas equities for the first time, sending the Hang Seng Index to a new record on unprecedented turnover. Analysts said the strong momentum may continue, at least in the short term. But some mainland stocks listed on the local exchange had outpaced their fundamentals, making them vulnerable to a correction. The Hang Seng Index set a new record closing high of 20,979.24, a jump of 511 points, or 2.5 percent, on record turnover of HK$94.99 billion. The last closing record high was 20,896.64 set May 7. The previous record turnover, HK$80.49 billion, was registered February 28. Monday's intraday high of 21,065.59 - hit in early trading - was just 4.62 points away from the all-time intraday high of 21,070.21. The H-share gauge, the Hang Seng China Enterprises Index, outperformed the blue-chip index, surging 556.71 points or 5.36 percent to close at 10,948.72, a record. Regional markets were mostly up after the Dow Jones Industrial Average made a triple-digit gain Friday on mild inflation data. Although Hong Kong blue chips shot up Monday, lifted by news that billions of dollars from the qualified domestic institutional investor program have been allowed to pour into Hong Kong equities, strategists said this would only be a shortlived boost to the market and would not achieve the goal of taking the heat off the red-hot A-share market.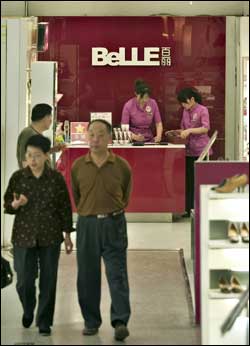 Belle International Holdings reached an initial public offering milestone Monday, locking up a record HK$430 billion in funds - the biggest amount in Hong Kong IPO history. Sources said the shoe retail chain's share sale is at least 500 times oversubscribed. It surpassed Industrial and Commercial Bank of China (1398), which tied up a record HK$416 billion when it listed October 27 last year. In the wake of such a staggering demand for its shares, Belle may price its offer at the high end, sources said. The company, which is set to begin trading May 23, will raise the allotment from 10 percent to 50 percent of the total available shares. The deal is led by Morgan Stanley and Credit Suisse. The scramble for its shares is being partly attributed to support from reputed investors. LVMH Group, which has a portfolio of 60 prestigious brands, is subscribing to about HK$234.6 million worth of shares in Belle, or 3.1 percent of the offering. On the other hand, investors continue to flock to consumer-related China stocks, encouraged by the mainland's growing affluence. Most brokerages reached the limit of their loan quotas on the first day of Belle's share offering.
Henderson Investment (0097) has been given approval to sell its property and hotel assets to parent Henderson Land Development (0012), allowing it to move closer to any privatization initiatives it may still be pondering.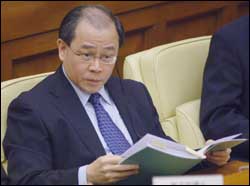 The Hong Kong Applied Science and Technology Research Institute - already reeling from a feng-shui scandal and allegations of mismanagement - suffered a further blow Monday when it was revealed a senior director had bypassed the government's recruitment procedures and interviewed candidates overseas without first conducting a local recruitment exercise. Permanent Secretary for Commerce, Industry and Technology Francis Ho Suen-wai also came under fire when he said he had supported the decision of the board of directors to renew the contract of former chief executive Robert Yang Jih-chang in March even though he thought Yang lacked management skills. The latest revelation came at Monday's meeting of Legco's public accounts committee meeting when Kitty Lam Lee Mei-hung, the institute's human resources director, said a research and development director, who she declined to name, had breached recruitment guidelines. When asked by legislators to explain, she said the director conducted several interviews with individuals in the United States while attempting to fill three posts in early 2006 without first advertising the vacancies in the local press.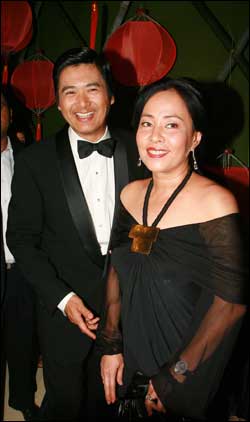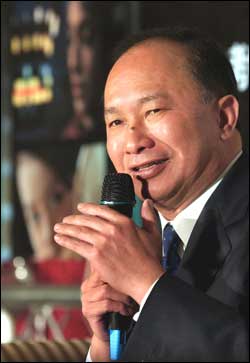 John Woo must be wondering: will the musical chairs ever end? Woo's new Chinese epic, Red Cliff, has gone through a dizzying and embarrassing round of casting changes that saw another twist Monday. After dropping out earlier, actor Chow Yun-fat has tentatively agreed to rejoin the cast, a publicist for one of the film's investors said. Chow and Cannes best actor winner Tony Leung Chiu-wai were originally slated to play the general Zhou Yu and strategist Zhuge Liang in the movie about an ancient Chinese battle. Leung first dropped out, saying Red Cliff came too closely to his last movie. He was replaced by Taiwanese-Japanese heartthrob Takeshi Kaneshiro. Then Chow followed, saying he got the movie's script late, an allegation Woo's producer has disputed. In the first unexpected development, Leung, sympathetic to Woo's predicament, agreed to return to the movie to take Chow's old role as general Zhou. Now Chow wants back in too, after a round of negative press that has given the impression that the Lamma-Island born actor was behaving like a prima donna. Spokesman Wen Wengli of state- run China Film Group said Monday Chow has verbally agreed to return to Red Cliff for a role to be determined, although he hasn't signed a contract yet. "This big production has more than 400 characters," he said, adding, however, the major casting decisions will not be changed. Chow's departure generated headlines because of his famous on-screen partnership with Woo. Woo made Chow an icon after casting him as a trenchcoat-wearing, gun-toting gangster in the 1986 Hong Kong classic A Better Tomorrow. At a press conference Thursday, Woo said Chow's withdrawal dealt him a heavy blow while he paid an emotional tribute to Leung for taking Chow's place. The casting changes put pressure on Woo because Red Cliff is a politically important big-budget production. Red Cliff's producer says the Chinese government wants the film released before the 2008 Olympic Games so that foreigners can learn more about the country's history. Woo, however, said Thursday that the shoot is going smoothly despite the casting problems.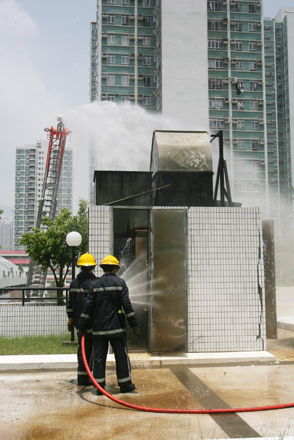 Firemen pour water into a duct atop the City One Plaza in Sha Tin just before noon yesterday. More than 250 people had to flee the shopping centre when fire broke out in the Fook Choi Seafood Restaurant's vents.
Financial Secretary Henry Tang Ying-yen was in Geneva on Tuesday for talks with leading members of the World Trade Organisation, in a bid to take the struggling Doha round of negotiations forward.
Leading European politicians yesterday urged Hong Kong to join a network of cities sharing their experiences on climate change and to put all climate-change policies in the hands of a single, powerful top official.

China: Beijing is in the process of introducing further tax reforms that will complement the country's overall plan to promote sustainable economic growth and reduce pollution, according to delegates of the Hong Kong General Chamber of Commerce who met with senior officials in Beijing in March.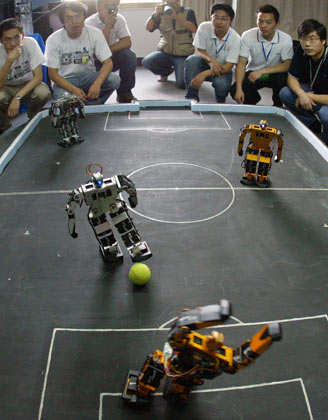 Students and designers for the Harbin Institute of Technology Robot Soccer Team watch a match in Wuhan, China's Hubei, May 14. The winners will represent China at the Federation of Int'l Robot-soccer Association World Cup in San Francisco on June 13.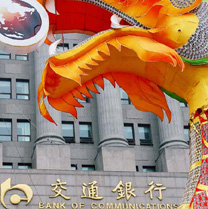 Shares in Bank of Communications surged a much stronger-than-expected 80 percent on their debut in Shanghai on Tuesday after the offering attracted a record 1.455 trillion yuan ($189 billion) in subscriptions.
Retail sales grew 15.5 percent in April from a year earlier as rising incomes and a stock market boom encouraged the world's most populous nation to spend.
More people in Guangdong have been turning to overseas banks since they started providing retail yuan services on the Chinese mainland, a recent survey said yesterday.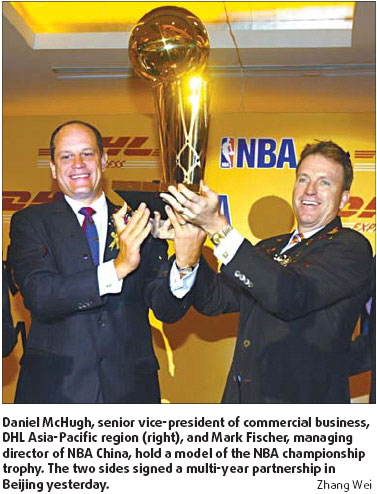 Jerry Hsu, president of DHL Greater China and South Korea, told China Daily yesterday in Beijing that his company will announce the Northeast Asia regional hub within two months, and Shanghai and a South Korean city are in the running for the status. "We are still evaluating factors like landing rights, oil prices and local infrastructure, and will make a decision soon," said Hsu. If Shanghai is chosen, the investment to build the facility may double the German logistics giant's total investment on the mainland in the past five years. DHL has committed to invest $325 million on the mainland from 2003 to 2007. China has been one of the fastest-growing markets for the logistics firm under Deutsche Post, growing by about 35 percent a year. Hsu said DHL has a 30 percent market share in the Chinese express delivery segment, far ahead of its competitors such as Fedex, UPS or local rivals like China Post and private firms. UPS, a major competitor of DHL, also announced last month that it will establish an air delivery hub in Shanghai, the fourth such facility in the Asia-Pacific region, with an initial investment of $20 million. Fedex said in March that it would open a China regional hub in Hangzhou, with a first-stage investment of $2 million. It also bought out its Chinese partner DTW in their joint venture. DHL, the first foreign delivery firm to launch domestic services in China, also announced yesterday that it will partner the National Basketball Association (NBA) to promote its brand among the Chinese. The firm will be the official express and logistics provider for NBA in China and Asia for at least three years to ship equipment like professional floors and backboards for NBA games in the region. DHL, following the other 18 marketing partners of NBA in China, including Adidas and Lenovo Group, will ship the NBA trophy for a tour in Asia in 2007 and 2008 and participate in the "Basketball without Borders" campaign in the region.
Although China's consumer price inflation eased back to the government target level last month, Beijing is expected to continue a tightening strategy in the short term, as April's monetary and trade figures showed no sign of an economic slowdown, while the stock market continues to be high.
Chinese officials on Tuesday warned US critics of Beijing's trade and currency polices against threatening punitive measures ahead of high-level trade talks and said there are no plans to change in pace of exchange rate reform despite American pressure.
The central government had launched a probe into unusually steep salary increases at some state-owned enterprises, addressing a growing wealth gap that has reached alarming levels, state press said on Tuesday.
China Security & Surveillance Technology, a Shenzhen-based supplier of digital surveillance products, is on track to complete three strategic acquisitions worth almost 400 million yuan to become the industry's market leader on the mainland.
May 16, 2007

Hong Kong: Hong Kong auteur Wong Kar-wai finds success - The 48-year-old auteur, who this week becomes the first Chinese filmmaker to open the Cannes film festival with "My Blueberry Nights," his debut English-language work, has won praise for his visual style and sensual art films as well as a clutch of international awards. Wong was the first Chinese director to head the jury at last year's Cannes festival and the first to win the best director award there in 1997 for "Happy Together", the tale of a strained relationship between two Chinese gay lovers living in Buenos Aires. But it was his later film "In The Mood For Love," released in 2000, which earned him wider international plaudits. It was nominated for a Palme d'Or at Cannes and went on to earn some 2.7 million dollars at the US box office. Despite global recognition, Wong's films are not box-office hits back home, where the media prefers to dwell on his reputation for being eccentric and laborious, working without a script or sometimes even a plot outline. "Wong Kar-wai's films aren't box office hits here because they don't suit the taste of the Hong Kong people. Most of the movie-goers are attracted to commercial movies with strong visuals," film critic Lam Keeto said. "The mainstream audience in Hong Kong don't understand the deeper meaning of his movies. Some of them would even find it boring," he said. Born in Shanghai, Wong moved to Hong Kong when he was five. Despite no formal training, he enrolled in a television drama training programme after graduating from a local college in graphic design in 1980. He later worked as a production assistant before becoming a TV scriptwriter. Wong made his directorial debut in 1988 with "As Tears Go By" which was shown in Cannes. His 1990 follow-up "Days of Being Wild" regularly tops local critics' polls of the best films ever made despite being a financial failure. International praise was heaped on the 1994 "Chungking Express", a quirky romantic comedy that Quentin Tarantino liked so much that he selected it as the first product of his Rolling Thunder distribution company. Lam said Wong knows how to appeal to the Western audience with carefully crafted strategies. "You can see Wong Kar-wai is very calculated in his market strategies -- in the whole filmmaking and in casting. He uses actors who appeal to the international market. His film scores are always in European style," he said. Wong, who is always seen in his trademark dark glasses, is highly regarded for his ability to bring out the best in his actors, making international stars out of Tony Leung Chiu-wai and Maggie Cheung. His partnership with cinematographer Christopher Doyle has been another key to his success. "You can see how Tony Leung can have a mediocre performance with some directors but with Wong Kar-wai, he is very different," Lam said. Former beauty queen Cheung won best actress at Cannes in 2004 for her role as a junkie rock star in ex-husband Olivier Assayas's "Clean". Actors, however, temper their praise of Wong with frustration over his methods. After it took five years to complete the futuristic love epic "2046", which was shown at Cannes in 2004, star Leung described the process as torture. Still, that has not put off multiple Grammy-award winner Norah Jones, who stars in "My Blueberry Nights," and Hollywood heavyweight Nicole Kidman, who will appear in "The Lady from Shanghai".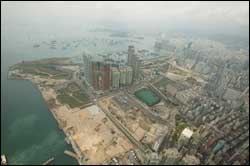 Commercial and residential sites in the proposed West Kowloon cultural district will be sold to pay for an arts component in an attempt to prevent a recurrence of the controversy, a panel has recommended. This may breathe new life into a project that ran into a firestorm of public anger, forcing a government climbdown last year. The West Kowloon Consultative Committee, headed by Chief Secretary Rafael Hui Si-yan, has recommended that residential and commercial sites be offloaded through government land sales and that arts and cultural facilities be left in government hands. The consultative panel was appointed to review the 40-hectare cultural hub after it was shelved amid criticism that it is a property project being palmed off on property heavyweights. An authority will be set up to manage the cultural facilities and amenities with a HK$20 billion injection from the government, compared with the HK$30 billion the government originally proposed developers pay up front, Sing Tao Daily, sister newspaper of The Standard, has learned. The committee will submit a comprehensive report to Chief Executive Donald Tsang Yam-kuen shortly, sources said. Details are expected to be announced in the second half.
Beijing's announcement Friday that it is expanding the investment scope of the qualified domestic institutional investor scheme, which drove American depositary receipts of several mainland companies sharply higher on Wall Street, will also provide a strong boost to Hong Kong blue chips today, analysts said.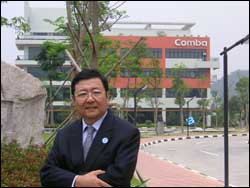 Comba Telecom Systems Holdings (2342), which provides equipment for mobile network operators, is keeping its eyes on demand for technologies in the mainland once third-generation mobile services are widely adopted. These include mobile WiMax, or worldwide interoperability for microwave access. "We have started research and development on WiMax, and I believe the business will be as huge as 3G in the mainland," chairman Tony Fok Tung- ling told The Standard. Mobile WiMax - generally regarded as a 4G standard - delivers wireless access to the Internet at speeds faster than traditional wired broadband lines. "It is believed that when 3G [licenses are] further postponed, telcos may switch to WiMax directly, and I don't rule out that possibility." He said that 3G is slower than WiMax in terms of Internet access and data transmission. But the company's growth drivers will be mobile services expansion in rural areas and equipment orders for the time-division synchronous code division multiple access mobile standard. TD-SCDMA is a mobile services standard developed domestically. "The government plans to introduce mobile services in rural areas in the next five years. So 2G will still be our core business."
Oriental Investment Corp (0735), which is involved in property and renewable energy projects, is set to capitalize on mainland policy measures that encourage environmentally sustainable electricity supply, after signing agreements May 9 to spend a total of HK$438 million on securing large stakes in two green power plants.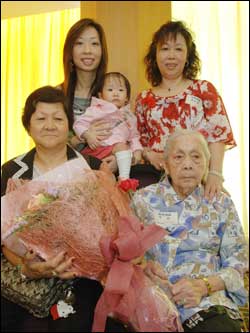 Five generations of one family, ranging from a 13-month baby to a 101-year- old great-great-grandmother, shared their joy and tips for a harmonious relationship while celebrating Mother's Day Sunday. Surrounded by her daughter and grandchildren, centenarian Shum Siu quietly sipped her tea and enjoyed dim sum. Although she could not speak clearly, she replied "very happy" and looked at her 13-month-old granddaughter when asked how she felt on this special day. Shum helped raise her first five grandchildren when her only daughter and daughter-in-law had to work in factories for a living. Shum's daughter, Lau Sau-ying, 70, said she was grateful to her mother. "We were very poor at that time. My husband and I had to work 18 hours a day. Sometimes we stayed overnight in the factories," Lau said, "My father had left the family when I was young. I know it's been hard work for her to take care of the five kids. I'm very grateful to my mother. We've been living together for 50 years." The "great great" grandmother's efforts have enabled the family to grow into an extensive but closely knitted household with 30 members across five generations. Her family took up two tables at Sunday's celebration. "We've been going to yum cha with our grandmothers every day for almost 30 consecutive years," third-generation Ling Chi-leung said. "Grandmother Shum loves to play mahjong, about about three times a week, with my mother and other relatives.
Hong Kong had missed golden opportunities for even greater economic integration with the mainland and this was something to be regretted, according to executive councillor and Hong Kong Federation of Trade Unions president Cheng Yiu- tong. "Due to strong resistance from former colonial- mindset bureaucrats and pan-democrats, and partly due to the hands-off policy of central government leaders after the handover, Hong Kong skipped the chance to grasp the merits of implementing the `one country two systems' concept. "Since the handover, the Hong Kong and Macau Affairs Office has been acting like a goalkeeper in fending off mainland influence on the SAR government. "But such a well-intentioned policy had inhibited normal ties and cross-border integration concerning social, economic and cultural communication, hindering greater integration until quite recent years," Cheng said. He said many timely and significant well- thought proposals studied by the Commission on Long-Term Strategy Development set up by former chief executive Tung Chee-hwa during his first term were shelved or swept under the carpet. "Hong Kong could have progressed in better shape and more swiftly if the community had implemented various proposals like a 24-hour border checkpoint, a one-stop checkpoint at the border, the opening up of border restricted areas and greater integration with the Pan-Pearl River Delta in the first half of the last decade," Cheng said. On livelihood issues, the worker-turned unionist leader said he also regretted that Hong Kong continued to be plagued by a serious income gap that could generate social uneasiness and even sow the seeds of unrest. "Our workforce is diversified when it comes to earnings. The top 10 percent of income earners, and the lowest 20 percent of earners are shifting upwards and downwards, respectively," he said. "The sandwiched income earners, on the other hand, are passively waiting for a chance to benefit from an economic boom." Cheng warned of a time bomb among the newly arrived migrants from the mainland who are not eligible for social welfare until after they have been in the territory for seven years. He urged the government to lend a sympathetic ear to their demand for social allowances and benefits that could be obtained from outside Hong Kong once these migrants have settled across the border in a Hong Kong-subsidized estate located in Shenzhen. Cheng also called on the mainland authorities to grant a one-year grace period to new migrants who opt to return to the mainland.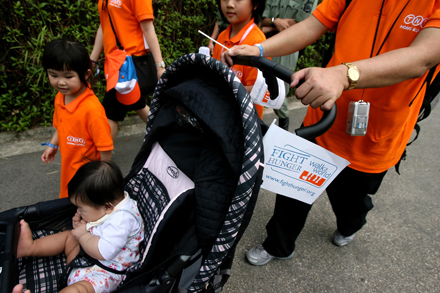 Children accompany their parents on a "Fight Hunger: Walk the World" event held yesterday at The Peak. They were joined by hundreds of thousands of people worldwide who took to the streets in support of the UN World Food Programme initiative against child hunger. Funds raised will go to the Global School Feeding Program. Members of the Commission on Poverty fear that the soon-to-be-disbanded body is trying to minimise the number of measures to be adopted, after finding a draft report only focuses on a few courses of action to ease poverty.
Hong Kong's re-exports rose 8 per cent by volume in March compared with a year earlier, Census and Statistics Department figures released on Monday showed.

China: Beckett has said relations between Britain and China are now "in the best shape ever," hoping to further strengthen bilateral ties in areas of shared interests.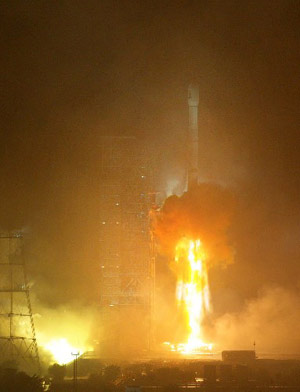 China on early Monday morning launched a communications satellite for Nigeria, the first of its kind in Africa and the first time a foreign buyer has purchased a Chinese satellite and its launching service.
China's largest optical astronomical telescope was put into operation on Saturday or May 12, in southwest China's Yunnan province.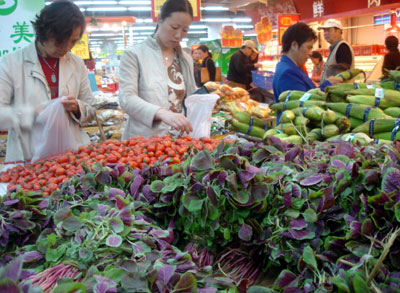 Consumers shop at a supermarket in Suzhou, East China's Jiangsu Province April 27, 2007. China's Consumer Price Index, a barometer of inflation, rose three percent year-on-year, down from 3.3 percent in March, the National Bureau of Statistics said on Monday.
The pirated software sold on Chinese market accounted for 24 percent of the value of the country's total software industry in 2006, down two percentages from that in 2005. The turnover of China's software sector in 2006 reached 480 billion yuan (61.5 billion U.S. dollars), said an annual report on China's software piracy, according to a press conference on Monday. The report was based on studies carried out by Chinalabs, a leading domestic internet research institute. In 2005 the State Intellectual Property Office tasked Chinalabs with researching software piracy. It attributed the decline to the robust growth of free software, a continuous government anti-piracy campaign, and the development of competitive domestic IT companies, producing reliable and affordable software products. Ye Xiumin, a researcher with Chinalabs, said the report is more accurate than estimates by some international organizations which mistakenly count free software as counterfeit products. She cited a 2003 estimate by The Business Software Alliance which claimed that the piracy rate in China was as high as 92 percent. "We have deducted free software from the research pool to make sure the results reflect the true piracy situation in China," Ye said. Industrial data, polls and expert estimates were used to systematically calculate piracy rates, she said. Piracy has been a bickering issue between China and the United States. Washington last month filed World Trade Organization complaints against Beijing, over copyright infringements and restrictions on the sale of U.S. books, music, videos and movies. China criticized the move, saying much of its painstaking efforts to tackle piracy and its remarkable progress were ignored by the United States. Last year in China more than 73 million pirated products, including 3.79 million software discs, were confiscated. The Chinese courts also lowered the threshold for prosecuting manufacturers and vendors of counterfeit intellectual property products. Anyone who manufactures 500 or more counterfeit copies (discs) of computer software, music, movies, TV shows and other audio-video products can be prosecuted and face a prison term of up to seven years.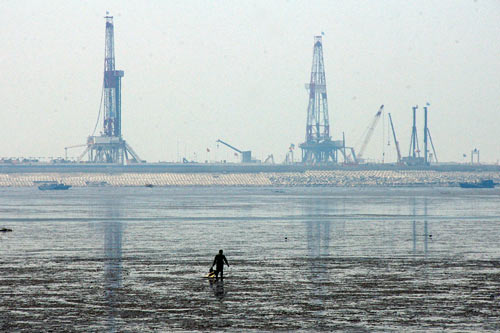 A laborer walks toward the Jidong Nanpu oilfield in Bohai Bay of North China's Hebei Province May 10, 2007. China's newly found oilfield in Bohai Bay has a reserve of one billion tons, or about 7.35 billion barrels, the largest discovery in the country over four decades, announced the China National Petroleum Corporation.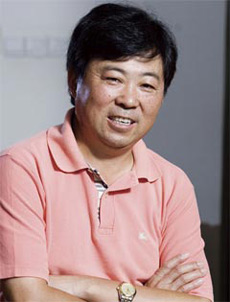 Rumors increase as shares suspended - Rumours the general manager of prestigious liquor maker Guizhou Moutai Co Ltd is under investigation grew louder on Friday, after the company's shares were suddenly suspended from trading on the Shanghai Stock Exchange on Thursday. The Beijing Times reported yesterday that Qiao Hong was being investigated by the Guizhou provincial Party commission for discipline inspection on April 30. His wife, youngest brother, brother's wife and younger sister were all already being investigated. The only members of Qiao's family not yet under investigation are his other younger brother and son, but they have been told on several occasions to voluntarily come in for questioning or face "legal proceedings", the newspaper said. Several of Qiao's friends are also being investigated, as are other figures connected with Moutai including former sales agents and suppliers. In the meantime, more than 30 company officers nearly half the middle and top managers have had their jobs reshuffled in a massive reorganisation of Moutai's executive structure. In an effort to clean up the company's image, Moutai has moved junior managers less closely associated with Qiao up the ranks, while those seen as "Qiao's men" have been demoted. An insider said the reshuffle will be completed before next Tuesday. Qiao, 54, became general manager of Moutai in 2000, his duties mainly revolved around managing sales. Before taking the job he had been a vice-director of Guizhou's provincial department for light industry management. The investigation is believed to have been triggered by a series of anonymous letters that claimed Qiao took bribes and sought to benefit other members of his family through shady deals. Neither the distillery nor local discipline department was willing to provide details of the case when China Daily contacted them yesterday. Despite the investigation, company reshuffle and the shares' suspension, Qiao has had a successful six years at Moutai, playing on the liquor's well-known name to build strong profits. Sales value jumped from 980 million yuan ($127 million) in 1999 to 6.2 billion yuan ($807 million) last year. Net profit in 2006 soared by 34.47 percent to 1.5 billion yuan ($195 million). The stock, a favorite with domestic and foreign investors, in January became the first mainland stock to rise above 100 yuan ($13) in nearly six years.
Consecutive farm trade deficits over the past three years has been the biggest change in the country's agricultural sector after China's entry into the World Trade Organization (WTO). The imbalance reached $4.64 billion in 2004 when the country first experienced such a deficit. The figures were trimmed downed to $1.14 billion and $670 million in 2005 and 2006. How did this happen? Do such farm trade deficits have a big impact on the domestic farm goods market? The emergence of a trade deficit is a natural result of China opening its agricultural sector to the outside world. China is now one of the countries with the lowest tariffs on agricultural imports. So far, the average tariff on farm products has been 15.3 percent, which is far lower than the world average of 62 percent. Also, with the rapid development of the textile, oil-fat and rubber industries, the demand for relevant agricultural raw material imports has grown substantially. Meanwhile, China's export of agricultural products, especially labor-intensive ones, continued to increase. But exports have been running into more difficulties. Last year, Japan implemented the positive list system; the European Union implemented the new food safety law and increased the scope of, and standards in, the inspection of noxious substances. Exports of agricultural products such as vegetables, fruits and aquatic products, in which China has an advantage, have been falling. These changes have led to the appearance of a trade deficit in farm trade. There are worries in some quarters about this trade deficit. There are apprehensions that imports of staple agricultural products, especially cotton and soybeans, may affect the development of domestic production. Two aspects of this issue need to be considered before any conclusion can be reached: whether domestic production is decreasing and whether the potential for domestic production is being restricted.
Central China Television (CCTV) and the BBC are jointly producing a 12 episode television series called "Beautiful China" to offer as a tribute to the 2008 Beijing Olympics Games. The production crew has just finished shooting one of the episodes in Aoluguya Ewenki village in Inner Mongolia Autonomous Region. Post-production work is underway on the remaining episodes. CCTV will air the entire series and the BBC will show six episodes before the Beijing Olympic Games in 2008.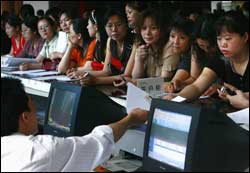 Investors are throwing money into China's share markets and the fever is nowhere more apparent than in the speculative trade involving the mountain of money-losing listed companies. Take Jiaozuo Xin'an Science and Technology. Last year the chemical manufacturer lost 218.3 million yuan (HK$221.8 million) but its share price has tripled in the last three months. According to various media reports the inexorable rise was triggered by rumors that the troubled firm was in talks to serve as a shell for a backdoor listing of a securities brokerage. The group denied it repeatedly, but its share price only climbed higher - a reflection of how China's overheated stock markets are defying economic logic and will eventually cause major economic fallout. The shares of hundreds of low- quality firms have rocketed in value, propped up by speculative retail funds, contrary to developed bourses where a lack of demand for such stocks would mean certain delisting. But in China, where last week the Shanghai Composite Index breached the historic 4,000-point level for the first time, many, usually inexperienced investors plunk down cash no matter what firm's balance sheet looks like. "These retail investors enter the stock market for the first time and tend to avoid large caps whose prices are already pushed to high levels by institutions and favor cheap ones," Huang Yizhi, senior analyst with BNP Paribas Asset Management, said.
The new commander of US forces in the Pacific, Admiral Timothy Keating, said he wants to intensify joint exercises and other exchanges with China's military as quickly and broadly as the mainland government will allow. The goals laid out by Keating, on his first visit to China since taking over the Honolulu-based Pacific Command March 26, suggested he intends to continue to increase US-Chinese contacts at all ranks, in the same vein as his predecessor, Admiral William Fallon. The objective, Keating said, is to learn more about China's military and dispel mutual suspicions to reduce chances of conflict as China expands its power and influence across Asia. Mainland military leaders with whom he has spoken since arriving in Beijing Thursday also endorsed the idea, he added. Keating has aligned himself with US officials who say China's increased ability to project military power into the Pacific does not have to be a source of tension with the United States, if well managed.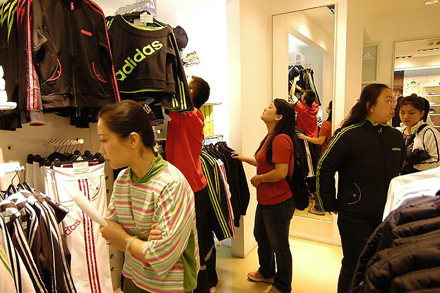 Adidas Group, the German footwear and sports apparel firm that also owns Reebok, plans to increase the number of its self-owned and branded retail shops on the mainland to 5,000 by 2010 from 3,000 today, according to Asia-Pacific chief executive for marketing and sales Christophe Bezu. The company is targeting 30 per cent annual growth from China sales and expects turnover to hit €1 billion (HK$10.57 billion) in three years. The ambitious goals would put China on par with Japan as the group's second-largest global sales market after the US. "We are walking with two legs in Asia - China and Japan," Mr Bezu said. "By 2009 or 2010, China will be even bigger than Japan." Adidas' aggressive introduction of retail locations in the rapidly expanding mainland market aims to strengthen its position against larger rival Nike and local competitors like Li Ning. Asia accounts for about 24 per cent of the group's sales and profit, and that figure is expected to rise as the company broadens its mainland retail network at a rate of one to two new stores per day. "The impact of China when it grows so fast is enormous for the region," Mr Bezu said. "We want to be No 1 in China before the Olympics." Following the completion of its US$3.8 billion acquisition of Reebok in January last year, Adidas now plans to launch a big push for the US brand. The company aims to expand the network of Reebok-branded stores on the mainland to 2,200 outlets by 2010, up from 550 today. Rivals are also expanding. Adidas and Li Ning each has about 13 per cent of the mainland's sportswear market, against Nike's 30 per cent share, according to estimates by Merrill Lynch.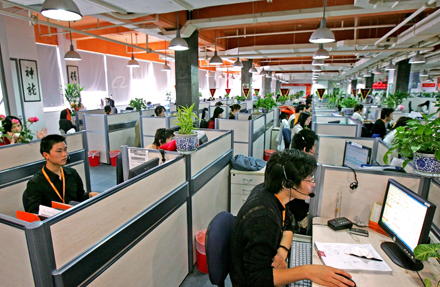 Weak payment solutions have for some time been highlighted as a big obstacle to e-commerce growth in China. Researchers claim this is one reason why virtual currencies such as QQ coins have found a niche as a popular online exchange medium, despite government disapproval. However, online payments have been gaining a foothold in China over the past year or two, and are now much more accessible in the world's second-largest internet market than many people realise. Beijing market research firm Analysys estimates that 60 per cent of China's 130 million-strong internet population has tried online payments, with 8 per cent active users who make online payments at least once a month. The firm estimated that online transactions totalled 50 billion yuan last year, and forecast 150 billion yuan by 2009. By the end of last year, Alipay, the largest online payment service in China, recorded 460,000 transactions a day, totalling 100 million yuan. The number of registered users surpassed 33 million - almost 25 per cent of China's internet population. The move towards e-payments is also leading to real revenue for operators. Alipay, operated by Hangzhou-based Alibaba, is free for users of Alibaba's business-to-business sites and its online auction service Taobao, but it charges 1.5 per cent on third-party transactions.
May 15, 2007

Hong Kong: Hong Kong environmental technology companies will be able to borrow US$800 million from international banks to help devise ways to reduce pollution and energy consumption on the mainland. The loans have been pulled together under the Pollution Prevention and Energy Efficiency (P2E2) program, which was launched by the US consulate in Hong Kong in 2005. They will enable Hong Kong firms to provide services - including installing pollution-reducing and energy-saving equipment - for mainland factories, and in return take a share of what the factories save in energy costs. The projects will be monitored by an independent technical auditor. Giving a speech yesterday at a conference organized by the Chinese General Chamber of Commerce, US consul-general James Cunningham said 30 projects had already been launched on the mainland under the program. Mr Cunningham said two-thirds of those projects were in the Pearl River Delta region. He said the Asian Development Bank and other international lenders would make up to US$800 million available to commercial banks in Hong Kong by autumn to support the initiative. At least nine commercial banks and 20 service companies in Hong Kong are presently involved in the program. But the consulate-general did not disclose the amount of investment in the existing projects. They include a cement plant, a textile factory and a beer factory in Guangdong, along with coal-fired and gas-fired power plants in Jiangsu province. The Jiangsu plants are already enjoying an annual reduction in operating costs of US$375,000 after upgrading pumps and fans. They have also reduced their carbon dioxide emissions by 5,528 tons a year. Mr Cunningham said that the Shenzhen factory of Qingdao-Asahi Brewery had achieved a 55 per cent reduction in energy consumption through heat and biogas recovery. However, representatives from polluting industries in the delta region said few businesses had joined the program because it was not beneficial to small- and medium-sized producers and the payoff was not enough to attract service providers. Hong Kong Electronic Industries Association chairman Chan Kei-biu predicted that the cost savings for the polluting firms would not be attractive enough for the green companies providing the services. Most mainland companies joining the program were multinationals, and more incentives were needed to encourage small businesses to join and make their operations more environment-friendly. Hong Kong Leather Traders Association chairman Wong King-hang said he did not know about the program. Mr Wong said more than 40 leather factories in the Pearl River Delta area had investors from Hong Kong but he suspected their cost savings would not be enough to entice the green technology companies to help them upgraded their facilities.
A widely expected move by Ping An Insurance (2318) into the ranks of the Hang Seng Index was confirmed Friday after HSI Services released the results of its quarterly review. Ping An will join the other blue-chip stocks early next month. The index compiler said Ping An will be the only stock to be added to the index in the move effective June 4. No stocks will be taken off the index. The addition of Ping An will bring the total number of HSI constituents to 39 and the total number of H shares in the index to six. The mainland insurance stock will have around 1.14 percent weighting. "Part of the impact of the stock's addition has already been factored into the price, given that the listing was widely expected," said Nomura analyst Sandy Lee. "As June 4 approaches, the impact of the buying of passive index funds may be more apparent." She said the impact of the index fund rebalancing move is estimated to be one day's turnover based on a daily average turnover over 20 days. Ping An closed Friday at HK$44.45, down HK$1.30 or 2.84 percent. The stock has climbed 6.2 percent since the beginning of this month. After the change, the HSI will have five mainland financial stocks and one oil stock with a combined total weighting of 14.87 percent of the H shares on the index. The five financials - three banks and two insurance stocks - will have a weighting of 12.46 percent. HSI Services also said that as the current weighting of HSBC (0005), the largest stock by market capitalization in the index, was below 20 percent, a recapping of the stock to a 20 percent weighting, a plan announced earlier, will not apply after the market closes June 1, regardless of its weighting on that day. According to Nomura's Lee, the move is to prevent an increase in turnover on the stock since its weighting will be capped at 15 percent after the market closes September 7. HSI Services also fine-tuned the definition of certain sectors within the Hang Seng industry classification system. It is believed this was done to make it easier for more mainland companies to become members of the index. Lee predicts the next stock to join the index will be Bank of Communications (3328), China's No5 lender.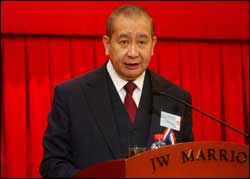 Prominent Hong Kong banker David Li Kwok-po may step away from boardroom discussions at Dow Jones where he is a director while the US regulatory inquiry into alleged insider trading continues. Meanwhile, Dow Jones Friday denied media reports that Li has been put under internal investigation regarding the leaking of sensitive information regarding a pending bid by Rupert Murdoch's News Corporation for Dow Jones. The New York Times reported Thursday that Dow Jones had opened an internal review of Li, citing sources close to the investigation. "That report is wrong. There is no internal investigation of Li," Joe Spitzer, a spokesman for Dow Jones, told The Standard. Li, who attended the annual general meeting of Hongkong and Shanghai Hotels (0045) Friday in his capacity as a director of the hotel company, did not make any comment on the investigation. The Times report also said the US Securities and Exchange Commission and the attorney general for New York State may also question Li about the leak of confidential information which enabled Hong Kong- based couple Charlotte Wong Leung Ka-on and her husband Wong Kan-king to make a profit of US$8.2 million (HK$63.96 million). The focus was on Li because of his close business relationship with Charlotte Wong's father, Michael Leung Kai-hung. The Telegraph Friday reported that Li may offer to absent himself from board discussions during the SEC investigation. A Dow Jones board meeting is scheduled for next week. The Hong Kong couple bought a total of 415,000 Dow Jones shares between April 13 and April 30 for US$15 million - about 20 percent of the daily trading turnover in Dow Jones shares - before the buyout offer was made public on May 1. A transfer of US$3.1 million from Leung was used to partly finance the stock purchase. The Times reported Tuesday the SEC had accused the couple of insider trading, without indicating how they had received information or mentioning Li.
Li Ning (2331), the mainland's second-biggest sportswear company in terms of market share, expects sales of its new sportswear brand Z-do to reach 1 billion yuan (HK$1.02 billion) in three to four years.
The Peninsula Hong Kong, the flagship property of Hongkong & Shanghai Hotels (0045), has set a new rate record for the SAR. The Hong Kong-listed owner of the Peninsula chain, controlled by the family of chairman Michael Kadoorie, said the average room rate at The Peninsula Hong Kong increased by 17 percent year on year to a record HK$3,601 in the first quarter. The hotel group did not provide figures on revenue per available room, or RevPAR, during the quarter. "Both the March and April average room rates broke the Peninsula Hong Kong hotel's own record and also among Hong Kong hotels," a spokeswoman for Hongkong & Shanghai Hotels said without giving the latest figures. The group said it benefited from several key, citywide trade, sports and cultural events, which coincided with the peak season for long-haul arrivals. The Peninsula Hong Kong's occupancy rate was 80 percent in the first quarter, down slightly from 83 percent a year earlier. The hotel performed well during the May Day Golden Week but figures were not immediately available. Speaking after the hotel group's annual general meeting Friday, Kadoorie said while global economic conditions improved and international travel increased, its hotels and other properties and businesses benefited from strong market conditions and the strength of the brand. Chief executive Clement Kwok King-man said: "Following our good results in 2006, we have seen a continued positive trend in occupancies, average room rates and yields across our businesses in 2007, although the first quarter tends to be a low business season for some of our properties." The group also invests in commercial and residential properties around the world. Apart from Hong Kong, it owns and operates hotels in the United States and Asia. It is also proceeding with new projects in Shanghai and Tokyo. Shares of Hongkong & Shanghai Hotels gained 1.25 percent Friday to close at HK$12.94.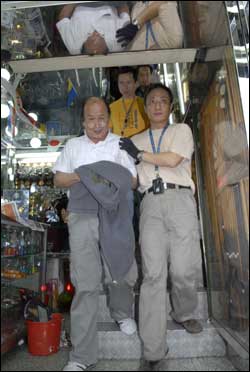 The owner of a sports-equipment shop in Mong Kok has been sentenced to three months' jail for possessing 800 prohibited weapons, including martial- arts accessories, without a license. The weapo
ns seized from Lo Tong- kai's shop included crossbows, knuckle-dusters, nunchakus and Chinese-style throwing darts, the Kwun Tong Magistrates' Court heard. Acting-Principal Magistrate Jane Woodcock Friday described the offense as serious, saying some of the weapons could cause serious injuries. Lo, 73, had pleaded guilty to one count of possessing prohibited weapons and another to dealing in arms without a license. He was given a concurrent three- month jail term for each of the two charges. Woodcock ruled out a suspended term, given the sheer size of the haul and its potential threat to public safety. She also dismissed Lo's argument that the weapons were intended for customers who would buy them for display purposes. She said some of the weapons were very sharp and could cause serious injuries. Lo was arrested in November when police seized weapons from his Sai Yee Street shop. Detectives had launched an undercover operation following a tip-off the shop was selling prohibited weapons.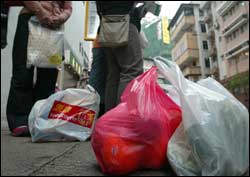 The long anticipated plastic-bag levy may soon become a reality. Secretary for the Environment, Transport and Works Sarah Liao Sau-tung told legislators in a panel hearing Friday the government would propose by July a bill calling for a levy of 50 HK cents on every plastic bag distributed by supermarkets, retail chains and convenience stores. Liao said the proposal would be released for public consultation and debate by legislators, who have already suggested they will support the move. Nevertheless, she said the details of how and when the levy can be implemented needs to be carefully addressed. Liao said later that she believed the proposed bill would have the support of the public. She said that action was needed to drastically reduce the use of plastic bags because the remaining three landfills in the territory would reach capacity in six to 10 years. Wet markets and small retailers will be exempted at the beginning. Green Student Council chairman Angus Ho Hon-wai said the government should start with supermarkets and convenience stores before pushing the levy onto other retailers.
Swire Properties, the real-estate arm of conglomerate Swire Pacific (0019), is hoping the revamp of one of its anchor retail tenants and Hong Kong's love affair with all things Japanese will drum up more business at its flagship shopping mall, Cityplaza, in Tai Koo.
The central government has allowed mainland investors for the first time to buy overseas equities through commercial banks. The long-awaited move will provide a significant boost to the Hong Kong stock market as the local bourse appears to be the sole beneficiary in the short term.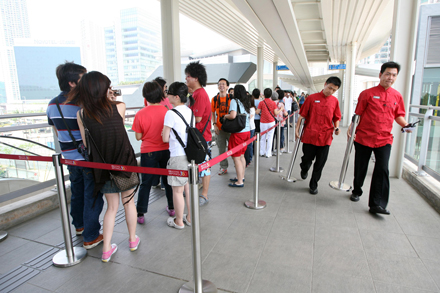 Passengers queue at the Tung Chung terminal of the Ngong Ping 360 cable car yesterday, forced to wait when a fault suspended operations for two hours. Staff were alerted to the problem at 11.06am when an alarm sounded, indicating a rope used to pull the cabins might be out of place. Service resumed briefly at 11.41am to allow stranded passengers to finish their journey, after which staff carried out system checks and inspections.

China: China's State Council, or the cabinet, in principle, approved the country's 11th five-year plan on space development at a conference on Thursday. Addressing the conference, Chinese Vice Premier Zeng Peiyan stressed that the 11th five-year period (2006-2010) is key to China's space development. China should give priority to a manned space flight, lunar exploration, new launch vehicle, high-resolution earth observation, he said. Zeng said that China should promote industrialization of space technologies and attach great importance to the development of telecommunication, navigation and remote sensing satellites. Space technologies should support and push China's economy and provide stable, continuous and high-quality services for telecommunication, weather forecasting and maritime investigation, among others, he said. Zeng stressed that China should also encourage non-governmental investment in the space sector.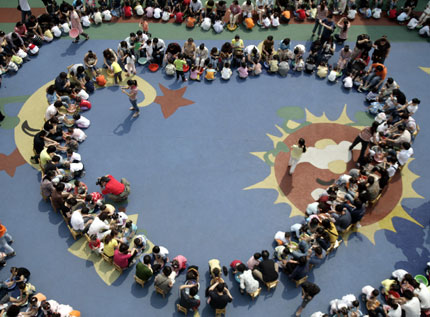 Kindergarteners learn to wash the feet for their moms and dads as a way to express their gratitude towards their parents on the eve of the Mother's Day in Hangzhou, east China's Zhejiang Province May 11, 2007. Saturday is the 100th Mother's Day.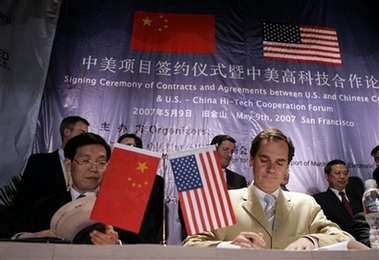 Hewlett Packard Company chief sales officer Andy Mattes, right, and Wan Shou Gu, left, from a Chinese company, sign papers of agreement in San Francisco, Wednesday, May 9, 2007 during a formal signing ceremony between US and Chinese companies. The April trade gap of $16.88 billion was below February's $23.7 billion - the second-highest level on record - but in line with steady increases in monthly trade surpluses over the past year. Chinese and US trade envoys are due to meet May 23-24 in Washington for talks on Beijing's surpluses and other contentious issues. Some US lawmakers are pushing for punitive tariffs on imports of Chinese goods. Washington is hoping the "strategic economic dialogue," led by Treasury Secretary Henry Paulson and Chinese Vice Premier Wu Yi, helps to mollify critics and avert disruption in trade ties. Chinese President Hu Jintao expressed hopes for "positive progress" in a phone call with President Bush. The Chinese government say it is not actively pursuing such large surpluses and has taken steps to rein in exports. Beijing also is trying to reduce reliance on exports by encouraging more domestic consumer spending, which could boost imports and narrow the trade gap. But an official campaign under way to cool off an economic boom has cut imports of factory equipment and other goods while foreign demand for low-cost Chinese products has surged ahead.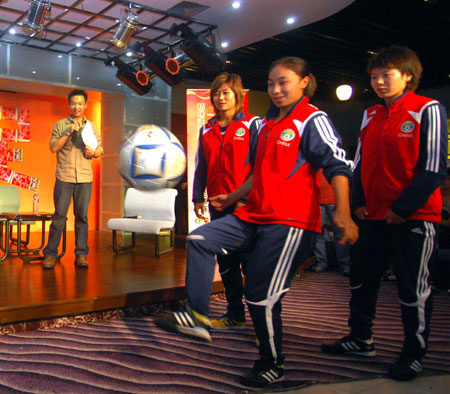 Chinese women's national soccer team player Qu Feifei (M) displays her skills during a visit to Zhengjiang University of Technology of East China May 10, 2007.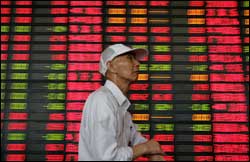 China will allow commercial banks and funds to buy overseas stocks in an effort to encourage more fund outflow and ease the excess liquidity which has sent the domestic stock market to new highs. Economists and analysts said the move would have a spillover effect onto the H-share market and help ease upward pressure on the yuan, despite the fact that the total amount allowed for investment under the Qualified Domestic Institutional Investors scheme currently stands at only US$14.2 billion (HK$110.76 billion). On Friday, the China Banking Regulatory Commission unveiled its long- awaited plan to widen the investment scope of the QDII scheme to also cover equities and structured products. The plan is effective immediately. "It is definitely positive for the Hong Kong market because it means you have new source of money for the Hong Kong bourse. "I think H shares will be the bigger beneficiaries, especially those with complementary A shares, as many of those are trading at a big discount to their A-share counterparts," said Lillian Co, head of Hong Kong China equity at Baring Asset Management (Asia). "There will certainly be some money flowing out from the A-share market to overseas stocks, and Hong Kong H shares will benefit most," said Jun Ma, chief China economist at Deutsche Bank. He estimates about US$10 billion will flow out of China over the next 12 months, but the impact on the A-share market will be mild. "There will be a
cooling effect but not a crash," he said.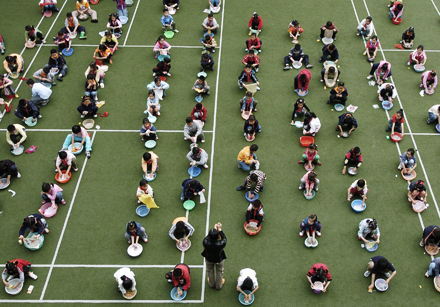 Pupils at a primary school in Jinan, Shandong province, hunker down over wash bowls in the playground as they learn how to wash their own clothes. The activity was aimed at helping the youngsters ease their mums' burden on Mother's Day, to be celebrated tomorrow.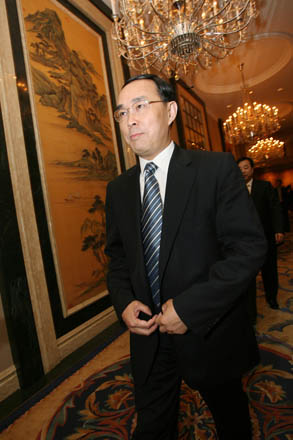 China Unicom's income would be affected by the scrapping of charges on incoming calls, said chairman Chang Xiaobing. Mr Chang said the company hoped volume would increase to offset the impact of the new call-party-pays billing rules, and the reduction of roaming fees.
Foreign investors who have been tapping mainland A-share markets through qualified funds are starting to cash out or demanding more generous discounts. This was despite monthly returns in April hitting a high for the year, underscoring growing concern that frenzied mainland investors have pushed up stock values to dangerous levels.
Eastday.com is preparing for an initial public offering in Shanghai early next year that will make it the first online news provider to sell shares on the domestic stock market. Sources said Shanghai's government, which owns the website through several units, agreed in principle at an internal meeting on April 30 to allow the company to list, as part of the central government's plan to boost the media industry before the 2008 Olympic Games. Launched in 2000 and operated by the Shanghai government's news office, Eastday held its first listing preparation meeting last Thursday to seek the advice of potential financial advisers. Shanghai Oriental, which operates the city's landmark Oriental Pearl TV Tower, has invested 72 million yuan for a 12 per cent stake in Eastday. It will remain its biggest shareholder following the public offering. Eastday also counts several Shanghai television and radio stations among its major shareholders. The mainland's media industry is highly regulated by the Communist Party and few media companies have floated shares at home or overseas - in part because of the fear that public listing may decrease government control in the sector. But the iron grip appears the have loosened recently. Last month, Shanghai Communist Party publishing unit Jiefang Daily sold its advertising and distribution operations to Xinhua Media, a book publisher listed on the A-share market in a two billion yuan back-door listing. The publisher of the 21st Century Business Herald financial newspaper, 21st Century Media, which is part-owned by the Communist Party's Nanfang Daily newspaper, was also planning a flotation on the share market this year to fund expansion, sources said earlier. "Many new media companies, such as Sina and Focus Media, are already listed on the stock exchange. This provides financial strength for future development - funding mergers and acquisitions, and talent acquisition for growth," Morgan Stanley analyst Richard Ji said. "Moreover, getting listed will help them improve transparency, corporate governance and financial performance." Media regulators in Beijing have picked Eastday, People.com, website of the People's Daily, and Xinhuanet.com, the online version of the Xinhua News Agency, as three pilot portals that the government is considering for possible public listing. Eastday contained less potentially sensitive content, such as political news and opinion, than the other two, which were more closely connected to the State Council, the source added. "We believe that 2007 will mark the year Chinese media groups tapped into the capital market. Strong media companies can use the capital to grow, breaking the regional barrier and form national groups," Haitong Securities analyst Yip Lingfei said.
May 14, 2007

Hong Kong: Hong Kong's position as a gateway through which developing provinces in southwestern China can reach the world will receive a boost in 2009 when an electronic system to speed up border customs clearance is in place. Announcing the schedule at the opening of the Pan-Pearl River Delta Customs Forum Thursday, Chief Executive Donald Tsang Yam-kuen said Hong Kong customs is now going full speed to develop an electronic manifestation system to ease the traffic of goods at the border. Tsang said although the SAR and provinces are making electronic platforms of their own, they are being developed with a view to interfacing with each other. Hong Kong customs commissioner Timothy Tong Hin-ming said the current system is too slow to meet future growth in cross-border traffic, adding a pilot scheme will be launched soon whereby preregistered trucks will go through simplified checks. In 2006, trade between Hong Kong and the Pan-Pearl River Delta provinces leaped 24.9 percent to US$121.5 billion (HK$947.7 billion). The provinces' imports and exports through Hong Kong increased 16.1 percent to US$246.1 billion (HK$1.92 trillion) for the same year. Tsang said the SAR, as a developed international financial center, could bridge the developing hinterland provinces with the rest of the world. Mainland customs chief Mou Xinsheng said national authorities will work closely with Hong Kong and Macau to stamp out smuggling as customs checks at the border are simplified. Participants at the forum will sign an agreement today to strengthen cooperation on the movement of goods within the Pan-Pearl River Delta region. The forum was held ahead of the impending opening of facilities shared by Hong Kong and mainland customs at Shenzhen Bay Port, part of the Hong Kong-Shenzhen Western Corridor. Work on the corridor, the first cross- border infrastructure between Hong Kong and the mainland to share one- stop customs and immigration clearance, started in 2003. The new link will reduce traveling time from Shekou to the territory's Route 3 to about 20 minutes. It was originally planned to be open last year, but was delayed because of construction delays on the Shenzhen side and legal disputes over the application of Hong Kong laws in the mainland.
Shangri-La Asia (0069), the region's biggest luxury hotel operator, has agreed to invest for the first time in the US hotel market, committing to a project on New York's Park Avenue. The company will manage and take a 26 percent stake in the 206-room hotel to be named Shangri-La, New York, Elizabeth Demotte, a spokeswoman for the Hong Kong-based company, said in an interview Thursday. The hotel, scheduled to open in 2010, will cost between US$500 million (HK$3.9 billion) and US$550 million to build including buying the land, she said. Shangri-La, controlled by Robert Kuok Hock-nien, is expanding beyond its home market in Asia into North America, where it manages five hotels, and Europe. US business travel will grow about 1 to 2 percent in 2007, according to the Travel Industry Association. "Having a presence in a first-tier city in the West is important," said Ken Yeung, a Hong Kong-based analyst at BOCI Securities. "Right now they may not be too familiar with the market there, but I'd expect them to take a bigger share in projects in Europe and North America in the future." The project will be financed by shareholder equity and debt, Demotte said. RFR Holding, a New York-based investment company and a client of ING Clarion Partners that was not identified, are the other investors in the project, according to a press release. Shangri-La manages hotels in Chicago, Miami, Toronto, Vancouver and Las Vegas. Worldwide, Shangri- La has stakes in 37 hotels with 19,385 rooms, the company said. Shares of Shangri-La rose 3.2 percent to end Thursday at HK$21. The stock has gained 4.7 percent this year, compared with a 3.9 percent increase in the benchmark Hang Seng Index. The group, which manages 50 hotels, said in March that 2006 profit climbed to US$202.2 million from US$151 million a year earlier, mainly because occupancy rates improved and it charged more for rooms.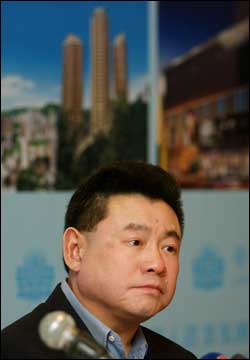 Financial wizard Joseph Lau Luen-hung is said to be contemplating an estimated HK$16 billion privatization bid for Chinese Estates Holdings (0127), a property investment and development company he controls along with his younger brother. Analysts believe Lau's intention is to fully reflect the hidden value of the company's redevelopment projects. The firm also invests in securities and treasury products. The privatization move marks the group's third buyout plan in six years. In 2005, the mid-sized developer took its unit, Kwong Sang Hong International, private following the privatization of Evergo China Holdings in late 2001. Capitalizing on the recent stock market rally and robust luxury housing market, Lau and younger brother Thomas Lau Luen-hung personally have enough financial strength to buy out shares they do not already own in Chinese Estates, analysts said. The possible buyout offer announcement came after Chinese Estates shares jumped 3.7 percent Thursday morning to HK$11.72 - a record high since the stock's listing in 1983. Joseph Lau is chairman and the largest shareholder of Chinese Estates with a 47 percent stake, followed by British-based hedge fund The Children's Investment Fund Management, which holds 7.9 percent, and then Thomas Lau with 6.6 percent. Chinese Estates' market capitalization exceeds HK$25.54 billion.
Hutchison Whampoa (0013) patriarch Li Ka-shing has made a personal investment in technology startup Joost, which delivers broadcast-quality television over the Internet, and plans to work with the company to expand distribution in China and the rest of Asia.
Hongkong Electric Holdings (0006), controlled by Li Ka-shing, expects 30 percent of total electricity supply can be generated from gas sources by upgrading existing plants, with the aim of meeting the government's targets of emissions reduction.
A former nurse of electronics tycoon Wong Wha- san left the High Court Thursday with her title to Wong's multi-million-dollar bequest upheld after the industrialist's children abruptly halted a legal battle to recover the wealth.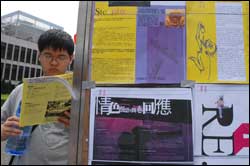 A Chinese University disciplinary committee said Thursday sex-related pages in its student newspaper were causing unease and concern, but the paper's editorial board remained defiant. The Television and Entertainment Licensing Authority said it had received 26 complaints from the public since the controversy surfaced Monday and that issues of the journal Student Press had been sent to the Obscene Articles Tribunal for examination. However, the university committee comprising a student and four teachers said the publication had damaged the reputation of the university. "Material published in recent issues [since December] is way beyond the commonly accepted standards of the community," the committee said. In a stern warning, the university also demanded the board stop publishing or distributing offensive material.
Asia was unlikely to suffer another financial crisis like that in 1997-98, former United States Federal Reserve chief Alan Greenspan said on Friday, but he warned that America faced a "two to one" chance of falling into a recession.
The government planned to put a levy on plastic shopping bags, Secretary for Environment, Transport and Works Sarah Liao Sau-tung said on Friday.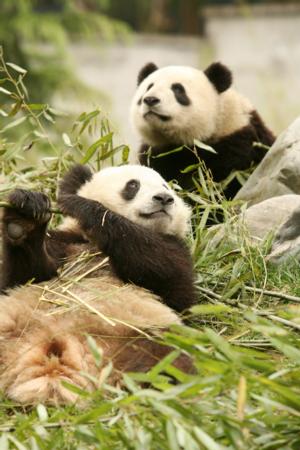 Le Le and Ying Ying are realizing there is more to life than bamboo. Fans of the cuddly pair can simply check the pandas' blog to find out what the twosome have been up to since their move last month to Ocean Park

China: Commander-in-Chief of the U.S. Pacific Command Timothy Keating arrived in Beijing on Thursday afternoon for his first China visit since taking office. During his stay in Beijing, Keating will meet with senior Chinese generals and officials, including Guo Boxiong, vice chairman of the Central Military Commission, China's top military institution. The five-day visit will also take Keating to Nanjing, capital of East China's Jiangsu Province where Keating is scheduled to visit military institutions and bases. Also on Thursday, a delegation from the U.S. National Defense University Capstone Program, headed by retired general William Nyland, visited Beijing and met with Deputy Chief of General Staff of the Chinese People's Liberation Army Zhang Li. The 19-member delegation will also tour Chongqing in southwest China and Nanchang in east China. Keating took the helm of the U.S. forces in the Pacific in late March, replacing William Fallon. In late March, Chairman of the U.S. Joint Chiefs of Staff Peter Pace paid his first visit to China since being sworn in as Chairman of the Joint Chiefs of Staff in 2005.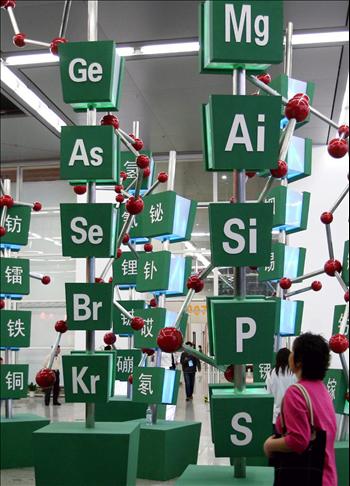 A visitor watches statues featuring periodic table of chemical elements at the 2007 Shanghai International Science and Arts Exhibition, May 10, 2007. More than 70 works from eleven countries will be shown at the exhibition that opened on Thursday.
China would send an engineering unit of 275 members to Darfur in Sudan "in the near future" to participate in a UN support plan for the African Union (AU) peace-keeping mission in the region.
The growth of loans for housing purchases accelerated in the first quarter, according to the monetary policy report released by the People Bank of China in Beijing on Thursday.
China's two major steel producers, BaoSteel in Shanghai and the Handan Iron and Steel Group Co Ltd in north China's Hebei Province, have signed a contract to build a joint venture iron and steel plant in Handan.
China central bank said yesterday that the country will not sell large amounts of US dollar-denominated assets to diversify its foreign exchange reserves. The People's Bank of China also warned of a risk of rising inflation and a rebound in investment as the economy steamed ahead in the first quarter, growing by 11.1 percent year on year. Authorities have said the country will diversify part of its foreign exchange reserves, which amounted to $1.02 trillion by the end of March and are believed to be invested mainly in dollar bonds. The central bank said it will mainly address the issue of newly added reserves by widening the foreign currency investment channel and reaffirmed the importance of its US dollar-denominated assets. They will remain an important part of China's outbound investment, the bank said in its monetary policy report for the first quarter, which was published on its website yesterday.
Li Jinhua, China's top auditor, outlined five problems that drain stated-owned assets, according to a report from Chinanews.com. He says some Stated-owned enterprises are in collusion with other companies and sell stated-owned assets without going through relevant legal procedures. Another issue is that some businesses take their high-quality stated-owned assets and transfer them into auxiliary companies, in which the executives of the major business units have or control the stakes. The third problem outlined in the report says leaders of some highly-profitable stated-owned enterprises give profitable businesses to their friends and relatives through subcontracts. Li adds some businesses unfairly distribute profits or waste money through extravagant spending. And finally, there is a drain of some non-economical stated-owned assets, including money losses in construction of office buildings of the government and other institutional units and their training bases.
Despite cooling measures, in the year's first quarter real estate investment increased 26.9 percent year-on-year, while housing prices continuously rose, although by smaller margins, according to Zhang Qi, deputy director of the Institute of Economic and Resource Management, Beijing Normal University. There are a number of factors contributing to this. First, rapid economic growth created a favorable climate for increased real estate investment. Second, large amounts of capital entered the real estate market because of the favorable macroeconomic climate and positive economic results enjoyed by enterprises. This drove up land property investment. Third, the wait-and-see attitude of the local governments poses a stumbling block to the implementation of the central government's macroeconomic readjustment policy. For example, some local governments are foot dragging in carrying out the central government's policy that small-area apartments (90 square meters or less) make up 80 percent of the total. Furthermore, some local governments prefer to do nothing to reign in runaway housing prices in the absence of administrative pressure from above. This is because rises in real estate prices mean increases in local revenue. Fourth, construction of low-price housing trails demand so low-rent apartments are short of supply. Fifth, speculation in the real estate sector goes largely unchecked. Among other factors, this explains much of why housing prices could not significantly decrease. Interest rates and bank reserve ratios have been raised steadily over the last couple of years to increase the costs of real estate investment and speculation to a certain extent. However, these cost increases pale beside the fat profits reaped from the housing price hike. In fact, it is investment and speculation that power the rise of housing prices. So, rooting out speculative activities in the real estate market provides the right prescription for controlling runaway prices. The increase in real estate markets in the second quarter will fluctuate between 24 percent and 26 percent, by my estimate. The growth usually slows in the second quarter of a year.
China will face labor shortage in 2009, says a report issued yesterday by the Institute of Population and Labor Economics under the Chinese Academy of Social Sciences, the Beijing Times reported. The shortage will trigger the growth of wages for rural laborers, the report said. Currently China only has a 52.12 million surplus in rural labor under 40 years-old, far lower than other media reports which estimated the number to be around 100 to 150 million, said Cai Fang, director of the institute. In recent years, China's labor force supply has changed from a time of excessive supply to a state of demand-and-supply balance and soon to enter an era of labor shortage in the near future. The current labor shortage is starting from the coastal areas and spreading to central regions of China, where most of the labor force comes from. Cai delivered a speech with the theme of China Employment Growth and Structure Change at the 30th anniversary of the academy yesterday. China's labor shortage also can be blamed on an aging population, an earlier report said. In the past 25 years, China's economy maintained high growth thanks to sufficient numbers of young and middle-aged workers. But today, China's aging population has reached the world's average level, while per capita GDP is one fifth of the world average.
The Council Office has announced its first five-year plan on biotech industry. The aim is to achieve a goal of 500 billion yuan (US$65 billion) in 2010, and 2 trillion yuan by 2020. In the five-year plan of the biotech industry, the focus area will be biomedicine, bio-agriculture, bio-energy and bio-manufacturing, according to the Shanghai Securities News. To reach this high goals, the plan has four detailed objectives. The first is to initially form a supporting system to help developthe biotech industry. The second is to enhance innovation. The next objective is to optimize and upgrade the industry¡¯s structure. And finallyto expand the the biotech industry output.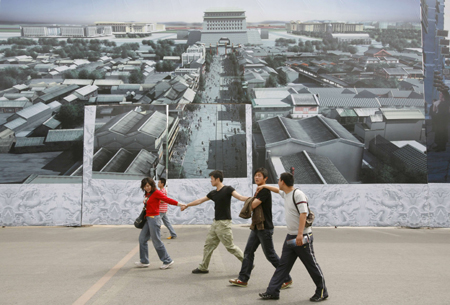 Young people walk in front of a huge picture of a city planning project at a construction site in Beijing May 11, 2007. China's central bank vowed on Thursday to use open market operations and higher bank reserve requirements to mop up excess liquidity and prevent the world's fourth-largest economy from overheating.
Singapore Airlines, the world's biggest airline by stock market value, has started to negotiate the price of a share sale from China Eastern Airlines (0670), the third-largest mainland carrier, after talks between the two carriers had been confirmed last July.
A delegation of mainland business leaders has promised to buy US$4.3 billion (HK$33.54 billion) in US technology, hoping to soften a political backlash to the massive trade imbalance dividing the two economic powers. The agreements were trumpeted at a ceremony in San Francisco Wednesday, two weeks before government talks in Washington where leaders will try to tackle the United States' US$232 billion trade deficit with China and other prickly issues. California Lieutenant Governor John Garamendi hailed the 27 contracts signed as an "important step in furthering the deep relationship between this state, this country and China." But the event's timing spurred skepticism about the sincerity of China's efforts to narrow a trade gap that has tormented the United States for years. "They are not going to change their ways. This is all part of a political smoke screen," said Peter Morici, a business professor at the University of Maryland and the former chief economist for the US International Trade Commission. To underscore China's resolve to explore more US investments, executives from more than 200 mainland companies are meeting their US counterparts in 24 cities across 23 states, Vice Minister of Commerce Ma Xiuhong said. In its first stop, just north of Silicon Valley's high-tech heartland, the mainland party primarily sealed deals with computer software, semiconductor and telecommunications companies. The beneficiaries included high-tech bellwethers Microsoft, Oracle, Cisco Systems and Hewlett-Packard. China has become an increasingly attractive market for makers of high- tech gear as its rapid economic growth feeds the demand for more powerful computers and more sophisticated mobile phones. China's previous shopping sprees in the United States have had little impact because of perceptions that mainland companies were merely bundling together deals that were going to be made anyway, said Nicholas Lardy, a China expert at the Peterson Institute for International Economics in Washington.
May 12 - 13, 2007

Hong Kong: Standard Chartered Bank (2888) aims to double client revenue from wholesale banking in Greater China between this year and 2011, and also plans to be one of the top three banks foreign banks in the mainland within the next four years, an executive said. Andrew Bester, regional head of wholesale banking client relationships in Greater China and Japan at Standard Chartered, said Wednesday client revenue from Greater China surged 39 percent last year. Among all wholesale banking operations across the world, the biggest growth - 80 percent - was in the mainland, he said, without giving comparative figures. In the last three years, revenue and profit from the China division grew at a compound annual rate of more than 50 percent, while client revenue and profit almost doubled, Bester said. Profit at the Hong Kong unit of the wholesale banking operation surged 84 percent to a record US$350 million (HK$2.73 billion) last year, with client income rising 28 percent. "I would attribute the strong result to successful implementation of our client-led strategy," said Gloria Chow Lee Cheuk-kuen, head of wholesale banking client relationships in Hong Kong. The wholesale banking unit provides services such as trade finance, cash management, lending, securities services, and foreign exchange for corporate and institutional clients. Chow said StanChart plans to add 10 percent more staff to its 1,100-strong Hong Kong wholesale banking team this year. The bank's wholesale banking income worldwide grew 28 percent to US$3.92 billion last year. Client income increased 23 percent while pre-tax profit jumped 28 percent. Hong Kong generates the largest slice of wholesale banking revenue, followed by India, Singapore, Korea, Dubai and China.
After months of waiting, seeking approvals from Indian government departments, and facing the specter of lawsuits from its Indian joint-venture partner, Hutchison Telecommunications International Ltd (2332) has finally completed the sale to Vodafone of its 67 percent stake in Indian mobile operator Hutchison Essar.
CITIC Resources (1205), the commodity and energy investment arm of state-owned CITIC Group, said it will acquire an oil asset in Kazakhstan and an oil field in Bohai Bay for US$1.15 billion (HK$8.97 billion).
Inefficient airspace routing in the Pearl River Delta is costing mainland and global airlines nearly US$130,000 (HK$1.01 million) a day and needs to be remedied quickly, an international airline industry group said Wednesday. The International Air Transport Association also urged China's airlines to raise fuel-efficiency standards and make air traffic management more transparent and efficient. "The inefficient airspace design in the Pearl River Delta is costing HK$1 million a day with mainland carriers being the most affected," IATA head Giovanni Bisignani said. "We need a solution quickly." Bisignani praised China for opening up new air routes to Europe last year, but urged the nation to bring its air routing up to international standards. "The goal is to use global standards to make Chinese airspace among the most effective in the world to meet demand safely and efficiently," he said. He also urged China to join the IATA environment agenda to improve fuel efficiency, make air traffic management as efficient as possible and adopt global solutions for emissions trading. China's air passenger transport grew by 15.9 percent year on year in the first quarter amid a surge in outbound travel. Passenger transport volume reached 40.9 million, while travelers on international routes jumped by 23.9 percent to 3.8 million, official figures show. The IATA estimates passenger numbers will grow by 9.6 percent annually until 2009 as China remains one of the fastest growing air markets.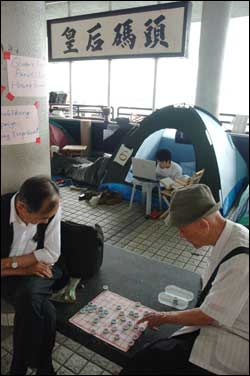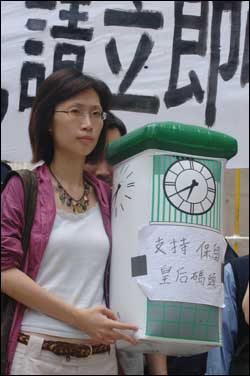 The aging Queen's Pier in Central was Wednesday given a temporary stay of execution when the Antiquities Advisory Board declared it a grade one monument, capping a day of ferocious debate on the issue with the government standing firm on its plans to relocate it. Twelve of the 25 voting board members supported giving the pier a non- binding grade one status after an afternoon-long board meeting and a public hearing at the Heritage Discovery Centre in Tsim Sha Tsui. Board chairman Edmond Ho Sing- tin said the status meant the government must make every effort to preserve the pier. "The government must now have very solid reasons if it wants to demolish the site," Ho said. He agreed the best option would be to leave the pier intact. Local Action representative Chu Hoi-dick, an activist who took part in hunger strikes in an attempt to save the Star Ferry pier, declared the decision a victory for the people. "The government must not treat the voice of the people lightly," Chu said. But Secretary for Housing, Planning and Lands Michael Suen Ming-yeung stressed it was not important whether the pier was granted grade-one status. "There is no direct relationship between the grading and whether we will demolish and relocate the pier. It does not mean we can't do so," Suen said. He said there remains room for discussion on the pier's future. "I strongly urge all stakeholders not to resort to the use of force to express their views," Suen said. He stressed the government will apply to the Legislative Council for funding to relocate the pier at the next public works subcommittee meeting. Deputy Secretary for Home Affairs Esther Leung Yuet-yin said the government had no plans to list the pier as a declared monument - which would mean lawful protection for the site - as there were no suggestions from the Antiquities Advisory Board that it should do so. Diverging views within the board, which Ho admitted, were apparent during the open meeting. Barrister Laurence Li Lu-jen said the pier was of great historical interest. "We need to let our future generations know [the pier] was where former British governors, in full military uniform, expressed their authority when they arrived in the territory," Li said. However, National People's Congress deputy Yeung Yiu-chung disagreed. "The Convention and Exhibition Center also held many ceremonies, including leadership handovers, of historical importance," Yeung said. Urban Renewal Authority managing director Billy Lam Chung-lun said the social value of the pier was less significant when compared with the demolished Blake and Star Ferry piers. But Simon Shen Xu-hui, a research assistant professor at the Chinese University's Hong Kong Institute of Asia- Pacific Studies said: "Queen's Pier's rarity now is exactly why we need to preserve it." The board meeting came after 17 concern groups had, at a public hearing, overwhelmingly expressed their desire for the government to leave the Queen's Pier intact. Harbor protection activist Paul Zimmerman stressed the pier was part of a cluster, along with the Edinburgh Place and the City Hall, which must be linked together. Hong Kong University comparative literature assistant professor Mirana May Szeto stressed the pier represented the people's public space. "The pier is not just a sign of the colonial past. Diaoyu activists also departed from the pier, and doesn't that represent the love for our country?" Szeto asked. Earlier in the day, furious opposition from all parties during a Legco public works subcommittee meeting forced the government to temporarily shelve its HK$50 million funding application to relocate the pier. Medical-sector legislator and harbor protection activist Kwok Ka-ki said the government's decision to apply for funding before the board meeting later in the day was a humiliation for its members. "It was also an insult to the people and Legco," Kwok said. Permanent Secretary for Housing, Planning and Lands Rita Lau Ng Wai- lan stressed the timing of the fund application was a coincidence. Assistant Director of Leisure and Cultural Services Louis Ng Chi-wa stressed that even if the site was pronounced a first-class monument, there remained no legally binding prohibition against its demolition. Democratic Party lawmaker Yeung Sum took exception to Ng's comment. "You don't even deserve to be in your post," Yeung said. Civic Party lawmaker Fernando Cheung Chiu-hung accused the government of preempting the funding. "From the government's attitude you can see there is no sincerity to preserve historic venues," Cheung said. The hour-long exchange of furious arguments between officials and legislators led to the shelving of the funding plans. Lau's announcement that the funding application would be temporarily shelved was met with cheers from observers in the conference room.
Oscar-winning Taiwanese director Ang Lee is deeply engrossed in editing his new spy thriller Lust, Caution and the movie isn't ready to be entered in any film festivals yet, his assistant said Wednesday. The comments contradicted a report on the Web site of state-run China Film Group saying the movie will premiere at the Venice Film Festival in early September. "Ang is currently deep in post- production. He is still in the process of cutting the film," his assistant David Lee said. "We have not planned when and where the premiere will be. We are not ready for film festivals yet." Lust, Caution, based on a short story by famed Chinese writer Eileen Chang, is about a group of patriotic students who plot to assassinate the intelligence chief in the Japanese-backed Chinese government during the World War II era. It features Cannes best actor winner Tony Leung Chiu-wai, Joan Chen from The Last Emperor and Chinese-American pop star Wang Leehom. Ang Lee won the best director Oscar in 2006 for the gay romance Brokeback Mountain.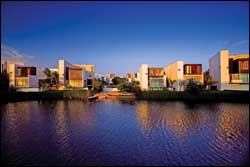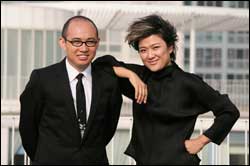 Despite the widely held belief that guanxi, or connections, hold the key to success for every business in the Chinese world, Pan Shiyi said this was not the case for him and his Beijing- based property development company, SOHO China. The firm, which he and his wife co- founded in 1995, has become the No 1 tax contributor among its peers in the mainland capital and No 2 overall in the country in recent years - even without the all important guanxi. Instead, Pan and his wife, Zhang Xin, rely on their Taoist beliefs to guide their actions. "When I left the government in 1992 and started doing my own business, there were two choices: either doing trade business or entering the property market. I did not have any connections so I chose to be a property developer," the 44-year-old Pan recalls. He experimented with property investments in Hainan with five friends before moving to Beijing to start SOHO China.
Receipts at Hong Kong restaurants grew 11.8 per cent year on year in the first quarter despite a smoking ban, government figures released on Thursday showed. Census and Statistics Department figures showed the value of restaurant receipts reached HK$16.8 billion in the first quarter, up 11.8 per cent from the same period in 2006. Restaurant purchases also increased, by 14.6 per cent, to HK$5.7 billion during the period, the figures showed. After discounting the effect of price changes, the restaurant receipts' rise in volume was 9.6 per cent, according to the department. This growth was recorded after smoking was banned in all indoor restaurants from January 1. The ban also covers karaoke lounges, bars and workplaces. In the first quarter of this year, receipts of non-Chinese restaurants jumped 15.2 per cent in value, or 13.2 per cent in volume, compared with a year earlier. Receipts of Chinese restaurants grew 12.6 per cent in value, or 10.5 per cent in volume. Fast-food shops and miscellaneous eating and drinking places recorded a business growth of between 7.2 per cent and 10.3 per cent in value. However, receipts of bars fell 0.7 per cent in value, or 6.7 per cent in volume. On a seasonally adjusted basis, the volume of restaurant receipts increased 3.3 per cent in the first quarter of this year compared with the fourth quarter of last year.

China: China's overall competitiveness keeps rising, with its world ranking jumpimg from 18th in 2006 to 15th this year, IMD, one of the world's top business schools, said in a latest report on Thursday.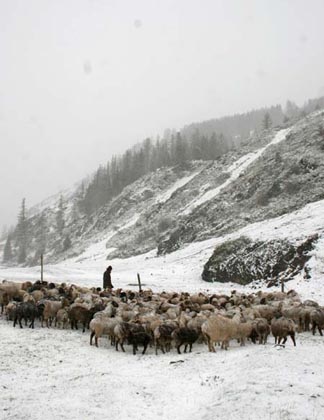 A herdsman walks among his flock during snowfall in Tianshan, Northwest China's Xinjiang Uygur Autonomous Region, May 9, 2007. A sudden wind-storm pushed the temperature below 0 c. As much as 10 cm of snow fell in some mountainous regions.
Chinese President Hu Jintao and his U.S. counterpart George W. Bush exchanged views in a telephone conversation on bilateral relations and the upcoming second round of Sino-US strategic economic dialogue. Chinese President Hu Jintao and US President George W. Bush on Wednesday discussed an upcoming visit to Washington by a senior Chinese official aimed at bridging trade differences. US Treasury Secretary Henry Paulson and Chinese Vice Premier Wu Yi are to hold trade talks in Washington May 22-24. White House spokesman Gordon Johndroe said Bush phoned Hu from Air Force One as he traveled to Kansas to view a tornado-stricken town. "The president welcomes the visit to Washington of Vice Premier Wu Yi and her delegation later this month aimed at deepening our economic ties in a mutually beneficial fashion," Johndroe said. President Hu stressed that China and the US can properly settle problems arising from bilateral economic and trade cooperation through frank and sincere dialogue. Hu said he believes that with concerted efforts by both sides, positive achievements will be scored in the upcoming second round of strategic economic dialogue between the two countries, which will contribute to giving fresh impetus to China-US economic and trade cooperation. According to Chinese statistics, China's trade surplus with the United States widened to a record $144 billion last year, sparking concern in the United States and triggering a number of disputes between the two countries. On bilateral relations, both Hu and Bush considered that China-US relations have been kept in a momentum of favorable development and that the two sides should beef up dialogue and cooperation, to promote healthy and stable progress of the constructive and cooperative relations between the two countries. The two leaders also agreed on the need for North Korea to meet its nuclear obligations, Johndroe said. The two presidents will meet in Germany next month during the summit of the Group of Eight countries.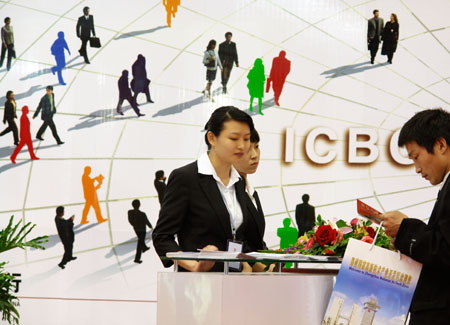 Industrial and Commercial Bank of China (ICBC), on May 8 denied that it is in talks about buying UK-based Travelex, which runs an airport currency exchange network. If the deal proceeded, it would be one of the largest overseas acquisitions for a Chinese company, said South China Morning Post, citing unnamed sources close to the mainland firm.
China: Asia's largest outbound travel market - Shanghai resident Song Min planned to travel overseas during the seven-day Golden Week vacation in May. But when he entered a travel agency's office, he found he was not the only one who had the idea. The agency was full of people interested in joining a tour abroad, and every other tour companies' offices were just as busy. China's ever-growing outbound travel market has become one of Asia's largest sources of tourists according to the Pacific Asia Tourism Association (PATA). Based on the statistic result of China National Tourism Administration (CNTA), about 34.52 million Chinese people travel overseas last year and some 179 million Chinese went abroad for holiday during this year's Golden Week in May. The forecast from the World Travel Fair 2007 predicts some 37.4 million Chinese will travel abroad this year, an increase of 10 percent over last year. The World Travel Organization also predicted in 2020, China will be the fourth largest tourist source nation and in 15 years, about 100 million Chinese tourists will travel abroad annually. Asia is the top foreign traveling destination for Chinese tourists. In the first half of 2005, about 13.104 million people visited China's neighboring countries, which accounted for 90.4 percent of the total Chinese travelers traveled overseas. The major reason for the increasing number of outbound travelers is China's growth domestic product (GDP) growth. Professor Wang Qiyan, director of the leisure economy research institute of the Renmin University, said when a country's average GDP exceeds US$3,000, it will experience a tourism boom. In 2006 Shanghai's average GDP reached US$7,490 so more than 2 million of locals made trips abroad that year. China's increasing number of outbound travelers has attracted international travel organizations around the world to promote their products and services. By the end of 2006, 132 foreign countries and regions have opened travel markets to China. According to China National Tourism Administration, 19 overseas travel agencies have offices in China. Three American states, Hawaii and Nevada have tourism counselors in China. Besides these states, California is a popular destination for Chinese travelers and Los Angeles has a travel office in China as well. According to Caroline Beteta, executive director of California Travel and Tourism Commission, China will most probably become the state's largest overseas tourist source market in 10 years. In European countries, the UK will attract at least 200 thousand Chinese tourists in 2010 and 500 thousand in 2020, said Sir Michael Lickiss, chairman of the British Tourist Authority. China has three seven-day long national holidays during the Spring Festival, in May and October, which are regarded as Golden Weeks.
The Chinese mainland's competitiveness has moved up to the world's 15th position in 2007 from 18th last year. Taiwan dropped one spot to 18th this year, according to the most recent World Competitiveness Yearbook issued by the International Institute for Management Development (IMD) based in Lausanne, Switzerland. IMD established the rankings based on the growing competitiveness of emerging world economies, said the Chinanews.com. Among countries and areas with a population of more than 20 million, Taiwan's competitiveness fell to the Asia's sixth position. But its ranking still maintained fifth in Asia and Pacific Region. Singapore came up on top, followed by Hong Kong, Australia and the mainland. Taiwan performed poorly in basic infrastructure and government efficiency, with their rankings of the world's 51st, 50th and 48th respectively. Taiwan also did not perform well in other criteria such as financial risk, financial transparency, stock market index and cell phone fees. Taiwan's listings in business efficiency slipped to 17th place from 13th last year, its infrastructure ranking goes down to 21st from 18th, according to the annual yearbook.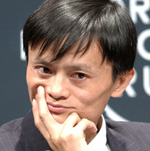 Jack Ma , chairman and chief executive officer of Alibaba Group, China's largest e-commerce company, is reportedly joining SoftBank Corporation's board of directors, the Beijing Times reported yesterday, citing a company statement. The news followed an earlier report that Alibaba is seeking a Hong Kong or NASDAQ IPO for its core business-to-business (B2B) unit. Alibaba will raise $700 million to $1 billion, reports said.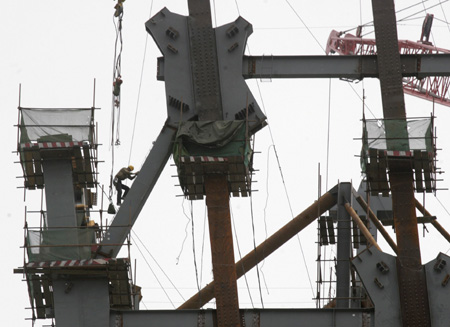 A worker climbs at a construction site in Beijing's central business district May 8, 2007. China's gross domestic product is forecast to rise 10.8 percent in the second quarter of 2007, while the consumer price index is expected to gain 3 percent over the period, the State Information Center said on Tuesday. China's gross domestic product is forecast to rise 10.8 percent in the second quarter of 2007, while the consumer price index is expected to gain 3 percent over the period, the State Information Centre said on Tuesday.
May 11, 2007

Hong Kong: Christie's Hong Kong displayed prized imperial Chinese ceramics and works of art that will be on sale in its spring auctions in a media preview Wednesday. Christie's Spring auction Imperial Sale and Fine Chinese Ceramics and Works of Art Sale will take place on May 29. They include myriad of rare and splendid Chinese porcelain, works art and jade carvings made for the Imperial court, as well as exquisite pieces ranging from Longquan celadon ceramics to important lacquer and cloisonne wares. A pair of famille rose peach bowls from the Yongzheng period (1723-1735), estimated 30 million HK dollars (about 3.85 million U. S. dollars), represents the highly desired collectors' pieces amongst the Qing dynasty polychrome ceramics on offer. The bowls rank among the masterpieces of the overglaze enameled porcelain from the Chinese Imperial kilns. Each bowl is decorated with luscious peaches growing on branches that extend from the exterior, rising from just above the foot ring the branches emerge over the mouth rim and grow into the interior cavetto. This continuous painting technique on ceramics reached a peak in the Yongzheng reign in terms of superb enameling quality. Also featured at the preview is an important gilt-incised lacquered "dragon" throne from the Kangxi period (1662-1772) that is expected to realize in excess of 12 million HK dollars (about 1. 53 million U.S. dollars). Equally noteworthy is an Imperial yellow embroidered "twelve- symbol dragon" robe from the Qianlong period (1736-1795) with an estimated price 3,000,000 to 4,000,000 HK dollars (about 390,000 to 510,000 U.S. dollars). Finely couched in gold and silver tread with nine contorted five-clawed dragons clutching "flaming pearls," it is further embodied with 12 Imperial symbols including mountains, flames and mountains. The entire combination of these motifs, when used together, was exclusively reserved for the Emperor, signifying The Ruler of the Universe.
International Business Machines Corp is seeking to sell 223 million shares in Lenovo Group Ltd, for as much as HK$669 million (US$86 million).
Prominent banker David Li Kwok-po has strongly denied he passed on information that allowed a Hong Kong couple to reap an estimated US$8.2 million (HK$63.96 million) profit from alleged insider trading of Dow Jones shares. Dow Jones has launched an internal investigation into whether Li - chairman of Bank of East Asia (0023) and a Dow Jones director - leaked confidential information to a friend, Hong Kong entrepreneur Michael Leung Kai-hung, about an imminent offer by Rupert Murdoch's News Corp to buy the company, which publishes the Wall Street Journal. Leung is the father of Charlotte Wong Leung Ka-on who, with her husband Wong Kan-king, is under investigation by the US Securities and Exchange Commission for suspected insider trading. News Corp has also launched an internal investigation to determine if anyone inside the firm leaked information to the couple, sources close to the media firm said. Li admitted he had knowledge of Murdoch's interest in Dow Jones before News Corp made public its intentions, according to a report in the Wall Street Journal Asia. But he denied leaking information relating to the deal to anyone. "Not even my wife," Li told the newspaper.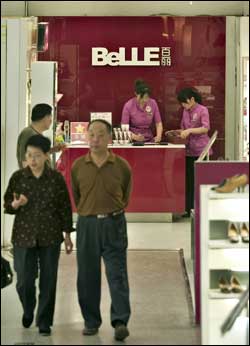 Market watchers said the retail offering of shoe chain Belle International Holdings is likely to be 300 times covered after investors responded well to the share sale Wednesday, the first day of its public flotation. Belle's public offer attracted margin orders worth HK$50.9 billion, according to eight brokerage firms polled by The Standard. The amount represents about 58 times more than the shares available for retail investors. "The response is hot. It is likely that Belle will be more than 300 times oversubscribed," said Kingston Lin King-kam, associate director at Prudential Brokerage. At least HK$258 billion in capital could be tied up if the issue were more than 300 times covered. Sources said Belle's international tranche was more than 10 times covered. Margin financing choices offered by brokerages for three share sales this week commanded interest rates ranging from 5 percent to 6.1 percent. Banks are offering rates that are even more competitive. Hang Seng Bank, for example, is providing margin financing at a rate as low as 4.95 percent. An investor may borrow HK$450,000 for a fee of about HK$588, including interest. Most brokerages have reached the limit of their loan quotas. Phillip Securities, for example, has loaned about HK$8.7 billion for the initial public offerings, almost reaching the limit of its loan quota of HK$9 billion. Cherrie Yan, analyst at Phillip Securities, said the brokerage will end financing once the limit is reached. "The overwhelming response [for Belle] is mainly because it is the market leader in the sector and also its high profit growth," a fund manager said. Belle, which runs more than 3,800 outlets in Hong Kong and the mainland, aims to raise HK$8.6 billion by offering 1.39 billion shares at a price range of HK$5.35 to HK$6.20 per share. Over the past few years, Belle has achieved high profit growth. Income grew to 977 million yuan (HK$992.5 million) last year, from 75 million yuan in 2004. The retail offering closes May 14 and trading is set for May 23. Morgan Stanley and Credit Suisse are handling the deal. Belle stole the market focus from two other IPO candidates, Pacific Textiles and Jiahua Stores Holdings, which also kicked off their retail offerings this week. Pacific Textiles drew the smallest orders for margin financing among the three new flotations. Applications for loans to buy shares of the Hong Kong- based textiles company amounted to HK$1.18 billion, just six times more than shares available in the retail tranche, according to a poll of six brokers by The Standard. Market watchers said some investors switched their orders from Pacific Textiles to Belle. Department store operator Jiahua Stores received about HK$1.85 billion in orders. Its retail tranche is at least 70 times covered. Pacific Textiles closes the offering today and Jiahua closes its order book tomorrow.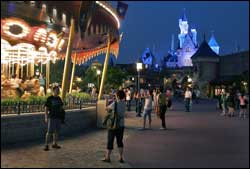 Declining attendance numbers and guest spending at Hong Kong Disneyland are likely to leave Walt Disney Co unable to draw on a US$294 million (HK$2.29 billion) revolving credit facility, the company said. "Hong Kong Disneyland may require alternative sources of financing to meet its operating and development needs," Burbank, California-based Disney said in a filing with the US securities regulator. "Hong Kong Disneyland is engaged in discussions with the Walt Disney Company and Hong Kong Disneyland's other shareholder regarding financing options aimed at advancing its long-term financial and development needs," a spokesperson for Hong Kong Disneyland said. The Hong Kong government owns 57 percent of Hongkong International Theme Parks, which operates Hong Kong Disneyland in a joint venture with the US giant, which holds the remaining 43 percent interest. "Our discussion does not involve seeking additional funds from the government," the spokesperson said. Disney expects to make an additional investment as part of the new financing arrangement. Alternative financing arrangements would need to be completed before September 30, when the performance stipulations of the revolving credit facility will be measured. "Although there is no assurance that acceptable financial arrangements can be obtained prior to September 30, 2007, management currently expects that Hong Kong Disneyland will be successful in developing financial arrangements necessary to meet its financial and development needs," Disney said. Disney announced Wednesday that second-quarter profits jumped 27 percent on the success of road-trip movie Wild Hogs and growth at cable sports channel ESPN. Second-quarter revenues from Disney's parks and resorts division climbed 9 percent to US$2.4 billion and segment operating income increased 19 percent to US$254 million. Revenue increases from higher theme park attendance, guest spending, and hotel occupancy at Disneyland Resort Paris "were partially offset by lower guest spending and theme park attendance at Hong Kong Disneyland Resort," Disney said. Hong Kong Disneyland also saw a decline in operating income during the second quarter ended March 31. "We're launching several marketing initiatives to boost attendance and address seasonality of the [Hong Kong] park," Disney senior executive vice president and chief financial officer Tom Staggs said in a conference call with analysts. "We view Hong Kong Disneyland as a valuable asset in a rapidly growing market and we're confident in and committed to this project. We'll likely continue to invest in the park to help ensure its long-term success." A spokesperson for Hong Kong Disneyland said the park recognizes that attendance and guest spending have fallen short of initial expectations, although "guest satisfaction continues to climb higher, reflecting continuous improvement in park operations and guest service." Meanwhile, the Tourism Commission said the SAR government has no plans to use public funds to increase its investment in the Hong Kong Disneyland joint venture.
Radical options to be considered for bad air days - Schools will be closed, private cars barred from Causeway Bay and motorists charged a fee for using premium roads. These will become part of the standard responses should the community forge a consensus on what to do on days of very high pollution.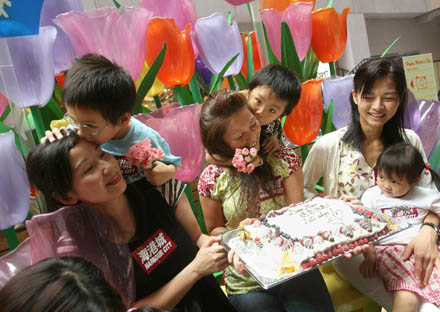 Infants (from left) Mark Ho, four, Natsuki Kamohara, four, and Hinata Ozawa, three, were among those to surprise their mothers by baking them a cake at the "Flowers for Mama" event at Harbour City in Tsim Sha Tsui. The event, in the run-up to Mothers' Day on Sunday, gave children an early opportunity to celebrate with their mothers.

Richard Williams, head of stock exchange listing committee, confirms that the exchange will review the minimum public float to catch up with international practice. The Hong Kong stock exchange will study a plan to relax the 25 per cent minimum public float requirement for all listed firms to make it easier for mainland companies to sell shares in the local and mainland markets, according to exchange sources.

China: A German consortium including Siemens AG is close to acquiring final approval from Chinese authorities to apply its technology to the extended maglev train line to be built in the city.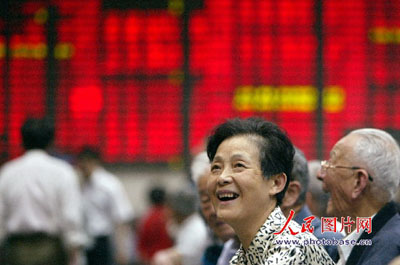 A shareholder smiles at a stock exchange in Shanghai, May 9, 2007. The benchmark Shanghai Composite Index, the most widely watched indicator of the mainland's stock market, sailed past the mark of 4,000 at 10:51am in morning trading.
The People's Bank of China (PBOC), the central bank, is expected to raise the required reserve ratio of foreign-currency deposits from four percent to five percent as of May 15.
China's express delivery market is facing a time of unprecedented change. Four major foreign players, China Post, private local firms and State-owned companies are all busy adjusting their strategies, and the government is poised to revise business policies. After UPS broke from its local partner - Sinotrans, Fedex spent $400 million to acquire the remaining stake of its joint venture with the Chinese firm DTW Group. It also bought all of DTW's assets in the domestic and international express delivery markets. And while foreign giants are expanding in China, the State-owned giant, China Post, is attempting to gain the upper hand with a possiblly favorable postal law, sparking cries of foul play from foreign and local private firms. Fedex's buyout of its local partner signifies the acceleration of foreign express delivery firms' expansion in China. DTW's domestic express delivery business suffered losses of 60 million yuan in its first 11 months in 2004, but Fedex still spent $400 million for DTW, which highlights Fedex's desire for DTW's network. Industry sources say Fedex's is trying to catch up with its competitors. DHL announced its entry into the domestic express delivery market in 2004, TNT has already begun domestic parcel delivery and UPS has the rights to international express delivery business in tier-one cities. The joint venture agreement with DTW was originally expected to expire in 2009, but Fedex bought out the Chinese firm because it wanted immediate exposure to the domestic market. Exit of domestic players - Since selling to Fedex, DTW has given up its domestic express delivery business and its chairman, Wang Shusheng, said the firm's focus would shift to goods logistics, warehousing, international goods forwarding and distribution. Sinotrans, another domestic delivery giant, seems to be considering whether it should exit the business, or up investment. Zhang Jianwei, Sinotrans' president, used to say his company would continue to strengthen its position in the domestic market. The firm's air delivery arm, Sinotrans Air Transportation Development Co Ltd, still holds 25 percent of international express delivery market. Sinotrans Air announced to acquire 51 percent of stakes in Shentong Express, a domestic express delivery firm, and 49 percent of Sichuan Airlines. However, since Zhao Luxiang took over the position of chairman, Sinotrans Air's strategy seems to be changing. The company has recently suspended cooperation with both Sichuan Airlines and Shentong Express.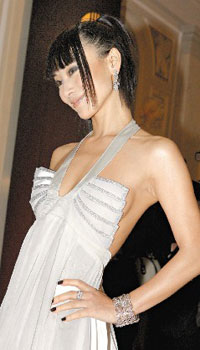 Posing naked isn't something new for our actress Bai Ling. And the Chinese beauty has agreed to again bare all, this time for German artist Udo Spreitzenbarth. The sexy actress will bare all in a new exhibition of life-size prints at the Berlinale gallery in Germany. A Chinese actress who also has fame in the United States, Bai Ling once posed naked for the famous men's magazine Playboy back in 2005. She was reportedly performing research for her upcoming film, an undisclosed film about the sex trade.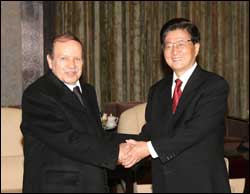 Beijing denied Wednesday media reports that Vice Premier Huang Ju, one of the nine most powerful men in the Communist Party hierarchy, has died. The denial came after Britain's The Times and Hong Kong's Phoenix Television both cited sources as saying that Huang, 68, had died after a long battle with pancreatic cancer. "It is our understanding that news regarding comrade Huang Ju's death is totally unfounded," a Cabinet spokesman said. State television and radio made no mention of Huang's condition, despite months of speculation over his health and recent widespread rumors that he was in a critical condition. Huang is ranked sixth in the Communist Party's politburo standing committee, the all-powerful group of nine that rules China. He has been responsible for the key economic and financial portfolios.
China has acknowledged for the first time it is the source of deadly additives found in US pet foods and vowed to bring in wider checks amid growing overseas concern over its food product controls. The bureau in charge of inspecting export products said Wednesday two firms illegally added the chemical melamine to food additives and mislabelled them to avoid inspection. The case is just one of several that point to lax controls in China, which has been criticized previously for not sharing information on the bird flu virus and the SARS outbreak. "The two companies illegally added melamine to the wheat gluten and rice protein in a bid to meet contractual demands for the amount of protein in the products," the General Administration of Quality Supervision, Inspection and Quarantine said after an investigation. The firms are Xuzhou Anying Biologic Technology Development in Jiangsu, and Binzhou Futian Biology Technology in Shandong. China has previously refrained from detailed comment since US authorities identified the two firms as the source of the melamine, an organic chemical used in the production of a wide range of products such as plastics and which can be fatal to animals. US Food and Drug Administration officials are currently in China to lead the agency's own melamine probe.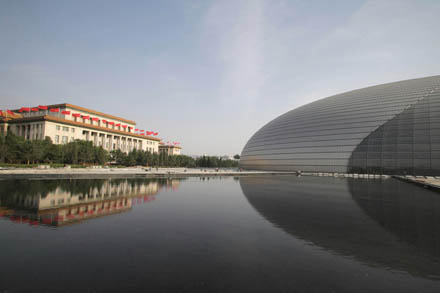 The main building of the National Grand Theatre (right) and the Great Hall of the People in Beijing are reflected in a large new pool after it was filled with water for the first time yesterday. The theatre's shell, covered with titanium panels, houses a 2,416-seat opera house, a 2,017-seat concert hall, a 1,040-seat theatre and other supporting facilities.
Hewlett-Packard, the world's biggest maker of personal computers, plans to add sales and marketing employees in about 100 smaller Chinese cities this year to boost sales in Lenovo Group's home market.
May 10, 2007

Hong Kong: PING An Insurance (Group) Co, China mainland's second-biggest insurer, may join Hong Kong's Hang Seng Index after a quarterly review of the stock benchmark, according to Nomura Holdings Inc and Core Pacific-Yamaichi International (HK) Ltd. China Overseas Land & Investment Ltd, a Hong Kong-based developer controlled by the construction ministry, also may be added, said Kent Yau, deputy head of research at Core Pacific-Yamaichi in Hong Kong. The addition of companies incorporated in the mainland, known as H shares, reflects their growing importance in Hong Kong, Bloomberg News reported. H shares at the end of March accounted for 23 percent of the value of the Hong Kong stock exchange's main board, up from 1.5 percent at the end of 1997, the exchange's Website shows. "We've been seeing H shares becoming increasingly important in recent years, both in terms of their market cap and turnover," Sandy Lee, a Hong Kong-based analyst at Nomura, said in a phone interview. "This trend is bound to continue." Changes to the Hang Seng Index will prompt funds that mirror the benchmark, such as the HK$26.21 billion (US$3.35 billion) Tracker Fund of Hong Kong, to adjust their holdings. H shares have been eligible for the city's key stock index since August. The adjustments for the latest review take effect on June 4, according to Lee. So far five Chinese mainland stocks have been added to the Hang Seng.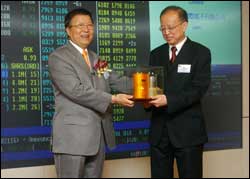 CapXon International Electronic (0469) bucked the trend of the record-setting Hang Seng Index in its disappointing trading debut Monday as its share price closed 8.6 percent below its initial public offering price - making it the worst performing IPO so far this year. With 108.94 million shares changing hands, the stock of the Shenzhen- based aluminum electrolytic capacitor maker closed at HK$0.85, compared to its IPO price of HK$0.93. In contrast, the HSI gained 55 points to close Monday at 20,896.64, beating the previous high mark set last Friday of 20,841.08. CapXon's poor trading debut exceeded that of Sino Gold Mining (1862), whose shares closed 7.5 percent below their IPO price of HK$42.50 on their March 16 debut at HK$39.30 and have yet to rebound. The Australian gold miner's stock closed Monday at HK$39.40, up 4.5 percent. Kingston Lin King-kam, associate director of Prudential Brokerage, said CapXon's performance "would not affect the IPO fever" in Hong Kong. Lin was not surprised, noting that the subscription response from CapXon investors had already shown the company was not that attractive. The company's retail tranche was only 46 times covered, tying up about HK$870 million of funds, compared to at least 50 times subscription for other recent IPOs. Of 20 companies that have floated shares so far in 2007, only four fell below their IPO price on their trading debuts. These include CapXon, Sino Gold, China Properties Group (1838) and Tai-I International Holdings (1808). The average growth for the 20 companies was 15 percent. Emperor Capital (0717) has been the year's best-performing new listing in terms of percentage growth, jumping 79 percent on its trading debut April 24 to HK$0.68 from the IPO price of HK$0.38. Meanwhile, China Molybdenum (3993) has emerged as the most profitable IPO so far, providing retail investors a gain of HK$4,020 per board lot of 1,000 shares, as its stock shot up 59 percent on its first trading day April 26 to HK$10.82 from the IPO price of HK$6.80. Its Moly shares closed Monday at HK$12.24, down 0.65 percent.
The High Court has started hearing arguments on whether Hong Kong is obligated by an international covenant to ensure its citizens have a "decent living" and if Chief Executive Donald Tsang Yam-kuen is bound by a 67-year- old ordinance to set a minimum wage for workers.
A Sino Land-led consortium won the land auction for an 86,758-square-foot West Kowloon site on Tuesday with a HK$4 billion bid, below market expectations.
The Independent Commission Against Corruption on Tuesday said it had arrested 47 people in connection with a suspected food supply scam involving HK$1 million in bribes.
Some 886,674, tourist arrivals came to Hong Kong over the Labor Day Golden Week holiday - a 22 per cent increase from last year, a spokesman for the Tourism Commission said on Tuesday.
The mainland yuan's role in financial transactions in Asia would expand considerably in future, Hong Kong Monetary Authority chief executive Joseph Yam Chi-kwong said on Tuesday.

China: China's currency, the yuan, broke the 7.70 barrier for the first time on Tuesday, the first trading day after the week-long May Day holidays.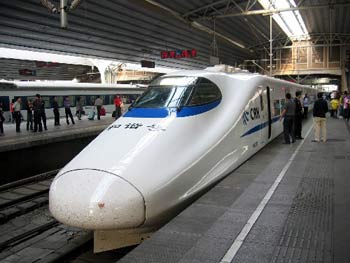 A bullet train is seen at Beijing railway station May 7, 2007. The new CRH (China Railway High-speed) bullet train can run at 200km per hour. According to the Ministry of Railways, a record 5.16 million people travelled on trains on last Monday alone, and from April 28 to May 7, some 45 million people will take trains, up 8 percent year-on-year.
Procurators across China have brought 62 government officials to court for allegedly protecting criminal gangs in their precincts, according to China's Supreme People's Procuratorate (SPP). "Procurators at all levels have detained more than 17,600 criminal gang suspects from March 2006 to March 2007, and brought more than 10,000 of them to court," said a SPP source. Zhou Yongkang, minister of public security, last month ordered a continued national crackdown on criminal gangs, noting that two big events -- the 17th National Congress of the Communist Party of China and the Beijing Olympic Games -- are around the corner. Police say they have broken up more than 3,000 gangs in the past 14 months, 54 of which involve "protecting umbrellas" from government officials. The SPP source said local procurators have set up special working groups to crack down on criminal gangs and to dig out any official sponsors involved. In one of the most prominent cases, Xu Xiaogang, former vice director of the provincial public security department of east China's Jiangxi province, was sentenced earlier this month to life imprisonment for graft and illegal possession of guns. Xu received bribes -- including cash bribes of 850,000 yuan (109,000 U.S. dollars) and 10,000 U.S. dollars and two jade bracelets worth 82,000 yuan (10,500 U.S. dollars) -- from a local gang that operated a series of business scams, ran underground casinos and possessed a big stock of guns. Xiong Xinxing, the head of the gang, was sentenced to death and executed on Jan. 11 this year.
Shares of PetroChina (0857) had a bumpy ride Monday continuing from its Friday rally, after Berkshire Hathaway shareholders voted down a proposal asking chairman Warren Buffett to divest its US$3.31 billion (HK$25.82 billion) stake in the oil giant.
Hong Kong blue-chip companies wanting to float shares in mainland stock markets may not see it happen within the next five to 10 years, according to a Hong Kong stock exchange official.
Jiang Bing, known on the mainland by his nickname the "roasting king", shows off his skills at a shopping mall plaza in Liuzhou, Guangxi. As part of the "golden week" festivities, Mr Jiang (in chef's hat) roasted 128 lambs in just two hours on a 40-metre-long grill.
Millions of returning holiday-makers jammed mainland train stations and airports on the final day of the Labour Day break yesterday criticism again arose of a government policy that puts more than 1.3 billion people on holiday for a week at exactly the same time.
May 9, 2007

Hong Kong: New World China Land (0917), the mainland property development arm of New World Development (0017) aims to raise up to 2.8 billion yuan (HK$2.84 billion) by issuing five-year zero coupon convertible bonds to finance a project in Beijing.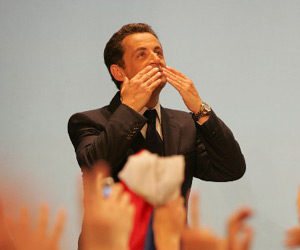 French right-wing presidential candidate of the Union for a Popular Movement (UMP) Nicolas Sarkozy is applauded by the crowd as he arrives to deliver a speech, at the "salle Gaveau" in Paris. Sarkozy scored an emphatic victory in the French presidential election Sunday, trouncing Socialist rival Segolene Royal to win a clear mandate for tough economic and social reforms.
Despite China's property market expecting another round of austerity measures, foreign investors believe the sector has undergone consolidation leading to an opportunity to invest, said Aetos Capital Asia managing director Kenny Tse Chiu-ping. "There has been a lagged effect on the mainland property market resulting from austerity measures since 2003," Tse said. "Increasing transparency and a more regulated market through mergers and acquisitions during past years have made property a more attractive investment as the risk is lower," he said. Tse said these merger activities had given rise to new property giants such as Country Gardens (2007), while eliminating unqualified corporations. This in turn provided more quality investment choices for overseas investors. "Sustainable profit growth for mainland developers could be as high 20 percent to 30 percent," Tse said. "We expect the total market capital of overseas listed mainland property companies could jump to about US$100 billion (HK$780 billion) from the current US$60 billion by the end of 2008."
Wealth managers see greater potential in China than in India and are ready to recommend alternative investments such as hedge funds to boost investor returns, according to a survey. China has the rosiest prospects of any wealth market in Asia, said the poll of 73 wealth managers in Europe, Asia and the United States that oversee more than US$5 trillion (HK$39 trillion). Some 80 percent of those canvassed in the survey by British investment bank Barclays Capital forecast at least 16 percent annual growth in the assets run by wealth managers in China. But fewer of the respondents were as upbeat about India, with 60 percent expecting assets managed by its wealth experts to increase at least 16 percent annually. "The overall outlook for wealth generation in Asia is strong while confidence in China is higher than ever," said Peter Hu, a top investment manager at Barclays Capital. "They are still bullish on India but less so than on China." Barclays Capital forecast economic growth in Asia, excluding Japan, of 8.2 percent for this year. China reported 11.1 percent economic growth in the first three months of the year, and India is expected to grow by around 8.5 percent in the year to March 2008, down from an estimated 9.2 percent the previous year. Asian investors are becoming more "happy to take on non-traditional investments" such as hedge funds, private equity and property, Hu added. He said many so-called traditional asset classes, like the stock market or bonds, were near all-time highs. "They're not compensating investors as much as they have before so they're looking for other kinds of investments ... to sustain their return profile." The trend toward alternative investments reflects a rising "level of sophistication among investors in the region" and a higher "level of younger money being made by entrepreneurs," Hu said. "They understand risk" and are ready to "look at new ways to gain returns." "It's a positive for the region, helping to increase diversification and absorb liquidity," he added, forecasting that alternative investments will become "mainstream products over the next two years." Right now, equity-linked products, or equity derivatives, are the most popular alternative portfolio investments, with foreign exchange-linked products second, the survey found. "With increased liquidity and transparency, the derivatives market is set to grow," Hu said.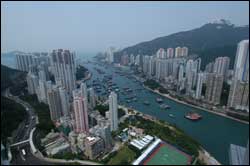 Hong Kong will have a fisherman's wharf by 2012 as one of the highlights of a redeveloped Aberdeen traditional fishing harbor, according to the Tourism Commission. But district councillors are concerned a lack of railway services may be a problem for the growing number of visitors to the area. The commission said Sunday the waterfront at both Aberdeen and Ap Lei Chau will be redeveloped with a fisherman's wharf as the main theme. Work on the project will start in 2009 and is due to be completed by 2012. Thematic architecture, with Chinese and Western seafood restaurants, retail shops and open space for alfresco dining will spread along the waterfront to blend tourism with the area's present culture. The harborfront will also be a focal point for various festive and cultural activities, and vantage points for viewing annual Dragon Boat Festival races. Traditional sampans will be used as transport to connect both sides of the harbor with Ocean Park. Other facilities such as a dragon boat gallery, a floating maritime exhibition facility, heritage walks and signs will be developed to highlight past and present traditions. The government will call for public tenders to design, build and operate the facilities. However, the government has ruled out the need to expand the area's transport system, saying a study has shown that most tourists visit the area during off-peak hours. The harbor development concept, which was presented to the Southern District Council last week, has received support from councillors, with reservations. "The project will help boost tourism in the district, but inadequate transport links are the main concern," councillor Law Kam-hung said. The Aberdeen tunnel - the district's main link with the city - is already over-crowded during rush hours and cannot cope with the growing number of visitors to Aberdeen, he said. The government should consider extending Mass Transit Railway services to the area and include it as part of the tourism development plan, Law said. He welcomed the idea of inviting private developers to design and operate the facilities, but said he was worried about a possible clash of private property rights in the area to be developed. Ap Lei Chau's main street, which is aligned with privately owned shops, is where the government should resolve the issue of property rights before proceeding with the redevelopment. According to Law, hotel accommodation in the area is not a problem despite the surge in the number of tourists. He said more than 10 industrial buildings in the Wong Chuk Hang industrial area have been rezoned for hotel development. Another councillor, Shek Kwok- keung, said he hopes the proposed redevelopment will help Aberdeen regain its attraction. "More than 10 years ago, people came to Aberdeen for seafood, but now all the seafood restaurants along the waterfront have disappeared, with only some Chinese eateries left. "Aberdeen's tourism development is 15 years behind that of other districts," he said.

China: China's GDP grows annual average of 9.67 pct from 1978 to 2006 - The annual growth rate was much higher than that of the world economy, which was about 3.3 percent on average in the same period.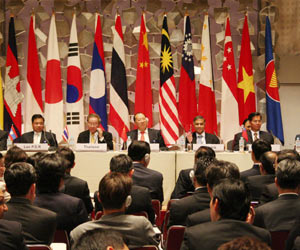 A joint press conference of the 10th ASEAN+3 Finance Minister's Meeting is held in Kyoto, Japan, on May 5, 2007. The finance ministers of the Association of Southeast Asian Nations (ASEAN) as well as China, Japan and South Korea (ASEAN+3) concluded their 10th meeting on Saturday afternoon in Kyoto, vowing to further deepen financial cooperation.
As Taiwan fruit gains popularity on the mainland, Taiwan businessmen are calling for direct transport links between the island and mainland to facilitate their expanding market.
China has issued direct selling licenses to 19 companies since 2005, said sources with the Ministry of Commerce on Monday. Fourteen of them are foreign-funded companies, including Avon China, Nu Skin China, Ningbo Sansheng, Oriflame Cosmetics China and Amway China, while the domestic companies include Nanjing Joymain, Beijing Rolmex Pharmacy and Guangdong Kangli Medicines. Other companies have applied for the license and are still waiting for government approval, said the ministry. In 2005, China mapped out regulations on direct selling in order to regulate the sector and prevent pyramid selling and open direct selling business as part of its commitment to the World Trade Organization. Regulations limit direct selling to cosmetics, health food, sanitary products, body-building equipment and kitchen utensils.
Industrial production took up an increasing share of China's electricity consumption from 2000 to the first quarter of 2007, according to the latest report from the China Electricity Council. In the first quarter this year, China's secondary industry used 540 billion kilowatt-hours of electricity, up 16.8 percent from the same period last year. The figure was 75.12 percent of China's total electricity consumption in the first quarter, compared with 74.89 percent in 2006 and 71.75 percent in 2000. Electricity consumption in light and heavy industries respectively rose 11.5 percent and 18.1 percent, which were 2.1 percentage points and 6.31 percentage points higher than the rise in the same period of last year. Electricity consumption in the primary industry, or the agricultural sector, grew 3.5 percent in the first quarter, while that in the tertiary industry, or the service sector, rose 10.8 percent. China consumed 718.91 billion kilowatt-hours of electricity in the first quarter, up 14.92 percent year on year.
China's all-time high equity market needs "cool water and cool heads" after taking a 7-day Golden Week breather, otherwise the stock bubble runs the danger of a quick bust, experts said. Since its nine-percent correction in late February, the Shanghai A-share equities have now moved back up more than 40 percent, and no letup is seen on the horizon, buoyed by a series of successful initial public offerings as the ranks of investors swell at over 200,000 a day. There are now more than 91 million accounts held at brokers or mutual funds. Xia Bing, director of the State Council's Development and Research Center's Finance Department, warned at a recent CCTV talk show program, that the stock market bubble is building. He and a string of other economists suggested investors take extra caution before jumping onto the bandwagon.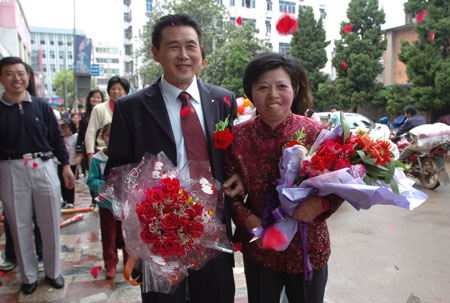 "Internet Mother" Liu Huanrong (R) and her husband Zhu Qingcai smile at their wedding ceremony in the city of Shangrao of South China's Jiangxi Province May 5, 2007. Liu, 50, got disabled after fighting fire when she was small with the burnt area covering 91 per cent of her body surface. Though disabled, she uses the Internet to help a number of youngsters addicted to the net and guide them into normal life.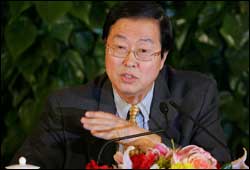 People's Bank of China governor Zhou Xiaochuan acknowledged Sunday the country's stock market bubble is a concern and said the central bank is watching asset prices as well as inflation. Zhou also said there is room to raise the reserve ratio of lenders further after seven increases in 11 months failed to slow lending and inflation. "There surely is still room" to raise the reserve requirements, Zhou said on a flight to Frankfurt. Zhou, on his way to a meeting at the Bank for International Settlements in Basel, Switzerland, also said an acceleration in inflation to the fastest pace in two years is "normal" and "not very unexpected." Through policy moves, Premier Wen Jiabao is trying to prevent excess cash from a record trade surplus from stoking inflation, fueling wasteful investment and creating more bad loans. Economic growth accelerated to 11.1 percent in the first quarter from 10.4 percent in the previous three months, largely driven by exports that nearly doubled the trade surplus to US$46.4 billion (HK$363 billion). The PBOC has raised interest rates three times since April last year and sold bills to soak up liquidity in the banking system and stem price increases. On the last occasion, March 17, the benchmark one-year yuan lending and deposit rates were adjusted upward by 0.27 percentage points each. That lifted the one-year deposit rate to 2.79 percent and the lending rate to 6.39 percent. This was an eight-year high. Despite the rates increases, inflation accelerated to 3.3 percent in March from 2.7 percent in February. It was the highest rate in more than two years, and banks made 1.4 trillion yuan (HK$1.42 trillion) of new loans in the first quarter alone, nearly half the lending last year.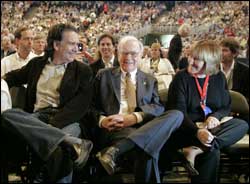 Shareholders of Warren Buffett's holding company Berkshire Hathaway have overwhelmingly defeated a proposal to divest a US$3.31 billion (HK$25.81 billion) stake in PetroChina (0857) because of its parent's alleged links to Sudan. Hong Kong analysts believe Saturday's vote will help drive up Petrochina's share price further when the market opens today. The shares rocketed 14 percent to close at HK$10.16 Friday on news that its Jidong Nanpu field in Bohai Bay has proven reserves of about 3 billion barrels of oil. Berkshire's shares are up about 3,600 percent since 1987. They rose US$650, or 0.6 percent, to US$109,250 Friday in New York. At the annual meeting in Omaha, Nebraska, less than 2 percent of votes were cast in favor of the proposal by shareholder Judith Porter. Buffett, 76, opposed the proposal. By the end of last year, Berkshire held a 1.3 percent interest in PetroChina, making it the top foreign shareholder.
China's top family planning body has warned that the world's most populous country could face a "population rebound" because the newly rich are ignoring population control laws and because of early marriages in rural areas, state media said on Monday. China's family planning policy — implemented in the late 1970s — limits most urban couples to one child and rural families to two to control population growth and conserve natural resources.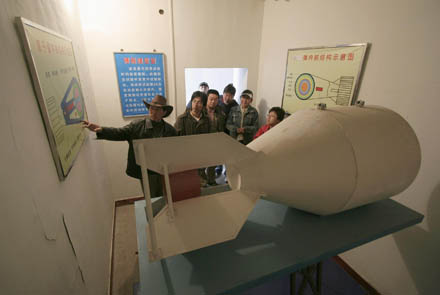 A guide explains the interior structure of an atomic bomb yesterday at the site of the mainland's first nuclear weapons base in Haiyan county, Qinghai province. Beijing has declassified the base and is inviting the public and tourists to visit the site.
May 8, 2007

Hong Kong: Rail chiefs have defended their decision to award bonuses totalling HK$614,000 to senior executives despite a management feud and a faulty equipment crisis last year.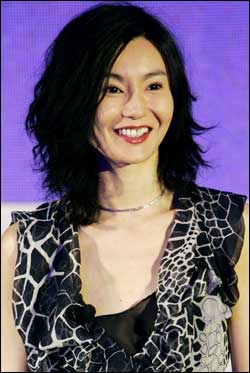 In a rare public appearance, Cannes best actress winner Maggie Cheung Man-yuk said she has cut down her output because she does not like life on the set. "I don't take on that many movies these days because I don't miss the set. "I enjoy the moment when I'm acting, how to immerse in character, figuring out how to portray something with my colleagues ... but sometimes waiting on the set for six hours is very common," the Hong Kong actress said after attending a promotional event for bank HSBC. "Sometimes I think, `Six hours! How much I could have done. How many friends I could have seen. How many movies I could have watched,"' said Cheung, who hasn't appeared in a movie since 2004. Cheung said she's in talks about several movie projects and has met with directors Tsai Ming-liang of Malaysia and Jia Zhangke from China, but has not committed to any roles. She said she wants to stay away from heavy roles. "At this moment, I don't want to portray characters that are too heavy," Cheung told reporters, adding she enjoys the break from portraying tragic characters. "Because I haven't made any movies recently, I don't have to think, `I need to cry in this scene. I need to be emotionally immersed."' Cheung won the best actress award at the 2004 Cannes Film Festival for her performance in Clean. Clean and another 2004 movie, Wong Kar-wai's 2046, are her latest movies.
Emerging-market fund manager Mark Mobius remains confident about surging Hong Kong-listed mainland plays even though the rest of the region is expensive. "The Asian market is overdone, but the Hong Kong-listed H-shares and red chips still look reasonable. We continue to hold those," said Mr Mobius, president of Templeton Emerging Markets, with US$34 billion under management. Mr Mobius also said Asian oil and telecoms companies looked attractive and said there were "bits and pieces in other sectors". H-shares are Hong Kong-listed mainland companies while red chips are mainland firms incorporated overseas. The Hang Seng China Enterprise Index tracking those stocks rose 3.47 per cent last week, to reach a four-month high of 10,035.01.

China: China closed down a total of 3,176 polluting enterprises amid a campaign in which 720,000 companies have been checked for their pollution discharges last year, according to the country's top environment watchdog.
China is considering to offer unified insurance packages tailored to its overseas workers after nine Chinese were killed in Ethiopia, according to the China Insurance Regulatory Commission (CIRC).
For Chinese who habitually travel during the weeklong May Day holiday, they may find this year's itinerary involves as much etiquette education as sightseeing, delicious food and shopping. "On our first day in Beijing, we were repeatedly told by the tour guide not to litter and spit and given pamphlets about what to do and what not to do," said Luan Hong, a tourist from southeast China's Fujian province. Posters telling travelers how to behave appear in almost every train station, bus stop, hotel and scenic spot. "We are treated like little kids," Luan said. Tourists' grumbles mean little to officials who are anxious to correct the embarrassing habits of Chinese travelers ahead of next year's Olympics Games. And there is no better opportunity of doing it than the May Day travel spree, when an estimated 150 million Chinese will be on the road. The China National Tourism Administration has issued a circular, making travel agencies and tour guides responsible for correcting tourists' bad behavior during the holidays. Jumping the line, spitting, littering and clearing one's throat loudly in public are some of the frequently observed practices among Chinese travelers, according to a guideline prepared and released last year by the Spiritual Civilization Steering Committee (SCSC) of the Chinese Communist Party, the official etiquette watchdog. "We are supposed to remind people constantly throughout the tour, and also lead an etiquette discussion at the end of the tour," said Huang Xiaohui, a tour guide with a Beijing-based travel agency. "The Olympics are coming, and we don't want to get disgraced," Huang said, summing up the purpose succinctly. Beijing expects to receive 550,000 foreign tourists during the Olympics and an estimated 2 million domestic tourists will also visit the capital city. "Promoting civilized behaviors among Chinese travelers is a long-term task. To harvest short-term results before the games, we need to focus our resources on the main problems," said Zhai Weihua, SCSC deputy director. "Tens of thousands of reporters will come to China to cover the Games next year, which means both China's positive and negative sides will be amplified. Once bad impressions are made, they last, " Zhai said. "That's why we should grab the opportunity to change uncouth behavior," said Wu Jianmin, President of China Foreign Affairs University, in a TV interview.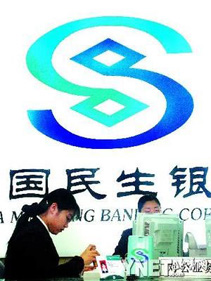 China Minsheng Banking Corp., one of the country's 10 listed commercial banks, has reported net profits up 47 percent year-on-year to 1.11 billion yuan (144.2 million U.S. dollars) in the first quarter of the year.
China has earmarked 900 million yuan (116.9 million U.S. dollars) for efficient arable land fertilization program this year, sources with the Ministry of Agriculture said on Sunday.
China's leading private education and training company New Oriental Education and Technology announced impressive fiscal third-quarter results, beating Wall Street expectations. The company's US$33 million (HK$257.4 million) in revenues for the three months ended February 28 were a 51 percent increase from the same period a year ago and exceeded the high end of the company's guidance of US$27.1 million in revenues for the quarter.
May 7, 2007

Hong Kong: Hongkong and Shanghai Banking Corporation chairman Vincent Cheng Hoi- chuen said foreign banks will not neglect risk management to compete with mainland players, who so far have much larger distribution networks than offshore lenders.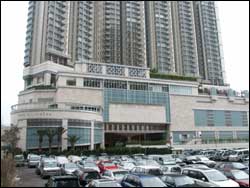 Wheelock Properties (0049) has triggered an auction for a waterfront site in West Kowloon with a bid of HK$4.2 billion, the biggest by a developer since 2004. The bid also marks another successful attempt by the company to trigger a sale for a residential site in the area as it aggressively seeks to replenish its land bank. Wheelock director Ricky Wong Kwong-yiu confirmed Friday the company had submitted the price for the latest site at West Kowloon Reclamation. Located at Hoi Fai Road, the 122,204-square-foot site adjacent to One SilverSea - which was developed by Sino Land (0083) - is likely to draw potential bids from rival developers Sun Hung Kai Properties (0016), Sino and K Wah International (0173), who have all indicated they will study the site. The Lands Department announced Friday it had accepted Wheelock's bid of HK$4.2 billion, or HK$4,583 per square foot, which will also be the opening bid in the auction June 12.
Xiamen International Port (3378), the seventh-biggest port in the mainland by throughput, has formed a joint venture with an associate company of Hutchison Port, a unit of Hong Kong-based Hutchison Whampoa (0013), to operate a berth in Fujian at a total investment cost of 737.8 million yuan (HK$748.94 million).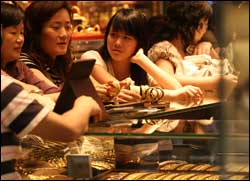 Hong Kong's image as a shoppers' paradise has not been overly damaged by recent scandals, with the number of visitors for the first six days of the Labor Day Golden Week soaring 20 percent, the Tourism Commission said Friday. What damage was done was only noticeable in the substantial drop in the number of mainlanders arriving in the SAR on group tours. The commission said the number of mainlanders arriving in the first six days increased 24 percent to 355,681, accounting for 61.7 percent of the total 576,752 arrivals. However, it said those traveling in tour groups fell 13.5 percent to 20,996 during the period, while those visiting independently jumped 43.5 percent to 238,442. The increase in the number of tourists came despite a number of negative press reports on Hong Kong tourism that followed a China Central Television expose last month which accused two local shops of deceiving mainland visitors by selling counterfeit products passed off as luxury goods. Since then the SAR and central governments have worked together to stamp out dishonest retailers. Li Gang, deputy director of the Central Government Liaison Office, said the increase of tourists showed the recent measures had been effective. "All the comments I have heard from the mainland tourists were positive," Li said after a flag-raising ceremony at Golden Bauhinia Square in Wan Chai to commemorate Youth Day. "I am confident the future development of tourism will be very good." Meanwhile, Hong Kong police confirmed a report in The Standard Friday that about 100 tourists were abandoned in Yau Ma Tei Wednesday night after their tour guide absconded with their money. A police spokesman said the tourists were found sitting outside a hotel at Temple Street, Yau Mau Tei, around 3pm Thursday. "We knew they were tourists so we contacted the tour agency. They have solved the dispute among themselves," the spokesman said.
Hong Kong's two rail operators have promised to speed up the second phase of the installation of platform screen doors and automatic platform gates, the first phase of which began 10 years ago.
Macau Chief Executive Edmund Ho Hau-wah, in his first response to violent Labor Day protests, stressed police were not trying to suppress protesters and that shots had been fired only in response to what appeared to be an emergency situation. Ho said Friday there was no attempt whatever to subdue the protesters and that senior directors of the force had not instructed frontline police officers to open fire during Tuesday's demonstration. Ho said police officers do not normally open fire when handling peaceful demonstrations. The officer who fired five shots into the air - resulting in a man surnamed Leung being struck by a stray bullet - did so only after several protesters had fallen and were at the risk of being trampled, Ho said. Calls made by the protesters, Ho said, including those asking him to enact tougher laws and implement measures to combat illegal labor, were rational and would be addressed by the Macau government. But he said he would not rule out the possibility a minor group of protesters had other political objectives and deliberately provoked the demonstrators to act violently. He noted the management of the police force would review its handling procedures in similar situations in future. Macau's security police chief Lei Siu-peng had earlier described the violence as a riot. He also described the shooting as an appropriate act in an emergency situation so as to save lives. Ten demonstrators were arrested by police during the rally. Twenty-one police officers were also injured.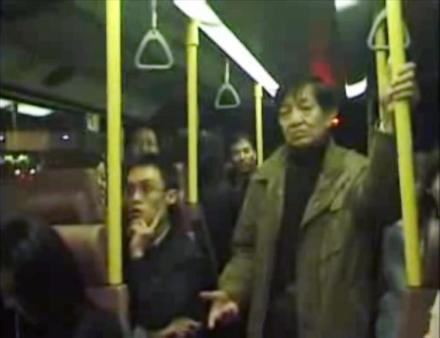 A worthy sequel to the "Bus Uncle" episode has made its way onto the video sharing website YouTube. A clip from the video shows the older man standing while the young man stays put.
Harbor activists have urged the government to be more transparent in the tender process for the new government headquarters on the Tamar site, as a special selection board will have absolute discretion to choose the winning bid.

China: China recorded 19 million new mobile phone users, equivalent to the entire population of Scandinavia, in the first three months of the year, the government said on Friday. At the end of March, the number of Chinese mobile phone users hit 480.7 million, up from 461.1 million at the end of last year, the Ministry of Information Industry said. Fixed-line users increased to 371 million from 367.8 million during the period, the ministry said in a statement on its website. The telecommunications industry earned revenue of 165.1 billion yuan in the first three months, up 8.4 per cent year-on-year, according to the ministry.
Shareholders of Berkshire Hathaway voted by a 50-1 margin against a resolution calling on the company to sell its US$3.3 billion stake in PetroChina, Berkshire chairman Warren Buffett said. Protesters claim the investment lets Berkshire profit from the business activities of PetroChina's parent company, China National Petroleum Corp, in Sudan, where the government has been accused of supporting genocide in its Darfur region.
Some shrewd investors in China have decided not to travel abroad during the golden week holiday, fearing they might miss another high at the bullish market.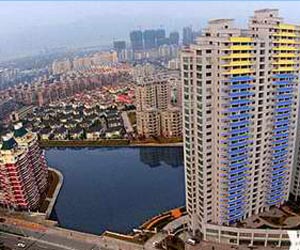 The price-to-rent ratio for second-hand houses in some of China's big cities have gone over the international warning line, said the 2007 real estate blue paper released by China Academy of Social Sciences. The price-to-rent ratio, or the rent for one sq. m. of floor space divided by its sales price, is an indicator of real estate market move, said Shan Jingjing with the research center of urban development and environment protection of CASS, adding that the lower the ratio is the better the housing market does. A rapid increase of house prices combined with a flat renting market can signal the onset of a bubble, said the researcher. The report shows that the price of second hand houses in most large cities including Beijing, Shenzhen, Shanghai and Hangzhou soared in 2006 while the renting price were stable. In these cities' downtown areas, the ratio reached from 1:270 to 1:400, according to the report. "The international warning line is 1:200. Once the ratio goes over the line, the market is in danger of a bubble," said Shan. The researcher estimated that driven by strong demand and high land and new house prices, China's second-hand house price would continue to rise with a slower growing rate.
The successful commissioning nearly 16 years ago of a 300 MW nuclear reactor in Qinshan, east China's Zhejiang Province marked the birth of the country's nuclear power industry. Development of the technology began actually earlier, dating back to the late 1970s.
China's banking sector hunger for talents - With the opening of its banking sector, China now is seeking a great number of talents to feed the gap between the sector's expanding business and insufficient human resources, said a report on employment and human resources. Overall, 77 percent of employer respondents on the Chinese mainland's banking industry said they would hire more staff in the second quarter, up from 64 percent in the previous quarter, according to the Hudson Report released on Thursday. The Hudson Report is a quarterly survey of forward-looking employer hiring expectations. The expectation to increase or decrease staffing levels is a key indicator of employers' optimism about their market. China permitted foreign banks to operate renminbi business from April this year, creating strong demand for experienced candidates, said the report. The report pointed out that China continues to lead Asian economies in hiring expectations and attributed this to the country's rapid economic growth. This survey of 600 executives in key business sectors, such as banking, consumer and manufacturing, shows that 59 percent plan to increase headcount in the first quarter of 2007, up from 56 percent in the previous quarter.
China Huadian Corporation, one of the country's major power generators, said it had completed a new project in Zou County of the eastern Shandong province to reclaim water that can satisfy the daily water demand of 470,000 people. The water reclaiming facility was designed to treat 4,200 tons of wastewater per hour, including the industrial wastewater from the power plant and the urban sewage. The whole system, the largest of its kind in the country, is expected to produce 12 million tons of reclaimed water every year after it is put into operation. The power generating sector is among the six major industries that have long been blamed for heavy pollution to the environment.
China has become Australia's biggest trading partner in stead of Japan, according to latest figures. Exports and imports between China and Australia reached about 52.7 billion Australian dollars (43.2 billion U.S. dollars) in the 12 months to March, compared with trade with Japan of 50.6 billion dollars, (41.5 billion U.S. dollars), show figures from the Australian Bureau of Statistics released Friday. Craig James, chief economist of Commsec, Australia's leading Internet broker, said it is a significant development. "This is clearly a red letter day in Australia's history," he was quoted by Australian Broadcasting Corporation radio as saying. "For the first time, China is Australia's largest trading partner," he said. "It's usually been the case that Japan and the U.S. have vied for supremacy, but China has clearly passed Japan as our biggest trading partner," he said. Meanwhile, the new figures also show that Australia's trade deficit grew by 894 million dollars (733 million U.S. dollars) in March to 1.6 billion dollars (1.3 billion U.S. dollars).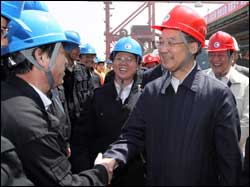 A huge PetroChina (0857) discovery in Bohai Bay has increased the nation's oil reserves by one fifth, pushed China past Libya to ninth in the world's oil reserve rankings and significantly boosted the oil giant's share price and analysts' outlook. The surging share price pushed PetroChina to overtake BP to become the world's third-largest oil company by market capitalization, after ExxonMobil and Royal Dutch Shell. But even though Premier Wen Jiabao called the find "the most encouraging discovery in over 40 years" - giving him a "sleepless night" - the high cost of development and the speed that oil can be obtained from the field are a concern. The news also throws into doubt Berkshire Hathaway Inc's planned divestment of its 13.35 percent H-share stake in PetroChina as the new oil reserves have provided a positive boost to the mainland oil producer. Berkshire Hathaway, controlled by the world's third wealthiest man, Warren Buffett, holds an extraordinary general meeting this weekend in the United States to vote on the divestment. Concerns have been raised over links of PetroChina's parent, China National Petroleum Corp, to the Sudanese government, which has been condemned for supporting genocide in Darfur. The value of Berkshire Hathaway's stake in PetroChina has soared fivefold since 2003 when it is reported to have acquired the shares at an average HK$1.60 apiece. Buffett has said he disagrees with the divestment as he believes it would not help improve the situation in Sudan. PetroChina shares rocketed 14 percent Friday to close at HK$10.16, with 1.18 billion shares changing hands for turnover of HK$11.7 billion - nearly four times that of HSBC (0005), the second most actively traded stock. Meanwhile, the top 20 gainers and nine out of the 10 losers in the warrants market are all related to PetroChina, with one of the warrants issued by KBC Financial soaring 2,614 percent in one day. PetroChina announced Thursday its Jidong Nanpu field in Bohai Bay contained "proven reserves" of 405.07 million tonnes of oil equivalent, or nearly three billion barrels; "probable reserves" of 298 million tonnes; and "possible reserves" of 202 million tonnes. It also has 111.6 million tonnes of oil equivalent natural gas reserve. The reserve in Jidong Nanpu oilfield is about 68 percent the size of Daqing oilfield - the mainland's largest, which is also owned by PetroChina - according to Citigroup analyst Graham Cunningham. "The discovery could transform PetroChina from a company struggling to keep its oil production flowing to a company with strong crude growth in the coming years," he added. Goldman Sachs also believes the new discovery "should help address a recurring concern investors have had over the past few years about declining oil production from Daqing oil field."
China, Japan and South Korea have agreed to pool part of their foreign- exchange reserves to prevent a repeat of the crisis that depleted Asia's holdings a decade ago. China's Jin Renqing, Japan's Koji Omi and South Korea's Kwon Okyu will join 10 finance ministers from Southeast Asia in Kyoto Saturday to discuss combining some of the region's US$2.7 trillion (HK$21.06 trillion) in foreign reserves to help central banks shield their currencies from unwelcome outflows of money. "We agree to further strengthen our efforts to jointly explore ways for a Chiang Mai initiative multilateralization," the ministers said in a joint statement in Kyoto Friday. The current arrangement, which only allows for bilateral currency swaps, is named after the Thai city in which the accord was forged in 2000. Broadening the initiative would allow the region's governments, stung by conditions attached to loan packages by the International Monetary Fund during the 1997-98 financial crisis, to reduce reliance on the Washington-based agency. The unsuccessful defense of their plunging exchange rates a decade ago depleted the reserves of Indonesia, Thailand and South Korea, and prompted them to turn to the IMF to shore up their finances. The IMF arranged over US$100 billion of loans to Thailand, Indonesia and South Korea during the crisis after their currencies collapsed. In return, governments were forced to cut spending, raise interest rates and sell state-owned companies. Critics said the policies deepened the region's recession, as higher borrowing costs hurt businesses and crimped domestic consumption. The IMF, in a 1999 assessment of its handling of the crisis, said it "badly misgauged" the severity of the collapse and acknowledged its fiscal prescriptions for the three countries were too harsh. The region's holdings of foreign reserves have since swelled. China's foreign-currency holdings grew by US$1 million a minute in the first quarter to US$1.2 trillion, the most in the world. Japan's foreign exchange reserves have doubled since 2000 to US$887.98 billion in March. South Korea's reserves are now the world's fifth largest, surging to US$244 billion from US$7 billion in November 1997. The three countries will also help aid the development of an Asian bond market, which would allow governments to tap the region's US$1.5 trillion of savings to find projects to build roads, power stations and sewage systems. At present Asia's reserves are invested in the US bond market with investors from Japan, China, Korea, Taiwan and Hong Kong owning a combined US$1.2 trillion of Treasuries.
Xinhua rejects US radio's charge - Claims by official US broadcaster Voice of America that new rules covering the way foreign media disseminate information on the mainland harm the foreign players' interests have been rejected by Xinhua. A spokesman for Xinhua's Foreign Information Administration Centre said foreign news agencies authorized to release news on the mainland would be free of obstacles as long as they abided by the new measures, state media reported yesterday. In theory, foreign news agencies are not allowed to provide news and information to the mainland media, which have by and large ignored the rule. However, the new measures introduced last September state that approval must be sought from Xinhua. Last month, Xinhua said four overseas news agencies were allowed to release news and information on the mainland after they passed an annual assessment. They are Reuters Asia, Jiji Press of Japan, ETNet of Hong Kong and a unit of Japan's iNews Net Asia, NNA China Ltd. A report by VOA on May 1 said some foreign reporters were concerned that the new measures would restrict foreign media players' development on the mainland as authorities would only gave the green light to organizations that bowed before Beijing. The VOA also quoted a Beijing-based reporter from Japan's NHK network as saying the new measures "let fertile water flow into Xinhua" because foreign agencies had to pay for a permit from Xinhua's foreign information centre - a "commercial institution" - in order to run their businesses. However, the Xinhua spokesman was quoted as saying: "The centre is not a commercial institution at all. It is a managerial department established by Xinhua with the authorization of the State Council. "In the course of providing services, this agent department [Xinhua] neither shares any profit nor seeks to promote its own interests." Under the 22 new measures, Xinhua is the only institution authorized to approve foreign organizations' release of news and information to mainland media. The new measures state Xinhua has the sole right to select news and information released by foreign news agencies on the mainland and will delete any material that undermines the country's national unity, sovereignty or security.
Shanghai's middle class may be embracing consumption, but mainlanders overall are savers not spenders. For the central government, the country's overall savings rate - which now stands at about 50 per cent of its gross domestic product - has inhibited the mainland's evolution into a more mature, consumption-based economy. For the retail sector and its growing cast of investors, that thrift presents a major obstacle to unlocking the potential buying power of mainland consumers. For Beijing's main trading partners, a decline in savings would provide an easy fix to its huge current account surplus. Yet even as the calls for a spendthrift mainland have grown louder, the nation's savings deposits have topped 16 trillion yuan while consumption has dropped as a percentage of the overall economy. Three recent papers by some of the top experts on the mainland's economy suggest a significant fall in the savings rate is unlikely anytime soon. "The high savings rate is not a temporary problem," says Sun Lijian, an economics professor at Fudan University. "It is a structural problem." In a historical sense, the mainland's penchant for savings is a relatively new phenomenon. Until economic reforms began in 1978, household savings stood at only about 5 per cent of disposable income; by the mid-1990s, that figure had climbed to 30 per cent, and was widely credited for helping fuel the country's rapid growth. Household savings have since dipped slightly, to about 25 per cent, but still remain significantly higher than those of virtually any other country in the world.
May 5 - 6, 2007

Hong Kong: HSBC Holdings (0005) said Wednesday that listing on the Shanghai stock exchange will be the banking conglomerate's target in the medium term as the mainland bourse is eager to invite large foreign corporations to float shares to mop up excess liquidity that has been worrying the central government.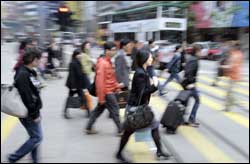 The government collected a record HK$155 billion in tax revenue during the 2006-07 fiscal year, it was revealed Wednesday. Commissioner for Inland Revenue Alice Lau Mak Yee-ming said this was HK$10.1 billion, or 7 percent, higher than the previous year's tax revenue. She attributed the increase to the rebounding economy, the extensive improvement in the labor market and very active stock market transactions. Lau said the biggest percentage growth was in stamp duty which, at HK$25 billion, was 40 percent up on last year's HK$17 billion. "We attribute this to the soaring stock market in 2006-07. The stamp duty on stocks alone was HK$15 billion, which was equivalent to 60 percent of the total sum and 250 percent higher than the stamp duty on stocks collected during 1997-98," Lau said. Average daily turnover on the stock market in 2006-07 was HK$40 billion, though on some occasions it reached as high as HK$80 billion. However, Lau said the department was taking a conservative approach and projecting a drop of around 10 percent on stamp duty for the next fiscal year. Overall, the department is estimating a drop of 4 percent to HK$148.9 billion in total revenue for 2007- 08. Income from profits tax rose 3 percent to HK$71.9 billion, while income on salaries tax also grew 3 percent to HK$38.6 billion. The department was projecting an 8 percent increase in profits tax for 2007-08. Stamp duty revenues for the 2006-07 financial year soared 40 percent to HK$25.077 billion, compared to HK$17.867 billion in 2005-06.
Hang Seng Bank (0011), the second- largest bank in Hong Kong by assets, said Wednesday it may acquire a Chinese or Hong Kong insurance company to meet the assets requirement for setting up a unit in the mainland this year.
The new director-general of the Federation of Hong Kong Industries plans to ask the government to set up an environmental protection industrial park in the Pearl River Delta - known as the "workshop of the world" - to help Hong Kong manufacturers meet the mainland's environmental requirements.
Scholars have divergent views on the future of Macau following Tuesday's violent protest march in which one person was struck by a bullet, with some suggesting the government could learn something from Hong Kong and others expecting a short-term bounce back. A Macau police officer with 15 years' experience fired five shots skyward in a bid to defuse a rowdy demonstration during which protesters demanded tougher laws against illegal workers and an end to corruption. Macau police Wednesday confirmed the 50-year-old motorcyclist who was injured 300 meters away from the shooting had been struck by a bullet from a 38-caliber revolver, a gun used by Macau police. Camoes Tam Chi-keung, an assistant professor at Macau Inter-University Institute, said corruption within the housing sector was partly to blame for the crowd's anger - an issue that was highlighted last year with the arrest of former secretary for transport and public works Ao Man-long. "There are simply no land reserves for the next 20 years, and future chief executives will not have suitable land on which to build public housing. "They all went down the drain with Ao," Tam said. Investigators last month alleged the former minister had amassed a total of 800 million patacas (HK$777 million) in cash and assets, amounting to 50 times his legal income for the seven years he served. Tam said another core issue was the government's delay in executing policies designed to ease escalating housing prices.
Chief Executive Donald Tsang Yam- kuen is expected to unveil today a revamp of the government structure, expanding his ruling team to 12 with the creation of a Development Bureau, and raising pay for the whole team back to 2003 levels.
Local retailers expect their revenues to climb - some by more than 10 percent - during the May Day Golden Week despite the recent bad publicity triggered by a China Central Television report which accused two Hong Kong shops of cheating mainland tourists by selling fake products.
Two small Hong Kong-listed firms, Oriental Investment Corp and Catic International Holdings, are raising at least HK$824 million from share placements, taking advantage of the bull run in their share prices and investor demand for small stocks, sources said.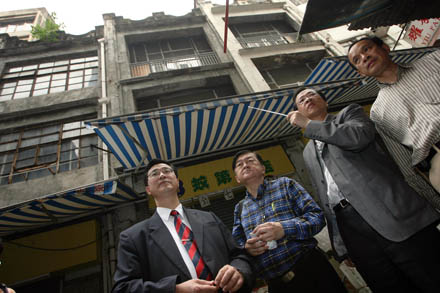 Checking out the site for the Central redevelopment in Peel Street yesterday are social worker Kam Nai-wan (left), district councillor Yuen Bun-keung, conservation official Stephen Chan and Cheng Po-hung, manager of Commonwealth Collections.
Chief Executive Donald Tsang Yam-kuen on Thursday revealed plans to overhaul policy bureaus and their duties. The biggest change under the plan is formation of a new bureau, taking the number of policy bureaus to 12. Mr Tsang told a Legislative Council question and answer session that the new bureau would be established to oversee development, planning, lands and heritage conservation. ''The re-organization aims to rationalize the distribution of responsibilities between policy bureaus,'' Mr Tsang explained. Eight of the 11 existing policy bureaus would undergo a substantial reshuffle of duties. The social welfare portfolio will be merged with labour, while environment will take in the energy portfolio to form a bureau. Mr Tsang said education and manpower would be split in order to allow a bureau to specifically deal with education. Another bureau will handle housing and transport. ''Putting related responsibilities under one bureau will help optimise the synergy and enable the government to sharpen its focus on important and complex issues,'' he added. The Constitutional Affairs Bureau will be charged with handling mainland affairs. It will also take over human rights issues from the Home Affairs Bureau. Three bureaus - Security, Financial Services and the Treasury - as well as Civil Service will remain unaffected. The changes go into effect on July 1, when Mr Tsang begins his second term. He said his plan was designed to meet rising public expectations and would help the government implement policy on important issues.
Hong Kong's second-highest Mark 6 prize - worth HK$70 million - would be drawn on Thursday night, the Hong Kong Jockey Club said. The club explained on its website on Thursday that the payout was so high because money from previous draws had been carried forward. ''Since there have been no first prize winners for the past six Mark Six draws, a jackpot of more than HK$50 million will be carried forward to the draw,'' the club said. ''HKJC Lotteries estimates that, if there is only one winning unit for the first prize, the payout could reach HK$70 million, the second-highest payout in Mark Six history. Thursday night's top prize will come close to the largest Mark 6 payout ever. In September 2003, HK$70,962,580 was won. A recent big payout came in September last year when one person won more than HK$61 million with a single-entry lucky dip. Thursday night's draw will be broadcast live at 9.30pm on ATV Home. The Mark 6 is managed by the Hong Kong Jockey Club Lotteries.

Hong Kong residents were more worried about security than many other people in the Asia-Pacific - even though the city was often called one of the world's safest, a survey released on Thursday has found.
Las Vegas Sands, the casino company run by billionaire Sheldon Adelson, on Wednesday said its net profit for the first quarter fell 25 per cent from a year earlier, saying expenses increased due to planned casino openings in Macau, Singapore and the United States.
Tom Online advised its minority shareholders to accept the HK$1.6 billion privatisation scheme by its parent company, Tom Group, according to the scheme of arrangement document sent yesterday.

China: The Chinese mainland is considering opening six more airports to non-stop charter flights across the Taiwan Strait to cope with rising passenger traffic, a senior civil aviation official has said.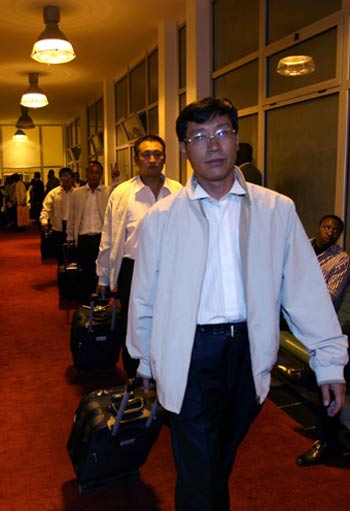 Seven Chinese oil workers kidnapped in a rebels raid on an oilfield in Ethiopia last Tuesday go on board for home at an airport in Addis Ababa, capitall of of Ethiopia May 2, 2007. They were released earlier on April 30.
US Treasury Secretary Henry Paulson pinned hopes on upcoming visit to Washington by Vice-Premier Wu Yi to achieve agreements on trade and economic integration.
Chinese Foreign Minister Yang Jiechi announced in Egypt on Thursday that the Chinese government is ready to substantially reduce and forgive the debts owed by Iraq.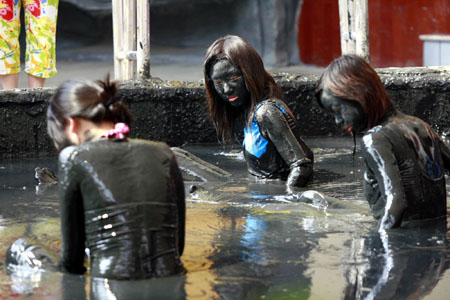 Black mud-clad visitors play at the Chinese Dead Sea resort in Daying County, Suning in southwestern China's Sichuan province May 2, 2007. The mineral-rich black mud is thought to be good for the skin. The site boasts a salt lake where the water contains minerals and salt reportedly nine times higher than ordinary seawater, thus enabling people to float on the lake.
China's newly found oilfield in Bohai Bay has a reserve of one billion tons, or about 7.35 billion barrels, the largest discovery in the country over four decades, announced the China National Petroleum Corporation (CNPC) Thursday.
Chinese real estate developers invested 1.938 trillion yuan (US$248.4b) in projects last year, up 21.8 percent year on year, the Chinese Academy of Social Sciences (CASS) has said.
China's aggregate trade surplus was expected to surge 42.8 percent from the end of last year to 254.03 billion US dollars in 2007 although exports might grow less rapidly, a forecasting agency of the Chinese Academy of Sciences (CAS) has predicted. The year's total exports were projected at 1.20 trillion US dollars, up 23.7 percent year-on-year, compared with a rise of 27.2 percent last year. Total imports were estimated around 946 billion US dollars, up 19.5 percent from the previous year, said a CAS report. The surplus against the United States would rose by 23.5 percent to 178.2 billion US dollars, with exports hitting 263.6 billion US dollars, up 29.8 percent year-on-year. The European Union would remain to be the largest trade partner of China, recording imports of 239.3 billion U.S. dollars from China and exports of 111 billion US dollars. The report released by the CAS's Center for Forecasting Sciences said that China would export 29.2 percent more new high-tech products worth 363.6 billion US dollars in total and import 20 percent more worth 296.7 billion US dollars. It also predicted a slowdown in clothing, textile and shoe exports with their annual growth rates ranging from 13.3 to 15.8 percent. Crude oil imports would grow by a slower 4.8 percent to 69.6 billion US dollars. The import of refined oil products would edge up only by 4.8 percent to 69.6 billion US dollars while that of iron ore would surge by 47 percent to 30.75 billion US dollars, the report said.
The Beijing 2008 Olympic Games will be a spur to Asia's tourism industry as many people looking to attend the event also plan to spend time exploring other parts of China and Asia, according to a recent industry survey. Almost nine out of 10 people planning to visit Beijing for the Olympics will visit other Chinese cities if time permits, while three out of four will visit other destinations, with Hong Kong the most likely stop, followed by Singapore and Japan. The annual survey jointly conducted by the Pacific Asia Travel Association (PATA) and Visa International Asia Pacific identified travelers from India, South Korea and the United States as "the top three markets most likely to make the journey to the Games." PATA President and CEO Peter de Jong said the 2008 Olympic Games would not only be a draw card for Beijing but also generate inbound travel within China and benefit neighboring destinations. "All markets in the region stand to benefit from the Games," he said. The survey of the travel intention of more than 5,000 people from 10 markets over the next two years has identified China as one of the "five most popular destinations for those planning to visit Asia." One in five said that the Beijing Olympic Games would be the primary reason for their visit. Respondents who said they were likely to visit China listed the fact that China was "a good place to shop" as a key feature. Tourism experts have estimated that Beijing will receive 4.5 million tourists in 2008. The number of overseas visitors to Beijing has grown by an average of 7 percent annually since 2001, when the city won the right to host the 2008 Olympic Games, official figures reveal. Industry analysts said that inbound spending by visitors to the 2008 Olympic Games will reach US$4.5 billion. To maximize potential economic benefits, the Beijing Organizing Committee for the Games has mapped out a Beijing Olympics Action Plan to develop tourist products with unique cultural flavors and to offer more shopping facilities for tourists and athletes during the Olympic Games.
Shimao Group and China Resources (Holdings) have earmarked a combined 4.4 billion yuan to buy sites in Beijing and Wuhan as the land acquisition spree by mainland developers shows no sign of abating.
Shares in Sohu.com, the mainland's second-largest portal, tumbled 10 per cent in after-hours trading on the Nasdaq Stock Market after first-quarter profit fell 26 per cent and the company gave lower than expected guidance for second-quarter earnings.
May 4, 2007

Hong Kong: Dubai International Capital, owned by Sheikh Mohammed bin Rashid al- Maktoum, the ruler of Dubai, said Tuesday it bought shares of HSBC Holdings (0005) for a fund it manages. DIC did not release details of the purchase made by the US$2 billion (HK$15.6 billion) fund, but said the acquisition makes it "one of the leading shareholders" in HSBC, Europe's biggest bank. The Global Strategic Equities Fund, which raised cash from investors, including some from the world's biggest oil exporting region, was established last year to invest in the world's largest listed companies. "This is the first of many investments that will see the fund investing about US$10 billion in global companies," DIC chief executive Sameer al-Ansari said in a statement. The fund bought the stake over several days last week, Anand Krishnan, DIC's chief operating officer, told Reuters. "The risk on the downside is very, very low," Krishnan said. The fund is the second Gulf Arab investor to announce a purchase of HSBC shares in the past three weeks. Saudi Arabia's Saad Group said April 18 that it bought a 3.1 percent stake in the lender for 3.3 billion (HK$51.46 billion), which made Saudi billionaire Maan al-Sanea the second-largest shareholder in HSBC. Shortly after, Britain-based life insurer Legal & General increased its stake in HSBC to 3.81 percent, from 3.01 percent, bumping al- Sanea down to No3 spot. Barclays Bank - HSBC's largest single shareholder - has also recently raised its stake, to 4.47 percent from 3.79 percent, by acquiring 80 million more shares.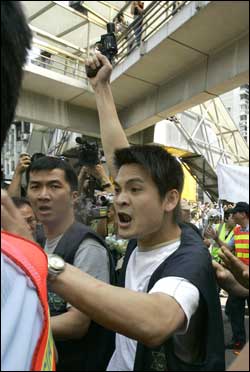 Macau police fired at least five shots into the air Tuesday in one of the most violent rallies seen in the former Portuguese enclave since the handover in 1999, witnesses said. A labor demonstration demanding tougher laws against illegal workers entering Macau erupted into a series of violent scuffles. Acting security police chief Lei Sio- peng said one officer fired blank shots. "The officer fired the shots with the aim of dispersing the crowd as he saw some people starting to fall and feared they could trample each other. We see that as a justified reason [to fire shots]," he said.
Hong Kong may soon be facing a threat to its status as the primary capital- raising center in Greater China, as the Shanghai Stock Exchange begins courting foreign firms and US listings of Chinese firms reach near-record highs. "This is a potential threat the Hong Kong stock exchange needs to monitor," said KGI Asia head of research Ben Kwong Man-bun. "As the China stock market is very hot, it provides an opportunity for those companies to raise funds there and get a higher valuation." The Shanghai Stock Exchange is in talks with HSBC Holdings (0005) and other high-profile foreign companies to list shares in the mainland, as part of its strategy to revive the stock exchange, the Financial Times reported Tuesday, citing a senior official of the bourse. The Shanghai exchange has held discussions with several foreign companies including UK-based HSBC, James Liu Xiaodong, the exchange's executive vice president, said in the article. "We have had discussions with HSBC [about a listing] but what happens now is up to them," Liu said. "I don't know if we will see it this year or next year, but in the long run, yes, no question it will happen. We want overseas groups to list here." But no such listings are expected in the short term and several technical issues still need to be resolved. The chief executive of HSBC's Asia unit said last year the bank and its Hong Kong-based subsidiary, Hang Seng Bank (0011), were interested in listing in China. Bank of East Asia (0023) said earlier this year that it is planning to become the first overseas lender to list in the mainland. "I don't think it poses an immediate threat to the Hong Kong stock exchange, but over the long term, with the further deregulation of the yuan and capital market [in China], we will see more foreign companies showing interest in listing in China," Kwong said. Meanwhile, initial public offerings in the United States of Chinese firms may hit near-record levels this month, according to Thomson Financial, in another development that sees mainland firms shunning the Hong Kong bourse. A total of three Chinese firms are set to list on Nasdaq and the New York Stock Exchange in May 2007. They are looking to raise a combined estimated total of US$828 million (HK$6.46 billion), the highest monthly total in almost three years.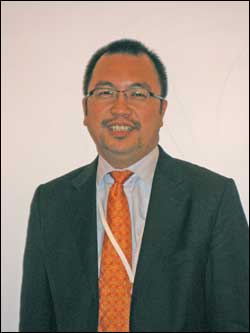 Companies in Hong Kong and China are missing out on huge business opportunities in the Middle East because of fear and lack of knowledge, says a Hong Kong business leader who has been part of efforts to bring closer ties between the two regions. "Most people will have a major reservation about it," said Hanson Cheah, chief executive of Silkroad Capital, a Hong Kong-based private equity group. "They perceive the Middle East as a war zone," he said on the sidelines of a conference in Singapore. Cheah took part in a recent trade mission to Riyadh, Saudi Arabia, and Dubai, in the United Arab Emirates, led by Financial Services Secretary Frederick Ma Si-hing. "It's a perception issue," Cheah said. "People have not traveled; they read the negative news in the newspaper." According to Cheah, the safety issue in the Middle East is "not as crazy as what you think." But "that perception is not going to go away." Ma's recent trip to the Middle East will be followed by a delegation from Saudi Arabia that will visit Hong Kong and Shanghai at the end of June.
Data and voice services provider PCCW Global, a subsidiary of PCCW (0008), and China Network Communications have signed a letter of intent to enable broadcasts of Olympic equestrian events in Hong Kong to television viewers across the world.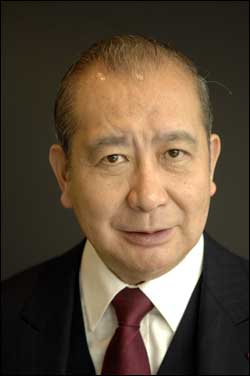 Banker-legislator David Li Kwok-po has topped this year's Honours List and will be awarded the Grand Bauhinia Medal - the territory's highest honor - along with four other luminaries. The five recipients, who also include retiring Legislative Council president Rita Fan Hsu Lai-tai and prominent academic Chung Chi-yung, are cited for their distinguished work in the social, political and business fields, and for their lifelong contributions to Hong Kong. Li, 68, chairman of the Bank of East Asia and also an executive councillor, earned credit as campaign manager of Chief Executive Tsang Yam-kuen's successful election campaigns in 2005 and in March this year. The philanthropist was appointed a member of the Executive Council in October 2005 after abandoning his British citizenship and is currently pro-chancellor of Hong Kong University. In 2001, Li was awarded the Gold Bauhinia Star by the SAR government, and in June 2005 he was conferred a Knight Bachelor by Britain for his contributions to educational development.
Close to 2,000 people in two marches took to the streets of Causeway Bay and Central Tuesday, calling on the government to enact legislation on a minimum wage and standard working hours and protesting against the unfair treatment being experienced by contract workers.
Hong Kong retailers have been given a confidence boost, with a top mainland official playing down fears that the recent rash of bad publicity about unscrupulous local shops will hurt business during the May Day "golden week," which began Tuesday.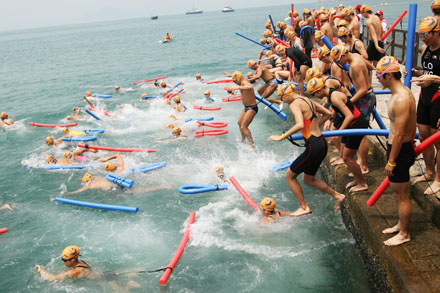 About 300 people gather in Repulse Bay yesterday for the second Hong Kong 3,000 metres swim safety campaign, organised by the Swimming Teachers' Association. Organisers stressed the event was not a competition but aimed at increasing public awareness of swimming safety. The youngest swimmer taking part was seven, the oldest was 70, and the event also attracted 10 mentally handicapped people to take the plunge.

The government on Wednesday reported a 7 per cent rise in tax revenue during the past financial year on the back of higher salaries, company profits and stock-market transactions.

China: A retreat into protectionism and isolationism would be self-defeating and harm U.S. economy, Federal Reserve Chairman Ben Bernanke said Tuesday.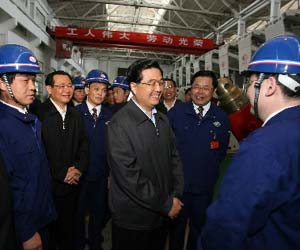 Chinese President Hu Jintao talks with workers on the International Labor Day in central China's Henan Province. Talking with some farmers in the wheat field in the outskirts of Nanyang City, Hu assured them that the government will carry on the bottom price for grain procurement, and the grain price this year will be no lower than that in 2006.
China continued to widen its lead as the top trading partner for two U.S. major ports last year, according to a study released on Tuesday. Japan was the second trade partner of the ports of Los Angeles and Long Beach in Southern California, to be followed by South Korea, according to the study entitled "International Trade Trends and Impacts". The twin ports rank fifth globally in container activity. They are expected to handle 17.2 million containers by the end of 2007, a projected 9.2 percent increase from last year, said Jack Kyser, chief economist of Los Angeles County Economic Development Corp. International trade activity in Southern California is set to break a record this year despite a slowdown in the nation's economy, said Kyser who prepared the study. The total value of two-way trade at the Los Angeles Customs District should grow to 375.1 billion dollars, a 13.9 percent increase from last year, Kyser said. The Los Angeles Customs District recorded 329.4 billion dollars worth of two-way trade last year, ranking it first in the United States, according to Kyser.
One in every 16 Chinese mainland workers last year was either self-employed or working for a domestically-owned private company, marking a major expansion in China's private sector. The State Administration for Industry and Commerce (SAIC) has reported 120 million people, up 9.5 percent from 2005, worked in the private sector, excluding companies with Hong Kong, Taiwan, Macao and foreign investment. About 9.3 percent of the national tax revenue, 349.5 billion yuan, came from privately-owned firms last year, up 28.7 percent from a year earlier and higher than the national average tax revenue rise of 21.9 percent. The self-employed paid 119.5 billion yuan in tax, accounting for 3.2 percent of the country's total. The SAIC said private and individual businesses had maintained their expansion with aggregate output for companies up 16.1 percent and for the self-employed up 9.4 percent. "Such steady growth has alleviated the country's employment pressure," said an SAIC statement. About 132 million new business entities run by the self-employed were registered in 2006, up 5.4 percent from a year earlier, bringing the country's total individual business to nearly 26 million. Their total assets grew by 11.4 percent, or 65.93 billion yuan, to 646.9 billion yuan, with the average assets climbing by 1,343 yuan, or 5.7 percent, to 25,000 yuan. More than 80 percent of individual business entities were engaged in the service sector, mainly wholesale and retailing. (One U.S. dollar equals 7.73 yuan.)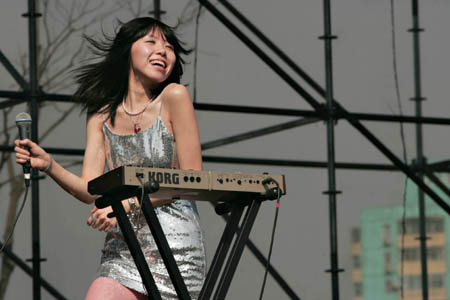 Fu Han, lead singer of Beijing-based Queensea Big Shark, on the Main Stage at the 2007 Midi Music Festival in Beijing on Tuesday, May 1, 2007. The Midi Music Festival is widely known as China's largest outdoor music event. Ninety bands and 57 musicians from China and abroad will perform across five stages this year.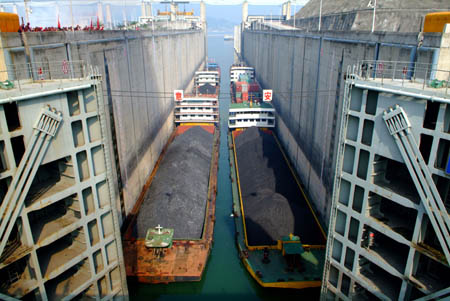 Cargo ships wait to pass a ship lock during trial navigation at the Three Gorges Dam in central China's Hubei Province April 30, 2007. The dual-track ship lock of the Three Gorges Dam will fully reopen to traffic on May 1 after more than seven months' construction and trial operations.
Passengers traveling on Beijing's new No. 5 subway line in 2008 will be able to watch live coverage of the Olympic Games. The subway line, under construction for the last four years, will have a transmitter every 200 meters that can receive above-ground TV signals, said Ding Shukui, assistant general manager of Beijing Railway Construction and Management Co. Ltd. The locomotive and the last carriage on the train will be equipped with receivers that can transmit signals to the eight liquid crystal TV sets in each carriage, said Ding. The new subway line also provides passengers with good access to mobile phone signals, which are patchy on the other subway lines. The No. 5 north-south subway line, which runs from Taipingzhuang North Station in northern Beijing's Changping district to Songjiazhuang Station in southern Fengtai district, will go into operation in September.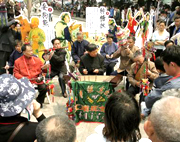 Traditional Chinese musicians perform at a temple fair on Wednesday on in Shanghai. May Day, on May 1, is traditionally the day to honor workers, but in modern communist China the day kicks off a week-long Golden Week holiday which the government hopes will encourage its citizens to travel and spend, thereby boosting the economy.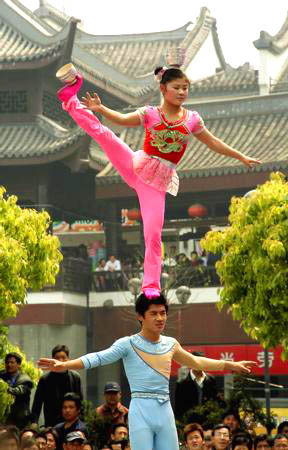 Traditional acrobatic dancers perform at a temple fair in Shanghai as May Day marks the start of the Golden Week holiday, which the government hopes will encourage people to boost the economy by travelling and spending.
China had formally banned trading in human organs state media reported on Wednesday amid allegations that the nation is heavily involved in harvesting body parts from executed prisoners.
May 3, 2007

Hong Kong: The number of chartered financial analysts soared from about 200 in 1995 to more than 3, 600 now, ranking first in Asia and fourth globally, Secretary for Financial Services & the Treasury Frederick Ma said Monday. In his latest FSTB & You article on the bureau's website, Ma said Hong Kong's pool of hardworking financial talent is the key factor contributing to the city's success as a world-acclaimed international financial hub. "This has been conducive to attracting capital and investors from around the world to make use of our capital market. At present, Hong Kong boasts more than 26,000 certified public accountants and 50,000 insurance intermediaries," he said. Competition in the financial services industry has become increasingly keen in light of globalization in recent years, making the nurturing of talent even more important. To maintain Hong Kong's competitive edge as an international financial center, the Advisory Committee on Human Resources Development in the Financial Services Sector was set up in 2000 to foster better co-ordination of efforts between the industry and academia on financial services manpower development. Noting the emerging economic importance of China and the rapid development of Asia as a whole have brought unprecedented opportunities to Hong Kong's financial services industry, Ma called on young people to equip themselves fully by developing language and communication skills, broadening their horizon, committing to life-long learning and acquiring a mindset of " thinking outside the box".
Macao's exports saw a year-on-year drop of 22.4 percent while imports saw a year-on-year rise of 16.7 percent in March, according to official statistics issued on Monday. The figures released by the government-run Statistics and Census Services (SCS) showed that textile and garment exports, which accounted for 62.0 percent of Macao's total export value in the month, witnessed a year-on-year drop of 26.3 percent. The United States and the European Union remained as Macao's major export markets in the period, jointly making up 57.4 percent of the total export value, the figures showed. Meanwhile, the region's major suppliers of imported goods remained mainly in Asia, the statistics displayed.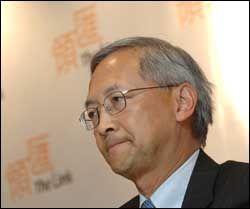 Ending intense speculation over his tenure, the chief executive of The Link Real Estate Investment Trust (0823) said Monday he is stepping down for health reasons, becoming the third senior executive to leave the property trust this year. Victor So Hing-woh announced he will not commit to another three-year term as The Link's chief executive after his contract expires July 15. "I obtained medical advice to take more rest as I am suffering from gout. I am still recovering from surgery in February," So said. So's resignation follows the departure of chairman Paul Cheng Ming- fun April 1, also for personal reasons. In February, finance director Thomas Pang Pui-yin headed for the exit. New chairman Nicholas Sallnow- Smith denied a local Chinese-language newspaper report that So's departure is linked to growing pressure from The Link's biggest individual shareholder, British hedge fund The Children's Fund Investment Management, to improve earnings. The report said So has found it difficult to entertain repeated demands from TCI for significant rent increases and had decided to quit. Last July, TCI, which holds an 18.35 percent stake in The Link, realized its wish to have a greater say in the property trust when it secured approval to name a representative to the board. It promptly dispatched TCI director John Ho Chi-on as a non-executive director. Sallnow-Smith, however, dismissed reports of disagreements in the company's hierarchy. He also denied plans to offload some of the shopping centers. The Link is made up of 180 shopping arcades and car parks previously owned by the Hong Kong Housing Authority.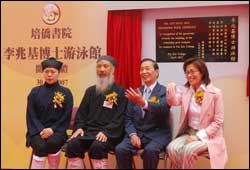 Henderson Land Development (0012) chairman Lee Shau-kee, dubbed "Asia's Warren Buffett" because of his prowess at picking stocks, warns that investors - especially mainland ones - may get burned if they lose all sense in their rush to get rich quick from share trading. He noted that lately, mainland retail investors have been opening stock trading accounts at a rate of up to 100,000 a day, and some were borrowing from the bank as well as using their savings to plow money into the market. With so many buyers, share prices could go in only one direction. "It will definitely push share [prices] too high and will affect the economy," Lee said Monday. The Shanghai Composite Index has jumped about 44 percent so far this year. It reached new heights Monday, rising 2.17 percent to 3,841.272 points. This despite China's central bank ordering mainland banks Sunday to increase their reserves to reduce lending in an effort to cool the stock market boom. The benchmark CSI 300 stock index, which tracks A shares in both Shanghai and Shenzhen, has soared about 70 percent to date this year. "It's getting a bit crazy," Lee added. The mainland's share trading fever was now affecting the Hong Kong stock market, although investors here were more rational. The tycoon repeated comments he made in March, saying it was safer to buy when the Hang Seng Index was at 18,000 points, whereas buying while it was nearing 22,000 points was risky. "Within this range, you need to balance whether to buy or not," Lee said, following a ceremony to open a swimming pool named after him at Pui Kiu College in Tai Wai. Too many investors, he said, were blinded by the appealing prospect of waking up the next day to find themselves richer. Instead, they should be patient and take a long-term approach. "Buying shares cheaply and putting them aside to wait for them [to go up in price] is a stable investment," Lee said.
HSBC Holdings (0005) has finalized the sale of its London headquarters in Canary Wharf for 1.09 billion pounds (HK$17.03 billion), the largest single property deal in British history.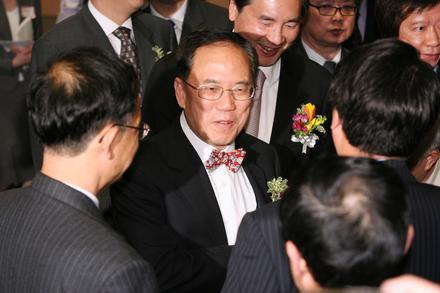 Donald Tsang attends a Labour Day reception hosted by the Economic Development and Labour Bureau at the Convention and Exhibition Centre yesterday. Chief Executive Donald Tsang Yam-kuen yesterday pledged a full-scale change in the government's attitude to policymaking, with public opinion at the core of its new approach.
Beijing's gifts of two giant pandas to Hong Kong has paid off, with a survey showing people's satisfaction with state policy towards the city surging to a 12-month high.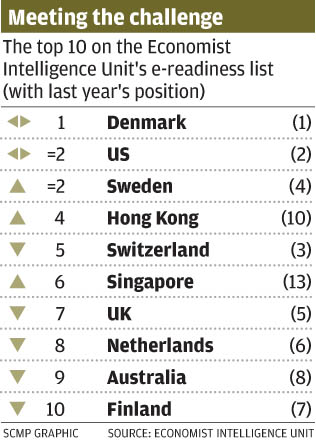 Hong Kong has jumped to fourth place in a global survey on e-readiness - systems in place for running business electronically - outperforming neighbours like Singapore (6th) and Japan (18th). Only Denmark, which was ranked first, and the United States and Sweden, which tied for second, were above Hong Kong in the rankings put together by the Economist Intelligence Unit. The rankings are prepared using six categories, with the most weight given to consumer and business adoption of e-technology (25 per cent), followed by connectivity and infrastructure (20 per cent). The business environment, social and cultural environment, and government policy and vision were all given 15 per cent each, while legal and policy environment accounted for 10 per cent of the total weighting. The Economist Intelligence Unit said Hong Kong's rise was due to the government's "vision and commitment in pushing digital development" and the continued adoption of broadband and other advanced infrastructure. Last year, Hong Kong was ranked 10th out of 69 places. The mainland ranked 56th, a slot higher than in last year's rankings, while Taiwan rated 17th in 2007 rankings. Billy Yeung Tak-wa, managing director of Y5Zone, which has 280 WiFi "hot spots" around the city, said he was surprised Singapore, South Korea and Japan were not ranked higher because of their emphasis on technological development. "The survey doesn't reflect how important this is and Hong Kong still has a way to go before they can catch up to these countries," he said. "But in terms of infrastructure and business adoption of e-technology, we are definitely on top of the list." The government recently pledged HK$210 million over the next two years to install WiFi - as wireless internet is more commonly known - in more than 200 venues across the city including all libraries, major cultural and recreation centres and government offices. "Hong Kong people really are walking robots, carrying at the very least a phone but usually a PDA or laptop as well," Mr Yeung said. "Nowadays, if you had a choice between losing your wallet or mobile phone, most people would keep the phone." Internet Society chairman Charles Mok Nai-kwong, who has just returned from Britain, which slipped from 5th to 7th place this year, said there was no doubt Hong Kong was one of the most e-prepared places on the planet. "We are far better than London; but just because we are e-prepared, it does not mean we are there yet," Mr Mok said. "We have to make the next step and make sure businesses, especially small and medium-sized enterprises, know how they can make the most of these advantages."

China: China's currency, the yuan, challenged the 7.71 barrier for the first time on Monday, which was the last trading day of April, according to the Chinese Foreign Exchange Trading System.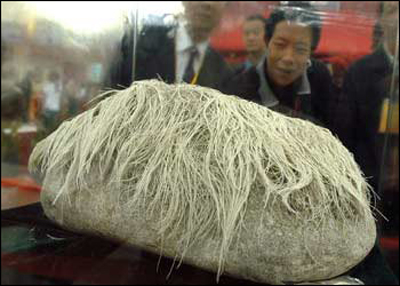 A stone with "white hair" growing on it is displayed at an odd stone exhibition held in Chengdu, China's Sichuan Province on April 28, 2007. The "white hair" growing is a kind of halobios that has been attached to the stone for hundreds of millions of years. It gradually extends upright and evolves as hollow-pipe-shaped invertebrate fossil. Its assessed value is as much as 10 million yuan.
Construction began on the biggest coal mine in northwest China's Xinjiang Uygur Autonomous Region on Sunday. With a total investment of about 2.6 billion yuan (336 million U.S. dollars), construction of the mine will take 42 months to complete. It is expected to have annual revenue of 1.45 billion yuan (188 million U.S. dollars). Located in Ili in western Xinjiang, the mine will be the first in Xinjiang to have an annual output capacity of 10 million tons. The colliery is being built and financed by Xinwen Mining Group Corporation, China's eighth largest coal mining group based in east Shandong Province. Xinjiang is estimated to have coal reserves of 2.19 trillion tons, or 40 percent of the country's total. The region's coal production stood at 43 million tons in 2006. Before the end of the decade two or three mining bases each with an annual output of 50 million tons along with a number of 10-million-ton mines are expected to be built in Xinjiang. Xinwen Mining Group also revealed plans to invest in facilities that will be able to process 30 million tons of coal a year for the production of of methanol and olefin in Ili, where the estimated coal reserve is about 301 billion tons.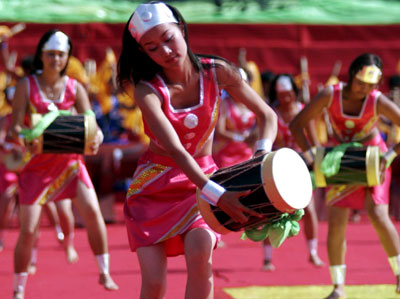 Chinese actresses perform at the opening ceremony of a tea culture exhibition in Lincang, Southwest China's Yunnan Province April 30, 2007.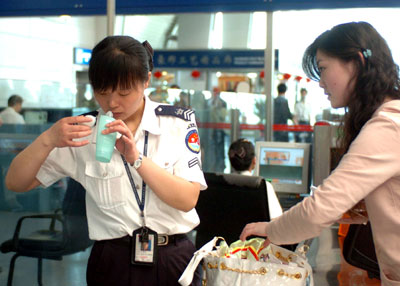 Passengers taking international flights from the Beijing Capital International Airport during the May Day holiday should arrive at the airport at least 2 hours before departure because of extended security checks. A new rule starts today, limiting passengers to carrying no more than 1 liter of liquid in their hand luggage. "Security checks now may take longer than usual," Lu Haifeng, assistant manager of quality and safety department at the airport, said. The airport is expected to receive more than 1 million passengers during the weeklong holiday. The General Administration of Civil Aviation (CAAC) introduced the new rule in accordance with the recommendation by the International Civil Aviation Organization. For passengers on international flights, all liquids carried in hand luggage must be held in containers with a capacity of no more than 100 milliliters. The containers should be placed in a transparent, re-sealable bag with a maximum capacity of 1 liter. Each passenger will be allowed to carry only one bag. Exemptions will be made for baby milk and baby food in the baby's presence as well as medications with prescriptions. Women passengers should also be aware that facial cream, lip gloss, perfume and even mascara all come under the liquid category. "The airport will provide free bags at counters in front of the security check machine," Lu said. Big screens in the airport have started to broadcast notices in both Chinese and English, reminding travelers of security rules. The airport police will also boost patrols during the holiday, and there will be more staff working at security checkpoints. The restrictions will not affect customers shopping at duty-free shops, but shoppers must retain all receipts and not open the package. "Those who need transfer flights at a foreign airport should consult with their airlines to understand the different rules in various countries," Lu said. On domestic flights, the restrictions are slightly looser. Passengers are allowed to take no more than 1 liter of liquid in their hand luggage, but there is no limit on the size of the containers. The liquid ban was first introduced on December 11, 2006, after British police foiled a terrorist plot to smuggle liquid explosives onto an aircraft that was scheduled to fly from Britain to the United States in August 2006. Soon afterwards, the CAAC adopted the measures for passengers flying to the US and have been effective ever since.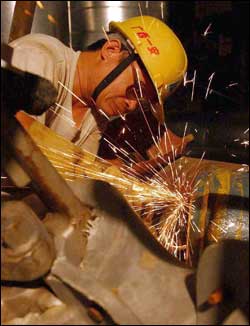 Aluminum Corp of China (2600), or Chalco, the world's No2 aluminum producer - saw its yuan-denominated A shares triple at its Shanghai debut Monday. Chalco A shares hit 20.10 yuan (HK$20.36) before closing at 18.51 yuan, about three times the 6.6 yuan offering price. Some 315.7 million shares worth 5.97 billion yuan changed hands. The company's H shares fell 0.4 percent to HK$9.29. With Chalco's A shares trading at more than double its H shares, some market watchers said the mainland equities were overpriced. They anticipate a correction in the shares after the current Golden Week national holiday, giving time for the frenzy over the new listing to abate. China's bourses will be closed from today until they resume trading May 8.
The Golden Week holidays have turned into a logistical nightmare as millions of people take off at the same time - leading to calls for a change from a growing number of economists.
May 2, 2007

Hong Kong: Cathay Pacific and Emirates airlines suspended flights to Sri Lanka following a rebel air strike around Colombo that forced authorities to cut power to the city and shut the country's only international airport.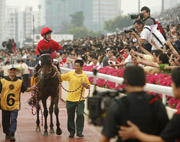 Mick Kinane takes Viva Pataca on a victory parade after winning the HK$14 million Group One QE II Cup at Sha Tin yesterday. He earlier won the Champions Mile on Able One. Both horses are trained by John Moore.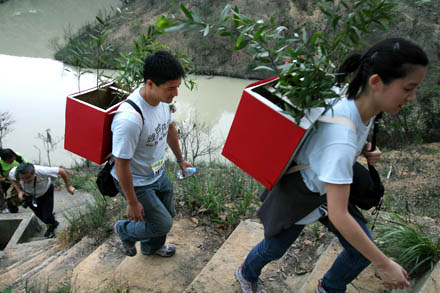 Engaged couple Edward Chiang and Candice Luk hike yesterday with 12 tree seedlings weighing 8kg. About 700 people hiked 10km and planted seedlings on hills near Wong Nai Tun Reservoir as part of Friends of the Earth's Tree Planting Challenge, which was organised to replace thousands of seedlings destroyed last year in the Tai Lam Country Park fires.
A new color-coded air pollution alert system similar to the rainstorm warning system - with mandatory action at the highest level - is proposed in Hong Kong's first public consultation paper on clean air. Mandatory actions could include ordering a stop to pollution-creating activity and asking businesses to take voluntary actions such as halting vehicle use or having employees work from home. The paper also says the controversial idea of electronic road pricing should be considered again and suggests use of eco-friendly light bulbs be made mandatory. Prepared by the semi-official Council for Sustainable to Development, the paper says the alert would need to be issued in advance of high levels of air pollution but acknowledges this could cause problems in the event of a false alarm. Council sources said the current daily air pollution index readings were only educational and were not prompting people to take positive action. "At present, children, the elderly and people with respiratory diseases are advised not be exposed outdoor or do exercise when the index reaches above 100. These are only passive actions," a source said. "There is a sense of helplessness among the public when high-API days are announced, because they have no option but to carry on with normal daily activities." He said a "clear and strong forward alert system" was needed, like rainstorm warning signals which were simple and easy to understand. "How about a colour-coding scheme, where green means the air quality is good, amber means some action must be taken, and red denotes urgent action must be taken? "Of course, we should consider what needs to be done should there be a false alert. More importantly we have to ensure the public appreciates the urgency in taking action on days of high alert, just like when the black rainstorm warning signal is hoisted, people go home. We need some mandatory and voluntary measures to go with the alert system." The council's paper, to be released next month, cited the example of Toronto, where a smog alert is issued when periods of poor air quality are expected within 24 hours. On high-smog days, people in Toronto are advised to car-pool, travel by train or work from home. They are advised to avoid strenuous outdoor activities, while those with breathing and heart problems are requested to pay special attention to a worsening of their symptoms. Toronto's action plan also requires government departments to reduce the use of non-essential petrol- and diesel-powered vehicles, oil-based paints, solvents and cleaners, as well as postponing the use of petrol-powered equipment and delaying the refuelling of vehicles until nightfall. Government staff are asked to take public transport or walk to work, and to wear casual clothes. Some non-essential services are temporarily reduced or suspended. The sources said Hong Kong should adopt some of these measures, as well as introduce road pricing to discourage private vehicle use. The council, headed by Chief Secretary Rafael Hui Si-yan, will seek public views on electronic road pricing and ways to reduce energy consumption, such as the mandatory use of eco-friendly light bulbs. But the existing API may not need to be replaced. "The API could be used to complement the new alert system," the source said. "And there could be different alerts for different types of impending pollution, such as one for haze or low visibility, and another for air pollution levels. The public will be asked about all these questions."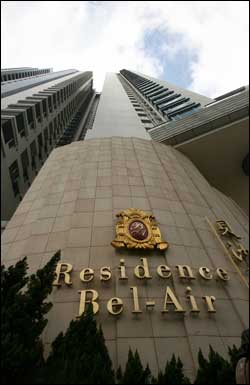 Residential property sales are expected to reach a 22-month high this month, boosted by new project launches and a revival of the resale market, industry observers say. While official April figures will not be released by the Land Registry until Wednesday, Patrick Chow Moon-kit, head of research at Ricacorp Properties, said the number of flat transactions this month in both the primary and secondary markets may jump by 25 percent to more than 10,000, compared to 8,039 last month. A total of 10,750 residential units were sold in June 2005, when Hong Kong's home market was hot. "Positive factors such as the ongoing mortgage rates battle between lenders and the government's recent move to slash stamp duty for lower- priced flats will be reflected in this month's Land Registry figures," Chow said. He expects primary market transactions will more than double to exceed 2,000 units in April month on month. Meanwhile, transactions in the resale market are likely to climb 13 percent to more than 8,000 units, he said.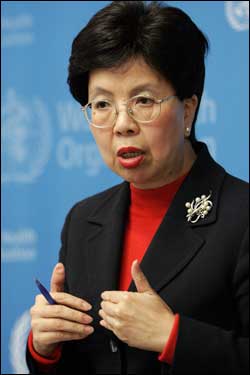 Taiwan's hopes of rejoining the World Health Organization have been dashed after the United Nations agency, headed by Hong Kong's former health chief, said the island's membership is now a "non issue." In a stern reply to a recent letter from President Chen Shui-bian to the organization, the WHO secretariat said it will not consider Taipei's bid now or in the future because Taiwan is not a sovereign state recognized by the world body. It is the first time the WHO has rejected Taipei's bid in such blunt language since Margaret Chan Fung Fu- chun became director-general in November last year.
Macau casino king Stanley Ho Hung- sun Sunday celebrated his greatest day as a racehorse owner when his five- year-old gelding Viva Pataca came from back in the field to win the HK$14 million International Group 1 Queen Elizabeth II Cup at Sha Tin racecourse.
Hong Kong's 155,000 civil servants are expected to get a pay rise later this year out of political consideration, as it is in the interest of Chief Executive Donald Tsang Yam-kuen to have a stable civil service to maintain stability in his new administration, an academic said.
PCCW, the city's largest telecoms operator, has seen video downloads on its mobile phones jump threefold since the service was launched at the end of last year, according to its consumer group managing director, Tom Chan Kee-sun.
Tom Group, the media business of Hutchison Whampoa, is undergoing a corporate restructuring but there are no plans to sell or spin off any units in the next two or three years, according to chief executive Tommei Tong Mei-kuen.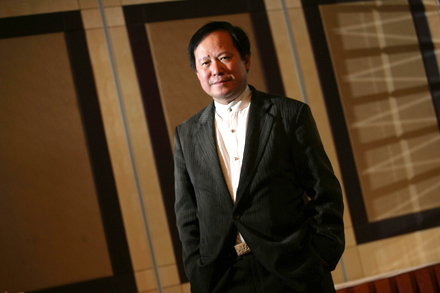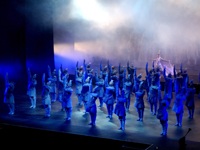 "I wanted to foster greater affinity with things Chinese. It's natural for people to be xenophobic," says theatre writer Dennis Law. Chinese-American surgeon Dennis Law Kai-yen used to run the show in operating theatres. These days, the 59-year-old presides in stage theatres, as part of his mission to revamp Chinese performing arts. Although it seems a radical change of career, turning impresario isn't such a big leap, says Law, who's in town to promote his action-musical Terracotta Warriors, which opens at the Hong Kong Cultural Centre next week. "A lot of doctors in America are also arts lovers. For me, it's a natural evolution from a surgeon to stage producer because I've always been very fond of art and culture," he says. But the Hong Kong-raised impresario says his role in the two arenas is totally different. "In surgery, I'm the boss and don't depend on anybody," Law says. "I don't have to care about marketing or money. [The patient's] life is in my hands. Whether I make a right or wrong decision, I'm solely responsible. I influence people one at a time. "In what I'm doing now, I have to depend on other people such as creative partners and am subject to marketing campaigns, labor conditions and different preferences in each city. So success is much more out of my hands. I have to be more collaborative, which is fine because I influence people more each time." Terracotta Warriors is a two- hour spectacle tracing the rise of China's first emperor, Qin Shihuang, using a combination of martial arts, acrobatics and Chinese dance. The US$3 million production boasts a cast of 80 performers and an impressive production team from Beijing, including set designer Tu Juhua and Mo Xiaomin, who created the costumes for the Chen Kaige epic The Emperor and the Assassin. Hong Kong run is a sort of homecoming for the company, Law says. Terracotta Warriors is one of seven shows that Law has written and directed, and is co-produced by his wife, Lee Choi-fung, a former actress in kung fu films. Law coined the term "action-musical" for his productions to highlight the rapid pace of the performances. "Our shows are tailored to give non-Chinese-speaking people a new appreciation for Chinese performing arts," he says. By telling the story through action, non-Chinese audiences don't have to keep looking at subtitles to understand what's unfolding. We don't mimic Broadway shows or Cirque du Soleil. We extract the best from Chinese arts and techniques, and repackage them into an international-level production." However, singers will provide simple but emotional narratives using original scores by Hao Weiya. Some scenes feature qin qiang, an ancient operatic form with an atonal, dramatic quality. The staging is based on the impresario's multi-cultural experiences. "I combine my Chinese background with knowledge of the US to produce a Chinese-themed show that appeals to North American audiences," says Law, who trained in medicine at the University of Pennsylvania and practised as a thoracic surgeon in Denver. He began focusing on Chinese performing arts 10 years ago with his first foray into entertainment. With financial backing from his father, toy tycoon Joseph Law, he collaborated with his three brothers, all surgeons, to produce a fantasy film called Warriors of Virtue, about five kangaroo-like martial art experts who embody virtuous forces of nature. But the movie - directed by Ronny Yu Yan-tai and starring Angus Macfadyen - flopped at the box office. Law attributes the failure to a release at "the wrong time in the wrong place". "We wanted to use martial arts to give children a virtue lesson," he says. "But American kids aren't interested in family films. They're taken by movies like Austin Powers." It was on a trip to Beijing to produce the movie that Law realised he'd neglected his cultural roots, but he found the mainland's performing arts scene disappointing. "I went to the capital expecting to see great shows, but the pace was too slow, the lighting poor and the humor mediocre," he says. Although technically proficient, many productions were overly melodramatic and weighed down by political propaganda that he couldn't relate to. Deciding that it would be a shame if Chinese performing arts, which go back thousands of years, weren't properly promoted, he set out to produce his own Chinese-themed shows. But realizing dreams doesn't come cheap. In 2001, the Laws bought an ailing theatre in Vancouver for US$8 million to test its line of action-musicals. "You don't always get a chance to buy a theatre," he says. "It's a launch pad to try out how to stage a Chinese show in North America." To ensure a reliable pool of talent, he also set up an academy in Beijing, Law Brothers Chinese Performing Arts International, to train performers. The project took up so much of his time that Law quit medicine five years ago to concentrate on creating the shows. "I changed my life because I wanted to foster greater affinity with things Chinese," he says. "It's natural for people to be xenophobic. Foreigners don't want to see a Chinese show because they don't understand the language and culture. I want to bridge the gap with a new package and rich visual elements." Whether Law's zeal is matched by the quality of the shows remains to be seen. Terracotta Warriors has met with mixed reviews in North America. Although some lauded his effort to introduce Chinese performing arts to western audiences, The Globe and Mail of Toronto described the overall effect as "painfully amateur", and the Los Angeles Times said the show was "obsessed with picturesque specifics when there are great lessons to teach about naked ambition". The negative reviews haven't dampened Law's spirit. "I don't need critics to praise me all the time. It's good to start a debate," he says. Nevertheless, he blames some censure on "cultural insensitivity". "Sometimes [critics] pan you because they don't want to see you succeed. They take the attitude that I'm a rich man dabbling in art and culture." Law certainly enjoys a luxury denied most producers: he doesn't worry about making a profit. "I've never made one cent from any of the shows," he says. "Culture isn't a money-making business."
The contaminated scallop sample revealed by health officials on Friday is believed to have been imported from the mainland, seafood traders said. The Centre for Food Safety issued a warning not to eat scallops after a sample was found to contain a toxin that can cause paralysis or death. The sample was collected at Ming Kee fish stall at Yeung Uk road market in mid-April. It was open for business yesterday but scallops were no longer available. Vendor Mr Chan said 20 catties of scallops were bought from seafood wholesale stalls in Lau Fau Shan on April 17 and all were sold on that day. "The source is from the mainland," he said, adding that he had not received any complaints afterwards. Lee Choi-wah, chairman of the Hong Kong Chamber of Seafood Merchants, also said nearly all scallops imported to Hong Kong were from Dalian and they were distributed to different wholesale markets. Mr Lee said the industry was severely hit by the news and that scallop sales had dropped by as much as 80 per cent yesterday. He urged the authority to collect more samples to ascertain the facts. "They have to check if the same toxin level is found in other scallop samples or it may merely be an individual case," he said. "But if it is a general case, we might suspend the selling of scallops until the investigation is completed." A spokesman from the Centre for Food Safety said yesterday it would continue to gather scallops and fan shells samples from locations other than Yeung Uk road market including wholesale markets in Aberdeen and Lau Fau Shan. The level of paralytic shellfish toxin found in the scallop sample was 1,922 micrograms per 100 grams, more than 20 times the safety level.

China: Government officials in China risk getting sacked if they use their influence to benefit a lover or become involved in other forms of corrupt behavior, according to a regulation released by the central government on Sunday. The 55-article regulation, scheduled to take effect on June 1, details a variety of wrongdoings and misconduct and is designed "to make sure government officials perform their duty according to the law." The regulation stipulates that government officials who engage in corruption, organize superstitious gatherings, use drugs, engage in sex trade or fail to fulfill their duties can be demoted or fired. The regulation also allows for the firing of government officials who abuse or abandon family members or refuse to support their elderly relations. The regulation is "China's first to systematically stipulate what administrative punishments civil servants abusing their power will receive," sources said. A press conference on detailing the regulation was jointly held by the Central Committee for Discipline Inspection (CCDI) of the Communist Party of China (CPC), Ministry of Supervision, Ministry of Personnel and the Legislative Affairs Office of the State Council on Sunday. Qu Wanxiang, Vice Minister of Supervision, said "the regulation is important for consolidating the CPC's ruling position, safeguarding state power, improving ethical standards of officials and persuading them to adopt a clean, honest and down-to-earth work style to better serve the people." The regulation said if a civil servant's failure to perform his or her duties results in accidents, disasters, environmental pollution and "mass protests", they can be reprimanded, demoted or sacked according to the severity of the incident. The same punishment will be given to officials who fail to report or deal with major accidents, disasters and criminal cases in a timely manner. Officials can also be fired if their lax management causes public funds for disaster relief, poverty relief, citizen resettlement, social security and land appropriation compensation to be embezzled, damaged or lost. Officials found guilty of fraud and misleading leaders and the public will also face punishment, said the regulation.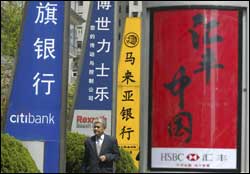 Mainland banks were ordered Sunday to increase their reserves for the second time this month to reduce their lending power in an effort to cool a stock boom that is unprecedented in China's history. In an expected move, the central bank said lenders are required to put aside another 50 basis points of their deposits as reserves, bringing the total reserve ratio to 11 percent, effective May 15. The tightening measure might push the domestic stock market lower today, the last trading day ahead of the week-long Labor Day holidays, although the measure alone will not trigger a major sell-off, analysts said. Economists said that because first- quarter economic figures showed a high trade surplus and high rates of lending, suggesting a possible rebound in fixed direct investment, the central bank would be under pressure to impose more stringent measures.
The stock exchange run by the Dubai International Financial Centre is working to attract mainland companies to list in the Gulf emirate, and the center's investment arm could spend billions of US dollars in China this year, according to a senior official.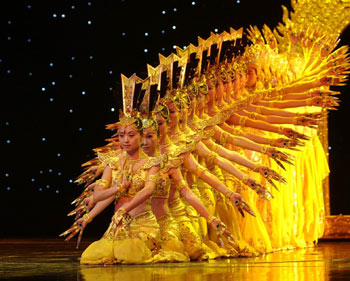 A group of 21 hearing-impaired artists of the China Disabled People's Performing Arts Troupe perform repertoire dance -- One Thousand Hands Bodhisattva in Shijiazhuang, capital of north China's Hebei Province, April 27, 2007. The troupe gave a charity performance here on Friday night, appearing for public donation and support for handicapped in Hebei Province.
Six new airports will be built in central China before the end of the decade, said a senior official with the General Administration of Civil Aviation of China (CAAC). The six small airports will be built in Bengbu City in east China's Anhui Province, Yichun in Jiangxi Province, Zhumadian in Henan Province, Yueyang and Hengyang in Hunan Province. The sixth will be located near Mount Jiuhua, a well-known Buddhist holy mountain in Anhui. Airports at six provincial capitals, namely, Zhengzhou, Wuhan, Taiyuan, Changsha, Nanchang and Hefei will also be upgraded, said Li Yongqi, from the CAAC's planning section, at a seminar held in this capital of central China's Henan Province. Central regions include Anhui, Henan, Hubei, Hunan, Jiangxi and Shanxi. They have a combined population of 361 million. The central regions are economically less developed as the country's eastern region. The Chinese government introduced a new strategy in early 2004 known as "the rise of central regions" to improve the economies of the six provinces. China had 147 civil airports by the end of 2006, an increase of 26 since 2000. Only 25 are located in central China, with four in Shanxi, five in Jiangxi, five in Hunan, four in Hubei, three in Henan and four in Anhui.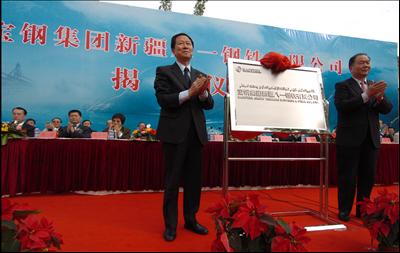 Baosteel Group Xinjiang Bayi Iron and Steel Co. Ltd. was founded in Urumqi, capital city of northwest China's Xinjiang Uygur Autonomous Region, on Saturday. Baosteel Group, China's largest steel maker, acquired Bayi Iron and Steel Co. Ltd. in January by investing 300,000 yuan in the corporation and becoming its controlling share holder.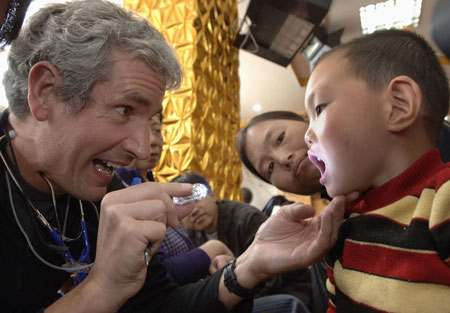 A volunteer doctor of the organization "International Smile Activity", examines a child with a cleft palate at a children's hospital in Hefei, Anhui province April 29, 2007.
China will this year replace Germany as the world's second largest trader with 2.1 trillion US dollars in foreign trade and may overtake the world's largest trader, the United States, by the end of the decade, says a senior Chinese researcher. "China maintained a growth rate of more than 20 percent in foreign trade in the first quarter and is likely to maintain the momentum throughout the year," said Li Yushi, vice president of the Research Institute of International Trade and Economic Cooperation under the Ministry of Commerce. Despite a growth rate that declined to 6.9 percent in March, foreign trade in the first three months totaled 457.7 billion US dollars, up 23.3 percent year-on-year. Exports reached 252.1 billion US dollars, up 27.8 percent, while imports were valued at 205.7 billion US dollars, up 18.2 percent, according to figures released by the Chinese customs. While the Ministry of Commerce projected foreign trade to grow by about 10 percent a year between 2006 and 2010, Li's institute predicts the growth rate will be between 12 and 15 percent. "Based on these predictions, we can tell that China will overtake the United States to be the world's largest trader in 2010," Li told a seminar on China's foreign trade prospects in Guangzhou. China started to lower export tax rebates on numerous items last September to help bring down its trade surplus, said Li." The government is also developing policies aimed at expanding imports by encouraging domestic companies to import state-of-the-art equipment and technologies." China's soaring exports in 2006 expanded its trade surplus to a record 178 billion dollars, up 74 percent from the previous record of 102 billion dollars set in 2005. China's trade surplus for the first two months of the year hit 39.6 billion US dollars, more than the entire first quarter of last year. In March, however, the surplus dropped to 6.87 billion US dollars, dipping below the 10 billion US dollar mark for the first time since March 2006. The World Trade Organization said in a report last week that China's product exports started to exceed those of the United States in the second half of 2006, but figures for the the entire year show China ranked third in exports, after Germany and the United States.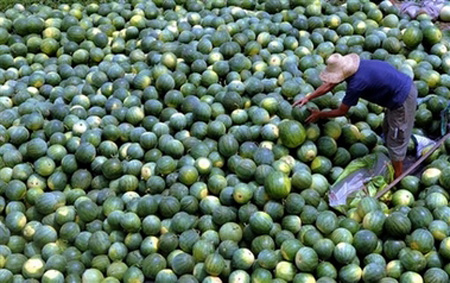 A farmer picks up water melon in Changsa town of Wenchang City, South China's Hainan Province, on April 28, 2007. Due to the enlargement of acreage and application of new species of water melon, the city has a good harvest of water melon this year.

China's richest, thanks to an IPO and dad - It sounds like a fairy tale. Yang Huiyan, a 25-year-old woman, has virtually overnight become the richest person in China, with a net worth of about US$9 billion, Forbes reported on Tuesday. Yang owes her great fortune to the initial public offering of Country Garden Holdings, a real estate developer run by her father that posted sharp gains after debuting on the Hong Kong Stock Exchange on April 20. Shares of Guangdong-based Country Garden surged 35.1 percent from the issue price of HK$5.38 (69 cents) to HK$7.27 on Friday, following strong demand from institutional and retail investors. The shares slipped modestly to HK$7.17 today.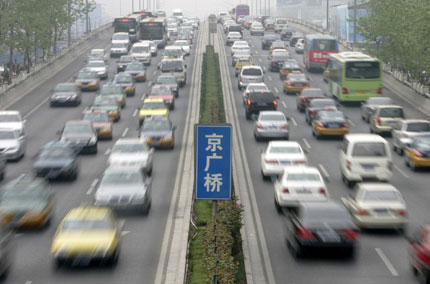 With the Olympics looming, China goes green - Vehicles are seen on the 3rd ring road during rush hour in Beijing April 18, 2007. Beijing is hoping a 100 billion yuan ($13 billion) investment in public transport will be enough to keep the traffic flowing at next year's Olympic Games. In Beijing, 1,600 students attend the Number Two Middle School, an institution widely regarded as one of the best secondary schools in China. The school is revered for producing some of the country's best and brightest, yielding students who receive top scores on China's annual college entrance exams. The students at Number Two stand out, however, not only because of their academic achievement, but because of their enlightened attitude toward the environment. Over the last few years, especially since Beijing was awarded the 2008 Olympic Games, environmental awareness has gotten a new emphasis among those who will be the next generation of China's educated leaders. At the school, there is an environmental curriculum and an active environmental club. All of the attention paid to the environment poses a fundamental question: Can China sustain a booming economy and also protect its environment? China's Schools Going Green - Many at this specific school would say yes, a better environment makes for a better economy. But the balance is not easy to accomplish. In fact, Beijing is struggling to improve its air quality in time for the looming Olympic Games yet the city itself is under construction 24 hours a day, seven days a week. There is no question China wants to put its best foot forward for the Olympics, but there is a lot of work to be done. For example, because the air in China is still many times dirtier than the air in Los Angles, America's smoggiest city, the government is determined to increase China's air quality and reduce the amount of air pollution. "We are faced with challenges in our environmental protection work," said Du Shaozhong, Beijing's deputy director of the municipality's Environmental Protection Bureau. He showed ABC News how the city measured air quality around the clock. It turns out the most polluted time of the day is 10 p.m., when the exhaust-belching commercial trucks make their deliveries to the city. Olympics and the Environment - In fact, officials like Du believe the constant clash between economic development and the environment must be dealt with independent of the Olympics. "If we fail to balance the relationship between development and the environment, we would not be in a position to sustain development," he said. In economic terms alone, pollution has been expensive for China. The World Bank estimates that 10 percent of China's gross domestic product is lost to pollution, from workers calling in sick to factory shutdowns. "China itself, it's facing an environmental crisis across the board," said Elizabeth Economy, director of Asia studies at the Counsel on Foreign Relations in New York. She says a major problem is 30 percent of the water in China's rivers is too polluted, even for industrial use. "Just this past year they're talking about $42 billion lost in industrial output because the factories don't have enough water to run," she said. At the moment, however, the Olympics are at the top of the Chinese agenda, not just in Beijing but all across this country. Six years ago when it was awarded the Olympics, the city of Beijing pledged $13 billion to clean up the city. China's Solar Cities - Before the games, coal-burning factories around the city will be shut down. Already Beijing's biggest industrial polluter, a steel plant, has been moved to a neighboring province. Traffic will be sharply curtailed during the Games as it was during the China-Africa summit in the fall. Despite all of this action, some worry that fundamental changes have yet to come, and that the changes in Beijing are just cosmetic and temporary. "I think that probably is the case at this point in time," Economy said. "What we're going to get with these Olympics really is just a shutdown of the city to make it work for those few weeks." At the same time there are visible signs of change: Millions of electric bikes have been sold, alternate energy sources are gaining popularity and China has become a world leader in solar thermal production and use. The city of Dezhou is the world's largest producer of solar water heaters and the city of Rizhou is increasingly becoming a solar city. One in 10 Chinese homes has solar hot water. "Change in China has got to come from the bottom up," Economy said. "I think it's going to have to come from a new understanding by the Chinese people of how to treat the environment and why the environment matters so much to us." And that understanding is beginning in places like the Number Two Middle School, as well as the 4,000 environmental groups that have sprung up in China since 1994.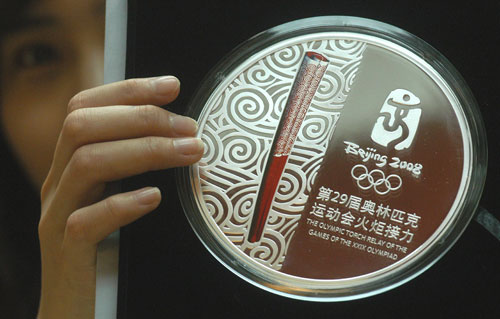 Beijing Olympic torch relay badge is unveiled April 27,2007 after the Beijing Organizing Committee for the Games of the XXIX Olympiad (BOCOG) announced its torch relay route and the torch - a red and silver cloud-design tube shaped like a Chinese scroll.
May 1, 2007

Hong Kong: Three property giants lined up Friday for the HK$6 billion housing project at Tsuen Wan West railway station, but smaller developers took a more prudent approach, given the sheer scale of the project and higher-than-expected land premium. The less-than-enthusiastic response was in stark contrast to the interest shown in the project by 13 developers in October. Kowloon-Canton Railway Corporation said Friday that Cheung Kong (Holdings) (0001), Henderson Land Development (0012) and Sun Hung Kai Properties (0016) have submitted tenders. Referring to one other developer, KCRC chief executive James Blake said the corporation received a letter but not a tender submission from Sino Land (0083). The response, while not being the worst so far, was a disappointment as the market had expected at least four or five submissions. For another project in 2005, the government-owned railway operator received only a single bid from Cheung Kong for the housing development atop West Rail's Tuen Mun station. Sino, New World Development (0017), K Wah International (0173) and Wheelock Properties (0049) were among the 13 developers that had expressed interest in West Rail's Tsuen Wan West station TW7 project last October. They did not lodge bids Friday. Sino was not available for comment. New World executive director Stewart Leung Chi-kin said the company skipped the project mainly on cost considerations. Surveyors said the land premium of HK$3.54 billion, which accounts for 59 percent of the total investment cost, was higher than market expectations of more than HK$3 billion. Developers pay a premium to the government to convert land use.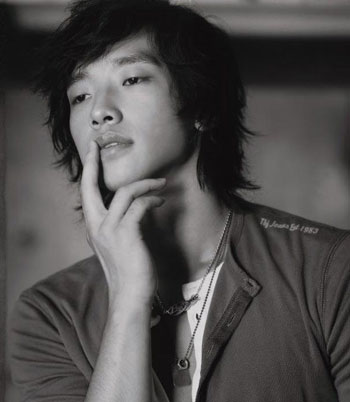 South Korean pop star Rain, a pan-Asian heartthrob, has become the first entertainer from his country to make People magazine's annual "100 Most Beautiful People" list. "I am very honoured. This will be a great boon to my efforts to raise public awareness of me in the United States," Rain, 25, was quoted as saying on his agent's website. "I never expected this to happen to me. This is the best news for me this year." Since his debut in 2002 Rain, whose real name is Jung Ji-Hoon, has personified the "Korean Wave" of pop music, films and TV dramas sweeping across Asia. Topping the list was former child star and "Charlie's Angels" actress Drew Barrymore. Others on the list include Brad Pitt, George Clooney, Oprah Winfrey, Leonardo DiCaprio, Scarlett Johansson, Jennifer Aniston, Reese Witherspoon, Halle Berry and Jennifer Lopez.
Real estate trust The Link REIT (0823), which runs shopping centers and car parks formerly owned by the government, may begin the search for a new chief executive if incumbent Victor So Hing-woh, were to throw in the towel in July, unable to fulfill demands to improve performance.
Hong Kong Monetary Authority chief executive Joseph Yam Chi-kwong saw his total remuneration trimmed to HK$9.57 million last year, from HK$9.97 million in 2005, despite an increment in his fixed pay, according to the agency's latest annual report.
The telecommunications regulator has left the door open for service providers to negotiate the contentious interconnection fees that fixed-line operators charge mobile companies, as it ended another round of market reform consultations.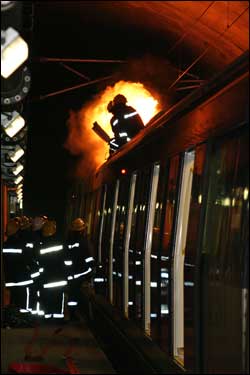 Sparing the manufacturer and its own maintenance crew from blame, the Kowloon-Canton Railway Corp said Friday the fire on a West Rail train last February was a one-off incident caused by an imperfect voltage transformer which had been subjected to an unexpected surge of electricity. In its report on the February 14 incident to the Legislative Council's transport panel, company chief executive James Blake said the railway was planning to replace the transformers on all its 86 trains with explosion-proof voltage transformers in 2008 for free. But some legislators were dissatisfied with the company's explanation, fearing the real cause may not have been uncovered. After weeks of investigation by its technical panel, KCRC acting general manager (rolling stock) Tony Lee Kar- yun said Friday the smoke and small fire on a West Rail train inside a tunnel 1.5 kilometers north of Tsuen Wan station was caused by a voltage transformer failure. The incident resulted in the evacuation of more than 1,000 passengers, although no one was injured. Lee said the failure was caused by a combination of an insulation imperfection hidden at the time of manufacture and a high voltage surge from severe lightning while the train was in service. This eventually caused a short- circuit. "We immediately conducted tests on all other voltage transformers after the incident, but none appears to have problems. It is just a solitary case and our train fleets are absolutely safe." Lee said investigators believe the "imperfect" transformer may have been damaged by a severe voltage surge a few months earlier. Blake said the incident was not the result of any manual or maintenance error. He also said the KCRC would not seek compensation from the transformer's manufacturer, as the device had passed all factory acceptance tests before it was installed on the train. "It needs a combination. It needs something else to trigger the event. The hypothesis is the lightning surge through the transformer. It's powerful enough to trigger the imperfection into a model failure which resulted in the event," Blake said. "That cannot be put down to the manufacturer alone. That cannot be put down to the maintenance as all of the maintenance procedures are correct. So we have to put it down to a natural event in combination with the possible imperfection. In those circumstances, I don't believe there is any court in the world that could say the manufacturer should be held responsible." But the manufacturer agreed to replace the voltage transformers on all 86 trains serving the KCRC's East Rail, West Rail and Ma On Shan Rail with lightning-resistant and explosion-proof voltage transformers by 2008 free of charge, Blake said. The KCRC has also stepped up its maintenance and monitoring work such as increasing the frequency of transformer checks from once in three years to once a month, using the train-borne computer to monitor the voltage level and conducting a temperature check of each transformer every three days. But Legco transport panel chairman Andrew Cheng Kar-foo doubts whether the KCRC had tackled the root of the transformer problem. "I'm most dissatisfied as it seems the KCRC still has not totally grasped what caused the transformer to short-circuit. It only said [there are] some potential, incomplete and inconspicuous areas. Maybe there are many other problems which have gone unnoticed." Cheng said instead of waiting for 20 months, the company should replace all voltage transformers immediately. Panel vice chairman Lau Kong-wah of the Democratic Alliance for the Betterment and Progress of Hong Kong, was also dissatisfied with Blake's explanation. He said Blake, as project coordinator of West Rail, should be held responsible.
Chinachem Charitable Foundation has taken the unusual step of trying to get the government involved in what is expected to be a long legal battle over the HK$32 billion estate of the late tycoon Nina Wang Kung Yu-sum. According to reports Friday, the foundation has written to Secretary for Justice Wong Yan-lung seeking the government's help in carrying out Wang's purported wish that her money be used for charitable purposes. In a cautious reply, a Department of Justice spokesman said Friday the secretary for justice could not comment on the issue as there was a distinct possibility of civil litigation since fung shui master Tony Chan Chun-chuen is also claiming to be the sole heir. A source close to the government said Friday the legal chief's office has received the foundation's letter but that it is too early to decide if he should exercise his authority as the protector of the charity trust as reportedly stated in a will dated 2002. A government source said last week Chief Executive Donald Tsang Yam- kuen had instructed Wong last Friday to closely monitor developments. According to the Trustee Ordinance, the secretary for justice is the protector of all charity trusts. Meanwhile, Wang's brother Kung Yan-sum and younger sisters Kung Yan-sum and Kung Chung-sum, who are on the board of the Chinachem Charitable Foundation, have been actively building a strong team of witnesses for the anticipated court battle. They have requested the two non- beneficiaries on the purported 2002 will - Heng Kim Thiam, a project director of Chinachem Group, and Li Chi-ming, a major shareholder of a private architect's firm - as well as Wang's former doctors and nurses, business tycoons and lifelong friends to act as witnesses should this be necessary. In what is alleged to be a two-page, Chinese-written will dated July 28, 2002, Wang had stated she wanted to donate all her assets to the Chinachem Charity Trust for charitable purposes under the custody of a trustee supervised by the secretary-general of the United Nations, the premier of the Peoples' Republic of China and the chief executive of Hong Kong. In another development, Wang has been posthumously named a "Lifetime Philanthropist" in the Mainland Philanthropist List 2007 announced Thursday in Beijing. Wang was praised for leading a thrifty life while making generous donations to various mainland charities, even while she was undergoing treatment for ovarian cancer. She made a HK$30 million donation to a mainland medical research study one week before her death April 3.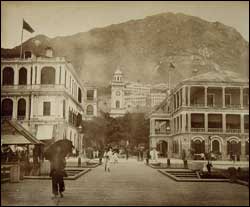 An exhibition that celebrates Hong Kong's past is an important chronicle of the city's development, writes Michelle Chan; Picture a monochrome European setting with rickshaws parked in front of buildings and Chinese junks anchored on a shoreline overlooked by Renaissance-style architecture. A contrast of cultures it may seem, but also typical of Hong Kong when it first became a British colony in the 1840s. Such photographs are part of more than 100 artifacts on display in the exhibition "A Nostalgic View of Hong Kong and China," at Picture This Gallery, a chronicle of the city's growth. Englishman Christopher Bailey, owner of the gallery, has spent years accumulating them from private collectors, dealers and auctions all around the world. The pictures differ from those usually seen in history textbooks and museum exhibitions, which are mostly copied from government records. Rather, they were taken by Europeans who had once lived, or traveled to Hong Kong. In an era when cameras were housed in a huge case with a hood, photography was an extravagance that not many people could afford. Bailey admitted that pictures were "becoming more difficult to find. Almost everything in China was destroyed in the Cultural Revolution an the Great Leap Forward. Little has survived."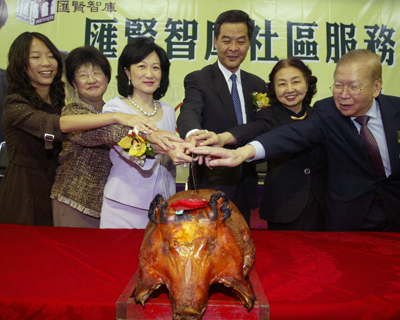 Regina Ip (third left) is joined by Federation of Women chairwoman Peggy Lam (second left), Leung Chun-ying (fourth left), Elsie Leung (second right) and other guests at the opening of the Savantas center.

China: Lenovo Group, China's only worldwide Olympic partner, is expecting a windfall from its 2008 Beijing Olympics marketing campaigns, the company said on Friday. "In 2007 and 2008 all of our marketing campaigns will be focused on the Olympic Games," said Chen Shaopeng, Lenovo's senior vice-president and president of China operations. Lenovo signed a deal with the International Olympic Committee (IOC) in 2004 to join the sponsorship program, becoming the first Chinese company in the high-profile club. Lenovo's brand awareness has since received a boost after a series of Olympics-related marketing blitzes, including a campaign at the 2006 Turin Olympics, Chen said. Lenovo's share in China's PC market rose to 36.7 percent in December 2006, compared with 32.7 percent late 2004. "Excluding the boost from Lenovo's acquisition of IBM's PC-making business, I believe the Olympic marketing has played a vital role" in the company's growth, Chen said. Lenovo's $1.25-million acquisition of IBM's PC unit in 2005 helped boost Lenovo's international profile, but the firm is still struggling with poor brand awareness in overseas markets. In the third quarter of last year, Taiwan's Acer Computers surpassed Lenovo as the world's third-largest computer maker in terms of global sales, according to a report by Gartner, a US research firm. Acer generates about 50 percent of its total sales in the US, and 20 in Europe. Lenovo is hoping the Olympics campaign will move the company closer to rivals Hewlett-Packard and Dell. Meanwhile, Chen also announced Friday that Lenovo would contribute 15,000 computing devices including desktops, laptops, computer servers, and display monitors to 2008 Games, almost twice what the company sent to Turin. It will also establish the Games' first ever computer maintenance centers to fix computer problems on Lenovo and competing computers at Olympic venues. Lenovo designed the Beijing Olympic torch, unveiled Thursday night. The firm has also become the first Olympic torch relay partner from China. Lenovo vice-president Li Lan said the company plans to sign a number of Olympic champions in countries and regions along the torch relay route. During last year's World Cup of soccer, Lenovo signed Brazilian star Ronaldinho as an image ambassador. The company is also the "Official PC Partner" of the National Basketball Association (NBA). Recent reports say Lenovo plans to sign Liu Xiang, China's 110m hurdles world record holder and Olympics champion, but Chen would not confirm the rumours.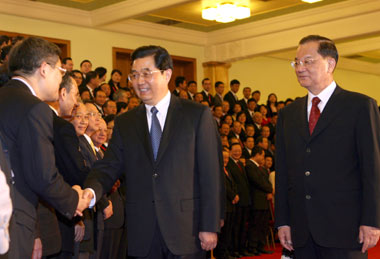 Hu Jintao (2nd, R), general secretary of the Central Committee of the Communist Party of China, shakes hands with one of the participants attending the third cross-Taiwan Strait economic, trade and cultural forum, while KMT Honorary Chairman Lien Chan (1st, R) looks, at the Great Hall of the People in Beijing, capital of China, April 28, 2007.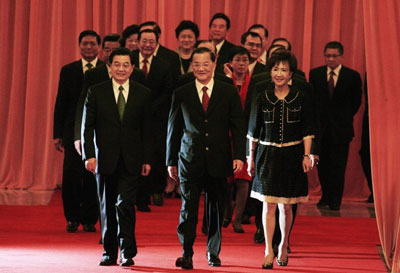 Hu Jintao (L), general secretary of the Communist Party of China enters the hall with Lien Chan, honorary chairman of Kuomintang and wife Lien Fangyu (R) at the Great Hall of the People in Beijing April 28, 2007. About 300 Taiwan and 200 mainland businessmen and representatives are attending the Cross-Strait Economic and Trade Forum.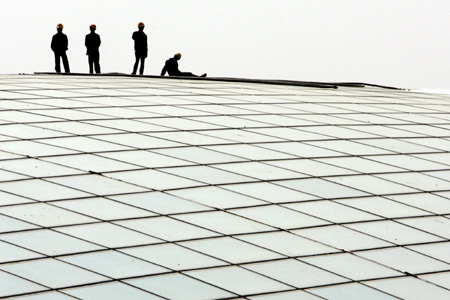 Chinese workers take a break on the roof of the still under onstruction new terminal of Beijing Capital International Airport April 27, 2007. The new airport terminal, which was designed by Lord Norman Foster, will become the world's largest and most advanced airport building when completed with a floor area of more than a million square metres (247.1 acres) and is designed to accommodate an estimated 43 million passengers per annum.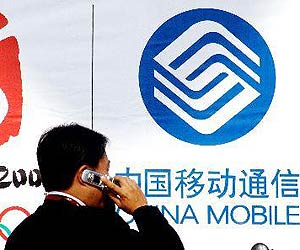 More than 467 million Chinese mobile phone users will be able to enjoy free incoming calls within two years, regulators said yesterday. In addition, the roaming fee, which is more than six times the cost of intracity-mobile communications, is expected to be regulated and probably dropped, according to the Ministry of Information Industry and the National Development and Reform Commission.
Shanghai Pudong Development Bank Co., the Chinese partner of Citigroup Inc., said first-quarter profit rose 34 percent as it increased loan margins and boosted lending in a surging economy. Net income at the Shanghai-based national bank climbed to 978.3 million yuan ($126.8 million) from 732.1 million yuan a year ago, the firm said in a statement to the city's stock exchange yesterday. Earnings per share rose 20 percent to 0.23 yuan in the period, the statement said. China's economy expanded at 11.1 percent in the first quarter, driving consumer and corporate demand for loans. The central bank raised lending rates three times in the past year while boosting deposit rates only twice, making loans more profitable for banks including Pudong Development and China Minsheng Bank Corp. Pudong Bank said first-quarter non-performing loans were 1.8 percent of the overall, down from 1.83 percent at the end of 2006. The bank's capital adequacy ratio, a measure of financial strength, fell to 9.02 percent from 9.27 percent. Net interest income gained 31 percent from a year earlier to 5.07 billion yuan, according to the statement, and net intermediary income rose 39 percent to 153 million yuan. Total loans expanded 7.6 percent from the end of the year to 495.8 million yuan, while deposits over that period grew 0.9 percent to 601.7 million yuan, the company said. The People's Bank of China is trying to curb bank loans to slow surging property prices and investment that threaten to overheat the economy. It raised the benchmark one-year lending rate by 0.27 percent point to 6.39 percent on March 17 and increased the one-year deposit rate by the same, to 2.79 percent. Pudong Development Bank released earnings after the markets closed. The bank's shares fell 3.1 percent to close at 27.49 yuan today in Shanghai. They have climbed 29 percent since the end of last year, underperforming a 40.5 percent gain in the benchmark Shanghai Composite Index. The unaudited results were based on domestic accounting standards.
Shanghai Automotive Co., China's largest carmaker, said first-quarter profit more than quadrupled, after it bought stakes in ventures with General Motors Corp. and Volkswagen AG from its parent. Net income rose to 1.16 billion yuan ($150 million), or 0.18 yuan per share, from a restated 245.6 million yuan, or 0.08 yuan per share, a year earlier, the company said in a statement to the Shanghai Stock Exchange today. Sales increased to 25.5 billion yuan from a restated 1.08 billion yuan, based on Chinese accounting standards. Shanghai Auto shifted its focus to car assembly from auto parts through a 19.1 billion yuan asset swap with its parent in December. The company acquired stakes in ventures with General Motors Corp. and Volkswagen AG, giving it direct access to the world's fastest-growing vehicle market. SAIC Motor Corp. and Shanghai Auto plan to boost sales by more than 15 percent this year, beating the estimated industry average, according to company President Chen Hong. The parent sold 1.34 million vehicles in 2006, surpassing China FAW Group Corp. to become China's largest automaker. The company's shares fell 2.4 percent to 14.16 yuan in Shanghai yesterday. The stock has surged almost fourfold in the past 12 months. GM's two joint ventures with Shanghai Auto sold 26 percent more vehicles, or 272,911 units, in the first quarter, helped by its best-selling model Excelle sedans, according to the China Association of Automobile Manufacturers. Sales Goal - GM expanded its market share in China to 13.9 percent in the first quarter from 13.5 percent a year ago. The U.S. automaker plans to introduce about 10 new or revamped models in China this year to help it meet a 2007 sales target of "close to 1 million units" in the country. Shanghai Auto's venture with Volkswagen, Europe's largest carmaker, sold 97,385 cars in the first three months, an increase of 56 percent from a year earlier, according to the auto association's statistics. Volkswagen aims to introduce as many as 14 new models in the country by 2009. China's economy grew 10.7 percent last year, the fastest rate in 11 years, boosting auto sales. Vehicle sales may rise to 9 million by 2010, according to the National Development and Reform Commission. Sales last year were 7.22 million. Sales of the company's first self-branded sedan, the Roewe 750, exceeded 7,000 units by April 20, according to Hu Maoyuan, chairman of Shanghai Auto. The Roewe is based on design rights bought from the bankrupt British automaker MG Rover Group Ltd. SAIC Motor received 3.28 billion shares from Shanghai Auto in November in exchange for stakes in 11 auto ventures, three parts-makers and an auto finance company. Its stake in Shanghai Auto rose to 84 percent through the deal. Shanghai Auto booked profits from the ventures in the last two months of 2006.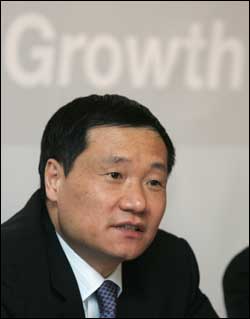 Bank of China (3988), the mainland's No2 lender, said first-quarter net profit rose 17.62 percent to 11.72 billion yuan (HK$11.87 billion) on strong growth of both net interest income and net fee and commission income. Net interest income rose 31.1 percent to 34.37 billion yuan, largely attributable to an increase in average interest-earning assets and a widening net interest margin. The bank recorded a net trading loss of 735 million yuan compared with a gain of 1.14 billion as a rising yuan continues to hurt the bank's foreign exchange position. "We will continue to focus on all business risks to ensure healthy and balanced development, and manage foreign currency exposure to mitigate the business impact of RMB [yuan] appreciation," chairman Xiao Gang said in BOC's annual report Wednesday. But the loss was mostly offset by a 606 million yuan gain on investment securities, up 298.68 percent compared with the 152 million yuan recorded in the corresponding quarter last year.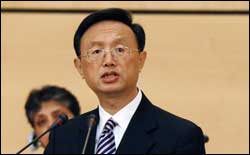 China's choice of a former ambassador with personal ties to the Bush family as its new foreign minister shows the priority Beijing places on its relationship with Washington, analysts said. Yang Jiechi, who turns 57 next month, was ambassador to Washington from 2001 to 2005 and has spent most of his diplomatic career focused on China's most important strategic relationship. Beijing will call on his expertise in handling that relationship, which is marked by an increasing economic interdependence but still dogged by stubborn tensions on trade, human rights and China's growing presence in the world. "This won't change Sino-US relations, but since [Yang] was ambassador to the US, he knows a lot about the relationship between the two countries," said Niu Jun, a professor with Peking University's School of International Studies. "It will help China handle issues between China and the US." A Shanghai native who has served since 2005 as one of seven vice foreign ministers, Yang replaces Li Zhaoxing, who stepped down after four years in the post. Yang has a reputation as a pragmatic and competent diplomat, but his longtime familiarity with the Bush family may have also played a part in his selection, according to observers.
Banks' required reserves could rise as high as 14 percent by the end of the year, from 10.5 percent now, as the central bank strives to mop up surplus cash from the system, a prominent academic says.
When Joseph Yam called early this year for a system to take advantage of the gaping price differential between the same shares trading in Hong Kong and on the mainland, he set off a debate that cuts to the heart of the mainland's market and currency controls.
Being the factory for the world, China is highly reliant on its ability to move cargo. While the country has already built a string of first-class ports, its railway network leaves a lot to be desired. At the end of 2005, the mainland's railway system stretched 75,000km, the most in Asia and ranked third in the world. But the density of railroad and average usage per person was far behind that of many countries. On average, 20 per cent of cargo movement around the world is dependent on railways; in China it is less than 2 per cent. No wonder the central government plans to develop a high-speed and high-density railway system.

*News information are obtained via various sources deemed reliable, but not guaranteed