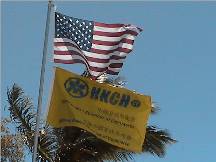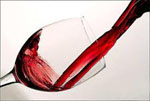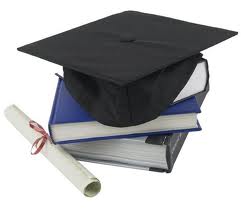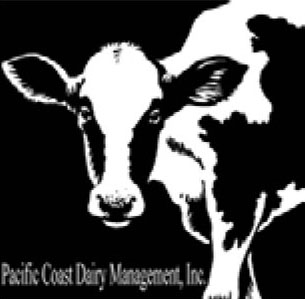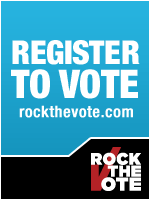 Biz-Video

Hawaii's China Connection

Doing Business in Hong Kong & China
Hong Kong, China & Hawaii Biz*
Do you know our dues paying members attend events sponsored by our collaboration partners worldwide at their membership rates - go to our event page to find out more! After attended a China/Hong Kong Business/Trade Seminar in Hawaii...still unsure what to do next, contact us, our Officers, Directors and Founding Members are actively engaged in China/Hong Kong/Asia trade - we can help!
Are you ready to export your product or service? You will find out in 3 minutes with resources to help you - enter to give it a try

China Central TV - live Webcast

Skype - FREE Voice Over IP

View Hawaii's China Connection Video Trailer


Direct link PDF file


Year of the Pig - February 18, 2007
July 31, 2007

Hong Kong: China's biggest e-commerce company Alibaba has submitted its first initial public offering (IPO) application to the listing committee of the Hong Kong Stock Exchange and may become the largest high-tech share on the Hong Kong bourse. Alibaba's Chairman Jack Ma confirmed the news in the company's annual meeting over the weekend. Tao Ran, a company spokesman, said there was no timetable for the market listing and also declined to disclose any details of the IPO. But analysts say the IPO might raise 7.8 billion Hong Kong dollars and take the company's total market value to more than four billion U.S. dollars. If the market listing succeeds, the total equity value of the Alibaba Group, the umbrella company of Alibaba.com, Taobao.com, Alipay.com, Yahoo! China and Alisoft.com, would exceed 10 billion U.S. dollars, overtaking its rivals Tencent, Baidu and Netease, they said. The listing is expected to create a number of millionaires as its employees hold a large proportion of the company's shares, analysts say. The top three largest shareholders of the company are Yahoo! Inc who controls a 40-percent stake; Jack Ma and his management, a 28.2-percent stake; and Softbank, 16 percent. Calling the listing "the biggest challenge" Alibaba.com has faced since its establishment nine years ago, Ma said going public was like refueling a truck so it can reach its destination. "Our final goal is not to float the company but to create a great enterprise," he said. The company will use the fund to expand its global business and optimize its online trading services, the Shanghai Securities News reported on Monday, citing well-informed sources. The company headquartered in Hangzhou, east China's Zhejiang Province, has evolved into the world's leading business to business marketplace in nine years and owns more than three million members from 200 countries and regions.
Secretary for Development Carrie Lam Cheng Yuet-ngor has sounded the final death knell for Queen's Pier, insisting the demolition of the 53-year-old Central landmark is irreversible.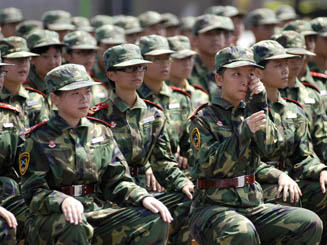 The uniforms may have been hot and the boots heavy, but the first intake of girls to complete a two-week military training course with the PLA had nothing but praise for the experience. "Quite a lot of the students suffered heatstroke during training. Some fainted when we marched, practised martial arts and went hiking. But none of us gave up and we insisted on completing the course," said Law Shuk-yu, one of the 50 girls who took part in the summer camp. The girls were among about 200 secondary school students who graduated yesterday from the gruelling third annual Military Summer Camp for Hong Kong Youth with the PLA's local garrison. Although this year's camp was the first to include girls, the students were undaunted by the experience, and all managed to adjust to the tough training and strict discipline in a day or two. It was the heat that posed the biggest challenge during their 15-day stay at the People's Liberation Army barracks in San Wai, Fanling. Demonstrating the skills they had learned over the two weeks and sitting through yesterday's hours-long graduation ceremony under the fierce sun was the last challenge before leaving the camp. "The long-sleeved uniform and heavy leather boots are really killing us. It's made us wonder how the officers stand it. They are very tough!" said Shuk-yu, a Form Three student at Kiangsu-Chekiang College. "Though it's tough, I will sign up for the camp again if I have the chance. I learned a lot from the training. I used to be a loner, but now realise the importance of team spirit." The Form Three and Form Four students who took part in the camp were nominated by their principals and screened by the Education and Manpower Bureau. Apart from the tough military drills, discipline, use of weapons and defence theory, the students also had to attend lessons on Chinese history, China's development and on how the PLA operates. The course, which was originally proposed by Betty Tung Chiu Hung-ping, wife of former chief executive Tung Chee-hwa, also included first aid.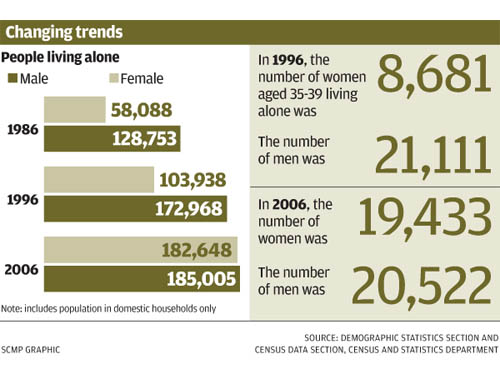 The number of unmarried Hong Kong women living on their own has jumped 43.8 per cent in five years because of the trend among local men to marry mainlanders, according to a University of Hong Kong statistician. The results of the 2006 census, released yesterday, showed that 182,648 women were living alone, compared with 127,001 in 2001 and 103,938 in 1996. The number of lone men has increased just 14.1 per cent, to 185,005, since 2001. University of Hong Kong statistician Paul Yip Siu-fai said the increasingly large number of Hong Kong men marrying mainlanders had fuelled the imbalance between single men and women. "The imbalance is likely to grow further in the near future," he said. Last year, about 28,000 Hong Kong men married mainland women, an increase of more than 80 per cent on 2001. But only about 6,500 Hong Kong women married across the border last year. Another reason for the increasing number of lone women is that they are becoming more independent and better educated, according to Dr Yip. "Many women can support themselves financially and feel less need to get married," he said. Another factor is the changing gender ratio. A decade ago, the sexes were equal in number; now there are only 961 men for every 1,000 women. The number of single mothers has risen 27.8 per cent to 57,613 since 2001, while the number of single fathers has grown 9.8 per cent to 14,713. "The growing divorce rate will cause serious social ills, such as behavioural problems among the children of single parents," Dr Yip said. There were 65,626 births in the city last year, up 36 per cent from 2001. Part of the increase was due to mainlanders giving birth in the city. One in every four babies born in the city last year had mainland parents. The Senior Citizen Home Safety Association, which provides personal emergency services to elderly people who live alone, said the government should improve medical services in the face of the increasing number of people living alone. "Regardless of the gender, the number of people living alone has increased in the past years. It is vital for the government to provide better medical service for them as the population of Hong Kong is ageing," the association's executive director, Ma Kam-wah, said. Mr Ma said a change of mentality had boosted the number of elderly women living alone: "Most elderly people, especially mothers, prefer living alone rather than staying with their married children as they believe the family relationship will be better if they don't live under the same roof."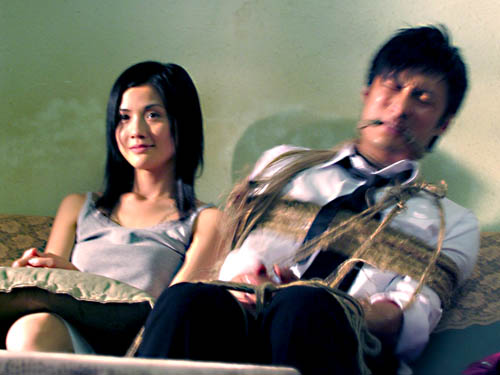 It's not quite Venice or Cannes, but Twins member Charlene Choi Cheuk-yin made a bit of a mark on the international film festival scene last week. The Canto-idol was voted best actress at this year's 11th annual Puchon International Fantastic Film Festival in South Korea for her performance in Oxide Pang Chun's new spooker, Diary. Choi plays a psychotic woman searching for her boyfriend. "When I was told about the news, I was shocked and I called a lot of people to check if it was for real," Choi said. The Puchon festival focuses on genre works of a love, fantasy and adventure nature, far more audience oriented than other more high-minded artistic showcases. Choi said her success was a result of lessons with her Simply Actors co-star Jim Chim Sui-man. "I really want to say thank you to my teacher, 'Jim Sir'. He helped me improve on my acting a lot." Now, if we can just find her a voice coach for singing.

China: U.S. Treasury Secretary Henry Paulson arrived in Xining, capital of northwest China's Qinghai Province Sunday evening, kicking off his "environmental tour" in the country. Paulson's tour in Qinghai, home to China's largest salt water lake Qinghai Lake, includes visiting local environmental protection programs. He will also visit some rural households in the remote province on the Qinghai-Tibet Plateau, dubbed the "roof of the world". As special representative of the U.S. President, Paulson will visit China from July 29 to Aug. 1 to exchange views on the process of the U.S.-China Strategic Economic Dialogue, China's Foreign Ministry spokesman Liu Jianchao announced on Thursday. Collaborating on energy and environmental challenges is one of the key focuses of the U.S.-China Strategic Economic Dialogue (SED) launched by U.S. President George W. Bush and Chinese President Hu Jintao last year, which was established to provide a focused and effective framework for addressing issues of mutual concern. Before flying to Xining, Paulson had made a brief stopover in Beijing on Sunday afternoon. He will return to Beijing on Tuesday. President Hu Jintao will meet with him and Vice Premier Wu Yi will hold talks with him as Hu's special representative. This is Paulson's second visit to China this year, following his short tour in March.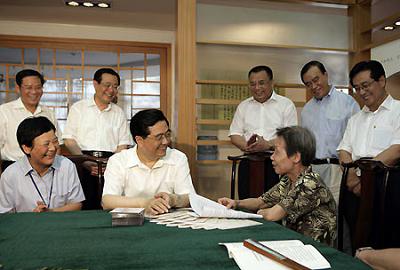 Photo taken on July 28, 2007 shows Chinese President Hu Jintao (front, center) chats with an elder woman in a residential community of Hangzhou, capital of east China's Zhejiang Province, during his inspection tour in the province. Hu Jintao has urged officials to keep cleanhanded and devote themselves to the construction of a harmonious and all-around better-off society. Hu, also general secretary of the Central Committee of the Communist Party of China (CPC), made the remarks during an inspection tour in east China's Zhejiang Province from Saturday to Sunday.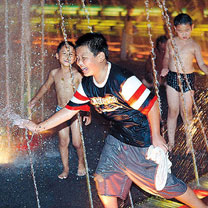 Children enjoy the cool from water fountains in Shanghai's People's Square Sunday night. The temperature reached 39.6 celsius on Sunday, July 29, 2007, a record high for the city in the past 63 years.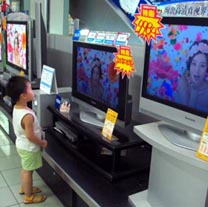 A boy is attracted by large screen flat-panel TV sets in a supermarket in Beijing. China's LCD TV output reached 6.34 million sets in the 1st half, up 65.4% on the previous year.
China, fighting to curb excess liquidity, will raise the reserve requirement ratio by 0.5 percentage points to 12 percent for commercial banks from August 15, the central bank announced Monday.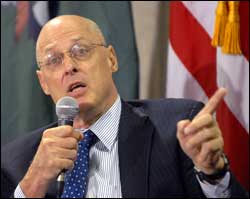 For months, US lawmakers have been warning Treasury Secretary Henry Paulson their patience was wearing thin as his dialogue with Beijing failed to produce breakthroughs on currency revaluation and other disputes. This week, as Paulson meets with mainland leaders, he faces new pressure in Congress, where proposed measures might punish Beijing for manipulating its currency. "The problem is there is very little [Paulson] can do in the immediate future that will make Congress happy," said Andy Rothman, a China strategist for investment bank CLSA. Paulson will discuss with President Hu Jintao and Vice Premier Wu Yi, the lead mainland negotiator in the Sino- US "strategic economic dialogue," progress in the talks that was launched last year to resolve China's swelling trade surplus and other issues. But Paulson's real target audience is as much Congress as Beijing. "Paulson is going to be hoping to come back from the current trip with private whisperings and confidences that he can share with members of Congress so as to discourage drastic action," said Sherman Katz, a former trade lawyer and researcher at the Carnegie Endowment for International Peace in Washington. Paulson has appealed for patience, saying the dialogue launched in December needs time to produce results on key fronts such as yuan controls, product piracy, barriers to foreign entry into its financial industries and trade. Beijing has begun easing currency controls and reining in its trade surplus. Yet, the United States and other countries that have seen trade deficits with the mainland soar are demanding swifter action. Last week, over Paulson's objections, a Senate panel approved a bill mandating the US Treasury identify and punish "currency manipulators." Another proposal would tighten the legal definition of currency manipulation to target China. Beijing says the yuan will eventually be freely traded. But it says abrupt changes would hurt its underdeveloped banking industry and cause financial turmoil. China revalued the yuan by 2.1 percent against the US dollar in July 2005 and allowed it to appreciate by 7.2 percent since then. Last week the yuan traded at 7.6 to the greenback. Analysts expect the yuan to rise by an average of 5 percent annually over the next few years - yet critics demand more. On Sunday, Paulson visited Qinghai Lake in the far west to highlight environmental challenges amid the country's breakneck growth. Paulson's stature as a former Goldman Sachs head and personal lobbying of Congress have bought him time, analysts say. But China's supercharged economic performance has fueled arguments that it can afford to move faster. China grew by 11.9 percent last quarter - the fastest quarterly rise since 1995 - and its trade surplus jumped by 85 percent last month to US$26.9 billion (HK$209.82 billion). Beijing's international standing has been hurt by a string of product safety complaints about exports ranging from toxic toothpaste to faulty tires, says Katz. He added: "It contributes to a sense that ... [Beijing] may be a government that has a lot to learn about acting as a responsible citizen in the global economy."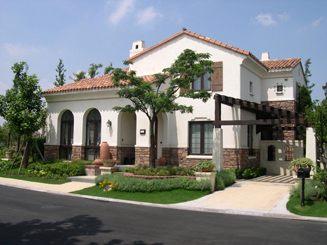 Shanghai villas see strong demand, Limited supply and steady inflow of expatriate staff underpin high-end rental market. A steady inflow of expatriates and limited fresh supply due to land policies will underpin continued strong demand for Shanghai's upmarket villas, analysts say. The latest data from property consultants shows Shanghai's villa residential market has taken in stride various control measures introduced since 2005 to cool the mainland's overheated property market. The average monthly rent fetched by villas reached US$21.50 per square metre in the first half of the year, up 6.5 per cent from the same period last year, according to statistics from Colliers International. The overall vacancy rate was 10.6 per cent, compared with 15.9 per cent last year. In the villa district of Changning, the vacancy rate was unchanged, while in Minhang, vacancies fell 12 percentage points to 6.7 per cent. And although 13.6 per cent of Pudong district's luxury villas remained vacant, the vacancy rate was down 6.9 percentage points from the same period last year, the figures showed. The gradual opening of the mainland financial sector and growing domestic consumer demand had lured foreign banks and retail giants to expand aggressively in the mainland, analysts said. Official data showed that by the end of April, Shanghai was home to 57,000 registered expatriates - 11.8 per cent up from the previous year. Larry Hu, head of residential consultancy at Knight Frank Shanghai, said he was optimistic about the outlook for the villa market. "A quarter of the expatriates living in Shanghai rent luxury homes with monthly rents ranging from US$3,000 to US$10,000," said Mr Hu, who added that expatriates accounted for more than 90 per cent of the total luxury residential leasing market in Shanghai. Meanwhile, in a move to cap the supply of upmarket villas, the Ministry of Land and Resources and the National Development and Reform Commission jointly reiterated this month a policy to end new land approvals for villa developments. Lina Wong, managing director for East China at Colliers International, said the measures would boost the villa market. "The rising number of expatriates and the future limited new supply will help the outlook for the villa leasing market," she said.
July 28 - 30, 2007

Hong Kong: Two leading rating agencies upgraded Hong Kong and the mainland's credit outlook yesterday, based on strong external assets and healthy government finances. Moody's Investors Service upgraded the mainland's long-term local foreign currency bonds rating one level up to A1 - the fifth-highest investment grade - from A2. This is the highest debt rating the mainland has earned from Moody's. The agency also assessed local currency debt for the first time, assigning the same level with a stable outlook. Moody's raised the ratings on Hong Kong's foreign-currency and local- currency obligations, while Standard & Poor's raised the outlook on its ratings in the mainland and Hong Kong. "China's very strong external payment position provides insulation from external shocks and allows the authorities time to expand and deepen structural reform," said Tom Byrne, Moody's senior vice president. He said external debts of the mainland government and state-owned banks are a "small fraction" of foreign exchange reserves, which exceed US$1.3 trillion (HK$10.14 trillion), while the export sector has been formidable despite continuing appreciation of the yuan. Standard & Poor's Ratings Services, which has assigned an "A" sovereign rating in the mainland, affirmed its rating and raised the outlook to positive from stable. A positive outlook indicates a possible upgrade in one to three years. "The positive outlook on the sovereign ratings on China reflects our expectation that persistent reforms will allow economic growth to proceed at a high trend rate without unduly large fluctuations," the agency said.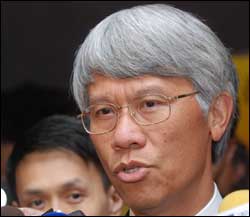 The Exchange Fund earned investment income of HK$47 billion in the first six months of the year, a 53 percent jump over the same period a year ago, thanks largely to the hot equities market. The Hong Kong Treasury's share of the take is HK$13.3 billion. Figures released yesterday by the Hong Kong Monetary Authority show the Exchange Fund gained a total of HK$15.1 billion from Hong Kong equities, an increase of 41 percent over the previous year; HK$12.3 billion from bond returns, up 193 percent; HK$12.1 billion from gains on other equities, a surge of 246 percent; and HK$7.5 billion from foreign exchange gains, a decline of 39 percent from HK$12.3 billion. "The outlook for Hong Kong's equity market for the second half will be quite volatile, but bullish," said Billy Mak, associate professor in the department of finance and decision sciences at Hong Kong Baptist University. The positive outlook, he added, stems from expectations that corporate earning performances will be strong amid robust economic growth. The drop in the Exchange Fund's exchange valuation gain was attributed to the weak US dollar. Mak said the fund is already investing a sizable portion of foreign currency reserves in US dollar assets for the purpose of safeguarding the Hong Kong dollar currency peg. "So the weakening US dollar will definitely affect that portion," he said. However, this does not mean the Hong Kong dollar should de-peg from the greenback, said Nicholas Kwan Ka- ming, Asia regional head of research for Standard Chartered Bank. "The purpose of the Exchange Fund lies in maintaining monetary stability, and should not be [judged] solely by how much investment return it is generating," Kwan said. "Exchange gain represents a small portion of the total investment income of the fund. It can shift the investment portfolio to make up for the potential loss." Commenting on the Exchange Fund results, HKMA chief executive Joseph Yam Chi-kwong said despite continued global economic growth so far in 2007, financial markets have experienced sharp volatility. He noted the global stock market correction in late February and early March and the rise in long-term bond yields in May and June as concerns. "It is nevertheless encouraging that, notwithstanding these sharp and unexpected market movements, the Exchange Fund has been able to earn an investment income of HK$47 billion in the first half of the year," Yam said in a statement published on the HKMA website. He cautioned that sustainability of the recent stock market rally and investor optimism should not be taken for granted because uncertainties over global economic strength and interest-rate movements will continue to cloud the investment outlook in the equity, bond and currency markets. In his weekly blog "Viewpoint," published on the HKMA website, Yam also said the issue of the carry trade should be watched. But he believes the chances of a financial crisis recurring are slim. The Exchange Fund's total asset value stood at HK$1.257 trillion as of June 30, up by 13.66 percent from the HK$1.105 trillion a year ago.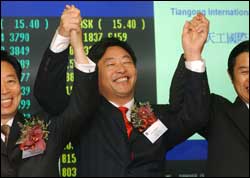 Undeterred by the market plunge yesterday, shares of high-speed steel maker Tiangong International (0826) soared on their trading debut, advancing 81.76 percent above the offer price. Tiangong hit a high of HK$12.10 before pulling back to close at HK$11.56, up from the offer price of HK$6.36, with HK$1.28 billion worth of shares traded. The Jiangsu-based company became the fourth best-performing new listing on the Hong Kong main board. China Communications Services (0552) was the third-highest gainer on debut, rising 85 percent; China High Speed Transmission (0658) surged 97.7 percent, ranking second; while Beijing Enterprises Holdings (0392) gained the most, rocketing 222 percent on its May 1997 debut. "Tiangong's performance was above market expectations of 25 percent," said Cherrie Yan, analyst at Phillip Securities. The Hang Seng Index retreated from a record high to close down 0.6 percent yesterday.

A month after floating shares on the Shanghai bourse, China COSCO (1919) said yesterday it is negotiating with parent China Ocean Shipping (Group) for a possible private issue of new A shares.
Cheung Kong Holdings (0001) and partner Keppel Land are among property heavyweights vying for a prime site in Singapore, with market watchers estimating bids could have topped the HK$10 billion mark.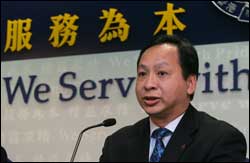 Police have arrested eight people over a HK$5 million internet scam that made use of international e-auction platform eBay to cheat would-be buyers all over the world. It is believed more than 10,000 people have been swindled through fraudulent transactions and police are still trying to ascertain the actual number of victims. The suspects - five men and three women aged between 18 and 47 - were detained in raids that began across the territory early yesterday. They are alleged to have been involved in a well- organized e-auction fraud syndicate that was smashed following intensive investigations with the help of eBay, which is based in the United States. Senior Superintendent Man Chi- hung of the Commercial Crime Bureau's technology crime division said most of the transactions involved electronic products such as MP3 players and computer memory cards.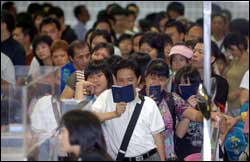 Executive councillor Cheng Yiu-tong said yesterday he expects Beijing to give the go-ahead to a proposal that reportedly will allow up to two million Shenzhen residents easy access to the SAR. The non-official Exco member, who is also a local NPC deputy and the president of the Federation of Trade Unions, would not say if such a proposal would be included in Chief Executive Donald Tsang Yam-kuen's policy address in October. "But I think there will be little problem [in getting Beijing's approval]," Cheng said. If approved, he said there would probably be a three-day time limit on such visits. Cheng chairs the Hong Kong-China Relation Strategic Development Research Fund, which advocated such an idea in one of its research studies. According to a Ming Pao report published Wednesday, the proposal would only affect Shenzhen residents with household records rather than the special economic zone's entire population of more than eight million. Le Zheng, director of the Shenzhen Academy of Social Sciences, estimated the scheme would attract an extra 10,000 to 20,000 Shenzhen residents per day to the territory on one-day trips.

China: Almost two thirds of China's exporters are able to deal with the effect of yuan appreciation on exports, according to a new survey. More than one third of exporters believe the exchange rate has had a major negative impact on exports and less than one third consider export rebate cuts as an important factor, according to the survey reported in Friday's China Business News. Almost half of the companies surveyed said they would avoid staff cuts if the yuan continued to appreciate and a quarter would consider laying off less than five percent of their employees, according to survey. Few companies responded to appreciation by reducing staff or payment, or by moving production to lower-cost countries. More than 70 percent of the companies believed the prices of export products could be raised by one to five percent. However, three quarters had no idea of or had not used financial tools to reduce risks and only one in five had begun to improve efficiency and add more values to their products, said the survey.
New standards for cooking oil are due to take effect soon, a government official said yesterday. "We are looking at a total of 92 standards for the cooking oil industry and we expect the standard regulatory authority to issue some shortly," Du Zheng, director of the Standards and Quality Center of State Administration of Grain, told China Daily. "Thirty of the standards are almost decided upon, 10 of which address the edible oil sector," he added. The 10 edible oil standards will address product quality and the manufacturing processes of four categories of edible oil - sesame oil, olive oil, palm oil and multi-purpose nutrition oil. China has already issued product standards for eight kinds of plant-based oil, such as soybean and peanut oil. "The new standards will help guide manufacturers and ensure the market as a whole is well regulated. Of course, since the manufacture of cooking oil is complicated, the healthy development of the segment will also depend on self-regulation," Du stressed. Zhang Zhentao, general manager of COFCO Food Sales & Distribution Co Ltd, said his company has been actively involved in drafting the new standards and has provided the regulator with technical details for Fortune Cooking Oil, an edible oil brand managed by COFCO.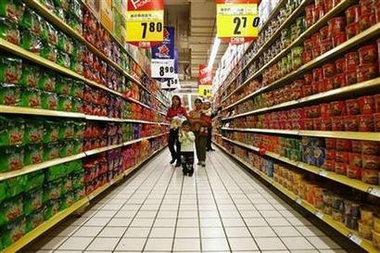 China needs to improve the quality of its exports to win a better international reputation, Premier Wen Jiabao said during a meeting on Friday that set out punishments for food and drug firms that violate standards. "Product quality relates to our people's interest, the survival and development of our enterprises and the image of our nation," Wen told the meeting on export quality. It was crucial to win over the international market with good-quality exports, Wen added. Chinese exports of everything from fish to toys, pet food to toothpaste, have been found in recent months to be mislabeled, unsafe or dangerously contaminated, creating an international backlash. Wen's remarks were reported on state radio and TV. "We will not avoid problems, but we protest against untrue reports that tell only part of the story, and trade protectionism and discrimination," Wen was quoted as saying. Food safety scandals are a regular topic in the Chinese media, but the nation lacks a basic food safety law and the ability to enforce its food and drug safety regulations at home or for exports. Its imports are generally carefully scrutinized. The head of the State Food and Drug Administration was executed last month, after being found guilty of accepting bribes to approve drugs. "It is a timely, urgent and important job and also a long-term and enduring task for us to fully improve the quality of Chinese products," Wen said. China would raise the threshold for products relating to human health and safety so as to prevent problematic exports from leaving the country, he said. The authorities would also check every stage of production, including raw materials, additives and intermediate products, so as to make the "made in China" brand a symbol for goods with great quality, Wen said. Producers of food, drugs and other agricultural goods that violate the food safety rules would face fines of up to 100,000 yuan ($13,220), have operation certificates or export permits cancelled or even risk arrest, according to regulations carried on the central government Web site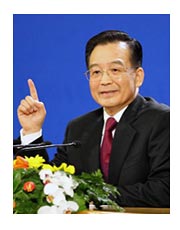 Chinese Premier Wen Jiabao said on Friday that China would strengthen exchanges and cooperation with other countries to cope with the issue of food safety "in a responsible way" at a national work meeting in Beijing. The following are measures the Chinese government has taken since China''s food quality was called into question both locally and globally. (1) China and the United States will hold a vice-ministerial-level talk on food security in August and the two sides will sign a memorandum of understanding on food safety by the end of this year to enable the two countries to resolve food safety issues more effectively. (2) The U.S. Health and Human Services officials will visit China at the end of July to exchange views with Chinese officials on the U.S. detention of four categories of aquatic products (catfish, basa and dace, shrimp and eel) that were alleged to contain banned substances. (3) China pledged on July 25 to provide regular and detailed information about potentially dangerous exports from China based on European complaints during the visit of Meglena Kuneva, the European commissioner for consumer protection. (4) China has established bilateral mechanisms and multi-lateral mechanisms on food safety with its trade partners including the United States, the European Union, Japan and the Republic of Korea.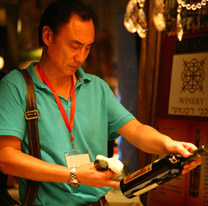 A visitor at Experience Israel, a consumer goods event in Beijing, checks Israeli wine. Israeli producer hope their high-end products can attract China's affluent consumers.
Summer is particularly hot in big cities. To help city dwellers keep cool through this difficult period, here are some tips to rescue them from the heat. Summer is particularly hot in big cities. According to the ancient lunar calendar, the last 10 days of July are the hottest days in the year. To help city dwellers keep cool through this difficult period, here are some tips to rescue you from the heat. With the right liquids, right clothes, right diet and good habits, people can ease through the hash period of the year without too much difficulty.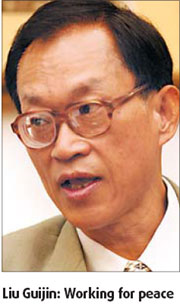 Confrontation over Darfur 'will lead us nowhere' - It's like sitting around a dinner table: Westerners use forks and knives, Chinese prefer chopsticks, and Arabs and Indians their hands. The mediums may be different, the purpose is the same. Why should all of us have to use forks and knives? You should not force others to use the medium you like. The same applies to the negotiation table. The solution to a problem is more important than the means employed. Coercion and confrontation "will lead us nowhere". This is how China's special envoy to Darfur Liu Guijin describes the Darfur issue. "China insists on using influence without interference, and we know respect for all the parties is vital to finding a solution," Liu said in an interview with China Daily. "If the situation in Darfur gets out of control or if it gets too late before a solution is found, it will hurt the interest of not only the people in Darfur, but also the international community." But to find a fair solution, "you have to learn how to deal with the Sudanese government" because no peacekeeping operation can be smooth without its support, Liu said. The international community should not forget that it is a "legitimate government that deserves respect". "We sit together to solve the problem and restore peace in Darfur, not to punish one side in favor of another." China has been trying to find a solution agreeable to all the parties. It has been trying to alleviate the suffering of the people, too. It sent a team of agriculture experts to Sudan last month to study the possibility of setting up an agriculture technology demonstration center. "Such help targets the right cause of the conflict - poverty." China has already given $10 million in humanitarian aid and promised to offer more. China has used its ties with Sudan to build infrastructure such as schools, hospitals and water projects. But their relations have been politicized by a section of the media and some NGOs and politicians, Liu said.
France and China will sign an accord in Beijing on Tuesday for the construction of two third-generation EPR nuclear reactors, in the biggest contract ever netted by the French company Areva, informed sources said yesterday.
July 27, 2007

Hong Kong: A former banker and an ex-stock broker were each sentenced to 23 months' jail for pocketing bribes from former chairman of Semtech International Holdings Derek Wong Chong-kwong who is still missing after failing to turn up in court on Tuesday.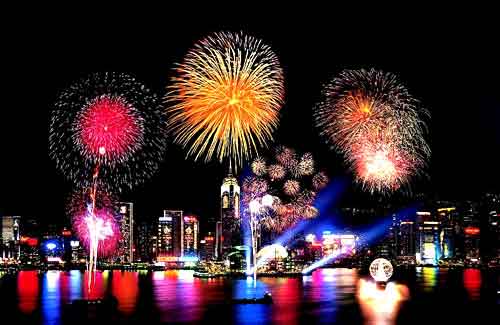 Hong Kong has been ranked as the world's eighth most fashionable city in a latest survey by Global Language Monitor. China News Service Thursday quoted HK's Wen Wei Po newspaper as saying, also listed as one of the world's most fashionable cities is Shanghai, eastern China's financial hub, taking the fourteenth place on the top 25 list. The California-based Global Language Monitor says the rise of Shanghai in the list indicates that a Chinese mainland city has for the first time broken into the big names. New York was elected as the top fashion city for the fourth consecutive year. Rome came second and Paris took the third place. Asian cities on the list also include Tokyo, in the 6th place, Singapore in the 10th and Bangkok in the 17th. Global Language Monitor, a non-profit organization, is in charge of documenting, analyzing and tracking trends in language, especially in English. The American company also conducts fashion surveys.
Jewelry retailer Luk Fook Holdings (0590) said net income surged 107 percent to HK$198.1 million for the year ended March, supported by sales to couples tying the knot and purchases by mainland visitors to Hong Kong during the Golden Week holidays in May and October.

The Legislative Council is seeking a one-off HK$20 million grant from public coffers to set up a task force to monitor the construction of the Legco complex at Tamar, the president of the legislature said yesterday.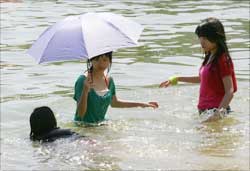 The heatwave has continued to take its toll, with two deaths and more than a dozen people falling ill in the past few days, and the temperature soaring to a record high on southern Hong Kong Island. A dole recipient taking part in outdoor community work collapsed with suspected heatstroke yesterday, bringing to 13 the number of people who have been overcome by the heat since Monday. Two people - an outdoor worker and a teenager playing football - died on Monday and at least eight people were taken ill. Another five people fell sick on Tuesday. According to the Hong Kong Observatory, the temperature hit a record high of 38 degrees Celsius at Repulse Bay on Hong Kong Island yesterday, while temperatures of above 36 degrees Celsius were recorded in parts of northern New Territories. The highest temperature on record was 36.1 degrees, which was registered on August 19, 1900, and August 18, 1990. The very hot weather warning was issued on Tuesday afternoon and remained in force yesterday.

China: The number of overseas tourists who visited Beijing in the first half of the year rose 11 percent on last year to 1.97 million, the municipal statistics bureau said on Thursday. The capital hosted 1.7 million foreign tourists in the first six months, up 11.9 from the same period last year, the bureau said. Japan, the United States and the Republic of Korea are currently the top three sources of the city's foreign tourists. Beijing also hosted 260,000 tourists from Hong Kong, Macao and Taiwan, an increase of 5.6 percent. Tourism has boomed in Beijing in recent years as the 2008 Olympic Games approaches. Last year, it hosted 3.9 million overseas tourists, up 7.5 percent from 2005, according to the Beijing Tourism Bureau.
China on Wednesday banned the imports of poultry and poultry products from Germany, the Czech Republic, the State of Virginia of the United States as well as the imports of swine products from the Republic of Georgia. Chinese Ministry of Agriculture and the General Administration of Quality Supervision, Inspection and Quarantine jointly issued the public notice on Wednesday, saying both direct and indirect imports are prohibited due to local outbreak of animal diseases. The notice said that recently Germany, the Czech Republic and some areas of the United States were hit by avian influenza and the Republic of Georgia by African swine fever. The ban is aimed at preventing these animal diseases from infecting China, so as to protect China''s animal husbandry industry and ensure public health of the Chinese. China ordered the return or destruction of poultry, pigs, wild boar and related products that had been shipped to China since the outbreak of relevant animal diseases. No poultry, pigs, wild boars and related products from the above countries or areas are allowed to enter the Chinese territory. If poultry, pigs, wild boars and related products from the disease-hit countries and areas would be found on ships, boats, planes, trains or any other transportation vehicle that pass by or stop over the Chinese territory, they would be destroyed under the supervision of the General Administration of Quality Supervision, Inspection and Quarantine, said the notice. The nation''s quality supervision, inspection and quarantine bodies and animal epidemic prevention organizations at all levels are urged to watch closely at this issue and act in accordance with relevant laws, according to the notice.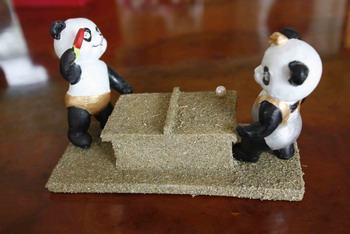 Souvenirs made from panda droppings are on display during a media preview in Chengdu, Southwest China's Sichuan Province July 26, 2007. The special items made a debut in the city which is billed as home to the most endangered animal in the world.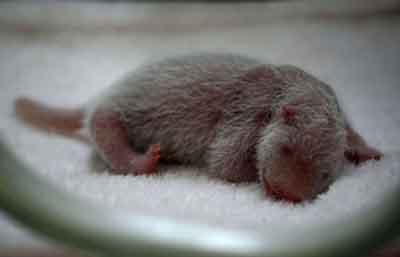 A newborn panda cub sleeps in an incubator at Chengdu Research Base of Giant Panda Breeding in Chengdu, southwest China's Sichuan province July 26, 2007.
More than 300 billion yuan ($39.5 billion) is ready to flow into the international market with China's insurance companies getting government approval to invest abroad. The new rules that became effective yesterday raised Chinese insurers' overseas investment ceiling from 5 percent of their assets to 15 percent, said a China Insurance Regulatory Commission (CIRC) statement. The CIRC, Bank of China and the State Administration of Foreign Exchanges jointly issued the rules. At the end of 2006, the industry's total assets were valued at 2 trillion yuan ($263 billion). The immediate beneficiary of the new rules may be Hong Kong. Mainland companies' shares traded in Hong Kong, or H shares, are likely to be "the main target" of insurers, said Central University of Finance and Economics professor Hao Yansu, who specializes in the insurance industry. Shenyin & Wanguo Securities Co analyst Yu Bin said: "Given the continuing revaluation of the renminbi, the overseas investment of most insurers is likely to target equities rather than bonds." According to the rules, only insurance companies with a capital adequacy ratio of 10 percent or more can invest abroad. The products that they can invest in include bank deposits, commercial bills, bonds, monetary funds and stocks. But the CIRC statement has warned insurers to be "very careful" while investing in financial derivatives. Orient Securities Company analyst Wang Xiaogang said it's unlikely for the mainland stock market to get a jolt from the move because "some of the domestic capital has already flowed into Hong Kong and the general price gap between H shares and A shares in Shanghai and Shenzhen is narrowing". Insurers will cash in on the chance to expand their investment overseas, even though the domestic stock market is passing through its best phase in seven years. But again, overseas expansion is important for the diversification of their investment portfolios, he said.
China will curb exports of cheap, labor- intensive products to force manufacturers into making higher-quality goods, in a move to narrow the world's largest trade surplus and reduce environmental damage.
US Treasury Secretary Henry Paulson will visit Beijing next week to make a last-minute plea for more currency flexibility as Congress prepares to act on legislation to curb growing trade imbalances with the mainland.
July 26, 2007

Hong Kong: Pacific Basin Shipping (2343), a Hong Kong-listed dry-bulk shipper, is making a foray into maritime infrastructure though a joint-venture with a state- owned port company to partly own and operate a new cargo terminal in the mainland.

The former chairman of Semtech International Holdings, Derek Wong Chong-kwong, is believed to be on the run after skipping a court appearance yesterday in relation to his previous conviction on corruption charges relating to share placements by the company.
The number of imported laborers of China's Macao Special Administrative Region reached 73,460 at the end of May, accounting for nearly 25 percent of the region's total labor force, according to official statistics issued Wednesday. The figures from the Labor Affair Bureau showed that Macao with a population of 520,000 has a total labor force of 301,000. Laborers from the Chinese mainland accounted for 55.5 percent of the total imported labor force, the figures showed. Locals have long been urging the government to protect the interests of the local work force by ensuring them of employment priority.
Tom Online (8282), a wireless internet company controlled by Li Ka-shing, tumbled to a net loss of US$9.56 million (HK$74.56 million) in the second quarter against a US$11.7 million net profit in the corresponding quarter a year ago, as revenue plunged and a joint venture suffered losses.
With their eyes set on a possible 550,000 visitors, local games producers are hoping the annual Hong Kong Ani- Com and Game Fair which begins on Friday will give them a multimillion- dollar payday. "The fair has, on average, been enjoying a 12 percent annual increase in terms of visitors so this year we expect 550,000 visitors to show up against 490,000 last year," fair chief executive Leung Chung-poon said yesterday. Leung said the extended fair hours should also help ensure a bumper crowd. The fair, in which a comics festival and games fair are held in conjunction, runs until Tuesday at Hong Kong Convention and Exhibition Centre. "Opening hours will be increased by over an hour, until 11.30pm. I believe this will help us attract the working population who may otherwise not get enough time after they finish work and dinner," he said. Leung said additional attractions, such as music and dance performances, would also help. There will be about 100 exhibitors, mostly from Hong Kong, with about 20 from the mainland. Oscar Chu Chung-ho, president of U1 Technology, one of the largest local game producers, is confident in the success of the fair and company sales. "Last year we earned about HK$1 million in sales, but the fair is not really the place where we earn most of our income," Chu said. "During the periods around the fair, we earn much more from our outside outlets." Chu said he is expecting fair sales to reach between HK$1.2 million and HK$1.5 million and about three to four times that amount outside the fair. One of U1 Technology's top products is a network game called Akuma. "The game is the first to employ the Lucid Platform 2.0 game engine," Chu said. The game engine was produced by the Hong Kong Polytechnic University and funded by the government. One of the main fringe events is the second Hong Kong International Animation Film Festival, which began at the weekend. Ten animation movies will be screened and viewers can gain entrance to the game fair. There will also be the 2007 World Cyber Games, in which 300 local players will be engaged.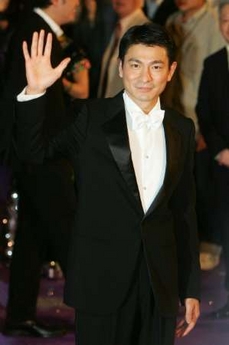 Andy Lau Tak-wah has signed on to star in a remake of the movie that inspired the 1986 John Woo gangster classic A Better Tomorrow, a spokeswoman for Lau and the film's director said. Lau, one of Chinese cinema's biggest stars, has agreed to appear in the movie called Ying Hong Boon Sik in Cantonese, spokeswoman Alice Tam said yesterday. He will play a mobster who is betrayed by a close friend, director Stephen Fung Tak-lun said. Ying Hong Boon Sik is a remake of a 1967 movie by the same name, Fung said. The 1967 movie inspired A Better Tomorrow, the Woo-directed action thriller that made Chow Yun-fat's trench-coat wearing, gun-toting gangster character an icon. It was not immediately clear who is funding Fung's movie and when he will start shooting. Spokeswoman Emily Wong at Hong Kong movie company Media Asia, which said earlier it was in talks with Fung about investing in the movie, said the company was not involved in the project any more. Fung grabbed headlines recently when Hollywood producer Andrew Tennenbaum bought the remake rights to the Hong Kong director's comedy Enter The Phoenix. Tennenbaum produced The Bourne Identity, The Bourne Supremacy and the upcoming The Bourne Ultimatum. Lau's credits include the kung fu movie House of Flying Daggers and the crime thriller Infernal Affairs, which was remade by Martin Scorsese as The Departed. Lau has shot two Chinese historical epics recently - Three Kingdoms: Resurrection of the Dragon and The Warlords. Lau, who also sings, is scheduled to launch a concert tour in China this year.
The scale of the police investigation into the attacks targeting New World Development properties in July is one of the biggest in recent times, according to Director of Crime and Security John Lee Ka-chiu. Police have so far arrested 32 people aged between 20 and 60. All but one are men. But Lee declined to comment on whether the mastermind behind the attacks was among those arrested. "The police have so far interviewed 150 staff of the New World Group and 400 others who are not part of the group," Lee said yesterday. "We have also raided and inspected more than 800 premises in different places and have seized lots of evidence which has been sent to the government laboratory for examination." He said the investigation involved various police departments including the Organized Crime and Triad Bureau because the force was determined to solve a case that is seen as a direct challenge to the government, the police and the community. He said for the time being, the police could not divulge further information, such as the possible motive, as this could affect the investigation. "But we are confident we will get to the bottom of it," Lee said, adding: "I hope we can say more after the laboratory's report." The attackers targeted the New World Group's headquarters in Central, 16 mobile phone shops and two hotels. Among those arrested was the president of the Hong Kong Muay Thai Association, Lee Yuk-tim. The 50-year-old man took charge of the Thai boxing association after his release from jail following a 1996 conviction for being a triad member. Though the vandalism happened on July 4, it was one of the main points of yesterday's review of crime in the first six months of this year. The number of drug offenses and drug seizures soared in the first half of this year though the city's general crime rate has risen by only 2.3 percent. Police are also very concerned at the number of juveniles and young persons involved in drug cases, Lee said. A total of 403 youngsters were arrested in relation to drug-related crimes in the first six months, a 97.5 percent increase from last year's 204 for the same period. Police seized 42,759 tablets of ecstasy and 444 kilograms of cannabis, both being 12 times the amount seized during the same period last year. Lee said the increase in drug seizures was the result of the rising supply and demand as well as better intelligence. He said police will continue to work closely with other government departments and concerned organizations to crack down on drug crimes and to educate young people about the dangers drugs posed to their health. The number of domestic violence cases doubled in the first six months of this year, from 1,834 in the first half last year to 3,702 this year. Lee said this was because people were now more willing to report such cases to the police. The number of rapes and criminal intimidation also rose, 52.6 percent and 32.5 percent respectively, but there was a fall in the number of homicides and bank robberies. There were a total of 40,357 crimes reported in the first half of this year, compared with last year's 39, 433.
Police may use force if they are attacked when government workers dismantle Queen's Pier, possibly before the end of this month, Development Secretary Carrie Lam Cheng Yuet-ngor warned yesterday. "I pledge that we will not use violence to cordon off the pier area," she told a Legislative Council panel. "It is not the usual way we do things." But she added an attack would prompt different tactics. Mrs Lam said the government was still open to options as to where to rebuild the 54-year-old pier. Mrs Lam, who promised to meet the activists on Sunday in a public forum, said the government would clear the pier area to avoid further delays in the Central reclamation project.


Australian actress still to work with HK director - A much-anticipated project involving Nicole Kidman and Wong Kar-wai is still alive, but it is not easy co-ordinating the schedules of the Oscar-winning actress and Hong Kong director, Kidman's publicist said on Wednesday. "I can tell you that they still continue to discuss making the movie together. I believe it is a matter of both of their schedules, not just Ms Kidman's," the publicist, Catherine Olim, said in an e-mail to AP. Charlotte Yu, a spokesman for Wong's production company, Jettone Films, said she did not know the latest status of the film, tentatively called Lady from Shanghai. Little is known about the film, and its story has not been made public. Wong was quoted as saying in May 2005 he had started preparing for the film. A film consultant told AP in February 2006 that the project was being delayed to 2007 because Wong had not found a strong male lead. But there are no signs that Wong will start shooting this year. His English debut, My Blueberry Nights, is scheduled to be released in November and Wong will likely be tied up with promoting that film until then. Wong, who was born in Shanghai and moved to the territory at the age of five, is a Hong Kong icon. He has international reputation for art-house films with mood-setting visuals and melancholy soundtracks. He has attracted a strong following among the Hollywood elite despite making mostly Chinese-language films. His breakthrough film was 1994'sChungking Express in which the tagline "If my memory of her has an expiration date, let it be 10,000 years..." became a classical quote for lovers. Happy Together won him the best director title in the Cannes Festival in 1997. Wong is known for not using detailed scripts for his films. Many of his films feature famous Hong Kong stars including Maggie Cheung Man-yuk, Tony Leung Chiu-wai and Faye Wong. Japanese star Takuya Kimura played a part in the 2004 film 2046.Kidman has been quoted as referring to Wong as "God". Other Americans have similar views. Director Sofia Coppola praised Wong in her Oscar acceptance speech in 2004. Quentin Tarantino lists Wong's 1994 Chungking Express as one of his favourite films. My Blueberry Nights, the opening film in this year's Cannes Festival, features a distinguished cast including Jude Law, Natalie Portman, Rachel Weisz and Grammy-winning singer Norah Jones in her film debut. Kidman, the Hawaiian-born Australian actress, won best actress Oscar for The Hours in 2002. She was most recently seen in Fur: An Imaginary Portrait of Diane Arbus.


Hong Kong and United States customs officers will conduct a series of joint factory observation visits in Hong Kong from August 10. Head of trade controls for the Hong Kong Customs and Excise Department, Cheung Sai-yan, said on Wednesday the visits were part of a policy of co-operation between Hong Kong and US customs. Mr Cheung said they were needed to ensure legitimate textiles and clothing trade continues, as well as to combat illegal trans-shipment of textiles and clothing products. "The joint visits will keep the US updated on the manufacture of textiles and clothing products in Hong Kong and the implementation of Hong Kong's origin control programme for textiles and clothing exports," he said. Mr Cheung said the visits would facilitate a better understanding by the US Customs authorities of the effectiveness of Hong Kong's origin control system. They would also ensure that textiles and clothing exports claiming to be products of Hong Kong are genuinely manufactured in Hong Kong, he added. "This will also be conducive to the legitimate textiles trade especially at a time when restrictive measures are still in place against certain textile exports from other economies in the region," Mr Cheung said. The joint visiting teams, comprising Hong Kong and US Customs officers, will inspect only textile factories which have given prior consent. "Joint visit team members will not undertake any enforcement activities during the visits. Enforcement activities, if necessary, will be undertaken by Hong Kong Customs officers independently and separately from the visits," Mr Cheung said. The visits will not disrupt the production and operation of factories. The visits, starting from August 10, will last for about two weeks. Detailed arrangements about the visits have been announced by the Trade and Industry Department separately through a Notice to Exporters and Certificate of Origin Circular.

China: U.S. Treasury Secretary Henry Paulson will travel to China at the end of this week to meet with government officials and discuss the U.S.-China Strategic Economic Dialogue (SED), according to a statement issued Tuesday by the Treasury Department. "This trip is part of an ongoing process to strengthen our strategic economic relationship -- to address long term issues such as working with China to rebalance its growth and increase the flexibility of its currency, and also to address short term issues as they arise," Paulson said in the statement. Paulson will meet with Chinese leaders in Beijing to discuss a broad range of issues that are critical to the U.S.-China economic relationship. e is expected to raise with Chinese leadership issues of concern to the U.S. Congress in his meetings there, as well as follow up on action items that were identified at the last meeting of the SED in May, the statement said. Paulson will begin his trip with a visit to Qinghai Lake on July 30. On July 31, Paulson will travel to Beijing where he will spend Tuesday and Wednesday meeting with Chinese officials including President Hu Jintao and Vice Premier Wu Yi, according to the statement. The SED mechanism, jointly initiated by Chinese President Hu Jintao and U.S. President George W. Bush in September last year, serves as a platform for both sides to discuss long-term, strategic and comprehensive issues in bilateral trade relationship. The next or third SED will be held in Beijing in December this year.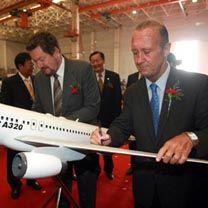 Xi'an Aircraft Company (XAC), a subsidiary of China Aviation Industry Corporation I (AVIC I), yesterday made its first delivery of an Airbus A319 wing box - making the country Airbus' only wing box manufacturer outside Europe. The wing box, or the main body of the wing and among the toughest structural parts of an aircraft, is valued $1.75 million per set. It will be dispatched to the Airbus assembly plant in Broughton in the UK. "Airbus has ordered 250 sets of wing boxes from our company. We expect to make two sets this year. Production will pick up to four sets per month by the end of 2009, and then to six sets per month in 2010," Tang Jun, vice-president of XAC, told China Daily. Airbus plans to increase its subcontract volume in China from the current $60 million to $120 million by 2010, about 50 percent of which will be contributed by the overall wing program, according to company sources. Yesterday's delivery signals important progress in China's aircraft manufacturing industry, Tang said. The A319 wing box is the largest and most complicated Airbus aircraft component a Chinese aviation manufacturer has ever made. The wing box is the third phase of the long-term technological partnership between Airbus and China's aviation industry, which started eight years ago. The first two phases covered technology transfer of wing leading edge track ribs, and wing leading edge and trailing edge packages. The delivery "reaffirms Airbus' commitment to a meaningful partnership with China," said Laurence Barron, Airbus China president. According to Tang, XAC and Airbus are in talks on more wing-related technology transfer. China expects to obtain the rest of the wing-related contracts from Airbus by 2009, said Yang Chunsheng, a senior executive with China National Aero-Technology Import & Export Corporation. If that comes true, he said, "Xi'an will be able to directly provide Airbus wings to the future A320 assembly line in Tianjin." Airbus and Chinese partners officially signed an agreement last month to open the assembly line there to produce the European aircraft manufacturer's A320 jets. The plant is expected to deliver its first aircraft in early 2009, Airbus said. The assembly line will be able to produce four A320s a month by 2011 and a total of about 300 A320 planes by 2016, the company said.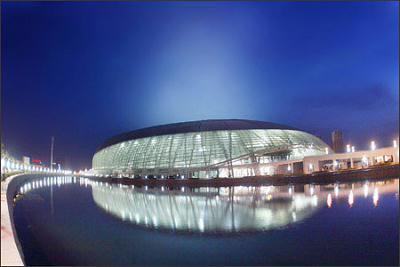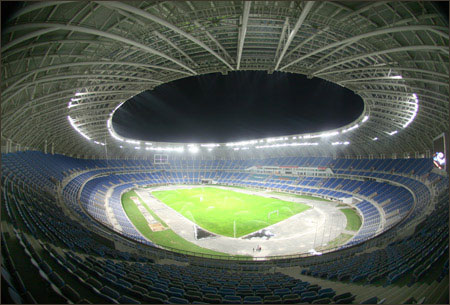 The outside of the Tianjin Olympic Center Stadium. After over 1,000 days of construction, the stadium is now on its way toward inauguration.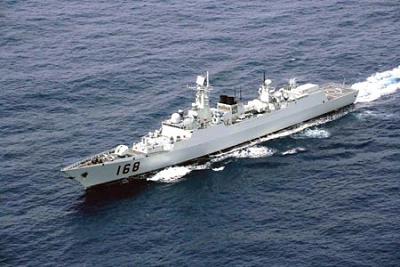 Guided missile destroyer Guangzhou. Two Chinese naval vessels left Hainan on Tuesday for an 87-day tour that will take them to Russia, Britain, Spain and France. Two Chinese naval vessels left Sanya, Hainan, on Tuesday for an 87-day tour that will take them to Russia, Britain, Spain and France. The guided missile destroyer Guangzhou and the supply ship Weishanhu are under the command of Major General Su Zhiqian, deputy commander of the South China Sea Fleet of the Chinese Navy. The Guangzhou -- 155 meters long, 16 meters wide and with a displacement of 5,850 tons -- is said to be one of China's newest naval vessels. The two ships will travel more than 23,000 nautical miles, stopping in Russia's Saint Petersburg, Britain's Portsmouth, Spain's Cadiz, and France's Toulon in succession. More than 500 soldiers and officers are on board the vessels. They will join activities for the Year of China in Saint Petersburg and hold joint rescue exercises with the British, Spanish and French navies.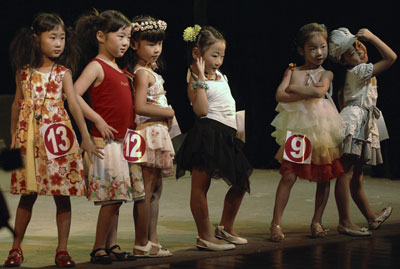 Children perform onstage during a modeling competition in Hefei in eastern China's Anhui province July 25, 2007. About 200 children aged 4 to 16 took part in the competition, according to local media.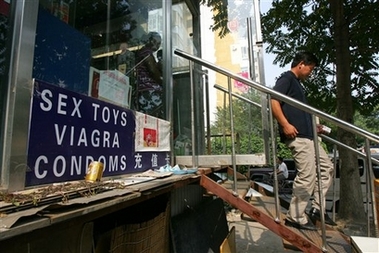 A man emerges after buying a pack of cigarettes at a store that also offers viagra in Beijing, China, in this July 2, 2007 file photo. Chinese police have cracked four criminal networks that made fake Viagra, Tamiflu and anti-malaria drugs and sold them within China and to customers in Southeast Asia, the United States and Europe - China announced Wednesday that it is strengthening its food safety regulations in the wake of discoveries of toxic chemicals that prompted a slew of international bans and recalls on its exports. China also announced that it had busted criminal networks that made fake bird flu medicine, anti-malaria drugs, Viagra and toothpaste. The government said on its Web site that the Cabinet had passed a draft regulation that "strictly regulates the activities of producers, strengthens the responsibility of local governments and increases the punishment for illegal activities." No details were given, but the government said Premier Wen Jiabao attended the State Council meeting, an indication of high-level concern about the problem. "Product quality and food safety concerns the health and the life of the people, it concerns the trustworthiness of companies and the image of the country," the statement said. "We must attach great importance to the matter."' The regulation goes into effect after publication by the State Council. The government did not say when that would occur. The government said the fake-drug rings were busted between August 2005 and May 2006 and involved gangs across the country, two of which sold their products via the Internet or by e-mail, according to the Ministry of Public Security. The announcement, posted late Tuesday on the government's Web site, did not say what happened to the suspects, if anyone was sickened as a result or why the information was released only now. A woman who answered the telephone Wednesday at the ministry said the cases were among the 10 largest in a yearlong campaign against counterfeits that began in March 2006. China recently executed the former head of its food and drug watchdog for approving untested medicine for cash, including an antibiotic that killed at least 10 people.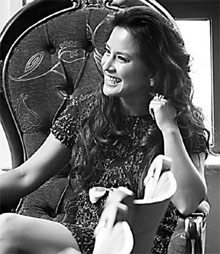 Ion network - 3i is a leading private equity business with a history of 62 years. Established in 1945 with funding from the Bank of England, UK clearing banks and the City, seasoned entrepreneur William Piercy (later Lord Piercy) was appointed to manage the initial fund. 3i Group listed in London in 1994 and remains the only FTSE 100 Private Equity business, with five different asset classes and $14.3 billion under management. The company has invested over $250 million in many well-known Chinese companies, such as: Focus Media, Chinas largest multi-channel advertising media company; D.Phone, one of China's earliest mobile phone retailers; PCD, established by Ports CEO, a high-end department store; and Inner Mongolia Little Sheep Catering Chain Co, China's leading retail hotpot restaurant chain. 3i is currently invested in more than 500 businesses worldwide. At least 60 of these businesses operate in Asia, of which more than 35 are in China. Lily Jin was voted the best venture capitalist in 2006 by Forbes for her investments in Mengniu Dairy and Suntech Power.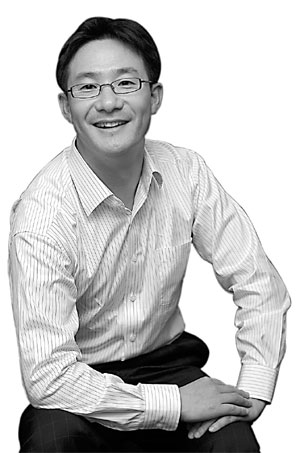 Art of investment - Profile of Li Jianguang - 2000: Vice-President and Partner of IDGVC; 1999: Assistant General Manager, Tintic Trust & Investment; 1994: Manager, Crosby Group, Beijing Representative Office; 1987: Research Fellow, Chinese Academy of Social Sciences; 1987: Graduated from Peking University, Economics Department. IDG Technology Venture Investment (IDGVC Partners) is one of the most prestigious venture capital firms in China. Since it was first established in 1992 with offices in Beijing, Shanghai, Guangzhou, Boston and the Silicon Valley, the organization has invested in a group of unknown start-ups in the country that later became big names - like Baidu, Focus Media, Sohu, Tencent, EachNet, Dangdang and Ctrip. One of the earliest US venture capital firms to enter the Chinese market, IDGVC Partners invests in early to growth-stage companies and is focused on hi-tech sectors like the Internet, telecommunications, wireless communications, digital media, IC (integrated circuit) and life science. It manages over $800 million in capital and has an investment portfolio of 100 start-up companies, 30 of which have completed public offerings or successful mergers. Earlier this month, IDG Partners announced it had successfully raised $510 million in investment for its IDG-Accel China Fund II in just 45 days. On the eve of the company's new round of investing, Li Jianguang, vice-president and partner of IDGVC Partners, sat down with China Business Weekly reporter Wang Xing to talk about the art of investment.
US-based Westinghouse Electric yesterday signed a multi-billion-dollar deal with mainland partners to build four nuclear reactors in eastern China, clinching a pact agreed between Beijing and Washington seven months ago.
Pirated software worth US$500 million (HK$3.9 billion), including counterfeit Microsoft and Symantec products, has been seized in a long-running joint probe by Chinese police and the US Federal Bureau of Investigation, officials from both countries said yesterday.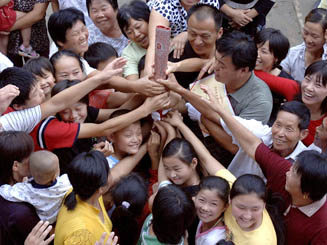 An Jiankun (with certificate) and residents of flood-hit Yingnan village in Anhui province clutch a 2008 Beijing Olympic Games torch. Mr An, who is the village's party leader, was named the first torchbearer for the Olympic Games from the province because of his good performance during the floods, local media had reported.
July 25, 2007

Hong Kong: On their second day of trading, units of the HSBC China Dragon Fund (0820) soared 41.5 percent on heavy turnover, driven by the irrational exuberance of foreign funds and asset managers toward the A-share market, analysts said.
Six former and incumbent senior executives of listed property developer Grand Field Group Holdings (0115) and securities and commodities broker Upbest Group (0335) have been charged by the Independent Commission Against Corruption with alleged conspiracy to defraud shareholders and the stock exchange.
Billions continue to pour into mainland equity markets regardless of new monetary measures unveiled on Friday to tighten the liquidity tap. And the interest rate increase appears to have done little to slow the bull run in Hong Kong.
Mainland commercial banks have sold 13 billion yuan (HK$13.42 billion) worth of financial products associated with the qualified domestic institutional investor scheme by the end of last month, accounting for 26 percent of the 50 billion yuan QDII quotas, according to the banking regulator.
The former Communist Party boss of Shanghai - the highest-level party official to be dismissed in a decade - is closer to being punished in a corruption scandal, a Hong Kong newspaper reported yesterday.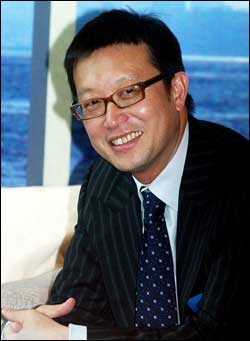 The Hong Kong director whose movie inspired Oscar-winner The Departed plans to make his television debut with a Chinese- language kung fu series based on a comic book. Andrew Lau Wai-keung said in an interview with the Chinese news website Sina.com that he hopes the series, called A Bi Jian in Chinese, will also spawn a movie and an online game. Footage of the interview was posted on Sina.com yesterday. Lau said he wants to give TV a try because it does not have the same time constraints as a movie. "After making a movie, maybe you weren't able to shoot many of your ideas, because a movie is only 1 or two hours long, but TV gives you space to film a lot of things." Lau rose to fame after making the 2002 crime thriller Infernal Affairs, which was remade by Martin Scorsese as The Departed, starring Leonardo DiCaprio, Jack Nicholson and Matt Damon. It won the Best Picture Oscar at the 2007 Academy Awards. Lau has since shot the Hollywood movie The Flock, starring Richard Gere and Claire Danes. Lau said he plans to devote the same resources to his TV show as a movie, including computer special effects. "I want to put elements from movies into TV to raise the quality of TV," he said. The director did not say how many episodes his new series will comprise or how much it will cost. He also did not give a shooting schedule or say if anyone had commissioned the show. Calls to Lau's office seeking more detail on the project went unanswered. Sina.com said he visited Beijing recently to cast for the show.
Parents who think they can secure places in elite schools for their children are "living in a fantasy world," according to the headmaster of a prestigious secondary school. The warning came from Terence Chang Cheuk-cheung, headmaster of Diocesan Boys' School - a secondary school in Mong Kok with a reputation of being a "through train" for students from other educational institutions in the territory. Chang said yesterday parents must not be misled by the case of a woman teacher at the elite Diocesan Preparatory School in Kowloon Tong who was arrested by graftbusters over the weekend on suspicion of collecting and soliciting more than HK$700,000 from various parents to secure places at the school for their children. The suspect, who was responsible for handling student admissions at the aided institution on Chester Road, was picked in a sting operation by officers of the Independent Commission Against Corruption as she was allegedly being paid a second installment of HK$70,000 by a parent at a restaurant in the Festival Walk shopping complex in Kowloon Tong. It is also alleged the woman had approached three other parents and solicited advantages from them, claiming she could get their children admitted to her school. ICAC investigations revealed that two of the parents had allegedly paid the suspect HK$20,000 and HK$580,000, respectively.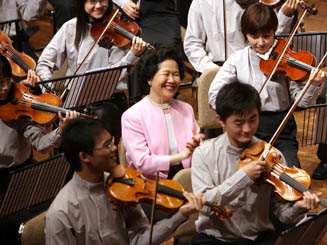 Former chief secretary Anson Chan Fang On-sang said yesterday she was very disappointed with the government green paper on the ways to achieve universal suffrage, as it seemed to be "a recipe of confusion and procrastination". Mrs Chan said remarks by Chief Secretary Henry Tang Ying-yen, who said the public's opinions "would only be a reference point, instead of the determining factor in the consultation", did not match those of Chief Executive Donald Tsang Yam-kuen during his election campaign.
A District Court judge on Tuesday ordered the arrest of a former chairman of Semtech International Holdings after he failed to turn up to hear a verdict over his bribery charges. The lawyer representing Derek Wong Chong-kwong, who was accused of bribing agents in return for promoting his company's shares, told the court several attempts to contact his client by telephone on Tuesday were unsuccessful. The court was to originally deliver a verdict on Tuesday morning on the case involving Wong and two others. Wong's counsel said he could not get in touch with him since their last telephone conversation dated last Tuesday. The lawyer told the court he believed Wong could have possibly met some accident. Judge Colin Mackintosh issued an arrest order on Wong and adjourned the case until Tuesday afternoon. The judge also required the defence counsel to contact people who last saw Wong. He said the aim was to obtain information to help determine whether Wong had breached bail conditions or his absence was due to causes beyond his control. Wong, 37, has pleaded not guilty to two counts of offering advantages to an agent. The alleged offences, which took place in 2004, involved some HK$500,000 in bribes. Two co-defendants, Earnest Leung Chi-wah and Yung Ka-tim, both 48, appeared in court on Tuesday. They have denied a count of accepting an advantage as an agent.

China: Peacekeeping - a rising role for China's PLA - Currently, 1,643 Chinese peacekeepers are serving on UN missions to help secure peace and order in war-torn countries.
Southeast Asian nations and China are on track to establishing a free trade pact with just a number of details to be ironed out, a senior ASEAN official said Monday. "We are on track on (the) ASEAN-China" free trade area, said Ong Keng Yong, secretary-general of the 10-member Association of Southeast Asian Nations. Trade between China and ASEAN, expanding by nearly 40 percent a year, is likely to exceed US$200 billion a year by 2008, two years before the free trade area is due to be established in 2010. "By 2010 is well within our expectations," Ong said on the sidelines of a luncheon with American business leaders in Singapore. Plans were set in 2002 for a free trade area with China that will create a market of about 1.8 billion consumers -- more than a quarter of humanity -- and trade totaling more than US$2 trillion (euro1.6 trillion). Countries have already begun slashing tariffs on some products, though tough negotiations continue on loosening trade restrictions for finance and other service industries. "Some services still (need) to be ironed out," Ong said, without elaborating. He said negotiations on how the agreement will cover investments between the China and ASEAN will hopefully be completed by the end of the year. ASEAN is a key market for Chinese manufacturers, as well as a source for energy, rubber, minerals and other natural resources. ASEAN's members are Brunei, Cambodia, Indonesia, Laos, Malaysia, Myanmar, Philippines, Singapore, Thailand and Vietnam -- countries ranging from some of Southeast Asia's most affluent to some of its poorest.

Sex, a centuries-old taboo considered by most of Chinese, is creating a buzz in this conservative country. Claims that approximately 25 percent of Chinese adults had multiple sex partners in 2006 by Pan Suiming, director of Institute of Sexuality and Gender at Renmin University of China, has prompted society to open debate over whether China has become morally corrupted. Pan said having multiple sex partners is partially indicative of a sexual revolution, during an interview with Life Times on July 6. Touching the surface of a topic the whole nation is trying to avoid, the sexl scholar believes the Chinese are getting closer to an open and transparent attitude toward sex. Pan's shocking claims were part of his survey Chinese's sexual behaviors and relations: 2000-2006 of 6,010 Chinese aged between 18-61. The sex survey asks about premarital sex and homosexuality, both of which are on the rise on the back of the country's double-digit economic growth. The practice of having sex with more than one other person gained a momentum in the last few years. Its rate occurrence advanced to 25.3 percent in 2006, from 16.9 percent in 2000, a seven percent increase from the same period last year. The figure was six percent in the 1980s, a time when China launched its reform and began opening up its economy to the rest of the world. Pan's findings are unpopular, as many believe the sharp-rise in people having more than one sexual partner indicates the country is on the verge of falling from morality. "Loyalty to marriage is an enduring theme of society and has a deep place in people's souls. His findings cannot change that fact," a netizen, only identified by his nickname Xiao.Xiao.Xiao wrote on the popular qq.com. But the expert defied public opinions, arguing the results of his survey marked a progress in people's attitude toward sex. His findings indicate women, usually passive in sex, are becoming more active in the bedroom. "The exodus of women from rural areas to urban cities has contributed to the changes in women," explained Pan. He added that the improvement in women's education is helping them get rid of the conventional stereotype that women are for bearing and raising offspring for men. "The longing for of love and happiness has led to changes in women's attitudes toward sex," said Pan. "And easy access to abortions and birth control have also had a great impact on women." Of course, a sex revolution isn't just about a variety of spiced-up sexual activities. "A harmonious society must include sex, which is no longer a revolution but a part of our lives," said Pan.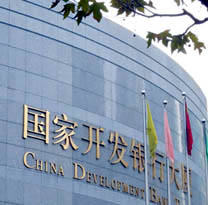 China Development Bank's Shanghai branch. The bank dramatically increased its international profile by announcing that it will buy up to 5% in London-based Barclays.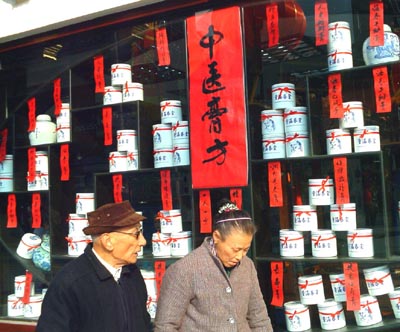 A traditional Chinese medicine store in Shanghai. Some drugmakers are raising funds overseas to bring companies up to modern pharmaceutical industry standards. China Shenghuo Pharmaceutical Holdings Inc, the first traditional Chinese medicine (TCM) maker on the American Stock Exchange, plans to raise as much as $300 million in the coming years to build a large, modern pharmaceutical company producing traditional herbal medicine. The company specializes in panax notoginseng, the Latin name for a root that is used to treat wounds, bleeding and even internal blood disorders. Shenghuo aims to raise $10-20 million from additional share sales later this quarter to fund growth for the medium-sized company based in Kunming, Southwest China's Yunnan Province, an area that boasts rich herbal medicine resources. As the Chinese pharmaceutical industry is expected to consolidate and companies realize the importance of innovation and brand-building, private firms with plans for expansion have turned to overseas investors for funds. "This is such a huge industry, we could not be successful without more investment," said Lan Guihua, chairman and CEO of Shenghuo. Shenghuo floated its stock in June through a backdoor listing using a share exchange program with a United States firm by selling 2.6486 million shares priced at $3.5. In March, Tongjitang Technology, a company in neighboring Guizhou, became the first TCM maker to list on the New York Stock Exchange, when it raised $120 million. Guo Yunpei, deputy chief editor of China Medicine News, said the situation in China is similar to the pharmaceutical industry in the US at one time, when there were over 3,000 drugmakers - yet after intense consolidation, there are now only about 500.
China will spend 620 billion yuan (82 billion U.S. dollars) building subways and urban railways in 15 major cities in the next ten years to ease traffic jams, according to the Ministry of Construction. Around 1,700 kilometers of light rail systems will be built in the 15 cities, including Beijing, Shanghai, Guangzhou, Chongqing, Shenzhen and some provincial capitals. Currently, there are only 22 urban rail lines with a total length of 602.3 kilometers in operation or in trial operation in China, mainly in Beijing, Shanghai and Guangzhou, according to ministry's statistics. An official with the ministry said that 36 urban rail lines are under construction in 12 cities.
Air China Ltd., the official airline partner for the 2008 Beijing Olympics, is working to cut delays and improve employees' English language skills ahead of next year's Games, according to executives. The standard of service on the Hong Kong-listed airline, part owned by Cathay Pacific is a popular topic of discussion in Beijing, with complaints ranging from frequent delays to poor English abilities. Air China says some of those delays are caused by the weather and are unavoidable -- thunderstorms which strike Beijing during the summer frequently lead to the airport closing -- but acknowledge they could keep passengers better informed. "We will improve our service quality this year, including addressing the delay problem," vice president in charge of sales Zhang Lan told a small group of foreign reporters. "A lot of information does not reach the front-line workers," admitted senior vice president He Li. "We're working on that too. These are the people who reflect the general service attitude of the airline." Frustration at mysterious delays, diversions and cancellations have at times boiled over into violence at Chinese airports, as passengers try to storm grounded aircraft and police are brought in to keep peace. The government is keen to improve service standards at airports and on Chinese airlines ahead of the Games, worried delays and rudeness could tarnish China's image. Raising English skills is another area Air China is concentrating on, as English is the international language of aviation. China's civil aviation regulator issued a terse statement last month demanding Chinese pilots improve their English. Many Chinese pilots are ex-military and speak little or even no English, though some airlines do now train their new pilots overseas to ensure they have the required language skills. "We pay a great deal of attention to this issue," said He. "But we are a developing country, whose language is Chinese. It's quite hard for us."
The global smash hit musical "Mamma Mia!", now showing in Shanghai Grand Theater on its China tour, is planning to launch a Chinese version, an official of the theater disclosed on Tuesday. Hong Kong-based Wen Wei Po quoted the official as saying that the musical's European production company, Littlestar, has shown a great interest on a Chinese version of the drama. Discussion on the details, such as the scenario and the cast, is expected to be carried out after this performance season ends. The musical has already been adapted into various languages including Swedish, Russian, Japanese and Korean during its international tour. The largest difficulty of the adaptations lies on the translation of ABBA's songs, a director of the musical said. Although many suggested retaining the English lyrics, Littlestar believed singing in a local language would make the audience feel closer to the show. "We now need a Chinese 'poet' as good as ABBA," the director said. The show's current China tour covers Shanghai (in Shanghai Grand Theater from July 6 to August 2) and Beijing (Poly Theater from August 7 to 19).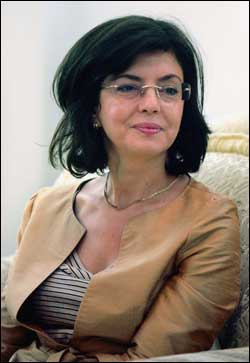 The European Union has urged China to be more vigilant about product safety, particularly when it comes to toys, and to provide more information about the measures it takes against manufacturers of fake or shoddy exports. EU Consumer Commissioner Meglena Kuneva yesterday made the request during talks in Beijing with Li Changjiang, head of China's product safety watchdog, the General Administration for Quality Supervision, Inspection and Quarantine. Kuneva encouraged China to make greater efforts to improve its market surveillance to prevent dangerous products ending up in the EU and to help improve China's reputation as an exporter. "There is an improvement, but also it's equally valid that there is need of more step up of the reforms on the market and on the market surveillance," Kuneva said. Last year, 924 products - from unsafe lighters to wobbly strollers to short- circuiting kettles - were identified as too dangerous to be sold in the 27 European Union nations, plus Iceland, Liechtenstein and Norway.
July 24, 2007

Hong Kong: Despite investor despair over the meltdown in the US subprime mortgage market, analysts expect HSBC (0005) to report net profit in the first half grew 39 percent quarter on quarter to US$9.79 billion (HK$76.36 billion).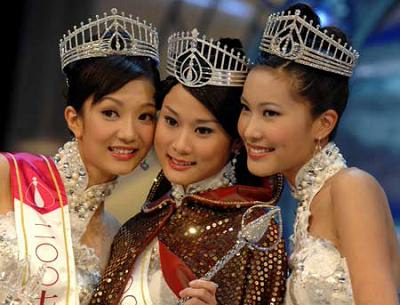 Miss Hong Kong 2007 Kayi Cheung (C) poses with first runner-up Grace Wong (L) and second runner-up Lorretta Chow after winning the annual beauty contest in Hong Kong July 21, 2007.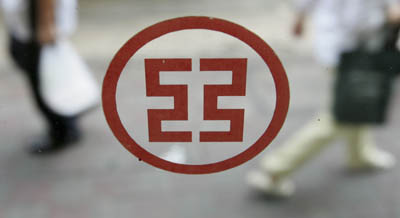 Residents walk past a branch of Industrial and Commercial Bank of China (Asia) in Central, a business district in Hong Kong October 27, 2006. In a fresh sign of China's financial strength, a leap in the shares of Industrial & Commercial Bank of China on Monday made it the world's biggest bank by market capitalization, overtaking US giant Citigroup. ICBC's Shanghai-listed A shares surged 2.68 percent to 5.75 yuan, giving it a market capitalization of $254 billion, according to Reuters calculations. That exceeded the $251 billion capitalization of Citigroup, previously the world's biggest bank, when its shares closed at $50.73 in New York on Friday. HSBC Holdings was in third place with $215 billion. Shares in ICBC, which listed in Shanghai and Hong Kong last October, have gained 15 percent this month on the back of a rally in China's booming stock market as well as strong growth in the bank's own earnings. Weakness in Citigroup's share price, and appreciation of the yuan against the dollar have also shifted market values in favor of ICBC. But some analysts believe ICBC's ballooning capitalization may also be a sign of a dangerously overheated Shanghai stock market as speculating Chinese investors pour money into shares. ICBC, a state-controlled behemoth which is trying to modernize a creaky branch network operating almost entirely inside China, reported income of $24 billion last year. Citigroup, one of the world's most sophisticated financial institutions with operations around the globe, reported income almost four times as large, at $90 billion. ICBC's share price on Monday valued it at 28 times analysts' forecasts for its earnings per share in 2007, far above 11 times for Citigroup and an average of 16 times for major global banks, according to Reuters Estimates.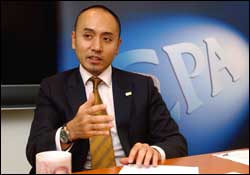 The mainland will become a key global player in the private equity industry in terms of institutional investors and market participants in 10 years, said Peter Lee, executive director of NIF SMBC Ventures Asia, a venture capital firm. "We are seeing a very rapid development in the private equity industry in Asia, especially in China," said Lee, who is also a member of the financial reporting and corporate governance committee at CPA Australia. According to Lee, the committed capital - total pledged to a private equity fund - by the end of the first half in China was about US$4.33 billion (HK$33.77 billion), representing a 220 percent increase over the same period last year. Lee described it as an "unprecedented," increase. In comparison, the combined committed capital in India and Australia - the other two major markets for private equity - during the same period was US$3.2 billion, Lee said. Lee said the private equity industry in the mainland would grow at a robust pace over the next three to five years. While the private equity industry in the mainland has been historically dominated by foreign players, domestic firms are increasingly becoming active and institutional investors are recognizing private equity as a major asset class, Lee said. "That would boost the activities and awareness of the private equity market, and is a positive development for the private equity industry in China." Lee does not see the emergence of domestic private equity funds as a threat to foreign private equity funds operating in the mainland.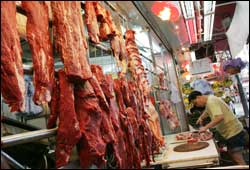 Beef traders have failed to reach a consensus on boycotting cattle sales after the supply of live cattle dropped by about one-fourth yesterday. The threat of a boycott had emerged after Ng Fung Hong - the city's sole supplier of live cattle from the mainland - raised the wholesale price of live cattle Saturday. A fresh meat coalition complained that only 90 head of cattle were to be offered for sale yesterday, compared with the daily average of 120. About 20 buyers staged a protest and threatened to boycott the sale at the Sheung Shui abattoir when they knew the supply had been cut. They talked to representatives of Ng Fung Hong and decided to allocate cattle among buyers to solve the shortage problem after a two-hour meeting. A buyer later told reporters Ng Fung Hong had explained the decrease in supply was due to a traffic accident, but the buyers were not satisfied with the explanation.
A lawmaker's renewed push for cuts in taxi fares to deal with illicit discount cabbies has been met with strong opposition from part of the taxi trade. Speaking on RTHK's City Forum yesterday, Democrat Andrew Cheng Kar-foo, who chairs the Legislative Council's transport panel, said lowering fares for long-distance journeys may level the market share - up to 90 percent of which is now dominated by discounted cabs - among the territory's 18,000 taxi drivers and help their business. "I believe this could solve the issue of vicious competition between legitimate cab drivers and those offering discounts to passengers," said Cheng, again urging the government to review whether price negotiations by any party should be allowed under the law. His proposal involves lowering the meter fare jump to HK$1 per 200 meters or a minute's waiting period - instead of the current HK$1.40 - after the meter passes HK$50. The suggestions are similar to those made by Hong Kong Public Light Bus Owners' and Drivers' Association president Lai Ming-hung. Lai's proposal included raising the initial meter fare from HK$15 to HK$17, while the proposed reduction in the meter fare jump is the same as Cheng's. However, plans for a fare reduction were opposed by representatives of call- cab drivers and taxi owners.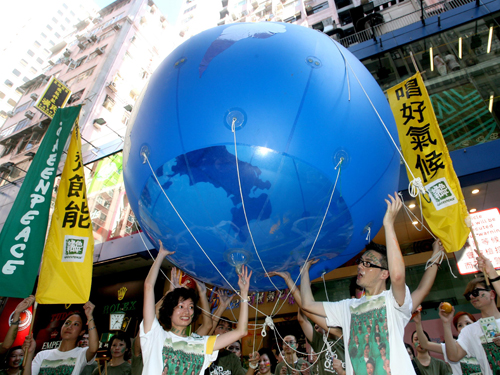 Local politicians yesterday cut their ties to pieces and vowed to dress down this summer as they called on the government to take climate change seriously. Their protest came as green activists staged a parade in Causeway Bay to raise awareness of global warming. They attacked senior government officials who continued to dress formally at public functions, even though they promoted a dress-down code for the civil service as a way of saving on energy bills. "Senior officials are just paying lip service to the dress-down call. They themselves defy the idea," said Fan Kwok-wai, a Sai Kung district councillor, who is also a member of the Democratic Party. The councillor was among nine other politicians from Tai Po and Tseung Kwan O to protest at government headquarters yesterday, a day before "major heat", the hottest day in the Chinese lunar calendar. They handed a petition letter to a government representative before shredding their ties in a symbolic protest.

China: China Eastern Airlines has signed a deal to buy 10 A320 passenger jets from Airbus to meet domestic demand for short-and medium-distance passenger transport.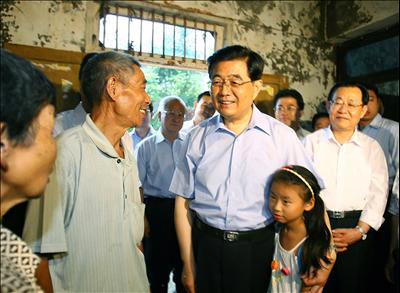 Chinese President Hu Jintao visits the southwest municipality of Chongqing over the weekend to inspire locals to fight the flood and summon up the confidence in rebuilding homes.
The manufacturer of China's first locally developed short haul plane has received its first overseas order for ARJ21 regional plane, the Oriental Morning Post reported today. China Aviation Industry Corporation I (AVIC I) received the order from Lao Airlines for two ARJ21 jets. AVIC I has received orders for 71 ARJ21 jets from domestic airline service firms including Shanghai Airlines, Shandong Airlines and Xiamen Airlines. Shanghai Airlines ordered five ARJ21 jets, Xiamen Airlines plans to buy six such regional airliners, and Shandong Airlines wants to buy 10 such planes. In addition to the airlines, Shenzhen Financial Leasing Co Ltd and Shanghai Electric Leasing Co Ltd have ordered 20 and 30 ARJ21 jets respectively. The jet is expected to take off for its maiden flight in March, 2008, according to Lu Zheng, vice general manager for marketing of AVIC I Commercial Aircraft Co Ltd, a unit of AVIC I. The ARJ21 jet, powered by turbofan engines, can carry 70 to 110 passengers and boasts a maximum flight distance of 2,000 nautical miles. Insiders said the planes will sell at roughly US$30.50 million each. Currently, AVIC I Commercial is promoting the jet worldwide. According to Lu, the manufacturer will attend the Asian Aerospace International Expo, which will be held from September 3 to 5 this year in Hong Kong. Lin Zuoming, general manger of AVIC I, said earlier that AVIC I Commercial is mulling an overseas listing and hired Citibank as investment adviser. AVIC I Commercial is expected to become the first Chinese civilian aviation company listing overseas. An insider said that AVIC I's Shanghai Aircraft Manufacturing Factory, a manufacturer of commercial aircraft, would likely inject assets into AVIC I Commercial Aircraft. The ARJ21 program was officially approved in 2002, with a governmental investment of 5 billion yuan (US$661 million) for the first stage of the project.
Beijing's Silk Street, famous for knock-off designer gear from North Face jackets to Louis Vuitton bags, has been raided again after state media heralded a cleanout of fake goods.
July 21 - 23, 2007

Hong Kong: The composite Consumer Price Index (CPI) figures for June in Hong Kong rose by 1.3 percent in June over a year earlier, larger than the 1.2 percent increase in May, official figures released Friday indicated. The larger year-on-year increase in the Composite CPI in June than in May was mainly due to the enlarged increase in the prices of pork, said The Census and Statistics Department of Hong Kong Special Administrative Region. Meanwhile, the Budget measure of rates concession for the first two quarters of 2007/08 (i.e. April to September 2007) continued to carry effect in June. Netting out this factor, the year-on- year increase in the composite CPI was 2.4 percent. This measure would continue to carry impact on the CPI until September this year. A spokesman of the department said that he believed that rising food prices and its volatility would continue to play a bigger role in affecting inflation in the near term. However, the rates concession for the third quarter and other one-off measures to be introduced later in the year would continue to keep the inflation number down in the second half of the year. Moreover, rapid labor productivity growth should provide some cushion against overall inflationary pressures, he said.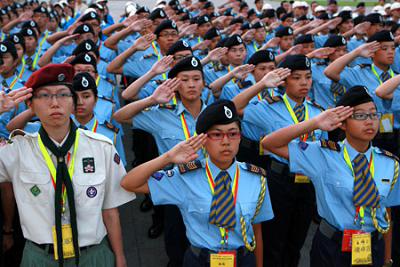 Hong Kong students salute the Chinese national flag during an early morning flag-raising ceremony at Tiananmen Square in Beijing July 20, 20007. More than 1,700 secondary school and university students from the Special Administrative Region are in the Chinese capital to participate in a summer program as part of the celebrations marking the 10th anniversary of Hong Kong's return to the motherland.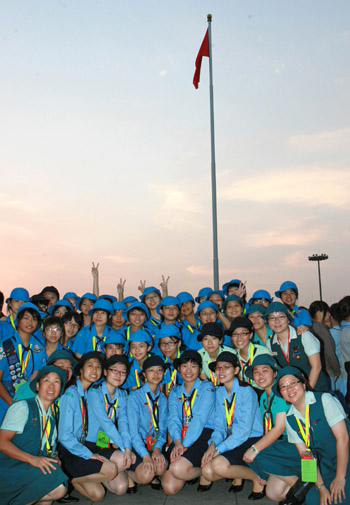 Hong Kong students and a teacher pose for a photo after an early morning flag-raising ceremony at Tiananmen Square in Beijing July 20, 20007. More than 1,700 secondary school and university students from the Special Administrative Region are in the Chinese capital to participate in a summer program as part of the celebrations marking the 10th anniversary of Hong Kong's return to the motherland.
The number of Macao's visitor arrivals reached 1,921,384 in June, a remarkable year-on-year rise of 20.3 percent, according to official statistics issued Friday. The figures from the government-run Statistics and Census Service (SCS) showed that the majority of the visitors in the month came from China's mainland (51.8 percent), Hong Kong (32.2 percent) and Taiwan (6.3 percent). Among the mainland visitors, some 50 percent traveled to Macao under the Individual Visit Scheme, which frees mainland tourists from the group tour. Macao, the only part of China where casino gaming is legal, has been enhancing its fame as a tourism destination with the aid of the booming gaming industry.
Prominent Hong Kong banker David Li Kwok-po has vowed to defend his good name after he was officially informed by the US Securities and Exchange Commission of possible legal action against him in connection with the alleged Dow Jones insider trading case in which a Hong Kong couple reaped a profit of US$8.2 million (HK$63.96 million).
Property developer HKC (Holdings) (0190) plans to boost its property and renewable energy development in the mainland after entering into a strategic alliance with Cerberus Asia Capital Management, a New York-based private equity fund.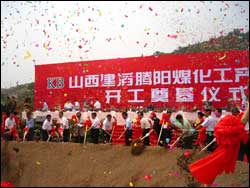 Printed circuit board manufacturing giant Kingboard Chemical Holdings (0148) plans to invest 1.6 billion yuan (HK$1.65 billion) in a new coal-based chemical project in Shanxi province as the company aggressively expands its upstream chemical business. The project located in Luliang, Shanxi province, includes coal mining and coke/methanol production. It will be jointly operated by Kingboard and Tengyang Coal and Chemical, a domestically owned cement maker. Shenzhen-based Kingboard will own 60 percent of the coal mining operations and 80 percent of the coke/ methanol production facilities.
Conglomerate Emperor International Holdings (0163) reported net profit for the year ended March 31 fell 8.27 percent to HK$488 million, while its Macau hotel and gaming associate, Emperor Entertainment Hotel (0296), saw net profit rise 63 percent to HK$272 million.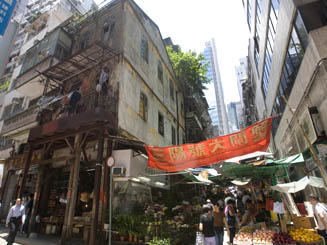 The Urban Renewal Authority pushed ahead yesterday with its plan to knock down the city's oldest wet market despite strong opposition from heritage and residents' concern groups.

China: The International Monetary Fund's new economist, Simon Johnson, on Thursday said China-bashing was used "excessively and inappropriately" by politicians as an excuse to protect domestic markets. Mr Johnson said China, now the world's fourth-largest economy, should be given more credit for its contribution to global growth and poverty reduction. "China is being used excessively and inappropriately by politicians as a way to play the protectionist card," said Mr Johnson, who joined the fund in late March. "Bashing them for this and that trade dispute is not a good idea. I think they recognise they need to continue reforming their economy." United States Treasury Secretary Henry Paulson acknowledged on July 3 that American attitudes toward China had soured over what some US interests saw as unfair trade tactics and worry about unsafe products from China. The US has taken issue with the Chinese currency and labeled it as undervalued, which American manufacturers charge is giving Beijing an unfair competitive trade advantage. "A big part of the world growth today is due to China's success, reforming its economy and sustaining its growth and this is not sufficiently appreciated," Mr Johnson said. "China has done an enormous amount to reduce poverty around the world ... and I think they should get more recognition for that." He said China had made voluntary economic commitments in IMF-led multilateral consultations earlier this year, along with the US, eurozone, Japan and Saudi Arabia. The talks focused on ways to rebalance the global economy, which would address the large deficits in the US and massive surpluses in Asia and elsewhere. "The Chinese will follow through on those commitments and we should help them," Mr Johnson said. He said the rise in the yuan was good but said faster progress would help China manage its domestic economy. "Everyone also wants that to be an orderly process and I don't think it is in any of our interests to have anything destabilizing happen, nor do we see signs of destabilization right now," he added.
China will raise one-year deposit and loan interest rates by 27 basis points to 3.33 percent and 6.84 percent respectively as of July 21, the central bank announced on Friday. This is the third time that China raised the one-year benchmark interest rates this year as a further move to curb the country's booming economy. China's GDP grew by 11.5 percent in the first half of 2007, 0.5 percentage point higher from the previous year, the National Bureau of Statistics said on Thursday. The consumer price index (CPI), the main gauge of inflation, rose 3.2 percent in the first half of this year compared with the same period last year. In June, CPI jumped by 4.4 percent compared with the same month last year, well above the government's target of 3 percent for 2007. The move aims to "rationalize the growth of lending and investment, adjust and stabilize expectancy of inflation and maintain price stability", the People's Bank of China (PBoC) said in a statement on its website. China raised the one-year deposit and loan interest rate by 27 basis points in March and by 27 and 18 basis points respectively in May. China's State Council announced Friday to reduce the tax on interest income from 20 to 5 percent as of August 15. The move is to adapt to changes in China's economic and social situation, the State Council, or cabinet, said in a statement. It received authorization to scrap or cut the tax for banking savings from the Standing Committee of the National People's Congress on June 29. Experts say the move aims to narrow the gap between deposit rate and inflation to make bank savings more attractive and to curb the excess liquidity. The reduction in interest income tax will increase earnings from bank savings and is conducive to the economy featured now by rapid increases in investment and rising inflation, the State Council said in a news release. China's gross domestic product grew by 11.5 percent year-on-year in the first half of 2007, 0.5 percentage point higher from the previous year, and the fixed assets investment soared 25.9 percent, the National Bureau of Statistics said on Thursday. The consumer price index (CPI), the main gauge of inflation, rose 3.2 percent year-on-year in the first half of this year. In June, the CPI jumped by 4.4 percent from a year earlier, the highest in 32 months and well above the government's target of 3 percent for 2007. China began to levy tax on bank savings in November 1999. In the past eight years, the tax has played a positive role in encouraging consumption and investment, adjusting personal earnings and increasing fiscal revenues, said the news release.
The Chinese government is reassessing the way in which it supervises food safety in order to improve the efficiency of the current system, a senior quality control official said on Friday. Li Changjiang, minister in charge of the General Administration of Quality Supervision, Inspection and Quarantine (AQSIQ), said that various government departments are responsible for food safety in China. The government is reassessing the current supervision mechanism, he said, adding new measures will be taken to enhance supervision after sufficient investigations and studies are made. The existing food supervision system involves at least five central government departments - AQSIQ, the State Administration for Industry and Commerce, the Ministry of Agriculture, the Ministry of Health and the State Food and Drug Administration - which are responsible for supervising farming, production and processing, and distribution and selling. New laws should be made to facilitate cooperation among different government agencies in order to change the overlapping food supervision system, Vice Health Minister Wang Longde said earlier this month. Li said China was endeavoring to tackle its food safety problem in a comprehensive way. "To ensure the quality of food exports, the Chinese government has set up a monitoring system that covers plantations, breeding farms and production bases," said Li. "Only products that pass strict quarantine inspection are allowed to be exported." With the United States only running random checks on imports at all its ports, AQSIQ was exchanging views with the U.S. Food and Drug Administration in the hope of ensuring food safety on the basis of effective supervision by each side, said Li.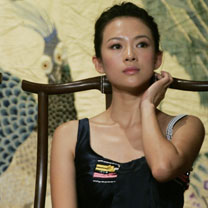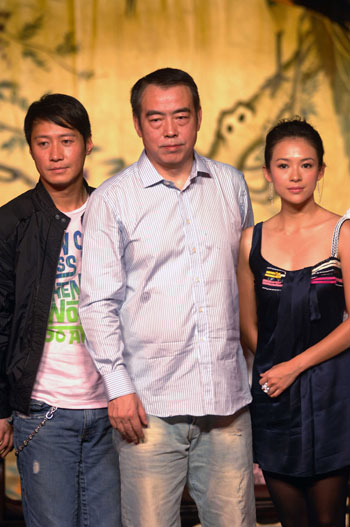 Five days after filming began on Chen Kaige's "Mei Lanfang" biopic, a supplementary press conference was held on Thursday to welcome its most anticipated cast members: Leon Lai and Zhang Ziyi. Both stars were absent from a commencement ceremony held on July 14 in Beijing. Leon Lai, who is also a Cantopop singer, will play the late Peking opera master Mei Lanfang. He is reportedly busy polishing his opera skills, sparing time from another film in production which is directed by Hong Kong's Ching Siu-tung. Zhang Ziyi will play Mei Lanfang's fellow singer, Meng Xiaodong. She was recently spotted in the Sun Valley Resort in the United States with her billionaire boyfriend Vivi Nevo. There is still no exact date revealed for the two actors' joining the cast. Other leading cast members, including Chen Hong, Gillian Chung and Japanese actor Masanobu Ando, were all at the press conference and explained their role in the film. Mei Baojiu, Mei Lanfang's youngest son and a prominent Peking opera singer himself, also showed up expressing his thanks and confidence in the production team. The film is due out next year.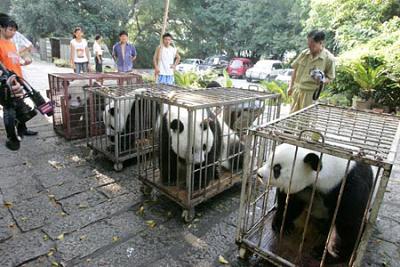 Four giant pandas from the Fuzhou Giant Panda Research Center are caged before they are moved to a cooler spot on a mountain in Fuzhou, South China's Fujian Province, July 19, 2007. Fuzhou has been gripped by hot weather, with temperatures reaching 39 degrees Celsius.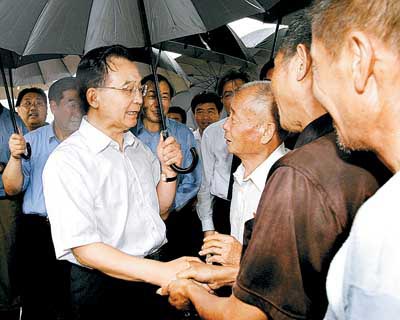 Chinese Premier Wen Jiabao is in the focus of a hot topic among Chinese Internet users after a news photo of him visiting flood-affected regions was released online. In the seemingly ordinary photo taken on July 13 in which Wen shakes hands with a local resident who lost his home in the flood, netizens discovered that the Premier is holding his own umbrella. A web-user posted the photo of the umbrella-wielding Premier along with several other pictures in which official-looking figures had people holding umbrellas for them. One official was delivering a speech while a young girl held the umbrella for him. The contrast between the set of pictures was so dramatic that the posting attracted hundreds of comments from web-users within hours. They were eager to express their happiness of seeing the Premier in plain clothes and decried the bureaucracy that happens at the local level, saying senior political figures are serving ordinary people. As one of the top leaders in the world's most populous nation, Premier Wen is widely admired by the Chinese as he's concerned about ordinary citizens, especially the poor. People think highly of him because he isn't concerned about material things for himself.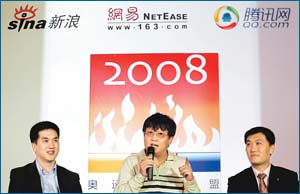 Chen Tong (C) editor in chief with sina.com, Netease's chief operation officer Dong Ruibao(L),and General Manager Sun Huaizhong with qq.com attend the joint news conference held in Beijing July 19, 2007. Leading Chinese portals sina.com, Netease (163.com), and qq.com announced yesterday a joint "Olympic Coverage Alliance," with the aim of providing more elaborate and timely Internet coverage of the 2008 Olympic Games in Beijing. "It is the first daring attempt to integrate Chinese network resources and forge an interactive platform to spread abroad Olympic spirit," said a joint announcement released later. The announcement said the three companies will create multi-dimensional coverage of the Games through high-tech offerings like news round-up, blogs, online community resources, e-mail, and information services. The newly-established alliance, however, was strongly criticized by big rival Internet company sohu.com, also the Olympic official sponsor, which claims the Olympic Alliance doesn't have any authorization to report on the field. "I wouldn't like to judge any an individual or his company in public, but it is not true that what the company you mentioned said that it owns a so-called 'preferential treatment' in news coverage by then," Chen Tong, editor in chief of sina.com told media. "That website is none other than an Olympic sponsor who was required to construct and maintain the Beijing Olympic Committee (BOCOG) official website," Chen said. "So far, there hasn't been any Chinese website media company that's gotten a news report certificate for the Games." Chen added that the site tom.com may join the alliance in the near future, and welcomed the participation of other online media outlets. Early this month, BOCOG media service chief Sun Weijia clarified there will be most likely new media, or online media companies reporting on the Beijing Games, but he also stressed that the International Olympic Committee (IOC) has the final word, and may allocate small quotas to new media outlets based on their capacity and international status. The Alexa Company of defining the website ranking measurement has listed the three websites in the alliance among the top 20 portals websites in the world. They've grasped considerable profits and market share. Nielsen/Netratings, a global company measuring online audiences, said when the Olympic Games have been in session, more than 90 percent of Chinese netizens have turned to the web as their primary resource for information, with weekly online times as high 15 hours, more than total period of time spent on telecasts and paper media.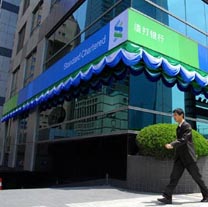 A Standard Chartered Bank outlet in Shanghai. The bank yesterday opened an operation center in Tianjin's Binhai New Area in order to solidify its back-office operations in China and support its rapid business growth in the country.
July 20, 2007

Hong Kong: The Export-Import Bank of China (China Exim Bank) announced on Thursday that it has received approval from the central bank to issue two billion yuan worth of Renminbi bonds in Hong Kong. China Exim Bank will become the second mainland bank to issue such bonds in Hong Kong after the China Development Bank (CDB). The CDB issued five billion yuan worth of RMB bonds from June 26 to July 6. China Exim Bank said it will sell the bonds to both individual and institutional investors after getting approval from the Hong Kong Securities and Futures Commission. It did not provide other details about its bonds sales. Both China Exim Bank and China Development Bank are policy banks. The Bank of China and China Construction Bank, two of the nation's big-four state-owned commercial banks, have announced they are considering issuing RMB bonds in Hong Kong. The People's Bank of China (PBoC) and the National Development and Reform Commission issued a regulation on June 8 that would allow policy and commercial banks to issue the yuan-denominated bonds in Hong Kong. "The issuance of RMB bonds will strengthen Hong Kong's status as an international financial center," Ma Delun, assistant governor of the PBoC, said in June. Founded in 1994 and solely owned by the government, China Exim Bank serves to boost the nation's foreign trade and economic cooperation by providing policy financing, onlending foreign government loans and lending Chinese government Concessional Loans. It has 10 business branches and five representative offices nationwide and three overseas representative offices in South Africa, Paris and St. Petersburg.
China Reinsurance (Group) Company is striving to attract international strategic investors by eventually launching listings on both the Hong Kong and Shanghai bourses by the end of the year, said the company's general manger Liu Jingsheng. China Re, which is fully owned by the Ministry of Finance, has about 90 percent of the domestic market. The reinsurer received a US$4 billion capital injection from Central Huijin Investment in April to meet growing demand for insurance and fund the expected listings.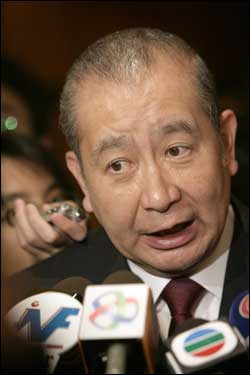 The US Securities and Exchange Commission may take action soon to prosecute parties involved in the insider trading of Dow Jones shares before news of the US$5 billion (HK$39 billion) takeover bid of the media giant by Rupert Murdoch's News Corp first surfaced, a source said yesterday. Prominent Hong Kong banker David Li Kwok-po may need to respond if the US regulator decides to act, the source said. "I have not heard of [a possible prosecution]. I am not aware of the situation," said Li, chairman of Bank of East Asia (0023) and a member of the Dow Jones board. He declined further comment when contacted last night, but may comment on the case as early as today, a BEA spokesman said. The possible prosecution will proceed as a civil case rather than a criminal matter, said the source. The New York Times reported on May 10 that Li would be questioned by the SEC over the possible leaking of confidential information on the media buyout. He was linked to the case due to his close business relationship with Michael Leung Kai-hung, father of Charlotte Wong Leung Ka-on, who together with her husband Wong Kan-king are accused of insider trading. The Hong Kong couple had reaped a profit of US$8.2 million from trading a total of 415,000 Dow Jones shares between April 13 and May 4. There have been suggestions that Li may be involved in the case as the company secretary of Dow Jones had informed Li of the takeover bid on April 13 New York time. On April 14 in Hong Kong - which is 12 hours ahead of New York - Li and Michael Leung both flew on the same flight from Hong Kong to Beijing. On April 13 New York time, Wong Kan-king paid US$2.6 million to snap up 74,400 Dow Jones shares at US$34.85 apiece.
Hong Kong's three note-issuing banks cannot have more than 20 percent of their shares controlled by a foreign government if they want to continue to be authorized to issue banknotes, the Hong Kong Monetary Authority announced yesterday.
Hubei-based East Star Airlines has won approval from mainland aviation regulators to operate flights from Wuhan to Hong Kong and Macau starting in September, bringing the private carrier a step closer to its goal of servicing international destinations.
The authorities may move ahead to compensate and resettle residents left in a 600-year-old walled village in Wong Tai Sin in a race to improve their living conditions and save the historic site, Secretary for Development Carrie Lam Cheng Yuet-ngor said.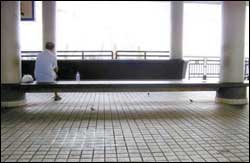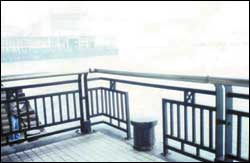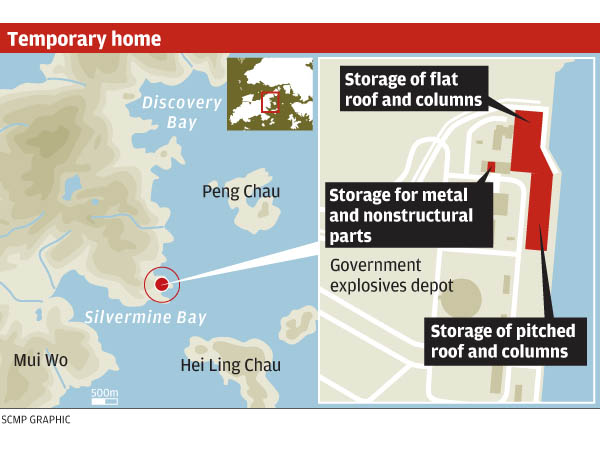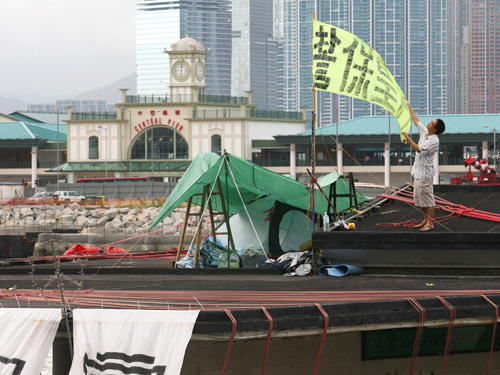 People wishing to get a last glimpse of Queen's Pier in its original form should do so before the end of this month when it will be dismantled and stored at the government's explosives depot on Lantau Island, legislators were told yesterday. The pier will be reassembled in an unspecified area, but not before 2010, according to a Development Bureau paper to be discussed by the Legislative Council's lands and works panel next Tuesday.
Almost 5 million people visited Ocean Park in the 12 months to June 30, breaking attendance records for the third consecutive year. "As we close out the year, our attendance is going to end up being reported at just below 5 million, an all-time record for the company," chief executive Tom Mehrmann told the Legislative Council yesterday. The results for 2006-07 still need to be audited, but Mr Mehrmann said growth in profits should "follow suit". In 2005-06, the park reported attendance of 4.38 million and profits of HK$156.5 million. Chairman Allan Zeman said the park also recorded about a 30 per cent growth in both attendance and in-park spending in the first two weeks of July, compared with a year ago. Visitors have been flocking to Ocean Park to catch a glimpse of two new giant panda cubs, which were unveiled to the public on July 1. Mr Zeman said despite the greater-than-expected attendance figures, the existing forecast of 5.8 million visitors by 2012-13 - when the park's six-year, HK$5.5 billion redevelopment is due to be completed - would remain in place for now. The works will more than double the number of attractions from the existing 35 by 2012. The majority will be rides for families and children, as well as exhibits. Mr Zeman said Ocean Park had also conducted a feasibility study for three new hotels. The findings will be submitted to the government, which still needs to evaluate various issues, such as land premium. The plan involves developing the hotels using a "build-operate-transfer" model, in which companies bid for the right to build and operate an asset for a specified time, typically 30 years, before transferring it back to the owner. The hotels include the Ocean Hotel by the park's main entrance, a two- or three-star lodge with 635 rooms. Near the Tai Shue Wan entrance would be the four-star Fisherman's Wharf (SEHK: 0004) Hotel, with about 450 rooms, and the Summit Hotel, a spa-resort with roughly 160 rooms.
Guangdong's continued electricity shortages are inflicting serious losses on Hong Kong factories operating in the Pearl River Delta, the head of an industry body said yesterday.

China: China''s gross domestic product (GDP) rose 11.5 percent in the first half of the year, after it grew 11.9 percent in the second quarter, official figures revealed on Thursday. The growth rate for the first half is 0.5 percentage points higher than the same period last year and much faster than the planned eight percent, spokesman Li Xiaochao with the National Bureau of Statistics told a press conference. Consumption, the previously weakest engine compared with exports and investment, has caught up as retail sales grew 15.4 percent in the first half, 2.1 percentage points more than the rise in the same period last year. Fixed assets investment rose 25.9 percent, down 3.9 percentage points. "The changes in domestic demand since the beginning of the year are what we were expecting," Li said, attributing the faster consumption to the rising income of the public. China has used a full arsenal of industrial and taxation policies to help the poor, including subsidizing low-income families and farmers, increasing minimum wages and investing more in education, medical care and housing. "We are keeping a close watch on what direction the accelerated economic growth is taking," said Li, "but whether or not the economy is overheated is a comprehensive issue that should be viewed from different angles." With most key economic figures soaring in the second quarter, fixed asset investment slowed down and exports grew no faster than last year, said Li, rebuffing concerns that China''s economy was becoming overheated. "A comprehensive viewpoint requires us to look at not only economic growth but also prices and supplies of staple goods."
GENEVA: China should not be singled out for particular concern over food safety, a major problem that rich and poor countries alike must tackle through better regulation, top World Health Organization (WHO) officials have said. Margaret Chan, WHO director-general, said the United Nations agency receives about 200 reports of tainted food products each month from its 193 member states. But many food-borne diseases go unreported and outbreaks of salmonella or E. coli bacteria can take on massive proportions according to the WHO, which backs "farm to fork" food safety. "I have to say that food safety is a big problem for both developed and developing countries," Chan told a news briefing on Tuesday, adding that the WHO was working with countries to strengthen their regulatory frameworks." A number of food safety problems have been reported in China that have raised overseas concerns over the country's food safety. But Jorgen Schlundt, director of the WHO's department of food safety, said China has been seriously addressing shortcomings since 2001 and is starting to implement some of the WHO's suggestions. "They are working on it. There is a high-level political commitment to do something about it," Schlundt said, stressing that food safety is an issue in all countries. "We are not expressing any concern especially about China. "China has realized some time ago the need for updating its food safety system. It takes a long time to update a system, not only for China. After the BSE crisis, it took the UK a long time," he added. BSE, bovine spongiform encephalopathy or mad cow disease, is a fatal brain disease in cattle that emerged in Britain in 1986 and can cause the variant Creutzfeldt-Jakob disease in humans. The WHO issues about 10 to 20 "emergency notifications" each year, signaling a potential international public health problem linked to food, according to Schlundt. Most relate to problems in industrialized countries, which have better systems for reporting disease outbreaks, and the figures do not indicate the true extent of problems elsewhere, he said.
A staff member from Beijing's weather modification practice base stands next to a two-pipe canon used for rain reduction and cloud dispersion during a media presentation in Beijing July 19, 2007.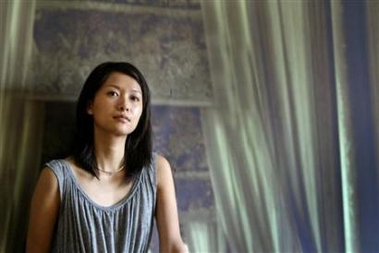 Chinese actress-turned-director Xu Jinglei poses for a photo after an interview in Beijing, in this June 1, 2005 file photo. Chinese actress-turned-director Xu Jinglei became the world's most widely read blogger this month when her blog logged 100 million page views within about 600 days, the Beijing News said on Thursday. And Xu, who has a reputation for a high intellect and integrity, has done it without writing about sex or providing a catalogue of kiss-and-tell stories -- but focusing on her work and day-to-day life. The 100 millionth hit occurred on July 12, according to www.sina.com.cn, a popular Chinese Web site which provides blog services to many Chinese entertainers, including Xu who started hers in October 2005 and published a book of her blogged articles in March 2006. The 33-year-old blogger has invited 20 fans, selected from online submissions, to her party to celebrate her latest success. Xu won international acclaim when she won the best director award for "Letter From An Unknown Woman" at the 2004 San Sebastian International Film Festival in Spain. Leading blog search engine Technorati has said Xu's blog recorded last year the most incoming links of any on the Internet. Huang Ke, an analyst with Sina, told Reuters Xu's Web site has had 2 million more hits since July 12 breakthrough. Writer Han Han, ranked second by Sina, will soon exceed the 100 million mark too, the analyst added.
The ice cream market has seen increasing competition between international brands and leading local makers - and this year might be a turning point for both players. Mengniu from Inner Mongolia has seen a rapidly growing market share due to its successful sponsorship of Super Girl, based on the hit American Idol show, launched by Central China's Hunan TV last year. At the beginning of the year the world's largest ice cream brand Wall's started the Magnum 2007 Blog Competition. The foreign company's quick reaction and ability to learn has impressed the market. Traditional flavors, such as chocolate, fruity and beans will continue to be popular this year, but new products, designed for freshness or low calories, will become the summer's new attraction. Nestle announced in March that it will develop more than 10 kinds of ice cream products. Foreign companies all find China too big and the market too diversified. Dealing with China is like operating in several different markets. Although Wall's has spared no effort in promoting its brand in China, losses are still unavoidable. This year might be a turning point for the company after six consecutive years in the red. Wall's is now more and more familiar with the Chinese market. Its strategy is developing markets around China, such as Vietnam and Thailand and making neighboring countries influence China. It signed a three-year contract with the convenience store chain 7-Eleven in Thailand for the exclusive sale of its products. The company now has a 50 percent market share in Thailand, with Nestle in the second spot with a share of about 10 percent. As a global leader, Nestle makes use of the company's global strategy and resources. It plans to sell ice cream at retail prices of 10 to 20 yuan at Starbucks outlets, with long-term plans to reach out through other channels such as airplane catering, corporate activities and even food for those under medical care. Competition for outlets - China's ice cream market was chaotic for many years. Yili and Mengniu are the only domestic producers that have the potential to compete against foreign rivals, while there are a large number of local brands that "are busy for one season, and enjoy the whole year". Meanwhile, an increasing number of ice cream shops have opened in recent years, with the concept of offering freshly scooped ice cream and do-it-yourself combinations. Some have attracted a large number of young and fashionable consumers.
China Petroleum & Chemical Corp (0386), more popularly known as Sinopec, pumped 2.12 percent more crude oil in the first half of the year and refined 6.4 percent more crude, but oil- price volatility, which is likely to erode profit margins, is casting a shadow over its second-half prospects.
July 19, 2007

Hong Kong: Shui On Construction and Materials (0983), controlled by businessman Vincent Lo Hong-sui, plans to sell HK$1.8 billion worth of shares in Shui On Land (0272) to its parent.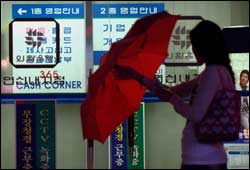 HSBC (0005) has expressed interest in taking control of controversy-laden Korea Exchange Bank from US private equity fund Lone Star in a deal that could cost at least US$5 billion (HK$39 billion), according to a media report. HSBC has contacted Lone Star about a potential deal to take a controlling stake in South Korea's fourth-largest lender, London's Daily Telegraph reported, citing people familiar with the situation. "I think, in general, it should be positive for HSBC's development," said an analyst at an Asian investment bank. "HSBC has been lately trying to expand further in emerging markets, and this transaction is in line with that strategy," he said. A deal with Lone Star would make sense, he said, since Lone Star is not primarily a bank operator. "It's really a nonperforming loan investor." Lone Star acquired a 50.5 percent stake in KEB for US$1.2 billion in 2003, when lenders in South Korea were reeling from the corporate collapses that followed the Asian financial crisis. HSBC's expression of interest is said to be "extremely preliminary," the Daily Telegraph said, citing sources.
Calling the law against homosexual anal sex in a public place "unconstitutional," Hong Kong's top court has unanimously rejected an appeal by the secretary of justice in a case in which two men were charged but acquitted.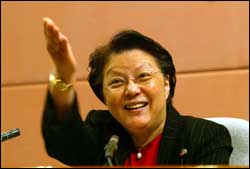 Legislative Council president Rita Fan Hsu Lai-tai has announced she will not run for the Legco elections next year. She also denied reports she has been approached to join the Standing Committee of the National People's Congress. "After a long and very serious consideration, I have decided not to participate in the coming Legislative Council election in 2008," Fan said yesterday. "I have decided to step down from the presidency because, by the end of July 2008, I will have been the president for 11 years ... I think we should have a new person with a different style as the president." Fan, 61, who has served in Legco for 20 years, became the territory's first Legco president following the handover in 1997. She was also the first woman to take up the post. Educated at the University of Hong Kong, Fan has been recognized for her efforts in both the private and public sectors. She has served as Hong Kong deputy in the 10th National People's Congress of the People's Republic of China and from 1989 to 1992 served as an executive councilor under British rule. She refused to comment on whether her move is related to her possible candidacy for the NPC Standing Committee, which she said was a rumor. "No one has ever contacted me to be a member of the standing committee," Fan said. "It is absolutely too early to think about [running for NPC membership]. Maybe in a few months I will think about it but I haven't started thinking about it." The directly elected legislator for the Hong Kong Island constituency in 2004 also said she had decided not to run as she could not convince one of her key campaign aides at the last election to help her again. "I chose to announce my decision a year before the election as I want to let other people who are interested in standing for the HK Island constituency next year that they do not need to consider Rita Fan in their campaign strategies," Fan explained. She said she has already notified the two possible candidates for the next president - Legco's House Committee chairwoman Miriam Lau Kin-yee of the Liberal Party and the former security chief Regina Ip Lau Suk-yee - of her decision. "They are both very competent and capable women," Fan said. "I fully support them to run for the Legco election next year." Lau said Fan's stepping down was regrettable but that she respected Fan's decision. When asked whether she would run for the next Legco presidency, Lau said it was a post for which she had some experience as she acted in that capacity when Fan was not available. However, Lau emphasized it was premature to say whether she will be a candidate. Ip also said she had not made up her mind whether or not to run for the HK Island constituency but she was confident she could win the backing of some of Fan's supporters as they shared similar characteristics. We went to the same school. We are both working wives and widows. We are both hard working," Ip said. Ip added the major difference between them was her three decades of experience as a civil servant and she felt this would give her a better feel for the government's policies. Democrat Yeung Sum said Fan's decisions as a president were mainly fair though there were occasions when the democrats did not agree with her judgment. "There is always room for improvement, but by and large I think she has been accepted as having held an acceptable equilibrium on most occasions," Civic Party lawmaker Alan Leong Kah- kit said, noting Fan's move not to run was both understandable and respectable. Widely known for her conservative political views and reserved manner, Fan was once compared with Jiang Qing or Madame Mao, the fourth wife of Mao Zedong, earlier in her career. However, medical sector lawmaker Kwok Ka-ki said the comparison was unfair to Fan, who was entirely different from the image or persona she projected to the public.
Jackie Chan Kong-sang has signed on for what media described as a drama portraying the lives of Chinese immigrants in Tokyo's bustling Shinjuku district scheduled to start shooting in November, Chan's spokesman said yesterday. Solon So confirmed Chan's involvement in the Derek Yee Tung-sing movie whose Chinese title translates as Shinjuku Incident, but declined to give details about Chan's role or the plot. According to The Beijing News newspaper, Shinjuku Incident is about Chinese immigrants in Shinjuku, one of Tokyo's most crowded shopping and entertainment districts. The report quoted Hong Kong director Yee as saying Chan's role will be more drama than action. "A few years ago the audience couldn't accept Jackie Chan as an actor. But he has matured and the timing is right," Yee reportedly said. Chan mentioned the new movie in an interview last year. He would not describe the story but said then it is based on a true story and that it would be shot in Japan. So said Chan's production company, JCE Movies, has invested in Shinjuku Incident, but did not provide further details. A spokeswoman for JCE, Kitty Leung, said the film is scheduled to start shooting in November. The movie does not have an English title yet. Chan is currently shooting The Forbidden Kingdom, a Hollywood kung fu movie co-starring Jet Li. The Beijing News said Shinjuku Incident will also feature Ken Watanabe from The Last Samurai and Hong Kong actor Daniel Wu Yin-cho. JCE spokeswoman Leung declined to reveal the cast. Contact information for Watanabe's publicist was not immediately available. Calls to director Yee's office went unanswered.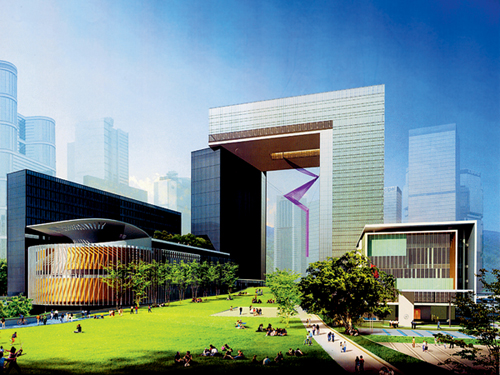 The towering, arch-shaped design known as The Door has been chosen from four contenders for the Hong Kong government's new headquarters on the harbourfront at Tamar - though it may not have been the option most popular with the public. The government yesterday announced a selection panel had picked the proposal by a Gammon-Hip Hing joint venture, but did not make public the preferences expressed online and by visitors to an exhibition of models of the designs. It would not say whether the public's opinions would be revealed later. The choice was generally welcomed by professionals, but critics said keeping secret the views of the 13,000 people who filled in comment cards on the designs flew in the face of Chief Executive Donald Tsang Yam-kuen's pledge of greater engagement with the public on decision-making. A contract to build the headquarters, a building for the Chief Executive's Office and Executive Council, a new chamber for the Legislative Council and a building for lawmakers and the Legco secretariat will be awarded this year. Work is expected to be completed by 2010. The four proposals were given scores by the selection panel; 60 per cent of the score for each was for quality and 40 per cent for cost. Sources close to bidders said the winning bid's price was at the top end of the budget, which is HK$5.2 billion. The government said a letter of intent had been issued to the winning bidder but that this did not mean it would get the contract. The selection panel would need to reach a decision about that, which would depend on Gammon-Hip Hing getting the approval of the Town Planning Board. Planning permission is needed since under its plan, part of the Legislative Council building encroaches on an area designated for open space. The developers must apply to the board for rezoning of that part of the site. They must also meet the tender requirement of keeping 2 hectares of open space at the Admiralty site, formerly a British naval dockyard. "Whether the board will approve the application depends on the accessibility of the open space [in the company's design]," Chinese University architecture professor and planning board member Bernard Lim Wan-fung said. "For example, will it be open to the public 24 hours? Will we be able to walk directly to the waterfront?" He said the chosen proposal was the best of the four because it provided better air flow and was a more elegant design. Professor Lim urged the government to publish the public's views on the four proposals and the scores the panel, headed by the chief secretary, awarded them. Albert Lai Kwong-tak, chairman of the Hong Kong People's Council for Sustainable Development, agreed. "If the government does not announce the public's opinions ... it will be detrimental to public enthusiasm [for the project]," he said. Vincent Ng Wing-shun, former vice-president of the Hong Kong Institute of Architects, said the winning design integrated the complex into the open space. "It's just like the government is embracing the public, it's welcoming," he said. Other architects, who declined to be named, likened it to the new CCTV headquarters in Beijing, also in the form of an arch, while others said the distance between offices in the two sides of the arch might hinder communication among staff. Gammon Construction chief executive Thomas Ho On-sing said it was too early to comment.
Three structures of the last walled village in a Hong Kong urban area would be preserved under a re-development plan, Secretary for Development Carrie Lam Cheng Yuet-ngor said on Wednesday. Speaking at a Legislative Council's subcommittee meeting on heritage conservation, Mrs Lam said a clan hall, temple and ancient arch of Nga Tsin Wai Village, Wong Tai Sin, would be preserved. Mrs Lam, who took over as the chief of the newly created development bureau early this month, said the authorities would consider an unprecedented move. This would include compensating and relocating residents before re-development plans were complete. "I can assure residents that I will look for sufficient justifications for this arrangement," she said. However, Mrs Lam told the Legco subcommittee that this arrangement, if implemented, should not set a precedent for future projects. "This is because the Urban Renewal Authority cannot afford the financial burden involved," she said. The 600-year-old village was the last remaining walled village in the territory's urban area. Developer Cheung Kong (SEHK: 0001) now owns 80 per cent of the village's property rights. It is one of the disputed projects on the Urban Renewal Authority's plan for re-development. Conservation activists are campaigning for the preservation of the whole village, citing its historic value.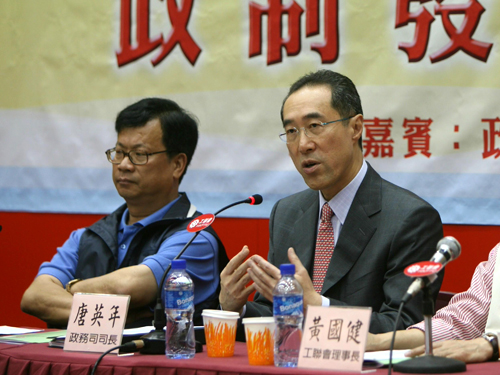 The most popular proposal on political reform will have to gather two-thirds support from legislators and Beijing's approval, Chief Secretary Henry Tang Ying-yen reminded people in his first public appearance to promote the green paper. Speaking to the Federation of Trade Unions yesterday, Mr Tang said he noticed that polls were already taking place to gather public opinions on the paper's options. "When an ideal proposal has come out, we shall ask whether it can obtain two-thirds support in the Legislative Council, and whether it can obtain the consent of the central government," he said. "It must also abide by the framework set in the Basic Law." FTU president Cheng Yiu-tong said members had expressed concern over the proposal to apply universal suffrage in 2012 and end functional constituency seats in Legco. "Some have questioned if these will breach the principles of `gradual and orderly progress' and `balanced participation'," he said after the meeting with more than 100 workers. Constitutional affairs chief Stephen Lam Sui-lung and labour chief Matthew Cheung Kin-chung accompanied the chief secretary. "The arrangements were made to demonstrate the team spirit in the administration and we will continue to work like a team," Mr Tang said. He did not rule out having four ministers appear at meetings to promote the green paper. Meanwhile, the pan-democratic camp had yet to reach a consensus on details of the campaign to push for universal suffrage in 2012, but said a "model answer" to the options suggested in the green paper would be given soon. "The model answer will follow the format of the green paper to help the public to understand it," Democratic Party lawmaker Yeung Sum said. National People's Congress Standing Committee member Tsang Hin-chi said that "no matter a quicker pace or a slower pace [to attain universal suffrage], we must follow the rules as stated in the Basic Law".

China: The number of China's domestic mergers and acquisitions (M&As) jumped in the first half of the year as funds raised in buoyant equity markets were put to use to consolidate fragmented industries, analysts said yesterday.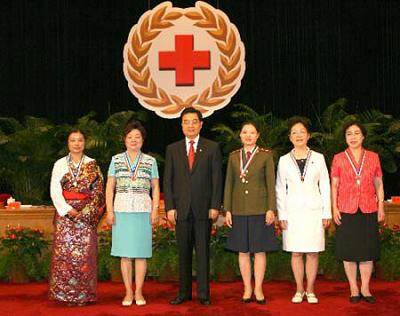 Chinese President Hu Jintao (L-3), who is also the Honorary Director of the Red Cross Society of China, poses with five Chinese nurses who won this year's Florence Nightingale Medal for a group photo after presenting the medals to them in Beijing, July 17, 2007. The Florence Nightingale Medal is the Red Cross Movement's highest international distinction award for the nursing profession.
China Life Insurance Co, the country's largest insurer, is said to be ready to pay 3.6 billion yuan for a 60 percent stake of Zhongcheng Trust & Investment Corp.
Chinese regulators have concluded China-made tires at the center of a massive US recall controversy meet American safety standards, a government spokeswoman said Wednesday. Officials inspected the Hangzhou Zhongce Rubber Co. and tested tires of the same type as those sold in the United States, said the spokeswoman for the General Administration of Quality Supervision, Inspection and Quarantine, or AQSIQ. She would give only her surname, Xia. "They found that all of the examples meet American standards," Xia told The Associated Press. Xia said she did not know how many tires were tested. Chinese news reports put the number at three. US authorities ordered a recall of up to 450,000 tires made by Hangzhou Zhongce after its distributor, Foreign Tire Sales Inc. of Union, New Jersey, said they lacked a key component, known as a gum strip, that binds together belts of a tire. Xia said she did not know whether the tests confirmed the tires lacked a gum strip or whether authorities were sure they were representative of those sold in the United States.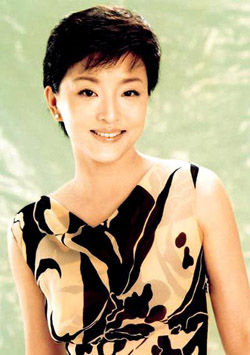 Popular TV host Yang Lan grabbed the top spot; Taiwanese singer Yi Nengjing was second and 42-year-old media scholar Yu Dan finished third. It is not a race among women celebrities throughout China, but the results of a nationwide survey of China's 50 most beautiful women. Even deceased actress Chen Xiaoxu, who made a name for herself as Lin Daiyu in the dramatic TV series "A Dream of Red Mansion", came in at fourth in the list. The results were released based on votes by Internet users and judges' recommendations. As many as 539,073 Internet users cast their votes via their mobile phones choosing from about 100 candidates, including 2005 Super Girl Li Yuchun, 2006 Super Girl Shang Wenjie, and actress Zhao Wei. The eagerly awaited finale led to furor when Li Yuchun, who reached stardom after winning the national singing contest "Super Voice Girls" in 2005, failed to gain a position on the beauty list. Originally, Li was voted to be the most beautiful woman, followed by Shang and Zhao in the primary election. But their names didn't appear when the final results were announced. "There must be some shady decision-making behind the selection," Li's fans complained, citing reasons that third place Yu stood at 55 in the primary selection.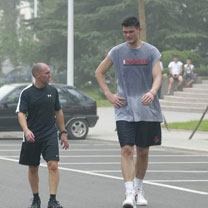 China's NBA star center Yao Ming walks with his Huston Rockets' conditioning coach before a training session with his national teammates in Beijing July 17, 2007. The team is preparing for the upcoming Stankovic Continental Champions Cup.
China and the United States will hold a meeting in Beijing to discuss the detention of four kinds of China's seafood exports by the US and the setting up of a collaboration mechanism on food safety, a senior Chinese quality control official said on Wednesday. The five-day consultation between Chinese food safety authorities and the Food and Drug Administration (FDA) of the United States is scheduled to start on July 31, said Li Yuanping, an official in charge of the safety of import and export products at the General Administration of Quality Supervision, Inspection and Quarantine (AQSIQ). Li also said that the recent suspension of sale of chicken feet, pig ears and other animal products from seven US companies was conducted according to a memorandum of understanding signed between the administration and the US Department of Agriculture. The meat was contaminated with salmonella, additives and veterinary drugs, according to the administration. In response to criticism from overseas, he said that China was not counteracting overseas complaints by picking holes in imports into the country. It's not the first time China has suspended meat imports from the US -- the administration suspended contaminated meat imports from 15 US companies in 2006, Li said. Meat imports from 13 of those companies have resumed, according to Li. The FDA, under the US Department of Health and Human Services, said on June 28 it would detain three types of Chinese farm-raised fish -- catfish, basa and dace -- as well as shrimp and eel unless suppliers could prove the shipments contained no harmful residues unapproved in the U.S. for use in farmed seafood. Li Changjiang, the top quality control official with AQSIQ, urged the US to "properly deal with the problem as soon as possible" during a telephone conversation with US Health and Human Services Secretary Michael Leavitt, adding that an "indiscriminate" ban of all exports of such Chinese aquatic products was "unacceptable".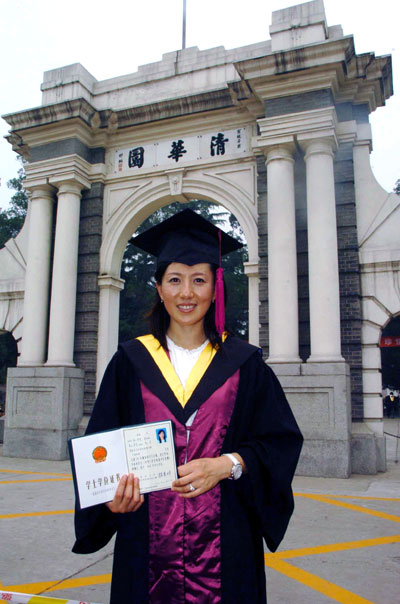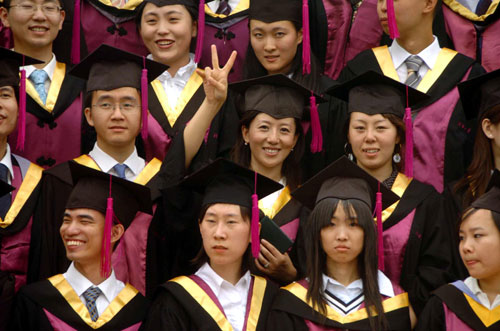 Former short track speed skater and double Olympic gold medal winner Yang Yang (A) poses with her schoolmates in graduating gowns in Tsinghua University July 17, 2007. Yang received her bachelor's degree in economic management after five-year study in the university.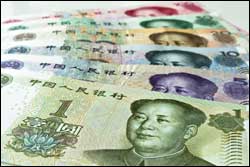 China should continue to strengthen its macro tightening measures to deal with the country's soaring trade surplus and credit and investment growth, a committee under the mainland's parliament said yesterday. "The trend of economic growth going from relatively rapid to overheating is becoming more evident," Xinhua News Agency cited the financial and economic affairs committee of the National People's Congress as saying. The committee had consulted with regulatory bodies, including the central bank and the top planning agency, before reaching its conclusion. It also said China continues to face increasing inflationary pressures, driven by rapidly escalating food and property prices. The statement came ahead of tomorrow's release of economic data, including second-quarter gross domestic product growth and June's consumer price index figures. Meanwhile, Glenn Maguire, Asia- Pacific chief economist at Societe Generale, said that while China's economy is rapidly accelerating, it cannot be categorized as overheating. Anti-China sentiment and calls for protectionist measures in the United States, are more cause for concern for the Chinese economy than overheating, Maguire said. He added that calls for punitive tariffs against Chinese goods in the United States will further intensify due to the soaring trade imbalance, with China's surplus possibly hitting US$300 billion (HK$2.34 trillion) by the end of 2007.
China, the world's largest pork consumer, will supply more poultry, beef and eggs and tighten exports of corn to ease surging prices of the meat, the country's top planning agency said.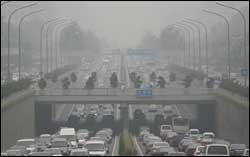 The Organization for Economic Cooperation and Development warned yesterday that China's breakneck economic growth was wreaking severe damage on the environment and said Beijing's efforts to date to curb pollution had been insufficient. "Rapid economic development, industrialization and urbanization have generated severe and growing pressures on the environment resulting in significant damage to human health and depletion of natural resources," said OECD Secretary General Angel Gurria in an introduction to a report on China's environmental performance. He said "air pollution levels in some cities are among the worst in the world, one-third of water courses are severely polluted and illnesses and injuries are associated with poor environmental and occupational conditions." China is also the world's second- largest producer of greenhouse gases and is still the largest producer and consumer of ozone-depleting substances, the report said. While authorities have introduced some regulatory and economic measures, "these efforts have not been sufficient to keep pace with environmental pressures and challenges generated by the very rapid growth of the economy," the OECD said. The report, which includes 51 policy recommendations, said energy consumption per unit of economic output was about 20 percent higher than the OECD average. It also said large-scale transfers of water from southern to northern China need to keep up with growing demand.
July 18, 2007

Hong Kong: Shares of Fosun International (0656) gained 12 percent on their trading debut yesterday, but traded considerably below the 20 percent to 28 percent upside that was expected.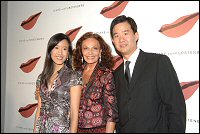 American husband and wife team David and Linda Ting were both working for Gucci in New York when they first had the idea to bring high-end global brands to Asia, via Hong Kong. Their company, Globalluxe Limited, was formed in 2001, with US designer label Kate Spade as its first customer. As exclusive distributors for the brand in Asia, Globalluxe has now opened 11 Kate Spade boutiques in eight countries, and added US fashion brand Diane von Furstenberg (DVF) and Italy's prestigious golf wear label Chervo to its stable.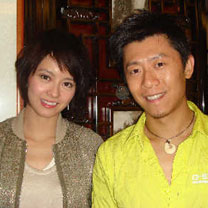 Actor Xia Yu, winner of Best Actor Award in 1994 Venice International Film Festival, and Hong Kong multi-talented star Gigi Leung will go together in a new film "Bangzi, Laohu, Ji",or "Bat, Tiger and Chicken." The film has started shooting in eastern Chinese city of Hangzhou on Monday, targeting on this year's New Year's Eve market. Director Wang Guangli said he would make the film "a large and complicated guessing game" as well as a romantic love story. In the film, Xia Yu, who plays the part of a fire balloon administrator, will fall in love with Gigi Leung on a fire balloon. "We prepared a 25-meter diameter balloon. Generally speaking, this kind of fire balloon is hard to control," the director said. They plans to hold the floating balloon with a rope, like flying a kite. This is the second time Xia Yu and Gigi Leung cooperated on the silver screen. Seven years ago, they co-stared "My Brothers and Sisters", playing a brother and a sister.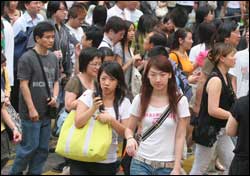 Hong Kong's population will reach 8.57 million in 30 years' time, when up to one in four people will be aged over 65 and the gender imbalance will get worse, according to projections by the Census and Statistics Department. The department predicts the number of males will fall from last year's 912 per 1,000 females to 709 per 1,000 females by 2036. However, the estimated population still falls short of Chief Executive Donald Tsang Yam-kuen's long-term target of 10 million. The SAR's population stood at 6.86 million in the middle of last year. Commissioner of Census and Statistics Fung Hing-wang said yesterday Hong Kong should come closer to Tsang's target by putting in more effort. "Ten years after 2036, the population will be about nine million, assuming the growth rate stays the same," he said. "If the fertility rate were to increase from 0.9 percent in 2016 to 1.2 percent, like in Japan or Singapore, which are similar economically and socially to Hong Kong, it will add a further 600,000 to 700,000 to the population," he said. Of the 1.7 million growth in the overall population as projected over the next three decades, only 491,000 will come from "natural increase," or the excess of births over deaths, while 1.2 million will come through the influx of immigrants, mainly one-way permit holders from the mainland. In an interview with The Financial Times last month, Tsang said Hong Kong should aim for a population of 10 million over the long term to keep up with the likes of New York and London as a global financial center. The projections highlighted three demographic trends - the slowing of the territory's population growth, an aging population and a declining male- to-female ratio. Fung said the rising trend of babies being born to mainland women whose husbands are not Hong Kong permanent residents will have a positive effect on the aging population. The number of births is projected to remain at between 69,000 and 75,000 annually.
One of Hong Kong's most experienced politicians Rita Fan Hsu Lai-tai announced on Tuesday afternoon that she will not run for re-election to the legislature next year. The 61-year-old president of the legislative council said her decision was made after "long and serious consideration". Mrs Fan said: "Preparation for the [Legco] election is time-consuming. I hope that candidates interested in running for election for the Hong Kong Island constituency will not have to take Rita Fan as a consideration, and will have enough time, more than a year, to prepare for it." She explained that by July next year, she would have served for 11 years as president and it would be time for "younger, more capable" people to emerge. The Legco speaker said she once left the political stage in 1992, and returned in 1997 only because she intended to help Hong Kong transit smoothly after the handover. Now that the situation in Hong Kong has stabilized, Mrs Fan said it is time for her to step down. "There is no more problem for smooth transition," she said. Being asked if her move implies her becoming a member of the National People's Congress (NPC) Standing Committee, Mrs Fan said this was just a rumor. "I think that [Tsang Hin-chi] has high opinion of me," she said. "But it is not me who has the power to decide [on NPC membership]." Mr Tsang is the lone Hong Kong NPC delegate on the Standing Committee. Mrs Fan said the Legco election and the NPC election were two different issues. Mrs Fan said former secretary for security Regina Ip Lau Suk-yee and Liberal Party vice-chairwoman Miriam Lau Kin-yee were capable candidates to run for Legco election. "The final decision rests upon their willingness. I cannot influence nor will I encourage them [to run for election]," she added. The president expressed her confidence in the "collective wisdom" of legislators to vote for a new Legco leader. She announced her plans to travel and do things she has not had the chance to do after she steps down. "I love to have fun and enjoy life," she said. Mrs Fan was born in Shanghai. After graduating from St Stephen's Girls' College, she obtained her bachelor degree in science and a master's degree in social science at the University of Hong Kong. In 2003 she got an honorary doctor degree at the China University of Political Science and Law. She entered Legco in 1983 and the executive council in 1989 as a member until 1992. She had succeeded for three consecutive terms as president of Legco since 1998. In 1993, Mrs Fan was chosen by the NPC to serve on the Preliminary Working Committee for the Hong Kong Special Administrative Region. In December 1995, the committee was turned into a 150-member Preparatory Committee and Mrs Fan was given the task of convening the committee's subgroup on social and security issues. During her time as Legco president, Mrs Fan had some memorable clashes with outspoken lawmaker Leung Kwok-hung or "long hair''.

China: In recent days the international media have been boiling with news of quality problems in products "made in China," on which words like "poisonous toothpaste," "shoddy tires", "lead toys," and "aquatic products containing anti-bacteria agents" popped up frequently. The reasons behind a credit crisis befalling Chinese products, this time, are complicated. For example, those who stirred up a "china threat" in recent years have taken this opportunity for a malicious attack. In addition, some western countries have raised their product standards. However, what consumers are most concerned with has always been the quality of products "made in China;" their lives have been caught up in the fast expansion of Chinese products. Wasn't there an American journalist who tried a life without Chinese commodities? Her experiment failed after one year, and her conclusion was: such a life is difficult to maintain. As increasingly more Chinese products appear in foreign supermarkets, retail stores, and restaurants, and become globally known brands; foreign customers naturally began to pick and choose. Most Chinese commodities that initially entered western markets were cheap items in large baskets at supermarkets. Now, however, people look at Chinese products in the same way they look at American and Japanese products. Currently China exports over ten thousand types of commodities. Among such a multitude of goods, each deal is made after careful discussion between exporters and importers on qualifications, quality and other aspects. Therefore one is justified in saying that products exported from China live up to standards of importers and their states, as well as pass legal examination. Chinese products are generally recognized and accepted by sellers and consumers of importing countries. Problems with a few products should not significantly affect Chinese exports. Manufacturing is crucial for a rising, developing nation like China. Manufacturing represents the country's hard strength and simultaneously determines China's international image. For more than two decades since its reform and opening, China has been relying heavily on manufacturing for economic development and will continue to do so. To improve the reputation of products "made in China," product quality must first be improved. If we can look at recent problems with products "made in China" overseas as both a challenge and an opportunity; ensure that "made in China" becomes a standard in America and Europe and China's food standards are high worldwide; and international consumers enjoy high-quality products "made in China;" then we will not have to fear any media hype!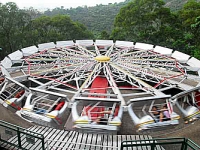 Wheel of Fortune for China's Amusement Parks - Report from the China Amusement Machines and Facilities Exhibition 2007, Beijing - Amusement park equipment manufacturing has expanded steadily on the Chinese mainland over recent years to top Rmb5 billion annually. While meeting domestic demand, amusement park equipment is also exported to overseas markets. To attract more customers, some theme parks on the Mainland are stepping up investment.
East Star has become China's first private airline authorized to operate international flights after less than two years in business. The company is yet to release the timetable for the services, but Hubei Television reported on Tuesday evening that a daily service would be available from early September. According to Civil Aviation Administration of China regulations, new airlines can qualify to apply to operate international flights only after three years of operations. East Star, however, beat rivals Okair, Ueair, Juneyao Airlines and Spring Airlines, which analysts say should be attributed to the ongoing reform of China's civil aviation industry. Wuhan was designated in October last year as the first city to carry out such reforms to open up the country's civil aviation market. Under this reform, domestic airlines are free to establish subsidiaries in Wuhan and open flights between Wuhan and other domestic cities so long as they register with aviation authorities. The first private airline in central and central-south China, East Star has a registered capital of 80 million yuan and operates flights to more than 10 cities in China. The company's fleet is expected to hit 20 by 2010.
American Airlines and Continental Airlines Inc. have asked federal regulators for the right to operate new nonstop flights between the United States and China beginning in March 2009.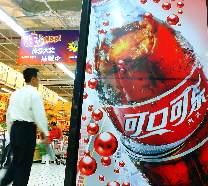 A shopper passes a Coca-Cola stand at a Shanghai supermarket. The world's largest beverage maker yesterday said it would pour $80 million to set up a new research center and a new headquarters in China.
ZTE Corp (0763), the mainland's second-largest telecommunications equipment manufacturer, has secured more than 40 percent of the contracts to build network equipment for the commercial trial based on the mainland's homegrown third-generation mobile standard, according to company president Yin Yimin.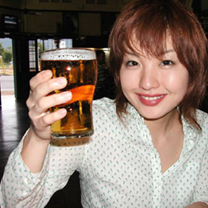 Summer is the perfect season to crack open some beer. This bubbling alcoholic beverage doesn't just help people cool down from the heat, but is also good for the body. Nutritionists say beer is rich in silicon which is good for healthy bones. For all the benefits beer brings, here we bring you some nice places in Beijing and Shanghai to get a cold one or two.
July 17, 2007

Hong Kong: Hong Kong International Airport reported a good performance in the first half of this year with increases in passengers, cargo volumes and air traffic movements. Compared to the corresponding period in 2006, the first six months of 2007 saw: Passenger volume up 6.4 percent to 22.7 million; Cargo traffic grew 1.5 percent to 1.7 million tons; and ATMs increased 4.4 percent to 143,000. Compared to June 2006, passenger and cargo volumes and ATMs all increased 5.7 percent, 5.3 percent, and 5.6 percent respectively. Hong Kong Airport Authority chief executive Stanley Hui Hon-chung said HKIA expects passenger outbound volume to increase "as Hong Kong people take summer holidays, plus strong inbound traffic from Europe, the mainland and Southeast Asia." Hui also said the continued rise in cargo traffic is particularly pleasing. In the busy vacation period, HKIA saw an increase in passenger numbers of 5.7 percent, or 3.85 million, compared to the same period in the previous year. For the 12 months ended June 30, passenger and cargo traffic reached 45.8 million and 3.6 million tons respectively, an increase of 7.4 percent and 2.8 percent from the previous year's figures. Turnover for the year ended March 31 showed a steady growth of HK$7.73 billion, an increase of 9 percent from the previous year's HK$7.07 billion. ATMs have also increased 4.8 percent from 270,000 to 283,000. HKIA earlier had announced a HK$4.5 billion spending plan till 2010 to add parking stands and other facilities at the airport. Projects such as a golf course, a cross-border ferry terminal and a second airport hotel are under way. In the meantime, HKIA will offer a range of social events and activities throughout this month and August in Terminal 1 and 2. They will feature magic shows, handicraft workshops, nail painting, story telling, balloon art and a photo exhibition to provide travelers with "a pleasant, memorable airport experience," Hui said.
Macao's tourist price index (TPI) reached 129.59 in the second quarter, up 12.9 percent over the previous season, according to official statistics issued Monday. The statistics from the government-run Statistics and Census Service (SCS) attribute the TPI rise mainly to the price hike occurred in the sectors of food and beverages in restaurant, clothing and footwear, and jewelry. The TPI also saw a year-on-year increase of 7.95 percent in the second quarter, the figures showed. The TPI is an indicator that reflects the price changes of goods and services purchased by visitors.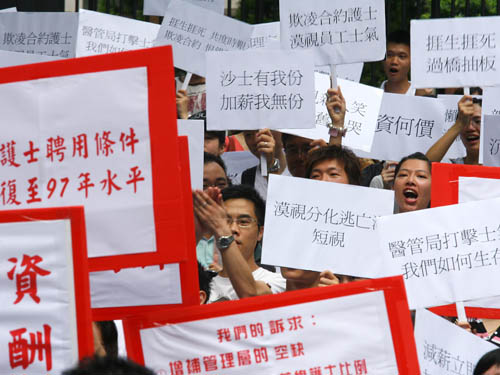 About 500 medical staff and nurses at public hospitals took to the streets yesterday to demand higher pay. Protesters waved placards and shouted "equal pay for equal work" in sweltering heat outside the main entrance to the government headquarters in Central. The staff - mainly nurses, physiotherapists and psychiatrists from 18 nursing unions - said they wanted pay levels restored to pre-2000 levels. The Hospital Authority changed the pay scale and cut wage packages for new doctors and nurses in 2000 after the economic downturn.
Trade fairs still a money-making business despite profit warning - A profit warning posted by a leading trade fair organizer may not be a pointer to the poor financial health of Hong Kong's exhibitions sector, which in fact, is expanding physically, adding more space and launching new events, analysts said. Last week, Kenfair International Holdings (0223), known for its Mega Show series of exhibitions, said costs at three overseas exhibitions have risen and losses widened, while losses at its Spring Fair in January this year have tripled with exhibitor numbers falling. The company is set to announce annual income for the year ended March 31 by the end of this month. Sun Hung Kai Financial strategist Castor Pang Wai-sun said: "It is weird to see the company losing money. Trade fairs continue to be a money-making business. Europe and the United States are constantly being overbooked, even in Hong Kong and the mainland." Kenfair organized three overseas exhibitions in Europe and the United States, but none has performed well. "It is about catching on to the trend and perhaps the company has missed out. Overall, business opportunities for trade fairs should be good," an analyst said. "Poor performance may be due to the fact that the company is taking on new projects by expanding and increasing the number of overseas exhibitions," said Kenny Tang Sing-hing, associate director at Tung Tai Securities. Pang noted that customer reaction is critical. "If your customer loves your product, then it is likely that they will continue to use you. But, if the exhibition is not attractive, then very likely they will lose their clients." One of the biggest players in the multibillion dollar business, Hong Kong Trade Development Council is creating 19,400 square meters of extra exhibition space, equivalent to 1,000 booths by expanding the Hong Kong Convention and Exhibition Centre. The Hong Kong Exhibition and Convention Industry Association, a trade body, estimates that the exhibition industry contributes HK$19 billion to the economy, based on data from an earlier study. Last month, the association said the number of trade exhibitions increased to 65 last year from 40. It was the year that AsiaWorld-Expo opened, offering 70,000 sq m of space in the city. TDC spokesman Lawrence Yau Chung-hok said: "We believe the exhibition scene in Hong Kong is developing." He added that trade fairs are international in composition. "TDC fairs consist of 50 percent overseas buyers." TDC, a public body, organized 31 fairs in fiscal 2006-2007 and also launched six new events. These attracted a record 27,000 exhibitors and 622,000 buyers, according to its annual report tabled to the Legislative Council last week. TDC reported consolidated income of HK$1.93 billion in 2006-07. Tang from Tung Tai said: "The trade fair business in Hong Kong is doing pretty good in itself, there is good growth. Kenfair's poor performance may be due to their efforts aimed at expanding their overseas market." Pico Far East Holdings (0752), a Hong Kong-listed exhibition services provider, said last month net income for the six months ended April was up 39.9 percent to HK$80.2 million on turnover of HK$1.08 billion, up 30.5 percent. Following the profit warning last Wednesday, Kenfair's shares fell 11.2 percent to HK$1.03 the following day but closed on the last day of trading at HK$1.18, up 14.5 percent. Pico dropped 2.7 percent on Friday to close at HK$2.51.
Hong Kong's population would grow to 8.57 million in 2036 — with as many as one in four aged over 65 and a lower male-to-female ratio, latest projections by the government released on Monday showed. On the basis of results of the 2006 population by-census, the Census and Statistics Department estimated the territory's population would increase at an average annual rate of 0.7 per cent over the next three decades. At this rate, the population would reach 8.57 million in mid-2036, from 6.86 million in the middle of last year. The 1.71-million growth would comprise a natural increase (births less deaths) of 0.49 million and a net movement (inflow less outflow) of 1.22 million, the figures showed. A growth rate of between 0.7 per cent and 0.9 per cent would continue in the next 20 years. Towards the end of the projection period, it would slow down to 0.4 per cent with an increased number of deaths as people grew older.

China: China had more than 860 million phone users by the end of May this year, partly thanks to a growing rural market, statistics from the Ministry of Information Industry have shown. The figure included 494 million mobile phone users and 372 million fixed-line subscribers, according to the ministry. The number of rural users has been on the rise since the second half of 2006. With new registration of about 1.7 million in the January-May period this year, the total rural phone subscribers have topped 118.1 million, according to the ministry. In May alone, the nation recorded new mobile phone subscribers of 7.16 million, while the number of new fixed-line users in the first five months was 4.39 million. The revenue of the country's telecommunications business rose 10.1 percent from a year earlier to 318. 67 billion yuan (43.65 billion U.S. dollars) in the first five months this year, said the ministry.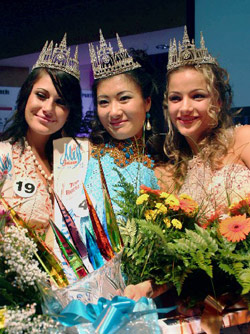 First place winner Bao Qingling (C) from China, second place winner Kristina Weber (L) from Germany and third place winner Nila Kudlyk from Ukraine pose for photos during the Miss Deaf World 2007 held in Prague, capital of Czech, July 14, 2007. Nineteen contestants from nineteen countries took part in the Miss Deaf World 2007 held in Prague.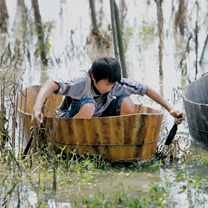 Huang Qi, who lives in a village in Mengwa flood diversion area in Anhui Province, gets around in a small wooden boat on July 15, 2007. The area was inundated when water was released from a reservoir on the Huaihe River.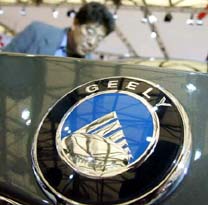 A Geely car is exhibited at an auto expo in Shanghai April 28. Home-grown auto brands, encouraged by robust sales, are seeking to expand their overseas presence and shed their image as low-grade vehicle producers.
Starting July 15, the Shanghai Municipal Government began to levy land value-added tax on transactions of second-hand non-ordinary commodity housing, the Xinhuanet reported Sunday. According to a notice issued on July 13 by the city's taxation bureau, value-added tax is currently imposed on non-ordinary houses transferred individually without assessed prices or invoices. A tax of 0.5 percent of the net gains from property deals will be levied on owners who have retained their property for less than three years. A 50-percent exemption is available if an apartment is kept for more than three years but less than five years before the transaction, according to the notice. According to the municipal government's rule, ordinary commodity housing refers to houses up to the following criteria: The floor-area ratio is above 1.0; the total floor space per suite is no larger than 140 square meters; the selling price is less than 17,500 yuan(US$2303) per square meter if the property is located within the Inner Ring Road of Shanghai, less than 10,000 yuan per square meter between the Inner Ring Road and the Outer Ring Road, or less than 7,000 yuan per square meter outside the Outer Ring Road. Those homes which cannot meet the above requirements are categorized as non-regular housing. From now on, the total amount of tax levied on the transaction of non-ordinary second-hand houses theoretically can reach as high as 9.55 percent of the transaction price. That includes the business tax (5.55 percent), deed tax (1.5 percent), individual income tax (2 percent), land value-added tax (0.5 percent), as well as stamp tax and service fees.
Although China has an overall foreign trade surplus, it had a deficit of $87.5 billion in 2006 with East Asian countries, said Liao Xiaoqi, vice minister of commerce, on Saturday. Liao said at the 3rd East Asia Investment Forum that economic and trade exchanges between China and East Asian countries have been growing very fast, with the combined trade volume reaching $502.4 billion in 2006, accounting for 32.5 percent of China's foreign trade for the year. He said that China mainly imports raw materials and parts from East Asia, and exports the processed or assembled products to European and American markets. China has become the largest export market for the Republic of Korea, the no. 2 export market for Japan, the no. 3 export market for Thailand, and the no. 4 export market for Indonesia, Singapore, the Philippines and Malaysia. "China's development has brought about growth opportunities for East Asian countries," he said. He said that China pays close attention to regional economic cooperation, has signed a number of agreements with the Association of South East Asian Nations (ASEAN), and will set up free trade zone with ASEAN in 2010. A total of 11 free trade zones have so far been set up or are being negotiated with foreign partners, he said, involving 28 countries and regions and accounting for a quarter of China's foreign trade. More than 300 officials, scholars and entrepreneurs from China, Japan, ROK and ASEAN are participating in the 3rd East Asia Investment Forum, which focuses on overseas development strategies for Chinese enterprises.
Kingdom Hotel Investments, the luxury hotel and resort investment company controlled by Saudi billionaire Prince Alwaleed bin Talal, plans to develop a network of 10 to 15 hotels in second and third-tier cities in the mainland over the next three to five years as part of a strategy to beef up its presence in high- growth Asian markets.
China CITIC Bank (0998), the China's seventh-largest lender, said yesterday first-half profit is projected to rise 80 percent, underpinned by higher lending and fee income.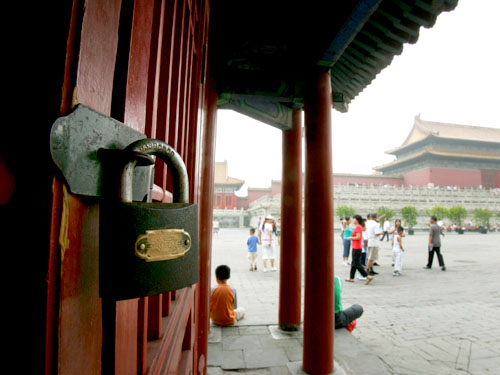 A top Starbucks executive put on a brave face yesterday, saying the group was trying to do the right thing by closing its controversial coffee shop in Beijing's Forbidden City. Managers of the former imperial palace wanted all shops on its grounds to adopt its brand identity, but Eden Woon Yi-teng, Starbucks' vice-president for China, said the company had declined that option. "It was a very congenial decision. We respect what they are doing," he said. Starbucks closed the 20 square metre coffee shop on Friday, ending a seven-year presence that sparked protests by critics who said it stained the image of a key historical site. The froth over Starbucks' presence at the 587-year-old Forbidden City highlighted sensitivity about cultural symbols and unease over an influx of foreign pop culture.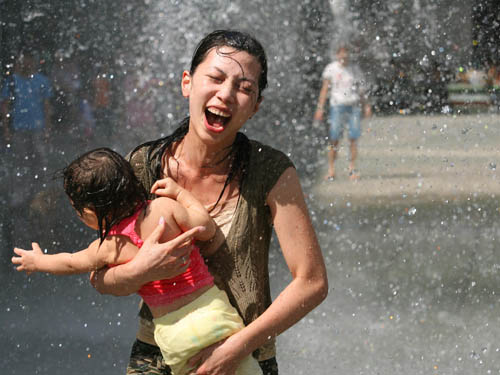 A young mother cools off with her baby yesterday at a fountain at Citygate, Tung Chung. The Observatory said the mercury reached 34.1 degrees during the afternoon. Temporary heat shelters were opened last night. At least 65 elderly people fell sick because of the heat and had to be taken to hospital.
July 16, 2007

Hong Kong: The government announced on Friday that a HK$58.6 billion surplus was registered for the last fiscal year. Revenue for the 2006-07 financial year ending March 31 amounted to HK$288 billion and expenditure amounted to HK$229.4 billion, a spokesman said. This resulted in a surplus of HK$58.6 billion, higher than the estimated HK$55.1 billion in the 2007-08 Budget. The territory's fiscal reserves stood at HK$369.3 billion as at March 31, compared with HK$310.7 billion a year ago. The spokesman explained that the improved financial position was mainly because the actual spending for the year was HK$3.6 billion lower than forecast as a result of expenditure controls. He said the final results for the year were same as the provisional results published on April 30. Hong Kong registered a deficit earlier in the decade. It has now returned to surplus on the back of a strong economic growth.
China Automation Group (0569) made a huge splash on its trading debut Thursday, with its shares soaring 74 percent over their initial public offering price, outshining New World Department Store China (0825).
Four companies from Hong Kong and the mainland joined the 2007 edition of the Fortune Global 500 list, which ranks the world's largest corporations. Sinopec (0386) and CNPC ranked as the largest Greater China companies on the annual list. Newcomers to the list were China Minmetals, CNOOC (0883) and China Ocean Shipping, with Jardine Matheson returning to the list after a period of absence. More companies from China than any other country joined the list this year. Sinopec was the top-ranked company from Hong Kong and China, with its US$131.64 billion (HK$1.03 trillion) in revenues ranking it 17 on the global list. This year marked the first time a Chinese company breached the top 20. The oil company was followed by CNPC, ranked 24 with US$110.52 billion in revenues, and Beijing-based State Grid, the largest electric power provider in China, which ranked 29 with US$107.19 billion in revenues. Also making the high-powered list are ICBC (1398), China Mobile Communications Corporation, China Life (2628), Bank of China (3988), China Construction Bank (0939), Guangzhou-based China Southern Power Grid and China Telecommunications. A total 24 companies from Hong Kong and China made the Global 500 list. "Chinese banks, led by Industrial and Commercial Bank of China [ranked 170], which boasted the world's largest public offering in 2006, made a big splash," Fortune magazine said. "The Agricultural Bank of China [ranked 277] saw its profits go up nearly fivefold as it cleaned up its balance sheet in preparation for a public listing." State Grid is the second-biggest employer in the world, according to Fortune data. With a workforce of 1.504 million, it is second only to Wal-Mart, which employs 1.9 million people. CNPC ranks as the third-largest employer, with 1.086 million employees. Several mainland companies on the list showed strong improvements from the previous year. China Railway Construction climbed 101 spots to end up at 384, while Agricultural Bank of China climbed 100 spots to 277 and China Railway Engineering climbed 99 spots to 342. China State Construction, Changchun-based automaker China FAW Group and SAIC also climbed significantly. According to the Fortune data, Beijing is the fifth-most popular place in the world for a Global 500 company to have a headquarters. Eighteen companies on the Global 500 list are based in Beijing, with the capital trailing Tokyo, Paris, New York and London. Wal-Mart was the largest company on the Global 500 list, followed by oil giants ExxonMobil, Royal Dutch Shell and BP.
Although most regulators use an indirect approach of regulating counterparties to rein in hedge funds, most hedge funds are not transparent enough to allow market discipline to work, according to the Hong Kong Monetary Authority. "With management fees tied to performance, hedge fund managers are more inclined to take risks than to abide by market discipline," HKMA chief executive Joseph Yam Chi-kwong said in his weekly column Thursday. "It is also unclear to me whether the current level of transparency in most hedge funds can really provide sufficient, accurate and timely information for market discipline to work effectively." Since hedge funds often do not directly fall under regulatory scrutiny, most regulators address the systemic risks to financial markets brought by hedge funds by regulating the hedge funds' counterparties, such as banks and securities firms they deal with. The success of the approach depends on market discipline and how well the regulated institutions manage their counterparty risks, Yam noted. "There are good reasons to doubt the regulated counterparties' ability to impose market discipline on hedge funds, especially when hedge funds have become an important source of their revenue," Yam said. "Fierce competition for prime brokerage business is likely to put pressure on these institutions to compromise, eventually leading to a relaxation of risk management." The opaqueness of hedge funds can prevent regulators and the banks that do business with them from detecting concentrated risks early enough. This fear came to the fore recently when failed US hedge fund Amaranth Advisors built up highly concentrated positions in the energy futures markets without other market participants knowing. "Despite all the inadequacies of the indirect oversight approach, it is in the interest of all concerned to give it our best shot," he said. "To make this approach more effective will require hedge funds to be more cooperative in improving their transparency and following the best codes of conduct and disclosure."
Those hoping to set up professional services in the mainland should have an enterprising mind-set and a reinvestment approach, according to Executive Council convener Leung Chun-ying. Speaking at a Hong Kong Convention and Exhibition Centre forum hosted by 10 local professional bodies Thursday, Leung said that, with the opening of mainland markets and removal of service industry trade barriers, companies in the SAR and in the mainland face fierce competition from giant conglomerates. "The survival of local and mainland professional companies no longer lies in having basic professional knowledge. We must also equip ourselves with an enterprising outlook, inspiration, strategies and fortitude," Leung said. Calling for vigilance in the face of the immense challenge from multinational services giants, Leung encouraged local professional firms to enter into various kinds of collaboration or mergers for their survival. He called this a "historical and strategic subject worth exploring by the governments of Hong Kong and the mainland, professional bodies and the various professions themselves." Entrepreneurs should also adopt the old maxim of investing in profit-making projects rather than just finding jobs for the work force. "The peaceful rise of China is a historic opportunity," he said. "Local and mainland professional firms should ride on the rising tide and be brave and adventurous in facing the future." To iron out cultural differences and narrow diverging targets between local and mainland professional firms, Leung - who is executive director of a UK- listed real estate company with a dozen mainland regional branch offices - called for building a business culture of reinvesting bonuses and profits into the prime business rather than diverting funds into secondary businesses such as restaurants and buying properties, or executive perks. "As for collaboration modes, I suggest taking an innovative approach as much as possible," Leung said. "The previous mode of business transferrals between Hong Kong and mainland service companies has achieved substantive progress. "More recently, there has been a new direction, with some law firms in the mainland and the territory entering into joint ventures." Financial Secretary John Tsang Chun-wah said a forum would be held in September to strengthen the implementation of CEPA and its supplements. Senior mainland officials will be among the guest speakers.
Two new spots, improved information signage and distinct balustrades have been introduced in a HK$4 (US$520,000) million facelift for the Dr Sun Yat-sen Historical Trail to lure more tourists and locals alike to follow the footsteps of the "Father of the Nation." The 3.3-kilometer trail in Central and Western District, where Sun studied during his stay in Hong Kong at the turn of the last century, was set up 11 years ago to present an historical account of the revolutionary's activities in the territory. It now has 15 historical spots tracing his activities in Hong Kong - from his dwelling to his school and where he planned the first uprising against the Qing dynasty in 1911. Two plaques have been added at Hong Kong University where Sun studied medicine, and at Pak Tsz Lane, where a political concern group frequented by the young Sun was located. The HK$4 million upgrade was launched to complement the opening of the new Dr Sun Yat-sen Museum late last year at Kom Tom Hall - a heritage mansion in the Mid-Levels. Stephen Chan Chit-kwai, a member of the Central and West District Council, said many people have trekked the trail since 1996, but many were disappointed that several of the historical sites have now vanished. Brand-new ceramic plaques with easy-to-read information and old pictures from Sun's days were added. Museum curator Ang Yee said that with the addition of red railings along the trail, it is now much easier to follow than in the past. Also, new guided tours have been planned to strengthen the links between the trail and the museum at Kom Tong Hall, where the government has spent HK$91 million on renovation works. Tourists can join the English and Putonghua guided tours first at the museum before following the trail. More than 500 people have joined these tours since early this year. The entire 15-spot tour takes about two hours, while a condensed version concentrating on Sun's "path of growth" will take only 45 minutes. One featured spot is the former location of the Xing Zong Hui (Revive China Society). It was a commercial firm on Staunton Street, which Sun used as a front to plot his first revolutionary attempt in Guangzhou. Now, the premises has been turned into a Buddhist nunnery. More than 20 black and white photos of Hong Kong during Sun's time line the wall facing the old revolutionary headquarters. Looming behind are the former police quarters on Hollywood Road, which are facing demolition. Apart from three plaques, the rest of the historical spots are at their original locations.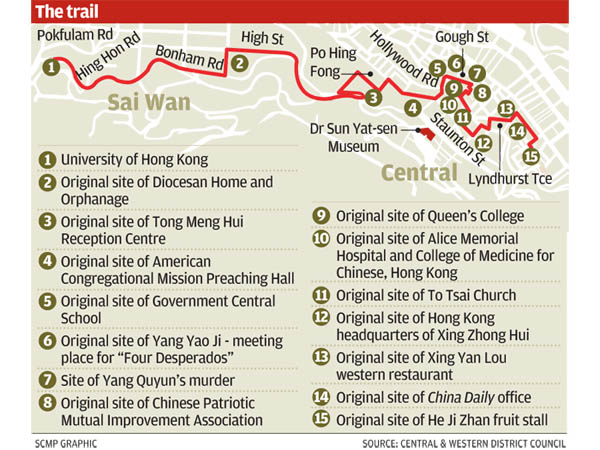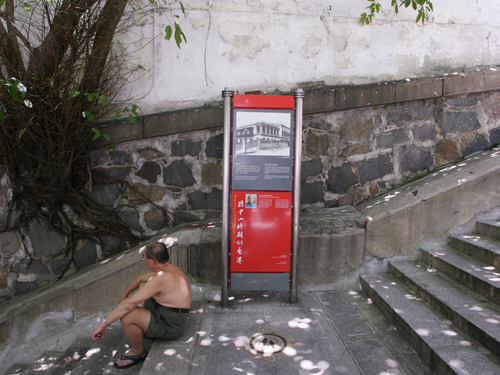 Sun Yat-sen trail reopens with high hopes for tourism - After a year of work mostly funded by the Tourism Commission, the 3.3km Sun Yat-sen Historical Trail through Central and Western District has been renovated. The HK$4 (US$520,000) million renovation began last year to commemorate the 140th anniversary of the birth of Sun, the revolutionary leader revered as the father of modern China who died in 1925. It includes the relocation of three memorial plaques in Gough, Staunton and D'Aguilar streets, and the addition of two new ones to make the trail more accessible to visitors. A new plaque at the entrance to the University of Hong Kong in Bonham Road recalls how Sun, an HKU alumnus, declared that "Hong Kong and the University of Hong Kong are my intellectual birthplace" when he visited the university in February 1923. Another, at Pak Tsz Lane, marks the place where the Chinese Patriotic Mutual Improvement Association was founded in 1892 to discuss political reforms in China. Twenty new pictures of old streets have also been put up along Staunton Street to show visitors how the city looked in days gone by. The trail, built in November 1996, recounts Sun's education and his religious and political activities during his nine years in Hong Kong. It begins at HKU's Loke Yew Hall and passes 13 historical sites with 15 information plaques before ending at D'Aguilar Street. Despite its historical significance, the trail has been little used. In the past six months, only 100 local residents and foreign tourists have joined guided tours. But Central and Western District Council chairman Stephen Chan Chit-kwai said yesterday at the trail's official relaunch that its actual attendance rate had been underestimated. "We think there are, in fact, more members of the public or tourists who have walked along this trail," he said. "We cannot keep track of the exact number if they do not join our guided tours." He added that the low level of participation may be due to a lack of publicity and predicted that better promotion would triple or quadruple the number of people on the tours. "Now, members of the public and tourists who visit Dr Sun's museum in groups can find the tour service for the trail on [a form they are given]. It makes access easier for them," Mr Chan said. "Moreover, this year we have launched a joint promotion with the Tourism Commission, in which the commission will provide a tour service for tourists to visit both Dr Sun's museum and the trail."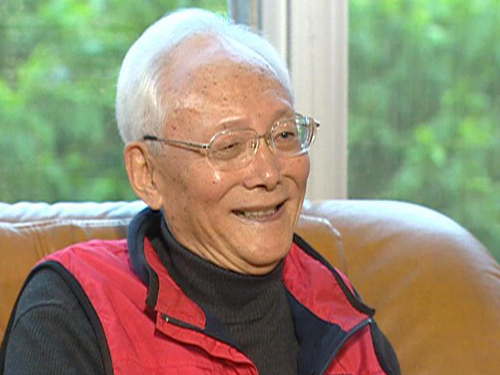 Lu Ping, a retired mainland official formerly in charge of Hong Kong affairs, appears to have reversed his harsh verdict on last governor Chris Patten, whom he once called "a sinner for a thousand years". Mr Lu, speaking on Phoenix Television, praises Lord Patten as a brilliant and resolute politician. The former director of the Hong Kong and Macau Office under the State Council also says he appreciates that Lord Patten's strong approach towards Chinese affairs was because of a change in British policy, rather than his personal will. Without referring to the Tiananmen Square crackdown, he says the U-turn in Britain's China policy came after 1989. "After 1989, Britain's China policy changed from one of co-operative to one of confrontation," Mr Lu says, citing the lingering row over the construction of the Chek Lap Kok airport and other related infrastructure projects. Hong Kong was hit by a confidence crisis after the Tiananmen Square crackdown. The colonial government decided to boost the economy by investing in mega-infrastructure projects, including building the Chek Lap Kok international airport. Beijing at that time had opposed the idea, fearing Hong Kong would drain its fiscal reserves. The airport project was eventually given approval after years of discussions between Britain and the mainland. In the television interview to be broadcast tomorrow, Mr Lu also says part of the problem with the governance of former chief executive Tung Chee-hwa, Hong Kong's first post-handover leader, was that he was not good at playing politics. "Mr Tung is a righteous man. He is a responsible man and he wants to do something for Hong Kong," Mr Lu says. "But he is not a politician. I have always said, this nice guy is not good at politics." He says Mr Tung's victory in the 1996 chief executive election was "a fulfilment of the people's hope", adding that Beijing had not intervened with the election.
Lawmakers have passed a motion urging the government to improve co-operation with the mainland - especially on issues such as the environment, air quality, food safety and immigration. The motion calls on the government to set up permanent and efficient cross-border mechanisms to achieve these aims. The proposal tabled by Beijing loyalist Tsang Yok-sing was amended by the Civic Party's Audrey Eu Yuet-mee to address specific issues. But efforts by pan-democrats to add a call for the issuing of home-return permits to those denied them, and to urge the central government to develop democracy and the rule of law were defeated. The Frontier's Emily Lau Wai-hing proposed an amendment calling on Beijing to issue the home-return permits, and to establish a "normal working relationship" with the legislature and Hong Kong political parties. "At present, our council does not have any communication with the mainland, and even mainland officials coming to Hong Kong wouldn't set foot in Legco," she said. In response, Secretary for Commerce and Economic Development Frederick Ma Si-hang said the Hong Kong government was always arranging visits to the mainland, such as the Security Bureau's trip for legislators to visit the Western Corridor cross-border route before its opening last week. Moving the original motion, Mr Tsang, of the Democratic Alliance for the Betterment and Progress of Hong Kong, said that in the early days of mainland rule following the handover, some political leaders and Hong Kong officials had seen the "one country, two systems" formula as threatening intervention by Beijing in the city's affairs. However, he said the attitude of Hong Kong officials and residents had changed in the decade since 1997 and cross-border co-operation should be enhanced.
Fitch Ratings raised its credit rating for Hong Kong to AA from AA-minus on Friday, praising the territory's external financial position, improved public finances, credible currency peg and autonomy from the central government. Analysts said the move could point to an upgrade in the mainland's A sovereign rating soon. "You could also say that the upgrade is linked to rating agencies becoming more positive about China," said Jan Lambregts, an economist at Rabobank International. Hong Kong is a special administrative region of China and its rating is constrained by China's lower A rating. Singapore, another small, developed economy, is rated AAA. Standard & Poor's already rates Hong Kong AA and said earlier this year it was well placed for an upgrade if China's rating was raised. Moody's has Hong Kong on review for a possible upgrade from its Aa3 foreign and local currency government bond rating. The Fitch upgrade underpinned the local stock market, which had already hit a record high on Friday morning. "That's definitely having a positive effect on the market - it's the icing on the cake," said Jackson Wong, an investment manager at Tanrich Securities. The benchmark Hang Seng Index hit a record 23,239.92 while the H-share index scaled an all-time high of 13,335.21, fuelled by a record high on Wall Street and reflecting solid domestic fundamentals. Hong Kong's resurgent economy in the past three years has boosted government revenue, returning government finances to the black after a series of hefty deficits in the years after the Asian financial crisis from 1997. For the 12 months to March this year the government had a HK$58.6 billion fiscal surplus. A narrow tax base - only 35 per cent of wage earners pay income tax - still raises concern that government revenue could fall short again during an economic downturn. However, Fitch said that even in the extreme scenario of an unexpectedly large fiscal shock, the government would be able to maintain its low debt ratios through the fiscal year ending March 2010. Last year the government floated the idea of introducing a goods and services tax to boost revenue but abandoned the project because of widespread public opposition. Fitch said this meant the territory needed to maintain strong fiscal reserves. The economy has expanded by an average 7.6 per cent annually for the past three years. Economists see growth slowing to 5.5 per cent this year but they say that would still be strong for a developed economy. It is benefiting from China, whose economy is growing by more than 10 per cent annually, creating demand for services in Hong Kong and investment in the stock market. On Friday Goldman Sachs raised its growth forecast for Hong Kong to 6 per cent for this year and next year from 5.5 per cent and 5.7 per cent respectively, citing strong consumption underpinned by a buoyant labour market. The Hong Kong dollar is pegged to the US unit. Market speculation that it could be allowed to trade more closely with China's gradually appreciating yuan has waned this year as officials have repeatedly affirmed the government's commitment to keeping the peg. Fitch said that 10 years after Hong Kong's return to Chinese rule, there appeared to be no adverse effects so far. The agency said it initially had concerns about the "one country, two systems" principle after the transfer of Hong Kong's sovereignty to China on July 1, 1997. However, it said the system had yet to be tested by an economic downturn in China. "The special administrative region's exposure to the mainland is very high, however, and any downturn in Chinese trade flows would have significant and immediate effects on the local economy," it said.

Chief Executive Donald Tsang Yam-kuen has appointed Anthony Cheung Bing-leung chairman of the Consumer Council, a government spokesman said on Friday.

China: "The trend for Chinese enterprises 'going abroad' has entered a period of rapid development," said Assistant Minister of Commerce, Chen Jian, said in an online interview on China's government website (http://www.gov.cn). During the "eleventh five-year plan" period, China's total investment is expected to reach US$66 billion. By 2020, the value of foreign investment will reach US$30 billion. To better support Chinese enterprises going abroad, the Ministry of Commerce implemented measures that would establish overseas trade cooperation zones by the end of 2005. Supportive policies that cover finance, banking, insurance, arrival in or departure from a country, and taxes will be executed. In terms of overseas investment insurance, China Export & Credit Insurance Corporation (SINOSURE) has set up an overseas investment insurance system. Chen Jian said that in response to overseas security issues, China has established an emergency treatment mechanism, led by the Ministry of Foreign Affairs, to handle overseas emergencies. Furthermore, China will establish an overseas security services system with a general social plan.
It's exactly the same bottled water with healthy and energetic-looking pop star Wang Lee-Hom as the endorser. But the water, under the Wahaha brand name, has hit turbulent times as it is now part of a bitter dispute over ownership of the well-known brand. French food giant Groupe Danone SA said yesterday it filed a counterclaim with an arbitrator in Hangzhou, capital of East China's Zhejiang Province, rejecting statements made by its Chinese joint venture partner Wahaha Group in a trademark dispute. Danone's latest legal action comes in response to Wahaha Group's request last month for arbitration in Hangzhou to seek termination of a 1996 trademark transfer agreement it signed with joint venture partner Danone. Wahaha alleged the agreement failed to get approval from China's State trademark office. Danone and Wahaha have exchanged lawsuits and arbitration claims in three nations in recent months, with both sides employing teams of lawyers in an increasingly contentious dispute that has cast a dark cloud over the once-successful Sino-foreign commercial partnership. "Danone believes the arbitration application of Wahaha is intended to achieve its ultimate purpose of not transferring its trademarks by making excuses," Danone legal counsel Randall Lewis said at a press conference yesterday. He said the actions of Wahaha violate the 1996 agreement, and deviate from the fundamental principles of good faith and business ethics. The breach of the joint venture agreement has caused substantial economic losses to it, he said. Danone said the joint venture paid 50 million yuan in cash to Wahaha for the transfer of the trademark, which was approved by the Hangzhou government.
The United States Thursday requested the World Trade Organization (WTO) to establish a dispute settlement panel to deal with China's so-called industry subsidies. "Although our two rounds of WTO consultations with China have been constructive, they have not resolved our concerns about China's apparent use of trade-distorting subsidies that it pledged to eliminate upon joining the World Trade Organization," said Sean Spicer, spokesman for the US Trade Representative (USTR). "China has taken a positive step by repealing one of the subsidy programs we challenged, but much more needs to be done," he added. The US initiated the dispute over the prohibited subsidies by requesting WTO consultations with China on February 2, 2007. China's Ministry of Commerce voiced regret on February 3 over the move by the US side. A spokesman for the ministry said China and the US had actually kept bilateral contact over the issue all along. Under WTO rules, the consultation normally lasts two months once it is started. If it fails, a WTO panel of experts will be formed to handled the dispute. Spicer said Washington would "continue to prefer a negotiated settlement to this dispute," while continuing to pursue the WTO process. The WTO Dispute Settlement Body (DSB) will consider the US request for the establishment of a panel at its next meeting on July 24, 2007.
China will spend 620 billion yuan (82 billion U.S. dollars) building subways and urban railways in 15 major cities in the next ten years to ease traffic jams, according to the Ministry of Construction.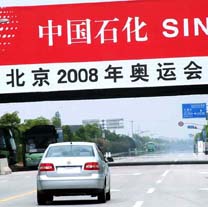 A Sinopec billboard in Shanghai.Three more mainland companies made them onto the 2007 Fortune Global 500 List, the largest increase among all economies. Sinopec had the highest ranking among the three.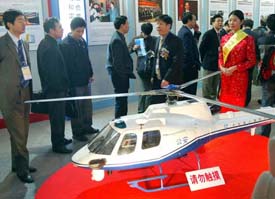 A model of the Zhi-11 helicopter, made by Changhe Aircraft Industries, on display at a Guangzhou exhibit.
The People's Bank of China on Friday said it had issued 101 billion yuan in three-year bills in a special issue at a yield of 3.6 per cent as the central government ups its battle against excess liquidity in the system.
July 14 - 15, 2007

Hong Kong: Equity markets in Asia and Europe fell almost across the board Wednesday after Moody's Investors Service lowered the credit ratings on US$5.2 billion (HK$40.56 billion) worth of securities backed by US subprime mortgages, just after Standard & Poor's said it may downgrade US$12 billion of the bonds.
The Greater Pearl River Delta Business Council has called on the central government to provide clear guidance and lenient arrangements for Hong Kong enterprises in the mainland to convert into foreign-invested enterprises from enterprises "processing with supplied materials."
The MTR Corporation (SEHK: 0066) is to extend its Kwun Tong line from Yau Ma Tei past Ho Man Tin to Whampoa under revised proposals for the new Sha Tin to Central Link project. The location of a Central South station planned beneath Lan Kwai Fong may also be changed, a paper prepared by the Transport and Housing Bureau for the Legislative Council shows. The amendments were made following a decision by the MTR Corp and the Kowloon-Canton Railway Corporation. The KCRC, which was selected to build and operate a railway line linking Sha Tin to Central in June 2002, put forward planning proposals in February 2004. The rail companies both put forth new proposals under which the KCRC and MTR Corp's interchange stations will be provided at Diamond Hill, Ho Man Tin, Exhibition and Admiralty. The paper also shows a proposed Causeway Bay North station will be scrapped "in view of the possible serious disruption to traffic in the Causeway Bay area arising from the construction of the station and the low cost-effectiveness of providing the station under the merge scenario". It also says "the location of the Central South station should be revisited" although the reasons for this are not apparent in the paper. The proposed Exhibition interchange station on Harbour Road will also be relocated to the public transport interchange site in Wan Chai "to better cope with development in the area and provide better interchange with the future North Hong Kong Island Line". Under the original KCRC proposal, automated people movers were proposed for Whampoa and Tsz Wan Shan to link the areas with the MTR line. But this idea will be scrapped, at least for Whampoa, which will be serviced by an extended Kwun Tong line. While the paper does not state clearly that the Tsz Wan Shan people mover will be scrapped, it says "it is suggested that alternative options should be explored, taking into account the existing public transport services". This could come as bad news to residents who have been calling for an MTR extension to the area for years. The whole scheme will see an east-west line and a north-south line and a further 10 stations, from Tai Wai via Ho Man Tin to Central. But further changes are in the pipeline, as the original population projection for the Kai Tak planning area was 260,000, but has now dropped to 80,000. This could affect the viability of both the To Kwa Wan and Ma Tau Wai stations. The government is also still in discussion with the rail companies over the Wan Chai Development Phase II Review, which could see further changes to the proposals for the rail line. In 2003, the rail project - estimated to cost HK$33 billion - was awarded to the KCRC after a bitter battle with the MTR Corp. At the time, the MTR Corp warned that the Sha Tin to Central rail link would threaten its market share of cross-harbour services and poach its passengers.

China: The country's top food and drug quality watchdog yesterday announced stricter rules for approving new medicines. The move came a day after its former chief Zheng Xiaoyu, who headed the State Food and Drug Administration (SFDA) from 1998 to 2005, was executed after being found guilty of taking bribes to approve substandard and fake medicines blamed for at least 10 deaths. Effective October 1, the regulation aims to make the drug registration and approval process transparent, and curb power abuse and corruption, Wu Zhen, deputy chief of the SFDA, told a news briefing: A collective decision - instead of a single person or department as was the previous practice - has to be made by a special panel before the green light is given to a new drug.
China's foreign exchange reserves increased by $40 billion in June, pushing the total figure to $1.33 trillion, the central bank said yesterday. It was a 41.6 percent increase year-on-year, the People's Bank of China said in a statement on its website. The rise could mainly be a result of capital influx in anticipation of a rising yuan and the strong growth in foreign trade surplus, said Zhao Xijun, a finance professor at Renmin University of China.
Chinese aircraft manufacturers played an important role in the production of the Boeing 787 "Dreamliner". The first "Dreamliner" aircraft's rudders, fuselage fairing and leading edge of the vertical tail, were all made in China. At the end of last year, the Harbin Aircraft Industrial (Group) Company, the HaFei Group, was officially recognized as the world's sole supplier for Boeing 787 fuselage fairing; and it will take the responsibility of supplying these products from 2007 to 2021. On February 2nd of this year, HaFei's first Boeing 787 fuselage fairing was delivered to the Boeing Company. Boeing has also signed a production contract for Boeing 787 composite material rudders, 737 aircraft front boarding gates, and automatic emergency exits on aircraft wings, with the Chengdu Aircraft Industrial (Group) Co.LTD.(CAC), of China's Aviation Industry Corporation I (AVIC I). At the end of last month, the world's first Boeing 787 aircraft rudder was completed by the CAC and was delivered to the American Boeing company. This rudder is now the largest civilian aircraft composite material part produced by China. It is 10.7 meters long and 3 meters wide. In addition to China, many other countries including Japan and Canada are involved in the manufacture of the Boeing 787.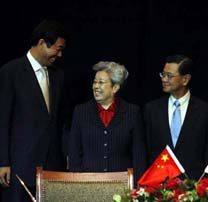 Singapore can expect to conclude a free trade agreement with China by next year, a Singaporean said after meeting China's Vice Premier Wu Yi. Commerce Minister Bo Xilai (left), Vice-Premier Wu Yi (center) and Singapore's Vice-Premier Wong Kan Seng were at a meeting in Singapore yesterday. China and Singapore have agreed to strengthen cooperation in several areas.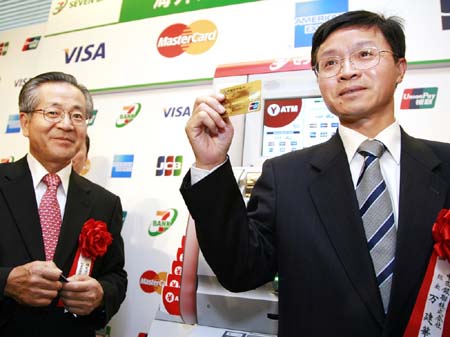 Wan Jianhua (right), president of UnionPay, China's national bankcard network operator, and Japan's Seven Bank President Takashi Anzai launch the international cash card compatibility service at Seven Bank's ATMs in Tokyo yesterday. Foreign cash card users of Visa, MasterCard, American Express, JCB and UnionPay can now withdraw Japanese yen at Seven Bank ATMs.
July 13, 2007

Hong Kong: Qingdao, a coastal city in Shandong province, has emerged as a new target for Hong Kong developers as they increasingly shift their attention towards second-tier cities given the surging land prices and lack of urban sites in first-tier cities. Hutchison Whampoa (SEHK: 0013), Kerry Properties (SEHK: 0683), Hong Kong Construction and Shui On Group had already built up a presence in the city, said Joe Zou, general manager of property adviser DTZ's Qingdao office. They first entered the city in 2005, two years after property prices began picking up, Mr Zou said. Compared with other cities, Qingdao has yet to find great popularity with Hong Kong developers. However, he expected more foreign players to target the city after looking at its growing economy. Qingdao and other cities near the Bohai Sea aim to develop the region as the mainland's third-biggest economic powerhouse, after the Pearl and Yangtze river deltas. The region also consists of Beijing, Tianjin in Hebei province and Dalian in Liaoning province. The gross domestic product of Qingdao, a municipality that covers seven districts with 2.5 million people, grew 15 per cent last year. Property prices have been rising since 2003, with average home prices of 4,225 yuan per square metre last year, up 17.23 per cent from 2005. But prices of luxury flats with sea views were being sold at more than 30,000 yuan per square metre, Mr Zou said. Most of the buyers were from nearby cities, he said.
Shenzhen has put into effect strict regulations on home ownership by Hong Kong residents and foreigners in a bid to cool the market, where average prices have surged by more than 50 percent this year.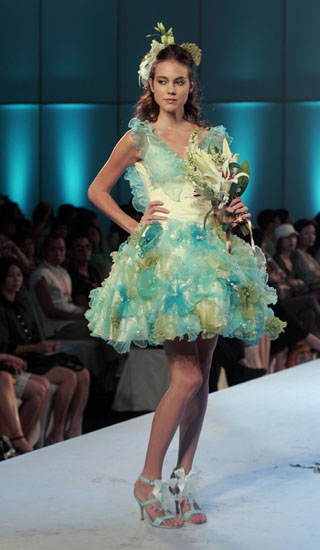 A model presents a creation by Malaysian designer Bernard Foong during the Hong Kong Fashion Week for Spring/Summer 2008, July 10, 2007. This show has attracted a record 1,147 exhibitors from 19 countries and regions, said the Hong Kong Trade Development Council.
The soon-to-be-established China Investment Co, which has been tasked with investing abroad US$200 billion (HK$1.56 trillion) of China's foreign exchange reserves, is likely to pour at least US$2.2 billion into Hong Kong's stock market, according to Citigroup Global Markets.
HKC (Holdings) (0190), formerly Hong Kong Construction, said it plans to buy a block of land at the Tianjin Tuanbo Lake project for more than 1billion yuan (HK$1.02 billion) to develop a villa project.
Real estate consultant Jones Lang LaSalle forecasts that by the end of the year prices in the luxury residential market will be on a par with 1997 levels, while growth in the low to mid-tier market will be limited by abundant supply.
Film veteran Charles Wang Cheung-tze died from cancer in a New York City hospital last Friday. He was 74. Wang was awarded the Medal of Honour earlier this month for his valuable contribution to the development of the film and TV industry in Hong Kong. He received the Professional Achievement Award at the 25th Hong Kong Film Award in April 2006 as managing director of Salon Films. Over the past four decades, Wang had provided extensive production logistics to filmmakers from home and abroad. A memorial service will be held on Sunday afternoon at the College Chapel of Wang's alma mater, Chung Chi College of the Chinese University of Hong Kong, in Sha Tin.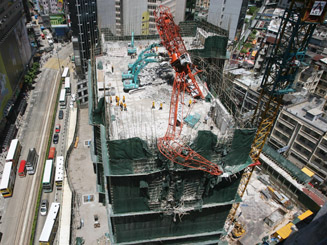 Lack of precautionary measures and negligence were cited as possible causes for the collapse of a crane in Causeway Bay yesterday that killed two people and injured five.
CIA agents saw Hong Kong as window on Communist Party - CIA agents worked to infiltrate groups in Hong Kong with connections to the Communist Party, documents released in the US yesterday reveal. Under the Chaos Program, agents from the Central Intelligence Agency, FBI and civilians with "extremist credentials" were cultivated and dispatched to gather intelligence from overseas communist groups. China, Cuba, North Vietnam, the Soviet Union, North Korea and Arab nations under the Fedayeen were targeted by the program. The aim was to collect information to link foreign communist powers to US activists and civilians. Hong Kong is named in the document as an area of "important operational interest" along with Paris, Stockholm, Algiers, Dar es Salaam and Mexico. The document dubbed "The Family Jewels" also mentions the CIA's East Asia division, which was responsible for the "placing of agents in leftist milieu", suggesting they recruited locals to act as spies. The CIA describes the Chaos Program's purpose as being to gather information about extremist groups working in the US at a time when Washington believed many activists were being influenced by outside powers. Rather than recruiting new members, the document said efforts were made to use existing contacts. The report said the program had played an "integral part of collection programs in China operations". The report on the program is dated May 1973. Audio surveillance was also conducted on some groups. The information was considered highly sensitive. Once collected, it bypassed normal channels and was processed by the Special Operations Group. "Information of particular significance, when collected, has been disseminated by special memorandum over the signature of the Director of Central Intelligence to the White House (John Dean and Dr Kissinger) as well as Attorney General, Secretary of State and Director of the FBI," the memorandum said. Former deputy to the National People's Congress Choi Wai-hang said he was not surprised by the revelations. Most people would have assumed US spies were active in Hong Kong in the 1960s and 1970s, he said. "This [spying] was quite common at the time. They were trying to get information from everywhere," said Mr Choi, who was detained for 18 months at Mount Davies camp in Western during the 1967 riots. The Family Jewels also provides new details about how the CIA illegally spied on US citizens and tracked down an expert lock picker for a Watergate conspirator. It also detailed CIA collaboration with the Mafia for a failed assassination attempt on Cuban President Fidel Castro.

China: China said Wednesday it will cut the number of small, loosely regulated food producers by half as it struggles to salvage its reputation as a safe exporter. The country's food and drug agency also announced stricter rules for approving new drugs, a day after its former head was executed for accepting bribes to approve untested medicine. The measures are part of China's efforts to clarify regulations, tighten enforcement and clean up corruption. Small-scale food producers have been accused of unsanitary production conditions, using tainted or substandard ingredients and failing to register with authorities. In a mandate issued Tuesday, China's food safety watchdog said small-scale producers will have to renovate their operations to meet hygiene standards or be shut down. Many will not survive and their numbers are expected to be halved by 2009, with all properly certified by 2012, the General Administration of Quality Supervision, Inspection and Quarantine said on its Web site. The regulations also target the use of recycled ingredients, unapproved additives, and banned substances. Additionally, starting in September all food exported from China will have an inspection and quarantine symbol to guarantee safety, the administration said. Inspection agencies at all levels need to recognize that "the process will take a long time and the work is complicated and difficult," the notice said.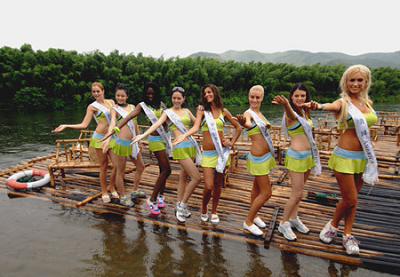 Contestants for Miss Tourism of The Globe 2007 pageant pose on a raft in Hangzhou, East China's Zhejiang Province, July 10, 2007. Contestants from more than 100 countries and regions gathered in China for the finals.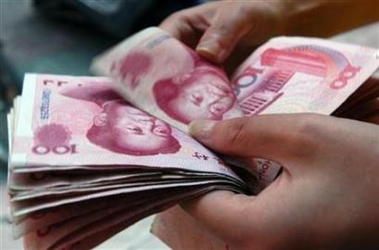 In this file photo a shop assistant checks hundred yuan bank notes at a shop in Xiangfan, central China's Hubei province, August 19, 2006. China's foreign exchange reserves, the world's largest, swelled to $1.33 trillion by the end of the first half on the back of massive trade flows that contributed to an acceleration in money supply growth in June. China's sizzling economy grew even faster in 2006 than previously reported, the government said Wednesday, moving it closer to overtaking Germany as the world's third-largest and possibly adding to fears of overheating. The National Bureau of Statistics raised its estimate of China's 2006 growth rate from 10.7 percent to 11.1 percent. It nudged up its estimate of total output by 146.4 billion yuan ($18.8 billion) to 21.1 trillion yuan ($2.705 trillion). The revision brought China closer to Germany, the world's third-largest economy after the United States and Japan. Germany's 2006 output was $3 trillion but its 2.5 percent growth rate was well below China's. The statistics agency routinely issues such revisions to economic growth rates. But the latest report could receive special attention from Chinese leaders, who are trying to rein in a boom that they worry could ignite a financial crisis. Chinese leaders want to maintain fast growth to reduce poverty but are trying to slow investment in auto manufacturing, real estate and other areas where supply outstrips demand. They worry that runaway spending could ignite inflation or leave banks and borrowers with dangerously high debt levels. In the most recent official forecast, the central bank's research bureau said last month the economy was expected to expand by 10.8 percent this year. That was in line with projections by the World Bank and other economists, and would be China's fifth straight year of growth in excess of 10 percent. Wednesday's revision was in line with the opinions of outside economists, who said the earlier figure seemed too low, suggesting the economy was slowing despite surging exports and other indicators. The change comes amid reports of double-digit growth in industrial output, investment and other economic indicators. China's trade surplus soared to a new monthly high of $26.9 billion in June, the government reported Tuesday. That was despite official efforts to narrow the ballooning trade gap by repealing rebates of value-added taxes on exports. The statistics bureau's brief announcement on Wednesday said the biggest increase in China's estimated output was in secondary industries, which includes manufacturing, construction and utilities. The exact size of China's economy is a matter of debate, with foreign analysts saying the small statistics agency lacks the resources to provide more than a general estimate. In December 2005, Beijing raised the official size of the economy by nearly 17 percent and retroactively boosted annual growth figures for the previous decade following the first nationwide census of China's booming service industries such as restaurants.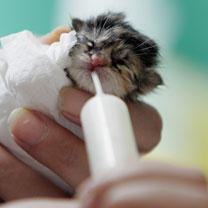 A kitten is fed at Duo Zirong's house in Shanghai July 11, 2007. The power of the Internet has saved more than 800 cats from being skinned and served up on Chinese dinner tables.
Retail sales of consumer goods in China are expected to jump by 15.8 percent in 2007, the fastest growth in a decade.
China would allow more big foreign reinsurance firms into the country, aiming to boost market competition by attracting non-State capital.
Air China Ltd, one of the country's three major airlines, finalized an agreement to buy 23 Airbus A320 planes, it said Wednesday, part of an earlier commitment last October by the Chinese government to buy 150 of the jets. The planes, to be delivered to Air China between January 2009 and December 2012, have a list price of US$1.41 billion (1.03 billion euros), the majority State-owned airline said in a statement. Air China said the actual purchase price was lower than the list price. Airbus and US rival Boeing Co usually sell their planes to airlines at discounts from list prices. "We expect the transaction to increase operating capacity by 5.88 percent, and to help increase frequency of flights, departing originally from Chengdu," the company said. China's other two major airlines are China Southern Airlines Co and China Easter Airlines Corp. Guangzhou-based China Southern announced late Monday it had agreed to buy 25 B737-800 planes from Boeing and 20 A320 jets from Airbus worth a total list price of as much as US$3.7 billion (2.7 billion euros). Airbus is a unit of European Aeronautic Defense & Space Co.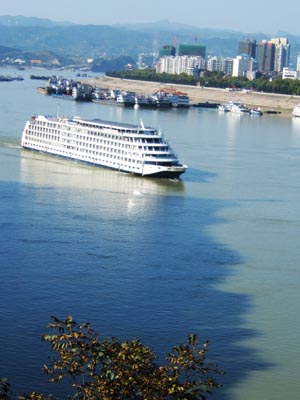 The State Council has approved a national inland waterway and port plan jointly formulated by the National Reform and Development Commission and the Ministry of Communications, said Weng Mengyong, Vice Minister of Communications. According to the plan, China will construct a network connecting superior waterways composed of the trunks of the Yangtze River, Xijiang River and Beijing-Hangzhou Grand Canal, the Yangtze Delta Waterway Network, the Pearl River Delta Waterway Network, as well as 18 other waterways. The superior network, capable of carrying thousand-ton vessels, has a total length of 19,000 kilometers, 14,300 kilometers or 75 percent of which are third-grade waterways, while the rest 4,800 kilometers or 25 percent are fourth-grade ones. The plan will be implemented from 2007 to 2020 under two categories, superior waterways and others. All inland ports will also be categories into either main ports, regional ports or general ports. Twenty-eight ports of all types will be in the network, including Chongqing Port, Wuhan Port, Nanchang Port, Wuxi Port, and Hanzhou Port. When finished, the water network will run through 20 provinces or regions, connecting 56 cities each with a population of over 500,000 and 27 national-level ports. By 2010, inland waterways will be able to carry 40 percent more of the current level and the capacity will double by 2020. Shanghai may be the biggest beneficiary from the plan, as the network will on the one hand boost communication between China's financial center and other cities, and on the other, more goods will be traded via Shanghai Port, which will quickly help Shanghai establish itself as an international shipping center.
July 12, 2007

Hong Kong: The art world celebrates its finest - Portrait of the Artist and His Friends by contemporary artist Yue Minjun was sold by Christie's for five times above the pre-sale estimate. Colin Sheaf, Chairman of Bonhams Asia, describes Hong Kong as the world's most exciting and competitive centre for selling classic Chinese art. For fine art lovers around the world, it's becoming a case of Chinese art at any price. Prestigious global auction houses Christie's and Sotheby's are reporting record after record being set at their twice-yearly sales in Hong Kong, and this year a third contender, British auctioneers Bonhams, has arrived to tap the booming market. The current explosion of prices for Asian art is a far cry from 10 years ago, when there was little interest. However, a decade of economic growth in China has delivered a legion of wealthy collectors seeking to buy art both for enjoyment and investment. "Nothing in the global art market has been more dramatic in the past decade than the emergence of new art buyers in Asia," says Colin Sheaf, Chairman of Bonhams Asia after the February opening of Bonhams Hong Kong. Anthony Lin, an independent art adviser and former Chairman of Christie's Asia, agrees. "This is a market that, 10 years ago, nobody believed where it would be today," he told the Hong Kong Standard. Hong Kong's international reputation and free port status have helped propel the city as jewel in the crown of Asia's art scene. Hong Kong has in recent years become a major world hub for top-end Chinese art, along with London and New York. At its spring sales in April, Sotheby's sold the 1939 Chinese masterpiece Put Down Your Whip by Xu Beihong for a world record HK$72 million (US$9,211,680), more than double its estimated price. In total Sotheby's sold HK$1.05 billion (US$134 million) of art during its spring sales series in Hong Kong, well above expected. Henry Howard-Sneyd, Deputy Chairman of Europe and Asia and Managing Director of Sotheby's Asia, said this result built on "five years of spectacular growth", during which sales had tripled. Christie's sold a total of HK$1.52 billion (US$195.4 million) during its five-day spring sales in Hong Kong, a 26.5 per cent increase over last year. Sale prices included a record of almost HK$20.5 million (US$2.6 million) for Portrait of the Artist and His Friends by contemporary artist Yue Minjun (born in 1962), five times above the pre-sale estimate. Christie's moved all of its regional sales to Hong Kong in 2000. Commenting that this season's sales results show "yet again the growing strength of the art market in Hong Kong", Edward Dolman, Chief Executive of Christie's International, said he expects the firm's Asian art business to keep growing by 15 - 20 per cent each year. Bonhams' first sales in Hong Kong, held in May, saw more than HK$40 million (US$5.1 million) of artworks change hands – the highest total Bonhams has ever achieved for a series of inaugural actions. Asia Chairman Colin Sheaf noted that the market for Chinese art is "global, resilient (and) hungry for the very finest". He described Hong Kong as "the world's most exciting and competitive centre" for selling classic Chinese art. To mark the 10th anniversary since Hong Kong's return to British rule, Sotheby's auctioned a private collection of Reunification Art on June 29, with part proceeds going to the Chinese Red Cross. Kevin Ching, Chief Executive Officer of Sotheby's Asia, said the special auction acknowledged China's economic 'great leap forward' in the decade since Handover, propelling it to the forefront of the international arena. He said that many Western collectors, together with the newly rich in China, have joined established buyers from Hong Kong, Taiwan and South East Asia, all contributing to the development of the Hong Kong art market. "Hong Kong, rather than New York or London, is in fact the major and leading centre for top end Chinese art, including paintings, ceramics and works of art," Mr Ching said. "There is no doubt that Hong Kong's present prosperity as well as the rather free art market owes a lot to the success of reunification with China and its adherence to the one country, two systems principle . It is only right that we should celebrate the 10th anniversary with our auction of reunification art at end June, just before the July 1 celebration."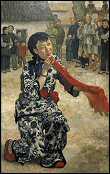 Chinese masterpiece Put Down Your Whip by Xu Beihong set a new world record at the Sotheby's spring sales

This Imperial cloisonne enamel jar sold at the Bonhams auction, greatly exceeding its pre-sale estimate
China Development Bank (CDB) announced here Monday the subscription for its 5-billion-renminbi bonds launched from July 27 was closed with complete success, reflecting strong response from both retail and institutional investors. Total subscription amount exceeded 14 billion yuan (1.8 billion U.S. dollars), equivalent to near three times of the total issue size. The issuer has determined to issue 2.5 billion yuan, respectively, to both retail and institutional tranches. Subscriptions for both retail and institutional bond offerings were closed on July 6. During the subscription period, the retail tranche has attracted more than 60,000 applications and the total subscription amount exceeded 7 billion yuan. And the institutional tranche has also attracted more than 7 billion yuan. Chen Yuan, governor of CDB, said that the success of the RMB bond issuance in Hong Kong demonstrated the continuing great confidence of local investors in China's economic development. At the same time, it also showed the full recognition of CDB's credit and business performance by the Hong Kong market. He said that the funds raised from this bond issuance will be used to finance China's fundamental key infrastructure projects. "The encouraging subscription result of CDB's renminbi bonds highlights the strong demand of investors in Hong Kong for renminbi-denominated investment instruments, including high-quality renminbi bonds," said Joseph Yam, chief executive of the Hong Kong Monetary Authority. "The success of the first issue of renminbi bonds forms a good basis for the further development of the renminbi bond market in Hong Kong. It has also opened up a new channel for financial intermediation between Hong Kong and the Mainland," he said.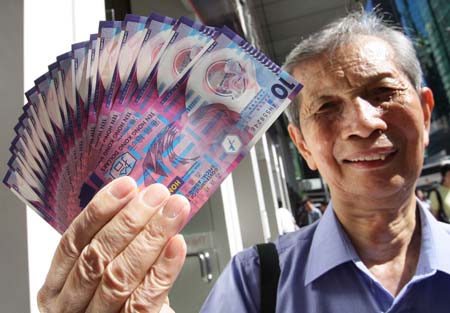 A Hongkonger holds a fan of the new plastic-covered HK$10 bills which were issued yesterday. The first ever plastic HK$10 bills were issued in Hong Kong yesterday to great public excitement. Signed by former Financial Secretary Henry Tang on April 1, the 50 million plastic HK$10 notes went into circulation yesterday, with Hong Kong Shanghai Banking Corporation (HSBC) as the distributing agent. Though there were no limits on the number of bank notes each citizen could exchange, more than 100 people queued outside an HSBC branch in Mong Kok as early as 6:30 am yesterday. Some people lauded the new bank notes for their smoothness and durability. Others remarked that the new bank notes were of interest to collectors because they had been signed by former Financial Secretary Tang. Resistant to dust and dirt, the bank notes can be washed in soap and water without being damaged. The bank notes can also be recycled, making them environment-friendly.
Lawyers yesterday expressed concern that they would bear the highest financial risks under the conditional legal aid fund proposed by the Law Reform Commission. Michael Vidler, a solicitor who has handled many legal aid cases, said the "no win, no fee" principle adopted in the proposal was unfair to lawyers. "It's a bit like going along to a doctor and say, `if I get better I will pay you, if I don't get better I won't pay you'," he said. However, Law Society president Lester Huang said he supported the conditional fee system and it should be tried in Hong Kong. He said he was concerned, however, that under the proposal, lawyers in some cases might not be paid even after winning. "The defendants in many commercial cases are not insured. As a result, the lawyers themselves might end up bearing the risk," he said. Mr Vidler said the proposal seemed to fit in with the government's consistent attempt to "ask solicitors to do more for no money and to bear the risk". He cited the case of the criminal legal aid scheme, which paid lawyers hourly rates that could sometimes be lower than that of a McDonald's worker. "This appears as though the government is trying to shirk its responsibility [and shift it] onto solicitors, in particular in the provision of legal services," he said. He said "no one in their right mind" would opt for conditional fees. "If I want to do something pro bono, that's my decision, but I am not going to do it on the basis that if I am going to lose [a case], I am not going to get paid." Mr Vidler added that the fund would also deter lawyers from working on cases that were worthwhile cases, but not easy to win. He said Hong Kong should learn from the "disastrous system" of conditional fees introduced in England. The commission report released yesterday pointed out that many additional legal disputes had arisen because of changes in the conditional fee system in England. "The losing party challenges the conditional fee agreement in the hope of avoiding liability for costs altogether," it said. "Nevertheless, the fact that the losing party must pay the success fee [of the winning party], together with the insurance premium, remains a source of much contention and public policy debate." Mr Huang also said the government should not treat mediation - which was also encouraged by the commission as an alternative, less costly approach to resolve civil dispute - as something free. "The government also needs to put in resources to support mediation," he said. Law Yuk-kai, director of Hong Kong Human Rights Monitor, welcomed the idea of a legal aid service run by an independent body, despite potential problems.
Macau braces for talent crunch - Increased demand for skilled workers in Macau's fast-expanding gaming industry will drive the adoption of advanced human resource management practices and technology in the former Portuguese enclave, according to industry experts. "Macau's human resources challenge is clear given the developments around new casinos," said Sean Loiselle, senior director for human capital management (HCM) in the Asia-Pacific region at enterprise software firm Oracle. "With the number of gaming tables expected to grow fivefold - from about 2,000 at the beginning of this year to 10,000 by the end of 2010 - there's going to be a severe shortage of experienced personnel at every level." That battle for talent is expected to sharpen the focus of Macau casino operators on HCM systems to boost customer satisfaction and sustain business growth. "The attraction and retention of talent has a real impact on a company's performance," said Stella Hou, general manager for Hong Kong at human resources services firm Hewitt Associates. "Companies that manage their employees as an asset have lower staff turnover, which translates into lower recruitment and training costs and, even more importantly, less disruption to customer relationships." According to Oracle estimates, every new hire can cost 100 per cent to 250 per cent of the departing employee's annual salary. The strong demand for skilled staff from casino operators in Macau has apparently also put other sectors on the island - such as financial services, professional services and the public sector - under pressure to adopt comprehensive human capital strategies to retain key personnel. "Human capital management is a long-term strategic play but the good news is that the technology available to support talent management - enterprise HCM application suites and related analytical tools - is now quite sophisticated," Mr Loiselle said. "Casino operators in Las Vegas have already demonstrated the business value that can be obtained from HCM technology and the model they have established is an excellent foundation for the gaming industry in Macau to build on." Leading hospitality and gaming operators such as Crown Casino and Burswood Entertainment Complex in Australia are among Asian customers that have gone live with Oracle-based HCM solutions. Many multinational hi-tech firms - including Oracle, Microsoft, IBM, Hewlett-Packard and SAP - have been aggressively marketing tried and tested technologies used largely in the Las Vegas gaming industry to tap into the estimated US$20 billion to US$30 billion worth of casino-related projects in Macau. Hong Kong also has difficult human resources issues similar to the situation in Macau. According to the Hong Kong Institute of Human Resource Management, the overall job vacancy rate in Hong Kong hit an average of 3.1 per cent this first quarter, with the financial services sector posting the highest vacancy rate at 5.62 per cent. "The Hong Kong economy has grown strongly in the last four years and the war for talent here has re-emerged," Mr Loiselle said.

China: Zheng Xiaoyu, former director of China's State Food and Drug Administration (SFDA), was executed on Tuesday morning with the approval of the Supreme People's Court. Zheng, 63, was sentenced to death on May 29 by the Beijing Municipal No. 1 Intermediate People's Court after being found guilty of taking 6.49 million yuan (about 850,000 U.S. dollars) in bribes and dereliction of duty. Zheng appealed for leniency in a second hearing of his case on June 12, pleading that the penalty was "too severe" and asking the court to reconsider the sentence. He also gave evidence that implicated other officials in the case. The Higher People's Court of Beijing rejected Zheng's appeal on June 22 and upheld the death sentence.
Passengers and businesses in cities like Seattle will have access to better travel connections and cheaper shipping options to China due to an aviation agreement signed Monday between the United States and China. According to the pact signed by US Secretary of Transportation Mary Peters and visiting Chinese Minister of Civil Aviation Yang Yuanyuan, the two countries will more than double commercial passenger departures by 2012 and allow unlimited cargo flights between the two countries. U.S. Transportation Department said in a news release the department plans to award a new route to a U.S. carrier later this year. It is currently accepting proposals from airlines for new services in 2008 and 2009. The deal also provides Seattle with new opportunities in its position as "one of the best gateways to the Pacific," said Peters, who joined Yuanyuan in signing the agreement at the Seattle-Tacoma International Airport. "Our goal is to make flying from places like Seattle to China as easy as flying to New York or Boston today," Peters said. "By providing more and cheaper shipping choices to China, this agreement will make it easier for U.S. companies to tap into China's enormous market." It is estimated that the agreement will generate as much as 5 billion U.S. dollars in passenger and cargo revenues for the airline industry over the next six years, and as much as 8 billion dollars in new economic activity in the United States, Peters said.
China plans to invest 18.7 billion yuan (US$2.46B) in the next eight years to try to roll back desertification in northwest China's Xinjiang Uygur Autonomous Region.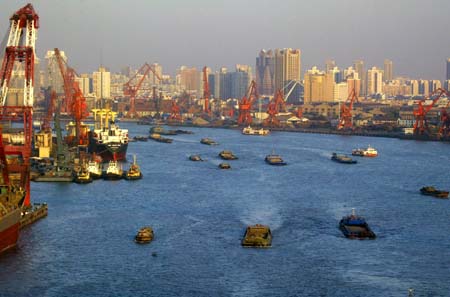 A general view shows the port alongside Huangpu River in Shanghai. China's trade surplus in June hit a new high of US$26.91 billion, up 85.5 percent on the same month last year. China's trade surplus in June hit a new high of US$26.91 billion, up 85.5 percent on the same month last year, the General Administration of Customs said on Tuesday. The aggregate surplus for the first half of the year jumped 83 percent to US$112.5 billion, it said. Imports rose 14.2 percent to US$76.36 billion in June but exports grew 27.1 percent to US$103.27 billion. The growth rate in June's exports was 1.6 percentage points lower than that in May. China's foreign trade volume for the first half year totaled US$980.93 billion, up 23.3 percent.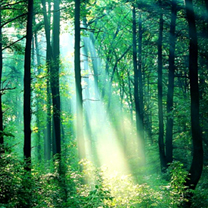 In China, the color of green represents health and vigor. Then a green life is one that is healthy and pleasant. Both Beijing and Shanghai have some green venues for people to enjoy their lives free of pollution and noise. There are hotels with pleasant lodgings in green surroundings and recreational centers offering cool exercises in the hot summer.
July 11, 2007

Hong Kong: CITIC Pacific (0267), a state- backed conglomerate controlled by billionaire Larry Yung Chi- kin, is considering spinning off its motor vehicle and food commodity distribution business for a separate listing.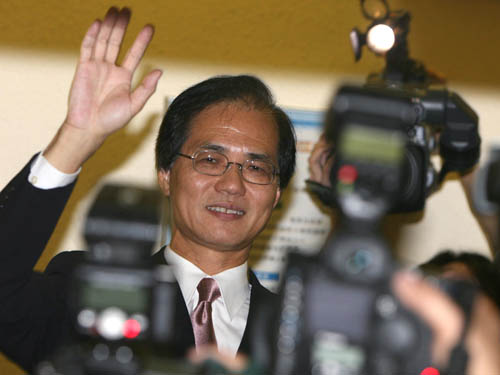 Broadcasting chief Chu Pui-hing has decided to opt for early retirement in a bid to end the media glare which has surrounded him since his bizarre flight from cameramen last Thursday night.
Karrie International Holdings (1050), which makes laser printers, office automation products and casings for personal computers and servers, said net profit for the year ended March 31 plunged 33 percent to HK$124.93 million, as revenues fell 8 percent to HK$3.32 billion.
The Education Bureau has proposed raising Secondary Four and Five school fees from HK$5,670 to HK$6,020, and Secondary Six and Seven fees from HK$9,450 to HK$9,870 for the 2007-2008 academic year.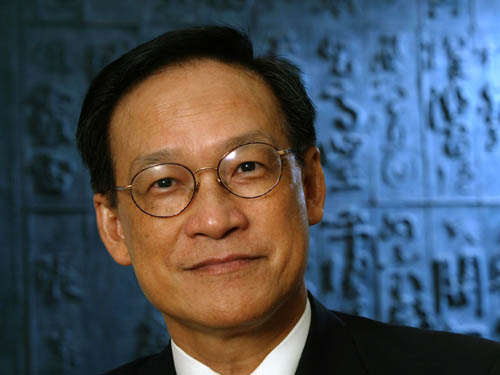 The Law Reform Commission has proposed a new way to broaden public access to justice, by setting up a separate legal aid fund covering a wide range of civil lawsuits. The fund it proposes would be independent of the Legal Aid Department and lawyers would take on the cases on a "no win, no fee" basis. The ideas represent a retreat from a 2005 proposal by the commission's subcommittee on conditional fees for an across-the-board "no win, no fee" system. The subcommittee says the existing Ordinary Legal Aid Scheme and Supplementary Legal Aid Scheme are too narrow and inflexible to meet the needs of middle-income people wanting to take court action. It recommends the government set up a statutory body to administer a self-financed conditional legal aid fund and extend the Supplementary Legal Aid Scheme by raising eligibility limits and increasing the types of cases covered. The disposable assets limit for applicants for supplementary legal aid is HK$439,800. The commission proposes a limit of HK$2 million for the conditional fund. Responses to the proposal yesterday were mixed. Some lawyers arguing the subcommittee's goals could be met simply by broadening the scope of the supplementary scheme. The commission proposes litigants who win their cases be required to pay into the fund 15 per cent of the damages they receive. In cases where the litigant lost, the fund would pay the winning party's legal costs. Lawyers would receive a success fee in addition to their normal fee when they won a case. They would not be paid if they lost. The commission acknowledges its 2005 proposal would not work because it was unlikely litigants would be able to get affordable insurance to cover the winner's costs in the event they lost a case. Commission chairman Edward Chen Kwan-yiu said: "The insurance industry [was] sceptical that insurance could be offered at rates which were commercially viable, without being prohibitively expensive for the consumer." Professor Chen said the existing legal aid schemes only covered 70 per cent of the population. "Suppose that 1 per cent of the remaining 30 per cent of people belong to the wealthy group. We still have 29 per cent who need but cannot access legal aid. We cannot forget about them," he said. It proposes the government provide seed money to get the fund up and running. Professor Chen said the fund could enhance access to justice since lawyers would assess carefully the merits of a case before taking it on. He admitted that lawyers consulted about its proposals had expressed a lot of reservations. Barrister and legislator Audrey Eu Yuet-mee said yesterday that disputes could easily arise between lawyer and client under a "no win, no fee" scheme. She said: "The Supplementary Legal Aid Scheme has been very successful and is making money. I would question the logic of setting up another fund." Lester Huang, president of the Law Society, believed a "no win, no fee" scheme would not be very attractive to veteran lawyers. If history is a guide, the commission's proposals are unlikely to become law any time soon. Hardly any of its recommendations have been taken up in the past decade.
Hong Kong Disneyland has opened a showroom in Guangzhou to lure more mainland visitors to the theme park. The 300-square-metre showroom, opened in conjunction with Disney's mainland travel agent partner, has multimedia displays and replicas of the park's attractions. The showroom, Disney's first in the world, is part of an aggressive marketing drive. About 270,000 promotional video discs will also be distributed nationwide. "You can't just rely on television or printed advertising," said Josh D'Amaro, the theme park's vice-president of sales and travel trade marketing. "We have to do things like online marketing, or video productions. We are going to be a little more aggressive." Mr D'Amaro said Disney believed the mainland was a very important market, particularly the southern provinces, where it was easier to get to Hong Kong. Beijing, Shanghai, Guangzhou and Shenzhen were being targeted as key cities in Disney's marketing drive. About 5 million people visited the park in the first 12 months after its opening in September 2005, short of the target figure of 5.6 million. Wang Jian , of Guangdong China Travel Service, said such operating pressures had made the park more positive in marketing strategy.

China: The Beijing Municipal government has spent nearly 4 billion yuan (roughly 526 million U.S. dollars) to give two of its key 30-year-old-plus metro lines a facelift prior to next summer's Olympics. Work on No.1 and No.2 subway lines, which were built in the 1960s, is expected be completed next April, the Beijing Daily Messenger reported on Sunday. The average waiting time will be reduced to about 2.5 minutes from current more than three minutes, to cope better with the huge passenger flows during the Games, the newspaper quoted sources with the Beijing Subway Co. as saying. A total of 180 new, modern subway cars will replace old ones on both lines and an extra 84 new ones will be added to Line 2. Trains pulling the new cars will be able to carry 400 more passengers than current trains. The new cars will also be wheelchair accessible. "Sample vehicles will arrive in Beijing at the end of this month," he said. Currently, Beijing has four lines totaling 114 kilometers, carrying 2.1 million passengers a day. The city will have nine lines totaling 200 km by 2008, and 19 lines totaling 561.5 km by 2020.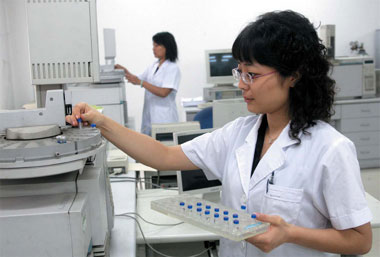 Beijing to ramp up Olympic doping tests - Doping stained the Athens Games. In a bid to avoid a re-run in 2008, Beijing plans to subject athletes to a level of scrutiny and testing never before seen at the Olympics. "As announced by the International Olympic Committee (IOC), the number of doping tests will increase to 4,500 during the Beijing Games," said Zhao Jian, head of the Anti-Doping Commission of the Chinese Olympic Committee. "We have now finished training the bulk of the team," he said. "Our preparations are going ahead smoothly." In December 2005, the Chinese agency signed a contract with organizing committee BOCOG to take the role of official drug tester at next year's Games. Most of the team have worked in the field for about 10 years. Some 200 more staff will be recruited from local hospitals to plug the gaps. "The heads of all the doping control centers at the competition venues are very experienced," Zhao told China Daily. "Meanwhile, those plucked from local hospitals will get to practice at this year's test events." A further 800 college volunteers will be recruited to help out, he added. Doping tests have risen steadily in recent years, from 2,800 at the Sydney Games in 2000 to 3,700 in Athens. Between the two Games, the number of positive results more than doubled. BOCOG is now in discussions with each of the 28 international sports federations to determine how many doping tests will be needed for each Olympic sport next year. "The number is usually decided by the host country based on what it is capable of and the IOC's approval," Zhao said. "Although the scale of the tests will be a challenge, we are confident we can manage it." Zhao's confidence is based on China's anti-doping management system, which won ISO 9001:2000 certification, an international quality standard, in April 2004. The country's drug-testing laboratory, which was set up in 1989 for the 1990 Asian Games, has passed the IOC's level-A examination for 17 straight years. Beijing has almost finished building a new laboratory to meet demand. Located in the Olympic Sports Center, at the southern end of the central cluster of Olympic venues, the new lab covers 5,000 sqm and has cost the city over 70 million yuan ($10 million). "Apart from those for the horses (equestrian events will be staged in Hong Kong), all tests will be conducted in the new lab," said Zhao. "At its peak, there will be over 200 tests a day," he said These will be overseen by 150 staff. "Most of the employees will come from affiliated institutions and universities," said Wu Moutian, head of the Chinese doping-test laboratory. "Half will be on the payroll and half will be volunteers." According to Wu, besides the current 21 staff, 60 will come from professional drug analysis institutions, 50 will be medical students from universities and 20 will be foreign experts. "Inviting foreign experts is international practice. It is a guarantor of impartiality and transparency," he said. The new lab will be put into use at the end of August for some of the Olympic warm-up events. Wu said it was too early to predict whether new drugs would be added to the test list next year. "IOC and the World Anti-Doping Agency usually announce any new items close to the opening of the Games so athletes have less chance of escaping detection," he said. Surprising athletes in this way is not unusual - it happened at the last two Summer Games. Two months before Sydney got under way, erythropoietin (EPO) tests were first carried out. Three months before Athens, the same thing happened with human growth hormone (HGH). EPO, a blood booster that facilitates the delivery of oxygen, is commonly used to give athletes an advantage in endurance sports like cycling and marathon running. HGH makes it easier for athletes to strip away fat and replace it with muscle by boosting the body's natural supplies. With such an array of threats on offer, and doping becoming ever more elaborate, the new laboratory will be granted maximum security protection to minimize the risk of tampering. "According to IOC rules, the Olympic doping test lab should be secured by armed guards 24 hours a day, while the vehicles responsible for transporting samples must be accompanied by armed guards," said doping official Chen Zhiyu. Chen said that despite the strict doping environment, Beijing will carry out the tests in a manner conducive to making the athletes feel comfortable rather than victimized. "There are two principles for the Beijing 2008 doping tests: one is not to let any drug taker get way with it, the other is athlete-oriented, as we aim to offer a good service."
China's biggest professional legal body has urged the National People's Congress to introduce a new criminal charge for slavery after revelations last month that children and men were coerced to work in inhuman conditions in Shanxi's brick kilns without pay. The Constitution and Human Rights Committee of the government-backed All-China Lawyers' Association sent a letter to the National People's Congress Standing Committee on June 28, saying the existing forced-labor charge did not adequately cover the nature and significance of the culprits' actions. The rights committee said a new charge with tougher penalties had to be introduced to stamp out modern-day slavery, the Procuratorial Daily reported yesterday. "We are making this recommendation because the legal web is not woven tightly enough, and the current criminal law has no regulations on slavery," the newspaper quoted rights committee member Wu Ge as saying. Mr Wu could not be reached for comment yesterday. In the report, Mr Wu said none of the existing criminal legislation covered the crimes in Shanxi. For example, the forced labour provisions under the Labor Law applied only to a legally established work unit and therefore left individuals and illegal kiln owners outside the scope of the legislation. Mr Wu said the sentences for forced labor charges were too lenient because serious violations would result in just a maximum of three years' prison, or, in cases where children were involved, up to seven years behind bars. The charge of trafficking of women and children also did not entirely fit because most workers trafficked in Shanxi were male adults. The kidnapping charge also did not apply since no extortion was involved, Mr Wu said. "[This type of action] is a serious and vicious violation of human rights, and its threat to society is much more serious than common illegal detention, intentional harm and forced labour," Mr Wu said. The arrested suspects - owners of the illegal brick kilns or guards hired to prevent workers from escaping - are facing charges of illegal detention and intentional harm. The committee proposed that a new charge should apply in cases where victims were coerced into work through "violence or threat of violence, cheating, mental and financial control", and for benchmark sentence terms to be raised to five years. In serious cases, the sentence should be up to life imprisonment and the confiscation of property. But the proposal has been controversial, with some questioning whether it was necessary and rational to have a new charge under the name of an archaic crime. China University of Politics and Law professor Wang Shunan said the intention behind the new charge was good, but people might confuse it with the slavery system of feudal times. He also said criminal laws should include only crimes that had a long-term and widespread application. "This is fundamentally a management problem," Professor Wang said. "We should not rely on criminal law to combat all problems." He said it was more important that workers were aware of their rights.
July 10, 2007

Hong Kong: Ongoing subprime mortgage woes in the United States and recent senior personnel departures from HSBC Holdings (0005) have kept its share price stagnant and it will take an earnings surprise to revive the sleeping giant, analysts say.
Macao has seen rise in the number of imported laborers, local media reported Thursday. The Macao Daily News quoted government sources as saying that the percentage of imported laborers is expected to reach 50 percent by 2010. The number of imported laborers stood at 73,460 in May, according to official statistics issued earlier the month. The region, with a population of 500,000, has a total labor force of 301,000.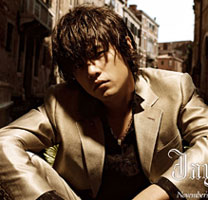 Having tried his hand at both acting and directing, Chinese pop sensation Jay Chou says he prefers being at the helm of a movie because it gives him more control. After becoming one of Chinese pop's biggest acts, Chou played a street car racer in "Initial D," then appeared in famed Chinese director Zhang Yimou's Chinese historical epic "Curse of the Golden Flower." He has since moved on to directing and is about to release his first movie. "Secret," scheduled to hit movie theaters in late July, follows a student played by Chou as he unravels the mystery behind his love interest's sporadic attendance at school. Chou said in an interview with Ming Pao Weekly published over the weekend that he prefers directing to acting. "As an actor, I have to listen to the director, even though I may not like the way I have to perform. As a director, I'm very clear on what I want, so I feel more confident," he was quoted as saying. "As an actor you have to be a very good chess piece for others to play with. I prefer to control others," Chou reportedly said. The 28-year-old singer-songwriter also said his interest in movies stemmed from making music videos and that he still feels most confident composing music.
Radio Television Hong Kong's staff union has vowed to back their boss Chu Pui-hing in fighting for the station's independence despite Chu's "out of character" behavior last week.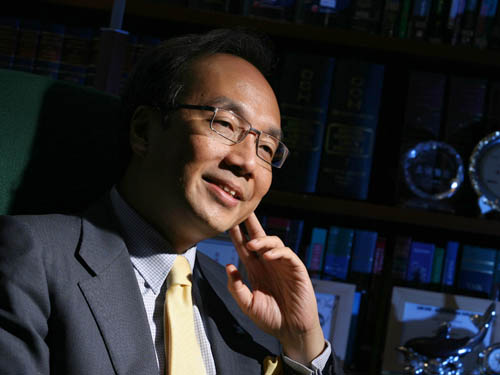 Donald Tsang Yam-kuen was offered an olive branch yesterday by Alan Leong Kah-kit to open dialogue, just days after the chief executive election challenger watched Mr Tsang sworn in as the city's leader. Despite their heated rivalry - on the campaign trail and in sales of their election memoirs - Mr Leong, of the Civic Party, said the pan-democrats were willing to negotiate with Mr Tsang to find a universal suffrage proposal acceptable to both sides. "When I shook [Mr Tsang's] hand after the election on March 25, I told him not to forget about what the people had entrusted him to do and use that to do good for them and for Hong Kong," Mr Leong said. "He said: `I shall'. "On July 1, I also wished him well. I do hope he can lead Hong Kong out of the present difficulties and Hong Kong will become the Hong Kong the people want." A conciliatory Mr Leong also called for people to give Mr Tsang time to deliver his election promises. "We can put behind us all these unnecessary arguments about whether or not we should have universal suffrage, or whether those who are advocating universal suffrage do not love the country and misunderstand `one country, two systems'," he said. "But if he does not live up to his own words and reconsider the administration's approach to policymaking, the shortcomings will come back to haunt him." Mr Leong called for dialogue between Mr Tsang and the pan-democrats, saying there should be fresh interaction between the two sides, especially when the green paper on constitutional reform is due to be released soon. "[The] universal suffrage [issue] is draining Hong Kong. I hope after the green paper is published, we can put our heads together and work out something we can all accept so these arguments can be put behind us," Mr Leong said. "Both sides should shoulder responsibility for this polarised situation. Although Donald Tsang thinks the democratic camp is unchangeable and intentionally opposes him, some people in the camp also have prejudices. What is most important is for each side to be able to reflect." Pointing out that Mr Tsang still appeared to be adopting a divide-and-rule tactic by making friendly gestures towards the Democratic Party while snubbing the Civic Party, he denied the change of tone amounted to declaring a ceasefire. "If [Mr Tsang] feels it is meaningful for interaction, let him propose how to do so. But I have no incentive to beg for an audience." While some observers said Mr Leong had taken a much lower profile after the chief executive election, the legislator said he was merely spending time to write his memoir, Behind the Pocketchief, which went on sale last month. "I tried to show people the other side of my campaign in the book, which I consider an important record of Hong Kong's democratic history." Mr Leong was also finalizing the preparation of his new interactive website, www.alanleong.com, which is expected to be operating later this week. "I also hope this website will be a platform for the public to discuss the reform green paper."

China: China's top judiciaries on Sunday issued a document targeting "new forms of corruption" in an effort to catch up with the tricks of wily, corrupt officials, following the regulation issued by China's disciplinary watchdog in June. The document, co-issued by the Supreme People's Court (SPC) and the Supreme People's Procuratorate (SPP), set a clear definition of new types of bribe-taking activities. Major new types of bribe-taking activities include illegally receiving stocks and shares as gifts, buying commodities such as houses or automobiles at ridiculously low prices from those who ask them for favors, receiving bribes through gambling or cooperating with others to operate companies, according to the document. The officials who take advantage of their posts to make profits for others but receive money or gifts after their tenures, and who seek profits through family members, relatives or specially-related persons should also be severely punished as bribe takers, the document said. In some circumstances, an official may not be the owner of the bribe, but he or she can still be convicted of bribery because the intention of the briber is clear, the document read. The document also said people who help officials covertly secure bribes will be punished as "collaborators"and other people who help in obtaining bribes are also defined as "collaborators". The Central Commission for Discipline Inspection (CCDI) of the Communist Party of China issued a regulation targeting the same forms of official corruption that took effect on May 30. Xia Zanzhong, deputy secretary of the CCDI said official corruption cases have been more and more concealed in recent years, while current laws and regulations have no clear and relevant provisions. Therefore, the newly issued document and the CCDI regulation were hailed by law experts as "a well-cooperated step of intra-Party discipline and judicial system" to fight against "more sophisticated power-for-money crimes". Officials who have traded power for money were urged by the CCDI to confess their misconduct before the end of June or else they would face severe punishment when their wrongdoings are discovered. According to official statistics, 979 officials had confessed their wrongdoings by June 15 in Central China's Henan Province alone and turned in illicit money of 8.21 million yuan (1.08 million U.S. dollars). The judicial explanation said "officials who return the money or gifts they had received in time won't be charged as bribe taking", however, "it will make no difference to the graft charges if they return the money or gifts during investigation over themselves or related people." The document cannot cover all new types of official corruption cases and courts and procuratorates at all levels should stick to the principle that any activity of trading power for money should be taken as bribe taking, according to the SPC and SPP. The CPC has been targeting corruption in certain commercial areas since 2006. That year, prosecuting organs at all levels filed and investigated 9,582 commercial bribery cases involving 1.5 billion yuan (195 million U.S. dollars) of illicit money. The commercial bribery cases mainly occurred in government procurement, medicine trading and real estate project development. To curb corruption over the long term, the CPC Central Committee has proposed a three-pronged approach involving education, more efficient systems and better supervision.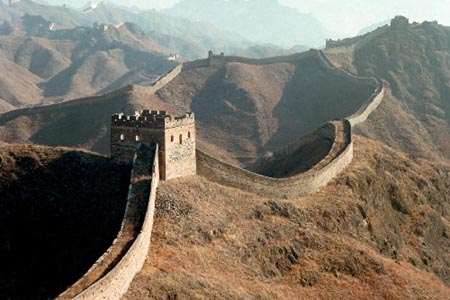 The Great Wall of China was named as one of the new seven wonders of the world on Saturday in the Portugal's capital of Lisbon, July 7, 2007. Brazil's Statue of Christ Redeemer, Peru's Machu Picchu, Mexico's Chichen Itza pyramid, Jordan's Petra, the Colosseum in Rome and India's Taj Mahal were also chosen as the modern-day seven wonders of the world, according to a global vote by about 100 million Internet and telephone voters around the world.
China received 21.53 million visitors from overseas in the first five months of this year, up 10.1 percent on the same period last year, according to the country's tourism chief. China earned 14.8 billion U.S. dollars from the visits, up 13.1 percent, said Shao Qiwei, head of the National Tourism Administration, at a national work conference on tourism held on Saturday in Hohhot, capital city of north China's Inner Mongolia Autonomous Region. China's outbound tourists numbered 16.03 million in the five-month period, up 14 percent. Shao said China planned to earn 37 billion U.S. dollars from 53.6 million visitors for the whole of 2007.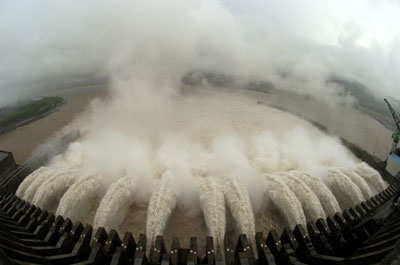 Flood water is discharged through the sluice on the Three Gorges Dam July 9, 2007. Continuous downpour on the upper reaches of the Yangtze River has resulted in this year's heaviest flood, with 40,500 cubic meters of water flowing into the Three Gorges Reservior every second.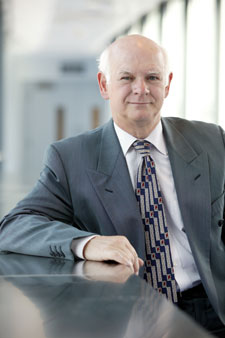 China's financial reform has been successful in the past four years, said Sir Howard Davies in a speech on his China tour this week. But there are remaining problems, such as a high dependency on bank deposits and a small scale of the financial market. The deeper the reform goes, the more difficult tasks it will face, Davies said. Davies, director of the London School of Economics and Political Science (LSE), and former deputy governor of Bank of England, was on a tour of Beijing this week and made a speech on China's financial reform at the LSE alumni event on July 2. Davies believes the country's efforts towards reforming the state commercial banks were successful. He said the public listings by three of the Big Four banks - the Industrial and Commercial Bank of China, Bank of China and China Construction Bank - helped them introduce strategic investors, load off burdens from non-performing loans (NPLs) and upgrade internal management. "The strategy is correct," Davies said. "In the past, no one hears about Chinese banks, (but) now they are on top of the world's largest bank list in terms of assets and competing with first-class global banks." Davies also noted that the deeper reform goes, the harder missions it will need to accomplish, referring to the Agriculture Bank of China, the last of the Big Four yet to complete a reform, with the largest nation-wide network and the highest NPL ratio. China's securities brokers are much weaker than the banks and there is still a long way to go in the reform, said Davies. Reshuffling by mergers and acquisitions are under way, and the China Securities Regulatory Commission (CSRC) is stepping up efforts in supervision of the industry. "China needs to develop its derivatives market," Davies said. On China's heated stock market, Davies said the regulators, especially the China Banking Regulatory Commission (CBRC) and CSRC, need to be particularly "vigilant" on bank loans entering the stock market. They must prevent such incidents, Davies said. Asked about how the country may curb bubbles in the stock market, Davies said in fact there is no proven method to control such bubbles. All countries are trying their best on a trial-and-error basis to do so, he said. Improved regulation and supervision is needed. "You can't legislate or control optimism, after all," Davies said. "The key is to find out where the holdings are." China has 90 million individual investors now, 30 million of which are new investors that just opened their accounts this year. "For the country, the most important thing is to ensure these investors are not hurt. These new retail investors are rather 'amateur' compared with others. For the large investors including institutions, if they lose, it's regretful. But that's all, because they are at their own risks. But for the smaller ones, the most urgent task is to educate to make them beware of the risks."
The central bank is focusing on maintaining stable prices and controlling domestic liquidity, but monetary policy alone will not help to directly contain asset bubbles, a senior People's Bank of China official said in comments published Sunday.
July 9, 2007

Hong Kong: The top Hong Kong official based in the United States was invited to ring NASDAQ's start-of-trading bell on Monday morning to celebrate the 10th anniversary of Hong Kong's return to China. Margaret Fong, Hong Kong Commissioner for Economic and Trade Affairs in the United States, said in her opening speech: "Under the concept of 'one country, two systems', Hong Kong has continued to thrive as a free, open and dynamic community." "Over the past 10 years, we have taken important strides as a major financial, trading and logistics center. The market capitalization of our stock market has risen five times to 2 trillion U.S. dollars; our total trade in goods and services has increased by 67 percent to 740 billion dollars; our air cargo volume has doubled to 3.6 million tons and our port cargo volume is up by 64 percent to 23.5 million TEUs." Fong lauded the fact that Hong Kong's unwavering commitment to free trade has won it the notable distinction as the world's freest economy. She said as Hong Kong moves into the next decade, "we will consolidate our strengths and seek to maintain our position as the premier financial and trading hub for the Asia-Pacific region." NASDAQ currently has 17 listed companies from Hong Kong, worth a collective 9.6 billion dollars. Adena Friedman, executive vice president of NASDAQ, co-hosted the market's opening ceremony.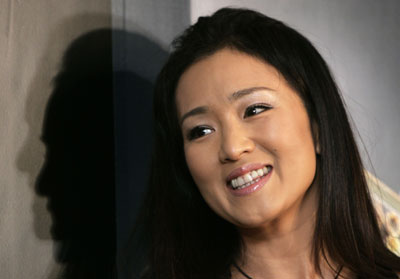 Chinese movie star Gong Li smiles during a ground breaking ceremony of a real estate project in Hong Kong July 6, 2007.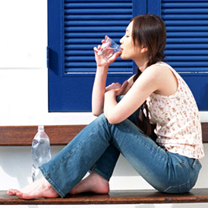 Water is a cool weapon against the summer heat. Bathing in water and staying beside water can both help cool your body down. Even simply drinking water can also help you combat the summer heat and help maintain the body in a nice state, both physically and mentally. So here come some helpful suggestions on drinking water properly in the summer.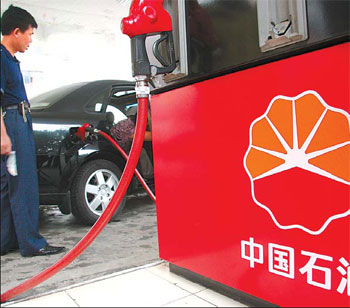 HK firms most profitable - Wheelock and Company Ltd, a Hong Kong-based investment firm, turned out to have the highest profit margin among the top 1,000 listed enterprises from the mainland, Hong Kong and Taiwan, according to the latest issue of Taiwan-based magazine Global Business. This is the first time the magazine has released the rankings by clubbing together the mainland, Taiwan and Hong Kong. PetroChina ranked No 1 in terms of net profit with a figure of 141 billion yuan in 2006. But the company ranked only 462 in terms of profitability. The Industrial and Commercial Bank of China, the largest bank on the mainland, was ranked No 5 in terms of revenue and No 144 in terms of profit margin. Eight mainland companies, all State-controlled, are among the top-10 largest listed firms in terms of revenue. Nineteen of the top 20 companies with the highest profit margin come from Hong Kong. Most of them are property developers and financial services providers. "Hong Kong has an obvious advantage in services industries, especially in financial services and real estate. Companies from the mainland are far behind in terms of profitability despite their large scales," said Yu Guoding, director of the magazine's owner, Taiwan-based Cit'e Publishing Holding Group. "In the long run, mainland companies should develop advantages in various industries, not merely in energy and resources, but also in sectors such as real estate and hi-tech," Zhao Xiao, a professor of Beijing Science and Technology University, said. "Even the largest property developer on the mainland now commands a market share of less than 1 percent. That explain why they are not among the most profitable companies on the list," Zhao said. According to the magazine's statistics, the average annual revenue growth of Hong Kong enterprises is 36.77 percent, much higher than the 27.17 percent of mainland companies and 19.33 percent of Taiwanese enterprises. PCCW Limited, the largest and most comprehensive provider of communications services in Hong Kong, ranks No 1 in terms of return on equity, followed by Taipei-listed High Tech Computer Corp and Shanghai-listed Yunnan Chihong Zinc & Germanium Co Ltd. Hong Kong-based Nan Hai Corp, Taiwan-based WPG Holdings, and the mainland's CITIC Securities are the top three fastest-growing enterprises among the top 1,000.
Attacks rattle New World chief - New World Development chairman Cheng Yu-tung said he had boosted his own personal security following a series of attacks on shops and buildings run by his group this week. On Thursday, a car was reversed into the entrance of the group's headquarters in Central and another rammed into a five-star hotel which has links to New World. The day before, 16 mobile-phone shops run by its subsidiary were smeared with paint. Mr Cheng said, as he arrived at his Central office on Friday, that he had not received any threats and did not know what motives behind the attacks. "I have never made any enemies. Police are now investigating the incidents. I believe they will soon solve the case," he said. The chairman of the city's leading property developer said his staff were assisting police in investigations. "Of course, security has been stepped up," the 82-year-old billionaire added. On Friday, police stepped up patrols around all New World-related properties, including Mr Cheng's Repulse Bay home. Metal barricades were placed at the entrance of the JM Marriot Hotel in Admiralty. Security guards were deployed at New World mobile-phone outlets. The attacks were condemned by Security for Secretary Ambrose Lee Siu-kwong. "These people are challenging the whole community, challenging the government as well as the police force," he said. New World Development listed on Hong Kong's stock exchange in 1972 and has an asset value of more than HK$117 billion. It has interests in property, infrastructure, services and telecommunications.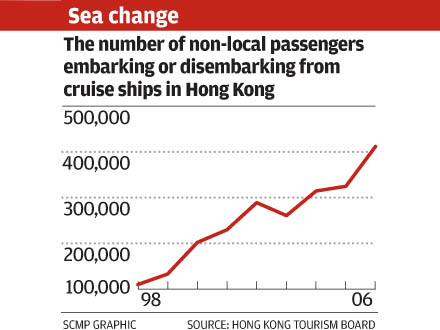 Boosting Hongkongers' appetite for holidays at sea is the key to growth of the local cruise business, say industry experts and the head of the newest entrant to the market, which from next year will operate the biggest liner in Asia from the city. To stimulate the public's interest, more operators and a greater variety of cruise options were needed, they said. "It's very important to develop the local market," said Adam Goldstein, president of Royal Caribbean International. So far, much of the focus had been on building inbound passenger traffic, he said. Residents accounted for 1.8 million of 2.15 million cruise passengers arriving in and leaving Hong Kong in 2005. By early next year, Hong Kong will be home to three international cruise operators and five passenger ships. Star Cruises (SEHK: 0678) has the 1,287-passenger Star Pisces, the Wasa Queen with room for 608 guests, and the SuperStar Aquarius, which has a passenger capacity of 1,529. Costa Crociere's Costa Allegra can accommodate 800 passengers. Royal Caribbean's Rhapsody of the Seas will start offering three- to five-night itineraries from February. It can accommodate 2,000 passengers. At 78,500 tonnes, the ship will be the largest to cruise Asia. The Queen Elizabeth 2 and the new Queen Victoria, which will set sail in December, are also expected to visit Hong Kong next year. How Rhapsody of the Seas performed in the next few years would largely determine the company's ability to expand the market in Hong Kong, Mr Goldstein said. Brandon Lau Chin-keung, S.K.Y. Travel's Hong Kong general manager and a cruise industry veteran, agreed that local demand for cruises needed stimulating. Adding capacity, as Royal Caribbean was doing, would help push down prices and boost demand, he said. Still, Mr Lau said he expected double-digit growth in cruise passengers in Hong Kong each year. Hong Kong Tourism Board figures show there were 412,000 non-local cruise-passenger arrivals and departures last year, about four times the number a decade ago. Most - 71 per cent - were from the mainland. Europe was the next-biggest source of cruise passengers, with 27,000, followed by the United States with 24,000. Passenger numbers have been growing steadily since 1998, with the exception of 2003, when the Sars outbreak crippled global tourism. As Hong Kong upgrades its tourism infrastructure, and the government proceeds with plans to develop a new cruise terminal - with the aim of having the first of its two berths operational by 2012 - more cruise operators, ships and itineraries will become available. "The development of the cruise industry is a chicken-and-egg question," Polytechnic University's John Ap said. "The market is both demand-led and supply-led. But it should be demand-led to be sustainable."
In its latest move to save energy, Kowloon Hospital yesterday unveiled a solar panel system that can produce enough electricity to power the equivalent of 300 fluorescent light bulbs. The HK$900,000 system comprises 50 solar photovoltaic panels that have been installed on the roof of the hospital's rehabilitation building. The system was switched on yesterday, making Kowloon Hospital the first public hospital to install solar power. Some fire stations and government offices have already installed solar panels. At yesterday's switching-on ceremony, the chief executive, Derrick Au Kit-sing, said the hospital had a responsibility to protect the environment as well as provide quality medical care. The use of solar panels would allow the hospital "to change from a relatively passive mode of energy-saving to a more proactive role of collecting and using solar energy", he said. The hospital admitted its savings on electricity bills would not be significant. "For a hospital serving more than 1,000 beds, the solar photovoltaic panels can only supply a limited amount of electricity, yet this signifies a step forward in building a `green hospital'," Dr Au said. The solar project was jointly implemented with CLP Power (SEHK: 0002), which supplies electricity to the hospital. The solar energy will be saved in a battery, which will be connected to the CLP cable. The hospital has taken many energy-saving steps over the years. They include setting its air conditioners to between 23 degrees Celsius and 25.5 degrees, reducing the number of light fittings in corridors and temporarily suspending the use of some lifts, a spokeswoman said.

China: Two mega-kilowatt "ultra-supercritical" thermal power generators went into official operation in east China's Shandong Province on Thursday. Severe pollution created by its coal-fired power plants has pressed the Chinese government to adopt the new technology to increase the efficiency of coal burning by reducing emissions and conserving energy. "Ultra-supercritical" generators use coal-fired boilers to heat water so that it evaporates, building up steam pressure to a very high level to maximize power-generating efficiency. Over 70 percent of the equipment used in the new generating units was developed by China, according to China Huadian Corp, one of the nation's biggest power giants. The company said the units performed well during their 168-hour trial operation in Zouxian Power Plant in Shandong's Zoucheng city, consuming 270 grams of coal per kilowatt-hour, 70 grams lower than the national average and each capable of saving 990,000 tons of coal annually. Statistics from the National Development and Reform Commission show that China has a total installed capacity of 650 million kilowatts, 80 percent of which is generated by thermal power. The ultra-supercritical thermal power generation is expected to save China 200 million tons of coal and reduce carbon dioxide emissions by 540 million tons a year. A further 34 sets of ultra-supercritical thermal power generating units are under construction in the country.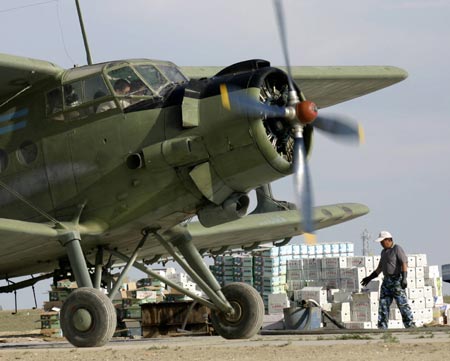 A plane prepares to take off during a mission to spray pesticide to eliminate mosquito in Beitun District, Northwest China's Xinjiang Uygur Autonomous Region, July 5, 2007. Beitun District is located near IrtySh River, a major mosquito-breeding area in summer.
All buses and taxis will be LPG-fueled in this southern city by 2010. "Guangzhou will host the 2010 Asian Games, promoting clean energy for public vehicles is part of the city's strategy to improve the environment and to usher in the grand sports event," Xian Weixiong, director of Guangzhou communications commission, said. He said 85 percent of the city's buses and taxis, 6,500 and 16,000 respectively, have already converted to LPG. The city now has the most LPG-fueled vehicles in the world. When the conversion is completed, it will cut Guangzhou's annual diesel and gasoline consumption by 471,000 tons. Consumption is 2.50 million tons at present. The city will also continue to find technological ways to lowering the LPG consumption of public vehicles, Xian said. Guangzhou's target of LPG consumption per 100 km is 62 liters for buses and 12 liters for taxis by the year 2010. Statistics show the city's buses used 65 liters of LPG per 100 km last year, compared to 83 liters in 2003. Taxis used 13.2 liters of LPG per 100 km compared to 16.6 liters for the same period. Total LPG consumption for buses last year was 29.21 million liters less than 2005, a saving of 100 million yuan ($13.16 million). "Extensive use of clean energy such as LPG and efforts to lower energy consumption for public vehicles can only be beneficial to the population and the city," Yang Weiqiang, an environmental protection researcher with the Guangzhou Academy of Social Sciences, said. Yang said Guangzhou will be able to cut the emission of carbon monoxide by 22,000 tons; hydrocarbon, 2,430 tons; nitrogen oxides, 1,779 tons; and particulate matters, 417 tons, when all its buses and taxis become LPG-fueled.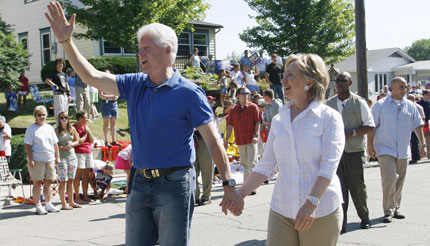 Democratic Presidential candidate and US Senator Hillary Clinton (D-NY) and her husband, former US President Bill Clinton, greets supporters during the 4th of July parade in Clear Lake, Iowa, July 4, 2007. Clinton: Don't fear or ignore a stronger China - WASHINGTON - Senator Hillary Clinton, a leading Democratic contender for the US presidency, has called for frank dialogue with China on issues ranging from trade to currency to human rights and the environment. She believes the next US president will be forced to face a dramatically empowered China. "We should neither fear a stronger China nor ignore it. That means engagement and understanding, but also frank dialogue on issues ranging from trade to currency manipulation to human rights abuses and the environment," she said in a speech last month at the Center for a New American Security. Clinton of New York, together with another Democratic front-runner in the November 2008 presidential race, Senator Barack Obama of Illinois, have joined a congressional push to punish countries that undervalue their currencies as legislators seek to turn up the heat over China's currency. They signed on last week as co-sponsors of bipartisan legislation that was unveiled on June 13, Senate aides said. The bill's sponsors include Senate Finance Committee Chairman Max Baucus, a Montana Democrat, and the ranking Republican, Iowa's Charles Grassley. It would force expedited action against nations seen as manipulating their currency, such as exclusion from some contracts and a fast track for new challenges at the World Trade Organization court. While the proposed measures would apply to any country, the lawmakers have set their sights on China. Members of Congress say the Bush administration is doing too little to pressure Beijing to revalue the yuan, which some believe it undervalues by up to 40 percent to make its exports more competitive. "China has manipulated its currency for years in order to gain an unfair advantage over the United States in trade. Unfortunately, the Administration has failed to effectively challenge or change China's behavior," Obama told Treasury Secretary Henry Paulson in a letter last month. Clinton, meanwhile, believes the next president will be forced to face a dramatically empowered China.
A Web TV service run jointly by Shanghai Media Group (SMG) and China's largest fixed-line company, China Telecom, is expected to reach around 1 million households by year-end, a senior executive said on Thursday.
July 7- 8, 2007

Hong Kong: The Legislative Council's financial affairs panel voiced concerns Thursday that a substantial number of retail investors are not prepared for the new electronic disclosure system introduced by Hong Kong Exchanges and Clearing (0388).
China's bond market has promising potential for development, but the prospects for Hong Kong's bond market remain in doubt, financial experts attending the Asia Pacific Capital Markets Congress said Thursday.
Perpetrators have stepped up attacks on properties of the New World Group, prompting the government's security chief to denounce them as a direct challenge to the authority of the government, the police and the people of Hong Kong.
Hong Kong University has lost out to Peking University in the race to land the top performer in the national college entrance examination despite offering her a HK$560,000 scholarship.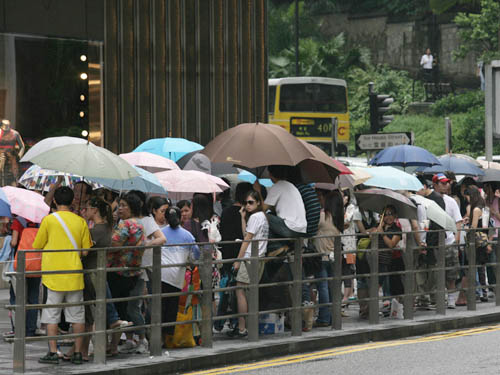 "Green" shoppers went crazy yesterday, with hundreds queuing through the afternoon and night to buy the latest designer item to hit town, the "I'm Not a Plastic Bag" bag, which goes on sale today. The canvas bags, by London designer Anya Hindmarch, sold out last month when launched in Britain and the US at £5 (HK$80) and US$15 each, and buyers are keen not to miss out when it goes on sale here. They are being sold in Hong Kong for HK$120, but the same bags with different colored lettering have been sold for 10 times this amount on auction websites. Despite yesterday's rain, shopper Cheung Kong (SEHK: 0001)-wing arrived at the upmarket food mart ThreeSixty in the Landmark centre, one of five shops selling the bag, at 10am. The other outlets are Anya Hindmarch's shops at Ocean Terminal, IFC, Harvey Nichols and Lee Gardens. "I'm here for the bags, one for my wife and one for my sister," he said. Mr Cheung did not want to be photographed as he had taken a day off work to join the queue. Some shoppers were angry at having to queue as they had signed up to buy the bags. "The security guards explained that the registration was to avoid people cutting into the queues, but it doesn't make sense that after registering we still need to be here," said shopper Sindy Yeung. Ms Yeung had planned to buy the bag today but when she saw buyers had begun queueing at the ThreeSixty in Central, she got in line. "It's absolutely uncivilised to make us all wait here on the street like that," she said. "They can't treat us like trash. I'm an Anya VIP customer but I was not in town when they sent me a VIP pre-order, that's why I'm here." ThreeSixty's management asked people in the queue to register to buy the bag and closed the queue after about 180 people had joined, but more joined throughout the night.
A senior fire services officer yesterday was fined HK$600,000 for misconduct. Hong Kong East divisional commander Tung Tung-san, 48, had been in charge of implementing a US$56 million technology project for the Fire Services Department. Deputy District Court Judge David Thomas said Tung had not performed his civil duty to avoid potential conflicts of interest when arranging matters pertaining to the contract. The judge also said he had not declared his relationship with his sister and daughter because he knew there would clearly be a conflict interest. Tung was convicted on two out of four counts of misconduct in public office. Two counts were dismissed on Wednesday. He was found guilty of failing to disclose his sibling relationship with Ronny Tung Mei-yi when he hired her public relations company, MediAdvertising (HK), to organize a contract-signing ceremony at Felix Restaurant at The Peninsula hotel to mark the launch of a technology upgrade. The event cost HK$487,264. Tung was also convicted of failing to disclose that his daughter, Karen Tung Hoi-ka, worked at Singapore Engineering Software (SES), which worked on the technology project, in the summer of 2004.

China: China''s trade surplus will top 100 billion U.S. dollars in the first half of the year, up 60 percent on the same period of last year, an analyst with the General Administration of Customs told Xinhua. Huang Guohua, a senior statistical analyst with the administration, predicted that the June trade volume and trade surplus figures would exceed May because of a surge in exports spurred by the latest tax policy change. Huang said the total exports and imports in the first half would be close to one trillion U.S. dollars. Manufacturers have been rushing to export as much as possible before the deadline after the government announced on June 19 it would cut or eliminate export tax rebates for 2,831 commodities starting July 1. The new policy, which covers more than a third of the total number of items listed on customs tax regulations, was seen as the toughest measure so far to combat overheated export growth and ease frictions between China and its trade partners. The latest export-tightening move -- which imposed extra export tariffs and cut import duties as of June 1 -- has created an export boom and lifted May''s trade surplus by 22.45 billion U.S. dollars, up 73 percent on the corresponding period of last year.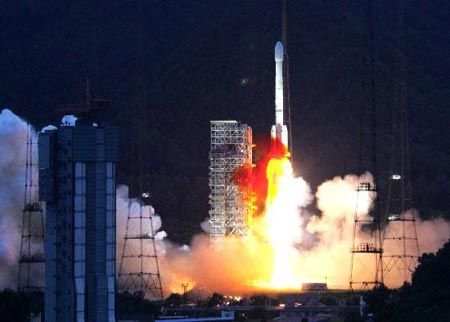 "Chinasat 6B", a French-made communications satellite, rocketed into space from Xichang Satellite Launch Center in southwest China's Sichuan Province on Thursday. The satellite was lifted by a Chinese Long March-3B carrier rocket which blasted off at 8:08 p.m. (Beijing Time) Thursday. It was the 101st launch mission for the Long March series of carrier rockets. The satellite separated from the rocket 26 minutes after lift-off, entering its preset orbit. "Chinasat 6B", manufactured by France's Alcatel Alenia Space, has a designed lifespan of 15 years. Fitted with 38 transponders, the satellite is expected to improve telecommunications transmission for Asia, the Pacific and Oceania. China on June 1 launched "SinoSat-3", a communications satellite for radio and television broadcasting, with a Long March-3A carrier rocket, the 100th flight of the Long March series.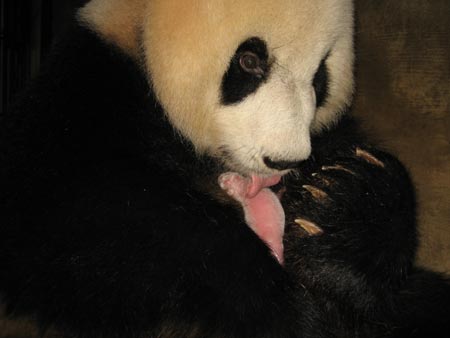 Eight-year-old panda Shu Qing gave staff at the Research Base for Giant Panda Breeding in Chengdu a pleasant surprise - she gave birth to twins. It brought the total number of pandas at the base to 62. At 12:59 pm yesterday, Shu Qing, who had been pregnant for 122 days, gave birth to a male cub 11 cm long and weighing 146.5 g. At 18:26 pm, she gave birth to a female panda of the same size, but weighing 129 g.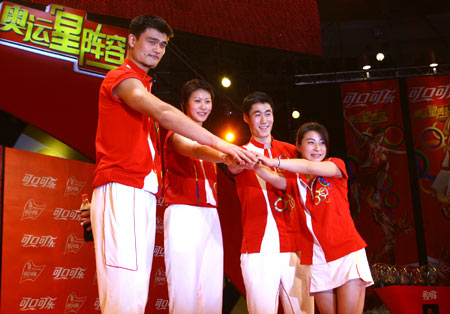 Houston Rockets star Yao Ming(L), "Diving Queen" Guo Jingjing(R), top table tennis player Wang Liqin,second right,and volleyball player Zhao Ruirui attend Beijing 2008 Olympic torchbearers selection promotion sponsored by Coca Cola July 3rd in Beijing.
Single-child families in booming Guangzhou are being encouraged to have a second child to counter the social and economic problems of a rapidly aging population, state media said Thursday.
Birthday revelers and high school students celebrating the end of exams were among 25 people killed in a thunderous explosion that destroyed a karaoke bar in northeast China, state media and witnesses said Thursday.
July 6, 2007

Hong Kong: Moving on track for the proposed restructuring of New Delhi Railway Station into a world-class facility, the Indian Railway Ministry has awarded the contract for preparing the masterplan and feasibility report to Hong Kong-based British firm Terry Farrells and Partners, national daily, The Indian Express, reported here Thursday. The move comes roughly a fortnight after the Prime Minister's Committee on Infrastructure (CoI) approved the modernization plan, which envisages the creation of a world-class railway station ahead of 2010 Commonwealth Games. Among firms in the fray were Hok International Ltd and Aedas Ltd (from Hong Kong), Arip Ville (France), Von Gerkan Marg and Partners (Germany) and the Railways'own RITES. Terry Farrells and Partners has earlier worked on Hong Kong's Kowloon station, London's South Kensington station, Sydney's Parramatta rail link and an integrated transportation center at Korea's Incheon airport among others. The firm is now expected to draw up an urban design that ensures improved passenger services, superior train operation and maintenance facilities, new community space for the public, better mobility for road transport, modern office space and high quality residential accommodation for railway staff at selected stations.
The gross revenues of Macao's 26 casinos saw a year-on-year rise of 47.2 percent in the first half of the year, local media reported Thursday. The Macao Post Daily quoted government sources as saying that however, the gaming receipts in June dropped 23 percent over May. Some local analysts due the month-to-month receipts decrease to "the less flexible" granting of individual travel permits by the Chinese mainland authorities. The mainland authorities recently tightened the travel authorization in an effort to fight illegal labor and the influx of illegal capital. Many vex that the tightening will affect Macao 's gaming profit as well. Some argue that June was "a traditionally weak month" for the gaming industry, as the casino's gross receipts month-to-month dropped 9.5 percent in June last year.
Green paper 'will address universal suffrage concerns' - The issue of a universal suffrage time table would not be swept aside in the government's soon-to-published green paper on universal suffrage, Chief Executive Donald Tsang Yam-kuen said on Thursday. But he doubted if the Legislative Council would endorse its implementation in 2012. The chief executive was speaking in his first question-and-answer session since he had been sworn in for a new five-year term on Sunday. In a brief opening speech, Mr Tsang said his administration would govern with professionalism, pragmatism and commitment. He pledged to go beyond mere consultation to engage the public in policy formulation. "Government officials should 'go into the mass'. The community should also collect views and reflect to the Government in a systematic manner," he said.Mr Tsang also said any future model of universal suffrage adopted in Hong Kong would be internationally acceptable. The chief executive said the public would have an opportunity to fully participate in universal suffrage when it was introduced. He told Legco he did not want to argue about the final points of it at present. Frontier legislator Lee Cheuk-yan said government should have an in-depth consultation on the matter. Mr Tsang has promised to resolve the issue of universal suffrage by 2012. He was re-elected as chief executive on March 25 for a further five years - his new term started on July 1. On July 1, tens of thousands of Hongkongers took to the streets demanding full democracy. Prominent marchers leading the protest were Cardinal Joseph Zen Ze-kiun, veteran Democrat Martin Lee Chu-ming and Next Media (SEHK: 0282) chairman and Apple Daily founder Jimmy Lai Chee-ying. Former chief secretary Anson Chan Fang On-sang also participated.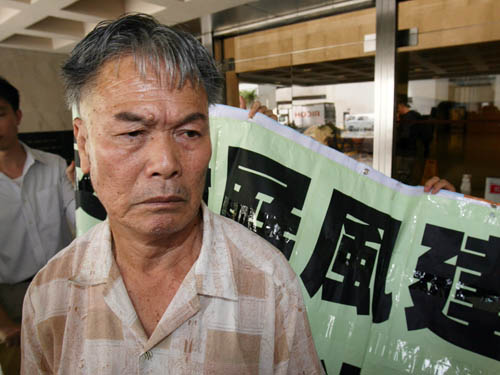 Residents in West Kowloon say they will continue to fight against the erection of a massive, wall-like building on the waterfront, even though their application for a judicial review was dismissed yesterday. Mr Justice Anselmo Reyes in the Court of First Instance dismissed an application by pensioner Ng Ngau-chai to review a decision by the Town Planning Board and the Planning Department to zone a parcel of waterfront land in Tai Kok Tsui as residential with no height restriction. Commenting after the judgment was read to Mr Ng, Au Yeung Chi-shing, a resident of the area and a member of the Harbourview Planning and Environmental Concern Group, said the case had been a first test for the movement to stop wall-like developments.

China: China will continue to improve the yuan exchange rate formation mechanism in a self-initiated, controllable and gradual way, a joint statement from the third EU-China Economic and Financial Dialogue said on Wednesday. Wrapping up its one-day meeting with the European Union (EU), China said in the statement that in view of the current economic situation, the Chinese government will continue to implement appropriate macroeconomic policies including a prudent fiscal policy as well as a prudent and moderately tight monetary policy, deepening structural reforms and speeding up the transformation of economic growth patterns so as to maintain sustainable growth momentum. Both EU and Chinese participants expressed positive views about the world economy.
Chinese beverage giant Wahaha Group on Tuesday confirmed its plan to sue three executives of Danone, Wahaha''s French joint venture partner. "If Danone do not sue the three directors, Wahaha will do it," said Liu Xiangwen, lawyer of Wahaha, at a press conference in Hangzhou, capital of east China''s Zhejiang Province. Zong Qinghou, chairman of Wahaha Group, said he would sue for atotal of one million yuan (131,000 U.S. dollars). Emmanuel Faber, who recently replaced Zong Qinghou as chief of Danone and Wahaha''s 39 joint ventures, Qin Pang, China director for Danone Asia and Francois Caquelin, a financial director, are the targets of Wahaha''s lawsuits. Liu claimed that the three men were hired by more than 20 counterpart firms of Wahaha-Danone and carried out a series of investment, marketing and management projects for the firms, whichare competitors of the joint-venture in the beverage industry. "Their employment in these competitive companies is against China''s corporate law ... and their actions have damaged the interests of the joint ventures and the interest of Wahaha''s shareholders," Liu said. Danone''s purchase of three drinks companies - Robust, Shenzhen Yili and Shanghai Jianguanghe - also violated Danone and Wahaha''s non-competition agreements, the lawyer added.
China is the most attractive destination for foreign investment, according to a survey conducted by leading global professional services firm Ernst & Young. Between February and March 2007, the survey asked 809 managers from various industries in European, American and Asian firms about their investment preferences. Almost half - 48 percent - of international investors cited China as one of their top three preferred business locations in 2007, up from 41 percent in the 2006 survey. They said they were drawn to China for its low labor costs, more competitive rates and higher productivity. The country's infrastructure, quality of research and development, workforce education and political stability were cited as major advantages. However, the survey revealed that China, while topping the rankings for its favorable labor costs, still lags behind in quality of workforce - only 4 percent of those surveyed said it is the most attractive country in terms of labor skills. In addition, only 4 percent of respondents said China is the most attractive economy in terms of R&D availability and quality, as opposed to 43 percent for Europe and 27 percent for North America. The survey ranked investment preferences on the basis of market and access, labor and productivity, fiscal, legal, environmental and regional issues. The United States was found to be the second-most attractive country, finding favor with 33 percent of the respondents. India's popularity appears to be increasing fast. While 11 percent of investors cited it among their top three preferences in 2004, it has risen to 26 percent in 2007. Aside from India and China, the other two "BRIC" countries of Brazil and Russia feature much less prominently in terms of investor interest. Despite Russia's abundant energy supplies, internal political uncertainties seem to deter investors. Similarly for Brazil, the considerable efforts by the government to secure macroeconomic stability have failed to convince corporate decision-makers.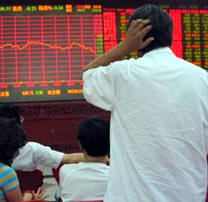 Chinese stocks nosedived five percent on Thursday as more investors stayed away from the market, which has been highly volatile in the past month.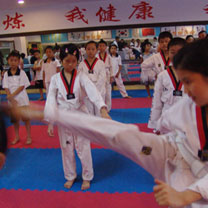 A girl splits as other children look on during a during a taekwondo training class in Yongchuan, Southwest China's Chongqing Municipality July 5, 2007. Students rushed to martial arts or taekwondo classes to keep fit during their summer vacation.
The first Made-in-China Chrysler cars, built by local partner Chery Automobile Co., could reach the United States or Europe within 30 months, as Chinese rivals race to penetrate the big auto markets.
A trial management measure on qualified domestic institutional investors' (QDII) overseas investment in securities took effect today, China Securities News reported. Regulators will start receiving and approving new QDII investment schemes from domestic fund management companies and securities companies as of today. Currently, QDII investment products are difficult to sell because they are less attractive than funds, which performed better in the first half of this year. Statistics show that from January to June this year, the average net worth of equity funds and index funds increased by more than 60 percent, far higher than the returns on some investment products under the QDII scheme. More investors still believe the bullish stock market will continue and they are not very willing to invest in overseas markets, with exchange rate risks that must be taken into account. Insiders said that although some fund companies want to dive into the QDII business, there may not be a massive launch of QDII products in the near future due to risks of overseas markets being uncontrollable and most fund companies having no experience in overseas markets. Currently, QDIIs are allowed to invest in stocks, options, mutual funds and derivatives in markets whose regulators have signed memorandums of understanding with the China Securities Regulatory Commission. It's helpful to dilute risks by investing money in these markets and products with little association with the A-share market, insiders said.
July 5, 2007

Hong Kong: Hong Kong's success over the past10 years shows that Hong Kong people are fully capable of managing Hong Kong well and sustaining its growth, said Chinese President Hu Jintao on Sunday. At the gathering marking the 10th anniversary of Hong Kong's return to China and the inauguration of the third-term government of the Hong Kong Special Administrative Region (HKSAR), Hu said that during the past decade, Hong Kong has maintained its capitalist system and way of life and fully exercised executive, legislative and independent judicial power, including the power official adjudication as mandated by the Basic Law. The people of Hong Kong have enjoyed extensive democratic rights and freedom. The principles of "Hong Kong people administering Hong Kong" and a high degree of autonomy have been turned into a living reality, Hu said. During the past decade, the two chief executives, Tung Chee Hwa and Donald Tsang, with the full support of the central government and the mainland, led the HKSAR government and people in meeting such grave challenges as the Asian financial crisis and severe acute respiratory syndrome (SARS), Hu said. "They upheld the overall stability of Hong Kong, revitalized Hong Kong's economy, and Hong Kong has made great progress in all fields of endeavors," said Hu. Hong Kong's exchanges and cooperation and particularly its business ties with the mainland have grown increasingly closer. With stronger support from the mainland, Hong Kong serves as an important window and bridge for China's economic, scientific, technological and cultural exchanges with the rest of the world, Hu said. "Through their dedicated efforts, the people in Hong Kong have both promoted the development of Hong Kong and contributed their share to China's modernization drive," Hu said. Hong Kong has steadily expanded its relations with other parts of the world. It has remained a free port and an international financial, trade and shipping center, said the president. Hong Kong has been consistently rated as the most open and free economy and one of the most dynamic regions with the best business environment in the world. "Hong Kong, an international metropolis is thriving as never before," Hu added.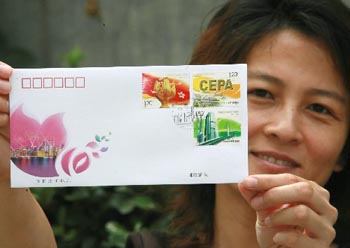 The first stamp, titled "celebration", is designed to show the successful practice of "one country, two systems" in Hong Kong. Pictures of China's national flag, Hong Kong's regional flag and Bauhinia are printed on it. A set of three special stamps on the 10th anniversary of Hong Kong's return to China was issued on Sunday in Shenzhen, south China's Guangdong Province.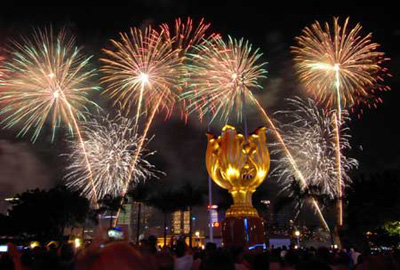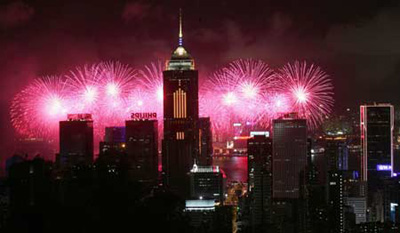 Fireworks light up the sky during celebrations marking the 10th anniversary of Hong Kong's return to the motherland at the Victoria Harbor in Hong Kong, south China, on July 1, 2007. A 16 million HK dollar fireworks display to mark the 10th anniversary of Hong Kong's return to the motherland and the establishment of the Hong Kong Special Administrative Region (HKSAR) pushed the city's celebration activities to another climax here Sunday night.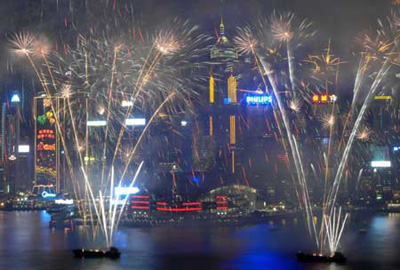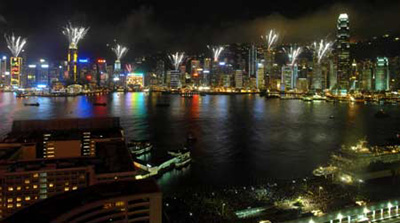 Fireworks light up the sky during celebrations marking the 10th anniversary of Hong Kong's return to the motherland at the Victoria Harbor in Hong Kong, south China, on July 1, 2007.
A survey in Hong Kong shows public satisfaction with the People's Liberation Army's Hong Kong Garrison rising each year. CCTV reporter Xu Zhaoqun visited the garrison to find out how the PLA soldiers carry out their mission and get along with the locals. The Hong Kong Garrison is the PLA's only unit with land, naval and air forces. But what really makes them special is that they are a symbol of the Chinese government's resuming the exercise of sovereignty over Hong Kong. And they are also a firm guarantee for the long term stability and prosperity of the SAR. The troops abide by both the national laws and the local laws and regulations. The garrison has become a window for the locals to understand the PLA. General Wang jitang, commander, PLA HK Garrision, said, "Over the past ten years, we've consistently turned out elite and well-mannered troops. They are playing a irreplaceable role as a defender of Hong Kong." In accordance with the Basic Law, the PLA Hong Kong Garrison does not interfere with the affairs of the SAR government. It maintains an effective and friendly working relation with the local government. These soldiers of the People's Liberation Army defend the people of one of the world's freest economies. Many here weren't sure what to expect when the troops first came ten years ago. So how do they get along now? Let's go to the public day at the PLA Garrison. Since the Return, the Hong Kong Garrison has held fourteen public days. A great deal of unnecessary mystery is dispelled when the locals visit these military venues. The public days, which the British troops never held, seem quite useful to narrow the gap between civilians and soldiers. Ten years ago, the deployment of an army subordinate to a socialist system was a concern for the Hong Kong people. Ten years later, when they handle the soldiers' weapons (children playing with the guns and posed to shoot in the picture) they have already accepted the troops as part of their lives. The garrison is also active in community work. Just as in the Mainland, the soldiers plant trees and donate blood to help the society they serve.
Industrial and Commercial Bank of China (1398), the mainland's largest commercial lender, has raised 4.45 billion yuan (HK$4.56 billion) for its first qualified domestic institutional investor scheme product that targets overseas equities and related assets.
A scramble for free gifts in which three people were hurt and a heavy downpour before the last race that curtailed an end- of-season carnival failed to wipe the smiles off the faces of Jockey Club officials who announced the most successful racing season in a decade.
The London Hong Kong Dragon Boat Festival — which attracted more than 5,000 people to London Docklands overnight (HK time) — featured a series of events commemorating the Hong Kong handover in Britain. The festival was organized by the London Chinatown Lions Club and the London Chinatown Chinese Association and sponsored by the Hong Kong Economic and Trade Office (HKETO). It was the first event in Britain held to celebrate the 10th anniversary of the establishment of the Hong Kong Special Administrative Region (HKSAR). Director-General of the Hong Kong Economic and Trade Office London Sarah Wu Po-chu said the event was important to London's Chinese community. "To hold this year's dragon boat festival as part of our celebration of the 10th anniversary means a lot to us. Dragon Boat racing is emblematic of the strength, energy and competitiveness for which Hong Kong is renowned." Ms Wu said that Hong Kong has overcome major challenges since the handover in 1997. These included the Asian financial crisis, avian flu, and severe acute respiratory syndrome (Sars). "Yet, Hong Kong continues to thrive and prosper as Asia's world city, a centre for financial and professional services, trade, shipping and tourism,'' she added.

China: Chinese President Hu Jintao appointed a new ambassador to the United Nations Office in Geneva on Monday. Li Baodong was appointed as permanent representative and ambassador to the Permanent Mission of the People's Republic of China to the United Nations Office in Geneva and Other International Organizations in Switzerland. Li replaced his predecessor Sha Zukang who became a UN under-secretary-general for Economic and Social Affairs on June 22.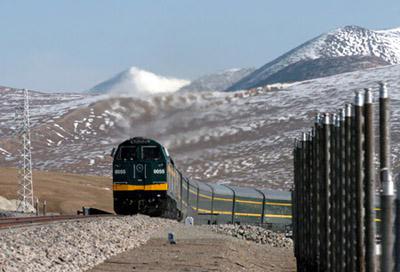 The Qinghai-Tibet Railway, fully opened one year ago, has operated smoothly and steadily for four seasons on stable lines and trustworthy equipment.
Migrant workers attacked by mobs in Guangdong - One migrant worker is fighting for survival, two are missing, and six remain in serious situation in the hospital, after armed gangsters in Guangdong Province beat up about 300 migrant workers who had gone on strike to demand unpaid salaries on Friday, the Chongqing Morning Post reported. The Beijing-based China News Service reported on Monday that four suspects were detained by police. The migrants, most of whom are from Southwest China's Chongqing Municipality and Sichuan Province, were working at a construction site for a hydropower station on the Dongjiang River in Dongyuan county, in South China's Guangdong Province. A worker lies on the ground after he was beaten by gangsters during a strike to demand unpaid salaries in Dongyuan County, Heyuan City, South China's Guangdong Province, June 29, 2007.[Chongqing Morning Post] The workers, who have not been paid for four months, went on strike on Friday, which led to the descent by more than 200 thugs, according to the newspaper. "The first batch of about 50 gangsters came with spades in their hands, and the second batch had axes, steel pipes and sabres, and there were more behind them," the newspaper quoted Liu Gangqing, one of the migrant workers, as saying. "They didn't stop lashing out at us even when the police arrived," said another migrant worker Li Chuanbing.
Chrysler Group and China's Chery Automobile Co. will finalize a groundbreaking alliance on Wednesday in Beijing that could result in the first Chinese-made vehicles being exported to the US market.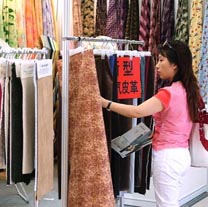 A visitor chooses fabrics in a textile exhibition in Shanghai June 26, 2007. The tax rebate cut will help textile industry shift it focus to value-added exports from low-priced and low value-added goods.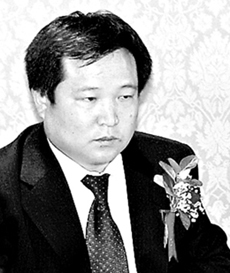 Chinese entrepreneur confirms German airport purchase - Pang Yuliang, an entrepreneur from Central China's Henan Province and chairman of LinkGlobal Logistics Co, said yesterday he would officially acquire the Parchim Airport in northern Germany at a cost of 1 billion yuan (US$130 million) on July 5, making himself the first Chinese to buy a European airport. Pang and the German unit will go through the takeover procedure in Germany on July 5, according to Pang. He declined to reveal any detail about the purchasing fund source, but noted he had submitted an application to the Ministry of Commerce for the acquisition. Pang beat 10 other global competitors, including FedEx, Hamburg Airport and Emirates Airline, in an international tender. According to the deal, LinkGlobal has 100 percent property rights to Parchim Airport located in Schwerin, near Hamburg, and its facilities, as well as permanent ownership of land in an economic cooperation zone affiliated to the airport. The purchase will help Pang further expand the logistics network of LinkGlobal. It has a network covering more than 200 cities in China and about 90 countries worldwide. The governments of Henan Province and Zhengzhou City as well as the authority of Zhengzhou Xinzheng International Airport have signed an agreement with Pang's company to set up a Zhengzhou-based aviation logistics company. The company will operate a cargo transport business between China and Germany, and Pang's company will hold a majority stake.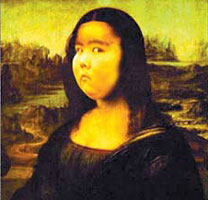 Shanghai teenager Qian Zhijun who was catapulted to celebrity status with a photo of his chubby face, is now likely to land a leading role in a Hollywood thriller.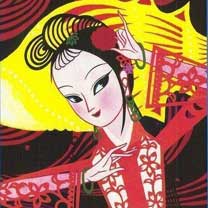 How many parents tell folk stories to their children before bedtime? Certainly not as many as decades ago. One possible reason may be that parents today know fewer folk tales than their fathers and grandfathers. Many also think these tales are superstitious and want to keep their children away from such "silly talk".
Beijing officials will withdraw one million cars from the city's streets next month in a trial run as plans are drawn up to reduce pollution levels for next year's Olympics. Pollution has been a worry for the International Olympic Committee (IOC) as China's economic boom has fuelled increased energy consumption. "Concerns (over pollution) within the IOC executive board were eased," IOC director of communications Giselle Davies told reporters on Monday after receiving a progress report from Beijing organisers earlier in the day. "They have a plan from August 7-20 this year: one million cars will be off the road." She said organizers would trial several plans this year that are designed to prepare the city for the Olympics. "Obviously the test events provide an excellent opportunity to try out contingency measures that may be used if necessary at the Games," said Davies, who is in Guatemala City for Wednesday's announcement of the host venue for the 2014 Winter Olympics. Organisers have also said Beijing authorities would replace about 50,000 old taxis and 10,000 buses by the end of the year as well as renovate 16,000 coal-burning factories. China has slowed, but not reversed, a rising tide of pollution from frenetic industrialization, the national environment agency said last month in the face of increasing public anger over foul air and water. The country has promised to cut emissions of major pollutants by 10 percent between 2006 and 2010 but failed last year to meet the annual target.
Chinese "Prison Break" to start shooting in Sept - The Chinese version of the TV drama "Prison Break" will start shooting this September, the producer Zonbo Media announced on Sunday. "The new series has no connection with the Fox show, except for sharing the same name," the Yangtse Evening News quoted an official from the Zonbo Media Group, Mr. Lin Yi, as saying. The group also told the newspaper that it had applied for registration for the trademark "Prison Break" in China. Early reports in April said that the Zonbo Media had - for 1.2 million US dollars - bought the rights to adapt the drama from Fox Broadcasting, who later denied the news. Lin Yi explained that they contacted both the US headquarters and the Chinese branch of Fox for possible cooperation, but didn't reach any agreement. "They demand a price higher than our budget allows," he said. Lin Yi also revealed that a podcast version will shoot at the same time, with the 30-episode TV series. The actors have not yet been cast.
July 4, 2007

Hong Kong: Great concept, successful practice - On July 1 a full decade ago, China resumed its exercise of sovereignty over Hong Kong, which had returned to the motherland after undergoing a century of vicissitudes, and the Hong Kong Special Administrative Region (HKSAR) of the People's Republic of China was formerly established. This represented a great victory in the annals of the Chinese nation. In the early 1980s, late senior leader Deng Xiaoping, with the wisdom and boldness of a great statesman, set forth the great concept of "One Country, Two Systems" and opened up a feasible path for resolving the Hong Kong issue left over by history by means of peaceful negotiations. The third-generation collective leadership with Jiang Zemin at the core appropriately handled various challenges and complicated problems it had encountered around Hong Kong's return to the motherland, ensuring the smooth transition of Hong Kong and effecting its smooth transfer, and contributed historically in implementing the great concept. And the Party Central Committee with Hu Jintao as the general secretary, is pragmatic and takes up specific matters, goes on innovation and pioneering, and further enriches both the theory and practice of the "One Country, Two Systems" concept. In the past 10 years, the central government has unswervingly carried out the "One country, Two Systems" concept, "Hong Kong people administering Hong Kong" and "having a high degree of autonomy", done things in strict compliance with the Basic Law of the SAR., and given an all-out support to the HKSAR chief executive and government in their governance according to law. Meanwhile, the HKSAR government has led people from all walks of life in working hard and constantly strove even in adversity, tiding over difficulties and challenged wrought by the Asian Financial Crisis of 1997, unfavorable changes inflicted from the outer economic environment and the outbreak of severe acute respiratory syndrome (SARS) occurred in Spring 2003, and maintained prosperity and stability. In Hong Kong today, its economy grows, people's life continues to improve, and society, full of vigor and vitality, has shown a sound momentum for active development. Practice has eloquently proven that the "One Country, Two Systems" concept is workable. After its return to Chinese sovereignty, Hong Kong is under China's unified sovereignty, and its people administer Hong Kong with a "higher degree of autonomy" in line with the Basic Law of the HKSAR. Hong Kong's socio-economic system has not changed and laws remain basically the same. Hong Kong has continued to be a free port and its status as an international center of banking, trade and shipping has remained unchanged and the city has been cited as one of the most open economic entities and most viable regions globally. In a short span of a decade, numerous global conferences have been convened in Hong Kong, including a World Bank annual conference; the Fortune Global Forum 2001 held in Hong Kong which not only put it in spotlight but also put in a huge fortune in ticket revenue; the Six Ministerial Meeting of the World Trade Organization (WTO) held in 2005; ITU (the International Telecommunication Union) Telecom World 2006, the unofficial Olympics of the telecommunications industry, officially opened in Hong Kong Asia world Expo, etc. The series of these major international activities have fully indicated the recognition and confidence of the global community in the development and progress Hong Kong had scored after its return. In the wake of its return, Hong Kong has increasingly kept in close touch with the interior area. On the one hand, it serves as a bridge between the interior and the global market and a window for import of capital, technology and managerial experience. On the other hand, it has attained still more opportunities for development and an untiring motive force drawn from the fast development of the interior area. Since it inception a decade ago, HKSAR has forged cooperative mechanism with neighboring Guangdong province, Shanghai and Beijing and Pan-Pearl River Delta Region, and its exchanges and cooperation with China's interior area have kept deepening and strengthening. The Chinese mainland and Hong Kong Close Economic Partnership Arrangement (commonly known as CEPA) which was reached on June 30, 2003, signified a brand new era for economic and trade cooperation between the interior area and Hong Kong, whose trade had grown from 1.1 trillion HK dollars in 1997 to 2.3 trillion HK dollars last year. Hong Kong compatriots and people in the interior areas have become more and more aware that Hong Kong and the interior can mutually complementary, take on each other's advantages and make common development under the "One Country, Two Systems" concept. Setting itself against a backdrop of the great motherland and facing up the outside world, Hong Kong should seize opportunities, surge outwardly and charge valiantly ahead as it has unique regional advantages with special endowments from the nature and available rare opportunities for still greater successes. At present, seeking development, stability and harmony has become the common aspiration of the central government and the entire Chinese people as well as the common interests of the masses of Hong Kongers. People from all walks of life in Hong Kong society should get united around the banner of loving the motherland and loving Hong Kong, seek the common ground while reserving differences, and make concerted efforts to overcome difficulties. So Hong Kong is sure to have a splendid tomorrow by tapping the wisdom of all social strata and gathering the strength of the whole society.


Hong Kong Leaders and Basic Law


HK School of Creative Media, Entertainment and Tech Industries


Top China's Students Attend HK Universities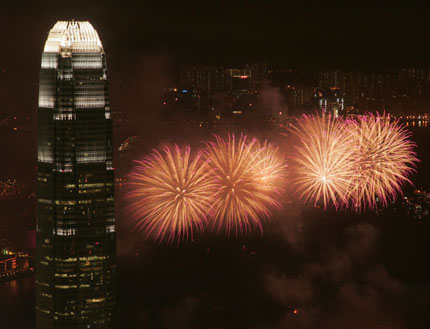 Fireworks in Hong Kong light up the sky during celebrations marking the 10th anniversary of the former colony's return to China July 1, 2007.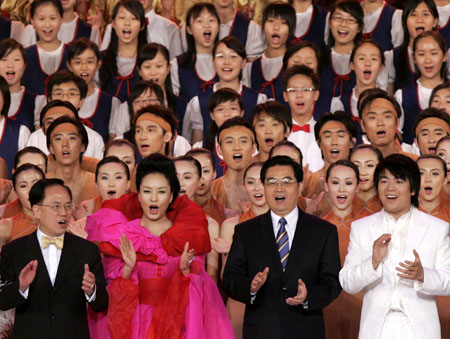 Chinese President Hu Jintao (1st row, 2nd R) and Hong Kong Chief Executive Donald Tsang (1st row, L) sing with performers and guests during the Grand Variety Show in Hong Kong June 30, 2007. The show is part of a series of events celebrating the 10th anniversary of Hong Kong's handover to China.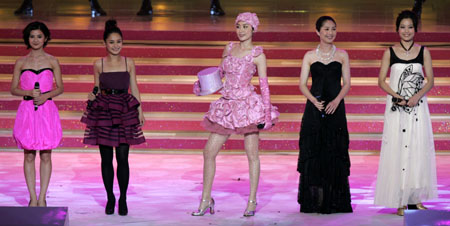 (From L) Hong Kong singers Charlene Choi, Gillian Chung, Kelly Chan, Miriam Yeung and Joey Yung perform during the Grand Variety Show in Hong Kong June 30, 2007. The show is part of a series of events celebrating the 10th anniversary of Hong Kong's handover to China.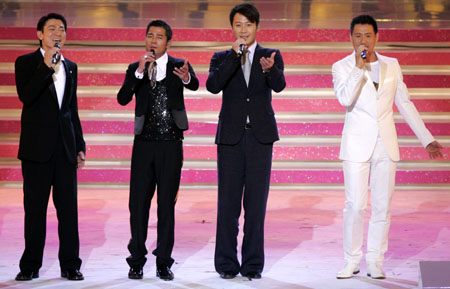 (From L) Hong Kong singer Andy Lau, Aaron Kwok, Leon Lai and Jackie Cheung perform during the Grand Variety Show in Hong Kong June 30, 2007. The show is part of a series of events celebrating the 10th anniversary of Hong Kong's handover to China.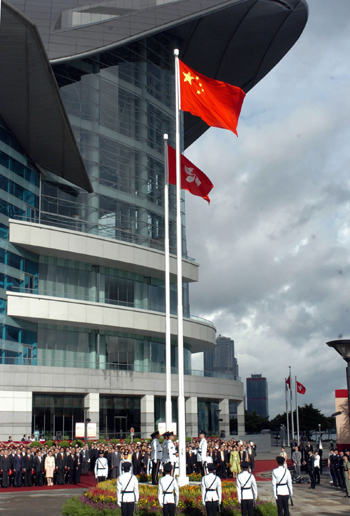 Hong Kong officials and citizens watch the flag-raising ceremony in Hong Kong on the morning of July 1, 2007, the tenth anniversary of Hong Kong's handover to the motherland.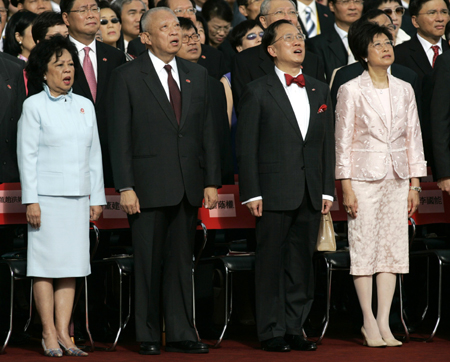 Hong Kong Chief Executive Donald Tsang (2nd R), former chief executive Tung Chee-hwa (2nd L) and their wives Selina Tsang (R) and Betty Tung sing the national anthem as they attend a flag-raising ceremony in Hong Kong July 1, 2007, the day marking the 10th anniversary of Hong Kong's handover to China.
Hong Kong citizens wave flags of China and the Hong Kong Administrative Region as they watch the flag-raising ceremony in Hong Kong on the morning of July 1, 2007, the tenth anniversary of Hong Kong's handover to China.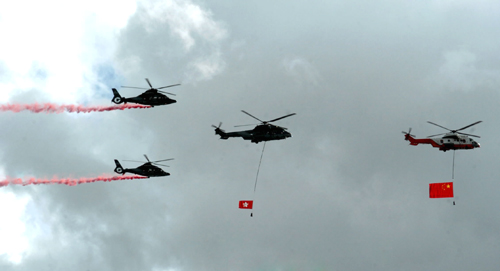 Helicopters carrying flags of China and the Hong Kong Administrative Region fly over the flag-raising ceremony in Hong Kong on the morning of July 1, 2007, the tenth anniversary of Hong Kong's handover to China.
HK becomes world's 2nd largest IPO market - The Hong Kong initial public offering (IPO) market, with HK$333.2 billion (US$42.64 billion) raised last year, now ranks second in the world after London and followed by New York. Hong Kong has attracted over 300 mainland enterprises to list there since 1993, raising US$200 billion worth funds. Henry Tang, financial secretary of the government of the Hong Kong Special Administrative Region, said turnover of H-shares in the first five months of this year reached HK$5 trillion, exceeding the turnover for the entire 2005. A plus H index to be launched soon Hong Kong targets foreign listings Donald Tsang supports cross-border trading HK remains strong in int'l investment in 2006. Ronald Arculli, chairman of Hong Kong Exchanges and Clearing Limited, said the city provides a broad platform for mainland companies, not only with sufficient funds, but also with world-class financial management, information disclosure and enterprise management expertise. Bank of China set a world record by raising US$11.2 billion, the biggest IPO in six years. The success of Bank of China was a great encouragement to Hong Kong, said Arculli, because in the past few years, large State-owned enterprises could only raised enough money by simultaneously going public in Hong Kong and New York, but now they can do it in Hong Kong alone. Tu Guangshao, vice chairman of the China Securities Regulatory Commission, said with the signing of the Closer Economic Partnership Arrangement (CEPA), the securities industries in the mainland and Hong Kong are more closely related and more expertise is being shared. He added that Hong Kong is an excellent springboard for mainland companies to go to the world and undergo international scrutiny. More will be achieved as China expands the scope of the qualified domestic institutional investors (QDII) program and more companies go public in both the mainland and Hong Kong, Tu added.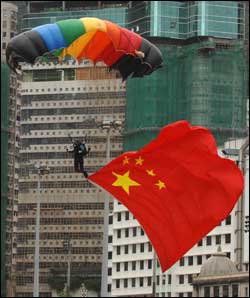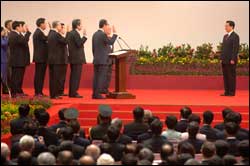 President Hu Jintao stressed Sunday the essence of "one country, two systems" is to uphold the power vested with the central government. In a speech marking the swearing- in of the third-term government of Hong Kong, Hu told the 2,000 dignitaries "one country, two systems" could not be separated from each other. "The one country means that we must uphold the power vested in the central government," Hu said. "Two systems means that we should ensure the high degree of autonomy of the Hong Kong SAR and support the chief executive and the SAR government in exercising government power as mandated by law. "Only when these two points are fully observed, can the strength of the `one country, two systems' policy be brought into play to the real benefit of the Hong Kong people." Hu's statement was the second reminder in less than a month that Hong Kong does not have any residual power. The first came from China's second- ranked Politburo member Wu Bangguo during a Basic Law seminar on June 6. Hu said guardians of the Basic Law "had repeatedly warned against any challenges to undermine the power of central government." "Without `one country' there will be no `two systems.' One country and two systems cannot be separated from each other. "Still less should they be set against each other." He said the Basic Law's provisions on Hong Kong's political structure were in accordance with the actual conditions of the territory and its legal status. "Only when we adhere to these stipulations, the democratic development will be able to progress in a gradual manner," Hu said. The president's speech echoed some of the grave concerns of some Beijing leaders and mainland legal experts who, over the years, have criticized the inconsistencies over the implementation of the Basic Law. Hu called for full territory-wide and national compliance with the Basic Law without any picking and choosing. "The executive, legislature and judicial branches and social organizations in the Hong Kong SAR, the central government, government departments and organizations at all levels and in all areas in the mainland, and Hong Kong residents and people in the mainland must all observe the Basic Law," Hu said. "The vast majority of Hong Kong people love the motherland and Hong Kong," he said. "Hong Kong people from all walks of life should close ranks and make every effort to advance their well-being and China's interests. And they should resolutely oppose any attempts to undermine these interests." A Beijing source told The Standard the main aim of Hu's three-day visit was to make clear the powers of the central government under `one country, two systems' and to warn against any move to challenge and distort the Basic Law. Friday, Hu also spelled out the importance of a people-based government through family visits and gatherings. At a gathering with 200 dignitaries Saturday, Hu highlighted the urgency of nationalistic education for the next generation in order to build a patriotic Hong Kong community. He also called for caution over democratic development and for the government and the people to keep in line with the constitutional stipulations.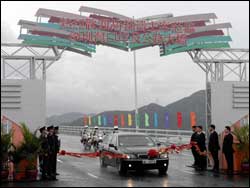 Hong Kong celebrated the 10th anniversary of its return to the motherland with the opening of the fourth vehicular boundary crossing - the Shenzhen Bay Bridge and Port. Also known as the Shenzhen Western Corridor, it is expected to relieve traffic and passenger congestion at the other border crossings. "It is a project carrying with it significant meaning," state council member Tang Jiaxuan said at the opening ceremony attended by President Hu Jintao. "It can best represent the superiority of `one country, two systems."' To officially open the bridge, Hu's car drove through a ceremonial red ribbon strung across the boundary between Hong Kong and Shenzhen - though it was still some distance from the port area where immigration and customs formalities are processed. On leaving the Hong Kong end of the customs building, Hu stopped to chat with a woman customs officer who was obviously not briefed beforehand and who was stumped by his questions as to the bridge's vehicular and passenger capacity and how long it would take to process each passenger. Hong Kong Chief Executive Donald Tsang Yam-kuen had to come to her rescue and tell the president that, when fully operational, the port would deal with around 30,000 passengers daily. Shenzhen Bay Bridge and Port is the result of five years of cooperation between the authorities in Hong Kong and Shenzhen, Tsang said at the opening ceremony. "The two sides overcame a lot of hurdles over the five years, while the spirit of `one family' has been well elaborated." In the new boundary crossing, Hong Kong's immigration and customs facilities are located alongside those of the mainland under a special arrangement. Coach passengers will only have to get on and off once instead of twice when going through clearance procedures. In the passenger terminal building, there are 24 e-channels, of which 12 are two-way and can handle the passenger flow with greater flexibility. Of the 26 customs counters, 16 are two-way. It takes only seven minutes to travel from Shenzhen Bay Port to Yuen Long, while the time taken to get to Kwai Chung container terminal is 30 minutes. The 5.5-kilometer six-lane carriageway cost HK$3.3 billion to build. The Hong Kong section, which is 3.5km long, cost HK$2.3 billion. Lane changeover facilities are provided near the Shenzhen Bay Port, where drivers change from the left side of the road on the Hong Kong end to the right side needed for Shenzhen. According to Highways Department project manager Chow Ying-shun, the annual operation and maintenance costs will be around HK$30 million to HK$40 million. The average time for cargo clearance previously was around 40 seconds. Now, with the "one-stop service," it will take less than 30 seconds, according to immigration divisional commander Ho Siu-hung. He added that, in 2016, the expected daily flow would be about 42,000 passengers and 89,000 vehicles. The corridor was opened to the public at 6pm Sunday, though there were long queues waiting to board the first busses to travel across the border. Hong Kong's three other land boundary crossings are at Lok Ma Chau, Man Kam To and Sha Tau Kok.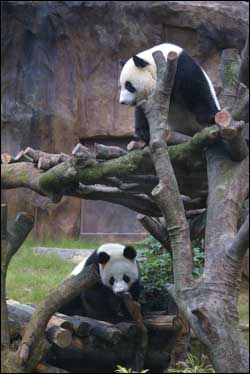 Big crowds, big smiles, big pandas. The two cute giant pandas, Ying Ying and Le Le, met the public and attracted thousands who queued up to see them at Ocean Park. When the door of the pair's new home opened at 9.30am, at least 4,000 people were already lining up. The official opening ceremony for the two pandas - a gift from the central government to celebrate the 10th anniversary of reunification with the mainland - was held Sunday morning. Among those at the ceremony were Ocean Park chairman Allan Zeman and the park's conservation ambassador Andy Lau Tak-Wah, who tapped musical triangles as a signal to call Ying Ying and Le Le into the Giant Panda Habitat. They slowly emerged into the habitat to see a media army surrounding the viewing grounds.
Edward Yang, the Cannes-winning Taiwanese engineer-turned- director known for his realistic portrayals of modern Taiwan, has died from complications from colon cancer, a film industry consultant said Sunday. Yang was 59.

China: American Airlines (AA) Beijing Office announced Sunday it would file an application to the U.S. and Chinese regulators for opening a new nonstop route between Chicago and Beijing on March 25, 2009. If the application gets approved, AA will fly the route seven days a week between Chicago O'Hare International Airport and Beijing Capital International Airport with its 245-seat Boeing 777 aircraft in three-class configuration. Gerard Arpey, AA's Chairman and CEO said the application was brought forward based on the company's evaluation on China's economic and financial prospects in 2009 and the route would add to services available between the two cities. Via the Chicago hub, the new route would provide connections between Beijing and 73 cities in 29 states of the United States, Arpey said, adding that passengers in China would be able to benefit from the code-share relationship between AA and China Eastern Airlines to fly to other Chinese cities from Beijing. "Having carefully looked at the current competitive landscape and the growth patterns in traffic, we believe that expanding China service from our Chicago gateway will provide the greatest public benefits in this round of new service opportunities," said the chairman.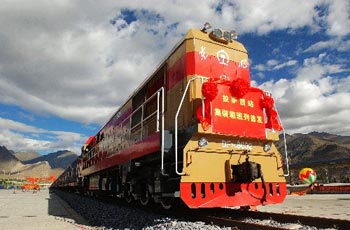 The first container freight train starts off from the Lhasa west station in Lhasa, capital of the southwest China's Tibet Autonomous Region on July 1, 2007. Qinghai-Tibet Railway, began operation a year ago on July 1, is witnessing its first anniversary of its opening. The railway had transported 1.3 million passengers and 650,000 tons of goods in or out of Tibet by May 31 this year, according to Qinghai-Tibet Railway Company.
Chinese tourists have become the driving force behind fast tourism growth in Asia and the Pacific Region, according to sources at an international conference on travel trends.
With the Olympics as a launch pad, China is expected to replace France as the world's top tourism destination by 2014, according to experts.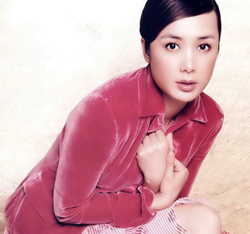 A Chinese actress' role in combat against AIDS - On the screen, she is a brave policewoman or a miserable widow, while in reality, she has other identities: Good Will Ambassador of the Ministry of Health on HIV/AIDS and member of the Leadership Council of the Global Coalition on Women and AIDS (GCWA). Jiang Wenli, famous Chinese actress who has starred many prime-time TV series, will attend the meeting of the GCWA and the International Women's Summit slated for early July in Nairobi, Kenya and have site visits there. Jiang previously attended similar meetings in Thailand and Britain. "From the exchanges, we can learn each other's experience in the fight against AIDS," she said. Jiang started her job as a Good Will Ambassador in 2003 together with several other singers and actors.
Bookings far exceed supply as first phase of ticket sales closes - The first phase of ticket sales for the 2008 Olympic Games has come to a close with more than 700,000 people booking over 4.9 million tickets, officials said on Sunday. "By 24:00 last night, we have received more than 700,000 orders, " said Rong Jun, director of the Beijing 2008 Ticketing Center. "More orders are expected to come in the next few days as some are delivered by mail," he added. According to Rong, of the 700,000 orders, about 90 per cent were over the Internet, with the rest through Bank of China branches or by mail. Though bookings far exceeded the supply volume of 2.7 million tickets for the first phase from April 15 to June 30, it doesn't mean all are sold out, said Rong. "Orders are relatively centralized," he explained. "Some hot events such as the opening and closing ceremonies are over-subscribed, while a few other events are a little unpopular."
Central Huijin Investment, the mainland government's investment arm, will be folded into the new agency that was created to manage part of the nation's US$1.2 trillion (HK$9.36 trillion) foreign reserves, a central bank official said over the weekend.
July 3, 2007

Hong Kong: United States CIA agents saw Hong Kong as window on Communist Party - CIA agents worked to infiltrate groups in Hong Kong with connections to the Communist Party, documents released in the US yesterday reveal. Under the Chaos Program, agents from the Central Intelligence Agency, FBI and civilians with "extremist credentials" were cultivated and despatched to gather intelligence from overseas communist groups. China, Cuba, North Vietnam, the Soviet Union, North Korea and Arab nations under the Fedayeen were targeted by the program. The aim was to collect information to link foreign communist powers to US activists and civilians. Hong Kong is named in the document as an area of "important operational interest" along with Paris, Stockholm, Algiers, Dar es Salaam and Mexico. The document dubbed "The Family Jewels" also mentions the CIA's East Asia division, which was responsible for the "placing of agents in leftist milieu", suggesting they recruited locals to act as spies. The CIA describes the Chaos Program's purpose as being to gather information about extremist groups working in the US at a time when Washington believed many activists were being influenced by outside powers. Rather than recruiting new members, the document said efforts were made to use existing contacts. The report said the programme had played an "integral part of collection programs in China operations". The report on the programme is dated May 1973. Audio surveillance was also conducted on some groups. The information was considered highly sensitive. Once collected, it bypassed normal channels and was processed by the Special Operations Group. "Information of particular significance, when collected, has been disseminated by special memorandum over the signature of the Director of Central Intelligence to the White House (John Dean and Dr Kissinger) as well as Attorney General, Secretary of State and Director of the FBI," the memorandum said. Former deputy to the National People's Congress Choi Wai-hang said he was not surprised by the revelations. Most people would have assumed US spies were active in Hong Kong in the 1960s and 1970s, he said. "This [spying] was quite common at the time. They were trying to get information from everywhere," said Mr Choi, who was detained for 18 months at Mount Davies camp in Western during the 1967 riots. The Family Jewels also provides new details about how the CIA illegally spied on US citizens and tracked down an expert lock picker for a Watergate conspirator. It also detailed CIA collaboration with the Mafia for a failed assassination attempt on Cuban President Fidel Castro.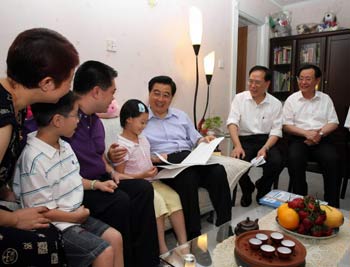 Chinese President Hu Jintao (C) chats with a Hong Kong family in a Hong Kong residential garden on June 29, 2007. It's an unforgettable day for 10-year-old Hong Kong boy Chiu Lam Ho, who is at the same age of the Hong Kong Special Administrative Region (HKSAR), as he played the piano for Chinese President Hu Jintao who visited his family in Ma On Shan on Friday. Chinese President Hu Jintao on Saturday morning reviewed troops of the Chinese People's Liberation Army (PLA) Garrison in the Hong Kong Special Administrative Region (HKSAR) at the Stonecutters Island (Ngong Shuen Chau) Naval Base. Chinese President Hu Jintao viewed the Hong Kong Sports Institute and chatted with elite Hong Kong athletes who are training for the 2008 Beijing Olympics on Friday afternoon.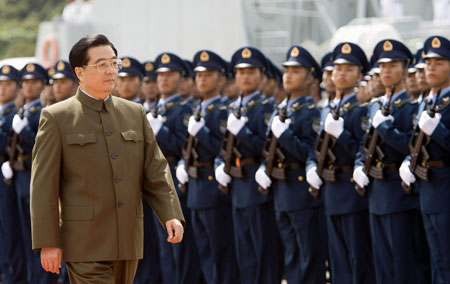 President Hu Jintao inspects troops of the People's Liberation Army (PLA) stationed in Hong Kong June 30, 2007. Hu, along with a delegation of senior central government officials, is in Hong Kong for a three-day visit to celebrate the 10th anniversary of Hong Kong's handover to Chinese rule.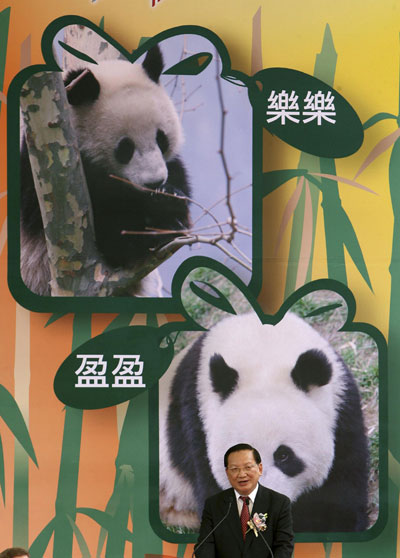 State Councilor Tang Jiaxuan speaks during the giant pandas gift presentation ceremony at Ocean Park in Hong Kong June 30, 2007. The two giant pandas are the latest gifts from the central government to Hong Kong to celebrate the 10th anniversary of the territory's handover to Chinese rule.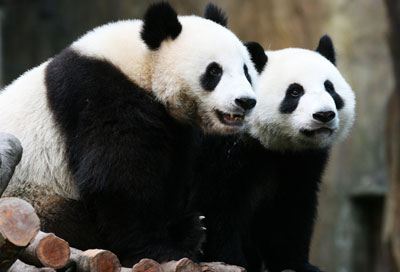 Giant pandas Ying Ying and Lok Lok sit inside the new giant panda habitat at the Hong Kong Ocean Park June 30, 2007.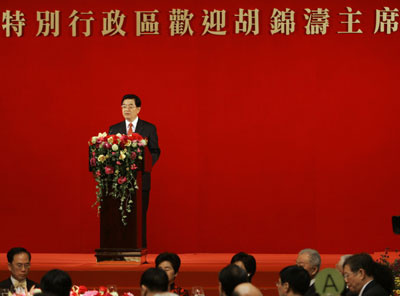 President Hu Jintao speaks during the welcome dinner in Hong Kong June 30 2007 - The concept of "one country, two systems" guarantees the prosperity and stability of Hong Kong, and will prove more successful in the future, said Chinese President Hu Jintao in Hong Kong on Saturday. Delivering a speech at the welcoming dinner hosted by the government of the Hong Kong Special Administrative Region (HKSAR), Hu said the success of Hong Kong since its return bears full testimony to the immense vitality of the concept of "one country, two systems." It demonstrates that the scientific concept of "one country, two systems" put forward by Deng Xiaoping is not only the best solution to resolving the issue of Hong Kong, one left over by history, but also the best institutional arrangement that guarantees Hong Kong's long-term prosperity and stability after its return to the motherland, Hu said. The arrangement of "one country, two systems" enables Hong Kong to maintain its strength and receive stronger support from the mainland. It enables Hong Kong and the mainland to complement each other and achieve common development, Hu said. He said that "one country, two systems" is a good policy for Hong Kong, for the whole country, for international investors and for prosperity in the region. "We have no doubt that in the course of its implementation, the 'one country, two systems' policy will prove even more successful and popular," Hu said.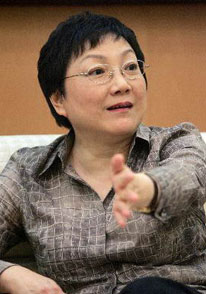 Deng Rong: Father would be proud - It is the 10th anniversary of Hong Kong's return to the motherland this year, but it also marks a decade after the passing of China's late leader Deng Xiaoping. His youngest daughter, Deng Rong, recalled his father around the years of Hong Kong's handover during an interview and said her father would be proud of today's Hong Kong, the China News Service (CNS) reported on Sunday. According to his daughter, Deng -- the architect behind "One country, Two systems" --established an especially close relationship with the former British colony his whole life. "When my father first traveled through Hong Kong on his way to France on a work-study program in 1920, he was a 16 year-old from the north of Sichuan in southwest China," Deng Rong recalled. "And during the revolution years, he passed by Hong Kong several times. But since the founding of New China, he found no chance to go there." On the issue of Hong Kong, Deng focused a lot of time and energy into finding a solution, and came up with the "One country, Two systems". During negotiations with the British government, Deng was so unexpectedly 'stubborn' to his counterparts that he wouldn't yield about their requests related to China's sovereignty over Hong Kong. The handover in 1997 was a great event in China's history and it was inseparable with Deng's contributions. "Father read much on Hong Kong to solve the issue and got to know all related political, economic, military, social, legal, geopolitical and diplomatic factors about it through various channels. He read news from foreign agencies and subscribed to many Hong Kong newspapers to get as much information as he could." "Father would be proud of today's Hong Kong!" "It was an unfinished aspiration of him to step onto the land of Hong Kong after the handover," Deng Rong's voice choked when talking about his father's wish. During Deng's second trip to Shenzhen in 1992, he looked over to Hong Kong and told his friends he wished to "walk on our own land" after 1997. It was a relaxed visit compared with a previous trip in 1984 when Shenzhen was only a village starting to open up. His speeches during this famous southern tour then stepped up China's reform process. "Over the past 10 years, the mainland witnessed fast economic growth and developed a much closer relationship with Hong Kong," said Deng Rong. Before Hong Kong's return to Chinese rule in 1997, many residents on the territory had a negative attitude towards the political and social systems on the mainland. They also had a low degree of identity with the motherland, Deng said. "There have been great achievements these 10 years. We're proud of Hong Kong and of our motherland too," Deng Rong smiled. "If father were still living, he would feel the same!" Though he himself didn't realize his last wish, his family helped him carry through the dream. "During China's reform and opening up, Hong Kong has played an important role, not just after the handover, but throughout the whole process. That's also why the special economic zone was put in Shenzhen - to draw on Hong Kong's strengths." "I love Hong Kong" "My family and I wish Hong Kong a more successful future and wish all the residents there a happier and healthier life!" exclaimed Deng Rong.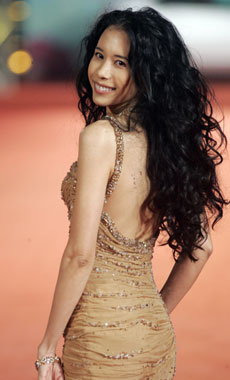 Hong Kong star Karen Mok here on Thursday participated in celebrations for the 10th anniversary of HK's return to the motherland. She said before HK's return to the motherland in 1997, Hong Kong stars only paid attention to the local market. However, they have more chances to cooperate with their counterparts in the Chinese mainland in the past 10 years, which could help boost their career. "Mr. Cinema", a film Mok took part in, reflects the event and is showing in Hong Kong and the mainland. Mok said she is also in Malaysia to promote 2007 Hong Kong Shopping Festival, which will be held from June 30 to August 31. To promote the event, the 37-year-old star also introduced her experience of shopping in Hong Kong. "Hong Kong itself is a huge shopping mall. Tourist can see the shopping mall as soon as they get off the plane," she said. Mok said she loves shopping in Hong Kong's Central, which has the biggest shopping mall in Hong Kong. She also likes shopping in Ladies' Street, which is distinctive from other shopping malls. Mok said shoes are her favorite. She would buy seven to eight pairs of shoes when there was a discount, so she had hundreds of pairs of shoes. She suggested that tourists have minds and impulsion when shopping in Hong Kong. During the festival, "Le Le" and "Ying Ying", the panda couple given as gifts by China's Central Government for the 10th anniversary, will show in Hong Kong's Ocean Park, she said.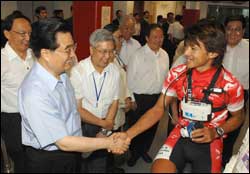 Dedication, sincerity and warmth were the impressions President Hu Jintao left with the 25 athletes he met Friday at the Hong Kong Sports Institute in Wu Kai Sha. While there, the state leader played ping-pong with a wonderkid and encouraged athletes to fight for gold at next year's Beijing Olympics. At his first stop after arriving in Hong Kong for a three-day visit to celebrate the 10th anniversary of the SAR, Hu - dressed in a blue short-sleeved shirt and black trousers - took up a paddle and played five rounds with 13-year-old Kenneth Chiu Chung-hei. Looking dedicated throughout the light-hearted match, the 65-year-old president exerted a bit more energy to win the last set after dropping the first four. Hu then autographed the paddles of Chiu and 15-year-old table-tennis player Lee Ho-ching, who has won medals representing Hong Kong in an international youth competition. Chief Executive Donald Tsang Yam-kuen, among an enormous group of delegates on hand to cheer for China's No1, had a ping-pong ball slip through his hand as he attempted to catch one flying toward him.

China: U.S. aviation giant Boeing on Friday announced agreements with Chinese suppliers for the production of commercial aircraft parts and components, including the first firm contracts with Chinese suppliers to build parts for the Boeing 747-8 Intercontinental Passenger and Freighter aircraft.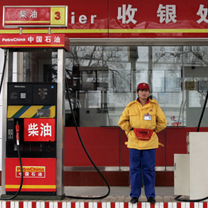 A Chinese attendant waits for customers at a PetroChina petrol station in Beijing. PetroChina has hired UBS Securities Co to help arrange its A share public offering in Shanghai this year, according to sources close to the deal.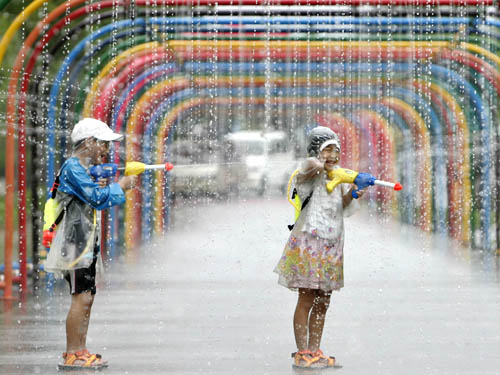 Children play with water pistols at the Oriental Green Boat water theme park in Shanghai

. The park specially caters to teenagers with after-school activities. Shanghai looks set to be hot and wet for the weekend and most of next week as summer rain settles over the region. Temperatures will be around 30 degrees Celsius
July 1-2, 2007

Hong Kong: New China and Hong Kong economic agreement signed - The Chinese central government and the government of the Hong Kong Special Administrative Region (HKSAR) signed in Hong Kong Friday Supplement IV to the Mainland and Hong Kong Closer Economic Partnership Arrangement (CEPA), aiming to further open the mainland market to Hong Kong. The agreement was signed by Henry Tang, secretary of Finance of HKSAR government, and Vice Minister of Commerce Liao Xiaoqi, witnessed by HKSAR Chief Executive Donald Tsang and Minister of Commerce Bo Xilai.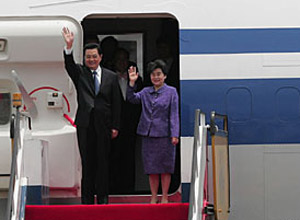 Chinese President Hu Jintao (L) and his wife Liu Yongqing arrive at Hong Kong International Airport on June 29, 2007. Hu is here to attend the celebrations marking the 10th anniversary of Hong Kong's return to China and the inauguration of the third-term government of the Hong Kong Special Administrative Region (HKSAR). Chinese President Hu Jintao arrived in Hong Kong by special plane at 11:32 a.m. Friday to attend the celebrations marking the 10th anniversary of Hong Kong's return to China.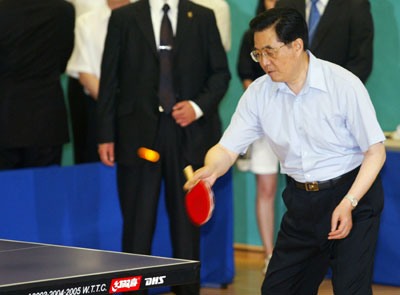 Chinese President Hu Jintao plays table tennis with a young local player during a visit at a camp site in Hong Kong June 29, 2007. Hu is on a three-day visit to Hong Kong for celebrating the 10th anniversary of Hong Kong's return to the motherland.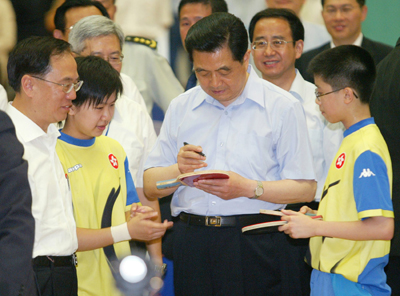 Chinese President Hu Jintao (C) signs autographs for young local players during a visit at a camp site in Hong Kong June 29, 2007. Hu is on a three-day visit to Hong Kong for celebrating the 10th anniversary of Hong Kong's return to the motherland.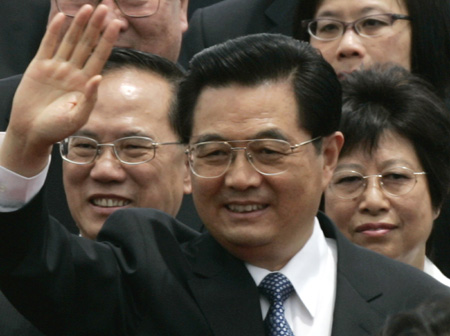 Chinese President Hu Jintao(C) waves upon his arrival following by Hong Kong's chief executive Donald Tsang(L) and his wife Selina at the Hong Kong International Airport in Hong Kong June 29, 2007. Hu is on a three-day visit to Hong Kong for celebrating the 10th anniversary of Hong Kong's handover to China.
Shanghai and HK: Strength in synergy - Discovering that size does matter, stock exchanges around the world are rushing to establish alliances and partnerships with one another that could lead to outright mergers and acquisitions. The London Stock Exchange recently announced it has bought Italy's Borsa Italiana SpA for 1.63 billion euros. Weeks before that, Tokyo Stock Exchange said it has bought a 4.99 percent stake in Singapore Exchange Ltd to enhance cooperation on derivatives business between the two bourses. This cooperation between two Asian bourses has given a renewed impetus to the idea of creating a link between the Hong Kong stock exchange (HKSE) and the Shanghai and Shenzhen exchanges as many mainland companies are listed on both bourses. Economists and analysts say stock exchanges are being prompted to look for partners by rising trading costs, fierce competition in wooing companies to list, fast-growing derivative products and the ballooning turnover of hedge funds. "International stock exchanges are in a hurry to expand their businesses to vie for the limited capital market resources," said Sun Lijian, a professor with Fudan University. "Stock exchanges are seeking cooperation in different areas to provide differential services to clients, and avoid the fierce competition with sub-market leaders," he added. For example, the Tokyo Stock Exchange is beginning to focus on the derivative market instead of providing the traditional capital settlement service, which is Hong Kong's main strength. Asked if similar possibilities of merger and acquisition exists between Hong Kong and Shanghai stock exchanges, Zhou Wenyao, the admin president of HKSE, told Security Times that there is no such possibility at the moment because the renminbi is not freely convertible and the mainland stock exchange has not been listed. "Besides, the restriction of capital account has not been totally eased," said Sun. But the benefits from a merger of two bourses, if it ever happens, are enormous. Joseph Yam, chief executive of the Hong Kong Monetary Authority (HKMA), said in his recent report: "It's clear, at least to me, that there would be big advantages if the two markets were linked: overall liquidity would be increased, price discovery would be made more efficient, market discipline would be promoted, and it would be easier for market players, intermediaries and the authorities to manage risks." The mainland is now the fourth-largest economy in the world in terms of gross domestic product, the third-largest trading nation, and the largest holder of foreign reserves. "The creation of a channel between the two markets will allow them to function as one and enjoy the benefits of one, much larger market," he said. Shanghai Stock Exchange (SSE) now ranks ninth in the world in terms of total market value and seventh by total turnover, according to statistics from the World Federation of Exchanges. In the past six months alone, the market capitalization in SSE has increased 99 percent to 14.2 trillion yuan, while the daily turnover is up 455 percent to 133 billion yuan. Meanwhile, the average daily turnover at HKSE was as high as HK$33.9 billion in 2006, up 85 percent from the year before. Its net profit was up 88 percent to HK$2.519 billion.
Park Lane Hotel in Causeway Bay has been put up for private sale with an asking price of about HK$9 billion, sources told Sing Tao Daily, the sister newspaper of The Standard.
The number of millionaires in Hong Kong rose by 12.2 percent last year, with more than 86,000 people estimated to have at least US$1 million (HK$7.8 million) in financial assets, a wealth report has found.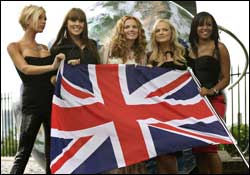 The Spice Girls, who burst on to the music scene with "girl power" and attitude in the 1990s, have reunited for a world tour that will include a Hong Kong date in January.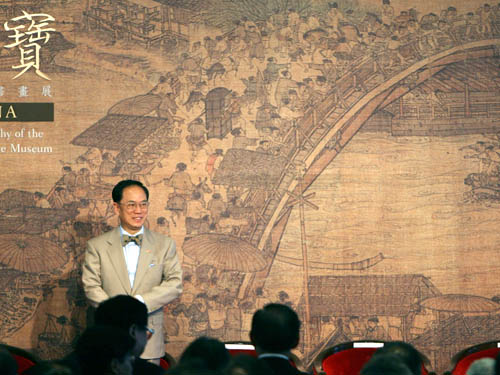 Chief Executive Donald Tsang Yam-kuen at the opening of the "Pride of China: Masterpieces of Chinese Paintings and Calligraphy" exhibition at the Hong Kong Museum of Art. Thirty-two artworks, some more than 1,000 years old, have been shipped from the Palace Museum in Beijing to mark the 10th anniversary of the handover. The exhibition runs until July 22. It is the highest-level exhibition of paintings ever staged by the Palace Museum outside the mainland.

China: An export processing zone (EPZ) designed to accommodate the 2.5-billion-dollar chip plant proposed by U.S. computer chip giant Intel Corp. in northeast China's port city Dalian officially went into operation Thursday.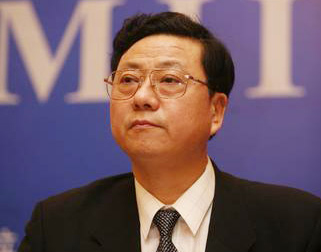 Yang Liangsong, president of the China Economic Herald - Oil reserve director named, The body intended to manage the strategic oil reserve took a step closer to reality yesterday with the announcement that a director had been slated to run it, an industry source said. Yang Liangsong, president of the China Economic Herald, a newspaper run by the National Development and Reform Commission (NDRC), will take the reins, according to the source from the NDRC's energy bureau. Though the appointment has not been announced officially, Yang is the man for the job, the source said. And a source at the newspaper said it was already an "open secret" that Yang would assume the post. "It is true," the source said. "We have known about this since last week." Yang, a native of Central China's Hubei Province, worked for the State Development Planning Commission, the predecessor of the NDRC, before being named president of the newspaper in the 1990s. China, as the world's second largest oil consumer, has already kicked off work on its first four strategic oil reserve bases and is busying selecting a second batch.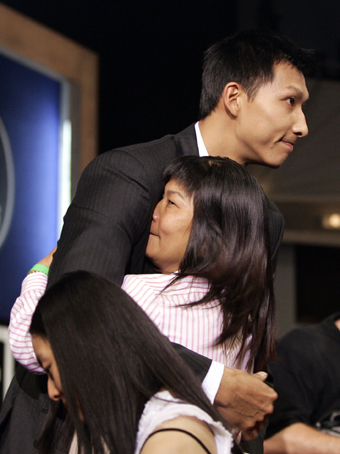 China's Yi Jianlian, the first international player taken in the 2007 NBA Draft, said he was surprised by being selected with the sixth pick of the first round by the Milwaukee Bucks on Thursday.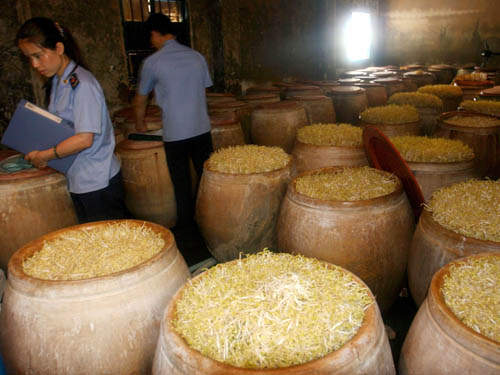 The mainland yesterday defended its food safety standards and guaranteed the quality of its exports, in rare public comments aimed at addressing rising international concern over its products. Ministry of Commerce spokesman Wang Xinpei said the mainland had "paid great attention" to the issue, especially with regard to food products, because of health concerns. "China has taken all measures to ensure its products are in line with international practices and safety standards and the quality of food imported from China is guaranteed," Mr Wang said. His remarks were Beijing's most direct reaction so far to rising international pressure following a raft of safety concerns this year, beginning with the death of animals in the US due to contaminated pet food.

*News information are obtained via various sources deemed reliable, but not guaranteed