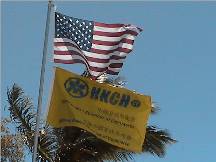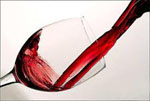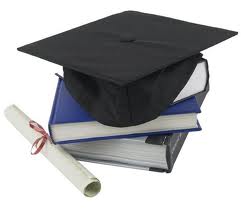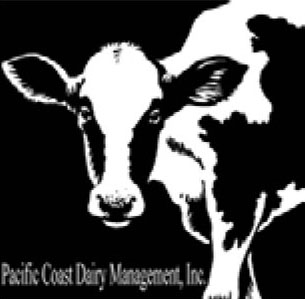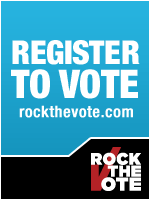 Biz-Video

Hawaii's China Connection

Doing Business in Hong Kong & China
Hong Kong, China & Hawaii Biz*
Do you know our dues paying members attend events sponsored by our collaboration partners worldwide at their membership rates - go to our event page to find out more! After attended a China/Hong Kong Business/Trade Seminar in Hawaii...still unsure what to do next, contact us, our Officers, Directors and Founding Members are actively engaged in China/Hong Kong/Asia trade - we can help!
Are you ready to export your product or service? You will find out in 3 minutes with resources to help you - enter to give it a try

China Central TV - live Webcast

Skype - FREE Voice Over IP

View Hawaii's China Connection Video Trailer


Direct link PDF file


Year of the Pig - February 18, 2007


Listen to MP3 "Business Beyond the Reef" to discuss the problems with imports from China, telling all sides of the story and then expand the discussion to revitalizing Chinatown - Special Guest: Johnson Choi, MBA, RFC. President - Hong Kong.China.Hawaii Chamber of Commerce (HKCHcc) and Danny Au, Manager, Bo Wah Trading
August 31, 2007

Hong Kong: The Hong Kong Asian Film Festival will show 80 films in 63 categories this year. Fest, jointly organized by Ying E Chi and Broadway Cinematheque, will open Sept. 23 with Ang Lee's "Lust, Caution" and Stanley Tam's "Breeze in July," their Asian premieres. The 18-day festival will close Oct. 10 with Jia Zhang-ke's "Useless," also an Asian preem, and Lee Chang Dong's "Secret Sunshine" from Korea. Ang Lee will be on hand during the fest to talk to new directors from China, Taiwan and Hong Kong as part of a New Directors Forum. Joining him will be Jia, Jiang Wen ("The Sun Also Rises"), Feng Xiaogang ("Assembly") and Pang Ho-Cheung ("Exodus"), among others. All of their respective films will be shown as part of the fest. New categories this year will include Chinese Cinema: A New Generation, Asian Classic, Midnite Craze and Festival Gala. There will also be a New Talent Award to help discover and promote new Asian directors. Seven pics will be shown in the latter category, including Adam Wong's "Magic Boy" from Hong Kong. Pics are from all over Asia: Iraq, Iran, India, Sri Lanka, the Philippines, Macau, Japan, Malaysia, Indonesia, Thailand, Singapore, Korea, China, Taiwan and Hong Kong. This will be the fest's fourth year running.
Mainland China investors have shown strong interest in buying Hong Kong stocks after individuals got approval to directly invest in the market last Monday. Over a thousand mainland investors have registered with four wealth management centers at Bank of China's (BOC) Tianjin branch to enable them to buy Hong Kong stocks, according to a client service hotline at the branch. "And thousands of individuals have made phone enquiries about the process and how to apply," the hotline said. Investors will be able to buy Hong Kong stocks directly five days after they open an account with BOC. They will be charged fees for buying and selling Hong Kong stocks at 0.718 percent of the transaction volume - lower than the rate for buying and selling A shares, according to the hotline. The bank is yet to receive approval from the regulator to get the ball rolling. But as the initial gateway for the pilot scheme, the bank has 17 wealth management centers at its Tianjin branch ready to provide the service once it's approved, the hotline said. Xiao Gang, chairman of BOC, said last Thursday that the bank is expected to publish details and start accepting applications from customers in Tianjin from this week. "The bank will gradually extend the service to 40 major cities," the chairman said. But a BOC source who did not wish to be named said yesterday that risk control concerns might prevent the bank from starting the service this week. "The regulator expects BOC to improve its risk control before it starts providing the new service. There is no clear timetable for that to happen," he said. "The pilot program is a significant part of China's forex administration reform. The regulator needs to fix many details before it starts the business. These include determining whether applicants are qualified, which financial institutions can provide the services and how to protect investors' interests," said Zhao Xijun, a professor at Renmin University of China. Zhang Jianguo, president of China Construction Bank, said yesterday that it had applied to regulators and expects to be involved in the new business soon.

A trial scheme for mainland individuals to invest in Hong Kong stocks will be extended to cities other than Tianjin - the first gateway - as part of Beijing's initiatives to shift the economy to a lower gear and lend support for the local bourse hit by volatility following a strong run amid a global liquidity crunch. Sources told Sing Tao Daily, the sister publication of The Standard, yesterday that the scheme dubbed the "Hong Kong stock direct train" will also include Beijing, Shenzhen and Shanghai. The State Administration of Foreign Exchange opened the doors last Monday, designating Bank of China (3988) Tianjin Binhai New Area branches through which mainlanders can invest in securities traded on the Hong Kong exchange. It was immediately estimated that this could open the floodgates for more than HK$300 billion to flow into Hong Kong shares, initially. It would also pave the way for a narrowing of valuation gaps between mainland-traded A shares and Hong Kong-listed H shares. At the same time, it is being seen as a way for the mainland to allow capital to exit the country in a regulated manner, removing some of the excess liquidity. The Tianjin trial run is yet to get off the ground, however, stuck without formal approvals, and potential investors in Tianjin have been kicking their heels and asking questions. Sources close to authorities in Beijing told Sing Tao the trial scheme was hatched in the spring. "The central government picked two cities [Tianjin and Shanghai] and two banks [Industrial and Commercial Bank of China (1398) and Bank of China (3988)] initially to start preparatory work, including setting up the information technology systems," the source said. A source from ICBC said: "We were surprised that only Tianjin was allowed to launch the project in the first wave. We [ICBC] have been preparing for a couple of months now." In the wake of the SAFE announcement there were expectations that more cities will launch the program. Commodities investment guru Jim Rogers also told Sing Tao the scheme was a "good thing" for the mainland and all domestic investors. "China can now start to invest more overseas," Rogers said. But he emphasized that once the scheme kicks in, the interest in the domestic equity markets might be dampened and the value of the yuan may also take a hit. "But the impact will be very, very small." Hong Kong Monetary Authority chief executive Joseph Yam Chi-kwong said yesterday the scheme will benefit the Hong Kong market.

Booming stock and property markets in Hong Kong and the mainland are believed to have fueled a dramatic rise in the number of foreigners seeking residency in the SAR. According to Helen Chan Wing- mui, assistant immigration director, the number of foreign passport holders, including Macau residents and mainlanders, applying for Hong Kong residency through the Capital Investment Entrant Scheme has gone up significantly in the past four years. Since the scheme was launched on October 27, 2003, the department has approved 1,435 applications representing total investments exceeding HK$10.2 billion. Another 254 applications have been approved in principle. "In June and July this year alone, the Immigration Department received 171 and 217 applications, respectively, compared with only 80 and 68 applications for the same period in 2006," Chan said. And the total number of applications received so far this year has reached 953, compared with 800 last year, 495 in 2005 and 465 in 2004. Seventy percent of the successful applicants are aged between 30 and 39, but the department would not speculate on whether the surge is linked to the bullish stock and property markets.
Fashion retailer Esprit Holdings (0330) said it plans to spend about HK$1 billion to open more than 100 new retail stores and upgrade existing stores in Asia and other new markets after the company posted better than expected full-year earnings.
CNOOC (0883), the mainland's largest offshore oil and gas producer, said interim earnings tumbled 10.6 percent as global oil prices softened in the second half of last year and the first half this year.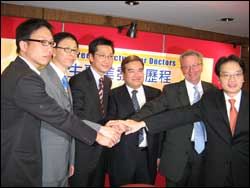 The Hospital Authority has unveiled a HK$355 million deal reached with doctors to reduce disparities in salary scales and to encourage specialists to remain in the public sector. "Eighteen months ago, when I came to Hong Kong, I heard about the concept of equal work, unequal pay. It was very strange to me," Hospital Authority chief executive Shane Solomon said yesterday. "After many months of negotiation and discussions, we are in a position to at least take a significant step forward in making our system fairer than what it is now." Under the deal, the salaries of about 2,000 doctors who joined the authority after April 2000 will be increased by between 15 and 38 percent from October 1. The authority will also introduce a nine-year contract to replace the current three-year one to keep doctors undergoing specialist training.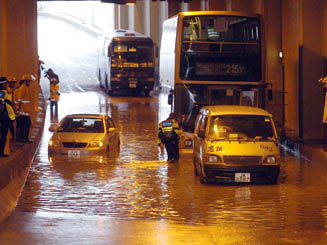 Workers were racing against the clock yesterday to repair a road cave-in caused by a burst water pipe in Kwun Tong and avoid a repeat of the morning's traffic chaos in Kowloon East.

China: China's Lenovo has found itself seemingly outmaneuvered by Taiwanese rival Acer in a global game strategic acquisitions. The news came this week that Acer succeeded in its US$710 million acquisition bid for American PC maker Gateway, catapulting it past Lenovo as the world's third-largest computer maker. Not only does Acer now command 8.8% of the global market to Lenovo's 7.9%, it can also now block a deal Lenovo had been working on. Lenovo has said it wants to buy Packard Bell, the No. 4 computer maker in Europe, to help its position in the desktop market there. But Packard Bell has an agreement that gives Gateway the right of first refusal over any sale (we're simplifying it a little - there's an excellent full explanation here). Gateway plans to exercise its right and snatch Packard Bell from Lenovo - a close call, because Lenovo had already signed a memorandum of understanding with Packard Bell earlier this month. Lenovo probably won't get Packard Bell now, although it bravely said it remains "hopeful." Briefly, there was a rumor that a Chinese buyer (Lenovo, perhaps?) was in the market for US disk drive maker Seagate. But Seagate's chief executive dismissed the speculation, saying that there is no Chinese buyer.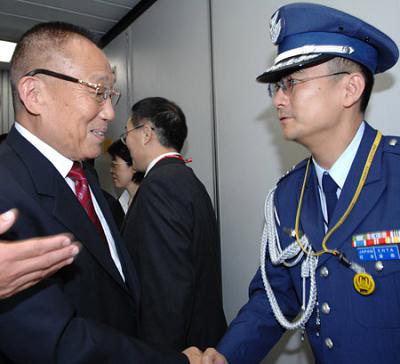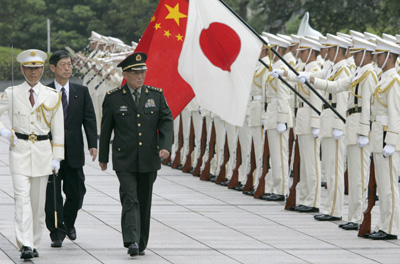 Chinese Defense Minister Cao Gangchuan (L) shakes hands with a Japanese officer after his arrival of Tokyo, capital of Japan, Aug. 29, 2007. At the invitation of Japanese Defense Minister Koike Yuriko, Cao arrived in Tokyo Wednesday, starting his official good-will visit to Japan.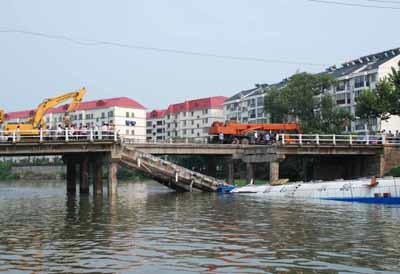 Rescue work is under way after a section of the Dayang Bridge is rammed down by a cargo boat in Kunshan, East China's Jiangsu Province Wednesday, August 29, 2007. One was injured and two remained missing.
China's top leader Hu Jintao has called for accelerating banking reform to push forward the sustainable and healthy development of the country's financial sector. Hu, state president and general secretary of the Communist Party of China (CPC) Central Committee, made the call on Wednesday when presiding over a brainstorm of the Political Bureau of the CPC Central Committee. Members of the Political Bureau attended and discussed the lectures by two banking experts, Ba Shusong, a researcher from the State Council Research Center for Development, and Li Fu'an, a senior economist from the China Banking Regulatory Commission. Hu pledged in his speech to push forward banking reform in an all-around way, focusing on building a modern banking system and innovating organization, service and administration of the sector. He stressed to accelerate the banking reform for the countryside, and push forward the healthy development of the financial market. He also called for more effective use of financial means in macro-economic control and demanded to strengthen risk control to ensure the country's financial security. He urged officials to take the lead in studying financial theories, particularly knowledge about modern banking, to increase their abilities concerning the banking sector.
Toy manufacturers have dismissed recent criticism of "brutal working conditions" leveled by a US-based workers' rights group. "The foreign organization does not understand how difficult it is for us to find and keep skilled workers because of stiff competition.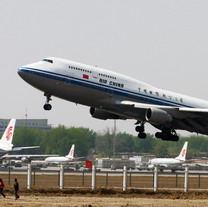 A plane of Air China is taking off in Beijing. The carrier says it will not rule out the possibility of merging with rivals.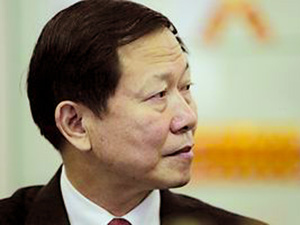 Top managers of the country's leading State-owned enterprise (SOE) risk losing promotion opportunities or even jobs if their companies fail to meet energy-saving and pollutant-reduction targets. An accountability system will be implemented for the managers of the 154 enterprises directly under the supervision of the central government starting September. The State-owned Assets Supervision and Administration Commission (SASAC) urged all its enterprises to draw up detailed steps to help achieve the national green goal. "The SOEs, which are the pillars of China's economy, should not only do well in profit-making, but also become role models in shouldering corporate responsibility," SASAC head Li Rongrong told a news briefing yesterday.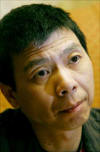 Mainland director Feng Xiaogang's new war story The Assembly will debut as the opening movie at Pusan International Film Festival in October, say organizers. The Assembly is an adaptation of a short story about a soldier who seeks recognition for his fallen comrades during the Chinese civil war in 1949. The movie has South Korean ties - it is a co-production between China's Huayi Brothers and South Korea's MK Pictures and its special effects were produced by computer artists who worked on the 2004 South Korean war movie Taegukgi. The Pusan event will run in the southern resort town from October 4 to 12. One of China's most successful commercial directors, Feng's credits include A World Without Thieves, The Banquet and Cell Phone. His next feature is a comedy, called Royalty, about wealthy people in Beijing.
August 30, 2007

Hong Kong: A social time bomb is looming unless urgent steps are taken to help the low- income group, which has been hit by soaring inflation and a widening wealth gap, Chief Executive Donald Tsang Yam-kuen was warned yesterday.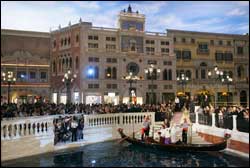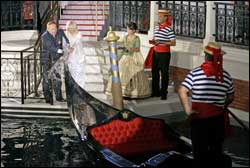 The opening yesterday of the US$2.4 billion (HK$18.72 billion) Venetian Macao complex - which houses the world's second-largest building - is expected to hurt Hong Kong's tourism industry in the short term as the Venetian's convention and exhibition facilities draw more business visitors to Macau. Las Vegas Sands Corp chairman and chief executive Sheldon Adelson plans to turn the Venetian Macao on the Cotai Strip into a major international convention hub. In addition to the world's largest casino at 51,000 square meters and a 3,000-suite hotel, the complex offers about 111,500 sqm of meeting, convention and exhibition space - big enough to accommodate 90 Boeing 747 jumbo jets. The center has already booked 44 events that will be hosted there over the next two years. "The opening of the Venetian Macao will inevitably bring novelty," said a spokesperson for the Hong Kong Tourism Board. "We expect that there will be a certain impact on incentive travel and corporate meetings from some short-haul markets in the near future." The Hong Kong Convention and Exhibition Centre in Wan Chai has net space of 49,000 sqm - less than half of what the Venetian Macao offers. However, the HKCEC's size will expand to 60,000 sqm in 2009 after the completion of the Atrium Link Extension. "The Venetian may create a little competition," HKCEC managing director Cliff Wallace told The Standard. "[But] I don't think it's going to be competition we have to be concerned about." AsiaWorld-Expo at Hong Kong International Airport has about 66,000 sqm of ground-floor hall space. The HKTB said it will reinforce overseas promotions, including targeting corporate decision-makers. It also plans to encourage business travelers to make side trips to Hong Kong during their meetings in nearby destinations.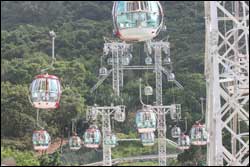 Nearly 300 people were stranded in midair yesterday when a cable car at Ocean Park broke down for about eight minutes due to a faulty belt. No one was injured in the incident - the first since the theme park opened in 1977.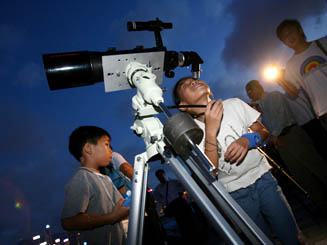 Hundreds of stargazers who gathered at Tsim Sha Tsui last night for a glimpse of the total lunar eclipse, were left disappointed as clouds over the city blocked the spectacle.
The Hospital Authority on Wednesday announced plans to raise the salary of doctors who joined the public hospital system after 2000, in an effort to retain talents.

China: The impact of Sino-US disputes on the product quality and safety has been extending and escalating at present. There indeed exist some product quality and safety problems in several hundred billion US dollars worth of Chinese exports to the United States. Likewise, there is also this kind of problem in American exports to China worth hundreds of billions of dollars. These are nothing but indisputable facts. This issue is not so difficult to tackle, if both sides swap information and go in for consultations and coordination with a good faith for friendship and cooperation, proceeding from the objective reality. Furthermore, if China and the U.S., proceeding from their overall bilateral ties, will work together to go on improving a mechanism of information exchange and consultation in the fields of product quality and safety supervision and inspection, these problems can not only be reduced drastically but addressed permanently in a fundamental way. So this option poses the right move for solution. In fact, the issue on Sino-US trade imbalance is politicalized behind the product quality and safety problem existing between the two nations. Of China's total export value to the U.S., 23 percent comes from the value of imported intermediate products. In addition, 70 percent of China's exports to the U.S. is produced through processing trade, and China only yields less than 20 percent of added value within its territory, according to a study finding made by the Foreign Economic Research Institute of the State Planning & Development Commission. In an era of ongoing economic globalization, the United States provides the world with the knowledge-type services and high technology manufacturing, and East Asia is bent on doing designing and intermediate products manufacturing, whereas China has partaken in the East Asia production web and international division networks with the crucial component of its labor force. How the United States, as a global economic superpower, approaches its relationships with China, a newly-emerging nation with a population of 1.3 billion, poses an issue of utmost concern to ordinary Chinese. There exists a product quality and safety problem with export products of China, a big developing nation, and this is an objective reality. But it will neither be objective nor rational if the reality is invoked as a tool to "demonize" the country and to make a fuss in daily media reports on the negative information about its product quality and food safety to the neglect of immense efforts the Chinese enterprises have so far made and the ensuing evident progress they have scored in this regard. China's export products comprise chiefly the labor-intensive products, which are mutually complementary but uncompetitive with the technology-intensive products of European and American countries. And in case of the occurrence of a trade friction or dispute, it victimizes Chinese export enterprises and also consumers in European and American countries. To date, both the Chinese government and industrial enterprises have attached great importance to the issue of product quality and safety than ever before, and they are also resorting to effective, substantial measures for the sake of its solution. And as the market economy in China has turned more and more mature, its clients concern themselves more with their rights and interests as consumers than any time in the past. This is also a fact and, in this process, there remain a few problems regarding product quality and food safety prevalent with the Chinese commodities for export. But clients worldwide now find the quality of China's export products improving and turning better still, and the country's guarantees on food safety more complete. This represents the only way for Chinese enterprises, and also the very road once taken by American and European developed nations. Chinese firms require still higher quality supervision and inspection criteria and more rigid food safety procedures, greater understanding and goodwill criticisms, instead of excessive censures and misconceptions. Viewing from the height of economic benefit to be wrought to the people of both China and the U.S., the two nations should definitely step up communication, exchanges, and economic and technological cooperation on how to raise product quality and food safety, but no more trade wars and information twists and contortions.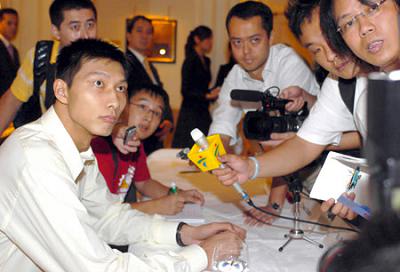 China's NBA draft pick Yi Jianlian (L) meets the press during a conference to announce his signing with the NBA franchise in Hong Kong August 29, 2007. Yi signed a three-year deal after a two-month stalemate with the Bucks as he refused to embrace the team after the Draft late in June.
China's Tonhwa Grape Wine Co., Ltd inked a contract with the King's Court Estate Winery from Canada to purchase a 70 percent stake of the Canadian company with 50 million yuan (6.6 million U.S. dollars), announced the company on Tuesday. With about 133 hectares of grape plantation and advanced icewine producing technique from its Canadian counterpart, Tonhwa vows to expand its ice wine market. "We would provide the Chinese people the first bottle of classic icewine with VQA (Vintners Quality Alliance) standard produced by an enterprise acquired overseas," said Wang Xiaoming, general manager of Tonhwa. Tonhwa Grape Wine Co., Ltd, established in 1937 and based in northeast China's Jilin Province, is the first icewine producer in China. Tonhwa is China's winery at highest latitude. It took the golden prize in the International Wine Challenge (IWC) last year. Canada is the largest producer of icewine, and the King's Court Estate Winery in Ontario is a supplier of wholesale VQA Canadian wines to other wineries in bulk or bottles worldwide.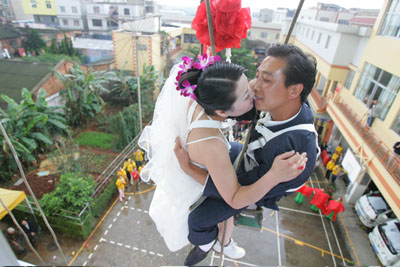 Jiang Dezhang kisses his bride Tie Guangju during their special mid-air wedding ceremony in Kunming, West China's Yunnan Province Tuesday, August 28, 2007. Both Jiang and Tie have been working as high-rise cleaners with a local company for years.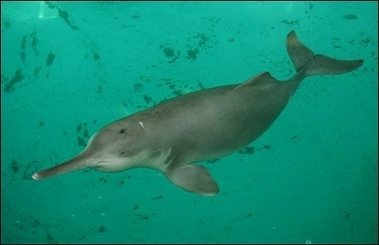 A white-flag dolphin has been seen in Yangtze River in east China, just days after a leading Chinese scientist said the animal was likely extinct. A man with a decoration company in east China's Anhui Province spotted a "big white animal" in the river at Xuba ferry in Tongling, Anhui, at 3:10 to 3:20 pm August 19, and filmed it with a digital camera, said Dr. Wang Kexiong, of the Institute of Hydrobiology of the Chinese Academy of Sciences. Judged from its appearance and living environment, the animal in the footage was confirmed by the institute to be a white-flag dolphin, known in Chinese as "baiji", Wang said. "We are very glad to see baiji still exist in the world," Wang said. "Many people have believed that baiji is extinct and this finding brings us a sliver of hope," said Wang Ding, a leading expert on the species from the hydrobiology institute of the Chinese Academy of Sciences. But he noted that it is still quite difficult to protect the endangered animal. Because few of this species still live in the Yangtze River, their chance of mating is slim, said Wang Ding, who added that a measure is to gather these animals in one section of the river for breeding. "This is no easy task. But if we don't do that, white-flag dolphins are doomed to go extinct," he said. Zeng Yujiang, the man who spotted the dolphin, told Xinhua, "I never saw such a big thing in the water before, so I filmed it. It was about 1,000 meters away and jumped out of water for several times." The footages were sent to the Tongling freshwater dolphin nature reserve to determine what the animal was. A staff with the Institute of Hydrobiology of the Chinese Academy of Sciences, who happened to be in the nature reserve, then brought the footages to the institute based in Wuhan, capital of central China's Hubei Province, which was well-known for research on baiji. The white-flag dolphin, unique to China's Yangtze River, is listed as one of the 12 most endangered species in the world. Its population dropped to below 150 in the early 1990s from around 400 a decade earlier.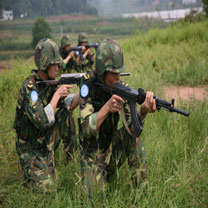 The third batch of Chinese peacekeeping troops for Lebanon receive intensive training in Chengdu Military Command on Aug 28, 2007. The engineering battalion will leave for Lebanon in early Sept.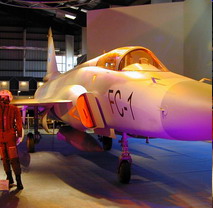 A fighter jet developed by China Aviation Industry Corp I, China's major supplier of fighter jets and bombers. The aircraft maker plans to build a marketing platform for its commercial aircraft.
Construction will begin this year on a railroad linking Lanzhou, capital of West China's Gansu Province, and Chongqing, on the upper reaches of the Yangtze River. Gansu governor Xu Shousheng said the provincial government had decided that a special railway investment company be set up to represent the provincial government and participate in investing, building and operating the new railway. The Lanzhou-Chongqing double line will run 800 km from Lanzhou, pass through Longnan in Gansu, Guangyuan and Nanchong cities in Sichuan, to Chongqing. It will cost 55.5 billion yuan (US$6.94 billion) to be shared by the Ministry of Railways, Gansu, Sichuan provinces and Chongqing. The railway is intended to increase exchanges between northwest and southwestern China and benefit economic development along its length. Railways Minister Liu Zhijun was quoted as describing the Lanzhou-Chongqing railway as a "strategic national route". "It will be a convenient, fast and efficient transport route for freight and goods alike between northwest and southwest China," said Liu.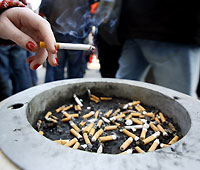 China, the world's largest tobacco producer and consumer, will ban all forms of tobacco promotion by January 2011.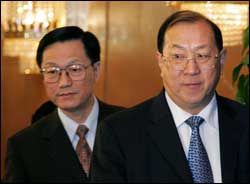 Finance Minister Jin Renqing has been transferred to a government think-tank and will be replaced by the country's top tax collector, Reuters reported yesterday citing government sources. Jin, 63, will be replaced by Xie Xuren, director of the State Administration of Taxation, the sources said, citing an announcement by the Communist Party's organization department. Jin's transfer is related to the corruption case involving Chen Tonghai, former chairman of China Petroleum & Chemical Corp or Sinopec (0386), a source told The Standard, confirming the news.
China Telecom (0728), the mainland's largest fixed-line services operator, said first-half profit fell 4.8 percent to 13.48 billion yuan (HK$13.91 billion) as growth in its broadband business failed to make up for a decline in voice calls.
August 29, 2007

Hong Kong: China government's move to allow mainland residents to directly invest in the Hong Kong market opens up many challenges - not only for investors, but also for the regulators. The State Administration of Foreign Exchange (SAFE) initiated a pilot program last Monday that for the first time permitted mainlanders to use their own foreign exchange or buy an unlimited amount of foreign currency to invest in the Hong Kong market. The move marks a major step in the opening up of the mainland's capital account, a reform the government has vowed to pursue but at a gradual pace to avoid risks.
Hong Kong blue chips and H shares capped a day of heavy trading roaring to new record highs yesterday, propelled by positive investor sentiment stemming from strong earnings growth, expectations of a US interest rate cut and a trial investment scheme that opens the door to huge new flows of liquidity into Hong Kong securities.
A Legislative Council by-election to fill the seat on Hong Kong Island left vacant by the death of former DAB leader Ma Lik will be held on December 2, the Electoral Affairs Commission said on Tuesday. A spokesman explained that setting the date for December was an attempt to avoid confusion between the by-election and District Council polls, which are to be held in November. "To avoid confusing electors on polling day, the commission considered it was not appropriate to hold the by-election on the same day as the District Council election on November 18," he said. Nomination was scheduled for mid-October, with the exact date to be published in a government gazette later, the spokesman said. "In accordance with the electoral laws, the nomination period must not be less than 14 days or more than 21 days. It must end not less than 28 days and not more than 42 days before the polling day," he explained. The seat was left vacant by the death of Beijing loyalist Ma Lik, who was the former chairman of the Democratic Alliance for the Betterment and Progress of Hong Kong. He died aged 55, of colon cancer, on August 8. The pan-democrats are discussing a way to select one single candidate in order to maximize the chance of winning. Several politicians from the camp have expressed interest in contesting the seat. They included former legislator Cyd Ho Sau-lan and Democratic Party member Kam Nai-Wai. The League of Social Democrats also intends to field a candidate. Regina Ip Lau Shuk-yee, former security chief, is tipped as a potential candidate with the backing of Beijing-friendly parties. She has not revealed her intention yet. The DAB is expected to discuss the upcoming by-election later on Tuesday when its central and standing committees meet to elect a new chairman.

PCCW links users on-the-go with Netvigator Everywhere - PCCW, the city's largest telecommunications operator, is intensifying competition with mobile operators which sell high-speed mobile broadband services to laptop users.
The values of Hong Kong's total exports and imports of goods rose 8.6 percent and 9.8 percent respectively in July over a year earlier, according to the statistics announced Monday by Hong Kong Census and Statistics Department. The value of total exports of goods in July rose 8.6 percent to 238.5 billion HK dollars (30.6 billion U.S. dollars), with the value of re-exports surging 10.9 percent to 228.1 billion HK dollars (29.2 billion U.S. dollars) and the value of domestic exports falling 25.1 percent to 10.5 billion HK dollars (1.3 billion U.S. dollars). For this year's first seven months, the value of total exports of goods rose 10.1 percent over a year earlier, with the value of re-exports up 12.4 percent and the value of domestic exports down 25.7 percent. The value of goods imports rose 9.8 percent in July over a year earlier to 246.7 billion HK dollars. The value of goods imports grew 10.7 percent for the first seven months from the same period of 2006.
Thirteen men had been arrested in Hong Kong for smuggling VCDs and CDs, Hong Kong Customs said Sunday. During the operation on Saturday, the Customs officers seized 53 million HK dollars (6.8 million U.S. dollars) worth of VCDs and CDs loaded onto mainland-bound speedboats at Lau Fau Shan pier. The 13 men, aged 16 to 44, are local residents. They are on bail pending further investigation, according to the Customs.
China Life Insurance (2628), the nation's biggest life insurer, reported a forecast-beating interim profit of 23.29 billion yuan (HK$24.03 billion), a rise of 159.7 percent from a year earlier boosted by soaring returns from stock market investments.
The curtain came down on the four-day Hong Kong Computer and Communications Festival 2007 at the Hong Kong Convention and Exhibition Centre yesterday with both attendance and sales at new highs.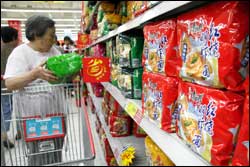 Hang Cheung Hong was established in 1971 by chairman Tony Ip Chi-shing as an inconspicuous retail shop in Western district of Hong Kong, selling raw solvents, lubricants and mixed solvents, commonly known as thinner. Today, it has transformed into Yip's Chemical Holdings (0408), a small mid-cap company, which is one of the largest petrochemical manufacturers in the mainland. Its core business is solvents. Over the years, it has grown through strategic acquisitions and sharpened its competitive advantage.

China: Construction of a second road across the Taklimakan desert in northwest China's Xinjiang Uygur Autonomous Region has entered the final stage, and its builders said on Tuesday the 424-km highway will open to traffic on Oct. 1. The highway will link the towns of Hotan and Aral, crossing a span of blowing desert sands wracked by extremes of heat and cold. The 790 million yuan (101 million U.S. dollars) project, launched by the Chinese central government in 2005, is expected to facilitate cargo and passenger transport between the resource-rich, densely populated Hotan city in southern Xinjiang and Aral, an underdeveloped new city on the northern edge of China's largest desert. The new highway will also speed up transportation of Hotan's ample farm produces to Aksu, a pivotal land port, and further on to the cities of Xi'an and Lanzhou, said Li Lixin, an official in charge of the road project. The first highway across the Taklimakan, running 522 kilometers from Lunnan in the north to Minfeng county in the south, was inaugurated in 1995. But vehicles bound for Aksu had to make a detour along the westernmost border of the desert. "It took two and a half days to drive from Hotan to Aksu," said Li. "With the new road it takes 10 hours."
Significant mission - The wording may sound strange to you. But Chinese Vice-Premier Wu Yi's description of an impending campaign on product quality and food safety as "a serious political task" is a blessing to all concerned about quality and safety of Chinese commodities, within and without the country. In the lexicon of contemporary Chinese politics, that is the official way to state superlative importance. Things labeled that way have greater chances to be accomplished. Nothing is supposed to be in the way of a mission of political significance. Yesterday's national teleconference inaugurating the high-profile campaign, which will last until year's end, was a great follow-up to the central government's latest efforts to pacify safety concerns at home and abroad. Wu, who heads the leading group overseeing quality and safety issues, termed the campaign as a "special battle" to protect people's lives and health as well as to safeguard the credibility of Chinese products and national image. It is a battle we cannot afford to lose. If recent overseas suspicion over the Made-in-China label is more or less magnified by a protectionist inclination, safety concerns in the home market are based on sometimes-fatal damages in real life. More than 99 percent of our food exports were up to standards. But the present embarrassment reminds us even that the rest less than 1 percent suffices to neutralize long-term confidence-building. We appreciate the inclusiveness and thoroughness the campaign organizers have requested. The chain of oversight they have envisaged is a sensible prescription for most of our current problems. It is good to have specific obligations assigned to specific agencies. That is the way to prevent them from throwing responsibilities. We are particularly impressed by their use of "100 percent" in defining the campaign coverage. The audience heard it dozens of times throughout the conference. The only question left is to what extent such political will be shared at local levels. Building an omnipresent monitoring and guarantee mechanism will prove a challenging mission for a four-month campaign. Especially because, as Wu said, it is aimed at a long-term remedy, instead of achieving one or several goals. Still, an ultimate success is possible, as long as there is a positive resonance from local officials.

The undated photo shows the stages of eclipse as the Earth's shadow falls on the moon, turning it orange and red. A total lunar eclipse, the second of this year, will be visible in most parts of China Tuesday, August 28, 2007. The partial eclipse begins at 16:51 Beijing time, and a full one will occur an hour later, lasting about 3 1/2 hours.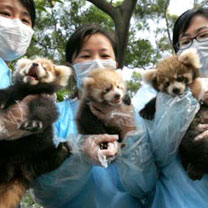 Three lesser panda cubs held by their caretakers meet the public at the Giant Panda Research Center in Fuzhou, Fujian Province, August 27, 2007. This is the second triplet in the center.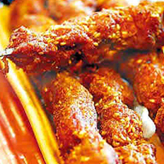 The launch of Beijing's Malaysian Food Festival brought an exotic twist to a perfectly sultry evening.

Tucked away on the secluded shore of Xihai, newly opened Club Obiwan offers a sleek reward for savvy nightlife seekers.
Beijing will ban celebrities, including movie stars and pop singers, from endorsing medicines, health supplements and food tonics in a move to ensure product quality, the country's quarantine chief said.
As global financial markets are entangled with worries about growing liquidity squeeze and risk aversion among investors, mainland authorities are grappling with a complete opposite set of problems: excessive liquidity and liquidity-driven asset price bubble. Faced with heightening concerns that China's soaring trade surplus is putting pressure on the yuan to appreciate faster, as well as fueling inflation and the asset price bubble, the central government has announced a series of measures to slow expansion of its current account surplus and to encourage capital outflows. Beijing, in its latest move, kicked off a pilot program last Monday allowing mainland individuals to invest directly in Hong Kong-listed securities - a move some see as China's biggest step yet towards making the yuan a free and fully convertible currency. The move was swiftly followed the next day by the fourth interest rate hike for this year, signaling that the authorities' concern over the country's rising inflation and roaring stock market has further intensified. "At this stage, you can already see a price bubble in China's assets market," says Po Mak-hung, associate professor of economics at Hong Kong Baptist University. "A limited amount of assets is being pursued by a lot of liquid money and speculation, and this cannot be sustained in the long run. So the government has to do something to tackle the excess liquidity problem." One way to tackle the problem is to encourage capital outflow, by allowing private and public sectors to purchase assets around the world. That is what China is doing now, using a gradualist and experimental approach, Po says. Under the pilot scheme, residents from all over the mainland will be allowed to invest in Hong Kong-listed equities via the Bank of China (3988) branch in Tianjin, near Beijing. Mainland investors will be permitted to use not only their existing foreign exchange deposits, but also to covert yuan into foreign currencies in order to invest in Hong Kong-listed assets. There is no official ceiling imposed on the amount of each individual's investment. Bank of China executives said last Thursday that the bank will start accepting investors' applications to open foreign currency accounts and to invest in Hong Kong-listed securities from this week.
August 28, 2007

Hong Kong: Hong Kong-listed shares in mainland companies shot up 6.2 per cent on Monday, feeding on expectations that mainland investors would snatch them as China's move to allow direct offshore investment kicks off this week. Heavy buying drove turnover to record levels and pushed blue chips to a record in the final minutes before the session's end. The Hang Seng Index rose nearly 3 per cent, helped by a Wall Street rally on strong United States economic figures and an overweight rating by Credit Suisse on Hong Kong. Jiangxi Copper (SEHK: 0358), Aluminum Corp of China (SEHK: 2600) (Chalco) and other H-shares trading at wide discounts to their mainland-listed, yuan-denominated counterparts soared to records in heavy trade. "It's all about the floodgates opening from China," said Miles Remington, sales and trading director at BNP Paribas. The H-share index gained sharply for the sixth consecutive session. The index shot up 811.78 points to end at 13,989.87, just off its intraday record. Its single-day percentage gain was the second-largest so far this year. The benchmark Hang Seng Index finished 655.84 points higher at 23,577.73 on record main-board turnover of HK$126.3 billion.
Kowloon Canton Railway Corp has proposed to scale down the residential development on West Rail's Nam Cheong Station amid the community's increasing concern over wind-blocking high-rises.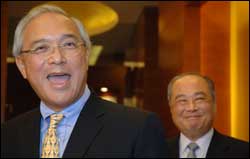 Overshadowed by its parent HSBC (0005), Hang Seng Bank (0011) has always been seen as the Hong Kong satellite arm of the transcontinental banking giant, receiving orders and implementing strategies handed down by HSBC. But change seems to be in the air. Recent moves by Hang Seng, which is 62 percent owned by HSBC, to buy out life insurer Hang Seng Life, and the appointment of MTR chairman Raymond Chien Kuo-fung as the bank's chairman were viewed as indicators that Hang Seng is moving away from the dominance of its parent. "The appointment of Raymond Chien certainly points to the fact that Hang Seng is moving to become more independent," said Ivan Li, analyst at Kim Eng Securities. Over the past decade, the chairman of the HSBC subsidiary, Hong Kong and Shanghai Banking Corp, has simultaneously held the position of Hang Seng Bank chairman. This tradition ended with Michael Smith's departure in June. Hang Seng remained quiet over who would take up the role until Chien was named chairman early this month.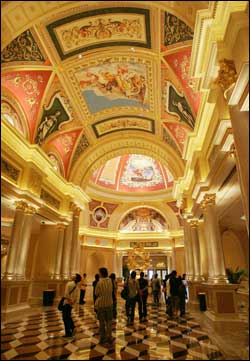 The new casinos popping up in Macau in the past three years have helped the Chinese territory surpass the Las Vegas Strip as the world's most lucrative gambling center. This week, the city begins its most ambitious - and perhaps riskiest - phase of development with tomorrow's opening of the US$2.4 billion (HK$18.72 billion) Venetian Macao Resort Hotel. It is the latest mega project from American billionaire Sheldon Adelson, chairman of Las Vegas Sands Corp. The big bet is that Macau can be much more than a playground for day- tripping gamblers - mostly from the mainland - who spend most of their time in the casinos. Developers are hoping the tiny city on the southern Chinese coast will also be able to attract shoppers, conventioneers and tourists hungry for gourmet dinners, pool-side sun-tanning and glitzy shows. The Venetian Macao is the first mega resort that will try to bring in the new crowds of visitors willing to spend two or three days in the city. With gondoliers sailing down canals, the 3,000-room Venetian tries to recreate the beauty of Venice. The complex also boasts a 15,000-seat sports arena, retail space for 350 stores, 1.2 million square feet of convention space, fine dining, and a Cirque du Soleil- produced show. Everything will be housed in what will be the largest building in Asia and the second largest in the world, just behind a Boeing plant in Washington. JPMorgan Securities analyst Billy Ng said the Venetian's plan makes sense. The mega resort "will broaden the customer base," he said. "In theory, it should bring in a lot of customers who had never thought of going to Macau." Ng and some other observers are also bullish that Las Vegas Sands can capitalize on its expertise in running trade shows at casinos in Vegas and replicate that success in Macau. The Venetian's convention facilities will help fill up the thousands of rooms and boost weekday traffic, they say. Business travelers to conventions have a larger budget to spend on hotels and the Venetian will probably be attractive to this segment, said Jonathan Galaviz, a partner at Globalysis, a Las Vegas-based consultancy. "Asia has yet to see a multibillion dollar integrated resort with a strong convention center component to it like the scale that the Venetian Macau will provide," he said. William Weidner, president of Las Vegas Sands Corp, has said 44 major conventions have already been scheduled at the Venetian for the next two years. He also said he expects the average guest to stay at the Venetian for three to four days, compared to the current average of just 1.2 days in other Macau hotels. Some analysts are not as optimistic. The Venetian cannot transform deep- seated Chinese attitudes to gambling overnight, they say, and whether mainland gamblers will be as generous at the restaurant and at the shows as they are at the casino is still a big question. "We go to Las Vegas prepared to splurge. [Mainland gamblers] come to Macau for reckless gambling. We expect to give but they expect to take," said Gabriel Chan, an analyst with Credit Suisse Hong Kong. "There aren't shows on yet," he added. "And you can't shop all day every day. The Venetian is a big property, but it's not enough to create a critical mass for everyone to stay at least two nights." The lack of alternative entertainment and transport support in the area will also pose problems in the short term, analysts say. The Venetian is just the first property to kick-start mega-tourism plans for the Cotai Strip, a reclaimed area that, according to Adelson, will mimic the heart of the Las Vegas Strip upon completion. The Sands is set to open more hotels under brands such as the Four Seasons, Sheraton and St Regis next door. In all, the company plans to invest up to US$12 billion and build 20,000 hotel rooms on the strip.

China: From Sept. 3 to 9, Chinese President Hu Jintao will pay a state visit to Australia and attend the 15th economic leaders' informal meeting of Asia-Pacific Economic Cooperation. This was announced by Chinese Foreign Ministry spokesman Liu Jianchao here Monday. Hu is to make his Australian visit as guest of Governor-General Michael Jeffery and Prime Minister John Howard. During his stay, he will also attend the APEC economic leaders' informal meeting, due to be held in Sydney. APEC is the the premier forum for facilitating economic growth, cooperation, trade and investment in the Asia-Pacific region. Since APEC's birth in 1989, it has grown to encompass 21 members spanning four continents, and represents about 40 percent of the world's population, 56 percent of global GDP and 48 percent of world trade. APEC members include Australia, Brunei, Canada, Chile, China, China's Hong Kong, Indonesia, Japan, Malaysia, Mexico, New Zealand, Papua New Guinea, Peru, the Philippines, Russia, Singapore, South Korea, Chinese Taipei, Thailand, the United States and Vietnam. Leaders of 21 APEC member economies last convened in Hanoi, capital of Vietnam, in 2005. The two-day meeting yielded a Hanoi Declaration covering issues including advancing free trade and investment, enhancing human security, and building stronger societies and a more dynamic and harmonious community.

China's Premier Wen Jiabao (L) talks to German Chancellor Angela Merkel as they attend a welcome ceremony outside the Great Hall of the People in Beijing August 27, 2007. German Chancellor Angela Merkel arrived in Beijing Sunday night, kicking off her official visit to China from August 26 to 29. During her visit, Merkel will meet Chinese President Hu Jintao, top legislator Wu Bangguo and Premier Wen Jiabao. Merkel will also attend the opening ceremony of a series of cultural activities that will be held in major Chinese cities including Nanjing, Guangzhou and Chengdu to mark the 35th anniversary of Germany-China diplomatic ties. Besides Beijing, the German chancellor will also visit Nanjing, capital of east China's Jiangsu Province. This is Merkel's second China tour since she took the post of German chancellor. Her last visit to China was in May of 2006.
Quality wine from Suntime, a wine company of northwest China's Xinjiang, are now available on 260 global air routes of KLM Royal Dutch Airlines, according to Xinjiang Daily. Three kinds of Suntime grape wine are on board since last April. Wine dealers from Europe and America also expressed intent of cooperation with Suntime.
More than 63 percent of Taiwan entrepreneurs want to scale up their investment in the Chinese mainland, a recent survey of the Taiwan Electrical and Electronic Manufacturers' Association (TEEMA) showed. Having inquired its member companies, the Taiwan's largest industry association found that the number of Taiwan business people who hope to return to Taiwan for business has been decreasing in recent years. The proportion reduced to 1.83 percent this year from 1.97 percent in 2006 and 2.7 percent in 2005, showed the 2007 survey on environment and risk of investing in the Chinese mainland. About 34 percent of the respondents said they would continue to invest in Taiwan, the survey said. Also according to the survey, Suzhou in east China's Jiangsu Province was among the most recommended cities in terms of hi-tech, service and traditional industries. Shanghai, Beijing, Kunshan and Chengdu were also on the list. The association, with its member companies contributing to about half of Taiwan's total industrial value, got about 2,500 questionnaires from industries including electronics, machinery, metal processing and plastic products. It has been conducting such surveys since 2000.

Li Bingbing displays the Huabiao Award for Best Actress at the 12th Huabiao Film Awards ceremony in Beijing on Sunday, August 26, 2007. The awards are regarded as the top prize in China's film industry.

Ding Jiali displays the Huabiao Award for Best Actress at the 12th Huabiao Film Awards ceremony in Beijing on Sunday, August 26, 2007. The awards are regarded as the top prize in China's film industry.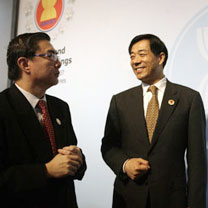 ASEAN Secretary-General Ong Keng Yong (L) and China's Minister of Commerce Bo Xilai chat following a news conference at the Association of Southeast Asian Nations (ASEAN) Economic Ministers meeting at a hotel in Manila August 26, 2007.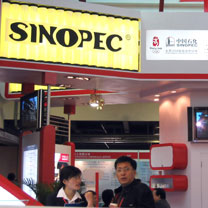 People walk around the Sinopec exhibition booth at a chemical fair in March. Sinopec announced Sunday that its net profit rose by 65.3 percent year-on-year in the first half of 2007.
As subway construction keeps booming around the country, there has been an increasing demand for talents in the subway sector. Beijing's subway system, for instance, is expected to need about at least 10,000 new staff in the coming years.
China Construction Bank (0939) - the last mainland bank to report robust interim earnings - said yesterday it has about US$1.062 billion (HK$8.28 billion) of securities backed by US subprime mortgage loans and has set aside 139 million yuan (HK$143.15 million) to cover potential losses.
August 27, 2007

Hong Kong: The 26th Hong Kong Watch and Clock Fair will start from Sept. 5, announced the Hong Kong Trade Development Council (TDC) on Thursday. Jointly organized by TDC, the Hong Kong Watch Manufacturers Association Ltd and the Federation of Hong Kong Watch Trades and Industries Ltd, this year's Hong Kong Watch and Clock Fair will gather more than 800 exhibitors from 18 countries and regions. "The fair's Brand Name Gallery will showcase 110 prestigious brands and designer collections, up more than 14 per cent over last year. The popular Asian Watch Conference will also be held during the fair period," said Assistant Executive Director of TDC Raymond Yip. Mini-watch parades will also be held throughout the fair period, highlighting some of the outstanding designs from exhibitors. According to Co-Chairman of the Fair Organizing Committee Bob Wai, Hong Kong watch and clock exports totaled 22 billion HK dollars (about 2.82 billion U.S. dollars) in the first six months of 2007, up 5.2 percent over last year. Hong Kong is the second-largest watch and clock exporter in the world, with exports to the United States and Europe making up 40 percent of the total, Wai said.
Hong Kong starts investment promotion campaign in Chinese mainland - With Zhejiang Province taking the lead, Invest Hong Kong (InvestHK) on Thursday launched a three-year campaign of business-focused activities in the Chinese mainland. The campaign, under the theme of "On Your Marks, Get Set, Go", will focus on seven key economically developed provinces in the Chinese mainland, namely Zhejiang, Jiangsu, Shandong, Liaoning, Sichuan, Guangdong and Fujian. "On Your Marks" covers promotional activities aimed at raising awareness among China's growing class of privately-owned enterprises of business opportunities in Hong Kong. This stage includes a targeted nationwide advertising and editorial campaign, followed by large-scale seminars highlighting opportunities in Hong Kong. "Get Set" focused on workshops designed to equip local companies with the information and tools to develop an overseas business strategy, using Hong Kong as a springboard. "Go!", the final stage, is a series of visits to Hong Kong. Tailored programs will allow companies that are seriously considering expanding their business in Hong Kong to better understand the market, to meet relevant industry associations and to identify business partners, clients and premises.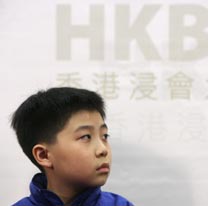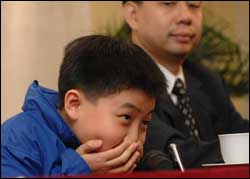 Child prodigy March Tian Boedihardjo was yesterday launched on a course to become the youngest holder of a master's degree. But hours after Baptist University announced it had accepted the nine- year-old for a five-year course, March admitted to reporters he had trouble communicating academically with children of his own age. March, an Indonesian-Chinese boy resident in Hong Kong, will be studying for a bachelor's degree and master's degree in a five-year course specially designed by the university. March was presented to the media along with his father Tony yesterday and spoke in both Cantonese and English. He toyed with the microphone and yawned as the photographers' flashbulbs went off around him. But March appeared relaxed and cheerful at the press conference. Asked what he does in his spare time, March said: "Most of the time, I like to read books, but on the weekends I like to go out to play with my kindergarten friends," adding they play chess, Monopoly and cards. "We can play games together but, academically, we can't communicate." March had obtained two As and a B in the British A-level examinations, but he refused to disclose his results in the British General Certificate of Secondary Education exams. As a young boy, March behaved his age and always showed the V victory sign to attract photographers.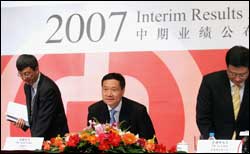 Mainland banks are the biggest subprime mortgage casualties in Asia, it emerged yesterday, as at least five lenders and related entities revealed that their combined exposure to US subprime-backed assets amount to US$19.59 billion (HK$152.8 billion), with Bank of China (3988) holding the heaviest chunk. Two of the five mainland commercial banks, BOC and Industrial and Commercial Bank of China (1398), unveiled the value of their US holdings yesterday. Bank of China, the nation's largest foreign-exchange lender, said at its interim results announcement that it has almost US$9.7 billion of securities with exposure to US subprime mortgages, of which US$6.82 billion are collateral debt obligations. The collapse in asset-backed securities in the United States has caused losses for lenders worldwide, triggering worries that mainland banks may not be immune. BOC, which accounts for more than two-fifths of forex advances among its mainland peers, said it set aside 1.15 billion yuan (HK$1.18 billion), or about 1.58 percent of the total exposure, as provision for any possible losses. "The securities in subprime assets was pretty small. It only accounts for about 3.78 percent of our portfolio, or 1.58 percent of our total assets," the bank's executive vice president Zhu Min said via video-conference yesterday. "More than 75 percent of them are highly rated, in triple-A, with the rest rated either in A or double-A grades; default rates would be low." Zhu was referring to investment ratings. Zhu said the negative impact on BOC would be small, and provisions had been made in the interest of prudent management. Executive vice president Wang Yongli said whether the bank needs to make further provisions in the second half would depend on the situation in financial markets. Beijing-based ICBC, the nation's largest lender in terms of assets, trailed BOC as the second-biggest casualty.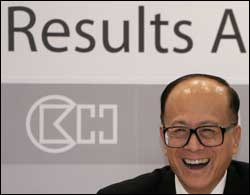 Hutchison Whampoa (0013), the ports- to-telecoms conglomerate controlled by Li Ka-shing, beat expectations as first- half net profit soared 53 percent to HK$28.76 billion with dividends from the sale of the Hutchison Essar stake helping to offset continuing losses in Hutchison's 3G businesses. "Hutchison results continued to indicate betterment in the underlying operations, including 3G," said Calyon analyst Dilip Parameswaran. "We believe that the overall direction for 3G remains positive, although not at a great pace." The results included a profit on revaluation of investment properties of HK$767 million and HK$35.02 billion earned from disposal of the India mobile business. Earnings per share were HK$6.75, up from HK$4.41 in the first half last year. Hutchison declared an interim dividend of 51 HK cents per share, unchanged from a year ago. "Hutchison Whampoa needs capital to develop its businesses, but if 3G turns profitable, it is possible that we increase the dividend payment," chairman Li Ka-shing said yesterday.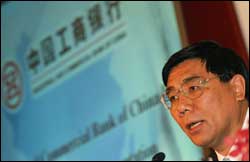 Industrial and Commercial Bank of China (1398), the world's largest bank by market capitalization, reported first- half net profit surged 61.56 percent, driven by robust interest and fee and commission-based income growth. For the six months ended June 30, the Beijing-based lender posted net profit of 41 billion yuan (HK$42.1 billion), up from 25.4 billion yuan the previous year. Earnings per share were 12 fen, compared with 10 fen. ICBC's after-tax profit of 41.4 billion yuan represented a year-over-year jump of 61.4 percent - exceeding the compound annual growth of 30.2 percent between 2003 and 2006. Bullish stock market conditions provided a strong boost to the bank's net interest and net fee and commission income for the first half. Net interest income totaled 102.2 billion yuan, up 33.3 percent from 76.65 billion yuan a year ago. Net fee and commission income soared 89 percent to 14.87 billion yuan from 7.87 billion yuan. Net interest margin was 2.65 percent, rising 0.28 percentage points. "The bank realized good fee-based income growth in the first half. This is certainly related to the active capital market," ICBC president Yang Kaisheng told a news conference via videolink from Beijing. "But the upward growth trend in this segment had been happening for many years." Yang said the bank's strong customer base and distribution channels, coupled with innovative capacity, are the main reasons behind the growth. The bank intends to expand the profit contribution from fee-based income up to as much as 30 percent, bringing it in line with international commercial banking standards. As at June 30, fee- based income represented 12.7 percent of ICBC's total net income.

China: The Chinese government on Thursday started a four-month nationwide campaign to improve the quality of goods and food safety. During her speech at a conference on quality and safety issues held on Thursday, Chinese Vice Premier Wu Yi described the campaign as a "special battle" to ensure the people''s health and interests and maintain a good image of Chinese products. The campaign will target farm produce, processed food, catering sector, drugs, pork, imported and exported goods and products in close link to human safety and health. Wu, also head of the newly-established national leading group to address product quality and safety issues, called for an integrated quality monitoring network across the country, covering product design, raw materials, processing, sales and service. A sense of quality should be aroused among the whole society, Wu stressed.
China's first anti-monopoly law, which requires foreign purchases of Chinese companies to go through national security checks, is expected to be put to a vote later this month after being 13 years of deliberation. The draft law was "ready for adoption", the Law Committee of the National People's Congress (NPC) told the ongoing session of the NPC Standing Committee on Friday when submitting the bill for consideration.
China warned of risks of imbalanced sex ratio - Sex ratio for newborns aged zero to four had reached 163.5 boys to 100 girls by the end of 2005 in Lianyungang, a city in east China's Jiangsu Province.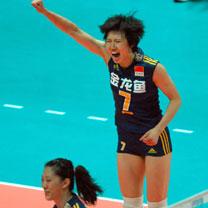 China's captain Zhou Suhong celebrates a point during her side's second round game against Poland at the FIVB World Grand Prix in Beilun of Ningbo, east China August 23, 2007. China edged Poland 21-25, 25-15, 25-16, 22-25 and 15-9.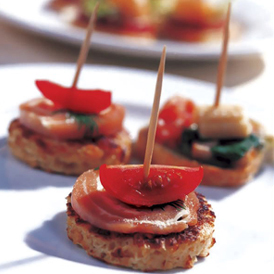 Although autumn has arrived according to Chinese lunar calendar, which began on August 8, we can still feel summer's presence. The hot and damp weather doesn't motivate people to leave an air-conditioned room even for a minute. It's cool indeed, but how can you fill your stomach by staying indoors? There is a solution-takeout with a delivery service. Here are some options.
August 25 - 26, 2007

Hawaii: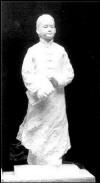 A small but prominent park at the edge of Chinatown was renamed yesterday to honor a man with strong Hawai'i ties who helped change the course of China's history. Dr. Sun Yat-sen received much of his early education on O'ahu and later founded a revolutionary group here. He became an early leader of the Nationalist movement that overthrew China's imperial Manchu rulers in 1911 and ended the Qing Dynasty. Sun was named the first provisional president of the new Republic of China the following year, and is widely regarded today as "the Father of Modern China." A bronze statue of Sun as a 13-year-old boy will soon be placed in the former Chinatown Gateway Park, at the corner of Hotel and Bethel streets. The City Council agreed yesterday to rename the site Dr. Sun Yat-sen Memorial Park. The $150,000 statue was commissioned by the Dr. Sun Yat-sen Hawai'i Foundation and is being cast in China, said foundation chairman Warren Luke. The statue will stand on a mound on the mauka side of the park, near the Hawai'i Theatre. "We want to highlight Hawai'i's contribution to China," Luke said. "A lot of people in Hawai'i don't realize the role Hawai'i played in the revolution." The foundation and city are planning events to mark the 10th anniversary of a sister-city relationship between Honolulu and Zhongshan, where Sun was born on Nov. 12, 1866. Many of Hawai'i's early Chinese immigrants came from the area. Sun made six trips to Hawai'i during his lifetime, and spent a total of seven years here. In 1894, he founded the Hsing Chung Hui (Revive China Society) in Honolulu, and it became a key financial force behind the revolution. Sun first came to O'ahu in 1879, at age 13, to join an older brother and uncle. Sun graduated from Iolani School in 1882, then attended Oahu College — now known as Punahou School — for one semester. Many historians believe an appreciation for Western-style government Sun gained during these years helped drive his revolutionary spirit. "Sun admired Hawai'i, and on one occasion he said that although Hawai'i was a small island kingdom, it had law and order, and the people were happy and prosperous," according to the 1999 book "Sun Yat-sen in Hawai'i," by Yansheng Ma Lum and Raymond Mun Kong Lum. Sun trained as a medical doctor in Hong Kong, and became a revolutionary after his appeals to reform and strengthen China were rebuffed amid growing threats from other nations. During a 1903 visit, Sun told The Advertiser that "I think the outlook for the revolutionary movement is very hopeful, as the Chinese people are awakening, and I am strong of the opinion it will end the Manchu dynasty. "It is only a question of time for this to be accomplished — and I don't think it will be far distant." He said in a 1910 interview here that "This is my Hawai'i. ... here I was brought up and educated; and it was here that I came to know what modern, civilized governments are like and what they mean." Though the Xinhai Revolution overthrew the Manchus the next year, China remained divided. Sun died in 1925, still working to unify his nation and forge a democracy.

Hong Kong: Hong Kong customs officers seized 32 computers with infringing software and 85 pirated software discs in a two-day operation, according to news from the Information Services Department of Hong Kong Special Administration Region government on Wednesday. All the computers and discs were worth about 143,000 Hong Kong dollars (about 18,333 U.S. dollars). Officers seized four computers and 83 discs from three shops in Hong Kong on Tuesday. The discs were used to install infringing software on to the computers, as ordered by customers. Investigators also raided a Kowloon Bay spectacle manufacturing company on Aug. 20, seizing 28 computers installed with infringing software and two pirated discs. Six men and a woman, aged 26 to 49, including a company director and two shop proprietors, were arrested. They were then granted bail, pending further investigation.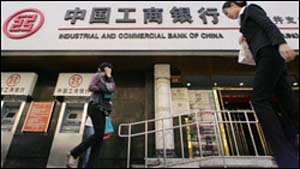 The Industrial and Commercial Bank of China Ltd. (ICBC) on Thursday reported a 61.4 percent year-on-year increase in its first-half profit after tax. For the Jan-June period, ICBC's profit after tax rose to 41.4 billion yuan (5.45 billion U.S. dollars) under international accounting rules. Higher net interest margin and rising fee and commission income were the main reason for ICBC's strong performance, according to the bank's half-year report. By the end of June, the bank's capital adequacy ratio, the ratio of its own capital to its outstanding loans, was 13.7 percent, and its non-performing loan ratio was 3.29 percent, down from 3.79 percent at the end of last year. The bank had 8,301.2 billion yuan in total assets, up 10.6 percent from the end of last year. Earnings per share stood at 0.12 yuan. ICBC was simultaneously listed in Shanghai and Hong Kong in October last year, raising 21.9 billion U.S. dollars, exceeding the previous record of 18.4 billion U.S. dollars by Japan's NTT DoCoMo in 1998.

CITIC Pacific net up 44pc - Beijing-backed CITIC Pacific (0267) said first-half earnings surged 44 percent as the profit contribution from its special steel business doubled. Gains booked from the spinoff of its telecom unit also helped lift the bottom line. The conglomerate yesterday posted a net profit of HK$4.97 billion, or HK$2.25 a share, in the first six months from HK$3.44 billion a year ago. Turnover was HK$19.6 billion. With exceptional income of HK$1.9 billion booked from the separate listing of CITIC 1616 (1883), the company declared a special dividend of 20 HK cents, on top of the 40 HK cents basic interim dividend. Although analysts had cautioned that falling price of steel may slow down the contribution from the steel segment, CITIC Pacific chairman Larry Yung Chi-kin believes earnings momentum will depend on non-core asset sales this year and next. He said he remained confident that earnings would be between HK$6 billion and HK$7 billion next year, compared with an estimated HK$5 billion for full-year 2007. Yung admitted that property and iron ore businesses will not generate significant profit until 2009, and as a result next year's income growth will largely depend on the steel business and also asset sales. Managing director Henry Fan Hung-ling confirmed overtures had been made by third parties over the possible sale of a 25 percent holding in the Air China Cargo joint venture. Yung said: "We have a lot of assets for sale, so we are not worried about next year's profit growth. However, recurrent earnings growth is the key concern, and we will make sure next year's growth will not be less than in 2007. "Demand in China for special steel, such as bearing steel and gear steel, is expected to remain strong, which could help the sector remain the substantial profit contributor this year and next." Fan said CITIC Pacific planned to inject between HK$5 billion and HK$10 billion for expansion of steel plant production lines. This, he said, would raise total annual capacity to 10 million tonnes, from the existing seven million tons. He said the capital injection plan is at a "preliminary stage." During the first half, in the absence of special gains from Festival Walk, contribution from the property segment slumped 81.2 percent to HK$370 million, from HK$1.97 billion a year ago. Still, Yung remains bullish on mainland property considering that the "economy is expanding and internal demand is growing." As of June, CITIC Pacific possessed a landbank of about 3.5 million square meters, according to deputy managing director Peter Lee Chung-hing. "We have added more land during the first half, including the Shanghai underground station site," he said. Yung said CITIC Pacific would sell a further 20 percent stake in the Pilbara iron ore mine in Western Australia. Shares of CITIC Pacific gained 3.22 percent yesterday to HK$36.85.
HSBC (0005) may have to wait at least three years before it will be allowed to purchase majority control of Korea Exchange Bank, as South Korean regulators said yesterday any acquisition of a stake in the controversy-laden lender should proceed only after legal proceedings involving KEB are concluded.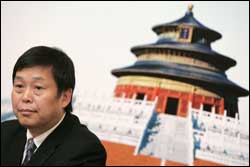 China Netcom (0906), the mainland's largest fixed-line operator, reported lower-than-expected net profit in the first half, which it blamed on intense competition. Net profit for the six months ended June 30 fell 5.4 percent to 6.71 billion yuan (HK$6.91 billion), or 1.01 yuan per share, down from 7.1 billion yuan, or 1.07 yuan per share, the previous year. No dividend was declared. Excluding upfront connection fees and the disposal of its Guangdong and Shanghai branches back to its parent company in February, interim net profit plunged 11 percent from a year ago. "Netcom reported very disappointing results, even as the company strives to improve business by offloading its assets in Guangdong and Shanghai," said CLSA analyst Francis Cheung. Revenues from continuing operations rose slightly by 0.43 percent to 40.7 billion yuan.
The number of patents filed by foreigners living in the United States has tripled in the past decade - yet the tight cap on permanent visas may force entrepreneurs to go back home to create rival companies in China, India and elsewhere, according to a study.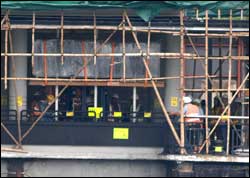 Queen's Pier began its final journey into history yesterday as workers moved in to dismantle the first parts of the Central landmark, subject of a failed legal and direct action battle by conservation activists earlier this month. Heavy rain lashed the harborfront throughout the afternoon as the plaque bearing the Chinese name of the 53-year-old colonial structure was removed by forklift.

Leaders of staff associations of various disciplined services have pledged full support for their former boss, Regina Ip Lau Suk-yee, in her bid to win the Legislative Council seat vacated by the death of Democratic Alliance for the Betterment and Progress of Hong Kong chairman Ma Lik.
A nine-year-old boy was on Thursday offered a place at the Baptist University to study mathematics – becoming the youngest university student in Hong Kong.
Net Dragon Holdings, a mainland online game company, plans to raise as much as HK$800 million by selling new shares on the Growth Enterprise Market in October, in what will be the first new offering this year on Hong Kong's foundering second board, market sources said. Net Dragon also would be the first online game company to be listed in Hong Kong since the dotcom bubble burst in early 2000. Mainland technology companies have largely eschewed Hong Kong in favour of the Nasdaq Stock Market, where they tend to receive more generous valuations. This has undercut the GEM board, which was set up in 1999 to give start-ups a fund-raising platform but has been struggling to find a direction as turnover fell. Net Dragon initially had intended to list on Nasdaq, the sources said, without explaining why it changed its plans. "The current ample market liquidity could allow the offering to go smoothly even as the company is still in its growing stage, with thin profitability. That is the reason the firm chose to sell shares in GEM but not the main board," a source said. The last online game company to list on the GEM was Hong Kong-based Billybala Holdings, which raised HK$16 million in 2001. It changed hands three years after the GEM listing. US investment bank Bear Stearns, which has been absent from the local equity market for quite some time, had been mandated to lead the Net Dragon offering, a source close to the deal said.

China: Quality labeling aims to curb illegal food exports - Foreign food importers will be able to tell certified Chinese food products from fake ones thanks to a "CIQ" mark that all legal food exports are required to carry on their packaging from next month. The mark stands for China Inspection and Quarantine, which guarantees that the exports have passed quality tests, according to a regulation unveiled by the General Administration of Quality Supervision, Inspection and Quarantine (AQSIQ). The packages should also carry information such as the enterprise's name and address, batch number and production date so that any quality problems can be traced to the source. The measure is aimed at guaranteeing the quality of Chinese food exports and curb illegal exports, according to the AQSIQ. The move is necessary although it may increase costs for Chinese food exporters, said Huo Jianguo, president of the China Chamber of Commerce of Import and Export of Foodstuffs, Native Products and Animal By-products. Inspection and quarantine agencies in Dongguan, Guangdong Province, said the new regulation is expected to affect some 20,000 shipments worth $100 million each year. Some widely reported cases concerning the quality of made-in-China food products actually involve illegal exports that have not gone through any inspection and quarantine, Huo said. The measure is part of the efforts by the government to safeguard the reputation of Chinese products following safety worries ranging from additives, toothpaste and seafood to toys.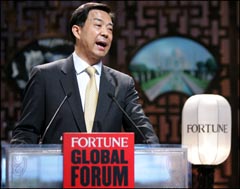 Minister stands by quality of exports - safety concerns 'a pretext for trade barriers' - Commerce Minister Bo Xilai has again defended the quality of mainland exports and urged foreign countries not to use safety concerns as a pretext for trade barriers. Mr Bo told former US secretary of state Madeleine Albright on Tuesday that he trusted the "Made-in-China" label, and product quality had made great strides in the past few years. "We are against the protectionist trends in the US, where some people deliberately exaggerate and play up a few isolated product-safety cases to advocate mercantile trade policies," the China News Service quoted Mr Bo as saying. He said there were "strong and clear signs" of rising trade protectionism in the US, such as recent American investigations into mainland-made steel nails, pipes and woven sacks, which Washington said were unfairly priced. Mr Bo told Ms Albright that the central government would take serious measures to improve the mainland's product safety standards, but he said other countries should co-operate with the mainland, not simply criticise it. "We are a responsible government and we will treat the safety issue very seriously. The two sides should strengthen communication and tackle this problem rationally and objectively," he said. This came after a new wave of global recalls of mainland-made products in recent weeks. American toy giant Mattel recalled a total of 19 million items around the world this month, including dolls, cars and action figures, because some were contaminated with excessive lead paint. Others were said to have small magnets that children might swallow. The owner of a toy factory in Guangdong, Cheung Shu-hung, 50, committed suicide after a recall of Fisher-Price products including Big Bird and Elmo toys with excessive amounts of lead. Li Zhouming, executive vice-chairman of the Guangdong Provincial Toy Industry Association, was quoted yesterday as saying mainland manufacturers and Mattel, which owns Fisher-Price, should both take blame for the recalls. "The producers are responsible because they do not have tight controls over purchasing and production," Guangzhou Daily quoted Mr Li as saying. "But the buyer, Mattel, cannot evade responsibility." Mr Li said Mattel neglected to "do its job well in quality inspections". He said profit margins in the toy industry on the mainland were low and "it's hard to make money" because of the cost of labor and materials. He warned that foreign companies ran the risk of getting shoddy products if they demanded too low a price from mainland manufacturers. "If you pay a high price, the factories will use high quality raw materials to produce. But if the price is low, they can only use inferior raw materials," Mr Li said. A Guangzhou official in charge of an annual international gift-and-toy trade fair said yesterday that the recalls had only "limited" impact on business. "We have always set a strict qualification standard for our exhibitors. They must provide their licences, certificates and related documents in order to apply for a booth." He said foreign buyers had not made any special requests regarding product safety this year. "They mostly care about what kinds of items are on display. They seldom ask about qualifications."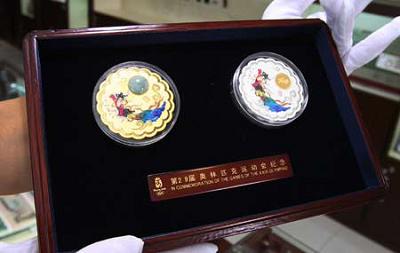 A worker shows the flower-shaped gold and jade, gold and silver commemorative medal in Beijing Aug. 21, 2007. The flower-shaped gold and jade, gold and silver commemorative medals, also known as "Olympic Moon Cakes", under the authorization of the Organizing Committee of the Beijing 2008 Olympic Games, have been issued. The issuance of the gold and jade medals was limited to 3,400 pieces, gold and silver medals at 16,680 pieces.

Chinese home appliance maker Qingdao Haier on Thursday announced first-half net profits were up 36.9 percent from the same period last year as the company tried to expand on the international high-end market. Qingdao Haier, one of the two listed subsidiaries of the Haier Group, notched up net profits of 364 million yuan (47.9 million U.S. dollars) in the first six months of this year, on revenues of 17.1 billion yuan. At April's China Import and Export Fair, the Shanghai-listed company won big orders for its side-by-side refrigerators from the United States and Europe, at a price 20 times higher than the average price of China's exported refrigerators. The rise in profits was also attributed to Qingdao Haier's acquisition of Haier Group's four other subsidiaries, which were more profitable. In the first six months, Qingdao Haier held a 26.6-percent share in the home market for refrigerators and 16.3-percent share in the air conditioner market, reported Thursday's Shanghai Securities News.
The actual number of enterprises with foreign investment in China grew slowly but their scale continued to expand, according to the State Administration for Industry and Commerce. By the end of June, China had 280,000 foreign-invested enterprises, with their actual investment reaching 1.8 trillion US dollars and a registered capital of 1 trillion dollars. Of them, 38,000 invested more than 10 million dollars, 2,095 more than at the end of last year and taking 13.5 percent of the total number. As more business fields were opened to foreign investors, the number of exclusively foreign-owned enterprises and foreign-funded joint stock limited companies increased, and that of Chinese-foreign joint ventures and contractual joint ventures decreased. This is because that foreign investors favor independent, flexible operations of exclusively funded firms while contractual joint ventures are restricted by some cooperative elements and therefore require higher investment costs. Statistics showed that foreign-funded corporate banks grew rapidly in number, most of them gathering in Shanghai and driving up the finance sector. During the first half of this year ten such banks had a registered capital of 6.49 billion dollars. There were 220 of them across China, 38 more than at the last yearend and rising 20.9 percent.
China's main stock index surpassed the 5,000-point mark for the first time on Thursday, even after a couple of cooling measures were unveiled this week.
The Tibet Autonomous Region in Southwest China is enjoying a booming tourism industry thanks to the opening of the Qinghai-Tibet Railway over a year ago. The railway, the highest in the world, has been bringing record numbers of tourists into the plateau, with inbound visitors reaching 2.5 million last year, a 40 percent jump from 2005, said Deng Xiaogang, vice chairman of region of Tibet during a press conference in Lhasa on August 22. Opened in July 2006, the railway serves as a major transport link for passengers and goods. It has greatly decreased the cost of moving cargo to 0.12 yuan per ton, compared with 0.27 yuan by road, making commodities more accessible and cheaper for Tibetan residents. At the same time, more Tibetan products are finding their way to bigger markets in the country. But tourism has created the biggest boost in this area. Faced with the unprecedented number of travelers from home and aboard, the vice-chairman said the regional government is paying great attention to preserving culture in the autonomous region where Tibetan residents have developed its own arts.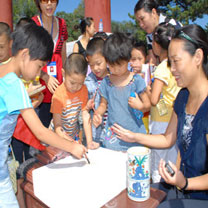 Children celebrate "Kaibi" Festival in the Confucius Temple in Harbin, capital city of northern China's Heilonjiang Province on August 22, 2007. Traditionally, children begin to study characters after the festival.
China appoints new ambassadors - Chinese President Hu Jintao has appointed and dismissed ambassadors to nine countries in accordance with a decision made by the Standing Committee of the National People's Congress (NPC), the top legislature. Zhang keyuan is appointed as ambassador to Iceland to replace Wang Xinshi. Yu Hongyao replaces Gao Shumao as new ambassador to Mongolia. Wang Xiaodu replaces Shen Jiangkuan as new ambassador to Djibouti. Huang Changqing replaces Wang Sifa as new ambassador to Cameroon. Zhou Yuxiao replaces Lin Songtian as new ambassador to Liberia. Ma Zhixue replaces Sun Rongmin as new ambassador to Luxembourg. Sun Rongmin replaces Yuan Guisen as new ambassador to Poland. Cheng Shuping replaces Bao Shusheng as new ambassador to Vanuatu. Wang Xiaoyuan is appointed as ambassador to Costa Rica and he is dismissed from ambassador to Uruguay.

China Netcom Group (SEHK: 0906), the country's smaller fixed-line phone operator, will boost investment in its trial 3G mobile network as its prepares to commercially launch the service ahead of next year's Olympic Games. The company plans to spend up to 1.6 billion yuan to expand the trial TD-SCDMA network in Qingdao, Shandong, to meet the deadline, chief executive Zuo Xunsheng said yesterday. Qingdao will play host to the Olympic sailing regatta. China Netcom will start a commercial trial of the high-speed cellular service in October after constructing a small-scale network last year. Beijing has yet to issue 3G licences but some of the nation's largest telecommunications firms are already testing their services in the hope of winning the rights before the start of the games. "China Netcom Group aims to be one of the 3G providers during the Beijing Olympics," chairman Zhang Chunjiang told a press conference yesterday.
August 24, 2007

Hong Kong: More than HK$300 billion is set to flow into the local bourse now that the mainland has opened the gates allowing individuals to invest in Hong Kong - and most investment banks predict that H shares will get a lift from the latest initiative.
The number of Macao's visitor arrivals reached 2.20 million in July, a remarkable year-on-year rise of 22.5 percent, according to official statistics issued Wednesday. The figures from the government-run Statistics and Census Service (SCS) showed that the majority of the visitors in the month came from the Chinese mainland (53.5 percent), Hong Kong (32. 4 percent) and Taiwan (5.6 percent). Among the mainland visitors, some 50 percent traveled to Macao under the Individual Visit Scheme, which frees mainland tourists from the group tour. Macao, the only part of China where casino gaming is legal, has been enhancing its fame as a tourism destination with the aid of the booming gaming industry.
Hopewell Holdings (0054) reported net profit for the fiscal year ended June 30 jumped 17 percent to HK$2.63 billion, or HK$2.93 per share, up from HK$2.25 billion, or HK$2.50 a share the previous year.
Hutchison Telecommunications International Ltd (2332), the telecom unit controlled by Li Ka-shing's Hutchison Whampoa (0013), recorded a first-half net profit of HK$70.1 billion - of which HK$69.34 billion was derived from the disposal of its controlling interest in Hutchison Essar in India.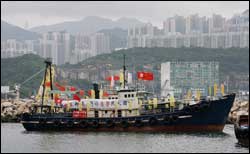 Plans by activists to sail to the disputed Diaoyu islands were thrown into disarray yesterday when the Marine Department suspended the license of their vessel - only to give it the all-clear after a second inspection. However, the clearance came too late for several activists as some had returned to their homes and others were planning to leave the territory. The vessel, Diaoyu Island II, was due to leave at noon from the Tsim Sha Tsui Public Pier, Action Committee for Defending Diaoyu Islands chairman Raymond Chan To-wai said. However, the Marine Department notified the committee at 6pm Monday that the ship's certificate had been suspended as an inspection showed there had been alterations to the vessel. "We reversed the so-called alterations, which were wooden pedals stuffed inside tires around the vessel to facilitate boarding," the ship's commander and veteran activist Lo Chau said. "We seem to be under stricter requirements this year and ... wonder whether the SAR government is deliberately trying to prevent the voyage." Lo said an inspector from the department inspected the vessel yesterday morning after the alterations had been reversed and told members they were cleared to sail. However, since there was no written document to confirm the decision, the activists had no choice but to cancel the voyage, he said. The sailing date has been rescheduled twice due to a typhoon and the certificate problem, and a new date has not been decided. Lo said some activists from the mainland and Taiwan were due to leave Hong Kong soon as they were running out of holidays.

Fourteen-year-old Ho Hoi-lam, who earned eight As and a 5* in this year's HKCEEs, has accepted an offer by the Chinese University of Hong Kong to become its youngest student next month.
City University of Hong Kong is to boost the English language skills of its students by assigning them overseas instructors.
Public confidence in the future of Hong Kong and the mainland remains high despite the recent turbulence in global stock markets, an opinion poll shows.
Boeing 737-800 jets used by two Hong Kong airlines have been inspected to ensure there are no fuel leaks, according to the Civil Aviation Department.



Former security secretary Regina Ip Lau Suk-yee said on Wednesday she would "actively consider" running in the Legislative Council by-election for the Hong Kong Island constituency.

Chief Secretary Henry Tang Ying-yen said on Wednesday it was "healthy" for different groups in Hong Kong to have diverse views on the pace of constitutional reform.

Hong Kong director Fruit Chan plans to make a film about Bruce Lee's early years — the latest in several projects about the kung fu film icon, a news report said on Wednesday. Chan told Chinese news website Sina.com that the Chinese-language film, Kowloon City, will be produced by John Woo's producer Terence Chang. Chan said he hasn't yet cast an actor to play Lee, according to Sina.com. The film will be set in 1950s Hong Kong, revolving around the fortunes of Lee and another young kung fu student, Sina.com cited Chan as saying. The report did not say who will fund Kowloon City. Chang didn't immediately respond to an e-mail seeking comment, and Chan didn't immediately return a call. Chan, whose credits include Made in Hong Kong, Hollywood Hong Kong and Durian Durian, is known for his films portraying Hong Kong's working class. Another Hong Kong director, Stanley Kwan, said earlier he was negotiating with Lee's family for approval to shoot a film about the late action star. Kwan said his film, backed by Chinese funding, will explore how Lee was influenced by the absence of his father, and how he brought up his own son, Brandon Lee. In April, Chinese state media reported that the country's national broadcaster has started filming a 40-part TV series on Bruce Lee in an apparent bid to promote Chinese culture ahead of next year's Beijing Summer Olympics. Bruce Lee was born in San Francisco but his family returned to Hong Kong, where he grew up. He went back to the United States to study philosophy at the University of Washington and married in 1964 in Seattle, where he opened his first martial arts school. He later opened a school in Los Angeles where a producer saw him in a kung fu demonstration and cast him as Kato in the Green Hornet TV show. Lee is known for films in which he portrayed characters that defended the Chinese and the working classes from oppressors. The best-known biographical film on Lee is Dragon: The Bruce Lee Story, starring Jason Scott Lee, which was released in 1993. Jason Scott Lee is not related to Bruce Lee.

China: Export commodities' quality requires objective, fair appraisal - Since early March this year, a tumult concerning the quality of Chinese export commodities, from cosmetics for daily use to foodstuff to (children''s) toys, has been spreading overseas, and a big noise in particular is stired up by some congressmen, presidential candidates and media people in the United States. General speaking, China''s export commodities, and especially in view of the food security situation, are as good as commodities of the same type produced in other countries and even slightly better, as indicated either by the relevant statistics available from the Chinese State Administration of Quality supervision, Inspection and Quarantine, or by the data released by the US Food and Drug Administration (FDA) and the US International Trade Commission (ITC). The qualification rate of China''s food exports to the U.S. was 99 percent, 99 percent and 99.2 percent respectively between 2004 and 2007, whereas the qualification rate of US food exports to China stood at 99.01 percent, 98.85 percent and 99.09 percent respectively in those three years. During the same period, the likewise qualification rate of China''s food exports to Japan and the European Union (EU) amounted to 99.8 percent, 99.9 percent and 99.9 percent respectively. Moreover, the relevant data from the US FDA and ITC have shown that China was not the country with the most batches of food import ferreted out at ports in the U.S. and recalled, and the first two nations, however, had 395 and 112 more batches of food import than China to have been ferreted out and sent back. Therefore, to truly mitigate or reduce security threats for consumers, it is better for either party to cool down and locate loopholes in regulation and control, analyze what has caused these loopholes to shape and proceed to work harder to close or stop them. A regulatory system either in China, an exporter, or in the U.S., an importer, is unable to keep up with the pace of the global production and trade and so loopholes have taken shape in regulation and control. It is precisely because these loopholes have invoked the quality issue with Chinese export commodities.
Officials berated over food safety - Senior Guangzhou officials have taken a tough public stand on food safety, with the mayor vowing to shut down all substandard producers and his deputy berating grass-roots cadres for their lack of commitment to the issue, mainland media reported yesterday. At a municipal conference on product quality and food safety on Monday, Deputy Mayor Cao Jianliao criticised his colleagues at the district and county levels for sending low-level staff to the meeting, The Southern Metropolis News reported. "From this we can see the district government leaders aren't taking food safety seriously," Mr Cao was quoted as saying. Mr Cao said some neighbourhood cadres had protected unqualified food producers, hindering municipal efforts to improve food safety. His comments came amid an aggressive public relations campaign by mainland authorities to prove to people at home and abroad that it is a reliable manufacturer. Last month, the State Council passed 20 new rules to force governments to raise food-safety standards and implement harsher punishment for dodgy producers. In his address to the meeting, Guangzhou's mayor, Zhang Guangning , called on officials from all levels to acknowledge the importance of the new rules, a report posted on the municipal government website said. "Any company or individual who violates the law will lose all their property," he said. Mr Zhang also ordered officials to impose tougher supervision and stricter market-entry requirements for companies with bad records, as well as introduce better technology to monitor quality. Chen Yongquan , a food-safety expert from South China Agriculture University in Guangzhou, said many mainland food products did not meet international safety standards simply because there was no comprehensive mechanism to help them do so. "Actually, the grass-roots cadres are busy dealing with countless small unlicensed workshops," he said.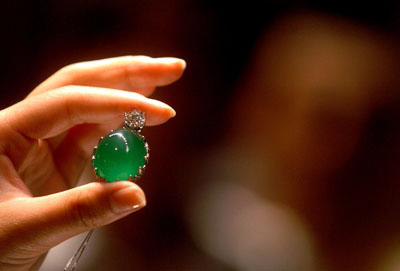 An emerald pendant is displayed at a jewelry shop in Ningbo, East China's Zhejiang Province on August 21, 2007. The pendant, weighing 27.7 grams, and 221 diamonds encircling the emerald, is valued at 28,508, 8 80 yuan (US$3.75 million).
US Chief of Naval Operations Admiral Mike Mullen said yesterday that he has been given unprecedented access to China's navy, including naval exercises, and that his ongoing visit to the country is productive. Addressing a press briefing, Admiral Mullen said: "I'm very encouraged about the commitment made by Chinese defense and foreign policy officials to continue improving the relationship, (and though) there is a long way to go, I'm reassured." During his weeklong trip that began on August 17, Mullen visited Beijing and the naval facilities at Lushun, Qingdao and Ningbo, and addressed students of the Dalian Naval Academy. "To get on a destroyer and see an exercise that included air, submarine and surface exercises was a first for a US Naval officer," he said, hinting that he would continue to improve ties if he took over as the Chairman of the Joint Chiefs of Staff. His trip follows Chinese navy chief Vice-Admiral Wu Shengli's visit to the US in April. Mullen appreciated the chance his visit offered to carry forward his discussions with Wu and other senior Chinese military and civilian leaders. They discussed issues of mutual concern, including increased contacts between the two navies at all levels. He said growing interaction between the two militaries will help avoid misunderstandings and miscalculations. It's really important that we reach a better mutual understanding.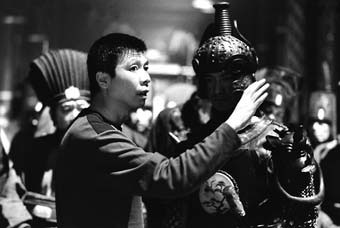 Among China's three most powerful directors, Feng Xiaogang is perhaps the only grassroots hero. People often refer to Zhang Yimou and Chen Kaige as masters, but when talking about Feng, they smile as if he is a sweet neighbor who always invites you to share his dumplings. Strangers will approach Feng and tell him which of his films is their favorite. Such interest in his work shows that while he isn't the most internationally acclaimed Chinese director, he is one of the most popular with Chinese audiences. His popularity is largely built on hesuipian, a word specially created for his early films screened during December and next February, roughly the time between New Year's Day and the Spring Festival, when people tend to spend more time in cinemas. Feng's smash comedies on ordinary urbanites' lives topped the domestic box office from 1997 to 99. His films also raked in most money from mainland theaters in 2001 and 2003. In 2006, his first attempt at a costume epic, The Banquet (Ye Yan), won $19.7 million despite savage reviews. Feng did not grow up in a film studio, or have a director father as Chen does; neither did he have Zhang's chance to work on a film soon after graduation. The painting-lover from a single-parent family never got a chance to enter any academy, which sets him apart from most mainland directors. If there is a secret recipe, he says, it is the passion and courage to try. "To me, turning something impossible into possible is really tempting and exciting," says the 49-year-old in black polo shirt with purple logo, blue denim and black sneakers sitting leisurely in the sofa in his lofty studio. While most of his films feature hilarious puns and jokes, Feng is surprisingly serious. "Every important step is made out of such a belief: I can do it."
How many of you have ever felt bored by your current job and thought it was time for a change? Just remember you are not alone. Here in China, there's a group of people who call themselves as "freeters". Not only do they feel bored and think about a change, but also put their thinking into practice. These freeters quit their jobs and start living on temporary jobs or off their savings.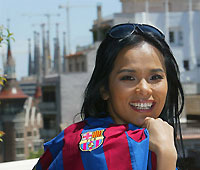 Chinese singer Wei Wei, the image ambassador for China women's soccer, joined Barcalona FC stars Lionel Messi, Deco, Carles Puyol to finish the shooting of this music video in Spain. Wei's three sons also participated in the performance. Wei is to sing the theme song for the 2007 Women's World Cup in China.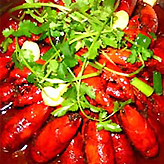 The key word is lobster at East 33's dinner buffet. The high-end seafood is made into a variety of different dishes, with an Italian tint.
In a surprise move Tuesday, the central bank announced a rate increase for the fourth time this year, taking aim at rising consumer price pressure in the economy and a roaring bull run in the stock market, which is edging ever closer to 5,000 points.
Haitian International Holdings (1882), a mainland manufacturer of plastic injection molding machines, said interim earnings surged 26.3 percent as demand grew from automobile and electrical appliance industries as well as plastic container makers in the domestic market.

Rising Chinese actress Zhou Xun will play a taxi driver searching for a missing boyfriend in an urban romance called The Encounters of Li Mi, a spokeswoman said. The Chinese-language movie is scheduled to start shooting in southern Yunnan province for a month or two, said Ran Zi, a publicist for Zhou, in a phone interview yesterday. Ran said the movie is directed by Beijing Film Academy professor Cao Baoping. Zhou, 30, one of China's top actresses, was most recently seen in Feng Xiaogang's historical epic The Banquet, an adaptation of Shakespeare's Hamlet, and Ming Ming, about two lookalike women who flee from gangsters seeking to recover a mysterious box. Zhou won best actress at Taiwan's Golden Horse Awards - the Chinese-language equivalent of the Oscars - for her portrayal of a movie star caught between past and present loves in Perhaps Love.

A little electronic card being put to use in Beijing is making life a whole lot easier for commuters of some lines of the Beijing Metro, while a million students are using it in the capital. Six toll booths covering 15 lanes of the Badaling Expressway also use the cards. Overall, more than 11 million cards are in use in the capital.

Shanghai-based economy hotel chain Home Inns & Hotels Management should announce solid second-quarter earnings this week, as the company's business has picked up after the lull in the first quarter due to Chinese New Year. Chinese New Year is especially hard on Home Inns, as it is with other travel- oriented companies such as travel agents Ctrip.com International and eLong, as people heading home for the holidays means fewer hotel bookings for several weeks. Home Inns new hotel openings also slow during the first quarter as business in the mainland can grind to a halt for almost a month during the holiday. Home Inns opened only 11 hotels in the first quarter, down from 27 hotels in the previous quarter. Openings picked back up again to over 20 hotels in the second quarter. Home Inns had 145 hotels at the end of the first quarter and is expanding rapidly into second- and third-tier cities. Investors will be looking at how the company is able to maintain prices and occupancy rates as it moves into smaller markets where demand from business travelers will be lower. Home Inns occupancy rate fell to 86 percent in the first quarter from over 90 percent for all of 2006, but there should was likely some recovery in the occupancy rate for the second quarter. Chief executive David Sun said recently that with hotels under development included, Home Inns has 242 hotels, with a total target of 1,000 hotels. Near-term catalysts for Home Inns include likely acquisitions of smaller hotel chains or properties from China Post Group. Home Inns reports its quarterly results today.
August 23, 2007

Hong Kong: Overall consumer prices in Hong Kong rose 1.5 percent in July over the same month last year, official figures released Tuesday indicated. The year-on-year increase was mainly due to enlarged rises in the price of pork, private housing rentals and the costs for meals bought away from home, said the Census and Statistics Department of the Hong Kong Special Administrative Region government. Food items showing large price increases were pork (up 25 percent), eggs (22.7 percent), frozen meat (12.4 percent), other meat (9.5 percent), edible oils (9.1 percent) and canned meat (9 percent). The department said the movement of food prices was likely to pose an upside risk to inflation in the near term. However, several measures, including the rates concession and the recent cut in public housing rentals, will continue to help to contain headline inflation in the coming months. "Overall inflationary pressures will be somewhat cushioned by sustained labor productivity growth," said the department.
Macao's composite consumer price index (CCPI) in July increased 0.68 percent over the previous month, standing at 115.15, according to official statistics issued on Tuesday. The government-run Statistics and Census Service (SCS) dues the rise of the CCPI mainly to the price hike occurred in sectors including housing, food and non-alcohol beverage. However, the prices of cloth saw decrease in the month, the figures showed. The government of the Macao Special Administrative Region has collected 16.01 billion patacas (2.01 billion U.S. dollars) in direct gaming taxes in the first seven months of the year, a remarkable year-on-year rise of 48.1 percent. The statistics issued Tuesday by the Finance Services Bureau ( FSB) showed that the gaming taxes accounted for 73 percent of the government total revenue in the period. Macao's 26 casinos pay 35 percent of their gross receipts as direct tax to the government. The region, with a population of 580,000, has a 150-year history of gaming industry and is the only part of China where casino gaming is legitimate. Macao saw a 3.0-percent unemployment rate in the second quarter, a year-on-year drop of 0.9 percent, according to official statistics issued here Tuesday. The figures from the government-run Statistics and Census Service showed that Macao's total labor force was estimated at 305,600 in the period. The figures showed that some 54 percent of the employed population was male in the second quarter. The special administrative region has a population of 580,000.


The pilot scheme announced by China's State Administration of Foreign Exchange (SAFE) for mainland individuals to invest directly in securities in Hong Kong has met with warm welcome in Hong Kong. The pilot scheme was in line with the Mainland's policy objective of allowing orderly outflows of funds, said John Tsang, financial secretary of the Hong Kong Special Administrative Region government. "The use of Hong Kong's financial platform for mainland individuals to invest in securities offshore is a clear demonstration of the mutually-assisting, complementary and inter- active relationship between the financial systems of the mainland and Hong Kong," he said, noting such move will help enhance the status of Hong Kong as an international financial center. Under the scheme, resident individuals in the Binhai New Area of northern China's port city of Tianjin can use foreign currency funds of their own or those converted from renminbi to invest in securities listed on the Hong Kong Stock Exchange. SAFE officials said that the scheme will be expanded to other cities if it works well in Tianjin. Buoyed by the news and a strong rebound in neighboring markets, Hong Kong stocks surged more than 1200 points, or 5.93 percent, Monday, representing the biggest single-day rise since October 1998. Also welcoming the news, Chief Executive of the Hong Kong Monetary Authority Joseph Yam said the pilot scheme was conducive to the interaction and the mutual development of the financial markets in Hong Kong and the mainland, He said that the authority will work with mainland's relative departments to strengthen the links and interaction of the financial markets of the two places, increasing their overall size and efficiency. In a statement, Hong Kong Exchanges and Clearing Limited (HKEx) said Hong Kong is an open and free market where securities trading is fair and orderly, adding it welcomes investors from all over the world as long as they comply with the rules of their place of residence for overseas trading before investing in Hong Kong. HKEx said the quality investment instruments in its market are attractive to mainland investors, whose investments in the Hong Kong market will help narrow the price gap between Hong Kong- listed H shares and the mainland-listed A shares, and will help foster the healthy development of both markets. There is no need for Hong Kong to adjust its base rate in response to the US Federal Reserve Board's decision to trim the discount rate, Hong Kong Monetary Authority chief executive Joseph Yam Chi-kwong said Monday

.Hong Kong's blue-chip index jumped nearly 6 percent Monday - the biggest single-day gain in almost nine years - as market sentiment turned positive after overseas markets rebounded following the US Federal Reserve's move to cut its discount lending rate to ease credit concerns.
Green tea may help cancer-fighting - Healthy subjects who received daily caffeine-free green tea extract capsules had an increased production of detoxification enzymes, which may provide some cancer-fighting benefits, study findings show. "Concentrated green tea extract could be beneficial to those who are deficient in the detoxification enzyme and shouldn't be harmful for those who have adequate detoxification enzyme," lead investigator Dr. H.-H. Sherry Chow, of the University of Arizona, Tucson, said. Genetic and environmental factors cause people to have varying levels of glutathione S-transferase (GST) enzymes. These enzymes may play a crucial role in helping the body defend against toxic and cancer-causing compounds, note Chow and colleagues. Previous laboratory and animal studies found that green tea compounds, antioxidants called "catechins," activate these GST enzymes. Therefore, Chow's team investigated the effect that concentrated compounds from green tea would have on GST enzymes levels in 42 healthy adults. Their findings are published in the medical journal Cancer Epidemiology, Biomarkers and Prevention. For 4 weeks prior to the study, the non-smoking volunteers refrained from drinking green tea, taking supplements, or eating foods known to contain epigallocatechin gallate, a potential cancer-fighting antioxidant. Over the next 4 weeks the volunteers took four capsules, each containing 200 mg of epigallocatechin gallate, every morning prior to eating. This provided the equivalent amount of epigallocatechin gallate obtained from drinking 8 to 16 cups of green tea daily, Chow said. The researchers found that the detoxifying GST enzymes increased by 80 percent in the study participants with the lowest GST levels at the start of the study. Participants with medium or high GST levels had either no increase or a slight increase in GST levels. The capsules used in this study were specifically made for clinical trial use. Chow cautions that commercially available green tea extracts are not required to meet the same strict concentration and purity standards. Chow adds, "More clinical testing is underway to confirm the cancer preventive activities of green tea or green tea extract."
Hutchison China MediTech, the mainland subsidiary of Hutchison Whampoa (0013) that is listed on London's Alternative Investment Market, yesterday announced its collaboration with US-based global pharmaceutical giant Eli Lilly to develop Western drugs for treating cancer and inflammation.
The recent wave of recalls of China- made products by US and European retailers has sounded alarm bells among Hong Kong industrialists and officials. Local manufacturers are worried about a potential crisis following the string of recalls of products, particularly toys, as there are some 5,000 toymakers registered in the SAR, most of which have factories in the Pearl River Delta.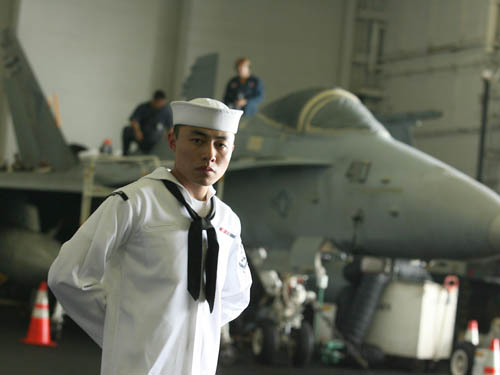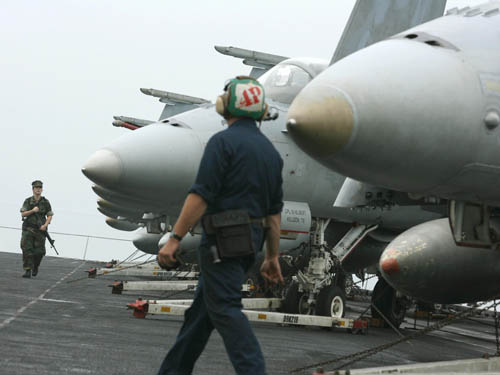 Wai Fu-yip may have served in the United States Navy for two years, but he still regards himself as a "typical Hongkonger". Petty Officer Wai came home yesterday aboard the nuclear-powered aircraft carrier the Nimitz, which is on a visit with its battle group of six ships, 87 aircraft and 5,000 crew members. "I am happy to see Hong Kong again," said the 26-year-old aircraft technician, who is one of two Chinese in the crew. The other is Kim Wong, 24, from Guangzhou. Born and raised in Hong Kong, Petty Officer Wai went to the US in his teens and joined the navy, hoping to broaden his horizons. "The kind of scenes that occur on board can only be seen in movies," he said. "I would like to be a commander, if there's a chance in the future." But he said it would be very difficult for a Chinese to be a commander in the US Navy, and did not rule out the possibility of joining the People's Liberation Army. For the time being, however, he plans to resume his studies after his four-year stint in the navy. He said life on board the carrier is routine and a bit boring, but the toughest thing for him is having no friends that speak his mother tongue. Petty Officer Wai will visit his two sisters during this trip to Hong Kong. He will also go to Lan Kwai Fong and Disneyland and plans to spend several hundred dollars a day. Kim Wong moved to the US when she was seven and joined the US Navy a year ago after graduating from university, hoping for an unforgettable experience. Seaman Kim said that, as there was no Chinese food on board, she would try a lot of it in Hong Kong. She also plans to buy some high-tech gadgets, including an iPod and laptop. This is the Nimitz's eighth visit to the city. It will leave Hong Kong on Thursday.
The Hong Kong Monetary Authority has warned of a lottery scam in which people claimed to be authority staffers on telephone and told victims that they had won cash prizes. In the calls, victims were told that they had won a lottery, and to collect the winnings, they had to deposit an advance fee into a designated bank account, the HKMA said. A HKMA spokeswoman told SCMP.com on Tuesday the alleged scam came to the authority's attention when 15 people, mostly from the mainland, had called to them asking whether the lottery existed. "But since they only asked if we had held such a lottery, up to this stage we have not been able to determine whether any of them suffered a financial loss," the spokeswoman said. The calls from the alleged fraudsters also showed telephone numbers very similar to those of the HKMA. "We are still looking into how they displayed these phone numbers," the spokeswoman said. The case had been reported to the Police Commercial Crime Bureau for further investigations, she said. The HKMA issued a statement late on Monday saying it had no connection with the fraudulent phone calls. It urged people who received such calls of to report to police on telephone: 852-2860-5012.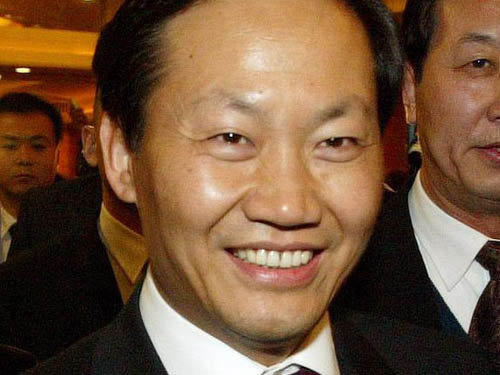 Peng Qinghua looks set to become Beijing's chief representative in Hong Kong following his appointment as the party secretary of the central government liaison office, mainland sources said yesterday. Mr Peng, 50, a deputy director of the office, is expected to replace Gao Siren, 63, as the director after the Communist Party's 17th congress, scheduled for October. Mr Peng's elevation as party secretary of the liaison office comes as the mainland leadership is accelerating the reshuffle of party positions of key officials in the run-up to the congress before a sweeping reshuffle of their government positions. The leadership has also decided to appoint Wang Yi, the ambassador to Japan, as the party secretary of the Foreign Ministry and transfer him to the Beijing headquarters soon to become the executive vice-minister, replacing Dai Bingguo. Mr Dai is widely expected to replace Tang Jiaxuan as the state councillor in charge of foreign, Hong Kong, Macau and Taiwan affairs next March. Mr Peng's elevation should come as little surprise, because of his strong central government connections and close links with the leadership. Since his appointment as a deputy director of the liaison office in 2003, he has been widely viewed as a rising political star and has been groomed for higher position. He was once principal secretary to Song Ping, one of the party elders who headed the powerful Organization Department in the late 1980s and early 1990s and responsible for reviewing and recommending appointments of senior party officials to the leadership. Most of the current leaders, including President Hu Jintao , partly owe their rise to Mr Song. Officials at the liaison office have recently been told of Mr Peng's appointment as the party secretary, and he is also virtually assured of a much-coveted place at the party's powerful Central Committee, because of the important role at the liaison office. Sources said Mr Peng, who has a business doctorate, had proved capable of handling Hong Kong affairs in the four years in his current position despite the fact that he spent much of his career in handling personnel appointments in Beijing. More importantly, he is believed to have earned the trust and confidence of Mr Hu and Vice-President Zeng Qinghong , who has the ultimate responsibility for Hong Kong affairs. Mr Wang's rise is also expected, because of his smooth diplomatic skills. Well-versed in Asian affairs - North Korea and Japan in particular - he was once Beijing's principal official in organizing and hosting the six-party talks aimed at persuading Pyongyang to abandon its nuclear weapons program. The leadership approached Mr Wang to become ambassador to Japan in 2004 when Sino-Japanese relations plunged to a new low, partly because of former Japanese prime minister Junichiro Koizumi's visits to the Yasukuni Shrine, which honors convicted war criminals.

China: A "China Compulsory Certification" safety mark scheme has been launched in the mainland, requiring mainland-produced toys to bear the safety label before they go on sale or are exported. The scheme, which came into force on June 1, was introduced by the State Council's General Administration of Quality Supervision, Inspection and Quarantine to ensure the safety of toys. As of June, toys cannot be exported or sold in the mainland without the required certificate and logo on the products.
China's central bank raised the benchmark interest rates on Tuesday for the fourth time this year in an effort to curb accelerating inflation.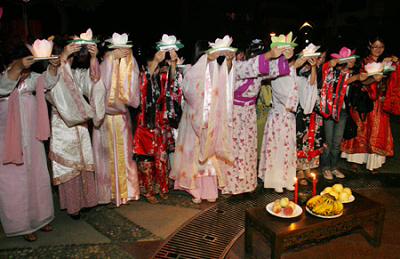 Girls holding lotus lamp pray in Hefei, capital of east China's Anhui Province, August 19, 2007. Over 40 Chinese traditional clothes lovers gathered here to hold activities on Sunday for the Qixi Festival, or Chinese Valentine's Day, on the seventh day of the seventh month of the Chinese lunar calendar.
Two girls sew in Hefei, capital of east China's Anhui Province, August 19, 2007. Over 40 Chinese traditional clothes lovers gathered here to hold activities on Sunday for the Qixi Festival, or Chinese Valentine's Day, on the seventh day of the seventh month of the Chinese lunar calendar.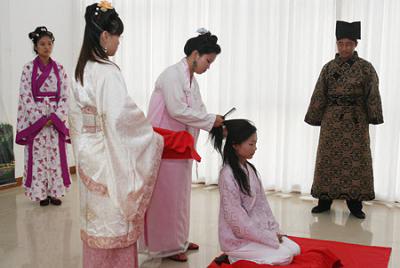 A girl is combed at her adulthood ceremony in Hefei, capital of east China's Anhui Province, August 19, 2007. Over 40 Chinese traditional clothes lovers gathered here to hold activities on Sunday for the Qixi Festival, or Chinese Valentine's Day, on the seventh day of the seventh month of the Chinese lunar calendar.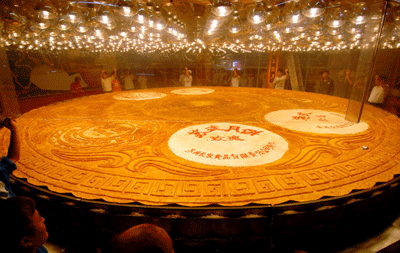 A giant moon cake is on display at a food market in Shenyang, Northeast China's Liaoning Province August 21, 2007. The enormous moon cake weighs 12.9 tons and measures 8,1 meters in diameter. The moon cake is a traditional Chinese food people enjoy on the Mid-autumn Festival (the 15th day of the eigth month in lunar calendar), which falls on Sep 25 this year.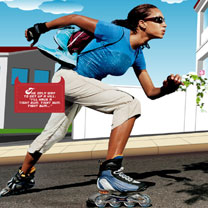 A Nike brand advertisement. A Shanghai court has ordered two Chinese shoe makers and a French supermarket to pay Nike $46,000 compensation for copyright infringement.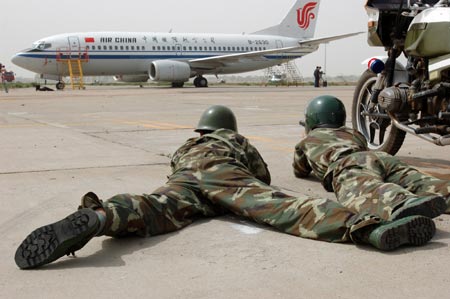 Chinese special policemen prepare to storm an aircraft during an anti-hijacking drill at an airport in Hohhot, North China's Inner Mongolia Autonomous Region, May 31, 2007. China is looking to establish an anti-terrorism legal framework and authorities are busy drafting a law to better combat terror threats, China Daily reported.
August 22, 2007

Hong Kong: The Hongkong and Shanghai Banking Corporation Limited has been in talks on possible purchase of a majority stake in Korea Exchange Bank, South Korea's sixth largest bank by assets, its mother HSBC Holdings said Monday. The stocks, if acquired, would be bought from U.S. private equity funds Lone Star, the bank said in an announcement to Hong Kong Stock Exchange, confirming media reports. Discussions on the possible purchase were ongoing, and if HSBC and Lone Star finally reach an agreement, the transaction would have to be approved by regulatory authorities in South Korea and elsewhere before taking place, according to the announcement. Established in 1967, the Korea Exchange Bank currently operates in over a dozen countries and regions. Its assets totaled about 91 billion U.S. dollars and it posted a net profit of over a billion U.S. dollars. It was rated A2 by Moody's. The bank was established as a government-owned bank specializing in foreign exchange and was privatized in 1989. It suffered losses in the financial crisis in the late '90s but managed to expand its equity capital by attracting huge investment from Lone Star. Earlier reports in South Korean media quoted sources as saying that HSBC and Lone Star planned to sign a binding memorandum soon but was still to decide upon the right time for signature, given the recent turmoil from the U.S. subprime mortgage crisis. With about 10,000 offices in 83 countries and territories around the world, the HSBC group is one of the largest banking and financial services organizations in the world. Its assets totaled 2,150 billion U.S. dollars as of June 30, 2007.
Traffic at the Hong Kong International Airport in July grew steadily by over 6 percent year- on-year, the Airport Authority said Sunday. Passenger volume in the month surged to 4.39 million, up 6.6 percent from July 2006, and air traffic movements added 6 percent at 25,380. Cargo volume went up 7.4 percent to 315,000 tons, driven by strong demand for exports and increase in transshipments. Summer is traditionally the peak season for air travel in Hong Kong and this July saw particularly strong visitor traffic from Europe and Southeast Asia at the airport, one of the world's busiest air traffic centers, the Airport Authority said in a report. Stanley Hui, chief executive officer of Airport Authority Hong Kong, said the growth reaffirmed the airport's status as one of the world's busiest aviation hubs. In the 12 months ending on July 31, the airport handled over 46 million passengers and 3.63 million tons of cargo, a year-on-year increase of 7.3 percent and 3.4 percent. Air traffic movements grew 4.2 percent to 288,115, the report said. Hong Kong International Airport was recently named the world's best airport in the annual Skytrax survey, the sixth time it ranked first in the survey in seven years.

Insurance and wealth management will be Hang Seng Bank's (0011) major growth drivers, overtaking its reliance on mortgage lending, according to William Leung Wing-cheung, general manager for personal financial services and wealth management.
Melco PBL Entertainment, an associate company of Macau casino operator Melco International Development (0200), said losses widened to US$96.4 million (HK$751.92 million) in the first half as costs increased.

More than 1,200 construction workers - on the 12th day of a strike for more pay and shorter working hours - staged a noisy but orderly protest in Central yesterday, and vowed to continue their stoppage until their demands are met.
The Antiquities Advisory Board - the government statutory body evaluating Hong Kong's old buildings - should be empowered to declare historic structures or those with architectural merit as monuments, a nongovernment organization has urged. Albert Lai Kwong-tak, who chairs the Hong Kong People's Council for Sustainable Development, told a forum yesterday the board should have the authority to declare that structures are monuments. Calling the Queen's Pier row a bid by radicals to "foment unrest for a broader political agenda," lawmaker and Liberal Party chief James Tien Pei-chun has warned that investor confidence will be affected if Hong Kong's major projects are left open to legal challenges.
Star Cruises - the Asia-Pacific region's leading cruise operator and the world's third-largest - is poised to go big in the Greater China region in expectation of a surge in cruise travel, fueled by a robust economy and the immense market potential arising from next year's Beijing Olympics.
The new Lok Ma Chau spur line had limited success in relieving the burden on the heavily traveled Lo Wu line during its first weekend, with travelers blaming the poor transport connections on the Shenzhen side. The Kowloon-Canton Railway Corporation had estimated that 60,000 passengers would travel on the Lok Ma Chau spur line every day within a year, eventually diverting about a quarter of the Lo Wu line's passengers. According to KCRC figures, the number of passengers who used the new spur line increased from 10,000 on the first day, Wednesday, to slightly more than 20,000 on Thursday and Friday. About 31,000 people used the new line on Saturday - only about 10 per cent of the traffic in Lo Wu, where 337,000 travelers crossed the border checkpoint. It was easy to find a seat on a Lok Ma Chau line train yesterday, with some compartments empty. A KCRC spokeswoman said it would take some time for passengers to become familiar with the new railway service. "It takes time for passengers to develop a new transportation habit," she said. Some cross-border travellers yesterday said they would continue to cross the border at Lo Wu because of the nearby availability of transport connections to the rest of Shenzhen and Guangdong province. Tom Chan, who travels to Guangzhou three or four times a month, said he would continue to use the Lo Wu line. "I can either take a long-haul bus or a train to Guangzhou, and the bus station and the train station are very near to the Lo Wu checkpoint. But there is no such thing at Lok Ma Chau. It is very inconvenient," he said. Another frequent traveler, who gave only his surname, Chung, also said transport connections were limited at Lok Ma Chau. "When I go to work, I have no problem at all. But when I have to carry my baby with me, things would be much easier if a taxi or bus service is available nearby," he said. The lighter traffic at Lok Ma Chau also hurt business at shops in the area. An employee at one shop selling telephone cards said it had 10 times more customers at Lo Wu than at Lok Ma Chau: "We serve about 60 customers at our Lo Wu branch, but we only had five to six customers at this Lok Ma Chau branch." Legislator Andrew Cheng Kar-foo, who chairs the Legco's transport panel, said the number of people using the new spur line during its first weekend was disappointing. He urged the KCRC to introduce discount fares to attract more passengers. "The problem of poor transport connections on the Shenzhen side is out of Hong Kong's control. But the KCRC can offer fare cuts ranging from 10 per cent to 15 per cent to capture more customers. "Hong Kong people are very practical, and they always pick alternatives that help save money." He said the new line could become a "white elephant" like the West Rail if no improvements were made regarding transport connections and fares.
HK jobless rate falls to nearly 4% - Hong Kong has achieved its lowest unemployment rate in nine years – dropping to around four per cent of the workforce, latest statistics released on Monday showed.

Jet Li is frustrated that his Hollywood-made films have not been able to clear Chinese censors. The Chinese native said on his official website on Monday that his 2000 movie Romeo Must Die wasn't shown in China because it involved Chinese gangsters; his 2001 film Kiss of the Dragon was banned because it featured Chinese police killing on foreign soil. Li said filmmakers were careful in handling his 2003 film Cradle 2 the Grave. Wary of a Chinese backlash, they changed the character of a Chinese police officer, who steals nuclear material, to that of a Taiwanese police officer, but the movie still didn't clear the censors. Li said Chinese censors objected because Li, a Chinese martial arts champion, had played a Taiwanese person. China and Taiwan split amid civil war in 1949, but Beijing still views the self-ruled island as its territory and has threatened to retake it by force. With his 2005 movie, Danny the Dog, also known as Unleashed, Li said he tried to convey an anti-violence message but still couldn't win over Chinese censors who raised concerns about racism. Li plays an animal-like assassin who tries to break away from his criminal life. "Many foreign filmmakers wonder how you can make an action movie that can show in China," the actor said. China carefully controls media content and only allows in about 20 foreign film a year. The Chinese government often edits or bans foreign films it considers insulting to China's reputation. In a recent example, censors cut scenes of Chow Yun-fat depicted as a bald, scarred pirate in Pirates of the Caribbean: At World's End, saying the images insulted Chinese people, state media reported. Li said he respects Chinese movie regulations, but added "films don't always have to be realistic. In films there are many unrealistic things ... It is my hope that audiences can mature and develop to see the difference between a movie and real life." Li, a former national kung fu champion in China, made his name in Hong Kong film with films like the Once Upon a Time in China series before moving on to Hollywood. He continues to make Chinese-language films, recently shooting the Chinese historical epic The Warlords. He is currently shooting the Hollywood film The Forbidden Kingdom, which marks his first pairing with Jackie Chan. The movie is about an American teenager's fantasy journey to ancient China to rescue a mythological monkey king.



The aircraft carrier USS Nimitz was scheduled to be in Hong Kong on Monday for a port call, the local US Consulate General said. The consulate general issued a statement inviting journalists to visit the ship on Monday but did not give details about the duration of its port call or its previous or next destinations. A spokesman at the consulate general did not immediately return a reporter's call seeking details on the USS Nimitz' itinerary. San Diego-based USS Nimitz was scheduled to take part in a military exercise off the coast of Guam starting August 7.

China: On August 15, 2004, Ministry of Foreign Affairs and Ministry of Public Security jointly promulgated the "Details of the application for 'Alien Permanent Residence Permit' in China." It stipulates that qualified foreign applicants will be approved with "Alien Permanent Residence Permit" issued by the Chinese government. The holder of permit will no longer need to apply for visa for entering, living in and working in China. Many people call the permit the Chinese "greencard". This indicates that China will open the door to attract foreign talent to China.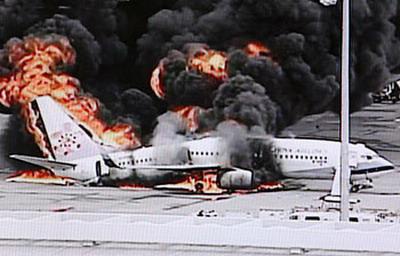 China Airlines plane from Taiwan lie on the tarmac on Japan's southern island of Okinawa August 20, 2007. A plane belonging to China Airlines Ltd caught fire soon after landing on Japan's southern island of Okinawa on Monday, but officials said all 165 people on board had escaped safely.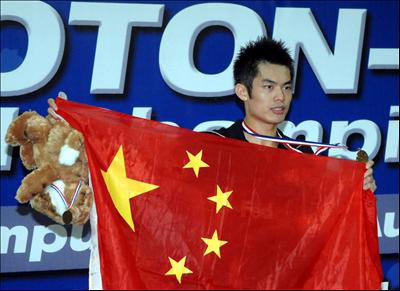 China's Lin Dan celebrates by showing the national flag and his gold medal during the awarding ceremony for the men's singles at the 2007 World Badminton Championships in Kuala Lumpur, Malaysia, on Aug. 19, 2007. Lin won the gold after beating Indonesia's Sony Dwi Kuncoro 2-0.
The 2007 China Trade Exhibition will be held in Costarica from Aug. 22 to 25, according to the China Council for the Promotion of International Trade (CCPIT). Nearly 30 Chinese enterprises in eight Chinese provincial-level regions, including Beijing, Chongqing and Zhejiang, have been confirmed to attend the first trade fair to be held in Costarica, said CCPIT vice chairman Wang Jinzhen. The exhibits will include home appliances, communication equipment, electronics, automobile, motorcycle, farm machinery, textile and clothing. As a comprehensive international exhibition of Chinese-made products, it is aimed at promoting bilateral trade and economic cooperation, Wang said. The CCPIT also plans to set up a representative office in Costarica before the end of this year, which will serve as the second representative office in Latin America and the 17th such office abroad.
The retail sales of accommodation and catering industry in China saw an 18 percent growth in July to score 92.3 billion yuan (12.1 billion U.S. dollars) of business volume over the same month of 2006, according to the latest figures revealed by the Ministry of Commerce. From January to July this year, the accommodation and catering industry maintained robust growth momentum, with the retail sales volume surpassing 673 billion yuan, up 18 percent on a yearly basis, which accounted for 13.7 percent of the nation's total consumption volume. The nation's consumer price index (CPI) in July set a 33-month high of 5.6 percent and foodstuffs were priced 15.4 percent higher than the same period last year, helping to push the country's accommodation and catering consumption to a new high. In recent years, investment constituted a much bigger share of the nation's GDP growth, while the consumption was relatively weak. This has become a key concern for the government. Against this backdrop, the government has taken measures to boost domestic consumption. During the first half of this year, the nation's investment growth rate has slowed down by 3.8 percent and the consumption growth rate increased by 2.1 percent compared with last year, said Xie Fuzhan, director of the National Bureau of Statistics. The strong consumption indicated the investment and consumption were favorably coordinated this year due to the efforts of the government's policy in energizing domestic consumption, said Qi Jingmei, an analyst with the State Information Center. Qi held that traditionally the fourth quarter is a peak season of consumption, so the country's consumption volume may continue its rapid growth momentum till the end of the year.
The Chinese government has approved six more countries as the destinations for outbound tourist groups, said sources with the China National Tourism Administration on Sunday. The six countries are Oman, Morocco, Monaco, Syria, Namibia and Bulgaria. In the first half of the year, China's outbound tourism saw rapid growth, with the number of tourists up 14.04 percent from the same period of last year, said the administration. The country remained Asia's largest source of outbound tourism last year, with 34 million Chinese tourists traveling abroad, up 10 percent year-on-year. China has so far approved 132 countries and regions as destinations for outbound tourism, 86 of which receive Chinese tourist groups.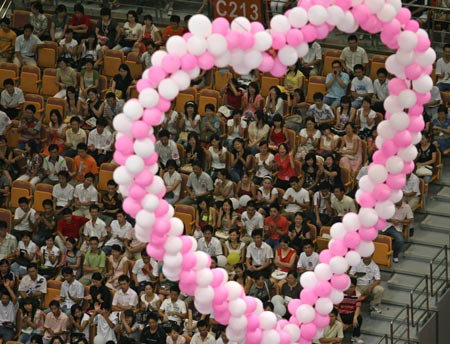 Single Chinese men and women take part in a mass matchmaking event in a stadium in Wuhan, Central China's Hubei Province, August 19, 2007.
The death toll in the bridge collapse in Central China's Hunan Province rose to 64 after rescuers found more bodies on Saturday. The rescue headquarters said about 152 people were working on the bridge when it collapsed on the afternoon of August 13. Twenty-two of them have been injured. But a source with the rescue headquarters said final figures of the dead and missing can be known only after the rescue work is over. It's difficult to know the exact number of people working on the bridge when it collapsed because they were part of seven construction teams, with some being casual laborers. The headquarters has talked to project managers, labor contractors and families of the workers and arrived at a conclusion that 152 were working on the ill-fated bridge. The government on Saturday suspended work on all unreinforced arch bridges in the country. Minister of Communications Li Shenglin passed the order on Friday, asking all provincial transportation departments to organize special teams to examine all unreinforced arch bridges. Work on them could resume only after they are declared safe. The search for victims became easier after experts detonated explosives at 2:28 am on Friday to demolish the three collapsed concrete piers, where more bodies were feared to have been buried, rescuers said.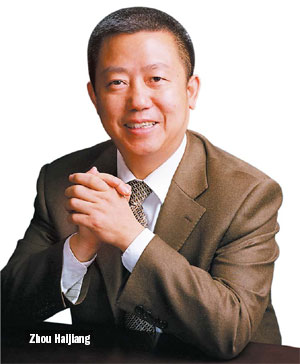 When Zhou Haijiang, a 22-year-old graduate, quit his job as a university lecturer and returned in 1987 to his then-obscure family factory, life did not seem rosy at all - his mother cried, his girlfriend left him and neighbors suspected that the boy was fired because of some "serious mistakes". Today, as chairman of Hongdou Group, one of China's largest textile companies, Zhou said he is most happy that he had made the choice. "I knew teaching wasn't my dream," he says. "I wanted to go out and create something." He did. His company now employs over 20,000 workers - among the largest employers in privately owned companies in the nation. Sales revenue of Hongdou reached 14.3 billion yuan (US$1.88 billion) in 2006 and he was recently elected a delegate to the 17th National Congress of the Communist Party of China scheduled for this autumn. And before all that happened, his college sweetheart became his wife and gave birth to two children. Competition first - Unlike many private businessmen in China who barely have a formal education, 41-year-old Zhou holds a doctorate degree in business administration and has had a wide-ranging education, ranging from a Party school to overseas studies. He enrolled in a university in Shenzhen in 1984, a city that later became famous for Deng Xiaoping's "southern tour" and a long-time testing field for China's reform and opening up policy. "Once an economist from Beijing came to our school and predicted that the liangpiao will finally be cancelled," Zhou recalls, "We all laughed because we had stopped using it in Shenzhen for quite a while." (more go to Biz-China)

China Shenhua Energy (1088), the country's largest coal producer, said interim profit surged 19.8 percent to 10.3 billion yuan (HK$10.59 billion), supported by higher prices.
China Safety watchdog hits toys recall - Politically motivated, unfair, biased and poisoned by jealousy - China's quality watchdog chief gave his verdict yesterday on the storm surrounding the quality of mainland goods, describing it as a "cold wind." Li Changjiang told a carefully choreographed talk show on state television that his department was doing everything possible to check quality and probe substandard goods, especially following the toy recall by Mattel. "I'm here to tell you: have faith in made-in-China," Li told a selected group of foreign and mainland executives and journalists. "Children are our future. So their health and safety is very important," added Li, the man leading the counter- offensive to convince the world that mainland goods are safe. "We have three million people working hard, making toys to make children around the world happy." Show host Chen Weihong held up a small plastic toy that was part of the recall, and asked the audience to guess which part contained too much lead. Eyes? No. Tail? Not that either. Legs? Way out. The answer - the eyebrows, only visible if you looked up close. "There is no danger. You can hold it with no problem," Li said. "The US has told us that there have been no cases of children being harmed." Next appeared a wooden toy train set. The only part with too much lead in it - the reason it was recalled - was a small bright red stop sign. "Children won't eat this sign, or smell it every day. The effect is very limited," Li said. "It's exaggerated. In the first example it was the eyebrows that exceeded standards. And in this whole set, it's only the stop sign. It's not fair to say China's products are not up to scratch. Not fair at all. "Why was the recall so large? Because they couldn't judge exactly which toys had too much lead in them. There's no way to distinguish, so they all had to be recalled. "More than 99 percent of our goods meet standards. Demonizing Chinese products, or talking of the Chinese product threat, I think is simply a new kind of trade protectionism." Li said that, curiously, it has only been in the last few months that the made-in-China stamp has attracted such suspicion, adding that over the last few years, "more than 90 percent of our exports have been up to standard. Why have the problems only come to light now? It's very worrying," he said.

China mainland's safety chief vowed yesterday to conduct a thorough investigation into the bridge collapse that killed at least 41 people in Fenghuang county, Hunan province, on Monday. In a high-profile meeting that marked the official establishment of the investigation taskforce, Li Yizhong , of the State Administration of Work Safety, said the team's primary concern was to determine the cause of the accident and identify those responsible. "The accident caused massive losses, and the lessons gained from lives and blood must be remembered deeply," Mr Li said. "If the investigation fails to reveal the true problem, identifies only those with minor responsibility, or even covers up the truth to protect [the culprits], it would be ... a blasphemy against the law and a crime on the people." Mr Li, who arrived at the scene a day after the 328-metre arched stone bridge was reduced to rubble, heads the taskforce. It comprises members of the ministries of transport, construction and public security, Mr Li's administration and the Hunan government, according to a statement on the administration's website. In a rare move, officials of the Supreme People's Procuratorate will also be included in the inquiry. "Getting the Supreme Procuratorate involved ... is a very important measure to investigate crimes of dereliction of duty," Mr Li said. The design of the Tuojiang bridge was finalized in 2003 and construction started a year later. Its official opening was planned in two weeks. Mr Li demanded that every link of the long project chain be thoroughly investigated. "The situation is very complicated as the project has gone through many phases and involved many departments ... but every link should be investigated carefully and thoroughly. [We must] find out what happened, by checking the original documents, conducting site tests and interviewing those directly involved." He said the taskforce would identify those responsible for the incident and propose punishment, including party disciplinary and administrative penalties. Those believed to have broken the law would be prosecuted. Without giving a deadline for completion of the investigation, Mr Li said the taskforce would submit a report to the State Council that would "stand the test of history". Explosives teams had been summoned to the site to blow up the bridge's piers, which were hindering bulldozers. A Xinhua report said it would take days to clear the site. Mr Li has vowed to find every missing person, alive or dead.
August 21, 2007

Hong Kong: Hong Kong economy expanded briskly in the second quarter of 2007, with GDP speeding up to a 6.9 percent growth over a year earlier, up from a revised 5.7 percent in the first quarter, the government said Friday. The overall GDP growth in the first half turned out to be 6.3 percent, also better than previously expected, and the growth forecast for the whole year was revised from 4.5 - 5.5 percent to 5 - 6 percent, said government economist Kwok Kwok-chuen. Kwok acknowledged the existence of external uncertainties but said the economy was set for further solid growth in the second half barring abrupt changes for the worse. The growth was attributed to robust export of goods, which went up by 11.3 percent in the second quarter in real terms over a year earlier. The mainland market continued to be the key driver and a weak U.S. dollar contributed to the growth, too. Exports of services also grew distinctly by 10.9 percent. In the domestic sector, private consumption expenditure increased by 6.6 percent and overall investment spending picked up to a strong increase of 11.1 percent. The government also warned of uncertainties ahead, including the impact of prolonged correction in the U.S. housing market, the recent turmoil arising from the sub-prime mortgages and the consequent tightening in credit conditions in many financial markets. The forecast rate of increase in the composite consumer price index for the year as a whole was maintained at 1.5 percent, Kwok said. Higher food prices, RMB appreciation and weakness of the U.S. dollar are likely to continue to exert pressure in terms of inflation outlook. Nevertheless, sustained rapid increase in productivity on the supply side would provide an offset.
HK firms slam `politicized' recall - Following the recall of toys by Mattel, Hong Kong toymakers who now dominate the mainland's toy production said the episode had been "politicized" and could force some toymakers out of business. I do think there will be companies closing down ... but it won't be like the Asian financial crisis where half the companies will be wiped out," said Ivan Ting, executive director of Kader Holdings, one of Hong Kong's largest toymakers. But longer term, Ting said the majority of Hong Kong toymakers would be unaffected by the scandal and might benefit by being forced to better manage their supply chains. The Federation of Hong Kong Industries, which represents toymakers on the influential Hong Kong Toys Council, said there was a degree of politicization of the recalls, following other scandals that had tarnished the "Made in China" name for products such as pet food and toothpaste. "It's been politicized," said Clement Chen, the federation chairman, who added most of China's toy exports made in Hong Kong-owned factories were safe and that those with problems were "isolated cases." In Guangzhou, some merchants said the recall was one of a number of factors now squeezing the industry including rising labor and raw material costs. But for now, demand for toys is still outstripping supply in the world's largest toy production hub of the Pearl River Delta.

Current stock market sentiment is becoming irrational, said Hong Kong Monetary Authority chief Joseph Yam Chi-kwong, who advised investors to maintain a cool head under the prevailing turbulence in the wake of the credit squeeze brought on by the US subprime mortgage fallout.
US investigators probing the Dow Jones insider trading case are said to have offered a settlement deal to Bank of East Asia (0023) chairman David Li Kwok- po.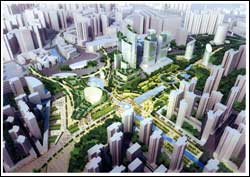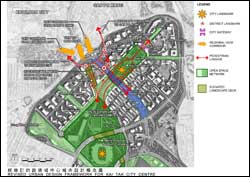 Novel design turns Kai Tak nullah into river haven - An 800-meter nullah to be turned into a river will become the focal point of the new Kai Tak City Centre, according to the latest amendment on the Kai Tak outline zoning plan approved by the Town Planning Board. The plan also features a curvilinear landscaped elevated walkway and a height limit to buildings to ensure an unrestricted view of the 123-hectare city center. The response by board members was overwhelmingly positive, with some calling the suggestion a novelty and an encouraging direction for future town planning in Hong Kong. The core of the amendment came from the Democratic Alliance for the Betterment and Progress of Hong Kong, along with 46 other representations made during the plan's consultation process last year. The existing nullah, which has been used as a drainage channel, will be widened to become a river and its banks will be dotted with shops and cafe patios. To allow high-rise buildings a full view of the river, a staggered height limitation will be imposed on riverside buildings. They will have to cascade downward from 40 meters to 15 meters. Engineer and board member Edmund Leung Kwong-ho called the nullah-turned-river idea "striking," a novelty in the city's town planning. "It is about time we had more novel designs in Hong Kong," he said. The board last June made a self-paid study tour to South Korea's redesigned Cheonggyecheon stream from a polluted underground nullah as well as to the aerial garden between two towers in Osaka, Japan. However, board member To Pun- man feared the water level of the river could vary according to different seasons and the time of day. He said during dry season the drainage channel could be extremely shallow and the water quality may not be up to par. Another board member, architect Bernard Lim Wan-fung, said if successful the Kai Tak river could be even better than the Cheonggyecheon stream. The stream has to rely on water pumped from the Han River whereas the nullah is provided with treated water from Sha Tin. Whether the nullah will become another green miracle in Asia will depend on the feasibility study being conducted by the Civil Engineering and Development Department. The tallest building from afar will be a 175-meter high commercial office landmark next to the Sha Tin-Central Kai Tak Station. Another outstanding feature of the amended plan is a 400-meter-long curvilinear landscape elevated walkway which will link the newly developed district to Kowloon City and San Po Kong. It is not the usual elevated walkway, the board was told. It will become a 12-meter wide leisure walkway dotted with design landscapes, retail booths and sitting areas, turning it into a corridor from which people can view Lion Rock, the river and the park at the city center. Leung also had high praise for the walkway, saying it will be a sight for sore eyes as more greenery is needed in a cramped city like Hong Kong. In addition, there will be an iconic gateway to the 80-meter twin towers at Station Square. The other buildings in the area will have height restrictions ranging from 15 to 60 meters. Lim called the plan a milestone in town planning. The amended plan will be gazetted in about one to two weeks' time, followed by a three-week public consultation period. Kelvin Chan Kwok-wing, senior town planner (Kowloon) of the Planning Department, estimated the complete Kai Tak outline zoning plan will cost HK$9.8 billion. He said the project's first phase will begin with the new cruise terminal at the former Kai Tak runway. It will be followed by public housing and a government office at runway north. The city center plan is still at the study and design stage and further details will come later, he said. The Tourism Commission had earlier announced that bids to build the terminal will be taken before the end of this year.
Hong Kong's working-age mainland migrants are generally not as well educated and earn less than their local peers although their fortunes can be expected to improve with time, according to statistics released by the government. In its half-yearly economic report, the government said last year's data showed that only 7.9 per cent of working-age mainlanders arriving in Hong Kong had attained post-secondary education compared with 23 per cent for the entire population. Some 22.9 per cent of arrivals had not advanced beyond primary level, slightly less than the 25.4 per cent for locals. However, 69.2 per cent of mainland migrants had attained secondary education, more than the 51.6 per cent for the whole population. Wages earned by mainland arrivals also lagged locals, the report said. Last year, the median wage was about HK$6,000 for these arrivals while locals earned HK$10,000. The majority, or 82 per cent, of the 63,900 mainlanders working in Hong Kong last year held lower-skilled positions, like service workers and shop sales staff. People aged 15 or above are considered of working age. "Generally speaking, mainland arrivals have been constrained in the local labour market by their lower education and skill levels and limited social network," the report said. "Nevertheless, the situation can be expected to improve over time, as these newcomers acquire more knowledge and experience and become more integrated into the community." The report said that 54 per cent of the mainland arrivals were not part of the labor force, meaning they are mostly homemakers or students. Those who are employed account for a mere 2 per cent of the total workforce. Significantly, between 1991 and last year, there were fewer mainland women workers compared with local women. In 1991, 53.4 per cent of the women were part of the labor force versus 41.5 per cent last year. Local women with jobs rose from 49.4 per cent to 52.8 per cent. "Given that mainland arrivals constitute only a minor share of the labor force aggregates in Hong Kong, it seems unlikely that their movements will have too much impact on the overall labor market situation," the report said. Claims that the entry of mainlanders had led to a worsening in Hong Kong's employment situation were over-exaggerated, it added.
Hong Kong's private hospitals are calling for an easing of visa procedures for mainland tourists seeking medical treatment in Hong Kong to promote medical tourism in the city. Alan Lau Kwok-lam, chairman of the Hong Kong Private Hospitals Association, said more mainlanders would seek medical services in Hong Kong in the coming years as they became more affluent. "Mainland tourists are willing to pay a premium price for treatment in Hong Kong," he said yesterday at the Hong Kong-Taiwan Medical Services Forum. He said they had better access to medicine in the city and had confidence in doctors here. "Hong Kong is well-positioned to capture this growing market." Mr Lau said the government was not doing enough to promote medical tourism. He said the government should simplify visa procedures for mainlanders seeking medical services in Hong Kong. And the government should take into account the length of time needed for good treatment when considering visa extensions for mainland visitors. Anthony Lee Kai-yiu, chief manager of Union Hospital, said immigration policy was not friendly to mainland visitors seeking treatment. "We still find it difficult for patients seeking treatment in Hong Kong to extend their visas [for post-medical treatments]," Mr Lee said. Hong Kong has been a medical tourism destination for 30 years, with competitors including Singapore, Taiwan and Thailand. Mr Lau said the development of medical tourism could bring a huge amount of foreign exchange to Hong Kong and create more jobs. He said the government should spend more on medical infrastructure to further promote medical tourism. More hospitals were needed to cope with the increasing demand of medical services from local residents and medical tourists. The government should also revise legislation on advertisement of medical services and facilitate the publicity of medical tourism.

China: China may overtake the United States to become the world's second largest exporter this year if its current export growth speed continues, said a senior government official on Saturday. Yu Guangzhou, vice minister of commerce, told the China Economic Development Forum that for now China ranks the third after Germany and the US in terms of export volume, but it is highly possible that China will surpass the US to be next to only Germany within this year. In 2006, China's export volume trailed that of the US only by less than 70 billion U.S. dollars, while its export growth speed was seven percentage points higher than that of the US. Calculated with the current growth rate, China's export may possibly exceed that of the US by 50 billion U.S. dollars this year. Observers in Beijing estimated that if China maintains its foreign trade growth rate, it will replace Germany to become the world's top exporter next year. In terms of total foreign trade volume, China will possibly surpass Germany to become world's no. 2 this year or by next year, with the US ahead only. Customs statistics show that in the first half of this year, China's foreign trade volume reached 980.9 billion U.S. dollars, up 23.3 percent year-on-year. Of this, export grew 27.6 percent to 546.7 billion dollars, while import grew 18.2 percent to 434.2 billion dollars. Yu said that China's foreign trade structure has been gradually optimized through readjusting tax rebate policies and processing trade policies. The export of high energy consuming and high pollution products has dropped sharply.
Chinese President Hu Jintao (L3), together with leaders of other Shanghai Cooperation Organization (SCO) members, listen to the introduction prior to a joint anti-terrorism drill, dubbed "Peace Mission 2007", staged by the six member states of SCO, in Chelyabinsk of Russia, August 17, 2007. Strike against terrorism is an important mission of the Shanghai Cooperation Organization (SCO), China and Russia, Chinese President Hu Jintao said here Friday.
China's first 1.5 megawatt (1, 500 kW) wind-power generator with completely independent intellectual property rights has rolled off the assembly line in the southern Guangdong province. The price was at least 20 percent lower than similar imported products or those manufactured by joint ventures, said the Guangdong Mingyang Wind Power Technology Co., Ltd. The generator was designed for China's climate and is resistant to typhoons, sand storms and extremely low temperatures. The technologies of the generator have been certified by GL Germanischer Lloyd, according to the company. The company has received orders for 250,000 kw of its wind power generators valued at 1.6 billion yuan (210.5 million U.S. dollars), said Zhang Chuanwei, chairman of the the parent company Guangdong Mingyang Electric Group Co., Ltd. He said that company's annual production capacity of wind power generators will rise from the current 450 units to 1,000 units by 2010. China's wind power resource exceeds one billion kilowatts, according to official estimates.
Food safety high on agenda - China issued its first White Paper on food safety on Friday, and on the same day Vice-Premier Wu Yi was named as the head of a 19-member Cabinet-level panel to oversee product quality and food safety. The 39-page White Paper, released by the State Council Information Office, details a series of achievements and planned measures to improve food quality, from establishing a national food recall system to increasing exchanges with quality officials from other countries. The paper said the proportion of Chinese food products that passed quality inspections had risen steadily in recent years, from 77.9 percent last year to the current figure of 85.1 percent. The paper also said the qualification rate of exported Chinese food had remained higher than 99 percent for many years. It said China exported 24 million tons of food to more than 200 countries last year, up 13 percent over the same period the previous year. Seafood, vegetables and canned goods were among the most popular products, while Japan, the United States and South Korea were the top three importers. Also on Friday, the government published a statement on its website, saying it had appointed Vice-Premier Wu to head a panel on food safety and product quality. The decision to set up such a panel was made on July 25 at a State Council meeting chaired by Premier Wen Jiabao. The statement said the panel is made up of 19 high-ranking officials from 16 central government departments, including Health Minister Chen Zhu, Agriculture Minister Sun Zhengcai, and Li Changjiang, head of the General Administration of Quality Supervision, Inspection and Quarantine (AQSIQ). Wu will lead the panel in coordinating ways to address the country's problems in food safety and product quality and oversee the implementation of policies. Also as part of the government's efforts to improve product quality, the AQSIQ said on Friday it has sent 150 officials, one-third of its total staff, to 14 provinces on a three-month inspection of production in enterprises. "It's the first time that the administration has sent so many officials, Li said. He said the officials have been briefed to find production and supervision loopholes as well as solutions. Luo Yunbo, dean of the food science and nutritional engineering school of China Agricultural University, said the latest moves underscored the government's determination to improve product quality after a spate of safety scares. The quality of Chinese products, especially food, have been in the international spotlight in recent months following additives exported from China contaminated some pet food in North America. The foreign media has also reported that toothpaste, seafood, toys, and even cooking pots from China were found to be unsafe, fanning global criticism of Chinese products in general. "As a responsible country, China should show the public, as well the world, a true and complete picture of the food safety situation in the country," Luo said.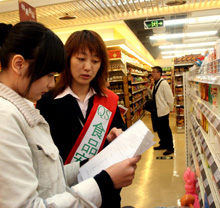 A shopping guide promotes food safety in a supermarket in Xiamen in East China's Fujian Province. By the end of June 2007, a total of 16,030 food-safety supervision regions had been set up. By the end of June 2007, a total of 16,030 food-safety supervision regions had been set up, 25,346 full-time food-safety inspectors had been put to work, 72,474 local government coordinators had been appointed, and 106,573 food-safety reporters had been recruited in 31 provinces, autonomous regions and municipalities directly under the Central Government. In 2006, the quality supervision and inspection departments at various levels made 900,000 inspections of food producing and processing enterprises.
Tainted-toy row hurts workers - Many mainland toy workers have lost their jobs following Mattel's global recall of toys, an industry body said on Friday, but insisted overall confidence in their products was high ahead of the key Christmas season. China has been struggling to convince the world its goods are safe after a series of scandals over a string of products from tainted pet food and drugs to tires, toys and toothpaste. In its second recall this month, Mattel, the largest US toy company, recalled millions of Chinese-made toys on Tuesday due to safety risks from magnets and lead paint. It warned it may recall additional products as it steps up testing. The China Toy Association, representing about 1,500 manufacturers and suppliers, said the production of poor-quality goods was not deliberate. "The industry itself did not mean to produce poor-quality goods and paid a heavy price for its mistakes," it said. "Most of the employees will have to leave factories they have been serving at for many years and are facing unemployment or reemployment problems. This has had a huge impact on the industry and society. "The recent recalls were instigated by foreign brands," it said. "Nobody was injured." May Liang, the industry's secretary general, said orders remained strong at present, and that toys for the Christmas season abroad had mostly already been shipped. "Foreign companies still have a lot of faith in made-in-China toys," she said. "We have more and more of the world toy market. This is an approval of Chinese toys." Liang added it was unfair to criticize the mainland industry for reacting slowly to the recall, as compared with the apparently rapid US reaction. Investigations took time, she said. "The impression in the media is that they reacted very fast and we were very passive. But we had to understand exactly what the reasons were and related departments had to investigate." In previous export crises, mainland warnings of factories going to the wall were not borne out by the facts, as companies managed to pare costs and pass on some to customers. The group also blamed "unobjective whipping up of public opinion" for the troubles which "certainly led to excessive worries for domestic and foreign consumers." "Including our colleagues overseas, we do not agree with foreign media fanning the flames, as it is not in accordance with the facts," Liang said. Rising costs and squeezed profit margins coupled with the current safety recall could drive some companies to stop exporting altogether and concentrate on the domestic market, she added. Meanwhile, Vice Premier Wu Yi, the mainland's top troubleshooter, has been appointed to head a previously announced Cabinet-level panel to oversee product quality and food safety. It will look at agricultural products, food and related consumer products and pharmaceutical goods.
China to issue judicial interpretation on Property Law - The Supreme People's Court (SPC) will promulgate judicial interpretations on Property Law, Corporate Bankruptcy Law and regulations of criminal evidences in 2007, according to a SPC annual plan on judicial interpretations. The landmark property law was adopted on March 16 after taking 13 years to wind its way through the legislative process. The law, which will come into effect on Oct. 1, states, "The property of the state, the collective, the individual is protected by law, and no unit or individuals may infringe upon it." Legal experts said the property law was a significant step in the country's efforts to further economic reforms and boost social harmony, but as some articles were vague, courts would have difficulty in applying it. A SPC official said the supreme court had ordered courts across China to organize training sessions on the Property Law. Courts were required to submit experience tips of handling property cases to the supreme court for reference. "Opinions and suggestions from local courts, legal experts and members of the public will be taken into consideration," he said, adding the SPC has already received more than 50 suggestions on judicial interpretations of various laws and regulations, 10 of which were put forward by people outside the law circle. The SPC will reply each proposer in written form every time after a final version of a judicial interpretation takes shape, said the official.
Shanghai Electric Group (2727), the mainland's biggest maker of power equipment by sales, posted a 50 percent increase in net profit in the first half on strong demand for its generators and significant earnings from equity investments.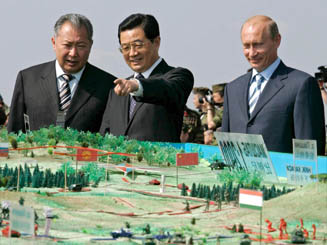 As the Shanghai Co-operation Organisation's summit and military drills draw to a close, experts say its stance towards the west depends on Moscow and Beijing.
August 20, 2007

Hong Kong: Canada, Hong Kong Collaborate in Chinese Medicine Signing of Four MOUs a Major Step Forward in Cooperation - The Canadian Life Sciences Trade Mission has been visiting the annual ICMCM for the past four years. Photo shows (left to right) Ralph Chow, Director of the TDC, Penelope Marrett, mission leader, and James Gilmour, Vice Consul and Trade Commissioner of the Canadian Consulate, at the networking luncheon, organized by the TDC and the Canadian Consulate today in Hong Kong. Chinese medicine received a significant shot in the arm today with the signing of four memorandums of understanding between Canadian and Hong Kong institutes. The four MOUs cover collaboration in the research, technology transfer, commercialization and promotion of Traditional Chinese Medicine (TCM) and health products in the two markets. Signed during a luncheon hosted by the Canadian Consulate in Hong Kong and the Hong Kong Trade Development Council (TDC), the agreements bring together The Canadian Health Food Association (CHFA) and the Modernized Chinese Medicine International Association (MCMIA), The CHFA and the Hong Kong Health Food Association (HKHFA), Canada's Advanced Foods and Materials Network (AFMNet) and the Hong Kong Jockey Club Institute of Chinese Medicine (HKJCICM) and Bell Alliance International Inc and Zigen Pharmaceutical Ltd. The MOUs are the result of a Canadian Life Sciences Trade Mission, which has been visiting Hong Kong's annual International Conference and Exhibition of the Modernization of Chinese Medicine and Health Products (ICMCM) since 2004. "The trade mission's objective is to encourage Canadian and Hong Kong partnerships in the life science sectors, including buying and selling, joint ventures and research cooperation," said Andrew Yui, Director of the TDC's Toronto office, which has played a key role in organizing the missions to Hong Kong. The MOU between the CHFA and MCMIA supports mutually beneficial developments, particularly in exchanging knowledge and market information and sharing updates on regulatory requirements. "The new Natural Health Product Regulation opens a clear path for high quality TCM to be introduced to Canada as natural medicine. Similarly, Canadian natural health products can also be introduced to the Greater China region. CHFA and MCMIA members should find plenty of opportunities to do business between Canada and China using Hong Kong as an efficient portal," said Abraham Chan, President of MCMIA. The agreement between the CHFA and the HKHFA establishes similar cooperative links, with an emphasis on optimizing the resources of both organizations to support mutually beneficial developments and activities. "The MOU between AFMNet and HKJCICM strengthens scientific and resource planning and technology transfer of R&D deliverables, raising the return on investment from research to applications," said Dr Rickey Yada, Scientific Director of AFMNet, and Dr Edmund Lee, Executive Director of HKJCICM. The commercial MOU between Bell Alliance and Zigen creates a long-term partnership between the two parties, particularly in the development of international markets for health products. "Our companies are working closely together to introduce Chinese medicine formulations and active ingredients to Canada, positioning them as pharmaceuticals and natural health products, which are legally recognized as drugs in Canada, rather than health foods or dietary supplements. We hope to leverage on our success in Canada to introduce these products to other countries around the world," said Albert Wong, Managing Director of Zigen Pharmaceutical Ltd. "The MOUs are a milestone in the ongoing efforts of the TDC and our consulate to promote Chinese medicine and health foods. We are proud of this development and will ensure that the collaboration continues to build," said Francois Rivest, Consul and Senior Trade Commissioner of the Canadian Consulate in Hong Kong.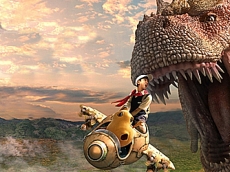 Thai film industry scopes HK's animation success - New perceptions for better animation. Hong Kong's Centro Digital Pictures Ltd was both the producer and developer of striking animation on the Disney China Film Group's foray into Chinese-language movie-making in May 2007 - and the popularity of the result, The Secret of the Magic Gourd co-venture, is making itself felt in Thailand. Apparently so much so, that Thailand's Software Industry Promotion Agency (SIPA) and the Ministry of Information and Communication Technology are making moves to support local digital companies. Official weight is being put behind the Thai Animation and Computer Graphics Association (TACGA). Four cartoon movies, Spooky Imaginary Friend, Bloody Bunny, Fuzzy Adventure and Fruity Town are in production for showing on local TV channel MCOT from September 2007. Concentrating their minds is the fact that the Thai animation market generates revenues of US$129 million at present, of which 90% was raised by Thai firms and 10% by foreign companies. There's a strategy in place to push revenues to US$194 million in 2008, promoting local digital content in overseas markets. Khan Kluay was the first computer graphics animated feature made in Thailand by Kantana Animation company - receiving the country's highest box office take of 2005. There've been quite a number of Thai animation series produced since then, including Pang Pond: 3D Animation, The Adventures of Mistress Kaew and Zon 100%. These animated series are broadcast via local TV channels, with the prospect that they will resonate with overseas viewers. But Hong Kong's Centro Digital Pictures has seen a new higher level of success with its Gourd movie. The film is based on a novel by Zhang Tianyi, abut a boy who discovers a gourd that grants him several wishes. The story has already been adapted for TV on the Chinese mainland. Thai producers recognise that a similar set of effects as in the Gourd movie can be brought about by outsourcing digital imagery with huge advantages as to cost, consistency, quality and efficiency by using Hong Kong-based units such as Centro. To achieve "Hollywood success", regional film makers are increasingly expecting to draw on the expertise of companies that can deliver the latest and best, or suffer at the box office.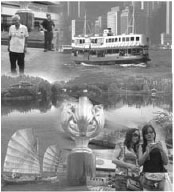 For tourists, Hong Kong is best known as a shopping and gourmet paradise. This meeting place of East and West has everything in abundance to satisfy different fashion needs and taste buds from all around the world. But few people know that this "Pearl of the Orient" has a natural beauty to offer too, a picturesque countryside that is just as charming as its urban landscape. When the British first came to Hong Kong one-and-a-half centuries ago, it was the deep-water harbor they most admired. They were less impressed by the scenery on the island, which they disdainfully called a "barren rock". Why the place was so barren at that time is not clear. One theory is that the notorious 19th-century pirate Cheung Po Tsai, who featured in a recent Hollywood movie, chopped down most of the trees on the island to build his enormous fleet. Thousands more trees were cut down for firewood during the 1942-45 Japanese occupation of the territory when everything was in short supply. By the time the Japanese left, only a small fraction of the land remained forested. Woodlands re-emerged after the war, thanks to the government's systemic forestation program that started in the 1950s. To better protect the ecology of the countryside, the government enacted a law in 1976 for the establishment of country parks. There are now 23 of them covering 410 sq km, about 40 percent of the total area of Hong Kong. There are spectacular beaches on the Sai Kung Peninsula and healthy coral reefs in marine parks that are paradise for divers. Hong Kong is also known for the lushness and great diversity of its flora and fauna, featuring many tropical as well as temperate species. This well-preserved ecology is certainly a valuable asset of the city, which is far from just a concrete jungle. What is unique about Hong Kong's countryside is its proximity to the town. It is not easy to find another place in the world where the wilderness is so close to urban areas.

The recent recalls have swung a spotlight on Francis Choi Chee-ming, the Hong Kong tycoon whose factories made hundreds of thousands of the lead-tainted toy cars. Widely known in Hong Kong as the "Toy King," the 61-year-old has been one of the city's most successful manufacturers. Born in Guangdong, Choi started out as a toy salesman. He founded toy maker Early Light Industrial at age 25. Choi successfully negotiated a deal to make Snoopy products in his company's early days before becoming a regular supplier to Mattel, now a client for nearly 20 years. Early Light, a private company, employs more than 50,000 people in plants in Hong Kong and Shenzhen. Choi's wealth is estimated at US$1 billion (HK$7.8 billion). Much of his fortune reportedly goes to his large collection of sports cars. His mansion's parking lot reportedly holds more than 30 luxury cars worth more than HK$26 million. But much of Choi's money came not from his toy business but from property, and he has branched out into the health business. He recently bought into Town Health International Holdings, a health service provider. Still, Choi's claim to fame is toys and Mattel's recall threatens his reputation. But for now, Mattel has not blamed Choi for its recall of 436,000 tainted die-cast "Sarge" cars. One of Early Light's subcontractors used the lead paint that showed up on the cars. Mattel said Early Light followed procedures and supplied subcontractor Hong Li Da with safe paint but Hong Li Da chose to use cheaper, unapproved paint from an unknown party.

Hong Kong's economic growth rose nearly seven per cent in the second quarter of 2007 as the city's economy continued to show "broad-based and above trend" expansion.

China: Google expects mobile-phone services will help it overtake Baidu.com to become China's biggest internet search company as more people in the nation surf the web on their handsets instead of personal computers.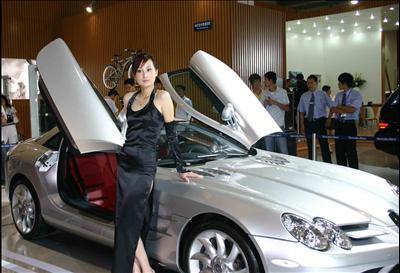 A model shows a Benz SLR roadster at the 12th Dalian Int'l Auto Expo in Dalian, China, Aug 16, 2007. More than 300 companies will show their cars during the four-day expo.

China World Hotel Beijing, Garden Hotel GuangZhou, and Portman Ritz Carlton Shanghai were recently approved as China's first batch of "platinum five-star hotels". Shao Qiwei, head of the State Tourism Administration, awarded certificates and plates to the three hotels at a ceremony held in Beijing, August 16. Hotels can apply for the title in future, but only a limited number of them would get approved.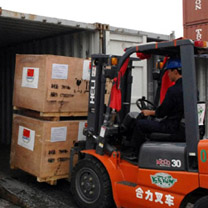 A worker loads aid donated by China to Sudan into containers at Tianjin port in North China, August 16. These goods, worth 20 million yuan, are the fourth of five batches of aid that China promised to give Sudan to relieve the crisis there.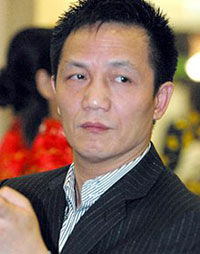 The Shanghai Municipal People's Procuratorate has charged property tycoon Zhou Zhengyi with misappropriation of funds, bribery and forging VAT receipts, a procuratorate source said on Friday. Zhou, former president of Shanghai-based property firm Nongkai Development Group, was released from prison in May 2006 after completing a three-year sentence for fraud and manipulating the stock market. But five months later, in October, Zhou was detained as prosecutors investigated the Shanghai social security fund scandal. Shanghai courts began to hear cases of officials involved in the Shanghai social security fund scandal in June. The second division of Shanghai Municipal People's Procuratorate charged Zhou at the Shanghai No. 2 Intermediate People's Court, the procuratorate source said. However, the source did not give further details on the charges. Zhou, 45, also known as Chau Ching-ngai, started business as a teenager in a wonton noodle shop. In 2002, Forbes estimated Zhou's wealth at about US$320 million. Earlier this month, four prison officials in Shanghai were jailed for taking bribes and providing preferential treatment to Zhou during his incarceration.
August 18 - 19, 2007

Hong Kong: The U.S. subprime mortgage problem had not brought any systematic impact to Hong Kong's banking sector, said the top financial official of the Hong Kong Special Administrative Region (HKSAR) government on Thursday. John Tsang, financial secretary of the HKSAR government, made the remarks in Beijing where he is paying a two-day visit, and his remarks were quoted by a statement from the HKSAR government. Noting local market transactions were in order, he said that the interbank market operated smoothly and orderly and that the Hong Kong dollar exchange rate remained stable. Hong Kong stocks closed at 20,672 points Thursday, down 703 points or 3.29 percent. Tsang said that the plunge was mainly due to a number of external factors, including global market conditions and the U.S. subprime mortgage problem. He noted that Hong Kong's financial system is capable of handling market volatility, but urged shareholders to act according to their ability and be aware of fluctuating market conditions. "The Government and financial institutions are monitoring the markets," he said, adding that the Hong Kong Monetary Authority had reviewed information submitted by local banks and found the U. S. subprime mortgage problem had not brought any systematic impact to the sector.

In another day of turmoil in financial markets from Asia to Europe and Wall Street, investors ran for cover seeking safer assets as subprime casualties mounted, triggering calls by regulators and European leaders to probe the role of leading ratings agencies in assessing risk.
Hong Kong youngsters have serious problems in concentrating and nearly 80 percent find it hard to focus on schoolwork, sport or leisure activities, a survey has found. The study, conducted by Research International in May, interviewed 3,048 youths in Hong Kong, Indonesia, Mainland China, Malaysia, Taiwan, Thailand, the Philippines and Vietnam. The study targeted youths aged 15 to 22 in five key areas - school, sports, leisure activities, social time and family gatherings. Of the 300 youths interviewed in Hong Kong, only 22 percent were able to adequately focus on their schooling, sports and socializing. This was much lower than the average in Asia, which was 29 percent, according to Research International director Raymond Chan Yue-kuen. Chewing-gum maker Wrigley sponsored the study and its Hong Kong managing director Peter Tsang Cheng- keong said the results were worrying. "It is worrisome the concentration and confidence levels of Hong Kong youths are among the lowest when compared with their counterparts in the region. Young people themselves have expressed anxiety about their future," Tsang said yesterday. "We discovered that low concentration levels increase stress levels, decrease self-confidence and, therefore, jeopardize the ability of the youths to realize their full potential." One of those involved in the study, Wong Chung-kwong, said from his own experience, many people in Hong Kong lack concrete goals, focus, organization and prioritization. "People must individually make an effort to improve their concentration and undergo concentration training techniques and therapy," he said. "Apart from getting more rest, we have found that exercise, a quick head or eye massage and chewing gum are among the healthier habits that help young people focus better." Last year Wrigley, in collaboration with the authorities and education institutions in China, launched a campaign called China Youth Concentration Care Program to provide scientific guidance that may improve students' concentration and performance. Wrigley also organized a seminar in Hong Kong where head teachers from several mainland cities shared their experiences on handling this issue. "We are now working with relevant stakeholders in some of the locations to promote healthy habits that will help young people focus better," Tsang said. "We feel a good place to start would be during the students' study time, which is when they are getting bored and easily lose concentration."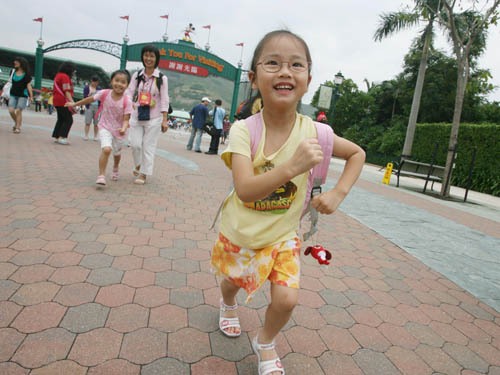 Hong Kong Disneyland is unlikely to see much improvement in its fortunes in the next few years, observers say, although management denies an urgent need for the government to sell down or offload its stake. "In the short term, I don't think attendance will increase much, so the only way to improve financial performance is to boost visitor spending," Chinese University economist Terence Chong Tai-leung said. The theme park had announced that its first-year attendance was 5.2 million, below the target of 5.6 million.
Fans of kung fu legend Bruce Lee will be waiting to see who has been chosen to try to fill their hero's shoes after Hollywood studio Warner Bros announced plans to remake Lee's last film, 1973's Enter the Dragon. The entertainment giant said the remake, to be called Awaken the Dragon, would feature an FBI agent who investigates a Shaolin monk and underground kung fu fight clubs. In the original, Lee played a kung fu fighter who infiltrated an island occupied by a rogue martial artist. He died aged 32 of swelling of the brain just weeks before the original was released. The film, to be made under the Warner Independent Pictures label, will be directed by Kurt Sutter, who is best known for his involvement in television series, including the gritty police drama The Shield. He will also write the script. Warner Bros publicist Laura Kim declined to reveal casting choices, the budget or the shooting schedule. Enter the Dragon, also produced by Warner Bros, was the first kung fu film made by a Hollywood studio. Bruce Lee Club president Wong Yiu-keung said he still remembered the movie "inside out". "The plot of Enter the Dragon was not outstanding. Its success was all based on Lee's charm and his lively performance," he said. Mr Wong said it would be hard to find an actor who can be rated anywhere near the kung fu legend. "Everyone will look forward to the choice of the hero and will compare him with Lee," he said. "But then Lee was a unique person. He is such an icon that he is in the same rank as John Lennon and Elvis Presley." He said the new script should have a major revamp. "Audiences nowadays are more demanding," he said.
Business leaders have expressed anxiety over taking the "wrong direction" if democratic reform is rushed, Chief Secretary Henry Tang Ying-yen said last night. "The business community has been very sensible, although they have expressed some anxiety that if the pace were too fast, it would pose an undue challenge to the business community," said Mr Tang, speaking after a closed forum organized by various business chambers. He said business leaders would like to see democracy develop in a "gradual and orderly" fashion. "If you walk too quickly, then you might walk in the wrong direction," Mr Tang said. Federation of Hong Kong Industries chairman Clement Chen Cheng-jen said he told officials that maintaining the functional constituencies in the Legislative Council was a "must". "I haven't heard a single voice in our sector saying they are willing to let directly elected legislators take the place [of functional constituency lawmakers]," he said. He added that he was open to changes in the selection of functional constituencies but was skeptical about letting the public return functional lawmakers. "I doubt very much the general public will understand the unique concerns [of the industries represented] and they may not be interested at all," he added. A Lingnan University survey found 79.8 per cent of 673 respondents believed candidates should have good relations with Beijing, with 15 per cent disagreeing. More than half of the respondents supported replacing all Legco functional constituencies with geographical representatives. About 23 per cent opposed the proposition.

China: Beijing has suspended pork shipments from eight hog plants in the United States because the shipments may contain ractopamine, a swine growth promoter used in America but banned in China, the US Department of Agriculture said.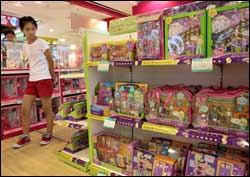 The government will investigate and take tough measures against makers involved in the recent recalls of potentially unsafe toys in the United States and other countries, the Commerce Ministry said yesterday. Toy producers' self-regulatory mechanisms will also be improved to ensure quality, spokesman Wang Xinpei said. "We really care about toy safety, not only in exports but also in our country," Wang told a press conference in Beijing. "China is a responsible country. We'll investigate the cases and deal with offenders according to the law." On Tuesday, Mattel Inc - the world's largest toy company - issued a global recall of 19 million made-in-China toys either with lead-tainted paint or containing small magnets that could be swallowed by children. The action came nearly two weeks after Mattel ordered a recall of 1.5 million Chinese toys because their paint contained too much lead. In June, about 1.5 million wooden railway toys, exported from China and distributed by RC2 Corp, were also recalled because of lead paint. Two Chinese toymakers involved in the earlier two recalls have been banned from exporting, the General Administration of Quality Supervision, Inspection and Quarantine (AQSIQ) said last week. However, Wang reiterated that toys from China, the exporter of 70 percent of the world's toys, were safe. "We'll train the manufacturers to raise their self-discipline. We'll tighten supervision," he said. Experts said US manufacturers and importers should also be blamed for putting "relentless" pressure on Chinese suppliers. "Everybody is pushing, pushing, pushing for lower and lower prices. The vendors are squeezed to the point where they aren't making a profit anymore. So they are looking to cut corners," Peter Dean, a former US toy company executive, was quoted as saying by US-based McClatchy Newspapers yesterday. The China Chamber of Commerce for Import and Export of Light Industrial Products and Arts and Crafts, a group which represents toymakers, also appealed to manufacturers yesterday not to take orders that are "too big, too urgent or too cheap". Wang called for more international cooperation and less finger pointing. According to the Chinese Embassy in Washington, Beijing will send senior-level delegations to the US later this month and next month to discuss food and product safety. The AQSIQ yesterday confirmed to China Daily that the two countries will hold their third food safety conference and their second consumer product safety meetings in the US soon. China and the US will also start a vice-ministerial level meeting on food and feed safety next Tuesday in Beijing, according to the AQSIQ.

Participants in the Summit of the Shanghai Cooperation Organization member states pose for a family photo in Bishkek, August 16, 2007.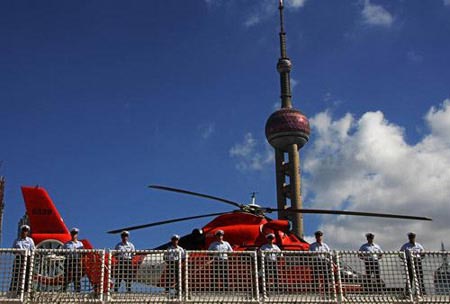 USCGC Boutwell's sailors of the California-based Coast Guard Cutter are seen on the ship's deck at Gaoyang Lu Wharf in Shanghai August 16, 2007. During Boutwell's six-day visit in Shanghai, the two sides will conduct professional law enforcement exchanges to enhance international cooperation in law enforcement at sea, Xinhua News Agency reported.

China Mobile (0941), the world's largest cellular phone operator by the number of users, reported better-than- expected first-half results, boosted by robust subscriber growth and value- added services.
August 17, 2007

Hong Kong: HK trade hub position hinges on re-exports - Hong Kong's re-exports will far outweigh the city's local goods exports, with a sharp year-on-year increase recorded in the former and an even sharper decline in the latter, according to figures released by the Census and Statistics Department (C&SD) of the SAR. Hong Kong's re-exports increased year-on-year by 12.8 percent in June, while exports fell nearly 20 percent, making the total export volume rise by 10.9 percent. International trade is a key driver for Hong Kong's economy, but the city's role as a global trading hub will hinge on re-exports as the volume of local goods exports will drop further, said analysts. "The size of Hong Kong's local goods exports is becoming smaller and smaller. As many (trade-related) jobs shift to the mainland, Hong Kong will become a major re-export center," said Castor Pang, a strategist from Hong Kong-based Sun Hung Kai Financial Group. "The volume of Hong Kong's domestic exports will decline further in the second half of this year, but it is difficult to estimate by how much," said Pang. "Hong Kong's trade industry is experiencing a transformation. Previously it was just import and export, but now we call it trading and logistics," said Jeffrey Wong, Director of Specialty Planning for Walmart (China) Investment Co Ltd. In June, goods sent to Hong Kong's major destinations - the mainland and Germany - recorded the fastest year-on-year growth by volume, 16.7 and 14.4 percent respectively.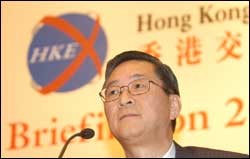 The blue chip Hong Kong Exchanges and Clearing Limited recorded an attributable profit of 2.33 billion HK dollars ( 0.3 billion U.S. dollars) for the first half of 2007, more than doubling its net profit for the same period last year, the company, known as HKEx, said Wednesday in its interim report. Its net profit for the first half of 2006 was 1.11 billion HK dollars, said the HKEx. The company's income for the first half year was 3.16 billion HK dollars (0.4 billion U.S. dollars), up 67 percent from a year earlier. The better-than-expected results were mainly attributed to a big increase in stock and derivatives turnover. Average daily turnover on the Stock Exchange reached 59.2 billion HK dollars, compared to 32.6 billion HK dollars a year earlier, leading to more fees charged by the HKEx and, therefore, higher income. Higher income from its information service and better return from investments, among others, contributed to the growth, the report said. The company declared a dividend of 1.79 HK dollars a share, up from 0.94 HK dollar a year earlier. HKEx chairman Ronald Arculli said the bourse is expected to benefit from the mainland's recent decision to allow financial institutions to increase their overseas investments.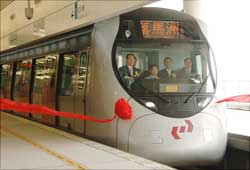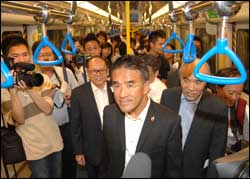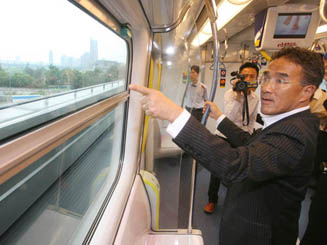 It was "all systems go" yesterday as the much- awaited HK$10 billion Lok Ma Chau spur line went into service, with the operator - the Kowloon-Canton Railway Corp - upbeat about its future operations. KCRC officials described the debut run as smooth as thousands of people packed the first train on the 7.4-kilometer line to Lok Ma Chau Station, although some commuters bound for Lo Wu said they had boarded the wrong train. The line, which branches off at Sheung Shui, is the second rail link between Hong Kong and the mainland. It is expected to relieve traffic and passenger congestion at the busy Lo Wu checkpoint significantly. "It strengthens the link between Hong Kong and Shenzhen, and caters for the increasing cross- boundary traffic demand. It's a successful example of a balance between conservation and development," Acting Chief Executive Henry Tang Ying- yen said at the commissioning ceremony at Lok Ma Chau. The ceremony began as a special train, with Hong Kong officiating guests witnessing the historic moment from the station's control room, drove through a ceremonial red ribbon strung across the rail track. The Hong Kong officials were joined at the covered pedestrian footbridge linking Lok Ma Chau by top provincial officials, led by Guangdong province executive vice governor Tang Bingqian, who walked over from the Futian control point in Shenzhen. "It's another fruition between Hong Kong and China after the opening of the Shenzhen Bay bridge and port on July 1," Tang said at the ceremony. KCRC chairman Michael Tien Puk-sun said he was optimistic about the line's operations, saying KCRC expects 60,000 commuters to use the new rail link in its first year of operation. "We're expecting something like HK$150 million a year in transport revenue. Our commercial revenue is about HK$300 million, and that gives us about HK$450 million," Tien said, adding that these were conservative estimates. "We're actually expecting a slightly better than break-even situation," he said, adding that possible losses arising from stiff competition from franchised bus and taxi services have already been taken into consideration. Asked whether the operating hours will be extended to facilitate passenger flow, Tien said it will depend mainly on the services provided by the Shenzhen Metro, and a decision will be made after a three-month review of the operations.
Hang Lung Properties (0101) reported a 45 percent surge in full-year net profit yesterday, underpinned by strong rental income growth and a larger investment property revaluation surplus.
Li & Fung (0494), the world's largest export trading company, said it plans to focus on footwear and personal care businesses and improve sales in the European market in the three years from 2008 to 2010.
Former Semtech International Holdings chairman Derek Wong Chong-kwong, who is believed to have absconded, was yesterday sentenced to 39 months' jail for bribing a banker and broker to manipulate his company's shares.
A Hong Kong toy producer who ran up big debts after a US toy giant ordered a recall of items his company had produced has committed suicide, it was reported yesterday. Cheung Shu-hung, 50, who ran Lee Der Industrial, hanged himself in a factory warehouse on Saturday in Foshan's Nanhai district, the Guangzhou-based Southern Metropolis News reported. The report said Cheung had plunged into more than US$30 million of debt since US firm Mattel this month recalled 967,000 toys produced by his company. Excessive levels of lead were detected in the plastic toys for under-fives, sold under the Fisher-Price brand. The Mattel recall came just two months after New York's RC2 Corp recalled 1.5 million mainland-made toys and parts from its Thomas & Friends Wooden Railway product line because of concerns about the lead content in their paint. In extreme cases, lead poisoning can cause nerve damage and even death. The recalls prompted the General Administration of Quality Supervision, Inspection and Quarantine to ban exports from Lee Der and from Hansheng Wood Products in Dongguan in an attempt to push mainland producers to obey safety rules. The Southern Metropolis News quoted a Lee Der factory manager as saying that Cheung hanged himself on Saturday after visiting his three plants and saying goodbye to staff. The company was also a victim of the recall, the manager said. "The boss and the company were harmed by the paint supplier, the closest friend of our boss," he said. Workers said Cheung had asked them to stop work from Saturday. On Friday, the quality watchdog ordered authorities to investigate the company's use of "fake plastic pigment". Lee Der's Hong Kong office could not be contacted for comment and staff at its Nanhai head office declined to comment. Workers said they expected Cheung's funeral would be today.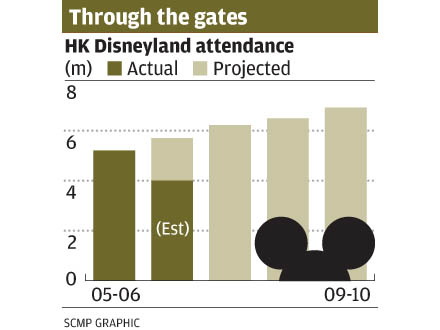 Hong Kong Disneyland is expected to struggle to achieve an attendance of 4 million in its second year of business, well below its first-year performance of 5.2 million, say sources familiar with the theme park's operation. This means a daily average of less than 11,000, or about one-third of the park's capacity of 34,000. The newest Disney park, which will celebrate its second anniversary in less than four weeks, has so far experienced a lower-than-forecast attendance. Disney's headquarters in Burbank, California, gave a second-year attendance target for Hong Kong of 5.7 million about 16 months ago. When the deal to build Hong Kong Disneyland was sealed in 1999, the government projected an attendance of 5.47 million in the second year, up from 5.21 in the opening year. The theme park did not plan to reveal attendance figures annually except for milestone years such as the first, fifth and 10th anniversaries, the sources said. In a report to the Legislative Council, the park reported figures of 5.2 million visitors in its first 12 months of operation. "While we don't comment on business-sensitive information, Hong Kong Disneyland recognizes that it is a new business ramping up at expected levels," a park spokesman said. Disney was committed to the park, which remained focused on improving business through marketing initiatives and new offers, the spokesman said.

China: Food safety regulators have given imports of Chinese food a "green light" after a broad range of tests, said the New Zealand Food Safety Authority (NZFSA) Thursday. The New Zealand Food Safety Authority (NZFSA) said testing of imported vegetable protein - wheat gluten and soy and corn meal - found no harmful chemical residues at all. A second survey of Chinese aquaculture products also found "no residue levels of concern," said NZFSA. The official agency responsible for "protecting and promoting New Zealand public health and safety," also tested a range of New Zealand-grown and imported fruit and vegetables. NZFSA assistant director Glen Neal told Xinhua that despite targeting areas "where we believed we were most likely to find residues higher than the regulatory limit, we found just one breach in imported food, and a small number in a wide range of tests of New Zealand foods." "None of these represented any risks to health," said Neal. The test of vegetable proteins followed concerns in the United States that melamine and cyanuric acid used by Chinese petfoods manufacturers to boost the perceived protein level of petfoods may have caused the deaths of American pets. Neal said NZFSA has since mid-May tested 15 samples of petfoods, including products imported into New Zealand from China, and not found any traces of either melamine or cyanuric acid. Also following public concerns, NZFSA looked at imports of Chinese farmed fish. NZFSA tested 31 canned and frozen products including shrimp, eel, prawns, dace, carp, anchovy, roe, and fish balls and other processed product. "We found six residues of a class of antimicrobials, known as triphenylmethane dyes, and nine residues (two detects in two samples, both of semicarbazide which can occur naturally) of nitrofuran metabolites. Nitrofurans are a class of antibiotics," said Neal. "All of these results -- even the highest at 0.058 milligrams per kilogram (mg/kg) were well below any level that would pose a health risk," said Neal. He said many of the results were very near to the limit of detection in fact. "The results we found are similar to those other regulators around the world are finding, and show that the products being sold in New Zealand meet requirements and are safe to consume," said Neal. Neal said NZFSA was planning another survey of seafood later in the year covering a broader range of residues, likely to include those which were showing up at the U.S. and Australian borders.
China Wednesday called for global cooperation to improve food safety, noting that it along with product quality are an international problem. "No country's products are immune to problems," said Zhao Baoqing, a spokesman for the Chinese embassy in Washington. But Zhao added that China will intensify food safety supervision and punish all those responsible for supplying tainted food. "Food safety and product quality is an international problem, and is also something that all countries pay attention to," said Zhao, who previously worked for China's product quality watchdog, the General Administration of Quality Supervision, Inspection and Quarantine (AQSIQ). Zhao admitted that China's food safety needs improving, but said that the vast majority of Chinese exports to United States are of high quality. "During 2004 to 2006, more than 99 percent of Chinese food to the U.S. met the U.S. safety and quality standards," he said. The official said the Chinese government has been actively cooperating with other countries to seek solutions to issues of food safety and product quality. "Quality and safety questions are something that every country has to deal with," Zhao reiterated, adding that more international cooperation and less finger-pointing was needed.
China's Ministry of Commerce will help related departments implement measures to ensure the quality and safety of Chinese-made toys, said a spokesman with the ministry on Thursday. The measures include enhancing self-discipline and supervision of the toy industry, helping local authorities train manufacturers to improve management over product quality, and strengthening international cooperation and information exchange on toy production, spokesman Wang Xinpei said. Wang said most toys made in China were produced in accordance with importers' designs, techniques and quality criteria. Some problematic toys uncovered recently stemmed from poor quality management in the production process and slack supervision by importers and traders as well. A spokesman for China's General Administration of Quality Supervision, Inspection and Quarantine said late last week that the United States importers and brand owners should take responsibility for recalled toys. To prevent loopholes in quality control, overseas brand owners should improve their product design and supervision over product quality, the spokesman said. The US product quality watchdog filed 29 recall cases involving toys made in China last year. A recall case filed by US RC2 Corp. and CPSC last month involved toy trains made by a Guangdong-based company which used paint containing lead poisonous to children. On August 2, another toy company, Fisher-Price, also recalled more than one million character toys with unqualified paint. The producer's paint provider made the paint using fake materials. China's quality control department has suspended the export of the problematic toys, while the police have launched an investigation into the case. China exported more than US$7 billion worth of toys last year, a growth of 7.5 percent over the previous year. The total included 300,000 batches of toys sold to the United States.
Setting the standard - On Tuesday, the world's largest toy company, Mattel, recalled a total of 436,000 Chinese-made toys that were said to have contained "impermissible levels of lead". This is the latest in a succession of bad news from overseas involving Chinese commodities. Not all allegations are fair. But most of the quality problems exposed have to do with standards - either the standards themselves were inadequate, or strict standards were not implemented faithfully. Disregard of standards can cost manufacturers dearly - Mattel has reportedly indicated it might shift away from Chinese contractors and subcontractors. While domestic manufacturers swallow the bitter fruit of their neglect of standards, the national procuratorial authorities' recent enthusiasm for standards appears particularly impressive. Last week, the Supreme People's Procuratorate published rules on the work of procuratorial departments in the second trial of cases involving death sentences. Now, it is talking about a set of new standards for procuratorial decisions about whether or not to initiate a criminal prosecution. Our Criminal Procedure Law authorizes procuratorates to launch public prosecutions in court. But Clause 2 of Article 142 of the law allows them to not lodge a prosecution when the offense is minor. Throughout the country's criminal legislation, that line tallies perfectly with the latest jurisprudential slogan to combine lenience and severity in criminal justice. There has been a rather principled rule that a public prosecution should not be raised unless it is indispensable. That sounds very good. But beneath it is a tricky pitfall. For one thing, without due criteria, who can tell how much leniency is enough, or too much? The fresh standards for no-prosecution decisions took an impressive step forward by naming specific circumstances that suffice as justifications. Beyond that, the new documents offer an explicit definition of "mistaken" decisions to or not to make prosecutions. While making clear the once murky lines, such new standards will bring the promise of leniency to an achievable level. But more important, perhaps, their adoption might reduce the undesirable side effects of the once undefined latitude for procurators to decide whether or not to prosecute. The precious clarity will also prove to be conducive to preventing judicial corruption.
Quality problems sapping trade strength: Beijing - Ineffective controls are sapping China's competitiveness, the nation's safety watchdog said, as tainted toy exports were traced to a fraudulent paint supplier. The toy recall comes after a number of scares over tainted Chinese exports, from toothpaste containing an anti-freeze ingredient to toxic chemicals in pet foods to deadly chemicals turning up in drugs and foods. Li Changjiang, head of the General Administration for Quality Supervision, Inspection and Quarantine, warned officials that failure to improve quality was undermining national trade strength, the official People's Daily reported on Thursday. "We may have entered the ranks of big traders but we're still far, far from being a strong trade power, and the fundamental reason is that our product quality competitiveness is not strong," he said in comments to officials a few days ago. "Quality is a symbol of national strength," he said. Li's call for tougher regulation of manufacturers appeared as Beijing grapples with another massive recall of Chinese-made toys found to fail US safety standards. Mattel Incorporated, the largest US toy company, this week recalled 18.2 million toys globally, including 9.5 million in the United States. The toys were recalled due to hazards from small, powerful magnets and lead paint. Earlier this month, Mattel's Fisher-Price unit recalled about 1.5 million preschool toys made by contract manufacturer Lee Der Industrial Company because the paint on the toys contained excessive amounts of lead. The recall prompted some US lawmakers to demand a temporary halt and inspections of shipments of Chinese products for children that contain paint. News of the second recall came soon after an owner of the Lee Der factory at the centre of the first recall was reported to have committed suicide. A Lee Der manager told local papers in Guangdong, where the manufacturer has factories, that the company had used a batch of yellow paint falsely certified by a long-time supplier as lead-free. Li, whose agency has been at the centre of the uproar, blamed deep-seated problems that he said demanded a rethink of economic priorities, including "backward production methods and weak overall competitiveness." "To transform the concept of development and re-invent the development model we must give even greater prominence to quality problems," he said.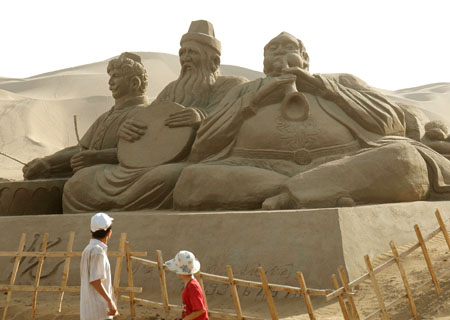 Two visitors look at a sand sculpture in the Kumtag Desert in Turpan, a stop along the ancient Silk Road, Northwest China's Xinjiang Uygur Autonomous Region, August 15, 2007. These sand sculptures were created by local artisans to attract tourists before the start of the Turpan Grape Festival.
China is suspending applications for new airlines until 2010 and imposing stricter monitoring in order to prevent overheating of the airline industry.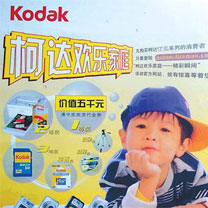 A Kodak billboard in Shanghai. Chinese consumers won't stop fighting against Eastman Kodak over its "defective" cameras, say aggrieved buyers.
China will begin to issue 28 billion yuan (US$3.68 billion) worth of book-entry T-bonds on Thursday, the 13th batch of its kind issued this year.
It was a tough assignment but someone had to do it: stay in three of Beijing's five-star hotels over three weekends. Here's what you can expect if you decide to splash out and treat your better half to a night at one of the capital's premier hotels: Raffles with updated colonial charm, its younger and brasher rival the Regent and the Kerry Center with its high-flyers' bar.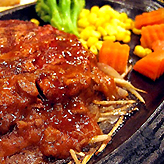 The Westernization of weddings is becoming a "pop" phenomenon. With Chinese Valentine's Day on Aug. 19, it seems that more and more Chinese people are giving their wedding ceremonies a Western face.
President Hu Jintao sought a new energy and transport corridor for China's country's surging economy in Kyrgyzstan yesterday, the second day of a Central Asian tour to boost ties with the region.
August 16, 2007

Hong Kong: The second railway linking Hong Kong and neighboring Shenzhen city opened to traffic on Wednesday, marking closer ties and cooperation between the two places. Meanwhile, Futian Port, a new border control point between Hong Kong and Shenzhen, was also put into operation to facilitate passenger flow. "The commissioning of the Lok Ma Chau Spur Line and the Futian Port will help relieve the congestion at other land boundary crossings and cater for the increasing cross-boundary traffic demand," said Henry Tang, chief secretary for Administration of Hong Kong Special Administrative Region government, at the opening ceremony. He said Shenzhen and Hong Kong had been working closely to adopt various measures to ensure the smooth flow of people and goods as well as promote social and economic ties. Tang thanked the Central Government, and the Guangdong provincial and Shenzhen municipal governments for their strong support throughout the planning and construction of the spur line project. The 7.4-km spur line, diverging from the main railway line north of Sheung Shui Station in northern Hong Kong, provides an alternative crossing for passengers to Shenzhen.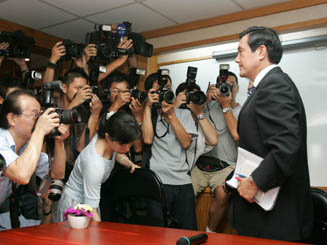 Former Kuomintang (KMT) party chairman, Ma Ying-jeou, was found not guilty of misusing funds by a court in Taipei. Ma was accused of misusing more than NT$11 million ($330,000) in expense funds during his tenure as mayor of Taipei. Ma resigned as chairman of the KMT, Taiwan's leading opposition party, after being indicted on February 13, but declared that he would run in the 2008 Taiwan leadership election. The expense funds, also known as special allowance funds, are given to executive officers. Official receipts are required for half of the funds. The other half only requires the signature of the official. "My supporters finally witnessed justice," Ma told a crowded news conference after the verdict was announced. "I will continue to fight for the values of honesty." Ma, 57, had consistently professed his innocence, saying Taiwanese law recognized that the money was an official subsidy, and the three-judge panel in Taipei District Court agreed. Ma "did not intend to take the money illegally, nor did he intend to take it for his own benefit," the judges said. "Ma's clean-cut image has been resurrected," Ho Han-chun, a political science professor at Taipei University, said. "The (ruling) Democratic Progressive Party had pinned high hopes on using this case to crush Ma's popularity." DPP "presidential" candidate Frank Hsieh is also facing legal problems of his own. KMT supporters allege that he received kickbacks in connection with the construction of a subway in Kaohsiung when he was mayor there from 1998 to 2005. Hsieh has denied the charges and prosecutors have not yet indicted him, despite conducting an investigation into the matter.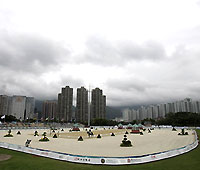 Australia's Shane Rose rides "Statford Novalis" during the equestrian dressage test of the eventing competition at the Hong Kong Olympic Equestrian Venue in Sha Tin, Hong Kong August 11, 2007. Hong Kong, famed for its world-class horse racing culture, will host Olympic equestrian events in the August 2008 Games. When the Hong Kong Observatory issued cyclone warning No 8 as tropical storm Pabuk bore down on the city last Friday, no group was more nervous than organizers of next year's Olympic equestrian events. Locals and visitors alike were frightened when shops shut around 3pm and people rushed headlong into traffic jams pelted by torrential rain during the mad dash for home. International equestrian competitors were caught up in the chaos after marshalling for the Good Luck Beijing-Hong Kong 10th Anniversary Cup, the first international eventing competition ever held in Hong Kong and a test event for the newly built Olympic sites in Sha Tin and Beas River. A field of riders and observers from leading equestrian nations including Australia, France, Germany, Great Britain, Ireland, the Netherlands, Sweden and the United States attended the CCI2* event of the International Equestrian Federation last weekend.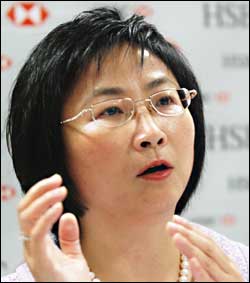 Strong growth in domestic consumption in Asian countries helps to mitigate the effects of the US subprime blowout, and lenders say there are no plans to reduce credit to customers. Hong Kong and Shanghai Banking Corp said it does not intend to tighten credit. The bank said it would be too early to judge whether interest rates will rise in Hong Kong. Although there is speculation that the US Federal Reserve may cut the benchmark interest rate at the Federal Open Market Committee's next meeting on September 18, Margaret Leung Ko May-yee, HSBC (0005) group general manager and global co-head commercial banking, said there are no easy guesses about the Fed's next move. "The situation is quite complicated since US economic indicators are on two extremes. On the one hand, the US economy is troubled by the subprime fiasco. We do not yet know whether the bottom has been reached. On the other hand, July consumer confidence rebounded, implying that people are not discouraged from spending," Leung said. She said it would not be easy predicting the direction of local interest rates. Leung said that while the overnight Hong Kong interbank offered rate fell to five percent on Monday and further slipped to four percent yesterday, the banking system has held steady.

The founder of Tse Sui Luen Jewellery and his son yesterday denied charges of bribery, tax evasion and embezzlement that allegedly occurred over a 10-year period.
Fast-food giant McDonald's is attracting unwanted attention after news of the arrest of its managing director for Hong Kong, Joseph Lau Sze-shing, for alleged bribery broke this week. McDonald's Hong Kong yesterday declined to comment on Lau's arrest and would only say the 47-year-old executive is currently on leave. In a statement, McDonald's vice president for corporate relations Liam Jeory said: "We can only confirm that Mr Lau is on leave. Beyond that we ask you to address your questions concerning ICAC activities to the ICAC." The Independent Commission Against Corruption refused to comment on Lau's case. But a source said yesterday the bribery allegation involved only new food product promotions and did not include the beef used in hamburgers or the potatoes in french fries. It has been reported Lau was suspended after being arrested and questioned by the ICAC following complaints food distributors had paid bribes to have their products used in McDonald's outlets in Hong Kong. Lau was appointed to his post in June 2004 and was previously managing director for McDonald's operations in the Philippines, where he turned the business around to achieve profitability within three years. Before that, he spent 10 years developing McDonald's business in the mainland, helping to establish operation teams in cities such as Beijing, Tianjin, Shanghai, Fujian, Xiamen and Guangzhou. A Hong Kong native, Lau joined McDonald's in 1983 when he was in Los Angeles. McDonald's, which was established in Hong Kong 30 years ago, currently has more than 200 local outlets and employs 10,000 workers.
Hong Kong's population has risen by 0.9 percent to 6.9 million since mid- 2006 - the bulk of the increase coming from births and the inflow of one-way permit holders from the mainland - according to the Census and Statistics Department.
The Hong Kong Jockey Club is determined to ensure the 2008 equestrian venues are the best in Olympic history, club chairman John Chan Cho-chak said yesterday.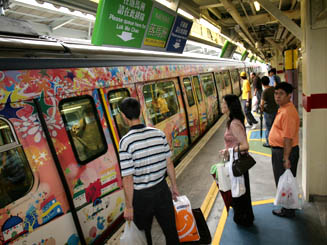 With services on the Lok Ma Chau spur line set to start this afternoon, the KCRC says it is still unclear how many cross-border passengers will be diverted from Lo Wu. The Lok Ma Chau Spur Line will help relieve congestion at boundary crossings and improve travel between Hong Kong and Shenzhen, Chief Secretary Henry Tang Ying-yen said on Wednesday. Mr Tang was speaking at the opening ceremony for the Lok Ma Chau Spur Line, which branches off from the Kowloon Canton Railway Corporation (KCRC) East Rail at Sheung Shui station. He was attending the ceremony with KCRC chairman Michael Tien Puk-sun and Shenzhen Mayor Xu Zongheng. They were also marking the opening of the Lok Ma Chau-Futian Boundary Bridge. "The commissioning of the Spur Line and the Futian Port will help relieve the congestion at other land boundary crossings and cater for the increasing cross-boundary traffic demand," Mr Tang said. The 7.4km spur line is the second rail link between Shenzhen and Hong Kong. It takes about six minutes to go from the Sheung Shui Station to Lok Ma Chau. Passengers can travel to the mainland via the new border checkpoint at the Lok Ma Chau Spur Line terminal. Officials say the Lok Ma Chau Spur Control Point, fitted with 136 counters at its immigration hall, can handle 150,000 passengers a day. The spur line also provides a direct link to Lok Ma Chau terminus for passengers along the KCRC East Rail.

China: Death toll has risen to 20 with 39 others missing after a bridge collapsed Monday in central China's Hunan Province, rescuers said on Tuesday. A total of 123 workers were at the site when the bridge, which was under construction in Fenghuang county, collapsed at 4:40 p.m. on Monday, blocking the Fenghuang-Daxing highway. Construction of the 320-meter bridge was scheduled for completion this month. Of the 64 survivors, 22 were injured in the collapse and have been rushed to nearby hospitals. The reason of the accident is still under investigation. Fenghuang, located in western part of central China's Hunan Province, is a famous tourist destination. A group of local officials in charge of construction, traffic and work safety supervision headed by the provincial governor Zhou Qiang and Vice-governor Xu Xianping have arrived at the site.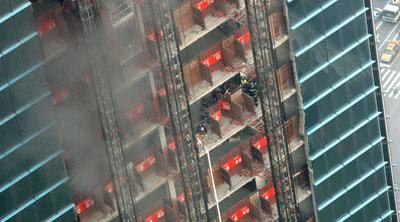 Smoke billows out of a high floor on the Shanghai World Financial Centre, which is under construction, in Shanghai August 14, 2007. There were no immediate reports of casualties and what caused the fire.
Telecommunications giant Motorola has signed an agreement to supply equipment worth 394 million U.S. dollars to China Mobile Communication Corporation (CMCC) in order to expand its network capacity in China. The U.S. mobile phone manufacturer said in a statement published on its website that it had signed the contracts in the first half of this year, and about 60 percent of the sales included in the contracts had been registered during that period. However, Motorola recorded a loss of 28 million U.S. dollars in the second quarter following its first-quarter losses, its first back-to-back losses in five years, according to its financial report announced in July. Its weak performance has prompted analysts to say it had slipped to third in the global mobile phone market behind Nokia of Finland and Samsung of the Republic of Korea in the second quarter. The company said it had provided equipment and project services for the Chinese company, which operates a network based on the GSM standard of wireless communication, and had helped expand or update the network in 16 Chinese provinces covered by the CMCC service. China Mobile is the largest mobile communication operator in China with more than 330 million users by April this year.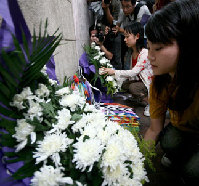 Japanese women lay flowers in front of a monument for war victims during a gathering in memory of the end of the World War II, in Nanjing, Jiangsu Province August 15, 2007.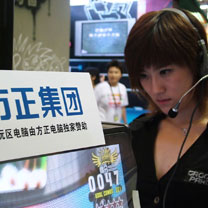 A woman plays a Founder Group game at a show in Shanghai. Beijing Founder said yesterday it has sued US Blizzard Entertainment over alleged copyright infringement.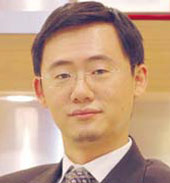 Lu Jun has resigned as chief investment officer of JPMorgan's China fund management joint venture. Lu quit for "personal reasons", China International Fund Management Co said in a statement. Lu is widely known in China's 1.8 trillion yuan (US$237.33 billion) mutual fund sector for his stock-picking skills and aggressive trading style. In an apparent bid to soothe investors holding fund units issued by China International Fund Management Co, the company's chief executive Mandy Wang said the performance of a mutual fund depended more on teamwork, although Lu's departure was a loss.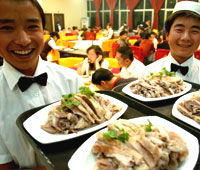 Under proposed new regulations Beijing authorities will offer rewards to people who provide tip-offs that lead to the prosecution of those who put public health at risk. It comes a day after a Chinese TV reporter, who fabricated a story about how Beijing dumpling makers used cardboard as a filling, was sentenced to one-year in jail. "Main government officials or managers will be warned, demoted or sacked if food safety accidents which cause a serious social impact happen frequently in their administered districts," the Beijing Youth Daily said. "One-third of the new regulation details punishments," said one senior official who declined to be named. "Such a comprehensive local regulation shows Beijing's strong resolve in dealing with food safety issues."
The project, based in Qinshui Basin, North China's Shanxi Province, is expected to produce one million cubic meters of liquefied coalbed methane daily when put into operation next January, said a manager of China United Coalbed Methane Corp Ltd (CUCBM), developer of the project. The production lines will be completed at the end of this year. The annual output is expected to reach 150,000 tons and the annual sales may hit 200 million cubic meters, the manager said. The CUCBM manager said that Hong Kong-listed China Leason Investment Group Co Ltd signed a liquefied coalbed methane purchasing contract with the company in Beijing earlier this month. Coalbed methane is usually burned during mining in order to avoid gas explosion accidents. A proper use of the gas would not only make the best use of resources, but also help reduce greenhouse gas emissions. China United Coalbed Methane Corp Ltd, held by China National Petroleum Corporation and China National Coal Group Corp, is the only company entitled to cooperate with foreign companies to exploit coalbed methane resources. Its coalbed methane drills take up to 85 percent of the nation's total. It has signed 21 production sharing contracts with 10 overseas companies, with a total foreign investment of US$119 million.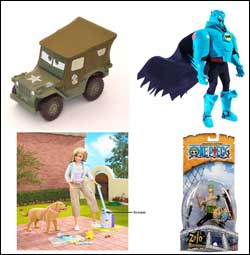 China has launched a coalbed methane liquefaction project that boasts the country's largest daily production capacity, company sources confirmed Saturday. Mattel, the world's largest toy company, recalled millions more of its products yesterday, including 436,000 Chinese-made die-cast cars featuring the popular "Sarge" character from the movie Cars. The California-based company said the cars had "impermissible levels of lead." Yesterday's recall marked the second time Mattel has pulled its products from store shelves. On August 2, it recalled 1.5 million toys - including Sesame Street and Dora the Explorer products made in China by Mattel's Fisher-Price unit - because they were contaminated with excessive levels of lead paint. If ingested, this could pose health hazards to children. Mattel said in a statement that the "Sarge" toy was produced by Hong Kong-based Early Light Industrial Co, one of Mattel's contract manufacturing facilities in China, which subcontracted the painting of parts of the toy to another company, Hong Li Da. "While the painting subcontractor, HLD, was required to utilize paint supplied directly from Early Light, it instead violated Mattel's standards and utilized paint from a non-authorized third-party supplier," Mattel said. Mattel also announced the voluntary recall of 18.2 million magnetic toys globally, with 9.5 million of them in the United States. It did not specify where the magnetic toys were made. Nancy Nord, acting chairwoman of the US Consumer Product Safety Commission, said in Washington yesterday that no injuries have been reported with any of the products involved in the recall. She hoped the US Congress would give her agency more power to safeguard imports of toys for the American market. "What I would like to see at the end of the day is a program where all toys made in China are tested before they are imported here," she said. Cheung Shu-hung, a co-owner of Hong Kong-based Lee Der Industrial, which made the toys involved in Mattel's first recall earlier this month, committed suicide on Saturday. It is not clear whether his death was directly linked to the case. Lee Der Industrial suffered a loss of up to HK$230 million due to the recall. There are about 80 local manufacturers supplying toys to Mattel, said Lawrence Chan, chairman of the Hong Kong Toy Association. Chan called on the manufacturers to draw more samples of paints to ensure their safety level, as the paints in the mainland lack a standardized meter for lead levels. Twenty local toy makers, who have their factories set up in the mainland, gathered in Dongguan yesterday to propose a list of measures to prevent any loss in future if their toys are recalled. This included a 50 percent deposit from clients when they ordered. They would also allow clients or an authorized third party to check the quality of their products. After they make sure the goods are safe, clients need to pay in full once products are shipped. Jeffrey Lam Kin-fung, chairman of the Toys Advisory Committee of the Trade Development Council, said Lee Der was only an individual case and did not reflect the overall safety standard of the local toy industry. Although product safety in China has "substantial" room to improve, foreign firms are unlikely to shift their production base to other countries, said Mo Pak-hung, associate professor at Hong Kong Baptist University.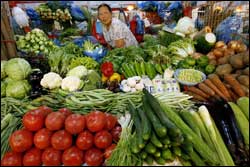 Mainland retail sales last month grew at the fastest pace in more than three years, surpassing expectations, as fast- rising incomes and the wealth effect from the share market rally boosted consumer spending. Value of sales surged 16.4 percent to 699.8 billion yuan (HK$722.1 billion) in July from a year earlier, the National Bureau of Statistics said. The July increase marked the fastest growth since May 2004, and beat the 16.2 percent median estimate of 18 economists surveyed by Bloomberg News. In June, retail sales jumped 16 percent year-on-year. The rising trend in consumer spending came with increasing household incomes and government initiatives such as tax cuts to boost domestic consumption and reduce over-reliance on exports and investment. In the first seven months, retail sales jumped 15.2 percent from the same period last year to 4.9 trillion yuan.
August 14 - 15, 2007

Hong Kong: HSBC said yesterday it has received regulatory approval to open a wholly owned banking subsidiary in rural China. It is the first overseas bank to get the go-ahead from the China Banking Regulatory Commission (CBRC) to offer rural services. The subsidiary, HSBC Rural Bank, will be based in Cengdu County of the city of Suizhou in Central China's Hubei Province, said Hongkong and Shanghai Bank, a unit of HSBC Holdings, one of the world's largest banking groups. HSBC Rural's operation is expected to cover an area of 6,900sqkm, with a total population of 2 million. This area has a significant agricultural sector and a rapidly developing rural economy, the bank said. Stephen Green, HSBC's group chairman, said: "We very much support China's policy priority to develop its rural economy and intend to play a full part in these ambitions." The CBRC has introduced new rules to expand market access for financial institutions seeking to provide banking services in rural areas. HSBC has extensive experience in rural finance in Brazil, India, Indonesia, the Philippines and Mexico, Green said. Vincent Cheng, chairman of HSBC, said his bank saw great potential for economic development in China's rural areas. "Our rural bank will serve the needs of China's agricultural sector, which is undergoing rapid development, aiming to provide tailored financial services to rural communities and companies."
In an unprecedented move last week Thursday, the European Central bank poured a record 94.8 billion euros (HK$1.02 trillion) into the markets, with the US central bank also injecting capital as banks gasped for liquidity.
China National Building Material (3323) - the mainland's second- largest cement producer - and one of its existing shareholders are offering to sell up to HK$2.73 billion worth of shares via a share placement.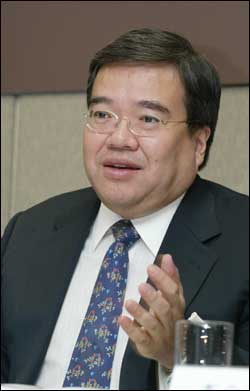 The integration of Hong Kong and Shenzhen to form a metropolis could make it the third-strongest city economically in the world by 2020, a pro- government think-tank said yesterday. Zhu Wenhui, a consultant at the Bauhinia Foundation Research Centre's Hong Kong-Shenzhen Metropolis Study Group, said should the proposed metropolis keep an 8 percent gross domestic product growth per annum, its GDP would reach US$1.11 trillion (HK$8.66 trillion) by 2020. That would make the metropolis the third-largest economy, after Tokyo and New York, in the world, surpassing major cities like London, Paris and Los Angeles. If a 6 percent projection is adopted, the megacity would still rank fourth in the world. The foundation proposed 10 recommendations to achieve that status, one of which involves the building of a high- speed railway connecting the airports of the two cities forming a super air hub. "With the direct express link, the journey time between the Shenzhen Bao'an Airport and Hong Kong's Chek Lap Kok International Airport will just be 17 minutes, with trains presumably running at 140 kilometers an hour," Zhu said. But he admitted the financial and technical feasibility of the rail link is for the two governments to analyze. Hung Wing-tat, a Polytechnic University associate professor from the civil and structural engineering department, said the proposed railway would not be feasible, given it covers major existing navigation routes.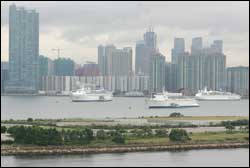 Bids to build the new cruise terminal at Kai Tak will be taken before the end of this year, the Tourism Commission said yesterday. The first of two berths must be ready by February 2012. Commissioner for Tourism Au King-chi said the Town Planning Board is expected to approve the use of the 7.6-hectare project site around October after which bids will be called for. She said potential bidders will need a proven track record of successfully running a cruise terminal for at least three years, with a minimum annual throughput of 200,000 homeport passengers, adding that 40 terminals in the world fit this description. Successful bidders will have to enter into a service pledge with the government, in addition to a 50-year land lease, on the operation, management and maintenance of the new cruise terminal. The company must release nonsensitive information such as the parking arrangement and fees involved. Under the commission's regulations, any violation of the pledge may result in legal action and the eventual revoking of the land lease. Also bidders will be required to set aside 22,000 square meters at the site for a landscaped deck atop the 50,000-square-meter commercial area. The commercial area and the landscape must be finished in three stages by 2020. To avoid blocking the seaview the height of the terminal should not exceed 35 meters, which is about four stories. Thirty percent of the tender assessment will be based on financial criteria, while 70 percent will be on qualitative aspects such as baggage handling, operation deployment and industry communication. The commission will set up an independent steering committee to monitor the project after the award of the tender. The commission has put a price tag of HK$3.2 billion on the project, from building the apron facilities to the terminal. The commission has also met with the three main cruise companies that account for 80 percent of the world's cruise market.

China: China's monthly trade surplus in July dropped 2.55 billion U.S. dollars, or 10.4 percent, from June to 24.35 billion U.S. dollars, the General Administration of Customs said on Friday.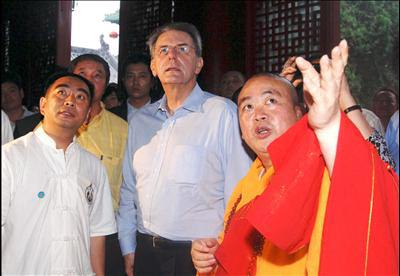 IOC President Jacques Rogge (C) poses for a photo with Shi Yongxin (R), the top monk of Shaolin Temple at Shaolin Temple in Central China's Henan Province, August 9, 2007.
Latest statistics released by the China Automotive Industry Association on the 8th show that from January to July this year the sales volume of passenger vehicles in China reached 3.5402 million, up 23.73% over the same period last year.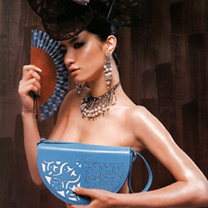 Want to pamper yourself with the most luxurious things from around the world? A high-end fashion capital offering everything for the discerning shopper, Beijing will never disappoint. Just stepping into the following five-star hotels located in the city, you will find yourself spoilt for choice from world-famous brands like Louise Vuitton and Gianni Versace to exquisite limousines and valueless jewelries.

Beijing yesterday announced a drill to test the effectiveness of the Olympic host city's efforts to improve air quality and ease traffic congestion. From August 17 to 20, about 1.3 million vehicles - nearly half of the total 3 million in the city - will be ordered off the roads as part of pre-Olympic tests, according to the capital city's environmental and traffic authorities. On August 17 and 19 (Friday and Sunday), only vehicles with the license plate number ending with the odd numeral will be allowed on the roads. On August 18 and August 20 (Saturday and Monday), it's plates ending with an even number. The rule applies to Beijing-registered vehicles as well as those from outside the city.
August 11 - 13, 2007

Hong Kong: Champion Real Estate Investment Trust (2778) reported first-half distributable income of HK$269.4 million, or HK$0.137 per unit, thanks to soaring rental levels in the Central business district.
Beijing will limit foreign investment in the domestic insurance sector to companies that have minimum US$2 billion (HK$15.6 billion) in assets in the latest attempt to slow inward investment in important businesses.
Interest rate changes in the United States will remain unclear for the time being, said Hong Kong Monetary Authority chief executive Joseph Yam Chi-kwong, but he warned the local stock market may be susceptible to fallout from US subprime mortgage problems.
PetroChina (0857), the Hong Kong- listed arm of China National Petroleum Corporation, plans to list in Shanghai in October, raising at least 40 billion yuan (HK$41.36 billion), China Daily said yesterday, citing an unnamed official with the oil producer's parent.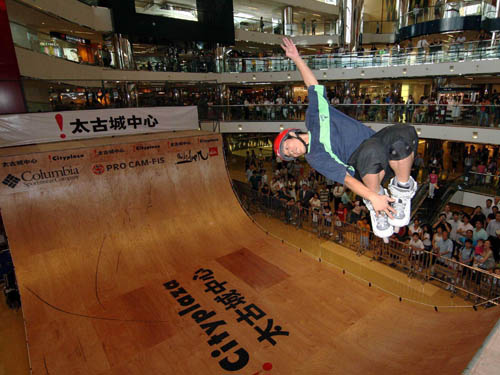 Hong Kong landlords are introducing big-spending promotions to entice shoppers through their shopping centres as they compete for business for their retail tenants this summer. "We have to provide new events to attract shoppers," said Maureen Fung Sau-yim, the general manager of Sun Hung Kai Real Estate Agency. Sun Hung Kai would spend HK$7 million to hold events and promotional campaigns in its 11 shopping centres this summer - up 30 per cent on last year's budget, Ms Fung said. That message was echoed in interviews with Wharf (Holdings) (SEHK: 0004), Kerry Properties (SEHK: 0683), Swire Properties and Sino Land. In its Kwun Tong shopping centre, Ms Fung said Sun Hung Kai had planned 600 promotional events for July and August and would provide free entertainment such as gymnastics displays by a Canadian team, as well as gymnastics instructions for young visitors, and a book fair. Summer holidays were not traditionally a peak retail season, but Hong Kong lifestyles were undergoing a change, she said. "Visiting shopping malls has become more of a habit and shoppers now have higher expectations," she said. Ronnie Chan Yam-ling, the general manager of Sino Land's Tuen Mun Town Plaza, said the company would spend HK$5 million on displays and events during the summer holiday - a 25 per cent increase on last year's budget. The number of shoppers visiting the centre was up 10 per cent to 340,000 last month versus the same month last year, Mr Chan said. Kerry Properties' MegaBox in Kowloon Bay had invested millions of dollars in promotions during the summer holiday, said Czarina Man, the general manager of marketing at MegaBox Development. The budget was spent to stage Harry Potter exhibitions, magic shows, and various other attractions. Wharf's Times Square in Causeway Bay and Harbour City in Tsim Sha Tsui - both key tourist destinations - have teamed up with the Hong Kong Tourism Board to hold exhibitions of watches and diamonds during the summer. Vernon Ma Wai-lock, the promotion and marketing manager at Wharf subsidiary Times Square, said the centre's budget was up 10 to 15 per cent this year and it had seen an increase of 5 to 10 per cent in shopping traffic. Karen Tam, a promotion and advertising senior manager at Harbour City Estates, said the complex's summer promotional budget was up 10 per cent and the number of weekday visitors had increased 15 to 20 per cent to almost 200,000, thanks to an increase of overseas tourists and the strong economy. Swire Properties, meanwhile, has been featuring "xtreme sports" in its Cityplaza centre in Taikoo Shing since the end of last month and is offering shoppers the thrill of an artificial ski-slope.
Conglomerate Swire Pacific (SEHK: 0019) posted a 58 per cent increase in net profit for the first six months of the year on Thursday, boosted by the revaluation of its investment properties. The company, which has a vast array of interests including stakes in Hong Kong flag carrier Cathay Pacific (SEHK: 0293), said net profit rose to HK$12.49 billion from HK$7.92 billion in the first six months of last year. The company recorded revaluation gains of HK$8.9 billion from its investment properties for the period, up 48 per cent from a year earlier. Chairman Christopher Pratt said the group's underlying profit, adjusted for Hong Kong accounting standards and the interpretation of the group's investment properties and income taxes, amounted to HK$5.26 billion, up 51 per cent from a year earlier. Its underlying profit exceeded analysts' forecasts of HK$3.6 billion to HK$4.14 billion. Mr Pratt said core profit in the property division, excluding the net property revaluation gain, rose 15 per cent year-on-year to HK$1.77 billion, driven mainly by strong rental income growth of 17 per cent. The aviation division recorded a 30 per cent rise in attributable profit to HK$1.28 billion due to increased passenger demand and a strong performance from engineering division Haeco (SEHK: 0044) group. Mr Pratt said the company was looking to expand its property portfolio in both Hong Kong and mainland China and a number of other opportunities on the mainland were being actively pursued. The board has recommended an interim dividend of 90 HK cents for its A-shares and 18 cents for its B-shares, up from 63 cents and 13 cents last year. Swire A shares ended the day HK$1.30 or 1.47 per cent down at HK$87.20 against a 0.43 per cent decline in the Hang Seng Index.

A government-friendly think tank said on Thursday Hong Kong should work on greater integration with Shenzhen to build a metropolis in the Pearl River Delta region. In a study report released on Thursday, the Bauhinia Foundation urged the government to consider the idea of creating what it called a "Hong Kong-Shenzhen metropolis". To build such a consortium, the foundation said the two neighbouring cities should further boost the flow of residents, resources, goods and services, as well as information and capital between Hong Kong and Shenzhen. The group said a Hong Kong-Shenzhen convergence had the potential to develop itself into China's first world-class metropolis. It had the potential to overtake other rivals such as Beijing-Tianjin, Shanghai and Guangzhou-Foshan. It also said integration could increase the combined gross domestic product (GDP) of Hong Kong and Shenzhen to the third largest in the world by 2020, surpassing London, Paris and Los Angeles. The pro-government think tank proposed 10 ways for building such a consortium. These included enhancing transport means between the two cities, re-planning Hong Kong's enclosed area near its border, deepening financial co-operation and allowing Shenzhen residents easier access to Hong Kong. The foundation said that in compiling the eight-month study, it had garnered views from 100 government officials, academics, industry representatives. It had also sought the views of 50 Hong Kong enterprises, 100 Shenzhen enterprises and 1,000 Shenzhen citizens. "The main objective is to restore and enhance the ability of Hong Kong and Shenzhen to stimulate the economies of the Pearl River Delta and the Pan-Pearl River Delta, making Hong Kong and Shenzhen the engine for regional development," the foundation said. "Hong Kong is an international city, and Shenzhen is the most liberated and diverse city on the mainland. Co-operation between Hong Kong and Shenzhen can radiate Hong Kong's influence to other parts of the mainland, and Shenzhen can 'go international' via Hong Kong," it said.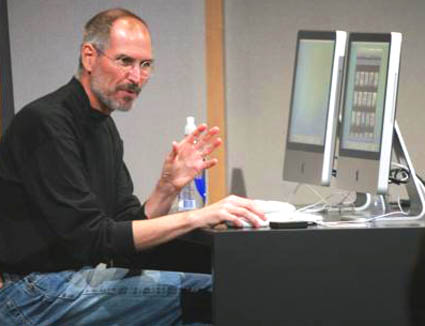 Apple on Tuesday unveiled a new line of iMac computers and slick software hoping the glow of iPod MP3 players and iPhones will help shine a light on Apple's core products.
Jackie Chan said on Thursday he hopes to finish an animated film based on him that late Cannes-winning Taiwanese-American director Edward Yang was working on at the time of his death. A spokesman for Chan also said on Thursday the Hong Kong actor is working on the script for an action film that he will direct, but denied that it would be the third instalment of Chan's Armor of God series, as reported in Chinese media. In a blog entry on Chan's website on Thursday, Chan mourned the death of Yang, who passed away on June 29 from complications from colon cancer. Chan had been working with Yang on the animated film The Wind, which revolves around a character inspired by Chan. A spokesman for Chan, Solon So, said the film was partly finished. Chan said in his blog he wants to complete the film. "I've started to wonder how I would finish The Wind ... I can't let his [Yang's] efforts go to waste," Chan said. Yang, known for his realistic portrayals of modern Taiwan, won the Cannes Film Festival's best director award in 2000 for Yi Yi, a film about a Taiwanese family that copes with the serious illness of their elderly mother. Spokesman So also denied reports that Chan plans to shoot the third instalment of Armor of God. The first two installments revolve around an Indiana Jones-style treasure hunter named Asian Hawk. Chan suffered one of the worst injuries of his career while filming the first instalment, which led to a brain haemorrhage. So, however, said Chan is working on the script for an action movie he hopes to direct. The film will be funded by Chan's JC Group. So declined to reveal the plot. Chan is currently filming The Forbidden Kingdom, a Hollywood kung fu film that co-stars Jet Li. He is scheduled to start shooting a film by Hong Kong director Derek Yee at the end of the year, So said. The film, called Shinjuku Incident in Chinese, is reportedly about Chinese immigrants in Shinjuku, one of Tokyo's most crowded shopping and entertainment districts.

China: United Airlines has plans to start new flight services between California and two Chinese cities in next two years to exploit the booming US-China route, but the airline is facing stiff competition from other US carriers. In an application submitted last month to the US Department of Transportation, United said it planned daily nonstop flights between Los Angeles and Shanghai beginning in 2009, and between San Francisco and Guangzhou in 2008. Supported by city officials, business leaders and California Governor Arnold Schwarzenegger, the planned new services are expected to bring thousands of jobs, boost tourism and generate millions of dollars a year for local economy. Chinese airlines currently offer three nonstop flights to China from Los Angeles, and US airlines operate seven nonstop flights from other cities to China. If approved, United would become the first US carrier to offer a direct flight to any city in China from Los Angeles. With burgeoning demand for travel between the United States and China, even carriers with connecting flights are often crowded these days, and travelers are eager to have more options on the route, said a Los Angeles Times report Tuesday. But Chicago-based United Airlines faces stiff competition from other major US carriers who have proposed different city routes as they battle for a limited number of rights to fly between the United States and China. Los Angeles is being pitted against cities such as Philadelphia, Chicago and Atlanta in what has become one of the more heated lobbying efforts in Washington, according to the report. A US-China route can bring to an American carrier about 200 million dollars a year, while the number of US passengers flying to China has been growing 10 percent annually for the last several years, twice the growth rate of any other transpacific traffic. Under a US-China pact reached in May, US carriers will be allowed to operate six new nonstop flights to China over the next three years, and the Department of Transportation will decide which routes to dole out this fall. The last US carrier to win a route to China was United Airlines when it began daily nonstop service in March between Beijing and Washington. The carrier already operates a direct California-to-China route, from San Francisco to Shanghai. Delta Air Lines, which wants to offer a direct flight from Atlanta to Beijing, has argued to federal officials that giving United another nonstop flight to China would weaken competition. Delta is one of the only two major US airlines that currently operate no fights to China. LA Airport Commission Endorses Nonstop Flights to China. The Los Angeles Airport Commission has endorsed the United Airlines' plan to start daily nonstop service to China, officials confirmed on Tuesday. In an application submitted last month to the US Department of Transportation, United Airlines stated that it planned daily nonstop service between Los Angeles and Shanghai beginning in 2009, and between San Francisco and Guangzhou in 2008. The daily flight between the two cities is expected to create -- directly and indirectly -- 3,120 jobs and generate 156 million dollars a year in wages, according to official figures. California Governor Arnold Schwarzenegger and Los Angeles City Council members approved the deal earlier.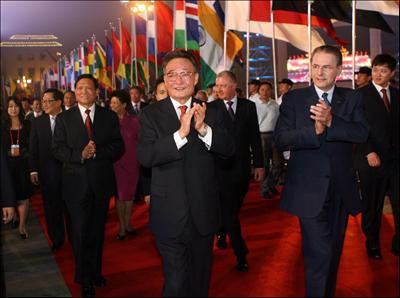 Wu Bangguo (L), chairman of the Standing Committee of China's National People's Congress (NPC), meets with the visiting International Olympic Committee (IOC) President Jacques Rogge, who was invited to attend celebrating activities of the one-year countdown to the 2008 Beijing Olympic Games, in the Great Hall of the People, Beijing, China, Aug. 8, 2007.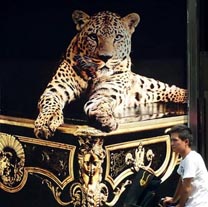 Man passes a billboard in Shanghai. The Chinese advertising market is forecast to grow to 200b yuan in 2008 because of the boost from the Olympic Games, from 160b yuan last year. The country is expected to be world's second largest ad market in 2010.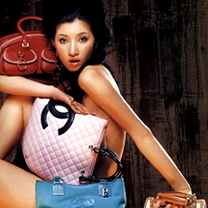 Want to pamper yourself with the most luxurious things from around the world? A high-end fashion capital offering everything for the discerning shopper, Beijing will never disappoint. Just stepping into the following five-star hotels located in the city, you will find yourself spoilt for choice from world-famous brands like Louise Vuitton and Gianni Versace to exquisite limousines and valueless jewelries.
August 10, 2007

Hong Kong: Russian billionaire Oleg Deripaska, whose assets include aluminum plants, builders and banks, is in talks to acquire control of a US$10 billion Moscow development that would rival London's City district in size as Russian property prices surge.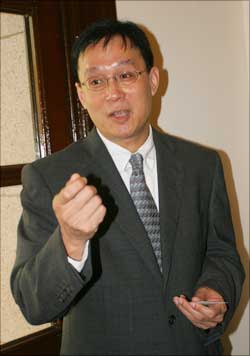 Tributes poured in yesterday for Ma Lik, leader of the Democratic Alliance for the Progress and Betterment of Hong Kong, who died in a Guangzhou hospital. He was 55. Ma was the first Legislative Council member since the handover in 1997 to die during his term. DAB vice chairman Tam Yiu-chung made the announcement at the Sun Yat Sen University Cancer Center where Ma was receiving treatment for colon cancer. "Our chairman, Mr Ma Lik, left us at 2pm on August 8," Tam said solemnly. "His loss has brought us deep sorrow but we are determined to continue the work he began." He said the DAB was seeking the assistance of the Guangzhou office of the Hong Kong Federation of Trade Unions to bring Ma's body back to Hong Kong for a funeral service.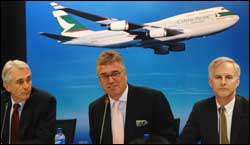 The move by Cathay Pacific Airways (0293) to take over Dragonair in September has paid off, with first-half profits soaring 54.7 percent to a record HK$2.581 billion on turnover of HK$34.63 billion. The forecast-beating results - the first to include full figures from Dragonair - was also driven by strong passenger demand and higher average fares, particularly in first and business class. Analysts had forecast net profit of between HK$2.05 billion and HK$2.4 billion. The blue-chip stock jumped 3.06 percent to close at HK$21.90 yesterday following the results announcement. "The results beat everyone's expectations," said Adrian Lowe at CLSA. "The strong passenger yield had offset the declining yield in cargo business." Passenger revenues surged 31.6 percent year on year to HK$20.98 billion, helped by the inclusion of Dragonair's operations. The figure represents 60.6 percent of the group's total turnover. Passenger yield per kilometer - a key gauge for measuring profitability - climbed 17.2 percent to 53.7 HK cents, largely underpinned by strong demand for premium services on long- haul routes. Cargo revenues were disappointing despite a 16.8 percent rise to HK$7.38 billion, chairman Christopher Pratt said. The Cathay group posted combined cargo throughput of 758,000 tonnes, a 32.3 percent rise over last year, but the overall load factor slipped 2.4 percentage points to 65.3 percent, while the yield fell 3.6 percent to HK$1.63. The drop in yield was even worse, at 8.3 percent, when Dragonair figures were excluded.
PetroChina (0857), the Hong Kong- listed arm of China National Petroleum Corporation, plans to list in Shanghai in October, raising at least 40 billion yuan (HK$41.36 billion), China Daily said yesterday, citing an unnamed official with the oil producer's parent.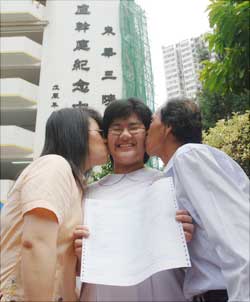 A girl rejected by the Diocesan Girls' School four years ago has become the youngest person ever to score nine As in the Hong Kong Certificate of Education Examination. The girl wonder, Ho Hoi-lam, had skipped three grades, yet managed to come out on top of her class each year. Now 14, Hoi-lam scored eight As, one 5* and one 5 in this year's exams, the results of which were announced yesterday. Under a new marking system, Level 5 candidates with the best performance are awarded Level 5*, the equivalent of an A. The Secondary Five student at TWGH Lo Kon Ting Memorial College in Yuen Long studied English, Chinese, mathematics, additional mathematics, physics, chemistry, biology and Putonghua. Hoi-lam also took exams in world history and principles of accounting by studying on her own with help from teachers. She achieved a 5* in Chinese, a 5 in English and As in all her other subjects.
Changes to the English paper in the Hong Kong Certificate of Education Examination have helped English- medium schools and adversely affected students in Chinese-medium institutions, it was claimed yesterday. Chan Ming-wah, principal of Chinese-medium Kowloon Tong School, said yesterday only 62 percent of his students attained Level 2 or above in the English paper compared with last year's pass rate of 73 percent. "Students in Chinese-medium schools whose language ability is not good enough are at a disadvantage with the combined English paper," Chan said. Previously, students could opt for the easier syllabus A or the more difficult syllabus B. However, Chan said the change was now a reality and his students would just have to face up to it. "Our students are hard-working but their foundation in the English language is not good." One of his students, Wong Sai-wa, got 18 points in the exam but only Level 1 in English, meaning he cannot go on to Secondary Six. The minimum requirement for students hoping to get a Secondary Six place is Level 2.
Incumbent MTR Corp chairman Raymond Ch'ien Kuo-fung has been named to head MTR Corporation Limited, which is to be set up after the merger between MTR Corp and the Kowloon- Canton Railway Corporation.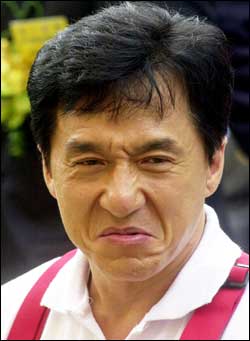 Rush Hour 3 debuts in US movie theaters tomorrow, packing one of the most potent trios in a single movie of recent years. And get this - they aren't even superheroes. In an era of filmmaking defined by blockbuster movies based on comic book characters like Spider- Man and Superman, actors Jackie Chan and Chris Tucker and director Brett Ratner have defied Hollywood's lust for comic books by staying human, offering a mix of martial arts, mayhem and mirth. The first two Rush Hour movies, directed by Ratner, featured the two actors playing fish out-of- water cops paired to solve a crime. The films were a huge hit at box offices around the world, success they talked up to one basic element: personal chemistry.

China: US Treasury Secretary Henry Paulson has warned US lawmakers against blaming the loss of jobs at home on global competition and using it as a pretext to pass protectionist trade laws aimed at China. Paulson, who returned to the US after a four-day visit to China late last week, joined Senate Finance Committee Chairman Max Baucus in his home state of Montana on Tuesday to discuss the importance of open market and free trade to encourage competition - an area the two agree on. Baucus, however, rejected Paulson's advice that the US stick to a strategy of negotiation and dialogue to persuade China to revaluate its currency. Baucus said a firmer hand was needed to "deal with China". The two officials acknowledged that though they share the idea of a more flexible yuan, they disagree on the best way to achieve it. "I feel quite strongly that the right way to deal with a sovereign nation like China on a currency issue is through negotiation," Paulson said. The Treasury secretary decried what he called an increasing trend of protectionist sentiment in the US and elsewhere. "This increase in protectionism is a worrying trend," Paulson said at the jobs forum in Montana. A rapidly changing economy will cause some job losses and dislocations, but that in turn can open ways for new jobs in other sectors. Director of the Institute of American Studies of China Institute of Contemporary International Relations Yuan Peng said it is unfair to press China to revaluate the yuan further. "The problem is that such a move will not help solve the problem. It will only increase the cost for American consumers," he said.
China spends $1b improving food, drug safety - China will spend more than $1 billion improving food and drug safety by 2010 and the regulator will be given stronger oversight powers, an official said on Wednesday. State Food and Drug Administration spokeswoman Yan Jiangying said the government had earmarked 8.8 billion yuan (US$1.16 billion) for food and drug safety over the current Five Year Plan, which runs to 2010. Part of this would be spent on a large, new laboratory, she said, adding this was the first time the spending figure had been made public. Yan did not provide a comparison for previous years. "Once the Five Year Plan has been completed, the abilities and the base of the regulator will be substantially raised," Yan said. "There will be an enormous improvement in the system for guaranteeing food and drug safety for the public." New rules would give the watchdog the power to seal factories and seize whatever materials they need when probing sub-standard goods, she added. Yan said her department would also take the safety message nationwide, starting out in the enormous countryside, home to 60 percent of the 1.3 billion population. "We will focus on rural food safety," Yan said. A deputy agriculture minister admitted recently that the backward state of Chinese farming was a major obstacle to raising food safety. State media said on Wednesday, the beginning of the one-year year countdown to the Beijing Olympics, the government would launch a campaign to crack down on the use of highly potent and poisonous pesticides which are banned but still in use. Five pesticides were banned earlier this year, and the Agriculture Ministry was compiling a blacklist of companies still making them. As part of the government's food safety strategy, it will educate farmers how to properly use pesticides.
The mainland's top quality control agency said yesterday that domestic toy companies whose exports had been recalled because of consumer health scares would face severe punishment and stringent supervision, China News Service reported. Export licences for such companies would be suspended until they cleaned up their acts, the General Administration of Quality Supervision, Inspection and Quarantine said. "Serious violators will be transferred to legal authorities to be dealt with severely according to the law," the report quoted an official from the agency as saying. "The administration will increase its level of supervision, stop the export of the goods in question and resume exports when qualifications are completely overhauled." The report also named two mainland companies recently involved in massive recalls of exported toys due to their poisonous lead content. The two Guangdong-based companies - Hansheng Wood in Dongguan and Lida Lee Der Industrial in Foshan - had temporarily been banned from exporting and had been ordered to "regulate and redress" their business practices, the report said. Last week, the US toymaker Mattel recalled nearly 1.5 million plastic preschool toys worldwide, all made by Lee Der, because they contained paint found to have excessive amounts of lead. In June, US toy importer RC2 Corporation recalled 1.5 million "Thomas & Friends" wooden railway toys made by Hansheng and painted with toxic lead paint. ansheng's general manager said he had been expecting the quality watchdog's strong stance but the tough supervision rules would hurt the business. "Americans are making very loud noises," the manager, surnamed Zhang, said. "They would protest louder if [administration] didn't make any gesture. It'll surely affect our company. We'll have to purchase more quality-supervision facilities, hire more people to monitor production processes and send our products to quality checking agencies more frequently. All of these will raise the cost of the product." The company had not always conducted quality checks, he admitted, because they were "too costly and too time-consuming". "One quality check can cost several thousand yuan," Mr Zhang said. There had recently been more inspections from governmental quality supervision agencies, he said. "They [officials] used to visit our factory once in a quarter, but now they come up much more frequently, without notifying us beforehand," he said. The administration said it would implement more measures to enhance the quality of the "Made-in-China" label, but did not go into details. American toy production experts and officials were welcome to inspect Chinese toy factories and quality laboratories, it added.
August 9, 2007

Hong Kong: Subway operator MTR Corp's (0066) underlying profit for the first half plunged 48 percent to HK$2.05 billion from HK$3.94 billion a year ago. "The result is basically similar to our expectations, with underlying profit ranging from HK$1 billion to HK$2 billion," said CSC Securities (Hong Kong) analyst Sunny Chan Yat-san. Including a revaluation gain of HK$2.02 billion from investment properties, net profit for the six months ended June 30 dropped to HK$4.07 billion, a decline of 21.2 percent from the same period last year. Profits from property development, the company's major source of earnings, faced a 59 percent cut to HK$1.66 billion from HK$4.07 billion last year.
News of Chang Wen-i, founder and former chairman of women's shoe retailer Prime Success (0210), being led away in handcuffs back to Taipei from Macau yesterday have compounded the woes of small-caps traded in Hong Kong.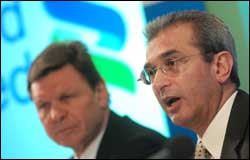 Emerging markets focused lender Standard Chartered (2888) beat market expectations, reporting first-half net profit rising 26 percent to US$1.37 billion (HK$10.7 billion), driven by solid consumer and wholesale banking growth. Analysts had expected the London- based bank to generate median net profit of US$1.3 billion for the six months ended June 30. Standard Chartered group executive director Kai Nargolwala told reporters yesterday that the major drivers were consumer and wholesale banking, and said the group will continue to grow organically. "We have been accelerating organic growth. We grew by 13 percent in 2004 ... to 21 percent in the first half of this year," Nargolwala said. The group will also look to acquisitions, he said, adding that it has the internal resources to finance small acquisition deals of less than US$1 billion.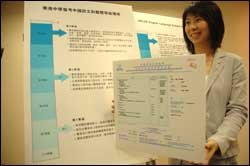 Fears that changes in the English and Chinese papers and the marking system in the Hong Kong Certificate of Education Examination would have a negative effect have proved unfounded. In a briefing yesterday, one day before the results were to be announced, the Hong Kong Examinations and Assessment Authority said 68.2 percent of day school candidates had attained Level 2 or above in the English language paper, the minimum requirement for Secondary Six admission. If Level 2 is viewed as the cut-off point, then this year's pass rate was 9.4 percentage points higher than those who passed Syllabus A (58.8 percent), or 10 percentage points lower than the 78.2 percent who passed the tougher Syllabus B last year. Overall, more candidates received Level 2 to Level 5 passes in English compared with last year's equivalent of Grade B to Grade E. However, 31.8 percent of the students failed the English test, attaining Level 1 or "Unclassified." Last year, the fail rate was 41.2 percent in Syllabus A and 21.8 percent in Syllabus B. With regard to the best of the best, 1.5 percent of all students obtained the highest possible park of 5* (five-star), while 5.3 percent attained Level 5. For Chinese, 2.9 percent and 6.1 percent students attained Level 5* and Level 5 respectively. Authority secretary-general Peter Hill stressed the introduction of new curricula and the new standards-referenced method of reporting results made it difficult to directly compare the grades awarded in previous years for the two language subjects. Authority deputy secretary-general Cheung Wing-ming said the scheme provided a better recognition of the candidate's language abilities. This year, 69 percent (72,380) day school candidates met the minimum requirements of Secondary Six admission. This was 5 percent more than last year. To obtain the minimum requirements, candidates should get at least four points in four subjects other than Chinese and English, or at least five points in three subjects other than Chinese and English languages. For English and Chinese languages, candidates must attain Level 2 or above.
Ma Lik, the leader of Hong Kong's largest pro-Beijing party, has died of cancer on the mainland, his party members confirmed on Wednesday.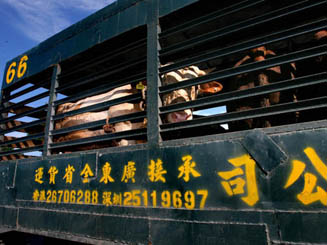 Fresh beef will be available in Hong Kong today but at higher prices after the end of a three-day boycott by dealers of Ng Fung Hong, the sole supplier of mainland cattle.

China: On August 8, the countdown clock that has been erected in front of the Chinese National Museum east of the magnificent Tiananmen Square in the center of Beijing, runs down to exactly "366 days to go", which is particularly conspicuous to passers-by. The 29th Olympic Games, a focus of global attention, is due to open in the national capital on this very day a year later, and a centenary dream of the Chinese nation will come true. China has plunged itself in six years of enthusiastic, intense preparations for the Games since the World Olympic Committee (WOC) announced on July 13, 2001 to the world that the city of Beijing had been chosen to host the 2008 Summer Olympics. It has been six full years of the country's concerted, nationwide efforts to honor their commitment to the world under the leadership of the communist Party of China (CPC) Central Committee and the State Council, or the central government. On March 23 this year, the Political Bureau of the CPC Central Committee, while hearing a report on preparations for the Games during a meeting it called, underscored that "all-out efforts will be made to do well the job for the 2008 Olympic Games in Beijing." Beijing has been stepping up efforts to improve its environment, and the "Green Olympics" embodies China's concept for sustainable development.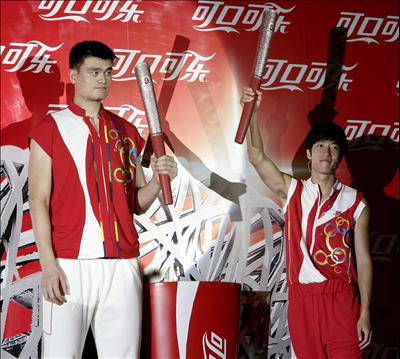 Liu Xiang (R), world record holder in the men's 110-meter hurdles, and NBA star Yao Ming (L) attend a ceremony for one-year countdown to Beijing Olympics in Beijing, Aug 8, 2007.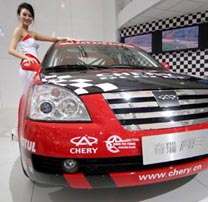 Chery Automobile, the No 7 local auto group by first-half sales, said yesterday it had signed a memorandum of understanding with Italy's Fiat to form a joint venture to make cars under both badges for the local market. The 50-50 venture, to be located in the eastern city of Wuhu, Chery's home base, will start building and marketing cars under the Fiat, Alfa Romeo and Chery badges in 2009, with an annual production of 175,000 units, the Chinese carmaker said.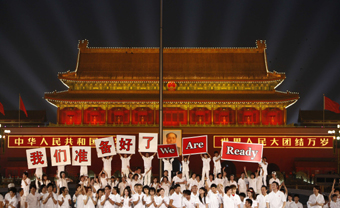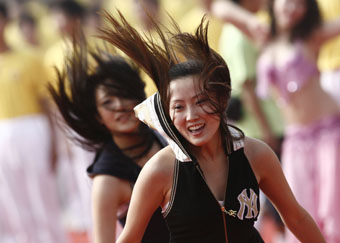 Let the party begin. The Beijing Olympics are just a year away. Sprawling Tiananmen Square was the center of celebrations for thousands of ordinary Chinese and hundreds of Olympic officials as countdown clocks across Beijing reach the one-year mark. Performers hold banners during the one-year countdown celebrations for the 29th Olympic Games in Tiananmen Square in Beijing August 8, 2007. The magic moment was to come at 8:08 pm and 8 seconds marking one year until next year's opening ceremony on August 8, 2008.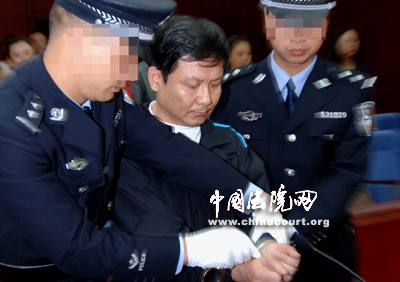 Hu Xing is hand-cuffed after the verdict was read out in court in Yunnan August 8, 2007. Hu was sentenced to life in prison for corruption. A former transport official in southwest China's Yunnan Province, who fled to Singapore and was extradited back to China, was sentenced to life in prison on Wednesday for corruption.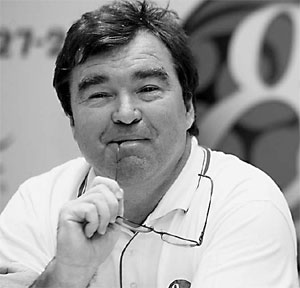 This year marks the 80th anniversary of Coca-Cola's entry into China, now its fourth largest market after the US, Mexico and Brazil. The world's largest beverage company, which recently launched an $80 million global research center and new China headquarters in Shanghai, is planning to boost investment in sales infrastructure and product range in the country, a market that could become Coca-Cola's largest, the company says. Doug Jackson, who became president of Coca-Cola China in April, talks with China Daily reporter Zheng Lifei about his company's goals and strategy in China.
An increasing amount of foreign investment capital flowed into China's real estate market between January and June, according to the National Bureau of Statistics (NBS). Data from NBS show that in the first half of this year, realized foreign investment in the property sector accounted for 24.1 percent of the country's total used foreign capital, 11 percentage points higher than the whole of last year. Foreign investment in property projects averaged US$7.04 million between January and February, up US$3.61 million from last year's average, while investment averaged US$7.17 million between January and March, up US$3.74 million. During January and February, 18 foreign companies invested more than US$2 million each in Southwest China's Sichuan Province. More than half of them invested in the province's booming real estate market. A total of US$169.15 million realized foreign capital was recorded in the property sector, making up 79.3 percent of the province's total. The growth rate of foreign capital in China's property sector surged 154.4 percent on a yearly basis in the first three months, 101.4 percentage points higher than all of last year. That was also 127.5 percentage points higher than the growth rate of total investment in the property sector during the same period.
Five Chinese airlines on Monday jointly launched an express air service between Beijing and Shanghai. The public welcomes improvement in service quality but also expects an explanation for increased prices.
China Asset Management Co Ltd (China AMC) plans to launch its first qualified domestic institutional investor (QDII) fund in September to raise 8 billion to 10 billion yuan ($1.06-$1.32 billion), a source close to the plan said on Tuesday.
August 8, 2007

Hong Kong: Hong Kong Air Cargo Terminals Limited (Hactl) announced here Tuesday that at total of 1,427,190 tons of air cargo was handled from January to July this year. The cumulative tonnage handled in the first seven months was slightly up 1.8 percent compared with the same period last year. Hactl said that the continual tonnage growth starting from the second quarter was primarily attributed to increases in export volume and transhipment volume. Aggregate export volume for the first seven months was 789,189 tons, up 1.3 percent compared with the same period last year; total transshipment volume was 251,748 tons, up 9.8 percent; import volume was 386,253 tons, down 2.1 percent.
Cathay Pacific Airways of Hong Kong announced here Tuesday that from Oct. 28 it will operate a sixth daily flight from Hong Kong to Narita International Airport in Tokyo, Japan. The additional flight will depart Hong Kong early in the morning to provide more options throughout the day for business travelers and the leisure travel market. Besides, Cathay Pacific's sister airline Dragonair announced Tuesday the launch of its new non-stop services from Hong Kong to Fukuoka and Sendai, Japan, which will also start from 28 October. This new service will operate daily non-stop from Hong Kong to Fukuoka, supplementing Cathay Pacific's existing daily Fukuoka flight that goes via Taipei. While Sendai becomes a new addition to the Cathay Pacific network when the new service begins operation. The above service enhancements mean the number of flights operated by the Cathay Pacific Group from Hong Kong to Japan will increase from 91 to 101 each week.
China International Marine Containers (CIMC), the country's largest shipping container company, yesterday announced that it bought a 42.18 percent stake in Enric Energy Equipment Holdings Ltd for HK$1.13 billion. It is the first time an A-share company is purchasing an H-share firm. CIMC's share soared to the daily allowable limit to close at 32.12 yuan in yesterday's trading on Shenzhen Stock Exchange. Mainland-listed CIMC reached an agreement on July 30 to buy 190.7 million shares from Xinao Group International Investment Limited. The latter originally owned 51.79 percent shares of Enric, through its wholly owned subsidiary Charm Wise Limited, according to the company's statement to the Shanghai Stock Exchange. The purchase price was HK$5.92 per share, a 27.36 percent discount on Enric's closing price on July 30 at Hong Kong Stock Exchange. CIMC said in the statement that it would make a general offer for all outstanding shares it did not own in the company. Analysts said the deal, which was low in purchase price, is expected to expand CIMC's business into gas and energy equipment sector and greatly improve the company's canned transportation production line, after it indirectly acquired 80 percent of Burg Industries BV on July 28. "The deal is expected to speed up CIMC's industrial structure transition and greatly improve its logistics services to energy end-users," said Huang Dongsheng, an analyst at Changjiang Securities. "Besides, CIMC already had the competency in cross-regional merger and acquisition, which can ensure the success of the deal," he added. "Canned transportation should be a major concern for CIMC in the deal. CIMC can be benefited from Enric's rich experience in providing the energy equipment," said Ye Zhigang, an analyst at Haitong Securities. Tank container is the major means of transporting gases and liquids for oil, chemical and food industries. "The deal is also expected to provide new sales channel for CIMC, though the amount will not be large," he added. Enric, a company listed on the Hong Kong Stock Exchange in October 2005, had net assets of 505.52 million yuan at the end of 2006 and sales revenue of 769.65 million yuan. CIMC's revenue in 2006 was 33.2 billion yuan and its total assets amounted to 23.3 billion yuan.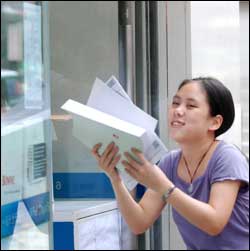 Some investors mindful of the global market sell-off sidestepped the share sale by Franshion Properties (China), which opened for public subscription yesterday. The Shanghai-based property developer received HK$1.14 billion worth of orders through margin financing, according to five local brokerages polled by The Standard. Although the amount represents 3.5 times the shares allotted in the retail tranche, the response went contrary to expectations of a clamor for the issue. "Franshion's fundamentals are not bad, but market volatility kept investors on the sidelines," said Horace Kwan, director at Celestial Asia Securities. The Hang Seng Index plunged 601.71 points yesterday, off the boil again after the Dow Jones Industrial Average tumbled 281.42 points on Friday, capping a volatile week.
After becoming a leader in the Hong Kong telecoms market in offering packaged services with mobile, fixed-line, television and internet services together, PCCW (0008) now plans to roll out mobile voice services in Britain over its wireless broadband network.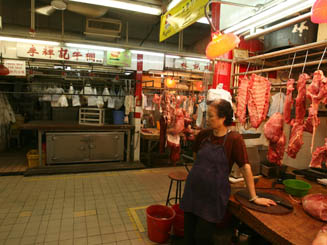 Supplies of fresh beef in Hong Kong are likely to return to normal tomorrow after 70 head of mainland cattle were supplied to the city last night and dealers will resume trading today.
Exhibition trade experts say the Tourism Commission should oversee strategic development of the convention industry to protect Hong Kong's share of the lucrative business, which contributed HK$26 billion to the economy last year. Stanley Chu Yu-lun, chairman of the Exhibition and Convention Industry Association, warned that intensifying regional competition highlighted the increasingly tenuous lead Hong Kong holds in the convention industry. With Singapore, Thailand and other markets dedicating more resources to attracting lucrative trade shows and exhibitions, Hong Kong needed to demonstrate its commitment to growing the sector, he said. "Who is going to bid and compete for events? We can't just sit and wait for Beijing's blessing," he said. He pointed out that the Korea Convention Bureau, a government agency under the Korea Tourism Organization, had been in operation for about three decades. Likewise, the Singapore Exhibition and Convention Bureau was a division of the Singapore Tourism Board. In 2002, the Thailand Convention and Exhibition Bureau was set up to market corporate meetings, incentive events, conventions and exhibitions. But in Hong Kong no one official agency is responsible for promoting the city to show organizers, he said. The Trade Development Council and Tourism Board looked after different aspects of the business, which made co-ordinating efforts more difficult, Mr Chu said. The council also has its own trade fairs, which could result in a conflict of interest if organizers put on competing shows.
The falling US dollar and the rising yuan have narrowed the advantage Beijing and Shanghai enjoy over Hong Kong in costs of living for expatriates, a worldwide survey shows. But ECA International, which carried out the survey, said Hong Kong could not draw much satisfaction from its findings. Worsening air pollution and the lack of school places could put expatriates, especially those with families, off the city, said ECA's Lee Quane. And the survey does not factor in rents; an earlier survey by the company found rents for expatriates in Hong Kong were the highest in the world. "Hong Kong is getting cheaper but the city was in fact less attractive to expatriates," Mr Quane said. The survey, carried out in March, found Seoul remained the most expensive city in Asia for expatriates, followed by Tokyo, Yokohama and Kobe, all in Japan. Hong Kong ranked fifth of the 39 Asian cities covered by the survey, unchanged from ECA's previous half-yearly survey. Taipei, Beijing, Shanghai and Singapore occupied sixth, seventh, eighth and ninth place respectively. The survey provides information for multinationals that need to send senior executives overseas. "The general cost of living in Shanghai is 8 per cent lower than in Hong Kong now. Five years ago, Shanghai's cost of living was 18 per cent lower," Mr Quane said. He said the narrowing of the gap should help Hong Kong maintain a competitive edge in attracting foreign companies. ECA surveys the prices of a basket of 125 goods and services in 300 cities worldwide. Mr Quane said some items in Beijing and Shanghai, such as imported clothing and entertainment, were more expensive than in Hong Kong. But mainland cities were still cheaper for daily necessities. In global terms, Hong Kong dropped to 81st costliest city for expatriates in March, down from 78th in September. Beijing rose to 103rd costliest, from 107th, while Shanghai climbed from 122nd to 115th. The latest rankings took the mainland cities past Melbourne and some cities in eastern Europe and Canada. Luanda, capital of Angola, was the most expensive city in the world for expatriates, followed by the Norwegian capital, Oslo. ECA's survey on housing costs, released two months ago, showed that rent on a three-bedroom apartment suitable for expatriates was 20 per cent higher in Hong Kong than in Tokyo and 115 per cent higher than in Shanghai.

China: China A shares rallied yesterday, defying a global stock market slump over US subprime mortgage jitters. The CSI 300 index closed at a record 4,703.98 following a single-day surge of 105.6 points or 2.3 percent. Index turnover reached 136.6 billion yuan (HK$141.35 billion). Mainland metal companies were the main catalysts, as the industry is expected to see strong interim earnings while valuations remain relatively low. Share prices of Aluminium Corp of China, Baoshan Iron & Steel and Wuhan Iron & Steel jumped 10 percent, 6.5 percent and 8.1 percent, respectively. With a number of companies scheduled to announce first-half results in the coming weeks, market watchers expect the bull run to continue in the near term. JPMorgan managing director for China equities Jing Ulrich said the reason Ashares are sheltered from the global stock market correction lies in the fact that crossborder capital flow is still limited in the mainland. "[China financial institutions] haven't invested too much overseas," Ulrich said. "The China market is seen as a parallel universe. It is not easy to invest money in China overseas." A shares have soared 125 percent year-to-date, according to Ulrich, and show no signs of slowing down. The stellar performance of the mainland bourses is mainly supported by more bank deposits going into the stock market and strong China corporate earnings. She remains optimistic that the A-share market will continue to do well in the upcoming year because there is still room for growth. "Many high-profile companies that are doing very well in Hong Kong like China Mobile (0941) ... are not listed in China yet," Ulrich said at a press conference releasing her report on the mainland's economic outlook. "The A-share market will grow organically from strong corporate earnings of existing listed companies, and in the next 12 months it will see more [H-share companies] listing." With more new stocks, Ulrich said this will help China take away some of the market's excess hot money. Beijing-based investment bank China International Capital Corp concurred in a recent report that the mainland's liquidity problem will ease in the next six months as a result of the central government's series of austerity measures earlier this year. CICC said blue chips continue to be the major driving force behind the China market rally, and predicts share prices will keep hovering at the high end despite greater volatility. However, Ulrich admitted that A shares are trading at a very high price- earnings ratio of 45 times. She expects a minor correction in the short term, or additional monetary policies directed at cooling the stock market may be introduced. Beijing tripled the stamp tax in late May to 0.3 percent from 0.1 percent. "There is still a lot of room to increase the stamp tax," Ulrich said.
Police have closed an underground bank that carried out 4.3 billion yuan (HK$4.45 billion) worth of unlawful deposit-taking and lending in every province in the country since last year.
China will launch a nationwide crackdown and propaganda offensive to fight public alarm about unsafe food, the government announced yesterday, as the Olympic Games one-year countdown focused attention on the problem. The State Council had decided to "launch a quality improvement campaign focused on food safety," said Zhou Baihua, director of the General Administration for Industry and Commerce, according to the government website. Zhou promised a public relations campaign to accompany the crackdown. "Wage a battle to guide opinion," he told officials. "Comprehensively strengthen opinion and information work." "The overall quality of our country's products has been steadily improving, but the situation, especially for food safety, doesn't allow for optimism," Zhou said. He added that in some respects "there are still many problems and weak links." This week marks the one-year countdown to Beijing's 2008 Olympic Games, bringing worries about whether athletes will also be exposed to food tainted with chemicals or hormones - often used in Chinese farming. Food for athletes would be strictly monitored through every step of farming, processing and transport, said Wang Wei, secretary general of the Beijing organizing committee for the games. "Our country and the Beijing municipal government are taking the food safety issue very seriously, especially for the Olympics," Wang said. China will use global positioning satellites to ensure food safety at next year's Beijing Olympics as it steps up efforts to blacklist manufacturers who violate safety regulations, Wang said in outlining a system that will monitor food production, processing factories and food hygiene during the Summer Games. The high-tech plans are aimed at making sure healthy food is delivered to the 10,500 athletes residing in the Olympic Village, starting with an "Olympic food safety logistics code" which will be attached to the products, he said. He did not provide further details of the device. Food transportation vehicles will be tracked using global positioning satellites, Wang, an executive vice president of the Beijing organizing committee, said two days before the one-year countdown to the games. The developments come after Vice Commerce Minister Gao Hucheng announced that 429 exporters have been blacklisted and punished for producing dangerously substandard products. The companies include Xuzhou Anying Biologic Technology Development and Binzhou Futian Biology Technology, whose products were implicated in the deaths of dozens of pets in North America.
August 7, 2007

Hong Kong: Hong Kong-funded process manufacturers in the Pearl River Delta have been offered support to lessen the impact of a new State policy. The Hong Kong SAR government will help the companies upgrade or shift to high value-added production and provide loans. The government has also approached local banks and the Hong Kong Association of Banks, asking them to offer more services and support to the companies. The export tariff rebate for over 1,800 processed goods will either be lowered or cancelled, in line with a policy issued by the Ministry of Commerce last month. Process manufacturers can now obtain bank guarantees for exports, but they will be required to pay deposits of up to 50 percent of the export value under the new policy, effective August 23. Acting Financial Secretary of Hong Kong Frederick Ma said the new trade policy would adversely impact the Hong Kong-funded firms and the city's economy. He said the SAR government will assist the companies and communicate their position to the central government. A task force comprising government officials and trade representatives from 14 associations met for the first time on Friday. The task force will study and assess the impact of the new policy and find ways to support the affected companies. The industry is willing to comply with the new national trade policy, according to Permanent Secretary for Commerce and Economic Development Yvonne Choi, who spoke after chairing the task force meeting. But Hong Kong-funded firms want a longer buffer period and greater support to deal with the new policy. "As far as exports of processed items are concerned, the industry is hoping it will be allowed to use bank guarantees or letters of credit in lieu of deposits. "We would also like to know if Hong Kong manufacturers are interested in moving to the central and western regions on the mainland, as Hunan Province - among others - is willing to offer them preferential treatment," she said.
Sino Life Insurance had become the first mainland insurer to win regulatory approval to invest part of its assets in the Hong Kong stock market after new rules announced last month, the China Business News said on Monday. Sino Life won approval from the China Insurance Regulatory Commission (CIRC) to invest in H shares and red-chips, the semi-official newspaper said. Sino Life, a relatively small insurer set up in 2001 in Shanghai, had total assets of 10 billion yuan (US$1.32 billion) at the end of May, according to the newspaper. The CIRC announced in late July that Beijing would allow Chinese insurers to invest 15 percent of their assets abroad under long-awaited regulations marking the latest relaxation of China's capital controls. The rules fleshed out a decision taken in April last year by the State Council, China's cabinet, to let financial institutions invest some of their clients' funds abroad under the landmark Qualified Domestic Institutional Investor (QDII) scheme. Other regulators earlier this year published detailed QDII rules for banks, brokerages and asset management companies. The assets of all insurance firms operating in China were 2.53 trillion yuan at the end of June, potentially making 380 billion yuan available for overseas investment. However, the actual totals will be determined by the State Administration of Foreign Exchange, the currency regulator, which will allot quotas to individual insurers - as it does for banks and fund managers. A few insurers were already permitted to invest in overseas stocks before the new regulations, but only using foreign exchange raised from initial public offerings overseas.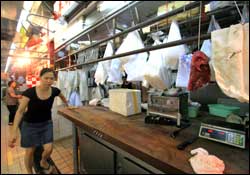 Hong Kong will be without fresh beef for at least three days following a decision by traders to boycott the sole supplier of cattle from the mainland, Ng Fung Hong. The three-day boycott began yesterday and traders said the action could be stepped up if Ng Fung Hong does not solve the problems of rising costs and a supply shortage.
Perceived listing hurdles are deterring mainland firms from floating shares in Hong Kong - and market watchers fear this could undermine its status as an international financial center.
Eyeing growth opportunities in Vietnam, containerboard maker Lee & Man Paper Manufacturing (2314) yesterday embarked on the construction of an HK$8 billion production plant in Can Tho.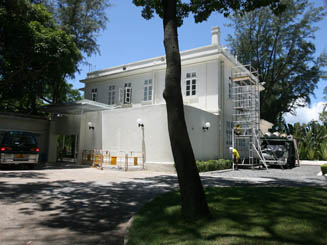 Taxpayers' money to be spent on a facelift for Financial Secretary John Tsang Chun-wah's 70-year-old official residence will include fixing the villa's leaky roof.

China: Beijing Olympic organizers are confident of ensuring food safety of the Games to be held in the Chinese capital next summer. "We are very confident of ensuring food safety in Beijing," said Wang Wei, executive vice president of the Beijing Organizing Committee for the Olympic Games (BOCOG). "Beijing has hosted many big events and there have been no big problems regarding food safety in these events." An elaborate monitoring system will be applied to help oversee the whole process of food production, processing and transportation to make sure healthy food is delivered to the Olympic Village next year. "All food entering the Olympic Village and other facilities will be given an Olympic food safety logistics code," Wang said. "High technology including IC card, RFID (Radio Frequency Identification) and GPS (Global Positioning Satellites) system will be used to monitor the whole process from start of production through transportation to the village," Wang said. Wang stressed that extra measures would also be taken to ensure food safety for the general public. "During the games some special monitoring mechanisms will also be applied to monitor restaurants and public food sellers," Wang said. "Through these measures, we would like to teach ordinary people how to buy safe food and help restaurants improve their service quality."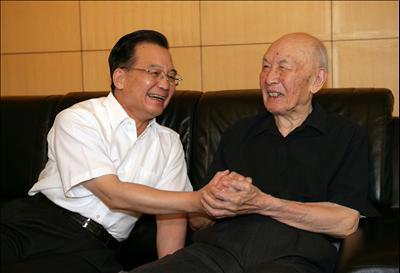 Chinese Premier Wen Jiabao has paid home visits to three senior scientists and an author who played important roles in China's scientific development and literature cause. Zhu Guangya, the 83-year-old famous physicist, received the Premier at home on Friday afternoon. Zhu had been one of the leading scientists who took part in developing China's first A-bomb, H-bomb and satellite in the 1960s and 1970s. "The Chinese People's Liberation Army has just celebrated its 80th founding anniversary. Although you did not attend the conference the Party held to mark the achievements, including the A-bomb, H-bomb and satellite, everybody keeps you in mind. We all remember the great contribution you have made to the projects," Wen said. The old man shook hands with the Premier with tears in his eyes and handed in proposals on how to coordinate development of military and civilian technologies and to set up a human resources framework encouraging creativity. When the premier visited the house of Qian Xuesen, the 96-year-old renowned scientist and founder of China's space technology told the Premier his opinions on training more young talents and on combining science with literature and art in education. "Proper handling of relationship between science and literature and art will help students in school of science improve creativity, " Qian said. The Premier has also visited He Zehui, renowned nuclear physicist and wife of late physicist Qian Sanqiang, known as Father of China's A-bomb, as well as Ji Xianlin, a well-known Chinese author and translator.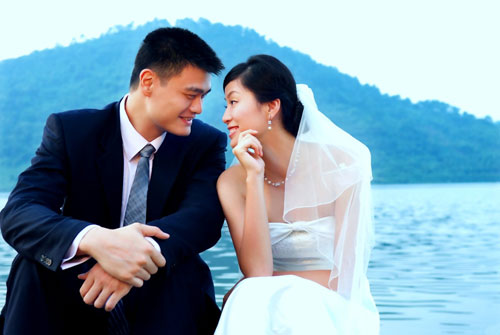 NBA star center Yao Ming is getting married to his long-term girlfriend Ye Li in their hometown Shanghai on Monday. A wedding ceremony will be held in the five-star Shangri-La Hotel in Shanghai, and only family members and relatives will be present, no teammates, coaches or basketball officials, local media reported. Yao and his agent have both turned off their mobile phones, but Xinhua's Shanghai correspondent was told there would be an official announcement about the wedding later Monday night. About 100 security guards will work for the nuptial in which only 10 dinner tables will be arranged with each costing 12,300 yuan (1,618 U.S dollars), media reports said. Yao, the 27-year-old, 2.26-meter-tall Houston Rockets star, and his bride Ye, a 26-year-old, 1.9-meter-tall player on China's national women's basketball team, received their official marriage certificate in Shanghai's Xuhui District on Friday.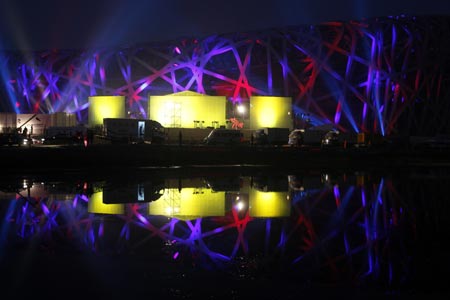 A general view shows the National Olympic Stadium, also known as the Bird's Nest, as it is lit up by colored lights during activities to mark a one year countdown to the 2008 Olympic Games at night in Beijing August 5, 2007. The Chinese capital is gearing up to celebrate the one year countdown to the opening ceremony of the 2008 Olympic Games on August 8.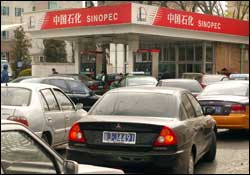 Rising global oil prices are straining relations between economic policymakers in Beijing and the nation's largest state-owned oil and gas companies as long queues for gasoline begin forming around the country. The National Development and Reform Commission - the economic planning agency that sets energy policy - issued a notice on Saturday ordering PetroChina (0857) and China Petroleum & Chemical Corp (0386), otherwise known as Sinopec, to refrain from withholding oil supplies to distributors.
Schoolchildren in the Chinese capital will get compulsory anti-corruption lessons this school year, including case studies on executed officials, a state newspaper said on Monday.
August 5 - 6, 2007

Hong Kong: ITAT Group Ltd, a Chinese apparel manufacturer and retailer, hopes to raise at least $1 billion by floating shares in Hong Kong next April, the latest in a string of companies to seek a public listing in order to tap the world's largest apparel market. "We will announce the IPO plan this month, probably next week," said Lai Meijin, ITAT Group's executive director. The Shenzhen-based company has hired Goldman Sachs, Morgan Stanley, Merrill Lynch and Deutsche Bank to act as underwriters. ITAT has secured a combined $120 million in two rounds of venture capital investments. Blue Ridge China Partners, a Chinese venture investment firm, invested $50 million last November, followed by a $70 million capital injection in March by Morgan Stanley Principal Investments, US-based alternative investment firm Citadel Investment Group, and Blue Ridge China Partners, said Luo Bo, an ITAT spokesman. ITAT's distinctive membership sales operation and zero inventory logistic management has earned investor interest, said Tang Yue, a partner in Blue Ridge and founder of eLong Inc, China's second-largest online travel service portal. The company, which increased its outlets from 249 last year to the current 516, plans to use the capital raised to fund expansion. After only three years operating on the mainland, the company has secured 3.5 million members. The company initiated its IPO preparation after a string of retail and apparel companies made successful debuts on the Hong Kong stock exchange last month. The companies include retail companies New World Department Store and two apparel makers, Stella International Holding and Anta Sports Products.
A traditional herbal medicine concoction can help reduce the severity of a common skin condition among children, according to Chinese University of Hong Kong researchers.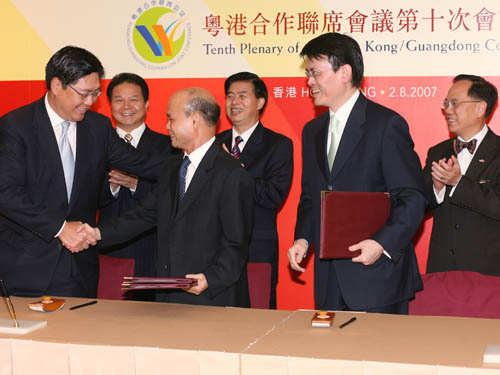 Tighter measures have been imposed on importing fresh fish to Hong Kong and food safety laws will be enacted to regulate food importers and distributors, Chief Executive Donald Tsang Yam-kuen said yesterday. Speaking after the signing ceremony of the 10th plenary meeting of the Hong Kong-Guangdong Co-operation Joint Conference, Mr Tsang said the new measures on fresh fish imports would start this month. Under the changes, vehicles transporting fish would be sealed to prevent bogus products being mixed with the approved cargo. Guangdong is a huge supplier of fresh fish to Hong Kong. "During the meeting today we also discussed how we would step up our efforts on deploying the new technology, RFID [radio-frequency identification], to enhance source-tracing of the food imported to the city," Mr Tsang said. He said legislation would be enacted to regulate food importers and distributors to ensure the safety of food consumed in Hong Kong. Mr Tsang said the government was still considering the options of either adopting a "step-by-step, item-by-item" approach in the legislative process or tabling a "comprehensive" bill in the Legislative Council. The chief executive also said the notification system between both sides had been enhanced following the signing of a framework agreement on food safety in April. A series of food scares on the mainland has raised international concerns. Hong Kong officials have long held meetings with mainland counterparts to curb unscrupulous food importers and distributors. Guangdong Governor Huang Huahua said the province attached "huge importance" to ensuring the safety of food exports to Hong Kong by adopting stringent inspection and quarantine measures. Both sides had frequent communications on the safety of food products. "Until now, there have already been over 120 officials and experts come to Guangdong province to inspect facilities like food-processing factories," Mr Huang said. Democratic Party legislator Fred Li Wah-ming, deputy chairman of Legco's food safety and environmental hygiene panel, said the government had previously told the panel the bill on food safety would be tabled in Legco next year. While saying he believed the RFID technique, if adopted, would help track the source of imported products, Mr Li said the government had yet to discuss the issue with Legco. Moving ahead are Progress made at the Hong Kong-Guangdong Co-operation Joint Conference: 1) Dedicated corridor to be built for Hong Kong section of Guangzhou-Shenzhen-Hong Kong Express Link; 2) Lok Ma Chau Spur Line to open on August 15; 3) Seals to be added to vehicles or vessels transporting live mainland fish to Hong Kong, starting this month; 4) Hong Kong and Guangdong to set up joint taskforce to study how to help Hong Kong-invested factories in Guangdong cope with economic restructuring and technological advances; 5) Taskforce to be set up under joint conference to make cross-border co-operation on social welfare easier; 6) Feasibility study on proposed bridge linking Hong Kong with Zhuhai and Macau nearing completion. Three governments still discussing two remaining issues of financing and location of checkpoints.
Cross-border taskforce to help factories hit by new export rule - Chief Executive Donald Tsang Yam-kuen and Guangdong Governor Huang Huahua have agreed to form a cross-border taskforce to help about 30,000 Hong Kong-owned processing factories hit by the mainland's new export rules. The taskforce, aimed at helping manufacturers move up the technology ladder and high-value production chain, would hammer out details of how to assist in the transition, Mr Tsang told the 10th plenary session of the Hong Kong-Guangdong Co-operation Joint Conference. In a move to rein in its swelling trade surplus, soothe international trade friction and cut pollution, Beijing has ordered all exporters to pay as a deposit half the amount they spend sourcing 1,853 raw materials such as metals, plastics and textiles for production into semi-finished goods. The move will tie up exporters' funds, hurting their cash flow and profitability. The number of raw materials subject to restriction will be expanded to about 5,000 eventually, according to some trade organisations. The latest agreement comes on top of a taskforce the Hong Kong government set up last week, with about 10 members comprising government officials and industry unions due to meet today for the first time. They will assess the impact of the rule on the livelihood of Hong Kong manufacturers and draw up support measures. Secretary for Commerce and Economic Development Frederick Ma Si-hang said last week the taskforce would help with communication between the mainland authorities and Hong Kong manufacturers. It planned to help seek mainland bank loans for manufacturers, play a bridging role in communication between Beijing and Hong Kong manufacturers and offer advice on how to improve technology levels, Mr Ma said. A fund has been made available for small and medium-sized enterprises to help meet environmental requirements across the border. Michael Yu Lee-ming, chairman of the Hong Kong Metals Manufacturers Association, urged Mr Tsang to fight for an extended grace period of six months instead of one month from the announcement of the rule on July 23. The regulation will be enforced on August 23.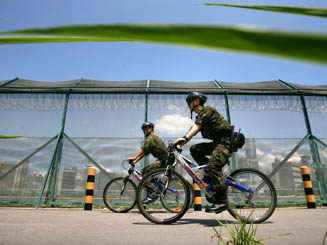 The number of illegal immigrants from the mainland sneaking into the city appears to be on the rise, prompted by stronger demand in the local labour market.

The increasingly important role the film industry played in promoting Hong Kong was stressed by Financial Secretary John Tsang Chun-wah on Friday. Mr Tsang was speaking to the Hong Kong Cinema Reception of the Brisbane International Film Festival in Australia. He said the government wanted to promote Hong Kong films more. "Ours is an industry that has gained a global reputation with many Hong Kong actors, directors, cinematographers and producers becoming household names," the financial secretary said. In the past 20 years, Hong Kong films like In the Mood for Love, Infernal Affairs, Chungking Express , Days of Being Wild and A Better Tomorrow have achieved international acclaim as well as commercial success. Hong Kong film stars such as Tony Leung Chiu-wai, Maggie Cheung Man-yuk, Leslie Cheung Kwok-wing, Jackie Chan and others have also become well-known abroad. Mr Tsang noted that the government had established a Film Services Office with streamlined procedures for location shooting. The office promotes Hong Kong as a leading film production service centre of the Asia-Pacific region. "In April this year, we formed a Film Development Council to advise us on the policy and strategy for the promotion and development of the film industry, as well as the use of public funds to support the industry, he said. The government is investing more in the Hong Kong film industry. "We have also injected HK$300 million into the Film Development Fund and expanded its scope to finance the production of small-to-medium budget films," added Mr Tsang. The Brisbane International Film Festival started in 1992 and showcased a broad range of local and international films. Famous filmmakers including Agnès Varda who directed Jacquot and Australian actor Jack Thompson have visited the festival. Hong Kong film The Banquet was the premier event at the festival this year.

China: A senior Chinese official has lambasted foreign media for fabricating scares over Chinese food products. Some foreign media had viciously sensationalized product quality problems and food scares concerning a small number of Chinese goods or companies, said Vice Commerce Minister Gao Hucheng. Some media fabricated safety problems in campaigns to block imports of Chinese goods, which he described as de facto trade protectionism, he said. Gao said some foreign media reports told of Chinese boys as young as six growing moustaches and girls aged seven growing breasts after eating hormone-tainted food. He also said some media had branded China-made products "killers". "We welcome impartial media reports as they will help us seek truth from the facts and take appropriate measures to rectify problems." "Like other governments around the world, the Chinese government pays great attention to safety and when problems occur, we never shirk, but deal with them responsibly after finding the facts," Gao said. The government has long been cracking down on fake, low-quality and unsafe products, but it was almost impossible to eradicate them as a small minority of local companies lacked social responsibility. The government had taken measures to tackle product safety problems, including blacklisting firms that exported unsafe products, he said. In July, the government revoked the business licenses of Xuzhou Anying Biotechnology Development Company, in eastern Jiangsu Province, and Binzhou Futian Biotechnology Co Ltd, in neighboring Shandong Province, for exporting melamine-tainted wheat protein that ended up in pet food in the US. Gao said the quality of Chinese products was improving steadily. A survey showed that 94 percent of Chinese vegetables were up to standard in terms of pesticide residue in the first half, 12 percentage points higher than in 2003. Commerce Minister Bo Xilai said in a statement posted on the website of the Ministry of Commerce that more than 90 percent of Chinese imported products were good and safe. Bo hoped all the parties could treat China-made products objectively, fairly and rationally and would not let problems affect normal trade. The Ministry of Health, Labor and Welfare in Japan, China's biggest food importer, said in July that 99.42 percent of the imported food from China in 2006 met safety standards, trailing 99.38 percent of the European Union and 98.69 percent of the US.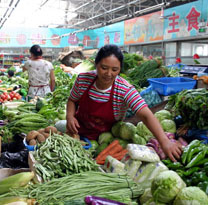 A vendor sells vegetables at a Beijing market Aug 2. The vegetables grown in China are fine and there's nothing to worry about their quality, said a senior official of the country's leading vegetable testing center. Most of the made-in-China products are absolutely safe, and the steady increase in exports despite the recent widespread criticism reflects their safety standards, a Ministry of Commerce official said yesterday. China's exports rose 27.5 percent in the first half of the year to $546.7 billion, said Vice-Minister of Commerce Gao Hucheng. The export of some products including food, drugs and toys, which have been criticized for their standards, have increased, too. The export of food products was up 22.2 percent, drugs 41 percent and toys 27.7 percent, according to Ministry of Commerce figures. The increase shows "the majority of importers, retailers and consumers (across the world) are reasonable," Gao said. The "problem products" comprise a miniscule percentage of the overall exports from China. For instance, toothpaste accounted for just $80 million of the total export of $970 billion in 2006. In fact, the value of the toothpaste brand, allegedly containing diethylene glycolis, exported to the US was only $3.3 million. Hence, doubting the quality of all made-in-China products is not a "scientific" way of looking at things, said Gao, citing a figure released by Japan's Ministry of Health, Labor and Welfare that showed 99.42 percent of food products from China to Japan were safe, compared to the 98.69 percent of those from the US and 99.38 percent from the European Union. The quality of Chinese products has improved greatly in recent years, he said. For instance, about 94 percent of the vegetables grown in the country passed the pesticide residue tests in the first half of 2007, 12 percentage points more than in 2003. Gao gave an assurance that the overall quality of exports is safe, and reminded domestic enterprises that improving the quality further is the only way of winning over the international market. The problems relating to product quality and food safety are hard to avoid totally because some enterprises are not aware of their social responsibility, Gao said. The problem of product safety is much of their doing. Government bodies are trying to minimize the effect of negative reports, and 429 enterprises have already been punished. Some other companies have been told to stop exporting their products. Gao called for international cooperation to deal with food safety problems. "Rebuking each other is not going to solve the problem. Strengthening international cooperation is the only effective way to solve the problem. "The Ministry of Commerce suggested cooperation with APEC members as early as in 2005, and helped set up the APEC food safety cooperation forum with Australia in 2006. Gao suggested improving legal and law enforcement through international cooperation, as well as setting up of an emergency system to deal with quality problems.
All 435 districts in the US House of Representatives have benefited a lot from trade with China, according to a report released by the US-China Business Council (USCBC) on Thursday. The report, undertaken by the Trade Partnership, quantifies exports to China from 2000 -- the year before China joined the World Trade Organization -- through 2006 from every congressional district in the 110th Congress. "This report illustrates the widespread benefits to the US economy that have resulted from growing US exports to China," said USCBC President John Frisbie. "The report also acts as a reminder to Congress to keep the benefits of trade in mind when crafting legislation that may affect the US-China commercial relationship," he added. The report said overall US exports to China grew 240 percent from 2000 through 2006, while in Alabama's 2nd congressional district, exports rose 400 percent during the 2000-06 period; the top export category in 2006 was crop production. Tennessee's 4th district also exported more agricultural goods to China in 2006 than any other type of good; the district's exports to China increased more than 1,600 percent from 2000 through 2006. Exports to China from Colorado's 4th district increased 235 percent from 2000-06, with computers and electronics the top export category in 2006. Texas' 32nd district (Dallas County) exported almost 450 million dollars in computers and electronics equipment to China in 2006; exports to China from this district grew 374 percent from 2000 to 2006. Indiana's 5th district exported chemicals worth 57 million dollars in 2006; overall exports to China were up 156 percent from 2000 through 2006. Chemicals were also the top 2006 export from Missouri's 3rd district; exports were up more than 500 percent from this district from 2000-06. Machinery manufactures were the top export category in 2006 of Oklahoma's 1st congressional district; exports to China from this district grew 110 percent in the 2000-06 period. Michigan's 12th district exported 143 million dollar worth of transportation equipment to China in 2006; the district's export growth from 2000-06 was 389 percent, according to the report.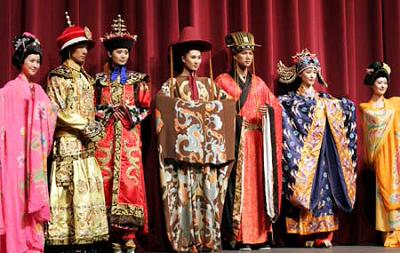 Chinese models from the New Silk Road Company give a preview performance in the Mexico City Theater in Mexico, Aug. 2, 2007. They will give a show of traditional Chinese costumes in the city on Aug. 3 as a part of cultral exchange activities to introduce China to Mexicans.
The past seven months have witnessed increased coverage of China in the international media, thanks to the bulging resident foreign correspondents corps, overseas media field trips and most importantly, a fitting legal framework governing their work in the country. "We are encouraged to see an increasing number of reports by foreign journalists, which now cover every aspect of our society," Liu Jianchao, director-general of the Information Department of the Foreign Ministry, told China Daily in an exclusive interview yesterday. "We are also encouraged to see that the new regulations have been widely welcomed and followed by foreign journalists, either staying in, or just making a brief visit to, China." He was referring to the Regulations on Reporting Activities in China by Foreign Journalists during the Beijing Olympic Games and the Preparatory Period, which took effect on January 1. According to the regulations, foreign media professionals enjoy wide and free access to report from China. "China has followed up on its pledge to facilitate the work of foreign journalists in China," he said. "They can do interviews as long as they get the permission of interviewees.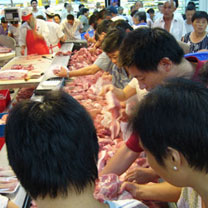 Customers shop for pork during a sales promotion at a supermarket in Suzhou, East China's Jiangsu Province August 3, 2007. Pork prices have risen sharply in a number of cities across the country.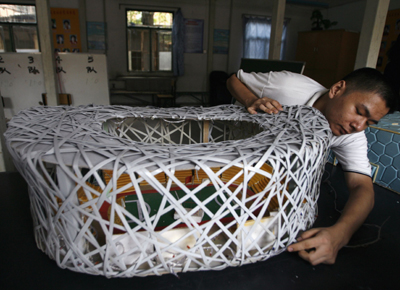 A man adjusts a replica of the National Olympic Stadium, also known as the "Bird's Nest", during a photocall in Beijing August 3, 2007. The replica, which took the local residents three months to build, is made of waste plastic strips, straw and trashed foam to celebrate "Green Olympics", which is one of the key themes promoted by China's Olympic organizers.
The Chinese inbound tourism market enjoyed a delightful rise in the first half this year, revealed statistics from the China National Tourism Administration (CNTA). The nation received a total of 63.37 million tourists in the first half, up 4.22 percent year-on-year. Of them, 12.12 million travelers were from foreign countries, climbing up 18.47 percent compared with a year before. Some 37.23 million were from Hong Kong, up 4.22 percent; 11.74 million from Macao, up 0.56 percent; and 2.28 million from Taiwan, up 8.74 percent. Some 25.9 million sight seers traveled throughout the Chinese mainland for at least two days, up 10.25 percent year-on-year. Of them, 9.91 million were foreigners, up 19.70 percent; 12.12 million from Hong Kong, up 4.89 percent; and 1.98 million from Macao, roughly the same from Taiwan, up 3.47 and 8.44 percent respectively. Between January and June, the number of tourists from 16 foreign countries went up. Specifically, the number of travelers from South Korea soared 30.26 percent year-on-year, India 16.48 percent, Russia 15.74 percent, Philippines 15.63 percent, Canada 15.02 percent, France 14.59 percent, Australia 14.34 percent, Indonesia 13.92 percent, Singapore 12.92 percent, Germany 12.65 percent, Malaysia 12.00 percent, Japan 11.90 percent, Britain 10.90 percent, the United States 10.77 percent, Thailand 1.40 percent and Mongolia 0.02 percent. In the first six months this year, Chinese tourism gained a total of US$17.94 billion in foreign exchange, a surge of 13.10 percent compared with a year before. Some US$16.45 billion, or 91.74 percent, came from visitors who stayed for more than one day, and the remaining US$1.48 billion came from those who visited for only one day. Considering the tourists' sources, overseas visitors in total spent US$1.25 billion, or 57.15 percent of the combined expenses of all travelers, up 19.64 percent from the same period last year. Hong Kong, Macao and Taiwan's brethrens spent US$3.93 billion, US$1.4 billion and US$2.36 billion respectively, growing 4.68 percent, 7.81 percent and 8.45 percent respectively. In June alone, China welcomed a total of 10.67 million inbound tourists, up 6.47 percent year-on-year, and the national tourism revenue reached US$3.13 billion, up 13.19 percent compared with a year before.
The number of companies registered under the Companies Ordinance rose almost 20 per cent during the first six months compared with the corresponding period last year, latest statistics released on Friday showed. The Companies Registry s figures showed that 47,417 new domestic firms were incorporated during the first six months. This was an increase of 19.12 per cent from that of the corresponding period last year. The number of new registered overseas companies in the first six months was 316. This was a rise of 12.46 per cent from that of the corresponding period last year. The total number of "live" companies registered at the end of June was 622,318, up 30,374 from the end of last year. Unlike business failures during the Asian economic crisis and the 2003 severe acute respiratory syndrome (Sars) epidemic, the increase in new companies reflects the strength of Hong Kong's economy. The territory is enjoying falling unemployment, strong inbound tourism, increased retail sales value and increased export volume. Many Hong Kong people also have more disposable income to set up businesses. An increasing number of overseas investors set up their businesses in Hong Kong as they see the territory as a stepping stone to the mainland market.
The top price regulator said yesterday that the food industry, including restaurants, was banned from forming cartels and collectively pushing up commodity prices. But the National Development and Reform Commission did not prohibit them from raising their prices individually, based on market demand. The notice follows steady rises in mainland food prices in the past six months, highlighted by a 4.4 per cent year-on-year increase in the Consumer Price Index last month. The notice also followed an announcement last month from major instant noodle companies who said they would collectively raise the price of products because of price increases for ingredients such as flour and oil. Another loose association of fastfood companies also said they would ratchet up their retail prices this month, citing the rising cost of eggs, meat, vegetables and grain. The NDRC said on its website yesterday that no industries were allowed to form alliances to manipulate market prices. It said associations and companies found to have been involved in pricemanipulation or stockpiling to influence market supplies would face severe consequences. The media should expose any business activities connected to such price manipulation, it said. The watchdog said most products' prices should be decided by the market, and local price regulators should avoid price intervention except in exceptional circumstances, like natural disasters. This announcement signalled rejection of a bold move in June by price regulators in Lanzhou , Gansu , that ordered local restaurants to cap the retail price of a popular beef noodle dish at 2.5 yuan, despite soaring beef and flour prices. Lanzhou price officials said the limit was designed to protect ordinary people from rising prices.
August 4, 2007

Hong Kong: Equestrian has become one of the trickiest events for organizers of the 2008 Beijing Olympics. The event was moved hundreds of kilometers south of the Chinese capital to Hong Kong, where animal diseases are less common than in mainland China. But some still worry how the horses will fare in Hong Kong's tropical heat and the impact of isolating the sport from the main competition. Organizers of the equestrian event hope to test out logistics and weather in a small-scale trial competition next weekend. Seventeen horses and their riders will arrive from France, Britain and the U.S. among other nations, joining 20 local horses in dressage, jumping and eventing competitions from August 11-13. "The main purpose for the trial is to let the horses acclimatize to local weather conditions, so they can get an idea of the humidity and adjust," said Christopher Yip, a spokesman at the company set up for the Hong Kong equestrian events. The International Equestrian Federation had opposed the relocation of the 2008 equestrian events to Hong Kong, complaining that it would hurt the sport by separating it from the main Games in Beijing, about a four-hour flight away. But the International Olympic Committee accepted the proposal by Beijing organizers, who said Hong Kong is free of quarantine problems and equine diseases common on mainland China. It's not the first time the Olympic equestrian events have become problematic. When Melbourne hosted the 1956 Olympics, the events were held thousands of kilometers away in Stockholm, Sweden, because of strict quarantine laws in Australia. Beijing said 17 equine diseases are prevalent in Beijing and other mainland Chinese cities. It also said it had "major difficulties" establishing a disease-free zone. In contrast, Hong Kong has a long history managing race horses. Hong Kong has a small population of horses concentrated in training schools and racecourses, making it easy to monitor their health, Jolly Choi, a spokeswoman for the government's Agriculture, Fisheries and Conservation Department, said. Incoming horses will be isolated from local race horses throughout their stay to minimize any risks of contamination, Choi said. The horses must also undergo tests both upon arriving in Hong Kong and before they leave the territory, she said. Horse racing is a major industry in the city, and equestrian organizers and observers say they are confident in the experience of the overseeing body, the Hong Kong Jockey Club, which is providing the main venues for the equestrian competitions. Li Tak-nang, a Jockey Club spokesman, said the body prides itself on its expertise in comprehensive horse welfare, including everything from accommodation to stabling to transportation. "Our experience in taking care of race horses is more than enough for handling equestrian horses," he said. Hong Kong's sweltering summer heat and humidity, however, remain major problems. Last August, the average maximum temperature in the territory reached nearly 31 degrees Celsius (88 Fahrenheit), and this year has been even hotter. Yip said organizers will use up to 40 metric tons (44 short tons) of ice per day for to make ice water to cool horses down. The trial event next weekend will be held in the early morning and evening to avoid the worst of the heat. Large misting fans have been installed in air-conditioned stables, and the Jockey Club has also converted an air-conditioned indoor stadium into a training arena for the event, Yip said. Lucy Higginson, editor at the London-based Horse and Hound magazine, said British riders and owners approve of the facilities in Hong Kong. "I just hope the weather will be a little forgiving," she added.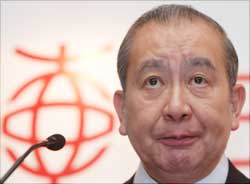 Bank of East Asia (0023) chairman and chief executive David Li Kwok-po yesterday reported first-half net profit that fell short of analysts' expectations - but said he was not disappointed. BEA shares dropped 4.32 percent after the results announcement. Analysts widely expected the lender to post a net profit increase of 21 to 30 percent for the six months ended June 30. Instead, the bank announced a year- on-year rise of only 20.1 percent to HK$1.9 billion. After rosy interim results from HSBC Holdings (0005) and Hang Seng Bank (0011) earlier this week, many expected BEA earnings would also benefit from the robust equity markets and strong China loan growth. "[Profit booking for] many items will not be done until July, which will be reflected in the latter half," Li said as he delivered the results. "Besides, the bank is expanding at a record pace." Earnings per share rose to HK$1.20, up from HK$1.03 for the first half last year. Return on equity - a measure of profitability - was 13.8 percent for the first six months of 2007. A dividend of 48 HK cents per share was declared.
A new express rail linking Hong Kong with Guangzhou via Shenzhen will be built as a dedicated track, Chief Executive Donald Tsang Yam- kuen said yesterday. The announcement that the Hong Kong section will not use Kowloon-Canton Railway Corp's existing West Rail lines came after the end of the 10th annual Hong Kong-Guangdong Cooperation Joint Conference. The choice was made, Tsang said, because of a difference in track widths between Hong Kong and mainland lines, while several stations on the West Rail made it unsuitable for a nonstop train service. "I really hope the traveling time between Hong Kong and Guangzhou will be cut as much as possible, to about an hour," he said. That is almost half the current traveling time of one hour and 40 minutes by rail between Hung Hom and Guangzhou. Tsang said despite the project being more expensive and requiring up to two more years to complete, it would bring immense economic benefits. Previous estimates suggested a dedicated rail link would cost HK$2.5 billion to build, about 1.5 times more costly than using West Rail tracks. Tsang said the new line should help consolidate the SAR's strategic position as the "gateway to southern China." According to the KCRC's proposal, the West Kowloon station at the Hong Kong end will be built on a 10-hectare site covering the existing City Golf Club's driving range on Jordan Road, Yau Ma Tei. An immigration checkpoint, with four terminals and eight tracks, will be built opposite the Mass Transit Railway Corp's Kowloon station in Jordan. A Transport and Housing Bureau spokeswoman estimated the link could begin operation in 2014 at the earliest, given that such railway lines normally take seven years to complete. That, however, will be about four years later than the estimated completion date for the mainland section, which will include the building of a station at Futian in Shenzhen. As for the much-awaited opening date of the Lok Ma Chau spur line, Tsang and Guangdong governor Huang Huahua agreed on a target of August 15 - a full month later than the original scheduled commencement date. "The spur line can provide citizens in Hong Kong and Guangdong province with a second rail link, so as to soothe serious congestion problems at the Lo Wu cross-border checkpoint," Tsang said in his closing speech at the conference. Cross-border commuter traffic at Lo Wu reached 241,000 travelers a day last year. On whether the hold-up was due to issues over the Futian checkpoint as reported, Huang would only say that inspections by central government authorities, which he said had been conducted recently, were necessary. A KCRC employee said the company should be able to start operations by August 15, with trial runs, hardware tests and personnel checks indicating all systems are ready to go. Also at the conference, six new agreements on further cooperation between the two governments were signed, including enhancing the Closer Economic Partnership Arrangement, strengthening quarantine measures for mainland fish products entering Hong Kong, promoting energy saving among enterprises and joint development of service industries. Other Hong Kong delegates at the conference included Financial Secretary John Tsang Chun- wah and Secretary for the Environment Edward Yau Tang-wah.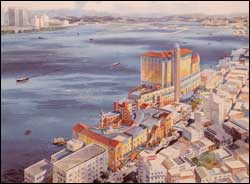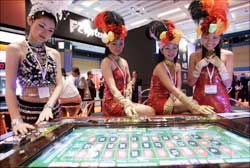 With a total area of merely 28.6 square kilometers, Macau astonished the world last year when it overtook Las Vegas to become the world's largest single gaming center. This followed the move by the Macau government to terminate the monopoly status of Sociedade de Jogos de Macau in 2002. Even though the move was not applauded by Stanley Ho Hung-sun, who owns the gaming conglomerate SJM, it was good news for other gaming players, including Macau Success (0487). Riding on the opportunities offered by market liberalization, Macau Success went for a back-door listing on the Hong Kong bourse in 2003 by acquiring stakes in a loss-making company called China Development Corp, executive director Hoffman Ma Ho-man recalled. Despite having "Macau" as part of the company's name, it did not have direct exposure to the fast-growing Macau gaming market. But this will change when Ponte 16, a flagship project it owns and operates, is launched. It beat other competitors to become SJM's partner in the world's largest gaming center. Back in the 1990s, Sonny Yeung Hoi-sing, chairman of Macau Success, was already involved in the gaming business in Macau. He was the operator of Golden Palace, a VIP room, in SJM's Casino Lisboa, Ma said. "As one of the top three VIP room operators and having a good business relationship with SJM, Yeung was invited to be a partner," he added. Ponte 16 then became the core business for Macau Success. Initially, it only held 10 percent shares in Ponte 16, but gradually lifted its stake to 49 percent by December 2006 after several share placements, including a HK$370 million share placement in November 2004; selling 5.6 percent of shares to Joy Idea Investments, a VIP room operator in Macau, as strategic investors in 2006. With the shareholders' structure settled, Ponte 16 is ready to launch its operations. But the competition is severe. There are 26 casinos operating in Macau, more than double the 11 casinos in 2002. There are a total of 3,102 gaming tables and 8,234 slot machines, eight times and nine times more than 2002, respectively, according to data from Macau's Gaming Inspection and Coordination Bureau. While more casinos are in the pipeline, including The Venetian, the second project for Las Vegas Sands, and the MGM Grand Paradise, both of which will both this year, market competition is intensifying. Analysts generally believe the average net revenue per table will continue to decline in 2007 and 2008. Morgan Stanley believes a recovery in revenue per table will not happen until 2011, after hitting bottom at US$2,000 (HK$15,600) per table per day, because of the increase in casinos. Nevertheless, Ma believes their network and know-how in the city is their advantage over the overseas giants. "The needs and habits of mainland customers is different from that in Las Vegas," Ma said. He believes simply copying the model from Las Vegas will not be successful. "Gamblers in Macau tend to have a larger bet and show more passion in gaming than those in Las Vegas, which leads to a smaller demand for entertainment shows or quality meals." Rather than adopting the international Las Vegas style, Ponte 16 will make use of its geographic location to distinguish itself from competitors, Ma added. Located at the Inner Harbor in the old town, the HK$2.4 billion integrated casino resort will feature a European Riviera theme, building on the atmosphere of the former Portuguese colony. Ma believes the casino will benefit from the new pier to be built at Inner Harbor, which will have ferry services connected to Zhuhai and two other places in Guangdong. This would help bring in customers as the Gongbei immigration gate, which is connected to Zhuhai, is heavily congested. "Cotai Strip will develop towards the Las Vegas style, while those casinos on the Macau Peninsula will focus on gamblers or visitors looking for the real Macau experience," he said. The casino, which will house 150 mass-market gaming tables, 24 VIP tables and 300 slot machines, the 423-room five-star hotel Sofitel Macau@Ponte 16 and a shopping arcade will open in phases. Dates are yet to be announced. Looking ahead, Ma is optimistic. "Underpinned by the robust economic growth of China and Asia, the prospects of Macau's gaming market will definitely outpace Las Vegas," he said. "In a market growing at over 20 percent per annum, I am very optimistic about the future." Eyeing a 6 percent to 10 percent market share in Macau's gaming market by revenue, Ma hopes to recoup the investment on Ponte 16 within three years. He is hoping for an opportunity to develop a second casino project. Sharon Wong of Standard & Poor's expects net profit of Macau Success to be HK$12 million for the year ended September 30, 2007, the lowest since it listed in 2003, because of the absence of interest income from the King Seiner Palace Promotor loan. However, she expects its net profit to surge to HK$205 million in fiscal 2008 once the Ponte 16 comes onstream.

China: China's foreign trade volume for the first half of 2007 totaled 980.9 billion US dollars, up 23.3 percent, with exports growing 27.6 percent to 546.7 billion dollars and imports up 18.2 percent to 434.2 billion dollars. The Ministry of Commerce (MOC) forecast the country's trade volume would increase by around 20 percent in the year to reach more than 2.1 trillion dollars. In the first six months of the year.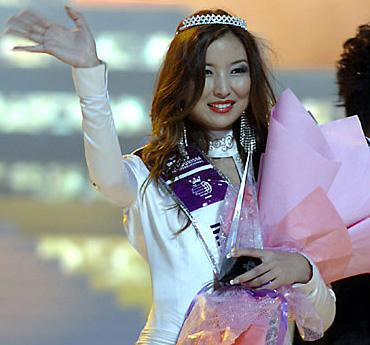 Miss Mongolia wins the title of Best in Asia Queen. Contestants from 108 countries and regions attend the final competition held in Zhengzhou, central China's Henan Province on July 31, 2007.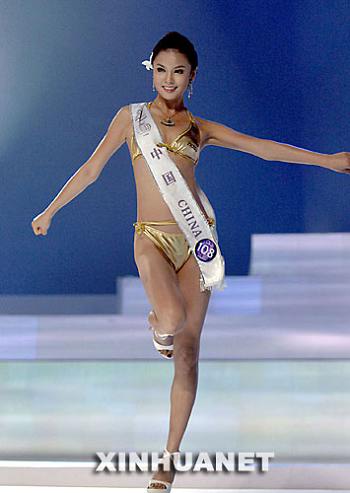 Miss China wins the title of Best Smile. Contestants from 108 countries and regions attend the final competition held in Zhengzhou, central China's Henan Province on July 31, 2007.
The Guizhou Provincial Development and Reform Commission Monday announced that it will launch the world's largest single-aperture spherical radio telescope as one of the state's key sci-tech infrastructure projects in the Buyi and Miao Autonomous Prefecture in south Guizhou Province. The Chinese Academy of Sciences and Guizhou Province will join hands in constructing a 500m-aperture spherical radio telescope by making use of the innovative design of Chinese scientists and the unique karst terrain and extremely quiet electronic wave environment in Guizhou. This platform for astronomical observations and research has reached international advanced level. It will provide important support for the country to conduct study and research on dark matter and dark energy, the origin of the universe, the evolution of the space and the search for the origins of life outside the Earth.
More than 1,000 top American economists have signed a petition to urge Congress not to impose protectionist measures against China, saying such a move would hurt the US. The petition, sponsored by the Club for Growth, was signed by a total of 1,028 economists from all 50 states and top universities. In addition to many other prominent and well-respected economists, signatories include Nobel laureates Finn Kydland, Edward Prescott, Thomas Schelling and Vernon Smith. The economists said in the petition that China currently supplies American consumers with inexpensive goods and low-interest rate loans and retaliatory tariffs on China "are tantamount to taxing ourselves as a punishment." "Worse, such a move will likely encourage China to impose its own tariffs, increasing the possibility of a futile and harmful trade war. American consumers and businesses would pay the price for this senseless war through higher prices, worse jobs, and reduced economic growth," they warned. "As economists, we understand the vital and beneficial role that free trade plays in the world economy. Conversely, we believe that barriers to free trade destroy wealth and benefit no one in the long run," they said. "Because of these fundamental economic principles, we sign this letter to advise Congress against imposing retaliatory trade measures against China." The economists said trade between the US and China is mutually beneficial. Government data shows that total trade between the two countries has soared from US$116 billion in 2000 to almost US$343 billion in 2006. That's an average growth rate of almost 20 percent a year.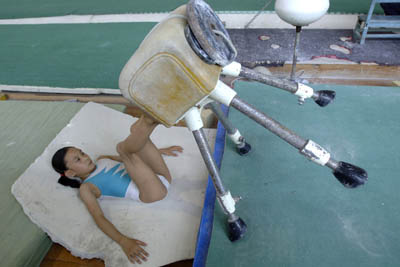 A gymnast from the Anhui provincial team practises at a training center in Hefei, east China's Anhui province August 2, 2007. About 30 gymnasts, aged from 4 to 19, undergo training at the center, according to local media.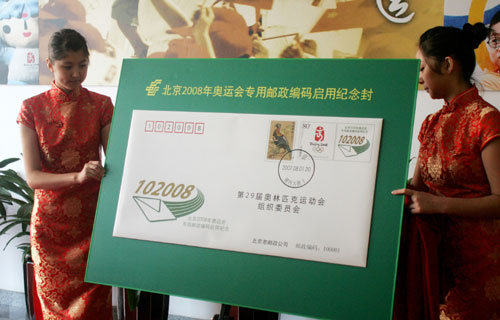 102008, the first zip code for the Olympic Games in history, was introduced at the headquarters of The Beijing Organizing Committee for the Games of the XXIX Olympiad (BOCOG) on Wednesday. The zip code will help letters for Olympic venues arrive in a safe, fast and smooth way. Following its launch at the Beijing Olympic Tower, the code will be used in future for all mailing services at the Olympic Family Hotel, Paralympic Family Hotel, Olympic Village and the main Olympic venues. The venues will include the National Stadium, National Indoor Stadium, the Olympic Village, the Main Press Center, National Aquatics Center, Digital Beijing Building, Olympic Sports Center Gymnasium, Olympic Sports Center Stadium, Ying Tung Natatorium, North Star Media Village, Huiyuan Media Village, etc. The code will be in use from August 1, 2007 to September 30, 2008.
China's H-share banks could fall victim to the global US subprime mortgage fallout, which yesterday spread to Taiwan and Germany. A Goldman Sachs report warns the global phenomenon could filter into the mainland as H-share banks - particularly the Bank of China (3988) - may have exposure to subprime securities. So far, BOC and Industrial and Commercial Bank of China (1398) have been left largely unscathed by the US crisis, announcing minimal losses yesterday. BOC, the country's largest foreign- exchange lender, said it will book "insignificant" losses on subprime investments in the first half, as it had less than 10 percent of its overseas bond investments in asset-backed and mortgage- backed securities as at the end of 2006. Luo Nan, BOC's head of investor relations, told Bloomberg that its holding of subprime loans was even smaller. ICBC also has "negligible" investments in US subprime loans, which should have no impact on the company's profit, the bank's board secretary, Pan Gongsheng, told Bloomberg. But Goldman Sachs said there could be some exposure of US subprime mortgage-backed securities and collateralized debt obligation at mainland banks, especially those listed in Hong Kong, which have modest foreign exchange investments after their H-share offerings. This would include BOC, given its large US-dollar securities investment portfolio.
China said it will work with the United States to improve product safety amid a massive US recall yesterday of plastic preschool toys made by a mainland vendor. "We want to cooperate with other countries including the United States to strengthen cooperation and communication," Wei Chuanzhong, an official with the General Administration for Quality Supervision, Inspection and Quarantine, one of China's product safety watchdogs, said on the administration's website. "We shouldn't use problems found in one product to block all products," Wei said, in a nod to concerns in the mainland that scattered safety violations are threatening the reputation of Chinese exports as a whole. Beijing has acknowledged safety problems, but says other countries are grappling with similar issues and insists its products should not be unfairly singled out. The remarks came just ahead of toymaker Fisher-Price's announcement that it was recalling almost one million toys, the latest in a string of mainland product safety scandals. Wei's comments came in a meeting Wednesday with a visiting team of American health officials led by US Health and Human Services official Rich McKeown. The delegation's five- day visit is centered around developing systems for ensuring the safety of food, feed, drugs and medical devices exported from the mainland. Talks have also touched on a US block on Chinese catfish, basa, dace, shrimp and eel after repeated testing turned up contamination by drugs that have not been approved in the United States for farmed seafood. Fears were triggered earlier this year after a mainland-made ingredient in pet food was linked to the deaths of cats and dogs in North America.
In a show of unity, retired and current mainland leaders made a rare joint public appearance yesterday amid rampant speculation over the leadership reshuffle to be decided at the Communist Party congress to be held in the autumn. President Hu Jintao joined former top leaders, including former party chief Jiang Zemin , at the Great Hall of the People in Beijing to celebrate the 80th anniversary of the founding of the People's Liberation Army. Mr Hu used the occasion to rally support for greater unity, both nationally and within the party, ahead of the key decisions to be made at the congress.
August 3, 2007

Hong Kong: Having weathered numerous storms in the global market, Hong Kong manufacturers are facing another challenge to prove their business agility. The hurdle is in the form of the central government decision to expand its export limit catalog to 15 percent of the country's trade categories as of August 23, in a bid to trim its ever-increasing trade surplus Exporters of goods listed in the catalog, released on July 23, are required to deposit half the amount of their payable levies in Bank of China before they can continue their business. Tens of thousands of Hong Kong enterprises will have to give up their labor-intensive production or move out of familiar coastal bases, or upgrade their technology and product quality quickly. Simon Lam, boss of a Hong Kong-funded toy firm, yesterday told China Daily that he will consider moving his firm from Dongguan, a processing industry center in South China, to either Thailand or Vietnam to avoid the costs incurred by the policy change in Beijing. He said his factory used to import processing materials at a price of about 80 million yuan per manufacturing unit, and according to the new regulation, he would have to pay an additional deposit of as much as 23 million yuan. At a maximum, TDC estimates, processing companies will have to shed some 370,000 jobs on the mainland and another 10,000 in Hong Kong. Fearing the pinch from the policy change, a delegation of Hong Kong industry and trade bodies, visited the Guangdong provincial government last week seeking a grace period in the enforcement of the policy. But Beijing is unlikely to soften its current position due to the mounting pressure for it to reduce the trade surplus, according to a source close to the Ministry of Commerce who did not want to be named. Instead, the central government may consider allowing Hong Kong companies currently engaged only in processing trade to expand their business scope, according to Wang Qinhua, a senior official with the Ministry of Commerce. TDC economist Yau Lai-ping admitted that local manufacturers need to upgrade operation and production. Wang suggested that they also consider relocating their operations to provinces in central and western China, where the export limit catalog does not apply.
The sun was setting on Queen's Pier last night as the final protester was dragged from its rooftop, but activists say the battle for the old terminal is far from over.
Fashion store Lane Crawford announced yesterday that it will open its first wholly owned store on the mainland in October following the termination of franchise agreements at the end of last year. The 25,000-square-meter store in the new Seasons Place Mall in Beijing will take an investment of HK$300 million investment and will employ more than 300 people. The store will feature over 600 brands, including Prada, Stella McCartney and Givenchy. More than half of its brand portfolio will be new to the Beijing market. "Our plan now is to introduce several wholly owned stores in key cities on the mainland, including Shanghai and Macao, within the next five years," said Jennifer Woo, president of the Hong Kong-headquartered company. She declined to reveal detailed figures. Lane Crawford opened a new-style store in Hong Kong in 2004 with its International Finance Center Mall flagship store, and the following year at Pacific Place, repositioning the company from a traditional department store to one with the largest portfolio of leading fashion brands. In line with expansion plans, Lane Crawford's former license and franchise operations in Shanghai, Hangzhou and Harbin, which predated the company's current repositioning strategy, have been discontinued. All the wholly owned stores on the mainland will be managed by Lane Crawford teams, she said. Each store has floor space between 25,000 and 36,000 square meters. "The Beijing store will equal to 80 percent of the revenue in a Hong Kong store for us in the first year," Woo said.
Changes in the way horse racing is taxed and the flexibility given to the Jockey Club to meet the demands of the betting public saw turnover pass the HK$100 billion mark for the first time in the club's 120-year history. Chief executive Winfried Engelbrecht-Bresges, while warning that the club still faces tough challenges in winning back business from illegal and offshore operators as well as growing competition from other forms of entertainment especially in neighboring Macau, said the club's efforts to establish Hong Kong as a world hub of racing and equestrian sports were clearly paying off. Hong Kong's staging of the Beijing 2008 Olympic equestrian events will further put the city on the world map, he said yesterday, as well as leave a sporting legacy that will benefit the whole community.
TVB (SEHK: 0511)'s sole mainland distributor for online programming has accused a major audio broadcasting website of infringing the copyright of a hit television series by providing links to unauthorized uploads of the drama. A statement on sina.com on Monday from online distributor Beijing Netmovie said Shanghai-based tudou.com - the mainland's version of YouTube - violated the copyright of TVB's hit series, The Drive of Life, by supplying links to non-Netmovie versions of the show and suggesting the links were authorized. The series aired last month on CCTV8. Netmovie has not filed a suit against the Shanghai firm or sent it documentation about the dispute. Beijing Netmovie marketing head, Li Fei, said the company paid 40 million yuan in December for the rights to be the sole online distributor of TVB programs on the mainland for one year. To access the authorized version, viewers must go to one of Netmovie's 30,000 or so franchised internet bars nationwide and pay to watch the show. A tudou.com marketing chief said the website's links to the show had received many hits but the company had done nothing wrong. "We are approved by TVB itself and they are satisfied with our efforts to generate more popularity for the show on the mainland," he said. From a click on the tudou.com home page, visitors can see the whole series uploaded by website members, as well as clips provided by TVB, according to the marketing chief. A TVB spokesman said the station had only asked tudou.com to promote The Drive of Life. "However, we didn't authorize them to play the series," he said, adding TVB had informed its legal department to follow up on the matter. Last moth, Beijing Netmovie took another major portal, tencent (SEHK: 0700).com, to the Shenzhen Nanshan district court for infringing copyright of TVB programs. It has also filed a copyright violation lawsuit in a Guangzhou court against Xunlei.com. Mr Li said many small websites run by some metropolitan telecom companies carried TVB series to attract interest from local residents. Tudou.com's marketing chief said such allegations of copyright violation were new and a controversial issue because most of the online content was uploaded by visitors. "We only censor uploaded content in terms of sex, violence and whether it's anti-Communist Party or the state government. Our staff don't have the knowledge to identify what has infringed copyright or not."

China: Chinese archaeologists have found textiles in a mysterious tomb dating back nearly 2,500 years in eastern Jiangxi Province, the oldest to be discovered in China's history. The textiles, which are well-preserved and feature stunning dyeing and weaving technologies, will rewrite the history of China's textile industry, says Wang Yarong, an archaeologist who has been following the findings in the textile sector for more than three decades. "Chinese anthropologists suspect the textile industry burgeoned in distant periods of history and this is the first piece of concrete evidence to support their hypothesis," she said. Wang and her colleagues found more than 20 pieces of fine silk, flax and cotton cloth in 22 of a total 47 coffins unearthed from the tomb in Lijia village of Jing'an county. "Most of them are fine fabrics and the largest piece is 130 cm long, 52 cm wide and woven with complicated techniques," said Wang, a researcher with the textiles preservation center of the Beijing-based Capital Museum. A Peking University professor found with infrared devices that a piece of cotton cloth was partly red and partly black. "It was dyed red with vermilion," said Professor Zhang Xiaomei. Historical records show the Arabians were able to produce vermilion in the eighth century and the Europeans learned the methods from them in the 17th century. Yet the tomb where these fabrics were found is believed to date back to the Eastern Zhou Dynasty (770-221 B.C.). The tomb, 16 meters long, 11.5 meters wide and three meters deep, was found last December and the excavation was completed only last week. It contained the largest group of coffins ever discovered in a single tomb and its excavation was dubbed "the most important archeological project of the year" by cultural experts and the Chinese media. By Monday, experts had unearthed more than 200 heritage pieces from the tomb, including copperware, jade, gold and handicrafts made from bamboo: a well-preserved fan 37 cm long and 25 cm wide and a bamboo mat 180 cm long and 80 cm wide. Seven of the coffins contained human skeletons, four of which were identified as healthy females aged around 20, said Wei Dong, an archaeologist from northeast China's Jilin University. Wei and other members of the research team assumed the four young women were maids who had been buried alive in sacrifice alongside a dead aristocrat, as was a centuries-old custom in ancient China. Five other coffins contained bodily tissues, which scientists have identified as human brains that have shrunk to the size of a fist but retained their original structure. "We're yet to conduct a DNA analysis to see whether these people were genetically linked to one another," said Huang Jinglue, head of the archaeological team. Experts say the discovery is unique because the skeletons had been preserved well in an area where the soil was acidic and unsuited to the preservation of human bodies.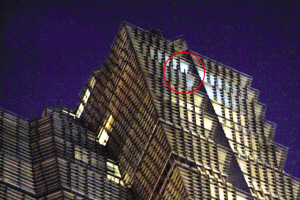 A Chinese man was detained by Shanghai police in the early hours of Wednesday after he climbed the tallest building in China, just two months after a French "spiderman" pulled the same stunt. A 28-year-old man surnamed Zou, from Suining County in central China's Hunan Province, began to climb up the side of the Jinmao Tower in Shanghai, home to the Grand Hyatt Hotel, at about 6 p.m. on Tuesday, police said. He reached the halfway point of the 88-storey building within an hour and arrived at his destination at 11 p.m., the Shanghai Municipal Public Security Bureau said in a statement posted on its website.
Although China has the world's fastest growing civil aviation industry, more airports are needed to extend airline services to more parts of the country, a senior official said recently. "The number of airports is still small compared to other countries," Yang Yuanyuan, head of the Civil Aviation Administration of China (CAAC), said while addressing a training course for airport senior managers. In contrast to the United States, which is home to nearly 20,000 airports, and Brazil, with more than 2,500, China has less than 500, and then only if temporary runways are included. And the distribution is unbalanced. The density of airports in eastern China is 5.3 times the national average, while the density in western China is less than two-thirds the average. As a result, the country's dozen large airports are operating beyond their capacity, which raises their logistics costs, while many small ones are losing money because of a lack of passengers. Yang said that although less than 20 percent of all air passengers use small airports, they are "very important cornerstones of the sustainable development of civil aviation". "Airports should be regarded as public infrastructure," he said. "Local governments can continue to let profitable large airports operate as enterprises, but they should treat medium-sized and small airports as public welfare facilities." Wang Wei, a professor at the Tianjin-based Civil Aviation University of China, agreed with that assessment, saying such an approach would spur the development of airports. He told China Daily that the widespread notion that airports are enterprises rather than infrastructure had kept local governments and large airport groups from building more small airports in recent years. "If you simply look at the figures reflecting an airport's performance, it may seem like they are losing money. But the benefits they provide to the local economy and tourism sector are huge," Wang said. CAAC director Yang urged local governments and large airport groups to "pay enough attention to the development of small airports" by providing necessary support.
President Hu Jintao reiterated the importance of maintaining stable and mutually beneficial Sino-US economic relations, urging the two sides to make full use of the strategic economic dialogue (SED) to address issues of common concern. Hu said the development of bilateral economic ties have not only brought tangible benefits to the people of both countries but have also been engines of global growth. He made the remarks during a meeting in Beijing yesterday with visiting US Treasury Secretary Henry Paulson, who leads the US delegation in the SED. Vice-Premier Wu Yi heads the Chinese side at the twice-yearly forum. Calling Paulson an old friend of China, Hu said the two sides should ensure that the SED is coordinated well with other Sino-US negotiation mechanisms to promote cooperation. He also urged both countries to fully implement the follow-up actions of the SED to further enhance strategic mutual trust and deal with issues of mutual concern. Paulson hailed the SED as helpful to enhance bilateral economic relationship; and said he will work with Wu to make the dialogue a forum to ease friction and resolve disputes. He added that the US is looking forward to strengthening cooperation with China in the fields of energy, environmental protection, food safety and finance. Paulson joined other top Bush aides in a letter on Tuesday to congressional leaders to head off several trade-focused bills that are aimed at pressuring China to revalue the currency to ease the trade imbalance. The letter was released after Paulson met Wu on Tuesday. Paulson told reporters late Tuesday night that he warned against sanctioning Beijing over trade disputes and called for more dialogue. Paulson held another private meeting with Wu last night before leaving Beijing for home.
The French Chamber of Commerce and Industry in China (CCIFC) recently received its 1,000th member as more French companies arrive amid increasing bilateral trade between the two countries. Trade between China and France rose from 9 billion to 32 billion euros over the past decade, and increased 10 percent year-on-year in 2006, when the trade gap was narrowed as imports from France grew faster than exports from the Chinese side. "There is still high growth potential as France's market share was only 1.4 percent in 2006," said Annick de Kermadec-Bentzmann, president of CCIFC. French companies specializing in advanced technology, environmental industries, telecoms, financial services and the food industry should be in a good position to enter the Chinese market, Kermadec-Bentzmann added. Smaller enterprises in particular are coming to China in growing numbers. Seventy-five percent of member companies in the CCFIC have fewer than 250 employees. In 2006, 100 new members with fewer than 250 employees joined the chamber. As a result, support for smaller companies is a focus of the CCIFC, which is helping guide firms to search for partners and suppliers. The chamber has also established working groups to discuss business-related topics. "Looking at the increasing figures of our new members each year, I have every confidence that this trend will continue," said Kermadec-Bentzmann.
August 2, 2007

Hawaii: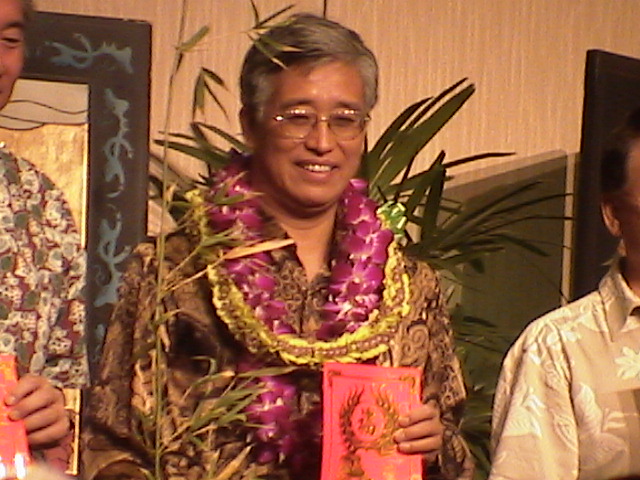 Chinese Consul General Zhang Yun of Los Angels Office and his delegation of the People Republic of China visited Hawaii on July 31st, before his assignment to their Los Angeles office, Consul General Zhang had served as Ambassador to Sri Lanka and Maldives, Director General, Protocol Department, Ministry of Foreign Affairs, and Ambassador to Singapore

Hong Kong: The troubled US subprime mortgage market has created unstable conditions in the country's general housing market, but there are no signs of a spillover into the overall economy yet, HSBC Holdings (0005) chairman Stephen Green said yesterday.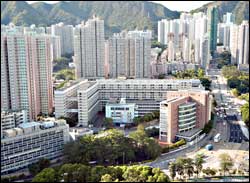 A parcel of residential land in Wong Tai Sin was secured by mid-tier developer Kerry Properties (0683) at yesterday's auction for HK$3.98 billion in a final bid that fell below market estimates. Developers and surveyors, however, said the outcome was not correlated to certain adverse consequences of high- density development on the site, as highlighted by an environmental concern group. Charles Chan Chiu-kwok, managing director of valuation and professional services at property consultant Savills, said the market had been over- optimistic with estimates before the auction. Industry analysts expected the 102,280-square-foot site on Chun Yan Street, which previously housed police quarters, to fetch between HK$4 billion and HK$5 billion.
Protesters hoping to save the 54-year- old Queen's Pier from demolition could be evicted early this morning despite the High Court's decision to review next Tuesday the government's decision not to declare it an historic monument.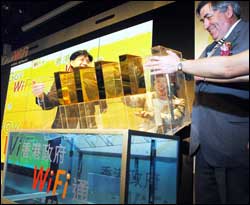 Hong Kong yesterday took a major step forward towards becoming a wireless city with the official launch of the GovWiFi system. In addition, the government is offering public facilities such as flyovers and lamp posts at a nominal rent for network operators to install wireless access points to extend the wireless network's coverage, Permanent Secretary for Commerce and Economic Development Rita Lau Ng Wai-lan said at the launch ceremony. Lau said the success of the new WiFi facility required the cooperation of the information and communications technology industry. "Industry players can participate in this program as contractors of the WiFi program. They could also explore new business opportunities by providing more wireless applications, mobile products and supporting services to the citizens," she said.
Hong Kong enjoys the highest living standards in the Asia-Pacific region - but it is also the second costliest place to live, according to a survey by the Asian Development Bank.

China: The bilateral trade between China and Russia, which has been growing for eight consecutive years since 1999, may exceed 40 billion U.S. dollars this year, a Chinese official said on Wednesday. Bilateral trade was 20.5 billion dollars for the first half of this year and it is likely to exceed 40 billion dollars for the whole year, said Wang Jingsong, an official with the European department of China's Ministry of Commerce. Wang made the remarks while attending a Sino-Russia automobile cooperation forum in Harbin, capital of northeast China's Heilongjiang Province. Sino-Russia trade has recorded an average annual 28.6-percent growth since 1999. Russia is China's eighth largest trade partner, while China ranks third among Russia's trade partners. Both countries have planned a trade volume of 60-80 billion dollars for 2010. China's non-financial direct investment in Russia was 935 million dollars, while Russia had invested 610 million dollars in China by the end of last year.
The eight top Chinese leaders, Hu Jintao, Wu Bangguo, Wen Jiabao, Jia Qinglin, Zeng Qinghong, Wu Guanzheng, Li Changchun and Luo Gan attend the reception for PLA's 80th birthday in the Great Hall of the People, Beijing, July 31, 2007. The Chinese army marked its 80th birthday with a high-profile reception.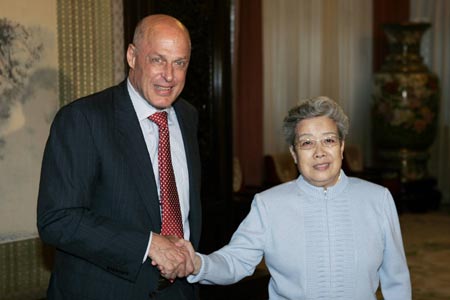 China will never pose an economic threat to any country nor does it have the ability to do so, Vice-Premier Wu Yi told visiting US Treasury Secretary Henry Paulson yesterday. She also suggested that the United States have a better grasp of China's economic situation and the challenges it poses. Following a 30-minute private meeting with Paulson, Wu told the US delegation that she is happy to see her counterpart in the strategic economic dialogue (SED) be able to tell the great difference between Beijing or Shanghai and backward areas like Qinghai Province. Paulson visited the poor and remote Northwest China province on Monday, the first stop on his fourth visit to the country since taking up the post in July last year. US Treasury Secretary Henry Paulson and other top Bush administration officials warned on Tuesday of risks to the US and global economies if Congress passes legislation aimed at punishing China for its currency policy.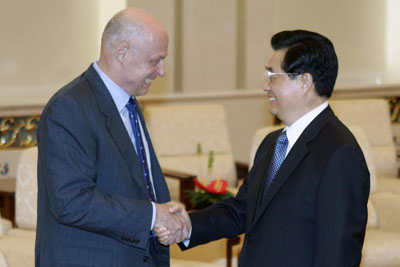 US Treasury Secretary Henry Paulson (L) shakes hands with China's President Hu Jintao at the Great Hall of the People in Beijing, China, August 1, 2007. Paulson is on a four-day visit to China.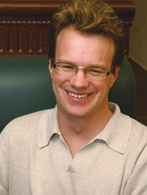 If you've got the looks, the talent, and the Mandarin, forget Hollywood - the Chinese entertainment industry wants you. And even if you're a foreigner in China who doesn't have any of those things, don't worry. You've got a decent chance of getting on television, anyway. In cities nationwide, recruiters are prowling university campuses and expatriate hangouts in search of aspiring variety show performers, game show contestants, and film extras. Pretty much any kind of foreigner will do, with one exception: "They definitely prefer people that don't look Asian," says American expatriate Ben Ross. Westerners are cropping up on all kinds of television shows - literally plucked from the street. Some foreign entertainers see their moment in the sun as an opportunity to help Chinese people better understand the West. But their Chinese audience is just as interested in how the outside world views the rapid economic advances of their homeland. "We like watching these shows because they have foreigners speaking Chinese," says Beijing retiree Wu Yuqing. "They show us that the world is getting smaller." And China's television and movie producers are eager to cater to this desire. "Chinese people really want to know what foreigners here are thinking," says Beijing casting agent Li Erwei. "They want to know what foreigners think of China and how they view our culture." And sometimes, the appeal of a foreigner on television in a homogenous society is more basic. "On my first show, the idea was basically to get laughs out of foreigners doing silly things," says Mr. Ross, a blogger and former English teacher who has appeared on Chinese television with a spiky wig and fake guitar while singing well-known Chinese pop songs. Amateur actors also learn that an amusing accent here is sometimes better than absolute fluency. "They told me: start speaking Chinese, but then start messing up and ask if you can speak in English," says Ross. "It's pretty funny to see foreigners with an accent." Television producers offer between 400 and 1,000 RMB ($50 to $125) per episode, but money is not the only motivation for some Western actors. "A lot of these shows I would have done for free, just to have fun," says Wily Boyle, a Canadian who appeared on some of the same shows as Ross. For a select group of foreign professionals, however, Chinese television is serious business. The pioneer in this field was Canadian Mark Rowswell - better known as Da Shan, or Big Mountain - whose pitch-perfect Mandarin and comedic skill catapulted him to national celebrity in the late 1980s. Since then, several successors have emerged on the talk show circuit. Frenchman Julien Gaudefroy, whose unaccented Chinese got him his first gig in an instructional language video, now hosts several talk shows across China. Mr. Gaudefroy's programs, which include "Foreigners' Viewpoints" and "Foreigners Watching China," feature guests opining on topics ranging from China's one-child policy to the relative merits of traditional Tang Dynasty clothing. Richard Doran, a professional radio host in China and an occasional guest on Gaudefroy's programs, remains skeptical that such shows are actually improving mutual understanding. "They still ask if we know how to use chopsticks," he says. "Can you imagine a European television station putting a Pakistani immigrant family on television and asking if they'd learned to use a knife and fork yet?" Regardless of the content, a host's foreignness can be enough of a draw in itself. "Foreign hosts who speak Chinese have a special appeal for Chinese audiences," says Liu Yongli, a director for state-owned China Central Television. "When Chinese people see a foreigner who speaks good Chinese and has gotten to know Chinese culture well, we get a very warm feeling, seeing that someone respects China so much." The film world is somewhat less welcoming. Westerners interested primarily in acting work face all sorts of special challenges, not least of which is the expectation of fluent Mandarin. To make matters worse, Westerners in China simply don't have that many parts available to them. And the roles they do get often reflect hackneyed stereotypes. "People in general have some strange ideas about America," says Jonathan Kos-Read, one of the few full-time Western actors in China. "For instance, Americans don't love their parents and vice versa. Or, if you walk out of your front door (in the US), 9 times out of 10 you'll see a huge gun battle. That kind of thing." Mr. Kos-Read, who trained at the New York University film school, often plays "a rich American businessman who comes to China and falls in love with a Chinese girl. She's torn for 10 episodes or so, but in the end, she always makes the right choice and sticks with her Chinese boyfriend." Film director Gu Rong agrees that foreign actors tend to get pigeonholed. "They're often the antagonist, the central point of conflict," he says. American actress Kerry Berry Brogan, who had extensive acting experience before coming to China, sees it as her responsibility to give Chinese audiences a more balanced view of foreigners. "I'm trying to make the depiction of foreigners more real, more dynamic, more three-dimensional. ... If there's something wrong, I let the director know," she says. "I would say 70 percent of the time they listen." Ms. Brogan, Kos-Read, and other Western actors in China often find themselves in the role of cultural ambassador, helping directors, screenwriters, and audiences come to a fuller understanding of Westerners in general. Kos-Read says their efforts are paying off. "It's getting better fast. The scripts are improving." Unfortunately for Western newcomers, the acting scene is becoming more competitive. The growing population of foreigners in China has professionalized the film industry, creating higher entry barriers for anyone without formal training. And for those aspiring television celebrities planning to sign up for Mandarin classes, you'd better hurry. "Maybe in 50 years, we'll have 100,000 foreigners speaking such excellent Chinese ... they won't be that interesting anymore," says Mr. Liu. "But for now, they're very unusual."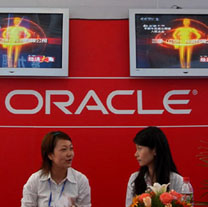 An Oracle booth at a software exhibition in Nanjing, capital of East China's Jiangsu Province. The business software maker announced that it has established a research center in Shanghai and plans to open more offices in China.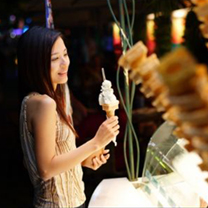 In summer, Chinese people tend to take short walks after dinner when the hot weather cools down. This after-dinner walk not only allows people to enjoy the relaxing breeze in the evening, but also helps with digestion and promotes body health. So let's take a stroll together to drive summer heat away and to embrace a healthy lifestyle.
Nearly 10,000 passengers have been stranded at the Beijing Capital International Airport as the heaviest rainstorm to hit Beijing this summer resulted in the cancellation of nearly all departing flights on Monday night, Xinhua News Agency reported yesterday.
August 1, 2007

Hong Kong: Hong Kong's total deposits with authorized institutions rose 5.6 percent in June, among which renminbi deposits also grew 5.6 percent to 27.6 billion yuan, Hong Kong Monetary Authority said on Tuesday. Hong Kong dollar and foreign currency deposits rose by 8.5 percent and 2.1 percent. Meanwhile, the Hong Kong dollar demand deposits registered a 47.1 percent surge, partly reflecting temporary placements relating to equity initial public offerings at the end of the month, the authority said. Total loans and advances expanded 8.2 percent during the month, with Hong Kong dollar and foreign currency loans going up 9.5 percent and 4.1 percent. Loans for use in Hong Kong and outside Hong Kong grew 8.6 percent and 5.9 percent respectively. Reflecting a larger percentage rise in loans relative to deposits, the Hong Kong dollar loan-to-deposit ratio rose slightly to 74 percent. On a quarter-on-quarter basis, loans for use in Hong Kong grew 6.4 percent in June. Analyzed by economic uses, lending to stockbrokers and financial concerns, as well as trade financing, registered notable increases in the second quarter, the authority said.
The number of the commercial flight movements at the Macao International Airport reached 24,407 at the end of June, seeing a year-on-year rise of 4 percent, according to official statistics issued Tuesday. The figures released by the government-run Statistics and Census Service showed that China's Taiwan and the Chinese Mainland were the major routes, which accounted for 44 percent and 34 percent, respectively, of the total commercial flights to and from Macao. The total weight of the outward cargo handled at the Macao International Airport fell by 20 percent year-on-year to 33,495 tons in the first half of 2007, the figures showed.
Hong Kong Financial Secretary John C Tsang will leave for Australia Tuesday night to attend the 14th Finance Ministers' Meeting of the Asia-Pacific Economic Co- operation (APEC) in Coolum, Australia, according to Hong Kong government Tuesday. During the two-day meeting, Tsang will exchange views with finance ministers of other member economies on issues about the policy themes of this year, which are "Making private capital markets work better" and "Transparency and sustainability of the public balance sheet". He will also hold bilateral meetings with his ministerial counterparts. After the APEC meeting, Tsang will fly to Kuala Lumpur, Malaysia to meet senior government finance officials and have discussions with major banks and financial investment entities on global and regional financial development.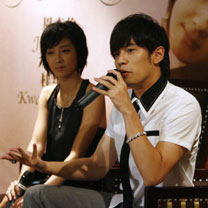 Singer and actor Jay Chou of Taiwan speaks next to actress Kwai Lun-mei of Taiwan during a news conference for his new film "Secret" in Singapore July 30, 2007. The movie is Chou's debut as a film director.
HSBC Holdings (0005) beat analysts' forecasts by reporting net profit in the first half jumping 25 percent to US$10.9 billion (HK$85.02 billion) despite loan impairment charges of US$6.3 billion, caused mainly by the subprime mortgage fiasco in the United States.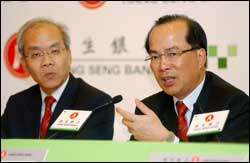 Hang Seng Bank (0011), Hong Kong's third-largest lender by assets, said yesterday that interim profit surged 43.2 percent to HK$8.86 billion, exceeding market expectations. The lender said robust growth in fee-based income and interest income helped drive earnings. A Reuters poll of five analysts had forecast earnings in the range of HK$7.6 billion to HK$8.35 billion. The lender, 62 percent owned by HSBC (0005), said revenue from investment-related services increased substantially. Chief executive Raymond Or Ching-fai said: "The active investment market helped drive revenue from stockbroking and related services to HK$738 million, a jump of 85.4 percent." Overall net fee-based income surged 60.6 percent to HK$2.86 billion. Net interest income also increased 20.8 percent to HK$6.69 billion from a year earlier, mainly due to a rise in customer deposits and growth in average customer advances. The A-share initial public offering of Fuzhou-based Industrial Bank in February also provided Hang Seng Bank an unrealized gain of HK$1.465 billion on dilution. Hang Seng Bank owns a 12.78 percent stake in the midsized lender. Operating profit soared to a record HK$7.77 billion. "Operating profit was up HK$1.42 billion, or 22.4 percent. It is the highest rate of growth for 11 years," Or said. Loan impairment charges and other credit provisions surged from HK$34 million in the first half of last year to HK$280 million in the first six months. "The numbers here are a little misleading, since last year in the first half we benefited from a substantial recovery from a commercial banking account," Or said. The bank's costs grew as it expanded in the mainland. Operating expenses increased 24.6 percent to HK$576 million. "Profit from the mainland business is small due to the cost of initial setup of branches, and also exchange losses given the revaluation of Hang Seng assets held in US dollars in the face of the appreciating yuan," Or said.
Hong Kong Pharmaceutical Holdings (0182) said it plans to invest 1.6 billion yuan (HK$1.656 billion) to develop four wind farms to generate wind power in Inner Mongolia and northeastern China this year, and a further 3 billion yuan for eight more wind farms in 2008.
Melco PBL Entertainment, a subsidiary of Macau casino operator Melco International Development (0200), plans to issue convertible bonds to raise US$200 million (HK$1.56 billion), which will be used to buy back the company's own American depositary receipts.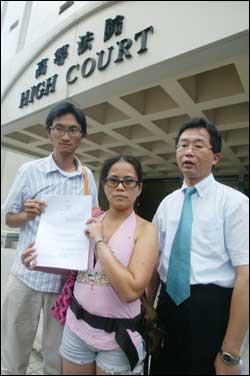 Activists have raised the stakes in their tussle with the government over Queen's Pier by taking legal action in a last-ditch attempt to halt the Central landmark's demolition. Two members of Local Action - Chu Hoi-dick and Ho Loi - who have been occupying the historic pier with other protesters since Friday - applied to the High Court for a judicial review yesterday after they were ordered to vacate the pier by midnight tonight or face eviction. The court, however, is not expected to rule on the application within a week, meaning the pier could still be pulled down during the period. The action challenges a decision in May by former secretary for home affairs Patrick Ho Chi-ping not to list the pier as a statutory monument. The activists are also seeking a court injunction to stop the 53-year-old pier from being dismantled until their application is heard. According to the writ, Ho's decision not to grant the pier monument status was "unreasonable, irrational and arbitrary." "As secretary for home affairs, he did not possess the expertise in assessing whether Queen's Pier was of historical value ... he must rely on the advice given by the Antiquities Advisory Board. But the secretary's decision had gravely drifted away from the board's professional advice," the two activists said in their writ. The board had granted the pier a Grade One status of historical value, but the move does not protect it from being demolished. High Court judge Johnny Lam Man- hon will begin hearing the activists' application at 9.30am today to determine whether to accept it.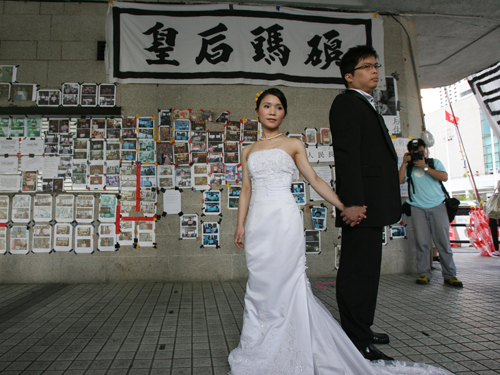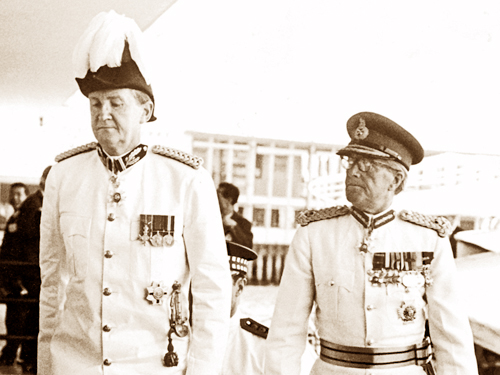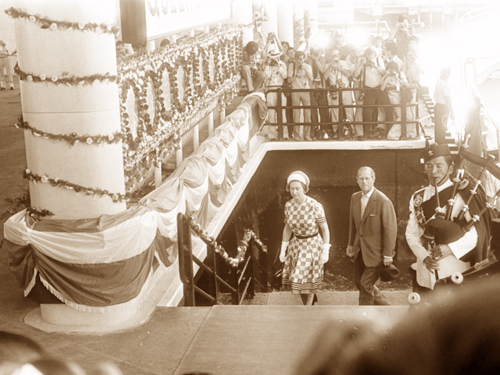 Queen's Pier current and past pictures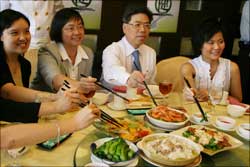 Barbecued meat buns, fishballs dripping with curry and stir-fried noodles, or lo mein, are all popular foods in Hong Kong. But this could all change if health authorities succeed in persuading people to give them up - for the sake of reducing their waistlines. The Department of Health has started the "Eatsmart@restaurant.hk" campaign in an attempt to change people's tastes by weaning them off foods with very high salt, oil and sugar content and enticing them to healthier alternatives and more vegetables.
Kerry Properties won the Hong Kong government land auction for a 920,516 square-foot residential site in Wong Tai Sin on Tuesday with a HK$3.98 billion bid.
Visitor arrivals to Hong Kong rose 6.8 per cent in the first six months of 2007 to 13 million, with more than half of all tourists coming from the mainland, the Hong Kong Tourism Board said on Tuesday. In June alone, Hong Kong had attracted more than 2.03 million arrivals, up 7.7 per cent from the same month last year, the board spokesman said. Tourists from the mainland continued to swell in numbers, growing by 5.9 per cent in the first half to 7.10 million, while arrivals from Taiwan rose 2.5 per cent to 1.07 million. Arrivals from Europe, Africa and the Middle East revealed the largest increase by region, up 16.1 per cent at 1.0 million during the six month period. The Australia, New Zealand and South Pacific market had an 11.2 per cent rise whilst the Americas grew by 6.8 per cent. Visitors from South and Southeast Asia reported a growth of 6.1 per cent to 1.3 million. But the past six months had seen a 1.5 per cent drop in overnight visitors. Hotel occupancy for January to June averaged 83 per cent, three per cent lower than 2006, while the average hotel room rate increased by 12.9 per cent to HK$1,181 per night. A number of measures were adopted to establish closer ties between the territory and the mainland after the handover in 1997. In July 2003, the Individual Visit Scheme was first introduced in four Guangdong cities under the Closer Economic Partnership Agreement. The scheme allows residents of these cities to visit Hong Kong on individual basis without having business visas or joining group tours, as required before the scheme. The Tourism Commission website shows the scheme has now been extended to 49 cities in the mainland. The scheme was also a strategy to boost tourism in the territory following the severe acute respiratory syndrome which hurt Hong Kong's economy. The ratio of visitors under the scheme rose from five per cent to 16.8 per cent between August and October 2003, and to more than 30 per cent in May 2004, according to Immigration Department statistics. Hong Kong's tourism is growing on the back of China's rapidly expanding economy. China's economic growth surged to an 11-year high in the second quarter and inflation jumped to a near three-year high last month. Mainland tourists coming to the territory often have high purchasing power and help boost the economy, particularly through wholesale and retail. Other signs of Hong Kong's robust economy include falling unemployment, strong consumption, a resurgent property market and a bullish share market.

China: Local governments have been told not to intervene directly in market prices unless it is "necessary". The National Development and Reform Commission yesterday said on its website that any price intervention would need the approval of provincial governments or central authorities. Some prices, such as those of resource products, power, education, medical services and pharmaceuticals, are subject to government controls, but those of most other commodities are set by the market. The NDRC said the role of the market should be respected unless "there is remarkable price growth due to emergencies or natural disasters". Last month, the government of Lanzhou in Northwest China's Gansu Province capped the price of beef noodles, the most popular local dish, following public complaints about the price rise. "The government should respect the role of the market, even if it wants to help the poor," said Xia Yeliang, economist with the School of Economics at Peking University. "The capping would lead to decreased supply or dented quality of products or services, which in turn damages consumer interests," he said. In Lanzhou, many people have reportedly found less beef or noodles after the price cap, although the price remained unchanged. Lanzhou is not alone in suffering from rising prices as inflation sweeps the country. China set the benchmark consumer price index at 3 percent for this year, but it rose to 3.2 percent in the first six months and 4.4 percent in June, a 33-month high. The NDRC notice said if the local inflation level is significantly higher than the official preset target, local governments should keep prices stable and should not increase regulated prices. Price moves that are conducive to environmental protection and energy saving are exempt from the restraint. The commission also said market players are forbidden from such manipulative activities as forming price cartels or cornering the market. "This is obviously aimed to curb rising prices," said Zuo Xiaolei, chief economist of China Galaxy Securities. But she said such moves may lead to a delayed pace of reform in China's pricing mechanism of resource products. China has brewed such a reform this year to better reflect the market value of resource products and improve consumption efficiency. "The NDRC move shows that in the interest of price stability, such reforms may have to be slowed down," she said.
Xi'an Satellite Control Center, a major Chinese institution responsible for recovering satellites and spaceships, has started training its rescue and search teams for the third manned space mission, scheduled to be launched in 2008. Yao Liang, head of the center's rescue and recovery team, said their work, which is the last step of a manned space program, includes locating the space capsule that re-enters the earth's atmosphere, rescuing astronauts and transporting the capsule from the landing site to the control center. Yao said initial training started after the Shenzhou VI space mission in 2005 and dozens of workers are being trained for four hours per day. "Compared to the previous two manned space missions, the up-coming Shenzhou VII space mission, which includes a space walk, is more complex. We have been organizing training in accordance with new requirements and learning to operate new equipment on the spaceship and deal with any possible hitches," Yao said. He said the team had recruited more workers as there will be three astronauts on the next spacecraft. Two workers will be assigned to each astronaut. China launched its manned space program in 1999. It successfully sent Yang Liwei, the country's first astronaut, into orbit on the Shenzhou V spacecraft in 2003. Yang spent about 21 hours in orbit. Two years later, astronauts Fei Junlong and Nie Haisheng completed a Chinese record five-day flight on the Shenzhou VI. All astronauts returned to the ground safely. The Shenzhou VII is expected to carry three astronauts in 2008. The astronauts are scheduled to perform work outside the capsule such as installing equipment and "tightening screws".
A total of 158 countries, regions and international organizations have confirmed their participation in the 2010 World Expo to be held in Shanghai. Yang Xiong, Vice mayor of Shanghai and member of the organizing committee for the World Expo 2010 Shanghai China, made the announcement at a news conference in Beijing on Tuesday. The organizing committee forecast that more than 200 countries, regions and international organizations are expected to attend the 184-day event. "The international community is reacting positively to the event and we receive a confirmation letter every three days," Yang said. Research shows that a total of 70 million people will visit Shanghai during the event and the daily number may reach 800,000, Yang said, adding that transportation will be the biggest challenge. "The subway will be the solution," Yang said, "Shanghai will have 230 kilometers of subway in operation by 2007 and it will have 400 kilometers by 2010." Shanghai will also take other measures to fight traffic congestion, such as forbidding private cars from entering the expo park, Yang said. Shanghai is also expanding its airports, railway stations and highways to accommodate such an enormous passenger flow, Yang said. By 2010, 60 highways, connecting Shanghai and its neighbouring Jiangsu and Zhejiang provinces, will be finished, Yang said. "By using new energies, such as solar power, there will be no emissions from the expo park," Yang added. The 2010 World Expo in Shanghai will be held from May 1 to Oct. 31.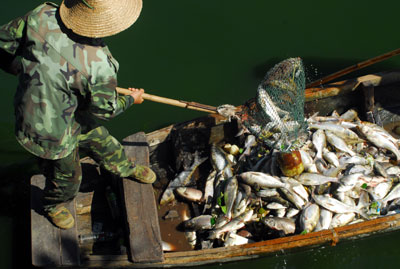 To fight pollution, China takes capitalist route - The Chinese environmental agency is working with the banking authorities to identify companies that fail pollution checks or bypass environmental assessments for new projects and to restrict their access to fresh credit. Pan Yue, the deputy chief of SEPA, the State Environmental Protection Administration, said the country should use more economic muscle to fight air and water polluters as he listed some polluting companies that would be barred from borrowing money from banks. The credit blacklist was the most forceful measure the environment agency could impose to clean up rivers in China, Pan said in comments posted on the SEPA Web site. But, he added: "It cannot fundamentally contain the trend of worsening pollution, and we need the force of even more combined economic levers." The World Bank estimates that about 460,000 Chinese die prematurely each year from ailments related to water and air pollution and that about 300,000 others die from indoor toxins. "The severe state of China's environment shows that the emissions-reduction measures of a few specialized agencies are limited and we must unite with more macroeconomic departments," Pan said. One of the factories on the blacklist, an agricultural chemical plant in Bengbu, Anhui Province, dumped ink-black waste into a river, the Xinhua news agency reported. The plant was part of an industrial cluster that villagers said had contributed to a sudden increase in cancer and other illnesses in the area, the report said. Pan, an ambitious advocate of tougher environmental controls, has seized an opportunity opened by broader government efforts to punish errant factories, even if punishment leads to slower economic growth. But local banks and many officials who are eager to encourage economic growth appear unlikely to embrace Pan's plea for "green credit." The central bank, the People's Bank of China, recently asked commercial banks to stop lending to those who pollute and to call in loans to projects banned by the government. But at the end of May, the major Chinese banks had 1.5 trillion yuan, or US$198 billion, in medium- and long-term loans outstanding to energy-intensive and polluting sectors, up 21.8 percent from a year earlier. Pan said that he expected the People's Bank of China and the China Banking Regulatory Commission to restrict credit to the companies identified on the blacklist. And he promised additional measures to come. "Green credit is just a start," Pan said in an earlier version of his comments sent to reporters in an e-mail message. Officials will also consider incorporating environmental standards in tax, insurance and stock market regulations, he said.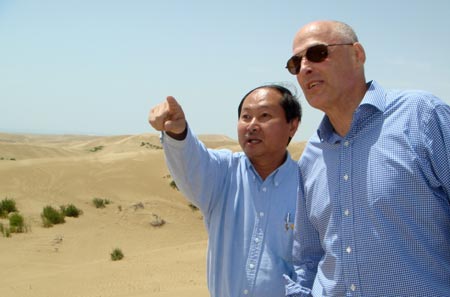 U.S. Treasury Secretary Henry Paulson (R) is briefed on advancing desert sand dunes caused by overgrazing and topsoil erosion at Qinghai Lake in western China July 30, 2007. Paulson stopped at the lake, threatened by global warming, to highlight China's environmental challenges, before visits in Beijing with top government officials.
A customer chooses milk in a supermarket in Beijing. China's milk output in 2006 amounted to 30 million tons, making the country the world's third largest milk producer, following India and America.
Germany's BMW has a reputation for producing cars that offer driving pleasure and luxury. But in recent years that reputation has been sullied in China, with BMW owners tagged nouveau riche and a series of scandals including a lottery fraud in the northwestern city of Xi'an and a fatal accident in northeastern Harbin making headlines in local newspapers. Although BMW was cleared of responsibility in all cases, the brand's image has taken a knock. Christoph Stark, president and CEO of the Munich-based company's China operations, says the carmaker is working on revitalizing its brand in the world's second-biggest and fastest growing vehicle market. It's introduced several initiatives since it kicked off production in China in 2004 such as price cuts and donations to education, environmental protection and cultural programs. Stark says the initiatives aim to "convert part of the success we are having in our own core business as a corporate citizen and to give something back to the society, together with our customers and dealers". And the activities help BMW understand "what's required in China at the moment, what people are thinking and what they are concerned with". "We are still a very young company in China. We are gradually finding the right way to become more accepted." He stresses that BMW is no longer seen as just for "the super rich and super wealthy". "We have a lot of hard-working people who buy our cars. We have a lot of journalists, economists, professors, doctors ... Our customer base is growing much bigger and wider," he tells China Business Weekly. "We could not survive or grow on a very small customer base."
Shares of PetroChina (0857), the world's second largest oil company, continued to slide yesterday as individual investors panicked after US billionaire Warren Buffett unexpectedly reduced his stake in the oil giant, sparking fears he may cut his stake further.
The mainland's long-anticipated growth enterprise market board will be launched on the Shenzhen stock exchange next year offering another channel for new and small companies to raise funds.

*News information are obtained via various sources deemed reliable, but not guaranteed