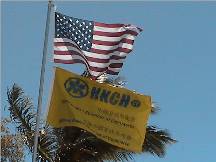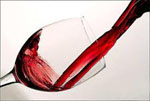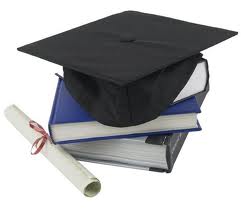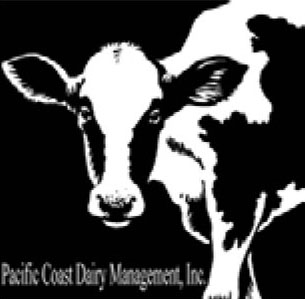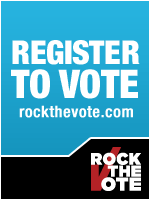 Biz-Video

Hawaii's China Connection

Doing Business in Hong Kong & China
Hong Kong, China & Hawaii Biz*
Do you know our dues paying members attend events sponsored by our collaboration partners worldwide at their membership rates - go to our event page to find out more! After attended a China/Hong Kong Business/Trade Seminar in Hawaii...still unsure what to do next, contact us, our Officers, Directors and Founding Members are actively engaged in China/Hong Kong/Asia trade - we can help!
Are you ready to export your product or service? You will find out in 3 minutes with resources to help you - enter to give it a try

China Central TV - live Webcast

Skype - FREE Voice Over IP

View Hawaii's China Connection Video Trailer


Direct link PDF file


Year of the Pig - February 18, 2007


Listen to MP3 "Business Beyond the Reef" to discuss the problems with imports from China, telling all sides of the story and then expand the discussion to revitalizing Chinatown - Special Guest: Johnson Choi, MBA, RFC. President - Hong Kong.China.Hawaii Chamber of Commerce (HKCHcc) and Danny Au, Manager, Bo Wah Trading
Sept 29 - 30, 2007

Hong Kong: The insurance arm of HSBC Holdings, Europe's biggest bank, has received approval from China's insurance regulator to form a joint venture insurance company, the South China Morning Post said on Thursday. HSBC is the first insurer to receive approval to form an insurance joint venture under the closer economic partnership arrangement between Hong Kong and the Chinese mainland, the newspaper said. The move also marks the latest foray by the European bank into insurance markets across Asia. On Wednesday HSBC said it would open an insurance business in Taiwan Province, and earlier this year it announced it was taking stakes or forming joint ventures to tap insurance markets in India and Vietnam. HSBC Insurance will form a 50-50 venture with National Trust, a Beijing-registered trust and investment firm, to establish individual insurance business, particularly life insurance, nationwide, it said. The new venture, to be headquartered in Shanghai, could begin operation as early as the second half of next year, it said. "The minimum capital requirement for getting a nationwide licence is about 500 million yuan , however, the actual amount involved in the initial stage still has to be decided, it said. The new venture will sell insurance services mainly through HSBC's banking network and National Trust's business channels, and could also distribute its insurance products through the branch network of Bank of Communications , in which HSBC holds an 18.6 percent stake, it said. HSBC has more than 40 branches and sub-branches in Chinese mainland, it added. Insurance premiums in Chinese mainland rose more than 20 percent to 371.8 billion yuan (US$49.5 billion) in the first half of this year.

Former security chief Regina Ip Lau Suk-yee on Thursday afternoon announced her candidacy for December's Legislative Council by-election – ending speculation about her intentions in the contest. Mrs Ip will face her old colleague, former chief secretary Anson Chan Fang On-sang, in the contest for the seat left vacant by the death of former DAB chairman Ma Lik. Announcing her decision at a hotel conference room, Mrs Ip said she had always been thinking about participating in a democratic election after her resignation in 2003. "After the passing away of DAB chairman Ma Lik, I felt myself a person fit to fill up the position left by him so I decided to run," Mrs Ip told her supporters. Mrs Ip, now chairwoman of the Savantas Policy Institute, admitted that she had caused much controversy in Hong Kong when she tried to push through a drafted anti-subversion law bill in 2003. She resigned from as the secretary for security after 500,000 people marched in the streets to protest against the proposals. The government eventually shelved the bill. "For many years, I have been deeply reflecting on the role I played in drafting the Article 23 bill. It caused much controversy among the public. The people's opposing voices to the bill are still clear in my mind," she said. "Looking back, I think there was much room for improvement in the way I handled it," she added. However, the former security chief said it had not been her own decision to put forward the controversial bill, but the "collective decision" of the then chief executive in council, which comprised all politically-appointed ministers and Exco members.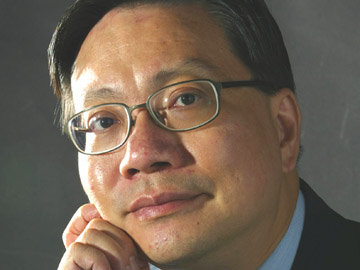 The Hong Kong Institute of Education on Thursday appointed executive councillor Anthony Cheung Bing-leung its new president. Twelve of the 13 members of the institute's council voted in support of Professor Cheung at a meeting. One member abstained from voting. Professor Cheung's term will start in January and last for five years. As well as an Exco member, he sits in various public bodies and is teaching at City University's public and social administration department. Describing his new job as a "challenge", Professor Cheung said his top priority was to help the teacher training college in Tai Po to achieve university status. "The HKIEd is now in a critical moment in its development. There will be a few important tasks for me. First it is the quest for a university status," he said. Professor Cheung said the HKIEd and the government enjoyed friendly and constructive relations – but admitted relations were tense at times. He said autonomy and academic freedom were important. Professor Cheung said he would discuss the institute's plans with the University Grants Committee. "As far as I know, the University Grants Committee has established a taskforce to study a blueprint earlier put forward by the HKIEd. I haven't taken up the post yet but I will participate in the discussions in an appropriate manner," he said. The HKIEd president had been left vacant after the school did not renew its contract with Paul Morris earlier this year. Professor Morris was a key figure in a row over alleged government interference in the institute.
Foreign investment fund 'to launch on Saturday - A government fund that is to invest part of China's US$1.3 trillion (HK$10 trillion) in foreign currency reserves is due to be officially launched on Saturday, according to news reports. Financial analysts are watching the agency closely to see where it invests and its possible impact on financial markets. It is expected to be entrusted with US$200 billion, which would make it one of the world's richest investment funds. The agency was likely to be called the China Investment Corp, Dow Jones Newswires and the mainland's Securities Journal reported on Thursday. Both quoted unidentified sources. A mainland official who was involved in setting up the fund said he could not confirm the reports. Foreign reporters would be barred from the official opening ceremony, said Jesse Wang, chairman of state-owned Jianyin Investment. The central government created the fund in an effort to earn higher returns on its currency reserves, which have soared amid a boom in export revenues. A large portion of the reserves have been invested in safe but low-yielding United States Treasuries. Its creation comes at a time of tensions with the US over China's swelling trade surplus and unease in the United States and elsewhere over Beijing's growing economic and military might. Authorities said the agency would be modelled in part on Singapore's government-owned Temasek Holdings, which invests in banks, real estate and other industries in China, India and elsewhere. A key question has been the possible impact of the new strategy on the market for US Treasury securities. The central government is a big buyer of Treasuries, helping to finance the American government budget deficit. Mainland officials have given no details of how much money might be diverted to other assets. The Chinese agency agreed in May to pay US$3 billion for just under 10 per cent of American investment firm Blackstone Group. Mr Wang, who was involved in negotiating the Blackstone purchase, told The Associated Press in May that the mainland agency was expected to try to avoid political strains abroad by purchasing minority stakes in companies rather than pursuing corporate takeovers. Chinese companies have been uneasy about foreign acquisitions since the uproar in 2005 over state-owned oil company CNOOC (SEHK: 0883)'s attempt to acquire US oil and gas producer Unocal CNOOC dropped its bid after American critics said it might endanger energy security.
China Asset Management, the country's largest fund house, said it raised the targeted US$4 billion (HK$31 billion) for its first global stock investment fund on the day of its launch for sale on Thursday, reflecting rising mainland interest in overseas markets. "The sale has been successfully completed. It's oversubscribed in just one day," the company, which has hired Baltimore-based T Rowe Price Group as its overseas investment adviser, said in a statement. The fund is the second overseas stock fund launched by a Chinese fund house under the country's Qualified Domestic Institutional Investor (QDII) scheme, which is partly aimed at easing upward pressure on the yuan. China Asset Management did not indicate when it would start investing.

Cathay to strengthen ties with US - Cathay Pacific Airways (SEHK: 0293) plans to strengthen ties between Hong Kong and United States through the launch of its new twice daily direct flights, Cathay Pacific Airways chief executive Tony Tyler said on Thursday. Mr Tyler was speaking at a business luncheon held by the Hong Kong Economic and Trade Office in San Francisco and Hong Kong Association of Northern California in San Francisco. He announced Cathay's new twice daily direct flight – chartering between San Francisco and Hong Kong – which would be launched in mid-October. "Cathay Pacific is very much committed to building the image of Hong Kong as a place in which to conduct business and trade and we have been working hard to build links between Hong Kong and the United States, and in particular California," he said. The state of California is reportedly home to one of the largest Chinese populations in the United States with an Asian population estimated at five million – approximately one-third of the country's 14.9 million. Cathay Pacific Airways reported a profit of HK$2,581 million in its interim profits this year up 54.7 per cent from the HK$1,668 million reported the previous year – a record for the company. In recent years, the airline has worked hard toward appealing to more travelers and earlier in 2007, it launched plans to install new seat designs and cabin interiors with enhance inflight entertainment options in its carriers. It has recently taken environmental measures against global warming, becoming the first airline in the Asia Pacific region to announce a carbon offset scheme as part of its overall environmental strategy. The airline was also ranked third best airline this year by international airline survey company, Skytrax behind Singapore Airlines and Thai Airways.
The value of Hong Kong's exports increased by 7.5 per cent to HK$243.2 billion year-on-year in August, latest statistics released by the Census and Statistics Department (C&SD) showed on Thursday.

China: International retail giants Wal-mart, Carrefour and Metro have told China's Ministry of Commerce that they are satisfied with the quality of Chinese products, more than 99 percent of which meet standards, ministry spokesman Wang Xinpei said on Thursday. The qualification rate reached 100 percent of export Chinese products purchased by U.S. firm Wal-Mart, 99.5 percent by France's Carrefour, and 99 percent by Germany's Metro. The products mainly include cleaners, hardware and household appliances, textiles, toys and food, retailer representatives said in a meeting with the ministry. The Carrefour representative acknowledged the efforts made by Chinese government to guarantee product quality and food safety, and said it increased confidence in Chinese products. Carrefour purchased 59 billion yuan (7.86 billion U.S. dollars) worth of products in China last year, and planned to buy more. It spent 36.2 billion yuan in the first half. Metro's purchase, though smaller in value, grew significantly to 11.8 billion yuan in the first half, only 2.4 billion short of the amount in the entire 2006. "We have been purchasing from China for nearly 26 years," said the Wal-Mart representative, "Chinese products are economic in price and guaranteed in quality." Wal-mart has located its global purchasing office in China. Around half of the purchased products would be exported, said the representatives.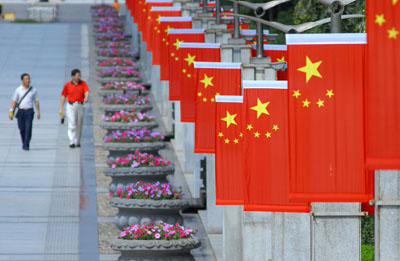 Two local residents walk along the well-groomed Century Avenue in Shanghai on September 26, 2007. National flags have been put up on both sides of 1-kilometer street, to celebrate the upcoming National Day on October 1.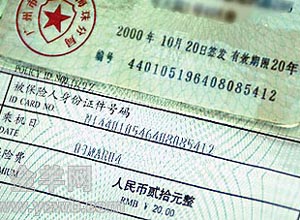 China's unified premium price of 20 yuan for aviation accident insurance will end from Dec. 1, China Insurance Regulatory Commission (CIRC) announces in Beijing on Sept.26, 2007.
Several United States carriers have won permission by the U.S. Department of Transportation to start new flights to China after the two countries signed an agreement to open up the skies, the companies said yesterday. Continental Airlines will fly between Newark, New Jersey, and Shanghai starting in March 2009. AMR Corp's American Airlines will fly between Chicago and Beijing, while Northwest will begin a service between Detroit and Shanghai at the same time. "We're obviously delighted with DOT's decision today," said Will Ris, American Airlines' senior vice president of government affairs. "We said in our application that America's Chicago gateway will provide increased network competition and customer choice in the growing China market." Meanwhile, Delta Air Lines Inc and U.S. Airways Group Inc - the only major U.S. carriers that operate globally without flights to China - were also awarded flights to China by the transportation department. Delta plans a daily flight starting on March 30, 2009 between Atlanta and Shanghai. U.S. Airways' daily service will begin on March 25, 2009, and will be between Philadelphia and Beijing. A bilateral aviation agreement reached by the two countries in May granted U.S. carriers more access to China, an aviation market expanding by 15 percent in recent years. Under the pact, U.S. carriers will more than double their round-trip flights to 23 by 2012. The rapidly growing Chinese aviation market has lured overseas carriers to bid for a stake in domestic counterparts. Singapore Airlines Ltd and parent Temasek Holdings Pte have signed to pay about 918 million U.S. dollars for a combined 24 percent stake in China Eastern Airlines Corp, the companies announced early this month. The deal still needs approval by the company board. Cathay Pacific Airways Ltd, Hong Kong's biggest carrier, paid 4.07 billion HK dollars(524 million U.S. dollars) in June last year to double its stake in Air China to 20 percent for more access to the Chinese market.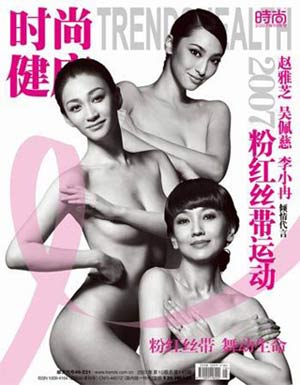 Chinese actress Li Xiaoran (L), model and TV host Pace Wu and actress Angie Chiu(R), have their photos taken for an activity called "Pink Ribbon" in promotional photo for a health magazine.

Chinese Premier Wen Jiabao (R) meets Fujio Mitarai, chairman of the Japan Business Federation (Keidanren), before a banquet to commemorate the 35th anniversary of the normalization of Sino-Japanese relations at the Great Hall of the People in Beijing September 27, 2007.
Sept 28, 2007

Hong Kong: Hong Kong ranks the sixth in the global foreign exchange market, and the seventh when the over-the-counter derivatives market is included, according to a latest survey by the Bank for International Settlements. The results of the triennial survey confirmed that Hong Kong continues to build on its position as one of the world's major centers for foreign exchange and derivatives activities, the city's Monetary Authority Deputy Chief Executive YK Choi was quoted as saying in a government statement released late Tuesday. "Particularly notable from the survey is the significant increase in the trading volume of the Hong Kong dollar, due to the continuing sizable inflow of capital to the Chinese mainland through the Hong Kong foreign-exchange market," Choi said. Net daily turnover of foreign-exchange transactions rose to 174. 6 billion U.S. dollars in April, 70.9 percent higher than three years earlier, according to the survey results released Tuesday by the Bank for International Settlements.
Hong Kong improves, mainland China slips back in global war on corruption - Hong Kong has been ranked 14th on a global list of least corrupt places in the world, one place better than last year and its highest position since the handover. The mainland was ranked 72nd in Berlin-based Transparency International's annual Corruption Perceptions Index covering 180 countries, compared to 70th last year. ransparency International said some of the world's poorest nations were seen as having the most dishonest political and business chiefs. Iraq, Somalia and Myanmar were perceived to be the most corrupt countries. More than two-thirds of the 180 countries scored less than five out of 10, indicating serious corruption. Hong Kong scored 8.3, the same as last year. In the Asia-Pacific region, Hong Kong was ranked fourth least corrupt behind New Zealand, Singapore and Australia. New Zealand, Denmark and Finland were the least corrupt. They each scored 9.4 but the anti-graft watchdog noted that even these countries needed to do more to combat corporate graft. "Despite some gains, corruption remains an enormous drain on resources sorely needed for education, health and infrastructure," Transparency International's chairwoman Huguette Labelle said when releasing the findings yesterday. Hong Kong's Independent Commission Against Corruption welcomed the index results. "It shows that corruption in Hong Kong is under effective control," a spokeswoman said. Regarding Transparency International's concerns about graft in the corporate sector, she said Hong Kong treated such crimes seriously and her organisation was organising seminars for corporate directors to educate them about corruption. The index score relates to perceptions of the degree of corruption as seen by businesspeople and country analysts. It ranges between zero, which is highly corrupt, and 10, which is very clean.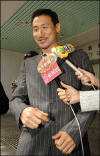 Singer Jacky Cheung Hok-yau, one of Cantopop's biggest acts, has been barred by Filipino officials from hiring any more maids from the Philippines after he fired too many of them. A Filipino activist yesterday questioned Cheung's employment practices and criticized the Philippine consulate general, which must certify all Filipino maid contracts in Hong Kong, for not acting sooner to blacklist the singer. The Filipino Globe newspaper reported the unusually high maid turnover at Cheung's household in its latest edition, citing local consular records. The report said only a few of the 21 maids Cheung hired over three years completed their two-year contracts. Cheung's wife, former actress May Lo Mei-mei, met with Consul General Alejandrino Vicente but failed to appeal the blacklisting, which prevents the Cheung household from renewing the contracts of their current four Filipino maids when their contracts expire. Cheung and his wife live with their two daughters in a more than 3,000-square-foot apartment. "We told them we are sorry, but given their record, this is our policy and it's best we keep it that way," the Filipino Globe quoted Vicente as saying.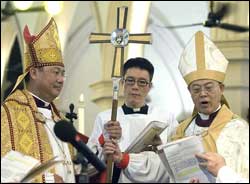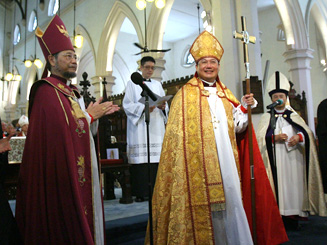 The new archbishop of the Hong Kong Sheng Kung Hui Diocese said at his installation yesterday that politics is not on the church's agenda. Observers say the middle-lane approach indicates the Anglican diocese intends to keep smooth relations with both Beijing and the SAR government. Paul Kwong, 56, told parishioners that his church will not get involved in political movements, including the call for universal suffrage, but will continue to work with the government to better the lives of the people. He said societal atmosphere was much happier now, but many problems such as poverty still needed to be addressed. Solutions, for which the government and society must join hands, will not come quickly, Kwong said.
The central government may be building a stake in Hong Kong Exchanges and Clearing (SEHK: 0388), helping to fuel the rapid rise of the stock-market operator's share price, a British newspaper reported. The mainland's new foreign exchange reserve fund, which will manage US$200 billion, or the National Social Security Fund, which manages US$53 billion, could be buying shares, the Times of London said, citing sources close to the exchange. HKEx shares have soared 122 per cent since August 17, when the Hang Seng Index hit bottom amid fears of a meltdown in financial markets in the wake of the subprime crisis. The Hang Seng Index has risen 30 per cent over the same period. HKEx, which operates Asia's third-largest stock market, said in a statement that it had no explanation for the rise in its share price.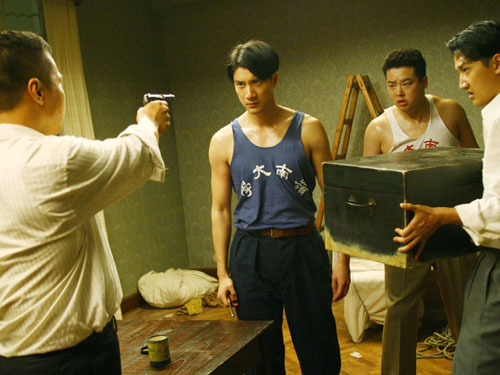 As a multi-instrumentalist songwriter, Wang Lee-hom revels in having a lot of control over his work. And it goes without saying that every song on his records bears his name. Yet the fact that he isn't credited as either the songwriter or the lyricist for Falling Leaves Return to the Root, the first radio hit from his new album Change Me, surprised many, and plenty of his young fans have been intrigued by the identity of the songwriter, one Kuang Yu-min. Kuang doesn't actually exist; he's the fervently patriotic student activist that Wang plays in Lust, Caution, Ang Lee's film adaptation of Eileen Chang Ai-ling's eponymous short story. "I think that's the song Kuang Yu-min wrote for Wong Chia-chi," says the 31-year-old musician, referring to Kuang's unrequited love for the film's main character, a fellow student activist played by mainland actor Tang Wei. "I didn't realise this until I wrote it, so that's why I didn't say it was composed by Wang Lee-hom. It's the first song I wrote after we finished the movie. The record company was going, `You've been away [making Lust, Caution] for eight months now and it's time for you to start writing a new album'. So, when I first started writing the album I was still very much in character." Wang's inability to emerge from Kuang's shadow could be attributed to his lack of experience in serious drama - he was not formally trained as an actor, and his first two films, China Strike Force and The Avenging Fist, are hardly profound character studies. But the actor says his obsession may also be down to his similarity to the character he plays.
A former Hong Kong Monetary Authority official - who was also one of the original architects of the city's linked- exchange rate system - rounded on the administration yesterday, characterizing it as "complacent" and "inactive," suggesting the government lacks the energy to develop innovative policies to deal with key social and economic issues.
The investment management arm of Dutch financial services group ING Groep is set to launch a new China fund it hopes will raise at least US$250 million (HK$1.95 billion) and round out its product offerings in the region.
Bill Clinton will bring his philanthropic summit to Hong Kong next year, hoping that Asians will keep issues such as poverty, health and climate change on the agenda as the Indian and mainland economies grow rapidly. The former US president launched his third annual Clinton Global Initiative in New York yesterday, welcoming more than 1,200 people from 72 countries - among them 52 current and former heads of state, aid workers, company chiefs and celebrities including actress Angelina Jolie - to three days of brainstorming. At a meeting that rates action over talk, he will push those attending to commit to do good, hoping to build on US$10 billion of pledges made in the first two years of his summit. Ben Yarrow, a spokesman for Mr Clinton, said the Hong Kong summit aimed "to spark the same spirit of philanthropy and engagement in the business community in Asia".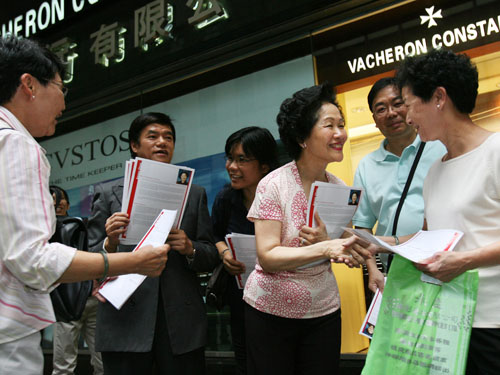 Anson Chan Fang On-sang took her by-election campaign to the streets for the first time yesterday, and was soon mobbed by lunchtime crowds. Mrs Chan stepped out onto the streets of Central around noon as workers streamed out of offices on their lunch breaks. Surrounded by scores of reporters and cameramen, she soon found it difficult to move - so the crowds came to her. Several people pulled out cameras or mobile phones to take pictures. Mrs Chan was greeted by businesspeople in suits, blue-collar workers in uniforms, young and old supporters, local people and tourists. "The crowds have been very, very friendly. At least they come up to you, they receive your platform declaration, and most of them say they will support you," Mrs Chan said, adding that she enjoyed the new experience of street canvassing and was encouraged by the enthusiastic response.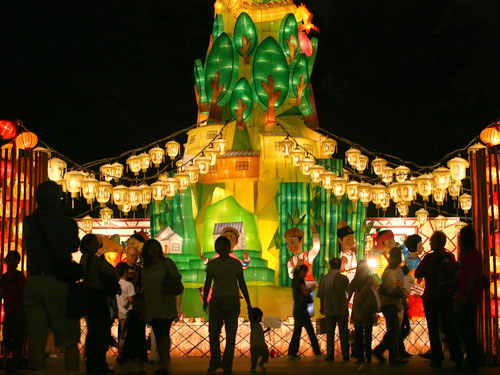 Those who missed the chance to catch a glimpse of the mid-autumn moon did so when clearer weather and a fuller moon make for better skyward gazing. The Observatory's scientific officer, Lee Kwok-lun, said the moon was not the fullest. "The full moon actually occurs on September 27 at around 3.40am. The sky will also improve tonight and the amount of cloud will also decrease, so the probability of seeing the moon is greater," Mr Lee said. The mid-autumn full moon usually falls on the 15th day of the eighth lunar month and, according to the observatory, the last time it occurred on the 17th day was in 2000. The next time will be in 2016. Tonight's full moon will be one of the fullest seen in years when moon rise occurs at night. Apart from this year, all mid-autumn full-moon rises from 2005 to 2016 occurred, or are due to occur, during the day.

China: The Chinese mainland saw its trade with Macao continue to rise over the first eight months of this year, the Ministry of Commerce (MOC) said. Trade volume between the mainland and Macao rose 18.9 percent year-on-year to 1.88 billion U.S. dollars, with the mainland's exports up 21.9 percent to 1.7 billion dollars, and imports down 3.5 percent to 180 million dollars. Macao invested 460 million dollars in the mainland, up 17.7 percent year-on-year. At the end of this August, Macao had invested an accumulative 7.4 billion U.S. dollars in 11,294 projects on the mainland.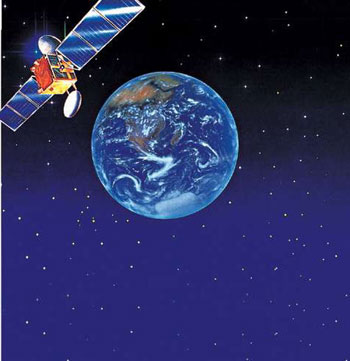 China's lunar satellite launch open to tourists - A computer-generated image of China's first lunar orbiter, Chang'e I. Tourists are being invited to pay 800 yuan (105 U.S. dollars) to witness the launch of China's first lunar satellite in Xichang, southwest Sichuan province. A travel agency in Xichang, where one of China's major satellite launch sites is located, has designed special travel packages for tourists wishing to view the historic launch. "Tourists will have to pay 800 yuan to witness the launch from two observation platforms 2.5 km from the site," Wang Cheng'an, a manager at Xichang Jinying Travel Agency, told Shanghai Morning Post. Wang said the two new observation platforms, which will be completed ahead of the launch on two opposite hillsides near the site, are capable of holding 2,000 and 500 people respectively. More than 300 people have already applied for the 2,500 places but the successful applicants will have to pass security checks, according to the agency. The lunar probe, previously scheduled to blast into space on Tuesday to coincide with this year's traditional Mid-Autumn Festival, is expected to be launched late October. The satellite project was approved by the Chinese central authorities in 2004 as part of the three-stage "Chang'e Program," named after the legendary Chinese goddess who flew to the moon, which aims to place an unmanned vehicle on the moon by 2010.
People's Bank of China may raise home-loan rates by as much as 10 percent this week as the central bank seeks to further tighten the screws on speculators and hold down residential prices, China Daily said, citing an unidentified source.
China Shenhua Energy (1088) has announced it will sell 1.8 billion A shares at the final offer price of 36.99 yuan per share - raising 66.6 billion yuan (HK$68.9 billion) and making it the largest domestic stock offering, surpassing the 58.05 billion yuan float of China Construction Bank (0939).
Mainland courts have jailed six former officials, including a former secretary to Shanghai's one-time Communist Party chief Chen Liangyu, as authorities wrap up a massive corruption scandal, state media reports said yesterday.
Citic Securities, founded 12 years ago, is the world's fastest-growing brokerage. The Beijing-based company has a market capitalization of US$40.7 billion - US$8.8 billion more than Lehman Brothers Holdings, US$24.4 billion more than Bear Stearns and US$16.4 billion more than Charles Schwab Corp. Haitong Securities, the mainland's No2, also eclipsed Bear Stearns as the seven largest United States brokers have lost US$37 billion in value this year. A year ago, Wall Street firms occupied the top five slots while the mainland had none among the first 10. Citic has now claimed the No4 position while Haitong, at US$22.1 billion, is eighth. Only Goldman Sachs Group, Morgan Stanley and Merrill Lynch remain larger than Citic. When global banks with securities arms are added, Citic ranks No8 on a list that includes Citigroup, JP Morgan Chase, UBS and Credit Suisse Group. Citigroup, the largest US bank, has a capitalisation of US$230 billion, while Goldman has a value of US$91.2 billion. Citic's rise is reminiscent of that achieved by Japan's Nomura Holdings in the late 1980s when the firm became the world's largest securities firm. Nomura's shares have plunged 86 per cent since Japan's bubble economy burst in 1987.

Sixty-two percent of Chinese suppliers are increasing spending on quality control, according to a recent survey of more than 200 manufacturers by Global Sources, a global business-to-business (B2B) media company.
New Japanese Prime Minister Yasuo Fukuda is planning to make his first state visit to Beijing in November as part of a drive to take ties with China to a new level.
RIA Novosti of Russia, Sipa Press of France and Gamma of Eyede, also a French company, have been authorized to release financial information or photos in China.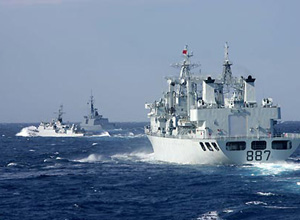 China, France conduct joint naval drill - The "China-France Friendship 2007" drill in the Mediterranean Sea off the southern French port city of Toulon was the first of its kind between the two navies in the Mediterranean.
French chain hotel giant to expand presence in China - Accor (worldwide) group, the world's leading hotel and tourism company, has announced its target to more than triple the total number of its chain hotels in China to 180 in the next three years. By 2010, Accor's network will include about 40 five-star Sofitel hotels and 100 economical ibis hotels in China. The French group has signed for 62 hotels in China in 2007 and has more than 20 hotels becoming operational so far this year. "We believe that the continuous growth of tourism in and out ofChina and the upcoming Olympic Games will create huge demand in hotel services," said Robert Murray, vice president for Accor China at a press conference in Beijing. Accor will also open three more hotels in Beijing before the 2008 Olympics, bringing the number of its hotels in the Chinese capital to seven. "There could be a drop in demand right after the Olympics but we are confident in China's booming economy," said Ray Stone, senior vice president of sales and marketing for Accor Asia Pacific. Since its entry into China in 1985, Accor has opened 50 hotels in Beijing, Shanghai, Suzhou, Hangzhou, Xi'an, Chengdu and other major Chinese cities. The company operates more than 4,000 hotels in nearly 100 countries with 170,000 employees.
With scores of corrupt officials fleeing to the United States, Canada and Australia, China needs to pace up negotiations with those countries to conclude extradition treaties, officials have said. "Besides, a number of officials have fled to European countries such as the United Kingdom, Germany and the Netherlands," Gao Yuntao, deputy head of the international cooperation bureau of the Supreme People's Procuratorate (SPP), told China Daily. The country has so far signed extradition agreements with 29 nations but only three - Spain, Portugal and France - are developed nations.
Returned professionals help drive economy - In 1992, 29-year-old Peking University professor Yu Kongjian was accepted as a doctoral candidate at Harvard University's Graduate School of Design. "I've got to come back," Yu told himself. He set off for the United States carrying a spoonful of home soil his mother gave him on leaving Dongyu Village, Zhejiang Province. He did return, after three years at Harvard and two at the SWA Group, a global leader in landscape architecture. Yu opened his own company to put into practice what he had learned overseas. He chose the name "Turen", or Earth-man/natives. But the company's registration was turned down by officials because the name sounded "too earthy". "It was staff at Haidian Science Park's business incubator who spent a huge amount of time to help me finally register my company," Yu said. Still located in the park, Turenscape as it is known today, has gained world recognition, winning the American Society of Landscape Architects' award, the Oscar of the industry, for five consecutive years. Yu is among an increasing number of returned overseas students who have set up about 500 companies in Haidian Park, the earliest of its kind in the country. A total of 2,135 returned students, more than 90 percent of whom received at least a master's education, and the 1,641 companies they started up, are located in these special parks in Beijing. The parks claim to be a nationwide leader in providing services to emerging social groups. "The parks are like a greenhouse for us," Yu said. According to the Ministry of Education, China's overseas students totaled 1.067 million between 1978 and 2006. Today, 275,000 have returned, 42,000 in the past year alone. The students have contributed significantly to the economic development; in return, central and local governments have provided favorable conditions and services for them.
Construction has begun on a freeway that will form a key part of a Central Asia highway network between Korla and Kuqa, in northwest China's Xinjiang Uygur Autonomous Region. The section of China's No. 314 national trunk road was approved by the National Development and Reform Commission, said an official from Xinjing Uygur Autonomous Regional Bureau of Communications. The four-lane freeway would cover 296.5 km at a budgeted cost of 4.02 billion yuan (503 million U.S. dollars). The Asian Development Bank will lend 150 million dollars and the central government will pay 1.5 billion yuan (187 million U.S. dollars), while the rest is met by local governments. Construction would take three years to complete and the road would be open by 2010, said the official.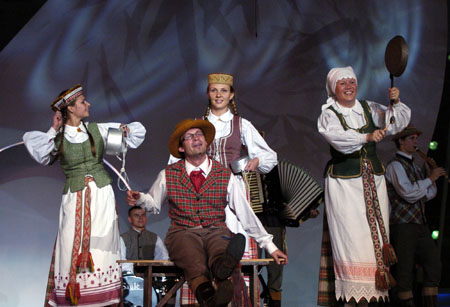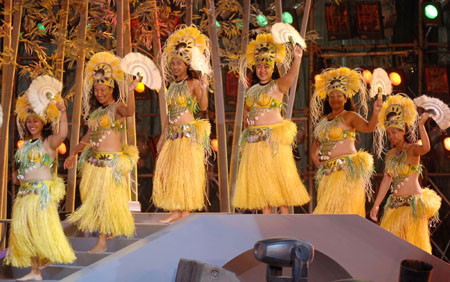 Lithuanian dancers and Dancers from Cook Islands perform with pans and spoons during the opening ceremony of the 7th China International Folk Arts Festival (CIFAF) in Suzhou, east China's Jiangsu Province, Sept. 25, 2007. As a grand art carnival initiated by China's Federation of Literary and Art Circles in 1990, the triennial festival, featuring international, national and grass-root flavor, is aimed to develop and promote exchange of folk arts across the world. Starting on Tuesday, this year's CIFAF is acclaimed as the largest ever in the country with nearly 460 artists from 22 countries and regions staging indoor and outdoor performances.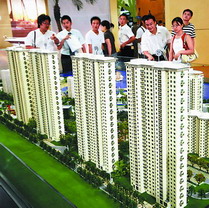 Homebuyers at a real estate exhibition in Dalian, Liaoning Province. The government may raise the interest rate of mortgage lending to curb the fast rise in house prices and speculation in the real estate market.
Sept 27, 2007

Hong Kong: The three billion yuan (0.4 billion U.S. dollars) renminbi-denominated bonds offered by the Bank of China has proved hugely popular with investors in Hong Kong, attracting about eight billion yuan (1.07 billion U.S. dollars), a senior official from the bank's Hong Kong subsidiary said Monday. Speaking at a ceremony to commemorate the 90th anniversary of the bank's local branch, BOC Hong Kong vice chairman and Chief Executive He Guangbei said the first ever renminbi bonds issued by a mainland commercial bank in the city were "very successful." The three billion yuan bonds were offered to both institutional and individual investors from Sept. 13 to Sept. 21. The duration of the bonds is 2 or 3 years, with annual yield standing at 3.15 percent and 3.35 percent, respectively. It was the third time a Chinese mainland financial institution issued renminbi-denominated bonds in the Hong Kong Special Administrative Region. Previous offers by the China Development Bank and the Export- Import Bank of China, both policy banks, were also hugely oversubscribed. The development of a local renminbi bond market is significant for Hong Kong as well as the mainland, Hong Kong Financial Secretary John Tsang said last month. Hong Kong banks started to handle RMB business in 2004 and the RMB deposits in Hong Kong had reached 27.6 billion yuan (3.68 billion U.S. dollars) by the end of June.
Warner Bros. has applied for local permits to shoot a portion of Batman sequel "The Dark Knight" in Hong Kong this fall. In director Christopher Nolan's follow-up to "Batman Begins," the caped crusader will leave Gotham for the first time in the history of the film franchise to fight evil in another city -- or cities -- although it's unclear whether Hong Kong will be called Hong Kong or a fictional metropolis. As it stands, the Warner Bros. project is hoping to touch down in the former British colony for a skedded nine days of shooting in November. Warners wouldn't confirm the reports. Pic, whose plotline is being kept under tight wraps, also is lensing in Chicago and London. "Dark Knight" returns Christian Bale to the bigscreen as Batman. Heath Ledger and Michael Caine also star. Hong Kong production services companies have been abuzz for months with talk of what may be the highest profile foreign shoot for several years. Warner has apparently applied for permits to shoot in the glossy business district of Central and neighboring Western. And one sequence could include the nightly Symphony of Lights laser show, a key tourist trademark for the city. Local politicos have suggested that helicopters and night shooting could cause traffic chaos and noise pollution. "We welcome the movie but want to ensure arrangements are hassle free," said Kwok Ka-ki, a local legislator. It is not clear whether the Warner Bros. Pictures and Legendary Pictures production will make use of the new Shaw Studios. State-of-the-art facility has lain unused for best part of the two years since its skedded completion, though it has recently been home to some commercials, including one shot by Ridley Scott's RSA, and is hosting Josh Hartnett-starring movie "I Come With the Rain" by helmer Tran Anh Hung.
Johnnie To-helmed crimer "Exiled" has been selected to represent Hong Kong in the foreign language Oscar category. Selection was announced Monday by the Motion Picture Industry Association. Pic preemed in Venice 2006 and was widely sold in int'l territories by Media Asia. Magnolia Pictures released it in North America.
MPIA chairman, Crucindo Hung, who said selection was made on a strong majority, said committee felt "Exiled" to be the Hong Kong film with the strongest chances with Academy voters and that it is classic To material. Although much of the action shifts to neighboring Macau, pic is typical of To, whose movies typify Hong Kong staple of tautly-made underworld actioners.

Cathay Pacific Airways Ltd. and the parent company of its Chinese affiliate have backed off from a planned joint bid for shares in China Eastern Airlines Corp., a report carried by The Wall Street Journal network said on Monday.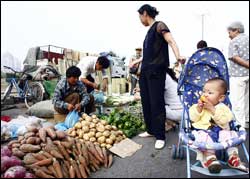 Hong Kong's inflation rate is expected to reach 1.8 to 2 percent - exceeding the government's official forecast of 1.5 percent - as a weakening US dollar increases the cost of imports and surging pork prices in the mainland continue spilling across the border. "Featuring prominently on my radar screen is the specter of inflation," Financial Secretary John Tsang Chun- wah told a financial forum yesterday. "In line with the trend in many parts of the world in recent years, inflation is, indeed, creeping up slowly in Hong Kong as well." The SAR's inflation for the year is likely to hit up to 2 percent because of a stronger yuan and rising food prices worldwide, Tsang said. "These factors will not go away any time soon, and they will continue to pose upside risks to Hong Kong's inflation rate in the near term." Tsang said a weaker US dollar raises the cost of food imports, and because of Hong Kong's currency peg to the greenback, there is little room for any exchange rate or interest rate policy.

DBS Group Holdings, one of the largest financial services groups in Asia, announced yesterday that vice chairman and chief executive Jackson Tai is resigning, but stressed his decision has nothing to do with the bank's exposure to collateralized debt obligations.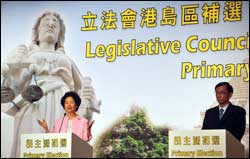 Anson Chan Fang On-sang came under criticism for "acting like a minister and a bureaucrat" at last night's debate with her rival pro-democracy candidate in December's legislative by-election. "I thought I was talking to a government official," former lawmaker Lo Wing-lok said during the 1-hour debate as part of the pro-democracy camp's selection mechanism to pick its candidate for the Hong Kong Island poll to be held on December 2. Chan - Hong Kong's "Iron Lady" and former chief secretary under the Tung Chee-hwa administration - and Lo of the League of Social Democrats are vying to represent the pan-democrats in the by-election to fill the seat vacated by the death of pro-Beijing politician Ma Lik. Lo lashed out at Chan for lacking a firm stance on various critical issues facing the territory. Ma Ngok, a Chinese University associate professor who is one of three academics who questioned the two contenders, said Lo appeared to have gained the upper hand in the debate. "He was consistent and logical, but Chan had some baggage from her past performance and spoke like the minister she used to be," Ma said.
Despite the strong economic rebound, the number of people earning less than HK$5,000 a month has shot up drastically by 87 percent in the past 10 years to almost 419,000 according to an Oxfam study.
Former security chief Regina Ip Lau Suk-yee will formally announce her candidacy for the Hong Kong Island by- election on Thursday.
CITIC International Financial Holdings (0183) - the offshore financial flagship of Beijing-backed conglomerate CITIC Group - can use its mainland connections to help it grow into the premier offshore center for mainland companies. And a recent tie-up with one of Spain's largest banks will transform it into a regional player in the wholesale banking space. CIFH chairman Kong Dan is also chairman of CITIC Group. CIFH is the holding company for mid- sized Hong Kong lender CITIC Ka Wah Bank and asset management firm CITIC International Assets Management.

China: The "China-France Friendship 2007" drill in the Mediterranean Sea off the southern French port city of Toulon was the first of its kind between the two navies in the Mediterranean.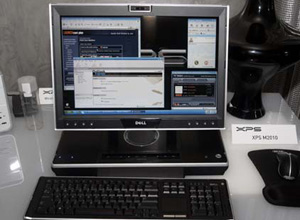 Dell Inc says it will begin selling personal computer products through Gome Group, China's largest electronic retailer, in a move to win back consumers by going beyond its direct-sales model. Under the agreement, Dell products will go on sale next month at 50 Gome outlets, and will expand to more stores nationwide in the first half of next year.

85-year-old Nobel laureate Yang: 'Young wife makes me younger' Yang Zhenning, the first Chinese American Nobel Prize laureate, with his wife Wong Fan. - Chinese-American Nobel laureate of physics Yang Zhenning said to Xinhua his wife Weng Fan, 54 years his junior, has made him younger and more energetic. Yang and his wife visited China's Sun Yat-Sen University on Saturday in Guangzhou. Holding his wife's hand tightly, he said: "She really makes me feel the energy of youth." He added: "I am now 10 times more famous than before since the current marriage." Yang, 85, married 31-year-old Weng Fan on December 24, 2004. It was the second marriage for both of them. Yang's first wife Du Zhili died in 2003 and Weng wed her first husband shortly after graduation from college and got divorced soon afterwards. In 1957, Yang won and shared the Nobel Prize in Physics with Lee Tsung-dao "for their penetrating investigation of the so-called parity laws, which has led to important discoveries regarding the elementary particles." Since late 2003, Yang has been giving regular lectures exclusive for freshman in China's elite Tsinghua University.

Awfully Chocolate is a Singaporean franchise dessert shop and its Shanghai store was opened by three young people.
The central government said on Tuesday it has revoked the food production licences of hundreds of companies, including producers of rice and monosodium glutamate, in its latest crackdown on unclean or unsafe manufacturing practices. Mainland food, drug and other exports ranging from toothpaste to seafood are under intense scrutiny because they have been found to contain potentially deadly substances. Domestically, the problem occurs regularly. One of China's major product safety watchdogs said in a statement posted on its website on Tuesday that it had recently revoked the food production licences of 564 Chinese companies. The General Administration of Quality Supervision, Inspection and Quarantine said the decision was part of a "special campaign to ensure product quality and food safety and strengthen food safety supervision." It didn't say specifically when the licences were cancelled. It named the three worst offenders, but did not give details of their violations. They were the Shijiazhuang Good Cook Food Factory, a monosodium glutamate factory in Hebei province, the Hefei Wanmaomao Quick-frozen Food Company in Anhui province, and Kaiping Shagang District Xinfengsheng Rice Factory in the Guangdong province. The other companies had their food production licences revoked because they were found to be manufacturing goods they weren't licensed to make, or because they had moved or were being renovated, it said. After an initial reluctance, the government has launched an aggressive campaign to win back consumer confidence by issuing new regulations, cracking down on violators and setting up a cabinet-level panel to monitor quality.
Olympics a chance to build brand loyalty - What is in a brand? Until the past decade, it probably meant little for the average mainland consumer. Now, millions are bombarded with the biggest offensive yet by domestic and foreign companies ahead of the 2008 Beijing Olympic Games. But qualifying for Olympic official sponsorship requires deep pockets that not many can afford. The Beijing Olympic Committee sets sponsorship at various levels – worldwide partner, Beijing 2008 partner, Beijing sponsor and Beijing supplier. Adidas reportedly paid a lofty US$100 million to secure its Beijing partner crown, elbowing out Nike and Mizuno, as well as the Li Ning (SEHK: 2331) company, a home-grown sports goods producer established by former Olympic gymnast Li Ning. Li Ning chief financial officer Tan Wee Seng says the company realised it would have been unfeasible to make a bid after taking into account the entrance fee and the returns. "Know yourself, know your rivals," he said. "We are a very small company. When we invest $1, we want a $10 return ... we need speedy returns on investments." The Li Ning company opted for a different route, one that has been the subject of contention in the mainland, with critics questioning whether it breached Olympic sponsorship regulations. Early this year, the company signed a two-year agreement with China Central TV (CCTV) for its sports journalists and anchors to don Li Ning sportswear until the end of 2008 in all programs aired on CCTV National Sports TV channel, as well as programs aired on the "Olympic Channel" during the Games. Mr Tan stressed it was a deal between two commercial entities and the company had adhered to regulations. "This is a good opportunity and we seized the opportunity." Li Ning's brand management effort reflects its knack for moving tactically instead of competing head on with international giants. It has also signed on various teams, including the Spanish and Argentinian basketball teams, and tied up with others in archery, athletics, ping pong and diving – events that Mr Tan says have accounted for 42 per cent of the country's gold medal count. According to a recent CLSA survey on middle-class spending, Li Ning ranked as one of the top consumer choices because of its "innovative and imaginative marketing". Branding efforts lately by mainland companies have hinged on the Olympics, though they will not be limited to the Games, as firms attempt to shake off their long-standing image as cheap manufacturers. Branding strategists say mainlanders' increasing pride in their country is a boon to domestic companies in gaining market share. The Olympics will only rekindle more of the nationalist spark and confer status and credibility to home-grown brands. With less than a year before the Games open next summer, Olympic marketing is all the rage. This very development is also turning mainlanders into more sophisticated consumers and consciously or not, introducing them to brand loyalty. Chan Wai-chan, who heads McKinsey's Greater China Consumer Practice, says the Olympics are only another channel for mainland companies to market themselves to the rest of the world, but does not change their overall branding strategy. Olympic marketing does not come cheap. After securing the rights, insiders estimate an additional minimal US$320 million is needed for the campaign. Li Ning's Mr Tan says the company's Olympic-related programs this year will account for half of its total marketing expenditure, rising from 10 per cent.
Huawei Technologies and ZTE Corp (SEHK: 0763), the mainland's two largest makers of wireless equipment, said they aimed to launch new products with ultra mobile broadband (UMB) technology which allows video and other data to be transferred to mobile devices 10 to 100 times faster than by third-generation mobile telephones.
"UMB is a more advanced broadband technology than 3G and can transfer high-definition video data," said Zhang Jun, product management vice-director at privately owned Huawei Technologies. "Users can download TV shows in much shorter time or talk on the phone with voice-over-internet-protocol (VoIP) technology with clearer voice." UMB, which is supported by United States-based Qualcomm, is in competition with WiMax, whose supporters include Nortel Networks, a Canada-based telecommunications equipment provider, to become the standard for the fourth-generation of mobile services. Mr Zhang said Huawei would run trials for its UMB base station products next year and launch new products in 2009. He declined to give more details of this project.
Sept 26, 2007

Hong Kong: Great Eagle Group to invest ten bln HKD in Chinese inland - Great Eagle Group, a Hong Kong property and hotel heavyweight, plans to invest ten billion Hong Kong dollars to open at least 30 hotels in Chinese inland in five to ten years. Great Eagle Group president Lo Ka Shui made the remarks when the group signed a management agreement with Beijing Capital Airport Hotel recently. According to the agreement, Langham Hotels International, a subsidiary of the Great Eagle Group, will manage a five star hotel in the west wing of Beijing Capital Airport. The hotel, named Langham Place Beijing Capital Airport Hotel and located near the newly constructed Terminal 3, is scheduled to open in mid-2008, prior to the Beijing Olympic Games. Along with the increasing number of tourists, occupancy rate of the hotel will reach 70 percent to 80 percent, said Liu Guixin, general manager of Beijing Capital Airport Tourism Co. Ltd. Great Eagle Group has founded a mutual fund of five billion Hong Kong dollars with overseas consortiums and will inject five more billion Hong Kong dollars when needed.
A survey released here on Monday found that the deposit scheme enhanced public confidence in Hong Kong's banking system. The survey, conducted by Hong Kong Deposit Protection Board, showed that 67 percent of respondents were aware of the scheme, and among them, 76 percent knew the maximum protection limit is 100,000 Hong Kong dollars (about 12,800 U.S. dollars). With the exception of a few overseas-incorporated banks which are covered by a similar scheme in their country of incorporation, all licensed banks in Hong Kong are members of the scheme. The scheme protects customers' eligible deposits held with banks in Hong Kong which are members of the scheme. It will pay the customers compensation up to a limit of 100,000 Hong Kong dollars if the bank with which the customers hold their eligible deposits fails. Positive responses were gathered in areas including the perceived level of security of deposits at banks, and confidence in small to medium-sized banks. "The successful launch of the scheme last year marked an important milestone in the development of the financial safety net in Hong Kong. Building on a strong foundation established in the past year, we will continue to refine and enhance the functioning of the scheme to contribute to the well-being of depositors and the financial stability of Hong Kong," Chairman of the Board Andrew Chan said. Board's Chief Executive Office Raymond Li said that apart from maintaining the scheme's efficient operation, the board will work on strengthening public understanding of it. The board will also seek to enhance the campaign's effectiveness by diversifying the channels and means for disseminating the board's messages.
Hong Kong recorded a 10 billion Hong Kong dollars (1.29 billion U.S. dollars) surplus in its balance of payment account in the second quarter, Hong Kong Census and Statistics Department said on Monday. The figure accounts for 2.7 percent of Hong Kong's gross domestic product (GDP), compared to a surplus of 12.4 billion Hong Kong dollars (1.60 billion U.S. dollars) in the first quarter, the department said. Of the major balance of payments components, there was a current account surplus of 26.2 billion Hong Kong dollars (3.37 billion U.S. dollars), compared to 62.8 billion Hong Kong dollars (8.08 billion U.S. dollars) in the previous quarter. With goods imports increasing faster than goods exports, the visible trade deficit rose to 46.2 billion Hong Kong dollars (5.95 billion U.S. dollars), from 35.4 billion Hong Kong dollars (4.56 billion U.S. dollars) in the same quarter last year. Overall, a combined visible and invisible trade surplus of 24.7 billion Hong Kong dollars (3.18 billion U.S. dollars) was recorded, smaller than that of 26.1 billion Hong Kong dollars (3.36 billion U.S. dollars) in the same period last year, the department said.

Report: Zhang Ziyi now Hong Kong resident - For Hollywood Chinese starlet Zhang Ziyi, the city she calls home is not going to be any place in the United States -- the actress has successfully become a Hong Kong resident. Beijing-born Zhang Ziyi is the third mainland celebrity to be added to Hong Kong's population under the Quality Migrant Admission Scheme, Chinese news portal Sohu.com reported. It means Zhang Ziyi can live in Hong Kong without any local-based employment. Two other mainland entertainers who became Hong Kong residents under the scheme are pianists Lang Lang and Li Yundi. Hong Kong launched the scheme in June 2006, in an effort to attract talented people to settle in the city. The report says Zhang Ziyi's application was accepted for her contribution to Hong Kong's film industry. The 28-year-old actress has starred in a string of Hong Kong films, collaborating with such top local actors as Jackie Chan and Tony Leung. She was also the best actress at the 2005 Hong Kong Film Awards, for "2046," a film directed by Wong Kar-wai. Zhang Ziyi was most recently seen in Hong Kong on Saturday, attending the local premiere of Ang Lee's award-winning film "Lust, Caution." Ang Lee helped Zhang Ziyi reach more international audiences by having her star in the 2000 martial-arts blockbuster "Crouching Tiger, Hidden Dragon."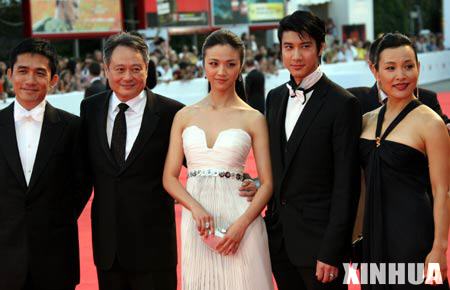 Oscar-winning Taiwanese director Ang Lee said on Sunday he has low expectations for his new spy thriller Lust, Caution in the US, because it is a "very Chinese" film that may be alien to American audiences. "Its pace, its film language — it's all very Chinese. I also used Western film noir. It's a new start for me. It's not very audience-friendly for a market like the US It's not their subject matter," Lee told a forum for young directors in Hong Kong. He acknowledged that Lust, Caution could marginalise him in the US market after he gained mainstream recognition with films like the kung fu hit Crouching Tiger, Hidden Dragon and the gay romance Brokeback Mountain, which won him a Oscar for best director last year. Another obstacle is the film's restrictive rating in the US of NC-17 (no children under 17) which bans viewers younger than 17. Lust, Caution which won the top Golden Lion prize at the recent Venice Film Festival, is based on a short story by famed Chinese writer Eileen Chang. It's about a group of patriotic students who plot to assassinate the intelligence chief in the Japanese-backed Chinese government during the World War II era. Hong Kong actor Tony Leung Chiu-wai plays the intelligence official, Mr Yi, while newcomer Tang Wei plays Chinese student Wang Jiazhi, who seduces Yi to pave the way for the assassination. The movie also features Joan Chen from The Last Emperor and Chinese-American pop star Wang Leehom. Hollywood trade publication Variety reported earlier that the movie features lovemaking involving provocative sexual positions, implied oral sex and full frontal female nudity. Using a baseball pitching analogy, Lee likened his new movie to a "curve ball" for his producer James Schamus. Speaking to reporters after the forum, Lee said an edited version of Lust, Caution — with fewer sex scenes — recently cleared mainland censors. The mainland does not have a ratings system, so Lee had to provide a version suitable for all ages. He said the cuts did not compromise the movie's plot and character development, but dampens some of its emotional intensity. Lee called the sex scenes the "crux of the movie." "Many of the actors' best performance came in the sex scenes. For me, it's an ultimate performance," the director said. Lee also said he thinks the Chinese-language movie market has the potential to overtake the English-language market, but that it will take time to cultivate a film culture in the mainland. "The mainland had denied its own cultural roots and the development of film in the past few decades," he said, apparently referring to the political upheavals and strict ideological control under communist rule. "When it comes to culture, you can't organise the Olympics, train your athletes to death and win the most number of gold medals, or hire the world's best designers to build the world's biggest buildings," Lee added. "To strive to surpass Hollywood on this barren land is unrealistic," he said. Lee also revealed that Lust, Caution went over its US$12 million (HK$93.3 million) budget and that he had to front another US$2 million (HK$15.6 million).
A thirst for quality stocks among mainland investors has allowed the A shares of several Hong Kong-listed mainland companies to command high offering prices.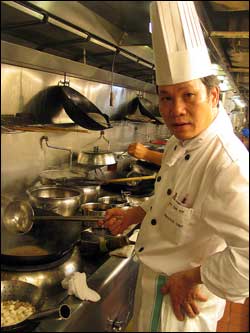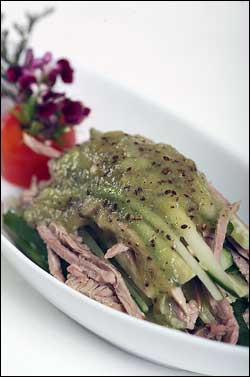 Hotel chef Lau Chi-kit spent six months cloistered inside his kitchen, and came up with more than 100 low-fat, low-salt and low-sugar dishes. Lau's main aim is to convince diners that simple blanched vegetables and boiled meat can become perfect meals. Twenty-three of the chef's dishes will be on the menu of Hoi Yat Heen Chinese restaurant at Harbor Plaza hotel until the end of the month. Organic is the chef's key word - he wants to revolutionize cooking conventions. Using a few teaspoons of oil at most, Lau believes the key to a tasty dish is finding the right combination.
People whose fingers are too dry, wet or unclean are likely to encounter difficulties with fingerprint verification when using the e-channels, the Immigration Department said yesterday. "To avoid delay, they should moisten, wipe or clean their fingers before entering the e-channels," a department spokesman said. The appeal was made as more than 9.8 million people are expected to cross the border by land, sea and air during the Mid-Autumn Festival and National Day Golden Week holiday period. Commenting on the coming week's cross-border traffic, the spokesman said about 16.6 percent more passengers than last year will cross the border, either entering or leaving the SAR, during the period. Of the estimated 9.8 million people, 7.6 million - or 18.6 percent more than last year - will pass through land control points. The peak period of cross-boundary traffic will fall between today and October 8 when about 4.14 million passengers - an average of 276,000 daily - will pass through the Lo Wu control point. This represents 55 percent of the total estimated cross-boundary passenger traffic and an increase of 3.7 percent over the same period last year. The number of departing passengers at the Lo Wu control point is expected to reach a peak of 200,000 on Saturday, while the peak for arrivals will be October 1, with 213,000 people returning to Hong Kong. Saturday will also see the total daily traffic reach 350,000. Lok Ma Chau passenger traffic will also be heavy with a forecast of about 2.1 million passengers, a daily average of 141,000 and an increase of 4.8 percent over last year. The two new control points at Shenzhen Bay and the Lok Ma Chau Spur Line will give more choice.
Cathay Pacific (SEHK: 0293) and Air China (SEHK: 0753, announcements, news) are teaming up to block Singapore Airlines' bid to buy a stake in China Eastern (SEHK: 0670), as consolidation in China's airline industry heats up, market sources said last night. Shares of Cathay Pacific rose 10.7 per cent yesterday to a record HK$22.70 before trading was suspended pending an announcement of a price-sensitive proposed transaction. Shares in China Eastern closed at a record HK$9.72, up 12.4 per cent. Sources said Cathay Pacific was trying to acquire a stake in China Eastern. The holding, along with Air China's 11 per cent stake in the Shanghai-based carrier, could allow the two airlines to vote down Singapore's bid for China Eastern at a shareholder meeting in December. The deal requires the support of two-thirds of minority shareholders. The lure is China Eastern's Hong Kong-Shanghai services and Shanghai's possible role as an important international aviation hub for the mainland. China Eastern said it had no comment on the speculation about Cathay Pacific and that its transaction with Singapore Airlines would proceed. Cathay and Singapore Airlines have long been intense competitors.

China: About 35 billion yuan of ten-year special treasury bonds were released on Monday, the second batch of a total 200 billion yuan in treasury bonds to be made available to the general public.

Chinese Foreign Minister Yang Jiechi (L) shakes hands with U.S. Secretary of State Condoleezza Rice during their meeting in New York of U.S., Sept. 23, 2007. Yang Jiechi and Rice met here on the sidelines of the 62nd session of United Nations General Assembly.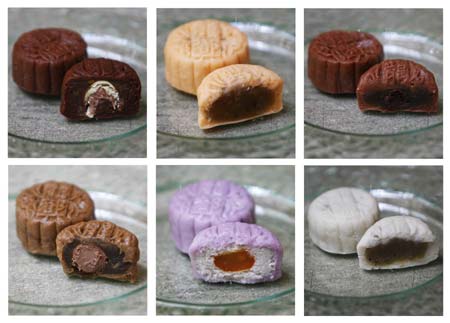 Mooncakes, a traditional delicacy gifted to families and friends during the Mid-Autumn Festival, have become an important ingredient in maintaining business and work relations. With the festival falling tomorrow, the reception areas of almost every office building are overflowing with boxes of mooncakes. The traditional festival has become a Chinese Christmas of sorts, topping other occasions for giving or receiving gifts. "We send presents to our clients during the Mid-Autumn Festival, rather than the Spring Festival," said Elsa Wang, who works for a public relations firm in Beijing. The company started budgeting months earlier and has been delivering mooncakes as early as a month ago. "It doesn't matter how much a package costs.... Mooncakes are the best way to say: Let us keep in touch." Lin Jian, a guest writer on the Financial Times Chinese website, wrote that the consumption of mooncakes has one simple purpose - to maintain relationships. "How many mooncakes one gets measures his intangible value," Lin wrote in his column. "The more coupons you receive, the more respect you have." The market has reacted to the increasing demand with expensive packages to lure high-end consumers. In Changchun, one vendor sells a box for 1,800 yuan (240 U.S. dollars) with a golf club as a complimentary accompaniment. About 250,000 tons of mooncakes were produced last year with revenue exceeding 11 billion yuan (1.42 billion dollars).
Applications closed for the 44th Taiwan Golden Horse Awards on Thursday, and this year's blockbusters, "Lust, Caution", "Sun Also Rises" and "Secret" were among the entrants. Following their clash at the Venice Film Festival, directors Ang Lee and Jiang Wen will again compete, this time for the so-called Chinese Oscars, according to the Huashang Morning Post. New director, Jay Chou, reportedly applied for several awards for his directorial debut, "Secret", including the best-film, best-actor, and best-actress awards. The nominees for this year's awards will be announced October 27. The awards ceremony will take place on December 8.
Ang Lee's Golden Lion winner "Lust, Caution" has been approved for release in China at the end of October after being shorn of some of its sexual content. Friday's Beijing News reported that the State Administration of Radio, Film and Television (SARFT) said the movie "was cut but not by much". "The shortened version will debut in late October," the SARFT source was quoted as saying. Earlier reports said that only seven minutes of the film, all deemed too sexually explicit, were cut by Lee himself and all four main sex scenes remained almost intact. It has been previously suggested the film could be cut by as much as 30 minutes. The movie's distributor in the Chinese mainland also confirmed the news but said it did not know the details. "Lust, Caution" won the top Golden Lion prize at the Venice Film Festival earlier this month, Lee's second win in Venice following "Brokeback Mountain" in 2005.
A photo taken on September 18, 2007, shows the National Grand Theater lit up at night. The Theater will have its first trial show on September 25. Located west of Tian'anmen Square, the egg-shaped structure is 46.68 meters tall and reaches a depth of 32.5 meters and is covered with more than 20,000 titanium tiles.
A state-run cafe has opened in Beijing's Forbidden City on the premises where Starbucks closed down earlier this year amid charges the US chain sullied the site, state media said. The "Forbidden City Cafe," managed by the authorities that oversee the historic imperial quarters, serves both coffee and traditional Chinese tea, the Xinhua news agency reported late on Sunday. "We want to provide tourists with a package of products relating to the imperial palace and Chinese culture," Li Wenru, deputy curator of the Forbidden City, was quoted as saying. In July, Starbucks closed its coffee shop, which it had operated in the Forbidden City since 2000, after declining to offer other brands for sale to customers.
Sept 25, 2007

Hong Kong: Asian Financial Forum held in Hong Kong - More than 800 Chinese and foreign financial services leaders and experts gathered in Hong Kong Friday to discuss major financial opportunities and challenges in the Asian region. Topics discussed in the "Asian Financial Forum" ranged from opportunities resulting from the rise of China and India to the possible impact of the U.S. subprime crisis on Asian economy. The forum, carrying the theme "Leveraging New Opportunities, Advancing Regional Stability" is the first event of its kind hosted by the Hong Kong Special Administrative Region (HKSAR) government to highlight and reinforce Hong Kong's prestige as an international financial center. "Over the past decade, we have seen two very positive developments in the region," said HKSAR Chief Executive Donald Tsang in his opening speech. The two developments were the growing significance of Asia in the world market, particularly the emergence of China and India, and the considerable progress made by many regional economies to strengthen their financial markets and infrastructure, he said. However, Tsang also cautioned about the potential risks, including volatile capital flows and their potential to destabilize a market, interest rate uncertainty or adjustments triggering a reassessment of risks, possibly resulting in sudden capital flight. "To address the risks arising from volatile capital flows, regulators should stress test their systems to assess the impact on liquidity and pricing arising from the unwinding of large positions. This should reveal how market stability could be affected and help us prepare for any such shock," he said. In a keynote speech at the luncheon, John Tsang, financial secretary of HKSAR government, outlined Hong Kong's strategy for developing a "mutually-assisting, complementary and inter-active relationship" with the Chinese mainland's financial system in five broad areas. These were expanding the presence of Hong Kong's financial institutions in the mainland, increasing Hong Kong's role in the outward mobility of funds from the mainland, offering of Hong Kong financial instruments to the mainland in various forms, continuing to develop the handling of Renminbi-denominated transactions, and dovetailing the infrastructure of the financial systems of both markets. "While we will be working hard at how to boost our interface with the Mainland's developing market and systems, we will also be reaching further afield to promote our financial services to the rest of the world," he said. The one-day forum comprised a plenary and policy dialogue session in the morning and three concurrent panel discussions in the afternoon. For the morning plenary session, Governor of People's Bank of China Zhou Xiaochuan and former World Bank president James Wolfensohn spoke and shared their insights on the forum theme. The three afternoon panels focused on topics of common interest to the financial community in the region, including "Investing in Asian Growth", "Asian Treasury and Bond Markets Where to?" and "Asia The Next Global Fund-raising Hub". "The forum has been very successful and I am delighted to see the enthusiastic exchanges among so many distinguished leaders and influential members of the global financial community on their views on global and regional financial co-operation, as well as their insights on economic development across the region," said K C Chan, secretary for Financial Services and the Treasury of HKSAR government. "Looking ahead, we will continue to participate in and to promote global and regional co-operation in financial services," he said when concluding the forum.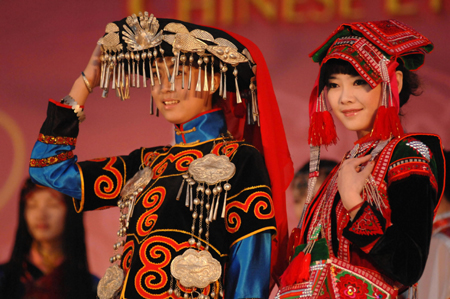 Actresses in Chinese ethnic minorities dresses perfrom during a preview in Hong Kong, south China, Sept. 21, 2007. To celebrate the upcoming Mid-Autumn Festival, the Leisure and Cultural Services Department of the Hong Kong Special Administration will present several lantern carnivals and performances by Chinese ethnic minorities in Hong Kong as from Sept. 22.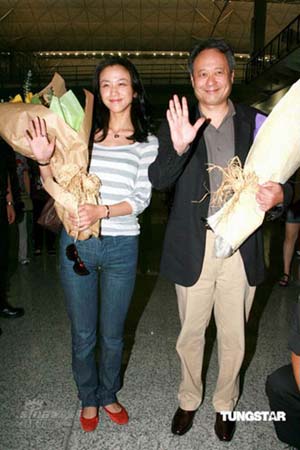 "Lust, Caution" director Ang Lee and lead actress Tang Wei arrive in Hong Kong on Friday. Movie director Ang Lee arrived in Hong Kong on Friday with his lead actress, Tang Wei, to prepare for the premiere of their Golden Lion-winning opus, "Lust, Caution". The film was rated "Category III" in Hong Kong, meaning viewers younger than 18 are barred. The premiere ceremony will be held Saturday night, and the film will open in local theatres on Sept. 26.
HSBC Holdings (0005) announced on Friday it will close its subprime mortgage subsidiary in the United States, saying it is "no longer sustainable."
Independence not at risk: HKEx boss - The Hong Kong government's move to increase its stake in the local bourse will not hurt its independence - rather it could enhance its flexibility and smooth future development, said Ronald Arculli, chairman of Hong Kong Exchanges and Clearing (0388).
There is a good chance the United States economy will fall into a recession within the next 12 months which would cause a ripple effect slowing down China's rate of growth, said Stephen Roach, chairman of Morgan Stanley Asia.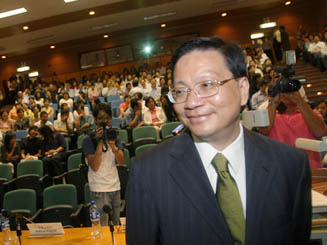 Anthony Cheung Bing-leung, nominated by a search committee to become the next president of the Hong Kong Institute of Education, said he will not resign from the Executive Council or the Consumer Council but will rearrange his other appointments to concentrate on his new role.
A showdown between Anson Chan Fang On-sang and Regina Ip Lau Suk- yee in the Legislative Council by- election in December will definitely create headlines and boost voter turnout, Democratic Alliance for the Betterment and Progress of Hong Kong founding chairman Jasper Tsang Yok- sing said on Friday.
Cathay Pacific and Air China are teaming up to block Singapore Airlines' bid to buy a stake in China Eastern, as consolidation in China's airline industry heats up.


Businessman Sun Yin-piu vowed yesterday to stage a sit-in outside the central government's liaison office in Hong Kong in protest against Shanghai's Xuhui district government for demolishing a residential project he had been building since 1997. The flats have never been occupied. The Hong Kong businessman sounded the warning shortly after the tallest block of the residential complex - an 11-storey tower - was blasted at around 1.45pm. He called the demolition outrageous. His wife, Ada Sun, was escorted to the district government's complaints office from the demolition site immediately after she arrived at the scene. Mrs Sun was allowed to leave several hours later. The demolition took place before a Shanghai court could rule on a dispute between Mr Sun and the city's biggest electrical-components manufacturer. Only two of the seven completed blocks were still standing at the 18,000 square metre site.
The ICAC has arrested four people, including two executive directors and a senior accountant of a listed company, for alleged bribery in relation to the acquisition of a bio-engineering company. A director of the bio-engineering company was also arrested during an anti-graft officers' operation, code-named "Wise Man", which started on Wednesday. In a statement released last night, the Independent Commission Against Corruption said the investigation arose from a complaint that alleged two of the listed company's executive directors offered "advantages" to the director of the bio-engineering company. The ICAC did not reveal the name of the listed company, but a commission source revealed the company was Extrawell Group. Extrawell's principal business is marketing and distributing pharmaceutical products on the mainland. Stock trading in the company has been suspended since Wednesday, following the arrest of the two directors. "The alleged advantages were said to be rewards for facilitating the acquisition of the bio-engineering company by the listed company at an inflated price," an ICAC spokesman said. "The acquisition was made through another firm that was allegedly controlled by one of the executive directors." The listed company's executive directors also allegedly offered advantages to an independent non-executive director of the company in return for the independent director's resignation to facilitate the acquisition of the bio-engineering company, the ICAC added. "It was also alleged that the listed company's executive directors and senior accountant conspired to use false documents in relation to the acquisition, with intent to deceive the board of directors and minority shareholders," the spokesman said.
The Tourism Board will probably not need as much additional government funding for promotions in the next financial year as it has in the past, board chairman James Tien Pei-chun said yesterday. Henry Tang Ying-yen, then financial secretary, announced in March 2005 that HK$500 million in additional funding would be provided to support the board's new promotional activities in 2005 and last year. A total of HK$470 million was allocated for the 2006 Discover Hong Kong Year campaign, the further development of the family and business visitor sectors and promotion of the Quality Tourism Services scheme. Some HK$70 million was left over from the Discover Hong Kong campaign and was carried over to the current financial year. The government did not grant any additional funding this year. Under the Discover Hong Kong campaign, which ran until the Lunar New Year holiday this year, the board invited about 5,000 travel agents and 1,500 journalists to experience the city's top tourist attractions. The publicity would be worth about HK$1.36 billion, the board had argued. Selina Chow Liang Shuk-yee, then board chairman, said the board had forecast the campaign would help boost total visitor arrivals last year to 27.14 million. However, last year's total was 25.25 million.

China: China plans to construct a new space launch center in Wenchang, China's southernmost Hainan Province, according to official sources. The new launch center aims to serve the next-generation rocket carriers that do emit poisonous and pollutive gas and new-type spacecraft. The new launch site will be mainly used for launching synchronous satellites, heavy satellites, large space stations, and deep space probe satellites, according to the plan which has been approved by the State Council and the Central Military Commission. Hainan is located in a low-latitude region, which is helpful to increasing the capacity of rocket carriers and extending the lifespan of satellites. A spokesman for China's space program said the Chinese government works on peaceful use of the outer space to promote development of human civilization and social development and benefit the whole Mankind. In 1958, China began building its first rocket launch site in northwest China's Jiuquan. At present, the country has three space launch grounds. The other two are located in Taiyuan, capital of north China's Shanxi Province and Xichang in southwestern Sichuan Province. These launch sites have carried out over 100 space launches, sending over 100 satellites and six manned spacecraft into space.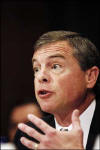 US-based toy giant Mattel issued an extraordinary apology to China on Friday over its recall of Chinese-made toys, taking the blame for design flaws and saying it had recalled more toys for excessive lead than justified. The gesture by Thomas Debrowski, Mattel's executive vice president for worldwide operations, came in a meeting with Chinese product safety chief Li Changjiang, at which Li upbraided the company for maintaining weak safety controls. "Our reputation has been damaged lately by these recalls," Debrowski told Li in a meeting at Li's office at which reporters were allowed to be present. And Mattel takes full responsibility for these recalls and apologizes personally to you, the Chinese people, and all of our customers who received the toys." The carefully worded apology, delivered with company lawyers present, underscores China's central role in Mattel's business. The world's largest toy maker has been in China for 25 years and about 65 percent of its products are made in China. The fence-mending call came ahead of an expected visit to China by Mattel's chairman and chief executive, Robert Eckert. Following the massive recall, Eckert told US lawmakers he wanted to see Mattel's mainland inspections first hand. Mattel ordered three high-profile recalls this summer involving more than 21 million Chinese-made toys, including Barbie doll accessories and toy cars, because of concerns about lead paint and tiny magnets that could be swallowed. The recalls have prompted complaints from China that manufacturers were being blamed for design faults introduced by Mattel. On Friday, Debrowski acknowledged that the "vast majority of those products that were recalled were the result of a design flaw in Mattel's design, not through a manufacturing flaw in China's manufacturers." Lead-tainted toys accounted for only a small percentage of all toys recalled, he said, adding that: "We understand and appreciate deeply the issues that this has caused for the reputation of Chinese manufacturers."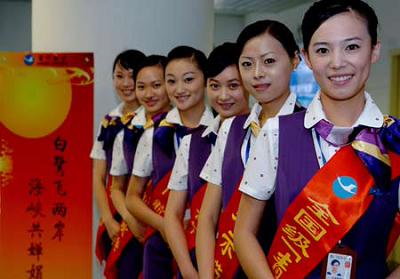 Stewardesses welcome the passengers aboard a charter flight across the Taiwan Straits at the Gaoqi International Airport in Xiamen, southeastern China's Fujian Province, Sept. 21, 2007. A Mid-Autumn Festival chartered flight with 166 passengers across the Taiwan Strait took off in Xiamen for Taiwan on Friday afternoon.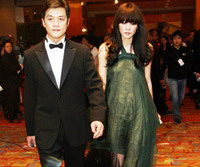 Chinese pop diva Faye Wong and her actor husband Li Yapeng will hold a charity ball in Beijing on Tuesday night to raise funds for their Smile Angel Foundation. This will be Wong's first public appearance since she gave birth to her daughter Li Yan in May. Li Yan subsequently underwent corrective surgery in the United States for a cleft lip. The ball will be attended by many big-name Chinese stars including Zhao Wei, Xu Jinglei and Na Ying. More than a hundred security guards have been hired to maintain order, Shanghai Morning Post reported. Wong and her husband Li Yapeng started the foundation in November to help children with cleft lips and palates. The couple donated 1 million yuan (125,000 U.S. dollars) to start the foundation which will be supervised by the Red Cross Society of China.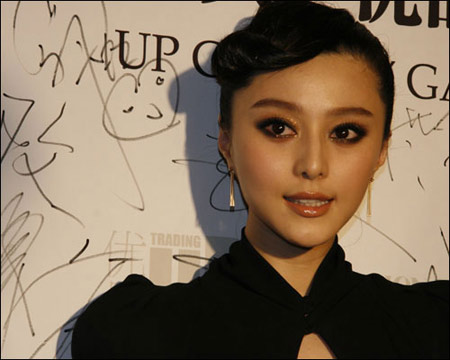 Mainland actress Fan Bingbing attends a charity auction held in Beijing on Thursday night. A charity auction was held in Beijing Thursday night, attracting some 500 celebrities to dedicate their love to mothers and newborn babies in poor areas. Entertainment stars including Hu Jing, Huang Yi, Lu Yi and pop band Yuquan took part in the event, which was jointly organized by China Foundation for Poverty Alleviation and the organizing committee of Top Essence exhibition. The auction items were all donated by internationally-acclaimed brands and exhibiters of Top Essence. Over 1.5 million yuan, or about 200,000 US dollars, were raised through the auction. All the proceeds will be used to aid the lying-in women and their babies from poor families.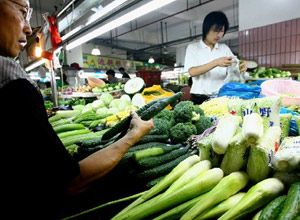 China moves to curb price hikes ahead of national holiday - Measures will be taken across China to stabilize food prices by ensuring a plentiful supply for the remaining months of the year, particularly during the coming two holidays, the nation's top economic planner announced on Friday.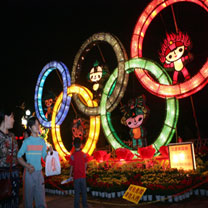 Tourists walk past illuminated Olympic rings featuring Fuwa - official Olypic Games mascots - during a lamp festival themed with the Beijing Olympic Games at a park in Beijing September 22, 2007.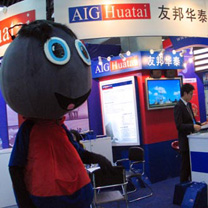 An AIG-Huatai booth at a Beijing exhibition. AIG will expand its range to cash in on demand for higher-yielding investment products from China's growing middle class.
Sept 24, 2007

Hong Kong: China's banking regulator said Hong Kong-based banks set up 23 branches and six locally incorporated institutions on the mainland by the end of July, while mainland banks were equally represented in the special administrative region. By the end of July, 14 Hong Kong-based banks were represented on the mainland, with total assets of 35.9 billion U.S. dollars, 24.5 percent up from the same period last year. The assets held by Hong Kong-based banks account for 26.2 percent of all overseas bank assets on mainland China, according to the China Banking Regulatory Commission (CBRC). The commission said 12 domestic banks, including the Bank of China and the Industrial and Commercial Bank of China, also opened 23 branches in Hong Kong and reported robust growth in their Hong Kong business. Trade between the Chinese mainland and Hong Kong soared to 123.37 billion U.S. dollars in the first eight months, up 22.5 percent from the same period last year, according to China's Ministry of Commerce.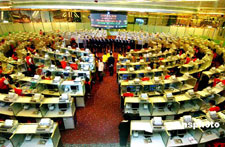 The Chinese mainland is to impose a quota on investments on the Hong Kong stock market, which will reduce capital outflows to a fraction of the US$100 billion-plus forecast when its outward investment scheme was announced last month. Liu Mingkang, chairman of the China Banking Regulatory Commission (CBRC), said there would be no limit on individuals. But he said there would be tight controls on the total amount. Liu said there would be a "quota in general" and when that was reached, the State Administration of Foreign Exchange (SAFE) would reassess market activity. "They can lift and readjust the quota if necessary and appropriate – it's a flexible ceiling," he told the Financial Times. It was the first mention from China's financial authority of a quota on its plan to allow individuals to invest in foreign stocks. Chinese officials refused to disclose the level of the quota but it is reckoned to be lower than the amount of investment expected by the Hong Kong market, which has soared in anticipation of a flood of money from the Chinese mainland. The benchmark Hang Seng Index has risen 26 percent since the SAFE announcement. The new scheme, known as the "through-train to Hong Kong stocks" was announced by SAFE on August 20 and required investors to open trading accounts with Bank of China's (BOC) branch in the northern city of Tianjin. SAFE said investors would be allowed to open accounts from any BOC outlet in the country and buy an unlimited amount of foreign exchange for the purpose. But the scheme has been delayed by disagreement between SAFE, CBRC, the central bank and the securities regulator. The central bank's focus is on draining liquidity from the economy and making the currency more flexible. The securities regulator wants to avoid extensive overseas investment that could damage the booming domestic stock market, which most analysts regard as overpriced. Jing Ulrich, chairman of China equities at JPMorgan, said the government was considering restricting the plan to residents of the big cities of Tianjin, Shanghai, Beijing and Shenzhen. Mr Liu said: "We are supportive (of the scheme) but we are carefully looking at those banks who are channeling public funds to invest in Hong Kong stocks or via Hong Kong to invest in other markets to make sure they have a sound and solid risk control system. They must show me satisfactory answers before they can do the 'train to Hong Kong stocks'."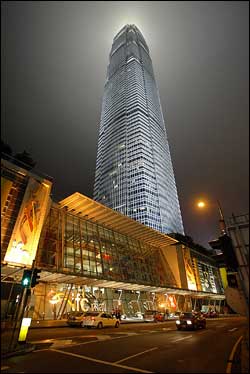 Workers and residents in Central and Western should be prepared for chaos when Batman arrives in Hong Kong in November, a district councillor warned yesterday. Kam Nai-wai, of the Central and Western District Council, also warned residents to prepare ear-plugs as the producers intend to use a helicopter in the late hours of the day. Kam's warning followed a district council meeting yesterday at which the distributors for The Dark Knight, a sequel to the hit movie Batman Begins, outlined how the caped crusader intends to move from Gotham City to fight his enemies who are gathering in Hong Kong. The filming locations will include the Central-Mid-Levels escalator, some parts of Queen's Road Central and The Centre. Some areas are expected to be closed to the public during the nine days of filming. The distributor of the movie, Warner Brothers, told the council it is seeking the approval of various government departments for the closure of some roads during filming. Kam said the road closures could cause traffic chaos if done in daytime. "Warner Brothers also said it will use a helicopter for the filming. Of course, we are worried that the residents will be disturbed," Kam said. The representative from the distributor assured the district council Queen's Road Central will only be blocked around midnight and that daytime shooting will take place mainly inside The Centre.

For the third time in two months, Hong Kong investors yesterday found out two weeks after the fact that major international investor Warren Buffett - through his Berkshire Hathaway holding company - had offloaded shares in leading mainland oil producer PetroChina (0857).
Mainland property developer Sino-Ocean Land (SEHK: 3377) Holdings raised HK$11.9 billion after pricing its Hong Kong initial public offering at the top of an indicated range, a source familiar with the deal said on Friday, when the market hit record highs. Investors have been crowding into mainland property stocks despite worries of a bubble, and Sino-Ocean Land's top-end pricing bodes well for other mainland developers in the initial public offering pipeline, including Soho China and China Aoyuan Property Group, which are raising as much as US$2.1 billion (HK$16.4 billion) combined. Sino-Ocean Land sold 1.551 billion shares, or 36.6 per cent of its enlarged share capital, at HK$7.70 apiece in the third-largest Hong Kong IPO this year. The shares were scheduled to begin trading on September 28. Sino-Ocean, owned by China's largest shipping firm, Cosco International, and state-run conglomerate Sinochem, focuses on mid- to high-end residential property in Beijing and plans to expand in northern China's Bohai Bay region. Shares in developer Country Garden Holdings, which raised US$1.66 billion in an April IPO, have more than doubled from their listing price. Top-end pricing would value Sino-Ocean at 22 times forecast this year earnings and 15.5 times prospective next year earnings, a source said previously. Rival Beijing Capital Land, with 85 per cent of its land bank in the Bohai Bay region, trades at 17.3 times forecast earnings for this year, while Guangzhou R&F Properties (SEHK: 2777), with 48 per cent of its land in that region, trades at 36 times. Goldman Sachs and Morgan Stanley were the underwriters of the Sino-Ocean deal.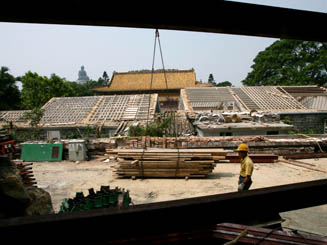 Monastery destroys oldest stone houses - Hong Kong's biggest Buddhist temple - Po Lin Monastery - is demolishing some of its oldest structures to make way for a new temple.

A bronze horse head that was looted from the Summer Palace in Beijing will be returned to the mainland after tycoon Stanley Ho Hung-sun bought it for HK$69.1 million ahead of an auction due to be held next month. It was expected to have fetched up to HK$80 million at the Sotheby's sale in Hong Kong, in which 200 Chinese works are going under the hammer. But after a month of negotiations, the Taiwanese owner agreed to sell it to Mr Ho, given the casino magnate's desire to see it returned to the motherland. The price set a world record for a Qing dynasty sculpture. The head was part of a series featuring the 12 animals of the Chinese zodiac on a water clock at the Yuanmingyuan royal garden, or old Summer Palace. Under the deal, Mr Ho agreed to pay HK$68 million, plus HK$1.1 million in administration fees. The Taiwanese collector bought the sculpture for £200,000 (HK$3.14 million) at an auction in London in 1989. Mr Ho said: "It was in Taiwan for several decades. I am very honoured to bring it back as a participant in the recovery program of China's cultural relics." Mr Ho acquired a pig head in 2003 for more than HK$6 million and donated it to a mainland museum. He said he might buy and donate other relics in the future.

China: Thomas Debrowski, an executive of Mattel, apologized Friday to a senior Chinese official for the inconvenience it has caused to Chinese consumers after recalling millions of China-made toys and pledged to take responsibility, according to a Xinhua witness. During his talk with Li Changjiang, head of the General Administration of Quality Supervision, Inspection and Quarantine, Debrowski admitted that the vast majority of its recalled toys were of design flaws rather than the manufacturing errors of China. According to a press release announced by a lawyer of the Mattel, 17.4 million toys have been recalled because of loose magnets and those recalled because of impermissible levels of lead numbered 2.2 millions. The magnets related recalls were due to emerging issues concerning design and this has nothing to do with whether the toys were manufactured in China, said the press release. "Mattel does not require Chinese manufacturers to be responsible for the magnets related recalls due to design problems," it said. It also admitted that Mattel's lead-related recalls were "overly inclusive" as the company were "committed to applying the highest standards of safety for its products". "The follow-up inspections also confirmed that part of the recalled toys complied with the U.S. standards." The same high standards to recalls of its products have been applied in the EU and other countries despite the fact that some of these products may have met local safety standards. its said.
The United States will keep trying to override calls for protectionism and promote better mutual understanding with China, a senior official of the US Department of Treasury said in Beijing yesterday. Under-Secretary for International Affairs David McCormick warned that the talk of protectionism could easily invoke national passions, hence it is important for both the US and China to keep in mind the tremendous benefits arising out of openness in foreign investment. "When China succeeds, the United States succeeds," said McCormick in his speech, "Rebalancing the US and China Economic Relationship" at Peking University. The US must not sacrifice long-term gains of openness by pursuing short-term and misguided responses to the challenges presented by global international markets, he said.
IOC cancels plan of Olympic torch relay passing through Chinese Taipei - The International Olympic Committee has cancelled the plan of the Olympic torch relay passing through Chinese Taipei, a BOCOG spokesman announced Friday.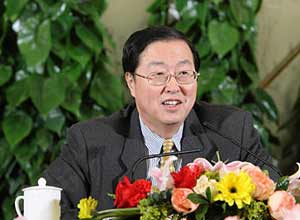 China's central banker: No timetable for RMB convertibility - China is committed to pushing forward its currency reform but has no timetable for the full convertibility of renminbi, said Zhou Xiaochuan, governor of the People's Bank of China, at a financial forum in Hong Kong Friday.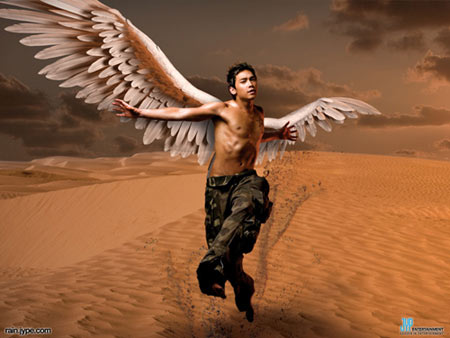 South Korean spunky singer Rain (Jung Ji Hoon) is set to perform in a special Mid-Autumn Festival show organized by China Central Television on September 24 and 25 in Chengde City, east China's Hebei Province. Korean media quoted rain's agency as saying: "Rain will spend this year's Mid-Autumn Festival with fans in China. He will arrive in China on September 23 and leave on September 26." During his stay, Rain will also appear on a live broadcast for the 2007 Asian Art Festival in the city of Nantong, east China's Jiangsu Province, together with his compatriots Shin Seung Hun, Kim Dong Wan BADA and Chinese stars Andy Lau and Jackie Chan. Rain, who has been on an international tour since 2006, was scheduled to stage a concert in Shanghai this May. But the concert was postponed until October 6, the commencement of his second world tour. The Mid-Autumn Festival is one of the most important family reunion celebrations in China. According to the Chinese lunar calendar, the 15th day of the 8th month is the exact middle of autumn, so it's called the Mid-Autumn Festival.
China launched the third earth resources satellite co-developed with Brazil on Wednesday morning and the two nations will jointly develop two more satellites. The satellite, named 02B, was launched on a Chinese Long March-4B carrier rocket which blasted off at 11:26 a.m. (Beijing Time) from the Taiyuan Satellite Launch Center in north China's Shanxi Province. The satellite separated from the rocket 12 minutes after lift-off, entering its preset sun-synchronous orbit, at a perigee of 738 kilometers and an apogee of 750 kilometers. The 1,452-kilogram satellite with a designed lifespan of two years, will gather resources information and send images to China, Brazil and other countries, for use in agricultural production, environmental protection, city planning and land resources surveys. This is the third earth resources satellite jointly developed by the China Academy of Space Technology (CAST) and the Brazilian National Space Research Institute (INPE). The previous two satellites were launched in 1999 and 2003 respectively. They are remote sensing satellites that can collect information through high definition cameras.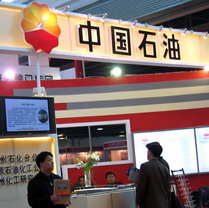 The booth of PetroChina in a Chemical Fair in Shanghai in March. The securities regulator will review the oil giant's A-share IPO plan next Monday.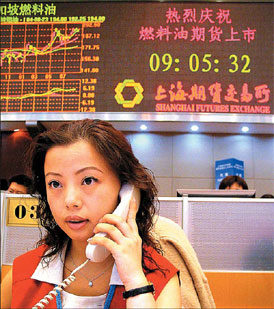 Shanghai Futures Exchange (SHFE), the biggest of the three commodities futures exchanges in China, is exerting an increasing influence on the global pricing of such key commodities as copper, aluminum and natural rubber. Teng Jiawei, executive vice-president of SHFE, says: "China's increasing pricing power in the international commodities markets has helped guarantee national economic security that has a far-reaching impact on the country's long-term development." For many physical commodities, cash-market participants often base spot and forward prices on the futures prices that are discovered in the competitive, open-auction markets of futures exchanges. SHFE is emerging as an important pricing center for non-ferrous metals, copper in particular, second only to the London Metal Exchange (LME). Statistics show the coefficient index, an indicator reflecting the correlation between LME copper prices and those in Shanghai, has increased from less than 10 percent to 40 percent in the past several years.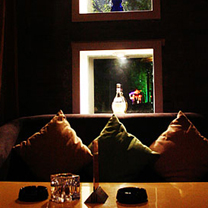 Houhai, located dead in the middle of old Beijing, is also known as Shishahai, an area including Qianhai, Houhai and Xihai and with a history of more than 700 years. Many interesting restaurants and shops have shot up around the lake during the last six years. The lake, however, achieved global fame after becoming a safe haven during the SARS outbreak. Since then, Houhai has been a landmark of Beijing nightlife.
Sept 21 - 23, 2007

Hong Kong: Chinese businessman Nelson Wong Kam-fu has made a surprise takeover move for PCCW, the Hong Kong telecoms group that operates the Now Broadband TV platform. Last year the company was on the receiving end of two complicated bids, including one from its tycoon owner Richard Li Kar-tzai. The new one is just as strange. Wong's Smart Rich Energy Finance is a credit card security firm with a market value of some HK$2.1 billion ($270 million). At the price it says it is offering, PCCW would be valued at $8.7 billion. In a statement PCCW said that it had not received "any credible offers." Wong, who claims to have the moral backing of mainland China 's Liaison Office of the Central People's Government in the Hong Kong Special Administrative Region appears to be motivated by nationalism. "If Hong Kong people . . don't want this important strategic asset to fall into foreign hands, they should support my proposal," he said. At a press conference he said his bid would be financed by bank loans and an unspecified share issue. Now Broadband TV is the world's leading exponent of Broadband Television, or Internet Protocol TV. In June it had 818,000 pay-TV subscribers, putting it within a whisker of traditional cable TV provider I-Cable on 830,000 subscriptions.
Born to spend - Waiting for a friend in Shenzhen's plush Kingglory Plaza, Chen Jing, 25, admires her new red Nokia mobile phone. Complete with 3G and MP3 features, the phone cost just over 3,000 yuan (US$400) -- Chen's entire monthly wage. But she's more than pleased with her purchase. "It looks really good," she says. Extravagant spending perhaps, but female consumers like Chen are spurring much-needed growth in Chinese consumption and helping offset the country's high savings rate, a source of tension with its trading partners. "Urban women consumers will be spending much of their hard-earned cash on personal travel and related cultural and recreational activities, dining out, shopping, as well as buying cars and pursuing urban leisure lifestyles," Yuwa Heidrick-Wong, economic adviser to MasterCard International, said. Their spending will help determine which foreign brands succeed in China. Credit Suisse cites luxury goods firms LVMH , Christian Dior and Valentino among its top picks along with watch maker Swatch Group as well as Nokia and Coca-Cola Co. China's retail sales rose 15.7 percent in the first eight months of this year, reflecting rising incomes and urbanisation. Household consumption, however, is the lowest of any major economy. It fell to 36.4 percent of gross domestic product in 2006 from 37.7 percent in 2005, when the comparable figures for the United States and India were 70 percent and 61 percent. The downtrend is now new: in 1990 China's ratio was 49 percent. That makes China too dependent on investment, which risks overheating, and exports, whose share of GDP has doubled in the past decade to 40 percent -- more than twice that of the United States and Japan. If China consumed more, imports would rise, narrowing a ballooning trade surplus. Reduced reliance on exports, moreover, would make the economy less vulnerable to global economic shocks. "Exports depend on the health of your trading partners: if your trading partners go down, you go down," said Chris Leung, China economist at DBS Bank in Hong Kong.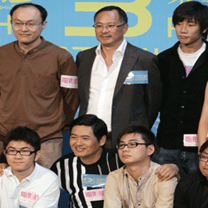 Actor Chow Yun-fat (bottom C) smiles as he attends the 3rd Fresh Wave Short Film Competition in Hong Kong September 19, 2007.
A government lot in New Territories was sold for 4.55 billion HK dollars (584 million U.S. dollars) Monday at the year's fifth land auction held by Lands Department of Hong Kong. The lot in Tai Po of New Territories was sold to Pacific Bond Ltd, with the opening bid standing at 3.08 billion HK dollars (395 million U.S. dollars). Tai Po Lot has a site area of about 22,126 square meters and is designated for private residential purposes. A minimum gross floor area of 39,827 square meters must be completed. Analysts said the final sale price is reasonable as the winning consortium will be able to derive synergistic benefits by combining the site's development with two other nearby sites which were secured in March.

China: China Construction Bank set a new A-share record with its US$7.72 billion IPO in Shanghai this week, making it the third of China's "big four" banks to list on a mainland exchange. It smashed Industrial and Commercial Bank of China's previous record of US$6.2 billion (although it can still proudly lay claim to the world's largest IPO with its US$20 billion dual listing last year). CCB's listing leaves the Agricultural Bank of China as the only major bank that remains unlisted, although a restructuring is planned to be completed this year that will enable it to go public soon after. China's city banks, meanwhile, have been getting in on the A-share frenzy as well. After successful IPOs from Bank of Nanjing and others in July, the country's largest city bank, Bank of Beijing (just call it BOB), surged in its stock market debut this week. BOB prices rose 81% on its first day of trading in Shanghai. Just days before that, however, the central bank vice governor warned against reckless lending, noting that loans for the first eight months of the year had almost equaled last year's total amount of US$423 billion. The banking stock boom, however, will likely drown out the voice of reason.

Marking its largest multiple-theater deal in Asia, IMAX Corp. has inked with Chinese exhibitor Wanda Cinema Line Corp. to install ten Imax screens in multiplexes in China. "China continues to be a key strategic growth market for IMAX, and our partnership with Wanda Cinema Line -- an exhibitor and property developer -- gives us the opportunity to significantly expand our audience base and ultimately drive greater interest in the region," said Imax co-CEOs and co-chairmen Rich Gelfond and Brad Wechsler. The first three screens will use IIMAX's economical MPX theater technology and the remaining seven its new digital projection technology, which is skedded to roll out towards the end of 2008. "For us the transition from film to digital is crucial because of all the money we're going to save on print costs," Gelfond said. Wanda Cinema Line is the fastest growing exhib in China with 121 screens in 15 locations. The IMAX screens are to be installed in new multiplexes in cities including Changsha, Changchun, Beijing, Chongqing and Wuxi. The first two screens will be installed in December, with the remainder on stream by the end of 2010. The deal means that IMAX will have 39 screens open in China.
China's currency strengthened against the US dollar on Wednesday after the Federal Reserve cut the prime interest rate by 50 basis points.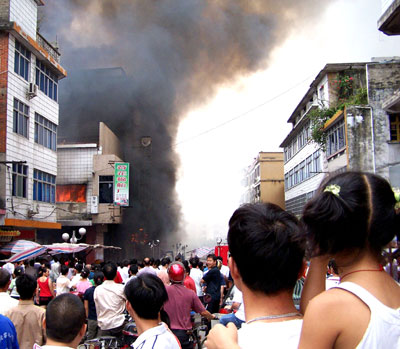 Residents watch smoke billowing out of a five-storey shopping mall in a county in South China's Guangxi Zhuang Autonomous Region September 18, 2007. No casualties were immediately reported, but all of the commodities sold in the mall were swallowed by the raging fire. It took more than 100 firefighters three hours to put out the fire. The investigation into the cause of the flame is underway.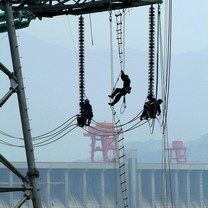 Electrical workers work on power lines of a power transmission and transformation project of the Three Gorges Dam. The project had transmitted 189.2 billion kwh of power to 11 provinces in China as of September 17, 2007.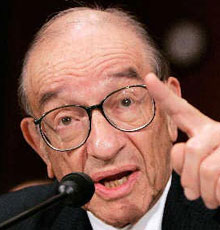 China to determine world economic fate - Former US Federal Reserve Chairman Alan Greenspan predicted the world's economic fate depends on China.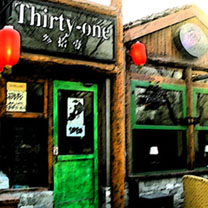 Houhai, located dead in the middle of old Beijing, is also known as Shishahai, an area including Qianhai, Houhai and Xihai and with a history of more than 700 years. Many interesting restaurants and shops have shot up around the lake during the last six years. The lake, however, achieved global fame after becoming a safehaven during the SARS outbreak. Since then, Houhai has been a landmark of Beijing nightlife.
Sept 18 - 20, 2007

Hong Kong: Cargo throughput at Hong Kong International Airport (HKIA) grew 10.5 percent year-on-year in August to 324,000 tons, the largest monthly increase this year. Meanwhile, robust outbound and visitor numbers saw passenger throughput increase to 4.42 million, up 8.2 percent, while air traffic movements grew 7.8 percent to 25,580, according to figures released in Hong Kong Sunday by Airport Authority Hong Kong. "Our cargo volumes have risen strongly over the past five months, a trend we believe points to sustainable long-term growth, " said Stanley Hui, chief executive officer of Airport Authority Hong Kong. For the 12 months ending on Aug. 31, 2007, passenger and cargo volume of the airport reached 46.4 million and 3.66 million tons, representing year-on-year growth of 7.3 percent and 3.9 percent, respectively. Air traffic movements grew 4.5 percent to 289,935.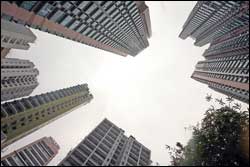 Real-estate heavyweights are set to raise the bidding temperature at the government land action today for a Tai Po waterfront residential site, driving the price to a record high of HK$4.8 billion. The 238,164-square-foot plot, facing Tolo Harbor, is Site B of Pak Shek Kok Reclamation Phase 1. It will allow for a gross floor area of 714,493 square feet. Two adjacent plots were sold in March. Site A was auctioned for HK$2.11 billion, or HK$6,109 psf. The accommodation value, or price per- square-foot was a record for the New Territories. Site C was settled for HK$3.5 billion, or HK$4,668 psf. A G Wilkinson & Associates said on Wednesday, the land may fetch HK$4.88 billion, or HK$6,828 psf, 58 percent above the trigger price of HK$3.08 billion. On Friday, Savills also raised its estimate for the site from HK$4.2 billion to HK$4.6 billion in view of the possible synergies it could create. The surveyors' set a range of HK$3.8 billion to HK$4.4 billion for the site just after it was put up for sale on August 23. Charles Chan Chiu-kwok, managing director of Savills valuation and consultancy, said "the consortium [that] took the two adjacent A and C sites would be most aggressive in bidding." If the three sites offering 1.8 million sq ft of GFA were developed together, the synergies would help lower investment cost by 5 percent, he said.

China: China to add 27 new air routes to Europe, America - The routes will be opened in the next two years. In addition, there will be 206 more flights per week on the existing routes to Europe and America.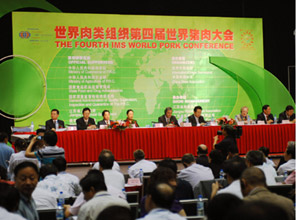 4th IMS world pork conference held in Nanjing - It would discuss issues concerning pork production and its market, pork consumption trend, new technology and new products as well as global pork trade and policies.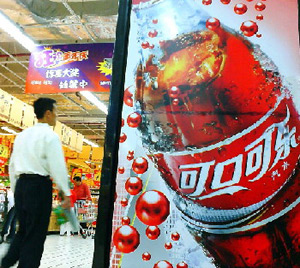 Coca Cola expects China to be its largest market, said E. Neville Isdell, chairman and chief executive officer of the Coca Cola Company. Although China's economy has been growing rapidly for more than two decades, Isdell noted that he had confidence in its further growth. "China is currently our fourth largest market, but I hope it could become No.1." Coca-Cola built two new bottling factories in east China's Jiangxi Province last July and in northwest China's Xinjiang Uygur Autonomous Region in August, bringing the total number of its factories in China to 37. A new complex including the Global Innovation and Technology Center and the new Coca Cola China Headquarters, costing 80 million U.S. dollars, broke ground in Shanghai, China's largest industrial center, according to Isdell.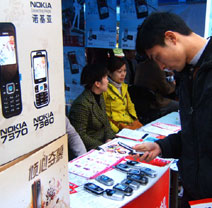 China has more than 600 million mobile phones users by June this year, which means every one in five mobile phone users is Chinese, an senior official said on Sunday.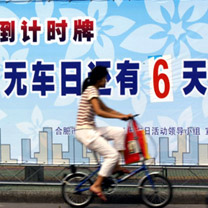 A woman rides a bicycle past a billboard promoting the "No Car Day" in Hefei, East China's Anhui Province, September 16, 2007. China will launch a campaign calling on people to travel by bike and public transportation instead of driving a car.
Sept 15 - 17, 2007

Hong Kong: Hong Kong's Gross Domestic Product (GDP) increased 6.9 percent in real terms for the second quarter year on year, while its Gross National Product (GNP) rose 10.8 in real terms, according to statistics released Friday by the Hong Kong Census and Statistics Department. In the second quarter of 2007, Hong Kong's GDP, estimated at 375.3 billion HK dollars (48.1 billion U.S. dollars) at current market prices in the same quarter, recorded a 7.7 percent increase during the period. After netting out the effect of price changes, Hong Kong's GDP increased by 6.9 percent in real terms. Hong Kong's GNP increased by 11.8 percent in the second quarter over a year earlier to 381.4 billion HK dollars (48.9 billion U.S. dollars) at current market prices. After netting out the effect of price changes, Hong Kong's GNP increased by 10.8 percent in real terms. Total factor income inflow into Hong Kong, estimated at 205.6 billion HK dollars (26.4 billion U.S. dollars) in the second quarter of 2007 and equivalent to 54.8 percent of GDP in that quarter, increased substantially by 25.5 percent over a year earlier. Total factor income outflow, estimated at 199.5 billion HK dollars (25.6 billion U.S. dollars) in the second quarter of 2007 and equivalent to 53.2 percent of GDP of the same period, also recorded an increase of 16.4 percent over a year earlier.
Hong Kong is to strengthen its role as a regional technology servicing hub, said John Tsang Chun-wah, Financial Secretary of the Hong Kong Special Administrative Region, Friday on the opening ceremony of the 'Innovation Expo 07' showcasing the latest achievements of Hong Kong in innovation, technology and design. He said the government had been actively promoting innovation and technology by putting in place funding programs and infrastructural support, including the establishment of the Innovation and Technology Fund, the Hong Kong Science Park, Cyberport and five Research and Development Centers. The "Innovation Expo 07" features more than 100 exhibitors from local universities, research and development organizations, industry support organizations, technology and design enterprises and technology education organizations. There will also be more than 20 informative seminars on various topics related to innovation and technology, 50 Design Tech Workshops targeted at youngsters, and attempts to set two world records, the highest number of Lego robots in a Tug-of-War and the highest number of students making Lego robots together. A large-scale model of the Three Gorges Dam, a major engineering project in the Chinese mainland, is presented at the expo. The nine provinces in the Pan-Pearl River Delta and the Macao Special Administrative Region will also showcase their technology achievements. Visitors to the expo are invited to vote for their "Most Wanted Technology Breakthrough" from a list of 10 technology breakthroughs identified from almost 300 wishes collected during the Innovation Festival's opening road show held last month. The "Innovation Expo 07" is one of the major celebration programs of the 10th anniversary of establishment of the Hong Kong Special Administrative Region, and also a part of the ten-week " Innovation Festival 07".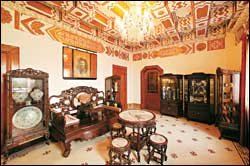 The government on Friday rushed to save a 70-year-old Chinese-style mansion from the wrecker's ball. However, according to some observers, damage to some of the building's interior may be irreversible. At the government's request, the Antiquities Advisory Board moved quickly on Friday after it was reported the building on Stubbs Road, King Yin Lei, was undergoing renovation. It was quickly decided the building should be placed on the proposed monuments list and this will be gazetted on Saturday. The declaration will be valid for 12 months during which time the building cannot be demolished, altered or changed in any way without permission from the Antiquities Authority. This will also give the authority the opportunity to consider if the building should be declared a monument and to negotiate possible preservation options with the owner. Secretary for Development Carrie Lam Cheng Yuet-ngor, speaking after a special meeting with the Antiquities Advisory Board, said the mansion was assessed on Thursday night and was qualified to be listed as a proposed monument. "All work which may destroy or harm King Yin Lei, including removing tiles, cannot be proceeded with," Cheng said, admitting it was rare for the government to gazette an order on a Saturday. However, Lam said she did not know when the government could discuss the mansion's future with the owner. Board chairman Edward Ho Sing- tin said the move to list King Yin Lei as a proposed heritage site was unanimous. King Yin Lei is three-story Chinese-styled mansion with a gross floor area of 25,000 square feet, with the whole site covering 50,000 square feet. The mansion was said to be undergoing "intensive renovations" when the government decided to act.
PCCW (0008) chairman Richard Li Tzar-kai denied rumors he has committed any funding for Anson Chan Fang On-sang's campaign for a Legislative Council seat in a by-election to be held in December.

China: China will raise the one-year deposit and loan interest rates by 27 basis points to 3.87 percent and 7.29 percent respectively from Sep. 15, the central bank announced on Friday. This is the fifth time that China has raised the one-year benchmark interest rates this year in a bid to curb rising inflation and tighten control over excessive liquidity. The last interest rate hike came on Aug. 22 when the central bank raised the one-year deposit interest rate by 27 basis points to 3.6 percent and one-year loan interest rate by 18 basis points to 7.02 percent. The move aims to "tighten credit control, rationalize investment and stabilize expectation of inflation", the People's Bank of China (PBoC) said in a statement on its website. The latest interest rate hike was anticipated following the announcement that the consumer price index in August rose to an 11-year-high of 6.5 percent, sparking a stock market plummet of more than four percent on Tuesday, the largest daily drop since July 5. Central bank governor Zhou Xiaochuan said last week that he would like to see an end to negative real interest rates, a signal of support for more rises in borrowing costs and cooling China's sizzling stock market. Inflation risks pushed up by pork price hikes could not fully explain China's frequent use of retrenching monetary measures, and the major reason lay in the excessive money supply, said Song Guoqing, a researcher with Peking University. To curb excess liquidity, China raised the reserve requirement ratio for a seventh time since this year on Sep. 6 and has issued 800 billion yuan of special treasury bonds to buy foreign exchange reserves to finance the planned state investment firm. China's money supply remains too much despite a slowdown of M2 in August, said Song. Newly released data of the central bank shows that China's broad measure of money supply, M2, which covers cash in circulation and all deposits, rose by 18.09 percent in August, lower than the 18.48 percent recorded in July, but still above a high level of 18 percent. The central bank figures also indicated that, during the first eight months, China's new renminbi-dominated loans reached 3.08 trillion yuan, nearly last year's total, pushing up urban fixed assets investment by 26.7 percent in the first eight months.
Chinese stocks closed slightly higher for a third straight day on Friday led by steel and cement. The benchmark Shanghai Composite Index on the major Shanghai Stock Exchange rose 0.73 percent, or 38.59 points to end at 5,312.18. The Shenzhen Component Index on the smaller Shenzhen Stock Exchange rose 1.42 percent, or 561.1 points to close at 17,959.51.
A senior Chinese official saidon Thursday that Mattel has admitted it took full responsibility for design errors which led to the recalls of millions of Chinese toys. "In a letter to Li Changjiang, head of the General Administration of Quality Supervision, Inspection and Quarantine, an executive from Mattel admitted the company should take full responsibility for the recalls," said Wei Chuanzhong, vice minister of AQSIQ, referring to the design faults in toys with tiny magnets that could be swallowed. The company also admitted that there were nothing wrong with Chinese manufacturers over the recalls, said Wei at a press conference held in the Chinese embassy here, adding some 85 percent of the Chinese toys recalled in the past weeks were due to the design problems. A Chinese investigation into the latest recall has found that the toys were produced according to Mattel's specifications, he said. Only 15 percent of the toys targeted in earlier recalls contained excessive amounts of lead, said the Chinese official, noting several Chinese manufacturers involved in the scandal have been harshly punished. A report released by two Canadian business professors days ago also concluded that most of the recalls of toys made in China are because of design errors, not manufacturing problems or the lead paint issue. The report, which analyzed Chinese-made toy recalls by going through recalls issued by the U.S. Consumer Product Safety Commission from 1988 to August, 2007, found of the 550 toy recall,76.4 percent were due to problems that could be attributed to design flaws. Of the 20 million toys recalled by Mattel in the past month, 80 percent were because they contained small magnets, which is a design flaw, said the report.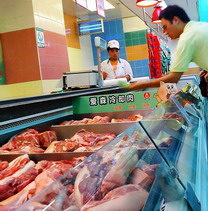 A shopper picks pork in a Shanghai supermarket in July. China's imports of pork more than doubled in the first seven months, according to customs statistics released on Thursday.
Sept 12 - 14, 2007

Hong Kong: Cheung Kong Infrastructure (1038), the infrastructure arm of Li Ka-shing's Hutchison Whampoa (0013), is making a 1.5 billion (HK$23.61 million) offer for the former Norweb electricity distribution business held by United Utilities, according to a London report.

Hong Kong should continue to focus on economic development and livelihood issues, President Hu Jintao told Chief Executive Donald Tsang Yam-kuen in a breakfast meeting in Sydney.

Hong Kong has become one of the largest asset-management centres in Asia, with trillions of dollars in assets under management, Financial Secretary John Tsang Chun-wah said on Monday. Mr Tsang told the Annual Conference of Hong Kong Investment Funds Association that Hong Kong's combined fund management business – which comprised asset management, advisory business, private banking and real estate investment trusts – amounted to some HK$6 trillion at the end of last year. "This represents a growth of 36 per cent over 2005, and an accumulated growth of more than 70 per cent over 2004," Mr Tsang said.Assets under management were worth more than HK$4 trillion, of which 64 per cent of the funds were sourced from non-Hong Kong investors."This illustrates Hong Kong's ability to attract foreign funds and investment. The robust economic growth in Asia in recent years, particularly in China, has generated vast savings and wealth in the region." Mr Tsang said that last year, about 80 per cent of the assets managed in Hong Kong were invested in Asia. "The global asset management industry has tremendous prospects for further growth. And Hong Kong has the potential to take a larger share of this market," he predicted. The mainland asset management industry would also play a vital role in the future. "Measures under [the Closer Economic Partnership Arrangement], which allows qualified mainland fund management companies, securities and futures companies to set up businesses in Hong Kong, enhance the depth and breadth of the financial intermediary base in Hong Kong," the financial secretary added.
Hong Kong offers the Chinese mainland companies a range of financial services and capital-raising options, Hong Kong Financial Secretary John Tsang said in Xiamen, according to news from the Information Services Department of Hong Kong Special Administrative Region government. Speaking at the Hong Kong - Your Platform to Go Global forum in Xiamen of Fujian province, Tsang said that Hong Kong has a solid track record of companies, large and small, benefiting from our financial services, the news said. Director-General of Investment Promotion Mike Rowse said his department has helped 28 mainland companies to establish or expand operations in Hong Kong this year. "And by year's end, we expect to top the record of 41 achieved in 2006," he added. More than 60 companies from Fujian are already using Hong Kong to raise capital, identify international business partners, upgrade their management skills and test their products and services in a fully-blown market economy and cosmopolitan environment. During the past decades, interest in Hong Kong from Fujian has risen considerably. According to local government statistics, investment from the 105 Fujian firms with a presence in Hong Kong totaled 253 million U.S. dollars, or 33 percent of the province's total foreign direct investment as of June.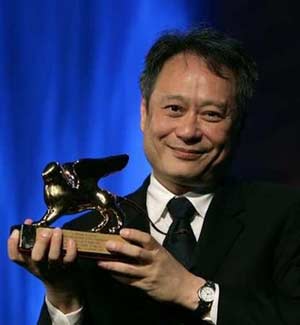 Director Ang Lee holds the Golden Lion award for best film at the Venice film festival September 8, 2007. Lee won for "Lust, Caution", a World War Two espionage thriller set in Shanghai. Chinese director Ang Lee Saturday picked up the Venice Film Festival's Golden Lion for best picture for his spy thriller "Lust, Caution," just two years after taking the same award for "Brokeback Mountain." This is the third consecutive year that a Chinese director has won the Golden Lion. Last year's best picture award went to Jia Zhangke for "Still Life." Jia's "Wuyong", or 'Useless,' took the Orizzonti Doc Prize at this year's Venice Film Festival. Lee's movie, called "Se, Jie" in Chinese, is set in the Japanese-occupied Shanghai in 1940s. The boldness of the sex scenes in the movie between a spy girl played by novice actress Tang Wei and powerful political figure played by Tony Leung became a major topic at the festival. Jury president Zhang Yimou said Lee's movie has won applause from all of the seven-member jury. Lee had made an excellent integration of international resources while filming "Lust, Caution," which played an important role in winning him the award, he said. Lee told the red carpet prize ceremony that the movie "has taken me to some very difficult places." Lee said he was accepting the prize "in the shadow of the passing of two great giants, Michaelangelo Antonioni and Ingmar Bergman." The director said he would like to dedicate the award to Bergman, whom he saw while working on "Lust, Caution". "Ingmar hugged me the way a mother hugs a child. This hug was not for me, it was for you, the keepers of cinema," he said. Bergman died on July 30, and Antonioni of Italy one day later. Lee also expressed his gratitude to Chinese viewers and his colleagues in Hong Kong, saying that he hoped to share the award with all Chinese. Tunisian-born director Abdellatif Kechiche's immigration drama "La Graine et le Mulet" ("The Secret of the Grain") had been the pre-award favorite for the Golden Lion. It took away one of two runner-up jury prizes, while the other was won by U.S. director Todd Haynes for his "I'm Not There."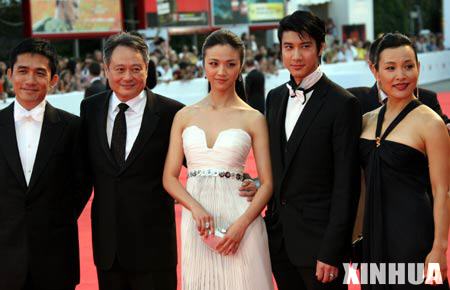 Director Ang Lee (2, L) poses with actors (L-R) Tony Leung, Tang Wei, Lee-hom Wang and Joan Chen at the premiere of the film "Lust, Caution" during the 64th Venice Film Festival in Venice, Italy, Aug. 30, 2007. "Lust, Caution" directed by Ang Lee is one of 22 films competing in the official contest.
China prepares for residents' direct investment in HK shares - China has finished at least half of the preparations for the local residents' direct investment in Hong Kong stock market, Zhu Min, vice president of Bank of China (BOC), said Saturday. "The preparations go on smoothly, but there are still many technical problems yet to be addressed," Zhu said on the sidelines of the Inaugural Annual Meeting of the New Champions hosted by the World Economic Forum in China's northeastern coastal city of Dalian. It takes a lot of time to prepare new softwares and investors education and train staff members. However, we have no plan to delay it," he told Xinhua. The State Administration of Foreign Exchange announced On August 20 the Chinese mainland individuals would be able to directly buy HK shares through BOC's Tianjin branch amid efforts to cut the country's huge forex reserve and excessive liquidity. "Tianjin is the only pilot city. It's hard to say if the program will expand to other cities in the future," Zhu noted in response to earlier media reports saying the program would be expanded to many other cities and be launched in early September. "The program will not have big impact on the sales of qualified domestic institutional investors products as the latter have already been given go-ahead to invest in almost all the global equity markets," he said.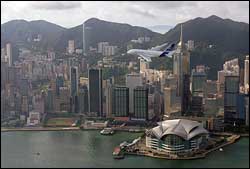 The Hong Kong government has given the green light to the Hong Kong Convention and Exhibition Centre Phase III extension, a move analysts said would help the city better compete with the emerging threat from Macau. Members of the inner circle of the administration, including Chief Executive Donald Tsang Yam-kuen and Chief Secretary Henry Tang Ying-yen, are supporting the development, a senior government source told The Standard. They believe additional capacity from Phase III will help Hong Kong stay competitive as a leading convention city in Asia, the source said. "There is an urgency to speed up the expansion of the HKCEC," Jeffrey Lam, chairman of the Trade Development Council's Toys Industry Advisory Committee, told The Standard. Lam said there is often a long waiting list of exhibitors who were unable to book space at HKCEC trade fairs. "Obviously, Macau would like to take away business from us," Lam said. "Nevertheless, we still have our competitive edge in terms of software. "What we lack is hardware - the exhibition space." The Phase III Benjamin Scent and Bonnie Chenextension will expand the floor space to beyond 100,000 square feet, a member of the 19-person governing body of the TDC said. The newly-enlarged HKCEC facilities have an exhibition area comparable to the Venetian Macao, which has about 111,500 square meters of meeting, convention and exhibition space. "The Venetian attracts, first of all, because of the huge space that is available, and the other [reason is] entertainment," said Credit Suisse analyst Gabriel Chan. "In Hong Kong, the space is almost always full." Phase III will be developed on land now occupied by the bus terminus and sports grounds near Great Eagle Centre, the government source said. Although the existing sports facilities will be demolished, the TDC plans to build new sports facilities on top of the HKCEC Phase III structure to serve the public interest. In tandem with the expansion, the government will rebrand HKCEC as an all-around complex offering exhibition, performance, and sports facilities, the source said. "The Venetian attracts, first of all, because of the huge space that is available, and the other [reason is] entertainment," said Credit Suisse analyst Gabriel Chan. "In Hong Kong, the space is almost always full." Phase III will be developed on land now occupied by the bus terminus and sports grounds near Great Eagle Centre, according to the government source. Although the existing sports facilities will be demolished, the TDC plans to build new sports facilities on top of the HKCEC Phase III structure. In tandem with the expansion, the government will rebrand HKCEC as an all-around complex offering exhibition, performance, and sports facilities, the source said. "There's not that much convention business in Hong Kong right now," said Morgan Stanley analyst Rob Hart. "Macau is better situated to focus on the convention business, and there's plenty of other convention business around in the Pearl River Delta region." The Phase III extension follows the Atrium Link extension, now under way and expected to be completed in 2009. The Atrium Link extension, which links the Phase I and Phase II wings of the convention center, will add 19,400 sq m of exhibition space, an increase of 42 percent, for a total exhibition area of 66,000 sq m. At the moment, the HKCEC offers 49,000 sq m of exhibition space spread between the Phase I and Phase II wings. Plans call for construction to begin on the Phase III project in 2009. Work is expected to be completed by 2015.
Cheung Kong Infrastructure (1038), the infrastructure arm of Li Ka-shing's Hutchison Whampoa (0013), is making a 1.5 billion (HK$23.61 million) offer for the former Norweb electricity distribution business held by United Utilities, according to a London report.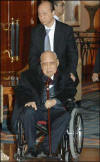 Outspoken Chinese People's Political Consultative Conference member Xu Simin died last night at Queen Mary Hospital. He was 93. Xu was admitted to Hong Kong Sanatorium and Hospital more than a month ago suffering from a respiratory illness. Earlier this month, he was transferred to Queen Mary Hospital. His condition started to deteriorate around seven last night and he died about an hour later. Xu was born in Rangoon, Burma, in 1914 and attended Xiamen University in Fujian province. He spent much of his career in publishing, founding the New Rangoon News in 1945 before returning to the mainland in 1964. He ultimately settled in Hong Kong where he was publisher of The Mirror magazine.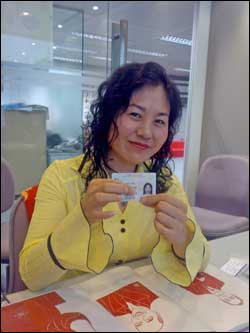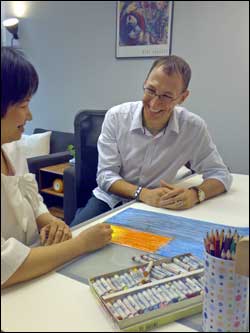 Hong Kong's drive to attract new talent has drawn two notable additions - a licensed art therapist from the United States and an award-winning papercutting artist from the mainland. Jordan Potash, an American in his early 30s, and Shandong province-born Lu Xue said settling in the SAR under the Quality Migrant Admission Scheme is a dream come true. Both praised the scheme, saying it allows them to develop their speciality in the SAR. Potash said he decided to further develop his career as an art therapist after visiting Hong Kong two years ago. "I was notified of the scheme by the Hong Kong Economic and Trade Office in Washington, DC, around March 2006. They told me to watch out for the scheme's implementation, and I was, perhaps, the first to download the application form in June," Potash told reporters at St John's Cathedral Counselling Service in Central, his current place of work. His application was approved last November. Potash is professionally trained in both art and therapy to encourage clients to express their emotions by drawing or in other art forms, to better cope with stress or other emotional problems. He said since the scheme did not require him to produce a letter of appointment, he can develop his career without red tape. Now, he is glad to offer counseling services to people from all walks of life. "I enjoy Hong Kong as I was raised in Philadelphia, and lived in Washington and other big cities for a long time. I really like it [Hong Kong] - it's a busy city with vibrant and orientated people," Potash said. He said his family supported his decision to spend the rest of his career in Hong Kong. "It's hard to move away from my parents and siblings. No matter how great the city is, it can't replace the family," he said. Lu, who became a Hong Kong resident through the scheme in April, said it was a dream to set foot in the territory. Lu is an internationally renowned artist whose works are characterized by their contemporary themes and traditional Chinese art. She is no stranger to the city as her Anderson Tales series was featured in stamps issued by Hongkong Post in 2005. She was also invited by the Leisure and Cultural Services Department to create a series of portraits of Dr Sun Yat-sen, the founder of modern China. Her recent work, Influential People Marking the 10th Anniversary of the Handover, portrayed top political figures and senior officials in Hong Kong.
Ocean Park will increase ticket prices by more than 10 per cent from next month because of rising operational costs and expanding facilities. From October 1, a one-day ticket price for adults will rise from HK$185 to HK$208, and from HK$93 to HK$103 for children aged three to 11. The last price rise for regular tickets was in April 2004, the park said. The park's deputy chief executive, Matthias Li Shing-chung, said it had opened new attractions and needed capital for further development. He said the park was also shouldering interest on a HK$5.5 billion loan for redevelopment and needed to keep an appropriate cash reserve. Chairman Allan Zeman said: "We fully understand it is sometimes difficult when prices are raised, and we are addressing this by our 11 caring initiatives." The initiatives include an Ocean Park Social Care Ticket, enabling people from organizations registered with the Social Welfare Department to visit the park for HK$20. Local senior citizens aged over 65 and people with disabilities can gain free admission to the park at any time, while Hong Kong ID card holders can visit for free on their birthday. A Tourism Commission spokesman said the government understood the park's need to adjust ticket prices and welcomed its move to offer discounts for needy people. In July, the park said it had almost 5 million visitors in the year to June 30, breaking attendance records for the third consecutive year. Rival Hong Kong Disneyland charges HK$295 on regular days and HK$350 on peak and special days, with children charged HK$210 on regular days and HK$250 on peak and special days.
Organized crime outfits in Guangdong are growing bigger, becoming more sophisticated and recruiting more youngsters thanks to triads from Hong Kong, Macau and Taiwan, the province's Higher People's Court says. Reviewing the results of an 18-month crackdown on organized crime, officials said there were worrying signs that "overseas" triads had taken root in Guangdong. "Overseas infiltration is getting more obvious," said the court's spokesman, Chen Cao. Triads were involved in industries including transport, construction, entertainment and wholesale markets, he said. Many gang members were in their 20s. Some were teenagers. "Crime organizations from overseas have been increasingly open and daring in recruiting members, particularly those with no proper jobs. They are expanding into a network," the spokesman was quoted as saying by Xinhua. Mr Cao cited a recent case in Guangzhou in which police found a local gang was linked to the Tianlinhui, or Heavenly Way Gang, in Taiwan. The gang controlled many local restaurants and extorted money from them, the report said. Taiwanese businessmen in the Pearl River Delta admit they are subjected to extortion and violence by Taiwanese gangs who followed them to the mainland. "The situation was particularly serious three years ago, when we had several blackmail and murder cases in Foshan , where many Taiwanese people set up factories," said Johnny Tsai, former chairman of the Taiwan Merchants Association in Foshan. He said the situation had improved after a police crackdown, but many Taiwanese businessmen, particularly in Dongguan and Xiamen , still suffered from the problem.

China: The long-awaited Beijing-Shanghai high-speed railway is expected to begin construction soon, Minister of Railways Liu Zhijun said yesterday. He made the announcement at a national conference on railway innovation, but did not specify a date. With a cruising speed of 300 kph and a top speed of 350 kph, the 1,320 km-rail link will shorten travel time between the two cities from 13 hours to less than 5. The project has been on the drawing board for a decade and was expected to begin last year and start operations in 2010, but was postponed until now. The minister didn't explain why. The Beijing-Shanghai railway was initially estimated to cost 130 billion yuan ($17.2 billion), but insiders said the growing price of real estate and resettlement costs might increase the project to 170 billion yuan. Liu said China plans to master the technological aspects of building and operating high-speed railways before 2010. It was one of the 10 goals set by the ministry for its 11th Five-Year period (2006-10). Another aim is include developing 350 kph bullet trains and upgrading safety technologies, Liu said.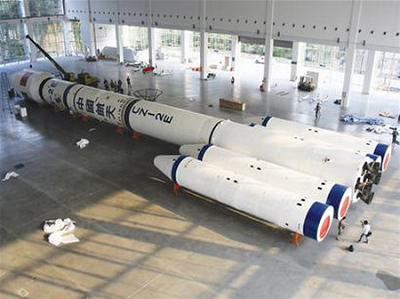 Changzheng 2 (Long March) Rocket Launcher makes its debut at a spaceflight exhibition held in Wuhan, China on September 9, 2007.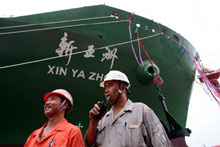 The first 8,530-TEU container ship, of which China owns the full intellectual property rights, had been delivered to China Shipping Container Lines Co. Ltd. (Shanghai) and left for its maiden voyage to the United States on Sunday. It has made China the fourth country in the world, after the Republic of Korea, Japan and Denmark that is able to design and build such giant container ships, said experts. The ship, named "New Asia", is the first of five container ships of the same type to be designed and built by Hudong-Zhonghua Shipbuilding (Group) Co. Ltd. for the China Shipping Container Lines Co., Ltd. The 101,000-dwt container ship, 335 meters long and 42.8 meters wide, can sail at a speed of 25 knots an hour. The Shanghai-based shipbuilding company spent six years to build the ship, the largest container ship independently designed and built by China. It is one of the mainstream type of container ships in the world.
China Aviation Industry Corp. I (AVIC I) said it has inked a deal with General Electric (GE) to co-produce engines for the country's first homegrown commercial aircraft. With GE's technology support, AVIC I, China's leading aircraft maker, will produce the CF34-10A engine for its ARJ21-700 aircraft in a subsidiary in northeastern Chinese city of Shenyang. It was the first Sino-foreign cooperative program on the production of passenger aircraft engines, said a statement from AVIC I. The cooperation came four years after AVIC I decided to import the GE-developed engine to power its ARJ21-700, a regional passenger jet that has 70 to 90 seats. Both the ARJ21-700 and its longer version the ARJ21-900 are expected to make the maiden flight in March 2008, with mass production to begin in 2009. AVIC I had received 71 orders for the ARJ21 series by January this year, from domestic airline companies such as Shanghai Airlines, Shandong Airlines and Xiamen Airlines. Sales of the aircraft will reach 50 units annually on the domestic and global markets in the next few years, according to AVIC I Commercial Aircraft Co. Ltd.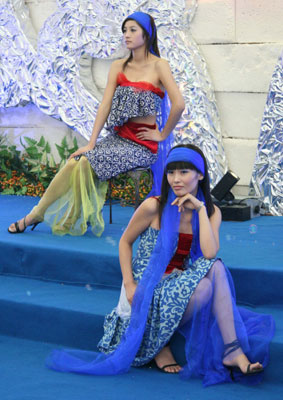 Models present creations during the ninth Nanjing International Fashion Show held in Nanjing, East China's Jiangsu Province Sept. 7, 2007. The show featuring fashion designers and creativity attracted more than 300 enterprises from home and abroad.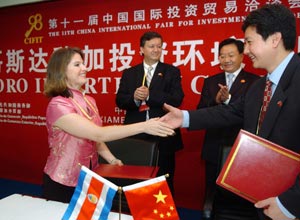 China boasts a huge market, cost-effective products and a growing number of companies that wish to invest overseas. Costa Rica, on the other hand, enjoys political stability, rich human resources, lower tariffs as well as preferential policies towards investors.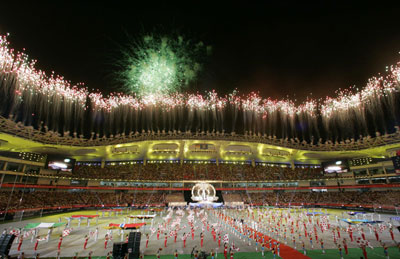 Performers take part in the opening ceremony for the 2007 FIFA Women's World Cup before the match between Germany and Argentina at the Hongkou Football Stadium in Shanghai, September 10, 2007.
China's railway departments need to boost innovation efforts to expand the nation's rail transportation capacity, Vice Premier Zeng Peiyan said on Saturday. "We should crank up innovation efforts to master the designs and construction technologies of the high speed railways and cargo arteries," Zeng said while visiting a railway technology exhibition in Beijing. "We should strive to reach the target of self designing and mass producing bullet trains that run at 200 kilometers per hour or higher as well as the high horse power locomotives that are as good as their foreign counterparts." Zeng also urged the railway authorities to more vigorously cut energy consumption and pollution and provide better and safer services. The country has made huge progress in the railway sector over the past three decades, the vice premier said. "The operation of the Qinghai-Tibet Railway and renovation of existing rails have initially alleviated the nation's rail transportation bottleneck," he added.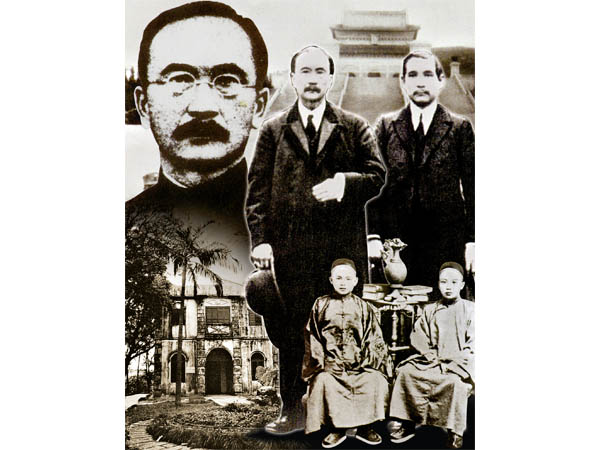 He persuaded the last emperor to abdicate, was the first prime minister of the Republic of China, negotiated to keep the British out of Tibet and was a personal friend of two US presidents. Tang Shaoyi is the pride of the small township of Tangjiawan (the bay of the Tang family), on the outskirts of Zhuhai , and one of the main reasons why earlier this year it earned the title of a township famous for its history and culture, one of only 20 on the mainland. It has been inhabited for almost 700 years.

Mary Ma Xuezheng, who retired in May after 17 years with computer maker Lenovo Group (SEHK: 0992), has found a new home as partner and managing director in Hong Kong of United States-based private-equity investment firm TPG. One of the mainland's highest-profile businesswomen, Ms Ma, 54, is expected to provide a big boost to TPG's investment strategy in the country. The global buyout company is also a stakeholder in Lenovo, the world's third-largest personal computer supplier.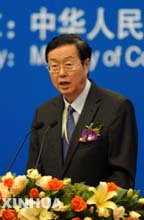 China will unveil financial policies changes to support overseas investment of domestic companies, Zhou Xiaochuan, governor of the People's Bank of China (PBoC), said Saturday. The central bank will scrap unnecessary controls on foreign exchange reserves to fund local firms' outbound investment, Zhou told a forum at the 11th China International Investment and Trade Fair opened in Xiamen, a coastal city in southeastern Fujian Province. "We will remove unnecessary restrictions on reviewing sources of foreign exchange funds, as well as on foreign currency purchase and profit remittance," he said. "We will also allow domestic firms to use their own foreign exchanges or buy foreign funds with local currency yuan to invest abroad." The governor noted the central bank will explore ways to buy shares in foreign banks so as to provide more convenient financial services for the overseas operations of domestic businesses.

A black swan couple and their fledglings are seen in the zoo of Wuhan, Central China's Hubei Province, Sept. 4, 2007. It is a rare case that black swans bred in Autumn.
MasterCard Worldwide released a report on the luxuries market on September 4, 2007, saying that by 2016, young wealthy Chinese might spend US$24.6 billion on luxuries, while elder wealthy Chinese might spend US$18 billion. Young moneybags in China are usually better educated and have a more open attitude toward consumption than elder ones, thus they are more willing to spend money. The demand for luxury goods in the entire Asian-Pacific region will grow by 12% every year, and the market for elder people might even witness a 3-digit growth. Most wealthy Chinese are more prone to spend money on luxury items than on luxury service.
Sept 11, 2007

Hong Kong: Hong Kong maintained its position as the biggest overseas investor on the Chinese mainland in the first seven months of the year, according to the latest statistics from the Ministry of Commerce. In the Jan.-July period, Hong Kong invested 12.3 billion U.S. dollars on the mainland, up 20 percent from a year earlier, involving 8,782 projects. Hong Kong had invested an accumulative 292.1 billion U.S. dollars on the mainland by the end of July, taking a 40-percent share in the total investment the mainland had received from overseas since 1978. The mainland's exports to Hong Kong in the first seven months surged 23.9 percent to 99 billion U.S. dollars, while imports rose 14.2 percent to 6.8 billion U.S. dollars. Meanwhile, the mainland saw the number of its Macao-invested projects increase 16 percent to 514, with investment value rising 15.9 percent to four million U.S. dollars. The mainland's exports to Macao rose 23 percent to 1.47 billion U.S. dollars, while imports were down by 7.4 percent to 150 million U.S. dollars.
APEC leaders at their annual meeting are to announce a regional goal of a reduction in energy intensity by at least 25 percent by 2030 from the 2005 level in support to United Nations global efforts to curb greenhouse gas emissions. The leaders of the Asia-Pacific Economic Cooperation (APEC) will also announce an APEC-wide regional goal of increasing forest cover in the region by at least 20 million hectares of all types of forests by 2020, according to a draft declaration on climate change, energy security and clean development, obtained by Xinhua.
Chinese vice premier Wu Yi Friday called on multinationals to strengthen their cooperation on technological innovation with local partners. "We hope the multinational companies will build more high-level research and development centers in China and establish technological cooperation alliances with leading local firms," Wu said while presiding a panel meeting with delegates from 70 multinationals in Xiamen, southeast coastal province of Fujian. China also hopes the transnational corporations can adjust and improve their investment strategies in line with China's general targets on economic and social development and increase their investment in the high-tech and high-end services industries, she stated. "The Chinese government will actively explore new ways for foreign and overseas investment so as to participate in the international economic cooperation on higher levels and in broader fields." "The government will improve policies to encourage foreign firms to invest in the West, Northeast and Tianjin Binhai New Area," Wu said. The vice premier added, "we will also support oversea investment by Chinese businesses and encourage them to carry out cooperation with foreign peers in this regard."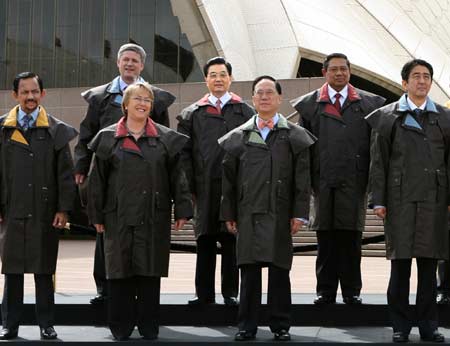 APEC leaders, wearing the Australian outback stockman's raincoats, pose for a group photo during the Asia-Pacific Economic Cooperation (APEC) leaders summit at the Sydney Opera House September 8, 2007.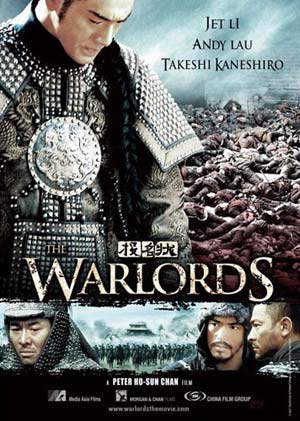 Venice wows 6-minute "Warlords" - To pay his tribute to the Venice Film Festival, director Peter Chan has made a special edition of his new war epic "The Warlords" to be shown during the ongoing festival. The six-minute short film describes the scene of a wretched war field, reflecting the complicated relations between the main characters. Festival director Marco Muller was invited to watch the trailer. He praised the short version as a shocking six minutes, saying that it was the best present at Venice. He said that he felt very regretful that the film missed this year's festival. But, having watched the special version, he thought it no bad thing to wait for such an opus. He was longing for the film's debut in next year's festival. Peter Chan was reportedly still working on his film's post-production editing. The film is slated to open in Chinese theaters in December. Peter Chan's musical romance "Perhaps, Love" was made as the close film of last year's Venice Film Festival.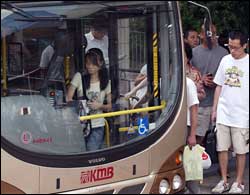 Bus fares are set to go up if Kowloon Motor Bus has its way. The company has applied for an average 9 percent fare rise for all its routes, citing soaring fuel costs and the need to maintain quality services. If approved, the hike would be KMB's first in 10 years. But the move has drawn fire from lawmakers and critics who called the proposed increases "unacceptable" and "too high." KMB chief executive John Chan Cho-chak said on Friday that the company's decision has been prompted by surging operating costs and other factors such as consumer prices, wages and productivity. Other factors which are not part of the new fare-setting mechanism but have been taken into account include rising fuel costs and tunnel fees over the years, he said. Chan noted that KMB has not raised fares since December 1997.
HSBC Holdings (0005) has come under fire from US activist investor Knight Vinke Asset Management, who urged the bank to review its strategy for the future direction and governance of the group. In a separate development, it emerged that HSBC Trinkaus & Burkhardt, the German bank controlled by HSBC Holdings, would consider buying IKB Deutsche Industriebank after it had to be bailed out over the subprime mortgage rout. HSBC was thrown into the spotlight on Thursday when Knight Vinke, which prompted the restructuring of oil major Shell, called on Europe's largest bank to examine its strategy, but declined to comment on specific demands.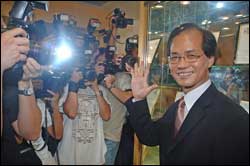 An open recruitment drive is to be launched to fill the post of broadcasting director vacated by Chu Pui-hing. The Civil Service Bureau said on Friday the exercise will begin later this month following its approval of the Radio Television Hong Kong chief's application for early retirement. Government sources said senior executives in the private broadcasting sector and retiring senior government officials are likely to vie for the post. A spokesman for the Commerce and Economic Development Bureau said the decision was taken as the government considered it necessary to allow eligible candidates from the private sector and within the civil service to apply for the job through an open process. The appointment will be for a term of 2 years.

"Literacy One," a new Boeing 777-300ER aircraft owned by Cathay Pacific Airways (0293), will carry more than 400,000 donated children's books from the United States to Hong Kong this year, as a support to Room to Read, a nonprofit body that establishes schools and libraries in the developing world to help break the cycle of poverty.

China: Excess liquidity remains a problem for China even after the central bank jacked up the reserve requirement ratio for the seventh time this year to help subdue the country's mounting trade surplus, said central bank governor Zhou Xiaochuan.

Chinese President Hu Jintao expounded China's stance on tackling climate change and other issues on Saturday at the 15th Economic Leaders' Meeting of the Asia-Pacific Economic Cooperation (APEC) forum.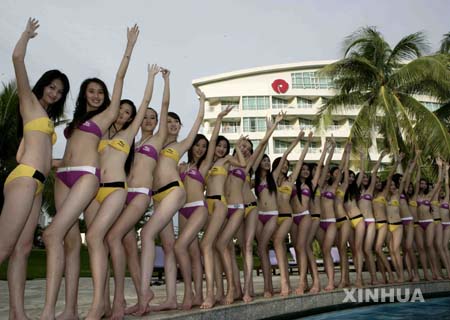 The 2007 New Silk Road model pageant kicked off in Sanya, South China's Hainan Province on Sept. 6, 2007.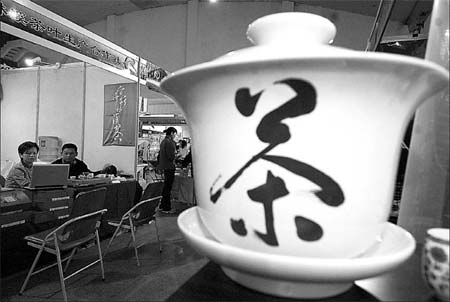 A giant tea cup draws much attention at a tea culture exhibition held this April in Hangzhou, East China's Zhejiang Province. Drinking tea has been an integral part of Chinese culture for thousands of years. Guangzhou's preeminent association for female expats may not be the first place one would expect to find fans of one of its more low-key cultural exports. But over the years, an increasing number of members of the Guangzhou Women's International Club (GWIC) have been embracing the art of kungfu tea (gongfu cha) with a passion. Kungfu tea, in fact only one of many Chinese tea ceremonies, has its origins in East China's Chaozhou, Guangdong Province, during the Song Dynasty (960-1279). The ceremony combines spiritual and ritual, brewing techniques with an appreciation of all these elements, to create an art form. Today, it remains popular in Guangdong and in the Zhangzhou and Quanzhou areas of Fujian Province. And the GWIC, which boasts a regular membership of 500-plus foreigners from all over the world, regularly arranges trips to Tao Ran Tea House in historic Shamian Island, so that members can be introduced to this traditional pursuit.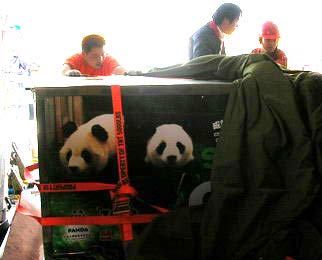 Workers load a container with one of the pandas for Spain to a TNT 747 freighter in the Shanghai Pudong International Airport, on the morning of September 8 2007. The pandas are on their way to Spain's Madrid Zoo for a 10-year stay which is part of the Giant Panda International Conservation Cooperation Project between China and Spain. Bing Xing and Hua Zuiba, the panda duo, will land in Madrid Saturday evening after flying for nearly 14 hours, said Michael Drake, Managing Director for TNT Greater China.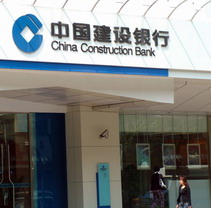 A branch of China Construction Bank in Shanghai. Regulator approved the bank's A-share listing plan on September 7.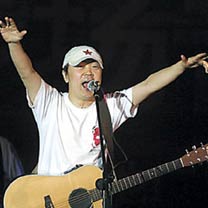 Aplethora of big-name acts are set to inject the capital with a massive dose of rock, with the star roll for this weekend's Beijing Pop Festival featuring industrial gods, Nine Inch Nails, hip hop legends Public Enemy, and Marky Ramone, the surviving member of the Ramones. They join the Who's Who of Chinese rock for a two-day festival of music madness. The third installment of this annual event will be staged at Chaoyang Park in eastern Beijing.
Sept 10, 2007

Hong Kong: Hong Kong remains the world's freest economy, according to a 2007 annual Economic Freedom of the World Report released Thursday by the Cato Institute, a U.S. think tank based in Washington, D.C. This marks the 11th consecutive year Hong Kong has topped the ranking. Hong Kong retains the highest rating for economic freedom with a score of 8.9 out of 10, followed by Singapore, New Zealand and Switzerland. The United States ties for fifth along with Canada and Britain. The report uses 42 different measures to construct a summary index and to measure the degree of economic freedom in five broad areas -- size of government, legal structure and security of property rights, access to sound money, freedom to trade internationally, and regulation of credit, labor and business. The report was released in conjunction with Canada's Fraser Institute and the Economic Freedom Network, a group of independent research and educational institutes in over 70 nations. Hong Kong Commissioner to the United States, Margaret Fong, welcomed the release of the annual report. "I am happy to hear that the Cato Institute and other prominent institutions have once again acknowledged Hong Kong's commitment to the rule of law and free-market principles which grant us such notable distinction," she said. "The report's findings strengthen our resolve in maintaining our core values and solidify our position as an international financial and business center," she added. The first Economic Freedom of the World Report, published in 1996, was the result of a decade of research by a team which included several Nobel Laureates, such as Milton Friedman, and over 60 leading scholars in a broad range of fields, from economics to political science, and from law to philosophy. The report ranks 141 economies for 2005, the most recent year for which data are available, on policies that encourage economic freedom.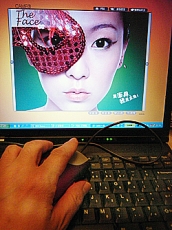 Cosmetics get promotional lift online - Better promotion online. Leading international brand L'Oréal has recently conducted a series of marketing campaigns including giving away free samples of its new skincare products and launching a website with the Chinese domain name "膚老化之謎.CN" (meaning "mystery of ageing skin"). The site allows Mainland consumers to log on and obtain detailed information on its products in the Chinese language. In addition to L'Oréal, other cosmetics giants such as Unilever, Shiseido and Chanel have also lost no time in registering Chinese domain names for their local websites targeting Mainland customers. According to industry experts, leading international cosmetics brands are exploring the best media channels for their local promotions. Online marketing is definitely going to make up a significant part. As market competition gets steeper every day, cosmetics companies have found it increasingly difficult to communicate the unique features of their products in detail to consumers. Conventional advertising channels offer limited exposure, they believe. The launch of the L'Oréal Chinese domain name website has triggered a new trend of online brand promotion that can effectively resolve the communication bottleneck under conventional marketing. Studies have found that cosmetics giants have all introduced websites for their brands under Chinese domain names for some time. As well as those mentioned, companies include La Roche-Posay and Aupres.
Macao International Airport (MIA) and Canada's Winnipeg James Armstrong Richardson International Airport inked a twin-airport agreement on Friday. Deng Jun, Chairman of the Board of Directors of the MIA Company Limited, said while addressing the agreement signing ceremony that the two airports under the treaty are to enhance cooperation in sectors including resource, marketing, airlines and management. The MIA handled 3.7 million passengers and 35,376 take-offs and touch-downs in the first eight months of 2007, according to statistics released by the airport. Winnipeg, being located in Canada's western province of Manitoba, boasts one of the busiest airports of the country.
The Hong Kong Special Administrative Region (HKSAR) government notified Hong Kong Exchanges and Clearing Limited (HKEx) on Friday that it has increased its shareholding in HKEx, for the account of the Exchange Fund, to beyond 5 percent of the share issue of HKEx. According to news from the Information Services department of the HKSAR government, the HKSAR government's shareholding in HKEx amounts to 5.88 percent. Hong Kong Financial Secretary John C Tsang said that the gradual acquisition by the HKSAR government of a significant share in HKEx was a demonstration of the government's long-term confidence in HKEx. The holdings in HKEx will be retained by the Exchange Fund as a strategic asset in support of the maintenance of Hong Kong as an international financial center, he added. "HKEx is one of Hong Kong's principal engines of growth, an important part of our financial infrastructure, and a key agent in the growth of Hong Kong as an international financial center," Tsang said. "This acquisition underlines the Government's support for HKEx and enables the HKSAR government, over the longer term, to contribute as a shareholder to the promotion of HKEx's strategic development," Tsang added.
Hong Kong's foreign currency reserve assets added 1.2 billion U.S. dollars to 138.3 billion U.S. dollars in August, the Monetary Authority said here Friday. The latest figure represents about seven times the currency in circulation or 36 percent of Hong Kong dollar M3. Hong Kong is the world's ninth-largest holder of foreign currency reserves.

Bored with luxury living on land and fancy a high-end residence with a difference? A "mobile home" on the ocean waves may be an option - but only multimillionaires need apply. The most expensive apartments on the world's newest "condo-ship" could set you back more than HK$300million. Homes from home aboard the 219-metre Four Seasons Ocean Residences go on sale in Hong Kong on Saturday. Prices for its 112 residences start at €2.8million (HK$29.7 million) for a relatively modest, one-bedroom apartment. A four-bed triplex covering 7,860 sqft costs €30million, or HK$40,350 per sq ft, almost the same as Hong Kong's most expensive luxury property, at Severn 8 on The Peak. Voyages are due to start in 2010. Buyers are promised decades of world travel in the utmost luxury. Four Seasons Hotels & Resorts will provide five-star-hotel-style services to residents - who can while away their time in the ship's spa, casino and restaurants, on the putting green or snorkelling, scuba diving and jet skiing. Buyers purchase a 50-year leasehold. Danny Warman, vice-president of Florida-based Bayview Financial, one of two companies behind the project, said it had received several letters of interest from potential buyers in Britain, South Africa and the United States. Mr Warman said the apartments would appeal to buyers who do not want the responsibility of running their own vessel. "Having your own personal yacht is great, but there is a group of people who like to be on a boat where they don't have to be on top of the crew all the time. It is like running a small business and it is expensive," he said. The world's first condo-ship, The World of ResidenSea, was launched in 2002. Several others are planned or are being built. Jeremy Leaf, property spokesman for the London-based Royal Institution of Chartered Surveyors, warned that because condo-ships were a relatively new phenomenon, potential buyers must consider several issues carefully. "The limited lifespan of a ship - as opposed to a house, which may keep going for several hundred years - may be one factor, as would be the high running costs," he said. "Resale values, as well as the need for fairly regular, hugely expensive refits would be others." The annual service charge on the cheapest Four Seas Ocean Residences apartment is €72,000.
HK's port cargo throughput rises by 7pc - Hong Kong's total port cargo throughput increased by seven per cent to 63.8 million tons in the second quarter compared with the previous year, latest statistics released showed on Friday. The Census and Statistics Department figures showed that within this total, inward port cargo rose by five per cent to 37.3 million tons, while outward port cargo went up by 10 per cent to 26.6 million tons. For the first half of 2007, total port cargo throughput increased by three per cent over a year earlier to 118.8 million tons. A government spokesman said: "Within this total, inward port cargo decreased slightly by one per cent to 69.7 million tons, while outward port cargo grew by eight per cent to 49.1 million tons." On a quarter-to-quarter comparison, total port cargo throughput increased by 11 per cent in the second quarter. Within this total, inward and outward port cargo rose by 12 per cent and nine per cent, respectively. "Within port cargo, seaborne and river cargo increased by 10 per cent and one per cent over a year earlier to 46.3 million tons and 17.5 million tons respectively in the second quarter of 2007," the spokesman said. Within inward port cargo, imports recorded virtually no change over a year earlier to 21.0 million tons, while inward trans-shipment increased by 12 per cent to 16.2 million tons in the second quarter. "For outward port cargo, exports (including domestic exports and re-exports) decreased by 14 per cent over a year earlier to 8.8 million tons, while outward trans-shipment went up by 28 per cent to 17.8 million tons," he said. Within port cargo, seaborne cargo increased by six per cent in the first half of 2007 over a year earlier to 85.6 million tons, while river cargo decreased by four per cent to 33.1 million tons. Within inward port cargo, imports decreased by eight per cent in the first half of 2007 over a year earlier to 38.5 million tons, while inward trans-shipment rose by nine per cent to 31.2 million tons. For outward port cargo, exports decreased by 13 per cent to 16.4 million tons, while outward trans-shipment went up by 23 per cent to 32.6 million tons. Hong Kong has one of the world's largest, busiest and most efficient ports. The city is the world's largest exporter of garments, watches and clocks, toys, games and electronic products. Hong Kong acts as an entrepot; many goods from the mainland are exported to Hong Kong where they have valued added to them and are then re-exported again overseas.

China: Boeing and China Southern Airlines announced on Thursday the carrier has ordered 55 additional Next-Generation 737-700s and 737-800s for its expanding fleet. At catalogue prices, the order is valued at 3.8 billion dollars, but the model mix was not disclosed, according to a statement released by Boeing. The new order of the 55 airplanes will supplement the 129 737s already in China Southern's fleet as well as 14 more 737s yet to be delivered from previous orders.
China will raise the reserve requirement ratio by 0.5 percentage points for commercial banks to 12.5 percent.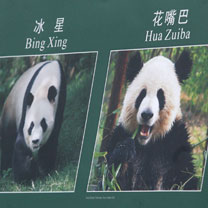 Pictures of giant pandas Bing Xing (Ice Star) and Hua Zuiba (Flowery Mouth) are on display at a panda breeding center in Chengdu, Southwest China's Sichuan Province, September 7, 2007.The pandas set off for Madrid on Friday.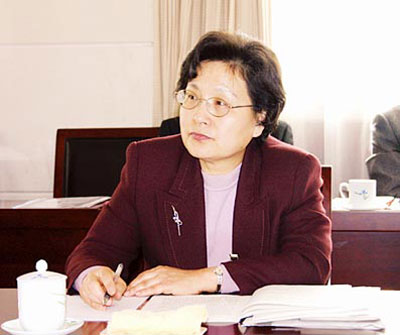 China's State Council, or the cabinet, appointed the head of National Corruption Prevention Bureau, a brand new and first ever anti-corruption agency, here Thursday. Ma Wen, the newly appointed Minister of Supervision, was appointed head of the bureau, with Qu Wanxiang, Vice Minister of Supervision, as the deputy head, according to a press release issued by the State Council. Few detail is available about the establishment of the bureau in the press release. "I have no idea of how the bureau will function. But personally I think this would be a tough job, even tougher than investigating a high-profile official involved in corruption scandal," said Prof Ren Jianmin, from the School of Public Policy and Management of Tsinghua University. One of the important jobs to prevent corruption is to reform the supervision system on officials and develop new anti-corruption policies, he said. Some of these reforms will face resistance as they might harm interests of some powerful people, he said. The news of setting up such a new anti-corruption agency was first released by Gan Yisheng, spokesman for the Central Commission for Discipline Inspection (CCDI) of the Communist Party of China (CPC), early this year. At the annual session of National People's Congress this March, another CCDI senior official Xia Zanzhong also confirmed that the establishment of the bureau has been approved and the framework of personnel been set. As one of the efforts to curb corrupt officials, the new agency is expected to play an effective role in corruption prevention, Gan said at a press conference in February. The proposed bureau will follow effective practices seen overseas, he said. According to Gan, the new agency will set up units at local level once the headquarters is established. "China sets up such a high-powered national corruption prevention body as one of the efforts to apply the United Nations Convention against Corruption," Ren said. It was also driven by domestic need to curb corruption in government departments. According to CCDI, 97,260 officials were disciplined last year, more than 80 percent of whom had failed to carry out duties, taken bribes or violated the party's financial rules. Several high-profile officials had fallen in corruption scandals, including the former head of the food and drug administration and former party head of China's economic hub Shanghai. "We can't count on punishment only. It will take effect for some time but did not touch the root of corruption. We need to enhance the preventive measures," said Yan Qunli, a CCDI official in charge of anti-corruption publicity and education programs. China's policies to prevent corruption used to focus on moral education of government and party officials but in recent years a series of rules and regulations were issued to deal with systemic loopholes, covering administrative approvals, financial management, official promotion and penalty on corrupted officials. The CCDI also kept working out policies against "new forms of corruption" trying to catch as many corrupted officials as possible. Four months ago it has issued a regulation covering several new fields of bribery like taking stocks and shares as gifts, buying houses or cars at ridiculously low prices from those who ask them for favors, laundering bribes by gambling and asking bribers to arrange jobs after retirement.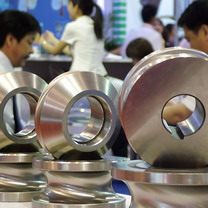 Steel products are displayed at an exhibition in Shanghai on May 10. China's top economic planner urged to curb "drastic fluctuations" of domestic steel prices on Thursday.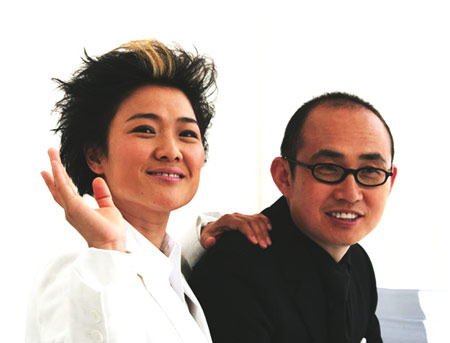 Zhang Xin, born in China and educated in the UK, used to work on Wall Street before she and her husband Pan Shiyi founded SOHO China 12 years ago. The company has grown into one of the largest commercial property developers in Beijing. The couple have become the most high-profile property celebrities in China with their innovative ideas on property development and international vision.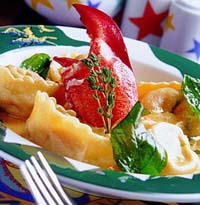 As its name suggests, Bundview offers a picturesque panorama of the Bund and the winding Huangpu River. It is one of those Pudong restaurants that encourages diners to sit back, enjoy the spacious, naturalistic environs and observe the bustling city from a tranquil distance. It being a rare sunny day, we visited and chose our meal from the affordable lunchtime set menu (starting at RMB 88 for choice of appetizer, soup, main course, dessert of the day and one drink). Our first courses, the traditional Caesar salad and minestrone soup, were both well prepared. Our next dish, the green curry with steamed rice, was hearty, with a full-flavored and aromatic sauce. Bundview is a good choice for business lunches or any meal in which luxurious ambiance and a beautiful view are paramount.
Sept 8 - 9, 2007

Hong Kong: Shang Fulin, chairman of the China Securities Regulatory Commission (CSRC), said Thursday that the CSRC has not made any changes in its policies governing the stock listings of mainland firms in Kong Kong. Shang's remarks was a response to earlier media reports that CSRC would not approve initial public offerings of mainland firms in Kong Kong unless the size of the IPO exceeds one billion U.S. dollars or the firms plan spontaneous listings in the mainland and Hong Kong. "China will continue to support Hong Kong as the international financial center," Shang said at a seminar at the Inaugural Annual Meeting of the New Champions hosted by the World Economic Forum in China's northeastern coastal city of Dalian. "The news on the one billion U.S. dollars threshold came from nowhere. The central government didn't make any changes and what changed is the market." The mainland halted the yuan-denominated IPOs when it carried out share-holding reforms between May 2005 and mid-2006. "Therefore, many large mainland commercial banks chose to get listed in Hong Kong as they badly need to raise money to supplement their capital in an effort to facilitate reforms," he noted. The mainland stock markets picked up rally since 2006, ending years of slump, upon the completion of reforms that transformed controlling state-owned shares in most listed firms into tradable shares. The benchmark Shanghai Composite Index rose 1.56 percent to 5,393.66 points on Thursday, more than doubling since the beginning of the year. "Many companies opt to list in the mainland bourses as the IPO prices are higher than those in Hong Kong," Shang said. Some firms are still likely to be listed in Hong Kong in the future for other purposes including boosting management models and corporate governance other than money-raising itself as the experience tells us, he noted. Shang acknowledged that decisive factor behind the IPOs on the mainland is that the companies want to expand influence more effectively as their majority customers are from the mainland. "The CSRC will respect the firms' choices and support them whether they choose to get listed in the mainland or Hong Kong," he added.
Foreign Direct Investment (FDI) from China's mainland and Hong Kong to Australia has increased 196 percent over the past five years, an Australian government agency said Thursday. In 2006, FDI from China's mainland and Hong Kong accounted for 4 percent of the total stock of all FDI in Australia from the Asia- Pacific Economic Cooperation (APEC) member economies, Invest Australia, the Australian government's inward investment agency, said in a press release here.

Hong Kong veteran actor Tony Leung Ka-Fai took off his urbanite image to pass as a village teacher in Zheng Kehong's film "My Career As a Teacher," which hit Chinese theaters on Tuesday.
Social workers staged their largest-ever protest yesterday, then threatened to escalate their industrial action if the government refuses to review the controversial lump-sum grant system. Holding banners and chanting slogans, thousands of social workers took a half-day leave in the afternoon and marched from Edinburgh Place in Central to the government headquarters. Peter Cheung Kwok-che, president of the Social Workers' General Union, said 5,000 serving and former social workers, as well as welfare officers, took part. "We will consider holding a strike which may last for several days. And we don't rule out other industrial actions such as work-to-rule." The social workers first staged a protest in June, demanding the government review the grant system, which they said had cut funding of welfare groups and reduced pay. Protesters yesterday demanded that the funding of NGOs revert to the level of 2000, when the lump-sum grant system was introduced. "This year, the government's funding to NGOs should be about HK$7.3 billion under the lump-sum grant system at year 2000 level," Mr Cheung said. "But the actual funding to NGOs was only HK$6.7 billion." He also demanded the pay of NGO social workers be put on a par with government social workers. A government social worker with a degree gets a starting salary of HK$22,910, but those in NGOs get HK$15,000 to HK$17,000, he said.


It sounds like the plot of a corny movie or musical: student signs up for pop music course and lands songwriting contract with record company. Yet that's what happened to Dominic Chu Chun-kit. "I was just hoping to get a proper education in pop music. It was surreal," says the social sciences major at the University of Hong Kong. "If circumstances allow, I definitely want to pursue a career in pop music, but there's still so much to learn." Chu's feat will encourage those trying to break into the Canto-pop industry, which is often closed to people without the right connections. His composition, Morale, will feature on pop duo Twins' new album due for release later this month. "I couldn't believe I met all these well-known yet mysterious musicians, let alone being taught by them," says Chu, whose 18-month course runs until the end of the year. Music education in Hong Kong is largely skewed towards a classical repertoire. But in the past two years, a few music schools have opened to offer specialised pop courses taught by big-name Canto-pop musicians. The latest is Pops School of Music which opened in July. Elia Lee Ku-wai, a partner in the HK$4.5 million venture, says her school provides a platform for aspiring songwriters to hone their craft and gain more exposure. It offers market-oriented training, referrals to music companies, and instructors such as songwriter Alan Cheung Ka-shing.

Hong Kong Olympic hopeful Jennifer Lee Ming-hua has become a victim of the equine influenza outbreak in Australia with her horse "stuck" in Sydney because of strict quarantine measures. "I have an Olympic-calibre horse, Mr Burns, who I purchased in February. He has been to the World Equestrian Games and is of top quality. Unfortunately, due to circumstances beyond my control, he is stuck in Australia and cannot be moved," explained Lee.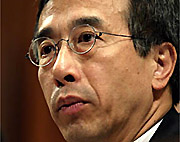 Tourism chiefs hope to join forces - Mutual co-operation and collaboration will be on the agenda when members of the Hong Kong Tourism Board meet their Macau counterparts at the end of next month. They will explore ways to develop the lucrative "Mice" market - corporate meetings, incentives, conventions and exhibitions. The meeting, involving the board's chairman, James Tien Pei-chun, and executive director, Anthony Lau Chun-hon, will come about nine weeks after Las Vegas Sands unveiled its mammoth integrated resort-hotel, The Venetian Macao, which boasts more than 1.2 million sq ft of convention and meeting space. Despite fears that the pace of tourism infrastructure development in Macau will boost its appeal as a top destination for corporate meetings and conferences, Mr Lau said Hong Kong still had a lot going for it as an international city with top professional services and infrastructure. But those from the travel and exhibitions trades largely expect Macau to capture corporate meetings and incentives business, while Hong Kong will remain the hub for conventions and exhibitions. Mr Lau, who joined the board a month ago, said focus should be put on the quality of shows rather than just their size. He said Mr Tien would further promote Hong Kong by highlighting the city's culinary delights on a Discovery Channel program to be broadcast in the US by year's end before being shown around the world.
Peter Tsi Ka-kei has quit as executive director of the Hong Kong Int'l Film Festival. Resignation was tendered Monday to the fest board, which accepted it with immediate effect. Tsi confirmed to Variety that he had resigned. But he offered no further explanation. A spokesman for the festival cited only "personal reasons." According to industry sources, Tsi's abrupt departure follows a period of mounting tension within the org. Tsi had long been outspoken on the need for more financial and promotional support for the festival from gov't sources. The fest receives some HK$7 million ($900,000) from the Arts Development Council towards a budget of $2.5 million. But the 2007 event faced criticisms from film critics that fest had become too commercial as a result of its quest for sponsorship and private sector cash. In the short term Tsi's responsibilities will be shared by the fest's artistic director Li Cheuk-to and administrative director Jannie Ma. Spokesman said that fest will seek applicants for a replacement through public advertisement. The HKIFF Society organizes two annual events, the protracted March HKIFF, which has completed 31 frames, and the more youth oriented Summer IFF. Next edition of the HKIFF is skedded to run March 17 - April 16, 2008.

China: China's currency, the yuan, hit a new high against the U.S. dollar on Thursday at 7.5410 yuan to one U.S. dollar, according to the Chinese Foreign Exchange Trading System. The central parity rate of the yuan, also known as Renminbi (RMB), stood at 7.5410 yuan to one U.S. dollar on Thursday, gaining 136 basis points from Wednesday's reference rate of 7.5546 to the greenback. It is the 57th time since the beginning of this year that RMB reached a new high against the U.S. dollar. It climbed 2,677 basis points, or 3.428 percent, from 7.8087 yuan to one U.S. dollar posted on the last trading day of 2006. The previous hit came last Wednesday, when the currency stood at 7.5505 to the dollar. The accumulative appreciation has exceeded nine percent since China discontinued yuan's peg to the greenback on July 21, 2005. China is wise to appreciate its currency step by step, Robert Subbaraman from Lehman Brothers was quoted by Shanghai Securities News on Thursday as saying. Had yuan risen too quickly, hot money would swarm into China and hurt the labor-intensive industries, said the chief economist from the New York-headquatered investment bank.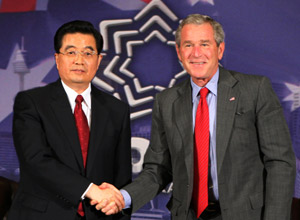 Chinese President Hu Jintao said in Sydney Thursday that numerous facts have proved China and the United States are each other's stakeholders and constructive cooperators. President Hu Jintao, on the defensive over recalls of tainted toothpaste, pet food and toys, told US President George W Bush yesterday that Beijing is stepping up product safety inspections. Hu was the first to bring up the sensitive subject about recent recalls that have stained the "Made in China" label. Bush expressed America's concern about the safety of imported products, and stressed to Hu that safety concerns did not amount to trade protectionism. China has acknowledged that some manufacturers have cut corners and used substandard materials, but that the problem involves a relatively small portion of the nation's factories. Hu told Bush that the government has set up an agency to oversee the quality and safety of exports, and that officials responsible for wrongdoing have been held accountable. "The president was quite articulate about product safety, and I appreciated his comments," Bush said after his sit- down with Hu on the sidelines of the Asia Pacific Economic Cooperation summit in Sydney. At a joint news conference with the summit host, Australian Prime Minister John Howard, Hu said his government is taking the product safety issue seriously. "The Chinese side is willing and ready to work together with the international community to step up cooperation in quality inspections and examinations and further deepen mutually beneficial economic cooperation and trade," said Hu, speaking through a translator.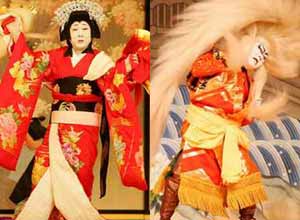 It was a night of spectacular Japanese theatrical scenes -- with actors in elaborate make-up, costumes with brilliant colors, and sakura as the stage background when Two Japanese kabuki classics were presented in Beijing Tuesday.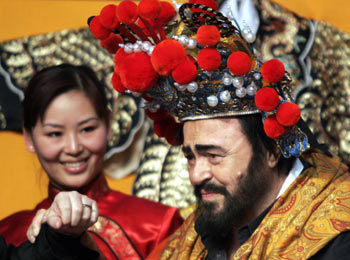 The death of Italian tenor Luciano Pavarotti, who had given Chinese impressive performances for 3 times, aroused great sadness in his Chinese courterparts. "People may not know opera well but they know who is Pavarotti. He is a super star and flagship of Italian opera on the world stage. His death is a great loss," Yao Hong, one of China's best sopranos, told Xinhua here Thursday. She had been on the same stage with Pavarotti at the concert held at the Forbidden City of Beijing in 2001 for China's campaignto host the 2008 Olympics. "I will never forget the moment when I held his hand and sang together at the concert as he has been the master I revere most," Yao said. Pavarotti had been to China for three times, in 1986, 2001 and 2005. On Dec. 8, 2005, he gave a farewell concert in Beijing. "We had the luck to work with this master of opera for several times. He had given Chinese people the chances to enjoy the most wonderful voice in the world. We appreciate him forever," said Liu Xijin, dean of China National Opera House. Pavarotti passed away in Modena of Italy early Thursday at the age of 71. He had undergone surgery for pancreatic cancer last year and stayed out of the stage ever since. "I had expected to sing with him in China again when Beijing hosts the Olympics in 2008. This dream will never realize," Yao the soprano said.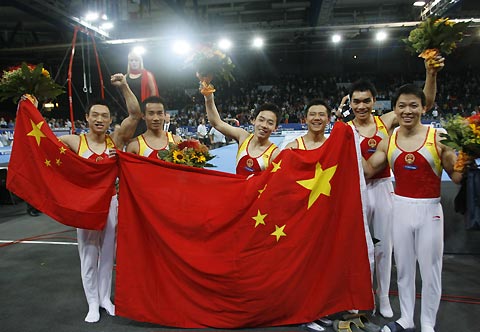 Team China (L-R) Yang Wei, Xiao Qin, Huang Xu, Liang Fuliang, Chen Ybing and Xu Kai celebrate their gold medal in the team all-around competition at the 40th World Artistic Gymnastics Championships in Stuttgart September 6, 2007.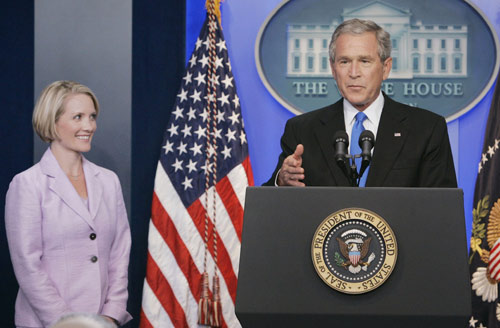 Bush sees 'good opportunity' in China - U.S. President George W. Bush (R) announces that Dana Perino (L) will take over the post of White House Press Secretary from Tony Snow, in the press briefing room of the White House, August 31, 2007. White House Press Secretary Tony Snow gave his resignation to the president earlier in the day. US President George W. Bush said on Thursday China's rapid economic growth has provided a "good opportunity" for the United States as well as other countries in the Asia-Pacific region. "Is China an issue for the world? Absolutely. But I don't view it as a negative issue, I view it as an opportunity to work with one of the really significantly growing economies in the world," Bush said on the eve of his visit to Australia next week. "I view that a growing middle class in China is good for US exporters; it provides opportunity," said the US president, who will attend the 15th economic leaders' informal meeting of the Asia-Pacific Economic Cooperation forum, scheduled to be held in Sydney on September 8-9.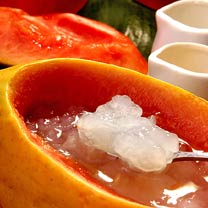 The year 2007 marks the 10th anniversary of Hong Kong's return to the motherland. Also it has been 10 years since Hong Kong tea restaurants landed in Shanghai. After ten years' development, now Hong Kong tea restaurants can be found on every corner of Shanghai and they have become popular dining places for Shanghainese people.
State-owned conglomerate China Resources (Holdings) will invest US$1.2 billion to expand its semiconductor production in Wuxi, Jiangsu province, and move up the value chain.
Sept 7, 2007

Hong Kong: Chief Executive Donald Tsang Yam- kuen yesterday promised university students he is determined to address the widening gap between the rich and poor in his policy address next month.
Boy wonder finds maths a big yawn - One big yawn! That is what child prodigy March Tian Boedihardjo thought about the first lesson of a five-year course that will lead him to a masters degree at the Baptist University of Hong Kong.
Hong Kong banks may not lower their prime interest rates immediately after September 18 - even if the US Federal Reserve decides to cut the Fed funds target rate on that date - due to recent jumps in interbank rates, Citigroup economists said yesterday.

More delays are in store for the mainland's stalled investment "direct train" to Hong Kong, as legal and technical hurdles surrounding the pilot project have not been cleared. Mainland media outlets reported yesterday that sources close to the China Banking Regulatory Commission blamed unresolved technical issues for delaying the launch. Steve Lee, chief executive of China- based fund management company HSBC Jintrust, agreed that the start-up of the project allowing mainland investors to purchase Hong Kong equities may take longer to materialize. He told Reuters that last month's announcement by the State Administration of Foreign Exchange to kick off the project was too sudden. "The whole system and method on how to clear accounts still need time to be resolved. The regulatory policies also have to be revised," Lee said. All this work will further delay the much-anticipated pilot project. Bank of China's (3988) Tianjin branches - the first designated gateway to host the trial scheme - have been packed with eager individuals opening accounts to invest directly in Hong Kong equities. The project is also yet to receive official Chinese regulatory approval.
While power plants are the biggest sources of air pollution in Hong Kong, more than half of the electricity consumed here - 3,097 kilowatt-hours per person each year, or 2,081 tones of carbon dioxide produced - is used for air-conditioning and lighting.

Striking bar-benders on Wednesday tried to persuade other construction workers in Hong Kong to join their industrial action for higher pay and shorter working hours.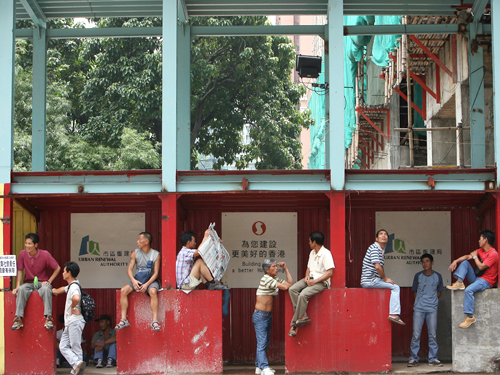 There is little chance of a new round of negotiations this week between striking ironworkers and contractors, a government source said yesterday. The assessment came as the number of construction sites seriously affected by the dispute jumped from nine at the end of August to 14 yesterday, while the number of bar benders on the job remained at about 930. There are 166 construction sites in the city. Bar benders lay the girders that form the skeletons of buildings. "We are not optimistic that the workers and the Bar-bending Contractors' Association will return to the negotiating table this week," the source said, adding that the contractors were furious with the workers for refusing to compromise when given a new offer. At talks last week, the contractors added HK$25 to the HK$850 daily wage they offered on August 12. But this was rejected by the Federation of Trade Unions, which is insisting on HK$900. The leader of the rival Confederation of Trade Unions, legislator Lee Cheuk-yan, admitted the breakdown in talks had made it more difficult to solve the crisis.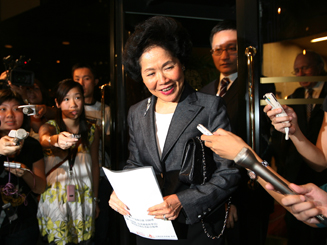 Anson Chan Fang On-sang reiterated yesterday she was not interested in running in the Legco by-election, but said she would consider the views of the pan-democrats after intense lobbying. It is understood that she will soon meet members of the pan-democratic camp on the issue. A day after Cyd Ho Sau-lan withdrew to make way for a stronger contender from the camp, the former chief secretary said again that she had no intention to stand in Legco elections. But she said that she had been urged to join the poll. "I have already said, so far at this point in time, I have no interest in participating in Legco elections. But since I have been approached by different quarters, I am bound to consider the views and I will issue a statement in due course," she said after attending a business forum on universal suffrage last night.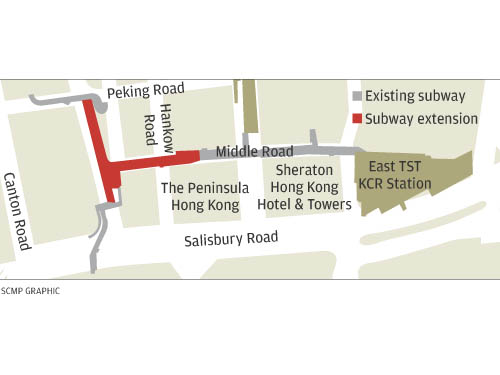 An extended pedestrian subway is to be built to help shoppers in Tsim Sha Tsui. The 240-metre-long subway, costing about HK$215 million, would allow people to get from East Tsim Sha Tsui station to the Canton Road area in 10 minutes, said Ken Wong Kin-wai, senior resident engineer of the Kowloon-Canton Railway Corporation. "It provides an alternative for people. They can walk from one side to the other in the air-conditioned, well-linked pedestrian subway," he said. Now, people coming from the East Tsim Sha Tsui station have to get out of the underpass when reaching the Kowloon Hotel and walk to Canton Road. The new section, named Middle Road Subway Extension, will connect the existing underpass in Middle Road to two government subways, including Kowloon Park Drive Subway and Peking Road Subway.
Rare artefacts from the British Museum – covering a time span of two million years – will feature in an exhibition at the Hong Kong Museum of Art from September 14 to December 2. The show entitled "Treasures of the World's Cultures from the British Museum" will present about 270 sculptures, ceramics, wood carvings, jewellery, drawings and prints from various cultures. "Visitors will be able to explore diverse cultures from ancient Egypt, Rome and Greece, as well as other styles of European, African, American and Asian art," said Thomas Chow Tat-ming, director of Leisure and Cultural Services. Mr Chow said the exhibition was among a number of official events to celebrate the 10th anniversary of the 1997 handover. Highlight items will include an Egyptian wooden mummy board, "the Unlucky Mummy" of about 3,000 years ago; a "Queen's lyre" of about 2600-2400 BC found in the Royal Cemetery at Ur; and a 13th century Egyptian brass "Astrolabe" with silver inlay. Other items will include a marble Roman statue of Dionysus, the God of Wine, of the 2nd century; a walrus ivory chess-piece made in about 1150-1200 and found in Scotland; a portrait-head of Euripides, the leading playwright of Classical Athens; and a nude male drawing by Leonardo da Vinci. "It will give Hong Kong people a rare opportunity to experience an invaluable collection of treasures from the world's oldest and greatest museum," said Stephen Bradley, the British consul-general in Hong Kong. "I hope that this exhibition will be popular with families and that we will see more and more cultural collaborations of this type between Hong Kong and the UK in the future," he added.

China: Chinese mainland's exported frozen shrimps are safe for consumption, China's chamber for food export said in a newly issued statement, responding to Taiwan authorities' late ban on the product. The China Chamber of Commerce for Import and Export of Foodstuffs, Native Produce and Animal By-Products (CFNA) said the mainland has been carrying out strict supervision on raw materials and finished products for frozen shrimp exports, and "nitrofuran is absolutely forbidden to be used in raising shrimps." "Each shipment has to pass drug residue tests before export," the statement said. The Taiwan authorities has banned shrimp imports from the mainland after residue of the forbidden antibiotic nitrofurans, a cancer-causing drug, was discovered in five shipments between July and August this year, local media reported. In the first half of 2007, Taiwan imported 2,500 tons of frozen shrimps from the mainland. The CFNA, however, admitted there are cases of illegal exports, and blame them for the recent food safety problems spotted in mainland aquatic food exports. The substandard illegal exports "have greatly tarnished the reputation of mainland aquatic products," it said. The CFNA opposed extreme trade protectionism in any form which may mix up the illegal with legal activities, or the individual cases with the panorama, the statement said. And the CFNA urged relevant authorities to keep sober and revoke import restriction in any form. The CFNA was a non-profit national trade and industry organization which represents over 5,400 members on the mainland.

New health chief shines on debut - Health Minister Chen Zhu's debut appearance at a press conference Wednesday hosted by the State Council Information Office on China's medical system ended on a high note - with applause for the minister from the assembled reporters. "Applause is rare," Yang Huayun, a veteran reporter with Beijing News, said. "What impressed me most was his gentle manner toward the media." Yang said a "no comment" approach by senior officials to reporters was usual. Throughout the two-hour press conference, Chen had a smile on his face. He profusely thanked the press corps and said the media was a government watchdog. Chen's approach is typical of the new generation of high-ranking officials who tend to be more media-savvy and candid, Yang said. Yang said he was also impressed with Chen's academic background. "He got his doctorate in France and speaks good English."
Wei Rongping, director of the Bifengxia Panda Base of the Chinese Research Center for the Protection of Giant Pandas, examines a panda cub in Ya'an of southwest China's Sichuan Province on Sept. 4, 2007. A total of 22 giant pandas have been artificially bred in China this year, with 21 of them surviving.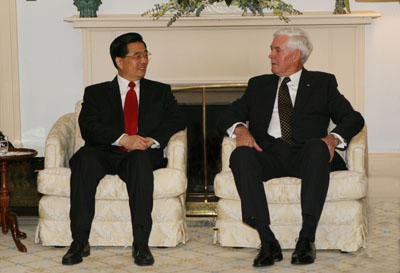 President Hu Jintao (L) meets with Australia' s Governor-General Michael Jeffery (R) at Government House in Canberra September 4, 2007. Hu is scheduled to attend the 15th Asia-Pacific Economic Cooperation forum in Sydney on September 8-9.
Chinese mainland's exported frozen shrimps are safe for consumption, China's chamber for food export said in a newly issued statement, responding to Taiwan authorities' late ban on the product. The China Chamber of Commerce for Import and Export of Foodstuffs, Native Produce and Animal By-Products (CFNA) said the mainland has been carrying out strict supervision on raw materials and finished products for frozen shrimp exports, and "nitrofuran is absolutely forbidden to be used in raising shrimps." "Each shipment has to pass drug residue tests before export," the statement said. The Taiwan authorities has banned shrimp imports from the mainland after residue of the forbidden antibiotic nitrofurans, a cancer-causing drug, was discovered in five shipments between July and August this year, local media reported. In the first half of 2007, Taiwan imported 2,500 tons of frozen shrimps from the mainland. The CFNA, however, admitted there are cases of illegal exports, and blame them for the recent food safety problems spotted in mainland aquatic food exports. The substandard illegal exports "have greatly tarnished the reputation of mainland aquatic products," it said. The CFNA opposed extreme trade protectionism in any form which may mix up the illegal with legal activities, or the individual cases with the panorama, the statement said. And the CFNA urged relevant authorities to keep sober and revoke import restriction in any form. The CFNA was a non-profit national trade and industry organization which represents over 5,400 members on the mainland.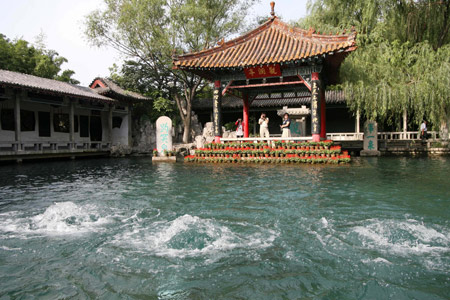 Tourists watch the spewing of the Baotu Spring in Jinan, capital of east China's Shandong Province, Sept. 5, 2007. The water table of the Baotu Spring reached 28.74 meters on Wednesday. The spring has been spewing since its re-spewing in September 2003.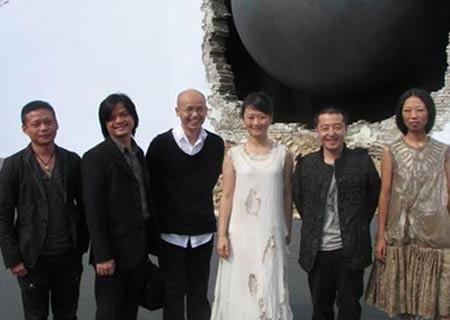 (R-L) Fashion designer Ma Ke, director Jia Zhangke, and the production team of the documentary "Inutile," pose at the film's premiere in Venice, on Monday, Sept. 3, 2007.
Ten Chinese movies will be sent to the coming Hollywood China Film Festival, said the State Administration of Radio, Film and Television (SARFT) here Wednesday. The movies, including My Dream, The Knot, The Tokyo Trial and The Longest Night in Shanghai, are all latest motions in China, the SARFT said in a press release. My Dream, a documentary on disabled dancers of China Disabled People's Performing Art Troupe, had been released at Cannes in May this year winning favorable response. The third Hollywood China Film Festival is scheduled to be held at Hollywood from Nov. 1 to 29, jointly hosted by EDI Media Inc., Ruddy Morgan Organization, Shenhart Entertainment and Sun Media Investment Group of Companies, the press release said. The first festival was held in September 2005 in Los Angeles, the United States, aiming to promote exchanges between film makers of the two countries and introduce more Chinese movies to U.S. audience.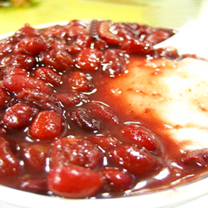 The year 2007 marks the 10th anniversary of Hong Kong's return to the motherland. Also it has been 10 years since Hong Kong tea restaurants landed in Shanghai. After ten years' development, now Hong Kong tea restaurants can be found on every corner of Shanghai and they have become popular dining places for Shanghainese people.
Toymaker Mattel Incorporated on Tuesday announced a third recall of Chinese-made toys, saying it would take back more than 800,000 units globally that contain "impermissible" levels of lead. In total, 522,000 US toys and 322,000 outside the United States are being recalled. The toys were shipped between August 3, 3006, and July 31, this year, the company said. The latest recall involves three Fisher-Price toy models and eight Barbie brand play sets.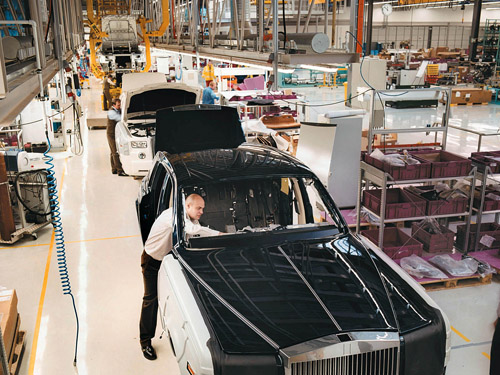 The argument that China is stealing jobs from the west is lost on French entrepreneur Jean-Louis Desjoyaux. He is focused on meeting orders piling up from wealthy Chinese for his swimming pools, which are made in France. Mr Desjoyaux's 210 employees in France have 800 pools to produce for private Chinese clients, and sales are up 90 per cent this year. Mr Desjoyaux opened his first outlet in Beijing in May and expects the mainland to rival Europe as a market within a decade - buying 10,000 of his pools each year.
Sept 6, 2007

Hong Kong: The New York Stock Exchange (NYSE) has been given green light to open a representative office in Beijing, the Chinese securities regulator announced Tuesday. The approval, the first after China's rules allowing overseas bourses to set up offices came into effect on July 1, will enable the NYSE to woo more initial public offerings in the fastest-growing major economy. Before the approval only Hong Kong Exchanges and Clearing Limited established a representative office in Beijing in 2003 in accordance with the Closer Economic Partnership Arrangement between the Chinese mainland and Hong Kong. China's nod given to the NYSE to open Beijing office indicates its active efforts in materializing the fruits of its first strategic economic dialogue with the United States held in December last year, the China Securities Regulatory Commission (CSRC) said. On May 20 China unveiled the management rules that give green light to the establishment of representative offices of overseas stock exchanges in the country. The NYSE can only do non-operating activities including liaison,promotion and research and is required to submit reports to the CSRC on the work of its Beijing office as well as on the information of its listed Chinese firms and members. China has always been taking a gradual, mutually beneficial andopen approach in developing its capital market, and the approval is a voluntary opening-up initiative on the Chinese side, an unnamed senior official with the CSRC said. The establishment of representative offices by overseas bourseswill help perfect the basic systems of the nation's capital marketby offering us an insight into the securities markets and money-raising channels in foreign countries, the official stated. The CSRC added that several other major foreign bourses have also filed applications for establishing offices in China.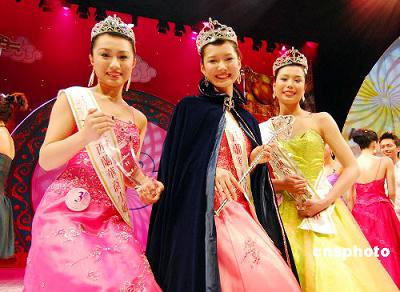 Li Sha (C), the winner of the Miss New Zealand Chinese Beauty Pageant 2007, poses for a photo with the first runner-up (L) and the second runner-up (R)after the final competition held at Aotea Centre in New Zealand on September 2, 2007.

HSBC Holdings (0005) has agreed to pay about US$6.31 billion (HK$49.22 billion) for a 51.02 percent stake in South Korea's sixth-largest lender, Korea Exchange Bank, and will await approvals later to conclude the deal.
Bribes and hidden trade barriers are costing APEC member states at least US$148 billion (HK$1.15 trillion) in lost economic activity, according to a World Bank report published yesterday.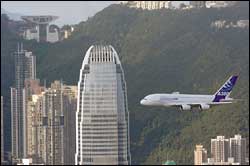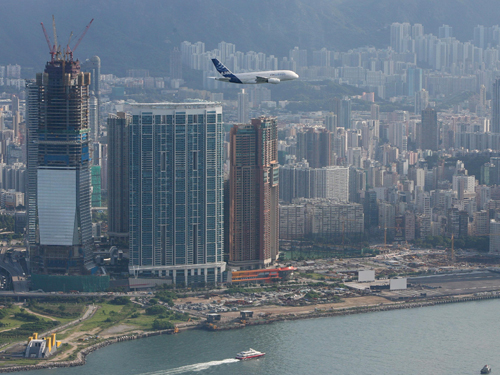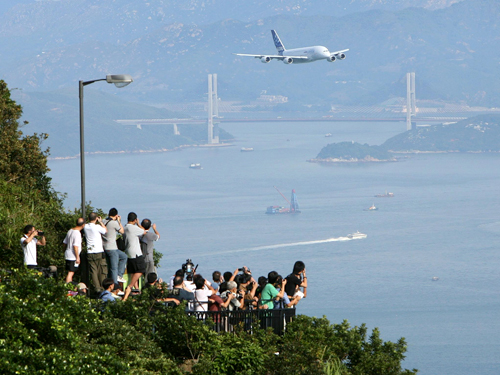 Hundreds of people packed vantage points on both sides of Victoria Harbor yesterday for a close glimpse of the Airbus A380 super jumbo jet, which historically cruised through the city's skyline at an altitude of 1,300 feet above sea level.

In a surprise move, former lawmaker Cyd Ho Sau-lan has decided not to run in the Hong Kong Island legislative by- election in December.

Business heavyweight Jack So Chak-kwong will spearhead Hong Kong's efforts to fight off competition from Macau for convention business as chairman of the Trade Development Council. His appointment, to a two-year term, was announced yesterday. He takes over from Peter Woo Kwong-ching on October 1. "At a time when Hong Kong needs to respond swiftly to our country's rapid economic growth and changes in global business, I am confident that Mr So, with his wealth of experience in marketing Hong Kong around the world, is exceedingly well equipped to lead the TDC in the demanding task in the next two years," Chief Executive Donald Tsang Yam-kuen said. The challenges facing Mr So include helping Hong Kong-invested factories engaged in the processing trade across the border - which have been hit by new central government rules and by the recalls by US toymakers of millions of mainland-made toys - and fighting off competition from Macau for exhibitions and conventions. Jack So Chak-kwong, chairman of the Hong Kong Film Development Council, has been appointed chairman of the territory's Trade Development Council. TDC is the government-backed promotion org which organizes numerous trade shows and conventions in Hong Kong including FilMart and Entertainment Expo. Earlier this year So was appointed chairman of the FDC, the body set up to administer the $38 million of new coin injected by the government into the HK movie sector (Variety, April 15, 2007). According to sources at the Commerce and Economic Development Bureau So's appointment at the TDC will not affect his FDC role. So was recently MD and deputy chairman at telecoms to Internet TV group PCCW and was previously executive director of the TDC between 1982 and 1995.
Multiplex Cinema (MCL) and Shaw Property Holdings are building Hong Kong's biggest ever multiplex: The Grand Cinema. The more than HK$100 million (US$12.8 million) project will have 12 screens and more than 1,600 seats. Located at Elements, a high-end shopping mall at MTR's Kowloon Station--a public-transport train stop--the multiplex is skedded for an Oct. 1 soft opening. To help kickoff The Grand Cinema's Infrasonic System, U.S. comic book artist and animator Pat Lee will make a 30-second CG animation to highlight the technology that allows some sounds to be felt but not heard. Lee has worked on "Spider-man¨ and "Transformers¨ comic series. The cinema will be operated by MCL, which is the sister company to distrib Intercontinental. MCL currently operates three other cinema sites in Hong Kong: MCL JP Cinema in Causeway Bay, MCL Cinema Metro in Tseung Kwan O and MCL Kornhill Cinema in Taikoo. Not only will the facility house theaters, but also a thematic restaurant, gallery, interactive zone and souvenir shop.

China: China's shipbuilding industry posted a 151 percent increase in first-half profit, and the volumes of orders exceeded those of Japan and South Korea.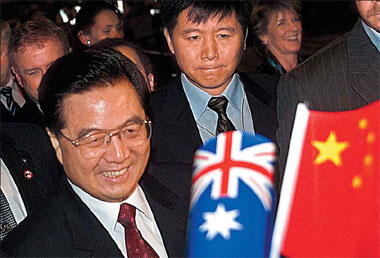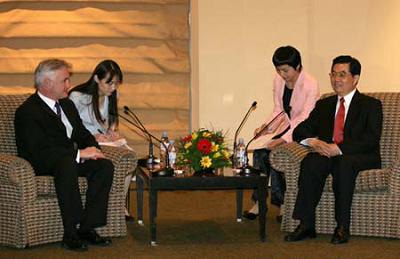 Chinese President Hu Jintao meets with West Australia Premier Alan Carpenter in Perth Monday. Chinese President Hu Jintao arrived in Perth Monday for a state visit to Australia, where he will also attend the APEC Economic Leaders' Meeting in Sydney on September 8-9. During his visit, Hu is expected to discuss with Australian leaders ways of furthering the development of bilateral relations, as well as major world and regional issues of common concern. This year marks the 35th anniversary of the establishment of diplomatic ties between China and Australia. In 2006, the two countries agreed to develop comprehensive and cooperative ties for mutual benefit in the 21st century.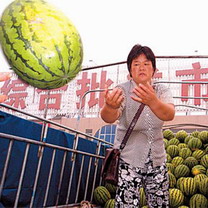 A trader unloads watermelons at a wholesale market in Beijing. Senior commerce officials yesterday urged foreign investors to expand in China's agricultural wholesale sector.
Sept 5, 2007

Hong Kong: The 12th Golden Bauhinia Awards, organized by the Hong Kong Film Critics Association, announced its winners on Saturday, with three films sharing Best Film kudos. "After This Our Exile" walked away with five awards, including best pic, supporting actor and newcomer. Johnnie To's "Exiled" snatched best director and best pic alongside Patrick Tam's drama and Jacob Cheung's "A Battle of Wits." Lau Ching-Wan followed his Hong Kong Film Award win by taking the best actor crown, while best actress was shared between Gong Li and Charlene Choi.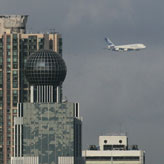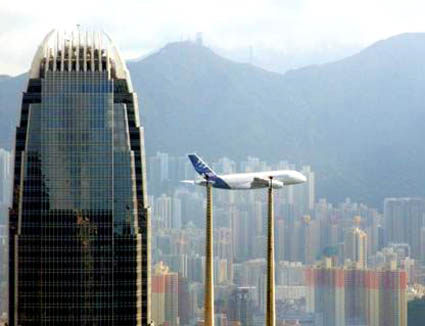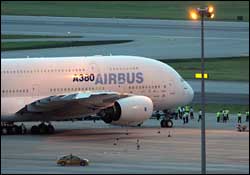 Airbus A380, the world's biggest passenger plane so far, made low flights across the Victoria Harbor in central Hong Kong in a flying show shortly before the opening of Asia's largest airshow on Monday morning. The superjumbo jet, 72.8 meters long and with a wingspan of 79. 8 meters, thrilled spectators at the harbor by flying low against the backdrop of dense skyscrapers nearby, making it possible for people on the ground to have an unusually detailed view. The plane generated a comparatively smaller noise as it flied over the Victoria Harbor, a spectator was quoted by the local RTHK radio as saying. The plane arrived at Hong Kong's International Airport at Chek Lap Kok at about 6:30 p.m. local time Sunday. It took off from the airport at about 7:53 a.m. local time on Monday.
The new second hangar at the Hong Kong Business Aviation Centre will be able to handle the next generation of large business jets, said Financial Secretary John Tsang Chun-wah on Monday. Mr Tsang said this would include large planes such as the Boeing 737-700 and the new Airbus A380 – which is currently in Hong Kong for the first time. The financial secretary was speaking at the Grand Opening Ceremony of Hong Kong Business Aviation Centre to celebrate the opening of the second hangar. "Since its inception, the Business Aviation Centre has positioned itself as Asia's premier executive aviation support facility and has played an important role in meeting the travelling needs of senior business executives," Mr Tsang said. He said the new hangar, which occupies a site of 4,500 square metres, was the product of a HK$100 million investment. "This investment is also a vote of confidence in the future of executive jet traffic, which we expect will continue its rapid growth in the light of our vibrant economy and the exponential growth of the mainland economy." Mr Tsang said the second hangar will be able to respond to other market needs. "The improved services of the centre will also strengthen the connectivity of the Hong Kong International Airport, which prides itself on being a regional and international aviation centre and one of the gateway hubs of the mainland. The finance secretary said the Airport Authority and the government were working closely to maintain the long-term competitiveness of the airport. "Apart from expanding the air network, we are pursuing various initiatives to stay ahead in the highly competitive aviation environment," added Mr Tsang. Hong Kong's International Airport has over the past few years enjoyed strong growth in passenger traffic. According to the HKIA website, annual passenger and cargo throughput reached 44.4 million and 3.6 million tonnes in 2006, up 9.1 per cent and 5.2 per cent over 2005, respectively. Over 85 airlines operate at HKIA, linking Hong Kong with more than 150 locations round the world, including some 40 cities in the mainland.
The Hong Kong Monetary Authority announced here Monday that the Authority has granted a banking licence to The Shanghai Commercial and Savings Bank, Ltd. (SCSB) under the Banking Ordinance. The granting of this banking licence took effect on Aug. 31, 2007. SCSB was incorporated in Taiwan in 1954. According to the July 2007 issue of The Banker, SCSB is the 11th largest bank in Taiwan and the 290th largest bank in the world in terms of tier one capital. After the granting of a banking licence to SCSB, the number of licensed banks in Hong Kong has increased to 143.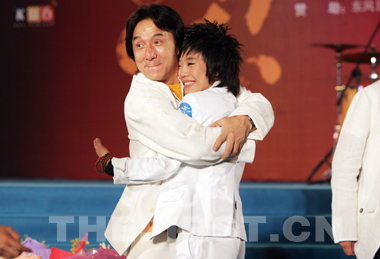 Chinese star Jackie Chan and Super Girl-turned singer Xu Fei hug each other at the premiere of "Air Dairy" in Beijing on Sunday, Sept. 2, 2007. The inspiring teenpic "Air Dairy", which premiered on Sunday, boasts two dazzling titles: the virgin silver screen show of the 2006 Super Girl singer Xu Fei, and the first production of Jackie Chan's filming plan named "Chinese New Movie Supporting Scheme."
EganaGoldpfeil, (0048) a Hong Kong- based luxury goods maker, is struggling to secure liquidity for ongoing operations in the wake of revelations that it may not be able to recover HK$2.28 billion owed to it.
Sing Tao News Corp will turn its English language newspaper The Standard into a free newspaper starting from next Monday in a move to explore new readers and advertising revenue.
Former chief secretary Anson Chan Fang On-sang said on Monday she was not interested in contesting a seat in the Legislative Council at present.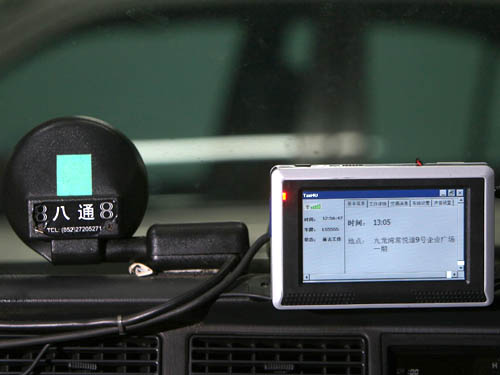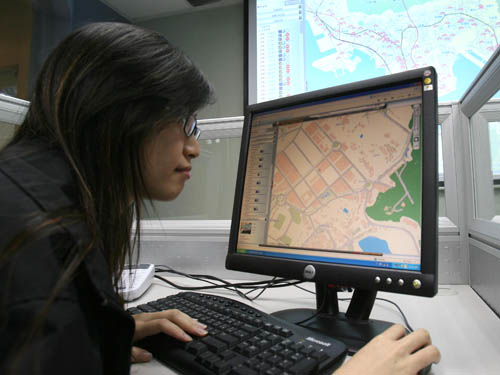 Rude and unscrupulous cabbies could be driven off the roads when a global positioning system is launched next month. More than 1,000 taxis will initially be fitted with the navigational devices. The cabs belong to a new radio-taxi company called HK Cab ITS and will roll onto the streets this autumn. The company - jointly owned by the six largest taxi groups and Castel Spaceinet Communications - said the fleet would expand to at least 5,000 by the middle of next year. There are 18,138 taxis in Hong Kong and 15,250 are urban cabs. Apart from improving navigation, the HK$20 million system would improve deployment of taxis and standardise quality, it is claimed. Kwok Chi-ping, Spaceinet managing director, said operators at the control centre in Lai Chi Kok would distribute jobs according to the proximity of taxis to the caller, with each cab appearing as a red dot on a wall-sized electronic map that also shows traffic conditions. "We send messages to empty cabs to inform them of a job to shorten waiting time," Mr Kwok said. "Drivers can choose if they want it or not. But we provide them with an extra source of customers at low cost and they don't have to pay for the equipment. I don't see why they wouldn't want to join us." The system is also designed to improve driver safety. If drivers feel threatened by a passenger they can press an alarm linked to the control centre. On receiving the signal, operators start recording the conversation inside the taxi and police can be called if drivers are in danger. The cabs are also protected against theft as drivers have to enter a code before they can start the engine. Fuel supply is cut if the taxis are started by other means. But in exchange for these services, drivers must be polite, Mr Kwok said. "You must have heard unpleasant tales of disputes between drivers and passengers regarding fares, choice of routes or attitude problems, but in our team, drivers must never scream at the passengers." Traditionally easy prey for rogue drivers, like foreigners, can also claim their money back if it is proved that the driver demanded an unreasonable fare or had taken them on a longer route than necessary. "Every detail of the trip is recorded, along with traffic conditions, so there will be no argument," Mr Kwok said. He expects that up to 90 per cent of urban cabbies will eventually join his team. Transport analyst Hung Wing-tat said if the scheme worked, the company could monopolise the radio-taxi trade, which may turn the city's cab operation into one similar to that in Singapore - where on-hire cabs have been replaced by radio taxis. But Professor Hung said there was a long way to go because the company could only exert power over the drivers as long as it provided them with extra profits. The Transport Department said it welcomed initiatives to enhance taxi services. Meanwhile, the Transport Advisory Committee is examining how to improve the taxi trade's competitiveness and whether its fare structure is outdated. The findings will be released by early next year.

China: China's securities watchdog has given the green light to the country's first stock-oriented fund managed by a QDII (qualified domestic institutional investor), Monday's Shanghai Securities News reports. The fund, established by the China Southern Fund Management Co., Ltd., is to be launched in RMB on September 12 and invested in global stock markets. A fund industry analyst said the launch of the new fund was a landmark step in China's fund industry, meaning that domestic capital can flow over the border to seek better returns. The new fund differs from existing QDII funds in that it can invest 100 percent of its assets in global stock markets, instead of investing low-risk, low-return bond and currency markets only. The report said it will operate in the markets of 48 countries and regions, out of which the ten most valuable markets will be carefully selected for key investment. Currently the 10 markets include the developed markets of the United States, Japan, China's Hong Kong, Switzerland and Italy, as well as emerging markets of Russia, India, Brazil, Malaysia and the Republic of Korea. In developed markets, the fund aims to gain steady average income in the long term by investing in ETFs, while in emerging markets it will mainly invest in ETFs and mutual funds. In Hong Kong, it will directly invest in stocks. In an effort to curb excessive liquidity, the Chinese government has tried to encourage investment in overseas markets since 1996. The Shanghai-based Hua An Fund Management Co., Ltd. became China's first fund management firm to be allowed to invest overseas as a pilot QDII, with a quota of 500 million U.S. dollars. Its first QDII product, launched in November last year, raised 197 million U.S. dollars and yielded five percent over the subsequent six months.

Chinese President Hu Jintao arrived in perth, Australia on Monday for a state visit to Australia, where he will also attend the APEC Economic Leaders' Meeting in Sydney on September 8-9. During his visit, Hu is expected to discuss with Australian leaders further development of bilateral relations and major world and regional issues of common concern. This year marks the 35th anniversary of the establishment of diplomatic ties between China and Australia. In 2006, the two countries agreed to develop comprehensive and cooperative ties for mutual benefit in the 21st century.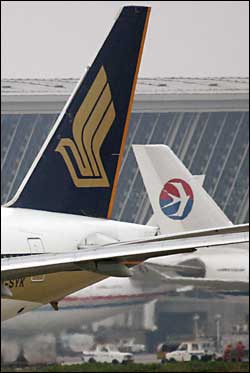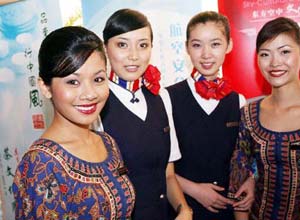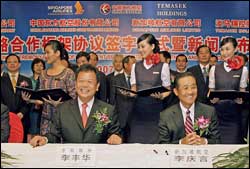 China Eastern Airlines (CEA), one of the country's leading carrier, announced on Sunday it will sell a 26-percent stake to Singapore Airlines Limited ("SIA"). Industry analysts believe the long- awaited transaction allows SIA to secure a foothold in an aviation market that is shaping up to be at the center of growth in Asia, a region which will be the world's biggest market for aviation by 2010, according to International Air Transport Association forecasts. The deal will enable China Eastern to strengthen management and improve bottom line, polish its brand reputation and sharpen its competitive edge as the carrier prepares to take on domestic rivals such as Air China (0753), in which Cathay Pacific Airways (0293) holds 17 percent. Under the deal, the strategic investors will be held to a three-year lock-up period. Singapore Airlines chairman Stephen Lee Ching Yen said yesterday the acquisition is for the long haul. "Even though there is a three-year lock-up period, it doesn't mean we are ready to sell out in three years. As far as SIA is concerned, this is of long-term strategic importance." Temasek is SIA's biggest shareholder with a 55.14 percent interest as of June. In July, the annual Skytrax survey rated SIA as the Airline of the Year. China Eastern president Cao Jianxiong said the deal will boost the company's finances and operations.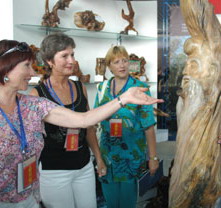 Trade between China and Russia is expected to surpass 40 billion U.S. dollars this year, Wei Jianguo said on Sunday.

Multinationals need to rebuild corporate image in China - McDonald's has approved a pay raise for more than 95 percent of its employees in China, a move that may redeem the fastfood giant's reputation in the wake of being accused of underpaying its staff. The payment adjustment, the first ever initiated by the hamburger king since it came to China 17 years ago, was launched on Saturday, company sources said. The move was in response to extensive public outcries that the company, along with KFC and Pizza Hut, has been underpaying their part-time staff in the southern city of Guangzhou by up to 40 percent below the local statutory minimum wage of nearly US$1 an hour, he said. The beneficiaries, mainly part-time workers in about 75 percent of McDonald's outlets across the country, will see their basic payment raised by 12 to 65 percent. The salary incident was a result of the development of China's social supervision system and the growth of people's consciousness of social injustice, said Wang Lingyi, professor with Shanghai Academy of Social Sciences, pointing out that "many foreign firms are forced to rebuild corporate image." "Just depending on PR activities to build up corporate image is no longer adequate in China, where the legal system is being updated and industrial criteria are catching up with the world's level," he said. Peng Xizhe, professor of social sciences with Shanghai-based Fudan University, said that "transnational companies were once considered business examples, but many have been found of attempting to test the limit of Chinese laws and ethical principles." German engineering powerhouse Siemens, under investigations over bribery and corruption allegations in Europe and the United States, sacked 20 employees in its China branch last year, saying they had been found to be related to things the company "doesn't want to accept." Following a report released by a German magazine last week saying that about half of Siemens' business in China was tainted by bribery, Peter Loescher made his first visit to China after being appointed Siemens' new CEO. In addition, about 90 foreign-invested companies, including KFC, Pepsi and Carlsburg, have been found of violating Chinese rules on waste discharge since 2004, a recent report by the Institute of Public and Environment Affairs said. An on-line survey shows that more than 73 percent of the interviewed were strongly against foreign companies which moved polluting industries to China. Another 82.5 percent of netizens blamed those who forged deficit statistics to avoid tax paying in China, the survey conducted by Ipsos between June to July said. More than 280,000 foreign-funded companies have registered in China by the end of June this year, bringing in a total investment of US$180 million, government figures show. At the same time, Chinese public are paying more attention to whether these multinational companies are performing in accordance with laws and commercial ethics and realize due social responsibilities, Professor Wang said. Mere public relations strategies won't work, and big multinationals need to rebuild their lost role of business models in China, just as they used to do in their home countries, he said.
While China's week-long National Day holiday is still a month away, many people have already started making preparations for trips during the golden travel season. Han Kui, with China Youth Travel Service, said they have been busy dealing with travel applications starting from last week. "Tourists who plan to visit some far away places have all started registration. Packages to some hot destinations, like Europe and Maldives have almost been booked out." He says that domestically, Hainan, Yunnan and Sichuan are proving most popular, while Europe and Australia are the hottest overseas sites, as October is the best travel season for these destinations. However, along with the increase in enthusiasm, travel has come a hike in the prices of holiday packages across the board, whether domestic or overseas. China Youth Travel Service's Wang Yuan said, "As a result of the rise in air ticket and local hotels as well as transport, the price of all routes have generally risen 10 to 20 percent." For this reason, insiders are suggesting that travelers start their trips either a few days before the holiday begins or towards the end of it if they want to enjoy substantial discounts.

French retail giant Carrefour confirmed in a statement seen on Monday that eight Beijing managers are being held by police in a kickback probe and vowed to root out such practices.
Sept 4, 2007

Hong Kong: Organizers of an innovation festival in Hong Kong Friday asked the public to post their most wanted technology breakthroughs on a website in hope of finding inspirations to lead researches. "Innovation begins with ideas," said Anthony Wong, commissioner for innovation and technology of Hong Kong Special Administrative Region, at the launching ceremony of the festival, adding that the website was intended as a convenient interactive platform for end- users to communicate their needs and expectations to researchers. Ten most wanted technology breakthroughs will be selected for public voting in mid-September, when the festival's highlight Innovation Expo '07 will be held. Hong Kong has been emphasizing innovation and technology in recent years in efforts to ensure its sustained development as one of the world's most robust cities. Wong said the festival was aimed at enhancing public awareness of Hong Kong's achievements in innovation, technology and design. "The event will nurture the interests of the younger generation in technology, thereby grooming more local talents in innovation and technology," he said. The ten-week festival features a variety of programs, including the exposition, roadshows, seminars, robot games, workshops, competitions and a design exhibition. A group of primary students tried in a preview attempt Friday to set a world record for the most Lego robots in a tug-of-war. The actual attempt will be on Sept. 16. The Innovation and Technology Commission of the Hong Kong SAR, main organizer of the festival, said the Ministry of Science and Technology of the central government had pledged its support through lining up technology projects such as the Three Gorges Project.
The mainland will intensify cooperation with the Hong Kong government to further improve food quality in the special administrative region, the country's top quality control official said on Friday. Li Changjiang, minister of the General Administration of Quality Supervision, Inspection and Quarantine, said that cooperation would focus on the increased exchange of information, updating of safety standards and improvement of laboratory facilities. "We've been attaching great importance to the safety of food exported to Hong Kong," Li told visiting Hong Kong Food and Health Secretary York Chow. Chow said Hong Kong imported 90 percent of its foodstuffs, with 60 percent of supplies coming from the mainland. In the first seven months of this year, the mainland exported 300,000 tons of fresh vegetables, 165,000 tons of meat, 75,000 tons of aquatic products, 850,000 live pigs, 4.6 million live poultry and 50 million eggs to Hong Kong. At the same time, the Hong Kong Food and Environmental Hygiene Department conducted two extensive studies of food quality. These revealed that 99.2 percent and 99.6 percent of food on the local market was up to standard. "The results show that the quality of our food exported to Hong Kong can be guaranteed," Li said. But he acknowledged that problems remain and that the two sides should intensify cooperation to ensure that all exported food is safe. Chow thanked the mainland inspection and quarantine departments for their efforts to prevent substandard products from reaching Hong Kong. He also applauded the recent moves by the central government to improve food safety and product quality, and pledged Hong Kong's support for the campaign.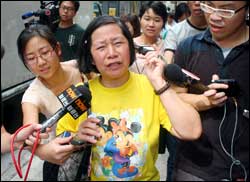 The Securities and Futures Commission has frozen the assets of Man Lung Hong Securities and its clients after the regulator uncovered misappropriations of client assets worth about HK$20 million. The commission also issued a restriction notice ordering the local small brokerage to stop trading or engaging in any activities for which it is licensed. An SFC spokesperson said 28 clients had reported a shortfall of shares totaling about HK$20 million. Upon further investigation, the regulator determined that Man Lung Hong management had identified earlier misappropriations but concealed them from clients and the SFC. "Based on our initial inquiries, we do not have confidence in the firm's internal control and believe that client assets are at risk," the SFC said in a statement. "[This] calls into serious doubt the integrity of the firm and its fitness and properness to remain licensed." Some clients of the brokerage showed up on Friday at Man Lung Hong's locked offices in Central to demand release of their money. They were not allowed into the office and were told all assets had been frozen by the SFC.
The subprime-led slowdown in US demand for Chinese goods has been offset by growing demand in Asia and Europe - which has now taken over the United States to absorb 67 percent of the mainland's exports, according to a Hang Seng Bank report.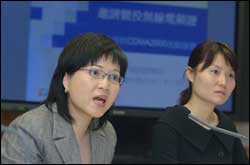 The government will auction off Hong Kong's fifth license to operate high- speed mobile services late next month or early November with a reserve price of HK$76 million, it was announced on Friday. The reserve price is about 60 percent lower than the previous one six years ago. The radio spectrum on offer is based on the code division multiple access 2000, which is used in many countries including the United States, Japan and South Korea. "The reserve price has to reflect the market situation, it has to be at a level that will not create too high an entry barrier," said Marion Lai Chan Chi-kuen, deputy secretary for commerce, industry and technology. Lai said the reserve price was set with regard for current market conditions and international benchmarks. "If you look at auctions for 3G spectrum internationally, such as in the United States, Denmark and Malaysia, the price has decreased by an average of more than 60 percent," she said. Phone operators will have until October 12 to submit bids.
Recent developments in Macau could threaten Hong Kong's existing convention and exhibition services, Secretary for Commerce and Economic Development Frederick Ma Si-hang admitted Friday.
The Venice Film Festival was to unveil Taiwanese director Ang Lee's steamy spy thriller Se, Jie (Lust, Caution) yesterday as its 75th anniversary celebration went into full swing. Despite a heavy presence of British and US entries this year - totalling nine of the 22 starting candidates for the Golden Lion in the main competition - the festival also boasts a sizeable Asian contingent. On Thursday, Taiwan's Ang Lee unveiled his spy thriller Se, Jie (Lust, Caution), a tense drama set in Japanese- occupied Shanghai in the 1940s. An erotic form of the Stockholm Syndrome - developed through a series of emotionally ambiguous sex scenes - causes a resistance spy played by novice actress Tang Wei to save the life of a powerful political figure she was meant to set up. "Sex in my film? It's just the search for oneself. What I wanted to show was none other than ambiguity," Lee said.
Efforts to boost traffic on the underused Western Corridor by mainland authorities appear to be paying off as the number of cross-border trucks surged more than 80 times last month compared with July. According to Customs & Excise Department statistics, 11,865 trucks passed through the new vehicular crossing between August 1 and August 30, compared with 147 - an average of roughly five a day - in July.
A Hong Kong woman who apparently hit a jackpot of HK$40 million in Macau is unlikely to cash in the amount due to a "machine error", the city's deputy gaming inspector said yesterday. "It seems that the amount will not be paid out," said António Pedro Silva Correia Paiva, deputy head of the Gaming Inspection and Co-ordination Bureau (DICJ) "It's a gross mistake [by the machine]," Mr Paiva said. Mr Paiva said it had happened because of a software problem in the machine at the StarWorld Casino. "That machine never pays [so much]. It's queer," he said. The middle-aged woman, surnamed Tin, deposited a HK$5 coin in a slot machine at the StarWorld casino about 8pm on Thursday. Shortly after she pushed a bet button, the red light started flashing on top of the machine and the number 40,000,000 appeared on the credit meter. But casino staff told Ms Tin it was a mechanical mistake and switched off the machine despite her protests. She then called the police. A spokeswoman for Galaxy Entertainment (SEHK: 0027), which owns StarWorld, said the maximum jackpot payout of that machine was HK$45,000.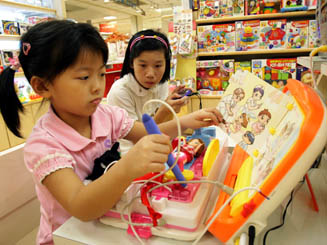 The mainland officially put in place systems to recall unsafe food and toys yesterday, in one of its strongest steps yet to deal with recurring quality problems.
Property sales in Hong Kong's primary and secondary markets increased last week, buoyed by a recovery of investor sentiment on the stock market and the pre-sale of units in Central Park Towers in Tin Shui Wai. Transactions in the primary market, which had languished since the beginning of the year as developers focused on selling remaining units in projects already launched, surged last week to more than 1,120 from 37 a week earlier, thanks to the launch of Central Park Towers. Property agents said about 98 per cent of the transactions came from the pre-sale of Central Park Towers, a mass residential project developed by Cheung Kong (Holdings) (SEHK: 0001) in Tin Shu Wai. Shih Wing-ching, chairman of Centaline (Holdings), the parent company of Centaline Property, said the strong sales showed buyer hunger for new residential projects. "Prices of most of the units in the project are below HK$2 million," he said, and the sale came with mortgage schemes that made the units more affordable. Fredy Wu Yat-fat, chief executive of Hong Kong Property, said many developers planned to relaunch the remaining units of their projects after seeing the strong sales in primary market. One project relaunched recently was Chianti in Discovery Bay, developed by HKR International (SEHK: 0480). Property agents said prices of the remaining 200 units in the development ranged between HK$3,000 and HK$5,000 per square foot. In secondary market transactions in the key 50 housing estates monitored by Ricacorp Properties, deals increased to 257 last week, a modest rise from 240 in the period a year earlier. The average price of the units sold rose 0.4 per cent to HK$4,063 per square foot from HK$3,907 a week earlier. David Chan Tai-wai, a director of Ricacorp Properties, said the transactions at key housing estates in Hong Kong Island and Kowloon increased 28 per cent and 4 per cent to 51 units and 105 units, respectively. The increase was driven by the stock market recovery and the willingness of flat owners to cut their asking prices, Mr Chan said. Secondary deals in the New Territories rose 2 per cent to 101 as property agents steered buyers to units in Central Park Towers with attractive commissions of 2.5 per cent. Kingswood Villas in Tin Shui Wai was the most popular housing estate in the secondary market two weeks ago, recording 23 transactions at an average price of HK$1,807 per square foot. However, this dropped 43 per cent to 13 units last week. For the overall secondary market, Mr Chan expects transactions to rise 10 per cent this week and property prices to remain stable.

China: China's State Council, or the cabinet, Saturday announced that it has amended a property management regulation to protect the legal rights of owners and service companies. The amendment came amid efforts to ensure the smooth implementation of the Property Law, which will also come into effect on October 1. The 70-article regulation aims to "standardize property management and protect the legal rights of the owners and property service companies". The regulation stipulates that "owners are entitled to appeal to the People's court to repeal any decision by owners committee that violates their legitimate rights." The newly amended regulation underscores that owners' meeting have to represent more than half of the total owners possessing more than half of the total building area. Under the new regulation, raising or using special funds for maintenance and reconstruction and affiliate facilities should be approved by over two thirds of the owners possessing more than two thirds of the total building area, which conforms with the 76th Article of the Property Law.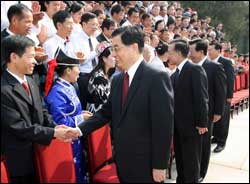 One of President Hu Jintao's closest aides is tipped for promotion, while an ally who was sacked as Beijing mayor during the 2003 SARS crisis has made a political comeback, signs of the leader's growing strength. The changes were part of a reshuffle ahead of the party's 17th congress, which opens on October 15 with Hu expected to promote more of his men to key posts and further consolidate power. Ling Jihua, 50, deputy director of the General Office of the Communist Party's Central Committee, is expected to replace Wang Gang, 64, as director in the near future, two sources with ties to the leadership said. "It's a very important job," one source said, adding it was an indication Hu was politically stronger. The general office is the party's nerve center, handling classified documents and administrative and logistical affairs of the party's 23-member, decision-making Politburo. Previous directors of the general office were concurrently alternate members of the Politburo, including Wen Jiabao, who is now premier, and Zeng Qinghong, the vice president. State media said former Beijing mayor Meng Xuenong, 58, had been appointed deputy party boss of the coal- rich northern province of Shanxi. "Hu does not have a lot of people he can trust," a second source said, referring to Meng's comeback. On Thursday, parliament approved the appointments of new ministers of state security, personnel and supervision.

Vice Premier Wu Yi was named the second most powerful woman in the world by Forbes magazine in a list released on Friday.
Beijing will ban all unlicensed catering outlets and celebrity-starred medical ads by the end of this year, according to the capital's quality and food safety authorities. The city would focus its quality checkup on ten kinds of products , including food, drugs, home appliances and toys, said the municipal government when kicking off a four-month campaign aimed at improving product quality and food safety on Saturday. Vegetables, fruits, meat, edible oil, aquatic products, children's food and health food are the main targets in food checkups, according to a detailed plan for the campaign. The plan says that by the end of the year the city will close all unlicensed restaurants, all its food producers must be qualified, and no harmful material can be used in food processing. Medical advertisements in which public figures or experts testify the alleged effectiveness of products will also be banned. "Currently, the main problem in the city's product quality and food safety lies in small food processing factories and workshops and in the urban-rural fringe areas," said Lu Hao, vice mayor of Beijing. The checkups will be carried out by the city's industry and commerce, quality supervision and health departments. The Chinese government has been striving to improve product quality after a string of safety scares with China-made products at home and abroad. The scares included tainted wheat gluten for pet food and children's toys found to contain excessive lead levels. In the latest move, China's quality watchdog on Friday introduced the nation's landmark recall systems for unsafe food products and toys. The recall regulations went into effect on the same day.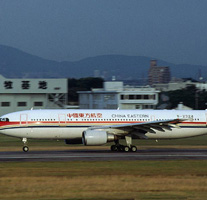 China Eastern Airlines realized 58.21 million yuan (US$7.7 million) in net profits in the first half of this year, up 104.36 percent over the same period of last year. In a major effort to restructure China's fledgling air flight industry, Beijing has given the final approval for the Shanghai-based China Eastern Airlines to sell a 24 percent stake to Singapore Airlines and the well-known Temasek Holdings.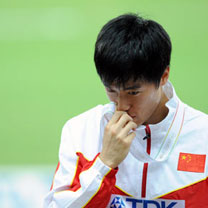 Newly-crowned world champion Liu Xiang from China kisses his gold medal on the podium at the awarding ceremony for the men's 110 meters hurdles final at the 11th IAAF World Athletics Championship in Osaka September 1, 2007.
The Chinese government is working on specific regulations for collecting royalties from television, radio stations for using music works, a senior official said in Beijing over the week. However, it has not been decided when the regulations will be publicized, Liu Binjie, director of the General Administration of Press and Publication (GAPP) and the National Copyright Administration (NCA), was quoted as saying. The Chinese government's efforts in combating piracy and protecting intellectual property rights (IPR) have resulted in more shops and restaurants signing up to pay royalties on the ubiquitous background music that had long been used for free. Background music played at department stores or hotels -- also called "muzak"-- received legal protection in China in 2001 under revisions to the Copyright Law. The law states that both live and mechanical performances enjoy the same rights. Up to now, most big hotels, department stores and supermarkets in Beijing and Shanghai have paid fees to the Music Copyright Society of China (MCSC) for using the songs under their administration, according to sources. And Karaoke bars in China's main cities were made to pay 12 yuan (US$1.50) a day in royalties to music artists for each room, according to a regulation set by China's National Copyright Administration late last year. However, most television and radio stations in China are still using music works without paying any royalties. The Music Copyright Society of China is now negotiating with television and radio stations on copyright fee payments, China Press and Publishing Journal reported. The Music Copyright Society of China is the country's only officially recognized organization for music copyright administration. The association has now administered copyrights for over 14 million music works by 4,000 members. Public venues including hotels, restaurants and department stores are charged with different standards by the society. The usual fee is 2.54 yuan (US$33.9) per square meter per year for a department store of 10,000 to 20,000 square meters to use the music, the society said.
He Ping has been appointed as the new editor-in- chief of Xinhua News Agency, the media group said.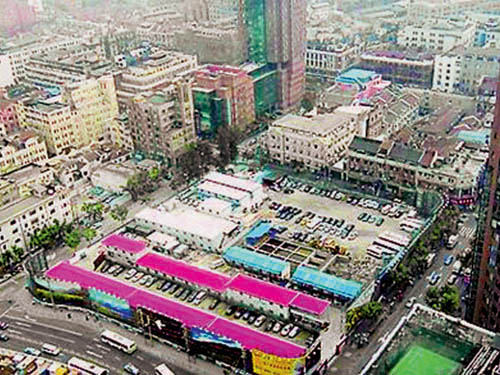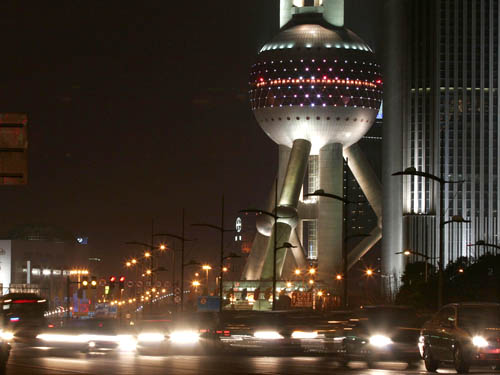 The record price a rare commercial site in Shanghai fetched at an auction last week will provide a big boost to the office and retail leasing market in the city, property consultants say. The 13,709 square metre office-retail site on East Nanjing Road, Shanghai's busiest shopping address, was sold to Suning on Friday for 4.4 billion yuan, or a record 66,927 yuan per square metre. Assuming a developed gross floor area of 65,743 square metres, space must be offered by the winning developer at 100,000 yuan per square metre - double current market prices - to make a reasonable profit. The auction's surprise outcome reflected a vote of confidence from local and overseas developers in Shanghai's economic outlook and pointed to even higher prices ahead, the consultants said.
Sept 3, 2007

Hong Kong: Total visitor arrivals to Hong Kong exceeded 2.45 million in July, up 12.3 percent over the same month last year, the Hong Kong Tourism Board said Thursday. The rise took the cumulative total from January to July to over 15.48 million, with 7.7 percent year-on-year growth. Arrivals from most key regional source markets showed growth, with double-digit increases seen from Europe, Africa and the Middle East at 17.7 percent, the Chinese Mainland at 16.2 percent, Australia, New Zealand and the South Pacific at 13.5 percent, North Asia at 11.5 percent, South and Southeast Asia at 8.1 percent and the Americas at 7.9 percent. Visitors from the Chinese Mainland represented 56.6 percent of July's arrivals in Hong Kong. Travelers under the Individual Visit Scheme numbered 799,582 for the month, 57.5 percent of the visitors from the Chinese Mainland, up 30.7 percent over the same month last year.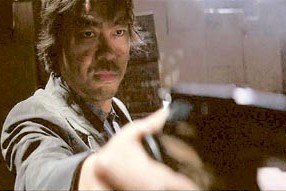 "Mad Detective" and "Exodus" Premiere at Toronto - Two Hong Kong films are set to premiere at the 2007 Toronto International Film Festival which will run from September 6-15. "Mad Detective" by Johnnie To and Wai Ka Fai will be screened at Special Presentations, a showcase for daring and artistic films with high-profile stars or directors. In this suspense action drama, Lau Ching Wan plays a reclusive yet gifted mad detective who is enlisted to help crack the case of a missing police pistol connected to a series of heists and murders. Andy On, Kelly Lin and Lam Ka Tung co-star. The picture marks Lau's first role after winning best actor for the first time at this year's Hong Kong Film Awards. It is also the first directing collaboration between To and Wai since 2003. The duo previously co-directed a string of highly successful films, including "Running on Karma", "Turn Left, Turn Right", "Love For All Seasons", "My Left Eyes Sees Ghost" and "Fulltime Killer". Meanwhile, Pang Ho Cheung's "Exodus" is in the Vanguard section dedicated to irreverent, stylistically playful films that challenge the boundaries of social discourse. The HK$10 mn production is about a police cop (Simon Yam) who uncovers a secret worldwide network of women conspiring to exterminate men. His investigation is soon thwarted with the organization's infiltration into the police force and soon he can no longer trust anyone, including his family. The cast also features Annie Liu, Irene Wan and Nick Cheung. Both "Mad Detective" and "Exodus" are scheduled for release in Hong Kong before year-end. As previously announced, Wilson Yip's action-packed "Flash Point" starring Donnie Yen, will be played in the Midnight Madness section of Toronto.
HSI punches through 24,000 - Hong Kong stocks rallied 2.1 per cent on Friday as United States rate-cut hopes and news that the United States government would help tackle the subprime mortgage problem.
Leon Ko Sai-tseung stays where his music doesn't - in the background. Despite having penned a Canto-pop hit in secondary school, winning numerous music awards, and with a Broadway musical in the works, the composer avoids celebrity. It's away from the limelight that he's most at ease - and inspired. "I guess I need to observe; I like to walk down the street and among the crowd without being part of it," Ko says. "Sometimes people scare me. I don't know why. At one point, I lived in my own shell. I stroll down the street in my own shell now and just pick up things from people ... and that's my inspiration." His music, on the other hand, seeks to make an impression. "It has to be felt; I believe in a very strong theme." No atmospheric compositions for Ko, who writes mainly for theatre and film. "I like strong melodic themes be they in theatre, pop or movies. I just can't get away from tunes, so that's going to be in whatever I do." There will be plenty of powerful tunes in Angel Falls, his latest work with playwright Raymond To Kwok-wai and the Hong Kong Dance Company. The production, which tells the story of a young man's pursuit of a dance career over family objections, opens next week. It marks Ko's first foray into dance, a dreaded territory for him.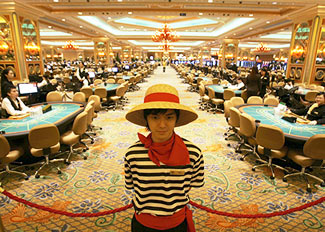 The world's largest casino attracts thousands of eager Chinese punters - ITS construction involved filling in the sea between two of Macau's islands to recreate the Las Vegas strip, and then carefully cutting out tiny canals to provide at least a hint of Venice. On August 28th the Venetian Macau, the world's biggest casino, opened its doors to an ocean of people eager to get to its tables. A packed ceremony in the casino's 15,000-capacity arena culminated in Diana Ross singing "Ain't No Mountain High Enough"—reflecting, perhaps, the hopes of both the gamblers with their stacks of chips, and the firm behind the casino, Las Vegas Sands. It would be hard to find a project more amenable to hype, or an industry less shy about disclosing its extravagance. The enormous building, Asia's largest, required 20,000 construction workers and 3m sheets of gold leaf. Running it takes 16,000 employees and enough power for 300,000 homes. Construction costs swelled from $1.8 billion to $2.4 billion—more, the South China Morning Post pointed out, than Macau's entire public-works budget for the past five years. The Venetian has 870 tables and 3,400 slot machines in the world's largest gambling hall, which is encircled by 350 shops, more retail space than any Hong Kong mall. That is also over twice as many tables as existed in all of Macau in 2002, when a local monopoly was broken and the Las Vegas operators were allowed in. This brought together American firms, with their business plans and architectural schemes honed in Nevada, and enthusiastic Chinese punters. Macau's old casinos could not compete. Las Vegas Sands opened its first casino in Macau in 2004, and it became profitable overnight, as did casinos opened by fast-moving rivals. Investors took a while to understand the market's potential, but between late 2005 and early 2007 shares in Las Vegas Sands doubled. But they have since been volatile. The Chinese authorities recently cracked down on visas issued from southern China—the kind of political twist that can play havoc with strategic planning. Wynn Resorts, Sands' closest rival, has scaled back its own expansion in Macau. But Sands' chairman, Sheldon Adelson, is convinced that the Venetian's success is a sure-fire bet. Judging by this week's crowds, he may well be right.
Jet Li says he and Jackie Chan are getting old and audiences that view "The Forbidden Kingdom" should not expect too much from the martial arts scenes. "When Jackie Chan and I first wanted to work together 15 years ago, our passion was at its peak. ... Our desire to succeed was very strong," the 44-year-old Li told The Associated Press. "Now we joke that when we watch the 'The Forbidden Kingdom' our combined age is 100." (Chan is 53.) The martial arts stars come to grips and blows in "The Forbidden Kingdom," about an American teenager's fantasy journey to ancient China to rescue a mythological Monkey King, but Li warns: "How intense are the battle scenes? My mentality is to not have high expectations." The film is tentatively scheduled for U.S. release next spring.
Total deposits with authorized institutions in Hong Kong went down two percent in July, with HK dollar deposits declining 5.9 percent and foreign currency deposits rising 2.8 percent, the Monetary Authority said in a report Friday. Hong Kong dollar demand and time deposits shrank, but savings deposits expanded, with renminbi deposits going up 0.9 percent to 27.9 billion RMB (3.67 billion U.S. dollars) at the end of July, accounting for around 1.2 percent of total foreign currency deposits, said the report. Total loans and advances contracted by 4.8 percent as the decrease in HK dollar loans exceeded the increase in foreign currency loans. Loans for use in Hong Kong declined by 6.0 percent whereas those for use outside Hong Kong grew by 2.2 percent. Decrease in HK dollar loans was faster than deposits, leading the HK dollar loan-to-deposit ratio down to 72.9 percent at the end of July. On a seasonally adjusted basis, HK dollar M1 declined by 3.1 percent in the month but increased by 12.1 percent on a year-on-year basis. Unadjusted Hong Kong dollar M2 and M3 both decreased by 5.5 percent during the month, although they went up 20.2 percent and 20.1 percent respectively from a year earlier.
Total assets of Hong Kong's Exchange Fund added 17.6 billion HK dollars, or 1.4 percent, in July, amounting to 1,274.5 billion HK dollars (163.4 billion U.S. dollars) on July 31, the Monetary Authority announced Friday. The increase consists of a growth of 5.2 billion HK dollars in foreign currency assets and a rise of 12.4 billion HK dollars in the Hong Kong dollar assets. The rise in foreign currency assets was attributed to valuation gains on foreign currency investments and interest and dividend from foreign currency assets, which were partly offset by redemption of certificates of indebtedness, the Monetary Authority said in a report. The rise in HK dollar assets was due mainly to valuation gains of Hong Kong equities held by the exchange fund and an increase in exchange fund bills and notes issued but not yet settled, which were partly offset by fiscal draw downs. The monetary base at the end of July was 296.9 billion HK dollars, representing a decrease of 1.6 billion HK dollars, or 0.5percent, from the end of June 2007. The backing assets increased by 1.5 billion HK dollars, or 0.4 percent, to 333.6 billion HK dollars, pushing the backing ratio to rise to 112.39 percent from 111.28 percent at the end of the previous month. (7.8 HK dollars = 1 U.S. dollar)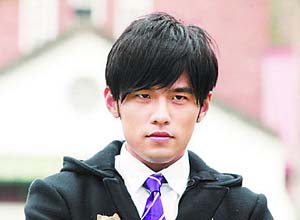 Jay Chou is incorporating plots into his upcoming Shanghai concert scheduled on Nov. 24, relating to each song he is going to play, according to the Shanghai Morning Post.
Chinese famous director Feng Xiaogang's "Assembly" has been selected as opener of the 12th Pusan International Film Festival (PIFF), local media reported on Wednesday. According to local media, the festival has also decided to close with Japanese imitation "Evangelion 1.0: You Are (Not) Alone," which is directed by Hideaki Anno, Kazuya Tsurumaki and Masayuki. The "Assembly" will be screened as a world premiere at PIFF. It is the latest film of Feng who has made films including "The Banquet," "A World Without Thieves," and "A Sigh." The film is a human drama portraying a soldier who devotes his entire life to redeeming the honor of fellow soldiers who are declared missing in action. PIFF, one of Asia's major film festivals, will be held in the southeastern port city of Busan on Oct. 4-12.

China: U.S. President George W. Bush said on Thursday China's rapid economic growth has provided a "good opportunity" for the United States as well as other countries in the Asia-Pacific region. "Is China an issue for the world? Absolutely. But I don't view it as a negative issue, I view it as an opportunity to work with one of the really significantly growing economies in the world," Bush said during a round-table interview with Asian media on the eve of his visit to Australia next week. "First, I view that a growing middle class in China is good for U.S. exporters; it provides opportunity," said the U.S. president, who will attend the 15th economic leaders' informal meeting of the Asia-Pacific Economic Cooperation (APEC) forum, scheduled to be held in Sydney on Sept. 8-9. "By the way, it's not only good for U.S. exports, it's good for Australian exporters, and it's good for Japanese exporters, and it's good for Singaporean, Malaysian -- anybody who is making a product somebody wants, it's just a good opportunity," he added. On U.S.-China relations, Bush stressed that it is important for the two countries to have a strategic relationship that allows for engagement and helps both to deal with issues such as trade deficits. In response to a question, the president dismissed the notion that Washington has been distracted from engagement in Asia because of the war on terror and issues like Iraq. He said relations between the United States and the Asia-Pacific region have never been better. "This just doesn't happen without work," he said. As to the upcoming APEC meeting, Bush said he was looking forward to discussing trade with other leaders of APEC economies. He said his first priority for trade at the meeting will be on the Doha round of talks and hoped leaders at the APEC meeting will express their desire to see the Doha round succeed.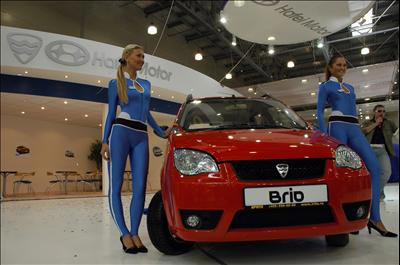 Models present a new car of China's Hafei Automobile Group at Krokus Expo in Moscow. A batch of new cars launched at the exhibition by Chinese enterprises attracted many visitors.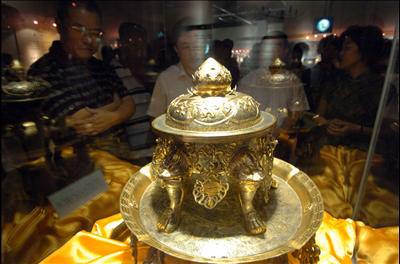 More than 200 pieces of cultural relics from the underground palace of the Famen Temple near Xi'an were exhibited on August 30 in Tianjin.
China's quality watchdog on Friday introduced the nation's landmark recall systems for unsafe food products and toys amid efforts to improve product safety. The two regulations, following the introduction of recall system for defective automobiles in 2005, went into effect on Friday. The General Administration of Quality Supervision, Inspection, and Quarantine (AQSIQ) stated the recall systems were culmination of recent regulations on the supervision of product quality and food safety promulgated by the State Council, or cabinet. The regulations require manufacturers are required to stop production and sales, notify vendors and customers, and report to the quality control authorities when product defects are found. The regulations, however, did not specify how the producers should notify the vendors and customers. The manufacturers are also ordered to take all necessary timely measures, including replacing or refunding to mitigate the effects brought about by the unsafe food and toys. The government took all the measures after the safety of China-made products became a major concern at home and abroad with frequent product safety scares. The scares ranged from ducks and hens that were fed cancer-causing Sudan Red dye to make their egg yolks red, to pet food made of melamine-tainted wheat protein that killed scores of dogs and cats in the United States. The AQSIQ acknowledged that the recall systems supplemented China's legal system on product safety supervision and management. The recall systems, coupled with market access systems, would help to strengthen the government's supervision of product safety and tackle product safety emergencies more effectively. The regulations state clearly that producers must take the prior and major responsibilities for preventing and eliminating unsafe food and toys. This would push them to enhance product safety awareness and step up efforts on quality management, the AQSIQ stated.
Chinese mainland has overtaken Japan as Australia's number one trading partner, according to official figures released Friday. The Australian Bureau of Statistics (ABS) said that Australia's trade with the Chinese mainland was worth 50.5 billion dollars (US$41.4 billion) in the 12 months to July, while trade with Japan reached 49.7 billion. It is the first time in 36 years that Japan has not topped the list of Australia's international trade partners. "This is very much a big deal. For the past 36 years, Japan has retained the mantle of Australia's largest trading partner," Commsec chief equities economist Craig James said. "Now that mantle is held by Chinese mainland." Japan remains the main destination for Australian exports at 32.4 billion dollars, while Chinese mainland is the main supplier of imports to Australia at 27.5 billion dollars. James said trade between Australia and Chinese mainland had doubled in the past three years and expected bilateral ties to continue to flourish. "The trading, cultural and political relationship with China will grow more and more important in coming years," he said. "Australian companies that fail to embrace the importance of China to the Australian economy will quickly fall behind."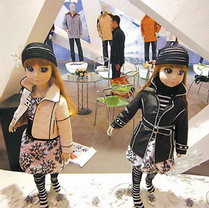 Children's clothes on display at a Beijing exhibition. China welcomes the results of a New Zealand probe into the safety of made-in-China children's pajamas.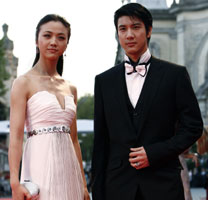 Chinese actress Tang Wei and actor Wang Lee-hom arrive at the Cinema Palace in Venice August 30, 2007. Tang and Wang star in director Ang Lee's movie "Lust, Caution" which is showing at the Venice Film Festival.
Eat hotpot during such a scorching summer? The idea may sound crazy. But the newly opened Le Shabu Shabu Pot claims their special soups can dissipate internal heat.
More international flights are expected to service Hainan with the liberalization of aviation rights for the mainland's most southern province, the chairman of Hainan Meilan International Airport (0357) said yesterday.

China replaced five Cabinet ministers - including the finance minister and the head of the secret police - the government said yesterday, just weeks ahead of a major Communist Party meeting that will set the country's policies for the next five years.
Beijing is likely to make clear its stance on Hong Kong's pace of democracy in February ahead of the National People's Congress' new term, which starts in March, executive councilor Tsang Yok-sing said yesterday.
Sept 1 - 2, 2007

Hawaii:
A Birthday Celebration for Queen Lili'uokalani: this Sunday, 'Iolani Palace. Lili'uokalani is remembered today as the queen who was deposed - and as a famous composer.

Hong Kong: Temasek Holdings, the investment arm of the Singapore government, is selling its entire stake in Greentown China Holdings (3900) to raise up to HK$1.36 billion, taking advantage of gains in the developer's shares amid a market rebound.

Investment guru Mark Mobius launched a scathing attack on the US bank regulator and rating agencies over their role in the subprime mortgage crisis, saying there had been an "oversight" of the problem. Mobius, managing director of Templeton Asset Management, also claims that Asia and emerging markets could bail out the US economy with their enormous foreign reserves. Mobius, who oversees more than US$30 billion (HK$234 billion) in emerging-market investments, slammed the US bank regulator and rating agencies for the recent global subprime turmoil and raised the thorny issue of corporate governance in the United States. "The regulators should have stopped the banks from accepting these kinds of loans. Where was the banking regulator when these mortgages were being sold? They were not doing their jobs. Now banks around the world are suffering," Mobius told a press conference in Hong Kong yesterday. "The rating agencies are paid to do their jobs by the companies - they must be influenced by this. This presents a conflict of interest."
Hong Kong Jockey Club chairman John Chan Cho-chak yesterday urged the government to reconsider the club's earlier request for five more race days per season and for a slight increase in the number of simulcasts of overseas races.
Beijing has delayed enforcing a controversial new rule penalizing exporters of low-end goods, giving breathing space to tens of thousands of Hong Kong manufacturers across the border likely to be hit by the law.

The Observatory yesterday launched a new system for receiving satellite signals that it says will help it to better monitor typhoons and thunderstorms. The HK$8.3 million system can receive new-generation satellite signals from the Japan Meteorological Agency, which provides images of clouds over the west and north Pacific Ocean every 30 minutes. "It is among the most advanced meteorological technology in Asia," senior scientific officer Cheng Cho-ming said. "We can track tropical typhoons more closely and hope it can help in weather forecasting." With its faster transmission rate, the new system also enables the Observatory to obtain satellite images of higher resolution and offer weather maps covering a wider area. New infrared images are available day and night for more accurate views of low-level cloud and fog. The system has been installed on the Observatory's roof in Tsim Sha Tsui. However, even the most advanced technology would be no help in the face of erratic storms such as Pabuk, which made a U-turn and hit the city early this month, said Observatory director Lam Chiu-ying. "A computer calculation predicted Pabuk would leave Hong Kong when we were witnessing it coming back," Mr Lam said. "The only thing we could do was to monitor it hour by hour. You never knew where it would go." Pabuk had weakened after moving away to the southwest of Hong Kong but it strengthened a day later, catching the city off guard. Pabuk was affected by another tropical storm, Wutip, which lashed Taiwan at the same time. Meanwhile, a regional pilot project launched in 2004 to share meteorological information within Asia had proved to be an important step in filling the technology gap between developing and developed countries, Mr Lam said. The project enables 13 developing Asian countries, including Nepal, Myanmar and Bangladesh, to obtain weather forecasts for their major cities on the internet. The forecasts are made by Japan, South Korea and Hong Kong. Mr Lam said the project helped "short-circuit" the technology gap between developed and developing countries. "We take it as a moral responsibility to help."
Citybus and New World First Bus will have 28 eco-friendly Euro IV buses running on busy roads by November to help clean the air. The companies said they would also cut exhaust emissions of their fleet of around 1,600 buses to comply with the European Union directive's Euro IV emission standard by 2012. The budget for the Euro IV buses - 10 for Citybus and 18 for First Bus - is HK$100 million. They would probably run first in Des Voeux Road in Central, Yee Wo Street in Causeway Bay and Nathan Road, said Paul Li Kwong-wai, head of operations and engineering for the two bus firms. "By 2012, the exhaust emission level will be cut by 95 per cent," Mr Li said. But he said it was hard to calculate the total amount of exhaust reductions. The companies have about 90 pre-Euro buses, most of which have been used for up to 17 years and are due for replacement. Euro IV buses - the latest eco-friendly model - will emit 97 per cent fewer respirable suspended particulates than pre-Euro buses. They will also cut the emissions of nitrogen oxides by 61 per cent and hydrocarbons by 81 per cent compared with pre-Euro buses. Mr Li said they planned to invest HK$200 million a year to buy 50 to 70 Euro IV buses over the next few years. All pre-Euro and about 400 Euro I buses will be phased out by 2012, two years ahead of schedule. The companies will also spend HK$50 million to install diesel particulate filters on all of about 1,000 Euro II buses to achieve the Euro IV emission standard by 2009. "It will cut the exhaust emission level by 90 per cent by then," Mr Li said. All 100 Euro III buses have already been equipped with the filters to reduce the emission of fine particles. "We will see if there is a need to adjust the fares according to the preset fare-adjustment mechanism with the Transport Department," Mr Li said. Since October, all new heavy diesel vehicles over 3.5 tonnes registered in Hong Kong must meet Euro IV. Euro IV vehicles emit about 80 per cent fewer fine particles and 30 per cent fewer nitrogen oxides than Euro III vehicles. Euro IV has been in force in the EU since 2005.

The proposal comes after Octopus revealed last month that 15,270 faulty EPS add-value transactions between January 2000 and December 2006 had led to HK$3.7million being wrongfully deducted from the bank accounts of Octopus card users. In his online opinion column Viewpoint on the authority website released yesterday, Mr Yam said now might be a good time to review how Hong Kong's electronic money system should develop. "While there are lessons on governance and risk management to be learned by Octopus and others from the failure of add-value transactions through EPS, it is becoming increasingly clear that whether there is a need for separation of the management of the platform and the issue of stored-value cards is an important issue to be considered and debated," he said. Saying a lack of competition might be one of the reasons for the recent overcharging problem, Mr Yam stressed, however, that Hong Kong had the potential to have the most efficient electronic money system in the world. In response to Mr Yam's comments, Donald Cheung, Octopus senior corporate communications manager said: "Hong Kong is a free market, and competition for multi-purpose stored-value cards comes from both existing payment systems such as cash, credit card and EPS, as well as new entrants." He added: "We will continue to focus on our efforts in enhancing our services and increasing the ways Octopus can be used in Hong Kong."

China: China's top offshore oil and gas producer is to invest 10 to 15 billion yuan to enhance deep-sea drilling capability by building relevant equipment, a senior executive confirmed yesterday. Relevant high-end gears will make up a "complete" deep-sea exploration and production fleet, which consists of drilling rigs, exploration and pipe-installing vessels, according to Zhou Shouwei, vice-president of China National Offshore Oil Corporation, or CNOOC. The executive added that the planned deep-sea equipment would be capable of operating at 3,000 meters under water and drilling up to 10,000 meters under the seabed. "Deep-sea areas boast larger potential both in China and elsewhere That's why we should spare no effort tapping the segment," Zhou said. Zhou also said a manufacturing site for deep-sea gears is under construction in Qingdao, which is supposed to build most of CNOOC's own deep-sea drilling facilities. He also said a deep-sea exploration experimental project is under preparation, and is expected to be carried out at the end of October or early November. In another development yesterday, Hong Kong-listed CNOOC Ltd announced it has made a major discovery in Bohai Bay. Fu Chengyu, chairman of CNOOC Ltd, said that based on the current geological features of the Jinzhou 251 Oilfield, it is very likely for the field to have more reserves of light oil. "Our Bohai assets used to feature heavy oil reserves. The discovery this time is light oil, which is a breakthrough." Another positive news for CNOOC Ltd is that Liuhua 11-1 Oilfield, which suspended its production after typhoon Chan Chu struck, has resumed production since June 27. All its 25 wells are on stream, rolling out 23,000 barrels of crude oil per day. The resumption in production will boost CNOOC's output this year, analysts say. In its interim report released yesterday, CNOOC said it produced 85.4 million barrels of oil equivalent, up 4.5 percent year-on-year. Because of the low oil price during the first five months of this year, the company witnessed its sales and net profit drop by 6.4 and 10.6 percent respectively year-on-year in the first half of the year. But a rebound in oil prices after May will help boost CNOOC's financial performance during the second half of this year, some analysts have predicted.
When a central bank official talks about financial services, he is more likely than not talking about the macro economy side. But Vice-Governor Su Ning of the People's Bank of China discussed stronger statistical functions, the formulation of a modern payment system and other matters yesterday at a press conference. Some of the improvements he enumerated were obvious to everyone. The growing popularity of credit cards, for one, has been a very recent hallmark of the banking sector's efforts to diversify and upgrade services. The 1.29 billion bankcards issued so far have not only brought unprecedented convenience to ordinary Chinese consumers, but are also transforming their spending patterns. We sense the changes made possible by information technology and computerized service networks that integrate all service outlets. A lot of things have become easier thanks to such developments. It was once unimaginable that an average Chinese would be able to go on a crazy shopping spree overseas without much cash in hand. To be fair to our banking industry, its progress has been quick in recent years. But regular people have their own ways of gauging financial services. They care more about how well they are served by bank clerks than they do issues such as money laundering. Such micro-level concerns may appear insignificant. But they are essential for customer loyalty. Complaints about long wait times, for example, may end up becoming an important new factor affecting people's preference when they have to make a choice between banks. If domestic banks did not have to worry much about customer satisfaction in the past, they do now. Relatively higher entry barriers and a lack of outlets prevent overseas banks from directly competing with their Chinese counterparts. But that will not last forever. The banks prefer to have fewer customers visiting their service counters, saying many of their services are now available online. This is undoubtedly a good way to shorten queues. So why do people brave long queues and insist on seeing bank clerks face to face? Different surveys have discovered varying degrees of distrust of online transactions, the No 1 concern being safety. Most of such worries are groundless. But the banking sector needs to convince the public their promise of safety is dependable. Safety, too, is an important part of financial services. Providing it will not only liberate bankers from lots of time and paperwork, but also eliminate a major source of mass discontent.
Foreign acquisitions of Chinese companies will be subject to stringent checks intended to protect national economic security under a new law.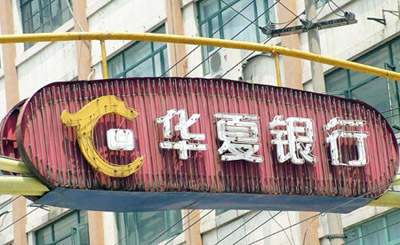 China's Big Four state lenders are losing market share as affluent mainland consumers seek more advanced products and better services, according to a report from McKinsey & Co. Affluent mainland customers, defined as those with an annual income of US$50,000 (HK$390,000), are shifting their business to banks that better fit their sophisticated requirements, a study by the global consultancy found. The customers are moving away from banks such as Industrial and Commercial Bank of China (1398) and Bank of China (3988) to joint-stock lenders such as China Merchants Bank (3968), China CITIC Bank (0998) and China Everbright Bank (0165) as well as new foreign entrants to the mainland market. "Chinese customers are also no longer simply satisfied with basic products such as savings and time-deposit accounts," said Emmanuel Pitsilis, Hong Kong-based head of McKinsey's financial institutions practice in Greater China. "They expect banks to deliver on these services, but now demand individually tailored products and services as well," he said. Eighty percent of the 514 affluent mainland consumers surveyed by McKinsey use a Big Four bank for their primary banking business, down from 92 percent of 128 people surveyed in 2001. "What we're seeing is customers are no longer as entrenched as before with the Big Four banks," Kenny Lam, an associate partner in McKinsey's Hong Kong office, told The Standard. "They're willing to shop around."

*News information are obtained via various sources deemed reliable, but not guaranteed