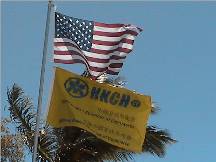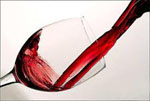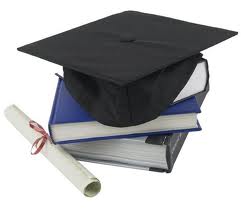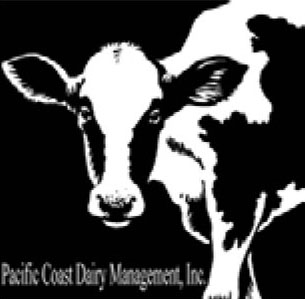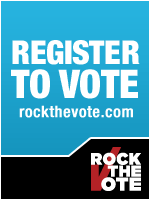 Biz-Video

Hawaii's China Connection

Doing Business in Hong Kong & China
Hong Kong, China & Hawaii Biz*
Do you know our dues paying members attend events sponsored by our collaboration partners worldwide at their membership rates - go to our event page to find out more! After attended a China/Hong Kong Business/Trade Seminar in Hawaii...still unsure what to do next, contact us, our Officers, Directors and Founding Members are actively engaged in China/Hong Kong/Asia trade - we can help!
Are you ready to export your product or service? You will find out in 3 minutes with resources to help you - enter to give it a try

China Central TV - live Webcast

Skype - FREE Voice Over IP

View Hawaii's China Connection Video Trailer


Direct link PDF file


Year of the Pig - February 18, 2007


Listen to MP3 "Business Beyond the Reef" to discuss the problems with imports from China, telling all sides of the story and then expand the discussion to revitalizing Chinatown - Special Guest: Johnson Choi, MBA, RFC. President - Hong Kong.China.Hawaii Chamber of Commerce (HKCHcc) and Danny Au, Manager, Bo Wah Trading
October 31, 2007

Hong Kong: A cross-border delivery-versus-payment link between Hong Kong's U.S. dollar real time gross settlement system and Malaysia's Ringgit real time gross settlement system has been launched. The Monetary Authority of Hong Kong said on Monday that the link will help eliminate settlement risk of U.S. dollar bonds issued and traded in Malaysia by ensuring simultaneous delivery of U.S. dollars in Hong Kong and U.S. dollar bonds in Malaysia. As part of the initiatives to promote Malaysia as an Islamic financial center and Hong Kong as an international financial center, the delivery-versus-payment settlement services provide the necessary settlement infrastructure to support potential issuance of U.S. dollar bonds in Malaysia. The link is operated in Malaysia by Bank Negara Malaysia and in Hong Kong by Hong Kong Interbank Clearing, said the authority.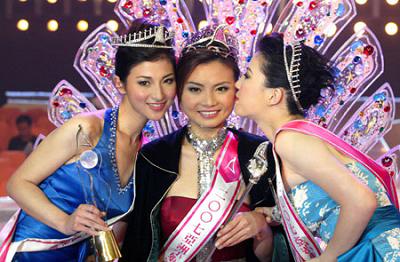 Photo taken on October 29, 2007 shows the champion Grace Cheung Ka Ying (C) from Hong Kong, runner-up Choi Ju Hee (R) from South Korea and the second runner-up, Hubei girl Sun Chen of the Miss Asia 2007 Competition which was held in Hong Kong.

Shares in Golden Harvest, one of the best known names in the Hong Kong film biz, were suspended from trading Friday. Announcement to the Hong Kong Stock Exchange said that the company had requested the suspension "pending an announcement relating to the changes in the substantial shareholder and the directors of the company which the board of the company considers to be price sensitive information." Move is understood to mean that veteran chairman Raymond Chow Ting-hsing is planning to sell his shares in the company he co-founded in 1970. Chow and his associates own 24% of the company, which became synonymous with Cantonese-language action movies and the discovery of Bruce Lee. In recent years, the company quit production to focus almost exclusively on exhibition and distribution. Stock market insiders point to Chinese production shingle and talent agency Chengtian, as the buyer of a 20% Golden Harvest stake. Japanese music, talent and film giant Avex has a 20% interest in Chengtian. Suspension comes only a week after Golden Harvest announced good-looking results that were boosted by exceptional gains from asset disposals. For the year to June 2007, company announced net profits of $96.5 million ($12.5 million), compared with only $673,000 in 2006. But total included a $15 million boost from the sale of its stake in the Golden Village cinema circuit in Malaysia. Operating losses from Golden Harvest's distribution and exhibition increased despite revenue gains in both divisions and finance costs soared. In its recent results statement, management said that the company is being refocused to concentrate on the Chinese exhibition market and that it is expanding its digital screen advertising business into the mainland's key city markets. It will also be stepping up acquisition of non-Chinese movies for distribution. Chow aside, Golden Harvest's other substantial shareholders include billionaire Li Ka-shing with 17%, EMI and Norman Cheng Tung-hon with 12% and Jackie Chan with 5%.

"The Home Song Stories" by Australian scripter-helmer Tony Ayres won the Halekulani Golden Orchid for best feature at the 27th Hawaii Intl. Film Festival. Awards were announced Thursday. An autobiographical drama based on Ayres' difficult childhood migration to Australia, pic stars Joan Chen who also received the fest's Achievement in Acting award. Feature documentary award was presented to Hawaii-based co-helmers Don King and Julianne King for "Beautiful Son," a chronicle of their efforts to help their autistic child. The Network for the Promotion of Asian Cinema award was taken home by Stepane Gauger's verite-style "Owl and the Sparrow," a Vietnam-U.S. co-production in which a young orphan escapes to Ho Chi Minh City and is befriended by a zookeeper and an airline stewardess. Pic previously won trophies at the Los Angeles and Heartland film fests.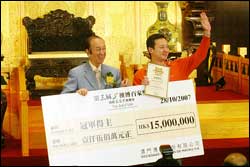 A mainland salesman became the king of baccarat yesterday when he won HK$15 million in a Macau gaming competition. Yan Jun, a Hubeinese who often visits Macau, beat eight other contestants in the last round of competition, which distributed a record HK$20 million in prize money. Five of the contestants were from China, with the others from Hong Kong, Macau, the United States and Holland. The Hong Kong participant, Edward Ng Wing Biu, came fourth. Yan's winning tip is to bet boldly. "If your bet is not big enough, you cannot win." He added:"I go to Macau quite often, and usually bet about several thousand [Macau] dollars to more than a hundred thousand each time." Yan, who is a salesman in the mainland, won HK$470,000 in the baccarat competition himself. Players had HK$100,000 as principal for the final session, of which HK$50,000 was self funded and HK$50,000 provided by the organizer.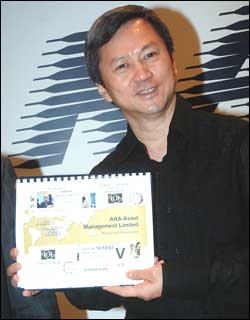 Real estate fund manager ARA Asset Management, in which Cheung Kong Holdings (0001) has a 30-percent indirect interest, said the institutional tranche of its public offering was about 30 times oversubscribed. It is set to list on the main board of Singapore on Friday. Of the 205.2 million shares offered, 181.9 million will be for institutional subscription, while 15 million are for retail investors. The remaining 8.3 million will be reserved for management of ARA and related companies. If necessary, underwriters Credit Suisse and DBS can exercise the over- allotment option of issuing an additional 36 million shares. Market sources said buyers from Dubai, Kuwait and Abu Dhabi have subscribed to the issue. The 205.2 million shares issued, comprised of 73 million new shares and 132.2 million existing shares, will be sold at S$1.15 (HK$6.12) each, raising S$235.98 million.
Ample liquidity in the capital market will mean Hong Kong will remain a leading international financial center for fund-raising activity, although there will be fewer listings of mainland companies in the remainder of the year, said Thomas Schnettler, vice chairman and chief financial officer of US investment bank Piper Jaffray.

China: China's Renminbi (RMB) broke the 7.48 mark to reach a new central parity rate of 7.4718 yuan to one U.S. dollar on Monday, according to the Chinese Foreign Exchange Trading System.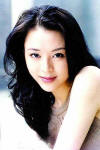 Zhang Jingchu to Star in China's "Schindler" Movie - Chinese mainland actress Zhang Jingchu has been confirmed as the female lead in a war movie John Rabe. Cast member Zhang Jingchu arrives at the premiere of Rush Hour 3 at the Mann's Chinese theatre in Hollywood, California on July 30, 2007. Chinese mainland actress Zhang Jingchu has been confirmed as the female lead in a war movie John Rabe. The production began shooting in Shanghai on Saturday. The actress will play a women's college student whose family suffers due to the Japanese invasion of China during World War II. It is reported that the director, Germany's Florian Gallenberger, was impressed by Zhang Jingchu's acting in Peacock, winner of the Berlin Bear. German actor Ulrich Tukur will play the title role in John Rabe. John Rabe (1882-1950) was a German businessman who worked as the Siemens Corporation representative in China's Nanjing from 1931 to 1938. He helped protect the lives of nearly 250,000 Chinese refugees from the Japanese invaders' massacre. He has been praised as the "Schindler of Nanjing". The movie boasts a budget of about 20 million U.S. dollars and an international cast of actors from China, Germany, France and the United States.
Shanghai GDP to hit record US$160b this year - Shanghai's gross domestic product is expected to reach a record 1.2 trillion yuan (US$160 billion) this year, keeping a double-digit growth for 16 straight years, said Mayor Han Zheng yesterday during a forum. In the first nine months this year, Shanghai's economy swelled 13.4 percent, Han said at the 19th International Business Leaders' Advisory Council for the Mayor of Shanghai. The city's fixed-assets investment grew 7.4 percent to 311.89 billion yuan through September. Consumer spending expanded 14.3 percent to 285.32 billion yuan while combined value of imports and exports soared 20.9 percent in the same period. Han expected the city's value of trade this year will surpass US$500 billion for the first time. "Shanghai's economy has kept a stable growth. We are confident that Shanghai is on the way to achieve a development balanced with fast growth of productivity, prosperity of people's lives and an ecologically sound environment," said Han. IBLAC, set up in 1989 as a platform to pool insights from global business leaders, focused this year on building a resource-conserving and environmentally friendly city. To address this year's theme, Han said Shanghai will continue to develop its service industry, which produces less pollution, to build the city into an economic, financial, trade and shipping hub. Han estimated the service industry will contribute 52 percent to Shanghai's GDP this year, based on its growth momentum so far. The IBLAC meeting has become an annual gala for top global executives to gather in Shanghai. Thirty-eight members of the 40 attended this year's meeting, including Stephen Green, chairman of HSBC Holdings Plc, Siemens AG President Peter Loescher, Chairman of Bombardier Inc Laurent Beaudoin, and Chairman of Investor AB Jacob Wallenberg. "We will fully support the goals for Shanghai's economic development," said Samuel A. DiPiazza Jr, chief executive officer of Pricewaterhouse- Coopers International Ltd, who will chair next year's meeting. Shanghai signed 2,662 foreign-direct-investment contracts valued at US$9.33 billion through August this year. The number of contracts grew 2.5 percent from a year earlier.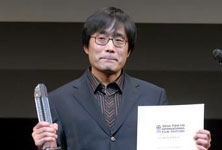 "The Western Trunk Line," a Chinese movie telling a story in a remote town at the end of 1970s, won Special Jury Prize at the 20th Tokyo International Film Festival on Sunday. "I have been thinking to make such a move since 1994," said director Li Jixian at the awarding ceremony at Shibuya's Bunkamura, Tokyo. "I met quite some challenges in making screenplay, but I never thought of quitting."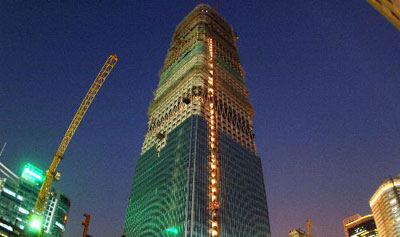 The roof of the main building of the third-phase construction project in Guomao, or China World Trade Center, a major business area in Chaoyang District, Beijing, has been capped on Monday November 29, 2007. The 330-meter-high building, with 74 storeys on the ground and 4 underground, is expected to become the highest in the Chinese capital city upon completion in 2009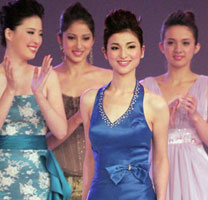 Photo taken on October 29, 2007 shows the second runner-up of Miss Asia 2007 Competition, Sun Chen (C), from Central China's Hubei Province.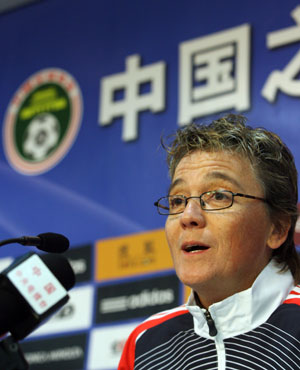 Former France's women's soccer team coach Elisabeth Loisel meets the press at the news conference to announce her appointment to coach China's women's team in Beijing October 28, 2007. China's former coach Marika Domanski-Lyfors from Sweden quitted last week after China's quarter-final elimination at last month's Women's World Cup.
China's top legislature yesterday approved the Cabinet nomination of Meng Jianzhu as minister of public security, the country's top police official. Meng, former leader of the Communist Party of eastern Jiangxi province, replaces Zhou Yongkang. Zhou had been named to the Politburo Standing Committee. More personnel changes are expected - including the two men likely to succeed President Hu Jintao and government head Premier Wen Jiabao. Xi Jinping and Li Keqiang were also lifted into the new nine-member Standing Committee. Two members have been expelled from the National People's Congress. Xinhua News Agency named them as Wang Xiaojin, board chairman of the Gujing Group, one of China's largest distilleries based in Anhui province, and Wang Dingguo, former board chairman of the Qingjiang River Hydropower Development in Hubei province.
October 30, 2007

Hong Kong: Property stocks led Hong Kong's benchmark index into its second consecutive day of record close Friday, on hopes of another U.S. interest rate cut next week. The blue-chip Hang Seng Index rose 1.8 percent to a record close of 30,405.22, after trading between 29,932.64 and an all- time intraday high of 30,562.63 during the session. Turnover totaled 157.38 billion HK dollars (20.33 billion U.S. dollars), down from 165.18 billion HK dollars (21.34 billion U.S. dollars) Thursday. All the four categories gained ground. The property jumped 5 percent, followed by the Commerce and Industry at 2.66 percent, the Utilities at 0.95 percent and the Finance at 0.49. Sino Land, the biggest blue-chip gainer, surged 12.6 percent to 24.65 HK dollars. Henderson Land climbed 4.9 percent to 64.85 HK dollars. Sun Hung Kai Properties rose 4 percent to 153.60 HK dollars. Tycoon Li Ka-shing's property flagship Cheung Kong gained 5.2 percent to 145.50 HK dollars. Bucking the downward trend of China-related stocks, Industrial and Commercial Bank of China rose 2.1 percent to 7.16 HK dollars, after target price upgrades by investment banks. PetroChina fell 0.52 percent to 19.02 HK dollars. On Chinese telecom stocks front, heavyweight China Mobile was up 0.92 percent, while Netcom up 1.74 percent, China Unicom up 5. 06 percent, and China Telecom up 1.26 percent. ICBC that subscribed for a 20 percent stake in the Standard Bank added 2.14 percent. Bank of China proposing to expand its retail banking business in UK through mergers and acquisitions climbed 1.52 percent. Insurance stocks put in mixed shows. Ping An was down 1.84 percent despite a 3.5-time three-month profit growth, while China Life was up 0.49 percent, PICC P&C down 0.12 percent, and China Insurance up 2.04 percent.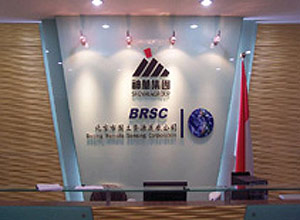 China Shenhua has been added to the Hang Seng China AH Index Series which comprises the largest and most liquid Chinese mainland companies with both A-share and H-share listings.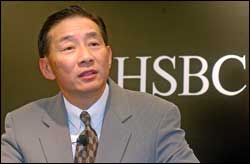 A senior banking executive has called on the Hong Kong government to begin discussions on changing the currency peg that has lasted more than two decades. HSBC (0005) executive director Peter Wong Tung-shun told The Standard the yuan is on course to become a freely convertible currency within 10 years. "As the Chinese economy develops at a faster pace than before, that widens the difference between Hong Kong and the US economy," Wong said. His comments come nearly two weeks after President Hu Jintao told the Communist Party Congress that the mainland will improve the yuan exchange rate regime and gradually make the currency convertible under the capital account. Wong believes the Hong Kong dollar should be linked to a currency which better reflects the city's economic reality. "Don't ask me when the delinkage should take place. I can only say, when you see the yuan becoming a freely convertible currency, then it's time for change," Wong suggested. "The right thing should be done at the right time." Earlier this year, the yuan strengthened against the Hong Kong dollar for the first time in 13 years, reigniting a debate whether the time has come to scrap the 23-year-old US-dollar peg. The yuan gained to 1.0004 per Hong Kong dollar and also climbed to 7.7949 to the US dollar in Shanghai trading in early January. The Hong Kong Monetary Authority said at the time, there is "no intention to change the linked exchange rate system." The Hong Kong dollar is pegged at 7.8 to the greenback and is allowed to trade between 7.75 and 7.85.
Residents of two Sai Ying Pun buildings that have to make way for the construction of the Mass Transit Railway's HK$8.9 billion West Island Line are worried about rehousing as they fear compensation to be offered will not be enough to buy new homes.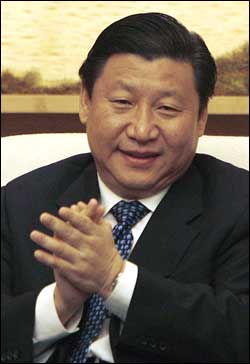 Rising political star Xi Jinping has been named to head the 18-strong working group overseeing Hong Kong and Macau affairs as well as state vice- president, The Standard has learned. Xi's appointment follows his promotion to the elite Politiburo Standing Committee earlier this week at the close of the 17th Chinese Communist Party national congress. He will succeed retiring Vice President Zeng Qinghong, who was dropped from both the party Central Committee and the Politburo Standing Committee. Sources in Beijing have confirmed that Xi, 54, who is also Shanghai party chief and the eldest son of Xi Zhongxun - a former revolutionary and former vice-premier who helped pioneer China's special economic zones - was given the new posts after intensive closed-door discussions. Liao Hui - a vice-chairman of the Chinese People's Political Consultative Conference and incumbent director of the Hong Kong and Macao Affairs Office - will stay on as deputy head of the working group responsible for Hong Kong affairs. Chen Zuo'er, vice director of the Hong Kong and Macao Affairs Office, will retire before March next year. Another key appointment concerning Hong Kong is that of Peng Qinghua, who was elected party chief for the HKSAR three months ago. He will succeed the retiring Gao Siren as director of the Central Government's Liaison Office in Hong Kong. Besides Xi, two other new faces in the nine-member Politburo Standing Committee - Li Keqiang and He Guoqiang - have been allocated new portfolios. Li, 52, who ranks seventh in the Standing Committee who is also Liaoning party boss, will replace the late Huang Ju in overseeing the country's economic, financial and energy policies as a vice premier. He Guoqiang will take over from retiring Wu Gangzheng as head of the Central Commission for Disciplined Actions, while Jiangsu party chief Li Yuanchao, 57, will succeed He as head of the Organization Department, according to Xinhua news agency. Li's post as Liaoning provincial chief has gone to 62-year-old Jiangsu provincial governor Liang Baohua. Jiangsu party chief Meng Jianzhu has been tipped to replace new Standing Committee member Zhou Yongkang as public security minister. His appointment is expected to be approved by the National People's Congress Standing Committee on Sunday. Wang Shaoguang, chair professor at the Chinese University of Hong Kong's department of government and public administration, said the new leadership lineup of Xi and Li has ensured a stable succession at the top in the next 15 years. "The leadership succession problem over the next 15 years has now been more or less resolved, as whoever wins the contest for the top job in 2012 - Xi or Li - will probably serve another 10 more years, and thus party policies will be entrenched," Wang said.
Christie's Hong Kong displayed Chinese works of art inspired by the west alongside important ceramics that will be on sale in its autumn auction in a media preview here Friday. The two auctions, named respectively Reflections: Chinese Art Inspired by the West, and Important Chinese Ceramics and Works of Art, will take place on November 27. It will showcase 15 creations that blend the essence of Chinese artistry and innovative western conceptions, as well as 200 pieces of Chinese ceramics that are altogether expected to realized in excess of 300 million Hong Kong dollars (38.75 million U.S. dollars) A magnificent Imperial Beijing enamel glass brushpot, Qianlong mark and of the period (1736-1795), is estimated at 30 million HK dollars (about 3.85 million U.S. dollars). The brushpot is one of the finest and rarest examples of enamels on glass made for the Qianlong Emperor of Qing dynasty, and the only perfect glass burshpot of this form and decoration known to exist. Also featured at the preview is a Ming blue and white "Boys" jar of the Jiajing period (1522-1566, estimated at 30 million Hong Kong dollars (about 3.85 million U.S. dollars). The jar is exquisitely painted in under glaze-blue of brilliant deep purplish tone with a continuous garden landscape scene of 16 boys in various lively pursuits. Another prized offering is a magnificent and large bronze figure of Guanyin from the 14th century, late Yuan-early Ming dynasty. It is expected to fetch over 30 million Hong Kong dollars(about 3.85 million U.S. dollars).

The chief executive of the Hong Kong Monetary Authority, Joseph Yam Chi- Kwong, will work one more year before retiring from the position he has held since 1993, a source said. The Monetary Authority has sold Hong Kong dollars for the second time last week as heavy demand pushed it to the upper limit of its trading band against the US dollar.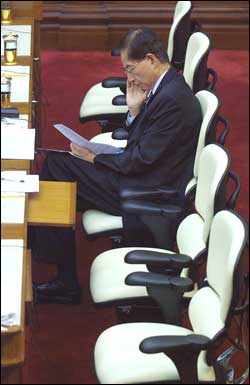 In a move seen as damage control, the Democratic Party has decided to publish an announcement in newspapers on Saturday, setting out its position on Martin Lee Chu-ming's recent article, including the party's support for Beijing hosting next year's Olympic Games. It is not an apology, but a clear declaration of what we stand for," said chairman Albert Ho Chun-yan. "We are of the same mind as Lee," Ho said, adding that the party plans to spell out its position on the Games and the mainland human rights situation. The party's position on the issues is essentially the same as Lee's, but "some of the wording [in Lee's Wall Street Journal article] will be avoided in order to avoid further misunderstanding." Chief Secretary for Administration Henry Tang Ying-yen was the latest to join the controversy, saying "the Olympics should not be politicized." Lee reiterated there was nothing in his article urging the Bush administration or other countries to boycott the Games. "Even the Foreign Ministry did not specify my name when it said those who try to pressure China with the help of external forces is bound to fail," he said. But Tsang Hin-chi, a National People's Congress Standing Committee member, said in Beijing that Lee's "bad behavior has never changed." Tsang added: "Is he blind, mute or deaf? How is it he cannot see the progress that China has made in recent years? He asked foreign countries to impose sanctions on China. Isn't that what only traitors will do?" Pro-Beijing lawmakers on Friday also continued with their attack on Lee.

China: The Fourth China-ASEAN Exposition opened here on Sunday morning in the southern China city of Nanning. Political figures and business leaders of China and the ten countries of the Association of Southeast Asian Nations were present at the opening ceremony of the four-day event.
PetroChina, the nation's largest oil producer, has attracted a record 3.3 trillion yuan in subscriptions for its A-share listing on the Shanghai Stock Exchange.
The gross domestic product (GDP) of Guangdong Province exceeded 2 trillion yuan in the first three quarters, its statistics bureau said. Guangdong's GDP from January to September was 2.15 trillion yuan, up by 14.7 percent from the same period last year. The figure is almost equal to the full-year GDP of 2.17 trillion yuan in 2005. In the first nine months, the provincial government enacted a series of policies to adjust Guangdong's investment structure, promote consumption and reduce the trade surplus. "The figures prove the policies are working," said Bu Xinmin, director of the provincial statistics bureau. Investment in fixed assets saw a moderate rise and the consumer market was brisk, he said. Guangdong's foreign trade has slowed since a new export tax rebate was introduced. From July to September, export growth in the province was 26 percent, 18.9 percent and 16.9 percent. Earnings in the petroleum and power industries rose sharply in the period.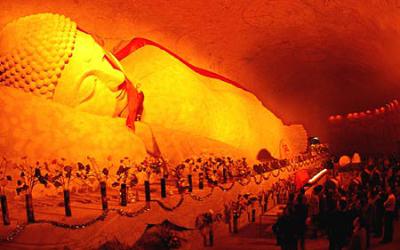 Buddhists attend a lighting ceremony for the lying Buddha statue of Shuanglin rock cave in Xinchang county of east China's Zhejiang Province, Oct. 27, 2007.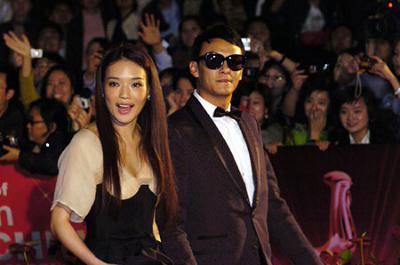 Taiwan actor Zhang Zhen (R) and actress Hsu Chi walk on the red carpet at the16th China Golden Rooster and Hundred Flowers Film Festival in Suzhou of eastern China's Jiangsu Province October 27, 2007.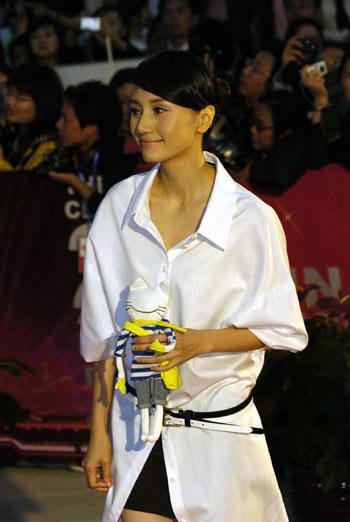 Chinese actress Yuan Quan poses on the red carpet at the 16th China Golden Rooster and Hundred Flowers Film Festival in Suzhou of eastern China's Jiangsu Province October 27, 2007.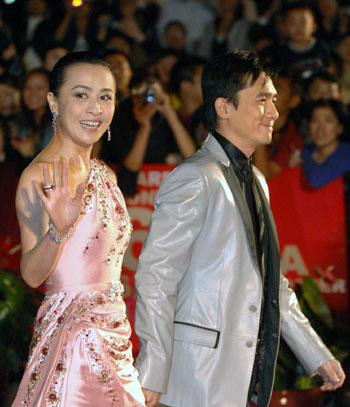 Hong Kong actor Tony Leung (R) and actress Liu Jialing walk on the red carpet at the 16th China Golden Rooster and Hundred Flowers Film Festival in Suzhou of eastern China's Jiangsu Province October 27, 2007.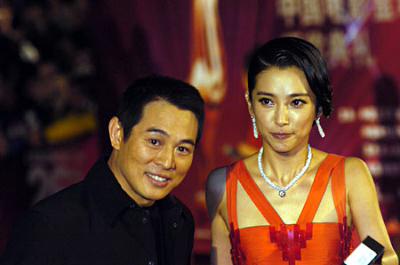 Hong Kong actor Jet Li (L) and China's mainland actress Li Bingbing pose together on the red carpet at the 16th China Golden Rooster and Hundred Flowers Film Festival in Suzhou of eastern China's Jiangsu Province October 27, 2007.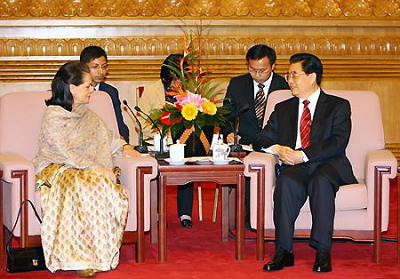 Chinese President Hu Jintao (R) meets with Indian Congress Party President Sonia Gandhi (L) at the Great Hall of the People in Beijing, capital of China on Oct. 26, 2007. China and India voiced their commitment to handle bilateral relations at a strategic level and step up the partnership to a higher level.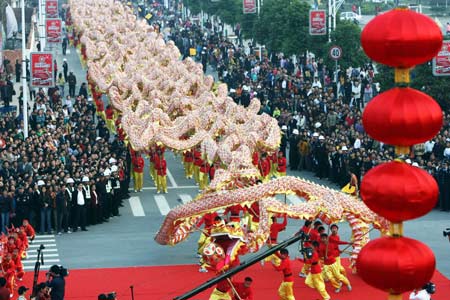 Local residents view the 2008-meter-long dragon in Shuangfeng township of Taicang city, east China's Jiangsu Province, Oct. 26, 2007. The dragon dance performance held in the town to greet the Beijing 2008 Olympic games attracted many local residents on Friday, during which a giant dragon waved by 1010 people was the most remarkable.
China Unicom Ltd, the nation's second-biggest mobile-phone operator, more than doubled third-quarter profit, beating analysts' estimates, by winning customers with reduced rates. Net income rose to 2.98 billion yuan (398 million U.S. dollars) from 1.39 billion yuan a year earlier.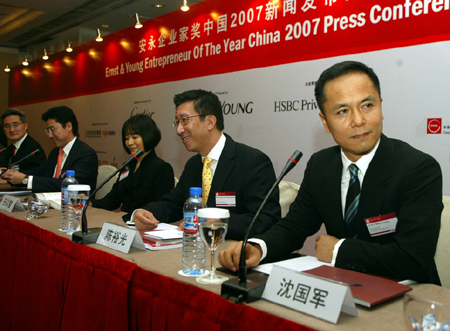 Shen Guojun (first from right), president of property developer China Yintai Holdings Ltd, and Chan Yue-kwong (second from right), chairman of Hong Kong-based restaurant chain Cafe de Coral Holdings Ltd, at a press conference in Beijing on Friday. Shen and Chan are two of the 11 winners of the Ernst & Young Entrepreneurs of the Year China 2007 awards.
China's three biggest insurers are expected to invest more than 10 billion yuan (HK$10.36 billion) each in a new state-controlled company that will build the country's high-speed railway from Beijing to Shanghai, sources familiar with the investments said on Friday.
October 29, 2007

Hong Kong: Beijing loyalists launched a tirade against veteran democrat lawmaker Martin Lee Chu-ming yesterday, calling him a "running dog" and a "traitor" for urging the United States and other countries to use next year's Beijing Olympics to force China to improve its human-rights record.
Pollution fell below national air quality standards at all monitoring stations across Guangdong and Hong Kong in the first half of the year, caused by "unfavorable" weather conditions.

Hong Kong blue chips jumped 1.8 per cent on Friday, staying firmly above the key 30,000 level for the first time, with property stocks hitting records, stoked by a weak US dollar and speculation of a rate cut by the Federal Reserve, which meets next week. Conglomerate Hutchison Whampoa (SEHK: 0013) also rallied, as investors bid up the underplayed stock to highs unseen since March 2001. Blue chips hardly looked back after easily sailing past the key 30,000-point barrier at the open. Investors switched into Hong Kong blue chips and out of mainland plays amid expectations that the central government would raise interest rates following strong macro data a day earlier. The benchmark Hang Seng Index closed 550.73 points higher at 30,405.22, setting an intraday high at 30,562.63 and notching a 3.2 per cent gain for the week. The index of Hong Kong-listed mainland companies shook off earlier losses as mainland-listed shares rebounded. The index ended nearly unchanged at 19,548.49 to post a weekly 0.9 per cent loss. Main-board turnover was HK$157.4 billion compared with Thursday's HK$165.2 billion. As the US dollar weakened, the Hong Kong Monetary Authority sold HK$775 million worth of the local currency for US dollars to curb a strengthening Hong Kong dollar. "The market has been very rotational," said William Fong, fund manager at Baring Asset Management. "When the US dollar depreciates, people look for shelter in hard assets. China plays are having a consolidation but in the near-term, I see strong liquidity coming from [the Qualified Domestic Institutional Investor programme], so I'm not worried," he said. Hutchison was the day's most traded stock after PetroChina (SEHK: 0857, announcements, news) , bolting nearly 6 per cent to HK$90.75. Property shares resumed their record run, with the Hang Seng property sub-index rising 5 per cent to a peak for a second straight day. Sino Land was the sector's top gainer amid its recent land acquisition spree, rallying nearly 17 per cent at one point in heavy trade before settling at HK$24.65, up 12.6 per cent. Cheung Kong (SEHK: 0001) shot up 5.2 per cent to HK$145.5 and MTR, which will have the city's largest land bank pending its merger with KCRC, leapt 6.2 per cent to HK$25.75. ICBC (SEHK: 0349) was a standout among mainland names, rising 2.1 per cent to HK$7.16 a day after it reported a 76 per cent rise in third-quarter profit. The mainland's top lender also has agreed to buy 20 per cent of Standard Bank Group, South Africa's largest bank. Merrill Lynch raised its target price for ICBC shares to HK$8.40, and JPMorgan raised its target price to HK$8.80. Hutchison Telecommunications International (SEHK: 2332) tumbled 5.7 per cent to HK$10.66 after Orascom Telecom Holding was selling up to 143.4 million shares in the emerging markets telecom play at between HK$10.70 to HK$10.95, according to a term sheet seen by Reuters. PetroChina shed 0.5 per cent to HK$19.02, a day after China's top oil producer set an indicative price range for its domestic IPO that was below expectation.

Taxi groups unite against discount ideas - A leading taxi group has mobilised major taxi unions to speak out against proposals that could lead to the legal discounting of fares. The Motor Transport Workers' General Union - the largest of the 27 taxi associations in Hong Kong - insisted the only effective way to combat illegal touting activities was to penalise passengers who bargain on fares. The government released a pamphlet as part of a public consultation that began on Monday, asking drivers and passengers if they would prefer to vary fares, provided there was a ceiling. In one of the two suggested models - based on overseas examples - the maximum fares would be set by the operators, and in the other, the upper limits would be decided by the government, and the operators would have to apply for permission to charge less. Both models forbid drivers to offers further discounts. But the union's taxi director, To Sun-tong, said that would not eliminate unfair competition by the so-called discount taxi gangs. "You set the price lower, [the gangs] set it even lower, and in the end it would only trigger a throat-cutting race among drivers for lower fares. The trade would not be able to survive," he said. Mr To said if the government would make it illegal for passengers to bargain, the whole problem would be settled. It is now illegal for drivers to offer discounts. The union and its 22 allied taxi associations would protest outside the headquarters of the Transport and Housing Bureau in Central today. The trade had proposed various options that would lower fares for long-haul trips, but they were voted down by the union and its allies in a meeting with the Transport Department in July. Kwok Chi-piu, chairman of an independent taxi driver union, said many groups who claim to be victims of the discount taxi gangs were offering discounts themselves. "Drivers who are snatching others' business by offering discounts, of course, hope the practice would not be legalised, because they would then lose their edges," he said. Hong Kong Taxi and Public Light Bus Association chairman Brandon Tong Yeuk-fung said the proposals were not likely to be welcomed by taxi owners either, because a reduction in fares may eventually lead to lower rental charges for the taxi and thus push down the price of a taxi licence - which has remained steady at about HK$3.5 million in the past few years.

China: U.S. Trade Representative and Treasury Secretary Discuss U.S.-China Relations - On Tuesday at the third meeting of the George Bush China-U.S. Relations Conference, U.S. Trade Representative Susan Schwab and Treasury Department Secretary Henry Paulson delivered remarks on U.S.-China relations. "Over the past 15 years, bilateral trade in goods between our two countries has increased by 1200 percent! Over the past six alone, bilateral goods trade has nearly tripled and services trade has more than doubled. Investment flows remain strong," said Ambassador Schwab. "In this time of rapid change and closer integration of participants in the global trading system, it is imperative for veteran trading powers such as the United States and major new actors, such as China, to champion the benefits of the free and fair flow of commerce." Schwab continued, "If the United States seems at times impatient with the velocity and magnitude of the reforms China has undertaken to become a member of the global trading community, it is because China's impact on trade, and indeed on all human endeavors, has also increased in its velocity and magnitude. Given its vast size and the enormous energy and dynamism of its people, China has an urgent task to move forward on embracing market principles. The Chinese people and the other five billion people who share this planet are all stakeholders in a strong, stable China." Paulson remarked, "China's re-emergence on the global stage is one of the most consequential geopolitical events of recent times. China's global influence is expanding. A cooperative, constructive and candid U.S.-China relationship is central to understanding and responding to China's re-emergence, in all its possible manifestations. The United States must manage our disagreements with China, foster greater bilateral cooperation and improve our ability to work constructively with China across all dimensions of national power." "The economic and geopolitical landscape of the 21st century will be greatly influenced by the way in which the United States and China work together. That emerging future requires a distinct vision and effective mechanisms to achieve it. The SED has allowed both the United States and China to begin to write the next chapter of our strategic economic relationship," concluded Paulson.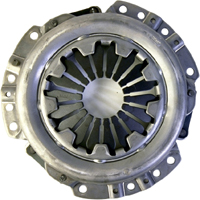 Sales of China-made autos expected to hit 8.5 mln in 2007 - Sales of China-made autos hit 6.46 million units in the first nine months this year, an increase of 24.5 percent over the same period last year, China's auto industry association said on Tuesday. During the period, output of domestic autos rose by 22.8 percent to 6.51 million units while the sales are expected to hit 8.5 million by the year end, according to statistics released by the China Association of Automobile Manufacturers. Of the total, sales of passenger vehicles hit 4.58 million units, up 23.8 percent, and commercial vehicles reached 1.88 million units, up 26 percent. Followed by China FAW Group Corporation and Dongfeng Motor Corporation, Shanghai Automotive Industry Corporation ranked first in sales volume, selling 1.13 million units. Meanwhile, sales of the top ten companies account for 83 percent of the total, according to the auto association.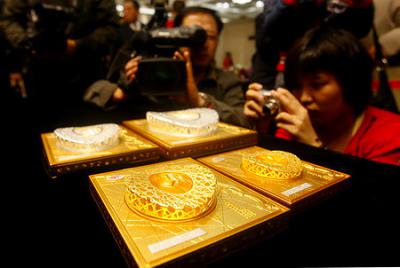 The gold models and the silver models of the National Stadium, dubbed the "Bird's Nest," were unveiled in Beijing on October 24, 2007. The models are made of pure gold and pure silver. There will be a limited number for sale. The commemorative models are issued by China Gold Coin Incorporation and authorized by the Beijing Organizing Committee.
Income growth of rural residents outstripped that of their urban counterparts in China in the first nine months of this year, according to official statistics. A survey of 68,000 rural households nationwide showed that average cash income per person reached 3,321 yuan (442 U.S. dollars) for the first three quarters of this year. After taking into account inflation, it rose 14.8 percent over the same period last year, the National Bureau of Statistics (NBS) announced on Friday. The NBS also found that after sampling 59,000 urban households, the per-capita disposable income of the country's urban residents grew by 13.2 percent in real terms to 10,346 yuan over the first three quarters of this year. This comes against a background of a widening gap between rich and poor in China. Statistics released in September showed that the average annual income of urban residents in 2006 was 3.28 times that of their rural counterparts, up from 3.22 in 2005 and 3.21 in 2004. An NBS official said a wage increase for non-farming jobs and price rises of farm products are major factors fuelling income growth for rural residents. According to NBS figures, both the per-capita wage income and the income from selling farm products for rural residents rose around 20 percent in the first nine months. The country has been increasing investment in rural areas to narrow the income gap between rural and urban residents.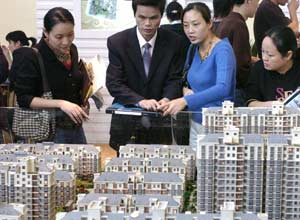 Housing prices in 70 large and medium-sized Chinese cities rose by 8.9 percent year-on-year in September, the National Bureau of Statistics (NBS) said Friday. The rising trend shows no sign of stopping, according to a report jointly released by the NBS and the National Development and Reform Commission.
PetroChina attracted about 3.3 trillion yuan in subscriptions to its Shanghai initial public offering, a record for a domestic IPO, a source familiar with the offering told Reuters on Friday.

Heavy fog forced Airbus to cancel a demonstration flight of its Airbus A380 over Beijing on Friday, as thousands of passengers on regular air services were delayed.
October 27-28, 2007

Hong Kong: Foreign, HK staff see wages slide - Professionals from Hong Kong and overseas working on the mainland have seen their wages slump as local workers become more competitive, a survey by the Hong Kong Baptist University and Hong Kong People Management Association has said. In the special administrative region (SAR), however, salaries for professionals have continued to rise, increasing by 7.4 percent last year and 7.9 percent this year. Of the 85 companies surveyed in 10 mainland cities, 38 employed Hongkongers as managers, 26 as supervisors and seven as general staff. Between the second half of 2006 and first half of this year, managers' salaries fell 15.4 percent from 674,465 yuan ($90,000) to 570,841 yuan, while supervisors' wages were down 25.3 percent from 353,013 yuan to 263,620 yuan. The average wage for general staff rose 25.7 percent over the same period, from 211,225 yuan to 265,504 yuan. In the same period, the 183 overseas staff employed by 13 mainland companies also saw their salaries decline. Managers took an average pay cut of 14.8 percent, from 1.05 million yuan to 894,719 yuan, while supervisors saw their pay fall 25.5 percent, from 569,956 yuan to 424,656 yuan. Pauline Chung, vice-president of the Hong Kong People Management Association, said the nation's rapid development had resulted in improved manpower resources, which meant mainland firms were no longer so reliant on Hong Kong and expatriate staff. "There are more overseas educated mainlanders returning to the country. "They have good English skills and their professional knowledge is on a par with Hong Kong people. Mainlanders have received higher education and are quick to learn new things," she said.
Hong Kong's exports grew at a faster-than- expected pace last month on increased trade with the mainland and other Asian markets, which helped offset slowing demand in the United States.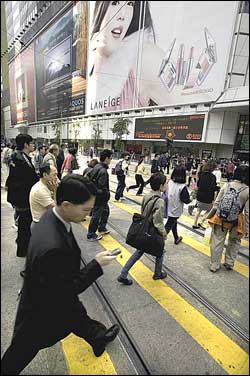 Next year promises to be the best for wage earners in a decade - with salaries projected to go up by an average of more than 4 percent. The increases, however, still lag those in the mainland, where workers can expect pay rises of between 7.4 and 8.5 percent next year as a result of rapid economic development, according to a joint survey conducted by the Hong Kong People Management Association and Hong Kong Baptist University. The survey, which was carried out between June 2006 and June this year, interviewed 95 local small and medium-sized companies employing more than 66,000 people. Sixty-two percent of the firms had 300 employees or fewer, while nearly 18 percent had between 300 and 1,000 workers, and 20 percent had more than 1,000 employees. The companies included those engaged in the construction, food and beverage, retail, and sales and marketing sectors. According to the poll, Hong Kong workers stand to receive pay adjustments averaging 4.3 to 4.7 percent next year. This compares with increases of between 2.9 and 3.6 percent from July 2006 to June this year, with the retail and sales sectors recording the biggest increases of about 7 percent. Association president Felix Yip yesterday urged employers to offer generous pay increments for staff in order to retain talent. "Civil servants have already been given pay rises this year, so the private sector has to follow suit," he said.
Ang Lee's Lust, Caution cannot qualify for the major categories at the Hong Kong Film Awards - a major honor in Chinese-language cinema - because not enough Hong Kong residents worked on the movie.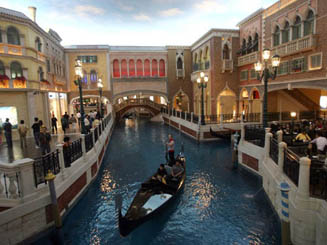 Casino and resort developer Las Vegas Sands Corp has petitioned the Macau government to lift a ban on the sale of serviced apartments at its Venetian Macao development on the Cotai Strip. If it succeeds, it could trigger a flood of serviced apartments on to the market. Under existing rules, land reclaimed in the Cotai area is set aside for casino and hotel development - a policy aimed at transforming Macau into the Las Vegas of Asia. Strata-title sales of apartments in developments in the area are prohibited. If the United States entertainment giant succeeds in persuading the Macau government to relax the rule and allow such sales, an estimated 15,000 luxury serviced apartments in the Cotai Strip could be put on the market over the next several years, according to agents. Current proposals on the drawing boards of developers indicate plans to bring about 30,000 hotel rooms to market in Cotai by 2010. But if the ban on the sale of serviced apartments is lifted, some developers may decide to convert half of those proposed hotel rooms into serviced apartments to cash in on the booming residential market, agents say. Last month, units at One Grantai, the latest luxury residential project launched by a local developer, at the northern end of the Cotai Strip, were being sold for HK$8,700 per square foot, a record high in Macau. Stephen Weaver, senior vice-president of Asian development at the Venetian Macao, said the firm had proposed selling serviced apartments at its US$2.4 billion resort to buyers who would only use them for short holiday periods and rent them out when they were not there.
Recent tax changes in Britain may bring smiles to the faces of British expatriates in Hong Kong with homes in their mother country. But Hong Kong residents living or working in Britain may be less pleased. The Chancellor of the Exchequer, Alistair Darling, announced in his pre-budget report on October 9 that capital gains tax (CGT) would be charged at a standard rate of 18 per cent from April next year, with the upper and lower rates abolished. British expatriates living and working abroad are charged capital gains tax on the growth in value of their British home while they are overseas. Under the old system, they might have paid as much as 40 per cent tax on the rise in value if they were overseas for a short time, say one year while those who lived abroad for 10 years or more would have paid at least 24 per cent. "For returning expats who own UK property and have been away for a prolonged period, the CGT changes will be beneficial," said Lucian Cook, director of research at estate agents Savills. However, expatriates who run their British property as a business by letting it out as a holiday home would be worse off, because they would no longer pay capital gains tax at the lower rate of 10 per cent, said Robert Bartlett, chief executive of estate agency Chesterton Global. Hong Kong investors who own British property are not liable to capital gains tax, so Mr Darling's reform does not affect them. However, Hong Kong and other overseas non-domicile residents living in Britain must pay a new levy from April next year - a flat rate charge of £30,000 (HK$475,000) per year if they live there for seven years.

China: China is likely to allow financial institutions to invest individual pension funds in more fields with market risks, including securities fund products, in a bid to increase their value, a Ministry of Labour and Social Security (MLSS) official has revealed.
China had destroyed 667 tons of unqualified or fake food products and ordered 446 tons to be removed from the market by October 8 in a nationwide campaign to improve the quality of goods and food safety, according to official statistics.
The Industrial and Commercial Bank of China will spend US$5.46 billion to take a 20 percent stake in Standard Bank Group Ltd, Africa's largest bank.
PetroChina (0857), which is poised to list in Shanghai on November 5, said yesterday it may spend 102 billion yuan (HK$105.5 billion) to build the second west-to-east gas pipeline in the country.
China's foreign minister offered tepid support yesterday for India's bid for a permanent UN Security Council seat, following talks aimed at boosting ties between the Asian giants and sometime rivals.
Foshan remains the Pearl River Delta's most polluted city, the latest regional air monitoring report shows. Pollution levels there and in Dongguan and Guangzhou often exceed national air quality standards, the half-yearly figures show. The figures come from a network of 16 stations monitoring levels of sulfur dioxide, ozone, nitrogen oxides and respirable suspended particulates (RSPs). They show Tsuen Wan in the New Territories had the third-worst record on nitrogen oxides, after Foshan and Guangdong, with levels exceeding the national standard on six days in the first half of the year. Foshan's air breached the standard on 10 days and Guangzhou's on 15. Foshan's RSPs breached the standard on 57 days and its sulfur dioxide level was excessive on 46. The city is a centre of the ceramics industry. The two governments set up the regional air-quality monitoring network in 2005. Foshan has consistently had the worst pollution. Hong Kong's Environmental Protection Department said the report showed cities on the coast had better air quality than those inland. A spokesman noted that concentrations of most pollutants were generally higher between October and March than in the summer, because rainfall was lower in winter and the southern monsoon disperses pollutants in the summer. Asked about the impact of Foshan's pollution on Hong Kong, the spokesman said the Pearl River Delta affected the city in general. "Hong Kong is cleaner because there are not many factories here. Yet the Pearl River Delta is the world's factory and many industries moved from here," he said. A report by think-tank Civic Exchange recently found Hong Kong was the largest source of outside investment in Guangdong, accounting for more than 53,000 factories. Alexis Lau Kai-hon, an atmospheric scientist at the Hong Kong University of Science and Technology, said Foshan should not be singled out. "Other cities like Guangzhou and Dongguan are facing similar pollution. The government should keep up efforts to curb pollution in the whole region," he said. Friends of the Earth environmental affairs manager Hahn Chu Hon-keung said the monitoring network should be expanded.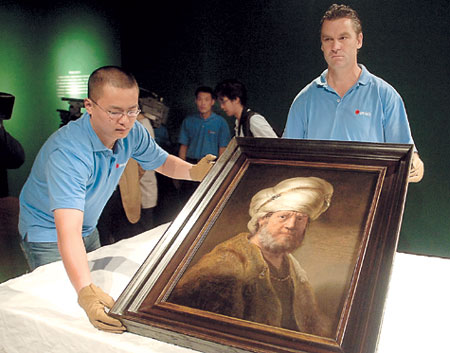 Workers unpack a Rembrandt self-portrait from the Rijksmuseum in Amsterdam at the Shanghai Museum yesterday. A three-month exhibition "Rembrandt and the Golden Age" will open the museum from November 3.
October 26, 2007

Hong Kong: Sony's youth entertainment channel Animax is launching mobile version in Hong Kong and Taiwan. At launch, Animax Mobile will deliver four popular Japanese anime series in their full-length English dubbed versions, plus bite-sized versions, in short clips of five to seven minutes. Titles include the award-winning "Gankutsuou: The Count of Monte Cristo," "Blood+," "R.O.D. the TV" and "The Last Exile." Service was launched earlier this year in Canada and Australia. Hong Kong telco SmarTone will be the first to run the new service in 3G. "Animax enjoys great distribution in both Hong Kong and Taiwan and this expansion to mobile not only builds on the brand loyalty, it gives users an additional source in which they can enjoy their favourite anime series, whenever they want, wherever they want," Ricky Ow, GM SPE Networks, Asia, said.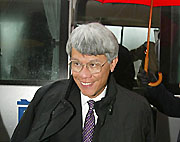 Hong Kong monetary chief warns of uncertainties ahead - Hong Kong Monetary Authority Chief Executive Joseph Yam said Thursday there were currently a lot of uncertainties or even risks ahead in spite of impressive performance of the global financial markets lately. "Investors should remain alert," Yam, who has been heading the Monetary Authority -- virtually the special administrative region's central bank -- since its establishment in 1993, wrote in a latest article published on the institution's official website. The economic and financial outlook for China's mainland and the United States stood out among the uncertainties confronting "our economy and financial markets," he said. He said the possibility of a recession in the United States could not be ruled out as the American sub-prime crisis persists and tight credit conditions were threatening to slow down the U.S. economy and lead to further downward pressure on property prices. Yam noted the plans to encourage the orderly outflow of capital from China's mainland had yet to be implemented while domestic savings continued to accumulate. "The imbalance in the supply of and demand for financial instruments other than bank deposits persists, leading to prices being much higher than would otherwise be the case, and causing concerns about the possibility of a stock market bubble," he said. The macro monetary conditions in the mainland were causing considerable concerns and it was not clear how this scenario might develop, he said, adding that the inevitable market adjustment, if sharp and destabilizing, would have serious implications for monetary and financial stability, for the mainland as well as Hong Kong. Yam said developments in both the United States and China's mainland in the next few months would be crucial. In the U.S. there was hope that normal money-market conditions return shortly, limiting adverse impact on the economy and the housing market there. "On the mainland there is hope for more concerted and effective macro-economic adjustment measures. But there are structural issues in the financial system that will need to be addressed to make it conducive to promoting sustainable economic expansion." "Against this complex background we in Hong Kong have to be cautious about our short-term economic prospects despite the different and bullish signals our financial markets are sending us. Perhaps there are factors that I have failed to see. Irrational exuberance or not, investors should act with caution," he said.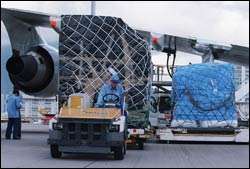 Hong Kong airport still world's premier air cargo handler - Cargo throughput at Hong Kong International Airport in 2006 hit 3.58 million tons, representing an increase of 1.51 million tons, or 72.95 percent, compared with 2001, according to government statistics. "Hong Kong retains air cargo handling crown," Hong Kong's Information Service Department said on its website, citing statistics from the October issue of the Hong Kong Monthly Digest of Statistics published by the Census and Statistics Department. The Hong Kong special administrative region government attributed the growth to a rise in outward air cargo, which surged1.1 million tons to 2.28 million tons, while inward air cargo grew by 406,000 tons to 1.3 million tons in the same five-year period.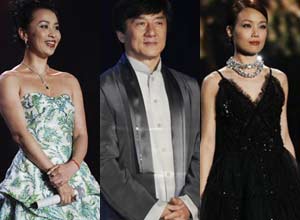 The tourists' heaven of Suzhou in eastern China turned into a heaven for star-chasers Wednesday night, as big names from the country's entertainment circle gathered there to raise the curtain for China's top film gala.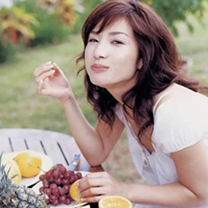 Many women want to become slimmer, even though they are already slim. They resort to various methods and eating less is normally the first choice. They believe that since fat is not good for you, it's better to not eat as much. But that can have an opposite effect. To know why, ask yourself seven questions. Which meal do you eat less? Do you eat less for one meal but a lot more for the other?
Hong Kong Securities and Futures Commission chairman Eddy Fong Ching said yesterday the market watchdog aims to further strengthen cooperation next year with financial regulatory organizations in the mainland to address issues related to dual-listed companies including disclosure and suspensions.

China: PetroChina, the nation's largest oil producer, has set the price range of its A-share Initial Public Offering (IPO) at 15 to 16.7 yuan per share, the company announced on Wednesday.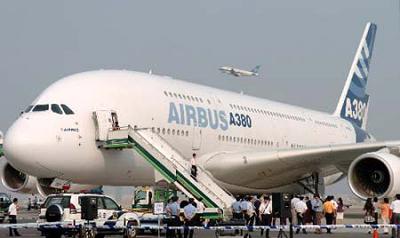 An Airbus A380 superjumbo jet stops on the tarmac at the Baiyun airport in Guangzhou, capital of south China's Guangdong Province, Oct. 23, 2007. An Airbus A380 jet plane arrived in Guangzhou Tuesday to start a week-long tour exhibition in Guangzhou, Shanghai and Beijing.
China's 1st lunar probe Chang'e-1 completed its 1st orbital transfer Thursday afternoon. It is expected to enter Earth-moon transfer orbit on Oct. 31 and arrive in the moon's orbit Nov. 5.
Chinese and U.S. tourism officials kicked off their first-ever dialogue meeting on Wednesday in Charlotte, North Carolina, to explore ways of increasing cooperation on travel-related matters. Chinese tourism officials, including those from different provinces, municipalities and autonomous regions, and dozens of U.S. state tourism directors are expected to ink the Initiative on Establishment of China-U.S. Strategic Cooperation Framework in Tourism during their two-day meeting. Tourism cooperation and exchanges between China and the United States have maintained the good momentum of development in recent years, and the travel industries of both countries are achieving win-win results, Du Jiang, vice chairman of the China National Tourism Administration (CNTA), told the opening of the meeting, or the China-U.S. Tourism Directors Summit. Du, heading the Chinese delegation, said bilateral cooperation and exchanges in tourism will reach a new height. Du said the CNTA is working with the U.S. Commerce Department and Homeland Security Department to jointly explore new grounds for cooperation in the tourism industry. "We can learn a lot from each other," said Roger J. Dow, president and CEO of the Washington-based Travel Industry Association (TIA), co-sponsor of the conference. "During the next 10 years, the amount of travelers from both countries is expected to grow significantly. It makes sense that we explore ways to encourage travel to our respective countries," Dow said.
The Chinese economy continued its robust growth, driven by rapid expansion in investment, retail sales and exports, while inflation pressure eased slightly.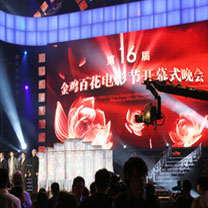 The pageantry of the 16th Golden Rooster and Full Blossom Film Festival in Suzhou, East China's Jiangsu Province October 24, 2007. Well-known actors and actresses including Jackie Chan, Carina Lau and Huang Xiaoming were present at the festival.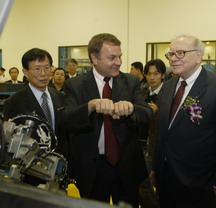 Billionaire Warren Buffett (right) visits a subsidiary of his fund firm in Dalian. He cautioned investors against risks as China. stocks surged this year.

Gurus place China bets - As the mainland market continues its bull run, two heavyweights in the world of investing have expressed contrasting views about where they may unlock potential value in the country. Commodities guru Jim Rogers declared yesterday he is pulling out of all his US dollar assets and buying the yuan. Billionaire Warren Buffett, meanwhile, warned of overstretched valuations of mainland stocks - and urged investors not to lose their shirts. Rogers, who has consistently been bearish on the US dollar, said the yuan is the best currency to buy, predicting the value of the currency to quadruple in the next decade. "I don't see how one can really lose on the [yuan] in the next decade or so. It's gotta go. It's gotta triple. It's gotta quadruple," he was quoted by Bloomberg as saying during a presentation in Amsterdam late yesterday. The yuan yesterday broke through the psychologically important level of 7.5 to the greenback for the first time. It closed at 7.4926, up from Tuesday's close of 7.5047. Reiterating his bearish view on the US dollar, Rogers said the value of the greenback will further erode. "I am in the process of - I hope in the next few months - getting all of my assets out of US dollars. "I am that pessimistic about what's happening in the US," said the chairman of Beeland Interests and former partner of George Soros. The US dollar has fallen against major currencies as concern mounts over economic growth in the United States, while last month's 50-basis point interest rate cut has prompted investors to dump US dollar assets. Meanwhile, billionaire Buffett said although the fundamentals of the mainland economy remains positive, investors should be "cautious about mainland stocks as the market is too hot. But last week, after his investment vehicle offloaded shares in PetroChina (0857), he noted it was "too soon to have sold the entire stake as the shares had risen since. "We never buy stocks when we see prices soaring, Buffett told Bloomberg in Dalian, where he was visiting a subsidiary of a company held through Berkshire Hathaway. "We buy stocks because we're confident of the company's growth. People should be cautious when they see prices rising." The world's second wealthiest man said he was looking elsewhere in Asia to buy large businesses that he understands, but that he was doubtful of finding a good buy in the mainland now that the benchmark index has more than doubled this year. "If you understand a business and buy at a reasonable price, there's no risk.We've never realized a loss because we understand the businesses that we buy in," he said. He denied media reports that Berkshire will invest in China Life Insurance (2628). The CSI 300 index, which tracks major mainland-listed stocks, has jumped more than 170 percent this year. It gained 0.87 percent to close at 5,588.01 yesterday. The Shanghai Composite Index rose 1.21 percent to 5,843.11. Meanwhile, Buffett, 77, said he was "appreciative of the performance of PetroChina."
October 25, 2007

Hong Kong: The retirement of Zeng Qinghong, China's top official for Hong Kong affairs, is unlikely to change Beijing's policies toward the city, no matter who replaces him from the new leadership line-up, observers said yesterday.
Lim Goh Tong, Malaysia's third-richest man, died yesterday, leaving behind a diverse business empire worth US$22 billion (HK$171.6 billion). He was 90.
Apparel giant Esprit Holdings (0330) said it plans to spend up to US$1 billion (HK$7.8 billion) to acquire a US or European fashion company and is already having "intense discussions" with several European firms.
Shun Tak Holdings (0242), which operates jetfoil services between Hong Kong and Macau, has pledged to step up frequency to meet rising patronage demands between the two cities.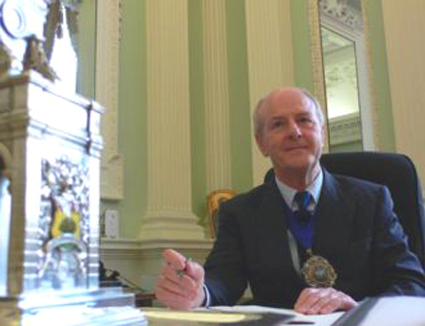 London's lord mayor blasts US regulators - City chief praises risk-focused British, HK system over America's rule-based controls - The head of London's financial centre criticized United States financial regulators during a visit to Hong Kong on Wednesday, saying their reliance on rules had blinded them to the risks of subprime lending. John Stuttard, Lord Mayor of the City of London, said US regulators had failed to stop the subprime mortgage crisis from worsening because American banks had been allowed to wrongly assess the risk of lending to people who were unable to pay back loans. "The banks in question did not assess the risks properly," Mr Stuttard told a briefing. "If you're lending to someone with no income, no job and no assets, this is high risk. And yet this was not being properly controlled." He said the US system had run into trouble because it was based on rules. By contrast, the British and Hong Kong systems, which he described as the best in the world, focused on risk, helping companies to manage and assess it. "This is the problem with New York at the moment. Unfortunately they've got themselves into a tangle. Their regulator environment is heavily influenced by lawyers. They have a lot of class actions." Mr Stuttard said a global financial system based on risk - rather than rules - would remove the kind of systemic risk that produced the subprime crisis, a factor thought likely to lead to a slowdown in world economic growth. "If we can work together to try and find the right regulatory framework, then the global finance houses around the world will succeed and there will not be systemic risk." Mr Stuttard, whose trip to Asia also included stops in Beijing, Shanghai and Seoul, also said US regulators had scored an own-goal with the Sarbanes Oxley Act, introduced in 2002 after scandals such as the collapse of Enron. "The Sarbanes-Oxley legislation has been a real deterrent for foreign companies and even American companies listing on the [New York Stock Exchange] and on Nasdaq," said Mr Stuttard. "It's difficult for them to get out of this situation which they now find themselves in. "New York's listing process is very long and stringent and burdensome. Sarbanes Oxley introduced a tremendous plethora of requirements that listed companies have to comply with."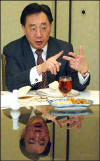 High workloads drive top hotel managers back from Macau - Poor working conditions and heavy work pressure have encouraged senior Hong Kong hotel management personnel, who were lured to Macau with attractive pay packages at the start of the hotel and casino boom there, to return to the territory. According to the Federation of Hong Kong Hotel Owners, up to 40 percent of these executives - mostly from four- or five-star hotels who were hired to train hotel employees in the former Portuguese enclave - are now back here. The backflow has put a further strain on Macau's hunt for experienced hotel personnel as the casino boom continues. Most of the executives left Hong Kong hoping to cash in on the boom in Macau, which began shortly after casino magnate Stanley Ho Hung-sun's empire lost its gaming monopoly in 2002 and triggered an invasion by world-renowned casino operators such as Las Vegas Sands, Wynn Resort and Malaysia's Genting Group. "When the exodus from Hong Kong began around 2004, it was estimated that about 1,000 senior management executives from leading local hotels had left. Now, between 30 and 40 percent of them have returned," federation deputy chairman Clarence Shun Wah said yesterday. "Despite the attractive salaries offered, many of them found it hard to cope with the extremely heavy workload and some were forced to quit after being on the job for only a few months, while others resigned despite having signed long-term contracts with their employers," he said. Shun Wah said Macau is now facing an acute shortage of qualified hotel workers to cope with the growing number of hotel rooms available. He said the main grievances of the Hong Kong professionals are that they have to put up with long working hours and extreme work pressure in Macau and, although their salaries are high - usually double that of what they earned in Hong Kong - they have to pay for their own accommodation. Michael Li Hon-sing, executive director of the federation, said the rate of wastage of hotel workers in Hong Kong has doubled in the past year. According to Shun Wah, the cost of hotel operations has risen by more 5 percent since last year as they fight to retain workers with better pay and work conditions. Hotel owners said they are highly aware of the threat from Macau, but Hong Kong's quality of services and infrastructure remain far superior to those of Macau. "Macau hotels are hiring people from everywhere," Shun Wah said. "If you walk into a hotel, you don't know whether you should speak to the workers in Cantonese, English or Mandarin." He said guests were sometimes unable to check in at some of the top hotels after 4pm because there are just not enough people to make up and clean a room which normally takes about 90 minutes. Commenting on a proposal by Hong Kong Tourism Board chairman James Tien Pei-chun to conduct courses for hotel professionals in Guangdong for Hong Kong and Macau, the federation said this could be a problem as the demand for qualified hotel personnel in the mainland itself is high. "Importing mainland talent is also not a simple task," Chan Shuk-fong, federation assistant executive director, said. "Our hotels have a lot of quotas left for the Quality Migrant Admission Scheme," he said. "The screening process is just too tight for them." Some Hong Kong tertiary institutions, such as the Hong Kong Polytechnic University, offer programs in hotel management, but Chan said they need to be more practical rather than research intensive. Shun Wah said hotel industry workers need to start with frontline duties and work their way up, but many graduates would prefer to work in the marketing or sales departments, or decline to enter the trade.
Hotels want to know what happens to most of the students who graduate from hotel management and hospitality courses - because they are not working in the industry in Hong Kong. "The problem is that, of all the students graduating in hotel studies each year, less than 20 per cent enter the industry," said Michael Li Hon-shing, executive director of the Federation of Hong Kong Hotel Owners. Courses need to include more practical training to encourage graduates to go into the industry, he said. The federation will soon begin a study which aims to shed light on the staffing needs of hotels, amid fears the city's hospitality industry faces a shortage of talent. Between 4,000 and 5,000 people a year complete part-time and full-time Vocational Training Council hospitality courses, and Polytechnic University's school of hotel and tourism management has 539 graduates this year. Other universities and various institutes offer similar courses. Mr Li said many graduates from these courses opt to work in finance or the government or seek job opportunities outside Hong Kong instead of investing long-term in a career in hotel management. Fresh graduates have to start from the bottom and work their way up, something many people are unwilling to do when they can climb the career ladder faster in other industries, he said. Luk Kwok Hotel general manager James Li said annual staff turnover at the Wan Chai hotel had doubled this year to 20 per cent. The federation is backing a plan for a cross-harbour shuttle service for hotel guests between Tsim Sha Tsui and the convention centre in Wan Chai in answer to criticism that there are too few five-star hotel rooms on Hong Kong Island. Mr Li said that, despite the criticism, the city's five-star hotels had enjoyed occupancy rates of 90 per cent or more on 30 days so far this year, compared with 40 days in the whole of last year.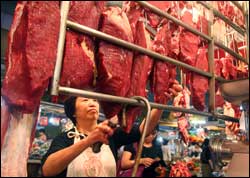 The price of beef in wet markets will cost more after the sole supplier of mainland cattle Ng Fung Hong decided to raise its wholesale price tag by 10 percent. One retailer said the move means he will have to put his prices up by more than 15 percent to HK$56 a catty. The supplier said the increase was agreed after a meeting with beef trade representatives yesterday. "It's necessary to adjust prices to ensure a stable supply to Hong Kong in response to the surging price of live cattle in the mainland," Ng Fung Hong said in a statement. The supplier, a unit of China Resources Enterprise, increased prices by the same amount in August after the central government said the price of cattle had jumped more than 40 percent this year because of shortages. Hong Kong Beef and Mutton Merchants' Association director Chung Siu-kai said the wholesale price rise will be transferred to customers. He said the live cattle supply yesterday covered only 90 percent of local demand. Chung said he was worried the price increase will affect sales.
The Hong Kong Monetary Authority intervened in the market yesterday for the first time since May 2005 to increase liquidity and curb the Hong Kong dollar's strength. For the first time in more than two years, the Hong Kong Monetary Authority intervened in the foreign exchange market as strong demand fuelled by a buoyant equity market continued to push up the Hong Kong dollar and interbank rates.
PCCW (0008) will introduce its Now TV platform for broadband television to the Taiwan market by the end of this year through a tie-up with Chunghwa Telecom, according to an industry source.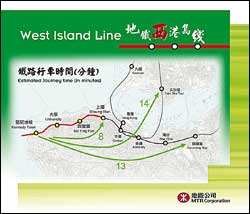 The Mass Transit Railway's long- awaited West Island Line is to get an unprecedented HK$6 billion (US$800 million) injection by the government - or two-thirds of the cost of the project that will link Sheung Wan with Kennedy Town by 2016. The cash subsidy for the profit- making company to proceed with the HK$8.9 billion line is the first of its kind by the administration which, in the past, has relied on granting property development rights to bridge funding gaps in railway projects. Secretary for Transport and Housing Eva Cheng Yu-wah said yesterday the project will significantly improve congested traffic conditions, revitalize the aging district and generate economic returns. The 3km West Island Line will benefit an estimated 140,000 residents and 60,000 workers in the district in 2016, saving them 12 million hours on transport - equivalent to saving HK$44 billion in 40 years. A trip from Kennedy Town to Sheung Wan during rush hour will be reduced from 25 minutes at present to less than eight minutes. The project will also create 2,800 jobs during the construction period from 2009 to 2014, and a further 2,000 jobs upon completion. Cheng said the subsidy is also justified in that MTR Corp will not be able to generate project funding from fare revenues alone or develop property in the crowded district. According to a government source, the existing 1.9-hectare Kennedy Town swimming pool - the only potential land for property development in the district - is too small to generate revenue to bridge the funding gap.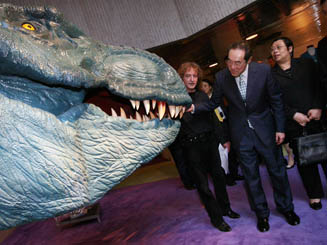 Panel to manage West Kowloon arts hub may include laymen - The government will consider inviting the public to join the authority that manages the arts hub in West Kowloon, a move that would address concern the body may become a bureaucracy.
A government admission scheme for mainland professionals reached a benchmark when more than 3,000 applicants were brought into the city in the past six months.
The latest half-year progress report of the Admission Scheme for Mainland Talent and Professionals revealed yesterday that 3,228 entry applications - out of a total of 3,678 - were approved by the Immigration Department from this April to September. It meant a monthly average of 538 mainland people had come to Hong Kong since April, the highest figure since the scheme was launched in July 2003. The figure for the same period last year was 2,753 approved out of 3,059. Only 2,443 applications were granted out of 2,774 between October 2006 and this March. The academic research and education sector had acquired services from 1,486 successful applicants. Other major employer sectors included commerce and trade (500), financial services (444) and arts or culture (306). The monthly salaries for 1,903 approved applicants were below HK$20,000, but 12 of them could earn more than HK$300,000 a month.

The institutional tranche of the HK$10 billion initial public offering by Alibaba.com, the mainland's largest e-commerce portal, was more than 50 times subscribed by Friday, sources said yesterday. And in a coup for the online business-to-business marketplace founded by chairman Jack Ma, sources added that among the big investors to come on board during the international marketing of the offer was Nasdaq-listed Cisco Inc - though this is still to be officially confirmed and it is not yet known how many shares Cisco subscribed for. alibaba.com began marketing the institutional tranche of its share offering last Monday and the offer was said to have been well-received by big investors in Singapore, Europe and the United States. Bookbuilding for the offer, which was made at an indicative price range of HK$10 to HK$12 per share, will close on Friday. The retail tranche opens for subscription tomorrow. Alibaba's offering documents said it planned to sell 858 million shares or 17 per cent of the enlarged capital base. The indicative price range values the shares at between 78.7 times and 94.4 times this year's forecast earnings. Ahead of the marketing campaign, the company announced it had secured several well-known businessmen, banks and internet companies as investors. Yahoo, which already has a 40 per cent stake in Alibaba.com's parent, Alibaba Group - which took over Yahoo's mainland operations in 2005 - was said to be in line to take an 8 per cent stake in the subsidiary. Other big names secured for the share register included American International Group, ICBC (Asia) (SEHK: 0349) and property tycoons Peter Woo Kwong-ching of Wharf (SEHK: 0004) Holdings, Robert Kuok of Kerry Group and the Kwok brothers of Sun Hung Kai Properties (SEHK: 0016). Investors will have to fork out HK$6,060.64 for every board lot of 500 shares. The company will set the price on October 28 and the shares will debut on November 6. In anticipation of an enthusiastic response from retail investors, brokerages will offer margin financing deals. Philip Securities is believed to have reserved more than HK$10 billion in a margin financing pool for the offer and has also cut its standard subscription handling fee from HK$100 to HK$10. Despite the premium of a price that is pitched at 94 times Alibaba.com's forecast profit for this year of HK$622 million, market watchers believe the offering will generate a hot response due to the branding impact of Mr Ma.

China: China's Renminbi (RMB) broke the 7.5 mark to reach a new central parity rate of 7.4938 yuan to one U.S. dollar on Wednesday, according to the Chinese Foreign Exchange Trading System.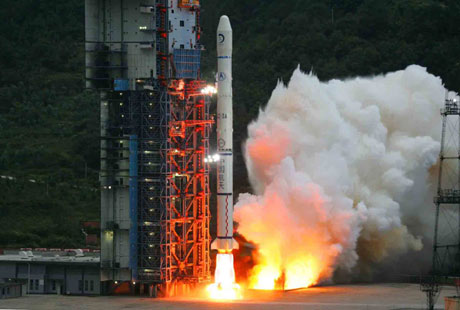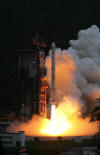 China's first lunar orbiter, Chang'e I, blasts off from its launch pad in the Xichang Satellite Launch Center in Southwest China's Sichuan Province, at about 6:05 pm October 24, 2007. The launch of China's first lunar probe Chang'e-1 was successful, a Chinese official announced Wednesday evening at the Xichang Satellite Launch Center in southwest China's Sichuan Province. Li Shangfu, director of the Xichang launch center, made the announcement after the orbiter successfully entered the earth orbit and unfolded its solar panel, paving the way for its transfer to the lunar orbit. Chinese President Hu Jintao extended his congratulations to all those who have worked for the lunar exploration program shortly after the official announcement of the launch's success. The launch of the lunar probe "marks another milestone in China's aerospace program after man-made satellites and manned space flights", said Chinese vice-premier Zeng Peiyan, who was watching the launch at the Xichang launch center. The launch of Chang'e-1 means that China has taken a key step in its lunar exploration program. It is a symbol of China's bid to build an innovative country, said Zeng. Chang'e-1 blasted off on a Long March 3A carrier rocket at 6:05 p.m. (10:05GMT) from the No. 3 launching tower at the Xichang Satellite Launch Center, the 15th successful launch in a row for the rocket. It is the first step of China's three-stage moon mission, which will lead to a moon landing and launch of a moon rover around 2012. In the third phase, another rover will land on the moon and return to earth with lunar soil and stone samples for scientific research around 2017. The year-long project, which is named after a legendary Chinese goddess who flew to the moon, is to analyze chemical and mineral composition and to explore the characteristics of the lunar surface. The 2,300-kg satellite will experience four accelerations and is expected to enter earth-moon transfer orbit on October 31 and arrive in the moon's orbit on November 5. It will use stereo cameras and X-ray spectrometers to map three-dimensional images of the surface and study the moon's dust. It is expected to transmit its first photo back to China in the second half of November and then start to work for one year of scientific exploration. China carried out its maiden piloted space flight in October 2003, making it only the third country in the world after the Soviet Union and the United States to have sent men into space. In October 2005, China completed its second manned space flight, with two taikonauts on board.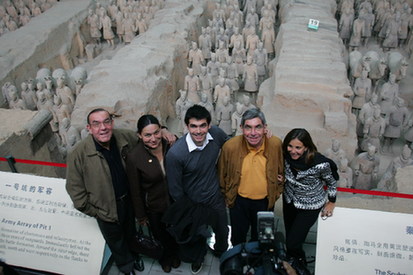 Costa Rica president Oscar Arias (2nd from the right) and his family pay a visit to the Terracotta Warriors in Xi'an, Northwest China's Shaanxi Province on Oct 23, 2007.
BlackBerry maker moves into China - Research In Motion has shipped the first of its BlackBerry smartphones to China and aims to start selling them later this year, a key breakthrough for the company in penetrating the huge Asian market. RIM on Tuesday said it struck a Chinese distribution deal with Alcatel-Lucent. The first handset to be sold under the new partnership is the 8700 model, versions of which RIM has sold globally for several years. "China and India are emerging mobile phone behemoths that could contribute millions of subscribers to RIM over the next several years," said Canaccord Adams analyst Peter Misek. After the long-awaited announcement, investors drove RIM's shares to a record high. The stock jumped US$11.15, or 9.8 per cent, to close at US$124.53 on the Nasdaq market. On the Toronto Stock Exchange, it rose C$9.12 to finish at C$120.42. "I think it's a long-term positive," said Research Capital analyst Nick Agostino. "I don't see it as a near-term benefit as far as financials are concerned." He said the BlackBerry is considered a premium service that will take time to gain traction among the big-business customers that RIM will target in China. Even so, he added, the market there is so vast that even if RIM is able to capture just 1 per cent of it, "it is certainly a lucrative opportunity for these guys". The company has long recognised China's importance in its global plans and first officially announced plans to sell the BlackBerry there in May last year. "We look forward to building on the early interest and momentum we are experiencing in China with both multinational and domestic corporations," Jim Balsillie, RIM's co-chief executive, said in a statement. Mr Agostino said RIM has talked about wanting to enter China for three to four years. The Waterloo, Ontario-based company already has a service partnership with China Mobile (SEHK: 0941, announcements, news) for its entry into China, where it will face competition from low-cost rivals, including a popular local service called RedBerry. Concern by Chinese authorities over communication network security could partly explain why RIM took as much time as it did to introduce the BlackBerry in the country, some market watchers said. RIM's BlackBerry is already available from more than 300 carriers around the world. Earlier this month, RIM said it had moved past the 10 million subscriber milestone and had shipped its 20 millionth handset. It also said efforts to diversify its user base beyond the corporate sector were taking hold. For the first time, more than half of its new North American subscribers came from the "non-enterprise" market segment in the second quarter. Alcatel-Lucent shares rose 43 cents, or 4.71 per cent, to close at US$9.55 on the New York Stock Exchange.

Beijing 'deserves gold medal' for smooth planning, declares IOC OLYMPICS - Preparations for next year's Olympics have entered the home straight - and judging by the form of the test events the games will romp home a gold medal winner. That was the optimistic view shared by the IOC and the Beijing Organising Committee of the Olympic Games (Bocog) yesterday, as they began their penultimate briefing before the symbolic flame is lit at the National Stadium in 10 months. IOC Co-ordination Commission chairman Hein Verbruggen said preparations were in the "final sprint" to the opening ceremony on August 8 next year. "It is like a long distance runner. Our final sprint could be the difference between a gold medal and silver medal when it comes to the organisation of the games," he said at the start of the three-day visit. Addressing Bocog members - headed by Sports Minister Liu Peng, who was standing in for Bocog president Liu Qi - Verbruggen said the test events had been a resounding success. "The triumph of these events and the positive feedback we have received from many of the participants and the international federations gives us great optimism for the games next August, especially because we still have some time to deal with the issues that did crop up during these events," he said. Verbruggen and his team arrived in the capital from Hong Kong, where they inspected the facilities for the Olympic equestrian events on Monday. "We are seeing top-quality venues being built for the games," he said. Sports Minister and Bocog executive vice-president Liu assured the IOC that Bocog was making "smooth progress". "Since their last visit [in April] we have made smooth progress in key areas," he said, adding that 19 of 26 test events this year had been "held successfully", and tests on the environment and transportation had also been conducted "smoothly". Beijing's pollution and traffic problems are likely to be high on the agenda during the trouble-shoot, as are concerns over media freedom and the wall of red tape and censorship which irked international editors at this month's Olympic World Press Briefing.
The European Union leads the US as a destination for Chinese students, with 120,000 studying in EU countries last year.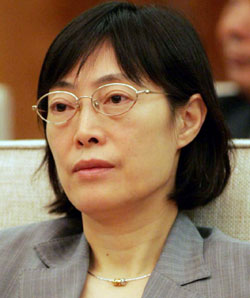 Hu Xiaolian, administrator of the State Administration of Foreign Exchange. China will further improve the management of the country's massive foreign exchange reserves and satisfy trade and investment needs of domestic firms and individuals, China's top foreign exchange regulator pledged. "We'll ensure the safety and liquidity, while improving the profitability of the country's foreign exchange reserves," Hu Xiaolian, administrator of the State Administration of Foreign Exchange (SAFE) told China Daily on the sidelines of the 17th National Congress of the Communist Party of China. Hu promised to expand in an orderly manner the channels for capital outflow, in which qualified domestic institutional investors (QDII) is a part. "The quota for both QDII and qualified foreign institutional investors (QFII) will continue to be increased," she said.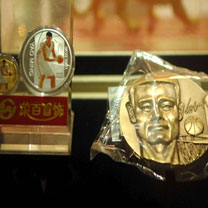 The copper commemorative medal of Chinese NBA basketball sports star Yao Ming is on sale in Beijing on October 23, 2007.

Father and son may run with Olympic torch - A Chinese father and his 16-year-old son are on the short list for the Olympic torchbearers next year. Ren Erlin (R) and his son Ren Panpan are shown on the cover of the family's 2005 book, recounting their adventures hiking along the Great Wall. The duo are among the 1,188 torchbearers and escort runners selected in mid October by Olympic sponsor Coca Cola via public voting through iCoke.com. The final list will be decided in early 2008, upon approval by the Being Olympic Committee. China first took notice of the father Ren Erlin, a professional photographer, in 2003 when he and his son have successfully hiked a major portion of the Great Wall. The man-made construction extends more than 6,000 km through nine provinces across North China. Ten-years-old Ren Panpan, who hikes along a path during his family's trek along the Great Wall, is shown in the family's 2005 book. On July 15, 2001, two days after then President of the International Olympic Committee Antonio Samaranch announced that Beijing won the 2008 Summer Olympic Games bid, Ren took his 10-year-old son Panpan to trek on the Great Wall for the first time. They set off from Shanhaiguan in Bohai Bay, carrying a 20-mile-long scroll with signatures on it, a red banner that read "Love China, Maintain the Great Wall," as well as a donation box asking people to contribute one yuan for upkeep of the Wall. In the following two summers, Ren's wife Yin Xianghua participated in the Great Wall hike to finish covering the remaining kilometers with her husband and son. Along the way, the family not only collected donations, but also raised the public's awareness of preserving China's cultural heritage. In June this year, the trio was nominated to be Olympic torchbearers in a nomination campaign launched by Coca Cola across the country. Both the father and the son easily advanced to be in the short list.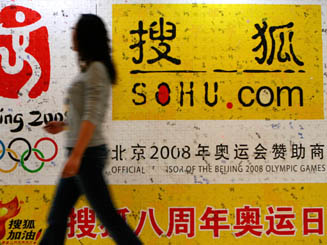 Competition in the mainland's booming internet sector has turned nasty ahead of the Beijing Olympics, with Sohu.com upsetting its rivals through a lucrative sponsorship deal that is now being challenged. The mainland portal paid a reported US$30 million in 2005 for the rights to set up the Games website for the Beijing Olympics organizing committee and to use the logo of the event - the signature silhouette of a dancing man. However, it has since put the squeeze on rivals by claiming the deal included exclusive rights to host all the advertising by Beijing Games sponsors bearing the official logo. This would give Sohu.com an effective internet monopoly on advertisements by firms such as Adidas, Volkswagen and Johnson & Johnson, and its rivals are fuming. The organizing committee's legal department is now working to untangle the affair that could determine who gets millions of dollars in advertising revenue between now and the Games that begin in August. It could also give an invaluable boost in the broader internet advertising sector which marketing analyst iResearch believes will be worth more US$1 billion this year, up nearly 40 per cent on last year.
October 24, 2007

Hong Kong: The Hong Kong market plunged Monday, in line with the rest of Asia, after sharp declines on Wall Street on Friday prompted investors to become more concerned about the impact of the credit crunch and subprime fallout.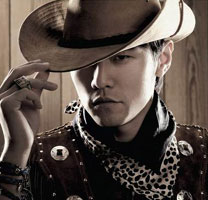 Taiwanese entertainer Jay Chou will work with fans to write a song for the 2008 Beijing Olympics.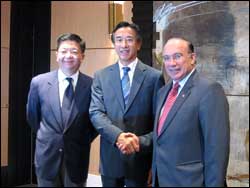 Hong Kong and Macau have agreed to negotiate with the mainland government on combining into one the current separate visas for mainland tourists visiting the two cities. The aim is for mainland tourists, under the Individual Visit Scheme, to travel to both places in one trip, according to Hong Kong Tourism Board chairman James Tien Pei-chun who revealed the plan yesterday. Hong Kong and Macau are not competitors but partners in tourism promotion, Tien said after meeting with Macau Chief Executive Edmund Ho Hau-wah and Macau tourism officials in the neighboring SAR. He said increasingly severe international competition has driven them to embrace their partnership. The two cities are only separated by water, Tien said. Hong Kong, he said, should position itself as a sight-seeing, shopping and dining capital while Macau will continue to attract tourists with its World Heritage, gaming and entertainment facilities. Tien added that the rapidly growing gaming industry in Macau and opening of foreign- owned casino resorts such as The Venetian with exhibition facilities will not harm Hong Kong's status. "Hong Kong has limited convention space," Tien admitted. "We can't hold all exhibitions. There are a lot of facilities in Macau or Guangzhou. "I believe it's still beneficial to us if they hold conventions somewhere nearby because they might visit Hong Kong."

China: KFC dumps Nestle for Mengniu - In a strong demonstration of faith in Chinese product quality, KFC is replacing Nestle with Mengniu products. The global fast food behemoth yesterday signed a dairy product supply agreement with Inner Mongolia Mengniu Dairy Industry (Group) Co Ltd, China's top dairy producer. Under this strategic alliance, Mengniu's dairy products will be sold at KFC's 2,000-odd stores in China from next year, replacing multinational Nestle. Milk will be the first of Mengniu's products that will be available at KFC outlets. Though this is not an exclusive agreement, executives from both sides hinted the two companies would not consider a similar partnership with each other's competitors for now. This is a significant step that demonstrates KFC's commitment to localize in China, said Mark Chu, KFC brand general manager with Yum! Brands Inc (China Division). But Chu refused to elaborate on why KFC ended its partnership with Nestle, KFC's dairy supplier of choice in China in the past two decades. "Nestle is a quality supplier. We'll start other kinds of cooperation in the future," Chu said. Nobody from Nestle could be reached for comment. This year marks the 20th anniversary of KFC's entry into China, which contributes around 20 percent of its sales revenue worldwide. Currently, more than 90 percent of KFC's products are localized, and "there will be more", according to the company. Chu said KFC has had its eye on Mengniu for many years. "Its explosive growth, high-quality products and brand popularity among Chinese consumers are more impressive than its counterparts." Set up in 1999, Mengniu has rapidly grown to become the leading player in the liquid milk, ice cream and yogurt segments. Going by its interim financial report, by September, Mengniu's first-half profit surged 41 percent and its sales rose 32.8 percent to 10 billion yuan. KFC's rival McDonald's has been partnering Chinese dairy producers like Sanyuan since 1992 when it entered China, as part of its strategy to localize and cut costs. Industry insiders said Mengniu products would be priced lower than those of Nestle at KFC outlets, but executives from both sides refused to comment, saying they would set "reasonable" prices. For Mengniu, the deal is both a bid to strengthen its brand and promote sales. Last year, the company set the target of entering the Global Top 20 list of dairy producers by 2011. The agreement with KFC comes on the heels of a deal with Starbucks Coffee, which in June appointed Mengniu as its liquid milk supplier in China, again replacing Nestle.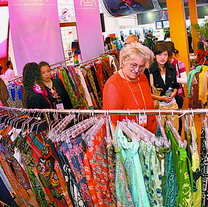 Visitors browse the racks at the China International Fashion Trade Fair opened yesterday in Ningbo. The event attracts people from 57 countries and regions.

Bear Stearns Cos, the US investment bank battered by slumping mortgage markets, and China's CITIC Securities have agreed to swap stakes in each other and form a broad alliance, the firms said yesterday.

China Mobile (0941) reported net profit for the first nine months jumped 29.8 percent to 59.88 billion yuan (HK$61.82 billion) - beating market expectations - after it added a record number of users in September.
October 23, 2007

Hong Kong: A French trade official said here Monday that it was a miracle that Hong Kong had achieved such high economic growth despite the fact that the city is a developed economy. "We have to look on, and study to find the key of Hong Kong's success," said Herv Novelli, French minister of State responsible for Businesses and Foreign Trade, who is here on an official visit. Hong Kong witnessed a 7 percent economic growth on the average over the past three years. The French official said that such high growth is more often seen in developing countries, adding that he hoped to find out the secret of Hong Kong's success and implement it in France. There are more than 600 French companies in Hong Kong, and Novelli said he hoped more and more French companies will come to Hong Kong to do business.
On Monday morning, Novelli held bilateral talks with Frederick Ma Si-hang, secretary for Commerce and Economic Development of the Hong Kong Special Administrative Region government, discussing economic and trade issues of common concern. Novelli will leave for Macao on Monday. He is scheduled to meet Edmund HO, chief executive of the Macao Special Administrative Region, and officially launch the French-Macao Business Association.


Joan Chen received her Life Time Achievement Award for the movie "The Home Song Stories" at the 2007 Louis Vuitton Hawaii International Film Festival - View Award Video online - courtesy of YouTube
Macau leisure and gambling conglomerate Melco International Development (0200) announced yesterday that a consortium formed by a subsidiary will inject its Asian lottery-related business into Growth Enterprise Market- listed Wafer Systems (8198), a network infrastructure solutions and services provider.
The leadership reshuffle that saw the departure of Vice President Zeng Qinghong and other senior officials in charge of Hong Kong affairs is not expected to mark a significant shift in central government policy toward Hong Kong, according to political commentators.

Top Hong Kong snooker player Marco Fu Ka-chun beat two-time world champion Ronnie O'Sullivan 9-6 at the Royal London Watches Grand Prix overnight (HK time) to win his first ranking snooker tournament.
Hong Kong's taxi industry was having to cope with increasing competition and the demands of more infrastructure and longer routes, Transport Advisory Committee chairwoman Teresa Cheng Yeuk-wah said on Monday.
The Law Society has urged the government to widen access to justice by expanding the supplementary legal aid scheme to cover cases including judicial review, probate, trust, trademark, consumer and land disputes.
Macau's "trial of the century" is set to start on November 5, with former minister Ao Man-long battling 76 counts of bribe-taking, money laundering and abuse of power.
Frustrated in efforts to invest directly in Hong Kong's surging stocks through the much-delayed "through-train" scheme, mainland investors are pouring cash into professional funds that can already buy shares here. Under the qualified domestic institutional investor (QDII) scheme, these funds are the only legitimate channel for mainland investors wanting exposure to Hong Kong's red-hot market. But there are warnings the increasing popularity of the fledging QDII scheme may be short-lived, with forecasts the Hong Kong market, largely driven by "through-train" hopes, faces a correction. QDII funds have been heavily oversubscribed since September as it became apparent government delays in launching the through train were likely to continue. The Hang Seng Index has surged 36 per cent since August 20 when the scheme allowing mainland investors to buy shares directly in Hong Kong was first announced. Four QDII products launched by fund management companies since September attracted double the combined US$18 billion in funds sought, according to the State Administration of Foreign Exchange. The immense interest meant each fund was able to close its offer on the first day of the issue. And investor enthusiasm has kept on growing with each new QDII offering. A fund offered by Shenzhen-based China Southern Fund Management attracted 50 billion yuan on September 19 while the Shanghai-based China International Fund Management on October 15 drew more than 100 billion yuan, a record amount for a mainland-issued fund. While QDII funds are allowed to invest in markets from 33 countries and regions including Singapore, India, South Korea and Australia, the focus is clearly on the booming Hong Kong market. The 22 banks with QDII licenses launched 19 new products in August and 18 in September, higher than previous months and many of them focused on Hong Kong.

China: In "Lust, Caution," the uncanny ability of Tang Wei -- in her her feature film debut -- to exhibit internal conflict provides the window into the movie's soul. As director Ang Lee explains, it's the paradox of human nature that pits us in a constant battle between wanting to expose ourselves and share our feelings, while also attempting to keep things secret. "When people do expose themselves, there's a tendency to polish it," explains Lee. "Except for Tang Wei. She's exceptional. She has the naivete of a first-timer and the talent of believing while forgetting about everything else." Carrying a project of this magnitude on one's shoulders, a once-in-a-career opportunity for most actresses, was a particularly tricky proposition, especially given the Pirandellian nature of playing a role within a role: Wong Chia Chi, an idealistic would-be Chinese actress recently abandoned by her father during WWII; and Ms. Mak, a role Wong plays to seduce a Japanese collaborator with the purpose of assassinating him. Tang so immersed herself into the dual part that it took her months after the shoot to re-establish her own identity. Her first meeting with Lee didn't occur under the most ideal circumstances: a family crisis prevented her from getting any sleep the night before, and her voice was practically shot. But her vulnerability worked in her favor. "I think I opened my heart," explains the 27-year-old about how Lee settled on her after considering more than a thousand other candidates. "This was the most important thing to Ang. He wanted to find an actress who could give all of herself to the character, because (Wong Chia Chi) gives all of herself to the part she performs. Ang could sense this." One of the astonishing aspects of Tang's talent is her ability to show emotion. Her passion draws the audience in, and it influences everyone around her. "I think it's very important for her character," explains Lee.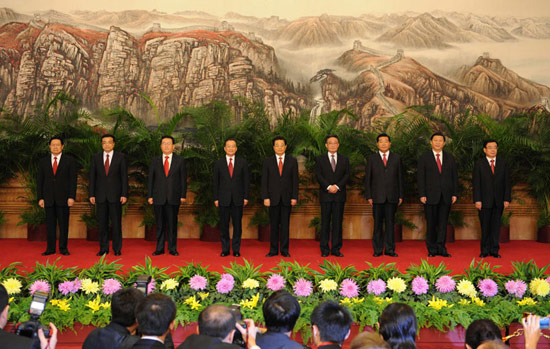 Hu Jintao (C), Wu Bangguo (4th R), Wen Jiabao (4th L), Jia Qinglin (3rd R), Li Changchun (3rd L), Xi Jinping (2nd R), Li Keqiang (2nd L), He Guoqiang (1st R) and Zhou Yongkang (1st L), who are members of the Standing Committee of the Political Bureau of the 17th Central Committee of the Communist Party of China (CPC), meet the press at the Great Hall of the People in Beijing on Oct. 22, 2007. The following is a list of members of the Standing Committee of the Political Bureau of the 17th Communist Party of China (CPC) Central Committee: Hu Jintao, Wu Bangguo, Wen Jiabao, Jia Qinglin, Li Changchun, Xi Jinping, Li Keqiang, He Guoqiang and Zhou Yongkang. The following is a list of the Political Bureau members of the 17th Communist Party of China (CPC) Central Committee (listed in the order of the number of strokes in their surnames): Xi Jinping, Wang Gang, Wang Lequan, Wang Zhaoguo, Wang Qishan, Hui Liangyu (Hui), Liu Qi, Liu Yunshan, Liu Yandong (female), Li Changchun, Li Keqiang, Li Yuanchao, Wu Bangguo, Wang Yang, Zhang Gaoli, Zhang Dejiang, Zhou Yongkang, Hu Jintao, Yu Zhengsheng, He Guoqiang, Jia Qinglin, Xu Caihou, Guo Boxiong, Wen Jiabao and Bo Xilai. They were elected at the first plenary session of the 17th CPC Central Committee on Monday morning.
China Southern Airlines will launch direct flight service between Guangzhou, capital of south China's Guangdong Province, and Vientiane of Laos from November 6.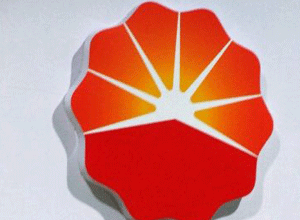 PetroChina expects A-share listing in Shanghai on Nov. 5 - PetroChina said it would use 6.84 billion yuan and 5.93 billion yuan respectively to boost production capacity at its Changqing and Daqing oil fields. A total of 1.5 billion yuan will be used to build production facilities at Jidong field, the country's biggest.
A kite painted with the image of Chang'e is flown near the launch pad of the Xichang Satellite Launch Center in Sichuan Province, Oct 18, 2007. China's first moon orbiter, Chang'e I is set to be launched on October 24.
Chinese auto-maker Chery signed strategic cooperation agreements with China Petroleum and Chemical Corporation (Sinopec) and SMC Corporation last week, in an effort to enhance over-all competitiveness.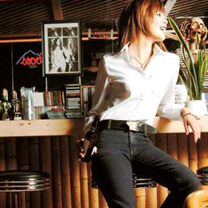 As temperatures start to drop, most party goers don't go out as often as they do in the summer. The cold wind chills both the body and the heart when people shuffle between pubs or between bars and home. So here we offer a list of 24-hour coffee shops in Beijing and Shanghai. People can come here in the sunshine and leave them in the day as well. While they stay inside, they can have warm drinks, books as well as likeminded souls.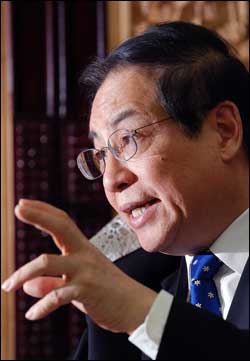 The China Banking Regulatory Commission is evaluating whether to raise or lower the stake cap on foreign lenders' holdings in banks. Chairman Liu Mingkang told The Standard it is now looking into synergies and problems brought about by the 20 percent cap. Any decisions will be announced by the first quarter of next year. "The results from lifting the cap to 20 percent are encouraging," Liu said, adding that some problems must be addressed. The cap was raised from 15 percent in 2003. Four of the six Hong Kong-listed mainland banks now have overseas strategic partners. Among small and mid-sized banks, 19 have brought in foreign investors as strategic partners. Thirty overseas institutions own about 4.59 percent of the 12 national banks and 4.17 percent of 120 city commercial banks, according to the commission's data. HSBC Holdings (0005) wants to increase its stake in Bank of Communications (3328) from 18.6 percent to 30 percent.
China Merchants Bank (3968) has kept its lending to developers at the low level of 5 percent to 7 percent of its loan portfolio, following the central bank's guidelines intended to help curb overheating in the property market, the bank's chairman Qin Xiao said.
October 22, 2007

Hong Kong: The Hongkong and Shanghai Banking Corporation (HSBC) has started offering Renminbi services in Wuhan, capital of central China's Hubei Province. The second foreign bank to open in Wuhan after Bank of East Asia (BEA) established a branch last month, HSBC has also opened its first sub-branch in the city on the Yangtze River, which is a major transportation hub, and home to higher educational institutions and one of China's major steel plants. "Central China will be on the top list of all foreign banks in China when they try to expand their business," said Richard Yorke, China CEO of HSBC. "Steady policies and high growth rate of central China will draw international companies, together with capital and investment to the region." In accordance with the Regulation of the People's Republic of China on the Administration of Foreign-funded Banks, foreign financial institutions must register locally incorporated banks to initiate Renminbi retail business.
Hang Lung Properties (0101) said its property investment portfolio in the mainland will become the company's major source of leasing income in five years when its projects in China begin to contribute profit.
Union Hospital and Dragonair Holidays have joined forces to promote Hong Kong as a destination for medical tourists. According to a joint announcement yesterday, the scheme is aimed at luring affluent mainlanders to visit Hong Kong for medical checkups. The pioneering venture between the private hospital in Tai Wai, Sha Tin, and the subsidiary of Cathay Pacific Airways will offer packages that include a half-day medical checkup at the private hospital plus air tickets, hotel, transportation and a half-day sightseeing tour around Hong Kong Island organized by the airline. A doctor's report on the medical status of the person will be included. The cost of the four- and five-day packages ranges from about HK$6,760 to HK$12,570 a person, depending on the departure location and season. The basic checkup includes a standard medical evaluation of blood pressure, glucose level, urine, liver, kidneys, electrocardiogram and chest x-ray. Additional tests such as breast checks and pap smears are available at extra cost. The medical tour is being targeted at middle- class professionals in 10 affluent mainland cities: Beijing, Shanghai, Ningbo, Nanjing, Hangzhou, Changsha, Wuhan, Qingdao, Dalian and Shenyang. Chief hospital manager and medical director Anthony Lee Kai-yin is confident mainlanders will be prepared to pay for the body checkups in Hong Kong even though the price is two to three times more than in the mainland. "Many hospitals in the mainland may have caught up with our hardware, but not the software. Hong Kong's health-care sector has a good brand image for high-quality hospital and medical services, and doctors' credibility," Lee said. Currently, mainlanders comprise about 1.5 percent of the hospital's in-patient services, which is double the rate of a year ago. Lee said the increased intake would not affect services to local patients. He said he hoped the scheme would attract new customers, as most of the current mainland patients are relatives of local residents. Dragonair Holidays international sales manager Ophelia Ng Ka-wai said bundling conventional tourism packages with medical services can also increase Hong Kong's competitiveness as a medical hub. "Mainland tourists are becoming more mature, more and more are not just looking for discounts, they want diversified products," Ng said. However, Hong Kong's immigration policy does not really promote Hong Kong as a medical hub, according to Hong Kong Private Hospitals Association chairman Alan Lau Kwok-lam. The government should simplify visa procedures for mainlanders seeking medical services in Hong Kong and consider visa extensions for those requiring post-medical treatment, he said. In August the Taiwanese government eased the visa application procedures for mainlanders seeking medical treatment. The program is expected to attract about 100,000 mainland and overseas visitors to the island in three years.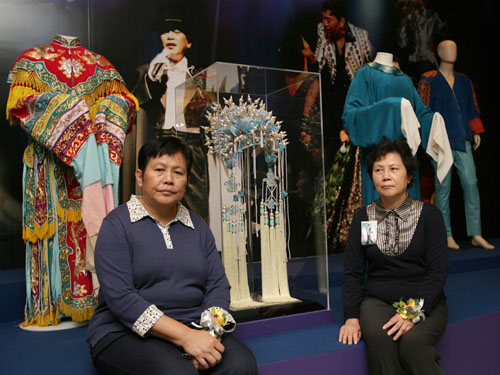 Memories of Canto-pop "godfather" Roman Tam Pak-sin will live on at the Hong Kong Heritage Museum after family members donated 3,000 items of memorabilia from his long career. The Roman Tam Collection, part of which is on display from today until April 21, is believed to be the first complete collection of a Hong Kong pop artist. The star's sisters, Tam Man-yuk and Tam Ming-yuk, approached the museum shortly after he died of liver cancer in 2002 with the idea of the donation, which they made last year. "Only after coming to Hong Kong was Roman able to bring his talent into full play," elder sister Tam Man-yuk said yesterday - the fifth anniversary of her brother's death. "Had he stayed in Guangzhou, he would not have amounted to anything." She said the donation was made to thank Hongkongers for their support of her brother. "It was Hong Kong that nurtured Roman's career, so the collection belongs to all people in Hong Kong," Tam Man-yuk said, adding the family also believed the star's memorabilia would be better kept and appreciated in the museum. Director of Leisure and Cultural Services Thomas Chow Tat-ming said the collection would play a significant role in local pop culture. "Because of its comprehensiveness, the collection also has considerable value as a reference source for research into Roman's life and career as well as the development of pop music in Hong Kong," Mr Chow said. The collection includes costumes, props, trophies, news clippings, photo albums, posters and many other mementos from his life. Sixty items are being displayed until April and others will be featured at a separate exhibition on Hong Kong's Canto-pop development to be held from November 11. In a three-decade career, Roman Tam was one of a few Hong Kong singers to become a cultural icon. His songs were particularly popular for a generation who came of age in the 1970s and 1980s. Thousands of fans lined the streets to pay their respects when he died five years ago. Roman Tam was the first star to rock Hong Kong in 1973 with a cross dyed on his crew cut, a teardrop drawn on his cheek and one eye slathered with blue eye-shadow. And he introduced dungarees to the public - minus the underwear.
The education chief pledged yesterday to look at ways, including a new credit-point system, to give associate degrees greater academic recognition by the end of the year.
More than a third of workers in Hong Kong change jobs after less than two years, with banks and advertising and media firms suffering the biggest turnover in an increasingly competitive labour market, a survey has found. The latest Hudson Report for Asia found 35 per cent of the 635 executives surveyed in Hong Kong said they had staff who left within two years. The banking and financial services sector reported the highest turnover - 40 per cent - while media and advertising firms said 35 per cent of staff left within two years. However, there are also relatively significant numbers who stay on. In the banking and financial services sector, 18 per cent stay for more than four years. For media and advertising firms, 14 per cent remain for more than three years. "The market remains buoyant, with rising employment expectations," Gina McLellan, Hudson's Hong Kong country manager, said. "However, there is a significant gap in salary expectations between employers and candidates, and many organisations feel they have to make counter-offers to retain key staff." The survey found that one-fifth of job candidates ask for salaries more than 20 per cent higher than their employers are willing to pay. Hudson is a recruitment management services provider.
A Chinese University survey has found about 31 per cent of Hong Kong people are satisfied with the policy address delivered last week by Donald Tsang Yam-kuen, an increase of 10.7 percentage points from last year's blueprint. According to the survey by the university's Institute of Asia-Pacific Studies last Wednesday's policy address scored 62.6 marks out of 100, compared with 56 marks recorded in a similar poll last year. A total of 711 people were interviewed from October 12 to Monday. The survey also showed a rise in the approval rating of Mr Tsang's administration, with 39.5 per cent of respondents saying they were satisfied with the performance of the government. This represented a 4.2 per cent rise from the rating in a similar poll last month. But Mr Tsang saw his personal approval rating drop slightly to 62.7 marks out of 100. He scored 64.2 marks in last month's poll, and in an August poll the mark was 67.5.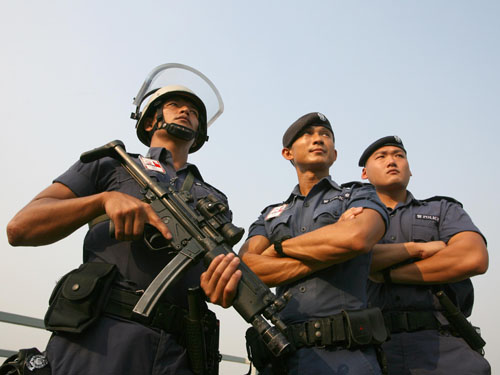 Protecting airport a job for elite police unit - It takes six months of specialized training to be selected for the elite Airport Security Unit. The training for this unit, which is marking its 30th anniversary, is the second toughest, after the special duties squad - the force's equivalent of a special weapons and tactics (Swat) team. And because the officers carry more than 13kg of weapons and equipment on their belts, physical fitness is vital. "The fitness standard is stringent, and it is the foundation for this unit," said Chief Inspector Clement Lai Ka-chi, the unit's officer in charge. Applicants have to complete 18 pull-ups and meet other fitness requirements to advance in the selection process. That is compared with the standard for the force's general recruitment - five pull-ups to be an inspector and seven to be a constable. "The six-month fitness training is a guide to those who wish to join the unit," Mr Lai said. Afterwards, "officers have to attend a training session at the airport once a week, which prepares them for the other recruitment hurdles". Those who advance then receive training in the use of weapons and equipment. "Knowledge on new threats such as biochemical weapons is also included in our training," Mr Lai said. Communications equipment has also been upgraded, and officers now carry first-aid kits on their belts. About 70 officers apply annually, but only 15 to 20 are selected to join the unit, the chief inspector said.
Property development The Legend has reclaimed the record for the highest-priced flat. A 3,205 sq ft duplex at the Tai Hang towers has sold for HK$109 million, or some HK$34,000 per sq ft. But the record may not stand for long. The Legend's developer, Cheung Kong (Holdings) (SEHK: 0001), plans to raise prices for the remaining 20 apartments and nine duplexes there. What's more, flats in The Cullinan - Hong Kong's tallest buildings, above Kowloon Station - could sell for HK$40,000 per sq ft, said the owner of the agents that sold the duplex. Its price beat the record HK$33,500 per sq ft paid for a duplex in The Arch, also above Kowloon Station, in July. A 3,850 sq ft duplex at the Legend was the previous record-holder, selling for HK$128.2 million, or HK$33,300 per square foot, in March. For HK$109 million, the buyer of Hong Kong's most expensive flat gets a kitchen and rooftop swimming pool with gold-plated fixtures and a view of Victoria Harbour, Centaline Property director Louis Ho Siu-tong said. "Those features attracted the buyer to pay an aggressive price for the unit," Mr Ho said. The Legend is a four-tower development on the site of the former Tiger Balm Garden attraction. Shih Wing-ching, chairman of Centaline (Holdings), parent of Centaline Property, said property prices continued to rise and people were willing to pay premium prices for special units in new projects because of their exclusivity. Simon Lo Wing-fai, director of research and consultancy for property agent Colliers International, said the luxury residential market was bullish. Its figures show luxury-flat prices have risen 5 per cent in two weeks.

China: Candidates vying for a seat in the all- powerful politburo Standing Committee will have to fight it out regardless of their background or support from any quarter, a senior party official said yesterday.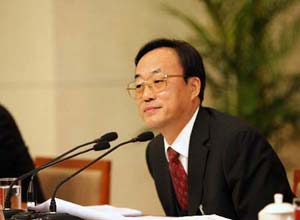 The appreciation of Yuan and the heightened tasks in security management have driven up Beijing's Olympics budget from 1.6 billion U.S. dollars to 2 billion U.S. dollars, Liu Jingmin, executive vice president of the Beijing Organizing Committee for the 2008 Olympic Games, said on Friday. The figure still stays short of the 2.4-billion-USD budget for the Athens Olympics in 2004, he noted, adding that the committee would make a second revision of the budget in line with needs.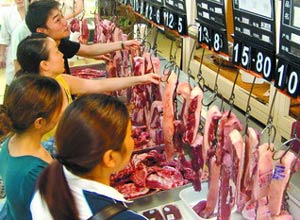 The average price of pork in Chinese shops has dropped 11 percent from its peak in August as the government invests billions of yuan to support the pig breeding industry.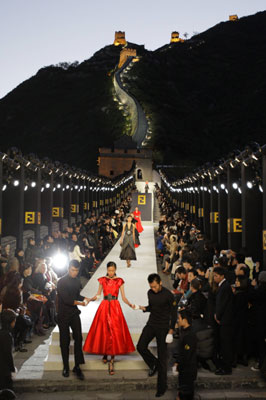 A model is assisted off the catwalk while wearing a dress by fashion label Fendi at sunset on the Great Wall of China near Beijing October 19, 2007. A total of 88 models displayed designs by designers Karl Lagerfeld and Silvia Venturini Fendi.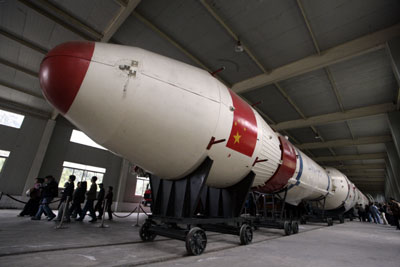 Visitors walk past Long March III carrier rocket at the Xichang Satellite Launch Center (XSLC) located in Southwest China's Sichuan Province October 18, 2007. The country's first moon orbiter, Chang'e I, is set to be launched on October 24.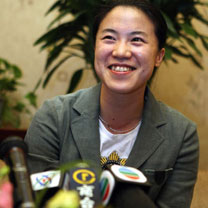 Olympic and world table tennis champion Wang Nan meets the press on the sideline of the on-going 17th Party's National Congress in Beijing October 19, 2007.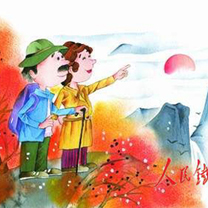 October 18 this year marks the traditional Chinese festival Chongyang Festival, or Double Ninth Festival. Traditionally, Chinese people drink chrysanthemum wine, carry a dogwood branch and climb mountains to celebrate this festival. You can choose to follow this tradition or not. But the autumn days are always a perfect time for hiking and climbing given the clear weather.
October 20- 21, 2007

Hong Kong: Just as talk of a second internet bubble in the US starts to gain traction (don't believe it? This great New York Times article will convince you), Alibaba, right on cue, pops up with its IPO. Jack Ma, Alibaba's pugnacious boss, has made plans to raise US$1.33 billion on the Hong Kong Stock Exchange, which would make it China's biggest tech IPO to date. If all goes to plan, Alibaba will receive a net profit of more than US$80 million. Ma has already bested foreign pretenders like eBay, who dared encroach on his turf (Alibaba's auction site Taobao dominated eBay in the local e-auction market). Now, pockets lined with cash, it looks like he's ready to start the next phase of Alibaba's rise and rise. Another smart Chinese player, telecom firm Huawei, is also making its mark felt abroad. Last week it announced a plan to buy 21.5% of 3Com, the US network equipment manufacturer. The folks at the Shenzhen Stock Exchange must have been paying attention - Huawei, after all, is still a privately held company, although it's already a global telecoms equipment player. The exchange will launch a new growth enterprise board targeting high-tech companies, part of a national plan to accelerate the country's tech sector, which also includes a US$10.7 billion investment from China Development Bank.
Star TV, News Corp.'s Hong Kong-based satcaster, is set to open a sales office in Los Angeles to promote some of its 40 Asian-language channels in North America.
Office will be headed by new hire David Wisnia, VP of sales and distribution. He was previously with Fox Sports Intl., including four years with Fuel TV, and was most recently VP, business and legal affairs. DirecTV already carries four Star channels -- Hindi-language trio Star India Plus, Star One and Star India News plus the Tamil-language Vijay. Star wants Stateside carriage for Hindi movie channel Star Gold and several Mandarin-language channels, including Star's Chinese Channel and Channel [V]. "Asians, particularly those of Indian and Chinese descent, represent the largest growing ethnic group in the United States.
A growing number of young couples in Hong Kong are loosening their wallets to capture one of the most memorable moments of their relationship - their wedding. A survey conducted by ESD life, a government-appointed online portal, has shown that the wedding services market in Hong Kong has boomed in the last two years. The number of couples who tied the knot rose from 43,000 in 2005 to 50,300 in 2006, a 17 percent increase. Average wedding expenses hit HK$200,000 in 2007, compared to HK$180,500 in 2006.
The Macao International Trade and Investment Fair (MIF) opened here Thursday, attracting 236 commerce and trade delegations from 50 countries and regions. The fair, sponsored by the Macao Trade and Investment Promotion Institute (MTIPI), boasts an event for over 30 seminars, conferences and product promotion programs. It features a 18,000-square-meter exhibition area and 889 exhibition booths. The four-day annual event has become an important trade platform for enterprises from the Chinese mainland, European and Portuguese-speaking countries, the organizers said.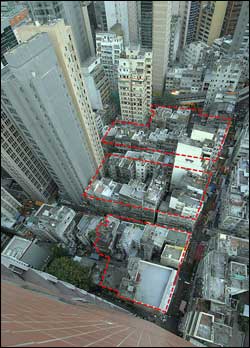 In an unprecedented move, property owners affected by the massive Peel and Graham Street redevelopment plan in Central have joined forces to thwart the project by setting up their own company with a counter proposal. Some owners have created a firm called Graham Street Community Development and made a "flat for a flat" and "shop for a shop" offer against the Urban Renewal Authority's HK$3.8- billion facelift for the site, which includes dismantling the 140-year-old Graham Street wet market. So far, about 20 percent of the owners have indicated they are interested in taking up the company's proposal. The owners' move came after the authority made the highest ever compensation offer for a redevelopment project - HK$8,508 per square foot of domestic saleable floor area - to the 361 owners on the 57,240-square-foot site.
Hong Kong had an estimated 87,000 US-dollar millionaires at the end of last year, up 12.2 percent from 77,200 in 2005, according to the second annual Asia-Pacific Wealth Report released yesterday by Merrill Lynch and business consultancy firm Capgemini. It's no secret Hong Kong has more than its fair share of wealthy people - more than 9,000 joined the ranks of its US-dollar millionaires last year - but it is also home to some 1,330 "ultra-millionaires" with net assets of more than US$30 million, a survey shows. The mainland, with a population 185 times as big as the city's, has 4,900 ultra-millionaires, the annual survey by professional services group Capgemini and investment bank Merrill Lynch found. Gregory Smith, vice-president for wealth management of Capgemini Australia, said the region had seen a sharp rise in the number of ultra-millionaires. "This is particularly evident in China, where that country's phenomenal economic growth is reflected in a high concentration of ultra-high-net-worth individuals," Mr Smith said.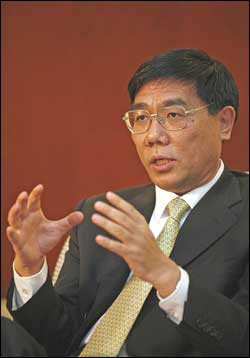 Boosted by solid operating results and funds raised through mega initial stock offerings, mainland banks are seeking to speed up overseas expansion plans by acquiring stakes in foreign lenders and by adding branches. Industrial and Commercial Bank of China (1398) said it plans to add four more branches. "We have gained the nod from the banking regulator to open four branches in the US, Middle East and Australia and we should be soon be getting approval from local authorities," Jiang Jianqing, chairman of ICBC, said yesterday. Jiang said acquisitions in emerging markets are also being explored. Heads of other lenders such as China Construction Bank (0939) and Bank of China (3988) also said they planned to expand overseas. CCB chairman Guo Shuqing said the bank will target commercial banks. "We will eye opportunities around the globe," president Zhang Jianguo said.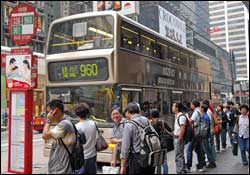 The government said yesterday an application by Kowloon Motor Bus for a 9 percent fare rise is still being reviewed but said it is on the "high" side. Secretary for Transport and Housing Eva Cheng Yu-wah said the review, to be completed in six months, will take into consideration a basket of factors under the fare-adjustment mechanism. Lawmakers and the Transport Advisory Committee will be consulted before the chief executive and the Executive Council decide, she told legislators. The Democratic Party's Lee Wing- tat tried to move a motion in the Legislative Council transport affairs panel urging the application be rejected. He said the 9 percent increase far exceeds the 2 to 2.5 percent inflation rate.
HKUST scientists flying high with Boeing deal - Airline passengers may soon be able to use their cell phones and wireless laptops on board Boeing aircraft, thanks to a wireless communication system now being developed by a Hong Kong university.
Hong Kong version, the first local site in China, enabling non-English-speakers in the city to view and add to the portal's content more easily. The Hong Kong version has secured content deals with local media such as RTHK and ATV. YouTube, which was bought by internet search engine Google last year, said the Hong Kong site - http://hk.youtube.com - would allow users to demonstrate their talent to the site's international community. The interface of the Hong Kong version will be displayed in traditional Chinese characters, rather than English, and content uploaded by Hong Kong users will show up in top favorites and recommended content on the local site. The Hong Kong site will be the 11th local site launched by YouTube, following Japan, Britain, Italy, Mexico and others. "The Hong Kong version can be a showcase for all local content to local users, and with our global reach, we can help bridge communities worldwide," Steve Chen, co-founder and chief technology officer at YouTube, said. YouTube had experienced robust growth in viewers and the number of video clips uploaded since it launch in December 2005, he said.

China: China finds "Lust" too much to handle -Story Categories: Ang Lee, Awards, censorship, China, China Film Group, Film, People, Piracy, regulation, The hand-wringing over the Chinese release of Ang Lee's "Lust, Caution" continues as the release date for the pic has been pushed back to Nov. 1, China Film said Wednesday. But it may be delayed further as the movie has yet to pass censorship. "We hope it will show on time," said China Film Group spokesman Weng Li, who conceded that delays were possible as censors have yet to screen the wartime drama. Pic contains some fairly graphic sex scenes that are expected to run afoul of Chinese censors. Lee has made cuts to the film -- he said in an interview on CNN that he's cut seven or eight minutes, fewer than the 11 he trimmed from the Malaysian version -- but it remains to be seen whether these edits will appease China's famously prudish censors. Piracy is also a concern: The longer the pic goes without a release in China, the more opportunity pirates have to get a good version out there. Illegal downloads are already making the rounds in China. The Golden Lion-winning pic has a political theme, but probably the right kind of politics for the Chinese Communist Party because it's about an undercover activist who seduces the Japanese-allied intelligence chief in WWII-era Shanghai to pave the way for his assassination. Despite the delays on "Lust, Caution," Lee's stock is rising in the People's Republic of China -- he is involved in coordination of the Beijing Summer Olympics next year.
Statistics from US Department of the Treasury showed China and Japan sold US treasuries this August at a pace unprecedented in the last five years.

The 17th National Congress presidium has decided to hold a primary election to choose the new Central Committee - the same method used by the party since 1987. The 237-member body held its second meeting yesterday and announced it had approved the method, but it still has to be endorsed by the more than 2,200 delegates. A list of the recommended candidates has also been put forward to the delegates. The presidium decided that delegates will hold a primary before a final ballot to choose the committee members, Xinhua said. The same method has been followed since the 13th National Congress in 1987. The procedure will allow party leaders to control the election results to ensure their favored members are chosen. As a safety measure, those who are voted down will have a second chance to be elected alternate members. Displaying typical caution and secretiveness, a senior party official said that the method was still being finalized. "The election method is still being deliberated by the delegates," said Ouyang Song , deputy head of the party Central Committee's Organization Department.
October 19, 2007

Hong Kong: Hong Kong Land Registry Trading Fund achieved a net post-tax profit of 117.5 million Hong Kong dollars (about 15.16 million U.S. dollars) for the financial year ended March 31, according to a report released on Wednesday. The figure amounts to a return of 20.9 percent on average net fixed assets, the report said. Hong Kong Land Registrar Kim Salkeld said the registry will upgrade service quality and make steady progress towards the introduction of title registration. "As well as the work to prepare for title registration, we will need to respond to growing demand from the public and other branches of government for increased integration and ease of use of electronic services. We will also face continued pressure to demonstrate to the public that we provide services of the highest quality and value," Salkeld said. The Integrated Registration Information System, launched on Feb. 12, 2005, was upgraded early this year, with a new function added and land-record printing streamlined. "We have seen a 39 percent rise in the number of business subscribers since the launch of the system and 87 percent of the 4. 4 million searches made during the year used our electronic services," Salkeld added.


United Nation report: Hong Kong a "front-runner" economy - Hong Kong has retained its position as Asia's second largest destination for foreign direct investment (FDI), according to a report released on Wednesday by the United Nations Conference on Trade and Development. The report, named World Investment Report 2007, highlighted Hong Kong as a "front-runner" economy, following high rankings in both its Inward FDI Potential and Performance Indexes. Hong Kong attracted FDI valued at 42.9 billion U.S. dollars last year, up 28 percent on 2005. Together with the Chinese mainland, which was the largest FDI recipient, the two economies accounted for over half of FDI inflows into the region last year.
Macao's accumulated fiscal reserves reached 30.59 billion patacas (3.8 billion U.S. dollars) at the end of 2006, local media reported Wednesday. The Macao Post Daily quoted Francis Tam Pak Yuen, secretary for Economy and Finance, as saying that the government's budget produced a surplus of 9.83 billion patacas (1.23 billion U.S. dollars) in 2006. The city's blossoming gaming industry dedicated a 20.62-billion- patacas (2.58 U.S. dollars) tax payment to the government in 2006, the finance chief told the newspaper. The government spent 4.34 billion patacas (543 million U.S. dollars) on public investment in the past year, the official was cited.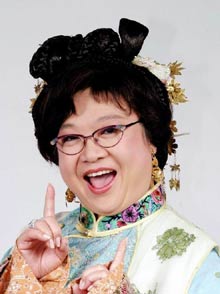 Hong Kong's leading television producer, TVB, will present the highest honor among its anniversary awards to one of the locals' most favored comedians, Lydia Shum. Sixty-year-old Shum will be honored with the Lifetime Achievement Award for her decade-long contribution to the show business industry, according to a TVB announcement on Monday. Recipients from previous years include Kwan Hoi-San, Lo Lan and Chung King-Fai. Shum has also been nominated for Best Television Presenter. This year's TVB Anniversary Awards night is scheduled for Nov. 17, around the station's 40th anniversary. It's unknown whether Shum will be there to accept the award. The star has been visiting hospital frequently due to complications from her bile duct operation last year. Shum fainted at her home last week and was soon sent to a local hospital. Details of her condition are not clear.
Pouring cold water on suggestions that a recent record-breaking run in Hong Kong shares was the result of stock purchases by the mainland's sovereign investment fund, the agency's head said yesterday speculators have been talking up the market to pocket profits.
The government has no plans to develop any new theme parks to Hong Kong, Chief Executive Donald Tsang Yam-kuen said on Wednesday.
Legislative Council by-election candidate Regina Ip Lau Suk-yee submitted her nomination form on Wednesday, when a two-week nomination period started.
Despite a cross-border provision for Hong Kong doctors to launch practices on the mainland, medical professionals complain they are being caught up in red tape.
Under the latest phase of the Closer Economic Partnership Arrangement (Cepa) announced in July, Hong Kong doctors qualified on the mainland are allowed to launch solo practices there. The accord also halved the investment requirement for joint ventures in medical institutions to 10 million yuan. Still, some doctors have sought the help of the Hong Kong Medical Association because of the lack of professional indemnity insurance coverage on the mainland and the red tape involved in opening clinics. More than 20 Hong Kong doctors will visit Shanghai health-care institutes this week on a tour organized by the central government's liaison office in Hong Kong. They will discuss the Cepa arrangements with local government officials and exchange views on professional developments.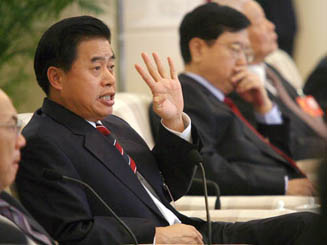 The construction of a sixth cross-border checkpoint between Hong Kong and Shenzhen is set to go ahead to ease mounting traffic pressure, says Shenzhen party secretary Li Hongzhong.

China: Researchers and technicians are making final preparations for the launch of the country's first moon orbiter, Chang'e I, at the end of October, a senior Chinese official said Tuesday.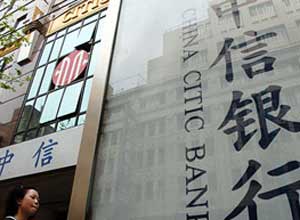 Leading financial firm China CITIC Group (CITIC) is bidding for a stake in Bear Stearns, one of Wall Street's top investment banks, top officials said yesterday in Beijing.
The Industrial and Commercial Bank of China (ICBC) has planned to open a subsidiary in the United States, as part of its going-global strategy which also involves Russia, Indonesia and the Middle East, Board Chairman Jiang Jianqing said here on Wednesday.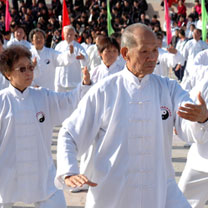 Retirees in formation perform Tai Chi, a traditional form of Chinese matial arts, during an activity promoting the Olympic spirit and enhancing the public's awareness of health in Xinjiang.
China's largest search company is to enter China's e-commerce market, in an effort to use its search technologies and popular online communities to win a share of the personal online trading market dominated by Alibaba's Taobao.com.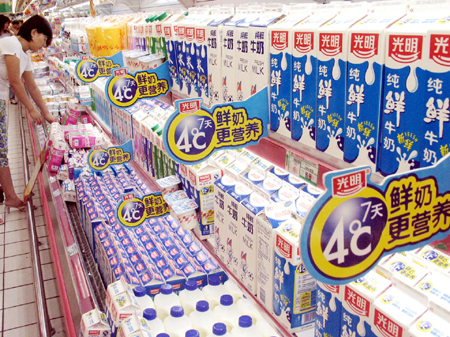 Bright Dairy products on sale at a Shanghai supermarket. Groupe Danone SA, the world's largest yogurt maker, has terminated its collaboration with Bright Dairy, after it failed to get the majority stake in the Chinese firm.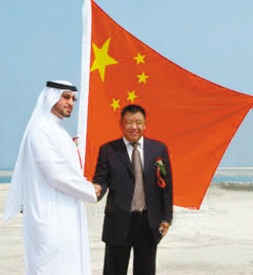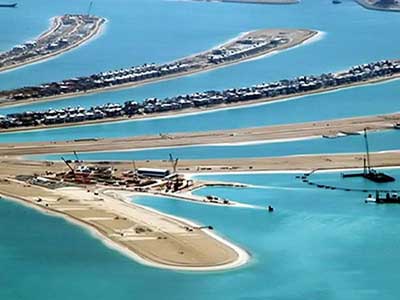 A Chinese businessman said on Tuesday that he has bought an artificial island in Dubai for US$28 million. Hu Bin, developer and director of the Shanghai Zhongzhou International Holding Group, bought the 40,000-square-meter Shanghai Island, part of "The World" development in Dubai, which comprises 300 islands made from reclaimed land in the shape of the world map. Hu said that he planned to spend another 1.2 billion to 1.5 billion yuan in the next three years to build hotels and villas on the island and turn it into a tourist resort. The resort would also include canals and buildings resembling Shanghai's landmark areas like the Huangpu River, the Bund and the Lujiazui financial district, he added. Many Chinese entrepreneurs are eyeing foreign property investments. In May, a businessman from central China's Henan Province forked out 1 billion yuan (US$133 million) to buy an airport in north Germany.
China's 2007 trade surplus is likely to exceed 250 billion dollars while consumer inflation was likely to top four percent, said a central bank official.
China's inflation rate likely eased last month to about 6.2 percent after reaching a near 11-year high of 6.5 percent in August, but further austerity measures are expected, top officials indicated yesterday.
October 18, 2007

Hong Kong: A study found that a substance called "lupeol" contained in fruits may help beat head and neck cancer, announced the University of Hong Kong which made the result public here Tuesday. The study, conducted by the university's Faculty of Medicine, revealed that lupeol, a compound rich in fruits, selectively targeted and killed cancer cells. Using a mouse animal model, lupeol dramatically decreased tumor volume and suppressed local metastasis while bearing minimal effect on surrounding tissue and other vital organs like liver and kidney. Interestingly, lupeol was found to be more effective and more potent than conventionally used chemotherapeutic drug, cisplatin, by approximately three-fold in terms of tumor volume and degree of metastasis suppression. Besides, when lupeol was used in combination with cisplatin, the anti-tumour activity of the chemotherapeutic drug could be enhanced by 40-fold. The above research result was published in the international scientific journal Cancer Research in September, 2007. Head and neck cancer includes cancers of the nose, oral cavity, salivary gland, etc. In the year 2004, 2,087 new cases were diagnosed in Hong Kong, with the number of new cases increasing steadily every year. Human papilloma virus infection, alcohol and tobacco consumption and low fruits and vegetables intake all contribute to the increased risk of head and neck cancer development. The university was in the hope that the findings will also show people that only a slight change in their everyday meal or a small change in their choice of food intake may have an astounding impact on cancer prevention and therapy.
China's chief official for state assets said here Monday that state-owned enterprises are encouraged to be listed in the Hong Kong Stock Exchange. Li Rongrong, minister in charge of the State-owned Assets Supervision and Administration Commission (SASAC), said on the sidelines of the ongoing 17th National Congress of the Communist Party of China (CPC). Many state-owned enterprises, particularly those under direct control of the State Council, are quite interested in financing in the Hong Kong Stock Exchange, he said. The SASAC shows no position to what stock markets the state-owned enterprises should resort to financing, Li said. His job is to try hard to breed potentially powerful state enterprises to become globally competitive companies. Li said the SASAC welcomes overseas private equity funds to invest in Chinese state-owned enterprises, but warned Chinese enterprises of vicious speculation of those funds. Echoing the policy mentioned in the report delivered by Hu Jintao to the Party congress on enhancing the vitality, control and influence of the state-owned economic sector, Li said his commission will speed up restructuring state-owned enterprises in a bid to promote their competitiveness.

President Hu Jintao has issued a stern warning against any attempt by "external forces" to meddle in the affairs of Hong Kong and Macau, vowing Beijing will resolutely fight such a plot.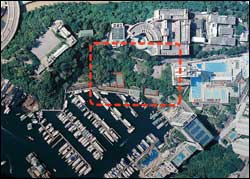 Two residential sites were sold at auction yesterday at more than double their opening prices following fierce bidding which far exceeded market expectations. A consortium consisting of Sino Land (0083), K Wah International (0173) and Nan Fung Properties secured the 69,822-square-foot plot on Welfare Road in Aberdeen for HK$5.71 billion. This was almost 130 percent above the opening bid of HK$2.5 billion. Facing Shum Wan yacht pier and the Aberdeen Channel, the site has up to 646,220 sq ft of floor area. That translates to an accommodation value of HK$8,836 per sq ft - a record high for Island sites compared with traditional luxury areas of the Peak and South Bay. Analysts had expected the site to be sold for HK$3.46 billion to HK$4.4 billion. The high auction price indicated the tight supply of luxury sites, they said.
With PetroChina (0857) soaring to become the world's second-largest company by market value, Hong Kong and mainland stocks hit new records yesterday as punters - unfazed by overstretched valuations - continued pumping money into the markets on expectations of further gains.
Richard Li Tzar-kai's telecoms flagship, PCCW (0008), was the only bidder for the third-generation mobile license offered by the Hong Kong government, the Office of the Telecommunications Authority said yesterday.
The mainland's largest trading website, Alibaba.com, may turn out to be among the most ambitious of Hong Kong share floats in recent months as it seeks to raise as much as HK$10.3 billion.
China National Aviation Corp, the parent of Hong Kong-listed Air China (0753), said it is not ruling out the possibility of trying to defeat Singapore Airlines' proposed major stake acquisition of China Eastern Airlines (0670) at the Shanghai-based carrier's upcoming shareholders' meeting.

Hong Kong's unemployment fell to 4.1 per cent in the three months to September on the back of a strong economy, government figures released on Tuesday showed.
Hong Kong's economy was performing better now than it did at the time of the July 1, 1997 handover, Financial Secretary John Tsang Chun-wah said on Tuesday.
MTR Corp, in its most important technology project this decade, will adopt key business-automation software from Oracle Corp to help absorb the entire information infrastructure of the century-old Kowloon-Canton Railway Corp. The initiative, which will be completed in stages, is an integral part of the HK$12 billion merger between the two rail companies. "This is our biggest and most complex project" since the system changeover in 2000, said Daniel Lai, the head of information technology at MTR. He declined to provide financial details. Mr Lai said the combined rail operation, which will bear the name MTRC (SEHK: 0066), would see significant savings in the cost of enterprise software licences and system maintenance and support after the IT infrastructure integration was completed. The project effectively removes software from German firm SAP, a supplier to KCRC, as part of strategic business-automation applications for the merged company. United States-based Oracle, a global rival of SAP in enterprise resource planning and other business applications, has been a long-time enterprise technology provider to MTR. SAP programs used by KCRC to be replaced with Oracle applications include those for financial systems, maintenance and assets inventory, human resources and payroll.

China: A total of 1,517 companies have gone public on the stock markets of the Chinese mainland by the end of September, and the volume of equity market capitalization ranked the fourth largest in the world. As of Sept. 30, the volume reached 25.32 trillion yuan (3.37 trillion U.S. dollars), taking up about 5.7 percent of the world's total. In comparison, the overall volume at Shanghai and Shenzhen stock exchanges stood around 4 trillion yuan at the end of 2002, ranking the fourth largest in Asia. The statistics came from a delegation of central financial authorities to attend the ongoing 17th National Congress of the Communist Party of China.
Beijing's urban planning authorities have approved planning permission for six new subway lines on which work is scheduled to begin by the end of the year. The six new lines - the No. 6, 8 and 9 lines, the second phase of the No. 10 line, and the Yizhuang and Daxing lines, have a total length of 152 kilometers, according to the Beijing Municipal Commission of Urban Planning. They will be completed in 2012. Beijing currently has five subway lines in operation, with a total length of 142 kilometers. "The city aims to raise the proportion of citizens choosing public transport from the current 30 percent to 45 percent by 2015,and the subway passenger volume will increase to eight million a day from the current 2.2 million," said the commission's Zhou Nansen.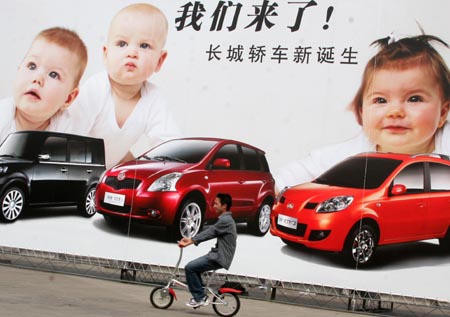 A man rides past a Great Wall Motor billboard in Shanghai. Great Wall Motor Co plans to more than double its number of overseas plants by the end of this decade to boost sales abroad.
With the debut of China's fourth stock-oriented QDII fund, China International Fund Management Co Ltd raised more than 100 billion yuan yesterday.
October 17, 2007

Hong Kong: HK's financial surplus may top 50 bln HKD - The Hong Kong Special Administrative Region (HKSAR) government's surplus may reach 50 billion HK dollars (6.45 billion U.S. dollars) in this fiscal year, Financial Secretary of HKSAR government John Tsang said here Saturday. Speaking on a radio talk show Saturday, Tsang said the Chief Executive's Policy Address has already promised to cut the salaries tax to 15 percent and profits tax to 16.5 percent. Tsang said he would continue to listen to the community's views on the budget and make a balanced decision early next year. He said inflation is expected to rise to 2 percent by the end of the year, adding that it is still a mild rise compared with a 5 percent to 6 percent GDP growth. However, he admitted that price rises have affected the poor and the HKSAR government will study how to assist them to help themselves, and that one of the best ways is to create more jobs. Tsang said the Policy Address has announced the HKSAR government will push ahead with 10 large-scale infrastructure projects and a rough estimate finds that about 250,000 jobs would be created. This will help people to get a job and improve their standard of living, he added. He noted that Hong Kong is facing keen competition from regional cities for convention and exhibition services but the HKSAR government will continue its discussions with the sector to find ways of strengthening Hong Kong's competitiveness. The completion of the Convention and Exhibition Center extension will help meet demand in the mid-term, he said, adding more places will be considered for the industry's future development. Commenting on the recent stock market performance, he urged investors to be cautious when making any decisions, as stock prices may go up as well as down.
The first phase of Macao's light railway construction scheme has been clinched, according to an official statement issued Sunday. The statement released by the government of the Macao Special Administrative Region said the light railway program is expected to start the public bidding in 2008 and to complete construction in 2011. The first phase of the construction plan features a 20-km route linking the Macao Peninsula and the two islands of Taipa and Coloane, said the statement. It added that the railway is to handle 8,000 passengers per hour. Macao has a population of 528,000.

When Grenville Cross SC took up the post as the director of public prosecutions 10 years ago today, his vision was to build a "far more transparent, modern, and internationalist" public prosecutions system. Over the past decade, he has introduced an annual report on the work of his team, issued prosecution policy guidelines, built up specialist teams targeting increasingly sophisticated crime, reached out to victims of crimes, the media and the public, and established international networks with overseas prosecutors. Mr Cross, currently in his fourth three-year term as the city's longest-serving DPP, believes he and his team of 230 prosecutors have satisfied the challenge. "We are seen to be successful. And we are understood by people," he said. Unlike many of his predecessors, his tenure has been clean of sexual scandals and criminal convictions of subordinates. However, another sort of challenge was posed to him as his decisions on whether to prosecute high-profile people fell under public scrutiny. Among the controversial cases was his decision not to prosecute Sally Aw Sian, former publishing tycoon and Chinese People's Political Consultative Conference delegate, in a circulation fraud case involving the Hong Kong Standard in 1998. Elsie Leung Oi-sie, then secretary for justice, sparked outcry after she told legislators that "public interest" was a factor she had considered before reaching the decision not to prosecute Ms Aw. Asked if he held a different stance from Ms Leung, he said: "Well, the Department [of Justice]'s view was there shouldn't be a prosecution in that case. So that was it." But what the seasoned prosecutor considered as his test case was that of former financial secretary Antony Leung Kam-chung, who was accused of avoiding first registration tax by purchasing a Lexus saloon in advance of the budget in 2003. The department dropped the case after deciding there was insufficient evidence to establish Mr Leung had intentionally committed the act for personal benefit. "The secretary of justice had to disqualify herself in the Leung Kam-chung case because she was a member of the Executive Council with Mr Leung. So everything was left for me to decide. The eyes of the world were on us. I had to make sure that nothing went wrong," he said. "Even though not everyone necessarily agrees with our decisions, at the end of the day, [they] were taken in good faith." The 56-year-old, who started his prosecuting career in 1976 and was appointed the deputy DPP in 1991, admitted that his job had become increasingly stressful because of higher expectations from outside. But he said he had learnt to switch off once he left the office. "I don't spend all night worrying about whether I have taken the right decision. Once you have taken a decision, you have to stick by it and put it behind you," he said. He added that he enjoyed writing, hiking and collecting antiques in his free time. Looking ahead, he said he would continue to deploy his three-pronged policy on transparency, modernisation and internationalism. One of the initiatives on his strategic development programme for the next five years was to set up a working group to examine whether prosecutors should be allowed to form their own opinion of witnesses by interviewing them before trial. Despite the huge amount of administration work, he continued to appear in court in some major cases. "I think it is important from time to time to appear at the frontline and to lead by example. I love doing appeal," he said.
The Home Affairs Bureau and the Sports Federation and Olympic Committee of Hong Kong jointly held the "300-day Countdown to the Beijing 2008 Olympic Games Ceremony" at the Hong Kong Cultural Center Piazza on Saturday. Secretary for Home Affairs Bureau Tsang Tak-sing said at the ceremony that not only did it mark the 300 more days to the opening of the Olympic Games but it also launched the Olympic city dress-up program. Tsang said that over the past year Hong Kong had been putting a lot of effort into preparation for the launch of the Olympic Games. "Today's ceremony marks the launching of our Olympic city dress-up exercise. The Government and all relevant parties are now planning a series of community engagement activities and publicity campaigns, to encourage community participation in full," said Tsang. Athletes and representatives of Hong Kong's sports sector participated in the countdown ceremony with singers and artists performing during the event.
Singapore founding father Lee Kuan Yew emphasized on Sunday the importance of the rule of law for investors and for economic growth. Speaking at the International Bar Association's conference, Minister Mentor Lee said: "Important for investors and economic growth is the rule of law, implemented through an independent judiciary, an honest and efficient police force, and effective law enforcement agencies." According to local television Channel News Asia report, he also listed some key attributes such as good governance and a sound judicial system that have resulted in stability and economic growth for Singapore. Addressing some 3,500 lawyers and participants from around the world, Lee also cited three factors which enabled the country to escape the poverty that had plagued the region. "First, clean and efficient government, second, the character and capabilities of the leadership in charge, third, an industrious people, eager and quick to learn to be productive and gainfully employed," he said.
Following Chief Executive Donald Tsang Yam-kuen's announcement last week that Hong Kong will work for the early introduction of Islamic debt offerings, the Arab Chamber of Commerce and Industry in Hong Kong has gathered a group of experts on Islamic law to support banks creating Islamic financial products.

This month, Asia marked the anniversary of the birth of one of its greatest thinkers – Confucius – who was born 2,558 years ago in China. In Hong Kong, a grand Confucius banquet was among celebrations to pay tribute to the Chinese philosopher. Prominent chefs from Qufu, Shandong province, his birthplace, were invited to the territory to introduce unique Shandong-style dishes dedicated to Confucius. This was held at a banquet in Hong Kong on October 4, said Huang Cunze, information director of the Shandong provincial government. The ideas of Confucius during the 5th and 6th centuries before the common era have had an extraordinary impact since his death in 479 BCE. Today, many of the most important values shared by people in the mainland, Japan, Vietnam, Hong Kong, Korea and Singapore are strongly influenced by this extraordinary man.
Li Ka-shing's Cheung Kong Infrastructure Holdings (1038) which has said it will acquire "right assets at the right price," is leading in a bid to purchase electricity distributor Norweb for about 1.5 billion (HK$23.61 billion), according to a media report in London yesterday.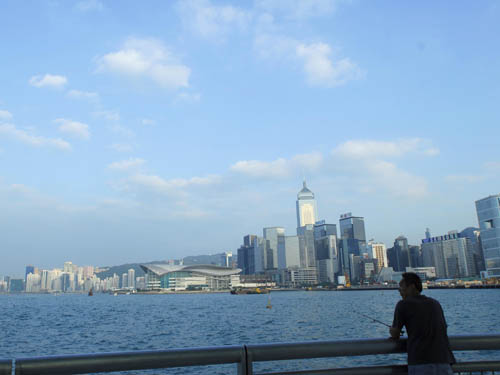 Environment officials yesterday cast doubt over mainland research on air pollution that found Hong Kong lagging behind in its efforts to reduce emissions, questioning the accuracy of some of the data. A senior official admitted that sulfur dioxide levels in Hong Kong had risen above the levels of the late 1990s, as reported in a scientific paper, but was sceptical about a reported increase in nitrogen oxides (NOx) and total suspended particles (TSP). The study, "Evaluation of ambient air quality in Guangzhou, China", was published in the latest issue of the Journal of Environmental Sciences on the mainland. The paper was co-written by Zhou Kai from the South China Botanic Garden in Guangzhou, Ye You-hua and Peng Shao-lin from Sun Yat-sen University, Liu Qiang from Hainan Normal University, and Liu Ai-jun from the Climatic and Agrometeorological Centre of Guangdong Province. The contested statistics were shown in a table comparing the ambient concentration levels of the three types of pollutants in Guangzhou, Hong Kong and Shanghai between 1996 and 2005. While it was not the article's intention to compare the emission reductions of the three cities, the table illustrated Hong Kong's cleanup efforts were less effective than the other two. In particular, it said the city's NOx levels had risen 30 per cent while Guangzhou had slashed its level more than 50 per cent. It also said Hong Kong's TSP level rose 10 per cent whereas Guangzhou had cut its by a third. But the Environmental Protection Department yesterday questioned the accuracy of the figures. It suspects that the nitrogen oxides data from Hong Kong had incorporated roadside readings, instead of ambient ones as in the cases of Guangzhou and Shanghai. Roadside readings are normally much higher than ambient data. The department also questioned whether the authors had interchangeably used nitrogen oxides and nitrogen dioxide - another form of the NOx compound - in their data representation for Guangzhou, giving the wrong impression that pollutant levels had dropped substantially.
The Hong Kong Observatory said on Monday it was delighted that the award of the 2007 Nobel Peace Prize jointly shared by the Intergovernmental Panel on Climate Change (IPCC). A spokesman said this was because the IPCC – which provides world leaders and decision-makers with scientific evidence on climate change – had close ties with Hong Kong. "The director of the Hong Kong Observatory Lam Chiu-ying, was both a contributing author and an expert reviewer of the IPCC Fourth Assessment Report (AR4) prepared by Working Group One and released earlier this year," an observatory spokesman said. The working group focused on the physical science basis of climate change. AR4 also made reference to a research paper by Observatory staff on how land falling tropical cyclones were affected by El Nino Southern Oscillation. "In May this year, co-chairs of all the three IPCC Working Groups were in Hong Kong to discuss the latest findings of IPCC in the International Conference on Climate Change organized by the engineering community," the spokesman said. IPCC was established jointly by the World Meteorological Organization and the United Nations Environmental Program in 1988. It is one of co-winners of the Nobel Peace Prize 2007; the other was former US vice-president Al Gore. For years, the Hong Kong Observatory has been contributing to the work of IPCC, the spokesman said. The observatory also invested effort in promoting public understanding and awareness of the phenomenon. In the future, the observatory has a team of professional meteorologists who plan to give a series of lectures and speeches on climate change in the territory.
The mainland's biggest e-commerce firm, Alibaba.com, planned to raise as much as HK$10.3 billion after setting a price range for its Hong Kong initial public offering.

China: China's largest oil producer China National Petroleum Corp (CNPC) will start initial public offering in late October and may return to the A-share market in November at the earliest.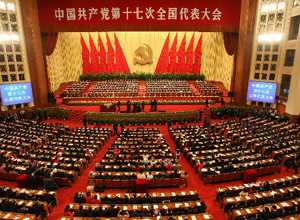 The 17th National Congress of the Communist Party of China (CPC) opened in Beijing at 9 a.m. on Monday to map out China's all-round development for the coming five years. Hu Jintao called on all the members of the Communist Party of China (CPC) and the Chinese people on Monday to hold high the "great banner of socialism with Chinese Characteristics" in their strive for building "a moderately prosperous society in all aspects."
The movie "Still Life" by Chinese director Jia Zhangke won the top prize at the International Film Festival held in the southern Chilean city of Valdivia on Wednesday. Jia won the award for the best international feature film and 4,000 U.S. dollars at the closing ceremony of the film festival, which opened on Oct. 5 in Valdivia, 600 km south of Santiago. At last year's Venice Film Festival, Jia was awarded the GoldenLion for best movie with his documentary-style "Still Life," a story about a man searching for his ex-wife and a woman looking for her husband in a town about to be submerged by the rising waters of the Three Gorges Dam. Han Sanming, the main character in the film, won the best actor award.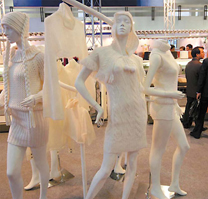 Chinese garments at a show in Beijing. Exporters from other countries will have an even bigger presence at the autumn session of the China Import and Export Fair, also known as the Canton Fair, which begins today.
A weekend move by the People's Bank of China to raise the reserve requirement ratio by 50 basis points - the eighth such increase this year - will have little impact on Hong Kong and mainland stock markets, as investors had factored in additional monetary tightening, analysts say.

China National Offshore Oil Corp (0883) said its Bohai Bay site is set to emerge as the mainland's second biggest oil field in five years, succeeding the Shengli oil field in Shandong run by China Petroleum and Chemical Corp, or Sinopec (0386).
October 16, 2007

Hong Kong: Tsang sets 'new direction' for HK - City urged to shrug off self-doubt as chief executive cuts taxes, boosts spending. The chief executive last week announced tax cuts and a HK$250 billion infrastructure program in a wide-ranging policy blueprint aimed at setting a new course for the city. In a 110-minute speech entitled "A new direction for Hong Kong", Donald Tsang Yam-kuen also called on the people of Hong Kong to adopt a new mindset to achieve another golden decade by shaking free of the self-doubt that has permeated the city since the handover. With the government's fiscal reserves set to reach HK$400 billion, the chief executive said the standard rates for salaries and profits taxes would come down to 15 per cent and 16.5 per cent respectively in the next budget. Rate payments for the final quarter of 2007-08 will be waived. An ambitious infrastructure program will see the government press ahead with 10 major projects to maintain long-term competitiveness. It will spend HK$14 billion on a raft of other initiatives. These include introducing 12 years of free education for children, a medical voucher scheme for the elderly and various programs to clean the air and enhance heritage protection. The tax and rates concession package will cost the government HK$7.6 billion in total. More reductions are being considered for the budget early next year, according to Mr Tsang. Delivering the first policy address of his five-year term, Mr Tsang stressed the need for Hong Kong people to adopt a new mindset to achieve another golden decade. "Over the next five years, we need to cultivate a new spirit for these new times," he said. "We need to become new Hongkongers, better equipped to sustain development in the new era." He said people should drop their "small island mentality", seeing themselves from a national perspective playing a role in developing China. "Only through leveraging the strengths of our country can we position ourselves globally to create a better future," he said. In a development-driven economic strategy, Mr Tsang set out plans for 10 major transport and development projects that will cost HK$250 billion, the bulk of it from private investment. The projects, which include the South Island Rail and Kai Tak development, were estimated to generate 250,000 jobs. "The added value to our economy would be more than HK$100 billion every year, about 7 per cent of our GDP," Mr Tsang said. He confessed that infrastructure development had not matched expectations over the past decade. Public works spending this year had reached only about HK$20 billion, short of the annual target of HK$29 billion. In moving to honor his election promise to cut taxes, Mr Tsang said the tax relief package, to be introduced by the financial secretary in the next budget, would benefit all, rather than just big corporations and top income earners. "We asked people to sacrifice and tighten their belts during the Sars outbreak and financial turmoil. I am indebted to the people. When the economy has revived, it's our duty to give them back what they deserve," he told a media briefing following the policy address. With the fiscal reserves set to top HK$400 billion by the end of this year, Mr Tsang pledged to consider further profits tax relief if the economy remained strong. But he conceded that the narrow tax base remained a major concern, saying tax increases would be needed if the economy worsened in future. Referring to initiatives such as the annual HK$250 health voucher scheme for people aged 70 and above, the chief executive fended off claims that he had been generous to the rich but mean to the disadvantaged. "Our measures to help the elderly are focused. We want to help those in need rather than just make slogans," he said. With no fewer than seven green initiatives on the drawing board, Mr Tsang pledged that the environment would continue to top his agenda in the next five years. "I will account for our achievements or our failure to the public very clearly." In addition to extending the nine-year free education system to 12 years from next year, small-class teaching will also be phased in from 2009-10. Business chambers welcomed the tax reductions. The Hong Kong General Chamber of Commerce said the blueprint would make Hong Kong a sustainable world city, but it had hoped Mr Tsang would have taken a more forceful approach on taxes to restore competitiveness. The Democrats said the policies would widen the wealth gap. It criticized Mr Tsang for failing to give an account on universal suffrage. Mr Tsang said he would strive to secure the central government's trust for its early implementation. But he also warned that governance must not be compromised by constitutional development.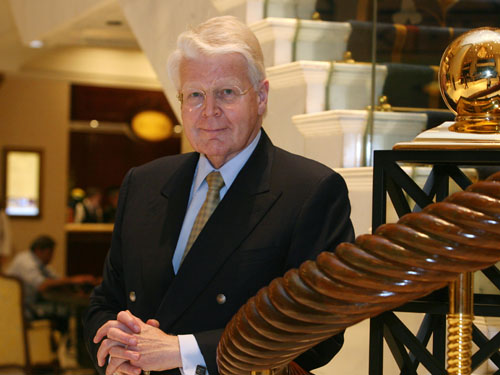 Iceland's biggest bank is to begin operations in Hong Kong next month as the city extends its financial bridge between the mainland and the outside world, the nation's president, Olafur Grimsson, said on a state visit last week. Mr Grimsson said his visit to Hong Kong - after a whirlwind mission across the mainland, which included talks with President Hu Jintao - was to signal Iceland's respect for the city's market status. Iceland has been hoping to develop closer links with the city's financial institutions, which Mr Grimsson said was a crucial pillar to rapidly expanding ties with the mainland. Mr Grimsson held talks with Chief Executive Donald Tsang Yam-kuen and Hong Kong stock exchange officials.
For the first time since March, tycoon Lee Shau-kee seems to sense some risk riding the bull market.

Liberal Party chairman James Tien Pei- chun on Friday withdrew his remarks and apologized to Mass Transit Railway Corporation chief executive Chow Chung-kwong - who he described as a best friend - for saying he would have to "shoulder all the political consequences" for nominating a Civic Party candidate for the district council election.
Shares of local fixed-line operator City Telecom (1137) surged 59.6 percent - the most in more than eight years - on market rumors that it bid jointly with China Unicom (0762) for a third-generation mobile license in Hong Kong.

Fei Fei tucks into noodles after scare - Actress Lydia Shum Din-ha can sit up in bed and feed herself, 24 hours after being admitted to an intensive care ward, her doctor and daughter said on Friday.
In the latest round of reshuffles, the government has appointed Permanent Secretary for Security Stanley Ying Yiu-hong to the post of permanent secretary for financial services and the treasury from November 5.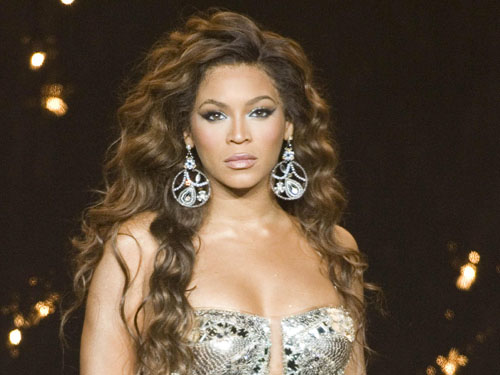 Showtime in Macau won't hurt HK's appeal, say promoters - Now that Macau is drawing more and more visitors because of its casinos, it is turning to building up its live entertainment. Some of the world's biggest acts are being flown in as the Venetian Macao starts to deliver on its promise to attract Las Vegas-style entertainment to the city. But Hong Kong promoters said the rise of big shows in Macau would have little impact on the city's live event market, at least in the short term. Singer and actress Beyonce Knowles will perform at the Venetian on November 3 as part of her upcoming Asian tour. Before that, the pop group Black Eyed Peas will take to the stage on October 27 at the same resort.

China: China's foreign exchange reserve had reached 1.43 trillion U.S. dollars by the end of September, up 45.1 percent year-on-year, the People's Bank of China announced on Friday. A total of 367.3 billion U.S. dollars were added to the country's foreign exchange reserve in the first nine months of 2007, said the central bank. In September alone, the forex reserve rose by 25 billion dollars. China's soaring trade surplus is still the major contributing factor to the forex reserve boom. Data newly released by the General Administration of Customs shows that China's trade surplus for the first nine months of the year has reached 185.7 billion dollars, exceeding the total trade surplus of 177.47 billion dollars for 2006.
China will raise the reserve requirement ratio by half a percentage point to 13 percent for commercial banks from Oct. 25, the People's Bank of China (PBOC) announced on Saturday in Beijing.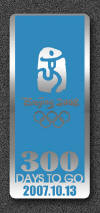 The new official licensed product of the commemorative insignia of the Beijing 2008 Olympic Games emblem "Chinese Seal, Dancing Beijing" is seen in this photo issued by the Beijing Organizing Committee for the Games of the XXIX Olympiad (BOCOG), October 12, 2007. In celebration of the 300-day countdown to the Beijing Olympic Games, BOCOG issued 11 kinds of limited edition products in three categories, namely, insignias, badges and gold-made or silver-made souvenirs.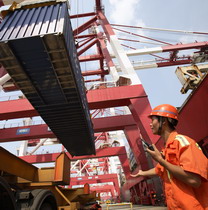 A dock worker directs a container onto a truck at the Qingdao Port in Shangdong Province. China's trade surplus dropped in September from the previous month to US$23.9 million.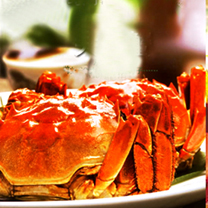 Autumn is the best season to eat crab. Fresh and abundant in protein, crab is an deal seafood for diners to savor . The following is a listing of some restaurants in Beijing and Shanghai for you to get a taste of this succulent seafood. Some of them are time-honored brands offering an array of crab dishes to satisfy people's craving for crab at reasonable prices.
Scientists have worked out the first complete map of the Chinese genome and are now turning their attention to a national treasure - the giant panda.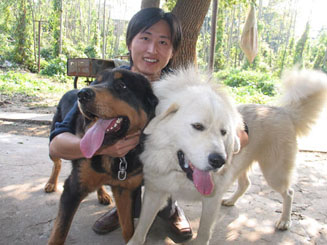 Dog lover breeds a successful business - Shanghai entrepreneur Jiang Wei owns a breeding kennel in Jiangsu where he has raised more than a dozen Tibetan mastiffs.
October 12 - 15, 2007

Hong Kong: Capital rushing to HK stock exchange - As much as US$200 billion will go to the Hong Kong stock market within a year under a new investment plan from the mainland, according to a research report released Tuesday from BOC International. The State Administration of Foreign Exchange's plan, known as the "through-train to Hong Kong stocks," allows mainland individuals to invest stocks listed in the Hong Kong stock exchange directly, considering certain requirements. The program, announced in August, still awaits the government nod. The report, composed by Luo Zhiheng, chief of the research department of BOC International, also expects that along with the "through-train" scheme, the Hong Kong stock market will also welcome US$50 billion from qualified domestic institutional investors (QDII) funds. Money outflow from the above sources, together with the returns on red chip stocks, will result in a substantial amount of money contracted away from the domestic A-share market. The report forecasts the bullish trend to wane in the fourth quarter. On the other hand, the report noted valuation of H-shares will benefit from the huge capital inflow from the mainland. Investment opportunities are sure to follow.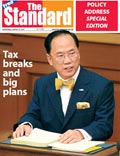 Ten mega infrastructure developments will form the backbone of the city's development long past the 2012 expiry of Chief Executive Donald Tsang Yam- kuen's term in office. The projects will create 250,000 jobs and cost in the region of HK$250 billion, much of which will come from the private sector, and which will add HK$100 billion annually to the economy.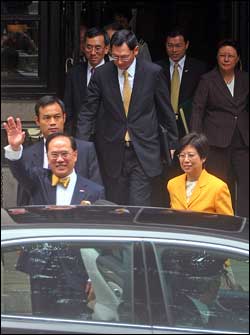 "Empty slogans and empty talk" are no use if society is not pragmatic and proactive enough, Donald Tsang, sporting a yellow bow tie to match the yellow cover of his Policy Address official document, said yesterday. True to his "I'll get the job done" slogan Tsang, who celebrated his 63rd birthday last Sunday, declared public swimming pools will be free of charge to promote Olympic Spirit and national pride. In his A New Direction for Hong Kong address, he commended Hong Kongers' dedication and contributions to the post World War II success of Hong Kong. "Working hard to earn a living, Hong Kong people together have created a miracle without realizing it," Tsang said. He said Hong Kong transformed itself from a trading port into a world factory "with no catchy slogan or grand vision of development." Tsang emphasized Hong Kong's need for economic and environmental integration with mainland cities, particularly Shenzhen, to create a world- class metropolis. "The people of Hong Kong and the Pearl River Delta region breathe the same air under the same sky," said Tsang. Hong Kong, he said, should not fear marginalization or replacement by mainland cities. The government will enhance the appeal of Hong Kong as an international convention and exhibition and tourism capital, he said. But burgeoning Macau, Hong Kong's long-time neighbor, was not mentioned explicitly except in the context of the Hong Kong-Zhuhai- Macau Bridge. Apart from allowing free admission to public swimming pools, water sports centers, tennis courts, squash courts and holiday camps next summer to promote national pride, Tsang will encourage more schools to form flag guard teams and to stage more national flag-raising. "Ours is a Chinese city as well as a global city," he said. Tsang told citizens to become new Hong Kongers to prepare for sustainable developments in the new era. He was asked in the post-address press conference if he considered himself a new Hong Konger. "I don't need to tell you how old I am. At the age of 63, it's very difficult to look different, but I'll try to update my thoughts," said Tsang. He was also asked if he was returning favors to big corporations and well-paid "kings of employees" through tax reductions. He replied that the policy was to benefit all citizens. Tsang said there was "too much controversy and too little consensus" in Hong Kong in the past decade. He is convinced that as long as both the executive authority and the Legislative Council take into account public opinion, they will establish a harmonious and constructive relationship. Following years of tradition, legislative councillor "Long Hair" Leung Kwok-hung protested inside the Legco conference room before the chief executive began his address.
NWS Holdings (0659), the services and infrastructure unit of conglomerate New World Development (0017), said yesterday it aims to invest up to HK$9 billion in utilities and transport projects over the next three years.

China: The Beijing-Shanghai high-speed railway has got the green light from the central government and construction is expected to start soon.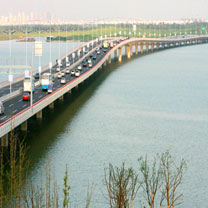 Vehicles drive along a 7.37 km-long tunnel-bridge in Suzhou, East China's Zhejiang Province October 10, 2007, the day when the tunnel was put into operation after more than one year of construction.

Forbes: Woman, 26, mainland's China richest - A 26-year-old woman worth $16.2 billion is the Chinese mainland's richest person, topping a list of tycoons whose wealth has soared amid a boom in stock and property prices, the business magazine Forbes said Monday. The fortune of Yang Huiyan - also Asia's richest woman - is based on shares in Country Garden Holdings Ltd, a real estate developer founded by her father, Forbes said. It said the company's Hong Kong stock market debut this year made billionaires of Yang and four other people.
The European Union has agreed with China to end quota restrictions on Chinese textile imports with a joint surveillance system to monitor the trade flow in 2008.
Chinese fund management joint ventures of Credit Suisse and DBS said on Wednesday that they have obtained approval to invest clients' money overseas.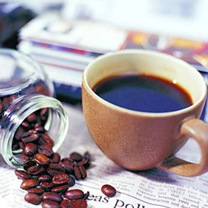 Located in the center of Haidian District, Wudaokou is nicknamed 5DK among its fans. Two of China's best universities, Beijing University and Tsinghua University, are locate in the west and north. In the east, they connect to Xueyuan Lu, or Campus Road, where more than ten of the top campuses are situated. That's one of the reasons why Wudaokou will keep you forever young.
Beijing's first case concerning China's landmark Property Law was put before the courts on Monday, a week after the law came into effect. A 60-year-old man surnamed Shen filed a lawsuit to the Beijing Changping Intermediate People's Court against the Zhongjiaxin auction company for auctioning off this September six apartments he bought for 1.2 million yuan in 1998 from a Mr. Yan. Yan was convicted of taking bribes in 2002 and had his property confiscated. The Intermediate People's Court of Shijiazhuang in Hebei ruled that the houses were owned by Yan and entrusted the Zhongjiaxin auction company to conduct the sale. Shen said that if he failed to retrieve his houses, he would sue the Intermediate People's Court of Shijiazhuang and ask for compensation from the government. However the court hearing was deferred because the auction company "didn't receive the subpoena", according to Li Bing, from the auction house. "Shen's appeal was in accordance with the fourth and 64th articles of the Property Law, which ensures an individual's lawful possession of property and the inviolability," said Wang Liming, head of the Law School of the Renmin University of China and also one of the drafters of the law. The law, approved by the national legislature in March after repeated revisions and an unprecedented eight readings, is aimed to provide equal protection to both state and private properties. The 247-article law stipulates that no units or individuals may infringe upon the property of the state, the collective and the individual. The concept of improving the protection of private property was first brought up at the 16th National Congress of the Communist Party of China held in November 2002. In March 2004, the NPC adopted a major amendment to the Constitution, stating that people's lawful private property is inviolable.
October 8 - 11, 2007

Hong Kong: Hong Kong and Ireland signed a bilateral agreement Friday on the surrender of fugitive offenders, the 17th of its kind the Chinese special administrative region has signed with other regions or countries. The bilateral pact could help "strengthen Hong Kong's capacity to deny safe haven to criminals", the Hong Kong SAR government said in a press release. The agreement sets out the conditions for the surrender of fugitive offenders between the two and contains the usual safeguards of similar international agreements, which cover critical issues such as double criminality, death penalty, political offenses, prima facie as well as the specialty rule. It also provides for protection against re-surrender of an offender to a third jurisdiction. The agreement was signed Friday by Hong Kong's Secretary for Justice Wong Yan Lung and Irish Minister for Justice, Equality and Law Reform Brian Lenihan. It will come into force 30 days after both parties have notified each other that their respective requirements for effecting the agreement have been complied with.
The Republic of Korea (ROK) and Hong Kong have become important economic partners, with bilateral trade reaching 21.1 billion U.S. dollars in 2006, the top ROK diplomat in Hong Kong said here Wednesday. "Two-way investment also grew steadily with accumulated investment reaching 7.2 billion U.S. dollars," said Seok Tong-youn, consul-general of the ROK in Hong Kong, at a reception celebrating ROK's National Day. In 2006, South Korea invested a total of 1.1 billion U.S. dollars in Hong Kong, surging 230 percent over the previous year, he said. Up to date, 650 South Korean businesses have been set up in Hong Kong, and the number of long-term ROK residents in Hong Kong surpassed 11,000. Human and cultural exchanges between ROK and Hong Kong continue to expand. In 2006, a total of 720,000 South Koreans visited Hong Kong while 130,000 Hong Kong people traveled to South Korea. Hong Kong's status as an international hub for finance and logistics has been reinforced, said the consul-general, citing reasons ranging from transparent economy, clean and efficient government, rule of law, free flow of information and highly educated workforce and pool of talented professionals. "Contrary to certain apprehensions, the 'One country, Two systems' is well in place, and rapid economic integration between Hong Kong and the Chinese mainland has added momentum to Hong Kong 's economic growth," he said.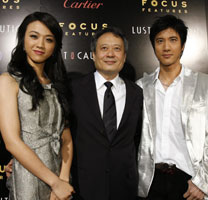 Director of the movie Ang Lee (C) poses with cast members Tang Wei (L) and Wang Leehom at the premiere of "Lust, Caution" at the Academy of Motion Picture Arts and Sciences in Beverly Hills, California October 3, 2007. The movie opens in Los Angeles on October 5.

An independent investment advisory firm has published a report urging minority shareholders of MTR Corp (0066) - including many fund houses - to reject the company's proposed merger with the Kowloon-Canton Railway Corp, largely on the grounds that MTRC will lose fare autonomy under the deal.

Toys 'R' Us Asia, a unit of Hong Kong- based Li & Fung Group, has voluntarily recalled from its Hong Kong and other Asian stores a type of Chinese-made toy because of excessive lead paint.
Two investment banks raised their target prices for market operator Hong Kong Exchanges and Clearing (0388), indicating up to 36 percent more upside on a stock that has almost tripled this year, on expectations of an inflow of mainland funds.
The war of words has started, with former top civil servant and political hopeful Anson Chan Fang On-sang yesterday challenging rival Regina Ip Lau Suk-yee to be honest and come clean on why she really decided to contest the Legco by-election.

Donald's has cut its free staff meals from two to one, and KFC's HK$16.18 average hourly wage is the lowest among seven fast food chains in Hong Kong, according to a Catering and Hotels Industries Employees General Union study.

China: China's National Bureau of Statistics (NBS) said that over the past five years China's industrial economy has been developing in a healthy, fast and steady way amid structural adjustment, and the country is in the midway of industrialization. In its latest report, the NBS said that since the 16th National Congress of the Communist Party of China in 2002, China's industrial economy has reinforced its leading position in national economy. In 2006, the industrial added value hit 9.04 trillion yuan (about 1.2 trillion U.S. dollars), up 57.9 percent from 2002 in constant terms. etween 2003-2006, the increase of China's industrial production fluctuated between 11.5 percent and 12.8 percent, featuring rapidly expanding scale, output and export. China tops the world in the output of steel, coal, cement, TV sets and cotton fabric, and ranks second in power generation, third in sugar output and fifth in crude oil output. In 2006, the added value of industrial economy accounted for 43.1 percent of national economy, further consolidating its leading position in the economy. Industrial economy will continue to play an important role in the economy considering that there is still a long way to go to accomplish the industrialization process, the report said. The internal structure of the industrial economy has had clear improvements, the report said. The great progress of energy and raw materials industries provides strong support to national economy; non-ferrous and non-metal mining products, chemicals and machinery industries have also experienced fast development; and the washing out of obsolete production facilities has helped improve product structure. It should be noted that different regions of the country have all enjoyed rapid development of industrial economy over the past few years, with the east coastal areas, central China and western China all increasing about 1.9 times, and northeast China up about 1.6 times.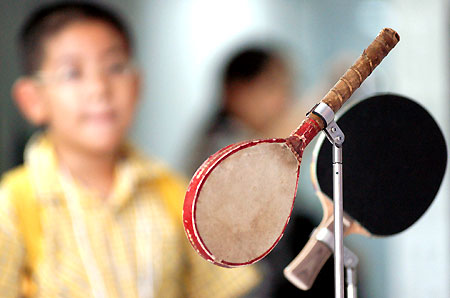 A teenager watches two table tennis rackets, one in its old-fashioned form (L) and the other in its modern looks, in Nanjing, October 4, 2007. The Olympic Museum Pieces China Tour Exhibition (Nanjing Leg) is held in the East China city during the weeklong National Day holiday beginning on October 1.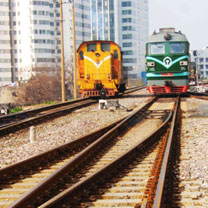 A train enters the station of Yichang in Central China's Hubei Province. China's railway passenger transport volume reached 1.03 billion person-times in the first nine months of this year.
Mainland commercial property developer SOHO China's shares rose 26.3 percent in the gray market on Friday after an over subscription of 169 times in its retail order book.
October 5 - 7, 2007

Hong Kong: HK Film Development Council reveals funding terms - Hong Kong put a surprising emphasis on experience over youth Tuesday when the newly established Film Development Council unveiled details of its plans to dish out first government cash to the movie industry. At a press conference Tuesday, FDC said that main purpose of the HK$300 million ($38.5 million) on offer is to encourage production, especially of movies with commercial appeal. Gov't approved establishment of the fund in April this year (Variety, April 16, 2007.) "It is most important to resuscitate the Hong Kong film industry, therefore priority has to be given to more experienced filmmakers," FDC chairman Jack So said. "We can't risk too much experimentation." Other committee members said that young talent could still access the fund by teaming with an experienced producer." To qualify, applicant must be a Hong Kong registered company, helmer or producer that has produced and released at least two films in the last ten years. Movies supported need to have budgets less than $1.55 million and can receive a maximum of 30% of their production budget from the fund. Additionally, three of the five key creative elements (director, producer, scripter, male lead, female lead) must be permanent Hong Kong residents. Applications can only be made by projects with a completed screenplay and other elements in place, such as post production contracts or 50% of budget sourced from private sector. While FDC members made it clear that funding is to be considered an equity investment, they were notably vague about terms of investment, profit participations and whether proceeds would be repaid back into the common funding pool. FDC said that secondary purpose of the fund will be more general measures to support the Hong Kong industry. These include "efforts to promote HK films on the Mainland and overseas, initiatives to train talent in the various aspects of the film production and distribution; and measures to enhance the interest and appreciation of the HK films by the local audience." In addition to the main fund vetting committee, FDC said it has established a 'support services committee' and a 'mainland market committee.' Mainland efforts will especially promote distribution of the Hong Kong's small and medium-budget movies beyond the neighboring Cantonese-speaking Guangdong province. Coming two days after the closure of the historic Queen's Cinema in Central District, FDC said that it will even encourage private sector and real estate developers to preserve old cinemas.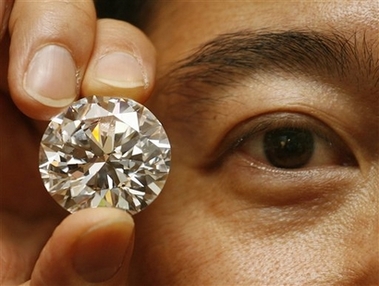 An 84.37 carats, brilliant-cut diamond of D-Color and flawless clarify diamond is displayed during a Sotheby's auction preview in Hong Kong Wednesday, Oct. 3, 2007. The diamond is estimated at US$ 28-35 million and will be sold at an upcoming 'Magnificent Jewels Sale' in Geneva.
Macao threatens Hong Kong for popularity - Macao is expected to catch up with Hong Kong in the near future in terms of mainland tourist traffic, an expert said. The estimation is based on the increasing trend of Macao's growing shares in the mainland tourist market and Macao's enriching tourism facilities. The number of mainland tourists bound for Macao has been rising since 1999, causing annual growth of over 30 percent between 1999 and 2004, said Dai Bin, a professor at Beijing International Studies University, in a recent interview. Although the growth rate has slowed a little in the past two years, it still beat the comparative rate for Hong Kong last year, when Macao registered 14.6 percent growth compared to Hong Kong's 8.4 percent. Dai described the current gap as "narrow." Last year, 11.99 million mainland tourists visited Macao while 13.50 million visited its larger rival. In the past there was even less parity. Only a decade ago, 530,000 mainlanders visited Macao compared to four times as many in Hong Kong. Dai said the gap was caused by two factors - Macao used to rely on Hong Kong's transportation facilities, and tour promotions always highlighted Hong Kong as a metropolitan paradise for shoppers. Macao was long overshadowed by Hong Kong, which also formed part of the route to Macao for many travelers, he said. To help correct the imbalance, Macao expanded its airport, introduced the Venetian Macao Resort-Hotel and spent more on promoting tourism. The Venetian Macao opened on August 28 as reportedly the largest hotel in Asia. It has since added 3,000 rooms, multiple entertainment facilities, and 110,000 sq m of convention area to Macao's tourism resources. At least 44 exhibitions and fairs have already booked the convention facilities, which will be occupied until next April. Dai said these efforts have given domestic and international tourism a major boost. "The mainland, Hong Kong and Macao have formed a tourist circle, supplementing each other with different tourism resources," he said. The circle will gradually grow in stature as China moves to wield a stronger influence on the global market, especially in Southeast Asia, he added. At present, residents of 33 mainland cities can travel to Macao, while Chinese in other parts of the country have to join tour groups to go there.
Hong Kong's blue-chip barometer and the H-share index marked new milestones Thursday, ignited by expectations of billions more pouring into local stocks as the National Day Golden Week holidays began.

In the latest reshuffle of the Henderson group, Henderson Land Development (0012), the property flagship of tycoon Lee Shau-kee, will acquire from its Henderson Investment (0097) unit all interest in Hong Kong and China Gas (0003), according to a source familiar with the situation.

HK is world's seventh largest port - Hong Kong is now the world's seventh largest maritime centre, Secretary of Transport and Housing Eva Cheng says. Ms Cheng was at an opening ceremony of the "Hong Kong Maritime Focus" exhibition late on Tuesday. "Hong Kong's ship-owners own, manage and operate over 1,200 ships, amounting to over eight per cent of the world's merchant fleet – in terms of deadweight tonnage – with over 35 million registered tonnage," Ms Cheng said. "Our natural deep-water harbor, world-class infrastructure, simple and low tax regime and a business-friendly environment have worked together to make us one of the most competitive shipping hubs in the world," Ms Cheng said. It was organized by the Hong Kong Maritime Industry Council and the Hong Kong Maritime Museum – a celebration of the successful completion of a decade of intensive maritime training since the 1997 handover. The territory's port is one of the world's busiest and largest in the world, playing a key role in the economic development of Hong Kong and as a gateway to the mainland. Ms Cheng said the government was committed to the growth of the maritime industry. "With the support of our industry and a group of high-calibre home grown maritime professionals, we [the government] have maintained our position as an international maritime centre by launching a Sea-going Training Incentive Scheme in 2004 which has helped cultivate a new generation of seafaring professionals," she said. A total of 68 young people have taken up this challenging career with over one-third of the territory's cadets obtaining their first professional qualification. Ms Cheng added that to maintain the industry's competitive edge, the government had established a Maritime Scholarship to encourage the best individuals from Hong Kong and the mainland to join the maritime sector. "We have been working with international bodies such as BIMCO to organize different training programmes in Hong Kong," she said. With over 1,000 members representing around 60 per cent of the international dry cargo and tanker fleet, BIMCO is the world's largest shipping association. It aids the development of international standards, creating legal shipping documentation, and providing information.
More foreign firms set up in HK, but care urged - A record 6,440 overseas and mainland companies have offices in Hong Kong, a government survey released yesterday showed. But even though Hong Kong remained an attractive city for foreign companies to open offices, InvestHK director general Mike Rowse warned against complacency. Mr Rowse said the high cost of office space, the need to improve air quality and the lack of international school places posed key challenges to the city in attracting investment. But he said these problems had been put to the government and "work would be done". The government's survey showed that, as of June 1, overseas companies had 6,440 regional headquarters and local and regional offices in Hong Kong, 86 more than at the same time last year. Regional headquarters manage offices in Asia, while regional offices are defined as co-ordinating regional operations, and local offices oversee business in Hong Kong. In the first half of the year, 45 firms opened regional headquarters and offices in the city, an increase of 1.2 per cent from last year. Describing the result as "modest", Mr Rowse said the number of local offices increased the most, up 1.6 per cent, or 41 offices, to 2,550. There was an increase of 18 regional headquarters, or 1.5 per cent, to 1,246. Mr Rowse said the increase in regional headquarters was not as substantial as last year despite Hong Kong attracting US$27.1 billion in direct foreign investment in the first six months of the year, a rise of about 30 per cent compared with last year. He said overseas firms may only be expanding existing operations - rather than opening new offices - to handle the increase in transactions. The Census and Statistics Department's latest annual survey of regional and local offices showed US companies had the highest number of regional headquarters with 298 and regional offices with 593, followed by Japan and Britain. Mainland firms held on to the top spot for local offices with 480, while Japanese businesses had 431 and US companies 394. The top reason overseas companies cited for locating their offices in the city remained unchanged - a low and simple tax system. Around 66 per cent of the companies polled regarded the tax regime as a favourable factor for Hong Kong. Other important factors were the free flow of information, absence of exchange controls, a corruption-free government and sound communication, transport and infrastructure networks. The survey had a 98 per cent response rate among international and mainland firms.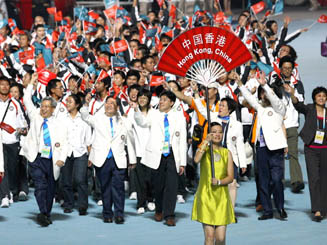 Hu opens Special Olympics, pledges to help handicapped - Shanghai yesterday played host to the start of the Special Olympics with President Hu Jintao presiding over the ceremony as China prepared to hold the Beijing Olympics next year.

China: The Chinese mainland's imports and exports of textiles and garments topped 124 billion U.S. dollars, up 18 percent year-on-year in the first eight months of this year, according to statistics with China Customs.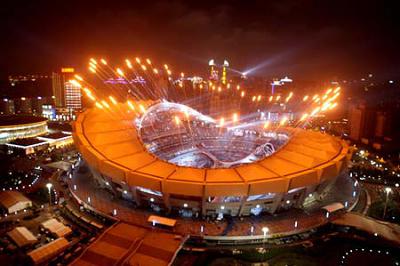 Fireworks explode in the sky above the stadium during the opening ceremony for the 2007 Special Olympics at Shanghai Stadium in Shanghai, east China on Oct. 2, 2007. The Shanghai Special Olympics Summer Games was staged here Tuesday.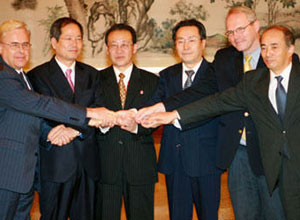 The 2nd session of the sixth round of six-party talks ended in Beijing Wednesday with a joint document on the second-phase actions toward the denuclearization on Korean Peninsula.
China plans to set up a counter plan in response to emergencies caused by poor-quality products, including foods. The General Administration of Quality Supervision, Inspection and Quarantine (GAQSIQ) has issued a draft counter plan to solicit advice from the public, according to its official website. The administration will rate the incidents by four categories according to its impact, from normal to very serious, and send warnings labeled by four colors, blue, yellow, orange and red accordingly, said Wednesday's Beijing News. Organizations or individuals should report to the local administration or quality supervision department if discovering or causing an emergency involving poor-quality products that have harmed or might threaten public health or safety, the draft document said. Any organization or individual must not disguise, delay or stop others from reporting these incidents, otherwise they will receive administrative punishment or face criminal charge, the document said. The draft counter plan also requires the quality supervision departments at all levels to work out the first report two hours after they confirmed the incidence of an emergency. While accusing Western media of demonizing Chinese products, the Chinese government also admits that its product quality records are not perfect, and has moved to improved the safety and quality of its products.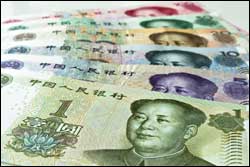 China sees record capital raising in first nine months - A total of 425.04 billion yuan (US$56.67 billion) was raised on China's equity markets in this year.
The Chinese government admits it has failed to curb soaring home prices, blaming local officials for not doing enough to ensure sufficient housing supply, state media said yesterday.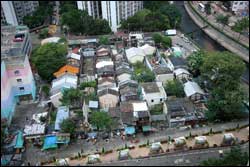 The Urban Renewal Authority yesterday set in motion the redevelopment of the 600-year-old Nga Tsin Wai Village in Wong Tai Sin which had been delayed for 20 years. Immediately after the announcement, legislators called on Development Bureau chief Carrie Lam Cheng Yuet-ngor to take a strong position with Cheung Kong (Holdings) (0001), the major shareholder in the village. The authority's board yesterday gave the green light to the HK$1.24 billion plan to redevelop the dilapidated village into a conservation park with two 28-story residential towers. Acquisition offers are expected to be issued to the 30 property owners within three months before compensation or rehousing arrangements are discussed. Yesterday, the authority's staff began an occupancy survey of the 60 households residing in 57 village houses. The authority is also in talks with Cheung Kong. Authority chairman Barry Cheung Chun-yuen said the meetings had been positive and a partnership agreement was in sight. He admitted the cost would be huge and may not be profitable, but that it had to be done.
October 4, 2007

Hong Kong: The Secretary for Justice of Hong Kong Special Administrative Region (HKSAR), Wong Yan Lung, will depart Hong Kong Monday night for a five-day visit to London, Stockholm, Helsinki and Dublin in Europe. In London, Wong will meet with the Secretary of State for Justice and Lord Chancellor, the Rt Hon Jack Straw, and members of the Hong Kong Association to brief them on Hong Kong's latest developments. He will also be called as a Master of the Bench of the Middle Temple, together with the former Commissioner of the Independent Commission Against Corruption (1993 to 1996) and Solicitor General of the Department of Justice (1992 to 1993) of Hong Kong, Wong will fly to Stockholm on Wednesday, where he will meet the Swedish Minister of Justice, Beatrice Ask. He will deliver a keynote speech titled "Hong Kong as Asia's World City -- The Legal Perspective" at a reception for local Government officials and representatives from the business and legal field. Wong will also meet with the Chairman and Members of the Arbitration Center of the Stockholm Chamber of Commerce to brief them on Hong Kong's credentials as a regional arbitration. In Helsinki, Wong will sign an agreement between HKSAR and Finland on Mutual Legal Assistance in criminal matters. In Dublin, Wong will sign an agreement between HKSAR and the Republic of Ireland on Surrender of Fugitive Offenders. He will also meet with government officials, members of the business community, legal profession and academic.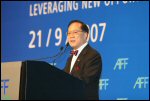 Financial market regulators in Asia should join hands in curbing market volatility, says Hong Kong Chief Executive Donald Tsang. The call for effective risk management and market transparency in his opening speech at the Asian Financial Forum was timely, given the recent subprime mortgage crisis which caused unusual fluctuations in worldwide security markets.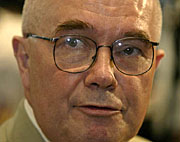 Hong Kong remains Asia's top city for international companies - Invest Hong Kong, the investment promotion department of the Hong Kong government, welcomed the results released Tuesday that Hong Kong remained the preferred city in Aisa for overseas and Chinese mainland's companies. The results are based on the "Annual Survey of Companies in Hong Kong Representing Parent Companies Located outside Hong Kong" conducted by the Census and Statistics Department of the Hong Kong Special Administrative Region Government. "According to the survey results, of the 6,440 companies in Hong Kong representing parent companies located outside Hong Kong, 3,890 are regional offices or headquarters. This is an all-time high," said Mike Rowse, the Director-General of Investment Promotion. Rowse emphasized the important role played by overseas and Chinese mainland's companies in Hong Kong. "Headquarters, regional offices and local offices together employ almost 346,000 people in Hong Kong, accounting for around one in 10 of our working population." He said he was also delighted to see the healthy growth trend over the past 10 years, with the number of regional headquarters and regional offices increased by 55 percent. At the same time, Invest Hong Kong cautioned that more needed to be done to ensure Hong Kong's continued competitiveness in the years ahead. Rowse said Hong Kong could not rest on its laurels. "We're at the heart of a competitive, high-growth region and investors have more and more choices. What I'm hearing from the international chambers in Hong Kong and during my trips overseas is that Hong Kong has three key challenges ahead. We need to focus on the high cost of office premises, on improving our air quality and on increasing the number of international school places. The Government is aware of these problems and is working to address them."
Chief Executive of Hong Kong Special Administrative Region Donald Tsang (6th L Back) addresses a reception in Hong Kong, south China, on Oct. 1, 2007. A grand reception was held Monday to celebrate the 58th anniversary of the founding of the People's Republic of China.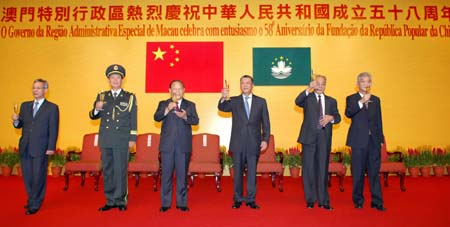 Edmund Ho Hau Wah (3rd R), chief executive of Macao Special Administrative Region, toasts at a reception in Macao, south China, on Oct. 1, 2007. A grand reception was held Monday to celebrate the 58th anniversary of the founding of the People's Republic of China.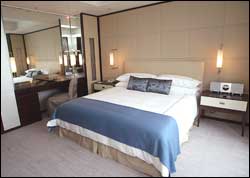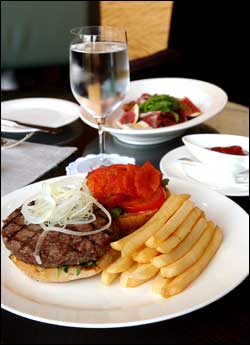 Urgent measures must be taken to ease the city's hotel-room crunch, tourism chief James Tien Pei-chun has warned. Tien, chairman of the Hong Kong Tourism Board, has met with Chief Executive Donald Tsang Yam-kuen on the issue, and urged the government to earmark for hotels sites to be released from the land application list. Most property developers prefer to build offices instead of hotels as returns are higher, and hotels continue to be demolished to make way for office towers, exacerbating the room-supply problem, Tien told The Standard. "Some sites on the land-application list should be earmarked for building 3- and 4-star hotels in areas such as Ma On Shan, or else nobody will build hotels," he said. The government must be prepared to accept that sale prices for such sites would be lower. The application list is not the only channel for purchases, since developers can buy in the open market. Tien also said the government could be more flexible in the terms offered. "If the developer wants to change the land use from developing a hotel to an office building, then it has to pay an additional premium." Tien believes creating more hotel rooms would eventually help lower room rates and make Hong Kong even more attractive to visitors. He also lamented the lack of mega events organized by the government.
Following its mainland incorporation, HSBC (0005) will expand its commercial-banking presence in northern and western Chinese cities and offer financial services to farmers through its soon-to-be-established rural bank, according to a senior executive in Hong Kong.
The Hong Kong bourse attracted 52 companies to list in the first three quarters, but the exchange lost market share to Shanghai stock exchange, data show.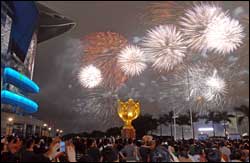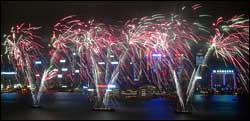 More than half a million mainlanders have crossed into Hong Kong for the National Day Golden Week holiday, with 250,000 passing through the checkpoints. A number of restaurants reported above-average business, though there were diverging opinions on how much of this was due to the mainland appetite. An immigration official said about 258,000 mainlanders had crossed over by 5pm yesterday, and 141,000 had left. Most of them came in through Lo Wu, with the average waiting time for clearance being about 30 minutes. Association of Travel Agents vice chairman Paul Leung Yiu-lam said there were about 300 mainland tour groups a day, which is almost the same as last year. But he noted some groups had shortened their time in Hong Kong to spend a day or two in Macau. A tourist surnamed Tse said she would spend three days in Hong Kong and one in Macau. Travel Industry Council executive director Joseph Tung Yao-chung said Macau would not draw tourists away from Hong Kong. "Macau's attraction is entertainment," Tung said. "Hong Kong is more appealing to families. In the long run, the two cities should work together to promote tourism." One tourist from Beijing did complain of being taken to a To Kwa Wan jewelry shop that offered low-quality goods. According to Commercial Radio, the tourist had joined a four-day tour in Shenzhen arranged by Pegasus International Travel. A spokesman for the agency refused to comment. Meanwhile, restaurateurs offered different views on the effect of mainlanders on their business. "Most mainlanders come to Hong Kong mainly for shopping. Even if they want to eat, they will look for cuisine not found in their hometowns. Chinese cuisine is definitely not on their list," said Law Wai-kong, general manager of the New Dynasty Scenic Restaurant in Wan Chai. Takings at the New Dynasty, located on the 60th floor of the Hopewell Centre in Wan Chai, surged 30 percent to HK$160,000 yesterday. "Our customers, usually families, pick us as they want to enjoy dinner when the spectacular fireworks display is on," Law said. "Without the fireworks, sales will be back to normal. The golden week effect only lasts one day for us." But Andy Kwok Luk-ming, managing director of Everfresh Seafood Restaurant in Causeway Bay, said business over the weekend was "especially good." Kwok said mainlanders are more willing to spend money on food than locals. "Hong Kong people prefer set meals and special offers. On average, the bill for a group of mainland diners amounts to about HK$1,500 - 50 percent higher than the HK$1,000 tab for Hong Kong people," he said. Causeway Bay's Forum Restaurant, famous for its abalone, said its sales were expected to jump 20 percent, although managing director Yeung Koon-yat noted sales during festive periods do not always outperform regular weekdays. "A festive period means that restaurants will be packed with many customers. That scares away some other customers," Yeung said.
HSBC – the largest Mandatory Provident Fund provider in Hong Kong – announced on Tuesday that fees for its four conservative investment options would be reduced.
Hong Kong's retails sales totalled HK$20.6 billion in August, up 15 per cent from the same month a year earlier, government figures released on Wednesday showed.

China: The average pork price has dropped to 12.61 yuan this week, 9.61 percent lower than the peak price on August 9, said China's economic planner after pork prices nearly doubled in the past eight months due to short supply and mounting production costs.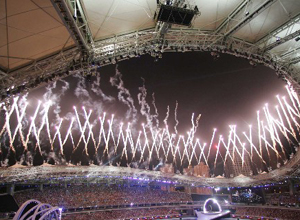 Chinese President Hu Jintao declared open the 2007 Special Olympic World Summer Games at the opening ceremony in Shanghai Tuesday. A record 7,291 athletes from 164 countries and regions are set to take part in the 21-sport Games slated for Oct. 2-11.
Newlywed couples walk on the red carpet during a mass wedding ceremony in Nanjing, East China's Jiangsu Province on October 1, 2007, China's National Day.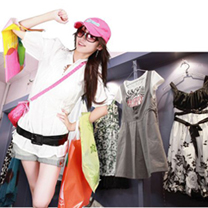 The National Day holiday is a shopper's paradise. Many shopping malls offer special discounts during this period. Shoes, bags, clothes, and even underwear...are on sale at favorable prices. All you need to do is look at the numerous promotions and find which ones best fit your needs. To help you, here are some listed below.
October 3, 2007

Hong Kong: Thousands of government officials, celebrities and guests from all walks of life in Hong Kong attended a grand reception here Monday morning to celebrate the 58th anniversary of the founding of the People's Republic of China. It is also the 10th National Day being marked in Hong Kong since its return to the Chinese motherland in 1997. "The development of the country is now most encouraging, and our success in many areas has stunned the whole world," Chief Executive of Hong Kong Special Administrative Region (HKSAR) Donald Tsang said in his address at the National Day reception. "Hong Kong is blessed to have the strong backing of the world's fastest-growing and most promising market," Tsang said, adding the entire world is eyeing the tremendous opportunities brought about by China's rapid economic development. "Amid this severe global competition, we in Hong Kong must further capitalize on our unique strengths to capture opportunities ahead of others," he said. Tsang said good results have already been in the financial sector as enterprises in the Chinese mainland continue to grow and Hong Kong has become the most-preferred platform for mainland enterprises to raise capital with its improving financial system. "Our economy has now revitalized, but we should not be complacent," Tsang said, "My team and I will keep on with our efforts to show our citizens that we are a professional, committed, experienced and energetic team." Tsang promised to strive to promote economic development and improve people's livelihood, so that all sectors of the community can share the fruits of economic prosperity. Looking forward to the coming Beijing Olympic Games some 300 days later, Tsang said Hong Kong is most honored to host the Equestrian events. "When the moment comes," he said, "people in Hong Kong and Beijing will echo each other's cheers, and the Olympic flag of five interlaced rings, the five-star national flag and the HKSAR flag will fly in harmony." Director of the Liaison Office of the Central People's Government in HKSAR Gao Siren, Commissioner of the Ministry of Foreign Affairs in Hong Kong Lu Xinhua and Commander of the People 's Liberation Army (PLA) Garrison Troops in Hong Kong Wang Jitang, Commissar Liu Liangkai attended the reception. Also present at the reception were HKSAR government Chief Secretary for Administration Henry Tang, Financial Secretary John Tsang, Secretary for Justice Wong Yan Lung, President of the Legislative Council Rita Fan and Convenor of the non-official members of the Executive Council Leung Chun-ying. Earlier in the morning, thousands of Hong Kong residents and visitors gathered at the Golden Bauhinia Square for the flag raising ceremony marking China's National Day.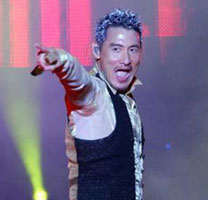 In front of a packed audience of nearly 30,000, Jacky Cheung smartly mixed segments of his sold-out musical "Snow, Wolf, Lake" with his song "Perhaps Love," from Peter Chan's Moulin Rouge-like film.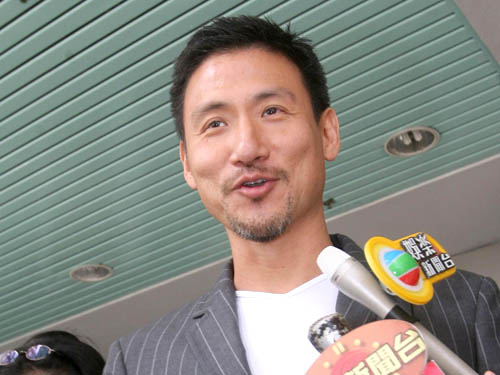 Singer Jacky Cheung Hok-yau has hit back at allegations that he hired and fired 21 Filipino maids in three years, insisting yesterday that he was an "ordinary employer". Cheung said he failed to recall how many domestic helpers his family had employed and sacked over the years, saying he rehired some at the end of their contracts while others resigned on their first day after seeing there were so many stairs at his four-storey Repulse Bay home. He lives there with his wife and two daughters, aged two and seven. Speaking from the city of Haining , in Zhejiang , the latest stop on a concert tour, Cheung said: "I consider myself an ordinary employer. Many of my friends terminate their maids' contracts and I believe it is normal in any employment. "An employer can fire an employee if he or she fails to perform, whilst an employee can also resign if he or she is not happy about the employer. Is there anything wrong if we fire a maid when we find out that she is not helpful?" The Philippine consulate has put the Canto-pop star and his wife, former actress May Lo Mei-mei, on a blacklist of substandard employers and banned them from hiring maids for one year, claiming that he employed and sacked 21 helpers in three years. Domestic helpers have dubbed Cheung "the Terminator".

Six of HSBC Holdings (SEHK: 0005, announcements, news) ' largest institutional shareholders are set to publicly declare their support for a campaign launched by shareholder activist Knight Vinke Asset Management that calls for a management shake-up and strategy review at Europe's largest bank. Citing unnamed sources, Britain's Observer newspaper reported yesterday that British and foreign funds holding significant stakes in HSBC will in the next few weeks send letters to the bank's senior independent director Simon Robertson supporting "all or some" of Knight Vinke's demands, which include strengthening its focus on Asia and demoting executive chairman Stephen Green to a non-executive role. The report of a brewing shareholder mutiny against HSBC management runs contrary to recent statements by the bank that its current strategy enjoys support from the "vast majority" of its institutional shareholders. Knight Vinke, an activist investment firm that counts California state pension fund Calpers among its key financial backers and that has previously locked horns with management at Royal Dutch Shell and Dutch media firm VNU, has spent the past month meeting other HSBC shareholders in an attempt to build consensus and push for strategic changes. On September 4, it sent a letter to Mr Green expressing dissatisfaction at the lacklustre performance of the bank's share price. It blamed management for poor returns on the bank's acquisitions in the US home mortgage market and the French commercial banking sector, leading to missed opportunities in high-growth Asia. HSBC has countered that it remains committed to the Asia market. The London-based lender last month paid US$6.3 billion for a controlling stake in Korea Exchange Bank and announced a US$225 million deal for a 10 per cent interest in state-owned Bao Viet, Vietnam's largest insurer.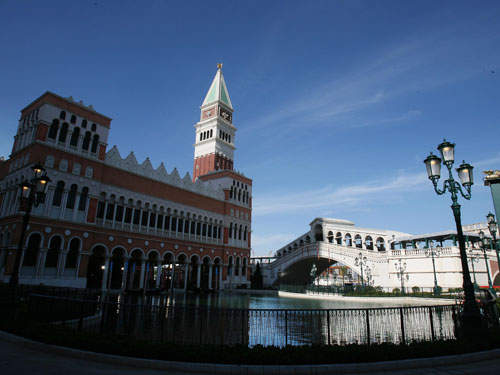 Intensifying competition from hospitality and convention service providers in Macau and Singapore has triggered a wave of renovations across Hong Kong's hotel and exhibition facilities. Some hotels, especially those in the neighbourhood of the Hong Kong Convention and Exhibition Centre in Wan Chai and those lining Nathan Road, are masking their properties with scaffolding or suspending services to make way for thorough facelifts. The need for a rejuvenated image and enhanced services is pressing after the opening last month of the US$2.4 billion Venetian Macao casino resort, which has a one million square foot retail mecca, 1.2 million sq ft in convention space and 3,000 hotel rooms. The resort is the first of 13 casino hotels Les Vegas Sands is developing on Macau's Cotai Strip. Adding fuel to the cut-throat competition is a US$3.6 billion gaming, conference-cum residential project in Singapore, another Sands project, due for completion in 2009. "The real threat should come from Singapore," said Hong Kong Hotels Association executive director James Lu. "Macau will create some competition in leisure tourism in the short-term but don't underestimate Singapore." He pointed out that Singapore and Hong Kong, which are more comparable in terms of tourism, financial development, infrastructure and logistics, will enter a fresh round of competition for meetings, incentives, conventions and exhibitions (MICE) in two years when Sands finishes a 100,000 sq ft facility for this purpose and a 1.2 million sq ft space accommodating 52,000 visitors.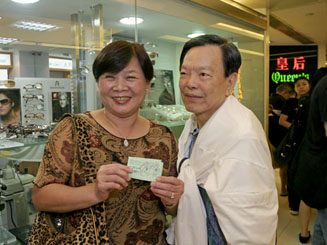 Curtain call for Queen's Theatre - It was a full house at the Queen's Theatre yesterday as nostalgic movie fans packed the colonial-era cinema for its final show. "Lust, Caution," with its heady brew of retro-passion and unspoken, certain defeat, fitted the bill perfectly Sunday as Queen's Theatre in Hong Kong put on what was almost certainly its last-ever screening. Once one of the territory's three key cinemas, the Queen's in Theatre Lane, Central District, is now an anachronism, a single-screen moviehouse sitting plum at the heart of the world's most expensive real estate. Its closure was signaled a couple of months ago (Daily Variety, July 15), but at the theater's own curtain call this weekend, Hong Kongers displayed interestingly mixed emotions of elation and resignation.
Outside there were TV crews with satellite uplink equipment and microphones. Inside, the 300-odd souls who had queued for tickets that were ripped from a book and numbered by hand were, predictably, mostly enthusiasts. They were a mixture of geeky movie buffs and a handful of faded stars who turned up for one last nostalgic photo in front of the neon-lit box office. They were surprisingly nice to the grumpy ushers in their red uniforms and gold epaulettes. And there were raucous cheers and whistles for the manager who read from a card the standard warning about camcording. No matter that the theater was slightly smelly, the projector bulb seriously underpowered and the advertisements beamed from a slide projector; the 9 p.m. auds were there to salute and to remember. As the credits rolled on Tony Leung, Joan Chen and newcomer Tang Wei, spectators turned to one another, lingered some minutes to snap final photo memorabilia and then filed off into the heat of the empty Hong Kong night.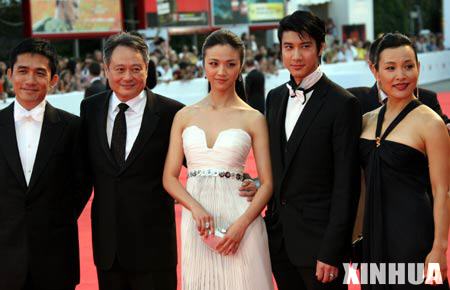 "Lust" makes frothy start in U.S. theaters - Laughter and lust ruled the specialty biz B.O. over the weekend in the U.S. Wes Anderson's "The Darjeeling Limited" and Ang Lee's "Lust, Caution" both enjoyed robust openings. "Lust," carrying the ultra-restrictive NC-17 rating and clocking in at 158 minutes, grossed an estimated $61,688 for Focus Features in its exclusive run at the Lincoln Plaza Cinemas. Among exclusive openings, it nabbed the best debut ever for a foreign-language film, as well as one of the best showings ever for a live-action film. Per-screen average is the best on the books for an NC-17 film, whether in an exclusive or limited run. Focus topper James Schamus co-penned the screenplay based on a story by Eileen Chang. "What does this mean? It means that the running time, the foreign language and the rating just didn't have an impact on the opening," Focus prexy of distribution Jack Foley said. "It just cranked to that level." "Darjeeling," debuting in two Gotham theaters on Saturday after opening the New York Film Festival on Friday, brewed an estimated Saturday-Sunday gross of $140,000 for a boffo per-screen average of $70,000. That gave Fox Searchlight the highest per-screen average of the year. In Taiwan, where helmer Lee was born, pic opened with a socko $2.9 million at 95 playdates, setting a record for top September launch in that market.

China: The central government is likely to pick Tianjin's Binhai New Area to operate the national over-the-counter equity bourse, a Tianjin official said. The decision could be announced as early as late this month, after the 17th Communist Party congress ends, as the mainland is eager to build a multi-layered financial system to absorb excess liquidity in the capital market.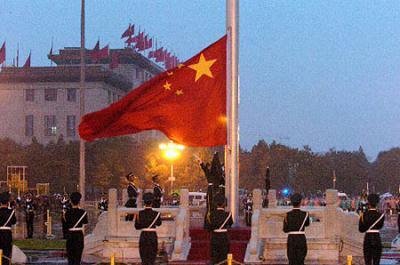 More than 100,000 people from across the country gathered at Tian'anmen Square in Beijing to watch the national flag raising ceremony, on Oct. 1, 2007, the 58th National Day of the People's Republic.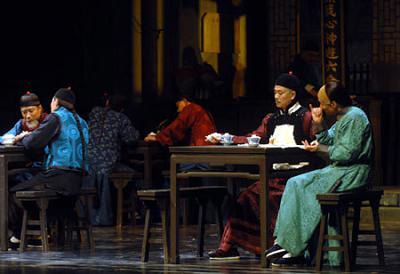 The drama "Tea House" is staged in the National Grand Theater in Beijing, capital of China, Sept. 30, 2007. Written by Lao She, the classical "Tea House" became the first drama staged in the National Grand Theater on Sunday for the test show of the theater's drama section.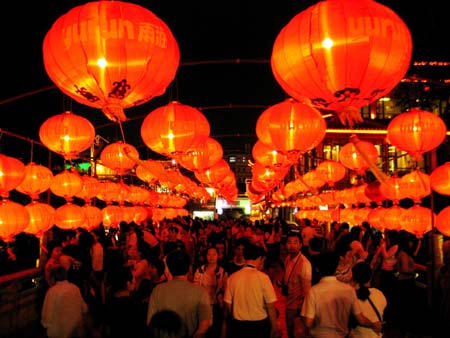 Visitors walk through the "lantern corridor" along the Qinhuai River in Nanjing, capital of east China's Jiangsu Province, Sept. 30, 2007. Lanterns were lit here on the eve of China's National Day.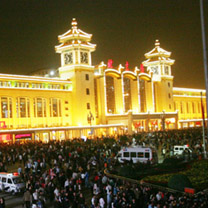 Tens of thousands of people crowd at the Beijing Railway Station, September 30, 2007. Beijing's tourism administration bureau has predicted that about 1.7 million people will visit the capital during the seven-day holiday.

Beijing government has finally decided to cut subway fares by about 30 percent.
October 2, 2007

Hong Kong: The Hong Kong government said Friday it has recorded a surplus of 1.2 billion HK dollars (154 million U.S. dollars) for the five-month period ending Aug. 31, pushing its fiscal reserve up to 370.5 billion HK dollars (47.5 billion U.S. dollars). Statistics released by the Financial and the Treasury Bureau showed expenditure for the period totaled 94.6 billion HK dollars (12.13 billion U.S. dollars) while revenue amounted to 95.8 billion HK dollars (12.28 billion U.S. dollars), leading to a surplus of 1.2 billion HK dollars (154 million U.S. dollars). A government spokesman said the surplus for the five-month period was mainly due to receipts of 38.1 billion HK dollars (4.88billion U.S. dollars) in land premium.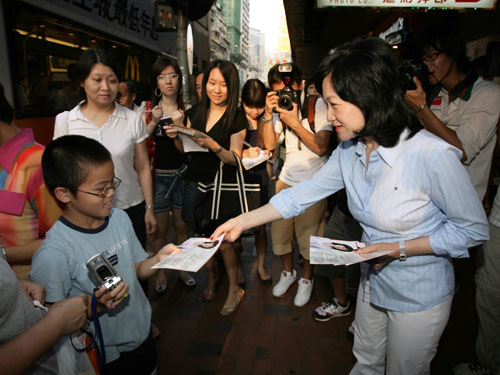 The candidates for the Legislative Council by-election began their first weekend of campaigning on the same turf yesterday. Regina Ip Lau Suk-yee targeted North Point - a bastion of Beijing loyalists - while Anson Chan Fang On-sang was down the road in Quarry Bay. Before venturing onto the streets, Mrs Ip told Commercial Radio about the changes she might need to make if she was to win the election. he admitted she was quick to anger, spoke too fast, could be imprudent, sometimes made frivolous remarks and easily offended people. But self-criticism plays a part in any election campaign. "If you really want to do something for the Hong Kong people, you have to have introspection to win people's support," said Mrs Ip, who has already issued one mea culpa. When she launched her campaign, she apologised for things she had said while trying to push through national security legislation as security minister in 2003. Mrs Ip said the city's education and pollution problems were causing popular concern. Students' language abilities were slipping, she said.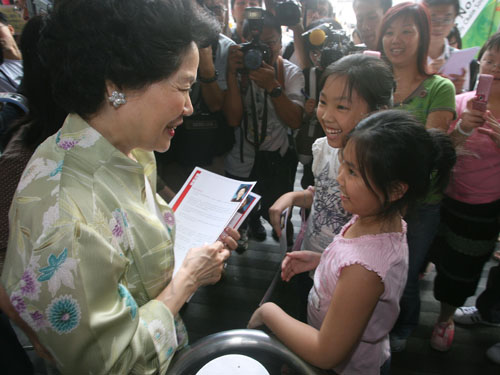 Meanwhile, Mrs Chan handed out leaflets to passers-by outside Tai Koo MTR station. She insisted she was ready to face any criticism. The former chief secretary said she had "spoken out on important issues" about which local people are concerned since leaving government in 2001. She made no direct reference to her rival, but when asked if she would be making any self-criticisms, she said she had no personal baggage to unburden herself of. Mrs Chan will learn today whether the pan-democratic camp has chosen her or the League of Social Democrats' Lo Wing-lok as its candidate for the December 2 by-election. She was joined on the streets by Civic Party leader Audrey Eu Yuet-mee, who was among pan-democrats urging people to join a rally next Sunday in Victoria Park in support of universal suffrage in 2012. Organisers want participants to unfurl umbrellas to spell out 2-0-1-2, and hope 10,000 will turn out and create a Guinness World Record.

China: China will soon replace traditional tourist destinations - France, Spain and the Americas - as the top tourist destination country, as reported by an official from the United Nations World Tourism Organization, at celebration of the 28th "World Tourism Day" held in Xinjiang, in northwest China. By 2020, China will replace traditional tourist destinations, and rank as the world's first, according to the official's analysis. Chinese tourist officials are even more optimistic. Shao Qiwei, director of the State Tourism Bureau, said that by as early as 2015, China will become the world's largest country welcoming tourists, and the fourth largest source of outbound tourists.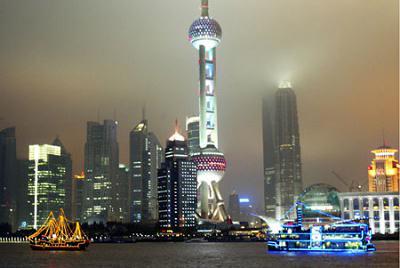 Photo taken on Sept 28, 2007 shows the colorful cruises parade on Huangpu River, Shanghai. This performance is part of the activities during 2007 Shanghai Tourism Festival.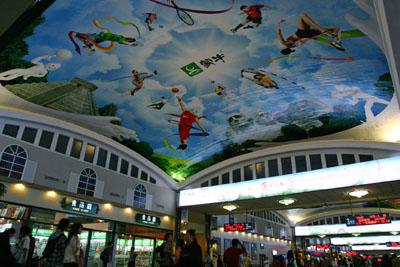 A giant dome fresco is seen at the passenger hall of the Beijing Railway Station on September 28, 2007. The fresco features representative architectures from around the world and a variety of sports activities.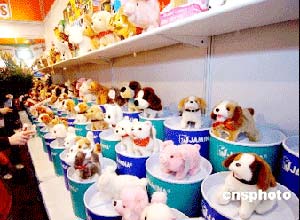 Some experts and media have welcomed Mattel's clarification of its recalls of Chinese toys as concern is growing that the design flaws have damaged the "Made in China" label. Thomas Debrowski, an executive of Mattel, apologized last Friday to a senior Chinese official for the inconvenience it has caused to Chinese consumers after recalling millions of Chinese-made toys and pledged to take responsibility. He admitted that the vast majority of the toys were recalled because of design flaws rather than manufacturing errors in China. Dara O'Rourke, an associate professor of labor and environmental policy at the University of California, Berkeley, said that Mattel used China as a scapegoat for its own problems and that the toy maker is now paying the price for that. "There was a lot of scapegoating China, but I would argue that this was caused by a system that is designed to push down costs and speed up delivery. There are root causes and Mattel is behind those," he said. Mattel's apology also gained praise from some parents, including Arianna McRoberts, 41, of Los Angeles, the mother of two boys, 7 and 14. "It's unfortunate China got the bad rap, but I also think China needs to pay attention a little more carefully to their standards so they comply with American standards," McRoberts was quoted as saying by the Associated Press. "China has received a lot of blame for the recalls in the West," said Hari Bapuji, assistant professor at the University of Manitoba in Canada and lead author of the report, "Toy Recalls -- Is China the Problem?"
China has shown its will to host the 2018 World Cup as Xie Yalong, CFA vice president made a positive statement on the FIFA press conference in Shanghai on Saturday.
The number of commercial bribe cases dealt with by Chinese courts rose to 4,406 in the first seven months, an increase of 8.2 percent over the same period of last year.

Xi Jinping, the emerging dark-horse candidate to head China's next generation of leaders, has received lavish praise from the state media for the second time in a week. With about two weeks to go before the 17th Communist Party Congress, the Shanghai party secretary was once again singled out for praise by Xinhua in its lengthy report titled "Harmonious Shanghai welcomes the Party Congress". Mr Xi took over the Shanghai post from disgraced Chen Liangyu in March.
October 1, 2007

Hong Kong: Hong Kong stock market capitalization reached the new high of 20.05 trillion HK dollars ( 2.57 trillion U.S. dollars) at Friday's close, exceeding the 20 trillion HK dollar (2.56 trillion U.S. dollars) mark for the first time, the Hong Kong Exchanges and Clearing Limited said. The closing market capitalization of Thursday was 19.94 trillion HK dollars. The benchmark Hang Seng Index closed at a record high of 27,142. 47 points on Friday, the last trading day in the third quarter this year as weekends are expected next. Hong Kong stocks topped one mark after another in strong rallies recently, largely helped by a strong Chinese economy and the news that the mainland is likely to initiate a trial program allowing individuals to invest directly in the Hong Kong stock market. The market turnover on Friday reached 148.58 billion HK dollars, also its highest. Traders said liquidity in Asia will likely remain buoyant in the near future, which could help Hong Kong's benchmark index to scale new heights next week. (7.8 HK dollars = 1 U.S. dollar)
The government of the Macao Special Administrative Region (MSAR) has returned the management control to the local bank Banco Delta Asia, according to an official statement issued Friday. The statement from the Monetary Authority of Macao said the statutory mandate of the Administrative Committee, which was appointed by the government on account of the special intervention measures imposed on the bank expired on Sept. 28, 2007. The resumption of the management control by the bank was due to the improvement made in the bank's management and the persistent request of Stanley Au, the original shareholder, said the statement. The Monetary Authority will, as usual, perform the necessary supervisory duties to safeguard the interests of depositors and to maintain the stability of the financial system of MSAR, it added. The bank was alleged by the United States of being involved in an international money laundering case in 2005.
Driven by robust economic conditions, the total gross premiums of Hong Kong's insurance industry grew 13.7 percent to 156 billion Hong Kong dollars (20.12billion U.S. dollars) last year, the office of Hong Kong Commissioner of Insurance said here Friday. The figure represented 10.6 percent of Hong Kong's Gross Domestic Product, compared with 9.9 percent in 2005, the office said in a press release. Despite the strong out-turn, general insurance business registered only a modest rise in gross premiums of 1.8 percent to 22.96 billion Hong Kong dollars (2.96 billion U.S. dollars). Net premiums grew 3.6 percent, attributable to a higher retention ratio of 70.6 percent compared with 69.4 percent in 2005. The rise in gross premiums was largely driven by accident and health business that surged 14.8 percent to 5.36 billion Hong Kong dollars (691.39 million U.S. dollars), making up 23 percent of the total. According to the office, the overall underwriting performance of general insurance business contracted from 2.5 billion Hong Kong dollars (322.48 million U.S. dollars) in 2005 to 2.07 billion Hong Kong dollars (267.01 million U.S. dollars) last year due to deteriorated claims experience as well as higher management expenses. Net claims incurred ratio was 51 percent compared with 48.9 percent in 2005.

The Hang Seng Index hit another new record on Friday as investors continued to bet on more mainland money flowing into the local market, especially after the Golden Week holiday.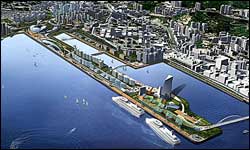 The Kai Tak city center plan is up and running, with the amended outzoning plan getting the go-ahead from the Town Planning Board. At the last board meeting in August, six amendments were added to the plan, such as lowering building heights at the city center and along the proposed nullah-turned river. The plan also incorporated a curved landscaped elevated walkway linking the new area with Kowloon City and San Po Kong. Of the six further representations on Friday, only one supported the plan.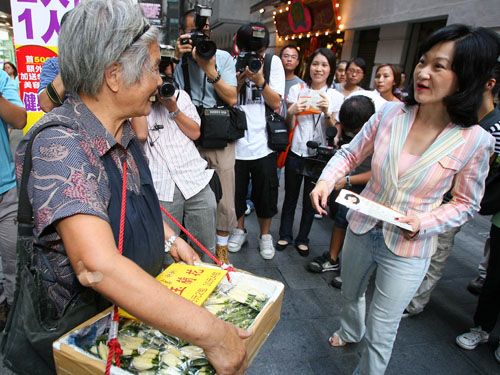 Regina Ip Lau Suk-yee's announcement that she would contest the Legislative Council by-election had given her a "historic opportunity" to apologise for her handling of national security legislation as secretary for security, one of her advisers said yesterday. Had she decided not to contest the Hong Kong Island poll on December 2, she would have issued her apology ahead of next year's full Legco election, said the adviser, Gary Cheng Kai-nam. Pan-democrats have accused Mrs Ip of apologising only in order to win votes. Speaking at a National Day reception for Beijing loyalists, which Mrs Ip also attended, Mr Cheng, a former legislator, said Mrs Ip had "gone through a long process" before making up her mind to issue the apology. He praised her bravery in doing so. Fifteen months ago, Mrs Ip said she saw no need to apologise for her tough talk in support of the Article 23 legislation. But on Thursday, she said she was ashamed of her provocative remarks about the bill, which was shelved days after half a million people marched in protest on July 1, 2003. She had suggested some of the marchers had taken to the streets because they had nothing better to do, and had earlier offered the election of Adolf Hitler as evidence that democracy was no panacea. Mrs Ip resigned days after the march.
The new hangar of the Hong Kong Aircraft Engineering Company would allow more large aircraft to land in the territory, Secretary for Transport and Housing Eva Cheng Yu-wah said on Friday. She was speaking at the ground-breaking ceremony for Hangar 3 of Haeco (SEHK: 0044) – an aircraft maintenance subsidiary of the Swire Group (SEHK: 0019) – which also owns Cathay Pacific Airways (SEHK: 0293), Hong Kong's leading carrier. Ms Cheng said: "This HK$670 million facility, when completed in 2009, will allow three additional wide-body aircraft to be serviced at the same time, expanding Haeco maintenance capacity by one-third. She said the investment showed Haeco's confidence in the future development of Hong Kong as a premier aviation hub. Ms Cheng noted that the government, through the Airport Authority, provided infrastructure at the airport. But ultimately route development decisions were made by airlines, she explained.

China: More than 100 US multinationals, including big names such as Boeing, Microsoft and General Motors, urged the US Congress to reject protectionist legislation against China.
Initial public offerings (IPO) in China's stock markets recorded a total capital of almost 150 billion yuan (20.0 billion U.S. dollars) in September alone, according to Friday's China Securities News. A total of 15 new shares were added to the list this month, raising approximately 150 billion yuan in A-share blue chips such as China Construction Bank (CCB) and China Shenhua Energy. Before September, Industrial and Commercial Bank of China held the record, having raised 46.64 billion yuan (6.21 billion dollars) from its IPO. However, CCB, the nation's second largest State-owned commercial lender, raised a record-breaking 58 billion yuan (7.7 billion dollars) for domestic IPOs Tuesday this week. Directly following, China Shenhua, the largest Chinese coal producer, upped the record to 66.58 billion yuan (8.9 billion dollars) from its Shanghai IPO. The September IPO accounted for half of funds raised in IPOs since the beginning of this year, and also exceeded the annual IPOs before 2006. Meanwhile, the upper limit of Shenhua's IPO price posted 36.99 yuan per share, breaking the previous record of UFIDA Software Co Ltd's offering price at 36.68 yuan.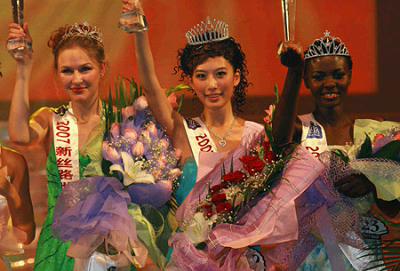 Chinese Wang Yili (C), first place winner, reacts with the runners up Mirash Davis from Ghana (R) and Kristine Kek from Sweden at the 2007 New Silk Road World Models Contest Finals in Wuxi, a tourist city in east China Jiangsu Province Sept. 27, 2007. Some 50 models from across the world took part in the pageant on Thursday.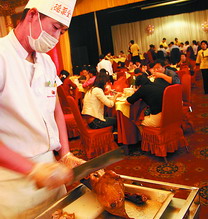 A chef slices roast duck at a Quanjude restaurant. Shares of the famous catering company is likely to be sold at 10 to 12 yuan if its IPO gets approval, analysts said.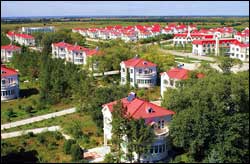 Beijing has announced fresh measures to tighten credit for developers as well as buyers of second homes after previous efforts to cool speculation proved to be in vain. Developers found hoarding land or holding back flats would be banned from receiving loans, the People's Bank and China Banking Regulatory Commission said in a joint notice on Friday. Mortgages for second homes and flats for commercial use will be charged 1.1 times the benchmark lending rates, currently at 7.29 percent for one-year loans and 7.83 percent for five years. As well, lenders will be obliged to raise downpayment requirements to at least 40 percent for those who intend to buy a second flat, and 50 percent for commercial-use units. The moves are aimed at boosting inventory by pushing developers to start construction soon after buying sites, Michael Choi Ngai-min, chairman of mainland property agent and consultant, Land Power International, said. "The measures will dampen interest among speculators as well as investors, but only for awhile. The problem is the housing supply in city areas far lags the rising demand due to urbanization," Choi said.

Two Chinese warships, the guided-missile destroyer Harbin and supply ship Hongzehu, have arrived in Sydney ahead of the first joint military exercises between Australia and China. Australian Defence Minister Brendan Nelson said next week's exercises involving the Australian, Chinese and New Zealand navies signalled closer military co-operation between Beijing and Canberra. "At this stage, I would expect that primarily we would be looking at naval exercises but we will also be having discussions between our air force and obviously our army," Dr Nelson said. "Some of those discussions have already commenced." While the United States has expressed concerns about China's increasing military muscle, Dr Nelson said the joint exercises showed Beijing recognised it needed to be open and transparent about its growing capability.

*News information are obtained via various sources deemed reliable, but not guaranteed