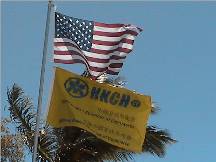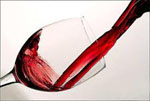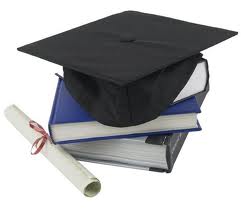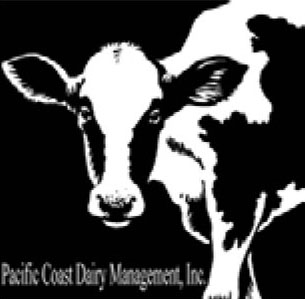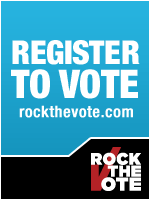 Biz-Video

Hawaii's China Connection

Doing Business in Hong Kong & China
Hong Kong, China & Hawaii Biz*
Do you know our dues paying members attend events sponsored by our collaboration partners worldwide at their membership rates - go to our event page to find out more! After attended a China/Hong Kong Business/Trade Seminar in Hawaii...still unsure what to do next, contact us, our Officers, Directors and Founding Members are actively engaged in China/Hong Kong/Asia trade - we can help!
Are you ready to export your product or service? You will find out in 3 minutes with resources to help you - enter to give it a try

China Central TV - live Webcast

Skype - FREE Voice Over IP

View Hawaii's China Connection Video Trailer


Direct link PDF file


Year of the Pig - February 18, 2007


Listen to MP3 "Business Beyond the Reef" to discuss the problems with imports from China, telling all sides of the story and then expand the discussion to revitalizing Chinatown - Special Guest: Johnson Choi, MBA, RFC. President - Hong Kong.China.Hawaii Chamber of Commerce (HKCHcc) and Danny Au, Manager, Bo Wah Trading
January 31, 2008

Hong Kong: Hong Kong Secretary for Commerce and Economic Development Frederick Ma on Wednesday refuted calls to introduce "group loss relief" and "loss carry-back" arrangements in the profits tax regime, saying it could lead to abuse like tax avoidance. He told the Legislative Council that complicated legislative provisions would be needed to guard against the abuse, complicating Hong Kong's simple tax system. Substantial resources would also be required. He said the Hong Kong Special Administrative Region government has studied the proposal for the arrangements but considers that they will bring significant tax revenue loss, which would be particularly acute in economic downturns. "Group loss relief" allows one or more companies' losses to offset profits of other companies of the same group, and "loss carry-back" allows losses to offset profits made in previous years so the company concerned can get a refund on tax paid.
Punjab National Bank, a major India-based bank, staged a ceremony Wednesday to officially launch its commercial banking operations in China's southern special administrative region of Hong Kong. The new branch will be offering a full spectrum of banking facilities, including checkable accounts, deposit products, trade finance and loan syndication, the bank said, adding that it was critical to the bank's strategy of expanding its operations overseas and meeting the needs of its main customers who have opened offices in China. "Hong Kong is the bank's gateway to the Chinese mainland. The trade between China and India has already reached the figure of 38billion U.S. dollars," K C Chakrabarty, chairman and managing director of the India-based bank, said at the ceremony. Target for bilateral trade between China and India had recently been revised to 60 billion U.S. dollars at a meeting of national leaders from both sides, he said, noting that Hong Kong was the only financial center outside China's mainland where renminbi transactions were permitted and most of the trade was routed through Hong Kong. "I am delighted that the Bank has chosen Hong Kong as one of its first overseas bridgeheads in its global expansion strategy. It is a clear testament to this city's status as a global financial center," said John Tsang, Hong Kong's financial secretary. Established in 1895 in Lahore, Punjab National Bank has built a customer base of over 35 million and has 4,540 offices and 421 extension counters. The bank said it has also started the process to upgrade its Shanghai representative office into a full-fledged commercial banking branch.
The biggest corruption trial in Macau's history concluded on Wednesday afternoon with Ao Man-long, former secretary for transport and public works, being handed a 27 year jail sentence after being convicted of 57 out of 76 graft charges. Ao was also fined 240,000 patacas (HK$233,000). Macau's court of final appeal judge, Sam Hou-fai, said Ao had abused his position, allowing personal gain to over-ride public interest. Ao's charges included bribe-taking, money laundering, abuse of power and unjustified wealth. The 51-year-old is accused of amassing a personal fortune of more than US$100 million by receiving kickbacks for 41 public works projects, including contracts linked to casino construction.
Hong Kong's banking system is robust, healthy and well regulated while the subprime mortgage problem of the United States has developed into a credit crisis that may trigger economic recession, Hong Kong Monetary Authority Chief Executive Joseph Yam said here on Tuesday. In a written paper submitted to the Legislative Council's Panelon Financial Affairs, Yam said the recent financial turbulence did not have a systematic impact on Hong Kong's economy. However, the recent market situation was worrying and individual banks in Hong Kong might suffer from their investment in asset-backed securities, he said. In case of a hard-landing of the U.S. economy or a continued slump in the U.S. housing market, and if tightened credit conditions persist or get worse, growth might fall sharply. The impact on Hong Kong would be larger if the housing difficulties spill over to other sectors of the economy. Given the uncertainties regarding the outlook for the global financial markets and the global economy, Hong Kong could be affected through both the real economy and financial-market channels. The subprime problem had no systemic implication for Hong Kong's banking sector and did not affect banks' overall safety and soundness as the aggregate sub-prime exposures were not material relative to their total assets. The Hong Kong banking sector remains highly liquid, as the amount of customer deposits grew faster than that of loans. Yam said the market outlook for 2008 remains uncertain, though Hong Kong can withstand the financial turbulence with good risk management. He urged banks to set aside provisions and bad debts for assets affected by the subprime problem. There are other factors affecting currency stability, including local inflation, and the Chinese mainland's monetary and financial conditions. Yam said the Chinese mainland's financial situation has a crucial impact on Hong Kong.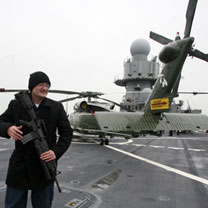 A US naval officer stands guard at the Navy's battleship, The USS Blue Ridge. The flagship of the US Seventh Fleet anchored out in the Victoria Harbor Monday morning for a scheduled port visit.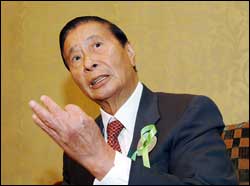 When even tycoon Lee Shau-kee tempers his enthusiasm for the stock market, it's time to pay attention. The Henderson Land Development (0012) chairman yesterday revealed a much more conservative attitude toward the market, lowering his previous lofty targets. He even asked his legions of loyal followers to knock him off his pedestal as the "God of Stocks." Said Lee: "I am not the genuine 'God of Stocks.' I am only a fake please don't call me that any more. I am just a simple investor." The man known as "Asia's Warren Buffett" said he has changed to become more stable and calm. He told reporters the Hang Seng Index will only reach 27,000 to 30,000 points by March, then the market will ease its rise in the second quarter. The stocks guru was in a much more bubbly mood previously, saying on New Year's Eve the HSI would surge past 33,000 in the spring - a level 10 to 22 percent higher than his current predictions - before hitting 36,000 in autumn. "Recently the index has plunged too much," Lee said yesterday. "Although right now it has already gone back up to 24,000, I hope the index will continue to rise gradually." Asked about a strategy for the second quarter, he said: "Hold on to your stocks and don't be too aggressive." Lee even said his interest in being a cornerstone investor in new listings has waned. "The share price for the newly listed stocks are rather high and I'm not too fond of it," he explained. Lee said stock investors should turn to professional financial advisory companies that have the resources to properly guide their clients. "When I speak about stocks, I only share with everyone my own personal experience and the way I do things," Lee cautioned. "It is good for everyone to make money together, but I don't want investors to have to worry about stocks every day, affecting their jobs and emotional well-being." Despite such protests, Lee couldn't help but share some picks with the masses. It is best to choose stocks you can hold for the long-term, Lee said. "I put my money in strategic investments," he explained. "I still haven't sold them." Among his portfolio, Lee said his favorite stocks are the ones related to resources that can be burned - including China Coal (1898), China Shenhua Energy (1088), CNOOC (0883), and PetroChina (0857). He also likes China Life (2628) and China Merchants Bank (3968). "The good thing about holding them long-term is that they will not be swayed by any major waves," he said.
A system pioneering the use of wireless sensor networks to improve coal-mine safety has won the Best Innovation and Research division at the Hong Kong Information Communication Technology Awards. The project, titled "Coal mine surveillance with wireless sensor networks", was developed by University of Science and Technology assistant professor Liu Yunhao, of the computer science and engineering department, and doctoral student Li Mo. The problem with previous sensors was their reliability, Mr Li said. "What's more, even when irregularities are detected, it took the sensors a long time to deliver the information to all mine workers underground." The new system involves several nodes, each made of three parts: a microcomputer, a sensor and an antenna. Each one can detect and warn of irregularities in a coal mine, such as gas leaks, seeping water, and oxygen-enriched spots, Mr Li said. The nodes then provide underground data to a central control room, which leads to the mapping of a possible escape route. The research team has conducted tests at one of the mainland's largest coal-mine fields, in Inner Mongolia, for the past three years. Asked the difference between this project and existing wireless network surveillance systems designed for coal mines, Mr Li said: "As far as I know, we're the first in the academic circle to introduce wireless sensors to the system. "We don't need to fix cables in the tunnels or around working faces underground, whereas the existing wireless connection relies highly on them to reach access points. That ensures us more flexible deployment." Mr Li said the system would probably be manufactured, with the central government's sponsorship, in five to 10 years. Department head Lionel Ni said the project's purpose was to reduce the number of deaths in coal-mine accidents, in which 3,786 people were killed on the mainland last year, according to the State Administration of Work Safety.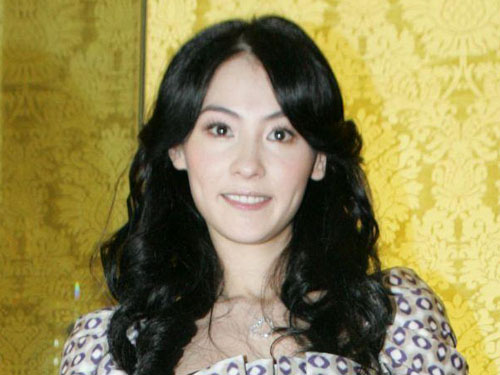 Police have launched an investigation after more nude pictures purported to be of Hong Kong pop and movie stars were posted online. The pictures included one of a young man and woman, apparently captured from a video and said to be Twins duo member Gillian Chung Yan-tung and singer-actor Edison Chen Koon-hei. Another purported to be actress Cecilia Cheung Pak-chi. The pictures appeared a day after doctored pictures with Chung's head on the half-naked body of another woman were posted. A police spokeswoman said the Commercial Crime Bureau was investigating "two reported cases of publishing indecent articles on the internet". The latest pictures came to light after an internet user posted a message on popular newsgroup discuss.com.hk saying more nude photos of Gillian Chung had been uploaded to another newsgroup "featuring lots of 'kong nui' [Hong Kong girls] photos". This message was removed about 5.40pm, but pictures had already begun circulating on the internet. Chen's management company, Rich and Famous, said the company was seeking legal advice and might make a complaint to the police. "We believe this incident was more likely a joke in bad taste," a spokesman said. "But it appears [the person who put up the photos] shows an intention to attack Edison deliberately and we should stop that." Chung's record company, Emperor Entertainment Group, which has already reported the case to the police, released another statement yesterday urging the media not to publish the photos. Lawyer Wong Kwok-tung said uploading computerised photos degrading Chung could be criminal defamation, as it damaged her image as "a decent celebrity". However, those who downloaded the images should bear no legal responsibility. In 2006, a magazine that published photos portraying Chung changing her clothes was classified as class II indecent, meaning it should not have been sold to people under the age of 18.
A noted tenor and music teacher has been jailed for three months after being convicted of accepting a bribe in relation to the supply of instruments to a primary school. Tam Yu-leung, 34, part-time musical instructor at the Church of Christ in China Kei Wai Primary School and singer of a theme song for one of the popular McDull cartoon-pig films, pleaded guilty yesterday to one count of being an agent soliciting an advantage and one of being an agent accepting an advantage. Kowloon City Court heard that the proprietor of V Music Co submitted a bid of HK$153,800 for a contract to supply 13 musical instruments in December 2006. Tam was responsible for selecting suppliers of instruments to the school, the Independent Commission Against Corruption said. The defendant called V Music Co last February 1 and told the proprietor that the procurement order would soon be placed with her company for the purchase of eight types of instruments. The court was told that he asked for a 20 per cent commission or she would lose the contract to other suppliers. On April 26, the proprietor passed Tam an envelope containing HK$19,120, calculated to be 20 per cent of the total price of the instruments, in a meeting at a Mong Kok restaurant. Tam was arrested by ICAC officers shortly after he accepted the payment.

China: China to invest billions to deal with water pollution - The Chinese government has decided to invest largely in developing technologies to treat water pollution, according to the State Environmental Protection Administration (SEPA) in Beijing Monday. The State Council, or the cabinet, has approved three big state-funded programs for the research and development of such technologies, said Zhao Yingmin, a SEPA official. The investment will be hundreds of million yuan, he said. The programs, to last between 2008 and 2020, will support researches of technologies to remedy pollution of rivers, lakes, drinking water and those to monitor the water body environment. The SEPA said earlier that 26 percent of surface water in China is totally unusable, 62 percent is unsuitable for fish and 90 percent of the rivers running through cities are polluted. The latest survey showed that 32.3 percent of Chinese were unsatisfied with the local water environment while 20 percent were not content with the sanitation of drinking water in public places. The survey, titled "2007 environmental protection and people's livelihood index," covered 9,011 respondents from 29 provinces and autonomous regions. A project under the program will be carried out at Taihu Lake in the eastern Jiangsu Province. It had suffered a serious blue-green algae outbreak in summer 2007, threatening the tap water supply of more than 1 million residents in the lakeside city of Wuxi. "The local environment authority will actively cooperate with scientists to help improve the water quality of the lake," said Shi Zhenhua, head of the provincial environmental department.
The visiting EU Commissioner responsible for taxation and customs, Laszio Kovacs, reiterated here on Monday that a concrete Action Plan on Intellectual Property Rights (IPR) will be worked out between China and the European Union (EU).
Chinese Premier Wen Jiabao talks to a customer in front of a butcher's stall as he inspects the food supply in a market in Guangzhou, South China's Guangdong Province, January 30, 2008. Wen first visited stranded passengers at a railway station in Guangzhou, after continuous heavy snow paralysed road and railway traffic in central and southern parts of China.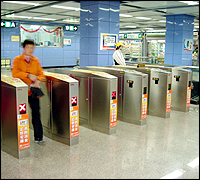 China plans to invest 300 billion yuan (US$41 billion) to lay 7,820 kilometers of railway in 2008, the Ministry of Railways said on Friday. "A batch of new projects will start construction this year, and the building of the high-speed railway linking Beijing and Shanghai is the most important one," said Railway Minister Liu Zhijun at a national work conference. Earlier reports said the construction of the multi-billion-dollar Beijing-Shanghai railway could be underway as soon as the middle of January after six companies were confirmed to have won the tender. Liu said the new railways should use state-of-the-art technologies and meet the world's highest standards. China will have 15,000 kilometers of new railways built and put into operation in the following three years, with 7,000 kilometers being passenger-only high-speed tracks. The total railway length will reach 120,000 kilometers by 2020. From 2003 to 2007, China invested a total of 522 billion yuan (US$71.5 billion) in railway construction. Liu predicted that passengers would make more than 1.4 billion rail journeys in 2008 and the cargo transported on railway would exceed 3.3 billion tons, generating a total revenue of 361 billion yuan (US$49.5 billion). He said priority must be given to the transport of coal, grain, fertilizer, cotton, disaster-relief materials and people's daily necessities. He also said China would strengthen international cooperation in the railway sector, including the construction of the pan-Asian railway network and technical cooperation with developed countries.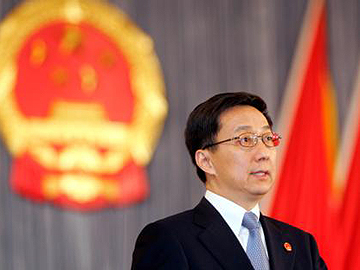 Shanghai's mayor won a second five-year term on Wednesday, cementing his political survival after a wide-ranging corruption scandal brought down the city's Communist Party boss. Han Zheng, 57, was reappointed at the annual meeting of the municipal legislature, the official Xinhua News Agency said. Xinhua gave no details. Mr Han's new term will run through Shanghai's staging of the 2010 World Expo, an opportunity for international exposure that the city hopes will rival Beijing's hosting of this year's Summer Olympic Games. Mr Han, first appointed mayor in 2003, pledged last week to repair the city's "negative image," a reference to the scandal that toppled Chen Liangyu, the city's most powerful official, in September 2006, as well as other top city officials and businessmen. The mayor was never implicated in the investigation into misuse of city social security funds. However, he was seen as tainted by his long association with Chen and likely owes his survival at least in part to the Communist Party's desire to maintain stability and investor confidence in China's biggest and wealthiest city. While Shanghai has firmly established itself as China's financial center, it is struggling to modernise while contending with traffic snarls and a rising population of migrants from elsewhere in China. Most recently, hundreds of residents held unusually bold protests against a proposed extension of the city's showcase magnetic levitation train line. Authorities have not yet indicated whether the multi-billion-dollar project will still go ahead, but Mr Han pledged last week to forestall protests by resolving tensions over construction projects and other issues. He made no direct mention of the train or the recent protests.

Data from the Beijing Space Flight Control Center show that on the 28th, Chang'e-1's satellite equipment is working properly. It is in orbit 200 km away from the Moon, with orbital accuracy only slightly different (.0003) from the theoretical figure. In addition, Director Tang Ge, from Beijing Space Flight Control Center, said in an interview on January 28th that the tracking data from Chang'e-1 indicate that China's deep space exploration flight control capabilities have made a breakthrough. The Moon is a very irregular sphere, and satellites in orbit around different locations of the Moon experience relatively different gravitational pulls. A chapter has been written on China's flight control of lunar exploration satellites where there was once a blank page.
China received more than 153,000 domestic invention patent applications in 2007, up 25 percent over 2006, a top Chinese official of intellectual property rights said here on Tuesday. Director of the State Intellectual Property Office (SIPO) Tian Lipu said foreign invention patent applications reached 92,000 in 2007, up 4.5 percent over the previous year. "Domestic patent applications for inventions accounted for 62.4percent of the total invention patent applications accepted by SIPO in 2007 while only 37.6 percent were from overseas." Tian said at an annual meeting of ISPO. He said the proportion between domestic and foreign patent applications for inventions were four to six in early 1990s and half-half in 2003. "It indicates that China's self-innovation capability is increasing and the quality of domestic patent applications is improving." Tian said. He noted that enterprises were playing a major role in China's technological innovation with their patent applications for inventions in 2007 increased by 29 percent over the previous year. PCT applications in China also increased to 5,401 in 2007, up 38 percent year-on-year, according to Tian. "It shows that the patent mechanism is playing a positive role in encouraging invention and promoting technical innovation in China, and the Chinese people's awareness of patent protection has been enhanced," Tian said. SIPO accepted 694,153 patent applications in 2007, up 21.1 over the previous year. Among them, 245,161 were invention patents, up 16.5 percent and 181,324 were designs patents, up 12.4 percent.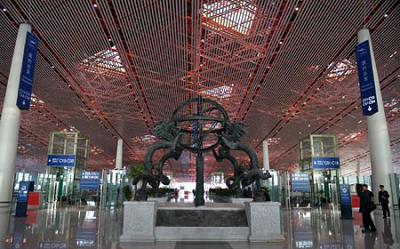 Picture taken on Jan. 29, 2008, shows the interior scene of Passenger Terminal 3 at the Beijing Capital International Airport. More than 10 scenes, most of which bear strong characteristics of classical Beijing imperial architectures, have been constructed inside Terminal 3. As one of the key projects of the Beijing Olympics, Terminal 3 is to go into test operation soon.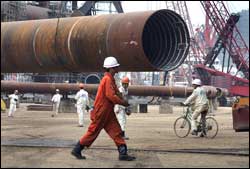 CNOOC Ltd (0883) said 2008 will see the firm's fastest production growth since listing, as it plans to ramp up output by 15 percent over last year. But China's largest offshore oil producer is concerned that devaluation of the US dollar could challenge its business. The Beijing-based company will set aside US$5.24 billion (HK$40.87 billion) for capital expenditure this year, a rise of 43.7 percent from 2007. It plans to spend US$1 billion for exploration and US$4.1 billion for project development. Ten development projects are scheduled to come on stream this year. Chief financial officer Yang Hua said 2008 "will be a very exciting year for CNOOC, as we are expecting our fastest growth in production since listing." The company raised its target to produce 195-199 million barrels of oil and gas equivalent this year, up from 169-171 million barrels in 2007. Yang ruled out the possibility that CNOOC will enter into the downstream market, but said it is actively seeking overseas acquisition opportunities. "For us, overseas acquisition deals are very hard to strike. It's not like you want to buy, they will simply sell to you. [We] will continue to add reserves through exploration and acquisitions." Yang told a Hong Kong news conference yesterday. CNOOC owns a string of "high- quality" overseas assets in countries including Nigeria and Indonesia, Yang said. "The company's exploration program will continue to focus on offshore China, where more drilling activities and seismic collection work will be conducted during the year," he said. "But US dollar devaluation and global inflation can impose challenges for our business."
January 30, 2008

Hong Kong: The Hong Kong University of Science and Technology's (HKUST) School of Business and Management Monday announced that its full-time MBA program has been ranked by the UK's Financial Times at number 17 in the world. Among this year's Financial Times list for the top 100 MBA programs, seven are from Asia Pacific, while HKUST is the only institute representing Hong Kong. Such a rank has been the highest ever for any Hong Kong run program on the chart. The HKUST MBA program ranks number 2 in the world for " international faculty" and number 5 in the world for the " international experience" that it provides to students. Acting Dean of the HKUST Business School Professor Leonard Cheng said, "The Financial Times annual MBA ranking measures the performance of a school and its full-time MBA program in 20 different categories. I am delighted that the result of this comprehensive survey reflects the quality of the School and our MBA program and reaffirms our leading position in management education."
Troubled by the volatile stock market, Solargiga Energy Holdings may become the fifth of seven listing candidates forced to delay their public float in Hong Kong.
Taiwan's presidential candidates have kicked off their campaigns for elections scheduled for March 22, with both the ruling and opposition parties calling for improved ties with the mainland.
Property developers have been "named and shamed" for failing to adopt energy-efficiency measures as part of a voluntary government scheme. In the past decade, developers accounted for only 10.8 percent of all the buildings which introduced voluntary energy-saving measures, triggering calls by Friends of the Earth for mandatory action. The electricity used by Hong Kong's buildings totals about 90 percent of the city's power consumption. FOE said if all buildings complied with the Building Energy Code, the use of electricity could be cut by 10 to 15 percent, saving 3.56 billion kWh of electricity yearly or 2.67 million tonnes of carbon dioxide - almost 10 percent of Hong Kong's annual emissions. Switching to energy-efficient measures would add 3 to 5 percent to the total cost of the building, but this could be recovered in six years, FOE said.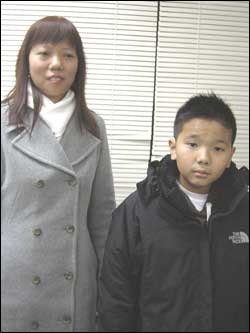 Nearly nine out of 10 children aged eight to 11 have been left alone at home before, a youth group survey has revealed. But only 40 percent of these children support legislation against parents who leave children at home because they do not want their parents sent to jail. The Boys' and Girls' Clubs Association of Hong Kong poll took in 509 pupils in Tsing Yi as well as 507 parents from around the city over the past month. Only 26 percent of parents admitted they had left their children home alone, while 88 percent of the children said they were left at home alone. Mui Ka-hin, 11, said he once burned a sauce pan when he was trying to cook some dim sum alone at home. "We urge the government to improve public education," said association assistant director James Leung Wing-yee, adding the public should further discuss the pros and cons of legislation before jumping to any conclusions. Assistant supervisor Raymond Lee Lut-man said that in comparing the latest results with the 1991 and 1997 surveys, the home- alone situation has improved, but significant room for improvement exists. "Doing housework, going to work and leaving home because of emergencies are the three main reasons cited for children being left alone," he said. Nicole Tai Wai-yuen, a 12-year- old who had been left alone before, said she did not advocate legislation. "If you fine those from rich families, it will not have any deterrent effect, and if you fine the poorer families, it would hurt their livelihood."

Hong Kong banker David Li Kwok-po has reached a tentative agreement with US regulators to pay more than US$8 million (HK$62.2 million) to settle an insider trading case linked to News Corp's purchase last year of Dow Jones & Co Inc, the Financial Times said on its website. Mr Li, chairman and CEO of Bank of East Asia (SEHK: 0023), was travelling on Monday and not available for comment, his office said. A Bank of East Asia spokeswoman said the lender had no comment on the FT report. Mr Li faced potential civil charges in an insider trading investigation by the Securities and Exchange Commission linked to News Corp's US$5.6 billion acquisition of US media firm Dow Jones, where Li was a board member. The Financial Times report, citing unnamed people familiar with talks between Li and the SEC, said Li would neither admit nor deny wrongdoing under terms of the potential settlement. It said negotiations were continuing and that details could change before any deal is approved by the SEC. The SEC was investigating unusual trading in Dow Jones stock and options in the weeks before the company disclosed the $60 per share buyout offer from Rupert Murdoch's News Corp on May 1 last year. The SEC said on May 8 that a Hong Kong-based couple, Kin Kang Wong and Charlotte Ka On Wong Leung, had "engaged in widespread and unlawful trading activity" that put them in a position to make an estimated HK$8.1 million profit on Dow Jones shares. The Wall Street Journal reported last year that the SEC was expected to pursue a link between the Hong Kong couple and Li. Li and Charlotte Leung's father, Michael Leung, share a history of business and social dealings, media have reported. In July, Li issued a statement denying any wrongdoing in the matter. If a deal is not reached, the SEC could file a civil fraud complaint against Mr Li, the Financial Times reported.

Hong Kong's economy grew just more than 6 per cent last year but would slow this year, although the government said it remained "cautiously optimistic" on the outlook, despite an uncertain global economic environment. "Economic growth last year was just above 6 per cent, around 6.1 or 6.2 per cent, less than 6.5 per cent," a spokesman for Financial Secretary John Tsang Chun-wah said on Monday. "We are cautiously optimistic but we don't expect the growth rate to be as high this year as in the past few years." A 6.1 to 6.2 per cent expansion in gross domestic product last year meant the economy expanded about 6.4 per cent in the fourth quarter from a year earlier, close to the 6.2 per cent rate of growth in the third quarter, economists said. Private consumption expenditure was the main driver of fourth-quarter growth, as interest rates were falling and wages continued to rise, and was likely to remain so this year. Economists expect economic expansion to slow to between 5 per cent and 5.5 per cent this year because export growth is set to ease. However, their forecasts are based on the view that a potential United States recession would be short. "Recent turmoil in financial markets clearly shows higher risk of a downturn in the United States affecting the global economy. Hong Kong's two main sectors: trade and finance will get hit," said Joe Lo, senior economist at Citigroup. This month he lowered his forecast for this year's economic growth to 5.3 per cent from 6.2 per cent. Hong Kong's economic growth has surged in the past four years, averaging 7 per cent annually.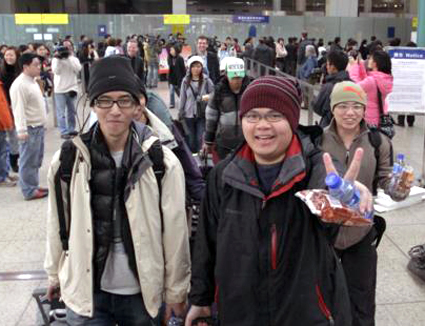 Severe weather continues to hinder travel between HK and China - Travel between Hong Kong and the mainland on Monday continued to be disrupted by severe weather conditions in southern China.
A US warship, the USS Blue Ridge, on Monday arrived in Hong Kong – the first visit by an American vessel, since the controversial Kitty Hawk incident last November.

The Jockey Club has committed itself to setting up a top-up fund to improve facilities at the Creative Arts Centre in Shek Kip Mei, which is to be ready for occupation in March. The club said it would provide a maximum of HK$25 million as a supplementary grant for the conversion of the 30-year-old Shek Kip Mei Factory Estate in addition to the HK$69.4 million start-up grant donated to the centre. The centre's executive director, Eddie Lui Fung-ngar, said he hoped the extra money would also help to provide technologically advanced facilities for the disabled.

China: China's 25 provincial-level discipline inspection committees have established corruption case analysis and management offices to better prevent and curb corruption. The information was released by the Central Committee for Discipline Inspection (CCDI) of the Communist Party of China (CPC). An official with the CCDI said on Tuesday that discipline inspection committees at all levels should sternly punish corrupt officials, and at the same time comprehensively analyze cases to prevent and control corruption from the root. He said the case analysis and management offices are established to select some typical corruption cases for educating and warning CPC members and cadres to strengthen their resistance against corruption, and spot some new trends and features in corruption cases and enact anti-corruption regulations accordingly. The offices can also help spot system loopholes and flaws reflected in corruption cases and suggest relevant departments to rectify, the official said. The CCDI will make comprehensive analysis based on the reports from provincial-level discipline inspection committees, he said.
Chinese share prices ended around 7% lower on Monday, as investors dumped stocks after Friday's sell-off on Wall Street amid fears over a US recession.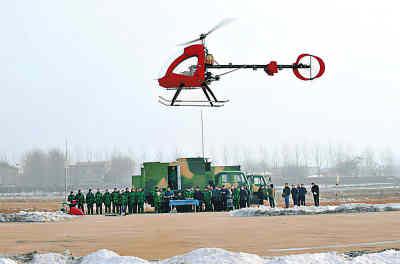 The "WD100" unmanned helicopter, researched and developed by He Xiang Aviation Technology Co., Ltd., completed an automatic landing flight in Anyang, Henan Province on January 27. This indicates that China's technology in this field ranks among the most advanced in the world. At present, only the United States, Germany and a few other countries have unmanned helicopter technology. The aircraft is capable of aviation remote sensory and resource exploration, and land surveys; and will be used widely.
A Chinese-English edition of first aid guidance has been issued to help foreign athletes and tourists at the forthcoming Beijing Olympics. The brochure translates medical expressions on different types of allergies, diarrhoea and fever, and contains a map of hospitals and first aid centers in the Chinese capital. In case of emergency, the brochure can also be used as an SOS sign, as the bright red color of its cover is easily seen. Sources claim other seven-foreign-language versions of the pamphlet will be released during the Olympic Games in the summer. Beijing has launched a series of campaigns to ensure food safety and the health and personal security of foreign athletes and tourists for the Games. From January to May this year, local police will beef up campaigns against organized crime, robbery, murder and other severe criminal offences as well as collect illegally-held explosives, guns and ammunition, and strengthen control over bows and crossbows. The police will also step up surveillance of entertainment venues to fight pornography and gambling, and remove safety hazards within 200 meters of Olympic venues. The city expects to welcome more than 500,000 visitors from overseas during the games, with the largest daily visitor-inflow estimated at 300,000. It has 806 star-ranking tourist hotels offering 130,000 guest-rooms or 220,000 beds. Other public lodging houses and inns will serve another 646,000 beds. Beijing is also expected to solicit around 1,000 local households as "Olympic Family Hotels" to receive foreign visitors in effort to increase the city's guest room supply. Also, it is estimated that 450,000 tickets for this summer's Olympic Games have been allocated, accounting for about a quarter of the tickets available for sale in the second phase. More than 700,000 orders for 4.2 million tickets were received, but only 123,000 bookings were confirmed after a computerized random draw.

A Chinese student sings during a gathering to celebrate the forthcoming traditional Spring Festival, which falls on Feb. 7 this year in Moscow, Russia, Jan. 27, 2008. About 700 overseas Chinese students in Russia attended the gathering.
The country's fast-developing tourism industry is expected to boost the hotel sector, a senior official has said. About 200,000 new hotels, resorts and guesthouses are likely to be built by 2015, head of China National Tourism Administration (CNTA) Shao Qiwei said on Thursday. Addressing a seminar on domestic and international hotels' groups, he said the new structures will include about 10,000 star-rated hotels. The number of five-star hotels in the country is expected to rise from 361 to 500. "The World Tourism Organization has forecast that China will grow into a huge tourism market, and have 100 million each of inbound and outbound visitors and 2.8 billion domestic tourists by 2015," he said. The booming tourism market has created the need for new hotels and other infrastructure facilities, he said. The Shangri-La Hotels and Resorts plan to open five new facilities in the country this year, and at least 13 more in big cities such Beijing, Shanghai and Xi'an in the near future, the general manager of Traders Hotel at China World Trade Center in Beijing, Xin Tao, said. In fact, the group plans to open at least 40 new hotels in the country by 2011. "The Olympic Games has brought us unlimited business opportunities and the increase of leisure, as well as business, travel in China will add to the appeal of hotel operators," she said. Investment from home and abroad into hotels will hit 340 billion yuan ($47.14 billion) between 2006 and 2010, the CNTA has forecast. The hotel sector was one of the first to be opened up in China, with Jianguo Hotel in Beijing being the first foreign-invested hotel to be approved by the State Council in 1979. Since then, 67 hotel brands of 41 international groups have entered the country and are managing 516 hotels at present, according to CNTA statistics. The hotel business has been expanding over the past three decades, and by the end of last year there were more than 14,000 star-rated hotels, 100 times more than in 1978.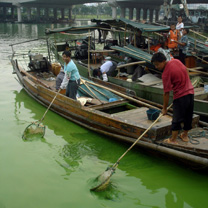 Workers try to clean a major moat of algae in Suzhou, Jiangsu Province, last July. Jiangsu will constantly focus on environmental protection while maintaining strong momentum in economic development in the next five years.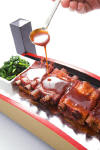 With Chinese cuisine offering a plethora of styles to choose from, it can often be a tough proposition figuring out which region's fare to devour when dining out. Gui Hua Lou, the Pudong Shangri-La's Chinese dining outlet, makes the decision easier by serving Cantonese, Sichuan and, with a new chef on board, more Huaiyang dishes. Huaiyang cuisine originates from Yangzhou and can be traced back to about 300 BC. It is derived from the cooking styles of the region surrounding the lower reaches of the Huai and Yangtze rivers. Bodies of water are important in propagating cuisine, and often a journey along such waterways reveals how such components are derived. Another important factor in the development of food is royal patrons. During the Ming Dynasty (1368-1644), founding Emperor Zhu Yuanzhang designated the style as the official imperial court kitchen in the then capital, Nanjing. When the capital was moved to Beijing by the third Ming Emperor Yongle, Huaiyang food and its chefs were taken up north as well. Huaiyang's status as an imperial cuisine also suggests the origins of its focus on meticulous presentation.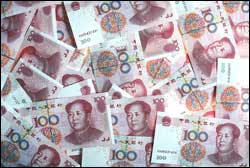 The mainland yuan extended last week's strong rise to set another post-revaluation high against the US dollar on Monday, because of persistent inflation worries and expectations for another, imminent cut in United States interest rates. The US Federal Reserve is expected to cut interest rates again this week following last week's emergency cut, making it even more likely that mainland authorities will accelerate yuan appreciation rather than raise its own interest rates to combat inflation, dealers said. "The yuan is maintaining its strength. The reason is the same: the central bank has fewer and fewer choices to control inflation. It has to allow the yuan to rise further against the US dollar," said a trader at a leading mainland bank. The yuan was at 7.1985 to the dollar in late morning trade on Monday, after touching a high of 7.1956, its highest level since the mainland currency was revalued in July 2005. Friday's close was 7.2102. Before the market opened on Monday, the central bank set the yuan's daily mid-point at 7.1996 against the dollar, the fourth consecutive post-revaluation record, in an apparent bid to guide the mainland currency higher. Inflation looks set to hit fresh 11-year highs this month and perhaps next month because of fierce winter weather across central and eastern China, which is disrupting transport and food and fuel supplies just as they come under pressure because of the Lunar New Year holiday early next month, some analysts say. "The bad weather has heightened expectations that inflation may go up further, at least in the short term," said a dealer at another mainland bank. Traders said the weather would probably not affect the economy and policy over the long term - but if there was any impact at all on yuan policy, it would likely be in the direction of an even stronger yuan. In the offshore forwards market, one-year dollar-yuan non-deliverable forwards fell to 6.6105-6.6180 in late morning trade on Monday from 6.6370-6.6420 late on Friday. Their latest levels implied yuan appreciation of 8.79 to 8.91 per cent against the dollar from Monday's mid-point over the next 12 months, up from 8.50 to 8.58 per cent implied on Friday.
January 29, 2008

Hong Kong: The government of Hong Kong Special Administrative Region is committed to helping persons with disabilities to develop their artistic potential, an official said here on Saturday. Speaking at the Jockey Club Arts for the Disabled Scheme annual performance, Hong Kong Secretary for Labor and Welfare Matthew Cheung Kin-chun said the HKSAR government is seeking more performance opportunities through the provision of a barrier-free environment. "Involving persons with disabilities in arts and cultural activities is an effective way to help them integrate into society," Cheung said. The scheme is a pilot project for nurturing persons with disabilities in the arts and cultural fields. It offers them basic artistic training and provides performance and exhibition opportunities to develop their talent and creativity. Their involvement also enriches the cultural life of Hong Kong. "The annual performance gives the trainees an opportunity to showcase their skills, demonstrating how persons with disabilities in different age groups and with different talents can overcome their physical constraints to perform in various programs. It is also a chance for us to appreciate the meaning of an inclusive society while we enjoy the performance tonight," said Cheung. The theme of the performance this year, "One World, One Dream," underlines the notion that different races share the same passion and dream in the world of arts. The Arts for the Disabled Scheme, subsidized by the Hong Kong Jockey Club Charities Trust and administered by the Labor and Welfare Bureau, has offered arts training programs to more than 6,000 students in special schools and more than 1,000 persons with disabilities each year since its inception in 2003.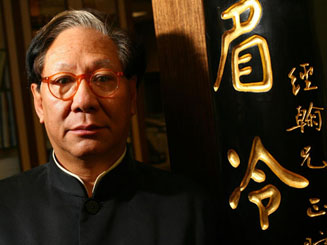 Cheng out to cook up storm in new role - Legislator Albert Cheng King-hon says he is not setting up a radio station as an ego trip but to reform the industry in the city.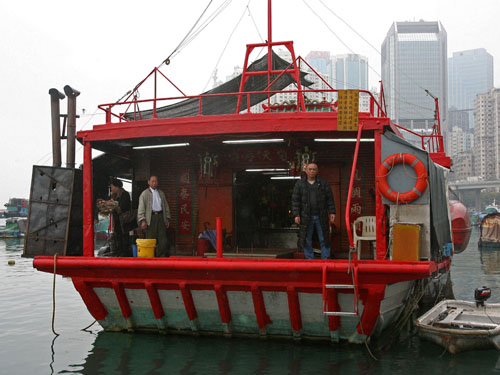 Plans for a HK$1 billion hotel and arts complex next to Victoria Park are set to be thrown out under a revised blueprint for the area's harbourfront. Instead, planners have earmarked the site as a terrestrial home for a floating Tin Hau temple - now housed in the Causeway Bay Typhoon Shelter - where fishermen and their families have worshipped for more than 60 years. The move, part of the revised Wan Chai North Outline Zoning Plan, has been hailed by conservationists as a landmark decision that gives added weight to the wishes of local residents and public use of the harbor front. Wharf (SEHK: 0004) Estates, the company's development arm, applied to build the boutique hotel and arts centre in partnership with the Fringe Club and Hong Kong Arts Centre on the derelict A-King Shipyard site at the typhoon shelter's eastern end in March last year. In November, it revised its plans, cutting the hotel's height and reducing the density of the complex, following objections. But the revised blueprint, which has been approved by the Town Planning Board, changed the permitted uses of the site from entertainment and leisure - on which Wharf's plan was based - to government, institution and community use and earmarked the site for the fishermen's temple. Mabel Lam Mei-po, an assistant manager with Wheelock Properties (SEHK: 0049), Wharf's parent company, said it was disappointed by the changes, which also removed permission for bridges linking the site to Victoria Park and Tin Hau. She said the company would continue to lobby for the Victoria Park complex. "The rezoning proposal will create a cul-de-sac," she said. "It will lead to crowd-control problems during special occasions, such as fireworks displays. It will be very difficult for the area to be vibrant." A spokeswoman for the board said the new concept for the A-King site came out of an "extensive public engagement exercise" that followed the Court of Final Appeal's landmark ruling against harbour reclamation unless there is "overriding public need", and planners proposing the changes to meet objections to the existing zoning plan. Jennifer Chow Kit-bing, district councillor for Victoria Park, said: "The vast majority of residents in my constituency would like the waterfront to be used purely as a leisure and recreation area. I am very pleased the Town Planning Board supports this view." Poon Kam-tin, chairman of the Causeway Bay Typhoon Shelter Mutual Aid Committee, which represents boat dwellers, said: "We have been calling for a new home for the floating temple for more than 15 years. Our wish is to relocate the temple on land to avoid the possibility of accidents. It will also help to preserve the history of the typhoon shelter." Winston Chu Ka-sun, adviser to the Society for the Protection of the Harbour, said: "It is very encouraging that the board now listens to public objections and has effectively turned down a major commercial project proposed by a powerful developer in favour of community interests." Conservancy Association chairwoman Betty Ho Siu-fong said: "It sends a very strong signal the government is now committed to opening up the harbourfront for public use, rather than making money."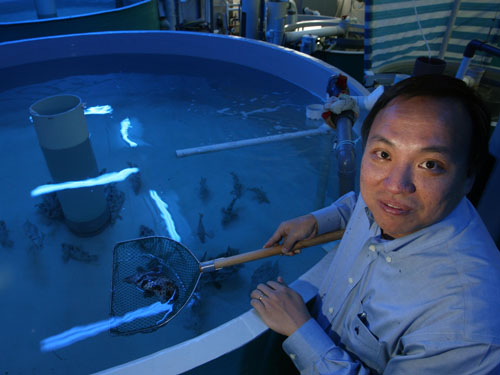 Farming deep-sea fish in an industrial building might be the answer to how Chinese can keep live grouper on the banquet menu, with a clear conscience. Despite the declining numbers of deep-sea fish like grouper, demand has not waned. Many view this as an environmental disaster with little hope for a solution. But one company saw an ideal business opportunity that is now paying off after nearly a year of hard work. Business has been so good for Marine Culture Technology, which has its headquarters in Australia, that it plans a massive expansion in Yuen Long. The company, which set up shop in March last year, has an enclosed, environmentally friendly fish farm on the 14th floor of an industrial building in Chai Wan, breeding saltwater fish for the commercial market. It has two tanks, which now have 1,500 mouse grouper fingerlings and a few hundred leopard coral trout fingerlings that will be ready for the table in nine to 10 months. Having supplied fish to three hotel restaurants in Hong Kong, business is progressing swimmingly. And in six months another larger enclosed fish farm comprising 300 tanks will be set up. "Farming fish in this self-contained environment will be free from disease, heavy metals and growth hormones," said Brutus Lo Wai-sing, general manager of Marine Culture Technology. "There will be no discharge of waste into the environment and the water is 100 per cent recyclable." Although Mr Lo will not disclose how much the company invested in the project, he did admit the cost was high. As a result, more profitable species are bred, including mouse grouper and leopard coral trout. Humphead wrasse, a species that has been over fished, will also be bred. Wong Ming-hung, chair professor of the biology department at Hong Kong Baptist University, said water quality was very important for fish farming and a self-contained system helped. Having been to another local self-contained fish farm in Tin Shui Wai, Professor Wong believed this type of farming was becoming a trend in Hong Kong. "Taiwan and Japan have already attempted a similar method. This is going to work in Hong Kong, especially with the pollution in the Pearl River Delta becoming more serious." Experienced fisherman Lee Choi-wah, who is also chairman of the Hong Kong Chamber of Seafood Merchants, welcomes the technology. But he believes it is not going to be popular because he says Hong Kong customers can taste the difference between wild and farmed fish. Mr Lee said a similar unsuccessful operation had been attempted in Hong Kong. He said the mainland and Macau would be ideal markets to target. "Mainland people cannot tell the difference in taste, but they like to order expensive fish," he said. But Mr Lo is confident there is no difference in taste and believes people are willing to spend money when it comes to their health. Environmental group WWF welcomed the enclosed fish farm if it would reduce unsustainable fishing. WWF compiled a seafood guide in March last year to encourage people to choose sustainable seafood.

China: Eight in every ten Chinese will live within 100 kilometers from air transport by 2020 under government plans to build more than 90 airports in the next 12 years. China will have 192 airports by 2010 and 244 by 2020, up from 147 by the end of 2006, the General Administration of Civil Aviation said in a statement on its website. The 97 new airports planned between 2007 and 2020 would cost an estimated 450 billion yuan (61.6 billion U.S. dollars), it said. By 2020, 82 percent of China's population, which would contribute 96 percent of its gross domestic product (GDP), would live within 100 kilometers or a 90-minute drive from an airport. Currently, more than 60 percent of the 1.3 billion people live within the range. China is expected to have 1.45 billion people in 2020, according to the government's population projections.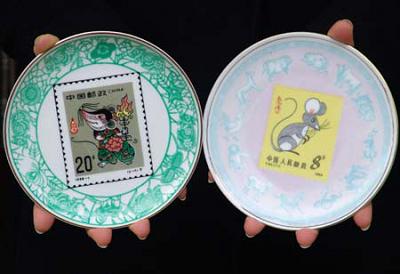 Photo taken on Jan. 25, 2008 shows porcelain trays with the image of a stamp portraying rat, which is the first one of 12 symbolic animals chosen to represent 12 years in the Chinese lunar calendar, in Jingdezhen, east China's Jiangxi Province. The tray issued by China Post is to greet the coming Chinese lunar New Year of the Rat, which falls on Feb. 7 this year.
Executives of Chinese listed companies who break securities laws will find themselves on a credit blacklist, the China Securities Regulatory Commission (CSRC) has warned.
As a major step in the protection of intellectual property rights, the "Silk Street" brand of products was officially launched. Recently, the Beijing Commerce and Industry Bureau, Intellectual Property Office and other departments, jointly issued a trademark license to traders in Silk Street market. In recent years, Silk Street market has been exploring the protection of intellectual property rights and promoting a culture of new brand names. It has introduced 30 million in funds for the protection of intellectual property rights, trademarks, and an authorized management system; and it re-introduced old Chinese brands and formed new initiatives. The birth of the "Silk Street" brand is significant for the protection of intellectual property rights and the development of brands. Five commodities have been launched under the "Silk Street" brand: neckties, shirts, tablecloths, table runners, clothing production, and scarves. Silk Street market has yet to launch the "Silk Street" brand of T-shirt, jeans, knitted-goods and other products.
At the contract signing by the Czech Republic to attend the Shanghai World Expo, it was confirmed that 192 national and international organizations will attend the 2010 Shanghai World Expo. The Expo is only one step away from its target to have 200 countries and international organizations participating. According to the briefing, the 192 organizations with exhibitions will represent or include: 48 countries in Africa, 22 countries in North and South America, 39 European countries, 42 Asian countries, 14 Oceania countries, and 27 international organizations. The Czech National Museum decided its theme will be "the fruits of civilization." It represents the city as a fruit of civilization. In order to develop urban areas, a number of technical innovations have emerged. People can identify various achievements in civilization by looking at cities. In the more than 150 years of World Expo history, the maximum number of exhibitors attended the 2000 Hanover Expo: 172 countries and international organizations participated. From May 1 to October 31, 2010, at the Shanghai World Expo, 70 million visitors are expected to attend; in addition to the anticipated 200 countries and international organizations. These two statistics are record highs.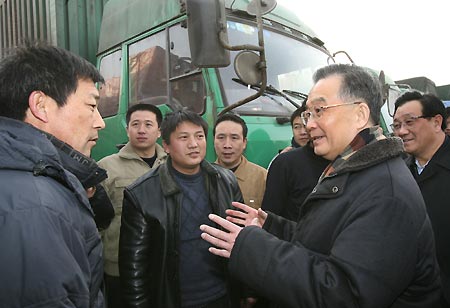 Chinese Premier Wen Jiabao(R) talks with a truck driver at the Zhuozhou service station of the Beijing-Shijiazhuang Expressway, in north China's Hebei Province, Jan. 25, 2008. Wen Jiabao inspected the Zhuozhou Service Station of the Beijing-Shijiazhuang expressway and Beijing's West Railway Station on Friday. Premier Wen Jiabao has urged all departments concerned to ensure a safe and smooth transportation during the traditional Chinese New Year holidays so that the people would enjoy a happy, peaceful and harmonious festival season. Wen visited a service zone of an expressway and a railway station in Beijing on Friday and inspected the traffic situation before and during the Spring Festival holidays, the busiest travel season in the country. The Spring Festival traffic season is 20 days ahead and 20 days after the Chinese Lunar New Year, which falls on February 7 this year. All kinds of traffic tools will be busy with shipping homebound passengers and food and major industrial goods like coal used for power plants.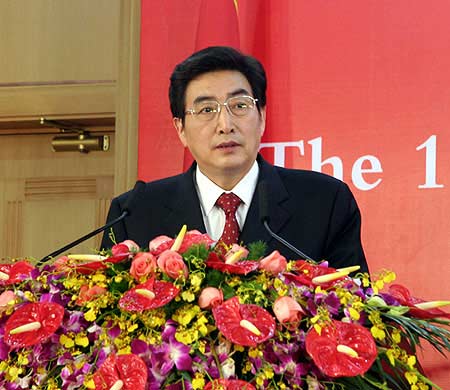 Newly elected Beijing Mayor Guo Jinlong addresses a press conference after the first session of the 13th Beijing Municipal People's Congress in Beijing on January 26, 2008.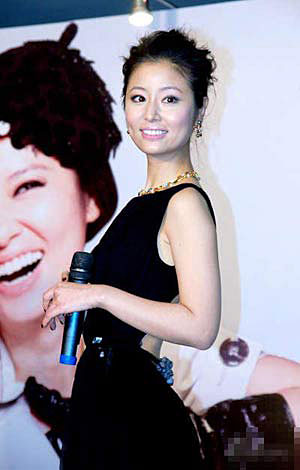 Actress Ruby Lin poses at a party celebrating her ten-year career anniversary in Beijing, January 22, 2008. Lin donated 200,000 yuan on-site to build a school for rural children. Taiwan actress Ruby Lin celebrated her ten-year career anniversary on Tuesday by funding a new school for rural children. At a party in Beijing, which was held partially to celebrate her 32nd birthday this Sunday, Lin handed over a 200,000-yuan ($27,627) check to the Chinese Red Cross Foundation, through which the money will be used to build an elementary school. The Red Cross runs a project assisting Chinese children in rural areas in obtaining an education. Ruby Lin said she plans to contribute to building a school every year.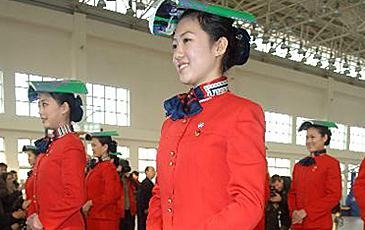 Olympic Etiquette - Beijing's Olympic authorities have rigid standards for the women who will serve at awards ceremonies.
Visitors at the Bund are rugged up but enjoying the snow yesterday, as Shanghai received its biggest fall since 2004. The snow covered some of the roofs downtown with a thin sheet of whiteness.
January 29, 2008

Hong Kong: Trade volume between the Chinese mainland and the Hong Kong Special Administrative Region (HKSAR) reached 197.25 billion U.S. dollars in 2007, up 18.7 percent year-on-year, statistics from the Ministry of Commerce (MOC) showed. The mainland's exports to the HKSAR reached 184.43 billion U.S. dollars, and imports from the HKSAR reached 12.82 billion U.S. dollars, up 18.7 percent and 18.8 percent respectively, according to the MOC statistics. The mainland attracted direct investment from the HKSAR in 16,208 projects last year, up 4.6 percent and the actual use of Hong Kong direct investment reached 27.7 billion U.S. dollars, up 30 percent. By the end of December 2007, direct investment of the HKSAR in the mainland totaled 284.7 billion U.S. dollars in 285,763 projects since figures first began in 1978 with the opening up of trade between the mainland and Hong Kong. The HKSAR's direct investment in the mainland ranked first among all direct investment not from the Chinese mainland, accounting for 40.4 percent of the total.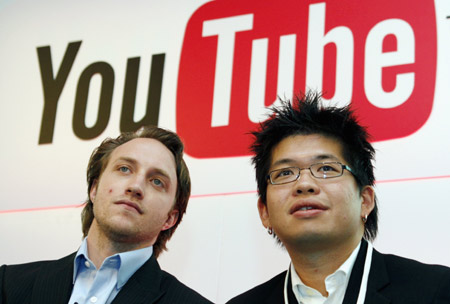 Chad Hurley (L) and Steve Chen, co-founders of YouTube, which was acquired by Web search leader Google Inc. for $1.65 billion last year, attend a news conference in Paris June 19, 2007. Google-owned YouTube on Thursday began making all of its videos available on the latest-generation cellphones, hoping to widen its sway on pop culture. YouTube began making videos available to "smart phones" in 2006, but only a small portion of its huge trove of user-contributed material could be viewed on the devices. YouTube for Mobile lets people view any of the popular website's videos, provided their cellphones can stream the data and are linked to a 3G network that incorporates high-speed internet access. "Creating the best possible mobile video experience for users involves allowing the community to engage with YouTube whenever they want, wherever they are," YouTube said in a written release. "The latest enhancements to YouTube for Mobile will give users access to the largest repository of mobile video content available, on over 100 million devices worldwide, and more tools to personalize their experience." YouTube's mobile service, reachable at http://m.youtube.com, is being offered in 16 other countries and regions besides the United States and 10 other languages besides English. The other languages are: Japanese, Italian, French, Spanish, Dutch, Polish, Portuguese, Chinese, German and Russian.
The Chinese government has moved to assure Hong Kong and Macao special administrative regions (SARs) that it can guarantee stable grain supplies and ensure livestock supplies. Ministry of Commerce spokesman Wang Xinpei told Xinhua on Thursday that the government had issued effective policy arrangements to ensure a stable supply of grain to the Hong Kong and Macao, under the Close Economic Partnership Arrangement (CEPA), despite export restrictions to other areas. He said the mainland's wheat supply to the two SARs this year was generally the same as last year at an average of 269 tons per day for Hong Kong and 13 tons for Macao. He explained the recent volatile supply of live pigs to Hong Kong, attributing it to sharp price hikes for pork on the mainland, due to the increased costs of pig farming. The ministry had adopted a series of reforms to resolve the problem, including more agencies exporting live pigs to Hong Kong, exporting rights for mainland pig farms, and a reform of the pig export quota system. The mainland had supplied more than 3,900 live pigs per day on average, meeting basic market demand in Hong Kong. However, live pig prices were still rising and the situation remained serious as the traditional Spring Festival approached. The ministry would soon publish a list of farms eligible to export live pigs independently. He said officials had also asked export agencies and companies to try to ensure the live cattle supply to Hong Kong as demand was expected to increase in the run-up to the Chinese New Year, which falls on February 7 this year.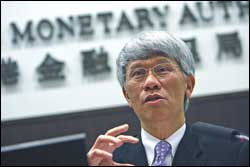 Hong Kong Monetary Authority chief executive Joseph Yam Chi-kwong said yesterday while the US subprime mortgage plight has not caused a systematic problem in the city's banking system, the impact might become aggravated.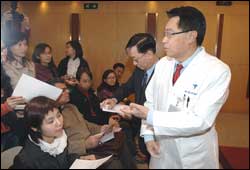 The Court of Appeal has upheld a ruling against the Hong Kong Medical Council in a judgment that allows doctors to advertise their services in the media. The council had appealed against a High Court ruling that the ban on advertising violated free speech and was unconstitutional. The initial challenge to the council was made by Kwong Kwok-hay. Three judges ruled yesterday that the ban breached the Basic Law, the International Covenant on Civil and Political Rights and the Bill of Rights - which includes advertising as a right that comes under freedom of expression. The council had argued that there were two dangers - misleading advertisements and the exploitation of the sick for commercial purposes. Dismissing this argument, the judges said the council's own code already permitted information from doctors to be be posted on signboards and service information notices. "Given that the same information [can] be conveyed to the public by other means, there is no reason or logic why the same information cannot be made available to the public by a wider public circulation," Chief Judge Geoffrey Ma Tao-li said. If the council accepted that such information allowed the public to make informed choices, he added, it must accept that greater accessibility would benefit the public. Ma rejected the council's argument that it did not have the resources to police the media. "There must be less intrusive means of dealing with the concerns of the Medical Council other than a total ban," Ma said. Welcoming the court's decision yesterday, Kwong said that if accurate information is given patients can share among themselves their experiences of doctors as well as compare charges. "In many countries, particularly the United States, it has been found that transparency increases competition and that competition frequently lowers costs," Kwong said. It is the duty of the council to establish rules to supervise advertisements and ensure they are accurate, he added. Three other restrictions imposed by the council's code were also shot down by the court.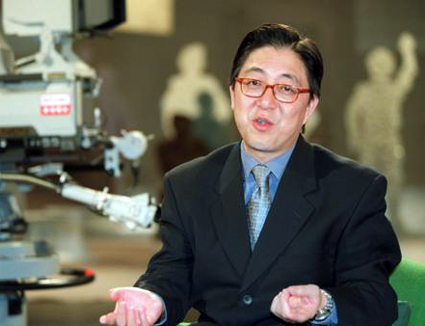 RTHK's assistant director of broadcasting Cheung Man-sun on Friday received an 18-month driving ban in Sha Tin Court – resulting from a drink-driving incident in Sha Tin last year.
Thirty-six new Hong Kong deputies on Friday were elected to the National People's Congress – including a new generation of prominent figures – while 23 incumbents retained their seats. Legislative Council chairwoman Rita Fan Hsu Lai-tai drew 1,000 votes – 10 votes ahead of legislator and first-time candidate Laura Cha Shih May-lung. Executive Council member Bernard Chan, former Independent Commission Against Corruption commissioner Fanny Law Chiu-fun, former KCR Corporation chairman Michael Tien Puk-sun, Democratic Alliance for the Betterment of Hong Kong legislator Choy So-yuk and Chinese Chamber of Commerce chairman Ian Fok Chun-wan also made the list. However, two incumbents – David Chu and Phillip Wong – lost out in their re-election bids, falling short of the necessary votes. Of the 14 unsuccessful candidates, all four pro-democrats failed to be elected – a result many commentators had anticipated. This is despite attempts to improve ties with the central government in recent weeks. "I think under the current structure [of the NPC], it's not a surprise," said PCCW (SEHK: 0008) chairman Richard Li Tzar-kai, a self-professed democracy advocate who was among the voters on the mostly pro-Beijing electoral college. Despite this, some elected deputies said they had pushed issues that might ruffle some feathers in Beijing, including the release of Straits Times reporter Ching Cheong, who was jailed for spying. "I've always been trying to help him," said Mr Choy. While all mainland provinces and territories elect delegates to the NPC, those from Hong Kong enjoy a special status given the city's affluence and historical importance since reunification with the mainland in 1997. Elected candidates would be sworn in once the NPC approved their applications.

China: China' housing price surged 10.5% year-on-year in 70 major cities last December, representing a equal record two-year-high growth rate set in last November, according to the National Development and Reform Commission. The average prices of new homes in December surged 11.4% year-on-year, up from the 10.6% in November. The growth in Urumqi, the capital city of Xinjiang Uygur Autonomous Region, ranked the first, with 25.3% growth, followed by the Beihai City in Guangxi Zhuang Autonomous Region and the Huizhou City in Guangdong province, with 19.3% and 19%, respectively, according to the commission. Shanghai's new home prices surged 9.3% in December over last year. For the second-hand homes, the average price surged 11.4% in the country's 70 cities over the previous year, also led by the city Urumqi, with a 24.2% growth. Ningbo in Zhejiang province ranked the second, with 16.5% growth, followed by the Wuxi city in Jiangsu Province, with 15.2% growth. Shanghai gain a growth of 10.8%, according to the commission. Since last year, a series of measures has been taken to prevent the real estate market from overheating, including tightening the credit, enhancing the supervision over land use, as well as strengthening the enforcement of tax policies. However, it seems these moves have not been effective enough.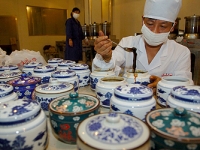 Chinese people have a habit of taking tonic supplements to beat the cold. To meet an increase in demand, many traditional Chinese medicine hospitals in Shanghai have opened tonic prescription outpatient services, while qualified pharmaceutical companies and drug stores have also started the business of concocting tonics.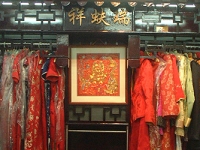 There are many traditional brands in China's capital Beijing. With the approach of the Beijing Olympic Games, owners of these well-known names are taking the opportunity to join forces and draw on foreign experts to rejuvenate their ancient properties.
China may live broadcast the first ever spacewalk by its astronauts in the upcoming space mission of Shenzhou VII this year, a scientist involved in the program said Friday.
The City and County of San Francisco launched the torchbearer selection process for the San Francisco leg of the Beijing 2008 Olympic Torch Relay on Thursday, according to a U.S. Olympic Committee press release reaching here. Residents of North America are invited to submit online applications until Feb. 3, to be considered as one of the torchbearers who will make history on April 9 when the Olympic Torch travels throughout the city. San Francisco is the only North American stop on the worldwide 2008 Olympic Torch Relay in advance of the 2008 Olympic Games in Beijing, China. "The Olympic Torch represents the journey for excellence," said San Francisco Mayor Gavin Newsom. "And we are honored to have the opportunity to host and contribute to the Beijing Olympic Journey of Harmony. Here in San Francisco, we are on our own journey for a sustainable future. This is our chance to showcase how local innovation and excellence -- in fitness, environmental initiatives and sustainable business practices -- can be examples for the world." The 2008 Olympic Torch Relay, sponsored by the Coca-Cola Company, Samsung and Lenovo, will begin with the lighting of the Flame in Olympia, Greece, on March 24, 2008. After its arrival in Beijing on March 31, the torch will start its journey on April 1, traveling to 22 international cities, including San Francisco, before returning to mainland China where it will traverse the country for more than three months. Having been carried by more than 21,000 runners, the Flame will enter the Olympic Stadium as part of the Opening Ceremony of the XXIX Olympiad on Aug. 8, 2008.
Trade between China's mainland and the Macao Special Administrative Region (MSAR) reached 2.92 billion U.S. dollars in 2007, a 19.8-percent rise year-on-year, according to the Ministry of Commerce (MOC). The mainland's exports to Macao totaled 2.64 billion U.S. dollars, up 21 percent, while its imports from Macao rose 9.7 percent to reach 280 million U.S. dollars, the ministry said. The mainland has attracted direct investment from the MSAR in 856 projects last year, down 1.4 percent, and the actual use of Macao direct investment reached 640 million U.S. dollars, down 6 percent. By the end of December 2007, direct investment of the MSAR in the mainland totaled 7.65 billion U.S. dollars in 11,553 projects since figures first began in 1978 with the opening up of trade between the mainland and Macao. The actual use of the MSAR's direct investment in the mainland accounted for 1 percent of all actually used direct investment from outside the Chinese mainland.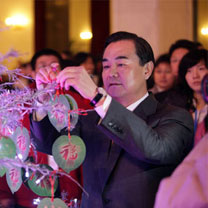 Vice-foreign Minister Wang Yi ties a New Year card to a tree at the Great Hall of the People in Beijing on January 24, 2008 as a gesture of goodwill to the more than 5,500 Chinese diplomatic personnel stationed around the world.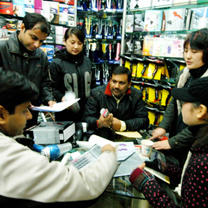 Foreign business people purchase small commodities at the Yiwu China Commodity City in January, 2008. China has launched the country's first market credit index in Yiwu, the country's largest distribution center for small commodities.
Chinese actress Tang Wei attends a Japan premiere event of "Lust, Caution" in Tokyo January 24, 2008. The film opens in Japan February 2.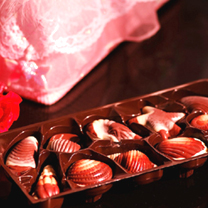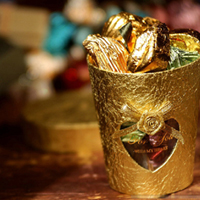 A chocolate Valentine's Day - Valentine's Day is an important occasion for many people. They make reservations at expensive restaurants and rack their brains to come up with romantic gift ideas to give their beloved. Whatever it is, chocolate is always an indispensable element of V-day. With its sweet fragrance, full-bodied taste and smooth texture, chocolate is a long-standing symbol of the special intimacy between lovers. What's more, chocolate also has blue blood in its origin. It's said that a Spanish princess once sent cacao to Louis XIV as an engagement gift. Legendary and sweet, no wonder chocolate has caught on as the gift of love. Yet Valentine's Day chocolates ought to differ from ordinary ones.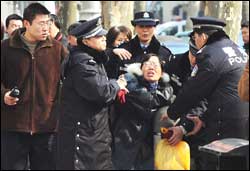 Shanghai's mayor vowed yesterday to clean up the "negative image" of China's biggest city and to forestall protests by resolving tensions over construction projects and other issues. Outlining the city's economic plans, Han Zheng said Shanghai intends to rely increasingly on its financial industries and other services, which account for about half of its business activity. He projected that the city's gross domestic product would jump to 2 trillion yuan (HK$2.16 trillion) by 2012, from 1.2 trillion yuan last year. Police escorted away a few protesters standing near the Shanghai Exhibition Center, where local lawmakers were gathered for their annual session. "We will proactively forestall and appropriately defuse social tensions," Han said, without directly referring to protests against a proposed extension of the magnetic levitation train line. "We will take measures to prevent, reduce and appropriately handle crowd incidents to minimize their detrimental impact on social harmony." Han said Shanghai was still working to mend the damage to its reputation from a corruption scandal that toppled the city's top Communist Party official, Chen Liangyu, and other officials.

Guangdong governor vows progress after re-election - Guangdong governor Huang Huahua pledged to lead the province to new heights after being re-elected as the provincial leader yesterday, ending weeks of speculation that he might step down.
January 26-27, 2008

Hong Kong: A spokesman for the Commerce and Economic Development Bureau of the Hong Kong government said Wednesday that it planned to introduce the Import and Export (Registration) (Amendment) Regulation 2008. The suggestion of introducing the amendment regulation is to exempt all import and export declaration charges in respect of aircraft parts and accessories used in the repair or maintenance of aircraft owned or chartered by local-based airlines. The spokesman said that the scope of exemption under the proposal also covered the import declaration charges on articles used in the repair and maintenance of freight containers operated by local-based sea or air freight transport companies. "This is a technical amendment to regulation 8 of the Import and Export (Registration) Regulations to better reflect our policy concerning the exemptions. Nevertheless, while the proposal seeks to exempt the declaration charges, traders will continue to be required to lodge relevant trade declarations," the spokesman said. The amendment regulation will be introduced into the Legislative Council (Legco) on Feb. 20, and subject to Legco approval, it will be gazetted on Feb. 22 and commence operation on the same date. At present, anyone who lodges an import/export declaration in respect of an article not exempted from declaration charge is required to pay a declaration charge.
This Hong Kong import, designed by Philippe Stark, Volar brings one of the best liquor selections and some of the best trained bartenders to the Shanghai scene. What's more, all is exclusively at Volar and the prices are to match. One thing to note about this place is that, although sometimes a bit intimidating, Volar throws sweet parties and more importantly they have great bartenders. It upholds a members only plus guests door policy. For people who need something more than "a beer" or "a drink", Volar is great simply because the bartenders have a clue. When the upstairs bar at Volar is not so crowded, it's nice to sip on a Long Dragon while lounging on one of Philippe Starck's black pony armchairs. Bar-goers may expect nothing but la creme de la creme of Shanghai's local and foreign crowd in a very cool interior.
Hong Kong's major banks dropped their prime interest rates by 75 basis points yesterday following the US Federal Reserve's move Tuesday night, ushering in an era of negative mortgage and savings interest rates.
Students from Hong Kong and the mainland account for the second largest group of international students at Oxford University, behind those from the United States. There are 700 Chinese students at Oxford at any given time.
Wine is one of a handful of consumer goods that Hong Kong taxes. As a revenue-raising measure, the few hundred million dollars raised are of small consequence to the overall government coffers; they mean even less given the cost of administering the complicated procedures required to collect the duty from importers. For a city proud of its reputation for having one of the world's freest economies, the tax on such a widely consumed item is an anomaly. For the sake of Hong Kong's reputation, as well as the commercial opportunities being missed, consideration should be given to cutting or scrapping the tax in the forthcoming budget. Alcohol, tobacco, cosmetics and petroleum products were viewed by the pre-1997 British colonial administration as luxury items. Taxing them in the name of raising government finances was viewed as reasonable and socially acceptable. Times have changed, though, where wine is concerned. While valid arguments can be made that beer and spirits should be taxed due to their association with alcoholism, the same arguments are not so strong with regard to wine. Research has shown that wine can be beneficial to health when consumed in moderation. And there is no reason to think that a reduction in the tax on wine would lead to more people drinking to excess. More important when considering the issue of tax is what Hong Kong is missing out on. The call by the Wine and Spirits Industry Coalition for the 40 per cent duty on wine to be scrapped and that on spirits to be halved obviously has commercial benefits for the groups' members. But while in the case of spirits such a move is questionable, for wine there are benefits for consumers and businesspeople. For those who drink fine wine, the cutting of the duty from 80 per cent to 40 per cent in the last budget has been noticeable. The same is generally not true for most other wines, though: they are of low cost and quality, having been brought in to attract the least possible tax and maximum profit. Scrapping or further reducing the tax would make wine more affordable. In the internet-savvy world, where prices elsewhere can easily be checked, it would also prompt the importation of better-quality wines. Another option would be to follow Singapore's lead and impose a flat rate per bottle instead of a percentage. From the standpoint of those bringing wine into Hong Kong, having a flat rate or zero tax would either eliminate or streamline a complicated process. With every shipment needing to be scrutinised and a value determined by the Customs and Excise Department, large quantities from varied sources can take weeks or even months to process. By changing the tax, Hong Kong would also be able to capitalize on four decades of expertise in wine dealing by becoming Asia's fine-wine centre. A substantial slice of the multibillion-dollar auction, storage and trading industry now monopolized by London could be taken, creating thousands of jobs and adding to government revenue through company taxes. No other location in the region has as much knowledge and know-how in this area. Hong Kong is ideally suited to such a role - even more so with the wine boom on the mainland. Reviewing the wine tax should be among Financial Secretary John Tsang Chun-wah's priorities in formulating his first budget. He will find the benefits of scrapping or revising the duty far outweigh the drawbacks.
Hong Kong's is still enjoying strong export growth – with the value of total exports rising by 8.2 per cent year-on-year last December, statistics released on Thursday showed.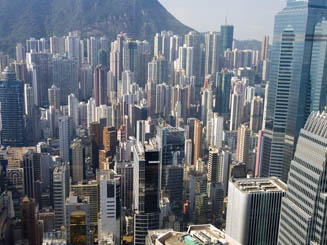 HK boasts Asia's most costly flats - You may buy the world's second-cheapest Big Mac in Hong Kong, but a 120 square metre flat in the city centre will cost you more than a similar-sized apartment anywhere else in Asia.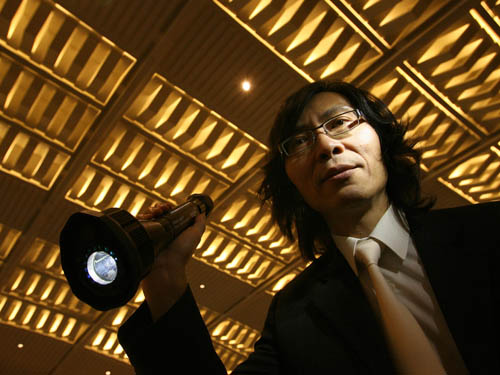 A security gadget that looks like a flashlight but can be used to take clandestine snapshots or videos of suspicious people or objects won a top design award yesterday. The maker, Protronic (Far East), says the flashlight digital video recorder has already been shipped to five countries for use by police and security organisations and the Hong Kong Police have been approached. The device won the consumer product design grand prize at the Hong Kong Awards for Industries 2007. It uses a super-bright, white light-emitting diode for the flashlight with built-in image sensor and microphone for pictures and sound, and infrared night-vision sensors for night shooting. In addition to a 128 megabyte internal memory, there is a card slot that supports an external, secure digital card, while only three C-size batteries are needed to capture all the memorable moments for the suspects. Protronic associate director Benson Wong Kwan-hon said countries where it had been sold included South Africa, Britain, the United States and Japan for use by police - and Australia for a security organisation. "We're currently approaching the Hong Kong Police," he said. Mr Wong said one of his clients would use the gadget at a nightclub. "While the bouncer [uses the flashlight] to check a customer's ID, he can also take pictures of it." Eddie Lam Kwok-kwong, chief designer of the winning gadget, said it had more applications than security. It could also be useful while checking engineering projects, he said, adding that it could have domestic uses, which he did not specify. The export price of the flashlight-camera is US$150. Other winners include Altai Technologies for technological achievement, Solomon Systech for productivity and quality, Chow Tai Fook Jewellery for customer service, and the Hong Kong and China Gas (SEHK: 0003) Company for environmental performance.

China: China is experiencing a power gap of up to 69.63 million kilowatts (kw) as a coal shortage cuts generation at some plants, according to the State Electricity Regulatory Commission (SERC). The shortage has led 13 provincial-level regions, including Hubei, Sichuan, Shaanxi, Yunnan and Guangdong to ration electricity, SERC chairman You Quan said. The booming southern province of Guangdong is expected to have a power gap of 6.5 million kw this year, said Yang Jianchu, deputy head of the Provincial Economic and Trade Commission. Electricity use has surged amid rapid economic growth. Demand has also jumped as more people turn up the heat in the freezing winter. The snow is also causing transportation problems for coal, which exacerbates output shortages, You told a meeting on Tuesday in Beijing. Coal reserves were down more than 40 percent year-on-year, at 17.73 million tons, as of Jan. 20, according to the State Grid. The figure only equals eight days' supply for the country's power plants. The coal gap is 330,000 tons per day, or 14 percent short of the total consumption of 2.32 million tons, SERC stated.
The International Tennis Hall of Fame announced Wednesday that Michael Chang, the French Open's youngest men's champion, has been elected to the sport's honor shrine for 2008. Chang called his election "truly an honor". "It has been an incredible privilege to compete against the best players in the world for over 16 years and I will always cherish and forever remember my experiences on tour." He added. Chang, the famous Chinese American player, was 17 years three months old when he won the 1989 French Open. With the victory, he became the youngest player to win the French Open -- a record he still holds. In his career, Chang reached a career-high world ranking of No.2 and was ranked in the top 10 for seven years. He captured 34 singles titles and was also a finalist at the 1996 Australian Open, the 1995 French Open and the 1996 U.S. Open. Induction ceremonies will be held at the Hall of Fame and Museum in Newport, Rhode Island on July 12.
China has launched the country's first market credit index in Yiwu, the country's largest distribution center for small commodities, in the eastern province of Zhejiang. The Yiwu Market Credit Index (YMCI), launched on Wednesday, has eight specific sub-indices: credit management, entrepreneur quality, business performance, financial credit, fair competition, commodity quality, intellectual property rights and consumer rights protection. Jointly developed by the Zhejiang Provincial Administration for Industry and Commerce, Yiwu municipal government and China Credit Research Center with Beijing University, the YMCI is aimed at reflecting the development, changes and trends of the credit situation at the Yiwu market. The index would be published monthly, covering 13 typical commodity categories, said Du Liqun, deputy director of the China Credit Research Center. It took September 2007 as the base period -- the basic points of YMCI and its sub-indices are designed at 100 -- for its measurement and calculation, because according to historical data and analysis, September usually saw a stable situation in market transactions with rational credit data, Du said. The newly-released YMCI for the September-December period stood at 101.575 points on average, indicating a good situation in terms of credit levels at the market, with business performance and consumer rights protection indices fluctuating slightly with other indices steadily rising, Du said. "It is a significant innovation in market management for Yiwu and also a good experiment in perfecting China's market system," Du added. He Meihua, vice mayor of Yiwu, believed the YMCI could offer an alternative to assessing the market credit situation and help enhance credit awareness among dealers. Yiwu has more than 1,400 accessories enterprises employing almost 90,000 people. Its major products are jewellery and ties. The accessories output of the city accounts for 80 percent of the country's market share with an annual sales value of 9 billion yuan (1.24 billion U.S. dollars). It has trade exchanges with 200 countries and regions and about30 billion U.S. dollars worth of goods orders each year. The city has been designated China's first national-level shopping tourist destination by the National Tourism Administration. The Yiwu market, with more than 50,000 stalls, reported a trade volume of 3.48 billion yuan (481.3 million U.S. dollars) last year. In October 2006, the central government officially launched the country's first small commodities index in Yiwu, covering 23 specific sub-indices in three main categories: price indices, market prosperity indices, and single monitoring and measuring indices.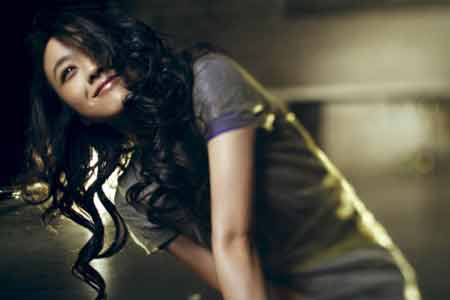 "Lust, Caution" starlet Tang Wei is shown here in a series of swanky portraits released by her stylist Chen Fei on his blog.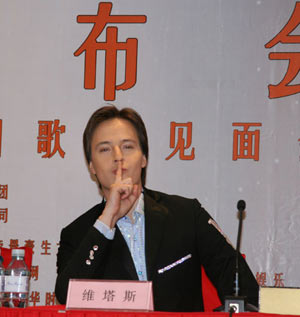 Last June, fans at Vitas's Beijing concert were enraptured by his unique voice. Just six months later, Vitas is returning to Beijing for a concert at the Capital Indoor Stadium on Jan. 24. Compared with his first visit to Beijing, Vitas has surprised fans and the media by breaking from his usual mysterious image. Ordinarily, he is silent in front of people, and answers questions only through his agent, Sergey Pudovkin. But on Wednesday at a ceremony attended by V fans in Beijing, Vitas talked -- in Chinese! -- which won over his screaming female funs. "Dear friends, thank you very much for your love and caring for me. I love you," said Vitas. According to Pudovkin, Vitas's concert will feature many new songs, including some Chinese songs. The 3-hour concert will showcase 23 select songs, such as Russian folk songs, opera, hip-hop and rap. Vitas first appeared in Russia in December 2000 with his hit " Opera #2," captivating the public with his energetic soprano voice. But Vitas also has numerous fans in Beijing. Here is Sussan, a TV producer in Beijing. "I think the most touching thing is his voice, and then his appearance. He is very pure. To me, he is always like an angel. I've never seen anybody as pure as him. I think that he is the greatest, most talented singer in the human world." Vitas has also produced numerous other creative works in fields such as acting and fashion design, aside from composing and singing his own songs. Vitas has produced 5 albums so far: "Philosophy of a Miracle," "Smile!," "Mama," "The Songs of My Mother" and "Kiss as Long as Eternity."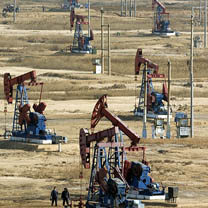 A section of Shengli oil field, China's second largest oil field. Sinopec said that the Shengli oil field's proven oil reserve was 11.79 percent higher than previously thought to the exploration efforts made by the oil field.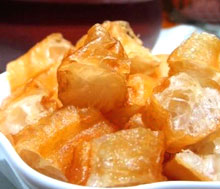 American fast-food chain KFC on Monday began serving youtiao, a quintessential Chinese food for breakfast, in all of its restaurants in China, making another step on its road of localizing it menu. KFC claims its youtiao, or deep-fried dough sticks, contain no alum, which is widely used by Chinese youtiao makers to keep the food fluffy and crisp, and which has sparked health worries. A KFC representative surnamed Xu was cited by the Beijing Business Today as saying that her company spent over a year to come up an alternative for alum, but she declined to elaborate further about the substitute. Each youtiao stick sells at three yuan (41 US cents), nearly three times as its price in ordinary Chinese restaurants. KFC believes the new addition is a perfect complement to its already popular Chinese-style porridge selections, the report says. More Chinese food is expected to enrich KFC's breakfast menu in the near future. Another fast-food restaurant chain, McDonald's, currently has no plan to roll out youtiao, a representative was quoted as saying.
The central government hoped to eventually lift caps on foreign stakes in its securities firms and allow such brokerage joint ventures to broaden their scope of business, the country's securities regulator said in a report on Thursday. The China Securities Regulatory Commission (CSRC) included these ideas in a statement of its policy aims over the next 12 years to 2020. New rules that took effect at the start of this year modestly expanded the business scope of foreign brokerage joint ventures in the mainland. But foreign investors are still prevented from taking more than a 33 per cent holding in brokerage houses jointly owned with mainland firms and are not allowed to operate in the country's securities market independently. Credit Suisse this month said it planned to form a mainland securities joint venture with the Founder Group, hoping to compete with Morgan Stanley, UBS and Goldman Sachs, which have already set up such ventures. The CSRC report also said the mainland would like to increase the amount of foreign investment in its capital market and give non-nationals a wider range of investment options. Another goal is to allow foreign companies to list on the mainland's stock exchanges, the CSRC said.
IBM secures mainland advanced risk contract - Global information technology giant IBM Corp has secured a landmark project to build the first advanced risk management system for a mainland securities firm.
January 25, 2008

Hong Kong: US toppled as Taiwan top export source - China and Hong Kong have knocked off the United States as the No1 source for Taiwan export orders following the release of annual figures yesterday. Taiwan's economic ministry said export orders from Hong Kong and China reached US$91.42 billion (HK$713.1 billion) last year, surpassing the US$84.53 billion registered from the United States. "This was the first time that Hong Kong/China export orders topped the level of the United States," said Huang Ji-shih, head of the ministry's statistics department. Last year, Taiwan took in export orders worth US$345.81 billion, up 15.54 percent from the year before. For December total export orders to Taiwan fell to US$31.02 billion from US$31.89 billion in November. The major contributors to the export orders were information technology and communications products, and electronic devices.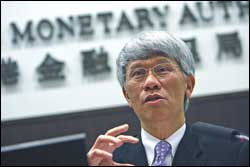 Hong Kong Monetary Authority chief executive Joseph Yam Chi-kwong Wednesday said the US emergency rate cut on Tuesday helped relieve global panic selling, but that the subprime mortgage debacle is yet to be resolved. With the US Federal Reserve lowering the benchmark interest rate by 75 basis points to 3.5 percent, Yam said the US market seemed to have calmed down. "Yet, whether the rate cut can ease the US credit crunch or turn around the US property market, it takes time to observe," he added. According to Yam, the credit crunch has been caused by a shortage of capital among financial institutions rather than the pricing of credit. Standard Chartered Bank economist Frances Cheung said the rate cut to 3.25 percent only improved consumer confidence in the property market slightly. She said that to have a more meaningful impact the US interest rate needed to be lowered further to 2 or 2.5 percent. The HKMA chief has warned the public about the seriousness of the subprime debacle. Last month, Yam said that local banks might suffer losses because of their subprime exposure. "I hope that this short-term, silent and relatively panicky market emotion can be relieved, and people can rationally see the problems and developments," Yam said.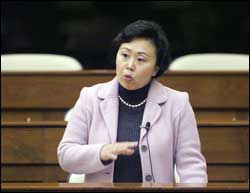 The government is leaning toward extending the franchises for Eastern Harbor Tunnel and Western in an attempt to get their operators to lower toll fees, the Legislative Council heard yesterday. Responding to a question from Civic Party's Alan Leong Kah-kit, Secretary for Transport and Housing Eva Cheng Yu-wah said extending the franchises of the CITIC Group-controlled Eastern and Western tunnels in exchange for fee reductions is the most feasible short- term option. "That said, we certainly need to consider carefully the period for extension in order to ensure that the package would be fair to the franchisees, tunnel users and the government," she said, while maintaining the government is still open to any plan that would solve the current uneven distribution of cross- harbor traffic flow. Cheng said the option of buying out the two tunnels would require a substantial amount of funds from the public purse. "We have to consider its feasibility carefully, including the need to ensure that the price of buying out would be reasonable and acceptable to the public," she said. Cheng said building a fourth tunnel to help ease traffic congestion is another possible long- term solution, but technical issues and land requirements for ingress or egress and connecting roads had to be examined. "These options would not help alleviate the congestion issue in the short to medium term," she added. The Frontier's Emily Lau Wai-hing criticized the government for failing to evenly distribute traffic flow in building the Western Harbor Tunnel in 1997, and asked whether the government could quantify the impact of traffic congestion on the economy. Cheng said the average usage rates of the Cross-Harbor Tunnel, Western and Eastern crossings are 52 percent, 21 percent and 57 percent. She said it is difficult to quantify the economic effects of congestion as neighboring connecting roads also play a part in vehicle flow. Priscilla Lau Pui-king, assistant professor of accounting and finance at Polytechnic University, said extending the franchises is the most reasonable approach to the problem. "The rate of return for the tunnel companies would be higher, easing the pressure to adjust their fares upward," she said. Western Harbor Tunnel commercial manager Philip Tong said his company is open to exploring ways to help balance cross-harbor traffic flow. "However, the proposed policies need to be viable to us commercially," he said. Eastern Harbor Tunnel did not return e-mails seeking comment. After raising its fares this month, the Western Harbor Tunnel charges private cars HK$45, compared to HK$20 for the Cross-Harbor Tunnel and HK$25 for the Eastern crossing. According to Transport Department figures, the daily average traffic flows for the Cross- Harbour Tunnel, Western and Eastern crossings are 124,739, 53,354 and 67,472 vehicles respectively.
HK leads rebound after Fed cuts rate - Most Asian markets, including Shanghai and Hong Kong, rebounded Wednesday, reversing their recent gut-wrenching plunge as investors welcomed a hefty, surprise interest rate cut by the U.S. Federal Reserve.
Hong Kong has fallen into a negative interest-rate environment after lenders matched the rate cut by the United States Federal Reserve, and analysts said another reduction of 50 basis points would probably follow next week to further boost the housing market while deepening the city's inflationary pressure. As an immediate response to the Fed's sudden 75-basis-point cut on Tuesday, HSBC (SEHK: 0005, announcements, news) , Hang Seng Bank (SEHK: 0011, announcements, news) and Bank of China (SEHK: 3988) (Hong Kong) yesterday announced a reduction in prime lending rates - effective today - by the same margin to 6 per cent, the lowest since 2005. Standard Chartered Bank (Hong Kong), Bank of East Asia (SEHK: 0023), DBS Bank (Hong Kong) and other small and medium-sized lenders reduced theirs to 6.25 per cent. The result is a negative interest-rate scenario, reminiscent of the mortgage rate from 1991 to 1994. At 4 percentage points below prime, the mortgage rate now stands at between 3.1 per cent and 3.25 per cent, below the inflation rate measured at 3.8 per cent last month. Property agents said negative mortgage interest rates would help bring the market back to 1997's peak levels faster, although the impact would not be immediate because of the forthcoming holiday break.
Tens of millions of the new plastic HK$10 banknotes will make their debut in lai see packets this Lunar New Year. The Monetary Authority is issuing 50 million of the washable polymer notes - introduced last July - ahead of the festival, during which families favour brand-new notes to put in the red packets of lucky money. "Members of the public will be able to get the new plastic banknotes at bank branches starting from next week," said Lydia Yip Siu-ming, head of the support service division in the authority's strategy and risk department. But the authority at the same time called on people to have concern for the environment and be willing to choose nearly new notes rather than the brand-new ones that are considered luckier. "The HKMA strongly supports environmental protection," authority chief executive Joseph Yam Chi-kwong said. "I encourage members of the public to contribute by using good-as-new notes for lai see." Efforts to persuade the public to accept used notes have been paying off, the authority says. Last year 162 million of the notes of various dominations withdrawn from banks for lai see were used, accounting for about half the total. This compared with 53 million, or 21 per cent, the previous year. A total of 257 million banknotes - old and new - were issued for the Lunar New Year in 2006, and 322 million for last year. When asked whether demand for HK$20 and HK$50 banknotes would be stronger this year because of the better economy, Ms Yip said: "It all depends on the public demand, and I think we are well prepared." She said the new plastic HK$10 banknote had proved to be quite popular, "as it is more durable and cleaner". She also said no fake HK$10 plastic banknote had been spotted so far, as it was very costly to produce counterfeit plastic banknotes.
A signboard with illuminated Olympic rings is to be installed on the Central or Wan Chai waterfront as part of efforts to promote Hong Kong as a co-host city of this year's Games. Mason Hung Chung-hing, a senior manager at the Tourism Board, told a Harborfront Enhancement Committee's subcommittee meeting yesterday that the board had yet to decide on the size and location of the signboard. "We are to appoint a consultant to bring the project forward," he said. "Some possible locations are the top of the Central Pier, and the waterfront area outside the Convention and Exhibition Centre in Wan Chai." Mr Hung hoped that tourists admiring the harbor view would be reminded that Hong Kong was a co-host city for the upcoming Olympics. When asked if the Olympic rings could be displayed in lights on the facade of a building instead, Mr Hung said the International Olympic Committee had strict rules regarding the event's promotion and the board could not be linked with commercial organizations. Meanwhile, 60 written comments were received during the consultation period on a new piazza in Tsim Sha Tsui. Assistant Commissioner for Tourism Winifred Chung Mak Suet-mui said there were suggestions that the piazza should accommodate exhibitions, arts and cultural performances, outdoor cafes and the like.

China: China's consumer price index (CPI) rose by 4.8 percent in 2007, the highest level in more than a decade, according to the National Bureau of Statistics (NBS) on Thursday.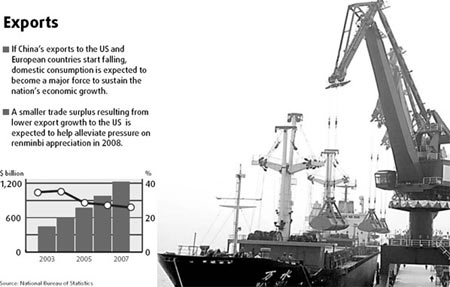 A significant U.S. economic slowdown could help China become consumer-driven rather than export-oriented, economists said. But they warned it would be a difficult process, as domestic demand could drive up prices - especially in areas where markets are less efficient. Wang Qian, an economist at JPMorgan Chase Bank, said domestic consumption is becoming a bigger factor in the nation's economic growth. "Though a possible US recession would drag down other economies, China would be the exception, as a US-led economic slowdown would pressure the nation to expedite economic restructuring," Wang said. "Of course, without a US slowdown, China would also be on the way toward balanced economic growth, but the process could take much longer," she said. But increased domestic demand for a wide range of goods and services may not be met by a less-than-efficient supply system that is sometimes distorted by bottlenecks. This would lead to the irrational price increases that cause CPI fluctuations. "If China's exports to the US and other European countries start falling, domestic consumption will become a major force to sustain the nation's economic growth," said Shen Minggao, an economist at Citibank China in Beijing. "A transparent market is needed to ensure supply is not easily disrupted by profiteering and to get CPI growth back to an acceptable level," Shen said. "Taking effective measures to rein in inflation should be the government's prime focus in 2008." Many economists are calling for an efficient supply and distribution system to match higher domestic demand. Zhao Xijun, a finance professor at Beijing's Renmin University of China, said more effort was needed to structure consumer products to cater for wide domestic demand. Economists said a smaller trade surplus resulting from lower export growth to the US would also help alleviate pressure on renminbi appreciation in 2008. Stephen Green, head of research at Standard Chartered China, told China Daily: "A more severe US slowdown, which drags export growth below 15 percent year-on-year, would increase the chances of a slower renminbi appreciation rate." Jonathan Anderson, UBS Securities' chief economist for Asia, doesn't expect China's trade balance to fall this year, but said the surplus will peak in the next few quarters. That would mean a long-awaited slowdown in headline GDP growth, as rising net exports contributed more than 2 percentage points to real growth in 2006 and 2007.
Most leading Asian markets rose in early trade on Thursday, lifted by banks and financials after the United States government outlined a plan to rescue battered bond insurers and stave off a fresh round of billion-dollar write-downs. Government bonds retreated from this week's multi-year peaks as investors piled back into stocks, hoping the rescue package could give the banking sector some much needed confidence. The yen pulled back from a two and a half year peak against the US dollar as appetite for higher yielding assets and currencies returned. Growing expectations that another swingeing interest rate cut from the US Federal Reserve next week - coming on top of this week's emergency 75 basis-point slash - to stabilize the world's top economy also lent support to markets. The mood remained wary, however, as investors still chewed over the prospect of a US recession. MSCI's All Country World index rose 0.4 per cent mid-morning trade, although the index is still down about 12 per cent this month alone. "What the market really needs is steady, long-term measures that will promote overall investment, not just emergency measures," said Hiroichi Nishi, general manager at the equity division of Nikko Cordial Securities.
Police have shut down a website selling real-time porn and arrested 33 people, state media said yesterday, as part of a campaign that led to the shutting down of 44,000 websites and the arrest of 868 people last year. A crackdown was launched on online pornography and "unhealthy" Web content after President Hu Jintao said the internet posed a threat to social stability. The live site, whose server was based in Taiwan, charged viewers to watch strip shows or other pornographic performances that were staged on the mainland, Xinhua said. "This operation started up in the second half of 2006 and took in more than 1 million yuan in just three months," it said. The site reportedly had been the most widely visited pornographic site involved in the cleanup, which led to inquiries into 524 criminal cases. The campaign will continue until September, after the close of the Beijing Olympics. Rights groups have said the campaign has been used as a thinly veiled pretext to crack down on dissent and round up online dissidents ahead of the Olympics. The mainland has attempted to stifle online criticism of the Communist Party and discussion related to sensitive topics such as Tibet and Taiwan by ordering websites to register with authorities. The government, which employs tens of thousands of internet censors and a vast network of filters to control online information, said last month it would crack down on video-sharing websites and allow only state-controlled sites to post video content online from the end of this month.
January 24, 2008

Hong Kong: The number of passengers traveling through the Hong Kong International Airport and the volume of cargo handled by the airport both grew significantly to reach record high in 2007, the airport authority said Wednesday. The number of passengers at the southern Chinese city's airport in 2007 climbed 7.5 percent year-on-year to reach 47.8 million while cargo volume went up 4.5 percent to 3.7 million tons, said Stanley Hui, chief executive officer of Hong Kong Airport Authority. Air traffic movements advanced 5.4 percent to 295,600, he said. Hui said the increase was mainly thanks to "robust economic growth in both the mainland and Hong Kong", which continued to underpin the increase in through put the airport. Hong Kong was an attractive destination for travelers from other areas where there was appreciation in the local currencies, for tourists from the Chinese mainland traveling to Hong Kong by the Individual Visit Scheme while outbound travel by local residents also grew. Cargo throughput at the airport benefited from sustained growth in trade between China and its major trading partners, with a slow start in the early part of the year due to seasonal factors but traffic began to pick up in the second quarter and after, Hui was quoted as saying. Hui said he was confident about 2008 as the Hong Kong International Airport (HKIA) was expected to benefit from the Chinese mainland and Hong Kong's positive economic fundamentals, the growth momentum of both economies, and passenger flows associated with the Beijing Olympic Games. Despite an expected slowdown in the United States, Hui said that he was cautiously optimistic about cargo throughput in 2008. HKIA was currently undertaking a series of terminal and airfield enhancements to prepare the airport to serve 50 million passengers annually. The expansion projects will also ensure the airport continuing to deliver good service, comfort and efficiency, according sources from the airport.
Hong Kong's inflation is at the highest it has been in nine years. The consumer price index rose by 3.8 percent in December 2007, mainly due to rising prices of pork, package tours and meals bought away from home.
Lingering subprime concerns notwithstanding, Bank of China (3988) assured investors yesterday that its limited mortgage-related portfolio will not eat into earnings at the mainland's largest foreign-exchange lender, claiming it will definitely post a profit for last year.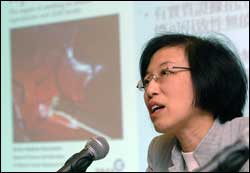 An acute shortage of nurses is causing delays in admission to private hospitals where non-emergency patients face a weeklong wait for a bed. The situation may worsen if the government does not map out a central policy on the supply of nurses to ease the shortage, according to both the Hong Kong Private Hospitals Association and nursing professors from Hong Kong University. The shortage has already led to hospitals resorting to poaching staff, they said. "The wards, medical facilities and all the hardware are there. Many hospitals are even expanding but they cannot open their wards without hiring enough nursing staff to run the services," said Alan Lau Kwok-lam, chairman of the association, which represents all 12 private hospitals. "Sometimes non-emergency patients have to wait seven or eight days for admission." Hong Kong does not have a central policy on nursing supply. The three universities - Hong Kong University, Chinese University and Polytechnic University - train about 500 degree-holder nurses a year on government funds. The Hospital Authority and several private hospitals also run their own nursing schools to help ease the severe human resources shortage. "Each hospital is struggling to train more nurses to ease their own shortage - no one has a full picture of the exact supply of nurses or any forecast on demand," Lau said. The Hospital Authority, Hong Kong's biggest employer of medical workers with 19,000 nurses, last December launched a mass recruitment drive. The authority made better offers to experienced nurses from overseas and the private sector. Sophia Chan Siu-chee, head of Hong Kong University's department of nursing studies, warned that the medical sector is under increasing pressure for more frontline workers. There was an urgent demand for such staff to cater to an aging population and the increasing complexity of medical procedures. "When the medical procedures become more complicated and require more steps, hospitals need more medical staff," Chan said. New graduates from the training schools can barely replenish the sector. But Chan and associate professor Agnes Tiwari Fung-yee are worried about the quality of medical services, which could be compromised if public attention only focused on the number of nurses instead of standards. "Quantity doesn't amount to quality. It would be better to have five nurses who are well trained than 10 who don't perform well," Tiwari said.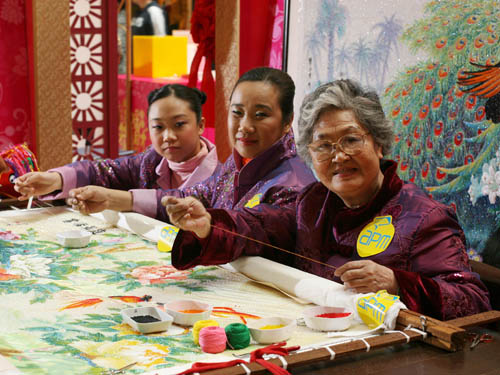 A master Cantonese embroiderer from the mainland has brought her battle to modernise her craft to a Hong Kong shopping mall. Known for its complex, multicoloured patterns, it is the oldest of the four most famous Chinese embroidery styles, dating back more than 1,000 years. Chen Shaofang, who founded the Cantonese Embroidery Institute in her home town of Panyu 15 years ago, is showcasing her work at the APM mall in Kwun Tong. She says the craft has a serious problem because embroiderers are sticking too closely to tradition and it is losing its vitality and creativity. Her institute aimed not only to preserve Cantonese embroidery but develop it and pass it down, she said. But often the embroiderers it trained abandon the craft, said Li Min, Chen's daughter-in-law. Tempted by opportunities to make more money, fewer city dwellers sustain efforts to learn the craft and carry it forward, she said. Among works Chen, 71, is displaying at the mall is I Love Chicks, her creation showing a girl playing with 41 chicks which prompted then paramount leader Deng Xiaoping to exclaim, "Hey, look at the chicks!", when he saw it at the 1978 National Arts and Crafts Exhibition. The work is valued at HK$1.8 million, though it is not for sale.
The market slump is taking its toll on the investments of Li Ka-shing, Lee Shau-kee, Cheng Yu-tung and their fellow Hong Kong tycoons in new share offerings - because, as cornerstone investors, they are bound by lock-up agreements to keep the shares for up to three years. The agreements mean they could not sell when the share price peaked, nor cut their losses in the past two days - which has seen their paper profits fall, or their paper losses grow, on these investments in initial public offerings. The city's three richest individuals, as well as other tycoons and corporations, have often been invited to act as cornerstone investors, which guarantees them allotments of new shares in return for agreeing not to sell them for between six months and three years. Hong Kong Exchanges and Clearing (SEHK: 0388) is consulting the market about whether it should curb the practice, which some say is unfair to small investors in IPOs. However, the sharp share sell-off this week shows these cornerstone investors are at a disadvantage compared with other retail investors or institutional buyers, who are free to sell their holdings at any time. Mr Lee, chairman of Henderson Land (SEHK: 0012), has lost a third of his paper gains on three popular IPOs - house builder Country Garden, miner China Molybdenum, and China Railway (SEHK: 0390), Asia's largest construction contractor. On Friday he was sitting on a paper gain of HK$668 million. By the end of trading yesterday, his profit had shrunk to HK$228 million as the three stocks fell 6 per cent, 24 per cent and 14 per cent respectively. The market slump has also widened his paper loss on his investment in the IPO of Fosun International - a Shanghai-based property, retail, steel and drug-making conglomerate - to HK$59.3 million, from HK$30.9 million last Friday; the stock price has fallen 23 per cent in the past two trading days. Mr Li, chairman of Cheung Kong (Holdings) (SEHK: 0001), has seen the paper profit on his investment in the China Molybdenum IPO shrink by HK$72.2 million in the past two days as the stock price has dropped from HK$12.90 on Friday to HK$9.75 yesterday. Mr Li, like Mr Lee, saw his paper loss on Fosun International double; he also acted as a cornerstone investor when it went public last year. Mr Cheng, the chairman of New World Development, has seen his paper profit on cornerstone investments in Country Garden and China Molybdenum shrink by HK$154 million over the past two days. Joseph Tong Tang, executive director of Sun Hung Kai Financial, said it was not right to think that cornerstone investors could always make a profit because they were bound by the lock-up period. "The lock-up period ensures these investors are staying for the longer term. "They may not always make a profit as the market may have changed a lot by the time the lock-up period expires," Mr Tong said.

China: The debate over lowering roaming fees for mobile phones ended without a decision yesterday. After a public hearing in Beijing, a National Development and Reform Commission (NDRC) official said that though most of the representatives favored the second plan of reducing 63 percent of the roaming fee, no decision could be taken. The government will release the final reform plan "as soon as possible", he said. Chinese mobile carriers often charge users 0.60 yuan (about 8 US cents) a minute as cross-province roaming fee. And cell-phone users have long criticized the government-set tariff, saying it is "unreasonable" and should be reduced or even scrapped. Earlier this month, the NDRC and the Ministry of Information Industry (MII) put up two reform plans for public hearing, sparking a hot debate among the country's 539 million cell-phone subscribers. Both the proposals involved scrapping the existing roaming fee of 0.2 yuan a minute. The first proposal suggested cutting the upper limit of the roaming fees by 14.9 percent, while the second proposed reducing the upper limit by 63 percent. Roaming fees are "unjustifiably high" and lowering the price cap would be in line with the global trend, Beijing University of Post and Telecommunications professor Zeng Jianqiu told Sina.com yesterday. It would, however, be unreasonable to completely scrap the fees because operators still have to invest money to provide roaming services to expand their network capacity.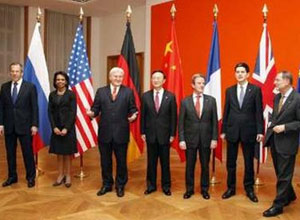 New UN resolution on Iran agreed - Foreign Ministers from the United States, Germany, China, France, Britain and Russia have agreed on the major points of a U.N. resolution on the Iran nuclear issue.
China's State Council Wednesday approved in principle a draft law revision that means better education, better rehabilitation, a higher standard of living and more jobs for the country's disabled.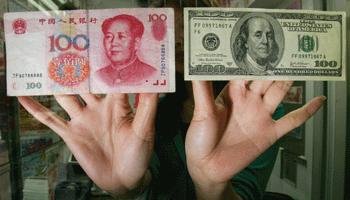 China's currency, the yuan, rose sharply against the U.S. dollar on Wednesday following overnight huge key interest rate cut in the United States. The U.S. Federal Reserve slashed the benchmark federal funds rate by 0. 75 percentage point to 3.5 percent, in an emergency attempt to ward off rising fears of U.S. recession. The rate cut has prompted the U.S. dollar to fall sharply against other major world currencies. The central parity rate of the yuan, known as Renminbi (RMB), jumped by 206 basis points to 7.2350 yuan to one U.S. dollar, according to China Foreign Exchange Trading System. The sharp appreciation prompted the RMB to hit the highest after it was revalued with the ending of its peg to the U.S. dollar in July 2005. To date, it has appreciated more than 12 percent against the greenback.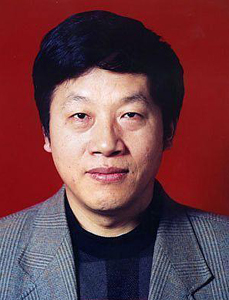 Zhang Ping, a Chinese writer famous for his series of anti-corruption novel figures, was elected as the vice-governor of north China's Shanxi Province Wednesday at the first session of the 11th Provincial People's Congress. "I am a nobody from the bottom of Chinese society", said the 54-year old Zhang, who once taught in a village primary school and worked in a county-level magazine, and then took the post as vice-chairman of China's writers association. In his novels, Zhang depicted lots of nobodies living in China's countryside struggling for better lives. Zhang pictured the image of a good cadre in his novel "The State Cadre", whom he believes represents the majority of Chinese cadres. Many of his novels are anti-corruption novels, including "The Choice" and "The Culprit" from the 1990s. "I tried hard to be a good writer for the people, and I will strive to become a good governor for them," said Zhang, on hearing the news he was elected as the vice-governor of this coal-rich province.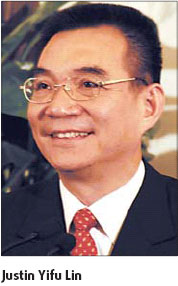 Chinese economist Justin Yifu Lin is expected to be named as senior vice-president and chief economist of the World Bank by the end of this month, according to media reports. Lin would replace French economist Francois Bourguignon, who retired in October, the Wall Street Journal (WSJ) reported. The 56-year-old is co-founder and head of the Peking University's China Center for Economic Research (CCER). If picked for the post, Lin will become the first economist from the developing world to hold it. The World Bank move is intended to increase the presence of the developing world in the bank's senior management, the WSJ report said. Analysts see in Lin's candidacy a sign of China's increasing links with the bank. As the largest developing country, China has not only received loans from the World Bank, but has consistently shared its developing experiences with it, helping it to better carry out its aid programs around the world. But Li Huafang, an economist with the Shanghai Institute of Finance and Law, attributes the likely appointment more to Lin's outstanding career than the fact that he is a Chinese. "Lin is one of the most important economists in China working on the rural economy," said Li. "He has put forward unconventional ideas that have helped policymaking for the rural economy." With his focus on development and institutional economics, Lin is a suitable candidate for the World Bank post, said Lu Feng, economist at CCER. Lin was born in Taiwan. He holds a master's degree in political economics from Peking University and obtained a doctorate in economics from the University of Chicago in 1986. He conducted post-doctorate research at the Yale University in 1987. He has been a consultant to the World Bank since 1993.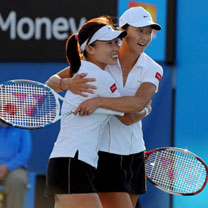 China's Yan Zi, right, and Zheng Jie , left, celebrate after beating Venus Williams and Serena Williams of the U.S. in their Women's Doubles fourth round match at the Australian Open tennis tournament in Melbourne, Australia, Tuesday, Jan. 22, 2008.
The bright lights of the big city have proved too much for Shanghai's observatory, which will move its astronomy work away from the metropolis's blinding light pollution. The glare from the metropolis of nearly 17 million people has "greatly affected our observation and we must find a more appropriate base," said Tao Jun, director of the Optical Astronomy Laboratory of Shanghai Observatory. He said China's second-largest optical telescope had been unable to conduct world-class astronomical observations in recent years due to the glare, even with updated equipment. Light pollution in Shanghai is nearly 30 times the levels advised by the International Astronomical Union. The observatory has signed a deal with neighboring Zhejiang province to establish China's first "night sky protected area" in the rural area of Tianhuangping and will soon move its equipment there. The new location is at an altitude of nearly 1,000 meters and local authorities have promised restrictions on lighting in the area.
Sex, lies and videotape are sparking a nationwide debate over privacy after a video of an amorous couple caught kissing by a surveillance camera in a Shanghai subway station made its way onto the internet. The man and woman, both aged 25, are contemplating whether to take the metro operator to court for violating their privacy. The clip has been viewed more than 100,000 times after being posted on websites such as Youtube.com and Ku6.com. As the grainy footage plays, four voices from two men and two women - believed to be metro employees - can be heard making off-colour comments in the Shanghai dialect. The man in the clip said the metro company had shown a positive attitude but would not make a clear commitment on how it would deal with the complaint. "They claimed to have punished two employees, but I'll still discuss with my girlfriend and family to find a proper way to solve it," he said yesterday. "A legal solution is possible." Reached for comment yesterday, the Shanghai Shentong Metro Group said: "We will give a reply soon via official channels." The three-minute video captured the young couple in a prolonged embrace, kissing goodbye at the entrance of a Shanghai metro station. The man said he was furious and embarrassed after viewing the footage. He learned about its wide circulation on the internet from friends. He said he had resigned from his job because of pressure and made a living by teaching part time. His girlfriend, who kept her post in a company, was depressed, he said. "This is not a case about an individual but a social phenomenon. I hope people can raise their awareness of how to protect their privacy." Shanghai has installed security cameras in public areas such as metro stations, roads, banks and supermarkets in an effort to ensure public safety and prevent crime. But the issue has now sparked worries about privacy among local residents. Wu Wenyi , a 24-year-old office worker, said she was shocked by the case. "The government claimed to be guaranteeing our safety by using the system, but now it turned out to have a contrary effect."
January 23, 2008

Hong Kong: Margin orders for the four current initial public offerings continue to wane, with brokerage houses saying investor sentiment for IPOs will not improve until the market revives. Ping An Insurance's (2318) plan to place A shares on the market in order to raise about 160 billion yuan (HK$172.5 billion) has resulted in negative sentiment rising on the domestic market, with investors viewing the move as a signal that large players are planning to sell the index down further.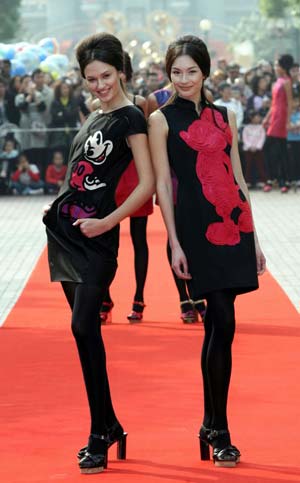 Models display creations with a Mickey Mouse theme at Hong Kong Disneyland Jan. 21, 2008. The fashion show is part of a series of activities during the "Year of the Mouse Celebration" held by the entertainment theme park for the upcoming Lunar Year of the Rat.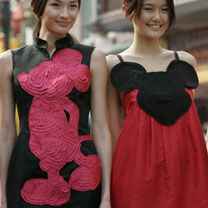 Models present creations with a Mickey Mouse theme by Hong Kong designer Vivienne Tam at Hong Kong Disneyland January 21, 2008. The fashion show is part of a series of activities during the "Year of the Mouse Celebration" held by the entertainment theme park for the upcoming Lunar Year of the Rat.
Gaming revenues in Macau rocketed to more than US$10 billion (HK$78 billion) last year, a rise of 46 percent, as the former Portuguese enclave continues to close in on the greater Las Vegas region.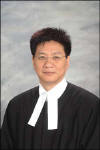 The Court of Appeal yesterday ordered a retrial for three men who had been jailed for allegedly stealing Buddhist pines and accused the deputy district judge who found them guilty of prejudice, arrogance and using sarcastic and insulting remarks. The three mainlanders - Chan Wah, Cheung Yanyau and Ko Kwan - had been sentenced to jail terms ranging from four years to 56 months after being convicted by Deputy District Judge Symon Wong Yu-wing on charges of illegal stay and conspiracy to remove and steal the Buddhist pines from a country park. They appealed to the High Court last month. In allowing their appeal, Judge Peter Cheung Chak-yau said the conduct of the trial judge and his remarks may have given the public an impression he had not taken a neutral and unbiased stand. "I have been reading numerous judgments during my 30 years in the legal sector. I have never come across any judgment by current judges that contained remarks as biased, sarcastic and insulting as this one," Cheung said in his ruling, which was written in Chinese. "Such words should not have appeared in an advanced and open legal system like Hong Kong. "I believe the wording used by Mr Wong failed to comply with the requirement for judges who need to analyze the facts of the case in a rational manner. So it [the judgment] is unacceptable," Cheung said. In the judgment, Wong was quoted as describing one of the defendants as "smart" after he chose not to testify. Wong had also wished the defendants "good luck" after announcing their jail terms. The other two judges on the panel, Maria Candace Yuen Ka-ning and Wally Yeung Chun- kuen, shared Cheung's views. Yeung said the audio recording of the trial showed Wong to be arrogant when reading out the judgment, giving the impression he despised the defendants. "Judges have a solemn and important duty to fulfil when they are in any trial because their rulings would impact on the personal freedom [of defendants]," Yeung said. "So judges should be cautious about their conduct and their remarks and any ambiguity or improper manner should not be allowed. Not only has justice to be done, it has to be seen to be done." The alleged offences happened in November 2005. The defendants were arrested during an anti-illegal immigrant operation in Sai Kung during which police found 10 Buddhist pines, a saw, two blankets and some clothes. The trio were unable to produce any travel documents when arrested.

China: China received $74.7 billion in foreign direct investment in non-financial sectors last year, ahead of all developing countries for the 15th successive year.
At a time when a record number of Chinese students are heading abroad for studies and a growing number of overseas-educated natives are returning home to cash in on the economic boom, a group of university alumni have taken a step further: repaying their foreign alma mater. More than 500 Chinese alumni of Boston University (BU) pledged a $1-million donation to their U.S. alma mater at the launch of their alumni chapter in Beijing on Saturday, the group said. The amount, to be given over five years, is the first such collective gift for the fourth largest private university in the US in its 169-year history. BU president Robert Brown, 56, who attended the launch and was the institution's first president to visit China, said: "We're expanding the alumni office in Asia, and that will have a big impact on what we do in China specifically." About 5,000 of BU's 32,000 students are from abroad, and the university has about 260,000 alumni in more than 50 associations and groups across the world. BU has a student exchange program with Shanghai's Fudan University, and counts Ha Jin, a Chinese author writing in English, as one of its close to 4,000 faculty members. The latest boost to BU's 946-million U.S. dollars endowment comes in a year when 200,000 Chinese are expected to travel abroad for studies. Only a dozen Chinese students went abroad for studies in 1978. But from 1978 to 2006, about 1.1 million Chinese went abroad for studies, with 275,000 returning home. In the past two years, however, an increasing percentage of Chinese have returned home because "China's domestic business environment has improved significantly," Yu Minhong, chairman of Beijing New Oriental Group, has said. Hugo Shong, executive vice president of International Data Group and head of the newly formed China alumni chapter, said on Saturday that the contribution will hopefully help nurture more talent at BU. Shong said: "I think it's important to have an alumni platform to maintain the network and also to provide feedback for BU to stay competitive." Boston University alumna Jin Wei returned to Beijing after living in the U.S. for almost two years. The 28-year-old holds a dual master's degree in business and information systems. She ignored some very good opportunities abroad to head back home and start a social networking site, and now works for an IT company. "It's a great time for China, and I want to be a part of it," she said.
Unusually heavy snowfall in central and eastern China has been blamed for at least 21 deaths and has stranded hundreds of thousands of people ahead of the peak Lunar New Year travel season.
Coal shortages will cause a power deficit this year in southwest Guizhou province, which is a key electricity supplier for the nearby manufacturing hub of Guangdong, the China Southern Power Grid Corp said.
January 19 - 22, 2008

Hong Kong: Gold futures and options are likely to be launched on the Hong Kong exchange this year, pending regulatory approval. The exchange also plans to bring in depository receipts in the third quarter, similar to those in the United States, to allow more overseas companies to list on the world's second largest listed bourse. Gold products will be launched first, said Paul Chow, chief executive of Hong Kong Exchanges and Clearing Ltd (HKEx), yesterday. "With the approval of the Securities and Futures Commission, the products can probably be launched by the end of this year," he said. The Shanghai Futures Exchange launched gold futures last week. But Chow declined to comment on whether Hong Kong is lagging behind. "Hong Kong and the mainland are two different markets," he said. Chow added that the mainland's gold futures market targets local buyers, while Hong Kong is open to global investors. Bruce Wong, Taifook Securities forex and bullion research director, said demand for gold is higher than for other commodities in Hong Kong, so it's appropriate for HKEx to launch gold futures and options first. Compared with Shanghai, Wong said: "The Hong Kong market can attract Asian investors. We have not been left behind." HKEx will also seek more foreign listings on the bourse this year. Chow said the exchange would likely introduce a depository receipt scheme in the third quarter. "The program is an alternative for foreign firms to list stock in Hong Kong," he said, denying that the plan was a response to the lack of big listings from mainland firms. HKEx officials visited Vietnam, Malaysia and India last year to promote Hong Kong. Patrick Shum, executive director of Karl Thomson Investment, said allowing foreign companies to list via depositary receipt was a good move that would benefit local investors and could draw global companies like IBM, Citigroup and Apple.
Macao's gaming revenue amounted to 5.5 billion patacas (about 680 million U.S. dollars) in the first 15 days of 2008, according to a report on Thursday by The Macao Daily News, a major local Chinese language newspaper. By far, the highest gaming revenue for a month was recorded on November last year, which stood at 9.5 billion patacas (1.2 billion U.S. dollars), and the revenue for January 2007 was expected to break the record based on the present market development, the daily said. The Las Vegas style casino resort MGM Grand Macao, opened in September 2007, has expanded the gaming market by increasing the number of casinos in Macao to 28, but the island city's gaming industry development may be affected by the credit crunch in the United States, said Dr. Fong Ka Chio, director of Institute for the Study of Commercial Gaming at the University of Macao. For the time being, big American gaming companies, including the Las Vegas Sands, Wynn and MGM Mirage have all set foot in Macao's gaming market, heating up the competition with local gaming magnate Stanley Ho whose decades-old monopoly ended in 2001. He pointed out that the current subprime mortgage crisis may prompt banks to squeeze their credits, which will dry up funds for American gaming companies to further pursue their investment in Macao. Macao logged a record gaming revenue of over 80 billion patacas (around 10 billion U.S. dollars) in 2007, outstripping Las Vegas, but some of the Las Vegas gaming companies with investment in Macao still saw their share prices drop in recent months, according to the daily.
After shooting in Beijing and Tianjin, the crew on Chen Kaige's new biopic "Mei Lanfang," including director Chen, Hong Kong actor Leon Lai and mainland actress Chen Hong, have arrived in Shanghai for another two-months' filming. Liu Qing, the film's art director, said Peking Opera master Mei had lived and performed in Shanghai for more than 27 years. The crew will be filming scenes at the former residence of Tang Enbo on Changle Road, Shanghai Concert Hall, Astor House Hotel Shanghai and Children's Palace of China Welfare Institute. The crew will also recreate streets from 1930s New York at the suburban Shanghai Film Park. In 1930, Mei was invited to perform on Broadway. His smooth and poised style as well as skillful portrayal of women fascinated both the public and American art critics. More than 1,200 foreign expats in the city will appear as extras in a big theater scene to depict Mei's huge stage success in the United States. The movie, which has a budget of about US$15 million is due to open in August.

US meltdown spooks HK investors - Asian and European equity markets tumbled Wednesday, tracking Tuesday's meltdown on Wall Street, as investors grew more convinced the US economy is headed for a recession after retail sales in the United States unexpectedly fell last month.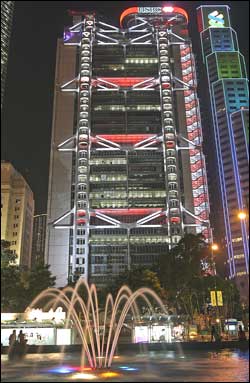 Shares in HSBC (0005) fell to a six-year low Thursday, after Citigroup's worse- than-expected losses stoked fears HSBC would need to set aside billions more in bad-loan provisions. HSBC shares ended trading at HK$115, down HK$5.80 or 4.8 percent, after falling as low as HK$114.20 during intraday trading. The blue-chip stock has lost 10.4 percent of its value over the past six days of declines. First Shanghai Securities strategist Linus Yip Sheung-chi said HSBC stock is still under pressure and will continue to fall in coming days. "I don't expect the problem will resolve in the short-term," Yip said. "It [won't] have a great rebound - maybe just stabilize around HK$110." Credit Suisse analyst Bill Stacey said the results from Citi suggest HSBC may need more provisions in the fourth quarter than he had included in his base- case scenario. "We had forecast rising delinquencies and this has happened," Stacey said. "Other results this week will provide more information." BOC International slashed its target price for HSBC yesterday to HK$117.50, from HK$133, on fears that near-term uncertainties surrounding HSBC's US consumer operations and weakening European operations could dwarf its otherwise healthy Asian operations.

HKEx goes back to gold futures, looks at carbon - Hong Kong Exchanges and Clearing (0388) will launch gold futures and gold options within this year after scrapping them 20 years ago due to low trading volume. Chief executive Paul Chow Man- yiu said there will be no conflict between the bourse and the Chinese Gold and Silver Exchange Society as the two have different operations. Chow explained HKEx's gold options and gold futures will be traded in US dollars and settled in HK dollars in cash. Gold will be traded by the ounce, unlike the CGSES which exchanges spot gold in liang (a unit of weight equal to 50 grams). The local bourse also encouraged the issuing of structured products, derivatives and exchange-traded funds based on gold units. While China launched its gold futures last week, Chow said it was not too late to introduce gold futures. "China is a closed market whereas we have an open market, we are different," he said. HKEx will also seek an overseas exchange partner to build a trading or clearing platform for trading carbon such as greenhouse gases or other emissions-related products in Hong Kong. Chow expects to reach some sort of agreement before the end of this year. "We will facilitate the listing of emissions-related structured products, ETFs and derivatives linked to emissions," Chow said, adding that HKEx will also explore establishing an auction for Certified Emissions Reduction units. Carbon trading has been well received overseas, especially in the United Kingdom where the UK Emissions Trading Scheme has been established. In addition, HKEx also plans to launch a depositary receipt scheme in the third quarter this year, after consultation with the Securities and Futures Commission. "Since many governments do not like their local companies to list shares on overseas stock exchanges, offering listings in the form of depositary shares is expected to be more attractive," Chow said.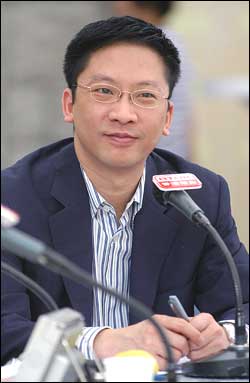 The chairman of the Bar Association yesterday defended his appointment to a mainland political organization after he drew scathing criticism from barristers who argued the new role would threaten his independence. Rimsky Yuen Kwok-keung came under fire from lawmakers and barristers after association members were informed of his appointment to the Chinese People's Political Consultative Conference of Guangdong. Lawmakers said the appointment would undermine Yuen's independence as the head of the association and pose a conflict of interest. Albert Ho Chun-yan, a solicitor and chairman of the Democratic Party, called for Yuen to step down gracefully after initiating a vote of confidence that will be held today. But Yuen said the CPPCC was a consultative body where members were entitled to express their views freely. The controversy comes as Yuen is due to be re-elected as chairman of the association today since he is the only candidate. Civic Party lawmaker and barrister Audrey Eu Yuet-mee said she only learned of the appointment two days ago. Barristers cannot enter today's election at this late stage, as they are required to give notification in advance. "Barristers and the chairman of the Bar Association should be independent. The chairman has a prestigious status and should speak clearly on major issues of society and should not accept political appointments as individuals," Eu said. Former Bar Association chairman Ronny Tong Ka-wah expressed disappointment with Yuen's decision, saying he had declined a similar offer during his tenure.
Hong Kong was set for a record budget surplus exceeding HK$105 billion for the 2007-08 fiscal year, allowing a raft of tax concessions in next month's budget, PricewaterhouseCoopers forecast on Thursday.
The volume of Hong Kong's re-exports increased by 5.3 per cent in November last year over November 2006, latest statistics released on Thursday showed.

China: China on Wednesday laid out a primary plan for its second pipeline of the West-East natural gas transmission project. According to the plan, construction of the 8,794 kilometer gas pipeline, which consists of one major line and eight sub-lines, will involve an investment of approximately 143.5 billion yuan (19.8 billion U.S. dollars). The major line will extend 4,945 km, running from Khorgos in the northwestern Xinjiang Uygur Autonomous Region to Guangzhou, capital of south Guangdong Province. Construction of the pipeline will begin this year and it will go into operation in 2010. The pipeline would pass through 13 Chinese regions. It would carry natural gas from central Asian countries and Xinjiang to the economically prosperous but energy thirsty eastern and southern China areas, including Shanghai and Guangdong Province.
Securities regulators hope to open a new stock market in the first half of the year aimed at growth enterprises, Chairman of CSRC said.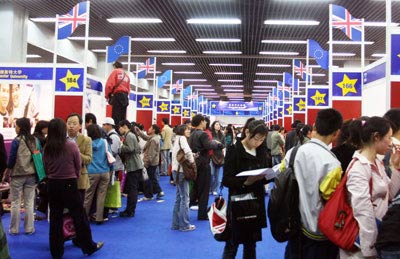 Students and parents flock to the 2007 International Education Exhibition in Beijing in October last year. This year, an estimated 200,000 students are likely to travel overseas for studies. The number of students going abroad for studies is estimated to reach 200,000 this year. Correspondingly, the number of high school and college graduates is expected to hit a record high of 14.8 million and 5.5 million this year, China Education International Cooperation Group General Manager Li Guanjun said. Last year, China had 14 million and 5 million fresh high school and college graduates, according to the Ministry of Education (MOE). And one-fifth of those college graduates had failed to find a job by the end of last year, the MOE said. "The grim job situation at home, a strong and rising yuan and a favorable visa and scholarship environment will together prompt more students to study abroad," Li said. "So I expect a 30 percent rise in the number of those going abroad for studies." The number of such students has been rising in recent years, with about 150,000 traveling overseas last year. "An average of 130,000 Chinese have been going abroad for studies every year over the past few years, boosting exchanges in the educational fields," said Liu Baoli, deputy director of MOE's international cooperation and exchange division. The US, Britain, Australia and Canada are the top choices of the students eager study abroad. Thanks to the easing of US visa rules last year, realizing the "American dream" is no longer very difficult for many Chinese students, said Liu Xuyan, counsel for Beijing Chivast Education International, a leading agency that helps students to study abroad. "Last year was special for those eager to study in the US because the visa pass rate for that country reached a record 80 percent," Liu Xuyan said. US embassies and consulates in China issued more than 400,000 visas, including 52,000 for students, from late 2006 to late 2007. "With more scholarships available, the extension of work plan after graduation and the easing of restriction on part-time work, the prospects of studying in the US will be brighter this year," she said. As another hot destination for Chinese students, Australia has started an "Australia scholarships" program to strengthen education ties in Asia Pacific. As a result the number of scholarships for students from the region doubled last year. The Australian immigration authority introduced an 18-month skilled-graduate visa for foreign graduates in September last year. Canada, too, has seen an increase in the number of younger Chinese students in recent years. Last year, Canada received about 30,000 Chinese students, half of who were below 18 years, according Canadian Education Centre's figures. The "young trend", experts say, is likely to continue this year.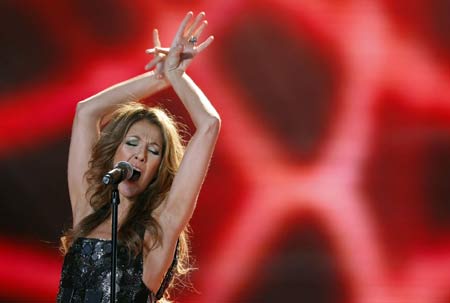 Canadian singer Celine Dion performs during the World Music Awards in Monte Carlo Nov. 4, 2007. The World Music Awards honors the best selling recording artists from around the world. Canadian pop superstar Celine Dion is to perform on the Chinese mainland for the first time, with a concert at the 50,000-seat Shanghai Stadium on April 11. "I am excited about my upcoming first ever Chinese mainland concerts in April," Dion said via video link on Wednesday. "I look forward to presenting you with a wonderful performance. I can't wait to see everyone in Shanghai." The Shanghai concert is part of the artist's "Taking Chances" world tour. Dubbed as "the best selling female artist in the world," Dion has sold more than 200 million albums worldwide, according to figures released by her record company Sony BMG. She is also one of the best known Western pop singers in China. In 1999, she held a sold-out concert at the old Kai Tak airport runway in Hong Kong. Tickets for her Shanghai concert, ranging from 300 yuan (41 U.S. dollars) to 3,000 yuan, are now on sale on 400-707-9999 or at www.emma.cn. Concert organizer Emma Entertainment said Dion will perform most of her best-known songs, including "My Heart Will Go On," from the 1997 blockbuster film "Titanic." Emma Entertainment CEO Jonathan Krane said the concert would also be a celebration of the upcoming Shanghai 2010 World Expo.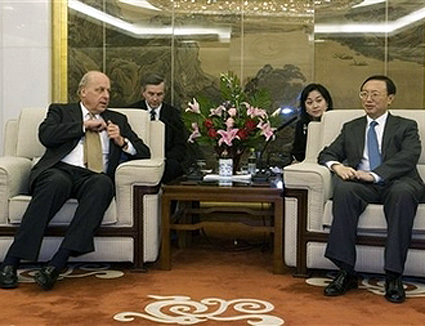 US Deputy Secretary of State John Negroponte stressed Thursday that Taiwan's "referendum for UN membership" is a mistake and provocative.
China's currency, the yuan, has hit a new high against the US dollar for the sixth time since the beginning of this year. By breaking the 7.25 mark against the US dollar yesterday, the yuan has kept smashing psychological barriers for three trading days in a row.
January 18, 2008

Hong Kong: The Consumer Council urged the government yesterday to tighten regulations on non-surgical cosmetic treatments that, findings showed, could be fatal if improperly used.
Stanley Ho Hung-sun's Sociedade de Jogos de Macau has postponed its initial public offering after being asked to undertake procedural clarifications by the Securities and Futures Commission, sources said yesterday.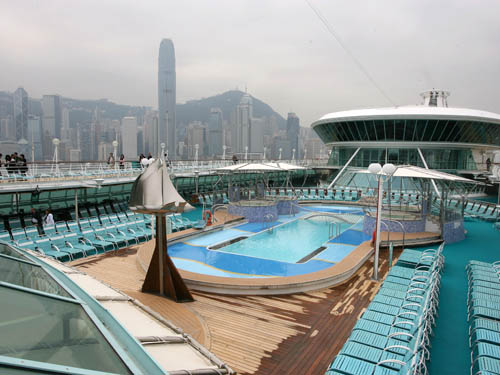 The impressive pool deck of the Rhapsody of the Seas liner was on show after the cruise liner made its debut in Hong Kong yesterday. The 279-metre-long Royal Caribbean liner is due to operate out of the city for eight weeks from February 7 before heading to Shanghai.
Hong Kong Exchanges and Clearing, Asia's largest listed bourse operator, expects a plan to relax curbs on short-selling to be postponed until at least the second half, giving a breather to downward spiralling markets.
The subprime mortgage crisis in the United States had not yet caused serious economic problems for Hong Kong, Secretary for Financial Services and the Treasury Chan Ka-cheung told the Legislative Council on Wednesday. Civic Party legislator Mandy Tam Yiu-chung had asked Professor Chan what impact the crisis was having — and what the government's future plans to deal with it were. The subprime mortgage crisis that began last year was an alarming jump in home foreclosures which first began in the United States in 2006 and became a global crisis last year. (A sub-prime loan is one which is made to someone with a poor or limited credit record). This year, fears the subprime crisis will plunge the US into recession have given Wall Street its worst start to a year since 1982. Discussing the domestic economic impact of the crisis, Professor Chan said: "According to the information available to us, the sub-prime problem in the US has not caused any systemic implication to Hong Kong's economic and financial structures. The relevant systems remain structurally stable." He said Hong Kong was in a strong position to cope with the crisis in future because of its free financial markets and linked exchange-rate system. "Hong Kong does not have any foreign exchange controls and substantial amounts of funds flow into and out of the Hong Kong dollar market daily," the treasury secretary noted. He said the Hong Kong Monetary Authority was closely monitoring the flow of funds in the Hong Kong dollar market through the Hong Kong dollar exchange rate. "So far, no information indicates that the subprime problem has brought about any unusual impact on the flow of funds into and out of the Hong Kong dollar market," added Professor Chan. He said the HKMA maintained the stability of the Hong Kong dollar market mainly through its currency board arrangement. "Simply speaking, the exchange rate of Hong Kong dollar would remain stable when the magnitude of funds inflow and outflow is similar." He said if there was a considerable outflow of funds, the Hong Kong dollar exchange rate would rise and vice-versa. "According to the currency board arrangement, when the Hong Kong dollar exchange rate moves to the weak-side convertibility rate of HK$7.85 per US dollar, the HKMA will sell US dollars for Hong Kong dollars at HK$7.85. "Conversely, when the Hong Kong dollar exchange rate moves to the strong-side convertibility rate of HK$7.75 per US dollar, HKMA will sell Hong Kong dollars for US dollars at HK$7.75," he explained. Professor Chan said this let the HKMA maintain the stability of the linked exchange rate system and the Hong Kong dollar market. "These measures have been working well," he added. However, Professor Chan acknowledged a US economic downturn would have international "repercussions". "Under such a situation, Hong Kong will also be affected. In terms of export trade, given the uncertainties caused by the US economic slowdown and the subprime mortgage problem, the export growth in Hong Kong has slackened in recent months when compared with last year." He said the year-on-year rate of increase in terms of the value of total exports from January to November 2007 was 9.3 per cent, while the yearly rate of increase in 2006 was 9.4 per cent. "That said, the momentum of growth of Hong Kong's economy is still strong. This, along with the sound economic fundamentals of the mainland which is our major export market in recent years, continues to provide support to our exports," Professor Chan said. He said finance, commerce, inbound tourism as well as exports of other professional services were performing satisfactorily. "The year-on-year rate of increase in real terms as regards export of services in the third quarter of 2007 is 12.3 per cent, which compared well with 9.0 per cent and 11.6 per cent in the first and second quarters respectively." The treasury secretary said Hong Kong would also be able to cope with higher inflation. "Inflationary pressures have edged up inevitably as Hong Kong's economy experienced robust growth in the past four years, the unemployment rate fell to a low level and household income of most families increased," he said. The global rise in energy and food prices, the weak US dollar and yuan appreciation in recent months had also increased pressure on prices. "Rising inflation pressure is a global phenomenon and the inflation rate in Hong Kong is still mild," said Professor Chan. "While Hong Kong's economic performance is being affected by many external uncertainties, as the economies of the mainland and the emerging markets maintain their strong growth and Hong Kong's domestic demand is vibrant, the outlook of our overall economic development is still promising, though the pace of growth may be slower when compared with that in the past four years,'' he concluded.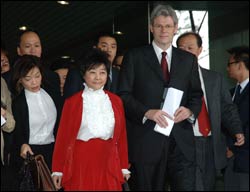 (file photo) Hong Kong's High Court on Wednesday granted the Chinachem Charitable Foundation 11 more days to finalise its challenge against former fung-shui master turned businessman Tony Chan Chun-chuen's right to the billion-dollar estate of the late tycoon Nina Wang Kung Yu-sum. Last month, an administrator was appointed to the estate to ensure its interests of were looked after, while the future of the estimated HK$100 billion fortune is decided. The decision followed an application for appointment of an administrator by lawyers for Mr Chan, who claims to have a will which leaves the entire estate to him. But the Chinachem Charitable Foundation, controlled by Wang's siblings, says it has a will from 2002 which leaves it everything. Wang Din-shin – the 97-year-old father-in-law of Nina Wang who fought her for a decade over a share of the fortune belonging to his son Teddy Wang Teh-huei, has also indicated he believes he is entitled to a share of the fortune. Teddy Wang was kidnapped in 1990 and never seen again. On Wednesday, Mr Chan's lawyer objected to the ruling. He said the foundation had already been given ample time, local radio reported. However, the High Court decided more time was needed for preparation of legal documents to avoid future amendments. Before her death in April last year, Nina Wang was considered Asia's wealthiest woman. She had come into her fortune shortly after the disappearance of Teddy Wang in 1990 and was also appointed Chinachem group's chairwoman. In the years preceding her death, the Shanghai native had been embroiled in a legal battle with Wang Din-shin over the rights to her fortune.

Hong Kong would not tolerate acts of intimidation or threats against government officials in Hong Kong, Secretary for Security Ambrose Lee Siu-kwong declared on Wednesday. Mr Lee made the statement in the Legislative Council during his reply to Civic Party lawmaker Mandy Tam Yiu-chung. Ms Tam was concerned about the number of cases involving political figures receiving intimidating letters. The security secretary said that according to the latest statistics, the number of reports of lawmakers receiving intimidating letters had been increasing. "A total of 22 Legco Members were involved in the reported cases. Regarding the increase in the number of cases last year as compared with previous years, the police do not rule out the possibility that with several major electoral activities held during the year, certain individuals might have reacted too radically to electoral matters," he said. Mr Lee was referring to the latest case involving new legislator and former chief secretary, Anson Chan Fang On-sang. This occurred a week after she had been sworn in to Legco; Mrs Chan received a razor blade and a hostile letter. The writer, who signed off as "Mass Murderer", said Mrs Chan should "commit suicide if you remain unrepentant" because she was too close to pan-democratic lawmakers. The letter writer said the pan-democrats were "traitors" and had helped Mrs Chan defeat former security secretary Regina Ip Lau Suk-yee in the recent Hong Kong Island by-election. There have been other cases of intimidation in recent years – including physical assaults. The most notorious recent case in Hong Kong occurred on August 20, 2006, against pro-democracy lawmaker and lawyer Albert Ho Chun-ya. Mr Ho was assaulted by three unidentified men wielding baseball bats and a baton in a McDonald's in Central. This was just after Mr Ho had attended a protest against the government's plan to adopt a goods and services tax. Mr Ho suffered injuries to his nose and arms and his right vision became blurred. Ambrose Lee stressed that police would be vigilant in fighting intimidation. "Generally speaking, the police will designate cases of this nature to a dedicated and experienced investigation team for follow up. "This enables investigation officers to have a comprehensive idea of the facts and developments relating to cases of a similar nature, and to examine and analyse the evidence and information collected in respect of different cases more effectively," he added.

China: The People's Bank of China announced Wednesday that it would raise the required reserve ratio by 50 basis points from Jan. 25.

Beijing Olympics organizers Wednesday unveiled the image and look of the torch relay that are full of Chinese feature. The design of the image and look of the torch relay includes five components - the torch and collaterals; the torch relay uniforms; the convoy and chartered aircraft; the backdrop; and the city look. "Blue and red dominate the backdrops for the Beijing Olympic torch relay, which adapt to the characteristics of different scenes, with the aim of transmitting the excitement of the torch relay," Qu Yingpu, spokesman for the Beijing Organizing Committee's Torch Relay Center, told reporters at the unveiling ceremony. The inspiration for the original design of the torch relay lantern comes from the traditional lanterns used inside ancient Chinese palaces. The silver luster of the lantern coupled with crystal-clear glass serves as a foil to the flame and communicates the Olympic flame's sanctity and purity. The torch stand's design borrows from the architectural styles of the Han and Tang dynasties, with its base showcasing "lucky clouds" drifting away, as if gently calling out to the torch. The Beijing Olympic cauldron is based on the concept of a "round heaven and square earth" and uses a typical cauldron in the Chinese Bronze Age as well as the "lucky clouds" as its creative elements. The 56 "lucky clouds" hollowed out of the curved plate of the Olympic cauldron symbolize well wishes to the world from the 56 ethnic groups in China, while the base of the cauldron has four legs with eight faces, symbolizing that the Beijing Olympic Games welcomes friends from all directions across the world, said Qu. The Olympic cauldron stands 130 centimeters high, symbolizing the 130-day duration of the torch relay. The cauldron plate is 29 centimeters deep, symbolizing the 29th Olympiad. The cauldron post is 112 meters tall, symbolizing the 112 years that have passed between the staging of the first modern Olympic Games in 1896 and the 2008 Olympic Games. The look of the convoy for the torch relay takes red and yellow as its basic colors, echoing the colors of the sacred flame and the torch, creating an exciting and dynamic visual effect and making the convoy a true mobile carrier of the Olympic spirit and the concepts of the Beijing Olympics. The convoy consists of 13 automobiles and six motorcycles. Except for the police car and the ambulance, every other type of vehicle has a unique look but shares integral components with the rest of the convoy. The design of the chartered aircraft highlight the message of the Beijing 2008 Olympic torch relay and the slogan of "Light the Passion Share the Dream". The uniforms for the Beijing Olympic torch relay include those for torchbearers, escort runners and staff members. As required by the IOC, white should be the basic color of the torchbearers' uniforms. The basic elements of the escort runners' uniforms are similar to those of the torchbearers, but their basic color is blue.
Another 10 of the Fortune 500 companies began investing in southwest China's Sichuan Province last year, bringing the total number to 135, local government statistics show. TNT Post Group (TPG), ING Group, Morgan Stanley, Home Depot, Bertelsmann AG and five other world-renowned companies on the Fortune 500 list were among the newly approved businesses, statistics with the Sichuan Provincial Department of Commerce show. The province had approved a total of 8,271 foreign-funded businesses by the end of last year, with a contractual capital of 21.66 billion U.S. dollars and an actual investment of 9.41 billion dollars. The province attracted 1.77 billion dollars in actual foreign investment in 2007, growing sharply by 40.7 percent from a year earlier. "The ever-improving investment environment and the vast consumer market in west China are among the main reasons for foreign businesses to choose Sichuan for investment," a spokesman with the provincial commerce department said. He cited that foreign business people used to spend at least five days in getting approval from local authorities to set up companies in the hi-tech zone in the provincial capital of Chengdu, but now, they only need four hours at most. He also said that a number of newly added direct flights between Chengdu and cities in Europe and southeast Asia have offered a favorable logistics environment for foreign business people. In addition, eight countries, including the United States, Germany, the Republic of Korea, Thailand, France, Singapore and Pakistan, have established diplomatic missions in Chengdu, which have become important links between Sichuan and foreign businesses.
China's total trade in mechanical and electrical products increased 22.2 percent year-on-year in 2007, to 1.2 trillion U.S. dollars, and the sector accounted for 55.3 percent of the country's trade. "China is expected to replace the U.S. as the world's second-largest exporter of mechanical and electrical goods," the Beijing-based China Chamber of Commerce for Import and Export of Machinery and Electronic Products said on its web site on Wednesday. The absolute leader is Germany, which is the world's largest trader and exporter of mechanical and electronic products. Statistics from China and elsewhere show a global industry in continued transition, in terms of volume, trade patterns and product mix. China is exporting more electro-mechanical products but also importing more. The sector's trade surplus was 202.2 billion U.S. dollars, up 66.2 percent, with exports up 27.6 percent to 701.2 billion U.S. dollars and imports up 16.7 percent to 499 billion U.S. dollars. China's total trade set a record of 2.17 trillion U.S. dollars last year, with a surplus that surged to 262.2 billion U.S. dollars, up 47.7 percent year-on-year, according to the General Administration of Customs. The United States has long been the world's top importer of mechanical and electrical products, but China last year became the third-largest destination for U.S. exports of these products. According to U.S. Customs data, the United States exported 15.8 million U.S. dollars worth of mechanical and electrical products to China during the first half of 2007, compared with 15.7 million U.S. dollars to Japan. Experts noted that household electrical appliances and light industrial products made in China had an absolute advantage over American goods in price and product range, but the United States maintained its advantage in high-technology items.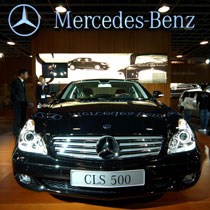 A Mercedes-Benz car is on display at an exhibition in Nanjing, Jiangsu Province. German premium carmaker Mercedes-Benz's 2007 sales surged by 50 percent to a new record in China, with a booming economy driving up the demand for luxury vehicles.
Pollution is worsening in the southern industrial powerhouse of Guangdong province, with the number of smog-filled days last year hitting its highest level since the founding of the communist state in 1949, the provincial weather office said on Wednesday. The capital of the province, Guangzhou, recorded 75.7 hazy days last year, the Guangdong Meteorological Bureau said in a report posted on its website. Conditions were even worse in the Pearl River delta, ground zero for China's export manufacturing industry which lies just across the border from Hong Kong, the report said. That area saw more than 100 hazy days, while the city of Xinhui recorded 238 days of smog. "The serious situation of hazy days shows the atmospheric pollution in Guangdong, especially in urban areas, is worsening," it said, adding industrial pollution and automobile exhaust were the main causes. Among the greatest threats to human health were the presence of fine particles in the air that can damage the respiratory system and other organs, the report said. The central government has been struggling to overcome horrendous pollution problems that have made its cities and rivers among the dirtiest in the world. It has passed numerous laws to fight pollution, but is also worried that too much regulation will cut into economic growth.
China expects more than 2.3 billion trips by commuters criss-crossing the country for family reunions and holidays over the Chinese New Year holiday season, state media reported on Wednesday. The Year of the Rat begins on February 7 and the lunar new year, also known as the Spring Festival in China, sees one of the world's largest human migrations. More than 120 million migrant workers cram on to trains and buses to return to home villages for holidays after working in the city during the year. Travellers in the world's most populous country would make an extra 130 million trips compared to last year during the peak travel season, which kicked off on Wednesday and runs until March 2, the China Daily said, citing transport officials. About 2.15 billion bus trips would be taken during the period, while the nation's railways would carry 179 million passengers, up eight per cent from last year, the paper said. China's aviation authority expects at least 22 million passengers will fly during the season, up 10 per cent from last year. It is common for travellers to be stranded for days during peak travel times, unable to obtain train or bus tickets.
January 17, 2008

Hong Kong: Hong Kong residential property prices will reach the peak seen in 1997 by the end of next year on the back of falling interest rates and a negative deposit rate situation, investment bank Lehman Brothers predicts.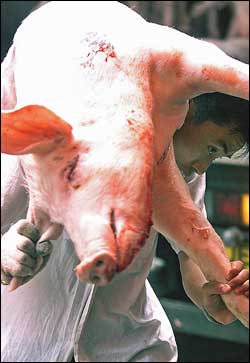 The wholesale price of pork yesterday surged 70 percent from HK$1,400 per 100 catties to a record high of HK$2,400. Buyers said the price hike was due to a drop in the number of live pigs shipped to Hong Kong, but the government insisted the supply had been stable for the past few days. Some meat shops were selling pork at HK$48 a catty yesterday. It was only HK$40 on Monday. A meat retailer said the cost could rise to HK$56 a catty if the wholesale price does not drop. The price has almost doubled in a year. Wholesale buyers blamed the price hike on a drop in supply. The Sheung Shui Slaughterhouse got only 3,600 live pigs yesterday morning, 10 percent below its usual supply. Fresh Meat Alliance spokesman Jackie Ling Wai-yip said buyers were reluctant to pay the 70 percent hike but, at the same time, they feared the failure to do so could ruin their businesses as they would have nothing to sell.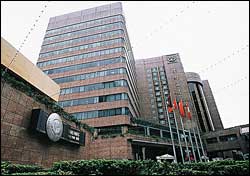 Two four-star hotels in Sha Tin will be transformed into an Olympic village for riders and judges for this summer's equestrian events. A traditional Chinese atmosphere and the Olympic spirit will mesh in the area, said Deng Yaping, a former table tennis Olympic gold medalist who is now Olympic Village deputy minister of the Beijing organizing committee. "Olympic villages and venues and areas around them should have an Olympic atmosphere. Even though there's only one event in Hong Kong, we should allow the athletes to have the same [cultural] experience [as in Beijing]," Deng said. She said the 16-story Royal Park Hotel will accommodate over 300 international riders while the Regal Riverside Hotel will host other team members, judges and the media. The two hotels will commence its monthlong transformation on July 26. The equestrian games will be held in Sha Tin Racecourse and the Beas River venue in Sheung Shui. Public relations manager Anthea Tsang Chiu-hang said the 443-room Royal Park Hotel upgraded its security system in August. "Guests must use their room key cards to activate the lift, meaning they will only be able to access their own floor," she said. Tsang added the hotel had submitted food menus to the Beijing organizers, while the hotel will liaise with police, which will, if necessary, have officers outside the hotel for security reasons. "We have reserved 500 rooms for equestrian guests and we expect a full house during the games," said a spokeswoman for Regal Riverside, which has 858 rooms. She said 71 more CCTV cameras will be installed. District Council chairman Wai Kwok-hung, who is a member of the Civic Force that is a political force in the district, said the road closures for security reasons will be minimal. They only involve a segment of Sha Tin Centre Street as well as a segment of the bicycle track between the Hong Kong Sports Institute and the sewage- treatment plant. A bus stop outside the hotel will be relocated. "We hope the effect on nearby residents and drivers will be kept to a minimum," he said. His Civic Force colleague, district councillor Lam Hong-wah, criticized the Home Affairs Bureau for not allowing councillors to voice their opinion on the arrangements. A bureau spokeswoman said a committee will be meeting in the future to discuss the matter.
$21million parade to usher in Year of the Rat - Polynesian fire-breathers and French stilt walkers will usher in the first night of the Lunar New Year. The international cast is part of the Hong Kong Tourism Board's signature Lunar New Year night parade's theme, "Riding High - Hong Kong Spectacular." The HK$21 million parade will feature 11 floats and 13 performing groups. Chosen by Lonely Planet Bluelist as one of the world's most fascinating attractions and celebrations, the street party kicks off the Year of the Rat at 8pm on February 7. Starting at the Hong Kong Cultural Center, a new route will take the procession eastbound along Salisbury Road before turning near Mody Lane to finish at the New World Center. Board chairman James Tien Pei-chun said the new route will accommodate more spectators as it will pass harborfront plazas. He expects the parade will add some 630,000 visitors to the territory during the holidays - up by 7 percent from 580,000 last year. Of 12 international performing groups, teams from the Baltic Sea, Spain, France, Japan, Korea, Polynesia and the mainland will be making their debuts. Tickets ranging from HK$180 to HK$300 are available for more than 2,800 seats at the Hong Kong Cultural Center Piazza and 300 along Salisbury Road. Limited to four per person, tickets are available at the board's visitor information centers at the Causeway Bay MTR station and the Tsim Sha Tsui Star Ferry concourse. Thirty underprivileged families or 100 people will be selected by the Community Chest for free admission. The board has identified three ideal vantage points - the north side of Salisbury Road across from the cultural center and either side of the road from Wing On Plaza to Tsim Sha Tsui Center. The event will be televised live on TVB's Jade channel from 8pm to 9.30pm and can also be seen on a live webcast at www.DiscoverHongKong.com. Floats and stage performances will continue from noon to 5pm on February 8 and from 2pm to 8pm on February 9-10 at the New World Center. Running for 13 years, the parade is being sponsored by Cathay Pacific Airways for its 10th consecutive year. Tien said that the sponsorship for next year's parade would be open to other bidders after an Audit Commission report questioned why the airline had monopolized sponsorship for the past decade.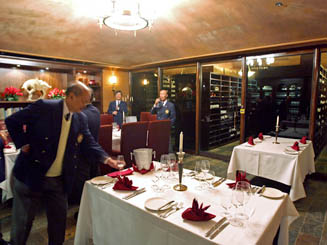 Bunker mentality on heritage pays off - "Little Hong Kong", the second world war ammunition bunkers converted into wine cellars at Shouson Hill, was yesterday given a Unesco Asia-Pacific Heritage Award of merit.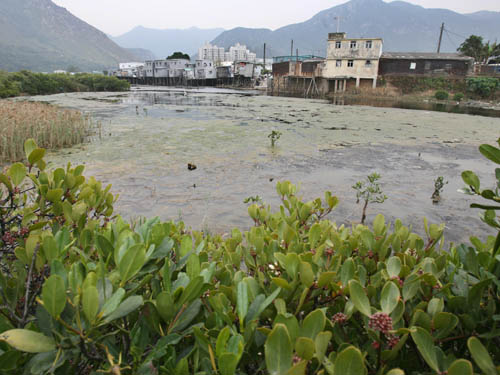 Tai O's historic salt pans - idle for decades and many either planted with mangroves or already filled in for development - stand to be rejuvenated under a government proposal. A senior official said yesterday the plan was to restore the abandoned pans and engage local groups to operate them - although the government did not plan to put any money into the project. But local leaders said the administration would have to act quickly because most of the few remaining salt makers were in their 80s and the traditional skills could die with them. "We hope to see the age-old practice of salt making reappear in Tai O," Permanent Secretary for Development Raymond Young Lap-moon said. "Organic salt is so popular that it can be found in the supermarket. If we can reinstate salt making in Tai O, we can let more people know how salt used to be made in the area." Tai O was famous for salt making for centuries, with exports to the mainland dating back 700 years. The industry was still thriving in Tai O at the turn of the 20th century. But with severe competition from salt produced on the mainland, it declined in the 1940s and finally ended in 1969. Mr Young said the Civil Engineering and Development Department would advise operators on how to maintain the salt pans but no public money would be spent to subsidise the program. The proposal drew a mixed reaction. Frederick Chan Chi-hung, of YWCA Tai O Community Work Office, said reviving salt making was practical but the government had to act quickly. "Many of the salt farmers who worked on the pans in Tai O are very old," he said. "Fewer than 10 farmers still survive." Mr Chan said the initiative was worthwhile to preserve the cultural heritage of the remote Lantau community, famed for its stilt houses. "For many centuries people in Tai O either engaged in fishing or salt making," he said. "It is a good opportunity to tell youngsters the past history of Hong Kong as one of the famous sites for producing salt." He said the former salt pan near San Ki was a possible site as it was most accessible for tourists and visitors. Lee Chi-fung, chairman of the Tai O rural committee, said the villagers had been campaigning for years to bring salt making back to Tai O. "It is still possible to get the old farmers to teach the young people how they used to do it. "The salt making practice is part of Tai O's collective memory," he said. Mr Lee suggested restoring an abandoned salt pan near Po Chue Tam, now overgrown with grass. Wong Wai-king of the Tai O Cultural Workshop said the site near San Ki, though favoured by locals, was already planted with mangroves and polluted by sewage from nearby stilt houses. She said the government should build a salt-themed museum on the existing bus terminal and restore the abandoned salt pans nearby. Ms Wong said the museum could introduce the history of salt making in the area. However, she said a proposal to establish a museum themed on salt making was submitted to the government in 2004 but she had never heard back from the government about it.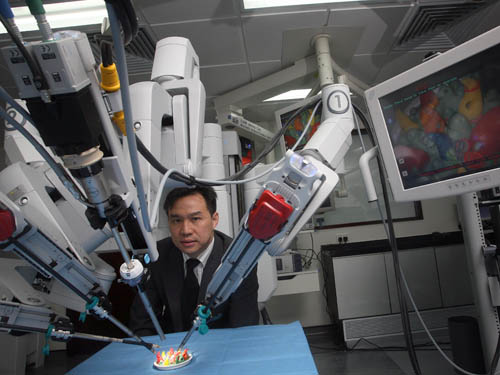 Hong Kong has installed its most precise and efficient surgical robot to date, at Prince of Wales Hospital, for minimally invasive surgery. The HK$15 million da Vinci S Surgical System is the city's first robotic surgical machine with three-dimensional, high-definition images and four robotic arms. It would be in use at the university's teaching hospital by next month, said Sidney Yip Kam-hung, chief of urology at Chinese University's faculty of medicine. "The new system can help surgeons dissect and stitch up tissue more precisely so that patients can recover faster," Professor Yip said. With the enhanced precision, patients were expected to bleed less and fewer were likely to need blood transfusions, he said. About 10 per cent of patients now needed to receive blood during robotically assisted surgery, he said. "It takes longer for patients to recover if they have blood transfusions during operations." Professor Yip said, for example, that patients normally needed to rest in hospital for seven days after undergoing radical prostatectomy, the removal of the prostate. He hoped the new system would cut that to two or three days. The latest model has an additional robotic arm over an existing da Vinci Surgical System, which displays three-dimensional, standard-definition images, installed three years ago. Professor Yip said the extra arm would reduce the need for a second surgeon's assistant in operations. "Normally, a robotically assisted operation is done by an attending doctor and two assistants," he said. "With the new system, one assistant will be enough." Another feature was a 30 per cent bigger screen that gives more information about the immediate area surrounding the surgical site. Professor Yip said the machine was particularly good for urological and gynaecological surgery, which involved meticulous dissection. Queen Mary Hospital and the Hong Kong Sanatorium & Hospital also have four-armed da Vinci S surgical systems, but they show only standard-definition images. The new system was funded by an anonymous philanthropist, who also donated HK$3 million to cover operational costs of the machine for the next two years.
Wan Chai District Council unanimously passed a motion yesterday calling for the South Island MTR line to have a station at Happy Valley. The move added weight to calls by residents and other groups for the station, which the government says is unnecessary and the MTR Corp is unwilling to build because of cost. Council member David Lai - who moved out of Happy Valley because of its traffic problems - said the government should not rule out the option simply because only 19,000 people lived in the area. "The government should not be so tunnel-visioned," he said. "The number of residents at Happy Valley may not be big, but we can't leave the district without a railway because outside traffic regurgitates into the area all the time." But the MTR Corp argued this was exactly the problem that the proposed 7km line from Admiralty to South Horizons in Ap Lei Chau was intended to solve. "The rail line as it is now planned will help divert traffic in Wan Chai and Causeway Bay from regurgitating into Happy Valley, so even without the station the residents can go out without serious traffic problems," a spokesman said.

China: Middle- and low-income earners accounted for 70 percent of China's 136 million investors last year, a report released by the Securities Association has said.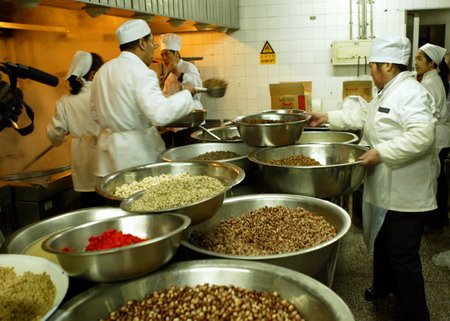 Cooks prepare Laba porridge made of 29 ingredients in the kitchen in Yonghegong Lama Temple before serving it to local residents in Beijing, January 15, 2008. Laba festival falls on the eighth day of the 12th month according to the Lunar calendar. It is a Buddhist tradition of more than 1,000 years in China to eat porridge on Laba, the day Sakyamuni achieved immortality.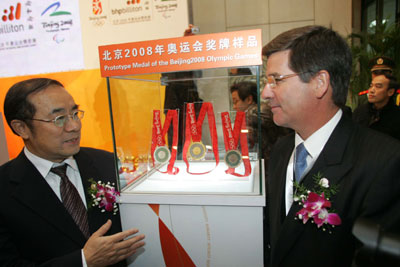 Zhao Dongming (L), director of BOCOG's cultural activities department, and Clinton Dines, BHP Billiton China president, talk in front of an Olympic medal display Tuesday in Shanghai. Shanghai Mint gets Olympic gold, silver, copper. The metals that will be used to produce the medals for the Beijing Olympics and Paralympics were delivered to the organizers Tuesday, marking an important milestone in the countdown to the Games. About 13 kg of gold, 1.34 tons of silver and 6.93 tons of copper cathode, were sourced from Australia and Chile through BHP Billiton, the diversified minerals and medals sponsor for both Games. Over the next five months, the Shanghai Mint, under the China Banknote Printing and Minting Corp, will create 1,000 medals for each of the three medal categories, as well as tens of thousands of commemorative medals for the two events. The raw materials for the medals, sourced and shipped from BHP Billiton's Cannington mine in Queensland, Australia, and its Escondida and Spence operations in Chile, have been refined in China at the smelter of Tongling Nonferrous Metals Group and Henan Yuguang Gold and Lead Group. Kunlun jade, a precious stone that will also be used in the medals, was delivered earlier to the Shanghai Mint. Zhao Dongming, director of the cultural activity department of Beijing Organizing Committee for the Games of the XXIX Olympiad, said: "The handover ceremony is a milestone in our partnership with BHP Billiton that began nearly two years ago when we prepared to launch the inaugural medal design contest". For the first time in Olympic history, the medals for the Beijing Games will blend metal and gemstone. On the reverse side of each medal will be a jade ring with a metal centerpiece engraved with the emblem of the event. Tong Weina, the mint's managing director, told China Daily Tuesday: "In line with Olympic standards, a gold medal contains at least 6 g of gold with the remainder being pure silver. We promise our practice strictly abides by these requirements and all the medals will be delivered on time." Clinton Dines, BHP Billiton China President, said the company's charter values "converge completely" with Olympic ideals. "The Beijing Olympics and Paralympics offer us an opportunity to demonstrate our commitment to China's development and its importance to us as a market," Dines said.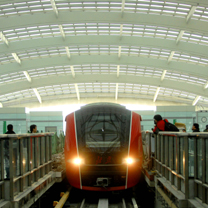 A photo taken on January 15, 2008 shows the T3 station of Beijing subway airport line. Beijing unveiled three new subway lines Jan. 15, 2008.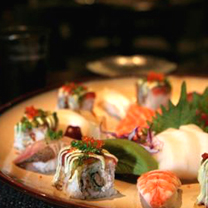 Located in Shanghai, Loft 98 is in a 1970s factory and just 10 minutes' walk from Jing'an Temple. It's become an indispensable component of 98 Creative Park in Jing'an District. Current Loft 98 includes the French tavern Cantine, sushi restaurant Shoka and gourmet store Delish. Loft 98 belongs to the so-called loft-style which is quite popular in big cities in China now and similar to those in New York.
The deal that would have had state- owned China Development Bank acting as a white knight to help bail out the beleaguered Citigroup has been called off due to disagreement in Beijing over exactly how China should deploy its money, the Wall Street Journal reported.
Bank of Communications (3328) is preparing to buy a small-sized insurer amid expectations that as early as this week it will become the first mainland lender to be granted access to the insurance sector.
China has leapfrogged past Japan to become the world's second-largest stock market in terms of capitalization, thanks to robust trading and a rash of mega listings. Bloomberg's tally put the total market value of the Shanghai and Shenzhen stock exchanges yesterday at the equivalent of US$4.72 trillion. While the financial news service does not have an updated version of Japan's stock market value, the Tokyo Stock Exchange's website logged a total yesterday of 441.84 trillion yen (HK$32 trillion), translating to just US$4.11 trillion. According to Bloomberg, the two countries switched positions on January 4 when Japan's benchmark Nikkei-225 Index tumbled 4.03 per cent to finish at a 17-month low. The mainland's market capitalization was valued at US$4.61 trillion on that day, surpassing Japan's US$4.48 trillion. It was another milestone for the buoyant mainland stock market as it rose into global prominence amid sky-high valuations.
January 16, 2008

Hong Kong: Hong Kong ranks world's freest economy again for 14 consecutive years - Hong Kong has been ranked as the world's freest economy for the 14th consecutive year by the Heritage Foundation in the foundation's 2008 Index of Economic Freedom study released on Tuesday, a press release from the Hong Kong Special Administrative Region (HKSAR) government said. According to the study report, Hong Kong scores exceptionally well in almost all areas of economic freedom. Among the 10 individual areas assessed, Hong Kong ranks first in trade freedom, investment freedom, financial freedom and property rights. Hong Kong also ranks in the top 10 in another four areas - fiscal freedom, government size, monetary freedom and labor freedom. The report noted that Hong Kong's income and corporate tax rates were very competitive, and overall taxation was relatively small as a percentage of gross domestic product (GDP). It also said that Hong Kong's business regulation was simple, the labor market was highly flexible, and investment in Hong Kong was strongly encouraged with virtually no restrictions on foreign capital. The foundation also complimented Hong Kong as one of the world's leading financial centers, with its regulation of banking and financial services both non-intrusive and transparent. The study noted that property rights were protected by an independent and virtually corruption-free judiciary. Compared to Singapore, Hong Kong fares better in regard to trade freedom, fiscal freedom, investment freedom and financial freedom, while Singapore fares better in business freedom, government size, monetary freedom, freedom from corruption and labor freedom. Both Hong Kong and Singapore are ranked first in property rights. "We are determined to uphold Hong Kong's position as the freest economy in the world," Hong Kong Financial Secretary John C Tsang said while welcoming the study report. "We see the role of the HKSAR government as that of a facilitator. We provide a business-friendly environment where all firms can compete on a level-playing field and establish an appropriate regulatory regime to ensure the integrity and smooth functioning of a free market," Tsang said. The study measured the degree of economic freedom of 157 economies worldwide by assessing 10 factors: business freedom, trade freedom, fiscal freedom, government size, monetary freedom, investment freedom, financial freedom, property rights, freedom from corruption, labor freedom. Hong Kong retained its position as the freest economy in the world, followed by Singapore and Ireland.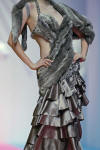 A model displays a creation from Rachel Chan's collection during the Hong Kong young fashion designers' contest at the Hong Kong Fall/Winter 2008 fashion week January 14, 2008.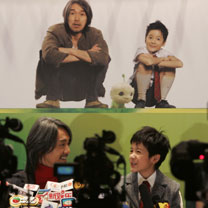 Hong Kong actor Stephen Chow (L) and 9-year-old mainland Chinese actress Xu Jiao attend a news conference to promote their upcoming movie "CJ7" in Hong Kong January 14, 2008.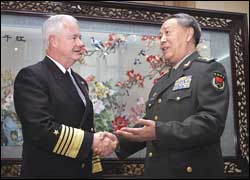 Foreign naval vessels remain welcome in Hong Kong, Beijing said yesterday as the US Pacific Fleet's commander held his first talks with top Chinese officials since a heated row over such visits. "If your ship wants to stop by in Hong Kong you have to follow international rules and go through some procedures," General Chen Bingde, chief of China's General Staff Department, told reporters on the sidelines of a meeting with Timothy Keating, head of the US Pacific Command. "It's different stopping in Hong Kong from stopping by in a port of your own country." He added, however, that "of course" naval vessels could make port-of-call visits in Hong Kong if they followed proper procedures. He did not elaborate. Keating's visit comes after top US military officials expressed anger over China's abrupt cancellation of a Hong Kong port call by the aircraft carrier USS Kitty Hawk and its battle group over the US Thanksgiving holiday in November. Chinese officials at the time suggested the change was due to the recent US approval of US$3 billion (HK$23.4 billion) in weapons sales to Taiwan and an October meeting between US President George W Bush and exiled Tibetan spiritual leader the Dalai Lama. China's foreign ministry quoted Keating as saying: "The United States is concerned with the situation in the Taiwan region and hopes that peace and stability can be maintained in the region." Chen suggested the United States had no reason to fear the Chinese military. "We don't have the ability to make you afraid of us," he told reporters.
Hutchison Whampoa (0013) chairman Li Ka-shing and three Chinese firms are partnering with The Walt Disney Company to purchase an 11 percent stake in the National Basketball Association's mainland subsidiary, according to a media report.
The alleged partner in crime with Macau's former secretary for transport and public works Ao Man-long admitted giving Ao about HK$140 million in kickbacks for winning private construction projects, but he said it was considered common practice and not bribery in the industry.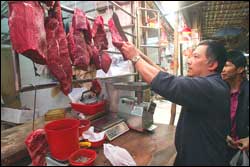 Inflation is set to soar further after meat suppliers warned that the wholesale price of beef will jump 15 percent from today. Ng Fung Hong, which holds the monopoly on cattle from the mainland, said the move was one way to "stabilize" beef supply. It means that the retail price of beef is expected to surge to between HK$52 and HK$60 a catty from HK$48. According to the Kowloon Beef and Mutton Merchants Association, the daily supply of live cows to Hong Kong is around 70 head over the last two weeks - 30 percent lower than normal. Meanwhile, Hong Kong Pork Traders General Association vice president Hui Wai-kin warned that the price of pork is also set to surge further due to supply shortage. Hui said the retail price might rise to HK$48 a catty from the current HK$36 as both supply and wholesale prices are still unstable. The year began with CLP Power and Hongkong Electric increasing their tariffs by 4.5 and 6 percent, respectively. Taxi drivers are expecting the Executive Council to approve a HK$1 flagfall increase that is expected to come into force next month. The three main bus companies have applied for fare increases of 5.8 percent to 9 percent while franchised minibuses on 71 routes are also expected to seek increases. The Star Ferry wants to raise fares on two of its routes. Restaurants, both big and small, and even fast- food shops have slowly been increasing prices since last year, mainly because of huge rent increases following years of stagnation. Eating out costs more also because of increases in the price of items such as pork, flour, poultry and vegetables, partly caused by disease outbreaks in the mainland and elsewhere. The cost of pork and flour, for example, have jumped 30 percent in the past few months.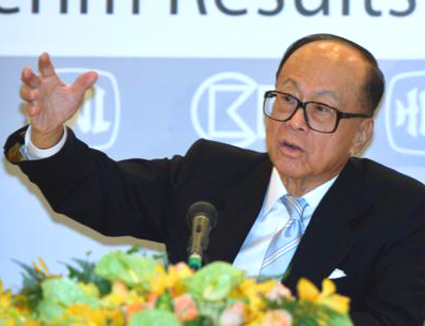 Li Ka-shing boosts subprime-hit Canadian bank - Canadian Imperial Bank of Commerce on Monday said it would take almost US$2.5 billion in before-tax write-downs related to the United States subprime mortgage crisis, and raise about C$2.75 billion (HK$21 billion) in stock sales, with Hong Kong magnate Li Ka-shing's Cheung Kong (Holdings) (SEHK: 0001) as one of its investors, to rebuild its balance sheet. CIBC, Canada's fifth-largest bank, said it would take a US$2 billion before-tax write-down in its financial first quarter related to the subprime mortgage hedge protection it bought from ACA Financial Guaranty. For the two months to December 31 it would also take a before-tax US$462 million write-down for exposure to the US residential real-estate market. After tax, the two write-downs amount to about US$1.6 billion. CIBC said it was possible that further write-downs may be required, but said it would not provide an update until it releases its first-quarter results on February 28. It will revive its balance sheet through two stock sales, including one to Cheung Kong, controlled Mr Li, who was once a key CIBC shareholder. CIBC said it had received written commitments from a group of institutional investors, including Manulife Financial, Caisse de depot et placement du Quebec, Cheung Kong and OMERS Administration, to buy, through a private placement, C$1.5 billion in CIBC common shares, at C$65.26 each. In addition, CIBC said it had entered into another agreement with a syndicate of underwriters jointly led by CIBC World Markets and UBS Securities Canada, in which they would buy C$1.25 billion in common shares at C$67.05 each for resale in a public offering.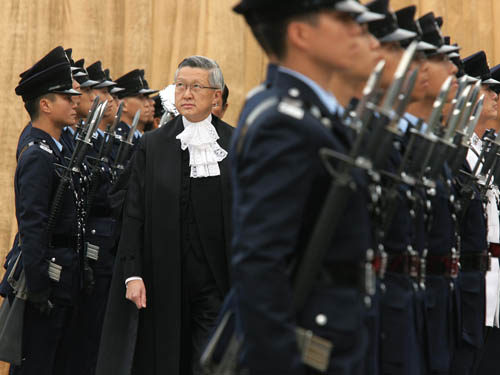 Judges are bound by guidelines laid down by legislation and higher courts when deciding punishment, and critics of particular sentences should look elsewhere for remedies, the chief justice said yesterday. Andrew Li Kwok-nang made the comment during his address to the ceremonial opening of the legal year at City Hall. Sentencing was more of an art than a science, the chief justice said, and in arriving at a punishment, judges were in most cases bound by what legislators had decided was the appropriate maximum sentence for a crime. "Views have been expressed ... that the sentence imposed in a particular case was inappropriate," the chief justice said. "Where the statutory maximum is considered to be inadequate, its revision is a matter for the executive and the legislature," Mr Justice Li said. While the chief justice did not say to which cases he was referring, a number of recent sentences have been criticised as being out of step with the severity of the crime. In many cases, judges have decried the lack of sentencing options available to them.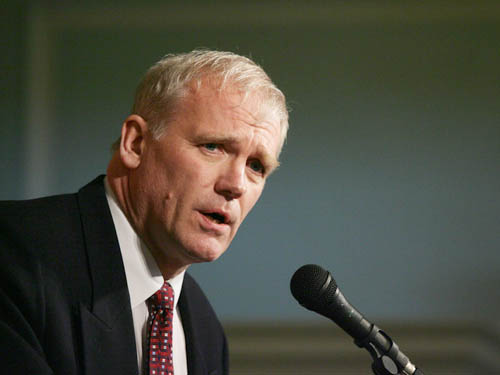 Make HK top source of talent, urges new AmCham HK chief - Developing Hong Kong into a regional hub for top talent is key to maintaining its stature as an international business centre, according to Steven DeKrey, the new chairman of the American Chamber of Commerce. Dr DeKrey, an associate dean and director of MBA programs at the Hong Kong University of Science and Technology, said yesterday he was aware of the region's growing need for talent. In his first speech in his new role - "Face to Face with AmCham: 40 Years in Asia's Business Capital" - made at an AmCham luncheon at the Ritz-Carlton Hotel, Dr DeKrey urged the government to put more effort into becoming a source of talent for Asia. "Much progress has been made on educational fronts and visa policies, but more can be done," said the new chairman, who succeeds Gary Clinton. He said the chamber would continue to pursue the provision of quality education for expatriate children - especially the availability of school places, which had become a significant concern for its members. "It has made it difficult for many incoming executives to find school places for their children, which affects the ability of companies to bring their top talent to the city," Dr DeKrey said. Another top priority would be to work closely with the other seven AmChams in Greater China, including those in Macau, Taiwan, Beijing and Shanghai. Referring to a survey conducted by the chamber, he said he was optimistic about this year's economic outlook. "Firms are very satisfied being in Hong Kong. Regional headquarters are also staying," he said. Dr DeKrey said he believed the mortgage crisis in the US was not over. "It is still not clear for the future, and its impact has not been fully reflected in the market," he said.

China: China Announces New Public Holidays and Annual Leave for Government Employees - On December 14, 2007 the State Council of the PRC issued amended Measures on National Holidays for Festivals and Memorial Days, which came into effect on January 1, 2008. The new measures rearrange the country's statutory holiday system and increase the total number of national holidays from ten to eleven days. The three traditional week-long holidays -- Chinese New Year, May Day holiday and National Day holiday -- were introduced in 1999 in an attempt to boost domestic demand amid efforts to promote China's economic growth. The May Day holiday is now reduced from 3 days to 1 day, so that going forward China will only have two long public holidays each year. The measures add three traditional Chinese festivals -- Tomb-Sweeping Day, Dragon-boat Festival and Mid Autumn Festival -- to the list of one-day public holidays. The Chinese New Year holiday remains a three-day public holiday, but it will start one day earlier from the eve of the Lunar New Year. The government will continue to adjust the weekend period adjacent to a public holiday to form a longer holiday period, so that employees have three or seven days holiday in a row. This means that New Year's Day, Tomb-Sweeping Day, Dragon-Boat Festival, May Day, and Mid-Autumn Festival will all be three-day holidays and that the Chinese New Year holiday and National Day holiday will remain as seven-day holidays. Also on December 14, 2007 and effective January 1, 2008, the State Council promulgated the Regulation on Paid Annual Leave for Employees. For the first time, all employees of government agencies, state owned enterprises and public-service institutions are entitled to take paid holidays in addition to Public Holidays after serving with the same employer for one year. The permissible number of paid holidays depends on an employee's accumulated length of service. Employees who have worked for more than one year but less than ten years will have five paid holidays each year, those who have worked for ten to twenty years will have ten days, while those who have worked for twenty years and above will have fifteen days each year. If an employee works during his or her annual leave, he or she is entitled to be paid three times his or her salary during that period. Although this regulation does not apply to private Chinese companies, such as Wholly Foreign Owned Enterprises, it will now be the standard for a large section of China's workforce.
China's civil aviation industry achieved a clean sheet in safety last year and notched up 3.7 million hours of flight, both cargo and passenger, a 15.4 percent year-on-year increase.

Taking a leaf out of Hong Kong's book, the Shanghai Stock Exchange (SSE) is expected to revise its trading suspension rules, which will help the market work more efficiently. The government's efforts to root out irregularities in the stock market have increasingly drawn investors' attention to the shortcomings of the information disclosure rules. Trading suspension is an essential step in the process of information disclosure. A report by the SSE and Hong Kong's Taifook Securities Group said frequent and lengthy trading suspensions and insufficient penalties for violators are the major problems of the SSE's current trading rules. The report recommends streamlining the trading suspension rules, enhancing the supervision on market irregularities and information disclosure, and demanding companies speed up disclosure. "This research can help improve the information disclosure rules and ensure justice, fairness and openness in the market," said Wu Feng, an analyst at TX Investment Consulting Co Ltd. The report said SSE can follow the Hong Kong model by setting up a time limit for listed companies to disclose information before triggering a trading suspension. This can ensure continuous trading and fairness in information disclosure, it said. The stock exchange can define what constitutes irregular trading by establishing a specific level of turnover within a certain period of time before requiring the suspension of trading in a particular stock. "The stock exchange should demand an explanation from the management of a company in case of irregular trading and require a suspension in trading when no satisfactory explanation is given within a specific time," said the report. The SSE can also create a simultaneous trading suspension mechanism for "A+H" companies. For example, it can share disclosure information with the Hong Kong stock exchange and act accordantly in cases of unexpected events. For companies that prolong the suspension period to avoid the risk of being expelled from the market, the report said the SSE should set up a disclosure system during the trading suspension period. That can help investors know the company's state and the possible time for resumption of trading, it said.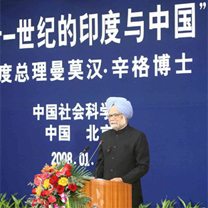 Indian Prime Minister Manmohan Singh delivers a speech at the Chinese Academy of Social Sciences in Beijing, January 15, 2008.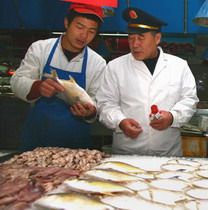 Beijing industry and commerce workers inspect seafood at a Huairou market yesterday. Food inspectors are conducting spot checks continuously to ensure people get best quality food, especially during the Spring Festival.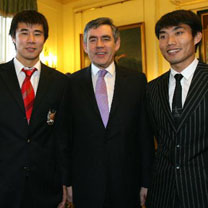 Britain's Prime Minister Gordon Brown (C) poses with Chinese soccer players Dong Fangzhuo (L) of Manchester United and Zheng Zhi of Charlton Athletic, during a reception at 10 Downing Street, London January 14, 2008.
A shortage in power supply has emerged in five southern provinces, mainly due to decreasing coal-to-power capacity, an executive with China Southern Power Grid said.
China Mobile Communications, the world's largest mobile operator, has ended talks with US-based Apple about offering the popular iPhone handset in the mainland, although the dialogue could resume.
China yesterday declared its four- month campaign to ensure food and product safety a total success, with all goals being met months before Beijing hosts the Olympics and 600 companies banned from exporting toys.
January 15, 2008

Hong Kong: Hong Kong stocks plunged 398.88 points, or 1.5 percent, to close at 26,468.13 on Monday on concerns over a weakening U.S. economy.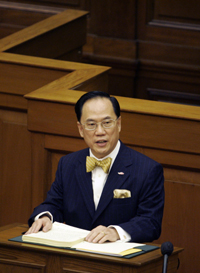 Chief Executive of Hong Kong Special Administrative Region (HKSAR) government Donald Tsang will lead a high-level business delegation to Kuwait, Saudi Arabia and the United Arab Emirates between January 25 and February 1, a press release from the HKSAR government said on Monday. "The mission of the trip is to introduce Hong Kong's strengths and attractiveness as an international financial center to business and political leaders in the Middle East. Being a major asset management center in Asia and a gateway to the mainland market, Hong Kong provides enormous business opportunities for Middle East investors," the Chief Executive was quoted by the press release as saying. "Islamic finance offers huge potential for development. As mentioned in my Policy Address, we will leverage on this new trend by developing an Islamic finance platform in Hong Kong," Tsang said. This is Tsang's first visit to the Middle East since he took office in 2005. During his visit, Tsang will meet senior government officials and business leaders, visit leading financial institutions, and address business luncheons, the press release said. During Tsang's absence, Chief Secretary for Administration Henry Tang will be the acting Chief Executive, the press release added.
Most Hong Kong people do not approve of government plans to provide more funds to Hong Kong Disneyland, a Hong Kong Polytechnic University (PolyU) survey released on Monday showed.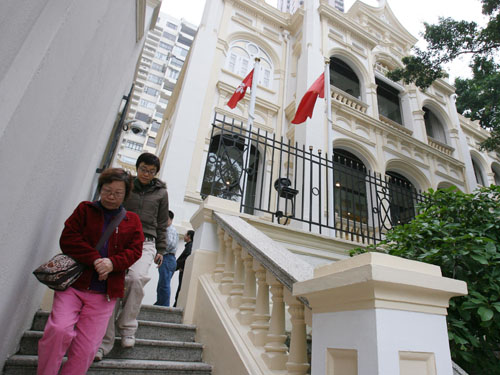 About 1,600 people visited the former chief executive's Mid-Levels office during an open day yesterday. The first to enter the building, at 10am, was Chan Kin-shing, who wanted to see where Tung Chee-hwa worked. "I think Mr Tung's record was neither absolutely good or bad," said Mr Chan. "The negative views about him are just some people's personal opinions." He said the 102-year-old building was decorated well, and he was impressed by the exhibits. "The government should open up more colonial buildings for visitors, so people can learn more about old buildings." The two-storey building was erected in 1905 and turned into an office for Mr Tung last year. It was a meeting venue for the Sino-British Joint Liaison Group from 1993 to 1999. The number of visitors was limited to 80 at a time to protect the old wooden floors. Gifts and souvenirs on display included a hand-painted vase from South African President Thabo Mbeki and an autographed Liverpool Football Club jersey. Ricky Yam said he was interested in historical buildings and wanted to photograph the office. "I think the building is preserved very well. The tiles and the design are old, but the pattern is still there." Visitor Tong Chan said the office was smaller than he had expected. "I don't have a particular feeling towards Mr Tung," he said. "I just think his office is a nice British-style building."

Chinese action star Jet Li, who had a close brush with death in tsunami-ravaged Maldives in 2004, will take a break from fighting villains on screen this year as he turns his attention to charity work. Private philanthropy is a new trend in the world's most populous nation, where the wealth gap widened after the government abandoned a cradle-to-grave welfare system and embraced capitalist reforms in the late 1970s. Mr Li told reporters that he had turned down two offers from US filmmakers, forfeiting an income of about US$27.6 million (HK$215.5 million). He declined to elaborate. Instead, he will focus on the Jet Li One Foundation Project, which he launched jointly with the Red Cross Society of China last year to raise funds to help victims of natural disasters worldwide and Chinese youth coping with mental health issues. "About 30 million Chinese aged between 15 and 35 suffer from mental illness ... A lot commit suicide," said Mr Li, dressed in black with a matching baseball cap emblazoned with a red star. Depression will be the world's second-leading cause of disability by 2020, according to the World Health Organization. Mr Li's project raised a modest $10 million yuan (HK$10.8 million) in the mainland last year, an amount he could have single-handedly donated. Asked why he did not just make the movies and fork out part of his income, the 44-year-old Chinese-born actor said: "The amount raised is not the most important ... The objective is to bring out the good and compassion in people. "There's a saying in Chinese: Do one good deed a day," the devout Buddhist said in a weekend interview at a Beijing hotel. At a weekend gala dinner to launch the Chinese edition of Bazaar magazine, Mr Li took the stage, took a deep bow and appealed to about 200 business leaders to chip in. "I hope business leaders will take the lead and their employees will follow," said Mr Li, who broke into English-language films featuring in action movies such as Lethal Weapon 4 and Romeo Must Die. Mr Li's perspective on life changed after he and his family narrowly escaped death while on holiday in the Maldives in 2004. "Water was up to here," Mr Li said, gesturing at his chin. "My daughter was washed away by floods ... A hotel employee jumped into the water and saved her." Mr Li has enlisted Taiwan director Ang Lee, Hong Kong action star Jackie Chan and heartthrob Andy Lau among others to help with his project. Chinese volunteers include Liu Xiang, the 110 metre Olympic champion, and Deng Yaping, who won four Olympic gold medals and 18 world titles before her retirement from table tennis in 1997. Mr Li also hopes to help victims of natural disasters in the Philippines and North Korea as well as New Orleans, which was devastated by Hurricane Katrina in 2005. In the mainland, natural disasters destroy about 4,000 hectares of farmland each year and affect about up to 200 million Chinese, who require relocation, aid and shelter. Philippine food and drinks giant San Miguel donated $1.5 million yuan (HK$ 1.6 million) to Mr Li's foundation after he shot a television commercial for the beer maker last year. "I want to help the Philippines in return," he said. Mr Li is taking charity work seriously. "I'm not doing charity work due to a sudden impulse," he said, wearing amber prayer beads on his wrist and a necklace with the logo of his foundation as pendant. "I have a lot to learn. I need to learn about laws of different countries and how to make good use of donations."

China: According to China Youth Daily, China's first high-performance general-purpose processor, the trillion-bit computer "KD-50-I" using homemade "Godson-2 F" chip technology, was developed at China Science and Technology University, and passed authentication by the Committee of Experts on December 26,2007. Among China's publicly-released supercomputers, those with the trillion-bit computation capability contain central processing chips from foreign brands such as IBM, Intel or AMD. This is the first computer system that has been developed based on China's own research and development of a trillion-bit processor chip. The "KD-50-I" trillion-bit computer has a single computer cabinet that integrates more than 330 "Godson-2 F" processors. It boasts the theoretical peak of 1 trillion-bit computing power, and an advanced system structure that uses high-density design technology nodes. Hardware includes our independently designed Godson-2 F processor, and Gigabit Ethernet switches independently developed by Huawei. The "KD-50-I" takes up little space (equivalent to a home refrigerator); uses small amounts of power (less than 6 kW); is low-cost (less than 800,000 yuan); and performs high-density calculations, making it particularly suitable for high-performance computer research and training.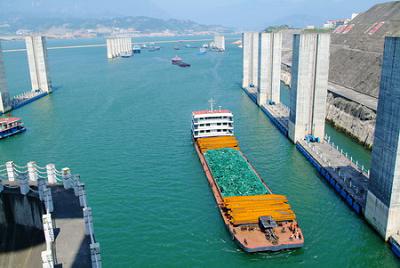 Shipping through the upper reaches of the Three Gorges shiplock into the lock approach channel.
China's foreign exchange reserve had reached 1.53 trillion U.S. dollars by the end of 2007, up 43.32 percent from 2006, the People's Bank of China announced on Friday. A total of 461.9 billion U.S. dollars were added to the country's foreign exchange reserve in 2007, said the central bank. In December alone, the forex reserve rose by 31.3 billion U.S. dollars. China's forex reserve kept a sharp growth in 2007, reaching 1.2trillion U.S. dollars by the end of March, 1.33 trillion U.S. dollars by the end of June, and 1.43 trillion U.S. dollars by the end of September. China's soaring trade surplus is the major contributing factor to the forex reserve boom. Data newly released by the General Administration of Customs show that China's trade surplus surged to a record 262.2 billion U.S. dollars in 2007, representing a 47.7 percent growth over a year earlier. The huge forex reserve is considered the main reason for excess liquidity in China, as the central bank has to spend quantities of basic money to purchase foreign exchange, thus aggravating the problem of surplus fluidity.
January 14, 2008

Hong Kong: About 230 of the 250 units launched in block 5 of Harbour Place in Hung Hom were sold on Saturday grossing about HK$1 billion, according to Eric Chow Kwok-yin, executive director of SHK Real Estate Agency.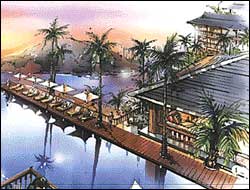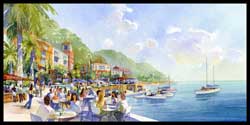 Ocean Park is hoping to attract 25 percent more visitors after it opens three differently themed hotels starting in 2011. A proposal put to the financial secretary by Ocean Park planners last week met tentative approval, according to a source. Ocean Park will now enter a period of consultation with district councils and environmental groups. In the 2006/2007 fiscal year, Ocean Park had a record 4.92 million visitors. The government, which owns the marine-themed amusement park, estimates that visitor numbers will reach 5.8 million in 2012 and up to 7 million in 2021 following the opening of the MTR Corp's (0066) South Island Line extension in 2015. The extension will allow visitors to travel from Admiralty to Ocean Park in four minutes. The park will put the construction and management of the hotels out to tender and charge operators an annual fee. "We will decide the overall theme, but the building cost, actual development and finer details will be decided by the developers," Ocean Park chairman Allan Zeman said. The three hotels, which together will provide have 1,280 rooms, aim to attract different clientele. The 660-room three-star Ocean Hotel will be near the park entrance, while the 460-room four-star Fisherman's Wharf Hotel will be alongside the feature of the same name at the Tai Shue Wan entrance. The 160-room five-star Summit Hotel and Spa will be located atop the park's high point. The tender process for the three-star property could begin as early as this year, with the hotel set to open in 2011. Zeman said developers had shown interest in all three projects, but he would not elaborate. Hotel room supply on Hong Kong Island is limited, with just 430 rooms going online in 2007. Ocean Park recorded a record surplus of HK$171 million for fiscal 2006/2007 - an increase of 9 percent year on year. Admission ticket income reached HK$620 million, accounting for around 65 percent of total revenue. "Ultimately, we would like to have 50 percent of the revenue from admission fees, 25 percent from food and beverage and another 25 percent from retail," Zeman said. The park is planning to increase revenue further by building a parking lot next to the MTR terminus. Dubai and Saudi Arabia are among countries that have shown interest in building their own versions of Ocean Park. On that, Zeman said Ocean Park has studied the possibility of forming joint ventures or selling franchises. "These are different ways to increase Ocean Park's income which doesn't require extra investment and also minimizes the possibility of having to raise the admission fee," he added. Admission prices went up between 10 and 14 percent last October.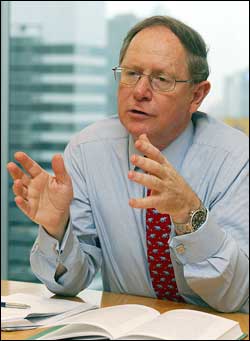 Invesco chief economist John Greenwood, also dubbed the `architect of the dollar peg,' says local currency appreciation is not an effective measure to alleviate inflationary pressure in the long run. "Let's say the dollar peg appreciated from 7.8 to 7.6, inflation will temporarily decline but the inflation rate will resume to its previous course later," Greenwood told The Standard, warning that currency appreciation would have more of a downside as it would invite more speculation activity. Under the currency peg, the Hong Kong dollar is fixed at 7.8 to the US dollar, though the widening of the trading band in May 2005 allowed it to be traded between 7.75 and 7.85. On January 2, the China Securities Journal published a report suggesting the Hong Kong dollar should appreciate from its current 7.8 to 7.5, to help ease inflationary pressure and avoid an asset bubble. Greenwood, who has been on the Hong Kong Monetary Authority's currency board committee since 1988, said he does not see an asset bubble in the local economy, stressing that the HKMA has an effective mechanism to maintain stocks of the Hong Kong dollar. A strong advocate of the currency peg since the 1980s, Greenwood also insists the current peg system is the best for Hong Kong. "Hong Kong's business cycle is determined by the global business cycle, not that of China. When you talk about the global economy, the United States is still the most influential." Greenwood said the Hong Kong dollar cannot be pegged to the Chinese yuan as it is not freely convertible. "It will take more than 15 years for the yuan to become fully convertible. "If the yuan is freely convertible then the Chinese government will lose control over it. Do you think the Chinese government will abandon its control?"
Hong Kong has held on to top spot in total volume of warrants traded last year, a trend that is likely to continue as a flurry of issues from mainland enterprises dominate the scene, driving turnover above HK$8 trillion this year.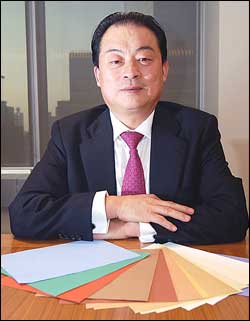 China's robust economy has sparked demand for all kinds of paper, including decorative paper used for making furniture and kitchenware. Listed in Hong Kong three months ago, Qun-xing Paper Holdings (3868), which manufactures decorative base paper, intends to boost its capacity this year from 170,000 to 200,000 tonnes by setting up new production lines to keep pace with demand. According to data from the China Paper Association, the industry has grown at an annual rate of 12.9 percent between 2000 and 2005. The mainland is the world's second largest producer and consumer of paper, and demand is expected to increase substantially with the steady growth of the economy. Qunxing Paper chairman Zhu Yuguo, one of the founders, says decorative base paper, one of the components of laminated board, can be used for furniture, kitchenware and fortified wooden floorboards. "We have developed more than 80 types of decorative base paper products and each product is sold under its own brand name," Zhu says. Qunxing accounts for one-third of the decorative base paper market in the mainland. "With the per capita disposable incomes surging and higher living standards in China, people want a home of a better quality with a larger floor area and better facilities," Zhu points out.
More than 100 passengers were injured - a dozen of them seriously - when two high-speed ferries collided off Macau in thick fog Sunday. The collision between the Funchal, bound from Hong Kong to Macau, and the Santa Maria, bound for Hong Kong, occurred in mainland waters at about 8.30pm. Normal service had resumed less than two hours earlier after being disrupted for six hours. The accident happened at the end of a day in which thick fog caused serious disruption to sea traffic around the coast, with three collisions in Hong Kong waters and chaos at ferry terminals.

Bank of East Asia (SEHK: 0023), Hong Kong's fifth-largest lender, would welcome more investors on its register - including mainland sovereign fund China Investment Corp - and is weighing the option of a restructuring plan to spin off subsidiaries, said chairman and chief executive David Li Kwok-po. Speaking on Saturday to a small group of reporters, Mr Li declined to set a timeframe for any prospective restructuring. The comments come after a December 27 deal in which BEA said it issued HK$3.95 billion worth of stock to Criteria Caixa Corp, a placement that made the Spanish investor its biggest public shareholder and provided a capital injection that would pave the way for further expansion on the mainland. In its first new share sale in more than 15 years, the group issued 78.7 million shares at HK$50.24 each to Negocio de Finanzas e Inversiones I, a subsidiary of financial and industrial holding firm Criteria. After the deal, Criteria's stake in BEA more than doubled from 4.34 per cent to 8.89 per cent. BOC Hong Kong (Holdings) (SEHK: 2388) also bought almost 5 per cent of BEA on the market in November last year. Mr Li said: "In the future, we will set up a holding company for the group's different businesses and gradually spin off individual businesses when they are big enough for a separate listing." He added that the idea had the backing of the bank's board of directors.

Hong Kong lacks "sensitivity" in railway development and could be marginalised if it fails to catch up with the mainland's fast-growing transport networks, the head of the Greater Pearl River Delta Business Council and Airport Authority chairman Victor Fung Kwok-king says. In an interview with the South China Morning Post (SEHK: 0583, announcements, news) , Dr Fung reiterated that the proposed cross-delta bridge must have a railway to further speed up passenger flows and logistics in the region. He called for early completion of the proposed bridge connecting Hong Kong with Zhuhai and Macau. "We are expecting a dramatic increase in cross-border traffic. If we build the Hong Kong-Zhuhai-Macau bridge, a rail link is a must," Dr Fung said. "The rail system in the country is developing at an amazing speed and we should think about what its impact on our economic development will be. The country is pushing passenger flows between major cities on high-speed trains while using the remaining capacity for cargo. The rail system is now massive. "In Hong Kong, we always talk about road links, air links and sea links. But we don't have adequate sensitivity in rail links. I never believed Hong Kong would be marginalised, but we could be if we are not careful in rail-link development." Dr Fung, chairman of the Li and Fung Group, has headed the Greater Pearl River Delta Business Council since 2004. It advises the chief executive on co-operation between Hong Kong and Guangdong. The cross-delta bridge project has been dragging on for years. The idea of building a railway with the bridge has been suggested but the government has never committed itself to including it. After the 10th working meeting of the Hong Kong/Guangdong Co-operation Joint Conference in Guangzhou on Tuesday, the Hong Kong government said 20 studies had been completed under the feasibility study of the bridge project. Both sides agreed to strive for early implementation of the project. Dr Fung said another key project that could bring Hong Kong closer to the Pearl River Delta was the Regional Express Line connecting the city with Guangzhou. The link, expected to be completed by 2014, will shorten the journey between the two cities from two hours to 48 minutes. Another proposed railway linking Hong Kong and Shenzhen airports would shuttle commuters between the two aviation centres in 18 minutes. "You could check in at one point and get on a flight in another," Dr Fung said. "We serve different markets. Hong Kong cannot provide daily flights to a second-tier city like Zhengzhou ; we don't have such a market. But the market for domestic flights in Shenzhen is very big. Shenzhen does not have many international flights, but we do. We can complement each other, totally." Chief Secretary Henry Tang Ying-yen said last month that a rail link would be the best way to boost ties between the two cities' aviation sectors. Two joint taskforces will be set up soon - one to study inter-airport co-operation and the other to look at development of the Lok Ma Chau Loop. Reviewing Pearl River Delta development since the handover, Dr Fung said he was glad to see an increasing awareness of a regional perspective among Hongkongers. "Hong Kong has to view itself as being at the heart of a population of 40 million. If we don't have a vision of an economy of this size, we cannot ... compete globally. "Ten years after the handover, people's mindset about the Pearl River Delta has changed. "When I first talked about the greater delta five or six years ago, some people did not know what I was talking about. But now no one questions this direction."

China: The ruling Democratic Progressive Party (DPP) suffered a landslide defeat to its rival Kuomintang (KMT) in Taiwan's "legislature" elections Saturday. The KMT won 81 of the 113 seats in the elections, beating the DPP which got 27 seats. Two seats went to the New Party. The People First Party, the Taiwan Solidarity Union and a candidate without party affiliation each took one seat, according to the ballot counting authority. Chen Shui-bian announced later in the evening that he resigned his post as DPP chairman to take responsibility for what he termed the most disastrous defeat since the DPP was founded. Two referendums tied to the election, one against corruption and the other demanding the KMT to return what was said to be assets illegally obtained from the people were announced invalid, as the voters' turnout rate did not reach 50 percent. Nearly 300 candidates are competing for the legislative seats in more than 70 precincts across the island. The voting progressed smoothly between 8:00 and 16:00 in more than 14,400 polling stations across the island. About 58 percent of the registered voters turned out to cast their ballots. But in Nantou County, a polling station was short of more than 400 ballots and several cases concerning the violation of voting rules were reported in some parts of Taiwan. Voters cast two ballots for the first time in the election history -- one for a specific "legislator" candidate in their precinct and the other for the party of their choice. Some "legislators" will be chosen by the parties in accordance with the percentage of votes they got. Taiwan's "legislature", called "legislative Yuan," was streamlined this year from 225 seats to 113 in an effort to improve efficiency.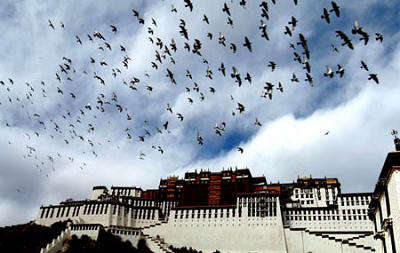 A flock of wild pigeons fly over the Potala Palace in Lhasa, capital of southwest China's Tibet Autonomous Region, on Jan. 10, 2008. Lhasa, which is entitled "the City of the Sun", has met the target of more than 345 days, or more than 95 percent of a year, with fairly good air quality every year since 2000.
The foreign trade of China's southern province of Guangdong, one of the country's economic engines, reached 634 billion U.S. dollars in 2007, a year-on-year increase of 20.2 percent, statistics show. The province's export value was 369.25 billion dollars, up 22 percent from 2006, while imports were valued at 264.8 billion dollars, up 17.5 percent, according to statistics from Guangdong Customs. The foreign trade of Guangdong accounted for 29 percent of the country's total of 2.17 trillion dollars in 2007. Guangdong governor Huang Huahua said the province would continue to push for new development of its foreign trade with "reform and innovative spirit". The total value of exports and imports of Guangdong has been increasing by around 100 billion dollars annually since 2004.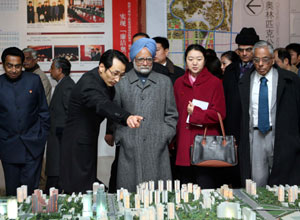 Indian PM Manmohan Singh said in Beijing Sunday that Beijing's preparations for the Olympics is a source of inspiration for India, which will host 2010 Commonwealth Games.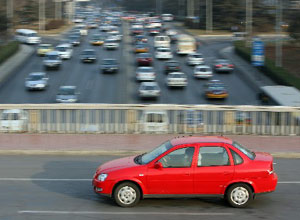 Auto production and sales in China both surged more than 20 percent to a record 8.8 million units in 2007, despite slackening sales in global markets.
China's film industry has witnessed an increasing for five years in succession and it hit a new record last year by producing 402 feature films, according to the State Administration of Radio, Film and Television (SARFT). In 2007, China's total box office reached 3.3 billion yuan (about 449 million US dollars), according to Tong Gang, director of the Film Bureau of the SARFT. Meanwhile, the movie channels of domestic television stations also contributed 1.38 billion yuan (about 186 million US dollars) to the film industry. Last year, China exported 78 feature films to 47 foreign countries and regions, and they earned a total of 2.02 billion yuan (about 273 million US dollars) from the oversea sale. In 2007, 208 Chinese films participated in 97 international film festivals, and 29 Chinese films won 49 awards in 19 international film festivals, according to the SARFT official. Besides feature films, China also produced a large number of documentaries, cartoons and other film products including 122 digitalized works last year.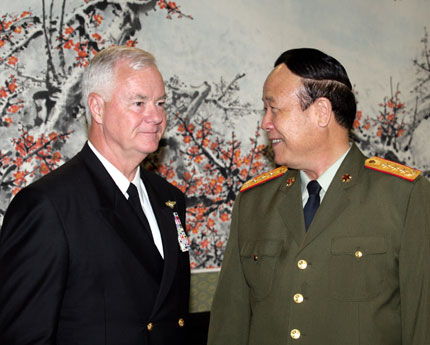 Guo Boxiong (R), vice-chairman of the Central Military Commission, meets Timothy Keating, Command Commander-In-Chief of the US Pacific Command, furing the latter's first visit to China last May. Keating Sunday arrived in Beijing for four-day visit.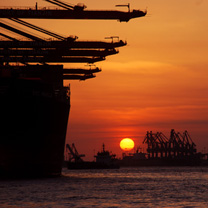 Sunrise at Tianjin Port, the largest in north China, on January 12. Thanks to the rapid growth of foreign trade, the port sees soaring throughput of 30 million tons in 2007.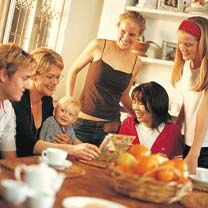 Although the opening ceremony of the 2008 Olympics is still eight months away, local hotels are already taking reservations.Hotels expect that during the Games, about one million domestic visitors and 500,000 foreign tourists will come to Beijing. Star-graded Beijing hotels have many reservations. Family hotels, which might not be comparable to star-graded ones, still remain appealing to some visitors for their comfort.
January 12 - 13, 2008

Hong Kong: Unidentified shareholders of Cheung Kong (Holdings) (0001) controlled by billionaire Li Ka-shing were selling HK$ 4.71 billion worth of shares Thursday, triggering a sell-off among other property plays.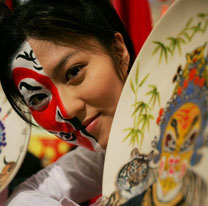 A model displays plates with patterns of Peking Opera facial make-ups during the preview of the Exhibition of Peking Opera Art and Design in Hong Kong Jan 10, 2008.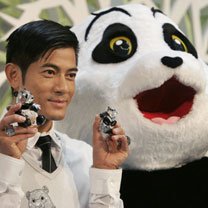 Hong Kong actor Aaron Kwok poses with crystal pandas as he attends a news conference in Hong Kong for a nature conservation program in China January 9, 2008.
Despite criticism about the US government using public funds to bail out subprime borrowers, Hong Kong Monetary Authority chief executive Joseph Yam Chi-kwong believes the move is inevitable.
A record 253 overseas, mainland and Taiwan companies were helped by Invest Hong Kong to set up or expand operations in the territory last year, with the amount invested totaling HK$8.39 billion.

Potential investors eyeing double-digit gains should explore opportunities in Hong Kong Island West and Island South for residential projects, industry sources suggest. As for end-users, realtors recommend taking a look at developments in proximity to railway lines.
Hong Kong will be looking for home-ground advantage as they present a bid to host the Asian qualifying tournaments for the 2009 Rugby World Cup Sevens in late September. The Hong Kong Rugby Football Union has put a proposal to the Asian Rugby Football Union (ARFU) to hold the men's and women's events at King's Park - which will decide Asia's teams at the 5th RWC Sevens for men and the inaugural women's World Cup in Dubai next March. "We have made a bid to host the men's and women's qualifiers some time in late September. I know Doha [Qatar] has also made a bid ... but we are pretty confident we will win the bid," said Allan Payne, HKRFU executive director. The ARFU executive committee, which will meet in Hong Kong next Saturday, will recommend which city should host the tournaments. Hong Kong officials are confident King's Park will provide the perfect venue. But it is understood the Arabian Gulf - the host union for the 2009 World Cup Sevens - wants to have a test run and will make a strong pitch to host the qualifiers in Doha. The Arabian Gulf gets a berth in the finals as host, leaving only two spots for Asia in the 24-team World Cup. Hong Kong, who have taken part in every World Cup Sevens, will be chasing one of those two places. "We will have to reach the finals to achieve this. I believe we have the team to do this," Payne said. Japan, South Korea, China, Sri Lanka and Taiwan are among those chasing the two spots.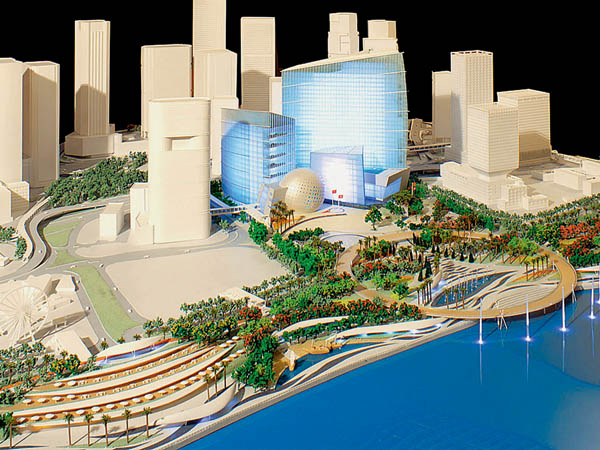 It's official: the public prefers The Sail over The Door for the design of the new government headquarters. A Polytechnic University study released by the government yesterday shows the sailing-boat design of the China State, Leighton-Yau Lee consortium came out "narrowly ahead" of The Door. The China State joint venture's design features a sailing-boat and a "pearl" to house the Legislative Council chamber. The government announced The Door as the winner last July, but refused to disclose the public choice until yesterday. The contract has already been awarded to Gammon-Hip Hing. Director of administration Jennifer Mak Yee-ming said yesterday The Sail was rejected after the cost and environmental factors were also considered. But she refused to say if the HK$4.96 billion cost of The Door - 4 per cent less than the HK$5.17 billion budget set by the government - was the lowest. When The Door was chosen, building experts predicted the cost of the design could rise to HK$5.8 billion. The actual cost will depend on the construction materials used. Four options were exhibited from March to May. Public views were collected through comment cards, exit polls at exhibition venues, telephone polls and written submissions. More than 14,000 comment cards and 37 written submissions were collected, while about 8,000 people were interviewed through exit and telephone polls. According to the analysis of the public views, the total mean score from the comment cards for The Door was 20.53, while the score for The Sail was 20.8. The exit poll gave a score of 8.66 for The Sail, compared with 8.42 for The Door. Similar results were seen in the telephone poll, the report says, adding the difference was less than 1 percentage point. When it comes to qualitative analysis, the report says The Door design had 3,404 positive comments, 38 more positive comments than The Sail. It concludes that The Sail is narrowly ahead of The Door because greater weighting should be given to exit polls, in which samples were randomly taken. But Ms Mak yesterday disagreed that The Sail was the most popular proposal. "When we look at both quantitative and qualitative results, the scores of the two proposals are very close," she said, adding that the public had focused mainly on the aesthetic aspect of the designs. Asked why the government did not pick the public's choice, Ms Mak said the selection panel had considered other factors including construction cost, environmental impact and technical aspects. At a special Legislative Council meeting, lawmakers also criticised the government for not releasing the results of the public consultation until yesterday morning. They urged it to leave room for amending The Door's design if necessary. Ms Mak said amendments that might cost more and take more time would be difficult to agree to, adding that a detailed plan of the Tamar site should be ready by the end of this year. Although The Door might not be the public's favourite, it has been well received by the planning and architectural professionals. The government issued a letter of intent to Gammon-Hip Hing Joint Venture in July and its detailed design was then approved by the Town Planning Board.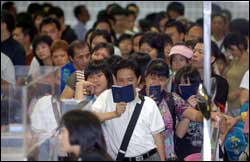 More mainland visitors are expected to visit Hong Kong during next month's Lunar New Year break after the scrapping of the Labour Day "golden week" holiday this year. Travel Council executive director Joseph Tung Yiu-chung estimated yesterday the number would increase 10 per cent. Tour agencies across the border agree. "It seems more people have travel plans this Chinese New Year as this will be one of the only two golden weeks," said Han Yan, a saleswoman with the Hong Kong and Macau section of the Shanghai (China Youth Travel) Tour Corporation. She also said more mainlanders were opting to visit Hong Kong on their own rather than as part of a tour group. Guangzhou China Comfort Travel Services said bookings for some Hong Kong hotels were almost full already for the Lunar New Year. "We will contact more hotels in Hong Kong for rooms but it is certain some people will have to forget plans to celebrate the festival in Hong Kong," a spokeswoman said.

China: China and the US will hold the 5th round of strategic dialogue from Jan 17 to 18 in China with the consents of the two countries.
A gold mouse is seen in a shop in Shenyang, capital of northeast China's Liaoning Province, on Jan. 9, 2008. As the Year of Mouse of the Chinese lunar calendar falls on Feb. 7, 2008, ornaments in the shape of mouse have become popular.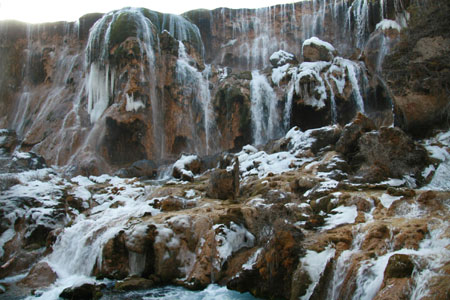 The 4th Jiuzhaigou Ice Waterfall Tourism Festival kicks off at the foot of iced Pearl Shoals Waterfalls in Jiuzhaigou Scenic Area on Wednesday, January 9, 2008. Jiuzhaigou in the winter becomes a fairyland of glittering and translucent ice waterfalls, snow-caped mountains and sapphirine lakes covered in white. This festival will last until March 31, 2008. Located in the Aba Tibetan and Qiang Autonomous Region in southwestern China's Sichuan Province, Jiuzhaigou is reputed in China as the Heaven on earth and was listed as a UNESCO World Heritage Site in 1992.
China National Offshore Oil Corp, the nation's third-biggest oil producer, and a partner have set up a venture to build a 10 billion yuan (HK$10.75 billion) liquefied natural gas receiving terminal in southern China.
Taiwan's stumbling tech-heavy economy and tense relationship with Beijing have emerged as the cornerstone issues as voters choose a new parliament tomorrow that will set the stage for March's presidential election.
China's newly appointed aviation chief vowed yesterday to end frequent delays and cancellations by mainland airlines and threatened penalties for airlines and airports which failed to meet standards. Li Jiaxiang , who recently replaced Yang Yuanyuan as head of the General Administration of Civil Aviation of China, announced eight measures at a national conference to "cure the industry's ills". The eight measures, which put special emphasis on improved services during the Olympic Games period, require airlines to ensure much higher standards of punctuality and customer service. Airlines and airports would lose their qualification to be rated as "distinguished companies" for two years if they cause long delays and subsequent "serious social incidents", Xinhua said. The report also said in that July, August and September, the least punctual flights at the Beijing, Shanghai and Guangzhou airports could lose their time slots on the schedule. In summer and autumn, the Beijing airport (SEHK: 0694) will not be allowed to schedule more than 1,350 flights each day and other Olympic-related airports will also be required to allow at least a 15 per cent reserve capacity to ensure sufficient air traffic support for the Games.
January 11, 2008

Hong Kong: The case involving Citizens' Radio took a bizarre twist yesterday with a magistrate first declaring the arrangements for applying for a radio license were contrary to the Basic Law and the Bill of Rights - before later staying his judgment at the request of the government.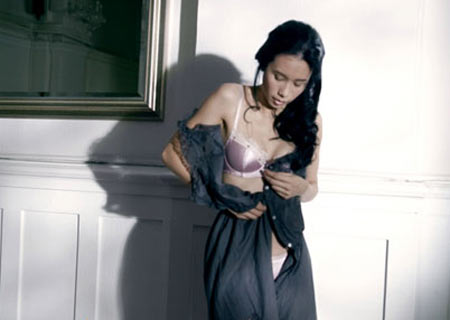 Hong Kong singer and actress Karen Mok designs a collection for lingerie brand Passion Play, and poses for it by herself. Karen recently announced the news of her breakup with longtime lover, 33-year-old Hong Kong singer/actor Stephen Fung, during a mini concert in Shanghai.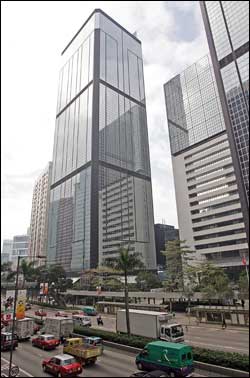 Taxpayers can expect a handout bonanza when Financial Secretary John Tsang Chun-wah unveils his budget next month, according to government sources. With the government surplus expected to soar beyond HK$100 billion, or four times that predicted in its forecasts, the sources told Sing Tao Daily, sister paper of The Standard, that Tsang is considering a three-way tax relief sweetener for 1.3 million taxpayers. The measures include a one-off tax return with a higher cap; lowering the marginal tax bands and tax rate; and an increase in the personal tax concession ceiling. One of the sources said Tsang will offer taxpayers a one-off tax rebate of 70 to 80 percent of salaries tax, a significant increase on last year's 50 percent. He is also expected to raise the total allowance available under the cap which was set at HK$15,000 last year. The higher cap means the middle and upper classes can also enjoy the bonus. The second measure being considered is a reduction in marginal tax bands and the tax rate. In his policy address last October, Chief Executive Donald Tsang Yam- kuen indicated he would like to eventually see a reduction in the standard rate of income tax from 16 to 15 percent. The previous finance chief had already widened the marginal tax bands from HK$30,000 to HK$45,000 and lowered the third and fourth marginal tax rates from 13 and 19 percent to 12 and 17 percent respectively. In a seminar on Monday, John Tsang hinted the surplus could be used as a one-off relief measure instead of a long-term one. Another tax relief measure may also see something Hong Kong's taxpayers have been seeking for the past three years. The sources said that due to rising inflation and income, the finance chief is considering raising the tax-free allowance ceiling to HK$108,000 - the same level as four years ago - compared with the current HK$100,000. This would mean those earning HK$9,000 or less a month would no longer have to pay tax.
Wind turbine gear maker China High Speed Transmission (0658) and mainland department-store chain operator Parkson Retail Group's (3368) parent are seeking to raise up to a combined HK$2.25 billion by placing shares, according to term sheets sent to investors yesterday.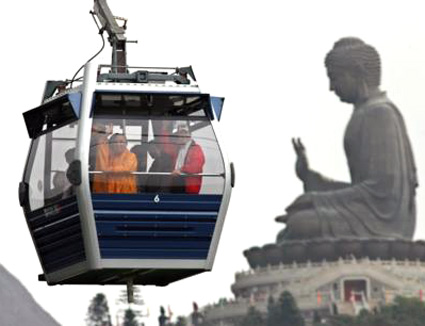 Lawmakers on Wednesday approved a HK$68 million tourism project at Ngong Ping on Lantau Island – after the government announced it would be put up for tender. However, the development still faces opposition from lawmakers and League of Social Democrats legislator Albert Chan Wai-yip. Mr Chan said he disagreed with the project's layout and urged the Legislative Council to review the project design. He explained: "The problem of the design is that it has too much concrete. People go to Ngong Ping to be with nature, but 90 per cent of the project is concrete... so to me that design is not well-integrated with the environment," added Mr Chan. Government officials had earlier suggested awarding the project to the Mass Transit Railway Corporation without tender, but it was abandoned after objections from legislators. The project, which consists mainly of a 1.52-hectare public piazza with a Chinese garden and lotus ponds, would be built in the religious Di Tan area adjoining the Po Lin Monastery and the Big Buddha. As well as the garden and ponds, it will include a central pedestrian way. This will be dedicated to Buddhist Bodhi Path teachings and have stone statues and pillars on each side. Estimated to cost HK$68 million, it would account for the most of the project's cost. This also includes storm-water drainage works, public toilets, environmental measures and a vehicle roundabout at the entrance. Tenders for the main contract would be called after Legco approves funding. Work is expected to start in June.
The total number of visitor arrivals in Macau last year exceeded 27 million – a 22.7 per cent increase from the previous year.
Hong Kong's toy exports, worth about HK$90 billion, rose by 11 per cent last year, Financial Secretary John Tsang Chun-wah said on Wednesday.

China: The government will impose limits on the use of plastic bags starting on June 1, as part of its dual campaign to protect the environment and save energy. In a circular posted on the central government's Web site (www.gov.cn) on Tuesday, the General Office of the State Council ordered a ban on the production, sale and use of ultra-thin bags (defined as less than 0.025 mm thick) as of June 1. Further, supermarkets and shops will be banned from giving free plastic bags to customers as of that date. China thus joins many governments that have moved to limit the manufacture, sale and use of plastic bags, according to the circular.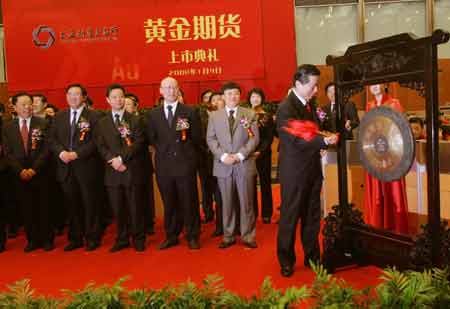 Shang Fulin, chairman of China Securities Regulatory Commission (CSRC), beats a gong at a ceremony for the official debut of gold futures in Shanghai, east China, Jan. 9, 2008. China launched its gold futures contracts at the Shanghai Futures Exchange (SFE) on Wednesday. Gold futures made a strong debut on the Shanghai Futures Exchange Wednesday. The contract offers China a chance to become a key player in the global gold market.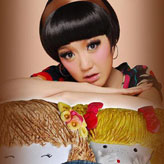 Chinese mainland actress Xue Jianing dresses up like a trendy fairy and shoots a series of pictures as the cover girl for a toy magazine. The young actress was known through the smash hit "Hot Ladies", which was adapted from the comic book by the same name by Taiwan caricaturist Zhu Deyong and which explores the spirit of the age of today's urban women. Xue Jianing stared as Ha Mei in this domestic production as the youngest, trendiest and most innocent character among the women.
The battle between Air China's (0753) parent China National Aviation Corp and Singapore Airlines over the latter's potential partnership with China Eastern Airlines (0670) entered a new era Wednesday after China Eastern shareholders voted against the deal.
A four-month national campaign to improve the quality of mainland food products has achieved encouraging progress but challenges remain, a top agriculture official said yesterday.
More China-made toys made needed export licences as the world's biggest manufacturer of the children's products moved to boost quality, an official said on Wednesday following safety scares last year. Seven new product types needed the licences, which would have to be renewed every three years rather than the previous five years, said Li Qingxiang, the deputy director general of Guangdong Entry-Exit Inspection and Quarantine Bureau. "All the new toys will have to be inspected for safety and to make sure they reach the required standard before they can be produced and exported," he said. The new categories include video games and even stationery as the central government continues to crack down on unsafe products after scares last year over millions of toys shipped to the United States and Europe. Toy manufacturers believed the new measures, introduced in phases since June 2006, would raise quality levels, he told reporters on the sidelines of Hong Kong's Toys and Games Fair, the world's second-largest toy exhibition. Last year's scares included US giant Mattel's recall of 18 million toys over concerns about toxic lead paint and magnets that could cause children to choke, tarnishing the mainland's toy industry and creating international pressure for change. Carter Keithley, the president of the Toy Industry Association in the US, welcomed the export licence move, saying he believed mainland authorities genuinely wanted to tackle problems. "We think that the Chinese authorities have taken this very seriously," he said. "They have undertaken very realistic and firm steps to try and assure toy manufacturers in China are capable manufactures." The mainland is the world's top toy exporter, selling 22 billion toys overseas in 2006, or 60 per cent of the globe's total. It exported toys worth US$7.1 billion in the first 10 months of last year, up about 20 per cent on a year earlier. The Toys and Games Fair runs until Thursday and features more than 2,000 exhibitors, 29,000 foreign buyers and major retailers such as Britain's Hamleys and Mattel and Toy "R" Us from the US.
January 10, 2008

Hong Kong: The Hong Kong Customs and Excise Department and the Customs Administration of Japan pledged to strengthen co-operation in fighting transnational customs crimes by signing a Customs Co-operative Arrangement on Tuesday. The Commissioner of the Hong Kong Customs and Excise Department, Richard Yuen, and the Director-General of the Japan Customs and Tariff Bureau, Yukiyasu Aoyama, signed the arrangement at a ceremony, according to a press statement released by the Hong Kong Special Administrative Region government. "The co-operative arrangement signifies our mutual commitment to elevate our relationship to a new platform as well as our determination to foster stronger co-operation," Yuen was quoted as saying at the ceremony. The signing of the co-operative arrangement marks the common wish of both administrations to co-operate more closely in various areas, including fighting against smuggling and drug trafficking and protecting intellectual property rights through arrangements of mutual administrative assistance. So far, Hong Kong Customs has signed Customs Co-operative Arrangements with 11 customs administrations, including customs administration in the Chinese mainland.

A photo of the television series "The Legend of Bruce Lee", released on Monday, Jan. 7, 2008. A set of photos from the television series "The Legend of Bruce Lee" were released on Monday as a warm up for the upcoming TV biopic on the life of the Kung fu superstar. A news release on sina.com.cn reports that the TV series will be broadcast before the Beijing Olympics. Starting from the beginning of 2008 Bruce Lee fans from around the country will be invited by China Central Television (CCTV) to activities relating to the series. Based on the life of Bruce Lee, "The Legend of Bruce Lee" will reveal many untold stories about the superstar for the first time. Hong Kong actor Danny Chan Kwok Kwan plays Bruce Lee in the TV series. The actor, a Bruce Lee fan himself, is well known in Hong Kong for his roles in comedian Stephen Chow's films "Shaolin Soccer" and "Kung Fu Hustle."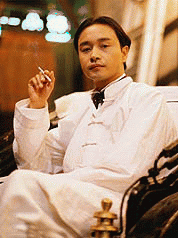 Florence Chan, the former agent of late Hong Kong superstar Leslie Cheung, is striving to put together a star-studded concert on April 1 to commemorate the fifth anniversary of Cheung's death. The show is likely to be held at Hong Kong Coliseum, where singer-actor Cheung once performed for 33 consecutive nights in late 1989. Chan says she is currently busy contacting Cheung's friends, local stars such as Jacky Cheung, Tony Leung, Karen Mok and Eason Chan, but the final line-up is yet to be confirmed. She has also sent out invitations via the media to those who want to perform for the special night. The dedicated agent, who was also one of Cheung's closest friends, is hoping to eventually expand her plan and launch a memorial concert series from April 1 to September 12, which was Cheung's birthday. On April 1, 2003, 46-year-old Leslie Cheung shocked the Hong Kong entertainment industry by leaping from the 24th floor of a local hotel. He left a suicide note saying he had been suffering from depression.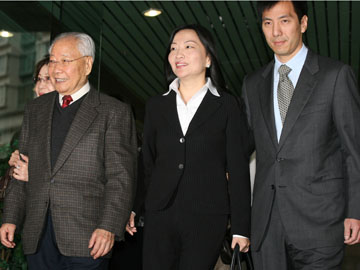 Hong Kong General Chamber of Commerce chairwoman Lily Chiang Lai-lei on Tuesday appeared in Eastern Court facing a charge of conspiracy to defraud. The Independent Commission against Corruption (ICAC) brought three charges against the 46-year-old former head of Pacific Challenge Holdings (PCH) – who is also a credited adviser to the ICAC – on Monday. The charges include one of conspiracy to defraud, and two counts of making false statements as a company director in relation to the granting of share options to employees. She faces the charges jointly with another former executive director of PCH, 45-year-old Shah Tahir Hussain. Chiang was accompanied by family members on Tuesday. No pleas were taken. The case was adjourned on Tuesday until March pending further investigations, local radio reported. Both defendants have been released on bail. According to an ICAC spokesman, Chiang and Shah had allegedly "conspired together and with other individuals to defraud PCH, existing shareholders and potential investors of PCH, the Securities and Futures Commission [SFC] and the stock exchange of Hong Kong" in 2002. "They are alleged to have falsely represented that share options were to be granted under the share option scheme of PCH to subscribe a total of 23,880,000 shares," he said. They are also alleged to have failed to disclose that employees, or some of the people in whose names the share options would be granted, would not be their beneficial owners. "PCH was allegedly caused to grant the share options, while the SFC and SEHK were [not informed of] the true extent of the interest of Chiang in the share options," the spokesman said. The remaining two charges allege that Chiang and Shah, together with another former executive director of PCH, had published two false written statements on two occasions in 2002 with the intent to deceive members of PCH. The ICAC said the false statements were in connection with the issuing of share options to subscribe shares, in that the "employees or some of them in whose names the share options were granted were not their beneficial owners".
Marathon negotiations and two public consultations on the future of Hong Kong's electricity market have produced a mixed result. It is, on the face of it, a win for consumers, but the duopoly that carves up the market has little reason to feel unhappy with the deal. Under the new schemes of control to begin in September, CLP Power (SEHK: 0002) and Hongkong Electric (SEHK: 0006) have accepted smaller profits. As a result, the consumer will pay a lower basic tariff. The firms also face a cut in their rate of return if they exceed any pollution emissions caps, but will be entitled to a slightly higher rate if they do not. They will be allowed to make a 9.99 per cent profit on the value of their investment in fixed assets, compared with 13.5 to 15 per cent at present. Analysts calculate their average return over the past 10 years at 14.4 per cent. The new deal therefore represents a 30 per cent cut in core profit, a remarkable concession in Hong Kong. To make up for it, they will have to source more of their earnings offshore, a strategy they have already employed with success. But they will not find a better rate of return. The reduced rate remains superior to the single-digit returns obtainable in the heavily regulated electricity markets of Australia, where they are both significant players, or of Britain. On balance, that is a good deal in a stable market where customers have a name for paying their bills. And they have driven a tough bargain. The government has achieved its aim of reducing the rate of return to a single digit, but only by a face-saving 0.01 per cent. The 0.2 to 0.4-point cuts in the rate of return for exceeding any of the emissions caps are also derisory in terms of deterrent value. And there may be a devil in the details of the caps and cuts. A more effective incentive to cut emissions will be to avoid provoking critical scrutiny of their privileged market position. The government says consumers, who will soon face power bill increases of up to 6 per cent, stand to benefit from cuts in the basic tariff that could reach double digits. However, the saving could easily be eroded by further increases in fuel costs, which are passed on. That said, the new agreements are to be welcomed. The existing scheme served the city well because it encouraged investment in new generators and power networks to supply the demands of a growing population and industry. Now that population growth has slowed and industry has largely moved elsewhere, there is no longer any reason for virtual monopolies to be allowed to milk their customers according to that formula. A higher rate of return - 11 per cent - on investment in renewable energy reflects the higher costs and the case for environmentally friendly measures. However, this is a reminder that over the decades the existing schemes were criticised for encouraging overinvestment in fixed assets. Officials should exercise discretion in the public interest in pre-approving new capital works, such as CLP's plan to build a terminal for liquefied natural gas. The agreements are for 10 years instead of the existing 15, as the government mulls models and regulatory frameworks for opening up the market to other players. The duopoly has made a pretty safe gesture in accepting it. If there is to be any competition, it is likely to be introduced in an orderly way. The government will be mindful of the imperative of stability in power supplies in an overwhelmingly high-rise working and living environment, and is unlikely to refuse to renew the agreements. Hong Kong has only two power suppliers, from generator to front door. They and the city need each other.
Visitor spending last year pumped a record HK$130 billion into the economy as Hong Kong enjoyed its best year for tourism. The Tourism Board said yesterday that visitor spending topped the 2006 record, when HK$119.43 billion was injected into the economy. Preliminary data shows per capita spending by overnight visitors increased to HK$5,100, up from HK$4,799 in 2006. Same-day visitor spending averaged HK$1,100, compared with HK$1,015 a year earlier. The board said the number of arrivals surged more than 10 per cent to more than 28 million from the 25.25 million visitors in 2006. The strong results comfortably topped initial projections of 26.4 million visitors. Board chairman James Tien Pei-chun said the results were testament to the city's attraction despite intensifying competition. "We're especially encouraged that besides the strong performance of mainland China, the growth was spread across different international markets, with all three long-haul regions exceeding their 2006 levels and many of our key source markets achieving their best results," he said.

China: China has set a March deadline to establish its first jumbo passenger aircraft company, as it moves to positions itself among countries technically capable of manufacturing large jets. Huang Qiang, secretary general of the Commission of Science Technology and Industry for National Defense (CSTIND), told Xinhua on Monday a director and a chief engineer of research would be appointed by then to make sure "the work goes as planned". Previously, Shanghai Securities News reported the start-up would only be responsible for the design and assembly of jumbo aircraft, while the production of components and parts would be left to other aviation enterprises. It was the latest development of the research project approved in principle by China's Cabinet, the State Council, last February.This was to make the country capable of building aircraft with a take-off weight of more than 100 tons, or planes with more than 150 seats. Currently, only the United States, Russia, France, Germany, Britain and Spain have the capability to build jumbo aircraft, with Boeing and Airbus taking a lion's share of sales in the international market. Just before the New Year holiday, Chinese Premier Wen Jiabao visited the Avic I Xi'an Aircraft Industry (Group) Company to give a pep talk on the manufacturing of jumbo jets. Last year, the company made China the fourth country to develop its own advanced fighter aircraft -- the "Jian 10". During his talks with technicians, Wen emphasized a China-made jumbo aircraft as a "significant strategy" of the country. This would lift the country's competence in the global market as a slew of technical breakthroughs, especially in engine, materials and electronic equipment, were to be made. The maiden flight of the ARJII1, China's first 90-seat regional jet, widely viewed as a step closer to jumbo jets, was scheduled for this year.

Timothy Keating, US Pacific Command commander-in-chief, will visit China from Jan. 13 to 16, the Chinese Ministry of National Defence said on Tuesday.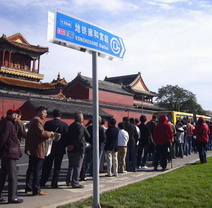 People queue up at a subway station for souvenir tickets commemorating the launch of a new line in Beijing. Some 270 kilometers will be added to the track length of Beijing's subway or above-ground rail system, nearly doubling its current size.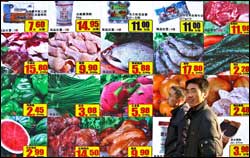 Despite the clout that comes with double-digit economic growth and record foreign reserves, China has been wary of projecting its power on the global financial stage. Tantalizingly, that might be changing. Even as leaders keep their eye firmly on problems at home such as income inequality and corruption, this may be the year in which Beijing does what Washington and Brussels have been seeking and assumes more responsibility for managing the world economy. "Before, domestic priorities always came first. Now I think policymakers want to strike a balance between domestic and international issues," said Ding Zhijie, a professor at the University of International Business and Economics in Beijing. The litmus test will be whether Beijing allows the yuan to keep rising at the accelerated pace witnessed in recent weeks. A stronger exchange rate would allow neighboring countries to push up their currencies without losing competitiveness to China. It would also stoke China's demand for imports from the rest of the world, helping offset weakening US growth, and ease pressure on the eurozone, which has taken the main strain of the US dollar's recent depreciation. Other signs lately that China is coming out of its cocoon include its decision to become a donor to the World Bank arm that makes grants to the poorest countries and the appointment of a mainland judge to the World Trade Organization's top court. Still, there are limits to China's ambitions. With per capita income of around US$2,000 (HK$15,600), it never misses an opportunity to remind others that it is a developing country. In practice, that means it does not want the responsibilities entailed by membership in the Group of Seven - the United States, Japan, Germany, Britain, France, Italy and Canada - or the Group of Eight, which includes Russia. The two groups function as a loose steering committee for the world economy. "China should not join the G8 now or in the near future," said Mei Xinyu, a senior researcher at the Chinese Academy of International Trade and Economic Cooperation, a Ministry of Commerce think tank. "Being forced to join a rich club on unfair terms would not do China any good."
A Communist Party official has been sacked from his post and demoted for putting on an over-lavish funeral for his mother, state media said on Tuesday. Xie Pingfa, former director of a highway administration in Guangdong province, was punished for violating Party rules on "self-discipline and integrity for officials and cadres", the China Daily said. China is in the middle of a crackdown on official corruption, which the ruling communists say is so widespread it could threaten the party's survival. Xie organised more than 1,000 people, including eight officials and staff members of the highway administration, to attend his mother's funeral in November, according to a report of the Guangdong provincial discipline watchdog. "Xie and his siblings erected a stage more than 20 metres high for people to pay their tributes and employed a 20-member band to perform music during the funeral procession," the newspaper said. Xie also hosted a banquet with more than 100 tables and accepted gifts of money from guests after the ceremony, the newspaper said. The extravagant funeral caused a stir among local residents and the Guangdong provincial discipline watchdog decided to remove Xie of his post because the case had "negatively affected the community".
China is to launch 15 rockets, 17 satellites and its third manned mission this year, flexing its muscle in space in a year in which it will host the summer Olympics.
January 9, 2008

Hong Kong: Major General Zhang Shibo has been appointed the new commander of the Garrison of the Chinese People's Liberation Army (PLA) in the Hong Kong Special Administrative Region (HKSAR). Lieutenant General Wang Jitang, Zhang's predecessor, has been promoted to vice commander of the PLA Guangzhou Military Area Command, according to a decree signed by Chinese President Hu Jintao, who also chairs the Central Military Commission. Zhang was a group army commander before the new assignment. Lieutenant General Zhang Yang, political commissar of the PLA Guangzhou Military Area Command, announced the new appointment at the PLA Hong Kong Garrison on Sunday. On Monday, Zhang Yang, Wang Jitang, Zhang Shibo, and Major General Liu Liangkai, political commissar of the PLA Hong Kong Garrison, called on Tsang Yam-kuen, the chief executive of the SAR Government. Tsang congratulated Wang Jitang and Zhang Shibo on their promotions. Wang thanked the SAR Government and Hong Kong people for their long-time care and support to the PLA Garrison, his own work in particular. Meanwhile, the new garrison commander said he will work with Liu to lead the PLA officers and men in carrying out their duties, so as to make new contributions to the long-term prosperity and stability of Hong Kong.

Tourist arrivals surpassed the 28 million-mark last year, up 10% on 2006, the Hong Kong Tourism Board says.

Digital terrestrial television broadcasts have no bearing on the interference of analogue television services, the Office of the Telecommunications Authority's investigation has found.

Hong Kong's official foreign-currency reserve assets rose to US$152.7 billion in December, up US$2.3 billion on November, the Monetary Authority says.
Hong Kong's toy exports grew 25 percent to 88.8 billion HK dollars (about 11.4 billion US dollars) in the first 11 months of 2007, said the Hong Kong Trade Development Council here Monday at a toys and games fair. "In the first 11 months of 2007, toy exports grew 25 percent to 88.8 billion HK dollars. Toy exports to the U.S. and the European Union recorded 4.7 percent and 24.2 percent rises. Christmas sales of traditional toys were steady in major markets," the council's Toys Advisory Committee Chairman Jeffrey Lam said at the 34th HongKong Toys and Games Fair. Lam said Hong Kong, the world's second-largest toy exporter, has built up a solid reputation for quality manufacturing over the years. The fair, Asia's largest toy show, opened on Monday featuring more than 2,000 exhibitors from 36 countries and regions, with a broad array of quality and innovative products, ranging from ball games, bicycles, gymnasium equipment, to action figures, miniatures and collectibles, electronic and battery-operated toys. Nearly 30,000 buyers visited the fair organized by the council last year. This year, the council has organized 86 buying missions, with more than 4,800 major buyers from around the globe taking part in the fair.
Hong Kong singer and actress Gigi Leung has shot a range of charming photos in Paris recently for a fashion magazine as the cover girl and also pictures for a top-brand jewelry flagship store.

Chinese pianist Lang Lang attends a news conference for his upcoming concert in Hong Kong January 7, 2008. Lang recently became the first Chinese pianist to be nominated for Best Instrumental Soloist at the upcoming 50th Grammy Awards.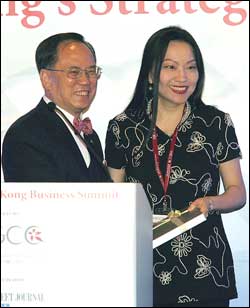 Hong Kong General Chamber of Commerce chairwoman and political high- flyer Lily Chiang Lai-lei will appear at Eastern Magistracy today after being charged by the Independent Commission Against Corruption for conspiracy to defraud and making false statements over granting share options to her former employees. Chiang, who is also the former chairwoman of financial services firm Pacific Challenge Holdings, and Shah Tahir Hussain, former PCH executive director, face three joint charges - one of conspiracy to defraud and two of making false statements as company directors, according to an ICAC statement yesterday. Reports said Chiang first spent HK$189 million to buy shares in PCH in February 2000, holding a 32.65 percent stake through her company Super Drive and another 0.84 percent under her name. It was said she later planned to let PCH buy her company, cents.com, for HK$170 million. The deal, however, was opposed by PCH's second largest shareholder Kistefos Investment. One year later, Kistefos filed for liquidation. On February 4, 2002, PCH issued options for 23.88 million shares with an exercise price of 32 HK cents. According to reports, mainland property developer Zhang Mingyu also in the same mo nth agreed to purchase Chiang's PCH shares at HK$1.81 each. But the offer was later delayed as PCH's second largest shareholder, Kistefos Investment, was not satisfied that Chiang, by selling a 29.5 percent stake to Zhang, would actually help Zhang to avoid making a general offer.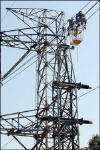 The city's two power companies are under pressure to make double-digit tariff reductions as early as October under a new agreement with the government. Secretary for the Environment Edward Yau Tang-wah said the amount of savings for commercial and residential consumers on electricity bills could reach as much as HK$5 billion annually after the permitted rate of return for Hong Kong Electric (0006) and China Light and Power (0002) has been reduced to 9.99 percent from the existing 13.5 to 15 percent. Customers of CLP and Hongkong Electric can start enjoying reductions in basic tariffs from October 1 this year and January 1 next year, respectively, the government said yesterday. But the two power companies refused to confirm how much reduction they could make.

Financial Secretary John Tsang Chun-wah admitted yesterday the government will exceed the estimated HK$25 billion surplus at the end of the current fiscal year - a welcome development that he intends to share with the public.

China: According to Labor Newspaper, by the end of 2009, Pudong will have three more MTR and three more tunnels. These facilities are currently under construction. Ground transportation in Pudong along the river current is very crowded. The construction of the tunnel is expected to ease some of this congestion. According to the Huangpu River's Facilities Investment and Construction Company, three tunnels connecting to Pudong will be completed by the end of 2009. The tunnel leading to Renmin Road and one leading to a new road are both 4-lane tunnels; and the Shangzhong Road Tunnel that connects with the Puxi Central Line is a 6-lane tunnel.
China's customs revenue reached a record 758.46 billion yuan in 2007, up 24.3 percent year-on-year, the General Administration of Customs (GAC) said on Monday.
US financial services firm Morgan Stanley plans to sell its entire stake in China International Capital Corp (CICC), the nation's first investment bank, sources close to the two companies said.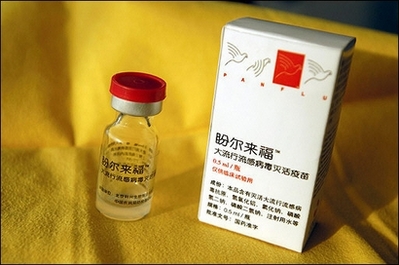 A bottle containing a vaccine against bird flu from Beijing-based pharmaceutical company Sinovac Biotech. Experts say that Chinese purveyors of genetically engineered drugs and vaccines -- targeting everything from cancer to Alzheimer's -- are growing at a frenzied pace and are likely to become major actors on the world stage.
China will contribute about 10 billion yuan ($1.4 billion) to the International Thermonuclear Experimental Reactor (ITER) project, construction of which will begin in France this year.
China Merchants Bank (3968) said yesterday that its 2007 performance will beat market consensus to record a 110 percent rise in annual earnings to 15 billion yuan (HK$16.08 billion). The company cited an increase in loans, interest spreads and non-interest income growth.
January 8, 2008

Hong Kong: The government is considering increasing the annual review of welfare payments to twice a year as the surplus is set to break the HK$100 billion mark when the current fiscal year ends, according to government sources.
Hong Kong stocks plunged in early trade on Monday after a sharp rise in the United States unemployment rate intensified fears that the world's largest economy may head into a recession, hitting exporters such as Li & Fung (SEHK: 0494) hard. The benchmark Hang Seng Index opened 2 per cent lower at 26,962.54. After half an hour of trade the index was down 689.43 points or 2.51 per cent at 26,830.26. The H-share index was down 2.43 per cent at 15,516.57. Worries over the US outlook hammered stocks throughout Asia on Monday and the US dollar was pinned near a six-week low. Oil prices fell as investors feared America was sliding into a bigger economic downturn than previously expected, while bonds rallied on expectations that the weak US employment data on Friday would make it more likely the Federal Reserve would cut interest rates later this month. MSCI's measure of Asia Pacific stocks excluding Japan lost 1 per cent in early trade, and has now dropped 2 per cent so far this year, weighed down by concerns about the world's top economy. "The sluggish jobs data is reinforcing concerns that the subprime mortgage crisis is pushing the US economy towards a recession," said Kim Young-gak, an analyst at Hyundai Securities. "Now it looks like the US Federal Reserve will almost certainly cut interest rates by at least a quarter percentage point this month." Tokyo shares dropped 1.1 per cent, while South Korean stocks fell 1.8 led by exporters such as Japanese digital camera maker Canon and Korean vehicle maker Hyundai Motor Co. "We're going to get slaughtered," said Andrew Clarke, a trader at Societe Generale Securities in Hong Kong. "We'll be down at least 550 points." Australian stocks slumped 2 per cent amid concerns booming commodity markets could cool on the back of a slowing global economy. New York Mercantile Exchange crude futures retreated 0.5 per cent or 53 cents to US$97.38 after hitting a record just above $100 a barrel last week, while London Brent crude eased towards US$96.50.
Hong Kong was exceptionally hot and dry in 2007, and last year was also sunnier than usual despite an increase in smog, Observatory figures show. The annual average temperature hit 23.7 degrees, making last year one of the five hottest years on record. (Four of the five fell within the past 10 years.) July temperatures averaged 29.6 degrees, the second-highest figure since records began in 1884. The Observatory said the high temperatures were evidence of the effects of global warming, while environmental campaigners urged the government to step up action to reduce local greenhouse gas emissions and bring in planning measures to cut urban temperatures. During the year, there was 23 per cent less rainfall than normal and 203 more hours of bright sunshine than the previous year, making 2007 the sunniest since 2004. Rainfall in July was the lowest ever recorded. At the airport, the sky was obscured by haze or smog - with visibility reduced to less than 8km - for 2,267 hours up to December 30, a 5 per cent increase on 2006, when haze was present for almost a quarter of the year. At the Observatory in Tsim Sha Tsui, visibility was poor for 1,298 hours, up 3 per cent on 2006 levels.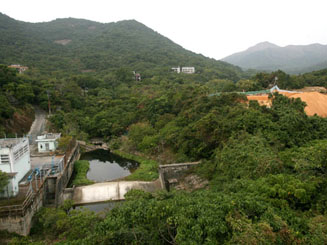 Town planners want to see a tightening of procedures relating to the issuing of building permits for new village houses after a large area of trees was illegally felled in Sai Kung.
Harbour Centre Development, a subsidiary of Wharf (Holdings) (SEHK: 0004), bought a 4.42 million square foot site in Changzhou city in Jiangsu province for 1.47 billion yuan. Through its wholly owned subsidiary Cheer Sky Investment, the company bought the site in a public auction yesterday. With gross floor area of 8.68 million sqft, the accommodation value is about 169 yuan per square ft. The site will be developed into a residential and hotel project. The parcel of land is five kilometres away from the city centre in Xinbei district, in the vicinity of China Changzhou Dinosaur Land theme park and Xin Qu Park. Harbour Centre, in which Wharf holds 67 per cent, said the development would broaden the asset and earnings base of the company and its shareholders. The company has already paid a 380 million yuan deposit for the bidding with the remainder to be paid in three installments with the last payment no later than January 20, 2009. Harbour Centre has been actively acquiring sites in the mainland, a move in line with its parent Wharf's fast expansion in China. In the past two months, it has bought sites in Hangzhou, Suzhou and Hangzhou. Wharf Holdings deputy chairman and managing director Stephen Ng Tin-hoi earlier said that Harbour Centre Development would focus on smaller scale projects in the mainland leaving large scale developments to Wharf. Wharf, together with Harbour Centre, had an attributable land bank of 75 million sqft in mainland cities acquired at a low average cost of 300 yuan to 400 yuan per square foot. The group hoped to boost its land bank to 100 million sqft by the end of this year or early next year. Sun Hung Kai Financial strategist Castor Pang Wai-sun said the group was on the right track for future expansion. "Growth potential will be limited if it just focuses on the Hong Kong market. Expanding in the mainland is the right move," he said. Faced with the central government's tightening credit measures targeted at mainland developers, Mr Pang said it would provide more acquisition opportunities for cash rich Hong Kong blue-chips. However, he raised concerns over the growing restrictions on remitting foreign currencies into the mainland. It was still unknown if it would slow Hong Kong companies' expansion in the mainland, Mr Pang said.

China: A total of 187 countries and international organizations have confirmed their participation at the Shanghai World Expo in 2010, organizers said here Sunday. The number has already set a record in the World Expo history, surpassing the previous record held by Hanover, Germany, in 2000, said Zhu Yonglei, deputy director of the Bureau of Shanghai World Expo Coordination. "Shanghai will strive to get confirmation from 200 countries or international organizations by the end of 2008," said Zhu. The city has just started to organize domestic participants. On Jan. 2, Hong Kong SAR government submitted its theme statement, an official document to confirm the theme of its pavilion to the Bureau of Shanghai World Expo Coordination. Currently, four major permanent buildings of the Expo, including the China National Pavilion, have all started construction. Shanghai unveiled its mascot for the Expo last month. The mascot is named Haibao, literally means "treasure of the world". The blue smiling cartoon figure has curly hair and is in the shape of Chinese character REN, or human beings. The expo, which runs May 1 to October 31, 2010, was expected to draw 70 million visitors, an average of 400,000 a day. It was the first time for the event to be held in a developing country since the inaugural fair in London in 1851. Shanghai won its bid for the expo in December 2002.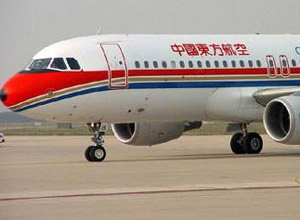 The parent company of the nation's largest airline company, Air China, said yesterday it plans a make a counter offer of HK$5 per share - or a third more - for China Eastern Airlines if shareholders rejected a Singaporean deal.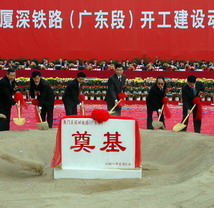 Railway and local officials gather at Chao'an County, South China's Guangdong Province, for a groundbreaking ceremony marking the beginning of construction of the Xiemen-Shenzhen railway, January 6, 2008. The railway links China's two important economic zones.
January 7, 2008

Hong Kong: Hong Kong had 145,691 property sale and purchase agreements in 2007, up 47 percent on the year before, the Land Registry of Hong Kong said Friday. The total consideration involved in these agreements recorded a66.8 percent year-on-year rise to 525.63 billion HK dollars (67.5 billion U.S. dollars). When compared with 2005, the figure represented a 32.9 percent increase. There were 4,759,585 land record searches last year, up 20.3 percent on 2006 and 12.2 percent on 2005.
Hong Kong will launch a scheme to assist schools in using Putonghua (standard speaking Chinese) to teach Chinese through on-site support by Chinese mainland's experts and local consultants, the Standing Committee on Language Education and Research of Hong Kong said Thursday. The scheme, benefiting 160 schools, will be carried out in four phases. Thirty primary schools and 10 secondary schools will receive support in each phase. Each participating school will receive support for three years. The support includes on-site visits by Chinese mainland's professionals and local consultants in the first year to assist the school-based program's formulation of using Putonghua to teach Chinese. Local consultants will help in subsequent years. The first phase for the 2008-09 school year is open for application. Schools must submit their application with plans for increasing classes and forms using Putonghua to teach Chinese, including their long-term goal, strategies and resources planning. The Education Bureau's Language Learning Support Section also provides support to schools in the Chinese language subject teaching.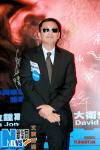 Director Wong Kar-Wai promotes his English-language romance feature, "My Blueberry Nights," at the film's Hong Kong premiere on Wednesday, Jan. 2, 2008. The film, starring Norah Jones, Jude Law and Natalie Portman, opened earlier on the Chinese mainland in late December and has been leading the New Year holiday box-office.
The government is considering increasing the annual review of welfare payments to twice a year as the surplus is set to break the HK$100 billion mark when the current fiscal year ends, according to government sources.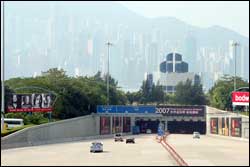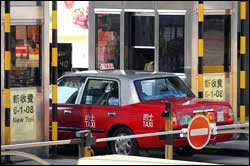 Congestion at the harbor crossing between Hung Hom and Causeway Bay is set to worsen today - the first working day after Western Harbour Tunnel raised its tolls by more than 10 percent yesterday. "Aside from helping stoke inflation, raising rates at Western tunnel will create even more traffic jams in and around the Cross- Harbour Tunnel, Hung Hom, Causeway Bay, Wan Chai and Tsim Sha Tsui," said Democratic Alliance for the Betterment and Progress of Hong Kong deputy traffic spokesman Chan Hok- fung. "Air pollution is already a problem, but with all those idling cars stuck in traffic jams, roadside pollution will be much much worse for pedestrians caught on the street." DAB protesters will today seek talks with Chief Executive Donald Tsang Yam-kuen to discuss the toll increase. Following protests at the Western tunnel on Sunday, DAB demonstrators are calling on the government to take a controlling share of the operator, Western Harbour Tunnel Company, in an effort to create price controls and the introduction of a government monopoly over all tunnels. They are also asking for a continuation of promotions for the Western tunnel, introduced in July 2007, to encourage its use over the Cross-Harbour Tunnel in Hung Hom. The rates for private cars rates at the Western tunnel went up 12.5 percent to HK$45. Taxis, private and public minibuses have to pay HK$5 more, while double-decker buses have to pay HK$115, an increase of HK$15. Single-decker buses pay HK$80 instead of HK$70.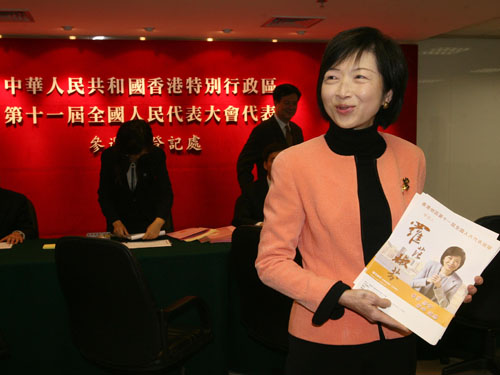 Former senior civil servant Fanny Law Fan Chiu-fun yesterday refused to comment on whether a "revised arrangement" allowing retiring officials to stand for the National People's Congress elections was made for her. Mrs Law yesterday formally entered the race for a seat on the state legislature with 61 nominations submitted at a Sheung Wan event when the nominating period began. The Civil Service Bureau announced a "revised arrangement" on Wednesday to allow top civil servants who are on final leave to stand for the NPC election after obtaining permission from the bureau's secretary. The ruling was criticised as being tailor-made for Mrs Law, who confirmed she was still on final leave after resigning as Independent Commission Against Corruption commissioner in June. She stepped down after an inquiry found she had interfered with the academic freedom of two academics while permanent secretary for education and manpower. When asked if the change was made for her, Mrs Law replied: "You should ask them (the Civil Service Bureau)." She said she had talked with the government and had received permission to run. Mrs Law, who in her resignation statement described the city's political situation as "unhealthy", defended her determination to enter a political election.

China: China's press and publication regulator has issued a notice announcing the launch of another nationwide crackdown on "vulgar" video and audio products. The notice, dated December 25, 2007, was posted on the website of General Administration of Press and Publications (GAPP) on Friday. The notice said after a three-month quality check of China's entertainment market, GAPP found the contents and covers of certain video and audio products in the country were "vulgar". Some of the video and audio products are coarsely made, containing materials of bad taste; some are replete with sexually suggestive languages like "absolutely erotic", "not suitable for those under 18" and half-nude images to promote sales; and some are showing female nudity in the name of "body art", said the notice. Before January 15, audio and video producers should stop the production and sale of vulgar products and recall those that are already on the market, GAPP said in the notice. After that, GAPP's provincial bureaus will have to carry out inspections and submit before the end of January a written report and samples of vulgar products to GAPP, which will then conduct spot checks across the country. GAPP threatened in the notice to punish audio and video producers who continued to sell the prohibited products, but did not say how. The notice came as the latest one of a series of "bans" and "crackdowns" on pornography given by China's censors around the new year week.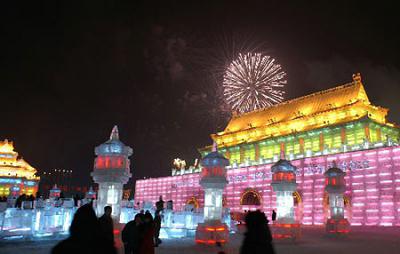 Fireworks are set off to mark the opening of the 24th Harbin International Ice and Snow Festival in Harbin, capital of northeast China's Heilongjiang Province, Jan. 5, 2008. The gala, opened here on Saturday, will last over two months.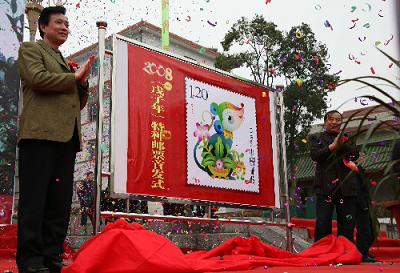 A release ceremony for a special set of stamps to commemorate the "Year of the Rat" was held in Changshun County in southwest China's Guizhou Province on Saturday, Jan. 5, 2008.
The Chinese mainland has been the second largest source of foreign students at Harvard University for the past seven years, said the prestigious U.S. university. Among 3,913 international students from 141 countries studying at the university for the 2007-08 academic year, 400, or 10.22 percent, are from the Chinese mainland, second only to 489 Canadians, the Harvard International Office said. The number of Chinese mainland students at Harvard has increased 81.8 percent in the past 16 years. More than half of Chinese students there are studying at the Graduate School of Arts and Sciences (GSAC), while others are scattered across various schools ranging from business to design. The Chinese mainland once topped the international origin countries at Harvard during academic year 1991-92. But it was dethroned the following year and ranked between second and fourth until academic year 1999-2000, after which it maintained second place, according to Harvard's International Office. Yongwook Ryu, a South Korean PhD candidate at the Department of Government under GSAC, said he has met a lot of Chinese students on campus. "They impress me deeply by their hard working and efforts to learn Western civilization," said Ryu, who majored in international politics. Most Chinese students at Harvard are taking postgraduate courses and focusing on research work, he added. Zhang Xiaoxia, an undergraduate senior at Beijing University of Posts and Telecommunication who has applied for Harvard, said the news is very encouraging. "This is recognition from Harvard of the talent of Chinese elites, and now I am more confident about my application," she said. The number of Chinese mainland students studying in the United States hit a record high in 2007. About 51,500 student and exchange visitor visas were issued to mainland Chinese in the fiscal year, up 40 percent from 2006 and double the figure in 2004, according to the U.S. Embassy in China. Also, 22 students from Hong Kong and 117 from Taiwan are studying at Harvard during the current academic year. Asian countries take up three seats among the five top foreign student sources of Harvard, with South Korea and India ranking third and fourth respectively.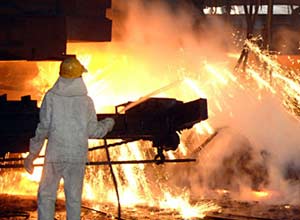 Beijing Shougang Group, one of China's leading steel manufacturers and also the city's major polluter, extinguished the fire in one of its four blast furnaces on Saturday, as part of its pledge to cut its normal output by half during the Olympics.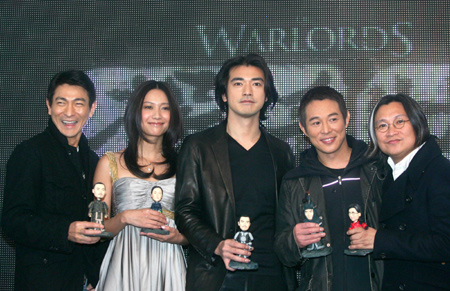 Actors Andy Lau, Xu Jinglei, Takeshi Kaneshiro, Jet Li and director Peter Chan (from Left to Right) attend a press conference of the movie "The Warlords" premiered in Beijing, Dec. 6, 2007. Two Chinese popular films "The Warlords" and "The Assembly" ranked first and second, respectively, in the box office achievement, according to the report of Beijing News Thursday. Released nationwide on Dec. 13, 2007, "The Warlords" reaped 192million yuan (about 26 million U.S. dollars) by Jan. 1. Its overseas box office was 245 million yuan (about 33.6 million U.S. dollars), said the newspaper.
China will finish the planned construction of national highway system that comprises five north-south highway trunk roads and seven east-west trunk roads and build eight inter-provincial roads this year, communication minister Li Shenglin said on the weekend. So far, the highway system, which has a total mileage of 35,000km, has taken shape, Li said at a national communication work conference held in Beijing. Meanwhile, China is to build new expressway roads with a total length of 5,000 km and expand construction of eight inter-provincial highways, he said. More important, Li said, the country will start building a road to Medog, the last roadless county in southeastern part of Tibet, this year. The central government has been considering building the highway in Medog since 1975. However, the highway poses a number of engineering challenges as Medog sits on the Himalayan fault line where there are many earthquakes and landslides. By the end of 2007, China had built roads with a total length of 116,000 km. The mileage of highway opening to traffic totals 3.57 million km, Li said. Work has completed on 80 percent of the eight inter-provincial highway roads. Constructions on bridges over the Yangtze River, Hangzhou Bay and some other key rivers are in final touches.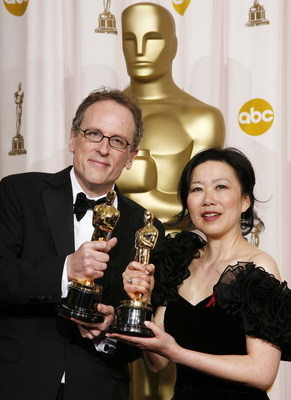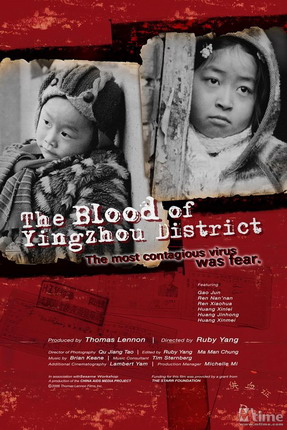 Ruby's gems sparkle with safe-sex message - Winners of the Oscar for Best Documentary Short Subject for their work in "The Blood of Yingzhou District," Ruby Yang (R), and Thomas Lennon hold their Oscar backstage at the 79th Annual Academy Awards in Hollywood, California, February 25, 2007. When Ruby Yang spotted a Chinese restaurant near her Dallas hotel, she bought a large amount of takeout food. She was going to meet Yao Ming later that day, and something was cooking in her mind. The Houston Rockets center was to appear with basketball legend Magic Johnson in a public service announcement (PSA) on fighting discrimination. During production, the power went off, and Yang, the director, floated an idea: Why not have Yao and HIV-positive Johnson share some Chinese food? That could dispel any stigma more effectively than anything. The two stars readily agreed; and Yao even did some improvising with his line - to make it more natural. The spot was aired for a whole year on buses and other public places all across China. It sent a clear message: There are a lot of things you can share with an HIV carrier or an AIDS patient without risk of contracting the disease. That was three years before Yang won an Academy Award for The Blood of Yingzhou District, a 40-minute documentary about a group of AIDS orphans. Riding on her Oscar glory, she has recently made three more PSA spots for the Ministry of Health. This time, the message is different. As surveys increasingly show that the risk of contracting the virus is primarily through sexual contact among young people, the ministry wants to focus on the taboo subject of sex. Yang's challenge: How to use TV to talk about something that the Chinese people are not comfortable talking about in public. Again, celebrities came to rescue, and she created three concepts customized for three of the biggest stars in China. The one with Jackie Chan uses a metaphor as the action star coaches a young beauty to perform a movie stunt. What he and his colleagues do on screen may seem risky, but they always take precautions, and so should you in real life. The spot involving folk singer Peng Liyuan is subtle. She talks about using protection as a group of students mill around in the background. "Peng is a mother and a role model for young people. Last year, she toured the country to promote AIDS awareness and prevention," said Yang. On the other end of the spectrum is the spot with Pu Cunxin, who is maybe the first Chinese celebrity to take up the cause. It was filmed in Shanghai, where the night air is filled with erotic possibilities. Three shots illustrate the need for protection: The first has a young man and a young woman sharing a bicycle; the second shows a woman's leg with her blouse blowing in the wind; and the last has two young men fooling around on the street. Yang made Pu accessible by having him ride a bicycle. "I got the idea two years ago when I interviewed him and accidentally forgot to remove the body mike from him. He rode a bike for 20 minutes to return it." The spots are being widely aired on CCTV and other stations, but some youngsters complain they are too subtle. She has a solution to that, too: "I'm thinking of doing shorter and more direct versions for the Internet."
Beijing-Shanghai High-Speed Railway Company has announced that the construction of the 83.7 billion yuan (HK$89.9 billion) Beijing-Shanghai High-Speed Railway will be divided between four companies - China Railway Group (0390), China Communications Construction Company (1800), China Railway Construction Corporation and Sinohydro Corporation.
January 4 - 6, 2008

Hong Kong: Digital TV broadcasting launches - Hong Kong has entered a new era of digital broadcasting with the official launch of digital terrestrial television allowing viewers to enjoy high-definition programs. Chief Executive Donald Tsang, Secretary for Commerce & Economic Development Frederick Ma, Permanent Secretary for Commerce & Economic Development Rita Lau and representatives of Hong Kong's two free domestic television stations officiated at the launch January 1 2008. Mr Ma said digital broadcasting will bring viewers a wider array of quality programmes and entertainment, as well as a brand new audio-visual experience. "The use of digital technologies could release spectrum for the development of new multimedia services and lead Hong Kong to scale new heights in the technology arena." Coverage to expand - The initial launch will serve up to half the city's population, covering areas in Kowloon, north Hong Kong Island, part of Sha Tin and east Lantau Island. "The Government is making every effort to help ATV and TVB speed up construction of their digital networks with the aim of providing 75% coverage by August next year, so more than five million Hong Kong citizens will be able to view in the comfort of their homes the 2008 Beijing Olympics through digital broadcasting," Mr Ma said. With the launch of DTT broadcasting, ATV and TVB will simulcast their existing four television channels in digital format, and launch new free channels in standard and high definition. The stations will continue to broadcast the four existing channels in analogue format, so viewers can choose when to switch to digital broadcasting at their own pace. Database formed - People will be able to get information about the services coverage from the Office of the Telecommunications Authority's database from January 15. They can key in the location or name of their buildings and get information about whether their buildings are covered by the services. If some buildings lie in grey areas where it is not clear whether DTT signals will be able to reach, the authority will send staff to obtain on-site measurement.
Movie theaters in Hong Kong have helped rake in one billion Hong Kong dollars (128 million U.S. dollars) in 2007, reported the local Motion Picture Industry Association. As of December 30, a total of 232 films have been screened, among them 50 made in Hong Kong. These local films have generated gross revenue of 227 million HK dollars, Tuesday's Wen Wei Po newspaper cited the association as saying. Derek Yee's crime film "Protégé," starring Andy Lau, Daniel Wu and Anita Yuen, eclipsed other Hong Kong films with HK$26 million. "Spider-Man 3," with local box office revenue of 55 million HK dollars, wound up as the most bankable film produced by a non-Hong Kong team. Other foreign front-runners included "Harry Potter and the Order of the Phoenix" and "Transformers."
Revenue from personal wealth management products is expected to more than double to 1 trillion yuan (HK$1.067 trillion) for the year 2007, the mainland's banking regulatory authority said in a statement released yesterday.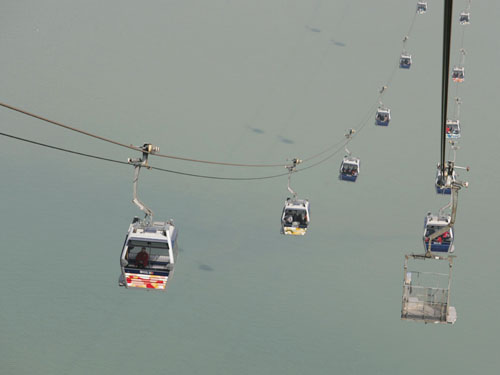 It was a good start for the Lantau cable car service for 2008, with almost 8,900 riders venturing out on a chilly New Year's Day. This number was nearly 2,000 visitors more than reopening day on Monday. Round-trip tickets were sold out by 3.30pm and the longest wait in the queue for a ride was an hour. Ngong Ping 360 managing director Morris Cheung Siu-wah, who was satisfied with the smooth operation yesterday, said the cut-off time for ticket sales was to ensure visitors could return to Tung Chung on time. Tenants at Ngong Ping Village said the cable car's reopening had attracted more local visitors to shop and their businesses had recovered better than expected. They also hoped more advertisements and promotions would be done in overseas markets to attract more foreign tourists. Kelcy Hahn and his family, who were visiting from the United States and made their first visit to the cable car yesterday morning, said they enjoyed the ride. "I was a bit nervous, but it was quite nice," Mr Hahn said. "But it's funny that there's Starbucks and 7-Eleven here, I thought it would be a village." Many foreign tourists were not aware the cable car had just reopened after it had been closed for six months because a gondola had fallen 50 meters during a test.
There has been a rise in the number of unions between Hong Kong women and mainland men in recent years – despite an overall decline in mainland-Hong Kong marriages, the China Daily reported on Wednesday. Latest figures also show the number of marriages between mainland women and permanent residents of Hong Kong are declining. In the 1980s, it was not uncommon to see at least 15,000 weddings between Hongkongers and residents of Guangdong in a single year. But according to the newspaper, this began to change in the late 1990s. Traditionally, women account for about 80 per cent of mainlanders who marry residents of Hong Kong and Macau, a Guangdong civil affairs official said. Some Guangdong residents still marry in the hope of securing permanent residency in Hong Kong or Macau – especially as emigration procedures have been simplified in recent years. Out of about 70,000 marriages involving Hongkongers in 2006, the number of unions between permanent residents of Hong Kong and mainlanders accounted for half that number. Of mainland-Hong Kong marriages, 6,500, or 19 per cent were between Hong Kong women and mainland men – a sharp increase from around 2,000 a few years ago.
Executive Councillor Anthony Cheung Bing-leung formally took the helm at the Hong Kong Institute of Education yesterday, saying he hoped it could attain university status this year. Professor Cheung said 2008 was a new start for the teacher training institute, which was embroiled in a judicial inquiry last year into staff allegations of government interference. Formerly an academic at City University's department of public and social administration, he said his top priority was to secure university status for the institute. He said a University Grants Committee panel considering the institute's application for a status change would visit the Tai Po campus on Monday and was expected to report to the government by the end of the year. "I hope there will be cheering news this year," Professor Cheung said. "Getting a university title is not just about the name. The issue links with the whole institution in many other aspects." He said the institute was gearing up for the assessment and he was busy preparing related documents, including letters sent from foreign universities in support of the move. "The letters were from universities and other institutions on the mainland, Asia, as well as those in the United States and Britain. They pointed out what strengths they thought the HKIEd possesses," he said.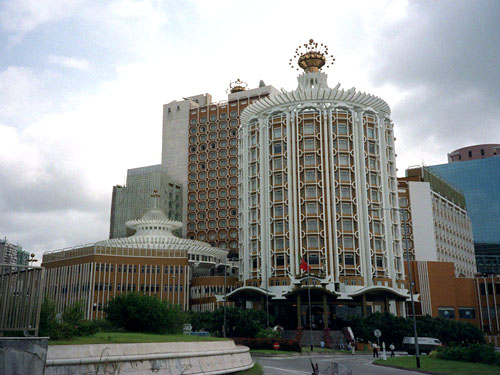 Macau's skyline will never be the same after magnate Stanley Ho Hung-sun's Sociedade de Jogos de Macau (SJM) said it planned to redevelop the iconic Lisboa hotel and casino. Construction on a project to replace the labyrinthine 38-year-old casino complex is set to begin next year and be completed by 2012, SJM announced last night. Details were scant, but Mr Ho's firm said it would launch an international architectural competition for the unnamed development to replace the old Lisboa, which sits on a 188,000-sq-ft site in central Macau. "Since its opening in 1970, the Lisboa has led in the development of Macau," Mr Ho said. "With this planned redevelopment, we commit ourselves to further innovation." While it revolutionised Macau's casino market in its time, the original Lisboa has been upstaged in recent years by rival resorts such as the Venetian, Wynn, Galaxy Starworld, MGM Grand and SJM's own 47-storey Grand Lisboa casino, which opened across the road less than a year ago. Competition has eroded SJM's share of Macau's surging gaming revenue, and last year saw the company's first year-on-year decrease in profit since it was awarded a new casino licence in 2002, when Mr Ho's gaming monopoly expired.

China: China's Three Gorges hydropower project generated 61.6 billion kilowatt-hours of electricity last year, about 25 percent more power than in 2006, company sources said on Tuesday. To date, the hydropower station had transmitted 207 billion kwh of electricity to 11 provinces, municipalities and autonomous regions since it started operation in July 2003. Currently, 21 turbines were operational with a total installed capacity of 13.3 million kw. Five more turbines would be added by year-end, according to its operator, the China Three Gorges Project Corporation. The 22.5 billion U.S. dollar project was launched in 1993 in the mid-section of the Yangtze, China's longest river. Originally, its plan called for the 26 turbo-generators to produce 84.7 billion kwh of electricity annually upon its scheduled completion in 2008. It was now to be expanded further to include six more turbines by 2012.

Chen Deming, former vice-minister of the National Development and Reform Commission (NDRC), was appointed the country's new minister of commerce at a regular session of the National People's Congress Standing Committee on Saturday. Chen, born in 1949, replaces 58-year-old Bo Xilai, who became Communist Party chief of Chongqing Municipality on December 1. Chen, who holds a doctorate in management, spent most of his early career in Jiangsu Province before being appointed vice-governor of Shaanxi Province in 2002. In 2005, he was appointed governor of Shaanxi. He moved to Beijing last year after being appointed NDRC's vice-minister. In late 2007, he was appointed vice-minister of commerce. Li Jiaxiang, general manager of China National Aviation Holding Company, was also promoted to executive vice-minister and acting minister of the General Administration of Civil Aviation of China, the People's Daily said on its website over the weekend. Another report by Caijing Magazine said Li's predecessor Yang Yuanyuan, who took over the position in 2003, would become a deputy head of the State Administration of Work Safety. Li, 58, was born in Shandong Province in 1949. He joined the People's Liberation Army in 1969 and stayed with the army until 2000 when he was appointed Communist Party chief of Air China. In 2002, Li became Party chief of China National Aviation Holding Company and in 2004 he was named general manager of the company.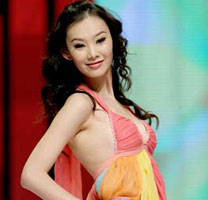 Li Xinyue, champion of the 2007 China Underwear Model Contest, competes in the contest final in Nanning, capital of Southwest China's Guangxi Zhuang Autonomous Region, December 29, 2007.

The appointment of Guangdong party vice-secretary Liu Yupu - a protege of President Hu Jintao - as Shenzhen's party boss yesterday ended seven years of domination in the mainland's most advanced special economic zone by allies of former president Jiang Zemin. Huang Liman and Li Hongzhong, Mr Liu's two predecessors, were long-time Jiang allies. Analysts said Mr Liu, a 58-year-old Shandong native, had kept a low profile since being "parachuted" into Guangdong from Shaanxi in 2000, but his age meant he would not have much time to realise large projects for the city. The maximum age for officials at Mr Liu's level is 60, which means he is likely to be a transitional figure. Some of Mr Liu's predecessors such as Mr Li, now acting Hubei governor, and Tianjin party chief Zhang Gaoli took on the job when they were at least seven years younger. Analysts said Mr Liu would have two options in the next two years: retirement or promotion to another position before turning 60. Ms Huang became chairwoman of the Guangdong People's Congress in January 2005, a month shy of her 60th birthday. Rumours had been circulating for more than two years that Guangdong publicity head Lin Xiong would become Shenzhen party chief. Mr Lin was Premier Wen Jiabao's secretary when Mr Wen was director of the Communist Party's General Office in 1990. Mr Lin was appointed to his present position in 2005, but a source said Mr Wen was too distracted by the Pingan insurance issue to clear the way for Mr Lin. Under mainland financial regulations, insurance companies are not allowed to operate banking services. But the State Council allowed Shenzhen-based Pingan Insurance Company to provide banking services in the city. There has been speculation that Mr Wen's attention has been consumed by the issue because a relative was involved. Some analysts have suggested that Shenzhen's future lies in a merger with Hong Kong. Both cities have shown a strong desire to collaborate.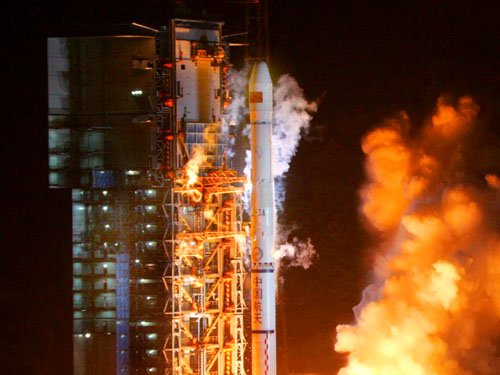 When China announced early last month that its home-grown Beidou-2 satellite navigation system would be used to guide traffic and monitor sports venues during the 2008 Beijing Olympic Games, there was astonishment in European capitals. China has been the most important non-European partner in the European Union's €3.4 billion (HK$38.9 billion) Galileo satellite navigation project. Beijing was to invest a substantial €230 million in Galileo and, as a spin-off of the partnership, European companies hoped to have access to the lucrative mainland transport and communications market. But with Chinese officials implying signals from the Beidou-2 system would be freely available to its citizens and to countries in Asia who sign up to use the Chinese system for their navigation devices, Beidou-2 would compete with Galileo for lucrative mass-market applications in Asia. "If China were to push ahead on a global civilian system we would review our relationship because we do not have an interest in helping them into the mass market," said Paul Verhoef, head of the Galileo programme at the EU Commission's headquarters in Brussels. "In a sense, it is a competition and it will have an impact on some of the things we do with them." China's participation in Galileo was originally to build ground stations on the mainland to receive Galileo signals and extend the European system's global reach. China also hoped to launch Galileo satellites, although it has been beaten to that by Russia. Satellite navigation is already ubiquitous in Europe and the US. Cheap hand-held and dashboard devices provide drivers with accurate directions to any destination. The technology, rapidly replacing maps, is now being incorporated into mobile phones - a lucrative mass-market application. Satellite navigation has also become a valuable tool in identifying and dispersing traffic jams, for port and air traffic control, for tracking forest fires and giving advance warning of tsunamis. The technology can even be used to track giant panda movements. For now the world uses the freely available GPS (global positioning system) developed and owned by the US military. European politicians have always worried it could be switched off whenever the US military wished, with dire consequences for industries that have begun to rely on it. These fears led to the launch in 2000 of the ambitious civilian Galileo project which envisages 40 to 50 ground stations around the world. EU Transport Commissioner Jacques Barrot said in November that Galileo would "ensure the economic and strategic independence" of the EU. But it seemed Galileo would collapse amid bickering over the spoils between private companies in Europe. Late last month, the EU rode to the rescue, taking the project out of private hands, providing a cash injection from the EU Commission's budget to ensure its survival. It is far from clear what will happen to the collaboration agreements with non-EU countries. The mainland first joined Galileo in 2003 when EU ministers regarded China as an important emerging economic power. "We signed up with China when it was not clear what the implications would be," Mr Verhoef said. "We soon realised that if you allow such co-financing you get into complicated discussions on co-ownership. Now that it is clear that the only ownership can be in Europe, we need a different kind of agreement." EU officials admitted that China was unhappy with being treated as a junior partner and had downgraded its involvement. But at the same time China made it clear it wanted to be part of the newly resurrected Galileo. The first Chinese delegation arrived in Brussels on December 19, less than three weeks after the EU took over the financing of Galileo. "The political co-operation with Galileo was always a really big thing in China," Mr Verhoef said. "It was part of China's strategic relationship with Europe - part of a strategic partnership against the US." Steven Tsang Yui-sang, a lecturer in Chinese politics at Oxford University, said: "Galileo is a very powerful back-up system for China's military. The US may destroy Chinese satellites but they will not destroy Galileo." There is another reason why China needs Galileo: its space scientists still can't match the quality of European engineering. "Technology transfer is an important consideration," Mr Verhoef said. The EU's main aim is to ensure the EU and Chinese civilian systems are compatible. An accord was signed with the US last year to change the signal of GPS-3 and alter Galileo to make them interoperable. "By doing this we are trying to make Galileo more interesting for the end user. They don't want disruption or interruption. Even with China's civilian system we need to make sure it is interoperable," Mr Verhoef said. EU officials downplay the military applications of satellite navigation, preferring to focus on Galileo's economic benefits. But defence experts say it is clear satellite navigation is the cornerstone of the next generation of smart missiles and will also pinpoint troop and armaments movements. "I believe this project will have to have military implications at some point," said Ana Gomes, the Portuguese member of the European Parliament who led a recent debate on the funding of Galileo. Galileo is intended to be accurate in positioning to within one metre, compared with five metres for GPS and 10 metres for Beidou-2 - as recently revealed by Xinhua. Galileo has already spurred the US to upgrade GPS and Russia to modernise its own Glonass system. "Galileo's accuracy is more useful for military or intelligence purposes than for commercial uses," said Richard North, an adviser on Galileo to the British parliament. "Part of the very great attraction for China to be associated with the Galileo project is the transfer to Beidou of military technology. It is hard to see how it can be stopped," Dr North said. Both Taiwan, which has been lobbying the European Parliament on Galileo and EU-China relations this year, and the US have been putting pressure on the EU to reduce collaboration with China for that reason. Ironically, the change to a publicly funded Galileo has pushed the economic benefits to the background in favour of its military use. "In the beginning it was true Galileo was a civilian, commercial undertaking, but after all the delays and with the public funding the security and military rationale has become stronger," said Jose Carlos Matias, a Macau-based expert on China's involvement in Galileo. EU officials argue that Galileo's public regulated service (PRS), which involves the greatest accuracy, is encrypted and available only to organisations such as the European Police Agency (Europol), the European Anti-Fraud office, emergency response organisations such as the Maritime Safety Agency and EU peacekeeping forces. "The Europeans have always said the high-level PRS signal would not be available to China. Frankly, no one believes them," Dr North said. "If Chinese scientists have the architecture of the system, which they must do, they can work it out to crack the code." Jonathan Holslag, of the Brussels Institute of Contemporary Chinese Studies and an adviser to the EU on China affairs, said: "It is obvious China's [Beidou-2] project is based on European technology. The Chinese know the European technical codes and standards. They take it as a point of departure for their own project."
January 1 - 3, 2008 - HAPPY NEW YEAR

Hong Kong: Hong Kong blue chips ended the year on a high note on Monday, ringing up a 39 percent gain for 2007 to make the index Asia's fifth best-performing bourse this year, and representing its best annual rise since 1999.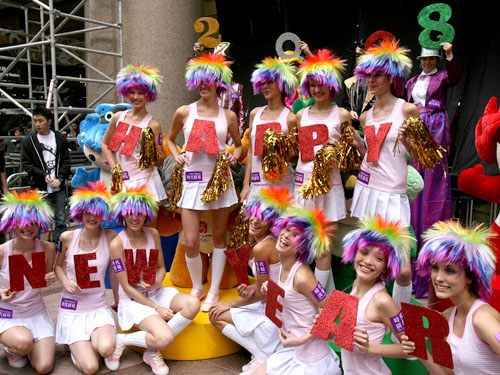 The Times Square New Year's Eve Apple Countdown party featuring a Beijing 2008 Olympics theme is expected to draw 100,000 people. en Leng, general manager of Times Square, said the party was the first Olympic countdown show going into the Beijing Games year. Crowds of revellers will wear specially made gloves featuring the Olympic mascot Fuwa and raise their hands when the ceremony starts at 9pm, while an Olympian lion dance is performed. There will also be two pyrotechnic shows, one in the opening ceremony and the other during the countdown. The event is being co-organised by the Home Affairs Bureau, the Sports Federation, the Olympic Committee of Hong Kong, China, the Hong Kong Youth Activities Committee and RTHK, together with the Culture and Ceremonies Department of the Beijing Organising Committee of the Olympic Games. Organisers will hand out 10,000 sets of party props to the revellers to celebrate with. In addition, 2,008 wish-making balloons will be released after the countdown ends. Other shopping malls in the city are also working hard on plans to entertain the public as they see out the old year and bring in the new. At the World Trade Centre in Causeway Bay yesterday, Japanese star Ono Aichi set a new Guinness World Record for head spinning. The Osaka-based champion spun 109 times on his head. The Tourism Board will stage A Symphony of Lights-New Year show involving the city's highest skyscraper, Two IFC, and 17 other buildings on either side of Victoria Harbour. The synchronised show comprises fireworks, lasers and music. Across town, on the roof floor of Elements mall in Tsim Sha Tsui, its first countdown party will be staged, featuring a live band and samba dancing. Mini-fireworks and wish-making balloons will be given out. Meanwhile, at Sha Tin Park, the Leisure and Cultural Services Department will organise a countdown carnival, featuring a variety programme with a "SportsArt" theme. Artists from Britain's Arabesque Aerial Theatre will perform aerial SportsArt, and there will be live bands, hip-hop dancing, and roving entertainers including athletes, magicians and musicians. To celebrate the advent of the Games and the hosting of the Olympic equestrian events in Hong Kong, revellers will be invited to pose for pictures with the seven lanterns of Fuwa on horseback at the carnival. Special traffic arrangements and crowd-control measures will be implemented in Central, Wan Chai, Causeway Bay and Kowloon today, including road closures and the suspension of bus and taxi stands.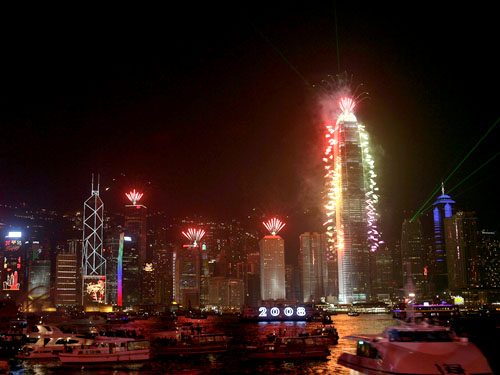 More than 390,000 revellers packed the streets last night to greet 2008. Undeterred by the cold, Hongkongers were in the mood to party, flocking to traditional waterfront celebration areas on both sides of the harbour and massing for the midnight countdown in Lan Kwai Fong and at Times Square, the Cultural Centre and the Avenue of the Stars. The New Year Symphony of Lights show, being held in the city for the first time, was staged at the 88-storey Two IFC in Central and 17 other buildings, drawing thousands of spectators. New Year's Eve saw the second cold weather warning in two days, with 10 degrees Celsius predicted. The Observatory expects the cold weather to persist for about two days. Some 1,533 people sought help from the personal emergency link by midnight. Hong Kong's first baby of 2008 was a girl, weighing 3.1kg, born at Prince of Wales Hospital at 12.05am. In a new year address, President Hu Jintao hoped the Beijing Olympics would act as a platform to foster understanding between countries, and stressed that China's development needed to be more inclusive. He said China would continue along its economic reform path in 2008 but needed to "strengthen social construction" and provide better social services for the sick and elderly. With the arrival of 2008, the general outlook for the new year is good, surveys found. In a University of Hong Kong study, about two-thirds of the population said they were satisfied with Hong Kong's development, while a TNS Gallup survey found 71 per cent saying they believed 2008 would be even better. People waiting to welcome the new year at Times Square last night had wishes ranging from pay rises to a greener Hong Kong and a bullish stock market. The Hang Seng Index closed 442 points up on the final trading day of last year at 27,812. The index recorded an advance of 39 per cent for 2007, its biggest in eight years. While last year saw continued economic recovery and the lowest unemployment in almost 10 years, a social worker, politicians and an entrepreneur expressed differing wishes for 2008. Community organiser Iman Fok Tin-man, of the Society for Community Organisation, said the elderly who depended on social security were expected to suffer more because of rising inflation. "As many Hongkongers find themselves enjoying the fruits of the economic recovery, the elderly are expected to tighten their purse strings further." Pan-democrat legislator Audrey Eu Yuet-mee urged the public to register as voters to voice their opinion on the pace of democratisation, in the Legislative Council election. Lau Kong-wah, vice-chairman of the Democratic Alliance for the Betterment and Progress of Hong Kong, said the implementation of universal suffrage for the chief executive election in 2017 was his new year wish. Simon Shi Kai-biu, president of the Hong Kong Small and Medium Enterprises Association, said his wish was to obtain more governmental help for firms doing business on the mainland, while legislator Chan Yuen-han said: "Hopefully, everybody will get a pay rise that surpasses inflation, and enjoy shorter working hours so they can spend more time with their families."

Hongkongers are the most optimistic in the world about their prospects this year, though they are less bullish than they were a year ago about how 2007 would turn out. More than seven in 10 people surveyed in 54 countries and regions believe this year will be better than last. In second place was Kosovo - the Serbian province whose Albanian majority expects an imminent declaration of independence - followed by Colombia and New Zealand. Among the most pessimistic were Taiwan, Indonesia and the Philippines - where one in three expect this year to be worse than last. Still, Hongkongers are less confident now than they were four years ago, when the city was only months into its recovery from the deadly outbreak of severe acute respiratory syndrome. Information group TNS and Gallup International polled more than 50,000 people worldwide between October and December. Thomas Isaac, director of research services at TNS Hong Kong, attributed local optimism in part to the strong economic growth the city had seen last year. "Real GDP increased by an annualised rate of 6.1 per cent in the nine months up to September. Total exports grew by a strong 9.6 per cent on a yearly basis in the 10 months up to October. Unemployment fell to 3.9 per cent between August and October, and the Hong Kong stock market also performed exceptionally throughout most of the year," he said. "Mainland China also continued to enjoy strong economic growth ... boosted by the business and employment opportunities created as a result of the Beijing Olympics." Reflecting the past year's fortunes, 58 per cent of people in Hong Kong expected another prosperous year, up from 54 per cent a year ago. Fifty-four per cent believed unemployment would fall further. Property prices and the 39 per cent rise in the Hang Seng Index last year helped boost household wealth. However, corporate losses and financial market unease in the US amid the continuing crisis over assets linked to subprime mortgages - home loans to people with poor credit histories - have dampened the outlook for global growth this year.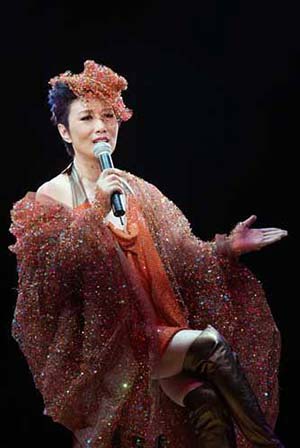 A free concert by Big Sister Liza Wang Ming-Chun on Saturday caused a public disturbance in a Hong Kong residential area when some concertgoers were barred from entering the already full venue. Wang, who was given the "Big Sister" moniker for her well-established acting and singing abilities, gave the free concert for 4,500 residents in the Tin Shui Wai area. But the concert organizer mistakenly issued many more invitations than planned, according to local media. At least 400 invited fans were kept from entering the concert venue. When some of them became angry and demanded an explanation, police were called in to maintain order. The crowds prevented guest performers Miriam Yeung and Denise Ho from arriving on time. Ho ascribed the audience overflow to Wang's popularity. Wang, who learned about the situation after the show, told reporters that she did not expect her concert to cause such a stir and that the organizer was to blame.
As state-owned enterprises have been busy pursuing domestic listings this year, high quality privately owned mainland companies have been stepping up efforts to list on the Hong Kong stock exchange.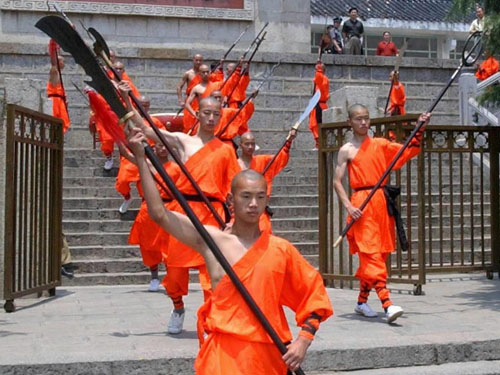 The government of Dengfeng city - birthplace of kung fu and home to the famed Shaolin Monastery - is planning a public listing of its key tourist facilities in Hong Kong. The company will include transport and hotel assets, such as the cable car that takes visitors to the top of Song Shan Mountain, but not the monastery or Shaolin Scenic Spot. Tourism official Pei Songxian declined to say how much money the government aimed to raise or give precise details of the assets to be listed. Tourism is the pillar industry of Dengfeng, accounting for one-third of the city's gross domestic product. Official statistics show 4.13 million tourists visited the city in Henan province last year, up 29 per cent from a year earlier. The city boasts a string of attractions, the most famous of which are the Shaolin Scenic Spot and Shaolin Monastery. There are six star-graded hotels in Dengfeng, according to the city tourism bureau, but it is not clear how many will be injected into Songshan Shaolin Tourism Group, the listing vehicle set up by the government. Abbot Shi Yongxin said the monastery, which runs businesses from kung fu shows to film production and food and medicine products, would not seek a listing in the short term because it could destroy the reputation of Shaolin. "To become involved in such a highly risky business is against the spirit of Buddha," he said. "And we have adequate money to support what we want to do." The monastery's executive director, Shi Yanlin, said admission fees and devotees' donations amounted to about 50 million yuan this year, up from last year's 32 million yuan. Mr Pei refused to disclose how the proceeds from the proposed share offering would be used, but indicated that the Dengfeng government wanted to open a chain of vegetarian restaurants across the mainland next year, with the flagship restaurant to be opened near the monastery.

China: "It is the will of the nation to let(Chinese-made) large aircraft fly up into the sky. It must be done and it must succeed," said Premier Wen Jiabao in a visit to the Xi'an Aircraft Industry (Group) Company on Sunday. "I believe that the day must come and the dream of many generations of Chinese will come true," Wen said, while speaking with engineers at the company. It is a major strategic decision of the Central Committee of the Communist Party of China (CPC) and the State Council to build large aircraft, said the premier, who is also a member of the Standing Committee of the CPC Central Committee Political Bureau. Chinese will make large planes that are globally competitive through their own work and wisdom, Wen said. He noted that it was not easy to manufacture large aircraft and China had to make many breakthroughs, especially involving engines, materials and electronic equipment. During his stay in Shaanxi Province, on Dec. 29-30, the premier also visited villagers and urban residents to display his great concern over their lives and production while giving his New Year greetings. In a visit to some villages, the premier questioned the villagers carefully about wholesale and retail vegetable prices and whether they had received government subsidies for growing grain. He also visited a company and some rural households that are raising pigs or sheep. In 2007, China has seen nationwide price hikes for food -- vegetables, edible oil and meat -- and the government has made strenuous efforts to stabilize the market. In May, Wen also paid a visit to study the production and supply of pork, a staple meat for many Chinese. Following his visit, the State Council issued a policy to encourage pig breeding. Recently, the government allocated 2.5 billion yuan (about 340 million U.S. dollars) for developing modern pig farms and doubled the subsidy, to 100 yuan, for breeding a sow.
Beijing Olympic organizers have unveiled 132 official reception hotels for next year's Games. The Beijing Organizing Committee for the Olympic Games (BOCOG) said Friday 120 contracted hotels are in Beijing, among which 38 are five-star hotels, 45 are four-star, 22 are three-star and 15 are not yet star-rated. The hotels supplied about 30,000 rooms in total. The BOCOG said the average room rate for a double room in a five-star hotel is 2,799 yuan (383 U.S. dollars), and 2,155 yuan (295 U.S. dollars) in a four-star hotel. The other 12 official reception hotels are in six co-host cities, including Hong Kong, Shenyang, Tianjin, Qingdao, Qinhuangdao, and Shanghai. In 2007, more than 40 designated hotels hosted more than 8,000 athletes, officials and media staff during the 26 "Good Luck Beijing" events, which aimed to give a comprehensive test to the organization of the Games.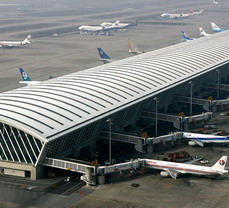 The major part of expansion project of Shanghai Pudong International Airport went through completion assessment Saturday. The new part is expected to start operation before the Beijing Olympics.

*News information are obtained via various sources deemed reliable, but not guaranteed