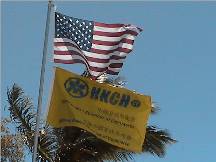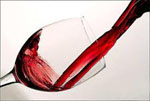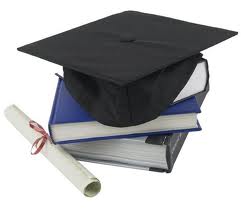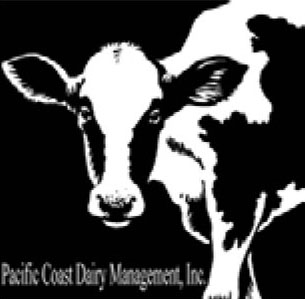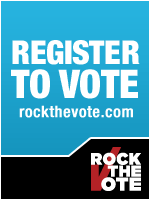 Biz-Video

Hawaii's China Connection

Doing Business in Hong Kong & China
Hong Kong, China & Hawaii Biz*
Do you know our dues paying members attend events sponsored by our collaboration partners worldwide at their membership rates - go to our event page to find out more! After attended a China/Hong Kong Business/Trade Seminar in Hawaii...still unsure what to do next, contact us, our Officers, Directors and Founding Members are actively engaged in China/Hong Kong/Asia trade - we can help!
Are you ready to export your product or service? You will find out in 3 minutes with resources to help you - enter to give it a try

China Central TV - live Webcast

Skype - FREE Voice Over IP

View Hawaii's China Connection Video Trailer


Direct link PDF file


Year of the Pig - February 18, 2007


Listen to MP3 "Business Beyond the Reef" to discuss the problems with imports from China, telling all sides of the story and then expand the discussion to revitalizing Chinatown - Special Guest: Johnson Choi, MBA, RFC. President - Hong Kong.China.Hawaii Chamber of Commerce (HKCHcc) and Danny Au, Manager, Bo Wah Trading

February 29, 2008

Hong Kong: Hong Kong will invest nearly 20 billion HK dollars (2.5 billion U.S. dollars) into human capital, boosting job opportunities, education and the workforce, said John Tsang, financial secretary of the Hong Kong Special Administrative Region government, in Hong Kong Wednesday. Tsang outlined three major initiatives to enhance the city's workforce and education, when delivering the 2008-09 Budget at theLegislative Council, including youth employment, research and development and the import of talent. A provision of one billion HK dollars (129 million U.S. dollars) will be made over the next three years to create 3,000 three-year jobs for young people. "Young people are the driving force for the future development of the community. I hope unemployed youths can obtain work experience and enhance their job-related skills to provide a solid foundation for future development," Tsang said. He proposed two measures to provide more diversified research and development activities to sustain economic growth and enhance competitiveness. The first is to provide 800 additional publicly-funded places for postgraduate research programs in phases from the 2009-10 school year, which will incur additional expenditure of nearly 300million HK dollars (38.6 million U.S. dollars) annually. Second, Tsang intended to provide a one-off grant of 18 billion HK dollars (2.3 billion U.S. dollars) to establish a Research Endowment Fund. The fund and its investment earnings will replace the annual funding granted by the Government to the Research Grant Council of the University Grants Committee. Part of the funds will be used to finance research projects on specific themes. Tsang said as the aging population will impose limitations on production capacity, Hong Kong must woo more talented people from the Chinese Mainland and overseas to nourish the economy and improve the population structure. Tsang pledged to make better use of the Hong Kong Economic and Trade Offices around the world to enhance the external promotion of talent-admission schemes and the arrangements for non-local students to work in Hong Kong.
Hong Kong's top financial official on Wednesday proposed a basket of measures aimed at returning wealth to the people, including tax cuts and concessions, against the background of a record high revenue surplus. The package of initiatives and concessions aim to help the disadvantaged, enhance Hong Kong's competitiveness and ensure sustainable development, said John Tsang, financial secretary of the Hong Kong Special Administrative Region government, while delivering his budget speech at the Legislative Council. He forecast a surplus in the Consolidated Account of 115.6 billion HK dollars (14.8 billion U.S. dollars) and a surplus of 63. 7 billion HK dollars (about 8.19 billion U.S. dollars) in the Operating Account for 2007-08. To return the wealth to the people, he proposed a one-off tax reduction of 75 percent of salaries tax and tax under personal assessment for the 2007-08 fiscal year, up to a maximum of 25,000 HK dollars (3,213 U.S. dollars). About one million taxpayers would pay no more than 5,000 HK dollars in tax after the reduction. The move would cost the Government 12.4 billion HK dollars (1.59 billion U.S. dollars) in 2008-09 and benefit 1.4 million taxpayers. Tsang also proposed raising the basic allowance and the single parent allowance from 100,000 HK dollars to 108,000, and increasing the married person's allowance from 200,000 HK dollars to 216,000. "Upon implementation of the proposals, all the major allowances and tax rates will have reverted to their 2002-03 levels," he said. He would like to lower the salaries tax and personal assessment tax standard rate by one percentage point, to 15 percent, from the next fiscal year, and lower profits tax to 16.5 percent. He also proposed widening the tax bands from 35,000 HK dollars to 40,000 HK dollars. Small and medium businesses are also in line for a one-off tax reduction with a proposed 75 percent concession of profits tax for2007-08, up to a maximum of 25,000 HK dollars. Business registration fees will also be waived for 2008-09. On the environmental front, Tsang proposed a reduction of 30 percent, 50 percent or 100 percent in the first registration tax of commercial vehicles meeting Euro V emissions standards, and a 100 percent profits tax deduction for capital expenditure on environmentally-friendly machinery and equipment in the first year of purchase. Duties on wine, beer and all other alcoholic beverages except spirits will be exempt, to help promote Hong Kong as a trade and distribution center for quality wine in Asia.
The rapid development of the Chinese mainland helps Hong Kong's economy shift towards higher value-added services and support the special region's economic growth, Hong Kong Financial Secretary John Tsang said in his presentation of the 2008-2009 Budget to the Legislative Council Wednesday morning. Talking about the comparative advantages of Hong Kong, Tsang said the "rapid development of our nation is transforming the global economic landscape." "After 30 years of reform and liberalization, the increasing integration of the mainland with the global economy and the urbanization and industrialization in the mainland have progressively changed the mode of economic development, boosting domestic consumption in terms of both quality and quantity, driving manufacturing industries up the value chain and speeding up the development of the service industries," he said. Tsang said Hong Kong has the unique advantage of having the mainland as its hinterland while maintaining an international outlook. It has been fostering cooperation and integration with the mainland through the Closer Economic Partnership Arrangement ( CEPA) and the Pan-Pearl River Delta (Pan-PRD) Regional Co- operation Framework Agreement. Tsang stressed that with the gradual implementation of the Action Agenda put forward in the Economic Summit of "China's 11th Five-Year Plan and the Development of Hong Kong", Hong Kong can enhance its role in the development of the country. By expanding the scope for functional division and cooperation between Hong Kong and mainland cities, mutual benefit can be achieved, he said. "With these advantages, we can attract investors from both the mainland and overseas to use Hong Kong as a platform for developing regional and international business," Tsang said. Tsang said Hong Kong must co-operate with the Chinese mainland, in particular the Pan-PRD region, in promoting to these investors the overall package in order to enhance its attractiveness. Meanwhile, Hong Kong must also further enhance its status as Asia's world city and as a place for regional operating headquarters, and increase its cooperation with other cities in the region, Tsang said.
Hong Kong plays key role in world trade - Hong Kong is playing more important role in international economic and trade exchanges, with its international image of "China Hong Kong" further raised, said a senior official of the Chinese Ministry of Foreign Affairs here Wednesday. Lu Xinhua, commissioner of the Ministry of Foreign Affairs in the Hong Kong Special Administrative Region (HKSAR), made the remarks while hosting a reception to celebrate the Chinese Lunar New Year in his office. He said that over the past year, his office actively supported the HKSAR to conduct external exchanges and cooperation, fully safeguarding the legitimate rights and interests of Hong Kong compatriots overseas. Lu thanked the HKSAR government and people of Hong Kong for their support to the work of his office, pledging to do more for the prosperity and stability of Hong Kong. The reception was attended by nearly 500 people, including Donald Tsang, chief executive of the HKSAR, and foreign diplomats in Hong Kong.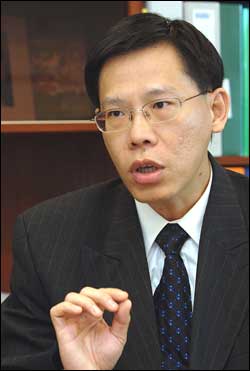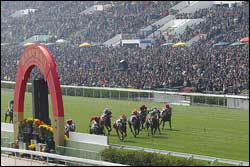 The government has an "open attitude" on any policy change concerning the maximum number of horse racing days and simulcasts of overseas races each season, Deputy Secretary for Home Affairs Donald Tong Chi-keung said. Tong was responding to Hong Kong Jockey Club chief executive Winfried Engelbrecht-Bresges who last week told reporters the club hoped to increase the number of overseas races simulcast - currently 10 per season - as it was under great pressure from Macau's gambling industry, which is threatening to take away HK$10 billion of gambling money per year. Tong said the government had not received any formal application regarding what he called a "controversial matter." He said: "Our communication channel remains open and we will continue to discuss the matter." Tong added: "[But with the Equestrian events in Hong Kong of] the Olympics - a once-in-a-lifetime experience - forthcoming, I believe the Jockey Club cannot divide its time ... there is no deadline to this topic, we can discuss this next month or even next year." He stopping short of ruling out any policy change before the new racing season begins in September. "There are currently 78 race days and 10 simulcasts [per season]. Any policy change must be dealt with with extreme care ... it cannot be a rash decision," Tong said. He said the government would require solid reasoning before there could be a policy change and that it would need to consult certain anti-gambling organizations, though not necessarily in the form of public consultations. "We do note that the Jockey Club has suggested that when there are important matches overseas, there exists a good number of illegal gambling activities," Tong said. Unlike the previous legalization of football betting, the simulcasting of horse races from overseas does not require the agreement of the Legislative Council. A Jockey Club spokeswoman said it welcomed the government's openness on the issue and will discuss the matter further with the Home Affairs Bureau. "The club is concerned about the wider issue of increasing overseas and illegal betting and its impact on Hong Kong as a whole," she said. "With the increasing world-class status of Hong Kong racing, there is growing participation of Hong Kong horses in overseas races both during [the season] and off-season. For example, when Viva Macau runs in Dubai in March, racing fans are asking whether the club will offer the simulcast race for them to bet on and if the club cannot offer this to them, they will have no choice but to bet illegally or with offshore operators."
Hong Kong Home loan values soar to 10-year high on rate cuts - The value of new home loans approved in January by Hong Kong lenders rose to the highest in 10 years as a result of a series of interest rate cuts beginning in November last year. In a survey of 23 lenders, the Hong Kong Monetary Authority found the value of new home loans surged 29.2 percent to HK$29.4 billion. The number of new loans grew 25.8 percent to 14,126, including 11,372 for apartment resales. The number of new applications increased by 39.2 percent. The secondary market is the hottest in almost 10 years as transaction levels topped those of late 1997, said Wong Leung-sing, Centaline Property Agency associate director for research. Demand for mortgages increased as people rushed into the property market, he noted. The turnover tempo was stepped up with Hong Kong cutting rates six times since September, including a 75-basis- point slash in January. That reduced borrowing costs and raised home prices. Consumer prices, excluding the effects of the property rates waiver, rose 4.3 percent last month year-on-year versus 3.8 percent a month before, while the best deposit rate is only 0.75 percent. And home values in the 50 top private estates surged 5.5 percent in January, according to Ricacorp Properties research. The mortgage delinquency ratio and rescheduled loan ratio declined to 0.09 percent and 0.19 percent respectively. The combined ratio fell to a record low of 0.28 percent. Analysts expect mortgage approval figures for February to be low because of the Lunar New Year holiday. The Capitol, a new project in Tseung Kwan O, will go on sale this weekend.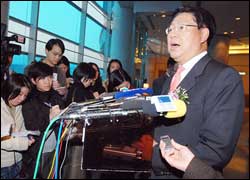 Secretary for Commerce and Economic Development Frederick Ma Si-hang yesterday attempted to end conspiracy theories and ribald speculation when he said the lowering of the educational requirement for the post of director of broadcasting was designed to attract more talented people. It was the first time a senior government official has spoken on the decision to drop the degree requirement for the post and replace it with one calling for at least 15 years of media experience. The government's move had triggered speculation the requirements were being changed to facilitate the appointment of a civil servant or talk-show host Robert Chow Yung. Chow announced he has applied for the job in a high-profile press conference on Monday in which he accused critics of discriminating against the six million people of Hong Kong who are without university degrees. Ma said the selection committee had interviewed 20 candidates with degrees in the first round but found none of them suitable for the job. He said the adjustment was made after considering the special nature of the media field in which many senior professionals do not have degrees. Assistant Director of Broadcasting Tai Keen-man, who was among the 20 applicants rejected in the first round of selection, said he would not comment on Chow's candidacy since he is applying for the job again. Meanwhile, Chow was urged by veteran politician Allen Lee Peng-fei and Radio Television Hong Kong Program Staff Union chairwoman Janet Mak Lai-ching to stop hosting his RTHK show Talkabout. Mak, one of the three people Chow named as being discriminatory, spoke on Chow's show, saying his continued appearance would create a conflict of interest. Lee, who also spoke on the show, said even if Chow did not take part in discussions on his application, he could be seen as having an advantage over other prospective candidates. "You mean when one applies for a job he has to quit his current job or be dismissed?" Chow responded. Chow's high-profile announcement was not well received by some sections of the media.
Former financial secretary Henry Tang Ying-yen's evidence against the head of InvestHK should not have been relied on because he "regurgitated" the findings of a previous inquiry, the High Court was told yesterday. Richard Gordon, the lawyer for InvestHK chief Mike Rowse, said during a judicial review hearing that his client should have been given the benefit of the doubt on allegations of misconduct over the HK$100 million Harbour Fest concerts in 2003 due to lack of independent evidence. Tang had told an Inquiry Committee that he agreed with the independent panel's findings that Rowse mishandled the budget and failed to protect the government's interests. But Gordon argued that Tang had no recollection of the facts, such as how the budget was scrutinized, and could not explain the reasons for his opinions. "The only material evidence given by Tang was to adopt the conclusions of the Independent Panel Inquiry," Gordon said. Part of Tang's evidence also "exonerated" Rowse of misconduct over free tickets - for which he was found guilty of failing to ensure government interests. Gordon said Rowse should have been given the benefit of the doubt because all the witnesses, apart from Tang, gave evidence that exonerated his client on all charges. Gordon also claimed the five charges of misconduct for which Rowse was reprimanded and fined HK$156,000 were "irrational." On the first charge the Inquiry Committee found that the talent costs of international acts had not been critically examined by InvestHK. But Gordon argued that the costs could not have been logically broken down before the entertainers had been secured.

China: China's green construction system, with a market value estimated at 1.5 trillion yuan (208 billion U.S. dollars), is growing through energy-efficient projects, the Ministry of Construction said in Beijing on Tuesday.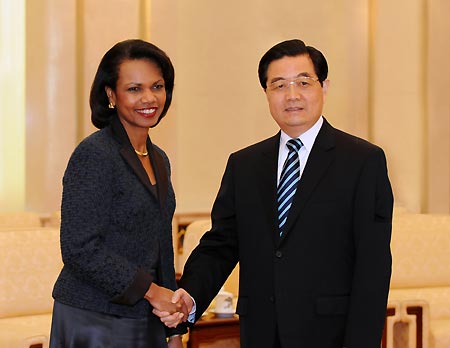 China and the United States agreed on Tuesday to step up bilateral constructive and cooperative relations and handle the bilateral ties "in a long-term and strategic perspective". The agreement was reached in a meeting between Chinese President Hu Jintao and visiting United States Secretary of State Condoleezza Rice. The two sides also exchanged views on international and regional issues, such as the nuclear issue on the Korean Peninsula. Hu applauded the growth of Sino-U.S. relations in the recent years and said the bilateral cooperation and the international coordination in such fields as anti-terrorism, trade, energy and environmental protection, among others, were "effective outcomes" He spoke positively on the strategic dialogue and strategic economic dialogue mechanism forged between the two nations, highlighting the recent development of exchange and cooperation between the two country's militaries. "The cooperation arena keeps expanding and the strategic significance of the bilateral ties grow higher and higher." Hu said 2008 was a highly-important year for China and the United States, proposing the two countries continue to intensify dialogue and cooperation with aim to increase mutual understanding and trust, as well as to address the bilateral issues to their key concerns. Rice said the two nations shared a solid foundation to foster ties, expressing her appreciation to the efforts China had made to resolve international issues, such as in Darfur. The United States hopes to see China to continue playing a constructive role in addressing international issues and remaining committed to promoting dialogue and cooperation with China in various fields, Rice said, according to a press release from the Chinese Foreign Ministry after the meeting. Rice arrived in Beijing on Tuesday morning for a two-day visit as a guest of Chinese Foreign Minister Yang Jiechi.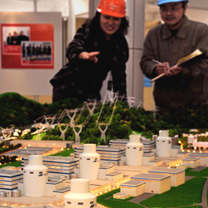 Engineers look at the model of Sanmen nuclear power station, which will be China's first third-generation nuclear plant and the world's most advanced, in Sanmen, East China's Zhejiang Province, February 26, 2008. China starts excavation for world's first 3rd-generation nuclear plant - China began excavation for the foundations of the world's most advanced nuclear reactor in Sanmen City in the eastern Zhejiang Province on Tuesday. The No. 1 reactor in Sanmen nuclear power plant will use the third-generation AP1000 technology, which was transferred from the U.S.-based Westinghouse Consortium. It has never been used in any operating power plant previously, said Zhao Hong, a State Nuclear Power Technology Corp. (SNPTC) engineer. Builders plan to excavate a hole 12 meters deep and more than 20 meters in diameter to house the reactor. It is expected to go into commercial operation in 2013. "The excavation started one month earlier than the original plan thanks to the support from all sides," Zhao said, adding concrete pouring would start in March 2009. Sanmen Nuclear Power Corp. (SNPC) will install six AP1000 nuclear generating units, each with a power capacity of 1.25 million kilowatts, before eventually becoming self-sufficient in the AP1000 technology. The excavation marked China's first step to build the most advanced nuclear power plant in the world, and China would play a leading role in the nuclear technology once the project was finished, said Kennon Hess, director of the Joint Project Management Organization (JPMO), which was formed by SNPTC, SNPC and Westinghouse Consortium. In July, China reached an agreement with Westinghouse Electric Co. to build four nuclear power plants in the country -- two in Sanmen and two in Haiyang City in the eastern Shandong Province. The construction of the Haiyang plant will begin later this year. Westinghouse says the AP1000 uses less cable, piping and valves than the previous generation of reactors, cutting costs and reducing the need for large cooling towers , redundant pumps and other equipment. China currently has 11 nuclear generating units in operation. Three use domestic technologies, two are Russian, four are French and two are Canadian designed. All employ second-generation technologies. During the month-long snow hit this winter, the 11 units generated power of about 5.8 billion kilowatt hours. The amount corresponded to power generated from 1.7 million tonnes of standard coal, which required 340 trains to carry, statistics from China National Nuclear Corp showed. According to the government plan, China will have an installed nuclear power capacity of 40 million kw by 2020, accounting for four percent of the country's total.

Chinese special envoy for Sudan's Darfur Liu Guijin (R) inspects an ambulance donated by China to a Sudanese medical organization in Nyala, South Darfur State, Sudan, Feb. 26, 2008. Liu arrived in Khartoum on Sunday for a four-day visit in Sudan, which is his fourth tour in the country since his appointment last May as the Chinese government's special envoy for Darfur. The Chinese government's special representative for Darfur, Liu Guijin, Monday pledged China will provide more humanitarian assistance to people in Sudan's western region of Darfur. "Our government is preparing a new budget and more humanitarian assistance will be forced forward," Liu said at a handover ceremony of an aid package of 20 million Chinese yuan (2.8 million U.S. dollars).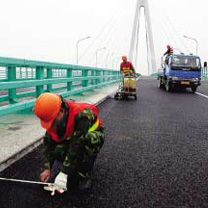 Workers prepare for traffic launch of the 36-kilometer bridge spanning the Hangzhou Bay near Shanghai. The world's longest sea-spanning bridge will soon open to traffic, said a local official.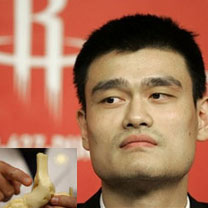 Houston Rockets center Yao Ming speaks at a press conference announcing he would not play for the rest of the NBA basketball season due to a stress fracture in his left foot Tuesday, Feb. 26 in Houston. (Inset) Team doctor explains Yao's affected part.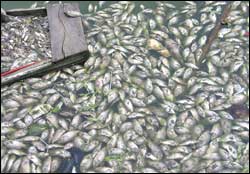 Bosses of companies which pollute waterways could be docked half their salary, in the latest proposal to tackle the country's environmental problems. Enterprise heads directly responsible for causing severe water pollution incidents and others with direct responsibility would be fined up to half of their income in the previous year, according to a draft law. The draft will be submitted as an amendment to the Water Pollution Prevention and Control Law for review by the Standing Committee of the National People's Congress. Previously, the firms themselves could be fined for any water pollution they caused, but this is the first time that individuals could face punishment. More than 70 percent of the country's waterways and 90 percent of its underground water is polluted. Meanwhile, normal water supplies to more than 200,000 people in Jianli and Qianjiang counties have been cut due to pollution in a local river. The water supply was cut on Sunday after water in a branch of the Hanjiang River turned red and foamy, forcing nearly 200,000 residents to opt for underground and bottled water.
February 28, 2008

Hong Kong: Hong Kong's median monthly household income rose 7.1 percent year on year to 18,000 HK dollars (2,313 U.S. dollars) in the fourth quarter of 2007, Hong Kong Census and Statistics Department said on Tuesday. Citing a quarterly report on General Household Survey for October to December 2007 published Tuesday, the department said there were 2,247,600 domestic households in Hong Kong in the fourth quarter of 2007, up 0.57 percent on the same period in 2006. Meanwhile, 3,533,300 people were employed in the fourth quarter, up 2.03 percent on a year earlier.
Macao's GDP expected to grow by 13% in 2008 - Despite a strong GDP growth of 27 percent last year, the Bank of China (BOC) Macao Branch predicted in a recent economic research report that Macao's GDP growth in 2008 will be lowered to 13 percent. According to the report, the slowdown of world economic growth will "certainly" have its impact on the special administrative region (SAR), but thanks to the dynamic development of its leisure and tourism industries and ballooning fixed asset investment, Macao will sustain a two-digit GDP growth rate this year, although lower than 2007. By the end of 2007, six casino operators with gaming concessions and sub-concessions have opened their flagship casino resorts in the island city, which not only helped boost the SAR's direct gaming taxes to 29.3 billion patacas (around 3.7 billion U.S. dollars) but also brought a large amount of fixed asset investment that contributed nearly 30 percent to the total value of the SAR's GDP, said So Chun Fai, asset and liability manager of BOC Macao. He added that as gaming companies expand their operations here, leading to the construction of more casino resorts, and a new round of infrastructure investment, such as the city's light rail and natural gas projects, large amounts of funds will be poured into Macao along with the surging fixed-asset investment, which will be the "shining point" of the city's economy in the coming years. Despite a foreseeable growth, the report also focused on the diversification of Macao's economy which still depended heavily on the gaming industry. "It is undeniable that concentrating the whole of the economy in one single industry will bring about high risks," the report said. Official statistics showed that direct gaming taxes accounted for over 70 percent of the SAR government's total revenue in 2007. BOC Macao pointed out in its report that 2008 is an important year for the SAR government to diversify Macao's gaming-led economy, which was itself a development goal set by the SAR government. Meanwhile, the report also highlighted the development of Macao' s burgeoning MICE (meeting, incentive, conference and exhibition) industry as an important way to push forward the diversification, and will help boost revenues of relevant business sectors in the city, such as hotel, entertainment and logistics. The Macao Trade and Fair Association (MCEA) estimated that the industry will generate a projected income of 368 million patacas ( 4.6 million U.S. dollars) in 2008 and even 1.55 billion patacas ( 193 million U.S. dollars) in 2015. However, Macao's MICE industry is still in its starting phase compared with Hong Kong and Guangzhou, both of which have decades of experience in developing the industry. Therefore, the future of Macao's MICE industry lies in regional cooperation, said Lam ChuenIn, president of the MCEA. He said the SAR government has planned to implement the ATA Carnet system this year, which hopefully will promote Macao's MICE cooperation with neighboring cities, such as Hong Kong and Guangzhou. The ATA Carnet ("ATA" stands for the combined French and English words "Admission Temporaire-Temporary Admission.") is an international Customs document that a traveler may use temporarily to import certain goods into a country without having to engage in the Customs formalities usually required for the importation of goods, and without having to pay duty or value-added taxes on the goods. The implementation of the ATA system will lower the costs of importing exhibits and other relevant materials to Macao, facilitating international companies to run their exhibitions here, said Lam, adding that since the cost of importation is lowered, neighboring cities can provide supporting services, such as storage and advertisement printing, to Macao, through which the whole region of Pearl River Delta will benefit from the development of Macao's MICE industry.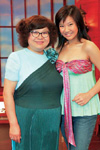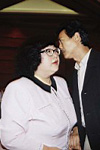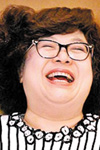 Vancouver Canada proposes Lydia Shum Day - A "Lydia Shum Day" will be announced by Vancouver mayor Sam Sullivan Tuesday afternoon to commemorate the contribution of the late Hong Kong comedienne. China News Service reported that the private funeral of Shum will be held on Wednesday in Vancouver and a memorial service will be held on Friday. Lydia Shum used to live in Vancouver in the 1980s before returning to Hong Kong. She traveled between Hong Kong and Vancouver for many years attending activities of the Chinese community in Vancouver and was a very popular comedienne there.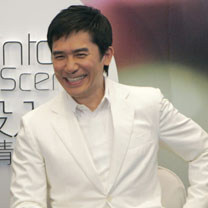 Hong Kong Entertainment Ambassador Tony Leungs laugh during a news conference to announce the details of the upcoming Entertainment Expo at the Convention and Exhibition Centre in Hong Kong February 25, 2008.

Chairman of the Trade Development Council (TDC) Raymond Chow (R), Hong Kong Entertainment Ambassador Tony Leung (2nd R), Secretary for Commerce and Economic Development Frederick Ma (2nd L) and TDC's Executive Director Fred Lam pose for the media during a news conference to announce the details of the upcoming Entertainment Expo at the Convention and Exhibition Centre in Hong Kong February 25, 2008. The Entertainment Expo will take place from March 17 to April 13, featuring nine major films and entertainment-related events.
Chinese University expects to begin attracting more donations from former students as its alumni body matures, its vice-chancellor said this week. Announcing the university had received enough donations by the end of last month to secure the maximum HK$250 million from the government's matching grant fund, Lawrence Lau Juen-yee said the university's 45th anniversary this year would mark the start of an upward trend in alumni donations. "Most people spend the first 20 years after they graduate building their career," he said. "It normally takes about 40 years after people graduate before they start thinking about giving something back." Professor Lau was speaking at a media reception on Thursday. CUHK is the second university to announce it has enough to qualify for the upper limit of the HK$1 billion fund in the first month after it was launched. University of Hong Kong vice-chancellor Tsui Lap-chee said last week it had registered the HK$455 million in donations needed. Under the rules of the fund, which was launched on January 1 and due to run until the end of the year, universities are eligible for a "guaranteed minimum" of HK$45 million of funding matching donations on a dollar-for-dollar basis. Beyond that, the government pays HK$1 for HK$2 donated up to a maximum of HK$250 million for any single institution. Competition among the other eight institutions is likely to be fierce for the remaining money, to be given on a first come, first served basis. However, Professor Lau said fund-raising was not just about making money. "What matters most is the recognition. They are saying they agree with the direction CUHK is heading."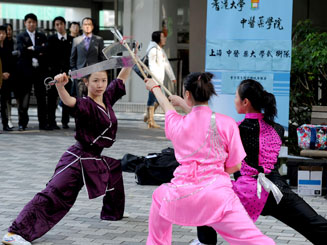 Kang Meng parries a double attack from Sun Pingping (middle) and Wang Jie in a martial arts demonstration at the University of Hong Kong's school of Chinese medicine this week. The students were part of a 20-member martial arts team from Shanghai University of Traditional Chinese Medicine. They were visiting for the 3rd Hong Kong International Wushu Competition, which ended on Wednesday, and won the overall group championship.
At least one mobile phone operator has cried foul after being denied advertising time on Now Broadband TV - an offshoot of telecommunications giant PCCW (SEHK: 0008), which insists rivals are not allowed to buy coverage on the network. But a senior telecoms watchdog official said Now was unlikely to be breaching anti-competition rules, while a lawmaker conceded such acts would not be regulated until the proposed fair competition law was passed. A mobile phone operator told the South China Morning Post (SEHK: 0583, announcements, news) that his company had twice failed to run a marketing campaign on Now TV channels. Now said in written explanations in May 2006 and July last year that prior approval from PCCW's senior management was required for broadcasting of any advertisement that directly competed with PCCW's products and services, including the internet, broadband, media and telecoms products. The proposed TV commercials were considered to be for services in direct competition with PCCW's services. "The practice is unfair to competitors but there seem to be grey areas in the ordinance," said a manager who declined to be identified. "We even have no idea if the issue is under the jurisdiction of the Office of Telecommunications Authority or the Broadcasting Authority, or neither." PCCW said the company retained the right to accept or reject any requests for advertising. "We generally do not carry the ads of our competitors," a spokeswoman said. Bernard Hill, Ofta's assistant director for competition, said there had been inquiries about the case but no formal complaints. He said anti-competitive conduct was prohibited under the broadcasting and telecommunications ordinances but a formal complaint was unlikely to be upheld. "The determining factor is whether a business abuses its dominant market position as an advertiser. But Now TV is only one of several pay-TV operators, which is not a monopoly," Mr Hill said. He said television commercials accounted for only a small amount of the advertising of mobile operators and the refusal was unlikely to significantly affect the market. "Only if PCCW held a dominant position among mobile phone operators or on the TV advertising platform would a complaint be actionable," Mr Hill said. Lawmaker Sin Chung-kai, who represents the information technology constituency, said rejecting a competitor's advertisement might be classified as anti-competitive conduct under the proposed fair competition law, which would also cover unfair or discriminatory standards set out by companies. "The policy violates the principle of fair competition despite being outside the boundary of existing regulations," said Mr Sin, who called for the new legislation to be speeded up. A Broadcasting Authority spokeswoman said the issue was not under its jurisdiction. Cable TV, an arch-rival of Now TV, said it did not block advertisements from competitors, citing a series of commercials for Residence Bel-Air - developed by PCCW - in 2003. TVB (SEHK: 0511) and ATV also said they followed advertising standards issued by the Broadcasting Authority. Both had carried commercials of Now TV last year.

China: China okays three for release in March - State-run distributor the China Film Group will release "National Treasure: Book of Secrets" and "10,000 B.C." in March, ending a three-month blackout on new Hollywood product. The ban gave local pics "The Warlords" and "Assembly" an unimpeded B.O. run during the lucrative Christmas and Chinese New Year holiday periods. The three pics will be imported on a revenue-share basis, according to Weng Li, spokesman at CFG, the nation's chief importer of foreign movies. The government allows only 20 foreign films on a revenue-share basis a year, with around 40 distributed on a flat-fee basis. As previously announced, New Line's "The Golden Compass" will also be released. The release of the pics is a positive sign -- there had been fears late last year a ban could be extended well into the year because of heightened trade tensions between Washington and Beijing. CFG denied at the time that a blackout had been imposed and, to prove the point, cleared the year-old Will Smith movie "The Pursuit of Happyness" for a limited release in January. "The Water Horse," which was a British-U.S. co-production, was also widely released this month.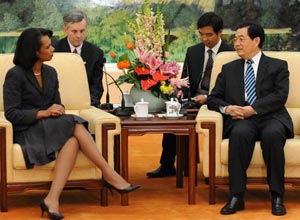 Chinese President Hu meets with Rice - Chinese President Hu Jintao called for cautious handling of Taiwan issue during a meeting with visiting U.S. Secretary of State Condoleezza Rice Tuesday.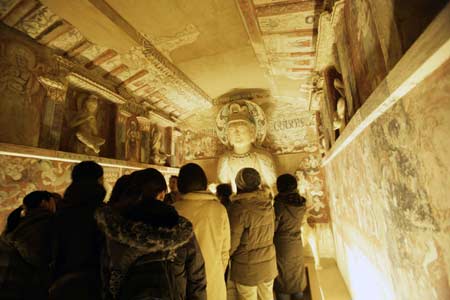 Visitors view an exhibit at the Dunhuang Art Exhibition held at the National Art Museum of China in Beijing, capital of China, Jan. 22, 2008. The exhibition was kicked off Tuesday, with 120 pieces of copies of Mokao Grottoes murals and ten pieces of unearthed cultural relics on display. The Mokao Grottoes, 25 km southeast of the town of Dunhuang, are the most famous of the many religious shrines built around A.D. 366. They consist of 492 caves carved in the steep face of a cliff between Sanwei and Mingsha mountains.

Former U.S. Federal Reserve Chairman Alan Greenspan expressed his appreciation for China's experience in economic reforms and investment promotion, local media said Tuesday. Greenspan, at the ninth Jeddah Economic Forum in the Red Sea port city of Saudi Arabia's Jeddah Monday, said the rapid development of China's economy is mainly due to the country's gradual and diversified economic reforms, its ability to attract and use foreign investment, and the healthy interaction between state-owned and private enterprises. Those measures and factors have prevented turbulence in China's society, he added. Greenspan, who had been running the U.S. Federal Reserve from August 1987 to early 2006, said the ups and downs of oil prices on the international market are caused by the imbalance of oil production and consumption, adding it is necessary to use oil reserves to reduce the imbalance now. The ninth Jeddah Economic Forum, held from Saturday to Tuesday, aims at finding ways to boost economy in Saudi Arabia and the Middle East.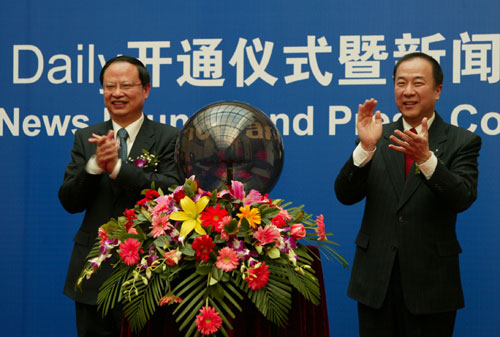 Zhu Ling (R), Editor-in-Chief of China Daily and Wang Jianzhou, Chairman of China Mobile celebrate after jointly launching China's first English-Chinese mobile paper at a ceremony and press conference in Beijing, February 26, 2008. 1st English-Chinese mobile paper launched in China. Jointly produced by China Daily and China Mobile, China Daily Mobile News sends English-Chinese news to users' cell phones as multimedia messages through wireless technology. 2008 is big. This year, China hosts the Olympics for the first time. It will welcome more than 3 million travelers, athletes, officials, and businesspeople in the next 12 months. China Daily Mobile News will allow them to experience China's internationalization, technological advancements and improved English communication standards, from the moment they set foot here. China Daily was entitled in January to publish the official English newspaper for the Beijing Olympic and Paralympic Games, as well as Village News - the official newspaper of the Beijing Olympic and Paralympic villages, Kang Bing, Deputy Editor-in-Chief of China Daily, said at the launch ceremony. The China Daily newspaper group has a professional team of English-speaking staff reporters, correspondents, editors and foreign experts. And China Daily Mobile News presents their wealth of media information to users in English and Chinese. The news and information is authoritative, unique and practical 365 days a year. Users of China Mobile Go Tone and M-Zone can subscribe by sending the message "CD" to 10658000 for 5 yuan a month.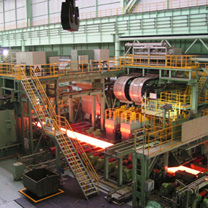 Hot-rolled steel coils are produced at a Baosteel workshop in this file-photo of last April. Baosteel raised its product prices Monday by up to 20 percent on higher material costs and rising demand.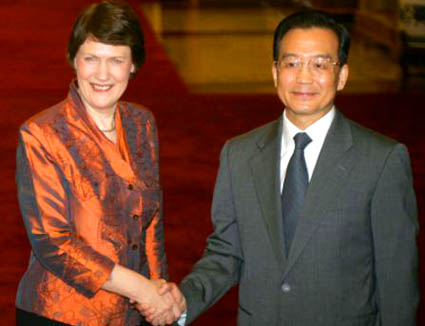 New Zealand would sign a free trade agreement with mainland China in early April, the government announced on Tuesday — the first such deal between the Asian economic powerhouse and a developed economy. Trade Minister Phil Goff said outstanding technical requirements and processes to finalise the deal "are on track for completion" in coming weeks. The signing ceremony and related events are "planned to take place in Beijing from 6 to 9 April", he said. "This FTA has been negotiated with the overriding objective of opening up economic opportunities for New Zealand business in China and to boost commercial ties with our now third-largest trading partner," he said. Earlier, Mr Goff predicted the trade deal potentially would boost New Zealand's exports of goods and services to China by as much as NZ$400 million (HK$2.5 billion) a year. Two-way trade between the two states is worth more than NZ$4.8 billion a year, with Chinese exports making up about 80 per cent. Prime Minister Helen Clark on Monday said the free trade agreement would cut tariff barriers for New Zealand farm exports to China. Farm output makes up half of New Zealand's annual economic production. "China has very open access to our market now. The key breakthrough in this agreement with China will be us getting some reciprocity because we do face quite significant tariffs on key exports," she told reporters. "There's no question in my mind that ... it is a very, very big move for the Kiwi economy — very big and very beneficial." It would be the largest free trade agreement for New Zealand since it signed the closer economic relations agreement with Australia in 1982, she noted.
China Metallurgical has agreed to pay US$370 million for a yet-to-be-developed iron ore mine in Australia, the latest move by a state-run conglomerate to acquire assets in Australia's booming resources sector. Massive industrialization has sent Beijing-controlled companies scouring abroad for raw materials such as iron ore, nickel and coal to supplement limited supplies at home. Under direct supervision of the government, China Metallurgical has more than 70 subsidiaries, including about 20 overseas companies worldwide. Rapid expansion in the mainland's steel industry, now the world's biggest, has made iron ore a highly prized commodity among Beijing's central planners, particularly ore from Australia due to the relatively short shipping time to home ports compared with the mammoth deposits of Brazil and Africa. The mainland's hunger for imported ore has taxed the limits of Australia's two big iron ore miners, BHP Billiton and Rio Tinto. Besides the mainland, both companies have long been big suppliers to Japan, South Korea and elsewhere in Asia. BHP chief executive Marius Kloppers has used the need to mine more iron ore as a reason for launching the world's second-largest takeover attempt for Rio. Rio has rejected the offer as too cheap, mainly because of its growth potential in iron ore mining. Another mainland multinational Chinalco earlier this month teamed up with United States aluminum producer Alcoa to buy 9 per cent of Rio. Cape Lambert Iron Ore on Tuesday said it had signed a preliminary pact to sell its project to China Metallurgical for A$400 million (HK$2.89 billion) pending approvals from Australian foreign investment regulators and its own shareholders later this year. "This is all about the Chinese securing iron ore supplies in the future," Cape Lambert chairman Ian Burston said. China Metallurgical has paid a A$10 million deposit and had until April 30 to complete due diligence on the project and obtain mainland government approvals for the acquisition, Mr Burston said. China Metallurgical already owns 20 per cent of the A$5.2 billion Sino Iron Ore Project, sited about 120 kilometers southwest of Cape Lambert in the ore-rich Pilbara region. That project has access to more than two billion tons of ore, yielding 27.6 million tons a year. On a world scale, Cape Lambert is a relatively small, though long life, mining project. An early blueprint calls for production of about 15 million tons of ore annually for 20 years starting in 2011 or 2012. Rio and BHP each produce more than 100 million tons each year and have mapped out big expansion plans. Mr Burston said Cape Lambert had retained an exploration property near the project and was also reviewing prospects elsewhere in Australia and in Sierra Leone.

Stars linked to the scandal over nude photos of Hong Kong celebrities circulating on the internet are no longer being lined up to perform in this summer's Olympic Games opening ceremony in Beijing, a mainland newspaper reported yesterday. Earlier reports had suggested singers Gillian Chung Yan-tung, of the pop duo Twins, and Nicholas Tse Ting-fung would perform at the ceremony. However, the Dalian Evening News reported that the ceremony's artistic director, filmmaker Zhang Yimou , had turned instead to new mainland act A-One. Citing sources, the paper said Zhang had taken the decision because of the scandal over the photos. Among the celebrities alleged to be in the photos are Chung and Tse's wife, actress Cecilia Cheung Pak-chi. The Emperor Entertainment Group, which manages Chung and Cheung, would not comment. Meanwhile, Edison Chen Koon-hei, who has admitted taking the photographs - which were copied from his computer while it was under repair - was last night still helping police with their inquiries. On Sunday he said he had filed a complaint to the Customs and Excise Department that his copyright on the photos had been infringed, in the hope it would prevent further infringement. Barrister Ronny Tong Ka-wah, who is not involved in the case, said Chen had copyright on them even if he had not stated clearly that he did. "The copyright belongs to a photo taker the second he takes a photo. One does not need to claim it," Mr Tong said. The customs department said that under the Copyright Ordinance, any person who, without the license of the copyright owner, makes an infringing copy of a copyrighted work for sale or hire; or sells, lets for hire or distributes such a copy, commits an offence. "It is also an offence to distribute an infringing copy of a copyrighted work to such an extent as to affect prejudicially the copyright owner," a spokesman for the department said. Mr Tong said newspapers and magazines that had published the photos may have broken the law. "Common sense says the pictures were taken by Chen, and they should have known it," he said.
February 27, 2008

Hong Kong: Stars linked to the scandal over nude photos of Hong Kong celebrities circulating on the internet are no longer being lined up to perform in this summer's Olympic Games opening ceremony in Beijing, a mainland newspaper reported yesterday. Earlier reports had suggested singers Gillian Chung Yan-tung, of the pop duo Twins, and Nicholas Tse Ting-fung would perform at the ceremony. However, the Dalian Evening News reported that the ceremony's artistic director, filmmaker Zhang Yimou , had turned instead to new mainland act A-One. Citing sources, the paper said Zhang had taken the decision because of the scandal over the photos. Among the celebrities alleged to be in the photos are Chung and Tse's wife, actress Cecilia Cheung Pak-chi. The Emperor Entertainment Group, which manages Chung and Cheung, would not comment. Meanwhile, Edison Chen Koon-hei, who has admitted taking the photographs - which were copied from his computer while it was under repair - was last night still helping police with their inquiries. On Sunday he said he had filed a complaint to the Customs and Excise Department that his copyright on the photos had been infringed, in the hope it would prevent further infringement. Barrister Ronny Tong Ka-wah, who is not involved in the case, said Chen had copyright on them even if he had not stated clearly that he did. "The copyright belongs to a photo taker the second he takes a photo. One does not need to claim it," Mr Tong said. The customs department said that under the Copyright Ordinance, any person who, without the license of the copyright owner, makes an infringing copy of a copyrighted work for sale or hire; or sells, lets for hire or distributes such a copy, commits an offence. "It is also an offence to distribute an infringing copy of a copyrighted work to such an extent as to affect prejudicially the copyright owner," a spokesman for the department said. Mr Tong said newspapers and magazines that had published the photos may have broken the law. "Common sense says the pictures were taken by Chen, and they should have known it," he said.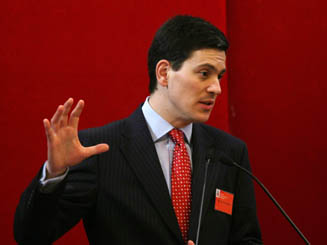 Hong Kong's success in 1997-2007 defied doomsayers: British FM - British Foreign Secretary David Miliband said Monday that the success of China's Hong Kong in its first ten years after returning to China exceeded expectations. Speaking to a press conference during his first visit to China's Hong Kong as foreign secretary, Miliband said the period between 1997 and 2007 for Hong Kong "seemed to me to exceed the expectations of most people in terms of success of the economic, social and political system that had been developed." Hong Kong returned to China in 1997 and became a special administrative region that enjoyed a high degree of autonomy, including independent economy and judiciary. It suffered from the southeastern Asian financial storm and the SARS outbreak during the years but managed to survive and prosper as an increasingly important international financial hub, with annual economic growth topping 6 percent in the past 4 years. "It certainly defied the predictions of the doomsayers," Miliband said. Hong Kong's ties with the Chinese mainland had been growing significantly in the recent years, providing financial services and management expertise to the mainland while receiving support in return. Miliband said the next ten years would be just as important for Hong Kong as the first ten years, adding that he was confident that Hong Kong would be able to meet the economic and social challenges along with the political development. Miliband arrived in Hong Kong Sunday to begin a six-day official visit to China that will also take him to three other Chinese cities -- Shanghai, Chongqing and Beijing. He said he was looking forward to the trip, which he said he expected to be instructive, thought-provoking and inspiring in equal measure in a blog entry entitled "Look East, Young Man" just ahead of his visit.

Chow enters fray over top RTHK job - Veteran newsman Robert Chow Yung yesterday publicly declared that he has applied for the director of broadcasting job in answer to what he termed prejudice and discrimination against non-degree holders like himself and six million Hong Kongers.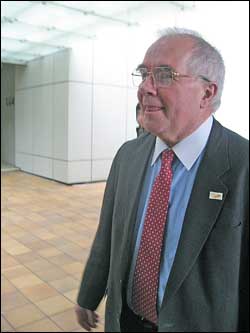 Rowse seeks to have music fest verdict quashed - A lawyer representing a senior civil servant accused of misconduct yesterday questioned the withdrawal of remarks made by former financial secretary Henry Tang Ying-yen just before the civil servant's disciplinary hearing on the Harbor Fest concerts in 2003. InvestHK chief Mike Rowse has launched a judicial review to challenge the former chief secretary, the chief executive and the secretary of civil service over the fairness of a government hearing which charged him with misconduct in connection with the concerts, which cost the government HK$100 million. Rowse was reprimanded and fined HK$156,660 for his role in the event, which brought international music acts to Hong Kong, including the Rolling Stones and Neil Young. During an Economic Relaunch Working Group meeting on October 31, 2003, Tang said Rowse had not acted improperly and that there had been no irregularity in the implementation of the event - which was designed to revive the economy after the SARS outbreak in 2003, the court was told. Tang added all parties had under- estimated the complexity of the event and may have been too ambitious in organizing it in such a short time span. These views were repeated by Tang during an independent inquiry which was concluded in May 2004. But just before a government inquiry, which opened on November 2004, Tang requested the ERWG minutes be deleted. The lawyer for Rowse, Richard Gordon, said the timing and reasons for the deletion were important. Gordon argued InvestHK was operating under tremendous pressure as it only had 10 days to review the budget and secure approval of the ERWG. The judicial review seeks to quash the decision by the secretary of the civil service to accept the committee's finding on May 2005 on the grounds the inquiry's proceedings were unlawful. "The applicant did not receive a fair hearing and this unfairness had its source in the collective failure of the various public bodies to assume a fair hearing," Gordon said. "This was aggravated by the institutional set up in which too many actors played an uncoordinated role, which led to confusion. "A number of functions were delegated. Three other public bodies had a hand in Rowse's ultimate fate." It was argued Tang's evidence was inconsistent and Rowse should have been given the benefit of the doubt.
The Consumer Council has called on the government to enact new laws to protect consumers from misleading advertisements and unscrupulous business practices. It also wants a new court or tribunal to be set up to rule on cases affecting consumers. Council chairman Anthony Cheung Bing-leung said yesterday that problems involving cartels and abuses stemming from monopolies could be tackled with separate laws. The proposals are among a series of ideas that the council has sent to the government for consideration. A proposed trade practices statute is meant to tackle forms of unfair trading such as false or misleading descriptions on goods and services, high-pressure tactics and unfair terms in standard contracts. Cheung described the report - entitled "Fairness in the Marketplace for Consumers and Business" - as an ambitious step to protect consumer rights. The council suggests setting up a tribunal to consider matters under the proposed statute and existing legislation. It would be run run along the lines of the Small Claims Tribunal but without the HK$50,000 ceiling for claims. Cheung said the council, being the author of the report, was not in a position to recommend which of the two existing mechanisms with experience in consumer issues - the Customs and Excise Department on criminal prosecution or the Consumer Council on consumer welfare - was better equipped to be the enforcement agent. If the role should fall to the council, it would not be without precedent. "It is not unusual for a consumer council to take dual roles as this has already been done in Australia and Singapore." Under the suggested statute, offenders would be sanctioned mainly by a combination of administrative measures and civil liabilities such as a fine, a declaration or a cease-and-comply order. Only if unfair practices were morally reprehensible or caused great social harm would criminal sanctions be considered, Cheung said, for it was necessary to strike a balance between the deterrent effect and the cost effectiveness in solving a dispute. The council received 38,521 complaints last year, of which 15.7 percent, or 6,061, involved alleged deceptive, misleading or unfair practices, with 1,197 complaints against telecommunications services and 1,002 against pay TV. The figures were 130 percent higher than in 1999. Then, 2,527 of the 16,470 complaints involved misleading or unfair practices. Council chief executive Connie Lau Yin-hing said she believed the business sector would not oppose the proposals since a fair marketplace would be beneficial to Hong Kong.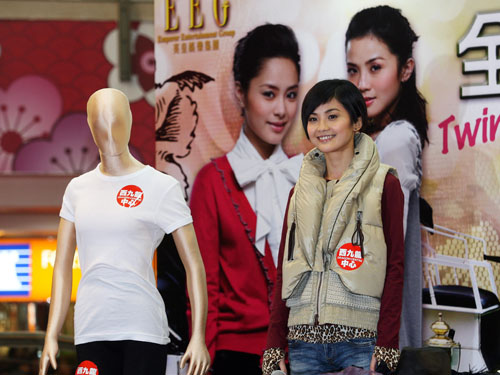 Pop idol Fiona Sit Hoi-kei was hit by a bottle thrown during a Mong Kok charity event yesterday while fellow singer Gillian Chung Yan-tung of pop duo Twins failed to show up at a performance at the Dragon Centre in Sham Shui Po, amid reports net users might boycott the star. Sit was hit with a flying bottle of herbal tea as she collected money from the audience at the Mong Kok event. Police were called to the second-floor venue at Langham Place after a man hurled a bottle at the performer at about 3.30pm. The man, surnamed Lin, 27, was detained by security guards and later arrested. "The bottle hit a staff member of the event organisers and then bounced onto Fiona's head as she was asking members of the public to donate money," said Peter Wong Chi-bun, Sit's manager. "Her forehead is swollen. It was very chaotic." Sit reportedly broke into tears after she was struck and was taken to Kwong Wah Hospital from where she was discharged after treatment. She then went to Mong Kok police station to assist police inquiries. Mr Wong declined to comment on whether the attack was related to recent public dissatisfaction with pop stars arising out of the celebrity nude photos scandal. "It was just an unfortunate incident," Mr Wong said. "I don't think there will be further attacks and usually people are well-behaved." He said he had no plans to hire personal bodyguards for Sit. Meanwhile, a spokesman at Chung's management company, Emperor Entertainment Group, said Chung had developed a fever and had been unable to perform at the Dragon Centre. Chung, one of the celebrities involved in the picture scandal, was scheduled to appear to promote Olympic equestrian events with her Twins partner, Charlene Choi Cheuk-yin, who said Chung just needed to rest. One fan who identified himself as Jacky, said: "I am a bit disappointed to see Chung's absence today." He said he felt upset about the possible boycott action. "I have heard about it, I think these net users are too discriminating. The sex-photo saga is not something which affects national security, it is an adult matter. They should put themselves in other people's shoes." An hour before the performance started, hundreds of people were packed into the mall but nobody was seen voicing disapproval of Chung. However, security had been obviously tightened with metal fences isolating the stage. Fifteen security guards and a couple of uniformed policemen were also stationed in the mall during the performance. Baptist University social work lecturer Bottle Shiu Ka-chun said a close eye should be kept on web users who might want to transfer the anger they expressed about their idols on cyberspace to real action. He said the situation had become a "witch-hunt" with people verbally attacking Chung even after actor/singer Edison Chen Koon-hei, the man featured in the photos, made his public apology on Thursday. "Once it's started, it'll continue to hurt more people," Mr Shui said. "And people's focus is getting less clear. Who's going to be the next victim?" It is understood Chen was helping the police Commercial Crime Bureau yesterday with their investigations into the case.

Film director Wong Kar-wai was crowned Asia's style maker of the year at the 2008 SCMP/Harper's Bazaar Style Awards gala in the Grand Hyatt ballroom last night. Wong has enjoyed a string of box office hits and won awards and international acclaim for his films, made in the face of a prolonged decline in the Hong Kong film industry. Moody settings, lavish imagery and an obsession with recollection and memory unite films as diverse as Days of Being Wild, Chungking Express and In the Mood for Love. The director's style involves actors and crew improvising on set and he is famous for shoots lasting more than a year. Wong, 49, wearing his trademark sunglasses, said: "I never set out to 'make' a style. It's just my natural manner of expression. But I'm glad that somehow my so-called style has been appreciated, especially in my hometown. I'd say my style is simple and straightforward, but I know some would disagree. "Style is a personal thing. Like a signature at the end of a letter. It is not something that one thinks about during writing." Carina Lau Ka-ling, winner of the reader's choice style icon award, who turned eyes in a clinging, metallic gold dress and red heels, said she was very happy her style had been recognized by readers. The grande dame of Hong Kong cinema, popular in the 1980s for her "girl-next-door" roles, has appeared in more than 50 films. "I really like to eat delicious food, and really good wine. I want to get involved to the maximum and I always want to have the best things," she said, adding that she defined her style as "genuine and confident". Readers gave another thumbs up to the city's film industry by choosing Taiwanese actress and model Shu Qi for the cover icon award. Shu has stepped up her acting career in recent years, with parts in films such as Confession of Pain, and has just returned from a stint as a Berlin Film Festival judge. She said she was delighted to receive the award but believed it was not important for actors to have their own style because they had to be able to take on different roles. SCMP Group executive director Kuok Hui Kwong said at the ceremony that the awards aimed to recognise the men and women "who, by being true to a vision and by sharing a part of themselves with the world, have added a dash of spirit and a serving of colour and excitement to our lives". The winners were announced at a dinner attended by more than 250 people. The awards, showcasing Asia's vibrant arts and entertainment scene, recognised talented people who created and defined style in 10 categories. Votes were cast on the South China Morning Post (SEHK: 0583, announcements, news) 's website scmp.com for the two readers' choice awards, while the editors of the Post and Harper's Bazaar chose the other winners.

China: The primary risk to China's economy is inflation and the government will stick to the tight monetary policy, said central bank vice governor Yi Gang here on Sunday. The U.S. may slip into stagflation with the subprime crisis, but that would have a limited impact on China, the World Bank's new chief economist and senior vice president Justin Yifu Lin said Sunday. The U.S. investment bank Goldman Sachs has lifted forecast of China's inflation this year to 6.8 percent from 4.5 percent in light of the rapid growth in money supply.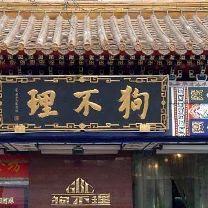 Goubuli, one of China's longest established food brands in Tianjin, has adopted an English name "Go Believe" which sounds like its famous but bizarre Chinese brand.
Heavy polluters to be restricted from listing - China will impose new restrictions on heavy polluters trying to list on domestic stock markets, according to a document released by the country's environmental watchdog today. The State Environmental Protection Administration (SEPA) said that the rules will help restrain the "over-expansion" of high-polluting and high energy-consuming enterprises and will also reduce capital risk. SEPA launched a pilot scheme last year, and said that the IPO plans of 10 companies - including China Coal Energy - were delayed after failing to meet environmental standards. According to the new rules, companies from sectors designated as high-polluting and high-energy consuming, which include thermal power, steel, cement and electrolytic aluminum, will have to submit to an environmental inspection if they wish to launch an IPO or apply for additional financing. Their IPO application to the China Securities Regulatory Commission (CSRC) will also have to include recommendations drawn up by the environmental regulator before they are even considered. SEPA and the CSRC will also set up a public information system to monitor the environmental activities of companies already trading on the stock market, as well as set up an "environmental performance" index that will enable shareholders to monitor the behavior of listed companies. Pan Yue, deputy chief of SEPA, said that the measures were the third attempt to use economic measures in the battle against pollution, following last year's introduction of "green credit" and "green insurance" schemes. He also said that the scheme would not only improve the environmental performance of listed companies, but would also help protect the interests of investors. During a campaign against heavy polluters last year, the stock price of a number of firms - including the electricity producers, Datang, Huaneng, Huadian and Guodian - suffered, Pan noted. Immature market entry mechanisms had allowed big polluters to list and raise funds and thereby increase their rates of pollution, but with state regulations on pollution and efficiency becoming more stringent, investors are now facing bigger challenges, he said. Pan said last year that China would introduce more economic mechanisms to help fight against pollution and inefficiency, noting that previous one-off campaigns, known as "environmental protection storms", had failed to get to the root of the problem.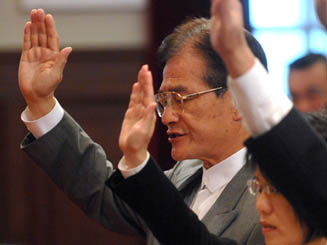 Arms-deal agency will be shut down, new defense chief vows - Taiwan's new defense minister, Michael Tsai Ming-hsien, vowed yesterday to disband a controversial arms-deal agency that led to the resignation of his predecessor, General Lee Tien-yu.
February 26, 2008

Hong Kong: Hong Kong Special Administrative Region will liberalize the immigration regime to make it easier for non-local graduates to stay and work in Hong Kong, a Hong Kong immigration official said on Saturday. There are many schemes to attract Chinese mainland and overseas talent to Hong Kong, said Helen Chan, assistant director of Immigration of the Hong Kong Special Administrative Region government. From the 2008-09 school year, non-local graduates who have obtained a degree or higher qualification in a full-time program in Hong Kong, upon application to the Immigration Department, may be granted 12 months' stay without any condition and are free to take up any jobs, she said. However, she said that the stringent assessment criteria for Quality Migrant Admission Scheme applicants remains in place, despite revisions in scheme details that allow Hong Kong to cast a wider net in its search for quality migrants. The scheme was revised in mid-January to enable more Chinese mainland and overseas quality migrants to be short-listed for further assessment, particularly younger ones, in view of Hong Kong's aging population. But the scheme's annual quota of 1,000 entrants remains. She said that before the revision, the scheme's advisory committee endorsed 71 percent of the short-listed applications it assessed. Although more applications were short-listed after the revision, the success rate fell. Chan said 74 applications which were not qualified for further assessment before the revision have now been short-listed for the advisory committee's vetting. Since the scheme's launch in mid-2006, the committee has handled 578 short-listed applications, with 398 endorsed. The success rate is 69 percent.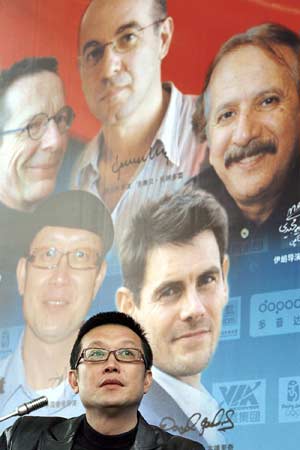 Hong Kong director Andrew Lau Wai Keung listens to a question during the Vision Beijing news conference in Beijing yesterday. The project has showcased five short films by five world famous film directors, namely Lau, Giuseppe Tornatore of Italy, Majid Majidi of Iran, Patrice Leconte of France and Daryl Goodrich of Britain. The short films are about Beijing and the people's preparations for the 2008 Olympic Games. Five short films about the preparation for the Beijing Olympic Games shot by world-renowned directors will be broadcast on TV both at home and abroad. In a project named Vision Beijing to promote the Olympic host city, the Chinese capital invited Italian Giuseppe Tornatore, Majid Majidi from Iran, Patrice Leconte from France, Daryl Goodrich from Britain and Andrew Lau Wai Keung from Hong Kong to each make a short film telling stories about Chinese people's preparation for the August 8-24 Games. It took 600 days to finish the project, Wang Hui, an official from the Beijing Olympics Organizing Committee, said yesterday. The five films will be screened on CCTV-2 on Thursday and they will also be on Beijing TV and the national TV stations of Italy, France and Iran. Sohu.com will put the films online for global viewing. In Tornatore's first trip to China, the Academy Award winner for "Nuovo Cinema Paradiso" in 1988, made "Reunion," telling a story about how a group of students and their teacher got back together after 30 years. It was also the first China visit for Majidi. "I am most impressed by middle-aged and retired people, who have great passion for life," he said. But Majidi, nominated for an Academy Award for Best Foreign Language Film with "Children of Heaven" in 1998, chose his favorite subject, children. In "Colors Fly," Majidi focused on children looking forward to the Games. Leconte was a stranger to the city, too, but he soon caught up with his knowledge of the Chinese capital, shooting "Beijing - A Film Impressionistic." Leconte depicted Beijing through various structures including the Summer Palace, Olympic venues and modern constructions. Retired athlete Goodrich has found a career in a combination of sport and film-making. After the success of his promotional film for London's bid for the 2012 Olympics, he joined Vision Beijing. His five-minute film, entitled "Belief," focuses on the hard work and thrill of athletic competition. "I was invited to make a film about sports, about children and to celebrate the Olympic Games," he said. "That's what I do and that's why I came to Beijing and I had a wonderful time.'' Lau, the only Chinese director, showed his love for Chinese food in "Color, Fragrance, Taste Beijing."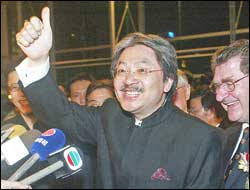 Taxpayers will be handed back HK$40 billion under the 2008/09 budget to be unveiled on Wednesday. A further HK$30 billion will go toward boosting government expenditure in such areas as social welfare, medical services and infrastructure, a government source said yesterday. Financial Secretary John Tsang Chun- wah will waive rates for one year, remove duties on beer and wine and increase "fruit money" for the aged and subsidies for the poor, the source told The Standard's sister newspaper Sing Tao Daily. According to the source, the government will announce a surplus of HK$110 billion with the main beneficiaries being the 1.3 million taxpayers and most businesses. Taxpayers will be given a 75 percent tax rebate, capped at HK$25,000, though this will only be available when taxes for 2007/08 are paid early in 2009. The basic allowance will go back to 2002/03 level of HK$108,000 against the current HK$105,000. "We believe around 70,000 to 80,000 current taxpayers will be dropped from the tax net for 2008/09 but with salaries on the increase, they will soon be back on the tax list," the source said. The marginal tax rates will remain the same but the tax bands will be increased from HK$35,000 to HK$40,000. and the standard tax rate lowered from 16 percent to 15 percent. The profits tax will also be lowered one basis point to 16.5 percent, the source said. In explaining why the government would only be returning tax money in 11 months instead of now, the source said the sudden flush of cash on the streets would boost inflation and nullify the benefits. "We do not want to send out checks immediately as we fear taxpayers will spend the money and worsen inflation," the source said. Real inflation in Hong Kong jumped to 4.3 per cent last month, the highest in almost a decade. Another issue was environmental protection as the rebate would require the issue of 1.4 million checks. "We can only issue about 20,000 checks a day, which means we will need 70 days just to issue the checks," the source said. It will be the second consecutive year for the government to offer tax rebates. Last year, taxpayers were given a 50 percent rebate capped at HK$15,000. The HK$30 billion for increased government expenditure is expected to go towards additional infrastructure, to create more jobs, and services for the elderly and the poor. The source said the Social Security Allowance will be increased, but only for those in real need. Representatives from the democratic camps and eight organization led 200 elderly and poor to the Government Headquarters yesterday where they delivered their demands to the financial secretary.
CRCC key players invest US$450m - China Railway Construction Corp, which is seeking a dual listing in Shanghai and Hong Kong, says it has already secured nine institutional investors for its H-share listing but trimmed down its A-share issue because of market instability.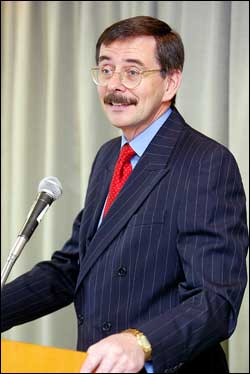 Swire Properties and Sino-Ocean Land Holding (3377) have announced a 50-50 joint venture to develop a 4 billion yuan (HK$4.36 billion) mixed-use project in Beijing. The project in the Chaoyang business district will have floor area of 1.89 million square feet on a site of about 630,000 sq ft. It will comprise a 921,000 sq ft retail center, 600,000 sq ft of office space, and a 380-room five-star hotel. The property arm of conglomerate Swire Pacific (0019) will manage the project upon completion in 2010. "Combining Sino-Ocean Land's solid track record in property development in the mainland and our development and management experience in Hong Kong, we hope to set a new benchmark for integrated project development in the capital city, and thereby create a pleasant environment for the community," said Gordon Ongley, Swire Properties chief executive for China. Meanwhile, the initial phase of Swire's first project in Beijing - The Village in Sanlitun district - is expected to be completed in August. The mixed complex, with 400 retail shops and a 100-room boutique hotel, has floor area exceeding 1.85 million sq ft. In February 2007, Swire teamed up with private-equity real-estate fund Gateway China to acquire the project for 4.8 billion yuan.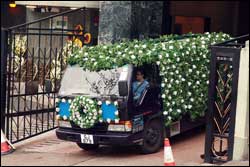 Top local government officials and representatives from the mainland's Liaison Office in Hong Kong are expected to attend the memorial service for Lydia Shum Din-ha on Sunday at the Hong Kong Coliseum. Popular television host and movie star Shum,62, died last Tuesday after a two-year battle with cancer. Chief Executive Donald Tsang Yam-kuen and Liaison Office deputy director Li Gang were among the first to offer their condolences. TVB, which is organizing the memorial service, has invited the officials to attend. Shum's body was flown to Vancouver yesterday afternoon accompanied by her daughter Joyce Cheng Yan-yee, 20, close friend Florence Chan Suk-fan and her son Ka-ho. The hearse carrying Shum's body left Po Fook Hill in Sha Tin and arrived at the airport at 9.40am. It was decorated with white roses and a wreath. Cheng arrived at the airport around 2pm wearing a black top and a traditional white flower in her hair - signifying she is the main mourner. Close to 300 people will attend the private service in Vancouver on Wednesday before Shum is buried next to her parents. Adam Cheng Siu-chau, Shum's ex-husband and father of Joyce Cheng, will only attend the Hong Kong memorial. He said at the weekend that this was his daughter's idea. It is reported many of Shum's friends disapprove of Adam Cheng for not offering public condolences, but his daughter wants him to be at the Hong Kong service.
A massive backlog is straining Macau's legal system, with hundreds of trials being delayed for months or even years. The crisis has prompted calls for judges to be imported from Portugal, the city's former ruler. Critics have warned that if nothing is done, the build-up of cases might paralyse Macau's judiciary. But there are concerns that Beijing may frown upon the idea of having too many Portuguese judges. The Court of First Instance handles most trials, commercial and criminal, in the city of half a million people. The number of criminal cases before the court rose from 4,973 in 2002 to 12,697 last year, while the number of unfinished cases at year-end soared sevenfold from 969 to 6,807 over the same period. Meanwhile, the number of judges and prosecutors dropped from 52 in 2002 to 48 last September. There are currently only 29 judges in Macau. Prominent lawyer Miguel de Senna Fernandes said if the issue was not resolved, Macau's legal system might collapse. Four commercial cases that Mr Fernandes is handling have been delayed, including one that began in 2005.
The oldest wine merchant in the United States will start auctioning fine wines in Hong Kong in May - regardless of whether wine duties are lowered or not. The move by New York-based Acker Merrall & Condit is expected to put Hong Kong back on the international wine-auction map after a decade-long absence. The auction will be held at the Island Shangri-la hotel on May 31. "More and more of our auction business is going to Asia," said John Kapon, Acker Merrall's president and auction director. Expectations are high that wine duties will be cut when the financial secretary announces the budget on Wednesday. The 80 per cent duty was halved to 40 per cent last year. The growth of the lucrative fine-wine auction business is one of the reasons cited by the Hong Kong Wine and Spirits Industry Coalition in its push for zero duties. Fine-wine auctions worldwide took in about US$300 million last year, of which buyers in Hong Kong accounted for 20 per cent to 25 per cent. Mr Kapon said a second auction could be held in November depending on the success of the May event. The wines would mainly come from three select European sellers and five or six from the US. The 188-year-old family business sold a bottle of 1945 DRC Romanee-Conti for US$41,825 in May last year. In January 2006, it auctioned a case of 1971 Romanee-Conti for US$136,000. Doug Rumsam, managing director of Bordeaux Index's Hong Kong office, said scrapping the duty would allow Hong Kong to compete with Europe and greatly increase the stock traded here. Bordeaux Index is the largest fine-wine distributor in Britain. London-based David Elswood, international head of wine sales at Christie's, said the auction house had no definite plans to auction wine in Hong Kong but would like to operate here in the future. "Any reduction in duty and tax levels is likely to have a beneficial effect on the market," he said.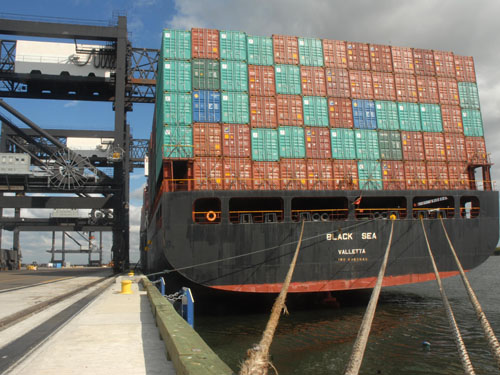 Hong Kong Exchanges and Clearing (SEHK: 0388) is expected to mark a milestone after recruiting Israel's ZIM Integrated Shipping Services as a listing candidate on the main board this year, according to a source. The firm could potentially raise more than US$500 million from the share sale. ZIM would be the first Israeli company to list in Hong Kong following a HKEx roadshow last year to the Middle East to attract more overseas companies to trade shares on the city's bourse. The listing candidate has mandated US investment banking giants Goldman Sachs and Morgan Stanley as arrangers of the offering, another insider said. "They filed their preliminary listing application with the HKEx recently while the final decision of the size is still under discussion," the source said. "The listing is likely to take place in the second half of the year." Government and HKEx officials know the exchange's reliance on mainland listings is gone. HKEx chief executive Paul Chow Man-yiu has said that attracting more overseas companies to list in Hong Kong is on the agenda for the coming years. Market watchers said other markets such as the London Stock Exchange and the New York Stock Exchange were also aggressively lobbying Middle Eastern nations to sell shares on their bourses in a bid to maintain their leading positions. HKEx should attract more foreign middle-sized companies to list in the city to increase the quantity and offset the dwindling size of deals, said Ben Kwong Man-bun, the chief operating officer of KGI Asia. PricewaterhouseCoopers predicted that the number of listings on the Hong Kong stock exchange this year would reach 90, compared with 86 last year and 64 in 2006. Total proceeds would reach HK$280 billion, below last year's HK$293 billion, the accounting firm said. "The Hong Kong government has planted the seed in the Middle East since 2005 and now is the time to harvest," said Ronald Wan, managing director of Bocom International, the investment bank of mainland lender Bank of Communications (SEHK: 3328). Mr Wan said HKEx should educate retail investors about companies from countries outside Greater China because of their limited knowledge and the lower corporate transparency in the region. Market watchers said Hong Kong had advantages for listing candidates. "Hong Kong has a lot of listed shipping firms and many analysts are here, so they can get coverage," said one observer. The exchange, meanwhile, has been actively seeking to attract more listings from countries around Asia such as Kazakhstan, Malaysia, Outer Mongolia, Thailand and Vietnam. ZIM, one of the largest container shipping firms in Israel, owns and operates 100 vessels with a total carrying capacity of 240,000 20-foot equivalent units (teu). The company recently bought eight smaller container ships of 1,700-teu capacity each and two 2,500-teu vessels to support and complement the services provided by the large ships, it said on its website.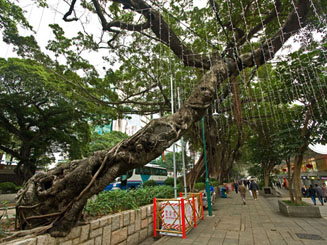 Century-old Chinese banyan tree cut down in Nathan Road over safety fears - A century-old banyan tree in Nathan Road, which is listed on the official valuable tree registry, has been removed after it was deemed to be a safety risk.

China: The European Union (EU) Trade Commissioner Peter Mandelson left for China Friday on a three-day visit to prepare the first high-level trade dialogue between the two trading powers. During his visit, Mandelson planned to have his first meeting with the new Chinese Minister of Commerce Chen Deming, aiming to take forward the establishment of an EU-China High Level Economic and Trade Mechanism, the commission said in a press release. The mechanism, which was agreed at the last EU-China Summit in November, is designed for vice-premier level discussions on strategies in EU-China trade, investment and economic cooperation, and to coordinate bilateral projects, studies and develop plans in priority sectors. It will cover issues affecting the trade imbalance, including effective market access, intellectual property rights, environment, high technology and energy, among others. Statistics with China's Ministry of Commerce indicated China's surplus with the EU, China's largest trading partner, reached 134 billion U.S. dollars in 2007. The commission said Mandelson and Chen will discuss the scope of the mechanism's work and its initial focus. "The EU wants to build an engagement with China that focuses on our joint strategic interests and deepens the trust required to raise and resolve trade differences constructively and quickly," Mandelson said in a statement ahead of his visit, "This sense of partnership built on mutual interest will underlie the new High Level Mechanism." The commission said the mechanism is expected to be formally launched in the spring.
Visiting former U.S. Secretary of State Henry Kissinger said on Saturday to continue strengthening exchanges and cooperation between China and the United States is in the common interests of both sides. Kissinger made the remarks in a meeting with Chinese Vice Premier Zeng Peiyan. He said China has made surprising achievements since its reform and opening up 30 years ago. Zeng said this year is a crucial year for China-U.S. relations, and China is ready to make joint efforts with the U.S. side to continue to implement the important consensus reached by the two heads of state, strengthen dialogue, mutual trust and cooperation, and consolidate and deepen common interests. He added that the two sides should also respect and consider the concerns of each other and properly handle differences. Zeng hailed the new progress of China-U.S. relations in the past year, saying the two countries have conducted "fruitful" exchanges and cooperation in various fields and maintained good coordination on major international and regional issues. Kissinger added that the international community was deeply impressed by the solidarity and efforts of the Chinese government and people in fighting against the recent snow disaster. Kissinger is visiting China at the invitation of the Chinese People's Institute of Foreign Affairs.
British Foreign Secretary David Miliband reiterated on Saturday his opposition against a boycott of the Beijing Olympic Games this summer. "I do not support an Olympic boycott. I do support engagement with China on the need to work together internationally to nurture the potential gains of globalization," Miliband said on his blog upon his six-day visit to China. "China depends on that cooperation; so do we," Miliband wrote. The 29th Summer Olympics will be held in Beijing in August this year. "I am immensely looking forward to my visit, which I expect to be instructive, thought-provoking and inspiring in equal measure," he said on the blog. Miliband's visit to Hong Kong, Shanghai, Chongqing and Beijing will begin on Sunday. "My aims are simple: to try to understand the country better, to compare notes on the challenges of equality, security and sustainability in our two countries, and to forge relationships that foster Anglo-Chinese cooperation at an international level in the pursuit of shared goals," he concluded. He showed different types of famous Chinese food and depicted relations between food and culture. "I love food so I am the right person to make the film," Lau said at a press conference in Beijing yesterday. Talking about director Steven Spielberg quitting as an adviser to the Games, Lau said: "I was shocked ... it's clear that the Olympics is all about sport and nothing to do with politics." Spielberg withdrew from his position as an adviser to the opening and closing ceremonies on February 12 over his beliefs about China's policy on the conflict in the Darfur region of Sudan.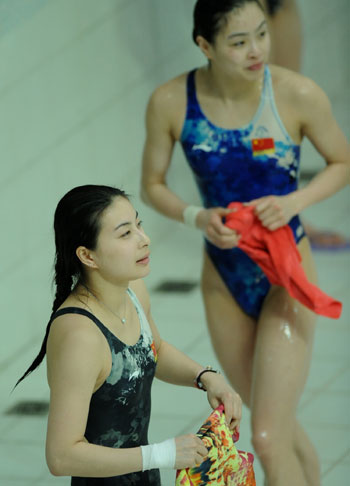 Chinese Olympic champions dominate on board at FINA World Cup - China's Olympic champions Guo Jingjing (L) and Wu Minxia look at the score board during the women's three-meter springboard preliminary stage at the "Good Luck Beijing" 16th FINA Diving World Cup on Saturday.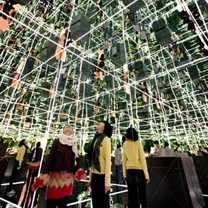 People view the infinitude images at an exhibition in Beijing, capital of China, Feb. 23, 2008. Mirror Art Exhibition, produced by Italian artist Michelangelo Pistoletto, kicked off at Beijing 798 Art District recently.

Young billionaire sued for illegal fund raising - A wealthy young businesswoman has been sued in east China's Zhejiang Province for alleged illegal fund raising, according to a local court. Wu Ying, a 26-year-old said to be worth 3.8 billion yuan (531.9 million US dollars), was accused of illegally raising more than 720 million yuan, all from individual's bank deposits. Since April 2006 when she established her company, Bense Group, she had been collecting money on the premise of promising to pay back the funds with an interest rate higher than that of bank levels. She did this in the Zhejiang cities of Yiwu, Dongyang and Ningbo, according to the People's Court of Dongyang, Wu's hometown. In addition, Wu acquired about 127 million yuan in the same method before she founded her company. The huge sums were allegedly used for Wu's personal consumption and in paying back the loans and operation costs of her company, said the court. If found guilty, Wu faces up to 10 years in prison, according to Chinese law. Another seven suspects related to the case were accused of illegally helping Wu raise funds. The court did not give a date when her case would be heard. As the eldest of four daughters, Wu was born to a farmer's family in Dongyang. She started from scratch by opening a beauty salon in 1997, according to previous media reports. She rose to fame in 2006 when she registered her Bense Group. It included 12 companies. Her business empire was later expanded to hotels, department stores, entertainment venues and Internet cafes, among others. The Bense businesses also included automobile sales, construction materials and dry cleaning chains. In January 2007, local police started their investigation of Wu after a series of reports were received claiming she was once engaged in illegal businesses.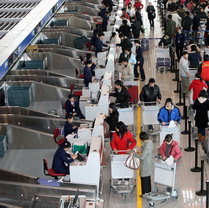 "Passengers" queue to check in at the No 3 terminal of Beijing Capital International Airport, which held its last and largest drill Saturday before its trial operation on February 29.
China and the United States launched a short film competition in Beijing open to Chinese university students to promote intellectual property rights (IPR) protection on Saturday. The one minute film contest was jointly launched by the China Film Copyright Protection Association (CFCPA) and the Motion Picture of America Association (MPAA) during the 15th Beijing Student Film Festival. Budding film makers must hand in their works by March 15. Films will be judged in three categories: digital video (DV), cartoons and mobile phone films, according to the organizing committee. The first prize is a trip to Los Angeles to visit Hollywood, the Avenue of Stars, Warners Brothers Studio and Disneyland. The festival, launched in 1993, offers a platform to small budget Chinese-made films and new directors and actors. Last year, the short-film contest with the IPR protection theme was launched, aiming to popularize knowledge among young Chinese, organizing committee sources said. Last year, Liang Jinwei, a Guangxi University for Nationalities student, won first prize for his short entitled "Pilferage?". In it, a primary student cited an example of IPR violation as the answer to his teacher's question about what is "pilferage"? The student's answer embarrassed his teacher, parents and classmates. Liang, now a third-year student, visited the United States last fall. He told Xinhua "I am impressed with the advanced film industry in the United States." He said he will join in this year's contest to play a role in IPR protection. China's State Administration of Radio, Film and Television and Ministry of Culture signed a memo on film copyright protection with the MPAA in July 2005, reaching consensus about copyright protection for US film products in the Chinese market. CFCPA and MPAA signed a memorandum of understanding in March 2006, boosting China's efforts to protect film copyright.
February 25, 2008

Hong Kong: Secondary schools could be given freedom to choose whether to teach in English or Chinese, the education secretary said yesterday. Paving the way for an apparent policy shift, Michael Suen Ming-yeung said the Education Bureau was currently considering options on how to give schools more flexibility in implementing the medium-of- instruction policy. Mr Suen said school groups had been petitioning for a wide range of measures, including having different language streams within a school, either on a subject-by-subject basis or by splitting students into English or Chinese classes according to ability. But he insisted that schools would not be given carte blanche; rather, the bureau would implement an "objective, transparent" mechanism to determine how schools could set their language of instruction policy. He gave no details of what form that mechanism might take. Mr Suen said the bureau aimed for 60 per cent of secondary school leavers to be capable of learning in English by the time the new six-year secondary curriculum was fully implemented in 2012. Now, only the top 40 per cent of Primary Six graduates is deemed able to learn in English. There have been persistent rumors of a significant policy shift since November, when Mr Suen announced a review to "fine-tune" a new set of rules on medium of instruction due to come into effect in 2010. Those rules, set down in 2005 after an extensive consultation process, had been in favor of maintaining the rigid divide between English- and Chinese-medium secondary schools and categorically ruled out language streaming within schools. Mr Suen's comments yesterday were broadly welcomed by the education sector - on the condition that the change would not result in a return to the situation prior to the introduction of the mother-tongue education policy in 1998. At that time, schools had complete autonomy over their medium of instruction, with many opting to teach in English regardless of whether teachers were competent in the language or students were able to learn effectively. The mother-tongue policy banned all but 112 secondary schools from teaching in English. Professional Teachers' Union president Cheung Man-kwong said it was important to ensure students were capable of learning in English and the labeling effect of Chinese-medium schools was minimised. "The most important thing Mr Suen said was there will be a clear mechanism for inspecting and making sure schools maintain standards." Dominic Chu Fu-yau, former chairman of the Subsidized Secondary Schools Council, said allowing schools to choose which classes to teach in English or Chinese was better than "simply splitting schools between winners and losers". "Frontline teachers are the optimum judge of whether their students would learn best in English or Chinese," Mr Chu said. Michael Tien Puk-sun, chairman of the 2005 policy working group, said he did not believe the government was going to change the core findings of his team's report - that schools should only be allowed to teach in English if they could meet set criteria, including students' language ability, teacher quality and support measures within the schools. "Initially, we had been in favor of allowing language streaming within schools, as we felt that was a more idealistic solution," Mr Tien said. "But in the end we decided there were too many practical concerns." These included the drain on resources due to the need to inspect quality "class by class" and the increase in teacher workload from having classes in two languages. "The key is, there needs to be a system of quantifiable ways to uphold conditions to allow students to learn effectively."

The former home for juveniles in Kowloon Tong and new hotel sites in North Point and Hung Hom were expected to be available on the upcoming land-sale list, government and property industry sources said. Smaller sites and those designated for hotel development were likely to be included on the list, an industry source said, adding that about 60 sites could be available for application in 2008-09. The former juvenile home on Begonia Road - estimated to be worth HK$500 million - was zoned for low-density residential development early this month. The site was surrendered to the Lands Department last year after the home was moved to Tuen Mun. It will be offered for development as a five-storey luxury apartment block. Residents of the neighbourhood had been consulted on possible uses for the land. Other sites that would raise eyebrows among developers that could be made available include one on the former North Point Estate site and three along the Hung Hom harbourfront, where development density figures were drastically trimmed by the Planning Department in the past few months. According to government sources, the hotel site next to Tong Shui Road on the former North Point Estate is likely to be available this year because the air ventilation study on the site will be completed for the Town Planning Board's approval before the end of the year. The hotel site, which is expected to sell for more than HK$2 billion, has a total allowable gross floor area of 36,000 square metres. Two sites designated for hotel use on Kowloon side - a combined site of the existing Mass Transit Railway Corporation freight yard and international mail centre, and one on Hung Luen Road in Hung Hom - are also likely to be on the market by the end of this year or early next year. A site next to Hung Hom Peninsula, zoned for residential use, could be available around the same time. More than 240,000 square metres of combined gross floor area are allowed on the residential and two hotel sites. Yu Kam-hung, chairman of the Institute of Surveyors, said the hotel sites in North Point and Hung Hom would be popular among developers. "No hotel sites will be available in Central, Wan Chai and Causeway Bay in the near future, so new sites in city areas are becoming more valuable," he said. However, according to an industry source, some in the property sector hope the government will auction new sites on a regular basis as they are having difficulty applying for land sales. "The current land-application system is not favourable to small developers, especially when land values are being pushed to a super-high level by the economic boom today," said veteran surveyor Pang Siu-kei. Mr Pang said the land-application system was designed against the backdrop of the financial turmoil in 1997 to ensure the government's land revenue would not be drastically cut by regular site auctions. "The economy is thriving now; the system should be reviewed," he said, adding the land application system was likely to push land values even higher in the next two years. "For people who want to own a flat, it would be a difficult dream to achieve," he said. Government figures show the price of property in Hong Kong has been on the rise since 2003. Only 10,471 flats in private developments went on the market last year, lower than the government forecast of 16,352 flats.

Parkson Retail Group (SEHK: 3368, announcements, news) sees more good times ahead for its mainland department stores after reporting a 46.7 per cent jump in attributable profit to 676 million yuan for the year to December, beating analysts' estimates. The mainland department store unit of Malaysia's Lion Group posted sales of nine billion yuan, up 46 per cent from a year earlier. Robust domestic consumption will still be the country's economic driver in the next few years, despite subprime issues squeezing credit and stalling global consumption, Parkson said. The company will continue to expand its network on the mainland organically and through acquisitions, having completed three deals last year. At least five stores will be opened this year, management said. Last year, the company opened a store in Beijing, another in Xian and a flagship in Chengdu. Parkson operates and manages 41 stores across 26 cities. Of these stores, the company fully owns 29 and holds majority stakes in the others. Analysts are bullish on Parkson as a consumer play, not just because of its aggressive expansion agenda but also because it will benefit from a lower corporate tax rate, which will contribute to higher income. A JP Morgan report notes that Parkson's overall corporate tax rate will be lowered to 22 per cent this year from 24 per cent last year. As it is, Parkson's nine stores in western China enjoy tax exemptions. With the country's corporate tax rate expected to be unified at 25 per cent this year, the higher rate of 33 per cent paid by some stores will be offset. The bank estimated the company's net profit would increase 19 per cent this year from a year earlier. Parkson aims to keep its operating margins at between 32 per cent and 34 per cent, largely in line with revenue growth. UBS named Parkson its top pick for investors because of its parent's strong backup and extensive store networks. According to the company, the mainland retail market last year was worth more than 8.9 trillion yuan and ranked as one of the top five in the world. Rising disposable income and the emergence of a strong middle class are the critical factors for achieving this growth, Parkson said. The UBS report said the mainland's department store sector was still in the early stages of the industry cycle, which presented huge growth potential. The bank estimated mainland department stores' share of total retail sales would rise to 6.2 per cent by next year from 5.8 per cent in 2006 because of new market positioning, an effective business model and rapid expansion strategy. Parkson's shares have risen 138.2 per cent in the past 12 months. Yesterday, its shares closed 0.2 per cent higher at HK$74.05. More on scmpir.com For IPO news, listed company reports, announcements and press releases, go to our new investor relations website.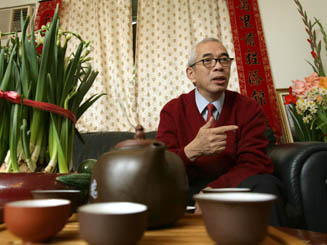 Released reporter keen to cover Olympics, despite family's fears - Freed journalist Ching Cheong wants to go to Beijing to cover the Olympics, as he continues his career in reporting China's news after being released from a mainland prison.

The decision by the Director of Immigration, Lai Tung-kwok, to retire in April has raised concerns about the appointment of a successor. Although Mr Lai was due to retire in November this year when he turned 57, a government source said Mr Lai wanted to take pre-retirement leave and quit in April. The Civil Service Bureau confirmed yesterday that it had received Mr Lai's notice of retirement. It said it would follow standing procedures to appoint a new director and make an announcement in due course. The director of immigration is one of the principal officials whose appointment and removal has to be approved by Beijing under the Basic Law. Immigration Staff Association chairman Wong Tong-sing said he was "a little shocked" to learn that Mr Lai was said to be leaving in April. "We had heard earlier that his retirement was due by the end of this year," he said. But he said it was not unusual for senior officers to opt for pre-retirement leave rather than staying until the last minute. "Actually, the director post is a tough one. It's a very sensitive post and the director faces a lot of pressure. "I don't see anything particularly unusual. It's a matter of personal choice. It's not really early retirement," he said. The staff association hoped that the post would be filled internally, saying deputy director Simon Peh Yun-lu was an ideal choice, Mr Wong said. "We have established good relations with Mr Peh. Internal promotion would enhance staff morale and the development of the department in future." He said he was not aware of any plan by the government to appoint an administrative officer to replace Mr Lai. The government source also said the top post was likely to be filled by the deputy instead of an outsider. The source said officials could choose to take accumulated leave before their official retirement date. Mr Lai joined the Immigration Department as assistant immigration officer in 1973 and was appointed director in 2002.

China: Work will start soon on a high-speed inter-city passenger rail link between Nanjing and Shanghai, railway officials announced on Thursday. The feasibility report for the project, estimated to cost 42.2 billion yuan (about 5.78 billion U.S. dollars), has been approved by the National Development and Reform Commission, and ground-breaking will occur in the first half of the year, said Zhang Xiaoling, deputy chief with Jiangsu Provincial Office of Railways. The investment will be borne by the Ministry of Railways, Jiangsu and Shanghai, said Zhang, who declined to provide further details. The new railway will have a length of 300 kilometers, of which 269 km will be inside Jiangsu Province. The dual-track railroad will take four years to complete and will be able to accommodate trains traveling at 200 km to 250 km per hour. The line will cut the trip between the two cities from two hours at present to one and a half hours.
China launches 2nd West-to-East gas pipeline project - China began work on its second west-to-east natural gas transmission pipeline on Friday. It will mainly carry natural gas from Turkmenistan and China's Xinjiang Uygur Autonomous Region to the Yangtze and Pearl River deltas.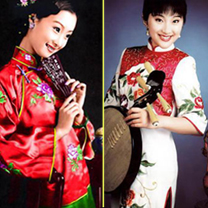 Shuangshun Qipao reopened in the flagship shop of Beijing Hong Du Corporation Groups in Dongjiao Minxiang after a more than 20-year hiatus. Hong Kong's Maggie Cheung dressed in more than 20 qipao outfits when filming the movie In the Mood for Love (2005). The colours, styles and materials used in the actor's traditional dresses changed throughout the movie, expressing a sense of elegance and style that touched many who saw the movie. This kindled a return of the qipao as a heartfelt fashion statement.

The British Olympic team's concern over food in Beijing is not serious enough that they will import food during the Olympic Games in August. Speaking in Macau yesterday, Bernie Cotton, Olympic performance manager at the British Olympic Association (BOA), said the catering in the Olympic Games would be of the "highest order". Cotton did express concern about pollution in Beijing, but said a decision as to whether or not to use face masks during the Olympics would not be a team decision. He likened wearing a mask to wearing a strip to clear nasal airways. "We consider all sport science and medicine support issues for our athletes and yes, one or two athletes might choose to wear masks," Cotton said. Cotton (pictured) was in Macau to formally discuss an agreement to hold Britain's pre-Olympic holding camp in the former Portuguese enclave. About half of the British team - covering 15 sports and disciplines - will use Macau's sporting facilities as their final training destination before flying 48-72 hours in advance of their competitions in Beijing. Just a handful of sports and disciplines will be absent, including the sailing team, which will be based at the event site in Qingdao and the equestrian team, which will be in Hong Kong. A report earlier this month in The New York Times said that the Americans would ship food and 11,000kg of meat to China, a decision which displeased mainland organisers. But Cotton said that as far as the British are concerned, the main worry about food in the Olympic Village wasn't about illness but of athletes putting on weight. "When athletes are bored, they tend to eat," Cotton said. He also reiterated the BOA's stance on the athletes' charter, saying no new clauses are to be inserted into the agreement which tries to ensure that athletes do not make political statements during the Olympics. "We have no intention of applying any further restrictions than are written in the IOC Charter and in previous member agreements," said Cotton, adding that the athlete agreements would be identical to the ones signed prior to both Sydney and Athens. "[The agreement is] really focused on creating an environment in which all athletes can concentrate on their performance and not be distracted by non-performance issues," Cotton said. Cotton is confident the British athletes would be able to shy away from the casinos littered about the city.
Beijing will spend 63.3 billion yuan to help farmers who were hurt by the January snowstorms recover for spring planting, Xinhua said yesterday. The money was meant for agricultural goods and grain subsidies, it said, citing the Finance Ministry. Storms that began on January 10 and covered much of China's south wrecked thousands of hectares of crops, killed 69 million farm animals and destroyed greenhouses and other farm equipment. The government has warned that supplies of fresh vegetables will run low next month due to the snow but says overall food supplies should be adequate. "Vegetable selling will be severely impacted," Xinhua quoted Deputy Agriculture Minister Wei Chaoan as saying. The shortages are especially sensitive because the government has already been struggling to rein in surging inflation blamed on a scarcity of pork, grain and other food items. Storm-induced food shortages pushed the mainland's inflation rate last month to its highest rate in 11 years. The government said food costs were up 18.2 per cent from the same month last year. Economists warned that prices could rise even faster this month as the full impact of the storms was felt. The government had pledged 9 billion yuan to rebuild houses and help the poor pay for food and heat.
The company that produced contaminated dumplings involved in a recent poisoning incident was fully owned by a Japanese firm, Xinhua quoted mainland authorities as saying yesterday. The mainland's quality watchdog - the General Administration of Quality Supervision, Inspection and Quarantine - blamed the Japanese firm's loose management standards for the incident, which sickened more than 100 Japanese and embarrassed the two countries as they tried to mend strained ties. The authorities stressed that food safety has been a top concern at the watchdog agency, and that they could trace all raw materials involved in the manufacture of food products meant for export. Their comments came at the 11th hour of strategic talks preceding President Hu Jintao's visit to Japan in April. The authorities stressed that the Japanese firm had not set out any standards for its mainland dumpling producers. Two batches of dumplings were found to contain traces of a pesticide called methamidophos. In yesterday's news report, the quality watchdog said the problem had been caused by loopholes in the procedures for purchasing raw materials, such as vegetables. A team of mainland police officers was sent to Japan to assist in the investigation when the poisoning broke out. In a separate case, Xinhua reported that all exports produced by Shandong-based Weihai Yuwang Aquatic Foods - suspected of producing and exporting contaminated mackerel to Japan - had been suspended. The quality watchdog was quoted in another Xinhua report as saying the products containing traces of dichlorvos, a pesticide, were manufactured on June 5 last year and exported on June 16 and June 22. Weihai said it had never used the pesticide in its factory. Xinhua also reported that Beijing and Seoul had launched an investigation into allegations that some frozen eel found in mainland exports were contaminated by the cancer-causing antifungal agent malachite green. Mainland investigators said the products could have been exported to South Korea illegally because the alleged producer was not registered with the mainland authorities responsible for inspecting imports and exports. The South Korean media named Jiangxi Yichun Eel Industry Development as the producer, according to Xinhua.
February 23 - 24, 2008

Hong Kong: Pollution and a weak Hong Kong dollar due to the peg to the US currency are making it difficult for local universities to attract British and European academics, Chinese University's vice-chancellor said yesterday. Speaking at a spring media reception, Lawrence Lau Juen-yee said the exchange rate had weakened Hong Kong's purchasing power on the careers market when all eight publicly funded tertiary institutions were recruiting in preparation for the switch to a four-year degree in 2012. "If we want to hire someone from Britain, then it is a lot harder now than it was five years ago," Professor Lau said. "The US dollar is falling and we are stuck to it. It seems there is no benefit to us in that." In February 2003, the British pound was worth about HK$12.30 compared with its current rate of HK$15.17. "These academics will not be planning to spend the rest of their lives in Hong Kong," Professor Lau said. "They often have a mortgage in Britain they will need to pay for, and will be thinking about planning for their retirement." However, he said pay was not the only concern. "Things like pollution also have an effect," he said. "A lot of candidates ask us about the air quality here." Professor Lau also added his weight to University of Hong Kong vice-chancellor Tsui Lap-chee's call last week for the government to establish an endowment fund to provide more research funding. Professor Tsui had said the lack of research opportunities made the city less attractive to top international academics. Chinese University needs to hire about 400 lecturers and professors over the next four years to keep up with general staff turnover and to meet the teaching requirements for the new degree structure, which will see its undergraduate population increase by a third.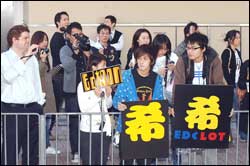 A chance encounter with a talent scout while night-clubbing in 1999 shot Edison Chen to stardom. But Chen's meteoric rise in the world of glitz and sleaze ended yesterday when he declared he will "step away" from the Hong Kong entertainment scene "indefinitely". Born in Canada in 1980 and educated in Vancouver and Hong Kong (where he studied with fellow pop icon Nicholas Tse Ting-fung, husband of actress Cecilia Cheung Pak-chi), Chen is multi-talented and, to his female fans, a sex symbol. Apart from acting and singing, the young Canadian-Chinese also has a hidden talent for business. He is a partner of CLOT Inc, a lifestyle company geared toward youths that is popular for its street fashions in the mainland and in Hong Kong and which vies with such international clothing companies as Nike and A Bathing Ape. The astute pop icon also invested HK$10 million to open his own multi-media company, Clot Media Division to produce movies, commercials and music albums. As an actor, he starred in many popular films, such as the Infernal Affairs trilogy, Initial D and Dog Bite Dog. Chen also starred as the male lead in the Japanese drama Under the Same Moon. In announcing his plans to step away from the entertainment scene for the time being, Chen also said he will fulfill all commitments before doing so. These include a film, still unstarted, that will see him collaborating once again with Gillian Chung Yan-tung (one of the celebrities featured in the sexually explicit photos posted on the internet), Stephy Tang Lai-yun and Shawn Yue, branded as the next Nicholas Tse. Chen also appears on Japanese hip hop group m-flo's album, Cosmicolor, on the track Love Me, Hate the Game. In June, he released a Putonghua album, entitled Allow Me To Reintroduce Myself, with tracks produced by Kanye West, Just Blaze and Clinton Sparks. In March 2004, he dropped charges against two teenagers who assaulted him in Central. Chen in a Taiwan TV show last year disclosed he planned to marry Vincy Yeung, a niece of EEG founder Albert Yeung Sau-shing, and that he had stopped his playboy and womanizing habits out of love for her.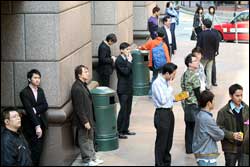 An increase in tobacco tax of up to 50 percent in the upcoming budget speech on Wednesday will help smokers quit the habit, Council on Smoking and Health chairman Homer Tso Wei-kwok said yesterday. Tso also criticized the government for "seriously lacking" in efforts to help youths aged 15 to 19 - when most smokers pick up the habit - quit. The tax increment would mean 75 percent of the price for a packet of cigarettes - about HK$30 depending on brands - would be taxed, compared with about half the price now. The World Health Organization recommends a standard tax of two- thirds of the price. "Increasing the tax must also go along with increased provision of services to smokers to quit smoking, as it is also necessary to show that the government is not in it for the money, but for the protection of public health," Tso said. "Increasing the tax is only one method to control smoking, but most importantly [government policy] needs to be consistent. "There are about 15,700 young smokers locally, yet we only have one youth quitline at Hong Kong University capable of helping 400 people." He said the service should be readily accessible, through community help channels, not hospitals. Quitting needed to become a popular trend like slimming. In response, a Department of Health spokeswoman said the government had successfully decreased the smoking rate. She said the percentage of smokers had fallen from 23 percent in 1982 to 14 percent in 2005 through "gradual and multiple means," including legislation, tobacco taxation, public education and quit-smoking services. Hong Kong University, meanwhile, surveyed 304 young smokers who phoned its quitline between August 2005 and last September. Sophia Chan Sin-chee, head of the university's nursing studies department, said young smokers aged between 15 and 19 went through fewer cigarettes per day after smoking was banned in public indoor places in January last year - from 12.2 before the ban to 10.1 after it took effect. She said the ban marked a change in the general environment "where more important people around [the smokers] urge them to quit smoking, as more smokers themselves urge others to quit also." Chan said the survey also showed more smokers believed others want them to quit smoking after the start of the ban because 51.9 percent of those interviewed had greater motivation to quit. Nearly two in five smokers said they received more encouragement to quit from key people around them after the ban, while 42.7 percent said they had less exposure to secondhand smoke. Chan also said that, since the implementation of the ban, 214 smokers, up 20 percent from before the ban, called the youth quitline. She added 19.2 percent of smokers said they wanted to quit because of pressure from family and friends.

The government's controversial investment in Hong Kong Exchanges and Clearing (SEHK: 0388) last year has slipped into the red, with a slump in the stock-market operator's shares giving taxpayers a paper loss of almost HK$35 million. HKEx yesterday fell 2.73 per cent to HK$153.20, more than HK$2 below the average price the government paid for the company's shares. Analysts forecast further losses ahead as concern about a possible global recession hits turnover on Asia's third-largest equity market. The exchange earns fees on each share transaction. The government raised its stake in HKEx in September from 4.5 per cent to 5.88 per cent at a cost of HK$2.4 billion and an average purchase price of HK$155.40 per share. The investment was widely seen as an attempt to pave the way for closer links with the fast-growing mainland exchanges. "I'm not optimistic about HKEx," said Ivan Li, an analyst at Kim Eng Securities. "I expect the worse is yet to come and there may be pressure on the stock price and turnover in the local market." Legislators had accused the government of interfering in the market when it increased its stake, but that criticism was muted after HKEx shares soared to a record HK$265.60 in November. The stock has since crashed, reigniting attacks on the contentious purchase. David Webb, an HKEx director who opposed the purchase, said: "The government should never have invested in the HKEx or other Hong Kong stocks in the first place. "Neither the Federal Reserve, the Bank of England nor the European Central Bank invests in the stock market. Why should the Hong Kong Monetary Authority?" The government, through the Exchange Fund, which is principally aimed at supporting the local currency, became the leading shareholder of HKEx to facilitate a possible share swap with mainland exchanges. Yet, so far the stock markets in Shenzhen and Shanghai have shown little interest in a potential tie-up. While indifference from across the border signals the investment may be a lost cause from a strategic point of view, an HKMA spokesman yesterday defended it as being a boon for the exchange operator itself. "It's a long-term commitment," the spokesman said. "The increase in the government shareholding in HKEx is a strategic investment of the Exchange Fund to enable the government to contribute to the long-term development of HKEx." Regardless of the government's intentions, the exchange operator has been in trouble so far this year. HKEx makes money on handling trades, but turnover has dried up as investors are pushed to the sidelines by record losses and volatile swings in the market. Daily turnover has reached HK$100 billion just twice so far this month after regularly hitting above that mark in the second half of last year. Citigroup earlier this week slashed its price target for HKEx to HK$151.20 from HK$219.20, saying earnings would suffer from declining turnover. "If the turnover cannot pick up to HK$100 billion over the next month, then more and more banks will downgrade the company," said Kingston Lin King-kam, an associate director at Prudential Brokerage. Market volatility had also scared away companies considering initial public offerings, a key revenue source for HKEx, Mr Lin added. He said that HKEx could trade as low as HK$150 in the near term. "I don't think the worse case has come out," he added.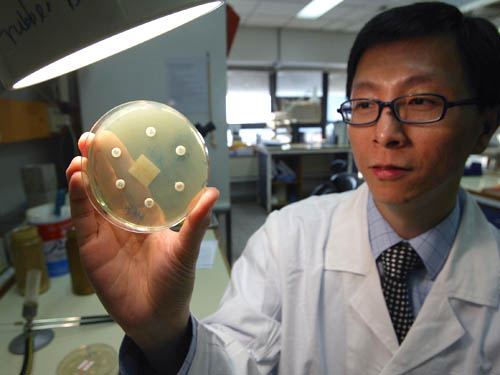 One of Hong Kong's leading microbiologists and Sars experts may run for the medical functional constituency seat in September's Legislative Council election. Ho Pak-leung, vice-president of the Centre of Infection at the University of Hong Kong and vice-president of the Public Doctors' Association, said he was considering running after colleagues encouraged him. "All previous medical-sector legislators came from the private medical sector," he said. "It will be good if someone from the public health care system stands." He said about half of the 13,000 doctors in Hong Kong worked in the public sector, including institutions under the Hospital Authority, the Health Department and the two university medical faculties. "The problems faced by Hong Kong's medical system have been more evident in the public sector in recent years." He cited the imbalance between the public and private medical sectors, wage discrepancies among public doctors and their long working hours, and government policies on the training of medical students as some major sources of pressure. The profession needed a representative concerned with both sectors, he said, adding that lawmakers had focused too much on politics, and the medical profession would welcome politically neutral candidates who concentrated on its affairs. Henry Yeung Chiu-fat, president of the Doctors Union and a private pediatrician, said he was also considering running but had not yet made a decision. Sources in the profession said Dr Yeung had been actively seeking support. Incumbent legislator Kwok Ka-ki, a urologist in private practice, is a member of the pan-democratic camp and has voiced opposition to building the new government headquarters on the Tamar site and renaming the University of Hong Kong's medical faculty after tycoon Li Ka-shing. Dr Kwok said he would "most likely consider seeking re-election". Without commenting on his likely competitors, he said: "Every opponent is strong. There is improvement when there is competition." Four other doctors who had been rumored to be running for the seat - former Hospital Authority deputy director Ko Wing-man, Public Doctors' Association president Duncan Ho Hung-kwong, former president Paul Shea Tat-ming and Medical Association vice-president Louis Shih Tai-cho - all said they would not run. Dr Shih said it had been suggested he run for the Medical Association presidency as Choi Kin would complete his term in July. He felt it better for different people to head the association and be the sector's lawmaker.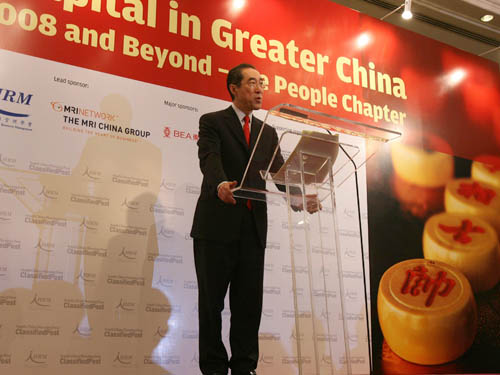 Hong Kong has attracted more than 200,000 professionals from across the world to live and work in the city since the handover, according to Chief Secretary Henry Tang Ying-yen. Mr Tang, speaking yesterday at a human-resources conference organized by the South China Morning Post (SEHK: 0583, announcements, news) , said the city faced cutthroat competition for talented people. "Increasing competition from other cities in the region for high-quality professionals means we have to work harder than ever to remain the location of choice for businesspeople in Asia," he told the Human Capital in Greater China conference. The 200,000 professionals who arrived in the past 10 years did not include those who arrived from the mainland on one-way permits, he said. Since 2003, the Admission Scheme for Mainland Talents and Professionals has seen more than 20,000 successful applicants, including 6,000 last year. "High-quality education is arguably the most important piece of the puzzle, especially when everyone is talking about sustainability and long-term economic prosperity," Mr Tang said. The quota for non-local students was being raised in phases from 10 per cent to 20 per cent. "The only natural resource of Hong Kong is our people, and we must continue to strive for excellence in order to survive in a globalised economy," Mr Tang said.

China: A total of 23 Chinese listed companies, all which have announced their refinancing plans in a month, plan to raise a combined 204.3 billion yuan ($28.57 billion), including Ping An Insurance's 150-billion yuan new shares issuance and bond sale plan on January 21, the Shanghai Securities News reported. Sixteen of the 23 listed companies plan to raise a total of 155.73 billion yuan by selling new shares, according to Wind Info, a leading provider of financial data and research systems in China. In addition to Ping An's 110 billion yuan new share sale plan, China Merchants Property Development Co Ltd plans to raise eight billion yuan through new share sale; Taige Bio-Tech Co Ltd 6.3 billion yuan, Shanxi Coking Co Ltd three billion yuan and Shanghai World best Industry Development 2.66 billion yuan. Four companies will issue 54.2 billion yuan worth of convertible bonds with warrants that entitle the purchase of its shares. Ping An will issue no more than 41.2 billion yuan, Jiangxi Copper Company Limited 6.8 billion yuan, Huadian Power International Corp Ltd 5.3 billion yuan and Guangdong Kangmei Pharmaceutical Co Ltd 900 million yuan. Shandong Nanshan Aluminum Co Ltd and Guangxi Liugong Machinery Co Ltd will issue 2.8 billion yuan and 800 million yuan worth of convertible bonds respectively. Ningxia Yinglite Chemicals Co Ltd and Shanxi Antai Group Co Ltd plan to raise 110 million yuan and 730 million yuan respectively through share placement. These refinancing plans will test the stock market, which is sensitive to large refinancing plans, analysts said. Ping An saw its Shanghai shares drop by 10 percent to the daily limit, in two consecutive sessions after announcing its plan to raise some 150 billion yuan through new shares and bonds, the largest refinancing plan in the history of the country's stock market.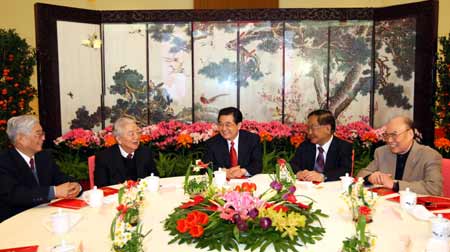 Hu Jintao (C), Chinese president and general secretary of the Central Committee of the Communist Party of China (CPC), talks with people from the intelligentsia during a reception at the Great Hall of the People in Beijing, China, Feb. 21, 2008. The CPC Central Committee held the reception on Thursday to celebrate the Chinese traditional Lantern Festival. Hu Jintao, general secretary of the Communist Party of China (CPC) Central Committee, and other members of the Standing Committee of the Political Bureau of the CPC Central Committee Wu Bangguo, Wen Jiabao, Jia Qinglin, Li Changchun, Xi Jinping, Li Keqiang, He Guoqiang, and Zhou Yongkang attended the gathering held by the CPC Central Committee.
Beijing will reduce the number of mainland telecoms players from six to three and will announce its plan before the National People's Congress meeting in March, state-controlled radio reported yesterday.
Ping An Insurance (2318) may have to defer its planned acquisition of UK- based insurer Prudential as mounting disagreement from domestic investors could lead to a controversial mega share sale being vetoed, analysts said.
Beijing said it had learned the Vatican was prepared to sever all relations with Taiwan in order to forge long-suspended diplomatic ties with the mainland, but called for "real action" from the Holy See. Ye Xiaowen, minister of state administration of religious affairs, said after talks with the Vatican's envoy in Washington that Pope Benedict XVI was also prepared to discuss Beijing's insistence that the administration of the Catholic Church in China is an internal matter. Beijing has imposed two conditions - recognition of the one-China policy that precludes independence for Taiwan, and of religious affairs as an internal matter - for any diplomatic ties with the Vatican. "First the pope must recognize that the government of the People's Republic of China is the sole representative government of both Chinas, and that Taiwan is an inalienable part of Chinese territory," Ye said. "We have known from various channels that the Vatican has indicated this is not a difficult issue and we are looking forward to seeing the real action from the Vatican." On the second demand that "mainland Catholicism must follow the principles of independence," he said the Vatican had said "this point can be discussed," and added the two sides had channels for holding talks. "As long as the two sides have a sincere attitude and as long as the two- point principles that I mentioned just now are observed, then there is no insurmountable obstacle to the improvement of relations between the two sides," he said. Ye also rejected reports that the pope would visit China.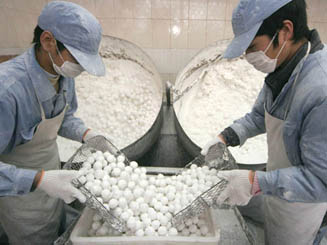 Thursday night's Lantern Festival may have been the last time mainland diners were able to enjoy the varied delights of "un-standardized" sweet sticky rice dumplings. A mainland standardization body has confirmed it is working on draft regulations requiring that all dumplings be "white and perfectly round". The airing of the idea follows a row on the mainland in January over a similar plan to regulate the shape of steamed buns. The new spat was touched off by reports that all sticky dumplings - called yuanxiao in the north and tangyuan in the south - would have to be uniformly white and round, under a set of production guidelines expected to take effect by December. The China General Chamber of Commerce in Beijing confirmed yesterday that it was trying to standardize dumplings but denied there were specific regulations on shape on the way. "The draft of standardized dumplings is finished and expected to be submitted to the higher level before June, and mainlanders can enjoy standardized dumplings from next Lantern Festival," a spokesman said. Mainland media reported that the draft contained recommendations on dumpling shape, color, stuffing and packaging. "Dumpling packages should stand out with Chinese culture and characteristics," the reports quoted the proposal as saying. The spokesman said the guidelines were "merely recommended criteria for making dumplings and do not have any legal onus". He rejected suggestions that the potential regulations would trigger another controversy but did say that he had received hundreds of phone calls from reporters. But at least one shopper was unimpressed yesterday by the prospect of set rules for sticky dumplings. "It's ridiculous to have specific regulations on dumplings. I will buy dumplings of any colour as long as they taste good," Shenzhen resident Liu Xiaoling said as she stocked up on supplies for her Lantern Festival meal. Ms Liu urged authorities to focus on food safety rather than on such trivial matters as the shape and size of dumplings. Some manufacturers add colors to attract customers.
Chinese purchases of US hi-tech goods with potential military uses are good for US national security because they help American companies maintain their technological edge, a top US Commerce Department official has said. Changes in the international marketplace made it unrealistic to block exports of all dual-use goods to China, undersecretary of commerce for industry and security Mario Mancuso said in response to criticism of alterations to US export controls on China. "We can no longer rely exclusively on export controls - in effect, a denial strategy - to maintain our strategic technology leadership," Mr Mancuso said in a speech on Wednesday to The Heritage Foundation, because China could buy many dual-use goods from other suppliers. "Instead, we need to complement smart and effective export controls with an affirmative strategy to `outdistance' our competitors, to remain the most innovative and competitive economy in the world. "We would significantly hamper our ability to do this if we did not have healthy export markets worldwide, including in China." The department imposed new export controls last year on a targeted list of hi-tech goods sought by China's military, such as lasers, high-performance computers, extreme temperature telecoms equipment, and airborne communication and inertial navigation systems. At the same time, it established a new "validated end user" (VEU) program that allows pre-screened civilian companies in China to import certain controlled items without having to obtain an individual Commerce Department license. Last month, Edward Markey, a Democrat who co-chairs the House of Representatives' Bipartisan Task Force on Non-Proliferation, said the program should be scrapped if it helped the People's Liberation Army. The Wisconsin Project of Nuclear Arms Control reported on January 2 that the program should be suspended as it increased the risk that US goods could be illicitly sold to Syria or Iran or help China improve its armed forces. Only five companies have been granted such status so far and each was "unanimously approved ... by the government agencies with dual-use export control responsibilities, including the departments of defense, state, energy and commerce", Mr Mancuso said. They faced a rigorous review and were found to have "demonstrable history of using controlled US technology responsibly, especially by not diverting US controlled technology to other parties".
February 22, 2008

Hong Kong: The University of Hong Kong has found a new chief to take the helm of its scandal-hit medical faculty after an 11-month search. Lee Sum-ping, a gastroenterologist from the University of Washington, was appointed by the Hong Kong University council yesterday as the new faculty dean for a five-year term. The announcement of an outsider as the new dean was last night cautiously welcomed. Critics hoped Professor Lee could restore the image of the medical school, which celebrated its 120th anniversary last year. The faculty has been plagued by bad publicity, scandal and controversy in recent years, including the resignation of the former dean, Lam Shiu-kum, last March amid an investigation into the medical school's billing for private surgery. Haematology expert Raymond Liang Hin-suen, who was also reportedly one of the candidates being considered for the top post, had acted as dean since. In 2005, the faculty made headlines after the university named it for Li Ka-shing when it received a HK$1 billion donation from the tycoon. Opponents, led by medical legislator Kwok Ka-ki, claimed the move was "selling the medical school cheaply". In 2006, liver surgeon Fan Sheung-tat resigned amid internal management disputes. He later decided to stay on. This month, the press reported that the head of surgery had been repeatedly reappointed to the post for 25 years, despite being blamed for the low staff morale. University council member Leong Che-hung last night said: "I hope [Professor Lee] can assert his worth to reform and tackle the problems in the faculty. I hope he can elevate the faculty's reputation to a higher level and bring back the glamour." Dr Kwok, who cautiously welcomed Professor Lee's appointment, said he hoped the new dean could resolve the issue of the faculty's name. "I have learned that many alumni have been very disappointed in recent years," Dr Kwok said. "I look forward to the new climate that Professor Lee can bring to the faculty. I hope he will find a new way of handling the faculty policies and tackle the maladies in the faculty." In a written statement, the Hospital Authority yesterday welcomed the appointment, and looked forward to future collaboration and a closer partnership with the faculty under the new dean. Professor Lee is head of gastroenterology at the University of Washington's medicine school. He plans to start at HKU in August, and Professor Liang will remain as acting faculty dean. Professor Lee said he looked forward to working with the university, faculty members and students to "bring the faculty to new heights with the support from alumni and the community". He is also a university alumnus.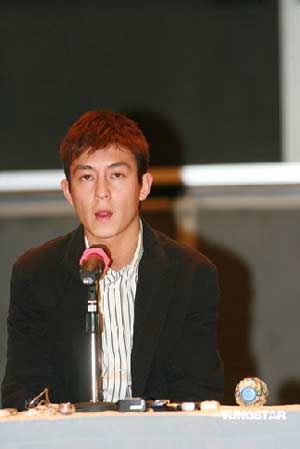 Hong Kong singer and actor Edison Chen said on Thursday that he would step away from the Hong Kong entertainment industry, in his first public appearance since a nude picture scandal broke in January. "I've decided to step away from the Hong Kong entertainment industry," Chen told reporters, while apologizing to Hong Kong for the scandal which has drawn blanket media coverage over several weeks. He said in a brief statement he would fulfil existing commitments before stepping down "indefinitely". About the scandal: Sex photos spark celeb apology. Following two weekend arrests of men in connection with recent online postings of illicit celebrity photos, actor/singer Edison Chen Kwoon-hei issued a public apology yesterday. Police believe the arrest they made Saturday - one of seven total - is that of the man who initially uploaded the photos he found on a computer he was repairing. Police have not released any names of suspects in the case, or the name of the computer's owner. Another suspect was arrested Sunday, but police said they didn't find any of the photos on his computer. The man arrested Saturday is expected to appear in court today. Crime Assistant Commissioner of Police Vincent Wong Fook-chuen said somebody took the computer to a repair shop, where the photos were found on the hard drive and distributed unscrupulously to others. Over 1,300 photos have been seized, and most of them are obscene. Six females were involved, four of them identified as showbiz artists. Wong refused to comment on how many men were portrayed. Chen was among the celebrities identified in the photos that depict them in sexual acts. He publicly commented on the scandal for the first time yesterday.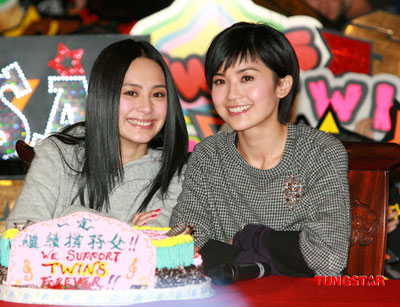 Chung and her singing partner, Charlene Choi of the pop duo Twins, were among an all-star line-up for a show, held by the local TVB station, fundraising for the snowstorm-stricken people on the mainland. The night collected about 70 million Hong Kong dollars. Despite the charity theme, TVB received more than 170 complaints against Chung, who was seen in a string of photos leaked online earlier this month. The incident, which involves some other local celebrities, shocked the Hong Kong entertainment scene, and Chung, who had always had a girl-next-door persona, made a public apology last week, following a video apology by Edison Chen. Chung said at a press conference that she was "naive and very silly" when the photos were taken. Chung's explanation however, failed to win fans. Many accused her of lacking honesty and some acted to boycott her. At the Sunday show, many attending stars expressed their support for Chung, but the 27-year-old appeared on the stage looking a bit melancholy. Although there were dozens of Twins' fans holding supportive banners on site, Chung seemingly eschewed making eye contact with the audience. She left the show immediately after Twins' performance. Critics claim the scandal is to take a toll on Chung's career. Since she is on the cast for Chen Kaige's upcoming biopic about Peking opera legend Mei Lanfang, many media reports suspect that her scenes might eventually be cut out, which the film's producer denied.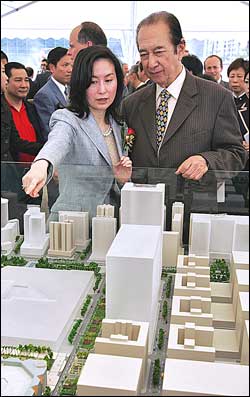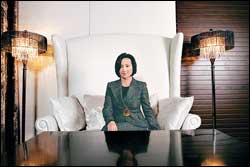 Sure, being the daughter of Macau's casino king has had its perks. But Pansy Ho Chiu-king - gambling magnate, property tycoon, budding airline mogul and up-and-coming heir apparent to father Stanley Ho Hung-sun's multi- billion-dollar conglomerate - has perhaps had more to prove as a result of that kinship. "It's true. If it weren't for who I am - Dr Ho's daughter - it would probably not have been as easy for me," she says of her early days running a public- relations firm in the 1980s. "Ultimately, there wasn't really all that much help, other than the fact that we would obviously be able to be recognized a little bit easier." Last month, the 45-year-old Ho shot into the spotlight after the US$1.25 billion (HK$9.75 billion) MGM Grand, which she runs with MGM Mirage, opened in territory on the heels of Sheldon Adelson's Sands Macau and Steve Wynn's Wynn Macau. The arrival of the newest mega- casino in the former Portuguese enclave and Chinese gambling haven, which last year overtook Las Vegas in gaming revenue, was the culmination of a quiet but successful career - often in her father's shadow. One of Asia's most powerful businesswomen, Ho is a director of her father's Sociedade de Turismo e Diversoes de Macau, whose flagship gambling operation, Sociedade de Jogos de Macau Holdings, has had to put off a US$1 billion initial public offer because of the ongoing stock market turmoil. She runs Shun Tak Holdings (0242), a conglomerate her father started that owns hotels and property from Macau to Thailand and operates transport businesses from ferries to a budget airline that will take off this year. "I always keep a clear distinction as to what my roles are and where my responsibilities are," the younger Ho says over tea in an upscale Chinese restaurant at the lavish MGM. Lately, the executive who earned a degree in marketing and business from the University of Santa Clara in the United States has focused increasingly on her role as managing director of MGM Grand Paradise, just down the road from her father's iconic Lisboa. Last year, Ho jumped six spots to 36 on Fortune's global list of the 50 most influential women in business. The high-profile MGM venture may propel her further up that ladder. But that new casino symbolizes her father's woes. Stanley Ho's once- indomitable empire shrank after his gaming monopoly ended in 2002, hemmed in by an influx of Vegas players, Hong Kong investors - and now global ventures helmed by his scions. Lawrence Ho Yau-lung- Pansy's brother, and another of the octogenarian Ho's supposed favorites among his 17 children - teamed up with Publishing and Broadcasting to set up the Crown. Her own MGM Grand Paradise is plotting a US$200 million expansion in a US$10 billion market growing at a double-digits pace. Analysts warn of potential hiccups. Stephen Vickers of International Risk brings up Macau's widening rich- poor rift and social issues. "The bottom line, in the end, is we believe Macau will succeed," he says, declining to comment on the Ho family. "But there are some very key challenges." The Ho family has perhaps the biggest collective stake of all in Macau's success. Pansy Ho remains close to her father - he joined her on stage at the opening of the MGM Grand - but Ho seemed to want to shake off the perception she's "daddy's girl," finding that sometimes tough. Ho remains one of the most accomplished members of the family, which also encompasses Hong Kong film star Josie Ho. At the MGM's gala opening, the elder Ho, the founder and group executive chairman of Shun Tak Holdings, appeared proud of his daughter - and that is something, she says. "It's actually in a way unfair that he has to be brought into the picture in all this," she says in an interview. "If you can satisfy, or at least gain his trust, I think this is really a very big feat." Shun Tak Holdings listed on the stock exchange in 1973. Ho joined the group in 1995 and became managing director in 1999. For the six months ended June, earnings at Shun Tak soared by 159.9 percent to HK$677.6 million on turnover of HK$1.37 billion, the company announced in September. The transport business, which operates TurboJET services, recorded an operating profit of HK$147.4 million.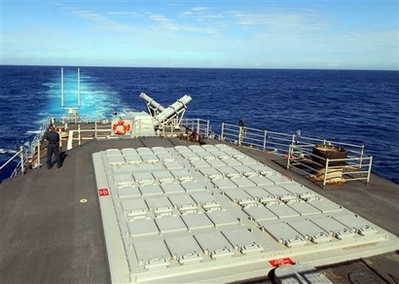 A mainland newspaper has accused the United States of hypocrisy in criticising other nations' space ambitions while rejecting a proposed space treaty and firing a missile to destroy one of its own satellites. The United States hit one of its own dying spy satellites with a missile on Wednesday, Washington time – Thursday in Beijing – citing fears that a normal re-entry would risk lives. Earlier this month, Russia and China proposed a treaty to ban weapons in space and the use or threat of force against satellites and other spacecraft. But Washington rejected the proposal as unworkable and said it instead favours confidence-building efforts, the New York Times reported. China, which shot down one of its own satellites in January last year, has said it is "paying close attention" to Washington's planned satellite destruction. But on Thursday the ruling Communist Party's newspaper went further, accusing the US of dangerous space ambitions and double-standards. "The United States will not easily abandon its military advantage based on space technology, and it is striving to expand and fully exploit this advantage," said the front-page commentary in the overseas edition of the paper, which came out before Washington announced one of its missiles had hit the satellite. When China tested an anti-satellite missile a year ago, the Bush administration and other governments criticised the act as dangerous. But the state newspaper said the United States was hypocritical. "The United States, the world's top space power, has often accused other countries of vigorously developing military space technology, but faced with the Chinese-Russian proposal to restrict space armaments, it runs in fear from what it claimed to love." The paper said Washington was "desperately trying to explain away" its satellite shoot-down as "for purely non-military objectives". Nuclear and other weapons of mass destruction are banned from space under a 1967 international treaty, but Washington's plans have caused concerns about non-nuclear arms in space.

China: Work will start soon on a high-speed inter-city passenger rail link between Nanjing and Shanghai, railway officials announced on Thursday. The feasibility report for the project, estimated to cost 42.2 billion yuan (about 5.78 billion U.S. dollars), has been approved by the National Development and Reform Commission, and ground-breaking will occur in the first half of the year, said Zhang Xiaoling, deputy chief with Jiangsu Provincial Office of Railways. The investment will be borne by the Ministry of Railways, Jiangsu and Shanghai, said Zhang, who declined to provide further details. The new railway will have a length of 300 kilometers, of which 269 km will be inside Jiangsu Province. The dual-track railroad will take four years to complete and will be able to accommodate trains traveling at 200 km to 250 km per hour. The line will cut the trip between the two cities from two hours at present to one and a half hours.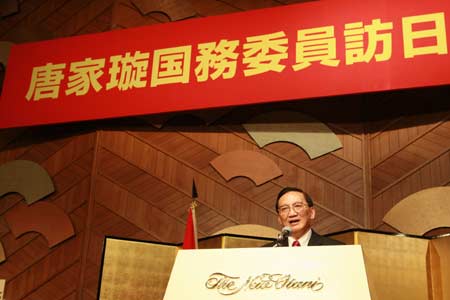 Visiting Chinese State Councilor Tang Jiaxuan addresses a reception organized by the Chinese Embassy for Japanese people in Tokyo, capital of Japan, on Feb. 21, 2008. Tang Jiaxuan arrived in Tokyo late Wednesday for a four-day visit at the invitation of the Japanese government. Chinese State Councilor Tang Jiaxuan said on Thursday that the Sino-Japanese friendship has reached an unprecedented high level and is set to thrive in the new century. "This year marks the 30th anniversary of the signing of the Treaty of Peace and Friendship between Japan and China. During the past 30 years, the bilateral relationship has achieved full development in all fields and has reached unprecedented levels," Tang said at a reception organized by Chinese embassy. "Meanwhile, relationship between the two countries has also gone through many difficulties. Thanks to efforts made by both sides, the improvement of the Sino-Japanese ties has been gaining momentum since last year," Tang said. He said with the consecutive exchange of visits between leaders of the two countries, the Sino-Japanese relationship returned to the normal track and was newly defined as the mutual beneficial ties based on common strategic interests. Both sides should cherish and protect the fruits and good situation of the Sino-Japanese ties since they were not easily achieved, and should firmly believe at all time that the Sino-Japanese friendship is on an irreversible course and is in accord with historic trends, Tang said. Since the development of the Sino-Japanese friendly and cooperative relations is in line with interests of both, China and Japan should prudently deal with old and new problems in order to keep them from affecting the overall situation of the bilateral ties, the state councilor said. Tang stressed that China and Japan are facing expanding common interests and opportunities, as well as more common challenges in the new era. "With the two countries joining hands to deal with challenges and share opportunities, the Sino-Japanese friendship is set to further thrive in the 21st century," he added. The state councilor arrived in Tokyo later Wednesday for a four-day visit at the invitation of the Japanese government.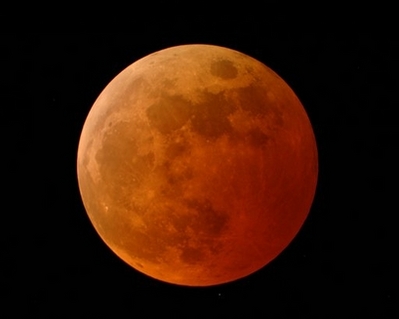 The moon is engulfed in the Earth's shadow during a total lunar eclipse on in this Oct. 27, 2004, file photo as viewed from Palm Beach Gardens, Fla. China's first lunar probing satellite, Chang'e-1, will be put to test Thursday morning when the Earth eclipses the Sun and blocks the supply of solar energy. China's first lunar probing satellite, Chang'e-1, will be put to test Thursday morning when the Earth eclipses the Sun and blocks the supply of solar energy. From about 10 a.m., the satellite will be hidden from the solar rays and lost the contact from the Earth for two and a half hours, said Ye Peijian, chief commander and designer in charge of the satellite system. Scientists have redirected the orbit of the satellite and shortened the time it is out of direct sunlight by almost one hour and a half, Ye said. Ye said the European Space Agency would also help to monitor the satellite and the final results would not be clear until this evening. The satellite would also perform a second orbital adjustment during another eclipse in August, he said. The 2,350-kilogram satellite carrying eight surveying facilities aims to make a three-dimensional survey of the moon's surface. It will also analyze the abundance and distribution of elements on the lunar surface, investigate the characteristics of the powdery soil layer on the surface, and explore the environment between the Earth and the moon. This is the first step in China's three-stage moon mission, which will lead to a landing and launch of a rover vehicle around 2012. In the third phase, another rover will land and return to the Earth with lunar soil and stone samples for scientific research around 2017.
U.S. Secretary of State Condoleezza Rice will visit China from February 26 to 27 at the invitation of Chinese Foreign Minister Yang Jiechi, Chinese Foreign Ministry spokesman Liu Jianchao announced here Thursday at a routine press conference. According to Liu, China and the United States would exchange views during Rice's visit "on bilateral relations and the significant regional and international issues of common concern". He said he hoped both sides could exchange views on issues of common concern, further implement a series of important consensuses reached by their leaders and enhance exchanges and cooperation. "The ultimate aim is to push for the healthy, steady and sustainable development of China-U.S. relations," he added.
China's banks will remain largely unaffected by the US subprime crisis, although provisioning levels need to rise to adequately meet any fallout from the next downcycle in credit, said Ryan Tsang, senior director at Standard & Poor's. Speaking at a teleconference, Tsang said that China's banks need to be vigilant in monitoring loan applications and build up their capital. "Chinese banks are providing a higher level of provision than in the past. However the level is not quite sufficient" for the next downturn, Tsang said. "Banks need to continue to upgrade market risk management," he said. Tsang noted that although the subprime issue is not a major concern for Chinese banks, the liberalizing of the interest rate environment and the trading band of the yuan will continue to place market risk at their front door. "They will need to face these risks in a more sophisticated way as they face a more liberalized market," he said. Tsang said that China's nonperforming loan (NPL) ratio is expected to remain flat over the course of the year on the heels of an expected shake up of Agricultural Bank of China, but may edge up slightly over 2007 levels. "If we factor in Agricultural Bank of China's reform in 2008, the NPL ratio could come down," Tsang said. "However, if we exclude that effect, the NPL ratio is likely to be under some pressure." In terms of default risk, Tsang noted that China's corporate lending sector could present sufficient cause for concern. "The corporate NPL ratio could jump in 2008 because of the negative impact of credit tightening on marginal borrowers, resulting in the deterioration of special-mention loans to NPLs and weaker dilution as a result of the slowing loan growth," Tsang said. Another sector which presents heightened risk is the property sector. According to Tsang, China's small- to medium-sized property developers are feeling a significant squeeze from the regulator's credit tightening policies. "China's market has over 56,000 developers and lots of them are under liquidity pressure," Tsang said. "We haven't yet seen defaults among our rated developers, but smaller companies are facing serious pressures in refinancing," he said, adding that this is presenting larger developers with good buy-out opportunities to increase their landbanks. Tsang said the market risk appetite of Chinese banks is generally conservative, and risk management, though far from "cutting-edge," is adequate for their uncomplicated market risk profiles, but added that a large-scale deterioration in loan quality could hurt banks' ratings.
February 21, 2008

Hong Kong: Standard Chartered Plc (2888) has taken its two rescue proposals for its structured investment vehicle, Whistlejacket, off the table because of the deteriorating market situation. "We will continue to look at all options, from refinancing the whole book of assets to a runoff of the assets to maturity, and will discuss them with creditors," Nigel Kahn, the partner in charge of receivership at Deloitte Touche Tohmatsu, told The Standard. Whistlejacket is currently under receivership by Deloitte. "We see no need for a fire sale of these assets and remain in discussions with other financial institutions about alternative proposals," Kahn added. However, if Deloitte is not able to find additional sources of funding then they will have to do a fire sale of the underlying assets, said an analyst. "There are two reasons [for the withdrawal of the proposals]. One is that there has been continued and noticeable deterioration in the market and the market valuation of certain asset classes. Secondly, the way the receivership has progressed has also made it less practical for us to proceed with our liquidity proposals," said Tim Baxter, Standard Chartered head of external communications. Standard Chartered had proposed two options for the rescue of Whistlejacket. The first was to purchase commercial paper from "a new vehicle" who would then take on Whistlejacket's assets, Baxter said. The second was a straight purchase of assets from Whistlejacket. Before Standard Chartered's withdrawal, Deloitte was prepared to "push forward" with the second option, Kahn told The Standard. Up to December 2007, Standard Chartered had taken on US$3.4 billion (HK$26.5 billion) worth of SIV assets. It also booked into its account a negative fair value of US$116 million. Since Standard Chartered has already taken on their proportion of the SIV assets onto their balance sheet, the profit impact should not be material, the analyst said.
Macao saw its value of retail sales in 2007 grow 33 percent compared with 2006, according to official statistics released on Wednesday. With notable increase in the sales of watches, clocks and jewelry (up 54 percent), adults' clothing (up 39 percent), goods in department stores (up 30 percent), and motor vehicles (up 30 percent), the total value of retail sales for the whole year of 2007 reached 14.2 billion patacas (1.8 billion U.S. dollars), said the Statistics and Census Service of the Special Administrative Region (SAR). Meanwhile, regarding the business prospect for the first quarter of 2008, about 69 percent of the interviewed retailers expected the sales volume to increase or remain stable compared with the fourth quarter of 2007, and 31 percent expected it to decrease. However, about 86 percent expected the retail prices to remain stable or increase, while 14 percent expected them to decrease, according to the statistics.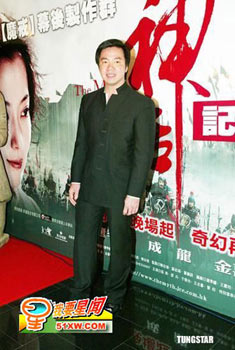 Hong Kong film director Stanley Tong is more ambitious than just being a filmmaker - He is spearheading a new project that aims to eventually construct China's own Hollywood. Tong, who is also the president of the Hong Kong-based China International Media Group Limited, on Monday inaugurated the construction of a television and film industry base in Kunming, capital of southwestern Yunnan province. The Kunming TV, Film and New Media Industry Base will be located near the tourist hotspot of Dianchi Lake. It will be jointly invested by Tong's company and the Dianchi National Tourist Resort. A joint venture has been set up and has set aside three billion yuan (US$418 million) for the plant's first phase, which when completed will stretch over three square kilometers, Web site Sohu.com reported. Tong, whose popular works include "The Myth" and "Police Story 3," is confident to develop the Chinese Hollywood. "Everything relating to the film industry will be seen there," Tong said about the site's scale. To distinguish itself from shooting bases such as the Hengdian World Studios in eastern Zhejiang province, which is already the major shooting site for Chinese films, the Kunming base will be an all-in-one complex integrating film and television shooting, advanced production and tourism facilities. The base will also contribute significantly to the country's digital entertainment industry, Tong adds. Digital entertainment refers to interactive entertainment, such as video games, that are computer-made and Internet-based. "In short, the base will push the entertainment industry to an unprecedented level." Tong said.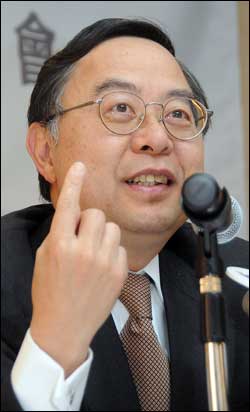 Hang Lung Properties (0101) yesterday reported a 340 percent jump in underlying interim profit, meeting analyst forecasts, as it released apartments held for years to the market. Earnings for the half-year through December 2007, excluding revaluation gains, were HK$3.78 billion, compared with HK$861 million a year earlier. Attributable profit more than tripled to HK$7.27 billion. Earnings per share tripled to HK$1.76 from 59 HK cents. The company sold 750 homes worth HK$6.01 billion during the period. The units were left dormant for several years awaiting a recovery in property market sentiment. Executive director Terry Ng Sze- yuen said the strategy enabled them to achieve high margins, including 57 percent in Long Beach in Tai Kok Tsui, and over 60 percent in Harbourside atop MTR Kowloon Station. The remaining 2,042 units in the city will be sold over the next two to three years. Rental income rose 25 percent to HK$1.78 billion, with the mainland accounting for 38 percent, up from last year's 31 percent. Rental for the two investment projects in Shanghai surged 57 percent due to the additional office space in Plaza 66. Without it, the growth was 23 percent. Chairman Ronnie Chan Chi-chung expects the China contribution to grow further as a 109,700 sq m retail project in Shenyang is due to be completed by 2010. Two commercial developments in Shenyang and Jinan of 900,000 sqm gross floor area are to follow. Commenting on the property market in Hong Kong, Chan said he is not sure whether it is "solid" enough to speak of a full-fledged recovery from a decade ago. He said the forthcoming mass residential project - The Capitol by Cheung Kong (Holdings) (0001) - will be "an indicator of the sales market." Hang Lung Properties, the fourth- largest developer by market value, will pay an interim dividend of 15 HK cents, up 2 HK cents. Net profit for parent Hang Lung Group (0010) rose 76 percent to HK$2.3 billion. It will pay 14.5 HK cents as interim dividend.
After 25 years of debate, the Hong Kong-Macau-Zhuhai Bridge project has received the support of the National Development and Reform Commission. Tendering for the HK$60 billion project begins soon. Gordon Wu Ying-sheung, chairman of Hopewell Holdings (0054), is planning to make a bid to build the 29-kilometer bridge. This news can benefit Hopewell shares, whose price has undergone a healthy 20 percent correction since September. Hopewell is engaged in infrastructure projects, property development and investment, and it has a hand in property agency management and hotels. For the financial year ended June 2007, net profit jumped 17 percent to HK$2.63 billion. Its flagship Hopewell Centre reported 94 percent occupancy. QRE Plaza in Wan Chai and the EMax shopping and entertainment complex in Kowloon Bay will help to raise rental income to 50 percent of recurring income by 2010. Its stake in Nova City in Macau, sold in December, is expected to generate a profit of HK$4.2 billion. Nomura rates Hopewell as a strong buy with a fair value of HK$44.19 - a 30 percent upside from the price now, which is 26 percent discount to net asset value. Merrill Lynch rates it a "buy." JPMorgan recommends the company's infrastructure and toll road arm, Hopewell Highway Infrastructure (0737). The potential upside will be realized from its possible participation in the HK- Zhuhai-Macau Bridge project. Dr Check and/or The Standard bear no responsibility for any investment decision made based on the views expressed in this column.
Cash starts flowing in bid to revive film industry - Two local movies will receive a total of HK$5.2 million in investment from the Hong Kong Film Development Council - the first to receive financing from the government under the Film Development Fund. Animation movie McDull WuDang will get HK$3.6 million and feature film Claustrophobia will receive HK$1.6 million, amounting to 30 percent of their production costs of HK$12 million and HK$5.4 million, respectively. Wilfred Wong Ying-wai, convenor of the Fund Vetting Committee, said the council hoped to provide limited financing support for small-to-medium budget productions in order to encourage more commercial investment and revitalize the industry. "Last year there were only about 50 movies made in Hong Kong compared with 200 when the industry was at its peak," Wong said. The fund, established in 1999, received a HK$300 million grant from the government in July. It aims to finance productions with a budget not exceeding HK$12 million, but the funding will be capped at 30 percent of the production budget. The council requires either the director, producer or production company to have produced at least two movies in the past 10 years. It denied the requirement was too restrictive. "These are public funds," Wong said. "You cannot give them to someone who is completely green, with no experience in movie production." The government will take from the box office takings the amount it invested plus 30 percent of the net revenue. "The council has separate resources to help train new professionals," its secretary-general, Wellington Fung Wing, said. Despite the success of the first McDull movie, Samuel Choy Chung-leung of Bliss Concepts said it was not easy to find investors for the sequel. "The production for an animated movie can take from 14 months to two years," Choy pointed out. "Investors may want to get their money back sooner." Cary Cheng Kin-fung of Runaway Films Production, which produced Claustrophobia, said that, in his 16 years in the industry, it has never been as hard as now to find investors. "For the past two years I have been trying to get an investor for this movie," Cheng said.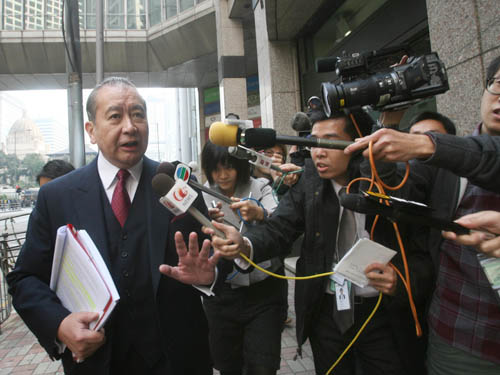 Top banker David Li Kwok-po, who resigned from the Executive Council last week, says he is not disappointed with remarks by Liberal Party chairman James Tien Pei-chun earlier this week urging him to give up his Legco seat when his term expires. Speaking for the first time since his Exco resignation on Saturday, a move preceded by calls for him to step down after he paid US$8 million to settle an insider-trading case in the United States, Mr Li said: "I was not disappointed with anybody. They can say whatever they like as they enjoy freedom of speech." Mr Li, the banking sector Legco lawmaker, unexpectedly appeared in the Legislative Council yesterday morning but left half an hour after the meeting began. But Mr Li did not say whether he would stay with his earlier decision that he would "seriously consider seeking re-election to the Legislative Council". He also declined to comment if he would remain as chairman and chief executive of the Bank of East Asia (SEHK: 0023) (BEA). Mr Tien said Mr Li should complete his term as a legislator but not stand for re-election in September, and that he should step down as BEA chief. Mr Tien reiterated yesterday that Mr Li should reconsider his intention to stand again and it was the right time for new talent to come forward. He insisted his comments were not politically motivated since he did not know anyone who intended to run, nor was there a possible candidate from the Liberal Party. It was merely that Mr Li's payment to the US Securities and Exchange Commission was bound to affect Hong Kong's image as a financial centre. Exco member Bernard Chan and DBS Bank (Hong Kong) chief executive Amy Yip Yok-tak earlier said they would support Mr Li running for a new Legco term.

China: After 17 years of work, Chinese geologists have made a minerals breakthrough: they discovered the country's first 10,000-ton level leaching sandstone-type uranium deposit in the Yili basin, which is in the northwestern Xinjiang Uygur Autonomous Region.
China surpassed the United States to become the world's second largest market for gold jewellery, according to statistics released on Tuesday by the World Gold Council (WGC).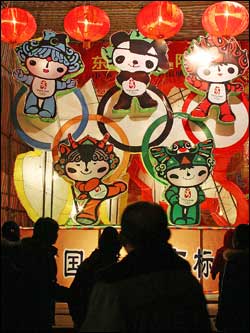 The marketing head of the Beijing Olympics defended China's stance on Darfur and appealed to activists yesterday not to pressure sponsors to pull out. "If you respect the truth, you will see that China has been doing a lot toward the resolution of the Darfur issue," said Yuan Bin. "As for groups pressuring sponsors about the Beijing Olympic Games, I want to say the Olympics should be kept nonpolitical." Yuan defended the Games as "a celebration that contributes to world peace." China has faced increasing pressure to do more to urge the government in Sudan - where China is a major buyer of oil - to end the violence in Darfur. More than 200,000 people have died in the Sudanese province in a conflict between rebels and militias backed by government forces. Some of that pressure has spread to sponsors of the Games, which start on August 8, with activists pushing the sponsors to reveal what they are doing to pressure Beijing to act more forcefully with the Sudan government. The spotlight on the issue hit China again last week when Hollywood director Steven Spielberg accused Beijing of not doing enough to bring an end to the suffering. Spielberg resigned as an artistic adviser to the opening and closing ceremonies of the Olympics, saying his conscience would not allow him to continue working with the event. China has consistently said the Olympics is a sporting event and should not be linked to politics. Still, China has made significant changes to its policies in Sudan within the last year, appointing longtime diplomat Liu Guijin as a special envoy to the region and sending 140 engineers to help prepare for the arrival of African Union and United Nations peacekeepers. The efforts have earned kudos from the United States. Liu, who will begin a six-day tour of Britain and Sudan today, has urged the West to do more to promote a peaceful settlement in the region.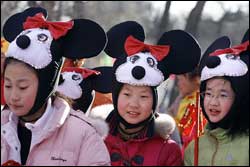 Mickey Mouse, SpongeBob SquarePants and Pokemon are officially persona non grata on prime time. China is extending a ban that virtually locks out all foreign cartoons from airing between 5pm to 9pm in an attempt to protect its fledgling domestic cartoon industry. According to a new ruling yesterday by the State Administration of Radio, Film and Television, no foreign cartoons or programs introducing foreign cartoons can be shown during "the golden hours" on all cartoon or children channels, starting from May 1. The move is intended to help "spur the domestic cartoon industry." Only domestic cartoons are allowed to be aired. Cartoons co-produced by domestic and foreign players will have to get approval. In recent years, a huge influx of foreign cartoons - especially from Japan - have flooded the airwaves, becoming highly popular with children. China has sought to compete, promoting its own children's programming. Among the more popular is 3000 Questions for Blue Cat, also known as Lan Mao, which is aimed at popularizing science among youngsters. Another favorite, The Monkey King, adapted from a Chinese classic, follows the antics of its primate hero. Recent SARFT regulations have been aimed at allowing the country's struggling animation studios space to compete.
February 20, 2008

Hong Kong: HSBC, Europe's largest bank by market value, has been named the world's most valuable banking brand, while three Chinese banks are among the top 25, according to The Banker magazine's latest Top 500 Financial Brands listing. HSBC overtook Citibank, which was at the top last year, while Bank of America took third place in the magazine's ranking. Xinhua got a copy of the listing on Tuesday. This year's The Banker magazine listing highlights the emergence of Chinese banks as significant players on the international stage, with three Chinese banks appearing among the top 25 brands. Industrial and Commercial Bank of China (ICBC) ranked 15th, while China Construction Bank is 17th and Bank of China 22nd. In its latest issue, the magazine also named HSBC as the only bank to achieve the highest possible triple 'A' brand rating. The announcement follows last year's Interbrand study of the world's most valuable brands across all sectors, which saw HSBC jump five places to 23, the second-best growth performance of the top 40 companies surveyed. Chris Clark, Head of Group Marketing at HSBC, said that "in just 10 years the HSBC brand has become a very powerful asset. Many customers across all our business lines are increasingly looking for services and solutions with an international dimension. We are very well placed to help them and the brand sets out our credentials as these trends develop." Banks that are based in large and rapidly emerging markets, such as Brazil, Russia, India and China (the "BRIC" countries) continue to benefit from rapid economic growth in their territories, the report said. Apart from three Chinese banks, three Brazilian banks are listed 42nd, 45th and 53rd, while Russia's Sberband is ranked 55thand India's State Bank of India 59th. Brian Caplen, editor of The Banker, said "banks are increasingly aware of the value of their brand and how it underpins everything they do across all business lines and all geographies." He said The Banker magazine, together with Brand Finance, has put together a unique listing based on brand values and "we congratulate HSBC on coming top in this year's poll." The report, initially published in 2006, is the first publicly available table analyzing the financial value of the world's top banking brands. It is then published annually and incorporates data from the world's 32 largest stock markets.
A joint team of customs officers from China's Hong Kong Special Administrative Region and the United States will visit textile factories in Hong Kong in March, the Hong Kong SAR Government said Tuesday. The series of visits will start from March 6 and lasted for about two weeks, the Hong Kong SAR Government said in a press release. "The joint visits are part of the on-going co-operation between the customs authorities of Hong Kong and the United States to facilitate legitimate textiles and clothing trade between the two places, as well as to combat illegal trans-shipment of textiles and clothing products," Cheung Sai-yan, head of trade controls of the Customs and Excise Department of the Hong Kong SAR Government, was quoted as saying. Hong Kong, a special administrative region in south China and an independent economy, is one of the United States' major trading partners, and textile products constitute a remarkable portion of their trade. Cheung said the visits was expected to keep the United States up-to-date on the manufacture of textiles and clothing products in Hong Kong and the implementation of Hong Kong's origin control program for textiles and clothing exports. The visits will also facilitate understanding by the U.S. authorities of the effectiveness of Hong Kong's origin control system and help facilitate the legitimate trade "especially at a time when restrictive measures are still in place against certain textiles exports from other economies in the region," he said. The joint teams will visit only textile factories with their prior consent and will not undertake any enforcement activities during the visits, Cheung said. "Enforcement activities, if necessary, will be undertaken by Hong Kong Customs officers independently and separately from the visits," he was quoted as saying. Cheung said the visits will not disrupt the normal production and operation of the factories, adding that detailed arrangements have been announced by the trade authorities separately through a notice to companies involved.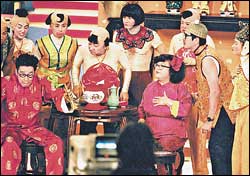 Lydia Shum Din-Ha, known as Fei-fei, or Fatty, and one of Hong Kong's most popular comedian actresses, died of liver tumor and other complications on Tuesday morning in a hospital in Hong Kong. She was 60 years old. Shum was born in July, 1947 into a well-off large family in Shanghai and ranked the fifth among the family's eight children. She made her film debut in 1960, joined the Hong Kong-based Shaw Brothers, a famous film company, as a child actress and rose to stardom with the free-to-air television broadcaster TVB's variety show Enjoy Yourself Tonight, which was hugely popular in Hong Kong for over 20 years. With her signature smile, dark-rimmed glasses and comic hairstyle, Shum established herself as a comic and dramatic actress. Her successful career spanning almost half a century also included the role as a TV hostess. Shum married Hong Kong actor and singer Adam Cheng Siu-chow in 1985 after they lived together years. The two split up in 1987, only eight months after their daughter and only child Joyce was born. Shum, dogged by numerous health problems, including chronic ailments such as cholangitis, diabetes and hypertension, was lately admitted to hospitals repeatedly. She was diagnosed with liver tumor and cancer around the gallbladder in 2006 and was discharged from hospital in July 2007 after an operation to remove a third of her liver. But she collapsed at home and was rushed to hospital in October.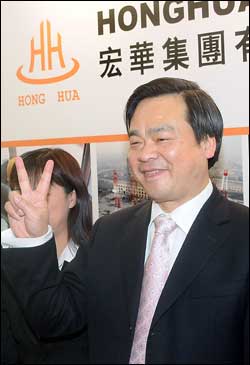 Mainland oil-rig maker Honghua Group will become the second company to be listed in Hong Kong this year when it starts trading on March 7. Honghua opens its four-day retail offering on Monday. According to investors at yesterday's roadshow, the indicative price range is between HK$3.16 and HK$4.50 per share. Honghua is seeking to raise between HK$2.63 billion and HK$3.75 billion by issuing 833 million shares - 10 percent of which will be offered in the retail tranche. Honghua's dividend payout ratio for fiscal 2008 and 2009 will be at least 20 percent, according to the preliminary offering circular. The price-earnings ratio is between 12.5 and 17.6 times forecast 2008 earnings. About 60 percent of the net proceeds will be spent on constructing an offshore equipment manufacturing base in China's eastern coastal area. None of the proceeds will be used to repay debt. Separately, Taiwan food manufacturer Want Want Holdings will list in Hong Kong in the week of March 17, sources close to the deal told The Standard. Want Want plans to issue up to three billion shares in Hong Kong to raise around US$1 billion (HK$7.8 billion). "Want Want has already secured some cornerstone investors," one source said. The food manufacturer will hold a pre-roadshow briefing with investors tomorrow, with the roadshow itself kicking off on March 3.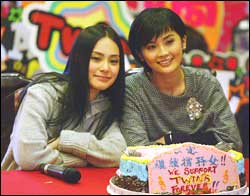 Censors yesterday ordered the nation's most popular internet search engine to apologize for allowing explicit photos of Hong Kong celebrities to be published on its site. Nasdaq-listed Baidu came under heavy criticism for "spreading" the photographs of several leading Cantopop and film stars in compromising positions, which have been plastered across the internet. The Beijing Association of Online Media said: "We severely criticize Baidu's behavior. `Key-words searching' and `Tieba' - a picture-sharing section of Baidu.com - became a platform for showing and spreading the obscene pictures. "And Baidu failed to block the photos after other Beijing-based websites had taken action against the pictures' spreading." At least seven celebrities have been sucked into the twists and turns of the scandal which purportedly feature singer-actor Edison Chen Koon-hei with a string of Hong Kong starlets including Twins singer Gillian Chung Yan-tung, actress Cecilia Cheung Pak-chi and former actress Bobo Chan Man-woon. Chen has been romantically linked to all three in the past. The photos were reportedly copied from Chen's computer when he sent it in for repairs. Chen has apologized to "anyone who has been affected by this strange, strange ordeal." Police have made several arrests linked to the case, but have faced criticism they have been overzealous. A charge against one Hong Kong man was dropped last week. Baidu is also in a legal battle with global music labels, which accuse it of providing links to pirated music files.
With the Beijing Olympics just months away, a pay-TV operator is lobbying the SAR government to be allowed to carry free-to-air TV channels without threat of legal action. If successful, the change would be a boon for i-CABLE Communications' (1097) Cable TV service and PCCW's (0008) Now TV, essentially expanding their content offerings for free and allowing their subscribers to watch the Olympics in digital format. One pay-TV operator is pushing the government to amend the Copyright Ordinance so that both Cable TV and Now TV can carry TVB and ATV channels without threats of copyright infringement from the terrestrial broadcasters. If pay-TV operators were allowed to deliver the terrestrial television channels, more Hong Kong residents would be able to watch the Olympics in clearer digital format, the operator argued in a letter to the Commerce and Economic Development Bureau. The lobbying effort revives moves made in 2004 by Cable TV to carry the free-TV channels over its system, a practice that was ended when Television Broadcasts (0511) won a court case saying the retransmission was illegal. ATV and TVB have said that 75 percent of the Hong Kong population will be able to tap into their new digital signals before the Olympics start. However, not all households covered by the new digital signals will be able to take advantage of them, because viewers will have to purchase new equipment. "There is a quicker and much simpler way to ensure that ... well over 90 percent of the population can actually watch the Beijing Olympics in digital format," the pay-TV operator wrote. "This is by broadcasting ATV and TVB's free-to-air programs via the pay- television networks," it said. Assistant Secretary for Commerce and Economic Development Bill Li Chi-pang told The Standard his office will "look into the matter."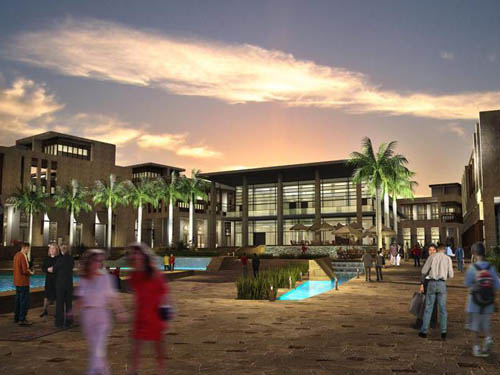 A luxury university in Saudi Arabia will begin recruiting students from Hong Kong at an education fair opening tomorrow - with a generous scholarship as bait. The university will offer to pay full tuition fees for students to complete their first degrees, provide laptop computers and significant allowances for living expenses and books. The scholarship also includes all tuition fees, housing and travel costs. Those selected for the scholarships at King Abdullah University of Science and Technology (KAUST) will be invited to travel to Saudi Arabia for any event related to the university. The Hong Kong Trade Development Council said the university would begin the recruitment drive at the Education and Careers Expo tomorrow, the first time a Saudi institute has attended the event. KAUST is a graduate-level research university, with the first batch of students expected to start studies in the autumn next year. The institute will focus on science-related areas such as environment, biosciences, engineering and mathematics. The campus, on the Red Sea coast at Thuwal, is still being built but will occupy 36 million square metres and include state-of-the-art research laboratories, shops, a golf course and a yacht club. One of the scholarships, the KAUST Discovery Scholarship, will be offered to students yet to complete their first degrees. The university formed a research partnership with the Hong Kong University of Science and Technology this month. Trade Development Council marketing and communication manager Rebecca Tse said she believed students from Hong Kong could make a significant contribution to the establishment of KAUST as they were very hard-working and intelligent. She said studying in Saudi Arabia could help students' careers in the long run. Chief Executive Donald Tsang Yam-kuen last month visited Middle Eastern countries, including Saudi Arabia, to strengthen Hong Kong's ties in the region. Ms Tse said: "Saudi Arabia is becoming a hotter option for Hong Kong businesses. Just last October, Chief Executive Donald Tsang stated in his policy address that he wanted Hong Kong to become the centre for Islamic bonds." She said Hong Kong's exports to Saudi Arabia totalled HK$3.18 billion last year, an 11.6 per cent increase from HK$2.85 billion in 2006. However, Hong Kong Overseas Studies Centre chief executive Jimmy Wong Luen-fat, said: "Usually, parents do not want to let their students study in the Middle East because parents in general have an impression that it's not safe over there. A university from Saudi Arabia doesn't sound too appealing."
Permanent heliport facilities will finally be realised in the heart of Hong Kong, paving the way for more convenient commercial short-haul travel despite worries about noise and pollution. The government will seek funding for the proposed Wan Chai heliport from the Legislative Council by the middle of this year. The project is estimated to cost HK$23 million. It includes three pads for government and commercial use at the northeastern corner of the Hong Kong Convention and Exhibition Centre site. No reclamation is necessary. Robbie Brothers, chairman of the Hong Kong Regional Heliport Working Group, said the project was not contentious but had not really been a priority of the government, especially since the Government Flying Service (GFS) had the use of a temporary helipad at the former Wan Chai Public Cargo Working Area. The Central Helipad facilities in Lung Wui Road, Admiralty, were closed in January 2004 for reclamation work. The group, which represents the local helicopter industry, has been pushing for a permanent heliport in the central business district. The government plans to brief Wan Chai District Council on the project next month before seeking funding approval from Legco's public works subcommittee and Finance Committee by the middle of the year. Raymond Ho Chung-tai, who chairs the public works subcommittee and is a member of the Finance Committee, said a heliport should be conveniently located in the central business district and not just at the Macau ferry terminal in Sheung Wan, which is not close to urban areas. He also said the cost should not be a problem as the project would be tendered out. The government has told the group that the use of the heliport would be shared but absolute priority had to be given to government emergency and other essential flying services at all times. "We have no qualms about giving way to emergency services," Mr Brothers said. "But the GFS said no commercial operator can use the facilities when its helicopters are using it, not even the parking pad. This is impractical and creates unnecessary flights, adding to costs and creating more noise." The consultant report said the noise impact of the heliport on Causeway Centre, which is the nearest residential building at 450 metres away, was 74 decibels, within the 85-decibel limit specified in the Hong Kong Planning Standards and Guidelines. Strong winds created by helicopter use could also be mitigated by a barrier, the report concluded. Avid aviator Sir Michael Kadoorie, who provides limited rooftop helicopter services at The Peninsula hotel in Tsim Sha Tsui, has long supported helicopter travel, saying helicopters are more suitable than corporate jets for flying times of less than one hour.

China: The Three Gorges Project will start full-scale operation this year, its developer announced in Yichang Tuesday. Addressing an ongoing corporate work conference in Hubei Province, Li Yong'an, China Three Gorges Project Corporation (CTGPC) general manager, said principal work would be completed in late 2008, one year ahead of schedule. He said workers had finished all transmission facilities and would fully complete the relocation task before the summer flood season starts on the Yangtze River. They have been installing a ship lift and the final five turbo generators, all of which are on the river's southern bank. The Three Gorges, which consist of the Qutang, Wuxia and Xiling gorges, extends for about 200 kilometers on the upper and middle reaches of the river. They are a popular tourist destination, known for their natural beauty and historical and cultural relics. China launched the Three Gorges Project, a multifunction water control facility, in 1993, with a budget of 22.5 billion U.S. dollars. According to the original plan, the project requires the construction of key facilities, including a gigantic dam, a five-tier lock, a ship lift and 26 turbo-generators. It has involved the relocation of at least 1.2 million residents. The 26 turbo generators -- 14 on the northern bank and 12 on the southern bank -- have a designed annual capacity of 84.7 billion kilowatt hours of electricity. The project is intended to reduce the threat of floods on the Yangtze from once every 10 years to once every 100 years. To date, workers have completed installation of 21 generators on both banks of the Yangtze, according to Li. Last year, CTGPC generated 77.07 billion kwh of electricity and recorded 12.94 billion yuan (about 1.77 billion US dollars) in profit, 78 percent more than the targeted profit. It plans to generate 88.15 billion kwh of hydropower this year, with a profit target of 12.46 billion yuan. CTGPC, which has come into being for the sole purpose of developing the world's biggest hydropower plant on the middle reaches of the Yangtze, began to diversify its fields of business through the financial market in 2004. The company has seen its fields of business expand from hydropower development to sectors of nuclear power and wind power. Li said 38.1 billion yuan, or nearly one-third of his corporation's profit last year, came from the company's diversified investment portfolios other than the Yangtze hydropower development. A 50,000-kilowatt wind power generation program in Cixi city of eastern Zhejiang Province, which was invested by CTGPC, has been put into operation after over two year's construction. Another 200,000-kilowatt wind power generation program invested by the corporation in Xiangshui county in eastern Jiangsu Province got permission for construction from the National Development and Reform Commission last December. The corporation was also granted approval to develop a 2.4 million kilowatt program of Tianhuangping Pump Storage Power Station in Anji county of Zhejiang Province.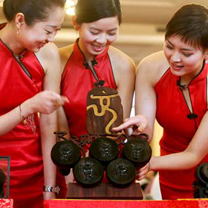 Girls show diabolos made of red sandalwood during the cultural festival themed "Diabolo Culture and Beijing Olympic Games" in Beijing, capital of China, Feb. 19, 2008.
China and the European Union (EU) are leading a Third Industrial Revolution, paving the way to a sustainable economic era in the 21st century, a world renowned expert said in London Tuesday. "There are three essential pillars of the Third Industrial Revolution which must be simultaneously developed and fully integrated for any one of these components to fully realized its potential and for the new economic paradigm to become operational: renewable energy, storage technology, and smart power grids," Jereny Rifkin, adviser to EU and U.S. governments and Fortune 500 companies, said at the CHINA NOW Sustainability Conference held here. Looking to the future, every government will need to explore new energy paths and establish new economic models with the goal of achieving as close to zero carbon emissions as possible, said Rifkin who is the author of 17 books on environmental, energy and economic related issues. The EU has begun the journey toward a Third Industrial Revolution by making a binding commitment that 20 percent of all EU energy be generated by renewable sources of energy of 2020 while China pledged in its 11th Five-Year Plan to have renewable energy rise to 15 percent in energy consumption by 2020. The EU and China are both engaged in developing technologies to store intermittent forms of renewable energy and creating intelligent utility networks to allow distributed forms of renewable energy, he said. For the EU and China to lead, "cooperative partnership between China and the EU is important", Rifkin said. Sustainability and climate change in particular are key issues across the globe and a prominent topic of discussion at the conference, jointly hosted by CHINA NOW, which is organizing Britain's largest ever festival of Chinese culture, and international legal practice Norton Rose LLP. The conference is one of CHINA NOW's more than 800 events across Britain to celebrate China as a vibrant, dynamic and fast evolving nation.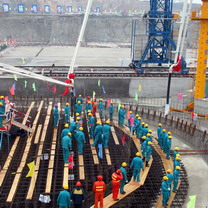 Workers cast the first batch of beton yesterday into a building structure at the Ningde nuclear power station in Fuding City, East China's Fujian Province, marking the start of the plant's construction.
China plans 10 space launches this year including the Shenzhou VII spaceship, according to a scientist from China's top space program research institute. The 10 launches include two environmental satellites, a meteorological satellite and a communications satellite for Venezuela, according to Yang Baohua, head of the China Academy of Space Technology. The launch of Shenzhou VII this year will spacewalk by taikonauts and lay the foundation work for China's space station construction. The Huanjing-1A and Huanjing-1B, together with a third satellite to be launched next year, will shape China's first small satellite constellation for disaster monitoring. The constellation will enable scientists to conduct all-weather, 24 hour monitoring and forecast on the environment and natural disasters. Yang said the country is also planning to send a record number of satellites into space in the next five to 10 years, but failed to mention the exact number. China has sent an average of eight satellites into space annually during the first two years of its 11th five-year-plan (2006-2010), and the number was 1.5 before its ninth five-year-plan (1996-2000). The mission for China's space administration in the coming five to 10 years will include a lunar landing, building a space laboratory and doing preparatory work for the third stage of China's moon exploration -- to bring back lunar soil. China's space vehicles now are more reliable with a longer lifespan, said Yang, citing that the latest generation of communications satellites will last for 15 years or more. The Academy has made breakthroughs in many areas including satellite recovery, geosynchronous communications satellites, manned space flight and moon exploration technology in the past 40 years, Yang said. China Academy of Space technology has designed most of China's satellites, including the Shenzhou spaceships. By last December, the country had designed and manufactured about 80 space vehicles.
Premier Wen Jiabao said yesterday his country was striving for peace in Darfur, as Beijing seeks to answer critics who have said it has done too little to halt bloodshed there. In a telephone conversation with British Prime Minister Gordon Brown, Wen said he hoped Darfur would be able to "soon realize peace, stability and development." China has been "making constructive efforts to this end," Wen told Brown, listing the steps Beijing has taken in the western part of Sudan, where government-linked militia have fought rebel groups, killing and displacing many civilians in recent years. "We're willing with Britain to continue making ceaseless efforts to appropriately resolve the Darfur issue."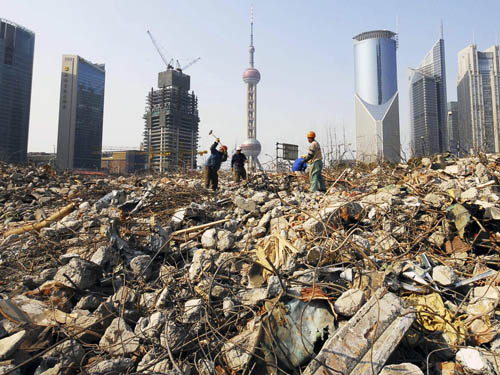 Shanghai is planning to build what could be the mainland's tallest building at more than 500 metres high, dwarfing other contenders to the title in the city, some state media reported yesterday. Under one plan, the Shanghai Centre building, as it is tentatively called, would be 580 metres tall. That would make the skyscraper higher than the city's Jinmao Tower, which is now a major tourist attraction at 421 metres and the Shanghai World Financial Centre, which is expected to open to tenants within months, and soars to 492 metres. The new building will be a short distance from the other two skyscrapers, creating a cluster of the mainland's highest buildings in what will be a focal point of Shanghai's financial district. But the Shanghai building probably will not be the tallest in the world, with the planned Dubai Tower and another under construction in South Korea already planned to soar even higher, the Oriental Morning Post said. Critics have labeled Shanghai's drive to construct higher buildings as wasteful. However, others say the city's development as an international financial centre has created a need for more office space and the buildings are required. The Shanghai Development and Reform Commission - a local government agency - has approved the new building but it was unclear if any other regulatory hurdles needed to be cleared. On the site yesterday, workers were demolishing buildings and a golf driving range which occupy the plot. Construction was expected to begin this year, reports said, but no completion date was given. Property industry officials said the land had been earmarked for years for a super skyscraper and it had been known the project was moving. The project is being developed by several companies linked to the Shanghai government including listed Shanghai Lujiazui Finance & Trade Zone Development, Shanghai Construction Group and the Shanghai Chengtou Corp - which invests in infrastructure. They have set up a company for the project with registered capital of 5.4 billion yuan.
February 16 - 19, 2008

Hong Kong: Major banks in the midst of expansion this year are are engaged in fierce competition for new staff. Citibank (Hong Kong), DBS Bank (Hong Kong), Hongkong and Shanghai Banking Corp and Standard Chartered Bank (Hong Kong) have already begun a recruitment drive in the city's consumer banking industry. HSBC, which is planning to hire 500 frontline staff this year, will launch their first recruitment day tomorrow. HSBC also conducted a recruitment drive last month. DBS, one of the major lenders in the city, will also organize a recruitment drive later this month. "The banking industry is fighting for talented staff, and we have been recruiting capable people to work with us. To achieve our aim, we will use whatever means necessary," a DBS spokesperson said. Standard Chartered said its recruitment is not a one-off event; the bank is recruiting because it needs people to expand its business in Hong Kong. Standard Chartered hired between 500-600 new staff last year. This year, the bank is planning to increase its staff on a similar scale. Citibank is planning to open three Citibank branches and six CitiFinancial branches this year. The bank said its staff turnover rate is about 15 percent. "Wethink all major players in the industry are facing a similar situation," said the Citibank spokesperson. "We are below the market level [for turnover]," said the Standard Chartered spokesperson. "Even in the competitive job market, we don't have a problem hiring people," she said.
The debate over banker David Li Kwok-po's role in the Executive Council and Legislative Council took a new twist yesterday. A pro-Beijing lawmaker added her voice to the chorus of democrats calling on Li, the chief executive of Bank of East Asia, to resign from both councils. The chorus reached a crescendo earlier this month when it was revealed Li had agreed to pay more than HK$63 million to settle an allegation involving insider trading in the United States without admitting or denying any wrongdoing. With BEA (0023) expected to announce its fiscal year-end earnings today, Federation of Trade Unions vice chairwoman Chan Yuen-han said Li should resign from Exco because his personal integrity had been called into question. "As an Exco member, Li represents the government, so the chief executive should also take a stand," said Chan, who is also a member of the Democratic Alliance for the Betterment and Progress of Hong Kong. She said the Hong Kong Monetary Authority should also look into the case. However, DAB chairman Tam Yiu- chung said Li should give an account of his actions before anybody - including the chief executive and Legco members - should be pressured into commenting on the case. Liberal Party lawmaker Jeffrey Lam Kin-fung shared the same view. Civic Party legislator Ronny Tong Ka-wah said the question of whether Li should stay in Exco should be discussed by the Legco panel on constitutional affairs. But he said there was no reason why Li should not be allowed to hold on to his Legco seat since another lawmaker, Chim Pui-chung, was allowed to retain his despite serving a prison sentence.
A foreign law firm and a corporate services company have lost their legal battle to overturn a search warrant of their shared office during a bribery investigation involving the construction of a terminal at Manila airport. The Court of Appeal dismissed an appeal by the RMBSA law firm and RMBSA Corporate Services, which sought a judicial review against the magistrate for issuing a search warrant and the Independent Commission Against Corruption for carrying out the search on April 12, 2006. The allegations of corruption involved the Hong Kong-based RMBSA Corporate Services, which was being investigated by the Philippine government for allegedly transferring corrupt funds. The search warrant applied to the corporate services firm, which shared the office premises, staff and filing cabinets of the law firm in Far East Finance Centre on Harcourt Road - an issue which was at the heart of the case, Justice Frank Stock said yesterday. Two of the directors of the corporate services firm were also partners of the law firm, which argued the magistrate should have attached various conditions to the search warrant so that material covered by legal professional privilege was not seized. But Stock shot down the argument. "There is nothing on the face of the warrant which suggests it expressly or impliedly authorized a search of the law firm's legal advisory documents. The search warrant is directed at documents belonging to a company which may or may not be a client of the law firm." Stock added that no distinction had been made between the law firm and the corporate services firm themselves. "It seems to me that a solicitor should not so organize his firm's affairs that its records become mixed with those of a separate business," Stock said. He said there was no prejudice in the case because the ICAC officers took the necessary steps to safeguard the privileged documents and sought legal advice over the matter. The application for a judicial review was granted on May 12, 2006, but was dismissed on August 10 last year. The appeal related to the dismissal.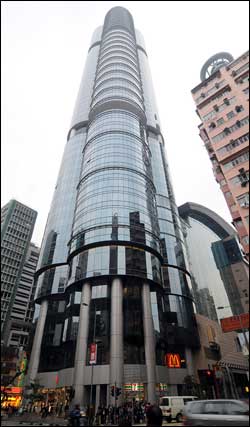 In an effort to diversify its income stream through retail and commercial components, Champion REIT (2778) has announced it will buy Langham Place in Mong Kok for HK$12.5 billion from its parent Great Eagle Holdings (0041). The firm, which is the first prime office property trust in Hong Kong, plans to buy the Langham Place mall and adjoining officer tower and car park. The consideration is about HK$12,519 per square foot for the retail portion and about HK$6,815 psf for the office portion. Champion REIT will pay Great Eagle by cash, bond issuance and debt financing. The company aims to create a more transparent REIT structure with negligible financial mechanics from the acquisition. "The transaction will be able to boost the retail assets [of Champion REIT] from 1 percent to 22 percent of 2008 rental income," said Eagle Asset Management chief executive designate Adrian Lee Ching-ming. The Langham property should contribute about one third of the REIT's rental income. The purchase price represents an 11.8 percent discount to the property's valuation of HK$14.17 billion. Lee said: "The Champion REIT will also be removing the financial engineering from its income structure to improve its financial transparency." After the acquisition, Champion REIT will be transformed into a multiple-asset REIT with a simple yield of about 5.5 percent to 6 percent. With interest rate swaps at below market rates and Great Eagle's 20 percent distribution waiver for 2008, the company expects to receive about HK$400 million in compensation payments. Champion REIT raised HK$808 million in a 2006 listing with the Citibank Plaza office property.

Architects turn up heat in conservation bid - Showcasing alternative visions for the Central Police Station compound, architects and urban planners yesterday called on the government to have a rethink before accepting the Hong Kong Jockey Club's HK$1.8 billion facelift proposal.

China: Tokushima Prefecture Governor denied any relationship between the incident and the recent mysterious poisoning involving Chinese-made dumplings sold in Japan.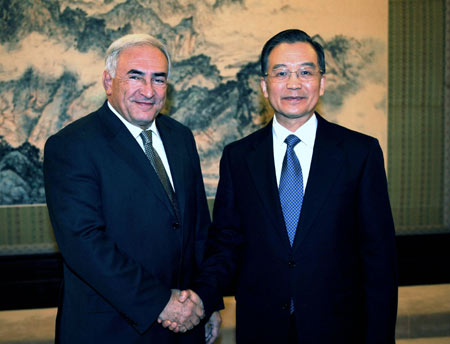 Chinese Premier Wen Jiabao (R) meets with Dominique Strauss-Kahn, the managing director of the International Monetary Fund (IMF), in Beijing, capital of China, Feb. 14, 2008. Chinese Premier Wen Jiabao met with Dominique Strauss-Kahn, the managing director of the International Monetary Fund (IMF) Thursday afternoon in Beijing, and the two sides exchanged views on the Chinese economy and other issues of common concern. Wen briefed the IMF chief with the latest developments of the Chinese macro economy and tasks that the Chinese government would undertake in 2008. He stressed the importance of a stable Chinese economy for the world economy that is in danger of a slowdown. Chinese government is making efforts to change its economic development pattern and optimize the economic structural, Wen told the IMF chief, according to a press release from the People's Bank of China (PBOC), China's central bank. Dominique Strauss-Kahn, managing director of the International Monetary Fund (IMF), said Friday that although there was some impact from U.S. sub-prime mortgage crisis on China, IMF still expected the Chinese economy to expand by 10 percent this year.
Chinese capital Beijing will ban the sale of new cars failing to meet new emission standards equivalent to Euro IV starting from March 1, a further move to cut air pollution and host a "green" Olympic Games. All the new light petro vehicles that are on sale in the Beijing market shall have to meet the new China IV standards from the beginning of next month, said Du Shaozhong, deputy director of the Beijing Environment Protection Bureau. Furthermore, from July 1, 2008, all the heavy vehicles used for public transportation, sanitation, and mail services should also be in line with the standards. Heavy vehicles for other usages will still enjoy a leniency period of the old China III standards. It is expected the new standards will reduce the amount of inhalant particulate matter, which takes up 90 percent of the pollutants in Beijing's air, by 330 tons in 2008, according to Du. "About one third of the major pollutants in Beijing's air -- nitrogen oxides, carbon monoxide and inhalant particulate matter -- come from vehicle exhaust emissions. Introducing tougher standards will be the major measure to cut pollutants," Du said. Despite a rapid increase in the number of motor vehicles, Beijing has managed to reduce nitrogen dioxide, sulphur dioxide and carbon monoxide in the air to a level in conformity with its "green Olympics" commitment. The new standard for Beijing cars is estimated to bring emission of carbon monoxide, hydrocarbons and nitrogen oxides further down by 48,000 tons, 5,300 tons, and 4,100 tons this year.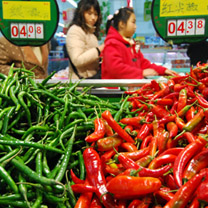 Shoppers buy vegetables at a supermarket in Nanchang, Jiangxi Province. China's snow storm influenced the nation's food price to some extent, but not "too heavily", an official said in Beijing yesterday.
The assets of China's banking sector rose to 52.6 trillion yuan ($7.32 trillion) in 2007 from 43.9 trillion yuan in 2006.
China faces its first defeat at the World Trade Organization over a dispute on its import tariffs for car parts, but industry officials say the impact on domestic parts suppliers will be minimal even if Beijing is forced to slash tariffs.
China's 2.3 million-member armed forces were the "backbone" of relief efforts during the country's worst winter storms in more than half a century, a senior official said yesterday.
The minister in charge of preparing the London 2012 Olympics said boycotting the Beijing Olympics would be the "wrong response" to concerns over China's relationship with Sudan.
February 16 - 17, 2008

Hong Kong: Up to Wednesday last week, the minimum temperatures of Hong Kong recorded at the Hong Kong Observatory has been below 12 degrees Celsius for 21 consecutive days. This is the longest cold spell in Hong Kong since 1968. During this period, the mean minimum temperature recorded at the Hong Kong Observatory was 9.9 degrees, the second lowest during the same period (January 24 - February 13) since records began in 1885. This exceptionally long cold spell is a result of the cold air from Siberia moving south to reach central and southern China incessantly, while moist air is transported from the South China Sea and even as far as the Indian Ocean. The rendezvous of the cold and moist air has brought continuous cloudy, rainy and cold weather to the region. Concurrently, sea surface temperatures over the central and eastern tropical Pacific have been persistently cooler than normal since last autumn.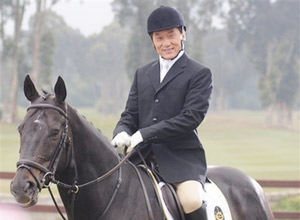 Jackie Chan promotes Olympic equestrian event - In the 30-second video, the 53-year-old "Rush Hour" star urges audiences to visit his hometown of Hong Kong to watch the event and introduces various local tourist sites.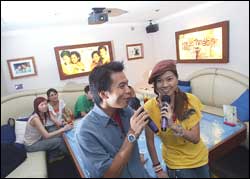 Jeweler Artini International Group is seeking to raise US$200 million (HK$1.56 billion) in an initial public offering to be launched in Hong Kong by April. "The company is currently preparing for the listing, but it is still pending approval from the Hong Kong stock exchange," sources familiar with the situation told The Standard. Artini will use most of the proceeds to open new branches in Europe and Asia, with a small portion used for debt repayment. "As the company does not need the money, it does not have to rush the IPO," the source said. Neway Karaoke Box, which is looking to raise US$100 million, is also planning to have a listing in the second quarter. "The company submitted the listing application to the Hong Kong stock exchange two months ago, but we are still pending approvals," a source close to the deal said. Cazenove Asia is the underwriter for the Artini deal, while ICEA Capital is the sponsor for Neway. Meanwhile, sources said the tentative listing date for China Railway Construction Corp could be earlier than the previously reported March 14, but the road show is likely to remain scheduled for February 25. "The company is still waiting for approval from the mainland regulator," a source said. The Standard has learned that several listing candidates such as Hengda Real Estate have actually won approval to list in Hong Kong but do not want to launch their IPOs before CRCC. "They want to see how the market responds. By the time CRCC has its roadshow, sponsors for the other IPOs will have made a decision," a source said. Taiwan food manufacturer Want Want Holdings has yet to start listing activities as the sponsors are currently discussing with the management which kind of shares will be issued, a source said.
Swire Pacific Offshore Holdings, the offshore service unit of Swire Pacific (0019), has ordered eight vessels worth US$100 million (HK$780 million) from a Chinese builder as part of expansion schedule to meet demand for exploration and drilling support ships at high oil prices.
The Home Affairs Bureau is confident Hong Kong will win the bid to become the host city of the 123rd International Olympic Committee (IOC) session in 2011. Janet Wong Chin-kiu, principal assistant secretary for home affairs, said yesterday the city had a great chance because of its experience hosting international events, such as the Sixth Ministerial Conference of the World Trade Organization and the International Telecommunication Union's Telecom World 2006. Hong Kong also had enough facilities to support the meeting and it had never been a host, she added. The IOC holds a session each year to discuss the development of the Olympic movement. Hong Kong is already one of the seven or eight cities in the running but has yet to make a formal bid. The government estimates it would cost HK$135 million to host the event and that it would attract 10,000 overseas visitors, generating spending of up to HK$110 million. But Miss Wong said the spending figure was conservative and was expected to be higher. Estimate details have been laid out in the paper to be discussed by legislators tomorrow. Apart from the economic benefits of holding the gathering there would be intangible benefits, such as enhancing the city's reputation, Miss Wong said. "We hope there won't be great deviation [from the HK$135 million budget], but one thing we have to note is the inflation rate," she said. Miss Wong also said the Sports Federation and Olympic Committee would look for sponsors. She said the event, which would last about a week, was likely to be held in the Convention and Exhibition Centre in Wan Chai. The second choice as a venue would be the AsiaWorld Expo Arena at Chek Lap Kok. The government plans to seek approval of the estimated spending from the Finance Committee on February 22, in order to clear the way for the formal bid. The bid will be submitted by the Sports Federation and Olympic Committee by February 28. The IOC will announce the winner in August.
Hong Kong will remain an important gateway to the mainland for Taiwanese, even after direct flights across the strait begin, Taiwan's representative in Hong Kong predicts. Jeff Yang Jia-jiunn said the city's convenient location and transport links would continue to attract Taiwanese tourists to stay for a few days en route to the mainland. "Hong Kong is a very good gateway to observe mainland China," the Chung Hwa Travel Service managing director said, also citing the city's appeal as a tourist spot. The "three direct links" - transport, trade and mail - are a major issue in the island's presidential election campaign, but Mr Yang said he was not confident they could be achieved within the term of the next Taiwanese government. Both candidates in next month's presidential election - Ma Ying-jeou of the Kuomintang and Frank Hsieh Chang-ting of the ruling Democratic Progressive Party - have pledged to push for implementation of the three links, with Mr Hsieh setting various conditions. Flights across the strait are now required to stop at a third place, usually Hong Kong or Macau. Mr Yang said that when the links were established, there would be some effect on travelers' plans to stop in Hong Kong. But Hong Kong was making preparations, he said, citing the proposed rail link between Hong Kong and Shenzhen airports. "Even when there are direct flights, there will not be routes to and from all cities on the two sides. For example, travellers to Guangdong, Guangxi and other places in southern China may still stop over in Hong Kong." In 2006, 31.1 per cent of the 2.18 million Taiwanese visitors to Hong Kong stayed in the city overnight, compared with 29.1 per cent in 2005, according to Hong Kong Tourism Board statistics. Mr Yang also said he believed the imminent Taiwan presidential polls would not change Taiwan's policies towards Hong Kong.

China: The back-to-back blizzards and icy rains that struck southern China in the past month have killed at least 107 people and left eight missing, as of Tuesday, a senior official said yesterday. The disaster has also caused direct economic losses of about 111 billion yuan ($15.4 billion), Civil Affairs Minister Li Xueju said. He said 21 provincial-level areas had been affected, with Hunan, Guizhou, Jiangxi, Anhui, Hubei, Zhejiang and Sichuan provinces and the Guangxi Zhuang autonomous region the worst hit. About 1.5 million people have been evacuated and more than 1.9 million travelers were stranded at some point.
U.S. investment bank Bear Sterns and CITIC Securities, China's largest securities firm, are to revise a share swap agreement, increasing the stake in each other.
Nearly 200 million Chinese, out of a 1.3 billion total population, are working in private business enterprises, said a report issued by the All-China Federation of Industry and Commerce here Friday. More than 110 million people had registered to work for private companies or be self-employed by September 2007, the report said. "But the number is likely to reach 200 million since some small businesses and self-employed people did not register at the authorities," it said. China had registered about 5.39 million private companies by September last year, 8.2 percent more than at the end of 2006, the report said. They have contributed to 60 percent of the country's gross domestic product (GDP). Private business experienced a booming development in the past three decades. The country used to incorporate private business into state-owned enterprises before it adopted economic reform in 1978. Big private industrial companies performed well last year. They reported 400-billion-yuan (54.79-billion-U.S. dollar) profits in the first 11 months of last year, a year-on-year increase of 50.9 percent, the report said. A company, whose annual operation revenue is 5 million yuan (685,000 dollars) or more, is considered a big one, according to the report. Private companies also invested more last year. In the first 11months of 2007, their fixed assets investment totaled 5.67 trillion yuan, up 36 percent over the same period in 2006. It accounted for 56.4 percent of the total fixed assets investment in urban areas.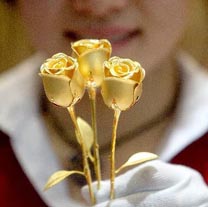 Photo taken on Feb 13, 2008 shows gold roses in a department in Shenyang. The commodities for Valentine's Day attracted many customers.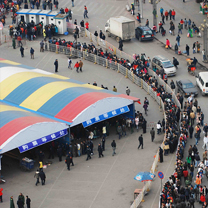 Passengers queue to buy train tickets at Guiyang Railway Station, Guizhou Province. Chinese railways had carried 24.47 million passengers during the weeklong Spring Festival holiday.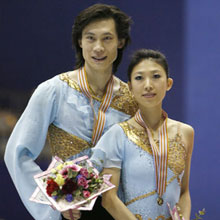 Gold medal winners Pang Qing (R) and Tong Jian of China pose for the photographers on the podium for the pairs competition at the ISU Four Continents Figure Skating Championships in Goyang, northwest of Seoul, February 14, 2008.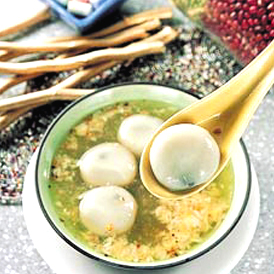 Most people agree there's nothing quite like mom's home cooking. And this is one among the many reasons hundreds of millions of Chinese pack overcrowded trains this season to return to their hometowns to feast with family and friends. For many of them, it's the first taste of home they've had in a year. And when they finally do sit at their loved ones' tables, a wide array of terrific treats will be theirs for the tasting.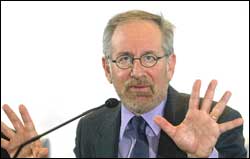 Beijing last Thursday hit back at activists who link atrocities in the Darfur region in Sudan with the Beijing Olympics, branding them "unreasonable, irresponsible and unfair." The statement followed a protest led by Nobel Peace Prize winners in the Save Darfur Coalition and Oscar- winning director Steven Spielberg's withdrawal as an artistic adviser to the 2008 Summer Olympics over China's policy on Darfur. "As the Darfur issue is neither an internal issue of China, nor is it caused by China, it is completely unreasonable, irresponsible and unfair for certain organizations and individuals to link the two as one," said the statement, issued by the Chinese embassy in Washington. Spokesman Wang Baodong said efforts to link the conflict in Darfur "contravene the universally recognized principle of non-politicization of sports, and runs counter to the Olympic spirit." The embassy's counterattack late last night Hong Kong time came after Spielberg earlier in the day pulled out of the Games. His pullout came after heavy criticism from US actress Mia Farrow, who has been spearheading a campaign by activists worldwide to get Beijing to exert leverage on Sudan to end the crisis.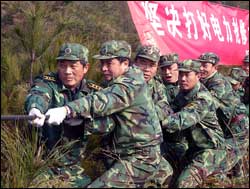 The power shortage has eased further and coal stocks are recovering, but a few provinces remain hard hit by the worst power crisis since 2004 even as the weeklong Lunar New Year break ends. Yunnan and Guizhou provinces in the southwest still suffer power shortages, and the State Electricity Regulatory Commission said - even after weeks of frenzied repair work and emergency steps, such as mobilizing thousands of diesel generators - power supply to central provinces Hunan and Jiangxi had been restored to just over 60 percent of normal. Many homes in Hunan's mountainous areas were still spending the icy cold nights in the dark. More than 10,000 members of the People's Liberation Army were sent to Jiangxi province on Tuesday and another 5,000 to Guizhou province to repair power grids. The cold weather has killed 107 people and caused more than 111.1 billion yuan (HK$120.66 billion) in economic losses, Minister of Civil Affairs Li Xueju said yesterday. Aside from the 107 confirmed killed, Li said eight others remained missing. He did not say if the confirmed deaths included the 21 who perished in a bus crash in Guizhou on Tuesday. The China Meteorological Administration said more snow and freezing rain may hit central and southern provinces tomorrow. More than five million people were estimated to have traveled by train on Tuesday while another 53 million took to the roads, the State Council said. All major rail, road and air routes were operating normally, it added. The Ministry of Railways provided 700 additional trains to help ensure smooth travel. Meanwhile, the blizzards and transport problems caused a 21.7 percent fall in tourism in Beijing during the holiday period compared with last year. Tourism revenue in the capital, which accommodated 650,000 domestic visitors, was 1.29 billion yuan, marking a year-on-year decline of 23.5 percent.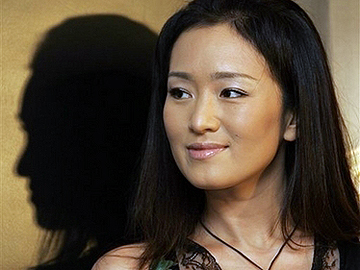 Authorities have blocked a Hollywood movie reportedly starring John Cusack and Gong Li from being shot in the country because of concerns about the script, a film official said on Wednesday. Luan Guozhi, director of international co-operation at China's Film Bureau, declined to reveal the government's concerns about the story for Shanghai but said the filmmakers could make changes and reapply. "We suggest they make some changes to the script and resubmit their application," he said in a phone interview. Shanghai is about an American who investigates his friend's death in second world war-era Japanese-occupied Shanghai. Producer Mike Medavoy confirmed the government's decision to block the shoot Tuesday, but didn't give a reason for the denial. Mr Medavoy and production company The Weinstein Company didn't immediately respond to e-mails seeking comment on Wednesday. Filmmakers have already spent hundreds of thousands of US dollars and director Mikael Hafstrom has been in China since September preparing for the movie, Hollywood trade publication Variety reported on its Asian news website. Mr Hafstrom was quoted by magazine as saying he plans to move the shoot to Hong Kong. The magazine has reported the movie stars Mr Cusack, China's Gong and Japan's Ken Watanabe, and that producers are in negotiations with Hong Kong actor Chow Yun-fat. While China's concerns about the script weren't immediately clear, Japan's second world war invasion of China is a sensitive topic. Many mainlanders are still angry about Japanese atrocities – the worst among them in Nanjing, where historians say Japanese troops killed 150,000 Chinese civilians and raped tens of thousands of women in 1937. Other filmmakers have had difficulty getting official approval for projects set in the same era. Oscar winner Ang Lee recently acknowledged he edited dialogue in his spy thriller Lust, Caution, also set in World War II-era Japanese-occupied Shanghai, so that the main character would appear less of a traitor to the Chinese cause. Memoirs of a Geisha, a Hollywood movie starring Ms Gong and another major mainland star, Zhang Ziyi, as Japanese entertainers, wasn't shown in China amid speculation officials feared the film would spark a major backlash. Earlier, Mr Medavoy described Shanghai as similar in feel to the 1942 Oscar-winning movie Casablanca, about an expatriate whose ex-lover asks him for help. "It's a story of a man who comes to Shanghai to find that his really good friend that he's known for a long time has been murdered. It's [about] the intrigue within that story," he said.
February 14 - 15, 2008

Hong Kong: Hong Kong's official foreign-currency reserve assets rose to 159.9 billion U.S. dollars in January, the Monetary Authority of Hong Kong revealed Monday. Including unsettled forward contracts, Hong Kong's official foreign-currency reserve assets stood at 159.9 billion U.S. dollars in January, up 7.2 billion U.S. dollars from the previous month. The increase was mainly due to the purchase of foreign currencies with Hong Kong dollars and an increase in Certificates of Indebtedness, which reflected the seasonal demand for banknotes around the Chinese Lunar New Year. The total foreign-currency reserve assets of 159.9 billion U.S. dollars represent more than seven times the currency in circulation, about 38 percent of Hong Kong dollar M3. Hong Kong is the world's ninth largest holder of foreign-currency reserves after the Chinese mainland, Japan, Russia, India, Taiwan, South Korea, Brazil and Singapore.

Hong Kong will become one of the world's most developed cities if it maintains its status as an international financial center while speeding up its integration with the mainland, said Justin Lin Yifu, the newly appointed senior vice president and chief economist of the World Bank. Lin was quoted as saying in an exclusive interview with the Hong Kong-based Chinese daily Wen weipo published on Wednesday. Lin, born in China's Taiwan but making a career as a mainland- based economist, was appointed senior vice president for development economics and chief economist of the World Bank on Monday and expected to assume office on May 31. The 56-year-old economist, often wearing a brisk haircut and a scholarly smile, said he had always looked forward to visiting Taiwan again as he had never been able to return to the island province over the past 29 years. Lin said he had always wished he could be of help to Taiwan no matter where he was. "Further integration between the mainland and Taiwan is in the fundamental interests of both sides," Lin said. But he noted it was a must for Taiwan to remove political barriers in cross-Strait economic and trade ties for the further development of Taiwan's economy. Lin said his appointment showed the new vision of the World Bank on developing issues under the leadership of president Robert B. Zoellick. Zoellick had said he looked forward to working together with Lin on issues such as the development of African countries, cooperation among developing countries as well as the prices of agricultural produces and energy. "It is an honor for me to take up the position at a time when the World Bank is undergoing adjustments in its strategy. I will bring my approach to the World Bank as a researcher from the developing world," Lin was quoted as saying. He said the many challenges facing the world economy in 2008 would be a short-term correction in the economic cycle, and not a major recession. The world economy will set off on another stage of development after the correction while the Chinese economy would have a growth of around 10 percent in 2008 to 2009, he said. China's economic growth will be powered by domestic demand and consumption, with challenges arising from export uncertainties offset by opportunities arising from industrial upgrading and relatively active investments, he said. Inflation was most likely to be four to five percent in China in 2008, he said.

HSBC Holdings, the biggest bank in Europe, plans to put about half of its 800 French consumer branches up for sale as it focuses on expanding in Asia and other emerging markets, The Wall Street Journal reported on Monday. The step would be part of HSBC's broader shift from developed markets with more exposure to subprime loans to faster-growing emerging markets, a person with direct knowledge of the plan was quoted as saying. The British Daily Telegraph newspaper also reported on Sunday that a sale of the branches in France, estimated to be worth about 4 billion dollars, could end speculation among investors that HSBC was a potential bidder for Societe Generale, the French bank at the center of a trading scandal.

Macao's gaming revenue for 2008 is expected to see a double-digit increase, the total of which will reach 100 billion patacas (over 10 billion U.S. dollars), said Lau Pun Lap, member of the Legislative Assembly of the Macao Special Administrative Region (SAR), on Saturday. He estimated that this year's gaming revenue growth will be lower than last year, but as industry development keeps its momentum, a double-digit increase can be sustained this year. Macao's gross gaming revenue rose 46.6 percent last year to 83 billion patacas (around 10.4 billion U.S. dollars), which boost the island city of 528,000 residents to top Las Vegas as the world's most lucrative gambling market. Lau said as more casinos are put into operation in Macao, market competition will intensify this year and some of the casinos may be knocked out in the fight for market shares. As the Ponte 16 casino resort opened in February, Macao now has29 casinos. eanwhile, as Macao's gaming market is susceptible to the global economy, a possible recession in U.S. economy, fluctuations of stock markets and rampant snowstorms in the Chinese mainland that hurt the SAR's tourism, will affect local gaming market, therefore, the government and casino operators should be ready for such market risks, he added.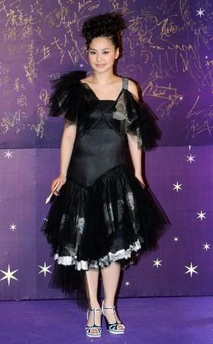 Gillian Chung, one of several prominent Hong Kong stars caught up in a nude photo scandal, Monday apologized for the incident that has sparked arrests and a media frenzy.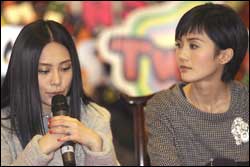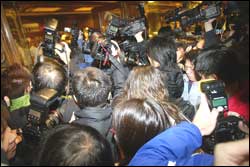 Cantopop duo Twins member Gillian Chung Yan-tung, in her first public response to the recent publication of nude pictures purportedly of pop and movie stars, yesterday admitted she had been "naive and silly" in the past. "I admit [after a long pause] I was very naive and very silly in the past, but I have grown up now," Chung, 27, told a packed and frenzied crowd of international and local reporters, photographers and cameramen - without explicitly saying she was in the photos. "This incident has caused great frustration and harm to me and people around me," she stated in her one- minute, 20-second speech. "I thank my company, family and friends for their kindness and support. I deeply regret the impact the incident has caused to society and the public. "In the future, I will continue my work and face my life positively. I thank the media for their concern and the fans for not giving up on me." Chung, accompanied by long-time Twins partner Charlene Choi Cheuk- yin, was given a rousing cheer by hundreds of fans shouting "we support you." Chung, who was dressed in a beige coat with her shoulder-length hair neatly parted down the center, was accompanied by about 10 other pop singers, including Vincy Chan Wing- yee and Yumiko Cheng Hei-yi, at the entertainment company Emperor Entertainment Group's annual Lunar New Year greeting session with fans and which was previously not open to the public. The pop duo's manager Mani Fok Man-hei said none of EEG's artistes, including Chung, will ever make any comment regarding the incident following yesterday's briefing "to avoid the issue continuing to expand." "This incident has already caused enormous harm and frustration to those affected," Fok said in a statement. A spokeswoman for EEG said no further questions from the media would be answered, including whether the photos were genuine or fake. The 300 fans, most in their teens, who held banners and signs in support of Chung, left the Chiu Chow Dynasty restaurant in Wan Chai after Chung had left, but few were prepared to comment on what happened at the gathering. "Support, support, support" was uttered by one while another shouted "Kung Hei Fat Choy" or Happy Lunar New Year. Mr Ho, a passer-by, and his 10-year- old son outside the building, which was flanked by at least 100 journalists, said the media should bear part of the responsibility for the incident. "Some of the newspapers have exaggerated the issue," he said, referring to many front page reports in local Chinese newspapers over the past couple of weeks. Before the gathering started, one of several dozen fans waiting to enter the restaurant fainted but was quickly helped by others. Over the past two weeks, more than 400 nude photos - or about 30 percent of the 1,300 police say they have uncovered - have emerged on internet forums. This was despite police claiming to have arrested "the source of the leaks" on February 4.
Cheung Kong (Holdings) (0001) will sell an 8 billion yuan (HK$8.68 billion) luxury residential project in Beijing in the middle of the year on the back of surging values of high-end accommodation.

The Independent Commission Against Corruption has joined forces with the real estate sector to stamp out graft in the booming industry. The number of complaints the ICAC received against real estate agents last year rose around 20 percent to 79 from 65 in 2006. They accounted for 3 percent of all private-sector corruption complaints. Fourteen cases were prosecuted last year - the same number as in 2006 - and 19 in 2005. From 2005 to last year, the ICAC referred 18 cases to the Estate Agents Authority for follow-up action. Three of the accusations were established, resulting in two agents having their licenses temporarily suspended, with the third agent's license being forfeited. The anti-corruption body and the EAA have put out a joint publication to help property agents in their work. ICAC program coordinator (business sector) Rita Lily Liaw said the move against corruption is to ensure that the property sector remains robust and graft-free. One of the most common forms of corruption among real estate agents is the practice of paying bribes to transfer property from one agency to another. Others include soliciting advantages from the buyer or seller without the consent of the agency and inflating the transaction cost to apply for higher mortgages. Eric Wong Lun-cheong, EAA acting director of operations, said breaches of trust will not be tolerated and the anti- bribery ordinance is one of the core subjects property agents must pass before they can obtain their license. Wong said agents should never solicit "tea money" from clients. "The key to prevent oneself from falling on the wrong side of the law is that, whatever he or she receives as a commission, every party involved in the transaction must know about it, including the buyer, the seller and his or her employer," Wong said. The ICAC move came as Hong Kong developers are predicting overall prices of the housing market, especially those of luxury premises, will increase as much as 20 percent this year in the wake of cheaper mortgages, higher household income and an optimistic economic forecast.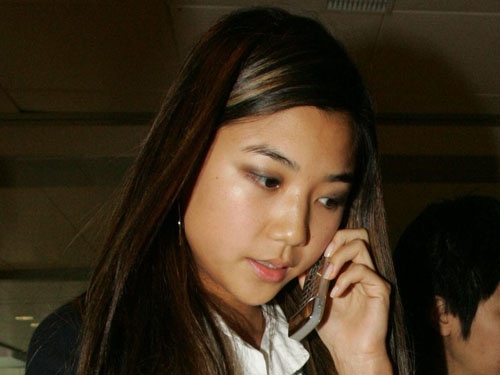 Tycoon Albert Yeung Sau-shing's niece has apparently become the latest victim in the heated celebrity sex-photo scandal, as a new batch of photographs surfaced yesterday. If the three new pictures of a naked woman standing in a shower are of Vincy Yeung Wing-ching - the current girlfriend of singer-actor Edison Chen Koon-hei - she would be the eighth victim of the scandal that has rocked the local internet and show business communities. The new pictures were seen as a challenge to the police's authority, since they throw up questions about how many other pictures are out in cyberspace, despite police claims to have traced their source. The pictures resembling Ms Yeung were among a new batch of more than 100 posted yesterday on websites based on the mainland and in the United States. They were available for downloading. Meanwhile, Gillian Chung Yan-tung of Canto-pop duo Twins, one of the women purportedly shown in some of the images, would address the media tomorrow to "clarify the false rumours", her manager Mani Fok Man-hei said. Ms Yeung, a university student in Boston in the US, is the niece of Albert Yeung, chairman of Emperor Group. The group owns Emperor Entertainment Group, which is the Twins' record company. A Chinese-language newspaper reported on Friday that Ms Yeung, interviewed in Boston, denied being involved in the scandal. The new photos also included previously unreleased images purported to be of Chung and actress Cecilia Cheung Pak-chi. Scandalous photos of women resembling the two stars were among the first to be released a couple of weeks ago. A video showing a series of intimate acts performed by two people resembling Chen and Chung was also released. Earlier photos also included images resembling former actress Bobo Chan Man-woon, modelactress Rachel Ngan Wing-sze, former singer Candice Chan Si-wai and Mandy Chen Yu-ju, a 2001 Miss Chinese International contestant. All are rumoured to have been romantically linked to Chen. A spokeswoman for Chen's management company, Rich and Famous, declined to comment on the new photos and said the media would be informed when Chen, now in the US, returned to Hong Kong. Sin Chung-kai, deputy chairman of the Legislative Council's information technology and broadcasting panel, said the new photos suggested there could be more than one source. "Since one man was arrested for accessing a computer with dishonest intent, this shows that there could be many other sources leaking the photos. It shows that people are challenging the police's authority," Mr Sin said. The police declined to comment since their investigations were continuing. On Monday, assistant police commissioner Vincent Wong Fook-chuen said officers were close to the source after arresting computer technician Sze Ho-chun, 23, who was charged with accessing a computer with criminal or dishonest intent. Sze was released on bail but 29-year-old Chung Yik-tin, the first suspect arrested in connection with the case, was refused bail. While heated discussions of the scandal raged on the internet, some netizens on popular forums such as discuss.com.hk, uwants.com and hkgolden.com feared continuation of the scandal might ultimately claim the lives of some victims. Charles Mok Nai-kwong, chairman of the Internet Society's Hong Kong chapter, said some in the internet community were aware of the seriousness of the scandal. "While internet users enjoy the free flow of information on the internet, they should not abuse such freedom if they realise how hurtful this scandal could be to some people," Mr Mok said. Members of the internet community will take to the streets today to protest against the police's "discriminatory" law enforcement against internet users. They claim police failed to investigate other cases of nude photos being released without their subject's permission. Nearly 1,000 have signed up for the protest.

China: As most Chinese people celebrate the Spring Festival, some 27,000 citizens have been racing against the clock in southwest China's land-locked Guizhou Province to repair the power facilities severely damaged in the worst snow in half a century. A complete recovery of power network can be expected at the end of March, and electricity will be available in all villages of Guizhou, said Tang Siqing, general manager of China Southern power Grid Guizhou Branch, on Monday. Freaky winter storms have plagued southern China since mid-January, leading to widespread traffic jams, structural collapses, blackouts and crop losses in 19 provinces, leaving at least 80 people dead and 100 million people affected, according tothe Ministry of Civil Affairs. Guizhou is the worst hit, where ice damaged more than 5,000 power transmission lines and about 700 transformer substations, accounting for 78 percent of the total power supply facilities in Guizhou, and 17 million, or nearly half of the province's population were affected, said Tang. Repairing efforts of the past days, however, had brought 3,441 power transmission lines back to function by Sunday noon. And 503 out of the 700 transformer substations had resumed operation. Power grid in south China's Guangdong Province has been mobilizing 20,000 workers to repair the last 126 ice-damaged power transmission lines and five transformer substations in the province, with an objective that power supply could be normalized by March 5, according to a source from Guangdong Power Grid Company. In Fujian Province, a neighbor of Guangdong, the provincial electrical power company last Thursday launched a new campaign aiming at bringing electricity back to the remaining 63,000 homes that suffered power cuts after the snowy weather destroyed power supply facilities in the province's northwestern areas, said local sources. In central China's Hunan Province, more than 70 workers worked consecutively for seven days to repair the Gaohuai power transmission line responsible for supply of electricity to downtown areas of Chenzhou City and a section of the Beijing-Guangzhou railway line. By 6 p.m. Sunday, power supply was normalized with the Chenzhou section on the Beijing-Guangzhou railway, a north-south rail trunk route. Snows of consecutive days led to collapse of 12 iron towers on Gaohuai power transmission line, which in turn caused power cuts in Chenzhou and large number of passengers being stranded at railway stations because of suspended operation of Chenzhou electrified railway section of Beijing-Guangzhou railway. Residents in Chenzhou, a city of about four million in Hunan, suffered about two weeks without electricity and tap water. More than 5,000 electricians, including 2,000 summoned from other provinces, were struggling to repair damaged power lines and pylons. Power supply did not resume until the wee hours of Feb. 6,the eve of Spring Festival. Before 6 p.m. Sunday when supply of electricity was resumed on the Chenzhou section of the Beijing-Guangzhou railway, train service providers were forced to switch to internal-combustion engines for traction when trains reached Chenzhou.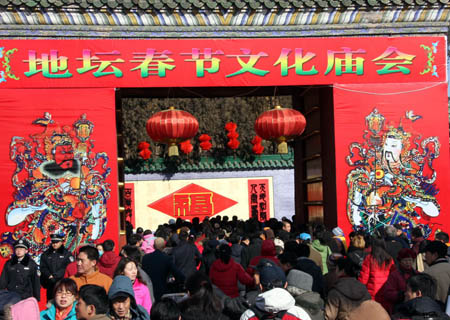 People throng into the Ditan temple fair in Beijing, Feb. 11, 2008. Traditional entertainment activities are usually held at temple fairs in China during the Spring Festival.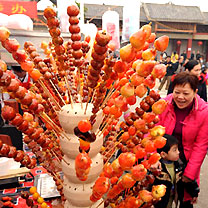 People walk past a bundle of Tanghulu, a kind of traditional snack, in Nanning, Guangxi, Feb 10, 2008. It is a tradition to attend the temple fair during Spring Festival.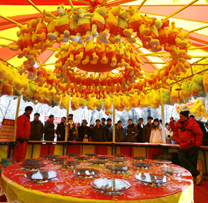 Revellers play a coin-tossing game at a temple fair to celebrate Lunar New Year in Beijing on February 9, 2008. Beijing consumers spent 1.91 billion yuan in shopping malls, supermarkets and the catering sector from February 6 to February 9.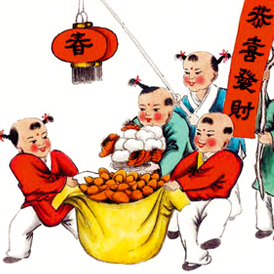 Ask any Chinese what they like about celebrating Spring Festival, and chances are most will say there is nothing quite like starting off the Lunar New Year with a bang. Adults still find it hard to resist, elders remain mesmerized and young ones, of course, squeal with delight at the chance. Children will always look forward to that time of the year when they can hold in their hands the red-paper wrapped firecrackers.
February 7 - 13, 2008

February 7 2008 - Chinese New Year

Hong Kong: The supply of fresh food to Hong Kong from the mainland will be maintained to meet demand during Spring Festival, an official has said. Wan Qingliang, vice-governor of Guangdong province, said: "Guangdong has been supplying 1,000 live pigs and 60,000 live chickens per day since last Friday to meet demand for this important Chinese festival. "The increased supply, together with the normal daily supply of live pigs and poultry, will help keep food supplies stable in Hong Kong." Wan said the Ministry of Commerce recently authorized food dealers in the province to diversify channels of fresh meat sourcing. "Guangdong has set up a leaders group to guarantee the food supply to Hong Kong and Macao," Wan said. "Food export firms in the province have also been urged to abide by inspection and quarantine regulations and to make sure food to Hong Kong and Macao is safe, hygienic, and of high quality," he said. York Chow, secretary for food and health in the Hong Kong special administrative region, said the supply of live pigs to Hong Kong averaged 3,900 head per day last month, almost up to the normal daily supply from the mainland. However, Chow said the supply of live cattle was rather unstable due to the snowstorms that have affected transportation in central and southern China. Most live cattle for Hong Kong come from the provinces of Shandong and Hebei, as well as Inner Mongolia. The supply of live cattle averaged only 67 head last month, much lower than the average of 100 a day.

Singer and actor Edison Chen Koon- hei, embroiled in an internet porn scandal, yesterday apologized to those who may have been affected by the posting of compromising nude photographs - and called on the public not to further circulate such pictures to allow the victims to heal their wounds. For the first time in the scandal, which purportedly involves Hong Kong pop and movie stars, Chen also confirmed he was assisting the police with their inquiries into the case. Chen's apology, which was contained in a video released by his lawyer, came as police said they had uncovered more than 1,300 pictures involving six women, two of whom had yet to be identified. In the video, Chen said he was "hurt, pained and perplexed" that a number of people's lives had been affected. He urged internet users not to transfer the pictures anymore so as to help those affected heal their wounds. He said he had been cooperating with police since the saga erupted but that he could not comment further since there was now the possibility the case could end up in court. Assistant Commissioner of Police (Crime) Vincent Wong Fook-chuen said the source of the pictures had been traced. But he would not confirm reports they had been taken from Chen's computer. "The source of the case has been found. We believe very much that [it was] because of [someone taking his] computer for repairs and that others had, via illegal means, taken out the [obscene] information," he said. He added whether the pictures were authentic or not is now the focus of police investigation. The 23-year-old man arrested in Central last Saturday will be charged with the dishonest use of computers with criminal intent, which has a maximum penalty of five years' jail. The man will appear in Eastern Court today. Wong said of the six women found in the photographs, two were not known to them - but he was certain that no overseas artistes were involved. None of the women were named. People who had only transferred the obscene picture files to friends had not violated the law, but those who transferred them to the public - for example via internet web pages - were breaking the law, said Wong. He said there were three clauses relating to the possession of obscene material that constitute a violation of the law, namely: publishing obscene material; possession for publishing; and inserting obscene material for publishing. He also maintained the police had not used excessive manpower as the whole case had been handled by 19 men from the Commercial Crime Bureau. He said those unhappy with the eight-week detention of the first person detained in the case, 29-year-old Chung Yik-tin, can appeal through normal procedures. Wong said it may not be necessary for all those affected in the case to appear in court in the future, though the police will contact the six women "if there is a chance to do so." Wong urged anyone whose nude pictures had been posted on the internet to report to the police. "In my 20-plus years as a policeman, I have not come across such an issue," Wong said in response to questions as to why police had not acted against other obscene photos circulating on the internet. Internet service providers met with police on Tuesday morning to discuss the controversy over the uploading of nude photos of local pop and film stars. The delegation was headed by Legislative Council information technology representative Sin Chung-kai. He said they were concerned over police comments that people might be charged for simply possessing the photos. Last week, scandalous photos of local celebrities, purportedly of actor-singer Edison Chen Koon-hei, Gillian Chung Yan-tung of girl duo Twins, actress Cecilia Cheung Pak-chi and former actress Bobo Chan Man-woon were widely circulated on the internet. Since police began investigations they have arrested eight suspects, who have been charged with posting nude photos on the internet. The first person arrested, a 29-year-old unemployed man Chung Yi-tin, was sentenced to eight weeks in jail after being refused bail. On Saturday, police had arrested a 23-year-old man in a computer shop in Central, who they believe is the 'source' of the photos. Police have found more than 1,300 photos of six women in his computer – at least four of them are celebrities. The police believed the photos were leaked when someone sent his computer for repair. The man was charged on Monday night with accessing a computer with dishonest intent. He appeared in the Kowloon East constituency on Tuesday morning and was granted bail – set at HK$50,000. The court case will resume on February 22. The saga is generating considerable interest and concern in the territory. It has raised important legal issues – including whether the downloading of such photos, e-mailing them to friends, or receiving them in a spam e-mail is illegal. Democratic Party vice-chairman Sin Chung-kai has urged police to clarify the section of the Control of Obscene and Indecent Articles Ordinance stating that anyone who "publishes, possesses for the purpose of publication, or imports for the purpose of publication" any obscene article was committing an offence and liable to three years in jail. Public concern has increased after Commissioner of Police Tang King-shing warned on Saturday that possession of a large quantity of the photos might be illegal, Mr Sin said. Assistant commissioner (Crime) Vincent Wong Fook-chuen said on Monday that keeping such obscene photographs and sending them to friends was not an offence.But he said it would be illegal for anyone to upload such photos onto the web – which is a public domain.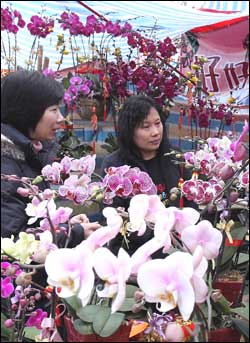 Travel agencies are losing more than HK$20 million as Lunar New Year tours are canceled because of the snowstorms in the mainland. Emerging from a special meeting to discuss arrangements over the festive period, Travel Industry Council chairman Ronnie Ho Pak-ting said about 200 tours to Huangshan and Jinggangshan, between Jiangxi and Hunan provinces, and Chenzhou in Hunan, with departure dates until next Monday, have all been canceled. Six thousand tourists are affected by the move. "We are very sorry to have inconvenienced [the travelers], but our decision is based on safety considerations, comfort and quality of service," he said. "For the Lunar New Year tours, the travel agencies have already paid the bills in advance to local guides and airlines." When added to previously canceled tours to Changsha, Zhangjiajie and Guizhou, some local travel agencies that rely heavily on mainland holidays may have serious cashflow problems, he said. Ho said actual circumstances will determine whether tours to Changsha, Zhangjiajie and Guizhou will resume in the near future. He said clients can choose whether to keep their travel bookings for six months or switch to other tours unaffected by the blizzards. Those wanting a refund will be charged between HK$50 and HK$300 depending on the length of the tours. TIC executive director Joseph Tung Yiu-chung said about 70 to 80 tours, including those to Hunan and Shaoguan in Guangdong, were scrapped over the past week because of the blizzards. "We hope everyone can understand [the situation of the travel agencies], because this time around it is very difficult [for them] to control," he said. Tung said inbound tours to Hong Kong have not been severely affected. He expects the number of mainland visitors during the holiday period to increase by 5 percent over last year's arrivals. China Travel Service deputy general manager Ng Hi-on said about 20 tours to blizzard-affected areas have been canceled, while about 80 percent of travelers have switched their itineraries to Shandong or Guilin - which have not been severely affected by the snowstorms. He also said the Tourism Commission has asked a few travel agencies, including China Travel Service, to provide concessions to some of the hundreds of thousands of workers stranded in Guangdong to enable them to visit Hong Kong on one-day trips during the festive period. "It is difficult to say how many people can come to Hong Kong as they need visas - it's already too late for mainland authorities to grant them temporary visas for the territory," Ng said. He added that Disneyland, Ocean Park and Ngong Ping 360, will also give concessions to the workers.
Ching Cheong, the Hong Kong journalist who was jailed for five years for allegedly spying for Taiwan, returned home on Tuesday afternoon. He has been being released on parole from a mainland prison. According to a local radio, Ching Cheong's wife, Lau Man-Yee has confirmed her husband had returned to Hong Kong and was in reasonably good health. Ching Cheong, 58, had been the chief China correspondent of the Singapore-based Straits Times. He was convicted of spying for Taiwan in April 2005 and had been detained since then. Foreign ministry spokesman Liu Jianchao said the release of Mr Ching was probably not the decision of the Chinese government. He said was likely made by China's legal system and based on mainland law. Chief Executive Donald Tsang Yam-kuen on Tuesday welcomed Mr Ching's release. He said he was particularly happy the journalist could return before the Lunar New Year and be with his family. Mr Tsang has in the past made representations to mainland leaders about Ching. The Hong Kong Journalist Association also welcomed his release. A spokesman said the association was happy Ching would be reunited with his family, but regretted his treatment, He said Ching had only been a journalist doing his job. He said the association hoped there would not be similar cases in future.
China Railway Construction, which had hoped to begin marketing its US$4 billion Hong Kong and Shanghai initial public offering before the start of the Chinese New Year break this week, had set a tentative listing date for the Hong Kong part of its deal for March 14, three people familiar with the situation said. The company, whose deal had been delayed by poor market sentiment, would begin investor education for the Hong Kong portion of its deal from February 11 before a formal roadshow started on February 25, the sources, who were not authorised to speak about the deal, said on Tuesday. A price range for the sale of 1.7 billion shares in Hong Kong would tentatively be set on February 22. The Hong Kong portion of the much-anticipated deal was contingent on the Shanghai listing also proceeding, one of the sources said. Three other people with direct knowledge of the IPO plan on Monday told Reuters that China Railway Construction, one of the country's two biggest railway builders, had scrapped a plan to post its IPO timetable on the Shanghai Stock Exchange website last weekend after the central government suggested the firm delay the listing due mainly to market conditions. The Shanghai composite index is down about 13 per cent since the start of this year, while Hong Kong's Hang Seng Index is off 11 per cent. Besides China Railway Construction, companies planning listings worth more than US$2 billion have delayed or cancelled Hong Kong listings since the start of the year. Citigroup and Macquarie Bank, underwriting the Hong Kong portion of the deal, declined to comment, while an official at Citic Securities, which is sponsoring the mainland portion of the listing, could not immediately be reached for comment. Shares in rival China Railway Group (SEHK: 0390), which is the world's third-largest construction contractor, are up nearly 66 per cent in Hong Kong since the company raised US$5.5 billion in a dual listing in Hong Kong and Shanghai.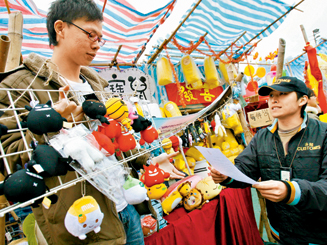 60 held in swoop on IIs at flower fairs - Forty-three suspected illegal workers and 17 employers were arrested in a series of operations yesterday at Lunar New Year flower fairs.

China: A Chinese court on Monday handed down jail sentences of 18 to 30 months to three people for insider trading of a construction firm's shares. Two of them were fined a total of 80.74 million yuan (11.2 million U.S. dollars).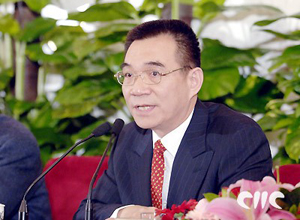 World Bank President Robert B. Zoellick Monday announced the appointment of Justin Lin as the new chief economist and senior vice president for development economics at the World Bank.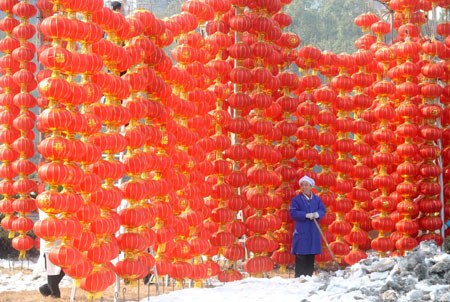 A worker rests after arranging lanterns to celebrate the Chinese Lunar New Year on a street in Wuhan of Hubei Province Feb. 4, 2008.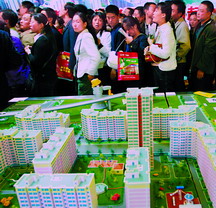 Homebuyers at a real estate exhibition in Lanzhou, Northwest China's Gansu Province. The banking regulator issued new rules Monday to help low-cost housing developers get loans and encourage construction.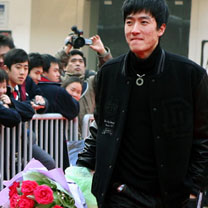 China's world and Olympic champion Liu Xiang acknowledges to spectators during a communal activity with the theme of "Cheering for Olympic athletes" in Shanghai February 4, 2008. The 24-year-old said he felt no pressure at all during the run-up to the Olympics in August because he has already got an Olympic gold medal under his belt.
China's economic growth this year will slow moderately as exports decline due to the global slowdown, the World Bank said, lowering its 2008 growth forecast for the mainland to 9.6 percent from its previous 10.8 percent.
Industrial and Commercial Bank of China (1398) said over the weekend it is putting aside about US$400 million (HK$3.12 billion) as provisions to cover potential subprime losses, more than six times its previous allocation, according to mainland media reports.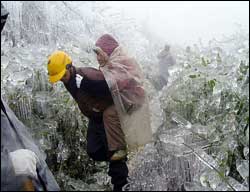 China's main north-south national highway reopened yesterday after weeks of snow and ice storms that throttled transport and disrupted food and fuel supplies. The restoration of traffic along the Zhuhai- Beijing highway should ease massive logjams that stranded millions of rail and bus passengers and triggered emergency plans to ensure deliveries of coal, water and food. Rail service was also slowly returning to normal, although cold rain poured down on hundreds of thousands of travelers as they waited at the Guangzhou rail station. The ice and snowstorms that began on January 10 have caused power lines to snap and pylons to topple, while parts of central China have been without electricity for 10 days. The China Meteorological Administration forecast fine weather for later in the week, although rain and sleet were expected in some areas today. Administration chief Zheng Guoguang said the wild weather was a product of the La Nina effect, a periodic cooling of waters in the Pacific Ocean, though "we did not foresee temperatures dropping so low." Despite concerns over the storm's economic fallout, the country's stock markets surged yesterday as government reassurances calmed investor jitters. About 80 trains left Guangzhou on Sunday with 210,000 passengers aboard. But a river of new travelers flowed into the city yesterday, and the area around the main train station was still packed with people. Police divided the huge crowd into groups of about 1,000, with about 100 meters of space between the groups.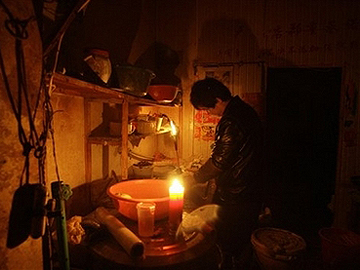 Railways and highways were returning to normal across the mainland on Tuesday, but millions are likely to spend the biggest holiday of the year without power and water in what for some is the coldest winter in a century. The freezing weather in the run-up to the Lunar New Year break, which begins on Wednesday and offers the only chance for poor migrant workers to visit loved ones, has killed scores of people and left millions stranded. Whole cities have had their power and water cut off for more than a week and so far 11 electricians have been killed trying to reconnect lines or break ice encasing poles and cables. Chenzhou, a city of about 4 million in the central province of Hunan, began its 11th day without power on Tuesday, with people lining up at fire hydrants with buckets to get water. The State Electricity Regulatory Commission said it intended to restore power to 80 per cent of affected households in the next few days. Supply to the rest of the families would be resumed by tapping some 2,670 diesel-fired generating vehicles. Kaili, with a population of half a million in the subtropical southern province of Guizhou, was cut off for several days by thick ice and hail. On the road from the provincial capital Guiyang, many areas were still covered in thick ice with pine trees wilting or broken under the weight. Television showed downed power lines and towers. Kaili and other larger county capitals are receiving electricity, but officials and locals say many villagers in the countryside remain without power and there could be many days if not weeks before it is restored. Travelling through the countryside at night, hamlets were in thick darkness with only candles providing flickering light. "The situation has been improving with all the outside assistance, but fixing supplies to smaller towns and villages will take a long time," said engineer Zhang Xuejiang. But for many locals, the biggest headache is skyrocketing prices with pork, rice, vegetables and other staples doubling in price, or going even higher. Army and civilian trucks are bringing in diesel generators and boxes of blankets and food. "The electricity is back on now, but the problems certainly aren't all over," said a vendor named Xu Song. "Food is so expensive." He said he knew that leaders in Beijing were working to fix the problems. "But we're very poor and out of the way. Anything always takes a long time." The snow has been falling in China's eastern, central and southern regions since mid-January, bringing down houses, destroying crops and holding up vital coal supplies. Another headache for residents in and around Kaili, with telephone connections either ruptured or weak, has been trying to trace family members planning to return for the holiday. Zhang Dehua, waiting for his son at Kaili station, had called him a couple of days ago but hadn't heard of him since. "I was hoping he would be on that train but I don't think he was," he said forlornly. "I will just have to wait for the next one and maybe the next one." At noon on Tuesday, service at two railway stations in the southern city of Guangzhou was back to normal after 11 days of chaos, according to the Guangzhou Railway Group Corporation. "About 3.5 million people left the province by train by Tuesday noon, and basically, all the passengers who held tickets but had been stranded at different railway stations have left," a spokesman was quoted by Xinhua as saying. About 350,000 train passengers left Beijing on Monday, 20,000 more than on Sunday, according to a spokesman with the Beijing Railway Bureau. He said that rail stations in the capital would probably see usage peak on Tuesday. On the roads, a major north-south trunk road, the Beijing-Zhuhai expressway, was back to normal after de-icing work by 1,200 troops and police. The China Meteorological Administration said on Monday the weather was the coldest in 100 years in central Hubei and Hunan provinces but it expected milder conditions ahead.
February 6, 2008

Hong Kong: Only two days after Chinalco spent an unprecedented 7.2 billion (HK$111.7 billion) for a 12 percent stake in miner Rio Tinto's London-listed shares, the mainland mining group has reportedly now gained access to a US$120 billion (HK$936 billion) war chest to mount a full takeover bid if necessary.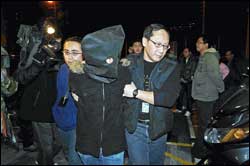 Hong Kong police detained four more people Saturday for possessing racy photos depicting what appeared to be local pop stars, in the latest episode of a scandal started with the online circulation of such photos last week. The three men and a woman knew each other and were arrested late Friday and early Saturday, said Tang King-shing, commissioner of police of Hong Kong. The suspects, aged 29 to 31, were being detained for further investigation, Tang said, adding that officers were working to stop circulation of the photos with the help of Internet service providers and overseas law enforcement agencies. The law in Hong Kong, China's southern special administrative region, stipulates that it is not necessarily against the law to possess indecent photos but those who have many such photos may be arrested for intending to circulate or sell them. The arrests came two days after a 29-year-old man was arrested and charged in connection with circulating the photos online. He was found to have 12 such photos, local media reported. The case had been adjourned till March 28 without parole. The four suspects detained on Saturday were not connected with him, police said. The photos had been circulated online since January 27, with a mysterious man reportedly releasing the partially nude photos according to an announced schedule. Police were still trying to find the first releaser of the photos and Tang, the police chief, had warned against possessing and circulating the indecent photos. Photos purportedly showing a Hong Kong actor partially nude with several starlets were copied from his computer when it was serviced last year and later distributed over the Internet, a newspaper reported on Monday. The photographs, seemingly of actor and singer Edison Chen in bed with singer Gillian Chung Yun-tung , along with suggestive images of actress Cecilia Cheung Pak-chi , were recently posted online, sparking a media frenzy in the celebrity-mad former British colony. While Chung's company, Emperor Entertainment Group, initially said the photograph of the normally squeaky-clean star was a digital fake, recent media reports have suggested otherwise. Hong Kong's Ming Pao newspaper reported that Edison Chen Koon-hei, 27, had the images copied from his faulty personal computer last year, when he took it for servicing. "A person in the shop found hidden inside [Chen's] computer, confidential nude pictures of naked female stars, which were then secretly copied," Ming Pao reported, quoting an anonymous source. The computer shop was subsequently raided by police officers in a widening investigation across the territory, which has led to eight arrests for infringing obscene material laws, and the seizure of hundreds of other explicit images, many unpublished. In a statement on his blog (www.clotinc.com/blogs/public/edc) over the weekend, Chen criticised some of the recent media coverage. "I would like for u [sic] to respect the situation that everyone is in and report the truth to the fullest." He didn't clarify whether the images had been faked or stolen, but his manager said Chen would co-operate with the police investigation. Hong Kong's police commissioner, Tang King-shing, said the case was being treated seriously and warned the possession and distribution of such images might be illegal. But Internet users and activists have since challenged this position, saying the police were being overly harsh. Meanwhile, the police have also rejected criticism that they might have used too many officers to investigate the case. There have been reports the police had 100 officers involved in the investigation. Civic Party legislator Ronnie Tong Ka-wah told local radio on Monday he believed police may have over-reacted.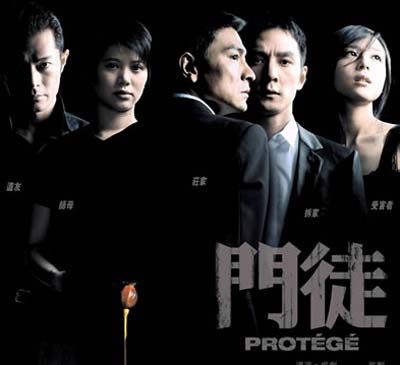 A poster of Derek Yee's "Protégé," which dominated the nominations list of the 27th Hong Kong Film Awards announced on Saturday. Derek Yee's drug dealer-centered film, "Protégé," dominated the nominations list of the 27th Hong Kong Film Awards, gaining 15 nods out of 19 categories. According to the list announced on Saturday, "Protégé" will compete for such coveted awards as best film, best director and best actress for the efforts of actress Zhang Jingchu. Other front-runners on the list are Peter Chan's brotherhood war epic the "Warlords," with 13 nominations, Ann Hui's comedy "Postmodern Life of My Aunt," with nine, Yau Nai-Hoi's police thriller "Eye in the Sky" and Johnnie To-Wai Ka-Fai cooperation, "Godly Detective," each with eight nominations. The directors of these films are all contenders for best director. "Warlords" earned Andy Lau and Jet Li best actor nods. They will compete for the title with Sean Lau Ching-Wan ("Godly Detective"), Simon Yam Tat-Wah ("Eye in the Sky"), and Aaron Kwok ("The Detective"). Andy Lau, who is also featured in "Protégé," is in competition for best supporting actor. His rivals include fellow "Protégé" actor Louis Koo and "Postmodern Life of My Aunt"'s Chow Yun-Fat. Zhang Jingchu's best actress rivals are Teresa Mo ("Mr. Cinema"), Siqin Gaowa ("Postmodern Life of My Aunt"), Rene Liu ("Kidnap") and Charlene Choi ("Simply Actors"). Oscar-winning director Ang Lee's "Lust, Caution," previously rumored to be shunned from Hong Kong Film Awards due to a lack of Hong Kong efforts in its production team, has been nominated for best Asian film alongside Taiwan singer-turned director Jay Chou's "Secret" and mainland director-actor Jiang Wen's "The Sun Also Rises." Final winners will be announced at a ceremony on April 13.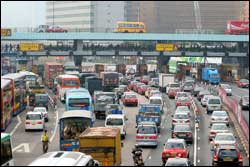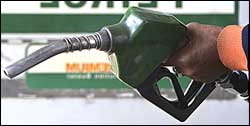 Pressure from transport groups is mounting for Hong Kong's oil companies to cut fuel prices after world crude oil prices continued to plunge. Oil prices slid from record highs last month amid fears that a US recession would severely dampen demand for crude. Transport groups are calling for lower pump prices to reflect the trend which is expected to continue in line with global market volatility. Most major oil companies increased fuel prices on January 6. This came after New York's light sweet crude hit a historic high of US$100.90 (HK$787.02) per barrel while London's Brent North Sea crude hit US$98.50. Oil firms, however, have indicated they have no plans for slashing prices following the trend in the global oil market with light crude easing up to US$88.96 and Brent oil at US$89.57 last Friday. On January 6, Sinopec increased its petrol price from HK$14.71 a liter to HK$14.86 and diesel from HK$9.37 to HK$9.52. Shell put up petrol 15 cents to HK$15.58 while diesel went up the same amount to HK$16.27. Exxon Mobil said prices had been adjusted up that day, but declined to give figures. Lai Ming-hung, Taxi and Public Light Bus Concern Group chairman, accused the oil firms of refusing to fairly adjust prices whenever crude oil prices dip. "But they will raise prices promptly if they rise. This is unfair." Earnings of taxi and minibus drivers have been severely affected as liquefied petroleum gas accounted for more than 30 percent of their running costs, with the remaining 70 percent from rental of the vehicles. From January to November last year, prices of LPG went from HK$14.65 to HK$16.52. In the same period, fuel prices steadily increased 11 times from HK$12.98 to HK$14.72 for petrol and from HK$8.36 to HK$9.92 for diesel. The prices were cut twice in the same period. Hong Kong Automobile Association vice president James Kong Yat- hung said pump prices should be cut to reflect the recent fall in crude oil prices. But the Consumer Council said the recent oil price dip was a short-term fluctuation and that it was too early to say if prices should be adjusted. Exxon and Shell said they will monitor global oil prices before adjusting prices.
Hong Kong finds itself caught between two powerful and opposing forces. On one hand is China with its `hot' economy and rising inflation concerns, while on the other the United States is heading for a possible recession and interest rate cuts that may spike inflation in Hong Kong. "Hong Kong is on the knife's edge" between either overheating or slowing down with "growing signs of inflationary pressures," said Robert Subbaraman, chief economist Asia ex- Japan at Lehman Brothers. The snowstorms in China "will exacerbate the already accelerating inflation, by pushing up food prices further in January and February. Stronger inflation pressure [especially coupled with rising inflation expectation] may force further tightening of macro policy and thus hurt growth," said Jun Ma, chief economist Greater China at Deutsche Bank. HSBC's chief Asia Pacific economist Peter Morgan forecasts "a steady rise" in Hong Kong inflation "to the range of 3.5 to 5 percent by next year, but [we] do not believe that this would cause consumption to be crippled. "However, given that nominal wage growth is still only about 2.5 percent, a surge in inflation would hurt consumption growth to some extent," Morgan said. Inflation is already a major problem in China. Year-on-year prices for livestock and poultry rose 41.4 percent in December 2007, according to the People's Bank of China. This has already significantly impacted Hong Kong as the mainland remains a large source of food imports. The Hong Kong consumer price index for December 2007 rose by 3.8 percent, and inflation is expected to continue to rise. "Strong growth in China certainly benefits Hong Kong. Otherwise, Hong Kong, being a small open economy, would be overly subject to swings in the US economy. However, the combination of strong growth and inflation in China coupled with a weak HK dollar and interest rates tied to US monetary policy does increase inflationary pressures and the risk of an asset bubble," said Morgan. Since Hong Kong is more dependent on exports to the United States than China, US events could have a real impact here. "We forecast a slowdown to 5 percent this year, and this assumes US growth of 1.9 percent. If the US were to fall into recession, this could knock at least another one to two percentage points off of growth in Hong Kong," Morgan added.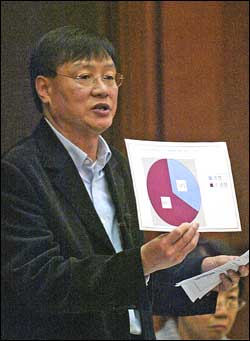 Supermarket chains are charging up to 29 percent more than neighborhood grocery stores, a survey has found. Supermarket Watch Group, which carried out the survey, warned that this could lead to further inflation and urged the government to speed up legislation on a competition law to avoid monopolies and unfair price setting. "We hope housewives can become smart consumers, but as smart as they could possibly be, they won't beat monopolized sale [techniques]," said legislator Wong Kwok-hing of the Federation of Trade Unions. He said an anti-trust law would enable consumers to make their own choices. The group, which was set up in 2006 and includes district councillors, last month compared prices between two supermarkets and two grocery stores in Tung Chung and Tsuen Wan. It found that food in the supermarket in Tsuen Wan was 26 percent higher than for the same items sold at the local grocer's. The Tung Chung supermarket was 18 percent more expensive. Instant noodles had the biggest price difference - 80 HK cents, or 29 percent - said Sham Cheuk-lam, a FTU district officer.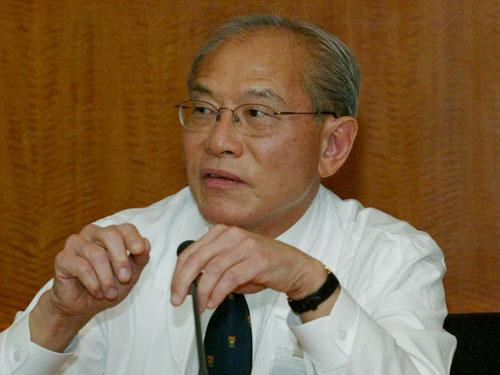 The University of Hong Kong's head of surgery, John Wong, says his repeated reappointments to the post for 25 years have been well supported and subject to consultation among his colleagues. Rejecting criticism that he should be partly blamed for poor morale at the department, Professor Wong said the university had always had an open and transparent system for senior appointments, including his. Professor Wong, now 66, has led the department of surgery since 1982. On staff appointments, he said: "The dean of medicine solicits the wishes and comments of staff in the department of surgery and makes recommendations to the vice-chancellor, who makes the final decision and reports to [the university] council." He did not agree that staff morale was at a record low, and put the relatively high attrition rate among surgeons down to a mix of factors. "The private market is booming and some doctors want to switch to the private sector. It is not a problem unique to us. It happens at all public hospitals, and many Hospital Authority departments also have doctors leaving." Regarding the latest incident, in which two surgeons from the liver transplant team left after an internal dispute, Professor Wong said he was ready to discuss the team's manpower problems with the Hospital Authority. "If the authority can give us more resources, we are ready to train more doctors," he said. "We have never opposed having more than one [liver transplant] centre in Hong Kong. But the fact is there are not enough cases to support another centre at the moment." He also rejected claims that the attempted resignation in 2006 of the liver transplant team leader, Fan Sheung-tat, was a result of internal discord. Professor Fan later decided to stay on until his retirement in four years. "We get along with each other very well as with other professors in the department," Professor Wong said. "Professor Fan has said many times that his resignation at that time had nothing to do with me." Professor Wong said the department would continue to train more surgeons and uphold medical standards.

Rita Fan Hsu Lai-tai, who has been tipped to become a National People's Congress Standing Committee member, said she would consider applying for leave from the committee until July, if elected, to avoid any clash with her role as president of the Legislative Council. Mrs Fan hoped the move would ease lawmakers' worries over her impartiality when discharging Legco duties. The veteran National People's Congress local deputy was re-elected with the highest number of votes last month. Having declared her decision not to run for a seat in the next Legco term, Mrs Fan, 62, has been seen as a frontrunner to be elected to the NPC Standing Committee, the highest authority on the mainland. Speaking on Commercial Radio yesterday, Mrs Fan said there were no laws or rules of procedure preventing a Legco president from taking up a senior position in the state legislature. "But as the Legco president, I don't want my actions becoming a matter of disputes among lawmakers," she said. Mrs Fan said she had sounded out the possibility of applying for leave from the standing committee should she be elected. Such an arrangement would spare her from getting involved in possible decisions over Hong Kong affairs. "The [potential of a] clash would be reduced to a minimum by not participating in decisions related to Hong Kong. This would preserve the president's impartial image," she said. On the question of whether local deputies should have a formal office in Hong Kong, Mrs Fan conceded that it was a politically sensitive issue involving the principle of "one country, two systems". She said the 36 deputies could establish a webpage and a mail box to improve public communication. Responding to recent press reports suggesting mainland officials wanted her to stay on in the new Legco term, Mrs Fan said she would not change her mind.

China: Surveys indicate that multinational companies confront 'bottle neck' in their endeavors to expand influence on China's market. A research report, the 2007 Most Influential Multinational Companies in China, shows the general Chinese public has shifted their attention from the businesses' capability in handling breaking public crisis to social responsibilities these companies have assumed and the contributions they have done to the community in their assessment of the performance conducted by multinationals in China. The survey randomly conducted covers four cities with 420 directing managers as subjects. It has conveyed a clear idea that the public has attached their preference more to those companies building 'a good citizen' image in the community, and that the repulsive practices like monopoly and shifting or disguising pollution will have aroused the public indignation. To attract public attention and enjoy a solid profit in China's market, the multinational businesses are facing the biggest ever challenges in nowadays China.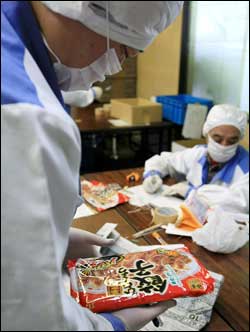 A team of Chinese experts met with their Japanese counterparts over a food poisoning case involving Chinese-made frozen dumplings Sunday afternoon at the Japanese Cabinet Office. During the talks, experts from the two sides conducted a candid exchange of views over the ongoing investigation into the incident and agreed to continue discussions on Monday, the Chinese team told Xinhua. Japanese media said the talks will concentrate on the question of how the pesticide substance called methamidophos got into the food products by a mysteriously huge amount since the Chinese producer, the Tian Yang Food Plant in north China's Hebei Province, never used such material in its factory. The two sides have agreed to refrain from making any subjective conclusion before a thorough and full investigation, Chinese embassy officials said. The five-member Chinese team, made up of officials and experts from the General Administration of Quality Supervision, Inspection and Quarantine (AQSIQ), the Commerce Ministry, the Certification and Accreditation Administration, the Academy of Inspection and Quarantine, and Heibei provincial quality watchdog, arrived in Tokyo earlier in the afternoon. Li Chunfeng, vice director of the Import and Export Food Safety Bureau of the AQSIQ and head of the team, has pledged to have close cooperation with the Japanese side for an objective and fair outcome. The Japanese side consists of experts and officials of the Cabinet Office, the National Police Agency, the Foreign Ministry, the Health, Labor and Welfare Ministry and the Agriculture, Forestry and Fisheries Ministry.
Foreign-invested enterprises in Shanghai scored 107.556 billion yuan (14.7 billion U.S. dollars) in profits in the first 11 months of 2007, a drastic increase of 37.9 percent as against the same period of the previous year, according to the local authority. During the period, the companies reported 1.73 trillion yuan (237 billion U.S. dollars) in sales revenue, up 22.4 percent compared with the corresponding period of 2006, according to the statistics released by Shanghai Foreign Relations and Trade Commission. Foreign-funded firms accounted for two thirds of the city's total volume of imports and exports that hit 283 billion U.S. dollars, the commission said. The companies employed more than 1.8 million people as of November last year, about 25 percent of the city's total working population. Foreign-invested companies have enjoyed a sound business development and contributed to the economic growth of this eastern metropolis, according to the commission. The city had nearly 14.9 billion U.S. dollars of contractual investment last year on business expansion. The accumulated actual foreign investment hit 74.7 billion U.S. dollars by the end of 2007 from some 130 countries and regions, covering more than 48,000 projects.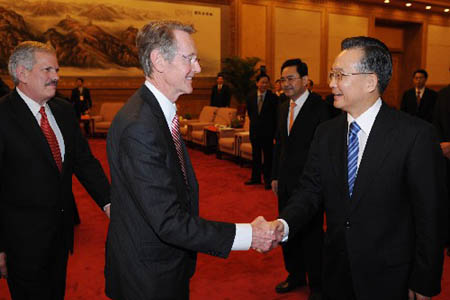 Chinese Premier Wen Jiabao said in Beijing on Monday that China is confident and capable in achieving the final victory in combating disasters incurred by low temperature, ice and heavy snow. Wen made the remarks at a seminar with more than 20 foreign experts who have been engaged in revolution and construction in China for a long time. Chinese Premier Wen Jiabao said here on Monday that China is confident and capable in achieving the final victory in combating disasters incurred by low temperature, ice and heavy snow. Wen made the remarks at a seminar with more than 20 foreign experts who have been engaged in revolution and construction in China for a long time. "At present, electricity supply is gradually resuming and transport services are basically back to normal, and the country's production and life are in normal conditions," Wen said.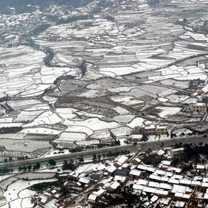 An aerial view shows the snow-stricken Quanzhou County in Guilin City, South China's Guangxi Zhuang Autonomous Region, February 3, 2008.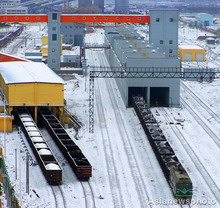 Trains transport power coal out of a coal mine in Huaibei, Anhui Province. The State Administration of Work Safety said Monday that 80 percent of state-owned coal mines operate in full capacity to ease the snow-led coal shortage.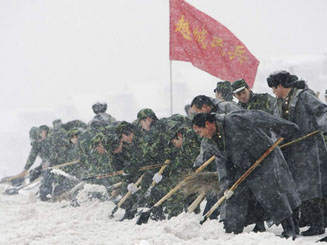 Better weather and hard work ease power and transport woes - A combination of improving weather and days of hard work have seen transport and power supplies gradually improving, but more challenges may emerge the next few days.
February 5, 2008

Hong Kong: Hong Kong Special Administrative Region (HKSAR) government approved on Friday a grant of 8 million HK dollars (1.03 million U.S. dollars) from the Disaster Relief Fund for the Hong Kong Red Cross to provide emergency relief to snowstorm victims in the Chinese mainland. The approval was followed by the advice from the Disaster Relief Fund Advisory Committee, a HKSAR government spokesman said. "The committee hoped that the Hong Kong Red Cross would help provide timely relief to snowstorm victims," he said. To ensure that the money will be used for the designated purposes, the Hong Kong Red Cross was required to submit an evaluation report and audited accounts on the use of the grant after the relief work had been completed. "Upon receipt of other applications for the snowstorm victims in the Chinese mainland, the Committee will process them as expeditiously as possible," the government spokesman added. The Disaster Relief Fund Advisory Committee is responsible for advising the HKSAR government on policy and practices regarding the disbursement of funding for disaster relief from the Disaster Relief Fund, which was established in December 1993 for emergency disaster relief in places outside Hong Kong, as well as advising on specific amounts to specific recipients, and monitoring the use of grants. Some Hong Kong charity groups and organizations on Friday allocated relief funds to the snow-hit areas in the Chinese mainland. Hong Kong General Chamber of Commerce donated 500,000 HK dollars (about 64,193 U.S. dollars) to snow-hit areas in the central and south China. The chamber also urged factory owners on the Chinese mainland to provide accommodation and food to stranded workers. Hong Kong Federation of Trade Unions on Friday also donate 100,000 HK dollars (about 12,839 U.S. dollars) through the Liaison Office of the Central People's Government in HKSAR, to help those affected by the snowstorm. The snow, the heaviest in decades in many places, has been falling in east, central and south China for more than a fortnight. It has caused deaths, structural collapses, blackouts, highway closures and crop destruction.
Macao's total export for 2007 dropped slightly by 0.2 percent over 2006, while imports grew by 18 percent, bringing about a trade deficit of 22.68 billion patacas ($2.8 billion).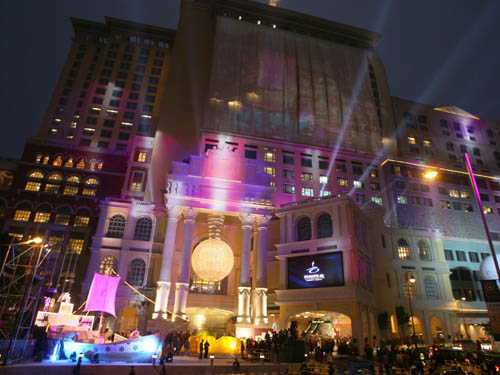 Gaming magnate Stanley Ho Hung-sun's Sociedade de Jogos de Macau (SJM) last night threw open the doors to Ponte 16 casino hotel, a HK$3.1 billion project located in the city's older inner harbor district. Guests including Macau Chief Executive Edmund Ho Hau-wah showed up to mark the opening of the city's 29th casino and SJM's 19th. Ponte 16 includes a 400-room Sofitel hotel managed by France's Accor Group and seeks to rejuvenate a neighborhood that was once the economic centre of Macau but is now mainly characterized by abandoned factories and empty dockyards. The project - one of only two new casinos set to launch in Macau this year - was subject to an eight-month construction delay and an ongoing legal battle has raised uncertainty over plans for an adjacent 500,000 sq ft retail plaza. Ponte 16 employs 2,000 staff and is 51 per cent owned by SJM, 44 per cent by VIP gaming hall operator Sonny Yeung Hoi-sing's Macau Success, and 5 per cent by major Japanese pachinko firm Maruhan. SJM executive director Ambrose So Shu-fai said the company expected to recoup its investment within three to four years. He dismissed concerns about rising costs in Macau, where median salaries in the gaming industry soared 22 per cent in the year to September. "In Macau these days all costs are going up, especially labor costs and construction costs," Mr So said. "But we are confident that because of the geographic location of Ponte 16 and the special characteristics attached to this project we will be able to have a very good return on our investment." About 120 of the hotel rooms opened yesterday, along with two floors of what eventually will be a four-level casino featuring 105 gaming tables and 300 slot machines. Up to five VIP gaming halls are expected to open next month, with the balance of hotel rooms coming online in the first half of the year. The developers of the resort have been fighting off a legal challenge from the owners of the old Peninsula Hotel, a nearby building which Ponte 16 is seeking to redevelop into a retail plaza attached to the new casino hotel. The deputy chairman of Macau Success, Marco Lee, said the company had won the first battle and hoped to have the results of an appeal hearing this month. If the legal hurdles are removed, the shopping arcade could be completed as early as next year. The resort takes its name from the historic Pier 16 next door, which was built in 1948 in the heart of Macau's old port district. Ferries from Hong Kong berthed here before the new terminal in eastern Macau was opened and the area was the original home to Mr Ho's floating casino.
Hong Kong may lose out to Macau, Shanghai, Beijing or Singapore as the region's fine-wine hub if alcohol duties are not scrapped soon, the Hong Kong Wine & Spirits Industry Coalition said. With the mainland market for imported wines projected to grow from just over 2 million cases to about 50 million by 2017, it said Hong Kong needed to act now if it was to capitalise on this opportunity. The mainland is the world's 10th largest wine market and is expected to be the eighth largest by 2012. "Hong Kong can really have an advantage if the duty is zero," said Liberal Party legislator Tommy Cheung Yu-yan, who represents the catering sector. Lan Kwai Fong entrepreneur Allan Zeman said he believed that if Hong Kong stood still, regional rivals would capitalise on the booming trade in wine on the mainland. There were rumours Macau would do away with its 15 per cent wine duty next year given the strong growth in gaming revenue, said Gregory Deeb, managing director of Crown Wine Cellars. Macau is increasingly becoming the destination of choice to consume and store wine for Hong Kong drinkers because of its relatively competitive duties. The coalition is urging Financial Secretary John Tsang Chun-wah to abolish wine duty Mr Tsang is expected to report a budget surplus of more than HK$100 billion in his maiden budget speech on February 27. Mr Cheung said he believed there was sufficient support in Legco for lowering wine duty. Thirty-one votes are needed for a tax cut to pass, and which the Liberal Party has 10. Mr Cheung is confident of securing the remaining 21 votes. The call to scrap duty is in contrast to the stance of the Hong Kong Beer Coalition, which wants beer taxes to remain unchanged in light of the controversy over whether all the tax savings were being passed on to consumers through lower prices. However, the wine and spirits coalition said average wine prices went down by about 15 per cent after last year's tax cut. Reducing the duty further would also put Hong Kong in a position to gain a lot as more auctions, exhibitions and storage facilities moved here, it said. Mr Deeb said the lucrative wine auction business could return to Hong Kong after 10 years, but only if the government scrapped the 40 per cent wine duty. The last time Hong Kong held a wine auction was in 1998. Two auctioneers, including Bonhams of London, which has an office in Hong Kong, were in advanced discussions on hold fine-wine auctions in the city, Mr Deeb said. "The issue is really the potential of wine duties going to zero and the potential growth of the international fine wine auction business here," he said. "I believe if taxes remain high, they will cancel the auctions." Fine-wine auctions worldwide last year took in about US$300 million. Buyers in Hong Kong accounted for 20 per cent to 25 per cent of that.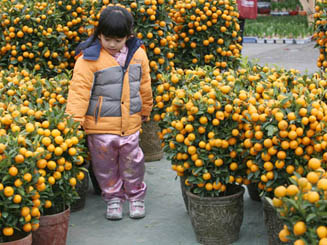 Upbeat stallholders at New Year fair pray for the rain to stay away - Stock markets may wobble, prices may rise and flowers may fail to blossom, but what stall managers at the Lunar New Year fair fear most is rain.

China: Foreign invested enterprises in Shanghai scored 107.556 billion yuan in profits in the first 11 months of 2007, a drastic increase of 37.9 percent year on year.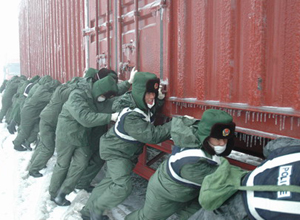 People's Liberation Army has deployed 306,000 soldiers by 12 pm Friday to combat the disasters caused by the heavy snow.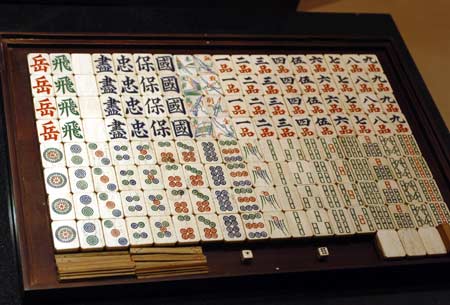 Picture taken on Feb. 1, 2008 shows a box of mah-jong displayed in a museum in Chengdu, capital of southwest China's Sichuan province, Feb. 1, 2008. The museum, which will be open to the public in March 2008, is the first one in China that combines the country's mah-jong and tea culture together.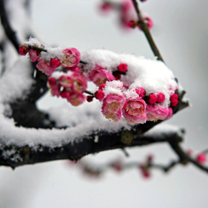 Blooming plum blossoms are seen at the East Lake Plum Park in Wuhan, capital of central China's Hubei Province, February 1, 2008.
Taiwan and the mainland are set to launch 94 charter flights from today to ferry mainland-based Taiwanese businessmen back and forth for Lunar New Year celebrations. It is the fifth time the two sides have provided such a service, which could pave the way for direct cross-strait flights - a big campaign issue in the run-up to the island's presidential election on March 22. Taiwanese airlines - China, Mandarin, EVA Air, Uni Air, Far Eastern Air Transport and TransAsia - will operate a total of 48 flights for businessmen and their dependants based in Beijing, Shanghai, Guangzhou and Xiamen. Six mainland counterparts - China Southern, Shanghai, Air China (SEHK: 0753, announcements, news) , China Eastern (SEHK: 0670), Xiamen and Hainan airlines - will provide 46 flights to Taoyuan and Kaohsiung airports in Taiwan until February 15. Although most of the airlines have reported that at least 80 per cent of tickets have been sold, demand appears down compared with the fierce fight for seats in past years. Airline officials in Taipei attributed the relatively weak demand to the snowstorms on the mainland, which had discouraged some people from returning to the island for the holiday. Taiwanese airlines said they had mapped out contingency plans for the bad weather, including offering full refunds to passengers unable to board flights. "In the event of a delay in a flight for more than eight hours due to the snowstorms, we would dispatch an extra crew member to allow other members to take turns to rest in line with international aviation safety practices," EVA Air said. She said EVA would offer full refunds if airports were closed because of the snowstorms, forcing the airline to cancel flights. Businessmen based on the mainland said the March 22 presidential election in Taiwan was also a major reason for the decline in demand because some Taiwanese had chosen to postpone their return to the island to vote in the poll. "The two periods are too close and some businessmen prefer to return in March because they can vote in the presidential election, and also observe the Tomb Sweeping Day (Ching Ming Festival)," said Chang Han-wen, president of the Association of Taiwan Investment Enterprises on the Mainland. Mr Chang, who is involved in the footwear industry, said that although there would be no direct charter flights during the election period, more than 200,000 Taiwanese businessmen and their dependants were expected to return to the island for the vote. "We have arranged to have airlines offer preferential ticket prices for Taiwanese businessmen returning to the island to vote in March via either Hong Kong or Macau," he said, adding the discount ranged from 400 yuan to 1,000 yuan depending on the embarkation point. Opposition Kuomintang presidential candidate Ma Ying-jeou has challenged ruling Democratic Progressive Party opponent Frank Hsieh Chang-ting to back an extension of charter flights for the election but Mr Hsieh has refused to support the move.
February 4, 2008

Hong Kong: Hang Seng, Hong Kong's third largest bank, has announced it will buy a 20 percent stake in Yantai City Commercial Bank in Shandong province for 800 million yuan. That would be the bank's second mainland purchase after its acquisition of a 16 percent stake in Industrial Bank based in Fujian province in 2004. Analysts said the move would help Hang Seng Bank to tap the rising Bohai Rim region, which is believed to be the third economic driver after the Pearl River Delta and the Yangtze River Delta. The deal will help Hang Seng Bank become the largest shareholder of Yantai City Commercial Bank, though it is yet to be cleared by the mainland banking regulator and shareholders of Yantai City Commercial Bank. "Bringing in Hang Seng as a strategic investor will facilitate the sharing of experience, enhance corporate governance and promote a better business structure. This will help us to achieve international standards and enhance our market competitiveness," said Zhang Guangbo, vice-mayor of Yantai. Yantai City Commercial Bank was founded in 1997. According to the bank's official website, its current registered capital is about 1 billion yuan. It recorded a 34 percent growth in gross profit to about 100 million yuan in 2007. Hang Seng now has eight branches and 11 sub-branches on the mainland that are mainly located in the Pearl River Delta and the Yangtze River Delta. The purchase of Yantai City Commercial Bank enables Hang Seng to tap the rapid economic growth of the Bohai economic region as well as enlarge its total investment on the mainland to 7.3 billion yuan. Vice-chairman and chief executive of Hang Seng Bank Raymond Or had earlier said the bank was adopting a two-pronged strategy in exploring the mainland market - organic growth and acquisition. "We have been busy seeking acquisition opportunities over the past 18 months banks, securities houses, insurers and asset-management firms are all on our radar," he said. Enlighten Securities and Futures Vice-President Ricky Cheung said the purchase would strengthen Hang Seng's mainland business in the long term. "But the mainland banking industry is suffering from a fear of tightening control, so the acquisition will not be an immediate booster." Another Hong Kong lender, Wing Lung Bank, also announced it will purchase a 4.99 percent stake in Yantai City Commercial Bank for 200 million yuan. The introduction of Hang Seng and Wing Lung Bank brings overseas shareholding of Yantai City Commercial Bank to 24.99 percent, just below the stipulated ceiling of 25 percent.
Hong Kong Exchange Fund's total assets amounted to 1.417 trillion HK dollars (181.90 billion U.S. dollars) on Dec. 31, 2007, up 6.3 billion HK dollars (808.73 million U.S. dollars) over November's figure, Hong Kong Monetary Authority said on Thursday. Foreign currency assets rose 17.3 billion HK dollars (2.22 billion U.S. dollars) and Hong Kong dollar assets fell by 11 billion HK dollars (1.41 billion U.S. dollars). The rise in foreign currency assets was mainly due to interest and dividend income from foreign currency assets, purchases of foreign currencies with Hong Kong dollars, and an increase in Certificates of Indebtedness. These increases were partly offset by valuation losses on foreign currency investments and a decrease in repurchase agreements outstanding. The drop in Hong Kong dollar assets was mainly due to the sale of Hong Kong dollars for foreign currencies and valuation losses on Hong Kong equities held by the Exchange Fund, which were partly offset by placements received from fiscal reserves and an increase in Exchange Fund Bills and Notes issued but not yet settled, the authority said. The Currency Board Account shows the Monetary Base at the end of December 2007 was 320.2 billion HK dollars (41.10 billion U.S. dollars), up 5.3 billion HK dollars (680.36 million U.S. dollars) or 1.7 percent. The rise was due mainly to an increase in Certificates of Indebtedness reflecting seasonal demand for banknotes around the Christmas-New Year period. This was partly offset by a decrease in the market value of Exchange Fund Bills and Notes outstanding.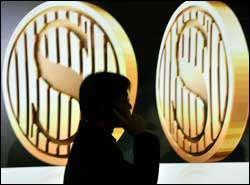 Local banks Friday announced a lower-than-expected interest rate cut of 25 basis points after the US Federal Reserve shaved its benchmark interest rate by 50 basis points. With Hongkong and Shanghai Banking Corp taking the lead, Hang Seng Bank (0011) and BOC (Hong Kong) (2388) announced the lowering of the best lending rate from 6 percent to 5.75 percent. Standard Chartered Bank (Hong Kong) and other banks cut their lending rate from 6.25 percent to 6 percent. The Hong Kong Monetary Authority also reduced the base rate for overnight lending by 50 basis points to 4.5 percent. "We did not follow the Fed's rate cut completely as the interbank lending rate was not down 50 basis points during the week," HSBC global co-head of commercial banking Margaret Leung Ko May-yee said. The three-month Hong Kong Interbank Offered Rate was 2.33 percent yesterday morning, down 17 basis points from 2.5 percent last Wednesday. Standard Chartered Bank (Hong Kong) chief executive Benjamin Hung Pi-cheng said there is still a difference between the interbank lending rate in Hong Kong and the United States, enabling Hong Kong not to match the Fed's move. Although they lowered the best lending rate by 25 basis points, local banks did not shave all deposit rates by 25 basis points. HSBC lowered its deposit rate for accounts with HK$5,000 to HK$10,000 by 10 basis points, leaving account holders with an annual interest rate of 0.05 percent. As to whether Hong Kong will have another rate cut in March - when the Federal Open Market Committee meets again - both Leung and Hung said the decision depends on the HIBOR at that time. Standard Chartered economist Kelvin Lau Kin-heng, however, said the interest rate in Hong Kong is bound to head down further despite the deposit interest rate nearing zero. "In fact, we already experienced nearly-zero interest rates several years ago," Lau said. From 2002 year end to early 2005, the highest deposit rate of Standard Chartered was kept at 0.01 percent. "Though local banks did not fully match US rate cuts this time, they will have plenty of chances to do so in the future. We expect the Fed to continue to cut the rate from the current 3 percent until it is 1 percent," Lau said.
A 29-year-old man – who has been charged with publishing obscene pictures of well-known Hong Kong personalities – appeared in Tuen Mun Magistrates Courts on Friday. The case had sparked considerable interest and concern in the territory – which has had previous cases where embarrassing photographs of celebrities were made public. No plea was taken on Friday and the man was remanded in custody, local radio reported. Hong Kong police on Thursday said they had arrested the unemployed 29-year-old in connection with nude pictures purportedly taken of celebrities. These had been posted online earlier this week – a day after an investigation was launched on Wednesday. Police Commissioner Tang King-shing said during a briefing with legislators on Thursday that an arrest had been made. The suspect was detained at his New Territories home. Investigators were trying to determine his role in the case. Deputy-Commissioner for Operations Peter Yam Tat-wing said there was a substantial amount of evidence connected with the unemployed man. "The service provider handed us the IP address of the individual whose computer contained some of the photographs," he said. Mr Yam also cautioned the public that circulating the photographs was a criminal offence. Publishing obscene articles on the internet is an offence under the Control of Obscene and Indecent Articles Ordinance. This also includes the act of reposting the obscene articles or internet hyper-linking to obscene articles, whether for profit or otherwise. Anyone convicted of this offence is liable to a fine of HK$1 million and imprisonment for three years. The photographs in question included one of a young man and woman, apparently captured from a video and said to be Twins duo member Gillian Chung Yan-tung and singer-actor Edison Chen Koon-hei, with another picture purported to be that of actress Cecilia Cheung Pak-chi. The pictures appeared a day after doctored pictures with Chung's head on the half-naked body of another woman were posted.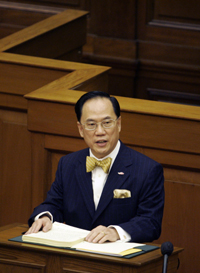 Problems afflicting a long-awaited scheme to allow individual mainland citizens to buy shares on the Hong Kong stock market had been overcome, Chief Executive Donald Tsang Yam-kuen said yesterday. Mr Tsang said the most important thing was to pick the right time to implement the scheme. He made the surprising comments on the so-called "through-train" scheme while speaking to reporters from Hong Kong in Dubai on the latest leg of his week-long trip to the Middle East. Shortly after the release of the transcript of Mr Tsang's comments, a government spokeswoman clarified what he said. "The chief executive had meant to say the technical issues should be able to be overcome and when the issues are overcome, the scheme could be carried out," she said. Asked about the scheme - which has seen little progress since it was announced by Beijing in August - Mr Tsang said: "I believe the financial secretary and relevant officials have been holding discussions with relevant mainland authorities. "I believe the technical problems have been overcome. The most important is to pick a good time for its implementation." He did not elaborate on when that might be or what technical problems had delayed the scheme. On Wednesday, Secretary for Financial Services and the Treasury Chan Ka-keung said in Beijing that investors should "wait patiently". Beijing's announcement of the through-train in August, during a period of turmoil on the Hong Kong stock market, triggered a dramatic turnaround in the Hang Seng Index. But in November, Premier Wen Jiabao said the central government needed more time to assess the risks of the scheme. Little progress has been seen since then. Analysts said the through-train scheme could take funds away from the mainland's overheated stock markets. But mainland shares have weakened in recent weeks, succumbing to the latest wave of turmoil prompted by the subprime crisis in the United States. KPMG tax partner Jennifer Wong How-yee said she believed Mr Tsang's comments were designed to calm shaky market sentiment. By making the statement now, she said he might be paving the way for a launch next month, if nothing major happened to financial markets before then. She said the issue plaguing financial markets was not the subprime woes affecting the US but weak investor confidence.

China: Beijing Capital International Airport (BCIA) (0694: HK) may buy assets of the third terminal from its parent -- BCIA group when conditions mature, said Zhang Zhizhong, general manager of the group on Thursday's China Securities Journal. "The expansion of the airport needs an investment of 27 billion Yuan (3.76 billion U.S. dollars), and several billions of investment for auxiliary facilities. The listed arm of the group in Hong Kong is considering about buying the assets of the third terminal," said Zhang. He added that the company was doing assets assessment on the third terminal. Expansion of the pivotal airport started in March, 2004 as part of the Chinese capital's endeavors to prepare for the Olympics. The expansion project includes the construction of a third runway, a new terminal building, 100 new aircraft parking spaces, a cargo zone and some auxiliary facilities. The airport, China's busiest, handled 53.47 million passengers last year, putting it among the world's 10 busiest airports. The third terminal will start operation on February 29, with an area of 986,000 square meters, more than doubling the current two terminals' total area, said Zhang Guobao, head of the leading team in charge of the expansion project, on Wednesday. With the new No. 3 terminal building to be completed, three terminals and three runways will be in operation at the same time, expanding the airport's capacity to 82 million passengers annually and 1,700 flights per day, according to the airport. The third runway was put into use in October 2007 as scheduled.
China remained the world's number one producer of stainless steel last year, taking up more than one quarter of the global output, figures with the China Iron and Steel Association (CISA) have shown. China churned out some 7.2 million tonnes of stainless steel in 2007, or more than one quarter of some 28 million tonnes of global output, said chairman of the stainless steel council under the CISA Li Cheng. China overtook Japan as the world's biggest stainless steel producer in 2006. Its alloy steel output hit 16.6 million tonnes last year, up 21.72 percent year on year. Steel products exports, however, dropped sharply in the second half of 2007 on a series of reduction in export tax rebates. The net exports of crude steel soared in the first half of last year, but then tumbled in the second half year by 22.55 percent from the previous year, as a result of increased tax as far as experts concerned. China scrapped the 13 percent export rebates on carbon steel welded tubes as of July 1 last year and raised the export tariff on steel billets to 25 percent, amid other efforts to trim its rapid expanding trade surplus. CISA figures showed the product mix has been further optimized, with technology-intensive and value-added products rose substantially.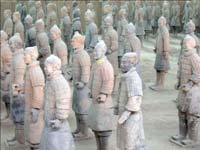 Ancient terracotta warriors from China will march into a Dutch museum for the first time ever with the official opening on Saturday of an exhibition in Assen in northern Netherlands. Fourteen life-sized terracotta figures, including 10 warriors, three servants and one horse, form part of the show "The Terracotta Army of Xi'an: The Treasures of the First Emperors of China," which opens in the Drents Museum on Saturday. They will be accompanied by over 200 other magnificent objects, made of gold, jade and bronze, from the Qin Dynasty (221-206 BC) and the Western Han Dynasty (202 BC-9 AD), Ellen ter Hofstede, communication officer of the Drents Museum, told Xinhua on Thursday. Among them are two life-sized bronze birds from the Qin Dynasty, and 96 miniature terracotta statues from the mausoleums of emperors and noblemen of the Western Han Dynasty. The exhibition, which runs through Aug. 31, is a joint effort of the Drents Museum, and the Shaanxi Cultural Heritage Promotion Center in Xi'an, China, Hofstede said. The exhibition will give visitors an insight into the extraordinary lengths craftsmen went to in order to delight the emperors, in both life and death, she said. The show has generated great media interest in the Netherlands and is expected to draw 150,000 to 200,000 visitors, an unusually large crowd for the museum, Hofstede said. Dutch Foreign Minister Maxime Verhagen will attend the opening ceremony on Saturday night, when the Shaanxi Song and Dance Troupe will give a performance, she said.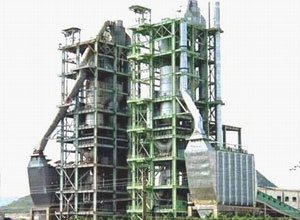 The Aluminum Corporation of China (Chinalco) and the U.S. aluminum producer Alcoa bought a 12 percent stake in the Britain-listed company of iron ore giant Rio Tinto on Friday. The total price of the acquisition stood at 14.05 billion U.S. dollars, the largest overseas investment ever made by a Chinese enterprise.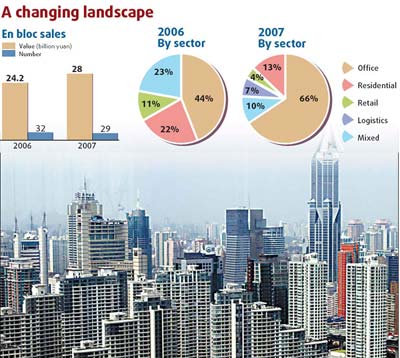 Shanghai's real estate sector in doldrums - Investment in Shanghai's real estate market is expected to grow less rapidly and become more vulnerable to policy uncertainties in 2008, according to several large real estate service providers. Real estate investment saw a slowdown in the fourth quarter last year, with only one notable sales transaction completed in the city, after the government implemented the land appreciation tax and imposed additional restrictions on foreign investment in the sector, according to Jones Lang LaSalle. "Increasing monetary control and tightening policies are bringing more uncertainties, particularly to the investment market," said Lee Hingyin, director of Research & Consultancy at Colliers International (Shanghai). "The investment market may feel the pinch, and it is likely that foreign investors will be more vulnerable to these policy changes this year," said Lee, adding that he expects more severe measures, which will significantly cool down the investment market. James MacDonald, senior manager of Research at Savills China, however, said: "In the institutional investment market, it's not necessary that new policies will be introduced and will affect the market in a big way. Instead, it is the more stringent implementation of previous regulations that has to be watched." "The government's tighter monetary policy this year is expected to have a negative impact on the real estate investment market, which is highly dependent on bank loans," said Chen Sheng, director of the China Index Academy, which tracks property prices. Wang Qing, an economist at Morgan Stanley Asia Ltd, said in a report that sectors with a high debt-asset ratio, such as real estate, tend to experience larger declines in fixed-asset investment growth after credit tightening. The debt-asset ratio of the real estate sector is over 70 percent. Liu Shiyu, deputy governor of the People's Bank of China, said the government will strengthen commercial real estate management and adjust the real estate credit structure to prevent risk. A survey was conducted by the State Administration for Industry and Commerce in December on foreign investment in China's real estate sector. The move came on the heels of the Ministry of Construction opening a research meeting on the implementation of existing policies restricting foreign investment in real estate. "Many foreign investors would probably shift to second- or third-tier cities, including Chengdu, Chongqing and Hangzhou, to avoid fierce competition and dodge the stricter restrictions on foreign investment in the first-tier cities such as Shanghai," said Kenny Ho, head of research at Jones Lang LaSalle (Shanghai). Acquisition in the city amounted to 28 billion yuan in 2007, up only 15.7 percent from the year before, according to statistics from Jones Lang LaSalle. Office investment accounted for 66 percent of the total, followed by residential (13 percent), mixed projects (10), logistics (7) and retail (4). From a sub-sector perspective, Colliers said Grade A offices and serviced apartments will still be the prime destination of foreign investment and will continue to suck in foreign capital. As the limited supply of properties in the central business district will continue, investors are expected to shift focus to some emerging areas, such as North Bund, Zhuyuan, Wujiaochang and Changfeng Park. Logistics projects will be the investment focus in the industrial property market, and mergers and acquisitions of budget hotels will continue, according to Colliers. Jones Lang LaSalle said foreign investors are more willing to join forces with local developers for projects instead of asset acquisition en bloc. "Joint developing is more likely to gain government support, and Chinese companies can make full use of their advantages in the residential sector," said Ho. Savills said foreign real estate investor sentiment has been further dampened by the credit tightening from banks overseas, which will have a negative impact on their cash flow for further investment.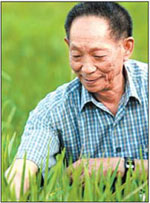 Yuan Longping, known as the father of hybrid rice, is inching toward the finish line in a decade-long race to raise crop yield. The race started in 1997, with the 700 kg per mu (0.066 hectare) and 800 kg targets realized in 2000 and 2004; before he set his sights on 900 kg. "I hope hybrid rice with a per-mu yield of over 900 kg is grown nationwide by 2010," Yuan, 78, said at his experimental paddy field in Hainan province. The yield increase is vital to feeding the country's growing population, now at 1.3 billion and expected to reach 1.6 billion by 2030. In recognition of his achievements, Yuan was on Wednesday chosen on CCTV's list of the Top 10 Annual Business Figures. Yuan, an academician of the Chinese Academy of Sciences, did not show up at the awards ceremony, because he was too busy with his work in Hainan. "Trial planting projects are also going on in 20 counties in Hunan. So far, 18 have yielded successful results," said Yuan, who has devoted himself to the development of hybrid rice since the 1960s. Zhai Huqu, president of the Chinese Academy of Agricultural Sciences, said hybrid rice was one of the biggest success stories in the country's agricultural history. It was first developed in the early 1970s, and has added 400 million tons in the following two and half decades. Thanks to the progress in the research of high-yield rice, China's total yield hit 500 million tons last year although planting acreage dwindled. Yuan's "super rice" is now grown in more than half of China's paddy fields as well as more than 20 other countries. CCTV said Yuan's rice should be seen as the biggest made-in-China brand. An earlier online poll showed that the majority of Chinese believe Yuan deserves a Nobel Peace Prize for his contribution to fighting hunger.
The head of the mainland's sovereign wealth fund planned to steer clear of markets such as Europe where he felt unwelcome, the Wall Street Journal reported on Thursday. China Investment Corp chairman Lou Jiwei told the paper the state-controlled US$200 billion fund wanted to be viewed as a commercial enterprise and not a political force. The mainland investment chief said CIC would not invest where it was not welcome, which he later told the Journal alluded to Europe. Mr Lou did not identify individual countries. French President Nicholas Sarkozy and German Chancellor Angela Merkel have expressed qualms about sovereign wealth fund investments. Britain's Prime Minister Gordon Brown travelled to Beijing and said he would welcome Chinese investment. In the past year CIC's investments in Morgan Stanley and Blackstone Group have been generally accepted in Washington, though there has been some grumbling about potential interference by Beijing. Unlike those investments, Mr Lou said CIC wanted to invest in portfolios of companies, rather than individual stocks. The fund's recent US$5 billion investment in Morgan Stanley was not typical of what China intends to do, he said. In that case, the US investment bank went to the mainland seeking a partner and some much-needed capital. A number of other United States banks, some in worse shape, also approached the fund, Mr Lou said. CIC was advertising for outside managers to handle investment decisions and the fund would be run independent of government control, he added. Mr Lou said about one-third of CIC's assets would be invested abroad, with the rest bolstering mainland commercial banks. He is on a US charm offensive this week, the paper said, meeting with California's giant state pension fund CalPERS, US Treasury Secretary Hank Paulson, the head of the International Monetary Fund and Congressional leaders. He would visit Wall Street executives on Friday, the paper said.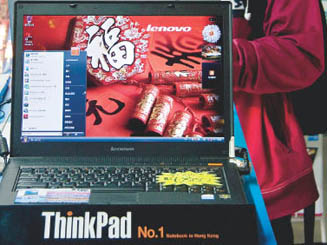 Despite a jittery global economy, mainland information technology giant Lenovo Group (SEHK: 0992, announcements, news) is betting on a banner year as it expands into international markets with new consumer-oriented personal computers and enterprise servers. The rosy outlook from Lenovo, which has endured two consecutive restructuring programs and a failed corporate acquisition in Europe last year, follows a record 198 per cent year-on-year increase in net profit to US$172.564 million on sales of US$4.6 billion in the company's fiscal third-quarter to December. Its worldwide personal computer shipments grew more than 22 per cent year on year to 5.82 million units - ahead of the industry average growth of about 16 per cent - with gains in all its geographic markets, buoyed by Greater China and emerging economies in the Asia-Pacific. "The quarter illustrates not only our ability to deliver consistent, predictable performance, but also the PC market's resiliency," said William Amelio, president and chief executive at Lenovo. "The global PC market is expected to grow in the double digits this year, given the strong outlook in Asia and emerging markets." Lenovo shares jumped 13 per cent to HK$5.37 at the close of trading yesterday on news of its fiscal third-quarter results and the disposal of its loss-making mobile-phone manufacturing business. "We believe this will be a breakout year for the Lenovo brand on the world stage," said Mr Amelio, noting it would mark the first time the company will pursue an IBM brand-free global marketing campaign since acquiring IBM's personal computer division in 2005.
February 2 - 3, 2008

Hong Kong: China's special administrative region of Hong Kong and Japan have struck a deal to eliminate capacity restrictions over air services between Hong Kong and most Japanese cities, the SAR government said Thursday. The agreement, covering air services between Hong Kong and all Japanese cities except Tokyo, was a key achievement in the consultation concluded in Hong Kong Thursday, the Transport and Housing Bureau of the Hong Kong SAR government said. "The traveling public will no doubt benefit from more competitive services to existing and new destinations. Trade, investment and tourism ties between Hong Kong and Japan will also be strengthened," said Eva Cheng, secretary for transport and housing. The move, coupled with recent substantial liberalization of the air services arrangements with China's mainland and India, will strengthen Hong Kong's status as an international and regional aviation hub, Cheng was quoted as saying. Airlines based in Hong Kong will be able to respond to market demand by increasing services to Osaka, Nagoya, Fukuoka, Sapporo, Sendai and Okinawa, and launching new services to Kagoshima, Okayama and other destinations, she said. Cheng said the Hong Kong SAR government will seek to increase the air services between Hong Kong and Tokyo in the next round of air services consultation. Hong Kong-based airlines currently provide 42 weekly passenger services between Hong Kong and Tokyo and 61 weekly passenger services between Hong Kong and six other Japanese cities, as well as 33 weekly cargo services between Hong Kong and Japan. Japan-based airlines provide 28 weekly passenger services between Hong Kong and Tokyo, 14 weekly passenger services between Hong Kong and Osaka, as well as 56 cargo services between Hong Kong and Japanese cities including Tokyo, Osaka and Nagoya.
Standard Chartered (2888) said yesterday it will take the remaining US$7.15 billion (HK$55.77 billion) in assets from its structured investment vehicle onto its balance sheet and commit to providing liquidity to the vehicle.
Lenovo Group (0992), the largest computer seller in Asia, said yesterday that third-quarter net profit tripled to a record US$171.7 million (HK$1.34 billion) from US$57.7 million a year earlier after it expanded market share and improved profit margins.
The Education Bureau is reported to be sitting on a report which shows students from Chinese-medium secondary schools have a 75 percent less chance of entering the University of Hong Kong when compared with students from English-medium schools.
Ocean Park says the discovery of a dead bird suspected of having avian flu will not discourage the tens of thousands of visitors it expects during the Lunar New Year holidays.

In what is deemed a strategic move to meet shareholders' wishes to focus on the Hong Kong-mainland market, HSBC Holdings has appointed its Asia-Pacific and China head Vincent Cheng Hoi-chuen to the board as an executive director, effective today. Mr Cheng (pictured), 59, is the first Chinese to join the board of directors of a London-based banking group with roots extending to a colonial past. While Baroness Lydia Dunn is another Chinese on the board, she serves in a non-executive capacity. Having worked his way up the HSBC ladder for the past 30 years, Mr Cheng has been chairman of Hongkong and Shanghai Banking (SEHK: 0005, announcements, news) Corp - the group's Asia-Pacific arm - since May 2005 and also the chairman of HSBC Bank (China) since its establishment in March last year. Stephen Green, HSBC Group chairman, said Mr Cheng was appointed for his "expertise and deep knowledge of Asia", which would be an "invaluable asset" for the giant lender. "As chairman of our Asian operations overseeing 19 countries and territories in the region, he has cemented HSBC's position as the No1 international bank in Asia. "Asia remains the heartbeat of HSBC and the linchpin of our emerging markets strategy. It is, therefore, entirely fitting that the region be directly represented at the highest level of HSBC, on the main board." Mr Cheng will receive an annual salary of HK$7.5 million plus bonus and share awards based on the group's performance, close to that of Hong Kong's de facto central banker Joseph Yam Chi-kwong. Market watchers welcomed the move. "The appointment was a positive move for HSBC," said Louis Tse Ming-kwong, a director of VC Brokerage. "After suffering from US subprime woes, HSBC obviously wants to focus more on Asia and [the] mainland. HSBC has appointed the right person because Mr Cheng has very good knowledge of the region and good connections with local and mainland officials." Mr Cheng was recently appointed to the National Committee of the 11th Chinese People's Political Consultative Conference. He is also a senior adviser to the CPPCC's 11th Beijing Municipal Committee. HSBC is under shareholder pressure to conduct a fundamental review of its strategy and management structure, given that its share price has been trailing rivals'. In September last year, fund house Knight Vinke, which owns less than 1 per cent of HSBC, urged the bank to consolidate its position in India or buy out subsidiary Hang Seng Bank (SEHK: 0011, announcements, news). Mr Cheng has since 1978 worked in various capacities at HSBC - from finance to business planning and chief economist. He was vice-chairman and chief executive of Hang Seng Bank from 1998 until assuming his current post in 2005.

China: The head of the US Federal Bureau of Investigation (FBI) said yesterday he was "very much impressed" by China's security preparations for the upcoming Olympics and offered assistance to security departments. "I was impressed by the thoroughness of the preparations and the professionalism that has been put in to provide security at the Games," FBI director Robert Mueller told a press conference at the US embassy in Beijing. "I fully anticipate that the Olympics will be secure and safe." Mueller said he sees the security work as the "largest challenge" facing Beijing's Olympic organizers, considering the unprecedented numbers of visitors and viewers of the Games in the world's most populous country. He said the FBI would like to share its security expertise with China as it has with other host cities in the past.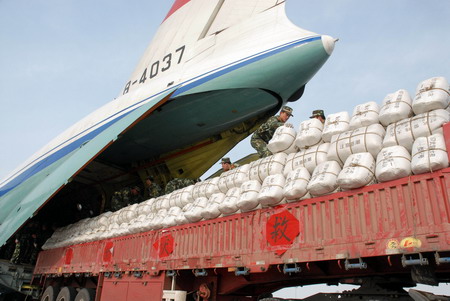 Winter clothes and other disaster-relief stuff are boarded onto a jet plane of the Chinese air forces in Xianyang, Shaanxi Province, before they are transported to snowstorm-affected regions in Southwest China's Guizhou Province, January 31, 2008.
China's top integrated copper producer, Jiangxi Copper (0358), will shut down 300,000 tons of smelting capacity within two to three days due to power shortages, company sources said yesterday, as the country grapples with its worst power crisis in years.
February 1, 2008

Hong Kong: The new CDMA 2000-standard third- generation mobile service will be launched launch in November in Hong Kong while the auction for spectrum in the 2.3GHz and 2.5GHz bands for the provision of Broadband Wireless Access services is set for the fourth quarter, an official said in Hong Kong Wednesday. With these in place more innovative mobile and fixed broadband wireless access services will soon be available in Hong Kong, Director-General of Telecommunications Marion Lai said at a year- end briefing. She said there will be other important regulatory initiatives this year, like the creation of a Unified Carrier License as the common licensing vehicle for the development of fixed-mobile convergence. Lai said last year continued to be a robust and prosperous year for Hong Kong's telecommunications developments with the rapid growth of wireless communication services including mobile, short messaging and public WiFi services, making it one of the most advanced wireless cities in the world. Despite the highly competitive mobile market the number of mobile subscribers rose to more than 10 million for the first time in October, then to another record high of 10.6 million in November, meaning a penetration rate of 152 percent. "This is one of the highest penetration rates in the world, well exceeding many advanced economies such as the US, UK, Japan and Korea," Lai said. Last year also saw a massive rollout of public WiFi networks - the hotspot number has exceeded 6,400 serving more than 4,100 locations. Coupled with the Hong Kong Special Administrative Region (HKSAR) government's commitment to install 3,000 WiFi access points at 350 government premises by the end of 2009, public WiFi services will continue to expand. The volume of short messages Hong Kong people sent and received in the year also showed significant growth. Sent messages totaled 3.28 billion from December 2006 to November 2007, up 26 percent on the same period a year earlier.
Hong Kong and the Chinese mainland signed in Beijing on Wednesday the second protocol to the Arrangement for the Avoidance of Double Taxation and Prevention of Fiscal Evasion with respect to Taxes on Income, said a press release from the Information Services Department of Hong Kong Special Administrative Region government. Hong Kong Secretary for Financial Services and the Treasury Professor KC Chan signed the agreement with Deputy Taxation Commissioner Wang Li in Beijing, which further clarifies which Hong Kong firms should pay Enterprise Income Tax on the Chinese mainland, the press release said. The tax arrangement was formally signed on Aug. 21, 2006, and launched on Dec. 8 that year, but both sides have differed on the interpretation of some parts of it. After negotiation they agreed on the amendments and initialed the second protocol last September.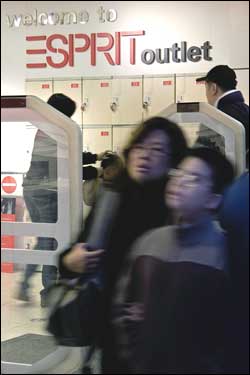 Fashion retailer Esprit Holdings (0330) said its first-half net profit jumped a better-than-expected 37.3 percent from a year ago, thanks to higher sales growth and a strong euro. Net income for the six months ended December 31 reached HK$3.3 billion, or HK$2.67 a share, from HK$2.4 billion, or HK$1.96 a share, over the same period in 2006. The result beat the HK$3.1 billion average estimate by seven analysts polled by Reuters. The luxury retailer said turnover jumped 27 percent to HK$18.5 billion from HK$14.6 billion a year earlier. The company declared an interim dividend of 95 HK cents per share. Esprit's net profit margin expanded by 1.4 percentage points to 17.8 percent over the period, as the retailer benefited from a tax reduction in Germany, deputy chairman John Poon Cho-ming said. The retailer, which does business in more than 40 countries, generated nearly half its revenue from Germany during the period.
Despite six candidates delaying their plans for Hong Kong listings, sports- shoe maker Yue Yuen Industrial (Holdings) (0551) will spin off its retail business arm Pou Sheng International (Holdings) to list in Hong Kong this year, pitching for about US$800 million (HK$6.24 billion), sources said. Yue Yuen has not yet decided when the listing will be as the spinoff plan is pending approval from shareholders. In December last year, Yue Yuen, which manufactures athletic footwear for international brands Nike and Timberland, announced plans to spin off Pou Sheng. Pou Sheng's rival Li Ning (2331) - China's largest sportswear retailer - is currently trading at 35.5 times forecast 2008 earnings whereas Belle International Holdings (1880), the country's top female shoe retailer, trades at 32.6 times. Another four mainland companies - China Railway Construction, Hengda Real Estate, Central China Real Estate Group and Jinsheng Group - have also expressed interest in having a public float in Hong Kong this year. Food manufacturer Want Want Holdings, from Taiwan, is also on the waiting list. Meanwhile, New Media Group has received a combined HK$23 million worth of margin orders, according to two local brokerages. New Media's retail book will close tomorrow.

Chief Secretary Henry Tang Ying-yen has been tipped to head the Kowloon Cultural District Authority, with the draft bill setting up the body likely to be announced today. The authority will comprise about 20 members. But cultural groups have been eyeing the top post. They believe a government official with experience only in public administration will not be an appropriate head of the authority. Mau Chi-wang of the People's Panel on West Kowloon said the board members may turn out to be politically-oriented choices instead of reflecting the real concerns of the arts and cultural sectors. Mau also questioned Tang's qualification for the job, saying the post should go to someone from the arts and culture sector. The Legislative Council's West Kowloon Cultural District panel member Patrick Lau Sau-shing was surprised by the speedy announcement of the bill when lawmakers' questions went unanswered. Lau questioned whether Tang, as a busy chief secretary , could focus on the challenge of developing the district. But associate director (operations) of the Hong Kong Academy for Performing Arts Philip Soden thought Tang's experience as financial secretary was what the mega project needed. Still, sources said that having the chief secretary as chairman would not be a long- term arrangement. The key part of the job would be to ensure smooth cooperation among government departments, especially during the early development stage. On another front, Mirana May Szeto, comparative literature assistant professor of Hong Kong University, criticized the government for rushing the project forward with a non-democratic body and with little transparency. The Executive Council passed the draft bill on Tuesday. The government wants to table the bill at the Legislative Council next month, hoping to gain approval for HK$21.6 billion to develop the project in July. The intention is to start construction in September, with the 40-hectare project planned for completion in 2014. In addition to the HK$21.6 billion, the government will inject HK$19 billion - through selling land for residential and commercial development - for constructing 15 performing arts venues, a museum, a convention center and transport and other public facilities.
The Vatican has named Auxiliary Bishop John Tong Hon coadjutor bishop of the Hong Kong diocese, paving the way for Cardinal Joseph Zen Ze-kiun to step down. The Holy See yesterday announced the appointment by Pope Benedict with "immediate effect" after Cardinal Zen turned 76 two weeks ago. According to canon law, the coadjutor bishop enjoys the right of succession. "This means Bishop John Tong would automatically become the successor to Cardinal Zen Ze-kiun once the latter goes into formal retirement," the diocese said.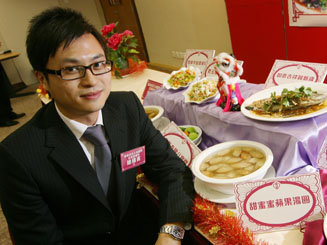 A dietitian has warned people about eating too much over the Lunar New Year, pointing out that a typical holiday meal packs an extra 400 calories. "The problem is not the ingredients themselves but the sauce and seasoning, as well as how the dishes are prepared," said Leslie Chan Kwok-pan, a registered dietitian and consultant with the Hospital Authority's Health InfoWorld. He used steamed fish as an example. "Fish itself doesn't have much fat, but soy sauce and oil used for flavouring contain a high volume of salt and energy." Other common dishes include mushroom and vegetables in oyster sauce, fried chicken and deep-fried crab claws. After the eight hot dishes, restaurants serve fried rice, yifu noodles and desserts such as rice balls in sweet soup. Chinese restaurants usually offer eight or nine hot dishes on a Lunar New Year dinner menu because these two digits are considered lucky numbers.

People may soon be able to switch between fixed-line and mobile service providers without changing their numbers. The government is studying the possibility of introducing fixed-to-mobile number portability, in which a fixed-line user can switch services to a mobile operator, or vice versa. Under existing arrangements, a fixed-line user can only switch to other fixed-line service providers using the same number and vice versa. Mobile numbers, usually prefixed by "9" or "6", cannot be transferred to a fixed number, which starts with "2" or "3". "We are conducting a market survey to study the demand for fixed-mobile number portability," the deputy director general of the Office of the Telecommunications Authority, Ha Yung-kuen, said yesterday. "The results of the survey will be announced no later than the second quarter." Mr Ha said Ofta would contact operators to discuss how to implement such a service. He said the government would set a new legal framework on fixed-to-mobile number portability based on a market survey. He did not give any details or timetable for the service.

China: China to issue IPR strategy in 2008 - After two and a half years of preparation, China plans to release its national intellectual property rights (IPR) strategy this year, according to the State Intellectual Property Office. The strategy will have three stages: information, services and trade, said Tian Lipu, head of the office, during a conference on Tuesday. The strategy began to be mapped out in July, 2005. So far, China has drawn up 20 methods to protect IPR, including improving the protection system, strengthening law enforcement and raising public awareness. "The strategy is vital to fully implementing the power of the country's intellectual property rights system and to promote the development of the country's economy and science," Tian said. Tian noted that in 2007, China saw significant progress in protecting IPR in various areas, industries and companies. Organizations for guiding the strategy were set up in 17 provinces, autonomous regions and municipalities. Guangdong, Guizhou, Shandong and Shanghai municipality have already issued their own strategies. China will set up about 40 service centers for IPR protection. The centers will provide consultations and financial support for those who can't afford to pursue cases.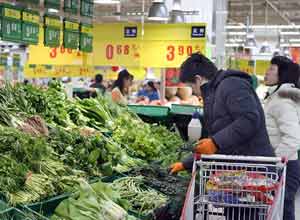 Domestic consumption drives GDP for 1st time - China's domestic consumption has replaced investment to become the biggest driver of economic growth for the first time in seven years. Last year, domestic consumption contributed 4.4 percentage points to the 11.4-percent increase in the nation's GDP, said China Securities Journal yesterday, citing official with the National Bureau of Statistics.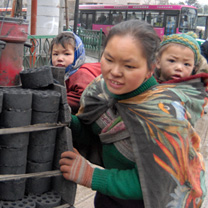 A woman pushes a cart of coal briquettes with her two children in tow in Guiyang, Guizhou province, on January 29. Demand for coal has risen considerably lately in the city as a result of power shortages.
Mobile operator China Unicom (0762) said yesterday it expects net profit for 2007 will more than double - to at least 7.464 billion yuan (HK$8.1 billion) - because of accounting changes and a tax refund.

*News information are obtained via various sources deemed reliable, but not guaranteed