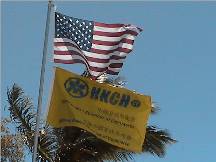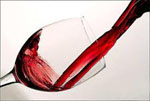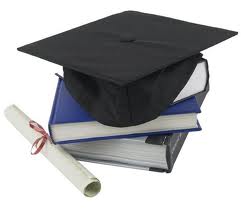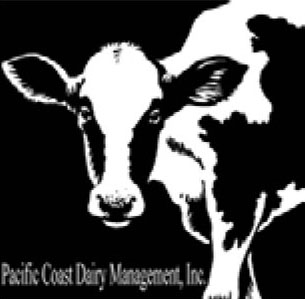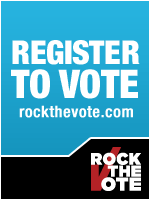 Biz-Video

Hawaii's China Connection

Doing Business in Hong Kong & China
Hong Kong, China & Hawaii Biz*
Do you know our dues paying members attend events sponsored by our collaboration partners worldwide at their membership rates - go to our event page to find out more! After attended a China/Hong Kong Business/Trade Seminar in Hawaii...still unsure what to do next, contact us, our Officers, Directors and Founding Members are actively engaged in China/Hong Kong/Asia trade - we can help!
Are you ready to export your product or service? You will find out in 3 minutes with resources to help you - enter to give it a try

China Central TV - live Webcast

Skype - FREE Voice Over IP

View Hawaii's China Connection Video Trailer


Direct link PDF file


Year of the Pig - February 18, 2007


Listen to MP3 "Business Beyond the Reef" to discuss the problems with imports from China, telling all sides of the story and then expand the discussion to revitalizing Chinatown - Special Guest: Johnson Choi, MBA, RFC. President - Hong Kong.China.Hawaii Chamber of Commerce (HKCHcc) and Danny Au, Manager, Bo Wah Trading

July 30 - 31, 2008



Hong Kong: Nestle workers agree to end strike - Nestle transport workers and deliverymen agreed to end their two-day strike and resume work immediately after reaching a satisfactory resolution with the company.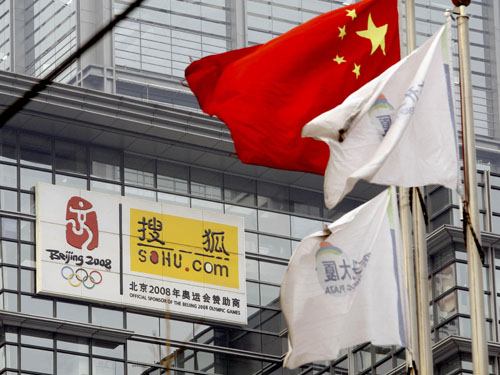 Sohu.com, the mainland's second-largest online portal, says it will list its games business in the United States after reporting a sevenfold increase in second-quarter profit. ith sales of online games and advertising soaring, Beijing-based Sohu is taking advantage of growing investor appetite for the mainland internet industry. Boasting 253 million internet users, the mainland has passed the US as the largest Web market in the world, according to China Internet Network Information Centre. Sohu reported net income of US$40.2 million in the second quarter, compared with US$5.7 million a year earlier. Diluted earnings per share reached US$1.02, well ahead of market estimates of 67 US cents. Revenue increased 161.6 per cent to US$101.98 million, beating market estimates of US$96.5 million. "Both online games and online advertising are doing extremely well," said Dick Wei, a mainland internet analyst at JP Morgan. The new company in the US will be named Changyou.com and focus on online games and related strategic opportunities. Sohu will remain Changyou's majority shareholder. Other details of the share sale plan were not disclosed. "It is great that Sohu is spinning off its online game business," said Bryan Yuan, an analyst at IDC China. "After all, operating games are quite different from running a portal. Games target individual consumers while portals target companies." With future earnings less certain, online game companies on average are valued at 15 times earnings, while online portals can fetch valuations of 30 times, Mr Wei said. Online games account for 47 per cent of Sohu's total revenue. Most of that comes from TLBB, a multi-player online role-playing game based on a Chinese martial art novel, Tian Long Ba Bu. The game was developed in-house and launched last year. Total online games revenues reached US$47.9 million in the second quarter, up 11.5 times from the same period last year, and TLBB accounted for US$45.5 million. Advertising revenues increased 53 per cent from a year earlier to US$43.4 million, reflecting the overall expansion of the internet market and the increased shift in advertising budgets from offline to online. "The robust pace of advertising spending leading up to the Beijing Olympic Games as well as our significant traffic increase further enhances the overall effectiveness of advertisers' marketing campaigns on Sohu," said Belinda Wang, the co-president and chief marketing officer at Sohu.com. Sohu expects third-quarter revenue of US$112 million to US$116 million. However, a China-based analyst warned the Olympics might have a negative impact on sales of online games in the third quarter, given planned restrictions on the sector. "The government has just announced policies that online game companies cannot upgrade their games during the Olympic months. Most online game companies depend on upgrades to boost users. However, the government doesn't want people to get distracted from the Olympics," the analyst said.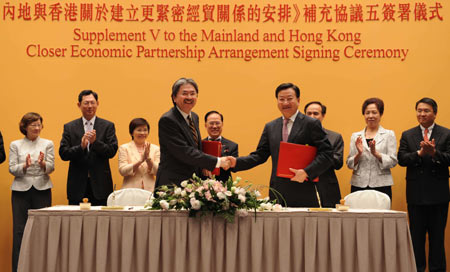 The central government has agreed to further liberalization of its markets under the Closer Economic Partnership Arrangement (Cepa) between Hong Kong and the mainland, Chief Executive Donald Tsang Yam-kuen said on Tuesday. Mr Tsang said Cepa had already attracted HK$5.1 billion of investment into Hong Kong and had created 36,000 new jobs during the first three years of implementation since 2003. He said the new package of Cepa measures would open up more opportunities for Hong Kong firms seeking to enter the China market. "The current Cepa package and the Guangdong pilot measures will offer new business opportunities on the mainland for Hong Kong businesses and service suppliers, making Hong Kong even more attractive to overseas investors," he said. Under Supplement V to Cepa, the liberalisation measures will cover 40 services sectors. This includes existing sectors such as conventions and exhibitions, banking, construction and related engineering services, social services, tourism, accounting, and medical and dental services. It will also cover two new services areas – incidental to mining and related scientific and technical consulting services. All liberalisation measures will come into force on January 1, 2009. They will cover: Banking sectors: under the new measures, any mainland-incorporated banking institution established by a Hong Kong bank (SEHK: 0005, announcements, news) will be allowed to locate its data centre in Hong Kong, subject to certain requirements. Medical and dental sectors: Hong Kong's qualified Hong Kong permanent residents with Chinese citizenship and with specialist qualifications will be allowed to set up outpatient clinics in Guangdong. Tourism: the coverage of "simplified entry arrangement for a period of 144 hours" for non-Hong Kong residents will be extended to the whole of Guangdong. Under the new measures, Hong Kong travel enterprises will be allowed to organize one day group tours to Hong Kong Disneyland for non-Guangdong residents who have resided and worked in Shenzhen for over one year.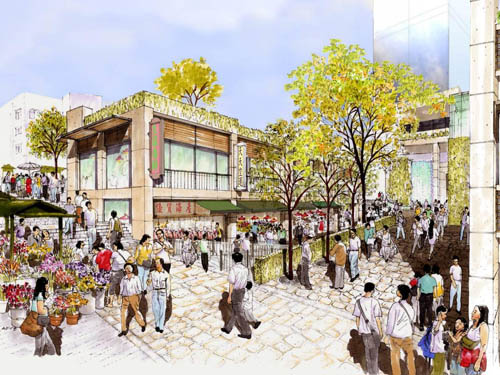 The Urban Renewal Authority wants to spend an extra HK$200 million to stop the historic 160-year-old Graham Street open market being wiped out by redevelopment, despite uncertainty about whether the market's hawkers will continue operating stalls there. As well as the additional cost, the move would delay completion of the project by two years, to 2014. Under new proposals put up for consultation by the authority yesterday, the redevelopment would be divided into three phases, enabling the existing 54 hawkers to stay in business by moving from place to place during building work. Once work is complete, the dry-goods stalls would reopen where they are now, while wet-goods stalls would move into a new two-storey market building. Authority chairman Barry Cheung Chun-yuen said it would supply hawkers with water and electricity during construction, and traders would be able to rent space in a 300 square metre storage area in which to store their goods. He said the operators of the 14 wet-goods stalls would be given priority when shops in the new market, on Gage Street, were let. "The design of the two-storey centre actually takes advantage of the sloping site, so all shops for selling wet goods would be at ground level and easily accessible by visitors," he said. The centre would offer better hygiene and management for stall owners, he added. The frontages of buildings on Graham Street and Peel Street would be 3 meters further back from the roadway than they are now. This would make the market safer, improve its environment and keep passing vehicles from disturbing shoppers and stallholders. The authority has also scrapped a proposal to build a 100-space underground car park. Mr Cheung said the additional measures would add more than HK$200 million to the project's cost, which last year was estimated at HK$3.8 billion. Carrying it out in phases would increase construction costs, and the longer period for completion of the work would mean higher bank interest charges would be incurred. A forum will be held early next month to gauge the public's views about the proposed measures. Despite the authority's efforts to save the city's oldest street market, operating since 1841, hawkers operating there are still not sure whether they can all stay, because the government may not renew their licenses or allow their transfer. The government's policy is to encourage hawkers to surrender their licences for one-off compensation, and only immediate family members can take over a license. Fish-stall manager Wong Chi-wah, who has been thinking of surrendering his license, said he would now consider moving into the new market centre. He welcomed the new measures, but lamented that his business had dropped about 30 per cent as residents gradually move out of buildings to be demolished. Central and Western District Council vice-chairman Stephen Chan Chit-kwai, a member of the authority's heritage advisory panel, warned that high rents in the future market centre could discourage wet- stall operators from staying. He suggested letting shops the hawkers do not want by open tender.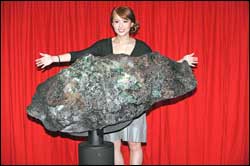 The Madagascar government is seeking the help of the Hong Kong police in stopping the exhibition of what is claimed to be the world's largest emerald, claiming it was exported from the island illegally. The emerald, weighing 536 kilograms and measuring 125 centimeters in length, 78cm in depth and 55cm in height, has been on display at the BaoQu Tang Modern Art Gallery in Tsim Sha Tsui since June 20. It has been named Gift from Heaven by Chinese painter Chan Sicpo, a longtime Madagascar resident whose works are also on display in the gallery. Officials from the Madagascar judiciary, police and procurator's officer have arrived in Hong Kong, claiming the gem was declared as "green jade" when it was illegally exported. It was allegedly shipped out of Madagascar through the French colony of Reunion Island. A spokesman of the gallery said the emerald belonged to a French company, Orgaco, which won a legal battle with the Madagascar government over the ownership of the emerald while it was in Reunion.


China: Crucial talks for a new global trade pact entered the ninth day Tuesday with the atmosphere was growing more and more tense amid a blame game triggered by the U.S. verbal attack on emerging economies. The closed-door negotiations resumed in the morning after a marathon bargaining session among the seven key members in the World Trade Organization (WTO), namely the United States, the European Union (EU), Japan, Australia, Indian, Brazil and China, dragged on into early hours of today. Emerging from late-night battling, Indian Commerce Minister Kamal Nath told reporters that the good news was the talks would continue, failing to note any progress. Nath said he had been hoping for progress on issues such as a further reduction of farm subsidies by developed countries and the special safeguard mechanism, a measure for developing countries to protect their domestic farming from import surges. "I am still hoping we will see some movement. I am still optimistic," Nath said. EU Trade Commissioner Peter Mandelson told reporters that the ministers had held "very intensive discussions." "We work and will continue on what is a very, very complex and sensitive," he said. Ahead of the meeting Monday evening, WTO spokesman Keith Rockwell painted a pessimistic picture of the ongoing negotiations, which had passed the planned schedule of one week. "The situation is very tense. Things are finely balanced and the outcome is by no means certain," he said. Tensions peaked Monday after the U.S. pointed fingers at India and China, blaming the current deadlock on the two emerging economies. "We are very much concerned about the direction that a couple of countries are taking," U.S. Trade Representative Susan Schwab said. She said one party was against an agreement worked out Friday night by a majority of the seven trading powers, while another was now "backtracking" on an earlier commitment. Although she did not name the two countries, the U.S. deputy head at the Geneva mission to the WTO, David Shark, pointed the finger at India and China. "I am very concerned it will jeopardize the outcome of this round," Schwab said. The accusation was immediately rejected by India and China. "Developed countries are asking for flexibilities for commercial interests. Developing countries are looking to protect the poor and for provisions that will help them out of poverty, while developed countries are looking for provisions which will lead to greater prosperity," Nath said. Chinese ambassador to the WTO Sun Zhenyu described the U.S. finger pointing as "surprising," urging the world's largest economy to show flexibility instead of threatening developing countries. "We have tried very hard to contribute to the success of the round," Sun told delegates. "It is a little bit surprising that at this time the U.S. started this finger-pointing." "They have to remember that this is a Development Round. If they cover all their sensitivities for themselves, and keep on putting threats on developing countries, I think we are going nowhere," the ambassador said. India is demanding for more flexibility under the special safeguard mechanism, while China wants to protect certain sensitive agriculture products like cotton, sugar and rice from deep tariff cuts, which was allowed by the mandate of the Doha Round. Both were supported by a large portion of poorer developing countries, while others said the demands are justified in light of food security and the still enormous numbers of small farmers that the two countries have to care for.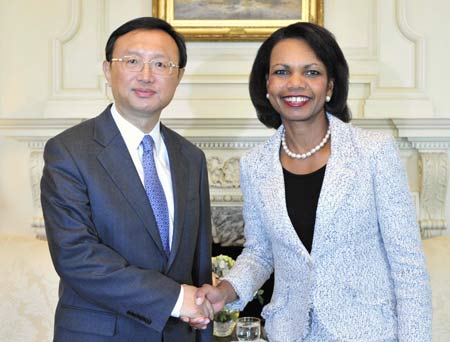 Visiting Chinese Foreign Minister Yang Jiechi (L) shakes hands with his U.S. counterpart Condoleezza Rice during their meeting in Washington, July 28, 2008. The successful meeting between Chinese President Hu Jintao and U.S. President George W. Bush held on the sidelines of the Hokkaido G8 summit in Japan earlier this month provides an important guidance for the future development of bilateral relationship, he said. As the United States will hold presidential elections later this year and the two countries will celebrate the 30th anniversary of the establishment of their diplomatic ties between the end of this year and the beginning next year, the Chinese minister said, bilateral relationship will enter a crucial transitional period. The Chinese side would work with the U.S. side to earnestly implement the common consensus reached between heads of state of the two countries to move forward bilateral constructive and cooperative relationship in a sound and steady manner, Yang said. For this end, he said, both sides should always treat bilateral relationship from a strategic and long-term perspective, maintain high-level contacts, strengthen dialogues and communications, enhance mutual understanding and trust, extend interchanges and cooperation, and properly handle differences and sensitive issues.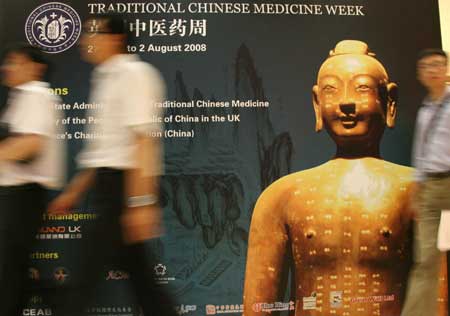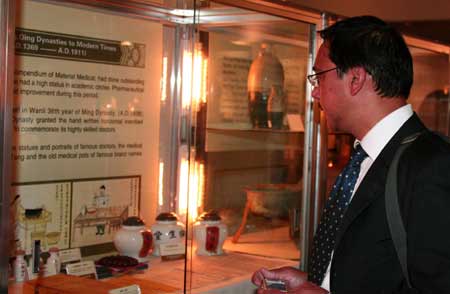 Visitors walk past a poster during the Traditional Chinese Medicine Week at the Royal Society of Medicine in London, Britain, July 28, 2008. The one-week event, starting from July 27, is aimed at promoting greater understanding and cooperation in medicine between China and the UK. It will also boost cooperation and exchanges between China and Britain in the field of TCM, she added. According to Wang Guoqiang, director general of China's State Administration of Traditional Chinese Medicine, the event will showcase the special effects of TCM, which may benefit people from around the world. During Wang's meeting with officials from Britain's Health Department, both sides agreed to boost Chinese medicine-related legislation in Britain and to achieve multi-dimensional cooperation in TCM. Wang also encouraged increased interaction between Chinese and western medicine, in keeping with future development trends in medicine. The TCM exhibition, key part of the event, involves over 500 precious items related to Chinese medicine, two-thirds of which have never been exhibited abroad before.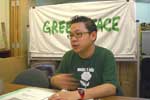 Games effort on right track say greens - China got a pat on the back from Greenpeace for launching impressive green policies in the run-up to next month's Beijing Olympic Games but also received a soft rap on the knuckles for missing out on crucial environmental initiatives across the capital.

Procter & Gamble has decided to raise prices for its products by as much as 10% in China, Zhang Qunxiang, spokesman for P&G China, said.
July 28 - 29, 2008



Hong Kong: The Hong Kong Monetary Authority announced Friday that it has upgraded Shinhan Bank's (SHB) restricted banking license to a banking license under the Banking Ordinance. The upgrade took effect on July 24, 2008, the authority said. SHB is incorporated in South Korea and has operated a branch in Hong Kong under a restricted banking license since November 2006. According to the July 2007 issue of The Banker, SHB is the 3rd largest bank in South Korea and the 76th largest bank in the world in terms of tier one capital. After the upgrade of SHB, the number of licensed banks in Hong Kong has increased to 146 while the number of restricted license banks in Hong Kong has decreased to 28.
Implementing regulatory policies such as the competition law or minimum wage could undermine Hong Kong's economic growth, the chairman of the Hong Kong General Chamber of Commerce has warned.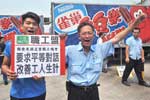 Talks fail to resolve Nestle pay impasse - Around 200 Nestle employees staged a strike outside the factory in Yuen Long yesterday, demanding increases in both their basic wages and commissions.
Former head of the civil service Joseph Wong Wing-ping has criticized the haste with which the maid levy waiver is being brought in and the fact it doesn't cover employers of domestic helpers with existing contracts.
The mainland's austerity measures in the second half will involve a twin- pronged initiative - steady economic growth and curbing inflation. Our first task is to ensure steady and rapid economic growth," said President Hu Jintao at the Politburo's latest meeting. "We also need to effectively control prices from rising too fast." As Standard Chartered economist Frances Cheung sees it: "The central government has changed its focus from fighting inflation to slowing growth." China's gross domestic product growth rate slowed to 10.4 percent in the first half from 11.9 percent last year. The People's Bank of China, in its second-quarter meeting yesterday, said it will use various monetary tools to create a sound environment for the country's stable and relatively fast economic growth. But Standard Chartered does not expect any interest rate hike this year. "China will continue to tighten liquidity but with quantitative tools such as reserve requirement ratio hike and the issue of government bonds," said Cheung. TDTZ Debenham Tie Leung's head of residential properties for China, Alan Chiang Sheung-lai, said mainland developers may cut prices on unsold units amid a tight lending market. "Some developers in Shenzhen and Shanghai have already lowered prices of small and medium units by 15 percent," said Chiang. As Cheung sees it, "Initiatives mentioned by Hu are rather general. But the message that the government may not hike rates will improve market sentiment a bit." But Cheung does not expect the new round of austerity measures to have a great impact on the economies of Hong Kong and the mainland. Yuan appreciation will remain unchanged at a 6.65 percent growth this year, according to Standard Chartered. "But yuan growth will be slashed to 2 to 3 percent next year as we expect the US dollar to strengthen in the first two quarters of 2009," said Cheung.
Shares of Hong Kong-listed Macau plays have taken a beating recently, and it is becoming clear that American plays in the SAR casino market have the long- term advantage.
HSBC Holdings (0005) is expected to report next week that first-half profit before tax fell 27 percent year-on-year to US$10.3 billion (HK$80.34 billion), according to the average forecast of four analysts surveyed by The Standard, because of expenses for bad-loan provisions in the United States and Britain.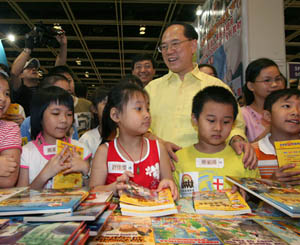 The chief executive yesterday cast himself in the role of paternal saviour for impoverished children, telling Tin Shui Wai primary school pupils that his favourite book when he was young was Oliver Twist. In a half-hour session with 18 children aged eight to 12 at the Book Fair, Donald Tsang Yam-kuen told the children he had taken an interest in every one of Charles Dickens' stories. He said that before the session he had recalled how there were no public libraries when he was a child and that English-language books were not readily available. "Times have changed. There are libraries everywhere now," Mr Tsang said. After confirming with the children that they were all from Tin Shui Wai, he told them: "That's my favourite district to visit." But the fact that Dickens' portrayals of life amid poverty and institutionalised injustice brought about significant change in 19th-century Britain seemed lost on the youngsters. Mr Tsang met with similarly blank looks when he asked children from Lok Sin Tong Leung Kau Kui Primary School in one of Hong Kong's most impoverished districts whether they enjoyed reading travel books. However, mention of Harry Potter brought some acknowledgement, although it was unclear whether the children had read the books or just seen the films. The chief executive encouraged them to learn English and read more books, saying Hong Kong was an international city and reading encouraged independent thinking. After his brief chat, Mr Tsang took the children to view two book stalls, and later presented them with a book written by Hong Kong athletes. Chan Lai-ying, 12, said she had never heard of Dickens, but might look out for his books, because she wanted to obey Mr Tsang. "Mr Tsang said he began reading keenly when he was in middle school, and I am moving up to middle school now," she said. "Seeing him on television, he looks pretentious, but he's much more caring in real life." Eight-year-old Hui Kai-man, who held Mr Tsang's hand as they visited the stalls, said the city's leader felt like a real father. Although she was given a Chinese-language Geronimo Stilton book that chronicles the rat's adventures as editor-in-chief of the Rodent's Gazette, she said she wanted to be a swimmer when she grew up. Kai-man's mother said she hoped Mr Tsang would provide more libraries and other facilities for Tin Shui Wai residents. "With transport fees so high, it's hard for us to find things elsewhere," she said.


China: China reports half of world's new liver cancer cases - China has 350,000 new liver cancer patients every year, accounting for nearly half of the world's total, according to Leng Xisheng, president of the Chinese College of Surgeons.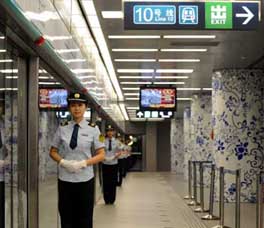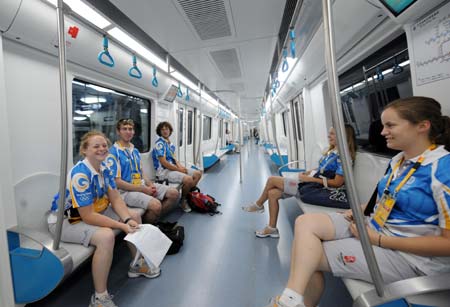 Volunteers from the United States take the Olympic Line of Beijing Subway, July 28, 2008. Beijing kicked off on Monday the operation of its metro transport artery leading to the central Olympic areas.

China to float more than 24b yuan in three-year T-bonds - China's Ministry of Finance said on Friday it would float 24.59 billion yuan ($3.62 billion) worth of three-year, book-entry treasury bonds next week.
China's trade deficit down with ASEAN - China's trade with ASEAN members amounted to $95.55 billion in the first five months of this year, a growth of 26.9 percent over the same period of last year.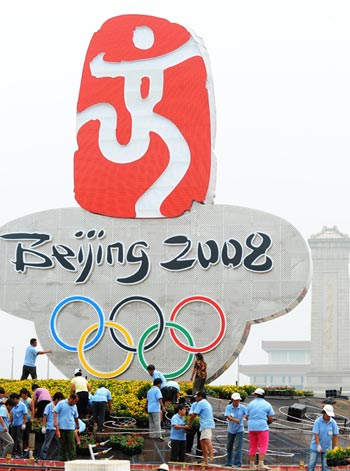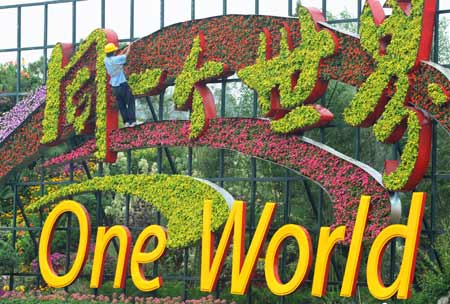 Some workers are busy with decorating the Tian'anmen Square with flowers in central Beijing, China, July 28, 2008. More than one million basins of flowers will be placed here to decorate Tian'anmen Square at the center of Beijing and welcome the upcoming Beijing 2008 Olympics, Paralympics and China's National Day.
Chinese economy expected to maintain stable, fast growth - The Chinese economy was likely to maintain stable and fast growth this year, despite being beset with problems and uncertainties, as fundamentals of the economy remained unchanged, Yao Jingyuan, National Bureau of Statistics chief economist, said on Sunday.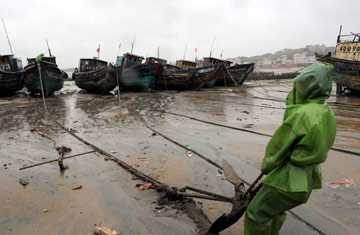 Thousands evacuated in E China as typhoon Fung Wong nears - Authorities in Zhejiang Province evacuated 230,764 people and recalled 26,242 fishing boats on Monday as typhoon Fung Wong approached.
About 67,000 taxicabs in the Olympic host city of Beijing will soon be able to take payment with pre-paid public transport cards, making traveling in the city more convenient. From Aug. 1, taxi passengers can pay either in cash or with the IC card, which has been widely used for the city's buses, subway and even some convenience stores. Taxi fares will be deducted from the credit on the card, which can save both the driver and the passenger from hassles such as giving small change. The Beijing Traffic Management Bureau has asked all taxi drivers to have their meters updated to allow the card payment. This is seen as the latest step to encourage commuters in the city of 17million to use public transport rather than private cars, particularly before the Olympic Games begin on Aug. 8. The capital implemented an odd-even alternate-day ban on 3 million privately owned motor vehicles on July 20 in order to guarantee smoother traffic flows and cleaner air during the Olympics. This has prompted more Beijingers to use public transport, which already offers discounts for public transport card holders. The IC card has gained increasing popularity since it was launched in April 2006 to replace traditional paper tickets. About20 million cards had been issued so far, the Beijing Morning Post reported. Many taxi drivers had resisted the cards, claiming they were too time-consuming as all charged fares would first go to the taxi company before they are returned to the drivers. But the authorities had promised drivers payment within three days, the newspaper said.
July 25 - 27, 2008



Hong Kong: First-half Hong Kong investment in the mainland nearly doubled in value from a year earlier, the Ministry of Commerce reported on Thursday, although it's unclear how much of this investment was actually speculative funds or so-called "hot money." From January to June, the mainland approved the establishment of 6,900 Hong Kong-invested projects, down 8.2 percent year-on-year, but investment actually used soared 94.5 percent to 23.39 billion U.S. dollars. Given the close trade and economic ties between the Hong Kong Special Administrative Region (SAR) and the mainland, analysts said, at least some of the investment might be speculative funds. That's because the amount invested surged while the number of projects fell, at the same time that numerous foreign-funded processing enterprises were closing in the Pearl River Delta, adjacent to Hong Kong, according to professor Ding Zhijie with the Beijing-based University of International Business and Economics. Ding said given the close Hong Kong-mainland relationship, it was much easier for hot money seeking to profit from interest and exchange rate differentials to enter the mainland through Hong Kong. Also, he said, "in comparison with other channels, it is much easier for speculative funds that entered the mainland in the form of direct investment from Hong Kong to leave. This is more hazardous." China has recently tightened control over foreign direct investment (FDI) and intensified scrutiny of investors' credentials. The aim is to curb the influx of short-term speculative funds, which has added to the inflationary pressure on the mainland. According to the Ministry of Commerce, as of the end of June, the mainland had approved the establishment of 292,663 Hong Kong-funded projects, involving 331.93 billion U.S. dollars of capital actually used, or 40.7 percent of total FDI used in the mainland. The figures are cumulative since 1978, the start of the reform and opening-up polices on the mainland. First-half mainland-Hong Kong trade was 97 billion U.S. dollars, up 8 percent year-on-year. The total included 90.65 billion U.S. dollars in exports to Hong Kong, up 7.8 percent, and 6.35 billion U.S. dollars in imports from the SAR, up 9.8 percent.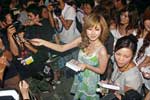 Bonanza at book fair - Actress and singer Theresa Fu Wing stole the spotlight at yesterday's opening of the Hong Kong Book Fair, with some of her fans waiting up to 44 hours to get their hands on her new photo collection and CD.
Leung in vow to end levy chaos - The waiving of the domestic helper levy was not meant to cause chaos, Executive Council convener Leung Chun-ying said yesterday, while assuring that all parties can fairly soon enjoy the concession.

D-Day for live chicken trade - Hong Kong Poultry Wholesalers and Retailers Association chairman Steven Wong Wai-chuen has made a last- minute call for poultry vendors to surrender their licences.

All eyes on March for MPF windfall - About 1.7 million low-income earners are due for a one-off payment of HK$6,000 into their Mandatory Provident Fund accounts before the end of March next year.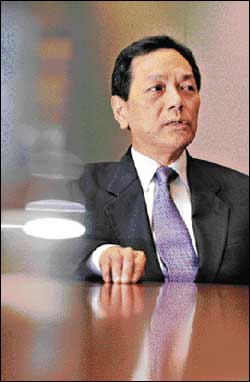 Henderson Land Development (0012), controlled by tycoon Lee Shau-kee, plans to sell 10 billion yuan (HK$11.42 billion) of flats each year in the mainland from 2011. Many of our projects in China have completed their design and are now entering the construction phase," Reuters quoted executive director John Yip Ying-chee as saying. "We plan to have 20 million square feet of residential space completed each year from 2011 and that will be enough for six years' development." Henderson Land turnover was HK$8.356 billion in the year ended June 2007, mostly from Hong Kong property income. The developer, whose mainland strategy focuses on second-tier cities such as Shenyang, Chengdu and Chongqing, aims to replenish its landbank in those cities by a quarter to offer a gross floor area of 150 million sq ft by the end of this year. A property analyst said Henderson Land's plans are positive for its business, even though flat sales are falling under tightening measures imposed by the mainland government. "For the long term, developers can seek more investment opportunities in the mainland as it's more difficult to do so in Hong Kong," the analyst said. He added that it is difficult to predict the impact of tightening measures on the market in 2011. Henderson Land hopes its eight commercial projects in mainland cities, which are planned to be developed by mid-2014, "will contribute an additional 1 billion yuan of rental income a year to the company by then," Yip was quoted as saying. Reuters reported that many analysts have criticized Henderson Land for holding too many "passive" investments in the stock market and not expanding its business fast enough. "Henderson Land is not an opportunist and will take a prudent strategy in China," said Yip. "When the market is hot we will buy less but sell more."
$1.5b Pacific Place revamp - Swire Pacific (0019) plans to spend about HK$1.5 billion on refurbishing Pacific Place in Admiralty. The mall will remain open for business throughout the project period.

HPH makes highest bid for Greek port rights - A consortium led by Hutchison Port Holdings, a unit of Hutchison Whampoa (0013), offered the highest of three bidders in the tender for 30-year rights to the Greek port of Thessaloniki, the port authority announced.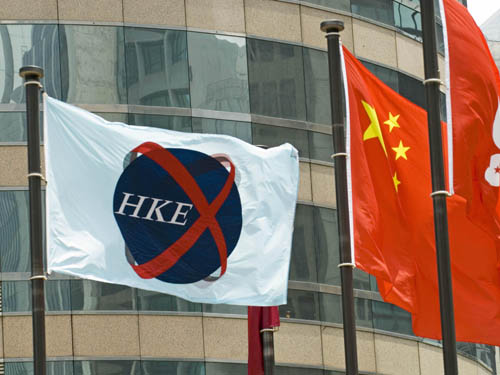 Hong Kong Exchanges and Clearing (SEHK: 0388, announcements, news) has warned that the unfolding global credit crunch is hurting the finances of listing candidates and advised investment banks to bolster their disclosure to investors. Richard Williams, head of the HKEx's listing division, in a letter to investment banks said that poor market sentiment had created difficulties for listing candidates as they tried to obtain loans to finance operations. Mr Williams reminded the banks to keep an eye on their listing-bound clients, citing the recent deterioration in financial markets and tightened monetary policy on the mainland. The US subprime lending crisis hit the global market for initial public offerings at the beginning of the year, with eight share sales pulled in Hong Kong so far this year. "Recent experience suggests that it is appropriate to issue a reminder about the applicable disclosure standards and further guidance on its expectations," Mr Williams said.


China: An official with the 2010 Shanghai World Expo said 211 countries and international organizations had confirmed their participation for the event at a press conference here on Wednesday. "An estimated 70 million visitors are expected to attend," said Chen Xianjin, deputy director of the expo coordination bureau, at an international conference held under the theme of "Modern service and metropolis development." "Only when it has an advanced service industry, will a city be able to host the World Expo. Hosting the World Expo will also help develop the modern service industry in Shanghai." Vicente Gonzales Loscertales, Secretary General of Bureau of International Expositions (BIE), said China's government and the whole nation had actively participated in the preparation work of the Shanghai World Expo, just like they did for next month's Olympic Games. "Shanghai World Expo is the most well-prepared expo I have ever seen." He believed the expo would be a showcase for the societies, economies, cultures and scientific achievements of different countries. The expo, running from May 1 to Oct. 31, 2010, will feature five theme pavilions -- "Urbanian," "City as a Form of Life," "Urban Planet," "Urban Future" and "Urban Culture."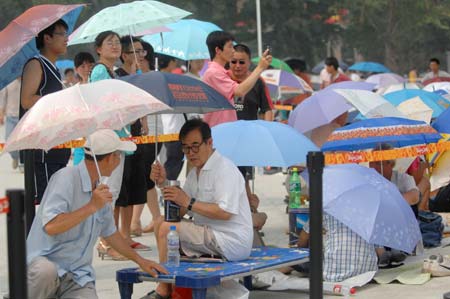 Local residents wait in line to buy Olympic tickets in Beijing, July 24, 2008 - More than nine in 10 polled said they think the summer Games will be successful and nearly 70 percent predicted the event will speed up Beijing's development, help its image, or increase national coherence, the survey by Beijing Social Facts and Public Opinion Survey Center showed.
Tourists visit the Olympic theme parterres at Tian'anmen Square in central Beijing, capital of China, July 24, 2008. Olympic theme parterres are installed in the square before the opening of the 2008 Beijing Olympic Games on Aug 8.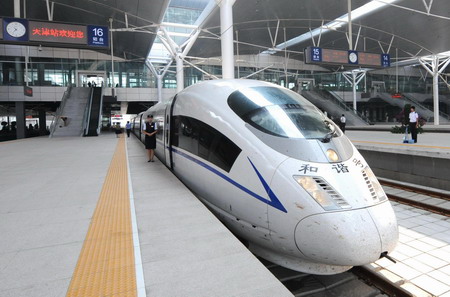 The country is set to enter the high-speed railway club, with its first 350kmh-passenger train traveling between Beijing and Tianjin scheduled for launch on Aug 1. The new service is expected to cut travel time between the 120-km route by half, to less than 30 minutes. "From now on, China will possess one of the world's fastest high-speed rail services," Zhang Shuguang, deputy chief engineer of the Ministry of Railways, said on Tuesday. In comparison, high-speed trains in Spain and Japan run at 320kmh, while those in France, Germany and Italy travel at 300kmh, Zhang said. And for the passengers who were invited to experience the service during a trial, riding the trains were "just as comfortable" as being on slower ones. Such expertise has made it possible for the 350-kmh trains to leave the railway station every five minutes during peak hours, and every 10 minutes during non-peak hours, Zhang said. The second core technology is in synthesizing up to seven rail coordination systems, each with up to 70,000 parts, and making them work as one to maintain track performance, he said. It is something China has also acquired on its own after years of research and experience, he said. The third core technology of high-speed railways involves the design and manufacture of high-speed trains themselves. "When a train runs at 350kmh, it will produce an environment of 'negative air pressure'. Designing the high-speed train's air-conditioning system becomes a difficult task, since the train can draw objects into the carriage through any opening, like a big vacuum," he said. The authorities chose to cooperate with foreign companies that had the necessary expertise, like Germany-based Siemens, to meet such challenges. Under a joint project between the Tangshan Railway Transportation Equipment Company and Siemens, Chinese engineers completed the requisite designs and submitted it to Siemens, who were involved in the industrial certification of the project, Zhang said.
There were 169 merger and acquisition (M&A) deals in China in the second quarter, up 225 percent from the first quarter, according to a report released on Monday by investment research firm ChinaVenture. Of these 169 deals, 129 disclosed the value, which totaled 15.5billion U.S. dollars, up 137 percent. ChinaVenture figures show M&A deals were most common in manufacturing, comprising 22.4 percent of the total cases, while property had the biggest share by value, or about 46 percent of the total. Cross-border mergers expanded appreciably, with 15 cross-border M&A deals by Chinese companies in the second quarter, up 24.7 percent. The report listed reasons for the M&A wave. One was a surge in corporate profits in 2007, which, combined with the proceeds from initial public offerings, provided companies with capital. Another reason was the rising price of raw materials, which motivated Chinese strategic investors to seek deals in energy and mining.
Under what is hoped will be a clear August 8 night sky free of rain and smog, Beijing's pyrotechnics gurus hope to set the first record of the 2008 Olympics. Officials announced yesterday that the opening ceremony, which had been wrapped in secrecy, would feature a magical, iconic fireworks first. "For the first time, the shape of the Olympic Rings will be formed in the sky," revealed Wang Ning, deputy director of the opening and closing ceremonies department of Bocog, the Games' organiser. But that will not be the only colourful, fiery, jaw-dropping spectacle to grace the firmament on opening night. More sophisticated, stylised flash-bangs and whizzes will be seen over the Olympic Forest Park and the Juyongguan section of the Great Wall, said Mr Wang - including a simultaneous exploding of a 3km long battery of fireworks. "Olympic symbols and elements will be a part of [the] fireworks' designs, [all] with an aim to promote Olympic ideals," he added. Those with their fingers on the computerised firing buttons will spark hundreds of compressive.
July 23 - 24, 2008



Hong Kong: HK rebuked over dirty money deals - An authoritative international report into how well equipped Hong Kong is to tackle the twin scourges of money laundering and terrorist financing has accused the city's nonfinancial businesses of failing in their duty to report suspicious transactions.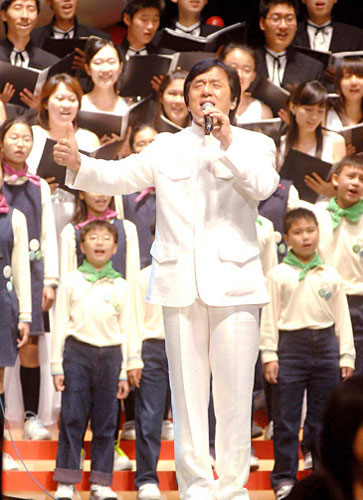 Jackie Chan performs at an Olympic-themed concert in Hong Kong on July 18, 2008.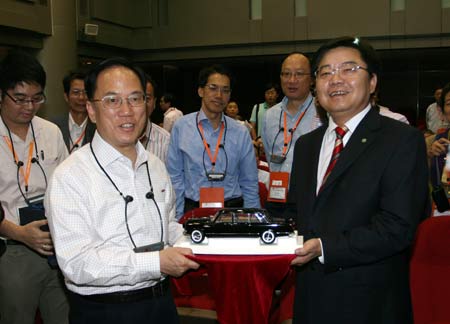 Xu Jianyi (R), general manager of the FAW Group Corporation, gives a present to Chief Executive of Hong Kong Special Administrative Region (HKSAR) Donald Tsang (L) after their visit to the workshop of FAW-Volkswagen in Changchun, northeast China's Jilin Province, July 22, 2008. A Hong Kong delegation headed by Donald Tsang visited on Tuesday FAW-Volkswagen Automotive Company Ltd. in Changchun.
Secretary for Labor and Welfare Matthew Cheung Kin-chung and immigration officials have agreed to start the waiver on the domestic helpers levy a month early, beginning August 1.
A mechanism designed to simplify the registration of property could instead give rise to an avalanche of litigation between buyers and sellers on the validity of property transactions, the Law Society has warned. he new mechanism will enable lawyers to save time when verifying property ownership and claims and this, in turn, will lead to reduced conveyancing fees, Law Society president Lester Huang said yesterday. But, he said, there are glitches in the government's amendments which if not ironed out could result in booby traps. The issue in question comes under the Land Titles Ordinance, with amendments set to be discussed in the new legislative term. The ordinance was passed in 2004, but the long-awaited registration system has been on hold pending amendments. In theory, the new mechanism guarantees indefeasible titles to those included in the register. In layman's terms, it means lawyers and buyers only need to rely on the last record of registration to proceed with transactions. The conventional system depends on proof of an unbroken chain of titles leading back to a good root of title. But the law has yet to address the risk of legal disputes if a third party suddenly challenges the titles and the validity of the registration. Huang said land titles in the New Territories, with its long history of heritage and culture, can become vulnerable to legal challenges. "Lawyers will have to fully rely on the government registration to determine if the properties are in good title to prepare the transactions for buyers or sellers," he said. However, clients will point an accusing finger at lawyers if a third party suddenly emerges to claim ownership. "This has happened from time to time," Huang said, adding on such occasions the government has failed to back lawyers. "There will be risks and uncertainties, which are not good for the whole community and the property market if people have to spend more on legal costs when such disputes erupt." Huang said the current practice of verifying the titles and deeds is cumbersome but reliable. The government admitted the flaws in its paper to the Legislative Council in May last year. "Substantive amendments have to be made to the Land Titles Ordinance before it can commence," the government paper read. The Law Society has made its fourth submission to address the potential "booby traps" but nothing has been heard from the Development Bureau so far. Legislator Abraham Shek Lai-him, who represents the real estate and construction constituency, raised the issue again in March, with the bureau saying the amendment bill will be tabled in the Legislative Council's coming term. "It has dragged on too long," Huang said. "Our lawyers who have worked on this subject have either retired or are no longer in the same official post in our organization to oversee the matter. "We want to have the issue addressed as early as possible to protect the interests of the profession and also all parties in property transactions."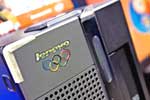 BOC and Lenovo placements reap rebound gains - Institutional investors of Bank of China (3988) and Lenovo Group (0992) sought to reap profit through share placements yesterday amid a rebound in the general market.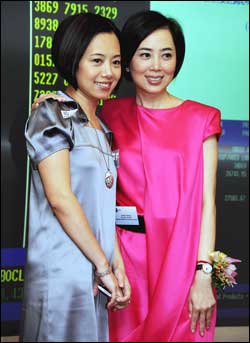 Emperor Watch gains 8pc on debut to buck trend - Emperor Watch and Jewellery (0887) bucked the trend of recent new listings yesterday when its shares closed above their offer price in the company's trading debut. Among the 22 firms listed on the mainboard this year, more than 10 saw their stock plunge below their initial public offering price in first-day trading. Emperor Watch closed at 46.5 HK cents, up 8 percent from the offer price of 43 cents. The shares opened at 59 cents, then fluctuated between 46 and 61 cents before closing. About 763 million shares changed hands on turnover of HK$400 million. "The performance of Emperor Watch could have been much better if the blue-chip index only rose 200 to 300 points. Some of the capital was diverted to blue chips, as the general market was up more than 600 points yesterday," said First Shanghai Securities strategist Linus Yip Sheung-chi. Units of Albert Yeung Sau-shing's Emperor Group usually roar out of the gate on debut. In February, New Media Group (0708) shares surged 112 percent from their IPO price. Emperor Capital Group (0717) shares jumped 79 percent on their first day's trading in April last year. Yeung said yesterday the group is planning to spin off its furniture- retailing unit, Ulferts of Sweden (Far East), in 2009 or 2010.
Soaring fuel prices have forced the parent company of Kowloon Motor Bus to issue its first profit warning in a decade. The city's largest bus operator said yesterday it might have to remove less popular routes to cut costs. Transport International Holdings (SEHK: 0062) - which netted a profit of HK$3.8 billion last year from businesses including luxury property development Manhattan Hill, KMB and its related TV channel Roadshow - warned shareholders and potential investors to brace for a "disappointing" financial result for the first half of this year due to the impact of rising fuel prices on the company's core franchised bus business. The price of oil soared by nearly 80 per cent year on year to US$136 per barrel during the first half of this year. The forecast excluded non-recurrent income from the sale of properties. The city's other major bus operator, New World First Bus, which also owns Citybus, said it had been suffering losses over the past few months despite a fare rise of up to 5 per cent allowed by the government and was also looking at cutting routes. Itineraries overlapping with MTR lines - such as those in Tseung Kwan O - were likely to be the first to go. Figures from New World First Bus showed that passenger numbers on the seven routes in Tseung Kwan O had dropped by 52 per cent between 2002, when the rail extension had not yet reached the area, and last August. Sai Kung district councillor Leung Li, who represents Tiu Keng Leng, said bus companies should expect vigorous protests from residents if routes were cut. "The Transport Department already raised the issue in March," he said. "It allowed New World to monopolise the area's bus services and now they want to cancel it altogether? That would be unacceptable." Both operators said they were negotiating alternatives with the government - including the introduction of a fuel surcharge. A New World spokeswoman said: "We hope the government will help lower our expenses through all possible measures, like imposing a fuel surcharge, exempting us from government rent, stamp duty, tunnel tolls, or subsidising our electricity bills and fuel expenses." But the Transport and Housing Bureau repeated it was the government's policy not to subsidise private businesses with taxpayers' money. Transport expert Hung Wing-tat blamed the operators for shifting their business risks onto passengers, and criticised Transport International Holdings' profit warning as a gimmick to designed to put pressure the government. "My guess is their profit margin has just narrowed but is not suffering a deficit, because they excluded all profitable businesses like Roadshow and the sa of luxurious Manhattan Hill apartments," he said. But a KMB spokesman said Roadshow accounted for only a fraction of the company's income, while most Manhattan Hill flats had already been sold.
John Woo's visually dramatic new film Red Cliff – the first historical film about the battle of Chibi – is proving popular with cinemagoers in Hong Kong. The acclaimed director's 160 minute film stars veteran Hong Kong actor Tony Leung Chiu-wai, Japanese star Takeshi Kaneshiro, Taiwanese actor Chang Chen and Taiwanese model Lin Chi-ling. The script was co-written by Chan Hkan, Kuo Cheng and Sheng Henyu. The cost of making Red Cliff was a staggering HK$622 million. It is an important addition to Woo's stellar career which includes such films as A New Tomorrow in 1986, The Killer (1990), Hard Boiled (1992), and Mission Impossible 2 in 2000. Red Cliff is likely to awaken more interest in China's turbulent history. As Perry Seibert, notes, writing in the All Movie Guide, the film chronicles a particularly significant episode in history. "John Woo's historical drama Red Cliff re-creates the legendary Chinese battle from 208 AD that led directly to the end of the Han Dynasty. "The film charts how different factions joined forces to create this turning point in history," Seibert says. The battle of Chibi – which took place in Hubei province – was possibly the most resounding military achievement in Chinese history. The battle was won through guile and brilliant military tactics, rather than brute force. The famous novel The Romance of Three Kingdoms , about the battle is familiar to Hong Kong people. Indeed, it has now inspired many video games and comic books. The story had long appealed to the 61-year-old mainland-born director, who spent most of his early career in Hong Kong. " Red Cliff took 18 years in envisioning and almost a lifetime of dreaming,'' Woo recently told reporters in Korea. "I was a diehard fan of the novel and I loved all the characters. When I was 10, I used to stay awake at night drawing characters on my window and use a lamp to project them on to the wall," he explained. The film starts with the machinations of an ambitious prime minister Cao Cao (Zhang Fengyi) – waging war in China's southern kingdoms, Xu and Wu. But the army's top negotiators, Zhuge Liang (Takeshi Kaneshiro) and Zhou Yu ( Leung) from Xu and Wu decide to become allies. Together, they resist Cao Cao's plans. The films vividly portrays the characters of the leading protagonists: Cao is ruthless and arrogant, while Zhou and Zhuge are wise and judicious. The fight scenes are memorable – particularly the 20-minute-long battle before a stunning landscape. The array of military pageantry, uniforms and weapons is realistic and impressive. Leung's talents are well-known to Hong Kong audiences, but Takeshi Kaneshiro's acting is also impressive. He is very convincing playing Zhuge in a lively, yet sometimes ironic way. Takeshi told reporters: "I have read up on different versions of the character and could not decide how to play this role, whether it should be a Zhu Ge Liang that all of you were familiar with or one that was totally different but as an actor, I would be able to do what the director wants. What outsiders think would not affect me." For Taiwanese model Lin Chi-ling, this is her first big-screen debut as Zhou Yu's beautiful wife. Casting changed several times. Leung initially turned down the role of Zhuge Liang. He said this was because he believed he did not have enough time to prepare properly for the role. But after acclaimed actor Chow Yun-fat abandoned the film, Leung re-joined to replace Chow. Leung said he had not read The Romance of the Three Kingdoms before. "But I have studied Chinese history... in the film there is a lot of dialogue and, initially, I was a bit anxious that I could not do it well,'' he told reporters. "But the director gave me an insight of what it would involve. This Zhou Yu here would have a bit more humour and he added scenes of him playing music," he said. Red Cliff has impressive — but particularly dangerous stunts. Indeed, the film made headlines because a stuntman died and six was injured in a fire accident when shooting the film in June. The film is a tribute to Woo's considerable experience and knowledge of film making. The Movie Guide notes Woo can draw on many influences. "Influenced by Western cinema, Woo grew increasingly dissatisfied with the Hong Kong production industry, and decided to begin making his own films in 1968..."[By the 1970s] he drew great inspiration from the new breed of American filmmakers including, Sam Peckinpah and Stanley Kubrick, the hypnotic violence of their work leaving a profound effect." Woo also had considerable experience making martial arts films, having once worked under acclaimed director Chang Che in Hong Kong. Red Cliff is filmed in putonghua has subtitles in both Chinese and English. It has already drawn big audiences on its first day of release in China, Hong Kong and Taiwan. In Hong Kong, there was HK$2 billion on the first day. However, it is only the first part of the epic story. The next part of the saga will be shown in a new film – to be released in December.

China: China will further strengthen management of foreign investment projects and check foreign exchange inflow in a bid to better control it, according to the country's top economic regulator. The move will also safeguard the country's economic safety, protect ecological environment, optimize develop and reform mechanism, and prevent industrial monopolization, said the National Development and Reform Commission (NDRC) in a circular on Friday. Projects that are not approved by the government, provide fake application materials, or use foreign exchanges improperly, will be punished. Local governments will also investigate and supervise foreign enterprise-involved programs, including joint ventures, exclusively foreign-owned firms, bilateral cooperation projects, mergers and acquisition programs. Meanwhile, regional economic regulators should look at the projects, monitor foreign exchange inflow channels, and enhance finance management of foreign enterprises. Projects with severe environment contamination, high energy consuming, high resources consuming need stricter inspection and supervision. China's cumulative foreign exchange reserve stood at 1.809 trillion U.S. dollars by the end of June, up 35.73 percent year on year, while foreign direct investment (FDI) rose 45.6 percent to 52.4 billion U.S. dollars in the first half from a year earlier.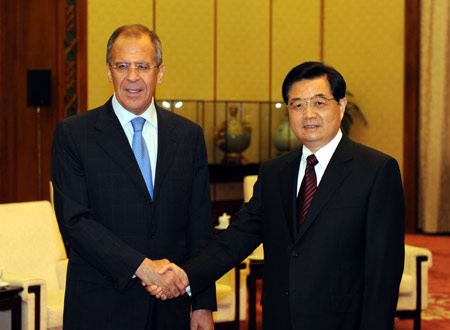 Chinese President Hu Jintao (R) meets with visiting Russian Minister of Foreign Affairs Sergei Lavrov at the Great Hall of the People in Beijing, China, July 21, 2008. Hu said on Monday that the relationship with Russia has been China's diplomatic priority. President Hu Jintao said on Monday that the relationship with Russia has been China's diplomatic priority. He made the comment while meeting with Russia's Minister of Foreign Affairs, Sergei Lavrov. "We will work with Russia to deepen strategic coordination and upgrade the partnership to new heights," said Hu. Describing current Sino-Russian relations as stable and healthy, Hu mentioned his two meetings with Russian President Dmitri Medvedev and comprehensive cooperation and consultation in international affairs.
Housing market undergoes adjustment - China's massive housing market is undergoing adjustment -- but experts believe a healthy market may emerge, after tightening mortgage policy put a sudden brake on the market.

1 million Olympic tickets set aside for students - About 1 million Olympic tickets will be allocated to primary and secondary school students at low prices across the nation.

Hotels cut rates for max bookings ahead of Olympics - Hotels in Beijing have cut their room rates 10 to 20 percent in a last-ditch effort to attract tourists before the opening of the Olympic Games.
H1 tax revenues up 30% on surge in corporate profits - China's tax revenues grew 30.5 percent year-on-year to 3.26 trillion yuan ($472 billion) in the first half of 2008, the State Administration of Taxation (SAT) said on Tuesday.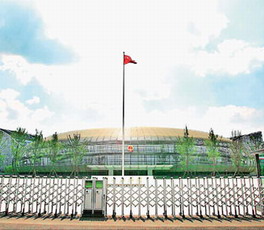 The new administrative complex of the Chengdu government in Sichuan province. The controversial building, said to cost $180 million, has been put on sale to raise funds for quake reconstruction.

Refineries sink deeper in the red - Despite the huge subsidies and rise in gasoline and diesel prices, refineries under China's two leading oil companies incurred 5.71 billion yuan of losses in the first half of the year, said an industry association.
Troops pull out of quake areas - China has begun withdrawing troops from three provinces hit by the massive May 12 earthquake, as authorities shift their focus from rescue to reconstruction work.
July 21 - 22, 2008

Hong Kong: The funds in which most Hong Kong employees have poured their MPF savings were mired in the red in the first half of this year. Whether the market will subsequently recover in the third or fourth quarter, that really depends on how things develop further in the US and the overall level of global economic growth," HSBC Insurance (Asia) managing director for Hong Kong Jason Sadler told The Standard. The city's top five Mandatory Provident Fund service providers' mixed assets funds which are a blend of high- risk equity funds and low-risk bond funds all reported negative cumulative returns ranging from minus 6.89 percent to minus 11.13 percent in the first half, according to fund data provider Lipper. MPF Hong Kong equity funds' returns were also in negative territory. Among the top five MPF providers, the Bank Consortium MPF Hong Kong Equity Fund reported the worst return of minus 24.38 percent for the first half.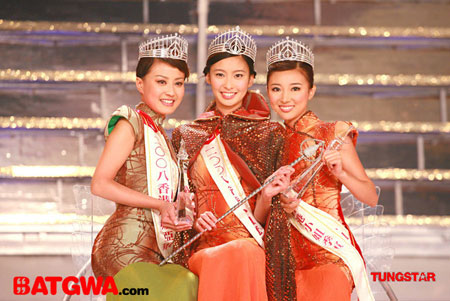 Miss Hong Kong 2008 Winner Edelweiss Cheung (張舒雅) [centre] is congratulated by First Runner-up & Miss International Goodwill Skye Chan (陳倩揚) [left] and Second Runner-up & Miss Photogenic Sire Ma (馬賽), 19 July 2008, Wanchai, Hong Kong. The finals for this year's contest was held at the Hong Kong Convention and Exhibition Centre.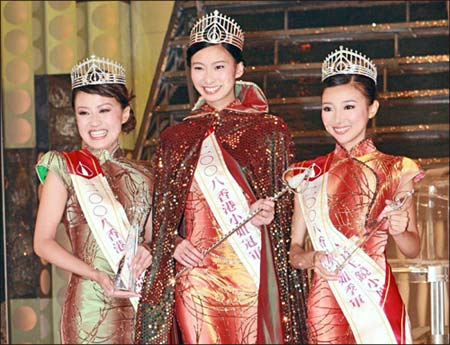 Miss Hong Kong Pageant 2008 winner Edelweiss Cheung (C), runner-up Skye Chan (L), and second runner-up Sire Ma pose for photos in Hong Kong Convention and Exhibition Center July 19, 2008.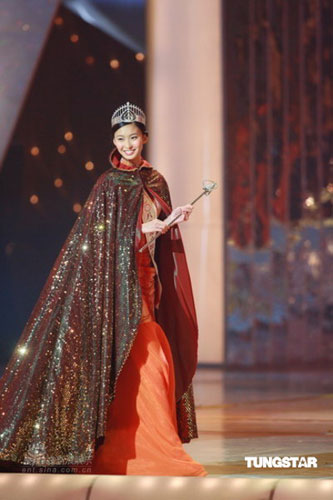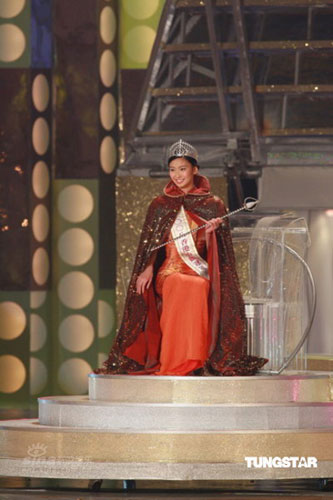 Edelweiss Cheung, 22, is crowned Miss Hong Kong 2008 in Hong Kong Convention and Exhibition Center on July 19, 2008.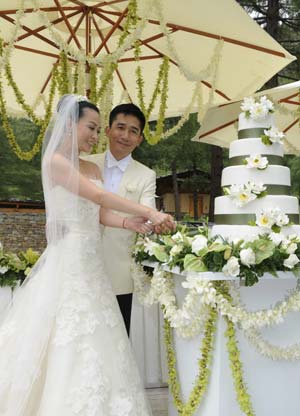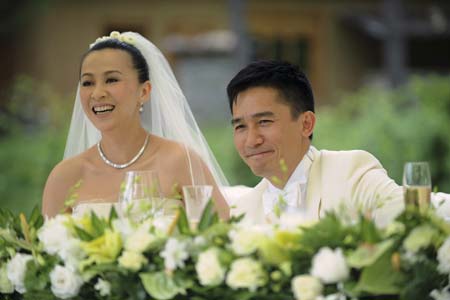 Hong Kong actors Tony Leung and Carina Lau smile during their wedding ceremony in the Kingdom of Bhutan July 21, 2008.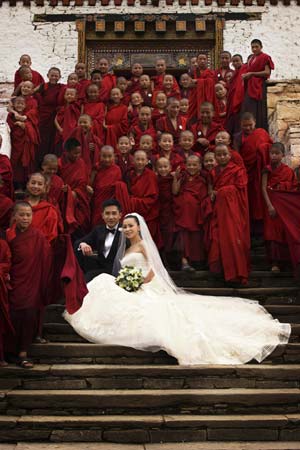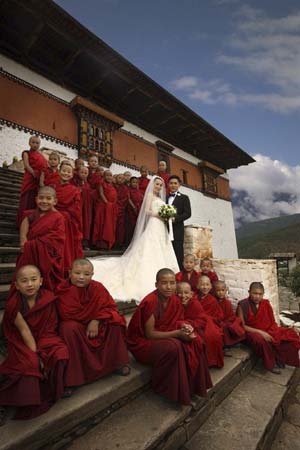 Hong Kong actors Tony Leung and Carina Lau pose with young Bhutanians during their wedding ceremony in the Kingdom of Bhutan July 21, 2008.
HSBC courts China sovereign fund - HSBC (0005) is courting China Investment Corp as a potential investor as the sovereign wealth fund prepares to make up to US$90 billion (HK$702 billion) in foreign equity investments, according to British media reports.
More than 400 transport workers began striking outside the headquarters of Watsons Water in Tai Po Industrial Estate on Monday morning.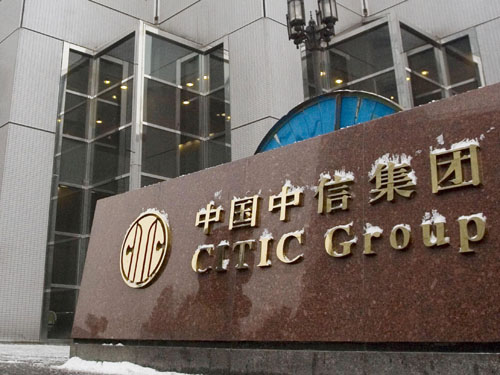 China Citic Group, an investment arm of the central government, is considering raising the price it will pay to privatize subsidiary Citic International Financial Holdings (SEHK: 0183) because of shareholder pressure, according to sources. "There's been lots of feedback that it's a low bid," said one of the sources. "There is such a gap between the current offer and where industry bids have been, so they're under a lot of pressure." Citic said in June it would pay Citic International shareholders HK$1.46 a share and provide one Hong Kong-listed share of China Citic Bank (SEHK: 0998, announcements, news) , another Citic Group subsidiary. The privatization is part of a larger transaction that will see Banco Bilbao Vizcaya Argentaria, the second-largest bank in Spain, double its stake in Citic Bank to 10 per cent and its stake in Citic International to 30 per cent. Investors are unhappy with the HK$5.1 billion of bridging loans they say Citic is accounting for twice, both in Citic International's and Citic Bank's book value. Stripping out the loans, which Citic values at 88 HK cents a share, Citic International's price to book drops to 0.99 times from the 1.6 times it announced in June, according to one shareholder. To return the price to book to 1.6 times would require Citic to raise the offer by 70 HK cents to HK$2.16. "Realistically I'd say they may raise it by 15 per cent," said another shareholder. A 15 per cent increase would raise the offer price to HK$1.68 a share. Seventy-five per cent of Citic International shareholders must approve the plan and not more than 10 per cent can vote it down for the proposal to pass. "Management knows the shareholders may reject this deal and there is a good chance that the offer will be revised up a bit because it's unlikely they have gained enough support," said an analyst. Citic International delayed sending out a scheme document because Hong Kong's High Court had not finished proceedings related to the deal, the firm said in a statement to the stock exchange on Wednesday. The court also has to approve the deal. The firm said it would distribute a privatization timetable by September 1, delaying the close of the deal originally scheduled for September. That does not wash with some shareholders who say the company is trying to work out just how much they will have to raise the bid by to gain approval.
To commemorate the 2008 Olympic Equestrian Events – to be held in Hong Kong in August – Hongkong Post on Monday said they would issue a set of special stamps and other products. "The special set of stamps, together with associated stamp products will be on sale on August 9 — the first day of the equestrian events," said a spokesman for Hongkong Post. He said the Hongkong post issued the set of stamps to celebrate the Beijing 2008 Olympic Games and Hong Kong would co-host the equestrian events, which set a milestone for the city. The official first day covers at HK$1 each will sell at all post offices from next Saturday. A set of stamps and other products will be displayed at the general post office and the post offices in Tsim Sha Tsui, Tsuen Wan and Sha Tin. Advance orders for servicing self-provided covers will be accepted at philatelic offices from next Saturday to August 1. The two limited edition products are a prestige crystal blocks gift set and the Beijing 2008 Olympic Games limited edition prestige stamp album. They will be on sale at 37 designated offices, but only limited stocks will be available. The gift set contains a souvenir sheet and a set of four Austrian crystal blocks with three-dimensional illustrations of the image depicted on the four mint stamps. The prestige stamp album will be issued in a limited edition of 6,000 copies with a certificate.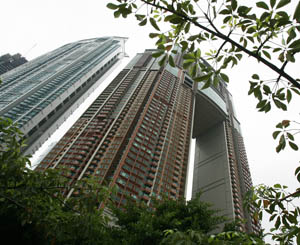 Russian investors shift interest to Asia - A Russian oil company has injected fresh optimism into the market for top-end apartments in the region after paying a new all-Asia record unit price for a Hong Kong penthouse.

China: Russia will soon return 174 sq km of territory on the northeast border to China, ending more than 40 years of negotiations. The two countries will sign an agreement to this effect during Russian Foreign Minister Sergey Lavrov's two-day visit to Beijing that starts today. According to the agreement to be signed, Russia will return Yinlong Island (Tarabarov Island) and half of Heixiazi Island (Bolshoi Ussuriysky Island). The islands are at the confluence of the Heilongjiang and the Wusulijiang rivers that serve as the natural border between the two countries. "This will end the boundary demarcation work (between China and Russia), for which the two countries have been negotiating for more than 40 years," the Russian Foreign Ministry said on Friday.
The Taiwan authority on Thursday approved to relax restrictions on investment in the mainland by investors. The move drew wide applause in Taiwan business circles. Under the new regulations beginning on Aug. 1, institutional investment will be 60 percent of a company's net value. Individuals are now allowed to invest as much as 5 million U.S. dollars, compared with the current 80 million NT dollars (2.63 million U.S. dollars). Currently, the limit is 40 percent for Taiwan companies with a net value of 5 billion NT dollars, 30 percent for those with a net value of 5 billion NT dollars to 10 billion NT dollars and 20 percent for those with a net value of over 10 billion NT dollars. For years, particularly in the eight-year rule of the Democratic Progressive Party, Taiwan investors urged the Taiwan authority to loosen the investment restrictions. In interviews with Xinhua correspondents, many Taiwan entrepreneurs welcomed the authority's latest move to promote the cross-Strait economic relations. It would start up another wave of "mainland visits" by Taiwan investors, they held. Taiwan's stock market responded to the good news as many mainland-investing companies saw their share prices rise in Thursday trading. Over 160 Taiwan-listed companies are expected to benefit from the new policy taken by the Taiwan authority. "It comes slowly, but it is not late," said Prof. Wang Yong, director of the Peking University's Center for the Study of International Politics and Economy. The move to relax the restrictions by the Taiwan authority indicates the pragmatic spirits in handling cross-Strait issues, which is of great importance for promoting the peaceful development of the cross-Strait ties, he said. In related developments, the "economic construction committee" of Taiwan said on the same day it would loosen restrictions on 66 regulations concerning the cross-Strait economic and trade relations.
Urban housing prices up 9.2% in Q2 - Second-quarter housing prices in 70 large and medium-sized Chinese cities rose 9.2 percent year-on-year, said the National Development and Reform Commission and the National Bureau of Statistics on Monday.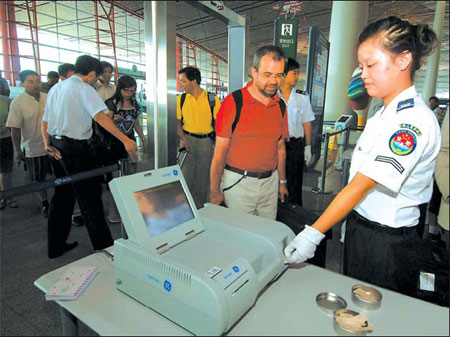 A Beijing Capital International Airport security officer examines a passenger's luggage, as inspections at the airport and bus stations were increased to ensure safety during the Games.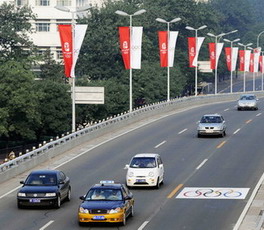 Beijing Sunday inched a step closer to realizing a green Olympics by enforcing a series of measures to ease traffic jams and reduce pollution.
Wen attempts to reassure manufacturers - The mainland government is under pressure from increasingly vocal exporters to provide them with more support, and Premier Wen Jiabao attempted to reassure manufacturers as he visited a southern manufacturing hub.
Olympic flame takes to the sea - Part of the torch relay is held on board a yacht in Qingdao, which is the host city for the Olympic sailing events.

Beijing subway seizes up as traffic taken off road - One of Beijing's most important subway lines seized up on Monday when the mass of passengers forced workers to close off entrances for safety on the first working day of pre-Olympic ...

Olympic shutdown begins with traffic, factory curbs - Morning haze hung over Beijing on Monday, the first workday for restrictions on car use under a bold plan to clear the Olympic city of its notorious smog-choked skies.
Lenovo PC sales grow on strong Europe demand - Strong demand in Europe, the Middle East and Africa helped offset a slowdown in the Asia-Pacific and boost Lenovo Group's personal computer shipments in the second quarter.

Luxury residential apartments in Beijing are under the microscope this month as several Hong Kong developers go head to head in competition for buyers at their upscale projects amid global credit concerns and volatile equity markets. Gemini Grove, a luxury apartment development by Kerry Properties (SEHK: 0683) and Beijing-based Huayuan Group in the Lufthansa business zone, was the first project launched earlier this month when a batch of 68 units were offered at asking prices ranging from 35,000 to 45,000 yuan per square metre. Priced at around 2.5 million yuan (HK$2.86 million) for entry level units, the twin 16- and 18-storey tower, 317-unit project is located on Xin Yuan Nan Road, near the Second Embassy district and Sanlitun in the Lufthansa business zone, and is targeted squarely at wealthy investors. According to local government transaction data, the developer has sold two units for 37,577 yuan per square metre. The location of the project should prove a big plus for the developer since it is in the heart of the traditional luxury district in Beijing. It is located in embassy territory, about 10 minutes by road to the central business district, said Li Wenjie, general manager at Centaline (China). Flat sizes range between 71.56 and 361.31 square meters. Most of the units are one-bedroom. The project is scheduled for completion in the second quarter of next year. Chu Ip-pui, the director of Kerry Development (China), expects about 50 per cent of the buyers will be interested in units for long-term investment, and about 30 per cent of the buyers would come from Hong Kong and overseas, with the majority likely to be mainlanders. To meet the needs of businessmen and investors, all of the one-bedroom units are fully-furnished and loaded with imported technological features. The developer will introduce property agents to lease the units for the buyers. The developer will also provide tenancy management services. Tom Tong, general manager of marketing at Kerry Real Estate Agency, said projected net rental yields excluding management and tenancy expenses could reach 4 to 5 per cent. The developer will offer about 50 units for sale in Hong Kong early next month. For investors wanting houses, Cheung Kong (SEHK: 0001) (Holdings') La Grande Ville in Shunyi county is one choice. The developer plans to pre-sell its first residential project in Beijing by the end of this month. The project, near Wenyu River, comprises more than 2,000 detached houses, semi-detached houses and town houses. It is divided into five phases with the first phase providing about 400 fully-furnished low-rise houses. About one hundred will be pre-sold this month. The sizes of the first batches of houses range from 370 to more than 700 square metres. Buyers who plan to live in the project will have to wait until it is completed, in the first half of 2010. William Kwok Tze-wai, a director of Cheung Kong Real Estate, a subsidiary of the developer, said the asking prices of semi-detached and town houses ranged between 25,000 and 30,000 yuan per square metre. The asking prices of the detached houses are about 50,000 yuan per square meter. Mr Li said the asking prices of the two projects were similar to prices of new projects in the areas. Transactions of luxury residential units have declined since tightening measures were brought in last October, but Mr Li said he expected the prices would remain stable in the second half. "People from Europe or the United States may prefer living in houses rather than apartments. But they should know that apartments on the mainland could provide better facilities and be more accessible to the core business district," he said. "Most of the villa projects are located in suburban areas." Kerry Properties is controlled by the Kuok Group, the controlling shareholder of the SCMP Group, which publishes the South China Morning Post (SEHK: 0583, announcements, news).
July 18 - 20, 2008

Hong Kong: Investors from China's Hong Kong and Singapore are interested in buying shares of Indonesian largest steel producer of Krakatau Steel Inc., the company's Director Fazwar Bujang said here Wednesday. Indonesian is to sale 35 percent of the company's shares at the second semester this year to get funds to finance technology to boost production capacity of the company from 2.3 to 7 million tones per year to meet the growing domestic demand. The director said that the company has completed its road show to Singapore and Hong Kong recently to meet with the investors there. Bujang said that the company was open for the domestic and foreign investors. "The Krakatau Steel can accept domestic and foreign investors. The fact that recently the foreign investors have dominated our capital market," he said. The director said that the company was targeted for the initial public offering (IPO) in October this year. Bujang said that the split of the share between domestic and foreign investors would be determined further. Indonesian State-owned Enterprises Minister Sofyan Djalil said that currently the permitting for the IPO had been processed in the parliament. Currently, Indonesia imports about 6 million tons steel a year to meet the domestic steel demand of about 7 million tones per year, according to the country's investment board. Last year, Krakatau Steel Inc., posted a net profit of around 370 billion rupiah (some 40.66 million U.S. dollars). In the first quarter of 2008 alone, the figure already reached 400 billion rupiah (43.96 million U.S. dollars), according to the company.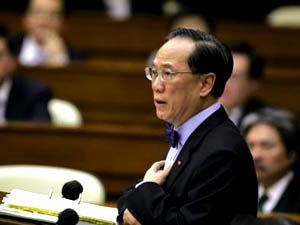 Hong Kong Special Administrative Region (HKSAR) Chief Executive Donald Tsang announced on Wednesday a series of short-term relief measures to alleviate inflation, which involve the spending of 11 billion HK dollars(1.41 billion U.S. dollars) from the HKSAR government coffers. Speaking at the Legislative Council question-and-answer session, Tsang said he hopes the proposals help low-income earners meet their daily expenses amid worsening inflation. He said the Mass Transit Railway(MTR) board has agreed to offer half-price concessions to students between certain stops. The MTR Corporation will announce details soon. The HKSAR government will pay another two months' rent for most families living in public housing estates on top of next month's rent subsidy. Students receiving Comprehensive Social Security Assistance and those who will receive student financial assistance in the following school year will be given a one-off 1,000 HK dollars(128U.S. dollars) subsidy. Two extra months' payment of Old Age Allowance and an extra month's standard rate payment of Comprehensive Social Security Assistance and Disability Allowance will be offered to recipients. Meanwhile, the employee retraining levy will be waived for two years to relieve the burden of hiring foreign domestic helpers in middle-income families. Government fees and charges related to livelihood will also be frozen for one year. Besides providing half-year electricity charge subsidies to all households from September, the HKSAR government will offer the subsidies for a further six months, increasing the total subsidy amount from 1,800 HK dollars(231 U.S. dollars) per household to 3,600 HK dollars(462 U.S. dollars). The HKSAR government has also earmarked 100 million HK dollars(12.84 million U.S. dollars) for the Social Welfare Department to work with non profit-making organizations to provide short-term food assistance services to needy families. To enhance price information on daily necessities the HKSAR government will help the Consumer Council expand the exercise to compare and report prices in supermarkets, shops and markets. It will also liaise closely with the Chinese mainland to ensure stable and adequate food supplies. Tsang said the proposals will not fuel inflation because many are one-off measures, but they will likely cause a higher fiscal deficit and a fall in financial reserves. However, the HKSAR government's sizable fiscal surplus last year puts it in the position to make additional commitments, he said, adding the proposals will not bring major or long-term implications on public finances and the operating account. The HKSAR government will seek funding approval from legislators Friday. As the proposed waiving of the employee retraining levy involves law amendments the SAR government must obtain Executive Council approval before their scheduled implementation in September. Noting inflation is a global problem, Tsang said as Hong Kong is an open and free economy and it is difficult for the HKSAR government to control price rises. Although some people may not be covered in the proposal, most middle-class and low-income families should benefit from the measures. He said the HKSAR government will formulate long-term anti-inflation measures and is willing to discuss the issue with lawmakers.
The Chinese mainland-based Bank of Communications announced on Wednesday that it will offer renminbi-denominated bonds worth a total of 3 billion yuan (435 million U.S. dollars) on July 17-23. The two-year bonds with a denomination of 10,000 yuan each will carry a coupon of 3.25 percent, with half-year interest payments. Trading of the bonds is expected to start on July 29, the bank announced at a ceremony marking the issuing of the bonds. Proceeds from the bond issuing will be used for loans, increasing liquidity as well as general corporate purposes, the bank said in a statement. The Bank of Communications was the fourth mainland-based banks to issue RMB-denominated bonds in Hong Kong since 2007, after the China Development Bank, the Export-Import Bank of China, both policy banks, and the Bank of China. It also increased the total RMB bonds issued by mainland banks in the Hong Kong Special Administrative Region up to 13 billion yuan (1.88 billion U.S. dollars). The launch "provides a driving force" for the development of the mainland and Hong Kong financial markets and will add to the strength of RMB bonds in the international financial markets, said Yu Yali, vice president of the bank.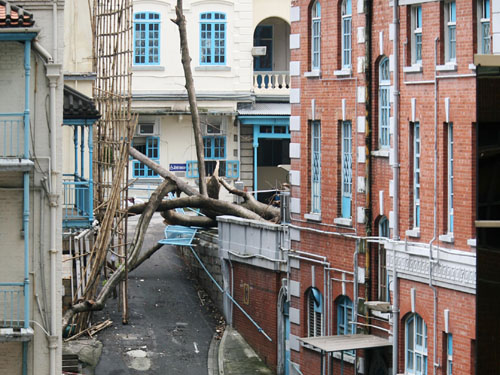 Historic precinct 'needs urgent preservation' - Damage to the former Central Police Station during last month's severe tropical storm has highlighted the threat to the historic cluster of buildings as they await conservation. A 17-metre tree blown down by the gale knocked down three smaller trees which swept a balcony off the almost century-old police station building. Secretary for Development Carrie Lam Cheng Yuet-ngor said that although it should be possible to restore the balcony, "the incident shows that the compound really needs urgent preservation". The balcony was broken off the second floor of Block B of the police station, built in 1910, which faces Arbuthnot Road. It happened during Severe Tropical Storm Fengshen, which caused the No 8 storm signal to be in force for two days from June 24. The Development Bureau said the biggest tree that fell was a big-leaved fig, Ficus virens. Of the four trees only one, a glossy-leaved Nageia nagi, could be saved.
Hong Kong learned important lessons from the 1997-98 Asian financial crisis, which would help it cope with future challenges, Financial Secretary John Tsang Chun-wah said on Wednesday. Mr Tsang was speaking at the Thought Leadership Forum in Banking and Capital Markets at the 61st International Banking Summer School. He was discussing recent developments affecting Hong Kong's economy and banking industry. "Last year, our gross domestic product [GDP] grew 6.4 per cent year-on-year. Our economy today is larger than ever, with GDP stronger over the past three years than we've seen since the boom years of the mid-1980s. However, he said these achievements had not been easy for Hong Kong. He recalled the adverse times in 1997. "Negative equity was a widespread problem for homeowners and consumer confidence was low," he said. Negative equity is when the value of an asset becomes worth less than the loans made to purchase the asset. The financial secretary noted that the crisis encouraged Hong Kong investors to be cautious, to spread their risks, and be more innovative in business. Mr Tsang said banking had also changed. "Following a global pattern, banks in Hong Kong have become less concentrated on the traditional lending business. They increasingly rely on fee-based business, such as wealth management and agency business. More banks have developed in innovative products, such as credit derivatives. Electronic banking [including the pay-by-phone system, automated teller machines, debit card purchases, and personal computer banking] had become an established service delivery channel, he explained. Credit derivatives are financial assets, such as forward contracts, swaps, the value of which is derived from the credit risks. Mr Tsang also said that both the regulatory environment for banks, corporate governance and risk management had improved. "Hong Kong Monetary Authority and other regulatory bodies carry out regular stress tests on banks to make sure they are financially healthy and can bear the risks they are taking. "We have also reduced risk by introducing an interbank payment system, which operates through the real time gross settlement system (RTGS)."RTGS is an online system used for settling payments and transactions by banks and other financial institutions.He said the system allows foreign exchange transactions to be settled on a payment-versus-payment basis, and thus eliminate any risk caused by a time gap. "Furthermore, the RTGS system of Hong Kong and similar systems in selected cities on the mainland have been linked to facilitate US dollar and Hong Kong dollar denominated transactions. Facilities have also been established with the mainland authorities for the clearing of cheques used across the boundary," he explained. The Asian financial crisis started at July 2, 1997 in Thailand and it aroused fears of a global economic meltdown. The financial collapse of the Thai baht precipitated a drop in other Southeast Asian currencies. In Hong Kong, the Monetary Authorities spent more than HK$7.78 billion to maintain the peg at HK$7.8 to US$1 in October, 1997. However, it also caused a massive drop in the Hang Seng Index. The government ended the crisis by buying nearly HK$120 billion worth of shares in the market. Later in 2001, it sold the shares and made a profit of HK$30 billion. Today, many commentators are warning of another global economic crisis precipitated by the sub-prime mortgage crisis in the US, soaring oil prices and rising food prices.

China: China's Kunpeng Airlines Ltd. has signed an agreement to purchase five E-190 jets from Brazil's Embraer (Empresa Brasileira de Aeronáutica S.A.). This agreement comes at a cost of 187.5 million. Kunpeng Airlines is the second Chinese mainland company to purchase Brazilian aircraft. Kunpeng Airlines, based in Xi'an, is a joint venture between China's Shenzhen Airlines and the Mesa Air Group of the United States, with the Chinese company holding a controlling stake. Since Kunpeng went into operation in 2007, it has been providing service on more than 20 routes. The E-190 jet that Kunpeng ordered can seat 98 passengers.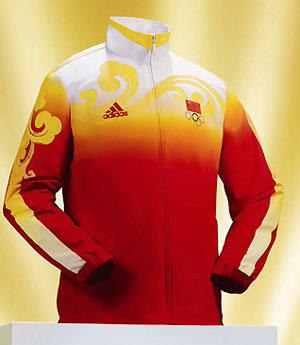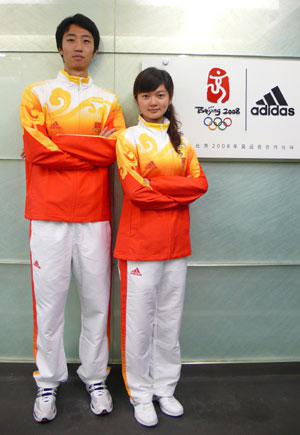 The suits Chinese athletes will wear on the winners' podium during the Beijing Olympic Games are unveiled, July 15, 2008. The suits have the traditional Chinese colors of red and yellow with an image of the national flag and the "auspicious clouds" that adorn the Olympic relay torch.
Three 'defence lines' set up to tighten Olympic security -Beijing public security authorities launched three "defence lines" on Tuesday morning to beef up safety checking on people or vehicles to enter the city. The three lines surrounding Beijing are composed of hundreds of checkposts, said a spokesman for the municipal public security bureau. The first line includes checkposts on the expressways, national highways and town or village roads that link Beijing with other provinces or cities. The patrol posts on the second line are stationed on the major suburban roads leading to the downtown area. The third line covers all major roads in the downtown districts. On Tuesday, big traffic flows caused congestions on the expressways linking Beijing to Kaifeng, Shenyang and Shijiazhuang, and the National highways No. 103 and No. 107. To prevent traffic jams caused by the security checks, Beijing public police bureau asked the checkposts to add checking personnel, and take suspicious people or vehicles off the road and hand them over to local police stations as soon as possible. The bureau spokesman said safety check takes time and congestion is sometimes inevitable. "We hope drivers and passengers' could understand and support us in the coming two months."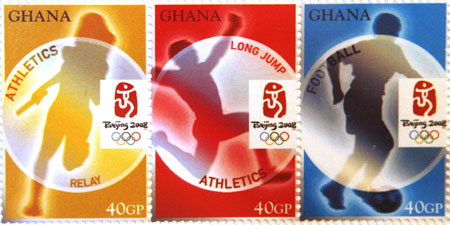 Olympic stamps issued by Ghana are on display during the launching ceremony of Volume 3 of the "Official Worldwide Postage Stamp Collection for the Games of the XXIX Olympiad" in Beijing July 15, 2008. The 3rd volume of a four-set collection, which is authorized by both International Olympic Committee (IOC) and Beijing Organizing Committee of Olympic Games (BOCOG), was launched on Monday in Beijing. The collection brings together the thematic stamps from more than 120 countries and regions to support the success of the 2008 Beijing Olympic Games.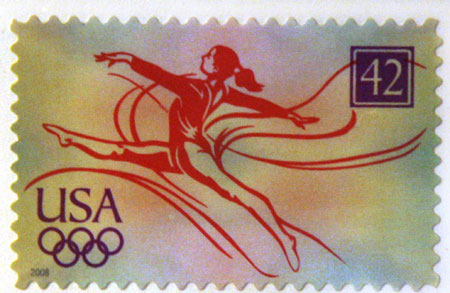 An Olympic stamp issued by the U.S. on display during the launching ceremony of Volume 3 of the "Official Worldwide Postage Stamp Collection for the Games of the XXIX Olympiad" in Beijing July 15, 2008.

Olympic stamps issued by Israel are on display during the launching ceremony of Volume 3 of the "Official Worldwide Postage Stamp Collection for the Games of the XXIX Olympiad" in Beijing July 15, 2008.

Olympic stamps issued by the Democratic People's Republic of Korea are on display during the launching ceremony of Volume 3 of the "Official Worldwide Postage Stamp Collection for the Games of the XXIX Olympiad" in Beijing July 15, 2008.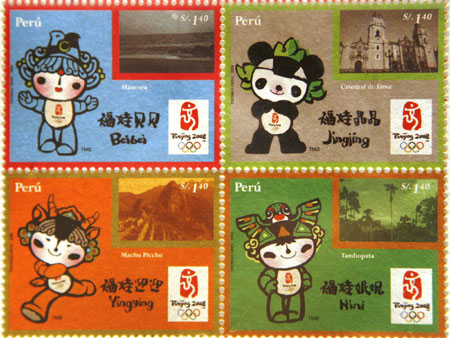 Olympic stamps issued by Peru are on display during the launching ceremony of Volume 3 of the "Official Worldwide Postage Stamp Collection for the Games of the XXIX Olympiad" in Beijing July 15, 2008.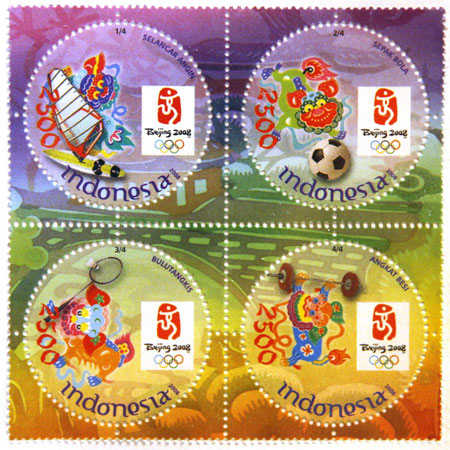 Olympic stamps issued by Indonesia are on display during the launching ceremony of Volume 3 of the "Official Worldwide Postage Stamp Collection for the Games of the XXIX Olympiad" in Beijing July 15, 2008.

Olympic stamps issued by New Zealand are on display during the launching ceremony of Volume 3 of the "Official Worldwide Postage Stamp Collection for the Games of the XXIX Olympiad" in Beijing July 15, 2008.
A new expressway linking the Olympic host city, Beijing, to its nearest co-host city, Tianjin, opened for traffic on Wednesday. The dual four-lane intercity expressway is one of the key infrastructure projects for facilitating the Olympic traffic. It was designated for construction by the Ministry of Transport in 2006. Dubbed as Beijing's offshore gateway, Tianjin is a collaborative host city for the Olympic soccer games. The 135-km expressway links the national capital directly to the container port in Tianjin, whose throughput chalked up 7 million TEU (twenty-foot equivalent unit) in 2007. It makes possible for people in Tianjin to share Beijing's convenient air transport. The two cities have been cooperating to integrate their road and rail networks in addressing the intercity travel, which had been affected by road congestion and slow rail service. The expressway is the second fast road link after the Beijing-Tianjin-Tanggu expressway. Besides highways, the newly built Beijing-Tianjin express railway was tested in June. It is scheduled to be in use by August, bjust ahead of the Games. A bullet train ran at its maximum of 380 km per hour on the line in test runs, the fastest such service in the country. It shortens the intercity travel to 30 minutes.
Two new sightseeing bus tour routes will soon be launched in Beijing to help visitors experience both the ancient and modern in the Chinese capital during the Olympics. One route starts at Yongdingmen Gate in southern Beijing, and passes several major historic attractions including the Temple of Heaven, the Front Gate (Qianmen), the Tian'anmen Gate, Jingshan Park and the Drum Tower. The other route starts at Datun, outside the north fourth ring road, and passes major Olympic venues and facilities like the Olympic Green, the Olympic village and the "Bird's Nest" National Stadium. The new routes, measuring 18.1 km and 16.25 km respectively, would be operational starting July 20, according to the Beijing Public Transport Holdings Ltd Group. The tour buses would be double-deckers and air-conditioned. The fare for the routes would be set in the next few days to come, said the group. The spokesman said more special tour routes would be opened if they were called for. The Beijing Olympics opens on August 8.
Women of Shui ethnic group offer guests with wine as they celebrate the Mao Festival in Shui Autonomous County of Sandu, southwest China's Guizhou province, July 14, 2008. The Mao Festival of Shui ethnic group, an occasion to pray for benign climate and a good harvest, kicked off there on Monday.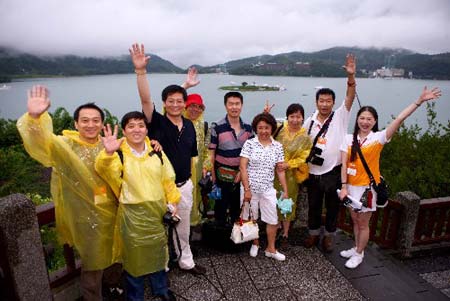 A Taiwan official was reported on Tuesday as saying the island was set to host a maximum of 5,000 Chinese mainland tourists each day next year, an increase of 2,000 over this year's quota. Many tourists from the Chinese mainland visit the Sun Moon Lake, a famous scenic spot in Taiwan on Sunday, July 6, 2008. The Taiwan-based Commercial Times also quoted Straits Exchange Foundation (SEF) chairman Chiang Pin-Kun as saying the number could rise to 7,000 a day by 2010. The increase would bring in an estimated annual revenue of 200 billion New Taiwan dollars (6.6 billion U.S. dollars), he said. The mainland and Taiwan inaugurated the first regular weekend charter flights in almost 60 years earlier this month. The current scheme for cross-Strait chartered flights allows the operation of 36 flights every weekend, from Friday to Monday, divided evenly between mainland and Taiwan airlines. Mainland tourists are allowed to travel to Taiwan in groups of 10 to 40, staying for a maximum of 10 days. The tour price varied in different cities, but was generally from 12,000 yuan (1,748 U.S. dollar) to 13,000 yuan, as much as the price of a package tour to Europe.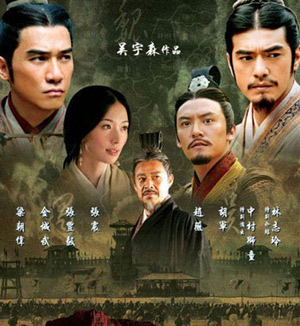 John Woo's historical epic "Red Cliff", reportedly the most expensive film ever made in Asia, has earned 108 million yuan (15.8 million U.S. dollars) in Chinese mainland since its cinema debut last Thursday. The opening weekend box office takings are a record for a Chinese film, compared to other domestic blockbusters such as Zhang Yimou's "Curse of the Golden Flower"(96 million yuan) and Ang Lee's "Crouching Tiger, Hidden Dragon", the Shanghai-based Oriental Morning Post reported on Tuesday. "Red Cliff" beat the Dreamworks production, "Kung Fu Panda", which earned about 50 million yuan in ticket sales on the opening weekend. It also opened strongly in Taiwan, Hong Kong and elsewhere in Asia, including the Republic of Korea and Singapore, taking in a total of 25 million U.S. dollars across Asia. Hollywood blockbuster "Transformers" took five days to break the 100 million yuan (15 million U.S. dollars) mark in the Chinese mainland last year. "Red Cliff" revolves around the epic Battle of Red Cliffs in 208 AD, a decisive battle, immediately prior to China's Three Kingdoms period, between allied forces of the southern warlords Liu Bei and Sun Quan, and the numerically superior forces of the warlord Cao Cao. Award-winning Hong Kong actor Tony Leung, Taiwan supermodel LinChi-ling and Taiwanese-Japanese heartthrob Takeshi Kaneshiro are among the film's A-list cast. Enditem
July 17, 2008

Hong Kong: The frenzy over the Olympic commemorative banknotes to be issued today has provided Hong Kong students with an opportunity to sell their time. But a 17-year-old student who said he was being paid HK$1,000 to line up outside one of the six designated centers may have been shortchanged - the black market price for the HK$1,388 set of uncut notes had already reached HK$10,000 by last night. The student was one of more than 3,000 people in line outside the North Point branch. He joined the queue in the early hours of yesterday morning when the amber rainstorm signal was hoisted, chasing off the less determined. With most schools closed for summer, many students had time to line up for notes for themselves or for others - at a cost. Most were equipped with stools, cushions and even tents. Along with the contingent of students were many people from the mainland, where only the 10 yuan Olympic banknotes will be issued. The scenes were orderly for the most part, though police stepped in at times when people tried to jump queues. Officers handcuffed and took away a young man who tried to kick a reporter. At Tuen Mun, several people fainted because of the hot weather. The enthusiasm of the crowd caught Bank of China by surprise, said Assistant Commissioner of Police Suen Kwai-leung. BOC adopted a measure to divide people into two groups. The first was registered on Monday, while the second were those joining lines yesterday. They were given numbered passes to buy the new banknotes. Four million Olympic notes, priced from HK$130 to HK$1,399, go on sale today.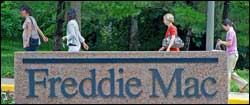 The worsening Fannie Mae and Freddie Mac crisis has people worried that the Hong Kong and mainland governments as well as banks will suffer more damage from exposure to US mortgage assets. source close to the government said that the Exchange Fund should hold most of the US$19.6 billion (HK$152.94 billion) Hong Kong has invested in the US mortgage twins. The fund not only holds Fannie Mae and Freddie Mac bonds but also "a small sum of stocks" of the two mortgage companies, the source said, adding that "the fund sees a book loss [in the investment] and that's it." Concerns ate into the share prices of Hong Kong financials yesterday. The Hang Seng H-share financials index fell more than 5 percent, or 746 points, to close at 14,535 on fears the crisis will expand and hit bank earnings. HSBC (0005) fell 3 percent to HK$113, but analysts said the State Administration of Foreign Exchange, and Exchange Fund could suffer more damage than banks. Hong Kong and the mainland each have a stake of US$20 billion and US$376 billion in the US quasi- government mortgage companies. The big three mainland banks - Bank of China (3988), Industrial and Commercial Bank of China (1398) and China Construction Bank (0939) - have total exposure of up to 265.5 billion yuan, UBS analyst Victor Wang estimated. Bank of Communications (2388), China Merchants Bank (3968) and CITIC Bank (0998) will have limited exposure, he told fund managers. According to Wang, mainland banks - especially BOC - will see downside risks in US bond exposure. "We estimate BOC will have US dollar bonds of up to 466 billion yuan [HK$532.2 billion], of which up to 110 billion yuan will be in government or semi-government bonds that are likely exposed to the two mortgage firms," he said. "ICBC and CCB will have about 85.3 billion yuan and 70.2 billion yuan, respectively." Morgan Stanley China strategist Jerry Lou said share declines were largely due to investors over-reacting, arguing that the unlimited mandate the US Fed has to help the two mortgage providers could contain the crisis. But BNP Paribas Securities analyst Henry Ai said there is a risk of further devaluation in US assets and the US dollar.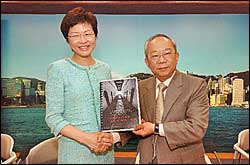 The Executive Council yesterday approved the Hong Kong Jockey Club's HK$1.8 billion offer to conserve the Central Police Station compound but ordered changes to the height of the structure and several other facilities. Development Secretary Carrie Lam Cheung Yuet-ngor insisted the changes were not a complete departure from the original plans but there will no longer be an observation deck. There will also be fewer performance venues although a law and order museum will be set up. Jockey Club chairman John Chan Cho-chak said the height and bulk reduction meant the observation deck and two small cinemas would have to go while the auditorium will be reduced from 500 seats to 350. Chan said the removal of the controversial scaffold-like design will be left entirely to the architects. He pointed out that cutting down the size of the building would reduce not only the cost but also the income to be generated from the project once completed. However, all profits derived from the redeveloped site would be injected into heritage work in the city. The club will run the project on a self-financing basis and undertake all renovation, conversion and new building works as well as management, operation and maintenance expenses. The building will not belong to the Jockey Club nor will it have naming rights for the various facilities. Chan said the budget will be re- evaluated after the new design is released, probably within one year. He said the changes were aimed at placating residents who feared the previous 160-meter tower would block their view, create light pollution and worsen traffic congestion. Chan said the project architect, Herzog and de Meuron, would co- operate with local professionals in architecture and conservation to make sure the future design will reflect local characteristics. Town Planning Board and Antiquities Advisory Board member Bernard Lim Wan-fung welcomed the move, but said the selection process of local architects and conservation consultants should be transparent. "The design of the compound should be open to competition as is the case in other countries," Lim said, adding that the project's conservation- led approach was not clear enough. He said while the plan was to conserve trees on the site, four had recently collapsed and one smashed a balcony of one of the buildings. Three of the trees were eventually removed. The balcony was not seriously damaged and will be restored. The Central Police Station compound was declared a monument in 1995. It comprises the Central Police Station, the former Central Magistracy and Victoria Prison.
Special security measures were ready for the Olympic and Paralympic equestrian events in Hong Kong next month, while the terrorist and public order threat remained moderate, police said yesterday. Security inspections for the two competition venues - at Sha Tin and Beas River in Sheung Shui - will begin on Sunday. Penfold Park, a training facility next to Sha Tin racecourse, will be closed for inspection from today. Assistant Commissioner for operations Bill Suen Kwai-leung said the events would pose an unprecedented challenge for the force, given the prolonged period of 55 days. "In terms of duration, it will be the largest long-term security arrangements, even compared to the World Trade Organization Conference in 2005," he said. Mr Suen said nearly 3,500 officers had been given accreditation for badges that would allow them to carry out duties within restricted zones. At least 2,000 officers would be deployed each day for equestrian-related duties during the period. "August 9 will possibly be the very peak of the security arrangements, as two competitions will be held ... in the morning and evening," he said. "Including deployments for crowd control and traffic management, we will need as many as 4,000 officers on that day." Police leave restrictions would apply from August 1, and up to 1,000 auxiliary officers had been asked to carry out duties, Mr Suen said. He said demonstration areas would be set up according to the number of protesters as well as the impact on the public. So far, the force had yet to receive any notifications of protests by local or overseas groups, he said. Despite the risk assessment remaining moderate, Mr Suen would not rule out the possibility of adjusting the warning level. "[The assessment] is an ongoing process, which should never stop at any point. The threat can be higher or lower and we will have updates," he said. Police say security measures on land, in the air and at sea will be imposed during the period. Three restricted flying zones will cover the competition venues and the Olympic Village, while a maritime exclusion zone will be set up on the Shing Mun River during the events. Access will also be restricted to the Royal Park Hotel in Sha Tin, site of the Olympic Village.

Entrepreneur floats plan for seaplanes to Macau - Scheduled service awaiting approval from government - Seaplanes flying over Victoria Harbour and taking passengers to and from Macau will become a reality in the foreseeable future if the government approves a plan to relaunch the flights, which form part of the collective memory of Hongkongers. WaterfrontAir, a firm founded by Canadian entrepreneur Michael Agopsowicz, plans to operate a scheduled seaplane service between a new Kai Tai Waterfront Aerodrome and the Pak On ferry terminal near Macau's Cotai Strip. The company intends to use a fleet of 18-seater DHC-6 Twin Otter floatplanes for the flights, which would take about 20 minutes. It plans to create a licensed water aerodrome opposite the old Kai Tak airport runway. Passengers would be taken to the Kowloon City ferry pier after the seaplanes landed. The Tourism Commission and the Tourism Board have given their backing to the proposal because it would enhance Hong Kong's appeal as a city with diversity and fun. But the project first needs to pass an environmental-impact assessment. Mr Agopsowicz, also director of the company, said he would look for investors for the project and planned to commission an environmental-impact assessment and a noise- impact assessment in the second half of the year. The firm plans to charge about HK$1,500 for a one-way trip, compared with HK$2,200 to HK$2,400 for a helicopter trip between Hong Kong and Macau or about HK$150 for a jetfoil. It plans to run 20 flights a day. The firm estimates 150,000 visitors will take the trips every year. Mr Agopsowicz said he discussed the concept with Permanent Secretary for Transport and Housing Francis Ho Suen-wai on March 18. In a letter to Mr Agopsowicz on May 5, the bureau said: "From the aviation point of view, we have no objection in principle to your idea, but the feasibility of the idea hinges on the satisfactory resolution of a wide range of technical issues." A bureau spokeswoman said these issues concerned the feasibility of the idea from the perspectives of civil aviation, district planning, land-use planning, environmental impact and interface with marine activities. "The Tourism Commission considers that an alternative means of fast transportation to Macau should be a [welcome] addition to enhance connectivity and choice. The seaplanes championed by you look attractive and elegant, and are good for leisure travel," the bureau said in its letter to Mr Agopsowicz. The commission was of the view that the plan would enhance Hong Kong's appeal. In a letter to Mr Agopsowicz last month, Tourism Board executive director Anthony Lau Chun-hon said: "Not only can the service offer users the opportunity to view Hong Kong's spectacular skyline and cityscape over Victoria Harbour, it can also strengthen Hong Kong's image as a major cosmopolitan city." Scheduled seaplanes between Hong Kong and Macau were operated between the 1930s and 1950s. Mr Agopsowicz said seaplanes did not have a significant environmental impact. "They compare very favourably to conventional motorised boats in terms of air and water pollution," he said. He added that the DHC-6 planes he planned to deploy for the services were much quieter than helicopters and the service would operate in daytime only. Mr Agopsowicz said seaplane services did not require a huge amount of investment and he estimated that the start-up investment for the project would be below US$5 million. Bruce Liu Sing-lee, Kowloon City district councillor representing the Kai Tak constituency, said he would support the proposal if the noise level was acceptable. "I think the seaplane services would create a substantial number of job opportunities for the neighbourhood and the whole Kowloon City district," Mr Liu said.
MTR on track to achieve IT systems integration - More than seven months into its merger with the Kowloon-Canton Railway Corp (KCRC), the MTR Corp is on track to complete what it sees as the most complex information technology integration project in the global rail transport industry. The MTR, the city's sole railway operator and a leading property developer, will cut the total number of enterprise server computers in the merged group by September and finish the roll-out of common software applications by the first quarter of next year. From a high of 1,100 servers before the merger, the new company intends to keep a more cost-effective base of 400 servers. The larger MTR's data centres - all in Hong Kong - will be whittled down from five to three. About 31 common but minor enterprise applications will be deployed. "Once all that work is done, we can spend our resources on new projects and pursue key innovations," said Daniel Lai, the head of IT at the MTR. "We treat IT as one of our vital support departments, just like finance or human resources." Mr Lai said the realignment of IT systems supported business processes that made it possible for the MTR to undertake initiatives including developing six new railway lines over the next decade and several large property projects that are either on the drawing board or under construction. The MTR is a major player in a HK$39.5 billion plan to build an express rail link to the border, a project that will make Hong Kong the southern gateway to the nation's high-speed rail network. Services will begin in 2015. To run safe and undisrupted railway services, the pre-merger MTR and KCRC relied on their respective IT infrastructure in managing assets such as tracks and carriages, handling back-end fare processing for smart card transactions, providing customer hotline services and managing lost property at stations. Started in February last year, the MTR's IT systems integration program is a critical part of the HK$12 billion merger between the company and the century-old KCRC. "There is no reference point anywhere in the world of a similar IT infrastructure merger by almost equal-sized railway network operators," said Gautam Bardoloi, a partner at IBM China/Hong Kong's Global Business Services unit, the MTR's consultant in the program. With the corporate merger on December 2 last year, the enlarged MTR has seized more than a 40 per cent share of Hong Kong's public transport market to become the sector's leading operator - with daily passenger volume exceeding 3.4 million, about half of the city's population. "Without a smooth integration of IT systems, business simply cannot run optimally for the new MTR," said Mr Bardoloi, whose team at IBM initially worked with the MTR to study and help draw up plans for the IT infrastructure merger. But Mr Lai said: "From day one, this [IT integration] hasn't been an easy journey." Considering the cost of introducing a completely new IT infrastructure and the pressure to implement more than 20 integration projects before December 2 last year, the MTR and KCRC chose to minimise risk through a strategy called "Adopt and Go". That meant setting up about 71 different committees and working groups to decide which IT systems stay and which ones go. There were more than 100 different enterprise applications to be integrated, in which the IT teams from the two railway firms decided between systems built on Oracle and SAP software. The MTR's Oracle set-up won, with the core enterprise resource planning system adopted throughout the merged company by December 2. Oracle's PeopleSoft-brand human resources application had been fully deployed in March, while the Oracle enterprise asset management system was rolled out in April. Significant IT cost savings had been achieved through lower systems maintenance and support costs, as well as reduced staff in the merged IT services department, which had 138 workers, down from a combined 250 before the merger, Mr Lai said.

China: China's currency, the yuan, on Wednesday set another post-revaluation high against the weakening U.S. dollar for the second consecutive day. The central parity rate of the yuan, or Renminbi (RMB), was 6.8128 yuan to the dollar, according to the China Foreign Exchange Trading System. The reference rate was up 102 basis points from the previous trading day. The yuan has risen more than 7 percent against the dollar so far this year, compared with the 6.9-percent gain last year, and has broken its own record value 55 times. Market observers said Wednesday's depreciation of the dollar was due largely to lingering concerns about credit risks in the U.S. financial regime, despite the U.S. government's decision to rescue struggling Fannie Mae and Freddie Mac, the biggest providers of financing for home loans. Some experts called for actions to slow RMB appreciation, so as to avoid adversely affecting the Chinese economy. On Wednesday, the Renminbi gained 162 basis points against the euro to 10.8375 yuan, but lost 689 basis points against 100 Japanese yen to 6.5017 yuan.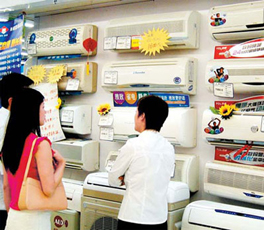 Domestic air conditioner producers are taking a further hit this summer by rising material costs, bloated inventory and declining sales both at home and abroad.
Chinese vice president stresses safety for Olympic venues outside Beijing - Vice President Xi Jinping said Tuesday that Olympic venues outside Beijing should give priority to safety and he expected audiences to watch the Games with good manners.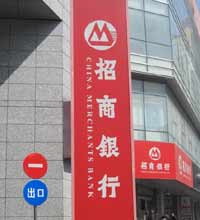 China Merchants Bank Tuesday received an official license from the New York State Banking Department to operate a branch in New York, becoming the first mainland bank licensed in the U.S. in 17 years. The branch will engage in wholesale deposit taking, lending, trade finance and other banking services, the bank said. "Our New York branch will facilitate trade and other business activities between China and the U.S. by providing trade service, trade finance, dollar clearing and other services to businesses from both countries," said Fang Hui, general manager of the New York branch. The formal opening of the branch is expected later this year while the preparation work is under way, the bank said. "The New York branch is an important part of the bank's overseas expansion strategy," Fang said, adding the bank will continue to adhere to prudent management and operations. Backed by its good corporate governance and customer services, the lender has strengthened its capital base and improved management, which have helped fuel its global expansion. The bank is seeking new profit engines as its domestic businesses have been well developed, said Zhang Jing, an analyst from China Minzu Securities. "This is a significant step for China Merchants Bank's overseas strategy." Opening a branch in New York, the financial center of the U.S., will help the lender boost its business in that country and catch up with rivals Bank of China and Industrial and Commercial Bank of China in the foreign market, he said.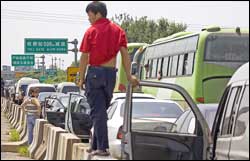 New security checkpoints set up around Beijing ahead of next month's Olympic Games caused massive traffic jams when they went into effect yesterday as drivers were forced to wait in long lines in muggy July heat. Hundreds of checkpoints have been installed on expressways and highways leading into the capital under the "Three Lines of Defense" security program, Xinhua News Agency said. Security was also stepped up at the airport and on major train routes coming into Beijing. Cars awaiting checks by armed police with sniffer dogs were backed up behind the checkpoints. Frustrated drivers read newspapers or walked impatiently along the roadside. "Now the bad guys can't get in, but neither can the good guys," said Wang Guoqing, who was stopped on a bus at the Baimiao checkpoint east of the city. "I've been waiting for three hours, and now I've been walking for nearly an hour down the expressway." Drivers and passengers now have to show identity cards to enter Beijing, and their vehicles have to be searched for "dangerous goods," Xinhua said. Roads leading into the city are the first line of defense, meaning mandatory police checks, with random checks planned on suburban roads and major inner-city roads as the other lines of defense. Traffic officials said they had not heard of any delays caused by the increased security. China is mounting a huge security push for the Olympics, surrounding venues with thousands of police, saying the games are vulnerable to terrorist attacks. China has prepared an anti- terror force of nearly 100,000 commandos, police and troops. Beijing officials, meanwhile, sought to downplay worries about low hotel reservations for the August 8-24 Olympics, insisting the numbers were in line with expectations and refusing to draw a link with new visa controls. Xiong Yumei, deputy head of the Beijing Tourism Administration, said more than half the rooms in four-star hotels in Beijing over the Olympic period were still available, although bookings were edging up slowly.
The economic growth of Shanghai, the mainland's financial services hub, slowed to 10.3 per cent in the first six months of the year, signalling possible sharper declines in nationwide growth in the months ahead. The growth was down from 13 per cent in the first half of last year, Xinhua reported yesterday, ahead of the central government's formal announcement of data tomorrow. Economists said Shanghai's slowdown signalled the severity of the nation's economic problems: sluggish export growth, spiralling costs, rising inflation, a strengthening yuan and fallout from the worst snowstorms and earthquake in recent history. "Coastal areas are dominated by the export trade, which helped slow Shanghai's growth," Deutsche Bank chief economist Ma Jun said. "The first-half figure signals a further slowdown going forward." Mr Ma estimated that mainland economic growth would slow to 10.2 per cent in the first half from 11.9 per cent a year earlier. Despite its role as the mainland's financial services hub, Shanghai felt the pinch of punishing increases in the cost of raw materials, labor and pollution control measures, as well as the country's shifting trade policies, economists said. Macquarie Research head of China research Paul Cavey said Shanghai's slowing economy was overcast by lacklustre fixed-asset investments, which climbed 1 per cent between January and May and lagged way behind the country's 25.6 per cent increase. "The Shanghai situation reinforces the trend that central and western regions are pulling the national's growth engine," Mr Cavey said. Buffeted by internal economic problems and turbulent external markets, the mainland is expected to relax some policies, such as slowing the yuan's appreciation and increasing some value-added tax rebates on certain exports. "There may be some tax support for small and medium-sized enterprises," Mr Ma said. China International Capital Corp chief economist Ha Jiming said the central government would probably take a two-pronged strategy by tightening monetary control to combat inflation and loosening some fiscal policies to avoid stagflation. Mr Ha said the central bank would lift the reserve requirement ratio - the level of deposits lenders must set aside for loans - and that the maximum appreciation of the yuan would be 10 per cent this year.
July 16, 2008

Hong Kong: Hong Kong Int'l Airport named best of world again - The Hong Kong International Airport (HKIA) has been named the world's best airport by the London-based independent research group Skytrax for the seventh time in eight years, the local Airport Authority said Monday. The annual survey, conducted from August 2007 to May 2008, rated more than 190 airports on some 40 product and service categories, including staff efficiency and courtesy, terminal cleanliness, airport accessibility, shopping and dining options, Internet services, as well as security processing and immigration waiting times. Edward Plaisted, chief executive officer of Skytrax, said the Hong Kong airport had been singled out "again and again" by delivering services of the best quality. "To retain the title of world's best airport among such strong competition is clear testament to an airport that is satisfying its customers at the highest level," he said. Built on a small island neighboring Hong Kong's sparsely populated Lantau Island by land reclamation, the HKIA first opened in 1998 to replace the Kai Tak Airport, which was located in the relatively densely populated Kowloon and nearer to the skyscrapers. The HKIA has come first in the Skytrax World Airport Awards in 2001-2005 and 2007, and second in 2006, facilitating the city's role as an international aviation hub. Stanley Hui, chief executive officer of Airport Authority Hong Kong, said the HKIA has launched a 4.5 billion HK dollar (577 million U.S. dollar) enhancement program for its Terminal 1 and the airfield, which will be completed by 2011. The Singapore Changi Airport trailed in this year's survey, followed by the Seoul Incheon International Airport, the Kuala Lumpur International Airport and the Munich Airport.
The average occupancy rate of hotels in Macao rose slightly by 0.6 percentage point to 72.9 percent, with four-star hotels leading at 77.5 percent, according to the latest figures released Monday by the Statistics and Census Bureau(DSEC) of the Special Administration Region. The bureau said that the total number of guest rooms available in local hotel sector grew by 24.4 percent from a year earlier to 16,234 at the end of May this year.
Hong Kong frenzy for Olympics banknotes - People form long queues outside Bank of China Tower to snap up special-edition HK$20 Olympic banknotes more than a day before their official release in Hong Kong July 15, 2008.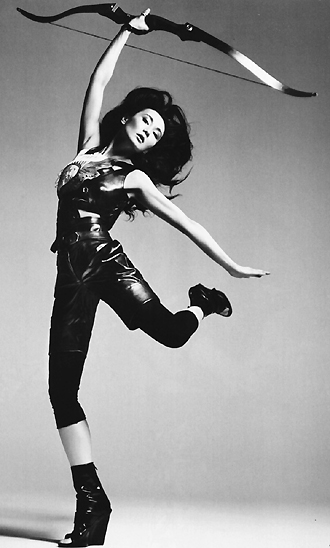 Hong Kong film star Maggie Cheung holds up a bow and poses for Vogue. The photo shoot is a series on the actress in a special Olympic edition of Vogue China. The outfits she wears were inspired by the Beijing Olympic Games.
Wong Kar-Wai to direct Leung-Lau wedding - One of China's most famous star couples want their wedding to feel like a romantic movie. Tony Leung and Carina Lau have invited award-winning director Wong Kar-Wai to help them work out their wedding details. Wong, the best director at the 1997 Cannes Film Festival, will be the chief curator for Leung and Lau's much-discussed wedding in October, the Oriental Morning Post reported Monday. Wong's 2004 film "2046" won Tony Leung a best actor award at the Hong Kong Film Awards. He is also a long-time friend of the couple. Art director William Chang, who took part in almost every film by Wong, has been invited to work with him again, the report says. Chang will be responsible for designing Lau's wedding gowns and ensuring that the wedding is "visually stunning." Tony Leung, 46, and Carina Lau, 42, have been dating for nearly 20 years. Reports about their wedding plans have been making headlines since they began sending out invitations last month. Yet the couple has kept the date and other details under wraps. Rumors suggest that a lavish, star-studded wedding will be held in October, but others say it's actually scheduled for this month.
The Executive Council has decided to reduce the height and size of the structure proposed earlier for the Central Police Station. The council made the decision as it entered into a partnership agreement with the Hong Kong Jockey Club to push forward the HK$1.8 billion conservation and revitalization project of the Central Police Station compound at the Hollywood Road-Old Bailey Street junction.
Hong Kong's Court of Appeal dismissed Winnie Ho's appeal to challenge the HK$3.85 billion initial share sale of SJM Holdings. Winnie, the estranged sister of SJM chairman Stanley Ho, said she "would certainly'' appeal the verdict with the Court of Final Appeal. Shares of SJM are scheduled to start trading today. The trading was postponed from July 10 due to Winnie Ho's legal challenge. In the past two years Winnie Ho has filed at least 37 lawsuits in Macau and Hong Kong trying to block the SJM share sale over alleged debt, defamation and the shareholding structure. She has said the company owes her dividends for her 8 percent stake.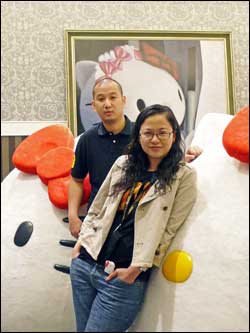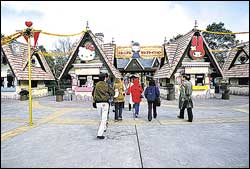 A Japanese entertainment giant wants to build a Hello Kitty theme park in Hong Kong - if it can get government and investor backing for a multibillion- dollar project. It would be the world's third and the first outside Japan. Sanrio, trademark owner of Hello Kitty and other characters such as Dear Daniel, My Melody and Keroppi, told The Standard there has been at least three on-off discussions with potential investors in the past seven years. The talks had come to nothing because of the lack of a site and an agreeable business model. "The Hong Kong market is small but dynamic," said Caroline Tsang Shui-kwan, deputy general manager of Sanrio Wave Hong Kong. "If we were to build a Hello Kitty Land here, we would modify it to meet Hong Kong tastes, not duplicate another Disneyland," she said. If the plan materializes, it would be Hong Kong's third theme park.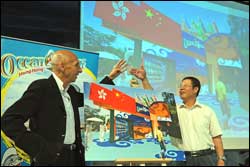 Ocean Park will have nine Chinese sturgeon by the end of this month, three weeks after one of the original five died from a barracuda bite. "Five, not one, five Chinese sturgeon," park chairman Allan Zeman said yesterday, referring to the additional gifts from Beijing. "We all know that in Chinese, nine is a very lucky number." The number nine is linked to longevity in a Cantonese idiom. The National Aquatic Wildlife Conservation Association earlier only pledged to replace the dead sturgeon to complete the five Olympic rings which the original fish symbolized. The new arrivals will have to be "quarantined" from the surviving four - they have now moved from freshwater to seawater. In order to have five sturgeon displayed at the opening of the Beijing Olympics next month, the association will select five new fish, aged between seven and nine, and about two meters in length, from the Xiamen Songhao Chinese Sturgeon Breeding Centre. They will be delivered to Ocean Park by the end of this month. Deputy chief executive Matthias Li Sing-chung said the park will try its best to minimize any danger to the protected national treasures. Contrary to the announcement made immediately after the death of the smallest sturgeon among the original batch, the nine sturgeon will be separated from other fish. The park will convert the shark aquarium to house the new sturgeon starting on August 8 - the opening day of the Olympics. The four surviving original sturgeon will be back on display and join the new fish at the Chinese sturgeon aquarium once the new arrivals complete salination in one to two months. Fifteen sharks from the original aquarium will be relocated to the nearby Atoll Reef, their former home. The 11 other sharks will be housed at special pools until a grand aquarium is completed in two years.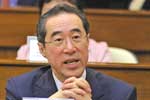 Sichuan funding heat draws Tang inflation pledge - Chief Secretary for Administration Henry Tang Ying-yen vowed the government will do whatever is necessary to help residents cope with inflation despite its HK$10 billion plan to aid in the reconstruction of earthquake- shattered Sichuan.
Although Invest Hong Kong has assisted a record 148 companies from overseas and the mainland in the past six months, its director general Mike Rowse expressed concern yesterday over the global economic slowdown that may affect the business climate.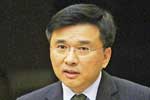 Islamic bond to get tax waiver - The government will waive certain taxes for Hong Kong's first Islamic bond - probably issued by the Airport Authority - before any changes in the tax regime, said Secretary for Financial Services and the Treasury Ceajer Chan Ka-keung.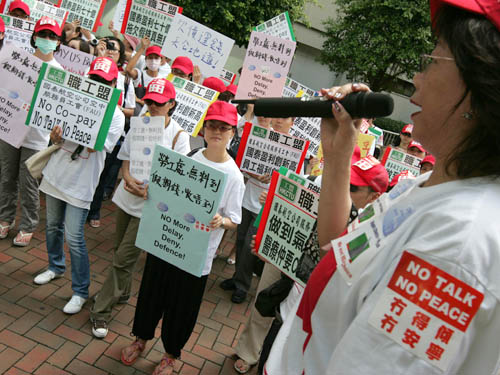 Cathay Pacific flight attendants have demanded that the Labour Department prosecute the airline for allegedly underpaying or not paying for holiday leave. About 70 members of the Cathay Pacific Airways (SEHK: 0293) Flight Attendants Union demonstrated in front of parent company Swire Pacific (SEHK: 0019)'s headquarters at Pacific Place yesterday and marched to the government offices in Central with a letter to Chief Executive Donald Tsang Yam-kuen demanding that the Labor Department hurry up its investigation and prosecute the airline. Last week, they were considering going to the Labor Tribunal, but Confederation of Trade Unions general secretary Lee Cheuk-yan said that was "not viable". "Getting 7,000 people to register their cases, administratively, is hard on the Labor Tribunal," he said. "We will ... use the Labor Tribunal as a last resort." Flight attendants' union chairwoman Becky Kwan Siu-wa said: "We have met so many times [with Cathay representatives], but we feel that they are just dragging their feet." The union claims that the airline owes about 7,000 cabin crew HK$30,000 to HK$100,000 each for allowances and work during statutory holidays and annual leave. Cathay says the claims "are simply not true and any suggestion that we owe any further amount to our crew is therefore incorrect". It says it has complied with the Employment Ordinance. Mr Lee said the Labor Department had been dragging its feet. He asked it to prosecute the airline six months ago, but said he had not received a response because the department was still investigating the matter. The department had been helping the company and union assess how to calculate holiday pay, a spokeswoman said. Asked when the assessment would be finished, she said it would continue communicating with both parties. Ms Kwok, an attendant for five years, said: "I work almost all holidays, and not once have I ever gotten paid for those days. We don't mind working on holidays. We are demanding what is rightfully ours." Ms Hu, 39, an attendant for 13 years, said Cathay owed her HK$31,006.80 for the past six years. "This is a long-standing problem." She also said it was not the only problem, adding that she was worried that she had to retire when she turned 45, instead of at 55, the retirement age for recruits before 1993. "At least I wanted to be working until my children were all grown up."
Security work for the Hong Kong's Olympic equestrian events would be particularly challenging for police, assistant police commissioner Suen Kwai-leung admitted on Tuesday.

China: The local liaison office of the China Audio and Video Association here has taken steps to stop KTV bar operators and VOD technology suppliers from using unauthorized music. The office recently appealed to the city's copyright bureau to take action against suspected bar operators and suppliers. The bureau has urged two KTV bar operators in the city to take part in an administrative investigation and has joined forces with the municipal cultural market comprehensive execution team and public security bureau to investigate two karaoke VOD suppliers to confiscate their products and business documents. The KTV bars subject to administrative investigation are Guangzhou Fashion Party KTV and Guangzhou Big Echo KTV, while the two VOD firms are the Guangzhou branches of Shine Multimedia Co Ltd and ThunderStone Technology Ltd, both of which have their headquarters in Beijing. "The KTV bar owners have not yet approached us for the administrative investigation, and we can't comment too much on the case," Liang Zhengxiang, deputy director of the municipal copyright bureau, said. As for the case of the KTV VOD technology suppliers, he said the joint action last week found many music products illegally copied for business purposes, and officials confiscated about 20 hard discs, books of accounts and other business records from Sunshine Multimedia's Guangzhou branch. They also took two servers with a large number of illegally copied songs, which are ready for shipment, at ThunderStone's Guangzhou branch.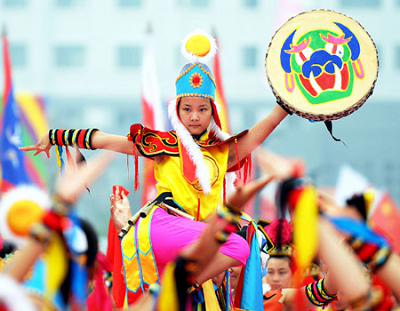 Dancers perform at the launching ceremony of the 2008 Beijing Olympic Games torch relay in Songyuan City, northeast China's Jilin Province, on July 15, 2008.
According to the latest rule of China's securities watchdog, the information about initial public offerings (IPO) awaiting a green light would be disclosed earlier, a step toward more transparency in IPO approval. Starting from July 1, the China Securities Regulatory Commission (CSRC) would release a preliminary prospectus online within five work days after an IPO-seeking company and underwriters receive feedback from the CSRC and make revisions, Xinhua learnt from the CSRC on Sunday. Before the new rule came into effect, there was no definite request on how long the IPO prospectus should be published after revision. The CSRC only ordered that such a disclosure should be made five days before a CSRC meeting for formal approval. In that way, a long period could have passed after a company revised its prospectus. The move is aimed at strengthening the supervision over IPOs, enhancing underwriters' awareness of responsibility, and improving the quality of listed companies, according to the CSRC. China began to require companies applying for IPOs to pre-disclose their prospectuses before approval from 2006, in an effort to make IPO procedures more transparent and market-oriented.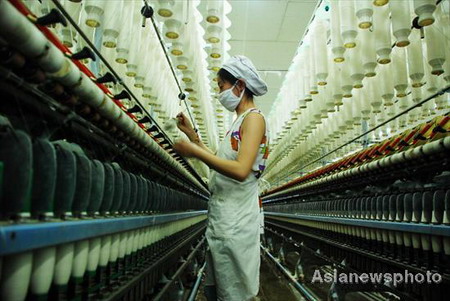 A woman works at a textile plant in Huaibei, Anhui province on July 9, 2008. Exports of the most seriously influenced textile and garment sectors declined by 4.2 percent year-on-year to $15.5 billion in June, representing the slowest increase in five years. A slowdown in exports as indicated by the first-half Customs data has drawn concerns from both companies and policymakers alike to make policy changes in sectors which have been badly hit. Trade surplus for the first six months shrank to $99 billion, down by 11.8 percent year-on-year. Trade surplus in June alone declined by more than 20.6 percent, making it $5.5 billion less than the previous month. Exports of the most seriously influenced textile and garment sectors declined by 4.2 percent year-on-year to $15.5 billion in June, representing the slowest increase in five years. Though the high trade surplus has been the top concern for economic policy for a long time, exports contribute a large part to the overall economic growth. Drawn by the slowdown in exports, the economic growth for the first quarter reached 10.6 percent, compared with 11.9 percent the same period of last year. Therefore, the latest figures have led industries to suggest that policies may shift to support the export businesses. According to a report by China Jianyin Investment Securities, a proposal made by China National Textile & Apparel Council had been turned to the State Council. The report said that the tax rebate for textile materials will increase from 11 to 13 percent, and that of the garment sector will raise to 15 from the current 11 percent. The pain of export-oriented industries has also drawn attention of policymakers. Premier Wen Jiabao visited Shanghai and Jiangsu at the beginning of the month. According to media reports, he asked about the influence of the removal of exports tax rebate. Last week, other top leaders including Vice-Premier Li Keqiang and Commerce Minister Chen Deming both went to export-oriented provinces and visited enterprises, many of which were in the textile sector. These visits were seen as a sign for policy changes, and the most widely discussed was the export tax rebate policy. Export tax rebate of many textile materials and garments were removed or cut down last year when the high trade surplus was the major policy concern. The government also removed the favorable polices because most textile manufacturing enterprises are energy consuming and may lead to environment pollution. But several months after the policy was put into effect, China's textile companies are also facing unexpected challenges, including rising raw material prices, labor cost, the appreciation of the yuan and the slowdown of US economy. The export has slowed down since the beginning of the year. Companies and industry associations have started to urge for a policy change ever since April. Zhang Yansheng, an expert with a research institute under the National Development and Reform Commission, was quoted by China Security Journal as saying "if the adjustment measures go too far, there will be a big influence on export-oriented enterprises, especially the small and medium-sized enterprises".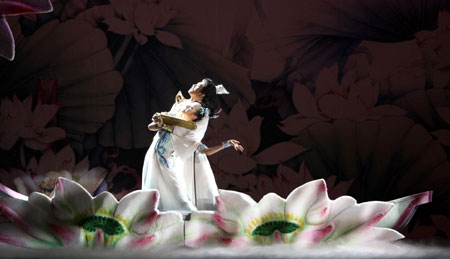 Dancers perform the dance drama Xishi about one of the four prettiest women in ancient China, in the People's Hall in Wuxi, Jiangsu Province, July 13, 2008. The drama will be staged at the Tianqiao Theatre in Beijingin in mid August as one of the dramas played during the Olympics.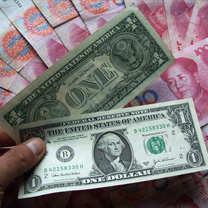 China's forex reserve reaches $1.809 trillion by June - China's cumulative foreign exchange reserve stood at 1.809 trillion U.S. dollars by the end of June, up 35.73 percent from June last year, the People's Bank of China (PBOC), the central bank, announced on Monday. The foreign exchange reserve increased 11.9 billion U.S. dollars in June, down 28.1 billion U.S. dollars from the same month last year. In the first half, China's foreign exchange reserve increased by 280.6 billion U.S. dollars, up 14.3 billion U.S. dollars over the first half of 2007. The broad measure of money supply, M2, which covers cash in circulation and all deposits, reached 44.31 trillion yuan (6.49 trillion U.S. dollars) by June, up 17.37 percent, according the central bank's website report. The increase was 0.63 percentage points higher than at the end of 2007 and a 0.7 percentage-point drop from the end of May, said the PBOC. By the end of June, outstanding local-currency deposits had increased 18.85 percent to 43.9 trillion yuan and those in foreign currencies dropped 1.75 percent to 163.8 billion U.S. dollars. Meanwhile, the growth rate of loans slowed during the first half. Outstanding local-currency loans increased 14.12 percent to 28.62 trillion yuan by June. The growth rate was 1.98 percentage points lower than at the end of 2007. Outstanding loans in foreign currencies, however, grew 48.63 percent year on year to 275.3 billion U.S. dollars by June.
Air China, the nation's largest international carrier, said its board approved the purchase of 45 aircraft from Boeing. at a basic price of US$6.3 billion (HK$49.14 billion). The carrier will buy 15 Boeing 777 and 30 Boeing 737 aircraft, and expects to take delivery in stages from early 2011 to 2015, the Beijing-based company said in a statement to the Hong Kong stock exchange. The purchase will increase Air China's fleet capacity by 35 percent and ``reinforce Beijing's position as a transportation hub,'' the statement said. Air China will fund the purchase with cash, bank loans and other debt instruments, according to the statement.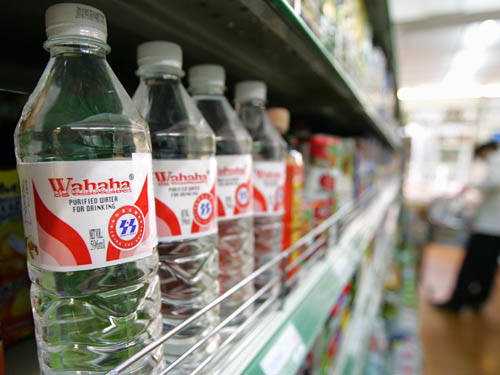 Wahaha-Danone talks hit by court ruling - Signalling the end of a short-lived truce, Wahaha Group says negotiations to settle disputes with estranged joint-venture partner Groupe Danone have almost collapsed after a Swedish court ruled in favour of the Hangzhou-based beverage company. Wahaha founder and chairman Zong Qinghou said by phone yesterday that the ruling had boosted the company's confidence and it would resort to legal judgments to resolve trademark disputes. An arbitration tribunal in Stockholm last Friday rejected Danone's requests for interim measures to prevent Wahaha and Mr Zong from increasing production capacity at firms outside of their ventures or setting up new ones, according to a statement released by Wahaha. The panel also rejected Danone's demand that any goods made by Wahaha on its own must be sold through the joint ventures, but it granted Danone the right to access all premises at all of the ventures, the statement said. The requests were filed by Danone in October last year. "As both sides have almost ceased talks, we will wait for the court to resolve the disputes," said Mr Zong, adding that Danone initiated the arbitration procedure in Stockholm. A Danone spokeswoman declined to comment on whether Danone initiated the court case, but said the talks were ongoing as far as she knew. In a statement released by Danone yesterday, the French food and beverage giant said the reason for the panel's decision was that "it declines to make any early judgments on disputes in the case". Danone said it welcomed the ruling, but added the interim measures would be reviewed again when the court made a final ruling on the arbitration procedures it filed in May last year. Since the disputes began in April last year, Danone has sued Wahaha and Mr Zong in courts around the world including Stockholm and California. Wahaha, on the other hand, filed cases in mainland courts. Danone accused Wahaha of setting up parallel operations outside their joint ventures formed in 1996 to sell Wahaha-branded products such as soft drinks and bottled water. The French firm owns 51 per cent of the ventures. Mr Zong in May said Wahaha was splitting with Danone while the two sides negotiated the terms and pricing of the French firm's departure. Mr Zong, who was a delegate to National People's Congress from 2002 to last year, was recently dogged by scandals such as tax evasion and holding a United States green card.
July 15, 2008

Hong Kong: Hong Kong's new commerce bureau chief appointed - The Chinese central government, on the nomination and recommendation of Hong Kong Special Administrative Region (HKSAR) Chief Executive Donald Tsang, approved Saturday Rita Lau's appointment as Secretary for Commerce and Economic Development of the HKSAR government and the removal of Frederick Ma from the post. Rita Lau, 55, joined the Administrative Service in October 1976and rose to her present rank of Administrative Officer Staff GradeA1 in September 2004. She has been Permanent Secretary for Commerce and Economic Development (Communications and Technology) since last year. Meeting the media, Tsang described Lau as the best candidate for the job. She is a senior civil servant with extensive experience and remarkable performance in public administration during her more than 30 years of government service, the Chief Executive said. She shares his governing philosophy, and has gained a depth of knowledge in her policy areas in the past year in the bureau, Tsang said, noting her commitment to the nation, Hong Kong and the community is unquestionable. Tsang said he is confident Lau can lead her team to help accomplish his policy objectives, given her excellent leadership and management ability. Expressing gratefulness and honor to be appointed, Lau said the job also comes with greater responsibility. She said she will quickly gear up and she pledged to honestly, selflessly and loyally apply herself to her duties and undertake to serve and assist the Chief Executive in Hong Kong's best interests. She will also seek to maintain contact and collaboration with all sectors, and work together to promote business, commerce, innovation, technology and economic development, Lau said. Her work with Ma in close partnership in the past year has been a rewarding and enjoyable experience, she added. Lau has served in various bureaux and departments, including Deputy Secretary (Information Technology and Broadcasting) in 1998,Director of Urban Services in 1999 and Director of Food and Environmental Hygiene in 2000. She was appointed Permanent Secretary for the Environment, Transport and Works (Environment and Transport) in 2002 and Permanent Secretary for Housing, Planning and Lands (Planning and Lands) in 2004.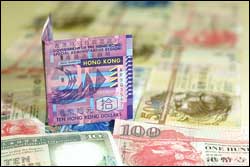 $5b inflation relief on way - Chief Executive Donald Tsang Yam- kuen is to announce a HK$5 billion inflation relief package for the grassroots that will include free rent, an extra month's dole for the needy and more fruit money for the elderly. The relief measures, to be announced on Wednesday, will also include lowering or abolishing the HK$400 domestic helper levy, increasing the School Textbook Assistance Scheme, freezing government fees and increasing electricity and water bill subsidies, according to a source. Recipients of Comprehensive Social Security Assistance will receive an extra month's allowance while people in public housing will be exempt from rent for one month. The Old Age Allowance will also be increased. The package follows a promise by Vice President Xi Jinping during his visit last week that the mainland will help Hong Kong tackle the challenges of inflation, which stood at 5.7 percent in May. The source said the subsidy for electricity bills is not likely to be as much as the HK$1,800 for each household, or HK$4.3 billion, that was handed out in the budget. The subsidy for water bills is also not expected to be high. The measures, which will be capped at HK$5 billion, are aimed at cushioning the effects of inflation before Tsang's policy address in October. In recent days there have been several demonstrations from various groups calling for immediate help. Two such demonstrations occurred yesterday with more than 100 protesters in total from the Savantas Policy Institute and Hong Kong Association for Democracy and People's livelihood marching on Government House. The Savantas group carried black balloons, symbolizing the problems faced by the grassroots. Its chairwoman Regina Ip Lau Suk- yee accused the government of being sluggish in response to inflation. She advocated abolishing the levy on hiring foreign domestic helpers and giving out food coupons to the needy. The Hong Kong Association for Democracy and People's Livelihood urged the government to do more to cope with inflation. Meanwhile, a bulk-buying scheme to bargain for lower prices for daily goods has kicked off. Among the organizations taking part is the Grassroots Family Joint Council which comprises 40-50 low-income earners. They deal with suppliers to get goods close to cost price. Kei Cheung Industries and Trading Ltd is the pilot supplier of the Mutual Help Bulk Purchase Scheme, selling China-made "Goodlife" tissue paper for HK$18 against the market rate of HK$30. "We only charge the cost for production and transportation. Our aim is to help the community, not to make profit," company director Kitty Lau Kit-ling said.
Lawmakers to be told of $10b Sichuan fund - Chief Secretary for Administration Henry Tang Ying-yen will this morning brief legislators on the government's plan for a HK$10 billion fund for the reconstruction of Sichuan. The trust fund will be government- led but with full community involvement. The trust will be overseen by the Director of Audit and policy bureaus. The government will seek approval from the Legislative Council's Finance Committee this week for HK$2 billion to kick-start the fund though there is already HK$1 billion in the kitty, promised last week by the Hong Kong Jockey Club. The government hopes private and public donations will make up the rest. To better monitor the reconstruction projects and the use of the money, funding will only be allocated to non- government organizations which submit proposals on reconstruction that satisfy the requirements of the trust. The NGOs will also have to sign agreements with the Sichuan authorities, guaranteeing their work will comply with the standards there. They have to submit annual work progress reports. Funds will be allocated to projects in various phases. The money will not be given directly to the central government nor the Sichuan authorities. According to a source, the administration expects it will take three to five years for the reconstruction, and Hong Kong can help rebuild public facilities such as schools, hospitals, infrastructure projects such as roads and bridges, and the Wolong Nature Reserve. Tang will lead the Hong Kong side of a liaison group with Sichuan. Several government bureau chiefs will form a steering committee, which will be chaired by Tang. There will be five working groups to deal with reconstruction, health, donations, counseling and education. Three main political parties - the Democratic Alliance for the Betterment and Progress of Hong Kong and the Democratic and Liberal parties - have said they will support the government's proposal.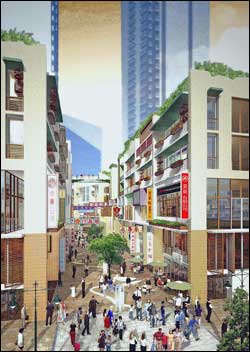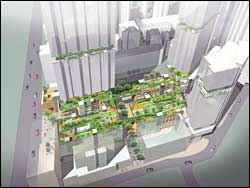 Wedding Card Street in line for $100m MTR exit - An extra MTR exit costing HK$100 million will be built in Wan Chai's Lee Tung Street to provide access to Wedding City arcade, Urban Renewal Authority chief executive Quinn Law Yee-kwan said. Law told The Standard the authority and the MTR Corp have discussed building a tunnel near the Southorn Playground area in Johnston Road for a new exit at Lee Tung Street, also known as Wedding Card Street. It will take three to four years to build. Since the tunnel will be short, no shops are planned. The exact location of the exit is still unknown but it will be near Lee Tung Street. Law does not foresee any technical problems in building the tunnel and exit. The authority will revitalize the Lee Tung Street-McGregor Street area, envisaging about 100,000 square feet for commercial use and 40,000 sq ft for the wedding arcade, as well as about 100 parking spaces. Law said pedestrians from Queen's Road East will pass through Wedding Card Street for the shortest route to the MTR. The project will invite bidders in the first quarter of next year. It is believed Hopewell, which has its headquarters on Queen's Road East, and Swire, which has offices at Pacific Place in Admiralty, may be interested in the project that is expected to be completed in 2011. The authority has completed some projects in the area, such as the Pawn Shop and JResidence, which now carries a price tag of about HK$7,000 per sq ft. Meanwhile, Law insisted the landmark building at the Kwun Tong Town Centre Project will still be 280 meters high, even though the Town Planning Board has said the commercial-hotel building is too high. Law said the building is not that high when compared to International Financial Centre 2, which stands at 300m, and International Commerce Centre at 400m. Air flow, Law added, is not an issue because it will not be built along the coastal area. As it is a landmark building, it has to be high enough to be seen even from Hong Kong Island, Law said. He said most Kwun Tong District Council members supported the proposed height, with some even asking that it be made higher. He added the Kwun Tong Town Centre Project, the authority's largest undertaking, will be developed in four phases over 12 years. Law said the project, estimated to cost HK$30 billion, covers 570,000 sqft, affecting about 1,656 property interests and 5,000 people. The authority, Law added, has a net asset value of HK$14.4 billion with HK$10 billion in cash. "We are financially sound but we may need to spend HK$30 billion in the coming five years and may need to borrow from the banks," he said. But the authority will not issue bonds under the current low interest rate environment. The government in 2002 injected HK$10 billion into the authority.

China: Government working to raise stocks - The Chinese stock market is in the doldrums. Having tumbled 56 percent in 9 months since October, it's fast losing its primary function as a source of funds to finance the growth of the corporate sector. At a time of credit tightening to combat inflation, this impotence of the stock market has become all the more unpalatable.

China's securities regulator advances time of IPO pre-disclosure - According to the latest rule of China's securities watchdog, the information about initial public offerings (IPO) awaiting a green light would be disclosed earlier, a step toward more transparency in IPO approval.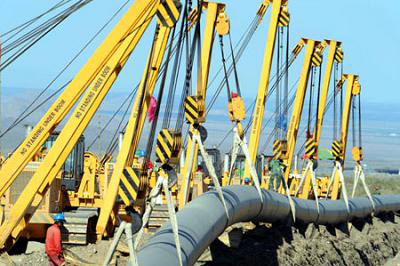 China's second west-east natural gas pipeline is laid in Bortala, northwest China's Xinjiang Uygur Autonomous Region, July 12, 2008. The second west-east natural gas pipeline, running from Horgos of Xinjiang to east and south China, with a total length of 9,139 kilometers, is expected to transmit 30 billion cubic meters of natural gas annually from Central Asian countries.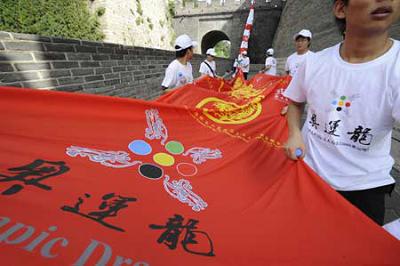 Volunteers spread the painting scroll at the Juyongguan Pass section of the Great Wall in Beijing, capital of China, July 13, 2008.
Australian PM praises work of Chinese language teachers - Australian Prime Minister Kevin Rudd said here on Saturday that the teachers who teach Chinese languages in various schools in Australia "are making a very valuable contribution to students' lives.
China property stocks surged last week due to a possible relaxation of mainland tightening measures, but analyts remain doubtful whether the rally is sustainable. Shares in Agile Property (3383) jumped 5.84 percent on Friday to close at HK$8.15, while Guangzhou R&F Properties (2777) climbed 5.64 percent to HK$17.22, China Resources Land (1109) gained 4.28 percent to HK$12.18, and Shui On Land (0272) rose 2.45 percent to HK$6.68. DBS Vickers said it rates China Resources and Shui On as "buy" with target prices of HK$20.90 and HK$9.10 respectively. "China Resources Land and Shui On Land remain our top picks. Both have strong recurring income from investment properties, which in our view will help them weather the slowdown of the residential market," DBS Vickers analyst Carol Wu wrote in a research note. But she added: "Property sales in major [mainland] cities continued to be sluggish last month. In all the cities that we tracked, transaction volume declined by 7 percent to 51 percent month-on-month, depending on cities. On a year- on-year basis, sales volume for those cities also registered declines in June." Morgan Stanley maintained an "outperform" rating on Agile with a target price of HK$7.41 and left Country Garden as "equal-weight" with a target price of HK$4.53. Morgan Stanley said Agile is financially healthy, but Country Garden is conservative with its sell-through rate, given more contributions from projects in new markets. However, Citi said last week it downgraded Agile to "sell" from "buy" and slashed its target price to HK$6.74 from HK$11.38. DBS Vickers said due to a lack of near-term catalyst, China property stock prices are expected to remain volatile in the short term.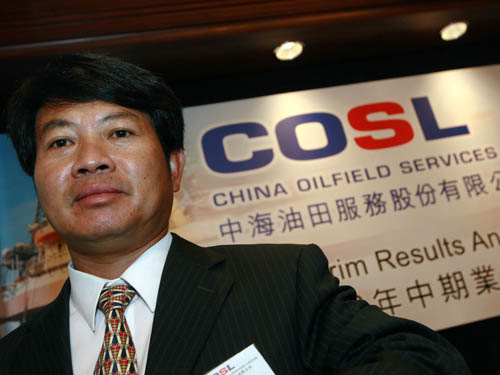 China Oilfield eyes strategic role for Awilco - China Oilfield Services (SEHK: 2883) plans to use its takeover target, Norway's Awilco Offshore, as a platform to strengthen and consolidate its overseas business to help achieve its goal of sourcing more than half of its revenue from overseas by 2020. The nation's dominant offshore drilling company hoped to retain all of Awilco's top management to help push its overseas expansion, said chief financial officer Zhong Hua in an exclusive interview. China Oilfield obtained 18.3 per cent of its revenue from overseas contracts last year. Mr Zhong declined to say how the acquisition would change the figure this year, saying he was not allowed to give projections under regulations. Based on reported results, overseas business would have accounted for 29.5 per cent of turnover had the firm bought Awilco last year. Awilco's sales are projected to double to US$848 million in 2010 from US$421.21 million this year, faster than China Oilfield's 39.8 per cent forecast growth to US$2.25 billion from US$1.61 billion, according to analysts polled by Bloomberg. "We want to keep as many of their management as possible, and to use them as a platform for our international business development," Mr Zhong said, adding that Awilco had unique technology enabling drilling in difficult operating conditions and its managers were relatively young and more innovative. China Oilfield last week proposed to pay US$2.5 billion cash for all of Awilco and assume US$1.3 billion worth of debt in its maiden overseas acquisition. It failed to buy rivals in Indonesia and Russia previously. China Oilfield has operations in the Gulf of Mexico, West Africa, the Middle East, Russia, West Australia and Indonesia. Awilco operates in the North Sea, Vietnam, the Middle East, Libya and West Australia. Mr Zhong said his company would look for more acquisition opportunities, but was unlikely to buy any more pure drilling service providers as significant as Awilco. This is because it would be sub-optimal for China Oilfield to raise the contribution of drilling services above 70 per cent of its total revenue, he said. Drilling accounted for 43.6 per cent of total sales last year. Had Awilco been bought last year, the ratio would have risen to 51.3 per cent. China Oilfield, which also provides seismic data collection, marine transport and well services, would be interested in firms providing non-drilling services, Mr Zhong said. "In offshore China, we get 30 to 50 fen of revenue from non-drilling operations for every yuan of drilling business we do," he said. "This is the synergy we want."
July 14, 2008

Hong Kong: HK CE leads business delegation to mainland - Hong Kong Chief Executive Donald Tsang will lead a 100-strong delegation of local business leaders to visit northeast provinces on mainland to explore business opportunities, according to the Hong Kong government website on Friday. The delegation will stay at Heilongjiang, Jilin and Liaoning, three provinces at northeast part of the mainland, from July 19 to 26 to promote co-operation and search for business opportunities between Hong Kong and the three northeast provinces. The delegation comprises leaders from a wide spectrum of the business community, such as manufacturing, financial services, infrastructure, real estate, logistics, tourism, IT, and professional services. During the eight-day trip, Tsang and the delegation will visit four major cities: Harbin, Changchun, Shenyang and Dalian. Meetings with provincial leaders and visits to key local enterprises aside, the delegation will take part in business co-operation symposiums on July 21, 23 and 24 in Harbin, Changchun, and Shenyang respectively. During Tsang's absence, Hong Kong Chief Secretary for Administration Henry Tang will be acting Chief Executive.
Expert warns of jobs gloom - Finding work will become harder, salary rises will be minimal and redundancies are likely in investment banking, advertising and airlines. That's the bleak forecast from recruitment consultancy Ambition. The firm's Asia managing director Guy Day said caution on the part of employers in an uncertain economic climate is behind the pullback. Stock market fluctuations and tight cash flows have affected many companies and in an attempt to cut costs, they are cutting advertising budgets. Day said the deteriorating economy in the United States and the weak greenback means fewer foreign companies are listing in Hong Kong and he believes the banking sector may see a 25 to 30 percent drop in job vacancies in the second half of 2008 when compared with last year. He said salary rises for loyal employees in 2009 are likely to remain in single digits, even if they excel in their duties. In addition, top professionals jumping ship for better jobs should not expect increases of more than 10-15 percent compared with 15-20 percent in the past. Day said jobs would be harder to come by since employers would be seeking those with better qualifications. "Last year, many companies were willing to compromise on qualifications but today any candidate falling below their expectations is likely to be passed over," Day said. He also believes fewer employees will be taking risks and seeking better jobs given the current situation. But those whose jobs are tied to the United States market may opt for more secure occupations.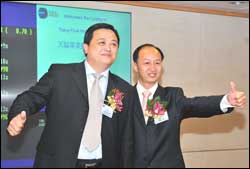 Tianyi Fruit (0756) delivered a better-than-expected trading debut yesterday, outshining the Hang Seng Index in the process. Shares of the mainland-based frozen concentrated juice maker closed at HK$0.70, up 11 percent from their offer price of HK$0.63. The HSI only rose 0.07 percent, or 15.97 points, to end at 21,821.779. "I originally thought that Tianyi's shares may fall. It's astounding to see Tianyi rise. It is just like seeing a rainbow on a rainy day," chief executive Sin Ke said at the listing ceremony. The bottomline for investors holding one lot of 4,000 Tianyi shares is a paper gain of HK$280. Tianyi opened at a low of HK$0.60 but once surged to peak at HK$0.75. About 30.4 million shares changed hands on turnover of HK$20.4 million. On Wednesday, Tianyi shares closed at HK$0.60 on the gray market. Meanwhile, Emperor Watch and Jewellery's HK$581 million initial public offering attracted an aggregate HK$338 million worth of margin financing orders, representing a 4.82 times covered retail book. Emperor Watch will start trading on July 21. Three other listing candidates - China South Locomotive and Rolling Stock Industry Corporation, Chung Loong Paper and Pera Global Holdings - had their listing hearings yesterday. Chung Loong Paper is the mainland operation of Taiwan's largest integrated industrial paper company, Cheng Loong Corp. According to Cheng Loong's website, its revenues totaled NT23.5 billion (HK$6.03 billion) last year. Reuters reported that French luxury cosmetics retailer L'Occitane en Provence, and mainland recruitment site Zhaopin.com are also considering listing in Hong Kong. L'Occitane plans to raise about US$300 million (HK$2.34 billion) this year, with UBS, HSBC and CLSA underwriting the deal.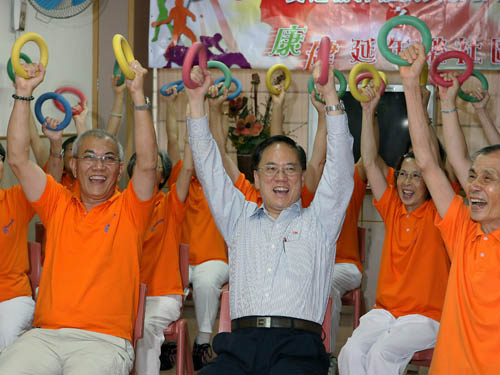 Donald Tsang takes part in an "Olympic exercise" with elderly people during a visit to a community centre in Sha Tin yesterday.
Former Morgan Stanley Asia managing director Du Jun was charged with insider trading yesterday over his HK$86 million purchase of shares of a listed company last year ahead of announcement of a deal on which he was an adviser. Du was arrested at the airport on Thursday upon his arrival on a flight from Beijing. He appeared before Principal Magistrate Garry Tallentire in Eastern Court yesterday charged with nine counts of insider dealing and one count of counselling or procuring another person to deal in the shares of a listed company prior to the announcement of an acquisition deal. No plea was taken and the case was adjourned to September 5. Du was freed on bail. Insider dealing carries a maximum penalty of a HK$10 million fine and 10 years in jail. Du, who no longer works for Morgan Stanley, has spent most of his time in Beijing since last year. The Securities and Futures Commission alleges Du spent HK$86 million buying 26.7 million shares of Citic Resources Holdings (SEHK: 1205) on nine occasions between February and April last year. The commission alleged he obtained inside information as part of a Morgan Stanley team involved in advising Citic Resources on the US$1 billion purchase of an oilfield in Kazakhstan and the issuing of bonds to finance the deal. The deal also involved investing in a company with oil rights in the Bohai Sea. Du was alleged to have procured his wife, Li Xin, to deal in Citic Resources shares on February 27 last year. She is not facing any charges. Morgan Stanley reported Du's trading to the SFC in May last year, triggering its investigation. The company has co-operated fully with the SFC in the investigation. A Morgan Stanley spokesman said: "The alleged wrongdoing by a former employee of our firm is an egregious violation of Morgan Stanley's values and policies. This conduct was identified by the firm's own compliance systems. "Morgan Stanley expects all of our employees to uphold the highest ethical standards. We will continue to provide any assistance sought by the authorities in its prosecution of those who take personal advantage of the trust of our clients and the firm." Citic Resources' share price rose 136.7 per cent in the six months before the deals were announced on May 9 last year.
PCCW (SEHK: 0008), Hong Kong's largest fixed-line telephone company, has shortlisted several funds, including Providence Equity Partners, TPG and Macquarie, to compete for the purchase of 45 per cent of its HKT Group Holdings subsidiary. Initial offers were coming in for as much as US$2.6 billion, sources said. Interested parties have until Monday to enter bids. A shortlist was drawn up before bidding closed because the company "wants to focus on those companies that know the business well", said one of the sources. Both Macquarie and TPG separately pursued a deal with PCCW two years ago. US-based Providence specialises in the media and telecommunications sector. China Investment Corp, the mainland's US$200 billion sovereign wealth fund, was also considering a bid, a source said. However, a move by CIC would raise fears of mainland interference in Hong Kong, which was guaranteed 50 years of relative autonomy from Beijing after the handover in 1997. "That will just put more hair on this transaction than PCCW is looking for," said one of the sources. China Netcom Group (SEHK: 0906) Corp, which holds a 20 per cent stake in PCCW, was not planning on a bid, sources said. Beijing-controlled Netcom is the mainland's second-largest fixed-line operator behind China Telecom Corp (SEHK: 0728). Kohlberg Kravis Roberts and Blackstone Group were also interested in bidding, sources said. Some bids placed a rough enterprise value, or market value plus debt, of about US$8 billion on HKT, one source said. Some sources expect bids to top US$3 billion as the sale progresses. TPG, Macquarie, Providence, CIC and PCCW declined to comment. The minority nature of the sale will force private equity funds to use more cash and less debt than they would normally like. "They won't have control over the cash flows of the company so they can only borrow off the share dividends," said one source. The larger than usual equity portion could see as many as three or four funds come together for a joint bid, one source said. Others discounted the need for cash and said global funds such as TPG, Providence or Macquarie could handle the deal on their own. "I'm expecting private equity will remove some of the loss-making units, such as the mobile unit Sunday, or spin off the better ones such as Now TV. Maybe they can unlock value," said Daiwa Institute of Research analyst Marvin Lo. "They also have the CDMA licence that they are required to invest about US$100 million in, so they may bring someone in to chip in by selling a minority stake." PCCW set up HKT earlier this year to hold the core assets of the fixed-line, media and information-technology businesses. The firm said the move was to improve operational efficiencies and pave the way for fund-raising, without specifying what the proceeds would be used for. The deal is a scaled-back version of an attempted sale to private equity funds two years ago. At that time, TPG and Macquarie were squaring off over a transaction as large as HK$60 billion that would have seen the winner gain control of PCCW. Beijing foiled the deal after deciding it did not want to see the company controlled by an overseas player. The central government then endorsed a consortium, led by investment banker Francis Leung Pak-to and including Netcom and Li Ka-shing, to acquire about 23 per cent of PCCW held by Richard Li Tzar-kai through his Singapore-listed Pacific Century Regional Developments. PCRD minority shareholders voted against the deal.
Hutchison Telecom assured the 60,000 subscribers who have ordered an iPhone 3G that shipments from Apple will be sufficient to ensure they receive their handsets in the coming weeks.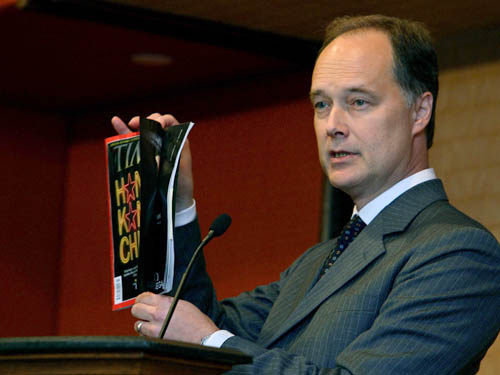 Political reform the key to lasting prosperity, says outgoing US envoy - Hong Kong's good governance and stability would be illusory without democracy, outgoing US envoy James Cunningham said yesterday. To maintain the city's competitiveness and prosperity, the government should secure political reform, which was considered "right and necessary" by the public, he said. In his swansong speech to a joint chamber lunch, the consul general, who will soon take up the post of ambassador to Israel, said that during his three-year stint in Hong Kong he had witnessed the city's success. "I am optimistic about Hong Kong's prospects, but do not take them for granted. Over time, good governance and stability without democracy are illusory." Mr Cunningham said that with a few exceptions, Beijing had generally respected its commitment to giving Hong Kong a high degree of autonomy. As well as economic success, the city had maintained its rule of law, making Hong Kong the most developed part of China, which could help development of the mainland. But whether Hong Kong could retain its leading role in financial and other terms would hinge on whether it was capable of continuing to adapt and evolve, he said. "Hong Kong's competitiveness and prosperity, and thus its contribution to China, will be enhanced by political leadership strengthened by elections within an increasingly democratic framework that meets international standards." Saying the US government had always supported universal suffrage, Mr Cunningham said forging a plan, supported by the public, to introduce direct elections for the chief executive and Legislative Council in 2017 and 2020 respectively would take genuine dialogue. On his wishes for the future, Mr Cunningham said that he hoped to see a city that would contribute to a stable and prosperous China and maintain its economic freedom, civil liberties and respect for human rights. He will be succeeded by Joseph Donovan.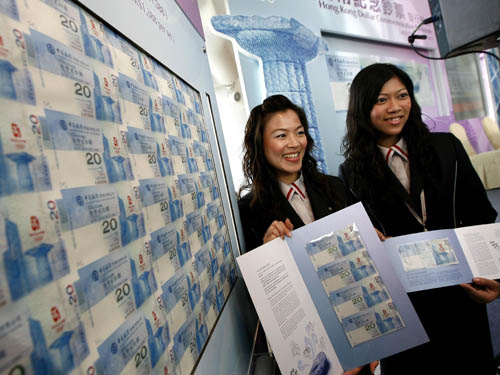 Four million commemorative banknotes with a face value of HK$20 will be sold by the Bank of China (Hong Kong) from Wednesday. The notes, which are not intended to be used in the market, will be sold at prices higher than the face value. The notes feature the Beijing Olympic Games emblem and stadium, popularly known as the "Bird's Nest". They will be sold in Hong Kong, Macau and some overseas countries. Of the five packages, the cheapest is a single note, which will sell for HK$138, while a sheet of 35 uncut notes tops the price list at HK$1,388. The other three packages comprise a set of four uncut notes, a HK$20 note with a 20-pataca note, and a set of four HK$20 notes and four 20-pataca notes. Prices for these sets range from HK$268 to HK$868. The first stage of the sale will run from July 16 to 31 at the bank's 50 branches across the city. The second will be held at the Olympic equestrian venues from August 8 to 22. A bank spokesman said a first come, first served approach would be adopted. Each buyer would be able to purchase up to two notes and one set of the other packages. All the notes will be sold randomly, but some with lucky serial numbers will be auctioned for charity. Tsui Chiu, owner of Luen Fat Stamp and Coin Shop in Mong Kok, was not optimistic about the market potential of the new notes. "I don't think the value of the notes to be issued by the Bank of China will go up that much, as the quantity they are going to launch is quite large," he said. He estimated that the sheets of 35 uncut notes would be the most popular of the five packages and expected their value to double. At his shop, a few 10 yuan commemorative Olympic notes, issued on the mainland this week by the People's Bank of China , are on sale for HK$1,000 each.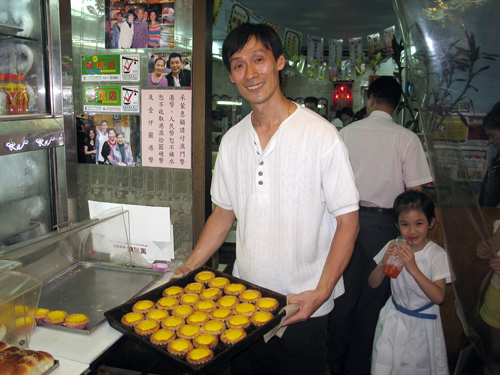 Small restaurants next in line for Macau giveaway - The cash-rich Macau government is planning another big giveaway - after a 2.6 billion pataca bonus scheme for all residents - to support 100 small yet well-known restaurants in the former Portuguese enclave. Each selected eatery will enjoy a one-off bonus of up to 200,000 patacas under the program, which is intended to boost the city's non-gaming allure and help out some old restaurants struggling with inflation and a labour shortage. But the program has drawn a mixed response from some small restaurants, with a number jostling to apply and others unimpressed. Alan Leong Sek-fai, owner of 33-year-old Cafe Kam Ma Lon, has applied for the bonus, hoping to give his restaurant a facelift with the money. "My family has been running the restaurant for decades and we really want to carry on the business despite a fast-shrinking profit margin," Mr Leong said. "We are very confident about being selected because of our reputation among locals and tourists." Surging prices for oil and flour had squeezed Kam Ma Lon's gross profits to 30 per cent from 60 per cent in the past two years, Mr Leong said. Chief Executive Edmund Ho Hau-wah first mentioned the plan to support 100 eateries at a legislature meeting in April. But the government has not said when it will present the list of beneficiaries and pay the bonuses. To qualify, a restaurant should generally be older than 10 years, have fewer than 50 seats and employ no more than 15 workers. The program allows selected restaurants to use their bonuses only for renovations, equipment upgrades or promotions. Aruna Jha, owner of the 25-year-old Aruna Indian Curry and Cafe House, said she would be interested in applying for the one-off bonus, although it was unlikely to solve the biggest problem facing her business: a lack of workers. "I have to work from 7am to 9pm each day in the roles of chef, dishwasher, cleaner, promoter, waitress and cashier," said Ms Jha, who was the first person to start an Indian restaurant in Macau, back in the 1980s. Ms Jha has two imported workers for each of her two Indian-curry outlets, which have a combined 78 seats. She said it was almost impossible to find suitable workers locally. She has been applying for a higher labor-import quota for years, but without success. Renowned chef Un Hoi-lek, who runs Restaurante Hollywood, showed little interest in the program, which he said was only a band-aid solution providing short-term relief. "What small restaurants need is not renovation. The real challenge is that large casino hotels are luring away their chefs with fat pay packets." Chefs working in big casinos often enjoy salaries of more than 20,000 patacas a month, while small restaurants can barely afford to pay them 14,000 patacas, said Mr Un. Hollywood is a 22-year-old restaurant in one of Macau's old neighborhoods, famous for its abalone soup and trotters. In 2006, Mr Un turned down a large casino operator's request to move his restaurant into a casino. The restaurant's gross profits have dropped from 50 per cent to less than 20 per cent amid runaway inflation in the past two years. Mr Un said he might have to reconsider joining a casino hotel if business worsened and he started losing money. The Macau government has begun to dish out 5,000 patacas to each permanent resident and 3,000 patacas to each non-permanent resident this month, in a scheme to "return wealth to the public".
Wynn listing in HK not a sure bet - Casino billionaire Steve Wynn has a long track record of being able to time the market and find innovative ways of financing his mega casinos. Which is why he is not likely to attempt bringing a blockbuster US$3 billion share sale to Hong Kong in any kind of hurry. Stock markets are in a tailspin and casino companies with Macau exposure have been among the hardest hit. Shares in Nasdaq-listed Wynn Resorts are down 25.5 per cent so far this year and that is relatively good. Shares in rivals Las Vegas Sand Corp and MGM Mirage have both lost more than 60 per cent of their value. Hong Kong-listed Melco International Development (SEHK: 0200, announcements, news) is down 45 per cent while Galaxy Entertainment Group (SEHK: 0027) has lost 48 per cent. Investors are worried about rising junket commissions and labour costs in Macau eating into profit margins. At the same time, the sluggish US economy has already pushed gaming revenues on the Las Vegas Strip into negative territory. The collapsing share prices means casino developers with hefty project pipelines all of a sudden look more heavily geared than they already were. As of the first quarter, Las Vegas Sands, Wynn and MGM all had debt-equity ratios above 200 per cent. Since March 31, their share prices have plunged a further 17 per cent (for Wynn) to 45 per cent (for the other two). That means further debt financing will be harder to attain, especially from lenders that have been pummelled in the wake of the subprime mortgage crisis. But anyone wondering about the near-term prospects for a Hong Kong equity offering of a Macau gaming play need look no further than the initial offering of SJM Holdings, whose retail tranche squeaked through at 1.17 times subscribed. That is not bad considering the circumstances: about one-third of all Hong Kong offerings this year have been scrapped and despite its large footprint in the world's biggest and fastest-growing gaming market, SJM has seen sequential declines to its profit and market share in the past few years. Mr Wynn does not have that problem. From its opening in September 2006 to the end of March this year, the US$1.1 billion Wynn Macau has generated US$2.17 billion in revenue, US$554.34 million in ebitda and US$243.99 million in operating income. The 600-room Macau property's most recent quarter was its best yet, with US$491.5 million in sales and US$129.39 million in ebitda - far exceeding the company's flagship 2,700-room Las Vegas resort by both measures. The 66-year-old Mr Wynn's creative flair for finding funds was born of necessity. In the late 1980s, he started the building boom that paved the way for the modern mega resorts lining the Las Vegas Strip. Up to that time the mafia had a hand in financing many Strip casinos. Mr Wynn gambled on going his own way and turned instead to junk bonds issued by Michael Milken to raise funds for construction of the Mirage and it paid off tremendously. The prospect of Wynn Resorts tapping the Hong Kong market for up to US$3 billion, while unconventional for a US gaming firm, would be far less daunting than dealing with the mafia or selling junk bonds. But given the state of the market at the moment, it would be far from a sure bet.

China: Chinese Premier Wen Jiabao on Friday hailed a deal with Mexico on promoting investment. "The newly signed deal on promoting and protecting mutual investment is a landmark in bilateral ties," Wen said in a meeting with visiting Mexican President Felipe Calderon Hinojosa. Governments and businesses in both countries should step up exchanges and expand cooperation in areas ranging from trade to investment, industry and technology, Wen said. China is Mexico's second-largest trade partner, with bilateral trade hitting 14.97 billion U.S. dollars in 2007, according to China's Ministry of Commerce. As major world economies, Calderon said, Mexico and China should work more closely to expand trade and boost investment. "My visit is aimed at deepening the strategic partnership with China and sealing a package of cooperative deals," Calderon said. Calderon came to China on Wednesday after he attended the meeting of the Group of Eight in Japan. Following Calderon's talks with his Chinese counterpart Hu Jintao earlier on Friday, they witnessed the signing of wide-ranging agreements on extradition, investment, pork exports and social benefits. "I hope these deals will bring bilateral ties to a new era," Calderon told Wen. While hailing the agreements, Wen proposed the two countries make the best of their advantages and create new areas for cooperation. The premier said China would like to boost trade and investment cooperation with Mexico and seek mutual benefits and common prosperity. In response, Calderon said stronger cooperation is definitely in the interests of both countries. "As China is growing rapidly, Mexico will grasp this opportunity to work with China so as to achieve common development," Calderon said. During his four-day visit to China, Calderon first stopped in the business hub of Shanghai before coming to Beijing on Thursday.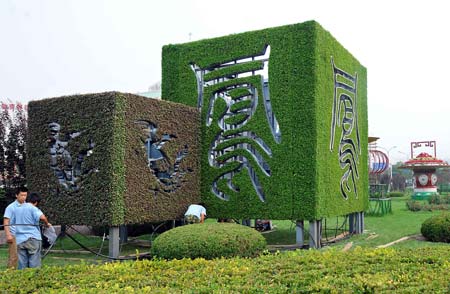 Laborers work on the parterre beside Chang'an Street in Beijing July 10, 2008. A large number of parterres have been erected on both sides of Chang'an Street, the most magnificent in Beijing, to decorate the Chinese capital ahead of the 2008 Olympic Games, to be held in August.
China sets new subsidy plan for May 12 quake survivors - The Chinese government will modify its temporary subsidy plan for quake survivors starting in September, with each survivor experiencing financial hardship to get 200 yuan (29 U.S. dollars) per month, a State Council statement said on Saturday.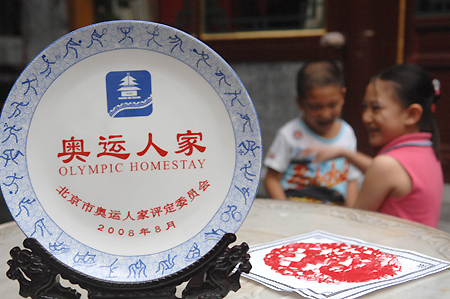 A plate painted with "Olympic Homestay" is shown at Zhu Baohua's home, the first official Olympic homestay household, in Shichahai, downtown Beijing, July 11, 2008. The Beijing Olympic organizers selected 598 homestay households, offering 726 rooms for more than 1,000 potential guests during the upcoming summer Games.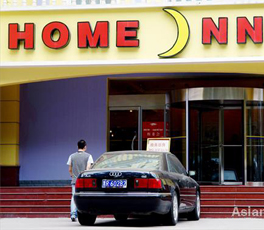 Travel agencies are preparing for a boom in customers ahead of the Olympic Games, while large numbers of reservations are being made at prime hotels and for homestay rooms, a city tourism official said on Friday.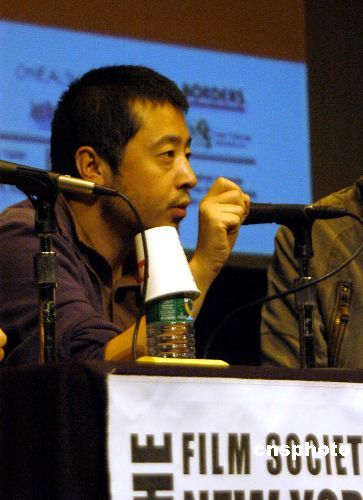 Chinese director Jia Zhangke was invited to film one of the UN environmental protection announcement series along with 19 other film directors and artists, according to a UN official notice on Tuesday. The China News Service reported that the 20 announcements will be supervised by renowned American director Martin Scorsese and will premiere at Rome Film Festival in October. Jia's work in environmental protection, which was reaffirmed by his Golden Lion-winning film "Still Life", earned him the honor of filming the announcement. The announcement, a silent film, has been filmed and has entered the postproduction stage, according to the producer. Actress Zhao Tao, who starred in all of Jia's films since "Platform" in 2000, also features in the announcement.

Sinosteel wins fight for Midwest after boosting stake to 50.97pc - Sinosteel Corp has amassed just over 50 per cent of Australian-based Midwest Corp's shares, sealing the first successful hostile takeover of an overseas firm by a state-owned enterprise after a seven-month battle. In a statement yesterday, Sinosteel said it had raised its stake in Midwest to 50.97 per cent. Sinosteel has appointed three directors to Midwest's board to reflect its new shareholding. Its A$1.36 billion (HK$10.22 billion) cash offer to buy all the shares it does not own in Midwest will close next Friday. Gaining majority control of Midwest will allow Sinosteel, the mainland's second-largest iron ore trader, to protect and expand its interest in a joint venture with Midwest, which is key to its mission to secure more iron ore resources to meet surging demand from the mainland's steel industry. Supply security is important to the mainland since 70 per cent of international iron ore seaborne trade is dominated by Brazil's Vale and Australian giants BHP Billiton and Rio Tinto, which allows the suppliers to jack up prices amid tight supply. Chinese steelmakers recently agreed to pay between 65 and 96 per cent more for iron ore this year compared with last year. Sinosteel has invested US$17 million to fund exploration and appraisal work on two of Midwest's iron ore projects that have combined resources of about 200 million tonnes. In return, Sinosteel has an option to buy 50 per cent of the Weld Range project, should it proceed. "Sinosteel's putting a team of managers in Australia, who are authorised to make day-to-day decisions without having to go back to Beijing for approval, in a dynamic bidding environment is key to its takeover success," said a source. Midwest was first approached by rival Murchison Metals, which late last year offered an A$1.44 billion all-stock merger with Midwest. The two companies have projects in close proximity and could reap significant synergy if merged. Combining the assets of Murchison and Midwest could result in cost savings of as much as A$1 billion, according to Australian brokerage BBY analyst John Veldhuizen. Murchison pulled its offer on Monday after it failed to gain Sinosteel's support. Murchison and its controlling shareholder Harbinger Capital together have a 19.29 per cent stake in Midwest. Analysts said Sinosteel's next step would be to increase control in Murchison, in which it already has a 2.4 per cent stake and has asked for approval from Australian authorities to raise it to beyond 15 per cent. "The key hurdle to taking over Murchison is not price, but whether the Australian government will allow it," said Xu Xiangchun, chief information officer of steel data provider Beijing Ganglian Maidi E-commerce. Sinosteel declined to comment on its position on Murchison. JP Morgan is the financial adviser to Sinosteel on the takeover, while Morgan Stanley advised Midwest.
Black gold the theme at Daqing relay - As the Olympic torch passed through the city of Daqing, its second leg in Heilongjiang province on Saturday, the Olympic organizer's choice of the "oil city" hinted at the government's policy of highlighting shortages in energy resources and oil production. he list of Daqing's torch-bearers showed that most of the 208 people running with the Olympic flame were staff at local oil and gas fields and petroleum processing factories. At 8.08am, Hu Zhiqiang, 19th leader of the celebrated No 1205 oil-drilling team and the first torch-bearer, held the flame aloft as the relay rolled out from Daqing Oil Industry History Museum. Occupying a total area of more than 15,900 square metres, the museum boasts more than 10,000 displays and tells the history of the local oil industry. On September 26, 1959, prospectors discovered a large amount of crude oil. Large-scale development of the area and a boom in oil tapping, production and refining followed. After that, the view held by foreign prospectors that China lacked oil was changed and the city renamed "Daqing", meaning "big celebration" to mark the joyful outcome. According to Mr Hu, the 35-year-old oil-drilling expert, the original leader of his team was Wang Jinxi, a model worker credited with tapping a large amount of oil under harsh conditions and thus nicknamed the "Iron Man". "Although I got a chance to carry the torch today, I personally think such an honour belongs to the Iron Man and my workmates. He passed away years ago but his spirit of relentless struggle will not die out. Today, his spirit runs with the Olympic torch," he said after finishing his section of relay procession. Despite his age, Wang Qimin, 70, assistant general manager of Daqing Petroleum Corporation and an alternate member of the 15th Central Committee of the Chinese Communist Party, carried the Olympic torch with the same fervour as the young bearers. The leading expert has dedicated most of his life to the development of the Daqing oil fields since graduating from Beijing Petroleum College in 1961. He succeeded in designing a series of effective methods to increase oil output and improve the quality of end products. "I value the honour of running with the Olympic flame," he said. "The chance given to me to carry the torch means that the good performance of our petroleum industry has been confirmed by the government." The torch relay wrapped up at 9.55am with the last bearer, Gu Shuangyan, a judge with the Daqing City Intermediate People's Court, carrying the flame into Times Square and lighting the cauldron. Ms Gu has won high praise from the Beijing-based Supreme People's Court thanks to her admirable work record. Of the more than 2,000 cases she has handled, none required review due to error or criticism. She admitted that China's successful bid to host the Olympic Games had struck a deep chord with her, according to a report on Daqing city's website. "Like others, I harbor a deep love for our country," she said. "Physical exercise can bring us not only good health but also strong will, which can help in overcoming difficulties. The Olympic flame stands for just such a will helping people keep on going no matter what." During the almost two-hour relay procession, an unexpected rainfall whipped the city of Daqing. The rainy conditions failed to water down the enthusiasm of thousands of local spectators welcoming the Olympic flame, however. As the torch-bearers braved the wet weather to pass on the flame during the 7.6km route, onlookers cheered and shouted pro-Olympic and pro-government slogans to boost the atmosphere of the relay run.
Huawei sales leap 48pc on low-price strategy - Huawei Technologies, the biggest Chinese telecommunications equipment supplier, said profit rose 31.5 per cent as sales jumped 47.7 per cent last year, overtaking Nortel Networks Corp to become the world's fifth-biggest industry player by revenue. Huawei, a Shenzhen-based privately held company, said profit grew to US$673.54 million from US$512.19 million in 2006 on revenue of US$12.56 billion, against US$8.5 billion previously. The company expects contract sales to rise to US$23 billion this year from US$16 billion last year. Huawei's revenue was the fifth-biggest in the world last year, surpassing the US$10.9 billion taken by Canada's Nortel. Cisco Systems was the world's No1 with US$34.7 billion in revenue last year, followed by Stockholm-based Ericsson with US$31.3 billion, Alcatel-Lucent with US$27.9 billion and Nokia Siemens Networks with US$21 billion. Huawei has been boosting sales by expanding abroad and offering discounts of up to 80 to 90 per cent to standard prices to grab contracts in developed markets. As a result, it is struggling to maintain its profit margin. Operating margin for the past two years was 7 per cent, well below the 19 per cent in 2003. "Huawei has suffered a lot by sacrificing its margin to capture market share in developed markets," a Beijing-based analyst said yesterday. Overseas sales accounted for 72 per cent of Huawei's total sales last year while revenue from developed markets such as Europe, the United States and Japan had more than 150 per cent growth. Huawei also claimed that it was one of the top-three equipment suppliers in the global GSM market. The company shipped 700,000 base stations last year, bringing the aggregate total to more than 1.5 million that serve more than 300 million mobile-telephone subscribers. To forge close relations with operators in developed markets, Huawei started offering customized service and research and development to its customers. It has established joint innovation centres with Vodafone Group, BT Group, Telecom Italia, France Telecom, Telefonica and Deutsche Telekom. The company held US$1.68 billion in cash and cash equivalents at the end of last year, up from US$1.06 billion a year earlier.
July 12 - 13, 2008

Hong Kong: Itamae partner sued over sushi `sister' outlets - A high-profile cofounder of a popular chain of Japanese restaurants is being sued by his business partners for opening another chain which allegedly misled patrons into believing they were sister restaurants.
The Exchange Fund lost between HK$34 billion and HK$40 billion on its Hong Kong equity investments in the first half of this year, according to the Hong Kong Monetary Authority.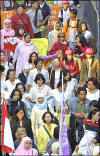 Hong Kong passed its first anti-racism law yesterday and was immediately plunged into controversy over a clause which mandates that ethnic minorities be provided with translation services if they can't speak Chinese or English. Under the Race Discrimination Bill, which was passed unanimously by the Legislative Council yesterday, all public and private organizations will have a legal obligation to provide translation services to ethnic minorities. The provision has already come under fire from the business, education and medical sectors amid concerns about the costs involved and a potential avalanche of anti-discrimination lawsuits. The controversial bill, which has been the subject of fierce debate for a decade, was passed after a government amendment to exempt language discrimination was voted down. Last night the government said it intends to gazette the race Discrimination Ordinance on July 18. It has been broadly welcomed by rights activists, the Equal Opportunities Commission and the Human Rights Monitor but some feel it doesn't go far enough. Human Rights Monitor director Law Yuk-kai gave it a cautious welcome.
Chief Executive Donald Tsang Yam- kuen could soon announce a list of measures to help cushion inflation without waiting for his policy address in October. A government source said Tsang has been asking various bureaus to submit plans which he will study quickly. However, the source said any measures announced soon are likely to be cosmetic rather than substantial, such as the current subsidy on electricity bills. "Inflation is a global problem. Comparatively speaking, Hong Kong's inflation rate is not that high when compared with some countries in the region," the source said. Since the Legislative Council term will end next week, any substantial changes cannot materialize until the next term kicks off in October. Vice President Xi Jinping brought up the question of inflation on the first day of his visit to Hong Kong last Sunday. He said the recent hikes in crude oil and food prices had brought additional hardship to the people. He vowed that the central government would help Hong Kong cope with the challenge. The inflation rate surged 5.7 percent in May, the second highest in the past 10 years, and is expected to rise further. Another source said the pro- government think-tank Bauhinia Foundation Research Center has been studying ways to tackle inflation. In addition, the pro-Beijing Democratic Alliance for the Betterment and Progress of Hong Kong suggested 12 measures to help relieve inflationary pressures. These include doubling the subsidy on electricity charges from HK$1,800 to HK$3,600; extending the relief period from three years to five; reviving the Home Starter Loan Scheme and Home Ownership Scheme; freezing all government charges; abolishing the monthly foreign domestic helper levy; reducing gas and petrol tax by 50 percent; subsidizing textbook purchases of all students; applying MTR concessionary monthly passes and the Student Travel Scheme to all routes; and increasing the Old Age Allowance to HK$1,000. DAB chairman Tam Yiu-chung declined to estimate the cost of such measures but urged Tsang to respond by next Wednesday when he attends the Legco question and answer session. Another government source said most of the measures had been mooted before and that the administration had already been considering some of them. "Whether they are practicable and fair is an issue. For example, is it fair to subsidize all students even the rich ones to buy textbooks? It needs time for further consideration," the source said.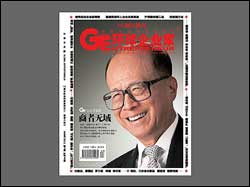 Li sees limited crisis impact - Cheung Kong (Holdings) (0001) chairman Li Ka-shing says Hong Kong can weather the current storm of global economic turbulence. "Despite the fact that external conditions are weak, the impact on Hong Kong is still limited," he told Global Entrepreneur magazine. "The Hong Kong property sector is different. Our biggest landlord is the government, which will provide enough land supply to meet market demand. So, growth of the local property industry is still steady," said Li. Of the plunge by Shanghai A shares from a peak of 6,429 points in October to around 2,700 recently, he said: "As a Chinese, I am concerned about the recent mainland stock market. "I think Chinese firms and the mainland economy will continue to be affected [by the poor sentiment], people need to be careful when investing," he said. Li said the major challenge is the credit crunch and that it will continue to cast a pall over the economies of the United States, United Kingdom and Europe. "As the United States accounts for about 30 percent of the global economy, [a weak US economy] will be detrimental to the world," he said. Inflation is another obstacle hindering global economic growth, he added, singling out for mention the prices of oil grain, steel and copper. "The situation is unfavourable to global economy," Li said.

Air Macau is facing the biggest financial crisis in its 14-year history, with soaring fuel prices threatening to push the carrier into bankruptcy. Shareholders including Air China (SEHK: 0753, announcements, news) and Stanley Ho Hung-sun's Sociedade de Turismo e Diversoes de Macau (STDM) will meet this month to decide the fate of the city's largest carrier. That could include winding up the airline or a fresh capital injection. Air Macau yesterday said Air China and the Civil Aviation Administration of China had committed their support, ensuring the company would be sustained through the critical period. Its pilots had also expressed support. Soaring jet fuel prices have taken a heavy toll on the region's aviation industry this year, with Oasis Hong Kong Airlines going into liquidation in April. According to a source close to Air China, which owns 51 per cent of Air Macau, letters have been sent to shareholders calling for a meeting to resolve the heavy losses being suffered by the carrier. Air Macau said "some major strategic moves will be announced very shortly". It is expected that Air China may buy out shareholders reluctant to commit further funds to the cash-draining carrier. SEAP, an investment fund of Portuguese airline TAP, owns 20 per cent and STDM owns 14 per cent. Evergreen Airways Service (Macau), the Macau government and several others investors share the balance. The carrier had lost up to 100 million patacas in the past two months and more than 100 million patacas during the first quarter of this year, equal to the capital of the company, the Macau Daily reported. The capital has been halved to 200 million patacas because of losses incurred in the past few years. Air Macau is expected to take a hit from cross-strait passenger flights, with 80 per cent of its Taiwan transit passengers expected to travel directly to the mainland under the new links. That would translate into a 60 per cent drop in passengers. The company yesterday blamed high fuel costs for its predicament. However, one industry veteran said the carrier's poor performance was due to its management and conservative expansion plan. "The routes that Air Macau is serving are supposed to be lucrative as it dominates the gateway between Macau and the mainland," said one transport analyst. Air Macau serves 20 destinations including Taipei, Kaohsiung, Bangkok, Manila, Osaka, Seoul and 13 mainland cities including Beijing, Shanghai, Kunming and Xiamen. The carrier has not allowed its smaller competitor Viva Macau to operate any routes into the mainland, even though some of the routes are not covered by Air Macau. "It is not possible for Air Macau to go into bankruptcy," said RCM transport analyst Karen Chan. "It is a matter of reputation and face for Air China to be present in Macau and Macau needs a home carrier as long as it has an airport."

China: Export growth slows down - Latest official figures show China's export growth slowed in June as a result of the shrinking demand caused by the global economic slowdown and the mounting pressure on Chinese manufacturers because of yuan appreciation and high raw material costs.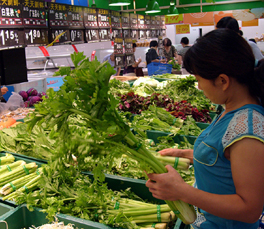 Inflation may drop to 7.1% - China's consumer inflation will reportedly drop to 7.1 percent in June year-on-year, but the decrease will not necessarily result in an easing trend in the second half of 2008, analysts said.

China's largest refiner Sinopec, together with 34 other Chinese companies, made it to this year's Fortune 500 list released Thursday, the best-ever showing by Chinese companies in the ranking. With sales of $159.26 billion, Sinopec led the Chinese group at the 16th place, followed by State Grid, ranking 24 and China National Petroleum Corp (CNPC), 25. Among the 35 companies, 26 are from the mainland, three from Hong Kong and six from Taiwan. A total of 19 State-owned companies under the central government are on the list. Among them, energy, financial and telecommunications companies account for a large part. China's three leading oil companies - CNPC, Sinopec and China National Offshore Oil Corp (CNOOC) - as well as the country's two power grid companies - State Grid and China Southern Power Grid - found place on the list. The country's four leading banks - Industrial and Commercial Bank of China, China Construction Bank, Bank of China and Agricultural Bank of China - featured in the list. U.S. retailer Wal-Mart kept the top slot, with a sales figure of $378.8 billion. It was the only retailer in the top 10. Wal-Mart is followed by Exxon Mobil, with sales of $372.8 billion, Royal Dutch Shell with $355.7 billion, BP with $291.4 billion and Toyota Motor with $230.2 billion. Overseas growth has been a bright spot for many of the world's largest corporations. Wal-Mart's international sales now make up 24 percent of the company's total revenue. U.S. corporations occupied 153 places among the top 500, down from 162 a year ago, representing its worst performance in more than a decade. U.S. firms that fell off the list included the now-defunct investment firm Bear Stearns, along with Nike and Gap. Japan had 64 firms on the list and France had 39, compared with Germany's 37 and Britain's 34. India had seven companies led by Indian Oil and Reliance Industries. Russia had five, the biggest being Gazprom. The total revenue of Global 500 companies amounted to $23.6 trillion, up 13 percent, and profits were $1.6 trillion, up 3.9 percent. While the Fortune ranking is based only on revenues, other rankings use profits and other factors.

This year, the job market in China will see unprecedented competition among job seekers, triggered by the largest ever number of college graduates and big-step reform in state-owned enterprises (SOE). Statistics from the Ministry of Education shows that this year a record number of 5.59 million people will graduate from Chinese universities, before joining the fight for jobs with over 700,000 job seekers who graduated last year and are still unemployed, the website of People's Daily reports. Meanwhile, the year 2008 is the last year of the 4-year SOE bankruptcy program, said Yin Weimin, Minister of Human Resources and Social Security. In the program, over 2,000 SOEs running deficits will declare bankruptcy and lay off large numbers of workers. In the first half of 2008, 6.4 million people in China found jobs, said Yin, completing 64 percent of the target for the whole year. For the rest of the year the government will take measures to create more jobs, provide better services for those willing to start their own business and offer more public trainings of professional skills.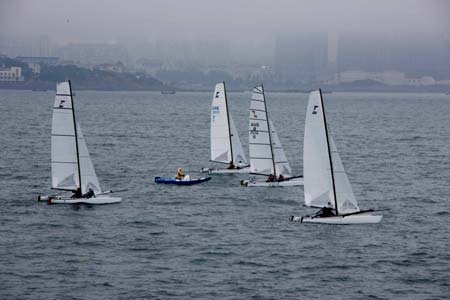 Foreign athletes take trainings at the Olympic sailing venue off the coast of the Olympic co-host city Qingdao, east China's Shandong Province, July 10, 2008. The algae outbreak off the coast of Qingdao continued to shrink on Thursday as the density of the green weed shrank to 0.5 percent from 32 percent when it appeared off the coast in early June.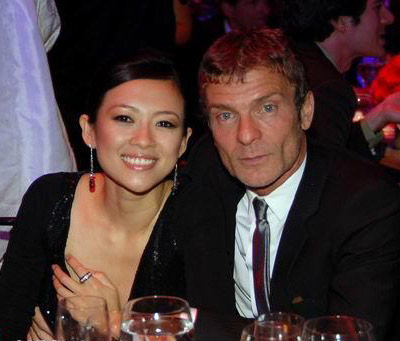 Chinese actress Zhang Ziyi and her foreign boyfriend attend Time 100 gala, Tuesday, May 8, 2007 at the Time Warner Center in New York. The gala was to celebrate Time magazine's 100 most influential people in the world.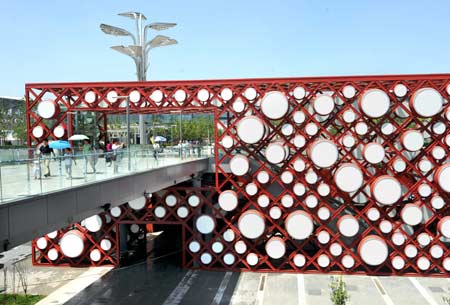 Visitors walk past a grid wall with drums inlaid at the man-made sinkage square in the Olympic Forest Park in Beijing, capital of China, July 6, 2008. The sinkage square is dubbed as "palace under ground", or "the corridor for traditional Chinese arts", which has seven "exhibition courtyards" like the ancient-styled Chinese palace gate, booth, chime, red walls in line, displaying traditional Chinese culture and arts to athletes and visitors from around the world.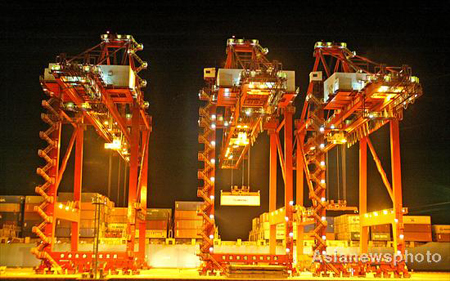 A night view of Zhoushan Port in Ningbo City, Zhejiang Province. Latest official figures show China's export growth slowed in June due to yuan appreciation and high raw material costs. Latest official figures show China's export growth slowed in June as a result of the shrinking demand caused by the global economic slowdown and the mounting pressure on Chinese manufacturers because of yuan appreciation and high raw material costs.
Three mainland tourists have gone missing in Taiwan, just days after the two sides launched direct flights to boost tourism and thaw cross-strait relations. The women arrived in Taipei from Thailand on Thursday last week and have not been seen since leaving their hotel late on Tuesday, said an official at Taiwan's National Immigration Agency. Their disappearance has highlighted the problems of increased cross-strait tourism less than a week after 700 mainland holidaymakers arrived on the island on the first regular direct flights between China and the self-ruled island in nearly six decades. Authorities fear some mainland tourists will try to stay on illegally. Twenty-seven have gone missing since Taiwan conditionally allowed visitors from the mainland in 2002, the immigration agency says.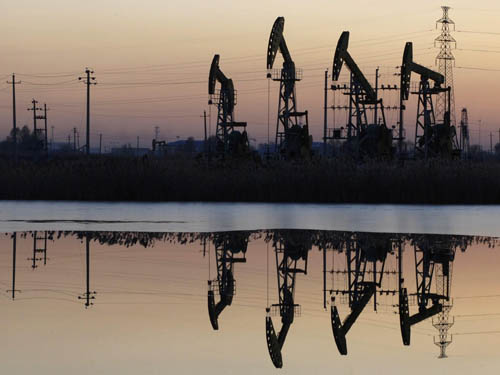 Oilmen vie to pump harder, but bastion of state enterprise is sapped of energy - Senior managers and engineers of Daqing Oil Field Company were given a tough, if not impossible, mission by parent company China National Petroleum Corporation in March. Their mission was to find ways to maintain annual crude oil output from Daqing at 40 million tonnes or more during the coming 10 years. Rising global oil prices and China's thirst for oil to fuel its roaring economic growth are making it profitable to dig deeper into old ground, such as the 48-year-old Daqing oilfield, the first big oilfield exploited after 1949. With cumulative proven reserves of about 6 billion tonnes since the 1950s, Daqing is still China's biggest oilfield. But its output has been in decline over the past five years, down to 41.7 million tonnes last year from more than 50 million tonnes per year in its heyday from 1976 to 2002. Just like an old man whose vitality is sapped by age, the Daqing oilfield can now produce only 10 tonnes of oil for every 100 tonnes of liquid extracted from its wells. But by relying on their patented prospecting and drilling technologies, Daqing's management is cautiously optimistic about accomplishing the task. "By using our self-developed know-how, some new oil reserve blocks are to be staked out and some oilfields on the verge of drying up may see oil well up again," Wu Heyong , Daqing's chief geologist, told the Heilongjiang News Network. More importantly, Daqing has mastered a way of raising its comprehensive oil recovery rate - an index for measuring oil drilling efficiency - to 69.66 per cent, compared with the domestic average of 30 per cent and the 45 per cent average of major foreign oil producers, according to the government website. Daqing believes there are still billions of tonnes of oil reserves that can feasibly be tapped in areas surrounding the Songhuajiang-Liaohe Basin which encompasses the Daqing oilfield. Like the Daqing Oil Field Company, many big state-owned enterprises in Heilongjiang province , which were once the industrial pillars of the country, are experiencing a trying period of economic transformation. They are tasked with either finding more exploitable oil or coal, or upgrading their product mix and production know-how. Some, like Daqing, are doing it spontaneously and some are being pushed by governments. "Heilongjiang is a big province with ample resources ... but we have relied too much on resources. We have not done a good job in developing industries and products with high scientific and technological content, higher added-value and higher market share," Heilongjiang governor Li Zhanshu was quoted on the provincial government website as saying. Heilongjiang was the sole province completely controlled by chairman Mao Zedong's troops when he girded up for a face-off with Kuomintang leader Chiang Kai-shek and his overwhelmingly superior forces on the eve of the civil war in 1946. But ample grain supply, abundant iron ore and steel, and advanced manufacturing capacity in Heilongjiang, which Mao quickly turned into military muscle, greatly boosted the combat brawn and morale of Mao's People's Liberation Army. It was this that helped them win the decisive Liaoning-Shenyang Battle in 1948. Historians say Heilongjiang was the springboard from where Mao directed his troops to sweep down across the expansive plains of northern China, cross the Yangtze River and finally drive Chiang from the mainland to Taiwan. When China unfurled its preliminary industrialisation ambitions for a planned economy, Heilongjiang once again became a major spearhead by supplying the nation with desperately needed grain, coal, oil, lumber, equipment and machinery. But when China started its crusade of opening up and reform in the late 1970s, and state-owned enterprises had to fight for contracts in the market under their own steam rather than wait for government orders, Heilongjiang seemed to lose its direction. "Long nestled in government arms, most state-owned enterprises still find it hard to wean themselves completely from government care even after years of reform and opening-up towards a market economy in China," said Da Zhigang , director of the Institute of Northeast Asia Economics under the Heilongjiang Academy of Social Sciences. Despite its double-digit annual economic growth over the past nine years, Heilongjiang lags even farther behind its neighbours Jilin and Inner Mongolia , and rust-belt province Liaoning in several key economic areas - in total and per capita gross domestic product, growth rates of the primary and secondary industries, fiscal income growth rates and per capita income in rural areas. To attract foreign investment, the provincial government has held the Harbin International Fair for Trade and Economic Co-operation every summer since 1990. Each year, the value of signed Sino-foreign co-operative deals and foreign-funded projects is reportedly in the billions of US dollars, including US$10.5 billion from this year's fair, held last month. But the provincial government has found that few of the promised investments ever come to pass. "The fundamental reason is that local enterprises do not have initiative," Mr Li said. "They lack inner power ... they even do not have a desire to operate and build [those investment projects]." The province has ambitions to build itself into a national production base for high-end machinery and equipment, oil- and coal-based chemicals, energy and power, food and other farm produce. It is expecting to boost its GDP to 1.23 trillion yuan, or US$4,200 on a per capita basis, by 2012 from 707.72 billion yuan last year. "To accomplish all this, the provincial government has to first make substantial breakthroughs in enterprise management and government operation, which is more important than bringing in several big investment projects," Mr Da said.
French President Nicolas Sarkozy said yesterday he had the unanimous backing of the 27 European Union member states to attend the Beijing Olympics, and it would be wrong to humiliate China. Responding to criticism of his decision to go to the Games as holder of the EU presidency, Mr Sarkozy told the European Parliament: "All the member states gave their agreement for me to participate in the opening ceremony of the Olympic Games." He also rejected a warning from China's ambassador to Paris against meeting the Dalai Lama when the exiled Tibetan spiritual leader visits France next month. "It's not for China to set my agenda and my appointments, just as it's not up to me to set the Chinese president's agenda," Mr Sarkozy said. Earlier, French Foreign Minister Bernard Kouchner summoned ambassador Kong Quan after the envoy warned of "serious consequences" if the French president meets the Dalai Lama. This came shortly after a meeting between President Hu Jintao and Mr Sarkozy on the sidelines of the G8 summit in Japan, during which the French president confirmed his attendance at the opening ceremony. Mr Kong warned in a speech on Tuesday that ties would suffer if Mr Sarkozy met the Dalai Lama when he visits France next month.
July 10 - 11, 2008

Hong Kong: Tenders for cruise terminal scuppered - Submissions by Cheung Kong (Holdings) and Sun Hung Kai Properties for building the cruise terminal at Kai Tak have been rejected by the government, which will call for new tenders.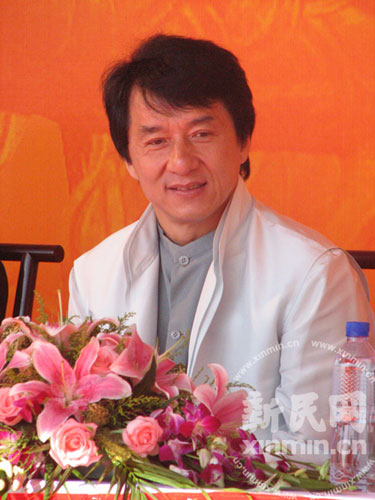 Jackie Chan attends the ceremony held to inaugurate the construction of the Jackie Chan Film Art Museum in Shanghai, July 8, 2008. Jackie Chan's legendary career will be archived in a new museum for which the star laid the foundation Tuesday in Shanghai. Chan handpicked the location for the museum, which will be named after him, in the Changfeng Ecology Commercial District in Shanghai's Putuo District, Sina.com.cn says. The museum will largely be renovated from old factory buildings. When completed on October 1 next year, it will take up about 3,100 square meters. Visitors will be able to retrace Chan's footsteps from Hong Kong to Hollywood, and navigate through detailed showpieces of Chan from being a Chinese icon, a kung-fu megastar to a charity devotee, Sina says. Also on display will be some of Chan's film awards, as well as costumes and props he has used. Besides the museum, more side projects have been put on the actor's agenda. According to Chan's Web site, he recently signed a contract in Yunnan Province for a Jackie Chan Peace Garden, which he will cooperate with the local government to promote "Environment, Friendship, and Charity." An earlier report also quoted Chan as saying that he was planning to build a kung-fu school.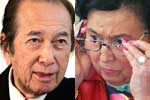 Stanley Ho Hung-sun's SJM Holdings yesterday overcame the last barrier to its listing when the High Court dismissed as groundless a judicial review sought by the casino mogul's estranged sister Winnie Ho Yuen-ki.
Luxury hotels in Macau as well as apartment hotels and those in between are once again being invited to join in the Macao Green Hotel Award Scheme. Organized by the Environment Council with the assistance of Macau Government Tourist Office, the scheme aims to show the importance of environmental management and recognizes hotels for their commitment to green initiatives.
HK$2b carrot for cruise bidders - Kai Tak terms eased after terminal bids fail - Taxpayers will have to put up a HK$2 billion sweetener to entice developers to build a new cruise terminal at Kai Tak, after the two consortiums bidding for the project were yesterday knocked back for failing to meet the government's requirements. The administration will tweak its requirements and invite fresh bids by the end of the year in the hope of salvaging the botched tendering exercise and keeping further delays to a minimum. However, the first berth will open at least 13 months later than planned, and that could have wider ramifications. Wharf (SEHK: 0004) Holdings' lease on the city's only cruise liner berths, at Ocean Terminal in Tsim Sha Tsui, runs out in 2012, and the terminal at the former airport site will not be ready until spring 2013 at the earliest. The government is prepared to take on the project itself if it does not receive any acceptable bids, but warns that doing so will push up the cost of the project and delay it by at least another year and possibly longer. In the hope of securing acceptable bids, the government now says it will reimburse the winning bidder for the cost of preparing the site and building government facilities - estimated in September last year at between HK$1.8 billion and HK$2 billion. However, given spiralling commodity prices, that figure is likely to rise, a government source said. Former Hong Kong Institute of Engineers president Greg Wong Chak-yan said it could increase to HK$2.2 billion. The government will seek Legislative Council approval for the sum this year. Inflation means the project is now expected to cost HK$4 billion, two-thirds more than the government's 2006 estimate of HK$2.4 billion. The tender for the project launched in November attracted bids from only two consortiums, led by developers Sun Hung Kai Properties (SEHK: 0016) and Cheung Kong (Holdings) (SEHK: 0001). Both were rejected for going outside the tender requirements. One of them wanted to sell off hotel rooms individually while the other asked for up to 190,000 square metres more space for commercial development. "Of course, between last November and the closing of the tender, the global macroeconomic environment had undergone some changes, causing the tenderers to ask for additional conditions in their tenders," Secretary for Commerce and Economic Development Frederick Ma Si-hang said. "For the sake of fairness and openness, we decided to retender the project." Mr Ma said alternative berthing arrangements were in place to accommodate liners for as long as the new terminal was delayed. Sun Hung Kai and Sino Land expressed interest in the fresh tender. Henderson Land Development (SEHK: 0012) and Star Cruises (SEHK: 0678), partners of Sun Hung Kai in its rejected bid, said they would wait and see. Cheung Kong had not responded by last night. Massimo Brancaleoni, a vice-president of the Costa Crociere cruise line, and Joseph Lam - who represents another line, Royal Caribbean, in Hong Kong - declined to comment until after today's regular quarterly meeting of the Advisory Committee on the Cruise Industry. Mr Lam said Asian cruise itineraries had not been planned beyond 2010. Tourism Board chairman James Tien Pei-chun was disappointed both bids had been rejected and said the government's requirements might have been too tough. He said inviting fresh bids would affect the city's tourism promotion. "If we can't use the terminal in 2012, the cruise companies we are currently in talks with will have to make adjustments because they have to come a year later," Mr Tien said. "Of course, this is not that ideal." Tourism sector lawmaker Howard Young said inviting new bids was the only option.
The Executive Council yesterday approved spending up to HK$3 billion on earthquake relief in Sichuan - days after a government source suggested the total donation could exceed HK$10 billion. The government is not saying if the sum approved is the first instalment of a bigger gift to the province, because it wants to avoid a backlash from lawmakers and the public. "It is more politically sensible to ask the legislature to approve a certain sum of money and decide in future whether extra money is needed," a government source said. Democratic Party legislator Cheung Man-kwong signalled his party's support for the idea "if the money is used in a sensible manner and there is a mechanism for Legco to monitor the use of the money". Mr Cheung said he understood that the government would decide if more funding was needed after seeing the results of the first batch. The government source said the money would go into a trust. The public would be welcome to donate to it and non-governmental organisations to apply for trust funding for reconstruction of quake-hit areas. The government plans to seek the approval of the Legislative Council's Finance Committee for the proposal before the legislative session ends next week. Several parties have urged the government to apply for funding in stages.

Wynn may tap HK market for US$3b - IPO funds expected to be used for Cotai resort - Casino magnate Steve Wynn, whose company operates the Wynn hotel and casino in Macau, is considering raising as much as US$3 billion from a secondary listing in Hong Kong. The deal is likely to be the largest initial public offering in Hong Kong this year if it proceeds and can help Mr Wynn bankroll his ambitious mega resort on Macau's Cotai Strip. UBS, Deutsche Bank and Morgan Stanley had been hired to arrange the transaction, market sources said. While the offering could draw interest given the company's high-profile chairman, the slide in global markets and concerns about declining profit margins in the casino industry create serious hurdles. Shares of Wynn Resorts in the United States have slumped 25.53 per cent this year. Las Vegas-based Samantha Stewart, Wynn Resorts' vice-president of investor relations, said the company would not comment on rumours about a possible share sale. Formal approval of the fund-raising had not been given, a source said. "They are a long way away from [a share sale] and they might never do it," the source said. "At the moment, the market is definitely not right." Stanley Ho Hung-sun's SJM Holdings raised HK$3.85 billion in an initial public offering that is expected to begin trading on Wednesday. Mr Ho had originally planned to raise as much as US$2 billion before legal challenges and poor market conditions took their toll. Mr Wynn would not appear to need the cash immediately. Wynn Resorts (Macau) refinanced its original 2005 loan package last year. The new deal gave the firm a line of credit of as much as US$1.55 billion, up from US$764 million previously, and it can expand this by an additional US$50 million. The company had only drawn down US$550.9 million of that credit line at the end of March and still had US$1 billion available. That would be more than enough to complete the Encore, a 400-room all-suite hotel tower scheduled to open in the first half of 2010 on the former site of a parking garage attached to its existing property across from Mr Ho's Hotel Lisboa. The Encore Macau will also include more casino, restaurant and retail space. The budget for the Encore is US$600 million and Wynn has a deal with contractor Leighton China State that the total construction cost will not exceed US$347.8 million. As of March, the company had spent US$75.8 million on the project. More likely, Wynn would devote the war chest from any potential Hong Kong share sale to building a resort on the Cotai Strip. The Macau government has tentatively earmarked a 21.04-hectare plot of waterfront land on Cotai for Wynn to build a casino resort. The plot is located between Melco Crown Entertainment's US$2.4 billion City of Dreams project and the Macau International Airport. Mr Wynn has yet to put a shovel in the ground on Cotai but has publicly discussed details of his plans for the site on several occasions. He told investors in May that his company planned an all-suite luxury resort with 1,500 to 1,800 hotel rooms. He said he hoped to break ground on the Cotai property before the end of next year. "We're in design development very intensely now on Cotai ... I'm not done yet. "But I'm dying to finish the job and get it to where I'm ready to price it and break ground."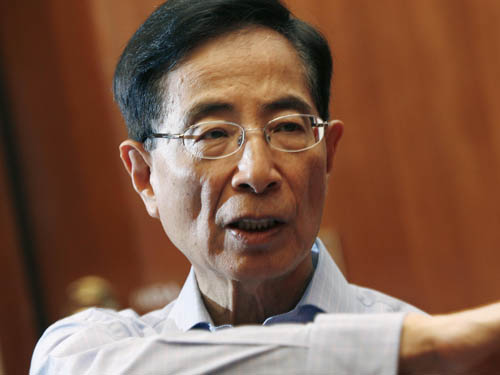 The Bar Association yesterday made a rare statement reiterating the independence of the judiciary in Hong Kong following a call earlier this week by Vice-President Xi Jinping for the judiciary to support the government. On Monday, the visiting state leader said there should be "mutual understanding and support" among the executive, the legislature and the judiciary, while urging solidarity in the administration.
The association said these remarks had caused debate and concern. "The Bar does not attribute to Vice-President Xi any intention to interfere with the independence of our judiciary ... However, the Bar believes it is important to recognise, reiterate and affirm the importance of an independent judiciary," the statement said. The association said an independent judiciary, which was guaranteed under the Basic Law, "is of vital importance to the maintenance of the rule of law" and its long-term stability and prosperity. "The judiciary in Hong Kong has always been, and under the Basic Law it shall remain, separate and independent from the executive and the legislature. It is not, and should not be regarded as, part of the governance team. "Unless the judiciary is truly independent, it cannot fulfil its role of ensuring that the government is acting in accordance with the law," it said, adding the judiciary should also monitor laws passed by the legislature. Civic Party lawmaker Ronny Tong Ka-wah said he believed Mr Xi's comments had touched a raw nerve among senior judges and legal professionals, although apparently it was not the start of a Beijing policy directed against the courts. But Democratic Party legislator Martin Lee Chu-ming said that since the handover Beijing had been unhappy with the courts in Hong Kong "because they have often ruled in favour of people moving legal challenges against the government". He said Beijing's reinterpretation of the Basic Law over the right-of-abode saga was among examples of how the central government sought to undermine Hong Kong's rule of law and judicial independence. Civic Party leader and former Bar chairwoman Audrey Eu Yuet-mee said recent events made her fear the respect for fundamental Hong Kong values was taking a step backwards. Tam Yiu-chung, chairman of the Democratic Alliance for the Betterment and Progress of Hong Kong, said it was a "misunderstanding", because Mr Xi was only making a general comment. "Of course, he understands judicial independence under the Basic Law. He was only trying to say all three branches of the government are important to maintain Hong Kong's prosperity and stability," Mr Tam said. A government source said it had long been policy to maintain judicial independence, as the rule of law was a core value in Hong Kong.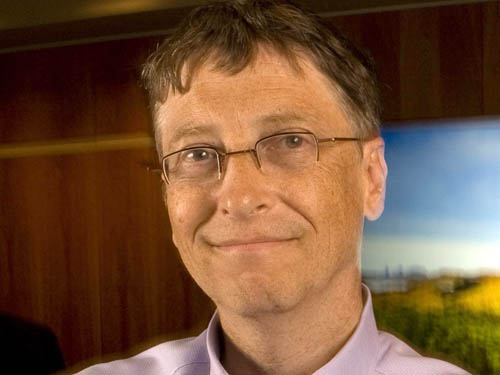 Gates to give keynote address at Microsoft forum in Wan Chai - One of the richest men in the world will soon pay Hong Kong a visit. Bill Gates, who last month left his day-to-day role with Microsoft, is expected to give the keynote address and join a panel discussion at a company event next month in Wan Chai, according to the computer giant's website. The programme, "Microsoft Research Asia 10th Anniversary Innovation Forum", will acknowledge the regional centre's accomplishments throughout the years. "In its 10-year history, Microsoft Research Asia has grown into an organisation that employs more than 350 researchers and engineers, has welcomed more than 2,500 interns, has awarded over 250 Microsoft fellowships, has published more than 1,500 papers for top international journals and conferences, and has achieved many technological breakthroughs," according to a statement on the website. "We have extended the scope of our university-relations programmes by establishing joint labs with universities in Asia, conducting joint research programmes, and hosting top-notch visiting professors at our lab," it said. "These relationships have allowed us to create new opportunities for both Microsoft and academia in the Asia-Pacific region." The invitation-only event will take place from 8pm to 9.30pm on August 12 at the Convention and Exhibition Centre in Wan Chai. Joining Mr Gates at a panel discussion will be three local university presidents - Paul Chu Ching-wu, president of the University of Science and Technology; Lawrence Lau Juen-yee, vice-chancellor and president of Chinese University; and Tsui Lap-chee, vice-chancellor and president of the University of Hong Kong. Microsoft Research Asia is based in Beijing, but two of its joint labs are in Hong Kong as part of a partnership with Chinese University and the University of Science and Technology, the company says. Mr Gates is also expected to attend the Olympic Games in Beijing.

China: Authorities yesterday unveiled a 2 billion yuan ($292 million) reconstruction plan for Sichuan's Wolong Nature Reserve, which was severely damaged by the May 12 earthquake. The plan was jointly developed by experts from Wolong Nature Reserve Administrative Bureau, Peking University, Chinese Academy of Sciences and Beijing-based Turenscape Company. It has been submitted to the Sichuan provincial department of forestry and the State Forestry Administration for approval, sources from the Wolong Nature Reserve Administration Bureau said. According to the plan, the China Conservation and Research Center for Giant Pandas in Wolong will be relocated from Hetaoping to Gengda, which is also in the reserve. The new site in Gengda would feature a laboratory covering 650 sq m; panda houses covering a total of 1,500 sq m; a panda hospital; a training ground for preparing pandas in captivity to live the wild; an environmental education center; and a bamboo forest for feeding pandas in captivity. "The new panda houses are big enough for every panda to roll around inside," Li Desheng, deputy chief of the China Conservation and Research Center for Giant Pandas. A giant panda disease prevention and control center will be built in Dujiangyan. Wolong Nature Reserve Administrative Bureau chief Zhang Hemin told China Daily the relocation is expected to cost more than 2 billion yuan. The May 12 earthquake, the epicenter of which was just 30 km from Zhang's center, wreaked havoc on the reserve. One panda died in the disaster, and another has since gone missing. Fourteen of the center's 32 panda houses were destroyed, and the rest were severely damaged, rendering 61 pandas homeless, Zhang said.
Top govt official defends nation's biofuel thrust - China's support to biofuel development has not caused the global food price surge, a Chinese official reiterated yesterday while world leaders gathered in Japan to find solutions to rising energy and food prices.

GM, Ford: China sales up steadily in first half of 2008 - Car makers General Motors (GM) and Ford said on Tuesday their sales in China grew steadily during thefirst half of 2008, a stimulus for the companies that have seen demand slump in their home market.

JV to spend 7b yuan on oil reserve - Communications Co, a subsidiary of the State Development and Investment Corporation (SDIC), and Netherlands-based Royal Vopak will invest 7 billion yuan on a commercial oil reserve project in Hainan province, according to a statement on SDIC's website.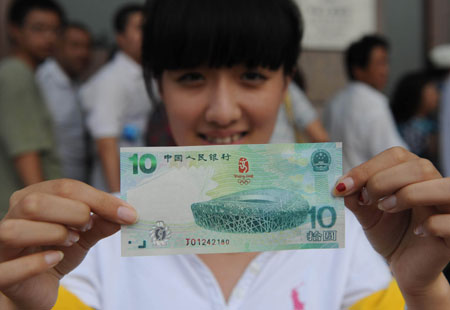 A Beijing citizen shows her commemorative Olympic bank note with a face value of 10 yuan. Five commercial banks in Beijing began to exchange the note from July 9, 2008.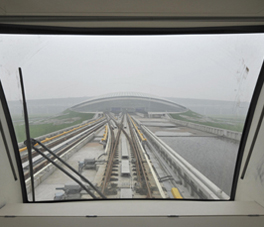 An express train is on a trial along the Beijing Airport line in Beijing, July 8, 2008. The police are doing their utmost to prevent major road accidents and keep the roads running safely and smoothly for the Games. With 31 days until the Olympics, the city's police have completed handling of all 193 potential road safety threats in the capital. The police were doing their utmost to prevent major road accidents and keep the roads running safely and smoothly for the Games, Wang Jinbiao, a senior official with the Ministry of Public Security, told reporters on Tuesday. Wang said police throughout China found 15,598 potential road safety problems in the first half of the year and 3,871 had been repaired. The ministry urged local police to be alert to the roads in their jurisdictions to provide a safe environment during the August 8-24 Games. In the second half of the year, police will crack down on overloading, speeding and fatigued drivers. Vehicles carrying hazardous substances and school buses would get extra attention, Wang said. According to the ministry, there were 131,000 road accidents in the first half of 2008, killing 33,000 people, injuring 152,000 and causing 501 million yuan ($72.6 million) in direct economic losses. Speeding, failing to yielding to traffic and unlicensed driving were the major factors behind accidents, with speeding accounting for 14.6 percent of the deaths. Deaths, injuries and losses fell 12.3, 20.4 and 14.4 percent, respectively, year-on-year. However, deaths in accidents involving battery-powered bicycles, buses, hazardous vehicles and school buses increased 15.1, 11.6, 18.8 and 12.3 percent, respectively. Police nationwide had also seized 3,906 smuggled or stolen vehicles in a special campaign launched in May, according to the ministry.
SDIC Communications Co, a subsidiary of the State Development and Investment Corporation (SDIC), and Netherlands-based Royal Vopak will invest 7 billion yuan on a commercial oil reserve project in Hainan province.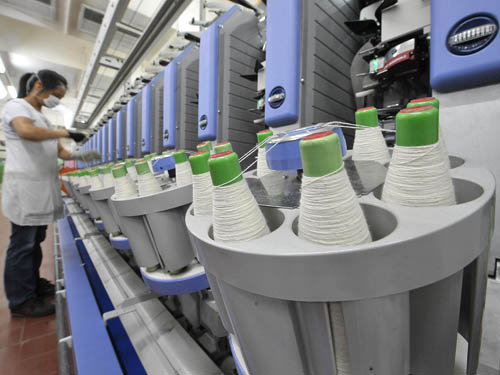 VAT rebates to return as Beijing aids textile and garment exporters - Beijing is expected to restore value-added tax rebates on textile and garment exports soon in a surprise move to inject life into the ailing sector. Various industry sources and tax experts say the mainland is finalising a plan to raise VAT rebates on textiles and garments as much as 4 percentage points to 15 per cent. Generally, exporters are paying a value-added tax of about 17 per cent. The plan also would increase rebates on viscose fibre - a key raw material in making fabric - as much as 10 percentage points to 15 per cent. The plan signals a rescue of the country's pillar industry, which is undergoing an unprecedented consolidation exacerbated by a United States-led global economic slowdown, a sinking US dollar and soaring costs of raw materials, labour and crude oil. Some economists said lifting tax refunds on selective exports could also signal Beijing's loosening grip on fiscal policy that aimed to avert a fall in the mainland's exports growth and export-driven economy. "It is certainly good news as soon as there are some increases," said Tommy Lam Chin-ming, who runs a factory in Dongguan producing jackets and coats for US labels. "We are besieged on all fronts." Labour-intensive industries such as garments, fabric and shoes were the leading casualties as more than 10,000 out of 65,000 Hong Kong-owned factories in Guangdong province's processing trade shut over the past year. Plant closures are expected to jump to 20,000 by year-end. "I don't see any signs that raw material prices, yuan appreciation, labour and environmental costs will drop in the coming months, whereas the US economy is heading into a recession," Mr Lam said. "The prospect for the sector is very obscure." A year ago, fabric and garments were among 2,268 types of exports whose VAT rebates were cut as China sought to trim its trade surplus and consolidate resources-consuming, energy-inefficient and highly polluting industries. Fabric and garments' VAT refunds were cut 2 percentage points to 11 per cent and viscose fibre, 6 percentage points to 5 per cent. China International Capital Corp chief economist Ha Jiming estimated last month's export growth had slowed to 20.3 per cent, with imports up 29.3 per cent, narrowing the trade surplus by 5.3 per cent to US$25.5 billion from June last year. Last month's trade figures are due to be released today. In the first five months of this year, Guangdong's exports of textiles and garments fell an annualised 13.6 per cent to US$12.21 billion, customs data showed. Nationally, the industry maintained its export growth at 15.4 per cent, to US$66.13 billion. KPMG senior partner Peter Kung said the lower the export VAT rebates, the higher exporters' costs. "Raising the rebate levels will help alleviate exporters' burden," he said. "China can afford to raise the rebate rates as its growth in tax income will be way above economic growth." Mr Kung expected tax income to soar at least 30 per cent this year to about 6 trillion yuan (HK$6.83 trillion) after a 33.8 per cent rise to 1.51 trillion yuan in the first quarter.
Guangdong Communist Party leaders have endorsed a Shenzhen development blueprint to transform the border city into an "international city" and forge closer ties with Hong Kong. The plan was recently adopted by the party committee and will be submitted to Beijing for approval within the year. By forging closer ties with Hong Kong, Shenzhen hopes to establish itself as a major economic centre in southern China by 2020. Under the plan, it hopes to bolster co-operation with Hong Kong in finance, logistics and trade. It also says Shenzhen will jointly review and map out a controversial development plan with Hong Kong over the Lok Ma Chau Loop - a small piece of land straddling the border - and explore the feasibility of setting up a Shenzhen-Hong Kong innovative-industry park. The plan anticipates that daily cross-border traffic will more than double to 1 million vehicles from the current 422,000. The blueprint also includes a subtle change. Previously, Shenzhen planners have pushed the idea that Shenzhen - in combination with Hong Kong - would strive to become an "international metropolis". This latest plan says that through joint efforts with Hong Kong, Shenzhen will aim at becoming an "international city". Xinhua quoted a Shenzhen planner who explained that the change was meant to give Shenzhen a clearer direction and a stronger emphasis on self-reliance. The new plan to keep Shenzhen at the forefront of the nation's 30 years of economic reforms came after Guangdong party chief Wang Yang urged cadres in the province to "liberate their minds". Shenzhen, which led the mainland in reforms, has struggled in recent years as more mainland cities have made great development strides and have attracted foreign investment. For Hong Kong, closer ties with Shenzhen could be an opportunity both in terms of market access to the mainland and for tapping the huge developing intellectual-property market across the border. Shenzhen deputy planning bureau chief Xu Chongguang said it was the first time in three decades that Shenzhen had included such a long-term development strategy in its municipal plans. Le Zheng , of the Shenzhen Academy of Social Sciences, said the blueprint showed that the idea had become a consensus rather than just wishful thinking on Shenzhen's part. "It now has a substantial foundation and a chance of being realised because Hong Kong aired similar desires in previous years," Mr Le said, adding that Hong Kong's agreement "is the prerequisite for Shenzhen to enlist its neighbour in a strategy for the coming decade". Fan Zhongming , a Shenzhen-based member of the China Academy of Urban Planning and Design, said the blueprint would add strategic value to mainland development and help give the country the edge over international competition. "Beijing's strategy on Shenzhen was unchanged in the past year: to take advantage of its proximity with Hong Kong and exploit opportunities," he said.
July 8 - 9, 2008

Hong Kong: Chinese Vice President Xi Jinping visited two Hong Kong households Monday during his three-day inspection tour in the city. Accompanied by Hong Kong Chief Executive Donald Tsang, Xi first visited the Wong family in Royal Peninsula, Hung Hom. Thirty-four-year-old Wong Chi-yung, who was born and brought up in Hong Kong, works in an information technology company, while his wife is a clerical officer at a hospital. They have a five-year-old son. During his stay at Wong's home, the vice president chatted about the daily life, family expenses, property price and work situation with the family members who had a very nice impression on Xi. "He's approachable and charismatic," Wong told the reporter with excitement after the visit. Before leaving, Xi presented the Wong's with an Olympic souvenir display and a tea-set. The family in return presented a drawing that depicted the official mascots of the Beijing Olympic Games -- Fuwa, wishing for a successful Games. Xi said he was happy to have seen the Wong's are living happily and he believed that Hong Kong will become more prosperous as the motherland is becoming stronger and more powerful. After leaving from the Wong family, Xi went to see an elderly couple at Ho Man Tin. Yu Do-sing and his wife, both in their seventies, have retired and are living in a Home Ownership Scheme flat in Kwun Hei Court, Ho Man Tin. The eldest of the couple's six children Yu Chi-hung frequently visits his parents with his wife and their four-year-old daughter. They were also there on Monday to welcome Xi. Xi gave warm greetings and regards to the elderly upon arrival. And Yu shared his family photos with Xi who presented an Olympic souvenir, a tea-set and a laptop computer to the Yu's before departure. Xi arrived in Hong Kong on July 6 and has inspected the equestrian events venues for the 2008 Beijing Olympics and Paralympics.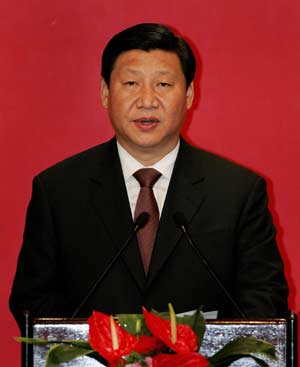 HK service firms set to receive more help - The Ministry of Commerce and the government of Hong Kong will soon sign a document to further help companies from the region's service sector operate on the mainland, Vice-President Xi Jinping said yesterday. "I hope the arrangement will provide new opportunities for the development of the service sector in Hong Kong," he said. "The central government will continue to support all initiatives and endeavors aimed at developing the economy and improving people's lives in Hong Kong." Xi made the comments during a speech ahead of a banquet dinner held by the Hong Kong government in his honor at the Island Shangri-La Hotel. "Focusing on developing the economy enables Hong Kong to grow more prosperous, play a more important part in the country's overall development and occupy a more favorable position in global markets," he said. Xi is in Hong Kong for a three-day inspection tour of the city's preparations for the upcoming Olympic and Paralympic equestrian events. In his speech, he praised the regional government and all parties involved for their dedication and hard work. "The government has led the preparatory work with a great sense of commitment," he said. "The whole country, and indeed the whole world are deeply impressed by Hong Kong people's enthusiasm, their level of participation and their passion for the Olympics." Xi also expressed his thanks to the government and people for their support in the aftermath of the Sichuan quake. Reiterating the comments made by President Hu Jintao on March 6, during a meeting with NPC deputies and CPPCC members from Hong Kong and Macao, Xi urged the Hong Kong government to continue developing the economy and enhancing social harmony. "Since its return to the motherland, the future of Hong Kong has been in the hands of our Hong Kong compatriots and has been closely linked with the future of the motherland. We believe with the support of the motherland and the efforts of the SAR government, Hong Kong can overcome all challenges," he said.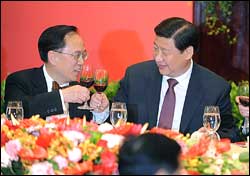 Visiting Vice President Xi Jinping last night revealed a new business initiative for Hong Kong as he saluted the city's progress, vowing the "Pearl of the Orient will shine even more brightly in the years to come." In his keynote speech made to 400 guests at a banquet in his honor, Xi said Beijing fully supports measures aimed at developing the SAR's economy and improving people's livelihoods. With the strong support of the motherland and the united efforts of its citizens, Hong Kong will be able to overcome all risks, difficulties and challenges on its way to further development. Speaking at the Island Shangri-La, Admiralty, he said the Ministry of Commerce and the SAR government will sign deals allowing local service providers entry to the mainland market, particularly Guangdong. Recently, Guangdong leaders have urged closer cooperation in the information technology and creative industries. Some local restaurant operators have also called for easier mainland market access. As a result of a visit by Premier Wen Jiabao to the territory five years ago, the Closer Economic Partnership Arrangement came into effect on January 1, 2004. It scrapped tariffs on some Hong Kong exports to the mainland and gave preferential treatment to parts of the services sector. Xi will wind up his visit to Hong Kong today. He encouraged the SAR government to develop the economy, improve people's livelihoods, promote democracy in an orderly and gradual manner and enhance harmony. Earlier at another function with SAR officials, Xi said policies already implemented such as CEPA, pan-Pearl River Delta cooperation and Guangdong-Hong Kong cooperation have room for improvement. He advised officials in the adminstration, legislature and Judiciary to be "understanding and reasonable; unified and efficient" and to support each other. Xi also reiterated that the principle of "one country, two systems" and the Basic Law must be be upheld. He recognized Hong Kong's achievements under the leadership of Chief Executive Donald Tsang Yam- kuen and his predecessor Tung Chee- hwa, with Hong Kong becoming more closely linked with the future of the motherland. He thanked the SAR for its support of earthquake-hit Sichuan, saying the territory has already donated HK$2 billion. He is confident the Olympics equestrian events to be held in Hong Kong next month will be successful. Xi will this morning visit the Government Flying Service to thank members for their help in Sichuan before returning to Beijing.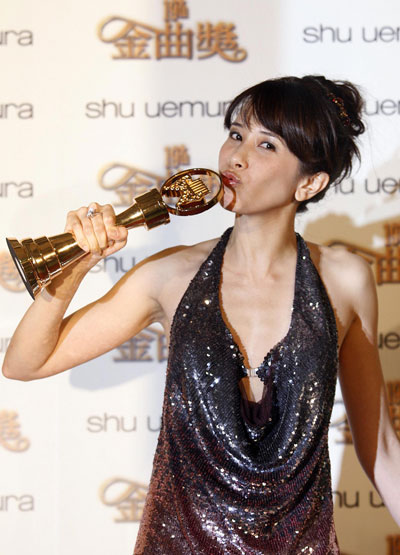 Hong Kong singer Karen Mok celebrates after winning the Best Album in Mandarin at the 19th Golden Melody Awards in Taipei July 5, 2008.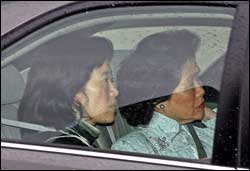 Just 24 hours after she dealt a blow to pro-democracy forces by declaring she would not stand for reelection, Anson Chan Fong On-sang was yesterday given pride of place during a meeting with Vice President Xi Jinping. Chan was the only democrat invited to yesterday's meeting and when the official photograph was taken, the former chief secretary sat in the front row next to the city's top officials and tycoons. Xi met with around 150 dignitaries in Hung Hom's Harbour Plaza Hotel, where he is staying. Among the guests were Cheung Kong Holdings chairman Li Ka-shing, Henderson Land Group chairman Lee Shau-kee, New World Development chairman Cheng Yu-tung and Bank of East Asia chairman David Li Kwok-po. Chief Executive Donald Tsang Yam-kuen, Hong Kong and Macau Affairs Office director Liao Hui, Executive Council convenor Leung Chun- ying, Legislative Council president Rita Fan Hsu Lai-tai, chief justice Andrew Li Kwok-nang, former National People's Congress Standing Committee member Tsang Hin-chi and Grand Bauhinia Medal recipient Henry Hu Hung-lick - all of whom sat in the front row. Also in the front were Chinese People's Political Consultative Conference Standing Committee members while vice chancellors of the eight local universities stood in the second row with NPC delegates and social leaders, including former secretary for security Regina Ip Lau Suk-yee. Chan, who once said she wanted to act as a bridge between the pro- democracy camp and the central government, said she had always been willing and prepared to communicate with the central government. Xi shook hands with some of the people in the first two rows but did not pause to talk to any of them. In a speech he said the central government understood there were inflationary pressures in Hong Kong. He also thanked the city for the help it has given to Sichuan earthquake victims.
For the first time in Olympic history, horses entered in the equestrian events for the 2008 Beijing Games and the following Paralympics will be tested for possible medical infringements before competition starts.

Six health-care medical reform proposals by the government have failed to gain the support of most people who submitted views, Secretary for Food and Health York Chow Yat-ngok said.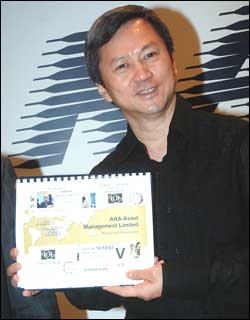 Cheung Kong (Holdings) (0001) hit a record HK$23 billion by selling 2,700 flats in the first half, said executive director Justin Chiu Kwok-hung. The developer adjusted its residential target for the year up modestly to between HK$25 billion and HK$26 billion. Its target for the year was set at up to HK$23 billion early on. A total of 600 to 700 units would be put on sale in this half. "We plan to launch about three more residential projects by the end of the year," Chiu said. "Our project in Tai Wai, [jointly developed with MTR Corp (0066)], and Seasons Monarch in Yuen Long should be ready for sale at the end of the third quarter or early in the fourth after the Olympics," he said. The Tai Wai project offers 1,000 flats, mostly three-bedroom units. Seasons Monarch offers 244 flats ranging from 2,700 to 3,700 square feet. At the current market value, each unit could fetch at least HK$10 million. The third project in Tung Chung offers 56 houses ranging from 2,000 sq ft to 3,000 sq ft.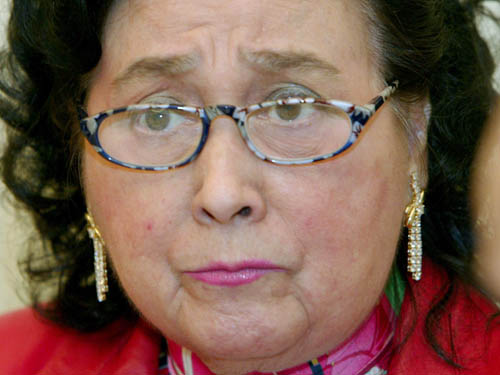 Winnie Ho Yuen-ki, the estranged sister of SJM Holdings chairman Stanley Ho Hung-sun, yesterday filed a last-minute High Court action seeking to derail the HK$5.1 billion initial public offering of her brother's casino empire, whose shares are set to begin trading on Thursday morning. Lawyers for Ms Ho filed an application in the Court of First Instance, seeking a judicial review "to bring up and quash" a decision by the stock exchange to approve - and a decision by the Securities and Futures Commission not to oppose - SJM's initial public offering and listing prospectus. The application characterises the sale, already fully subscribed by institutional and public shareholders, as an "illegality" and "contrary to the public interest and the long-standing policy of the Hong Kong government not to promote gambling". The 100-plus page application covers the 36-year history of the former monopoly casino operator in Macau and SJM's ultimate parent firm, Sociedade de Turismo e Diversoes de Macau (STDM). In it, Ms Ho's lawyers, led by Albert Ho Chun-yan, who is not related, accuse the SFC of "procedural impropriety" and "illegality" in the approval process for not exercising its right to object to the listing. The petition also charges the stock exchange and SFC with "irrationality" in failing to give due consideration to ongoing legal proceedings involving SJM and STDM, as well as knowingly signing off on a prospectus that Ms Ho's lawyers allege "contains untrue and/or misleading statements, and/or material non-disclosure". An SFC spokesman said: "We are confident that we have followed the process correctly and we look forward to presenting our case in the court." The application for judicial review is expected to go before the court today in an expedited hearing. Martin Lee Chu-ming would act as counsel, a spokeswoman for Ms Ho said last night. The new petition is the latest volley in an epic courtroom battle between Ms Ho and her brother that now totals 35 legal actions pending in Macau and five in Hong Kong. Ms Ho worked for STDM for 25 years until 2002 and retains a stake of 7.34 per cent (according to SJM) or slightly more than 8 per cent (according to Ms Ho) in the private Macau company. SJM had delayed two previous attempts at a Hong Kong share sale in 2006 and earlier this year, due in part to opposition by Ms Ho. If the court decides to undertake a judicial review based on Ms Ho's petition, it could issue an injunction that may affect SJM's trading debut. In 2004, a public housing tenant made a last-minute application for a judicial review against the Hong Kong Housing Authority's listing of the Link Real Estate Investment Trust. That action did not prevent the initial public offering but it forced the government to shelve it and relaunch the sale 11 months later. "If Ms Ho loses in the Court of First Instance, of course she will appeal," the spokeswoman said. An SJM spokesman yesterday declined to comment on the judicial review application.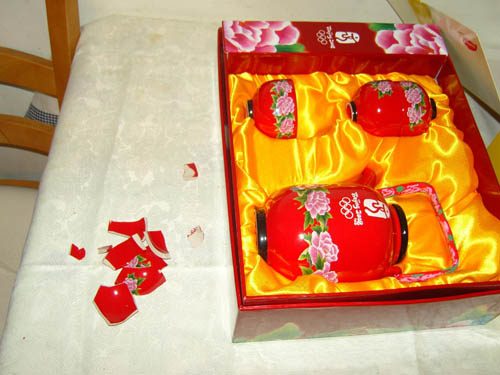 Where there were five precious Chinese sturgeon, there are now four. Where there were four cups in an Olympic souvenir tea set, there are now three, many shattered pieces, and broken memorabilia. Yesterday, Vice-President Xi Jinping was the bearer of gifts for two families, who informed him of the livelihood issues they face amid inflation. Mr Xi handed over Olympic souvenirs in the form of tea sets on both occasions. After the vice-president had left, Yu Do-sing from the second family presented the tea set to the media to photograph, but in doing so he let a cup slip from the table. Perhaps realizing the symbolism of a shattered Olympic cup, the visibly distressed 71-year-old Mr Yu urged members of the media to leave his flat without commenting on how he felt about the misfortune. A government spokesman later said Mr Xi had been made aware of the incident and that a replacement would be sent, in what seems to be customary procedure now. Beijing's previous act of generosity to Hong Kong - the gift of five Chinese sturgeon, representing the five Olympic rings - suffered a similar fate when one of them died after being bitten by a barracuda in an Ocean Park aquarium. A replacement for that fish will be sent. Mr Xi had earlier been handed gifts from the first family he visited in Hung Hom, where a young boy addressed him affectionately as "grandpa" in Putonghua. Keith Wong Chi-yung, the father of the family, had drawn pictures of the five Olympic mascots, while his five-year-old son had helped colour them in. Chief Executive Donald Tsang Yam-kuen received a variation of the pictures. During the visit to the family in Hung Hom, Mr Wong expressed concerns about the rising price of food. In Mr Yu's home in Ho Man Tin, Mr Xi also heard concerns about property prices and community facilities while looking at photographs of the family. Mr Xi stayed for about 20 minutes before giving a tea set and a laptop to the Yus. The vice-president described the tea set as a symbolic gift, as logos of the Olympic Games were printed on it. Mr Yu, a former district councillor who received a Chief Executive's Commendation for Community Service in 2004, said he was notified about the visit two weeks ago. Even before the Olympic cup shattered before his eyes, he said Mr Xi's trip had left an indelible impression on him: "He is nice and approachable. He appreciated me very much for my contribution to community service." Meanwhile, Mr Xi also met former chief executive Tung Chee-hwa and visited the Hong Kong Monetary Authority at Two IFC in Central yesterday morning before the family visits. He later met local deputies to the National People's Congress and Chinese People's Political Consultative Conference and other top officials at the Harbor Plaza hotel in Hung Hom, before joining a meeting with representatives of mainland-based firms at the central government's liaison office. About 100 protesters from several groups submitted a petition for the vice-president when he was at a dinner with lawmakers at the Island Shangri-La in Admiralty. Some protesters, including lawmaker "Long Hair" Leung Kwok-hung who had brought a coffin, clashed with police and some complained that the petition areas were too far away from Mr Xi.

China: China National Offshore Oil Co. Ltd. (CNOOC Ltd.) announced on Monday that its wildcat well, drilled independently in the Bohai Bay, discovered oil and natural gas. The wildcat, Ken Li 10-1-1, was drilled to a total depth of 3,148 meters, with a water depth of about 17 meters. Test flows were about 980 barrels of oil and 100,000 cubic feet of natural gas per day, CNOOC Ltd. said. Listed in Hong Kong and New York, CNOOC Ltd. is the listed subsidiary of China National Offshore Oil Corp., the nation's largest offshore oil producer. CNOOC Ltd. produced 171 million barrels-of-oil-equivalent last year, up 2.6 percent from a year earlier.
China Central Television (CCTV) will broadcast Olympic events live "without time delay," a first for the national broadcaster since its founding half a century ago, a senior executive said here on Tuesday. The state TV station used to technically delay the broadcast of live material by 30 seconds to guarantee programs could be aired smoothly and safely, a common practice worldwide, said Jiang Heping, controller of CCTV-5, the sports channel. "But at the Beijing Olympics, CCTV will not use the 30-second technical delay. Its programs will be synchronized with the international TV and radio signals distributed by the International Broadcast Center (IBC)," he said. That means the audience will see what is really taking place as it happens, he said. CCTV will use seven of its 17 channels to relay the Olympic events with 3,000 staff on the project. It is expected to produce more than 2,500 hours of Olympic programming. The Beijing Olympic Games expects to attract 4 billion viewers via TV relay worldwide, or 100 million more than that of the 2004 Athens Olympics, Ma Guoli, Chief Operation Officer of Beijing Olympics Dissemination Corporation Ltd., has said.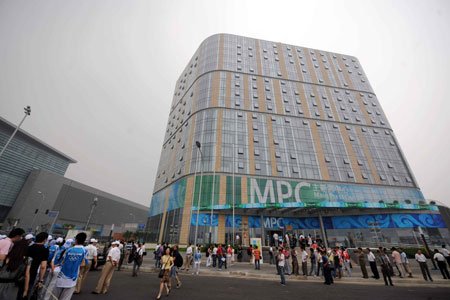 Journalists and visitors stand outside the Beijing Olympics Main Press Centre (MPC) during its opening in Beijing, July 8, 2008. After three years of construction, the MPC and International Broadcasting Center (IBC) of the Beijing Olympic Games were inaugurated on Tuesday, kicking off the media service for the event, which is expected to draw 30,000 foreign media people.The MPC is the central workplace for the 5,600 accredited written and photographic press covering the Beijing 2008 Olympic Games, providing 24-hour services and facilities, news and information. It's also the headquarters of BOCOG's Press Operations and will serve as the MPC for the Beijing 2008 Paralympic Games.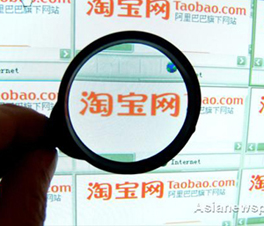 Taobao.com, China's top consumer-to-consumer (C2C) site, will receive a further two billion yuan ($292 million) in investment from its parent Alibaba Group over the next five years.
China's textile export growth drops significantly - The growth rate of China's textile and garment exports dropped 3.7 percentage points year-on-year from September to May, China Customs said in a report released over the weekend.
July 4 -7, 2008 Happy July 4th

Hong Kong: Hong Kong has been favored by many international licensors and agents as the strategic base for accessing the growing Chinese mainland licensing market, a local trade official said Wednesday. Speaking at the opening ceremony of the Hong Kong International Licensing Show, Benjamin Chau, assistant executive director of the Hong Kong Trade Development Council, said the mainland has come to be the second largest licensing trade market in Asia. Organizers of the Hong Kong show, which saw over 130 exhibitors from 11 countries and regions, established a group pavilion for exhibitors from the Chinese mainland, alongside group pavilions for Taiwan, South Korea, Thailand and the United Kingdom. The Chinese mainland licensing market was worth over 1.1 billion U.S. dollars in 2005, as compared to 0.6 billion U.S. dollars in 2001, and has been expanding fast to become the second largest market in Asia, and with huge potential, too, according tothe International Licensing Industry Merchandisers' Association. Major sports events such as the Beijing Olympics, as well as the World Expo expected in 2010 in Shanghai, were also adding to the momentum of the booming mainland market. Hong Kong business organizations, which enjoyed closer ties with the Chinese mainland, has been major players of the licensing market there. The Hong Kong Special Administrative Region has been one of the most developed licensing markets in Asia, with strengths derived from factors such as intellectual property, rich experience of conducting business with mainland businessmen, etc. The strength of Hong Kong as the platform for accessing the mainland market was ever more prominent and it "has been chosen by many international licensors as the strategic base to expand their licensing business in and beyond the region," Chau said.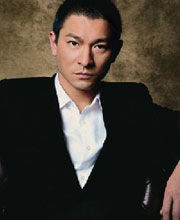 The government of Hong Kong Special Administration Region published on Tuesday this year's 79 appointments of Justices of the Peace (JPs), among which veteran entertainer Andy Lau was listed as a non-official JP. The government of Hong Kong Special Administration Region published on Tuesday this year's 79 appointments of Justices of the Peace (JPs), among which veteran entertainer Andy Lau was listed as a non-official JP. Andy Lau said via his publicist that he had sworn in earlier, and "thought it was a great honor," the Shanghai-based Oriental Morning Post reported. In his 30-year showbiz career, Andy Lau has been noted for his active involvement in charity work. The singer-actor became the second JP in Hong Kong's showbiz circle, the first being actor Michael Hui who was named so in 2004. In Hong Kong, Justices of the Peace are essentially ceremonial titles given by the Government to social elites, and to certain officials while in office. According to local regulations, the main function of JPs is to visit prisons, detention centers and other institutions to ensure effective management and to make sure no individual is unfairly treated or deprived of his or her rights.
Infidelity is on the rise in Hong Kong - and women are having affairs in greater numbers than ever before. A survey of calls made to a leading family help hotline service in recent years has also revealed that more men are willing to talk about their marital problems now, even if it is at the prompting of their wives. Caritas Family Crisis Line and Education Center - which expanded its hotline services last month owing to the increasing number of calls - said the number of men calling for advice on extramarital affairs increased from about 10 percent to 30 percent over the past decade. "Extramarital affairs are increasingly an issue among women," the center's supervisor, Paulina Kwok Chi-ying, told The Standard. "Men are also more willing to talk about their problems." In the past, only one or two out of 10 married women had an affair - but now that figure has risen to three or four, Kwok said. Extramarital affairs are also happening earlier in the relationship, from more than 10 years in the past to seven to 10 years now. The center receives 500 to 600 calls a month for help on extramarital affairs - double the number of 10 years ago. "Workplace relationships are becoming more popular. People are spending more time with their colleagues than at home, the number of working hours is too long, work pressure is also mounting," Kwok said. The separation of couples who work in different countries is a contributing factor. And men also tend to find their lovers in entertainment facilities while women tend to meet lovers through their friends, she said. One of the center's social workers, Belinda Tang Wai-ping, said men still face social pressure not to talk about these problems. "They aren't used to expressing their feelings and talk to others - especially those with wives who have affairs - it's considered a huge embarrassment," Tang said. "Some men called us at the request of their wives." The calls, which can last up to an hour, may not solve callers' problems in the end but will help them feel more comfortable. "The most important thing is to help them find their own way to treat their problems ... get that sigh off their chest," she said. The center, established in 2001, receives funding from the Li Ka Shing Foundation to expand its round-the- clock hotline service. Three special hotlines have been added to handle a rising number of cases related to addiction, love and children's problems. "We're getting more calls related to love, addiction to shopping, sex, internet surfing and gambling," Tang said. "Children also have their own problems in studying." The six bilingual hotlines are: extramarital affairs (noon-11pm) 2537 7247, debt and financial capability (noon-11pm) 2382 2929, addiction (noon-11pm) 3904 3098, love (noon-11pm) 3904 3100, and children (4-9pm) 2522 2929 and family crisis (24-hour) 18288.

China: The team that developed Shenzhou VII, China's third manned spacecraft, will begin the final test at Jiuquan Satellite Launch Center in Gansu province in a few days. Zhang Bainan, chief designer of the spacecraft, said yesterday that the research and development team of China Aerospace Science and Technology Corp (CASC) will leave for Jiuquan early this month. This, according to insiders, signals the final preparation stage of the country's third manned space mission. Shenzhou VII is scheduled to carry three astronauts and blast off atop the Long March-2F rocket from Jiuquan in October. The Long March-2F rocket will be carried to the launch site in the beginning of August, a spokesman for China's manned space program said yesterday. One of the astronauts will be the first Chinese to walk in space as part of the second stage of the country's manned space mission. The mission is aimed at mastering two key technologies necessary for setting up a space laboratory or station, where spacecraft can dock and perform extra-vehicular activities, reports said. Shenzhou VII, which means "divine vessel" in Chinese, has passed the inspections of the CASC and an expert panel, he said. "Its functions and performance fulfill the comprehensive requirements of the space program." Yuan Jiajun, deputy general manager of the CASC, said the mission is the riskiest in China's space program. The mission, Zhang said, differs from earlier ones in three ways. First, it will carry out "extra-vehicular activities", which will put homemade airlock module and space suits to strict tests in space for the first time. Second, the three astronauts will stay in Shenzhou VII for up to five days, testing its rated capacity. Third, experiments will be conducted with some new satellite communication technologies. To ensure that the mission is a success, experts have prepared plans to deal with more than 30 emergency situations to guarantee the astronauts' safety, Zhang said. In 2003, China became the third country to send an astronaut into space. The US and the erstwhile Soviet Union (now Russia) are the others to have done so.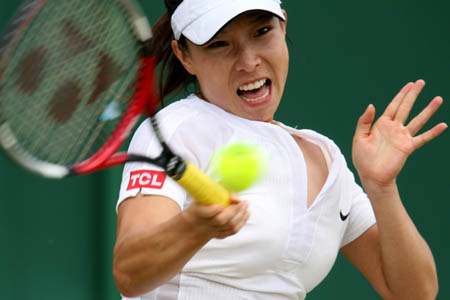 China's Zheng Jie returns the ball to Hungary's Agnes Szavay in the fourth round match of the women's singles at the Wimbledon Tennis Championships in London, capital of England, on June 30, 2008. Zheng Jie won 2-0 and advanced into the quarterfinal.
China's economy set to cool, official index chart indicates - China's economy had been slowed to expand at a more desirable and moderate rate for the five months to May, according to an official macro economy index chart, the national statistics agency said on Tuesday.

Financial Times' Top 500: CNPC ranks second - The Financial Times FT500 list of the world's most important companies, published on its website yesterday, sees that oil companies have become the largest in market value compared with the banking industry. The China National Petroleum Corporation (CNPC), with a market value of $424 billion USD, surpassed General Electric and ranked second. ExxonMobil remains first.

OPEC chief: Developing economies face oil price dilemma - Developing countries are facing a dilemma in managing oil prices on their home market, Chakib Khelil, president of the Organization of Petroleum Exporting Countries (OPEC), said in Madrid on Tuesday.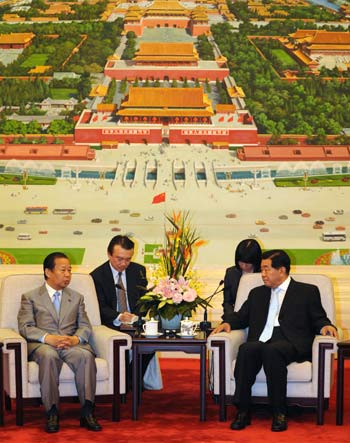 Jia Qinglin (1st R), chairman of the National Committee of the Chinese People's Political Consultative Conference (CPPCC), meets with Nikai Toshihiro, chairman of the General Council of Japan's ruling Liberal Democratic Party (LDP), at the Great Hall of the People in Beijing, capital of China, July 2, 2008. Jia Qinglin, head of China's political advisory body, said here on Wednesday the country would like to push forward relations with Japan in a long-term, healthy and steady manner. The chairman of the National Committee of the Chinese People's Political Consultative Conference (CPPCC) met with Nikai Toshihiro, chairman of the General Council of the ruling Liberal Democratic Party (LDP) in Beijing's Great Hall of the People. Jia said the successful visit by President Hu Jintao to Japan in May had opened up a new strategic mutually beneficial situation of relations. The joint declaration the leaders of the two countries signed had become the fourth political document guiding the development of bilateral relations. This year also marked the 30th anniversary of the signing of the China-Japan Peace and Friendship Treaty and the year of the China-Japan youth friendly exchange. Jia said under the guidance of the four political documents, China was ready to take this opportunity to further deepen mutually beneficial cooperation, strengthen cultural exchanges and properly handle sensitive issues with Japan. He thanked the people and government of Japan for their assistance to China after the severe earthquake in Sichuan province and for their support to the Beijing Olympic Games. Nikai spoke highly about Hu's visit. He expressed admiration to the effort and spirit of the Chinese people and government in fighting against the earthquake and in disaster relief. He also expressed confidence about the Beijing Olympic Games success. He added he would like to continue to work towards strengthening cultural exchanges and consolidating the social basis for forever friendship between China and Japan. Nikai was visiting China at the invitation of the Chinese People's Institute of Foreign Affairs.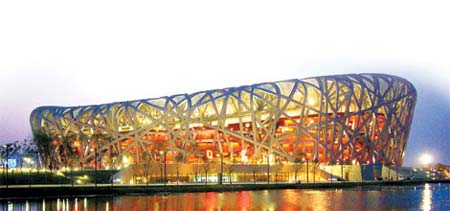 The "Bird's Nest" National Stadium, where the opening ceremony will take place, lights up the skyline of Beijing at night.
Direct economic losses caused by May's devastating earthquake in southwest China have already exceeded 1 trillion yuan (HK$1.14 trillion), a provincial official was quoted as saying. The website of the ruling Communist Party mouthpiece newspaper the People's Daily said that Huang Xiaoxiang, a vice governor of Sichuan province, gave the estimate to a visiting US delegation. The figure was much higher than the 67 billion yuan previously announced by Xi Guohua, a vice minister of industry and information technology, at a news conference in May. China's last year gross domestic product was 24.95 trillion yuan. The earthquake killed about 70,000 people and made more than 10 million homeless, according to official figures.

Manufacturing on the mainland expanded last month at its slowest pace in almost three years as input costs soared to new highs, suggesting that the country faces weaker growth and higher inflation. Two separate surveys measuring June's purchasing managers' index (PMI), a gauge of nationwide manufacturing activity, produced similar results. New orders declined, production slowed and buying activity weakened while energy and raw material costs rose and were passed on in ex-factory prices. "Chinese policymakers are facing their toughest year in a decade - the balance between inflation and growth requires subtle policy responses," Lehman Brothers economists Sun Mingchun and Rob Subbaraman wrote in a note. The brokerage forecasts that this year's gross domestic product growth will fall to a single digit for the first time in five years while inflation will reach its highest rate in 12 years. People's Bank of China governor Zhou Xiaochuan said he expected the economy to expand about 10 per cent this year, down from 11.9 per cent last year. Beijing's target is 8 per cent GDP growth with inflation no higher than 4.8 per cent, the same as last year. The official PMI, compiled by the China Federation of Logistics and Purchasing Officers, fell to a near three-year low of 52 last month from 53.3 in May and 59.2 in April. The monthly index surveys more than 700 companies in 20 industries, tracking changes in new orders, output, employment, suppliers' delivery times and inventory. A reading of more than 50 indicates expanded activity while one below 50 suggests contraction. The input-price index rose to 75.7 last month, the highest since the index was launched in 2005. The index of new orders fell for a third consecutive month to 52.6. The output index declined to 54.2 from 55.7 in May. Separately, brokerage CLSA also published its PMI figures yesterday, showing the index dropped for the second consecutive month, to 53.3 from 54.7 in May. Economic research head Eric Fishwick said the PMI numbers showed a slowdown in orders and production. "The question is how permanent this is," Mr Fishwick said. "The businesses questioned suggested that it might be temporary, a result of the May earthquake and the effects of measures to reduce pollution before the Olympic Games." The survey said output prices rose the fastest in four years last month as manufacturers shifted some of the rising costs of raw materials to the prices paid by consumers. Beijing has worried that soaring manufacturing costs will be passed on to consumers, especially since the May producer price index rose 8.2 per cent year on year, the fastest pace in more than three years. On Monday, Mr Zhou said he could not rule out raising interest rates to curb inflation. But many economists do not expect any rate rise soon, since the consumer inflation for last month is expected to have eased and PMI, exports and fixed-asset investments point to an economic slowdown.
July 1 - 3, 2008

Hong Kong: Health officials and experts from the Macao, Hong Kong SARs (Special Administration Region) and Guangdong Province Friday signed an agreement here on closer cooperation concerning the cross-border fight against infectious diseases. The agreement was signed after the three parties held the eighth trilateral meeting on the prevention and treatment of infectious diseases in Macao. The two-day meeting, attended by 59 officials and experts, ended Friday. The health officials from the three governments agreed to promote cooperation on epidemic research and relevant personnel training, and better trilateral communications on epidemic outbreak.
Macao Special Administrative Region (SAR) government will work closely with neighboring Hong Kong SAR in a bid to enhance cooperation between the two SARs in various fields, said the government's economic chief on Monday. Tam Pak Yuen, secretary for economy and finance of the Macao SAR, made the remark during a "Hong Kong, Macao Cooperation" meeting held here on Monday. The meeting was co-chaired by Tam and Tsang Chun-wah, financial secretary of the Hong Kong SAR. The two sides expressed their desire to further bilateral cooperation and study the feasibility of extending joint projects in new areas, according to a press statement from the Macao SAR government. Guangdong provincial government previously brought up the idea of strengthening regional ties among the two SARs and Guangdong province in the Chinese mainland, to which Macao gives "full support", said Tam, adding that this will lay a better foundation for the trilateral ties. He also noted that significant results and progress were achieved as collaborative and communicative mechanisms have been established in 16 different fields between the two sides. Meanwhile, the facilitating of immigration clearance and extension of stay for Hong Kong and Macao residents were another focal point during the meeting. The two sides also reached a consensus over the topic, and will jointly work out a practical plan by the end of this year, according to the press statement. In addition, officials from both sides agreed to join hands in promoting tourism images, set up a notification and compensation mechanism for industrial accidents, and increase cooperation in professional training for, among others, civil servants, education, public health and heritage conservation.
Hong Kong government spending in the first two months of the financial year amounted to 38.7 billion HK dollars (4.97 billion U.S. dollars) with revenue of 33 billion HK dollars (4.24 billion U.S. dollars), resulting in a 5.7 billion HK dollars (731.57 million U.S. dollars) deficit, Hong Kong Financial Services and the Treasury Bureau said on Monday. The bureau said a deficit in the initial months of a financial year is common as some major revenue items like salaries and profits taxes are mostly received towards the end of a fiscal year. Hong Kong saw 18.3 billion HK dollars (2.35 billion U.S. dollars) in spending and 10.8 billion HK dollars (1.39 billion U.S. dollars) in revenue in May, resulting in a deficit of 7.5 billion HK dollars (962.59 million U.S. dollars). The fiscal reserves stood at 487.2 billion HK dollars (62.53 billion U.S. dollars) on May 31, the bureau said.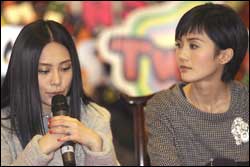 Hong Kong pop duo Twins will separate after seven years of making music together, a report by Web news portal Sina.com.cn said on Sunday. Although the female pair has stopped recording their latest album, their agent, Emperor Entertainment Group, has not yet responded to reports about the breakup, the article said. "They have different styles and they are capable of working independently." Huo Wenxi, a producer from the company was quoted in the report as saying. "There's no plan for the two stars to work together in the near future." Gillian Chung and Charlene Choi, the members of the Twins, have not made any public appearances together in almost five months since revelations came to light that Chung had been involved in a sex photo scandal. In the meantime, Choi has been attending various entertainment events alone to represent Twins. The music group has won fans from Hong Kong and the Chinese mainland after it debut in 2000. In 2007, Twins won the Most Popular Female Singer award at the Music-On-Demand Best 10 Awards ceremony held by Hong Kong's TVB station. It was the first time that a duo won the title. At present, Choi is shooting scenes for the upcoming action film "Storm Warriors." Chung will head to Hollywood to audition for a movie by director Oliver Stone.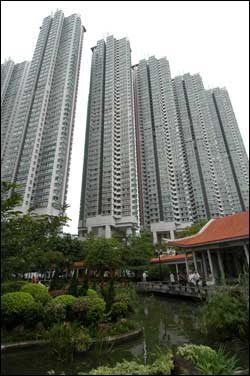 Sales of new apartments were brisk over the weekend, despite concerns raised by market watchers over rising mortgage rates and higher flat prices. Property agents reported more than 40 deals in the primary market in the past two days, up from some 10 transactions a week ago. ONE Pacific Heights in Sheung Wan, built by Pacific Century Premium Developments (0432), recorded a total of 14 transactions, while Beacon Lodge, a joint development by Sun Hung Kai Properties (0016) and the Urban Renewal Authority in Cheung Sha Wan, saw about 15 sales. Both projects were launched last week. Phileas Kwan Po-lam, executive director of Asia Standard International (0129), said the company has sold 33 units at Jadewater, its new residential project in Aberdeen, since its launch last week, including 11 deals yesterday. The developer reduced its prices by about 15 percent on Friday, but they remained 20 percent to 60 percent higher than other flats in the district. Units sold at the weekend ranged from HK$7,700 to HK$9,000 per square foot. An agent said 10 units were sold at Jadewater yesterday, none on Saturday. "The prices now are reasonable, but the original prices were set too high. Potential buyers could not accept [the price adjustment] that easily, so they may not look favorably at the project," another agent said. Another industry source said developers may suffer if they are too aggressive in raising prices under current market conditions, with buyer sentiment affected by heavy rain and other seasonal factors. BOC (Hong Kong) (2388), the largest player in the local mortgage market, and ICBC (Asia) (0349) announced on Friday they will increase mortgage rates for new homebuyers by 25 basis points, starting today. "An increase of 8 percent to 10 percent in prices for small and medium- sized projects is expected in the second half, and we estimate prices of luxury projects will increase 5 percent in the period," said Ricacorp Properties head of research Patrick Chow Moon-kit. Centaline Property Agency data showed that, as of Thursday, there were 7,273 deals in the primary market this year worth some HK$53.19 billion. Centaline estimates first-half transactions will total 7,330 units, a drop of 11.3 percent from the same period last year.
Two firms - not intimidated by poor market sentiment - begin their initial public offerings June 30th. Emperor Watch & Jewellery (0887), a unit of Emperor Group owned by Albert Yeung Sau-shing, plans to raise HK$580 million and Tianyi Fruit Holdings (0756), a mainland-based frozen concentrated orange juice maker, targets HK$182.5 million. Emperor Watch will start trading on July 21 and its subscription deadline has been extended to July 11. Proceeds of the offering will be used to open new outlets, renovate existing ones, and for marketing purposes. Tianyi will be offering 225 million shares to international investors and 25 million shares to the public at HK$0.63- HK$0.73 per share. Proceeds will be used to expand annual fruit juice output from 9,200 tonnes to 18,200 tonnes and farming land from 12,464 hectares to 16,511 hectares. "We are planning to build additional production plants and expand our farming area in Chongqing," financial controller Hu Xu said yesterday. The offering constitutes a 25 percent equity in Tianyi. David Tsang, managing director of Evolution Watterson Securities, which is handling the IPO, said investors have been fairly positive. Tianyi Fruit will start trading on July 10.
Central bus crash driver released on bail - The coach driver involved in Sunday's fatal crash on Garden Road has been released on bail after being detained overnight for inquiries, local media reported on Monday.

Only two students received 6As results in this year's HKAL - Only two students scored perfect 6 straight A passes in this year's Hong Kong Advanced Level Examination (HKAL), local media reported on Monday.

Hang Seng shows worst half-year mark since 1994 - Hong Kong shares on Monday marked their worst half-year performance since 1994, though the blue-chip index closed a whisker higher as investors held out hope for a US market rebound.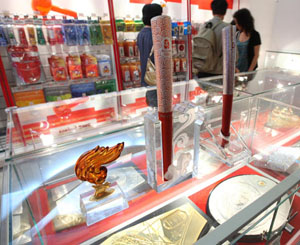 Official gift shops running hot with sales of Olympic souvenirs - Multicoloured ballpoint pens, memo pads with Olympic logos and soft toys of the Beijing Olympic mascots are among the most popular souvenirs being snapped up by tourists and locals alike.
Five forgotten wartime bunkers hidden at Lei Yue Mun on Hong Kong Island have been identified, with some having the potential to become wine cellars. Gregory De'eb, a former South African consul general to Hong Kong who now runs the Unesco Asia- Pacific Heritage Award-winning Crown Wine Cellars in Shouson Hill, identified the bunkers by investigating a series of old photographs. The pictures were taken when Hong Kong was fighting the Japanese during the second world war. Mr De'eb said that about eight years ago he received a series of photographs showing construction of the bunkers from a historian he worked with when converting the Central Ordinance Munitions Depot, known as Little Hong Kong during the war, into a wine cellar and clubhouse that became the site of the Crown Wine Cellars. At that time, Mr De'eb was certain the sites featured in the photographs were not of Little Hong Kong. "Fast-forward six years to 2007, and I suddenly had a renewed interest in where these bunkers were located because they were definitely Hong Kong. So I started asking around again," he said. By comparing various historical photographs with those from the present day, Mr De'eb identified some common features between the pictures, including structures believed to be barracks. But he finally confirmed the location during a pleasure boat trip to Sai Kung. "I stared at Lei Yue Mun and looked for the barracks site. I got to a point passing through Lei Yue Mun and the Coastal Defence Museum ... you just catch a glimpse of that. And then I realized [the barracks in the photographs were] the Lei Yue Mun barracks," he said. Lei Yue Mun barracks, built more than 100 years ago, are now part of Lei Yue Mun Park and Holiday Village. Mr De'eb contacted government departments, including the Development Bureau, the Commerce and Economic Development Bureau, and the Leisure and Cultural Services Department, which manages Lei Yue Mun Park and Holiday Village. He said the latter department told him such bunkers did not exist. But the department, in answer to a question from the South China Morning Post (SEHK: 0583, announcements, news) , said the bunkers were not under the areas it managed, as they were outside the Lei Yue Mun country park and the Museum of Coastal Defence. In March, Mr De'eb received a letter from the Commerce and Economic Development Bureau acknowledging the existence of the bunkers. The Development Bureau said that up to now the government had discovered the five bunkers in Lei Yue Mun and 12 similar ones at Shouson Hill, where four have been leased to Crown Wine Cellars. The Post located three of the five bunkers near the Island Eastern Corridor, whose entrances were numbered 34, 35 and 36, and were protected by newly installed steel gates and fences. While the two other bunkers at Lei Yue Mun had their entrances buried, numbers 34 to 36 could be transformed into wine cellars, Mr De'eb said. He has proposed turning the bunkers into wine cellars. He said he had been in close contact with the government in the hope that the site could be turned into a sustainable heritage site available to the public but at no cost to taxpayers. Mr De'eb estimated the cost of building the initial infrastructure would be at least HK$20 million. The Commerce and Economic Development Bureau said the government had studied the bunkers' suitability for general storage, but the results did not appear promising. "Several constraints have been identified, including access problems, limited useable space and geotechnical issues. As such, the proposed use of the bunkers may not be commercially viable and cost- effective," a bureau spokesman said. The Development Bureau said the government would consider using bunkers that were found suitable in all relevant aspects.

China: China's largest steel maker came into being on Monday as two leading companies formally merged in the northern province of Hebei, which encircles Beijing. The new group, Hebei Iron and Steel Group Co., was created from the combination of Tangshan Iron & Steel Group and Handan Iron & Steel Group. The conglomerate is expected to have an annual capacity of 31.58 million tons of iron and steel, overtaking Shanghai-based Baosteel to become the nation's largest, and the world's fifth-largest, producer. The Chinese government has been encouraging consolidation of the steel sector to rationalize the industry structure and eliminate obsolete facilities. The merger is part of that effort. "The group will produce 50 million tonnes of iron and steel annually by the end of 2009," said Wang Yifang, board chairman of the new steel giant. Hebei is the country's largest steel and iron ore producer. In 2007, Tangshan Iron & Steel produced 22.75 million tonnes of iron and steel while Handan Iron & Steel had an output of 8.33 million tonnes. China is the world's largest steel producer and consumer.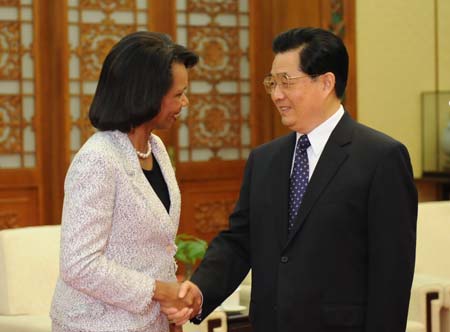 President Hu Jintao told visiting U.S. Secretary of State Condoleezza Rice on Monday that relations between China and the United States were at a "crucial stage" linking the past to the future. He added that "Whatever changes take place in the United States and the international situation, our guideline of developing constructive, cooperative relations with the United States remains unchanged." He pledged to work with the United States to enhance dialogue and exchange based on mutual respect, equality, reciprocity and prosperity to promote trust and cooperation and push forward the healthy development of Sino-U.S. relations. "Furthering the Sino-U.S. relationship conforms to the fundamental interest of the two countries and peoples, and it has a profound impact on the peace, stability and development of the Asia-Pacific region and the world," he said.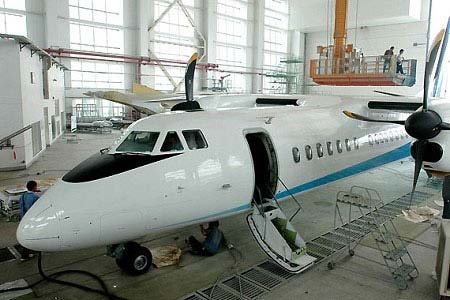 The first China-made regional aircraft Modem Ark (MA) 600 was completed on Sunday, marking a milestone in China's drive to be one of the world's leading providers of turboprop regional aircraft. The research and development of the 70-seat MA700 was also underway, head of the preparation group for the China Aviation Industry Group Corporation Lin Zuomin announced at the Xi'an Aircraft Industry (Group) Company Ltd. The 60-seat MA600, an improved version of the MA60, was 300 kilograms lighter, making it 40 percent more fuel efficient than turbofan-powered aircraft, said president of the Xi'an company Meng Xiangkai. Improvements were also made in the power system, cabin design and flight capacities. After five years, China would be able to deliver its own turbo-prop regional jet series of the MA60, MA600, MA700 catered to different users, said Lin. The country would strive for a bigger market share comparable to its rivals, Canada's Bombardier and France's ATR. he said. The MA600 was scheduled to make its maiden flight in September, and early promotion activities had attracted interest from many carriers. The main marketing drive would begin next year 2009. Beijing Youth Daily has reported that 10 to 15 MA600s would be manufactured in the next two years. Up to 30 a year could be made according to market demand. Mass production would start in late 2009. Company officials could give no information on the cost of the aircraft.
Rice impressed by resilience of quake survivors - US Secretary of State Condoleezza Rice has met children made homeless by the devastating earthquake that hit Sichuan province last month and praised the country's response to the disaster. Rice offered her support to those who survived the magnitude 8 quake, which left 88,000 people dead or missing and up to five million displaced. "I've been tremendously impressed with the recovery, with the resilience of the people," Rice said in Dujiangyan city, near the epicenter. "It is really a sign of how the human spirit can recover from great devastation." Besides touring the city that has suffered US$7.1 billion (HK$55.38 billion) in economic damage, Rice visited victims in a makeshift refugee camp in Qinjianjiayuan and inspected a water purification project. "It looks like you're making it like home," she told survivors. "I wish you the very best. You lost so much, but you will recover. You have great spirit." When Rice dropped into one classroom, pupil Zhou Yifan, one of 7,000 people in the camp, spoke to her in English and said: "My pleasure to take a photo with you. I often see you on TV, you are a superstar." Rice later arrived in Beijing to meet Foreign Minister Yang Jiechi. Rice will hold talks with President Hu Jintao and Prime Minister Wen Jiabao today. During her talks with mainland leaders, Rice said she will discuss ways to get China's ally Burma to accept international aid following a typhoon that slammed the nation last month. "It is a contrast," Rice said. "The Chinese government and the Chinese people have reached out for help [and] they've seen a tremendous response from the international community." She added: "It has been sad that the Burmese authorities ... have put up barriers to that response. Many lives could have been saved, perhaps many more can still be saved if we can get that response ... this is not a matter of politics."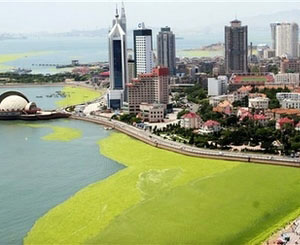 Qingdao struggles to control coastline algal bloom - Qingdao, host of Olympic sailing events, struggles to control algal bloom along coastline - Associated Press in Beijing - Officials have mobilised thousands of workers to clean up an algal bloom threatening Olympic sailing events in the eastern city of Qingdao. Officials were quoted on Monday as saying they needed at least two weeks to clear coastal waters. More than 10,000 workers were struggling to remove algae covering 32 per cent of the coastal sea area set aside for the sailing competitions, Xinhua quoted local officials as saying. While posing no health threat, the algae has at times blocked sailing routes, complicating preparations for the August 9-21 events, with a closing ceremony on August 23. The cleanup is expected to be completed by July 15, Xinhua quoted the officials as saying at a news conference Sunday. The blue-green algae blossomed around June 1 in waters off Qingdao on the coast of Shandong province, about 600 kilometres southeast of Beijing. Its bright green strands have smothered beaches forcing swimmers to clear a path with their hands up to several hundred metres from the coast. Blue-green algae blooms when nutrients, sometimes caused by excessive pollution, build up in water. However, Wang Shulian, vice director of city's Ocean and Fishing Bureau, told reporters the outbreak had no "substantial link" to environmental conditions or water quality. "The algae is of various sorts, which will prosper under satisfying temperature and salinity of sea water," Mr Wang, whose bureau is overseeing the cleanup, was quoted as saying. Calls to the bureau were not answered Monday. In all, the algae is blooming over an area of 13,000 square kilometres, Xinhua said. While 100,000 tons has already been removed by workers using 1,000 boats, steps were also being taken to block more algae from floating into the area, the report said. "We have stressed... that the priority should be given to the Olympic venue," Xinhua quoted Yuan Zhiping, an official with the Qingdao Olympic Sailing Committee, as saying. The algae alert comes as Beijing and other cities hosting Olympic events are making their final preparations for the August 8-24 Games. Organisers announced over the weekend that all 37 venues were now fully functional, and sailors from 30 countries and regions have already arrived in Qingdao to begin training, according to Xinhua. Environmental problems have posed some of the biggest last minute concerns, particularly Beijing's dust and filthy air, compounded by expected torrid heat and humidity in August. While hardly unique to the country, algal blooms have become a constant problem in recent years on the country's inland lakes, largely a result of severe pollution from industrial sources, farm chemicals and domestic sewage. About a quarter of China's population lacks access to safe drinking water and, despite repeated government pledges of a cleanup, the situation is worsening. Some algae can produce dangerous toxins and if ingested can cause vomiting, respiratory failure and, on rare occasions, death. Along the coast, meanwhile, red tides of microscopic algae have forced fishing industry shutdowns. The blooms are believed to be caused by both natural factors and human activity. The algae is absorbed by shellfish, which, if eaten, can cause sickness or death.

*News information are obtained via various sources deemed reliable, but not guaranteed