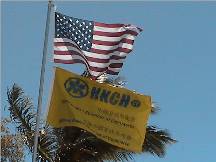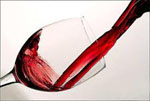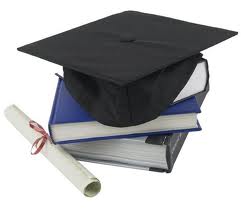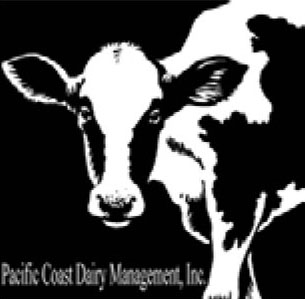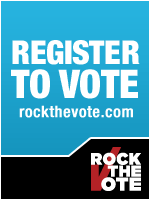 Biz-Video

Hawaii's China Connection

Doing Business in Hong Kong & China
Hong Kong, China & Hawaii Biz*
Do you know our dues paying members attend events sponsored by our collaboration partners worldwide at their membership rates - go to our event page to find out more! After attended a China/Hong Kong Business/Trade Seminar in Hawaii...still unsure what to do next, contact us, our Officers, Directors and Founding Members are actively engaged in China/Hong Kong/Asia trade - we can help!
Are you ready to export your product or service? You will find out in 3 minutes with resources to help you - enter to give it a try

China Central TV - live Webcast

Skype - FREE Voice Over IP

View Hawaii's China Connection Video Trailer


Direct link PDF file


Year of the Pig - February 18, 2007


Listen to MP3 "Business Beyond the Reef" to discuss the problems with imports from China, telling all sides of the story and then expand the discussion to revitalizing Chinatown - Special Guest: Johnson Choi, MBA, RFC. President - Hong Kong.China.Hawaii Chamber of Commerce (HKCHcc) and Danny Au, Manager, Bo Wah Trading

Aug 30 - 31, 2008



Hong Kong: The total value of Hong Kong exports increased by 11 per cent in July over a year earlier to HK$265.1 billion – after a year-on-year decrease of 0.6 per cent in June, new statistics released on Thursday showed. Exports include "domestic exports" and "re-exports". Re-exports are goods which are produced in China and then re-exported to Hong Kong where they have value added to them. Examples include furniture, textiles and jewellery. The Census and Statistics Department figures showed that re-exports increased by 12.4 per cent to HK$256.4 billion in July, whereas the value of domestic exports decreased by 16.3 per cent to HK$8.8 billion. A department spokesman said total exports to Asia had increased by 13.2 per cent. This included exports to India, up 25.6 per cent, Vietnam up 22.0 per cent, Korea up 15.7 per cent, Malaysia up 14.9per cent, Singapore up 14.7per cent and the mainland up 13.0 per cent. "Apart from destinations in Asia, increases were also registered in the values of total exports to most major destinations in other regions, including Germany (up 21.4 per cent), the Netherlands (up 7.7 per cent) and the United Kingdom (up 4.1 per cent). The United States of America, however, registered a small decrease (down 1.0 per cent)," the spokesman said. The spokesman also explained that values of imports had also increased. He said export values for "telecommunications and sound recordings and reproducing apparatus and equipment" had the largest increase by 36.6 per cent, while "electrical machinery, apparatus and appliances, and electrical parts thereof" had increased 10 per cent to HK$5.5 billion.
Chief Executive Donald Tsang Yam-kuen on Thursday afternoon hailed a new agreement with the mainland over the supply of electricity, nuclear power and natural gas – saying it would satisfy Hong Kong energy needs over the next 20 years. He said the new agreement would ensure Hong Kong could get stable supplies of natural gas from the mainland. This would help ease Hong Kong's problem with air pollution. Mr Tsang made the comments before signing a memorandum of understanding (MoU) with China's National Energy Administration vice-chairman Zhang Guobao. "The sustained supply of clean energy from the mainland will greatly reduce the need for Hong Kong to build a liquefied natural gas (LNG) terminal within its territory," he said. "The resulting reduction in capital investment by the power companies concerned will also relieve pressure for electricity tariff increases," Mr Tsang said. "The government could also benefit from improved air quality by increasing the use of clean energy such as natural gas and reducing emissions of power plants," he said. "According to the MoU, the central government's China Guangdong Nuclear Power plant will also renew its supply agreement with Hong Kong for a further term of 20 years," he explained. On the supply of natural gas, the central government supports China National Offshore Oils renewal of its supply agreement with Hong Kong for a further term of 20 years. The feasibility of supplying natural gas to Hong Kong via the second west-east natural gas pipeline would also be studied. The central government would jointly build an LNG terminal with Hong Kong in the mainland. This will supply natural gas to the territory.
John Negroponte – the United States' top diplomat – will visit Hong Kong as part of visit to Asia which will also include Vietnam and Cambodia in September, the US Department of State said on Thursday. Mr Negroponte, who is US Deputy-Secretary of State will visit the region for nine days — from September 10 to 18. The Department of State website said the trip was to discuss bilateral and global issues with officials in Hong Kong, Vietnam and Cambodia. "The Deputy Secretary's trip is an opportunity to deepen our engagement in a region that is growing in peace, prosperity, and freedom," it said. Mr Negroponte has had a long career and is well-known in Asia – serving in the US foreign service from 1960 to 1997. He served as the Bush Administration's US permanent representative at the United Nations for four five years – from 2001 to 2004. He was also ambassador to Iraq from June 2004 to April 2005. Mr Negroponte recently expressed concerned about China's growing military build-up and what this might mean for Taiwan. In May, he told a US congressional hearing. "We view China's build-up as unnecessary and counterproductive. "The anxiety it breeds on Taiwan encourages pro-independence inclinations that the mainland's missile deployment purports to deter," he said.
Tycoon Walter Kwok Ping-sheung has withdrawn legal action against his two brothers over his ejection as chairman and chief executive of Sun Hung Kai Properties.


China: Four days after closing the 2008 Beijing Games in triumph, China lit the 2008 Paralympic torch amid pomp and ceremony at Beijing's ancient Temple of Heaven, marking the start of a domestic relay for the September 6 Games. Hazy weather, making an unwelcome return after the Olympics ended on Sunday, cleared enough to allow the sun to light a wick placed in a concave mirror at the front of the circular Prayer Hall for Good Harvests, an annual place of worship for Chinese emperors. The flame was then passed to Beijing Olympic chief Liu Qi by wheelchair-bound Jin Jing, a 27-year-old amputee and Paralympic fencer whose fierce defence of the Olympic torch during the Paris leg of the troubled global relay made her a national hero. "The two Games equal splendour," said Mr Liu, president of the Beijing Organising Committee for the Olympic Games, in a speech. Mr Liu passed the torch to Premier Wen Jiabao, who lit a cauldron and announced the commencement of the relay, sparking a display of traditional Chinese dance by disabled artists. The cauldron's lighting was the crowning of a dramatic ceremony in which dozens of white-robed performers emerged from behind the gabled prayer hall flourishing national flags. "This flame will symbolise over the next 10 days the unique sporting spirit portrayed by Paralympic athletes. This spirit overcomes many obstacles in the pursuit of sporting excellence," said International Paralympic Committee president Philip Craven. The flame will travel on Friday to Xian, before heading to Shenzhen on Saturday. The Paralympic Games will be held in Beijing from September 6-17. The international leg of the Olympics relay was disrupted by pro-free Tibet protesters angry at China's crackdown on rioting in its western region of Tibet in March. The attack on the torch relay in Paris sparked anti-French protests by Chinese, but the August 8-24 Games were widely held as a huge success and were trouble free, aside from a few tiny protests by pro-free Tibet groups.
PetroChina said it would buy its parent company's 51.89 per cent stake in listed CNPC (Hong Kong) for HK$7.59 billion yesterday after posting a 34.5 per cent year-on-year drop in first-half net.
Shanghai police will post photographs and videos of jaywalkers in newspapers and on television in a bid to shame them out of breaking traffic rules, local media reported on Thursday.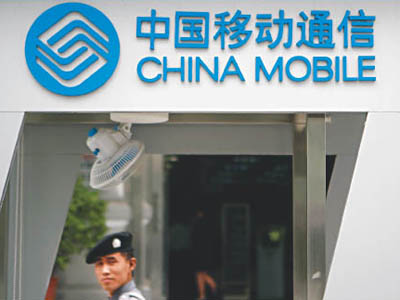 China Mobile will launch 3G mobile services in 38 cities across the mainland by June next year, pitting its problem-plagued, home-grown technology against a proven offering from rival.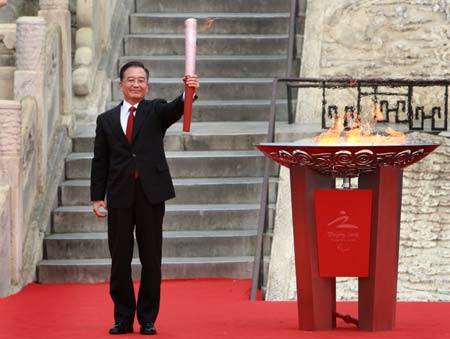 Chinese premier Wen Jiabao holds a torch after lighting the Beijing Paralympic flame during the Paralympic flame lighting ceremony at the ancient Temple of Heaven in Beijing, Aug. 28, 2008.
Photo taken on Aug. 28, 2008 shows the 421-meter-high Jinmao Tower (R), the former tallest on the Chinese mainland, and the 492-meter-high Shanghai World Financial Center (L) in the Lujiazui area of Pudong District, in Shanghai, east China. The Shanghai World Financial Center, standing 492 meters tall and also nicknamed the "Wall Street of China," the biggest skyscraper in Chinese mainland and the third-tallest in the world after Burj Dubai and Taipei 101, was officially inaugurated on Thursday.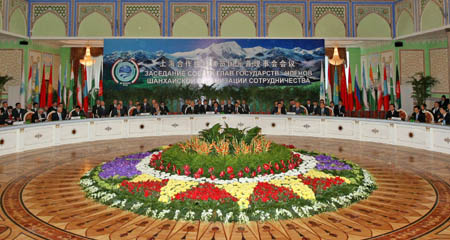 Picture shows the opening session of the annual summit of the Shanghai Cooperation Organization (SCO) in Dushanbe, capital of Tajikistan, August 28, 2008. Top leaders of the Shanghai Cooperation Organization (SCO) agreed Thursday that any attempt to solve problems by merely resorting to force could not work and would only hinder a comprehensive settlement of local conflicts. A comprehensive solution to existing problems can be found only by taking into account the interests of all parties involved and including them all in the negotiation process rather than isolating any of them, said the leaders in a joint declaration issued at the conclusion of their summit in the Tajik capital. Any attempt to strengthen a country's own security at the expense of that of others is detrimental to maintaining global security and stability, they said. On the issue of South Ossetia, the SCO members expressed their deep worries over the tense situation triggered by the South Ossetia conflict, and called on relevant parties to solve existing problems peacefully through dialogue, strive for reconciliation and push for negotiations.
The number of phone users in China had exceeded 960 million as of July, including over 600 million mobile phone users, the Ministry of Industry and Information Technology (MIIT) said on Wednesday.
Aug 28 - 29, 2008



Hong Kong: Government absolves Tsang over satellite dishes at historic home - Chief Executive Donald Tsang Yam-kuen broke no rules by installing satellite dishes at Government House so he could watch mainland TV, the government said yesterday.
Medallists to perform in Macau after HK - China's Olympic gold medallists will showcase their talent and even their singing skills in Macau after visiting Hong Kong.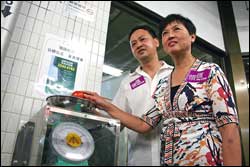 Scales of justice tip in favor of shoppers - The Link REIT has joined customs in cracking down on short-weighting practices by vendors, it said yesterday, setting up public weighing scales in its 100 plazas and offering HK$200 coupons for information resulting in the conviction of offenders.
The Consumer Council will now monitor prices of goods in wet markets on a daily basis after its survey showed supermarket chains charged higher prices than most retail outlets and that in one case the price difference was as much as 80 percent.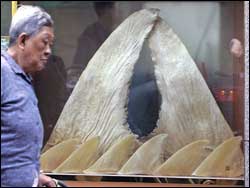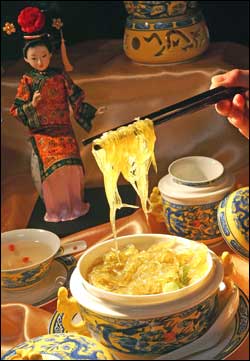 Face and tradition outweigh ecology when it comes to wedding banquets, according to the manager of a top restaurant chain. "Only a few couples have requested we change the menu due to environmental concerns," Maxim's Group Cantonese Cuisine senior operations manager Raymond Wong Tat-fai said yesterday. Wong said most newlyweds still asked for a traditional menu not only to accommodate the requests of parents, but also because they fear they will lose face if shark's fin soup and steamed coral fish are not on the tables during the banquet. Shark's fin and coral fish represent extravagance and are considered a must for banquets despite the fact both are on the list of endangered species. In February 2007, 20.4 percent of all sharks and related species were included in the World Conservation Union red list as being threatened with extinction. Sharks are difficult to replenish because they grow slowly and their breeding rate cannot keep up with demand. In addition, it is hard to breed sharks in captivity as they are solitary hunters and prefer to act alone. Although specially bred coral fish are now more common on banquet tables, it may be too late to preserve the wild coral fish. According to research conducted by Hong Kong University in June, the once- abundant yellow croaker has now disappeared from local waters. "It is very difficult to change traditional concepts and we can only do it slowly," Eco Association supervisor Ivan Wu Chan-kin said.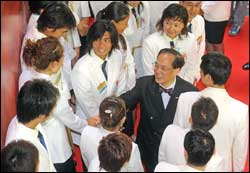 Hong Kong's hope for a gold medal at the next Olympics in London depends on the amount the government is willing to invest in training. The territory's Olympic Committee president, Timothy Fok Tsun-ting, made the call for more training funds at a welcome bash for Hong Kong's returning Beijing Olympians who did not win medals but beat their local records. Fok said China has, in a very short time, built its most successful Olympics team and won 51 gold medals. Part of this success, he said, are the facilities available to athletes. "After Beijing's success, I think Hong Kong [now] has a new attitude towards sports," he said. Fok stressed the importance of direct funding to produce quality athletes and the need for sports awareness in the city. He said athletes' performances are proportional to resources. "Many countries, not only the United States and Russia, view the Olympics as a very important national focus." Fok wished the same for Hong Kong and requested more resources, especially in terms of sports facilities. During the ceremony, Chief Executive Donald Tsang Yam-kuen praised members of the team for their spirit and determination. He recalled a memorable moment at the end of the sailing races last week when Chan Wai-kei and Chan King-yin said they wanted to stand on the medalpodium in four years' time.


China: Air China (SEHK: 0753, announcements, news) 's first-half profit fell while China Eastern Airlines (SEHK: 0670) remained in the red as the carriers, two of the country's three largest, were pinched by rising fuel costs and lower passenger volume. The airlines warned that the rest of the year would remain challenging for the industry. "High oil prices and global economic softness will undoubtedly continue to deeply affect the airline industry for the remaining part of the year and we believe we might also be impacted beyond this year," Air China Chairman Kong Dong said in a statement. For January to June, Air China's net profit fell 20.07 per cent to 1.24 billion yuan (US$181 million), under international accounting standards, while China Eastern's net loss was 212.50 million yuan, narrower than last year's 305.62 million yuan. China Eastern's operating costs rose 13 per cent during the period while Air China's were up 15 per cent, according to domestic accounting figures. China's big airlines have also been hit by an unexpected decline in passenger volume, due in large part to May's catastrophic earthquake in southwest China, marking a reversal of the industry's steady growth in the past few years. A dull global economy and strict airport safety checks in the run-up to the Beijing Olympics, which ended over the weekend, also kept many passengers from taking to the skies. Air China carried 17.60 million passengers in the first half, down 1.49 per cent year-on-year, while China Eastern saw a 1.20 per cent drop to 18.11 million. Both airlines posted further declines in July but Air China's Kong said that, with the Olympic Games over, traffic should recover gradually. The pain has been softened by a surge in the yuan, cutting the value of dollar-denominated debt for aircraft purchases. China's three biggest airlines, including China Southern Airlines, booked combined foreign exchange gains of 6.41 billion yuan in the first half, under domestic standards, nearly triple their total net profit of 2.16 billion yuan in the period, as the yuan appreciated 6.6 per cent. That income is set to shrink in the second half, however, with the yuan up only 0.12 per cent against the dollar since the end of June while three month dollar/yuan non-deliverable forwards on Wednesday afternoon were implying the yuan would climb just 0.38 per cent in the next three months. Air China's Kong, whose parent company sought to forge ties with China Eastern but was rebuffed early this year, added that the industry's troubles would spur consolidation. "A global economic downturn and high oil prices have expedited the global trend of painful industry consolidation," he said. "This, however, may present opportunities to stronger industry players with a strong operating track record and a solid balance sheet." A deal to sell a 24 per cent stake in China Eastern to Singapore Airlines expired this month, but the Shanghai-based carrier still hopes to clinch a deal with Singapore Air, a source familiar with the situation has said, as it urgently needs foreign expertise to bolster its operations. Deutsche Bank cut its target price for China Eastern's Hong Kong-listed shares to HK$1.15 from HK$1.98, citing its need for a capital injection. The bank said the airline's first-half results indicated it cannot stand on its own and unfavourable factors are expected to continue in the third quarter. It maintained a sell rating on China Eastern and said its stock price had not yet hit bottom. The airline's shares have lost more than three-quarters of their value so far this .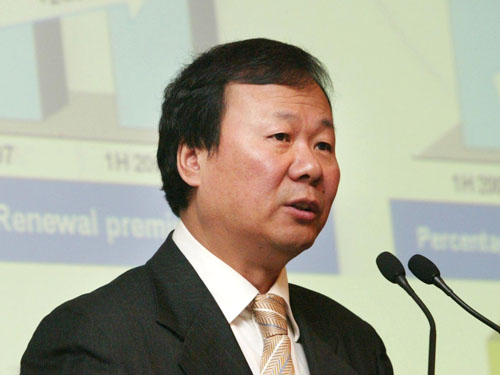 China Life (SEHK: 2628, announcements, news) Insurance, the nation's biggest insurer, says a slowdown in the global economy is expected to further dampen the mainland's troubled stock market, although that will bring new investment opportunities. The state-owned insurer said the fallout from the subprime mortgage crisis in the United States was beyond expectations and the worst was yet to come. "The mainland stock market is increasingly linked to overseas markets and the problem from the credit crunch has not peaked yet," said China Life vice-president Su Hengxuan. "We are optimistic over the long term, but in the remainder of the year or next year, the stock market will continue to be shaky." Mainland insurers are facing shrinking earnings as income from investments in stocks has plunged. Since hitting a peak in October last year, the Shanghai Composite Index has lost 61.42 per cent. It is also the world's worst performer this year. Investment income for China Life fell 47 per cent in the first half, while that of Ping An Insurance (Group) (SEHK: 2318) lost 64 per cent. PICC Property and Casualty (SEHK: 2328) saw a 36 per cent drop. "Unless bond yields or the stock market rise noticeably, the sluggish investment returns cannot provide [insurers] reasonable profit margins," said China International Capital Corp in a research report. China Life chief investment officer Liu Lefei said the company would take advantage of the weak stock market to buy shares, particularly in the financial sector. It is also interested in infrastructure projects in the energy, power and transport sectors, but will stay away from railways. "Experience in the US and Europe suggests that investing in railways is usually unprofitable," Mr Liu said. He said China Life had halved its stake in credit card firm Visa because "it has already reached its reasonable value". China Life bought a US$260 million stake in Visa's initial public offering at US$44 per share in March last year in its first overseas investment. Based on Visa's closing price on Monday at US$73.32, China Life's investment has generated a paper gain of about 50 per cent. Meanwhile, China Life president Wan Feng said the firm would adjust its product mix to focus on risk-protection products and regular-premium policies in the second half. The mainland insurance regulator said earlier this month that the fast growth in life insurance premiums seen in the first seven months was "hardly sustainable" as many policies were sold through banks usually with lower margins. "We will improve our business through bancassurance channels which makes up 41 per cent of our premium income," Mr Wan said.
Some secrets of the "auspicious cloud" torch used to light the Olympic cauldron two weeks ago were revealed yesterday, including the one which has furrowed the most brows: did the flame blow out for several seconds while torch-bearer Li Ning (SEHK: 2331) was being lifted up to light the cauldron? "No, the flame did not go out. It was just burning inside the torch because of the wind and wasn't visible to the audience," Olympic torch technical consultant Huang Qijun said, according to Xinhua. Mr Huang said that after rehearsals, in which the flame had also dipped, technical staff had increased the number of ventilation holes from 400 to 600 and enlarged them to ensure the flame did not go out. A special grip helped Li hang onto the torch during his spacewalk-like flight around the stadium at a height of 50 metres. Li had not held the torch at an angle of 30 degrees, which was the best angle for onlookers to see the flame, said Mr Huang, president of the Olympic torch maker, Huadi Gas Appliances. The mould of the torch will now be destroyed, as requested by the Games' organising committee.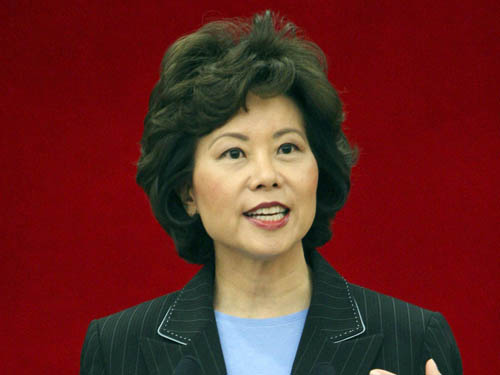 US official urges more post-Bush dialogue - The top US labour official expressed hope yesterday that the US-China Strategic Economic Dialogue would continue after a new president was chosen in January. "With the ending of this administration and the election of a new one, regardless as to who is going to be elected president, we hope that this important framework for discussion will be continued," US Secretary of Labour Elaine Chao told students at Shanghai's Jiaotong University. Ms Chao, who was visiting China as leader of the US government delegation to the Olympics closing ceremony, was positive on bilateral ties with no mention of issues such as the yuan value and human rights. "The relationship between our two countries will only grow," she said. "And invariably, there will be ups, there will be downs, but that's why we need to communicate." The talks were set up by President Hu Jintao and US President George W. Bush in 2006 to better manage the countries' economic relationship. They meet twice a year, and the next, possibly last, meeting is in December in Beijing. A Chinese academic said the dialogue had proved its worth, though it had not solved all the problems. "Whether the dialogue will continue, this is a key question ... It's difficult to predict now," said Xiao Lian , head of the Centre for US Economic Studies at the Chinese Academy of Social Sciences. "But no matter which party will govern, enhancing bilateral co-operation will be a consensus." Ms Chao replaced US Secretary of State Condoleezza Rice, who cancelled plans to attend the closing ceremony over the Georgia crisis. Mr Bush was at the opening ceremony.
Aug 25 - 27, 2008



Hong Kong: Hong Kong's athletes did not bring any medals home from the Beijing Olympics. That does not mean that they failed to put in good performances or do us proud. Finishing sixth and ninth in the world in windsurfing, as did Chan King-yin and Vicky Chan Wai-kei, is not to be sniffed at. Nor is the breaking of five local swimming records or the reaching of respectable stages in the table tennis competitions. What the zero tally says is that we need to put more investment into sport. Nations the world over have recognised the value of sport and recreation in building healthy communities. They also know that when it comes to the Olympic Games, they need to invest in their best athletes. The financial commitment certainly paid off for China and Britain, but was equally evident in the performances of the dozens of other countries and territories that garnered medals. Olympic success brings pride for society and that in turn helps to engender a sporting spirit and desire. The process must be rooted in staunch government support. Policies have to ensure that our elite athletes have the facilities, training and backing to enable them to thrive. Our lack of Games medals indicates that at present, they are treading water. Top 10 performances were achieved by our windsurfers only because they had the resources to train overseas. Fortunately, the government has promised generous support for the redevelopment of the Hong Kong Sports Institute. The holding of Olympic equestrian and paralympic events here forced a scattering of the institute's facilities. Under a proposed HK$1.8 billion revamp, state-of-the-art facilities for 11 chosen sports should be in place in 2011. But that is just a start: Our hundreds of elite athletes also need top-level coaching and sustainable financial backing to ensure that they can reach the top echelons of their chosen sports. Olympics chef de mission Victor Hui Chun-fui said on Sunday that standards needed to be raised and he would submit a report to the government to determine what support could be given. Secretary for Home Affairs Tsang Tak-sing said such a plan would be studied, but there could be no promise of extra funding. Finance is only part of building a better sporting culture though; we need a government committed to sport, recreation and fitness. Land has to be set aside and more sports halls and courts built. Demand for sport is growing, but the facilities are overcrowded and inadequate. Schools should explore making their facilities available for public use. Hang Seng Bank (SEHK: 0011, announcements, news) , which has a cash incentive programme for our Olympic athletes, is one of a small number of businesses that sponsor elite sportsmen. More companies should be encouraged to look at wider involvement in sport through sponsorship and scholarships. Other governments are pouring resources into sports and winning Olympic medals as a result. Hong Kong is being left behind. Authorities need to take the lead and spearhead top-level support for our elite athletes. Through this help, with corporate backing, Hong Kong has a good chance of returning to the Olympics medal table. But this is only part of the overall strategy. Greater dedication to sport and recreation will improve the population's health and fitness.
The 2008 Beijing Olympic Games brought less economic benefits to the territory than had been expected, Travel Industry of Hong Kong chairman Ronnie Ho Pak-ting said on Tuesday. Hong Kong attracted just over 2.7 million visitors last month, up about 10.4 per cent year on year, although this year's seven-month total is slightly behind the 30-million target for the whole year.

Quota system limits level of foreign labor - To most people, a two-for-one deal means "happy hour". But for small businesses competing against mega casinos in Macau's ultra-tight labor market, two-for-one has meant major headaches. Ever wary of rising local resentment towards imported labour, Macau's Labor Affairs Bureau has been enforcing a quota system to limit the number of non-resident workers prospective employers can bring into the city. As a rule of thumb, that quota has been fixed at two local hires for every imported worker, according to business owners in Macau. The resulting competition for local talent means small businesses are routinely outbid by casino developers, and the situation is likely to worsen next year as three new mega resorts on Cotai, a strip of reclaimed land that will employ well over 20,000 people, are set to open their doors. "It's very difficult to find staff at the moment," said Alan Leong, who owns a cafe near the ruins of St Paul's selling pastries, egg tarts and pork chop buns. He employs 15 staff, six of whom are mainland workers brought in on full-time contracts under import quotas issued by the government. The cafe's business is up by about 10 per cent lately and Mr Leong said he would like to hire more people. "I need more quotas, and I've applied many times, but they always refuse my application and tell me I have enough workers from China," he said. "In fact it is not enough, because some Macau people don't want to work in our little shop and would rather go to work in a casino or some big company." The number of non-resident workers in Macau has nearly quadrupled since the end of 2004 and stood at 95,471 at the end of May. Foreigners now represent 28 per cent of the labour force, up from just 12 per cent less than four years ago. But businesspeople say the surge in imported workers has still failed to keep pace with demand, and the barriers are not falling fast enough. While the labour force grew 42 per cent to 309,800 people between the end of 2003 and last December, the unemployment rate dropped to 3.1 per cent from 6 per cent during the same period. Unemployment in the second quarter of this year fell further, to 2.8 per cent. At the same time, Macau's de facto labor policy requires that casinos only employ local residents as dealers or croupiers. As of December, 19,456 people, or 43 per cent of all gaming-industry employees, worked as dealers and earned an average 13,163 patacas per month - 69 per cent higher than the median monthly salary of 7,800 patacas. "I can't compete with the amount of money casinos pay," said Stefan Mueller, operations manager at Cafe Deco Macao inside the Venetian. "Macau is not a big city, and the local staff needed to retain a ratio of 2:1 for operations like ours will be impossible in the near future with the Cotai Strip coming up." Three major casino projects are scheduled to open on Cotai next year: Melco Crown Entertainment's US$2.4 billion City of Dreams, Las Vegas Sands Corp's US$3.27 billion Sheraton/Shangri-La complex, and Galaxy Entertainment (SEHK: 0027)'s HK$10 billion mega resort. Together they represent about 10,800 hotel rooms, a 67 per cent increase over the city's stock of 16,235 rooms at the end of June. The total number of people to be employed by the three resorts remains unknown, but for comparison, about 15,000 people work at the Venetian, which opened last summer. "We're all hoping [the two-for-one rule] will change in the future. Otherwise it will be ridiculous," said Mr Mueller. "I will not be able to hire any foreign labor because I don't have enough locals, and at the same time I won't be able to hire any locals because they've all gone to the casinos."
ICAC cracks down on gambling cops - More than a dozen serving and retired police officers have been detained and questioned by the Independent Commission Against Corruption in a crackdown on illegal soccer gambling and loan-sharking within the force.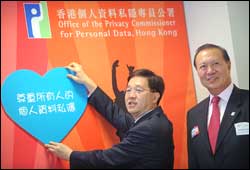 The government is reviewing the possibility of providing the privacy commissioner with the power of prosecution. However, Secretary for Constitutional and Mainland Affairs Stephen Lam Sui-lung said any change must comply with the Basic Law which currently delegates such power solely to the Department of Justice. The review follows a call by Privacy Commissioner for Personal Data Roderick Woo Bun for such powers. Woo would also like to see increased penalties for those who violate the privacy ordinance. "The privacy commissioner provided us with a detailed report on various areas of the ordinance which he would like to see reviewed and amended. [Woo has suggested] that the power for initiating prosecutions... could be vested in the privacy commissioner," Lam said. "But, under the Basic Law, criminal prosecutions are controlled by the Department of Justice...We need to ensure that we abide by the Basic Law. We must also make sure that the [increase in] penalties [proposed] are proportionate to the protection which we want to give to privacy," he added. Lam said the commission was given an extra HK$1.8 million in its annual budget this year, taking the total to HK$39.2 million, the highest in nine years. Woo pointed out that it was the first increase in six years. He said more money, however would be needed to improve the commission's service. The commission was given HK$1 million to launch an awareness campaign with the blessings of the Immigration Department and the Hospital Authority, both of which have promised to strengthen staff training on the importance of treating personal and private data with respect, in the light of the recent data leak incidents involving government bodies and file-sharing software. "In this day and age, information should be regarded as the most valuable asset," Woo said. "It is very important [to help people] understand [their] rights [to their personal data]. Privacy is your business." Woo added that promoting privacy awareness is equivalent to promoting human rights. Director of Immigration Simon Peh Yun-lu said his department has published a booklet on how it handles travel, crime investigation and employment-related records. The publication follows two incidents of data leaks in the past two months. Hospital Authority chief executive Shane Solomon, a supporter of the privacy campaign, said "personal information was absolutely crucial... and essential for doctors and staff in the hospital industry."


China: China Construction Bank Corp, the country's largest mortgage lender, expects profit in the second half and next year will slow considerably, well below the 71 per cent gain in the first half.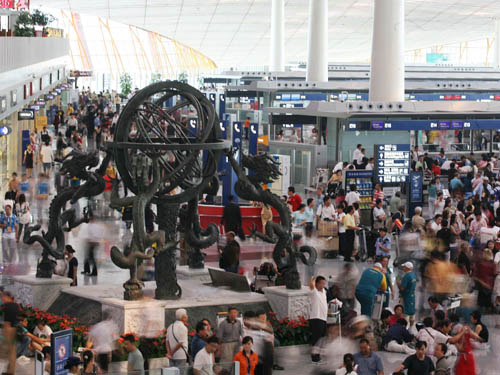 Beijing's international airport is crowded yesterday with tourists, athletes and delegates returning home after the close of the Olympics.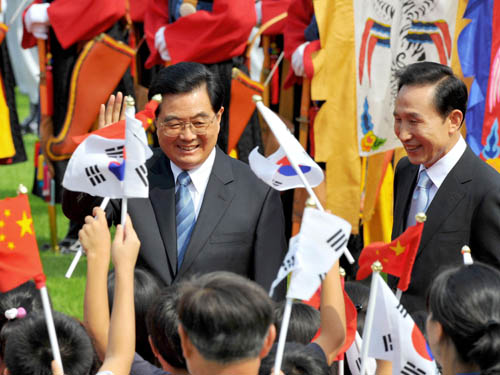 President Hu Jintao and South Korean counterpart Lee Myung-bak at a welcoming ceremony in Seoul. The leaders of China and South Korea agreed yesterday to expand co-operation in political, economic and other fields - including North Korea's nuclear disarmament - as they push for a new strategic partnership. President Hu Jintao arrived early in the morning for a two-day state visit, flush with China's success in hosting the Olympic Games, which ended on Sunday. The summit, the third between the two countries since May, comes as the nations are eager to cement ties in the face of global economic uncertainties. China is South Korea's largest trading partner, with two-way trade volume reaching US$145 billion last year. Mr Hu and South Korean President Lee Myung-bak said they wanted to increase that figure to US$200 billion by 2010. In the first six months, bilateral trade increased by 25.7 per cent compared with the same period last year. On arriving, Mr Hu said a good relationship between the two countries had brought tangible benefits to both, and pledged that China would seek to further the ties. The president also expressed thanks for South Korea's support of the Games and congratulated its athletes' performances, which resulted in 31 medals, including 13 golds. He also thanked his hosts for their aid and support after the Sichuan earthquake in May. Mr Lee was the first foreign leader to visit the quake epicentre. During Mr Hu's visit, China and South Korea are expected to sign co-operation deals on energy conservation, hi-technology, economics, trade, education and the 2010 Shanghai World Expo, Foreign Ministry officials said. "We expect this state visit to define the direction of future exchanges and co-operation between China and South Korea, and further advance bilateral ties," a senior Foreign Ministry official said. South Korea is the first leg of Mr Hu's three-nation tour, which will also take him to Tajikistan and Turkmenistan. In the Tajik capital of Dushanbe, he will attend a summit of the Shanghai Co-operation Organisation. Mr Hu and Mr Lee also agreed on frequent visits by senior officials and for the countries to hold their first high-level strategy talks among diplomats before the end of the year, a joint statement reported. Mr Hu, speaking at a briefing with Mr Lee after the meeting, also called for the full implementation of the second phase of the denuclearisation process that calls for the disablement and declaration of North Korea's facilities. China, North Korea's key ally and main aid donor, has chaired numerous rounds of disarmament talks since 2003 on Pyongyang's weapons programs. The talks - which also involve the United States, the two Koreas, Russia and Japan - have produced a landmark aid-for-disarmament deal. In June, North Korea demolished its nuclear reactor's cooling tower and submitted its long-delayed nuclear declaration. The North, however, remains at odds with the US over how to verify the declared nuclear programs. Pyongyang has accused Washington of delaying its removal from a US terrorism blacklist. Washington has said it will drop North Korea from the list only after it agrees to a full nuclear verification plan.
The central government will spend more than US$2.6 million rewarding its athletes who won gold medals at this month's summer Olympics, local media said on Tuesday.
Net profit of China Life Insurance (2628), the nation's biggest insurer, plunged 32 percent in the first half as the declining domestic stock market crimped investment returns and losses from the May 12 earthquake pushed up claims.

Surging exports buoy COSCO - COSCO Pacific (1199), the world's fifth-largest container terminal operator, said net profit jumped by 11 percent in the first half, as China's surging exports of toys, furniture and clothes boosted sea-cargo traffic despite a global slowdown.
The increase in China's retail sales volume exceeded 20 percent year on year in the last eight months and is still accelerating, enough to sustain economic growth above 9.5 percent for the rest of the year, a HSBC report said. According to the report "China Economic Spotlight" released on Tuesday, consumer spending has performed strongly despite the slowing economy, the disastrous earthquake and the cancellation of the May Day golden week. Taking into account the retail price index, the real retail sales growth hit a decade record of 15.4 percent year on year (to about 100 billion U.S. dollars) in July from 14.8 percent in June, substantially higher than the monthly average of 12.4 percent in 2007. Both urban and rural areas showed strong retail sales growth in real terms over the same period last year, with rural retail up 14percent to 280 billion yuan and that of urban areas up 17 percent to 600 billion yuan. Strong consumer spending is attributable to the rapidly increasing expenditure on accommodation and catering, up 26.5 percent year on year in July, and the robust growth of wholesale and retail trading, said the report. In terms of commodities, petroleum products, jewellery, cosmetics, garments and automobiles are taking the lead. Petroleum products sales rose 55.2 percent year on year in July from 44.4 percent in the first half, reflecting the still strong demand despite the fuel price rise in June. However, as a side effect of a less vibrant property market, the growth of building material sales fell further to -3.4 percent in July from the -1.8 percent in Jan-Jun period, a sharp decline from the 41 percent growth in the first half of 2007. The report attributed the vibrant spending to the strong income growth of the past few years and the structural upgrading of spending on consumer goods.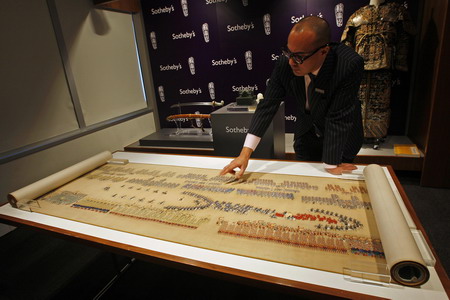 Part of the scroll of "Dayue Tu, Emperor Qianlong's Review of the Grand Parade of Troops" is shown at a preview by auction house Sotheby's in Hong Kong August 26, 2008, ahead of its Autumn sale in October. The scroll, ranking among the most ambitious and impressive works of imperial propaganda ever produced, is expected to fetch in excess of $10 million.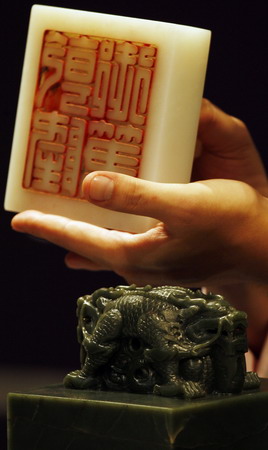 An imperial white jade Dragon seal (top), expected to fetch in excess of $6.2 million, and a green jade Dragon seal, expected to fetch in excess of $2.5 million, are shown at a preview by auction house Sotheby's in Hong Kong August 26, 2008, ahead of its Autumn sale in October. Both seals belonged to Chinese emperor Qianlong.

Prince Willem-Alexander of the Netherlands spoke highly about Beijing Olympics opening ceremony in an interview with People's Daily Online reporter Xuefei Chen during the annual World Water Week which is going on in Stockholm 17-23 August. The Prince is a member of the International Olympic Committee and Chair of UN Secretary General's Advisory Board on Water and Sanitation. "I was also impressed with both the sporting performances and the atmosphere I witnessed at the Olympics. Everywhere you go, you can feel the competitors' spirit and enthusiasm. They all have their hearts set on a medal – preferably gold of course! That passion drives the participants, but it also unites them, creating an atmosphere of common understanding and harmony," said the Prince. Reporter: What was your impression about Beijing Olympics opening ceremony since you were there in person? Prince: I am an IOC member, so I am in a fortunate position to be able to follow the Olympic movement in general and participated in the IOC meeting in Beijing and then attended the opening ceremony which was incredible. We had expected a lot. We being the world, but I think that what your country and the city of Beijing and the organizing committee performed for us was a lot more than what we even could imagine in our dreams. Maybe too much for us because it went from one absolute top performance to the next absolute top performance that we were still digesting the previous one. It was so well organized and incredible among volunteers working there. It was absolutely fantastic.
Aug 23 - 24, 2008



Hong Kong: A rapid sellout of tickets and a computer glitch caused tempers to flare yesterday but could not dampen the overall enthusiasm of Hong Kongers desperate to catch a glimpse of China's Olympic gold medal winners. All 29,000 tickets for the August 30 variety show and sporting demonstrations were snapped up within 3 hours of going on sale. A queue of about 300 people formed at City Hall in Central with another 900 outside Tsuen Wan Town Hall. But many left empty-handed because most of the tickets were snapped up by online fans. Most popular were the 4,300 tickets for the sporting demonstrations to be given by the gold medalists, while 25,000 tickets were available for the variety show at the Hong Kong Stadium. There were 2,000 tickets for gymnastics, 700 for diving, 600 for badminton and 600 for table tennis. A woman who had spent several hours in the queue let her feelings be known when told that all the tickets had been sold. "I am so angry," she yelled. But the man who was first in the queue thought the selling arrangements went smoothly. Director of the Leisure and Cultural Services Department Thomas Chow Tat-ming said about 20 percent of the tickets were reserved for various organizations. He said the ratio of public to private tickets was the result of careful discussions with the Sports Federations and Olympic Committee of Hong Kong. Chow admitted the computer server failed when a large number of applications flooded the system.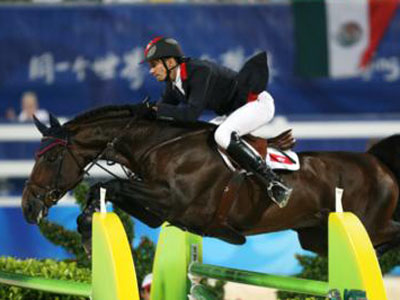 Hong Kong rider Patrick Lam and his horse, Urban, perform in a qualifying round of the Olympic equestrian show jumping competition in Sha Tin.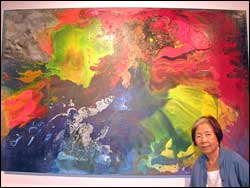 The Olympic Games have strengthened Beijing's reputation as Asia's art hub, luring more Hong Kong artists and galleries to find their niche in what is considered the next best choice after New York. Internationally renowned Hong Kong artist Diana Wong Shui-iu, 70, said the Olympics made her choose Beijing to exhibit 33 paintings spanning a career of more than 40 years. "Buyers follow places of influence. I also do so to display my art," the daughter of the late philanthropist Wong Fut-nam told The Standard. "The arts and economy are closely related. Galleries and artists move where the economy is strong, and the Olympics have definitely strengthened Beijing's economic position as an art hub." Mainland artists took advantage of the increase in foreign investment by opening galleries in such prestigious art districts as 798 in northeastern Beijing, causing a shift by international art lovers to the capital, she said. The expansion of new art districts, such as Cao Chang Di, Number 1 Arts Base and Song Zhuang, has made Beijing the world's second most important art hub.
Hutchison Whampoa (0013) reported first-half net profit fell 63 percent to HK$10.69 billion after it failed to repeat last year's large asset sales, but the results beat forecasts after a faster-than- expected improvement in the group's European mobile businesses.

Cheung Kong $12b profit is double expectations - Cheung Kong (Holdings) (0001) reported a 35 percent drop in interim net profit to HK$12.02 billion, and associate Hutchison Whampoa (0013) booked lower one-time gains.


China: Foreign media are unable to provide a balanced account on China and its southwestern region of Tibet because they know little about either, Beijing Games organisers vice-president Wang Wei said on Friday. Mr Wang was responding to a question put to the International Olympic Committee whether its decision to award the Games to Beijing was the right one given China's rule of Tibet and its human rights track record. Calls for Tibetan independence were at the heart of demonstrations around the world during the Beijing Games international torch relay and several small protests were held in Beijing prior and during the Games. The protests were triggered by China's crackdown on rioting in and around the Tibetan capital, Lhasa, in March. "There is so much criticism in this room that reflects how biased media are on China, how little they know," Mr Wang said. "People do not know much about Tibet and you should ask people in Beijing about Tibet. I have friends in Tibet and their living standard has improved dramatically." China says its troops liberated Tibet from feudal serfdom after they marched in in 1950. Since then, it has provided massive subsidies to help develop the remote region and brushes aside accusations of repression. "It is better for you to know some things before you reach a conclusion," Mr Wang said. "The media want to find something to write about, but you cannot do it at a cost of sacrificing the people." Critics say Tibet was illegally occupied and that Tibetans have been left out of the boom, creating an ethnic wealth gap between Han Chinese and Tibetans.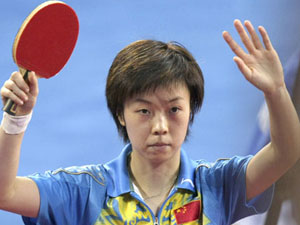 Zhang Yining has a chance to clinch back-to-back gold medals in the singles after winning the title in Athens four years ago.
Mainland star hurdler Liu Xiang has suffered another setback by failing to make it onto the International Olympic Committee's Athletes' Commission, a hall of fame for sportsmen and women around the world. Liu, who pulled out of the 110 metres hurdles competition on Monday, was edged out by four sporting greats, including Russian swimmer Alexander Popov and Cuban volleyball player Yumilka Ruiz Luaces, in a commission ballot in Beijing held between August 5 and Wednesday. Liu, 25, the gold medallist in his event at the 2004 Athens Olympics, ranked eighth among the 29 candidates, with 1,386 votes. Hong Kong table tennis player Li Ching and Australian swimmer Grant Hackett were among other nominees competing for membership of the star-studded committee. The commission, a link between active athletes and the IOC, comprises active and retired athletes and is charged with furthering the needs of sportsmen and women. "Liu's failure to be elected was related to his withdrawal due to injury," said Wei Jizhong, an adviser to the Beijing Games organising committee. "For those who voted, they would hope to vote for someone who has scored good results in these Olympic Games - for example, [US swimmer] Michael Phelps or [diver] Guo Jingjing." Liu became a household name in China after he won gold in a world- record-equalling time of 12.91 seconds in Athens. His sensational withdrawal shocked the nation. Many spectators and television viewers were confused and heartbroken by the sight of their hero walking out of the National Stadium in pain and disappointment. Some expressed outrage because the public had been kept in the dark about Liu's nagging injury - inflammation of the Achilles tendon in his right foot. Liu's long-time coach, Sun Haiping, admitted yesterday that Liu's injury was covered up mainly because Cuban Dayron Robles broke the world record in June. "We wanted to get the message out [about the injury], but then Robles broke the world record and we hesitated because if Liu Xiang came out saying: `I have injuries and they could affect my performance at the Olympics', nobody would believe him and [people] might take it the wrong way and think we were afraid of losing," he was quoted as saying by mainland internet portal Sohu.com. Both Sun and mainland sports authorities have insisted that Liu's pullout was a last-minute decision that was not based on other issues. However, Liu's withdrawal did catch many of his sponsors unprepared. Sports gear giant Nike was forced to revise the tagline for a print ad featuring the hurdler the day after his pullout. The sponsors have offered their support for the athlete. Chen Shaopeng, a senior executive with computer maker Lenovo (SEHK: 0992, announcements, news) , assured the country that its sponsorship deal with Liu "remained unchanged".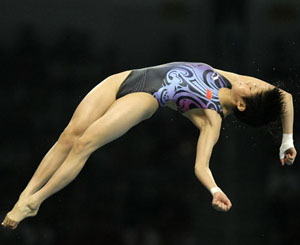 Acrobatic Chen seals magnificent seven in diving - Teenager Chen Ruolin won the women's 10 meter platform diving gold yesterday, giving China their seventh gold from seven diving events so far.
ICBC becomes most profitable bank in world - The Industrial and Commercial Bank of China (ICBC), the country's largest lender, said on Thursday its first half after-tax profit totaled 64.88 billion yuan (9.47 billion U.S. dollars), which made it the world's most profitable bank.
Aug 21 - 22, 2008



Hong Kong: Four horses have been banned from competing in Thursday's Olympic Games jumping competition for doping, the International Equestrian Federation (FEI) announced on Thursday.
Hong Kong is still experiencing high inflation – with the consumer price index (CPI) rising by 6.3 per cent in July over a year earlier, new figures released on Thursday showed.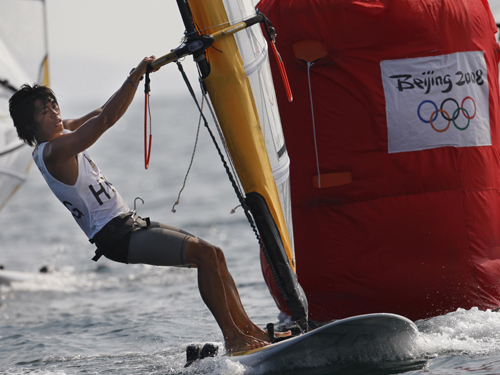 Chan King-yin sails to the finishing line in Qingdao, where he came first yesterday and improved his overall ranking to sixth place. Hong Kong's Chan King-yin won the battle in the medal race yesterday but had to settle for the honor of leading Asian sailor in the RS:X class at the Olympic sailing centre in Qingdao. In a race involving the top 10 windsurfers to decide the final rankings, Chan led all the way in light wind conditions - which he favors - and improved his final ranking from seventh to sixth place, with 84 penalty points. It was the best Olympic performance by a male Hong Kong sailor. Chan was already out of the race for gold, silver and bronze, but his victory kept him ahead of China's Wang Aichen, who finished seventh overall on 95 points. Tom Ashley (52 points) of New Zealand, who was third after the 10-race series, edged out Julien Bontemps of France by a point to clinch the gold. Shahar Zubari of Israel, the leader in the opening stages, finished third. In the women's event, Hong Kong's Vicky Chan Wai-kei finished ninth in the medal race and secured ninth place overall, with 93 points. "Both of them performed very well in Qingdao and have shown great potential to do well in future events," said Hong Kong team coach Rene Appel. "They have gained a lot of experience of racing against a strong fleet, and we can build on that kind of experience to prepare our squad for the next Olympic Games in London." Still, Appel said, if Hong Kong was serious about winning medals in London, a specific support cycle should be created for individual sports. "We need a long-term strategy if we want to not only do well but win medals at the Olympic Games. An Olympic support cycle takes at least four years and the authorities should consider it seriously because it will definitely cost more money. Otherwise, we can never turn dreams into reality." Appel cited the example of the Great Britain team - the most successful nation in the sailing events in Qingdao - who won three gold medals and a bronze medal. "They have been putting a lot of money into sailing by aiming at winning medals in the Olympic Games, and at the end of the day it paid off."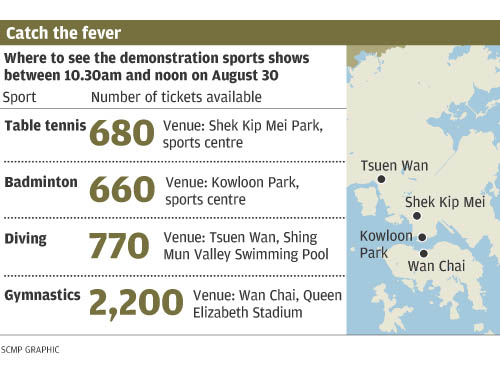 People keen to catch a glimpse of China's Olympic gold medallists in Hong Kong began queueing up yesterday afternoon for tickets to shows next week that go on sale today. The Leisure and Cultural Services Department said the Olympians would put on four "demonstration shows" and a "joint performance" at the Hong Kong Stadium during their visit. A total of 28,000 tickets, priced at HK$20 each, will go on sale at all 34 Urbtix ticket offices from 10am today. Online and telephone purchasing will also be accepted. Each person will be allowed to buy up to two tickets for the demonstrations and four for the joint performance each time. Queues had already appeared at some ticket offices yesterday afternoon. Outside Tsuen Wan Town Hall, a dozen people had joined the queue for tickets by early evening. June Hui, a 58-year-old retired civil servant, showed up at 3pm to grab the first place. Most people queueing said they would opt for shows with diving queen Guo Jingjing and prominent gymnasts. Department director Thomas Chow Tat-ming said the government had expected an enthusiastic response from the public. He said the department had liaised with the police for assistance and some crowd-control measures had been put in place at some ticket offices. A "gold-medal" delegation of Chinese athletes, coaches and officials will visit the city from next Friday to Sunday at the invitation of the Sports Federation and Olympic Committee of Hong Kong. Mr Chow said it was hoped that all the Chinese gold medallists at the Games would join the tour, but he could not rule out the possibility of some absences due to special circumstances. The Olympic champions will be feted at a government banquet on the night of their arrival. On the second day, they will attend a flag-raising ceremony around 8am at Golden Bauhinia Square in Wan Chai and share their experiences and stories with youth groups. Later in the morning, table tennis, badminton, diving and gymnastics athletes will show off their skills at four demonstrations at public sports facilities. All the gold medallists will show up at the Hong Kong Stadium for a 1-1/2-hour performance in the evening. They will leave the city for Macau on Sunday. The government said 24,000 tickets will be on sale for the joint performance at the stadium with a capacity of 38,000 seats. A Home Affairs Department spokesman said 7,000 to 8,000 tickets would be reserved for Olympic volunteers, national sports associations, low-income groups and others. The government will hold a reception for the Hong Kong athletes who took part in the Games at the Hong Kong Cultural Centre in Tsim Sha Tsui next Wednesday, a source said.
Hong Kong has defeated dozens of world cities to appear in the new edition of the Monopoly board game to be released next week. Thanks to a popular vote worldwide, the city has been picked along with Beijing, Shanghai and Taipei, making China the most heavily represented nation in the popular game. Canada is next best represented, with three cities on the board. Twenty-two cities were selected by more than 5 million fans of the game. Fans were asked to vote online for the places they wanted to see on the upcoming global edition of the board game, which made its debut in 1935. They had 70 towns and cities to choose between. Of these, the Canadian city of Montreal received most votes and would be paired with Latvian capital Riga as the most expensive property group on the board, US firm Hasbro said yesterday ahead of the August 27 launch of the game. Next in rank on the World Edition board are Cape Town, Belgrade and Paris. Last placed of the 22 was Poland's Gdynia; no German, Indian, Russian or Scandinavian towns made it. Hong Kong has been put under the yellow category, along with Beijing and Jerusalem, in the color-coded game. While the principle of the game will remain the same as when it was initially dreamed up - making money by buying, renting and trading property - the board will for the first time be identical worldwide, with players giving up paper currency and using credit cards instead. Apart from the switch from streets to cities as prime real estate, the new edition replaces old utilities such as the "Electric Company" with "Wind Energy" and "Solar Energy", and offers air, cruise and space travel instead of mere railways.
Venetian expansion hits loan hiccup - The Venetian Macao's massive expansion plans have been hit by the global credit crunch, with a proposed loan to the casino cut to less than US$5 billion from the original target of US$7 billion. Shares of Macau casino operators have fallen on reports that Beijing might extend a visa crackdown and restrict individual mainlanders visiting the gaming city to once every six months instead of every two months. Venetian Macao developer Las Vegas Sands Corp dropped 10.6 per cent on Tuesday after several United States gaming analysts circulated notes quoting a report by Portuguese news agency Lusa, which cited sources as saying mainland visits to Macau could be cut to once every six months as early as October. Lawrence Ho Yau-lung's Nasdaq-listed Melco Crown Entertainment declined 11.2 per cent while MGM Mirage fell 9.3 per cent and Wynn Resorts shed 4.3 per cent. In Hong Kong, the impact was cushioned by yesterday's market rally. Melco International Development (SEHK: 0200, announcements, news) retreated 4.04 per cent, Galaxy Entertainment Group (SEHK: 0027) dipped 1.84 per cent and SJM Holdings closed up 0.85 per cent after hitting a post-initial public offering low. Since June, Beijing and the Macau government have been increasing restrictions on the frequency and ease with which mainlanders can visit the casino boomtown. No central government representatives have commented on the measures, but analysts and observers have speculated the crackdown is Beijing's response to concerns about overheating in Macau's gaming-driven economy and an attempt to seek more balanced growth. Casino revenues grew 54.6 per cent in the first six months and 73.2 per cent in June, according to official data. The gaming industry accounts for about 80 per cent of local government revenue. Since July 1, mainlanders from select cities travelling under Beijing's individual visitation scheme have been permitted to visit Macau once every two months. That is down from a once-a-month rule implemented on June 1. Before that, a twice-a-month policy was in effect. However, the significance of the scheme on arrivals has declined. The programme accounted for 44 per cent of all mainland visitation in the 12 months to June, down from 51 per cent in 2005. During the same period, total arrivals from the mainland climbed 60 per cent despite the restrictions, as more people simply opted to travel in tour groups. In a speech to the local legislature last week, Macau chief executive Edmund Ho Hau-wah warned "unstable factors have emerged in the global market" and were threatening the city's gaming industry. Mr Ho said he would not be surprised if Macau's casino revenues recorded negative growth next year.
So long Miramar, hello to chic and trendy Mira - A HK$400 million facelift has turned one of the oldest home- grown hotels into a hip and contemporary five-star property to meet the challenge of chic W Hotels, which just landed in town. Tsim Sha Tsui's venerable Hotel Miramar has been upgraded into The Mira, a model for the future renovation of sister hotels in Shenzhen and Shanghai. The 51-year-old hotel has been redone by an international team of masterminds including Colin Cowie, who planned bashes for Oprah Winfrey, John Travolta, Elton John and Quincy Jones. "Hotels in Hong Kong have a rather classical appearance. We are luxurious but trendy at the same time. There are not many other hotels of this kind out there. We believe the market is big enough for two," said Peter Yu Tat-kong, executive director and group general manager of the Miramar Hotel and Investment Company. Yu said when they decided to renovate two years ago, the company was not sure if the W Hotels chain was coming to Hong Kong. Before the renovation 20 percent of guests were from the mainland, he said, and this will not change though the hotel is targeting young and senior executives, art lovers and tech-savvy travelers. The company hopes guests will experience the difference with each of the 493 rooms in The Mira equipped with a 500GB Blu-ray personal computer, free mobile phones for use in Hong Kong and iPod chargers. The 393-room W Hong Kong is at Kowloon Station.


China: The Beijing Games is likely to become the biggest broadcast event in the history of the Olympics. Timo Lumme, managing director of IOC Television and Marketing Services, said yesterday a record 1.2 billion people were thought to have watched the opening ceremony via television and a dazzling array of digital multimedia. "The opening ceremony was the highest-rated sports-related broadcast event in the history of Chinese television," he said. Multimedia technology also helped boost coverage. "In China alone more than 102 million people watched the Games live online," Mr Lumme said. He said 31 million people in the United States saw American swimming sensation Michael Phelps win his eighth gold medal - an event that also saw an 18-year Saturday night viewing high for the NBC network, which paid nearly US$900 million for exclusive US rights. "NBC drew 30 times more video views online than for Athens, when internet broadcasting was young,' Mr Lumme said, adding that more than 22 million video clips had been viewed so far. "There is an unprecedented amount of Olympic sports content available, with about 5,000 hours of coverage provided for viewers in about 200 countries and territories," he said. Ratings were also strong in Britain, the host of the next Summer Games, thanks in part to the nation's biggest medal haul in a century. India's interest has also increased sharply thanks to its first individual gold in Beijing. "The IOC's broadcasting partners are expected to make a combined total coverage which will be about three times that of the Athens Games," Mr Lumme said. "In China, over 1 billion people have already watched some Olympic sports coverage. To cater for this demand, CCTV, the IOC's broadcast partner in China, has made two more channels available to include Olympics coverage. This makes a total of nine over-the-air networks." Mr Lumme said the IOC expected its revenue to increase for future Games. The last two years have boosted its coffers by US$2.6 billion earned from the 2006 Turin Winter Games and the Beijing Olympics. The Vancouver Winter Games in 2010 and the next Summer Games in London in 2012 would see that figure rise to about US$3.9 billion, Mr Lumme said. China's state broadcaster, CCTV, could expect to pay a bigger bill to secure the rights of future Games to reflect the country's economic reach and sporting clout, he said. It paid a small amount compared with other networks to screen the 2008 Games, forking out just US$18.5 million. He said CCTV could expect to pay in excess of US$100 million to show future Games. "For the next Games, just for China, I think we have to be looking well into three figures," Mr Lumme said.

State Grid Corp of China, the larger of the mainland's two regional power distribution monopolies, called for an increase in retail prices in tandem with yesterday's tariff rise by electricity producers to help buffer it from severe cost pressures. The state-owned operator of power grids in 26 provinces and regions said it had been saddled with hefty interest expenses from its 1.2 trillion yuan (HK$1.37 trillion) investment in grid expansion between 2006 and 2010. It is spending a further 73.6 billion yuan on post-winter storm and earthquake grid reconstruction. "Both power generators and distributors are facing severe operating difficulties given price controls," State Grid said. "[The government] should establish a scientific and sound power pricing system and let tariffs charged to distributors and end-users move together to ensure a healthy industry development." The National Development and Reform Commission yesterday raised tariffs that power generators charge distributors by an average of 2 fen per kilowatt-hour or 5.3 per cent. The highest benchmark tariff rise of 2.5 fen was allowed in coastal provinces and regions such as Shandong, Shanghai, Zhejiang and Guangdong where coal prices are the highest because of costly seaborne transport of the fuel from northern regions. Other, mostly interior regions were given tariff rises of 1 to 2 fen. Since the NDRC held retail tariffs steady, State Grid and fellow state-owned China Southern Power Grid, which operates grids in five southern provinces, had to absorb all tariff rises, eroding their low margins. In the July 1 tariff rise, retail and generator-to-distributor tariffs were raised about 5 per cent. A Credit Suisse research report said mainland power grids' return on equity averaged 4.67 per cent in 2006, lower than the 14 to 16 per cent in India, 6.5 per cent in Germany and 10.57 per cent in the United States. State Grid and Southern Power want to issue shares to help fund their massive investment programmes to upgrade the nation's underdeveloped distribution networks, but poor returns have been the main barrier. As for power generators, the second tariff rise in two months has not brought them out of the woods. Li Xiaolin, a vice-chairman of listed China Power International (SEHK: 2380) Development, said the tariff rise was insufficient to return loss-making power generators to the black. "As of last month, the industry consensus was that power tariffs need to be raised by 7 fen per kWh to offset the accumulative coal price rises, but the two recent rises only amounted to 3.9 fen," Ms Li said. She was speaking after sister renewable-energy firm China Power New Energy Development, of which she is chairman, signed a deal to invest 482 million yuan in a waste-to-power plant in Hainan province. Meanwhile, Huadian Power International Corp said its tariffs were raised a weighted average of 5.78 per cent to 413.25 yuan per kWh. Locally listed mainland power shares had outperformed the market in the past two weeks on speculation of a post-Olympic tariff rise. But the shares fell 0.2 to 9.8 per cent yesterday as the power tariff increases were deemed insufficient to compensate generators' losses, analysts said.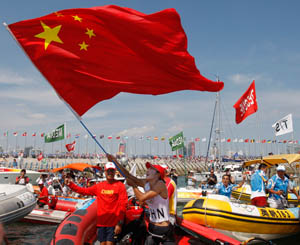 Windsurfer Yin Jian won the first sailing gold medal for China yesterday in a nail-biting finish to the RS:X class in Qingdao.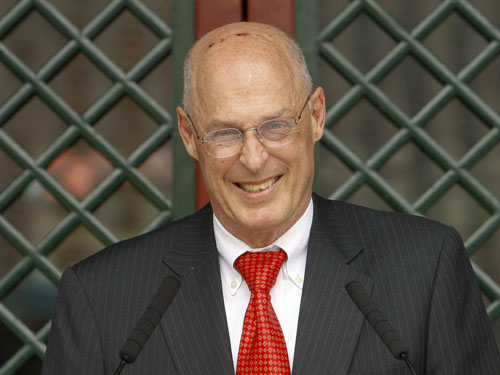 China's growth key to global economy, says top US official - US Treasury Secretary Henry Paulson says China's economic growth should not be seen as threatening, and that it would be more worrying if its economy falters. "The real concern should be that China stumbles, has problems along the way, and that this hurts the global economy and [the US] economy," Mr Paulson said on Tuesday in a teleconference arranged by Foreign Affairs magazine, for which he wrote an article. He said the United States was continuing to push Beijing to open its economy, and adopt currency and other reforms, adding that the appreciation of the yuan was "inadequate" so far, though heading in the right direction. Mr Paulson refused to answer repeated questions about the condition of troubled mortgage finance companies Fannie Mae and Freddie Mac, which Barron's magazine speculated may eventually need a bailout by the US Treasury Department. Mr Paulson attended the Olympics last week on a private visit. While there, he confirmed he had held some talks with Chinese economic officials. Much of his 45-minute discussion with reporters covered familiar ground - issues like China's currency reforms, which Mr Paulson has pursued since taking the United States' top financial job in 2006. He said the US Congress could see the yuan was appreciating, which should help meet US criticism that Chinese goods were unfairly low priced, and would help make China less dependent on exports and more reliant on growth from domestic demand. China needed a market-determined currency eventually, he said, even if it was not ready for it yet. The nation would not be successful in the long term unless the value of the yuan was able to move in relation to underlying economic fundamentals, he said. The final round of the twice-a-year, China-US strategic economic talks is set to take place in Beijing in December.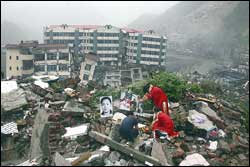 The government of Sichuan plans to turn areas devastated by the May 12 earthquake into a tourist zone, the official Xinhua News Agency said yesterday. News of the move came as an earthquake hit southwest China, knocking down houses and forcing around 1,200 people to evacuate. The quake, measuring five on the Richter scale, jolted western Yunnan province, south Sichuan. Many homes collapsed in Sudian township, the epicentre, nearly 50 kilometers from Yingjiang county seat, and several townships reported damage. There were no reports of casualties, Xinhua said. A strong earthquake rocked the Sichuan and Gansu province earlier this month, killing one person and injuring 23. Sichuan province - known for its pandas and fiery cuisine - has been struggling to rebuild in the aftermath of a disaster that killed about 70,000 and rendered 10 million homeless. Some have put the total cost of reconstruction at almost US$80 billion (HK$624 billion). An "experimental tourist zone" would track a fault line that runs through Wenchuan county in the province's far west and encompass ruins, a memorial in Yingxiu, a museum in Beichuan and a lake created during the tremors at Tangjiashan, Xinhua said. The "Wenchuan quake ruins tourist route will demonstrate the protection of such ruins and the quake survivors' spirit of perseverance," Xinhua cited provincial tourism chief Zhang Gu as saying. The quake cost Sichuan's tourism industry more than 50 billion yuan (HK$56.92 billion), Xinhua said. Zhang said Sichuan would invest about 80 billion yuan to restore its tourism industry. Zhang hoped his planned tourist zone, which awaits approval, would extend into Gansu and Shaanxi provinces, helping highlight "biological and cultural diversity."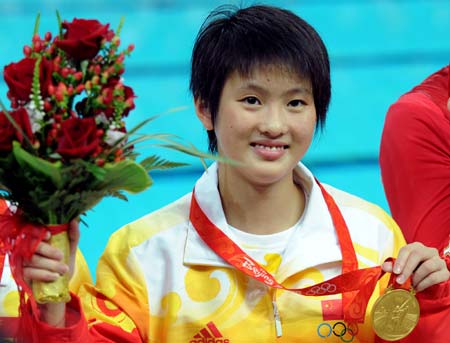 Chinese diver Chen Ruolin displays her medal after the awarding ceremony of women's 10m platform at the Beijing 2008 Olympic Games in the National Aquatics Center, also known as the Water Cube in Beijing, China, Aug. 21, 2008. Chen claimed the title in the event with a score of 447.70 points.
Measures taken by Beijing to tackle air pollution before the Olympic Games have proved to be effective, setting at rest previous concerns over the issue, an article in the French sports daily L' Equipe said Thursday. Measures taken before the Games, such as relocating or closing pollution-causing factories and pulling half the cars off the streets each day, have all proved effective, the article said. It also highlighted the blue skies seen during the event. Beijing's air quality has also received high praise from athletes participating in the Olympics, the paper said. "Honestly, I did not feel uncomfortable. The sky is blue and it is only a bit hot. That's it," said Jared Tallent of Australia, who won bronze in the men's 20km walk. French race walker Yohann Diniz, who won a silver medal at the 2007 World Athletics Championships in Osaka, Japan, said he did not feel the presence of any pollution in Beijing. It was in fact easier for him to adapt to the weather in Beijing than in Osaka, he added. Race walker Francisco Javier Fernandez of Spain said he was very satisfied with Beijing's weather information service, calling it "perfect."

US fast-food chain Kentucky Fried Chicken (KFC) raised its prices in China for the second time this year due to mounting commodity costs.
Iron ore firm Golden West Resources said Australian foreign investment regulators had cleared a proposal for China's Hunan Valin Steel Tube & Wire Co to buy 11.4 percent of the company. The deal was first announced by Golden West on August 12, subject to approval by the Foreign Investment Review Board. t follows several similar alliances where Chinese steelmakers have bought stakes in Australian iron ore miners, anxious to secure supplies of an essential raw material that is in short supply. Golden West said Chinese regulators had also approved the deal, under which Hunan Valin will buy 14.4 million new Golden West shares at A$1.85 each, raising A$26.6 million ($23.1 million) for Golden West. Golden West is still in the exploration phase, one of several smaller firms in a new iron ore precinct in west Australia. Like its fellow prospectors, it needs fresh equity and forward sales to help fund mining development. Under a separate arrangement, Golden West has agreed to supply up to 4.5 million tonnes of iron ore a year to Hunan Valin, which is one-third owned by Arcelor Mittal, the world's largest steelmaker, over 15 years from the start of production. Golden West has not given a timeframe for production start-up, partly because the port it intends to use for exports has not been built yet. The proposed Oakajee port is expected to be completed by about 2013, according to local media.
Aug 20, 2008



Hong Kong: Hong Kong shares fell 2.1 per cent on Tueday to close at a new one-year, weighed down by losses in property stocks ahead of earnings reports, but power stocks rallied on hopes that China would allow more tariff increases after the Olympics. Europe's largest bank HSBC Holdings (SEHK: 0005, announcements, news) slipped 1.8 per cent, leading losses on the blue chip index, as fears of more credit-related losses resurfaced. The Hang Seng Index closed down 446.30 points at the day's low of 20,484.37. "Corporate earnings have been less than impressive so far and there were very high expectations built into the market. What we are seeing now is an absolute loss of confidence in the market," said Peter Pak, vice-president with BOCI Research. Mr Pak said the main index was likely to slip slightly below 20,000 points as local investors waited in hope that China would announce major market boosting measures after the Olympics. Mainboard turnover was HK$48.5 billion (US$6.2 billion) as compared with HK$45.2 billion on Monday.
Financial Secretary John Tsang Chun-wah said on Tuesday the success of Hong Kong's wine fair – along with growing wine imports – showed the city was now on track to be a leading wine hub. He was speaking at the signing ceremony of the Hong Kong-France memorandum of understanding (MOU) on co-operation in wine-related businesses. Mr Tsang said the government's decision to scrap the 40 per cent wine sales tax in the February 27 budget, had been beneficial. "It makes Hong Kong the first free wine port among major economies," he said. The financial secretary added that the value of wine imports has increased by 140 per cent from March to June over the last year. "We have seen solid growth in wine imports, wine auctions with record-breaking sales, and announcements by various renowned companies to expand their wine trading and distribution business in Hong Kong," he said. Among importers, Mr Tsang said France was the largest supplier of wine imports to Hong Kong last year — accounting for 30 per cent. "In terms of value, French wine represented about 57 per cent of all our wine imports last year, with an impressive growth rate of 108 per cent compared with 2006," he said. Discussing the three-day International Wine Fair organised by Trade Development Council - which ended on Saturday, he said it was a success. Mr Tsang said it had helped promote Hong Kong as a wine trading hub in Asia. "More than 240 exhibitors from over 25 countries showcased their merchandise to buyers," Mr Tsang said. He said signing the first MOU was also an important milestone. "Both the Hong Kong and the French governments consider a bilateral agreement on wine mutually beneficial in terms of supporting business partnerships and investment co-operation," "We are also very excited about the synergy that the expansion in wine-related economic activities may generate for the promotion of tourism – the hospitality industry, as well as wine education and culture," Mr Tsang said. He said the government would continue to promote the wine industry. "These [measures] include strengthening of wine education and manpower training, promotion of wine-related tourism and wine culture, and customs co-operation against counterfeit wine," the financial secretary said. Practically, Trade Development Council, the Hong Kong Tourism Board, and training intuitions – including the Vocational Training Council and the School of Professional and Continuing Education of the University of Hong Kong will provide wine-related courses. Mr Tsang ended his speech by saying that it is a "win-win situation". It can promote better wine appreciation and education – as well creating more job opportunities.
The Macao Trade and Investment Promotion Institute (IPIM) Tuesday announced that it will provide financial support to local small and medium enterprises (SME) for their participation in the "13th Macao International Trade and Investment Fair (MIF)". As Macao's major trade and investment fair, this year's MIF, organized by the IPIM, will be held from October 23-26 at the Venetian Macao's exhibition venue. Given the important role of SMEs in Macao and their contributions to local economic development, the 13th MIF is going to feature a "Macao SME Exhibition" within the Fair. Taking advantage of the MIF exhibition platform, the Exhibition serves as an incubator for local enterprises to promote their products and seek for investment opportunities. In order to enable more SMEs to open up business opportunities through the MIF, the IPIM will grant preferential treatment of 5,800 patacas (725 U.S. dollars) for each exhibition booth of nine square meters. In effect, the charges after preferential treatment for the 9-square-meter booth will be only 5,000 patacas (625 U.S. dollars). Each local SME may apply for preferential treatment for one booth only, on a first-come-first-served basis, according to a press release from the IPIM. The SME Exhibition will be the only section in the MIF which features both display and sale, and the Exhibition will be market oriented, bringing into full play the advantages of the convention and exhibition industry of Macao, the IPIM said.


China: As Beijing city's air quality had all reached the standards to host the Olympics in all 18 days of August before Tuesday, the Chinese capital was making strides in fulfilling its commitment on good air quality for the Games, a Beijing official said. "In the 18 days between Aug. 1 and Aug. 18, Beijing's air quality was within the standards to host the Olympics. Of the 18 days, Beijing reported Grade I air quality in nine days, and in the other nine days, the city's air quality was Grade II," deputy director of the Beijing Municipal Bureau of Environmental Protection Du Shaozhong told a press conference. In the Chinese system to report the air quality, Grade I means the air quality is excellent with the Air Pollution Index (API) showing a reading between 1 and 50. Grade II means the air quality is fairly good, with an API reading between 51 and 100. In the past 18 days this month, the daily API reading was 56 on average, much lower than last year's figure of 81 in the same period, he said. Beijing's air quality so far this month was the best ever recorded in the last 10 years. "These figures prove that our measures to improve air quality for the Beijing Games, particularly those temporary measures to cut emissions, have been playing a positive role. We are earnestly fulfilling our commitment to ensuring good air quality during the Olympics," he said.
Former International Olympic Committee (IOC) President Juan Samaranch said on Tuesday China would top the gold medal count at the Beijing Games. By Tuesday evening, China had 43 gold medals to U.S.' 26.
Ctrip.com, China's top online travel agent, posted on Wednesday a 35 per cent rise in second-quarter net profit but said revenue growth would slow this quarter because of a drop in domestic travel.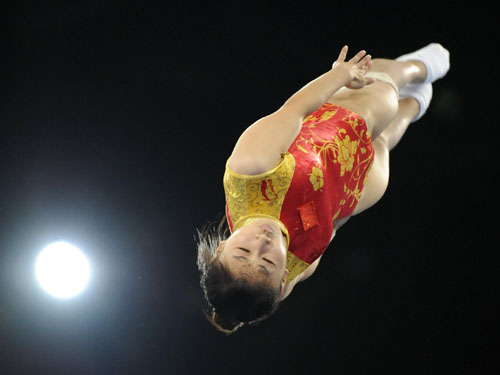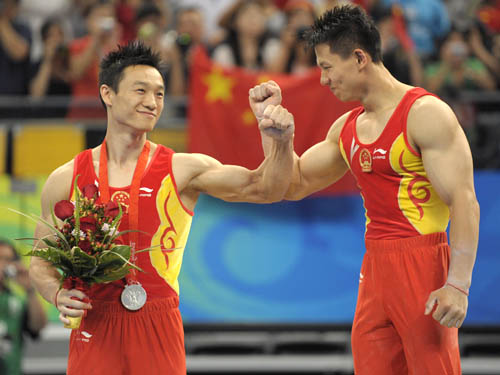 The hosts won three of the four gold medals, but the United States and France were denied places on the top of the podium under a complicated tiebreak system never before used at the Olympics. Chen Yibing emerged victorious for China in the men's rings, He Kexin won on the women's uneven bars and He Wenna claimed gold on the women's trampoline, in a national gymnastics dominance unseen since the days of the Soviet Union. The reigning champion on men's vault, Leszek Blanik of Poland, also added Olympic gold to his collection. But the spotlight fell on the scoring system, under which the old "perfect 10" was replaced with two marks, one a mark out of 10 for execution and another reflecting the difficulty of the routine. In the uneven bars final, He and American gymnast Nastia Liukin both scored 9.025 for execution and 7.7 for difficulty, to give each a final score of 16.725. But instead of sharing gold, officials implemented a count-back system where the highest and lowest of the five judges' marks were progressively removed until a winner emerged. "I don't know if anybody understands what the hell is going on," said Liukin's father and coach, Valeri, pointing out that he tied and shared an Olympic gold on the high bar competing for the Soviet Union in the 1988 Seoul Games. His daughter, who won the women's individual gold medal last Friday, was also at a loss to explain the situation. "I honestly was in shock," she said. "I knew I didn't have my best routine but when I saw we got the same score and my name was second, it was weird. It's all up to the judges. I guess they liked her routine better. I did what I could."
Wireless coverage equipment maker China GrenTech posted a quarterly loss, hurt by a steep fall in revenue from base station radio frequency products, sending its shares down as much as 22 per cent.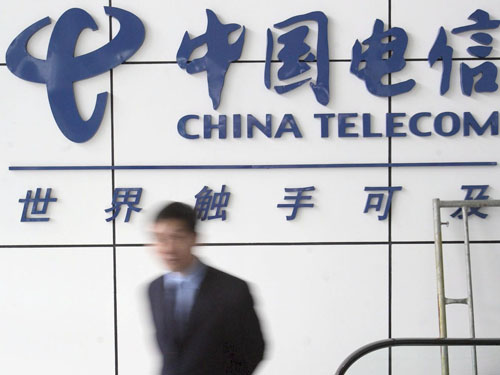 Fixed-line operators China Telecom Corp (SEHK: 0728) and China Netcom Group (SEHK: 0906) Corp are raising their Hong Kong exposure this year to enhance regional connectivity as two new submarine cables are due to connect with the city in the near future, promising to boost cross-border data traffic. The submarine cables, Intra Asia, and Asia American Gateway, which more than 20 telecommunications carriers have invested in, will land in Hong Kong in the near future. The cables can provide more than 1,125 gigabytes per second of bandwidth and can also be linked with the mainland. Hong Kong has installed bandwidth of about 2,178 gigabytes per second, of which 1,439 gigabytes per second has been activated. The Hong Kong government said 20 per cent of the activated bandwidth was connected with the mainland. China Telecom, the country's largest fixed-line operator, sees Hong Kong as an international connectivity hub linking the mainland to the world. The company, along with Hutchison Global Communications, a Hong Kong fixed-line operator owned by Hutchison Whampoa (SEHK: 0013), yesterday unveiled a cross-border fibre optic cable between Hong Kong and the mainland in the Western Corridor. Hutchison Global Communications has funded and installed ducts and fibre optic cables along the Hong Kong-Shenzhen Western Corridor, linking Shenzhen Bay Port and the mainland while interconnecting with the China Telecom network. It is the fourth cable linking Hong Kong and mainland carriers. Including the new cable, Hutchison Global Communications has capacity of more than 60 gigabytes per second. In 2000, China Telecom and Hutchison Global Communications reached an interconnection agreement to link Hutchison's network in Hong Kong to the mainland to form the Guangzhou-Shenzhen-Hong Kong SDH Ring with capacity of 2.5 gigabytes per second. In 2002, both companies announced they would increase the capacity to 12.5 gigabytes per second by establishing two cross border links through Man Kam To and Lok Ma Chau. "We expect double-digit growth in cross-border bandwidth demand in the next few years," Peter Wong King-fai, Hutchison Global Communications' chief executive, said yesterday. China Telecom (Hong Kong) chairman Ma Yimin said Hong Kong could be a regional hub connecting Asia to the world. "With the rising importance of the mainland and regional economies, telecom and internet traffic will also increase. The Hong Kong and mainland cross border links are an important step to linking up the region," Mr Ma said yesterday. Netcom is increasing connectivity with Vietnamese carriers to help the latter boost international coverage. It has interconnected with three Vietnamese operators on the land fibre optic cable that runs from Vietnam through Guangxi province, interconnects at Hong Kong, and then routes to the overseas network. "Netcom has self-built infrastructure in southern China that provides interconnection through our land cable to the border of Vietnam and China and links to Hong Kong," said William So, the chief executive of China Netcom (Hong Kong). The company also plans to establish a representative office in South Korea to serve Korean carriers on a new route to Europe. "Korean carriers can connect with the mainland through our network in northern China, which links with the cross-border network to Russia," said Mr So.
China's leaders are carefully considering an economic stimulus package of at least 200 billion yuan (HK$227.74 billion) to 400 billion yuan and may ease monetary policy by the end of the year, investment bank JPMorgan Chase said. The possible stimulus package would be equivalent to 1.0 to 1.5 percent of GDP. "This will include tax cuts and measures to `stabilise domestic capital markets' and support `healthy development of the housing market','' Frank Gong, chief China economist for JPMorgan, said. Gong said the package would be in addition to projected spending of 500 billion yuan to 600 billion yuan to rebuild the parts of Sichuan devastated by May's earthquake.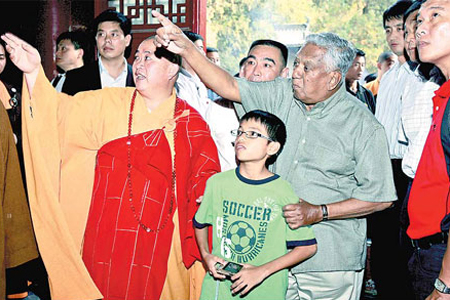 Abbot Yongxin (left) guides Singaporean President S. R. Nathan on a tour of the Shaolin Temple on Sunday. Singaporean President S. R. Nathan said his visit to the Shaolin Temple in Henan province on Sunday was one of the highlights of his weeklong Olympic tour. The 84-year-old received a warm welcome at the Buddhist monastery, which is best known for being the home of the martial art kungfu. "I'm very glad my dream finally became a reality," Nathan told Yongxin, an abbot at the temple who led a group of monks in welcoming the president, the Xinhua News Agency reported yesterday. While at the temple, Nathan watched the monks perform their evening chants and prayers, and offered incense to the Sakyamuni Buddha. After watching a martial arts performance, Nathan said he was very interested in kungfu and the daily lives of the Shaolin monks. "It's not easy for them to clear their minds of mundane concerns and focus on kungfu," he said. But what impressed him even more was how well the temple preserves the culture of Buddhism. "That is what I appreciate the most," he said. Despite being thousands of kilometers away, the Shaolin Temple has maintained close relations with the Buddhist community in Singapore, Yongxin said. For example, a TV series entitled Shaolin Monks that was co-produced by the temple and a Singaporean media company will be broadcast later this year, he said. "I hope we can deepen our ties in the future," he said. Nathan, who flew back to Singapore yesterday, spent three days in Henan after supporting Team Singapore in Beijing. He told the Chinese press on July 28 that he would visit the Shaolin Temple after watching the stage production Shaolin in the Wind in Singapore. Nathan said he was considering sending his grandson, who is a fan of martial arts, to study kungfu at the temple. Two years ago, Russian Premier Vladimir Putin also visited Shaolin. Some reports have claimed his daughters have been trained in the ways of kungfu by a Shaolin monk.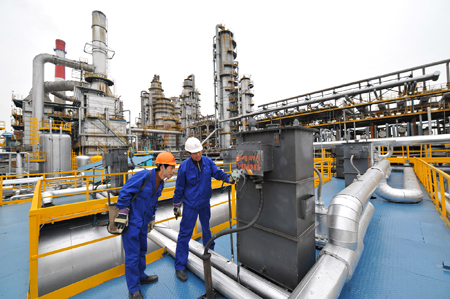 Two technicians check the equipments in an oil refinery of China Petroleum and Chemical Corporation (Sinopec) in Ningbo, east China's Zhejiang Province, March 29, 2008. China will complete the construction of its first four strategic oil reserves by the end of this year, a senior government official said yesterday. "The progress has been smooth and all the four bases will be completed by the year end," Zhang Guobao, administrator of the National Energy Administration (NEA), said after a press conference in Beijing. "Their total capacity will amount to 16.4 million cu m." Zhang made the comments at his first public appearance since the NEA's inauguration on Aug 8. The administration came into being as part of the reshuffle of government agencies in March. Zhang now also holds the position of vice-minister of the National Planning and Reform Commission (NDRC), the nation's top economic planner. China started to build its strategic oil reserves in 2004, in order to fend off the risk of oil shortages and reduce the impact of oil price fluctuations. The government plans to build strategic oil reserves in three phases over 15 years, involving an estimated investment of 100 billion yuan (14.6 billion U.S. dollars). The first four reserves, located in Dalian, Qingdao, Ningbo and Zhoushan, are expected to maintain strategic oil reserves equivalent to 30 days of imports in 2010. The reserve in Ningbo, a coastal city in Zhejiang province, was put into operation in late 2006. It is the largest of the first four reserves, with a total storage capacity of 5.2 million cu m. The central government is now reportedly selecting locations for the second batch of strategic oil reserves. Cities including Tangshan and Guangzhou are understood to be vying for the projects, but Zhang declined to comment on this. The newly established energy administration oversees the nation's oil reserves and monitors the domestic and overseas energy markets. It is also responsible for mapping out China's energy development strategy and formulating rules and regulations for the energy sector.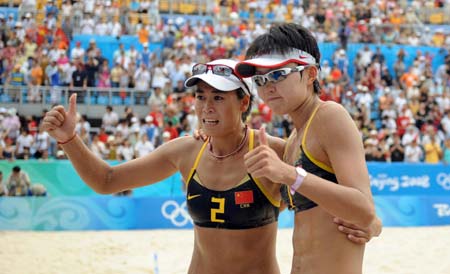 Wang Jie (R) and Tian Jia of China celebrate after winning the women's semifinal of the Beijing 2008 Olympic Games beach volleyball event against Xue Chen and Zhang Xi of China in Beijing, China, Aug. 19, 2008. Wang Jie and Tian Jia won the match 2-1 and advanced to final.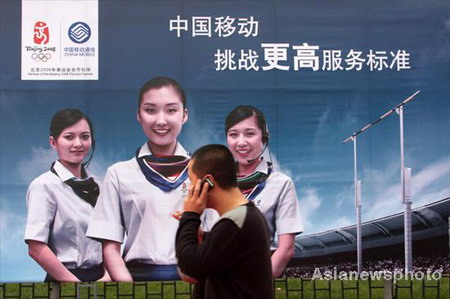 A pedestrian makes a call in front of the billboard of China Mobile in the file photo taken on October 23, 2007. The government has given the green light to China Mobile Communications Corp (CMCC), parent of Hong Kong-listed China Mobile Ltd, to build a nationwide commercial trial network based on TD-SCDMA technology, a home-grown third generation (3G) mobile phone standard. The government has given the green light to China Mobile Communications Corp (CMCC), parent of Hong Kong-listed China Mobile Ltd, to build a nationwide commercial trial network based on TD-SCDMA technology, a home-grown third generation (3G) mobile phone standard. The Ministry of Industry and Information Technology (MIIT) has "approved a plan by CMCC to expand its current TD-SCDMA commercial trial network (in select cities) to a nationwide basis", a ministry spokesman told China Daily yesterday. He did not provide a time frame for when China Mobile would start the expansion, however.CMCC started commercial trials of TD-SCDMA in eight cities in April, including Beijing, Shanghai, Tianjin and Shenyang. The approval for a nationwide commercial trial would increase the likelihood that China Mobile would be mandated to adopt TD-SCDMA to build its 3G networks. CMCC has been showing a strong preference to WCDMA, a 3G standard developed mainly by European companies such as Ericsson, Nokia and Siemens. However, there have been rumors that the MIIT has rejected a plan by China Mobile to adopt both WCDMA and TD-SCDMA standards. A CMCC spokesman confirmed that the group has already received the formal approval from the MIIT but insisted it "doesn't mean a 3G license has been issued". The 3G licensing has been continuously delayed in China in the past few years, largely because the TD-SCDMA technology is less mature. Unlike its foreign rivals WCDMA and CDMA2000, TD-SCDMA has yet to be used in any commercial network in the world. Given the fact that so far operators are not allowed to build WCDMA and CDMA 2000 networks, "the approval for the TD-SCDMA expansion underscores the government's increasing backing for TD-SCDMA", said Wang Guoping, an analyst with China Galaxy Securities. Some industry observers say the trial network could be easily turned into a real commercial one once it is completed. This could give TD-SCDMA an upper hand as usually developing a nationwide network in China could take at least a year. China Mobile has been under increasing pressure to embrace TD-SCDMA since Li Yizhong became the minister of MIIT in March. The company has been criticized for not giving full support to the home-grown standard. It was reported in June that Li had instructed CMCC to set a target to sign up more than 100 million TD-SCDMA subscribers within three years to ensure the success of the Chinese technology. The expansion of the trial TD-SCDMA network could unleash large purchase orders, mainly to domestic equipment makers. China Mobile has invested more than 14.6 billion yuan($2.12 billion) in the network built in the eight cities. The TD-SCDMA trial network expansion could disappoint many foreign vendors, which have been less involved in developing the Chinese standard and has been counting on the WCDMA technology.

Government authorities in Zhejiang province on east China's seaboard have finally announced that the construction of its section of a much-discussed magnetic levitation train route linking the eastern cities of Shanghai and Hangzhou will go ahead in 2010. This timing is three years later than the original construction schedule. Construction of this high-speed maglev project, however, has been postponed time and again amid radiation concerns. It is not clear why the scheme has now got the go-ahead. In accordance with an action plan of the provincial government regarding construction of key projects for 2008-2012 period, this affluent Chinese province is determined to complete the Zhejiang part of the maglev project in five years starting 2010 at a cost of 22 billion yuan ($3.14 billion). Preparatory work, including establishment of a special office for affairs related to the maglev project construction, assessment of land acquisition, site selection, as well as study of environmental impact should be done by the end of this year. The action plan says that the Shanghai-Hangzhou maglev project will now be 199.43 km long, nearly 25 km longer than previously reported. Of the total, 103.55 km will be inside Zhejiang. Approved by the central government in March 2006, the 35-billion-yuan maglev project using German technology is originally designed to run at a maximum speed of 450 km per hour, of which 105 km will be in Zhejiang. Traveling speed of maglev trains is limited to be no more than 200 km per hour in downtown areas of cities. In accordance with an early construction schedule, the maglev project would begin construction in 2007, get completion in 2008 and start trial operation in 2009 before a formal operation by 2010, when Shanghai plays host to the World Expo. The action plan, which was distributed to government departments at lower levels inside Zhejiang over the weekend, also set a timetable for construction of another high-speed railway line, reserved for passenger transport only, between Shanghai and Hangzhou.
Aug 19, 2008



Hong Kong: Tom Group (SEHK: 2383), the media business of Hutchison Whampoa (SEHK: 0013), says it will focus on providing mobile internet services as it moves to take advantage of the expected launch of 3G services on the mainland later this year. Chief executive Ken Yeung Kwok-mung, speaking yesterday after the company posted a loss for the first half of the year, said Tom Group was working to integrate its internet, publishing and television operations into a single platform to allow mobile telephone users to access internet services on the go. "With access to mobile phone users, we can implement cross selling and cross distribution strategies for our content businesses like television production and publishing," said Mr Yeung. Tom Group said hit rates for its wireless content and other products rose 100 per cent in the first half of this year after it implemented a customer relations management system. The company is cooperating with China Mobile (SEHK: 0941, announcements, news) , the country's largest mobile operator, to launch new products such as e-books and mobile games that subscribers can access on the internet from their mobile phones. "The new e-book service has seen strong growth in both users and revenue," the company said yesterday. Tom is also expected to attract advertising revenue from its newly launched Tom-Joost online video platform. Mr Yeung said the platform was well received and three multinational advertisers had committed advertising budgets to the platform. "Our platform provides an opportunity for traditional television companies to have a new content distribution channel on the internet," Mr Yeung said. "We are running a revenue-sharing model with all content holders. Such legitimate content licences could attract advertising dollars from brand advertisers." Tom Group yesterday announced a loss attributable to shareholders in the first half of the year of HK$574 million. It made HK$84.9 million the same period last year. Revenue dropped 1.1 per cent to HK$1.33 billion, from HK$1.34 billion a year earlier. The company said the loss was caused by a HK$472 million provision for impairments in relation to its first generation mobile products and services. Mr Yeung said the company did not expect further write-offs or provision for impairment in the second half of the year. Tom Group shares yesterday retreated 6.02 per cent to finish at 39 HK cents.
Raindrops will not keep falling on heads at Chek Lap Kok when the next typhoon hits, airport officials have assured Island District councillor Albert Wong Shun- yee. Wong had asked for an explanation for the embarrassing leaks following the first incident in June when tropical storm Fengshen hit Hong Kong. "I wanted to know how many areas in the airport were affected exactly; the cause and effect of the leakage; measures taken for store owners and tourists who were affected; and how authorities will ensure the same thing will not occur again," Wong said. Airport authorities replied the leakage at Terminal One was due to tiny cracks in ceiling panels that may have been caused during routine maintenance over the past 10 years. The cracks were difficult to detect by the naked eye, and it was equally difficult to determine when they occurred. After the storm, airport staff repaired the damage and all have now been fixed, Wong said. Staff were then called to fix leaks in Terminal Two that occurred between the glass walls and the pedestrian walkway. While repairs were in progress earlier this month, the city was hit by Typhoon Kammuri. This delayed the repairs. But Wong said he has been to the airport since, and claims the problems have been fixed. "I think the airport authorities were quite proactive in this matter and are confident we will not encounter the same incidents again during future typhoons."
International Olympic Committee president Jacques Rogge said yesterdayhe would give a "ringing endorsement" to Beijing and Hong Kong for staging a successful Games. But Rogge, speaking in Hong Kong at a reception organised for him by the Hong Kong government, said he would refrain from conforming with an old IOC tradition of describing each new Olympic Games as the best ever. "The IOC president would always say it was the best of the Games," he said. "It makes my task more and more difficult." He promised not to say "the best-ever Games" at the closing ceremony in Beijing on Sunday, but he would use his best vocabulary "to give my ringing endorsement to Beijing and Hong Kong." He added: "Even `fantastic' is not the word. It will be better than that." Rogge also said athletes and spectators were happy with the organisation of the Olympic Games in Beijing and Hong Kong, which staged the equestrian events. "Even the media, who criticised once in a while, came to me and said: `President, we have to criticise you, but we never had such nice facilities."' China has received widespread praise for the organisation of events at the Games but criticism for not meeting commitments to allow greater media and other freedoms.
Citi's decision to streamline its organizational structure in Asia Pacific and give more responsibility to local executives is a smart move for the New York-based lender, which could provide increased competition for Standard Chartered (2888) and HSBC (0005).


China: Fearing an economic slowdown after the Olympics and lacking concrete relief measures from the central government, the mainland market continued tumbling yesterday while Hong Kong shares fell below the 21,000 level.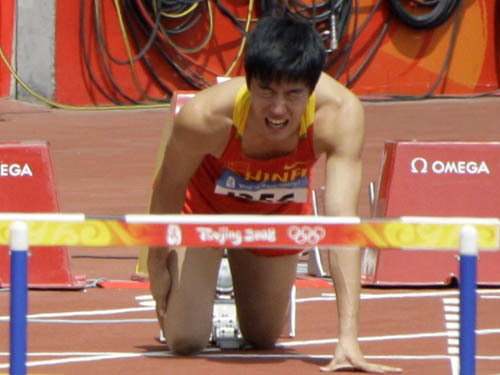 An injured Liu Xiang grimaces as he settles into the starting blocks for his 110 metres hurdles heat in the National Stadium yesterday before being forced to withdraw. Star athlete Liu Xiang broke a billion hearts and stunned the nation into silence yesterday when he made a shock early exit from the Olympics. Liu's dream - and that of 1.3 billion Chinese - of defending his Olympic title in the "Bird's Nest" National Stadium ended dramatically when he hobbled off the track and out of the Games before his first-round heat in the 110 metres hurdles. His departure brought distress and a flood of tears - but also strengthened resolve. Vice-President Xi Jinping sent a message to the General Administration of Sport, saying "people will understand that Liu quit because of injury" and expressing hope that he could "put things behind him". Liu's coach, Sun Haiping , said: "Liu Xiang insisted that he wanted to compete, even after he got to the arena to warm up." Sun broke down at a news conference, dabbing his eyes with a tissue as he explained the devastating injury that killed off the host nation's best hope of landing a gold medal in athletics. "It's the Achilles tendon in his right foot," wept Sun, revealing it was a recurrence of a nagging affliction Liu had been suffering for six to seven years. Liu, 25, inflamed the dormant injury in training on Saturday. "This morning he felt the pain intensify," Sun said. During a brief warm-up Liu was seen breathing hard and wincing as he touched his lower right leg. He grimaced as he went down into the starting blocks and stumbled forward for a few paces in lane two but was then called back because of a false start by an opponent. Agony and a realisation of physical failure was etched on his face and, instead of getting into his blocks again, he walked away from his starting position and down the dressing room tunnel - leaving 91,000 fans confused. Many inside the stadium, including Olympic volunteers, could be seen wiping away tears or consoling weeping friends. Liu's father, Liu Xuegen , said: "We can accept this. We only hope he does better next time around. His mum is weeping, but not for his failure to qualify, but for the pain he is going through." Coach Sun tried to comfort the nation, saying: "He will be back for sure." Liu's withdrawal took the gloss off China's haul of eight gold medals on Sunday, its most successful day in Olympic history. Mainland media had speculated at the weekend that Liu was battling an injury, after a doctor was summoned to treat the star. He had been out of competition for most of the year, mainly with a hamstring problem. But questions will be raised as to why the mainland's secretive sports officials failed to flag up the looming heartbreak earlier to soften the blow. Many were still keen to blame the enormous pressure put on Liu by the home crowd - and also the looming presence of Cuban rival Dayron Robles, who broke Liu's world record with a time of 12.87 seconds in June. "I don't care who's on the track," Robles said. "I just came here to compete and take the gold." Two-time Olympic champion runner Haile Gebrselassie said: "It is painful for him, but the pain is not in his leg. It is up here" - pointing to his head. Several of Liu's sponsors will also be concerned as their money-spinner suddenly turned into a potential loss-making liability. Organizers must now fear a half-empty stadium for the hurdles final on Thursday night, as Liu's massive home support stays away.
Father Peter Zhao Jianmin (center) conducts mass at the Catholic Church of Xuanwumen in Beijing yesterday. Amid the furor of the ongoing Beijing Games, an Italian couple searched for a quiet spot to pray for their son taking part in the sporting event. Yesterday, they found the place and time to do so - near a fountain on the grounds of the Catholic Church of Xuanwumen, in southern Beijing. "We pray for a best performance from our son during the Games and hope that he can win gold during his match tomorrow," Carlo Cassina said. His son, Igor Cassina, is a household name in Italy. The 31-year-old clinched the gold medal for the horizontal bar in the 2004 Athens Games. "We are satisfied with the religious services being offered here," said the father. The Cassina couple are some of the visitors to the capital who are making use of the religious venues and services offered by the authorities. Churches in Beijing have reportedly been preparing services for the more than 400,000 overseas tourists who are expected in the city during the Games, including masses in foreign languages. As one of the 20 Catholic churches in Beijing, the Xuanwumen Catholic Church celebrates two masses in English and one in Latin every Sunday, Father Matthew Zhen Xuebin, secretary-general of the Catholic Church of the Beijing diocese, told China Daily yesterday. Other churches will also hold masses in German, Italian, Spanish and French at the request of overseas organizations, Zhen said. "We have sufficient information on religious services being extended in the city, through media reports, brochures handed out by the churches and our friends living here. It's pleasant to pray here, just like everywhere else in the world," said a visitor from the United States, surnamed Nicholas. The churches also have foreign language-speaking volunteers on hand to assist visitors and to distribute free travel brochures. "Judging from the current situation, all religious demands by overseas Catholic visitors can be met in Beijing," Zhen said. As a special arrangement for the Games, priests from the churches have also added the Games and the athletes in their prayers, Zhen said. "Holding the Olympics is building a beautiful world, and this is in line with Catholic values of love, justice and peace," Zhen said. There are now more than 100,000 Catholics in Beijing, Zhen added. The diocese has 20 parishes, 55 priests and one convent, as well as a seminary with 20 seminarians, he said. The number of Catholics has also been booming in recent years, with the diocese now having to train more fathers and build more churches to meet the demand, Zhen added.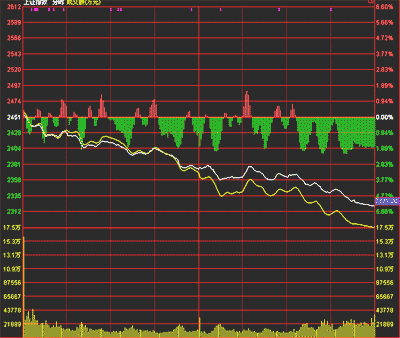 Chinese shares hit 20-month low in broad-based, 5.3% slide - Chinese shares slid more than 5 percent on Monday to a 20-month low, dragged down by heavyweights, as almost every issue lost ground amid the ongoing stock-market decline, the worst in a decade. he benchmark Shanghai Composite Index tumbled 5.33 percent, or130.74 points, to 2,319.87. The Shenzhen Component Index closed at 7,833.09 points, down 400.32 points, or 4.86 percent.
Aug 18, 2008



Hong Kong: About half a dozen Hong Kong volunteers for the Beijing Games have received hospital treatment in the capital because of the hot weather or exhaustion. "Five to six Hong Kong volunteers - who suffered from fever and overtiredness - were sent to hospital," Adrian Yip Chun-to, head of the more than 200-volunteer delegation from Hong Kong, said in Beijing yesterday. Saying they were soon discharged from hospital, Mr Yip said some volunteers had sore throats because their work required them to speak constantly. One fell ill through lack of rest. "Although it's a tough job, we will persist as we all are contributing for the country," Mr Yip said. A volunteer at the Beijing Shooting Range Hall, Fong Chun-yin, said he worked long shifts, standing for about four to five hours a day at the competition venue. Despite this, Mr Fong said he still found the experience meaningful. "It allowed me to meet many people," said Mr Fong, 19, who will enter university next month. Dave Yau Shu-fung, a superintendent with the Hong Kong St John's Ambulance Brigade, said he benefited from working with the local medical unit to provide first-aid and emergency treatment for athletes. As Hong Kong will host the East Asian Games next year, Mr Yau said the experience at the Beijing Games would allow his organisation to understand how to provide first-aid service to athletes.

Hong Kong dentist and micro- sampling expert Ng Tze-chuen is quietly confident Hong Kong will have a part to play in the Mars rover that is being hailed as Europe's "biggest Mars project". The €1 billion (HK$11.5 billion) ExoMars mission, led by the European Space Agency, moved a step closer to liftoff yesterday with the unveiling of a prototype of the rover scheduled to touch down on the Red Planet by 2015. The rover will look for signs of life on Mars by extracting rock samples from the surface. The final design will be unveiled at the end of the year. "Hopefully, I can win a place or two for Hong Kong [inventions] on the Mars mission, although it's too early to tell at this stage," said Dr Ng, a member of the Polytechnic University-based team that has designed previous sampling machinery for the European Space Agency. The only Asian face in a team of European experts, Dr Ng said his participation was due to Hong Kong's position as the international leader in micro-sampling, a skill integral to exploring planetary surfaces. Dr Ng and the PolyU team designed space drills for the European Space Agency's first mission to Mars, Beagle 2, but the lander crashed on the planet in 2003. He said that although ExoMars was better-funded, and backed by more experts than Beagle 2, touching down safely remained the biggest problem because of Mars' heavy gravitational force and stormy weather conditions. "As long as I see my instruments on Mars, I will be satisfied," he said.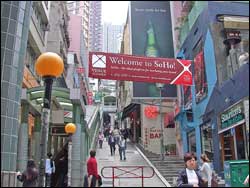 Calls to turn SoHo into a pedestrian zone have been resurrected by heritage group Designing Hong Kong with an open letter to the secretary for transport. In the online letter to Eva Cheng Yu- wah, Life Cafe founder Bobsy Gaia wrote on the Design Hong Kong website that the city lacks a center where people can relax without the hustle of honking cars, speedy delivery trucks and polluting transport. He said the vision of a district with a rich and green street culture is not only feasible but a necessity for the collective sanity of the people. Gaia proposes the former Central police station be connected with a pedestrian bridge over Aberdeen and Bridges streets to a green pedestrian corridor running through the restaurant- dominated SoHo area and down to its adjacent street markets. But the department has no plans for the area as yet, The Standard was told, and in another response the chairman of the district council's working group on improving traffic and pedestrian facilities in Central said closing SoHo would only worsen the traffic situation. Backing a pedestrian-friendly SoHo, HKDining Group managing director Simon Miller-Jones said: "The area has grown up almost by accident because of the escalator. "It isn't planned, streets are narrow, and before the escalator it was much like other anonymous urban areas. Access wasn't good, parking difficult and roads narrow." Turning the area into a pedestrian zone would allow restaurants to have more outdoor seating that was not shrouded in exhaust fumes and open to much noise, he said. "I remember the issue from more than 10 years ago," Miller-Jones said, "but the problem has been the transport situation. The Transport Department wasn't in favor because of issues of access, especially for fire emergencies." Designing Hong Kong Harbour District convener Paul Zimmerman said the Transport Department has not warmed to the idea because of its preoccupation with vehicular throughput capacity and avoiding traffic jams. "We hope this will get off and the community will turn into street fighters," he said of the plan. "It is time pedestrians demanded a better quality of service. It is about making our city more livable, and there is an end game to how many buildings and roads we can stick on the ground. "By 2030 the city is looking for 70 million tourist visits a year, but if we want these people to enjoy their stay in our city and to come back with their families we will need to focus on improving their experience, and that starts with their roads and laneway experience." Tanya Chan Suk-chong, a Central and Western district councillor and the vice chairman of its culture, leisure and social affairs committee, said making the area a weekend, lunchtime or late- night pedestrian area would strike the best balance. "It would also be a positive way to minimize potential dangers because the pavement is extremely narrow and crossing Staunton and Shelley streets can be quite dangerous because lorries and cars do drive along quite quickly," she said. The success of shops in Causeway Bay's pedestrian area is another good reason to implement the plan. Yuen Bun-keung, chairman of the district's working group on improving traffic and pedestrian facilities in Central, said closing roads would exacerbate the already bad traffic situation, but he would take up the matter at the next council meeting. A series of open letters have been generated since an entry on the website referred to New York City's Summer Streets. Eleven kilometers of Manhattan streets are closed for six hours on three consecutive Saturdays this summer. As part of the strategy for improving infrastructure and quality of life in a still-growing city while facing the problems of climate change, New York's citizens are invited to volunteer and organize programs using the open boulevards.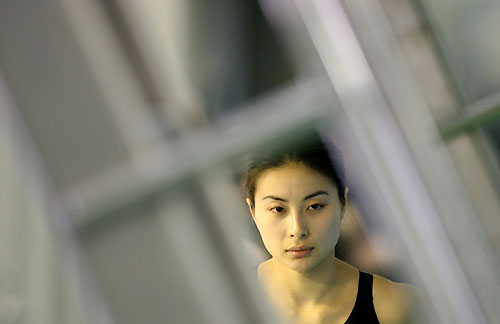 History-making diving diva Guo Jingjing refused to be drawn on her personal life as she celebrated last night. The 26-year-old Hubei native would not confirm rumors she is getting married to Kenneth Fok Kai-kang, the playboy grandson of Hong Kong business tycoon Henry Fok Ying-tung. She announced in 2006 she would retire after the Beijing Games. At last week's diving competitions, Guo wore a heart- shaped Tiffany necklace and a watch - reportedly gifts from the young Fok who was seen sitting on the sidelines quietly with his camera. He said he felt really happy to be able to watch her win gold. His father, International Olympic Committee member Timothy Fok Tsun-ting, mother Loletta Chu and brother Kai-shan were also spotted in the stands. The couple's relationship first made the gossip columns after paparazzi spotted them hugging and chatting at a Shanghai nightclub, followed by an intimate dinner in Repulse Bay. Guo did not deny the relationship with Fok but kept it low-profile. Apart from diving, Guo is also a model for several cosmetic products in the mainland. Because of her golden performance last night, Guo has surpassed Fu Mingxia - the former top diver who married former Hong Kong financial secretary Antony Leung Kam-chung - as the mainland's most bemedaled diver.
More girls lured into `compensated dating' - More and more underaged girls are going into "compensated dating" because they have a choice of clients and it does not involve sex, according to a study by the Democratic Alliance for the Betterment and Progress of Hong Kong.

Pollution to rob festival moon of magic - Hong Kong has become 1,000 times brighter than countries such as the United States, a problem which stargazers say may rob the full moon of some of its magic during the Mid-Autumn Festival.
Hutch H1 may mark `turning point' - Hutchison Whampoa (0013) is expected to report on Thursday that first- half net profit fell 71 percent after a lack of huge one-off gains, but analysts said the conglomerate will show strong underlying growth.


China: Chen barred from leaving Taiwan - Prosecutors barred Taiwan's former president from leaving the island on Sunday pending investigations into an alleged money laundering scandal. The order came a day after prosecutors searched Chen Shui-bian's residence in Taipei and took away boxes of documents. "The accounting books and computers we obtained could help with clarifying the case," said Chu Chao-liang, spokesman for the Supreme Prosecutors' Administration. Chen admitted last week that he broke the law by not fully disclosing campaign donations he had received. He later said his wife, Wu Shu-chen, had wired US$20 million to Switzerland. Taiwanese media said Ms Wu told prosecutors that the money wired to Switzerland included donation leftovers and family savings intended for use in unspecified investment. Mr Chen's surprise declaration has stunned the island and disheartened loyalists, who had not wavered in their support even with Mr Chen's family became mired in a series of corruption scandals over the past year. But sending such a large sum abroad was seen as a betrayal to Chen's repeated vows to safeguard Taiwan's interests and never abandon the island. The former leader often accused the opposition of planning to sell out Taiwan's interests to China – the island's biggest security threat. An elderly supporter, Huang Chao-tang, called Mr Chen and Ms Wu the "shame of Taiwan." He told CTI Cable News, "I wish they could vanish from Earth." Prosecutors said they were looking into allegations that Chen and Wu wired the money into their daughter-in-law's Swiss bank account. Shih Ming-teh, a former leader of Chen's Democratic Progressive Party, said the money could be the tip of the iceberg. He accused Chen of taking at least 2.7 billion New Taiwan dollars (US$85 million) from an entrepreneur bidding for bank ownership during a spate of mergers initiated by the government in 2005. He refused to identify the businessman. Mr Chen left the presidency in May this year, two months after the candidate of his party was beaten in the presidential poll by the then-opposition nationalists.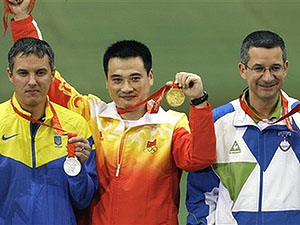 China's Qiu Jian, centre, Ukraine's Jury Sukhorukov, right, and Slovakia's Rajmond Debevec celebrate after the men's 50-metre rifle 3 positions shooting event. American Matthew Emmons cracked under pressure for the second Olympics in a row to gift Qiu Jian of China the gold medal in the men's 50m Rifle 3 Positions final on Sunday. Emmons, who enjoyed a comfortable lead going into his last shot, managed only a miserable 4.4 to drop to fourth place in another heartbreaking finish at the Games. Four years ago in Athens, Emmons needed a 8.0 from his final shot to win gold and shot 8.1 – only to find he had fired at an opponent's target and was dropped to eighth place. The 27-year-old once again found his nerves deserting him at the crucial moment, his final score of 4.4 coming after he averaged 10.1 in the previous nine shots of the final. Emmons' shooter wife, Katerina, who had won a gold and silver over the last week, gasped in horror from the stands as her husband blew his chances at the last moment. The only consolation for the Emmons couple is that they will return from Beijing with three medals after Matthew took silver in the 50m Rifle Prone event on Friday. Qiu's final shot of 10.0 won him the gold on Sunday with a combined tally of 1,272.5, just 0.1 points ahead of second placed Jury Sukhorukov of Ukraine (1,272.4). Reigning world record holder and Sydney Olympic gold medallist Rajmond Debevec of Slovenia claimed the bronze with 1,271.7 points in the final event of the 15-gold shooting competition. Qiu's unexpected title helped hosts China finish with five golds, followed by the United States, the Czech Republic and Ukraine with two each. India, Finland, South Korea and Italy shared the remaining four golds.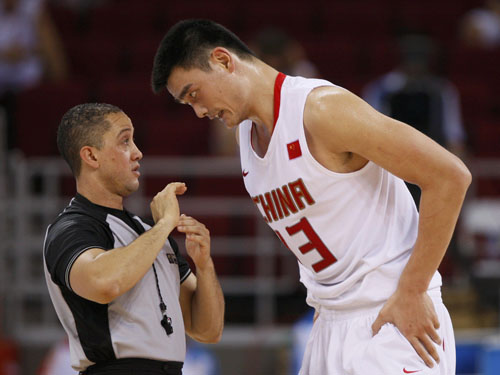 Athletically, it was an ugly, low-scoring, see-saw basketball nightmare. But for China, it amounted to another emotional Games high, concluding the host's action on Day 8 in thrilling style. An emphatic performance by Yao Ming scraped China past group B rival Germany in a 59-55 victory last night at the Wukesong Stadium. Now the Chinese squad will advance to the quarter-finals, with one preliminary game remaining. This was a contrast from four years ago in Athens when China only managed to squeeze itself into the final eight in the last round of the group stage. "Over the past four years, we have improved greatly," said Yi Jianlian, the forward fresh off his first season in the US National Basketball Association with the Milwaukee Bucks. Yi sank a key three-pointer in the closing minutes of the game to help China. "Last time, most of the games, we lost by at least 20 to 30 points. But you see how close we are getting in Beijing. Most important of all, this time we can celebrate the moment with all the home fans." Putting aside a 31-point defeat to the mighty United States, China beat Angola and only narrowly went down to Spain in a thrilling overtime game. China is to meet world runner-up Greece on Tuesday. Yi put the final touches on the victory, and although the hosts led for most of the game, they found it difficult to keep the lead. It was Yao, scoring a game-high 25 points and grabbing 11 rebounds, who carried China as none of his teammates scored in the double digits. Yi finished with nine points, 11 rebounds and two steals. Dirk Nowitzki, a star Dallas Mavericks forward, led Germany with 24 points. "The key to the victory today is simple: good defence and Yao's inside prowess," said Jonas Kazlauskas, China's Lithuanian coach. "Yao is a great leader and had an excellent game." Yao said: "It is a moment that you would never forget in your life." Like Yi, he gave credit to the more than 11,000 supporters who stamped and screamed throughout the game. "It was not only the five of us on court," Yao said. "The fans are behind us with enormous power."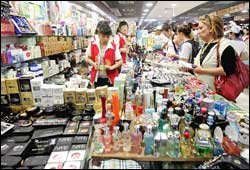 Beijing has muffled dissidents and thinned out its notorious traffic for the Games, but its brazen peddlers of counterfeit goods are proving tougher to bring to heel. Despite a half-hearted crackdown meant to curb embarrassing copyright theft during the Olympics, sellers of a vast array of counterfeit goods say they are ringing up bumper sales. "Business is good. We've got a lot of new customers now due to the Olympics," said a young woman selling pirated Dolce & Gabbana, Polo, and other clothing at Beijing's Silk Street market. Merchants at that and other fake- goods emporia had reported a crackdown in recent months as Beijing moved to sweep the city's less-savory elements, such as prostitution, under the rug during the Games. But despite finding a slightly less varied selection, several shoppers said it looks like business as usual. Many shoppers running the gauntlet of pushy vendors in Silk Street's narrow corridors do so wearing the official yellow badges of Olympic visitors. Vendors said a pre-Olympic crackdown has shut many factories of fake goods, with authorities especially targeting luxury brand knock-offs such as Gucci and Calvin Klein. But with the Olympics underway, knock-offs of Polo, London Fog, Louis Vuitton and other big names are openly sold throughout the city.
Tianjin builds up for Airbus tests - Airport officials in the port of Tianjin are building a second runway to test Airbus A320s built at a plant in the city. The new runway should be ready for May 2009 and would also allow Tianjin - which is about 110 kilometers east of Beijing - to serve as a backup for the Capital International Airport, Xinhua News Agency reported. The first Airbus is expected to roll off the line in Tianjin in May 2009, and the plantwill produce up to 44 aircraft a year by 2011.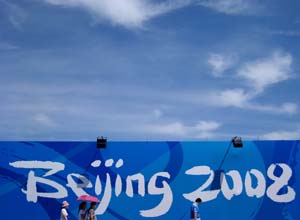 Beijing reports excellent air quality for second day - For a second day, the Olympic host city reported Grade I -- or excellent -- air quality on Saturday, the eighth day of the Olympics. In most of the day, the city basked in sunshine. The city reported seven days with Grade I air quality in the first half month in August.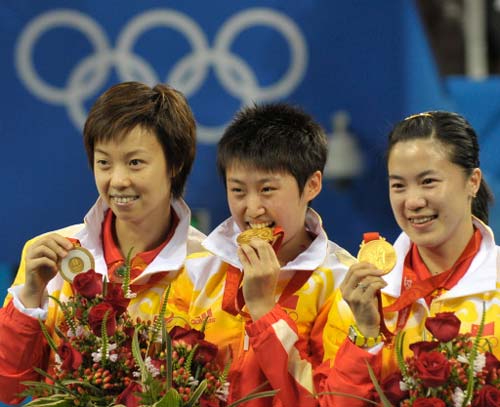 China's table tennis players Zhang Yining (L), Guo Yue (C) and Wang Nan pose with their gold medals after defeating Singapore's team to win the gold medal during the women's team table tennis final match of the 2008 Beijing Olympic Games at the Peking University gymnasium in Beijing on August 17, 2008. It was the 17th gold medal that China won at the Olympic table tennis competition since its national sport was introduced at the 1988 Seoul Games. The star-studded Chinese women pushed, chopped and smashed, proving too powerful for Singapore before an enthusiastic crowd of more than 4,000, though both world number one Zhang Yining and veteran Wang Nan dropped a game. Finishing second, Singapore won its first Olympic medal in 48 years since a silver by weightlifter Tan Howe Liang in 1960. Wang, who is often slow in finding her rhythm, failed to take a lead but brushed aside Feng Tianwei 9-11, 11-3, 11-8, 11-6. The team title was the fourth Olympic gold for Wang, the most decorated players in table tennis. The battle between Zhang and Beijing-born Li Jia Wei of Singapore was full of long rallies across the table, with Zhang winning 9-11, 11-3, 11-4, 11-7. The singles and doubles gold medalist in Athens then paired with world champion Guo Yue, quickly finishing off Li and Wang Yue Gu 11-8, 11-5, 11-6. Both China and Singapore had steamrolled over all before them with stunning victories since the start of the Olympic team table tennis tournament, which take the place of the doubles. They didn't meet each other until the final. Chinese women, whose triumph seemed to have an air of inevitability, easily took down Hong Kong of China 3-0 in the semifinal, while Singapore slew a tenacious South Korea 3-2.
Aug 17, 2008



Hong Kong: Hongkong and Shanghai Banking (SEHK: 0005, announcements, news) Corp, the Asia-Pacific unit of HSBC Holdings, said it would be more cautious on lending and practise cost control in the face of slowing economic growth in the second half in Hong Kong and the region. "The outlook for the second half is very challenging," said Vincent Cheng Hoi-chuen, the bank's chairman. He expected the regional economy to continue growing, but at a slower pace, which meant lending would also grow more slowly. The Hong Kong government yesterday said gross domestic product grew 4.2 per cent in the second quarter, down from 7.3 per cent in the first quarter this year. Mr Cheng said slowing economic growth in Hong Kong, intense competition in the banking sector and a challenging operating environment because of factors like high inflation meant the bank would keep a close eye on its costs.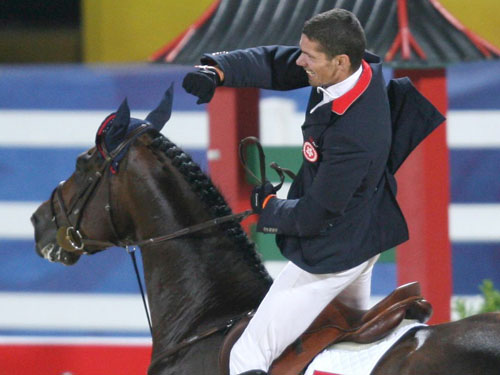 It's not every day a Hong Kong rider upstages the world's best. But last night world number one showjumper Meredith Michaels-Beerbaum of Germany had to play second fiddle to Patrick Lam, who finished the preliminary round of the showjumping competition with a faultless round. Michaels-Beerbaum was unperturbed. She knew last night's outing had little significance as far as the bigger picture was concerned. "We took it easy today," said Michaels-Beerbaum, referring to her horse Shutterfly. "This was a training round for the team competition." She didn't mean it as a letdown for Lam, who earlier in the night had given the packed stands at the Sha Tin venue something to shout about as he and Urban went through the 15-effort course without knocking down a fence and well inside the time limit of 88 seconds. "I had no pressure on my shoulders. I came here to get experience and look at me now, I had a clear round at the Olympics," crowed an overjoyed Lam. This is a story made for a rainy night with his grandkids - the day he beat the world's number one rider, who had one jump penalty (four points) and two time penalties to total six. Michaels-Beerbaum might well go on to win the individual title, as well as help Germany to the team gold, but last night she played second fiddle to a rider who only got his horse six months ago and is taking part in the Olympics thanks to a wild card from the International Olympic Committee. Lam enjoyed his moment in the spotlight and soaked up the atmosphere. He was stopped every inch of the way in the mixed zone - where the media get the opportunity to talk to the riders after their round - with television crews and radio jostling for a sound byte. By the time he reached the print media, he had his responses down pat. "This is a dream come true. I never had such a feeling in my life, and, no, I wasn't nervous because I didn't have any expectations before going out," Lam said. When he trotted out on Urban, the 18,000-strong crowd gave him a rousing welcome. He was the first of the three home team riders to go out. "I heard the noise from the crowd and it was electrifying. I still feel electrified. I love the Hong Kong crowd, this stadium, and my horse. I love them all," the joyous Lam said. Lam, who lives in Austria and has a Hong Kong father and an Austrian mum, was united with Urban only six months ago. The relationship has blossomed. "He is super. I had not jumped him for three weeks and he was fresh. He handled the fences very well," said Lam, who finished his flawless circuit by pumping the air with a fist. Hong Kong's other two riders, Samantha Lam and Kenneth Cheng Man-kit, were not as fortunate. Cheng on Jockey Club Can Do finished with six penalties, while Samantha Lam - no relation of Patrick - had 14 penalties after Jockey Club Tresor knocked down three fences right at the end. "I hurt my back in training and that affected my performance," Samantha Lam said. "But I'm not too disappointed, for Tresor went well. "Hopefully, I will get better by Sunday." That will be the aim of the entire field now the preliminaries are out of the way. Last night's outing - according to officials who also seemed to be in the dark over the new format brought in for these Olympics - is merely to find out the starting order for the first round of the team competition, which starts tomorrow. This will also double up as the individual qualifiers. The top eight teams and the top 50 riders are expected to go into the medal rounds on Monday. Michaels-Beerbaum can be expected to be in the running. Taking part in her first Olympics, she is among the favourites. "Being the favourite is a good thing. I would be worried if I was not the favourite or the number one in the world," Michaels-Beerbaum joked. But last night she was overshadowed by Lam and 12 other riders who had clear rounds. She was not worried. And Lam was overjoyed.


China: The repair bill from the massive earthquake that struck central China this year will be about 1 trillion yuan (HK$1.13 trillion), including the cost of rebuilding thousands of wrecked schools, the government said yesterday.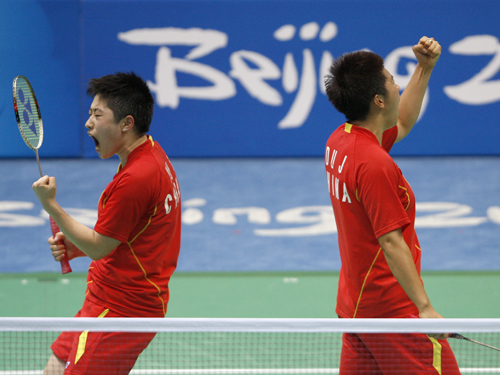 China's Yu Yang and Du Jing celebrate after beating Lee Hyo-jung and Lee Kyung-won of South Korea in the women's doubles final. China took a step closer to a clean sweep of all five badminton titles, winning the women's doubles gold and setting up an all-China women's singles final last night. Yu Yang and Du Jing won their first game against South Korea's Lee Kyung-won and Lee Hyo-jung 21-15 with solid defence. In the second, Yu and Du smashed a barrage of shuttlecocks at the Koreans to overwhelm them 21-13, winning 12 of the last 14 points and taking the gold.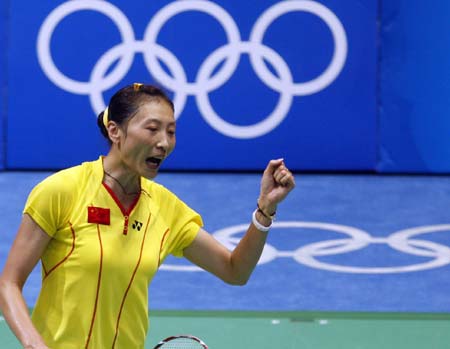 Zhang Ning of China celebrates for a point while competing against teammate Xie Xingfang at the women's singles gold medal match during the Beijing 2008 Olympic Games badminton event, in Beijing, China, Aug. 16, 2008. Zhang Ning won the match 2-1 and grabbed the gold medal of the event.
Swiss export more chocolate to China - Exports of Swiss chocolate products to China have increased dramatically in the past seven years, the official Swissinfo news website reported Friday. Exports to China rose from just two tons in 2001 to 308 tons last year, according to figures from Chocosuisse, the association of Swiss chocolate manufactures. This represents an increase in value to 2.1 million Swiss francs (about 1.9 million U.S. dollars) from only 57,000 Swiss francs (about 51800 U.S. dollars) seven years ago. Chocosuisse said China imports primarily premium chocolate from Switzerland. Only a small segment of consumers can afford the products.
The Board of Directors of the Asian Development Bank (ADB) has approved the appointment of China's Zhao Xiaoyu as Vice-President of the development institution, the lender said in a statement on Thursday. The appointment was made on the recommendation of ADB President Haruhiko Kuroda, according to the statement. Zhao succeeds Jin Liqun who retired from ADB's service on July 31, said the Manila-based development bank. "As ADB's Vice-President for Operations 1, Zhao will be overseeing the operations of the South Asia Department, the Central and West Asia Department, and the Private Sector Operations Department," said the statement. Zhao is currently a Vice President of the Export-Import Bank of China. He served as the Executive Director for the People's Republic of China at ADB from March 1999 to September 2002. ADB is a multilateral development institution dedicated to reducing poverty in the Asia and Pacific region through inclusive economic growth, environmentally sustainable growth, and regional integration. Established in 1966, it is owned by 67 members, 48 from the region. In 2007, ADB approved 10.1 billion U.S. dollars of loans, 673 million dollars of grant projects, and technical assistance amounting to 243 million dollars.
People in the Pearl River Delta cities of Guangzhou, Shenzhen, Foshan and Dongguan might soon be able to surf the Internet using a unified wireless network, provincial authorities have said. Nanfang Daily reported Wednesday that the provincial information industry department has completed a report on the construction of a wireless city group in the region, and it has been approved by the respective provincial governments. "Construction of a wireless city group entails coordinated planning and gradual promotion. It needs to define the role of each government and their work divisions," Wang Wei, a deputy director of the department's administration office, was quoted as saying. Details about costs and date of construction are not yet available. Liang Qi, a professor at Sun Yat-sen University, said construction of a wireless city group will sharpen the competitive edge of the area. "The provincial authorities have reached a consensus that the Pearl River Delta cities should be integrated to strengthen its foothold in global competition. Wireless infrastructure and services are necessary in the digital age," he said. Qin Zhiqiang, deputy secretary of WAPI (WLAN Authentication and Privacy Infrastructure) Industry Alliance, an organization promoting local industry standards, said the role of the local governments is to plan and balance the interests of all for sustainable development of the wireless city group. "Profitability is crucial for sustainable development of the sector," he said. Several cities in China have begun construction of wireless networks, and some of them like Beijing, Shanghai and Hangzhou have already begun trial operations. In Beijing, a wireless service is now available in areas within the Third Ring Road via terminals with WiFi or WiMax functionality. It is expected to cover areas within the Fifth Ring Road by the end of the year, and the whole city by 2010.
Aug 16, 2008



Hong Kong: Secretary for the Civil Service Denise Yue Chung-yee apologised on Friday for the controversy that has erupted after retired housing director Leung Chin-man was allowed to work for a mainland property developer. The case triggered allegations about a conflict of interest. Mr Leung, a former lands and buildings official – was hired by leading property developer New World. Ms Yue said that Chief Executive Donald Tsang Yam-kuen had requested her to consult the relevant departments again and to re-assess Mr Leung's application. Ms Yue said she had not looked at Mr Leung's previous role closely when she approved his application to join New World. Mr Leung, 62, was involved as lands chief and later as housing chief in two controversial decisions which benefited property developers – one of them New World. While this led to questions about government-business collusion, one case also led to three separate inquiries and a court action. Ms Yue said Mr Tsang also asked her to hand in a report on the matter. "I will re-assess Mr Leung's application and present the report to the chief executive," she said. On August 8, a judicial review application was filed in the Court of First Instance to stop property developer New World China Land (SEHK: 0917) from adding the former senior civil servant to its payroll. Filed by Siu See-kong, a Legislative Council candidate for New Territories East, the application asks the court to overturn a decision by the civil service secretary to approve Mr Leung's hiring as executive director of New World's mainland property division. The application alleges that Mr Leung has access to "confidential information" that could give his new employer an unfair advantage. Critics urged Mr Tsang to revoke the approval – which sparked the conflict-of-interest accusations when it was made public a week ago.
Hong Kong's economic growth in the second half of the year was expected to ease to between 2.2 per cent and 4.2 per cent, the government said on Friday. But government economist Kwok Kwok-chuen said this was a "reasonable" level of growth. First-half year growth averaged 5.8 per cent after the economy expanded by 7.3 per cent in the first quarter before slowing to 4.2 per cent in the second quarter. Mr Kwok said first-quarter growth had been "too fast". The official growth forecast for 2008 remained between four and five per cent. "And 7.3 per cent, in my view, is actually a bit too fast," Mr Kwok said. "A prolonged period of seven per cent-plus growth is one of the reasons why our inflation pressure is building up." Consumer prices jumped 5.7 per cent in the second quarter due mainly to surging food prices and housing rents. Hong Kong's economy is slowing on the back of rising oil and food prices and also a weaker United States economy suffering the impact of the sub-prime mortgage crisis.
HK population hits 6.9m: statistics show - 4:22pm Hong Kong's population increased by 0.9 per cent in the first half of 2008 to reach nearly seven million people, new Census and Statistics Department figures show.
Immigration officials in the US are under fire following allegations that a Hong Kong-born computer engineer died of cancer last week after being repeatedly denied proper medical treatment and accused of faking his condition while in a detention centre. Lawyers for Ng Hiu-lui, 34, a married father of two, have written to US authorities demanding a criminal investigation into his death, The New York Times reported yesterday. Ng died on Wednesday last week and an autopsy on Tuesday found his body riddled with cancer that lawyers alleged had gone undiagnosed and untreated for months. The report in the Times said Ng was being held by Immigration and Customs Enforcement at the Wyatt Detention Facility on Rhode Island. Ng arrived in New York from Hong Kong with his parents and younger sister, Wendy, in 1992. He had been in the final stages of the interview process in a bid for the right to live and work in the US, when an official noticed he had overstayed his initial visa by years. Instead of being granted the card, he was arrested and held in several facilities while his case was reviewed. Lawyers claimed that Ng's pleas that pain-killing tablets stopped the pain in his back were ignored. By mid-July, the pain was so great, he was bedridden and could not walk or stand to call his family. Centre officials denied him a wheelchair and refused to have him seen by an independent doctor. On July 30, he was taken from his bed at the centre on a four-hour round trip to another government facility where an immigration officer allegedly pressured him into withdrawing his appeals and accepting deportation. Lawyers believe the trip, during which he was in chains, was an attempt to show he was faking his sickness, and to stop a habeas corpus appeal he had made to the court so he could be released to get proper medical treatment. A judge who heard the appeal had asked that he receive proper medical treatment. The case has prompted an outpouring of sympathy and anger among immigration rights activists in the US. Blogs on behalf of other detainees have been filled with commentary on the case. Ng's death is the most recent controversy to hit the contentious US immigration detention system, in which critics say inmates are subjected to human rights abuses and poor medical care. In March, the US government admitted medical negligence in the death of Francisco Castaneda, 36, another detainee whose cancer went undiagnosed in a Californian detention centre. Last year, more than 300,000 people were held in detention while the government considered the merits of their cases. The New York Times reported that Ng had a wife who was a US citizen and two American-born sons. He owned a house in Queens and had worked as a computer engineer in the Empire State Building before his detention.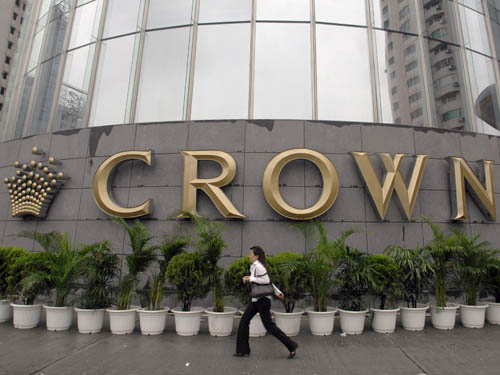 Gaming revenue from high rollers at the Crown Macau fell 17 per cent to US$499.5 million from US$601.4 million in the first quarter.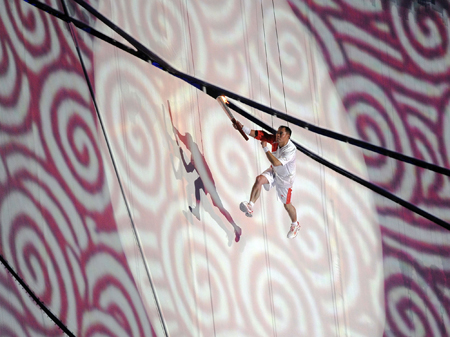 Li Ning (SEHK: 2331) has become a Hong Kong resident, the final torch-bearer for the Beijing Olympics said yesterday. While paying a goodwill visit to a group of children with Aids, the former star gymnast turned sportswear entrepreneur told the Hong Kong media that he and his family had already moved to the city. "I am already a Hongkonger; I have been living here. Hong Kong is a good place to live," Li said. Guangxi-born Li showed off his Cantonese when asked to give a boost to Hong Kong athletes: "They are able sportsmen. Work hard and you will get good results." He said he had moved to the city under the admission scheme tailored to professionals and those with talent. Meanwhile, Zhang Xiaoyan , a spokesman for Li, confirmed that Li had become a Hong Kong resident through the Quality Migrant Admission Scheme, but added "he's not a permanent resident yet". Hong Kong film director Ching Siu-tung, who was responsible for the spectacular wire works during the opening ceremony, told the South China Morning Post (SEHK: 0583, announcements, news) that Li had been living in Hong Kong for a considerable time, splitting his time between Hong Kong and Beijing. "I know that he lives in Hong Kong. He has a home in Beijing, too, but I didn't know that he has officially become a Hongkonger," said Ching, who worked with Li in 1994 in his film Wonder Seven, starring Michelle Yeoh Choo Kheng. Fourteen years later, Ching's wire works pulled Li into the sky to light up the torch at the "Bird's Nest" National Stadium during the ceremony. "It doesn't really matter of whether we are Hong Kong or mainland any more. We all work together for one country and that's China," he said. A spokeswoman for the Immigration Department declined to comment on individual cases out of concern for people's privacy. The department's Quality Migrant Admission Scheme has admitted a handful of talented mainlanders, including renowned pianist Lang Lang , since its launch in 2006. The mainland media reported that former medal-winning gymnast Liu Xuan was also on the application list. Until June this year, the scheme had received 1,947 applications and had accepted 493 people.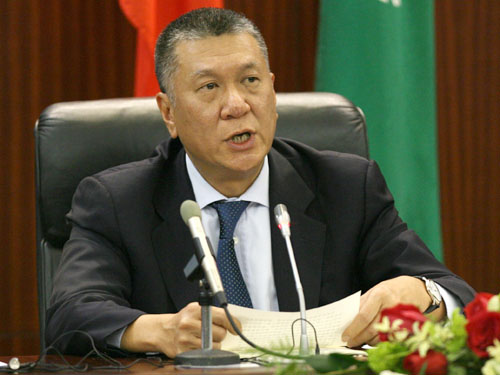 Macau's gaming revenue may fall next year amid a cooling of the economy, the city's chief executive has warned. Edmund Ho Hau-wah made the remark yesterday in his second question-and-answer session at the Legislative Assembly this year as he addressed lawmakers' concerns over severe inflation, rising costs faced by industries, unemployment, housing shortages and other problems. He said the city's economic growth would slow in the coming year, and the government would accordingly be more prudent when planning its policy initiatives. "We can't be too optimistic about next year's economic development. A lot of unstable factors have emerged in the global market," Mr Ho said. During the two-hour session he repeatedly warned about the impact of worldwide volatility on Macau's economy. But he stressed that the government had sufficient fiscal reserves and that resources spent on projects to improve people's livelihood would not be cut. "It will not be surprising if income from some sectors, such as the gaming industry, records negative growth next year, as it had grown at a high speed in the past," he said. Casino revenue dropped by 3.1 per cent in the second quarter of the year, the first quarter-to-quarter drop since the opening up of the market in 2005. The mainland's increased limits on visitor permits to Macau have brought fears of further decline in casino-driven profit. While the government has pledged to strengthen regulation of the industry, Mr Ho said it would strike a balance to maintain a fair and stable business environment. "We will not permit overheated development, but we will not call a halt to investment either. Otherwise it will bring a large blow to the construction industry." He was responding to a question by legislator Angela Leong On-kei, who is also a director of casino operator Sociedade de Turismo e Diversoes de Macau and the fourth wife of casino mogul Stanley Ho Hung-sun. The manufacturing and export sectors were also expected to suffer from surging costs, the chief executive said. There would not be immediate solutions, but the secretary for economy and finance, Francis Tam Pak-yuen, would hold a seminar with industry representatives to discuss possible measures. Legislators expressed worries over job prospects, particularly for young graduates. Lawmaker Ng Kuok-cheong said: "There should be a strict quota for importing foreign labour. There are even more foreign workers than local workers, and this is unreasonable." Edmund Ho said most of the 10,000 foreign employees in the casino industry were construction workers, who were not competing with university graduates. The government would encourage employers to give priority to local job seekers. He also pledged to review welfare for the elderly, and said the administration would implement measures at a suitable time to help people, especially low-income families, cope with surging prices. On the land shortage, Edmund Ho said the city's reclamation plan submitted to the State Council was in the final stage of deliberation and details would be announced soon. Meanwhile, a delegation led by Secretary for Social Affairs and Culture Fernando Chui Sai-on will set off to Sichuan tomorrow to discuss post-earthquake assistance. On top of the 5 billion patacas the Macau government pledged earlier, Edmund Ho announced that a further 500 million patacas had been earmarked by the publicly funded Macau Foundation for reconstruction over three to five years.
HSI snaps losing streak thanks to resources stocks - After a four-day decline the Hong Kong market at last climbed yesterday, rising 160.16 points to 21,453.48 on rebounding resources stocks, but gains were dragged down by the slump of shares of Li & Fung (0494) and Hong Kong Exchanges & Clearing (0388).

HKEx shares slip below $100 - Bearish market outlook has driven investors away from bourse operator Hong Kong Exchanges and Clearing (0388), pushing the stock down below the HK$100 threshold after it reported a 6 percent drop in second-quarter earnings.
Wing Hang Bank (0302) and Industrial and Commercial Bank of China (Asia) (0342) both booked further write downs in their first-half results, but net profit at ICBC (Asia) rose on strong income growth while Wing Hang reported a profit drop.


China: Taiwan has agreed to receive a pair of giant pandas from China, an official said on Friday, in another sign of warming relations following the change of government in the self-ruled island. The Taipei city zoo has been cleared to host the bears, whose names said together mean "unite", the island's forestry department said in a statement on its website. China first offered Tuan Tuan and Yuan Yuan in 2006 as a gesture of goodwill to push its unification agenda in Taiwan, which Bejing considers its territory. But former president Chen Shui-bian, who wanted more distance, rejected the bears. His successor, Ma Ying-jeou, has said he welcomes them since taking office on May 20 on a pro-China platform. "This is very positive news," said Lee Tao-sheng, deputy director general with the Taiwan Forestry Bureau. "Our survey showed that over half the population wants to see the pandas." China has claimed sovereignty over Taiwan since the Chinese civil war ended in 1949, and Beijing has threatened to use force if the island formally declares statehood. Taipei's city zoo has spent T$200 million (HK$49.9 million) on equipment and a 765-square-metre panda facility. Its medical facilities and staff training have passed the forestry bureau's checks, Mr Lee said.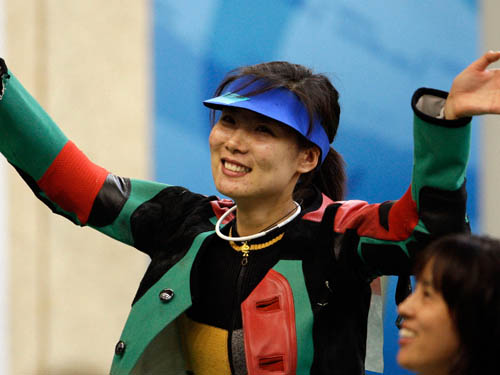 Du Li left her previous shooting competition weeping after failing to take the opening gold for China. But yesterday it was tears of joy as the 26-year-old from Shandong left clutching the gold medal in the women's 50-metre, three-position rifle competition. Du led by one point entering the finals and shot a 101.3 to win the event with an Olympic record 690.3 points. Silver medallist Katerina Emmons of the Czech Republic - who stole Du's thunder on the opening day - finished with 687.7 points. Eglis Yaima Cruz of Cuba took the bronze, and defending champion Lioubov Galkina of Russia had the double misfortune of just missing a medal in fourth place and seeing her record broken. "During the first event, I did perform very badly and it was a big pity," Du said. "I let many people down." Yesterday's victory eased the sting of Du's performance in the 10-metre air rifle event, when she was a favourite but finished fifth. She said the pressure of competing at home got to her, and it looked as though she might be in for a similar fate when she scored a round-low 8.7 on the first shot. She turned it around on the next shot, scoring a 10.3 and did not falter after that. She wrapped up the win with a 10.8 on the penultimate ninth shot. "I was a little nervous. I made the same mistake that I made at the 10-metre air rifle, but I knew I couldn't repeat the same mistake for the remaining shots," Du said. She said she received many postcards and words of encouragement since the first event and had been touched. She thanked Emmons, who had consoled her. "After the event on Saturday, she came over to me and gave me a very big hug and sincere hopes and wishes," said Du. It was four years ago to the day that Du had won her maiden Olympic title in the 10-metre event in Athens. "This date obviously brings me luck, but going into the competition was not easy," she said. "It was very hard to lose the first gold of my home Olympics, but I got a lot of support from my family and coaches and the Chinese people." Du's failure and the subsequent flood of tears raised fears China had piled too much pressure on its athletes to top the medals table. She was not the only one to fall short in the intense environment of the shooting range. On Monday, defending champion Zhu Qinan could only take silver in the men's 10-metre air rifle behind India's Abhinav Bindra, and he wept uncontrollably on the podium, later admitting he was under "tremendous pressure". China's hopes of adding a fifth shooting gold from the 11 of the 15 events held so far were dashed when world No1 Wei Ning finished last among the six finalists in the women's skeet. The event was won by world No3 Chiara Cainero of Italy after a dramatic final in blinding rain that was decided by a shoot-off between the top three competitors. Wei, the Athens silver medallist, said the bad weather ruined her chances.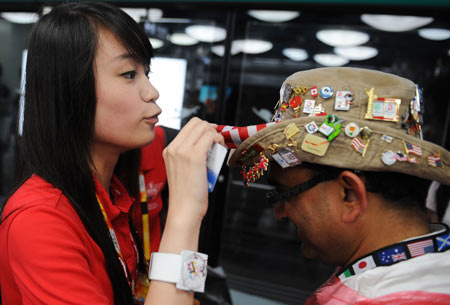 A girl takes a close look at the hat of a pin collector from the United States, which is decorated with various Olympics-related pins, at a subway station in Beijing, capital of China, Aug. 14, 2008. The ongoing Beijing Olympic Games has become a carnival not only for sports fans but also for enthusiastic pin collectors from across the world.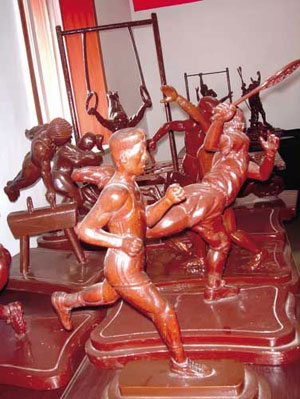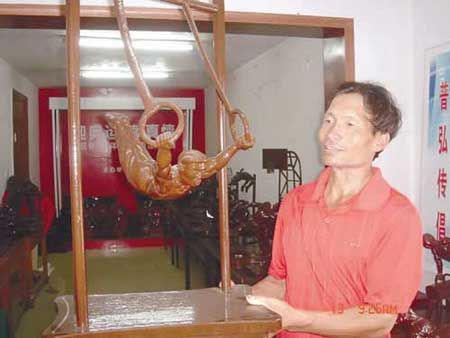 Olympic-themed wood sculptures are seen in this photo published on Friday, August 15, 2008. A man in the Northeastern Chinese city of Shenyang carved 108 Olympic-themed wood sculptures over seven years to celebrate the Beijing Olympics, the Shenyang Daily reported. Sun Guangfa, a carpenter, said he did this for the Olympics, as the Olympics calls on everyone to participate. Each of his wood sculptures is about 40 to 50 centimeters tall, and features specific sports, the Olympic mascots, and the Olympic torch. Over seven years, he used a truckload of wood as raw materials. "Different from furniture making, wood sculpture making is pretty difficult as it involves refined carving in human figure sculpturing." he said. His work is supported by his neighbors, who constantly gave him advice and help to pay some of his costs. The neighborhood community committee even provided a room for him to exhibit his sculptures.
Reconstruction efforts in quake-devastated areas of Sichuan and two neighboring provinces will cost about 1 trillion yuan (HK$1.14 trillion) and take three years to complete, according to official estimates in a tentative plan. The plan covers new houses and infrastructure for more than 3 million rural households, industrial reconstruction and the creation of jobs for about 1 million people, the National Development and Reform Commission says. Authorities said there were no plans for a large-scale relocation of people from the quake zone. "We plan to accomplish major rebuilding work within three years, enabling residents there to return to and improve their previous living conditions and level of economic development," the commission said in a 59-page draft on its website. It said funds would be raised through various channels, including central and regional government funds, donations, financing, and domestic and overseas loans. Authorities said the quake had caused more than 843 billion yuan in direct economic losses and affected nearly 20 million people in 51 counties and cities. The rebuilding scheme will include construction of about 3,400 primary schools and 1,100 high schools, and reinforcement of 2,600 others in Sichuan, Gansu and Shaanxi. The reconstruction estimate is equal to Sichuan's annual gross domestic product or one-fifth of the country's total revenue last year. But mainland media reported that the rebuilding budgets were only a fraction of provincial officials' calculations. Sichuan deputy governor Huang Xiaoxiang said last month that the total cost of rebuilding in his province alone could surpass 1.2 trillion yuan.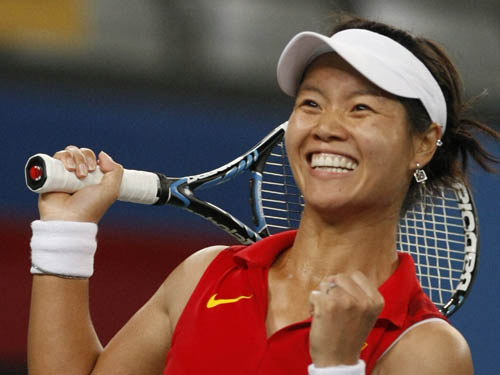 Li Na capped a great day for China when she beat double Olympic champion Venus Williams 7-5, 7-5 in the quarter-final of the women's singles last night. Shortly after her sister Serena had been knocked out by Elena Dementieva, Venus, the seventh seed, crashed out to an inspired home favourite, who immediately offered the victory as a present to the Beijing Olympics. "Venus was the best player in the world, she had just won Wimbledon," Li said. "She has big serves that I can't return, but I told myself to calm down and play my best. "Wow! You can't see this kind of crowd anywhere else. It helped me and pushed me a lot. This is a present I give to the Beijing Olympic Games but I have no time to celebrate." Li will play the winner of the quarter-final between Dinara Safina of Russia and Jelena Jankovic of Serbia. Williams raced into a 3-0 lead in the opening set, but Li, the first Chinese player to reach the top 20 in the world rankings, proved she had the stomach for a fight. After regaining parity, she seized the moment to break the Williams serve at 5-5 and served out the set in style. Li continued to play the better tennis and went on to claim victory.

After winning two gold medals in gymnastics in three days, Yang Wei's next dream is apparently a perfect wedding. A relaxed Yang, the key man in the triumph by the China men's team on Tuesday, had some fun with the 20,000 people packed in the National Indoor Stadium yesterday after bagging the men's individual all-round title. He first held both hands to his ears as if to call for more cheering, then after the medal ceremony, he swung his arm as if to toss the gold into the crowd. Some ardent fans took his little stunt for real and readied themselves for a scramble. But the most emotional moment for the diminutive yet muscular 28-year-old tumbler, no doubt at the zenith of his career, came when a camera crew pressed him for a brief speech. "Above all, I would like to say I miss you very much," Yang said. When asked to clarify who was the target of his affections, Yang admitted: "Yes, it's Yang Yun." The Yangs have one of the most publicised romances among China's sports celebrities, coming only after badminton couple Lin Dan and Xie Xinfang. Once an Olympic bronze medallist in uneven bars, Yang Yun is now a gymnastics commentator with China Central Television, although she was not in the commentators' box as many expected yesterday. Huang Yubin, head coach of the men's team, confirmed the two Yangs had already registered for marriage, but had yet to set a date. "Our next move is to let Yang Wei adjust himself, both his health and psychology," Huang said, referring to the men's finals starting on Sunday. Yang Wei is entered for the rings and pommel horse competitions. "We can't squeeze everything out of him." Chen Yibing, a teammate on the China squad that won gold two days ago, said: "Yang was very uneasy going into his third Olympics. But he handled it like a champion, and I respect him very much."
Aug 15, 2008



Hong Kong: Hang Lung Properties (SEHK: 0101) sees opportunities in the coming property bear market, claiming this will allow the developer to conclude land purchases on the mainland faster. Chairman Ronnie Chan Chichung said Hong Kong's economy was facing a tough time ahead and the mainland property market had not yet bottomed out. Despite the gloomy outlook, Hang Lung yesterday reported a record underlying annual net profit of HK$5.12 billion. "I see numerous opportunities in a bear market and on the mainland we see less competition as liquidity is drying up," Mr Chan said. "There is a better chance to buy land at lower prices. I love to hug bears." Hang Lung employs a strategy of buying land during market doldrums, which allows it to enjoy high profit margins later on. The luxury HarbourSide residential project in Kowloon Station saw margins of 67 per cent - the highest for a single project in Hong Kong. Despite the gloomy outlook at home and in the mainland property market, executive director Terry Ng believes earnings can be sustained. The company's rental income would be locked up at present rates for some time, with most leases lasting three to five years, Mr Ng said. In Hong Kong, he said office rents at its Standard Chartered Bank Building in Central had jumped 265 per cent to HK$128 per square foot from HK$35 per square foot in 2005. "Even if the rents retreat to HK$100 per square foot next year, our rental revenue will [only be] slightly reduced," he said. Although there was limited room for office rents to grow further, Mr Ng believed the chance of a significant drop remained slim. He said the company was in no hurry to sell its remaining 2,000 units in Hong Kong. "We will maintain our strategy of only releasing the units at the best possible time in a bid to maximise the development margin," he said. The units, including 1,224 at the Long Beach and 763 at the HarbourSide, were worth HK$20 billion at today's transaction prices, Mr Ng added. On the mainland, he was confident rental income would register double-digit growth. However, Adrian Ngan Wai-hung, an executive director at CCB (SEHK: 0939, announcements, news) International Securities' research department, said Hang Lung's earnings would decline as its remaining units were unlikely to achieve the same high prices as last year. "Its strong rental income will not offset the decline in property sales next year," Mr Ngan said. Turnover of Hang Lung jumped 130 per cent to HK$10.07 billion. For the year to June, operating profit from property sales soared 1,079 per cent to HK$3.55 billion and earnings from rental income rose 27 per cent to HK$3.04 billion. Shares of Hang Lung edged up 0.42 per cent to close at HK$23.70 yesterday. A final dividend of 51 HK cents will be distributed. Parent company Hang Lung Group (SEHK: 0010) reported that underlying net profit jumped 28 per cent to HK$2.55 billion. It will declare a final dividend of 54 HK cents per share.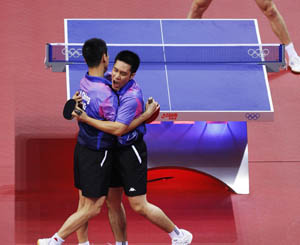 Hong Kong got off to a winning start in the men's team table tennis event yesterday, beating Russia and Nigeria in their opening two contests to take the lead in their group. The day began well with Hong Kong holding off the Russians 3-1, thanks to Li Ching and Ko Lai-chak digging deep in their pivotal doubles clash against Alexei Smirnov and Dmitrij Mazunov. They then easily brushed aside Nigeria in their evening encounter. A more severe test looms today, when they are to take on arch-rivals Japan at the Peking University Gymnasium. Li and Ko, who defeated the same Russian pair in the doubles semi-finals at the Athens Games on their way to a silver medal, had to battle back from two sets down this time around. Ko had given Hong Kong a perfect start when he overcame Fedor Kuzmin in five sets in the first singles, but the advantage was cancelled out when Smirnov - Russia's top player - defeated Cheung Yuk 3-1. With a 2-1 lead following the doubles, Hong Kong wrapped things up after 2-1/2 hours when Cheung beat Mazunov 3-0 in the third singles. "We did expect a tough match against the Russians, but did not think the doubles would be so difficult," coach Chan Kong-wah said. Li and Ko "played too conservatively, perhaps being complacent because of the Olympic medal they won last time". Ko said that at 2-0 down in the doubles, they needed drastic measures. "I told Li that we had to change our game, or we would lose the match," he said. "Instead of waiting for them to make mistakes, we played more aggressively and it paid off."
Hong Kong Exchanges and Clearing (SEHK: 0388, announcements, news) , which reported a 6 per cent drop in second-quarter earnings yesterday, says it plans to launch a carbon emission futures contract by the middle of next year. Analysts, who expect exchange profits to drop more than 30 per cent for the full year, said it made sense that HKEx would try to diversify its income at a time of falling market turnover and fewer new listings. Chief executive Paul Chow Man-yiu said the exchange planned to add environmental protection trading products, including a carbon emission reduction futures contract, by the middle of next year.The HKEx wants to team up with an overseas partner to set up a climate exchange in the next few years. It would also help investment banks issue exchange-traded funds for carbon emission products, Mr Chow said. "We want to promote environmental protection products as a way of promoting corporate social responsibility," he said. The exchange is under pressure to find new sources of income after the market slump caused its second-quarter profit to drop 6 per cent year on year to HK$1.32 billion. The results reflect a declining trend in daily market turnover, which dropped to HK$76.1 billion in the second quarter from HK$98.7 billion in the first quarter and HK$134.5 billion in the fourth quarter of last year. "We are facing challenges in the second half as the global credit crunch, high oil prices and high inflation [on the mainland] all affect investor sentiment," Mr Chow said. "The HKEx has two-thirds of its income related to market turnover." The dim outlook and disappointing profit announcement at the lunch break pushed HKEx's shares down as much as 4.59 per cent to HK$101.90 yesterday afternoon. It climbed back to close at HK$103.50, down 3.09 per cent from the previous close. Mr Chow said the lower profits were partly due to a one-off gain of HK$206 million in the second quarter of last year from the disposal of a 30 per cent interest in share registration company Computershare Hong Kong. Without that unusual gain last year, the exchange would have achieved 10 per cent profit growth in the second quarter. Net profit for the half year was HK$2.97 billion, up 28 per cent, due to a 47 per cent growth in average daily turnover compared with the first six months of last year. Basic earnings per share were HK$2.78 and an interim dividend of HK$2.49 per share will be paid, in keeping with the normal dividend payout ratio of 90 per cent. Initial listing fees in the first half fell 34 per cent to HK$5.2 billion due mainly to a decline of new listings - 23 in the first half compared with 32 a year earlier. A Thomson Reuters survey of 13 stockbrokers indicated the exchange would report a 33.07 per cent drop in its full-year operating profit to HK$4.67 billion, down from HK$6.97 billion last year. Next year, operating profit is expected to drop 21 per cent to HK$3.65 billion.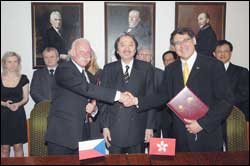 The Legal Aid Department should shoulder the cost running "no-win, no- fee" deals instead of allowing lawyers in private practice to offer the service to clients, according to the head of the Law Society. President Lester Huang said yesterday the society is strongly against a "no-win, no-fee" scheme despite it being common in the United States. In addition, council member Stephen Hung Wan-shun said such an arrangement is impractical as civil cases may sometimes drag on for years, with lawyers uncertain of whether they will get anything in the end. However, the society would not object if the "no-win, no-fee" scheme is exclusively used within the Legal Aid Department. Discussion on the "no-win, no-fee" system was resurrected recently after solicitor Winnie Lo Wai-yan, 38, was accused of offering such a deal and is now facing trial. The practice is illegal in Hong Kong.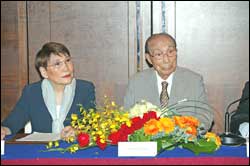 Shaw Brothers (0080), the holding company of media tycoon Run Run Shaw, said it will sell 123,031 square feet of farm land in Sai Kung to Shaw's wife, Mona Fong Yat-wa, for HK$25.2 million. The business structure of Shaw Brothers will be clearer after the land disposal, a market watcher said. The sale could make it easier for Guangdong property mogul Yeung Kwok-keung to complete his takeover of Shaw Brothers, the largest shareholder in Television Broadcasts Ltd (0511). The agricultural lands are located in Demarcation District 229 of Tai Po Tsai Village, on Clear Water Bay Road in Sai Kung. The land was previously used for props as part of Shaw Brothers film productions. Fong, who is deputy chairwoman and managing director of Shaw Brothers, agreed to pay a deposit of HK$2.5 million in cash yesterday and will pay the balance of HK$22.7 million in cash on completion of the deal. Shaw Brothers said it expects to book a gain of HK$9.4 million on the sale. As Shaw Brothers is subject to a possible takeover offer, the land sale will require approval by independent shareholders.


China: Environment-friendly Beijing Olympic Village awarded LEED gold award - Chen Zhili, head of the Beijing Olympic Village, received a Leadership in Energy and Environmental Design gold award on Wednesday presented by the U.S. Green Building Council.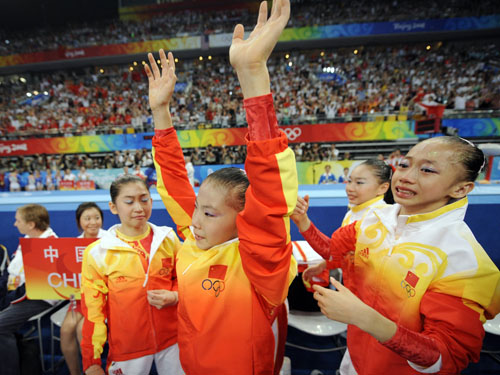 With tears in their eyes, fellow Chinese gymnasts watching Cheng Fei finish her floor routine celebrate in the knowledge the gold medal is theirs. China upstaged a hobbling United States team to claim their first women's Olympic team title in gymnastics yesterday. A dramatic fall by Cheng Fei from the balance beam did not stop China eclipsing the world champions by 2.375 points, while 2004 champions Romania settled for bronze. The triumph meant the hosts maintained their 100 per cent success rate in the gymnastics competition; their male counterparts struck gold on Tuesday. "I'm really excited. This is the strongest team we've ever had and we've won the most important medal on home soil," said coach Lu Shanzhen. "The gold medal could attract more children to gymnastics in China ... and we will be even stronger in the future. With today's performance, we really showed this is a sport full of vitality, expectations and hope." The US had entered the final with only four fit gymnasts, and major errors on the beam and floor exercise - both by Alicia Sacramone - put them out of the running for the top prize. "We really worked and we were well prepared, but unfortunately we made two mistakes and you cannot win gold with two mistakes," said US team co-ordinator Martha Karolyi. "We're just as good as China." After pulling off a string of spectacular performances on the vault and asymmetric bars, the two superpowers headed for the balance beam with China holding a narrow 1.125 point lead. Cheng, the most celebrated gymnast in China's young squad, appeared to have jeopardised their chances when she fell while attempting a full twisting backward somersault. She barely flinched at the mishap and climbed back on to the apparatus to complete her routine to earn 15.150. "I was still very calm, I knew I was going to have to do more to compensate for what I did wrong," she said. But the Americans, who knew that three clean routines would carry them to the top of the standings, failed to capitalise on the 20-year-old's misfortune. Their chance of glory evaporated within seconds after Sacramone fell off as soon as she mounted the apparatus and then fell flat on her back after her second tumbling combination in the floor exercise. Cheng had a chance to redeem herself. The moment she landed her final tumble on the floor, the National Indoor Stadium erupted into joyous celebrations while her teammates burst into tears and leapt in the air. "Before they go out there, I want them to believe in themselves. And they all did," Cheng said. "I didn't have to say anything to them. Even though they are very young, they have their own ways to learn from their experiences, and they used those ways." One thing did stun Cheng - the mistakes made by the US team.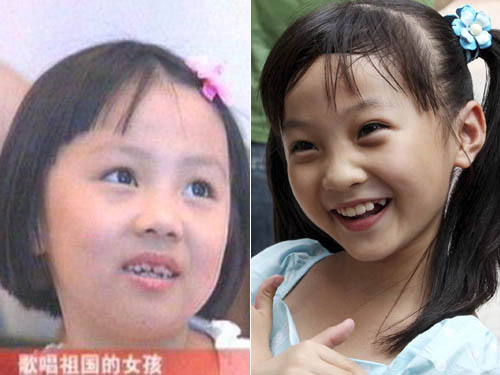 Yang Peiyi (left), whose recorded voice was mimed by Lin Miaoke. The father of the girl who lip-synched a patriotic song at the Games opening said yesterday his daughter, Lin Miaoke , and the real singer, Yang Peiyi , were treated fairly and that Peiyi's talent ensured she would have a bright future. Lin Hui , a photographer for Beijing's Legal Evening News, said he would protect nine-year-old Miaoke from the uproar and that he did not know about the lip-synching until mainland media began reporting it last weekend. Opening ceremony music director Chen Qigang said Miaoke and Peiyi were among the final four candidates for the premier performance, but Miaoke's smile, relaxed demeanour on stage and expressive gestures secured her the spot at the last minute. Ensuing comments questioned whether Miaoke was instructed to "fake" her performance. "I don't want to check with Miaoke if she was instructed to mime in the opening ceremony, which I didn't get a chance to watch last Friday night," Mr Lin said. "Both of them are heroes and just like in the movies, there are so many behind-the-scenes heroes that contribute to the final output but don't have a chance to get their names known. But as long as the audience can enjoy the happiness, publicity doesn't matter." Mainland media lauded Miaoke as a superstar and wrote headlines about her performance. But many commentators suggested that using one girl to mime another's voice turned them into victims. Mr Lin said he had told his daughter that people knew about the dubbed performance and he personally "didn't see anything wrong with using lip-synching to present Miaoke's image with Peiyi's voice". Miaoke, a third-grader at a prominent primary school in Beijing, has appeared in many commercials in the past few years and her acting talent has turned her into a star. Her father admitted music companies had inundated the family with offers, but they had decided to keep a low profile and let Miaoke relax, because "overnight stardom is just a random opportunity". Mr Chen had previously said Miaoke's voice did not have enough depth or breadth, but Mr Lin said that as a proud father he always thought Miaoke's voice was beautiful and would let her pursue acting along with her studies. "I don't want her to become a big star so instantly; study is always important," he said. In the meantime, he believed Peiyi would still benefit. "I think it's quite fair that Peiyi finally got her name recognised after the organisers admitted her performance," he said. "She will definitely receive offers from music companies, and she will become a singer with a lot of fans."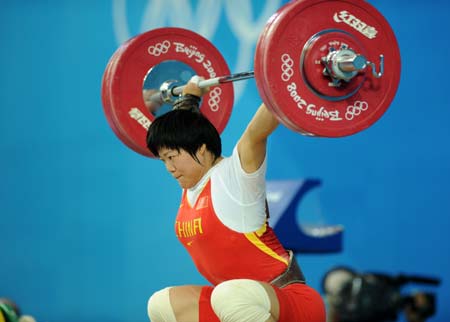 Liu Chunhong of China takes a snatch lift during the women's 69kg final of weightlifting at Beijing 2008 Olympic Games in Beijing, China, Aug. 13, 2008. Liu set a new world record in snatch lift with 128 kilos.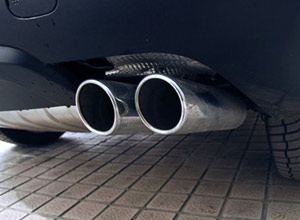 China revamps passenger car tax rates to conserve energy - China will adjust its vehicle tax rates from Sept. 1 to favor smaller-capacity, more fuel-efficient engines. The tax on cars with engine capacities of 3 to 4 liters will rise to 25 percent from 15 percent, with the rate for engines of more than 4 liters doubling to 40 percent.
Domestic retail sales leaped a brisk 23.3 percent to 862.9 billion yuan ( 125.8 billion U.S. dollars) in July this year, the National Bureau of Statistics (NBS)said on Wednesday.
Hosting the Olympics has raised China's global profile, and the country as a whole, including its cities like Hong Kong, should benefit in the long run, Moody's economist Sherman Chan said Tuesday. The seemingly immense sum spent by China in preparing for the Games was partly borne by the private sector and will not be a fiscal burden for the government, Chan said. The economist with Moody's Economy.com put the total spendings, irectly or indirectly involved in the Olympics, at around 42 billion U.S. dollars. The Beijing Organizing Committee of the Olympic Games said it spent over 2 billion U.S. dollars as operation funds, and about 280 billion yuan (40.88 billion U.S. dollars) in upgrading of municipal facilities. China said the raising of China's global profile "will help to boost tourism even after the Games end" and that "the enormous spending on infrastructure will improve the country's long-term competitiveness." "Better airport facilities, subway networks, roads and recreational venues will all help to support continued rapid development," she said. Public works built in preparation also benefited cities like Hong Kong, one of the co-host cities, she said. In the short run, however, playing host to the Olympics will neither boost nor curb China's growth in this year, Chan said. There will be a surge in retail trade during the third quarter but much of this could be offset by the effect of special temporary measures enforced for the Olympics, she said. Nevertheless, there could be the loosening of the labor market after the Games, as "jobs have been created over the past few years," which will be a challenge, she said. Larry Jiang, managing director of Guotai Junan Hong Kong, also said the hosting of the Olympics will not be a boost to the economy in the short run and, therefore, it is unlikely for China to suffer a post-Olympics economic slowdown.
Aug 14, 2008



Hong Kong: Microsoft chairman Bill Gates met with Chief Executive Donald Tsang Yam- kuen in Hong Kong yesterday and spoke of how the information technology industry can help forge the city's digital future. The third-richest man on the planet arrived in the city from Beijing after taking in the opening ceremony of the Olympic Games. He met Tsang at Government House. Gates said the IT industry can work with the government on education, digital inclusion and the realization of Hong Kong's desire to become a leading digital city. Last night, he took part in Microsoft's innovation forum with local academics, industry leaders and policymakers at the Hong Kong Exhibition and Conference Centre. "Since 1999, we've had 95 students from universities here in Hong Kong who've had internships in our research group," said Gates. He also spoke of Hong Kong's participation in Microsoft's Imagine Cup which sees 200,000 students from around the world compete. "Students from China and Hong Kong do very well, win a number of categories, but I'm sure you're not too surprised about that," he said. Gates also shared his vision of a knowledge-based economy, which enables citizens and businesses to realize the full potential of the information society. "Researchers in academia play an essential role in expanding the boundaries of scientific knowledge and driving progress." Gates emphasized how intellectual property protection is critical to the health of a vibrant IT industry and continued innovation in Hong Kong. Anti-piracy efforts by government and industry bodies are producing positive results and will continue to benefit Hong Kong's future. "China and Hong Kong, I think, will represent a very substantial percentage of the innovation that's taking place in these areas in the future." Tsang said he valued the insights and discussions with Gates about exploring new ground to further the prosperity of the IT industry.
The German equestrian eventing team gallop in celebration after bagging an Olympic gold medal yesterday. The individual eventing gold also went to Germany.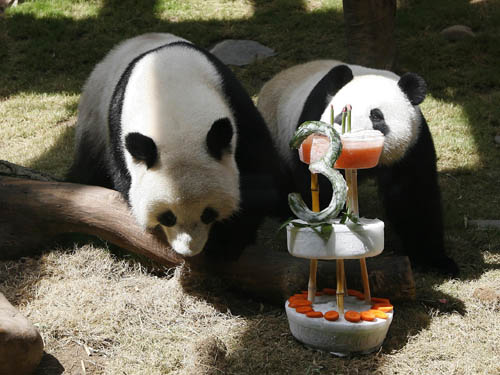 Le Le (left) and Ying Ying tuck into their birthday cake of ice, carrots, bamboo and apples yesterday at their party at Ocean Park. They finished the cake in a few minutes. Ocean Park is keeping its fingers crossed for giant pandas Le Le and Ying Ying to produce Hong Kong's first panda cub after the pair reach sexual maturity next year. "Pandas become sexually active at four to five years old. Hopefully, they will have a baby soon," said Ocean Park chairman Allan Zeman at a birthday event held for the furry pair, who turn three this month. "[I'm] praying every morning!" Mr Zeman said the park would work closely with experts from Chengdu and the United States to ensure a fruitful coupling. The pair will be moved from their existing home at the panda reserve to a new attraction by late 2009 to encourage mating, Ocean Park public affairs manager Christine Lau Wai-king said. The Amazing Asian Animals attraction, the new home of Le Le and Ying Ying, is part of the park's HK$5.5 billion expansion that will feature other exotic Southeast Asian creatures such as red pandas, salamanders and Chinese alligators. The three-year-old pandas live with seniors An An, 22, and Jia Jia, 30. Jia Jia is now the fourth-oldest panda in the world, Mr Zeman said. The pandas received a birthday serenade from the Hong Kong Treble Choirs Association and a 30-metre hand-printed card. They were also treated to a three-tier iced birthday cake of their favourite foods, which they devoured within minutes. The birthday celebrations went hand in hand with a fresh wave of Sichuan earthquake relief efforts, which were launched last month. Donation boxes will be placed around the park from today until August 31 for the public to contribute to the park's Giant Panda Base Rebuilding Fund, set up to aid the 1,000 affected pandas in the province's devastated reserves. The most generous donor will win a trip for four to the Chengdu Research Base for Giant Panda Breeding. The park will be also co-operating with the Hong Kong government in restoring 12 of the reserves that were hardest-hit in the devastating earthquake. Work is expected to be completed within next year, starting with the rebuilding of wrecked roads leading to the Wolong Giant Panda Nature Reserve in Sichuan. "It's the best gift I can think of for the pandas," Mr Zeman said.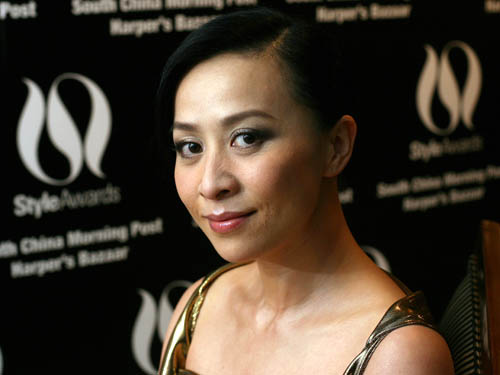 The former publisher of a magazine that printed a semi-nude picture of a kidnapped actress four years ago was fined HK$20,000 in Eastern Court yesterday for publishing an obscene article. However, three former executives of Eastweek magazine, who were allegedly involved in the decision to publish the semi-nude photo of actress Carina Lau Ka-ling, forcibly taken during her abduction, on the front page in October 2002, have pleaded not guilty to the same charge. Then chief editor Mong Hon-ming, editorial specialist Wong Kim-man and executive editor-in-chief Lee Sin-sau, who left their jobs when the magazine was forced to close three days after printing the photo, will jointly stand trial on December 8 for publishing an obscene article. The trial has been scheduled for five days. Barrister Jon Wong, who is representing Mong and Eastweek's former publisher New Media Group, told the magistrate, Bina Chainrai, that it was never the publisher's intention to harm anyone. "Although there were internal guidelines that pictures suspected to be obscene should be sent to the Obscene Articles Tribunal for classification, that normally takes three to five days and they can't afford to do that every time. Sometimes editorial misjudgment is inevitable among publishers." Publication of the photo sparked a public outcry, including a protest by movie stars and other celebrities against Eastweek and a number of other magazines that reprinted the image. Mr Wong pointed out that Eastweek was shut down and apologies were published in major newspapers three days after printing the picture - which was classified as obscene by the tribunal two days later. Eastweek magazine appealed against the ruling, saying the photo was published to warn the world of such crime. The appeal was dismissed. The kidnapping was said to be a punishment for Lau's refusal to take part in a film funded by triads.
Angela Leong keeps feet on the ground despite a colorful life - Angela Leong On-ki started life as a little-known girl from Gunagzhou but today she is a celebrity in control of HK$10 billion. Leong, 48, is a director of SJM Holdings (0880), which listed in Hong Kong last month. A mother of five - three sons and two daughters - she knows it takes more than business savvy to be the fourth wife of casino mogul Stanley Ho Hung-sun. Leong is a member of Macau's Legislative Assembly and is active in public and charity service. In an exclusive interview with Eastweek, a sister publication of The Standard, in which she was asked whether being with Ho was the best decision she made, Leong said: "He's the biggest gift to me from God. To know Stanley Ho is my blessing - from cultivating goodness in my past lives." She said she knows where she stands as Ho's fourth wife. "Every woman wants to have a partner that gives her most of his time. Yet I knew how much time I would get from him since my first day with Mr Ho." She said she knows her ranking as his wife. "If you treat this fact with peace in your mind, you won't be jealous or unhappy. Some people from outside suggested we fight each other. They're just trying to stir up disputes." She described his other wives - first wife Clementine Leitao, second, Nam king-ying, and third, Chan Yuen-chun - as extraordinary individuals and said that she enjoys a good relationship with them. "Mr Ho is such a great figure. He can shape an ordinary person into something extraordinary," Leong said. Her other key for a harmonious family is to treat her stepchildren as her friends - the same technique she uses on her own children. Leong was candid about her life as a dancer in the Guangzhou Song and Dance Ensemble after her father died of cancer when she was 13. She was offered work at Guangdong Television but declined as it was a five-year contract. She instead opted to teach dancing in Macau, where she earned about 700 patacas (HK$688) a month. It was one of four jobs she held at that time. Her life changed when she met Ho in 1986 at a private ball where she was introduced by Ho's third brother. Three years later she worked as a clerk in the casino's accounting section, earning 3,000 patacas a month, although she continued to teach dancing, this time at her own dancing school. She went to ballroom dances with Ho on many occasions until she became Ho's fourth wife. To maintain a harmonious life with a busy man 38 years her senior, Leong said she stands before Ho as a student. "In fact he is more than a teacher, he's a professor." But she knows she has to catch up with Ho's growing wisdom, not from books but from doing business. Her personal wealth is said to have grown to HK$10 billion after the purchase of the whole block of Bank of China Insurance Building on Des Voeux Road, Central, for HK$800 million in June, and Entertainment Building in Central for HK$2.7 billion in 2005.
Five fishball wholesalers have closed down because of inflation and the appreciating yuan and there are fears the most famous local brand may also be on the brink. The Labour Department said the position of Cheong Kee Special Food Products is unclear but confirmed that 28 of its workers have sought help to claim unpaid salaries, long service payments, commissions and subsidies outstanding since last month. It said it is negotiating with the company but calls from The Standard to Cheong Kee yesterday went unanswered. "Rumors that Cheong Kee is closing down have been circulating for some time," said one fishball wholesaler, who would only give his name as Chiang. He said five fishball wholesalers have closed over the past two years because of the rising costs of fish and transportation. However, since these wholesalers were not as famous as Cheong Kee, their problems and eventual closures went practically unnoticed, Chiang said. "There will be certainly be more closures to come if the business environment does not improve," he warned. Chiang said the operating environment for fishball wholesalers has become extremely harsh in recent months with the industry hit by a double whammy of inflation and a rising yuan. Ms Cheng from the On Lee Noodles Shop, which specializes in fishball noodles, said the price of fish has leaped by at least 30 percent because of the rising cost of fuel and fishermen's equipment. The strong yuan, which the China International Capital Corporation forecasts may appreciate 8 percent by the end of this year, is also pushing up the cost of raw materials, most of which are imported from the mainland. Local legend Cheong Kee was started more than 25 years ago by fishball delivery man So Kam-tai. The company underwent rapid expansion, going global with operations in the mainland, United States and Canada.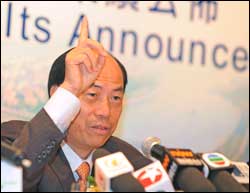 Country Garden Holdings (2007) said net profit for the six months ended June 30 dropped 28.5 percent year-on-year to 1.016 billion yuan (HK$1.16 billion) on a fair value loss from derivative financial instruments. Underlying profit rose 26.8 percent to 1.46 billion yuan from the previous year. This excluded the fair value loss of about 442.8 million yuan on an equity swap and the interest income of about 270 million yuan from subscription monies from its initial public offering last year. The Guangdong-based developer entered into a cash-settled equity swap transaction with Merrill Lynch for its shares of up to US$250 million (HK$1.95 billion) in February, along with the issuance of convertible bonds. Under the agreement, Country Garden receives a payment if the final price is higher than the initial price, and the equity swap counterparty receives a payment if the final price is lower. The principal amount of the convertible bonds increased to US$600 million in March, from US$500 million the previous month. The share price of Country Garden fell about 20 percent from February to June. The shares closed yesterday at HK$4.25, down 3.85 percent, representing a 21 percent drop from its IPO price in April 2007 of HK$5.38. "The agreement was signed when our share price was at HK$6 to HK$7 in February," chief financial officer Estella Ng Yi-kum told a press conference yesterday. "It is set to end in 2013. The [fair value] loss will not affect our cash flow now, but appeared for accounting purposes." Revenues for the first half were up 23.3 percent to 7.44 billion yuan. No interim dividend was recommended. Contracted sales amounted to about 10.1 billion yuan, as of July 31, about one-third of its target for this year. "We do not plan to adjust our sales targets and construction targets as there are more than four months [left] this year," said chairman Yeung Kwok- keung. "We plan to launch about 16 projects in the second half."
Hong Kong has resumed importing poultry meat and products from Suffolk and Norfolk of the United Kingdom as the counties have taken control measures and no more avian flu cases have been reported, the Center for Food Safety of Hong Kong said here Tuesday. The center suspended processing of applications from Suffolk and Norfolk counties after highly pathogenic avian influenza H5 cases were confirmed in poultry farms in November 2007. It has resumed British poultry imports last month, except from Suffolk, Norfolk, Oxfordshire and Warwickshire counties. "However, Oxfordshire and Warwickshire counties are still under suspension since these two counties have been previously included in the surveillance zone due to confirmation of highly pathogenic avian influenza H7 cases in poultry farms in June this year."


China: Inflation on the mainland fell last month to its lowest level in 10 months, a trend some economists say may continue for the rest of the year and allow Beijing the flexibility to boost growth amid a global slowdown. The consumer price index rose 6.3 per cent, slower than the growth of 7.1 per cent in June and 7.7 per cent in May, the National Bureau of Statistics said yesterday. The data on the decline came just a day after the government said producer prices surged 10 per cent last month, the fastest pace in four years. The news sparked fears that higher costs could erode corporate profits, but economists did not think the rise would feed into consumer inflation. They attributed the easing of consumer inflation to the declining rate of food price increases and last year's high base. Food prices, which make up more than a third of the CPI calculation, remain one of the main drivers of inflation. They went up 14.4 per cent last month, but that was almost 3 percentage points less than in June and 6 percentage points lower than the growth in the first half. Economists said the easing of inflation might embolden Beijing to act further on its decision last month to focus on maintaining economic growth while reining in prices. "This should provide more room for the government to relax its price control measures and put more emphasis on growth than on inflation in its macroeconomic policies," said Sun Mingchun, an economist at Lehman Brothers. Jing Ulrich, the chairman of JP Morgan China equities, said falling inflation suggested the government's macro-tightening measures had been effective, increasing the chances of a shift to targeted pro-growth policies in this half of the year. "The government has more leeway to formulate targeted pro-growth policies," Mrs Ulrich said. Mr Sun said inflation should slow further for the rest of the year, as more increases in food supplies would ease the disease and natural disaster-led shortages that had developed since the second half of last year. He said inflation should fall below 6 per cent this month. Mr Sun also lowered his inflation forecast for this year to 6.8 per cent from 7.2 per cent. Morgan Stanley also sees inflation declining. "We believe headline inflation is set to ease further," said chief China economist Qing Wang. "Even if food prices remain at the current level this month, the base effect alone will bring year-on-year food inflation below 11 per cent and overall headline inflation below 5.5 per cent." The bank forecast 7 per cent inflation for the year. Last month's inflation rate was the lowest since the 6.5 per cent growth in October last year. It was the third consecutive month that the consumer price index had fallen. The index hit an almost 12-year high of 8.7 per cent in February. For the first seven months, the inflation indicator rose 7.7 per cent year on year. Inflation rose 7.4 per cent in urban areas and 8.3 per cent in the countryside. Despite the moderation in food prices, non-food items are gradually having a bigger impact, rising 2.1 per cent last month, up from 1.9 per cent in June and 1.7 per cent in May.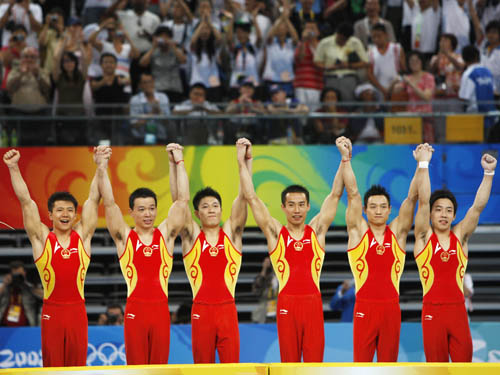 China's men's gymnastics squad (from left) Chen Yibing, Huang Xu, Li Xiaopeng, Xiao Qin, Yang Wei and Zou Kai celebrate after taking the team gold. It was a mixture of revenge, pride and relief that filled the National Indoor Stadium yesterday when China secured the Olympic title it has long craved and everyone else expected - team gold in men's gymnastics. Most of the squad broke down in tears after storming to the title in style - with good reason.That humiliating defeat in Athens four years ago was marked by a flurry of unthinkable blunders: Li Xiaopeng sat squarely on the mat after landing in the vault competition, Teng Haibin dropped off the pommel horse before he could finish his routine, and Yang Wei fell from the high bar, costing him the all-round title and the team the collective trophy. The team finished fifth, an unacceptable result for a country with as much ambition as heritage in the sport, and China finished the 2004 Games with just one gold and two bronzes in gymnastics.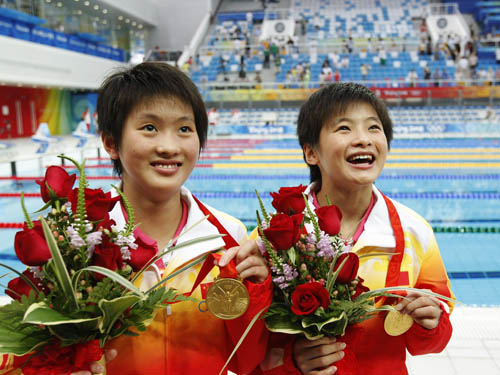 Chen Roulin (left) and Wang Xin (right) - Wang Xin gave herself a birthday present to remember with an Olympic gold medal in the women's synchronised 10-metre platform competition as China claimed their third straight win. Along with her 15-year-old partner Chen Roulin, Wang, who turned 16 on Monday, saw the hosts continue their dominance in the diving pool after victories in the men's synchronised 10m platform on Monday and the women's three-metre synchronised springboard on Sunday. With short haircuts and baby-faced features, the two schoolgirls look barely old enough to be allowed out unaccompanied in China's capital city, let alone able to dominate an Olympic diving event. "It is a very happy day for me, my friends gave me a lot of presents for my birthday and now my dive partner has given me friendship and a gold medal," said Wang. The teenagers have their daily schedule planned meticulously by coaches, who have drilled them to treat every competition the same - even an Olympic final. "We have a whole programme planned for us including when we get up and when we train," said Wang. "This is all decided by our coaches, we were told we shouldn't give too much focus to the Olympics, just treat it like any other competition and be relaxed." But when the pair were asked by a Chinese journalist about their matching boy-like haircuts, Wang swiftly clarified their appearance for him. "I can assure you, we are still girls," she replied sharply. Despite their tender years, their technical diving dominated the field and continued China's bid for a clean-sweep as they now have three gold medals from three events with five more to come. Chen won gold at the 2007 World Championships in Melbourne with her former partner Jia Tong, before teaming up with Wang in 2007. The duo have already won several titles including the World Cup in February this year. Chinese divers have dominated the women's synchronised 10m platform event since it was introduced in Sydney. In Beijing, Wang and Chen led from the first of the five dives, building a huge lead to finish nearly 30 points ahead of silver medallists Briony Cole and Melissa Wu of Australia. China claimed the gold with 363.54 points, Australia's Cole and Wu took silver with 335.16 and Mexico's Paola Espinosa and Tatiana Ortiz grabbed bronze with 330.06. Having picked up a single perfect 10 score from the nine judges for both their first and second dives - the only two full-mark scores awarded in the competition - the young Chinese pair were never threatened from that point on.
Mainland tourism chiefs said yesterday that the number of tourists visiting Beijing would peak after the Olympics but admitted that many regular visitors had been deterred from going to the city during the Games. They declined to say if they were satisfied with the number of foreign arrivals in the capital, suggesting that Beijing's expected Olympics tourism bonanza might fail to materialise. "According to the experience of previous Olympic cities, the peak tourism period in host cities comes after the closing ceremony of the Games," Wang Zhifa, deputy director of the National Tourism Administration, said. Many tourists not interested in attending the Games would wait until they had ended, with relatively few regular tourists likely to visit this month. He declined to estimate how many overseas visitors would arrive this month, or to speculate on whether the number would surpass last year's figure. Officials have previously stated that Beijing expected to host between 400,000 and 500,000 overseas visitors during the Games, compared with the 420,000 who came in the same period last year. But many three- and four-star hotels in the capital have complained of low visitor numbers and have been forced to cut room rates to attract guests. Anecdotal evidence suggests that tighter visa rules for tourists and business travellers, designed to ensure security at the Games, have made it tougher for many foreigners to get into the country. A big-spending corporate party of 128 cancelled their trip to Beijing after several members were refused visas, said Tom Seymour at Elite Sports, which runs corporate hospitality events. But Mr Wang played down the visa issue. "This has not been a frequent problem. Some regular tourists might have found the process of getting a visa a little more complicated than normal, but it has not been a major issue." As of Sunday, occupancy in officially designated upmarket hotels stood at 81 per cent, with the average standard room priced at 2,946 yuan (HK$3,360), he said. Although some foreign tourists might have been deterred by May's earthquake in Sichuan , Mr Wang said the vast majority of popular tourist sites in the province had been unaffected. "I am confident that all the tourist areas badly hit by the earthquake will be back to normal within three years."
Gymnast Li Xiaopeng yesterday became the most decorated Chinese gymnast, upstaging even the "prince of gymnasts" Li Ning (SEHK: 2331) , when he won his third career gold medal in the team competition. Li's gold gave him 17 Olympic and world titles in his career, putting him well ahead of Li Ning's 14 career championships. Li Ning, who catapulted his Olympic success into a multimillion-dollar sportswear empire, won six medals at the 1984 Los Angeles Olympics, including three gold, earning him the title "prince of gymnasts". At last Friday's opening ceremony, 44-year-old Li Ning lit the Olympic flame in a high-wire act that saw him circling the "Bird's Nest", watched by the crowd of 91,000 and billions watching on television worldwide. Li Xiaopeng, 27, who is competing in his third Olympics, said: "I think I'm a little old for a gymnast. We have been through a lot over the past eight years. We put so much effort into this competition. "The whole team is united and very confident," added Li, whose arm was bleeding from a wound after his parallel bars routine. "It's not serious and won't affect me. My arm bleeds easily. I will fight on." His performance in the vault yesterday helped the hosts win the coveted team gold, and earned him his first trip back to the top of the Olympic podium since the 2000 Sydney Games, when he also won a team and individual gold. Since then he been hampered by injury and bad luck, especially during the 2004 Athens Games.
China drew a total US$60.7 billion (HK$473.46 billion) in foreign direct investment in the first seven months of 2008, 44.5 percent more than the same period last year, the Ministry of Commerce said.
China's first tour groups to Taiwan attracted fewer people than expected because of costly air travel, difficulty in getting tickets and complicated border- crossing procedures, a Chinese tourism official said.
China's currency on Tuesday dropped against the strengthening U.S. dollar for the 11th consecutive day, the longest continuous fall since it was unpegged from the dollar in July 2005.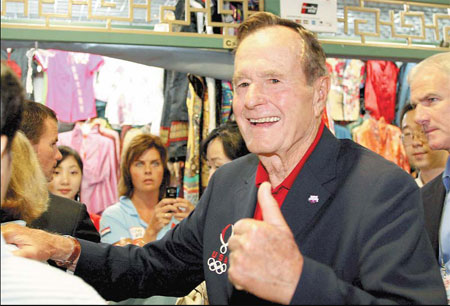 Former US president George Bush gives the thumbs during a shopping trip to the Silk Market in Beijing on August 11, 2008. The market, a popular shopping place for locals and visitors, has been visited by 11 first ladies and four presidents since the Games began. The Silk Market, a popular shopping place for locals and visitors, has been visited by 11 first ladies and four presidents since the Games began. "Yesterday, was a red-letter day for me and the Silk Market. We received two important guests - former president George H. W. Bush, and Anne Rogge, wife of Jacques Rogge, president of the International Olympic Committee," Wang Zili, general manager of Beijing Silk Street Co Ltd, said. At about 11 am, former president Bush visited the third floor of the market, and was instantly recognized by other shoppers. Chen Xu, salesman for a shop selling Chinese silk, said he could not believe his eyes when Bush walked in and looked at some bolts of cloth. "He asked if it was silk. He was very polite," Chen said. Bush then visited a store selling silk nightgowns, pyjamas and housecoats. "The gowns are pretty and of good quality. I love the colors," Bush said to the salesman, Zhang Ting. Bush bought six gowns for 1,800 yuan ($250). One was dark blue with an embroidered dragon on the back. "It was an amazing experience," Zhang said. Immediately after Bush left, people rushed into the store to see what he had bought, he said. Anne Rogge bought a Chinese-style red jacket made of raw silk and a silk blouse for 600 yuan. "It is always a great pleasure to visit the multiple shops in the market," she wrote in the visitor's book. Hiane Lahcene, a French marathon athlete, asked Zhang to help him choose some silks items for his family and friends. "This is my first visit to China. I want to take home things that are traditionally Chinese," he said. Zhang was only too happy to oblige. "Generally, we sell about 2,000 yuan a day. The turnover today is double," he said. Storeowner Li Haiping also welcomed some distinguished guests - Gibson E. Armstrong, state senator of Pennsylvania and his wife. "We have already bought two silk ties and some toys. They are just wonderful and cheap," Armstrong said. Li said the number of visitors to her store since the start of the Olympic Games had risen by more than 30 percent. Other VIPs who visited the market yesterday and items they bought: Zimbabwe's First Lady Madame Grace Mugabe: Pearls, clothes and silk. Josaia Voreqe Bainimarama, president of Fiji and First Lady Leba Qarase: Pearls, clothes and electrical products. New Zealand's Governor-General Dame Silvia Cartwright: Pearls and T-shirts. Samoa's First Lady Maryanne Togiola Tulafono: Leather goods. Romania's First Lady Maria Basescu: Handcrafts and jewels.

Tourism: Tourism hit as Beijingers stay home - Beijingers are demonstrating their passion for the Olympics by staying home, and that is proving to be bad news for outbound tourism, industry insiders have said. Lin Kang, deputy general manager of the outbound department of the China International Travel Service (CITS), said: "The outbound sector saw a slight increase in July, but in August it is down by 20-30 percent on last year." July and August are gener-ally the peak months for outbound travel. Several small-scale travel agencies have organized just two or three overseas travel groups this month, the Shanghai-based National Business Daily reported Monday. The main reason is Olympic fever, which has gripped China this summer, Lin said. "Many customers canceled their plans to travel abroad in favor of working as volunteers or simply staying home to watch the Games," he said. But there are other reasons, such as a reduced number of tickets, fewer business travelers and the depressed stock market, insiders have said. Zhang Qingzhu from CCT International Travel Service Ltd said airlines have reserved some seats on international flights for Olympic officials and athletes, which has cut the number on the market. Furthermore, workers and officials at large State-owned companies and government departments - major con-sumers of incentive tours and business trips - have been ordered to "stay put" during the Games to ensure the city runs smoothly, Chen Xiaobing, general manager of Beijing Caissa International Travel Service Co Ltd, said. Olympic fever has also hit business travel into and out of Beijing, leading to price cuts on many domestic flights. "The day of the opening ceremony was the watershed for price plunges this month," Zhang Wei, an air ticket manager from online travel firm Ctrip.com, said. Passengers flying from Shanghai to Beijing on Aug 7 and 8 could get discounts of between 10 and 30 percent. But in the week after that, discounts of up to 60 percent were being offered, he said. The good news for customers is that as ticket pries have fallen, tour firms have also cut the cost of their packages. Zhang Lingjie, deputy man-ager of the domestic depart-ment of CITS, said the prices of almost all domestic tours - even to popular places like Yunnan and Hainan - have been cut. "Last year, a four-day tour with return flights to Lijiang sold for about 4,700 yuan ($685). This year, the same tour is available for just 2,380 yuan," he said. This has certainly helped the domestic tourism market, which was badly hit by the May 12 earthquake. "There are now only a few places left on several tours to Hainan, but the market is still depressed overall," Zhang said.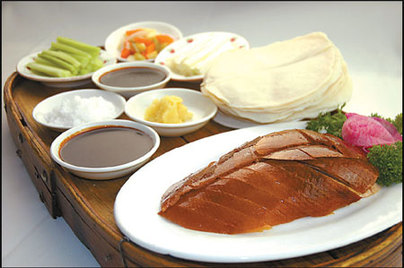 Among the fast-changing trends of international cuisine, Peking Duck is a rare enduring classic, with a history stretching back 1,600 years. Indeed, demand for the dish is so high that the most popular venues are not just single restaurants but chains of restaurants - Quanjude, for example, is listed on the stock exchange. Quanjude (the name means "a complete gathering of virtues") is currently top of the pops for Peking Duck but is no longer the only famous chain serving it. Da Dong, named after its chef and founder, is popular among expats and has become famous for its light and healthy twist on Shandong and Beijing foods. The grand-daddy of them all, Bianyifang has just opened its latest branch by the 4th Ring Road in southwest Beijing, with both a modern and traditional dcor. It even has a Peking Duck museum to illustrate the history and techniques involved in the making of the legendary dish. Bianyifang was established in 1416, while Quanjude would be founded in 1864. It is also making constant innovations to its duck dishes, including a roast duck de-greased with vegetable juice. Other popular roast duck restaurants include Ya Wang (King Roast Duck) and Li Qun, a courtyard restaurant. For a more Western-style Peking Duck, many people visit Made in China, which offers a wide range of Chinese foods with a modern twist, with wines to match them. But if Peking Duck were an Olympic event, it would be Quanjude that has a clear lead. Its founder, Yang Quanren, made a living 140 years ago by selling ducks and chickens at a meat market, before moving on to having his own shop. Within a year, Yang had hired several assistants and changed the old closed-oven roast method to new open-oven roasting, so as to simplify and expand production. Quanjude is now so famous it has been featured in several Chinese films and TV dramas. Today, it issues a certificate to every customer who orders Peking Duck. The number of ducks it has roasted now exceeds 100 million, which explains why Quanjude has become a popular choice for investors since being publicly listed. At all major roast duck restaurants, the duck is roasted upon order and sliced right next to you. It is served with slices of spring onion, cucumber, sweet brown sauce and flour pancakes to wrap the duck and side dishes into a roll. The roast duck looks temptingly golden brown and the fragrance is - or should be - irresistible. For the more adventurous diner, restaurants often have dishes prepared with duck parts and giblets, such as quick-fried duck heart with coriander, salty poached duck liver and duck feet with mustard. The bones can also be made into a milky white tasty soup. The success of any dish depends primarily on its great taste, and competitors are constantly experimenting to improve the flavor. Da Dong's super-lean Peking Duck prolongs the 45-minute roasting process to an hour and 10 minutes, further reducing the grease and improving the flavor. Quanjude has introduced new flavors such as mustard to accompany duck dishes, while Bianyifang adds lettuce, fresh mint, turnip and leafy sprouts. Over the years, the dish has become less oily but just as tasty. Last year, Quanjude got a public roasting over its plan to use more electric ovens, citing them as a cleaner and more practical way of cooking. An Internet survey showed 77 percent of netizens were against the move, because fruitwood used in roast ovens had become part of the attraction of Peking Duck over the years. People worried that the famous old dish would become more like simple fried chicken. The age-old image of a master chef roasting a duck at a 6-foot-high drum-shaped oven heated with fruitwood proved resilient to the new notion of replacing it with a piece of metal. Quanjude eventually backed down. Taste is not the only reason for Peking Duck's unique status, though. The Chinese believe that other poultry is hot in nature and therefore brings excessive heat to the body. Duck, however, is considered moderate, even slightly cold, because it comes from water and it is believed to be good for the lungs and other parts of the respiratory system. During the bird flu scare, duck sales soared while chicken suffered. Moreover, roasting duck neutralizes its innate coldness and is thought to make it a really balanced food. So where is Peking Duck headed? Chain founder Da Dong believes it must become "a living piece of history", combining elements of old and new. "Today's science and technology can guarantee the efficient filtering of smoke and oil, ensuring that the fruitwood heating system meets health and environmental requirements," he says. Quanjude and Bianyifang are both applying for their roasting processes to be declared worthy of cultural heritage status and thus worth preserving. The two restaurants have also set up museums showcasing how Peking Duck has stood the test of time and remained a favorite food for the Chinese. Meanwhile, restaurants like Da Dong keep in touch with master chefs from other countries, so helping to keep them in the forefront of world cuisines. "But most importantly, we've followed the traditions of Chinese cuisine," says Dong. "Although we are modern and fashionable, the core of our cuisine is Chinese."
Aug 13, 2008



Hong Kong: The two firemen killed in the line of duty were yesterday elevated to hero status by their peers and superiors. Senior fire officer Siu Wing-fong, 46, and fire officer Chan Siu-lung, 25, died of smoke inhalation on Sunday while saving residents trapped in the No 5 alarm blaze at Cornwall Court in Mong Kok. Siu left behind a wife and 12-year-old daughter. Chan's mother was emotional when identifying her son's corpse at the mortuary yesterday. Fire Service Department Staffs General Association vice president Chiu Sin-chung said he had known Siu and his family for 17 years as they were neighbors in the Fu Tei married quarters. He said Siu was a helpful person and everyone had only good things to say about him. "Siu was an active figure in the department and enjoyed good relations with his colleagues," Chiu said. "He was nicknamed `Gentleman Siu' because of his good looks and he often stood as a model for Fire Services publicity activities and publications." Siu was one of the motorcycle escorts when the Olympic Flame was carried through the streets of Hong Kong on May 2. He also served as a department sports coach and represented Hong Kong in the 2006 World Firefighters Games. To his juniors, Siu was an unselfish and protective mentor always willing to share his 24 years' experience. To his family, he was a responsible father, disciplining his daughter well, and had a harmonious relationship with his wife, Chiu said. Chan, who joined the Fire Services a year ago, was a rising star in the department. He won the "Golden Axe" outstanding student award in the Fire Services Training School before being assigned to the Mong Kok fire station where he was partnered with Siu. Chiu said although he did not know Chan personally, his achievements in training school indicated he must have been a passionate and polite student who excelled in all technical, practical and academic aspects of the program. Chong Yun-cheung, principal of Buddhist Chi Hong Chi Lam Memorial College from which Chan graduated in 2002, described him as an ambitious youngster. He was a track and field athlete who was not afraid of tough training. Teachers remembered him as a polite and respectful student who tended to be quiet and serious. The Fire Service Department Staffs General Association has set up a condolence fund account at the public's request for the families of Siu and Chan. Donations can be made to Nanyang Commercial Bank account number 043-479-0-012064-6.
A young woman poses in front of a fence during the competition. More than 10,000 spectators were allowed to roam the hills and grassland at the Sheung Shui venue. The equestrian cross-country course at Beas River saw action in earnest for the first time yesterday and drew the thumbs-up from spectators and competitors alike, on a day that saw heartbreak for China's young medal hope, Alex Hua Tian. More than 10,000 spectators turned out at the Sheung Shui venue, where they were free to roam and watch the horses and riders negotiate the 29 obstacles laid out on a vast area of hills and grassland transformed from a golf course. Hong Kong Equestrian Company chief executive Lam Woon-kwong pronounced himself happy with the smooth operations at the venue. "Everything went according to plan. All spectators behaved very well and it's apparent that they enjoyed themselves tremendously," he said. Katharine Mata, a 23-year-old university student from Australia, agreed. "This is a very beautiful course," said Ms Mata, a keen rider and equestrian fan who flew to Hong Kong with her mother for the event. But for Hua, 18, the day ended in tears when his mount, Chico, stumbled after the eighth fence, dumping him on the wet ground and putting him out of the rest of the eventing competition. "I'm absolutely gutted. I can't believe it has finally ended with a fall at one of the easiest fences on the course," sobbed Hua, the first mainland Chinese to take part in an Olympic equestrian event. Spectators enjoyed a hiking-like experience as they moved around to take up strategic positions near obstacles, such as ditches, water, stone walls and benches, kept cool by overcast conditions and light rain. International Equestrian Federation president Princess Haya bint al Hussein said holding the event in Hong Kong had meant a "huge step forwards in the research into heat and humidity in the sport".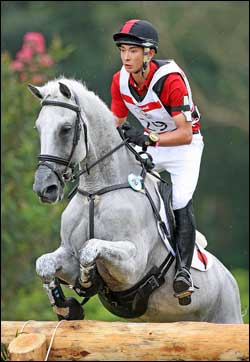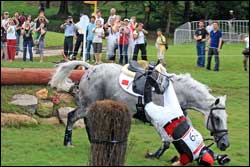 History will be made tonight in Hong Kong when an Olympic medal is presented in the territory. Equestrian Company chief executive Lam Woon-kwong encouraged spectators going to Sha Tin today to remain after the competition to witness the first Olympic medal presentation in Hong Kong. Separately, Lam denied suggestions that four riders falling during the cross-country events at Beas River yesterday had anything to do with the design of the course or the light rain. He said the cross-country event was considered by the International Equestrian Federation as one of the most difficult disciplines of the equestrian events. He said he personally considered it a "zero accident" day as no rider or horse was injured. "In a heated competition like this, we are glad all athletes are safe. Though four riders fell, none was seriously hurt," Lam said. He said falls are not unusual in cross-country competitions as they are designed to test the skill of horses and riders. Cross-country is the most complicated discipline of the events and demands perfect preparation and high skill, Lam said. What is more, he said, course designer Michael Etherington- Smith is a professional who also designed the Sydney Olympics equestrian course. Asked about a rider who claimed he fell because he tried to avoid spectators, Lam said he has yet to receive a report about the incident from the federation. Despite overcast skies and light rain, some 10,000 spectators flocked to Beas River in Sheung Shui early yesterday to enjoy the cross-country competition. Many were disappointed when Chinese rider Alex Hua Tian fell off his horse and was disqualified. "I can't believe it has all ended with a fall," said Hua, punching the turf after coming off his mount. "You only have a second to make a decision and I made the wrong decision." Brushing aside the suggestion that he had buckled under the pressure of China's medal hunger, the lanky teenager said: "I'm sorry for letting everybody down."
Cathay Pacific will cut the number of flights to North America by 10 per week in an attempt to offset the impact of soaring fuel prices. In its second wave of redeployments since July, the airline also announced yesterday that it would increase the weekly number of flights to Australia by eight to meet a strong demand and upgrade two existing services to London and Amsterdam with bigger aircraft. "The extent of the impact fuel prices are having on our business was underlined when we announced a loss of HK$663 million in our interim results last week," said Cathay chief executive Tony Tyler. "We have to maximize our earnings during this difficult period - which is why we are moving our capacity." The loss for the first half of 2008 compares with a profit of HK$2.58 billion in the corresponding period last year.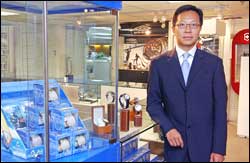 Watch maker and retailer Peace Mark (0304) moved to quash a rash of market rumors yesterday after its shares plunged as much as 73 percent. This kind of share plunge is actually a confidence issue ... in many people's opinion," Merrill Lynch Asia vice president Brenda Lee said. Peace Mark shares ended the day down 42 percent at HK$1.82. Chairman Patrick Chau Cham- wong said he was not aware of the reason for the share-price drop, but said he thinks it was related to market rumors that are not true. "I'm a bit disappointed, as the stock performance in the past few days was abnormal and does not reflect the true picture of the company," Chau said. Institutional investors including Citi, Deutsche Bank and Goldman Sachs offloaded their Peace Mark holdings in morning trading, Prudential Brokerage associate director Kingston Lin King-ham said. "The investors fear that if they cannot repay their loans in the short term, that may cause the liquidation of the company," said Sun Hung Kai Financial strategist Castor Pang Wai-sun. Peace Mark chief financial officer Kevin Tsang Kwong-chiu said the only short-term loan Peace Mark has to repay in the next year is a US$150 million (HK$1.17 billion) bridging loan it used to acquire Sincere Watch, and that the repayment date has already been extended to March 2009. Tsang said the lenders joining its US$200 million syndicated-loan offering have not tightened the deal terms. Chief executive Tommy Leung Yung said shares in the company have not been pledged as collateral for any loan. The syndicated-loan agreement does not include any covenant related to the company's share price, Tsang said. "We have full confidence in the business," Tsang said. "Everything ... is on track for the refinancing plan." There were also market rumors that CFO Tsang had resigned. "There is no change in the board and management," Leung said. "There will be no changes with the chairman, me, and the chief financial officer."


China: Beijingers are demonstrating their passion for the Olympics by staying home, and that is proving to be bad news for outbound tourism, industry insiders have said. Lin Kang, deputy general manager of the outbound de-partment of the China Interna-tional Travel Service (CITS), said: "The outbound sector saw a slight increase in July, but in August it is down by 20-30 percent on last year." July and August are gener-ally the peak months for out-bound travel. Several small-scale travel agencies have organized just two or three overseas travel groups this month, the Shanghai-based National Business Daily reported yesterday. The main reason is Olympic fever, which has gripped China this summer, Lin said. "Many customers canceled their plans to travel abroad in favor of working as volunteers or simply staying home to watch the Games," he said. But there are other reasons, such as a reduced number of tickets, fewer business travelers and the depressed stock market, insiders have said. Zhang Qingzhu from CCT International Travel Service Ltd said airlines have reserved some seats on international flights for Olympic officials and athletes, which has cut the number on the market. Furthermore, workers and officials at large State-owned companies and government departments - major con-sumers of incentive tours and business trips - have been ordered to "stay put" during the Games to ensure the city runs smoothly, Chen Xiaobing, general manager of Beijing Caissa International Travel Service Co Ltd, said. Olympic fever has also hit business travel into and out of Beijing, leading to price cuts on many domestic flights. "The day of the opening ceremony was the watershed for price plunges this month," Zhang Wei, an air ticket man-ager from online travel firm Ctrip.com, said. Passengers flying from Shanghai to Beijing on Aug 7 and 8 could get discounts of between 10 and 30 percent. But in the week after that, discounts of up to 60 percent were being offered, he said. The good news for customers is that as ticket pries have fallen, tour firms have also cut the cost of their packages. Zhang Lingjie, deputy man-ager of the domestic depart-ment of CITS, said the prices of almost all domestic tours - even to popular places like Yunnan and Hainan - have been cut. "Last year, a four-day tour with return flights to Lijiang sold for about 4,700 yuan ($685). This year, the same tour is available for just 2,380 yuan," he said. This has certainly helped the domestic tourism market, which was badly hit by the May 12 earthquake. "There are now only a few places left on several tours to Hainan, but the market is still depressed overall," Zhang said.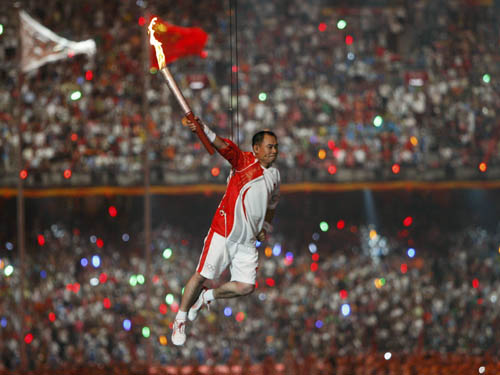 Shares in Li Ning (SEHK: 2331) rose nearly 6 per cent yesterday, three days after its chairman, a former gymnastics star, lit the cauldron at the opening ceremony of the Olympic Games. The mainland's top sportswear maker saw its stock jump as high as 5.9 per cent to HK$18.66 in morning trade, marking its biggest gain since July 24. That narrowed to 3.52 per cent later in the day, and the share closed at HK$18.24 amid a decline in the overall market. The Hang Seng Index slipped 25.87 points yesterday, extending its losses to 5,953.3 points, or 21.41 per cent, this year. "[Company chief] Li Ning lighting the cauldron definitely gave a boost to his company's share price," said Francis Lun Sheung-nim, general manager of Fulbright Securities. Castor Pang, a strategist with Sun Hung Kai Financial, said the stunt could keep Li Ning's shares up in the next few days. "But the company's upcoming interim results would be more critical." Adidas chief communication officer Jan Runau, who is in Beijing watching the Olympics, refused to comment on Li Ning's share rise - but he was keen to point out that more than 3,000 athletes were wearing sportswear made by the German firm, including Chinese stars. "It is not our policy to discuss shares of other companies. But Li Ning is an icon in China and it is only right that he had an amazing part in the Olympics," he said. Marketing professionals said the cauldron-lighting was a good stunt. "This could end up as the biggest ambush marketing coup in the Games' history," said Mark Thomas, a Shanghai-based sports marketing professional. Wang Qi , a senior executive with the state-owned China Sports Group and a friend of Li Ning's, however, said the marketing impact was unintentional. "They initially designated Xu Haifeng [China's first Olympic gold medal winner] as the first choice for the light-up stint," said Mr Wang. "But the 51-year-old marksman just couldn't pull off the ... aerial trick." Asked whether he was aware of any marketing campaign by the Li Ning company to follow up on the ceremony, Mr Wang had his doubts. "I think the lighting spoke for itself and doesn't need any further reiteration ... bear in mind, even [when] he lit up the flame, Li wore an adidas-brand shirt especially designed for torch-bearers."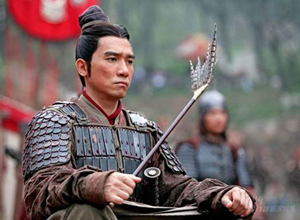 "Red Cliff" makes box office history - The most expensive Chinese film has finally become the most lucrative. John Woo's battle epic "Red Cliff" has raked in 302 million yuan (44.04 million U.S. dollars) as of Monday, setting a new record for Chinese films, Sohu.com reported.

The ongoing Beijing Olympic Games offer a great opportunity of brand promotion for Olympic sponsors and partners.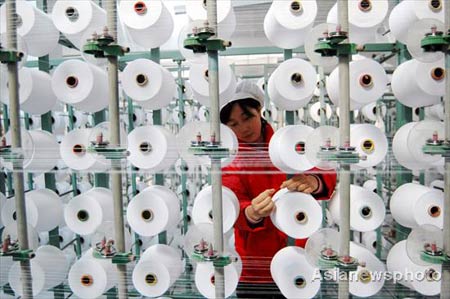 A woman works at a textile plant in Nantong, Jiangsu province in this file photo. China's trade surplus fell to $123.72 billion in the first seven months of this year, down 9.6 percent year on year, the General Administration of Customs said on Monday. China's trade surplus fell to $123.72 billion in the first seven months, down $13.1 billion, or 9.6 percent year on year, the General Administration of Customs said on Monday. Analysts said the fall was partly a result of China's policies to tame surplus, but was also because of the rising prices of energy. The European Union (EU) continued to be the country's biggest trading partner, with two-way trade totaling $243.14 billion, up 27.9 percent from January to July. Exports to the EU rose 27.1 percent to $165.04 billion, while imports grew 29.8 percent to $78.1 billion, leaving a trade surplus of $86.94 billion, up 24.9 percent year on year. The surplus growth, however, had decreased 29 percentage points. Exports to the United States, the country's second biggest trade partner, grew 9.9 percent to $140.39 billion with a trade surplus of $91.67 billion, up 3.8 percent year on year. The surplus growth, however, also declined by 15 percentage points. Japan remained China's No. 3 trade partner with bilateral trade totaling $154.93 billion, up 19.2 percent. January-July trade exports to Japan reached $65.48 billion, up 15.9 percent, while imports totaled $89.45 billion, up 21.6 percent. This created a trade deficit of $23.98 billion, an increase of $7 billion over the same period of last year. The administration said the average prices of primary products imports had soared. The country's imports grew drastically by 70.6 percent to $221.65 billion in the first seven months, 32.6 percent of the total imports in the same period. China imported 24.94 million tons of coal during the seven months with its average price jumping 51.9 percent to $70 per tonnage. Imported soy bean grew to 20.73 million tons with its average prices up 78 percent to $591.70 per ton.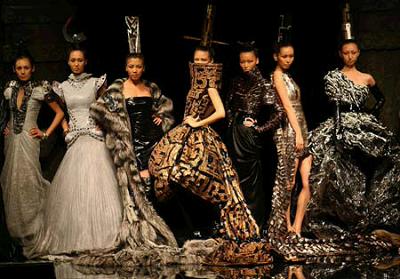 Models display creations originated from costumes in ancient China's state of Chu during the Warring States period (475 B.C. to 221 B.C.) during "Olympic Beijing, Fashion China" fashion show in Beiing, capital of China, August 9, 2008.
Aug 12, 2008



Hong Kong: Hong Kong property developers have turned their attention to investing in mid-priced hotel and serviced apartment projects located outside prime tourist centres. The outcome is a big jump in approvals for such projects, with 20 proposed developments cleared by the Buildings Department in the first half of the year, compared with just nine for the whole of last year. Most of the projects are small-scale developments that will offer between 50 and 148 rooms and are located in non-traditional tourist areas such as Western and Yau Ma Tei. Several will be developed into hotel-style serviced apartments targeting business travellers. Edwin Leong Siu-hung, the managing director of Tai Hung Fai Enterprise, said the net yield of such serviced apartments or hotels could reach between 6 and 7 per cent, despite the fact that development costs could be up to 30 per cent higher than an office project. He cited as an example the company's serviced apartment in Fortress Hill where rents for the first batch of units reached HK$40 per square foot, compared with HK$10 to HK$20 per square foot for subprime office space in non-core business areas. "It is hard for office projects offering smaller floor plates to achieve high rents," Mr Leong said. Tai Hung Fai, a property investment firm, has teamed up with Shama Group to develop serviced apartments and express hotels catering for business travellers in Hong Kong. It has an outstanding application to develop a hotel in Wan Chai, but an application to build a hotel in Admiralty was turned down by the Town Planning Board last week. Despite the setback, and the uncertain global economy outlook, Mr Leong said he was optimistic about sustaining strong occupancy rates in the group's projects, which target middle-class business travellers.Rival Hip Shing Hong Group, a long-standing developer, plans to build a boutique hotel with 90 rooms at Cheong Lok Street in Yau Ma Tei, which is scheduled for completion in 2010. The hotel is also targeting business travellers and will offer leases on a monthly basis. The firm's operation manager, Linus Ng Siu-wai, said the company would provide unique interior design and better services to attract travellers as competition in the hotel market was strong. But not all landlords develop hotel projects for long-term investment. Charles Chan Chiu-kwok, the managing director at Savills Valuation and Professional Services, said the increase in applications for hotel developments was due to higher valuations. "Recently, several sites earmarked for hotel development have been sold for good prices," Mr Chan said. "As the prices for hotel development sites are more attractive when compared with offices or residential, many investors prefer to apply for hotel development before offering them for sale." But the strategy of the smaller developers is not without risk. Hotel owners face challenges in the wake of a significant increase in supply over the next few years. Consultant Jones Lang LaSalle Hotels estimated that 12,000 hotel rooms were under construction or being planned for completion from next year. If all go ahead, the inventory of Hong Kong hotel rooms will increase 24 per cent. At the end of last year, the territory had 140 hotels with 51,581 rooms, and 511 tourist guesthouses with 5,068 rooms. The firm said occupancy rates could face downward pressure in view of the planned completion of almost 12,000 rooms from this year to 2010. The average occupancy rate in the city dipped 1 percentage point to 86 per cent last year. Hong Kong Hotels Association executive director James Lu Shien-hwai said demand for hotels remained strong. However, he is worried an oversupply might happen as applications for hotel developments increased significantly. Room rates would soften if the occupancy rate started to decline and new supply increase, he said. "Once it happens, it will take at least two years to recover."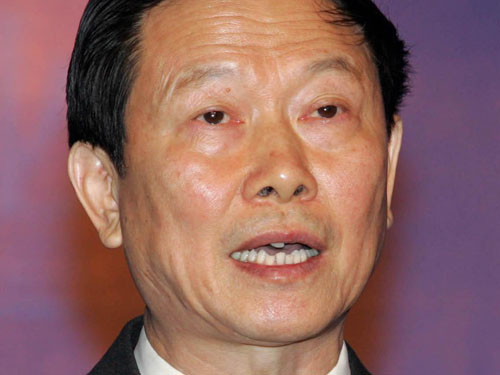 State conglomerates could move their headquarters to Hong Kong as the acquisition of overseas assets will turn some of them into multinational corporations, according to the top official in charge of state assets. Li Rongrong, chairman of the State-owned Assets Supervision and Administration Commission (Sasac), yesterday confirmed that the proposal had been under study for some time. Overseas mergers and acquisitions by state conglomerates, particularly financial and investment vehicles, will allow them the opportunity to set up international headquarters overseas, which would be a great boost to Hong Kong's status as a global financial and business centre. "I think it could happen," Mr Li said, in response to a question on whether Beijing would allow some state firms to move their headquarters to Hong Kong. The South China Morning Post (SEHK: 0583, announcements, news) has learned that the State Council has been studying the issue for some time and Mr Li's answer suggests the cabinet will allow some large state firms, particularly state investment vehicles looking to expand overseas, to be headquartered in the Special Administrative Region. "The decision of where to locate headquarters is dependent on what is most beneficial for business development," Mr Li said. He added that it was now up to state enterprises to decide where to be headquartered and the central government would not restrict their choices. Mr Li said Sasac would not also dictate whether state-owned firms choose Hong Kong or mainland stock exchanges for their initial public offerings, even though the commission has encouraged them to choose Hong Kong in recent years. "We encouraged state-owned companies to launch their IPOs in Hong Kong or overseas markets because the A-share market was at an early stage of development," he said. He noted that the state would not sell large blocks of shares in listed, centrally administered state-owned enterprises because it wanted to maintain control of the companies. "Even though many of their shares will become freely tradable, it's impossible to envisage heavy dumping for a long time to come because we need to maintain our controlling stakes," Mr Li said. "Reports of widespread sales of state shares are being played up and are completely groundless." Separately, Mr Li said the State Council had set up a task force to study price reforms for the power sector as price curbs on oil and electricity had led to shortages and huge losses for producers. Shortages of power and oil have been exacerbated recently as the central government has redirected resources towards the rebuilding of earthquake-hit regions in Sichuan and ensuring the Olympic Games run smoothly. Mr Li dismissed market speculation that Sasac intended to restructure the electricity sector by combining the five big power generating enterprises into three enterprises. "There is no such plan," he said. Mr Li said all power companies under central government control posted losses in the first half of the year. Most mainland power generators are coal-fired but the pricing of coal and electricity remains distorted as a result of the country's energy pricing policies. Mr Li pledged to accelerate the pace of restructuring of state-owned enterprises. He said the economic slowdown in the United States would have an impact on state companies and advised senior executives of state enterprises to expedite restructuring in order to be prepared to face future challenges. Mr Li said Sasac's target of reducing the number of central government-managed enterprises to 80 by 2010 remained unchanged. About 150 state-held firms are under the direct control of the central government.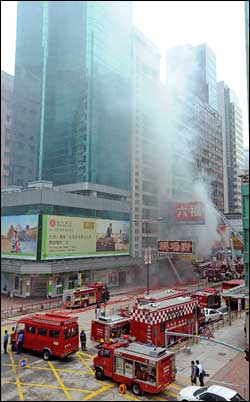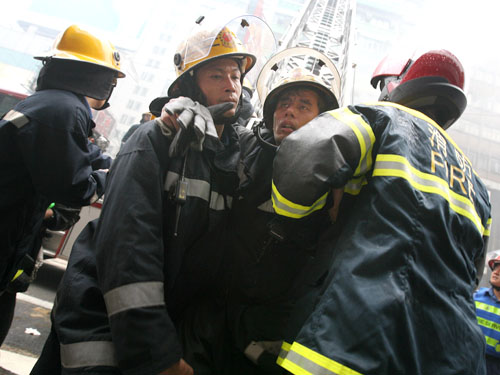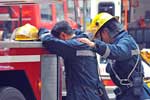 Two firefighters, an elderly woman and a person believed to be a nightclub employee were killed yesterday morning in one of Hong Kong's worst commercial and residential building blazes in a decade. Residents trapped in the smoked-filled building flooded the fire services command center and radio stations with frantic calls for help. With tears streaming from their eyes because of the acrid smoke, they managed to dial for help, while others waved white cloths to attract the attention of firefighters. Some children and adults were still asleep when fire broke out and awoke to find their homes filled with smoke. One resident, Ms Ngan was heard on a radio station calling for help: "My whole family is trapped here. There is a lot of smoke and I can't see anything ...Please find someone to help me. Quick. Quick." Another resident who had returned home from morning tea at 9am was one of the lucky ones who escaped from being trapped. Surnamed Chow, he lived on the seventh floor for about 20 years. "I suddenly heard screams and calls for evacuation when I stepped into the lobby. There was a lot of smoke," he said. "My thoughts were on my flat, whether it was destroyed or not. The area was sealed off and I couldn't get in." Police and firemen had to console a woman who failed to get in touch with her husband who was at home, while another resident said she was sleeping and did not know what had happened. "I didn't know what happened. I was rather calm as I didn't smell any smoke, but I was a little bit frightened when I heard others yelling to us to quickly evacuate," she said. There were also heroes - a resident surnamed Chan helped to evacuate two elderly wo
men and tried to put out the flames. "I went upstairs to save others after I saw some smoke. I used up three fire extinguishers to no avail. It was very dark and full of smoke. I finally led the two women out," Chan recalled. A man surnamed Siu who decided to go back to his home on the 11th floor of Winner Mansion which is close to Cornwall Court, was forced to beat a retreat when he found the billowing smoke had also filled the lift lobby of his building. He said he was anxious to go back to his home as he was worried about his documents and that he would move to a hotel for the time being. All injured and those affected by smoke inhalation were sent to hospital.


China: Foreign visitors in Beijing for the Olympic Games will pay much lower roaming tariffs for some calls than they are expecting as a result of agreements reached between China Mobile (SEHK: 0941, announcements, news) and overseas service providers, according to mobile phone operators. But the claims have been slammed by analysts as little more than a short-term gimmick to promote the global image of China Mobile. They said what was needed were fixed agreements that would lower roaming charges globally. Roaming fees, the charges that mobile operators levy on one another to connect calls between networks for overseas mobile-phone users, will differ depending on the agreements between the overseas operators and China Mobile. The offer of low tariffs appeared to be limited to several leading global mobile players such as Britain's Vodafone, Germany's T-Mobile and the United States' AT&T, analysts said. Hong Kong operators are not on the list. T-Mobile Hungary announced its subscribers visiting the mainland and roaming on the China Mobile network would enjoy a 30 per cent lower price for making a phone call from Beijing to Hungary if they paid a one-off HK$15 tariff for a special package available only for this month. Vodafone Greece and China Mobile have also negotiated special arrangements on roaming fees during the Beijing Games. Vodafone Greece users will pay an unchanged time-based tariff when they connect to home numbers from Beijing and will pay only a connection fee of €2.50 (HK$29.75) for each call. They can also take a call from home and pay a single connection fee of HK$25 if the call lasts less than an hour. Vodafone Greece says users can save more than 90 per cent on their phone bills, since the roaming charge for receiving a call in Beijing under normal circumstances amounts to HK$17 per minute. Vodafone Australia also launched a special offer for its subscribers visiting the mainland for the Games. The company offers a Vodafone Traveller package with a flat rate of HK$6.90 per minute when they make a call from the mainland on top of their standard mobile rate in Australia. The standard rate for making a call from the mainland is HK$13.94 per minute on top of the standard mobile rate for Vodafone Traveller subscribers, a 50 per cent discount to the original offer. However, Hong Kong visitors will not benefit from the promotions, as China Mobile did not negotiate with local operators for special Games deals. Hong Kong visitors to the Games wishing to avoid expensive roaming expenses can, however, buy a China Mobile mobile-phone prepaid card to enjoy a local service that offers a long-distance call to Hong Kong from Beijing at 1.50 yuan (HK$1.71) per minute. "Hong Kong is a small market and China Mobile did deals only with the world's leading operators," said an industry source. Cutting roaming fees is a trend in the global mobile industry, as customers and regulators have put pressure on mobile operators to cut the fee to benefit users and avoid unreasonable profit. The European Union successfully urged mobile operators within the region to agree to a voice roaming price cap last year. China Mobile, the official mobile operator for the Beijing Olympics, had committed to cutting the international roaming fee for visitors during the Games, said chairman Wang Jianzhou last week. International roaming service is the most profitable business for mobile operators.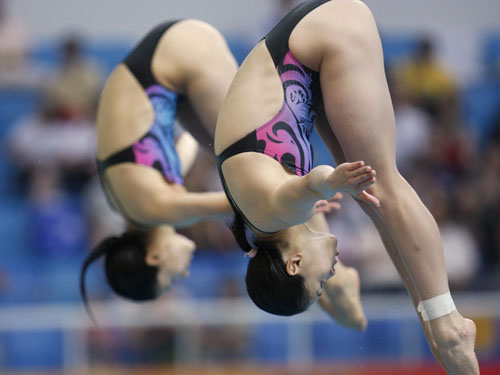 Guo Jingjing and Wu Minxia dive to victory and gold in the women's synchronised 3-metre springboard final in the "Water Cube", easily beating the Russians. With "diving diva" Guo Jingjing and Wu Minxia winning the first diving gold in the "Water Cube" aquatic centre yesterday, China took its first step to an expected clean sweep of the eight diving medals. Guo and younger partner Wu, the 2004 Athens champions, leapt and twisted to gold in the women's synchronised 3-metre springboard, racking up a total of 343.50 points to easily beat Russian duo Julia Pakhalina and Anastasia Pozdnyakova, who took the silver with 323.61. "It's so exciting having our own people cheer for us, and hopefully there will be more to celebrate in the coming days," Guo said. These will be the last Olympics for world champion Guo, who is hoping to claim the gold in the individual springboard to match her performance in Athens, where she won top place in both events. If she does, she will become the most successful female Olympic diver ever, narrowly topping the total medals haul of compatriot Fu Mingxia. "I am not thinking of life after these games. Everything I do is focused on winning here," said Guo, who bowed with her partner to the cheering crowd after every dive. "Although I crave for the single gold, I cannot spend too much time thinking about the results," Guo, 27, said. "I feel so happy to win a gold at home. But it's not easy to get the gold medal. We did not focus on the goal, but to do our best on every dive, so we can treat it normally and don't have too much pressure. "The competition is not easy. There are many challenges from other competitors. They have good synchronisation and a high quality of dives." Because of the high level of the duo's performances, they led from the beginning and were always in control. "It's not as relaxed or as easy as you think," she said. "Actually we trained very hard every day. We train from morning to night." Asked if the roaring home crowd had made them more nervous, Guo told state television: "We have prepared really well beforehand. We had all kinds of simulations in training, including those designed to help us deal with distraction and concentrate." The pair started strongly and scored three perfect 10s in the second round for their back dive. They led by 17 points going into the final dive and made sure of the gold with a back 2-1/2 somersault. "I am very happy to have won a gold medal in front of the Chinese spectators," said Wu, 22, who was runner-up to Guo in the 3-metre springboard in Athens. "I feel pressure to compete at home but we tried to be calm and consistent."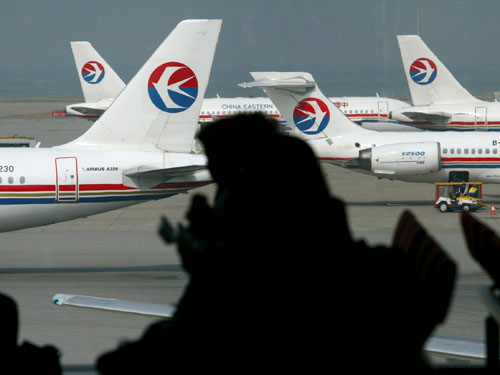 China Eastern still open to strategic investors - The controversial merger between China Eastern Airlines (SEHK: 0670) and its Singapore suitors came to a fruitless end, but the trio had no intention of letting the 11-month affair go. shareholder agreement between the mainland's third-largest and most indebted airline, Singapore Airlines and Temasek Holdings automatically lapsed on Saturday's deadline as conditions were not satisfied, according to a statement issued by China Eastern. However, the Chinese carrier vowed to continue its hunt for unspecified "strategic investors of world renown" while Singapore Airlines called for "exploring other means of developing the relationships", the pair said in separate statements. China Eastern said it would "persist in the direction of introducing strategic investors and will continue to develop opportunities of business co-operation with strategic investors of world renown ... to enhance internal competitiveness". Singapore Airlines said it would explore other means of developing the relationships despite the expiry of the agreements. It also said it continued to be optimistic about the prospects for the mainland airline industry. The statements signalled a slim chance for further talks on revising the HK$7.16 billion offer for 24 per cent of China Eastern that SIA put on the table in November last year. Recent speculation pointed to a possible restart of the talks after the Olympic Games. In January, the offer failed to win support from China Eastern's shareholders including China National Aviation Corp (CNAC). That was followed by a CNAC counter-offer a month later, only to be rejected by China Eastern's management. VC CEF Brokerage director Louis Tse Ming-kwong believed a catalyst for China Eastern's share price would depend on its ability to bring in an established industry player that could help sharpen its management expertise and knowhow and complement its routes and operations. "It has to line up an international airline, which will be able to bring synergies to its operations and management," Mr Tse said. "A strategic investor with only deep pockets means little to the Chinese carrier." On Friday, China Eastern slumped 6.96 per cent to HK$2.14 from a high of HK$8.05 on January 2.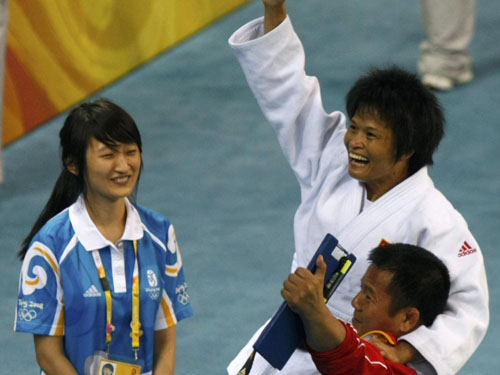 China's Xian Dongmei beat North Korea's An Kum-ae to successfully defend her Athens title in the women's 52kg judo class, sending fans home into raptures. After a tentative start with the two pawing at each other like playing kittens, Xian struck the first and decisive blow, lifting An's leg to put her off balance and driving her into the mat for uko. Seeking to close down the match, Xian was penalised for passivity as An's attacks grew more aggressive and desperate, and the 32-year-old used all her skill to avoid being thrown by An. As the siren rang out for full-time Xian jumped to her feet, punching the air and saluting ecstatic spectators. "I'm very excited," Xian said. "What's different this time is that it was on home turf." Algeria's Soraya Haddad overpowered Kazakhstan's Sholpan Kaliyeva to take the first bronze, and the first medal for an African judoka. "I hope that this medal will open doors for more Africans," she said. Japanese teenager Misato Nakamura threw South Korea's Kim Kyun-gok for waza ari early and then pinned her for automatic victory to take the second bronze.
Haier Group Corp is to stage a joint bid with US private equity firm Blackstone for the appliances unit of General Electric, according to British media reports. lackstone is drawing up plans to invest with Haier, London's Daily Telegraph newspaper quoted sources as saying. Haier and Blackstone have held talks with investment banks about advising on and financing the deal, according to the report. It quoted sources as saying Citi is one of the banks that could back the Haier-Blackstone bid. It is still unclear how the partnership will be structured, the report said. Unlisted Haier Group, one of the largest whitegoods manufacturers in the mainland, is the parent company of Shanghai-listed Qingdao Haier Co and Hong Kong-listed Haier Electronics (1169). It has about 15 to 30 percent of the Chinese home-appliance market and is the largest manufacturer of refrigerators and air conditioners in the mainland. The auction of GE's appliances unit could fetch up to US$8 billion (HK$62.4 billion), according to analysts' estimates. South Korea-based LG could also be one of the bidders, GE chief executive Jeffrey Immelt said in May. The bidding marks Haier's second high- profile attempt at a major overseas acquisition alongside Blackstone. Haier and Blackstone formed a consortium with Bain Capital to bid for US consumer- appliances giant Maytag in 2005, but the group eventually lost out to Maytag's competitor, Whirlpool.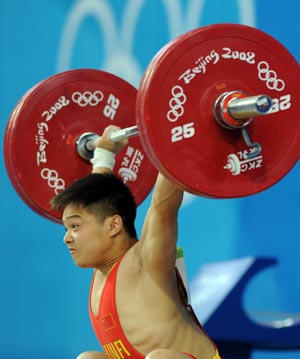 Long Qingquan of China takes a lift at the men's 56kg final of weightlifting at Beijing 2008 Olympic Games in Beijing, China, Aug. 10, 2008. Long claimed title in this event.
Aug 11, 2008



Hong Kong: Tin Shui Wai to get economic boost with HK$8.5m centre for construction training - An HK$8.5 million training facility for construction workers is being built in Tin Shui Wai, the first of several projects aimed at injecting life into the poor area.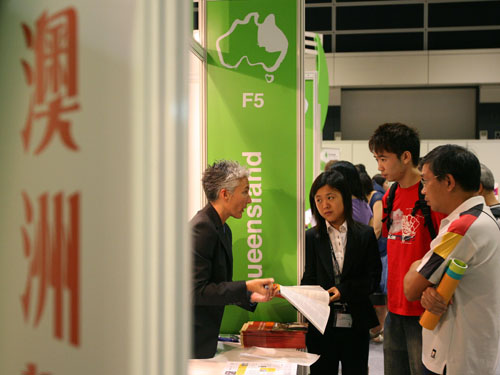 Australian education representatives have sought to play down reports that Chinese students studying in Sydney are encountering high levels of crime. Yet China's consulate in Sydney is reported to have asked the authorities to do more to protect Chinese students in the city, which is Australia's most populous. The problem seems confined to Sydney. A spokesman for the Chinese embassy in Canberra said the issue was being handled at the consular level in Sydney. "The education secretary of the consulate in Sydney gave a briefing to new Chinese students about managing their security," he said. He was unaware of any requests regarding more security being made at higher levels. The education consul, Zhou Bo, at a security briefing for newly arrived students last week, listed incidents involving students from China including robberies, assaults and burglaries, The Sydney Morning Herald reported. There are more than 400,000 international students in Australia, with China accounting for about a quarter of them, said Quentin Stevenson-Perks, education counsellor at the Australian embassy in Beijing. Speaking at the annual Australian Education Festival, which ends today at the Hong Kong Convention and Exhibition Centre, he said there was no evidence Chinese students in Australia were any more likely to suffer from criminal acts than other members of the community. "We encourage students to get out there and take part in the communities in which they are living," Mr Stevenson-Perks said. "You do everything you can to ensure their safety, but we can't wrap them in cotton wool." China was the most important education market and the number of students it was sending to Australia had more than doubled in four years. He suspected the increase in incidents was probably a result of there simply being more Chinese students in Australia. Education is Australia's third largest export after coal and iron ore, and as such it was in the country's best interests to safeguard visiting students, he added. "We can't afford to get it wrong," Mr Stevenson-Perks said. "And, broadly, we don't." Certainly the students perusing the exhibits of the 64 schools vying for enrolments at the education festival showed little fear about going to Australia. "I'm not too concerned," said Josie Ng, who was looking for a university in either Sydney or Melbourne. "My brother and sister are both still studying in Sydney and they have never mentioned any problems." Her friend Kimmie Fearnside said she had also considered going to university in Australia, but her family had better links with Britain. Michelle Clarke, associate director of international admissions at Sydney University, said the risks for Chinese students were no more than those faced by anyone else living in a large city. "Students are at risk of all the normal things that can happen in a city," Ms Clarke said. "I am not aware of any particular spate of incidents. Our view at the moment is that no particular cohort is at any more risk than another." The university had lots of facilities to ensure the health and security of its students, including financial support and an international student assistance unit that could be approached about any problems. Most institutions catering to international students have similar safeguards in place. Australian consul general to Hong Kong Les Luck said Australia remained the number one destination for Chinese students. "It remains one of the safest countries in the world," he said.


China: The mother of China's Olympic shooter Du Li put on a brave face and hoped her daughter would bounce back after yesterday's defeat. Du, 26, lost out on the first Games gold to a Czech rival, despite being the favourite to win. Her defeat in the 10-metre air rifle came as a shock and bitter disappointment to many mainlanders. Media reports had tipped her to win the first Olympic gold for the country. Du won the gold in Athens in 2004 and was a favourite to retain her title this year. So high were expectations of Du's success that the authorities in her hometown in Yiyuan county, Shandong province , prepared a lavish party and invited her parents and guests to attend while watching the event on television. But instead of joy, the party was muted and embarrassed when Du missed her shots. Du finished fifth, 3.9 points behind Katerina Emmons of the Czech Republic. Officials left the scene quickly, leaving Du's parents to face the media in an empty hall decked with banners hailing her as "the pride of Yiyuan". However, her mother Qi Yuzhen , who has been credited with making Du what she is today, refused to let the defeat upset her, saying her "tough girl" would make a strong comeback. "Du Li will be OK because she's always been a tough girl. I believe she will do her best to prepare herself in her next competitions," Ms Qi said. Du will compete in another rifle competition in the next few days. Ms Qi, who ran a tiny breakfast stall to support Du's shooting dream, said she had always been proud of her daughter's tenacity.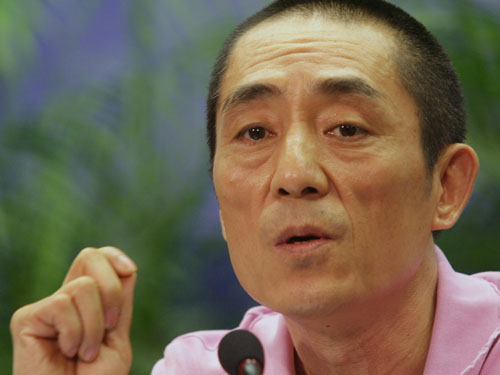 The Beijing Olympics' opening ceremony, the largest in the Games' history, is unlikely to be surpassed by the next host city, London, or others in the next decade, director Zhang Yimou said yesterday. "This kind of three-dimensional performance is a first for the world. [It's] perhaps very difficult to have a duplicate in the next 10 years," he told a news conference the day after the opening ceremony. "If London also wants to do it this way, I estimate they won't surpass us in a short time." London will host the Summer Olympics in 2012. Zhang's extravaganza has won high praise from many spectators, who said many moments of the four-hour show left them dazzled. Some said they were touched by the army of performers dressed as Confucian scholars chanting teachings by the sage, and by the entry of the Chinese team led by basketball star Yao Ming , accompanied by nine-year-old Lin Hao. Hao, from Sichuan province , rescued classmates from the rubble of his school when it collapsed in the May 12 earthquake. Zhang revealed that his team had considered using a model of a phoenix - a traditional Chinese motif - to light the cauldron at the end of the ceremony. But the idea was resisted by the International Olympic Committee, which preferred an athlete as the final torch-bearer. There had been widespread speculation about the possible use of the phoenix. Zhang also said "many" of the 15,000 performers were drawn from military artistic troupes, confirming speculation about the tell-tale precision of the cast's movements. "This wealth shouldn't be forgotten; we ought to use it well," he said. Zhang claimed the combined cost of the opening and closing ceremonies for the Olympics and the Paralympic Games, which Beijing will host next month, would be less than that of the opening ceremony for the 2006 Asian Games in Doha. Estimates have put the cost of the Beijing Olympics opening ceremony at US$100 million. Asked how he picked elements from China's 5,000-year history for the performance, he said the aim was to be representative, hence the "four great inventions" - paper, printing, the compass and gunpowder. Paper and printing appeared in the "Writing" segment featuring Confucian scholars; the compass in the hands of ancient mariner Zheng He ; and gunpowder as fireworks throughout the performance. The "Silk Road" theme - linked to the ancient trading route between east and west - was chosen as it symbolised exchanges with the outside world. The use of the word "harmony" aimed to show a foreign audience the evolution of a Chinese character, Zhang said. He made no mention of the significance of harmony in Confucian thinking or the political concept of a "harmonious society" put forward by the ruling Communist Party. The director said the difficulty of a live performance on such a vast scale was "100 times" harder than shooting his epic films, but he gave the cast the highest marks. The final torch-bearer, Li Ning (SEHK: 2331) , a former gymnast turned sportswear entrepreneur, was in part chosen for his ability to undergo the rigorous training needed to "fly" around the perimeter of the stadium to light the cauldron. "The most worrisome part was lighting the flame," Zhang said. "When Li Ning was going up carrying the torch, because of the air pressure and wind, there were several seconds when it seemed it would go out."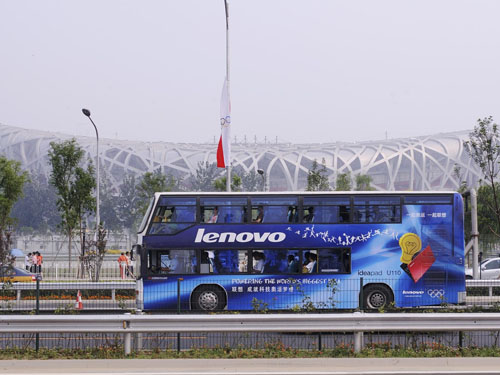 Sony and Panasonic became global brands after the 1964 Tokyo Olympics and the world came to know Samsung after the 1988 Seoul Olympics. Now it's time for Chinese brands such as Tsingtao Brewery (SEHK: 0168), China Mobile (SEHK: 0941, announcements, news) , Lenovo (SEHK: 0992, announcements, news) and Li Ning (SEHK: 2331) to boost their international profiles from the springboard of the Beijing Olympics. Branding experts believe mainland companies, particularly consumer products, will gain international recognition as the Beijing Olympics attract millions of tourists and up to a billion television viewers worldwide. Po Cheung, managing director of the China division of FutureBrand - a US brand consultancy with offices in China - pointed to Samsung as a classic example. Becoming a local sponsor of the 1988 Summer Olympics helped it achieve 27 per cent growth in revenue that same year. The International Olympic Committee's website says Samsung became an official Olympic Partner in 1997. Since then, "the global market share of Samsung wireless communication equipment [mobile phones] has more than doubled, with brand value growing more than six times," Ms Po said. Henry Steiner, called the "father of Hong Kong design" for designing the city's banknotes and helping mainland firms, such as Shanghai Mart, with their brand images, also believes in the brand-building effect of the Olympics. "The Beijing Olympics is a good chance for the mainland to show the world its own brands. This is just like the 1964 Tokyo Olympics, which brought world recognition to Sony and Panasonic, while the 1988 Seoul Olympics let the world know about Samsung." Mr Steiner believes China's car industry will emerge with a well-known global brand. Kenny Lee Yiu-sun, chairman of the Hong Kong Stockbrokers Association and chief executive of First China Securities, believes consumer brand names such as mobile-phone operator China Mobile, computer giant Lenovo and electrical-appliance maker Haier will be the winners after the Games. "Reviewing the history of the Olympic Games, it seems consumer products or those that facilitate the activities of the Games, such as couriers, airlines and [Web] search engines, will benefit the most from the branding effect," he said. "But one thing they have in common is that they have to have a promotional strategy that fits the Games." Alice Li, Lenovo's vice-president of Olympic marketing, said the Games were "an ideal way to show Lenovo's strengths in technology leadership, in service, and in innovation. The Olympic Games mark the recognition of Lenovo as a global brand. "Brand awareness is our No1 goal. As a worldwide partner of the 2008 Beijing Olympic Games, Lenovo is using the common language of sport to build brand awareness worldwide. We are well known in China, and we are in the process of building recognition throughout much of the rest of the world." The Games will be supported by 30,000 pieces of Lenovo equipment. "This tells the world that if Lenovo can meet the needs of a project of such a massive scope and scale, it can meet the needs of just about any customer," she said. Ms Li said the Beijing Olympic Games will be a vital brand-building step. "As we look to the future and the worldwide roll-out of our consumer offering, Lenovo will be focusing its marketing investments on more targeted initiatives at regional, national and local levels." Tsingtao Brewery is an official sponsor of the Olympic Games, and it is another mainland brand counting on the event to expand in the international market. It also hopes to regain the top spot in the mainland beer market, a title it lost in the past two years to Snow Beer. Jointly run by China Resources (SEHK: 0291) Enterprises and SABMiller, Snow Beer secured a 15 per cent market share in China in 2006, beating Tsingtao, which held a 13 per cent share. Tsingtao Brewery president Jin Zhiguo said the Beijing Olympics would boost sales domestically. Internationally, he believes the Games will help Tsingtao explore more international markets beyond its current exports to 50 countries. "We have stepped up efforts in the past few years to promote our beer to younger consumers on the mainland and to explore new international markets such as Eastern European countries and Latin America," he said. "The Beijing Olympics is an important event to help raise our brand further as a quality beer worldwide." Overseas sales of Tsingtao rose 9.55 per cent to 165.57 million yuan (HK$188 million) for the six months to June last year. Although that only accounted for 2.46 per cent of the company's total sales, it represented more than half of the mainland's beer exports. A CLSA report said mainland sportswear brand Li Ning also will benefit from the Olympics. The company is not an official sponsor of the Games but it has sponsored Chinese gymnastics, diving, shooting and table tennis, which has brought the brand to an audience of millions. The company is named after its founder, one of the China's greatest sports stars, who won three gold gymnastic medals at the 1984 Olympics and who lit the Olympic cauldron on Friday night in Beijing. "Although Li Ning is not an official sponsor of the Beijing Olympics, it will use the Games as a springboard to give its profile a lift," the CLSA report said. International brands also will seek to use the Olympics to expand on the mainland. Canada's Manulife Financial is a worldwide sponsor for the Olympics and Manulife-Sinochem is the official sponsor of the mainland tae kwon do team. To raise awareness of the equestrian events in Hong Kong, the insurer sponsored summer courses for underprivileged children to provide a basic knowledge of horse-riding as well as distributing Olympic mascot toys to children through charities. "Being an Olympic sponsor is having a major impact on our advertising and sales in Asia this year, particularly in China," said Victor Apps, chairman of Manulife (International). Germany's adidas, which has been associated with the Olympics since 1928, is another international company that hopes the Games will promote its brand in China. Christophe Bezu, chief executive of adidas Asia-Pacific, believes that the Games are a showcase for its products. "It allows the adidas brand to be seen on television, at the event and by the men and women on the street who are celebrating a grand sporting event," Mr Bezu said. Adidas plans to open about 200 shops in Beijing over the next five years and to have 9,000 shops - 4,000 Reebok and about 5,000 adidas - in China by 2010.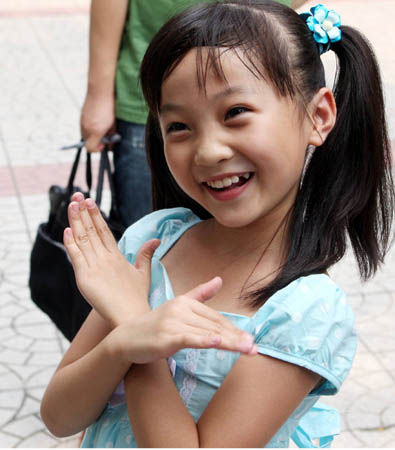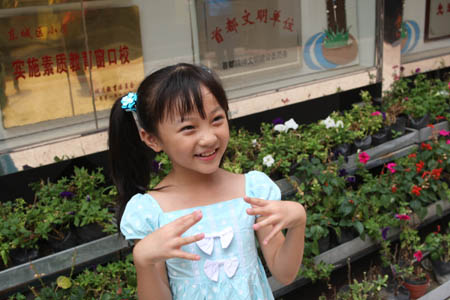 Lin Miaoke, a nine-year-old Chinese girl who lent her voice Friday night to the opening ceremony of the Beijing Olympics, returns to the Xizhongjie Primary School of Dongcheng District in Beijing, capital of China, on Aug. 9, 2008. Lin Miaoke, dressed in a red skirt, received thunderous applause from 90,000-plus spectators at the National Stadium, known as the "Bird's Nest", when she performed "Sing a Song of Praise to the Motherland" as 56 children, each representing an ethnic group of the country's 56 nationalities, carried the national flag into the stadium at the opening ceremony of the Beijing Olympics on Friday.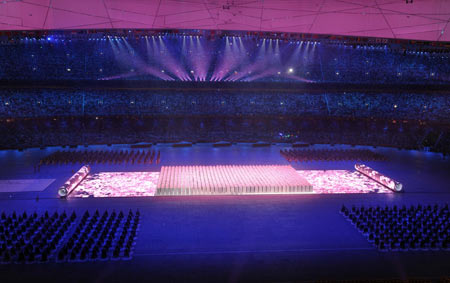 Photo taken on Aug. 8, 2008 shows the art performance of the opening ceremony of the Beijing Olympic Games, titled "Beautiful Olympics", in the National Stadium, also known as the Bird's Nest, in north Beijing, China.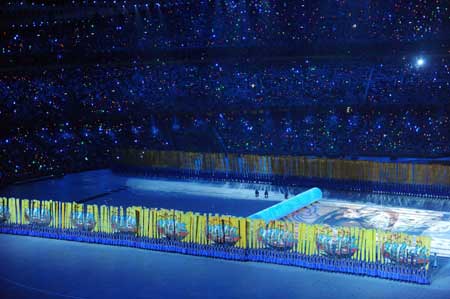 Photo taken on Aug. 8, 2008 shows the art performance of the opening ceremony of the Beijing Olympic Games, titled "Beautiful Olympics", in the National Stadium, also known as the Bird's Nest, in north Beijing, China.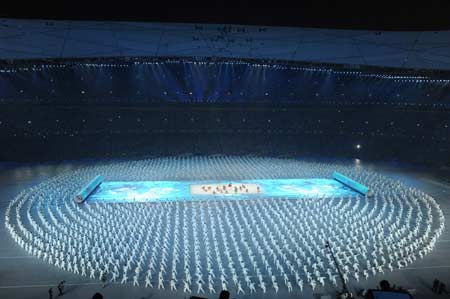 Photo taken on Aug. 8, 2008 shows the art performance of the opening ceremony of the Beijing Olympic Games, titled "Beautiful Olympics", in the National Stadium, also known as the Bird's Nest, in north Beijing, China.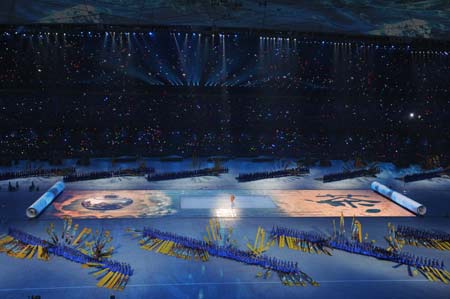 Photo taken on Aug. 8, 2008 shows the art performance of the opening ceremony of the Beijing Olympic Games, titled "Beautiful Olympics", in the National Stadium, also known as the Bird's Nest, in north Beijing, China.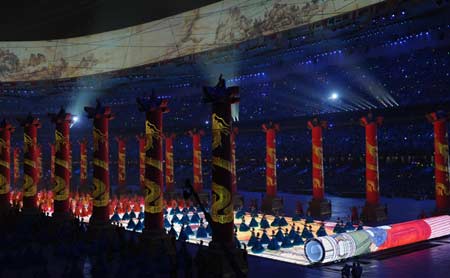 Photo taken on Aug. 8, 2008 shows the art performance of the opening ceremony of the Beijing Olympic Games, titled "Beautiful Olympics", in the National Stadium, also known as the Bird's Nest, in north Beijing, China.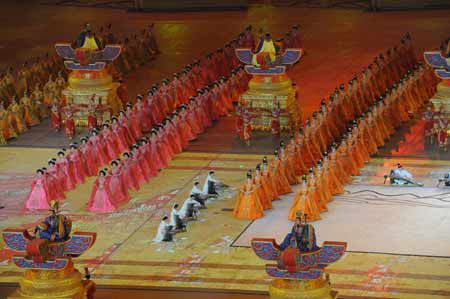 Photo taken on Aug. 8, 2008 shows the art performance of the opening ceremony of the Beijing Olympic Games, titled "Beautiful Olympics", in the National Stadium, also known as the Bird's Nest, in north Beijing, China.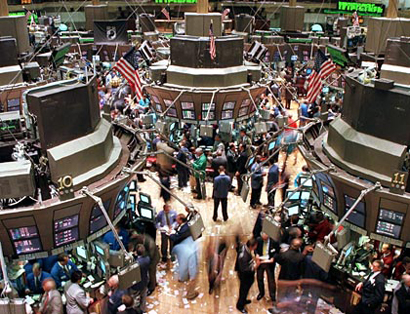 The New York Stock Exchange (NYSE) launched a special showcase of Chinese companies Friday as the 2008 Summer Olympics began in Beijing. The program, titled "Doing Business in China," aggregates all Chinese NYSE listings and features a different Chinese company every day. Video exclusives of the two recent Chinese IPOs, as well as select content provided by Consumer News and Business Channel (CNBC) will be published over the next several weeks. The entire section will be promoted on both the nyse.com homepage and the English version of the China audience page. The Summer Olympics in Beijing presents a great opportunity to showcase some of China's achievements in business and other areas, the NYSE said in a statement. The program, in honor of the 2008 Summer Olympics, aims to offer customers a way to celebrate the great event with the international community, it said. NYSE Euronext CEO Duncan Niederauer told Xinhua that it is terrific China has managed a high single-digit growth. Currently, there are 57 Chinese companies listed with NYSE besides two recent IPOs, and another Hong Kong company has just announced its decision to list with NYSE as well. "We are very excited about the opportunities," said Niederauer. Niederauer also sent his personal wishes to Chinese people. "We have never seen a country so proud to host the Olympics and have put so much effort in hosting the Olympics," and people would expect "nothing but the best Olympics ever for the next two weeks," said Niederauer.
Aug 8 - 10, 2008



Hong Kong: The developer that proposed a bridge connecting Hong Kong with Macau and Zhuhai more than 20 years ago will not bid for a role in its construction. A source close to Hopewell Holdings (SEHK: 0054) said the company no longer saw a business role in the plan. "Hopewell has transformed many years ago from a construction firm to an infrastructure developer, so it is not prepared to be the project's contractor," the source said. The comment came after Chief Executive Donald Tsang Yam-kuen announced at the Guangdong-Hong Kong Joint Co-operation Conference on Tuesday that the bridge would now be funded by the three regional governments with support from the central government, instead of under the private sector build-operate-transfer model that was unveiled in February. The future joint venture between the three governments will still tender out the construction work, and possibly the management of the bridge, to the private sector. The bridge is acknowledged as the brainchild of Hopewell chairman Sir Gordon Wu Ying-sheung, who proposed it in the early 1980s. Thomas Chan Man-hung, head of Polytechnic University's China Business Centre, said he was not surprised at the decision, as the project had changed and Hopewell was not a bridge-building expert.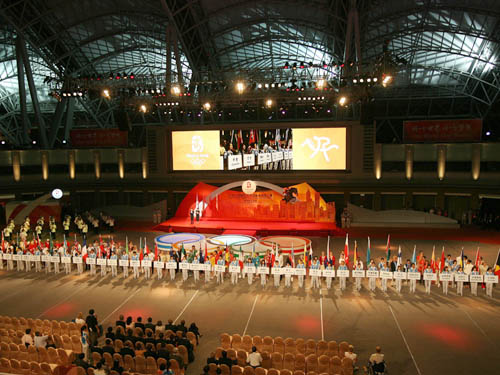 The televisions were on. Public parks and malls were packed with eyes glued to giant screens. Hongkongers might be thousands of miles away from Beijing, but the city's millions were immersed in Olympics hype as the Games opened last night. Despite growing security concerns and unstable weather, thousands rushed to the two main live-broadcast areas organised by the government downtown. "I want to become the first one to witness Chinese culture and fulfil the Olympics dream of the century," said Samuel Cheng Chi-yan, a 20-year-old student who was first in the long queue outside the Olympic Piazza on the Tsim Sha Tsui waterfront. Across the harbour at Victoria Park, community leaders and officials mingled with a 3,000-strong crowd and watched the events unroll on a giant screen, dwarfing the number at nearby Times Square, which did not require tickets. Everywhere, young and old alike cheered with family and friends whenever a new scene was transmitted from the capital, their red flags and Olympic clothing echoing the colorful opening program under the warm summer sky. Despite the fervour, emotions ran high among some spectators who complained of difficulty seeing the screen, worsened by tight security measures implemented at the sites after a false bomb scare at Causeway Bay. At Sha Tin, the international equestrian community gave the thumbs up for the opening of the Olympic equestrian events, although it lacked the epic feel of the one at Beijing's "Bird's Nest" stadium. The colorful local ceremony involved a parade of representatives from 42 countries. Canadian dressage rider Leslie Reid said. "Hong Kong has put on a good show for us athletes here." Legislators Emily Lau Wai-hing and Leung Kwok-hung with their pan-democrat colleagues also held a forceful protest calling for improved human rights. In the trains, buses and restaurants in Central, small talk among office staff and other workers over lunch revolved around one topic: "Where are you going to watch the opening?" Some companies, knowing full well how the Olympics daydreaming would affect productivity, told staff to pack up early so they could reach home in time for the live broadcast. As if trying to ward off the amber rainstorm warning in the morning, the weatherman ditched his usual jacket and tie in favour of a Beijing Olympics T-shirt during the daily Observatory broadcast. Alan Leong Kah-kit chose to witness the national event with the people, while many politicians kept their evening clear of electioneering for Legislative Council polls next month. "I am printing a list of must-watch Olympic events for distribution to voters," Mr Leong said, before mingling with hundreds gathered at APM Mall in Kwun Tong to watch the live broadcast of the opening ceremony.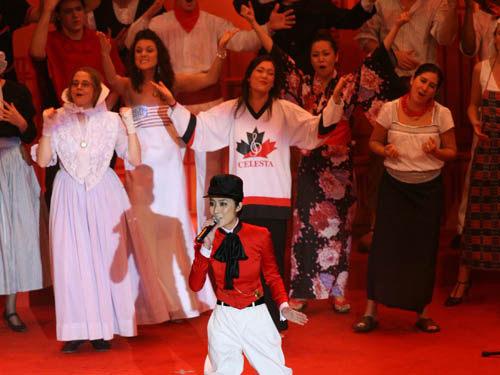 Singer Kelly Chen Wai-lum performs at the opening ceremony for the Olympic equestrian events at Sha Tin racecourse last night.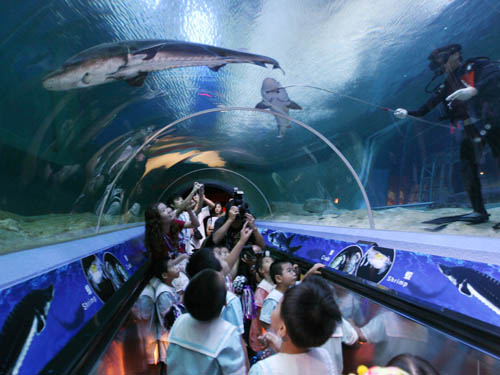 Ocean Park visitors watch the new Chinese sturgeon yesterday in their new, private aquarium. They are being acclimatised to saltwater.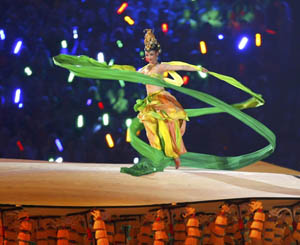 A scintillating scroll through history - to a dream finish - It was a cultural performance that drew on 5,000 years of history and the resources of China's 1.3 billion people.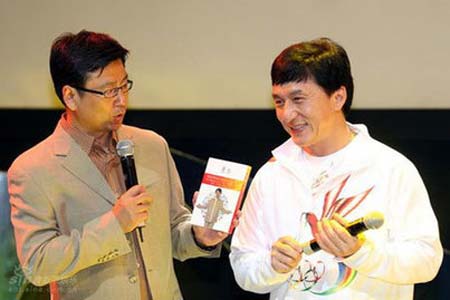 Jackie Chan (R), with China Central Television anchor Bai Yansong, promotes his album, one of the two solo albums authorized by the Beijing Olympics organizing committee, at the release ceremony in Beijing on August 7, 2008. One day before the Beijing Olympics opening, Jackie Chan released an official Olympic album and became the only male singer authorized to do so. The "Official Album for the Beijing 2008 Olympic Games - Jackie Chan's Version" is one of the two solo albums with authorization granted by the Beijing Olympics organizing committee, reported Sina.com.cn. The Web site broadcasted the launch ceremony at the Olympic Park on Thursday. The other record to be released soon is by songstress Tan Jing, according to Yu Binghan, who produced both albums. Chan's album includes 10 songs he sang for the "Official Album for the Beijing 2008 Olympic Games," a star-studded compilation released on April 30. Tracks include "We Are Ready" and "Welcome to Beijing."


China: Tens of thousands of excited people took to the streets at landmark sites throughout Beijing yesterday to savor the opening ceremony, even though the government urged residents to watch it on television at home because of concerns about traffic and safety. Praise, applause and cheers erupted from time to time as spectators soaked up the extravaganza in front of big screens at the China Millennium Monument in the capital's west and Wangfujing, the city's main pedestrian mall. "I haven't been so emotional for a long time. At this moment, I just want to cry, to scream, to yell. I just feel so proud of being Chinese," Zhang Dawen, an engineer watching the broadcast with his wife and child on the lawn at the monument, said. "I can't believe the day has finally come after counting down for so long." Many people had to travel a long way to reach the monument, one of the few places where a gathering was allowed. University student Liu Jiawen and his classmates finally arrived at the monument to join the cheering crowd after police in Tiananmen Square had turned them away and they had been forced to make detours on subway trains and buses. "We want to witness the great moment with a big crowd. It intensifies the fun atmosphere," Mr Liu said. In Wangfujing, Wang Po-nan from Taiwan said he loved the joyous air and did not care about the televised show. "I didn't pay attention to the show. I was moved by the happy crowd. I joined them yelling `Go, China' the whole time," he said. But the audience was divided over the virtues of the opening programme. Some liked the ancient elements, including the instrumental performance and scroll painting, but were less enthusiastic about the modern parts. Others said the historical section took up too much time. "It's typical of director Zhang Yimou's style - excel at scenic grandeur but with insufficient emphasis on content", logistics manager Fu Xiaoyong said. Not everyone was lucky enough to find an outdoor place to watch the extravaganza. In North Tucheng Road, near the National Stadium, about 3,000 people were blocked from getting any closer to the festivities by security cordons. As they waved national flags and chanted "Go, China", spectators sporting painted Olympic symbols on their faces burst into cheers whenever a car heading for the stadium passed by in the dedicated Olympic lane before the show.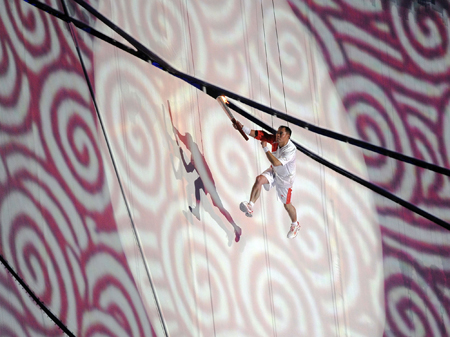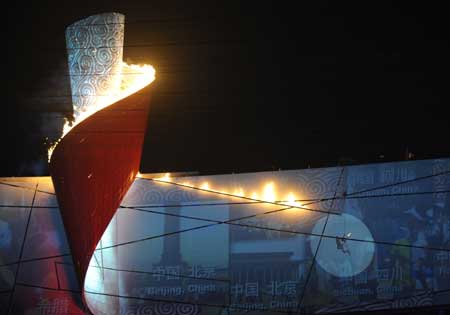 Chinese gymnastics champion Li Ning carries the Olympic flame as he is lifted to the air during the opening ceremony of the Beijing Olympic Games in the National Stadium in north Beijing, China, Aug. 8, 2008. Li Ning, who as a gymnast stunned the world with gravity-defying turns and somersaults, lit the Olympic cauldron after "space-walking" over the heads of 91,000 spectators at the National Stadium on Friday night. In the most spectacular fashion in Olympic history, the 45-year-old Li was lifted by wires to the top of the stadium, simulated a racing around a track in slow motion and used his torch to send a burst of flame upward to light the cauldron. Li was China's first sports superstar as well as the first millionaire former athlete. He became a national hero by sweeping three gold medals at the 1984 Los Angeles Olympics, in which the new China made a stunning appearance that ended the country's three-decade-long Olympics isolation. Hailed as "Gymnastics Prince", Li garnered 106 national and international titles over 17 years as a competitor. Li peaked as the most-medaled athlete in the LA Olympics, winning three golds, two silvers and one bronze. Staying true to the Olympic motto "Faster, Higher, Stronger", Li sees a bigger picture and never stops challenging himself. In 1988, Li Ning retired from the national team right after the Olympic Games in Seoul, but he did not become a coach as many had expected. Shifting his interest to business, he started his own sportswear company, astute enough to take advantage of his own fame.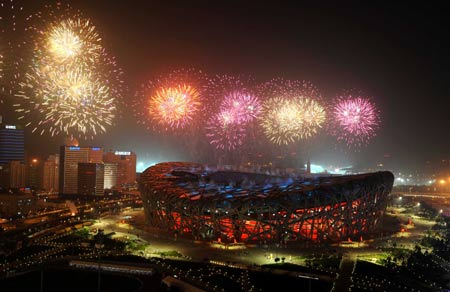 Photo taken on Aug. 8, 2008 shows the fireworks of the opening ceremony of the Beijing Olympic Games held in the National Stadium, also known as the Bird's Nest, in north Beijing, China. Many people interviewed by Xinhua said they felt honored and proud that their country was finally able to host the biggest sports event in the world. Thousands of local residents gathered beneath a giant screen at Shangxiajiu Square in Guangzhou, in southern China, to watch the opening ceremony. Many wore T-shirts saying "I Love China" and "Go, China" and many of their faces were painted with Olympic symbols. At one dormitory in Guangzhou, more than 100 laborers from rural areas gathered to watch the event on TV. "Usually I don't watch sports too much on TV, but I couldn't miss it this time. Our country is getting stronger every day. I think all of us should be proud," said 22-year-old Zhou Xiaobing. Watching fireworks over the splendid Bird's Nest was a particularly moving moment for construction worker Ma Yonghong, for he was once among thousands of builders of the landmark stadium in northern Beijing.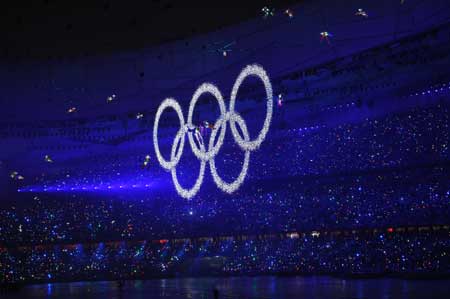 Photo taken on Aug. 8, 2008 shows the shining Olympic rings on a huge LED screen, proclaiming the arrival of the Olympiad, during the opening ceremony of the Beijing 2008 Olympic Games in the National Stadium, or the Bird's Nest, Beijing, capital of China.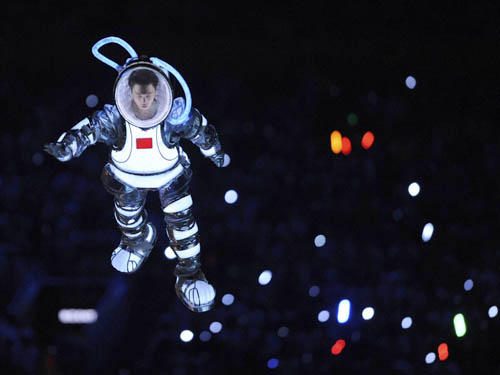 Beijing Olympics Opening Ceremony - Scene recalls China's journey into space.
China's first gold medalist Chen Xiexia celebrates her victory in the women's 48kg weightlifting competition of the Beijing 2008 Olympics on Saturday.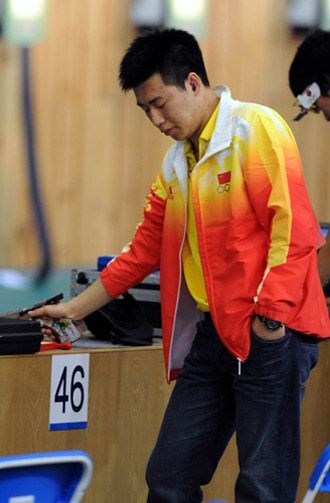 Pang Wei closes his eyes before he competes in the men's 10m air pistol competition at the Beijing Olympic Games, August 9, 2008. Pang won the gold medal in the event.
Four US Olympic cyclists who arrived for the Beijing Games wearing breathing masks have apologized for their actions, clearing some of the bad air generated by fears about pollution. Senior US Olympic Committee official Jim Scherr said the cyclists who flew into the capital on Tuesday had been "a little bit overcautious." "Those athletes regret that action and they have written an apology to the Beijing organizing committee," he said yesterday. But Scherr confirmed that about one third of the US team - or 200 athletes - had been issued with the same type of mask and would not be prevented from using them if they saw the need. Athletes do not need to wear masks to protect against air pollution in Beijing, said Arne Ljungqvist, a Swedish member of the International Olympic Committee and the head of its medical commission. Games organizers, meanwhile, are keeping their fingers crossed ahead of tomorrow's opening ceremony, which China hopes will see fireworks flashing up into clear evening skies.
Sarah Brightman and Liu Huan sing the theme song during the 2008 Beijing Olympic Games opening ceremony on August 8, 2008 at the National Stadium in Beijing. Cheers from the 90,000-strong crowd reverberated through the National Stadium, when Chinese vocalist Liu Huan and British songstress Sarah Brightman presented the theme song for the night, You and Me, at the opening ceremony of the Beijing Olympics last night. Flashlights and countless camera flashes offered the backdrop to a towering globe on which Liu and Brightman sang their duet, written and composed by France-based Chinese songwriter Chen Qigang. "I think the show has succeeded in sending the message ... communicating with the world in harmony," Liu said after his performance. "Being up there was one of the biggest thrills in my life," Brightman said. She also performed the theme Amigos para Siempre at the 1992 Barcelona Olympic Games with Spanish tenor Jose Carreras. The 48-year-old soprano, actress, songwriter and dancer wowed Chinese audiences in a concert in Beijing on May 30, 2004, at the Capital Gymnasium. Brightman has also toured other cities in China, such as Shanghai and Guangzhou. She gained fame through performances in hit musicals such as Andrew Lloyd Weber's Cats and The Phantom of the Opera. Her style of blending classical vocals and pop-inspired instrumentation and arrangement has earned her 150 gold and platinum awards in 34 countries. Similarly, Liu Huan is one of the most popular singers in China. As composer of the One World, One Dream Olympic song, and one of the country's best known musicians, the stocky 45-year-old Tianjin native majored in French and is a self-taught singer-songwriter. Liu first became known for composing music for Chinese TV dramas, including the TV series Beijingers in New York, a huge hit in the early 1990s.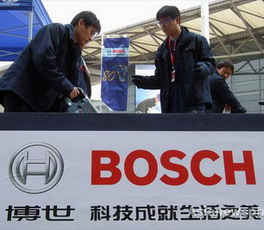 The world's leading auto parts maker Bosch said China would represent some 40 percent of its total workforce in the Asia-Pacific by the end of 2008.

Here's one Olympics competition where China definitely set a record: at least 314,224 couples tied the knot across the nation on Friday, or 08/08/08, the opening day of the 29th Olympic Games, official statistics showed.
Aug 8, 2008



Hong Kong: Media veteran Franklin Wong Wah-kay has been appointed director of broadcasting to lead Radio Television of Hong Kong. His appointment will be effective from tomorrow. A government announcement said Wong, 65, has had an extensive career in broadcasting and the media including senior positions in a number of local and overseas organisations in the media fields in both the public and private sectors.
Leading conglomerate Swire Pacific (SEHK: 0019) – reported on Thursday a 0.9 per cent slide in interim net profit in half year results compared with over a year earlier. The company's diverse operations include property, aviation, beverages, marine services, trading and industrial businesses. Swire Pacific's net income for the six months ending June 30 slipped to HK$12.38 billion – down from HK$12.49 billion – over the same period last year. The group's interim sales rose to HK$11.8 billion up from last year's HK$10.34 billion. The lower net income result comes after losses in its aviation division, but Swire also reported gains in property earnings. Swire Pacific chairman Christopher Pratt said the loss in aviation business was offset by a 22 per cent increase in Swire's property earnings. The company is one of Hong Kong Island's biggest commercial landlord. Cathay Pacific Airways (SEHK: 0293) – in which 39.9 per cent was owned by Swire Pacific – reported an interim net loss of HK$663 million on Wednesday amid soaring fuel prices in recent months. The airline announced on Thursday that fares would have to raise fares to accommodate the ever-rising fuel prices. Mr Pratt said he was confident about further property developments. "We have received the first contribution from our mainland China property developments, with the opening of the south site of The Village at Sanlitun, Beijing in July. Good progress is being made on our developments in mainland China and we continue to explore further opportunities," he added. Swire will pay an interim dividend of 90 Hong Kong cents per A-share. However, Mr Pratt said the amount of final dividends will be considered in light of the company's performance in the second-half year and expectations for the following year. Swire Pacific has engaged in five divisions of commercial activities. Its areas of operation are in Asia Pacific region and centre on the Greater China area. It was established by John Swire in as an import-export company in the early years of the nineteenth century. Swire's shares have declined 27 per cent this year.
Yam warns HK's economic growth may slow - 4:58pm Hong Kong Monetary Authority (HKMA) chief executive Joseph Yam Chi-kwong said on Thursday Hong Kong's economic growth might start to slow in the second half of the year.

Former HK environment secretary carries Olympic torch - 4:59pm Sarah Liao Sau-tung – the former secretary for the environment, transport and works – was one of the torchbearers carrying the Olympic flame through Beijing on Thursday morning.
All tickets for Olympic equestrian events in Hong Kong have been sold out and the city was now fully prepared for the events, Chief Secretary Henry Tang Ying-yen said on Thursday.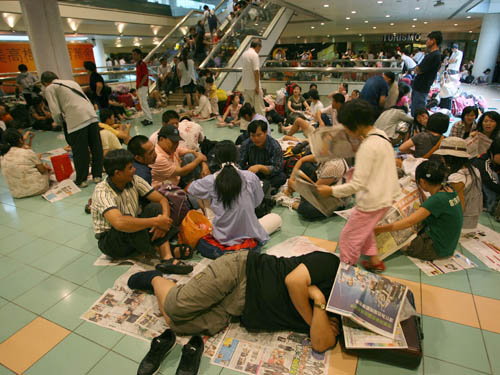 A tour operator came in for heavy criticism yesterday after about 1,000 mainland children and their parents were roused at 5am to go to Macau and then spent a whole day at the pier because there were no ferries. The children, dancers aged four to eight from five provinces, performed on Tuesday at a dance competition and were to tour Macau with their parents on a trip that was also to include Shenzhen and Zhuhai. Eventually all but three were taken by bus to Shenzhen in the afternoon as Severe Tropical Storm Kammuri kept the ferries idle. "If the organisers had known there was going to be a typhoon, why did they drag us here?" asked Jin Fang, who came from Wuhan, Hubei, with her daughter. "The food is bad and the sleep is bad. I want to go home," said Xu Nuo, five, who had come from Anhui province with her mother. By 2.30pm, she had not eaten for about seven hours and was staving off hunger with candy. Their guide, from Shenzhen Travel Company, said he had no control over the weather. "Was I really supposed to check the weather at 5am?" he asked. "This was all because of the weather." In the afternoon, competition organiser Chinese Nation's Culture and Arts International Federation said it had arranged coaches to transport all but three members to Shenzhen. "Three insisted on going to Macau, we told them there will be no ferries today, and they said they will wait until tomorrow, or the day after tomorrow," said the federation's secretary, He Lin. She made it clear that any claim for reimbursement of the package cost of 1,898 yuan (HK$2,163) would be unlikely to succeed. "We paid for their accommodation in Macau, and I tell you [the hotels] won't return us a cent," she said. Meanwhile, 37 people sought treatment at accident and emergency departments in public hospitals because of the storm. Eighteen remained in hospital. All were in stable condition. In one accident, a taxi driver and a passenger suffered minor injuries when their vehicle smashed into a concrete embankment and toppled on to one side in Tsing Tsuen Road, Tsing Yi, police said. In Lam Tin, 13 villagers were evacuated after strong winds blew off the tin-sheeted roof of a four-storey concrete structure in Cha Kwo Ling Tsuen, in Cha Kwo Ling Road, at about 8.30am. No one was hurt. In Choi Hung, a double-decker mounted a central divider in Lung Cheung Road outside Choi Hung Estate while veering to avoid a goods vehicle shortly before 8.30am. The bus driver, surnamed Lee and aged 50, complained of chest pain and was treated at Queen Elizabeth Hospital. There were 37 requests for assistance because of fallen trees on the sides of roads.


China: Huge profits enjoyed by China's real estate market for the past 10 years have come to an end due to tightening policies and weakening demand, state media reported. "The era of huge real estate profit-taking is over,'' the Beijing News said, citing an economic review released by the National Bureau of Statistics. "House price growth is losing momentum as a series of policies on money, land and taxation that target the real estate market has dampened demand and squeezed bubbles in the sector,'' said the review, according to the report.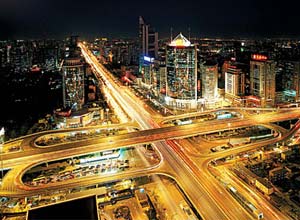 China's new Wall Street - The Beijing Central Business District (CBD) occupies 3.99 sq km of the Chaoyang district on the east side of the city. It is conveniently equidistant to Tian'anmen Square, the Beijing Capital International Airport expressway and the Beijing-Tianjin-Tangshan expressway.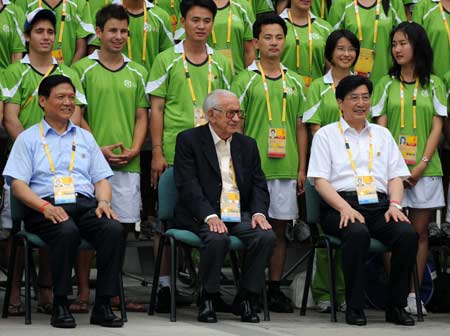 Juan Antonio Samaranch(C), former International Olympic Committee (IOC) president, together with Liu Qi(L), president of the Beijing Organizing Committee of the 29th Olympic Games (BOCOG), and Guo Jinlong(R), executive president of BOCOG, attend the opening ceremony of the Beijing 2008 Olympic Youth Camp in the Beijing 101 Middle School in Beijing, China, Aug. 6, 2008. The Olympic Youth Camp officially opened on Wednesday is an integrant part of the Olympic Games and is of great significance in carrying forward the Olympic Movement.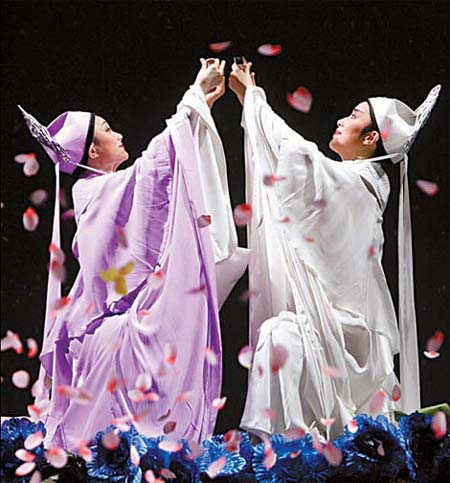 The Shaoxing Xiaobaihua Yueju Opera Company brings the famous repertoire Butterfly Lovers to the National Center for the Performing Arts tonight. Popular in the southern region near the Yangtze River, the Shaoxing opera originated a century ago around Shengxian county, Zhejiang province. Because it belonged to the Yue Stage in ancient times, it was also called Yueju Opera. Derived from a kind of story-telling, Yueju Opera is noted for its lyricism and sweet tunes that give the performances local color. One of the most popular repertoires of the Yueju Opera, Butterfly Lovers is a story that begins when Zhu Yingtai, a woman disguised as man, goes to Hangzhou to study. On the way, she meets Liang Shanbo and they become sworn "brothers". When they have to part after three years in school, Zhu hints that she is a woman, but Liang does not understand. Later, when Liang learns the truth, he hurries to Zhu's family to make an offer of marriage, but finds Zhu's father has married her to the son of the county magistrate. With grief and indignation, Liang dies of illness. As Zhu stands crying in front of Liang's tomb, it opens, and Zhu jumps into it - and the two lovers turn into butterflies. Mao Weitao, one of the best Yueju actresses in China as well as the director of the Shaoxing Xiaobaihua Yueju Company will star in the show.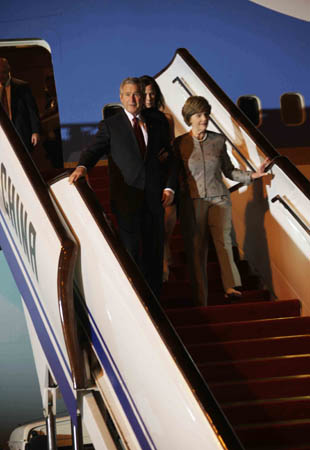 U.S. President George W. Bush (L) and his wife Laura Bush arrive at the Beijing Capital International Airport in Beijing, China, Aug. 7, 2008. U.S. President George W. Bush arrived in Beijing on Thursday to attend the opening ceremony of the Beijing Olympic Games and other events.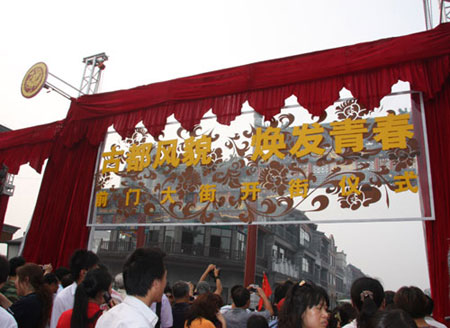 Visitors crowd in front of the stage set for the opening ceremony of the historical Qianmen Street, August 7, 2008. Qianmen Street reopens to the public Thursday after almost a year's renovation. The Olympic host city on Thursday reopened one of its oldest commercial areas as the latest cultural and tourist attraction, one day prior to the start of the Games. After a massive refurbishment lasting more than one year, the 840-meter-long Qianmen Street in the heart of the city was opened to visitors. A dozen local brands which originated from Qianmen in the past century, such as the Quanjude roasted duck restaurant and the Zhangyiyuan tea house, were reopened to business the same day.
China issued revised regulations on the management of foreign exchange on Wednesday night that provide heavy penalties for improper currency transfer and conversion, among other moves.
Riding 16 years of uninterrupted economic growth, Australia continues to capitalize on a string of advantages to consolidate an already long and profitable relationship with China.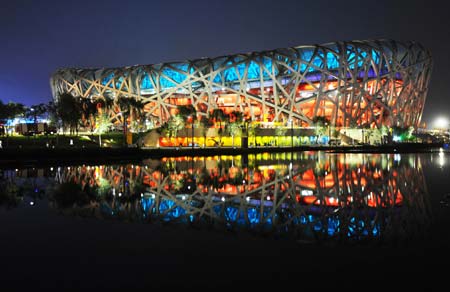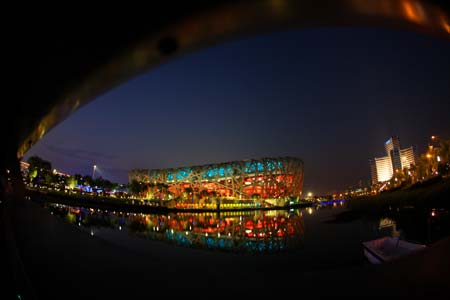 Photo taken on Aug. 5, 2008 shows the National Stadium, nicknamed the Bird's Nest, in the evening in Beijing, China. Beijing witnessed a fine weather Tuesday.
Aug 7, 2008



Hong Kong: Citic 1616 Holdings, a Hong Kong-based mainland telecommunications wholesale service provider, said voice and text message traffic in the country rose significantly in the first two days of this month as visitors and athletes began arriving in Beijing for the Olympic Games. "Both voice and text message traffic grew year on year this past weekend," chairman Shi Cuiming said yesterday. "Voice traffic is usually slow on weekends, but in the past two days it jumped significantly." Mr Shi did not reveal the growth figures but said he believed the upward trend would continue as more visitors and officials from other host cities arrived in the capital. China Mobile (SEHK: 0941, announcements, news) has partnered overseas mobile networks to give foreign mobile-phone users seamless roaming service on the mainland during the Games. Chairman Wang Jianzhou has said China Mobile had agreed with several overseas operators to offer cheaper tariff on international voice and text message roaming services. Mr Shi said the Olympics should benefit Citic 1616 as China Mobile accounted for 15 per cent of its outbound voice traffic from the mainland and his company handled almost all international text messages by China Mobile users. International voice wholesale and text message business accounted for more than 80 per cent of Citic 1616's revenue. The firm is eyeing acquisitions to boost international voice and mobile value-added services. "Voice tariff fell 10 per cent in the first half, but that was offset by the strong growth in usage," said Mr Shi. "If there are suitable assets at reasonable prices that could bring us enormous growth in voice traffic, we will surely consider acquiring them." Citic 1616 plans new services such as mobile global positioning system, mobile search and mobile television service. Mr Shi said the firm had prepared to offer those services with its own research and development team, although he did not rule out acquisitions in that field. Mr Shi believed development of third-generation mobile service would grow gradually on the mainland after the government issued the licences later this year. "The benefit from the 3G business could start next year."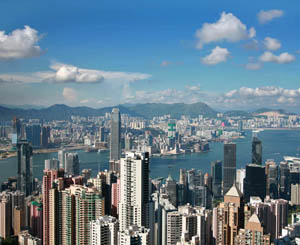 Property has lost its historical safe-haven status as a hedge against negative real interest rates and Hong Kong savers are turning to other options to protect their buying power as inflation rates outstrip the interest they can earn on bank deposits, say analysts. There is a marked contrast between the present negative real interest rate environment - in which nominal savings rates lag behind rising inflation - and the last episode of negative rates in the 1990s, according to Nicole Wong, the head of Hong Kong and China property research at CLSA. Then, negative real rates sent threatened savings deposits flooding the property market, pushing up average house prices 333 per cent from HK$1,500 per square foot in 1990 to HK$6,500 before the 1997 Asian financial crisis, CLSA data shows. Funds flowed into property between 1990 and 1997 when interest on savings was as low as 1.5 per cent while inflation ranged from 5.8 to 11.6 per cent and real mortgage rates fell to negative territory in the early 1990s. "The present low rates might have been supposed to again stimulate wealth reallocation to the property market, but it has turned out not to be the case," said Ms Wong, While inflation rose to 6.1 per cent in the first half of this year and savings rates eased to just 0.01 per cent, leaving real or inflation-adjusted earnings on deposits at negative 6.09 per cent, property transactions contracted. Average selling prices for 100 estates monitored by Midland Realty rose 4.7 per cent to HK$4,241 per square foot in the first half, but transactions in 35 key estates tumbled 16.4 per cent to 4,763 from 5,696 in the same period last year. "Hong Kong dollar savings that previously went into property to protect their purchasing power have instead flowed into yuan deposits," said Ms Wong. Since the beginning of the year, the prime lending rate charged by banks has decreased 150 basis points to between 5.5 per cent and 5.25 per cent, taking mortgage rates to a three-year low of between 2.7 per cent and 3 per cent, as home lending rates are priced below prime rates. Deposit rates have also fallen to just 0.01 per cent on savings accounts and 2.35 per cent for a 12-month term deposit. Inflation, by contrast, has climbed from 3.2 per cent to 6.1 per cent at the latest calculation.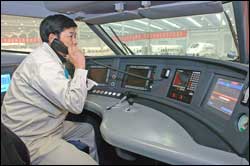 Dual-listing candidate China South Locomotive and Rolling Stock Corp has brightened Hong Kong's gloomy new-listing market as its institutional H-share offering was covered in less than four days, while its A-share offer met overwhelming response. "The A-share listing has received very strong demand, leaving the deal 348.4 times oversubscribed," a source close to the deal said yesterday. The source told The Standard that CSR has priced its A-shares at the top price of 2.18 yuan (HK$2.485) apiece. "It will be positive for the H-share public offering," said a second source. "As of [yesterday], the institutional book of the H-share listing was already covered." The source said some of the well- heeled investors who have subscribed to the Beijing-based company's A shares also want to buy its H shares. "Investors want to ensure a stake in CSR, as it is one of the biggest new listings seen in the past few years," he said. Wracked by global market volatility, 19 listing hopefuls have shelved their Hong Kong IPOs in the first seven months of the year, compared to only one for all of 2007. CSR, the mainland's largest train builder, is seeking HK$12 billion through its dual listing. It plans to raise 6.54 billion yuan in Shanghai by selling three billion A shares. Another 1.6 billion H shares will be sold in Hong Kong at between HK$2.49 and HK$2.76 each, representing a price- earnings ratio of 17.6 to 19.6 times based on 2008 forecast earnings. Its H-share retail offering will run from tomorrow to next Wednesday, with trading debut set for August 21. CSR has introduced China Life Insurance (2628), GE Capital Equity Investments and Mirae Asset Global Investments (Hong Kong) as its H-share cornerstone investors, each taking US$300 million (HK$2.34 billion) worth of H shares.


China: Sino-British combination to sing theme - Mainland singer Liu Huan and British soprano Sarah Brightman will perform the theme song for the Olympics opening ceremony, organisers said yesterday.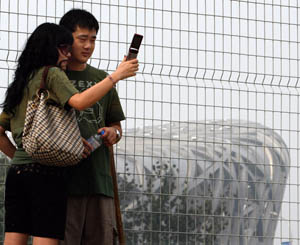 The International Olympic Committee will allow new media outlets to distribute live broadcasts of the Beijing Games through the internet and to mobile telephones, a sign that television is slowly losing its dominance as the medium of choice for sports fans. CCTV.com, the internet unit of state-owned China Central Television, has secured broadcast rights for mainland internet users, while in Hong Kong i-Cable Communications (SEHK: 1097) won exclusive Web broadcasting rights for the event. CCTV.com, one of the mainland's leading news portals, has expanded its network capacity and infrastructure in anticipation of a surge in demand. It has deployed technology provided by United States-based Blue Coat Systems to ensure video streaming service quality. CCTV.com estimated that up to 19,000 internet users at one time would visit its portal to view Olympic video programming. The system will automatically compensate for video quality when the number of users increases. "The advantage of the system is that it adjusts the video quality to meet increases in visitors," said Mathew Wong, systems engineer at Blue Coat Systems. "The system can maintain video quality at the best level with a floating number of users." The bit rate for streaming video, which indicates the quality of the picture, ranges from 220 kilobits per second to 340kbps. The system is able to multicast a single live video stream across the network and deliver it to each user who requests it. Mr Wong said 90 per cent of system's capacity had been allocated for live programme streaming, with the remaining 10 per cent set aside for video-on-demand services. CCTV.com will have 15 video sources from various Olympic venues for live online broadcasts. Four major sites in Beijing, Shanghai, Shenzhen, and Chengdu will form specific delivery networks so that internet traffic need not visit the main sever in Beijing as the four networks can diversify traffic to avoid congestion. "The establishment of four content delivery networks is similar to having four virtual private networks serving nearby internet users," Mr Wong said. "This will ensure users get live content of better quality." CCTV.com has connected each province with at least two gigabits per second of bandwidth to the four servers in Beijing, Guangzhou, Shenzhen and Chengdu. Mr Wong said this would allow 600 broadband lines to carry live streaming video at a rate of 340kbps in each province. "The deployment of online real-time streaming broadcasting requires a much greater investment than traditional broadcasting," said Mr Wong. Meanwhile, i-Cable Communications will kick off its Olympic online broadcasting service on Friday in partnership with the Hong Kong Applied Sciences and Technology Research Institute. The service will use peer-to-peer technology, in which the network uses the cumulative bandwidth of network participants.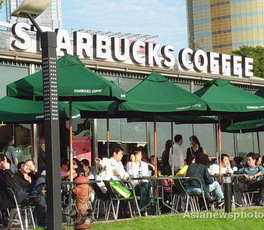 Starbucks said yesterday that the recent closure of its 661 underperforming cafes in the US and Australia would not affect the company's sustainable expansion in China.
Aug 6, 2008



Hong Kong: Free-trade deal benefits professionals - Town planners, architects, surveyors, social workers, language teachers, headhunters and doctors are major beneficiaries of the 11 supplementary agreements signed between Hong Kong and Guangdong.
Cathay Pacific Airways, Asia's No.3 carrier, reported a net loss for the first-half on Wednesday as soaring fuel prices and a one-off fine more-than offset robust passenger growth.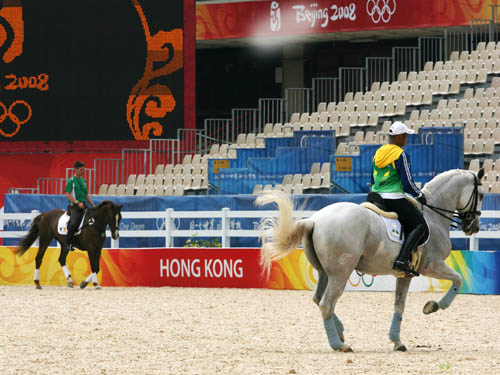 The powerful Australian three-day eventing team has brushed aside the possibility of competing in front of empty stands, but fear heavy rain could be a factor in the competition starting Saturday, which begins Hong Kong's historic staging of the Olympics. We are concerned about the weather. A heavy deluge will be a problem, not only for the eventers, but also for the competitors in dressage and showjumping," said Australian team chief Rob Hanna yesterday. "Our horses are in good condition and we now pray for good weather and good luck. The wet conditions will be a concern but we have prepared ourselves for the rain." Tropical storm Kammuri, which is expected to bring heavy rain, could present a problem for the 196 competitors from 42 countries - including Hong Kong - who have gathered in Sha Tin for the equestrian event. It could also present a huge headache for organisers who are already showing hints of panic. Hong Kong Equestrian Company chief executive Lam Woon-kwong has already intimated that the Games could be held in front of empty stands if they were forced to reschedule events. With the tropical storm threatening to bring heavy rain bands to Hong Kong over the next few days, the worst case scenario might become a reality. While worried about the weather, the Australian team said they would go out and perform in front of empty stands if it came to that. "I don't think performing in front of empty stands will be a problem. While it will be lovely to have a full house, this is the Olympic Games and just being here is an honour. And don't forget millions of people will be watching on television," Hanna said. That will be small consolation to local spectators who have brought all the tickets for the three disciplines in equestrian, which start on Saturday and ends on August 21. "We are used to it. Only very few equestrian events, like Badminton, draw big crowds and I have performed in front of small crowds. While it would be nice to have a big crowd and an atmosphere, I will go with whatever happens," said Australian eventer Lucinda Fredericks. Her teammate Megan Jones said: "We are here to do our job and whether it is in front of a crowd or not does not matter." All five eventers on the Australian team - Lucinda, her husband Clayton, Jones, Sonja Johnson and Shane Rose - are taking part for the first time at the Olympics. They are part of a 12-strong Australian contingent and carry the best hopes of their country for a medal. "We fancy our medal chances but at the same time we respect every other team which is here," said Australian eventing coach Wayne Roycroft. "We all know that form can be thrown out of the window. "There are about six teams who have realistic chances of winning gold," Meanwhile, the organizers got the thumbs up for security arrangements. "We have been here six days and I can see no flaws in the security bubble," Hanna said.
Hong Kong has not received any specific intelligence showing the city is a target for terrorists during the Olympics, Secretary for Security Ambrose Lee Siu-kwong said yesterday.

All eight public hospitals offering maternity services will for the first time temporarily stop accepting childbirth bookings by mainland women from next month.

Construction of the Hong Kong-Macau-Zhuhai Bridge will be able to begin by 2010 after the central government agreed to inject funds to make sure the project does not suffer any more delays, Chief Executive Donald Tsang Yam-kuen said yesterday. A new funding arrangement will see the cost of building the bridge split between the three regional governments, with Guangdong - after receiving subsidies from the central government - paying the most. However, 58 per cent of the cost will be funded by loans. The three governments had agreed in February that the 37.45 billion yuan (HK$42.72 billion) project would be tendered out to the private sector under the build-operate-transfer model, with the three governments meeting the funding gap between the construction cost and the private sector investment under a cost-to-benefit principle. Hong Kong would have covered 50.2 per cent of the gap, Guangdong 35.1 per cent and Macau 14.7 per cent. But under the new funding arrangement, Hong Kong will shoulder 42.9 per cent of the upfront payments, Guangdong and the central government 44.5 per cent and Macau 12.5 per cent. Mr Tsang announced the new plan after meeting Guangdong Governor Huang Huahua at the 11th annual meeting of the Guangdong-Hong Kong Joint Co-operation Conference yesterday. "The three governments will now be responsible for contributing 42 per cent, or 15.73 billion [yuan], of the bridge's construction cost," he said. "We will raise loans for the rest." That means Guangdong and Beijing would have to shoulder an upfront payment of 7 billion yuan, Hong Kong 6.75 billion yuan and Macau 1.98 billion yuan. Veteran commentator Johnny Lau Yui-siu queried whether the switch in the contribution ratios meant Guangdong would assume a controlling stake in the joint-venture company which will be set up by the three governments to oversee the bridge's tendering process, construction and operation. But a Hong Kong government source said the shareholders' stakes had not been confirmed yet and would be discussed thoroughly over the next few months. The source said the central government had come to the table out of goodwill to speed up the project - which has been on the drawing board for 25 years. The source said the three governments had abandoned the earlier funding model because the tendering process could cause further delays and they wanted to exert greater control on the setting of tolls. "Private contractors need to study their rate of return before submitting proposals, and that would have to be based upon car flows and tolls," the source said. "But we have not yet come up with a decision on the cross-boundary vehicle quota, which apparently would affect the bridge's utilisation." A report submitted to the Legislative Council earlier projected the bridge would attract 14,000 vehicles a day at most with a toll of HK$150 if the quota system was not relaxed. Each government will be responsible for the cost of connecting roads and border-crossing facilities to the bridge within their boundaries. In Hong Kong that would amount to another 2 billion yuan. A government source expected the 29.9km, dual three-lane bridge to be completed by 2016. It is expected to bring significant advantage to the region by speeding up cargo flows and boosting tourism.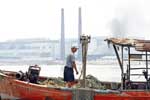 Delta-wide green zone gets the nod - Hong Kong and Guangdong have agreed to set up a green zone to improve the quality of life in the Greater Pearl River Delta and pledged to redouble their efforts to meet air quality standards set for 2010.
Bank of East Asia (0023) yesterday announced its first year-on-year drop in interim net profit since 2002, posting a decline of 52.4 percent on the back of collateralized debt obligation and structured investment vehicle write downs.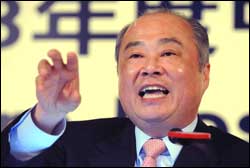 MTR Corp (0066) beat market expectations, reporting that first-half underlying profit surged 33.2 percent to HK$2.73 billion, driven by its financial benefits from the rail merger. Analysts had expected the subway operator to generate an underlying profit from HK$1.70 billion to HK$2.53 billion for the six months ended June. Profit including investment properties revaluation and related deferred tax rose 15.2 percent to HK$4.69 billion, while earnings per share were 83 HK cents, up from 73 HK cents a year ago. An interim dividend of 14 HK cents per share was proposed. The company, which incorporated for the first time the full six months' results of Kowloon and Canton Railway Corp, said revenue jumped 75.7 percent to HK$8.53 billion year-on-year, of which fare revenue contributed HK$5.59 billion, up 72.2 percent. Patronage of domestic service increased 36.3 percent. Earnings before interest, taxes, depreciation and amortization were 71.5 percent higher at HK$4.8 billion. Chief executive Chow Chung-kong said the company will study the fare adjustment mechanism when the fare freeze ends at the end of June next year. "I don't think that at this point of time I can talk about further fare reduction," he said, adding that the company has to protect stakeholders' interest under high inflationary pressures. Meanwhile, Hong Kong's largest landlord after the government said property development profit plunged 79.1 percent to HK$348 million in the first half. "This is due to the timing difference in the recognition of profit," Chow said. "Depending on the timing of issuance of occupation permits, profits from the Capitol and Palazzo may be recognized in the second half." The major contributors to its property development profit in the first half were the sale of units in inventory at Harbour Green and The Arch along the airport railway, as well as deferred income recognition from Coastal Skyline, Caribbean Coast and Elements.


China: Putin wishes Beijing Olympics great success - Russian Prime Minister Vladimir Putin has spoken highly of China's preparations for the upcoming Olympics and wished the Games a complete success.
Visitors to Olympic venues in Beijing and the six other co-host cities can now locate information desks, entrances and restrooms on a 20-language website before they arrive. The maps, available at Tomap.cn, provide details of each of the 39 Olympic venues in the seven cities. In addition to listing the events being held at each venue, the maps show major landmarks, points of public transit, restrooms, first-aid rooms - even water coolers. It can be downloaded free of charge to mobile phones. The maps are currently in nine languages, but designers expect it to be available in 15 to 20 languages by tomorrow. The idea was initiated by a group of volunteers in March. "When I went to see a football match, I had to walk around the stadium for quite a while before I finally found the entrance," Zhang Zhen, the online map designer, said. "The instruction boards inside the stadium were not very helpful. "A clear map could save lots of trouble during the Olympics, when spectators will be pouring into all of the sports stadiums," he added. Zhang, 31, is general manager of the Shanghai IT company that devised both the Pudong International Airport and Maglev computer systems. His team includes the manager of a software company specializing in map layout, a web designer from Shanghai-based East China Normal University, and a design director of a Beijing Internet company. Diomede Calzini, an Italian proprietor of a children's store in Shanghai, has offered to translate the map into Italian. "The biggest difficulty was amassing correct and detailed terrain information, as many sports stadiums were still under construction at the time," Zhang said. He has traveled twice to Beijing to gather accurate information about the Olympic venues. His team of volunteers worked with college students and linguists on translating the map into 20 languages, including English, French, Japanese and German. The website, launched last week, had received more than 13,000 hits as of yesterday.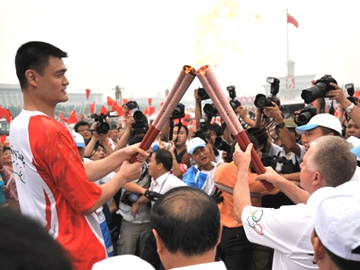 Basketball star Yao Ming was among an array of China's biggest stars who took the Olympic flame on the final leg of its journey through Beijing on Wednesday. Yao's run began inside the Forbidden City and ended under Tiananmen Square's iconic portrait of late leader Mao Zedong. "I have not played basketball for five months [because of a foot injury], and now the first basketball match in the Olympics is only one week away and I will try my best to do my job well," Yao said. Among the other stars to carry the torch – which arrived in the capital after a four-month global tour – were China's first man in space, Yang Liwei, film director and chief artistic director of Friday's opening ceremony, Zhang Yimou, and pianist Lang Lang. Yang, who made history by going into space in 2003, ran the inaugural stretch of the 16km route from Wu Gate at the Forbidden City, as day one of a three-day stage in the capital got underway. Yao, who plays for the NBA's Houston Rockets, took over the relay from Bai Yansong, a prime-time China Central Television anchor. [IMG]With the torch in his left hand, Bai held up his right hand and briefly pointed to the sky before putting his hand on his heart, a gesture Olympics organizer Bocog said was a sign of support for the victims of the Sichuan earthquake. Unlike stages in other provinces since the May 12 earthquake, Wednesday's relay started at 8am without any formal ceremony for the quake victims. Film director Zhang appeared relaxed and smiled as he covered his 20 metres along Changan Avenue, Beijing's main east-west road. Just two days remain until the world watches the realisation of Zhang's vision for China's international debut, a grand opening ceremony that he has said will "surprise Beijing and the world at large". Other artists, such as composer Xu Peidong, comedian Song Dandan and singer Yu Junjian, also relayed the flame along Changan Avenue, along with senior managers from Olympic sponsors, including Lenovo Group (SEHK: 0992, announcements, news) chairman Liu Chuanzhi, Volkswagen (China) president Winfried Vahland and Coca Cola Beijing area manager general Song Taishan. Firefighter Zhang Zhiming and medic Yu Luming represented the legions of volunteers who helped in the aftermath of the Sichuan disaster. They ran their sections amid shouts of "Come on, China; Come on, Beijing" from spectators lining the route. Ordinary men and women were not ignored by relay organisers but the taxi drivers, nurses and migrant workers invited to carry the flame could not compete with the star power of the celebrities and business heavyweights. The relay resumes on Wednesday afternoon and will wrap up at the Temple of Heaven in south Beijing with a brief performance. In total, 433 torchbearers will participate in the relay on the first day.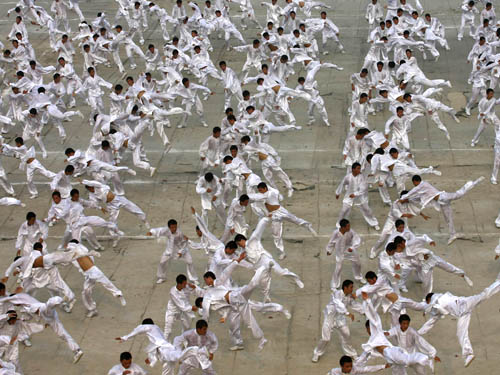 Students from the Tagou martial arts school in Henan province practise their moves at a training base on the outskirts of Beijing. More than 2,000 students from the school will perform during the opening ceremony of the Beijing Olympics on Friday night. And if the amount of work they have put into their routine is any guide, their performance is bound to be perfect. The students have been training at their Beijing base for the past year.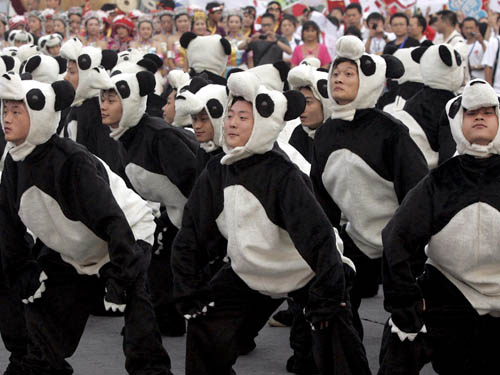 The Chengdu leg of the Olympic torch relay ended without incident yesterday morning, as organisers had hoped, paving the way for the torch's return to the capital today for a final three-day run before the flame is sent to the National Stadium for Friday's opening ceremony. More than 1,000 journalists from the mainland and overseas went to Sichuan to cover the last provincial stage and to gauge the province's recovery from the devastating May 12 earthquake, which left almost 88,000 people dead or missing. For many of the people of Chengdu, the torch relay was a chance to shrug off frustrations at the damage and loss brought by the quake. Organisers of the Sichuan leg of the torch run appeared to set security as the top priority for the event by starting the relay at an industrial park in the city's south, an area seen as an otherwise unremarkable suburb by Chengdu's residents. "As a Chengdu guy, I have never been to that area myself because there are only factories and buildings that have no appeal to normal guys," said Dong Xueyu , 23, one of several hundred people gathered on a road near Sichuan University to celebrate the torch run taking place about 10km away.
Specific guidelines set for new Anti-Monopoly Law - The first regulation that sets specific guidelines for the Anti-Monopoly Law was announced by the State Council in a move to provide guidelines and direction for the enforcement of the law. The Anti-monopoly Law came into effect on August 1, 2008, a week before the fireworks would appear for the Beijing Olympics. The law has attracted much publicity since its promulgation in August last year, which had culminated 13 years of legislative debate.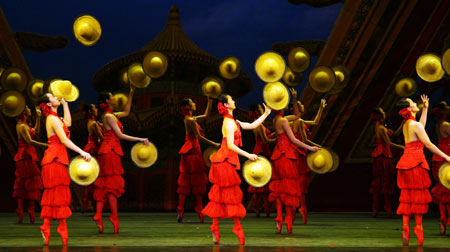 Dancers of the Guangdong Acrobatic Troupe perform during a press preview of the Chinese Acrobatic Swan Lake at the Royal Opera House in central London August 5, 2008. The ballet runs at the Royal Opera House until August 10.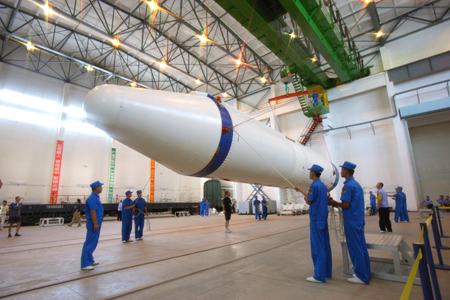 The Long-March II-F rocket for the launch of China's manned spacecraft Shenzhou VII is seen at the Jiuquan Satellite Launch Center in Northwest China's Gansu Province, August 5, 2008.
Aug 5, 2008



Hong Kong: Hong Kong needs to reassess its security measures after yesterday's attack on police in Xinjiang, Chief Executive Donald Tsang Yam-kuen said.

HSBC warns of tough times as profit tumbles - HSBC Holdings executives said yesterday that the global economy could get worse before it got better, adding that the banking group, which reported a 29 per cent plunge in net profit.
A new visa office will be opened in Shenzhen this year for the city's migrants to apply for permits to travel to Hong Kong.
Thirteen-year-old Kenneth Kan Man-fung - the youngest ever HKCEE candidate - scored one A, five Bs and a level 5* in English when the exam results were released yesterday.
Operators of green taxis are submitting a fare-rise application to the Transport Department today - the third from the taxi industry in five weeks.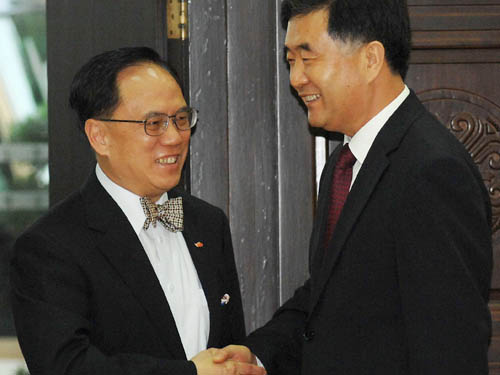 After years of talks and rounds of negotiations, Hong Kong and Guangdong will sign a deal today on the HK$40 billion Hong Kong-Macau-Zhuhai bridge. Guangdong party chief Wang Yang broke the news yesterday when he met Chief Executive Donald Tsang Yam-kuen and the Hong Kong delegation to the 11th annual meeting of the Hong Kong/Guangdong Co-operation Joint Conference. The three governments - Hong Kong, Guangdong and Macau - agreed in February on a funding arrangement to cover any shortfall between construction costs and investment by the private contractors who win the bid for the project. Under what was described as a cost-benefit principle, Hong Kong would cover 50.2 per cent of the shortfall, Guangdong 35.1 per cent and Macau 14.7 per cent. It is understood, however, that there will be changes to the funding arrangement: the three governments will finance the bridge directly, to speed its construction. Hong Kong and Guangdong will also sign supplementary agreements to enrich the content of the Closer Economic Partnership Arrangement's latest phase. Mr Wang pledged that there would be increasing co-operation between the two sides, and that Guangdong would unveil more favourable measures. Guangdong has unique conditions to strengthen its co-operation with Hong Kong," he said. "There will be a bridge for Guangdong to reach out to the world market. The Pearl River Delta will be the most competitive region in the world in 30 years." Mr Tsang, meanwhile, pledged that Hong Kong would help Guangdong develop its economy, and he outlined five main areas of co-operation in the coming year. The priority will be on service industries that Cepa has opened up. The city will also help Guangdong upgrade its economic structure, including secondary-processing businesses from Hong Kong operating in the province. Other focuses at this year's meeting will be cross-border infrastructure projects and improving the environment of the delta region. Shortly after arriving in Guangzhou, Mr Tsang visited the laboratory of a Hong Kong-listed wireless communications company in the Sciences City. He also visited Xinyi International Club. This used to be a cluster of obsolete factory buildings but has become a creative-industry centre that houses galleries and offices.
Las Vegas Sands suffers US$8.8m loss despite 81pc revenue growth - Las Vegas Sands Corp, the world's largest casino developer by market value, posted its third quarterly loss in a year yesterday after development costs and depreciation charges in Macau and beyond.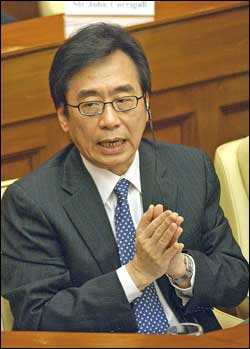 A controversial government decision to allow a former housing chief to take a top job with one of the city's most powerful property developers is facing a legal challenge. And last night Chief Executive Donald Tsang Yam-kuen said he was worried about the public reaction to the appointment and ordered officials to give him a full report into how it was handled. The Democratic Party is backing an elderly man from Cheung Chau who is seeking a judicial review of the decision. Islander Kwok Cheuk-kin believes it is wrong that former Housing Department director Leung Chin- man be allowed to take up the positions of deputy managing director and executive director of New World Development.
Hang Seng Bank (0011) yesterday posted a market-expected 2008 interim net profit of HK$9.06 billion on rising interest income, up 2.2 percent from a year ago.
Global equity investment firm Carlyle Group spent HK$2 billion buying two Macau residential buildings from developer Sin Kin Wan Group, which is chaired by 11th Chinese People's Political Consultative Conference National Committee Vice-Chairman Ma Man-kei, according to Jones Lang LaSalle.

Gong Li and Chow Yun-Fat attend a press conference in Bangkok, Thailand, on August 1, 2008 to promote the upcoming new film "Shanghai."


China: The 2008 Beijing Games will change China, and the world's understanding of the host country, the International Olympics Committee president predicted yesterday.
Taiwan's government-run postal company changed back to its original name containing the word "China" yesterday, in line with Taipei's policy of engaging the mainland.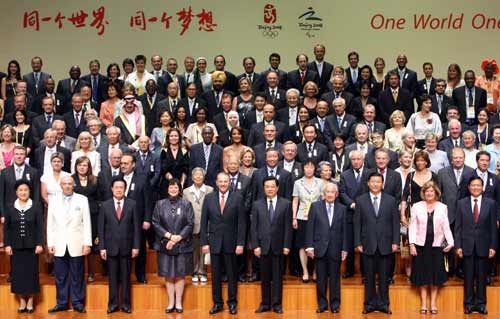 Chinese top leaders Hu Jintao, Xi Jinping and Zhou Yongkang pose for a group photo with members of the International Olympic Committee (IOC) prior to the opening ceremony of the 120th IOC session in Beijing, China, Aug. 4, 2008. The 120th IOC session was opened at the National Center for the Performing Arts in Beijing on Monday.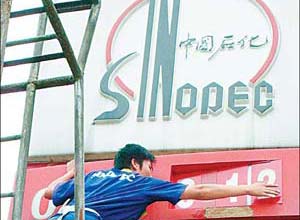 Sinopec in "takeover" bid for Imperial Energy - Sinopec, China's largest oil refiner, has launched a bid for the London-listed Imperial Energy as part of its overseas development. Imperial Energy's board has allowed Sinopec to start due diligence, the Sunday Telegraph reported, without revealing the source.
China's hotel industry is experiencing unprecedented growth, but the new supply of more than 12,000 internationally managed hotel rooms in Beijing in 2008, with the coming of the Games, has aroused growing concerns from industry experts.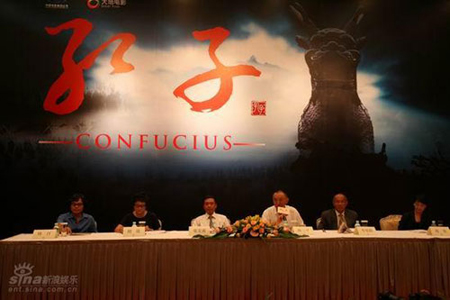 How did Confucius become one of the greatest philosophers of all time? Chinese director Hu Mei offers her answer in an upcoming biopic of the ancient legend. Hu Mei will begin shooting the film "Confucius" in September, the director announced at a press conference on Monday. She said a leading actor would play Confucius, while keeping his name under wraps. Khan Chan, one of the screenwriters for John Woo's "Red Cliff," has written the script for "Confucius." The film is estimated to have a budget of 150 million yuan (21.9 million U.S. dollars).
Aug 1 - 4, 2008



Hong Kong: HKU admits four students from Sichuan - The University of Hong Kong has admitted four students from the earthquake-affected areas of Sichuan, a spokesman for the university confirmed on Thursday.
HK amends domestic violence law - The amended Domestic Violence Ordinance in Hong Kong – which would come into effect on Friday – aims to protect domestic violence victims, the Labor and Welfare Bureau said on Friday.
Hong Kong businessman Victor Fung Kwok-king said overnight he was concerned about the failure of this week's talks on the Doha Round in Geneva. r Fung said it was vital for the global economy that agreement was reached on key issues affecting international trade. The Doha round fell through on Tuesday after seven trading powers – Australia, Brazil, the mainland, the European Union, India, Japan and the United States – failed to reach a consensus on lowering tariffs and subsidies for agricultural products and import levies on manufactured goods. The Doha Round is an ongoing trade-negotiation round of the World Trade Organization (WTO). It began in Doha, Qatar, in November 2001. It aims to reduce international trade barriers and encourage free trade between countries. Dr Fung, well known in Hong Kong as head of the Li & Fung (SEHK: 0494) group of companies, was speaking as chairman of the International Chamber of Commerce (ICC). "There is no alternative to the rules-based multilateral trading system, which the Doha Round seeks to strengthen," he said. The ICC is a leading, non-profit business organization representing business all over the world — with a mission to improve the markets for trade and development, free flow of capital, boost economic growth and create job opportunities. His views echo recent comments by China's Minister of Commerce Chen Deming. Mr Deming called the failure of world trade talks in Geneva "tragic" and warned it would hurt an already fragile global trading system. Dr Fung said agreement over the Doha Round would ultimately benefit the international economy. "It is particularly important in this economic environment to continue to foster world prosperity and encourage the growth of developing economies – who will be the biggest losers if the Doha Round were to fail," he said. ICC Secretary General Guy Sebban said national governments were becoming unable to overcome challenges on national boundaries alone. "Clearly, not enough member countries of the WTO were ready to make the compromises necessary to reach a deal – even after six and a half years of talks," said Mr Sebban. He said this week's disagreements over Doha were bad for the world economy – particularly at a time of financial crisis which was slowing down economic growth globally. "There is no question in our minds about the effects of the Doha Round on the global economy. Without a Doha deal, virtually all countries will experience less economic growth than they would if a Doha deal was in place," said Mr Sebban. Critics of the Doha round argue that it will benefit developed countries at the expense of less developed nations. They also cite the social impact the WTO's agenda of trade liberalization and lower tariffs may have on poorer countries. This could include forcing businesses and farms to close and creating higher unemployment. The WTO was formed in 1995. It is an international organization responsible for supervising and liberalizing international trade. Its aim is to negotiate and implement new trade agreements for its member. Hong Kong hosted the sixth WTO Ministerial Conference in December, 2005. Most of the trade ministers' representatives agreed during the conference to eliminate subsidies of agricultural exports by 2013.
Hong Kong's total retail sales in June increased by 11.6 per cent to HK$22.2 billion when compared with corresponding period last year, latest statistics from the Census and Statistics Department released on Thursday showed. he government spokesman said the retail sales of fuel increased the most among other retail products – by 18.1 per cent. "This was followed by sales of electrical goods and photographic equipment [up 15.4 per cent], footwear, allied products and other clothing accessories [up 10.0 per cent], apparel [up 9.1 per cent], furniture and fixtures [up 6.6 per cent], miscellaneous consumer durable goods [up 5.9 per cent], miscellaneous consumer goods [up 5.3 per cent], commodities [up 3.1 per cent], and jewellery, watches and clocks, and valuable gifts (up 1.4 per cent)," the spokesman said. However, sales of motor vehicles and parts of commodities in supermarkets decreased by 10.5 per cent and 1.3 per cent respectively in June 2008 compared with the last year. Meanwhile, volume of sales of food, alcoholic drinks and tobacco remained unchanged, the statistics showed. "These retail sales statistics are primarily intended to measure the sales receipts in respect of goods sold by local retail establishments, for gauging the short-term business performance of the local retail sector," the spokesman said. "Looking forward, the slowing global economic growth, strains in the financial markets, elevated inflationary pressure and international commodity prices, and consolidation in local asset prices are all likely to put a drag on the local economy and hence influence consumer sentiments," he added.

Architectural designs for redeveloping Macau's iconic casino, the 38-year-old Lisboa, have gone on display at Grand Lisboa, the flagship casino of SJM Holdings. named pictures of a dozen concepts submitted by six design firms are being shown in an exhibition, from yesterday to Sunday, in the casino's Grand Ballroom. Gaming mogul Stanley Ho Hung-sun, the managing director of SJM, praised the long history of Casino Lisboa at the exhibition's opening ceremony, referring to it as Macau's "heritage". "While integrated resorts are now the accepted formula in Macau, it should be remembered that this innovative concept was introduced by us back in 1970," he said. SJM was aiming for a redevelopment that would be "unique and culturally appropriate for Macau". Each design firm has come up with two concepts: one with, and the other without, the Lisboa's famed "birdcage" design. It is still uncertain whether the birdcage will be retained in the redevelopment. The exhibition is part of a design contest organized by SJM. A judging panel comprising SJM executives and architects will shortlist three concepts for a second round, in which a winner will be selected. When Casino Lisboa opened in 1970, its circular design was considered revolutionary at the time. The birdcage shape was especially popular among foreign tourists. Many Hong Kong gamblers believe that the "birdcage" has a special fung shui effect - "caging" punters and their money inside. But Mr Ho said yesterday that fung shui was not considered. "People said it was a fung shui design to confine gamblers," he said, "Lisboa was designed by Eric Cumine, a relative of mine. He is a foreigner who knows nothing about fung shui." Design firms taking part in the contest include Paul Andreu Architecte of Paris, which designed the National Grand Theatre of China; Dennis Lau & Ng Chun Man Architects & Engineering, which designed the Grand Lisboa; and Simon Kwan & Associates, which designed the Hong Kong Science Park.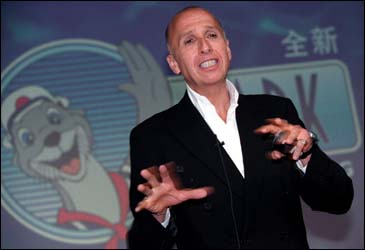 Ocean Park aims for `fair' share of Disney CEPA deal - Plans are afoot to include Ocean Park in a controversial deal that will allow non-Guangdong residents working in Shenzhen to tour Disneyland using special passes. The deal, with tours to be conducted by authorized agencies, is part of a new package under the Closer Economic Partnership Arrangement signed on Tuesday. It immediately drew fire from Ocean Park chairman Allan Zeman and critics who suggested the government is siding with the underperforming theme park. "It wouldn't be great to have only one attraction," Zeman told The Standard. "I wouldn't want Ocean Park to be the only attraction either. It wouldn't be fair. I just hope that there's a level playing field." Zeman said he did not know the rationale behind the scheme, which came as both a surprise and disappointment to him. Neither the Hong Kong nor mainland governments discussed such an arrangement with the marine theme park before the deal was announced, he said. The park has contacted the Tourism Commission to pursue the inclusion of Ocean Park into the scheme. Zeman said other attractions such as Ngong Ping 360 should also be included as they are all government owned. He said the deal in its present form will not affect Ocean Park attendance since it is not clear how many nonlocal workers in Shenzhen can afford to join such tours. A Tourism Commission spokeswoman said it is in discussions with Ocean Park. Wang Fugang, assistant general manager of state-owned China Travel Service (Hong Kong) said it will consider adding Ocean Park and other attractions into a three-day, two-night itinerary, which is still in the planning stage. But a source said Disneyland will be the exclusive theme park in the initial stage of implementation. China Travel said visitors will enter and leave Hong Kong as a group through specified immigration control points. Only a handful of groups will be allowed at the outset but the list will be expanded gradually. Tour prices and other details have yet to be confirmed. Financial Secretary John Tsang Chun-wah defended the deal, saying it was a pilot scheme that may be expanded to cover other destinations. Executive Council convener Leung Chun-ying said Disneyland enjoys a good reputation in the mainland and has spare capacity to host more visitors. Its location also makes group management easy.
The influenza vaccination subsidy scheme will run from November 1 to March 31 in 2009 in Hong Kong, allowing eligible children to get flu vaccine service from private doctors at subsidized fee levels, a government official said here Wednesday. Announcing the scheme Wednesday afternoon, Hong Kong Secretary for Food and Health York Chow said each eligible child is entitled to a subsidy of 80 HK dollars (10.26 U.S. dollars) per dose of flu vaccine received from private doctors enrolled in the scheme. Children between the age of six months and less than six years with Hong Kong resident status and those aged six or above but attending kindergartens or childcare centers are eligible for the subsidy. About 300,000 children will benefit from the scheme, Chow said, adding it will cost about 56 million HK dollars. Parents will pay the remaining fee after the 80 HK dollars subsidy is discounted. A child who has not received flu vaccination before normally need two doses. Doctors who have enrolled in the scheme will display a dedicated logo at their clinics. They will also put up in the clinic the fees charged for flu vaccination service for public reference. For children aged between six months and less than six years whose families receive Comprehensive Social Security Assistance, the Hong Kong Special Administrative Region (HKSAR) government will provide free flu vaccination services through public hospitals and clinics. Private doctors interested in participating are advised to place early orders for flu vaccines from their suppliers to ensure adequate supplies. The HKSAR government will continue to provide free flu vaccination services to the eligible target groups for the 2008-09flu season through public hospitals and clinics, Chow said.


China: Shanghai slides 2.1pc as economy worries persist - Mainland stocks fell on Thursday, led down by oil refiner Sinopec and property firms, in response to a rebound of global oil prices and the prospect of a Chinese economic slowdown.
Mainland QDII given access to TAIEX - Taiwan's cabinet said on Thursday it would allow mainland institutional investors to pump more than US$1 billion into the island's stock market, in a sign of improving business ties on both sides.
I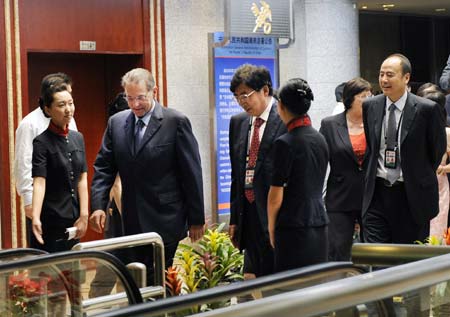 International Olympic Committee (IOC) president Jacques Rogge (2nd L) arrives at the Beijing Capital International Airport in Beijing, capital of China, July 31, 2008.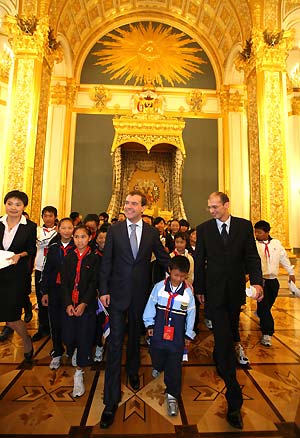 Russian President Dmitry Medvedev (C) smilese as he walks with the students from China's quake-hit Sichuan Province at the Kremlin Palace in Moscow, capital of Russia, on July 30, 2008. A group of 50 students from China's Sichuan Province are interviewed with Russian President Dmitry Medvedev on Wednesday after they paid a visit to the Kremlin Palace, the Red Square, and the Lenin Tomb in Moscow.
Top securities regulators have vowed to maintain stability in and strengthen supervision of the capital market to ensure orderly trading in the run-up to and during the Olympic Games. "Preparations should be made to deal with any emergency and prevent trading from being harmed by rumors or hackers' attack," Shang Fulin, chairman of China Securities Regulatory Commission (CSRC), said. Addressing the three-day national conference on securities and futures in Beijing, Shang said maintaining a stable market is a long-term objective. The conference, which ended yesterday, is held twice a year. Shang said greater efforts should be made to improve the corporate bond market, for it can help raise capital through different means. "The stock market is undergoing a big correction, and enterprises should be aware that apart from issuing common shares to raise funds, they can choose to issue bonds, too," Shang said. Additional steps will be taken in the second half of the year to encourage more companies to issue bonds, he said. "By raising the proportion of bonds in the financial structure, a company can cut costs and improve capital efficiency." Twenty-one listed firms raised 74.5 billion yuan ($10.9 billion) in bond issues in the first six months of the year, up 5.35 times year-on-year. The amount accounted for 53 percent of the total fresh capital raised in the stock market through new shares and bonds, according to CSRC's latest figures. Continuous support should be given to the entry of longer-term investment, including enterprise annuity, insurance firms' premiums and social security funds, into the stock market, he said. This can help improve the investor structure and cut the risks posed by short-term speculations. On the macro-economic impact on the capital market, Shang said: "The fundamentals of the country's capital market have remained sound." But efforts should be made to deal with any new challenge thrown up by changing macro-economic conditions at home and abroad.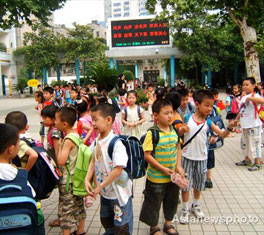 China will make all urban students free from tuition and other incidental fees as of the coming Autumn term to promote the nine-year compulsory education system.

*News information are obtained via various sources deemed reliable, but not guaranteed