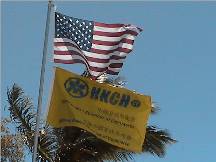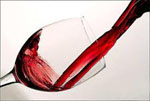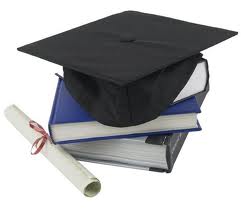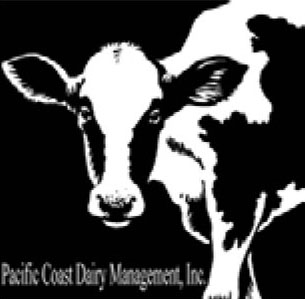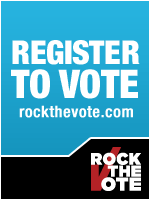 Biz-Video

Hawaii's China Connection

Doing Business in Hong Kong & China
Hong Kong, China & Hawaii Biz*
Do you know our dues paying members attend events sponsored by our collaboration partners worldwide at their membership rates - go to our event page to find out more! After attended a China/Hong Kong Business/Trade Seminar in Hawaii...still unsure what to do next, contact us, our Officers, Directors and Founding Members are actively engaged in China/Hong Kong/Asia trade - we can help!
Are you ready to export your product or service? You will find out in 3 minutes with resources to help you - enter to give it a try

China Central TV - live Webcast

Skype - FREE Voice Over IP

View Hawaii's China Connection Video Trailer


Direct link PDF file


Year of the Pig - February 18, 2007


Listen to MP3 "Business Beyond the Reef" to discuss the problems with imports from China, telling all sides of the story and then expand the discussion to revitalizing Chinatown - Special Guest: Johnson Choi, MBA, RFC. President - Hong Kong.China.Hawaii Chamber of Commerce (HKCHcc) and Danny Au, Manager, Bo Wah Trading

Holidays Greeting from President Obama & Johnson Choi
http://www.youtube.com/watch?v=pNk4Z4lUV-k
http://www.facebook.com/video/video.php?v=219896871983&ref=mf
Wine-Biz - Hong Kong
Brand Hong Kong Video
Sept 30, 2008



Hong Kong: US lawmakers have rejected a US$700 billion financial rescue plan, throwing efforts to calm the financial crisis rocking global markets into turmoil. The House of Representatives voted 228 to 205 against a bill that would authorise the biggest government intervention in the markets since the Great Depression. The Dow Jones Industrial Average fell 458.3 points, or 4.1 per cent, in afternoon trade following the vote, after falling more than 700 points at one point as it became clear that the vote was headed for failure. "The American people rejected this bailout and now Congress did likewise," Republican Mike Pence said. House Financial Services Committee chairman Barney Frank said: "I'm very disappointed. The Republicans killed this." The legislation would have given Treasury Secretary Henry Paulson broad authority to buy troubled assets from financial companies. US President George W. Bush had lobbied lawmakers to support the bill, making a live televised statement before Wall Street opened to push for the package, saying it was needed to "help keep the crisis in our financial system from spreading throughout our economy". The revised plan considered by the House would have given Mr Paulson an immediate US$250 billion to buy bad loans from financial companies, with the rest to be doled out in stages. The compromise also included a proposal by House Republicans, whose objections scuttled an earlier agreement in principle, for government insurance for mortgage-backed securities. The plan included a bipartisan oversight board to monitor the purchase and sale of assets, and imposed limits on the compensation of executives at participating companies. House Republican leaders, in speeches on the House floor, urged their colleagues to support the bipartisan House and Senate compromise crafted over several days. Still, lingering opposition from many Republicans prompted Democratic leaders, including House Speaker Nancy Pelosi and majority whip James Clyburn, to circulate among Democrats on the House floor to seek more support. After an initial tally of 207 to 226, the vote was held open for negotiations - during which lawmakers could change their minds - but procedures were suspended after only two members switched their votes. The vote came as the world's central banks redoubled efforts to revive the global financial system, with the US Federal Reserve announcing a US$330 billion expansion of currency swap arrangements with nine central banks to boost US dollar liquidity throughout the system. It also came after a day of falls in global equity markets in the wake of the near-collapse of major European financial institutions and growing doubts about the ability of the planned bailout to avert a global meltdown. The Hang Seng Index dropped the most in nearly two weeks, plunging 801.41 points, or 4.29 per cent, to 17,880.68. Elsewhere in the region, Japan slid 1.26 per cent, South Korea dropped 1.35 per cent and Singapore lost 2.08 per cent. In London, the FTSE 100 lost 5.3 per cent. The Hong Kong market outpaced losses in the region after a round of mortgage rate rises by city lenders sparked a sell-off of property stocks. Cheung Kong (Holdings) (SEHK: 0001) and Sun Hung Kai Properties (SEHK: 0016) fell 6.95 and 5.09 per cent respectively. Sino Land closed down 7.77 per cent.
Airport rail link not financially viable, study finds - Prohibitive costs and limited demand are expected to plague the proposed 30km rail link between the Hong Kong and Shenzhen airports, which will take more than a decade to eke out a 3 per cent return, according to a Chinese University study. Law Cheung-kwok, associate director of the university's Aviation Policy and Research Centre, said the project was not financially viable. Government officials and Shenzhen airport authorities generally agreed with the study's preliminary findings, Dr Law said, despite a lack of data on the ambitious project. He suggested the government consider other alternatives, including improving the existing SkyPier ferry service between the two airports with smaller and faster boats to increase the efficiency and frequency of service. "The transport infrastructure of Guangzhou, Shenzhen and Hong Kong is evolving and will affect the way visitors in the Pearl River Delta make travel plans and select airports. But how this will impact Hong Kong's aviation industry is unknown," Dr Law said. The full report will be forwarded to the government soon. A government spokesman said a study commissioned by the Task Force on Airport Co-operation between Hong Kong and Shenzhen on the project's feasibility was expected to be completed this year. It will cover rail alignments, detailed planning development and overall transport development strategies as well as economic benefits. The taskforce had its first meeting in January. "On financial viability, it's too early to comment at this stage. We need to complete the consultancy study first," the spokesman said. Assuming the project costs HK$30 billion - and that tickets were priced at HK$400 for a single trip, there were no alternative modes of transport and the number of passengers, estimated at about 689,000, grew 21 per cent a year - the rail link would take a dozen years to generate a 3 per cent rate of return, the study found. Dr Law said few passengers would pay HK$400 to take the rail link, but reducing the price to HK$200 would mean it would take at least two decades to achieve a return. But the rail link would help Hong Kong's airport enlarge its catchment area in the two cities by between 5 per cent and 7 per cent, as more passengers opted for Hong Kong given the shorter travel time via the rail link. The findings assume a direct rail link between the airports for transit passengers, and does not consider the possibility of stations in the city centre or the addition of residential or commercial developments. The rail link was included in 10 large-scale infrastructure projects that Chief Executive Donald Tsang Yam-kuen highlighted in his policy address in October last year. The idea was first floated last year by the Bauhinia Foundation, a think-tank close to the government.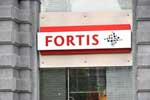 Shares of Ping An Insurance (2318) plunged to a 16-month low yesterday on concerns of profit erosion after investment loss on shares of Dutch-Belgian financial firm Fortis which have slumped 71 percent since November.
Dah Sing Banking Group (2356) said yesterday it has exposure of 31.9 million euros (HK$355.5 million) to failed US savings and loan Washington Mutual, and said subsidiary Dah Sing Bank will raise HK$400 million of new Tier 2 capital to cover potential losses.


China: Visa approvals surge in Beijing - The number of visas issued to foreigners wanting to visit or reside in Beijing increased sharply after the Olympics, Xinhua said yesterday. The agency said "a record number" of temporary-residency and entry visas had been issued by the Beijing Public Security Bureau in recent weeks. Between September 18 and Sunday, the authorities had processed 12,000 visa applications. Xinhua said the daily number of visas issued was twice that during the Olympics. The report was the latest indication that the mainland has relaxed the visa restrictions it imposed on foreigners during the Beijing Olympics and Paralympics. Officially, however, Beijing has never admitted that it tightened entry and residential visa requirements for foreigners during the Games, attributing the high number of refusals during the period to "technical reasons". Xinhua said yesterday that many foreigners chose to visit Beijing after the Games to avoid the rush. As well, many visitors who came for the Olympics wanted to stay longer in the capital, and many foreigners residing in Beijing returned to their home countries for the summer holiday and returned after the Olympics. All these factors pushed up the number of visa applications. Beijing granted visa-free access to overseas visitors accredited by the International Olympic Committee for a month before and after the Games. These visitors included journalists, athletes and support staff. It tightened visa rules for other foreigners during the Olympics, causing great inconvenience to many foreign businesspeople and tourists. Earlier, travel agents in Hong Kong confirmed that mainland authorities would lift the visa restrictions on foreigners in the city from October 16.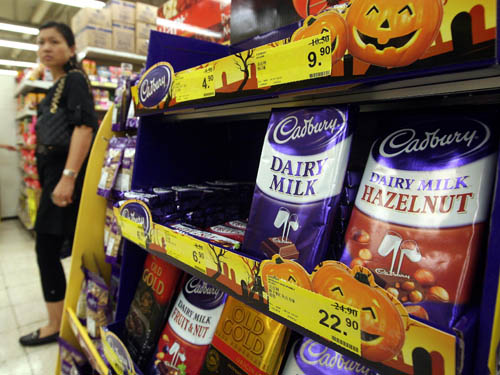 The tainted-milk scare deepened yesterday as British chocolate maker Cadbury announced it was recalling 11 of its products made on the mainland after melamine was detected in them.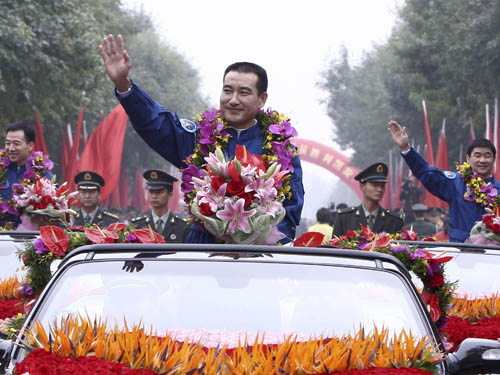 Astronauts Zhai Zhigang (centre), Liu Boming (right) and Jing Haipeng wave to the crowds as they return to the Beijing Aerospace Centre.
The Shenzhou VII astronauts who successfully completed a spacewalk mission at the weekend may soon have to face another challenge - a trip to Hong Kong to meet their adoring fans. Chief Executive Donald Tsang Yam- kuen yesterday sent a letter to President Hu Jintao to offer the SAR's congratulations on the success of the nation's first spacewalk as well as an invitation to Zhai Zhigang, Liu Boming and Jing Haipeng. No itinerary has been set but the astronauts may be here as early as November.
Sept 29, 2008



Hong Kong: Hong Kong's business and opinion leaders say the city is facing hard economic hard times, with stagflation and a possible recession looming in the United States. They considered inflation to be the biggest economic challenge facing the city and most called on Chief Executive Donald Tsang Yam-kuen to freeze government fees and charges as well as reduce taxes in next month's policy address. Sixty-nine per cent of respondents to a TNS/SCMP survey said Hong Kong would face stagflation - inflation and economic stagnation occurring simultaneously - in the near future. Asked about the biggest economic challenge facing the city, 44 per cent ranked soaring inflation either first or second on their list of concerns, compared with 37 per cent who ranked the high operational cost of doing business as the main worry. Thirty-two per cent said the biggest challenge came from a possible recession in the US, while 24 per cent cited possible economic stagnation on the mainland. Thirty-five per cent said declining competitiveness was Hong Kong's biggest challenge. A total of 1,000 opinion leaders and business decision makers responded to the survey, conducted between September 2 and September 11. Sixty-six per cent of respondents said inflation had been the biggest challenge to their businesses over the past five years. Sixty-two per cent said the operation of their companies had been affected "very seriously" or "quite seriously" by inflation. Eighty per cent said soaring inflation in Hong Kong had increased the cost of raw materials or services, while 67 per cent said it had resulted in increased labour costs. Sixty-one per cent said inflation had led to higher rents. Sixty per cent said they or their companies had sought cheaper supply sources to minimise the impact of inflation, while 49 per cent said they had slowed recruitment.Thirty-two per cent said their companies had reduced the rate of pay rises or imposed pay freezes, and 17 per cent said they had cut staff numbers. The consumer price index rose by 4.6 per cent last month compared with 6.3 per cent in July. But underlying inflation held steady at 6.3 per cent last month, after the effects of a one-off payment of three months' public housing rents and suspension of the maid levy were excluded. The government last month raised its inflation forecast for this year to 4.2 per cent from an original estimate of 3.4 per cent. But 49 per cent of respondents estimated that the inflation rate for this year would range from 6.1 per cent to 8 per cent, compared with 31 per cent who expected a range from 4.2 per cent to 6 per cent. Eighty-nine per cent of respondents said the government had not taken adequate measures to tackle inflation, and 87 per cent said the administration had not done enough to ease the impact of inflation on business operations. Regarding expectations of the forthcoming policy address, 67 per cent said the chief executive should freeze government fees and charges, and 66 per cent wanted tax cuts. Some 49 per cent said the government should maintain economic growth by spending more on infrastructure projects. Mr Tsang, who unveiled an HK$11 billion relief package in July to ease the plight of the less well-off, has pledged to come up with anti- inflationary measures in his policy address, which he is scheduled to deliver on October 15.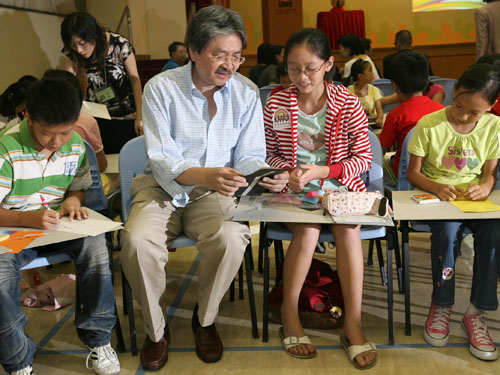 Hongkongers' concern for heritage and the environment could soon become a "core value" in the promotion of the Hong Kong brand, the financial secretary and an official responsible for promoting the city hinted yesterday. Information Services Department assistant director Mary Leung Lai Yim-ming, tasked with revitalising the Hong Kong brand, said: "I want to emphasise this is not a review of the flaming dragon exercise. We haven't said we have to change it or we have to keep it. "If there is something we have to change, it is the promotion of the core values." Feedback from consultations with various sectors and the public would determine whether the city's logo needed changing, she said. The government has been consulting since May and has spent HK$1.3 million to hire a public relations firm to take a fresh look at what cost HK$9 million to produce in 2001. The "BrandHK" concept included the flaming dragon logo, which drew fire for what some critics said was a waste of money. During the launch of the myhk2020.com website, which will serve as a platform for gauging public views on the city's values, Financial Secretary John Tsang Chun-wah said Hongkongers' attitudes towards heritage and the environment had changed considerably since 2001. "[The current brand] represents people's vision for Hong Kong and shared values from that period of time," Mr Tsang said. "Has that vision and those shared values since changed? This is something we need to think about. In truth, in the past seven years ... Hong Kong's attitude towards protection of the environment has changed." After the data had been analysed in the middle of next year, new attitudes towards heritage and environmental protection could be included as core values in the promotion of the city, with perhaps a greater emphasis on eco-tourism, Mrs Leung said. "When I asked a child what he wanted to see in Hong Kong in 2020, he said more dolphins," she said. Promotional materials now list "progressive", "stable", "free", "opportunity" and "high quality" as Hong Kong's core values. Competitions involving music videos, lyric writing and drawing were launched yesterday to encourage young people to express their visions of Hong Kong. The consultation will run until the end of November.
The five-seaters taxi may disappear from Hong Kong's streets in the next decade because Toyota and Nissan stopped producing the line last month.
It was a bad weekend for the residential market as secondary-market prices fell by double-digit percentages after Hongkong and Shanghai Banking Corporation announced a plan to raise mortgage rates by 50 basis points effective today.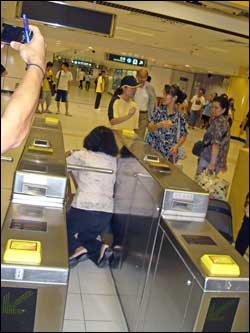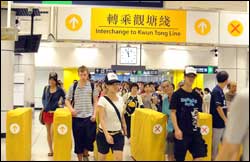 The MTR Corp's bid to improve its single-journey ticketing system at its Kowloon Tong, Nam Cheong and Mei Foo interchange stations ran into problems, with many commuters confused by the removal of the ticket turnstiles. Under the new system, commuters transferring to other lines through these stations are no longer required to exit and reenter. But a number of passengers were unaware of the new arrangement even though the MTRC had dispatched around 50 additional staff to help direct interchange passengers. Operations head Wilfred Lau Cheuk- man said a further 100 staff in yellow and green shirts will be deployed today and more signs will be put up. He added there will be a one-week grace period during which passengers will not be forced to pay for two separate journeys. An MTRC spokeswoman said there were 700 cases of people leaving the network accidentally as by 8pm last night . At Kowloon Tong, passengers complained they could not reach the Beacon Hill exit, while those at Mei Foo said 10 minutes had been tacked onto their journey due to stopped escalators. "With all this confusion and bungling, I hope this all can be sorted out before Monday's morning rush," said one concerned mother. The removal of ticketing gates at the interchanges will eliminate second charges for single-journey ticket holders, while barriers between the Tung Chung Line and Hong Kong-bound trains will be removed at Nam Cheong station.
Banking giant HSBC has said it is to cut about 1,100 jobs worldwide due to adverse global financial environment, with about 100 to go from its Hong Kong operations. HSBC, or the Hongkong and Shanghai Banking Corporation Limited, will cut the jobs from its global banking and market division, which includes investment banking, treasury and trading operations, a spokesperson told Xinhua. The 100 employees to be dismissed from its Hong Kong operations are mainly members of the support and information technology staff, the spokesperson said. A senior management member said the bank will decide whether to cut more jobs or not later, based on its performance and judgment of the external environment. A few people were seen protesting outside HSBC regional headquarters in Hong Kong Friday against the decision to cut jobs at difficult times.


China: Beijing will implement new traffic control measures aimed at clearing the capital's smoggy skies and road congestion.
Premier Wen Jiabao has pledged to advance the country's democracy in a rare interview with a foreign broadcaster that touched on a range of sensitive topics, including the Tibet issue. When asked during the interview with CNN about the lessons he had drawn from the 1989 Tiananmen Square "problem", Mr Wen went silent for a few seconds before replying: "I think the core of your question is about the development of democracy in China." This, he said, covered three areas. "Firstly, we need to gradually improve the democratic election system so that the state power will truly belong to the people and the state power will be used to serve the people," he said in the interview that aired last night. Secondly, the legal system should be improved and the country be run under the rule of law. "We need to build an independent and just judicial system," he said. Thirdly, he said the government should be subjected to oversight by the people, the news media and other parties. Despite repeated calls by activists, China's leadership has described the June 4 crackdown on demonstrators as an "incident" and many dissidents who joined the protest back then are still declined entry into the country. Censorship on the mainland has long drawn criticism from western countries. But in the interview, Mr Wen insisted that China, like many other countries in the world, has imposed some "proper restrictions" to uphold state security while adding that the internet on the mainland carried many postings critical of the state. On the Tibet issue, the premier described the Dalai Lama's advocacy for a "Greater Tibetan region" as a means to "use religion to intervene in politics" - to separate the region from the mainland. "Many people in the United States has no idea how big is the so-called `Greater Tibetan' region ... [it] includes Tibet , Sichuan , Yunnan , Qinghai and Gansu , altogether five provinces and the areas it covered accounted for a quarter of China's territory," he said. "As long as Dalai Lama is willing to recognize Tibet as an inalienable part of China's territory and as long as the Dalai Lama gives up his separatist activities, we are willing to get in touch with him and his representatives." And in what appeared to be a reference to the tainted-milk scandal, Mr Wen said some companies have pursued their profits at the expense of morality. "We would not allow economic growth at the expense of the loss of morality because such approach simply cannot sustain."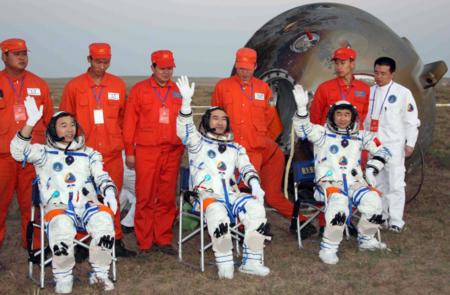 Astronauts Zhai Zhigang (left), Liu Boming (center) and Jing Haipeng wave after yesterday's landing in Inner Mongolia. Three Chinese astronauts returned safely to Earth yesterday after a 68-hour voyage and the country's first spacewalk. The Shenzhou VII spacecraft's re-entry module parachuted down onto the Inner Mongolian steppe just before 5.40pm, concluding China's third successful manned spaceflight in five years. Doctors rushed to check astronauts Zhai Zhigang , Liu Boming and Jing Haipeng as they emerged from the module, readjusted to gravity and recovered from the punishing re-entry. "It was a glorious mission, full of challenges, with a perfect result. I'm proud of my country," Colonel Zhai, the mission commander, said. He wrote his name into the history books on Saturday with a 19-minute spacewalk which made China the third country after the US and Russia to achieve the feat. All three astronauts looked relaxed, with big smiles on their faces. The control centre announced later, after extensive physical checks, that all three were in very good condition. Watching at the Beijing ground control centre, Premier Wen Jiabao called the trip "a new and important success in our nation's space technology" and "an inspiration to the Chinese people". "Your historic feat will be remembered by the country and the people," he said. China has attached great importance to the manned space programme and sees expansion in outer space as a way to strengthen the nation's global competitiveness. Mr Wen pledged again yesterday that China was committed to the peaceful exploration of space. "It is the Chinese people's persistent aspiration to develop manned spaceflight technologies for the peaceful exploration and use of outer space," he said. President Hu Jintao watched the launch in Jiuquan , Gansu , on Thursday and talked to Colonel Zhai via satellite phone on Saturday after his spacewalk. Space program officials said the successful return had helped lay a firm foundation for China's ambitious space plans, which include building a space station and a mission to the moon. Program spokesman Wang Zhaoyao said China could take advantage of the momentum generated to test its outer-space docking technology by 2010. By 2020, China would launch a space vehicle capable of hosting multiple astronauts for a longer period of time, he said, before planning for a moon landing. "Landing on the moon is a very challenging task, but we feel like we have to do something there because it has such strategic importance for our country," Mr Wang said. Despite its recent success and lofty goals, Beijing reminded citizens that the nation was still a latecomer in the space club. Xinhua quoted experts as saying China still lagged far behind space leaders such as the United States and Russia. The journey home started at 5.01pm when the ground control centre ordered the spacecraft to return. The re-entry module opened its parachute at 5.25pm, before a soft landing on flat grassland. A military helicopter arrived at the landing spot almost simultaneously.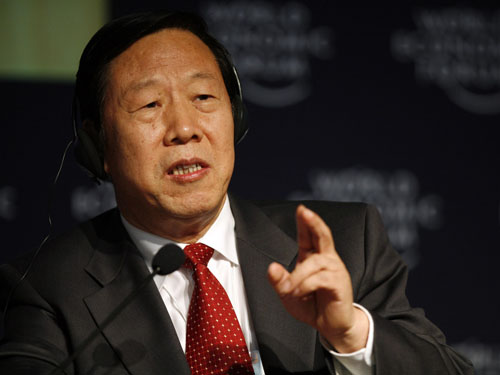 Dai Xianglong says the pension fund earned 100 billion yuan from the stock market last year, which can be used to cover this year's losses. The mainland's national pension fund intends to become a strategic investor in China Development Bank, a policy lender that will become a commercial bank, the head of the fund said yesterday. The National Social Security Fund, which managed 516 billion yuan (HK$586.07 billion) at the end of last year, was actively investing in equity funds, directly in industrial and commerce companies, and in infrastructure and energy projects, chairman Dai Xianglong said on the sidelines of the World Economic Forum in Tianjin. With a 3.1 per cent stake in Britain's Barclays Bank, CDB is an infrastructure lender in support of government policies. The CDB said earlier this month it was aiming for a stock market listing after turning into a joint-stock company through a restructuring. Mr Dai did not provide details of the purchase plan. The lender had assets of 2.89 trillion yuan at the end of last year, up 25.1 per cent year on year, according to its annual report. Net profit was 29.6 billion yuan and non-performing loan ratio stood at 0.59 per cent. At the end of last year, China SAFE Investments, an investment vehicle of the central government, injected US$20 billion into the policy bank, raising its capital adequacy ratio to 12.77 per cent, which is above the minimum 8 per cent requirement. Since last year, CDB has sponsored several village banks in Sichuan, Qinghai, Gansu, Jilin and Hubei provinces as the controlling shareholder as part of its efforts to boost commercial operations. Mr Dai also called for the faster approval of investments under the qualified domestic institutional investor or QDII scheme so that mainlanders can use foreign exchange or change yuan funds into foreign funds to invest in overseas stock markets. This would create a "two-way, orderly and win-win" flow of foreign exchange in and out of the country, he said. "We should not only see the risk from a faster opening of our capital account, we also need to see the risk of not doing so," he said, referring to foreign exchange losses from the depreciation of the US dollar. Mr Dai said mainland financial institutions should be allowed to decide for themselves whether to invest overseas, adding that the opening of the capital accounts should be increased to pave the way for the yuan to be freely convertible eventually. He also said the fund would continue to look for investment opportunities. "So it's important to choose good fund management companies," he said. Earlier media reports said the bank had selected about eight global asset management firms to look after its investment portfolios. On the fund's performance, Mr Dai said: "Last year, we earned 100 billion yuan from the mainland stock market, which can be used to cover this year's losses." The mainland stock market has plummeted 56.4 per cent so far this year. The fund owns shares in Bank of Communications (SEHK: 3328), Bank of China, Industrial and Commercial Bank of China (SEHK: 1398) and other listed companies. "The fund will amount to 1 trillion yuan in two years. By then, the social security fund, commercial insurance fund, social insurance fund and corporate annuities will total more than 7 trillion yuan," Mr Dai said. "A considerable part of the fund can be invested in the stock market. It can help stabilise the market." The State Council allows the fund to use up to 10 per cent of its capital to invest in equity investment funds and up to 20 per cent in direct investments to industrial and commercial companies. At a forum in Tianjin in June, Mr Dai emphasised the country's policy commitment to "vigorously develop" domestic private equity funds. The fund has invested almost US$500 million in two leading mainland private-equity funds, CDH Investments and Hony Capital. "We must step up the expansion of our investment channels to boost returns. If I only put China's pension money in low-earning deposits, how will I answer to the public?" Mr Dai said.
China faces "unprecedented difficulties and challenges" in maintaining equilibrium in its balance of payments, says the State Administration of Foreign Exchange. "The domestic and global economic situation has become very complicated," SAFE said in a statement on its website yesterday. The foreign exchange regulator "will dedicate efforts to solving problems that impacted and restricted the payments balance" and"focus on the risks that may threaten the state's economic and financial security in activities linked to the state's overseas business." Administration chief Hu Xiaolian was quoted as saying the aim is to improve the management of cross- border foreign exchange fund flows. But the regulator did not specify what measures it is going to take. On the same topic, David Hale, chairman of Hale Advisors, said at the World Economic Forum in Tianjin yesterday that China's central bank has indicated it may slow the pace at which the yuan is gaining against the US dollar. The yuan has gained 17.3 percent against the dollar since China unpegged its currency in 2005. The yuan was traded at 6.8485 to the dollar on Friday. It has risen 6.7 percent this year, the strongest performer among 10 Asian currencies. "The global economic situation is so uncertain," said Hale, that Beijing authorities "haven't got a real decision - they're just thinking about slowing the pace down,"
China Petrochemical Corp., or Sinopec Group, on Saturday confirmed it has signed a deal to buy Canada's Tanganyika Oil Co. Ltd. for 2.07 billion Canadian dollars(2 billion U.S. dollars, or 13.7 billion yuan). According to an agreement signed between the two companies, the Chinese refiner has agreed to pay 31.50 Canadian dollars per share. The price represented a 8.8 percent premium to the closing price of 28.95 Canadian dollars on Friday. The deal is subject to approval from China's government, a source at Sinopec Group told Xinhua. Sinopec International Petroleum Exploration and Production Corp. (SIPC) made the bid to buy all Tanganyika outstanding shares. SIPC is Sinopec Group's subsidiary that undertakes overseas investments and operations in the upstream oil and gas sector. The acquisition will be funded through SIPC's internal resources, Tanganyika said in a statement.

China Telecommunications Corporation said it would invest 80 billion yuan to upgrade its newly acquired CDMA network.
China will subsidize loans to dairy producers in an effort to promote raw milk purchases following the tainted milk powder scandal. Lending costs from October to December will be reduced by 3.1 percent, or half of the six-month lending rate, the Ministry of Finance said on Saturday. The move aims to help dairy farmers recover losses. Some dairy farmers started to dump raw milk due to decreased demand as customers lost some confidence in local dairy brands in the wake of the scandal. The ministry also want to restore confidence in the dairy industry. Dairy products, including baby formula and liquid milk, produced by Sanlu and other leading producers have been found contaminated with melamine. The tainted milk powder has caused the deaths of at least three babies and sickened about 53,000 others.
Sept 27 - 28, 2008



Hong Kong: Shares in Ping An Insurance (SEHK: 2318), mainland's second largest insurer, dived 10 per cent on Friday on a rumours that Fortis, in which is 5 per cent owned by the company, had asked a rival bank for assistance to shore up its liquidity position. At midday, Ping An's stock was down 9.9 per cent in Hong Kong and 6.7 per cent in Shanghai. "The sell-off has been fuelled by rumours about Fortis. While the news, if true, is bad, we don't see any significant impact on Ping An as most of the risk has already been priced in," said an analyst with a Asian brokerage on Friday. On Thursday, the Belgian-Dutch financial services group denied market talk that the Dutch Central Bank had asked rival group Rabobank to support its liquidity position. Fortis denied having any problem "concerning solvency and liquidity," spokeswoman Lililane Tackaert said. She said several "unfounded rumours" were circulating. "We've heard one rumour that we are desperate to sell activities that we don't even own," she said. The company had said in July it needed to raise 5 billion euro (HK$57 billion) in additional capital by 2010 to maintain solvency targets. It also caught investors by surprise by announcing a 1.5 billion euro share issue, and cancelling dividends to preserve capital. That triggered a decline in shares, credit downgrades, and the abrupt departure of chief executive Jean-Paul Votron in July. Some analysts are sceptical of Fortis' ability to issue debt or sell assets at a reasonable price in the current market environment. The spokeswoman said Fortis has a viable plan to improve capital ratios. "We have a plan in place and we are carrying it out," Ms Tackaert said. "We have some flexibility about the timing of that plan." She denied rumours that Fortis was planning another new share issue. Dutch and Belgian financial market watchdogs last week began investigating allegations of a malicious e-mail campaign spreading rumours against Fortis.

Washington Mutual was closed by the US government in by far the largest failure of a US bank and its banking assets were sold to JPMorgan Chase for US$1.9 billion.
Greater China's nascent market for online subscription-based business management automation software could soon heat up, as NetSuite launches its service in Hong Kong this week ahead of a planned move into the mainland. Demand in this segment, known in the industry as software-as-a-service (SaaS), will continue to be driven by small firms and business users inside the departments of large companies, according to NetSuite chief executive Zach Nelson. The opening of a Hong Kong office by the US-based firm follows its introduction of new flagship product OneWorld in Australia, New Zealand and Singapore earlier this month. "Asia has been great for us, and we see huge potential for our offering in Greater China," Mr Nelson said. Sales from international markets, of which Asia-Pacific has the fastest-growing rates of adoption, comprised 20 per cent of NetSuite's total revenue of US$36.6 million in the second quarter. He said the company would launch its service on the mainland next year, by first establishing ties with strategic local partners to ensure profitable operations in key cities. A recent survey by Forrester Research found that 61 per cent of Hong Kong and mainland firms plan to adopt SaaS within the next year. NetSuite will also introduce OneWorld in Hong Kong this week for subscription over the internet at HK$18,000 a month. OneWorld allows companies to manage their multinational and subsidiary business operations in real-time globally. It integrates the key business management functions, including customer relationship management, enterprise resource planning and e-commerce. In a research note ThinkPanmure said: "We estimate [OneWorld to be] a US$40 million to US$50 million per year opportunity within [NetSuite's] installed base." The global SaaS market is projected to reach US$19.3 billion by 2011, representing annual growth of about 25 per cent, according to Celent. It forecast the mainland's SaaS market to hit US$3.8 billion by 2011, up from US$1.3 billion last year and US$899 million in 2006. By comparison, the total mainland software market was worth US$3.7 billion in 2006. "Although SaaS awareness has reached a peak, deployments in the region demonstrate that the market is still in its early stages, as most customers have deployed SaaS applications in isolation and have not integrated these with other enterprise applications," said Balaka Baruah Aggarwal, senior manager at Springboard Research. "Vendors must therefore continue to invest further in educating customers on the best ways to derive the benefits of SaaS, especially in China, the Asean markets and India." Ms Aggarwal said Salesforce.com continued to dominate the SaaS market in the Asia-Pacific. Other prominent regional offerings include NetSuite, RightNow Technologies, Cisco Systems' WebEx, Citrix Online and those from larger market players including Microsoft, Oracle and SAP. Educating potential customers on the mainland and across the rest of Asia has become increasingly important for NetSuite amid the global financial crisis, which could impact information technology spending by companies. "During bad times, SaaS delivers cost savings for companies because there is less cash upfront and no big infrastructure to be added when adopting the service," Mr Nelson said. Ronald Tse, director at Vita Green Health Products, a leading provider of vitamins and health products, said: "Because NetSuite is a managed system, we are able to grow without adding more equipment and manpower to maintain servers and support new software."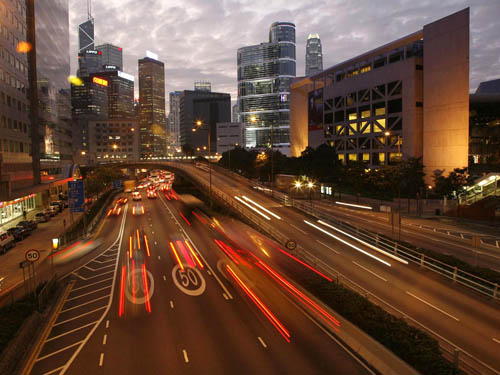 Hong Kong homebuyers who have yet to complete purchase contracts on flats that have plunged in value since they put down their deposits may be tempted to forfeit their down payments and walk away from the deals, veteran property investors and analysts warn. "They may cut their losses if they can because this property consolidation will last for two years," said Edwin Leong Siu-hung, managing director of developer Tai Hung Fai Enterprise. Analysts also expect grade-A office prices in Admiralty would plunge by 44 per cent during this consolidation period. "The current financial crisis is the worst I have ever seen - worse than the financial crisis of [1997-1998] and the Sars crisis in 2003," said the chairman of Coda Properties, Richard Tong Kwan-ming. "Foreign investment funds are now offloading their properties before the market sinks further." Estate agents reported that asking prices on units up for sale had fallen sharply this week after the latest blows to market confidence from the failure of United States investment bank Lehman Brothers Holdings and the forced sale of Merrill Lynch and a sharp rise in domestic wholesale money market rates that could spill over into higher home financing costs. The Hong Kong Monetary Authority was last week obliged to inject funds into the market after one-month interbank rates more than doubled to nearly 5 per cent as local credit conditions tightened. "We have seen sellers drop their asking prices by 3 to 5 per cent this week to quit the market before things get worse," said Fredy Wu Yat-fat, the chief executive at Hong Kong Property. As such, speculators were likely to be first in the exit queue as funding costs rose and the values of their investment properties plunged, analysts said. Mr Tong, who spent more than HK$260 million buying two commercial properties earlier this year, said he now feared that Hong Kong's residential market would be trapped in a three-year correction while the mainland real estate market might take eight years to recover. The New Territories and Tseung KwanO, where major residential projects were offered for pre-sale this year, would be worst hit, he said. "Investors who bought new units in these areas may be considering if they should cancel the deals if they are caught in financial difficulties." Mr Leong echoed these concerns. The firm had acquired several old buildings and development sites this year and its first joint-venture serviced apartment project with Shama was opened in Fortress Hill this year. "End-users may proceed with uncompleted deals, but speculators could be tempted to cut and run," he said, since prices could fall further. "If you are not yet in the market and plan to buy a flat for your own use, you may pick up some bargains this time next year, or wait until rental yields reach 5 per cent," Mr Leong said. Veteran investor and property trader Tang Shing-bor, who owns car trading firm Success Group and is an active trader in retail shops, said now was not the right time to buy as prices had further to fall. "If you bought a flat at the peak level for your own use and you can afford to hold, you could do so and wait for another up cycle in the property market. The property market will not always be in a down cycle," he said. "But you will be in great trouble if you bought the property for speculation with a high level of debt." Leland Sun, managing director of Pan Asian Mortgage, said with the present outlook for the market some homeowners could be better off quitting the market now - particularly if they were holding investment properties - and re-entering later. "In the past, the Hong Kong property market has lagged events on the stock market by several months and most industry experts would probably agree that property prices could fall a further 25 per cent or more in the coming six to 12 months," he said. Since reaching a historical high of 31,958 points in late October last year, the Hang Seng Index has see-sawed in volatile trading conditions and closed at 18,872 points yesterday. Nicholas Brooke, chairman of Professional Property Services Group, said most investors and end-users were now adopting a wait-and-see attitude. "It may not therefore be practical to contemplate sale until we see some resolution to the current financial market difficulties," Mr Brooke said. "Most analysts seem to consider that we are in a bumpy road for the next 12 to 18 months." They also forecast a bleak outlook for the grade-A office market. Mr Tong predicted prices at No9 Queen's Road Central would tumble 44 per cent to HK$10,000 per square foot from a high of HK$18,000 per square foot late last year, while Lippo Centre dropped 30 per cent to HK$9,000 per square foot from HK$13,000 per square foot last month. Mr Leong believed merchant banks hit by the financial crisis would be forced to relocate to areas with lower rents, which would put downward pressure on grade-A office rental, and prices in Admiralty would fall at least 10 per cent. But he said a correction in the retail leasing sector would not take place until the second half of next year as supply was limited in prime locations. David Watt, chairman for North Asia at DTZ, said it was impossible to predict the full extent of the impact on the Hong Kong real estate occupational market. "Only one thing is for sure, it won't be positive," he said.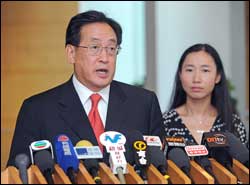 Top food and health official York Chow Yat-ngok has put the stamp of approval on all baby formula still on shelves, an assurance which came even as a fifth kidney stone case related to the melamine- laced milk scandal was detected yesterday. The 10-year-old lives in Hong Kong and travels to the mainland on holidays. He has been drinking two packs of 250ml low fat high-calcium milk purchased in Hong Kong since 2005. He initially drank Mengniu milk but switched to Yili in 2007 and also began taking two Yili milk tablets purchased in the mainland in March. The boy was checked at the Queen Elizabeth Hospital special assessment center which found two stones in his left kidney yesterday. He is being treated at Princess Margaret Hospital and is in stable condition. Meanwhile, Secretary for Food and Health Chow said the Centre for Food Safety has tested most baby and dairy products in the past two weeks. All were safe but they will be tested again over time. Starting today all fresh milk imports from the mainland will be tested before they can be sold. Kowloon Dairy and Trappist Dairy welcomed the new measure, with the latter saying the tests will be taken once the milk is delivered at the border gate. The results will be made known to the factory and the companies the same day. Meanwhile, Macau authorities yesterday found melamine in Lotte Koala Chocolate Biscuits (50g), Mengniu Monmilk Breakfast Malt Milk Beverage (250ml) and Nestle Neslac Gold 1+ Growing Up Milk Powder (one year onwards) (900g). They contained 24ppm, 2.35ppm and less than 1ppm of melamine respectively. In Hong Kong, ParknShop last night recalled all China-made Lotte Koala Chocolate Biscuits. But the melamine in the Nestle product did not exceed the legal limit in Hong Kong. Chow also said there are about 60,000 children with Hong Kong residency living in the mainland, and warned the SAR may not cope with a rush of these children for checks. Some may be given an appointment and assessment services will continue for at least six more months. The Hospital Authority will open two additional special assessment centers at Kwong Wah Hospital and North District Hospital today to handle referrals from special outpatient clinics. The 18 clinics has assessed 1,495 children under 12 yesterday in which 353 were referred to the special assessment centers.


China: Shares of Singapore-listed Yanlord Land, a developer of luxury homes in the mainland, fell as much as 9.6 per cent on Thursday to an all-time low on media reports linking it to graft charges against a mainland official. Yanlord, which saw its shares plunge over 20 per cent on Wednesday before it called for a trading halt, denied the reports on Thursday. "The outlook for Chinese developers is already not optimistic because of the poor China property market. This is even more bad news for Yanlord and it's causing a knee-jerk reaction by investors," said DMG & Partners analyst Brandon Lee. The company said Kang Huijun, a former vice governor of the Pudong New Area who is now on trial in China, had together with his family lived in Yanlord Gardens in Shanghai's Pudong district since buying an apartment unit in 2001. Kang later traded in his old unit for a larger one in the same development in March 2006, Yanlord said. "In consideration of the publicity benefits that Mr Kang's residency would bring towards the sale of apartments at Yanlord Gardens", both units were transacted based on initial launch prices, the developer said. "The Group reiterates that the above transactions fall within the ordinary course of its business involving sale and promotion of our apartment units," Yanlord said. The company also denied media reports that between 1993 and 2001, Kang abused his capacity as vice governor of the Pudong New District by giving Shanghai Yanlord land use rights to sites for development into Yanlord Gardens. "The Company wishes to state categorically that the above statement is untrue as Shanghai Yanlord did not receive any assistance from Mr Kang in obtaining the land use rights of any land parcels," Yanlord said in the statement. Yanlord shares fell to a record low of S$0.94 (HK$5.14) early on Thursday after resuming trade.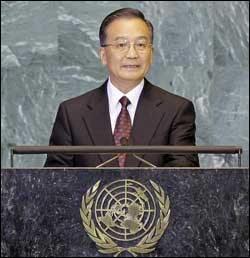 Premier Wen Jiabao said Beijing is not seeking global influence, even as it increasingly opens up to the world politically and economically. "In international relations, China does not seek to build alliance or become a leader and will never do so in the future," Wen told the UN General Assembly. The United States has expressed concern about China's rapid military buildup, but Wen tried to assure world leaders that his country has no wish to become a military power. "China's development is peaceful. It will not harm anyone or pose a threat to anyone. China does not seek hegemony now, nor will it do so in the future. China keeps and develops an appropriate level of military capability solely for the purpose of safeguarding its sovereignty and territorial integrity." Wen also warned that the impact of the US financial crisis could become "more serious" and called for concerted efforts to contain the turmoil. He indicated that China, which has tens of billions of dollars in US treasury bills, is ready to help in an international bid to ease the turbulence that has rocked financial markets across the globe. "The ongoing financial volatility has affected many countries and its impact is likely to become more serious," Wen "To tackle the challenge, we must all make concerted efforts." Wen also hinted that the United States should work more closely with the international community to tackle the turmoil. "So long as people of all countries, especially their leaders, can do away with hostility, estrangement and prejudice, treat each other with sincerity and an open mind, and forge ahead hand in hand, mankind will overcome all difficulties and embrace a brighter and better future," he said.
Listed giant not touched by telco `50b yuan' report - China Mobile (0941) said reports that its parent was being told to pay competitors 50 billion yuan (HK$57 billion) to help their CDMA asset acquisition has nothing to do with the listed company.

China regulator denies shunning foreign banks - China's banking regulator sought to reassure jittery financial markets yesterday, denying a report it had told local banks to stop lending to US banks and stressing that foreign bank operations in China are healthy.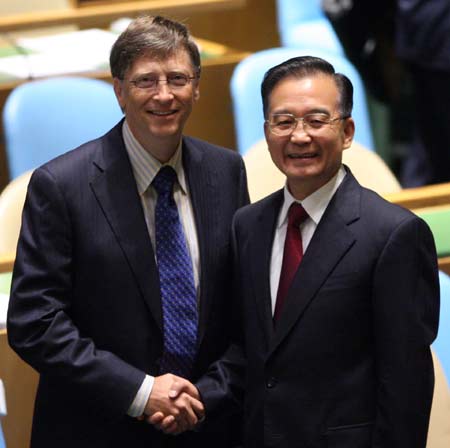 Chinese Premier Wen Jiabao(R) shakes hands with Bill Gates, chairman of Bill & Gates Foundation during their talks on the sidelines of the a high-level UN meeting for Millennium Development Goals (MDGs) in New York, the United States, on Sept. 25, 2008.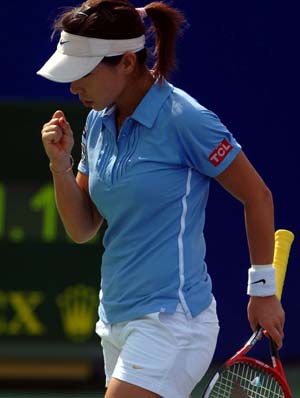 China's Zheng Jie celebrates scoring during the women's singles quarterfinal against Serbia's Ana Ivanovic at the 2008 China Open in Beijing, capital of China, Sept. 26, 2008. Zheng won 2-1 and qualified for the semifinal.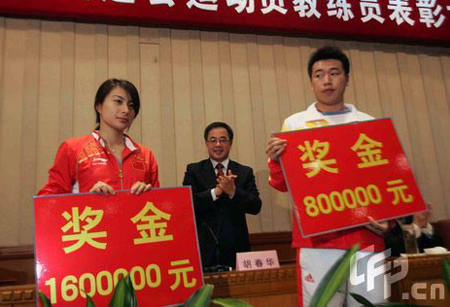 Olympic diving champion Guo Jing and shooting gold medalist Pang Wei, both born in Hebei Province, are rewarded respectively with 1.6 million yuan and 800,000 yuan by Hebei provincial government, September 25, 2008.
Sept 26, 2008



Hong Kong: The Hong Kong Monetary Authority and the government gave assurances yesterday that the Bank of East Asia (SEHK: 0023) is financially sound after rumours that it was in trouble sent thousands of jittery depositors to branches yesterday in a citywide bank run. "I can confirm categorically that these rumours are unfounded," the authority's chief executive, Joseph Yam Chi-kwong, said in response to the panic - spurred by a wave of text messages that began late on Tuesday. Despite their assurances, late last night customers were already queueing outside BEA branches to withdraw deposits today. Mr Yam said Hong Kong's fifth-biggest bank by assets had sufficient funds to meet the needs of its customers. Its capital adequacy ratio, which measures a bank's ability to absorb losses and protect depositors, was almost double that required. Financial Secretary John Tsang Chun-wah rejected the rumours as unfounded and malicious. The bank's finances were sound "and there is no problem at all", he said. "The BEA does not need our assistance but we will fully support it if there is any need." Bank chief David Li Kwok-po, who returned to Hong Kong last night from New York, was asked whether he thought the originators of the text messages wanted to affect its share price by spreading negative rumours. He said he did not know, and denied BEA was in any trouble. Its shares closed down 6.85 per cent. "I plan to buy back some Bank of East Asia shares," Mr Li said. A senior banking source said Cheung Kong (SEHK: 0001) Holdings chairman Li Ka-shing had pledged his support to BEA and had bought the bank's shares heavily yesterday. BEA executive director Joseph Pang Yuk-wing also flatly denied there was any truth to the "malicious rumours" and said the police were investigating. Mr Yam said the depositors had nothing to worry about. "They are very well protected because the banking system is very robust. Of course, there is also the deposit protection scheme," he said. "They should put their hearts at ease." A senior government source said all banks in Hong Kong were financially sound. The Monetary Authority had their financial details but there were practical difficulties in releasing the information since it would invite unnecessary comparisons, the source said. The assurances cut little ice with BEA depositors. "It's not normal what is happening in the world. Who knows if what they are saying is true?" said one man queuing to hear directly from bank staff that BEA was safe. "I have lost confidence in BEA," said a nine-year customer of BEA in Kwun Tong. More than one customer said: "I just want my money." Two other local lenders, DBS and Dah Sing (SEHK: 0440) Bank, were forced to deny similar rumours yesterday that they were in trouble. Insurer AIA Hong Kong said a letter, purportedly from its customer services department, saying its troubled parent company AIG had decided to sell its Asian businesses was false and fraudulent. BEA said it had exposures of HK$422.8 million to bankrupt US investment bank Lehman Brothers and HK$49.9 million to AIG, mainly through collateralised debt obligations, the instruments through which the US subprime mortgage crisis spread round the world. Mr Pang said news of the rumours reached the bank as early as Monday. When customers began withdrawing funds on Tuesday, the bank reported the rumours to the authority and the police. However, as the rumours spread, nervous depositors began queueing at its major branches yesterday afternoon. Opening hours were extended. Mr Pang said: "People can withdraw as much money as they have in their account. There is no upper limit." Last week, the bank restated its first-half results to account for a loss of HK$93 million an equity derivatives trader had concealed. The incident prompted concerns about the bank's internal controls and operational risks, and triggered ratings downgrades. These make it more expensive for a bank to borrow.
Peg is 'best way' for financial stability - Hong Kong's fixed exchange rate is the "best way'' to achieve financial stability in the city, said Joseph Yam, head of the de facto central bank. The US dollar peg "has provided us with a much needed anchor for currency stability,'' Yam, chief executive of the Hong Kong Monetary Authority, said on the HKMA website in a statement marking the peg's 25th anniversary. Confidence in the currency is of the "utmost importance'' for the stability and prosperity of the city, and this can only be achieved with a robust system able to cope with changes in international money markets, Yam said. The Hong Kong dollar is allowed to trade 5 cents either side of HK$7.80.
Warren Buffett has called the market turmoil "an economic Pearl Harbour" and says Secretary of the Treasury Henry Paulson's US$700 billion rescue plan is "absolutely necessary". "The market could not have taken another week" like last week, Mr Buffett told CNBC. "I think it was the last thing Hank Paulson wanted to do, but there's no Plan B." He said the economy was "everybody's problem", likening it to "a bathtub - you can't have cold water in the front and hot water in the back". While other firms sat on cash, he has agreed to spend at least US$25 billion this year to acquire companies and buy securities for Berkshire Hathaway. Mr Buffett, who last year complained he could not find companies big enough to buy, said he was not a fan of cash. "It's nice to have a lot of money, but you know, you don't want to keep it around forever," he said. "I prefer buying things. Otherwise, it's a little like saving sex for your old age."
The Securities and Futures Commission will investigate whether banks misrepresented minibonds and other complex debt securities backed by Lehman Brothers.
Hong Kong recorded a surplus of 10.3 billion HK dollars (1.3 billion U.S. dollars) in its balance of payment account in the second quarter, the Hong Kong Special Administrative Region (HKSAR) government said Monday. The surplus was about equal to 2.5 percent of its gross domestic product and lower than the first quarter's 55 billion HK dollars. Of the major balance of payments components there was a current account surplus of 34.4 billion HK dollars, according to the Census and Statistics Department. Compared with the same quarter last year, the current account surplus in the second quarter of 2008 was characterized by an increase in visible trade deficit, a rise in invisible trade surplus, an increase in net inflow of external factor income, and a continued net outflow of current transfers. (7.8 HK dollars = 1 U.S. dollar).


China: China has launched its third manned space flight, carrying three astronauts on a 68-hour mission that will include the nation's first ever space walk, state TV reported. The Shenzhou VII spacecraft lifted off from Jiuquan Satellite Launch Center in northwest China in the presence of President Hu Jintao and other senior leaders. The head of the three-man crew, 41-year-old Zhai Zhigang, is scheduled to carry out a 30-minute space walk either Friday or more likely Saturday, earlier reports said.
China must force through "difficult adjustments" to cope with fallout from the US financial crisis and slowed global demand for Chinese exports, a leading state newspaper said yesterday.
Tourists and space enthusiasts were thronging into Jiuquan city in the vast deserts of northwest China on Thursday, keenly anticipating the launch of the nation's third manned space flight. Eager people from Vice President Xi Jinping on down were expected in the remote area for the evening launch of Shenzhou VII, which would carry three astronauts on the nation's most ambitious journey into space yet.
Premier Wen Jiabao speaks with US President George W. Bush before a dinner on Tuesday at the United Nations building in New York. Premier Wen Jiabao has praised strengthening ties with the US and expressed hope that the co-operation will continue "no matter who wins" the presidential race in November. In a wide-ranging speech to US-China business leaders in New York before his address yesterday to the UN General Assembly, Mr Wen said the two countries "are not competitors, but partners". "Two countries that appreciate each other and learn from each other should be able to live together in amity and achieve common progress." Mr Wen did not endorse either candidate, but said Beijing was confident that Sino-US relations would continue to "move forward". "No matter who becomes the next American president, China hopes to maintain and develop a constructive and co-operative relationship with the United States," Mr Wen said in his speech on Tuesday. In his speech to the UN General Assembly, Mr Wen warned of the possible ongoing impact of the US financial crisis. "The ongoing financial volatility, in particular, has affected many countries and its impact is likely to become more serious," he said. "To tackle the challenge, we must all make concerted efforts. So long as people of all countries, especially their leaders, can do away with hostility, estrangement and prejudice, treat each other with sincerity and an open mind, and forge ahead hand in hand, mankind will overcome all difficulties and embrace a brighter and better future." He also reaffirmed Beijing's stance that following its hosting of the Olympics it would continue to pursue reform and opening up. And he thanked the international community for the support it had offered China after the May 12 Sichuan earthquake which killed 88,000 people. In his earlier speech, Mr Wen said: "Due to differences in our social systems, development level, history and culture, China and the United States may not see eye to eye on certain issues, but this is nothing to be afraid of. As long as the two sides engage in dialogue and consultation on the basis of equality and mutual respect, we will be able to gradually dispel misgivings and enhance mutual trust. "We have reason to believe and expect that the world's biggest developing nation and the strongest developed nation will have sufficient courage and wisdom to overcome any difficulties and obstacles, and together build a bright future." Mr Wen also spoke about Taiwan. "The Taiwan problem is still the most central and most sensitive problem in Sino-US relations. History has proven that whether Sino-US relations can develop smoothly depends to a great extent on whether the Taiwan problem can be properly resolved," he said. "We hope the United States will support improvement of cross-strait relations and help the two sides realise common development. This serves the interests of people on both sides of the Taiwan Strait, and is conducive to Sino-US relations and world peace." Jin Canrong, Renmin University Sino-US relations professor, said there was bound to be distrust arising from different strategic concerns. "Premier Wen is sending a message to the next American leader that the Taiwan issue should not be taken lightly," he said.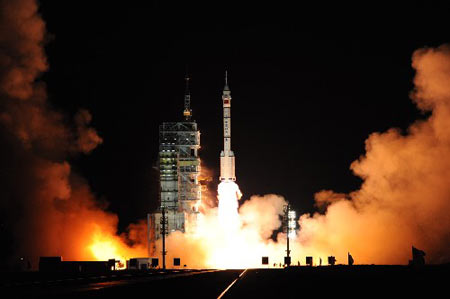 The Long-March II-F carrier rocket carrying the Shenzhou-7 spaceship blasts off from the launch pad at the Jiuquan Satellite Launch Center in northwest China's Gansu Province, on 21:10 p.m., Sept. 25, 2008.
The video grab taken on Sept. 25, 2008 at the Beijing Space Command and Control Center in Beijing, China, shows Chinese taikonauts in the return module of the Shenzhou-7 spacecraft. The center is prepared for the launching of Shenzhou-7 as all three Chinese taikonauts have entered the spacecraft at the Jiuquan Satellite Launch Center in northwest China 18:28 p.m. Thursday, about three hours ahead of its scheduled launch.
China remains the most attractive destination for foreign direct investment (FDI) in the developing world despite the global financial crisis, says a UN report, released yesterday. But this year FDIs across the world will drop 10 percent from the record high of last year because major companies have scaled back their investment plans, the report says. Global FDIs rose 30 percent to $1,833 billion in 2007, even though the international financial crisis became evident midway through the year. Mergers and acquisitions (M&A), major avenues of global capital flow, have already slowed down remarkably, with their value in the first six months being 29 percent lower year-on-year. Last year, China attracted FDIs worth $83.5 billion, the highest among developing countries and sixth in the world, said the World Investment Report, prepared by the UN Conference on Trade and Development (UNCTAD). FDIs are increasingly targeting services, high-tech industries and high value-added businesses in China. About half of last year's capital inflow went into the service sector, compared with 28 percent in 2003. Besides, the number of foreign-invested research and development centers in China has risen from about 700 in 2004 to more than 1,200 this year. This shows multinationals have changed their stance of considering China as a low-cost production base, and instead see it also as a competitive market. On the other hand, it reflects the government's emphasis on attracting quality FDIs, the report says. Brazil, Russia, India, the US and China are the five most attractive destinations for global investors, shows a survey conducted by UNCTAD. And China tops the list because of its strong economic growth and improved investment environment, UNCTAD official Liang Guoyong said. The global crisis will harm financial agencies, forcing them to curb their investments, he said. Financial companies' problems will shrink liquidity and tighten credit for firms in other sectors too, which means the financial storm will influence the entire business environment.
The 23rd China-EU Joint Economic and Trade Committee co-chaired by Chinese Commerce Minister Chen Deming and European Trade Commissioner Peter Mandelson in Beijing on Sept. 25 has led to consensus on a variety of issues.
Sept 25, 2008



Hong Kong: Democratic Alliance for Betterment of Hong Kong (DAB) former chairman Jasper Tsang Yok-sing said on Wednesday he wanted to stand for the position of Legislative Council chairman.

The Hong Kong Monetary Authority do not have the right to make banks compensate investors who suffered losses after buying Lehman minibonds, executive director Raymond Li Ling-cheung.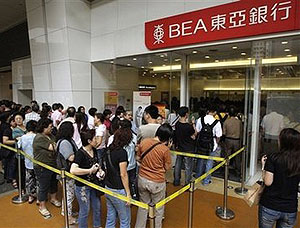 Hundreds of customers descended on Bank of East Asia branches amid unconfirmed rumours questioning the bank's stability on Wednesday. Bank of East Asia (SEHK: 0023) (BEA) on Wednesday denied local rumours questioning its stability - which caused some of its customers to panic - and drove its shares down more than seven per cent. Worried by rumours, many BEA clients rushed to the bank to withdraw their money. Speaking at a press conference, BEA executive director Joseph Pang Yuk Wing said the bank did not have any financial problems. "As far as I know, there were a number of individual clients withdrawing money since the spread of the rumours and we have prepared enough liquidity to facilitate their needs." To restore confidence, he said the bank would allow investors to prematurely withdraw money from fixed-term deposit accounts. Mr Pang said the operations of the bank had been affected by malicious rumours. "Those who spread the rumours are intending to disrupt the city's financial system's normal operations. We have reported the case to the police and they are investigating the source of the rumours," he said. Mr Pang said the bank extended its service for half an hour on Wednesday to help clients. The lender affirmed in a statement issued on Wednesday its capital adequacy ratio stood at 14.6 per cent – well above international standards. It said its total exposure to troubled Lehman Brothers and AIG was HK$422.8 million and HK$49.9 million, respectively. At the end of Wednesday's trading day, BEA's share price fell 7.2 per cent to HK$25.05. Speaking at a luncheon on Wednesday, Financial Secretary John Tsang Chun-wah said local banks remained in good financial shape. "Local banks remained profitable in the first six months of 2008. Their aggregate direct and indirect exposures to sub-prime mortgage and related products are immaterial relative to their total assets," he said. His comments were echoed by a spokesman for the Hong Kong Monetary Authority. "Local banks are well capitalised and highly liquid. Their asset quality is good and their operations have been strong. "The rumours of the financial instability of Bank of East Asia are unfounded," the spokesman added.
The families of five Hongkongers killed in Saturday night's fire at an illegal Shenzhen nightclub were offered 250,000 yuan (HK$285,000) compensation each after meeting authorities yesterday, but relatives said this was well below their expectations. The Shenzhen government will handle claims and pay compensation for the deaths at the Wuwang (Dance King) club because it operated without a proper licence or third-party insurance. The offer came as one more person died from injuries sustained in the blaze, taking the death toll to 44, with 51 people, including two from Hong Kong, still in hospital.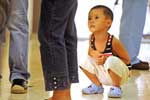 Two new patients as cake, sweets go on tainted list - The number of Hong Kong children found with kidney stones rose to four as the industrial chemical melamine believed to be responsible was found in cakes for the first time.
Hong Kong is now attracting a new group of younger, energized foreign employees, according to associate professor Charles Li Kui-wai of City University of Hong Kong. Li said SARS and pollution initially caused a drop but now a second wave of younger, more vibrant foreigners fresh in their careers is hitting our shores. Despite the resurgence, an American Chamber of Commerce business outlook survey from 2007 showed Hong Kong still received low marks on the environment and availability of high-quality personnel. But the study showed that 43 percent of AmCham member companies with headquarters in Hong Kong were planning on expanding compared to just 19 percent in 2002. Last year only 4 percent of those companies were planning to reduce the size of their offices compared to 22 percent in 2002. A Manpower Hong Kong survey showed China, the United States and Japan are the top providers of employees to fill skill shortages in Hong Kong. Foreign talent is primarily used to fill senior executive, sales representative and middle management positions. Li said Hong Kong for now lacks talent to fill many upper-level jobs and therefore is reliant on foreign hires. The manpower survey also showed about 20 percent of Hong Kong employers are concerned about a brain drain as talent leaves to work abroad, primarily in China, the United States and Singapore. Lancy Chui, general manager of Manpower Hong Kong operations, said while it is true the city needs to do more to retain talent, "we must also consider how we can strengthen our collective employer `brand' to attract more talented workers from overseas to fill our talent shortages." But Li described the concern as "much ado about nothing" since Hong Kong's labor market is already so open. "As long as business is good relative to the global market, rising pay will attract sufficient talent," he said. "Plus less than 20 percent of Hong Kong's labor force will work or study abroad, and most come back." The survey showed 76 percent of the 511 workers polled would be willing to relocate for work in the future. But residents preferred Hong Kong above all international destinations as a place to work. China and the United States were the second and third most preferred work destinations respectively. Employees listed higher pay, better employment opportunities and the desire to experience a new culture as the three top reasons for wanting to work abroad.


China: Venezuelan President Hugo Chavez says his country's oil exports to China could soar to one million barrels a day by 2012.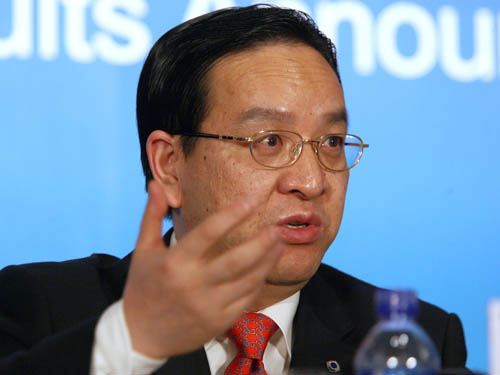 Jiang Chaoliang edged closer to taking the helm of China Development Bank after resigning as chairman of Bank of Communications (SEHK: 3328) and being appointed as deputy party secretary of the policy lender yesterday. Mr Jiang, 51, will soon be designated as governor of the Beijing-based policy bank, according to sources, as it attempts to transform into a commercial lender. Xinhua reported yesterday that CDB governor Chen Yuan had been appointed party secretary of the policy bank and Mr Jiang, along with Yao Zhongmin, were named deputy party secretaries. The new chairman, vice-chairman and governor would be reappointed later, it said. Mr Chen, 63, will become CDB chairman amid the reshuffle, according to sources. Shanghai-based Bocom, the mainland's fifth-largest lender, said in a statement yesterday that Mr Jiang resigned "due to reassignment of work". The South China Morning Post (SEHK: 0583, announcements, news) reported on September 8 that Mr Jiang would replace Mr Chen as governor to accelerate the policy bank's transformation into a commercial lender. Bocom at the time denied the report. Sources said Hu Huaibang, chairman of the supervisory board of China Investment Corp, the mainland's US$200 billion sovereign wealth fund, would succeed Mr Jiang as head of Bocom. Mr Hu, 53, became commissioner of disciplinary inspection of the China Banking Regulatory Commission in February 2005. He was appointed chief supervisor of CIC in September last year. Bocom said an announcement on the new chairman would be made later this week. Mr Jiang, a former assistant to the governor of the People's Bank of China and a deputy governor of Hubei, carries a ranking of vice-minister and his appointment as CDB governor is seen as a stepping stone to a higher position. He was likely to replace Mr Chen as No1 official at the bank when the latter retired in a few years, insiders said. "Mr Jiang is a capable banking official, but it remains to be seen whether he can manage the policy bank well," a source said. "CDB is at a critical stage because it is an uphill task to transform into a commercial bank." The bank was established by the State Council in 1994 to provide long-term financing for domestic infrastructure projects. Last year, it announced a plan to evolve into a commercial lender and is now working on detailed restructuring proposals. However, the road to becoming a commercial entity is expected to be a long one for the bank since it has yet to develop a deposit business and create other financing channels. It 4 can only issue bonds to raise money. CDB rose to global prominence in July last year when it paid US$3 billion for a 3 per cent stake in British bank Barclays. Since then, the lender has been mentioned whenever there is talk of mainland investors trying to buy into stricken western financial institutions. In January, its attempted US$2 billion investment into Citigroup was blocked by the central government.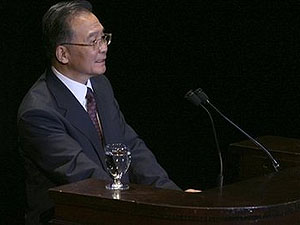 Premier Wen Jiabao speaks during a luncheon hosted by the US China Relations Committee at the Waldorf Astoria in New York on Tuesday. Wen vows food safety overhaul after milk scandal - Quality chief says milk scandal 'under control'. Authorities in Beijing, seeking to assure the world that Chinese products are safe, said on Wednesday that the tainted milk scandal had been brought under control. And in New York, Premier Wen Jiabao told an audience that his government would seize the crisis as an opportunity to overhaul safety controls. "There is no problem," Xiang Yuzhang, the national quality watchdog's chief inspection official, told reporters in Beijing. "It has been brought under control, more or less. There are no more problems in the market. As far as I know, there will be no more bad news." But China could face an uphill struggle to convince its own people and those abroad that it has the situation in hand. The government has said the Sanlu Group, the company at the centre of the scandal, knew for months there was a problem with its milk powder before reporting it. Australia on Wednesday issued fresh warnings for China and nearby nations in the wake of the scandal, advising its citizens overseas to avoid all mainland-made milk products, unless companies have confirmed their goods are free from contamination. Beijing is battling public alarm and international dismay after close to 13,000 mainland children crowded hospitals, ill from infant milk formula tainted with melamine, a cheap industrial chemical that can be used to cheat quality checks. Nitrogen-rich melamine can be added to watered-down milk to fool quality checks, which often use nitrogen levels to measure the amount of protein in milk. The chemical is used in making plastics. China has a bad record of glossing over or ignoring bad news, initially covering up the SARS epidemic in 2003, for example. So far, four deaths have been blamed on kidney stones and complications caused by the toxic milk. China's latest food safety crisis has triggered arrests, official sackings and bans and tightened inspections by trade partners. China would "strengthen institutional development, and take seriously supervision and inspections in every link of production, truly ensuring the interests of consumers", Xinhua news agency quoted Mr Wen as saying. This was not the first time that a Chinese leader has sought to reassure a foreign audience that the country was cracking down on unsafe products. Last year, China launched a quality drive after a surge of scares over toys, toothpaste, pharmaceutical ingredients and pet food ingredients – which were also laced with melamine. At that time, mainland officials often said foreign media and critics had exaggerated the country's problems. But now they are focused on quelling domestic alarm and anger, with 54,000 mainland children affected and more than 100 in serious condition, revelations of a government-blessed cover-up, and consumers wondering just what milk products might be safe. China has said it found melamine in nearly 10 per cent of milk and drinking yoghurt samples from three major dairy companies. Robert Madelin, director-general for health and consumer protection at the European Commission, told the same conference that Xiang attended that the scandal had implications beyond China. "In an area such as melamine, what we can say is that all big players are in a world market. So what happens in China is affecting also foreign investors in China, with European capital or American capital. It is affecting traders in Europe with interests in China, with friends in China, with sources in China," he said. New Zealand dairy export giant Fonterra Co-operative Group slashed the value of its big investment in Sanlu Group by nearly 70 per cent on Wednesday. Many of the infant poisonings are linked to Sanlu's popular milk powder. The company has ceased production. Xinhua news agency reported that Sanlu knew for many months that its infant milk powder was tainted. Fonterra repeated that it first knew of the contamination in early August, and took what it regarded as the best action by working with local mainland authorities on a product recall. "If something did exist prior to that we're shocked that it did and we obviously feel that if people were aware of it, it should have gone to the board," chief executive Andrew Ferrier told a media briefing in Auckland. Fonterra cut the value of its 43 per cent stake in Sanlu to about NZ$62 million (US$42 million). It said the write-down reflected the damage done to the Sanlu brand and the likelihood it would not recover.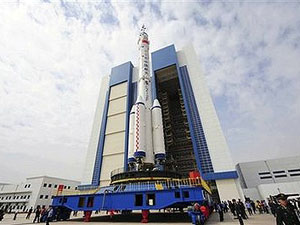 China will send its third manned mission into space on Thursday evening on a mission which will include its first space walk, the government said on Wednesday. The Shenzhou VII will lift off from the Jiuquan space centre in a remote desert area of the northwestern province of Gansu between 9.07pm and 10.27pm, mission spokesman Wang Zhaoyao told a news conference. Fuelling of the rocket has already begun, meaning the launch is "irreversible," the Xinhua said. In October 2003, China became the third country to put a man in space with its own rocket, after the former Soviet Union and the United States. It sent two more astronauts on a five-day flight on its Shenzhou VI craft in October 2005. China named three men – Zhai Zhigang, Liu Boming and Jing Haipeng, all aged 42 – for the mission. "All of this training has been a massive test of the health and psychology of us, the astronauts," Mr Jing said, in comments carried live on state television. "We've overcome hardship, won over ourselves and challenged the extreme limits," he added, dressed in a blue jumpsuit and seated next to his two colleagues. Last year, China sent its first lunar probe into orbit. China's longer-term goals include establishing a space station and landing on the moon. On this mission, two of the three "taikonauts" – the Chinese name for astronaut, taken from the Mandarin word for "space" – will don suits ready for a space walk, spokesman Wang told a small group of Chinese and foreign reporters. "One taikonaut will get out of the cabin and take back the test samples loaded outside the module," he added. "After the extra-vehicular activity is completed, the spacecraft will release a small monitoring satellite." One taikonaut would wear a Chinese-made suit, and the other a Russian one, Mr Wang said, although it was not clear which would be used on the spacewalk. "Extra-vehicular activity is a big leap for the manned space programme," he said. "The process cannot be simulated completely on the ground and some of the newly developed products are to be tested in flight for the first time." The craft will land in the northern region of Inner Mongolia, he added, without giving a date. In the future, China may also train foreign astronauts, Xinhua quoted Chen Shanguang, the head of the China Astronaut Research and Training Centre, as saying. "China's two successful manned space missions so far showed the country's technical ability of independently training astronauts and it was one of the centre's goals to train international astronauts in future," Mr Chen said. "International co-operation is an inevitable trend in manned space flights, which are large-scale projects with complex technologies and huge investment," he added.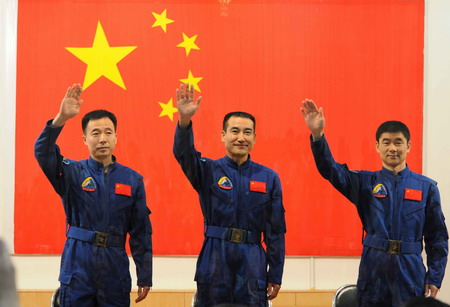 Chinese astronauts ready to make history - Chinese astronauts Jing Haipeng(L), Zhai Zhigang(C) and Liu Boming wave hands during a press conference in Jiuquan Satellite Launch Center (JSLC) in Northwest China's Gansu Province, September 24, 2008. The Shenzhou VII spaceship will blast off Thursday evening from the JSLC to send the three astronauts into space for China's third manned space mission. Spacewalker-to-be Zhai Zhigang, a reserve for the two previous Shenzhou missions, leads the starting lineup of astronauts for Shenzhou VII and is slated to make history at 4:30 pm on Saturday. Three 42-year-old astronauts, all without any space flight experience, will be onboard the craft. Liu Boming and Jing Haipeng, both Shenzhou VI reserves, will join Zhai in this historic 68-hour mission. The crew's identities were revealed during a brief media session Wednesday afternoon at Jiuquan Satellite Launch Center (JSLC) in the northwestern Gansu province. All three astronauts appeared at a fully quarantined facility in their apartment compound. With Zhai sitting at the center, the trio was introduced by Chen Shanguang, head and chief designer of the astronaut system. "As astronauts, it is our utmost honor to be able to represent our motherland and trek into space," said Zhai, whose 14-year-old son is named Tianxiong, or "Sky Hero". It"s not a mere addition of numbers from Shenzhou V, VI to VII. The Shenzhou VII mission is a new breakthrough and major leap in China"s space exploration; it is a glorious mission that has historic implications," he said. Astronauts are an indispensible part of this mission, which will conduct China's first extra vehicular activity (EVA). "How well the astronauts can operate independently in space will be a key factor to the success of this mission," said Wang Zhaoyao, a spokesperson with the China Manned Space Program Office. Aviation academy alumni Zhai and Liu will be working in the orbital module upon the spaceship's entry into orbit. All earlier reports and sources say Zhai will be the actual spacewalker. Officials have still not announced who among the two will perform the task, but Zhai was introduced yesterday as commander of Shenzhou VII. Zhang Jianqi, Deputy Commander-in-Chief of China's manned space program, earlier said the duo's roles are interchangeable. Chen, meanwhile, said all three astronauts were capable of spacewalking. Both Zhai and Liu are from the northern Heilongjiang province. Both joined the air force in June 1985 and attended aviation academy in the same year. Both were stationed in Tianjin for years before selected as astronauts in 1998. Jing, who will work in the reentry capsule, was also drafted in June 1985. A native of Shanxi province, he and Liu were substitutes to the Shenzhou VI mission in 2005. The spacecraft will enter the orbit an estimated 583 seconds after liftoff tonight. Afterwards, Jing will remain in the reentry capsule while Zhai and Liu move to the orbital module. The half-hour spacewalk will be broadcast live on national television. The primary crew and their backups Chen Quan, Fei Junlong and Nie Haisheng were selected out of all 14 of China"s astronauts in February. The starters and backups as well as their respective roles were announced in May, according to Huang Weifen, deputy chief designer of the Shenzhou VII project"s astronaut system. Upon the mission's success, six of the 14 astronauts, all fighter pilots selected in 1998 from the air force, will have flown in space. Yang Liwei became the first "taikonaut" five years ago with the launch of Shenzhou V. Fei and Nie joined a five-day flight on Shenzhou VI in 2005. A number of the astronauts, who are well into their 40s, will retire after the mission, Chen said. A younger group of no more than 14 astronauts is soon to be selected. The Shenzhou taikonauts built on experience from China"s first 19 astronauts picked in 1971 as part of the Shuguang-I project, which was later aborted due to budget constraints.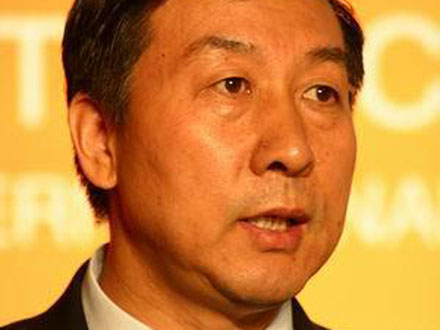 Wang Yong , an obscure name before this week, has found himself in the hot seat as the new chief of China's beleaguered product and food safety watchdog, in the wake of the snowballing toxic milk scandal. The 53-year-old Liaoning native was named deputy minister of the State-Owned Assets Supervision and Administration Commission in 2003 and promoted to deputy secretary general of the State Council six months ago. From Monday, the little-known bureaucrat was suddenly put into one of the nation's most controversial ministerial-level posts. He had climbed the ladder from deputy director of the China Aerospace Science and Industry Corp's political department to head of state enterprise staff in the Central Committee of the Communist Party's organisation department. His predecessor Li Changjiang resigned on Monday over the tainted dairy products found in almost all big brands. Mr Li had been in the spotlight over contaminated goods ranging from toxic eel in Hong Kong in 2005 to tainted pet food and toothpaste in the west last year. The beleaguered General Administration of Quality Supervision, Inspection and Quarantine, heavily criticised by China's netizens for corruption and incompetence, is again in the eye of the storm after melamine was added to raw milk across the industry for over three years. Public pressure was one of the reasons Mr Li, who served in President Hu Jintao's power base, the Youth League, in the 1980s, resigned. Since the Sanlu milk scandal surfaced, internet chat rooms have been filled with messages calling for his resignation. Beijing-based lawyer Zhou Ze said he wrote an open letter calling for Mr Li's resignation after the Sanlu scandal broke. "They have this exemption system given to famous brands," he said. "The more famous the brand is, the higher the need to check its products, but the watchdog gives these products exemption from safety checks. It is dereliction of duty." Mr Zhou said many netizens had supported his open letter by posting follow-up messages and he believed Mr Li's resignation was a victory for the public. The food and products safety watchdog has also been hit by corruption scandals. The head of the food safety department, Wu Jianping, recently committed suicide amid reports he was being investigated for corruption. So all eyes are on the new chief of the food safety watchdog and whether he can rescue the reputation of China's foods and products. On sohu.com, a person named Cai Wei urged Mr Wang to increase transparency and keep the business sector at arm's length. In addition to domestic anger, Mr Wang will also have to face mounting international pressure because the watchdog was in charge of the safety of export goods, analysts said.
Taiwan intends to send a team of experts to the mainland to gather information on the tainted milk crisis. The announcement, made yesterday by Taiwanese Premier Liu Chao-shiuan, comes as some food-processing factories and bakeries on the island were found to have used mainland dairy products in making cakes, breads and drinks. "We need to organise a team of experts, including food-safety specialists and related physicians, to gather information and get a full picture of the incident. This will allow us to have an overall and effective control of the fallout and to take follow-up action," Dr Liu said. The semi-official Straits Exchange Foundation, which represents the island's government in dealing with the mainland, would help arrange the visit by the team, he said. The team can leave once the mainland agrees to the trip. Mr Liu said the government would use existing channels to help Taiwanese firms and consumers seek compensation from the mainland. Taiwan would also set up a system similar to one used by the US Food and Drug Administration to better safeguard consumers' health. Taiwan has already banned all mainland milk products and vegetable-based proteins. But a Taiwanese company was found to have imported 1,000 bags, each weighing 25kg, of milk powder from mainland dairy giant Sanlu in June. State-owned Sanlu was the first company to be identified as a source of dairy products tainted with the industrial chemical melamine, which has killed at least four babies on the mainland and left 52,000 more ill. A report by the central government found that Sanlu had begun receiving complaints as early as December last year but did not carry out any tests to verify the complaints until June. The 1,000 bags the Taiwanese company imported were sold to local food-processing factories and bakeries for use in baking products, beverages and calcium tablets, according to the Department of Health. On Sunday, King Car Industrial, a major food and beverage supplier in Taiwan, recalled eight products containing creamer imported from another dairy company based in Shandong province on the mainland. The products, used in mixing coffee and instant chicken and corn soup, all tested positive for melamine. On Monday, the Department of Health said five other companies had imported or used the creamer from the Shandong company. Tests on products from those five firms were being carried out. The department also said it had discovered that hypermart RT-Mart had used milk powder from the Sanlu Group in its bread products. RT-Mart strongly denied it had used Sanlu milk powder for baking. It sent all its dairy products to the department for testing. Lawmakers from the opposition Democratic Progressive Party said the cabinet had failed to react swiftly to the fallout. Local suppliers, especially smaller bakeries at the end of the supply chain, have lost between 40 to 70 per cent of sales as consumers, unsure about which products are safe, steer clear of dairy products and drinks containing milk powder. DPP lawmakers said Mr Liu was "day-dreaming" if he expected the mainland to reveal all details about the crisis to the team of experts, or help Taiwanese seek compensation.
Sept 24, 2008



Hong Kong: The Hong Kong Observatory raised the No.8 typhoon signal on Tuesday evening — as Typhoon Hagupit approached the territory and weather conditions deteriorated.

Hong Kong shares fell nearly 4 per cent on Tuesday on concerns a huge bailout plan may not revive the ailing US economy, with selling intensifying late in the day as investors bet a typhoon would close markets on Wednesday. The Hong Kong Observatory raised a strong wind warning signal earlier on Tuesday and warned it may hoist the tropical storm signal by dusk. The benchmark Hang Seng Index closed down 759.35 points at 18,872.85 after gaining more than 11 per cent in a two-day rally. Shares in scandal-tainted Mengniu Dairy (SEHK: 2319) plunged by nearly two-thirds to a 33-month low at the open before recovering slightly to close at HK$7.95, down 60.3 per cent. It was the day's most active issue on volume of nearly 420 million shares. Almost every major brokerage house downgraded the stock due to concerns that the dairy product scandal will hurt industry growth. The stock resumed trade on Tuesday after being suspended since September 17, when news first emerged that Mengniu – mainland's biggest dairy – was among several firms found to have produced milk contaminated with the chemical compound melamine. "We believe the melamine-tainted dairy product scandal will have a negative near term impact on the growth of the Chinese dairy industry, including Mengniu Dairy," said Deutsche Bank analysts on Tuesday after downgrading the stock to sell from buy. "Our channel checks show local consumers have either cut down on dairy product purchases or switched to imported brands with more stringent quality checks." Mainboard turnover fell to sharply to HK$64.4 billion from HK$91.6 billion on Monday. "Investors have shifted their focus to the US economic outlook where things still don't look good and the threat of recession seems real," said Patrick Shum, strategist with Karl Thomson Securities. "Corporate earnings are likely to slow down further and people still believe in selling stocks and holding cash." The China Enterprises Index of top locally listed mainland firms slid 5.1 per cent to 9,704.50. Major gainers from the HSCE's two-day 18 per cent rally, including mainland banks and commodity-linked stocks, succumbed to profit taking as the Shanghai bourse fell 1.6 per cent on Tuesday. Gold miner Zijin Mining (SEHK: 2899) bucked the broad trend in the H-share index to gain 5.3 per cent after the price of the precious metal rose to its highest level in seven weeks on Tuesday on a weaker US dollar Sino Gold rallied 19.8 per cent. Jiangxi Copper (SEHK: 0358) slid 14 per cent after Goldman Sachs downgraded the stock to sell from buy after it rebounded 37 per cent from its recent low despite weakening prices of sulphuric acid, which accounts for 30 per cent of the company's earnings. Shares in Asia's largest refiner, Sinopec (SEHK: 0386), fell 5.5 per cent, following a historic a 16 per cent spike in crude prices overnight. Petrochina (SEHK: 0857, announcements, news) , Asia's largest oil & gas company, which also has refining operations, dropped 3.7 per cent. Mainland refiners have been squeezed by the widening gap between rising international prices of crude and regulated prices of refined products in the mainland. Oil prices also weighed down airline stocks, with Air China (SEHK: 0753, announcements, news) , the nation's flag carrier, dropping 5.4 per cent, while China Southern Airlines tumbled 5.6 per cent.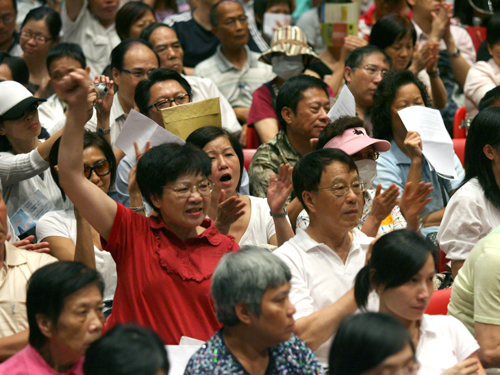 Investors who bought Lehman Brothers products attend a meeting at the Caritas community hall in Caine Road yesterday. Some are considering calling for a police investigation. The Hong Kong Monetary Authority says it will investigate whether banks used improper tactics to market Lehman Brothers mini-bonds, as angry bond holders demand answers about their investments. The authority was collecting complaints from investors and information from banks to assess whether the banks used improper methods to sell the mini-bonds, the authority's executive director Raymond Li Ling-cheung said yesterday after a meeting with bond holders. If the banks are found guilty, the authority, in consultation with the Securities and Futures Commission, could take disciplinary action, demand a fine or suspend the banks' licences, he said. However, it could not help investors with their losses. The authority has set up a complaints hotline - 81002314 - operating from 9am to 6pm and launched a website. Even before they were set up, they had received seven complaints and Mr Li said the number "is likely to rise quickly". Seven banks have also created special phone lines at the authority's urging for customers to inquire about the mini-bonds they bought, and more are expected to do the same in coming days. Mr Li met bond holders, representatives of seven distributor banks and Democratic Party chairman Albert Ho Chun-yan, who helped organise the meeting. The bond holders, many of them retirees who spent much of their savings on the investments, complained that the banks had not told them of the risks. Representatives from Bank of China (Hong Kong), Standard Chartered, DBS, ABN Amro, Dah Sing (SEHK: 0440) Bank, Wing Hang Bank (SEHK: 0302) and Sun Hung Kai Financial attended. Some 800 investors gathered to air their grievances. Six representatives from the authority were there to listen to their cases. Wong Kin-ming, one of the investors, said he and his wife invested HK$2.52 million through Chiyu Banking Corporation. He said he had no idea of the high risk involved. The Securities and Futures Commission said investors held HK$36 billion in mini-bonds, including HK$12.7 billion from Lehman Brothers. Twenty-one banks are thought to have distributed Lehman Brothers mini-bonds. The authority has yet to provide an estimate of how many investors and banks are involved. HSBC (SEHK: 0005, announcements, news) said it was liaising with issuers and other Lehman Brothers entities to ascertain their intentions and ability to service payments under the notes and whether there was a possibility of early redemption. The bond holders are considering applying for legal assistance from the Consumer Council to take action against the banks for using improper methods to market the bonds, and are also considering asking the police to investigate. The Consumer Council had not received any complaints regarding the banks by yesterday afternoon, a spokeswoman said. The police Commercial Crimes Bureau had not received any crime reports relating to the Lehman Brothers mini-bonds, a spokesman said. Financial Secretary John Tsang Chun-wah said the government was communicating with the banks and investors in the hope of finding an early solution. BOCHK (SEHK: 2388) said all its sales staff were qualified and licensed securities agents. It had strict guidelines to ensure the selling process complied with regulatory requirements, a spokeswoman said. A spokeswoman for the Bank of East Asia (SEHK: 0023) said it would have to evaluate each case to ascertain whether staff acted incorrectly. The Securities and the Futures Commission said it had handled 780 inquiries and more than 130 complaints. Complaints relating to alleged mis-selling by banks are being referred to the monetary authority.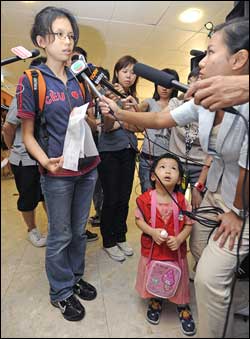 Anxiety has turned to anger for scores of parents with children needing medical checks over the chaotic conditions at Princess Margaret Hospital. The parents and their children, who were at the Lai Chi Kok hospital since 9am yesterday, were first told to register at the Accident and Emergency Unit. They were then told the children needed blood and urine tests at the specialist outpatient clinic and ultrasound checks. But some parents said they could only make an appointment for the next day, while others were furious at being "double charged." A woman, surnamed Tang, whose eight-year-old son had been drinking up to four packs of Mengniu and Yili milk each day for two years, was extremely upset over what she called "messy arrangements." "No one was there to guide the confused parents on what to do next," she said. "We have been waiting for almost an hour in vain." The hospital, Tang said, also did not provide any water for the children, nor remind parents to have the children drink more water before the urine test. Some parents said they were charged HK$200 for the A&E unit and the clinic, while some were only charged HK$100. Another mother, surnamed Pang, said she and her two daughters, aged two and five, drank Mengniu milk. She said some parents went to the clinic without registration, filling the quota quickly.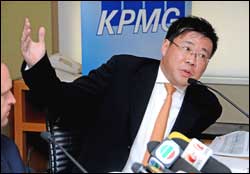 Hong Kong-listed banks' liquidity remains strong although most have seen a decline in average liquidity ratio, a KPMG study of 13 Hong Kong banks shows. Overall, operating profit before loan impairment allowances was unchanged in the first half from the same period a year ago, but core profit excluding write downs rose 15 percent to HK$63.7 billion. After-tax profit fell by 6.4 percent on average. "Hong Kong-listed banks recorded strong profit for the first half, although the investment write downs following the credit crisis have offset some profits," said Martin Wardle, partner in financial services at KPMG. In the first six months, the 13 listed banks wrote down a total of HK$6.4 billion on asset-backed securities, collateralized debt obligations and structured investment vehicle investments. The carrying value of those investments totaled HK$18.1 billion as at June 30. "We expect further write downs in the second half, but they may be less than the first half. It all depends on what's happening in the US," Wardle said. Net interest income remained the main component of income during the first six months, rising 15.4 percent on the back of 17.6 percent loan growth and expansion of higher-yield lending. The KPMG study also indicated that 14 mainland banks registered 67.3 percent net profit growth in the first half.
Mitsubishi UFJ in Morgan Stanley deal as era ends for giants - Mitsubishi UFJ Financial Group will invest up to 900 billion yen (HK$65.73 billion) for up to 20 percent of US investment bank giant Morgan Stanley. Mitsubishi UFJ, Japan's largest bank, will start due diligence in the deal to buy 10 percent to 20 percent of Morgan Stanley. The deal marks an about-face for chairman Ryosuke Tamakoshi, who last week said it would avoid any immediate investments in US banks. The backing will help shore up confidence in Morgan Stanley. The deal comes as Morgan Stanley and its peer, Goldman Sachs, were granted approval to become bank holding firms regulated by the US Federal Reserve, effectively killing off the investment banking model that has dominated Wall Street for more than 20 years. Goldman and Morgan Stanley can now take deposits, gain easier access to financing and gives them more flexibility to buy retail banks. The move was initiated by the banks, the only two big and independent US investment banks left. The change means that previously freewheeling firms will be subject to much tighter regulation by the Fed, including tough capital requirements, reducing their chances of producing the kind of mega profits they had been making until the crisis hit. In exchange, the two gain long-term access to the Fed's discount window and access to bank deposits insured by the Federal Deposit Insurance Corporation. Goldman said it would move assets from a number of units into an entity called GS Bank USA that would have more than US$150 billion (HK$1.17 trillion) in assets, making it one of the 10 largest US banks.


China: Taiwan universities will begin taking students from the mainland next year for the first time since the two sides cut contact decades ago, an official said on Tuesday.
Traditional medicine has radical impact on mainland's astronauts - In the second of a series ahead of the space launch this week, Stephen Chen looks at how traditional Chinese medicine is being used to keep astronauts healthy in space. Working in outer space can take its toll on the human body. Li Yongzhi , chief medical supervisor at the China Astronaut Centre, said health problems in space included - but were not limited to - dehydration, hyperhydration, dizziness, fatigue, vomiting, a decrease in bone calcium, immune system changes, anaemia and nervous breakdowns. But mainland scientists are drawing on a wealth of traditional knowledge to minimise the impact of missions on astronauts - research that may soon benefit life on Earth. Former US senator Jake Garn, who flew aboard the Space Shuttle Discovery in 1985, experienced the range of space-induced illness as a result of microgravity, space radiation and a confined environment, Dr Li said. Even with professionally trained astronauts, illness can sometimes jeopardise an entire mission. "To prevent that from happening, we have traditional Chinese medicine," Dr Li said. Joint research by the CAC and the Catholic University of Louvain in Belgium found that Chinese astronauts returned to Earth healthier than their Russian and European counterparts. "After a short period in space, the functioning of Chinese astronauts' cardiovascular nervous system has shown a very different pattern from that of Russian and European astronauts," the joint report said. The study found that Chinese astronauts had more strength and could stand, sit and move around more easily after returning from space missions. "The adaptability of their cardiovascular system is obviously better than that of their Russian and European counterparts who had gone through similar flight times," the report said. Dr Li said Fei Junlong and Nie Haisheng, who spent five days in space during the Shenzhou VI mission in 2005, also scored higher on health tests than many American astronauts. Comparisons revealed that the US astronauts pumped less blood with each heartbeat, and their hearts had to beat faster upon their return to Earth. "The Chinese astronauts hardly showed any changes [in heartbeat] when they returned," Dr Li said. She said much of the secret was in the traditional herbal medicine they had been taking, included a pill called Taikongyangxindan, or "space heart guardian", to be taken in case of a heart attack in microgravity. The pill is a combination of the root of a roadside herb known as Chinese foxglove; glossy privet seeds; the leaves of an aphrodisiac - short-horned epimedium; and some old, dry orange peel. But Dr Li said the medicines' aim was prevention rather than cure. Dr Li said astronauts were the fittest human beings, and their bodies were capable of handling most problems when they cropped up, as long as long-term preparation was done. And few other therapies met that need more effectively than traditional medicine. "A lot of research has been carried out, but most of it is concentrated at the molecular level, trying to solve the problem by addressing an organ or a kind of cell," she said. "But most of the time, sickness was not caused by just one factor. The Chinese medicine theory, therefore, takes a comprehensive approach by addressing the relation between the human body and the external natural and social environment. "Formulas of Chinese medicine caused few side effects because they address the balance between yin and yang represented by each ingredient. "Therefore, when they come together, they could achieve what western medicines, most of which work independently, cannot. We devise each formula to address multiple systems, layers and targets." Dr Li is trained in western medicine and insisted the centre was not resistant to foreign techniques. "We rely heavily on the methodology and facilities of modern medical science. But we are working with an open attitude to find out what works best," she said. The centre's embrace of the traditional approach is not limited to medicine. Massage therapists and acupuncturists also keep astronauts in peak condition. Dr Li said mainland space scientists had studied astronaut's health for more than 30 years, but the ultimate beneficiaries of the research would be people on Earth. "People face an increasing number of underlying health problems similar to what astronauts encounter in space," she said. "We hope our research can eventually benefit the entire human race." The space heart guardian will be available over the counter soon.
China is expected to launch three spacecraft in 2010 to build a small laboratory in space, said Qi Faren, chief designer of the Shenzhou VII manned spaceship. Shenzhou VIII, Shenzhou IX and Shenzhou X are expected to enter space with launch intervals of less than a month of each other, the Shanghai Daily quoted Qi as saying. The report came as China began the final stages of preparation for the blastoff of Shenzhou VII, its third manned space flight that will feature the first Chinese space walk some time between Thursday and next Tuesday. Three astronauts - Zhai Zhigang, Liu Boming and Jing Haipeng, on this week's mission - and three backup colleagues are now at the Jiuquan Satellite Launch Center in Gansu province. They will be quarantined until the launch, set for Thursday unless bad weather upsets plans. Rain and strong wind hit the center on Sunday, raising concerns that severe weather may affect the launch. The astronauts said they were confident that the Shenzhou VII flight will complete all its tasks successfully. China's first manned space flight in 2003 was greeted with triumphant publicity, as was the second in 2005. China is only the third country to put humans in space, after the former Soviet Union and the United States. Last year, China also sent into orbit its first lunar probe. State media are already exulting in the display of technological strength after last month's Beijing Olympics, at which China topped the gold medal chart. "I feel even more profoundly the glory of being an astronaut," Fei Junlong, who flew on China's second manned spaceflight in 2005, told Oriental Outlook magazine. "The Chinese people have stood up in the eyes of foreigners," he said, citing the words of an aged supporter. "I am proud for our great motherland."
Sept 23, 2008



Hong Kong: The government plans to introduce an amendment to food safety regulations on Tuesday to allow only trace amounts of melamine in food, Secretary for Food and Health York Chow Yat-ngok said on Monday. Baby milk powder laced with melamine – used in plastics and fertilizers – has been blamed in the deaths of at least four children. Some 50,000 others have been sickened in the mainland. Melamine was added to the milk powers in the belief it would boost protein levels. More than 12,000 babies, mostly newborns, remain hospitalised, with 158 suffering from acute kidney failure. Mr Chow said the new regulations would be effective from Tuesday. "After taking reference of the regulations in European Commission and the US, we have make the new amendments,'' he said. "The new regulations states that the total of melamine in milk powder for infants and pregnant women cannot exceed one milligram per kilogram [1mg/kg]. For other diary products and food, total of melamine cannot exceed of 2.5mg/kg," said Mr Chow. He said milk powder for infants in Hong Kong was now safe to consume. "The Centre for Food and Safety [CFS] have tested all milk powder for infants and those tainted milk had already been recalled," he added. Mr Chow said the new regulations would be even stricter than those in EU and the US. These should be sufficient to protect the health of infants and pregnant women. He advised food suppliers, retailers and restaurants to be more cautious when buying diary products. The health minister also apologised for not allocating enough clinics to test children who had consumed tainted milk before. "From Tuesday, there will be 18 outpatient clinics and seven special assessment centres available." "These will be for parents to take children aged 12-years old or below – who have consumed tainted milk regularly or have the symptoms of renal failure." Dr Chow said the opening hours would be extended to include Saturday and Sunday. "If children were found to have kidney problems, the clinics would transfer them to specialists for treatment," he said. Meanwhile, parents flocked to Princess Margaret Hospital to have their children tested for kidney problems on Monday morning, local media reported. This is amid concern about children after a three-year-old girl developed a kidney stone. The girl had been drinking Yili milk daily for 15 months. A clinic in Princess Margaret Hospital was set up last week to handle patients who have consumed melamine-tainted milk products.
China visa restrictions imposed on foreigners in Hong Kong during the Beijing Olympics last month will be lifted from October 16, travel agents say. The long-awaited move will be a relief to many of the city's foreign businesspeople and tourists, who have been burdened with extra red tape over the past six months as the mainland increased security measures. The mainland has resumed visa-free arrangements for Singaporeans visiting for business or tourism, or transiting within 15 days. Visa-free access for Singaporeans was suspended on July 1. Paul Leung Yiu-lam, a vice-chairman of the Association of Travel Agents, said the central government might have decided to wait until after the National Day holiday to relax the visa application processes. Mr Leung said the restrictions had affected many visa arrangements, including the popular "144-hour" visa for groups of at least three tourists visiting Guangdong from Hong Kong by land. The 144-hour visa was banned throughout the Olympics, but would be reinstated from October 16 along with other visas, he said. European Chamber of Commerce chairman Rafael Gil-Tienda said he had heard from members that visa arrangements would now be at "a different level" following the closing ceremony of the Paralympics. He said he did not have any first-hand information. The chamber had been particularly worried and vocal about the impact of the restrictions since learning about six months ago that multiple-entry visas and short-visit visas to Shenzhen would be suspended. This meant foreigners were restricted to single- or double-entry visas valid for up to three months. Valid multiple-entry visas were unaffected. Visa applicants also had to produce advance hotel reservations and return-flight bookings, which proved impractical for businessmen often needing to travel at short notice. Nationals from 33 countries including South Africa, India, Malaysia, the Philippines and Indonesia were also told they could no longer obtain visas in Hong Kong unless they were residents. Beijing granted visa-free access to overseas visitors accredited by the International Olympic Committee for a month before and after the Olympic Games. These visitors included journalists, athletes and support staff. The mainland already grants visa-free entry for visits of up to 15 days to citizens of Japan and Brunei.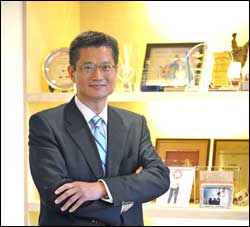 A newly elected legislator has warned of the possibility of a HK$70 billion budget deficit and called on the government to stop giving away sweeteners to the public. "The government recently announced a relief package of HK$11 billion and also said it would donate HK$10 billion for Sichuan earthquake relief," said accountancy sector lawmaker Paul Chan Mo-po. "A drastic drop in revenue from land sales and stamp duty could result in a further loss of HK$50 billion," he told The Standard. Chan said he will put these observations to Chief Executive Donald Tsang Yam-kuen when they meet later this week to discuss Tsang's policy address. Chan's prediction is about 10 times more than the government's estimated deficit of HK$7.5 billion. Revenue from land sales in fiscal 2007/08 reached HK$63.1 billion and stamp duties realized HK$49.6 billion, the two comprising one-third of total government revenue. "The economy looks worse than many expect," Chan said. "It may take a few years for it to turn around." He believes revenue from salaries tax and profits tax will be stable next year but could fall in subsequent years because of the lowering of the two taxes. Despite calling for an end to sweeteners, Chan said the government must still help the needy or face fierce opposition. "I agree the subsidy for the elderly should be increased to HK$1,000 a month, but I have doubts about the subsidy on electricity bills," he said. Chan admitted there was little the government could do to stimulate the economy, but he supported the decision to develop infrastructure as this would help ease unemployment. Despite interference by most governments in the financial markets, Chan hoped the Hong Kong government will keep its hands off the local market. "I was worried when the government acquired stocks in 1998 as such action sends a message to investors that the market is going to be very bad," Chan said. Tsang, who was then financial secretary, gave the green light to spend HK$118 billion of public money buying about 15 percent of Hang Seng Index constituent stocks in August 1998. "I think there's no need for government to buy stocks or to inject money into the market as our currency is not at stake this time," Chan said. The Hong Kong Monetary Authority last Thursday injected HK$1.56 billion of liquidity after interbank rates rocketed to an 11-month high. Chan suggested the government evaluate its role as a regulator and the Securities and Futures Commission review its regulations.
Singapore is helping Taiwan investigate money-laundering allegations against former president Chen Shui- bian and his family. Investigators have already been given information on the family's 10 Singaporean bank accounts. "Through the justice ministry and foreign ministry, Singapore has provided us with information," a spokesman for the investigation unit said. The Chen family are reported to have transferred funds to Switzerland via Singaporean bank accounts. Chen, his wife, son, daughter-in-law and brother-in-law have all been named as defendants. Chen has admitted his wife wired US$20 million (HK$156 million) abroad from past campaign funds, but said she did so without his knowledge.


China: The head of the China's product-quality agency, Li Changjiang, stepped down on Monday, state media said, amid a scandal over toxic milk that has killed four children and sickened nearly 53,000. Mr Li tendered his resignation to the cabinet and it was accepted, Xinhua news agency said, making him the highest-profile political casualty yet in the mounting food safety crisis. His resignation came as the health ministry released new figures showing that 52,857 children had fallen sick after drinking milk powder contaminated by the chemical melamine, a dramatic increase in earlier numbers. Four children have died, previous government statements have said. The ministry said 12,892 children remain hospitalised with kidney problems. Mr Li has been replaced by Wang Yong, who will leave his post as deputy secretary-general of the State Council, or cabinet. Mr Li's tenure coincided with a wave of scandals that have tarnished China's manufacturing reputation. Last year, the agency last year embarked on a wide-ranging effort to improve quality supervision throughout the country after a series of international safety scandals ranging from toys to pet food. The latest scandal came despite a July last year pledge by Mr Li to "address the fundamental problems behind issues relating to food product safety." It has revived worldwide fears over Chinese products, with several countries recalling mainland dairy goods and blocking further imports. Melamine, normally used in making plastics, was first found in infant milk formula in mainland markets, but has since been detected in a range of dairy products both in China and abroad.
Jay Xu Jie has long had a connection with the Asian Art Museum (AAM) in San Francisco - it was the first museum outside China that he learned about while working as a young curator in Shanghai. So when 45-year-old Xu was named director of the AAM earlier this year, a member of the museum commission described the appointment as "destiny". Securing the top job at one of the west's largest institutions devoted to Asian art was no mean feat. Formerly head curator at the Art Institute of Chicago, Xu was chosen after an international search that at one point included 100 candidates. But he has been something of a high-flier since arriving in the US in 1990 to pursue a doctorate at Princeton. His meteoric career, leapfrogging from one prestigious institution to another, is a tribute to his heart and mind, says Jane Chang Tom, secretary of the Asian Art Commission, which runs the museum. "There is a Chinese saying that translates something like this: 'The right time, the right place and the right person [doing] the right thing'. That's how I see Jay." Xu's first public role in his new job was to open an exhibition of Ming court art put together in a collaboration with three of the mainland's most important institutions - the Palace Museum in Beijing, the Nanjing Municipality Museum and the Shanghai Museum. Even though he didn't have a hand in the show, it points to where some of the AAM's attention will be directed: training. Since 2003, Xu has served on the Mellon Programme for Chinese Museum Professionals, which helps develop expertise for the mainland's rapidly expanding museums. "During the past 20 years, China has had arguably the fastest economic development in the world. This has seen construction going on everywhere, and wherever you dig, you find ancient objects. As they keep coming up, you need to build museums to house them," Xu says. "They're building museums in just about every county in China as we speak, and there are a lot of counties. "When building museums at such a fast pace, it's difficult for the cultural infrastructure to keep pace," Xu says. "China needs seasoned curators, directors and managers." In his new role, Xu hopes to plug the AAM into the teaching loop with a curator-in-residence programme. "I envision inviting one or two people a year to see how our curator works, because stylistically and organisationally, it's a little different," he says. The AAM's galleries and curatorial structure are organised into seven large, loosely defined cultural areas - South Asia, West Asia, Southeast Asia, the Himalayas, China, Korea and Japan. Xu, who studied Chinese literature at Shanghai University, is widely schooled in art and antiquities, and says achieving balance in the AAM's exhibitions will be a focus. He jokingly describes himself as Shanghai "born and riced". He began his career in the 1980s as secretary to the director of the Shanghai Museum, Ma Chengyuan, who soon encouraged him to move into curating. A brief secondment in 1988 to assist visiting Princeton professor and Chinese antiquities scholar Robert Bagley yielded an invitation to study in the US. "Six months later he wrote to ask if I was interested in the doctoral programme in art history and archaeology at Princeton," Xu recalls. He arrived in the US in 1990 with wife Jennifer Chen, a specialist in Chinese ceramics whom he met working at the Shanghai Museum. "As you might imagine, we were a little bit younger, with wide-open eyes and full of the spirit of exploration. I'd been to America once. My wife had never been," he says. He was determined to make the most of Princeton even if plans beyond that were a little vague. But he told himself he would apply total dedication to whatever post he got, "and that once I had the first job, I would never apply for another". It was an attitude he got from his parents, he says. "I learned from them that effort is more important than results. They instilled in me the value that I should achieve the best I am capable of, even if it is modest." After his doctorate, Xu took up the offer of a fellowship at the Metropolitan Museum of Art in New York before landing his first major post, as head of Asian art at the Seattle Art Museum. Seven years later, the Art Institute of Chicago asked if he was interested in the head curator's job. He couldn't refuse such a post at what he calls "one of the best museums in the world", so he relocated to Chicago, expecting to stay until retirement. But five years into the job, a call from a headhunter eventually sent Xu and his family back to the US west coast, to the AAM. Mimi Gardner Gates, the director of the Seattle Art Museum who appointed him to his first big job, reckons San Francisco is fortunate to have Xu. "Jay has good judgment, intelligence, diplomatic skills and as much of a passion for people as for museums and Asian art. He's a superb scholar and, when he needs to be, a tough negotiator," she says. "He knows how to assess what will appeal and be meaningful to the community." Xu says contemporary art has been an important focus at the Chicago Art Institute, which has acquired some fine work by Asian artists, including Hong Kong's Wucius Wong, for its permanent collection. And the AAM is even better positioned to support contemporary art, he says. Increasing international interest in young mainland artists over the past decade has raised fears Chinese antiquities may be neglected, but Xu says there's no danger of that. That said, Xu is excited about what he calls the "tremendous enthusiasm and momentum in contemporary Chinese art". Viewing the boom as an art historian, he says, "It calls on us to be very selective and focused and to do our homework and to make sure the art we show as a museum - and the great contemporary artists - survive the test of time." Xu divides Chinese contemporary art into two genres. "One is very conceptual: artists commenting visually on political history, for example. You see many artists using Mao's likeness and motif. This art is shoulder to shoulder with international development all over the world." Then there is what he calls "tradition-inspired contemporary art" - work that shows a strong connection with tradition but which is internationalised. "This art is less visible but equally important and wonderful," he says. Personal passions aside, Xu will be channelling his energy towards other goals at the AAM. "Museum work is fundamentally creative," he says. "Directing a museum is like conducting an orchestra, and every colleague is ike a musician." Museum commission vice-chairman David Lei says it's too early to tell what kind of influence Xu will have internationally, but that he has "the desire, ability and willingness to collaborate". But the AAM's new director is already making his presence felt in the institution. "Within a couple of months," says Chang, "he has instilled in the museum culture a dynamic sense of change, optimism and a strategic vision."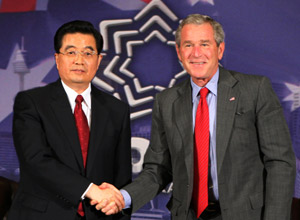 President Hu Jintao and US President George W. Bush spoke by telephone on Monday about the financial crisis engulfing Wall Street, China News Service reported. The state-run news agency said the two leaders spoke at Mr Bush's request. "We have noticed that the United States has taken some important measures to stabilise the domestic financial market, and we hope these measures can achieve quick results so that economic and financial conditions in the United States will gradually improve and turn better," the news agency paraphrased Mr Hu as saying. The two spoke at the end of a weekend of intensive talks in Washington between Bush's administration and Congress to hammer out details of an unprecedented US$700 billion bank bailout to forestall further financial market turmoil that risks plunging the economy into a deep recession. Hu said the US plan was in the interests of both the United States and China. "It is also conducive to maintaining international financial market stability in order to promote the stable and healthy development of the world economy," China News Service paraphrased Hu as saying. Seven mainland banks have reported exposure of more than US$700 million to failed investment bank Lehman Brothers. Lehman also guaranteed US$500 million in structured notes held by a Chinese overseas investment fund. But China's capital controls and the overwhelmingly domestic focus of its banks and insurers have largely insulated the country from the immediate fallout of the turmoil on Wall Street. However, China has a huge stake in the health of the US financial system, not least because an estimated two-thirds of its US$2 trillion in foreign exchange reserves is invested in dollar bonds. Beijing is a big holder of US treasuries and of debt issued by the two mortgage agencies, Fannie Mae and Freddie Mac, that the US Treasury effectively nationalised this month. So a ballooning of US government debt that drove down bond prices or the value of the dollar would spell big losses for China. Looked at in another way, the United States could remain heavily reliant on Beijing to buy the extra US debt needed to fund the bailout. The China News Service story did not say whether Mr Hu and Mr Bush discussed possible investments by Chinese institutions in US financial firms desperate to replenish capital depleted by write-downs on mortgage loans and securities. China Investment Corporation, the country's US$200 billion sovereign wealth fund, is in talks to increase its 9.9 per cent stake in Morgan Stanley. US Treasury Secretary Henry Paulson and Federal Reserve Chairman Ben Bernanke hatched the unprecedented rescue plan amid concerns that other major banks could collapse and that credit markets were close to freezing, threatening the US and global economy. Under his plan, foreign banks with operations in the United States could also be eligible to sell illiquid residential and commercial mortgage-related assets to the Treasury. Some US lawmakers are demanding in return that foreign governments set up similar bailout programmes. "We have a global financial system and we are talking very aggressively with other countries around the world, and encouraging them to do similar things, and I believe a number of them will," Mr Paulson said on ABC television on Sunday.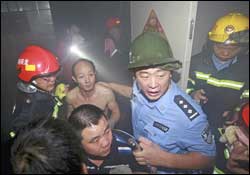 A 10-meter-long narrow passageway became a corridor of death as panicked clubbers fought to flee a smoke-filled Shenzhen nightclub in the dark. Search and rescue teams entering the Shenzhen club early yesterday found themselves knee-deep in human bodies and abandoned shoes of those who scrambled to get out. "There was only a narrow aisle leading out of the hall. Many people got hurt or were killed in the stampede," club staffer Yang Zhi said. He escaped by dousing his clothes with water before fleeing, but he still suffered burns to the neck. Another staff member, surnamed Zhang, said there was another exit at the rear of the club, but this was not known to most patrons. A woman surnamed Deng, nursing a bruised face, said: "I could not see anything. I could only feel a lot of people around me and we were stepping on each other. Nobody knew there was another exit, everybody rushed in the same direction." Another woman, surnamed Liu, was nursing numerous cuts to her body. She was still awaiting news of her younger brother and 18 friends who were on the third floor. "Everybody just started running out and we lost contact," she said.
Premier Wen Jiabao has told officials not to underestimate the impact of the international financial turmoil on China's economy, although he showed confidence the nation will be able to maintain steady economic growth. The government will seek to prevent "large ups and downs" as the country grapples with slowing industrial growth, Wen told a government meeting over the weekend, China Central Television reported. "This year has been the most challenging of recent years," Wen said. "Global financial turmoil and an obvious slowdown in the global economy may further intensify the situation." But recent government measures to stimulate the economy "are starting to achieve positive outcomes," he said. China's central bank cut interest rates a week ago for the first time in six years, and reduced the level of reserves that smaller financial institutions must hold. It scrapped the tax on stock purchases and allowed state-owned companies to buy shares in their listed units to shore up investor confidence, prompting a sharp stock market rally on Friday. Wen reiterated China's macroeconomic stance - to balance fast and stable growth and contain inflation. Separately, People's Bank of China vice governor Su Ning stressed the importance of the domestic market. Su said although the international turbulence aggravated risks in China's financial sector, the country is confident and capable of maintaining financial and economic stability. Meanwhile, economists said macro-policy support, with mounting external risks, is crucial for China's slower but steady growth outlook. "The external environment turns more challenging for Chinese exporters. Earlier solid demand ... is likely to slow notably," said JPMorgan economist Frank Gong. Gong said a change of 1 percentage point in GDP growth in the rest of the world leads to a 5.7 percentage point change in China's export growth. JPMorgan estimates a 10.1 percent real GDP growth rate for China this year, and 9.5 percent next year.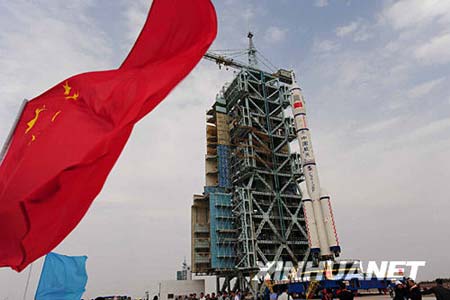 The Shenzhou-7 manned spaceship, the Long-March II-F rocket and the escape tower are vertically transferred to the launch pad at the Jiuquan Satellite Launch Center in northwest China's Gansu Province Sept. 20, 2008. The transfer finished at 3:15 p.m. on Saturday, marking the final stage of the launching preparation.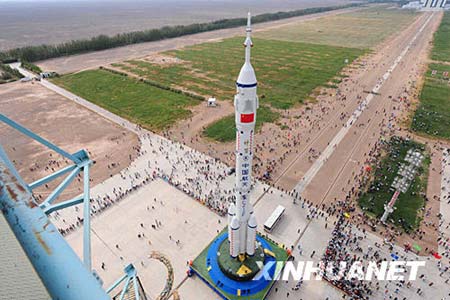 The Shenzhou-7 manned spaceship, the Long-March II-F rocket and the escape tower are vertically transferred to the launch pad at the Jiuquan Satellite Launch Center in northwest China's Gansu Province Sept. 20, 2008. The transfer finished at 3:15 p.m.on Saturday, marking the final stage of the launching preparation.
Sept 20 - 22, 2008



Hong Kong: The world's top central banks joined forces yesterday to throw a US$180 billion (HK$1.4 trillion) lifeline to global markets in an effort to free up interbank lending.
Morgan Stanley, the second largest US investment bank, is considering a merger with a financial institution to shore up investor confidence and avert the fate that befell Lehman Brothers in the latest credit crunch.
The Hong Kong government is to build a fifth border crossing to the mainland at a cost of HK$9.6 billion. Work on the Liantang-Heung Yuen Wai boundary control point, which will require the resettlement of 300 villagers, will begin in 2014 with a completion date in 2018. The agreement was signed yesterday by Secretary for Development Carrie Lam Cheng Yuet- ngor and Shenzhen executive vice mayor Li Feng. The government expects the new control point to handle up to 20,600 vehicles and 30,700 passengers a day by 2030. Its economic benefit to the city is estimated at about HK$14 billion from 2018 to 2030. "The new boundary control point will enhance passenger and cargo flows and strengthen the link between Hong Kong/Shenzhen and the eastern part of Guangdong and provinces like Jiangxi and Fujian," Lam said. It will also alleviate traffic congestion at Man Kam To and Sha Tau Kok. Lam said the estimated cost of the project included HK$6.1 billion for roads and civil works, HK$1.9 billion for the new control point building, HK$600 million for Shenzhen River improvement works and HK$1 billion for land clearance. Permanent Secretary for Development Raymond Young Lap-moon said the estimated HK$14 billion in economic benefits did not include an increase in employment opportunities and property prices. A 10-kilometer, two-lane highway including three tunnels will connect Tolo Highway and Eastern Corridor in Shenzhen to the Shenzhen- Huizhou and Shenzhen-Shantou Expressways. The control point building will be two stories high on 18 hectares of ground on the Hong Kong side of the border. The ground level will be for goods vehicles and a public transport interchange while the upper level of 4.6 hectares will serve passengers, private cars and coaches. The building will link to the Shenzhen border control building through a passenger hall. The building on the Hong Kong side will require the purchase of land in Chuk Yuen Village. The government began consulting villagers last night. Young said the crossing could enhance development in Ping Che/Ta Kwu Ling. Shenzhen is developing Dayun New Town and Pingshan New Town in the east as a focus for large-scale trade exhibition facilities and new technology.
The door to a career in the tourism and hospitality industry for low-skilled workers will open next month when a theme park begins a food and beverage services training program. Ocean Park will join the Labour Department, Vocational Training Council and the Hong Kong Federation of Youth Groups to train 25 selected workers, aged 15 to 24, in the nine-month pilot program. The program originates from an informal 2006 partnership between Ocean Park and skills project Operation Breakthrough - in which training was only provided by the park. Trainees will earn about HK$6,000 a month for working four days a week at 22 of the park's restaurants and refreshment kiosks. They will attend 540 hours of classes provided by the Hospitality Industry Training and Development Centre and five days of induction training by the federation. Top trainees may be offered full-time jobs. "It's a good chance to enter the industry for those without any chances elsewhere," Ocean Park chairman Allan Zeman said. Cheung Chi-wai of the federation said the unemployment rate is the highest among those aged 15 to 19 at 10.7 percent and 6 percent for those in the 20 to 24 age group. "They have low skills, low education and lack working experience. Many employers would rather hire someone without having to teach them," Cheung said. He said even if trainees are not offered employment by Ocean Park, its brand recognition will still give them an edge in seeking relevant jobs. Cheung said many employees avoid hiring young people, fearing they are immature and give up easily, and that the first month is the most critical in adapting to the environment. The tailor-made program together with counseling may help the trainees overcome challenges, he said. Ocean Park food and beverage operations manager Stephen Chow Wai- ming said a mentor will be assigned to each group of five trainees. They will be taught sales techniques, customer service skills, service and product knowledge. An open recruitment session and briefing will be held on Tuesday. Those with a Secondary 3 or above education may apply on 28738864.
Although Tianjin is ready for the start of the "through-train" plan that would allow mainland residents to invest directly in Hong Kong equities, its mayor Huang Xingguo admitted it is unlikely to begin immediately.
AIG has no plans to sell its Hong Kong operations, said Derek Yung, AIA Hong Kong and Macau senior vice president and general manager. "As far as we know, our parent company doesn't have any plan to sell the Hong Kong operations," Yung said. But such a decision would be up to the new management, chairman Alwin Lam said, noting the new AIG chief had only been appointed the day before. About 2,000 people have redeemed their insurance plans, according to Yung. AIA, he said, would waive any renewal fees or medical checks if those who have redeemed their traditional life-insurance policies decided to join again. The waiver is good for two weeks after the surrender. Financial Secretary John Tsang Chun-wah said the Insurance Authority will keep a close watch on AIA's financial position to ensure a smooth and effective conduct of its daily operations. Commissioner of Insurance Clement Cheung Wan- ching said the authority has not noticed any deterioration in AIA's services, although it has received more inquiries than usual. "The Hong Kong business is profitable," Yung said. "We have enough money to cover all the policies." AIA Hong Kong is well capitalized and meets the regulatory capital requirements, it said in a statement. AIA continues to operate as usual to meet customer needs, it added.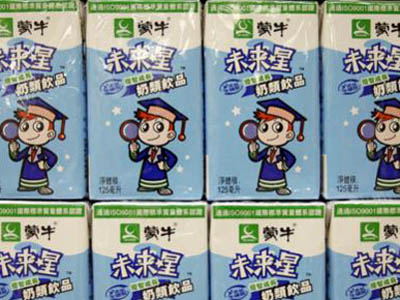 Hong Kong's two biggest grocery ch ains removed milk made by the mainland's Mengniu Dairy Company from their shelves on Friday after traces of a chemical that has killed and sickened babies was found in products in mainland China.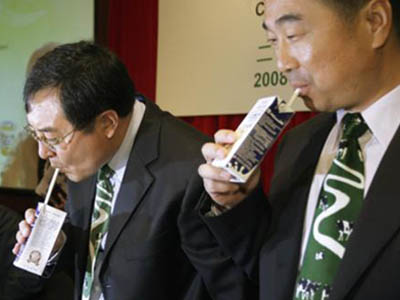 China's Mengniu Dairy Company executive director and chief financial officer Yao Tongshan, left, and chief administrative afficer Lei Yongsheng sample their products in Hong Kong on Friday. Amid growing fears about tainted baby milk formula – Hong Kong's leading grocery chains on Friday have begun removing milk made by Mengniu Dairy (SEHK: 2319) from their shelves. This is after traces of a chemical which has killed and sickened babies was found in Mengniu Dairy products in the mainland. Baby milk powder laced with melamine – used in plastics and fertilisers – has been blamed for the deaths of four children. More than 6,000 others have been sickened. Some 1,300 babies, mostly newborns, remain hospitalised, with 158 suffering from acute kidney failure. On Friday morning, Park'n Shop and Wellcome supermarket chains began taking milk produced by Mengniu Dairy off their shelves. Park'n Shop spokeswoman Pinky Chan said the move had been prompted by recent developments in China. Mainland regulators found milk sold by Mengniu and two other major Chinese dairy companies, Yili and Guangming, also contained melamine. Latest tests have now found traces of melamine in 24 batches of milk produced by these companies. Wellcome supermarket corporate communications manager Annie Sin told SCMP.com it has removed all Yili products – including milk, yogurt and ice cream. The Centre for Food Safety recalled all Yili products on Thursday after melamine was detected in eight Yili products. Ms Sin confirmed Wellcome staff had been removing Mengniu's diary products from its chains on Friday afternoon. "Although the Centre for Food Safety has not yet released results of tests it has been carrying out on Mengniu products, we removed all of their products from our shelves for safety reasons." Ms Sin explained. "We made this decision after we noted their products might contain chemicals which are harmful to consumers' health," she added. Representatives of Mengniu in Hong Kong did not return telephone calls seeking comment. Meanwhile, the Centre for Food Safety controller Constance Chan said the centre was examining diary products produced in the mainland. "On average we can examine 60 samples per day and our targets are diary products manufactured in the mainland, including the overseas brands which were manufactured in China," Dr Chan said. "We will keep updating the latest results of our tests every day," she added. Dr Chan said all 46 diary products' samples tested on Friday did not contain melamine. She said 36 were Mengniu dairy products and 10 were other brands. The Hospital Authority has also established a paediatric renal taskforce to treat Hong infants who might be affected by milk powders tainted with melamine. The authority's quality and safety director Leung Pak-yin stressed this was only a precautionary step. He said they did not expect many kidney patients would seek treatment.
Morgan Stanley Real Estate Fund, one of the big winners in Hong Kong's investment property market over the past few years, has started to offload about HK$5.5 billion worth of properties in the city.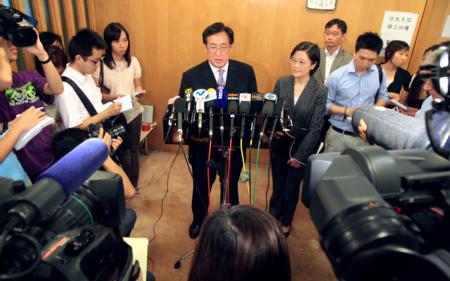 Secretary for Food and Health Dr. York Chow and Controller for the Centre for Food Safety Dr Constance Chan speak to the media after briefing legislators on the latest developments relating to dairy products. The Legislative Council would introduce new laws to forbid any diary products being imported to Hong Kong containing the industrial chemical melamine, Secretary for Food and Health York Chow Yat-ngok said on Friday. Dr Chow was speaking to legislators at a meeting on Friday in the wake of the tainted baby formula scandal which has sparked an outcry in the mainland – and is also worrying parents in Hong Kong. Baby milk powder laced with melamine – used in plastics and fertilisers – has been blamed in the deaths of four children. More than 6,000 others have been sickened. Some 1,300 babies, mostly newborns, remain hospitalised, with 158 suffering from acute kidney failure. Dr Chow told Legco Hong Kong authorities were closely monitoring the situation. "I have informed China's General Administration of Quality Supervision, Inspection and Quarantine, and requested all diary products imported to Hong Kong must contain sanitary inspection certificates," he said. "The Centre for Food Safety would make references to overseas laws and to prepare new laws in Hong Kong," he said. But Dr Chow said all milk powders for infants in Hong Kong were safe. The authorities would continue to closely examine all diary products manufactured in the mainland, he stressed. "The three baby formulas available in Hong Kong, including Superkid, Nestle Carnation and Nestle are safe to consume," he explained. He said tests conducted by the Centre for Food Safety showed the samples did not contain melamine. "At this moment, the hospital authority did not receive any reports about any Hong Kong's babies being sick after taking the milk powder," the health secretary said. "The centre will keep expand testing to cover all mainland's milk powder, fresh milk, dairy products and products which might have use the mainland's milk powders such as chocolate and cakes," he said. He accepted that many parents from the mainland would come to Hong Kong to buy milk powder for babies. Dr Chow appealed to local suppliers to ensure stable supplies of milk powder so mothers in Hong Kong could buy at reasonable prices. He said the government had liaised with importers of overseas milk powders for babies and believed the supplies would be adequate.
Chief Executive Donald Tsang Yam-kuen officially accepted the resignation of former vice-chairwoman of the Liberal Party Selina Chow Liang Shuk-yee from the Executive Council on Friday.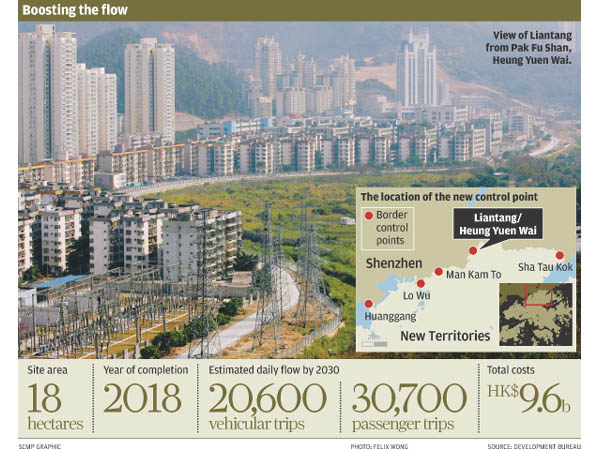 The new border crossing at an 18-hectare site in Heung Yuen Wai can only be completed if the government resettles a village with more than 200 residents. The Development Bureau will spend HK$1 billion to compensate the villagers. It will also take the bureau 4 1/2 years to acquire land, including Chuk Yuen village, within the frontier closed area. The government chose to resettle Chuk Yuen over neighboring villages that had fung shui trees and cultural heritage sites. The village was already relocated once in the 1970s. In a meeting with Secretary for Development Carrie Lam Cheng Yuet-ngor yesterday, the villagers were asked to set up a committee to represent them in negotiations. Villagers will be offered cash or housing compensation. In general, they will be given a 700 sq ft house, said Deputy Director of Lands Herbert Leung Yuk-she. Villagers who own larger sites will be given more, but a cap will be imposed. For those who want cash, the compensation will be equivalent to the market value of a 700 sq ft house in the area. Those who want to build a house themselves will receive a site and construction subsidies. Deputy Secretary for Development Raymond Young Lap-moon said the government was still looking for a site nearby. He said the government would seek support from the Heung Yee Kuk rural authority on the relocation. Chuk Yuen village representative Yiu Kwun-wah said he had not yet talked to villagers about compensation. But kuk chairman Lau Wong-fat said villagers were not resisting the resettlement. He expected HK$1 million to HK$1.2 million to be paid to each indigenous villager who owned a house. The kuk will also seek compensation on behalf of non-indigenous villagers.


China: Beijing yesterday announced measures to prop up ailing stock markets, saying it will scrap stamp duty on stock purchases and buy shares in the top three commercial banks in the secondary market to revive investor confidence. The central government said the measures, along with allowing state- owned enterprises to repurchase shares in the market, will be effective today. The speculation that the government was on the verge of announcing new market-stimulating measures drove Chinese financial plays higher yesterday afternoon in Hong Kong trading. Both the mainland and Hong Kong markets showed a V-shape rebound before market close and ahead of the news, led by Industrial and Commercial Bank of China (1398), Ping An Insurance (2318) and Bank of Communications (3328). After the close and in wake of the coordinated move by Western central banks to pump extra capital into their markets, the China Securities Regulatory Commission said the 0.1 percent stock transactions duty will be axed for purchases and levied only on sales. Central Huijin, the investment arm of China Investment Corporation, will also boost its stakes in the top three state-owned commercial banks to shore up confidence. It currently holds 35.3 percent stakes in ICBC, 67.49 percent in Bank of China (3988) and 59.12 percent in China Construction Bank (0939). The State-owned Assets Supervision and Administration Commission asked SOEs to promote the "stable development of capital markets by repurchasing shares." The publicly listed SOEs should be the role model in the market, they could gain support from us in repurchasing of shares," said SASAC chairman Li Rongrong. After plummeting 7.7 percent in early trade, the Hang Seng Index recovered most of its losses for the day to close at 17,632.46, down 4.73 points, or 0.03 percent, while the Hang Seng China Enterprises Index ended at 8,633.73, down just 0.4 percent. The Shanghai Composite Index fell 1.7 percent, or 33.21 points, to end at 1,895.837. Its Shenzhen counterpart lost 2.3 percent, or 12.855 points, to 547.095. "This is part of the measures to save and stabilize the market," said JPMorgan chief China economist Frank Gong. "The market has fallen too much. There will be more measures to support the economy, like fiscal stimulus and easing of monetary policy." Hong Kong retail investors went to hell and back as shares plunged to a 26-month low in the morning before clawing back more than 1,300 points in the afternoon. "It was like a miracle," said a retail investor in her fifties. "I thought I was going to lose a lot, but after the injections, the market was okay." Investors who gathered at a branch of Prudential Brokerage in Central cheered as their holdings recovered. Wall Street rallied in early trade, with the Dow Jones Industrial Average rising 108.94, or 1 percent, to 10,718.60. Britain's FTSE 100 index rose 0.9 percent by mid-afternoon. In Hong Kong, punters were even more optimistic. "It's okay, said a punter surnamed Chan in his sixties. "I lived through the 1973 market collapse, and this time, the market is much more sophisticated. I think I can handle it this time."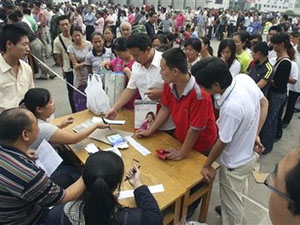 Parents seek answers on tainted milk - Hundreds of mainland parents, some cradling infants, converged on the company at the heart of a tainted baby formula scandal, demanding refunds and asking what they can safely feed their babies.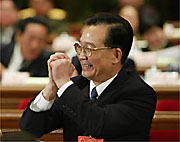 Prime Minister Wen Jiabao will detail proposals on how to realise goals on global poverty alleviation when he attends a UN development summit in New York next week, a top official said on Friday. Mr Wen will address the UN Millennium Development Goals (MDGs) summit while also outlining China's foreign policy and developmental strategy at a meeting of the UN General Assembly, Vice Foreign Minister He Yafei said. "He will introduce China's progress and shortcomings in implementing the MDGs and... propose initiatives on the joint challenges faced by all nations and how to resolve some of the difficulties," Mr He told journalists. The millennium summit is scheduled for September 25. Mr Wen would spend only about 48 hours in New York and attend more than 20 bilateral and multilateral meetings, He said. In 1996, the United Nations set the goal of cutting global hunger in half by 2015. But the UN's Food and Agricultural Organization said this week the target may be difficult to realise after 75 million people joined the ranks of the famished last year, with high food prices one of the main reasons. Jacques Diouf, director-general of the Rome-based agency, said the number of malnourished people rose from 850 million to 925 million last year. China had 14.7 million people who were facing difficulties feeding themselves, while 28.3 million Chinese had food "but not enough," Huang Yanxin, a leading agriculture ministry official told journalists. China has a population of more than 1.3 billion people.
China's Macao Special Administrative Region (SAR) Friday signed a Mutual Visa Exemption Agreement with Mexico, which will grant Macao SAR Passport holders more convenience when entering the Latin American. The signing ceremony of the agreement took place in the SAR's Government Headquarters on Friday. Under the authorization from China's central government, the SAR's Secretary for Administration and Justice Florinda da Rosa Silva Chan, and the Acting Consul General of Mexico in Hong Kong and Macao Hector Huerta, who represented respectively the two sides, signed the agreement. The agreement will be effective from October 19 this year. After the agreement comes into effect, holders of a valid Macao SAR Passport will be exempted from visa requirements when entering Mexico for a stay of maximum 90 days, according to the agreement. Currently, a total of 77 countries and territories have agreed to grant visa-free or visa-on-arrival access to the Macao SAR passport holders, while nine countries have agreed to grant the visa-free access to the Macao SAR Travel Permit holders.
Sept 19, 2008



Hong Kong: Hong Kong's central bank on Thursday injected HK$1.556 billion (US$199.5 million) into the territory's interbank market to ensure sufficient liquidity as credit tightened amid the global financial crisis. The move followed other central banks around the region who pumped money into financial markets to try to lessen the impact. Hong Kong interbank rates fell after the fund injection – the first time the Hong Kong Monetary Authority (HKMA) has injected money into the market since October – but the central bank said it was ready to inject further funds if necessary. "The Hong Kong dollar exchange and money markets are operating smoothly," the HKMA told Reuters. "The HKMA will continue to monitor the market closely," it said. "If necessary, the HKMA will deploy further measures to inject liquidity into the market." The central bank said an increase in short-dated Hong Kong dollar interest rates earlier on Thursday reflected in part heightened concerns about global credit and liquidity conditions as a result of recent developments in the global financial markets.The one-month Hong Kong interbank rate jumped to 4.75-4.85 per cent on Thursday morning, its highest level since October, from 2.18-2.23 per cent late on Wednesday, according to one broker. By 0838 GMT, after the central bank injection and a recovery in the stock market, the one-month rate was quoted at 3.57-3.70 per cent. The move by Hong Kong's central bank, the Hong Kong Monetary Authority, followed similar intervention by other Asian central banks on Thursday, led by Japan, India and Australia, while China eased monetary policy for the second time in a week by dropping yields on three-month bills 1/8nSP2830883/8. Hong Kong's stock market has taken a hammering in the past few days following news of the collapse of US investment bank Lehman Brothers; the US government's rescue of insurer AIG ; and, on Tuesday, British bank Lloyds TSB's takeover of mortgage lender HBOS Plc. By the end of Thursday, however, the stock market had recovered the day's losses virtually. After plunging more than 7 per cent to a two-year low in the morning, the benchmark Hang Seng Index ended the day down 0.03 per cent. The HKMA said its aggregate balance was projected to increase to HK$6.4 billion on September 22 as a result of the HK$1.556 billion fund injection.

Bank of East Asia (SEHK: 0023) has discovered suspect valuations on its equity derivatives portfolio and hence slashed its reported this year interim earnings by almost 12 per cent, the bank said after its shares were suspended from trade on Thursday. The bank said it had discovered and recorded a trading loss of HK$93 million and was revising down its after-tax profit by HK$109 million (US$14 million) – about 11.7 per cent of the HK$930 million of first-half profit after taxes the bank reported in August. Shares in Bank of East Asia fell 6.6 per cent to HK$27.55 before trading was suspended, as global financial turmoil triggered a heavy sell-off in banks listed in Hong Kong. The lender added that it would issue a statement to elaborate. Share trading was suspended "pending an announcement by the bank in relation to an unauthorised manipulation of the valuation of certain equity derivatives held by the bank", it said in an initial statement. There would be no material effect on the bank's balance sheet or capital, it added.
American International Assurance's (AIA) Hong Kong operations were sound and there is enough liquidity to handle cancellations of its insurance policies, senior vice-president Derek Yung said on Thursday. Mr Yung said about 2,000 policy holders have surrendered their policies in the past two days following the crisis with the company's United States parent, American International Group (AIG). The world financial markets were sent into a spin on Tuesday when AIG went to the brink of a collapse, prompting the US Federal Reserve to step in with a US85 billion deal to save it. But despite the Fed move, many customers have cancelled their insurance policies with the firm in places like Singapore and Taiwan."We have enough liquidity to handle the cancellations and compensation and we will do our best to restore clients' confidence," Mr Yung said. He stressed that cancellations by Hong Kong policy holders had not been excessive. "The amount is very small when compared to our 2.2 million policies – which involves 1.3 million policy holders," he explained. The company also said it would waive re-admission charges and a health declaration requirements for those who decide to revive their life insurance policies with them. "If the customers decide to come back to us in the coming two weeks, we will waive the requirement for them to provide proof of their health conditions," he said. Mr Yung said AIA had "a deep asset base" of over US$30 billion (HK$234 billion). "Only two per cent of this was involved with sub-prime mortgage investments," he added. Sub-prime mortgages are those offered to borrowers, regarded as "sub-prime" – or not having a very high rate of credit worthiness. He also denied reports there would be a management buyout plan for AIA. "The operations of AIA in Hong Kong have been financially sound and profitable. So far I believe there is no buyout plan, and none of our staff have left," he said. To protect policy holders in Hong Kong, Hong Kong's insurance commissioner has banned AIA from shifting assets to its troubled American parent AIG without approval.
Hong Kong's jobless rate remained stable at three per cent in June-August – the same as in the previous quarter, latest statistics released on Thursday showed.
Regulator steps in to protect AIA policyholders' interests - Hong Kong's insurance regulator yesterday moved to protect the interests of the holders of 1.95 million policies issued by the local arm of crisis-hit insurer American International Group (AIG).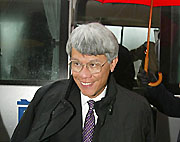 The next few days will be crucial because some of the largest financial organizations have serious confidence problems that require more than government action to solve, Hong Kong Monetary Authority chief Joseph Yam Chi-kwong said. He said the city's financial system has no structural problem and the worries of investors over the Hong Kong subsidiaries of troubled US firms should be handled as isolated cases. "The current situation, especially in the US, is very complicated. But I think there isn't any structural problem in Hong Kong's financial system." Yam said. He said the regulatory mechanism for banks, securities and insurance are comprehensive after years of reform. "Eventually, the situation will be stable when market participants are clear about the prospects in the free market," he added. Stanley Wong Yuan-fai, deputy general manager of the Industrial and Commercial Bank of China (Asia) (0349), said the Fed's decision to keep the interest rate unchanged is normal. "A rate cut has limited function as financial firms are facing a lack of capital," Wong said. "If the problem is due to the increased liquidity cost, the crisis can be solved by cutting the rate."


China: Mainland authorities will step up testing of livestock feed as its seeks to root out use of a chemical blamed for killing three babies and sickening thousands who drank tainted milk powder, state media said on Thursday. Melamine, a chemical normally used in plastics, was illegally mixed into the milk powder but the increased testing of the livestock feed indicates government concern over a problem in the wider agricultural sector. The nation's top product-quality watchdog on Wednesday gave urgent instructions to its various departments to increase tests for melamine in feed and feed additives, Xinhua news agency said. The circular issued by the General Administration of Quality Supervision, Inspection and Quarantine, was aimed at "ensuring the safety of feed and feed additives", Xinhua said. It ordered local departments to improve supervision over feed import and export companies, increase sampling rates for melamine tests, and investigate possible use of fake quarantine certificates to dodge inspections. Spot tests for feed exporters in "key regions" were also planned, it said. Melamine is widely used in China to give livestock feed the appearance of higher protein content, past foreign media investigations have found. Last year the chemical hit the headlines when melamine-laced food additives produced in China and later used in pet foods were blamed by US officials for the deaths of dogs and cats across the United States. A recall of several pet-food brands in the United States resulted. But the worst reported use of melamine in China became public last week when it emerged the chemical was being added to baby milk formula. Beijing said on Wednesday more than 6,000 babies had fallen ill and three had died from kidney failure after drinking milk powder contaminated with melamine. Authorities have found melamine in the products of 22 dairy companies. Six people have been arrested, five of whom were involved in adding melamine to milk, Xinhua has said. The head of dairy producer Sanlu Group, the first company discovered to have produced tainted milk products, also has been detained, state media said on Wednesday. The government on Wednesday announced comprehensive nationwide tests for melamine in all dairy products. It also said it was scrapping a system under which producers could gain exemptions from inspections.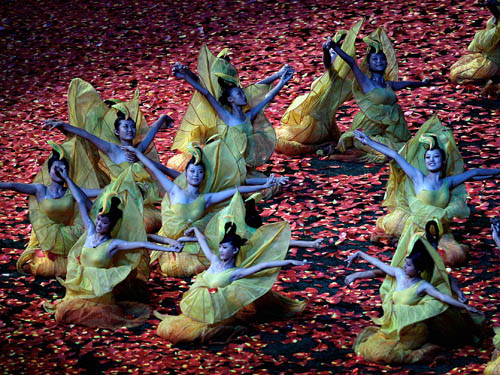 Amid fireworks, tears and pride, the curtain fell on the 12-day Paralympics last night at the iconic "Bird's Nest" National Stadium. The head director of the opening and closing ceremonies for the Olympics and Paralympics, Zhang Yimou , again adeptly combined bright colours, traditional Chinese music, dance and a sky full of fireworks to create a finale of romance and fairy tales. The spectacular finish capped a competition in which China again finished first in gold medals. The host country's squad of 332 athletes cemented China's position as a Paralympic superpower by ending the event with 89 golds and 211 medals, more than double second-placed Britain's total on both counts. In a letter of congratulations, the Central Committee of the Chinese Communist Party and the central government hailed the result as historic. "You have finished first in both the gold medal and total medal counts, accomplishing a historical breakthrough, winning great honour for the motherland ... and making an important contribution to the target of `Two Games with Equal Splendour'," the letter said. Before the Olympics started last month, Beijing promised to produce the two different Games with equal splendour. International Paralympics Committee chief Sir Philip Craven described the 12 days as the best Paralympics ever. "These Games have been a great Games. I think everybody realises that." The 58-year-old former wheelchair basketball player showed he had been practising his Putonghua when he said: "Thanks Hong Kong; Thanks Qingdao ; Thanks Beijing; Thanks China". The Paralympics have also won wide applause for their superb organisation and the large crowds, particularly those at the athletics and swimming events. Many foreign disabled athletes were moved by the spectator interest, although government agencies arranged for some members of the audience to attend.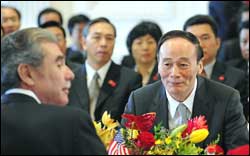 China has agreed to lift a bird flu-related ban on imports of poultry products from six US states but remains closed to all imports of American beef. The breakthrough on poultry products was announced at the end of high-level talks in Yorba Linda, California. The two sides also further pledged closer cooperation on steps to combat piracy of intellectual property and the sale of counterfeit goods in China. US Commerce Secretary Carlos Gutierrez said two of the most significant agreements pertained to trade in health- care products - accords to clamp down on tainted drugs exported from China and to follow simpler procedures for testing of US medical products going in the opposite direction. Taken as a whole, the various agreements are especially important in light of the current economic slowdown and turmoil rattling financial markets, Gutierrez said. With China heavily invested in the United States, Beijing has a great stake in the success of the US economy, he said, adding that Vice Premier Wang Qishan, leader of Beijing's delegation, "wants to make sure that our trading relationship is on firm ground and firm footing." China has become the third-largest export market for US goods, taking in a record US$65.2 billion (HK$508.56 billion) last year. But imports from China jumped to a record US$321.5 billion over the year, rattling US manufacturers and prompting calls from Congress for the White House to take a tougher stance against "unfair" China trade. "Against the backdrop of international economic and financial volatilities, it is of crucial importance that China and the United States have closer interactions in our economic relations and financial trade," Wang said.
Sept 18, 2008



Hong Kong: Hong Kong and mainland stocks were in full retreat yesterday, joining a global equity rout sparked by a historic shake-up on Wall Street that left investors fearing the worst of the unfolding credit crisis was perhaps yet to come. Markets already rattled by the downfall of Lehman Brothers Holdings and Merrill Lynch, once considered two of Wall Street's stalwarts, took another hammering yesterday after the credit rating of United States insurance giant American International Group was slashed, as that would hamper its efforts to shore up its capital base. The Hang Seng Index slid to its lowest level in almost two years after plummeting 1,052.29 points or 5.44 per cent to 18,300.61. All 43 blue chips lost at least 1 per cent. In Shanghai, the stock market composite index fell through the key 2,000-point resistance level, ending down 4.47 per cent at 1,986.636 points. "It's still too early to tell whether we have seen the worst or if the worst is still coming. So people are still quite nervous at the moment," said Benjamin Tam, a fund manager at IG Investment. "We are afraid that there might be more financial institutions that run into trouble." European stocks fell further yesterday while US markets were volatile. The Dow Jones Industrial Average clawed back from further losses to a gain of 32.08 points or 0.29 per cent by midday trade while the S&P 500 Index was up 3.49 points or 0.29 per cent. The Nasdaq Composite Index rose 6.64 points or 0.3 per cent. London lost 3.43 per cent to close at a three-year low while Frankfurt was 1.63 per cent weaker. Regional benchmarks also dived as investors rushed for the exits after most Asian markets were closed on Monday for public holidays. Japanese shares dropped 4.95 per cent, the South Korean market fell 6.1 per cent, Taiwan retreated 4.89 per cent and the Philippines slid 4.51 per cent. Meanwhile, with banks turning cautious about lending to others in the interbank market, Hong Kong's short-term interest rates surged yesterday. Overnight rates jumped as high as 3 per cent before easing to 1.5 per cent in the late session, but long-term interbank rates fell on expectations the US may cut its federal funds rate. The Hong Kong dollar also gained against the US dollar, trading at HK$7.7791 in the evening in the external markets. Across the border, analysts predicted the Shanghai Composite Index might extend its decline today below the 1,800-point level as skittish investors displayed little interest in re-entering the market despite the low valuations. "The market is heading for an even lower level since more collapses of US financial institutions are expected in the near term," Changjiang Securities analyst Zhang Fan said. Beijing's move on Monday to cut lending rates and reduce banks' reserve requirement ratio - aimed at bolstering the mainland economy - was not enough to offset the negative impact of the shake-up on Wall Street. And the government's move to ease monetary policy was actually perceived as a headwind to the heavyweight banks that paced declines yesterday. "The lending rate cut heightened expectations that more similar moves will follow, which may dent banks' earnings," said TX Investment Consulting analyst Wang Yifeng. "The lower reserve requirement ratio may not be of any help to the lenders' business because the cash freed up is limited." On the stock market, oil shares took a beating as crude prices crashed below US$100 per barrel on Monday and dropped further to US$93.05 yesterday. CNOOC (SEHK: 0883) slid as much as 10.67 per cent before closing down 8.64 per cent at HK$8.56. PetroChina (SEHK: 0857, announcements, news) fell 6.51 per cent and China Petroleum & Chemical Corp slid 5.54 per cent. Trading volumes were higher in Hong Kong and across the region as investors scrambled to dump shares. Heavy sell-offs usually set the stage for a rebound, but observers said investor sentiment might be too fragile to support a rally in the near term. "Capitulation puts us in a position where increasing levels of bad news have been discounted by the market," said Clive McDonnell, the head of equity strategy at BNP Paribas. "We are coming close to finding some sort of base for Asia excluding Japan but we are not there quite yet."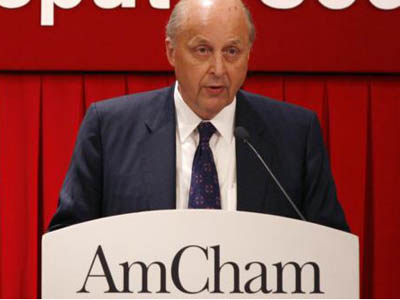 United States Deputy Secretary of State John Negroponte speaks during an American Chamber of Commerce luncheon in Hong Kong on Wednesday. One of America's top diplomats on Wednesday moved to ease local fears about the US economy - telling Hong Kong no one should doubt its fundamental strengths. Asked about Wall Street's crisis of confidence, Deputy Secretary of State John Negroponte said the US remained a very large, strong and transparent economy. "All of us have an almost instantaneous visibility … into what is going on and what is happening," he said after a speech to the US Chamber of Commerce. "We remain a very open market for a large portion of the manufacturing capacity of the rest of the world,'' said Mr Negroponte. "I think those fundamental … strengths of the US economy will continue going forward and I don't think people should have any doubt about the continued fundamental strength of the American economy," he added. His comments come as Hong Kong digested news of the US government's historic US$85 million bailout of insurance giant, American International Group (AIG) – both America's and Hong Kong's largest insurer. The bailout came a day after the bankruptcy of the Lehman Brothers investment bank, another long-established Wall Street giant. He was in Hong Kong as part of a three-day regional trip that earlier included Cambodia and Vietnam – all part of a Bush administration mission to shore-up traditional alliances while improving ties with newer friends. Mr Negroponte has met Chief Executive Donald Tsang Yam-kuen and American business leaders.
The number of live chicken stalls would drop significantly – when the deadline of the government buyout scheme ends next week, Poultry Wholesalers and Retailers Association chairman Steven Wong Wai-chuen said on Wednesday. In July, after a major outbreak of avian flu in Hong Kong, the government ordered a mass slaughter of poultry and the banning of all stock being kept overnight at wet markets. As these tough measures affected the livelihood of many poultry vendors, the government announced a controversial compensation package. The final deadline for compensation scheme ends next Wednesday. This is to allow more time for chicken vendors to consider whether they will surrender licences for cash or continue in business. Mr Wong said he believed most would surrender their licences. "I expect more than 70 per cent of chicken stalls will surrender their licences when the deadline," he told local media. He said the number of live chicken stalls would be reduced from 400 to around 100 stalls. He also expects the association will disappear after more than 90 per cent of committee members surrender their licences. Mr Wong said his chicken stalls in North Point would close on Wednesday. He said he would end his 29-year career as a chicken vendor. He said he would sell frozen meat after he surrenders his licences. The government plans to spend HK$1.1 billion in its compensation scheme to buy back all chicken-trade licences. It has also offered buyouts schemes to vendors after imposing a 21-day ban on poultry from the mainland and local farms. Similar schemes will be introduced later for 52 poultry farmers, 71 wholesalers and 250 transporters.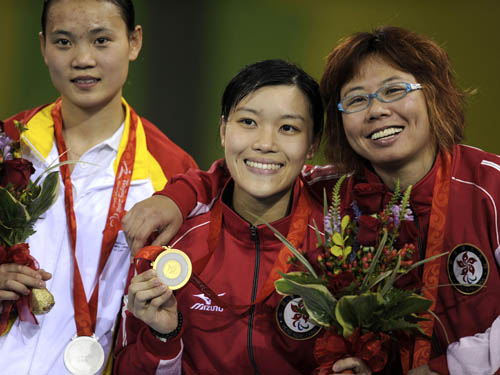 Hong Kong's Yu Chui-yee, who won gold in the Category A individual wheelchair fencing foil, is flanked by China's silver medallist Zhang Chuncui (left) and Hong Kong's bronze winner Fan Pui-shan.


China: Mengniu Dairy (SEHK: 2319) – the mainland's largest diary producer – said on Wednesday the company had decided to recall all its products until further notice. Mengniu's financial director Guo Weichang made the comments – as the company announced it had suspended trading its shares on the Hong Kong stock exchange. Asked when will the company would resume supplies, he said: "I can't tell you the exact time". "But an internal investigation is going on at the moment," he said. The well-known dairy firm, based in the Inner Mongolia, also said it would compensate people if they got sick after consuming its products.The company said it would recall its baby formula and diary products after government tests found melamine in them. The chemical has been linked to the death of at least three babies and sickened some 6,200 children. Melamine is believed to have been added to make the milk appear to have more protein. However, its statement did not say whether Mengniu's baby formula was exported. News of major dairies like Mengniu and Yili being linked to the melamine scare have alarmed consumers in the mainland and Hong Kong. Wellcome and ParknShop supermarket chains are also recalling ice cream made by Yili. This is after tests found one sample contained melamine. Wellcome is also suspending sales of other dairy products produced by the company.
China Communications Construction, the world's biggest builder of ports, said first-half profit dropped 20 percent as costs rose and earnings last year were boosted by higher government compensation. Net income fell to 2.2 billion yuan (HK$2.50 billion), or 0.15 yuan a share, in the first six months, from 2.74 billion yuan, or 0.19 yuan, a year earlier, the Beijing-based company said. Income excluding compensation would have risen 1.5 percent to 2.14 billion yuan, it said. The state-owned builder is struggling with higher cement, energy and steel costs as economic growth in China decelerates. Government investments may be slowing, spurring Citigroup, Deutsche Bank and CLSA Asia-Pacific Markets to cut ratings for the stock this month.

Overseas investment by Chinese companies and financial institutions rose 25 percent last year to US$26.5 billion (HK$206.7 billion), the Ministry of Commerce said. Non-financial investment jumped 41 percent from a year earlier to US$24.8 billion, the ministry said. It didn't give the percentage increase for financial investment, which totaled US$1.7 billion. More than 7,000 Chinese companies had set up a total of more than 10,000 overseas units by the end of 2007, employing at least 658,000 employees, the ministry said. Today's figure for non-financial investment differed from the US$18.7 billion total previously released by another government agency, the National Development and Reform Commission. The difference wasn't explained.

China found the industrial chemical melamine in infant formula made by 22 companies in a widening scandal that's revived concerns about the nation's food and product safety. The General Administration of Quality Supervision, Inspection and Quarantine ordered the ``immediate'' destruction of 69 tainted products made by 22 of the 109 Chinese companies that make infant milk, it said. China's biggest dairy producers, including China Mengniu Diary (2319), Inner Mongolia Yili Industrial Group and Sanlu Group were among companies linked to tainted milk, the regulator said. China's "supply-chain checks have to be strengthened,'' said Joerg Wuttke, president of the European Chamber of Commerce in China. "It appears that a couple of sub-suppliers are still cutting corners.''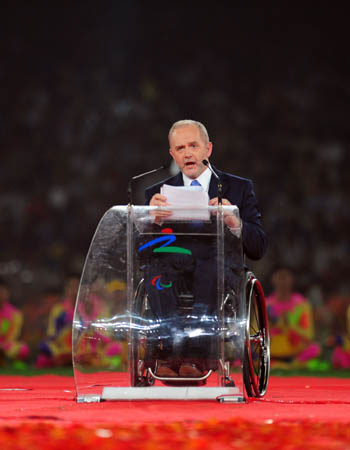 Sir Philip Craven, president of International Paralympic Committee addresses the closing ceremony of Beijing 2008 Paralympic Games in the National Stadium, or the Bird's Nest, in Beijing, capital of China, Sept. 17, 2008. The closing ceremony kicked off at 8 p.m. sharp on Wednesday.
Chinese President Hu Jintao (1st R) talks to International Paralympic Committee President Philip Craven during the closing ceremony of the Beijing 2008 Paralympic Games at the National Stadium in Beijing, China, Sept. 17, 2008.
General Electric Co. will soon set up five new regional headquarters in China to further tap a huge market that boasts huge business potential. The U.S. giant now operates two regional headquarters in Shanghai and Beijing. The new locations will be in Shenyang, Wuhan, Chengdu, Xi'an and Guangzhou -- provincial capitals in the country's northeast, central, southwest, northwest and south, according to Chen Xiangli, president of China Technology Center under GE. The move is in line with its new strategy of making China the multinational's second home country, Chen told a GE-sponsored technology conference in Shanghai. "China is not only a market, but also a significant research and development base and a fundamental foothold for GE's future development," he said, stressing the company would rely on its business growth in the country in future. "GE has been following the American and European markets over the past century, but China will turn into a priority in future," said Wang Xiaozhong, the center's public relations chief inspector. The new headquarters would help existing functional departments in different regions to further explore the market and develop more China-oriented products, Wang added. Since last year, GE has invested 55 million U.S. dollars to the center on the research and development of new products for China, with a focus on clean energy, water treatment and new materials, among others. The center now boasts more than 60 advanced labs and employs some 1,400 people. GE's China sales volume accounted for about 2.54 percent of its global turnover of 173 billion U.S. dollars last year. Chen believed the company had great growth potential in China and the country would no longer remain at the end of the international sales chain dominated by the European and U.S. markets.
Sept 17, 2008



Hong Kong: Hong Kong's top ranking as the world's freest economy has remained intact for another year. But the Fraser Institute, a conservative think-tank based in Canada, said there were some worrying signs of increasing government use of capital to intervene in the economy over the years. he institute has rated the city as the world's freest economy in its Economic Freedom of the World report for the past 11 years. Mark Mullins, executive director of the Vancouver-based institute, reiterated his warnings in recent years about growing government intervention in the market, and industrial subsidies and transfers. Citing the use of government funds in Hong Kong Disneyland as an example, Dr Mullins said such resources should be used to benefit the broader community through lower taxes. "The specific allocation of funds tends to inhibit economic freedom," he said. Given the choice between helping a specific company or the economy by cutting taxes, Dr Mullins said resources should be allocated to the economy. A commercial project such as the Disney theme park should be left to the private sector, he said. The institute gave the city a score of 8.94 out of 10, while regional rival Singapore scored 8.57 to take second place. New Zealand, Switzerland, Britain, Chile, Canada, Australia, the US and Ireland rounded out the top 10 list. The latest rankings are based on 2006 data. There is a two-year delay in releasing the institute's report, which relies on third-party economic data. The institute was founded in 1974 and its report is recognised as a leading measure of economic freedom. The overall rankings are based on scores for the size of government such as spending and taxes, legal structure and the security of property rights, access to sound money - which includes the impact of inflation - freedom to trade internationally, and the regulation of credit, labour and business. Hong Kong ranked first for size of government, although its score of 9.13 was far below the 9.75 it achieved in 1980. The city was also first in terms of freedom to trade internationally but saw its ranking drop to eighth, from second in 2005, for the regulation of credit, labour and business. Hong Kong fell eight places to 28th for access to sound money but improved one spot to 17th for its legal structure. A government spokesman welcomed the report. "We will study the report carefully for those strong aspects of our economic freedom, which we will no doubt conscientiously preserve, as well as any other aspects where there is scope for us to improve even further," the spokesman said. The institute's findings are similar to those of the Heritage Foundation, a Washington-based think-tank which compiles the Index of Economic Freedom, which Hong Kong has topped for 14 consecutive years.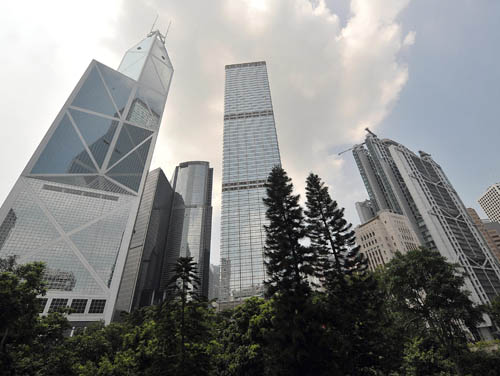 Lehman Brothers leases more than 100,000 square feet at Two IFC and about 40,000 sqft at Man Yee Building in Central. Troubles at US financial firms, Lehman Brothers, Merrill Lynch and American International Group will affect Hong Kong's prime office market, with property consultants predicting a 10 to 15 per cent decline in rents in Central over the next six months. As financial businesses played a key role in Hong Kong's economy, the consolidation of US investment banks would have an impact on the city's office market and economy, said Piers Brunner, a managing director at international property consultant Colliers International's Hong Kong office. "Nobody knows how much pain there will be at the moment. But the immediate impact is that more space will be available, putting pressure on rents," Mr Brunner said. According to property agents, Lehman Brothers leases more than 100,000 square feet at Two International Finance Centre and about 40,000 sqft at Man Yee Building in Central. The lease with Sun Hung Kai Properties (SEHK: 0016) at Two IFC will expire in 2012, while the lease with Man Yee Building will expire next year. Merrill Lynch, which has agreed to be sold to Bank of America, rents about 100,000 sqft at Citibank Tower, owned by Champion Real Estate Investment Trust. American International Assurance, an AIG unit, owns a 90 per cent stake in AIG Tower in Central. The office building provides a total lettable area of 364,000 sqft. About half of the floor area is occupied by the group. It was expected that Lehman Brothers, which has filed a for bankruptcy protection in the US, would give up a large portion of its space in Hong Kong, but the extent remained unclear, analysts said. Merrill Lynch may also consolidate its office space in the city after being sold, they added. However, the company's lease in Citibank Plaza would not expire until late 2011. Mr Brunner said Central's office rents, an indicator of Hong Kong's economy, would fall more than 15 per cent if more US investment banks faced problems. "When Central rents are up, everything is up," he said. Adrian Lee Ching-ming, an executive director and chief executive of Eagle Asset Management - the manager of Champion Real Estate Investment Trust - said rental growth would be under pressure amid the deteriorating economy. But he said Bank of America's takeover of Merrill Lynch would have limited impact on his company's rental business because the two US banks had few overlapping activities in Hong Kong. "Bank of America doesn't have investment banking and asset management services here in the city, thus the risk of personnel and office space redundancy should be much lower than the [JP Morgan takeover of] Bear Stearns," Mr Lee said. JP Morgan was still paying rent for Bear Stearns' former office in Citibank Plaza, he added.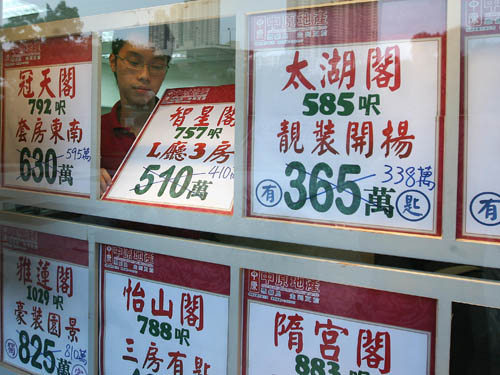 Owners of flats in the 10 biggest private housing estates in Hong Kong yesterday cut asking prices by an average of 3.2 per cent amid the changing global financial landscape, Ricacorp property agency said. The company's research found that prices fell by 7 to 10 per cent in Kornhill, Heng Fa Chuen and Sunshine City in Ma On Shan. In Happy Valley, Tiona Li, senior district manager of Ricacorp Properties, said the owner of a luxury flat in the area had cut the asking price by HK$1 million to HK$18 million. Jessy Ng, district manager of Ricacorp in Quarry Bay, said: "Since the beginning of this month, flat owners are no longer optimistic about the economic outlook. They are insecure and willing to cut asking prices further after the collapse of Lehman Brothers." There were about 330 flats in Kornhill on the secondary market. Mr Ng said the average asking price had fallen by about 8 per cent since early this month. Centaline Properties contacted flat owners in Island East to ask whether they would cut their asking prices after yesterday's stock market slump. Patrick Tsang, senior district director at Centaline Properties, said: "More than half of the flat owners in the district are willing to cut their asking prices by 5 to 10 per cent." "We're seeing this in Taikoo Shing, Kornhill, and also at Grand Promenade [in Sai Wan Ho]." Raymond Szeto, a manager of Hong Kong Property, said: "A flat owner in Kornhill cut his asking price by 9.79 per cent to HK$3.5 million from HK$3.88 million this morning." At Grand Waterfront in To Kwa Wan an investor cut the asking price for a 1,239 sq ft flat from HK$10 million to HK$9.2 million, Hong Kong Property said. But despite falling prices, Mr Szeto said potential buyers were still cautious.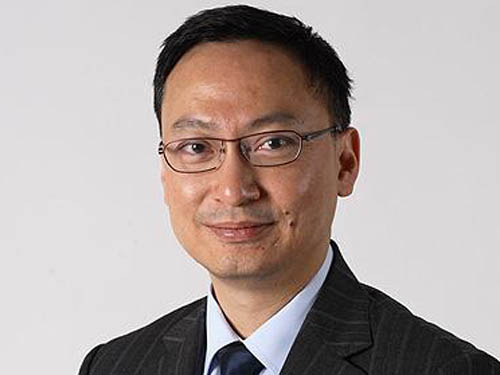 The Hong Kong government and the insurance regulator are keeping a close eye on American International Assurance, the largest life insurer in the city, after parent company AIG became the latest focus of the US financial meltdown. AIA has more than 1 million life insurance policyholders and is the fourth largest pension provider in the city, covering 600,000 employees. Some Hong Kong policyholders rushed to AIA's Causeway Bay office or called their agents yesterday, worried about the fate of their policies as the US insurance giant American International Group saw its share price in New York plunge 61 per cent on Monday, and a further 32 per cent in early trading yesterday. It was also downgraded by credit rating agencies - a move that will make it harder to raise funds. Moody's Investors Service cut AIG's rating two notches yesterday to A2 from Aa3, while S&P lowered the rating to A-minus from AA-minus. AIA has a Hong Kong market share of 16.2 per cent, or HK$21.51 billion of premium income in life policies in 2006, according to the latest annual report by the Office of the Commissioner of Insurance. AIA Pension and Trustee is the city's fourth largest pension provider with 600,000 employee accounts and HK$40 billion worth of assets under its management. Financial Secretary John Tsang Chun-wah said the government was closely monitoring the situation. The insurance authority would act accordingly to protect the interests of policyholders. "AIG is facing a global problem and its policyholders all over the world are affected similarly," Mr Tsang said. "The insurance authority has a wide range of statutory powers to protect the interests of policyholders and to ensure industry players are operating under a sound regulatory framework." The insurance regulator in Hong Kong said AIA had a solid financial performance and was capable of covering the insurance liabilities of policyholders. Clement Cheung Wan-ching, the commissioner of insurance, said: "AIA in Hong Kong has arrangements with its parent company to ensure its Hong Kong business is operated as a separate entity. The next two to three days will be critical moments of decision for the whole insurance group." AIG Hong Kong's office issued a statement yesterday to reassure policyholders. "Although AIG faces short-term liquidity pressures, we have strong, well-positioned businesses in diverse markets around the world and a deep asset base. We can assure our customers of AIG's commitment to meeting their needs and keeping their business," the statement said. "The insurance policies written by AIA Hong Kong are subject to stringent regulatory and capital requirements. AIA Hong Kong is well-capitalised and will continue to operate in the normal course to meet our obligations to our policyholders in Hong Kong and Macau." A spokesman for the Mandatory Provident Fund Schemes Authority said it would also closely monitor developments at AIG. An AIA insurance agent, who wanted to be known as Mr Yip, said: "Management in Hong Kong was in a meeting with the Asia-Pacific team all day. Since it affects every policyholder of AIG worldwide, it's impossible for the US government to let the company close down." An executive from AIG Hong Kong, who did not want to be identified, said the company's hotlines were ringing constantly from worried clients. "The phone kept on ringing as many customers have inquiries about the implications of their policies. Our colleagues have tried their best to assure them that the Hong Kong operations are fine and well capitalised," the executive said. "For us, it is business as usual."
HSI in peril of 15,000 mark if AIG collapses - Hong Kong stocks tumbled 5.4 percent to a near two-year low yesterday, and investors were holding their breath to see if any more bad news will emerge. As fears mounted that US insurance giant AIG may face demands to produce US$20 billion (HK$156 billion) after a string of credit-rating downgrades, Financial Secretary John Tsang Chun- wah said the insurance regulator has statutory powers to protect policyholders in the event AIG's local subsidiary, AIA Hong Kong, faces a crisis.
Heavily armed pirates have seized a Hong Kong chemical tanker with 22 crewmen in the Gulf of Aden off Somalia.


China: They also said tight security checks and traffic controls would be in place today for the Games' closing ceremony. But city traffic authorities ruled out an extension of traffic restrictions, despite their popularity with environmentalists. "The Beijing Paralympics received wide praise and applause from both within the country and abroad, and Beijing has fulfilled its promise to the world [to host an excellent Paralympics]," spokesman Liu Zhi said. "The air quality has been good since the start of the Paralympics, and major pollutants in the air have dropped almost 60 per cent [compared with the same time last year]." Mr Liu said all food and drinking water supplied for the event had been monitored along the supply pipeline and no contamination had been reported in the past two weeks. The official's remarks on food safety came as the Sanlu Group and other big mainland dairy companies were being scrutinised over contamination of infant milk formula. Beijing Municipal Communications Committee deputy director Zhou Zhengyu was adamant that the odd-even-day driving ban would not continue after it expired on Saturday and that his committee would take time to consider whether similar measures would be adopted in the future. "We understand there are many supporters of such measures in the city," he said. Lu Zhengming, vice-president of Beijing Disabled Persons' Federation, said the ending of the Paralympics would not diminish the greater awareness of and understanding for disabled people. "Through the Games we have seen great improvement in society in terms of better understanding, respect and care about disabled groups," Mr Lu said. Bo Shaoye , from the China Disabled Persons' Federation, said "relevant departments" were campaigning to allow disabled people to get driving licences for specially designed and equipped vehicles.
Thousands of young mainland mothers have been flooding into Hong Kong searching for imported milk powder in the aftermath of the contaminated milk powder scandal. However, this is an option that parents of sick babies say they cannot afford. Meanwhile, in Shijiazhuang, hundreds of distraught parents queued yesterday outside the headquarters of the Sanlu Group, the state-run dairy company at the centre of the scandal, demanding explanations and compensation. In Hong Kong, pharmacies and supermarkets along the East Rail line connecting the city with Shenzhen reported panic buying of overseas milk powder brands during the mainland's first Mid-Autumn Festival public holiday. Lau Oi-kwok, chairman of the Hong Kong General Chamber of Pharmacy, said mainland mothers were restricted to a maximum of three cans at each pharmacy, to ensure supplies for local mothers. Mr Lau said pharmacies in Fanling and Sheung Shui could expect milk powder shortages as more mainland mothers attempted to stock up on supplies in Hong Kong. Mainland media reported that one Sha Tau Kok store had transported 1,200 cans of imported milk powder from Sheung Shui to meet huge demand. In Sha Tau Kok, mainlanders do need a Hong Kong travel permit to enter. Luo Min, who transports milk powder from Hong Kong to Shenzhen, said she received 100 orders in the three days after the milk powder scandal broke, nearly three times the usual demand. Many parents said the Sanlu Group had caused them to lose confidence in domestic production, including the mainland's output of overseas brands. Mr Lau said all overseas brand milk powder available in Hong Kong was made in New Zealand or the United States, rather than in the company's mainland factories. But imported formula is out of the reach of almost all the families of children admitted to Shenzhen hospitals with kidney stones. The parents of the eight children diagnosed with kidney stones are struggling migrant workers from Anhui, Henan, Hunan and Sichuan. One of the mothers, 26-year-old Lin Ying, said the family's spending on infant formula could rise from 500 yuan (HK$570) to about 1,200 yuan if they chose imported brands. "My five-month-old son was raised on Sanlu products and we all thought it was safe," Ms Lin said. "Although I don't trust domestic-made milk powder anymore, my salary doesn't allow me to have any other option."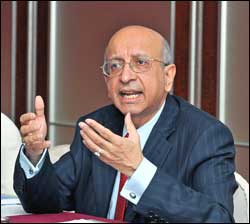 China slowdown to extend to next year, predicts ADB - With slowing external demand and tightened monetary policy, the pace of expansion in China will moderate in 2008 and 2009, but it will remain among the world's fastest growing economies, says a report from the Asian Development Bank. Explosive growth in the Asian region will put further pressure on global crude oil supply and keep prices elevated above US$100 (HK$780) a barrel until at least 2020, the report says. "China's weaker external demand and the impact of monetary policy tightening trimmed economic expansion to a still rapid 10.4 percent in the first half this year," ADB chief economist Ifzal Ali said yesterday.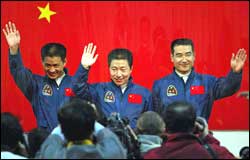 A 42-year-old fighter pilot has been chosen to become the first Chinese person to walk in space, with the historic mission set for next Thursday. Zhai Zhigang, a colonel in the People's Liberation Army, and two other astronauts will be on board the Shenzhou VII for China's third manned space mission when it blasts off for a 68-hour flight, the State Council said. He will then undertake a 40-minute maneuver outside the spacecraft on the afternoon of either September 26 or 27. Zhai, who is married with one son, will release a small satellite capable of broadcasting video images of his walk outside the craft. His pressurized spacesuit is largely based on Russian designs and will include two lifelines that will supply oxygen and communications. The Shenzhou VII is scheduled to launch from the Jiuquan Satellite Launch Center in the desert of Gansu province, according to the cabinet. The return capsule is scheduled to land on the the grasslands of Inner Mongolia on September 28. Riding with him in the spacecraft will be Liu Boming and Jing Haipeng, both also 42 and PLA fighter pilots. All three astronauts, or taikonauts as they are known in China, are members of the Communist Party. They formed the back-up team for the October 2005, Shenzhou VI space mission, which carried two astronauts on a five-day flight. The blast-off takes place after a successful Olympics and Paralympics, and ahead of National Day on October 1. China has even greater space ambitions, with an eventual plan to put a man on the moon by about 2020, according to some sections of China's state-run press. The United States, Japan and other nations have previously expressed concern that modernizing China's space program could pose a military threat. Those concerns spiked in January 2006 after a test exercise in which China became only the third nation to shoot down a satellite with a missile. However, President Hu Jintao and other leaders have repeatedly sought to play down fears of a rising China space threat. "The development of our nation's outer space exploration is completely for peaceful purposes," Hu said last year.
Senior officials of China and the United States gathered here on Tuesday to discuss various business and trade issues in order to seek ways to facilitate bilateral economic relations between the two countries. The 19th meeting of the China-U.S. Joint Commission on Commerce and Trade (JCCT), held in the Nixon Presidential Library near Los Angeles, was co-chaired by Chinese Vice Premier Wang Qishan, U.S. Secretary of Commerce Carlos Gutierrez and U.S. Trade Representative Susan Schwab. The one-day event also marked the 25 anniversary of the China-U.S. JCCT, a high-level government-to-government dialogue, seeking to open market opportunities and resolve trade disputes. In his opening speech, Wang said that it is especially significant that China and the United States maintain close economic and trade exchanges at this moment when the international economic and financial situations are turbulent. "The Chinese government is well aware the fact that the United, which is the world's largest developed country, and China, which is the world's largest developing country, should have constructive and cooperative economic and trade relations," the Chinese vice premier said. Gutierrez and Schwab welcome the Chinese guests in their speeches, and said the high-level dialogue between the two governments to solve problems and disputes would be a mutual benefit. Wang was leading a delegation of senior officials form the Ministry of Commerce, the Foreign Ministry, the Ministry of Finance, the Ministry of Agriculture, the General Administration of Civil Aviation and several other ministries for the meeting.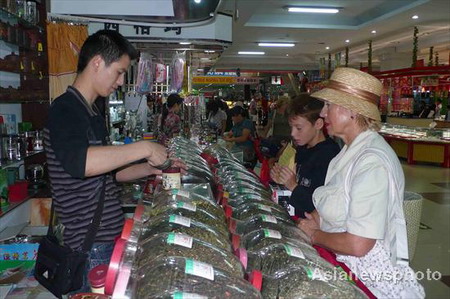 Growing and brewing tea was elevated to an art form by Lu Yu of the Tang Dynasty (AD 618-907), whose treatise is considered the bible of tea culture throughout Asia. But the new government guidelines for growers and processors, to be released on October 1, are not about sipping tea in a pavilion by a lily pond - they are serious business. Tea is one of China's major export commodities. The country shipped 151,000 tons of tea worth a total of $344 million to overseas markets in the first half of this year, up 5.49 percent year-on-year. Officials and analysts said that if planters and processors improve the quality of their tea, they could not only sell more but also boost profit margins. For instance, Chinese tea is sold at an average of $2.27 a kg - 60 percent cheaper than Sri Lankan tea. The appreciating renminbi is also undermining local exporters' competitiveness and rising fertilizer, labor and transport costs are trimming profits. The only way for local tea planters and processors to compete and stay profitable is to improve quality, industry analysts said. "If China wants to make a breakthrough in tea exports, it must put more effort into quality control," Zhu Zhonghai, director of the China Tea Marketing Association's information department, said. Stricter inspections in markets such as Japan and the European Union on imported tea and other produce is adding to the pressure. From 2009, Japan's list of inspection items will increase to 144 from 83. Not all Chinese tea exports will meet those standards. The country's inspection system is currently limited to checking harmful chemical levels. The new guidelines will be far more comprehensive, industry sources said. Although they will not be compulsory, it is expected that planters and processors will abide by them because of the benefits they will bring. "If exporters follow the new guidelines and give instructions to the tea planters and processors, they will be able to regulate their production process and avoid export risks," Li Jia, who has worked for a tea exporter for three years, said. The guidelines will be adjusted down the track and could eventually become compulsory, Zhu said. But some tea exporters said their products already meet the most stringent foreign import requirements. "I have heard of the new document, but since it's not compulsory, it might not affect us," Jiang Wei, of the Shanshan Tea Co in Zhejiang province, said. Shanshan Tea has three factories and several tea gardens. Jiang said the tea producer communicates directly with its clients - most of whom accept the existing standards - and directs its growers accordingly. China is the world's biggest tea producer, but it is the fourth largest tea exporter. Zhu said poor marketing is holding back growth. "China does have quality tea," Zhu said. "But compared with bigger exporters like Sri Lanka and India, we haven't been as active when it comes to promoting local teas." Sri Lankan and Indian producers have successfully promoted their strong black teas to foreign markets, but China's tea culture remains relatively unknown, Zhu said.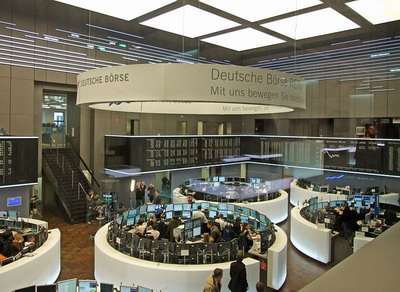 Deutsche Boerse will go ahead with plans to open an office in Beijing to attract Chinese IPOs, despite the global financial crisis, a senior official at the exchange said on Friday. "We are at the downward phase, but it won't hinder us to promote the Deutsche Boerse in China," the exchange's Alexander Graf von Preysing, a senior vice president responsible for IPOs, said at the Hamburg Summit: China meets Europe. The exchange hopes to get regulator approval to open a Beijing office by the end of this year, after putting China on its radar two years ago. But it is a late comer among major exchanges' race to Beijing to lure Chinese offerings as IPOs elsewhere dwindle. The NYSE Euronext and Nasdaq OMX opened offices in December last year. The London Stock Exchange raised 109 million euros ($152.7 million) in the first main market floatation by a Chinese issuer on the German bourse. That was followed by two main market listings in 2007, Asia Bamboo and Greater China Precision Components, which raised a combined 111 million euros. In July this year, Business Media China raised 31 million euros. But Graf von Preysing acknowledged that investors were becoming increasingly nervous. So far this year, 34 Chinese firms have listed overseas, raising $7.2 billion in total, down 80 percent from the $37.7 billion raised by 107 Chinese issuers in 2007, according to Thomson Reuters. China's wireless data card provider Vtion Wireless Technology shelved its 152 million euros German IPO plan in November due to unfavourable market conditions. All recent Chinese offerings on the German bourse are trading below their IPO levels, with many plummeting over 50 percent from their issue prices. ZhongDe shares, which traded 58 percent above their listing price of 26 euros two months after the IPO, have since lost more than half of their value. However, Graf von Preysing is confident the exchange will draw Chinese listings with its lower listing costs and better trading in the secondary market. The Deutsche Boerse aimed to attract trading and liquidity rather than targeting IPOs for listing fees, he said. The Frankfurt exchange charges a listing fee of 5,500 euros, while the LSE charges 200,000 euros. The overall listing costs range from 7.5 percent to 9.5 percent of the IPO proceeds in Germany, compared with London's 8.9 percent to 17 percent. So far, the Deutsche Boerse has only targeted China, Russia and India for international listings. It has no plan to expand its scope in near future.
Sept 16, 2008



Hong Kong: Mainland companies Yingmao Sugar Industry and Lilang International may launch initial public offerings in coming weeks to raise as much as HK$2.16 billion, sources said. Yingmao Sugar, the largest sugar producer in Yunnan province, may launch a share offering worth up to HK$600 million late this month or early next month "if the market stabilises or even rebounds later", a source said. Lilang International, a maker of men's clothing, is expected to proceed with its HK$1.17 billion to HK$1.56 billion share sale in the middle of next month, according to a source. However, a fund manager said that the two might put their deals on hold if market volatility does not improve. Yingmao Sugar's public offering originally was scheduled for July but was postponed because of the unfavorable market. A source said Yingmao had finished "almost everything needed" to get approval from the Hong Kong Stock Exchange. "But as the market remains volatile and many investors continue to shy away from new offerings, Yingmao may have to adjust its fund-raising target to wrap up the deal." Some observers said Yingmao Sugar may reduce its offer to between HK$300 million and HK$500 million amid softening sugar prices. Yingmao Sugar had eight sugar factories in Yunnan at the end of 2006 with an annual production capacity of 400,000 tonnes of white sugar, according to the company's website. Its main products include white sugar under its Yingmao brand and edible and industrial alcohols. Guotai Junan Securities (Hong Kong), which is handling the deal for the company, was not available for comment. Fulbright Securities general manager Francis Lun Sheung-nim was cautious about the company's share offering. "If there is an upswing in both the market and the global price of sugar later, the company's appeal may increase among investors," Mr Lun said. However, its attractiveness would be limited because "local investors always do not favor industrial plays", he said. The Hang Seng Index dropped below 20,000 points on Wednesday and continued to head lower, finishing the week at 19,352. Only 23 initial public offerings have been launched on the main board so far this year compared with 44 last year. Four of the new listings were industrial companies and all traded below their offering prices on their trading debuts. Chongqing Machinery and Electric had the worst trading debut this year, losing 19.23 per cent. Two weeks ago, China High Precision Automation Group, a maker of industrial automation instruments, shelved its proposed HK$750 million initial public offering because of a poor market reception.
Singapore developer Hong Fok will look to Hong Kong to boost revenue when it launches its first residential project here this month as sales in its home market come under a cloud. The company plans to sell 90 units at its 360-unit development - 300 Beach Road - targeting both Singapore and Hong Kong buyers. The project will be completed in 2012. It expects Hong Kong buyers will account for 10 to 15 of the units. Analysts expect the Singapore housing market to see a reversal this year after enjoying a boom last year. Property consultant CB Richard Ellis said in a recent report that a correction in residential prices on the island of 5 to 10 per cent in the second half was likely as the global economy suffered from the subprime mortgage meltdown in the United States and inflation problems. In the wake of the market slowdown, Hong Fok had made some adjustments to the selling prices of the development, said director Cheong Sim Eng. "If we had sold the project last year we could have easily got S$2,000 [HK$10,953] or above per square foot," he said. However, the project would now be marketed at S$1,500 to S$1,800 per square foot, he said. Mr Cheong believed the units would generate 4 to 5 per cent rental returns.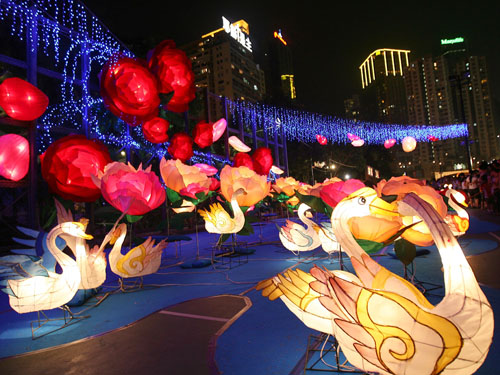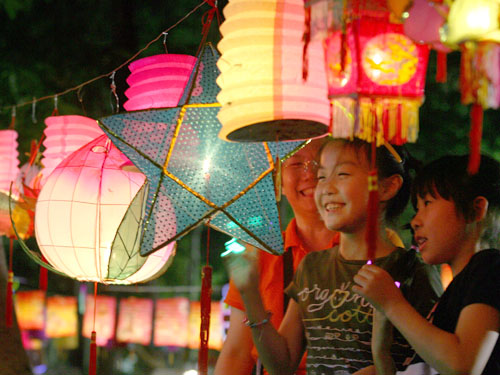 Eight-year-old Kelly Wing Lai-ki (second right) and nine-year-old Odette Lau Hoi-heng (right) enjoy the lanterns in Victoria Park, Causeway Bay, last night to mark the Mid-Autumn Festival. It was the hottest night for the festival in Hong Kong for 13 years.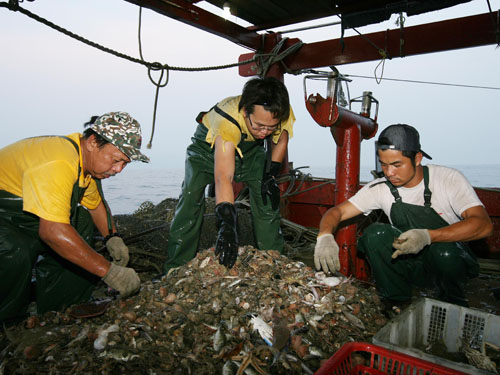 Third-generation fisherman Keung Pak-ho (left), supervises sorting of the catch. The city's consumers will be the first to suffer from a proposed ban on trawling because reduced local supply will mean more expensive seafood, a veteran fisherman warns. "If there is no local trawling, seafood would have to come from farther away," Sam Mun Sai trawler captain Keung Pak-ho said. The 61-year-old has fished for decades. "The consumers will be then forced to pay more for prawns and fish because of more fuel spent in the longer distance travelled." The government is consulting fishermen's groups about a sustainable fisheries strategy that proposes banning trawling in local waters and buying out their boats. According to the consultation paper, trawlers accounted for 45 per cent of the local catch each year. Mr Keung's family has operated a trawler since his grandfather's time. While he said trawling practices remained largely unchanged - except for advances in navigational equipment - he said there were real changes in the sea. He said local fishermen should not be blamed for overfishing. He blamed pollution and unethical mainland fisherman who electrocuted fish and used other illegal means to deplete stocks. "Mirs Bay used to be a rich fishing ground you could trawl with no difficulties," he said. "But now the seabed is filled with rocks, concrete debris, rubbish and mud." He said the sea off Sai Kung was the victim of marine projects, including the Yantian Port construction, while rampant cross-border smuggling made trawling dangerous. "It was not uncommon for these smugglers to throw everything into the sea when they were chased by the marine police." he said. "Some contractors also dumped dredged mud when no one was looking," he added. Mr Keung said many mainland fishing vessels operated in Hong Kong waters, usually in large groups, and that local fishermen often had to give way to them. "You can never stop that as it would require huge resources," he said. "That means some politicians would not like it." The veteran fisherman claimed trawling was not destructive because it helped improve the environment by removing plastic bags or bottles from the sea. "There are tens of thousands of these items in the sea, thanks to the neighbouring developments," he said. "If you don't remove them, they would be left there to rot and decompose. So when you put a net down the sea, you'll find it blackened instantly. "Trawling is like sweeping the floor. It works for the seabed, too. If one day all trawlers are gone, the waters in Hong Kong would all be smelly." Mr Keung said he did not know if he would surrender his 25-year-old wooden fishing boat to the government until he saw a specific proposal. He also rejected upgrading his vessel so he could fish in deeper waters. "It's all one's own decision whether you want to operate a small or large business, depending on how much risk you want," he said. "It is better for us to eat as much as we can find from the sea."
Americans living in Hong Kong do not have to feel distanced from November's presidential election. Both Democrats and Republicans have groups in the city, and there is no shortage of events to bring the campaign trail closer to home. On Thursday, representatives from Democrats Abroad Hong Kong and Republicans Abroad Hong Kong will square off in a debate at the Foreign Correspondents' Club. "The Great Debate", as it is being promoted, will be staged from 6.30pm to 8pm. The free event is open to the public and is sponsored by the League of Women Voters in Hong Kong, a non-partisan group. Participants will field questions prepared by the Advanced Placement US Government and Politics classes at the Hong Kong International School, said Jane Buck, a board member of the League of Women Voters in Hong Kong. Later that evening, Democrats Abroad will hold one of its biggest events of the autumn. The "Barack the Vote" - a rally, party and fund-raiser co-sponsored by the group Hong Kong for Obama - will be held from 8pm to midnight at the Fringe Club rooftop in Central. The suggested minimum donation is US$50 for the Obama campaign. "We'd figure we'd follow that [the debate] next door with a rally for all American Democrats and Independents in Hong Kong who want to see change in Washington and want to elect Barack Obama and Joe Biden, the next president and vice-president," said Andy Green, a Democrats Abroad Hong Kong board member. Guest speakers at the "Barack the Vote" event will include retired Admiral William Owens, former vice-chairman of the US Joint Chiefs of Staff, and also Nancy Hernreich-Bowen, assistant to the president and director of oval office operations during the Clinton administration. Republicans will not hold an event after the FCC debate, with one source saying they would rather concentrate on the issues. "We want to talk about active and constructive engagement with China. We want to make sure that our message of lower taxes continues to be heard, and the message of free trade continues to be heard in Washington," said Chris Exline, a Republicans Abroad Hong Kong board member. Both Democrats and Republicans are registering voters in the city. The Republicans are canvassing and e-mailing. The Democrats are sending people to SoHo, Wan Chai and Central, and plan to go to Discovery Bay, Times Square and Sai Kung. Democrats Abroad will also hold presidential debate-watching parties and other functions, including a conference call with one of Senator Obama's China policy advisers, Jeff Bader, next month. Republicans Abroad gathers for weekly meetings at Madison's in Central every Wednesday at 7pm. It was a way for people to learn how to mobilise the vote or educate the community about the John McCain-Sarah Palin ticket, Mr Exline said. The Republicans also plan to hold fund-raisers, including a US$1,000-a-plate breakfast during a live presidential debate. That get-together starts at 8am on October 16 at The American Club in Central. Those interested in joining Republicans Abroad can visit www.republicans-abroad.org. Those interested in joining Democrats Abroad should send an e-mail to dahkchair@gmail.com. The group Hong Kong for Obama can be contacted at hongkongforobama@gmail.com. The US Consulate will host Voter Registration Day on Wednesday from 4pm to 7pm at 26 Garden Road, Central. Voter registration would also take place at the FCC debate on Thursday, Mr Buck added.

A further tightening of visa conditions aimed at limiting mainland visitor flows to Macau has rubbed salt into the wounds already suffered by the territory's property market. Coming at a time when international funds have slowed their acquisitions amid tighter credit and an uncertain global economic outlook, the new visa conditions would further depress demand for Macau property, agents say. Macau's luxury residential market, which depends on overseas buyers for some 50 per cent of its deals, has already fallen about 30 per cent since January this year, according to Rico Kwok Chiu-lung, managing director of Centaline (Macau) Property Agency. "The latest visa restrictions will certainly deliver another blow to the already worsening property market," Mr Kwok said. Under the new policy that took effect from September 1, a separate travel permit is required for mainlanders who apply to enter Macau via Hong Kong under the Individual Visitation Scheme (IVS). Previously, individual mainland visitors issued travel permits to Hong Kong were automatically entitled to a visa-free visit to Macau. The tighter visa policy comes on top of earlier moves by the mainland government to cut the number of times mainlanders travelling independently of tour groups could visit Macau from twice a month to once from June 1 and then again to just once every two months from July 1. The Macau property market began to feel the impact of the changed travel arrangements in July on concerns that the new policy would lead to less frequent visits to the city by mainlanders, thus dampening casino business, said Mr Kwok. Ronald Cheung Yat-fai, the chief executive of Midland Realty Macau, said institutional investors from Europe, the United States, South Korea and Japan had also become cautious about making acquisitions in the territory. Since overseas buyers accounted for about 50 per cent of sales of luxury residential homes in Macau and 20 per cent of its overall property deals, sellers would now have to depend heavily on price-sensitive local buyers, said Mr Cheung. Investment sentiment was also likely to be hit by the new visa conditions, aggravating the adverse effects on the market of the US subprime mortgage crisis and the mainland government's austerity measures to curb property lending, he added. Prices at the upmarket project La Cite, which is popular among mainlanders, had declined 30 per cent to HK$2,800 per squarefoot from HK$4,000 in January, said Mr Cheung. He said prices for other luxury residential projects, such as One Central Macau, had also fallen 25 per cent to HK$6,000 per square foot during the same period. Fearing further falls in home prices, local buyers had now adopted a wait-and-see attitude and owners were holding back on selling in view of the poor market sentiment, Mr Cheung said. "It is not easy to close any deal right now. The number of transactions has dropped near 1,000 per month compared with about 2,000 in normal circumstances," he said. Jeff Wong Chi-wai, a director and head of residential sales at Jones Lang LaSalle's Macau office, attributed the correction to the souring market sentiment worldwide and a falling mainland A-share market that had locked up mainlanders' savings. He said prices should decline another 10 per cent over the rest of the year.


China: Legend Holdings, the parent company of the mainland's biggest computer maker Lenovo Group (SEHK: 0992, announcements, news) , plans to issue 2 billion yuan (HK$2.28 billion) worth of seven-year bonds this month to boost its investment in private equity and repay bank loans, an industry source said yesterday. "The issuance may be finished in two weeks if it gets approval from the China Securities Regulatory Commission," the source said. The company was likely to sell the bonds at a yield of between 6 per cent and 6.5 per cent. It hired UBS Securities as the main underwriter while four domestic securities companies, including Guotai Junan Securities, would be joint managers. At the end of last year, Legend wholly owned four subsidiaries, controlled nine others, and had stakes in 51 companies. Its total assets amounted to 68.16 billon yuan while net assets totalled 1.96 billion yuan. The source said Legend proposed using the bulk of the cash from the bond sale to invest in equities and mergers and acquisitions through its private-equity arm Hony Capital. The rest of the sale proceeds would be used to pay off bank loans and replenish Legend's working capital, the source said. Hony was one of the mainland's earliest private equity funds and is mainly involved in the restructuring and share reform of various state-owned companies, ranging from medical to consumer goods and building material firms. It manages US$703 million. Shenyin Wanguo Securities senior analyst Qu Qin said the country's robust economic growth and the withdrawal of private equity through the mainland's multi-tier capital market would be a big boost to the development of the private equity market. According to data compiled by the Asian Venture Capital Journal, the mainland's private equity funds soared from US$340 million in 2003 to US$11 billion last year, and the sector's share of Asia private equity funds more than doubled from 10.2 per cent in 2003 to 21.3 per cent last year. Mr Qu said that Legend, being the management platform for the group's diversification and funding operations, had to maintain a certain level of liquidity. By issuing bonds, Legend would be able to meet those daily operational liquidity demands and ensure that subsidiary businesses continued running smoothly. As of the end of last year, various commercial banks had authorized 9.75 billion yuan in loans for Legend, with the bulk of the loans for one or two-year periods.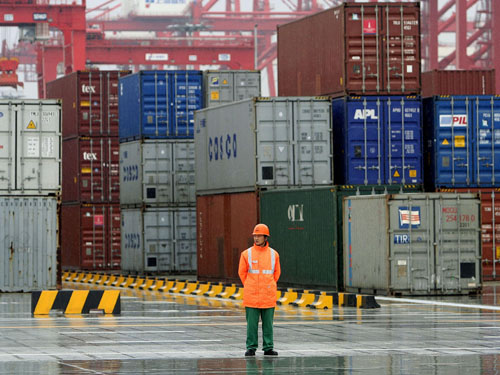 The trade talks come amid US concerns about the yuan and the mainland's trade surplus with the US, which hit a record US$256.2 billion last year. The United States and China hold cabinet-level trade talks in California this week amid tensions over the massive Chinese export surplus and worries about the slowing global economy. The talks come at the end of George W. Bush's Republican presidency that has seen trade disputes with the mainland over a host of issues, ranging from copyright infringement, vehicle parts and investment barriers to toxic toys and pet food. The latest attempt to get the World Trade Organisation's Doha Round of negotiations off the ground foundered in July, leaving the world's largest economy and Asia's superpower still at odds with each other over the issues. US Secretary of Commerce Carlos Gutierrez and US Trade Representative Susan Schwab, the lead negotiator at the July Doha talks in Geneva, will host Vice-Premier Wang Qishan for the one-day meeting tomorrow. Mr Gutierrez and Ms Schwab will co-chair the talks with Mr Wang, who is responsible for economic and trade matters. US Secretary of Agriculture Edward Schafer will also take part in the session. The talks would focus on three main issues - "market access, intellectual property rights and transparency", Department of Commerce spokeswoman Ann Marie Hauser said. The meeting will mark the 25th anniversary of the US-China Joint Commission on Commerce and Trade, a bilateral dialogue the commerce department bills as an effort "to resolve bilateral trade issues to expand trade opportunities". The silver anniversary venue fittingly is the Richard Nixon presidential library in southern California. In 1972, Nixon was the first US president to visit the country since the People's Republic of China was established in 1949. He sought greater dialogue with China, and that included trade. The bilateral trade talks come amid long-standing US concerns about the yuan, which critics say is kept undervalued, and its bulging trade surplus. US officials repeatedly have raised the issue of the value of the yuan, which some say is artificially low and thus a factor in the massive trade imbalance between the two nations. The US is saddled with a ballooning trade deficit with China, which reached a record US$256.2 billion last year. The yuan has appreciated about 20 per cent against the dollar since China delinked its currency from the greenback in July 2005. Critics say China keeps its yuan currency undervalued to bolster exports, and US lawmakers blame outsourcing to China for the loss of thousands of jobs. The US had lost four million manufacturing jobs in the past eight years, most of them in Mr Bush's first term in office, Lloyd Wood of the American Manufacturing Trade Coalition said. "We want China to play by the rules," he said, citing the yuan and US trade complaints against China filed at the WTO. Mr Wood recalled that after the Republican-led Congress "got fired" two years ago, no legislation sanctioning China over its currency has been voted on. "There's lots of blame to share on the issue. Our government is not doing anything." Erin Ennis, a vice-president of the US-China Business Council, downplayed expectations for the talks, saying its jurisdiction "is fairly narrow". "We're not expecting any major breakthroughs at this meeting." Asked about the political implications on US trade policy of a new president in the White House in January, Ms Ennis said the council did not expect a shift in the US approach to trade with China because it has been on a "steady footing for 30 years".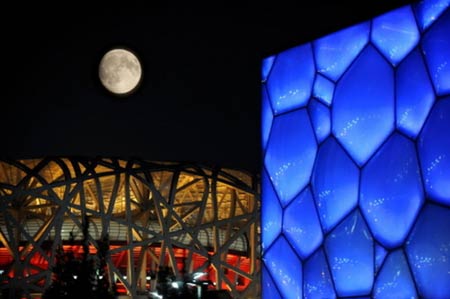 A nearly full moon over the National Stadium or better known as the Bird's Nest in Beijing on early September 14, 2008, which is now hosting the athletic competition for the 2008 Beijing Paralympic Games. Paralympians in Beijing will get a taste of China's Mid-Autumn Festival, which falls on September 14 this year.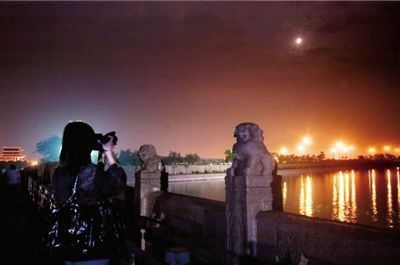 A visitor takes photos of the moon from the Marco Polo Bridge in Beijing on September 13, 2008, one day before the full-moon Mid-Autumn Festival.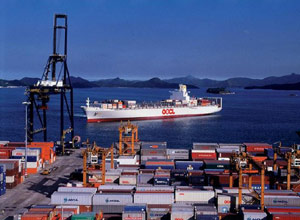 The government has cut back on import taxes on spare parts of large equipment and canceled the import tariff exemption on some complete sets. The adjustments were made to support the domestic manufacturing of large equipment, said the Ministry of Finance. Taxes levied on domestic enterprises for importing key spare parts of large equipment, including ultra- and extra-high voltage transmission equipment and transformers, large petro-chemical equipment and large coal-chemical equipment, would be refunded and injected into the enterprises as investment from the nation, it said. The policy applied to imports after Jan. 1, 2008, depending on the date of declaration of imports. In the meantime, the import of some complete sets of equipment by enterprises approved after Sept. 1, 2008 would no longer enjoy the tax exemption. Both domestic and foreign-funded projects are subject to the new policy, the ministry said. Imports of such equipment by enterprises approved before Sept. 1 would continue to enjoy the previous tax policies until March 1,2009.
China's State Council, the country's Cabinet, has approved a regulation revision to relax restrictions on the establishment of foreign-funded telecommunications companies. According to the new rules, the minimum registered capital requirement for a foreign-funded telecom company that managed basic services nationwide or intra-provincially was halved to 1 billion yuan (145.9 million U.S. dollars) from the previous requirement. Foreign-funded telecom companies running basic services at provincial-level regions were required to have a minimum registered capital of 100 million yuan, down from 200 million yuan previously. However, the minimum registered capital requirement for companies running value-added telecom services was unchanged compared with previous rules. The new rules also deleted the article banning the foreign listing of domestic telecom enterprises without approval from industry supervisors. The revised rules, with immediate effect, aimed to boost the development of the telecom sector and its opening up to the outside. The proportion of foreign investments should not surpass 49 percent of the total investment in a company for basic services, which could not be over 50 percent for operators doing value-added services. The Administration of Foreign-funded Telecommunications Enterprises Provisions came into effect in 2002. The domestic telecom industry has boomed in recent years due to the rapid economic growth and large population base. Industry revenue reached 72.8 billion yuan in 2007, up 10.9 percent year-on-year.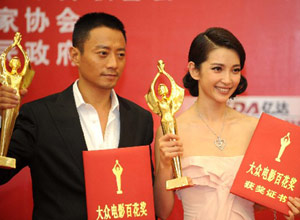 "The Assembly," a warfare film by Chinese director Feng Xiaogang became the biggest winner at the 29th Full Blossom biennial awards given by the audiences in China's northeast seaport of Dalian on Saturday evening.

The German pork industry, Europe's largest, is turning its attention to China, not only a vast market but one with a taste for pigs' ears, feet and other delicacies that are shunned at home. After two years of negotiations, Berlin sealed a deal last week in Beijing opening the door to China for German pork. "It is extremely positive," said Michael Stab, in charge of the meat sector for the German Farmers Association. "There is demand for products that are not worth much here such as trotters and ears and we are going to try to get quite a good price for them." Pig's tail soup or chopped ears and soy sauce is just some of the choice dishes that Chinese connoisseurs crave. Previous experience in Hong Kong, the traditional gateway to the Chinese mainland market for German companies, looks promising. Pork exporters delivered 70,000 tonnes of pig tails, offal and other cheap but tasty morsels to the country in the first half of the year, according to Matthias Kohlmueller of agricultural market research firm ZMP. German pork production is set to reach 4.6 million tonnes this year, 30 percent of which is intended for export. Meanwhile, the emergence of a quickly expanding Chinese middle class is fuelling the demand for meat. "The country has gone from being an exporter to being a net importer extremely fast," Kohlmueller said, citing natural disasters endured by the Chinese livestock industry as contributing factors. Currently the United States, Denmark, France and Canada are the biggest meat suppliers to China. But the German Meat Federation said Berlin's negotiators had made rapid success in their talks with the Chinese, sailing past "countries such as the Netherlands which still have not reached an accord although they started negotiations much earlier." But for German suppliers, even with this agreement in hand, there are still open questions. Each potential exporter must be inspected by a veterinary team and certified by Chinese authorities. In the coming months, five to 10 applicant companies are set to win approval and begin deliveries in 2009, according to the federation. But Stab said the Chinese market needn't fear a glut of German meat. "The volumes will not be enormous," said Stab of the Farmers' Association. "The primary market (for German meat) will remain Germany, then the European Union and then the rest of the world." Kohlmueller said major exporters would have an advantage, however, in the giant new market. "Offices on the ground will be needed to deal with the administrative formalities, insurance and other things that small farmers cannot afford," he said. He said the Chinese market could soon pave the way to the rest of Asia, with German pigs found on South Korean barbecue spits or in Japanese noodle soups as early as next year.
Consumers could turn their backs on US manufacturer Procter and Gamble (P&G) and British firm Unilever after they raised prices in July on consumer goods by up to 20 percent in China to offset surging raw materials costs. That's according to a recent Sina.com suvey. More than 84 percent of 3,042 respondents surveyed by the website said the price hike was "unreasonable", while 87 percent threatened to switch to cheaper brands. "Committed users are normally more tolerant to short-term changes in variables such as pricing. However, if the international brands remain unfavorably priced compared to local brands in the long term, consumers are likely to re-evaluate and may shift," Ashok Sethi, regional director of TNS, a UK-based market research and business information services provider, said. "Even if the loss of current customers is limited, the increased price may slow further acquisitions by the brands," Sethi added. Xu Ailu is loyal to several P&G haircare brands, but her commitment is waning after the recent price hike. "I rushed to the nearest supermarket to buy up Pantene shampoos when I heard P&G would raise prices," the 29-year-old, who works for a fashion design company in Shanghai, said. "Prices are still affordable, but if they rise beyond 30 percent, which is my upper limit, I will definitely shift to other brands that are more reasonably priced," she said. Li Hui, a 27-year-old college teacher, said if P&G prices go up again she will also consider turning to local brands. Analysts said Chinese consumers would also shift toward local brands out of national allegiance, particularly after the success of the Beijing Olympics. Shoppers who prefer local brands far outnumber those who choose foreign products for most consumer goods, according to a recent survey by the Boston Consulting Group (BCG). Over half the Sina.com respondents said they were more likely to buy Chinese brands if their prices remain stable.
Sept 15, 2008



Hong Kong: Hong Kong's home affairs chief has praised the way the city handled the Olympic and Paralympic equestrian events and said spectators could feel proud of themselves. "The response was very good. Many people stayed until very late watching the Games," Carrie Yau Tsang Ka-lai said during a commercial radio programme yesterday, adding that many athletes had praised the competition venues. "What is more, it was the first time that Hong Kong had its own representatives in the events and so many people went to watch them." Mrs Yau emphasised that it was not just the Olympic events that drew big crowds. "In the past, few people would watch Paralympic equestrian competitions. Even the one in Athens received a lukewarm response. But this time in Hong Kong, many people went and many of them stayed as late as 11pm. "All the messages I have received so far said the events were an unprecedented success." The chairman of Riding for the Disabled, K.K. Yeung, agreed. "The events showed that Hong Kong people are very kind. Internationally, the audience is usually merely a few hundred to a thousand for an equestrian events with disabled people taking part," Mr Yeung said. "But we had 4,000 in Hong Kong and many of them stayed on late on Thursday, the last day of the Paralympic equestrian events." Mrs Yau said many overseas athletes had told her they admired the sports facilities, including the accommodation for horses, and the competition venues. "Some of them even joked that their horses did not feel like leaving because there was air conditioning in Hong Kong." But the equestrian venue in Sha Tin will be torn down to rebuild the Hong Kong Sports Institute as the training base for elite athletes in the city. The institute had occupied the site for 24 years and only temporarily surrendered it to make way for the equestrian events. "Many overseas participants were shocked, but ... Hong Kong has too little land but too many people. The training for elite athletes is vital," Mrs Yau said. With an estimated cost of HK$1.7 billion, the project is due to be completed in 2011. The main work in the phased development will start soon. The sports institute, now based at Wu Kwai Sha Youth Village in Ma On Shan, will start moving back by autumn next year at the earliest. The institute will include a nine-storey, multi-purpose building at the existing outdoor velodrome, multi-purpose sports hall, an international standard swimming pool and an upgraded indoor sports complex. The home affairs chief said that now the Olympics and Paralympics had ended, the city would also review its sports policy, but did not reveal details. Sports policy in the city is developed along three fronts: promoting sports with participation from all areas of the community; developing elite athletes; and organising big sports events. Next year Hong Kong will host the East Asian Games. Mrs Yau said although no Hong Kong athletes won an Olympic medal this year, it did not mean they had failed. "The level of Hong Kong's athletes is already very high, though they did not win in any competition. Many broke their own records. In the future, we will try to help them attend more sports competitions so they can improve their performances."

The flying dragon logo and "Asia's World City" slogan used to promote the city could be scrapped under a review of "Brand Hong Kong" quietly launched by the government. Donald Tsang Yam-kuen proposed the review in his policy address in October, but little has been heard about the project. However, the Sunday Morning Post (SEHK: 0583, announcements, news) can reveal that the Information Services Department has already spent HK$1.3 million hiring multinational communications company Fleishman-Hillard to interview residents about how they believe the city should be branded. An additional HK$500,000 will be spent starting a website to allow citizens to express their views. A source close to the project said initial research suggested people want their city to be seen as more than just an "efficient, safe city, where it is safe to do business" and for it to be promoted as a "fun place to live with a good work-life balance". The review has drawn fire from two of the city's most successful designers. Brand Hong Kong was launched in 2001 to promote the city after the East Asian financial crisis. It cost taxpayers HK$9 million and was criticised by some as a waste of money. The review is being led by civil servant Mary Leung Lai Yim-ming and branding consultant Rachel Chan, who runs a firm called Innofoco. Mrs Leung said the review began with the idea of projecting how Hong Kong should be viewed in 2020. Coincidentally, that is the year the city may get full universal suffrage. "We feel it is important the community take ownership of the revitalised BrandHK ... we are placing a lot of emphasis on understanding the public's views," she said. Opinion surveys, focus groups and consultative sessions would be used. Hong Kong's best-known brand strategist, Henry Steiner, who designed the HSBC (SEHK: 0005, announcements, news) logo and many of the city's banknotes, said focus groups was just what the review did not need. "I don't hold high hopes for this because it is already sounding like another bureaucratic exercise in consensus where no one takes risks because no one wants to be blamed for getting it wrong, " he said. Douglas Young, designer and founder of lifestyle store G.O.D., said: "I believe focus groups often yield results which aim to please all, yet end up captivating no one. "Whoever is in charge must have the courage to produce a singular vision of HK in all its guts and glory." Fleishman-Hillard general manager Rachel Catanach defended the use of public consultations. "Doing stakeholder research is standard practice in terms of any brand review exercise," she said.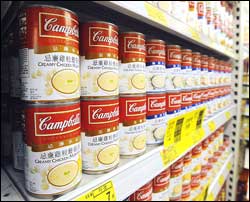 Health chiefs have warned people not to eat two varieties of one of the city's most popular soups as hundreds of thousands of cans were cleared from supermarket shelves. The move to take certain flavors of Campbell's Soup off the market came after complaints that some cans gave off a bad smell when opened. Campbell's Soup is recalling 14,000 cases - about 330,000 cans - of two varieties, the 405g cans of condensed cream of mushroom soup and the 410g cans of condensed creamy chicken mushroom soup in Hong Kong and Macau. Campbell Soup Asia said there are no problems with the smaller cans of the two soups. The company said it decided on the recall after it received three complaints in the past week of a bad smell when the cans were opened. "We haven't received any health complaints and there is no evidence these products will pose any risks to health and security but, with our commitment to quality, we've decided to recall them," a company spokeswoman said. The Centre for Food Safety told people to stop eating the products concerned and said these soups were produced from November 2007 to August 2008 and that there were about 350,000 cans on the market. Campbell's said they were produced in Malaysia. The center has urged consumers not to buy the products and has informed retailers to stop selling the soups. It also plans to do random checks to ensure the cans are not being sold. ParknShop and Vanguard supermarket chains said customers who bought the products should bring their receipts to receive refunds or store credit. A spokeswoman for Wellcome has said that customers will need a receipt to get refunds, but Campbell's insists it has an agreement that ensures consumers may return cans to Wellcome without a receipt. The Consumer Council said people with cans of the soup are entitled to refunds even without supporting receipts. "The supermarkets should help their customers return the products to increase their shopping confidence," a council spokesman said. Although it remains unclear whether consumer confidence in Campbell's soups has been shaken by the recall, some people are concerned. Wong Shek-hung, who usually keeps two to three cans of Campbell's soup at home, said she may stop buying them in the future. "I may stop buying if there are a lot of complaints. Who knows what's in the cans?" ParknShop and Wellcome said all the affected products were taken off the shelves yesterday, but they had yet to tally how many cans were removed.
A Voluntary Agreement on the Management of Mooncake Packaging and a Mooncake Container Recycling Campaign were officially launched in Hong Kong Saturday. Hong Kong Secretary for the Environment Edward Yau officiated both the signing ceremony of the Voluntary Agreement and the opening ceremony of the recycling campaign at East Point City. "Jointly organized by the Environmental Protection Department (EPD) and Christian Action, the Mooncake Container Recycling Campaign aims to promote the recycling of used mooncake containers," Yau said. "Millions of boxes of mooncakes are consumed every year, generating waste such as metal containers and other packaging materials that can be recycled," he said. From Saturday until Oct. 12, people may return used mooncake containers to the collection points set up at estates, commercial buildings and shopping malls under the management of Sun Hung Kai Properties Limited, City base Property Management Limited, the Link Management Limited, Hong Kong Housing Authority and Hong Kong Housing Society. The containers collected will be delivered for recycling. People may also return the containers through EPD's source separation facilities or similar mooncake container recovery programs by other organizations. In addition to recycling of mooncake containers, efforts are also being made to reduce waste at source in the production of mooncakes. Five local mooncake manufacturers signed a one-year Voluntary Agreement on the Management of Mooncake Packaging with the EPD to reduce the use of packaging materials on their products. Under the agreement, the manufacturers will commit to conserve resources and contain the use of packaging materials through better design and production processes, with due consideration of the "Environmental Guidelines on Mooncake Packaging Design" issued by the EPD. The manufacturers will also strive to adopt recyclable packaging materials and support and facilitate the recovery and recycling of used packaging materials.


China: Authorities yesterday ordered the state-owned company behind the mainland's tainted-milk scandal to halt production and revealed the number of babies known to have developed kidney stones from drinking its formula had risen sharply to 432. The Ministry of Health ordered all milk powder produced by the state-owned Sanlu Group withdrawn from sale and a nationwide investigation of all 175 baby formula producers. More than 8,000 tonnes of Sanlu baby formula have already been removed from shelves. "This is a severe food safety accident. Sanlu Group should take a large part of the responsibility," said ministry party secretary Gao Qiang. He blamed Sanlu, one of the oldest dairy brands in China, for keeping the crisis from the government and the public although the company had been receiving complaints from customers since March. Mr Gao denied the government had covered up the problem to avoid detracting from the Beijing Olympics. He said it only became aware on Monday that drinking the milk could cause kidney stones. Newspaper the Nanfang Daily has reported that an inquiry from a member of the public about the problem baby formula was on the website of the General Administration for Quality Supervision, Inspection and Quarantine on June 30, and parents have said they submitted milk samples for testing months ago. Sanlu, which is part-owned by New Zealand dairy group Fonterra and has 18 per cent of the mainland's baby formula market, admitted on Thursday that its formula had been contaminated with melamine, a chemical used in plastics, fertilisers and cleaning products. Police in Hebei , where Sanlu is based, have detained 19 people in connection with the case. Hebei vice-governor Yang Chongyong would not say whether Sanlu managers were among those held. Mr Gao said the authorities were still investigating at what point in the production process the baby formula was contaminated. The chemical was added to make the milk's protein content appear higher. Sanlu claimed farmers had added the chemical to their milk. A report carried by the website of Caijing magazine quoted dairy farmers who supplied milk to Sanlu as saying it was impossible for them to add the chemical to their milk. They said the milk processing was highly mechanised and tightly supervised by Sanlu staff. A Caijing reporter who visited several dairy farms confirmed the farmers' claim. Caijing's report said Sanlu had established very strict control of the farms and it was difficult for farmers to add chemicals into the milk behind the backs of company staff. One baby has died. The government has pledged to provide free treatment for others affected after being fed the milk. With many from poor rural families, it will send doctors to the countryside to help them. The contaminated Sanlu baby milk powder was sold only on the mainland and in Taiwan, Mr Gao said. Two hundred people lined up outside Sanlu's headquarters in Shijiazhuang yesterday to return company products. Some angry parents demanded to meet company officials but were barred from entering its offices. The baby formula scandal is the second to strike the mainland in four years. In 2004, 13 babies in Anhui died after drinking fake milk powder with no nutritional value.
After 16 years of consistent construction, the main body of Yangtze River Three Gorges hydropower complex has been preliminarily completed, said Ding Qihua, a senior official from China Three Gorges Corporation. Three Gorges hydropower complex project consists of TGP dam, power plant, water-discharge facilities, ship lock, and Maoping auxiliary dam. Rudimentary construction began in 1992. As of this August, except ship-lifting facilities all the designated projects had been completed.
China, which holds a fifth of its currency reserves in Fannie Mae and Freddie Mac debt, may cut the portion held in US dollars, according to China International Capital Corp.
The country's tourism industry is set to receive a boost in the wake of Beijing Olympics, a worldwide survey has found. About 45 percent of 26,000 people polled in 26 countries and regions said after seeing the opening ceremony of the Games they now intend to travel to China at some point, the survey conducted by media and information group Nielsen and released on Thursday said. The figure increased to 51 percent after the closing ceremony of the Games on August 24. Those who claimed to have no interest in visiting China dropped from one-third of the total number of respondents to about one-quarter over the course of the Games, which lasted 17 days. Interest in visiting China was highest in Singapore (86 percent). Four in five people from India expressed interest in traveling to the country, while more than two-thirds of those in Mexico (72 percent), South Africans (69 percent) and South Koreans (66 percent) showed similar interest. More than eight in 10 of those surveyed had never visited the Chinese mainland before. "The strong intention among the international audience to visit China has a lot to do with the positive image China has successfully built with the Olympic Games," Grace Pan, head of leisure and travel research at Nielsen Company China, said. The Beijing Games attracted a record 4.7 billion audience, a Nielsen study showed. Seven in 10 viewers across 16 countries and territories agreed that Beijing appeared more modern and hi-tech than they had expected, the recent survey found. In Beijing, 92 percent foreign visitors polled rated Olympic venues as "very good" or "good". As for Beijing's environment, more than half of those polled (56 percent) after the closing ceremony said it exceeded their expectations. Similarly, among those who had visited China before, more than eight in 10 of those polled said they intended to visit the country again. China is poised to become the world's hottest tourist destination by 2020, receiving 137 million overseas tourists in that year alone, the World Tourism Organization has said. The country is also expected to generate 100 million outbound tourists by then. "With the Beijing Olympics generating such strong interest in China, they may well reach these numbers earlier than anticipated," Pan said. Still, sources with travel agencies said the orders they have received so far showed it was not all rosy in the inbound tourism market. Partly because of a stricter visa policy that was adopted for security reasons during the Olympics, Beijing had received 389,000 overseas tourists in August, a drop of 7.2 percent compared with the same period last year, the Beijing tourism administration said.
Sept 13 - 14, 2008



Hong Kong: CLP Power has abandoned its controversial HK$10 billion plan to build a liquefied natural gas plant on the Soko Islands off Lantau.
Several senior Liberal Party members believe it should shed its image as a government ally. One way to do that, they say, is to opt out of the Executive Council.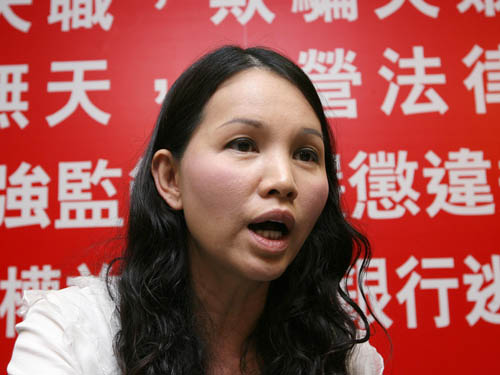 Modern Beauty Salon Holdings chairman Joyce Tsang says a Goldman Sachs trader made accumulator deals without her consent. The owner of one of Hong Kong's leading beauty parlour chains claims that she is HK$60 million out of pocket after one customer got more than facial treatments out of their relationship. Modern Beauty Salon Holdings chairman Joyce Tsang Yue is taking legal action against Goldman Sachs, alleging a former salesman at the company who visited her chain for beauty treatments traded risky derivatives without her permission through her accounts, leading to HK$60 million in losses. Ms Tsang alleges that Ronnie Wong Wang, who received facial treatments at Modern Beauty and worked at the wealth management department of Goldman, traded a number of different products, including highly leveraged "accumulators", from October last year to February this year. A Goldman spokesman yesterday said the bank was "confident that the legal process under way will show the claims are without merit". A bank spokesman said Ms Wong had left the company earlier this year but declined to give a reason for her departure. Ms Wong could not be contacted for comment yesterday. Ms Tsang filed a writ to the High Court against Goldman in May but only gave full details of the trading records at a press conference yesterday. A court hearing is scheduled for November. Ms Tsang said she had known Ms Wong for eight years and opened two trading accounts at Goldman in 2005 when Ms Wong joined the company. In January this year, Ms Tsang said she found her accounts had problematic trades which she alleged had been conducted by Ms Wong without her consent. The problematic trades included eight accumulator contracts. Accumulator contracts have come under fire after wealthy investors suffered huge losses. The investors complained that bankers promoted the high-risk products without explaining the risks in a falling market. Accumulators work like a put option in that investors can make big gains in a rising market but suffer huge losses in a falling market. "I signed the account opening document which clearly indicated that all trades must be done only after my authorisation," Ms Tsang said yesterday. "I did not intend to open discretionary accounts. But now, someone may have breached the rule." Yesterday she played what she alleged was an audio recording of Ms Wong stating she would sell her property to repay HK$18 million to Ms Tsang. Although Ms Wong had promised to make repayments, Ms Tsang said she had not received any monetary compensation. "Why doesn't Goldman promise to compensate for my losses? I have complained to Goldman and have reported the case to the police and the Securities and Futures Commission but I have not yet received a satisfactory response," she said. A spokesman at the SFC said it could not comment on individual cases due to privacy provisions.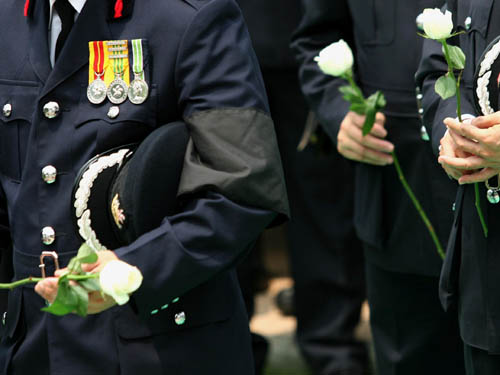 Senior fireman Siu Wing-fong was laid to rest in Gallant Garden yesterday after colleagues, members of the public and residents of the Mong Kok building where he died paid their final tributes to the valiant firefighter in a full-honours funeral service. Tears flowed as colleagues and residents of Cornwall Court, where Siu, 46, and fellow fireman Chan Siu-lung, 25, died, observed the solemn official ceremony at the Universal Funeral Parlour in Hung Hom, at Cornwall Court and at Mong Kok Fire Station, where Siu had worked for six years. "He was a good fireman. He is a hero," said a fireman giving his name as Mr Ma, who met Siu when they were both stationed at Tsim Sha Tsui East more than 10 years ago. Senior government officials, legislators and dozens of firemen lined the pavement of Cheong Hang Road, flanked by dozens of wreaths outside the Universal Funeral Parlour, from which Siu started his final ride on a fire engine that would be his hearse. When it arrived at the site of the fatal fire, at least 300 onlookers, some in tears, gathered on both sides of Nathan Road. A platoon of firemen gave the passing coffin a solemn salute. Halfway to Gallant Garden, the funeral cortege stopped for a few moments outside Mong Kok Fire Station on Prince Edward Road West. The hearse paused in the middle of the road in front of a wreath as the government's bagpipe band played a tribute to Siu's 24-year career. Tse Sze-ho, a teammate of Siu's in the force's volleyball team and a participant in the ceremony, said Siu had a "great sense of responsibility". Tse Tak-fai, Mong Kok's senior station officer, said Siu "liked to be with juniors. Like this time, he risked his life with a junior". He added that Siu's death was a huge loss. At Gallant Garden, Wo Hop Shek Cemetery in Fanling, Siu's daughter, carrying the fireman's portrait, and his widow were offered condolences by his colleagues and officials of the disciplined forces. Director of Fire Services Gregory Lo Chun-hung, among more than 20 other officials at the ceremony, removed his hat as a sign of reverence when the bugle call reveille signalled a one-minute silence. The service concluded when the coffin was lowered into the grave beside Chan, Siu's colleague, who was buried last week. Siu's yellow service helmet, bearing the letters "MK" for Mong Kok, was also buried, and the Hong Kong flag that was draped over the coffin was given to his widow. During the six-hour blaze on August 10, the masks of Siu and Chan ran out of oxygen as they helped two stranded residents on the top floor to the roof. The residents were later rescued but the two firemen were found unconscious. Siu, who was awarded the Fire Services Department Long Service Medal in 2002, was survived by his wife and daughter.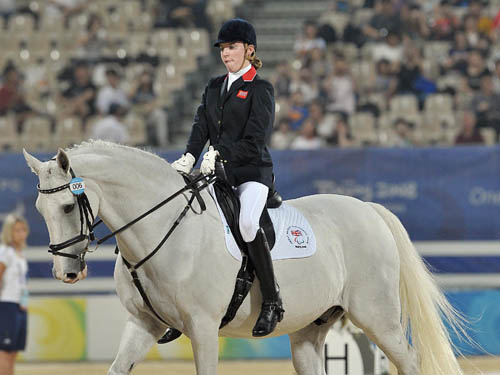 Britain's Sophie Christiansen on Lambrusco III last night. The final three Paralympic equestrian competitions concluded in front of a crowd of 4,000 at Sha Tin last night, with Britain winning two of the gold medals on offer. Sophie Christiansen came first in the individual Grade 1a freestyle, while compatriot Lee Pearson won the Grade 1b freestyle, collecting his third gold medal from the five days of competition. The Grade 3 freestyle title went to Hannelore Brenner of Germany. Britain, host of the next Games in London in 2010, won five of the 11 equestrian gold medals. British team leader Will Connell said Hong Kong had done a fantastic job in organising the competition. "The decision to move the equestrian events to Hong Kong was a bit late, as it was not made until 2005, but the hosts coped with it very well," he said. "They provided the facilities they were asked to provide, and it was just fantastic. "Also, organisation of the event was very professional and there has been no complaint from any of the teams. Hong Kong should be proud of this." Katrine Puttick, head coach of South Africa, said the events were "absolutely amazing", adding that the volunteers had given the teams a big hand. "People here are so helpful and friendly," she said. "Some of them look very tired after working for hours at the venue. "But they will come up with a big smile and offer their helping hand whenever they see you." More than 30,000 spectators - of a possible full capacity of 45,000 - attended the Paralympic equestrian events, an attendance rate of more than 60 per cent. Lam Woon-kwong, chief executive of the Equestrian Company, which organised the event, was happy with the overall attendance. "The figure is much better than we expected and is a very high attendance rate for any international event," he said. "The spectators helped create a good atmosphere and showed strong support to the competitors."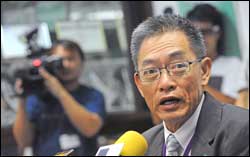 Despite a gloomy outlook, Hongkong Post has no plans to increase charges. Postmaster General Tam Wing-pong made the promise while reporting last year's total postal volume increased 6percent, netting a profit of about HK$400 million. The registered airmail service recorded the highest increase - 21 percent. But Tam estimated that both figures would shrink, though not significantly, in the coming year given economic fluctuations and fierce competition. With soaring oil prices and international calls to increase terminal dues, Tam said there is pressure to raise postal charges, and warned that the HK$470 million 2006-07 profit would shrink to HK$400 million for the next period. Tam added yesterday that Hongkong Post will develop other revenue streams such as e-commerce. "There is always pressure to maintain our revenue, but we will try to overcome this by developing new types of business related to our service." To maintain postal volume, Hongkong Post will spend about HK$2 million on a one-stop e-commerce platform in November when customers may buy products from recognized retailers, with the department providing postal services such as logistics and mail delivery. Tam hopes to attract customers from all over the world to services and products that will be retailed by small and medium-sized enterprises. Tam said the Customs and Excise Department will play an important role in maintaining the authentication of the products. Hongkong Post will also try out automatic mailing machines in certain post offices. With no aircraft of its own, Hongkong Post has to negotiate with airlines to keep costs down. Hongkong Post this year distributed 31 million promotion leaflets on the Legislative Council election.
Hong Kong's gross premiums of general insurance business in the first half grew 10.1 percent year on year to 14.258 billion HK dollars (1.828 billion U.S. dollars), the Office of the Commissioner of Insurance said Wednesday. Meanwhile, the city's net premiums of general insurance business grew by 9.6 percent to 10.251 billion HK dollars (1.314 billion U.S. dollars), but the overall underwriting profit dropped from 1.039 billion HK dollars (133 million U.S. dollars) to 826 million HK dollars (106 million U.S. dollars). The gross and net premiums of direct business increased by 11 percent to 11.487 billion HK dollars (1.473 billion U.S. dollars) and 13 percent to 8.537 billion HK dollars (1.094 billion U.S. dollars) respectively, driven by growth in accident and health business and pecuniary loss business. The underwriting profit of direct business dropped to 306 million HK dollars (39 million HK dollars) from 599 million HK dollars (77 million U.S. dollars), mainly due to adverse claims experience, with the motor vehicle business turning from a profit of 16 million HK dollars (2.1 million U.S. dollars) to a loss of 68 million HK dollars (8.7 million U.S. dollars), the profit of property damage business more than halved to 55 million HK dollars(7.1 million U.S. dollars), and the losses of employees' compensation business surging to 172 million HK dollars (22 million U.S. dollars).


China: The number of visitors to Beijing plunged during the Olympics, according to the city's tourism administration. A total of 708,000 domestic visitors checked into rated hotels in the capital during August, down 41.7 percent on the same month last year. Meanwhile, the number of international tourists fell by 7.2 percent year on year, with 389,000 overseas guests checking into Beijing hotels last month. No reason was given for the drops.
Bargain Chinese property projects will be up for grabs in coming months as developers scramble to survive falling home sales and a funding crunch. But circling foreign funds can no longer expect a big firesale as the government eases tough steps to cool the market, fearing mass bankruptcies and a damaging property price slide.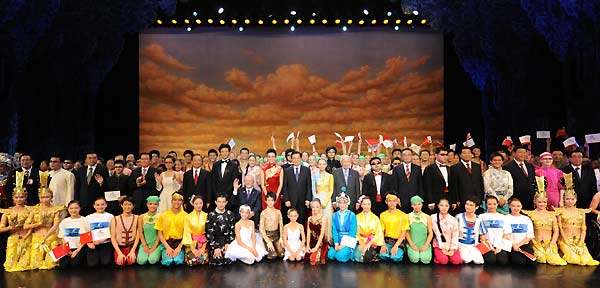 Chinese President Hu Jintao, other top party and state leaders Wu Bangguo, Wen Jiabao, Jia Qinglin, Li Changchun, Xi Jinping, Li Keqiang, He Guoqiang and Zhou Yongkang, International Paralympic Committee President Philip Craven and International Olympic Committee Honorary President Juan Antonio Samaranch pose for a group photo with artists of China Disabled People's Performing Art Troupe after the performance "My Dream" at the Poly Theatre in Beijing, China, Sept. 11, 2008.

Tsingtao Brewery, one of China's largest beer makers, will buy Carlsberg Hong Kong's remaining 25 percent stake in Tsingtao Beer Shanghai Songjiang Co for 51.25 million yuan. After the purchase, the Qingdao-based brewer will own the entire equity interest of the Shanghai company. Tsingtao bought a 75 percent stake in the subsidiary from Carlsberg in 2000. The latest acquisition was "proposed by Carlsberg, and we agreed because we wanted to consolidate our autonomy in managing the company", a Tsingtao executive identified as Wang said. "The price for the deal is quite cheap given the (Shanghai) subsidiary's net assets of 438 million yuan in 2007," said Shi Jiangang, an analyst at TX Investment Consulting Co Ltd. The price for the 25 percent stake was agreed in 2000 when the Danish brewer sold 75 percent of then Carlsberg Brewery (Shanghai) Ltd to Tsingtao for $19 million. Through the previous purchase, Tsingtao successfully filled its market vacancy in Shanghai. "Unlike other beer markets, foreign brands like Japanese Suntory and Singaporean Reeb Beer are the dominant players in the market," Shi said, adding that the acquisition is an extension of its 2000 purchase that will help Tsingtao boost its market share in the region. The Shanghai subsidiary mainly brews beer for China's eastern region. Analysts said Carlsberg's move to sell the stake could be partly because it is losing market share to local brewers. "Carlsberg's weak performance in retail dragged down its total achievements in the country, where it has only a 1.3 percent market share, down 0.1 of a percentage point from 2006," Huang Qiong, an analyst at Euromonitor International, said. Domestic products, in contrast, accounted for over 99 percent of total volume sales in China last year, when Tsingtao had a 13 percent market share following China Resources Enterprises Co Ltd, the second largest brewer in China, according to Euromonitor figures. Tsingtao posted a net profit of 560 million yuan last year, up 27.7 percent from 2006. "Middle and high-end beers are Tsingtao's main products, so it's good news and in line with the market trend," Shi said. Local consumers are taking to premium beer brands such as Tsingtao Premium and Heineken, Euromonitor said. But "the average profit for beer in China is less than 100 yuan per ton, which is very low for brewers. As a result, the leading manufacturers are increasingly focused on developing high-end products to boost profits." The Shanghai plant posted a net profit of 16.79 million yuan in 2007, up 30 percent from a year earlier, according to Tsingtao's statement to the Shanghai Stock Exchange. Tsingtao's A shares slid 0.77 percent to close at 16.81 yuan yesterday. "Through the transaction, Carlsberg can continuously focus its resources to develop its rapidly growing Carlsberg brand as well as other major beer business within China," the company said in a statement.
China's trade surplus reached a new record high of $28.7 billion in August after its imports significantly slowed as a result of weakening domestic demand.
Sept 12, 2008



Hong Kong: Hong Kong's two medical schools are facing a severe shortage of experienced teaching staff as 120 senior members have left over the past three years. Two-thirds of those who departed were attached to the Chinese University of Hong Kong and the rest were from Hong Kong University. The departments most affected are surgery, medicine, obstetrics and gynecology, and ophthalmology. Many of them had been in the field for more than 20 years and were at the peak of their careers. They set up their own clinics or joined private hospitals such as the Hong Kong Sanatorium and Hospital. They include respiratory professor Kenneth Tsang Wah-tak, clinical oncology professor Jonathan Sham Shun-tong and liver surgery professor Liu Chi-leung, all from HKU; and obstetrician and gynecology professors Yip Shing-kai and Leung Tse-ngong, medicine and therapeutics professor Leung Wai-keung, pediatric surgery professor Yeung Chung-kwong, and psychiatry professor Lee Tak-shing, from CUHK. Raymond Liang Hin-suen, HKU senior adviser to the medical school dean, said the brain drain is alarming when compared with the period between 1997 and 2003/04, when the turnover rate was "close to zero." It was practically the same at CUHK. Although both universities have been able to fill most vacancies, the knowledge gap will be hard to bridge, since most of the new recruits are junior doctors when compared with those who have left. "I would imagine there would be a decline in the quality of teaching since our new doctors may not have the experience and skills of those who left," a medical professor said. "The impact will be far-reaching as it will directly affect the quality of our medical system." A medical source told The Standard that discontent with the leadership and the work environment was a major reason behind the exodus. "Money was not the main reason. Those medical professors, who are now in their 40s and 50s, were the cream of the crop when they graduated," the source said. "Instead of going into private practice to make more money, they chose to stay with the university because they had a mission to pass on their skills and knowledge to the next generation. "Some of them enjoyed doing research in the hope of coming up with groundbreaking findings to boost the development of medical technology and to help patients. However, some of them found their heads not very supportive - which was discouraging - and that triggered the exodus." Both Liang and CUHK medical dean Fok Tai-fai blamed the brain drain on the boom in the private sector. Both also claimed the teaching quality would not be undermined as they are recruiting new blood, mostly public doctors with outstanding records.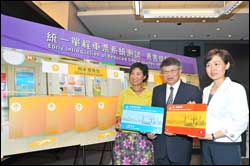 MTR passengers will be able to enjoy fare reductions of up to HK$9 from September 28, rail system bosses said yesterday. When the KCR and MTR networks merged last December, Octopus card holders were handed fare reductions that were often not available to single journey commuters when passing through an interchange station joining the two rail systems. However, MTR Corp head of operations Wilfred Lau Cheuk-man said integrated single-journey ticket automatic fare collection will be implemented soon. The interchange ticketing gates at Kowloon Tong, Mei Foo and Nam Cheong stations will be removed by December to bring about seamless travel within the entire MTR network. This month the MTRC will remove turnstiles at the three stations, allowing travelers to move freely between lines and eliminating the need to swipe cards or insert tickets an additional time. Customer service ambassadors will be present during the trial phase to assist those getting used to the new system. Passengers will notice a price reduction of HK$9, or 35.3 percent of the original fare, when they travel from Tin Shui Wai to Sha Tin. A journey from Ma On Shan to Yau Ma Tei will see a HK$4, or 26.7 percent, reduction. Students with specially coded Octopus cards will also benefit from fare reductions across the board when they travel on most MTR lines, Light Rail, or MTR buses in September. Concessions will be up to 50 percent of regular fares. For cash-strapped youngsters who now have to recharge their student status Octopus cards at HK$50 a time, the MTRC will also introduce an add- value amount of HK$10 at their customer service centers. Tsim Sha Tsui and East Tsim Sha Tsui stations will not see any changes throughout the process because they are not considered direct interchange stations. Single-journey travelers will still have to exit one station and purchase a separate ticket at the other in order to switch between the two lines.
Hopewell net soars to $6b on disposals - Hopewell Holdings (0054) said yesterday net profit for the year ended June 30 soared 127 percent to HK$6 billion, thanks to exceptional gains totaling HK$4.79 billion from asset disposals.

Peninsula owner's underlying profit slips - Hongkong and Shanghai Hotels (0045), owner and operator of Peninsula Hotels, posted a 1 percent decline in underlying profit, before non-operating items, to HK$478 million for the first half ended June 30, on lower occupancy rates at most of its properties.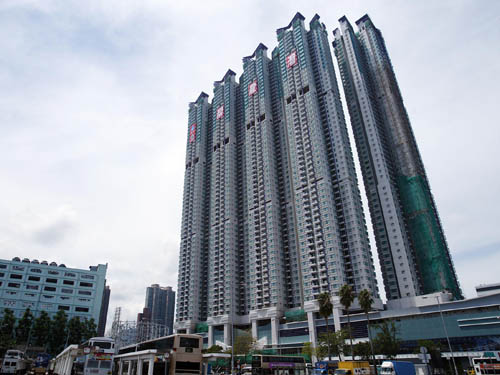 Mainland investors lured by Henderson Land's 382-day deferred payment plan bought units last year at Grand Waterfront in To Kwa Wan. Affluent mainland investors who borrowed heavily to pay peak prices for properties in Hong Kong last year are struggling to finance their deals and are being forced to walk away to cut their losses. The squeeze comes as their wealth evaporates amid the stock market and property price slump on the mainland, and as Hong Kong housing prices are also softening. At the height of the market boom last year, leading Hong Kong developers bussed mainland visitors into the city to visit show flats in new projects. The marketing blitz attracted hundreds of mainland buyers, mostly speculators from Shenzhen, Shanghai and Wenzhou. Their main targets were projects such as Grand Waterfront in To Kwa Wan, Long Beach and One Silver Sea in Tai Kok Tsui, and Central Peak Towers in Tin Shui Wai, which were among the worst hit by the turnaround, property agents said. Fredy Wu Yat-fat, the chief executive of estate agency at Hong Kong Property, said some mainlanders had either forfeited their uncompleted purchases or sold the assets at a loss in the secondary market. They were quitting their deals as a result of cash-flow problems arising from the combined effects of the mainland property and stock market slump, Mr Wu said. "In the fourth quarter of last year, mainlanders who had made big profits from their stock and property investments [at home] were happy to buy Hong Kong property. But as property and stock prices fell this year, they have come under increasing cash-flow pressure," he said. Prices in Hong Kong's mass housing market have dropped 5 to 10 per cent this year and analysts expect a further 20 per cent decline. In October last year, Hong Kong Property arranged for about 400 mainland investors, mainly from Shenzhen, to view units at Long Beach and One Silver Sea. About 10 per cent bought units, mainly in Long Beach. Some of these buyers had completed their purchases by April and some were due to close the deals next month, agents said. Sources said two of the buyers in this project had already forfeited their deals and 10 others were expected to walk away when their contract completions are due next month. "They stand to lose HK$500,000 or more," the source said. Of those who have completed their deals, more than 10 are selling in the secondary market at an 8 to 10 per cent discount to their purchase prices. They make up 10 per cent of Long Beach properties on the secondary market. Wilson Chan Wai-kwan, an assistant district manager of the Hong Kong Property branch at Grand Waterfront, said a Shanghai investor recently sold a 757 square foot unit at a loss of HK$147,000. Mr Chan said the investor bought the unit for HK$4.51 million in October last year and resold it for HK$4.37 million through the branch. "Buyers holding more than one unit are offering to sell at 5 per cent below market prices or even at a loss," he said. Lured by Henderson Land Development (SEHK: 0012)'s 382-day deferred payment scheme, investors accounted for about 70 per cent of sales when the developer offered three blocks of Grand Waterfront on the market that month, Mr Chan said. Now about 30 units in the development were being offered at discounts in the secondary market as the owners did not want to arrange mortgage loans to pay outstanding balances next month. Perry Fong Kai-ming, a sales director in the Tuen Mun and Tin Shui Wai districts at Centaline Property Agency, said half of the 40 transactions concluded at Central Park Towers were recorded at a loss last month. "Buyers suffered losses of about HK$100,000 each," Mr Fong said. Some of the owners were willing to take the losses now rather than face greater losses if they waited, while others were under pressure to liquidate their assets to finance mainland investments amid a credit crunch, he said. The units were bought at HK$2,500 to HK$4,000 per square foot and were sold at about 5 per cent below their transaction prices. Meanwhile, residential rents in the development have dropped 25 per cent to HK$9 per square foot as more units are being offered for lease.
Singapore developer Hong Fok will look to Hong Kong to boost revenue when it launches its first residential project here this month as sales in its home market come under a cloud.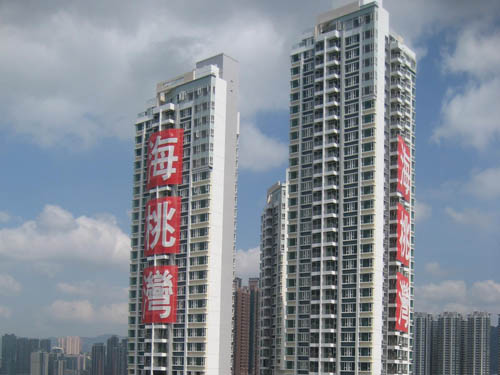 Nan Fung Development's project in Tai Kok Tsui is scheduled for release later this year. Buoyed by signs of a recovery in demand for quality flats, developers plan to launch 12 new residential projects offering a total of 9,163 units in Hong Kong in the next few months, say agents. The move follows encouraging sales recorded recently by Le Bleu Deux in Tung Chung, and Soho 38 in Central, according to Fredy Wu Yat-fat, the chief executive of Hong Kong Property Agency. Three projects - Seasons Monarch, a low-density residential project by Cheung Kong (Holdings) (SEHK: 0001) in Yuen Long; Hongkong Land Holdings' Sail at Victoria in Kennedy Town; and Wheelock Properties (SEHK: 0049)' Babington in Western - are expected to pre-sell shortly. Seasons Monarch in Kam Tin, to the north of the Shek Kong Barracks, provides 244 villas and semi-detached houses ranging from 2,700 to 5,000 square feet. It is the third phase of the Seasons Villa development and asking prices are expected to range between HK$8 million and HK$12 million per unit. But the project looks likely to face strong competition from developments planned for release at the same time, with Sun Hung Kai Properties (SEHK: 0016) due to launch two low-density projects in Yuen Long by the end of the year. The SHKP developments are La Maison Vineyard in Ngau Tam Mei - the second phase of the Vineyard project - and One Hyde Park in Tai Tong. La Maison Vineyard provides 26 houses ranging in size from 2,000 to 2,500 sq ft. The minimum entry prices for the units are expected to be about HK$20 million each, according to SHKP. Ricacorp Properties managing director Willy Liu Wai-keung said other large projects due for release later this year included SHKP's Cullinan at Kowloon Station; Nan Fung Development's Tai Kok Tsui project; Cheung Kong's Tai Wai project; and Henderson Land (SEHK: 0012)'s Wu Kai Sha project - all of which were planned for pre-sale at year-end. Mr Liu said he expected buyers to respond positively to the new supply and help lift prices in the primary market by some 5 per cent by the year-end. Mr Wu said the sales performance of Soho 38 and Le Bleu Deux had proved that demand remained strong. "Prices at Soho 38 reached HK$25,000 per square foot, while Le Bleu Deux sold 400 units within two weeks at prices that were 20 to 30 per cent higher than the secondary market in the district," he said. "This proved that projects could still command record strong sales if they were of a good quality." But while sentiment in the primary market was showing signs of picking up, data on secondary market deals continue to track a decline in demand. David Chan, a director at Ricacorp Properties, said sales in the leading 50 housing estates monitored by the firm amounted to 219 last week - down 11 per cent from a week earlier. Its research also showed that the average price of deals done in the housing estates was down 0.6 per cent - the 11th consecutive weekly decline. He believed the poor performance in the secondary market was due to the stock market slump and the launch of Le Bleu Deux, which had attracted the attention of potential buyers, and that deal volumes could rebound this week as no new projects would be launched. Although transaction volumes might rise, prices in the secondary market could continue to fall, he said.


China: Competition in China's sportswear market is intensifying following the Beijing Olympics. Chinese sportswear brands like Li Ning (2331) and ANTA Sports Products (2020) are already well- established, but Xtep International (1368), which listed in June, has tripled profits in its first interim report.
Slower surge in imports fuels economic worries - China import growth slowed far more than expected last month, fuelling fears of softening domestic demand in the world's fastest-growing economy and adding to pressure for growth-driven policies.
Shenzhen's economic growth in the first half of this year slid to its lowest level in almost three decades, as the leading special economic zone grappled with global economic uncertainties and problems at home. The city registered a year-on-year gross domestic product growth of 10.5 per cent in the first six months, the lowest rate since Shenzhen became a special economic zone in 1979, according to official data. Mayor Xu Zongheng told a radio programme on Tuesday that Shenzhen was facing a severe economic situation that was "even tougher and more severe than the 1997 Asian financial crisis". Shenzhen posted GDP growth of more than 27 per cent between 1980 and 2006. Last year, it grew 14.6 per cent. The city's GDP growth for the year had been revised from 14.7 per cent to 12 per cent, Mr Xu said. He said the economic slowdown followed the subprime mortgage crisis in the United States, declining global demand and tightened domestic monetary policy. The government would do its best to ensure growth of 12 per cent this year, including helping businesses raise money and increasing land supply for property development, he said. Mr Xu insisted strong economic growth was still occurring in Shenzhen's telecommunications equipment and petroleum and natural gas transport industries, which would contribute greatly to GDP. Guo Wanda, a vice-president of China Development Institute, a municipal think-tank, said the city would continue to face severe challenges in the coming months in its quest for 12 per cent growth. "For us, the troika driving economic growth are always consumer demand, investment demand and foreign export demand," Mr Guo said. "We have seen a terrible drop in two of them. The US subprime woes, cost increases and the yuan's appreciation have had a negative impact on exports, leading to a flood of shutdowns in labour-intensive industries in Dongguan and Shenzhen." He said the authorities would probably introduce measures to boost investor confidence and the central government had sent several teams to assess the situation in Guangdong and the impact of the external slowdown. "This probably will lead to a change in policy from tightening to stimulating the economy," he said.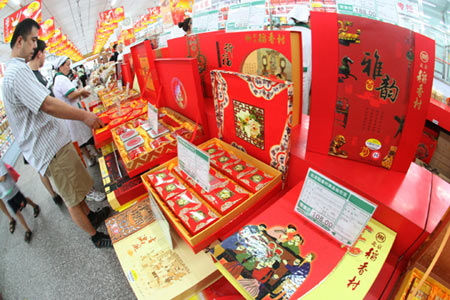 Products with more than three layers of packaging or those that occupy less than 45 percent of package space will be banned if a draft regulation is passed as law. Such products can neither be produced nor sold in the country, says the draft, put up for public hearing yesterday. The packaging cost should not exceed 15 percent of the product's price, says the draft, prepared jointly by the General Administration of Quality Supervision, Inspection and Quarantine (AQSIQ) and the National Development and Reform Commission, the nation's highest planning body. "The regulation will apply to all goods produced and sold in the country and the imported ones, too", Liu Zhaobin, director of the AQSIQ's laws and regulation department, said at the public hearing. People and firms that make or sell such products face fines of up to 50,000 yuan ($7,300). To ensure that producers and retailers do not get away with violations, the draft makes it mandatory for all producers to maitain records for packaging of their products. The draft will be submitted to the State Council, the country's cabinet, soon, Liu said. It is part of the State Council's legislative agenda this year. But before that, it is necessary to hear what the public has to say about it. The move is aimed at "saving resources, protecting the environment and rights and interests of consumers", he said. "Excessive or luxury packaging is becoming an increasingly serious business causing huge loss of resources". At least one-third of the about 280 billion yuan worth of packaging material that Chinese people throw away every year is considered excessive, Liu said. Di Jiankai, director of the Ministry of Commerce's commercial services administration department, said such packages and wrappers make up half of the volume of solid rubbish in cities. And its percentage has been increasing at an alarming 10 percent a year. Liu specially referred to the Mid-Autumn Festival delicacy, moon cakes, saying they are among the most excessively packaged products.
Sept 11, 2008



Hong Kong: Getting licences and construction permits in Hong Kong takes less time and money than it did a year ago, and opening a business is cheaper, the World Bank's annual Doing Business report says. But it adds there is still a lot of red tape to wade through. Cuts in taxes and business costs have been offset by big rises in transport costs for companies in import and export businesses, it also says. Hong Kong remains the fourth easiest place to do business, behind Singapore, New Zealand and the United States, according to the report by the World Bank's International Finance Corporation. It was easier to obtain credit and pay taxes in Hong Kong than Singapore, and enforcing contracts and obtaining licences were cheaper. The report covers 181 economies and examines business regulations and reforms that affect growth, productivity and investment. Regulations affecting 10 aspects of a business are examined - the ease of starting a business, dealing with licences, employing workers, registering property, obtaining credit, protecting investors, paying taxes, trading across borders, enforcing contracts and closing a business. The findings cover a year-long period from June last year. The study takes as its yardstick for efficiency the time and procedures required to obtain the necessary licences and permits to build a warehouse. Getting licences in Hong Kong involves 15 procedures, eight fewer than a year ago; takes 119 days, down from 155 last year; and costs 18.7 per cent of per capita income, down from 21.3 per cent last year. The cost of starting a business has dropped from 3.1 per cent of per capita income a year ago to 2 per cent. The total tax rate dropped from 24.4 per cent to 24.2 per cent of profits. However, shipping costs rose nearly a fifth. The cost of firing someone held at 62 weeks of pay. Reviews of Hong Kong's licensing system resulted in the launch of a programme entitled "Be the Smart Regulator" in February last year to improve transparency and cut the time needed to issue licences. Eight business liaison groups were set up covering different sectors. A government spokesman said: "The significant improvement in Hong Kong's ranking in dealing with licences reflects the government's efforts and commitment to improve the efficiency, transparency and customer-friendliness of our licensing system under the `Be the Smart Regulator' programme." Since the first survey in 2003, there has been no change in the number of procedures or days it takes to set up a business in Hong Kong - five procedures and 11 days. Entrepreneurs need to check their company names and sign up for employee compensation insurance, each of which takes a day. They must apply to the companies registry, which can take a week. A day is spent obtaining a business registration certificate, and another is needed for a company seal.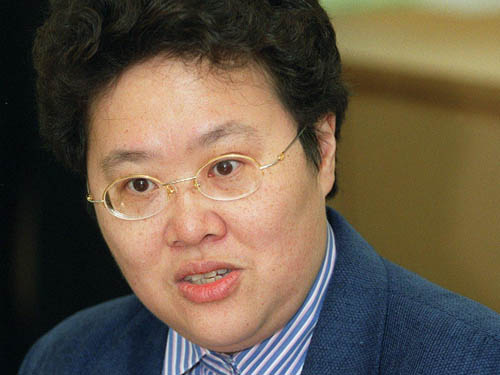 The launch of a health care voucher scheme next year is expected to benefit 660,000 elderly people in the city in the first year of operation. The three-year pilot scheme, which starts on January 1, will provide an annual private medical care subsidy of HK$250 to those aged 70 or older. Under the scheme, eligible senior citizens will be entitled to five electronic vouchers, worth HK$50 each, every year. Although inflation is on the rise, Deputy Director of Health Gloria Tam Lai-fan said the subsidy would not be increased, but the government would consider reviewing it at a later date. "I am afraid the amount will not be changed from January 1, as funding has been calculated on the basis of the Finance Committee allocation approved earlier this year," Dr Tam said. "We will have an interim evaluation after its second year and a full evaluation after the third year. So we will not rule out any necessary adjustments after the reviews." The scheme will be operated electronically and the elderly will not be required to pre-register or collect vouchers. They will only have to present their identity cards when seeking consultation with doctors participating in the scheme. They can use more than one voucher at a time and can retain unused vouchers for use in the second or third year. But they are not allowed to use the following year's vouchers in advance. Interested health care providers - from nine sectors - can begin enrolling in the scheme on the internet or by filling the application forms from September 30. They can join at any time during the three-year period. The nine sectors are western medical practitioners, Chinese medicine practitioners, dentists, chiropractors, registered nurses and enrolled nurses, physiotherapists, occupational therapists, radiographers and medical laboratory technicians. Participating medical providers will have to display a special logo at their clinics or workplaces and will be given access to patients' account details and voucher information. After consultation, a patient will have to sign a hard copy printout, which the provider will have to keep for the record. Reimbursements will also be made electronically. Dentists, physiotherapists and doctors expect a poor response. Dental Association president Sigmund Leung Sai-man expected only 20 per cent of their 1,600 members would enrol in the scheme. "Many of us will observe how the scheme goes first. The elderly usually consult western and Chinese practitioners more frequently than us," he said. "Another concern is many of us do not have computers or access to the internet. Many will not want to invest in internet access as we are still uncertain how many people will consult us. We have to bear great cost." His view was echoed by Kwan Chi-yee, president of the Hong Kong Chinese Herbalists Association. "Chinese medicine practitioners seldom use computers in their clinics. We may not want to get a computer specifically for the service," he said. However, Dr Tam said the department was optimistic the scheme would attract a number of health care providers.
A public passageway which offered drivers a short cut between Cheung Kong Center and Garden Road in Central is being closed off once again - this time, legally, by the management of Citibank Plaza.
A traditional Cantonese bamboo theatre will be erected in the heart of Paris next month to showcase award-winning director Johnnie To Kei-fung's fashionable version of Cantonese opera at an all-night cultural extravaganza. To is the first Hong Kong artist invited to take part in Nuit Blanche - literally White Night but also known as All Nighter - held on the first weekend of October every year. The outspoken director will stage an event called Hong Kong Action at the historic Comedie-Francaise theatre, founded in 1680 close to Paris' celebrated Louvre art gallery. To said he was given the space and theatre cast members, and he could do whatever he wanted for the show. "As a film director I hope to do something that's related to film. But I'm still finalising my ideas. It could be something abstract, or some installation art related to film," he said. It is understood a Cantonese opera performance will be staged with projections of classic Japanese samurai films and Hollywood westerns. "Why not give it a try? This is a great opportunity to showcase Hong Kong culture overseas," said To, who is chairman of Hong Kong Arts Development Council's film and media art group. "I heard that all the bars and galleries will open overnight. It's like a carnival. But the truth is that Paris has a very high tolerance for art and people there can communicate beyond language barriers. It is great for us to give it a try." Nuit Blanche was launched in Paris in 2002 under mayor Bertrand Delanoe. The festival kicks off when the sun sets on the first Saturday of October and ends when the sun rises on Sunday. All museums, galleries and many cultural institutions will be open all night for free and many places will be turned into temporary spaces for performances and art installations. Artists participating in this year's Nuit Blanche include American singer-songwriter and poet Patti Smith, Chinese contemporary artist Gu Dexin, Indian film director Shaad Ali, French artist Pierrick Sorin and Japanese sound artist Ryoji Ikeda. The concept has spread to many other cities, including Toronto and Seoul. The event will take place on October 4 and 5.
Lee Shau-kee, the chairman of Henderson Land (0012), believes the US government's bailout of the nation's two mortgage finance firms lacks the strength to power up the stock market.
Although suicide rates in Hong Kong have been on the decrease since 2002, new research by Hong Kong University shows startling increases among those aged 15 to 24, and unemployed women.
Mid-Autumn Festival lanterns are keeping pace with the rise in mooncake prices, forcing shoppers to dig deeper into their pockets to celebrate the annual moon-watching event.
Amid the global economic slowdown, fund managers withdrew US$28.5 billion (HK$222.3 billion) of funds under management during the second quarter, according to a quarterly survey by Hongkong and Shanghai Banking Corporation covering 12 fund houses around the world.
British warship HMS Kent has been looking forward to the visit in Hong Kong and later in Chinese mainland, its Commanding officer Simon Hopper said Tuesday at a briefing onboard the warship, which called in the Hong Kong Special Administrative Region on Monday. HMS Kent, one of British Royal Navy's most modern warships, called in Hong Kong on Monday for a ten-day visit, following a port visit to Tokyo. Commander Simon Copper said at the briefing, HMS Kent will conduct a logistics stop and meet with the local government's Flying Service to "learn from each other's experience" in rescue at sea. Its 185 crew onboard the warship, for many it is the first time they have visited a Chinese city, will enjoy the excellent recreational and sightseeing opportunities and experience the unique cultural mix in this diverse and modern region, he added. Captain Andrew Tate, British Royal Navy's Naval and Air Attache in British Embassy in Beijing, said HMS Kent will also pay a goodwill visit to Qing Dao in Chinese mainland's Shan Dong Province after it leaves Hong Kong next Thursday, in the hope of "developing a positive bilateral relationship between Chinese PLA navy and British Royal Navy." HMS Kent, weighing 4,900 tonnes and 133 meters long, is British Royal Navy's 14th Type 23 "Duke Class" Frigate. The warship was launched in 1998 and accepted into service in 2000 as the first ship to join British Royal Navy in the 21st century.


China: Mainland authorities will review the amendment of laws to give rural people more freedom to trade rights to their non-farming land - a move that experts believe will pave the way for further land reforms. A Communist Party plenary session next month will review the amendment of the land management law to allow the transfer of "rural construction land" - meaning land not used for farming - including plots intended for township enterprises, community facilities and housing, the China Business Journal reported, quoting an anonymous source. However, it is not clear if the amendments will allow rural residents to transfer all kinds of non-farming land or just the land reserved for township enterprises and public facilities. The Ministry of Land and Resources banned sales of rural residential land this year. The revision will allow collective entities in the countryside - usually the village committee - to sell land rights to developers without requiring local government approval. Arable land, which is under strict control because the government is desperate to maintain enough of it to feed the huge population, is not covered by the amendments. Li Ping , the Beijing representative for the Rural Development Institute, a US group that campaigns for land reform, said the amendments would be a big step towards rural land reform, especially if residential land is included. Farmers would be the primary beneficiaries if they were allowed to sell their residential land. "It will be a big step, a step that has been talked about for a long time, but we have never before seen any concrete step," Dr Li said. If the new rules apply only to land for town enterprises and rural public facilities, the primary beneficiaries would be the collective entities. The amendments would have a significant impact on the property market, as land supply would increase significantly. According to Dr Li, the mainland has 16.5 million hectares of rural construction land, of which 12.3 million hectares is rural residential land. The pressure to relax controls on the sale of rural construction land has been mounting against the backdrop of rapid urbanisation. But the mainland is also facing the problem of keeping at least 120 million hectares of arable land, and releasing rural construction land to the property market seems to be the only solution to balance the need for urbanisation with the need to maintain enough arable land for food, according to analysts. The Ministry of Land and Resources also issued a regulation yesterday instructing local governments to make sure that if they want to use a plot of farmland for other purposes, they must first convert a plot of non-farmland of equal size to arable land. Dr Li said the government should support the new amendments by educating farmers about their rights, since local cadres had been telling them for decades that land for township enterprises was not theirs. The property law stipulates clearly that collective land belongs to the members of a collective entity and that it is unlawful for local cadres to pocket the proceeds without distributing them to the members, although the cadres often do, he said.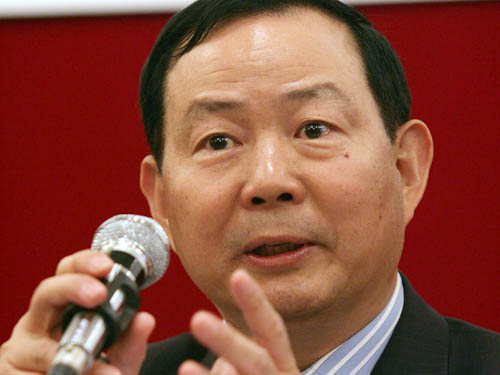 China Life (SEHK: 2628, announcements, news) Insurance, the nation's leading insurer, says it has been approached by foreign financial firms seeking to raise funds but is cautious in looking for overseas investments. Chairman Yang Chao said yesterday the insurer had been frequently approached by overseas banks, funds and insurance companies seeking fresh capital amid losses incurred from the subprime loan crisis. "We are looking for some quality assets that will benefit both parties," Mr Yang said. "We must ensure every investment will generate a satisfactory return." China Life has been looking to diversify its portfolio of investments after a 60 per cent slide in the mainland's benchmark stock index eroded income from equity holdings. It booked a 4.3 billion yuan (HK$4.9 billion) gain from selling equities in the first half of this year, including about 3 million Visa shares bought in the credit card firm's initial public offering in March. Analysts said China Life's prudent and conservative investment approach had led to a better investment track record than its closest rival, Ping An Insurance (Group) (SEHK: 2318), and mainland lenders. "It's not reasonable for any company to consider buying low now just because it wants to enhance its global presence," an analyst said. "Many of China Life's peers and lenders have already paid the price." China Life's exposure to the equity market is 13.3 per cent of its investment portfolio, the same as in June but down from the 22.95 per cent in December last year. Opportunities had risen from the mainland market slump, it said. "We are discovering some good investment values in the medium to long term," said Wang Junhui, the vice-president of China Life Insurance Asset Management. Mr Wang said the firm was ready to invest in private equities in sectors such as energy and electricity once the regulator issued approvals. To support earnings growth, it was also keen to expand into rural markets while seeking investment opportunities abroad, Mr Yang said. He said that China Life would target villages such as Dunhuang's Huangqu, where farmers earned an average of 4,500 yuan a year but wanted health insurance in case of serious illnesses. "That market is huge. The rural market is certainly where we are very keen to secure greater success," Mr Wang said. He noted that China Life already dominated the market in many third-tier rural cities and had a more than 80 per cent share of the domestic life insurance market. Separately, Mr Yang said the company had not considered a listing for the whole group, contradicting comments from the head of the industry regulator. Wu Dingfu, the chairman of the China Insurance (SEHK: 0966) Regulatory Commission, said last week that the parent companies of China Life and PICC Property and Casualty (SEHK: 2328) were considering listing their entire groups to better manage risks and allocate resources. "The regulator might have a much longer view on this issue. We still have to manage our credit losses. The market is still not mature enough [for us] to do this," he said.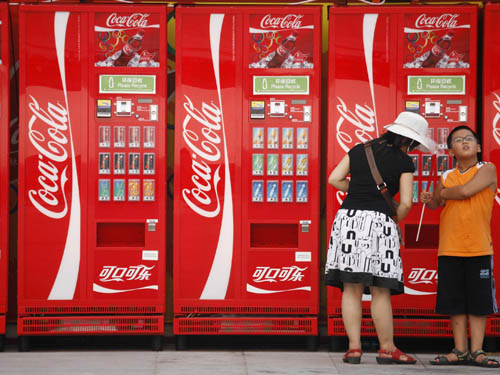 Coca-Cola's takeover bid for Huiyuan Juice, facing opposition from rival juice makers, is the latest test of Beijing's openness to foreign investment. Coca-Cola's planned HK$19.65 billion purchase of China Huiyuan Juice Group is facing opposition from rival juice makers, a worrying sign that growing protectionist sentiment on the mainland will scuttle foreign investment deals. The European Chamber of Commerce in China warned yesterday that surging economic nationalism was holding back European business on the mainland and deterring foreign investment. European companies were carefully watching how mainland regulators dealt with Coca-Cola's bid for Huiyuan Juice, chamber president Joerg Wuttke said in Beijing. Coca-Cola's attempted takeover of Huiyuan Juice is the latest test of Beijing's openness to foreign investment after United States buyout company Carlyle Group recently admitted defeat in its three-year battle to buy a stake in Xugong Group, the mainland's biggest maker of construction equipment. ArcelorMittal, the world's top steelmaker, on Monday said it also faced obstacles over expanding through acquisitions in the country. Rival local juice makers are planning to fight the Coke deal, which will give Coca-Cola a dominant share of the country's rapidly growing juice market as well as control of a well-known national brand. "Economic nationalism is rising and that's a concern for us," Mr Wuttke said at the launch of the chamber's annual position paper on business in China. European companies were routinely excluded from bidding for public projects and local standard-setting put foreign companies at a disadvantage, Mr Wuttke said. He added that European energy companies had lost infrastructure contracts to local rivals despite offering competitive prices and better technology, while no European company had yet made a substantial acquisition on the mainland. "Economic nationalism is primarily driven by economic interest groups that want to either maintain monopolies or gain monopolies that try to exclude foreigners as a competitive force," Mr Wuttke said. Beijing is closely watching developments in the Coca-Cola bid, the largest ever attempted by a foreign company on the mainland, with some predicting the government will be reluctant to see a national brand fall into American hands. Li Su, a lawyer representing Wahaha Group workers in their dispute with estranged joint-venture partner Groupe Danone, which has agreed to sell its stake in Huiyuan Juice to Coca-Cola, said he would issue an open letter of protest to the Ministry of Commerce this week. "The local juice makers we approached expressed opposition and concern about the deal," Mr Li said. "They worry if the deal goes through, they'll be dead within six months. "We must do something to keep the Huiyuan brand because we have so few national brands on the mainland." Coca-Cola's takeover bid is also sure to test the country's new anti-monopoly law, which contains special provisions designed to protect national brands. "We are really watching the Coca Cola-Huiyuan case very closely in order to see if that is dealt with by the law or if it is dealt with in respect to media and public concerns," Mr Wuttke said. He added that barriers designed to protect strategic industries, such as steel and car-making, were one reason why the 27-member European Union now accounted for less than 5 per cent of foreign direct investment inflows into the mainland. ArcelorMittal tried to take over steel company China Oriental (SEHK: 0581) last year but had to pull back to a 47 per cent stake as the central government restricts ownership of steel assets. "I wish China would let us do more. We tried to expand by acquiring more in China, but so far have not been lucky enough," said Lakshmi Mittal, the chairman and chief executive of the company.
China's consumer price index (CPI), a measure of inflation, was up 4.9 percent in August, the National Bureau of Statistics announced on Wednesday.
China's outbound investment picks up - For 16 years, China has been the biggest recipient of foreign direct investment. Now, its outbound investment is starting to catch up, as more local businesses are starting to look for bigger overseas markets.
Sept 10, 2008



Hong Kong: U.S. government takes over Fannie, Freddie - The U.S. government said on Sunday that it will take over two mortgage giants Fannie Mae and Freddie Mac in order to stabilize the financial market. Fannie, Freddie rescue plan to cost $25 bln and Bernanke says Fannie, Freddie in no danger of failing.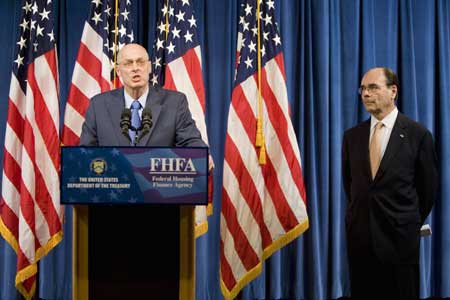 Secretary of the Treasury Henry Paulson (L) and Jim Lockhart, Director of the the new independent regulator, the Federal Finanace Agency (FHFA), announce that the government is taking control of mortgage finance companies Fannie Mae and Freddie Mac during a news conference at the Office of Management Supervision in Washington, DC, Sept. 7, 2008.
Liberal party shaken by crushing defeats - The Liberal Party was shaken to the core early on Monday — with a crushing defeat at the Legislative Council elections.

Democrats retain veto power after HK election - Hong Kong's pro-democrats breathed a sigh of relief on Monday after retaining enough seats to veto constitutional reforms following the city's hard-fought legislative elections.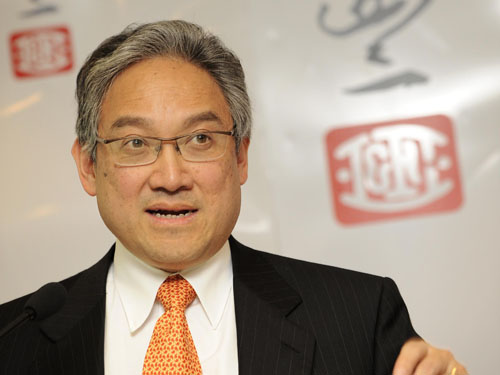 Global trading group Li & Fung is raising HK$3.88 billion from selling a 4.62 per cent stake to Singapore's Temasek Holdings, boosting its capital for acquisitions. Li & Fung said it agreed to sell 168 million new shares at HK$23.09 each, a 2.39 per cent premium to the stock's closing price of HK$22.55 on Friday. The deal will make the Singapore sovereign wealth fund its second-largest shareholder after the Fung family. "We are very pleased to have Temasek as one of our strategic shareholders in view of its long-term approach to this investment," said William Fung Kwok-lun, the managing director of Li & Fung. The deal may help restore some investor confidence in the group, whose shares have dropped 28.41 per cent this year amid an economic slowdown in the United States, its biggest market. David Heng, the managing director of Temasek, said Li & Fung was a global leader in consumer goods sourcing and had excellent potential. To increase income from outside the US, Li & Fung has been making acquisitions in other markets. The purchase of the world's biggest mail-order group and department store KarstadtQuelle boosted its exposure in Europe by 7.8 percentage points to 30.5 per cent in the first half of this year. At the same time, sales to the US decreased 7.6 percentage points to account for 60.3 per cent of total turnover. "We have no doubt that this strategic investment by Temasek will be of benefit to Li & Fung's activities in Asia and will further enable us to take advantage of any acquisition opportunities that may arise in this economic environment," Mr Fung said. The group also needs fresh capital to help finance the purchase of New York handbag importer Van Zeeland for as much as HK$3.87 billion announced last month. Mr Fung has said the company was considering either issuing bonds or shares to raise funds for the deal. However, Standard & Poor's Ratings Services warned of a possible rating cut on Li & Fung and the group's US$500 million bonds if the company funded the acquisition with debt. The company is rated A-minus, four steps above non-investment grade. Temasek, which manages US$134 billion in assets, has agreed not to sell the Li & Fung shares for 12 months. Temasek is also the second-largest shareholder in Citic Resources Holdings (SEHK: 1205), the Hong Kong-listed unit of state-owned conglomerate Citic Group. The Singapore government's investment arm holds 11.47 per cent of Citic Resources. The firm also has stakes in Hong Kong-listed companies such as China Construction Bank (SEHK: 0939, announcements, news) Corp, Bank of China, Sino-Forest Corp and Dongfeng Motor Group (SEHK: 0489). Li & Fung's first-half net profit jumped 17.7 per cent to HK$1.24 billion. Six acquisitions fuelled sales growth of 25.5 per cent to HK$47.39 billion from a year earlier.
Hong Kong's total port cargo throughput recorded an increase of seven per cent year on year in the second quarter of the year, to 68.2 million tons, new figures released on Monday showed. The Census and Statistics Department figures showed inward and outward cargo went up by two per cent and 13 per cent respectively to 38.1 million tons and 30.1 million tonnes during the period. "For the first half of this year, total port cargo throughput increased by 10 per cent over a year earlier to 130.8 million tons," a department spokesman said. Within this total, inward and outward port cargo rose by seven per cent and 15 per cent to 74.4 million tons and 56.4 million tons respectively," he added. On a seasonally adjusted quarter-to-quarter comparison, total port cargo throughput increased by 1 per cent in the second quarter. "Within this total, inward port cargo recorded virtually no change, while outward port cargo rose by one per cent," he said. Within port cargo, seaborne and river cargo grew by 2 per cent and 21 per cent over a year earlier to 47.1 million tons and 21.1 million tonnes, respectively, in the second quarter of this year. Hong Kong, one of the busiest international container ports in the world, handled some 24 million TEUs of containers last year.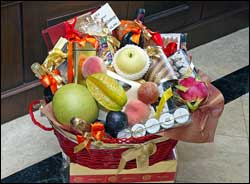 Cost-conscious companies and a middle class hit by the stock market slump are cutting back on their Mid-Autumn Festival spending this year, gift shops say. Customers of Far East Flora, which targets the upper-class market, have cut their spending by around 20 percent, according to senior manager Kelly Lau Ching-mei, while customer numbers have fallen about 10 percent. "This year, more customers are choosing hampers in the mid-price range of HK$500 to HK$600 rather than something costing over HK$1,000, which they did last year," Lau said. Mid-Autumn hampers usually comprise a box of mooncakes, Chinese tea leaves, seasonal fruits and, at the upper end, bottles of wine to go with decorations and bouquets to make the gift more appealing. The prices of such hampers range from around HK$300 to more than HK$4,000. Hong Kong Flower Shop, which also provides Mid-Autumn hampers to an elite clientele, said most customers were opting for items priced at around HK$700 this year compared with more than HK$1,000 last year. Along with poor economic conditions, shops also have to deal with inflation with higher costs for hamper contents, higher wages and increased delivery charges. "For example, even the rattan baskets we use have gone up by about 20 percent, as has the price of fruit. However, we try not to pass these additional costs to our customers, which means our profit margins are down by around 10 percent," Lau said. To save money, some customers are going instead for basic gift items such as mooncakes without the trimmings. This has boosted sales of major bakeries. Peter Tse Hing-chi, director of Tai Tung Bakery, one of the city's oldest bakeries, said more customers were buying directly from his outlet even though the retail price had gone up 7 to 10 percent. A box of four basic mooncakes is now selling for around HK$170, up HK$20 from last year. "Buying mooncakes on their own is a lot cheaper than ordering the hampers. But sending mooncakes to business partners and relatives is a tradition which cannot be skipped no matter how poor the economy is," Tse said.
The 3rd Asia Brand Ceremony will be held in Hong Kong on September 9, 2008. Lenovo Group Ltd edges into the top ten of 500 largest brands in Asia in 2008 for the first time. It lies in the eighth place. In terms of the global management, Lenovo establishes a triangular structure of innovation taking China, the United States and Japan as the core. This kind of business model optimizes Lenovo's strategic arrangement in the world and achieves the unique superiority for Lenovo. Meanwhile, Lenovo has formed a common and clear cultural structure---"New Lenovo Culture" and shaped an enterprise style after it purchased the PC business from the IBM.


China: China will launch its third manned space flight and attempt its first spacewalk this month, shortly before marking the 59th anniversary of its founding on October 1, in a display of confidence to the world. State media said the Shenzhou VII would head into space from the Jiuquan Satellite Launch Centre in the northwestern province of Gansu between September 25 and 30, just days before the October 1 National Day, when the government heralds its achievements. The two previous manned missions, one in 2003 and another in 2005, both took place in October. The latest launch comes as the nation celebrates its successful hosting of the Olympics, though the year has been overshadowed by the Sichuan earthquake and protests by Tibetans. Three astronauts would take part, with one making the eagerly anticipated spacewalk, which would be broadcast live on television, Xinhua said. Earlier media reports had said the launch had been moved up from the originally planned October to shortly after the Paralympics, which end on September 17. The government is keeping the identity of the three astronauts and their three-member backup team secret, but a spokesman for the centre was quoted as saying they were skilled and in good physical and mental health. Yesterday state television showed workers in orange uniforms helping three unidentified astronauts into the spacecraft in a drill, though it was not known if the footage was current. The nation's first man in space, Yang Liwei, became a national hero after his mission and there has been speculation he might make another voyage. Two more astronauts joined the space elite in 2005 with the launch of Shenzhou VI on a five-day mission. Workers were preparing the spacecraft yesterday, which will then be joined to a Long March II-F rocket for the launch. "All the major systems involved in the launch are now under final preparation," the spokesman said. "The main tests for the spacecraft, the Long March II-F rocket, suits for the spacewalk and a satellite accompanying the flight have also been finished." Earlier versions of the Long March rocket used for launching satellites exploded shortly after takeoff in 1995 and 1996, but the rocket family appears to have been trouble-free since. Two specialized craft, the Yuanwang-5 and its recently launched sister ship, will be used to help track the spacecraft. Planners have not specified the landing site, though state media said it was "fully prepared". The rocket would also carry a satellite into orbit, Xinhua said, but gave no details. Preparations were in the final stages for ground control, the launch site and the control system. The nation's space programme has allowed it to realise a long-held dream of becoming a space power alongside the United States and Russia. Lunar flights are planned for the future, officials have said. The opening ceremony of the Olympics on August 8 also celebrated the nation's achievements and ambitions in space. The government has made developing science and technology a key policy. Besides its space program, the nation is also trying to develop its own technology for civil aircraft and high-speed trains to reduce reliance on other countries.
The mainland will adopt five new measures to facilitate exchanges with Taiwan - a move apparently aimed at paving the way for its main negotiator to visit the island next month. The measures were announced by Wang Yi , head of the Taiwan Affairs Office, at a forum in Xiamen yesterday. Top of the list was to greatly simplify travel permits for Taiwanese on the mainland - a step close to granting them identity cards. Other new measures include allowing mainlanders to travel to Taiwan proper through the so-called mini-three links - mainly ferry services between the mainland and the islands of Quemoy, Matsu and Penghu, which are controlled by Taiwan. In addition, the mainland will add six cities - Beijing, Nanjing , Chongqing , Hangzhou , Guilin and Shenzhen - to the list of cities that can handle travel permits for Taiwanese. Beijing will also study the possibility of allowing more mainlanders to visit Taiwan under an earlier travel relaxation policy that was put forward by both sides. Relaxing the rules on issuing travel permits carries special symbolic meaning since under the new policy the mainland will assign a permanent permit number for each Taiwanese applicant - a step that amounts to issuing a permanent travel document or identity card on the mainland to Taiwanese. The new step will help to simplify bureaucratic restrictions on Taiwanese who live on the mainland because many government documents often require submission of the permit numbers and their transient nature was a headache for many Taiwanese. Taiwanese businessmen have long complained about the tedious process needed to renew travel permits and have been urging Beijing to simplify the procedures. According to Mr Wang, the new rule will come into force from September 25 and an additional five mainland cities will be able to handle renewal applications from October 20. The announcement by Mr Wang followed initiatives mapped out by Taiwan's Mainland Affairs Council last week, which allowed more mainlanders to visit Quemoy, Matsu and Penghu. Meanwhile, Mr Wang also said that two pandas the mainland had offered to Taiwan could be delivered to the island soon. Chen Yunlin , head of the semi-official Association for Relations Across the Taiwan Straits, is scheduled to visit Taiwan next month and hold talks with Wu Poh-hsiung, chairman of Taiwan's ruling Kuomintang, and Chiang Pin-kung, head of the Straits Exchange Foundation. The visit by Mr Chen - the first by a top mainland negotiator to Taiwan in more than a decade - will be closely watched as the two sides of the Taiwan Strait take steps to repair ties damaged under the government of former Taiwanese president Chen Shui-bian.
China's railway investment soared 37.5 percent from January to July. The numbers are attributed to a building boom of high-speed lines and the country's desire to link together poor regions. The investment reached 133.78 billion yuan (19.6 billion U.S. dollars), the Ministry of Railways (MOR) said on Monday. More people than ever are using railways. In the first 7 months of the year trains carried 855.3 million passengers, up 12.6 percent from the same period last year. Cargo volume was 1.94 billion tons, up 6.8 percent from a 2007. The MOR had planned to invest 1.25 trillion yuan (182.6 billion U.S. dollars) in railway building and renovation through 2010 extending the train network by 17,000 kilometers. China started construction on the 1,318-km-long Beijing-Shanghai high-speed railway on April 18. The train is designed to run 350km per hour. The total project cost 220.9 billion yuan (32.3 billion U.S. dollars).
Sept 6 - 9, 2008



Hong Kong: Pollsters warned yesterday that public trust in election surveys had been compromised, after recent controversy over the use of exit poll data.

Shares of Kingway Brewery Holdings (SEHK: 0124) surged 23.53 per cent yesterday as investors shrugged off the company's first-half loss and instead bet it could be another big takeover target in the mainland beverage industry. Kingway, the second-largest brewer in Guangdong province, closed at HK$1.05. The stock climbed 13.33 per cent in the previous session after United States soft-drinks giant Coca-Cola announced its HK$19.65 billion offer for China Huiyuan Juice Group. "It's not surprising to see investors bet on more takeovers deals," said a beverage stock analyst. "Kingway could be one of the targets." Kingway reported a net loss of HK$24.67 million in the first half from a net profit of HK$15.91 million in the same period last year as beer sales deteriorated in the face of intense competition in the industry. Beer sales fell 15.57 per cent to 309,000 tonnes in the first half while revenue dropped 18.3 per cent to HK$655.76 million. No interim dividend was declared. Kingway issued a profit warning in June, and its shares declined 10.34 per cent the day after the announcement. "Sales volume in the first half decreased as rainstorms, snowstorms and the earthquake disrupted distribution networks and manufacturing processes," said chairman Li Wenyue. Sixty-six per cent of Kingway beer was produced in Guangdong province, with the remaining 34 per cent produced in Tianjin, Xian and Chengdu. Kingway, which is 21 per cent owned by Heineken Asia-Pacific Breweries China, is also facing fierce competition, particularly from rival brand Snow. Snow, jointly run by China Resources Enterprise (SEHK: 0291) and SABMiller, plans to grab more market share in the relatively wealthy southern mainland market, starting with a low-price strategy. Kingway began extending to cities such as Tianjin, Xian and Chengdu, as a way to reduce its reliance on revenue from Guangdong province. The company ranked second in terms of market share in Guangdong, behind Zhujiang Brewery. Amid the increasingly competitive environment, the company said average costs per tonne of beer increased 19.1 per cent in the period to HK$1,680. "The increase was primarily the result of increasing prices of raw materials, such as malt and rice, packaging materials, as well as the depreciation of new brewery plants after the commencement of operation," Mr Li said. Kingway raised HK$757 million selling share rights last year to finance a HK$338 million manufacturing project in Foshan with a 200,000-tonne annual capacity. An additional HK$194 million has been used for building brewing plants in Chengdu, Xian and Tianjin. "We'll formulate measures in marketing and cost control [in the second half] in order to improve profitability and maintain Kingway's brand presence," Mr Li said.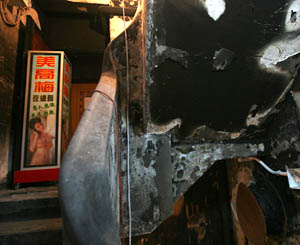 The entrance to the nightclub on the second floor of the fire-ravaged Cornwall Court. The club has applied for a karaoke permit and an employee said it was open for business. Despite obvious fire damage, the Mei Ko Mui Night Club on the second floor of the residential-commercial building in Mong Kok was displaying an "open for business" sign on the door yesterday and staff could be seen inside. "Many residents are very worried, as they do not know if the nightclub has obtained a licence and is well-equipped with fire-safety facilities," district councillor Wong Shu-ming said. "They fear that another big fire might destroy their homes again," said Ms Wong, who is helping residents restore their damaged flats in the wake of the August 10 blaze that killed four people, including two firefighters. The Food and Environmental Hygiene Department said the nightclub did not have a karaoke establishment permit. "The club has applied for the karaoke establishment permit and the application is being processed now. If karaoke activities are conducted inside the premises without the permit, the department will prosecute," the department said in a written reply. But a nightclub employee told a South China Morning Post (SEHK: 0583, announcements, news) reporter posing as a customer that patrons could sing at the club yesterday. A mezzanine-floor nightclub and a karaoke bar on the first floor of the Nathan Road building, where the fire broke out, remained padlocked yesterday. Police are still investigating the cause of the blaze. Electricity and water supplies resumed in the past few days, Ms Wong said, and about 80 to 90 per cent of residents have returned home. But more work still has to be done, including installing new fire prevention doors. "The fire prevention doors are too old and the design is no good. So, all have to be replaced," Ms Wong said. Blackened walls, broken windows and doors, and the smell of burning remained in the narrow staircase of the 15-storey building. Melted fire hose reels and electrical wires are still waiting to be replaced. Noise of construction work echoed on nearly every floor, and construction waste was piled up in the public corridor with fire prevention doors left wide open for the convenience of repair workers. Some residents have opted to leave while work continues. Ms Chin, who used to live on the 12th floor, said she had moved out of the building already, while a Miss Pang on the 13th floor said she could not afford to move out so had to stay.
An average of 490,900 passenger trips a day were made across Hong Kong's land border last year, up 10 per cent from 2006, a government survey shows.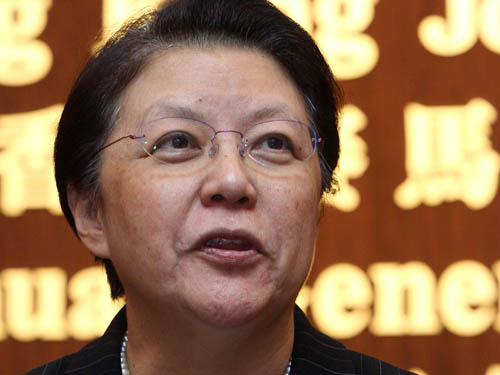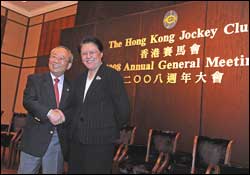 The Hong Kong Jockey Club broke with tradition yesterday and made Rita Fan Hsu Lai-tai the first woman on its board of stewards. Mrs Fan, 62, officially takes up her duties today. The board's 12 members set the direction of the club's business and charitable activities. Mrs Fan will remain president of the Legislative Council until the end of this month, following the election on Sunday. Her appointment comes as the club seeks growth opportunities amid intensifying competition from Macau as well as Singapore, Thailand and Vietnam, which are rapidly developing facilities to foster their gambling, entertainment and convention industries. Jockey Club chairman John Chan Cho-chak, who called Mrs Fan's election yesterday at the general meeting historic, said more needed to be done to ensure funds from local betting remained in Hong Kong to benefit the community. The club, which is the city's single biggest taxpayer, contributed HK$13.2 billion in taxes and betting duties last year, the most in a decade. More than HK$1.05 billion was distributed to charities, while HK$957 million went to the Lotteries Fund. Mrs Fan was elected a voting member of the club in 2005 and was a part-owner of the horse First Among Equals. In March, she was elected to the Standing Committee of the National People's Congress. She played down the significance of her role in the mainland's top legislative body and said it was different and separate from her responsibilities to the club. Mrs Fan said friends were asking about her Jockey Club connections last month in Beijing, where it has a facility. "Many friends of mine in Beijing asked if I could take them there but I just gave them a rain check."
Hong Kong's HK$1.4 trillion Exchange Fund is likely to be in the red in the third quarter on the poor global market performance, warned Hong Kong Monetary Authority chief executive Joseph Yam Chi-kwong.
While the price of crude oil price has fallen below US$110 (HK$858) per barrel from the July peak exceeding US$147 a barrel, the fuel cost pressure on Cathay Pacific Airways (0293) has not dissipated, chief executive Tony Tyler said yesterday.


China: Alibaba Group, which controls the mainland's biggest corporate e-commerce site, will merge its Taobao and Alimama units, ahead of the company's plans to charge users for the Taobao service. Analysts said the merger would strengthen services at Taobao, the mainland's largest consumer e-commerce company, and facilitate Alibaba's plans to turn Taobao into a paid site by next month. "Sales staff at Taobao will start calling up its users after the paid service begins," said Jacky Huang, a senior internet analyst at IDC China. "Placing advertisements with Alimama will be just one more service for sellers on Taobao." Taobao services have been free since the site was launched in 2003 to fend off its main rival, eBay. EBay exited the mainland market after its market share dropped to 10 per cent last year from about 80 per cent in 2002. Alimama is an online advertising exchange platform with the largest network of Web publishers and advertisers on the mainland. "Sellers with storefronts on Taobao can promote their products through Alimama's network of Web publishers," said Alibaba spokesman Christina Splinder. "The 80 million registered users of Taobao could be a huge customer base of Web publishers on Alimama." Boosted by increasing internet users on the mainland, Taobao's transaction volume grew 150 per cent last year to 43 billion yuan (HK$49.1 billion), and is on track to double this year, according to the current volume of about 300 million yuan a day. "There is a lot of synergy between the two businesses that can be unleashed," chairman Jack Ma Yun said in a statement. Taobao has more than 1,000 staff and Alimama several hundred. Despite its free service, Taobao broke even last month, thanks to advertising income, Mr Ma said.
Telefonica said on Thursday it would raise its stake in mainland partner China Netcom by 5.75 per cent to give it a leading stake in the imminent merger of China Netcom and China Unicom.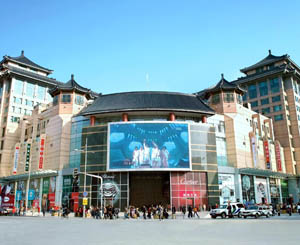 House prices on the mainland have been depressed this year by a range of policy measures but the retail and office leasing markets in Beijing and Shanghai have been left largely unscathed by the downturn in the residential sector, say analysts. The two markets' outperformance was fuelled by multinational companies continuing their expansion into the mainland despite uncertainties overhanging the global economic outlook, they add. Research conducted by the Beijing office of property consultant Jones Lang LaSalle shows that retail and office rents in Beijing rose an average of 5.2 and 4.5 per cent respectively in the first half. Rental growth was much higher in prime areas. Ian Choy Chi-keung, the chief representative of Sun Hung Kai Properties (SEHK: 0016) (Beijing), said average rents in the sought-after shopping areas of Wangfujing Street and Xidan in Beijing had risen between 12 and 15 per cent so far this year. "Competition for tenants in the retail leasing market was strong in the first half in the run-up to the Olympics, as many new shopping centres were timed to open for the influx of visitors," Mr Choy said. "But the performance of retail spaces in traditional shopping areas such as Wangfujing Street and Xidan remained strong as they were sought by international brands." Rents in Sun Hung Kai Properties' rebranded Beijing APM - formerly known as Beijing Sun Dong An Plaza - rose 30 to 40 per cent after it was renovated. The mall reported receiving 150,000 visitors per day during the Games period - double the number for the same period last year. But Mr Choy said developers of shopping malls would face a challenging market next year, when new retail projects would boost the stock of retail space to about 5 million square metres from 2.8 million. Traditional shopping areas would be less affected, he said. "In the last few years, young executives in Beijing have enjoyed 15 per cent salary increases each year. Their purchasing power is strong," he said. "As a result, international brands have shown their optimism on Beijing's retail market. An international sportswear retailer is planning to expand to 3,000 sq metres in our mall after initially opening a 1,000 sq metre shop for half a year." Mr Choy expects retail rents in prime Beijing locations to rise 20 to 30 per cent over the next year. Denis Ma, an associate director of the research department at Jones Lang LaSalle Beijing, said the recent ending of the Olympics was driving a temporary slowdown in Beijing's retail sector. Lower take-up levels, compounded by a large amount of newly completed space coming on to the market, drove vacancy rates up by 2.4 percentage points to 9.5 per cent in the second quarter, Mr Ma said. While landlords of established high-quality developments continued to enjoy high occupancy levels, new projects entered the market this quarter with minimal pre-leasing commitments. In Shanghai, a spokesman for Kerry Properties (SEHK: 0683) said the average rents it fetched in its Shanghai retail portfolio had risen steadily this year as demand was strong - particularly from new foreign entrants into the retail or food and beverage sectors. At some popular Beijing shopping centres, international and local retailers have had to wait one to two years before securing a retail space, he said. Significant new supply would come into the market from 2010 to 2012, the spokesman said. But with Shanghai's rapid economic and double-digit foreign direct investment growth, the market should be able to absorb the increased supply soon, further boosting rents particularly in malls in the city centre, he said. He expected the occupancy rate and rents at Kerry's retail portfolio to remain stable in the next 12 months. Kerry is controlled by Kuok Group, the controlling shareholder of SCMP Group which publishes the South China Morning Post (SEHK: 0583, announcements, news). Shaun Brodie, a senior analyst at DTZ in Shanghai, said rents at high-end retail property stabilised in the second quarter. High-end ground floor rents in the five core commercial hubs in Shanghai stood at 50.60 yuan per square metre per day, up 0.9 per cent quarter on quarter and 4.1 per cent year on year, the firm said. Retail sales in Shanghai jumped 18.5 per cent year on year in July to 37.7 billion yuan (HK$43.2 billion), the highest recorded for a single month this year. He said retailers were still very keen to expand in the city's retail market.
Beijing Paralympics to highlight Olympic spirit and glory of humanity - The Paralympic movement, concept and spirit constitute an outstanding contribution to the modern Olympic Movement. Paralympic Games seek to showcase the noble nature of mankind, such as the enterprising spirit, transcendence, enthusiasm in participation, as well as harmony and fraternity.

China organizes officials to learn, implement Scientific Outlook on Development - The Communist Party of China (CPC) will launch a 1.5-year campaign from this month to learn and implement the Scientific Outlook on Development, the CPC Central Committee Political Bureau said here on Friday.
The Ministry of Finance said on Friday that it would float 25.99 billion yuan (3.8 billion U.S. dollars) worth of book-entry treasury bonds, the 16th batch of its kind this year.
Sept 5, 2008



Hong Kong: Yam: US crisis will impact on global financial systems - The economic crisis in the United States was likely to lead to changes in the structure of the international financial system, Hong Kong Monetary Authority (HKMA) chief executive Joseph Yam.
Hong Kong fishing industry has long harvested a greater catch from Hong Kong waters than they can sustain, in order to satisfy diners' demand for seafood. As a result fish stocks are severely depleted, the marine ecosystem is dangerously stressed and the industry faces an uncertain future. Action to turn this situation around is long overdue. The government's sweeping proposals to modernise the industry are therefore welcome. They deserve support because they tackle the root of the problem of overfishing - bottom trawling. The Committee on Sustainable Fisheries has recommended banning trawling in local waters and buying out the boats. As we report today, it will consult the fishing trade, green groups and other stakeholders before issuing a final report. Bottom trawling harms the seabed environment and yields an indiscriminate catch including infant and immature fish. Since most Hong Kong waters are breeding and nursery grounds, it seriously disrupts the reproductive chain. The proposal to ban it is bound to meet resistance from local fishermen and their supporters, who cite poor government management of the industry as a factor. But the modernisation plan offers the industry a more sustainable future. Oceans the world over are being overfished to meet soaring demand - particularly in Asia which, with the Pacific, constitutes the world's biggest fishery. In Hong Kong, where we eat three times as much fish per head as the average person, the problem is magnified by the lack of regulation, conservation measures or even reliable surveys of fish stocks. Water pollution and coastal development add to it. Fishermen do not need licences to operate, and can use trawlers with drag nets that scoop up everything from the seabed to the surface - a practice common in Southeast Asia but now illegal in many places compelled to practise conservation. The city now has about 4,000 fishing vessels, of which about 1,200 trawlers account for most of the catch. About 550 of them operate within Hong Kong waters. Even so, most of the seafood we consume comes from other sources. The local industry meets only 20 per cent of local demand. However, fishing has played an important part in Hong Kong's cultural history. And the industry still employs about 12,000 Hongkongers and 8,000 mainlanders. It is important, therefore, that the government's final restructuring blueprint presents a clear vision of how our marine environment can be rejuvenated and what the future holds for the people in the industry. If there is to be a ban on trawlers, the committee supports a phased buy-out option at reasonable prices and retraining assistance. This could include the opportunity to learn aquaculture and financial assistance to set up new enterprises. Serious attempts at conservation can no longer be put off. The committee has revived proposals for fishery protection zones in Tolo Harbour and Port Shelter off Sai Kung, with fishermen to be encouraged to switch to leisure fishing businesses. It also proposes redeeming all 430 fishing permits for marine parks and banning all commercial fishing in marine parks. These measures should mark the beginning of a strong management and conservation regime. The committee's recommendations are a blueprint for restoring a marine environment that can sustain marine resources and a viable fishing industry. It is sobering to think it could take a decade or two to rehabilitate the ecosystem. There is no time to lose.
The construction of a new cargo terminal at Hong Kong International Airport at Chek Lap Kok would boost the city's competitiveness in the global airfreight market, Secretary for Transport and Housing Eva Cheng Yu-wah said on Thursday. Speaking at Cathay Pacific's cargo terminal groundbreaking ceremony, Ms Cheng said the cargo terminal would help Hong Kong maintain its position as the largest international air cargo handling hub. "The new cargo terminal will bring our air cargo handling capacity to more than 6.6 million tonnes per year, enabling us to maintain our position as the largest international air cargo handling centre in the world," said Ms Cheng. "The award of the project to Cathay Pacific's subsidiary has been made by the Airport Authority through a strenuous tendering process. "The company's HK$4.8 billion investment in the project shows its confidence in Hong Kong as an aviation hub, as well as the importance of the private sector's contribution to the development of our airport," she said. On March 18, the board of the Airport Authority awarded a non-exclusive, 20-year franchise to Cathay Pacific Services – a wholly owned subsidiary of Cathay Pacific Airways (SEHK: 0293) – to design, construct and operate a new cargo terminal at Hong Kong International Airport. The new terminal, scheduled to open in the second half of 2011, will have an annual capacity of about 2.6 million tonnes and be located on a 10-hectare site in the cargo terminal area. It will increase the airport's general and express cargo handling capacity to 7.4 million tonnes per annum. According to Cathay Pacific Services, construction of the new terminal will create more than 400 jobs. When it starts operation, the facility will employ more than 1,700 people. The Airport Authority said that due to the rapid economic development of the mainland and robust global trade, cargo throughput at Hong Kong's airport rose 4.5 per cent in 2007, to 3.74 million tonnes. The air cargo industry handled more than HK$1.9 trillion worth of goods in 2007, representing 35 per cent of Hong Kong's total external trade. For the 11th consecutive year, Hong Kong International Airport is the world's busiest international cargo airport.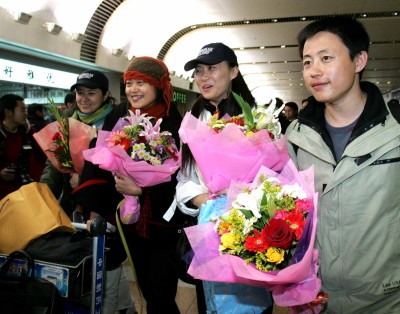 The number of cross-boundary mainland visitors coming to Hong Kong is continuing to increase, a new survey released by the Planning Department on Thursday shows. The survey found mainland visitors made up 16 per cent of all cross-boundary passengers From November 19 to December 2, 2007, a total of 55,600 passengers and 16,100 drivers were interviewed during the two-week cross-boundary travel survey period. The survey was carried out at 11 immigration control points. It revealed that 6.9 million – or a daily average of 490,900 cross-boundary passenger trips – were made during the two-week survey period. This was an increase of 10 per cent over the same period in a 2006 survey. Lo Wu and Lok Ma Chau continued to be the busiest control points – taking up 51 per cent and 23 per cent of the passenger trips, respectively. There were 662,400 frequent travellers, who usually travelled at least once a week between the mainland and Hong Kong. The most common reasons for these travellers were leisure (39 per cent) and business (32 per cent). A department spokesman said trips by Hong Kong residents took up the largest share. "Trips by people living in Hong Kong constituted 71 per cent of all cross-boundary trips. Half of these trips were for leisure, followed by business [22 per cent] and trips to visit relatives and friends [17 per cent]," he said. "Among the mainland cities, Shenzhen remained the most common trip destination, accounting for about two-thirds of the trips," he said. The survey also found that the number of trips by visitors from the mainland increased by 18 per cent compared with 2006, reaching on average 76,800 a day, of which more than half were under the individual visit scheme.


China: Beijing says flaws caused quake schools to collapse - China said on Thursday a rush to build schools in recent years could have led to construction flaws that caused so many of them to collapse during May's massive earthquake.
Wen warns quake zone - Premier Wen Jiabao has warned winter will bring hardship for people in China's quake zone as he confirmed that more than 80,000 people died in the disaster that hit Sichuan and neighboring provinces on May 12.

Change in poverty benchmark may see 80m poor qualify for aid - China may raise its poverty threshold to double the number of people eligible for government help as income gaps reach their widest level in three decades.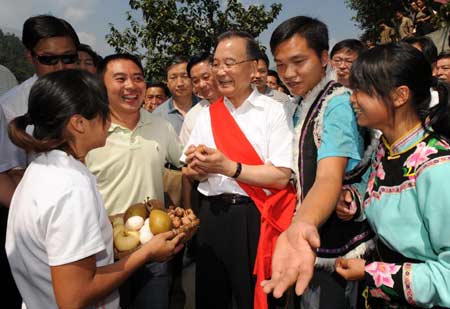 Chinese Premier Wen Jiabao visits Qiang ethnic group village in Beichuan County, southwest China's Sichuan Province, Sept. 1, 2008. Wen inspected repair work and raised morale among residents over the past three days, during a visit to southwestern Sichuan Province nearly four months after the devastating May 12 earthquake.
U.S. entrepreneur Tom Watson doesn't regret not investing in China over the past three decades. "Time was not on our side then," said Watson, whose company sells air filtration systems. "But we can catch up now." Watson is in China with a U.S. delegation seeking clean energy and environmental investment opportunities in China and India. U.S. Assistant Secretary of Commerce David Bohigian is leading the delegation of 19 U.S. companies. Watson's Filter One designs and manufactures industrial air filtration systems for the likes of military bases in the United States, airlines, and aircraft and engine manufacturers such as Boeing and GE. It employs less than 50 people. "Our experience in the industry over the years will help us find more opportunities in China," Watson said. But Filter One is a latecomer to China's clean energy and environment sector. Helix Micro, an energy conservation company based in the Silicon Valley, saw the opportunity earlier. "The market potential in China is so huge and our revenue is expected to soar by 100-fold next year from last year's 1 million U.S. dollars," Wu Bing, its president, said. Helix Micro's business includes energy storage and transmission, but its focus is batteries. In China, it's targeting laptop and electric bicycle batteries. Wu expects the two sectors to bring the company huge opportunities. Several domestic laptop producers have shown interest in the company's technology so that they can make their own batteries and reduce manufacturing costs, Wu said. The technology can also extend the life of electric bicycles, which would make locally produced bikes more competitive on the market, he said. "We're talking with leading PC maker Lenovo for the use of that technology," Wu said. "We're also negotiating with electric bicycle manufacturers." Watson will travel with the U.S. delegation from Beijing to Jinan in Shandong province and to Shanghai. From there they will fly to India - another big market for renewable energy. "The 19 companies participating in this mission represent the cutting edge of U.S. innovation, which can benefit China and India to meet their massive energy demand while improving environment quality," Bohigian said. Statistics suggest China's clean technology market will increase to 186 billion diollars by 2010 and 555 billion dollars by 2020. China and the U.S. signed a 10-year agreement to cooperate on energy and environmental protection at the strategic economic dialogue held in July. The two governments agreed to increase energy efficiency and reduce pollution, calling for cooperation on a range of issues - from energy efficiency in power generation, transport and water treatment to reducing air pollution and preserving wetlands and forests. Han Wenke, president of the energy research institute under the National Development and Reform Commission, said China and the U.S. should cooperate to tackle rising energy costs. He said it is crucial to make existing or new technologies affordable. "New technologies can reduce energy consumption and they are especially vital for big energy consumers like China and the U.S.," Han said. Covanta Energy Corp is also expanding its business in China, targeting the Bohai Rim, Yangtze River Delta and Pearl River Delta. A subsidiary of Covanta Holding Corp, it runs large-scale energy-from-waste and renewable energy projects. "Although we haven't got wholly owned plants in China, we still wish to share our world-leading technologies and innovation abilities with our Chinese partners," Joe O. Neuhof III, director of business development at Covanta Energy, said. Covanta Energy entered China in April 2007 when it bought a 40 percent stake in Chongqing Sanfeng Environmental Industry Co Ltd, a subsidiary of Chongqing Iron & Steel Ltd.
China economy "slowing but resilient," HSBC report says - China's economy will maintain strong growth thanks to resilient investment and exports and the government's strong fiscal position, an HSBC report said on Wednesday. Fixed-asset investment will remain resilient despite the sluggish property sector because there is still plenty of room for more investment in infrastructure such as mass transit networks, said the global banking group in "China Economic Spotlight". For example, only 15 of 660 cities in China have or are building subway systems. Real growth in urban fixed-asset investment has slowed from 22 percent year-on-year in 2007 but was "still over 17 percent year-on-year" in the first seven months of this year, according to the report. Export growth eased to 22.7 percent year-on-year in the first seven months of 2008 from 28.7 percent a year earlier. "China's exports to the United States and European Union are expected to dip further in coming quarters, but exports to other global emerging markets should remain strong, providing a floor to the slowing but still resilient export sector," said the report. The government, which is still in a good fiscal position, can prevent growth from slowing below 8 percent to 9 percent by boosting spending or cutting taxes, it noted. Government revenues grew 32.4 percent in 2007. China's economic growth decelerated in the past three quarters, from 11.3 percent in the last quarter of 2007 to 10.6 percent in the first quarter of 2008 and 10.1 percent in the second quarter.
Sept 4, 2008



Hong Kong: Wal-Mart establishes regional headquarters in HK - Wal-Mart Stores – the world's number one owner of discount stores – on Wednesday announced it had set up a new Asian regional headquarters in Hong Kong. World superstore giant Wal-Mart Stores Inc. announced here Wednesday the establishment of its new Asia regional headquarters in Hong Kong. President and Chief Executive Officer for Wal-Mart Asia Vicente Trius said the Hong Kong regional headquarters will have strategic responsibilities for managing the company's current operations in Asia and for business development. The new Wal-Mart office in Hong Kong will oversee the company's operations in the Chinese mainland, India and Japan, as well as identify new business opportunities for the company throughout Asia, Trius said. "Hong Kong is the perfect location from which to operate a regional headquarters for Asia, as it is centrally located and offers ready access to markets across the region," Trius said. Director-General of Investment Promotion at Invest HK Mike Rowse welcomed Wal-Mart's decision to choose Hong Kong from among other cities in Asia, saying Wal-Mart's establishment of regional headquarters here represents a powerful vote of confidence in Hong Kong as the preferred location for leading global companies to manage their business in the Chinese mainland and elsewhere in Asia. Over the years, Hong Kong has been the most popular location in Asia for companies from around the world to establish a regional hub. Some 3,900 overseas and Chinese mainland companies operate regional headquarters or regional offices in Hong Kong, according to Invest HK. Wal-Mart Asia's Vice President Brian Walker said Wal-Mart is able to recruit the right local staff for its regional headquarters with the city's abundant pool of talent and professionals, together with its excellent transportation, communications and technology infrastructure.
China may introduce property trusts this year, giving developers a much needed new source of funding, according to a top industry association official who believes Beijing is easing its tough stance as the property market cools. The move could come as part of a government change of tack to ease tight monetary policies, many of which have been aimed at the property industry, according to Nie Meisheng, president of the China Real Estate Chamber of Commerce. Beijing intensified a campaign late last year to clamp down on bank loans to the property sector, asking for higher down payments from homebuyers, as part of a wider effort to curb inflation and rein in runaway growth. The steps hit home sales – down 50 per cent in Beijing, Shanghai and Shenzhen in July from a year earlier – and prices in some areas of Guangdong province have fallen 25 per cent. Nie said the measures were aimed at cutting the industry's dependence on bank loans, which account for half of developers' funding, but added that Beijing was keen to ensure the property market did not collapse and hurt the broader economy. "When one door closes, others will open," she said. China has given the green light to big developers, such as China Vanke, Poly Real Estate and China Merchant to issue corporate bonds or new shares to replace loans coming due and to fund further expansion this year. Setting up real estate investment trusts (reits) – securities that pay rent from their property as dividends – will provide developers with a new avenue for funding, allowing them to effectively sell finished commercial buildings to investors. "There will be some breakthrough by the end of this year," Nie said, referring to the introduction of reits in China. She said China's central bank was soliciting opinions from different government departments but declined to give a timeframe for any launch of reits, or give any other details. Many analysts believe property trusts will catch on in China because insurers are keen for stable investments to match their long-term liabilities, especially at a time when their stock investments have been hit hard by rocky markets. Reits tend to yield more than bonds, and offer capital gains if property values rise, but they are typically less volatile than stocks. China's insurance industry regulator said Beijing will soon allow insurers to invest in property, which could unleash as much as US$40-60 billion of investment if they follow global industry norms of 10-15 per cent portfolio allocations to the asset class. Nie said the policies on property were "overly tight" because much had changed since they were rolled out last year when housing prices were soaring and developers raked in bumper profits. The official property outlook index, a measure of industry confidence, fell to 102.36 points in July from its November peak of 106.59. Nationally, property sales fell 10.8 per cent in terms of area sold in the first seven months from a year earlier. However, Nie, an industry veteran who has spent her whole career working on infrastructure and real estate, was confident most property firms would ride through the difficult times. "Prices haven't dropped, bankruptcies haven't occurred," Nie said. "That means developers can still hold on, and there will be no big problem." She said some local governments were not implementing the measures as strictly as before. Some were allowing developers to delay payments for land purchases, instead of taking plots back after two years if construction had not started, she said. "The policies look tight, but they're softening quietly," she said. "Otherwise, why haven't developers died yet?" The China Real Estate Chamber of Commerce launched a trial reit last year, although it is not publicly traded, unlike trusts in Japan, Singapore and Hong Kong, where the securities have caught on in the last six years. The trust, which started with 2 billion yuan (US$292.7 million) of funds from China's biggest developers, has invested in some projects and would quickly expand once the government officially allowed reits, Nie said. It is aiming for a 35 per cent annual return on capital but would settle for 20 per cent, according to China Union Trust and Investment Ltd, a partner in the launch.
Hong Kong exports of watches and clocks were enjoying strong growth this year, Chief Secretary Henry Tang Ying-yen said on Wednesday. Mr Tang, opening Hong Kong's Watch and Clock Fair 2008 at the Convention and Exhibition Centre, said the industry contributed much to the economy. "In the first half of this year, the industry's total export value was more than HK$25 billion, equivalent to about US$3.2 billion. "That's an increase of 17.3 per cent compared with the same period last year," he said. Mr Tang said the industry's current focus was developing original designs and brand names. "We have partnered with the industries and introduced measures to facilitate our manufacturers, many of whom are based in the Pearl River Delta (PRD)." The chief secretary said the industry was also investing in education programs. "Another initiative is our unique free trade pact with the mainland called the Closer Economic Partnership Arrangement." He said Cepa provided opportunities for companies incorporated in Hong Kong, regardless of the nationality of their owners and shareholders, to have World Trade Organisation access to the mainland market. "Last month a new Cepa supplement was signed which increases the number of service sectors covered by the arrangement to 40," he noted. The Hong Kong Watch and Clock Fair 2008 – the largest fair of its kind – will run from September 3 to 7. It is jointly organised by the Hong Kong Trade Development Council (HKTDC), the Hong Kong Watch Manufacturers Association and the Federation of Hong Kong Watch Trades and Industries. According to industry statistics, Hong Kong was the world's second largest exporter of complete watches and complete clocks in terms of value and quantity in 2005. In 2007, Hong Kong's total exports of watches and clocks amounted to US$6.4 billion (around HK$50 billion), a 6 per cent increase over 2006. Organisers expect over 800 exhibitors internationally to visit this year. The fair is divided into major exhibit categories, including complete watches and clocks, parts and components, equipment, machinery, packaging and trade services.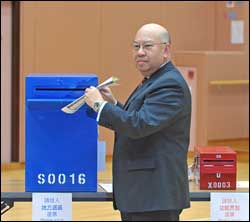 Legislative Council candidates have been warned that those who use exit polls to influence the outcome of an election will have the total costs of the poll included in their election expenses. Electoral Affairs Commission chairman Pang Kin-kee also said yesterday pollsters who make data available before polling ends will have their permits to conduct exit polls revoked. Seven organizations have applied for permission to conduct exit polls in polling stations, Pang said. The applications are being reviewed and details of those who are successful will be announced. The toughened stance came as Hong Kong University public opinion program director Robert Chung Ting-yiu announced he was delaying by eight hours the first results of exit polls. The first data will be released to the five media sponsors at 8pm on voting day. An earlier plan was to release data at noon, 5pm, 9.30pm and 10.30pm. The change could help remove people's fear of leaks and still facilitate the work of media sponsors, Chung said. He denied he was bowing to pressure from political parties. Seven democratic camps, including the Civic and Democratic parties, were also focused on exit polls yesterday. They called on voters not to take part in exit polls, including the one being conducted by the university. They blamed the government and the EAC for not coming up with a proper set of rules for pollsters despite suggestions and also wondered why the commission was reviewing applications by seven groups to conduct polls just four days before the election. "As a scholar, I also want to defend academic freedom," said Civic Party secretary-general Joseph Cheng Yu-shek. "But an election cannot be carried out in a fair manner if there are no proper regulations to guard against the abuse of exit polls." Cheng, a political science professor, said democrats would not use any exit poll data to alarm voters. Democratic Alliance for the Betterment and Progress of Hong Kong chairman Tam Yiu-chung disagreed with the democrats, saying academics would like to use Legco election data for study and this would benefit constitutional development. Meanwhile, Hong Kong Transition Project director Michael DeGolyer predicted the turnout rate on Sunday could be between 53 and 57 percent. It was 55.64 percent in the 2004 election. People can learn about voting can at mock polling stations at Leighton Hill Community Hall, Kowloon Park Sports Center, Tuen Mun Town Hall and Tai Po Community Center from today to Saturday.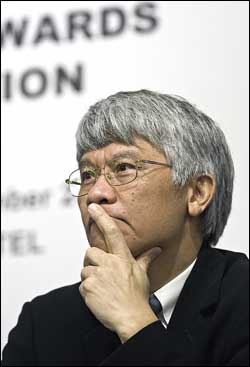 Claiming the stock market plunge this year is a normal market consolidation, Hong Kong Monetary Authority chief executive Joseph Yam Chi-kwong said there is no need for the central government to implement market-saving policies. Yam made the comment yesterday before the Shanghai Composite Index closed at a 20-month low 2,276.67, down 1.2 percent. Based on yesterday's close, the index has dived 63 percent from its peak of 6,092.06 points on October 16 last year. "A dive from last year's high is not unreasonable," said Yam in an interview with a local television station. "What should be noted, in fact, is whether it will bring about structural problems or crackdowns in the financial system. But so far, no such things were observed. "The fall is simply normal market consolidation. There should not be any [market-saving] measures." The city's de facto central bank chief added that market-saving measures by the world's central banks are temporarily sufficient as similar "explosive" events such as the bailout of Lehman Brothers or the Fannie Mae and Freddie Mac issues are unlikely to happen. "But that does not mean [the subprime] issue is over," Yam said. "The key problem is that the US housing market has been falling. It has not yet bottomed out."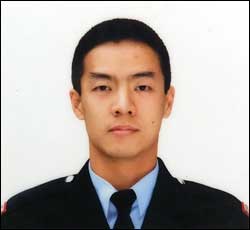 The families of two firemen who died rescuing victims of the city's worst fire in a decade are to get nearly HK$7 million in compensation. Senior fire officer Siu Wing-fong, 46, and fire officer Chan Siu-lung, 25, died from smoke inhalation as they battled to save residents trapped in a blazing Mong Kok tower block on August 10. Chan's family have been granted a record HK$3.78 million while Siu's wife and 12-year-old daughter will get HK$3.15 million under the government's "financial assistance scheme for family members of those who sacrificed their lives to save others." The youngest in his family, Chan is survived by his parents, a brother and two sisters. A Labour and Welfare Bureau spokeswoman said Chan's grant was the biggest so far, topping a previous payout of HK$3.6 million to the family of doctor Kate Cheng Ha-yan who died of SARS in May 2003 after contracting it during frontline duties at Tai Po Hospital. The scheme, set up in 2002 to provide financial assistance to the families of those who save or protect others, gives grants based on the age, retirement age and the prevailing median monthly employment earnings of the deceased, ranging from HK$3.15 million to HK$6.3 million. In recognition of their actions during the fire, which killed two other people and injured 55, the two firemen have been posthumously awarded the Gold Medal for Bravery, which will be presented in October. Secretary for Labour and Welfare Matthew Cheung Ki-chung said Siu and Chan had displayed bravery and selfless devotion during their rescue and firefighting operation despite the great risk to their own lives. "Their high level of professionalism and self-sacrifice commands our greatest respect," he said. The pair from the Mong Kok fire station were carrying out rescue operations on the 12th floor of 15-story Cornwall Court, responding to trapped residents. Officials praised them for pressing on with their rescue efforts despite their dwindling air supply, saving two residents before succumbing to the smoke. Siu and Chan were taken to hospital but were dead on arrival. Chan's funeral is tomorrow and Siu's next Thursday. They will be interred with full honors in Gallant Garden.


China: Coca-Cola buys Huiyuan for US$2.3b - The Coca-Cola Company said on Wednesday it will buy top mainland juice maker China Huiyuan Juice Group for US$2.3 billion, or triple its market value, in a deal that expands its.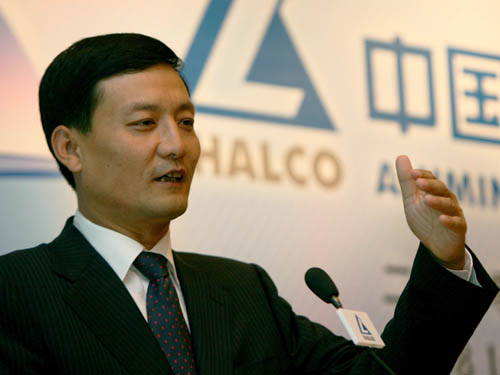 Aluminum Corp of China (SEHK: 2600) (Chalco), the country's largest producer of aluminium, will cut domestic capital expenditure by as much as 30 per cent over the next three years to preserve funds for merger and acquisition opportunities that may arise amid an industry downturn. "Chalco will postpone the completion of some projects and reassess new projects to tighten control on expenditure," said chairman Xiao Yaqing yesterday. "On the one hand, it will help to ensure sufficient working capital. On the other, it will also increase our strength for acquisitions when smaller rivals can't survive soaring production costs and fierce competition." Mr Xiao said the company would not necessarily need to build new plants if acquisitions were a more effective path to growth. He said Chalco was seeking overseas acquisitions, especially resources-related. "The best buying opportunities are always amid economic downturns. More cash on hand will provide better opportunities," he said. Capital spending by the aluminium producer is about 20 billion yuan (HK$22.83 billion) a year. From the second half, spending would be cut by 20 to 30 per cent, Mr Xiao said. The belt tightening comes four days after Chalco posted a 65 per cent year-on-year drop in first-half earnings, dented by high production costs, output disruptions and an oversupply in the market. Chalco is not the first to scale back capital spending. China Petroleum & Chemical Corp (Sinopec (SEHK: 0386)), the nation's top oil refiner, last week said it had cut its planned spending on new production capacity by 8.2 billion yuan or 6.7 per cent this year after heavy refining losses caused net cash inflows to dwindle. On Monday, its unit Sinopec Shanghai Petrochemical (SEHK: 0338) said it would cut this year's capital spending to between 1.6 billion and 1.8 billion yuan from 2.5 billion yuan because of tighter cash flow. Industries from textiles, to electronics, to metal producers are feeling the pain of soaring raw materials and fuel prices combined with slower growth in the global economy. Thousands of export-oriented small and medium-sized factories have shut and heavy industries are cutting output because of weaker demand and higher costs. Mainland aluminium producers slashed output by more than 10 per cent from August because of a shortage of electricity which accounts for up to 40 per cent of costs. Mr Xiao said Chalco's production target for this year remained unchanged but aluminium production might be reduced if prices fell too low, especially in regions in which power tariffs were higher. Earlier this year, the company said it planned to produce 10.2 million tonnes of alumina and 3.6 million tonnes of aluminium. Chalco is also looking to buy coal mines and build power stations to reduce output costs. Mr Xiao said the firm had bought minority stakes in two coal mines in Gansu and Henan provinces and would buy more when valuations were more "rational". The company also plans to increase its ratio of self-generated power to 50 per cent from 20 per cent but did not give a timetable. Chalco aims to raise its bauxite resources and expects company-owned bauxite to rise to 50 per cent by next year from 25 per cent. In addition to mainland mines, Chalco has sealed a bauxite and alumina project in Australia and is in talks to buy bauxite mines in Vietnam and Indonesia to ensure supplies.
Iraq's cabinet has approved a US$3 billion oil service contract with China, the government of Prime Minister Nuri al-Maliki said on Tuesday, in a move that could signal the shape of anticipated future oil deals. "The cabinet has approved a service contract to develop and produce the Adhab oilfield between the [Iraqi] Northern Oil Company and a Chinese company, according to terms initialled by both sides," government spokesman Ali al-Dabbagh said in a statement. The Iraqi government recently announced renegotiated terms of the oil deal with the Chinese National Petroleum Company (CNPC (SEHK: 0135)), which was originally signed in 1997. The deal marks the first major oil contract with a foreign firm for Iraq, which boasts the world's third-largest proven reserves, since the fall of Saddam Hussein. Oil Minister Hussain al-Shahristani told reporters he would summon Chinese officials to Baghdad this month to sign the deal. CNPC, the parent company of PetroChina (SEHK: 0857, announcements, news) and Asia's biggest oil and gas company, has a head start as foreign firms line up to sign lucrative long-term oil deals with Iraq. The CNPC deal is sure to be watched closely by firms seeking to secure the most profitable terms they can in contracts brokered with Iraq, with proven reserves of 115 billion barrels. Yet Iraq toughened its terms in renegotiating the CNPC deal, changing the contract to a set-fee service deal from the oil production sharing agreement (PSA) signed under Saddam. "The Oil Ministry refused anything but a service contract. Iraqis will not share their oil, Initial work on the Adhab field would begin in two months, Shahristani said. "We don't consider the security situation in Iraq an excuse to slow the work," he said. Violence has dropped in Iraq to four-year lows, but many foreign businesses remain reluctant to set up shop in a country still plagued by roadside bombs and suicide explosions. Shahristani said last month that under the revised deal, Adhab, south of Baghdad in Wasit province, will produce 110,000 barrels per day (bpd), up from a previous target of 90,000 bpd. Speaking on Tuesday, he said production capacity would reach 125,000 bpd in six years. The OPEC member is also moving ahead with plans to award the coveted long-term development contracts, which it hopes will be signed by June next year, for its largest producing fields that would raise output by a combined 1.5 million bpd. After decades of sanctions and war, Iraq's giant, accessible fields are in need of major investment and expertise. Iraq has also been seeking to sign half a dozen short-term oil technical support contracts. But talks on those deals have proceeded slowly, and their conclusion remains in doubt. Shahristani said that Iraq would hold a press conference in London on October 13 where information on fields up for long-term contracts would be made available. Iraq will then announce a second round of bidding by the end of the year, he said. The government plans to announce a new bidding round every six months. Companies bidding for long-term oil contracts must open an office in Baghdad, officials say.
Taiwan set to provide landing visas to mainland tourists - Taiwan said on Tuesday it plans to offer landing visas to mainland tourists travelling to two Taiwanese-controlled islands off the mainland, in another goodwill gesture to Beijing.

Foreign minister Yang to visit India - Chinese Foreign Minister Yang Jiechi will visit India for talks next week on bilateral ties including a review of a border dispute that took the countries to war in 1962, officials said
Sept 3, 2008



Hong Kong: A funeral was held with full honours on Tuesday morning at the Universal Funeral Parlour, Hung Hom, for Police Constable So Chi-ho – who died on duty during the Hong Kong Olympic Equestrian events. A large number of police officers attended the funeral. Senior government officials from different departments – including Commissioner of Police Tang King-shing, Secretary for Security Ambrose Lee Siu-kwong, and Secretary for the Civil Service Denise Yue Chung-yee – were also present. So's coffin was draped with the Hong Kong SAR flag. He will be buried at Gallant Garden, Wo Hop Shek, local television reported. The officer, 31, lost control of his motorbike while escorting a VIP from the Beas River Olympic equestrian course on August 9. He was travelling northbound along Kwun Tung Road at 7.55pm when he crashed his motorbike near Europa Garden construction site in Sheung Shui. During the equestrian events, more than 4,000 police officers were deployed to help maintain order.

Clothing retailer Giordano International (SEHK: 0709), which recently sold off its manufacturing business, says it will focus on opening an additional 100 stores this year. "We will focus on expanding in second- and third-tier mainland cities as there is more potential for rapid growth there," said executive director Bernard Mah Chuck-on. The company yesterday reported a 58.5 per cent increase in first-half net profit from continuing operations as sales were buoyed by cashed-up mainland shoppers. Mr Mah said the company divested its loss-making manufacturing business because it had less growth potential compared to the retail operations. Proceeds from the disposal will be used to expand and renovate stores and for brand promotion. Giordano made a one-time gain of HK$17 million after reducing its 49 per cent stake in a Dongguan garment manufacturing joint venture to 9.9 per cent in June. Last month, it also completed the divestiture of a 51 per cent stake in another manufacturing subsidiary. In the first half, the company had a net increase of 39 outlets, bringing the total number of stores to 1,934 at the end of June. Of those, 859 are on the mainland. The mainland is Giordano's single largest market, generating 34 per cent of total turnover in the first half. Giordano raised average selling prices 23.1 per cent on the mainland as consumers were willing to buy more expensive, better quality products, Mr Mah said. The company competes with domestic and foreign players such as Bossini International Holdings, Esprit, Japan-based Uniqlo, Europe's Hennes & Mauritz and Zara. Giordano has been the subject of takeover speculation, but Mr Mah said it was not in talks with any potential buyers. He admitted to meeting Uniqlo operator Fast Retailing last year and said "if the offer price is right, we will consider selling". But the slowing global economy poses obstacles for any deal, with rival Esprit Holdings (SEHK: 0330) announcing that it was putting any acquisition plans on hold. Net profit for the six months to June from continuing operations rose to HK$214 million, from HK$135 million a year earlier, as a result of higher sales, gains from the disposal of the manufacturing business and tax rebates. Including discontinued operations, net profit jumped 45.5 per cent to HK$208 million. Revenue increased 11.6 per cent to HK$2.34 billion from HK$2.1 billion. An interim dividend of 4.5 HK cents and a special dividend of 2 HK cents were declared. But the payout ratio as a proportion of profit dropped to 46.8 per cent from 67.7 per cent the previous year as the company intends to allocate more resources for retail expansion. Giordano's operations in Taiwan, Singapore and South Korea are still losing money.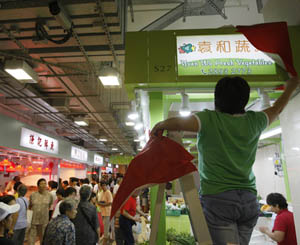 Bright new Wan Chai Market opens to applause from vendors and shoppers - Vendors and shoppers gave a thumbs-up to the spacious and air conditioned new Wan Chai Market, which was packed on its opening day yesterday.
Change in policy sees 33 shut out by Macau - At least 33 mainland tourists were denied entry to Macau yesterday under a tightened visa policy, after they had arrived by ferries from Hong Kong.
ICAC nabs `graveyard ghouls' - Seven serving and two former staff of the board of management of the Chinese Permanent Cemeteries are among 18 people who have been arrested for allegedly soliciting and accepting monetary advantages for allowing improper exhumations. The Independent Commission Against Corruption said yesterday that five tombstone contractors and four funeral agents were also arrested in connection with the scam, which saw families exhume bodies that may not have been fully decomposed after 10 years. Among those arrested were two supervisors, five assistant supervisors, a former acting supervisor and a former assistant supervisor of the CPC board. According to regulations, families must exhume the remains from lots with non- renewable 10-year leases only at the end of that term. If remains are not fully decomposed, they must be interred for an additional six months before being exhumed again. Most families hire tombstone contractors to take care of exhumation. A Home Affairs Bureau spokesman said the CPC board attaches great importance to the conduct of its staff, and that it will review the existing situation and study whether there is room for improvement.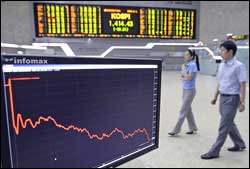 Asian currencies fell yesterday, with the South Korean won plunging to its lowest level in almost four years as speculation mounted that overseas investors are pulling out of local bond and stock markets. "We've got the potential to unwind a lot of the secular bull run that we've seen in these Asian currencies all of this decade," said State Street strategist Dwyfor Evans. "It looks as if Korea is at the fore of all the countries and currencies that are at risk." The won fell 2.5 percent to 1,116.00 against the dollar. The Korean government is "seriously concerned" about the decline, top currency official Choi Jong Ku said yesterday. Senior government officials, he said, will meet today to discuss the situation. Indicators show the South Korean economy is in its worst shape since the Asian financial crisis, finance minister Kang Man Soo told a parliamentary session yesterday. outh Korea posted a net capital outflow of US$5.77 billion (HK$45 billion) in July, the largest since December 1997. However, Kang insisted the current economic situation is different from that of 1997, especially the level of foreign debt. The Philippine peso fell to its lowest level for a year after oil prices rose, increasing the nation's demand for dollars to pay for the commodity. The currency declined 0.9 percent to 46.32 versus the dollar. Taiwan's currency fell to a six-month low on speculation its central bank will seek a weaker currency to support exports. The New Taiwan dollar dropped as much as 0.4 percent to NT$31.65 against the US dollar. "The trend still points to weaker Asian currencies," said Christy Tan, a Singapore- based strategist at Bank of America. "What's dragging not just Taiwan, but the rest of the region, is the fact that growth is slowing while inflation is still staying firm. Shoring up growth is gaining priority." India's rupee hit a 17-month low after data showed a fourth straight month of net foreign fund outflow from the stock market. The Singapore dollar weakened 0.6 percent and the Thai baht 0.2 percent.


China: The convictions of two former Bank of China managers and their wives for money laundering and racketeering in the United States will send a warning signal to mainland officials on the risks of corruption, state media said. A US federal jury in Las Vegas last Friday convicted Xu Chaofan and Xu Guojun, former branch managers at the Bank of China, and their wives in connection with a scheme to defraud the bank of at least US$485 million over 13 years. The China Daily on Tuesday cited Zhang Yong, head of law research at Nankai University, as saying the case, along with a separate one in which a Chinese national was repatriated from Canada for prosecution, would serve to warn officials that they could not escape from legal repercussions overseas. The cases offered preliminary signs of the type of co-operation that law enforcement officials in China would carry out with those in the United States and Canada, Zhang said. "I'm convinced it's the trend for the future," the paper quoted him as saying. China faces a serious official corruption problem, which it is trying to stamp out through a range of measures, including heavy sentences, including the death penalty. Sentencing in the US case will be on November 24.
China sees Japan ties steady post-Fukuda, say experts - China and Japan will stay focused on improving long-strained ties after the departure of Japanese Prime Minister Yasuo Fukuda, even if conservative Taro Aso succeeds him, mainland.

Paraguay to reverse support for Taiwan at United Nations - Paraguay is reversing its historic support for Taiwan and will no longer ask the United Nations to recognise its independence.

Space walk mission due late September – China plans to launch its next manned space flight and stage its first space walk in late September, bringing forward the latest display of the country's growing might.

Urgent call for tents as thousands left homeless by earthquake - Tents are urgently needed for hundreds of thousands of victims left homeless by an earthquake in Sichuan province on Saturday that killed at least 36 people and wounded 675.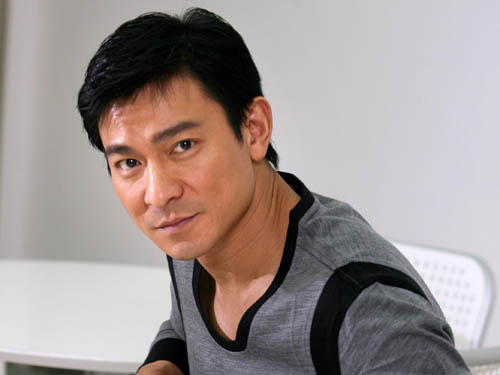 The opening ceremony of the Beijing Olympics may be hard to beat, but the show marking the start of the Paralympics on Saturday will be just as exciting and "warmly spectacular", Games organisers promise. Canto-pop king Andy Lau Tak-wah, who performed at the Olympics closing ceremony a week ago, will sing the theme song Everyone Is No1 at the Bird's Nest. The gala will last two hours and 50 minutes and involve more than 6,000 performers, including the disabled, according to the Beijing Morning Post. Xinhua said yesterday that one of the artists would be blind singer Cai Yuzhu , 30, from the island province of Hainan. Organisers promised the show would be as "exciting, touching and unforgettable" as that for the Olympics last month. Contrasted with the Olympics' opening, Paralympic athletes will enter the National Stadium before the performance starts, and some front seats will be reserved for the handicapped athletes. Zhang Jigang , director of the Paralympics opening ceremony and deputy director of the Olympics opening ceremony, said the theme of the show would be "life", "an ode to the creativity of life, humanity and great humanitarianism". "It will be a nice surprise for the world," Mr Zhang was quoted by the report as saying. While the Olympics opening ceremony featured the idea of harmony, the Paralympics' festivities would stress humanitarian concerns, hope and warmth, musical director Fang Ming told the newspaper. "The Olympics opening ceremony gave people a strong [visual] impact," Mr Fang was quoted as saying. "People will feel the same strong impact during the Paralympics opening show, but it will be a warm one." Bocog executive vice-president Tang Xiaoquan , who is also vice-president of the China Disabled Persons Federation, said it "would be the same - exciting, touching and unforgettable". Four hundred deaf girls will perform a sign-language dance called Hello, Stars in the style of the popular Thousand-Hand Guanyin dance. And about 2,200 students aged eight to 12 and staff from Henan's Fengtagou Kung Fu School will perform an animated robot dance. Blind singer Cai will join a 40-year-old polio victim to sing a duet, entitled Invited Forever. The People's Daily reported that the flexible LED screen, which formed a huge scroll during the Olympics opening ceremony, would be used again during the opening of the Paralympics. But the much anticipated cauldron ritual has remained a secret, except a guarantee by the organisers that it would be "as exciting as the Olympics opening", in which former gymnast Li Ning (SEHK: 2331) lit the cauldron after "running" around the Bird's Nest more than 50 metres above the ground. Meteorologists have forecast mostly fine weather for Saturday, with temperatures between 19 and 29 degrees Celsius.
The gold medals handed out at the Beijing Games were nicknamed jinxiangyu, which means "jade framed in gold", the combination of two ultimate treasures. They were said to be the most expensive gold medals in Olympic history, costing 2,000 yuan (HK$2,300) each. But for a Chinese athlete, gold is priceless. It is the glory of all glories, won at home. It also means unprecedented government and corporate rewards, a handsome advertising income and a guarantee of lifetime security and state support. The first thing young gymnast Jiang Yuyuan reportedly said after winning the women's team gold was: "Mother, now you don't have to beg." Her mother once threatened Yuyuan, when 10, that if she gave up on the harsh training, the only option she had was to come home and beg. Her father made a meagre income as a cab driver in Guanxi .At a party thrown at judo gold medallist Yang Xiuli's Liaoning home to celebrate her victory, city officials announced a prize of 100,000 yuan in cash and a flat. The mayor pledged that "from now on, if Yang's family has any problems, the city government will always be there to help". Just before the Olympics, Yang's family could not even afford 9,000 yuan for her younger brother's university fees and they had to borrow from relatives. Under the state-controlled sports system, athletes are recruited young and many come from struggling households. Becoming a top athlete offers a ticket out of poverty, but until they win world titles their lives rely on a monthly government cheque. Shooting champion Qiu Jian's wife said the couple could now pay off their 150,000 yuan mortgage after he had snatched gold. The family of weightlifter Chen Xiexia got a huge plasma television on the first day of the Olympics as a gift from the village government so residents could watch Chen, who won the host country's first gold. A gold medallist can expect about 1 million yuan in state bonuses. The central government has promised 350,000 yuan, a 75 per cent increase from Athens and 33 times that of the prize from Seoul in 1988. But other government awards can be lucrative. Shaanxi province offered 1 million yuan; Zhejiang 500,000 yuan; and Liaoning 300,000 yuan. Last weekend, the Hong Kong-based Henry Fok Education Foundation awarded each gold medallist a kilogram of gold (worth more than US$29,000) and US$80,000. Yanjing Beer promised each water sports gold medallist 1 million yuan. For those with the right looks, and the right sport, the gold offers advertising opportunities worth millions of yuan. Economists estimated that when Liu Xiang dropped out of the 110 metres hurdles, it cost him 1 billion yuan. "Athletes who do sports that are difficult to promote, such as shooting, weightlifting and boxing, tend not to have a wide appeal, although diving has been an exception," said China Stars Sports Culture Communications manager Wang Qi . "And a `first' is always good, like a sport China has never won in." Little known before the Olympics, Chen Xiexia is already expected to pocket at least 10 million yuan from adverts and 3 million yuan in government and corporate prize money. She will be also be seen on sets of commemorative stamps. Shanghai University of Sports professor Liu Bing said a gold, above all, offered lifelong security. "Under the Chinese training system, athletes are not well-equipped for society," Professor Liu said. "Money is one-off, but a gold medal guarantees a job after they retire from sports, or the admission into the best schools. The government will definitely take care of these people over the years. They can't be seen living on the streets." Many earlier gold medallists have remained within the system as coaches, such as "father of shooting" Wang Yifu or as a sports bureaucrat like table tennis queen Deng Yaping. An increasing number have also been recruited into politics. Former gymnast Li Ning (SEHK: 2331) is the definitive success story - from the three gold medals in Los Angeles in 1984 to becoming a successful businessman with his own brand. However, at least for two gold medallists this year, winning could simply mean the fulfilment of a personal goal. Sichuan gymnast Zou Kai, who won three golds, has decided to auction one and donate the proceeds to quake victims. Shooter Guo Wenjun has already denied rumours that she was hoping to be reunited with her father, who left the family nine years ago. But after hearing her heartbreaking tale, at least 10,000 netizens have signed up to help find him.
Chinese families across the country are able to send their children to school tuition-free in the nine-year compulsory education period as of Monday. From this fall semester, about 28.21 million urban students in primary schools and in junior high schools joined rural students to benefit from the plan, according to the Ministry of Education. The students still must pay for textbooks and uniforms. Students in rural areas have already started to enjoy the treatment, benefiting about 150 million students. The fees are not much for ordinary urban families but still a burden for low-income families like Liu Yang's. The 12-year-old boy is in the sixth grade, the last year of primary school, in central Hunan's provincial capital Changsha. His father is sick and his mother is a domestic helper. "I paid about 300 yuan, including fees for textbooks and uniforms, every semester in the first three years. In the past two years, the school exempted me from some fees," he said. "This semester, tuition and incidental expenses were exempted. The school did not charge me for textbooks or uniforms, either." Other policies are helping children like him get an education. Zhao Linxi, an 11-year-old girl in west Beijing, has received subsidies of 400 yuan from the school and 600 yuan from the government annually for three years. "We are having some financial problems but I feel no burden to send my child to school," said Zhao's father, who has a spleen disorder that keeps him from working. The family depends on her mother's income. "We are working on a comprehensive system to help children from poor families, including subsidies, scholarships and other preferential policies," said Cheng Binquan, an official with the civil affairs department of the Xicheng district government in Beijing.
Along with more than 3,000 teachers and students, Premier Wen Jiabao attended the opening of a temporary middle school in southwest China's quake zone as the new semester started on Monday. Beichuan Middle School was among the hardest-hit schools in the May 12 earthquake. Wen visited students and teachers at the school three times prior to the Monday event.
ICBC says overseas assets exceed $43 bln - Overseas assets of the Industrial and Commercial Bank of China (ICBC) reached 43 billion U.S. dollars by the end of June, up 22 percent, or 7.8 billion U.S. dollars, from the end of 2007, an ICBC spokesman said on Tuesday.

Developers face low season - Chinese property developers, hard-pressed by falling sales and tightening credit, have never waited for "Golden September and Silver October", the traditional hot season for the property market, this anxiously.
Tibet attracts 14.5 billion yuan in outside investment.

An activity attracting investment to Tibet, for the first time since the March 14 riots in Lhasa, came to a close on August 31 in Lhasa. A total of 53 cooperative projects have been struck within the two-day activity, with a total investment of 14.504 billion yuan.
Sept 1 - 2, 2008



Hong Kong: Amendments to recognize the medical certificates of registered traditional Chinese medicine (TCM) practitioners will come into effect on September 1, a spokesman for the Labour Department said on Friday. The spokesman said the amendments were made under the Certification for Employee Benefits (Chinese Medicine) Ordinance, 2006. "This is to recognise the medical treatment, examination and certification given by registered Chinese medicine practitioners for the purpose of employees' entitlement to benefits," he said. Chinese medicine practitioners are now officially registered under the Chinese Medicine Ordinance. "From September 1, if an employee covered by the new provisions is injured at work and receives treatment from a registered Chinese medicine practitioner, the employer is liable to pay him medical expenses," the spokesman said. "This is up to a certain statutory limit as he does for employees receiving treatment from registered western medical practitioners and registered dentists currently," he said. The Chinese Medicine Council Hong Kong has also drawn up a guide on sick leave certificates by TCM practitioners. The list of registered Chinese medicine practitioners can be downloaded at http://www.cmchk.org.hk. Chinese medicine is a centuries' old tradition in Hong Kong, the mainland and other parts of Asia. Many Hong Kong people visit Chinese doctors as well as, or as an alternative, to seeing doctors trained in western medicine. They seek herbal remedies, massage, acupuncture and other treatment for a variety of ailments including headaches, back pain, sinus problems, arthritis, colds and flu.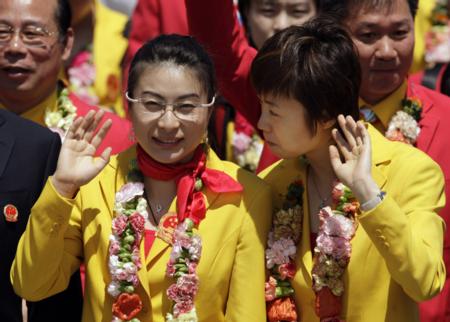 Mainland Olympic gold medallists were among the athletes who arrived in Hong Kong on Friday for a three-day visit — where they will display their sporting skills in exhibition matches.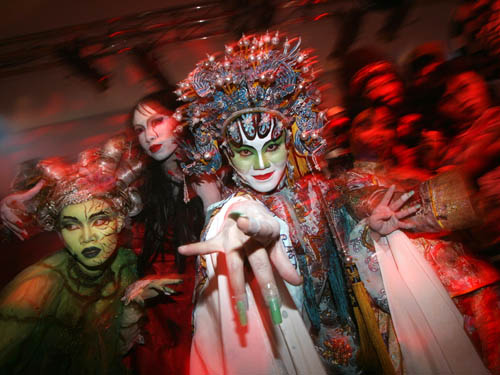 Improving attendance at Hong Kong Disneyland is the park's top priority, its new chief, Andrew Kam Min-ho, said on his first day yesterday. Efforts would focus on local customers and visitors from the mainland and Southeast Asia, as the calendar of public holidays in these markets was similar, he said. Halloween also offers marketing opportunities for Disneyland as well as Ocean Park on Hong Kong Island. Mr Kam, a 20-year mainland management veteran, acknowledged that more needed to be done to market the theme park to mainland visitors. In its second year of operation last year, mainland visitors accounted for 40 per cent of the total 4.17 million. Playing down concerns that the newest Disney park was too small to keep visitors entertained for a whole day, he said he had spent eight days exploring the park and there were still areas he had not seen. "Hong Kong Disneyland has the same land resources as the park in California. This is just phase one. It is difficult and unfair to compare a three-year-old baby to a 50-year-old adult," Mr Kam said, referring to the Hong Kong and US theme parks. According to recent media reports about government discussions with Disney over how to fund the park's expansion plans, the government will not relinquish control and will continue to be a majority shareholder, although it may reduce its 57 per cent equity stake. Asked about persistent rumours of a possible Shanghai Disneyland, Mr Kwok pointed to the US, which is home to two Disney theme parks. "Disney is a business that always looks for expansion. The most important issue is how to grow the pie." Hong Kong Disneyland was more appealing to children than Ocean Park, which offered an entirely different experience, he said. However, for Halloween - with its scary themes - Disney's usually tame offerings were becoming increasingly frightening, with attractions geared more towards a young adult audience. Ocean Park had invested an eight-figure sum in its Halloween program, which runs from September 26 to November 2, chairman Allan Zeman said. "Our Halloween bash is our signature event, and Halloween itself is becoming a bigger holiday in China, especially southern China." This year's offering will have a greater focus on Chinese horror attractions. Six of the nine haunted houses are based on local ghost stories, such as a cursed Chinese opera theatre. Mr Zeman said he expected October attendance to exceed last year's record of about 500,000 visitors. He is hoping for a double-digit percentage growth in overall attendance, with mainland travellers making up 10 to 15 per cent.
Hong Kong and Singapore have signed a new aviation agreement which would help improve aircraft maintenance, Civil Aviation Department director-general Norman Lo Shung-man said on Friday. The Civil Aviation Department (CAD) of Hong Kong and the Civil Aviation Authority of Singapore (CAAS) said the new memorandum of understanding (MOU) was an extension of an MOU signed on December 16, 2004. It expands mutual recognition of approvals of maintenance for all aircraft, engines and components. "The agreement allows maintenance organizations in Hong Kong to maintain aircraft registered in Singapore without seeking additional approval from CAAS," he said. "Likewise, maintenance organizations in Singapore can also aircraft registered in Hong Kong without separate approval from CAD," said Mr Lo. "Partnership and co-operation among regulatory authorities can reduce duplication of approvals, thus maximizing the utilization of resources of both industry partners. It will also improve the quality of aircraft maintenance through use of common airworthiness standards," he said. Hong Kong has had similar mutual recognition arrangements on aircraft maintenance with Canada since 2005.
Urgent checks on old trees after teen death - The city's more than 400 old trees are being given a thorough checkup after a century-old tree collapsed and killed a 19-year-old university student on Wednesday.


China: Bank of China (3988), China's largest foreign exchange bank, yesterday said its net profit for the first half rose 42.8 percent to 42.18 billion yuan (HK$48.08 billion) - beating analysts forecasts - as rising impairment losses were offset by its fast-growing fee income business.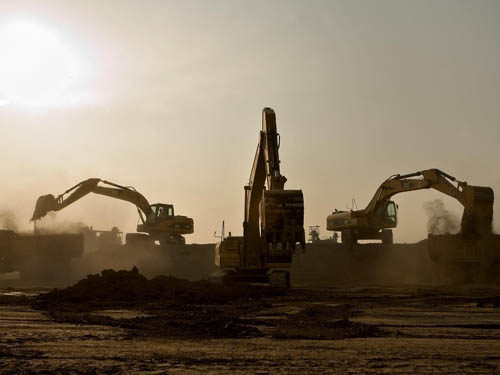 Caterpillar expects sales on the mainland and emerging markets will offset slow global demand. Caterpillar, the world's largest maker of mining and construction equipment, is expanding its mainland operations to meet booming demand for heavy machinery used in mining, power generation and infrastructure building. The Illinois-based company will invest more than US$100 million to triple production at Shandong SEM Machinery, a leading mainland wheel-loader manufacturer that it bought in February. Caterpillar will also spend US$20 million on completing the first phase of a new research and design centre in the Jiangsu city of Wuxi, chairman and chief executive Jim Owens said yesterday. The announcement came after Caterpillar said it would open a production facility for hydraulic excavators in Nanjing and began construction on a major plant for wheel loaders in Suzhou that would start production in April next year. Despite forecasting that economic weakness in major industrialized economies would persist into next year, Mr Owens said Caterpillar's sales on the mainland and in other emerging economies would offset slowing global demand. "The biggest challenge we have here is supply constraints. Demand appears to be very strong," he said. With its order books full until the end of the year, Caterpillar expects sales on the mainland to exceed US$2 billion this year and double to US$4 billion by 2010. Caterpillar has been a major beneficiary of the boom in global oil and commodity prices, which have driven demand for construction and mining equipment. However, the higher cost of raw materials, especially steel, also forced the firm to raise prices at mid-year. Tokyo-based rival Komatsu has warned that prices may have to rise by as much as 10 per cent this year. "We're going to take prices in line with what the global market will allow us to take and that are competitive," Mr Owens said. "We're responding to a very significant increase in the prices of some of the basic materials we use a lot."
Beijing-backed CITIC Pacific (0267) said its first-half net profit decreased 12 percent to HK$4.38 billion, causing it to cut the interim dividend for the first time in at least 14 years.
China Telecom (0728) reported first-half net profit fell 8.2 percent to 12.63 billion yuan (HK$14.39 billion), missing estimates, and chairman Wang Xiaochu warned there will be short-term downward pressure on profit despite the coming launch of mobile services.
China's tallest building, the 492-meter Shanghai World Financial Center - which opens to the public tomorrow - is on track to reach 90 percent occupancy within a year despite worries over the economy, its developer and top shareholder said. The building in Shanghai's Lujiazui financial district has already achieved a 45 percent occupancy rate, with tenants including Sumitomo Mitsui Banking Corp, Mizuho Corporate Banking Corp, BNP Paribas and Commerzbank, Japan's Mori Building Co said. "Generally speaking there is some chaos in the global financial markets but I'm confident it will not affect Shanghai's financial environment," Mori chief executive officer Minoru Mori said at the 101-story tower. Mori expects to recoup investment on the 125 billion yen (HK$8.9 billion) tower, partly owned by Wall Street bank Morgan Stanley, within 12 years.
The per capita income of people in China's rural areas rose 10.3 percent in the first half of 2008, the greatest increase for the six-month period for four years.

*News information are obtained via various sources deemed reliable, but not guaranteed