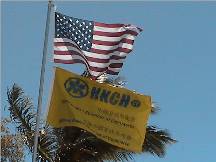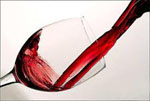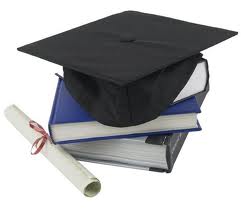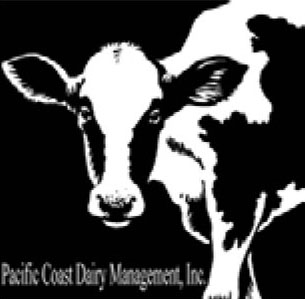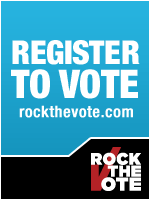 Biz-Video

Hawaii's China Connection

Doing Business in Hong Kong & China
Hong Kong, China & Hawaii Biz*



Skype - FREE Voice Over IP

View Hawaii's China Connection Video Trailer
Do you know our dues paying members attend events sponsored by our collaboration partners worldwide at their membership rates - go to our event page to find out more! After attended a China/Hong Kong Business/Trade Seminar in Hawaii...still unsure what to do next, contact us, our Officers, Directors and Founding Members are actively engaged in China/Hong Kong/Asia trade - we can help!
Are you ready to export your product or service? You will find out in 3 minutes with resources to help you - enter to give it a try


Listen to MP3 "Business Beyond the Reef" to discuss the problems with imports from China, telling all sides of the story and then expand the discussion to revitalizing Chinatown - Special Guest: Johnson Choi, MBA, RFC. President - Hong Kong.China.Hawaii Chamber of Commerce (HKCHcc) and Danny Au, Manager, Bo Wah Trading

October 31 2008

Hong Kong: Financial Secretary John Tsang Chun-wah said on Thursday Hong Kong faced the likelihood of an economic recession next year.
The Hong Kong Monetary Authority (HKMA) on Thursday lowered its base interest rate to 1.5 per cent – down 50 basis points.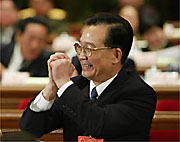 Premier Wen Jiabao has assured Hong Kong that Beijing will make "all-out efforts" to help the city ride out the global financial storm. But as he issued five pledges designed to bolster the city's economy, the state leader urged its government to "seriously learn the lessons arising from this financial crisis". "We should analyse the problems with the structure of Hong Kong's economy and regulation of its financial system so that we can enhance our management and improve [Hong Kong's] economic structure," he said in Moscow yesterday. "We should make a thorough assessment of the possible difficulties and make full preparations to face them," he said. Mr Wen said confidence was key to coping with the financial crisis. "People's confidence hinges on the resolute measures introduced by the leadership [in Hong Kong]. I note that the Hong Kong government has introduced a series of measures which have achieved some positive results," he said. "But there is a need to monitor how the crisis unfolds and adjust policies promptly." A Hong Kong government spokesman said: "We agree with Premier Wen ... We welcome the measures suggested, which are beneficial to Hong Kong. We will work closely with the central government to ensure that the measures will be implemented smoothly." The premier said he had instructed mainland financial regulators to work with their counterparts in Hong Kong to map out contingency plans to cope with risks arising from the crisis. Beijing would facilitate such co-operation and communication. He promised help for Hong Kong-owned businesses on the mainland, a speeding up of infrastructure projects and a stable supply of food to Hong Kong to keep inflation in check. Mr Wen also said the scheme allowing individual travel to Hong Kong from parts of the mainland would now cover 44 cities. More than 29 million people have used the scheme to visit in five years. Joseph Yam Chi-kwong, chief executive of the Hong Kong Monetary Authority, supported further co-operation between financial regulators in Hong Kong and on the mainland. The Chinese Manufacturers' Association of Hong Kong said the central government should suspend the Labour Contract Law, which has been criticised for increasing production costs for Hong Kong-owned firms on the mainland. It is not the first time Mr Wen has said Hong Kong has lessons to learn. In December 2005, he told Chief Executive Donald Tsang Yam-kuen "deep-rooted problems and conflicts" in Hong Kong needed resolving. During Mr Tsang's duty visit to Beijing in November, Mr Wen suggested four ways to enhance Hong Kong's competitiveness - boosting technological innovation, improving knowledge, nurturing talent and ensuring environmental conditions were good. The Democratic Party called Mr Wen's remarks "a red flag" for the administration, but the head of the main Beijing-loyalist party disagreed with the suggestion the premier was not satisfied with the performance of the Hong Kong government. Five ways to help - Wen Jiabao said the mainland would: Work with Hong Kong financial regulators on contingency plans to handle risks from financial crisis; Fast-track infrastructure projects, particularly the bridge linking Hong Kong with Zhuhai and Macau; Ease inflationary pressure by guaranteeing stable supplies of food; Extend to more cities the scheme permitting individual travellers to visit Hong Kong; Provide support for Hong Kong-owned small and medium-sized enterprises on the mainland.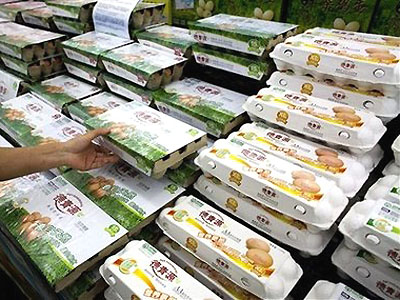 A customer buys eggs on display for sale in a Beijing supermarket on Wednesday. Eggs in Hong Kong and the mainland have been found with traces of melamine. The government would propose to mainland food safety authorities that they use melamine-free certification of eggs before exporting them to Hong Kong, Secretary for Food and Health York Chow Yat-ngok said on Thursday. This comes after three out of 62 egg samples tested by the Centre for Food Safety (CFS) during the past five days were found to have excessive levels of melamine. Dr Chow said the department would work closely with mainland authorities to trace the source of eggs found in Hong Kong. "We will continue to liaise closely with mainland authorities. We have asked them to trace the source of melamine and whether there are common factors that affect the various suppliers. "At the moment, we are also discussing with them whether it is possible to have a melamine-free certification for eggs exported to Hong Kong," he said. Although two samples were from Hubei and Shanxi, Dr Chow said it was impossible to ban eggs from Hubei. This was because eggs imported from the province accounted for nearly 40 per cent of the total number in Hong Kong. He has urged consumers and traders to closely follow the latest announcements by the CFS. The CFS would post latest daily test results on its website.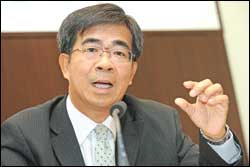 Local lenders should adopt a more supportive attitude towards small and medium-sized enterprises (SMEs) during the current financial crisis, the Monetary Authority has said. It would be against their interests to tighten credit indiscriminately out of "generic fear over what the future may hold", Choi Yiu-kwan, deputy chief executive of the authority, said yesterday in a circular to all authorized institutions. The call comes as SMEs express worries about getting loans to tide them over through the tough times. The authority urged all authorized institutions involved in lending money to SMEs to be "as accommodative and flexible as possible" to the companies' funding needs, Mr Choi said. "It is for [the authorized institutions] to manage credit risks and to price credit flexibly in the light of changing conditions and changing risks," he said. "However, in these difficult times and following the unprecedented steps taken to support the banking system, the HKMA believes that it will be in the best long-term interests of the economy and the banking industry if [authorised institutions] adopt a supportive attitude towards their SME customers." He suggested lenders assess individual cases based on their merits and avoid across-the-board tightening, which "could have a significant adverse impact on the business and economic prospects of otherwise healthy SMEs". Mr Choi said that if a lender had to tighten credit provision, it should explain the rationale to its customer. He asked lenders to adopt a "sympathetic" attitude towards requests for temporary relief arrangements, such as extensions of repayment deadlines. Danny Lau Tat-pong, chairman of the Small and Medium Enterprises Association, said many SMEs were desperate for cash. He called on the government to raise the maximum amount of its guarantee from 50 per cent to 80 per cent of the loan offered to SMEs. One lender said banks were willing to help their customers, but had to be careful because of the slump. He expected banks might be more willing to lend money if the government implemented the revised SME Loan Guarantee Scheme, including extending the maximum guarantee period for working capital loans from two years to five. "It's difficult for us to lend if the customer's business is going down," he said.
The Transport Advisory Committee does not intend to change its decision over the controversial proposal to raise taxi fares, committee chairwoman Teresa Cheng Yeuk-wah said on Thursday.
Travel agents may resort to rejecting credit cards should banks continue to take months to settle customers' card transactions, the Travel Industry Council has said. "This will be a lose-lose situation," executive director Joseph Tung Yao-chung said. "Not only will this affect banks and travel agents' business, but it will also cause much inconvenience to inbound visitors who are used to paying for travel services by credit cards." Mr Tung and council chairman Ronnie Ho Pak-ting relayed their concerns and requests to Commissioner for Tourism Au King-chi yesterday. Mr Tung said it used to take two days or so for a bank to transfer card payments to a travel agent, but now it took as much as six months. "Many travel agents would not have the cash to pay for air tickets and other expenditure." He also hoped the government could waive the HK$5,820 annual licence fee, saying "more than 90 per cent of the travel agents in Hong Kong are small-scale operations". Mr Ho said he found the meeting helpful and was satisfied with the positive stance taken by the government.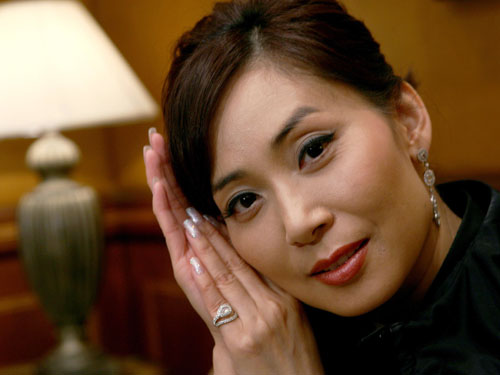 Former beauty queen Cally Kwong credits the principles of her Buddhist faith for guidance in business and investment, as well as charity.

China: Beijing hit out on Thursday at claims made by US presidential candidate Barack Obama that its huge trade surplus with the United States was related to its manipulation of its currency. "The yuan exchange rate is not the cause of the US trade deficit," foreign ministry spokeswoman Jiang Yu said in response to a question on how China viewed Obama's remarks. "I hope that the US can expand its exports to China and reduce barriers for trade and investment. We believe this will help the US reduce its trade deficit." In a letter to the US National Council of Textile Organisations published on Wednesday, Obama called for China to change its foreign exchange policies to rely less on exports and more on domestic demand for growth. "The massive current account surpluses accumulated by China are directly related to its manipulation of its currency's value," Obama said in the letter, published on the council's website. "The result is a large imbalance that is not good for the United States, not good for the global economy and likely to create problems in China itself. "China must change its policies, including its foreign exchange policies, so that it relies less on exports and more on domestic demand for its growth." Jiang however refused to comment specifically on Obama, giving no indication as to whom the Chinese government favoured out of the Democratic candidate or Republican nominee John McCain. "The US presidential elections are the internal affairs of the United States," she said. "We believe that whoever wins this election will attach importance to US relations with China." Both Obama and McCain have focused mainly on the global financial crisis and said little about their policies towards China.

A top climate official has admitted the mainland's greenhouse gas emissions are at least on a par with those of the United States, but said the unfolding financial crisis was presenting new economic and technological opportunities to restructure the international campaign against global warming. Xie Zhenhua , deputy director of the National Development and Reform Commission, also said yesterday rich countries must take the lead in cutting greenhouse gas emissions, and contributing money and technology to developing countries. It was the first time the central government had publicly acknowledged that China may have passed the US to become the world's biggest greenhouse gas emitter. "Based on information we have at hand, our total emissions are roughly the same as the US," Mr Xie said at the launch of the country's first white paper on tackling climate change. International research institutes and experts have said for two years that China's output of carbon dioxide, the key greenhouse gas, had surpassed that of the US, given that the latest data on China's greenhouse gas emissions was from 1994. But Mr Xie said: "Whether or not we have surpassed the US is not in itself important." He repeated China's stance that it was only fair to consider historical and accumulated emissions in determining whether developed or developing countries should play a bigger role in the global fight against climate change. The white paper says: "Developed countries should be responsible for their accumulative emissions and current high per capita emissions, and take the lead in reducing emissions, in addition to providing financial support and transferring technologies to developing countries." Mr Xie said China's per-capita emissions for its 1.3 billion people remain much lower than those of rich countries, and was about a fifth of the US average. "As China is in the process of industrialisation and urbanisation, it is fairly natural that the country's greenhouse gas emissions grow very fast," he said. He also said it was not fair for China to take responsibility for emissions generated on behalf of countries that consumed Chinese exports, which accounted for 24 per cent of the country's total emissions. Both the white paper and Mr Xie played down the growing criticism over China's refusal to accept a mandatory target in cutting emissions. "There is no doubt that under the Kyoto Protocol, developed countries must take the lead in reducing their greenhouse gas emissions," Mr Xie said. Under the UN-sponsored treaty, developing countries are not obliged to accept mandatory caps, but the US has refused to ratify it, citing the framework's failure to hold China and India more responsible. "But regardless of the results of international negotiations and how much developed countries honour their commitments, China from its own perspective must realise sustainable development," Mr Xie said. "We must save energy, raise energy efficiency, develop renewable energies and adopt measures aimed at reducing greenhouse gases." He said the financial turmoil should be viewed as an opportunity for China as well as the whole world to carry out economic restructuring, promoting environmentally friendly technology and cutting pollution. "Tackling climate change and the financial crisis is not contradictory," he said. "We will seize the opportunity to increase domestic demand and funding on energy efficiency. We will have to solve climate change and environmental problems through development." Mr Xie said developed countries should contribute at least 0.7 per cent of their gross domestic products to help developing countries fight global warming. Analysts said the release of the policy paper as well as recent remarks by mainland officials were part of Beijing's strategy amid intense negotiations on a successor to the Kyoto Protocol, which expires in 2012. An international climate change seminar on technology transfer organised by the UN and China will be held in Beijing next week, and delegates from more than 190 countries will participate in another key UN conference on climate change in Poznan, Poland, in December. Yang Ailun , from Greenpeace China, said the white paper was basically a review of the government's achievements in tackling climate change in the past few years. "While it may not have much new information, it is clearly aimed at highlighting China's progress in cutting emissions ahead of international negotiations," she said.
Canadian expert: China has made tremendous achievements in 30 years of reform, opening-up: China has made tremendous achievements in all social aspects and improved its status on the international arena as a result of its reform and opening-up policy adopted 30 years ago, Peter Harder, a Canadian expert on international affairs, told Xinhua in a recent interview. Harder has visited China at least 14 times since 1980 and thus enjoys first-hand knowledge of what the country has undergone in the past three decades. "China was colorless, (and) it was grey, everybody wore grey," he said while recalling his first Chinese tour. However, things have changed tremendously since then, said Harder, who served as deputy chief for 16 years in several Canadian federal government departments including the Treasury Board, Ministry of Justice, Ministry of Citizenship and Immigration, Foreign Ministry and Ministry of International Trade. In just 30 years' time, China has emerged as a colorful, prosperous and self-confident society with a significant influence on world political and economic affairs, he said. While economic growth has substantially facilitated the improvement of the material life of ordinary people, the whole of Chinese society has seen progress in all aspects, from people's awareness of their social responsibilities, their openness to the outside world, the mode and level of governance, to the awareness of sustainable development, Harder pointed out. "You cannot come on visits to China over a period of time as frequently as I have without noticing the tremendous increase of human freedom, of rule of law, of focusing on accountability, particularly at the municipal and local levels where the issues of being responsive to native citizens are very much discussed," he said. China's progress is a good thing for the whole world, he said. "I view the opening-up to the outside world as having been hugely beneficial to both China and the world." "By that I mean China has been able to provide economic opportunities to its public, which has vastly improved the quality of life of its population and has done so over a period of years, which indicates sustainable economic strategy." On the other hand, "the world has benefited from China's participation in the global market place and global political space," he noted. Harder credited China with being a responsible member of the United Nations Security Council and a partner in global solutions for several international and regional issues. Though China faces the challenge of economic disparity between its coastal and interior areas as well as between rural and urban regions, its leadership is fully aware of the situation and is putting in place a development strategy to address that challenge. As for environmental challenges, the Chinese government has advocated the notion of harmonious growth in its latest five-year plan to better balance the relationship between economic growth and environmental protection, Harder said. He expressed confidence that China would have an even brighter future as the Chinese leadership is responsible and has displayed the ability to maintain national economic growth and to participate in global affairs effectively and responsibly. Harder currently holds the post of president of the Canada-China Business Council (CCBC), Canada's leading organization to facilitate bilateral trade and investment. He will lead a large delegation consisting of Canadian entrepreneurs and five provincial government heads scheduled to visit China from Nov. 2-7. The tour will be part of celebrations marking the 30th anniversary of the establishment of the CCBC and of China's opening-up policy.
October 30 2008

Hong Kong: The U.S. Federal Reserve decided Wednesday to cut a key interest rate by half a percentage point to 1.0 percent to prevent the economy from slipping into deep recession.
Leading Hong Kong supermarkets and wholesale associations said on Wednesday mainland eggs contaminated with excessive melamine were no longer on sale.

Most Lehman minibonds 'still have value' - Most Lehman Brothers minibonds were still worth something, Financial Secretary John Tsang Chun-wah said on Wednesday.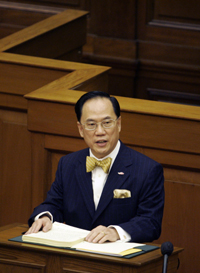 True to his promise, Chief Executive Donald Tsang Yam-kuen has swiftly set up a special taskforce to tackle the challenges posed by the global financial meltdown. But while the experience and expertise of most of its members are not in question, we should not expect it to offer a panacea. The government needs to be seen to be taking a proactive stance. The public, however, may reasonably be sceptical of what can be achieved by a committee of well-connected people. Governments the world over tend to set up expert taskforces in the face of serious crises as a substitute for real policy; Hong Kong is particularly adept at playing this game. Certainly the taskforce has high-quality members. Lawrence Lau Juen-yee, Chinese University's vice-chancellor, is a distinguished economist. Tycoon Victor Fung Kwok-king is a seasoned businessman and accomplished finance scholar. And Stephen Roach of Morgan Stanley has been prescient in his many published analyses of the credit crisis and proposed solutions. The appointment of Mathias Woo Yan-wai, who is director of the avant-garde art group Zuni Icosahedron, is more surprising. Perhaps the idea is to channel his creativity and outside-the-box thinking into the taskforce. The credit crunch has evolved and will not be resolved quickly. Thousands of Hong Kong and Pearl River Delta businesses are being exposed because of the drying up of credit lines. The crisis has been inflicting damage on the world economy in a way which is unprecedented since the Great Depression. Though major central banks and finance officials have successfully thrown a cordon around their banks to protect the system from collapse, the process of deleveraging continues. This has resulted in terrifying plunges in asset values and has shocked policymakers in Hong Kong and elsewhere. The new taskforce's mandate is to help better understand the crisis, consider ways to respond to it, identify opportunities and enhance the city's competitiveness. But, to be effective, taskforce members need to react quickly to new problems as they arise and offer counter-measures. They need to think outside the box. To this end, the taskforce should be flexible in securing outside expert help and meet regularly. Above all, it must avoid "white elephant" projects such as Cyberport as well as the sort of ill-conceived economic policies seen during the Tung Chee-hwa era. What we need are innovative fiscal measures and policies which will spur growth. But the road ahead is perhaps not as grim as it looks. Premier Wen Jiabao said yesterday Hong Kong could rely on the mainland for support. The nation's growth rate will slow, but is still forecast to be in the high-end of single-digit growth, which will provide a cushion for Hong Kong. With planning, foresight and confidence, our community may yet come through this great economic contraction in relatively good shape.
HK, Guangdong 'should set up investment firm' - A think-tank close to Chief Executive Donald Tsang Yam-kuen has proposed that the governments of Guangdong and Hong Kong set up an investment company to finance cross-border infrastructure projects.
The government put a damper yesterday on a move in the Legislative Council to scrap the levy on employers of foreign domestic helpers. Secretary for Labor and Welfare Matthew Cheung Kin-chung insisted that doing so would have an impact on government spending. Therefore, he said, the administration would urge Legco president Tsang Yok-sing to rule out of order any resolution to scrap the levy. Independent lawmaker Regina Ip Lau Suk-yee had said she was confident the amendment could proceed.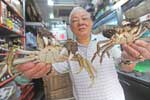 More tainted eggs as hairy crabs cleared - Eggs sold in a government-run market were found to contain high levels of melamine, the Centre for Food Safety said, but crustacean lovers will be pleased to know that hairy crabs are safe - so far.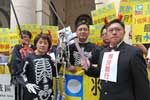 Travel agencies have appealed to the Hong Kong Monetary Authority to pressure banks into resuming the policy of settling credit card payments in two days instead of 60 days or more.

China: China's central bank announced on Wednesday it would cut benchmark interest rates by 0.27 percent to spur economic growth. The move would become effective on Oct. 30.
China's southern Guangdong province and Hong Kong jointly staged a business and technology cooperation conference on Tuesday in the Spanish capital to boost their business ties with Europe. The opening ceremony drew some 1,800 businessmen and officials, including Spanish Minister of Industry, Tourism and Commerce Miguel Sebastian Gascon, Guangdong Governor Huang Huahua, Chinese Ambassador to Spain Qiu Xiaoqi, Secretary for Commerce and Economic Development of the Hong Kong Special Administrative Region Rita Lau. On the first day of the gathering, agreements on 27 projects with a total value of 2 billion U.S. dollars were signed. Trade between Guangdong and Spain topped more than 4.9 billion dollars in 2007, accounting for 23.6 percent of the total trade volume between China and Spain, Huang said in a speech. Spain is a key EU member and has played a significant role in promoting China-EU economic and trade cooperation, the governor said. "The Guangdong provincial government will encourage more import from Spain and support Spanish businesses' entry into the Chinese market," he said. Guangdong will support the expansion of cooperation between medium and small Spanish businesses and their Guangdong counterparts to achieve win-win results, he said. Lau said at the gathering that Hong Kong has close business links with Spain, with two-way trade totaling 2.2 billion euros (2.8 billion dollars) last year. Nearly 100 Spanish companies have businesses in Hong Kong, mostly in the financial, logistics, commercial and fashion industries, Lau said.
Condemnation can be the only response to the abduction and killing in cold blood of Chinese oil workers in Sudan. Their presence was contributing to that country's economic development. They presumably were not involved in any of the ethnic, separatist or anti-government movements challenging Sudanese President Omar al-Beshir's rule. The killings are loathsome; especially so when foreigners are unwittingly dragged into matters in which they have no part. Who carried out the heinous crime and why is unclear. Sudan's government has blamed rebels in the troubled Darfur region, but none of the groups involved has taken responsibility. It could be that dissidents angry at China's support for General Beshir's dictatorship were the culprits. There are suggestions that detractors pushing for the leader to be extradited to The Hague to stand trial on charges of genocide were involved. No matter how worthy their cause or fervent their desire, taking the lives of innocents is despicable. Sudan has been wracked by anti-government unrest for much of its 52 years of independence from Britain and Egypt. China well knew this when it began exploring and drilling for oil there. The same is the case in the other unstable parts of the world that Chinese companies and workers are increasingly moving into. It is because of such risks that Beijing in 2004 created a Department of External Security Affairs, which is in part charged with protecting Chinese assets and citizens working abroad. China's search for energy sources, overseas investment by its companies and desire to get involved in global diplomacy has correspondingly put its officials, volunteers, workers and tourists at greater exposure to risk. Chinese workers have been killed by extremists in Afghanistan, Pakistan, Ethiopia and now Sudan; a mainland peacekeeper was shot dead during the conflict in south Lebanon in 2006; countries where Chinese nationals have been abducted for ransom include Iraq and Nigeria; and anti-Chinese protests have led to the looting of Chinese-owned factories and shops the world over. When China was isolationist, such incidents were rare; as its influence grows, they are becoming frequent. Beijing strictly follows the principle of non-interference in the affairs of other states. This does not protect its citizens and companies beyond Chinese shores from political violence. As its foreign investment strategy gets more aggressive, so, too, will the human price it has to pay. Beijing needs to be more worldly-wise. It has to do its utmost to protect Chinese citizens and firms overseas and to ensure that the risks they face are as low as possible.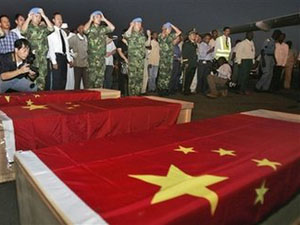 Sudan seeks missing hostages - Sudan said it was searching for three missing Chinese oil workers on Tuesday after what Beijing described as a failed attempt to rescue nine mainland men kidnapped.
The deputy director of the Supreme People's Court, Huang Songyou , was among four government officials sacked yesterday as the fifth session of the 11th National People's Congress Standing Committee ended. The committee also approved two proposed laws on state-owned assets and fire prevention. Mr Huang, 51, also lost his title of member of the judicial committee and judge. The South China Morning Post (SEHK: 0583, announcements, news) reported two weeks ago that investigators from the Communist Party's Central Commission for Discipline Inspection had questioned him on October 15 and searched his office and home. Mr Huang was widely believed to be involved with financial corruption in Guangdong province, but the court remained vague on his case yesterday. Standing Committee press bureau chief Kan Ke also announced at yesterday's press conference that the committee had "accepted the resignation of Zhu Zhigang , director of the NPC Standing Committee's budgetary affairs committee". "Zhu Zhigang was suspected of a serious breach of the law and party rules, and is under investigation," Mr Kan said, without disclosing the results of the investigation. Mr Zhu was subject to party disciplinary action for alleged corruption, Xinhua reported yesterday. The investigation into Mr Zhu had started before the week-long National Day holiday, but he was not officially put under shuanggui - a form of party investigation - until last Wednesday, according to Caijing magazine. Two deputies of the 11th NPC were also expelled yesterday for "involvement in serious corruption". The two lawmakers are Zhu Siyi , general manager of Yida Fuel Development Limited Co in Guangdong, and Xie Bing , chairman of Miaodayi Meichu Food Co in Sichuan province. Zhu Siyi was suspected of offering bribes and Mr Xie was suspected of fraud, but no other details were given by the NPC. Besides passing amended versions of laws on fire prevention and state-owned assets, legislators also reviewed drafts of other laws, including the food safety law. Laws on state compensation, the postal service and precautions against earthquakes and disaster reduction were also read and discussed during the session, and legislators have discussed a State Council plan on improving macroeconomic controls over financial markets.
Bank of China (3988) said yesterday its net profit for the third quarter rose 11.5 percent to 17.76 billion yuan (HK$20.11 billion), broadly in line with expectations, on growing fee income business.

A vice governor from the central bank will head a group of top mainland bankers to Taiwan next week as they look for new opportunities in anticipation of an investment agreement.
Workers check the generating unit 15 on the right bank of the Three Gorges Project in central China's Hubei Province Oct. 29, 2008. The last turbo-generator completed a 72-hour test run at 9 a.m. Wednesday, and would be connected to the power grid. Main works of the Three Gorges Project are a 185-meter-high dam, a five-tier ship lock, and 26 hydropower turbo-generators. The dam has 14 turbo-generators on the left bank and 12 on the right.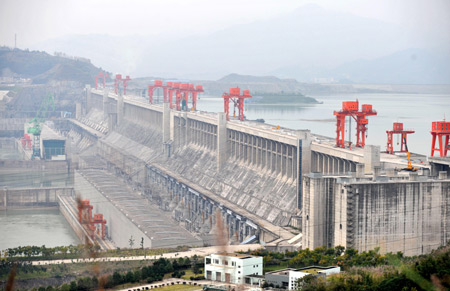 This photo taken on Oct. 28, 2008 shows the dam of the Three Gorges Project in central China's Hubei Province Oct. 29, 2008. With a budget equivalent to 22.5 billion U.S. dollars, the project is also a water control system for the upper and middle reaches of the Yangtze, China's longest waterway. Its functions cover power generation, flood control and navigation. Main works of the project are a 185-meter-high dam, a five-tier ship lock, and 26 hydropower turbo-generators. The dam has 14 turbo-generators on the left bank and 12 on the right. Combined, they will produce 84.7 billion kw of electricity annually, which would require 40 million to 50 million tons of coal consumption for a coal-fired station to produce. Plans were expanded further to include six more turbines by 2012. A ship lift will be finished by 2015.
October 29 2008

Hong Kong: The central government would support Hong Kong during the global financial crisis, Premier Wen Jiabao said on Tuesday.
Hong Kong Monetary Authority chief executive Joseph Yam Chi-kwong said on Tuesday he believed central banks internationally would continue to lower interest rates.
HK shares bounce back, post a 14.4pc gain on Tuesday, clawing back Monday's losses and notching up their biggest one-day gain in 11 years as investors snapped up bargains.

Legco debates taxi fare rises as lawmakers debated increases to taxi fares in the Legislative Council on Tuesday afternoon, cabbies re-iterated that their incomes would be seriously affected by the move.

Hong Kong has appointed Morgan Stanley Asia chairman Stephen Roach and Standard Chartered chairman Mervyn Davies to an economic task force to deal with the worsening global financial crisis.
The Bauhinia Foundation Research Centre on Tuesday called for more co-operation between Guangdong and Hong Kong to create a Pearl River Delta metropolis over the next 20 years. The centre is an economic and social policy think-tank established in March 2006. In a new study, the centre said both cities should take advantage of new economic and social developments in the region. The study was conducted between February and October with participation by the China Business Centre of Hong Kong Polytechnic University and China Development Institute of Research in Shenzhen. It interviewed 100 government officials, specialists, academics and industry representatives, 30 Hong Kong enterprises, 100 Guangdong enterprises and 2,000 citizens in both cities. The centre noted that the Pearl River Delta Metropolis covered nine areas – including Hong Kong and Macau. Centre chairman Anthony Wu Ting-yuk said considerable benefits had resulted from economic developments in Guangdong and Hong Kong. "The industrialisation in Guangdong and post-industrialisation in Hong Kong have been accelerated – resulting in a concentration of highly competitive industries and fostering a cluster of townships in the Pearl River Delta Region," he noted. The study predicted the development of a Pearl River Delta metropolis. This would boost the region's gross domestic product, trade and level of investment. However, Mr Wu said there were problems in developing a metropolis. These included Hong Kong and Guangdong's differences in legal and economic systems, and in public administration and social services. Competition and conflict of interest also existed among cities in the region, he added.
The Jockey Club's racing operations might go into the red for the first time because of a lower turnover amid the economic downturn and a "heavy" tax regime, its chief executive said. Winfried Engelbrecht-Bresges has called for a tax waiver, a review of the tax structure and an easing of restrictions on betting to plug a likely deficit of between HK$50 million and HK$100 million. Although the club's charitable commitments would not be affected in the short term, Mr Engelbrecht-Bresges said that if the situation continued, the club might have to cut jobs and reduce donations. The club would also be unable to invest in the future by renovating its facilities to maintain the appeal of racing in the light of increased competition from overseas betting operators, he said. "You can't restrain our business and tax us to death. If there is no change in three to five years' time, we have to cut jobs. We may not be able to do another Olympics, handle another Sichuan [earthquake], or help in Tin Shui Wai," he said. As one of Hong Kong's leading charity providers, the club has funded many projects such as the Olympic equestrian events, relief efforts in Sichuan and community services for the poor including those in Tin Shui Wai. Its total charity payout in 2007-08 was HK$1.052 billion, up from HK$1.049 billion in the previous year. Under an agreement struck with the government in 2006, the club has to pay at least HK$12.50 out of every HK$100 it receives in bets placed by racing punters, keeping only HK$5. The remainder is paid out. But Mr Engelbrecht-Bresges said the agreement to pay at least HK$8 billion each year as betting duty to the government would be unsustainable because of the drop in turnover as a result of the financial crisis. Racing turnover has already dropped by 6 per cent compared with the same period of last season. The club expects that the annual drop in turnover could reach 10 per cent by the end of the season. If that happened, then losses could amount to HK$100 million. Although the club's soccer-betting business is making money, its profit margin has dropped from 17 per cent to 14 per cent. The Mark Six lottery operation could just break even, according to the club. Under the current agreement, the government takes 50 per cent of profits from the soccer-betting business. In Mark Six, the club pays a 25 per cent betting duty after taking a commission, with the remainder going to the Lotteries Fund. In the light of the gloomy estimates, Mr Engelbrecht-Bresges has written to Financial Secretary John Tsang Chun-wah requesting greater flexibility in running events and a change in the way horse racing is heavily taxed, as the mechanism is due for review next year. Among demands made by the club were the addition of five race days each year, operating simulcast race days for overseas racing events, and waiving the betting duty guarantee to allow for operations during an economic downturn. "We are not going to close down, but we have to invest for the future," Mr Engelbrecht-Bresges said. A spokeswoman for the Home Affairs Bureau said that although the government had been in talks with the Jockey Club over its concerns, the present formula of betting duty was decided by the legislature and could not be revised without its approval. She said discussions would continue with the club ahead of the scheduled review of the tax mechanism but no change was planned for the present season. In the last racing season, the Jockey Club paid HK$8.17 billion in betting duty for horse racing. The tax payments for soccer betting and Mark Six were HK$3.1 billion and HK$1.59 billion respectively. The overall turnover for horse racing was up from HK$63.8 billion in 2006-07 to HK$66.7 billion last season. Turnover for soccer betting also rose from HK$30.2 billion in 2005-7 to HK$34.4 billion.
Most of the customers who bought Lehman Brothers' constellation structured retail notes would lose their entire principal, DBS Bank (Hong Kong) said on Tuesday .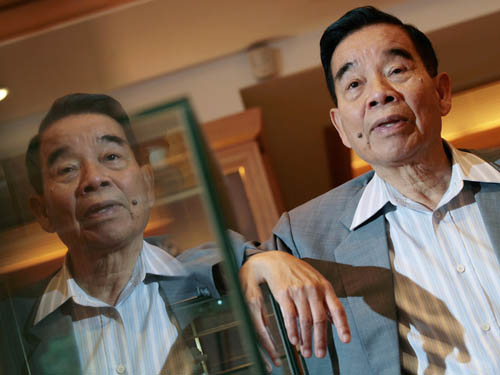 Billionaire property tycoon Cheng Yu-tung urged Hongkongers yesterday not to worry too much about the financial crisis, saying the tumbling stock market would eventually bottom out. Mr Cheng, chairman of New World Development, said the mainland economy's continued growth would help Hong Kong ride out the crisis. "I think [we] don't need to worry too much," he said. "Hong Kong is lucky to have China because China's economy, according to Premier Wen [Jiabao ], will grow by a few per cent. The financial [crisis] doesn't have too much impact on it and if Hong Kong has any [problem], China will support us." But he said he believed the local economy would be affected by the economic turmoil for a year or two, and said Hongkongers should unify in combating it. Saying that small and medium-sized enterprises (SMEs) were suffering the most, he urged the government to come up with ways to help them. He said it should also stimulate consumption, boost tourism and speed up the building of infrastructure to boost the local economy. "It's not that Hong Kong people don't have money. Hong Kong people are rich, but they don't want to spend money. Therefore, we need to stimulate the public to spend more," he said. With land supply limited, Mr Cheng said property prices would not plummet too much, although he predicted a fall of 10 per cent to 20 per cent next year. He also said the mainland property market would rebound gradually, When asked how much his wealth had shrunk because of the stock market slump, Mr Cheng - reportedly worth US$9.4 billion in January - said he had no problems with his investments. "Just leave the shares there when they have shrunk," he said. "[The slump] is like a tsunami so no one can handle it or [could have] guessed that it would come so quickly. But we will see [the bottom] eventually." The noted philanthropist, recently awarded the city's top honour - the Grand Bauhinia Medal - said he would not cut his donations amid the financial crisis. He said he wanted to continue doing charity work and hoped to "help more people in the academic and medical fields".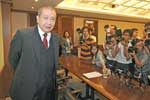 Bank of East Asia (0023), Hong Kong's third- largest lender by assets, expects a HK$2.2 billion loss in the second half after disposing of its collateral debt obligations.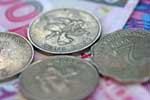 HK dollar offers a port in storm - The Hong Kong dollar became an attractive safe haven for institutional investors and major companies yesterday as emerging-market currencies continued to tumble.

China: China's top offshore oil and gas producer, CNOOC (SEHK: 0883), produced 15.2 per cent more oil and gas in the third quarter while total revenue rose 69 per cent to 30.9 billion yuan (HK$35 billion) on higher crude prices.
Global crude oil prices fell from US$140 per barrel in July to US$100 in September, but they were still higher than the US$70-80 level a year earlier. State-owned CNOOC is hunting for overseas assets to meet demand from mainland, the world's largest oil consumer after the United States. CNOOC and domestic rival Sinopec, parent of Sinopec Corp (SEHK: 0386), are closing in on buying an Angolan oil field stake being sold by US energy firm Marathon Oil, a source with knowledge of the bidding said this month. CNOOC said in a statement that its overall output rose to 549,589 barrels of oil equivalent per day in the July to September period. Its average oil selling price was 58.7 per cent higher at US$106.94 per barrel in the quarter. CNOOC has set a target of producing about 15 per cent more oil and gas to 195-199 million barrels of oil and gas equivalent this year.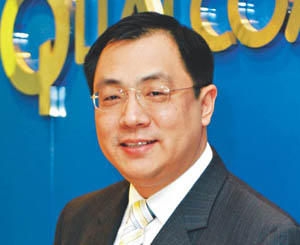 The mainland should issue 3G mobile licences based on the principle of technology neutrality to end the year-long head start for homegrown TD-SCDMA mobile technology, according to Frank Meng Pu, the president of Greater China for 3G mobile technologies developer Qualcomm. Mr Meng said the technology would mature once it hits the street and competes with rival technologies in the form of the United States-developed CDMA 2000 EV-DO platform and WCDMA system developed in Europe. China Mobile (SEHK: 0941, announcements, news) has been handling the building and operation of a TD-SCDMA 3G commercial trial since April in 10 cities, including Beijing, Guangzhou and Shanghai. The company will establish the network in 28 more cities in the second phase of expansion. According to government figures, about 300,000 users have signed up to the network since it was launched in April. However, problems such as frequent technical failures, dropped calls and a lack of coverage have beset a system that is said to be years behind its rivals. "The government should open the market. Operators know how to drive the technology under market competition," said Mr Meng, adding that if the government really wanted to help TD-SCDMA become stronger, other systems should not be blocked. "The technology will improve when it competes with others. Just like the competition between CDMA and GSM is driving the improvement of these two technologies," Mr Meng said. China Telecom (SEHK: 0728) and China Unicom (SEHK: 0762, announcements, news) , which are most likely to adopt CDMA 2000 and WCDMA, still do not have government approval to build their networks or provide trial services, despite conducting trial runs. The mainland has given TD-SCDMA a one-year lead over others and "that's enough of a head start", Mr Meng said. In May, the mainland authorities said 3G mobile licences would be issued after the completion of the telecommunications industry restructuring. The reshuffle has resulted in the formation of three full-service carriers, namely China Telecom, which acquired China Unicom's CDMA services; China Mobile, which took over China Tietong; and China Unicom, which merged with China Netcom. Qualcomm has the patents for all three 3G mobile technologies and has licensing agreements with more than 80 foreign companies. Qualcomm is also a consultant to fixed-line giant China Telecom for its launch of CDMA services. Mr Meng said China Telecom might take a year to enhance its network coverage to meet the quality of China Mobile's GSM network. "China Telecom needs to add new base stations and undertake some network optimisation projects to improve network quality. This will take a year." China Telecom has about 100,000 CDMA base stations, compared with China Mobile's 300,000-plus. Mr Meng said that an independent survey conducted a few years ago found that the CDMA network had outperformed China Mobile's GSM network. However, network quality dropped because of a lack of investment by China Unicom brought on by uncertainties arising from the industry restructuring. Mr Meng said the latest round of network enhancement would give China Telecom the capacity to upgrade its existing CDMA network to a 3G or EV-DO mobile network. "The CDMA technology can enable China Telecom to deploy the CDMA EV-DO service by only changing some equipment in existing base stations, and then the company can immediately start providing 3G services," said Mr Meng. China Telecom, which already provides CDMA services on the 800 megahertz frequency, should be able to provide 3G services without seeking new bandwidth. CDMA handset supply would also be key to the success of China Telecom's mobile business. In excess of 70 CDMA handset models from more than 30 vendors reportedly featured in China Telecom's recent handset bidding. Mr Meng said he believed China Telecom could focus on high-spending commercial customers and low-end users to meet the target of 100 million CDMA users in three years, from 42 million last month. "China Telecom can provide high-speed mobile internet service based on EV-DO to compete in the high-end segment for higher profits, while launching low-cost CDMA phones to boost user numbers," he said.
Sohu.com, China's second-largest Web portal expects to double its sales in the fourth quarter as the popularity of its online games continue to increase.
Beijing's Association for Relations Across the Taiwan Strait (ARATS) chairman Chen Yunlin will visit Taiwan next week to discuss direct shipping, air cargo, postal service and food safety issues.
Chinese leaders have approved 2 trillion yuan (HK$2.26 trillion) of spending on railway construction, stepping up domestic investments to help fend off an economic slowdown.
October 28 2008

Hong Kong: Hong Kong's central bank on Monday afternoon injected an additional HK$7.753 billion into the territory's interbank market, its second injection of the day, as a plunging stock market pushed up interbank rates. The move took the total fund injection for the day to HK$15.5 billion as the central bank sought to ease liquidity. The three month Hong Kong interbank offered rate (Hibor) was fixed 45 basis points higher on Monday, its biggest one-day gain since US investment bank Lehman Brothers went bankrupt in September. Traders said a 12.7 per cent plunge in the Hong Kong stock market – its biggest one-day loss since 1997 – helped pushed up interbank rates as international investors desperate for cash sold shares in Hong Kong, one of the world's most liquid markets. "Taking into account strong precautionary demand for liquidity in the market, the HKMA operated within the convertibility zone, purchasing US dollars against Hong Kong dollars," a spokesman for the Hong Kong Monetary Authority said. The convertibility zone refers to the Hong Kong dollar's pegged trading band at 7.75 to 7.85 to the US dollar.
Hong Kong Monetary Authority chief executive Joseph Yam Chi-kwong on Monday urged local banks not to tighten up too much on lending to small and medium enterprises (SMEs). Mr Yam said he understood banks' concerns about the ability of some SMEs to repay their loans. But he said the financial crisis was now hurting many local firms and retail companies. Mr Yam also said the authority had introduced measures to protect banks since the global crisis began – such as reducing interest rates and raising the deposit protection scheme to 100 per cent. "Liquidity is crucial for individual banks and the banking system as a whole," Mr Yam said. "It is important to address both issues if the banks are to continue to provide funding to finance economic activities and sustain economic growth," he said on the HKMA website.
HK shares in biggest drop since '97 as HSBC slides 14pc - Hong Kong shares recorded their biggest one-day fall in more than a decade on Monday with the Hang Seng index shedding 12.7 per cent of its value. The nosedive, led by blue-chip heavyweight HSBC (SEHK: 0005, announcements, news) , came as fears of a global recession hammered other Asian stock markets. Hang Seng Index closed down 1,602.54 points at 11,015.84, its lowest level since mid-2004 and taking its losses so far this year to 60 per cent. The index lost as much as 15 per cent earlier, its largest one-day decline since 1987. Europe's largest lender, HSBC shed 14.77 per cent to HK$75.00, its lowest level in seven years and wiping US$20 billion off its market value. The stock plunged 12.5 per cent on Friday after Morgan Stanley slashed its target price to HK$75 on growing signs of trouble in emerging markets.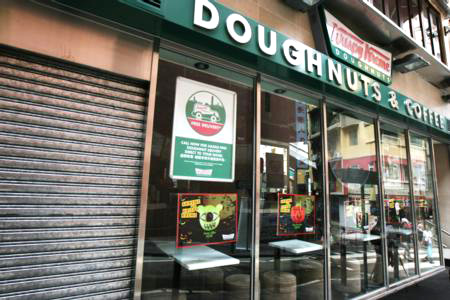 The Krispy Kreme Doughnuts has closed all but two of its outlets at the Hong Kong International Airport today after going into liquidation. Pictured is one of the stores in Elgin street, Central, that is already closed.
Eggs and meat in Hong Kong would be tested for melamine this week, Centre for Food Safety (CFS) acting-controller Constance Chan announced on Monday said.

In the eyes of the newly appointed chairman of the arts hub, arts and culture cover a much broader scope than paintings and opera - wine is also a form of culture and a vineyard should be planted as part of the project. Chief Secretary Henry Tang Ying-yen revealed his innovative vision on his first day chairing the West Kowloon Cultural District Authority, while talking about his passion for the arts. "Wine is also part of arts and culture," said Mr Tang, an avid wine lover and collector. He suggested planting vineyards at the arts hub. "Why not? How many in Hong Kong have seen wine grapes? I'm not talking about the grapes you buy at supermarkets," he said. "There will be some green areas [in the arts hub] so instead of planting grass, we can plant one or two vineyards." Mr Tang said he would present the idea to the authority later on "when we discuss the green plan in the area after we finish with the master layout plan". The idea has earned a degree of support from the wine industry. "Why not think big?" said Boris de Vroomen, co-chairman of the Hong Kong Wine and Spirits Industry Coalition. "[A vineyard] usually doesn't work very well in tropical countries unless it's on a mountain. In Hong Kong it could probably be on the top of the IFC," Mr de Vroomen said. "But the idea is fun to explore ... a few bottles of authentic wine from Hong Kong can promote wine culture."
David Li Kwok-po, the chairman and chief executive of the Bank of East Asia (SEHK: 0023), does not want to be part of the Legislative Council's sub-committee set up to investigate the controversy involving Lehman Brothers' financial products, local media reported on Monday. The sub-committee's chairman Raymond Ho Chung-tai said on Monday Mr Li had asked to be withdrawn from the committee. The committee will examine issues arising from the controversy involving Lehman Brothers-linked structured products. Many Hong Kong people bought these financial products, but suffered significant losses after the collapse of Lehman Brothers in the United States. They are now demanding compensation and argue these products were often sold to them as secure investments. During the first meeting of the Legco sub-committee on Monday, Mr Ho said Mr Li has sent a formal letter and requesting that he be withdrawn from the sub-committee, local media reported. Mr Ho said Mr Li had not provided a reason, but Mr Ho had denied suggestions it was because the Bank of East Asia was one of the local banks which distributed Lehman Brothers structured products. During the meeting, Civic Party legislator Margaret Ng Ngoi-yee said the sub-committee should also examine other high-risk investment products.
Troubled CITIC Pacific (0267) will not sell off any of its assets at firesale prices, according to the company's embattled chief Larry Yung Chi-kin.
The University of Hong Kong (HKU) announced Thursday that it has received a 100,000 U.S. dollars Grand Challenges Explorations grant from the Bill and Melinda Gates Foundation to do research on AIDS vaccine. The grant will support an innovative research project about a study of a new type of AIDS vaccine conducted by Dr. Zhiwei Chen, Director of the AIDS Institute at the university's Faculty of Medicine. The institute was established with a mission to make scientific discoveries and provide solutions to end the HIV/AIDS pandemic. Chen said that this is one of the most important research grants they have received since the establishment of the institute in 2007. The funding will allow them to conduct innovative research projects on AIDS vaccine at HKU immediately. The project aims to work on a new vaccine for AIDS which is capable of inducing neutralizing antibodies against HIV-1 sexual transmission, the major risk factor of AIDS pandemic.

China: China's economy is likely to expand between 8 and 9 per cent next year, the World Bank's top economist said, calling the fourth-largest economy's continued fast growth its biggest contribution to fighting global financial havoc. orld Bank Chief Economist Justin Yifu Lin told a forum in Beijing that next year mainland's growth would be pushed along by vigorous consumer spending and fixed asset investment, the Chinese-language Beijing Times reported on Monday. "Compared to the double-digit growth of recent years, there will indeed be an adjustment of 2 to 3 per cent, but viewed globally, China will remain a fast-growing country," said Mr Lin. Mr Lin was formerly a Peking University professor influential in the country's policy-making, and his comments added to recent ones from Beijing officials that have struck a note of cautious confidence about the country's growth prospects. Mainland's growth slowed sharply to 9 per cent in the third quarter from 11.9 per cent in all of last year. But officials have said policies to expand rural development and stimulate domestic demand should help shield the country from the worst of a global economic downturn. Mainland's economy is generally in good shape but must prepare for challenges that are sure to come from the global financial crisis, the central bank governor, Zhou Xiaochuan, said on Sunday. Mr Lin echoed the sentiments. "The financial turmoil will have an impact on China," he said. But the country's growth trends, macro-economic settings and external accounts were healthy enough. Mr Lin added he was "confident that China has the ability to smoothly pass through this turmoil and continue rapid growth".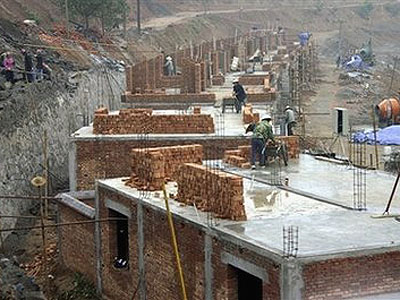 Workers build houses in Shaanxi on October 17. Reconstruction work is hastened before the onset of winter in Hanzhong's worst affected counties. The World Bank is planning to lend China US$710 million (HK$5.5 billion) to help with the reconstruction of areas destroyed by May's earthquake, a bank spokeswoman said on Monday. The Xinhua news agency reported on Sunday that the World Bank would provide an emergency recovery loan in that amount, US$510 million of which would go to Sichuan province, which was hardest hit by the quake.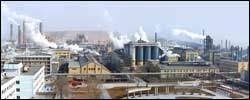 The global downturn is biting into mainland companies, with Aluminium Corp of China (2600), or Chalco, reporting a 92 percent drop in third-quarter net profit and Datang International Power Generation (0991) issuing a profit warning. Chalco said yesterday that net profit for the quarter to end-September dropped to 182.9 million yuan (HK$207.18 million) from a restated 2.29 billion yuan in the corresponding period a year ago, with earnings per share at 1.4 fen. The company attributed the dive to a substantial increase in production costs and sliding aluminum prices amid weakening demand. Aluminum futures have dropped more than 20 percent this year, standing at 13,825 yuan a ton on Friday on the Shanghai Futures Exchange.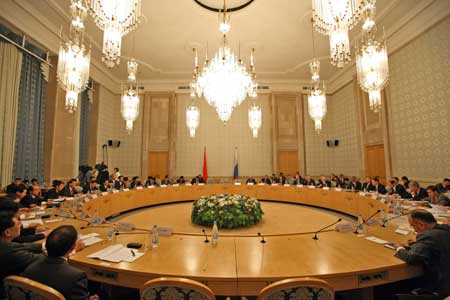 The 12th conference of a joint commission for the regular meetings of Chinese and Russian prime ministers is held in Moscow, capital of Russia, Oct. 27, 2008. During the one-day conference, the two sides exchanged views in a candid and thorough manner on major issues of common concern and reached a broad consensus.
Premier Wen Jiabao has called for new rules to guide the international financial system following Asian and European leaders' call for the International Monetary Fund to step in and play a "critical role" in dealing with the global financial crisis. "The crisis has fully revealed some defects in the current international financial system The international community has demanded reforms and the establishment of a fair and efficient international financial system," Wen said at the closing ceremony of the Asia-Europe Meeting (ASEM) summit in Beijing on Saturday. The premier proposed increased participation of developing countries in international financial organizations, strengthening supervision of the international financial system and building a financial assistance system. Leaders of the summit's 45 members, including 27 European countries, 16 Asian countries and other regional organizations, vowed at the two-day summit to overhaul the global financial system. "Leaders pledged to undertake effective and comprehensive reform of the international monetary and financial systems," said a statement released on Friday night. At a press conference after the summit on Saturday, Wen said the Chinese government is well positioned to control the crisis' ripple effects on the national economy.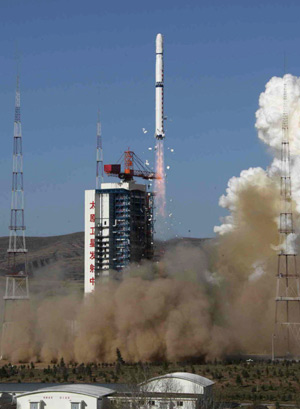 A Long March-4B rocket carrying satellites coded as the 03 Group of the Shijian-6 serial research satellites blasts off from the launch pad at the Taiyuan Satellite Launch Center, north China's Shanxi Province, on Oct. 25, 2008. China successfully launched two satellites with a Long March-4B carrier rocket early Saturday morning.
October 25 - 27 2008

Hong Kong: The proposed 93-storey Hopewell Centre II hotel in Wan Chai hit a hurdle yesterday when its transport impact assessment was rejected. The transport chief asked the developer to provide more details. In response to independent legislator Regina Ip Lau Suk-yee's query on the development, formerly known as the Mega Tower, Commissioner for Transport Alan Wong Chi-kong said his department was not satisfied with the transport impact assessment report. "We made a careful assessment of the report they submitted in mid-September, and we returned it through the Lands Department adding in our suggestions on traffic flow and traffic projection," Mr Wong said. "I can say that ... their report does not pass our assessment."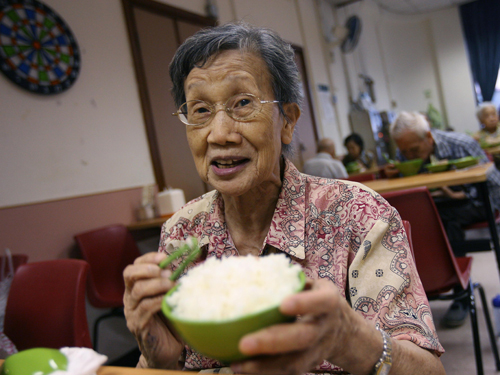 Chow Ying, 86, welcomed the decision, saying: "The old age allowance is a kind of token to show respect to the elderly." She lives on her savings and HK$705 monthly allowance. Chow Ying gave the government's decision to increase the old age allowance the thumbs up. She is already planning a yum cha gathering with friends to celebrate. "I thought young people should have sharper minds, but it seems our leader's mind is not as sharp as us old people's," said the 86-year-old, referring to Chief Executive Donald Tsang Yam-kuen's original opposition to increasing the monthly allowance for fear it would strain the public finances. The current old age allowance is HK$625 for those aged 65 to 69, subject to a means test, and HK$705 for everyone aged 70 and over. Ms Chow, who lives on her savings and receives the HK$705 monthly allowance, spends most of her time doing voluntary work for the social welfare organisation St James' Settlement, where meals costing about HK$13 are served. "I feel very happy about the increase. Money is not the main issue, but saying giving old people more money could place a heavy burden on the next generation is just not right. "Is the government suggesting that old people are all like parasites? Old people will not waste money on jewellery or other luxury things. We spend most of our money on medicine and food." She is still unhappy about the means test the government applies to stop better-off old people from getting the monthly allowance. "The old age allowance is a kind of token to show respect to the elderly," said Ms Chow, who lives in Western. "There is no reason for the government to check our wealth." Kwok Tsz-yin, 76, of Sham Shui Po, was also delighted with the government move. But he said the policy U-turn came a bit too late. "I did not understand why Mr Tsang could not have done it sooner," said Mr Kwok, a retired construction worker who is also living on his savings and receiving the HK$705 monthly allowance. "He has already hurt old people's hearts. A U-turn is, of course, good. It is better late than never."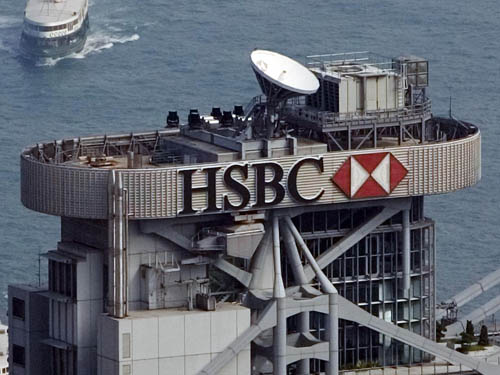 HSBC Holdi ngs (SEHK: 0005, announcements, news) ' share price plunged to a five-year low in Hong Kong yesterday after Morgan Stanley cut its forecast for the bank's earnings and dropped its target price for the stock by 25 per cent. The stock dropped 12.52 per cent to end the day at HK$88, the first time it has closed below HK$100 since September 2003, when the severe acute respiratory syndrome epidemic hit earnings. Shares of Standard Chartered Bank also hit a five-year low, closing down 13.47 per cent at HK$105.40. Hang Seng Bank (SEHK: 0011, announcements, news) fell 8.72 per cent to HK$89.50. Morgan Stanley cut its target price for HSBC to HK$75 from HK$100, and warned of weaker revenue from Hong Kong and the rest of Asia, and an increase in its bad debts. "We question how long HSBC shares can continue to tread water in the face of falling earnings and increased pressure on capital," Morgan Stanley said, adding that HSBC might halve its dividend next year. Ivan Li, an analyst at Kim Eng Securities in Hong Kong, said it was too early to say whether HSBC would cut its dividend, but agreed the business outlook was uncertain. Louis Tse Ming-kwong, a director at Hong Kong brokers VC, said HSBC's share price would remain under pressure since emerging markets account for a big share of its income. Still, he said Standard Chartered would suffer most from a downturn in emerging markets since it was most dependent on them for its profits. Morgan Stanley cut its target price for Standard Chartered shares by half.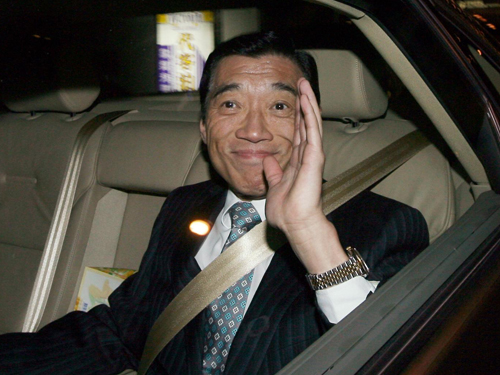 Citic Pacific (SEHK: 0267) managing director Henry Fan Hung-ling took leave of absence from the Executive Council yesterday with immediate effect and for an indefinite period, in a move that could relieve some of the pressure on him to resign. He also stepped aside as chairman of the Mandatory Provident Fund Schemes Authority. The decision, announced last night by Chief Executive Donald Tsang Yam-kuen, came amid questions about Mr Fan's suitability to continue as an executive councillor after his troubled company delayed for six weeks an announcement about massive losses in foreign exchange dealings.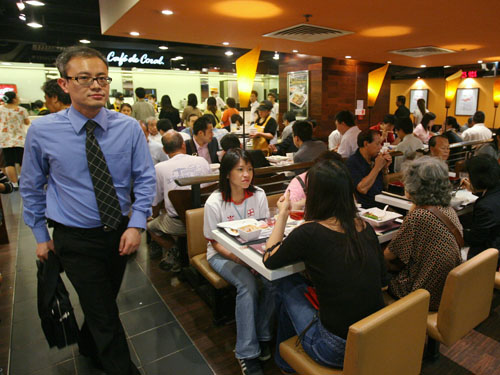 Crowds pack Causeway Bay's Cafe de Coral. The chain plans to open 40 to 45 outlets next year. While some restaurants in the city are struggling to survive in the economic downturn, one local fast-food chain is benefiting from the crisis and has ambitious expansion plans. Cafe de Coral (SEHK: 0341), one of Hong Kong's biggest fast-food chains, said revenue grew about 8 per cent in the first nine months of the year, thanks to more customers, higher prices and costs that had remained stable. "We have many new customers. Even fund managers eat at our restaurants," Michael Chan Yue-kwong, chairman of the company, said. He expected the chain to achieve double-digit growth for the whole year. Cafe de Coral, which has been operating for four decades, has 135 outlets in Hong Kong and on the mainland. It plans to open another 40 to 45 outlets in the coming year, compared to 30 to 35 opened annually over the past two years. "[A bad economy] has proven to be an excellent opportunity for us to expand," said Mr Chan, citing the Asian financial crisis in 1998 and the Sars outbreak in 2003. "I believe history can be repeated." Fast-food chains McDonald's and Maxim's refused to comment on their businesses. But unlike Cafe de Coral, some cha chaan tengs, or tea cafes, are having a tough time. Tai Hing Roast Restaurant Group, which has 28 outlets across the city, said more customers were coming in but they were spending less. Sophie Cheung, spokeswoman for Tai Hing Roast, said turnover dropped 5 per cent over the past two weeks. "Although we have more new customers, some of our regular diners are turning to other cheaper tea cafes," Ms Cheung said. Another cha chaan teng to suffer is the decades-old Tai Fat Cafe in Wan Chai. The operator, a man surnamed Lo, said: "We have not seen a serious impact on our business so far. More people are coming in to have cheap meals in the afternoon, but fewer people are coming in for dinner."
Hong Kong's wealth gap is biggest in Asia - The financial divide between Hong Kong's haves and have-nots is the greatest in Asia, despite the region having the greatest income equality in the developing world, a UN report has found. The report showed that Hong Kong had a relatively high Gini coefficient of 0.53 in 2006. In contrast, Beijing's Gini coefficient was 0.22, making it the most equal city in the region and the world. The Gini coefficient is a widely used indicator of income inequality. The lower the measurement, the more equal the wealth distribution. A measurement of zero would indicate a society where income was perfectly distributed. If one person had all the income, the Gini coefficient would be one. A measurement of 0.4 or higher was considered unacceptable, the report said. The data was compiled in the State of the World's Cities 2008/2009 report, published every two years by the UN Human Settlements Programme, or UN-Habitat. In Europe, relatively high Gini coefficients were recorded for Portugal at about 0.36, and Britain and Spain at about 0.34. Major US cities such as Atlanta, New Orleans, Washington, Miami and New York had Gini coefficients of more than 0.5, the report found. Hong Kong's Gini coefficient has risen from about 0.43 in 1976 to 0.48 in 1996 and 0.53 in 2006. A widening wealth gap is a difficult trend to halt or reverse, especially in an open, globally connected economy such as that of Hong Kong. With most wealth-creation opportunities concentrated in the financial sectors.
Tuition fees cut for 5,000 students at DSS schools - Tuition fees for about 5,000 direct subsidy secondary students have been slashed to ease the financial burden on families, but some 10,000 high school seniors have been left without relief.

Lower electricity rates all round - All of us will be paying less for electricity: Hongkong Electric (0006) said yesterday it plans to cut power tariffs in light of lower coal prices and after rival CLP Holdings (0002) lowered the net basic tariff by 10 percent this month.

Food outlets demand tests - Restaurants across the city have started requiring suppliers to provide test results on ingredients in response to the continuing melamine milk scandal.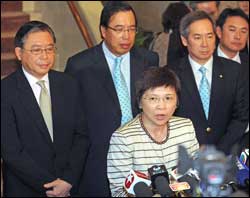 Large numbers of Hong Kong-owned factories across the border will be forced to close by Lunar New Year if banks continue to tighten credit, the Federation of Hong Kong Industries has warned. Some 17,500 out of 70,000 Hong Kong-owned businesses in the mainland will be affected, according to federation chairman Clement Chen Cheng-jen. Amid the gloomy outlook for the economy, the government yesterday announced five rescue measures for small and medium-sized enterprises. They are: Hong Kong Export Credit Insurance Company will continue to provide cover for buyers' failure to take delivery of goods although other insurance companies have refused to provide such cover; The ECIC will also freeze premiums for its insurance facilities; Provide free buyer credit assessment for all Hong Kong exporters; A shortened processing time in handling exporters' credit limit applications from five to four days; and More seminars to share risk management experience and enhance understanding of the latest overseas market developments. The measures were announced by Secretary for Commerce and Economic Development Rita Lau Ng Wai-lan after meeting with lawmakers and representatives from five major chambers of commerce and small and medium enterprises. Chairman Chen said overall orders received at this time of the year have dropped 20 to 30 percent from 2007 and that some manufacturers have yet to secure any January orders. These businesses are left even more cash-strapped as some European and American buyers have called a halt on Christmas orders - which is supposed to be a peak season for all industries. An ECIC spokeswoman said most measures are already in place but they will continue to be enforced despite the rising risk in selling to overseas markets. Chen said a quarter of the 70,000 Hong Kong-owned factories in the mainland are facing critical refinancing difficulties and that manufacturers of labor intensive cheap goods are the most vulnerable. "It is difficult to find new orders. We are not asking banks to increase the loan, but just continue to lend us money. Otherwise even those not going to fold up will be forced to close shop eventually." SME Mentorship Association chairman Anders Wong Siu-leung said the service sector is as much threatened, if not more, because they have no goods to secure for loans.
The Hong Kong Monetary Authority continued to inject liquidity into the banking system yesterday by buying HK$3.88 billion worth of US dollars to keep the Hong Kong unit within the official trading limits of its currency peg system.

China: Seven mainland tourism officials have cancelled a trip to Taiwan after the physical attack on a senior mainland cross-strait official by pro-independence protesters during his visit to the island's southern city of Tainan. The Taiwan Strait Sightseeing and Tours Association had received notice that the deputy directors of tourism bureaus in seven provinces would not visit as planned, the Guangzhou-based Southern Metropolis Daily reported yesterday. The notice did not explain why they cancelled the trip, for which the Taiwanese tourism organisation had been preparing for quite a while.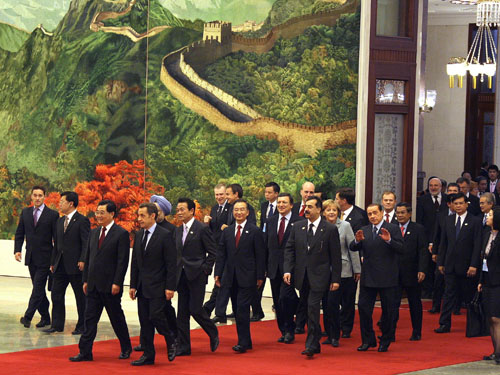 Nicolas Sarkozy (fourth from the left in the front row) walks with President Hu Jintao as they lead the other heads of state and government leaders representing Asian and European countries into the Great Hall of the People for the opening of the Asem summit.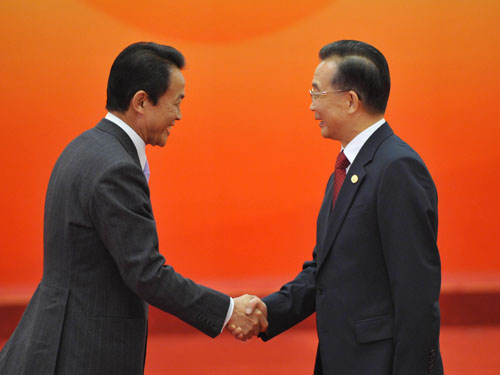 Japanese Prime Minister Taro Aso is welcomed by Premier Wen Jiabao to yesterday's meeting in the Great Hall of the People in Beijing. China and Japan agreed yesterday to improve communications by conducting more "timely" exchanges over the phone, as Taro Aso met Chinese leaders in his first visit as Japan's prime minister.
Mr Aso raised the idea with President Hu Jintao and Premier Wen Jiabao in separate meetings before the opening of the Asia-Europe Meeting in Beijing.
China joins Latin American lender after jump in trade and investment - China has become a member of the Inter-American Development Bank, the biggest lender to Latin America, as the country's trade and investment with the region is flourishing.
Peking University School of Transnational Law opens - A dedication ceremony of the Peking University School of Transnational Law (STL) was held in Shenzhen, Guangdong Province, southern China. Among cheers and drum-beatings, the ceremony was declared open by Chancellor and Founding Dean Jeffrey S. Lehman Wednesday. Lehman is the former president of Connell University and ex-dean of Michigan University School of Law. Dong Jianhua, vice-Chairman of Chinese People's Political Consultative Conference, President of Peking University Xu Zhihong, and U.S. Supreme Law Justice Anthony Kennedy were present at the ceremony which also drew a group of government officials, college presidents and leading jurists of the two countries. Being Chinese mainland's first law school mostly using U.S.-styled teaching methods, STL was founded in July, 2007. It aims to train qualified lawyers on the international plane, awarding students Jurist Doctor (J.D.) degree after four years study, using a curriculum based on that in American law schools. It is also the first law school out of America to seek ABA accreditation. The dean is fully informed as to the Standards and Rules of Procedure for the Approval of Law Schools by the ABA. The Administration and the Dean are determined to devote all necessary resources and in other respects to take all necessary steps to present a program of legal education that will qualify for approval by the ABA," said Lehman in a speech. The J.D., an internationally recognized degree conferred by law schools in the U.S. universities, is designed specifically for graduates from non-law disciplines to potentially move to admission to legal profession. Unlike education in traditional Chinese law schools, STL values intellectual skills, rather than a particular aspect of legal knowledge or the memorizing of legal rules. Its classes are taught entirely in English and teachers are mostly leading scholars, renowned justices and lawyers from the U.S. "using the so-called Socratic method of teaching," according to school source. STL ushered in its 55 pioneering students this August and received a grant of 2 million U.S. dollars from C.V. Star Foundation. Several top U.S. law firms, companies and philanthropic institutions have also expressed their readiness to support. On the Peking University's Shenzhen campus Wednesday, unveiling ceremony was also held for HSBC School of Business headed by economist Hai Wen, also vice president of the university.
China's economic growth would be about 9 percent if the United States recession is mild, whereas a more serious U.S. recession could lead to the Chinese economic growth capped by about 8 percent, said Glenn Hubbard, dean of the Columbia Business School and a former advisor to U.S. President George W. Bush.
October 24 2008

Hong Kong: The global financial crisis has not shaken Beijing's determination to maintain Hong Kong's status as an international financial hub. A leading academic in Guangzhou said yesterday Guangdong would also receive an official boost from the State Council in a document mapping the Pearl River Delta's development in the next 20 to 30 years. The Pearl River Delta Development Plan, which will be announced later, will also reiterate Beijing's plan to reduce Macau's over-reliance on gambling income by making it an international leisure hub. Speaking at a forum on the Pearl River Delta's development yesterday, Hong Kong, Macau and Taiwan Research Institute director Qiu Shan said: "The document will include two items, for sure. "One is the country will fully support Hong Kong as an international transport and financial centre; the other is that it will support Macau as an international leisure centre." Dr Qiu's institute is under the Guangdong Academy of Social Sciences. He also said the document would raise the idea of setting up an alarm system for financial crises. The National Development and Reform Commission, the country's top planning agency, is drafting a document on what the Pearl River Delta should now focus on after 30 years of rapid development. Du Ying, the commission's vice-director, made the announcement in Beijing last Thursday when he unveiled a development blueprint for the Yangtze River Delta. The blueprint, the first of its kind issued by the State Council, said the Yangtze River Delta would become a world-class urban co-operative as well as an important gateway to the Asia-Pacific region, and a world manufacturing centre. The draft work on Guangdong started after Premier Wen Jiabao called on the province in July to speed up economic restructuring and deepen reforms to turn itself into a world-class manufacturing base and a centre for modern services. About 180 Beijing experts visited Guangdong last month to learn of developments in the province and seek views on its future. They formed 18 study groups, with one to explore how to strengthen ties between Hong Kong and Guangdong. Dr Qiu said the document would take into account the impact of the global financial meltdown and how to respond to its challenges.
DBS Bank will today begin paying out compensation expected to reach as much as HK$414 million to investors in Lehman Brothers-linked derivative investment products after determining that the way they were sold did not meet the bank's standards. he investors are among 4,700 customers in Hong Kong and Singapore who paid about HK$1.86 billion to buy structured notes related to the bankrupt US investment bank. DBS, which had earlier pledged to compensate customers found to be victims of mis-selling, said in a statement last night, without giving details, that "a number of cases did not meet the standards DBS upholds". It said it would start paying out compensation today and expected the amount to range between HK$362 million to HK$414 million. But it said its valuation of the redemption amount for the relevant series of Constellation Structured Retail Notes indicated that the "worst-case scenario" in which investors would lose their entire principal, "is likely to materialise". It said it would announce the valuation next week. Structured notes are complex financial products that appear to be fixed-income instruments, but contain embedded options that may involve high-risk investments such as derivatives. The announcement came as the Hong Kong Association of Banks said banks could start buying back Lehman-related minibonds at current market value in December after the first phase of the project was completed - amid predictions that some of the payments could be "very low". DBS (Hong Kong) chief executive Richard Stanley said it was important for DBS to "do the right thing" and "in cases where our standards are not met DBS will not hesitate to make cash compensation". The bank could not say what the breakdown of the refund would be, which clients , if any, would have priority or what criteria it would use. "It's great that they have said they will refund," said the organiser of a group of DBS investors that has been pressuring the bank for a refund. But the organiser, Ms Lee, said she would not believe it until she saw it in black and white. "They should be ... contacting us directly to tell us. We don't trust banks any more." Ms Lee, who bought HK$270,000 in notes in 2006 and 2007, also wondered how the money would be split. "There are so many different series, and the underlying assets are different for each one." The announcement came days after it was disclosed that DBS, in the first known settlement with investors in Lehman-linked derivatives, agreed to pay a partial refund to an 84-year-old woman and her mentally ill son.
The city will have to pay almost HK$2 billion more for guaranteed water imports from Guangdong's Dongjiang for the next three years as inflation and the yuan drive up costs, the Development Bureau has said. The change will not result in higher tariffs, which the government has vowed to freeze for the next two years to help residents combat inflation.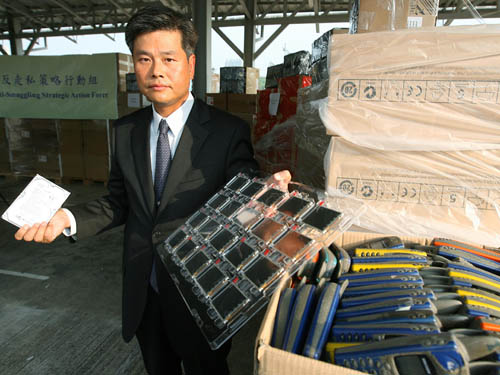 Thomas Lin, head of the special customs taskforce, holds a computer hard disk and LCD screens for cellphones that were seized. Customs has arrested seven suspected smugglers, including three core members of a racket that used powerful speedboats to sneak high-value goods to the mainland over the past few years. The crackdown dealt a heavy blow to the syndicate. Computer hard disks, integrated circuit chips, cellphones and other goods with an estimated retail value of HK$22 million were also seized. Smuggling in Hong Kong's western waters was likely to ease and customs would keep a close eye on the situation, said Thomas Lin Shun-yin, head of the Customs and Excise Department's special taskforce.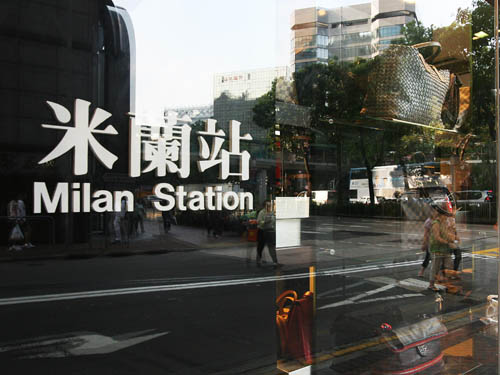 Second-hand bag trader Milan Station has actually benefited from the difficult economic times with an increase in stock. Although the financial turmoil has spread gloom among a variety of industries, there are still some sectors unaffected by the economic downturn - or even benefiting from it. ne is the trade in second-hand goods. Milan Station, a second-hand handbag chain with 10 outlets across the city, has recently seen the number of customers selling handbags rise by 5 per cent, along with a 10 per cent increase in the number making purchases. District manager Tong Chan said: "Of the increase in customers trading in their items, most of them are new clients." And he did not rule out the possibility that some people were choosing to trade in their bags for cash because of the financial turmoil. While many Hongkongers have plans to cut their dining and travel budgets, they seem less willing to save money on marriage and babies. A spokeswoman for the Matilda International Hospital, which provides high-end maternity services, said their maternity unit was fully booked until May next year, mostly by local women. She said most of their customers had chosen single-room packages costing between HK$39,000 and HK$55,000. "Although the economy has not been good recently, we haven't heard any clients wanting to transfer to cheaper packages yet," the spokeswoman said. Another private hospital, St Paul's in Causeway Bay, also said it had not seen any drop in bookings in the past few months. "Although there has been hardly any influence [on our business] so far, we are watching the economic situation closely," a spokeswoman said. The wedding industry also appeared to be riding out the crisis, with business schedules for next year almost fully booked. According to the Chinese calendar, next year is especially auspicious for marriages with "double springs", wedding planners said. "Our schedules are now booked until April or May of 2010," said Twiny Wong Wing-ting, director of wedding company Memoria Amoris. People had already started to save for weddings before the downturn, she said, adding that any impact from the financial turmoil on her business would only surface in 2011. Carol Choy Ka-yan, a wedding planner at Wedding Angel Company, said the financial crisis "affects business to a certain extent, but if people have had to plan for it, they won't cancel their marriage". Another optimist was Olivia Cheng Man-ha, sales and marketing manager at France Bridal. "It is all right. Even Sars did not affect us," she said, insisting that price was not the determining factor when it came to wedding products. "After all, a wedding is a once-in-a-lifetime event for most people."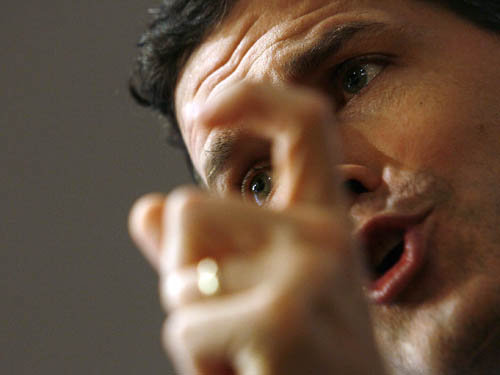 David McCormick speaks at a lunch at the Renaissance Harbour View Hotel in Wan Chai. Communication between China and the United States has never been stronger, a top US Treasury official said in Hong Kong yesterday, referring to recent talks between the countries' leaders about stabilising financial markets. The dialogue between President Hu Jintao and his US counterpart George W. Bush would continue because their economies were so intertwined, said David McCormick, the US Treasury undersecretary for international affairs. China is among a group of countries Mr Bush has urged to collaborate in efforts to pump liquidity into the financial markets and prevent a global recession. On Monday, Mr McCormick led a delegation to Beijing to meet Vice-Premier Wang Qishan , as well as Finance Minister Xie Xuren , central bank chief Zhou Xiaochuan and Gao Xiqing, president of China Investment Corp. They discussed the details of the Bush administration's US$700 billion rescue package. CIC has US$5.4 billion frozen in a money market fund that has suspended redemptions. "We are very much in the eye of a financial storm," Mr McCormick said at a lunch organised by the Better Hong Kong Foundation. The event was co-organised by the Asia Society, with the South China Morning Post (SEHK: 0583, announcements, news) , The Economist and Caijing Magazine as media sponsors. Mr McCormick urged China to continue reforming its financial sector, which is crucial to its productivity growth and macroeconomic stability. "As China's leaders recognise, their current growth model has created growing internal and external imbalances that need to be addressed," he said. Earlier, Mr Hu pledged in a phone call with Mr Bush to join with the global community to stabilise the world's economies, Xinhua said. Despite Washington's unprecedented intervention in the markets by taking ownership stakes in banks, the US economy still faced serious challenges, Mr McCormick said, though he hoped for a turnaround by the end of next year. Asked why the US government allowed Lehman Brothers to fail last month, yet helped bail out Bear Stearns, Mr McCormick pointed to Lehman's large balance sheet and the absence of "an obvious buyer". He added: "The Treasury did not have the authority it has now." He said the US learned several lessons from the financial meltdown. Regulations must be tightened and transparency enhanced on structured products, particularly credit default swaps, and the role of credit rating agencies on these products improved, Mr McCormick said.
The Democratic Party's Andrew Cheng Kar-foo has suggested the government buy stakes in Eastern Harbour Tunnel and the Western crossing held by troubled CITIC Pacific (0267).

CITIC Pacific (0267) managing director Henry Fan Hung-ling said last night he will temporarily abstain from participating in meetings of both the Securities and Futures Commission, and Hong Kong Exchanges and Clearing (0388) to avoid conflicts of interest as the financial watchdogs investigate the beleaguered blue-chip company.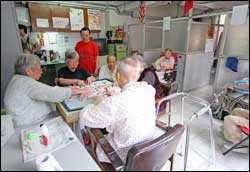 Hong Kong's elderly homes are being urged to adopt international guidelines on drug management following the deaths of three senior citizens. The appeal came from Secretary for Food and Health York Chow Yat-ngok, who expressed concern at the deaths and admitted that drug management systems varied from home to home. "Many times, problems arise from the drug distribution procedure. They may have mixed up or were not familiar with the prescriptions for the old people. The most important thing is for frontline staff to follow the guidelines completely to avoid these mistakes from happening again," Chow said. The guidelines were drawn up last year and distributed to all 765 homes in Hong Kong by the Social Welfare Department. At least two women and one man, aged between 76 and 98, are believed to have died after being given diabetes drugs not prescribed for them at three different homes, though a Social Welfare Department spokesman said it was not certain that the drugs were the actual cause of death in one of the cases.
Investors worried yesterday that Shui On Land's (0272) cross-currency interest rate swap arrangement could lead to losses, while CLSA warned more heavyweights have significant foreign-currency exposure or derivative investments.

The Hong Kong Monetary Authority has provided a number of banks with liquidity assistance amounting to HK$7.9 billion since October 2, Secretary for Financial Services and the Treasury Ceajer Chan Ka-keung told legislators yesterday.

China: Agricultural Bank of China will receive US$19 billion of government cash and issue billions of yuan of debt as it strengthens capital before a stock market listing. The State Council approved the bank's restructuring proposal on Tuesday, aiming to transform the state-owned lender into a shareholder-based company focusing on serving rural areas and farmers. Beijing has vowed to improve financial services in poverty-stricken rural areas to boost economic growth, which cooled to 9 per cent in the third quarter, the slowest pace in five years. As part of the recapitalisation, Central Huijin Investment, an arm of the country's US$200 billion sovereign wealth fund, will take a 50 per cent stake in the bank by pumping in US$19 billion. The Ministry of Finance will hold the remaining stake. The bank, the country's third-largest lender with 6 trillion yuan (HK$6.81 trillion) of assets, had more than 800 billion yuan of delinquent loans at the end of June. That accounts for 22.41 per cent of its total advances, compared with an average non-performing loan ratio across the industry of 5.6 per cent. "We aim to lower the NPL ratio to between 4 and 4.2 per cent after the restructuring," said bank vice-president Pan Gongsheng. The bank was expected to take five years to dispose of its massive impaired assets, which would be put into a fund jointly managed by the finance ministry, Mr Pan said. To strengthen its balance sheet, it intends to issue 20 billion yuan worth of subordinated bonds in the first quarter of next year, to be followed by other sales of subordinated debt. "We are considering whether or not to introduce strategic investors - from home or abroad," he said. "With the current financial turmoil, it is not easy to introduce such investors." Market sources said foreign financial institutions might be reluctant to invest in the bank considering the depressed economic conditions. There were also concerns about the growth potential of the lender's rural area-focused business. Preparations for the bank's initial public offering would be completed in the second half of next year, and a dual listing in Shanghai and Hong Kong stock markets was preferred, Mr Pan said. The bailout of Agricultural Bank completes a decade-long, US$500 billion effort to reorganise the nation's banking industry after years of state-directed lending caused bad debts to swell. "The bank will need to improve management substantially as I'm concerned how it is going to cope with future bad loans. It will have to rely on itself after the government bailout," said Qiu Zhicheng, an analyst with Haitong Securities. Mr Qiu said there was also conflict over the goals that Beijing had set for Agricultural Bank. "It wants it to better serve rural customers but also to improve profitability as a commercial lender. This casts uncertainty on its business development." JP Morgan analyst Samuel Chen was less pessimistic, saying the bank had improved its information systems, loan approval and staff quality in the past decade. "Agriculture-related businesses are not necessarily of low profit," Mr Chen said. "In addition, China has transferred the role of policy bank to the Agricultural Development Bank of China, so Agricultural Bank can operate as a commercial lender." He expects the bank to be listed no earlier than 2010.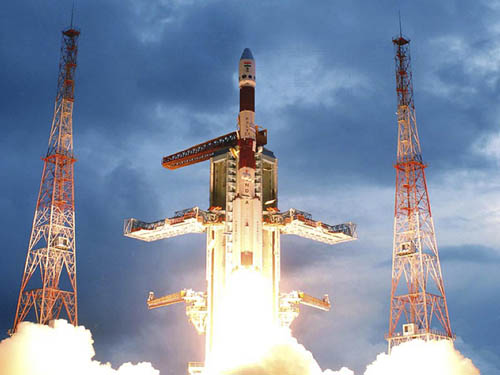 India's maiden lunar mission Chandrayaan-1 blasts off Wednesday from the Satish Dhawan Space Centre on a two-year mission to the moon.
The central government will revise laws to allow farmers to continue using the land contracted to them beyond the current 30-year term, the country's top rural policymaker says.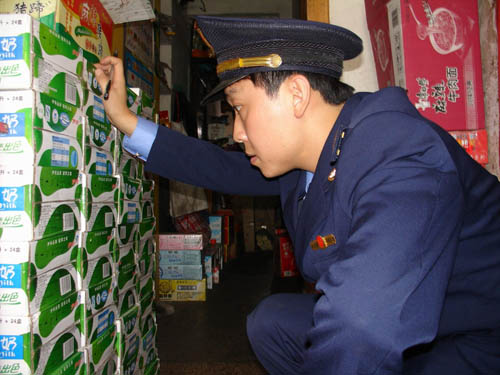 A trade enforcement officer checks the expiry dates on boxes of milk at a shop in Tongzi, Guizhou province. The mainland's food safety system is chaotic, poorly informed, "old fashioned" and has poorly trained staff, according to a WHO investigation into the factors behind the milk contamination crisis. The report "recognises and applauds the many actions taken by the government of China in the area of food safety" and "the consequent improvement" in the system. But it also exposes in telling detail the poor state of the system. It concluded that the tragedy could have been avoided if some obvious institutional issues had been recognised in time and sufficiently addressed. The most puzzling issue for the authors was the number of laws, regulations and government bodies to oversee food safety, said Tony Hazzard, the World Health Organisation's adviser on food safety. "There needs to be one food law that governs all aspects of the system. Currently, there is too much ambiguity among the different bodies with roles in food safety," he said. Contrary to a common criticism from mainland residents, the report said the central government had intervened too much - not too little - in food safety. "Primary responsibility for food safety lies with food producers and food businesses, while government authorities are responsible for enforcing food controls effectively," Mr Hazzard said. Jorgen Schlundt, director of the Department of Food Safety, Zoonoses and Foodborne Diseases at the WHO headquarters, said an old-fashioned system had contributed to the contamination. Dr Schlundt said a disjointed system with authority dispersed between different ministries and agencies had resulted in poor communication and a prolonged outbreak with a late response. "If there had been better detection and follow up, this problem would not have been as severe. A coherent system covering the full farm-to-table food production continuum would most likely have ensured quicker intervention," Dr Schlundt said. South Korea, meanwhile, said yesterday that powdered egg and other processed egg products from China had been found to contain minute traces of the harmful chemical melamine. Five out of nine samples tested between Friday and Monday fond traces of melamine, the agriculture ministry said. The five positive samples were produced by two Chinese companies, Dalian Hanovo Foods and Dalian Greensnow Egg Products Development. The ministry immediately suspended the import of egg products from the two Chinese companies and asked Beijing to investigate the cases quickly.
The global financial turmoil is taking its toll on the mainland's tourism industry, with the number of overseas visitors dropping significantly last month. The numbers were down by more than 15 per cent from the same month last year, National Tourism Administration data shows. The mainland tourism industry had been preparing for a big autumn to make up for losses caused by visa controls during the Beijing Olympics, but the crisis has dashed such hopes. An administration spokesman said yesterday that the crisis would have an impact across the entire sector. "Those catering to overseas visitors will likely suffer first and most," he said. In Asia, South Korea registered the biggest drop in visitors to the mainland, with numbers down by more than 24 per cent. Visitors from the United States, Australia, Britain, Canada and France were down by about a fifth. Russia defied the slump in oil prices to register just a 2 per cent reduction. Arrivals in tropical destinations in Hainan were holding up well.
October 23 2008

Hong Kong: Macau announces new security law - A draft security bill unveiled in Macau on Wednesday appeared to be softer than a version of the same law that caused a massive protest in Hong Kong in 2003.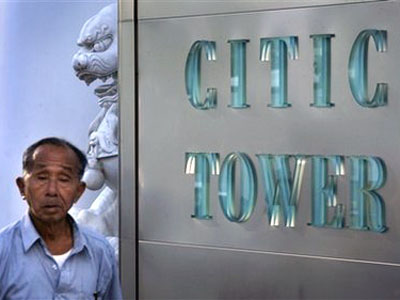 Hong Kong's securities watchdog said on Wednesday it had launched a formal investigation into steel-to-property conglomerate Citic Pacific (SEHK: 0267) after it shocked the market this week by announcing a potential US$2 billion in losses from unauthorised currency trading. The Securities and Futures Commission (SFC) confirmed that a formal investigation has been launched into the affairs of Citic Pacific. It gave no further information. The company warned of the potential losses from unauthorised foreign exchange trading on Monday, triggering investor concerns over its internal risk management and sending its stock down nearly 60 per cent in the two days to Wednesday. Meanwhile employees at Citic Securities will take a 5 to 20 per cent pay cut starting next month, part of a plan by the country's largest brokerage to shave costs, three sources briefed on the plan said in Shanghai. However, Wang Dongming, chairman of Citic Securities, which once tried to buy into troubled US bank Bear Stearns, now part of JPMorgan, told his staff the firm had no plan for any lay-offs, said the sources who declined to be identified. Mr Wang also called on staff to walk together out of "the winter of the capital markets", adding he was "not optimistic" about mainland's stock markets in the short or mid-term, they said. Officials at Citic Securities declined to comment. In the last year, Mr Wang, one of the most influential investment bankers in the mainland, earned about 3 million yuan (HK$3.4 million) including dividends, according to the firm's stock filings, far less than his counterparts on Wall Street or the City of London. Executives at state-run companies in the mainland typically earn salaries that are just a fraction of their peers in the west, although they usually enjoy many non-cash benefits such as free cars or government housing. In normal times, an equities analyst with three or more years of experience at a major mainland brokerage would typically earn about 1 million yuan a year, including bonus and other benefits, according to industry executives familiar with payroll matters.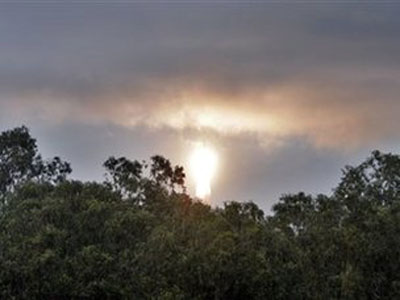 Chandrayaan-1, India's maiden lunar mission is seen soon after the launch at the Satish Dhawan Space Centre in Sriharikota on Wednesday. India launched its first unmanned moon mission on Wednesday following in the footsteps of rival China, as the emerging Asian power celebrated its space ambitions and scientific prowess. Chandrayaan-1, a cuboid spacecraft built by the Indian Space Research Organisation (ISRO) blasted off from a southern Indian space centre shortly after dawn in a boost for the country's ambitions to gain more global space business.
Hong Kong's banking system and money markets were stable and operating smoothly, Secretary for Financial Services and the Treasury Professor Chan Ka-keung said on Wednesday.

There are almost 7000 students attending schools in Hong Kong but living in Shenzhen, Secretary for Education Michael Suen Ming-yeung revealed in the Legislative Council on Wednesday.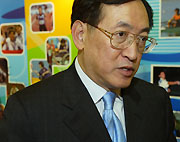 Amendments to existing laws would make it easier to recall and prohibit food items in Hong Kong suspected of being harmful, Secretary for Health and Food York Chow Yat-ngok said on Wednesday. He said the legislative amendments to the Public Health & Municipal Services Ordinance would be made on November 5 in the Legislative Council. However, speaking to the media after attending a radio programme, Dr Chow said it was still unclear exactly when this would occur. "We hope legislators can pass this bill as soon as possible so that we can enforce it. "This is a bill of great importance to public health and safety. I am sure that the Legislative Council will also set up a bills committee to examine it," he said. Dr Chow also said the response from traders about the food recall bill had been positive. "We had a preliminary consultation with the trade on the amendment bill and most of them have agreed that we should have such authority. "This can also safeguard their products as well," he added. Under the proposed legislation, the director of food and environmental hygiene could ban the import and supply of any suspected unsafe food items and order their immediate recall. "If the traders were dissatisfied with their food products being recalled, they can make appeals and provide evidence to show their food was safe to consume. The authorities would then compensate to them according to the current value of the [recalled] food if their appeals are approved," he said. Dr Chow said the government was proposing these measures because of the recent melamine-tainted products scandal. "We are considering imposing measures that require all food importers and traders to list the source of the foods being imported. This includes biscuits and canned foods. "Once they are found to have problems, we can then recall them more quickly," he explained.
The extent to which Hong Kong people helped others and sought help themselves was generally quite low, a survey by Chinese University of Hong Kong (CUHK)'s Department of Social Work has found.



In light of the meltdown hitting global markets, some say Hong Kong is fortunate to have lawmakers handing out HK$21.6 billion for the West Kowloon arts hub. It might not have happened now when the purse strings are tighter. Construction will commence soon after the arts hub authority draws up its development plan, but questions remain. Is the city's first arts hub - a grandiose facility to nurture local arts and culture - going to be completed and can the funding sustain the project? Analysts say the project needs an extra HK$6.4 billion to ensure its survival. The analysts, who were hired by legislators to review the budget, found that what was deemed to be a perpetual plan for building and sustaining the project is full of questions and gaps. The alarm bells were ringing just a month after the funding was approved when the government revealed that more than 40 public works plans would have to return to the Legislative Council for more money. But experts said the problem was not just about underestimating the inflation rate for construction materials, and the implication of a funding shortfall could be a downgrading in the quality of the project. Hopes were raised that the long-awaited arts hub would finally become a reality when funding was approved in July. The amount, HK$21.6 billion, had been the subject of intense controversy over the previous year. Four months before casting their votes, lawmakers commissioned a budget review. Despite lingering questions, 32 lawmakers voted for the funding in July. Ten, unconvinced by the government's arguments, voted it down. Secretary for Development Carrie Lam Cheng Yuet-ngor admitted a month later that the methods for estimating the costs of public works needed reviewing. She said the price of construction materials, such as sand, steel rods and soft steel, had increased by 104 per cent, 137 per cent and 60 per cent respectively throughout the past year. The surge in construction costs in the past year has forced the administration to seek an additional HK$2.8 billion from Legco to complete 35 large public works projects. The contingencies in project contracts to cover unforeseeable risks are far from sufficient to cover the surge in construction costs, the Development Bureau said in a paper submitted to Legco last week. Another warning came early this month when the secretary for commerce and economic development, Rita Lau Ng Wai-lan, announced details of the cruise terminal project. Due to the soaring price of construction materials, the cost of building the terminal had jumped HK$7.2 billion, an 80 per cent increase on the HK$4 billion estimated in July. The government said the figure could be even higher when it sought funding approval. Another consideration is the economic slowdown which has started to bring down property prices and slowed retail business. Despite the threat of a recession, however, experts said the price rises for construction materials would continue. Chau Kwong-wing, of the University of Hong Kong's department of real estate and construction, said that even a recession would not significantly slow the pace of infrastructural developments in the region. "Ten major infrastructural projects are under way as suggested by the chief executive," Professor Chau said. "Hong Kong is competing for raw materials which are also demanded by the mainland and India. "In the near future there may be deflation due to recession but inflation is more likely in the medium term, two to three years from now, due to rapid increase in the money supply," he said. He said the government would get a good deal from contractors on the arts hub only if the work could start within the next 18 months. "This is, however, unlikely given the complex and novel nature of the project," he said. Professor Chau was on the expert team commissioned by Legco to review the art hub's budget in March. In his analysis, the annual inflation rate in the next five to 10 years will be 3-6 per cent, triple the government's estimation of 2 per cent for the next 50 years. "It is unrealistic to project a 50-year long-term inflation rate when the construction works will take place in the next few years," he said. He added that the appreciating yuan, and its effect on Hong Kong's economic relationship with the mainland, had to be factored in. Questioned by experts, Home Affairs Bureau officials repeatedly reassured lawmakers that the budget had a 30 per cent contingency for unforeseeable risk, adding that could cover unforeseeable rises in construction costs if the annual inflation rate rose above 3.4 per cent. In an attempt to placate critics, the government's top economist Kwok Kwok-chuen wrote in several newspapers, defending the government's budget and pointing out that a risk allowance of 48 to 60 per cent had been added to construction costs. But Professor Chau warned that the risk allowance included only professional fees, contract management and staff costs in planning and managing construction. The risk of escalating construction costs was not included. "This project will take more contingencies to tackle unpredictable risks than the normal 15 per cent contingency for building offices and housing, because it involves more complicated and innovative ideas," he said. "If the contingency is to be kept at 30 per cent and the inflation rate reaches 6 per cent, we would need HK$28 billion to make the arts hub sustainable." If an extra HK$6.4 billion is needed, the arts hub could be the largest of the government's big projects queuing for more funds. Terence Chong Tai-leung, associate professor of economics at Chinese University, said the West Kowloon District Authority could ask for more money to complete the construction. "The price of metals will not slow as quickly as the inflation rate given their limited supply, and intense developments in the Asian region," he said. "But it would be difficult for the government to hand down more money in these hard economic times." Planners are banking on income generated from the retail, dining and entertainment facilities - which constitutes 16 per cent of the total gross floor area - in helping to make the project viable. But Professor Chau said there was nothing to suggest that these facilities would be different to those at Elements, the neighbouring shopping mall above Kowloon Station which features brand-name products and high-end dining facilities. A University of Hong Kong study found that few people visiting Elements were shoppers. "If the art hub is not designed with good connectivity, the situation could be even worse," Professor Chau said, stressing that retail, dining and entertainment facilities generated healthy income only when they become an attraction. And doubts remain about the arts hub's accessibility. The 40-hectare site is physically isolated from neighbouring districts like Yau Ma Tei and Tai Kok Tsui, and it takes about 50 minutes to walk from the tip of the site to the nearest MTR station at Tsim Sha Tsui. Added to the risks is the open design competition urged by the community. According to the risk analysis report prepared by the government consultant, a design competition would increase project management risk, and therefore cost, by 65 per cent. A source close to the government said the administration would rather invite a design from a renowned architectural company than hold an open competition. It would save time and money, but would run into opposition. Professor Chau said a way to reduce the extra costs induced by unforeseen risk was to enhance operating efficiency. One example, he said, was to invite an experienced international operator to run the flagship museum - dubbed M+ - in the early years. Under the government's projections, M+ alone will contribute 89 per cent of the arts hub's total yearly operating deficit by 2059. But the university's analysis said 22 per cent of the total development cost could be saved if the museum was run by an international operator like Guggenheim. The suggestion was not welcomed by the home affairs chief, Tsang Tak-sing, who has rarely spoken up in support of the project. In a legislative meeting held in May, Mr Tsang said the museum would lose its local character if it was run by an international operator. "Hong Kong does not have any experience of running a world-class museum; are we going to experiment with taxpayers money?" Professor Chau said, adding the government could request the international operator return the management rights when the contract expired. Another uncertainty affecting the art hub's sustainability is that no fund has been set aside for major renovations. The budget covers a 50-year period only. Experts commissioned by lawmakers estimated an additional seed fund of HK$3.38 billion was necessary for renovations or reconstruction after the 50-year period. In response to the Post's enquiry on whether the government would inject more money to ensure its viability, a spokeswoman for the Home Affairs Bureau said the upfront endowment of HK$21.6 billion was compiled on the basis of a detailed financial study conducted by the government's financial adviser. The West Kowloon Cultural District Authority would take forward the planning and construction of the facilities and compute the actual capital cost of each facility, the spokeswoman said, adding the authority would manage and invest the upfront endowment prudently. She made no mention of a contingency plan. Professor Chau said: "An art hub would still be completed with an underestimated budget. At the end of the day, it is the quality. Problems arising 50 years later will be left to a later administration."
Despite the slowing global economy, several Hong Kong-listed consumer electronics manufacturers say they have not seen a decrease in Christmas orders.
The Hong Kong Cyberport Management Company Limited announced Wednesday that the Cyberport Venture Capital Forum 2008 will be launched on Nov. 18 in the city. The yearly event was first held in 2004 and the theme of this year's forum is to show ways to be creative in business in an unexpected or unusual way. The 2008 forum will provide a platform for investors, entrepreneurs and senior executives in the information and communications technology (ICT), media and creative industries to develop and build novel "contrarian" companies that could change the dynamics of doing business. The forum will be made up of three keynote sessions and three panel sessions, which are the "Investor-Investee Dialogue", " Venture Capitalist Panel" and "Closing Keynote Speaker Panel Discussion" sessions. Participants will be able to meet international venture capitalists, potential investors and like-minded entrepreneurs, join the concurrent exhibition showcasing the creativity from ICT and local communities, and encounter local inventors, young designers and new digital entertainment start-ups. "In difficult times like the present global financial turmoil, it takes some totally innovative ideas for businesses to survive and thrive," Chief Executive Officer of Cyberport Nicholas Yang said. Yang said that attendees of the forum will have the privilege of hearing a venture capitalist from Silicon Valley, technology forecaster and consultant, expert on intellectual capital strategy, as well as venture capitalist from Chinese mainland sharing their experience in unearthing unusual and creative businesses.

China: A Beijing official who was pushed to the ground by anti-Beijing activists on a visit to Taiwan cut his trip short and flew back to the mainland on Wednesday because he said he felt sore and dizzy. he attack on Zhang Mingqing, vice chairman of China's Association for Relations Across the Taiwan Straits, could complicate efforts to improve ties between Taiwan and China after decades of hostility. "It will have a short-term impact," said Alexander Huang, a strategic studies professor at Tamkang University in Taipei. "But I do not expect an interruption of cross-Strait dialogue." Beijing's top negotiator, Chen Yunlin, is expected to visit the island later as early as next week for formal talks on direct charter flights and food safety. The date may be pushed back briefly over the incident, analysts said. "With this case, there is no urgency for China to talk about daily charters," Mr Huang said." Protesters attacked Mr Zhang in the city of Tainan on Tuesday, leaving him lying on the ground, his glasses at his side, television pictures showed. One man stomped on his car. A day earlier, about 200 demonstrators used expletives, yelling for Mr Zhang to return to the mainland when he took the podium at the Tainan National University of the Arts. "Why am I leaving early? The place where I was hurt is sore, and my head is a bit dizzy," Mr Zhang, 62, a top mainland negotiator on Taiwan affairs, told reporters as he packed for his flight, which took off after a bout of heckling at the airport. Only a few people were targeting him, he added. "I don't think I should have brought [the police] so much trouble," he said, choking back tears. Taiwan citizens protested in part because they resent Beijing's view that the island belongs to the mainland, an organiser said. But official ties have improved since President Ma Ying-jeou came to power in Taiwan in May. Mr Ma's government has condemned the shoving incident. Beijing eventually wants to see the next round of talks, said Raymond Wu, a Taipei-based political risk consultant. "[President] Hu Jintao has four years left and needs to build dialogue," he said. Mr Zhang's association had written to its Taiwan counterpart to express its "strong indignation and severe condemnation" of the attack, Xinhua news agency said on Tuesday. "We are astonished at this," it cited the letter as saying.
The mainland must modernize its food safety system, the United Nations said on Wednesday, arguing an outdated and disjointed approach may have worsened a crisis over contaminated milk that killed four babies. In a new report on food safety in China, the UN urged Beijing to adopt a "modern" food safety law and introduce other measures that would help build trust in the government's ability to ensure the nation's food was safe. "The present system is managed by several laws and an old philosophy that government is responsible for everything," Jorgen Schlundt, the director of the UN's World Health Organization department of food safety, told journalists. "We have to change that kind of philosophy because we need the food producers to be responsible for food safety," he said. The report was issued as Beijing continued to deal with the fall-out of a scandal in which the industrial chemical melamine was found to have been commonly mixed into milk to give it the appearance of higher protein levels. Four babies died and at least 53,000 babies fell ill after drinking tainted milk powder, and contaminated mainland dairy products have been recalled around the world, once again tarnishing the global image of the "Made in China" brand. Although at least one dairy firm knew of the scam for months, it did not immediately report it to local government officials, who in turn delayed passing on the news for nearly a month until after the Beijing Olympics. "In this incident we see that an old-fashioned system contributed to the event," Mr Schlundt said of the milk scandal. "This disjointed system with disjointed authority between different ministries and agencies had resulted in broken communication and may have prolonged the outbreak with a late response." The report warned that the public could lose faith in the current system. "The public is best served by a single consistent authoritative source of advice they can trust," the report said on the disjointed communication in the nation's food safety system. "In some sensitive and difficult areas, different government departments have sometimes announced different views, advice and actions to be taken by the public... the effect of this can only serve to undermine public confidence in the government's ability to manage food safety." The report called on Beijing to set up a unified and enforceable system capable of ensuring product safety from farm to table, and which would highlight the responsibilities of producers to make safe food. Beijing needed to educate its companies to better understand the role they played in building market confidence both domestically and abroad, Mr Schlundt said. The UN report further said the mainland's current method of testing millions of food products to determine if they were safe was "wasteful of resources and both inefficient and ineffective in protecting health". The UN report further said the current mechanism for testing millions of products as a means of ensuring food safety was "wasteful of resources and both inefficient and ineffective in protecting health". Beijing needed to focus food safety inspections on areas of known risks in the production chain and set up analysis and control points around them, Mr Schlundt said. The government's food safety enforcement was "ad hoc without any overall strategy," while inspections ignored small enterprises along the value chain as well as remote areas in the nation's countryside, it said. The report was issued as the nation's parliament prepared to deliberate on a draft law on food safety this week, the UN said.

Merkel to mend fences in Beijing visit - German Chancellor Angela Merkel travels to the mainland this week in a visit marking a normalization of ties after her meeting with the Dalai Lama last year led to frosty diplomatic relations. The main aim of Ms Merkel's visit is to take part in the Asia-Europe Meeting (ASEM) in Beijing on Friday and Saturday, but on Thursday she will also meet Prime Minister Wen Jiabao and later President Hu Jintao. In doing so Merkel is one of the few leaders from the 40 or so attending the summit – which is expected to be dominated by the financial crisis – using her visit to hold bilateral talks with senior mainland officials. "I think that [with this visit] Merkel would like to make a signal as chancellor that there is a normalization of relations between China and Germany," Barbara Unmuessig from the Heinrich Boell Foundation told reporters. Ms Merkel's decision to receive the Dalai Lama in September last year at the chancellery in Berlin went down badly in Beijing and the resulting chill in relations between China and Europe's biggest economy took some time to thaw. Beijing takes a dim view of foreign leaders meeting the exiled Tibetan spiritual leader, whom they accuse of masterminding riots against Chinese rule in Tibet and neighboring areas in March – a claim he denies. Beijing responded by cancelling a number of planned German-Chinese political meetings and joint cultural events, and there were fears that German businesses would suffer. But thanks in part to efforts behind the scenes by Foreign Minister Frank-Walter Steinmeier to repair ties, relations have steadily improved and in June China's Foreign Minister Yang Jiechi declared they were back to normal. Business ties, which analysts say never suffered in any case, have continued to go from strength to strength, with German exports to China rising by a fifth in the first half of the year. There remain differences, however. Germany joined other Western countries in criticizing China's crackdown in Tibet in March and neither Merkel nor Steinmeier attended the opening ceremony of the Olympic Games in August – unlike US President George W. Bush and France's Nicolas Sarkozy. Ms Merkel last met with Mr Hu at a Group of Eight summit in Japan in July and she used the talks to push for a successful outcome to talks between China and the Dalai Lama, and according to officials in Berlin she will not shy away from "critical issues" this week either. But analysts said she will have to tread carefully in Beijing if she is to keep China on board for a planned global summit including both industrialized counties and emerging nations – plans for which will be at the forefront of the ASEM summit. "Merkel's trip now is all the more important because when it comes to resolving the financial crisis China plays a very central role. If the Chinese don't play along then you can forget about the whole clean-up and crisis management," Ms Unmuessig said. "The Chinese must be at the table if there is to be a world financial summit to restructure the global financial system... I think that Merkel must think about whether she shouldn't go back to the traditions of quiet diplomacy," she said.
Sequoia funds Cernet expansion program - Sequoia, a United States venture capital firm that invested in Yahoo and Google, has provided financing for the expansion plans of Cernet Koncept Network, a mainland internet company targeting the country's 27 million college students, sources said. Cernet Koncept, operator of cdrean.com, is a subsidiary of the China Education and Research Network, a state-backed agency in charge of internet infrastructure construction on college campuses nationwide. Neither Sequoia nor Cernet would disclose the financing amount but it was definitely a double-digit million US dollar capital infusion, according to Cernet Koncept chief executive Kuang Peng. "Cernet is a one-of-a-kind company that enjoys a monopoly in its area," said Neil Shen, founding managing partner of Sequoia Capital China. "We are bullish on its outlook." The fund would be used to develop new valued-added services to cater to mounting demands for information and recreation among college students, Mr Kuang said. On the mainland, telecommunications operators provide customers internet access but the Ministry of Education set up the China Education and Research Network to build "information highways" for university students. Nearly 27 million students connect to the internet via the separate network, which covers 3,500 schools and research institutions nationwide. "Basically, investors shun internet-related companies nowadays because it is difficult to create a profitable model," said Lu Liang, a manager at Hotung Venture Capital. "But it seems that Cernet Koncept can make a difference with a monopoly in the education market." Sinomonitor, a business data supplier, estimates that college students spend 300 billion yuan (HK$341 billion), or 11,860 yuan per head, a year. "The media platform will also be appealing to big companies who want to advertise on it because university students are potentially the major powerful purchasers in future," Mr Kuang said. "We hope to launch an initial public offering in 2011," he said. "The priority is the A-share market."

Chinese Vice President Xi Jinping called for closer international cooperation to tackle the problems created by the global financial turmoil, a report said. "China would like to propose that governments from various nations strengthen cooperation in the financial field, boosting their dialogue and coordination,'' Xi said, according to CaiHuaNet.com, a financial website. Xi, widely seen as a future leader, was speaking at a business forum held ahead of major summit of Asian and European nations in Beijing this week. China's growth slowed to 9.9 percent in the first nine months of 2008 from 12.2 percent in the same period last year, official figures showed this week, indicating the country is not insulated from the global economic downturn.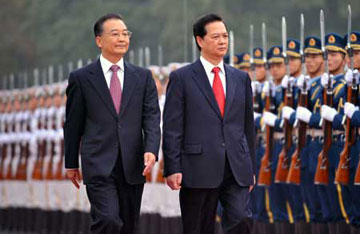 Chinese Premier Wen Jiabao on Wednesday held talks with Vietnamese Prime Minister Nguyen Tan Dung who is in Beijing for a six-day official visit to China and for the seventh ASEM summit.
China will exempt, starting from Nov. 1, the stamp tax on property purchase and the value-added tax of land on property sales to boost the recessive real estate sector, the Ministry of Finance said on Wednesday.

Agricultural Bank of China (ABC) will get 19 billion U.S. dollars of capital injection from a unit of the country's sovereignty wealth fund, a vice bank president announced on Wednesday.

Chinese President Hu Jintao on Tuesday spoke over phone with U.S. President Bush about international cooperation to cope with the ongoing global financial turmoil.
October 22, 2008

Hong Kong: The government would introduce more measures to help small and medium-sized enterprises (SMEs) obtain loans during the financial crisis, Secretary for Commerce and Economic Development Rita Lau Ng Wai-lan said on Tuesday.
Speaking to the Legislative Council, Ms Lau said she hoped the latest government proposal to help SMEs would be passed into law soon. "The government's earlier proposals to help SMEs with funding problems have received enormous support from SMEs and the commercial sector," she said. Ms Lau said she was not worried government's funds would be mis-used. "Once the government approved the fund, we would monitor the use of the funding regularly to ensure the funds are used properly," she said. Earlier, the government proposed enhancement measures to improve SME funding schemes. This included increasing the overall grant ceiling for each SME from HK$100,000 to HK$150,000. But Sophie Leung Lau Yau-fun, a lawmaker representing the textile and garment functional constituency, said some SMEs encountered difficulties when applying for loans recently. They were worried the banks would not process their applications quickly. Sophie Lau suggested the government discuss this with banks and consider shortening the loan approval time, as well as raising credit limits for SMEs. But Rita Lau said was important that "banks remain cautious with the credit facilities."

Shares in Citic Pacific dived 38 per cent on Tuesday following a raft of downgrades by banks after the company's surprise warning of potential foreign exchange losses of nearly US$2 billion.
The High Court on Tuesday overturned a ruling by the Obscene Articles Tribunal that a series of sex articles in a student newspaper – which were also reproduced in a local newspaper last year – were indecent. Mr Justice Lam said on Tuesday Ming Pao Daily News and Chinese University's Student Press' former chief editor Tong Sai-ho had won the judicial review. He said this was because the tribunal failed to follow the guidelines of the Obscene and Indecent Articles Ordinance, local media reported. According to these guidelines, the tribunal has to state clearly what exactly is 'indecent'. However, the tribunal failed to explain which aspect of the sex articles in CU's Student Press were indecent. It had, therefore, made an error during its classification procedures. Subsequently, the judge decided to overthrow the ruling the articles belonged to the Class II Indecency category. They are not required to be sent to the tribunal for re-classification. Mr Justice Lam said he understood the resources of the tribunal were limited and it had a heavy workload. He suggested the government provide more resources to the tribunal and increase its staff. He stressed it was important to protect freedom of speech, while at the same time upholding the public interest. In May last year, the obscenity watchdog issued an interim classification deeming of Class II Indecency on several pieces from CU's Student Press monthly. These appeared in print and online in February and March 2007. The articles dealt with students' views on sex, including bestiality and incest, and contained photos and illustrations of the subject matter. The classification followed complaints from the Television and Entertainment Licensing Authority, and the Department of Justice. Applications for judicial review were filed by Ming Pao Daily News – which reprinted the entire sex column – and Chinese University's Student Press' former chief editor Tong Sai-ho.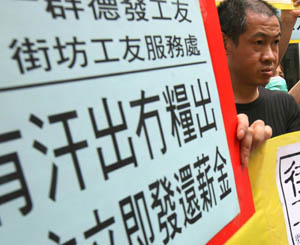 Workers call for help after firm's collapse - About 40 people who work for a subsidiary of a bankrupt Hong Kong-listed company sought help from the Labor Department yesterday over claims for HK$2.75 million in compensation.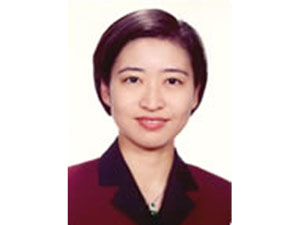 Citic Pacific (SEHK: 0267) has demoted Frances Yung Ming-fong, daughter of its chairman Larry Yung Chi-kin, and cut her salary for her involvement in the unauthorized foreign-currency bets, managing director Henry Fan Hung-ling said yesterday. Shareholder activist David Webb had earlier questioned her role in the risky currency transactions. "Did she [Ms Yung] know what was going on, or is her title misleading?" Mr Webb asked. Ms Yung, 36, was listed as "director, group finance" in the company's 2007 annual report but not "group finance director". Her salary was not disclosed. Citic Pacific said on Monday that group finance director Leslie Chang Li-hsien, 53, resigned after failing to obtain proper approval before conducting those transactions. Financial controller Chau Chi-yin, 52, also quit for failing to exercise oversight or notify the chairman of unusual hedging transactions. But Mr Webb said that in the annual report Mr Chang was listed as deputy managing director instead of group finance director and Mr Chau executive director, not financial controller. Mr Fan said Ms Yung was head of the company's finance department and reported to Mr Chang. Although she was involved in the transactions, she was not a board member, Mr Fan said. Ms Yung had been demoted and received a pay cut, Mr Fan said. He said Ms Yung had not told her father about the transactions before the company uncovered the matter last month. Ms Yung was unavailable for comment.
A High Court judge has suggested that the mother of late Cantopop diva Anita Mui Yim-fong file for bankruptcy or seek assistance from the Social Welfare Department.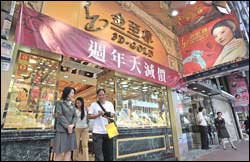 The provisional liquidators of 3D-Gold Jewellery Holdings (0870) said they have received several indications of interest from potential white knights and remain hopeful the company can be rescued. he provisional liquidators have not yet entered any substantive discussions, Deloitte Touche Tohmatsu partner Darach Haughey told The Standard. Haughey said the provisional liquidators have taken steps to enhance security at all locations of the 3D-Gold group. The new security measures follow the theft last week of HK$179 million worth of bullion from vaults.The five 3D-Gold management officials arrested in connection with the theft - including chairwoman Jane Chan Yam-fai, widow of late company founder Lam Sai-wing - met with Deloitte after being released on bail and have been cooperating, Haughey said. All 3D-Gold stores remain open and no staff have been laid off, he said. On Friday, the High Court appointed Deloitte as provisional liquidator of 3D-Gold and subsidiary Hang Fung Jewellery after creditor Hongkong and Shanghai Banking Corp presented a winding-up petition. Meanwhile, Sun East Group, a Hong Kong-based cosmetics firm listed in Singapore, said it is still in discussion with Deutsche Bank's Hong Kong branch about repaying US$15 million (HK$117 million) of bonds after it breached financial covenants. Sun East, best known for its breast-enhancement creams, has still not been able to find alternative financing sources, said chairman Philip Chung. As of the end of August, Sun East had outstanding trade receivables of HK$360 million owed by seven customers. Of that, there is HK$84.81 million overdue from five customers. Sun East said it was able to recover HK$200,000 between October 8 and October 17.

China: Beijing said yesterday it will lift export tax rebates on more than 3,000 types of goods starting next month to support the nation's export enterprises following a sharp third-quarter slowdown in GDP growth. "If the measure is not taken, our exports would be expected to slide further, which would bring more hardship to exporting enterprises, and our whole economy would be adversely affected," the Ministry of Finance said in a statement. China reported a decline in export growth in eight of the first nine months compared to the same period last year due to anemic external market demand, yuan appreciation and soaring costs of raw materials and labor. Exports grew 22.3 percent in the first nine months but were 4.8 percent lower than the same period last year. This is the second export tax refund revision in three months. The tax rebate level for textiles and garments was revised up from 11 percent to 13 percent from August. Exporters of commodities and ceramic arts will enjoy a 11 percent tax rebate while those of textiles, clothing and toys will get a 14 percent tax refund, from 13 percent. Other goods, including certain plastic products, furniture and pharmaceuticals, are covered in the revision with tax refunds ranging from 5 to 17 percent.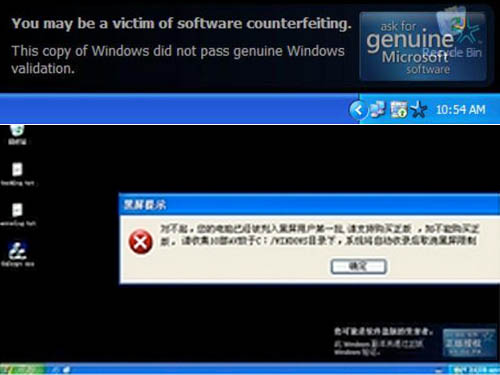 How the screen went black yesterday for millions of users of fake Microsoft XP who recently downloaded new anti-piracy patches. Thousands of computer users' screens went black across the mainland yesterday as they felt the impact of the newest step in Microsoft's global anti-piracy push. Mainland netizens vented their anger. sers of illegal copies of the Microsoft XP operating system and Microsoft Office software fell foul of software patches known as Windows Genuine Advantage (WGA) and Office Genuine Advantage (OGA), which they unknowingly downloaded and installed recently through XP's automatic update facility. When they switched on their computers yesterday the software scanned their system to see whether they were using genuine or illegal XP. The screen wallpaper of those using a pirated operating system vanished to be replaced by a plain black desktop, and a persistent error message appeared warning: "You may be a victim of software counterfeiting." Assurances from a Microsoft China spokesman that the patches were aimed only at improving user experience by promoting copyright awareness did little to placate computer users, with some calling the act a declaration of war by Microsoft. Lin Congwu , Microsoft China's marketing director for consumer products, said last week that the program would help uninformed users identify whether or not they were using genuine software. He said installation of the programs was not compulsory. Hours after the Microsoft announcement, posts began to surface on the internet teaching people how to bypass the check by cancelling the automatic update or changing a registration key. But information-technology expert Lin Feng said it was not as simple as that. "If you choose not [to update], you will be barred from all security updates, and hackers and malicious software could easily break into your system through known loopholes," Mr Lin said. "Microsoft has hijacked us and given us freedom to pay a ransom or die." Some IT experts claimed the software giant was threatening China's national security. Ni Guangnan , a leading software expert and member of the Chinese Academy of Sciences, wrote in his weblog: "If you cannot fully control the computer, you are not the owner. If Microsoft can blacken your screen today, what else can it do tomorrow?" An opinion poll conducted by Sohu.com attracted more than 100,000 voters and more than 90 per cent of the respondents - some of them users of genuine software - disapproved of Microsoft's action. Li Xiaolei said he used a legitimate pre-installed copy of Windows XP but Microsoft had deeply hurt his feelings as a consumer. In response, millions of users have dumped their pirated versions of Microsoft Office and turned to mainland software companies that are offering legitimate, localised and free office applications for functions such as word-processing. Zhang Xuefeng , product line manager of Kingsoft (SEHK: 3888), a Hong Kong-listed mainland software company, said downloads of its WPS office processing software by individual users had risen by a staggering 50 per cent since Friday. "It's not only individual customers who are becoming more interested in domestic software. We are also receiving a big increase in phone calls from various industries about our products," Mr Zhang said. "It would be a good opportunity for Chinese software companies to reclaim lost territory."
October 20 - 21, 2008

Hong Kong: Hong Kong Airlines has no plans to lay off employees at present, its commercial director, Raymond Ng, said on Monday. He said the eight flight attendants recently reported to have been laid off was simply part of normal staff adjustments made by the company's Human Resources Development. Mr Ng said Hong Kong Airlines were also discussing the possibility of a merger with its sister airlines, Hong Kong Express. "We didn't see obvious declines in airline reservations in the next two months and will continue to add on new destinations in the future," he told local media. The director made the remarks after some of its staff heard that a formal merger between both companies was underway and extensive job cuts might be made. Hong Kong Airlines and Hong Kong Express Airways were established in 2001 and 2004, respectively. Both companies are commercial airlines based in Hong Kong and provide services between the territory and over 30 cities in Asia. The companies have a common shareholder and already work closely together.
About 100 elderly people protested at the government headquarters in Central yesterday against plans to expand means testing in the old-age allowance system.
Hong Kong's unemployment rate rose to 3.4 per cent in the July to September quarter, latest figures released on Monday showed.
US gambling giant Las Vegas Sands has scrapped plans to raise US$5.25 billion in loans for its expansion in Macau - including funding for a hotel resort complex - due to the credit crunch and a weak appetite among lenders amid the market turmoil, sources said. Right now it is a pulled deal. It will come back when they cook up a new shape and new price," a source familiar with the situation said. Sands sounded out the market six months ago on a US$7 billion financing package for its subsidiary Venetian Macao and prospective lenders were invited to visit the site in July. But after a cool response from the site visit, the company cut its fund-raising target to US$5.25 billion. "It was still too large and the banks were offering to lend with only limited creditability. Any kid on the street knew they did not have the balance sheets," said a banker who walked away from the loan. Five banks - Lehman Brothers, Citi, Goldman Sachs, BOC (SEHK: 3988) International and Standard Chartered - were mandated as the arrangers of the syndicated loan, sources said. Three of the arrangers have since been hit by the global financial turmoil, with Lehman Brothers going bankrupt in September. Bankers backed away from a US$3.3 billion refinancing of the company's loan deal from two years ago. So Sands was forced to cut its new loan target to US$1.95 billion, but was still unsuccessful. The casino company wanted the money to complete the construction of a massive 6,400-room Cotai casino resort complex across the street from the Venetian. Budgeted at US$3.3 billion, the project is to include Sheraton, Shangri-La, Traders and St Regis hotels as well as St Regis-branded serviced apartments. But the fundraising plan has now failed because of lack of support from the lenders. "It's as dead as a dodo right now, but will be back at the right time," said a source with knowledge of the transaction. The plan might be refloated in January, a source said. A Nevada-based spokesman for Las Vegas Sands declined to comment on the matter. Sands chairman and majority shareholder Sheldon Adelson said last month that to raise the money needed to complete the resort complex - in the event that banks refused to sign on to the financing plans - the company might consider project financing or selling off the shopping malls inside the Venetian and Four Seasons resorts in Macau. According to an August filing by Las Vegas Sands to the US Securities and Exchange Commission, the company had just US$247.2 million available in a revolving credit facility out of its total US$3.3 billion financing package as of July 30 this year. The growth of the Macau gaming sector has been interrupted by the global credit crunch, visa restrictions imposed on mainlanders by the central government, and intensifying competition due to overcapacity. "The credit crunch seems to be long-lived and will force operators to delay developments in the pipeline," a fund manager said. Beijing's five-month-old crackdown on visits by mainlanders to Macau has started eating into gaming revenue and corporate profits. Monthly casino revenue fell for the first time in nearly three years to 6.9 billion patacas last month, down 3.4 per cent from a year ago and 28 per cent from August, according to unofficial data reported by a Portuguese news agency earlier. September's drop in gaming revenue comes in stark contrast to average monthly growth of 52.5 per cent in the first eight months of the year.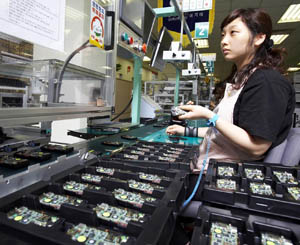 Microsoft expects Samsung Mobile to help power the growth of Windows Mobile with its i908 handset, a rival to Apple's iPhone 3G. Software giant Microsoft Corp aims to boost shipments of Windows Mobile-based smartphones to compete with rivals by partnering with more than 50 handset makers. Research firm Gartner estimated Windows Mobile-based devices would reach 27.5 million next year. Global growth in mobile-telephone sales is expected to total just 8 per cent this year, compared with a previous forecast of 11 per cent, according to research firm Gartner. "Microsoft mobile technology runs on over 200 mobile phone models from 56 handset makers, including Samsung Group, Motorola, High Tech Computer Corp, Palm, Nokia Corp and Research In Motion, which are carried by more than 160 mobile operators around the world," said Adam Anger, a senior director for Microsoft's Mobile Communications Business. Mr Anger added that the company had experienced strong growth in shipments this year and estimated that 20 million devices would be shipped by the end of this year, while next year's target was more than 27 million devices. Google, the biggest internet search engine, launched its first mobile-telephone platform Android on the G1 smartphone in partnership with T-Mobile in the United States, while Apple's iPhone 3G has already sold more than 1 million units since its July launch.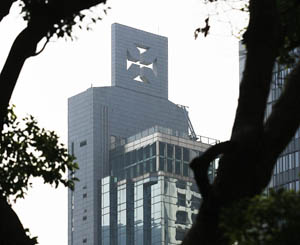 Hong Kong office market deals have fallen to a five-year low as investors cancelled deals or reopened price negotiations because of fears that the troubled economic outlook will spill over into occupancy rates, prices and rental yields. More than 80 per cent of tenants of grade A office space in Central were from sectors already worst-hit by the current turmoil and expected to suffer further, property agents said. They are from the finance, insurance, property and other professional services.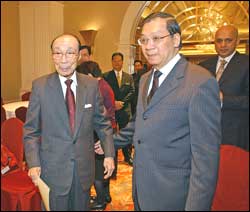 Sir Run Run Shaw's former right-hand man at TVB has said goodbye to ATV, the station he briefly served for a year. Louis Page has been replaced as director and chief executive by another former top Shaw aide - Ho Ting-kwan - who was ATV's chief operating officer and director. ATV said Page resigned to pursue personal interests. "The board thanks Mr Page for his contribution in the past year and wishes him every success in his future endeavors," an ATV statement said. Page was the managing director of TVB before leaving that station in 2006. One of his first tasks on joining ATV last year was to recruit Ho. Current TVB general manager Stephen Chan Chi-wan, who worked with Page for a decade, called him an experienced industry professional, and said it would be regrettable if he stepped away from the entertainment world. A source said Page's resignation is likely due to poor ratings at ATV, exacerbated by a conflict of interest between his job and a production company he supports. Many of the TV dramas that ATV bought are produced by Soft-Trek Corp, a venture Page is connected with, said the source, adding: "It [the conflict] was blatant, but acceptable to ATV as long as the ratings were good, but apparently the 2008 ratings were even worse than 2007." When Page and Ho joined ATV last year they vowed to reform the station. It was rumored the station tried to lure many of the A-list actors and actresses - including Ada Choi Siu-fun - but only a few of the lesser stars switched to ATV.
Lawmakers have been warned to abstain from voting at the end of tomorrow's debate about help for people caught up in the Lehman Brothers minibonds saga if they have a direct financial interest in the outcome.
The Hong Kong Monetary Authority said it will sell an extra HK$4 billion of Exchange Fund bills to meet local banks' demands for liquidity.

China: China's economic growth rate slipped into single digits in the third quarter for the first time in at least four years under the impact of the global credit crisis and weakness in the domestic property sector. nnual gross domestic product growth slowed more sharply than expected to 9 per cent from 10.1 per cent in the second quarter, the National Bureau of Statistics (NBS) said on Monday. Economists had forecast a reading of 9.7 per cent. "It's very obvious now that economic growth is slowing quickly, although some indicators such as exports are holding up due to lagging effects," said Zhang Fan, an economist at Tebon Securities in Shanghai." "Economic growth will continue to trend down," Mr Zhang said. It was not immediately possible to pinpoint when growth was last weaker because Beijing does not publish new quarterly data when it revises its annual GDP figures. Some economists calculate there was at least one weaker quarter in 2004. However, the last time full-year growth was in single digits was in 2002, when it was 9.1 per cent. Interpreting the third quarter's statistics is tougher than usual because Beijing pulled out all the stops to reduce pollution during the Olympics. This led to extensive factory closures as well as transport and visa curbs that hit output. Industrial production slowed to 11.4 per cent in the year to September, the lowest rate since 2002, suggesting that the economy was losing momentum as the quarter went on. However, the pace of retail sales and fixed-asset investment growth both accelerated last month, beating forecasts and providing reassurance to policy makers counting on domestic demand to take up the slack from ebbing exports. Mainland has been contributing about a quarter of global growth in recent years, devouring iron ore, oil and other inputs, and will almost certainly leapfrog Germany this year to become the world's third-largest economy. But the economy has been running into stiff headwinds, helping to depress the Reuters-Jefferies CRB index of global raw material prices to a four-year low last week. "I'm looking for slower growth in the fourth quarter because that's when I think the external side will start to show a more negative impact," said Tao Wang, an economist at UBS Securities in Beijing. The property market, which accounts for about a quarter of fixed-asset investment, is in a swoon due to tight credit and government curbs aimed at preventing the sort of bubbles that have felled the US and British economies. The closure last week of a big toy factory in Dongguan, Guandong dramatised the difficulties facing the economy, which have prompted steel and aluminium firms to slash output because of slumping prices. Officials confirmed over the weekend that the government is preparing measures to pump up growth, including tax cuts and stepped-up investment in infrastructure such as railways. Curbs on the real estate market are already being eased in some cities. Economists also expect more monetary easing, building on two cuts in interest rates and banks' required reserves since mid-September, especially as figures on Monday showed a further drop in inflation. Consumer prices rose 4.6 per cent in the year to September, down from 4.9 per cent in August and a 12-year peak in February of 8.7 per cent. Pipeline prices pressures are also waning as oil and commodity prices retreat. Factory-gate inflation dropped to 9.1 per cent in the year to September from 10.1 per cent in August.
China court on Monday upheld the death sentence against the killer of six police officers, whose case attracted controversy over claims that he was abused by police.

New guidelines for foreign journalists will likely be extended to reporters from Hong Kong, Macau and Taiwan, but worries remain the rules might be slightly stricter.

Former Beijing leader jailed - A court has sentenced a former Beijing vice-mayor to death with a two-year reprieve for taking millions of yuan in bribes in a case that raised questions about corruption involving Olympic projects.

China has proposed deeper co-operation on ports and streamlining maritime traffic with Asean, state media reports.
Ju Chengzhi , director of international co-operation at the Transport Ministry, said an arrangement would speed up customs clearance and improve the safety of vessels in the Strait of Malacca. Transport bosses from the 10 Association of Southeast Asian Nations and China began a two-day meeting yesterday in Guilin on the development and management of ports along the region's coasts and rivers. Mr Ju's suggestion was well received at the summit, state media reported. He also vowed to build a free trade zone that included Asean's 10 members. His pledge came as Xinhua reported that the authorities in Shenzhen and Haiphong, a port next to the Beibu Gulf in northeastern Vietnam, had signed a memorandum of understanding on building an economic and trade co-operation zone in Haiphong. According to the agreement, Shenzhen will spend US$200 million to build an 800-hectare park, the first phase of the project, and seek to attract electronics and clothing manufacturers. Construction was expected to begin this year and take six years. More than 170 enterprises would eventually be drawn to the zone, with an expected investment of nearly US$5 billion, the report said. It is hoped the industrial zone will provide 30,000 to 50,000 jobs. At the China-Asean Port Development and Co-operation Forum held in Nanning in October last year, Transport Minister Li Shenglin said port and sea traffic was an important part of China-Asean co-operation. Asean-China trade surpassed US$200 billion last year for the first time, a 25.9 per cent rise over the previous year. Asean comprises the Philippines, Indonesia, Malaysia, Singapore, Brunei, Thailand, Vietnam, Cambodia, Laos and Myanmar. Gao Hucheng , a vice-minister of commerce, predicted that Asean would soon replace Japan as the mainland's third-biggest trading partner.
October 15 - 19, 2008

Hong Kong: Hong Kong's leading local real estates agency, Centaline Property, said on Tuesday it plans to close up to 50 shops and cut 20 per cent of its staff, the latest sign of a rapid downturn in the city's property market dented by the global financial crisis. "Turnover has dropped by 40-50 per cent, so how can we survive," its chairman, Shih Wing Ching, told the Cable Television. "If I irresponsibly insist [on the current level of operation], all of us will lose jobs," he said. "This is to protect the majority of our staff." Rising mortgage rates, a global sell-off of stocks and worries over losing jobs as the financial crisis deepens have shattered confidence of home buyers and heavily cut the city's property transactions. Analysts say Hong Kong property could fall by more than 10 per cent by the end of the year. Battered by global credit tightness, property is among the hardest hit sectors in Hong Kong's stock market with the Hang Seng sub-index falling about 52 per cent this year. Sun Hung Kai Properties (SEHK: 0016) has lost 55 per cent and Cheung Kong (Holdings) (SEHK: 0001) down 43 per cent this year, against a 39 per cent loss in the blue chip Hang Seng Index. Centaline will close 5 shops next month and another 10 by the end of the year and it will eventually downsize its branches to 180 from about 230 currently, a spokeswoman said. The number of staff will be cut by about 20 per cent from the current level of more than 2,600, Cable TV said. It also has offices in Beijing, Shanghai and Guangzhou. The total value of properties transacted through Centaline amounts to several tens of billions of Hong Kong dollars a year, the company said.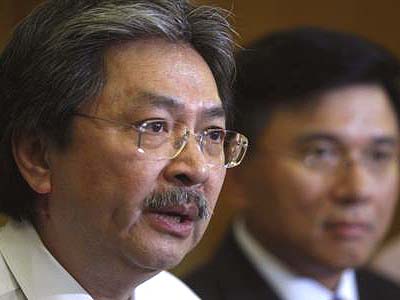 Hong Kong's financial secretary John Tsang Chun-wah said on Tuesday that all bank deposits in the territory would be fully guaranteed until 2010, following turmoil in the international banking system. "[We will] use the exchange fund to guarantee the repayment of all customer deposits held in authorised institutions in Hong Kong," Mr Tsang said. The move was the latest by the city's central bank to help stabilise Hong Kong's banking system and follows moves by central banks around the world to provide liquidity and boost confidence in the financial sector. Previously the first HK$100,000 was guaranteed. The new measure will be introduced with immediate effect, Mr Tsang said. "This is to provide assurance to depositors that their money is fully protected," he said. "This is in line with a number of measures taken in a number of jurisdictions throughout the world to reinforce confidence in banks." Mr Tsang also announced a new system for local banks to access extra capital, following similar international moves to boost confidence in the sector. "[There will be] the establishment of a contingent bank capital facility, for the purpose of making available additional capital to locally incorporated banks on request and subject to supervisory scrutiny," he said. The new measures will in force until 2010 when they will be reassessed. Mr Tsang did not initially give figures for the size of the capital fund. He stressed that the new measures were "precautionary and pre-emptive in nature." "I must stress there are no serious issues in the banking sector," he said. "I do not expect that the measures need to be triggered," he said. "Our banking system is healthy and robust with capitalisation well above international capital requirements." Hong Kong's stock market rebounded for the second consecutive day on Tuesday, rising 3.2 per cent, following a 16 per cent plunge last week on the Hang Seng Index to a three-year low, its worst week since the Asian financial crisis a decade ago. "It is a positive move. The measures will restore depositors' confidence in Hong Kong banks," said Y.K. Lee, an analyst at Core-Pacific Yamaichi. "It may help sustain a rally in the local stock market," he added. The contingent bank capital facility is only available for 23 banks registered in Hong Kong, said Hong Kong Monetary Authority chief Joseph Yam Chi-kwong. He estimated the city's total bank deposits at about HK$6 trillion. The Hong Kong Exchange Fund's assets totalled HK$1.4 trillion at the end of August, the bulk of which is foreign exchange reserves to back the Hong Kong dollar's currency peg with the US dollar. Last month, Bank of East Asia (SEHK: 0023) experienced heavy withdrawals due to rumours that Hong Kong's fifth-largest lender was in financial distress. The rumours proved unfounded.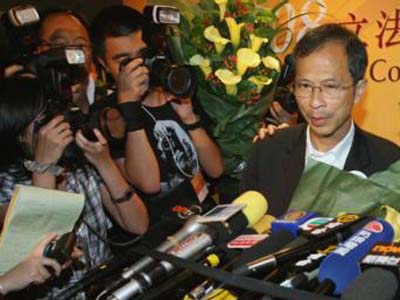 Chief Executive Donald Tsang formally accepted the resignation of Tsang Yok-sing from the appointment of Lau Kong-wah to the Executive Council on Tuesday.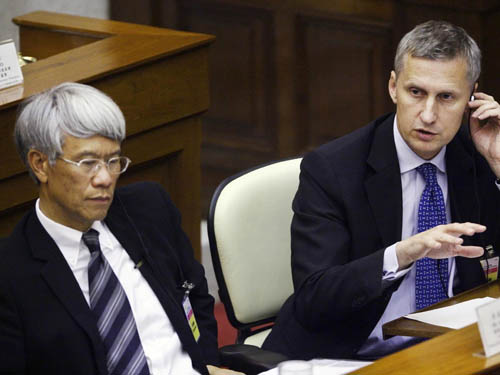 Joseph Yam of the Monetary Authority and Martin Wheatley of the Securities and Futures Commission attend a Legco meeting to discuss the controversy yesterday. Regulators yesterday rejected legislators' accusations that they had failed to monitor local banks selling high-risk, Lehman Brothers-linked investment instruments to clients. "I don't think these accusations are correct. [The blame for] failing to monitor does not exist," Monetary Authority chief executive Joseph Yam Chi-kwong said. He was speaking at a special Legislative Council meeting on the troubles surrounding products related to the collapsed US investment bank as investors facing heavy losses continued to call for their money back.At the same meeting, Securities and Futures Commission chief executive Martin Wheatley rejected suggestions the regulator should have stopped complex products being sold under the name of minibonds. Investors should have ensured they knew what they were buying, he said. Mr Yam said: "I personally think that if banks followed all the SFC and HKMA regulations, investors would have sufficient understanding of the risk. The problem is whether the banks followed all the regulations." Between May 2005 and the third quarter of last year, he said, the authority issued extra guidelines to banks on the sale of complex investment products. It also urged banks between late last year and early this year to relabel products containing collateralised debt obligation - security backed by a pool of bonds, loans and other assets - as high-risk instead of low-risk. "Before the breakout of the subprime mortgage crisis, we rapidly issued guidelines. This is having foresight, not belated awareness." He said he had also warned investors and had commented on the financial crisis as well as how to manage investment risks in his articles and public speeches. "No one has said more than I have" on the issues in Hong Kong, he said. Mr Yam, who earned more than HK$10 million last year, drew criticism from lawmaker Wong Yuk-man for "sitting still to wait for a salary", while minibonds victims "sit still to wait for death". Tourism sector lawmaker Paul Tse Wai-chun called on Mr Yam to step down. Democratic Party legislator Lee Wing-tat asked why the SFC had allowed the products to be called "minibonds", which gave a false impression that they were low-risk. Mr Wheatley replied that investors should not simply rely on marketing materials, but should ensure they understood the product. "The term minibond ... has no regulatory meaning. It's just a brand name ... Different firms use different brand names. I would be shocked if anybody bought a product based on the name of the product. The requirement is to understand the features ... Anybody who is offered via bank staff a product that pays 6 per cent rather than half a per cent on deposit should be asking, `Why?'" At the day-long meeting, Financial Secretary John Tsang Chun-wah said he hoped banks could decide by the end of this week on the government's proposal to buy back Lehman minibonds. He also said the SFC and HKMA would submit a report within three months, which would include how to regulate the sale of such products. By Friday, the HKMA had received 9,281 complaints. Mr Yam said results of investigations over potential misrepresentation would be made partly available in a week. Out of 5,300 complaints against Lehman's minibond products, the elderly were involved in about 800 cases. HKMA has investigated 39 cases of mis-selling of investment products at banks. It has reached a conclusion in 15 of the cases, in which banks were warned in five cases and two would involve prosecution. Admitting that it had no statutory power to force banks to compensate victims who claimed to have been misguided, Mr Yam said that for the sake of their own reputation, banks that found misconduct "should make compensation". He said Hong Kong's position as a world financial centre had not been harmed because the impact of Lehman's demise was global. But he admitted public confidence in the banking system had been damaged. He said the recent run on the Bank of East Asia (SEHK: 0023) could be attributed to negative sentiments following Lehman's collapse.
One of Princess Cruises' luxury ships, Diamond Princess, could not stop at the Ocean Terminal on Tuesday morning because the terminal was too small for the vessel, local media reported.
Consumer confidence in Hong Kong has dropped to the same level as during the 2003 Sars period, according to a new survey released by the Chinese University of Hong Kong on Tuesday.
The number of passengers carried by Cathay Pacific Airways (SEHK: 0293) has dropped for the first time since the severe acute respiratory syndrome epidemic in 2003, signalling that the financial turmoil may have curtailed air traffic demand in the city. Cathay and its affiliate Dragonair carried a total of 1.88 million passengers last month, 0.7 per cent down from the same period last year. That, adjusted, represented the first contraction in more than five years. The percentage of seats sold dropped 6.7 percentage points to 72.3 per cent. Tony Tyler, the airline's chief executive, warned last week in the airline's internal magazine of a downturn in passenger demand in the business and first-class cabins. The financial sector accounts for 75 per cent of Cathay's top-20 corporate clients. Air cargo has also fallen. Last month the two airlines carried a total of 141,570 tonnes of cargo and mail, representing a 7.3 per cent year-on-year drop. Titus Diu, general manager of cargo sales and marketing for the airline, said: "The expected post-Olympics surge from mainland China didn't materialise and there was also no significant rush before either the Mid-Autumn Festival or National Day holidays." Despite the oil boom, visitors from the Middle East fell about 5 per cent in the first nine months, compared with a 23.7-per cent jump in numbers to 185,681 for the whole of last year, the Tourism Board said.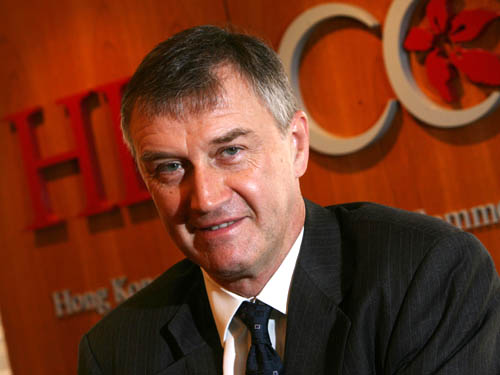 The government should be prepared to go all out to tackle the widening economic crisis, even if it means breaking some rules, Hong Kong General Chamber of Commerce chairman Andrew Brandler said. The government should be ready to throw moral hazard out the window - throw some of these principles out the window - on a short-term basis [to maintain market confidence and stability]," Mr Brandler said without elaborating. "In extraordinary times, the government should not feel shy taking extraordinary measures." Warning of fiscal deficits amid a shrinking tax base and greater unemployment, Mr Brandler said there was an urgent need for the government to shore up increasingly fragile investor confidence. The chamber expected a global recession next year that might last for a few years, he said, although Hong Kong's financial system remained in good shape. "You don't want to take risks with what is fundamentally a sound system right now," he said. Mr Brandler called on the government to act "quickly and boldly" to boost confidence by "substantially" raising the HK$100,000 cap on bank deposit insurance. Such a measure would not be permanent, but could be implemented for six to 12 months to help tide jittery investors over until the economic outlook improved. He also supported the use of taxpayers' money to underwrite soured Lehman Brothers minibonds if it helped "get a deal done" between banks and angry investors. "You don't want to have people queuing up, demonstrating outside Legco, demonstrating outside banks, saying I want my money back because of these minibonds. You want to get that issue cleared up quickly," he said. "We face a once-in-a-lifetime financial turmoil. Let's not take any risks with that, even if it means the government breaking a few principles and digging into its pockets to maintain stability. It's a small price to pay." Mr Brandler also urged the government to do everything possible to preserve the financial health of the city's small and medium-sized businesses. Nervous banks were less willing to lend to companies in an economic downturn for fear of being unable to recover their money if businesses failed. This choked off funds to companies, which relied on credit. Despite a pledge by the government to use the city's US$160-billion war chest of foreign currency reserves, if necessary, to help deal with the crisis, resources were limited. A large civil service and weak corporate earnings would exacerbate pressure on government finances, which depended mainly on profits and salaries taxes as well as property sales. The chamber had been disappointed at a lack of government commitment to explore ways to broaden the tax base, including the introduction of a goods and services tax, but Mr Brandler said now was not the time to broach the issue again.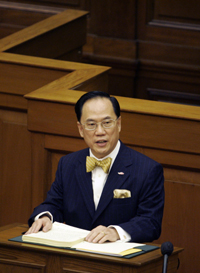 Chief Executive Donald Tsang Yam-kuen is expected to announce the speeding up of infrastructure projects development in his policy address to boost Hong Kong's economy and create more job opportunities in an attempt to minimise the impact of the global financial turmoil on the city. A government source said speeding up the progress of infrastructure projects was the most effective way in the short run to shore up the economy. "We are firmly committed to undertaking infrastructure projects and the need is highlighted particularly during the economic downturn," the source said. The chief executive announced in last year's policy address that about HK$250 billion would be spent over the next decade to push forward 10 major infrastructure projects, including the bridge linking Hong Kong with Zhuhai and Macau, the Guangzhou-Shenzhen-Hong Kong Express Rail Link as well as the Sha Tin to Central Link. The projects are expected to create 250,000 jobs. The government has been studying the possibility of starting some projects earlier but has to overcome some technical issues, such as co-ordination with Guangdong authorities. Secretary for Development Carrie Lam Cheng Yuet-ngor said yesterday the crisis would not affect the government's determination to promote infrastructure development. "On the contrary, the government can play the role of facilitating economic development and creating job opportunities by investment in infrastructure projects," she said. The minister said she had instructed government departments under her bureau to consider ways to help revitalise the economy. Mrs Lam said there was huge potential in assisting homeowners' renovation work, drainage and flood prevention work. Undersecretary for transport and housing Yau Shing-mu said yesterday the government would speed up infrastructure spending in a bid to shore up the economy. In an interview with Metro Radio yesterday, Mr Yau said construction of the Guangzhou-Shenzhen-Hong Kong Express Rail Link, as well as the western extension of the Mass Transit Railway's Island Line would start next year. But he would not say in which quarter the projects would begin. The MTR Corporation (SEHK: 0066) has amended its plans for the HK$39.5 billion express rail link between Guangzhou and Hong Kong by shifting its route westwards to avoid built-up districts in southern Hong Kong. The cross-border link, which is expected to be completed by 2015, would shorten the rail journey to Guangzhou from nearly two hours to 48 minutes. Patrick Lau Sau-shing, the legislator representing the architectural, surveying and planning sector, said the imminent downturn would be a good opportunity to start infrastructure projects as the pressure of rising construction costs would be eased. Raymond Ho Chung-tai, the lawmaker representing the engineering sector, said the government should also consider future projects, such as the eastern gateway, or Liantang-Heung Yuen Wai Boundary Control Point, and the logistics park in north Lantau Island.
The Consumer Council has received nearly 2,000 complaints from Lehman Brothers minibond investors totaling HK$11.85 billion and involving more than 21 banks and financial institutions.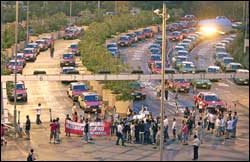 Taxi drivers angry at a new flagfall pricing system stopped all services from Hong Kong International Airport to the city at times yesterday. More than 200 taxi drivers went to Central during the day in a slow-drive protest up Garden Road then let off 30 drivers to march from Chater Road to the Central Government Offices. They restarted their protest at the airport last night. The protesters claim the flag-fall adjustment will affect the number of short-journey passengers. Stranded passengers were told by the Airport Authority that taxi service was temporarily out of service. That left people like a traveler intending to catch a ferry at China Hong Kong City in Tsim Sha Tsui worried about making it in time. Long queues of taxis appeared at Garden Road heading down to Central. But traffic to Central and Wan Chai remained smooth. Earlier, the drivers shattered fare meters at the central government offices to drive home a claim that the new rates will not protect livelihoods. The Executive Council in September approved raising the flag-fall from HK$16 to HK$18, effective from November 30. There will also be a new incremental charge, from HK$1.40 to HK$1.50 up to nine kilometers when the total fare reaches HK$70.50. After 9km, the incremental charge will be HK$1. At a distance of 11.8km, the fare under both the old and new charges will be the same. But trips longer than that will be cheaper, with one usually costing HK$100 now down to HK$95.50, a HK$200-trip falling to HK$167 and a HK$300 trip HK$240.
PCCW (0008) shares plunged to their lowest level in 9 years yesterday - returning to valuations last seen before its acquisition of former fixed-line monopoly Hong Kong Telecom - after the company said it scrapped a plan to sell a 45 percent stake in its core business.

China: China will continue to be an important stabilising force in the world economy, Xinhua said in a commentary after a party summit concluded on Sunday. conomists said it might be a hint that Beijing would hold US Treasury bonds, instead of selling and taking losses or buying a substantial amount to help the bailout of US financial institutions. Official figures show the mainland had foreign reserves of US$1.8 trillion at the end of June, of which US$922 billion was invested in bonds issued by the US government and government-sponsored enterprises. It was the second largest owner of US debt after Japan. The Central Committee of the Communist Party, after the four-day meeting, said the mainland's economic situation was good, with "relatively rapid growth maintained" and the "financial sector operating stably", Xinhua said yesterday. The commentary also raised the question: is China capable of saving the world economy? After reviewing the nation's "responsible action" of keeping the yuan exchange rate stable while other Asian currencies depreciated sharply during the Asian Financial Crisis of 1997, the commentary claimed the nation would continue to be "an important stabilising force", although its low per capita gross domestic product meant it might not be able to save the world from the deepening and widening financial meltdown. Whether the nation will hold, sell or buy US bonds has also been a hot topic. The central government was rumoured to be preparing to help fund a substantial part of the US$700 billion in US Treasury debt required to finance the US bailout, because the US is the nation's primary market, buying US$117 billion of goods in the first half of this year. "For foreign reserves, we should not emphasise reducing US assets. A big cut is against the mainland's interest," said Ha Jiming , chief economist of the investment bank China International Capital based in Beijing. Some academics have suggested Beijing should sell US bonds to avoid further losses in the ailing US market. But others have argued that would materialise losses, worsen the meltdown and leave China with few other choices. "It is also difficult for China to further buy US bonds, as our trade surplus is narrowing," Mr Ha said. The trade surplus for the first nine months of the year was US$180.9 billion, down 2.6 per cent year on year. Economists expect growth in the surplus, the source of foreign reserves, will slow further with weakening external demand in coming months. The upbeat Xinhua commentary reiterated Premier Wen Jiabao's remarks last month on the mainland's three advantages in pursuing stable economic growth: a big domestic market; sufficient capital backed by high savings; and the improving quality of personnel. The target of doubling the per capita disposable income of rural residents by 2020, set at the Central Committee meeting, could boost domestic consumption, Xinhua said. Deputy finance minister Li Yong said in the US yesterday that Beijing would adopt a prudent economic policy to cope with the global slowdown. "China will enhance the foresight, pertinence and flexibility in its macroeconomic management," he said. "It will take measures to maintain stability in the economy and in financial and capital markets so as to achieve sound and rapid economic growth."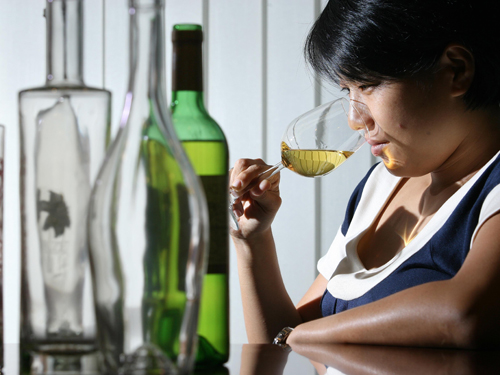 Chan Chun-keung set up the vineyard near Taiyuan and asked daughter Judy (above) to run it. Judy Leissner Chan Fong was still in college in the US when she found out her father had started a winery. "I was astonished," she says. It was an even bigger shock when dad, entrepreneur Chan Chun-keung, put her in charge of launching the first vintage from their Grace Vineyard in 2002. eissner was 24 at the time and had barely settled into her first job at an investment bank. "I didn't drink then and didn't know a thing about grape varietals or winemaking," she admits. Six years on, Grace Vineyard in Shanxi province has acquired an enviable reputation for producing fine tipples in a region better known for coal than chardonnays. But getting there was no cake walk. Hong Kong-based Chan, who has extensive interests in department stores, water treatment and infrastructure projects on the mainland, became interested in wine during his business trips to France. He and a French friend dreamed about eventually retiring to a winery, and started to look around for a suitable property. After an initial search in France, they turned their sights to China. "Everyone was saying how there was only a mass market there and the quality wasn't good. But my father is the kind of person who likes to do what others consider impossible," says Leissner. The family brought in oenologist Denis Boubals and spent two years scouring the mainland before plumping for a plot 40km south of Taiyuan, the capital of Shanxi, in 1997. Situated in the middle reaches of the Yellow River, it has deep, sandy soil and the mild, continental climate best suited for grape growing. They imported vines and equipment from France, hired a French winemaker and began looking forward to the first vintage. The launch in 2002, however, was a disaster. Of the 500,000 bottles produced, they sold just 10,000 and gave away another 10,000. "I was lost and dejected," says Leissner. "We hadn't paid enough attention to packaging, believing it was enough for the wine to be good." The French style of Grace's wines didn't go down well with mainlanders used to sweeter wines with less tannin. And unlike in the west, where boutique wineries tend to be associated with quality, Chinese customers saw Grace's small, family-run operation as a sign of lower standards. The winery's location in Shanxi, largely known for its coal mines and pollution, also made it a tough sell. It was a particularly hard time for Leissner: she had just had a baby, her banker husband had been transferred to Singapore, and she was dealing with staff who were much older than her. "Everything combined to make it overwhelming," she says. That her father left the winery entirely in her hands only added to the pressure. "I didn't get to work my way up," she says. "He just dumped the job on me and told me to get it done. It was frustrating not being able to reach him, and when I did, he would tell me to make the decisions myself." Leissner had to learn about wines and winemaking on the run, reading up as much as she could, asking questions and tasting as many wines as possible. But along the way she also met people who guided her, she says. Besides its own vines, Grace Vineyard is contracted with 450 farm units from five villages to supply grapes for their wines. "We provide farmers with the vines and initial capital and also guarantee them an income, so our presence is welcomed by the local government," Leissner says. "Their income has increased four times since we set up." However, she found it took time and patience to convey the finer points of viticulture to farmers used to growing apples, dates and corn. "It helps that they are experienced growers and care about the land, but it's hard to convince them that irrigation is bad [because it dilutes the flavour of the grapes] or that they should do green pruning [to remove some of the immature grapes to allow better ripening]." Persistence and attention to quality have paid off. The Peninsula Hong Kong began including Grace's vintages on its wine lists, and other five-star establishments followed. Oliver Schnatz, the Peninsula's director of food and beverage, says the hotel added Grace wines to its list in 2006 after extensive tastings. "The quality of the wines from Grace Vineyard is very good," Schnatz says. "Our philosophy is that the wine lists at our restaurants and bars should include wines from all the world's biggest wine-producing regions. While China may not be a major world player at the moment, we believe it has huge potential." A favourite among guests at the Peninsula is Grace's Private Blend Barrel 401. "People generally don't have confidence in Chinese wine, but these hotels were willing to taste our wine and believed in us," Leissner says. "Our 2004 vintage is drinking well now and 2006 - the year of the great frost - will do even better." Grace's wines have won favourable reviews from critics such as Jancis Robinson, recognition at international wine fairs, and now are being added to collectors' cellars. (During a trip to the mainland in March, Robinson visited Grace where she found the wines to be "encouragingly authentic", naming its Chairman's Reserve 2005 as one of the top five wines she has tasted in China this year.). The winery, which began turning a profit two years ago, has earned a loyal following, especially for its Chairman's Reserve. "The quality of that label has surprised many wine industry friends abroad," Leissner says. "They like to take it back for blind tastings because people rarely guess that it's made in China." On the mainland, Grace's wines are sold through its shops in Shanghai and Guangzhou. Leissner occasionally shows up at the counters. "It's always very exciting to be able to sell a crate," she says. These days, the winery's problems have less to do with selling its output and more with not being able to meet demand. "Since last year, we've been running out of wine," she says. "While this is a better problem to have, we don't want to be delisted from hotels because we can't supply them with enough wine, and we also want to ensure quality doesn't fall." To expand production, Grace has established two new vineyards, in Shaanxi and Ningxia provinces. "Our ultimate goal is to discover what grows best where, so it's important to step out of Shanxi," says Leissner. Australian winemaker Ken Murchison now oversees the production at Grace, but it will retain its Old World style. Leissner, who visits the Shanxi winery at least once a month, also has her say on the big decisions, such as which blend will suit the prestigious Chairman's Reserve label. Her father, she says, mainly enjoys drinking the wines. With her daughters now aged three and five, Leissner's long working hours have become an issue for negotiation. "When they were younger, it didn't really register how many days I was away," she says. "Now they hold me to my promises. But it's important for me to travel because there are markets in China I know nothing about." Leissner makes it a point for them to join the annual grape harvests, when she and her daughters help with the picking. "For my girls, knowing the names of the grape varieties is an obvious thing. I hope they will take over and I'm trying to cultivate their interest." Despite her abrupt launch into the wine business, Leissner says she wouldn't trade her job now. "First, I really like wine and I think the industry suits my personality. The vineyard is a wonderful place to be - it's not hard to like it." Most of all, she enjoys promoting the wines. "Through wine, I've met a lot of interesting people," she says. "Wine is an interesting product because it acts as a bridge for Chinese people, who tend be conservative and find it hard to open up and chat with strangers. And wine always goes with good food." For now, Leissner's ambitions are not to put her wines on international connoisseurs' lists, but lie closer to home. "In 10 years, I hope we will have discovered varietals that do really well in our soil and that can represent Grace as our signature vines," she says. And while the mainland has traditionally exported a lot of its best produce, "we want to be the good stuff that stays".
China's trade surplus widened to a record in September, boosting the currency reserves that may shield the world's fourth-biggest economy from the global crisis. xports rose 21.5 percent from a year earlier to US$136.4 billion (HK$1.064 trillion) after gaining 21.1 percent in August, the customs bureau said on its website. The trade surplus climbed to US$29.3 billion, a figure derived by deducting the value of imports from the number for exports. China has cut interest rates twice in a month to stimulate the economy as the worst financial crisis since the Great Depression undermines global growth. The surplus adds to US$1.8 trillion of foreign-currency reserves, a buffer that may help the nation to maintain an expansion of more than 9 percent even as a world recession looms. "It's not a bad thing to have a relatively large trade surplus when there's a global financial crisis," said Wang Qian, an economist at JPMorgan in Hong Kong. "China's foreign-currency holdings will help the country to survive the crisis." The median forecasts in a survey of 13 economists were for export growth of 20 percent and a trade surplus of US$24.5 billion. The previous record was US$28.7 billion in August. "Holding the world's biggest foreign-exchange reserves puts China in a better position to cope with the global financial crisis," said Xing Ziqiang, an economist at China International Capital Corp in Beijing. "If needed, China may also be able to cooperate with the US on financing the bailout of its financial system." Imports increased 21.3 percent to US$107.1 billion after climbing 23.1 percent in the previous month. Falling prices for commodities such as copper and oil have trimmed the value of inward shipments. "The good news is that imports are healthy, showing China's domestic demand remains very strong," said Mark Williams, a London-based economist with Capital Economics. "China's growth rate will slow but it won't be traumatic because export falls will be to some extent offset by healthy spending at home." Export growth is down from 25.7 percent for all of 2007. "Although the numbers look like China's exports are holding up, the volume growth of exports has slowed to below 10 percent," said JPMorgan's Wang. "Export growth will continue to weaken as the economic slowdown spreads from developed economies to emerging markets."
October 14, 2008

Hong Kong: Secretary for Home Affairs Tsang Tak-sing on Monday defended the West Kowloon cultural hub – re-emphasising the need to develop an integrated arts and cultural district in Hong Kong.

More than 40,000 investors in Hong Kong purchased Lehman Brothers investment products worth more than HK$30 billion, Hong Kong Monetary Authority executive director Choi Yiu-kwan said.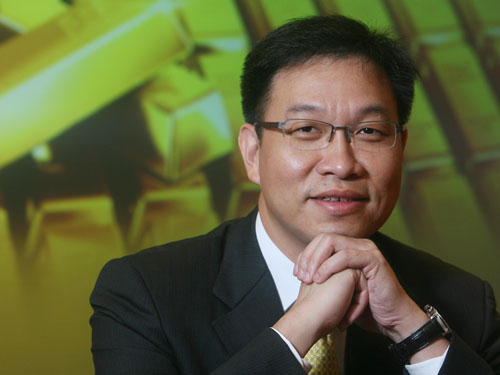 Calvin Tai, the head of HKEx's derivatives markets, says gold futures offer investors a relative safety net during market turbulence. The rising demand for gold as a safe haven and the increasing volatility of gold prices amid the global credit crunch may help Hong Kong Exchanges and Clearing (SEHK: 0388, announcements, news) attract investors to gold futures that are due to relaunch next Monday, according to Calvin Tai Chi-kin, the exchange's head of derivatives market. "Recent incidents including the sale of Lehman Brothers Holdings minibonds have made people lose confidence or become cautious of over-the-counter trading of derivative products," Mr Tai said. "But it may be a good time for our launch of gold futures given our higher transparency and stringent regulations."
PCCW (SEHK: 0008) has scrapped the sale of a 45 per cent stake in telecommunications subsidiary HKT Group Holdings after private equity funds including TPG, Bain Capital, Macquarie and Providence Equity Partners entered ultra-low bids of as little as US$450 million, market sources said. The board was encouraged by the interest shown in HKT's business. However, we strongly believe that the bids received were not sufficiently attractive for us to continue the process," Alex Arena, PCCW group managing director, said last night. PCCW's falling share price and frozen credit markets greatly reduced what the interested parties were willing to pay despite general agreement that the company has a solid business and good management. PCCW shares closed at HK$2.80 on Friday, more than HK$2 below the price they traded at in mid-July when the first round of bidding started. The banking crisis that has seen some of Wall Street's biggest names go bankrupt or bought out also hampered bidders' attempts to borrow funds against the share dividends they would receive from PCCW. "There's not a dollar of financing to speak of," said one source. Some funds had expected to use debt to finance up to 40 per cent of their bid, making the deal more onerous, particularly for smaller funds that have to put up more of their own cash than the larger funds. PCCW's move last month to give the winning bidder priority over other shareholders on those dividends to help buoy bid levels proved unpopular with shareholders, who pushed the share price down even further. Seven funds, including MBK Partners, Apax Partners, Macquarie, Carlyle, TPG, Bain and Providence, were shortlisted in August. At that time, the high end of the bidding range was tipped to be US$2.5 billion. The current bids place a total valuation of US$6 billion on PCCW, which includes a US$5 billion debt package the company arranged and US$1 billion in equity. The original total valuation at the time of the deal's start was about US$8 billion, meaning US$3 billion in equity. "Those numbers three months ago were totally unrealistic," a source said. "The assets are definitely interesting but they are low growth going forward despite PCCW pushing aggressive earnings. And PCCW has always traded at a premium to other companies with similar capital structures and growth profiles, which is something to think about as well." Some sources said PCCW might have been able to get funds to push up the total valuation to about US$6.5 billion. That would have made for a bid of US$675 million for the 45 per cent stake. Bids were placed before noon Saturday and the PCCW board met yesterday evening and voted to halt the transaction. "Nobody knows what we are facing - is it going to go on for a month, a year or a decade? So there's no sort of sense of whether this will be back on the agenda in, say, January. Maybe it will, maybe it won't," a source said. PCCW's sale is not the first to go down in defeat because of globally weak markets. Huawei Technologies, the largest mainland telecommunications equipment maker, scrapped the sale of a controlling stake in its handset business to private equity funds last week after receiving bids far below what was originally expected. PCCW, the city's largest fixed-line telephone company, set up HKT earlier this year to hold the core assets of the fixed-line, media and information-technology businesses. The company said the move was aimed at improving operational efficiencies and to pave the way for fund-raising, without specifying what the proceeds would be used for.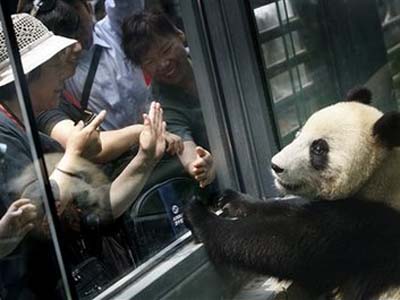 Almost half of Hong Kong's aid package for Sichuan will be used to rebuild the Wolong panda reserve the government said on Sunday. Almost half of Hong Kong's aid package to help earthquake-stricken Sichuan will be used to restore a giant panda reserve, the government said on Sunday. he Hong Kong government said it would spend HK$863 million of its HK$2 billion (US$256 million) commitment on a 4.5 kilometre road leading to Wolong Nature Reserve in the country's southwest province, which was devastated by a 8.00-magnitude earthquake in May. Another US$22.7 million would be devoted to studying the 200,000-hectare park, a government spokesman told reporters. The reserve was the top priority among the first 20 Hong Kong-funded reconstruction projects, officials said after signing an agreement with mainland officials in Sichuan on Saturday. "We now need to climb two large mountains and cross 350 kilometres before arriving at the reserve," Carrie Lam, Secretary for Development and a member of the delegation to Sichuan, said in a statement. "This has largely affected the restoration work for the reserve. The importance and urgency of the construction of a new road is unquestionable," she said. Ms Lam said the work in Wolong would involve about US$1.7 billion, and the government would seek more funding from the legislature. The reserve was established in 1963 in Wenchuan county, the epicentre of the quake that left nearly 88,000 people dead or missing. Fourteen pandas have already been moved out of the Wolong Giant Panda Research Centre following the quake, while 48 remain. Another 150 pandas are believed to live in the wild in the reserve.
Entrepreneurs and businesses cannot afford to be left behind when it comes to advances in electronics, Secretary for Commerce and Economic Development Rita Lau Ng Wai-lan stressed on Monday. Mrs Lau was opening the Hong Kong Electronics Fair and Electronic Asia. "With a mobile subscriber penetration rate close to 160 per cent, and a population amenable to adopting the latest technologies, Hong Kong is a good testing ground for the latest IT innovations," she said. Ms Lau noted that Hong Kong had received more than 28 million visitors last year. Many came to shop for the very latest high-quality electronic products. "We have established the HK$5 billion innovation and technology fund to encourage technological upgrading and innovation among the trade. She said Hong Kong had also established a R&D centre on information and communications technologies. "Our HK$250 million DesignSmart Initiative supports initiatives that promote excellence in design and branding," the commerce secretary said. She said the government was also setting up thousands of Wi-Fi hotspots for public access. "We also launched our digital terrestrial television broadcasting just 10 months ago, and now 20 per cent of our families are enjoying the new viewing experience."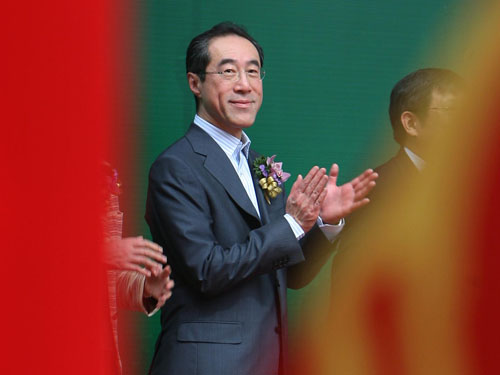 Chief Secretary Henry Tang believes the financial crisis will have a negative effect on the city, but "it's hard to tell" how severe. Hong Kong's foreign reserves could protect its currency from global economic turmoil, the undersecretary for financial services and the treasury, Julia Leung Fung-yee, said yesterday. "We'll use all the ammunition if we have to," Ms Leung, a former Hong Kong Monetary Authority executive director, said on radio. "Hong Kong should have faith." Hong Kong's foreign-currency reserves stood at US$160.6 billion at the end of last month, the HKMA announced on Wednesday. That represents seven times the currency in circulation and makes the city the world's ninth-largest holder of foreign reserves, behind the mainland, Japan, Russia, India, Taiwan, South Korea, Brazil and Singapore. "We also have other strategies that we could use if the need arises," Ms Leung said. "The point is that the SAR government will make every effort to support our financial system." Ms Leung sought to calm the city as the International Monetary Fund warned that the world's financial system was on the brink of meltdown. "People do not have to be too worried. The wind and waves are big outside, but by comparison we in Hong Kong are extremely robust," she said. A Financial Services and Treasury Bureau spokeswoman stressed last night there was no need to use the Exchange Fund at this stage. "What the undersecretary said was just a preventive measure," she said. "If anything goes wrong, the government has the responsibility to defend. But there is no need to use the Exchange Fund at this stage." Chief Secretary Henry Tang Ying-yen predicted the economic turmoil would have a definite negative impact on Hong Kong. "I believe that the economic crisis will be a negative blow to Hong Kong because Hong Kong is an open and small economy," he said yesterday. "As for how severe that blow will be, and how severe the results will be, it's hard for us to tell right now." Ms Leung said the US government had been wrong in deciding not to bail out Lehman Brothers because it had led to a collapse in confidence. Billy Mak Sui-choi, an associate finance professor at Baptist University, said: "The US ended up suffering a domino effect when the government didn't rescue Lehman Brothers. Hong Kong needs to stabilise its financial market by any means." Regarding banks that thousands of investors allege mis-marketed Lehman minibonds and similar products, Ms Leung said the city would learn from the experience and that a government proposal to buy back the investments after assessing their current market value was the fairest available solution. A group of owners of small and medium-sized enterprises (SMEs) took to the street yesterday, calling for more government loans to help them survive the financial crisis. Twenty representatives marched from the HSBC (SEHK: 0005, announcements, news) headquarters to petition the government headquarters. The protest organiser - the Liberal Party's SMEs Concern Group - said SMEs, with their particular need for credit, were the worst hit now that many banks were reluctant to make loans, creating a cash-flow problem. The protesters called on the government to double the maximum working capital loan guarantee under the SME Loan Guarantee Scheme to HK$2 million and double the guarantee period to four years.

China: Beijing rolled out new traffic control measures on Monday, but they had little effect as the capital's roads remained clogged and a grey smog shrouded the city.

Scientists in China have mapped the genome of the giant panda, which could yield a better understanding of why the endangered animals are so famously sex-shy, state media said on Monday.
"We hope the genome map could help genetically explain why giant pandas have little reproductive capability so that scientists can help them deliver more cubs," Wang Jun, a scientist with the Beijing Genomics Institute, was quoted as saying by the China Daily. Mainland experts say there are only about 1,600 wild pandas in China, mainly in the southwest, with another 200 or so raised in captivity in mainland breeding centres. The animals' notoriously low libidos have frustrated efforts to boost their numbers. Breeders have resorted to tactics such as showing them "panda porn" videos of other pandas mating, and putting males through "sexercises" aimed at training up their pelvic and leg muscles for the rigours of copulation. The mainland-led genome-mapping effort also involved scientists from Britain, the United States, Denmark and Canada, the newspaper said. The scientists mapped the genome of a three-year-old female named Jing Jing, with the results confirming the widely-held belief that the panda is a subspecies of bear, it said. The panda had been previously thought to be related more closely to raccoons and similar animals. A more detailed genome map could be completed by the end of this year, it said. Scientists hope also to eventually gain a better understanding of why pandas subsist almost solely on bamboo, another factor viewed as inhibiting the species' range and adaptability. "By sequencing the genome, we have laid the genetic and biological foundation to gain a deeper understanding of this peculiar species," Mr Wang said.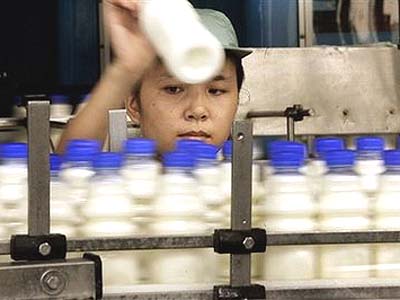 Three mainland dairy companies have publicly apologised for their involvement in a toxic milk scandal that has killed at least four children and led to mainland-made products pulled from shelves around the world. nner Mongolia Yili Industrial Group, Mengniu Dairy (SEHK: 2319) and Bright Dairy Group were found earlier to have produced milk contaminated with melamine, a compound used to cheat nutrition tests. The scandal has savaged the companies' share prices and prompted Seattle-based coffee chain Starbucks to pull Mengniu milk from its 300-plus stores last month. "I feel I have let everybody down. I have done so much, yet still done wrong," Monday's Beijing News quoted Mengniu's marketing chief, Zhao Yuanhua, as saying on state television. Mr Zhao and executives from Mengniu and Bright Dairy also promised consumers that their products prices would not rise despite higher costs of quality controls. Mainland health officials last week said that nearly 10,700 infants and children were still in hospital after drinking toxic milk and formula. More than 36,000 children had left hospital after being treated. The scandal has rocked faith in the safety of mainland-made products, already under a cloud from a series of quality scandals involving food, drugs and toys last year, and prompted authorities to issue tighter rules governing milk production. Beijing's quality watchdog said a fourth round of tests on baby milk formula and other milk powder from dozens of local brands across 18 provinces had shown no new cases of melamine contamination, Xinhua news agency said in a separate report. But the Ministry of Agriculture had decided to continue sending quality teams across the country to monitor the clean-up of milk stations and animal feed producers, it said in a notice on its website. "Supervise and urge local authorities to investigate and punish the illegal use of melamine and other toxins, and other unlawful adulteration," the ministry said.
Canton Fair faces financial slowdown - Bookings down ahead of major trade expo - Trucks carrying iron poles and wooden planks are lined up outside the exhibition hall and workers strain to push trolleys full of goods inside, but Hong Kong businessman Chan Wing-kee is doubtful this season's Canton Fair, which opens on Wednesday, will be a busy one. Airlines and hotels report that bookings are down. The black-market rate for a booth has slumped to as little as a third the usual price - simply more evidence that even for one of the world's most celebrated economic successes, times are tough and optimism is in short supply. "We are prepared that business will not be good this year. It is obvious," said Mr Chan, a former president of the Chinese Manufacturers' Association in Hong Kong. "We will be unrealistic if we say business will not be affected." Not all exhibitors share Mr Chan's pessimism, however. David Xiao Rong is a sales manager with Shanghai textile company Shartex, which has been at the fair since the 1980s. He believes business will increase 20 per cent this year. "The global economy is bad, but economic downturn only eliminates the smaller players," he said. "With fewer competitors this year, I believe we will be doing better in this fair." The fair is held twice a year. For the previous session, in April, organizers sent 366,000 invitations to buyers across the globe, but by its normally bustling opening only 7,200 had registered, with US buyers noticeably absent. Then in July, Wang Junwen, the director general of the China Foreign Trade Centre, predicted business would be up a fifth over the spring season, although that estimate preceded the current global economic crisis. According to the head of a travel agency in Guangzhou, booking for air tickets and hotel rooms from companies attending the fair, which runs until November 6, has dropped 15 per cent. "Both the domestic and global economies look gloomy," he said. "It is already affecting our business. We did not do well over the National Day holidays, and now bookings have dropped 15 per cent compared with last year. The Canton Fair has not brought much business." Guangzhou media report that city hotels have only half of their rooms booked - down 30 per cent on last year. Participants used to pay more than 3,000 yuan a night at five-star hotels, but this year can get a room for 2,000 yuan (HK$2,275). The black market is also feeling the effects. The allure of the fair has been so strong that companies far down the waiting list will often go the unofficial route to secure spot. According to Guangzhou's Nanfang Daily, the price for a booth on the black market has dropped more than 100,000 yuan to about 45,000 yuan, about the same as the regular rate. Still, Mr Xiao says he is looking forward to doing business in the Pazhou Complex, which will host the entire fair for the first time this year. "The new compound is much bigger and it has modern facilities, which were missing in the old venue," he said. The fair, one of three backed by the Commerce Ministry, moved to the mega venue two years ago when it was celebrating its 100th consecutive session since 1957. For the past two years, the fair was split, with half taking place in the old Liuhua complex. The new complex provides 160,000 square metres of indoor exhibition space and 220,000 square metres of outdoor space. To keep business flowing smoothly, even as more companies pack into the halls, the organiser has streamlined the fair into three segments. Machinery, construction materials and electronics are in the first phase; furniture, toiletries and toys in the second; and textiles, clothes and accessories in the last. "It has changed from an exhibition event that showcases Chinese goods to a major sourcing trade fair to which international buyers come to purchase what China offers," said Ronald Ho Kin-wing, regional director of Hong Kong's Trade Development Council. "The Canton Fair nowadays provides a convenient platform for international firms to identify new manufacturers and check out the newest products of their old manufacturers. By going to Guangzhou, it saves them the time and effort of going to, say, a town in Hunan. "So the fair still has an important role to play in China trade."
October 13, 2008

Hong Kong: Hong Kong shares sank 7.2 per cent to a nearly three-year low on Friday, mirroring sell-offs in markets across the globe as investors worried about the risks of a global recession.
The English Schools Foundation (ESF) began a new era on Friday – after the election of six new parent members to its Board of Governors.
The government would meet with the Association of Banks to discuss the possibility of buying back Lehman Brothers investment products from investors, Financial Secretary John Tsang Chun-wah said on Friday. Mr Tsang said that if an agreement was reached, it would appoint independent auditors to value the underlying assets of Lehman Brothers in Hong Kong. He said the Hong Kong Monetary Authority (HKMA) was already investigating complaints that some bank staffers had misled people into buying some complicated investment products. "If the investors were really found to have been misled by banks, we will take action and follow up the cases," he said. Secretary for Financial Services and the Treasury Chan Ka-keung said the government and relevant banks were still studying the buy-back plan. It involved a lot of complex legal issues. Mr Chan noted that investor confidence remained fragile in the wake of the global financial crisis. He said the United States and the European governments have to work out a comprehensive solution to restore market confidence. Mr Chan stressed that the banking system in Hong Kong remained sound.
Singapore's trade-sensitive economy has declined for a second straight quarter, the government said on Friday, meaning the city-state has entered a recession for the first time in six years. The Ministry of Trade and Industry also revised downwards Singapore's full-year growth forecast to around 3 per cent, citing a slowdown in the global economy and key domestic sectors. In a move to confront the downturn, the Monetary Authority of Singapore – its de facto central bank – said it was easing monetary policy for the first time in more than four years. Singapore is Southeast Asia's wealthiest economy in terms of gross domestic product (GDP) per capita but is heavily dependent on trade. This makes it sensitive to hiccups in developed economies, particularly key export markets the United States and Europe. The ministry said the impact of the worsening US financial crisis and the deepening credit crunch had weakened US consumer sentiment, which will affect demand from Asia and the rest of the world. On a seasonally adjusted quarter-on-quarter annualised basis, real GDP declined by 6.3 per cent in the third quarter after contracting 5.7 per cent in the previous quarter, the ministry said. While it did not describe the economy as being in recession, a technical recession is generally defined as two consecutive quarters of contraction in economic output. Economists polled by Dow Jones Newswires had forecast a 0.3 per cent quarter-on-quarter rise in gross domestic product, the value of goods and services produced in the economy. Singapore's last technical recession occurred in 2002 while the most recent full-scale recession was in 2001, when the economy contracted 2.4 per cent during the year. Compared with the third quarter of last year, the ministry said Singapore's economy contracted by 0.5 per cent in real terms, against 0.8 per cent expansion foreseen in the Dow Jones poll. In August the government had revised down its full-year GDP forecast to 4.0-5.0 per cent but since then, external economic conditions have deteriorated more than expected and some sectors of the economy have weakened significantly because of industry-specific or domestic factors, the ministry said. "Singapore's export-oriented sectors, such as manufacturing, will be affected," it added. Last year the economy expanded 7.7 per cent but after years of growth, signs of a slowdown emerged with recent disappointing trade data and contractions in the important manufacturing sector, which includes the export-dependent electronic and pharmaceutical industries. The government's preliminary third-quarter GDP estimates are based largely on data from July and August, and are subject to revision.
Developing radio frequency identification (RFID) technology would offer Hong Kong considerable benefits during a period of great economic uncertainty, Permanent Secretary for Commerce and Economic Development Duncan Pescod said on Friday. He was opening the GS1 Hong Kong Supply Chain Management Excellence Summit. RFID is an automated identification method, relying on storing and remotely retrieving data through tags. It is used for identification and tracking purposes. Mr Pescod said the technology would be very beneficial to Hong Kong's economy –especially during difficult times. He said: "The technology can help achieve business sustainability in face of the increasingly complex operating environment and very fierce global competition. "The technology with this infrastructure has made possible a seamless information flow among different business partners including suppliers, manufacturers, distributors, retailers and after-sale service providers along the whole supply chain, heralding a new era of the so-called 'internet of things', " he added. Mr Pescod said an example of the broad application of the technology could be found Hong Kong International Airport at Chek Lap Kok. "The Hong Kong International Airport is the world's first airport to fully utilise this technology to ensure the efficient flow of passengers and cargo," he explained. "The tags attached to the luggage allow access to information and real-time tracking more easily and quickly." Mr Pescod said studies were also exploring the feasibility of applying RFID in areas such as library services, public health care and food safety. He also said the government was funding 13 RFID projects out of 111 HK$453-billion research projects.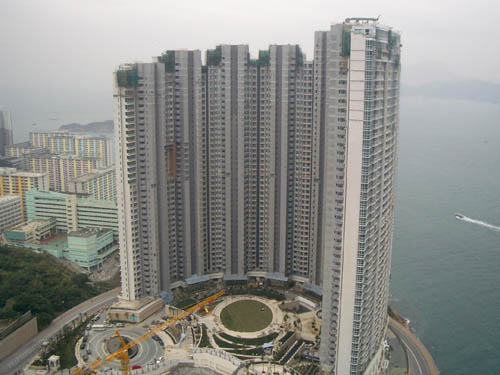 Average prices of Residence Bel-Air in the secondary market have fallen. Defaults on Hong Kong home sales agreements remain low for the moment - but if the market slowdown deepens the number of buyers walking away from contracts could grow significantly by the second quarter of next year, property experts have warned. Concerns have been raised by the big increase in property releases in the pipeline, with 5,000 pre-sold flats ready for delivery between April and June next year. Property consultants said developers of the new flats and houses could find that growing numbers of buyers might over-extend themselves and then walk away from uncompleted deals if prices continued to tumble. Home prices have so far dropped about 8 per cent on average from a peak reached in the first quarter of the year, and analysts expect values could continue to fall by another 30 per cent. Buyers who put down between 10 per cent and 30 per cent of purchase prices as deposits could find that when the time comes to take transfer of their homes they will still owe more than their homes are worth if they completed the purchases. In the circumstances, some might consider forfeiting their deposits and walking away from the deals, analysts said. "It is likely that this will happen, since the housing market is not expected to recover before the end of 2009," said Alva To Yu-hung, the director of the research department at property consultant DTZ. He did not expect home prices to bottom out and stabilise until 2010. Buyers caught in this predicament who did not respond by walking away from agreements could also choose to sell the units at below purchase price in order to cut their losses, Mr To said, with the extra supply driving prices further down. According to DTZ, about 5,000 units in new projects are scheduled for completion in the second quarter of next year. New completions on the way include the Capitol in Tseung Kwan O, Celestial Heights in Ma Tau Wai, the Palazzo in Ho Man Tin, One Pacific Heights in Sheung Wan, Island Lodge in North Point, and York Place in Wan Chai, according to estate agents. Ricacorp Properties research manager Patrick Chow Moon-kit said a small number of defaults in both the new and secondary markets had already occurred. But agents said the number was so far insignificant since only a few new projects had been released. In addition, some developers had extended delivery dates so that buyers did not need to complete their purchases at the moment. Projects to be completed or recently completed include Harbour Place and the latest phase of Residence Bel-Air in Pok Fu Lam. Agents said the occupation date of the latest phase of Residence Bel-Air had been delayed to next month from the end of last month. Ricky Poon Wai-ki, a director of residential sales at Colliers International, said buyers in the project had paid between HK$13,000 and HK$14,000 per square foot, but in the meantime average prices of Residence Bel-Air in the secondary market had fallen to less than HK$11,000 per square foot. "Many buyers may exit from the deals when the development is completed and owners are required to complete their purchase agreements and move in," he said. In the secondary market, buyers are required to complete purchase agreements within two months, while buyers in new pre-sale projects enjoy a longer transaction period until the projects are completed. "That's why so many investors are attracted to new projects even though they cannot afford it because they hoped to sell the units before taking delivery," Mr Poon said. Mr Chow said the result was that a number of investors were now on the verge of walking away from deals against a background of tighter credit conditions and rising interest rates. "If the global financial market continues to worsen, or we see another big financial institution going bust, I would expect to see defaults becoming a major phenomenon next year."
Engel & Volkers, a property franchiser specialising in the luxury residential sector based in Germany, is to launch its first shop in Macau. "The market is slow but we can still see demand for residential leasing from expats who are working in the city and looking for mid- and up-market homes," said Nestor Ng, managing director at Engel & Volkers Macau. "Our initial and primary focus will be on the numerous residential and casino-resort projects that are due for completion in the next 12 months," Mr Ng said yesterday. "The Macau market offers enormous opportunities in a rapidly growing market and we see our target buyers as investors from Hong Kong, China and Europe as well as expatriates living in Macau," he said. The first shop will be in launched in Taipa, Macau by the end of this year and Mr Ng said the second shop was expected to be opened in summer next year. Despite the recent market slowdown, Mr Ng said: "Eventually, we plan to open four or five outlets in Macau." The objective for fiscal 2009, he said, would be to gain market share from leading local and international property brokerages that already have an established presence in the market. Estate agents said that individual owners had been prompted to lower their asking prices because of uncertainties in the external environment, despite the present low interest rate and the genuine occupational demand. There was a significant retreat of the number of sale transactions, with volume contracting 34.5 per cent year on year to 8,638 units during the first half of this year, according to Colliers International.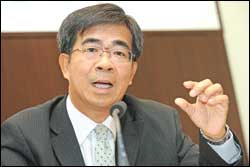 The Hong Kong Monetary Authority is considering banning banks from selling complicated investment products after the Lehman Brothers minibonds fiasco. "Now there's a topic for us to study - whether banks are still suitable for promoting the products or the products should only be promoted by professional investment institutions,"said deputy chief executive Choi Yiu-kwan. The HKMA said it will also study if there is a need to tighten or add policies related to the sale of investment products.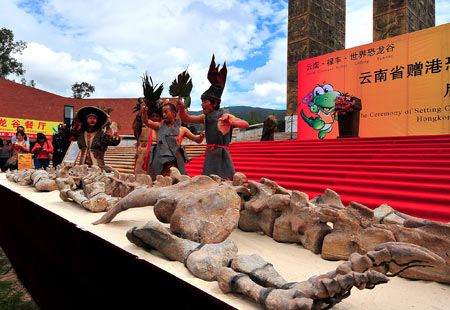 Bimos ("intellectuals" in the yi language) of China's Yi ethnic group present a send-off ceremony for the dinosaur fossil to be donated to Hong Kong Special Administrative Region, in Lufeng World Dinosaur Valley, southwest China's Yunnan Province, Oct. 9, 2008. As a gift from Yunnan provincial government symbolizing the firendship between Yunan and Hong Kong, a 7.8 meter-long dinosaur fossil unearthed in June 2007 in Lufeng County was packed and delivered to Hong Kong on Thursday for a permanent exhibition which will kick off in late October.

China: At least three mid-sized mainland dairy companies have expressed interest in bailing out the troubled Sanlu Group, whose products triggered the industry-wide milk contamination scandal, according to an industry source. It is the latest development in Sanlu's fate, after the government had asked Beijing Sanyuan Foods to look into "an acquisition" as a way to protect dairy farmers' interests last month. That acquisition was widely believed to be Sanlu. "The negotiation between Sanyuan and Sanlu is on the brink of collapse," said the source. "It is the government's order, rather than Sanyuan's own intention, to consider the acquisition." The three potential buyers, whose home bases range from Heilongjiang to Guangdong, are eyeing Sanlu's production facilities with the hope of buying them cheaply. New Zealand's Fonterra Co-operative Group - the world's largest trader in dairy products, which holds a 43 per cent stake in Sanlu - said it retained a strong corporate interest in Sanlu's future. "We are interested in all suggestions - not ruling out anything that provides a commercially viable solution for Fonterra and its future involvement with and commitment to China," its spokesman said. Sanyuan and the other potential buyers stand to gain from the scandal as their products are almost clear of melamine - a chemical that has killed four babies and sickened tens of thousands on the mainland. However, the latest tests indicated that some of Sanyuan's milk formula contained the chemical. Other industry giants such as Mengniu, Yili and Bright Dairy have been busy trying to shore up their own sales and brand image after their products were found to contain melamine. "The government wants Sanlu production to resume as early as possible so that individual dairy farmers will stop dumping their milk," the industry source said. Since the scandal broke, many large collection facilities have stopped buying fresh milk from dairy farmers. The source would not disclose the names of the potential buyers, but China Business News reported yesterday that Heilongjiang Wondersun Dairy was one of them. A Wondersun spokesman denied the report. Yang Fan, a senior analyst with Euromonitor International, said that while Sanyuan, a Beijing-based dairy company, might face challenges digesting Sanlu's assets, it could be a smart purchase by some regional dairy companies seeking to become a major national player. "Sanlu has good production lines and distribution networks, although its brand has died," said Mr Yang. Sanyuan's spokesman declined to comment on the acquisition. Trading of its shares remained suspended.
China's securities regulator on Thursday said publicly-traded companies must pay dividends in cash rather than stock over three years before submitting their refinancing applications. The move could help to encourage long-term investment and reduce market volatility, the China Securities Regulatory Commission (CSRC) said. The benchmark Shanghai Composite Index has plunged 66 percent from its record high last October. In a new regulation stipulating cash dividend payment by listed companies, the CSRC said: "The listed firms, if applying for refinancing, must pay dividends in cash totaling no less than 30 percent of its distributed profits over the past three years." The regulation went into effect on Thursday. In the draft version released in August, companies were allowed to pay dividends either in cash or stock. The listed firms were also ordered to reveal their cash dividend policies and previous cash dividend data to investors in their annual reports to improve transparency. "The listed company should give reasons why it failed to pay a cash dividend if it is able to and where the money goes," according to the rule. Cash dividends could offer stable investment returns and prompt large institutional investors to reduce speculation on the secondary market, the regulator said. A couple of huge refinancing plans earlier this year triggered a market plunge on concerns over stake dilution and liquidity stress. In a separate regulation on share buy-back, also effective on Thursday, the CSRC said it allowed a cash dividend payment when the controlling shareholders bought stocks on the secondary market. Such action was banned in the draft version released in late September to solicit public opinion. Share buy-back through bidding at stock exchanges also no longer needs regulatory approval. The CSRC added it would continue to revise the rules on stock buy-back and also give consideration to repurchase through agreement or tender offer.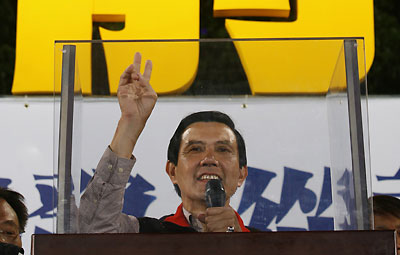 Taiwan leader Ma Ying-jeou said on Friday that his government will continue to relax ties with the Chinese mainland to build a stable cross-Strait relations. In a televised speech on the island's "National Day", Ma promised to adopt more open policies in terms of exchanges with the mainland for the benefit of the Taiwan people. Such policies included promoting non-stop cross-Strait charter flights, attracting more mainland visitors to Taiwan and expanding direct cross-Strait links for mail, trade and transportation, Ma said. Cross-Strait relations have changed rapidly since Ma took office on May 20, as Taiwan and the Chinese mainland resumed talks that had been suspended for 10 years. Ma said the efforts have eased cross-Strait relations and stabilized the situation in east Asia, winning support from the international community. He expressed his hope that both Taiwan and the Chinese mainland could shelve disputes and extend political reconciliation to the international stage.
The organizing committee of the China Import and Export Fair (Canton Fair) has relaxed application procedures for next week's event after companies were inconvenienced by tougher measures earlier this year. Prospective exhibitors are no longer required to produce documentation proving they do not have criminal records when applying to attend the 104th session, as they were told to do ahead of the 103rd edition in April. The forthcoming session will be hosted at three exhibition complexes in Guangzhou's Pazhou from next Wednesday. "The practice for the past session was something temporary," Liang Yanfang, a press officer with the fair's organizing committee, told China Daily yesterday. "However, exhibitors and journalists are required to produce the original identification cards when they apply for passes for the forthcoming event. "The organizing committee attaches equal importance to the safety of the fair. "We are very strict with the qualification of the exhibitors and we won't issue one-off passes for them." The 103rd session of the Canton Fair in April was subject to the strictest safety measures to date as Beijing tightened security ahead of the Olympic Games. Li Jiehua, a marketing manager with a ceramics firm in Chaozhou in east Guangdong, said the laxer security procedures would make processes more convenient for exhibitors, especially those from abroad. "I'm not a native of Chaozhou, and I would probably have to go back to my hometown in Anhui province to get it if the policy did not change," he said. "What's more, I really doubt whether the documentation worked." The 104th session will be the first time it is held in three phases. The first phase will be held from next Wednesday to Sunday.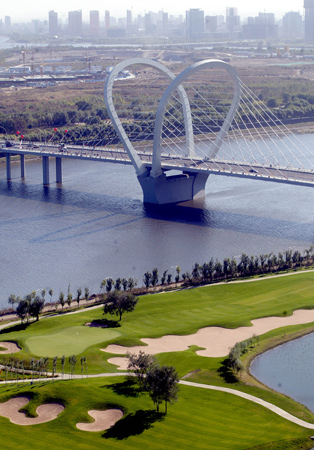 Sanhao Bridge over Hunhe River in Shenyang, Liaoning Province, is seen on its inauguration day, October 10, 2008. The 1,342 meter-long bridge is deemed the most beautiful bridge in the city, with two arches designed like wings of a butterfly.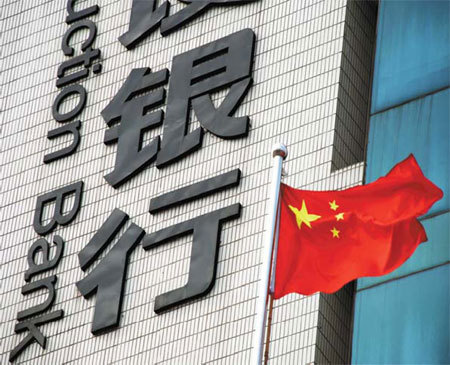 Chinese banks have good reasons to venture abroad but face a range of challenges, so they need to be selective as they pursue cross-border merger and acquisition (M&A) deals. According to a latest report, titled Venturing Abroad: Chinese Banks and Cross-border M&A, compiled by The Boston Consulting Group (BCG), Chinese banks have been seeking larger and more ambitious M&A deals, many of which have involved taking stakes in foreign institutions. BCG is a global management consulting firm and the world's leading advisor on business strategy. From 1993 through 2005, Chinese banks made an average of about one cross-border acquisition per year. Most deals were valued at under $20 million. Since then, Chinese banks have made 11 outbound M&A deals, five of which worth at least $1 billion. They conducted the deals in a bid to channel their excess funds, follow customers overseas, become global companies, adhere to national directives, extend products and service offerings, import skills into China, diversify the banks' businesses and risks, increase scales and lower costs, or leverage capabilities abroad. However, in addition to strategic opportunities, they still face many risks. At the management level, risks include lack of full support from senior management, managers lacking experience in overseas markets and M&A, and conflict with targeted companies. Unfamiliarity of regulatory and legal frameworks and lack of support from local regulators and officials are also regulation risks. Operation risks involve insufficient and/or unreliable information to conduct fair valuation, few deal structure options, complexities of cultural differences, failure to extract cost synergies and integrate operation, loss of local talent, loss of existing clients, customers and momentum, inability to transfer best practices, as well as loss of shareholder value or failure to communicate shareholder value, according to the report. "Chinese banks face a series of challenges as they pursue overseas M&A deals, but they are moving inexorably toward a more international profile," said a co-author of the report, Tjun Tang, a partner in BCG's Hong Kong office. Their size alone makes them capable of influencing markets, particularly if they can harness the momentum of China's global challengers - dynamic companies that are heading abroad. "To build strong international positions, however, Chinese banks still need to develop core skills and capabilities," Tang said. "Selective M&A deals can help accelerate this process." According to another co-author, Frankie Leung, also a partner of BCG in Hong Kong, Chinese banks have good reasons to pursue cross-border deals but some investors and analysts believe they should concentrate on opportunities closer to home, given the country's strong growth. "They have also questioned whether Chinese banks have a clear strategy - along with the skills and resources - for venturing abroad," said Leung. He addressed that M&As are inherently risky and complex, and transnational deals tend to pose even greater challenges than domestic ones. The steps that Chinese banks can take to build and execute a strategy for cross-border M&As were recommended as below: Follow a clear and convincing rationale for outbound M&A; Start small and build M&A capabilities; Ensure deal structure and degree of integration support deal objective; Identify approaches to add value to the target company; Retain and empower key local management talents; Engage in pro-active communication to target company staff, investors and the public; There are also opportunities for foreign banks in partnering with their globalizing peers from China. Foreign banks could look for opportunities to provide Chinese banks with the presence to serve their globalizing customer base. In turn, the cash-rich Chinese banks can help foreign banks weather the current financial crisis. "Chinese banks need to look beyond potential financial gains," said co-author Holger Michaelis, a partner in BCG's Beijing office. "They need to look for ways to acquire new capabilities, enhance their offerings, and leverage their emerging-market skills." Western banks, particularly those that have been hit hard by the crisis, might consider selling business lines as a way to free up capital and refocus on core objectives. "Chinese banks have both the capital and the incentive to make such purchases," Michaelis said, adding that Chinese banks are not direct competitors - at least not yet - and therefore present a better option for foreign banks seeking to divest business lines.

Huawei Technologies, China's largest telecom equipment maker, yesterday said it had suspended the auction of a stake in its terminal unit to foreign buyout companies, citing the ongoing global financial crisis. "Despite investors' strong interest, we believe it is the best choice to halt the sale as the global financial market continues to deteriorate," the privately held company said. Huawei's terminal division recorded $2.2 billion in sales revenue last year. Insiders said Huawei had been expected to sell a controlling stake, which could be worth about $2 billion. The Shenzhen-headquartered company in mid-May formally invited potential buyers to make bids to introduce strategic investment. Huawei's terminal unit includes mobile phones, data cards for notebook PCs and ADSL modems. US private equity groups Bain Capital and Silver Lake have been negotiating with Huawei over the deal and had been expecting to finalize it in November, insiders said. However, the two US companies hoped to cut the value of the deal, citing the economic crisis that has dealt a blow to most US financial institutions, but Huawei rejected this, insiders said. Huawei's terminal unit has maintained a fat and steady profit margin as it has been customizing mobile phones for telephone operators such as Vodafone. Unlike Huawei, most Chinese handset makers have been focusing on an increasingly overcrowded domestic retail market that can only offer razor-thin profit margins. Huawei's terminal division is expected to book $3.5 billion in revenue with a net profit of about $400 million this year, earlier media reports said, citing a report by Morgan Stanley, which Huawei hired to advise on the auction of its terminal unit. Last year, the division accounted for 17.5 percent of Huawei's total global sales of $12.56 billion. "The terminal unit has been our fastest-growing business. It has been always our strategic priority and a major revenue driver. We are confident about its prospects," a Huawei spokesman said, adding that halting the auction would not affect Huawei's cash flow and operations. The spokesman said Huawei's terminal unit recorded a compound annual growth rate of 70 percent although it was a latecomer to the mobile phone business, and by September the company had sold 150 million units of terminals worldwide. If the market condition improves, Huawei may restart the auction, the spokesman said, declining to give a timetable. Wang Guoping, an analyst with China Galaxy Securities, said the credit crisis would force many foreign investors to scale down their acquisition activities in China. "Given the current problems, it's a wise decision for Huawei to shelve the auction," he said. The credit crisis will impact on the global telecom market as spending on telecom equipment is expected to drop, the analyst said. "But (China's) Huawei and ZTE Corp might have a better chance in competition as they have been selling cost-effective telecom gear. In a difficult time, there is no reason to buy expensive equipment from Western suppliers, especially for operators outside China."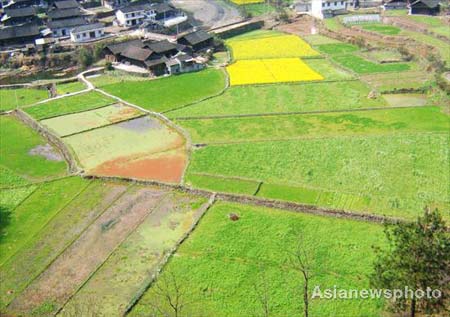 In August, China's top land regulator urged local authorities to safeguard 1.8 billion mu (120 million hectares) of the country's farm land fearing a grain shortage. Thursday, local authorities responded to the request. Xu Shaoshi, head of the Ministry of Land and Resources (MLR), called on provincial leaders to abide by the land use general outline in a letter dated August 29. On the the ministry's website Thursday, local government officials said they would protect arable land by strengthening management and by fighting land use malpractice. They added that they would formulate scientific land utilization plans to improve efficiency and conservation. On August 13, China's State Council, the cabinet, approved a general outline for the country's land use plan during the 2006-2020 period. The goal is to ensure the proper use of farm land and guarantee a minimum of 120 million hectares of arable land, amid concerns about grain supplies. In September the MLR asked local governments to replenish farmland before allocating it for non-farming purposes. China is facing a sharp conflict between land supply and demand. The area of arable land, shrank 610,100 mu in 2007 to 1.826 billion mu. That was only slightly above the governments minimum total goal.
October 11 - 12, 2008

Hong Kong: The Hong Kong Monetary Authority is considering a ban on banks selling complex investment products such as minibonds. It is one of the possible measures to be taken to protect small investors from financial turmoil. The authority may also raise the minimum investment in such products to a level that would deter unsophisticated investors. The possible steps were revealed yesterday by its deputy chief executive, Choi Yiu-kwan, amid continuing calls for relief for small investors facing heavy losses on minibonds and other complex derivatives issued or guaranteed by bankrupt US bank Lehman Brothers. Meanwhile DBS Bank (Hong Kong) became the first local bank to say it would consider full compensation for losses on one such investment product - but only if its investigations showed buyers had been misled by the bank's sales staff. At the same time, banking sources said banks were inclined to accept a government proposal that they buy back such products at current market value but that some questions still needed answering, including whether a buy-back would be legal. The Monetary Authority will submit recommendations for changes in policies covering the sale of complex investment products to Financial Secretary John Tsang Tsun-wah within three months. "Whether banks should be an investment adviser on such products could be one of the issues," Mr Choi said. The authority could also consider raising the minimum investment in them to US$1 million, so that they were out of the reach of small investors who could not handle the risk. Banks have been selling minibonds in lots of as little as HK$100,000. The authority has received 7,730 complaints of mis-selling of minibonds and other products issued or guaranteed by Lehman Brothers. It has opened investigations into 41 cases and is seeking more information before deciding whether to investigate a further 189. The cases under investigation involve nine banks. Investors complain they were misled into believing the minibonds - sold as proxy investments in well-known companies - were low-risk and unaware of the Lehman Brothers link. In fact they are high-risk, credit-linked derivatives. Mr Choi said the authority had contracted 45 people to join more than 70 full-time staff already working on the complaints. He noted that the authority had told banks in 2006 that they must take special care when dealing with vulnerable customers such as the elderly, illiterate or visually impaired and assess their tolerance of risk. More than 70 worried purchasers of one such complex investment - called structured notes - met DBS Bank executives yesterday to seek a full refund for their losses. The notes, issued by Constellation Structured Retail Notes, included some linked to Lehman Brothers. The bank will appoint an independent accounting firm to assess the products' remaining value, allowing customers to redeem them early. "If we find any case of misleading sales, we will not rule out repaying the client's full investment," Linda Wong, regional head of consumer banking, said. Each case would be considered separately. The bank said it would not buy back structured notes unconditionally. Billy Mak Sui-choi, associate professor in the department of finance and decision science at Hong Kong Baptist University, said structured products were securities linked to a broad class of financial instruments and their value could move with changes in interest rates and the prices of stocks and other assets. Lawmakers who accompanied the DBS customers to yesterday's meeting questioned the independence and transparency of its in-house investigation of sales tactics. Audrey Eu Yuet-mee, leader of the Civic Party, said the investigation should be conducted by a third party.
Lenders kept their prime rates unchanged yesterday as Hong Kong interbank offered rates (Hibor) actually rose, defying a rate cut by central banks around the world.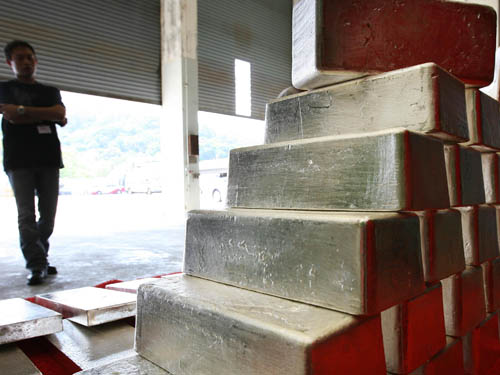 Customs and Excise Department officials display some of the 51 bars of silver abandoned during the operation, at a marine police base in Sai Kung. Police smashed a silver smuggling operation in Sai Kung early yesterday, but the 11 smugglers escaped on two powerful speedboats. Authorities said they had confiscated 1.3 tonnes in bricks of silver, with a retail value of HK$4.2 million bound for the mainland. Senior Inspector Roger Mak Chi-man, of the marine police outer waters district, said they found 51 silver bricks, some of them weighing 30kg, inside a delivery van parked near Po Leung Kuk holiday camp off Tai Mong Tsai Road. The speedboats had docked about 200 metres away for the pickup. It was the biggest water-smuggling operation of a precious metal in three years, police said. They said they witnessed 10 men from the speedboats and the driver of the van unload the bricks from the back of the vehicle onto the speedboats at about 2am. Police land and sea teams then swooped on the smugglers, who had to abandon their operation and escape - leaving most of the load. The smugglers outran water police in their powerful vessels, which were last seen crossing the sea boundary east of Hong Kong heading towards Shenzhen. "Each speedboat was equipped with two 250-horsepower engines. They're very powerful and can run at very high speed," Senior Inspector Mak said. The pursuit was also hampered by a big swell, he said. Onshore, officers seized the delivery van. Police did not reveal whether they had any prior intelligence of the silver smugglers, but they did say marine police had been carrying out anti-smuggling operations. "There were 51 silver bricks on board the vehicle. Each was wrapped with water-proof covering," he said. Officers believe the haul was destined for Nanao on the coast of Shenzhen. Police are still investigating the source of the silver bricks and whether the delivery van was stolen. "We can't rule out the possibility that the silver bricks were to be smuggled onto the mainland to escape tariffs," said Senior Inspector Mak, who described the smugglers as "well organised". His colleague, Senior Inspector Mak Che-hung, said silver bricks could be used as raw material for industrial products. The Customs and Excise Department is also investigating.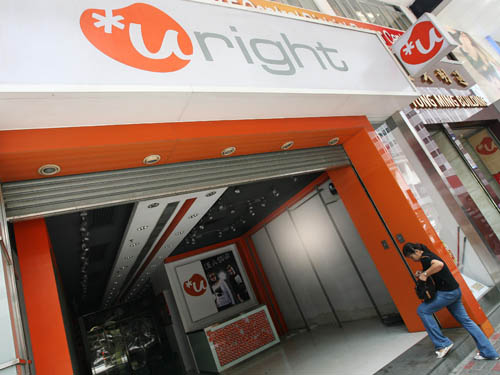 A U-Right outlet in Central closes down - one of 20 shut as the firm faces possible liquidation. Court-appointed liquidators for a garment manufacturer and retailer have sacked nearly half its Hong Kong workforce and shut 20 of its shops in the city as they seek a buyer for the company. Nearly 200 U-Right International Holdings staff lost their jobs - about half from the back office, which will now be run by a core of 20 people, according to Deloitte Touche Tohmatsu, the court-appointed provisional liquidator. "Our goal now is to find a white knight. The company is not yet liquidated," Edmund Yeung Lui-ming of Deloitte said. "We are restructuring the company and are in talks with two or three potential buyers." The company originally had 500 workers and 95 shops in Hong Kong, and 516 mainland shops. "We also closed about 20 outlets in Hong Kong which had been losing money for quite a long time," Mr Yeung said. Each employed about four people. The remaining shops across the city and on the mainland will operate as usual. "The sacked workers may be re-employed and deployed to other outlets. We will also recommend the future buyer to employ them," Mr Yeung said. All the sacked workers would be compensated according to the employment ordinances. Staff salaries had been paid to the end of September, but commission on sales that month and pay for this month was outstanding, the accountants said. "The amount is less than HK$1 million and can be paid from the company's assets," Mr Yeung said. "These two to three weeks are critical for us to find a buyer. We told the workers that we need their support." He said the company's problem was rooted in overinvestment, with much of its capital tied up in the mainland. The company owed about HK$1.2 billion to 18 banks and other financial institutions. The Labour Department has made arrangements to help the U-Right staff affected, and 155 of them had contacted the department by yesterday. There are three hotlines for the affected employees: 2928 7112, 2928 7002 and 2150 6397. "In addition, the department has set up special service counters at all of its labour relations offices to help employees pursue termination compensation," a spokesman for the department said. Raymond So Wai-man, associate professor of finance at Chinese University, noted the company's financial hardship was mainly due to poor investment. "However, we really must pay attention to the financial downturn. With so many giant banks collapsing, it is impossible that the economy won't be affected. People's willingness to spend will be influenced hugely, so that the retailing industry will be hit hard," he said. Yesterday a U-Right shop in Sheung Wan was crammed with people hunting for bargains. "It is a shopping paradise. The quality of these clothes is very good. I have bought many from U-Right for a few years," one shopper said. The U-Right layoff came less than two weeks after HSBC (SEHK: 0005, announcements, news) cut 1,100 jobs worldwide, including 100 in Hong Kong, amid the global financial chaos. At the time of the HSBC job cuts, Financial Secretary John Tsang Chun-wah warned more jobs could be lost because the economy was showing signs of slowing.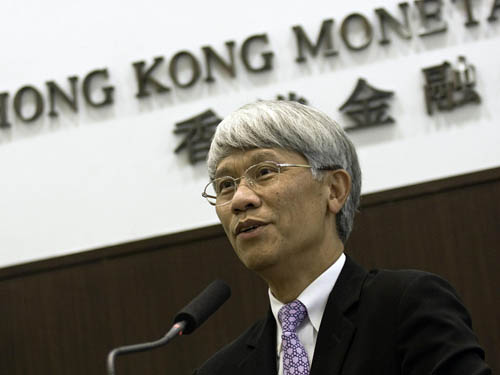 Responding to snowballing complaints from investors in minibonds linked to bankrupt US bank Lehman Brothers, the Monetary Authority chief said yesterday that there were 10 issues the government had to look at. How the collapse of Lehman Brothers "played out in Hong Kong raised questions about the adequacy of investor protection", Joseph Yam Chi-kwong said in Viewpoint, his regular column on the authority's website. "This will be one of the issues that will be addressed in a systemic review the government will be conducting." There should be an evaluation of whether institutions should offer financial products to retail investors at all, Mr Yam said. Given the risks that banks assume as distributors of financial products to retail investors who are also depositors, the government should evaluate how banks might better manage the risks involved and whether they should even continue selling such products, he wrote. The government should consider whether the current "buyer beware" policy was still appropriate, particularly for small investors buying complex financial products. If it was insufficient to protect investors, changes must be considered. Regulators should assess whether the mechanism for approving sales documents could ensure that they identified and disclosed the risks so investors could make informed decisions. Mr Yam suggested reviewing the code of conduct on the sale of complex products that the Securities and Futures Commission and the Monetary Authority had drawn up for brokers and banks. If these companies mis-sold such products, the review should consider how to prevent that happening again. Investors in minibonds and other complex derivatives issued or guaranteed by Lehman Brothers appear to have fallen into a grey area. Mr Yam wrote: "Under the relevant laws, the protection of investors is the responsibility of the SFC." However, "in the great majority of cases, investors who have bought financial products through the banks are also depositors", meaning they come under the sphere of the Monetary Authority. SFC chief executive Martin Wheatley said the commission was responsible for confirming products were properly described and their risks disclosed in documentation. "It is then the responsibility of the selling intermediary ... to determine whether these products are suitable and match the needs of the investor," he said.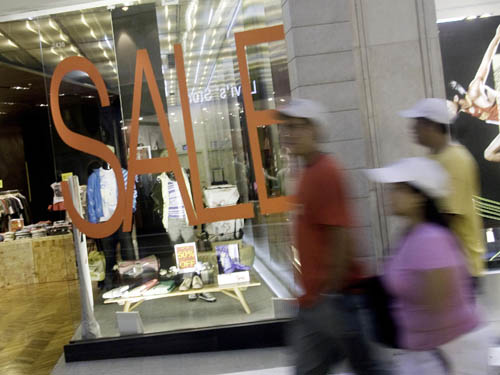 People walk past a store advertising a sale of upmarket goods in the shopping mall at the Venetian Macao casino complex. Macau's government is expected to launch night markets in an attempt to revitalise old districts and boost tourism, industry sources say. The idea for night markets, which are a major tourist draw in Taiwan and elsewhere in the region, has taken on fresh urgency amid growing uncertainty about the economic outlook and the impact on the casino trade of mainland curbs on travel to Macau. However, one source said: "We have to think about how exactly a night market is going to work. If the government takes care of the utilities, like water and power, and we just fill the night market with all sorts of shops, neighbouring retailers are going to complain that the night market is stealing all their business." Entrepreneur and lawmaker David Chow Kam-fai said he was the first to propose the idea about a decade ago. Macau is trying to diversify beyond the gaming industry, which has seen rapid expansion and the development of Las Vegas-style casino resorts. Many casinos contain luxury shops to attract non-gamers and get them to stay longer. The average length of stay in Macau is 1.1 days, far shorter than Hong Kong's 3.5 days. Mr Chow said the length of stay needed to grow to 3.5 days for the tourism industry to prosper in Macau. The city already has 18,000 hotel rooms and that number is projected to nearly double in the next three years. However, the pace of expansion could slow if the economic situation worsened, one source said. The number of visitors rose about 10 per cent during the National Day "golden week" holiday last week, with a 10 per cent jump in individual mainland visitors but a one-third drop in tour groups. Despite the increase, hotel occupancy levels averaged 80 per cent during the holiday week, compared to around 85 per cent a year ago, because of an increase in hotel rooms. Visitor spending is down, with many restaurants reporting a drop in business of 20 per cent to 30 per cent. There is usually little correlation between the casino industry and economic growth but, with Macau trying to project itself as somewhere to visit for more than gambling and dining, the tourism industry is looking to shopping as the "third reason" for visitors to come to Macau. "What comes to mind when you think of Macau? Food and casinos and nothing else. We are hoping shopping can be the third thing. Right now, retail is still in the early development phase here, but many retail brands are doing well," another industry source said.
Not a single deal was reported from developments in the primary market other than Cheung Kong (Holdings) (SEHK: 0001)' Seasons Monarch project over the weekend, according to estate agents. By Monday night, 122 deals were reported at Cheung Kong's new project in Kam Tin, thanks to promotions on the development. Even worse was sales in the secondary market, where deals done between September 29 and October 5 collapsed to a 100-week low (excluding deals done over the last two Lunar New Year weekends when transactions are traditionally low). Just 177 units changed hands in this segment in the 50 key housing estates monitored by Ricacorp Properties, down 8.3 per cent from a week earlier. No deals were done in seven of the housing estates, namely City Garden in North Point, Sceneway Garden in Lam Tin, Central Park above Olympic Station, Sha Tin Centre, Luk Yeung Sun Chuen in Tsuen Wan, Tierra Verde in Tsing Yi and Fairview Park in Yuen Long. Average transaction prices in the secondary market were down 1.2 per cent last week, extending declines to a 15th consecutive week. Prices are now down by an accumulated 12 per cent compared with the peak at the end of March. David Chan Tai-wai, a director at Ricacorp, forecast that weekly transaction volumes would likely stay below 200 units until the stock market stabilised. He added that housing price would remain under pressure amid the financial crisis. Data also shows that as the housing slowdown continues, speculators are being driven out of the market. In the third quarter, 312 "confirmor" deals were recorded in the secondary market, a 60.2 per cent drop from the 784 deals in the second quarter. It is also the lowest deal volume for the past six quarters. Confirmor deals are a gauge of short-term speculation which occurs when a buyer enters into an agreement for the sale and purchase of a property with the owner but before completion sub-sells the property to a sub-purchaser. Meanwhile, total confirmor deal values have slumped 59.4 per cent to HK$1.2 billion from HK$2.95 billion. Wong Leung-sing, an associate director of research at Centaline Property Agency, said the drop was largely because of the continuous decline in house prices, which exposes speculators to losses on their deals. Separately, the 312 confirmor deals in the third quarter accounted for 2.1 per cent of overall transaction in the secondary market, down 1.6 percentage points from the second quarter, indicating speculative activities declined with the slowing housing market.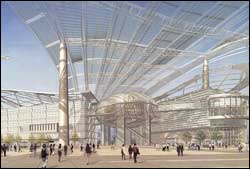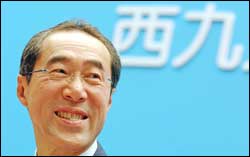 Chief Secretary Henry Tang Ying-yen has been chosen to chair the long- awaited West Kowloon Cultural District Authority. A government source said Chief Executive Donald Tsang Yam-kuen has already appointed members for the authority and will probably name them in his policy address on Wednesday. Tang will announce details of the authority after that. The authority will comprise around 20 members with three official members - Tang and two others from the Home Affairs and Development bureaus. The other non-official members mostly come from the former consultative committee on the core arts and cultural facilities for the district. Sources said those likely to be in the authority include executive councillors Ronald Arculli, who was convenor of the financial matters advisory group of the committee, and Victor Lo Chung-wing, who was convenor of the museum advisory group. Others are Ocean Park chairman Allan Zeman, Arts Development Council chairman Ma Fung-kwok, Hong Kong University professor of architecture David Lung Ping-yee and Danny Yung Ning-tsun, the founder of local performing arts group Zuni Icosahedron. Legislators and representatives from the cultural sector earlier suggested that members be elected, but this was rejected due to the complexity of such an election and possible conflicts of interest. Instead, a source said letters were sent to various interest groups and people asking them to nominate candidates. Even though the cultural district ordinance states the chairman of the authority may or may not be a public officer, the administration suggested it will be better to have government officials initially since it involves the planning and use of 40 hectares. The development will be completed in two stages. The visual arts museum M+ and 12 smaller museums and performance venues are expected to be completed in 2014 and 2015, with the expansion of M+ and three other venues in the second phase to be completed between 2026 and 2031. Legislators have approved the cultural district bill and a one-off HK$21.6 billion fund for the development of the culture hub. To ensure the authority has enough public monitoring, it will set up an investment committee to monitor and advise on investment matters; a remuneration committee to recommend hiring clauses; and a consultation panel to collect public opinion.

Hong Kong's bon viveurs may be drinking more duty-free wine but the cash registers are not ringing merrily for the city's wholesalers. "To date, all the products we're selling to hotels, restaurants, membership clubs have gone up 22 percent volume-wise," regional business development manager at Watson's Wine Wholesale, Luca Luise, said yesterday. "But the dollar signs have gone down because we have had to reduce our prices. "Competition is so fierce that we're scared to raise prices." That's a good thing for the end consumer but meant that Luise, who is broadly representative of the wine wholesale industry, has to work much harder than before. The global economic crisis has not stopped people enjoying wines but wholesale profits have not truly reflected this. Fine wines and champagne are among the few to buck the market trend and still command top prices, meaning higher profit margins than low-end wines. He saw retailers, seeking to sell more fine wines. But with the current economic situation, he said, consumers are less likely to buy fine wines. He reached that conclusion on his experience of the wine market during SARS , suggesting that the coming months might follow a similar trend. "I think a lot of smaller companies [in wholesaling] might have to close," Luise said, claiming there are too many. "But it's too early to say. Actually, in the retail sector [such as supermarkets], people are still buying - even the wines that cost more than HK$100." Luise said he understood that the food and beverage industry overall was encountering a slowdown. But wine education is very important to keep maintain enthusiasm in spite of the gloom. Hong Kong was one of only two cities - the other is Macau - to abolish wine duty, Luise noted. "This has created a wow factor . Hong Kong is such a small place but everybody is talking about it ," he said.

China: The China Securities Regulatory Commission has temporarily stopped reviewing applications for initial public offerings, sources said, a sign that Beijing is serious about bolstering the mainland's embattled stock market. The initial public offerings review committee of the CSRC had stopped processing applications between September 16 and the end of this month and the suspension was likely to be prolonged, the sources said. The sources, who work at brokerages of investment banking units, said the CSRC did not officially inform them of the suspension. However, they said the review process had been frozen as the regulator hoped to curb equity supply to the weak market. The Shanghai Composite Index has plunged 60.57 per cent so far this year and is 65.95 per cent off its historic high reached in the middle of October last year. Beijing has been striving to buoy the stock market following its sharp decline. The government unveiled a package of market-boosting measures this year, including cutting stamp duty, limiting the sell-down of formerly non-tradable stocks, and encouraging state firms to increase shareholdings. The global financial crisis foiled Beijing's latest efforts to boost the market as investors snubbed the regulator's announcement to allow margin lending and short selling. Shanghai's benchmark index yesterday fell for the sixth straight session, closing 0.84 per cent lower, as the effects of the deepening credit crisis spread to the mainland. Since the second quarter of 2006, when the CSRC resumed initial share offerings after a year-long hiatus, the review committee has approved an average of 10 new offerings every week. Amid worries of an equity oversupply in the troubled market, the CSRC slowed the initial public offering process in order not to dilute existing stocks. On the mainland, a company that passes through the hearing is not allowed to start offering its shares until it receives another approval from the regulator. But the CSRC stipulates that an approved share offering must be carried out within six months after its endorsement by the review committee. Since April, 35 companies have gone through the hearings but have yet to start their share sales. "The market will be forced to digest the 35 offerings as they are nearing the expiry date," said one source. "So the CSRC suspended the hearings to ease pressure." The regulator has already frozen big-cap share offerings this year and given approval only to small and medium-sized companies seeking to launch their stock on the SME board of the Shenzhen Stock Exchange. The mainland set up the SME board in 2004 for companies whose offering volumes are less than 100 million shares. Shares in Beijing Oriental Yuhong Waterproof Tech dropped below the initial offer price yesterday on their third trading day, a sign that the SME board is in for tough times amid low buying interest. The stock was the fastest to slip below its offering price on the SME board. "The suspension of the offering deals a heavy blow to securities firms that have already suffered shrinking brokerage business and lost money in proprietary trading," said Wei Fengchun, an analyst at South China Securities. "The brokerage firms will face hard times in the remainder of the year."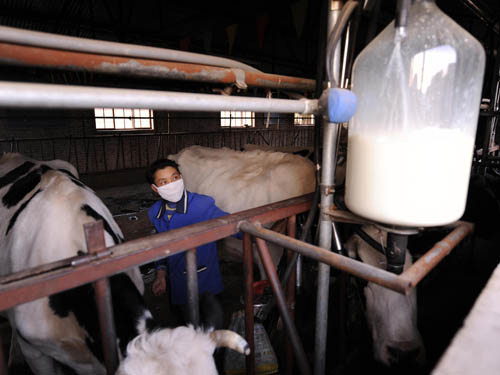 A dairy farmer at work in Shelawusu village, 60km south of Hohhot, Inner Mongolia. Farmers in remote areas are not confident about getting aid quickly, despite government vows. The Ministry of Finance has earmarked 300 million yuan (HK$343 million) in subsidies to help dairy farmers cope with the ongoing milk contamination crisis. The subsidies would go to farmers in the six worst-hit provinces and municipalities - Inner Mongolia, Hebei, Liaoning, Shanxi, Shandong and Henan, Xinhua said yesterday. The money is aimed at farmers who have been forced to dump their raw milk because many dairy firms have refused to buy it, since dairy products were found to contain the industrial chemical melamine. The report said the money was a one-off payment to the six provincial and regional governments to be added to local subsidies. To protect dairy farmers' interests, the ministry demanded lower-level governments report details of their relief plans to the farmers and ensure only farmers in need received money, Xinhua said. The aid came as 14 provinces and municipalities issued various plans to help the dairy industry. In Hebei, home of the Sanlu Group, the company first identified in the crisis, the provincial government has already announced a 316 million yuan plan to give farmers 200 yuan for each cow, to stop them from being slaughtered. The Inner Mongolian government has also earmarked 100 million yuan in emergency funding to help dairy giants Yili and Mengniu deal with the crisis. Melamine was detected in products from both companies. However, dairy farmers in remote rural areas said the subsidies would take a long time to reach them. Feng Shengcai , who raises cows in his backyard in Changhanmutai village in Wuchuan county, Inner Mongolia, said he had not heard anything about the subsidies and no officials had notified him. "They [my fellow villagers] said we should have gotten a 100 yuan monthly government subsidy for each of our cows since last month, but so far I have not seen any cash in my hands," Mr Feng said. He said he did not plan to check with village or county officials about the money because "at the end of the day, it's still up to them to decide everything". Mr Feng said his milk supply contracts with Mengniu had remained in effect in the past month, even though many dairy farmers near Hohhot said dairy companies had stopped buying their milk for a short time last month. Mr Feng said he was still selling milk at 2.6 yuan a kilogram, the same price as on September 5. Mr Feng said the price would probably go up slightly over the winter because cows produced less milk in cold months. The tainted-milk formula has killed at least four babies on the mainland, and 10,666 children, including eight in a critical condition, are still in hospital. For a list of tainted products go to www.scmp.com/melamine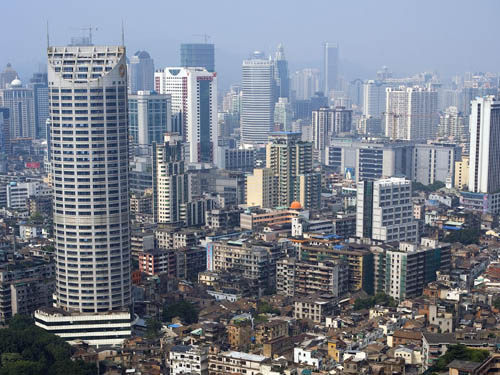 The "golden week" national holiday failed to deliver its traditional boost to property sales and deal volumes across the country sank to their lowest levels in 10 years as buyers stayed away from the market. The fall in transactions last week was recorded not only in the traditional autumn property exhibitions held at key cities such as Beijing, Shanghai, and Guangzhou, but also in secondary cities such as Nanjing, Chengdu, and Tianjin. Shenzhen proved an exception, however, as new releases reached a record high over the holiday period, helping to drive sales higher. The golden week runs from September 29 to October 5 and is traditionally a peak period for home buying. The autumn sales data is compiled by property agents in different cities. "The holiday sales performance was the poorest I have seen in the past 10 years," said Fu Wai-chung, a director of Hopefluent Group Holdings, the biggest property agent in Guangzhou. Mr Fu said the poor response was widespread and had affected cities across the country despite the fact that many developers had prepared for the peak buying season by unveiling new marketing lures to raise buying interest. Hopefluent has 200 branches in Guangzhou and property brokerage businesses in 20 cities. "It is a disastrous signal to witness such a nationwide drop in property sales during such a peak season," said Clement Luk Shing, a director and assistant general manager at Centaline (China) Property in Shanghai. The anecdotal evidence from agents was supported by data compiled by research and brokerage house ICEA Securities that showed property sales in Guangzhou plunged 92 per cent to 74,000 square metres during the golden week holiday, compared with 944,000 sqmetres a year ago. ICEA noted, however, that sales at Guangzhou Agile Garden were better supported as a result of discounted pricing. "We expect Guangzhou selling prices to continue to move downward when more suburban projects will be launched and price wars intensify," the brokerage said. However, transaction volumes at the Nanjing autumn property exhibition dropped more than 85 per cent to fewer than 40 deals during the period. This compared with 284 deals a year ago, according to mainland property news website Soufun.com. Asking prices at new projects in Nanjing fell 22 per cent to 7,800 yuan per square metre from more than 10,000 yuan a year ago, Soufun.com added. The lukewarm response came despite attempts by the Nanjing government to lift demand by announcing 20 stimulus measures before the holiday period. Two days before golden week was due to start, the government said it would give homebuyers cash subsidies of up to 1 per cent of the value of a flat for deals done from October 1. Meanwhile, property developers would be allowed to defer the payment of various government charges. Other measures included allowing homebuyers to borrow higher amounts from housing provident funds set up to provide low-interest home loans, and a reduction in deed tax - levied on the transfer of a property title - from 4 per cent to 2 per cent. However, Mr Luk said the measures failed to trigger buying interest since the cash subsidies were only of value to those who bought smaller flats and only saved "a few thousand yuan". "But poor sales performance has now become a matter of a collapse in confidence. Market sentiment will not improve significantly unless the Beijing government announces a bailout plan for the property market," he said. In the present climate developers would only attract buyers if they offered steep discounts of at least 20 per cent, Mr Luk said. In Beijing, transactions in the primary market dropped 53 per cent to 642 during golden week and data for last month showed that sales were down 20 per cent on the previous month, said Alan Ngok, the residential director for North China at DTZ in Beijing. "Homebuyers in Beijing appear more cautious than in other cities as developers have not yet offered large-scale price cuts," said Mr Ngok, who added that he expected cash-strapped developers to respond to the poor demand by offering substantial price cuts for projects in suburban areas to increase sales. In Shanghai, 821 new units were sold during the city's four-day exhibition, down 44 per cent from 1,480 units a year ago, and 36 per cent lower than the 1,298 deals secured in 2006. Sales in Chengdu dropped 5 per cent to 3,134 units while transaction volumes in Tianjin last month totalled just 25 per cent of the deals done during the same period last year, agents said. However, in Shenzhen sales volumes rose 96 per cent to 521 deals during the holiday week compared to 265 a year ago. Gerry Xu Feng, a researcher at Midland's Shenzhen office, said the higher transactions were due to the fact that the number of projects exhibited in the city's property exhibition reached a historical high. There were more than 120 projects offered for sale and special prices were available for most properties to push sales, Ms Xu said.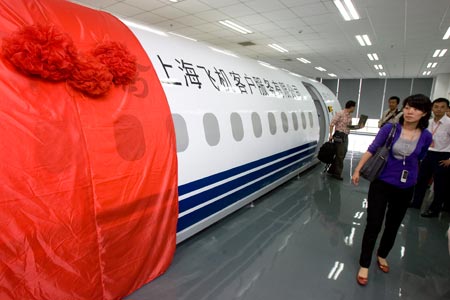 Visitors at Shanghai Aircraft Customer Service Co Ltd, which opened on October 7, 2008. The Commercial Aircraft Corporation of China Ltd opened its service center in Shanghai on Tuesday, as China's home-made aircraft ARJ21 is ready for test flights. The Commercial Aircraft Corporation of China Ltd (CACC) opened its service center in Shanghai on Tuesday, as China's home-made aircraft ARJ21 is ready for test flights. Known as the Shanghai Aircraft Customer Service Co Ltd, it is located in the Zizhu Science Industrial Park in Minhang district. The center will provide aircraft maintenance and repairs, pilot training, aviation equipment, leasing and consultation. Earlier this year, CACC announced it would be manufacturing aircraft with a take-off weight of more than 100 tons and capable of accommodating more than 150 seats. Jin Zhuanglong, CACC's general manager, said since the launch of the company in May, its jumbo jet program had been progressing steadily, and feasibility studies had begun. The company has hired a team of domestic and overseas professionals to work on the aircraft's design and manufacture. CACC's chairman, Zhang Qingwei, said the first trial flight will be held at Shanghai's Pudong International Airport. However, he declined to give a date. Meanwhile, China's first domestically produced commercial regional jet, also manufactured by CACC, is scheduled for its maiden test flight at the end of next month. The ARJ21 has entered the final stages of development, with test pilots putting the aircraft through it paces. For its final test, the aircraft will be equipped with passenger seats. "Everything is ready. I'm confident of a smooth maiden flight," Zhang said. The ARJ21, which is expected to sell for between $27 million and $29 million, can seat 70 to 110 passengers and has a maximum range of 2,000 nautical miles. It is the world's first aircraft designed for China's natural environment and is capable of landing and taking off in extreme weather conditions. So far the company has received 200 orders.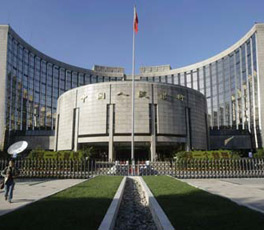 China, following other economies, cut the benchmark deposit and lending rates by 0.27 percentage point Wednesday to anchor its economy amid a worsening global financial crisis.

US-based online recruitment service provider Monster yesterday secured complete control of ChinaHR.com, paying $174 million for the remaining 55 percent stake in the Chinese recruitment site. Monster had said in its financial report for the second quarter of 2008 that it would pay $200 million to $225 million in cash to ChinaHR.com shareholders. Monster said in 2005 that it would take the remainder if ChinaHR.com was unable to get listed within three years. Analysts said the failure of the IPO was due to problems with ChinaHR.com's profitability. The company suffered a loss of 150 million yuan in 2007, according to Monster's financial statements for the year. "The acquisition will give Monster a stronger presence in the Chinese online recruitment market," said Edward Lo, executive vice-president of Monster China, who takes over as the interim CEO of ChinaHR.com while maintaining his current Monster post. China's online recruitment market is led by NASDAQ-listed 51Job with a 29 percent share, followed by ChinaHR.com with 24 percent, according to Beijing-based consulting firm Analysys International. Although Monster's acquisition comes amid a slump in US online labor demand due to the global financial crisis, Lo said it is an opportune time for Monster to invest in the Chinese market. "The economic situation which has ups and downs is a cycle," he said. "The merger is not a short-term investment but a long-term strategic partnership to create the best global recruitment platform." Liu Tong, an online industry analyst from Analysys International, said it is a good deal for Monster from a long-term perspective as China's online recruitment market is growing rapidly. It grew 36 percent year-on-year in the first quarter of 2008. In addition, ChinaHR.com's loss does not mean it has operational problems, he said. In 2007, it achieved a revenue of 281 million yuan. The merger with Monster means there will be enough cash flow to enhance its brands, he added. More than 90 percent of ChinaHR.com's revenue comes from the online recruitment compared to 33 percent of its rival 51job's, Liu said, adding it means there is plenty of space for Monster to diversify ChinaHR.com's future revenue structure.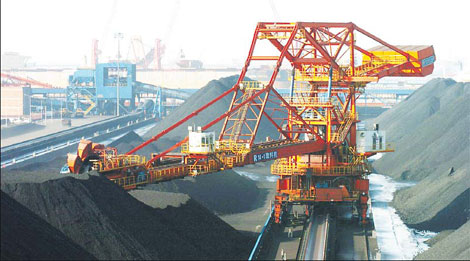 A piling machine works at the loading bay of Qinhuangdao harbor. With just two exceptions, China has officially halted all of its coal-to-liquids (CTL) projects due to environmental and economic concerns. In a notice posted on its website on September 4, the National Development and Reform Commission (NDRC) said that, apart from two projects operated by the Shenhua Group, none could go ahead before receiving official approval, because CTL is "a technology-, talent- and capital-intensive project at an experimental stage with high business risks". The two Shenhua projects are one it has already launched in the Inner Mongolia Autonomous Region and an indirect coal liquefaction project in Ningxia Hui Autonomous Region jointly invested by Shenhua Group and South Africa's Sasol Limited. Direct CTL is differs from indirect CTL, in that it converts coal directly to liquid fuel, bypassing the process of gasifying coal into syngas. The move aims to "control the business risks of the country's coal-to-oil industry", the NDRC said. The commission also called on local governments not to approve any new coal-to-oil projects. The new restriction presents coal giants such as Yanzhou Mining Group, which already has several CTL projects under construction, with a big challenge, said China Coal Information Institute President Huang Shengchu. Sasol said on Sept 7 it had suspended its indirect coal liquefaction project with Shenhua in Yulin, Shaanxi province. The project had been expected to cost $5-$7 billion and achieve an annual capacity of 3.6 million tons. "The NDRC's notice has darkened prospects for CTL investors in China", Huang said. Rising crude oil prices had sparked huge investor interest in CTL over the past two years. Some local governments and enterprises have already started coal-to-oil projects, including major coal mining groups such as Inner Mongolia-based Yitai Group, Shandong-based Yanzhou and Shanxi-based Lu'an. China is a country with rich coal reserves, which satisfy 70 percent of the country's energy needs. "The main reason China sought to obtain oil from coal was to help ensure energy security," said Shenzhen-based Fortune Securities analyst Zhang Ke. The Shenhua plant that is already operational is expected to convert 3.5 million tons of coal into 1 million tons of oil products annually. That's the equivalent of about 20,000 barrels a day, while China's daily oil consumption in China is around 7.2 million barrels. Inner Mongolia had been planning to turn half of its annual coal output into CTL and other chemicals by 2010, requiring around 135 million tons of coal. However, CTL "is not suitable to be developed on a large-scale basis due to environmental concerns", said Zhang. Environmentalists are concerned about the huge amounts of water required by the process and its large carbon dioxide emissions. Every three to five tons of coal can be converted into one ton of oil products such as diesel for cars, while in the process about 10 tons of water is needed to produce every ton of oil products, according to a report by Bohai Securities. Many regions with large coal reserves have long-term drought problems, meaning that CTL projects would put great pressure on the local environment. In addition, this lack of water would also limit the long-term development of the CTL industry. Though CTL technology was developed about 100 years ago, it has been only used by Germany and South Africa when those two countries had difficulties obtaining oil.
China's central government has set aside 300 million yuan ($43.93 million) in subsidies for dairy farmers after a devastating scandal over tainted milk. The Ministry of Finance did not specifically mention the milk scandal though it noted in a statement on its website that the subsidies would be made to areas where milk has been discarded. The ministry said that dairy farmers in Hebei, Liaoning, Shanxi, Shandong, Henan and the Inner Mongolian region -- would be granted subsidies. These are the areas hit hardest by the scandal over melamine tainted milk powder. Melamine, normally used in plastics, has been found added to milk powder in order to create the appearance of higher protein content. The tainted milk powder has been found in products tested from major suppliers such as Sanlu Group, Hong Kong-listed Mengniu Dairy and Shanghai-listed Yili. Numerous countries have banned imports of Chinese milk powder and other food products. The Ministry of Finance said that the subsidies are also aimed at maintaining dairy cow breeding and promoting sustainable and healthy industrial development.
October 10, 2008

Hong Kong: Hong Kong's annual gross domestic product growth for the third quarter was estimated to be 3.2 per cent, a new survey showed on Wednesday.
Bank of China (Hong Kong) BOCHK said it would meet customers on Wednesday evening to update them on latest developments relating to the problems associated with Lehman Brothers.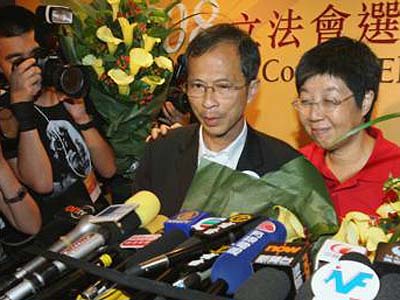 DAB lawmaker Jasper Tsang Yok-sing, pictured here after winning his seat on September 8, was elected as the new president of Legco on Wednesday. Democratic Alliance for the Betterment and Progress of Hong Kong (DAB) lawmaker Jasper Tsang Yok-sing has been elected as the new Legislative Council president by legislators. The fourth Legco held its first meeting on Wednesday at 11am in the Chamber of the Legislative Council Building. During the meeting, 60 newly elected legislators took the Legislative Council Oath and elected the president of the Legco. Mr Tsang, who received 36 votes, beat Democratic Party's Fred Li Wah-ming by 12 votes, said he was grateful for lawmakers' support. He said he would do his best to live up to people's expectations. He also advised lawmakers not to hesitate in voicing their concerns – but also to work together. His rival, Mr Li, told local media there were 23 pan-democrats legislators, but he had received 24 votes. The result was better than his expectations. He said the extra vote might have come from an independent legislator. Mr Tsang is the founder of the DAB – the largest pro-Beijing political party in Hong Kong. The DAB was largely supportive of the government's controversial attempt to implement Article 23 of the Basic Law in 2003. Mr Tsang has earlier pledged that he would not cast a vote or participate in key debates about political issues if elected Legco president.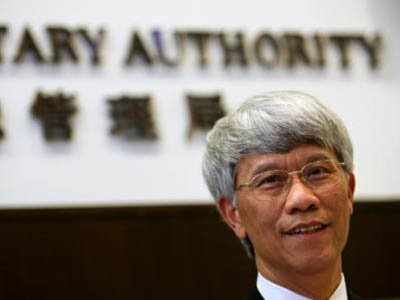 The Hong Kong Monetary Authority announced it will cut its key interest rate by 100 basis points from Thursday, as central banks across the region continued to pump in billions of dollars into the system to address the credit crunch that has wreaked havoc on markets worldwide. HKMA said the base rate would now be calculated using the US Federal Reserve's benchmark plus 50 basis points, meaning the Hong Kong rate would effectively be reduced to 2.5 per cent from 3.5 per cent. It followed a strong hint from Fed chief Ben Bernanke that a US rate could be coming soon. Hong Kong's currency is pegged to the US dollar, and the city usually follows changes to the US rate. But HKMA chief executive Joseph Yam Chi-kwong said the decision had taken account of the current conditions on global markets. He said he hoped the move would ease the pressure on banks to increase lending rates in the face of tight credit markets. But the short-term Hong Kong interbank offered rates (Hibor) were higher on Wednesday even after the HKMA's announced its cut in its interest rates. The overnight Hibor was fixed at 2.11429 per cent at 11.15am HK time, up from 1.75000 per cent on Monday following the Chung Yeung Festival holiday on Tuesday. The one month Hibor rose to 4.39714 per cent from Monday's 4.08214 per cent. Meanwhile Japan and Australia pumped US$15 billion into money markets as governments across the region tried to ease the credit crunch pummelling world stock markets. "These sorts of measures aren't working anymore," said Hiroichi Nishi, a broker at Nikko Cordial in Japan. "It's like you're trying to pump blood into a heart with clogged arteries." The Bank of Japan injected 1.5 trillion yen (HK$114.99 billion) into the money markets, its 16th straight day of intervention, while Australia's central bank pumped in A$1.21 billion (HK$6.77 billion). Governments are trying to keep funds available to fight off the credit crunch, first sparked by the subprime loans mess in the United States that set off a chain reaction of chaos on world markets. Officials said Britain was set to announce a rescue package for its ailing banking industry before markets opened there, after key bank shares tumbled 40 per cent on Tuesday amid a global sell-off by panicked investors. In Washington, the US Federal Reserve said it would buy up short-term debt in an effort to kick-start credit flows, describing the move as "necessary to prevent substantial disruptions to the financial markets and the economy". And European finance ministers agreed to increase an EU-wide savings deposit guarantee to 50,000 euros (HK$528,000) from 30,000, saying they would coordinate their response to the financial crisis. But nothing has worked so far to slow a sell-off on share markets across the globe. Iceland, which has been hit hard by the crisis, meanwhile nationalised its second largest bank, Landsbanki, and gave its biggest, Kaupthing, a US$678 million loan. Its third largest bank was nationalised last week. Russia also agreed to negotiate a 4 billion euro emergency loan to help Iceland's fight against national bankruptcy. The European Central Bank pumped US$50 billion back into interbank money markets, but it said banks sought more than twice that amount. European stock markets had a mixed performance on Tuesday, with gains in Paris and London and a drop in Frankfurt. The London FTSE 100 index of leading shares rose 0.35 per cent and the CAC 40 in Paris gained 0.55 per cent, while in Frankfurt, the DAX fell 1.12 per cent.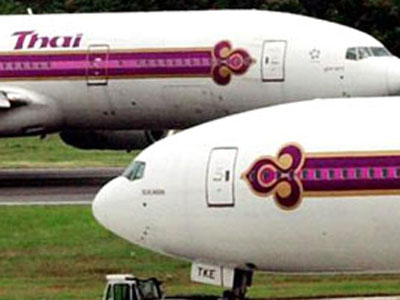 Thai Airways International said on Wednesday it would cut flights to Asian countries from next week due to a fall in passenger numbers as an industry association warned that the next 12-18 months will be "extremely difficult" for Asia-Pacific carriers. Passenger numbers are falling as Americans and Europeans curtail travel plans and the current financial market turmoil undermines consumer confidence, the Association of Asia Pacific Airlines (Aapa) said. "The biggest challenges right now are weakening passenger demand, particularly for first and business class travel, and continuing uncertainty about the global economic outlook," AAPA director-general Andrew Herdman said. "Asian carriers are therefore bracing themselves for a period of continued turbulence, hopefully without losing sight of their long term strategic goals and future growth opportunities. "The next 12-18 months will be extremely difficult times for airlines and some won't survive the current crisis."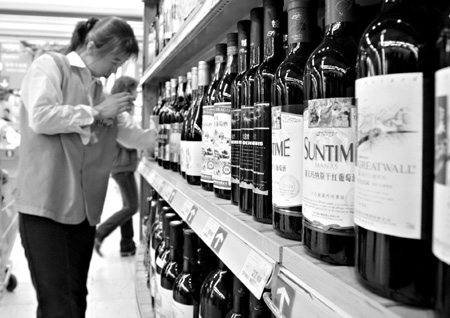 Between March and July, wine imports to Hong Kong increased significantly in value compared with the same period last year, Permanent Secretary for Commerce and Economic Development Yvonne Choi Ying-pik says. In this year's budget, the government scrapped wine duties to promote the development of wine-related businesses such as auctions, storage and distribution of fine wine. Ms Choi said lifting these duties has had an enormous impact. "In the five months since the duty was lifted, between March and July this year, wine imports into Hong Kong have increased by about 95 per cent in value compared to the same period last year," she said. Ms Choi made the comments late on Tuesday during a signing ceremony between Hong Kong and Bordeaux on Co-operation in Wine-related Businesses in Bordeaux. Hong Kong is now the only place in Asia to have no value-added tax or other duty on wine. Thailand and India have had some of the region's highest wine taxes while the mainland's taxes still remain at about 50 per cent. "The Hong Kong government has reduced wine duty from 80 per cent to 40 per cent last year, then to zero in February," Ms Choi noted. "This has made Hong Kong the first free wine port among major economies," she added. Wine imports from France – one of the world's largest wine producers and Hong Kong's biggest wine supplier – increased by as much as 116 per cent during this brief period. "Wine-related activities have surged; new companies have established in Hong Kong and existing companies have flourished," the economic development secretary said. "Wine companies are expanding their wine storage facilities, wine auctions have returned and achieved record-breaking sales," she added. Looking at the current market, she said Hong Kong has a great potential to be a successful wine trading hub in the region. Ms Choi said that other plans to promote the industry in Hong Kong were underway. These include working with the tourism boards to organise a wine and gourmet festival next year and to encourage 'Great Wine Capital Global Network' to have their meetings in Hong Kong. "With expertise, care, time and love, our relationship will mature like your fine Bordeaux wines," she said.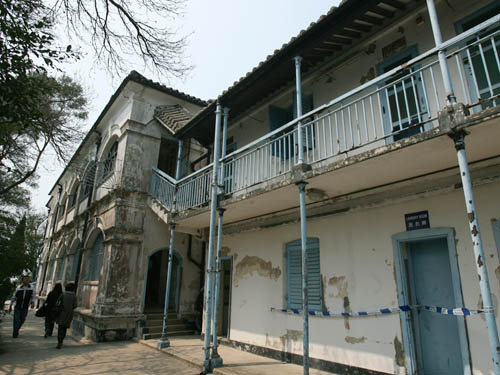 The Old Tai O Police Station, a grade 3 historic building. An NGO set up by a developer is bidding for a revitalisation project to turn the Old Tai O Police Station into a boutique hotel. The police station is one of seven sites designated for the government's revitalisation scheme, announced in October last year. The government said the vacant public structures had "limited commercial viability", but the grade 3 historic building in remote Tai O had drawn interest from developer Sino Land. One of the two shortlisted bidders, alongside the Hong Kong Young Women's Christian Association, is Hong Kong Heritage Conservation Foundation Limited. A search on the Companies Registry found that its sole director is Sino Land executive director Daryl Ng Win-kong. Set up in December last year, it was initially named Nice Brilliant Limited but changed its name in March. A Sino Group spokeswoman said Mr Ng had set up the NGO solely for charity, and it was administratively independent. "Its proceeds will not go to shareholders but benefit the community," she said. Mr Ng's NGO had not taken part in local conservation projects and had no other board members, but would form local partnerships if it won the bid, she said. In Singapore, Sino Group handled the Fullerton Heritage project, which turned a former post office into a five-star hotel. In a letter to Tai O residents, Mr Ng introduced his NGO and its boutique hotel plan, saying it was "set up by Sino Group, a well-established real estate developer and a top dog in the hotel industry". The hotel would organize activities for locals, he said. The revitalization scheme for historic buildings seeks to encourage NGOs to run social enterprises and create jobs. Successful bidders can, at the most, apply for HK$5 million for initial costs, and occupy the building at a nominal rental. Although Mr Ng's NGO is an eligible applicant, its association with Sino Land has raised concerns that it runs counter to the scheme's intention to help NGOs. Antiquities Advisory Board member Ng Cho-nam said he was worried it would reduce the chances for less well-off NGOs to participate. "The scheme is a precious opportunity," he said. "If the chance is given to one backed by a large developer, this would seem unfair and discourage other NGOs from taking part. The vetting committee should consider carefully, and encourage NGOs with a track record." Another board member, Bernard Lim Wan-fung, agreed Mr Ng's NGO was eligible, but added that the vetting committee should look at its objectives and track record. Outgoing legislator Fernando Cheung Chiu-hung, a lecturer in applied social sciences at Hong Kong Polytechnic University, said it was inappropriate for businesses to compete with NGOs. "Normally a charity is founded by people who have been in social service for some time," he said. "Without a track record, this one-man NGO would appear a company more for business interest." Lawmaker Alan Leong Kah-kit said: "The most important thing is whether the bidder can minimise alteration works and keep the building open to the public at an affordable price." Bernard Chan, chairman of the scheme's vetting committee, said it would accept applications only from NGOs, and would ensure the winner would be non-profit making. He said Ma Wan's Fong Yuen Study Hall might be pulled from the revitalization list because it was too small and remote to attract visitors, while Lui Seng Chun, a former Chinese medicine shop in Lai Chi Kok, could be "challenging" for revitalization.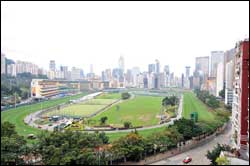 The government is considering building a subway instead of an MTR station to link Happy Valley to Causeway Bay, a source said. MTR Corp, according to the source, is likely to give up the idea of a station at the racecourse because the government believes it is better to link Happy Valley to popular areas in Causeway Bay, such as Times Square and Victoria Park, through a subway system. The subway plan also includes building a mall. "It is technically more viable to do so," said the source, who explained that if the MTRC was to build a station at the racecourse, the railway would have to pass through narrow Wong Nei Chung Road. "We would need to block one lane for construction and keep the other open for traffic." The new plan is also more economically sound, the source said, because it is easier to build a subway than a railway. As well as generating revenue from shops through rentals, the project would give Happy Valley residents easier access to Causeway Bay. The government has allotted HK$7 billion to building the South Island Line, which will link Aberdeen with Admiralty. However, it will not pass through Happy Valley despite a request from the Hong Kong Jockey Club. The club is not keen to pay HK$1.3 billion for a station at the racecourse. It will take only nine minutes to travel from South Horizons in Ap Lei Chau to Admiralty when the line is completed in 2015, but 11.5 minutes if it were to pass through Happy Valley. The railway would have to be extended from seven to nine kilometers. The government believes the 19,000 people living in Happy Valley by 2016 will not need an MTR link. Happy Valley residents have yet to reach a consensus over the building of an MTR station. While some favor it because of convenience, others do not want to be put out by the construction.
Hong Kong's official foreign currency reserve assets rose to 160.6 billion U.S. dollars at the end of September, up 2.5 billion U.S. dollars from a month earlier, the Hong Kong Monetary Authority said Wednesday. Hong Kong is the ninth largest holder of foreign currency reserves worldwide after economies such as the Chinese mainland, Japan, Russia, India, China's Taiwan, South Korea, Brazil and Singapore. Including unsettled forward contracts, the foreign currency reserve assets also stood at 160.6 billion U.S. dollars. The total foreign reserves of 160.6 billion U.S. dollars represent about seven times the currency in circulation or 41 percent of Hong Kong dollar M3.

China: China's central bank, acting in co-ordination with other central banks around the world, cut banks' benchmark lending and deposit rates by 0.27 percentage point on Wednesday. The cost of one-year bank loans will fall to 6.93 per cent from 7.20 per cent, while the benchmark one-year deposit rate falls to 3.87 per cent from 4.14 per cent, the People's Bank of China said. The PBOC also cut the reserve requirement for all banks by 0.50 percentage point. That lowers the requirement for big banks to 17 per cent and for other banks to 16 per cent. The cut in lending rates takes effect on Thursday; the cut in reserve requirements goes into effect on Oct. 15, the bank said on its website, www.pbc.gov.cn. The US Federal Reserve led a co-ordinated round of global official rate cuts, easing by a half percentage-point, as did the European Central Bank, Bank of England and Swiss, Canadian and Swedish central banks. In an attempt to stem unprecedented global market turmoil, the Fed cut its key federal funds lending rate by half a percentage point to 1.5 per cent and also lowered its discount rate by the same amount to 1.75 per cent. The ECB also cut by a half-point to 3.75 per cent as did the Bank of England, taking its rate to 4.5 per cent. The Bank of Japan, with rates at just 0.5 per cent, did not ease but the Fed said the BOJ expressed its strong support for the coordinated policy action. "Incoming economic data suggests that the pace of economic activity has slowed markedly in recent months," the Fed said. "Moreover, the intensification of financial market turmoil is likely to exert additional restraint on spending, partly by further reducing the ability of households and businesses to obtain credit." It said the vote to cut US rates was unanimous and that inflation expectations appeared to be diminishing which could help support price stability.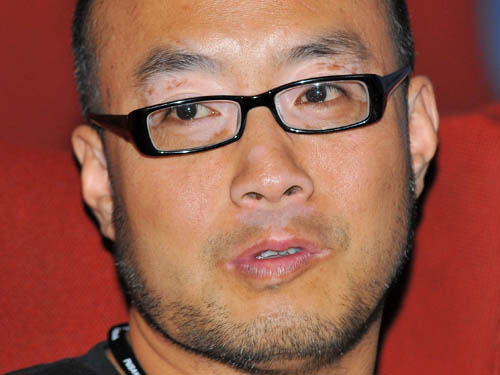 China filmmaker Pan Jianlin struggles to find the right words to describe what he saw at Muyu Middle School six days after the earthquake that devastated Sichuan province. Officially, nearly 300 children died in the school's dormitory, which collapsed as they were taking their afternoon nap. They were among the tens of thousands killed in the massive May 12 tremor. "The entire dormitory was still in a pile," Pan said. "There was just nothing left but rubble. Nothing can prepare you for such a scene." Pan's gripping documentary about the quake - Who Killed Our Children? - makes its world premiere at the 13th Pusan International Film Festival on Sunday. The film, the first independent documentary about the disaster, takes an unflinching look at the devastation caused by the 8-magnitude quake and the effect on survivors. It devastated wide areas of Sichuan and left more than 87,000 people dead or missing - many of them children buried in schools that parents say were built with shoddy materials. Pan tells the story of the school, located in Qingchuan county, from both sides - grief-stricken parents point their fingers at officials, who say the quake was simply too powerful. "The quality of these buildings was terrible," the director said. "This is a big problem in China. Corruption is also a problem. It is shameful. And the parents are looking for answers. They were in such deep sorrow." The official death toll from the school was 286 children, but some parents - who say the doors to the dormitory were locked when the quake struck - claim the figure was closer to 600. Most of the bodies, they say, were found piled on top of each other near the exits, some hands still gripping door handles. Pan, who was in Beijing at the time of the quake, said he immediately packed his camera and rushed to Sichuan. "I wanted to see this, and for people to see this - to see what was actually going on," he said. Making the film was not easy, Pan said. While survivors were willing to face the camera in the immediate aftermath of the quake, probably because they were still in shock, the authorities were not so keen for the footage to be aired. Three weeks after the quake, when the entire region had been sealed off to the media, officials paid Pan a visit in Beijing and confiscated his tapes. But "I had made copies by then", he said. After Pusan, Pan said he hoped to take his film to other international festivals and insisted he was unconcerned about a possible backlash at home. "I just hope as many people as possible can see this film," he said. "We don't want these things to be forgotten."
Beijing raised the retail prices of gasoline and diesel by as much as 4 percent yesterday to offset the higher cost of providing cleaner fuels to the capital. Gasoline prices will climb by 200 yuan (HK$228) per tonne and diesel by 290 yuan per tonne for fuel sold only in Beijing, the Municipal Commission of Development and Reform announced. Gas stations in Beijing may sell No93 gasoline - China's most-used type of fuel - for as much as 6.37 yuan a liter after an adjustment of up to 8 percent allowed by government. "We applied to the National Development and Reform Commission to raise fuel prices a while ago, but the NDRC so far just approved the increase in Beijing," a Sinopec official told The Standard. "It is not a nationwide hike yet, and fuels sold in Beijing accounts for only a small proportion of our profits pie," he added. "But it has symbolic meaning, showing the government is willing to act during a high crude price cycle." The capital city consumes about 10 million tonnes of gasoline and diesel a year, equivalent to 2.7 percent of the nation's total. Beijing adopted the higher emission standard of Euro IV, which leads to a higher fuel-refining cost, from July 1. Some analysts said the move in Beijing could mean China will address price adjustments on a broader base. Still, oil companies are not certain about that, the Sinopec official said, "as the market was expecting a national fuel hike after the Olympics. "But that was when the crude price hovered above US$120 [HK$936] per barrel, and now it has retreated."
China's central bank announced on Wednesday the decline of reserve requirement ratio by 0.5 percentage points from Oct. 15, and the decrease of interest rate by 0.27 percentage points from Friday.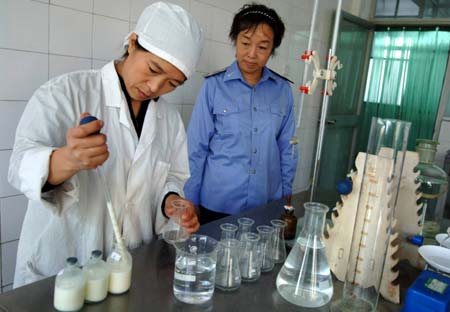 China's Health Ministry has issued new safety standards for dairy foods following the scandal of melamine-contaminated milk products that sickened thousands of babies. The industrial chemical was intentionally added to diluted milk to make it seem high in protein content. More than 50,000 babies were sickened as a result of consuming contaminated milk powder. At a press conference on Wednesday, Wang Xuening, deputy director of the ministry's Health Supervision Bureau, released new rules for the dairy industry. Wang said a maximum of one milligram of melamine per kilogram of infant formula was the new limit. A maximum 2.5 milligrams per kilogram was allowed for liquid milk, milk powder and food products containing at least 15 percent milk. "Melamine is neither a raw food material nor a food additive," he said. "Deliberately adding the chemical to food items is prohibited. Once such cases are spotted, they will be investigated according to law." Melamine is used to make plastics and food packaging materials. When asked why China allowed any melamine at all dairy products, Wang said it was impossible to have "zero levels". The chemical can seep into food from its packaging. "The limits mainly aim to curb the deliberate adding of melamine," he said. According to the standards of the Unites Stated Food and Drug Administration, the safety reference value (tolerable daily intake, or TDI) for melamine is 0.63 milligrams per kilogram of body weight per day. A child weighing 30 kilograms would have to drink around 1.2 kilograms of milk powder containing 15 milligrams of melamine per kilogram a day to have exposure reaching the TDI. In tests by China's quality watchdog, the State Administration of Quality Supervision, Inspection and Quarantine (AQSIQ), last month, Sanlu products had the highest content of melamine, at 2,563 milligrams per kilogram, out of the 109 baby formula producers tested. The Sanlu Group, a leading dairy producer based in the northern Hebei Province, admitted on Sept. 12 it had found some of its baby milk powder products were contaminated with melamine. Contaminated baby formula has killed at least three infants and left more than 53,000 with urinary tract problems, including kidney stones. About 13,000 infants are still being treated in hospitals. So far, 27 people have been arrested over the scandal.

Citigroup Inc, the largest U.S. bank, said yesterday that China's banking watchdog has approved its plan to open two microcredit firms in Hubei Province, tapping the nation's vast rural market. Citigroup, the first overseas lender allowed to establish such institutions in the country, plans to set up the two firms in Gong'an county and the city of Chibi, which are scheduled to open in the next few months. The move comes as major rivals including HSBC and Standard Chartered are opening rural outlets in order to expand in the nation's underdeveloped regions and the government is relaxing controls on private financing to support thousands of small and cash-strapped manufacturers. Citigroup, which has eight branches and 20 sub-branches on the mainland, was one of the first locally incorporated foreign banks in China. The financial giant, which has a stake in Shanghai Pudong Development Bank as well as de facto management control of Guangdong Development Bank, said Gong'an and Chibi have tremendous lending needs due to their rapidly developing agriculture and robust economies. "We feel very excited and proud of being allowed to set up the microcredit firms," said Citi China CEO and Chairman Andrew Au. "It's a very important new element in the process of Citi's operation and investment in China. We deeply understand the urgency to expand finance services in China's rural areas, a goal we believe could be achieved by the mode of setting up microcredit companies."
China's outstanding foreign debt was at 427.43 billion U.S. dollars through June, 14.4 percent higher than the second half of 2007, the State Administration of Foreign Exchange said on Tuesday.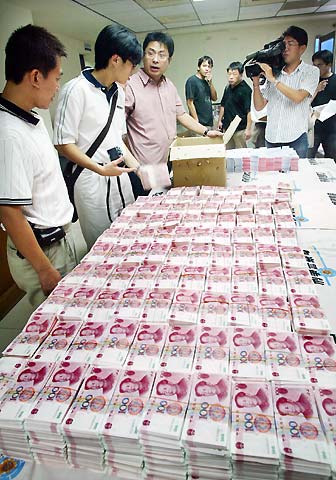 Taiwan police officers check the amount of counterfeit money that they confiscated from a criminal gang in the Gaoping Region of China's Taiwan Province, Oct. 5, 2008. Taiwan police and the local Procuratorate cracked down a criminal organization making counterfeit money and seized over 100 million fake Renminbi notes.

Olympic diving champion Guo Jingjing poses for the promotion of a mammary cancer prevention campaign.
October 9, 2008

Hong Kong: Grave-sweepers flooded the final resting places of their ancestors for the Chung Yeung Festival on Tuesday as usual but offerings to their loved ones shrank in size and variety due to the financial crisis. Instead of genuine roast pigs, some people went to ancestral graves across the city with roast pigs made from paper. "A small roast pig costs HK$400 while this paper one is only HK$30," said a grave-sweeper in Tseung Kwan O Chinese Permanent Cemetery. "The economy has changed now. Moreover, we think it is better to have paper offerings. We cannot eat that much food," he added. Another man said his family bought only apples instead of a bigger variety of fruits. "Yes, we only brought one kind of fruit. The economy is so bad now, we have to be careful in our spending," he said. The owner of a paper offering shop in Hung Hom said sales had dropped sharply. "The economic downturn has a big impact on us. Also, fewer people follow Chinese tradition and don't burn offerings for their ancestors," the owner said. In order to attract more business, her shop sold many unconventional paper offerings, from pet dogs and cats, to golf clubs, golf balls, and other accessories. The owner noted that the business was also affected by rising paper prices. "Luckily, the price has come down a little after the Olympics. But then we are still unable to reduce prices for our customers," she said. Roast meat shops also said their businesses were influenced. "Prices of roast pig is already down 10 per cent, compared to about a month ago when it hit the peak during the Mid Autumn Festival," the owner said, adding that a large roast pig cost around HK$800 a month ago, in comparison to HK$700 on Tuesday.
The city's firefighters may stage a protest march later this month - the first in nearly two decades by Hong Kong's firemen - after their demands for a pay adjustment were rejected.
Financial advisers can be held liable for negligent investment recommendations to clients, a local court ruling in 2003 has established. In the Field vs Barber Asia Limited (HCA7119/2000) case, plaintiff Susan Field was awarded compensation of £219,890 (HK$2.84 million) plus interest and costs that she had lost as a result of changing an investment portfolio on the recommendation of the defendant. Ms Field had asked for a conservative investment portfolio. It initially made a British sterling-dominated portfolio for her, but later advised her to gear up her portfolio with a Japanese yen loan. A subsequent appreciation of the yen forced her to provide additional cash for the loan, eventually losing the whole investment. The Court of First Instance ruled that the financial adviser was expected to warn Ms Field of the risks. The ruling was upheld by the Court of Appeal when the defendant appealed. Citing this case yesterday, Civic Party leader Audrey Eu Yuet-mee said minibond holders were in an even stronger position than Ms Field to claim compensation, as they had signed contracts with the distributors. She has asked the Consumer Council to refer to the case and consider using its consumer legal action fund to help holders claim compensation. Ms Eu said individual investors might not be willing to launch costly lawsuits.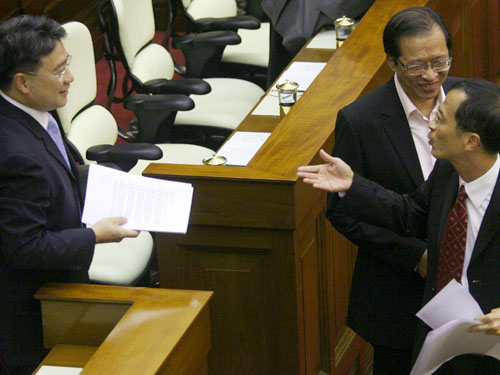 Veteran Beijing loyalist politician Tsang Yok-sing - tipped as the next Legislative Council president - said yesterday it was unreasonable that some pan-democratic lawmakers were barred from entering the mainland to exchange views. The founder and former chairman of the Democratic Alliance for the Betterment and Progress of Hong Kong said he was optimistic about breaking the ice in the future. Mr Tsang was questioned on the issue during a two-hour debate ahead of the election for the presidency, which will be held at the first meeting of the new legislative term tomorrow, after members have been sworn in. With backing from the Beijing-friendly camp, he is widely expected to succeed to the post left vacant by the departure of Rita Fan Hsu Lai-tai. But his rival, Fred Li Wah-ming of the Democratic Party, said he was still confident of picking up some votes, apart from those of the pro-democracy camp's 23 legislators. The two men each fielded 20 questions from fellow legislators. Civic Party legislator Audrey Eu Yuet-mee asked Mr Tsang if he would pledge to build constructive relations between the legislature and mainland authorities. Mr Tsang said it was unreasonable for the mainland to ban entry for some pan-democrats who wished to exchange views with mainland authorities. "The Legco president should avoid repeating the same scenario. I will do my utmost to deal with it. But it is the mainland authorities who make decisions," he said. "I believe the question could be solved to break the ice. It would be good for the mainland if lawmakers were allowed entry to the country." "Long Hair" Leung Kwok-hung of the League of Social Democrats was denied an entry permit to Sichuan in early July while he was on the way to the airport with a Legco delegation. Mr Tsang said he was optimistic about his ability to help a lawmaker gain entry to the mainland if a similar incident happened again. Regardless of who wins tomorrow, it will be the first time that a Legco president has had party affiliations, raising doubts about the president's impartiality. But Mr Tsang and Mr Li disagreed with suggestions that the post should only be taken up by an independent. Mr Leung challenged both candidates to say if they were members of the Chinese Communist Party. Mr Tsang sidestepped the question and replied: "I reserve my DAB membership. "I pledge, if elected, not to be influenced by any political parties, as this might affect my impartiality." Other legislators questioned whether the candidates, if elected, would follow Mrs Fan's practices. Tanya Chan of the Civic Party asked if they would allow debates on the decisions of the National People's Congress, which Mrs Fan banned. Noting that the Basic Law allowed Legco to debate issues concerning the public interest, Mr Tsang said that debates should be allowed even on the NPC's interpretation of the Basic Law, since the issue involved the public interest.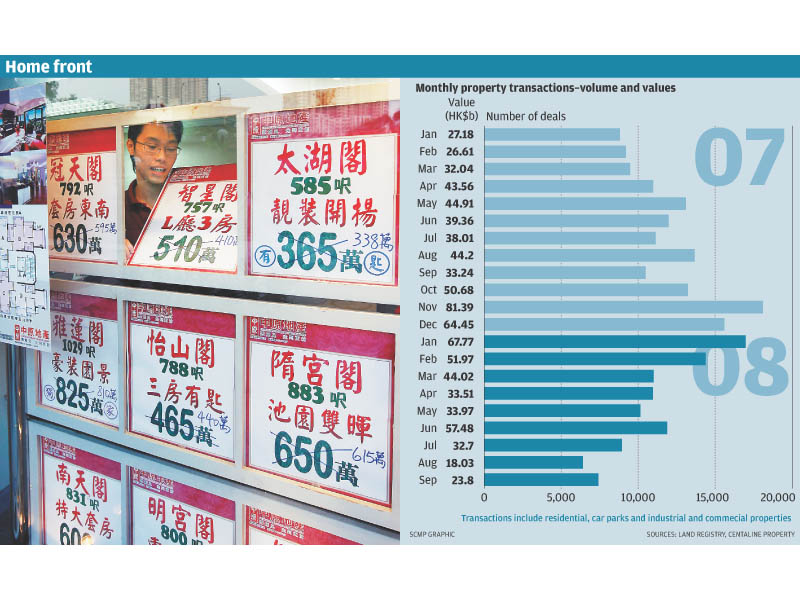 Home purchases in Hong Kong grew 13.2 per cent to 5,115 deals last month, but agents predict transaction activity will drop in the fourth quarter on fears of rising interest rates, higher unemployment and an unstable economic outlook. By Monday, 665 transactions had been closed in the primary market, data collected by Centaline Property Agency showed. This compared with 187 deals in August. In the secondary market, there were 4,450 deals, a 2.8 per cent rise from August, Centaline estimates. The agent said total property transactions, which include sales of office and industrial units, reached 7,400, a 15.6 per cent growth from August's 6,402. Total transaction value rose 32 per cent to HK$23.8 billion. The Land Registry will announce the official property transaction figures this week. Centaline said the surge in primary sales last month came from Le Bleu, a 524-unit mass housing development in Tung Chung. The developer, HKR International (SEHK: 0480), has sold more than 300 units since the launch in August. However, agents said the outlook for the sector was negative. Hong Kong Properties chief executive Fredy Wu Yat-fat said the property market was clouded by uncertainties such as interest rate rises and anticipated rising unemployment. "The weak market sentiment is likely to prevail over the next few months," said Mr Wu. He expected monthly property transactions to remain between 6,000 and 7,000 in the next three months with prices dropping 10 per cent. He also said the company had cut its headcount by 100 to 700 to reduce costs. Ricacorp Properties and Centaline expect home prices to fall 5 to 8 per cent within one month. Amid slowing property sales, New World Development executive director Stewart Leung Chi-kin reportedly said property agents were responsible for the rising number of loss-making secondary market transactions at its Harbor Place in Hung Hom. Anxious owners of flats in the development wanted to resell the units before the completion of the transactions by the end of this year. Mr Leung was quoted by Apple Daily as complaining that agents had spread word a number of buyers at Harbor Place faced mortgage financing problems as banks did not give sufficient valuations amid flagging market conditions. The newspaper said buyers had had to settle valuation shortfalls in cash before they could get the 70 per cent mortgage loan. This triggered market rumors that a substantial number of buyers at Harbor Place might default on their deposits and walk away from the purchases. Mr Leung was quoted as saying: "I will report to the Estate Agent Authority if we receive complaints from buyers [that] agents have provided them inaccurate information." He assured that all buyers capable of repaying their loans would be able to secure mortgage loans from banks, including HSBC (SEHK: 0005, announcements, news) and Bank of East Asia (SEHK: 0023). An EEA spokesman said the authority would investigate if it received a complaint from the developer. "Agents have the responsibility of providing accurate property information to ensure their principal interest," said the spokesman. Mr Wu of Hong Kong Properties said it was normal for overstretched borrowers to offload their units even at a loss when market sentiment turned sour. "Owners will double-check with the banks' property valuation and will not make the decision simply depending on our advice," he said. Rocky Wong Chun-wai, Centaline's senior sales director for Kowloon, said half of 10 transactions at Harbor Place were recorded at a loss in the secondary market. Some sellers resold the units at as much as 20 per cent lower than their purchase prices. There are about 500 Harbour Place units on the second-hand property market.

China: Milk crisis will likely cost billions of dollars, disrupt millions of livelihoods, and it could be a year before consumer confidence in dairy companies is restored, experts say. Mainland officials are anxious to draw a line under the scandal that killed four infants and sickened more than 53,000 children after melamine, a chemical used to make plastic, was found in milk from leading dairies. State media trumpeted on the weekend that samples from 31 brands of baby formula contained no trace of the chemical. Similarly, samples from hundreds of batches of liquid and powdered milk were also melamine-free. In Shanghai, hip hop music blasted from a stage next to a giant inflatable cow as Guangming Bright Dairy – one of more than 20 companies whose milk was tainted with melamine – tried to woo back milk drinkers. In southern Shenzhen, dairy firms Mengniu and Yili offered competing "buy one, get one free" promotions on crates of milk. But despite the fanfare, consumers are likely to remain cautious and a number of countries around the world have banned or restricted imports of mainland milk products. "What you see in China with the melamine crisis right now is so widely spread that there is clearly a gap in the quality control system," said Bram Wouters, who is leading a project at Wageningen University in the Netherlands to help China improve milk quality. "For sure that gap will be closed," he said by telephone. "But there is no guarantee consumers' confidence will return quickly." It could take up to a year to repair the public's damaged faith, experts agreed. In the meantime, the economic costs are mounting. No official estimate has been released of how much the crisis cost China's dairy industry. Companies whose products were contaminated saw sales plunge 60 to 70 per cent last month from a year earlier, said Lao Bing, an analyst with Shanghai-based Mental Marketing Dairy Consulting. Dairy sales for the full year are likely to be 20 per cent lower than the 160 billion yuan (US$23.5 billion) posted last year, said Mr Bao, whose firm advises leading mainland dairy brands. "The industry had been growing at a pace of more than 20 per cent over the past few years, but this year it's going to remain flat," he said. About three million workers, mostly connected to the small dairy producers who account for 80 per cent of the mainland's milk production were affected, said Chen Lianfang, an analyst from Beijing-based Orient Agribusiness Consultant. In parts of northern China's milk producing heartland, farmers were having to pour away milk at the peak of the crisis because no one would buy it, state media reported. It is in these areas that experts believe the melamine may have been added to deliberately watered-down milk to make it seem richer in protein. In the northern province of Hebei, one of the centers of the crisis, authorities have agreed to pay farmers 200 yuan for each cow as a subsidy to keep them in business. But to restore confidence, authorities should work with these small producers to continue to improve hygiene, educate them and give them incentives to deliver quality instead of quantity, Mr Wouters said. "Let consumers know there is quality control exercised at all stages in the chain not only at the dairy plants and in the supermarkets but also at the producers' site because there the main problem for sure is at the farm level," said Mr Wouters who was researching in northeastern Heilongjiang province last month before the scandal broke. He estimated it could take anywhere from weeks to a year to establish quality control along the chain linking farmers to consumers.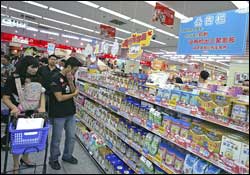 The country's dairy industry was plagued by chaotic production and lax government supervision, the State Council said yesterday, vowing it would revamp the industry and hold producers and local officials accountable. Premier Wen Jiabao chaired the State Council meeting - the second since the tainted-milk powder crisis broke - and announced steps to shake up the industry and deal with the aftermath. While the meeting blamed dairy companies for "greed and ignoring people's lives", it did not comment on the earlier covering up of the crisis. At least four infants were killed and tens of thousands made ill after drinking milk tainted with the industrial chemical melamine - used by dairy farmers to cheat on protein tests of their milk. The crisis also led many countries to ban Chinese dairy products and some products manufactured using Chinese-made ingredients. The State Council meeting blamed unscrupulous individuals and businesses for the crisis, but said it had also exposed deep-rooted problems in the industry. "At the same time, this has exposed chaos in our country's dairy product production and distribution and serious shortcomings in oversight and administration," a Xinhua report said of the meeting. "It also exposed that China's dairy production and distribution order has been chaotic and supervision has been gravely absent. "Those responsible for the contamination - including producers, traders and officials - should be penalised in accordance with laws and regulations." Last month, authorities in Hebei province , where the problem was first exposed, arrested 22 people including Tian Wenhua , head of the Sanlu Group in Shijiazhuang . Officials have blamed Sanlu for delaying reporting of tainted milk to higher authorities. Officials of the World Health Organisation have described the delay as either "deliberate" or "ignorant". Also yesterday, Xinhua reported six people connected with the production and sale of melamine had been arrested in Inner Mongolia. The arrests were made after police investigated Mengniu and Yili - two major dairy companies based in Hohhot - but Xinhua did not identify the suspects or explain whether they were related to the two companies. The reports came as more countries announced restrictions or stepped up controls over China-made dairy products. Finland has withdrawn Chinese Koala biscuits and White Rabbit sweets from the market as a precaution, its Food Safety Authority said. Japan, meanwhile, has stepped up inspection of China-made animal feed and pet food that may be laced with melamine, Japanese agriculture officials said. In Hungary, melamine had been found in products in several Chinese restaurants, the agriculture ministry's food safety officer, Miklos Suth, told a radio station, but the content did not reach dangerous levels. Melamine-tainted Nestle products found on Saturday were still being examined, and "if the excess melamine content is confirmed, the entire stock will be destroyed", Mr Suth said.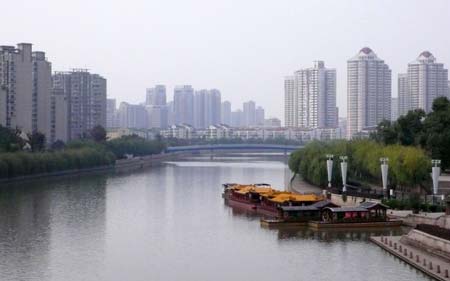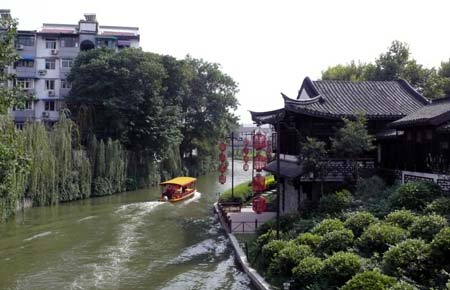 The photo taken on Oct. 7, 2008 shows the Qinghuai River in Nanjing, capital of east China's Jiangsu Province. The Habitat Scroll of Honor Special Citation was awarded to Nanjing, the UN-HABITAT announced in Nairobi, capital of Kenya, on Oct. 6.
Picture released by China's manned space project on Oct. 5, 2008 shows the image of China's Shenzhou-7 spaceship, taken by a small monitoring satellite six seconds after it was released from the spaceship on Sept. 27, 2008. Launched about two hours after Chinese astronaut Zhai Zhigang finished the country's first spacewalk, the monitoring satellite has sent back over 1,000 pictures of the spaceship. The shadow on the spaceship was that of the monitoring satellite.
Multinational companies on the Fortune 500 list have seen the majority of their corporate operations on the Chinese mainland establish trade unions, with union members exceeding 2.01 million. Sun Chunlan, the All China Federation of Trade Unions deputy head, said on Tuesday of 483 Fortune 500 companies operating on the mainland there were more than 4,100 corporate entities. Of those, 3,370, or 82 percent, had established trade unions. The federation is preparing to hold its 15th national congress from Oct. 17 to 21 in Beijing. In total, 1,800 deputies and 289 special deputies from 31 provinces, autonomous regions and municipalities, as well as 29 guests from Hong Kong and Macao, will participate. Of the deputies, women accounted for 31.6 percent; minority ethnic groups made up 13.2 percent. About 83.5 percent were under 55 years. The deputies also included 47 migrant workers, representing a population of at least 140 million such workers nationwide.
Construction began on a high-speed passenger rail line between Beijing and Shijiazhuang, capital of north China's Hebei Province Tuesday, the Ministry of Railway (MOR) said. The new 281 kilometer line is part of another route which connects Beijing, Guangzhou and Hong Kong in south China. It totals more than 2,300 km long. With an estimated cost of 43.87 billion yuan (6.4 billion U.S. dollars), the Beijing-Shijiazhuang line is expected to be complete and in operation in four years. It is jointly funded by the MOR, Beijing and Hebei governments. The designed speed of the railway is 350 km per hour. Initially, however, trains will only travel 300 km per hour. Once operating, this new line should cut the journey from Beijing to Shijiazhuang from 119 minutes to less than 60 minutes, the ministry said. The new line will have six stations. Seventy-seven percent of it, or about 218.47 km, will be built on an elevated alignment to save land. In the meantime, Chinese workers will also be building a 28.7-km-long railway linking Shijiazhuang to Taiyuan, capital of Shanxi Province. The MOR said it hopes to build 9,800 km of passenger-dedicated railway over its Five-year Plan (2006-2010).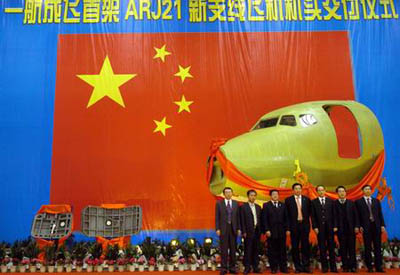 The maiden flight of China's first homegrown regional jet, the ARJ21-700, could be delayed to the end of November, the Commercial Aircraft Corporation of China Ltd. (COMAC) announced on Tuesday. The company said last month that the maiden flight was expected to be in October, but it could be delayed depending on the weather, said COMAC chairman Zhang Qingwei. The ARJ21 had entered the final stage of development, with test pilots practicing starting-up and taxiing, Zhang said at the launch of COMAC Shanghai Aircraft Customer Service Co., Ltd. The new firm will provide aircraft maintenance and repair, pilot training, aviation equipment and materials leasing and consulting for aviation technologies for both large planes and regional aircraft. The plane for the maiden flight had three seats: two for the test crew and one for an observer, he said. The third test plane would be equipped with passenger seat. "Everything is ready after numerous tests. I'm confident of a smooth maiden flight." Delivery of the aircraft would begin after 18 months of test flights of four more ARJ21s, said Xu Jun, deputy head of the Shanghai Aircraft Manufacturing Factory. The ARJ21, an acronym for "Advanced Regional Jet for the 21st Century," is the first regional jet that China has fully developed independently, in accordance with the standards set by General Administration of Civil Aviation of China (GACAC), Federal Aviation Administration (FAA) and Joint Aviation Authorities (JAA). The ARJ21, which is expected to sell for 27 million to 29 million U.S. dollars, can seat 70 to 110 and has a maximum range of 2,000 nautical miles. It is the world's first aircraft designed for China's natural environment and is capable of landing and taking off in the extreme weathers on western China.
Overseas Chinese fund or play a hand in the funding of almost half of the 28,000 foreign-invested companies in Shanghai, making indelible contributions to the city's development. At a recent gathering to mark the 30th anniversary of the country's reform and opening up, people of Chinese birth or descent who live abroad were praised for their deep love of their motherland. In the years between 1978 and 1995, the local government approved around 13,600 foreign investment projects. They drew 34.27 billion yuan of foreign direct investment, with 60 percent of the projects and 56 percent of capital coming from overseas Chinese and compatriots of Hong Kong and Macao. "Over the 30 years, overseas Chinese, returned compatriots and their families showed their tremendous love of their hometown and motherland," Yang Xiaodu, head of the United Front Work Department of Shanghai, said during his address to the forum. Overseas Chinese will be written into history for their role in supporting the opening-up and reform, in the creation of a positive international environment and in the nation's social development, he said. Overseas Chinese and Hong Kong and Macao compatriots made more than 2,000 donations amounting to 2 billion yuan, mainly in the fields of culture, education, healthcare and other public welfare from 1990. Statistics show that following the devastating Sichuan earthquake, Chinese ethnicities opened their wallets and donated -300 million yuan in cash or relief materials for disaster-stricken areas via Shanghai. Overseas Chinese have also showed tremendous interest in the upcoming 2010 Shanghai World Expo. An 80-member delegation from All-China Federation of Returned Overseas Chinese paid a visit to the Bureau of Shanghai World Expo Coordination to get an update on preparations. During the forum, representatives of overseas Chinese shared their experiences and the dramatic changes they felt had taken place in China. Yue-Sai Kan, an international television star and immensely successful businesswoman, said she marvelled at China's social changes but cherished the sincerity and purity people had three decades ago.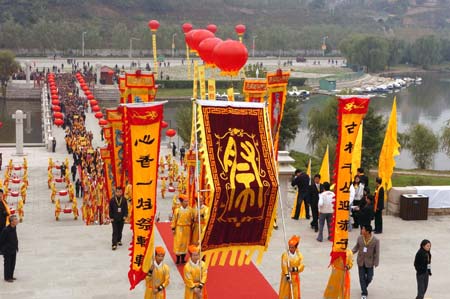 A worshipping ceremony for the Yellow Emperor or Huangdi, legendary progenitor of the Chinese people, is held at the tomb of Yellow Emperor to celebrate the Chongyang Festival, or the Double Ninth Festival, in Huangling County, Northwest China's Shaanxi Province, October 7, 2008. Chongyang Festival is considered a traditional occasion to pay respects to the aged and falls on the ninth day of the ninth month on the Chinese lunar calendar, or Oct. 7 this year.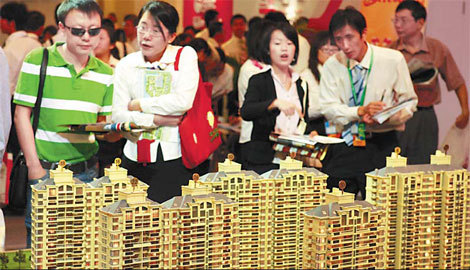 Potential homebuyers visit a real estate exhibition in Shanghai.The average number of daily deals over the holiday week fell 72 percent year-on-year in Beijing to 69 units, making it the worst period so far this year for the property sector. Property transactions in China's major cities hit a record low over the past National Day holiday as more potential homebuyers adopted a wait-and-see attitude. Statistics from the Beijing Real Estate Transaction website revealed that the average number of daily deals over the holiday week fell 72 percent year-on-year in the capital to 69 units, making it the worst period so far this year for the property sector. Shanghai Autumn Real Estate Expo, regarded as a barometer of the industry, attracted 130,000 visitors from October 1 to 4. Although this was the same number as 2006, its transaction volume fell 37 percent over the same period. Property prices up 5.3% in August. The situation is equally gloomy in Shenzhen, where a five-day real estate expo was held over the National Day holiday. While 20,000 sq m of property was changing hands every day at the fair in 2006, the daily amount ranged from 4,000 to 9,000 sq m this year. Luo Yuan, general manager of Beijing-based Sunrun Real Estate Agencies, said one of the reasons for the sluggish market was that property prices still remain beyond the reach of many potential buyers. Liu Xia, a 31-year-old journalist, has been flathunting in Beijing for more than six months but remains reluctant to take the plunge. "Although some developments have offered discounts as high as 30 percent, a 100 sq m apartment along the eastern Fourth Ring Road still costs at least 1.5 million yuan, and that's beyond my budget," Liu said. Liu is also concerned that, should she buy property now, she will lose out if prices fall. "There might be still room for property prices to slide," Liu said, adding she is also quite concerned about the overall economy. Property prices in 70 major Chinese cities rose 5.3 percent year-on-year in August, compared with 7 percent in July, the National Development and Reform Commission said Monday. The growth rate has dropped for eight months in a row this year, showing signs of nationwide decline after a two-year surge.
October 8, 2008

Hong Kong: Hong Kong remains the top choice for overseas and mainland companies looking for an Asian headquarters, a new survey released on Monday showed. The annual survey by Invest Hong Kong and the Census and Statistics Department (C&SD) showed the territory was host to 6,612 overseas and mainland companies for the year-ending June 2. This is a 2.7 per cent increase from the same period last year, the survey found. Investment Promotion at Invest Hong Kong director-general Mike Rowse said this was a record figure. "This is a strong vote of confidence in Hong Kong's role as Asia's leading business hub." He said Hong Kong's popularity with multinational and mainland companies had helped strengthen its reputation. It was ranked ahead of Japan – another popular regional destination for overseas companies. "More multinationals have upgraded their Hong Kong operations by adding regional and global responsibilities, while more and more mainland companies have established local offices here to capture the business opportunities Hong Kong has to offer," Mr Rowse added. Hong Kong also reported the most number of regional and local mainland offices in the region. Most of these businesses were wholesale, retail and import or export trades and business services – excluding information technology. The survey said Hong Kong was attractive because of its low and simple tax system, free flow of information and absence of foreign exchange controls. However, it noted some negative factors. This included too much competition in Hong Kong, high costs and a lack of residential and business accommodation. Mr Rowse said Hong Kong could not afford to be complacent. "The regional competition is getting stronger and investors have more choices. "We have to work even harder to attract and retain investors from all over the world," he advised.
HSBC (SEHK: 0005, announcements, news) – the trustee of Lehman Brothers minibonds and other banks who helped distribute them – have showed a positive response to government suggestions they buy back Lehman Brothers minibonds from holders, Financial Secretary John Tsang Chun-wah on Monday. Mr Tsang said the proposals were suggested by the government during a meeting with the trustee and distributing banks. "On the back of the trustee, HSBC, we have suggested the distributing banks of Lehman Brothers minibonds buy back the minibonds from the customers according to the products' estimated current value. "A few banks have already showed a positive response to the proposal, while other banks said they would consider it more thoroughly," he said. Mr Tsang said this would allow investors to get back some of their money back quickly. "I hope both the investors and distributing banks find this solution fair and efficient. I believe the banks would come up with a decision soon," he said. Meanwhile, the Hong Kong Monetary Authority on Monday said it had received more than 5,500 complaints relating to Lehman products. It has deployed 70 staff to deal with this. The spokesman said it had reviewed 112 complaints on products linked to Lehman Brothers – which involved eight banks. Of these, 22 cases involved inappropriate sales tactics. This is now being investigated. The spokesman said the authority was continuing to collect information from investors.Taiwan authorities arrested six people suspected of counterfeiting 100 million Chinese yuan (US$14.19 million) as they tried to smuggle the stash to the mainland, officials said on Monday. Soldiers and police tracked the suspects, ages 32 to 67, for nearly five months before pouncing as they tried to set off on a fishing boat for the mainland, the National Police Agency said in a statement. The suspects, linked to a counterfeit factory in Taiwan, intended to sell the bogus bills in China. The statement said they had also fabricated T$16.8 million (US$520 million) worth of highway toll booth tickets.
Taiwan authorities arrested six people suspected of counterfeiting 100 million Chinese yuan (US$14.19 million) as they tried to smuggle the stash to the mainland, officials said on Monday. Soldiers and police tracked the suspects, ages 32 to 67, for nearly five months before pouncing as they tried to set off on a fishing boat for the mainland, the National Police Agency said in a statement. The suspects, linked to a counterfeit factory in Taiwan, intended to sell the bogus bills in China. The statement said they had also fabricated T$16.8 million (US$520 million) worth of highway toll booth tickets.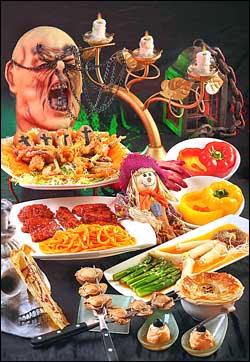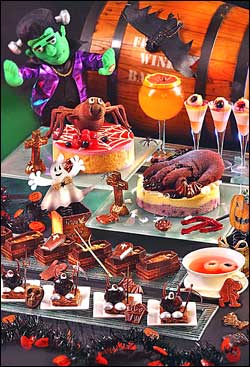 Towards the end of this month is the time when naughty souls get ready for the day when they can play pranks legitimately. Those keen to indulge in a little mischief with friends, could find dinner a tempting occasion. Regal Kowloon Hotel has created a haunted castle where dinner is served in the company of monsters, spiders and ghosts. Wild phantoms will serve a Halloween-themed set dinner for four along with a "Scary Dessert Buffet." "First, you need to go through a haunted house, where bogey men await, before you can enter the dining hall," says Queenie Suen, assistant marketing communications officer of the hotel. "There, we have zombies and devils to terrify you throughout the dinner." But, the dishes course, are a different matter. "We want to play with the food, like decorating with small eerie details, but not too much that makes them too foul to eat," she says. "And our food is actually made out of Chinese ingredients. A twist to celebrate this old western festival." The eight-course meal begins with Halloween Mess, which is crispy snacks, and a Skeleton Shark's Fin Soup. While you munch on the snacks, Pop Eye is watching - steamed prawn balls made to resemble floating eyeballs. And then there is abalone on a carving fork. A small scarecrow made of bamboo pith and mushroom will then be served with asparagus, followed by a Jack-O- Lantern (steamed eggs in colored pepper). Barbecue pork ribs with udon in tomato sauce and sauteed Chinese pudding cake in Shan ghai style will conclude the dinner and open the way for the dessert buffet. There are a dozen scary desserts including a bloody hand on a blueberry cheesecake and a spider on a raspberry crunch cake. There is also a coffin, actually a chocolate mousse cake, as well as a ghostly eye - lychee mousse and guava jelly.
The Hong Kong government has asked banks and brokers embroiled in the minibonds debacle to buy back the investments in the hope of bringing a quick end to investors' uncertainty. Market sources last night valued the minibonds in question - complex derivatives issued by bankrupt US investment bank Lehman Brothers originally worth HK$12.7 billion - at HK$7.24 billion. They said some of them, backed by the bank's own credit notes and originally valued at HK$1.27 billion, were now almost worthless but that most were still worth around two-thirds of what investors paid for them. "Small investors ... want an early solution," Financial Secretary John Tsang Chun-wah said. "This proposal will enable the investors to get some of their money back quickly." The government said it hoped investors could get their money before the end of the year. The Hong Kong Monetary Authority said it was investigating 22 banks for possible mis-selling of minibonds. Three brokers are being investigated separately. Some investors have said they were told minibonds were low-risk investments, when in fact they are high-risk, credit-linked derivatives. The government said several banks had responded positively to its suggestion of a buy-back. It has given banks a week to respond, but says a buy-back could proceed even if some banks do not take part. The buy-back would dash investors' hopes of recovering all their money, but the government insists it is the best way forward. Secretary for Financial Services and the Treasury Chan Ka-keung said if banks made a gain from liquidating the underlying assets of minibonds, they would have to distribute the surplus to the investors affected. "We have no choice," said one banker of the government's proposal. "But we don't know whether it will really satisfy the investors." He said the idea was for banks to buy back the minibonds at a price representing the fair value of the underlying assets or at a discount to fair value, then pursue Lehman Brothers' liquidators or HSBC (SEHK: 0005, announcements, news), which acted as the minibonds' trustee - the middleman between the US bank and the local distributor banks. Another banker said the minibonds taskforce set up by the Hong Kong Association of Banks would appoint an adviser to value the underlying assets and set a reference price. David Li Kwok-po, chairman of Bank of East Asia (SEHK: 0023), which sold minibonds, said it would discuss with other banks the best thing to do for their customers. Banks would have to look at the pricing of minibonds, he said. Some investors were not impressed by the buy-back idea. "This is not a solution," said one woman who bought HK$1.2 million in minibonds from Mevas Bank. Monetary authority chief executive Joseph Yam Chi-kwong pledged to handle promptly the 5,500-plus complaints it had received.

China: Looking down from his building's 87th floor at the glittering signs of multinational banks along the river in Shanghai, Fan Dizhao declared confidently that Wall Street's reign as the world's No 1 financial hub is coming to an end. The United States may be grappling with its worst economic crisis since the Great Depression, but these are go-go days in China. Venture capital, private equity and foreign direct investment are at all-time highs. Although Shanghai's stock exchange has lost close to two-thirds of its value this year, China's big banks have escaped the credit catastrophe largely unscathed and the economy continues to expand briskly. Fan, an investment manager at Guotai Asset Management, which oversees funds valued at around US$5.1 billion (HK$39.78 billion), said that despite the country's inexperience in the financial sector, China has a rare trump card: mountains of cash. "It is inevitable," he said, "that we will take the US's place as the world leader." But Shanghai is just one of several cities harboring ambitious - and to some analysts, fanciful - aspirations while the global finance industry is reshuffled. Tokyo has lifted some regulations on banks and insurance groups and has begun to do something it resisted for a long time: print securities documents in English. The Singapore government, which through its massive sovereign wealth funds has increased its private equity and other financial holdings in recent years, has said it is looking to invest in more distressed assets in the United States. And Dubai, riding the Middle East's oil-fired boom, has declared itself the center of Islamic finance and says it aims, in the words of Dubai's government, to "develop the same stature as New York." With US investment houses tumbling into bankruptcy, consolidating operations or transforming themselves into more closely regulated commercial banks, Wall Street's reputation as the prime address to raise capital, seek investment advice or trade securities is no longer rock-solid. The flow of capital had already begun moving away from the United States this summer. A survey released last week about the competitiveness of world financial centers found that New York and London, often neck-and-neck in such rankings, were still at the top. But the survey also found that the two cities' lead over their rivals shrank after February because of the credit crisis and the collapse of US securities firms. Frankfurt and Paris also lost ground. Cities in Asia and the Middle East, meanwhile, were deemed most likely to gain in importance. "Dubai, Singapore, Shanghai and Mumbai - they are the probable leaders," said Michael Mainelli, executive chairman of Z/Yen group, which carried out the survey. Researchers looked at factors including infrastructure, foreign direct investment, cost of living and the presence of a fair and just business environment. Arkady Dvorkovich, senior economic adviser to Russian President Dmitry Medvedev, said the US financial crisis could benefit Moscow. "We are not naive," he said. "We're not trying to say that Russia will substitute for the United States in the financial sense, but in certain niches, there's a certain window of possibility for Russia to be a much more active player. Russia could "serve as a leading financial system for neighboring countries and Eastern Europe in the medium-term, in the next five to seven years," he said. Firms in some financial centers are using the Wall Street breakdown to snap up assets - and people, tens of thousands of whom have been laid off in the past few months. Japan's Mitsubishi UFJ bought up to a 20 percent share of Morgan Stanley for US$8.4 billion, while Nomura Holdings said it would buy the Asian, European and Middle Eastern operations of Lehman Brothers. Dubai's International Financial Center, meanwhile, boasts that its tenants are eligible for benefits such as a zero tax rate on profits, 100 percent foreign ownership and no restrictions on foreign exchange or repatriation of capital. In addition, said Mohammed Abu Ali, an assistant professor of economics at Dubai's American University. "Dubai has an ideal location. It is located between the East and the West. It is in a good time zone. And it has a very dynamic economy," Hussain al-Qemzi, chief executive of the Noor Islamic Bank, which is majority-owned by the Dubai government, aims to turn the city into a hub for Islamic banks, prohibiting usury, that would rival Wall Street's traditional banks. Shanghai first got the serious attention of global financiers last November when its bourse hit record highs and PetroChina (0857) became, albeit briefly, the world's first US$1 trillion company, surpassing the value of US- based Exxon Mobil. But many analysts dismissed that rise as irrational exuberance because of Shanghai's multiple drawbacks as a financial center; its lack of experienced workers, its strict capital controls and concerns about rule of law and courts that still sometimes put political interests over justice. Yet the recently opened Shanghai World Financial Center, a 101-story marvel of glass and steel, has become a beacon for dealmakers from around the world. The 138 seats at the center's US$200-a-head French restaurant, quaintly known as the Dining Room, are booked solid for the next three weeks. And although Lehman Brothers scrapped plans to rent offices and Morgan Stanley cut its leased space from eight to four floors, there are plenty of Chinese companies waiting to move in. "To us the crisis might be beneficial because we can attract more talent from Wall Street to Shanghai," said Shi Haining, deputy director of the city's Pudong New Area financial services office. "There are also possible outgoing investments, because Wall Street lacks liquidity. And there may be money that might have gone to the US that comes to China instead.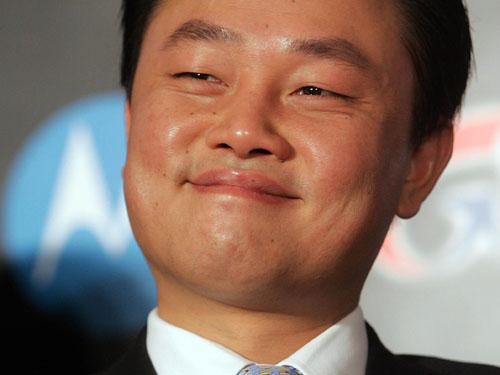 The fortunes of the mainland's richest billionaires are shrinking as hard times hit the country's stock and property markets, according to a list released yesterday. Appliance and property tycoon Wong Kwong-yu, with assets estimated at US$6.3 billion, tops the list of the mainland's 1,000 wealthiest individuals, compiled by Shanghai-based analyst Rupert Hoogewerf. The 39-year-old chairman of Gome Group, who had topped the list in previous years but ranked fourth last year, displaced Yang Huiyan , who last year led the list of billionaires with a fortune estimated at US$17.5 billion. This year Ms Yang, 27, ranked third, with US$4.9 billion, Mr Hoogewerf said. Second this year was Du Shuanghua , a 43-year-old steel tycoon whose wealth was estimated at US$5.1 billion, he said. The remaining names on Mr Hoogewerf's list were due to be announced today. Last year, the fortunes of many mainland billionaires swelled as stock prices soared to record highs, with the benchmark Shanghai Composite Index surging to 6,124.04 points in mid-October. Since then, share prices have fallen in a prolonged correction, with the benchmark index now nearly 65 per cent below that peak. Property prices have also fallen back, although not by as much. Last year, the top three on the list had wealth estimated at US$35 billion. This year, their fortunes total less than half that - US$16.3 billion. The ups and downs of the mainland's newly rich often reflect broader trends in the economy. Ms Yang's fortune came from a controlling stake in Country Garden Holdings, a real estate developer founded by her father. The company's initial public offering in Hong Kong last April raised some US$1.9 billion, and its share price soon more than doubled in value to HK$13.50. Yesterday, the shares fell 8.1 per cent to HK$2.26. Mr Wong has managed to insulate himself somewhat from market turmoil by selling off shares in his private holding company to the company's publicly listed unit.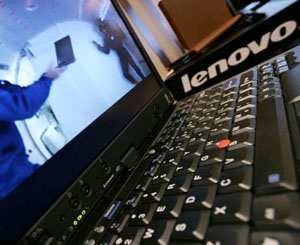 Lenovo is working with regulators and operators in Asia and other markets to introduce its personal computer products with WiMax capability. Mainland technology giant Lenovo Group (SEHK: 0992, announcements, news) will release this week an upgraded portfolio of notebook personal computers in the United States designed for the country's first commercial WiMax network. The world's fourth-largest personal computer supplier will offer six WiMax-ready laptops in Baltimore, Maryland, where US wireless communications carrier Sprint launched last week the nation's first commercial WiMax service. A mobile internet technology, WiMax is a contraction of worldwide interoperability for microwave access - a standard that provides long-range wireless data transmission in a variety of ways ranging from point-to-point links to full mobile cellular-type access. Compared with the limited-range and lower-speed Wi-fi internet access used in coffee shops, WiMax is like a broadband internet hotspot that covers an entire city. David Critchley, a Lenovo product marketing manager in Raleigh, North Carolina, said the initial line of Lenovo products with built-in WiMax capability for Sprint's XOHM-brand service would include the newly released ThinkPad X301 ultra-portable laptop, ThinkPad T400 enterprise notebook, ThinkPad SL400 and SL500 for small businesses, and IdeaPad Y530 for home users. "Lenovo has been at the forefront of the industry's WiMax efforts, as we started well over a year and a half ago," Mr Critchley said. He noted that Lenovo was working with regulators and operators in other markets including within Asia to prepare for future product introduction. Taiwan and Singapore already have commercial WiMax services, while Hong Kong is to auction WiMax spectrum to operators in January next year. Charles Guo, an analyst at JP Morgan in Hong Kong, said Lenovo's efforts to invest and market WiMax-capable computers ran counter to what consumers preferred to buy during the economic slowdown. "In a market downturn, everyone wants cheap, reliable stuff," Mr Guo said. "Lenovo is focusing on products at the high end of the market. Why would people unwisely spend their money on technology that is not useful and unproven?"
China National Chemical Corporation (ChemChina) announced Monday that China Bluestar (Group) Co. Ltd., its joint venture in Beijing with the Blackstone Group, has officially launched. Bluestar, one of ChemChina's subsidiary company groups, will be transformed into a Sino-foreign joint venture. U.S.-based Blackstone is putting 600 million U.S. dollars into the project for a 20 percent stake in the new company. ChemChina and Blackstone signed the cooperation agreement in September 2007. It was ratified by the government in December. A ChinaChem spokesman said the joint venture aimed at internationally-advanced technologies and would build high-tech chemical new materials equipment with self-owned intellectual property. It will draw on Blackstone's successful experience in the global chemical industry and its advanced management ideas. ChemChina is one of the country's state-owned giant enterprises and a leading player in the global chemical industry. It ranked 28th among China's top 500 enterprises and 19th in global chemical enterprises. Bluestar has three subsidiary companies listed on the Shanghai and Shenzhen exchanges.
October 7, 2008

Hong Kong: The chill winds of the global financial crisis may have cooled art lovers' ardour, if the result of Sotheby's Hong Kong art auction yesterday is any indication. On the second day of the auction, 71 of 110 lots of 20th century Chinese art on offer went unsold. Those that were sold fetched about HK$35 million, according to the New York-based auction house. The priciest lot sold was an abstract painting by Zhao Wuji. It fetched HK$4.22 million, failing to realize estimates of between HK$4.7 million and HK$5.5 million. At last night's charity Sport in Art sale, for which Sotheby's teamed up with adidas, only about 43 per cent of the lots were sold. The auction, whose proceeds will benefit Right to Play China and its relief efforts for those affected by the Sichuan earthquake in May, fetched more than HK$6.3 million. A Sotheby's spokeswoman said the auction house was satisfied with the response. She declined to comment on the suggestion that price estimates had been overblown. Yesterday's sale of contemporary Chinese art also saw 37 of the 187 lots on offer unsold. Those that sold fetched a total of HK$90.5 million. Lily Lee, who oversaw the 20th century Chinese art sale, said demand was solid but "buyers were very selective". Yesterday's results appeared to confirm buying sentiment that saw about 40 per cent of lots unsold at Saturday's evening sale of modern and contemporary Asian art. Sotheby's chief executive Kevin Ching last night said it was too early to say if it was due to the financial crisis. He cited last month's sale of 218 Damien Hirst items for £111 million (HK$1.52 billion) in London, hours after the Lehman Brothers collapse. He said the comparatively poor response to Chinese contemporary art sales was understandable. "The market for Chinese contemporary art has experienced unprecedented growth over the past five years - from US$3 million in 2004 to US$194 million last year. It is not surprising that there will be some levelling off." Meanwhile, the Transport Department's auction of personalised car number plates yesterday also saw a record low turnover since the scheme started two years ago. Only HK$2.4 million was raised.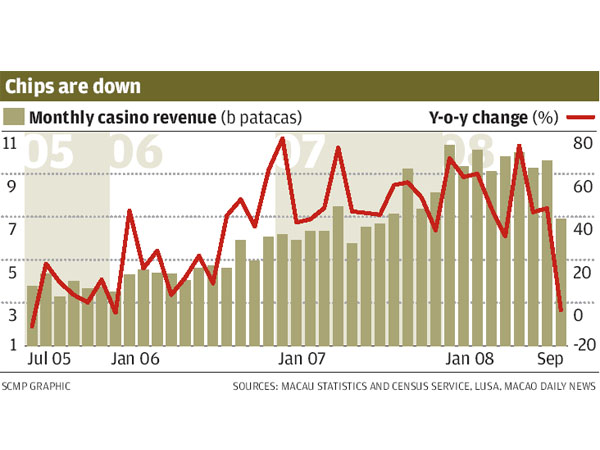 Macau's booming casino revenue growth came to a sudden halt last month as Beijing's crackdown on visits by mainlanders to the city threatens to derail six years of post- liberalization gaming expansion. Monthly casino revenue fell for the first time in nearly three years to 6.9 billion patacas, down 3.4 per cent from a year ago and 28 per cent from the previous month, according to unofficial data reported at the weekend by Portuguese news agency Lusa. September's year-on-year contraction in gaming revenue comes in stark contrast to average monthly growth of 52.5 per cent in the first eight months of the year and was Macau's smallest monthly takings in 13 months. The sharp fall-off comes after Macau's secretary for the economy and finance, Francis Tam Pak-yuen, said last week that Macau's economic growth could come in at just 10 per cent this year despite soaring 26 per cent in the first six months. Casino revenue accounted for 60 per cent of Macau's gross domestic product in the year to June and Mr Tam's forecast implies there will be a 36 per cent decline in gaming revenue between September and December compared with the same period last year. Since June, the central government has been reducing the ease and frequency with which mainland passport holders, including non-permanent Hong Kong residents, can travel to Macau. Industry watchers have been dismayed by the measures, which to date no central or Guangdong provincial government official has explained or commented on. "Overt actions to damage the health of the emerging casino business in Macau just don't seem to be in the best interests of China," one observer said. The restrictions have progressively reduced the number of times individual mainland travelers can visit Macau - from once a fortnight to once a month starting on June 1, then to once every two months starting on July 1. In addition, from September 1 mainlanders travelling to or working in Hong Kong have been required to apply for a separate permit to visit Macau; previously they could visit on their Hong Kong permit. The South China Morning Post (SEHK: 0583, announcements, news) reported last week that from the start of this month, Guangdong residents will be able to visit Macau only once every three months. Shares in SJM Holdings have fallen 53 per cent below their July initial public offering price, while shares in the other five Macau casino operators have fallen between 51 per cent and 87 per cent in the past 12 months due to the visa crackdown, concerns that a junket commission war will eat into profit margins and the prospect of slower future revenue growth.

The government has identified 24 spots to form a heritage trail that tells the story of old Wan Chai, although the fate of some of the buildings is still up in the air and they may eventually be closed off to the public. There are also concerns that merely erecting information signs to create the trail, as the government has done in the past, does not go far enough. The locations identified by the Old Wan Chai Revitalization Initiatives Special Committee cover landmarks like the Blue House on Stone Nullah Lane and the old Wan Chai Market. Two privately owned mansions and the Sikh temple are also on the list. Not all sites are open to the public, however. Nam Koo Terrace on Ship Street is owned by Hopewell Holdings (SEHK: 0054), which has yet to decide whether to make it open to the public or keep it private. No64 Kennedy Road may also end up off-limits to the public. The owner applied to allow for higher-density land use, but is facing objections from concern groups. In addition, the fate of the Wan Chai Police Station is still up in the air. The government has said police would vacate the building, but it is unclear whether it will be preserved. The Old Wan Chai Market, shophouses on Burrow Street and Mallory Street, and the Blue House have been designated for revitalization, but when they will be ready is uncertain. The convenor of the revitalizing committee, Stephen Ng Kam-chun, said members were still studying the details to come up with a design for the heritage trail. The committee has suggested putting up signs and decorating two historic temples with special lights to improve the area at night. Anthony Siu Kwok-kin, a research consultant to the committee, said the trail should take about two to three hours. Professor Siu suggested starting the route in the east along Queen's Road East, zigzagging through the heart of old Wan Chai along Tai Yuen Street and Spring Garden Lane to end on Johnston Road. "But signs would not be enough to tell history. We need well-informed guides," he said. Ho Pui-yin, a historian at Chinese University, also said a trail with signs about the buildings would not be enough to put them into proper context. People on the fringes of society gravitated to Wan Chai in the 19th century, she said. "It was those who could not set foot in Sheung Wan and Central, like coolies working at the piers, that came to live on Queen's Road East." Buildings such as the Blue House were examples of "primitive" housing. "People cramped in these small buildings. Balconies were narrow and lacked decoration. "The drainage pipes exposed on the exterior walls are symbolic of the contemporary sewerage," Professor Ho said. Spring Garden Lane was a red-light zone, said the historian, and there was an orphanage on the same street, run by nuns, to take care of abandoned babies. Towards the west of the trail, Wo Cheong Pawn Shop and Nam Koo Terrace, with western-style facades and wider balconies, signalled the rise of the middle class by the turn of the century, she said. "Wan Chai is an important part of modern Hong Kong identity. When the government says this is its first district-based conservation project, it should use the trail to show how society evolved."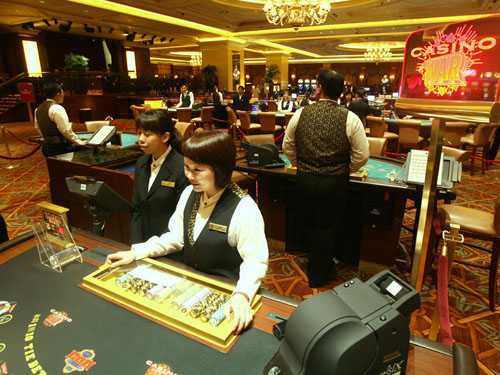 Asian Coast says the Ho Tram project will include twin casino hotels offering 2,300 rooms, 180 gaming tables and 2,000 slot machines. The developer of a planned US$4.2 billion ocean-front casino resort complex in Vietnam is considering a Hong Kong share offering and an entry into Macau's booming market for high-rolling gamblers. Mike Aymong, the chairman of private Canadian firm Asian Coast Development, said the company planned to open the US$1.4 billion initial phase of its Ho Tram Strip project by late 2011 with twin casino hotels offering 2,300 rooms, 180 gaming tables and 2,000 slot machines. "We are considering an [initial public offering] in the next two years but we're waiting for the right time," Mr Aymong said. "Hong Kong would be our first choice. There's a huge appetite there for gaming companies and they understand the business." The projected capital to be raised from the issue would be about US$1 billion, he said. The financial turmoil in recent months has presented challenges for regional gaming firms seeking to tap the debt and equity markets to fund new projects. Las Vegas Sands Corp has cut its borrowing target from US$7 billion to US$5.2 billion in its current attempt to raise funds for Macau projects, while the retail portion of SJM Holdings' HK$3.85 billion share offer in July was heavily undersubscribed. Mr Aymong said Asian Coast had prepared an US$800 million to US$900 million debt offering but planned to ride out the financial storm before taking it to market. "You'd have to be a fool not to be concerned about the marketplace, so we just have to pick our timing and pick our price. We've got enough money where we can start the pre-construction and start building, and when the market opens back up, we'll go out and do the debt offering." Asian Coast is 26 per cent owned by Mr Aymong and chief executive David Subotic. Wall Street financier Philip Falcone's Harbinger Capital Partners holds another 26 per cent, and other shareholders include Bessemer Venture Partners and Southpaw Asset Management. The Hong Kong share sale would be in addition to the debt offering to help cover costs of the US$1.4 billion initial phase of the project and fund future phases. Asian Coast's Ho Tram project spans 222.6 hectares including 2.2km of beachfront in Bang Ria-Vung Tau province, 1-1/2 hours south of Ho Chi Minh City. The master plan for the Paul Steelman-designed project calls for five resorts with more than 9,000 hotel rooms, a convention centre, theatre, marina, dolphin park, Greg Norman-designed golf course and 300 condominium units. "This is different from but complementary to Macau. People will be coming to our place and stay longer and spend more money," Mr Aymong said. "Sixty per cent of our customers are going to come from China." There are only two small-scale casinos operating in Vietnam, one of which is owned by Stanley Ho Hung-sun, and access is restricted to foreign-passport holders. "Currently, Vietnamese are not allowed to gamble, but I'm hoping the government will look at that and open it up to everybody," he said. The nation's 25 per cent tax rate on gaming revenue is comparable to Malaysia or the Philippines and compares with Macau's 39 per cent rate. Gaming tax rates play a major role in determining the level of commissions and rebates casino operators can offer to VIP gambling junket agents and their customers. Mr Aymong said the company was in "advanced conversations" with several large junket operators in Macau who were exploring alternative markets. He added that the firm was also in discussions with well-known industry players to manage its casinos and hotels and will be announcing several senior executive appointments early this month. Still, analysts expressed concern over Asian Coast's ambitious fund-raising target and its current lack of a casino partner. "Raising funding in financial markets like these is no easy task and will be all the more difficult without a well-known and established gaming company attached to the project," said Lawrence Klatzkin, a gaming analyst at Jefferies.
The Executive Council has agreed to a land swap that will allow the Housing Society to develop the first integrated community project for the elderly and create up to 800 jobs in Tin Shui Wai.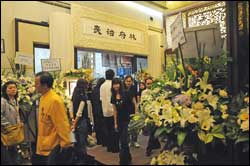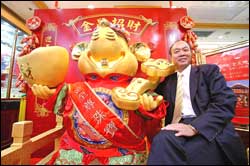 Commercial crime detectives have launched a probe into an allegation that a top executive of the jewelry firm Hang Fung Gold Technology (0870) stole as much as HK$200 million from the company. Sources have told Sing Tao Daily, the sister paper of The Standard that a report was filed with police just a day before the funeral of the company's founder and late chairman, Lam Sai-wing. The Commercial Crime Bureau launched an investigation after a review of the evidence. The force has so far refused to comment officially on the case. Sing Tao Daily was unable to reach the Hang Fung Gold senior executive allegedly involved despite repeated attempts. Lam died suddenly on September 26, he was 53. His wife, company co-founder Jane Chan Yam-fai, went to Universal Funeral Home in Hung Hom yesterday to arrange funeral preparations. Lam's coffin will be sent to Wo Hop Shek Crematorium this morning. Hang Fung Gold, which became famous for the iconic golden toilet that Lam turned into a tourist attraction, manages the 3D-Gold jewelry brand. His driver went to his home on the morning of September 26, but by noon Lam had not come out. The maid then knocked on Lam's bedroom door but there was no response. Later, chief executive officer Kathy Ng Yee-mei went to the house with a locksmith and found Lam dead on his bed.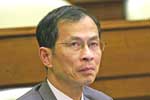 DAB's Tsang set to clinch top post - Democratic Alliance for the Betterment and Progress of Hong Kong founder Jasper Tsang Yok-sing is almost certain to become the next Legislative Council president.

China: Japan's new prime minister, Taro Aso, plans to visit China this month for his first summit with mainland leaders since taking office last month. He would attend an Asia-Europe Meeting (Asem) in Beijing on October 24-25 and planned talks with President Hu Jintao and Premier Wen Jiabao , Kyodo reported. There has been speculation that Mr Aso may call a general election this month, making some within the government concerned he may not be able to attend the Asem. But Mr Aso had indicated he would first implement measures to fight the economic slowdown rather than calling an election, which would allow him to visit Beijing, Kyodo said. During the visit, Mr Aso plans to attend a ceremony to commemorate the 30th anniversary of the peace and friendship treaty between Japan and China. Mr Aso did not visit China when he was foreign minister from 2005 to last year under prime ministers Junichiro Koizumi and Shinzo Abe. During his stint as foreign minister, Japan's relations with China were at their lowest ebb because of Mr Koizumi's pilgrimage to the controversial Yasukuni Shrine, which honors Japan's 2.5 million war dead, including 14 class A war criminals. Mr Aso, a grandson of post-war prime minister Shigeru Yoshida, was an unapologetic defender of Mr Koizumi's visits to the shrine. He once even mocked Beijing's protests, suggesting that they inspired him: "It is just like when you're told, `Don't smoke cigarettes', it actually makes you want to smoke. It is best to keep quiet." Mr Aso took over as prime minister from Yasuo Fukuda, a long-time advocate of better ties with the rest of Asia, after Mr Fukuda stepped down.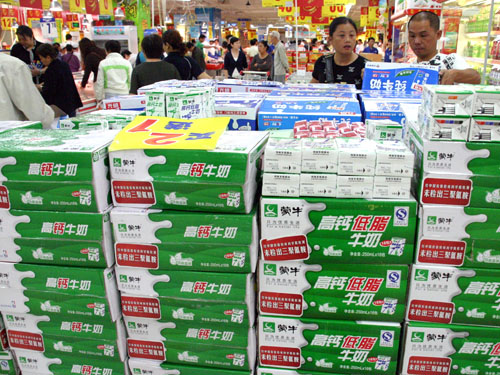 Customers check out the new stock of milk at a supermarket in Nanjing yesterday after none of 609 batches failed a test for melamine. More foreign countries have imposed bans on mainland food products even as the country's top food safety watchdog said none of hundreds of liquid milk samples had failed a new round of testing for melamine. The latest test of 609 batches of liquid milk from 27 cities across the mainland detected no melamine, the industrial chemical at the centre of the dairy scare that has left four infants dead and made thousands ill, the Beijing Morning Post reported. Seventy-five brands were sampled for the test, including prominent ones such as Yili, Mengniu and Bright Dairy, the paper said, citing the General Administration of Quality Supervision, Investigation and Quarantine. It was the sixth test since the milk scare broke out last month, according to the administration, the nation's top product quality watchdog. The administration has sent scores of inspectors to factories manufacturing baby formula and other milk powders in an attempt to supervise production and provide timely results of tests. In addition, the Ministry of Agriculture has sent out 152,000 officials and investigated nearly 19,000 milk-collecting stations, which have been criticised for adding melamine to milk collected from farmers before reselling it to producers of milk products. The melamine was added to watered-down milk to boost results in quality tests for protein. In a meeting on Friday aimed at supporting milk farmers, Agriculture Minister Sun Zhengcai called on fellow cadres to launch detailed investigations and impose punishments when necessary to ensure fodder safety and set up an industry standard to regulate melamine in feed. At least 151 illegal enterprises have been banned for allegedly manufacturing fodder adulterated with melamine, Xinhua quoted a source from the ministry as saying. Three more are being investigated. While underlining the importance of ensuring there was no abuse of antibiotics or drugs in the livestock industry, Dr Sun urged officials from various levels of agricultural and veterinary departments to stick with several measures designed to address the problem. "On the one hand we must crack down on illegal behaviour, but on the other hand we must protect the interests of the dairy sector," he said. "We must do our best to minimize the dumping of milk and we must resolutely prevent the killing of cows." The minister also pledged to register and supervise all milk stations across the nation by yesterday. Despite almost all mainland media striving to reassure the public that it is safe to resume consumption of dairy products, there is a growing list of countries banning mainland-made food after finding tainted samples. On Saturday, Guyana became the second Caribbean Community member, after Surinam, to pull Chinese dairy products off the market. Its health ministry said it was targeting in particular "Milky Evaporated Milk". Meanwhile, South Korea's food and drug administration said it had blocked 1,637 tons of Chinese-made kimchi because of food safety concerns last year, up from 282 tons in 2006, for containing "inedible" additives such as cancer-causing artificial sweeteners or banned colorings.
China's securities regulator announced Sunday that it will soon launch margin trading business for securities firms, which has long been expected by the market.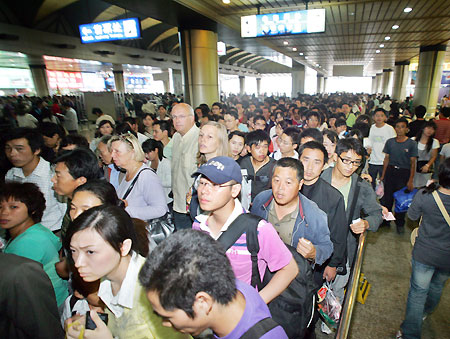 Travelers queue up to buy train tickets at a railway station in Hangzhou, East China's Zhejiang province October 4, 2008. More than 18.29 million people visited 119 major tourist destinations nationwide between Sept 29 and Oct 5, a 13.2 percent increase year-on-year, National Tourism Administration statistics showed. Retail sales of consumer products during the holiday surged 21 percent year-on-year to reach 420 billion yuan ($61 billion), the Ministry of Commerce said Friday. The capital remained one of the top choices for travelers during the holidays. "Although most tourist spots have attracted a growing number of visitors, Beijing was still the first choice for most tourists during the Golden Week because of the Olympic Games," said Jia Shuo, an employee with the Beijing Great Wall International Travel Agency. Zhang Jinling, who visited Beijing from Shandong province, agreed. "The Water Cube, the Bird's Nest and the Olympic Village are must-see places for every Chinese," the 26-year-old said.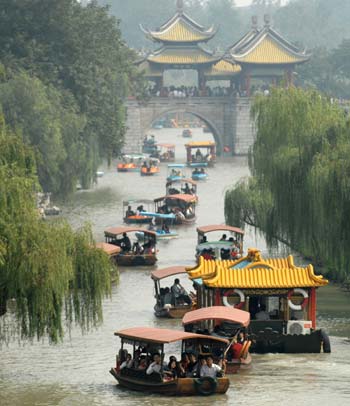 Tourists enjoy a ride on boats though Slender West Lake in Yangzhou of East China's Jiangsu Province October 1, 2008, the 59th National Day. China is celebrating the week-long National Day holiday starting from September 29.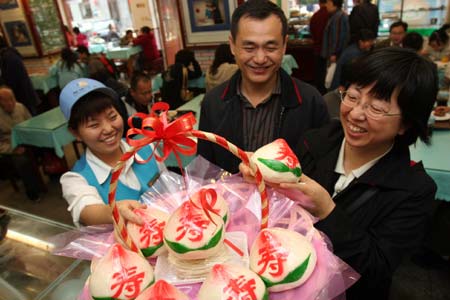 People select Shou Tao (longevity peach bun) ahead of the Chongyang Festival at a restaurant in Beijing, October 5, 2008. Chongyang Festival is a traditional day celebrating the elderly on the ninth day of the ninth month according to the lunar calendar. Shou Tao is a kind of Chinese steamed bun in the shape of a peach and is usually sent as a gift for elderly people. This year's Chongyang Festival falls on October 7.
Workers pack Shou Tao (longevity peach bun) at a restaurant in Beijing, October 5, 2008. Chongyang Festival is a traditional day celebrating the elderly on the ninth day of the ninth month according to the lunar calendar. Shou Tao is a kind of Chinese steamed bun in the shape of a peach and is usually sent as a gift for elderly people. This year's Chongyang Festival falls on October 7.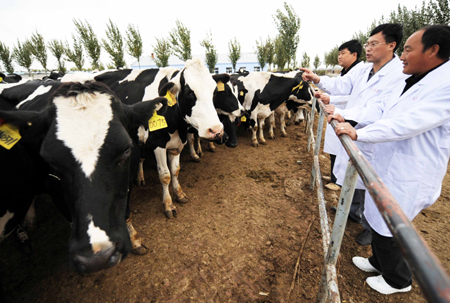 Officials from Shuangcheng City, Heilongjiang Province, give instructions to dairy farmers on October 2. China's Ministry of Agriculture said Saturday it had made an emergency rescue plan with the Ministry of Finance to give special subsidies to the country's dairy farmers, who have suffered from shrinking demand after the tainted milk scandal. China's Ministry of Agriculture said Saturday it had made an emergency rescue plan with the Ministry of Finance to give special subsidies to the country's dairy farmers, who have suffered from shrinking demand after the tainted milk scandal. Fewer dairy farmers were dumping raw milk as government support policies to shield them from losses paid off, said the ministry in a statement on its website. Some dairy farmers started to dump raw milk because of decreased demand as customers lost confidence in local dairy brands after the scandal erupted last month. The ministry said 14 local governments had already come up with policies to stabilize the dairy industry. Some local authorities have promised subsidies for dairy farmers to reduce the cost of feeding cows. For instance, north China's Hebei Province has earmarked 316 million yuan ($46.4 million) as subsidies on the basis of 200 yuan for each cow. The country had sent more than 150,000 officials to overhaul milk-collecting stations and cow feed supply chains as of Thursday, said the ministry. Altogether 18,803 milk-collecting stations had been registered and checked by then. The ministry also investigated 98 dairy producers and farms, banned 151 illegal companies and transferred to the police three manufacturers of feedstuff that contained melamine. It urged local authorities to reinforce bailout measures and technical guide on cow feeding and epidemic control. In an effort to encourage dairy producers to buy raw milk, the Ministry of Finance said last month that interest rate for loans to dairy producers' raw milk purchase will be reduced by 3.1 percent, or half of the six-month lending rate, from October to December.
October 6, 2008

Hong Kong: The Education Bureau has launched an investigation into an online learning portal run from Hong Kong after an investigation by the South China Morning Post (SEHK: 0583, announcements, news) linked it to an international web of so-called degree mills and bogus universities. ICL Distance Learning Centre, whose enrolment address is in Central, also seems to have been offering online courses from prestigious US universities without their consent. The centre's director is Steve Ho Kwok-cheong, of Lai Chi Kok. The ICL's website claimed he had lectured at four overseas universities, but they had no record of having employed him. Mr Ho's name has also been connected to the scandal in the US over bogus institution St Regis University. He is listed in court documents related to the prosecution in that case as a "dean of studies" for the St Regis School of Business and the St Regis School of Martial Arts. This week, ICL's website - www.icledu.org - listed courses from 11 universities in the US, Central America and the Philippines that the centre claimed to be linked to either through affiliation or collaboration. The names of several have since been removed. The partner institutions included prestigious names such as Carnegie Mellon University in Pittsburgh, Mercy College in New York and the University of Washington in Seattle. Contacted by a Post reporter, Mr Ho said his business was legitimate. However, Post reporters have discovered that one of the universities, York University in Mobile, Alabama, is unlicensed, and another, West Coast University in Panama City, Panama, does not exist. The former's website lists Mr Ho as a member of its academic board. Spokesmen for Carnegie Mellon and Mercy College said they were not aware of any connection. A spokeswoman for the University of Washington said: "A unit of University of Washington Education Outreach entered into an agreement with [the centre's parent company] In-Com Link [Management Associates] in April 2003, but their last agreement expired April 6, 2006." She said the university had sent a letter demanding ICL "remove all links or references to the University of Washington from its website". Mr Ho said he was only acting as a recruiting agent for the universities. "I did not say these degrees were accepted in Hong Kong," he said. He said the University of Washington's name was left on the site as a result of an oversight. All references to the institution and to York and West Coast universities disappeared from the site yesterday. References to Nueva Ecija University of Science and Technology in the Philippines were removed earlier within hours of a Post reporter confirming the university had no connection to ICL. A spokeswoman for the Education Bureau said there was no need for schools providing "purely online" courses to register, but the bureau would look into the website. "If there is any evidence that the course information therein is misleading, we shall take action as appropriate."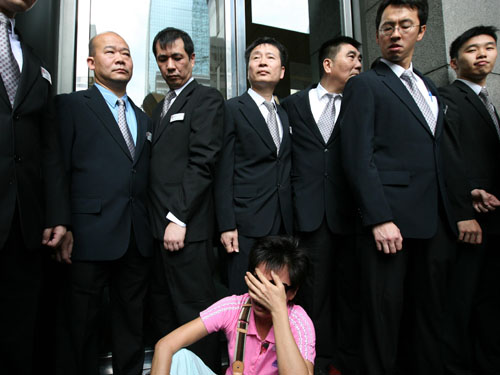 A loser from the crisis - an investor in Bank of China (HK) minibonds - shows her feelings at being barred from its headquarters yesterday. Despite the passage of the US government's US$700 billion bank bailout, Hong Kong must brace for belt-tightening amid the global "financial tsunami", the city's labour chief and a top banker said yesterday. HSBC (SEHK: 0005, announcements, news) Asia-Pacific executive director Peter Wong Tung-shun warned the impact of the crisis would be "far more severe" than that of the 1997-98 East Asian financial crisis. "This will affect Hong Kong and the whole world," he said. The effects would be felt for another 12 months and recovery would take "much longer" than a decade ago. So far investors - including buyers of minibonds backed by bankrupt US bank Lehman Brothers, who scuffled with bank security staff yesterday - have been the biggest losers locally from the crisis. But both men warned its impact would grow. Mr Wong expected Hong Kong businesses would have to control costs, but said mass layoffs were unlikely. Matthew Cheung Kin-chung, the secretary for labour and welfare, forecast jobs would go, however. He said: "The financial tsunami will have a far-reaching impact. Enterprises may need to make manpower changes and there is a chance unemployment will rise, particularly in the finance and property sectors. Consumption will likely be hit too." China joined governments around the world in welcoming the US House of Representatives' 263-171 vote in favour of the bailout. The mainland's central bank said authorities had contingency measures to minimise the impact of the crisis. The People's Bank of China said it would strengthen co-ordination with the US and other countries to stabilise global financial markets. "All countries have to co-operate in view of the current financial crisis," a PBOC statement quoted Premier Wen Jiabao as saying. Maintaining rapid economic growth would be China's biggest contribution to the global economy, he said. Before signing the bailout bill into law, US President George W. Bush thanked lawmakers, saying: "We have acted boldly to help prevent the crisis on Wall Street becoming a crisis in communities across our country." Friday's vote capped an extraordinary two weeks of tumult in Congress and on Wall Street, punctuated by urgent warnings from Mr Bush that the country confronted the gravest economic disaster since the Great Depression if lawmakers failed to act. And it was followed by sombre reminders on Wall Street, where enthusiasm over the rescue gave way to worries about obstacles still facing the economy, sending the Dow Jones Industrial Average down 157 points. US Treasury Secretary Henry Paulson pledged quick action to get the programme up and operating. Highlighting the ferocity with which the global crisis has swept into Europe, Belgium and Luxembourg scrambled to find a buyer for the rest of financial group Fortis after the Netherlands nationalised most of its Dutch units. Last week the three governments had injected €11.2 billion (HK$120.4 billion) to keep it afloat. In Paris, the leaders of Europe's four biggest economic powers held crisis talks on the global financial meltdown, despite disputes that killed off talk by French President Nicolas Sarkozy of a joint bailout package for European banks. German Chancellor Angela Merkel and British Prime Minister Gordon Brown only confirmed they would attend after France quietly backed away from a joint fund. German Economy Minister Michael Glos warned "very well paid" bankers they must put their own houses in order.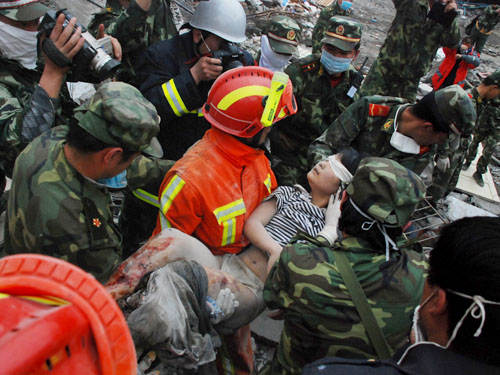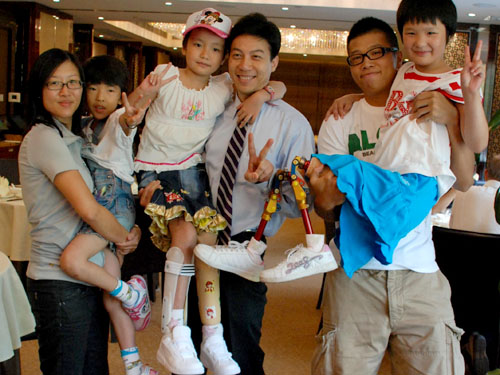 Zhang Chunmei is rescued from the rubble of her school. Zhang Chunmei now has two artCleanliness, security and Disneyland. Those are what impressed Zhang Chunmei most about Hong Kong. For the 11-year-old, who spent 68 hours beneath the rubble of her school after the May 12 earthquake, such things are precious. Chunmei lost both her legs despite being flown by military helicopter to Chengdu from the quake's epicentre in Yingxiu after her rescue. She visited Hong Kong last week with two other young quake survivors - Kan Ruoqi , who lost her left leg, and Xia Fengting , who lost her right arm when Xinjian Primary School in Dujiangyan collapsed on them. More than 300 of the school's 680 students and teachers were killed. "Only six, including Fengting and me, out of 46 pupils in my class, managed to escape or be rescued from the ruins," Ruoqi said. The pair, both nine, and Chunmei were in Hong Kong on a packed four-day trip arranged by the Rotary Club of Tai Po. It included a medical conference but also plenty of sightseeing. They have seen more trauma this year than most of us ever will, but they were just like any other group of little girls after a visit to Disneyland. "They just kept talking deep into the night after they came back to the hotel," said Ruoqi's mother, Wang Yan. Chunmei particularly loved the park's Mad Hatter Tea Cups and Dumbo the Flying Elephant rides. Before wrapping up their trip, they tasted dim sum for the first time at a Sha Tin restaurant. The trio were delighted with their trip, the gifts they received and the food they ate, but behind the excitement the pain remains. When four able-bodied children began playing around them, Fengting's mood changed. "How come there is so much bitterness and suffering in our lives?" Fengting asked Ruoqi, who was sitting to her right. Ruoqi's father, Kan Jianning, was surprised. "How can you say something like this? The parents who have to take care of you all have an even harder time." Ruoqi replied: "What I've just said is true. Look, we are so young but suffered so much pain while others can enjoy their lives." Almost five months after the devastating Sichuan earthquake, which left 88,000 people dead or missing and 15 million homeless, the scars are no longer physical. Lan Xiufu, an orthopaedic specialist at Chongqing's Daping Hospital who carried out about 100 amputations on earthquake victims, said what the young victims needed most were mental-health services. The Hong Kong Society for Rehabilitation estimates that 15 per cent, or 7,500, of the 50,000 people left disabled by the quake are amputees. Mr Kan said that sometimes "depressed and jealous feelings" arose from deep in Ruoqi's heart, especially when she saw healthy children. "I know Fengting is envious of her healthy peers, while Ruoqi desperately wants a pair of legs so she can walk and run just like other children," he said. "Once I took Ruoqi to a park nearby in Chengdu. I wondered why she had fallen silent after playing for a while. Only when she refused to go there the next day, saying it was because of the mosquitoes, did I realise that it was because the other children had been staring at her prosthesis." Mr Kan and his wife have both stopped working temporarily to dedicate their time to helping their daughter overcome her mental scars. Fengting rubs her stump against her mother Li Hongwing's face every night to make sure she is beside her. "Only then can Fengting sleep in peace," Ms Li said. As they prepared to fly back to Chengdu, Ruoqi and Fengting asked their parents to promise them they would bring them back to Hong Kong if they did well in school. Chunmei said nothing. She had not spoken all morning. No one knew why sorrow had overtaken her happy mood. Just as they were about the leave for the airport, a hotel security guard from came over, shook Chunmei's hand and passed the youngster a scrap of paper. On it was written: "I wish you good health, from Tony Tam." Without saying a word, she boarded the bus.ificial legs (right). Chunmei visited Hong Kong last week with other young survivors Kan Ruoqi (centre) and Xia Fengting.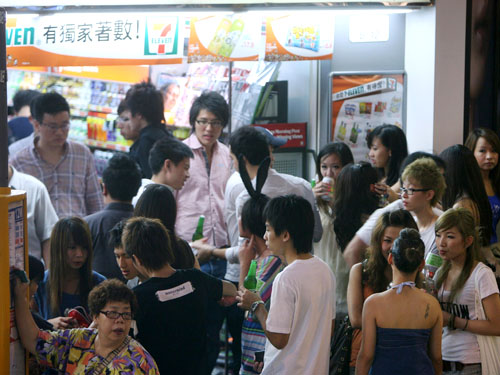 It could be Hong Kong's least exclusive nightspot. But with drinks costing less than your average bottle of water, it is no surprise that financially challenged youngsters choose the 7-Eleven - or "Club Seven" - as their drinking establishment of choice in Lan Kwai Fong. The 7-Eleven on D'Aguilar Street was easily the most crowded venue in the district at midnight on a recent weekend, a Sunday Morning Post (SEHK: 0583, announcements, news) reporter observed. Judging from the number of revellers dropping in to buy beers and alcoholic drinks and the 100-strong crowd drinking outside, the store competes as a de facto bar. "I like to get pre-drinks at 7-Eleven before clubbing, so as to get a bit tipsy before going in," said party-goer Felix Lam Kai-lok. "It's more expensive in the club. [At 7-Eleven] I can possibly save more than 40 bucks per drink," the 20-year-old said. He added that the store was a good "hanging-out spot" to wait for friends before hitting the clubs. But bars close to the two Lan Kwai Fong 7-Elevens admitted to feeling the pinch. The manager of the Coconuts bar, Abdul Hanif, said the popularity of the convenience store had put a damper on his business. The opening of another 7-Eleven across the street three months ago made matters worse, he said. "Our customers buy less cigarettes and drinks from us," he complained, adding that more guests were not making their purchases at his bar. "Sometimes when they come in and out with a bottle of Heineken or Stella Artois, it's hard to tell whether they bought it here or there." Mr Hanif also claimed that the rowdy, drunken crowds congregating outside the 7-Eleven at night were a nuisance to guests and staff alike. "The teenagers outside are often very noisy and drunk. Sometimes there is fighting, too. It's big trouble to us." Clubs with an older clientele pronounced a different verdict, however. For Lux, a nightclub that aims to attract mature drinkers, the 7-Elevens were a welcome presence. "We think 7-Eleven is good because it can separate potential customers from those who can't spend too much on drinks," said manager Phillip Chow Chi-hong. "Those who cannot spend much money, now they're all staying at the corner." The police, while aware of the potential for under-age drinking and the occasional fight breaking out at the store, were nonchalant. "There are troublemakers everywhere in the Lan Kwai Fong area," said a policeman patrolling the area. "Also, it's hard for sales staff at 7-Eleven to refuse to sell to under-age drinkers because some customers will say they have no right to check IDs. We will only look into the matter if there are complaints. This is how life is - the way businesses are conducted." A 7-Eleven spokeswoman said the company regularly stocked more alcohol than usual at its Lan Kwai Fong outlets. Staff try their best to serve only customers who are over 18.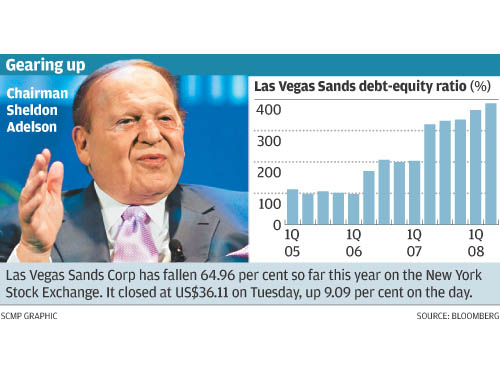 Sheldon Adelson, the chairman and controlling shareholder of Las Vegas Sands Corp, yesterday injected US$475 million of his own money into the casino developer to help fend off a cash crunch as it struggles to raise funds for new Macau mega resorts. The Adelson family's purchase of US$475 million in convertible notes comes as Las Vegas Sands is reconsidering efforts to raise US$5.25 billion in bank loans to fund current and future resort construction on Macau's Cotai Strip after running headlong into the global financial crisis. "While the credit markets are experiencing turbulence, our strategy remains alive and well and our business continues to march forward," Mr Adelson said yesterday. "This investment will strengthen our capitalisation and liquidity position as we continue to execute our plans." In addition to operating the 3,000-room Venetian, Sands and newly opened Four Seasons in Macau, Las Vegas Sands is spending US$3.3 billion to build a 6,400-room Cotai casino resort scheduled to open in phases from next year with four branded hotels: the Sheraton, Shangri-La, Traders and St Regis. The company previously planned to tap Asian lenders for about US$7 billion in debt financing but by July had revised down its target to US$5.25 billion. Last month, it further slashed its borrowing target to US$3.3 billion, Citigroup analysts said on September 9. But a Reuters report yesterday cited Mr Adelson as saying the firm was considering abandoning the Macau mega-financing package in favour of smaller project financing deals. He said the company now preferred to leave the terms of its existing Macau debt unchanged and could accelerate plans to raise capital by selling off assets such as the shopping centres attached to its casino resorts. In addition to turmoil in the global markets, Las Vegas Sands' fund-raising efforts have been frustrated by the company's increasingly leveraged financial position, Macau margin pressures due to higher junket commissions and concerns that a government crackdown on mainland visitation will slow growth in casino revenue. The firm's gearing has more than tripled in the past three years. Total debt-equity ratio stood at 387.01 per cent in the second quarter, according to Bloomberg data. Mr Adelson's cash injection came after Standard & Poor's last month downgraded Las Vegas Sands' credit rating on liquidity concerns. He and his family, who control 64 per cent of the company, will pay US$475 million for convertible senior notes that pay interest at 6.5 per cent and on maturity in 2013 can be exchanged for shares in Las Vegas Sands at US$49.65 per share. The strike price represents a 37.5 per cent premium to the stock's closing price of US$36.11 on Tuesday. Shares in Las Vegas Sands have fallen 64.96 per cent in the year to date.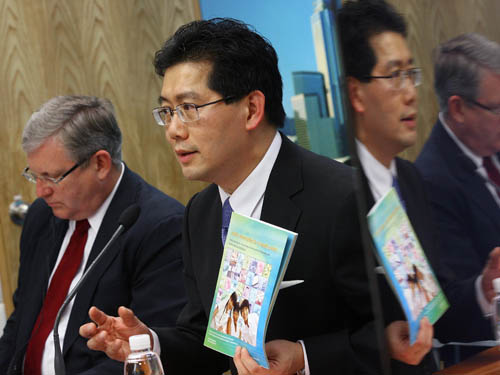 Duncan Pescod, permanent secretary for commerce and economic development, and Greg So announce the proposals to regulate obscene and indecent articles. An independent classification board would be set up under government proposals to improve the regulation of obscene and indecent articles in the wake of the celebrity sex photos scandal. The proposals, set out in a consultation paper released yesterday, also include a new system to classify articles and the mandatory provision of a filtering service by internet service providers. Board decisions would be subject to appeal to the Indecent Articles Tribunal, which now handles classifications. The posting and publication of photos of female stars in sex acts with entertainer Edison Chen Koon-hei on the internet and in print media in March prompted calls for tighter controls over dissemination of obscene or indecent materials in various media. Under the revamped classification system, articles now classified as Class II indecent would be subdivided into material restricted to persons above 15 and 18 respectively. "We want to maintain the free flow of information and the freedom of speech, yet it is important to put teenagers under protection [from indecent or obscene materials]," the undersecretary for commerce and economic development, Greg So Kam-leung, said in launching the first round of consultation. One of the options to improve the adjudication system of obscene articles is to set up a two-tier system under which an independent classification board would make interim classifications. The existing Obscene Articles Tribunal would remain as a judicial body to consider appeals against the board's decisions and deal with articles referred to the tribunal by courts. The new classification board would draw in 20 to 30 lay members from sectors like education, social welfare, media, cultural services and district organisations. Under the existing arrangement, the tribunal, which is a judicial body, has exclusive jurisdiction to determine whether an article is obscene or indecent. Another option is to improve the tribunal by drawing adjudicators from the list of 570,000 jurors in the city for each tribunal hearing, expanding the panel of adjudicators from the existing 300 to 500 or more. The number of adjudicators at each hearing could also be raised. The third option is to abolish the tribunal and authorize a magistrate to classify articles. Civic Party lawmaker Ronny Tong Ka-wah said it was not plausible to abolish the tribunal or to draw adjudicators from the jurors' list as this would lay too heavy a burden on the judiciary system. "[Classification] is a moral, not legal issue and it is better handled by the public instead of the court," said Mr Tong, a senior counsel. "A better proposal is to expand the tribunal." Mr So agreed that it would impose a heavy burden on the courts if a single magistrate was responsible for classifying articles as there were 70,000 classification cases a year. Obscene Articles Tribunal adjudicator Mervyn Cheung Man-ping said it could not meet the demand with only 20 or 30 members in the independent classification board under the two-tier system proposal. One option to improve the classification system is to divide indecent articles into Class IIA, restricted to those aged above 15, and IIB restricted to those above 18. Class IIA articles would be required to provide statutory advice and subject to a wrapping requirement; Class IIB articles would be subject to a wrapping requirement and could only be displayed in premises restricted to people above 18. Under the existing law, Class II articles must not be published or sold to people under 18. The first round of consultation is scheduled to end on January 31. Definitions: * Define more broadly "the undue exploitation of sex, horror, cruelty and violence". Adjudication: * Two-tier system comprising a classification board and the existing tribunal to handle appeals; * Expand the existing adjudicators panel; * Have magistrate classify articles; * Mandatory submission for classification before laying charges; * Issue guidelines on submission in borderline cases. Classification: * Subdivide indecent category into two age groups, one restricted to 15 and one to 18; * A new nomenclature to avoid confusion arising from the different terms used in film classification. New media: * Require internet service providers to provide filtering software; * Enforcement agencies to issue "take-down notices" to indecent websites; * Require provision of credit card details as a means of checking website user's age; * A voluntary labelling system for websites unsuitable for children; * Tighten up service contracts; * Regulate internet chat rooms. Penalties: # Raise maximum penalty to HK$2 million fine and three years in jail.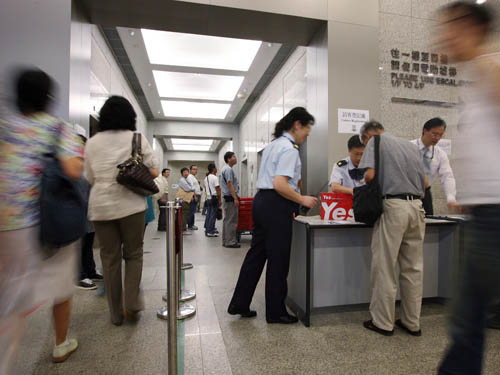 Staff take the personal details of visitors at a makeshift security post set up at Revenue Tower after Thursday's fire. Police expect to take about two years to complete a review of security at 50 government buildings, including Revenue Tower, the scene of Thursday's arson attack. The Government Property Agency said yesterday that the review by the Crime Prevention Bureau - launched after a Thai woman's body was found in Revenue Tower in 2005 - was about 70 per cent complete. Remote monitoring, addition of metal bars to glassed-in counters and replacement of wooden entrance doors with steel doors are under discussion in the review. Thursday's fire, in which a man ignited a liquid at an Inland Revenue Department service counter in the Wan Chai building, brought calls for stepped-up security in the public areas of government buildings, particularly those involved in collecting money. Police will meet representatives of government departments in Revenue Tower in the next few days to discuss security improvements. They also planned to meet representatives of departments in the Queensway Government Offices in Admiralty. Crime Prevention Bureau Chief Inspector Bob White said yesterday that police were concerned about access control at government buildings and the security of the buildings outside office hours. He said closed- circuit television could be useful to strengthen security. Use of security guards - called for by civil service unions after Thursday's fire - would also be discussed, he said. Meanwhile, the Business Registration Office on the fourth floor of Revenue Tower - scene of the arson attack - reopened yesterday, although 15 minutes late. The three payment counters damaged in the blaze remained sealed for repairs and pipes and ducts were visible through the damaged ceiling. The public were told they could pay their bills at a designated counter in the Stamp Office on the third floor or at the nearby post office. Tightened security measures were introduced, with counters set up at the lobby and on the first floor yesterday morning. All visitors had to register their personal details, such as names and identity-card numbers, before entering the tower, while officers had to show their staff cards. Occasional checks on bags and belongings were also conducted at the counters. The measures would last "until further notice", according to an announcement in the lobby. One woman said the arrangement yesterday was quite chaotic; she had managed to get to the fourth floor without registration and unnoticed. "I was told to wait for registration, but there was a long queue and I just rode up on the escalator," she said. An employee of an accountancy firm who had to visit the Business Registration Office every day said the new measures had brought inconvenience. "It looks like a response to the fire yesterday. I am fine, as it looks safer despite a little trouble. "I hope the arrangement will be better in future."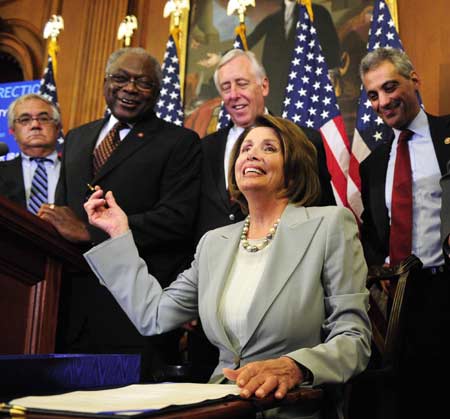 U.S. House of Representatives Speaker Nancy Pelosi signs the financial rescue package bill in Washington, Oct. 3, 2008. The U.S. House of Representatives on Friday approved a revised 700 billion dollar bailout plan, authorizing the U.S. government the largest financial intervention since the Great Depression. The financial bailout package was passed by a vote of 263-171. The Senate passed the measure earlier in the week on a bipartisan vote of 74-25.
A total of 380,374 visitor arrivals were recorded in Macao during the first four days of this year's National Day "Golden Week" holidays, an increase of 29,374 compared with the corresponding period of last year, The Macao Post Daily reported on Friday. About 99,269 visitor arrivals were logged on the National Day alone, which was the highest number so far of the "Golden Week" holidays, according to the daily, which quoted statistics from Macao's Public Security Police (PSP). The PSP were also quoted as saying that the figures of 380,374 visitor arrivals were recorded between Sept. 29, the first day of the holidays, and 10 p.m. local time Thursday. According to the PSP statistics, some 351,000 visitor arrivals were recorded during the corresponding period of last year's "Golden Week".

China: China has made unparalleled achievements since it adopted the policy of reform and opening-up 30 years ago and China's development "brings opportunities rather than threats," a French expert told Xinhua in a recent interview. Jacques Marsaille, a renowned expert on economic history and professor at Sorbonne University, has visited China four times in the past 10 years and garnered a well understanding of the Asian country. Due to 30 years of unremitting efforts, the number of people living in poverty has been greatly brought down and huge changes have also taken place in the Chinese society, Marsaille noted. "I don't hold that China's swift development poses any threat to others, instead, it brings opportunities," he said. "China, with a unique history and culture, has not been seekinghegemony in its rapid development despite the ever-strengthening of its economic muscle," he said. Holding an optimistic attitude toward China's future, Marsaillesaid the Chinese people will undoubtedly stride forward on its own development path. Touching on the economic cooperation between China and France, the professor said the ever-expanding Chinese consumption market brings wonderful opportunities to French enterprises. "I will go all out to help the French entrepreneurs better understand the Chinese culture and market since huge potentials in the Chinese market awaits them to tap," Marsaille said.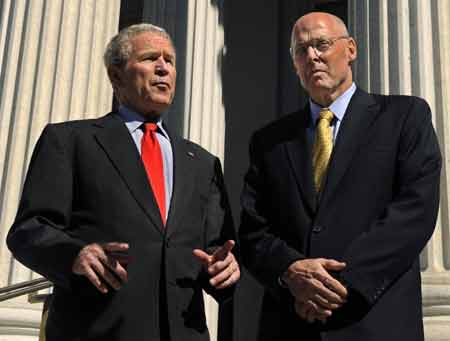 The ongoing global financial turbulence will have a limited impact on China's banks and financial system in the short run, according to officials and experts. "We feel China's financial system and its banks are, to the chaos developed in the U.S. and other parts of the world, relatively shielded from those problems," said senior economist Louis Kuijs at the World Bank Beijing Office. He told Xinhua one reason was that Chinese banks were less involved in the highly sophisticated financial transactions and products. "They were lucky not to be so-called developed, because this (financial crisis) is very much a developed market crisis." A few Chinese lenders were subject to losses from investing in foreign assets involved in the Wall Street crisis, but the scope and scale were small and the banks had been prepared for possible risks, Liu Fushou, deputy director of the Banking Supervision Department I of the China Banking Regulatory Commission, told China Central Television (CCTV). Chinese banks had only invested 3.7 percent of their total wealth in overseas assets that were prone to international tumult, CCTV reported. The ratio of provisions to possible losses had exceeded 110 percent at large, state owned listed lenders, 120 percent at joint stock commercial banks and 200 percent at foreign banks. Kuijs noted most of the banks resided in China where capital control made it more difficult to move money in and out. Besides, the country's large foreign reserves prevented the financial system from a lack of liquidity, which was troubling the strained international markets. "At times like this, one cannot rule out anything," he said. "But still we believe the economic development and economic fundamentals in China are such that it's not easy to foresee a significant direct impact on the financial system." However, he expected an impact on China's banks coming via the country's real economy, as exports, investment and plans of companies would be affected by the troubled world economy and in turn increase pressure on bad loans. Wang Xiaoguang, a Beijing-based macro-economist, said the growing risks on global markets would render a negative effect on China in the short term but provided an opportunity for the country to fuel its growth more on domestic demand than on external needs. He urged while China, the world's fastest expanding economy, should be more cautious of fully opening up its capital account, the government should continue its market reforms on the domestic financial industry without being intimidated. Chinese banks had strengthened the management of their investments in overseas liquid assets and taken a more prudent strategy in foreign currency-denominated investment products since the U.S.-born financial crisis broke out, CCTV reported.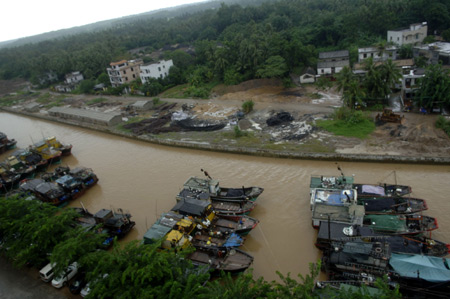 Photo taken on Oct. 4 shows fishing boats at a harbor of Wenchang, south China's Hainan Province. Tropical depression Higos will continue to lose strength as it leaves Hainan and moves on to Guangdong province in southern China on Saturday. Tropical storm Higos landed at 10:15 p.m. on Friday in Longlou Town, Wenchang City, 19.6 degrees north latitude and 111.0 degrees east longitude.
Chinese industry analysts warn Brazil's mining company, Companhia Vale do Rio Doce, it would probably lose the Chinese market. Major Chinese steel makers and iron ore suppliers decided to suspend imports from Vale because ofthe company's price hike on iron ore. Chinese analysts called Vale's move untimely and unreasonable since market demand for steel products was weak in both China and other parts of the world.
The second Summer Davos forum, or the Annual Meeting of the New Champions 2008, concluded in the north China metropolis on Sunday afternoon. The two-day meeting was the first gathering of such kind after the U.S. subprime mortgage crisis, attracting some 1,400 participants from nearly 90 countries and regions. Chinese Premier Wen Jiabao addressed the opening ceremony. The meeting picked "The Next Wave of Growth" as its theme, and the participants, including business elites, senior officials, experts and scholars, paid much attention to the current global financial crisis. The Summer Davos forum mainly targets growth enterprises worldwide. Schwab, founder and executive chairman of the World Economic Forum announced the third Summer Davos forum would be held in northeast China's port city of Dalian from Sept. 10 to 12 next year.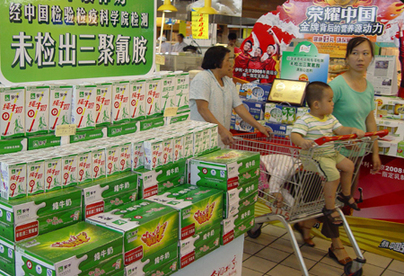 China will revise current industrial policies and improve market access standards for dairy production, Li Yizhong, minister for industry and information technology (MIIT), said on Friday. "We will clearly require dairy enterprises to enhance management on source milk bases and intensify supervision on source milk production and purchase," Li said in a press release. A market access management system will be established, he said. Qualified dairy enterprises will be notified publicly and disqualified ones will be ordered for rectification within a specified time limit. New dairy production projects including the expanded ones must be reported to relevant departments under the State Council for approvals. "We encourage dairy enterprises to improve industrial concentration through assets regrouping, mergers and acquisition," Li added.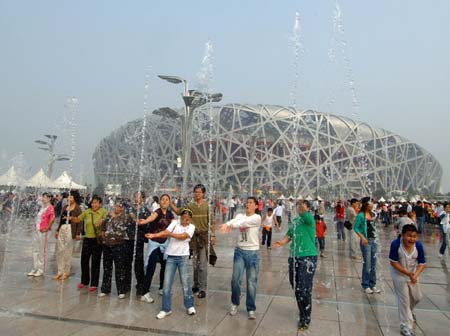 People play with music fountains in front of the National Stadium, or the Bird's Nest, the main venue of the Beijing 2008 Olympic Games October 2, 2008. China is celebrating the week-long National Day holiday starting from September 29.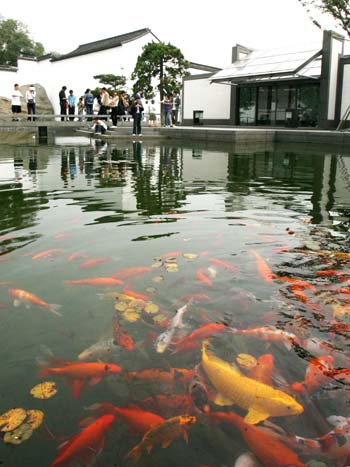 Tourists watch fish in a pond in Suzhou Museum in East China's Jiangsu Province October 2, 2008. China is celebrating the week-long National Day holiday starting from September 29.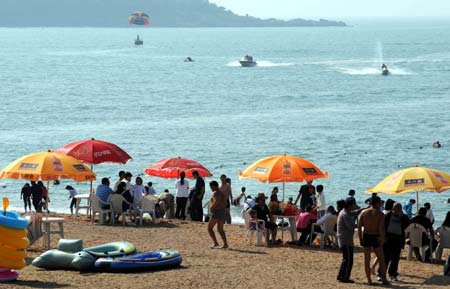 Tourist enjoy sunbathe in Qingdao of East China's Shandong Province October 2, 2008. China is celebrating the week-long National Day holiday starting from September 29.
Several rare herbal plants aboard the recent Shenzhou VII space mission have now been transferred to a Chinese nanobiotechnology lab for study. The plants, including rauwolfia and salvia miltiorrhiza (also known as red sage), were used to produce nanomedicines to treat cancerous tumors, Professor Zhang Yangde with China's Laboratory of Nanobiotechnology at the Central South University told the Changsha Daily newspaper in Hunnan Province on Thursday. Anti-tumor nanomaterials can be obtained from extracts of the herbal plants, Zhang said, adding researchers hoped the microgravity environment in outer space could have spurred gene mutation of the plants and enabled them to grow and reproduce faster. Rauwolfia is a genus of evergreen trees and shrubs of the Apocynaceae family. Rich in alkaloid, the plant is widely used to produce anti-hypertensive drugs. The natural reserves of this plant are declining as a result of over-harvesting. The international Union for Conservation of Nature and Natural Resources has listed the plant as endangered. Salvia miltiorrhiza is a shade-providing perennial flowering plant, highly valued for its roots in traditional Chinese medicine. Other samples aboard the spacecraft included the seeds of 25 endangered plants and live samples of aquatic animals and plants. The Shenzhou VII space module carrying three taikonauts landed safely by parachute on September 28 in China's northern grasslands after a 68-hour flight. The mission included the first ever spacewalk by a Chinese astronaut.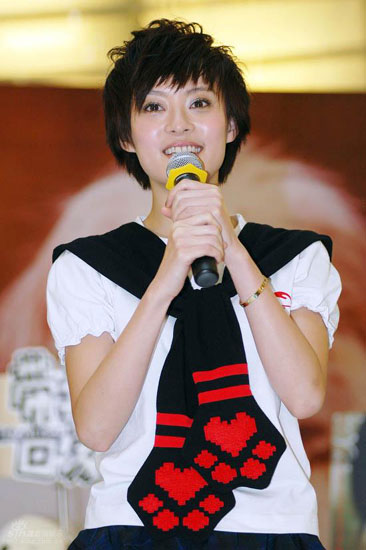 Sun Li joins exhibition tour to support stray animals - Chinese mainland actress Sun Li attended a photography exhibition for stray animals, titled a "Take Me Home," at the Xidan Joy City shopping center in Beijing on Friday. Beijing is the first stop for the exhibition's national tour, which advocates public concerns for stray animals. Various photos, presenting abandoned dogs and cats, Sun Li nurturing animals, and photos from the Society for the Prevention of Cruelty to Animals in Hong Kong, were displayed at the exhibition. Sun's photo album, with the same name of "Take Me Home," was released at the opening as well. The book tells several touching stories between the actress and those pitiful animals. Sun signed autographs for fans and donated all the proceeds from the sales of five hundred her albums to Beijing Human and Animal Environmental Education Center for stray animal rescue. Sun now has seven dogs. The oldest Xi Xi is already twelve years old. Sun said it was hard for her to identify with those in the business of buying and selling cats and dogs because their actions have prematurly separated lots of animals from their puppies. "It is better to adopt stray animals and give them a warm home." said Sun. During the exhibition, visitors were invited to sign a petition to refuse to eat cat and dog meat or wear animal furs. The exhibition in Beijing will last until the end of the upcoming National Day holiday.
October 4 - 5, 2008

Hong Kong: An expert panel in Hong Kong has urged food safety authorities to undertake a more systematic sampling of food products, as test results yesterday showed 90 more samples of dairy products were satisfactory. The Centre for Food Safety said the products tested included mainland-produced buns, biscuits, chocolates, soya drinks, yogurt drinks, instant drink mixes, milk and milk beverages, as well as biscuits, ice cream and milk beverages produced overseas. The centre will release results today on some biscuits, noodles, chocolates, ice cream, cream, instant drink mixes and milk beverages as it expands testing. The centre also said it would not follow Taiwan's move of recalling mainland-produced Nestle milk powder after authorities there found traces of melamine in six products. Melamine is used to make plastics and fertilisers, but it is sometimes illegally mixed into food products, including milk, because its high levels of nitrogen can help fool tests that measure protein levels. A centre spokeswoman said its own tests of mainland-produced Nestle milk powder showed "satisfactory" results. The level of melamine has not been disclosed. Japanese trading company Kanematsu began recalling Macau egg tarts made by a frozen food manufacturer in Guangdong because the products contained a tiny amount of melamine. The Centre for Food Safety said it was contacting the Japanese authorities for more information. Meanwhile, an expert taskforce's food safety, supply and control subgroup meeting urged Secretary for Food and Health York Chow Yat-ngok to change its tracing system for tainted dairy products. "There are too many food products and right now we are randomly netting some from a sea of products," a source said. "The government has not yet developed a system to test the products." The government is planning an amendment to give the food and environmental hygiene director the power to recall food suspected of having problems. No new cases of children with kidney stones were reported, following five earlier cases linked to melamine-tainted milk products. Since free check-ups were provided, 24,140 children have visited clinics.
Three of five available school sites were allotted to international schools yesterday in a bid to ease campus overcrowding. Two sites in Chai Wan, on Cheung Man Road and in Yue Wan Estate, were allocated to the French International School and the Hong Kong Academy respectively. They are both expected to be available by the end of next year. Another site in Sha Tau Kok allotted to the Hong Lok Yuen International School is expected to be available as soon as the end of this year. Two other sites, in Tai Po and Shau Kei Wan, were not allotted due to a lack of interest or a lack of proposals that met requirements. International school heads had previously criticised most of the sites as being too far away from where most of their students lived. The Education Bureau earmarked vacant school premises and undeveloped sites for international school expansion in March. An American Chamber of Commerce study of 12 international schools last year found there were 1,654 students queueing for places. Only five schools responded, because the other seven did not keep waiting lists. Secretary for Education Michael Suen Ming-yeung said the allocation of the three sites would help address the demand for international school places among families coming to Hong Kong for work or investment. The bureau spokeswoman said the government planned to launch an allocation exercise for four undeveloped sites - in Kowloon Bay, Lai Chi Kok, Sai Kung and Tuen Mun - at the end of this school year. Thirty-one schools have expressed interest. The government is also expected to provide an extra 300 primary and 200 secondary school places on Hong Kong Island and about 400 secondary places in the New Territories starting from 2009-10. International schools offer about 35,000 primary and secondary places and serve students from about 30 nationalities. French International School principal Francis Cauet said the Cheung Man Road site would host extra primary pupils, on top of the 1,800 students, from kindergarten to secondary, at the school's Happy Valley campus. He said the school was facing an increase of 120 to 150 students every year and the site would be able to ease the pressure. "We are really pleased to get this site; we wouldn't know what's going to happen if we didn't get it," Mr Cauet said. Elaine Goddard-Tame, the principal of the Hong Lok Yuen International School in Tai Po, said the school would use the extra site in Sha Tau Kok to provide about 400 extra secondary school places. The Tai Po campus currently has about 380 students from nursery to Year Nine. Ms Goddard-Tame said the school would move the junior secondary section and build a senior secondary section at the new site by next September. "It would have been nice if we could have had a site nearer, but it's not as far away as people think," she said. "It's only 20 minutes' bus ride away from Tai Po."
As if a 35 per cent drop in the Hang Seng Index this year was not bad enough, the 35,000 members of the Hospital Authority Provident Fund Scheme have fallen victim to the bankruptcy of US investment bank Lehman Brothers. Scheme administrators say the fund portfolio includes Lehman Brothers bonds, securities and derivatives but that they account for less than 1 per cent of its investments. A spokesman would not discuss the extent of the fund's losses on these investments. At the end of March, the fund had 35,814 contributors and assets of HK$35.4 billion. It is not the only public sector provident fund in Hong Kong to have suffered losses from the US$639 billion bankruptcy of Lehman Brothers, the fourth-largest US investment bank and one of the highest-profile victims of the subprime-mortgage crisis which erupted 14 months ago. The Subsidised Schools Provident Fund announced it had lost HK$133 million on investments in Lehman Brothers securities. In a notice released to contributors this week, the fund's board of control said its holdings of Lehman Brothers shares and senior debt securities amount to HK$3 million and HK$188 million respectively. "The portfolio managers have assessed that the value of the equities would need to be fully written off [because of] the company's liquidation, while there might be a 20 per cent to 40 per cent recovery rate for the senior debt securities," said the statement. It estimated the fund would book a loss of HK$133 million - about 0.2 per cent of its net asset value. It is not known whether other public institutions have exposure to Lehman Brothers investments.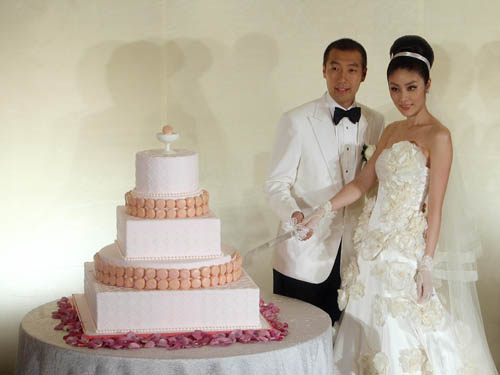 Canto-pop star Kelly Chen Wai-lam tied the knot yesterday with her long-time boyfriend, businessman Alex Lau Kin-ho, at an extravagant multimillion-dollar wedding yesterday at the InterContinental hotel. The singer-actress and her entourage, including manager Claudie Chung Chun and 10 bridesmaids, arrived at the Tsim Sha Tsui hotel in Salisbury Road at about 1pm, where more than 200 members of the local and overseas media, a number of die-hard fans and hotel guests waited. At about 3.30pm, the groom and bride, wearing 10-carat diamond earrings and a six-carat wedding ring given by Mr Lau, 35, posed at the ballroom staircase for a press photo call. Chen, 36, was wearing an elegant wedding dress worth hundreds of thousands of dollars designed by long-time friend and award-winning art director Yee Chung-man. The off-white dress had a 10-metre train decorated with the auspicious number of 999 flowers. It was matched by a 15-metre veil. Hotel guests Elaine Lovit, 60, and her husband Louis, 70, from Los Angeles, waited for the star's appearance after learning of the wedding from hotel security staff. Mrs Lovit said Chen looked very beautiful, and that she would look up her music. Chen also prepared a red gown for the banquet and another wedding dress by Karl Lagerfeld. After the cake-cutting ceremony, Chen said she was not nervous and that she had skipped the hen's night so she could go to bed early to be in good shape for her big day yesterday. "But Alex couldn't sleep. I thought I would be moved to tears but I wasn't because I was in a rush all day. I was too busy to shed a tear. I'm still not used to being called Mrs Lau." She said Mr Lau played games, including singing rap songs and performing pole dances, and gave HK$99,900 in lai see to the bridesmaids before meeting her at the hotel. But Mr Lau was too shy to speak to the press. The couple officially wed at 8pm before hundreds of relatives and friends at 52 tables in the ballroom, decorated with champagne and purple carpet by a friend of Mr Lau's from the Netherlands. The room was filled with flowers from the Netherlands, South America and Taiwan. Ms Chung said Mr Lau paid for the wedding and that the banquet alone cost about HK$3 million - nearly 13 times more than the spending of an average couple, according to an ESD Life survey released yesterday. Chen's manager said the couple also hired a ballroom with 12 tables to entertain the media with a buffet, which cost HK$888 a head, because the media had been very kind to Chen and wanted to thank them.
The confidence of Hong Kong consumers is falling as the global financial crisis worsens, with many businesses feeling the effects of belt-tightening and weakening demand. Car dealers, restaurants, travel companies and some shops face falling sales. Leon Roy, general manager of Rolls-Royce Motor Cars Hong Kong, said sales last month were down from September last year. Still, he remains cautiously optimistic about the outlook for customer orders. "The coming 12 months will be difficult," Mr Roy said. "Like everyone else, we're definitely affected by the weakening economy but the impact on us is not as severe because we're not mass-market." The typically quiet months of July and August were especially quiet this year. That was because customers flocked to Beijing for the Olympics, he said. Rolls-Royce sales tend to peak between September and March. Sales of Porsche sports cars also weakened last month, said Derek Tong, general manager of the Porsche Centre Hong Kong and Macau. The outlook for the next 12 months would depend on general economic conditions, he said. "As expected, the magnitude of the recent financial market turmoil has had an impact on consumer sentiment. September's orders were a little softer compared to earlier in the year," Mr Tong said. A spokesman for Italian Motors, the official Ferrari dealer in Hong Kong, said business "remains healthy". At the city's pricier restaurants, revenue was down 20 per cent to 30 per cent year on year last month, Hong Kong Federation of Restaurants and Related Trades president Ken Chan Wing-on said. Business at more affordable restaurants had not been affected, he said. "When the stock market and property prices have tumbled so much, high-class restaurants - like those offering expensive ingredients such as abalone, shark's fin, sea cucumber and fish maw - are affected," Mr Chan said. People also appear to be curtailing their travel plans. Hong Thai Travel Service's general manager, Susanna Lau Mei-sze, expects zero year-on-year growth in business between now and December 31, despite having seen a 7 per cent jump in customers in the first half of the year. "There is a fall in the number of tourists for some long-haul destinations and luxury tours, but short-haul trips to Southeast Asia have seen an increase," Ms Lau said. Retail sales in August rose 10.4 per cent year on year by value, to HK$22.8 billion. And although there were double-digit increases in sales of electrical goods and furniture, car sales dropped 14.8 per cent and sales of footwear fell 4.1 per cent. A government spokesman said the global financial turmoil "will continue to generate shocks to the local asset markets, thereby impacting on consumer sentiments and the local economy".
Hong Kong is prepared to follow its overseas counterparts in banning short selling of financial-sector stocks amid intense volatility and sweeping changes caused by the US financial tsunami, government sources said yesterday. "The backup plan is there. The decision will be effective immediately if any abnormal changes in short-selling activities and market volatility are observed," a source told The Standard. Word of the plan emerged after the Securities and Futures Commission warned on Tuesday it was prepared to crack down on illegal short sales as the market situation became unstable. The securities watchdog vowed it was ready to "implement more aggressive measures in the event that any abusive short selling is identified" amid a mounting outcry from the market for a stop in short selling. Measures would include market-wide controls, as well as targeted action against individuals or entities. Unlike other markets, Hong Kong has used stricter rules to protect investors from short selling. The SFC banned "naked" short selling, which allows investors to sell stocks short without previously borrowing the stocks for settlement; and upheld the "uptick" rule to permit short sales only during upward markets. However, when the impact of the financial tsunami recently became worse and more institutions started to show signs of sinking, the US Securities and Exchange Commission took the lead to temporarily ban short selling in an attempt to maintain stability in the banking system and financial markets. On Wednesday, the SEC announced an extension of its temporary ban, indicating the tsunami remained a potent threat. Other places including Ireland, Singapore, Japan, Taiwan and South Korea have temporarily banned short-selling activities completely. Britain, like its US counterpart, has implemented the ban in financial sectors. These global moves have left Hong Kong among those vulnerable to the dangers of short selling. Short selling yesterday accounted for about HK$5.6 billion of turnover, representing 8 percent of total market turnover of HK$69.65 billion. Nomura Securities analyst Tacky Cheng said the figures were normal compared to recent days. "Short-selling volume did come up during the past three months, but it was still normal and did not hit an alarming level," Cheng said.

China: The nation's food safety watchdog said yesterday the latest chemical tests on mainland dairy products had come back clean, and announced that more than 300 testing agencies were qualified to carry out safety checks of melamine on food products. Releasing the results of its fifth nationwide survey, the General Administration of Quality Supervision, Inspection and Quarantine (AQSIQ) issued a list of clean milk products and said all the products tested were clear of melamine, a toxic chemical that has so far killed four babies and made nearly 54,000 ill. The administration also published a catalogue of testing agencies qualified to conduct melamine checks for consumers. The laboratories are certified by the government and located across the country. The administration said it had assessed 65 dairy companies' milk products, from yogurt to pasteurised milk, with 418 samples selected from 22 major cities, including Beijing, Shanghai, Tianjin, Guangzhou and Shenzhen. It also said all the market leaders - such as Yili, Mengniu, Bright Dairy and Sanlu - were clean and had asked supermarkets and shops to set up "safe dairy product booths" with lists of safe products to notify the public of trustworthy brands. In addition, the central government sought to allay fears among overseas consumers by sending a Chinese health official to conduct a one-hour briefing for Beijing-based diplomats on Tuesday. The official promised to stop dairy exports until their safety was guaranteed, according to Agence France-Presse. The agency quoted an unnamed Japanese official as saying: "The point made there was that the Chinese government has handled the matter promptly and firmly and has taken measures to halt exports of dairy products, which will not be resumed until their safety is fully confirmed." A day after the briefing, the AQSIQ's new chief, Wang Yong, inspected two dairy enterprises in Hebei, home province to the disgraced Sanlu Group and many producers whose contaminated milk powder triggered the scare. Visiting a Mengniu partner firm, Mr Wang urged dairy enterprises to strictly control milk quality and ensure that "products put on the market are guaranteed 100 per cent". He then picked up a carton of Mengniu pure milk "for a taste", according to Xinhua. Mr Wang, who became the watchdog's chief after Li Changjiang stepped down last month over the scandal, also checked on fresh milk procurement, the dairy production lines and the quality supervision of the two companies. The AQSIQ said it had sent more than 5,000 staff to monitor dairy firms during the National Day holiday and check products on the market around the clock. On Wednesday, the administration announced it had detected melamine in 31 milk powder products from 20 manufacturers. Most of the products were for adults. The finding took the number of dairy companies found to have distributed products tainted with melamine to 37, and raised the portion of contaminated milk powder products to nearly 12 per cent of the market total. The scare also prompted recalls and warnings abroad. The Ministry of Food and Agriculture in the German state of Baden-Wuerttemberg confirmed that White Rabbit sweets from China sold in a shop in Stuttgart contained traces of melamine. Last week, Australian food regulators recalled White Rabbit candies, and New Zealand also detected melamine in them.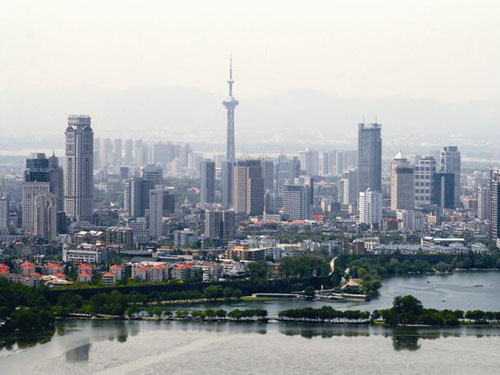 Nanjing's government is offering cash subsidies and tax breaks to bolster the property market. Home-buying confidence is improving in Nanjing after the city introduced a package of stimulus measures, raising hopes that more major mainland centres will follow suit. "The package has definitely given a boost to market sentiment," said Clement Luk Shing, a director and assistant general manager at Centaline (China) Property in Shanghai. Sales had picked up slightly after the announcement, Mr Luk said. The Nanjing government on Sunday said it would give homebuyers cash subsidies of up to 1 per cent of the value of a flat from today, while developers would be allowed to defer payment of various government charges. Other measures include allowing homebuyers to borrow higher amounts from housing provident funds set up to provide low-interest home loans, and a reduction in deed tax (levied on the transfer of a real estate title) from 4 per cent to 2 per cent. Mr Luk said Nanjing followed Xian, Dalian and Shenyang in introducing measures to boost the housing sector and the positive outcome would encourage other cities to take similar actions to shore up the troubled property market. "The impact on the mainland property market will be greater if more local authorities in different cities take steps to boost property sales," he said. Agents believe Shanghai could be the next city to attempt to revive its market. Property transactions in the financial hub have dropped 50 per cent since early this year. In Nanjing, mainland media reported that queues started to form outside sales offices after several developers offered steep discounts for new projects during the Golden Week national holiday - a traditional peak season for home buying. Long lines of potential buyers formed outside the Evergrande Oasis Garden project in Nanjing, built by Evergrande Real Estate group (SEHK: 3333), after prices were cut by about 20 per cent. About 30 to 40 customers were seen yesterday at Evergrande Oasis sales office. One unit at the Evergrande Oasis was selling for 700,000 yuan (HK$796,000), down from 900,000 yuan, according to agents. The Nanjing property market almost came to a standstill in September, prompting the municipal government to launch the stimulus measures. According to government figures, the city still has 6 million square meters of unsold residential units, accounting for about 60 per cent of this year's total sales target. "The city property market is entering a chilling winter earlier than expected," said Mr Luk. He said the mainland property market would not improve significantly until Beijing relaxed earlier measures designed to cool prices. Among the measures taken to combat speculative investment was imposing tighter loan conditions and higher interest rates on buyers of second homes.
Liability insurance should be mandated in the food and beverage industry to strengthen companies' risk management in the sector, a political adviser has said. "An increasing number of food safety disputes have emerged with the public's enhanced awareness about food safety," said Feng Xingyun, a member of the National Committee of the Chinese People's Political Consultative Conference. "The ongoing Sanlu milk scandal has once again drawn attention from home and abroad about the food safety issue," Feng said in a signed article carried by People's Daily on Thursday. The melamine-tainted baby formula produced by Sanlu Group has killed four infants and left about 53,000 children suffering from urinary problems including kidney stones. The company has recalled more than 10,000 tons of milk powder, involving more than 700 million yuan ($103 million) in refunds. It will also have to bear the medical expenses for those affected. Sanlu may go bankrupt and be taken over by Beiijng Sanyuan Food Co, which remains untainted in the scandal, according to media reports on Friday. "As most food and beverage enterprises are vulnerable to risks owing to their small scales and lack of insurance coverage, they often have limited compensation capabilities in the case of a food safety accident," Feng said. Therefore, she suggested the Ministry of Health and the China Insurance Regulatory Commission mandate liability insurance in the food and beverage sector in selected pilot areas, by introducing commercial insurance to their food and hygiene management system. Then the insurance service should be gradually expanded to food and beverage enterprises nationwide, based on experience drawn from the trial period, she said. The insurance would lower the enterprises' operating risks and enhance their ability in responding with compensation following food poisoning or consumer casualties, she said. The compensation made by insurers would also alleviate pressure on the government arising from potential bailouts, she added. An insurance analyst agreed with her. "There're many measures to limit compensation liability due to damages from product deficiencies," the unnamed analyst told Shanghai Securities News. "Apart from improvements on techniques and management, buying products liability insurance is another easy way for effective risk management. However, consumers as well as producers and sellers still lack knowledge about the products' liability insurance or food contamination insurance." In the 1980s, premiums from product insurance services took up 45 to 50 percent of the revenues of all non-life insurance services in the United States, while in Japan liability insurance services accounted for 25 to 30 percent, according to China Youth Daily. By contrast, the coverage rate for liability insurance among Chinese enterprises is only 4 percent, much lower than the world average of 15 percent, even though the first product liability insurance service was launched in China in 1984. China should catch up with the world trend in constructing a nationwide product liability insurance network, which should also include medicine, home appliances and cars, said the China Youth Daily report.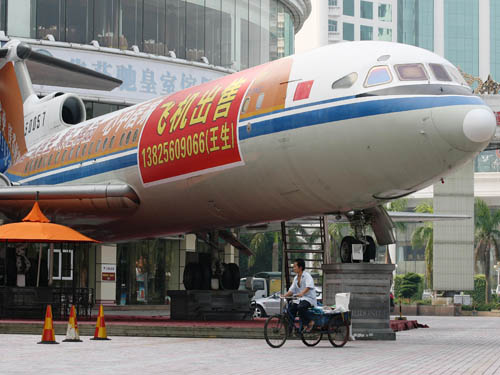 Chairman Mao Zedong's personal airliner is on sale after the owner concluded he preferred more parking space to keeping the country's former "Air Force One" at its shopping mall. "There are many complaints from consumers that the car park is full at the weekend so we decided to sell the plane and use the cleared area for parking," said Wang Zhilei, general manager of Ridong Group in Zhuhai, Guangdong, and a former air force officer. "It was not a difficult decision to make. If we don't have enough parking spaces, people will not come to shop. The reaction to sell has been good. We've received about 200 calls. Potential buyers include museums, private collectors, aviation schools, manufacturers and developers." The 46-metre-long plane, whose original sofa and bed were replaced by new leather chairs and desks, has been on display since 1999 at a seaside square owned by the Ridong Group, a property developer. Only the pilot's cabin looks as it did 40 years ago. The group bought the historic plane to attract visitors to its shopping mall. The plane was used mainly by Jiang Qing, the chairman's last wife. Its British manufacturer sold it to a Pakistani buyer in 1969. It then passed on to Mao. It was apparently one of three Trident jets of the same model that the Chinese air force bought at the time. One stayed with the air force, one went to Mao and the third became the personal plane of Lin Biao, a communist military hero and Mao's heir apparent. Jiang, according to Mr Wang, was an air force officer and travelled around the country in the plane until she was arrested as head of the Gang of Four in 1976. The plane continued to carry officials around the country until it was retired in 1986. Lin's plane crashed mysteriously in 1971 in Mongolia, 350km from the Chinese border, after what appeared to be a failed coup attempt against Mao. All nine passengers on board, including Lin, were killed. A report said the plane had run out of fuel. Mr Wang said his company would dismantle the plane, transport the parts to the new destination and rebuild it for the buyer. He refused to disclose how much the company had paid for the plane and how much it was asking, but he did say he thought "several million" was an affordable price for many people. The company's only request is that the buyer promises to maintain the integrity of the plane. "It is historically important for our country," Mr Wang said.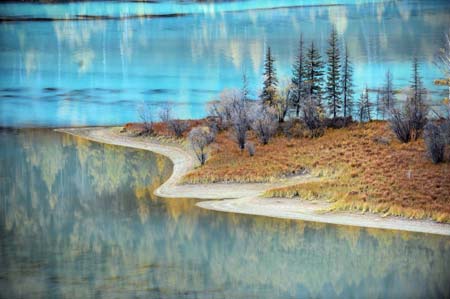 A view of an island in a lake in Kanas of Xinjiang Uygur Autonomous Region, September 30, 2008. The unique scenery of Kanas in autumn drew a lot of tourists from home and aboard during the week-long National Day holiday.
October 3, 2008

Hong Kong: Hong Kong shares reversed course to end 1.1 per cent higher on Thursday, helped by surge in Ping An Insurance (SEHK: 2318) after newly-nationalized Fortis scrapped a US$3 billion asset management deal with the insurer. Mainland property stocks also rose sharply after state media reported regional governments were propping up the ailing sector with measures including subsidies for home buyers. Investors largely shrugged off news of the US senate's approval of the revised US$700 billion bank bailout package ahead of a vote by the House of Representatives, which rejected the original rescue package on Monday. "The package itself is mainly facilitating a wealth transfer from shareholders of failed financial institutions to shareholders of the surviving giants. The survivors are going to be in good shape," said Erwin Sanft, head of China and Hong Kong research at BNP Paribas. "In terms of what's happening in the real economy, it looks impossible at this point to avoid a global recession next year … we see the Hang Seng breaking below 16,000 in the next six months." The benchmark Hang Seng Index finished up 194.90 points at 18,211.11 after dropping more than 2 per cent earlier in the session. It is down almost 35 per cent so far this year.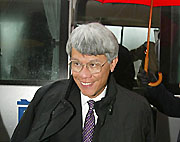 Hong Kong Monetary Authority ( HKMA) may consider further measures to enhance the city's ability to cope with turbulent liquidity conditions if necessary, HKMA Chief Executive Joseph Yam said here Thursday. In his weekly Viewpoint column published here Thursday, Yam said it is sometimes necessary for HKMA, the de facto central bankof Hong Kong, to use public money to restore confidence in the financial system, although controversial. He said the local money market has been orderly despite heightened concerns about credit risk in the interbank market and HKMA is ready to provide liquidity to the banking system as neededand there is a well-established and transparent framework for doing so. Yam said the United States had no choice but to bail out banks as the alternative of letting the markets take care of the problems might lead to a financial meltdown that would throw the economy into a tailspin, which would be a lot more costly to the community as a whole. He said it takes time, and possibly severe pain, for stakeholders in a free-market economy to realize and accept the inevitability of market intervention in special circumstances and the use of public money to rescue the financial system. "To contain or end a financial crisis there is a need for the authorities to provide liquidity to the financial system and facilitate the re-capitalization of financial institutions," Yam said, adding the provision of liquidity is obviously the role of the central banks, since they are lenders of last resort. He hoped the U.S. Congress can reach a consensus on the comprehensive measures proposed by the U.S. government to repair the balance sheet of the financial system soon.
Chief Executive Donald Tsang Yam- kuen is expected to grant the requests of political parties and concern groups to increase the so-called "fruit money" for the elderly to HK$1,000 when he makes his policy speech later this month.
The total value of annual retail sales in August has increased by 10.4 per cent to HK$22.8 billion as compared to last year, latest figures showed on Thursday. The Census and Statistics Department said the volume of total retail sales in August increased by 3.9 per cent over a year earlier.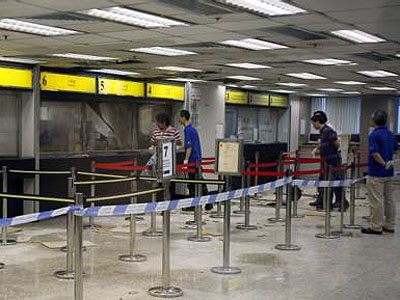 A man has been arrested in connection with an arson attack on the Inland Revenue Department's headquarters in Wan Chai on Thursday morning.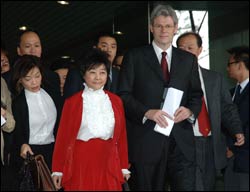 A solicitor along with a senior Chinachem Group executive both withheld evidence crucial to a fung shui master's bid for control of Nina Wang's HK$100-billion fortune, the High Court was told on Thursday. Lawyer Winfield Wong Wing-cheung and company sales manager Ng Shung-mo played an "elaborate charade" when the pair first claimed they had not seen a copy of the late tycoon's will and, when that was revealed to be untrue, refused to testify about it, senior counsel Jonathan Harris told Mr Justice Johnson Lam Man-hon. "Both of them had, in fact, been in possession of the will and prepared statements before Mrs Wang died [last year]," said Mr Harris, who represented feng shui master Tony Chan Chun-chuen. "Mr Wong in particular for some reason, which he hasn't explained, rushed to prepare a statement [about the will] and then withheld it from us until last week. "He played an elaborate charade." In an e-mail, Mr Wong said: "In view of the pending legal proceedings, I think it is inappropriate and inconvenient for me to make any comment on the topic." Mr Ng did not return phone calls or e-mail requests seeking comment. The pair also claimed they had no idea which will Mr Chan's lawyers wanted to see, Mr Harris said, adding that the men should pay legal costs stemming from a bid to force their testimony. "They've wasted our time," Mr Harris said. "This is a complicated case. The way in which the witnesses behaved made it more complicated." Thursday's allegations came as the acrimonious legal battle headed for a trial expected to start in early 2009. At issue was whether Mr Chan or Mrs Wang's Chinachem Charitable Foundation are the rightful inheritors of the massive estate. The two sides pointed to rival wills, dated four years apart that they claimed would prove their case. Wang, once Asia's richest woman and chairwoman of the Chinachem Group conglomerate, died from cancer in April last year. Her death came less than two years after she won a bitter, decade-long battle with her father-in-law, Wang Din-shin, over the estate of her husband, Chinachem founder Teddy Wang Teh-huei – who has not been seen since he was kidnapped in 1990. The current legal dispute emerged after the foundation said it had a will that gave it control of the estate. Mr Chang, who was a close friend of Mrs Wang, subsequently claimed the billionaire signed a will in 2006 that gave him all her money.

Swiss food giant Nestle criticized on Thursday Taiwanese authorities' demand for it to de-list milk products which the government itself had deemed safe for consumption.
Up to 1,000 former Gurkha soldiers in Hong Kong will gain British residency after a landmark victory in a two-year legal battle in London. The veteran fighters from Nepal, who helped man Hong Kong's defences under British rule, joined former comrades around the world in jubilation at gaining the right to live in the country they fought for.

Major businesses and tourist attractions on Lantau are forming a coalition to seek ways of grabbing the biggest possible economic benefit for the island from the Hong Kong- Macau-Zhuhai bridge that is expected to open in seven years. The enterprises - including the Ngong Ping 360 cable car, the airport, AsiaWorld-Expo, Disneyland, SkyCity shopping complex and major hotels - want to draw up a plan that will attract short-term visitors and transit air passengers to stay longer in the city. "A lot of travellers will be entering the mainland via Lantau and vice versa when the bridge is in service. If there is nothing to keep them here, they will leave," Ngong Ping 360 managing director Morris Cheung Siu-wah said. "I believe Lantau has the qualities to become a hub of economic activity, given its geographical proximity to the airport, a cross-border bridge and access to the Central business area in just 20 minutes." In an interview, Mr Cheung said ideas that had come out of meetings held so far were still at a preliminary stage as coalition members knew little of the government's plans for the island's development. A taskforce led by Henry Tang Ying-yen when he was financial secretary published a Lantau development plan in 2005, outlining an overall framework for the city's biggest island that included resorts with spa facilities, an eco-tour centre, a cycling track and a logistics park. Little has been said about these ideas since then, but with the bridge finally on the drawing board, businesspeople see this as the time to start searching for opportunities - with or without government participation. Mr Cheung said co-operation was the key to building economic activity. Meanwhile, the cable car is still struggling to build passenger numbers back to the levels of its first nine months of operation, before it was shut after an empty gondola plunged 50 metres to the ground during maintenance on June 12 last year. More than 1.1 million passengers took the cable car in the nine months since its reopening on December 31, down from 1.5 million for the nine months until the accident. Mr Cheung blamed bad weather and maintenance problems. "We were struck by four strong typhoons this year, plus in June alone we lost 18.5 work days on maintenance, so a turnout of 1.1 million was quite good under these circumstances," he said. The operators of the Lantau attraction will strengthen marketing to boost patronage. The MTR Corporation (SEHK: 0066), which took over running of the cable car from Skyrail-ITM (Hong Kong) after the gondola accident, has sought deals with attractions such as the Wetland Park in Tin Shui Wai and Ocean Park to launch promotional packages. It plans to unveil more this month. Mr Cheung said Ngong Ping 360 planned to focus on visitors from India in future. "They formed only 1 per cent of our patronage so far, but it's growing fast, and with their huge population there is a lot of potential." The 5.7km-long cable-car system connects Tung Chung with Ngong Ping village, offering a scenic 25- minute trip to the famed Po Lin Monastery and the Big Buddha.
Trade with South Africa was now worth billions of dollars annually to Hong Kong, Trade and Industry director-general Joseph Lai Yee-tak said on Thursday.
China authorities have quietly extended the clampdown on Guangdong residents visiting Macau. They are now limited to one trip every three months to the casino boom town, travel agents say. The change, effective yesterday, follows several rounds of tightening since June which have slowed Macau's tourism growth. It means a Guangdong resident visiting Macau must wait three months before applying for another permit. Until Tuesday, residents were allowed a seven-day Macau trip once every two months. Secretary for Social Affairs and Culture Fernando Chui Sai-on said the government had yet to "gather accurate information" about any new travel restriction. Guangdong is Macau's biggest source of punters. Like some of the travel curbs previously aimed at Macau, the new measure appears to be an unwritten policy. Travel agents in Guangzhou and Shenzhen said they had been informed of it by immigration officials. Zhang Yao, a manager at China Travel Service in Guangzhou, said the number of city residents visiting Macau had been falling and looked set to decline further. "People joining Macau tours in September have dropped by nearly half [compared to August]," Mr Zhang said. "There used to be more than 10 buses a day taking Guangzhou residents to Macau but now there are only about three." Like Mr Zhang, Wang Qi, a manager of Shenzhen Comfort Travel Service, said she had learned about the new restriction from immigration authorities. From June 1, Guangdong residents were restricted to visiting Macau once a month instead of once a fortnight. From July 1, they were restricted to visiting once every two months. Since September 1, mainland travellers to Hong Kong have had to get a separate permit to visit Macau. Previously, it was possible to visit both cities on a Hong Kong permit. Andy Wu Keng-kuong, president of the Travel Industry Council of Macau, said the move could stall growth in mainland visitors, but predicted full-year visitor numbers would still be up 10 per cent on 2007. Macau's visitor arrivals have been growing at nearly 20 per cent annually in the past few years. Despite the imposition of restrictions in June, casino revenue rose 42.2 per cent year on year to 9.2 billion patacas in July. In August, revenue was up 44 per cent. Mainland visitor numbers in July were up 29.9 per cent year on year. In August they were up 10.9 per cent. Political commentator Larry So Man-yum said the new travel curbs indicated Beijing was serious about putting the brakes on Macau's casino development and limiting the outflow of mainland money.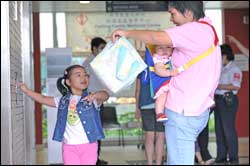 The anticipated surge in parents seeking kidney checks for their children at government clinics failed to materialize on National Day yesterday. But mainland parents flocked to the SAR border town of Sheung Shui to stock up on imported milk powder. "Although the number is lower than expected, we'll continue to do our best to eliminate parents' concerns," Hospital Authority chairman Anthony Wu Ting-yuk said after visiting a government clinic designated for melanine- related checks in Kwun Tong yesterday. About 20 to 30 children and their parents were seen waiting at the Tuen Mun clinic in the morning, most with advanced bookings. Free kidney checks at 18 outpatient clinics and nine additional assessment centers will last at least six months for children under 12 who have or may have consumed melamine-tainted milk products, he said.

China: A migrant worker from Sichuan province takes a break during construction work on the China Pavilion for the World Expo. Now more than ever, Shanghai is looking to the Beijing Olympics as the model for hosting a successful World Expo in 2010. But staying with that style of management could earn the city the same praise and criticism that China received for the Games. Tens of thousands of tourists flocked to Tiananmen Square in central Beijing in the early hours yesterday to watch the flag-raising ceremony, as millions of mainlanders went on the move for the National Day holiday. The solemn flag-raising ceremony, a fixture on the sightseeing itinerary for most out-of-town visitors, was highly publicised in the mainland media as part of efforts by authorities to cultivate patriotism. In the celebrations to mark National Day, President Hu Jintao joined a contingent of top officials in a public salute to the nation's war heroes at the Monument to the People's Heroes, a memorial built in the square in the late 1950s to commemorate the millions of war dead since 1840. The ceremony comes in a year marked by a series of calamities, including the devastating earthquake in Sichuan, and a series of successes highlighted by the Beijing Olympics and the historic Shenzhou VII space mission. The officials' public salute is a departure from protocol of recent years and seen as an attempt by authorities to appeal to the masses for national unity by projecting a softer side.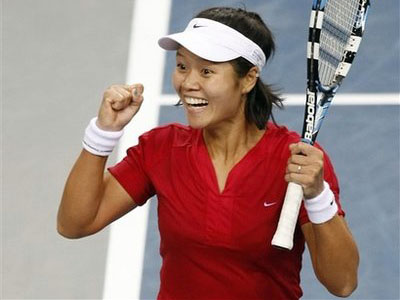 Li Na recovered from a terrible start to pull off a scarcely credible 0-6, 6-1, 6-4 victory over world number one Serena Williams in the second round of the Stuttgart Grand Prix on Wednesday. Williams, playing her first match at the indoor tournament after receiving a first-round bye, took advantage of a series of errors from her unseeded opponent to take the first set in just 21 minutes. It looked a complete mismatch at that stage but in the second set Li suddenly found her range, hitting the lines more and more often and putting Williams under increasing pressure. Williams, who won her ninth grand slam title at the US Open last month, made 11 unforced errors in the second, dropping her serve twice along the way, and despite improving in the third she was unable to re-establish herself. Li broke for 4-3 in the decider and while Williams saved three match-points in her next service game she was unable to stop her opponent serving out for the match, which she clinched with an ace down the middle. Li was joined in the quarter-finals by Victoria Azarenka of Belarus, who upset eighth-seeded Pole Agnieszka Radwanska 6-1, 7-5. Patty Schnyder of Switzerland earlier overcame Russian fifth seed Svetlana Kuznetsova 6-4, 4-6, 7-5 in an entertaining first round match. Serving strongly throughout, the 29-year-old Schnyder set up match-point when Kuznetsova marginally over-hit a return and clinched it when the Russian's attempted backhand winner drifted wide.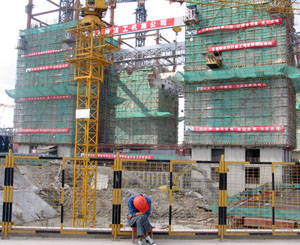 "From every aspect, no matter whether promotion, marketing, operations, management or security, the Shanghai World Expo can learn from the Olympics," said Shanghai World Expo Bureau head Hong Hao. "The World Expo is the cultural, scientific and economic Olympics." Like the Olympics, the expo will be laden with political significance for China. Like the Olympics, Shanghai will mobilise an army of volunteers and muster all the powers of the state to ensure nothing goes wrong. "Hosting a successful, splendid and unforgettable World Expo is crucial for China in its drive to fully build a well-off society and speed up socialist modernisation," reads a poster at an expo exhibit. Among the differences, the expo will last for six months (from May 1 to October 31) instead of two weeks, and 70 million visitors are expected. Countries will participate in the expo, and companies will sponsor it to acknowledge China's growing power and seek inroads into its market. A record 222 countries and international organisations have already signed up, and top sponsors include Germany's Siemens and Coca-Cola. Organisers make no secret that several countries that have formal diplomatic relations with Taiwan will participate, a political win for China. Nations classified as "developing countries" are receiving subsidies as encouragement. "It doesn't matter if they don't have diplomatic relations with us. We welcome them all to come," Mr Hong said. Amid improving relations, Taiwan itself might even participate, which would be its first official involvement in a World Expo since the island was ousted from the United Nations in 1971. Taiwan's capital, Taipei, signed an agreement in June to attend. Planners have already set aside land next to the China pavilion for Taiwan, alongside Hong Kong and Macau. "We are getting in contact with some Taiwanese organisations, institutions and industry groups. We think the Taiwan pavilion can definitely be done well," Mr Hong said without offering further details. China has already stated that the perceived political and economic benefits from the expo outweigh the likelihood the event will lose money. Based strictly on operating expenditure and revenue, the event will lose about 1 billion yuan (HK$1.12 billion), according to official estimates. "There is a big difference between the World Expo and other exhibitions; the expo is a non-profit activity," Mr Hong said. The estimated 28.6 billion yuan budget doesn't include the 18 billion yuan for construction. Shanghai has already started construction on major structures for the expo and plans to have them finished by the end of next year. On a recent visit, workers swarmed over the China pavilion, which will incorporate elements of traditional architecture in red. The main structure of the building is nearly finished, despite the tight schedule and complicated design. One way organisers will limit costs is to rely on 150,000 volunteers as "vital cogs" for the event. Olympic volunteers received high marks for their enthusiasm, but showed a lack of expertise in specialised areas such as handling the media. Some expo volunteers are already on the job, like Tongji University student Sun Chenyi , who works at an exhibition promoting the expo. "It's fun and we can meet a lot of people," he said. Mr Hong said it was too early to say whether Shanghai would implement measures such as limiting cars on the road and shutting down factories to improve air quality as the Olympics did. However, some traffic controls were likely and security was paramount, he said. "If there is a problem with security, then the event will fail," he said. "The principle is to guarantee security and at the same time make it convenient for visitors." Shanghai's hotel industry is already speculating whether China will restrict visas for foreign nationals at that time to limit potential security threats, as it did during the Olympics. Regardless, organizers of the expo said the main target would be the domestic audience with overseas visitors expected to account for about only 5 per cent of the total.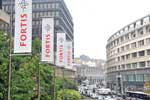 A plan by Belgian-Dutch financial firm Fortis to sell half of its asset management arm to Ping An Insurance (2318) has been put on hold because of the crisis in the global capital market.
Beijing has urged rich nations to curb greenhouse gases by as much as 95 percent by 2050 compared with 1990 levels, in order to allow developing economies to grow. China called on developed countries to cut emissions by between 25 and 40 percent below 1990 levels by 2020, and between 80 and 95 percent by 2050, said a statement published on the website of the United Nations Framework Convention on Climate Change. Mid-term targets for developed nations, which have caused most of the buildup of heat-trapping gases in the atmosphere, are "most important," China said. "Only with such a mid-term target being clearly determined is it meaningful to talk about any long-term goals for emission reductions." Europe, the United States and other industrialized countries should contribute 0.5 to 1 percent of their national output to help developing countries cope with global warming and reduce output of greenhouse gases, China said. About 180 nations are seeking to form a climate-protection agreement next year under the UN process. World carbon dioxide emissions from energy use rose 2.8 percent last year as coal consumption outpaced crude oil and clean-burning natural gas. Industrialized nations produced more of the heat-trapping gases that have built up in the earth's atmosphere in the past century, causing climate change, scientists say.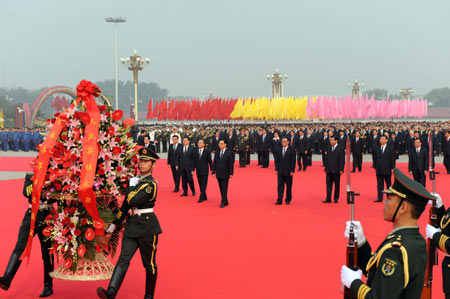 Chinese President Hu Jintao and other members of the Standing Committee of the Political Bureau of the Communist Party of China (CPC) Central Committee, including Wu Bangguo, Wen Jiabao, Jia Qinglin, Li Changchun, Xi Jinping, Li Keqiang, He Guoqiang and Zhou Yongkang, walk towards the Monument to the People's Heroes in Tian'anmen Square in Beijing, capital of China, Oct. 1, 2008. China's top leaders laid flower baskets at the monument on Wednesday morning to mark the 59th anniversary of the country's founding. China's top leaders laid flower baskets at the Monument to the People's Heroes in Beijing yesterday to mark the 59th anniversary of the country's founding. At the monument in Tiananmen Square, all nine members of the Standing Committee of the Politburo of the Communist Party of China Central Committee participated in the ceremony to pay their respects to those who made sacrifices for the nation's independence. Led by President Hu Jintao, the members - Wu Bangguo, Wen Jiabao, Jia Qinglin, Li Changchun, Xi Jinping, Li Keqiang, He Guoqiang and Zhou Yongkang - laid the baskets, accompanied by 18 military honor guards. The leaders then walked around the monument as they viewed inscriptions on its sides that depict the history of the nation's modern struggle. "This year also marks the 30th anniversary of China's opening up and reform policy," said Liu Zhigang, a doctor from Sichuan, who brought his family to watch the ceremony. More than 5,000 people gathered in the square decorated with national flags, Beijing Olympic mascots and models of the Shenzhou VII spacecraft.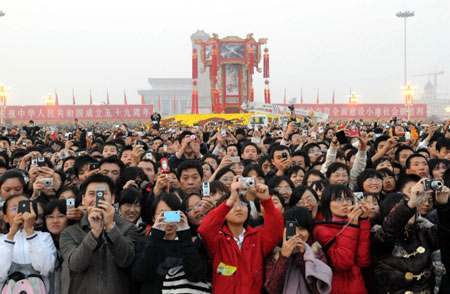 People watch the national flag raising ceremony at the Tian'anmen Square in Beijing, capital of China, Oct. 1, 2008. Some 53.2 million people hit the roads in China on Wednesday, the third day of the "golden week", said a Ministry of Transport (MOT) spokesman.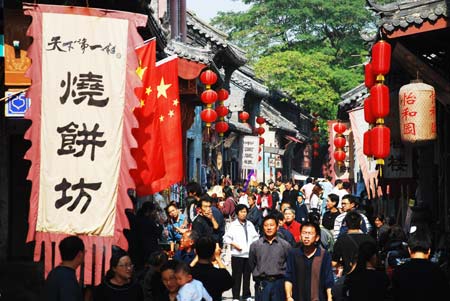 Visitors roam Zhoucun village, a ancient town of Zibo, east China's Shandong Province, Sept. 30, 2008. Zhoucun village that boasted its original folk custom attracted lots of tourists from home and abroad during the National Day Holidays.
China's newly-revised administrative regulations on foreign investment in advertising enterprises came into effect on Wednesday. The regulations, jointly promulgated by the State Administration for Industry and Commerce (SAIC) and Ministry of Commerce (MOC), were set to replace the former regulations issued by SAIC and MOC on March 2, 2004. Under the new regulations, foreign-invested advertising enterprises can engage in design, production, publication and some other types of advertising businesses for both domestic and overseas costumers after receiving official approval. A Sino-foreign advertising joint venture can be established on the condition that all investing parties are the enterprises engaging in advertising business and having been operating for more than two years. For the establishment of a wholly foreign-owned advertising enterprise, the investor is required to be an enterprise with advertising as its main business and also has been in operation for over three years. A foreign-invested advertising enterprise is qualified to apply the establishment of a branch in China, only if it has the full amount of its registered capital paid up, and with a minimal annual operating turnover of 20 million yuan (2.9 million US dollars).
October 2, 2008

Hong Kong: Hong Kong Disneyland cleared a significant hurdle in its expansion plans yesterday after it paid off about HK$3.3 billion in commercial loans with cheaper finance from The Walt Disney Company. The surprise move replaced loans from 26 banks with Disney's own funds, which need to be repaid within five years. Disney is understood to be charging the theme park just 1.5 percentage points more than the interest rate banks impose to lend funds to one another. Other favourable terms include eliminating loan-related fees that can run into tens of millions of dollars. A few months ago, it was reported that the government and Disney were at odds over the American media giant's desire to assume the commercial loans, raising fears the theme park would have to refinance in an increasingly tight credit market and accept less favourable terms. Uncertainty over financing arrangements for the loans, which were due yesterday, was a major burden clouding the theme park's future, as the government and Disney disagreed over how to fund the park's expansion. The government holds a 57 per cent stake in the joint venture with Disney. A Hong Kong Disneyland spokesman said both shareholders were happy with the refinancing of the loans and could focus on the theme park's capital realignment. "The government welcomes The Walt Disney Company's injection of funds into Hongkong International Theme Parks Limited. This helps pave the way for further development and financial arrangements of Hong Kong Disneyland," a Tourism Commission spokesman said. Disney had previously said it was willing to help finance the theme park's expansion. But fears that the lack of a proportionate injection of funds from the government would affect the shareholding structure of the theme park joint venture stalled negotiations. The way forward largely depended on whether the government was willing to inject matching funds to maintain its shareholding or accept a smaller stake, a source said. John Ap, associate professor of tourism management at Polytechnic University, welcomed Disney's refinancing and said it was needed to give the theme park a stronger chance of success. But he said he suspected the move would shift more bargaining power and influence to Disney as a result. Disney earlier agreed to temporarily forgo management fees and royalty payments it receives from the theme park. These fees amount to US$7 million a quarter. "Disney needs some leverage. It's saying that the government needs to throw out some crumbs," Dr Ap said. Under the original loan agreement, a HK$2.32 billion loan and HK$1 billion revolving credit facility were due on October 26, 2015. Last November the agreement was amended to shorten the maturity of the loans to yesterday.

Government to splash out HK$7.2b on cruise terminal, Administration urged to explain costs of Kai Tak project - The government will spend HK$7.2 billion to build a cruise terminal at Kai Tak amid fears that surging construction costs and financial turmoil have deterred private companies. This adds to a growing list of projects funded by the administration, including the West Kowloon Cultural District and the bridge linking Hong Kong to Zhuhai and Macau. The government will design and build the cruise terminal and lease the facilities to a private operator while retaining ownership of the site and terminal. The operator will be granted a tenancy of about seven to 10 years. The first berth is expected to begin service in mid-2013 and the full-fledged terminal building will be completed in 2014-15. The successful bidder will design, build and operate the berths and supporting facilities under the original development approach announced by the government in October 2006. It was originally hoped that the first berth would begin operating in February 2012. But the government said in July that the terminal would not be ready until spring 2013 at the earliest when it invited fresh bids after the two consortiums vying for the project were rejected for failing to meet government requirements. Cruise operators generally supported the government's decision as retendering the project would further delay the project. All major political parties urged the government to break down the HK$7.2 billion construction costs. Democratic party lawmaker Fred Li Wah-ming feared that the project would become "a replica of Hong Kong Disneyland", which was unable to recoup the huge investment. The government has also decided to scale back the 50,000 square metres of commercial, office and retail facilities in the terminal building to about 10,600 square metres. Secretary for Commerce and Economic Development Rita Lau Ng Wai-lan said construction costs had surged significantly and it was difficult to predict future trends. The May material indices for galvanised mild steel, sand and steel reinforcement increased by 60 per cent, 104 per cent and 137 per cent respectively since January last year. "In view of the recent financial-market tsunami, this would add risk and uncertainties to cost and capital financing of the project," Mrs Lau said. "We will run the risk of further delay if we test the market again through another land tender." She said the alternative approach would enable the government to commission the first berth in 2013 with greater certainty. A government source said the estimated construction cost of HK$7.2 billion was higher than the government's 2006 estimate of HK2.4 billion. "But the original estimate did not cover commercial facilities which would be built by the operator under the original model." The source said there was no estimate on how long it would take to recoup the HK$7.2 billion construction cost. "We are talking about the overall economic benefits of the project, not only the commercial returns." Mrs Lau said tourism was an important pillar of Hong Kong's economy and it would be in the city's interests to finance the project. The government estimates that the cruise industry would bring economic benefits of about HK$2.5 billion and up to an extra 9,000 jobs a year from 2023. Raymond So Wai-man, associate professor in finance at Chinese University, questioned how officials came up with the economic benefits. "The government has to make it clear whether it is direct or derived benefits such as a rise in adjacent land value and employment opportunities," he said.
The impact of the global financial crisis on Hong Kong manufacturers is expected to be worse than that of the Sars epidemic of 2003. As a result of fewer orders and tighter credit, the number of Hong Kong-owned factories in the Pearl River Delta that were expected to go out of business was forecast to grow, said Stanley Lau Chin-ho, a deputy chairman of the Federation of Hong Kong Industries. In March, it was announced that 10 to 20 per cent of Hong Kong manufacturers with factories in the delta were expected to close down within two years because of rising labour costs and other costs, according to a survey of 162 Hong Kong manufacturers by the federation. "With the US and European financial crisis, the proportion will be higher. The financial crisis mainly affects the export markets, which will shrink. Not only exports to the US but also to the European market," said Mr Lau, who could not give exact figures. There are more than 70,000 Hong Kong-owned factories in the delta. Orders from the United States and Europe, the two main markets for Hong Kong manufacturers, would soften this year, Mr Lau said. "Sars was a disease that went away in five months," he said. "But for the recent economic crisis, we don't know when it will hit bottom." An executive with one toy company said: "We've already seen a good number of Hong Kong toy factories closing shop this year, with the new labour law in January and the weakening global economy. It's a double whammy." US orders for toys from Hong Kong-owned factories had fallen year on year in "the low double digits", the executive said. "Europe will not be affected as badly as the US, but we will see a downturn [in European orders] this year." Mr Lau said the second problem facing manufacturers was that banks were tightening their loans. "There are more cases of banks tightening or cancelling loans or raising interest rates, even though there is no sign that small and medium-sized manufacturers cannot repay their loans. This will cause liquidity problems for these manufacturers," he said. Hong Kong banks had been burned by some of the city's firms which defaulted on their loans because of the worsening global economic environment, Mr Lau said. Another reason for tighter credit from Hong Kong banks was the exposure that some lenders had to the US debt instruments that helped precipitate the financial crisis, another executive with a Hong Kong toy company said. "Hong Kong banks are more conservative because they are being hurt by the US credit crisis. Many Hong Kong toy factories are running short on cash flow. They will slim down their operations or close," he said.
Hong Kong posted a HK$36.2 billion fiscal deficit for April-August, the first five months of the financial year, against a HK$1.2 billion surplus a year earlier, government data showed. Government finances have rebounded in the past four years in tandem with strong economic growth. That has allowed the government to offer a temporary salary tax cut for this year and property rate waivers, although those sweeteners will curb government revenue for the year ending in March 2009. As a result, the government forecasts a small deficit for 2008/09, compared with a record HK$123.7 billion surplus for 2007/08, before returning to the black in 2009/10. Analysts, however, say the government's 2008/09 estimate is pessimistic and they forecast a healthy surplus.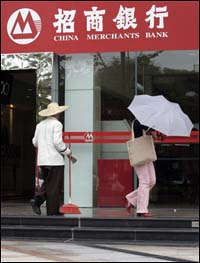 China's sixth largest lender, China Merchants Bank (CMB), announced on Tuesday that it had completed the 17 billion yuan (2.48 billion U.S. dollars) purchase for 53.12 percent of Wing Lung Bank's equity. Ma Weihua, CMB's president, would serve as Wing Lung Bank's board chairman, while CMB's vice president Zhang Guanghua would act as the vice chairman of the family-run bank based in Hong Kong, according to the public announcement of the Shanghai-listed CMB. There are currently ten members in the Wing Lung Bank's board of directors, with five from the CMB and the others from Wing Lung. Ma said the recent global financial turmoil had relatively small impacts on the two banks and would not diminish the strategic importance of CMB's purchase action. He added that the CMB had a positive view of the economic prospects in both the country's mainland and the Hong Kong Special Administrative Region. He believed this stake purchase was in line with the CMB's strategic development goals. Incorporated in 1933, Wing Lung has developed into the fourth largest bank in the special administrative region of China.

China: China to unify supervision of dairies - China has vowed to tighten regulation over the dairy industry by bringing all milk procurement stations in the country under one supervision system, a senior official said Tuesday. Sun Zhengcai, minister of agriculture, said the ministry launched a month-long campaign on Sept 22 to check milk procurement stations, together with the Ministry of Public Security and the Ministry of Health. "We will examine each and every milk procurement station and stamp out the practice of adding melamine to fresh milk," he said. "A long-term supervision system will be established to cover all milk procurement stations." The Administration of Quality Supervision, Inspection, and Quarantine said Tuesday that it had found most milk and formula milk are safe. After conducting inspection on baby formula milk and liquid milk, the administration conducted inspection on ordinary and formula milk not included in the previous tests, China News Service reported. Among 154 ordinary and formula milk producers inspected this time, which have more than 70 percent of the market share, 87 percent did not have melamine in their products. There are about 290 such milk producers in the country. Out of the 260 batches of products made before Sept 14, 88.3 percent did not contain melamine. The administration said most of the products found to have contained melamine in this round of inspection were still mainly related to Sanlu Group and its affiliated companies. Wang Jianguo, spokesman for the Shijiazhuang government, in Hebei province, Tuesday said the government "feels a deep sense of guilt and regret" for the babies poisoned by melamine and their parents. He said the government on Aug 2 had received reports from Sanlu Group that some milk powder caused kidney stones. On receiving the report, the government took some measures such as offering medical treatment to patients, urging Sanlu Group to import inspection machines and recalling the company's milk powder from the market. However, the government did not report the Sanlu communiqu to the Hebei provincial government until Sept 9. Zhou Bohua, minister of the State Administration for Industry and Commerce, said Tuesday that the industry and commerce authorities at all levels will ensure that all reported defective dairy products are taken off the shelves. He said the industry and the authorities across the country had made 9.724 million checks on milk powder and liquid milk as of Tuesday and forced 8,256 tons of milk powder and liquid milk out of the market.
The Shenzhou VII crew may have returned to Earth on Sunday, but the space mission continued last night: scientists started to move a small satellite closer to a module left behind in orbit. China Central Television reported that scientists at the Beijing Space Control Centre made their first satellite manoeuvre last night, with four or five adjustments due within a week. "The satellite is a bit far from the orbit module right now, so we have to give the satellite a little push to force it to move closer to the module," Li Gefei, a scientist with the ground control centre, told CCTV. The 40kg satellite has two cameras on board that are sending pictures of the orbit module back to Earth. The satellite and the orbit module were detached from the Shenzhou VII re-entry capsule and left to circle the planet after the crew's three astronauts finished their space tasks last weekend. Reports said both pieces of equipment would be abandoned after their batteries ran out. Besides sending back clear pictures of the orbit module, scientists said the experiment would offer technological references for building a space station in the future, but they did not elaborate. The attempt to bring the satellite and the module closer together appears to be a warm-up for a much more ambitious plan to connect space modules in orbit in about 2013. Space programme deputy head Zhang Jianqi said in another CCTV interview that China would send up an 8 tonne space lab, tentatively named Tiangong No 1, in 2010 or 2011, before Shenzhou VIII, IX and X were launched in the next two years to dock with the space lab. Tiangong literally means "heavenly palace" and is well known in Chinese literature as the home of a number of legendary characters. Mr Zhang said the Shenzhou VIII mission would have significant implications for subsequent space trips because the success or failure of the test would decide whether astronauts would be sent to outer space on the next three Shenzhou missions. "If the docking test of Shenzhou VIII is carried out smoothly, it's possible we will send astronauts to test the technology" in the next two missions, Mr Zhang said. Another senior space engineer, Su Shuangning, said docking could prove to be a difficult task. "In my opinion, it's like putting a needle up there in outer space, and then you try to put a thread through the needle from several hundred kilometres below. It's a hard task to do even on the ground," Mr Su said. From the lessons learned there, China will build a space station in outer space, allowing astronauts to live there for longer periods. Space engineering expert Wang Yongzhi said government blueprints for the space station indicated China would try to send astronauts to the moon. He said scientists were evaluating the feasibility of a manned lunar mission and would seek the central leadership's approval for the project when the timing was right.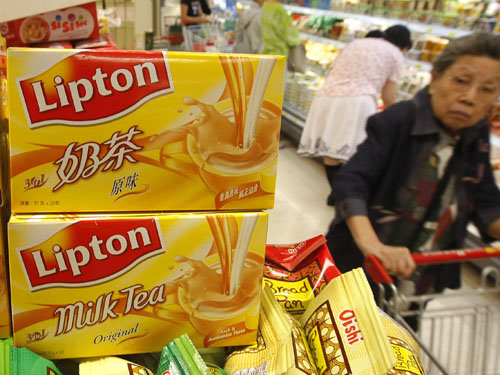 Lipton milk tea powder- being recalled by Unilever Hong Kong in Hong Kong and Macau - on sale at a Wellcome supermarket in Causeway Bay yesterday. After confectionery maker Lotte and chocolate producer Cadbury, food manufacturers Lipton, Glico and Ritz are the latest big brands with products found to be contaminated with the industrial chemical melamine. Unilever Hong Kong yesterday recalled four batches of Lipton 3-in-1 milk tea powder sold in Hong Kong and Macau, after finding melamine in internal quality checks. "Melamine at the level between less than one part per million to 16ppm has been detected in the affected products," Unilever Hong Kong marketing director Sharon Hwang said. Unilever owns Lipton. Under Hong Kong's guidelines, the melamine safety limit is 2.5 parts per million but 1ppm for pregnant women and young children. Ms Hwang said the products recalled include mainland-produced milk powder. The affected items are Lipton Milk Tea Powder Original (20 sachets) and Lipton Milk Tea Powder Gold (10 sachets and 20 sachets) with best-before dates between November 17 and November 19, 2009. "We use milk powder from New Zealand and other foreign countries for most of our products ... only since May 17 have we started using China-made milk powder in some products," she explained, adding that other Lipton products on the market were melamine-free. The Centre for Food Safety found excessive melamine in three other products in its latest tests, which covered 119 samples of milk, chocolate, biscuits, cookies, cakes, egg rolls and other dairy products. Glico Pocky Men's coffee-cream-coated biscuit sticks had 43ppm of melamine, and Zhongshan-produced coconut cakes and walnut cakes contained 19ppm and 3.7ppm of the chemical. The centre's spokesman said a three-year-old child weighing 10kg would have to eat about 1.5 packs, or 0.07kg, of the Glico biscuit sticks a day to reach the melamine safety limit, while an adult with a body weight of 60kg would need to consume about 17 packs daily to exceed the limit. The centre also tested some chocolates made by Cadbury - which recalled 11 of its products on Monday - and some M&Ms and Snickers chocolate bars. Its spokesman said results showed all the samples were satisfactory although one - Cadbury Chocolate Eclairs (in the 180g package) - contained 1.9ppm of melamine. Mars tested its M&Ms, Snickers and Dove chocolate products in Hong Kong and said they were safe to eat. That result came a day after the Indonesian Food and Drug Monitoring Agency said it found unusually high levels of melamine in M&Ms, Snickers and Oreo chocolate candies. The Korea Food and Drug Administration yesterday said two more mainland-made snacks - Ritz Cracker Sandwiches Cheese produced by Nabisco Food Suzhou, and Savoury Rice Crackers made by Danyang Day Bright Foods - contained 23.3ppm and 1.77ppm of melamine, respectively. Kraft Foods Hong Kong said the affected Ritz crackers were produced on the mainland while those sold in Hong Kong were made in Indonesia and contained no dairy ingredients from the mainland. An official with Danyang Day Bright Foods of Zhenjiang, Jiangsu province, who only gave his surname, Jia, said the company had not at this stage been informed by its South Korean distributor about the reported melamine contamination. Danyang Day Bright Foods is one of the two subsidiaries set up by Thailand's Day Bright Group on the mainland. Mr Jia admitted yesterday that the company used to buy some of its powdered milk from Sanlu Group. "But Sanlu only accounted for a small portion of our supplies," he added. Mr Jia said his company had frozen its entire inventory about two weeks ago, but declined to say if the stocks had been tested for melamine.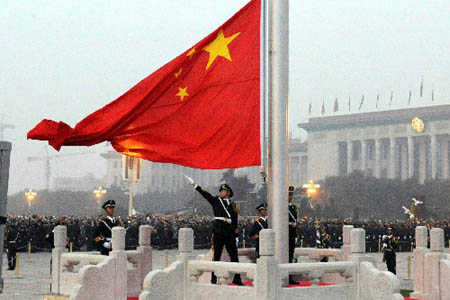 This is the flag-hoisting ceremony at Tian'anmen Square. The 59th anniversary of founding of the People's Republic of China, which fell on Wednesday, was celebrated by people from different walks of life across the country. At Tian'anmen Square, the heart of the national capital of Beijing, some 190,000 people from different part of the country gathered early on Wednesday to attend a special flag-hoisting ceremony marking the occasion.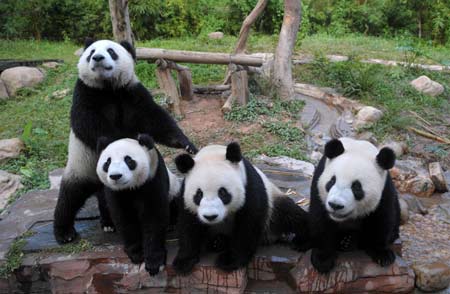 Giant pandas play at the Xiangjiang Wildlife World in Guangzhou, capital of south China's Guangdong Province, Sept. 30, 2008. Ten giant pandas in the zoo, including five adopted from Wolong nature reserve in the quake-hit Sichuan Province, become the tourists' favorite attraction in the city during the National Day Holidays.
Chinese President Hu Jintao has appointed four new ambassadors in line with decisions adopted by the Standing Committee of the National People's Congress, China's top legislature. Liu Jian was appointed ambassador to Malaysia, replacing Cheng Yonghua. Gao Deyi was appointed ambassador to the Kingdom of Lesotho, replacing Qiu Bohua. Gong Jianwei was appointed ambassador to Georgia, replacing Wang Kaiwen. Cheng Guoping was appointed ambassador to Kazakhstan, replacing Zhang Xiyun.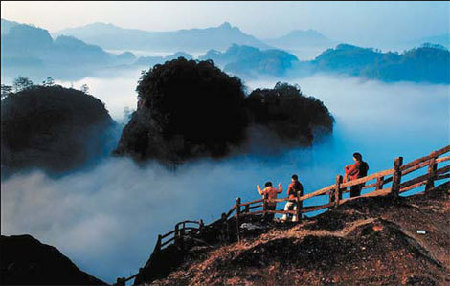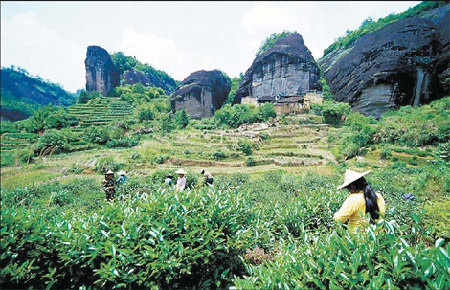 Autumn is the best time of year for oolong and the pick of the crop is now to be found in East China's Fujian province. Four famous Chinese oolong teas are tieguanyin (Iron Goddess of Mercy), produced in southern Fujian; dahongpao (big red robe) in northern Fujian; fenghuang (phoenix) dancong oolong in Guangdong province, and dongding (top-frozen) oolong in Taiwan. It is the best time of year to visit the Wuyi Mountains, which produce the four most famous northern Fujian oolong teas: dahongpao, also called "rock teas" as they grow on cliffs; baijiguan (white cockscomb); Wuyi rougui (rock teas with cinnamon flavor); and Wuyi shuixian (rock teas with the scent of narcissus flowers). Oolong tea is half fermented and looks dark green. Because they grow on the mountains, northern Fujian oolong teas are known for their floral fragrance and a "rock rhyme". They taste strong, round and have a descending power in the body, which people call "the bone of rocks". The fragrance lingers long in the mouth. The big red robe tea got its name from a story. A Chinese scholar in the Ming Dynasty (1368-1644) was passing through Fujian when he fell sick with a stomachache. Local monks offered him a cup of tea and cured him, so that he not only took a national qualifying exam for officials but also became the top qualifier. He also used the tea to cure the Queen's stomach problem. He later returned to Fujian and tied a red robe of honor on the tea tree.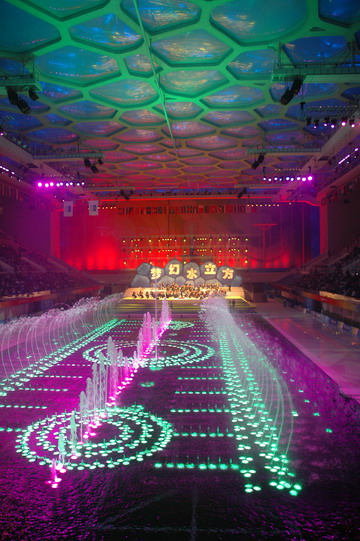 This photo taken September 30, 2008 shows a musical waterscape performance in the National Aquatics Center, better known as the Water Cube. A waterscape concert titled "Dream of the Water Cube" kicked off at Beijing's National Aquatics Center on Tuesday night. The concert is part of a four-month-long musical performance series presented by the Beijing Artists Management Corp, the Beijing International Culture & Art Corp, and the National Aquatics Center. The performances will be devoted to four music genres: classical, electronic, pop and rock and roll. The performance Tuesday night was divided into six segments, each comprising classical music and a fountain performance using high-tech sound effects and lighting techniques. The performances will last through January 2009. Each concert can accommodate 8,000 audience members, and the cheapest tickets will be sold for 200 yuan.
October 1, 2008

Hong Kong: In the wake of the on-going international credit crisis, the Hong Kong Monetary Authority (HKMA) on Tuesday unveiled five temporary measures to boost the liquidity of licensed banks in Hong Kong. It said the new measures would take effect from Thursday for a period of six months until the end of March 2009. A HKMA spokesman said the measures were taken in the light of the current crisis affecting world financial markets. "Continuing stress in the financial systems of developed markets has caused some concern among licensed banks in Hong Kong over the credit worthiness of each other. "This concern, together with a wish to preserve liquidity to meet their own contingent needs, has led to a general shortage of interbank liquidity and difficulties on the part of individual licensed banks in obtaining funding in the interbank market," the spokesman explained. But he said Hong Kong's banking system remained "healthy". "The existing framework for maintaining banking stability – including the prudential supervision of banks and the arrangements for providing liquidity both at the systemic and institutional levels – have ensured the banking system of Hong Kong is well prepared for turbulent conditions," he said. The spokesman advised ordinary investors to exercise caution. "The HKMA will continue to monitor the situation carefully and will, as necessary, make use of the tools at its disposal to maintain financial stability in Hong Kong." The five new measures are: (1) Eligible securities, for access by individual licensed banks to liquidity assistance through the discount window, will be expanded to include US dollar assets of credit quality acceptable to the HKMA. (The discount window is a HKMA location where banks borrow money at a discount rate). (2) The duration of liquidity assistance provided to individual licensed banks through the discount window will be extended. This at the request of individual licensed banks and on a case-by-case basis, from overnight money only to maturities of up to three months. (3) The 50 per cent threshold for use of exchange fund paper as collateral for borrowing through the discount window at the HKMA base rate will be raised to 100 per cent. (The bank base rate is the rate that the HKMA lends money). "In other words, the 5 per cent premium [or penalty] over the base rate for the use of exchange fund paper beyond the 50 per cent threshold, as collateral for borrowing through the discount window, will be waived," the spokesman explained. (The exchange fund is the investment vehicle which backs the Hong Kong dollar). (4) The HKMA will, in response to requests from individual licensed banks and when it considers necessary, conduct foreign exchange swaps (between the US dollar and the Hong Kong dollar) of various durations with licensed banks. (5) The HKMA will, in response to requests from individual licensed banks and when it considers necessary, lend term money of up to one month to individual licensed banks against collateral of credit quality acceptable to the HKMA.
The Hong Kong Monetary Authority (HKMA) has received more than 2,000 complaints about the selling practices of banks regarding investment products arranged by or linked to Lehman Brothers, Secretary for Financial Services and the Treasury Chan Ka-keung said on Tuesday. The Consumer Council also said they have received more than 890 complaints and 200 inquiries from holders of about HK$620 million in structured notes arranged by or linked to Lehman. Mr Chan said the complaints were mainly about the inappropriate methods used by banks when they sold Lehman's investment products. "I am really concerned about these cases," he told reporters.The HKMA will look into all complaints from investors, and will give priority to handle those obvious cases where banks used improper sales tactics to sell those products to investor," he said. He said the HKMA has already increased its staff to handle complaints and urged investors to report whether they had been misled by financial institutions. Mr Chan also said he was concerned US lawmakers, early on Tuesday (HK time), had rejected a US$700 billion (HK$5,446 billion) plan to bail-out the troubled American economy. Mr Chan said it was inevitable the market would be volatile and urged investors to stay calm. He said Hong Kong's financial authorities would closely monitor how the markets react to further developments in the US. "I feel disappointed that they [some US politicians] rejected the bail-out. This will affect the stability of global stock markets – including Hong Kong. "I hope local investors can stay calm... the government and HKMA will also do everything to ensure the stability of financial markets and the banking system," he added.
The government has abandoned the tendering process for the Kai Tak cruise terminal and decided to allocate approximately HK$7 billion to build it, Secretary for Commerce and Economic Development Rita Lau Ng Wai-lan said on Tuesday. Ms Lau said the tendering process had failed to find acceptable bids. Rising constructions costs and the recent international financial crisis had also increased the risks for companies who might have been interested in the project. "So we have decided to build the terminal by ourselves. We want to complete the construction as soon as possible as any further delays in construction would only increase costs," she said. Ms Lau said after the terminal was completed, the government would lease it to a private operator for seven to 10 years. "The first berth is expected to be in service by 2013. It is expected the new project would create 8,000 to 9,000 new jobs and bring an economic benefits of HK$2.5 billion to Hong Kong by 2023," she added. In July, the government said the two bids it hgad received were rejected for going outside the tendering requirements. Under the original proposal, the successful tenderer would design, build, operate, manage and maintain the terminal for 50 years, starting with the first berth in 2012.

Lenovo launches low-cost servers for global market - Computer maker sees sustainable demand from SMEs - Unfazed by the gloomy world economy, mainland technology giant Lenovo Group (SEHK: 0992, announcements, news) has entered the international server computer market with a new line of low-cost machines designed for small companies. Lenovo, the world's fourth-largest personal computer supplier, will start shipping its ThinkServer line to small and medium-sized enterprises (SMEs) outside of the mainland on September 30 - a move that will intensify competition with larger rivals Hewlett-Packard and Dell. President and chief executive William Amelio predicted that the company's server line would "quickly become a profitable business". The Shenzhen-manufactured ThinkServer family, which comprises three towers and two rack-mounted models, is based on x86-based server technology licensed from IBM Corp, which sold its personal computer business to Lenovo in 2005. "Lenovo is now delivering a full suite of product offerings for small and medium-sized businesses from desktops to notebooks to servers," said Marc Godin, vice-president and general manager of the company's enterprise business unit. Mr Godin said Lenovo provided "a scalable offering" to fit the varying needs of enterprises, ranging in size from one to 500 employees. Prices for the ThinkServer line, which consists of one- and two-processor machines, start at US$749. Each computer uses Intel's Xeon processor, Lenovo's proprietary management software, and either Microsoft's Windows Server or Novell's Suse Linux Enterprise Server operating system. The x86 is the industry's most commercially successful computer hardware architecture, which use processors made by Intel and other suppliers. IBM's x86-based server platform uses certain proprietary technologies. "Lenovo's ThinkServers deliver rock-solid engineering and easy-to-use software all developed specifically for the SME customer," said Mr Godin. He noted that the new servers would not be sold on the mainland because its Lenovo-branded servers would continue to be supplied to the domestic market. But in a recent Asia-Pacific server market report, research firm Gartner wrote: "Technology providers should prepare for a slowdown in information technology spending in large markets, such as China, Australia and India." It cited economic slowdown and high inflation in emerging markets as having some impact on information technology spending. "We have realistic expectations as we enter this market, but we're very positive about achieving our internal goals," said Mr Godin. In the second quarter, Gartner estimated total server sales in the Asia-Pacific at US$2 billion on shipments of 390,758 units. The mainland accounted for 43.5 per cent of all server sales. Hewlett-Packard and Dell were among the top-sellers of low-cost x86-based servers geared for SMEs in the region, according to Gartner, making up about 51 per cent of the region's total server sales. "SMEs are more resilient than big corporations in terms of information technology spending, so Lenovo - like HP and Dell - still sees some areas of growth, even though it will be an increasingly tough market for all vendors," JP Morgan analyst Charles Guo said. The ultimate goal for Lenovo is to catch up with the world's top-selling server players IBM, HP, Dell and Sun Microsystems, each of which delivers a wider range of servers - from low-cost machines to expensive high-performance systems. According to research firm International Data Corp, revenue in the global server market grew 6.4 per cent year on year to US$13.9 billion in the second quarter, led by the big four United States-based brands. "While all the major vendors exhibited strong unit growth, there was significant price competition throughout the second quarter," said Jed Scaramella, senior research analyst at IDC. "Low-end volume servers are somewhat viewed as commodities and experienced the most pricing pressure." Although late in the international server arena, Lenovo "has the advantage of having plenty of distributors and resellers worldwide who are keen to work with the company", Mr Godin said. "We're working to strengthen these relationships and build new ones in all our markets. Eventually, Lenovo will extend manufacturing of its server line in its overseas factories to be closer to its target SME customers." Mr Godin said production was being planned for new plants in Mexico and Poland.
Cheung Kong (Holdings) (SEHK: 0001) has sold the former headquarters site of Asia Television in Kowloon Tong and a luxury residential site in Mid-Levels for about HK$2.5 billion to a United States fund. Justin Chiu Kwok-hung, an executive director at Cheung Kong, yesterday said the company had signed an agreement of sale and purchase with an unnamed US state pension fund. The developer has also received the deposit. "We can't disclose the price but it is close to HK$2.5 billion," Mr Chiu said. The developer sold the sites at 81 Broadcast Drive in Kowloon Tong and 16-18 Conduit Road in Mid-Levels to the fund. According to the sales agreement, Cheung Kong is responsible for building a 103-unit project in Kowloon and a 35-unit project on Hong Kong Island for the buyer. The projects are scheduled for completion in 2010. Mr Chiu said the buyer bought the properties for long-term investment. Cheung Kong is expected to generate an attractive profit as the sites were bought for HK$790 million. Home prices in the areas around the sites are about HK$12,000 and HK$15,000 per square foot respectively, in line with neighbouring properties. A property agent said the average price of Kowloon Development (SEHK: 0034, announcements, news) 's 31 Robinson Road luxury project, close to the Conduit Road site, was about HK$16,000 per square foot. The sales are a sign that the developer may not be expecting prices to rise further, an analyst said. "The outlook for the property market is uncertain," the analyst said. "It's a good deal for Cheung Kong ... as the fund's offer is attractive." Meanwhile, 15 developers yesterday showed an interest in the Urban Renewal Authority's "Wedding Card Street" redevelopment project in Wan Chai which could be turned into a commercial and residential project with a total gross floor area of 835,000 square feet. Cheung Kong, Sun Hung Kai Properties (SEHK: 0016), Henderson Land (SEHK: 0012), Hopewell Holdings (SEHK: 0054), New World Development, K Wah Real Estates and Chinese Estates Holdings (SEHK: 0127) submitted expressions of interest yesterday after invitations went out last month.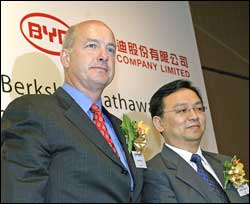 BYD soars as Buffett bets on its electric cars - BYD (1211) shares roared out of the gate yesterday when the stock resumed trading after US billionaire Warren Buffett's strategic investment in the Chinese battery maker boosted the firm's capital to allow it to pursue its dream of making electric cars. The shares soared 90.5 percent in early trading before settling back and closing at HK$11.90, up 41.7 percent. Nearly 21 million shares changed hands on turnover of close to HK$260 million. David Sokol, chairman of MidAmerican Energy Holdings, a unit of Buffett's investment vehicle Berkshire Hathaway, said while the company was sensitive to an appropriate investment value, it did not buy a 9.9 percent stake in Shenzhen- based BYD merely because of the cheap share price. "We invest on the future of this alternative fuel car ... we are thrilled to make an additional investment, if it makes sense, with BYD," Sokol said in Hong Kong. He added it was Berkshire's first investment in China whereby it would partner with a mainland firm. He said MidAmerican, one of the largest renewable energy investors in the United States, is bullish on the future of electric cars among many alternative fuel vehicle choices. "The investment is a huge vote of confidence for BYD," said JPMorgan technology analyst Charles Guo, adding it will "elevate BYD's profile and help future customer acquisitions." BYD is reportedly considering selling domestic A shares in the mainland to broaden funding channels. MidAmerican Energy said it will acquire 225 million BYD shares, paying about HK$8 apiece, for a total investment of HK$1.8 billion. BYD has plans to start selling electric cars in China by 2010, and to overseas markets the following year.
Hong Kong establishes Anti-Doping Committee - The Sports Federation and Olympic Committee of Hong Kong, China announced the establishment of the Hong Kong Anti-Doping Committee (HKADC) on Monday. Secretary General of the Sports Federation and Olympic Committee Pang Chung and Chairman of HKADC Frank Fu officiated the opening ceremony for the HKADC's establishment, the first independent anti-doping organization in Hong Kong. Speaking at the ceremony, Chung said, "the establishment of HKADC will further take Hong Kong to an international level in terms of the fight against doping in sport." He added that the new committee involved members from sports, educational, medical, legal and some other domains. According to Fu, HKADC is committed to preserve a doping-free environment for fair play in sport in Hong Kong. It will ensure the city's anti-doping policy is in full compliance with the World Anti-Doping Code by the World Anti-Doping Agency. In addition to managing the Drug Testing Program, HKADC is responsible for promoting educational programs to the sport community on rules governing the use of performance enhancing substances and its harmful health effects, said Frank Fu. With continued support from the Hong Kong government, HKADC will gradually evolve into an official, world-recognized anti-doping organization in its second year of operation.

China: Baidu, the largest search engine on the mainland, sold its internet television channel to UiTV because it was unwilling to further develop the online video business, analysts said.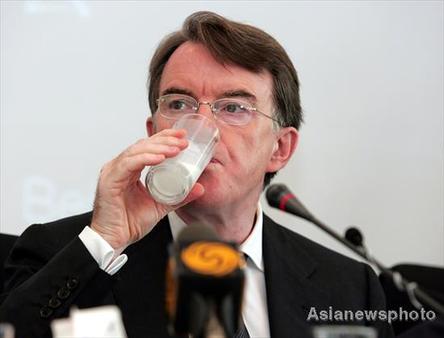 EU Trade Commissioner Peter Mandelson drinks a Beijing-branded yogurt at a press conference in the capital on Friday. Mandelson said he was confident of Chinese dairy products despite the recent tainted milk food scandal.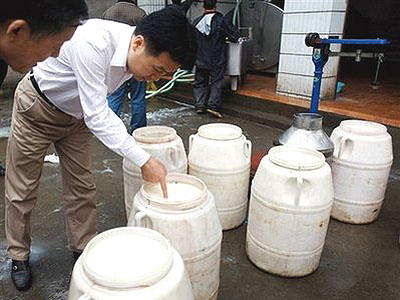 Food safety personnel check on the fresh milk at a milk collection station in Chengdu on Sunday. Police in northern China have arrested 27 people in their probe into tainted milk that has sickened 53,000 children and embarrassed the mainland's reputation abroad, state media reported on Tuesday. The 27 are among 36 detained since law enforcers in Hebei province started investigating Sanlu Group, the company at the centre of the scandal, earlier this month. It followed the discovery that the industrial chemical melamine, which is normally used to make plastics, had been added to Sanlu powdered milk. Xinhua news agency had reported 22 detentions by Monday, and said they were involved in a network that made and sold melamine and added it to milk. Four children so far have died after drinking milk tainted with melamine, which can make watered-down milk appear richer in protein. According to police investigations in Hebei, where Sanlu is headquartered, the melamine was produced at underground plants and sold to breeding farms and purchasing stations, the China Daily reported on Tuesday. It said mainland officials, learning that the purchasing stations were among the key links in how the contaminated milk spread, have kicked off a national campaign to overhaul the system. Altogether, 31 provinces have set up special task forces to supervise the purchasing centers and implement more standardized practices, the newspaper said. As the tainted milk scandal has multiplied, a growing range of mainland-made products abroad have been pulled off shelves.
BT Group is expecting its revenue from China operations to surge by more than 50 per cent year on year within the coming three years to US$250 million, the company's Asia-Pacific president said.

Microsoft slashes China's prices - Microsoft has cut the selling price in the mainland of one of its software products by over 70 per cent to counter rampant piracy. It is the first special offer since Microsoft entered the mainland market in 1992, the company said. Microsoft said it had slashed the price for Office last year Home and Student Edition to 199 yuan (HK$227) from 699 yuan. The promotion, which started on Monday, will last through next week's National Week holiday. The price cut is designed to make Microsoft's products in the mainland more affordable and more promotions are likely in future, said Jim Lin, the company's public relations manager in Beijing. "With this price, we believe more customers can enjoy authorised software products," he said. Violation of intellectual property rights has been a running sore in mainland's relations with its trading partners, including the United States. US movie, music, software and book industry groups estimate they alone lost US$3.5 billion in the mainland due to piracy last year, three times more than in 2001. Microsoft, the world's largest software firm, is among the hardest-hit victims. Pirated versions of Microsoft's Office software can sell in the mainland for less than 10 yuan. Last month police detained the operator of a website, "Tomato Garden", from which millions of pirated versions of Microsoft software had been downloaded, according to media reports.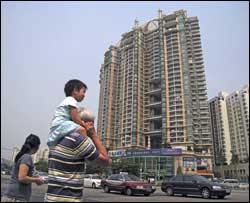 Bargain Chinese property projects will be up for grabs in coming months as developers scramble to survive falling home sales and a funding crunch. But circling foreign funds can no longer expect a big firesale as the government eases tough steps to cool the market, fearing mass bankruptcies and a damaging property price slide. When Beijing upped the ante against property speculation at the end of last year by ruling that buyers of second homes must pay 40 percent in equity, apartment sales and prices slid in Guangzhou and Shenzhen. Developers, squeezed by a land appreciation tax and a clampdown on bank lending, found that capital market turmoil closed off share and debt issuance. Some fund managers believed their time had come, and cheap deals would open up a mainland property market where a yearly influx of eight million people into cities promises long-term riches. They are still waiting. "We expected there to be a lot more guys going under and a lot more forced sale situations," says Chris Gradel, managing partner at Pacific Alliance. Describing the resilience of Chinese developers as "one of the biggest surprises of the year," Gradel says property companies had muddled through with presales, delayed payments to contractors, and borrowing from banks and other sources. Local authorities have also been stretching payment schedules for land, and choosing not to implement a government edict that developers lose land if they fail to build within two years. However, with bank loans to developers down 30 percent in the first half of this year to 399 billion yuan (HK$455 billion), according to the People's Bank of China, thousands of companies are vulnerable, especially if they took part in a buying frenzy last year. "The guys who blew all their cash in the second half of last year are the guys who are having the most trouble," Gradel says. "I think there's a good chance we'll see some more distress over the rest of the year." So far, few bankruptcies have been reported. Nanjing property tycoon Liu Fulin abandoned his home building business in February in favor of pig farming when hog prices soared, local television reported. Another firm in the eastern city, Nanjing Panlong Jinling Property Development, went bankrupt in July, according to property website www.focus.cn. The downturn was best illustrated by Changhui, one of the country's biggest property agencies, which closed half its 1,800 outlets late last year as sales dried up. Property price falls must soon follow, analysts say, but developers appear to be holding out, with homes an average 7 percent more costly in July than a year earlier. Beijing is widely expected to relax its policy stance in early next year. "In China, it really depends on the macro economy and the kind of government policy that is going to be put in place," says Wilkie Lai, director and chief risk officer at Tribridge Investment Partners, a fixed-income focused hedge fund manager. "Tightening is not the keyword anymore." The prospect that the market will bounce back strongly is giving hope to foreign investors. US banks Citigroup and JPMorgan have said they are keen to spend their own money and their managed funds in China, expecting developers to offer plum deals. With shares in mainland developers down about 70 percent since a peak last November, as many as 30 mainland developers have shelved initial public offerings planned for this year and are looking for foreign funds for capital to finish their projects. "These developers are refinancing, or selling land and offering joint venture projects to raise money," says Anthony Ryan, head of Asia property investment banking at JP Morgan. "An increase in restructuring activities will appear between now and the first quarter of next year."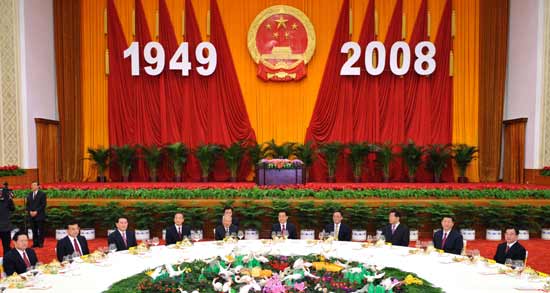 Top Chinese leaders Hu Jintao, Wu Bangguo, Wen Jiabao, Jia Qinglin, Li Changchun, Xi Jinping, Li Keqiang, He Guoqiang and Zhou Yongkang and other Party and state leaders attend the National Day reception at the Great Hall of the People in Beijing, capital of China, Sept. 29, 2008. China's State Council held the reception on Sept. 29 to celebrate the 59th anniversary of the founding of the People's Republic of China.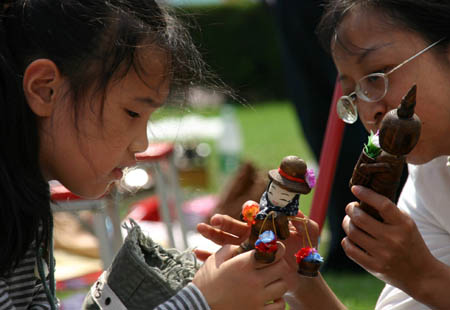 A girl selects some crafts at the flea market in Nanjing, capital of east China's Jiangsu Province, Sept. 29, 2008. A three-day-long flea market was opened Monday in the city.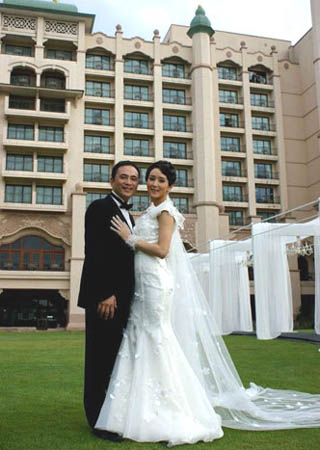 Mainland Chinese actress Hu Jing married Malaysian business tycoon Frank Choo early Saturday, September 27, 2008. The grand marriage ceremony was held at Asia's most extraordinary hotel, Palace of The Golden Horses in Kuala Lumpur, Malaysia.
National Day holiday sees people on the move - More than 60 percent of Chinese said they planned to travel during the National Day holiday, according to a survey conducted by the China National Tourism Administration. But the number of outbound tourists is surprisingly small as only 3 percent of the 14,666 people surveyed said they would visit overseas destinations during the holiday week. The survey found 33 percent of respondents planned outings to downtown or suburban areas, while another 24 percent intended to go sightseeing in other provinces. Among domestic destinations, Beijing, Zhejiang, Yunnan, Shandong and Guangdong are the five most popular destinations. For outbound mainland tourists, the hottest overseas destinations are Hong Kong and Macao, with 22 percent of those with outbound travel plans saying they would visit the special administrative regions. Singapore, Thailand, Malaysia, Japan and South Korea remain popular, while Europe stands out among all long-distance destinations, the survey found. Among the remaining respondents, 24 percent said they will visit friends, relatives or family members. And 13 percent said they would rather stay at home during the holiday, while 3 percent had alternative plans. "We can see from our sales figures that domestic travel has the upper hand during this National Day holiday," said Zhang Qingzhu, a marketing manager with China Comfort Travel Ltd. "One of the reasons may be that domestic package tours during this Golden Week are much cheaper than last year. For example, package tours of Tibet are nearly 1,000 yuan ($147) cheaper," she said. Prices of domestic tours have been cut to attract tourists because tourist attractions and travel agencies suffered severe losses in the first half of this year due to the severe frost and snowstorms that hit southern China in February and the May 12 earthquake in Sichuan province. The huge traffic flow during the holiday week is expected to put a great deal of pressure on the nation's transport system. Ministry of Railways spokesman Wang Yongping said the national railway network is expected to transport 57 million people this week, an increase of 7.57 million compared to the same period last year. The traffic peaked Monday, when 6.5 million people were estimated to be taking trains, he said. The ministry has arranged 45 additional pairs of trains to transport people to popular tourist destinations such as Zhangjiajie, Guilin, Shenzhen and Kunming. As for road traffic, He Jianzhong, a spokesman for the Ministry of Transport, estimated that 381 million people will travel by road during the Golden Week, up 5 percent year-on-year.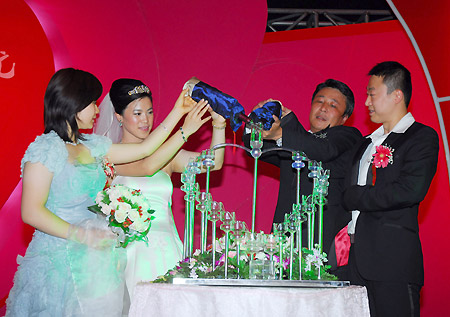 China's four-time Olympic table tennis gold medalist Wang Nan (2nd L) pours Champagne into glasses at her wedding with long-time partner Guo Bin onboard a luxury yacht in Yantai, Shandong Province, September 27, 2008. Wang's teammate Ma Lin (R), the reigning Olympic men's singles champion, and Japan's most popular table tennis star Ai Fukuhara (L) were best man and maid of honor respectively.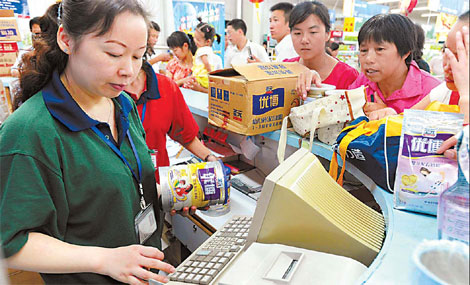 Customers return tainted milk powder at a supermarket in Hefei, Anhui province last week. China takes measures to regulate dairy market, aid dairy farmers. Chinese Ministry of Agriculture (MOA) said that 29 provincial areas nationwide had set up special working groups by Wednesday to regulate the dairy product market in response to the recent tainted baby formula scandal. Local governments also promised subsidies for dairy farmers, in a bid to reduce their cost of feeding cows. North China's Hebei Province earmarked 316 million yuan ($46.4 million) as subsidies on the basis of 200 yuan for each cow, said the ministry on its website. Central China's Shanxi Province would grant a subsidy between 10 and 18 yuan per day for each cow to dairy farmers in major milk producing cities and counties. Liaoning Province in northeast allocated 108 million yuan as subsidies for 240,000 cows, according to the MOA. The General Administration of Quality Supervision, Inspection and Quarantine (AQSIQ) also announced Wednesday that a quality check of milk, yoghurt and other liquid dairy products produced after September 14 had shown no signs of toxic chemical melamine. The Sanlu Group, a leading Chinese dairy producer based in northern Hebei Province, admitted on September 12 that it had found some of its baby milk powder products was contaminated with melamine. "The quality sample check this time covered major brands including Mengniu, Yili, Guangming and Sanyuan," said the AQSIQ. The quality watchdog would continue conducting dairy product quality inspections and make public the results in a timely manner.

*News information are obtained via various sources deemed reliable, but not guaranteed