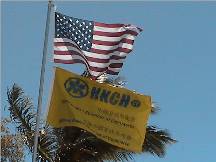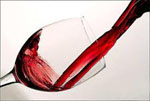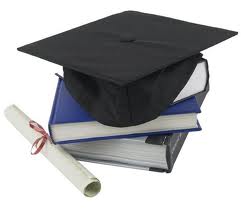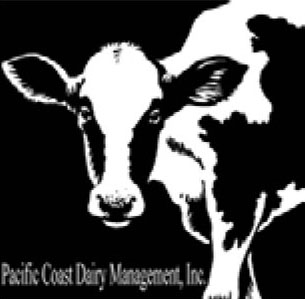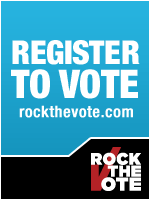 Biz-Video

Hawaii's China Connection

Doing Business in Hong Kong & China
Hong Kong, China & Hawaii Biz*



Skype - FREE Voice Over IP

View Hawaii's China Connection Video Trailer
Do you know our dues paying members attend events sponsored by our collaboration partners worldwide at their membership rates - go to our event page to find out more! After attended a China/Hong Kong Business/Trade Seminar in Hawaii...still unsure what to do next, contact us, our Officers, Directors and Founding Members are actively engaged in China/Hong Kong/Asia trade - we can help!
Are you ready to export your product or service? You will find out in 3 minutes with resources to help you - enter to give it a try


Listen to MP3 "Business Beyond the Reef" to discuss the problems with imports from China, telling all sides of the story and then expand the discussion to revitalizing Chinatown - Special Guest: Johnson Choi, MBA, RFC. President - Hong Kong.China.Hawaii Chamber of Commerce (HKCHcc) and Danny Au, Manager, Bo Wah Trading

Nov 27 - 30 2008 Happy Thanksgiving

Hong Kong: Thousands of passengers were stranded in Hong Kong yesterday as a result of the closure of Bangkok's Suvarnabhumi international airport.

Sun Hung Kai Properties (SEHK: 0016) plans to offer its luxury low-density residential project in Sha Tin at 35 per cent less than a nearby project, reflecting growing fears of a slump that will see volumes this month plunge to a 20-year low. As the first new project to go on sale since the collapse of Lehman Brothers Holdings in September, the sales response would offer clues to the strength of the primary market, analysts said. SHKP said it would release 20 units at Peak One tomorrow at about HK$7,366 per square foot and would offer buyers up to 500 days to complete the transaction. Prices for the first batch are between HK$12.67 million and HK$20.79 million each, or HK$6,801 to HK$8,011 per square foot. The prices are 35 per cent lower than an adjacent project, Great Hill, built by KWah International Holdings. To compete for buyers, KWah last Friday reduced prices for two penthouses at Great Hill to HK$10,000 per square foot, 3.8 per cent lower than the launch.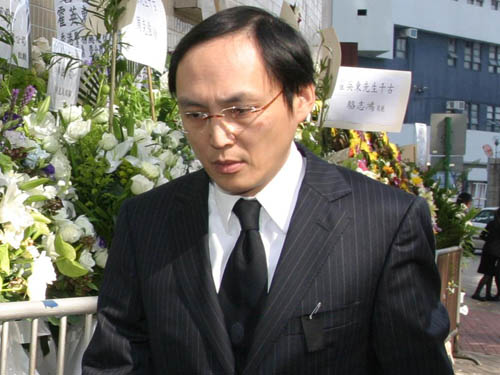 A bitter legal battle at late tycoon Henry Fok Ying-tung's company took another turn yesterday after Ho Ming-sze sued a fellow board member for allegedly accusing him of destroying the firm's finances - and then hiding the mess by sacking a senior manager. Mr Ho, the late tycoon's adviser, claimed that Manson Fok, one of the tycoon's sons, had penned a letter which compared him to some of the most reviled figures in Chinese history, including the notorious Gang of Four and Dowager Empress Cixi. That letter was allegedly circulated among shareholders and other board members at the Fok Ying Tung Ming Yuan Development Company. The firm was set up to realise the late billionaire's dream of creating a miniature Hong Kong in the Pearl River Delta, known as Little Nansha. Dr Fok's alleged accusations included claims that Mr Ho stopped visiting Henry Fok before his death in 2006 when he realised the billionaire was not mentally fit to sign documents "for the purpose of transferring property to the plaintiff". The letter claimed that Mr Ho had been plotting to take over the company's Nansha development, the lawsuit said. Mr Ho denied the alleged accusations, including claims that general manager Edward Lam Sik-lau was fired to stop him exposing a financial catastrophe created by Mr Ho and others involved in the project. Mr Lam is an uncle of the HK$3.5 billion company's chairman, Michael Fok Hin-keung, one of the tycoon's sons. "[Mr Ho] has been seriously injured in his character, credit and reputation, and has suffered considerable hurt and embarrassment," said the November 25 claim filed in the High Court. Efforts to reach Manson Fok, chief of surgery at Macau's Kiang Wu Hospital, for comment on the lawsuit were unsuccessful. The legal action came about one week after Mr Ho - who resigned as company chairman on November 6 - filed a separate legal action in a bid to reverse the decision of the firm's general meeting on the same day to remove Otto Lin Chui-chau and Ng Sau-shan from the board. Mr Lin is chief executive of Nansha Information Technology Park and Mr Ng is and aide to Mr Ho. Meanwhile, the letter, written in Chinese, suggested that Mr Ho and several directors behaved like the Gang of Four by consolidating their power and then unleashing disastrous policies that sparked disarray at the company, the lawsuit claimed. The Gang of Four gained prominence in the Cultural Revolution in the 1960s and were blamed for a decade of chaos that enveloped China. Mr Ho claimed he was also compared to the Dowager Empress Cixi, who ordered the execution of rival politicians during the Qing dynasty (1644-1911). Mr Ho's lawsuit claimed Dr Fok had an "ulterior motive for revenge" because he was close friends with the fired manager and had a vested interest in the Nansha development. "[Dr Fok] published the words maliciously knowing the same to be untrue and/or being reckless as to their truth or falsity," the claim said, adding that Dr Fok "calculated that the pecuniary and/or other advantages to himself would outweigh any compensation [for defamation] that may be awarded to the plaintiff". Unspecified damages are sought.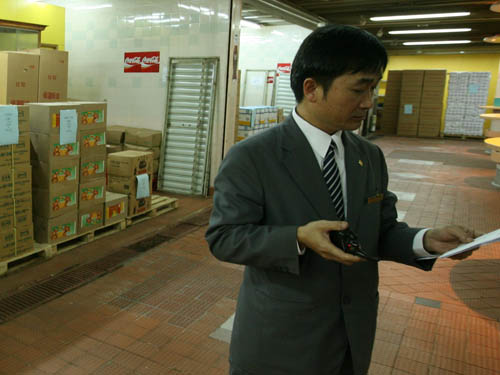 Nearly half of the 14,900 stalls managed by the Food and Environmental Hygiene Department pay 60 per cent or less of the open-market rental, with one in Ngau Tau Kok Market paying as little as HK$112 a month - only 1 per cent of the market price. The Director of Audit's report on the management of public markets found the department recorded a deficit of HK$160 million for its management of 104 public markets across the city, with 24 per cent of stalls vacant. The loss was not only due to the high vacancy rate but also cheap rentals, with deficits recorded in some vibrant markets with high patronage. "According to a recent survey by the Rating and Valuation Department, about 15 per cent of stalls' tenants were paying full open-market rental," the report said, adding that 48 per cent of the stalls were paying 60 per cent or less of the open-market rental. It found the low rentals were caused by concessionary rentals offered to former licensed itinerant hawkers, who on average paid only 6 per cent to 7 per cent of the open-market rentals for small stalls and 50 per cent for large stalls. In Ngau Tau Kok Market, a stall owner selling wet goods paid only HK$112 a month, while the market price was HK$11,900. In the same market, a stall owner selling dry goods paid HK$128 a month but another owner selling similar goods with the same sized stall paid HK$3,900 a month, the report said. It added that the cheap rentals were also caused by the 30 per cent across-the board rental reduction in 1998, during the Asian financial crisis, a subsequent rental freeze and reduced rentals for stalls that had been vacant for a long time. Thirty-four markets had a stall vacancy rate of more than 30 per cent, with 11 having 50 per cent of their stalls vacant. Five years ago the Director of Audit demanded the department review whether to close down or privatise some public markets. The report also noted the department had failed to recover the annual HK$11 million air-conditioning cost from 31 markets and demanded it work out an arrangement to recover the cost.
The global financial crisis would not stop Hong Kong pushing ahead with major infrastructure projects, Secretary for Commerce and Economic Development Rita Lau Ng Wai-lan said on Wednesday. Ms Lau was speaking at a luncheon seminar organised by the Vancouver Board of Trade. She is in the British Colombian city as part of an official visit to Canada. "Despite the gloomy global economic outlook, and an expected budget deficit next year, we will maintain our public expenditure on infrastructure as well as social services for the disadvantaged," Ms Lau said. She said Hong Kong was currently working on important infrastructure projects. "Within the next two years, we will start the construction of a new cruise ship terminal at the old Kai Tak Airport site, the Hong Kong-Zhuhai-Macao Bridge that will span 29.6km across the three cities," Ms Lau said. She said the Guangzhou-Shenzhen-Hong Kong Express Rail Link which would shorten the commute time between Hong Kong and Shenzhen to 14 minutes. Another project, the West Kowloon Cultural District, would become the arts and cultural centre of Hong Kong. "We will also continue to reinforce Hong Kong's position as a global financial centre, and continue to stick to the principle of "Big market, Small government" by providing business with the best possible environment to grow and prosper. The government believed infrastructure projects will help boost the economy and reduce unemployment during the global financial crisis. Ms Lau said recent announcement by Premier Wen Jiabao on the US$586 billion (HK$4.5 trillion) investment package further strengthens our confidence in overcoming the current financial and economic turmoil. "The economic stimulus in the package ranges from building affordable housing to infrastructural projects, from advancing development of medical care, culture and education to ecological and environmental projects," Ms Lau said. She said Beijing was determined about promoting and managing growth carefully. "And Hong Kong will certainly benefit from this," she added.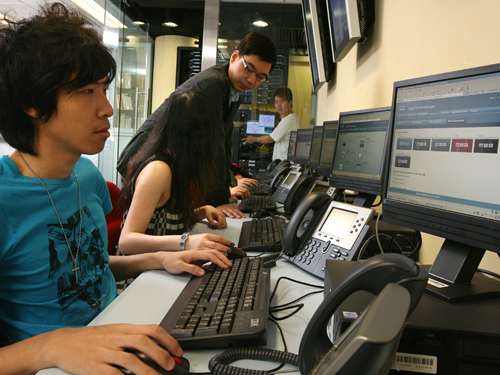 Cisco Systems, the world's largest supplier of networking equipment, has completed its most extensive collaboration with a local academic institution as it helps launch a new laboratory today for the Hong Kong Polytechnic University. Researchers at the advanced enterprise infrastructure laboratory, part of the university's department of computing, will use a range of networking technologies from Cisco to develop e-commerce, unified communications and wireless applications that businesses in Hong Kong could adopt. The project involved more than HK$7 million worth of equipment, software and services sponsored by United States-based Cisco and partner Macroview Telecom, a leading networking systems integrator in Hong Kong. Barbara Chiu Cheuk-mun, the general manager of Cisco's operations in Hong Kong and Macau, described the facility as "one of Cisco's most significant collaborative efforts with the education sector in Asia". The laboratory, which has platforms for fixed-line local area network (LAN), wireless LAN infrastructure, network security and digital signage systems research, has already started participating in several major initiatives. One of these projects is called the "Intelligent Airport", which aims to develop advanced wired and wireless networks for future airport terminal operations. The effort is being led by scientist Ian White, head of the school of technology at the University of Cambridge in Britain. Another project with DHL Global Forwarding aims to design innovative systems for the logistics industry. "The university believes the emphasis on applied research will enhance learning, equipping student researchers not only with professional competency but also practical experience in developing solutions for use in the real business world," said Henry Chan Chun-bun, an associate professor in the university's department of computing. Macroview founder and chief technology officer Tang Pak-hung says the laboratory and "the technical depth in application programming it provides" will help attract more students to take up information technology studies. "We hope it will help nurture the future IT leaders of Hong Kong," said Mr Tang.
Hong Kong and Peru signed a Cooperation Arrangement on Trade and Investment Facilitation on Thursday in Peru, a press release from the Information Services Department of Hong Kong Special Administrative Region (HKSAR) government said on Friday. According to the press release, Hong Kong Secretary for Commerce and Economic Development Rita Lau signed the cooperation arrangement with Peruvian Foreign Trade and Tourism Minister Mercedes Araoz Fernandez. The signing ceremony took place at the margins of the Asia Pacific Economic Cooperation's Ministerial Meeting in Lima, Peru. Lau said both sides had concluded the cooperation arrangement following the signing of the Joint Statement on Strengthening Trade and Economic Relations between the two economies on May 30. "The successful signing of the cooperation arrangement will be instrumental in fostering closer trade and economic ties between the two sides," she said, adding that the cooperation arrangement laid the foundation for future discussion of a bilateral free trade agreement (FTA) between Hong Kong and Peru. The Cooperation Arrangement on Trade and Investment Facilitation mainly aims to facilitate and promote bilateral trade in areas including exhibition and trade fairs, financial services, investment, tourism, rail, maritime and logistics transportation, and sanitary and phytosanitary measures. It also covers cooperation between the two economies in areas of intellectual property rights, customs and competition-related matters, as well as technical assistance and capacity-building in areas of mutual interests.
Hong Kong's overall staff turnover rate for the third quarter of this year fell to 4.23 percent, a first quarterly drop since 2003, according to a manpower statistics survey which was made public on Tuesday. Conducted by the Hong Kong Institute of Human Resource Management, the quarterly survey aimed to track manpower movements in the city's labor market. The survey told that the overall turnover rate for July to September was 0.13 percentage points lower than in the second quarter. This is the first time that such figure in the third quarter dive since 2003, showing that job seekers were taking a more cautious approach about job changing.

China: China has postponed a summit with the European Union next week over a visit to Europe by the Dalai Lama, the EU said in a statement yesterday.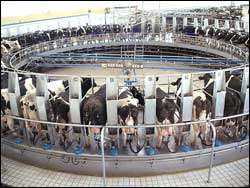 China dairy giants Mengniu and Yili say they have recovered to 70 percent of the sales volumes they enjoyed before the country's tainted-milk scandal broke earlier this year. Mengniu deputy president Yao Haitao said they were confident sales would be back to normal by the end of next month or early January. He also revealed they were planning to build 27 "mega-dairy farms" with 10,000 cows in each in a bid to avoid a repeat of the scandal. Yao spoke at an exclusive briefing for the Hong Kong and Macau media in the Chinese dairy capital, Huhhot. He denied reports the scandal had cost the company three billion yuan (HK$3.39 billion) but said the actual figure had yet to be finalized. Yao said the company had sufficient funds although senior management had taken salary cuts of 30 to 50 percent. He admitted Mengniu applied for help from the central government's 4 trillion yuan financial crisis bailout package. He said the melamine scandal happened because the chemical that causes kidney stones was added to raw milk by those selling the milk to the company.
China Southern Airlines (1055) said yesterday its parent company will get a 3 billion yuan (HK$3.4 billion) capital injection from the central government, with the money considered to be injected into the listed entity. The Guangzhou-based carrier said it will suspend trading of its shares until it receives confirmation from the government. During the suspension, the company will release weekly progress reports. Meanwhile, Shanghai-based China Eastern Airlines (0670) disclosed 1.83 billion yuan worth of jet fuel hedging contract losses after speculative exaggeration of the loss figure affected its share price. "We believe the jet fuel hedging losses of CSA and CEA will be much less than Air China, as Air China has more international flights and bigger exposure to international jet fuel hedging," said Kelvin Lau at Daiwa Institute of Research. Beijing-based Air China (0753) last week said its jet fuel hedging contract losses widened to 3.1 billion yuan from 1 billion yuan in the third quarter. "We believe the government's capital injection plan is already in the processing stage, which has little to do with the hedging strategy. The capital injections are to help the carriers pay their debts and interests," Lau said. In a stock exchange filing, CEA said its mark-to- market fuel hedging losses amounted to 1.83 billion yuan by October 31, dispelling the earlier wildly inaccurate speculation of US$690 million (4.7 billion yuan). CSA did not disclose its jet fuel hedging loss. CEA H-shares yesterday advanced 15.4 percent to close at 75 HK cents, while CSA gained 12 percent to 93 HK cents before its share suspension. Air China climbed 5.6 percent to end at HK$1.70.
A joint official statement promised on Monday to ensure close supervision of China's 100 billion yuan (14.7 billion U.S. dollars) stimulus package to prevent waste and fraud. Two dozen inspection teams will soon be sent to locations around China to follow projects funded by the package. The inspectors will "check whether the money is used to build office buildings or guesthouses of party and government departments," said the central government notice. Projects built for "image or achievement" that "waste both money and manpower must be strictly prevented," said the notice, jointly issued by the Communist Party of China Central Commission for Discipline Inspection, the National Development and Reform Commission (NDRC), the Ministry of Supervision, the Ministry of Finance and the National Audit Office. It also asked inspectors to pay close attention to project quality and stop any "jerry-built projects." Investment in smokestack industries or those with excess capacity should also be prevented, according to the notice. The notice put central and local government departments under scrutiny and asked inspectors to determine if funds were being held up, misappropriated, intercepted, embezzled or falsely claimed. Emphasizing that the funds must be used "safely, transparently and efficiently," the notice said inspectors will check all aspects of fund use, including project planning, assessment and approval, procurement and construction. "Officials who are found to be negligent, cheating, taking bribes in fund management or intercepting, misappropriating and embezzling project funds will receive party or administrative punishment or even face criminal charges," the notice said. The notice also asked central government departments to act promptly to implement the stimulus package. The NDRC must "lose no time" in formulating investment plans and the Ministry of Finance must allocate money to relevant projects within one month after the plans were made, according to the notice. Announced by the State Council (cabinet) on Nov. 9 as an additional central government investment this year, the 100 billion yuan package is expected to be used in social welfare projects, infrastructure construction, environmental protection and industrial restructuring.
China's central bank announced on Wednesday a steep cut in its interest rates – by four times the usual margin – in a signal that it would pull out all the stops to boost weakening economic growth. The benchmark one-year lending and deposit rates will both be reduced by 108 basis points, compared with the usual 27 basis points in mainland rate cuts, the People's Bank of China said. "It means the government is moving on more fronts to stimulate growth," said Stephen Green, a Shanghai-based economist with Standard Chartered Bank. It was Beijing's fourth interest rate cut since mid-September. Earlier this month, mainland announced an unprecedented 4 trillion yuan (HK$4.5 trillion) spending package to lift the economy, which grew at its slowest pace in five years last quarter. The central bank move came a day after the World Bank said it expected mainland's economy to grow by 7.5 per cent next year, a 19-year low. After the rate cut which comes into effect from Thursday, one-year lending rates in mainland will be 5.58 per cent, while one-year deposit rates will drop as low as 2.52 per cent. With inflation at 4 per cent in October, it means that borrowing money from the bank is currently very cheap. At the same time, putting money in the bank will be a guaranteed way to lose cash, providing the mainlanders with a strong incentive to spend and thus boost domestic consumption. "They are continuing what is the best policy prescription in these times, which is increased fiscal spending and easier monetary policy. This is a good move," said Patrick Bennett, Asia foreign exchange and rates strategist with Societe Generale in Hong Kong. "China is out to save itself here. The rest of Asia is strong, but all policy makers in the region and on the planet need to take their own steps. China is showing good leadership by what it has done." Like other countries, mainland has watched its economy slow dramatically since the bankruptcy of Lehman Brothers in mid-September opened a new, dark chapter in the financial crisis, shaking confidence and prompting banks to cut credit lines. The PBOC said the easing, which follows interest rate cuts on October 29, October 8 and September 15, was meant to ensure sufficient liquidity in the banking system to ensure growth. To that end, it also carried out big cuts in banks' reserve requirements. The ratio for big banks will decrease by 1 percentage point, while that for smaller banks will be cut by 2 percentage points, effective December 5. The five biggest banks will have to hold 16.0 per cent of their deposits in reserve at the PBOC, down from 17.0 per cent. The requirement for other lenders drops to 14.0 per cent from 16.0 per cent. "All my colleagues were shocked by such a big easing. It signals the government may believe the economic situation is really serious for it to call for such a drastic move," said Liu Dongliang, a currency analyst at China Merchants Bank (SEHK: 3968) in Shenzhen. "No doubt it will be negative for the yuan's exchange rate in the medium and long run, though the central bank may work to keep the currency stable in coming days."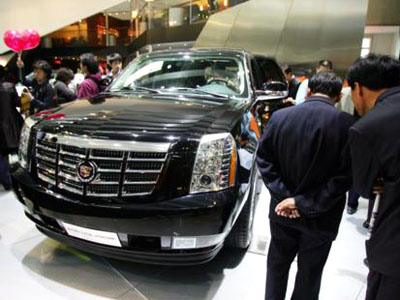 Visitors look at a Cadillac Escalade SUV at the Auto China 2008 auto show in Beijing earlier this year. With the global economy slowing down, makers of luxury goods are hoping the mainland shoppers will rescue them with their spending.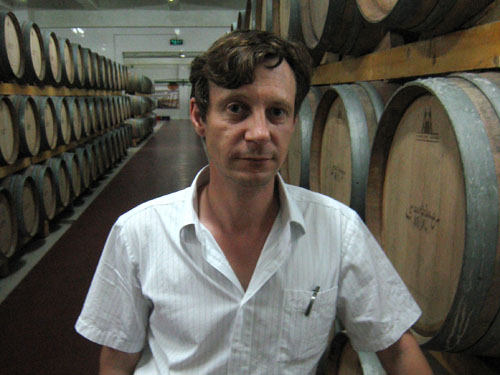 Fred Nauleau in his cellar in Manas - Fred Nauleau, late of the Loire Valley, blinks up at the relentless sun above his adopted home of Manas, beside the snowcapped Tian Shan mountains. He's standing amid giant new warehouses and processing facilities - the boxy, workaday headquarters of a winemaking empire that he has helped build in less than a decade from his redoubt in the western reaches of the mainland. It's an ambitious project in a nation where most people still call the unfamiliar drink "red liquor". "In 2000, most of these buildings weren't here," says Nauleau, a phlegmatic and compact 42-year-old with bright blue eyes and a shock of unruly brown curls. "In the beginning, it was quite difficult." The fertile plains of Xinjiang province - closer culturally and geographically to Istanbul than Beijing - have lured speculators since the days of the Silk Road. Nauleau is part of a new generation of adventurers who are gambling that its land can produce top wines. They're betting on geography: Xinjiang, more than three times the size of France, sprawls across the 45th parallel, which slices through Bordeaux, Piedmont and Oregon. Xinjiang's temperate climate produces vast fields of sunflowers and cotton, as well as table grapes and melons renowned for their sweetness. Xinjiang produces enough tomatoes not only to feed China but also to send to Italy. Nauleau is the winemaker at Vini-Suntime International, which bills itself as the largest wine producer in Asia. It has 10,117 hectares of vineyards on the mainland, six wineries, and a total bottling capacity of 200 tonnes of wine per day. Some of that wine is sold in the US under the label China Silk, which was launched in 2006. It is sold in 14 states and expected to be available nationwide by the end of next year, according to Vini-Suntime's president, Steve Clarke. Most of the company's product is consumed on the mainland, which has begun to look beyond its traditional favourites - beer and a ferocious grain alcohol known as baijiu - to drink more wine, including some of the world's best. In a sign of growing interest among Chinese collectors, Hong Kong earlier this year scrapped its tax on wine and later held a record-breaking wine auction. In January, a mainland company bought a Bordelais chateau called Latour-Laguens, the first acquisition of its kind by a Chinese firm. In May, British wine merchant Berry Bros & Rudd released a report predicting that in 50 years China will be the world's leading supplier of wine, including cabernet sauvignon and chardonnay to rival French offerings. Some question the scale of that prediction, although China's 1.3 billion consumers, with a proud culinary culture, make the country an important new player. China's 400 winemakers already make the mainland the world's sixth-largest producer, ahead of Chile and South Africa. Outside China, however, there is little knowledge of the country's brands, which include Dragon's Hollow, Grace Vineyard, Great Wall, Chateau Junding, Catai and China Silk. The greatest challenge for Chinese winemakers, however, is not quantity. "The joke about Chinese wine was always, `Have you tried Chinese wine - leaded or unleaded?'" says Jim Boyce, a Canadian who lives in Beijing and runs Grapewallof china.com, a blog covering the country's growing market and production. Many of China's wines are unsatisfying to western palates. "Very, very thin, not quite clean, red Bordeaux," wrote critic Jancis Robinson about wine she tasted on visits in 2002 and 2003. Since then, Chinese wines have been slow to improve because high-end buyers look abroad, and ordinary mainlanders have so little experience of wine that they're content to buy the cruder offerings. "The incentive for improving the wine is quite light," Boyce says. "But I think improvement is coming. Chinese people pick up trends very quickly and they get sophisticated about new things very quickly. You are already seeing that in the number of wine bars opening up." China has a longer connection with wine than is commonly believed to be the case. In 2004, scientist Patrick McGovern of the University of Pennsylvania uncovered what he called the world's earliest evidence of deliberate winemaking, from a Neolithic village named Jiahu, in Henan province. That find, which dated from between 6,000BC and 7,000BC, replaced what McGovern had previously considered the oldest evidence of winemaking, from about 5,400BC in what is now northwestern Iran. Wine fell out of favour in 20th-century China, but Xinjiang continued to produce a variety of table grapes and raisins. Modern winemaking began only in the late 1970s after Deng Xiaoping launched China down the path of reform. The new industry attracted some surprising entrants. Vini-Suntime was founded in 1998 with the backing of a conglomerate that owns everything from coal fields to hotels to petrol plants. From the beginning, it had a global outlook: it imported technology from France, Italy, the US, Germany and Switzerland, and exported bulk wine to the US, France, Cuba and other countries. Desks in the sales department are piled with books with titles such as Speaking Russian and Speaking Japanese. Lured by the prospect of travel, Nauleau arrived in 2000 after a career in vineyards and wine labs in France. He was no stranger to developing countries, having previously helped get wineries off the ground in Bulgaria. But he was taken aback by what he found on the mainland. "The workers were very young. They had experience in the baijiu industry or fermentation, but not in wine," he says. "I had to show them how to connect a pump. I installed my desk in the cellar and had a big whiteboard and said, `OK, you have to connect the A8 to B10 and so on'. "I stayed here because I was so surprised with the quality of the grapes," he says. He learned Putonghua, met and married a woman from the area and, except for three years back in France, he has remained ever since in Manas, a low-rise town about an hour's drive from Urumqi, the provincial capital. It's not quite Bordeaux. Xinjiang sits farther from the sea than almost any place on the planet. That makes the climate drier and prone to more dramatic swings than other winegrowing regions. Many of China's wine producers are based in Shandong, on the eastern coast. But even there they are beset by vine diseases in the damp and humid climate. Nauleau and other Xinjiang winemakers have come to see their location as an ideal place to develop Chinese wine. "We have less than 200mm of rain a year. That means we rely on irrigation, and the water comes mostly from the Tian Shan mountains. So we can control the amount of water," he says. "The grapes are sweeter because of the difference in temperature between the day and night. And there are more than 1,600 hours of sunlight per year. Because the climate is dry, there are very few pests, so no need for pesticides."bWinery worker Ding Fanhua, 24, knew little of wine before he landed his job, and now helps oversee a crop made up of varieties found in Bordeaux: cabernet sauvignon, merlot, syrah and cabernet franc. "There was a lot of snow last year, so the grape output this year will be down," Ding says, crouching to examine some small plump fruit. "This year the weather is hot and there is little rain, so the grape colour and sugar level will be good." A glimpse of the future of Chinese wine can be seen in Nauleau's cellar, where he has cabernet sauvignon and merlot ageing for at least one year in barrels made of French and American oak. Some of that wine ends up in France, mostly in Chinese restaurants. When he returns to France for visits, he is proud to offer fellow winemakers his creations. "I buy them a bottle and they are quite surprised," he says. "They don't know - nobody knows - about Chinese wine, that it can be good."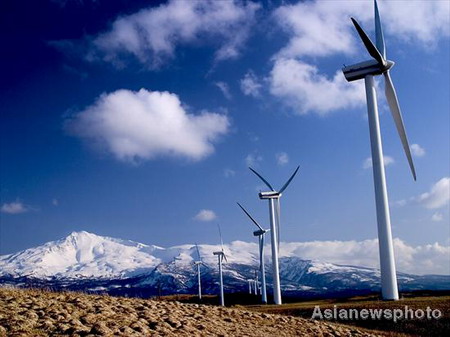 Energy: Nuclear and wind power to get subsidy - A wind power plant in Inner Mongolia in this photo taken on September 30, 2008. The Chinese government will subsidize China's top nuclear and wind power providers with $11.76 million by the end of 2008. The central government has decided to allocate 800 million yuan ($11.76 million) by the end of this year to subsidize China's top nuclear and wind power providers, China Radio International reported. The improvement is part of the government's 100 billion yuan additional fiscal package, which should be spent by the end of this quarter, to prevent an excessive economic slowdown. "The subsidy is mainly targeted at key technology for national nuclear power and wind turbine producers", said Huang Li, a deputy-director in energy saving at the National Energy Administration. Huang expected the move could promote localization of the technology for nuclear and wind power generation.
Nov 26 2008

Hong Kong: The central government should allow a wider range of companies to sell yuan debt in Hong Kong to promote wider use of its currency in global markets, said Joseph Yam Chi-kwong, the chief executive of the Hong Kong Monetary Authority. "It's a good time to further internationalise [the yuan] business," he said yesterday in Beijing after meetings with mainland government officials. "For example, we can expand the [yuan] bond issuances in Hong Kong, extending them to more buyers and issuing institutions and allowing the volume of the bonds to be more market-oriented." Yuan bond sales in Hong Kong have so far been limited to financial institutions. Mainland non-financial companies, including property developer China Vanke and power producer China Datang Corp, have sold 159.6 billion yuan (HK$181.2 billion) of local currency bonds in the country this year, up 49 per cent from a year earlier, data shows. Central government and Hong Kong authorities had been discussing the possibility of using yuan for trade settlement between Hong Kong and the mainland, Mr Yam said. He said the mainland and Hong Kong should strengthen co-operation in capital markets as the global financial crisis deepened. Mr Yam last week announced that the mainland branches of Hong Kong banks could pledge collateral to seek cash from the People's Bank of China if needed. The so-called "through train" plan for mainland individuals to buy Hong Kong stocks was not talked about, Mr Yam added. Meanwhile, he said the HKMA and the Federation of Hong Kong Industries planned to visit Guangdong, and meet local banking regulators, a move aimed at helping small and medium-sized enterprises to obtain financing on the mainland. "Cross-border co-operation is important in view of increasing cross-border activities," he said. Separately, a Hong Kong Association of Banks delegation concluded a two-day visit to Beijing on Monday. Association chairman He Guangbei said the mainland central bank and financial regulators had shown their support to Hong Kong and looked at whether there were any measures to help the city's capital market.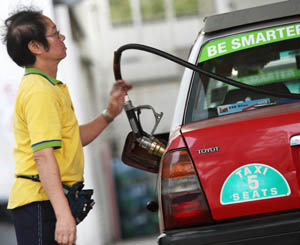 Taxi drivers are ready to surrender their hard-fought fuel price fare rise after the average price for LPG fell below HK$3 a litre yesterday for the first time in almost two years.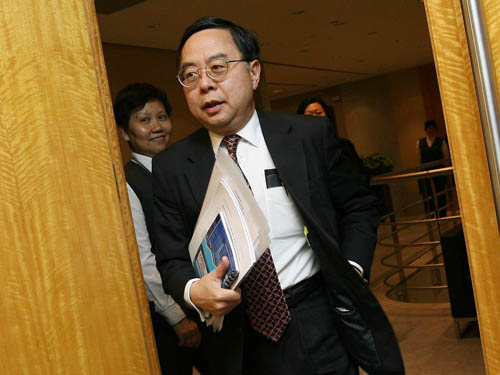 The Hang Lung Group (SEHK: 0010) has no plans to fire staff but may cut pay, starting with management, the property group's chairman said yesterday. Ronnie Chan Chi-chung, speaking after the China Economic and Business Forum 2008 at Hong Kong Polytechnic University, said Hang Lung was still hiring trainees, but may cut salaries as property sales had been lagging. "The first thing I can tell you is - this year the salaries of our four executive directors are going to be colder than water. Of course, ours are going to be cut first. It was like this last time. When performance was poor, we cut [salaries]. When times are bad, cutting salaries - I think that's very reasonable," he said. The group will decide later whether to give out bonuses. With no debts and up to HK$6 billion in reserves, the company was in good stead, Mr Chan said, and planned to start projects on the mainland next year. Last week, Cathay Pacific (SEHK: 0293) slashed bonuses, usually a month's salary, by half or to HK$8,000, whichever was greater, while raising salaries by an average 2 per cent for its 13,160 employees. Dragonair adjusted salaries according to staff pay scales. Sauce maker Lee Kum Kee has cut 30 jobs, Li & Fung has fired 150 staff, ATV 47, and the Las Vegas Sands Resort 4,000.
Hong Kong's economy could shrink during the whole of next year for the first time since the Asian financial crisis in 1998, according to a forecast by the Bank of China (Hong Kong). Its estimate of a 1 per cent contraction is far more pessimistic than most forecasts, which predict average growth of about 1 per cent next year. However, Fitch Ratings earlier slashed its forecast from growth of 4.5 per cent to a 1.2 per cent contraction. The government also said the risk of recession persisting through next year had increased as the global economic downturn showed no sign of ending. Government data showed the economy shrank 1.4 per cent in the third quarter, after a fall of 0.5 per cent in the previous quarter. A recession is usually defined as two consecutive quarters of economic contraction. In its monthly economic review, the bank predicted that the most difficult times would come in the first half of the year, adding that the recession would probably extend into the second half if the global woes turned out to be more severe than estimated. "In this case, the Hong Kong economy could slip into negative territory on the full-year basis for the first time since 1998, registering a minus 1 per cent contraction," it said. It predicted that by the end of next year, the unemployment rate would probably rise to 5.5 per cent or more, up from the bank's estimate of 4 per cent at the end of this year. The bank revised its prediction for growth this year down to 2.9 per cent. The government has cut its full-year growth forecast to between 3 and 3.5 per cent from 4 to 5 per cent. In its third-quarter economic report released yesterday, the government said: "Economic conditions are likely to be difficult in early 2009, and the prospect of a turnaround in the latter part of 2009 remains highly uncertain." The administration expected domestic demand to slow, while the performance of exports was likely to remain lacklustre. Meanwhile, speaking at a public function last night, Financial Secretary John Tsang Chun-wah laid down three principles for his budget next year: creating jobs, enhancing the city's competitiveness, and introducing policies to maintain sustainable economic development. He began meeting lawmakers yesterday to hear their views on ways to tackle the financial crisis. The Liberal Party and the Hong Kong Federation of Trade Unions proposed distributing shopping vouchers to stimulate domestic consumption. The FTU suggested everyone be given HK$2,000 in vouchers quarterly or every six months. Lawmaker Paul Chan Mo-po, who represents the accountancy sector, said the scheme should target a specific group instead of everyone.
About 6,000 shops will pay only half their normal rent in January and February, courtesy of their landlord the Housing Authority. The authority's Commercial Properties Committee decided on the temporary measure yesterday to help tenants in its shopping malls cope with the economic downturn. The Link Management, meanwhile, which in recent weeks had resisted pressure to cut rents, reiterated that its top priority was to attract more shoppers to its malls and to persuade them to spend more.
More than half the Hong Kong people nearing retirement are postponing making the big leap due to insufficient savings, a survey conducted by insurer Aviva has found. "It may seem tempting to delay or suspend saving up for retirement during these difficult economic conditions, but we urge people to take a longer term view," Aviva Hong Kong managing director Simon Phipps said. In a sample of 1,000 people in Hong Kong, 55 percent of them expected they could not retire from work at age 65 - the normal retirement age - due to inadequate savings. The same percentage expressed regret at not having taken action sooner to prepare for retirement.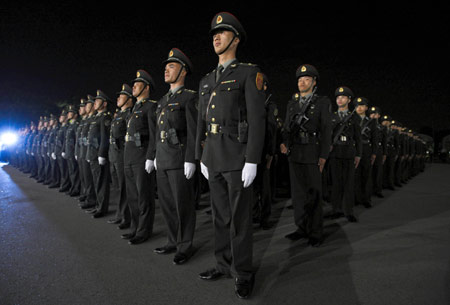 Chinese People's Liberation Army troops stand in their formation during troop rotation at a barrack in Hong Kong, south China, Nov. 25, 2008. The Chinese People's Liberation Army garrison troops in HKSAR conducted on Tuesday its 11th troop rotation since it assumed Hong Kong's defense responsibility on July 1, 1997.
China will spend 120 billion yuan (17.6 billion U.S. dollars) to build a second railway linking the northwestern Xinjiang Uygur Autonomous Region with inland cities, according to information from a meeting of the Xinjiang committee of the Communist Party of China on Tuesday. Construction is expected to begin next year, with investment from the central and local governments and other sources. The new line will be parallel to the existing Lanxin Railway linking Gansu, Qinghai and Xinjiang. Only passenger trains will run on it. When the new line is completed, the old Lanxin railway, running1,892 kilometers, will be used by cargo trains only.

China: The World Bank expects China will experience the most sluggish growth in 19 years next year despite unprecedented measures by Beijing to boost spending and investment. With the global financial crisis continuing to spread, funding shortages and battered confidence are souring demand in countries that consume half of China's exports, according to the World Bank's quarterly report yesterday. This will weigh on the mainland's export-based economy, prompting an urgent need to rebalance its growth model to encourage more domestic consumption. The World Bank cut its forecast for next year to 7.5 per cent from 9.2 per cent previously, the most bearish among major financial institutions. "The emphasis will be on accelerating and increasing infrastructure and other investment," said David Dollar, the World Bank country director for China. "As China builds infrastructure as part of the stimulus package, we are hoping it's focusing on infrastructure that addresses future needs such as energy efficiency, urban public transport and high-speed rail." Beijing's unprecedented 4 trillion yuan (HK$4.54 trillion) spending spree designed to spur domestic demand over the next two years will not be the last, the World Bank believes. "Additional measures are necessary to make headway with rebalancing the pattern of growth," it said. "This includes resource and utility pricing, government spending on health, education and social security as well as financial reform." The government-induced spending would produce half of next year's economic growth, it added. The central government will undertake about 1.2 trillion yuan out of the 4 trillion yuan spending, with the rest coming from local governments and state enterprises. The spending, to be funnelled into infrastructure, real estate, environment, health and education, aims at drumming up domestic demand, imports and employment. The World Bank forecasts China's export growth will slow markedly to 3.5 per cent next year from an estimated 11 per cent this year. It was even more pessimistic than the International Monetary Fund, which anticipates the mainland's economic stimulus measures to account for 8.5 per cent of growth next year. The mainland's economic growth stood at 11.9 per cent last year. Its estimate is also below the 8 to 9 per cent growth forecast by the National Development and Reform Commission. However, China's prospects were not totally bleak, Mr Dollar said, pointing to receding inflation. "The outlook for raw material prices means that looking ahead, inflation is no longer a concern in the near future," he said. Inflation drifted lower to 4 per cent last month, the lowest in 17 months. Economists widely believe the country will fare better than many other emerging markets, helped by the massive spending and fiscal policies. They believe the spending spree will help shore up next year's economic growth. However, China International Capital Corp chief economist Ha Jiming said the worst would not come until 2010. "Next year won't be the bottom." Recessions in the European Union and the United States would mean poorer fortunes for China's exports next year, with weaker exports to linger until 2010, Mr Ha said. He estimated the mainland's economy would climb 8 per cent next year and 7.8 per cent in 2010. Merrill Lynch has estimated the mainland's economic growth at 8.6 per cent next year while Credit Suisse and Nomura Research Institute have said it will reach 8 per cent.
Although Gome Electrical Appliances (0493) has still released no information about the current situation of company chairman Wong Kwong-yu, mainland newspapers reported yesterday that the police and securities watchdog have joined hands to investigate any possible illegal acts. "Wong is still detained and under investigation by the police and also the China Securities Regulatory Commission," an unnamed source involved in the investigation was quoted by the China Business News as saying. The 21st Century Business Herald said Wong's detention was not only related to alleged market manipulation but also the alleged bribing of a former Commerce Ministry official to gain approval for Gome's Hong Kong listing. "Wong, as well as financial controller Zhou Yafei, has since October been restricted from going abroad," the Shenzhen-based financial paper said. They were detained last Friday, it said. Shares of the firm remained suspended yesterday. Hong Kong stock exchange data shows that US pension fund Capital Research and Management increased its stake in Gome on November 19 to 8.02 percent, from 7.9 percent, for HK$18.2 million.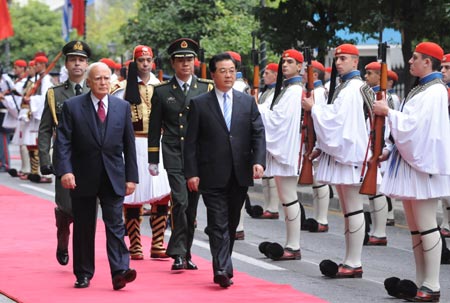 Greek President Karolos Papoulias (1st L, front) holds a welcoming ceremony in honor of Chinese President Hu Jintao (2nd L, front) in Athens, capital of Greece, Nov. 24, 2008. Visiting Chinese President Hu Jintao and his Greek counterpart Karolos Papoulias agreed on Monday to lift the bilateral comprehensive strategic partnership to a new height. During his talks with Papoulias, Hu first thanked Greece for its support for the Beijing Olympic Games and the Paralympics. The Greek side also rendered support for Beijing in the torch lighting and relay, he added. Sino-Greek relations now stand on a new historical starting point and are faced with broader prospects, the Chinese president said. In recent years, China and Greece have seen rapid growth in two-way trade and bilateral cooperation in sea transportation has entered a new era, he added. In 2007, their two-way trade stood at 3.4 billion U.S. dollars, and in the first seven months of this year it reached 2.4 billion dollars.
Nov 25 2008

Hong Kong: UK-based lender Standard Chartered on Monday announced a 1.8 billion pound (HK$20 billion) rights issue that it said would strengthen its balance sheet and give it the flexibility to take advantage of opportunities in the current turbulent markets. The move by the emerging markets-focused bank, which has dodged the massive losses from the credit crisis suffered by some of its competitors, came as analysts called for a capital cushion to withstand potential losses in Asia and the Middle East. Standard Chartered said its biggest shareholder, Singapore state investment company Temasek, planned to take up its rights and was also participating in the underwriting of the issue, which it said addressed market expectations for higher capital levels. "If you compare Standard Chartered to a few of its peers, it doesn't really have toxic assets," said Kwok Chern-Yeh, a fund manager at Aberdeen Asset Management Asia, which owns Standard Chartered shares and manages about US$37 billion in assets. "But it has made quite a few acquisitions in the last year and a half so it is shoring up its capital," he said. The issue price of 390 pence per share comes at a discount of 48.7 per cent to its November 21 closing price. In Hong Kong, the bank's shares fell 6.38 per cent to HK$88.00 each and were suspended shortly after the rights issue announcement. Mr Kwok said Standard Chartered's exposure to Pakistan, South Korea, Taiwan and India made it vulnerable to potential losses from bad debts. "The concern is that they may have to take some provisions amidst this downturn in the economic cycle, which will hit their bottom line," he said. The bank said it had continued to perform strongly in the second half, and that it remained well-capitalised and highly liquid and comfortably met capital requirements across all its geographies. It said it had good income momentum, albeit slower than in the first half. "Despite the extraordinary events of the last few months, which have left no major financial institution unaffected, the financial performance and asset quality of the group remain strong," the bank said. Standard Chartered planned to hold a conference call and webcast at 5pm HK time on Monday.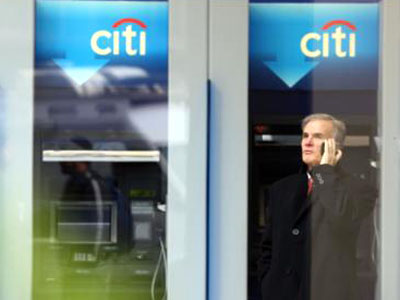 The US government agreed to a US$306 billion rescue plan for Citigroup, agreeing to shoulder some losses from toxic debt in the latest attempt to bolster a financial services industry in turmoil. Citigroup's package may also prove a template for other banks that are expected to face growing losses as economies worldwide sink into recession.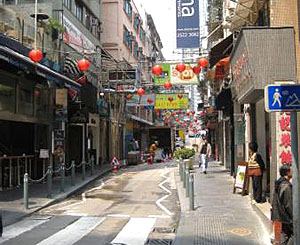 The re-development of the Staunton Street in Central would be largely scaled down – with more emphasis now on preserving the area's historic value, Urban Renewal Authority project chairman Barry Cheung Chun-Yuen said on Monday. Speaking at a press conference, Mr Cheung said that under a new proposal, the plot ratio would be reduced from about eight – permissible under the approved scheme – to about 4.2. He said a planned high-rise building on Wing Lee Street would be scrapped. But the post-war tenement buildings would be preserved. Mr Cheung estimated the new plans would result in a loss for the authority of over HK$170 million. But he said the authority had agreed to government plans to preserve the historic value of the area. It had also carefully noted the public's views on the plan.
The Legislative Council subcommittee was expected to start its investigation into the Lehman minibond debacle in late January, its chairman said on Monday.

Oyster sauce creator Lee Kum Kee International on Monday said it had laid off 30 workers.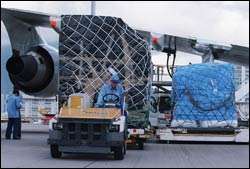 The government is determined to press ahead with expansion of the airport - including a third terminal and third runway - in the next five years, despite a continuous decline in air traffic since the start of the financial meltdown. Preliminary findings from a study of a master plan for Chek Lap Kok to 2030 would be made public in July, a government source said, adding that the target to double runway capacity from 55 to nearly 100 aircraft movements an hour had not changed. He also said that the third terminal and runway were among projects to be finalised in the next five to six years, under the plans. Passenger numbers and cargo volume at the airport have been declining since August. Cargo fell 7.5 per cent year on year in September and 9.2 per cent last month, while passenger numbers shrank 4.7 per cent and 1.4 per cent. International cargo terminal operator Hong Kong Air Cargo Terminals also announced this month that it handled only 222,166 tons of cargo in October, a year-on-year drop of 9.8 per cent. The Airport Authority blamed the global financial crisis for the reduction in visitors, imports, exports and transshipments. But the source said the temporary decline would not stop the government from expanding the airport to maintain its regional advantage. Apart from the much-discussed third runway, key plans under study include building a third terminal and further developing the middle field area of the airport. The building of new cargo handling and airline catering facilities was also being considered, the source said. The existing master plan, to 2020, proposes increasing the number of aircraft gates by building an elongated "X" shaped midfield concourse that would provide 49 so-called frontal-parking stands - those connected by air bridge to the concourse - and 10 remote or unconnected stands. "Critical mass is what counts in aviation," the source said. "We have to keep the traffic level in order to secure the airport's regional hub status. "We are talking about long-term planning, otherwise people will pull out their business to other airports in Zhuhai or Shenzhen." Hung Wing-tat, transport expert and associate professor of civil and structural engineering at Polytechnic University, said the airport's development plan should not be shelved because of the financial turmoil. "Hong Kong is expected to recover more quickly, given its close relation with the mainland's strong economy," he said. Law Cheung-kwok, associate director of the Aviation Policy and Research Centre of the Chinese University of Hong Kong, said the scale and pace of future airport developments, such as a new terminal and additional gates, would largely be driven by demand. A spokeswoman for the Airport Authority said that while the operating environment for the rest of the year would continue to be difficult, plans and projects to equip the airport for growth would proceed.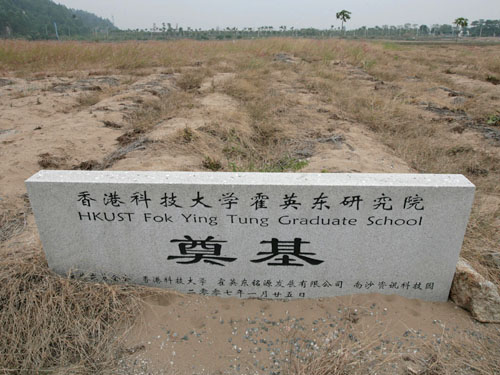 The foundation stone at the site planned for the HKUST Fok Ying Tung Graduate School at Nansha Information Technology Park. Two years after the death of tycoon Henry Fok Ying-tung, his vision of turning Nansha into a science hub has yet to come to full fruition. Work has yet to start on the HKUST Fok Ying Tung Graduate School in Nansha, a mega-research and development project jointly spearheaded by a company set up by Fok and the University of Science and Technology, nearly two years after the foundation stone was laid. The tycoon donated HK$800 million to HKUST in 2005, of which HK$500 million would be reserved for developing the graduate school. The aim is to develop the institute into a research and education base for the Pearl River Delta region, and foster knowledge exchange between Hong Kong and the mainland. HKUST had expected the campus, situated in the Nansha Information Technology Park, to be completed by this year, but the foundation stone is all there is to be seen. Construction of dormitories started recently but there are only three piling machines at the site. No workers were there on Saturday. A source familiar with the situation said the HK$3.5 billion Fok Ying Tung Ming Yuan Development Company, set up by Fok to finance the development of Nansha, had only allocated HK$45 million for construction of the school despite being given approval two years ago to bankroll the project. Construction of the school, dormitories and other support facilities would cost HK$280 million. Fok was known for his pioneering efforts in developing Nansha as the future hub of the Pearl River Delta. The source said many had "not exactly" shared Fok's view, including Michael Fok Hin-keung, his son, who now chairs the development company. "He is an accountant who focuses on the near-term return of investment of the Nansha project," the source said. Another source close to the family said Michael Fok, who succeeded Ho Ming-sze, Henry Fok's closest adviser, as company president last year, had seldom visited Nansha before his father's death. "It was natural that he did not know much about his father's vision and strategy for developing Nansha."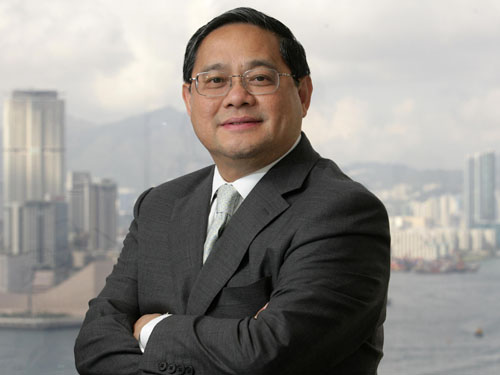 World leaders are being urged by the International Chamber of Commerce to take Hong Kong as a role model in providing export insurance, as a step to help traders worldwide obtain credit from banks. Chamber chairman Victor Fung Kwok-king, who heads the Greater Pearl River Delta Business Council and is a member of the Taskforce on Economic Challenges in Hong Kong, is writing to leaders of 130 countries, appealing for them to expand export insurance amid a global tightening of liquidity. He said the international trade market was facing a lack of trade financing facilities. "I know the world will be very much worried about shrinking demand, the retailers [in particular]. But that, I would submit, is the second problem. We now have orders that we cannot ship...That's a fire burning on your feet." Mr Fung was concluding the two-day Regional CEO Forum for Asia-Pacific held by the ICC in Hong Kong, which was attended by more than 150 corporate leaders from 10 nations on Friday and Saturday. Two weeks ago, the Hong Kong government announced a doubling of the statutory maximum liability of the Export Credit Insurance Corporation to HK$30 billion so that it could underwrite more insurance for exporters and protect them against non-payment risks. Mr Fung said banks had been supportive of the measure and he was confident they would be willing to lend money to businesses with guarantees from the corporation. The ICC has, through the World Trade Organisation, put this local case forward for the Group of 20 nations to study. With Mr Fung having written to six world leaders to promote the Hong Kong model, the ICC will provide a sample letter, supported by analyses, for its national committees to lobby the governments of 130 countries. "We may not succeed with everybody, but let's say a big percentage, or half of the countries around the world, start doing this. We have a chance now to maintain trade flows," Mr Fung said of the global campaign. He said the expansion of export credit insurance would be especially important for developing economies and small and medium-sized businesses. The ICC had been working with development banks to help increase the availability of trade financing in emerging markets, he said. He also warned against a potential rise in protectionism, as political pressure pushing forward protectionist policies was likely to emerge amid the financial crisis. ICC secretary general Guy Sebban said even some countries that took part in the G20 summit this month in Washington had shown closed minds towards trade. "Some governments tend to protect themselves...In some cases we see people trying to please public opinion," he said.
The MTR Corp is spending HK$11 million to attract customers to its shopping malls during the festive season. The city's premier public transportation system, which runs 11 plazas, will set aside HK$6 million as rebates in the form of coupons and a lucky draw next month. The remainder has been allocated for November promotions. Sales volume in December is expected to be 5 to 10 percent more than the same period last year while the number of people at all plazas is projected to rise 10 to 15 percent next year. Despite reduced prices at shops, chief shopping center manager Candy Ng Chui-lok remains optimistic over sales and traffic volume, saying people are not really short of cash but are just unwilling to spend. "It's true shops are reducing prices to attract customers. People are overshadowed by uncertainties in the financial tsunami, but they are still willing to spend money on things they believe are worth buying," Ng said. Spending on decorations at MTRC plazas this year increased 15 percent to HK$23 million.

China: The Chinese Grand Prix is likely to continue in Shanghai beyond 2010 as the city continues its drive to become one of the great sporting hubs of the world, according to the organisers of the Formula One race. Reported comments by the deputy director of the Shanghai sports ministry, Qiu Weichang, that the city might give up its right to a five-year extension on the Grand Prix after 2010 were lost in translation, said Leon Sun of organisers Juss Events. "I've spoken to Mr Qiu and he never said the Grand Prix was going to leave China," the general manager of event management at the municipality-owned company told Reuters in a telephone interview. "I think it's probably some misunderstanding in translation. I would say it's likely it will stay after 2010. Formula One has only been here for five years. To build a spectator base is not easy, it's a long term operation. "We think Formula One is a very good product, a very good event for Shanghai city so at least from our company's point of view we want to continue promoting and building the event. "Research shows there are more and more race fans in China, so I don't think we will say no to the Formula One Grand Prix." Formula One rights holder Bernie Ecclestone said at this October's Grand Prix that he thought the race had a secure long-term future. Sun, who took over running the grand prix this year, said there would be more "internal discussions" before negotiations over extending the contract beyond 2010 began. The home of the Grand Prix is the stunning US$350 million circuit on the outskirts of Shanghai, which can seat 200,000 fans but has rarely come anywhere close to accommodating that number. Sun said around 80,000 spectators had turned up on race-day last month, conceding that at least some of those people had received their tickets as a result of a "trade off with business partners". "But we consider those sales because you move your costs down and you have more promotional materials," he said. Briton Lewis Hamilton had the chance to clinch the drivers' championship in Shanghai for the last two years but the race has been shifted to April in the next year calendar, a move Sun believed would work out well in the long run. "In the first half of the year, there are not many international events in Shanghai, the Autumn is very busy," he said. "The first year will always be tough when you change an event but in the long-term view, I think it's a good move." China's financial capital has lost a round of the motorcycling world championship, the Asian Open golf tournament and the season finale of men's tennis, the ATP Masters Cup, from next year's calendar. In place of the Masters Cup, however, the impressive Qizhong tennis complex will host a new Masters Series tournament from next October. Juss has signed up Swiss watch company Rolex as "presenting sponsor" of the event and Sun is confident that, despite the global economic downturn, the city will continue to attract big international events. "I think for sure there will be more events coming to Shanghai, the only thing we don't know is when and how," said Sun, who will be co-tournament director of the new Shanghai Masters 1000.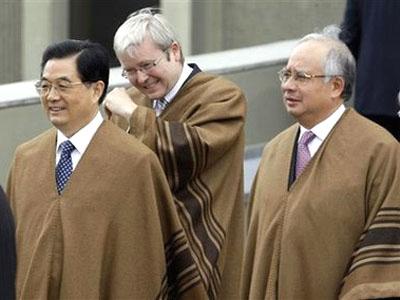 Hu Jintao, Kevin Rudd and Najib Razak don Peruvian ponchos for a group photo at APEC in Lima on Sunday. President Hu Jintao has left Latin America with one free trade agreement in hand, another in the works and a deeper Chinese footprint in a region long seen as the US backyard. Mr Hu, who left the region Sunday, received a hero's welcome at every stop in his swing through Costa Rica, Cuba, and Peru in the latest clear sign of the giant Asian economy's growing clout in the developing world. Chinese trade, cultural and military ties with Latin America remain small compared to US influence, but Mr Hu's trip underlined that they are growing fast and should force US policymakers to sit up and take notice, analysts said. Mr Hu visited Costa Rica to launch talks on a free trade pact and announced the conclusion of a similar agreement with Peru, reaffirming Beijing's friendship with communist ally Cuba in between. On a state visit in Lima held before a weekend summit of Asia-Pacific nations, Mr Hu on Thursday pledged a higher Chinese profile in the region. "China is willing to work together with South American and Caribbean countries toward an equal, mutually beneficial, comprehensive partnership," he said in an address to the Peruvian parliament. Mainland trade with the region has grown about ten-fold over the past decade as China's quest for new sources of raw materials has expanded and Latin American purchases of mainland-made goods have also climbed. A few years ago, Mr Hu set a target of US$100 billion in trade with Latin America by 2010. It shattered that mark last year. With the trade ties has come expanded diplomatic influence. Beijing last year enticed Costa Rica to cut relations with Beijing's rival Taiwan, reportedly purchasing 300 million dollars in Costa Rican government debt in return. Other conditions work in Beijing's favour as well, notably the diversion of US attention by the US administration's wars and Mideast preoccupation. Meanwhile, left-wing governments more ideologically sympathetic to Beijing have come to power in Bolivia, Ecuador and Nicaragua, not to mention longtime US bugbear Venezuela under Hugo Chavez. "US attention on the region has never been weaker. Now is a good time for China to challenge US influence," said Farid Kahatt, an expert on Latin American diplomacy at the Catholic University of Peru.

The Swan that made a splash in mainland investment - First foreign-funded top hotel faced big hurdles - 30 YEARS OF REFORM - At the point where the Pearl River washes past Shamian Island in Guangzhou, rows of European-style stone mansions are a reminder of colonial times. Among them is a conspicuous, 34-storey, modern white building whose atrium, opened 28 years ago, still attracts crowds of visitors keen to take photographs of an elegant waterfall. It cascades down into a stream full of colourful fish, crossed by a traditional wooden bridge and reflecting the beauty and taste of traditional southern Chinese style. It is the White Swan Hotel, the first joint-venture five-star hotel on the mainland, whose story is inseparable from the economic opening and reform policy conceived 30 years ago. It also represents an important chapter in the mainland investment experience of Hong Kong tycoon Henry Fok Ying-tung, who died in 2006. The State Council set up a committee to attract overseas investment in hotels shortly before the third plenum of the 11th congress, in 1978, when paramount leader Deng Xiaoping put China on the path of reform. The committee's task was to build eight joint-venture deluxe hotels - in Beijing, Shanghai, Guangzhou and Nanjing. It was against this backdrop that Xinhua's Hong Kong branch, Beijing's de facto consulate in the British colony, contacted Fok, proposing he invest in Guangdong's tourism business, according to an authorised book about Fok and the White Swan. The book, The Glory and the Search: Henry Fok Ying-tung's Dream and the White Swan's Path, is recommended reading to learn the history of the hotel. Fok and the state signed an agreement to build a hotel with between 1,000 and 2,000 rooms, making it the first foreign-invested hotel on the mainland. Design work started in January 1979. The importance of the hotel to China's reform is illustrated by the fact that three of the most important political figures visited it soon after its opening. Then-Communist Party chief Hu Yaobang arrived on February 9, 1983, three days after its official opening. Zhao Ziyang , who was then premier, paid a visit in November 1984 and Deng stayed there on February 19, 1985. The dignitaries were not restricted to China's leaders. Important guests have included Britain's Queen Elizabeth, former US presidents Richard Nixon and George H.W. Bush, and former US secretary of state Henry Kissinger. According to the book, Fok decided to build the hotel on Shamian Island because he wanted to it to have political importance. "Because Shamian was a place where Chinese and dogs were not allowed when the country was at its weakest, many American and British people are familiar with it. There would be a strong political significance for modern China to have a modern, well-managed five-star hotel here," the book quotes Fok as saying. Choosing a site far from the airport and train station, when Guangzhou had no taxi service, meant Fok had to solve the problem of getting guests to the hotel conveniently and in comfort. His answer was to create the city's first fleet of taxis. The problems he encountered building the hotel and ensuring its smooth operation were far greater than the casual observer could imagine. Many of the issues seem bizarre today, to those who did not experience the mainland's poverty and ideological rigidity at the time. "A stream of questions cropped up in my mind, awaiting answers," Fok said in February 1987, as he accepted an honorary doctorate from Zhongshan University. "Wouldn't the influx of foreign tourists adversely affect the ideology of Chinese citizens? Wouldn't the increasing number of tourists reduce the local food supply and cause a rise in prices? "A variety of consumer goods were rationed. When the Canton Fair was on, Guangdong had to get meat and food supplies from other provinces to satisfy the needs of visiting businesspeople. How would the local people view us? Would they consider us well-intentioned trading partners or invading exploiters?" Nevertheless, the White Swan Hotel project advanced and went on to set many records. It was the mainland's first five-star hotel open to the public, and not just paying guests. It boasted the first fashion model team, and was the first to be accepted to join The Leading Hotels of the World, the largest international luxury hospitality organisation. Guangzhou newspapers reported that, on the hotel's first day, the public lined up to visit and 400 rolls of toilet paper disappeared. The White Swan was the first mainland hotel to have a Japanese restaurant, to send its management team to train in Hong Kong and to have its chefs learn contemporary Cantonese cuisine - also in Hong Kong. In order to excel at service, the management decided to hire only young people to work in the kitchen, believing experienced chefs would not be open to new ideas. New recruit Ng Kwok-keung joined in 1982, shortly after finishing high school. "It was impossible if you didn't have connections because it was a joint-venture company, which paid a higher salary," he said. "I remember we received 20 per cent more pay than those working for state enterprises. I was grateful at that time because I had a job and the job was to work for a five-star hotel, so I worked very hard." He started as an apprentice in the kitchen that served Cantonese cuisine, and by the time he left the hotel in 2004 for a new life in Hong Kong, he had become a senior chef. Twenty-five years after the White Swan opened it doors, the mainland is a completely different place. Big international hotels like the Shangri-La, Westin, Ritz-Carlton and Holiday Inn are commonplace in its big cities. Now, the White Swan aims to be a model for mixed-use development blending shops, hotel and entertainment outlets. Once again, it hopes to show the way.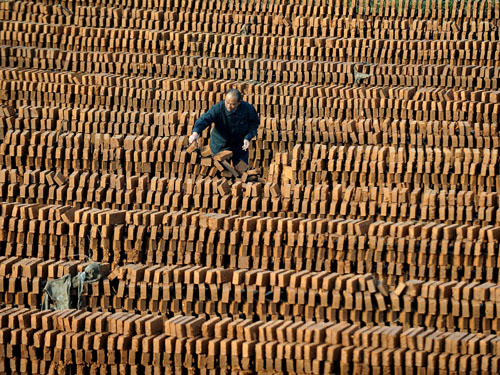 The central government is poised to announce a raft of policies to boost consumption and head off a looming economic slowdown. The National Development and Reform Commission was working on a stimulus package that would raise the taxable income threshold and increase salaries for state workers, the mainland-based Economic Observer quoted unidentified sources as saying. It was not clear how much the package would cost, but it also includes reductions in the fees for several public services, including telecommunications and parking fees. The report quoted an official from the NDRC, the mainland's top economic planning agency, as saying the package comprised entirely new measures from ones Beijing has already announced. It had been revised several times by the State Council, and details could be made public at a top Communist Party economic work meeting as early as the beginning of next month. The package comes two weeks after Beijing announced 4 trillion yuan (HK$4.5 trillion) in new spending over the next two years to counter the sharp economic slowdown amid the global financial crisis. A large portion of the spending will go to big infrastructure projects in railways, agriculture and housing development. Official statistics showed that industrial output growth slowed to 8.2 per cent last month, the lowest level in seven years. Fiscal revenue dropped 0.3 per cent from October last year, the first decline in 12 years. Although the central government has said it is committed to improving social welfare through offering better health care and giving people higher incomes, it has stopped short of offering details. Despite its economic development over the past three decades, China is lagging behind other developing countries such as India and Thailand in social welfare spending. The central government has been allocating about 11 per cent of its total fiscal spending to social welfare programmes in recent years, far below the level of 30 per cent to 50 per cent for many developed countries. Due to a lack of social security and rising living costs, mainlanders have been notorious savers because they can be suddenly faced with large bills for expensive medical services and education. The new stimulus initiative will also raise the subsistence allowance for the poor and the housing allowance to give more people access to the housing market. However, Tang Xiujuan , an associate professor from Guangzhou University, said the draft package would have a limited effect on boosting consumption by lowincome families and those working in the private sector. Professor Tang noted that groups including civil servants and those working at some state-owned companies would stand to benefit from the package. "But for many others, it will come down to the nature of the places they work at or how much money their company makes to dictate if they can have a pay rise or more housing allowance," she added. Professor Tang said the government should work out a more specific set of policies that targeted each group of people to boost overall consumption. Other analysts said the package would go some way to cutting the country's dependence on the world market for growth, but worried it would further strain the country's fiscal outlook, which has been taking a beating from falling exports.
The mainland's second-richest person, who made his fortune building up the nation's largest home appliance chain, has been detained on suspicion of market manipulation, state media reported on Monday.
China's provincial governments will add an additional 10 trillion yuan (HK$11.3 trillion) to China's 4 trillion yuan stimulus package, state television said yesterday. The central government earlier this month announced a 4 trillion yuan stimulus package, including rail and infrastructure projects as well as increased social spending, as the country strives to offset drop in demand for exports by bolstering domestic demand. Many economists expect that part of the nation's 4 trillion yuan package will come from provincial expenditure. "Provincial governments have announced accompanying stimulus programs amounting to 10 trillion yuan. Among the largest investment plans are that of Yunnan province, at 3 trillion yuan, and Guangdong at 2.3 trillion yuan," Central China Television said. Meanwhile, Premier Wen Jiabao, during a visit to the wealthy and export- oriented Yangtze Delta, urged domestic companies to keep up their confidence in coping with the economic slowdown. The central bank governor Zhou Xiaochuan said China will need to pay more attention to the growth model of the economy, after the global financial crisis. He re-emphasized that small and medium enterprises, the service sector, rural projects and energy-efficient projects were priorities for financial support. China's annual GDP growth rate slowed to 9.0 percent in the third quarter from the second quarter's 10.1 percent. "There are big risks to growth, the economy will slow, but an aggressive policy response will limit the downturn ... We think China's fiscal response will prove effective. The state still plays a large role in the economy. Government spending amounts to some 25 percent of GDP," Merrill Lynch economists Lu Ting and Timothy Bond wrote. Meanwhile, top economic planning agency the National Development and Reform Commission is drafting a series of policies to boost domestic consumption, according to an Economic Observer report. The scheme, to be discussed at the December economic planning meeting, would include hiking the income tax threshold, increasing minimum wages, and housing compensation.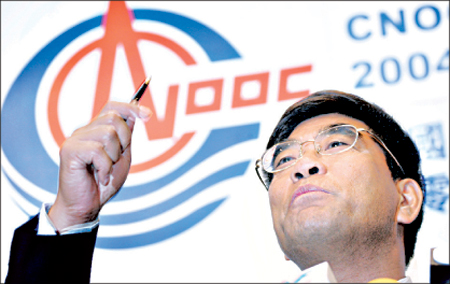 CNOOC Limited (0883), China's largest offshore oil producer, in the next 11 years will explore deep-sea oil fields in the South China Sea with potential crude oil resources of 3.1 billion tons. CNOOC and its international partners - including Devon Energy, Anadarko Energy and Husky Energy - together will earmark around 200 billion yuan (HK$226.9 billion) for the 2009 to 2020 project that will explore crude oil reserves at 1,500 to 3,000 meters deep. "Deep-sea oil exploration will be the next hot spot for oil resources exploration," said Li Fanrong, president of CNOOC Shenzhen. As for making prudent budget and investment decisions, Li said "if two out of 10 wells produce a discovery it will be enough to cover cost." Deepwater reserves in the South China Sea are estimated to be 20 times more than conventional water reserves, according to chief development engineer Luo Donghong. It costs about US$50 million (HK$390 million) to US$80 million to drill one deepwater well, Luo said. Normally a deep-sea project takes one to two years to explore, two to three years to evaluate, and three to five years to develop. The Beijing-based oil producer said it has a strong cash position given the record high crude oil prices during the first seven months this year. At the end of the first half, CNOOC had 44 billion yuan in cash and bank deposits. CNOOC will begin an appraisal of Liwan field 3-1-2 well this month, with partner Husky Energy providing drilling services to assess the scale of the reserve. Liwan field 3-1-1 well, 1,500 meters deep, was the first deep-sea well explored in the South China Sea with 100 billion cubic meters of natural gas.
Nov 22 - 24 2008

Hong Kong: The Hong Kong Monetary Authority (HKMA) on Friday referred 53 cases to the Securities and Futures Commission (SFC) involving complaints of alleged misconduct relating to investment products associated with Lehman Brothers. The 53 cases, which are the sixth batch of Lehman-Brothers-related cases referred to the SFC, involve alleged misconduct by four licensed banks in Hong Kong. This is in response to the Legislative Council decision to exercise its powers to investigate the saga involving the sale of Lehman Brothers financial products in Hong Kong. Hong Kong Association of Banks chairman He Guangbei said on Friday the distributor banks of Lehman Brothers' structured products were preparing the relevant information. He said they would co-operate with investigations. Mr He said the banks would announce Lehman minibond buyback prices after they had released the relevant documents. He said they were still calculating the value of Lehman Brothers-linked minibonds. Mr He noted that prices of structured products of Lehman Brothers varied. The banks are expected to buy back Lehman Brothers minibonds by early next month.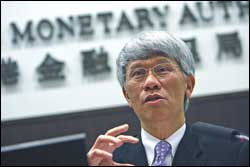 Banks are unlikely to cut their prime lending rates in the near future even though the Hong Kong Monetary Authority yesterday pumped a daily record of HK$18.2 billion into the banking system. However, a banker did not rule out the possibility that lenders would be "forced to cut prime lending rates because of political pressure". Banks lowered prime lending rates by a quarter percentage point earlier this month, a reduction attributed to the drop in interbank rates. The de facto central bank yesterday made seven separate injections into the interbank market, bringing the aggregate balance to a record HK$84.272 billion. HKMA chief executive Joseph Yam Chi-kwong said there was no limit to the expansion of the aggregate balance and expressed hopes the ample liquidity would help keep the interbank interest rate low. "This may help translate into lower commercial rates and ease the cost of borrowing," Mr Yam said. "In the face of an economic slowdown, low interest rates are unlikely to fuel excessive credit creation and inflationary concerns." Benjamin Hung Pi-cheng, the chief executive of Standard Chartered Bank (Hong Kong), said people who borrowed based on short-term interbank rates would benefit from the low interest rate environment. "But there's not much room for banks to lower the prime rate in the near future as the interbank rates of three months or above still stand at about 2 per cent or more." Despite the infusion, the Hong Kong dollar traded at HK$7.75 to the US dollar in the late session, while one-month and three-month interbank rates stood at 0.95 per cent and 1.95 per cent respectively, compared with 1.05 per cent and 2.05 per cent previously. Mr Yam said the HKMA's massive injections were because of the strong demand for Hong Kong dollars amid the deleveraging of previously long US dollar positions and repatriation of funds by corporations or investors to meet their commercial needs or on liquidation of overseas investments. He said there did not appear to be any "market anomalies". Under the linked exchange rate system, the HKMA is obliged to buy or sell Hong Kong dollars to keep the unit within the HK$7.75 to HK$7.85 range. "It is likely that the HKMA will continue to make injections as the local unit and the interbank rates have not changed too much after the injections," said Dennis Wong Wai-hung, a senior manager at Hang Seng Bank (SEHK: 0011). The monetary authority has injected about HK$80 billion into the banking system since the middle of September.
The Hong Kong Monetary Authority stepped into the money markets seven times yesterday, selling HK$18.213 billion of the local currency against the US dollar to defend the peg system.
The Hong Kong Monetary Authority said on Friday it had now received 18,672 complaints alleging misconduct in relation to the sale of investment products associated with Lehman Brothers.

Most business owners in Hong Kong expect the economy to be weaker next year, Hong Kong General Chamber of Commerce chief executive officer Alex Fong Chi-wai said on Friday.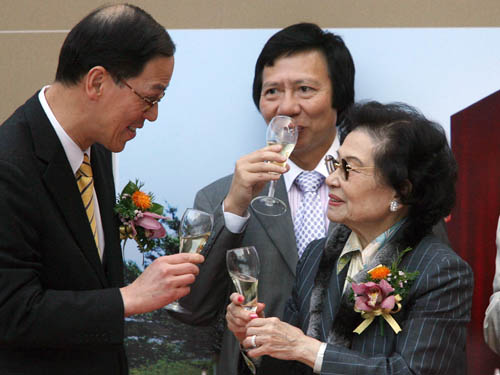 Home Affairs chief Tsang Tak-sing (left) chats to Kwong Siu-hing and Thomas Kwok yesterday. Sun Hung Kai Properties (SEHK: 0016), Hong Kong's second-largest developer, says it has no plans for layoffs and staff will receive their year-end double pay and bonus next month. Asked if the firm would cut staff bonuses, vice-chairman and managing director Thomas Kwok Ping-kwong said: "I hope not, as I will get it as well." The group has a workforce of about 30,000. On Wednesday, Cathay Pacific (SEHK: 0293) and its affiliate Dragonair cut staff bonuses by half but announced an average pay rise of 2.3 per cent. Henderson Land Development (SEHK: 0012) chairman Lee Shau-kee said on Tuesday it was too early to say if there would be layoffs at his company. Mr Kwok said Hong Kong, a city full of talented professionals, would remain a financial centre in the long run. For the past 10 years, the city had experienced two "ups and downs", he said, referring to the Asian financial crisis in 1997 and the outbreak of severe acute respiratory syndrome in 2003. "One should not be too pessimistic when hit by a [financial] tsunami, and not be too optimistic during a bull market," he said. However, Mr Kwok said it was hard to assess the impact on Hong Kong as no one knew "how deep and how long" the crisis would be. Despite the unstable economic outlook, Sun Hung Kai would not suspend its new investment plans. He said all projects except three small industrial sites that were under construction would proceed at full speed. "We have to remain calm," he said, adding that no hasty decisions should be made. He said the group would release its residential project Peak One, in Sha Tin, next week. Faced with falling prices in the secondary market, he said the group would take into account current market transactions before finalising prices for its new projects. Last month two of Asia's best-known companies, Hutchison Whampoa (SEHK: 0013) and CapitaLand - Singapore's largest developer - decided to stop investing in new projects in the face of the global economic downturn. Asked whether Kwong Siu-hing, the 80-year-old matriarch of the Kwok family, would continue to chair Sun Hung Kai Properties, Mr Kwok replied: "She hasn't said she will step down."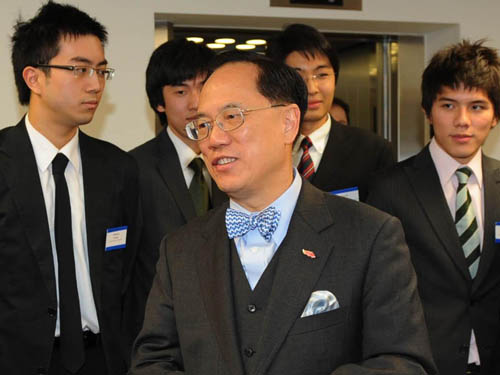 When a political leader is unpopular at home, there is no escape overseas, as Chief Executive Donald Tsang Yam-kuen found. On his visit to London, Mr Tsang was asked by a Hong Kong student at the London School of Economics and Political Science (LSE) whether he would follow in the footsteps of his predecessor, Tung Chee-hwa, who stepped down in 2005 after receiving low popularity ratings. "Tung Chee-hwa's main shortcoming was in how he handled public relations," a final-year law student said in a question-and-answer session after Mr Tsang made a speech. "It seems to me that I can't help noticing the similarity between Mr Tung and you, and that I find both of you have a certain degree of indifference towards public opinion. I was just curious on whether you are worried that you are following in the steps of Mr Tung?" Trying to lighten the mood, LSE director Howard Davies, who hosted the function, joked that Mr Tsang would probably not welcome the student's return to Hong Kong after his studies - a suggestion dismissed by Mr Tsang. Mr Tsang, who has told lawmakers in the past that he treated popularity ratings as "passing clouds", denied ignoring public opinion and said it was impossible for any policies to be "100 per cent perfect". "Very often, in an open society, those who are against and unhappy with the policy speak loudly; this exactly happened in Hong Kong," he said. Saying he and his colleagues tried every day to gauge public views, Mr Tsang said that rather than believing popularity ratings were unimportant, he always tried to find solutions to public concerns after considering people's views towards the government. The audience was given a glimpse of a possible remedy to his plunging popularity when Mr Tsang talked about being "full of admiration for the American system", when he answered a student who questioned the slow progress towards the introduction of universal suffrage. In his speech to more than 300 LSE students, Mr Tsang said that although the financial crisis would last for some time, measures introduced by the government, including infrastructure projects, would aid economic recovery.
The economic turmoil would not affect work on a statutory minimum wage law, Secretary for Labour and Welfare Matthew Cheung Kin-chung said yesterday.
You may not feel it in the pocket but prices - especially for food - fell as inflation slowed for a third month. With commodity prices cooling and the government waiving some public- housing rents and providing electricity subsidies, consumer prices rose 1.8 percent in October from a year ago, the government said yesterday. A market median estimate by Citi was for 1.9 percent after inflation of 3 percent in September. People did not notice changes for the better. Law Hing-ying, a mother of three, said: "Meat and rice are still very expensive." And university student Chan Ngai-sze noted: "Products like cosmetics are not cheaper than before," while "food is not cheap either." Hong Kong couldsuffer deflation in the middle of next year because the SAR fell into recession in the third quarter and the global economy continues to weaken, said Core-Pacific Yamaichi economist Benny Lui. "The headline inflation is likely to be negative next year," Lui said. "If the global economy continues to be weak next year, the chance of deflation in Hong Kong will be high."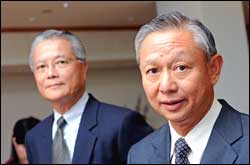 A plan to introduce compulsory drug tests for young people is not designed to boost prosecution figures, insists Secretary for Security Ambrose Lee Siu- kwong. Lee - who says the `stop-and-test' proposal will help tackle the growing problem of youth drug abuse - made the comments as he announced that seizures of ketamine have increased by 30 percent over the past year. He was speaking after a Fight Crime Committee meeting to review the overall crime situation. In the first 10 months of the year, 106 kilograms of ketamine were seized, up 30.9 percent from last year's 81kg. Heroin seizures also increased by 40 percent to 49kg and the number of serious narcotics offence increasing 8.9 percent to 2,491 cases. But the seizure of ecstasy-type drugs dropped 72 percent to 16,086 tablets. Lee sought to dispel fears that the proposed compulsory drug testing will lead to prosecutions. He said the tests will help identify young drug abusers suitable for treatment and rehabilitation. The fight-crime group will now set up a select committee to draw up a consultation paper, in the hope that the proposals may be implemented next year.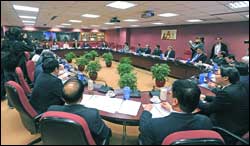 The government is cracking the whip to get Hong Kong's 18 district councils to quickly spend the HK$300 million given them in January. The councils should cut red tape to speed up small and medium works in the districts, Secretary for Home Affairs Tsang Tak-sing said yesterday, adding this will create more jobs. In the light of the financial turmoil, he called for the adjustment and simplification of guidelines and procedures on the use of public funding for improvement works. He said collaboration between the councils and project consultants, and inter-departmental coordination, could be improved to help speed up the projects. Only half of the improvement works have started, which Tsang said was too slow. Minor works include upgrading sports facilities, cultural facilities and beautification of the districts. Tsang is also pressing ahead with renovating more than 1,000 30 year-old buildings.
Agents from the Independent Commission Against Corruption (ICAC) raided the Kowloon Tong headquarters of Climax International (0439) on September 22 and arrested as many as 10 of its officers for bribery and theft, the company admitted yesterday. Climax, which makes paper products such as photo albums, gift items and stationery, said an investigation by the ICAC is continuing. None of the current board members are under arrest by the ICAC, and the company itself has not been notified it is under investigation, Climax said. The company explained that it contacted all the officers on record, including board members, as well as all senior management who were working for the company within 12 months of the raid. Except 10, all confirmed that they were not under arrest. All 10 have resigned or had their duties taken over by their deputies, according to Climax. The company's daily operations continue as normal despite the arrests, it said. The ICAC declined to comment. Shares of Climax have been suspended from trading since the morning of September 23 and will remain suspended.

China: Guangdong Governor Huang Huahua has promised to allocate more than 40 billion yuan (HK$45.5 billion) within four years to rescue the province's manufacturing industry. The province recorded a 4.4 percentage point year-on-year decline in economic growth from January to October. The package will include 540 million yuan in special funds to subsidise competent small and medium-sized enterprises by 2011, and a 200 million yuan tax rebate for labour-intensive factories and their exports next year, Mr Huang told a key economic conference in Shenzhen yesterday. Another 40 billion yuan will be used to accelerate industrial and labour relocation to remote areas of Guangdong - for cheaper production costs and land resources - by 2012. Six billion yuan of this will be used to build industrial parks in remote eastern and western Guangdong, 700 million yuan for labour training and 500 million yuan for cash awards to encourage owners to relocate their factories. Hong Kong factory owners in the Pearl River Delta whose product lines meet Guangdong's industrial transformation blueprint are also expected to benefit from the economic rescue package. Guangdong party chief Wang Yang told the meeting he had full confidence in the manufacturing hub's economic prospects, although he also said it was a key time for it to conquer critical difficulties caused by the global slowdown. Authorities said the province would thrash out more plans in December to rescue small and medium-sized enterprises amid the delta's faltering economy and the global financial crisis. Measures are expected to cover financing, tax breaks, industrial transformation, increased labour disputes and better governmental support. Authorities also promised to ease the burden on factory owners by seizing illegal administration fees and fines collected by regional governments. They have promised to deploy inspection teams with party discipline bodies. Hong Kong producers in Guangdong voiced their appreciation of the government's measures. Federation of Hong Kong Industries chairman Clement Chen Cheng-jen said yesterday that a string of new measures the Hong Kong and central governments announced in recent weeks had provided much-needed support for struggling small and medium-sized firms. "The measures provide significant help to companies to weather the global financial crisis," he said. "The manufacturing sector is in a very critical situation." He urged the central government to give further categories of exports higher value-added tax rebates and extend the type of industries that no longer require producers to pay cash deposits for importing raw materials. Hong Kong entrepreneur Wilson Shea, whose factory in Shenzhen produces products for export, welcomed Guangdong's initiatives, following a wave of plant closures. "The supportive measures are good news. The provincial government obviously wants to encourage firms not to give up easily," Mr Shea said.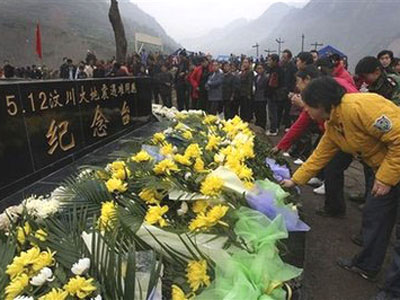 Visitors place flowers at a memorial in Qingchuan, Sichuan province, on the six-month anniversary of the earthquake. An official at the heart of the Sichuan earthquake zone has committed suicide, state media said on Friday, a setback for reconstruction work and a sign of the ongoing emotional toll from the disaster as winter sets in. He Zonghua jumped from a 15th-floor hotel room in the centre of a city that became a teeming refugee camp after the May 12 disaster which killed more than 80,000 people and left 1.8 million homeless, Xinhua news agency said. He was the second quake official to kill himself in two months. A third died from a burst artery caused by overwork, the China Daily said, as depression, stress and the challenges of rebuilding created excessive psychological pressure. Psychologists have warned that the period three to six months after a major disaster can be particularly difficult and the government has arranged counselling and training for hundreds of local leaders to help them cope. The latest victim was head of human resources in the general office of the Mianyang government. He had suffered from severe depression and complained of insomnia and bad health before he died. Colleagues also said he appeared anxious, though he did not lose any relatives in the quake. Mainland authorities won praise for a rapid response from both the government and ordinary citizens, spurred to an unusual outpouring of independent support. But many in the quake zone are overworked as they grapple with the mundane but painful task of rebuilding in an area hit by regular after-shocks. In October, a county agriculture and disaster relief director, who lost his 12-year-old son and other relatives, hanged himself and left behind a note saying "I feel too much pressure from life and work every day. I cannot hold on any further". There is still a staggering amount of work to be done, said Wei Hong, vice governor of Sichuan province. The region needs 3 trillion yuan (US$439 billion) by 2010, far more than the already generous funds which have been promised, he told a news conference about rebuilding efforts. The most immediate concern is the especially cold winter forecast for the area. Some refugees are still living in tents with little insulation and others struggle to get enough food and warm clothing, said Wei Hong, vice governor of Sichuan province. "Some senior citizens and children are in need of basic equipment to keep them warm. People in some quake-stricken areas even face the tough problem of provisions for this winter and the coming spring," he said.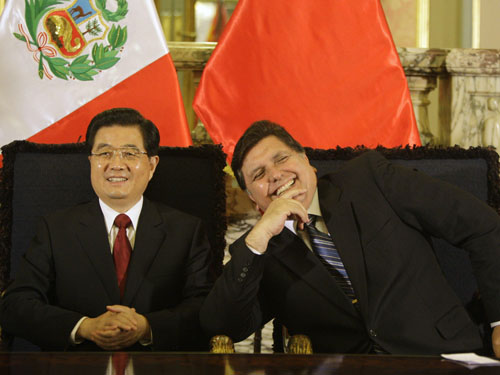 President Hu Jintao and Peruvian President Alan Garcia meet at the government palace in Lima. President Hu Jintao finalised a free-trade agreement with Peru during the final stop on a three-nation swing through Latin America that has underscored China's growing clout in the region. Mr Hu and Peruvian counterpart Alan Garcia, host of this weekend's summit of leaders from the 21 countries of the Asia-Pacific Economic Co-operation forum, made the joint announcement after negotiations ended. Quick implementation of the pact would benefit both sides, Mr Hu said. He also urged that a more co-operative effort be devoted to mining and that Peru make it easier for Chinese enterprises to invest in that industry. China and Peru also signed 11 other agreements covering economic and technological issues, health, customs, poverty relief, finance, mining, agriculture and other areas. Mr Hu and Mr Garcia attended the ceremony and also witnessed the opening of three Confucius Institutes at Peruvian universities. Mr Hu's trip comes as China, which has dramatically stepped up its economic and political diplomacy worldwide, sets its sights on the emerging economies of Latin America. Trade between China and the region remains relatively small but is growing rapidly. State media on the mainland reported this month that exports to Latin America had grown 52 per cent in the first nine months of this year, to US$111.5 billion. China has been seeking new sources of energy, minerals and other raw materials, with Latin America emerging as a potential key new supplier. In an interview this week with Peru's El Comercio newspaper, Mr Hu hailed the growing trade. Peru's opposition La Republica newspaper devoted nearly the entire front page of its Wednesday edition to a photograph of Mr Hu under the Chinese characters for "welcome". Mr Hu also welcomed the fact that "a number of Latin American and Caribbean nations have offered their understanding and support to China regarding Taiwan and Tibet, giving warm support". The welcome mat for Mr Hu in the region is fuelled in part by hope that increasing engagement with China can help ease the effects of the global financial crisis. On this trip, he has demonstrated the ability of China, with its US$1.9 trillion in foreign exchange reserves, to play that role. In Cuba, Mr Hu brought millions of dollars in aid and promises of closer trade ties. In Costa Rica, besides the free-trade talks, Mr Hu and President Oscar Arias signed a number of business deals including a joint venture in which China will help modernise Costa Rica's state-owned oil refiner. Mr Hu's travels also symbolise Beijing's rising influence in a region that had long been considered a diplomatic stronghold of Taipei. Last year, Costa Rica became the first Central American country to break off Taiwanese ties in favour of Beijing, a step that led to the free-trade talks.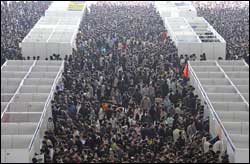 Beijing has warned the mainland is facing major unemployment problems due to the global economic crisis. "Currently, the employment situation is critical, and this impact [of the financial crisis] is still unfolding," said Minister of Human Resources and Social Security Yin Weimin. "We have called on all levels ...to place priority on the stabilization of the employment situation." Yin announced measures to try and stave off unemployment and to help those who lost their jobs, particularly among the 230 million rural workers. He warned the impact of the global economic downturn would be felt the hardest in the first quarter of 2009. "Up until now, there have been no large-scale layoffs or any wave of rural migrant workers returning home. [But] the number of rural migrant workers returning home is gradually increasing." With up to 24 million people seeking jobs every year, the government is hard pressed to fulfill its goal of seeing the creation of 12 million new jobs annually. Yin said joblessness had been most acute in the coastal provinces as light industry and textile companies closed, went bankrupt or stopped work. Thousands of workers in those regions have already gathered in recent weeks outside shuttered factories, demanding unpaid wages. Yin said the government would provide financial aid to companies to help them maintain employment. The unemployment rate stands at four percent. A four trillion yuan (HK$4.52 trillion) economic stimulus package announced earlier this month would also help create jobs. And an emergency- response system to deal with worker disputes and unrest will be set up. Zhang Xiaojian, vice minister of social security, warned the government will face difficulties finding employment for university graduates, with over six million expected to graduate next year.
Nov 21 2008

Hong Kong: The Hong Kong Monetary Authority (HKMA) injected another HK$2.32 billion into the money markets on Thursday afternoon to defend the Hong Kong dollar peg – in its latest intervention to defend the exchange rate link to the US dollar. The authority was trying to stop the Hong Kong dollar strengthening beyond the range of the peg. It intervened in the market seven times on Thursday, bringing the total cash pumped into the market to HK$18.2 billion.
Hong Kong's inflation rate fell to 1.8 per cent year-on-year in October – down from 3 per cent in September, statistics released on Thursday showed.
Despite deteriorating economic conditions, the Hong Kong government has no plan to cut public spending, Chief Executive Donald Tsang Yam-kuen said early on Thursday (HK time). Mr Tsang was speaking to a meeting at the London School of Economics in Britain. He said government spending would help reduce the impact of the current economic downturn and stimulate demand for goods and services. "We adhere to the principle of "big market, small government". For us, that means containing public expenditure to below 20 per cent of gross domestic product, as much as possible. The less the government intervenes, the more is left for the private sector to contribute to GDP," he said. He also said Hong Kong would adhere to its strengths and maintain its commitment to free and open market. "We will keep a low and simple tax regime. Salaries tax is no more than 15 per cent and profits tax is 16.5 per cent. There is no GST, no VAT, no death duties and no capital gains tax," he said. He said that overall Hong Kong's banks were in good shape.
Secretary for Home Affairs Tsang Tak-shing on Thursday said the government had reserved HK$3 billion this year for construction projects in local districts.
A Hong Kong man has been jailed for eight years in Yunnan for running the mainland's biggest online gambling racket which hauled in more than US$1.25 billion (HK$9.7 billion) in bets, state media said on Thursday. Tam Chi-Wai employed more than 3,000 people to run his illegal websites and perform other duties such as hiding the profits in clean bank accounts, Xinhua news agency said, citing the High Court in southwest Yunnan province. The court upheld an eight-year sentence handed down by a lower court in June, and fined him 20 million yuan (HK$22.7 billion), Xinhua reported, without saying when the final judgment was delivered. Tam's online gambling network earned more than 278 million yuan from about 8.68 billion yuan in bets before it was busted, making it the biggest such racket detected in China, Xinhua said. He began his empire nearly 10 years ago in Myanmar, which borders Yunnan and where many Chinese go to bet in casinos as gambling is illegal in China. Tam then started developing his internet gambling network in the mainland with servers based in various southern Chinese cities.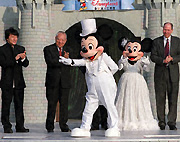 Three new themed "lands" are planned for Hong Kong Disneyland's expansion, although how they will be financed remains a key stumbling block, say sources familiar with the situation. Funding for three new lands could amount to at least HK$5 billion, since building a major attraction like the Pirates of the Caribbean ride is estimated to cost between US$150 million and US$200 million. The theme park now features Fantasyland, Tomorrowland, Adventureland and Main Street USA, which occupy about 80 hectares of the 126-hectare site. Some progress has been made in negotiations between the government and Disney, the theme park's two joint venture partners, the source said, and both parties wanted to see the expansion go ahead. But it is understood that changes to the shareholding structure that would result from Disney's offer to shoulder the entire funding exercise are unresolved. The lack of a proportionate injection of funds from the government would water down its majority stake, and further progress would depend on whether it was willing to inject matching funds or accept a smaller stake. The government has a 57 per cent stake in the theme park, with the rest held by Disney. On Monday, Secretary for Commerce and Economic Development Rita Lau Ng Wai-lan was in Los Angeles and met Disney management. A Disney spokesman said the company had no comment to make. John Ap, associate professor of tourism management at Polytechnic University, said he expected the new lands would help the theme park capture the young adult market and strike a balance with its generally tamer fare for families and children. "Hong Kong Disneyland opened without its three iconic rides - It's a Small World, Pirates of the Caribbean and Haunted House," Dr Ap said. As much preparatory work as possible had been done for the theme park expansion, such as securing the necessary permits, in anticipation of funding, sources said. That meant work could start within a few months of project approval.
Arbinet-thexchange, which exchanges bandwidths between telecommunications carriers and internet service providers, has opened a new internet protocol exchange in Hong Kong for the Asian market, with a focus on the mainland. The exchange was set up at Mega-iAdvantage data centre in Chai Wan. Sellers include China Telecom (SEHK: 0728), Chunghwa Telecom, Korea Telecom, Singapore Telecom and Telekom Malaysia. Buyers include online gaming and video streaming firms. "We chose Hong Kong as our Asian exchange centre as the market is fully deregulated, with nearly all international ISPs present here," said Danny Wong, regional sales director of Arbinet's data services division. "We may add one more IP exchange centre in Singapore or Malaysia to serve the Southeast Asia market." "Hong Kong has emerged as the second-largest internet hub in Asia and is a vital gateway to China," said Alan Mauldin, the research director of TeleGeography. "Our research has indicated intra-Asian internet traffic has grown nearly 65 per cent annually between 2004 and 2008." The Nasdaq-listed company expects its first group of internet protocol bandwidth buyers to connect in Hong Kong by year-end. Arbinet generates revenue by charging commission on exchanges of voice and internet protocol capacity. A few years ago, it set up its voice capacity trading centre in Chai Wan. Mr Wong also said Arbinet could help internet service providers diversify their voice and internet protocol networks to avoid data traffic congestion in times of emergency. He said the internet disruption an earthquake off Taiwan caused on December 26, 2006, might not happen again, as many new submarine cables had been installed to diversify the network in the past two years.
The decline in Hong Kong office rents follows a very strong period when Central rents soared 503 per cent to HK$120 a square foot this summer. Souring business sentiment and expectations of further lay-offs as Hong Kong's financial sector continues to reel from the impact of the global credit crisis could see office rents in Central decline by up to 60 per cent over the next two years, analysts warn. Their grim revisions to earlier relatively optimistic forecasts that the city's commercial property market might be spared the worst of the crisis follow news that the mainland's economic growth is decelerating faster than expected and mounting job losses in the local financial sector are likely to continue. "Many hedge funds are about to shut down because of heavy redemption calls and volatile stock markets in Asia, and investment banks need to scale down further because of fewer initial public offerings in the pipeline," said CLSA head of property research Aaron Fischer. CLSA is now the most bearish research house, revising down its forecast to a 60 per cent drop in rents in Central in the next two years, from 38 per cent previously. It anticipates a drop in the average rent from HK$120 per square foot to HK$45. Swiss investment bank UBS, previously counted among the more bullish of research houses in the city, warns that rents in Central grade A premises will drop by 25 per cent over the 12 months to September next year, against an earlier forecast of just a 5 per cent decline. Credit Suisse agrees that the outlook has worsened sharply. "We were too optimistic on office rents amid the sharply worsening conditions in the financial industry over the last six weeks," it said in an update on its outlook for the Hong Kong property sector last week. Reassessing its outlook for office demand, Credit Suisse revised down an earlier forecast for rents to decline by 15 per cent, saying it now expected rates to fall by 35 per cent following downward revisions to forecasts of Hong Kong's economic growth and sharply deteriorating conditions in the city's financial services sector. Listed property owners have also begun cautioning the market and their shareholders that revenue may suffer. Hongkong Land, the largest office landlord in Central, said last week "commercial property leasing in Hong Kong - which had remained strong in the first half of the year - have shown signs of reduced activity". It warned that "the medium-term outlook is considerably less certain in the light of the deteriorating economic conditions". Data compiled by Bloomberg shows 166,167 jobs in the financial sector had been cut globally between January 1 and November 18. The number has yet to include the 52,000 job cuts announced by Citigroup on Monday, and market watchers expect the job cuts to accelerate in the months ahead. The downturn in the rental market being forecast by analysts will follow an exceptionally buoyant period that saw Central office rents soar 503 per cent to HK$120 per square foot this summer from the 2003 trough, when the Sars outbreak gripped the city, according to CLSA. But as financial services and support industries account for about 75 per cent of Central office space, analysts believe a meltdown in the sector will lift vacancy rates and drag rents down significantly as landlords compete for dwindling tenants. Mr Fischer believes the headcount reduction in Hong Kong's financial sector - which has already fallen by several thousand - is likely to be in line with cuts in the United States or Europe, which could mean an overall cutback of 10 to 20 per cent in staff levels in the sector. Meanwhile, hiring expectations declined significantly to 32 per cent in the fourth quarter, from 57 per cent and 42 per cent, with respondents in the second and third quarters saying that they planned to hire new staff.

China: Stabilizing employment is the top priority for Beijing, a minister said on Thursday as he revealed a rise in jobless workers triggered by a weakened export sector amid a series of strikes and protests. Unemployment rose in October as the impact of the global financial crisis hit the mainland's production heartland. The ranks of jobless are expected to rise further next year, Minister of Human Resources and Social Security Yin Weimin said. "Stabilising employment is the top priority for us right now," Mr Yin said. After decades of solid economic growth, the mainland is battling an unknown as falling demand for its products triggers factory closures, sparks protests and raises fears of popular unrest. Faltering economic conditions have raised the specter of growth falling below 8 per cent, which the government regards as a benchmark to create enough jobs to sop up excess labor and guarantee social stability. The number of newly jobless reached 10.2 million in the first 10 months of this year, exceeding Beijing's projection for the entire year by 2 per cent, Mr Yin told reporters. "This is something we are concerned about. The unemployment situation is basically stable this year. But starting in October, unemployment in China has begun to show the impact of changes in the international economic situation," he said. "The global economic crisis is picking up speed and spreading from developed to developing countries and the effects are becoming more and more pronounced here. Our economy is facing a serious challenge." Workers in southern and coastal economic hubs have gathered at shuttered factory gates in the last month, seeking back wages, while local governments vow to pursue bosses who have fled. Mr Yin said the government would try to nip potential unrest in the bud by striving to solve half such disputes at the grassroots before they got out of control, and set up a fast-track system to deal with them. Beijing's official urban unemployment rate was still about 4 per cent, but could tick up to 4.5 per cent by the end of the year, and rise further next year, Mr Yin said. "In the first quarter of next year the situation will become yet more difficult. But there will be a turnaround from the second quarter," he added. The official figures fail to capture many of the hundreds of millions of mainlanders who have left villages and sought work in the cities over the past three decades. "It is migrant workers who are affected most severely. Many of them either return to their home towns or stay in cities looking for other opportunities, but they are not included in our statistics," Mr Yin said. About 4.5 million jobless workers had been rehired, short of the government's goal of 5 million re-hires, Mr Yin said. Those having difficulty finding new jobs numbered 1.29 million, exceeding the government's expectations that one million would have problems doing so.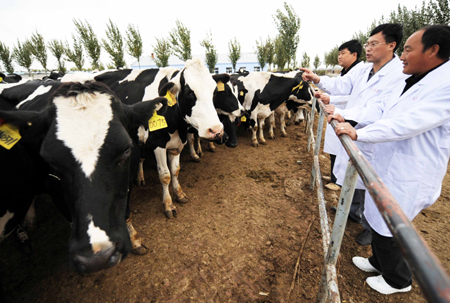 China dairy industry – at the centre of the country's latest food safety scandal – will be overhauled to improve every step from cow breeding to milk sales, the government said. The major shake-up will cover all aspects of the dairy supply chain, including production, purchase, processing and sales within the next year, Xinhua news agency reported on Thursday. "The crisis has put the mainland's dairy industry in peril and exposed major problems existing in the quality control and supervision of the industry," an official with the National Development and Reform Commission, Beijing's top economic planning body, was quoted as saying by Xinhua. Details posted on the website of the State Council said the Health Ministry would revise the quality and safety standards of dairy products, while the Agriculture Ministry would draft examination standards to check for melamine and other toxins in animal feed. A tracking system would also be established to record the flow and delivery of dairy products. Milk, and milk products tainted with the industrial chemical melamine, have been blamed in the deaths of at least four infants and have sickened more than 50,000 others. The government has detained an unknown number of people in connection with the scandal, but so far there have been no court cases. The huge scandal highlighted widespread practices of adding the chemical, typically used in manufacturing plastics, to watered-down milk to falsely mimic higher protein levels. Investigations have also uncovered the common practice of adding melamine to animal feed after melamine-spiked eggs were discovered. Melamine poses little danger in smaller amounts but larger doses can cause kidney stones and ultimately renal failure. The government plans to step up regulation of milk collection stations, where dairy farmers sell their raw milk, and "firmly crack down on and outlaw illegal milk vendors, firmly crack down on any illegal acts involving adulteration," according to a statement from the National Development and Reform Commission. By the end of next year, milk stations nationwide would be required to meet standards on hygiene, testing methods, operational procedures and personnel, it said. The plan laid out a goal of strengthening relevant laws and regulations by next year. By 2011, the goal is to increase the number of farms with more than 100 cows from 20 per cent to 30 per cent. Much of the mainland's supply of raw milk now comes from small dairy farmers with a handful of cows, which makes it difficult to standardise quality. Temporary subsidies will also be provided to dairy farming areas hit hardest by the milk scandal, especially Inner Mongolia, and the provinces of Hebei, Shandong, Shanxi, Liaoning and Henan.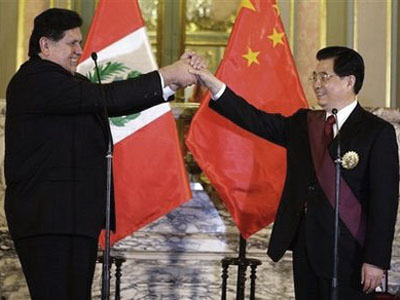 President Hu Jintao and Peru's President Alan Garcia signed a bilateral trade agreement in Lima on Wednesday. Peru and China have successfully concluded talks for a free-trade agreement that will strengthen ties between two of the world's fastest-growing economies, Peruvian President Alan Garcia said on Wednesday. The pact would be Beijing's second agreement with a resource-rich country in Latin America, whose exports it needs to fuel a roaring economy. The deal could be signed as early as March after final details are worked out. China and Chile signed a free-trade agreement three years ago." "The two countries are very complementary and there are many areas for cooperation," said President Hu Jintao, who is visiting Peru as leaders from 21 economies gather this week in Lima for a summit of the Asia Pacific Economic Co-operation forum, or APEC. The APEC meeting will consider possible fixes for the world economic slowdown. Mr Garcia, who has aggressively pushed trade, signed a trade pact with the United States last year, and a deal with Canada is awaiting approval. "We are sure this will generate lots of development for Peru and China," Mr Garcia said. Ten bilateral accords signed between the countries on Wednesday from health to technology would facilitate the pending trade agreement, he said. China is the second-largest market for Peruvian exports after the United States. Peru ships mostly copper, iron ore and zinc to the Asian giant, while China sends mobile phones, machines and other high-tech items to Peru. Officials say a trade pact with the Beijing could raise Peru's rate of economic growth by 1 percentage point a year. The tighter ties comes as mainland firms have committed to about US$6 billion in investments in Peru's mining sector over the next three years. Peru's economy, the fastest growing in Latin America, has been expanding for seven years. Last year, it grew 9 per cent. It is expected to slow next year.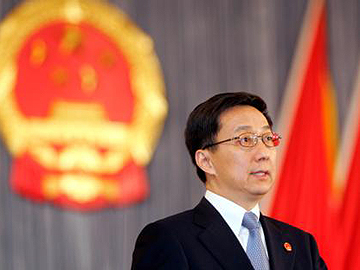 Shanghai Mayor Han Zheng pledged to listen to grievances and try to resolve problems during a two-hour meeting with representatives of cab drivers and transport workers on Tuesday, mainland media reported yesterday. The representatives - 10 taxi drivers, four bus drivers and two bus conductors - had a free-ranging discussion with the mayor following taxi strikes in several mainland cities this month. The strikes, a headache for the central government and a source of social unrest, are in response to what the drivers call extreme work pressure, high cab rental fees and competition from unlicensed cabs. Yesterday in Chongqing , several hundred drivers were on strike to protest against a proposed increase in the number of cabs in the city, Xinhua reported. They returned to work in the afternoon following talks with district officials, it said. No demonstrations have been staged in Shanghai, but the country-wide turbulence caught the attention of the mayor, who has promised a safe and harmonious social environment for the 70 million tourists expected to visit the 2010 World Expo. Official figures said more than 10 per cent of the 100,000 taxi drivers working for Shanghai's 150-plus cab companies quit their jobs each year, mainly because of low salaries, passenger miscommunication and competition from illegal cabs. At the meeting, some taxi drivers said they had to pay 600 yuan (HK$680) to their companies each day, saying they worked about 18 hours a day, to take home just 2,000 to 3,000 yuan a month. Others called for the government to crack down heavily on illegal cabbies because the unlicensed drivers were eating into their business. "Do you know how rampant the illegal taxis are? They have everything, including taxi meters and company titles," one cab driver told the mayor. "Sometimes they give kickbacks to security guards so that they line up on streets to wait for passengers at night, but we are not allowed to do that." Mr Han said the government would take measures to protect transport workers in an effort to maintain the healthy development of the transport industry. He said Shanghai would set up a 24-hour complaint hotline for taxi drivers and establish a regular hearing with transport representatives to improve communication with government officials. The authorities would also solicit public feedback on plans to improve management of public transport. City transport officials used a compactor to crush 21 impounded illegal taxis as "a warning to others" last week, and more than 18,000 illegal taxis have been seized since the beginning of this year, local media reported. Following a two-day strike by cabbies in Chongqing early this month, drivers in Lanzhou , Gansu province , and Sanya , Hainan province , went on strike last week to demand lower monthly cab rental fees and crackdowns on illegal cabbies. Xinhua reported that the five-day strike involving hundreds of taxi drivers in Sanya, a popular tourist spot, eased on Saturday when the city government said it would act against illegal cabs. The city has about 1,200 licensed cabs and about twice as many unlicensed ones. Three Sanya transport officials resigned because of dereliction of duty, and 20 taxi drivers were detained for attacking drivers who did not participate in the strike and smashing cabs.
Nov 20 2008

Hong Kong: British Prime Minister Gordon Brown met Hong Kong Chief Executive Donald Tsang on Tuesday to discuss the global economic slowdown, the British premier's office said.
Unemployment rose only slightly last month but the number of jobs available dropped more than 13 per cent, heralding worse to come. Unemployment rose to 3.5 per cent, just 0.1 percentage point up from the September figure but still the highest level in 11 months. The government said the effects of the global economic meltdown had yet to be fully reflected. At the same time, the Labour Department said the number of private-sector vacancies registered in October fell by about 9,000 from 67,000 in September to a little more than 58,000, a reduction of 13.4 per cent. The figures released each month are an aggregate of the previous three months, meaning the period before the crisis began to bite in September is reflected in the latest result. The figures were released against the background of a growing wave of layoffs this month, with 4,000 Hong Kong workers being sacked from the stalled Sands resort development in Macau, HSBC (SEHK: 0005, announcements, news) shedding 450 in layoffs announced on Monday and trading giant Li & Fung saying yesterday it would cut 150 jobs this year. "There is quite a big risk that the jobless rate will worsen," Financial Secretary John Tsang Chun-wah said. "If companies do not need to lay off staff, don't. But if staff need to be made redundant, I hope companies can do whatever they can to help them find new jobs." A government spokesman said the increase in unemployment was fairly widespread across sectors. "Looking ahead, unemployment is expected to rise further in the near term as the global financial turmoil and its contagion effects are felt," the spokesman said. The marginal rise in unemployment was accompanied by a drop of about 2,200 people without jobs month on month as the size of the workforce expanded to a record 3,678,500 from 3,677,200, up 1,300. Total employment grew by 3,600 from 3,543,100 in September to 3,546,700 last month, Census and Statistics Department figures show.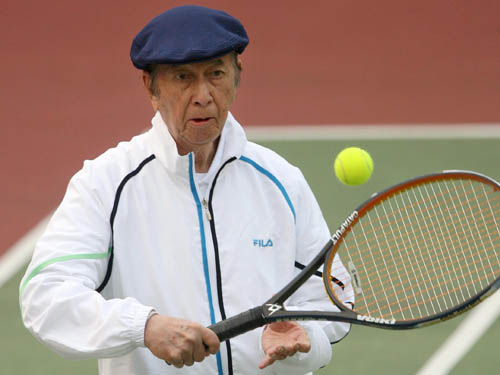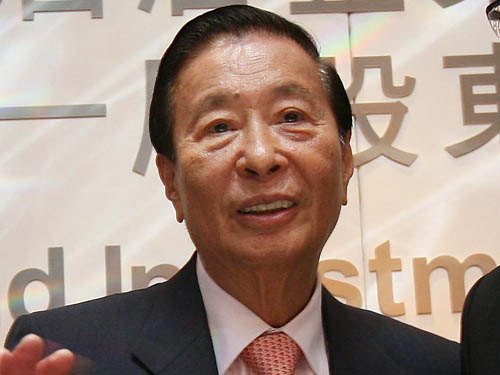 The current recession will last up to three years and next month will bring even more bad news, casino magnate Stanley Ho Hung-sun said yesterday. The crisis was worse than others in the recent past, and it would last longer. "If you had asked me in the past, I would have said three or two months, but when this downturn will end, even I can't tell," Mr Ho said. He later said: "I hope that I'm wrong, but this time, I think it will take two to three years to recover." Mr Ho was speaking to reporters after taking part in a tennis tournament at the Chinese Recreation Club yesterday. About 90 per cent of Hong Kong companies will be preparing their year-end figures at the end of next month. "Their wins and losses, all of it will be exposed," he said. "I fear there will be more bad news than good news. "I have been praying. Every night I hope it will get better, but I don't know whether I should hope. I really worry about December. I'm fearful." Real estate prices would fall next month, but Mr Ho advised against buying property yet. "I wouldn't be confident enough to [buy] yet," he said. There would be little movement in the property market as people held on to what they had and waited for December to pass, he predicted. Despite fears of more mass layoffs after Citibank and HSBC (SEHK: 0005, announcements, news) announced job cuts, Mr Ho said he believed real estate firms would not lay off staff - yet. "As far as I know, [the real estate industry] won't, but if it has no choice, then it will have to," he said. But his companies would not cut jobs. "My companies won't need to," he said. Mr Ho said he believed the stock market would rise to 15,000 points after next month and continue rising. Meanwhile, Henderson Land Development (SEHK: 0012) chairman Lee Shau-kee refused to make any predictions about the stock market, saying the financial crisis had made the situation too complicated. Mr Lee, who has been described as Asia's Warren Buffett, has had a mixed record of predicting the market's direction. He said yesterday: "The financial meltdown makes the [stock] market very choppy and unstable, I have no idea about its outlook." Mr Lee said that the market capitalisation of his private investment company, Shau Kee Financial Enterprises, had decreased significantly. Asked whether there will be any layoffs in his companies, Mr Lee said: "I [haven't thought] about that, it's just too early to say."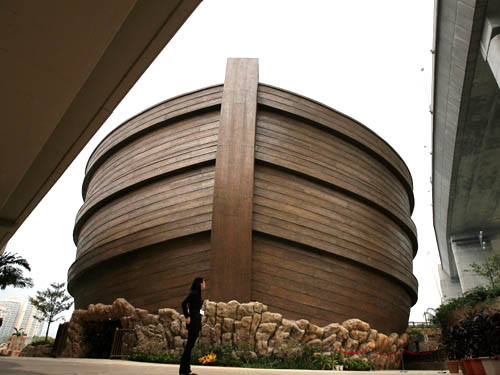 A woman is dwarfed by the huge model of Noah's Ark, whose facilities include a hotel, hostel, restaurant and museum. A large model of Noah's Ark, described as the world's first "full-size" replica, will open to tourists in Ma Wan Park in January. Construction of the model will finish by the end of next month and the ark will initially be open to tour groups. After a three-month trial, individual members of the public will be allowed to visit. There are five levels inside the ark, which will house a restaurant, an exhibition hall, an education centre and a museum for children. The top floor will have a hotel and a hostel overlooking the sea. According to the Bible, Noah built the ark and loaded a male and female of every animal species on board to save them from a flood. The replica is on Ma Wan Island and faces the Tsing Ma Bridge. It is part of Ma Wan Park, the first phase of which opened in July last year. The ark covers an area of 270,000 sq ft. Sculptures of 76 pairs of animals appear to walk out of the ark into a garden. "We used a material called GRC, which is a mixture of concrete and glass fibre, to build the ark," said Ma Wan Park project manager Angus Cheung Kam-cheung. He said GRC was used instead of real wood because it was more environmentally friendly and durable. The ark took five years to build. Five non-governmental organisations will operate the ark's facilities, including the Chinese YMCA of Hong Kong; The Media Evangelism, a Christian charity; Angela Luk's Education Foundation; the Boys' Brigade Hong Kong; and St James' Settlement. "Under the financial tsunami, every Hongkonger is facing challenges," said the park's general manager, Spencer Lu Chee-yuen. "The opening of the Noah's Ark is timely, as it serves as a symbol of hope." Since it opened, Ma Wan Park has attracted 300,000 people. Its management and the tourism industry are still discussing the ark's entrance fees. "We won't link the entrance fees directly to the construction cost," Mr Lu said.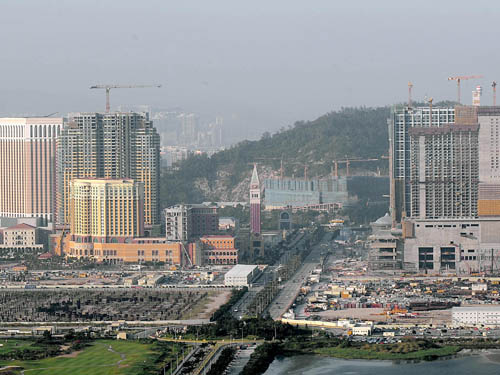 Las Vegas Sands, which is seeking project financing, is laying off about 11,000 construction workers in Macau after the financial crisis forced it to suspend work on a project. Mainland and Macau government actions were partly to blame for Las Vegas Sands Corp's decision last week to halt work on a US$3.7 billion Cotai casino complex, president and chief operating officer William Weidner said. "There have been some changes in the central government's attitude towards Macau," Mr Weidner said on Monday. "We don't think it's necessarily all that prudent to put more money in until we see how that attitude works its way out." Las Vegas Sands said last week it would lay off up to 11,000 construction workers in Macau after the financial crisis forced it to suspend the building of a 6,400-room resort opposite the Venetian. However, regulatory uncertainty in Macau appears to have partly driven the decision as the company said work would proceed on a US$5 billion casino resort in Singapore. Mr Weidner suggested Macau's policy missteps and lax regulation of the gaming industry shared the blame for projects being delayed or shelved. "Macau because of what has happened has kind of created for itself unfinished or semi-finished projects. I don't think we're alone in not completing developments." The central and Macau governments since June have restricted the ease and frequency with which mainland passport holders, including non-permanent Hong Kong residents, can travel to Macau. The restrictions have slowed visitor arrival growth to 2.07 per cent in September from 17.27 per cent in the first eight months. Likewise, casino revenues declined 10.03 per cent in the three months to September from the previous quarter.
HK woman first Asian in New Zealand cabinet - Sworn into power as part of New Zealand's new government, Pansy Wong is New Zealand's first Asian-born cabinet minister, reflecting the growing clout of its fastest growing ethnic group. Born in Shanghai and raised in Hong Kong, Wong was appointed minister for ethnic affairs and women's affairs following the November 8 general election victory by Prime Minister John Key's centre-right National Party. The 53-year-old Wong was elected to parliament as New Zealand's first Asian legislator in 1996. "I've proved that we can hack the pace in parliament, so that more Asians feel they can do it,'' she said. The election saw six legislators of Asian origin voted into parliament, highlighting the rapid growth of New Zealand's Asian population.
Hong Kong is facing severe competition from Singapore to be a centre of education excellence in Asia, according to a study by the Hong Kong Institute of Education.
Crisis to send property prices back to 2004 - The residential property market is likely to suffer further damage from the global financial crisis over the next year, according to analysts and property consultants.

China: China is assembling its first aircraft carrier battle group and will eventually deploy it in the South China Sea to protect oil routes and territories, a military source said yesterday. The carrier and its support vessels would be built in Shanghai and two other major shipyards in the nation's north, the Shanghai-based expert said, refusing to be named. The expert, who visited one of the shipyards earlier this year, said he saw a naval vessel hull under construction that officers at the shipyard told him would be part of the future aircraft carrier battle group. "I don't know whether the hull I saw is the main body of the carrier or the hull of a support vessel. It's hard to tell; we can't get close as it's under heavy protection," he said. "But I can tell you that the new aircraft carrier will be conventional and small [compared with the US nuclear `supercarriers'] and will hold no more than 60 aircraft." He said the nation had been unable to master the technology of magnetic or steam catapults, which are used to hurtle planes off the ships' limited runways. The lack of technology meant the carrier would have to follow a Russian model. Earlier last month, a Russian industry source told Jane's Defence Weekly the People's Liberation Army Navy was seeking to buy carrier-based Su-33 multiple-role fighter jets from the Komsomolsk-na-Amure Aviation Production Association, on the Amur River, bordering China. And the Shanghai Jiangnan Shipbuilding Enterprises Development Co, the Dalian Shipbuilding Industry Co in Liaoning and another new shipyard in Tianjin's Binhai New district were all believed to be involved in the programme, the expert said. "China's first indigenous aircraft carrier will be a diesel-powered conventional vessel, not the nuclear-powered ones like the American carriers," he said. "And they are still testing and developing onboard weapons and electronic systems." He said it would take four more years for the carrier to go into service, and "will provide the much-needed air coverage for our South Sea fleet - especially since we have territorial disputes in the South China Sea". "An aircraft carrier battle group can also protect our oil transport routes." The expert said other countries should not exaggerate the impact on the region of the nation's move to acquire a carrier. "There is no surprise at all that China wants to build aircraft carriers ... because even India has already got four carriers." In an interview with London's Financial Times on Monday, Major General Qian Lihua , director of the foreign affairs office of the Defence Ministry, said the world should not be surprised if China built an aircraft carrier. "Even if one day we have an aircraft carrier, unlike another country, we will not use it to pursue global deployment or global reach," General Qian told the paper, referring to the US, which operates 12 aircraft carrier groups, including nine nuclear-powered carriers. In July, the Kanwa Defence Review said Beijing had finished the design of its first carrier and had started to manufacture some of its sub-systems, with several manufacturers indicating at a maritime equipment exhibition in Guangzhou earlier that year that they had been chosen to produce such sub-systems. Hong Kong newspaper Wen Wei Po quoted a military source as saying China would have its first carrier by 2010 during the National People's Congress in March last year.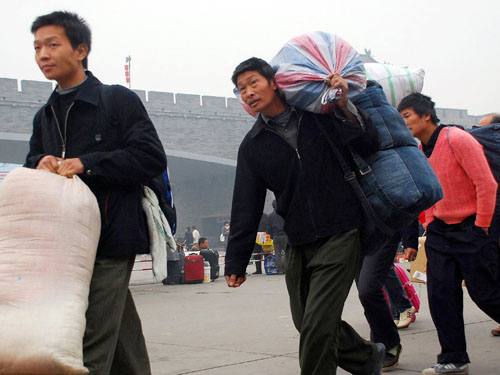 Migrant workers return home to Xian, in Shaanxi province, after being laid off by factories in Guangdong.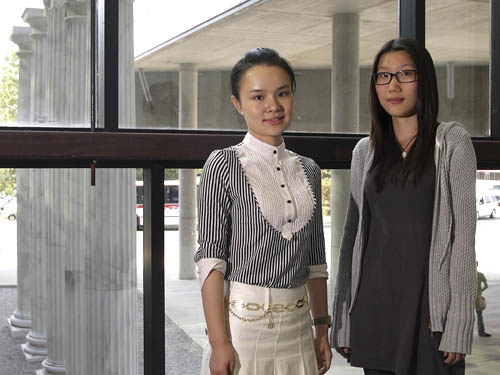 Chen Siyi (left) and Liu Xiaoli have enrolled at Ohio State University in Columbus. Students from China are enrolling in US universities in record numbers, encouraged by aggressive recruiting combined with China's booming economy and growing middle class. Their enrolment grew by 8 per cent in autumn 2006 and by 20 per cent last year, according to Institute of International Education figures. Individual universities are also reporting high growth this year. Mainland enrolment quadrupled this year at Lehigh University in Pennsylvania. George Fox University in Oregon, accepted 65 mainland students, more than double its figure last year. Purdue University in West Lafayette, Indiana, already boasting a strong international student programme, is enrolling 290 mainland students, up from 127. The figure was more than quintupled at Ohio State University, America's largest campus, with 115 undergraduates from the mainland compared with 20 last year. Liu Xiaoli, an Ohio State freshman from Beijing, said mainland universities offered solid academics but could not compete with the overall experience of an American college, including more opportunities for out-of-class activities, an open learning environment and diversity. "In China you can seldom find people from the US, but in the US you find people from all over the world." The influx is part of a solid and welcomed rebound in the number of international students coming to the United States, with its 4,000 colleges and universities. Numbers of international students had dropped alarmingly due to competition from other countries and tighter visa procedures after the 9/11 terrorist attacks in 2001. But the latest report from the Institute of International Education shows 7 per cent more foreign students at US universities than a year ago, at an all-time high of 624,000. India again sent the most students, followed by the mainland and South Korea. Enrolment from Saudi Arabia jumped 25 per cent, putting the country back into the top 10 for the first time since 1982, thanks to a new Saudi government scholarship program. A snapshot survey the institute did of campuses this autumn found that 55 per cent reported increases in students from the mainland, the highest increase from any country. "The misperceptions have finally been laid to rest - that it's impossible to get a visa," said Peggy Blumenthal, the institute's chief operating officer. Students choosing schools "are looking strictly at academic issues, because there's no reason to believe they'll have any more trouble getting to the States than getting to Australia". Kansas State University enrolled 199 mainland undergraduates, up from 65 last autumn. "There is a whole emerging middle class of Chinese - well over 300 million, many of them with one-child families - who are interested in sending their son or daughter abroad with higher educational experience," Duane Nellis, Kansas State provost, said. "We're capitalising on that to enrich our campus community." International students and their families contribute more than US$15 billion annually to the US economy, according to a separate survey by Nafsa, an association of international educators. And as they typically pay higher out-of-state tuition, they're an important revenue source for colleges at a time when the supply of college-age US students is cresting. Out-of-state students pay an average of US$515 more per credit hour at Michigan State University, where the number of new undergraduate mainland students soared from 95 last year to 327. Universities also like the international students' cosmopolitan flair. "We're thrilled about the cultural benefits, the educational benefits it brings to our resident students," said Mike Brzezinski, Purdue's associate dean of international programmes. "It gives them a study abroad experience right here on campus." The number of Americans studying abroad is also at a record high, the Institute of International Education reports, increasing 8 per cent to 242,000 in 2006-07 - the latest year for which figures are available. Students continued the trend towards more untraditional destinations, with increases of more than 20 per cent each to the mainland, Argentina, South Africa, Ecuador and India. The number of new mainland students still represents a fraction of overall enrolment: just 2 per cent of the Ohio State freshman class, for example. They must meet the same entrance requirements, including passing an English-language test. hen Siyi, a freshman from Changsha , Hunan province , planning to study finance, was especially impressed by Ohio State's array of 32 libraries. But like Ms Liu, she has no interest in staying after graduation. "I probably will go back to China to work there and find more opportunity there. I don't know any reason for me to stay here over staying with my family.
Nov 19 2008

Hong Kong: With Hong Kong's economy now feeling the impact of the international financial crisis, the jobless rate has risen to 3.5 per cent of the workforce, latest figures released on Tuesday showed. Hong Kong's unemployment rate rose from 3.4 per cent in July – September to 3.5 per cent in August – October, latest Census and Statistics Department figures showed. However, the underemployment rate – which measures those who only work a few hours a week – decreased from 1.8 per cent to 1.7 per cent over the same period. Total employment increased by around 3,600, from 3,543,100 in July – September 2008 to 3,546,700 in August – October 2008. Over the same period, the labour force increased by around 1,300, from 3,677,200 to an all-time high of 3,678,500, the figures showed. A spokesman for the department said increases in unemployment mainly occurred in retailing, transport, the import-export trade, hotels and storage sectors. "As to the underemployment rate, decreases were mainly seen in construction, and amusement and recreational services sectors," he said. Speaking before the release of the figures, Financial Secretary John Tsang Chun-wah said Hong Kong's unemployment rate would continue to rise. "I predict the unemployment rate will slightly increase and will last for some time. It is a global trend for the companies to adjust manpower to restore profitability, especially the large financial institutions and corporations. "As Hong Kong is an international financial centre, it is inevitable some companies here will also have to cut jobs," he said. The financial secretary appealed to corporations not to slash jobs until it was absolutely necessary. "I hope they will not cut jobs until they have to. If it becomes inevitable, they should allocate more resources to help staff find new jobs." Matthew Bennett, a director of the professional recruitment firm Robert Walters in Hong Kong said Hong Kong's jobless rate remained low. "Hong Kong's current unemployment rate is relatively low compared with other developed nations and is nowhere near the 8 per cent unemployment rate triggered by the severe acute respiratory syndrome (Sars) outbreak in 2003," he said.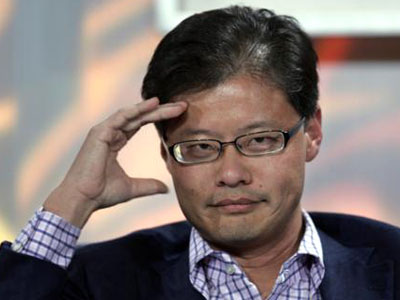 Jerry Yang, seen here listens to a question at the Web 2.0 Summit in San Francisco earlier this month, announced on Monday that he is stepping down from the post of Yahoo CEO.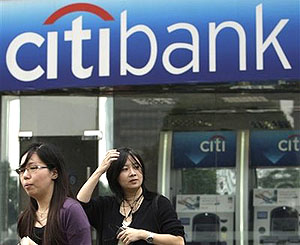 Citigroup plans to cut around 150 jobs at its wealth management unit in Asia excluding Japan as part of a global restructuring, a source familiar with the plan said on Tuesday.
The cost of the final phase of the reclamation of Central has risen by HK$2.2 billion to HK$5.7 billion, local radio reported on Tuesday, citing sources close to the government.
Banking giant HSBC has announced it will slash 450 jobs in Hong Kong - the lion's share of 500 jobs it is to cut in Asia in a second round of layoffs - as a senior executive warned that no one's job was safe during a recession. The layoffs involved almost all levels of employees in every division, from branch managers to cleaners. Hong Kong staff were told of the job cuts yesterday in an e-mail from Hongkong and Shanghai Banking (SEHK: 0005) Corp executive director Peter Wong Tung-shun, while those losing their jobs were advised by their department managers. The sacked staff are receiving the equivalent of eight months' salary as well as their pensions. In his e-mail, Mr Wong said the "exceptionally difficult" decision was a result of organisational changes, as well as the deteriorating economy and a cautious outlook for next year. "In this day and age no guarantee of job security can be given," he wrote, adding that HSBC would help affected employees to seek new jobs "within the bank or externally". HSBC, which is one of Hong Kong's largest employers with 18,000 staff, dismissed about 100 back-office workers in September as part of a global move to slash 1,100 jobs. The fresh blow to employment in the beleaguered banking industry came just over a week after Singapore's largest lender, DBS Bank, announced it was sacking 900 staff, mostly in Hong Kong and Singapore. Unionists said the HSBC layoffs, which were unusual in that they also involved branch managers who had rarely been sacked in the past, might send the wrong message to smaller banks that employees were just readily disposable assets. The Hong Kong Banking Employees Union criticised the sector for "betraying" workers who had been asked to make sacrifices amid fierce competition in recent years and the current controversy over losses from failed Lehman Brothers-related minibonds. "They have been dedicating themselves to their work all along but their employers just treat them as sacrifices to the financial tsunami," union deputy secretary general Tam Kin-sun said.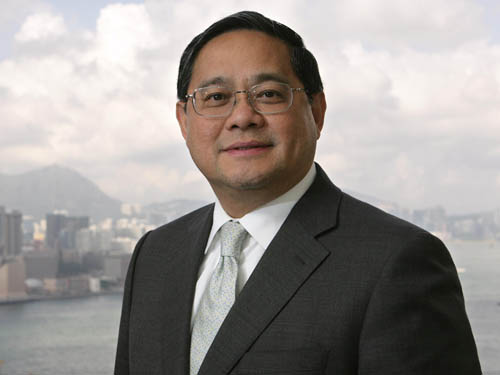 Victor Fung Kwok-king, chairman of Li & Fung, said yesterday the trading giant would lay off staff as a last resort in a bid to lower its operating costs by 10 per cent. But he denied earlier reports that 1,000 employees would be let go. "The report about Li & Fung planning to lay off 1,000 staff is absolutely incorrect. Actually, the number of Li & Fung staff at the end of this year is greater than at the beginning of this year," Mr Fung said. According to the company's 2007 annual report, Li & Fung had more than 13,000 staff worldwide. According to a staff union representative, 450 employees in the company's toy division were expected to be made redundant by Christmas. A company source said there were some "isolated cases" of layoffs at business units that were hit hard by the economic downturn but hiring had increased in some lower-cost markets. Much of Li & Fung's revenue comes from the United States and the European Union, both hard hit by the financial crisis. "As a responsible company, in the current environment, we need to carefully manage our costs and manpower. Our aim is to lower our costs by 10 per cent, through, for example, a reduction in business travel. If there is no other way, then we would consider cutting staff," Mr Fung said. Asked about plans by his fellow members of the government's taskforce on the economic crisis to discourage redundancies, Mr Fung, said the taskforce is exploring ways to help the local economy. But companies should act responsibly, he said. In a statement on November 8, the company said it was reviewing its cost structure. Measures included a hiring freeze in most locations, a reduction in discretionary expenses and, as a last resort, layoffs. "While extensive efforts have been made to place employees in other divisions, those who cannot be placed elsewhere in the company will be made redundant," the statement said. "At this stage, it is envisaged that a limited number of employees will be made redundant."
City Telecom (CTI), a Hong Kong telephone operator, said annual profit surged 333 per cent - thanks to stronger demand for its fixed-line integrated telecommunications services and higher customer spending. Profit for the year to August rose to HK$125.2 million from HK$28.9 million the year before as revenue increased 14.17 per cent to HK$1.3 billion from HK$1.14 billion. Despite the strong earnings growth, CTI halved its final dividend to 2 HK cents to save cash for planned increases in capital expenditure. The company plans to triple spending to as much as HK$650 million in the next two years from HK$211 million in the previous financial year to expand its network coverage to two million homes and 1,800 commercial buildings from 1.5 million homes at present. CTI added 118,000, or 17.3 per cent more, fixed-line subscribers, including internet users, in the year to August, taking the total to 801,000. Average monthly spending rose 9.1 per cent to HK$191 per user from HK$175. However, operating costs surged 18.2 per cent to HK$934 million owing to aggressive promotions and higher expenses to sign up customers. CTI said it had no imminent plan to follow some other big corporations in sacking staff. "So far, we have no plans for any job cuts, and we are considering new hires despite the adverse economic environment," said chief executive William Yeung at a press conference yesterday. Meanwhile, the company has scrapped a plan to form a consortium to bid for a nationwide broadband licence in Singapore. Shares of CTI dropped 9.18 per cent to close at 89 HK cents yesterday.
China Unicom (SEHK: 0762) (Hong Kong), a mainland telecommunications service operator, said its two largest shareholders had set January as the month in which they planned to complete their previously announced merger. After the merger of China United Telecommunications Corp and China Network Communications Group Corp, the resulting corporation will hold a combined 70.4 per cent of Unicom, the company said in a statement to the Hong Kong stock exchange. Unicom bought China Network's subsidiary China Netcom Group Corp, the country's second-biggest fixed-line carrier, last month. "The proposed parent merger is expected to enhance management efficiency of the parent companies and further facilitate the integration between Netcom and us," Unicom said. "We intend to establish a unified national network of sales, distribution and services." Unicom said the proposed merger was pending approval from regulatory authorities. Last month, Unicom, originally a mobile-telephone carrier, paid 1.508 shares for each Netcom share. The transaction was valued at HK$123.9 billion, based on stock prices on October 14. The move was part of the effort by the mainland government to consolidate smaller phone carriers to enable companies to offer both mobile and fixed-line services. Licences for third-generation wireless services would be issued after the revamp was completed, the government said last month. Analysts said the integration would enable Unicom to offer better services to its more than 100 million mobile subscribers, although it would be behind rivals in the southern regions. Unicom has about 129 million mobile-telephone users, 107 million fixed-line users and 24.5 million broadband subscribers. After the deal, the company will own and operate a fixed-line and broadband network in the 10 northern provinces. Shares in Unicom fell 1.04 per cent yesterday to close at HK$9.50.
Two female undercover police officers cracked an international syndicate that arranged for local women to become prostitutes in Japan, Taiwan and Britain, a district court judge was told. In the dock yesterday was Law Wai- kon, 34, who pleads not guilty to two counts of causing the prostitution of another person. He also faces two alternative charges of trafficking in women. Prosecutor Roderick Wu Kam-fun told the court in his opening statement that, between December 2006 and June 2007, a number of recruitment ads appeared in a Chinese-language newspaper stating: "Make quick money overseas by being public relationship officers in Japan, Taiwan and the United Kingdom. Completely safe and confidential. The recruitment package includes air tickets, meals and accommodation." The ads listed a contact number. In January 2007, a female officer called the number which was answered by a man calling himself "Mr Ho." Over the phone, he discussed the pay and the nature of the job. Three days later, the undercover officer met Ho inside a Mong Kok shopping mall. Law was identified as being Ho. He is alleged to have told the officer she could earn tens of thousands of dollars a month if she worked in a bar in Chiba-Ken in Japan. Law is also reported to have said someone would pick her up at Tokyo airport and instruct her on how to pass customs. She would be paid about HK$1,400 for each session of drinking, singing and going out with customers. An extra pay of HK$2,300 would be paid for sex with customers. The prosecutor said the officer was assured that most customers were Japanese, and that other girls from Hong Kong, Taiwan and Macau were working there. The officer told Law she needed more time to consider the job. In March last year, police sent a second woman officer to meet Ho. During that meeting, Law told her not to worry about the job. On May 30, 2007, the second police officer called Law again and agreed to accept the job. On the same day, she met him in Mong Kok, where they went to a travel agency to book a flight to Japan. On June 11, Law handed over the air ticket to the officer. He also gave her some birth control pills and lubricant. In addition, he provided her with information about Japan and instructed her to use a false name and a fake address for immigration purposes. While they were talking, a senior police officer arrived and arrested the accused. The trial continues today before Deputy District Judge Abu Bakar bin Wahab. The accused remains free on cash bail of HK$30,000.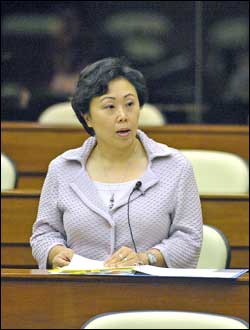 Hong Kong is about to start talks with Guangdong on a cross-border traffic scheme which could see hundreds of left-hand drive cars flowing onto the city's crowded highways on a daily basis. The scheme would extend the limited existing mechanism which allows Hong Kong drivers to motor between the two places - at a price. Officials say it is designed to dovetail with future Pearl River Delta integration projects such as the Hong Kong-Macau-Zhuhai Bridge. Experts yesterday gave the proposal a mixed reception, some saying it would clog up already jammed roads, while others said it was a non-starter because mainlanders would rather use the public transport system. And while Hong Kong businessmen might like more convenience, the price tag of close to HK$1 million for a mainland car license may be prohibitive. The plan was unveiled by the Secretary for Transport and Housing Eva Cheng Yu- wah during a visit to Singapore. Cheng said several hundred quotas would be given to cars, both private and company owned, every day at the beginning of the program, which would expand gradually to include the Hong Kong-Zhuhai-Macau Bridge upon its completion, if successful. She said an expert committee will discuss details such as environmental requirements for mainland cars and vehicle insurance. Cross-boundary car licenses are highly sought after because of the limited quotas. Hong Kong residents need to invest at least US$1 million (HK$7.8 million) in the mainland and the licensed cars can only cross at specific border control points. Chinese Manufacturers' Association general committee member Lui Ming-wah said the scheme would make it more convenient for Hong Kongers to drive to the mainland, but he did not think it would attract many mainland drivers. "The public transportation system in Hong Kong is very well developed and driving in Hong Kong isn't very easy because roads are crowded and small. Mainlanders would rather take the MTR or taxi to get around," he said. Polytechnic University civil and structural engineering associate professor Hung Wing-tat expressed fears about road safety. "Left-hand and right-hand driving are totally different. It is okay if mainland cars only stay on highways, but once they get into the city accidents could happen," Hung said.
The Hong Kong government has lost as much as HK$2.44 billion on its holdings in Hong Kong Exchanges and Clearing (0388) since the Exchange Fund bought additional shares in the bourse operator last September.

China: Fixed-line network giant China Telecom (SEHK: 0728) has launched what is touted to be the country's cheapest unlimited mobile broadband data service, in a challenge to cellular network market leader China Mobile (SEHK: 0941). China Telecom, which acquired No2 mobile service provider China Unicom (SEHK: 0762, announcements, news) 's CDMA network as part of a restructuring of the industry, started offering this month an unlimited mobile internet access package for laptop computer users, priced at 1,100 yuan (HK$1,250) a year, in cities including Beijing, Wuhan and Xian. To use the low-cost service, a customer connects a wireless data card to the computer to access the internet through the firm's cellular network. China Telecom, which paid 110 billion yuan for Unicom's CDMA infrastructure last month, has undercut the pricing of China Mobile for its own mobile broadband data service. Based on the country's homegrown TD-SCDMA 3G cellular technology, China Mobile's broadband data subscription costs 200 yuan per month for up to five gigabytes of data. Subscribers also need to buy separately a compatible data card, costing about 700 yuan. A full year's subscription to China Mobile's 3G data service costs 2,400 yuan. The carrier has, however, been offering a 50 per cent discount to new TD-SCDMA subscribers who had used its mobile data service prior to signing up for its 3G service. China Mobile currently offers its 3G network service, which supports data transmission speeds of more than 2 megabits per second, in 10 major cities, including Beijing, Shanghai and Shenzhen. To offset China Mobile's advantage in download speeds, China Telecom has started to bundle its new CDMA network capability with existing fixed-line telephone and broadband internet services across the country. In Jiangsu province, it offers residential users 600 voice minutes free on calls between its CDMA and fixed-line telephone networks. "China Telecom has a stronger foothold in the residential market; therefore, service bundling will effectively bring about more value to the customer," said Cynthia Leung, a senior analyst at technology consulting firm Ovum. The carrier's CDMA mobile broadband service is also being bundled with Wi-fi network access, since the carrier has set up more than 10 million wireless local area network hotspots across the country. Jiangsu subscribers, for example, pay 50 yuan per month for 30 hours of mobile broadband usage on both the Wi-fi and CDMA networks. "China Telecom is leveraging its fixed-line market share to push its mobile business, which could help the company win market share," said Fu Liang, an independent telecommunications analyst. Other analysts expect China Telecom to target primarily high-end business customers with its mobile broadband data services. The carrier is expected to try to increase the number of users of its CDMA network before it expands into 3G network services, using the CDMA2000 1x EV-DO standard, which can offer a download speed of up to 2.4Mbps. "We believe China Telecom will launch its CDMA 1x network beginning in 2010," said Scott Siegler, an analyst at Dell'Oro Group. "We believe the restructuring of the Chinese telecommunications industry will be completed by the first quarter of 2009." China Telecom has started to partner with makers of mobile telephones - including Taiwan-based HTC Corp, South Korea's LG Electronics and Samsung Electronics, and domestic firms Huawei Technologies, ZTE Corp (SEHK: 0763) and Hisense - to supply it with CDMA handsets.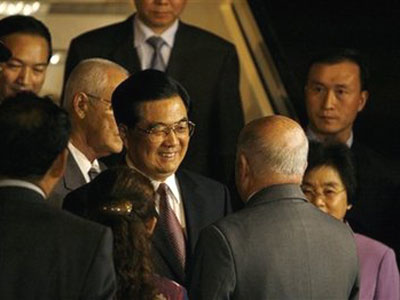 President Hu Jintao is welcomed by Cuban Vice President Jose Ramon Machado Ventura at Havana airport on Monday. President Hu Jintao arrived in Cuba on Monday (Tuesday HK time) for a two-day visit to promote further economic ties with the island struggling to recover from three hurricanes and the ongoing effects of the global financial crisis. No sooner had Mr Hu landed than Cuban television said the two countries had already signed accords for China to continue purchasing nickel and sugar from Cuba and to provide agricultural products to the Caribbean country. More agreements on economic, education and other matters were expected to be signed during a visit Cuba hailed as an indication of the close relations between the two communist-run countries. Mr Hu, making his second trip to Cuba, was greeted at Havana's airport by First Vice President Jose Ramon Machado Ventura, a dragon dance performed by Cuban youths, and some 50 members of the local Chinese community who waved Cuban and Chinese flags. "My visit is aimed at increasing friendship and co-operation between our two nations, and working together with our Cuban comrades to build a promising future," Mr Hu said in a statement. Mr Hu offered "sincere good wishes that the Cuban people achieve continuous new advances in the construction of socialism." China is Cuba's largest trading partner after Venezuela at US$2.3 billion (HK$17.8 billion) last year and is looking to increase that number. The Asian giant currently buys about 400,000 tons of sugar annually from Cuba and is estimated to get close to half of Cuba's annual nickel production of 75,000 tons a year.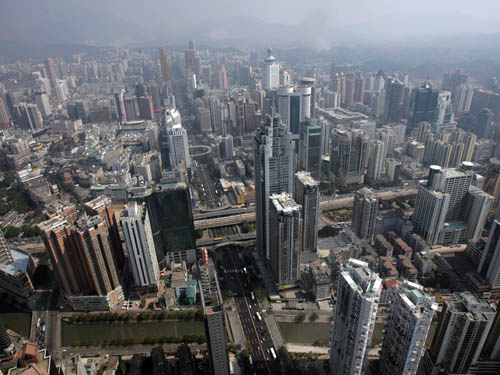 When paramount leader Deng Xiaoping decided 30 years ago to build the nation's first special economic zone in Guangdong, to serve as the engine of opening and reform, the city of Shenzhen did not exist. In 1979, the area was just a string of small fishing villages and collectively owned rice paddies. Transforming this sleepy patch - home to just 30,000 people - into a free-market enclave open to foreign investors and private enterprise, would require the mobilisation of the People's Liberation Army, the only option for completing the political and physical demands of such a task. In 1982, 20,000 soldiers with engineering expertise were called up from across the country and sent to Shenzhen. Their goal: to build a trial base for reform. That autumn, Zhou Shunbin , a 27-year-old soldier from Sichuan , arrived in Shenzhen, where he would bear witness to the city's transformation from a backwater into a booming metropolis. "When we arrived by train in Shenzhen, many soldiers were shocked to find no proper roads or buildings around the train station," he said. "We thought we had arrived in the wrong place. Was this really Shenzhen, the special economic zone? Why did it look poorer than the countryside? Many soldiers asked each other these questions." Mr Zhou recalled that tough time, saying only young soldiers with strict discipline could survive the daunting task of building up a barren land. "We treated it as a military mission to fulfil," he said. "In the beginning, the living and working conditions were really bad. We found there was no place to stay and had to build huts using reeds. The weather on the coast was also very hot and wet. Many of us quickly became ill. "Mosquitoes, flies, rats, snakes and lizards were everywhere. You could find everything imaginable in the huts. "Sometimes, in the middle of the night, you would suddenly find a green snake lying beside you on the bed. Many of us were from northern China. We had never witnessed such a horrible scene before. And the rats were unbelievably big. I heard a soldier caught a 4kg one and some Guangdong soldiers cooked it up." The first major project handed to Mr Zhou and his fellow troops was to clear a river blocked by mud and the bodies of dead animals. "We rushed into the stinking water and cleared it by hand within a few hours. Some Hong Kong visitors covered their mouths and said `PLA soldiers are really remarkable!'" Later, they blasted mountains to clear land for construction. "There were no concrete roads or skyscrapers in Shenzhen until 1983 and the landscape in the city has changed dramatically since then, with almost every corner becoming a construction site," Mr Zhou said. "When I moved to Shenzhen, I thought I would go home soon after fulfilling my mission, and never expected to see so many dramatic changes in the city in a period of two decades. "At that time, we felt proud to be PLA soldiers. We did everything local residents couldn't do: building roads, blasting hills, constructing skyscrapers and working on anti-typhoon projects. "The only object for us was to complete each task in time, to construct the city as soon as possible and get a commendation from the army leaders." By the end of 1982, the 53-floor Shenzhen Guomao Plaza had been completed, taking less than a year. Deng had a name for the phenomenon - "Shenzhen speed". "Before arriving in Shenzhen, we had no experience of building skyscrapers. We hadn't even heard of mosaic yet," Mr Zhou said. "We sent experts to Hong Kong for several days to learn how to use the new materials and build modern-style buildings." Thanks to the soldiers' work, for which they were paid about 40 fen a day, the Shenzhen Special Economic Zone flourished, with buildings sprouting like mushrooms. Officials asked the central government to allow the soldiers to settle in the city. They hung up their uniforms on September 13, 1983, becoming Shenzhen's first immigrants. "They were tough but wonderful years. We came when we were young and now we are old," Mr Zhou said. "But it's great to have contributed my golden years to the city. I have no regrets in life having seen this place go from a village to the giant, pioneering city."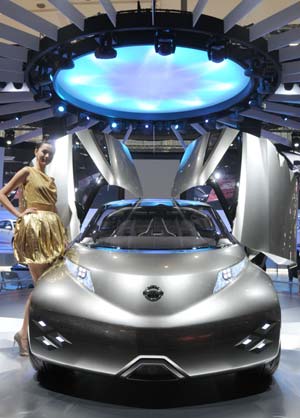 A model displays a Nissan concept car on the media day of the 6th Guangzhou International Auto Show in Guangzhou, capital of south China's Guangdong Province, Nov. 18, 2008. The 6th Guangzhou International Auto Show will be opened on Nov. 19.
Nov 18 2008

Hong Kong: New rules requiring wider gaps between buildings will be proposed to reduce the so-called wall effect caused by high-rises blocking air flow, a source close to the government said. The rules, to be proposed in a forthcoming public consultation, would require 30 per cent of a site's length to be set aside for space between buildings, and 30 per cent of the land area being allocated to landscaping and "green" features. There is currently no standard requirement on gaps between buildings, which is usually determined on a case by case basis using air ventilation studies and considering the size of the development. There is also no standard requirement for green features. The source said care would be taken to prevent developers from profiting from the proposed green space by increasing the overall development density. The move follows controversy over present arrangements that award bonus floor area in return for incorporating features such as sky gardens, utility platforms and bigger lobbies and corridors that are assumed to improve the quality of life in the developments. Secretary for Development Carrie Lam Cheng Yuet-ngor said last month the government would consult the public this year on how green features should be incorporated into new developments without increasing the density of the project. The consultation is expected to start as early as next month. The source said building permeability and the green ratio - which refers to the minimum space between blocks and the amount of green space respectively - were major issues under consideration. Based on air ventilation studies and overseas examples, a government consultant had advised that leaving 30 per cent of a site's length as gaps would ensure air flow and prevent "walled buildings". "Walled buildings are formed when developers put buildings along the same line to maximise sea views," the source said. "To prevent walled buildings, developers would be required to leave at least 30 metres as non-building area if a site is 100 metres long." A standard requirement would be easier to implement than working out a figure for each site, the source said. "As a start, developers could be asked to meet a minimum requirement since studying the wind environment of every single site would require much more effort." The source said a minimum of 30 per cent green area had been a requirement for developments on the mainland for many years.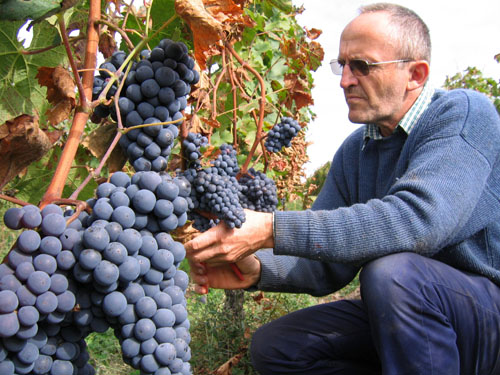 Jean-Jacques Beraud, owner of Chateau La Brande, hopes his wine can get a share of the mainland market. The financial storm sweeping across the globe has raised the importance of Hong Kong and the mainland in the eyes of French wineries, as they make more of an effort to explore new markets. Boris de Vroomen, co-chairman of the Hong Kong Wine and Spirits Industry Coalition, said that although the market growth rate this year would not be as impressive as last year, business was holding up quite well in the face of the economic crisis. The latest government figures show that Hong Kong imported a total of 15.8 million liters of red wine, valued at HK$1.69 billion, in the first nine months of this year. In the same period last year, the city imported 12.1 million liters of red wine, but the value was only HK$841.2 million. Despite the financial turmoil, the scrapping of the 40 per cent tax on wine in February helped to significantly boost the value of imported reds. Census and Statistics Department figures show the total value of imported red wine from March to July last year was HK$478 million. The figure jumped to HK$988 million in the same period this year, five months after the tax was scrapped. Mainland China is the biggest wine re-export market for the city. Of Hong Kong's total 2.9 million liters of re-exported wine in the first nine months of this year, 2.1 million liters valued at HK$220.8 million was re-exported to the mainland. In the same period last year, only 1.9 million liters of wine, valued at HK$230 million, was imported into Hong Kong and re-exported to the mainland. "One needs to be extremely optimistic to say there will be no impact on the wine business. But business is holding up quite well so far in Asia and Hong Kong. It is quite a difficult time in the US and Europe," Mr de Vroomen said. "I'm still optimistic about the wine business in China and Hong Kong. The situation in Asia is more resilient here than in other areas." The trade was confident that its earlier forecast of the mainland's wine imports rising from 4 million cases last year to 50 million in 2017 was still within reach. "This estimation still stands and has not been affected by the financial crisis. The average per capita consumption is still low in China," Mr de Vroomen said. New collectors were emerging in mainland China and many of them were buying fine wine in Hong Kong. This provided an excellent opportunity for the city, especially with the scrapping of the wine duty this year adding a further boost, he said. Herve Berland, managing and commercial director of Chateau Mouton Rothschild, a renowned Bordeaux winemaker, agreed. "China is now in the top five countries of the world, with an annual consumption of around 3,000 cases of Chateau Mouton Rothschild which are ranked second or third in the top five most wanted fine wines in China, while Lafite remains in the lead," he said, referring to another Bordeaux label. The crisis has also created an opportunity for less famous French wines and low-cost labels to enter the market. Edouard Miailhe, owner of Chateau Siran which supplies wines to a number of five-star hotels in Hong Kong, Macau and on the mainland, said its business had been affected by the financial turmoil. Chateau Siran, a winery in Bordeaux, produces a range that includes first-class wines and Bel-Air de Siran, which is less expensive. "We gave exclusivity of Bel-Air de Siran this month to a Hong Kong wine importer to buy all our bottles, which will be used for capturing market share on the mainland. The crisis gives us a chance to promote our cheaper wine to the Chinese market," Mr Miailhe said.
The government has vowed to revitalise the market for Hong Kong films in the region, hoping to restore the glory of a film industry once known as the "Hollywood of the Orient". The government said it would also strive for a closer relationship with Guangdong film studios which, it was hoped, would co-produce Cantonese-language films with Hong Kong studios. This website is powered by netDrive 4. As mentioned briefly in the chief executive's latest policy address, the Hong Kong Film Development Council will launch a campaign called "Hong Kong films, new action" to promote local films in Taiwan, Singapore and Malaysia. The council's secretary general, Wellington Fung Wing, said the performance of Hong Kong films and audience habits in regional markets would be surveyed. Delegations of council members and filmmakers will visit Taiwan, Singapore and Malaysia in the next few months to re-establish relationships with industry professionals. Film industry representatives would also be invited to attend the Entertainment Expo in Hong Kong next spring. "During the peak, every Hong Kong-made movie was sold and screened at cinemas in Taiwan," Mr Fung said. "But since 2001 or 2002, the value of Hong Kong films has dropped to a very low level. Producers would rather not sell the films. This is similar to the situation in Singapore and Malaysia." He said the increasing cost of promotion and the number of television movie channels, which discouraged people from visiting cinemas, were among the reasons why regional distributors were less keen on Hong Kong movies. The number of annual Hong Kong productions dropped from nearly 300 in its heyday in the early 1990s to 50 last year. Mr Fung said the figure was expected to be even lower this year. Meanwhile, the council will send about 60 people involved in the film industry to Guangdong next month to discuss the possibility of co-productions with studios there. Mr Fung said there was a huge demand for Cantonese-language films in Guangdong but not many films were made there. "They want closer collaboration with Hong Kong's creative talent," he said. Most co-productions had been between Hong Kong and major mainland studios based in Beijing, but "there's still a great opportunity [for Hong Kong films] to survive if we can consolidate these markets". The council also plans an overall review of the Film Development Fund's functions early next year. Since October last year, 13 applications for film-project funding had been received and seven approved. Mr Fung said the council was happy to see a variety of projects seeking funding, ranging from romance to animation and action. He said several film projects were helmed by first-time directors. The council had also approved HK$1.81 million for a film-animation education programme at secondary schools, which would start with the new school curriculum next autumn. Mr Fung said there would be strong growth in demand for animation content and Hong Kong would benefit from such a program. Film funding approved this year: 1. McDull Wudang (Bliss Pictures) Director: Brian Tse Lap-man; Funds approved in January 2008: HK$3,598,800. 2. Claustrophobia (Runaway Films Production) Director: Ivy Ho; Cast: Ekin Cheng Yee-kin, Karena Lam Ka-yan; Funds approved in February: HK$1,618,255. 3. Coweb (Joy Charm Enterprise) Director: Xiong Xin-xin; Cast: Sam Lee Chan-sam, Jiang Luxia; Funds approved in June: HK$2,993,179. 4. Room-mate (Big Pictures) Director: Lee Ka-wing; Cast: Chen Po-lin, Gigi Leung Wing-kei; Funds approved in July: HK$2,419,674. 5. Strawberry Cliff (Glory Top Properties) Director: Chris Chow Chun; Cast: Eason Chan Yik-shun, Leslie-Anne Huff; Funds approved in September: HK$3,017,435. 6. Prince Tears (Far-Sun Film Company) Director: Yonfan Yon Fan; Cast: Joseph Chang, Fan Chih-wei; Funds approved in September: HK$2,390,000. 7. Luen Yan Sui Yu – English title not yet available (ET Media Group) Directors: Derek Tsang Kwok-cheung, Jimmy Wan Chi-man; Cast: Khalil Fong Dai-tong, Jaycee Fong Cho-ming,Eason Chan Yik-shun; Funds approved in November: HK$2,351,592.

China: Scientific and technological awareness has been increasing among the Chinese people, according to a survey released on Sunday. The survey by the Chinese Association for Science and Technology (CAST) reveals that people with basic science and technology knowledge account for 2.25 percent of the total population of 1.3 billion, compared to 1.6 percent in 2005 when a similar survey was last conducted. The survey covers 10,080 people, aged between 18 and 69, from 31 provinces, autonomous regions and municipalities on the Chinese mainland. Carried out from December 2007 to February 2008, the survey indicates 18.4 percent of the Chinese people understood scientific terms, 33.5 percent understood scientific methods and 59.4 percent understood the relation between science and society. The respondents held that teachers, scientists and doctors are the most respected professionals and 40.1 percent of the parents hoped their children would become scientists. As to the relation between scientific development and human resources, 82.8 percent of the respondents agree that "stimulating children's interest in science and technology will be conducive to the development of China's talents." The Chinese people also have high expectations on future development of science and technology. The survey says that 81.9 percent of the respondents believe modern science and technology will bring the offspings more opportunities for development.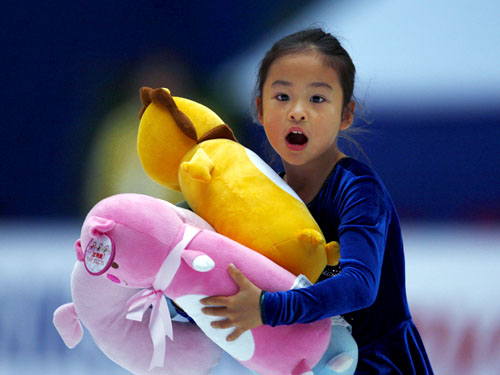 Toys made in China are subject to more stringent safety rules in the United States, particularly with regard to substances in products and design. Some Chinese-made products have been subject to more stringent safety rules in the United States and anti-dumping duties in the European Union despite the promise of global leaders at the G20 summit to reject protectionism. The EU slapped an import tariff of up to 60 per cent on candles and a 50 per cent levy on non-alloy steel wire products from China on Saturday, the same day the 20 major economies agreed not to impose any fresh trade barriers and inconsistent rules under their World Trade Organisation commitments in the next 12 months amid the global financial crisis. Click here to find out more! Chinese exporters have also been struggling to survive a controversial US rule promulgated on Wednesday that tightened safety requirements on children's consumer products from the manufacturing floor to retail shelves. "I hope this is not protectionism," said Danny Lau Tat-pong, chairman of the 1,000-member Hong Kong Small and Medium Enterprises Association. "And I hope they will keep their promise." He added the EU and US moves would add to the cost burden of mainland manufacturers, with many on the verge of collapse as a result of bleak consumer demand. In response to a complaint by European manufacturers that Chinese-made candles were selling at prices so low that mainland exporters were getting an unfair advantage, the EU found in its investigation that Chinese candles accounted for 37 per cent of the EU market, worth €810 million (HK$8.04 billion) last year. A 25-strong mainland manufacturers' alliance complained against the new US legislation, which mandates producers to come up with a certificate of compliance on meeting the safety standards on every product in every shipment in terms of substances used in products and product design. They must relay a copy of the certificate to all distributors and retailers who buy from them. Penalties have been raised sharply to US$100,000 from US$5,000 per violation and to US$15 million from US$1.25 million for multiple violations. The rule applies to products for children aged below 12. The alliance's leader, who did not want to be named, said no manufacturer was ready for it. "I find more questions than answers. What products should be tested and how often should they be tested? Answers are still up in the air." He questioned why the threshold was set at children under 12 and why products for other consumers were not included. "What happens to protection for children above 12? Why doesn't the rule cover lipstick or jewellery, which may also contain lead?" The rule states that producers must post on website details such as address, contact numbers and names of importers, suppliers and laboratories for three years, which the alliance complains is an infringement on privacy.

Deng's bold vision of change and challenges in equal measure - Anhui villagers lead the economic transformation
On November 24, 1978, under the dim light of an oil lamp, 21 farmers in Xiaogang village in the eastern province of Anhui marked their fingerprints on a contract that divided community-owned farmland into plots for individual households. The contract stipulated that if their arrangement was discovered and any signatory thrown in prison, the others would raise their children until they turned 18. The controversial move, initially attacked as a return to capitalism, triggered a wave of revolutionary changes leading to the system of 30-year leases on land plots, and marked the beginning of the mainland's historic process of opening and reform. Last month, in what was called a "landmark policy document", the ruling Communist Party's Central Committee agreed to allow small farmers to sell their right to till the land. At the time the Anhui villagers were turning their backs on collective farming, entrepreneurs in the Pearl River Delta began setting up small factories to provide original equipment manufacturer (OEM) services to businesses in Hong Kong. Dajin Textiles in Shunde , Guangdong, is believed to be the first OEM factory established in the area, at a time when foreign trade was strictly regulated. Through political wisdom or sheer good fortune, the two groups' bravery in challenging political taboos was endorsed by the Communist Party under reformist leader Deng Xiaoping. The Xiaogang model was soon copied by thousands of villages across the province, and the Shunde experiment was said to have eventually prompted the top leadership to designate four "special economic zones" in 1980. They were Shenzhen, Zhuhai , Shantou and Xiamen . In 1985, a further 14 port cities were opened to overseas investment. These were the first to receive foreign capital and technology, and have since been leading China's export boom. It is tempting to say that changes might have taken place even earlier, when the disgraced Deng made a political comeback after the death of chairman Mao Zedong and the downfall of the Gang of Four, Mao's political allies, in 1976. Back then, the pressing need for change, no matter how painful, was obvious. The mainland was just emerging from the shadow of the devastating Cultural Revolution, and decades of economic and social mismanagement had impoverished the country. Before a crucial party plenum to set the country's new course, Deng's men launched an ideological debate on the so-called "criterion of truth" to prepare for change. The tide began to turn for good at that meeting - the Third Plenum of the 11th Chinese Communist Party Central Committee - in December 1978. Deng, then vice-premier, wrested power from the conservative faction headed by Hua Guofeng , the party chairman who remained staunchly faithful to Mao. With the victory of the Deng credo - "practise is the only test of truth" - the meeting marked the turning point in the party's central policy theme away from the idealism of socialist revolution towards economic development, thus ushering in the era of opening and reform. "Thirty years of reform and opening up have brought about historic changes in China's development and created the fastest major growing economy," said Chi Fulin , executive president of the China Institute for Reform and Development. Deng's reform suggested a loosening of central controls on economic life, undertaken in a spirit of pragmatism and gradualism as an antidote to Mao's ideology of class struggle. Similarly, it heralded China's integration into the global economy. Since then, market-oriented reform has been the common thread running through transfers of political power from Deng to former leader Jiang Zemin and President Hu Jintao , although internal power struggles have occasionally slowed the pace. There was debate on the pace of reform between the reformist camp, headed by Deng, and some conservatives headed by Chen Yun throughout the 1980s and early 1990s. Deng prevailed, however, and set the course of reform in stone with his famous 1992 south China trip. Mismanagement of the economy and internal power struggles helped trigger nationwide pro-democracy protests, and the consequent bloody military crackdown on student demonstrators in Tiananmen Square on June 4, 1989, was a major setback for China's reform and diplomacy. Power struggles also led to the sacking of two top reformist party officials and Deng's hand-picked political successors, Hu Yaobang and Zhao Ziyang, for being sympathetic to political liberalisation. Despite facing continuous challenges at home and abroad to one-party rule, China's Communist Party remained politically secure, avoiding the widespread collapse of socialism in the 1990s. The mainland's economic boom began in the countryside in 1978, lasted through the 1980s, and was followed by today's urban, industry-led growth. The mainland has seen booms in almost all sectors of the economy and society, including foreign investment, trade, financial markets, consumption, travel, overseas study, military modernisation and foreign relations. There is also a booming interest in western culture and a new, modern lifestyle that incorporates foreign movies, fashion and design, and even religion - from home-grown Confucian philosophy to Buddhism and Christianity. From 1978 to last year, the mainland's gross domestic product grew by 9.6 per cent annually from US$216.5 billion to US$3.6 trillion. Fiscal revenue grew 45-fold from 113.2 billion yuan (HK$128.5 billion) to 5.1 trillion yuan, greatly increasing national strength. Material life for the general population has never been better, with a staggering 300 million people lifted out of poverty during this time. The World Bank hails that as the biggest poverty-reduction effort in history and the country's greatest contribution to world development. Today China is the world's fourth-largest economy, holding US$1.9 trillion in its coffers - the wealthiest by that measure. It is the third-largest trading nation and a favoured recipient of foreign direct investment. China's economic and political clout is growing so rapidly in some regions, such as Africa, that critics have labelled Beijing a "neo-colonialist". This record of development has become an inspiration to many around the world as developing economies turn to China in search of solutions to their own developmental difficulties. With its recent hosting of the spectacular 2008 Beijing Olympic Games and a Chinese astronaut's historic spacewalk, the nation appears to have created an image for itself of a global power second only to the United States. Beijing has played an increasingly significant leading role in many important international organisations and global affairs. Its support during the current global financial turmoil, for instance, is strongly sought by western nations. During the period of reform, Beijing also accomplished the goal of securing the return of Hong Kong's sovereignty to the motherland in 1997 and Macau's in 1999, though relations with the breakaway island of Taiwan have been rocky. Of course, the cost of the economic miracle should not be discounted. The environmental damage has been staggering, the gap between rich and poor is growing - most citizens lack sufficient health and retirement programmes - and corruption has never been reined in. More worrying, the economic boom has not brought systemic political reform and rule of law to an increasingly sophisticated economy and society, as many had hoped. "Compared with the forceful and well-paced economic reform, political reform has not yet started - which obviously results in an income gap and strains society," veteran dissident Dai Qing said. Despite its economic success, she said, the mainland still faced risks and formidable challenges, and its future success rested on the fundamental reform of its political system and introduction of the rule of law.

Rehabilitation paved way for economic upheaval that shaped modern China - One moment in 1976, propaganda broadcasts were criticizing Deng Xiaoping as a "counter-revolutionary revisionist and capitalist-roader" who "worshipped foreign things". A month later, the political winds had shifted to accusing the radical Gang of Four of pursuing a "counter-revolutionary revisionist line", the veteran foreign correspondent Dennis Bloodworth wrote. Mao Zedong's anointed successor, Hua Guofeng , had the Gang of Four arrested in October 1976. Mao's wife Jiang Qing , her associate Yao Wenyuan , Shanghai party chief Zhang Chunqiao and former Shanghai textile worker Wang Hongwen would later be blamed for the 10 years of chaos during the 1966-76 Cultural Revolution. Deng's rehabilitation would come several months after their arrests, at a July 1977 meeting, when he was reappointed as vice-premier and to posts in the Communist Party's ruling Politburo and the military structure. Although China's direction would waver in 1977 and 1978 because of divisions between Hua and Deng, the return of the diminutive Sichuan native paved the way for economic reforms that are still shaping China today. "In the 1970s and 1980s, we were still very reluctant [about reforms] and we had a lot of doubts," said Ji Zhu , a professor at Beijing Technology and Business University's school of economics. "Looking back, all this seems very naive." Deng was a political survivor who returned from purges to lead China into the modern age. He was earlier ousted along with Liu Shaoqi and other high-level officials at the outset of the Cultural Revolution in 1966. He returned from the political wilderness in 1973, becoming vicepremier. The members of the Gang of Four, who rose to prominence through the Cultural Revolution, saw him as a threat, especially the former Shanghai actress Jiang. Wang, Zhang, and Yao were all members of the Politburo. Despite political disgrace, Deng still had supporters within the party and played an increasingly larger role as the health of premier Zhou Enlai worsened. After Zhou's death in early 1976, the campaign against Deng gathered steam and he was blamed for the spontaneous mourning for Zhou in Tiananmen Square. Deng fled Beijing not long after, but returned the following year. A party meeting - the Third Plenum of the 11th Central Committee - in late 1978 declared victory over the Gang of Four, whose members were tried in 1980. Portions of the trial were shown on state television, including a defiant Jiang shouting at the judges. The plenum stressed the "Four Modernisations" (agriculture, industry, national defence, and science and technology), which Deng would use to free the country from its isolation and establish special economic zones. Significantly, as recounted by historian Jonathan Spence, the meeting also allowed farmers to engage in "side-occupations", a move away from agriculture under the state plan. Deng moved the country away from the excesses of the Cultural Revolution to a more pragmatic approach. Deng would side against the 1989 pro-democracy protesters, some say because of his dislike of the chaos of the Cultural Revolution. "Experience has proven that political stability is the key to sustainable economic development," said Zhang Erzhen of Nanjing University. Economic reforms are now a given in China's development, yet Deng's move towards a market-oriented economy was radical. "We never imagined the achievements we have made. These changes are unprecedented," Professor Zhang said.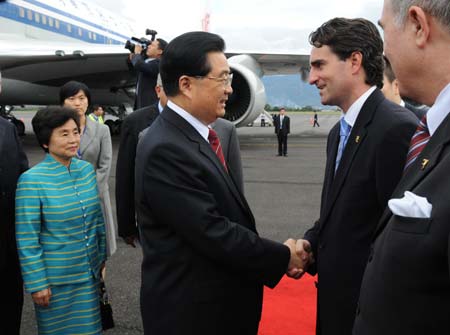 Chinese President Hu Jintao (2nd L, front), accompanied by his wife Liu Yongqing (1st L, front), shakes hands with an official of Costa Rica upon his arrival in San Jose, capital of Costa Rica, Nov. 16, 2008. Hu Jintao arrived in Central American nation Costa Rica for a state visit on Sunday.
Nov 17 2008

Hong Kong: While some are wondering whether Hong Kong is a safe place for capital amid the global financial crisis, some rare and fine-wine investors have already made up their minds. More fine wines owned by Hongkongers have been shipped back for storage since February, when the 40 per cent duty on wine was removed. The amount has increased dramatically as the financial crisis bites. This website is powered by netDrive 4. Many Hong Kong wine collectors used to store their rare wines in Europe, Britain, Australia, Singapore or the US. Rare wine, the top 3 per cent of the wine market, is usually held for auction and investment rather than consumption. However, according to figures from one of the biggest long-term wine cellars in Hong Kong, more is now being sent back to Hong Kong. "Before the zero tax on wine, there was usually one container, which could carry 7,200 bottles of top wine, shipped or flown back to Hong Kong every three months," said Gregory De'eb, general manager of Crown Wine Cellars. The amount of wine coming back increased sixfold once the duty was removed. Mr De'eb said the amount being shipped back fell 40 per in July and August before rebounding to new highs in the past two months. "I believe there is this psychology of fear of bankruptcy of overseas cellars during the global financial crisis," he said. "People just want to make sure that their property is stable." He estimated that more than 20 per cent of all the wine auctioned internationally was owned by Hongkongers. However, Boris de Vroomen, co-chairman of the Hong Kong Wine and Spirits Industry Coalition, said he believed the massive amount of wine being shipped back owed more to the development of Hong Kong as a wine hub. "There are more new wine buyers from the mainland," he said. "This makes Hong Kong an attractive place for trading wine."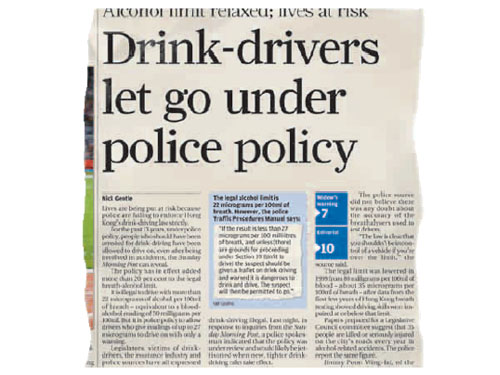 Hong Kong's roads are safer following the scrapping of a police policy that saw officers let go hundreds of drink-drivers who should have been arrested. Figures obtained by the Sunday Morning Post (SEHK: 0583, announcements, news) show that since the policy was scrapped, an average of two extra drink-drivers a week have been taken off the roads. This website is powered by netDrive 4. The revelation came as police prepared to wrap up today their annual pre-Macau Grand Prix traffic blitz, which has seen an increase of almost 17 per cent in the number of infringements logged per day compared with last year. By Tuesday, police had issued 4,892 fixed-penalty tickets and summonses and arrested 31 drivers for drink-driving since Operation Fossington began on October 31. Last year 5,565 drivers fell foul of police during the 16-day crackdown. On September 21, police scrapped a policy under which drivers over the legal limit of 22 micrograms of alcohol per 100 milliliters of breath but under 27mcg per 100ml were released with a warning. The policy had been adopted unilaterally 13 years earlier. Last year, 107 people over the legal limit were warned and released. In the eight weeks since the scrapping of the buffer, 18 people who would previously have been allowed to go have been arrested. Lawmaker Miriam Lau Kin-yee, under whose chairmanship the Legislative Council's transport panel has overseen a gradual tightening of drink-driving laws, was glad to hear the removal of the buffer was working. "It's good news," Ms Lau said. "I don't think we should tolerate drink-driving at all." She had expressed bewilderment at the police force's unilateral adoption of the policy. It had never been mentioned to her panel prior to the Post revealing it three months ago. When police chiefs announced the scrapping of the policy, they said it was being done to pave the way for random breath testing, which Legco authorised in June. Before the Legco vote, the law only allowed police to test drivers who were driving erratically, speeding or had been involved in an accident. When random testing comes in, police will be able to specifically target drink-driving. First offenders will be disqualified from driving for three months and be forced to attend a driving improvement course. "We have passed the legislation and now we are just working out the mechanics of how it is going to be enforced," Ms Lau said. Ian Foster, a committee member of the Hong Kong Automobile Association, also welcomed the enhanced enforcement of the law against drink-driving. "We will support anything the police do to get these people off the roads," Mr Foster said. "If you get into a vehicle after, say, four or five beers, you're basically just sitting there with a loaded shotgun. It is that dangerous." While education was part of the solution, Mr Foster said that a strong deterrent was also essential. "People will keep trying to do it unless there's a real deterrent so that they know there's absolutely no way they will make it home without being stopped by the police."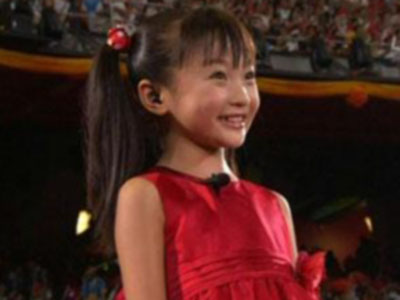 Lin Miaoke, the girl who became an instant star with her performance of Ode to the Motherland at the opening ceremony of the Beijing Olympics, will make a guest appearance at a Christmas charity event in Kwun Tong today. Hongkongers will, for the first time, hear the pretty nine-year-old sing. Miaoke was at the centre of controversy when it was revealed that she had lip-synched to the voice of another girl deemed not pretty enough to appear. However, anyone expecting to hear her rendition of Ode to the Motherland will be disappointed. "She will sing Jingle Bells and a Chinese song which will not be disclosed until the performance," said Maureen Fung Sau-yim, general manager for leasing at Sun Hung Kai Properties (SEHK: 0016), which runs the APM mall where Miaoke will appear at 1.45pm. Seven-year-old Yang Peiyi, the girl whose angelic voice was heard around the world but who did not make the Olympics stage, has not been invited. "We originally wanted to invite Zhang Zilin, the first-ever Miss World from China, but then we thought there should be children for a Christmas function. We are glad that we can have Miaoke and we have only invited Miaoke," Ms Fung said.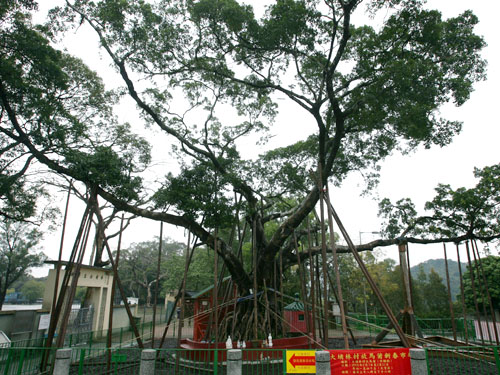 Lam Tsuen, home of an 11-metre-tall "wishing tree" - will celebrate a once-in-a-decade religious festival this week. The traditional Tai Ping Ching Chiu or Da Chiu, which starts on Thursday, is a long-established religious rite where the indigenous Hakka families give thanks to Tin Hau, the goddess of fishermen, in the hope of good weather and a fruitful harvest. Many return from abroad for the festival. While some rural villages celebrate the festival annually, Lam Tsuen, with its cluster of 26 villages covering 150 hectares, gathers just once every 10 years. This year's celebrations are expected to be the biggest yet, costing HK$4 million to HK$5 million. Lam Luk-wing, who has been on the organising committee for more than 40 years, said a 3,200-seat four-storey arena built out of bamboo will be the focus of the entertainment. It will be located in the square near the wishing tree. There will be a mini-street lined with 16 hawker stores selling auspicious local handicrafts and snacks. The six-day programme will be packed with rituals and religious activities such as lion dances, bai sun ceremonies and prayer sessions every morning, noon and night conducted by a team of 60 Taoist priests from Yuen Yuen Institute monastery. A big draw will be afternoon and evening Chinese opera performances, with famous artists singing love ballads and staging historical epics. Lam Tsuen Rural Committee chairman Chung Wai-keung said one of the major challenges was catering for about 7,200 meals a day. "A team of chefs will cook on-site. Except for the meals on day one and the official celebration on Sunday, food will be free of charge and served on a first-come, first-served basis," Mr Chung said. "During this sacred period, all villagers have to observe the traditional rules, such as no slaughtering livestock or felling trees.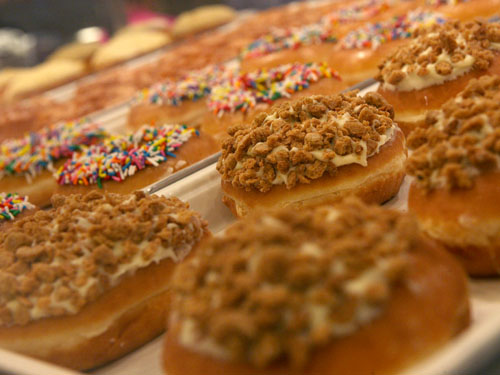 Like the sickly sweet glazed rings they sold by the thousands, news of the sudden closure of Krispy Kreme Doughnuts' outlets in Hong Kong left behind a puzzling aftertaste. How could the Krispy Kreme brand possibly fail in a city where fast food has been a phenomenal success and where western chains like McDonald's, KFC, Starbucks and Burger King have been so triumphant? This website is powered by netDrive 4. Why did the queues that lined up in 2006 when the second-biggest doughnut chain in the United States was brought to Hong Kong melt away before the shutdown at the end of last month that appeared to take customers and staff by surprise? The factors behind the failure are unclear. But two key events in the dying months of the enterprise raised pointed questions about exactly what the franchise was serving up. The first was the announcement by Krispy Kreme of a "zero trans-fats" policy in its US restaurants in January. The second was a Consumer Council report in May that revealed the doughnuts sold in Hong Kong contained high levels of trans-fats. In other words, a doughnut bought in Hong Kong might look like those from the company's hometown in North Carolina, but by the spring of this year the ingredients were a world apart. A single doughnut sold in Hong Kong, the report claimed, contained 2.2 grams of trans-fats, more than the World Health Organisation's recommended daily intake. And, as Krispy Kreme regulars will testify, many found it hard to stop at one doughnut. Trans-fats are one of the biggest food health issues to emerge in recent years. Also known as hydrogenated or partially hydrogenated fats, they are manufactured fats produced by converting liquid oils into solid fats.

China: Officials from all levels of government in Guangdong province should support small and medium-sized enterprises, and help them to cope with the difficulties they face amid the global financial crisis, Premier Wen Jiabao said yesterday. On the second day of a two-day inspection tour of the Pearl River Delta region, where thousands of factories have closed in the past year, Mr Wen demanded that local governments readjust and improve policies to support the healthy and rapid growth of SMEs, Xinhua reported. This website is powered by netDrive 4. He said SMEs had played a decisive role in the mainland's economic and social development, and their healthy development would advance economic growth, increase tax revenue, improve job opportunities and maintain a harmonious society. Accompanying provincial party chief Wang Yang , Governor Huang Huahua and other senior officials, Mr Wen said SMEs should be given easier access to credit extensions, preferential tax policies and more loans. Financing priority should be given to SMEs that met industrial and environmental protection standards, and had technological expertise and established markets. Mr Wen also called on the local government to encourage firms to become more competitive. The premier also encouraged SMEs to learn from the innovation of Shenzhen firms. He said the key to survival and growth was the development of new products, increased product ranges, improved quality and diversification of markets. Mr Wen visited SMEs in Shenzhen, Dongguan and Foshan. Owners of SMEs have complained that many banks have recalled loans, while shipments have been rejected on delivery in the face of weaker consumer demand. To prevent Guangdong's manufacturing-driven economy from collapsing, the provincial government has earmarked 2.3 trillion yuan (HK$2.61 trillion) over five years to expand rail and road networks, build shipping facilities and other infrastructure, and help companies produce higher-value products. On Thursday, Shenzhen Mayor Xu Zhongheng pledged that the municipal government would roll out measures to help Hong Kong investors, who account for 60 per cent of investment in the economic zone, by improving the value of their products and strengthening regional transport links.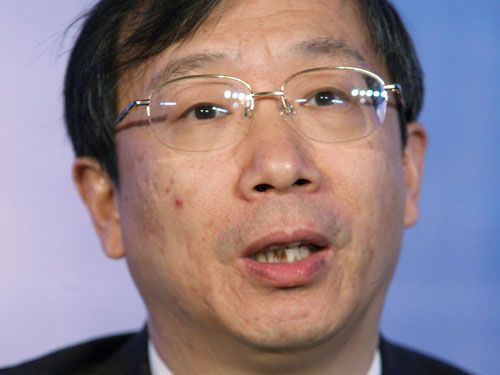 Beijing can't let the global credit crisis derail financial reforms that have benefited people and helped the nation's banks weather the turmoil, said Yi Gang , vice-governor of the People's Bank of China. "Although there have been doubts in the market on whether China's financial reforms should continue after this crisis led to massive government bailouts and nationalisation of financial institutions, China's bank reforms can't backtrack," Mr Yi said at a conference in Beijing yesterday. The worst financial crisis since the Great Depression has caused about US$966 billion of losses for financial institutions worldwide. The US Treasury has initiated a US$700 billion rescue plan for financial institutions. "The US and Europe may need to rethink financial innovations that exceed real economy needs and have pushed risks beyond control," said Zhao Xijun, a finance professor at Renmin University in Beijing. "China's financial services are under- developed by comparison, so we need to push ahead with reforms." Mainland banks sold shares, accepted foreign strategic investors and enhanced risk management over the past three years to avoid repeating the bad-loans crisis earlier this decade, when the government spent US$650 billion rescuing them. Limited buying of subprime debt has helped banks avoid bigger losses. "State-bank reform has been a success, benefiting people and greatly enhancing financial services," Mr Yi said. "China's banks might have taken an unimaginable shock from this financial tsunami if they hadn't completed shareholding reforms." Reforms based on market principles must continue to help shield banks from future risks during economic cycles, he said. Banks would also be "tested" when the nation's currency gradually became convertible and when interest rates were further liberalized. "The economic downturn has already started, and banks must be well prepared," Mr Yi said. The mainland's economy expanded at the slowest pace in five years between July and September as the global crisis trimmed exports and industrial production and sent developed economies into recession. Beijing announced a 4 trillion yuan (HK$4.54 trillion) stimulus package on November 9 and relaxed monetary policy to spur growth. "China's banks are on the right track and they have learned a lot about risk management over the past few years, so such reforms should move forward," Professor Zhao said. As a result of the stimulus package, Beijing would suffer a large fiscal deficit, Su Ning, a deputy governor at the central bank, said yesterday. One trillion yuan of that total would come from the central government budget, he said, urging other governments to put a special focus on fiscal policy. "In the next two years, we are expecting [an] enormous fiscal deficit so I sincerely hope that all the countries across the world could co-operate also in the fiscal arena," he said. Similar measures were expected to be unveiled by many countries, Mr Su said. "So maybe when our finance ministers get together they could pay less attention to monetary policy and should pay more [attention to] work on fiscal policy." The central bank had worked to improve its monetary policy to promote stable growth in the face of challenges including imbalances in the balance of payments, he said. Mr Su acknowledged that the impact of the crisis on China's growth and financial stability "could not be taken lightly". To ward off the impact of the crisis, authorities had adopted a proactive fiscal policy and a "moderately loose" monetary policy, he said. President Hu Jintao is in Washington today with leaders from the Group of 20 nations to discuss the crisis.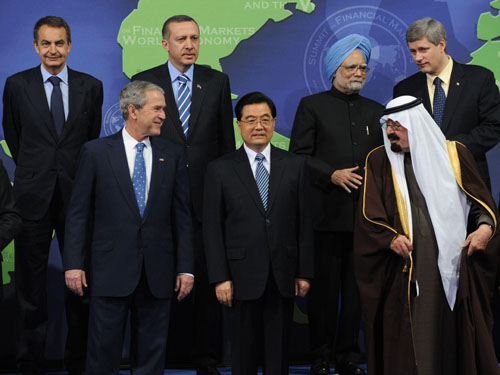 US President George W. Bush looks past President Hu Jintao to Saudia Arabia's King Abdullah. They are standing in front of Spanish President Jose Luis Rodriguez Zapatero (left), Turkish Prime Minister Recep Tayib Erdogan, Indian Prime Minister Manmohan Singh and Canadian Prime Minister Stephen Harper at the G20 Summit in Washington.
China cities and provinces are fast- tracking investment plans to support a 4 trillion yuan (HK$4.54 trillion) stimulus package announced by the government last week. Hubei province will spend 512.85 billion yuan to develop eco-cities around the capital Wuhan by 2020, Xinhua News Agency reported yesterday. Provincial authorities have pinpointed nine focused areas including energy reduction, "circular economy," eco-agriculture, ecological forestry and clean energy, involving 459 projects. Stephen Green, head of China research at Standard Chartered Bank, said in a research note that the Ministry of Finance has "instructed local governments to revise their 2009 budgets, encouraging them to increase capital spending projects." He added: "All ongoing projects that can be fast-tracked are being fast- tracked." Shanghai will accelerate urban infrastructure construction with a 500 billion yuan investment through 2010, Shanghai Daily reported Saturday. The massive capital injection is meant to boost internal demand and stabilize economic growth amid the global financial turmoil, the city's construction and transport authority announced. The Shanghai Construction and Transport Commission, overseer of the city's infrastructure development, will focus on promoting the planned and ongoing projects in five major areas, the paper reported. In Hainan, the local economic planning agency has been quoted as saying that the province will invest 207 billion yuan over the next three years on agriculture, real estate, technology and infrastructure. Beijing, meanwhile, will spend 90 billion yuan to develop the construction of three subway lines over the next two years, according to a report by Beijing Daily published on Friday, citing the transport authority.
China's top banking regulator rated the country's banking industry as healthy with total assets increasing rapidly, bad loan rates dropping and capital adequacy ratio (CAR) rising. "The performance of Chinese banks has reached a historic peak," said Jiang Dingzhi, vice chairman of the China Banking Regulatory Commission (CBRC), at a financial forum in Beijing on Saturday. Total banking assets amounted to 59.3 trillion yuan (8.68 trillion U.S. dollars) by September, said Jiang. The figure had increased more than fourfold from a decade ago during the southeast Asia financial crisis. Profits after tax of Chinese banks reached 446.7 billion yuan, a 12-fold increase from the 36.4 billion yuan reported in 2002. "Profits continue to rise rapidly this year," said Jiang without giving specific numbers. CBRC statistics showed the bad loan rate of major commercial banks had dropped for the sixth consecutive year to 5.5 percent from more than 20 percent in 2002. "The bad loan rate will go down further after the Agricultural Bank of China (ABC) completes its join-stock transformation reform," said Jiang. As the last of the four major state-owned commercial banks to be transformed into a joint-stock company, ABC signed an agreement on Nov. 6 with Central Huijin Co., an investment arm of the government, for a 130-billion-yuan capital injection in preparation for an eventual listing. The bank's non-performing loan rate stood at 23.5 percent by 2007. At the same time, the CAR of 192 commercial banks nationwide had exceeded 8 percent by the third quarter, the capital accounting for 85 percent of the country's total. Only eight banks met the 8 percent criterion back in 2003. The CAR is used to track a lender's capacity to tackle financial risks. A bank's CAR should not fall below 8 percent, the minimum standard set by China's central bank. Jiang said China may have to face a more formidable economic environment with the global financial crisis. "However, we have strong confidence in our ability to carry out a good job in risk management and control for the banking industry."
China's 586-billion-dollar economic bailout, announced over the weekend, will be a windfall for San Francisco businesses, it was reported on Wednesday. The bailout "could not have come at a better time for Bay Area business delegations looking to make their mark here," the San Francisco Chronicle said. China's pumping more money into export growth and green tech "plays right into the sweet spots of San Francisco's China SF initiative and the Bay Area Council's U.S.-China Green Tech summit," the paper said. Both groups are in Shanghai this week meeting with the locals, hoping to gin up business in those exact areas. "This reinvigorates our efforts. It makes them more timely and vital than ever," Michael Cohen, director of San Francisco's Office of Economic and Workforce Development, was quoted as saying. The China SF Initiative, focused on getting Chinese companies to open satellites in San Francisco among other things, was officially unveiled by Mayor Gavin Newsom on Wednesday. The initiative has already bagged two Chinese firms. Trina Solar, a solar power parts company listed on the NYSE, will set up a U.S. base in San Francisco, and the English-language China Daily, with a circulation of 200,000, will open its first West Coast bureau in the city, according to the Chronicle. City officials are not shy in boasting that they beat out San Jose and Los Angeles, respectively, for the honors, said the paper. "If we can hit that elusive tipping point and get enough Chinese companies to sign up with us," said Cohen, "in 10 or 15 years San Francisco really will be the North American gateway for China's business."
Nov 15 - 16 2008

Hong Kong: Unemployment among construction workers is expected to rise next year to levels not seen since the Sars outbreak in 2003, a building industry group said. The warning by the Hong Kong Construction Association followed an announcement by Las Vegas Sands in Macau on Thursday that it was laying off 9,000 workers, including 4,000 from Hong Kong. The association called on the government to increase small-scale projects to create more job opportunities for construction workers. "The situation now is bad, yet the worst will come in February and March next year, when construction work for all major hotels in Macau ends," said association president Conrad Wong Tin-cheung. The city has 60,000 construction workers, 10,000 of whom work in Macau. "If they all return to the city and fail to get a job, unemployment in the trade will shoot up to 13 per cent - the level during Sars - from the present 6 per cent," Mr Wong said. Twenty per cent of local construction projects this year, worth HK$8 billion, were already on hold due to financial difficulties, he said.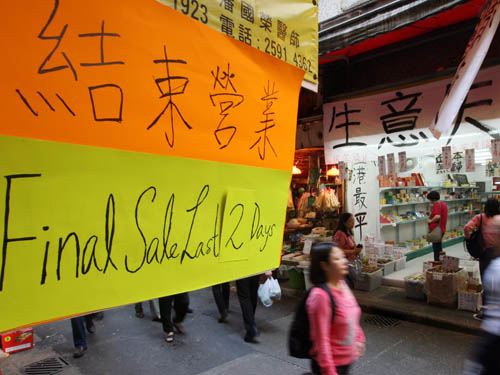 Shops, like this one in Stone Nullah Lane, Wan Chai, are closing down as the city slips into recession and consumers tighten their belts. Hong Kong's economy has fallen into recession. Government data for the three months from July to September, released yesterday, shows that the economy shrank 1.4 per cent, following a fall of 0.5 per cent in the previous quarter. A recession is commonly defined as two consecutive quarters of economic contraction. Other Asian economies, including Singapore, are already in a recession. The dire outlook was reflected in the government's decision to cut its official full-year growth forecast to between 3 and 3.5 per cent from 4 to 5 per cent. "Hong Kong's small, open economy and trade dependence exposed it to the impact of the financial crisis, which derailed the economic upturn Hong Kong enjoyed in the past four years," government economist Helen Chan said. "The risk of a more prolonged and protracted global economic downturn has increased." She said it was still too early to predict how the economy would perform next year, although Fitch Ratings yesterday slashed its 2009 growth forecast from 4.5 per cent to minus-1.2 per cent amid fears about the city's exposure to the financial crisis. "When global growth slows a little, Hong Kong slows a lot," said James McCormack, head of Asia sovereign ratings at Fitch. Year on year, real economic growth eased dramatically to just 1.7 per cent from 4.2 per cent in the second quarter. The government expected growth to slow further this quarter amid worsening joblessness, deteriorating trade and waning domestic demand. Charles Li Kui-wai, associate professor of economics and finance at City University, said 1.7 per cent growth was quite disappointing since the third quarter was generally a peak period for economic activity. "At best, fourth-quarter growth will be zero, while the first quarter of 2009 should be negative," Dr Li said. General Chamber of Commerce chief economist David O'Rear agreed and said full-year growth should be closer to 3 per cent. Nearly all of the city's economic indicators suffered in the last quarter. Exports grew by 1.4 per cent versus 4.4 per cent in the second quarter, the worst since the first quarter of 2002. "For many advanced economies, including the US and European Union, a recession is already under way. The export- dependent economies in Asia will all be affected. Hong Kong's export performance is likely to remain rather lacklustre in the near term," Mrs Chan warned. Mr O'Rear said the combination of the current downturn and lacklustre exports was a "two-pronged problem" facing Hong Kong. Private consumption spending rose a mere 0.2 per cent, down from 3.2 per cent in the second quarter, while investment eased to 3 per cent from 3.5 per cent in the second quarter. The 3.4 per cent unemployment rate was likely to worsen. "There are no grounds for optimism with unemployment," Mrs Chan said. The government kept its forecast for this year's underlying inflation at 5.5 per cent.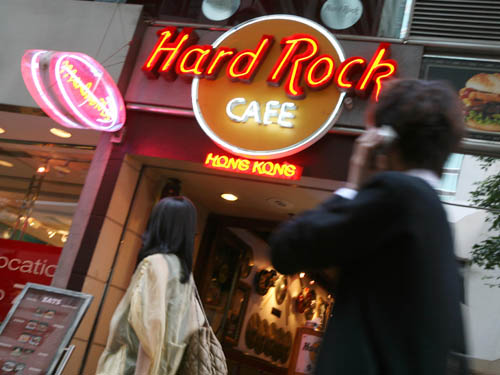 Hard Rock Cafe said yesterday that it would close its sole Hong Kong restaurant temporarily this month, laying off about 60 people, as about 140 others lost their jobs at Lane Crawford and Asia Television. The themed restaurant will close on November 24, when the lease on its Tsim Sha Tsui premises expires. But Hard Rock Cafe Hong Kong said it was committed to reopening when times got better and was pressing ahead with plans for two new restaurants next year. In another round of layoffs, ATV sacked 47 employees from departments including production, engineering and news. This came days after the station cut 16 production and support staff from the sports and celebrity-gossip sections last Monday. Meanwhile workers at Lane Crawford who have been given notice said a "double-digit percentage" of the luxury retailer's staff had been affected. With 1,000 employees, a 10 per cent cut would mean 100 people, but the firm refused to comment. Hard Rock Cafe Hong Kong's financial controller and general manager Kenneth Chiu said the chain was committed to reopening the restaurant, "but that depends on the environment ... I don't think we will retreat."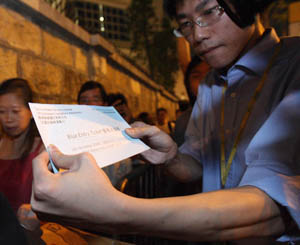 Hundreds of bargain-hunters lined up at Tai Lin Radio Services shops yesterday for tickets to its clearance sales, as the 62-year-old chain winds up amid the financial crisis.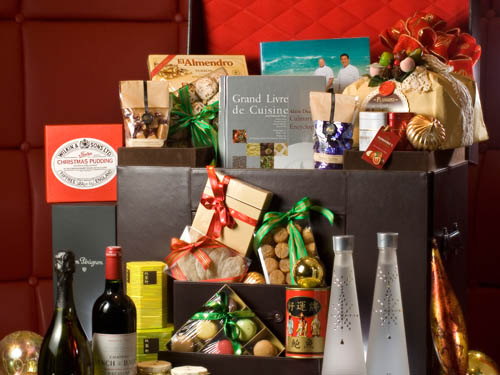 The multimillion-dollar Christmas hampers once exchanged by the rich and famous appear to have fallen victim to the financial crisis, but shops and hotels are hoping a range of less pricey gift packs will persuade people to spend. Major retailers of Christmas hampers say that although the catalogues were prepared more than six months ago - before the financial meltdown - more mid-priced hampers have been introduced to give consumers more options. InterContinental Hong Kong's HK$9,888 limited-edition "ultimate travel" hamper, among the most expensive available, includes delicacies such as bird's nest, abalone and caviar, as well as a bottle of 2000 Dom Perignon. Upmarket food store Great Food Hall - which in 2006 rolled out a HK$475 million hamper that included a private jet, and that was never sold - has toned down its extravagance and this year is offering hampers ranging from HK$288 to HK$8,888. Mandarin Oriental's most expensive "deluxe gourmet" hamper costs HK$6,780, about HK$1,000 more than its most expensive one last year. It says the increase in the cost of imported food has kept prices high but believes people will still set aside a budget for Christmas gifts. Hampers from the Four Seasons cost about the same as its offerings last year - the most expensive is HK$5,888 - but the hotel says they contain fewer imported items. The priciest hamper from The Peninsula is HK$4,288.
Unemployment among construction workers is expected to rise next year to levels not seen since the Sars outbreak in 2003, a building industry group said. The warning by the Hong Kong Construction Association followed an announcement by Las Vegas Sands in Macau on Thursday that it was laying off 9,000 workers, including 4,000 from Hong Kong. The association called on the government to increase small-scale projects to create more job opportunities for construction workers. "The situation now is bad, yet the worst will come in February and March next year, when construction work for all major hotels in Macau ends," said association president Conrad Wong Tin-cheung. The city has 60,000 construction workers, 10,000 of whom work in Macau. "If they all return to the city and fail to get a job, unemployment in the trade will shoot up to 13 per cent - the level during Sars - from the present 6 per cent," Mr Wong said. Twenty per cent of local construction projects this year, worth HK$8 billion, were already on hold due to financial difficulties, he said.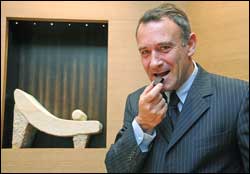 Lower rents brought about by the financial tsunami have encouraged at least one foreign investor to expand his business in Hong Kong. French high-end chocolate retailer La Maison Du Chocolat recently opened its second store in Hong Kong, at the upscale Elements mall in Tsim Sha Tsui. "The rent has fallen 20 percent now, which may be a good opportunity to consider opening more outlets," general director Geoffroy d'Anglejan Chatillon said yesterday. La Maison, which charges between HK$20 and HK$45 for a morsel of chocolate, opened its first Hong Kong shop in Pacific Place in June. "The business over the past few months is 30 percent above our forecast. It's a surprise to us," d'Anglejan Chatillon said. The chocolate shop currently has 17 outlets in the world's most expensive cities such as New York, Paris, London and Tokyo. "We had planned to open shop in this part of the world four years ago and we were looking at Hong Kong, Shanghai and Beijing. In the end, we chose Hong Kong because we think it is a better gateway to the mainland market," he said. D'Anglejan Chatillon agreed that while rents have come down they remain higher than Tokyo and several other cities. He said millions of euros have been invested in his two local shops. "But, since we sell luxury items, that allows us to afford the high rent. We are looking for locations to open two more shops in Hong Kong with luxury pedestrian traffic," he said. Meanwhile, Singapore-based food court chain, Food Republic, is also planning to further expand its business in Hong Kong. The chain opened its first food court here in Tai Koo's City Plaza in 2006. It opened four more outlets this year, including three recently, at Olympian City in Tai Kok Tsui, Plaza Hollywood in Diamond Hill, and Silvercord in Tsim Sha Tsui.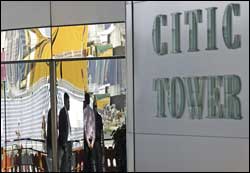 Troubled blue-chip CITIC Pacific (0267) may survive because of the HK$11.625 billion bailout plan from its parent CITIC Group, but there is still a long way to go to restore investor confidence, analysts said. Following yesterday's announcement that CITIC Group would inject capital or issue convertible bonds worth HK$11.625 billion in CITIC Pacific and take over a large portion of its toxic forex contracts, shares in CITIC Pacific rose as much as 17 percent before closing at HK$6.62, 9.24 percent higher than its last close on November 1, while the index slumped 5.5 percent. "It's the best deal we could make after extensive talks with CITIC Group. They took the largest part of the [forex] contracts and we will be left with few of them to hedge our Australian business. We will monitor the situation carefully," a CITIC Pacific spokeswoman told The Standard. The company also clarified that it would issue convertible bonds rather than shares for direct subscription as the former can be done more quickly. Despite efforts to revive the steel-to- property conglomerate's fortunes, analysts remain skeptical about its future and are concerned over a significant dilution effect from its efforts to raise capital. "We believe the proposed deal provides the only option for CITIC Pacific. It will be able to survive, thanks to strong support from CITIC Group and the Chinese government, but the interests of shareholders will be significantly diluted," said Merrill Lynch's Christie Ju. Citigroup analyst Anil Daswani said the magnitude of the company's derivatives losses had damaged investor confidence and led to a re-rating. He cut CITIC Pacific's target price to HK$3.75 from HK$6.66 despite the rescue deal, and maintained a "sell" call.
Pressure on the Hong Kong dollar to strengthen beyond its fixed exchange rate may have been caused by investors halting carry trades - purchases of overseas assets funded with loans from SAR banks - according to Joseph Yam Chi- kwong, head of the Hong Kong Monetary Authority.

A disappointing third-quarter result from Hong Kong Exchanges and Clearing (0388) led analysts yesterday to slash its target price for the second time in two weeks, with one quoting a target on the stock of just HK$49.32.
The Hong Kong Tourism Board (HKTB) on Thursday launches its "Meetings and Exhibitions Hong Kong" (MEHK) office, as the first step in a series of measures to ensure that Hong Kong stays ahead of the competition in the global MICE (meeting, incentive, conference and exhibition) sector. In its 2008-09 budget, the Hong Kong government has earmarked an additional 150 million HK dollars for the HKTB to strengthen its MICE promotions over the next five years. HKTB Chairman James Tien said, "We believe this is the time we must ramp up our effort to maintain our market share and keep our business strong, as we face an economic challenge of a lifetime." "Working in concerted effort with the Government and trade partners, we will launch targeted promotions in high-potential markets, cultivate new business contacts and build awareness of Hong Kong's MICE brand, so that we can lessen the impact of the downturn and be ready to make a head start when the climate is right," Tien said. Yvonne Choi, the Permanent Secretary for Commerce and Economic Development, said Hong Kong is well-positioned to be a popular destination for MICE events, with its prime location, world-class infrastructure, sophisticated services sector and proximity to the Chinese mainland. "We are also a safe city with a sound legal system and a level-playing field for business. Importantly, visitors from over 170 countries enjoy visa-free entry to Hong Kong," she added. The MEHK office will consist of three teams to offer dedicated services for the Meetings and Incentives, the Conventions and the Exhibitions segment respectively. The MEHK office will also appoint marketing representatives in high-potential markets, such as the Chinese mainland, India, South Korea, Japan, the United Kingdom and the United States.

China: President Hu Jintao left for Washington yesterday afternoon for a financial summit with 19 other leaders of the big, rich and developing countries to expand negotiations on repairing and revamping the machinery of world finance. Troubled developed economies have recently floated wish lists of rescue steps Beijing could take, hoping it will use more of its towering foreign exchange reserves to help drag them out of a slump and shore up international financial institutions. Underlining the urgency of the situation, US mortgage giant Freddie Mac yesterday posted a record quarterly loss of US$25.3 billion and asked the US Treasury for US$13.8 billion to bolster its net worth. Earlier this week, its sister institution, Fannie Mae, and American International Group posted record quarterly losses of US$29 billion and US$24.5 billion respectively. The US government rescued the three in September. China is not immune from the world economic chill, suffering its own abrupt slowdown as its property market falters and exports flag. Beijing has promised to take "an active and constructive role" in the G20 summit to discuss with other countries the cause of the crisis and how to map out principles for a response.
China faces a "formidable challenge" in keeping the world's fourth-largest economy on track amid a worsening global environment, a top planning official said yesterday, as cooling capital investment signalled a deepening slowdown. The warning by Mu Hong, a vice-chairman of the National Development and Reform Commission, came as the National Bureau of Statistics said growth in fixed-asset investment in urban areas eased last month from September. Fixed-asset investment rose 27.2 per cent in the first 10 months from a year earlier, lagging the 27.6 per cent gain through September, the bureau said. But the figures suggest a 24.4 per cent increase in October, down from 29 per cent in September. "We are confronting a formidable challenge in our effort to effectively prevent the economy from slowing rapidly amid a severe situation at home and abroad," said Mr Mu at a briefing in Beijing. Yesterday's data was consistent with weakness seen in a slew of data released this week that pointed to slowing growth in industrial output and retail sales, declining fiscal revenue, easing producer and consumer inflation, slowing import and export growth, and sluggish property prices. Ha Jiming, the chief economist at China International Capital Corp, said last month's data suggested the economy was deteriorating fast. "The economy is facing an even bigger challenge, and the government's stimulus policy will not easily change the economic trend," he said. Barclays Capital Research attributed falling prices and weak property activity to a moderation in capital spending. Spending on property development cooled, rising 24.6 per cent in the first 10 months from a year earlier after gaining 26.5 per cent through September, the statistics bureau's figures show. Prices and sales are falling in major cities. "We believe government-supported investment is likely to show more visible growth in the last two months of this year, more so in 2009," wrote Barclays Capital economists Wensheng Peng and Yan Zheng. Meanwhile, the Ministry of Housing and Urban Construction announced the government would invest 900 billion yuan (HK$1.02 trillion) to build affordable houses over a three-year period, Xinhua reported. Vice-Minister of Housing and Urban-Rural Development Qi Ji said the massive construction plan could stimulate related investment of about 600 billion yuan each year and provide more than 2 million jobs. Mr Mu reiterated the need to boost consumption and described the nation's "economic fundamentals" as healthy. "We have a market of 1.3 billion people, which has great potential, and we also have great potential to boost investment and consumption," he said. "We still have a lot of room to manoeuvre to ramp up domestic demand." On Sunday, the State Council announced a 4 trillion yuan stimulus package to invest in infrastructure, health care, education and environmental protection to offset slowing growth. But economists cast doubt on the government's plan to boost spending as fiscal revenue declined last month for the first time since 1996. However, Mr Mu said the central government would contribute only slightly more than 25 per cent of the economic stimulus package. The central authorities would provide 1.18 trillion yuan to fund increased spending on railways, roads, health care and housing, he said. The rest would come from local authorities, companies and other sources including overseas investors.
US government health officials have ordered dozens of imported foods from China held at the border as possible health risks. Most are cultural treats, including snacks, drinks and chocolates. It is unusual for the Food and Drug Administration to put such a broad hold on goods from an entire country, not just a few rogue manufacturers. Thursday's order, which covers products made with milk, is a precaution to bar foods contaminated with the industrial chemical melamine, which can cause serious kidney problems. "We've continued to get information from others in the international community, and reports from China, about [melamine contamination] moving into different commodities," senior FDA enforcement official Steve Solomon said. "Most of the products ... are finished products like cookies, cakes and candies. "The impact will be on various ethnic communities looking for specific products." Under the directive, FDA inspectors at US ports of entry will detain foods from China made with milk and certain ingredients derived from milk. Importers must pay to have products tested by an independent laboratory designated by the FDA. Only products found to be free of melamine will be allowed into the country. The order also applies to pet foods and some bulk protein products, the focus of a melamine-linked recall last year. The FDA action shifts the burden of proof to Chinese companies, which must supply evidence that their products are safe. Most consumers should not be affected, as major US food manufacturers get their milk ingredients domestically. A lawmaker chided the FDA and called for more Chinese products to be held for testing.
Sina Corp, the nation's largest online portal, expects revenue to grow more than 52 per cent next quarter despite an economic slowdown and predictions of tougher times ahead.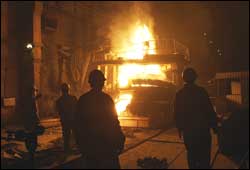 China's industrial output last month grew at its slowest pace in seven years. Factory production rose 8.2 percent in October from 11.4 percent the previous month. Analysts said this showed China's two economic growth engines - exports and the property market - need more intervention and underscored an urgent need to boost consumption. The slowdown in industrial production was unexpected, economists said, especially after the good performance in September. Premier Wen Jiabao agreed. He was quoted by the China Information News - the official paper of the National Bureau of Statistics - as saying: "The impact of the global financial crisis on China's economy is much worse than many had expected." This is Wen's most pessimistic assessment since the economic meltdown began in the wake of the US subprime crisis. China needs to focus on expanding domestic consumption through massive investment in infrastructure projects and bank lending, according to JPMorgan chief economist Frank Gong. Gong said government spending and possibly treasury bonds and new loans from banks would be crucial to boosting domestic demand. "From past experience, treasury bonds and new loans account for 70 percent of total spending. Money from savings could be used for private investment and spending," he added. Gong estimated that 2.5 trillion yuan (HK$2.84 trillion) of the 4 trillion yuan stimulus package announced on Sunday would be new money. The rest of the package comes from an unspent 1.5 trillion yuan allocated to infrastructure projects under the current five-year plan. According to the statistics bureau, key product categories either registered single-digit growth last month or declined. Vehicle production fell 0.7 percent to 730,000 in October and crude steel production declined 17 percent from a year earlier, while slowing industrial production was reflected in exports as they increased by only 6.8 percent year on year. This pointed to weaker demand from major trading partners including the United States and Europe, which are experiencing an economic slowdown. In the first 10 months, industrial output increased by 14.4 percent on an annual basis, the bureau said.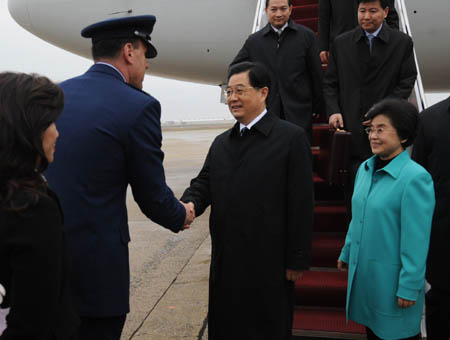 Chinese President Hu Jintao (C) and his wife Liu Yongqing (1st R) arrive in Washington, capital of the United States, on Nov. 14, 2008, for a summit to discuss issues concerning financial markets and the global economy.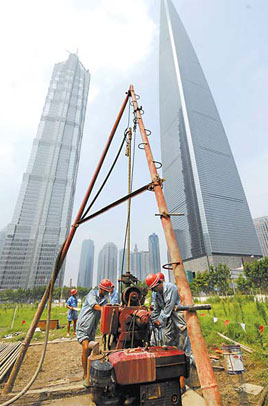 The Chinese government's 4-trillion-yuan stimulus package has come as a breather for many multinational companies who are trying to weather the current economic storm. The government's announcement of the huge investment plan on Sunday is expected to provide additional opportunities for foreign investors in China. "This plan is important, not only for stimulating the domestic economy, but also for rebuilding people's confidence in the economy," said Cyrille Ragoucy, CEO of Lafarge Shui On Cement, a joint venture between Lafarge and Shui On Group. China has presented itself as "a role model for its stronger Western counterparts to follow", said Noel Girard, strategic marketing director of Schneider Electric China. The State Council plans to invest heavily on a wide array of infrastructure and social welfare projects, including construction of new railway lines, roads, airports and the rebuilding communities devastated by the earthquake in Sichuan in May. The package may also spur demand for machinery and construction materials. The government is slated to spend 600 billion yuan on railway infrastructure next year involving 20 million tons of steel and 120 million tons of cement, Yang Zhongmin, an official from the Ministry of Railways, was quoted as saying by Xinhua News Agency. Companies like Lafarge have already commenced steps to increase their cement output. In the last two months it has started working on new production lines in Guizhou and Sichuan, with two more underway. "Lafarge wants to keep its focus on emerging markets, like China. They will become main contributors of our global business," said Ragoucy. Caterpillar, the world's leading construction and mining equipment manufacturer, also sees significant opportunities for it from the stimulus plan. "China represents a significant portion of the global sales opportunity for many of Caterpillar's key products. The stimulus plan creates more opportunities for us," said Thomas J. Bluth, vice-president of Caterpillar. A major highlight of the package is the government's commitments to railway construction. The government plans to build 10,000 km of railways in 2009 and 2010, involving an expenditure of about 2 trillion yuan. "The 2 trillion yuan investment in the railways represents big opportunities for us to supply railway equipment, including high-speed trains, locomotives, propulsion and signaling systems," said Zhang Jianwei, president and chief country representative of Bombardier China. Bombardier is a Canadian rail transportation equipment maker. The railway expansion plan has also come as welcome news to Swiss engineering group ABB, which launched a joint venture in Nanjing in April. The firm, ABB Traction Converters Ltd, specializes in the design, manufacture, sales and service of traction converters and auxiliary converters for the rail sector. "We are very lucky (to have the joint venture in place) ... and hope to make the new infrastructure constructions more efficient and reliable," said Brice Koch, president of ABB China. Marianne Friese, secretary general of the European Union Chamber of Commerce in China, is of the view that the fiscal package, "in combination with policies of increased regulatory transparency and greater openness toward foreign investors" will help China sustain growth.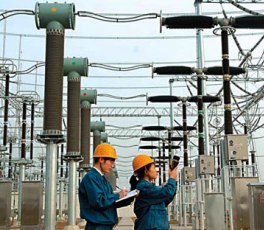 State Grid Corp of China has initiated an emergency procurement plan this year worth 2.7 billion yuan in line with the government's policy to boost domestic demand.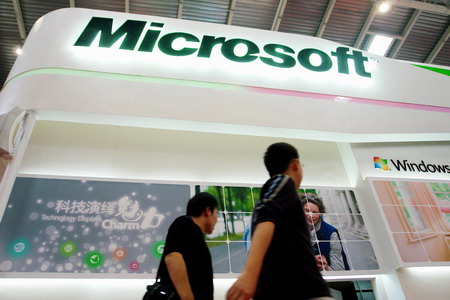 Software giant Microsoft said it will spend $1 billion on research and development (R&D) in China over the next three years, reiterating its long-term investment after the company's recent anti-piracy effort angered many users in the country. Zhang Yaqin, chairman of China Research and Development for Microsoft, said the spending is mainly targeted at staffing and resources for R&D. He said the investment does not include the $300 million the firm is spending on its new research center in Beijing. The investment plan came along with Microsoft's appointment of Simon Leung, a former executive at Motorola Inc, as the new chairman and chief executive of the firm's China operations. The position had been vacant since September 2006 when Tim Chen, Microsoft's last China CEO, left to head NBA China. The appointment and investment announcement came at a time when Microsoft's Windows Genuine Advantage (WGA) program, which turns a user's screen black if installed software fails a validation test, has enraged many Chinese users. A Chinese lawyer even filed a complaint with the Chinese government suggesting that the company should be fined $1 billion for hacking into the computer systems of millions of users who have bought genuine software. Leung said Microsoft would increase its cooperation with the Chinese government in the future, denying that Microsoft faces any serious challenges in the country. Although it is the world's second-largest PC market, China still accounts for a tiny portion of Microsoft's global business due to piracy, which has helped Microsoft gain a dominant market share in China but at the same time foiled its further efforts to translate that into revenue, according to industry insiders. Although Microsoft has convinced government organizations and PC vendors to use genuine software in recent years, the use of pirated software remains high among individual consumers. Microsoft has intensified its battle this year against piracy in the consumer market. The company made a complaint to the Chinese government earlier this year that led to the detention of Hong Lei, the author of "Tomato Garden", a highly popular visually enhanced pirated version of Microsoft Windows XP. It also announced a promotional plan in October to reduce the price of its Office 2007 software from 699 to 199 yuan during the week-long National Day holiday. But many Chinese consumers still feel the price of Microsoft's products is far too high. Microsoft said it would establish an executive management committee for China "because of the strategic importance and huge business potential of the region". Its membership includes both Leung and Zhang, as well as Eugenio Beaufrand, COO of Microsoft China, and Liu Fengming, the company's vice-president who is responsible for legal issues. Zhang said Microsoft's most comprehensive organizations outside the United States are in China. He said the establishment of the committee would help the company better coordinate its resources in the country. Microsoft opened its first R&D center in China in 1995. Now the country is home to its largest R&D workforce outside the United States, with 1,500 full-time research employees and another 1,500 working on a project basis. Microsoft said earlier that it would double the number of its full-time research employees in China to 3,000 over the next three years. Last year, the company invested about $280 million in its R&D activities in China. These investments are said to have helped Microsoft win support from the Chinese government and boosted sales in the Chinese market.
Nov 14 2008

Hong Kong: Hong Kong is heading for a record HK$80 billion budget deficit for 2008/09 after offering tax concessions and handouts and as a weakening economy depresses public revenues, Deloitte forecast on Thursday. Analysts say Hong Kong's economy is heading for recession within the next six months, after four years of robust growth averaging 7.3 per cent annually. Government revenues already appear to be falling with the government posting a HK$48.6 billion deficit for April-September, eight times last year's HK$5.6 billion deficit for the same period. A full-year deficit of HK$80 billion would reverse a record HK$123.7 billion surplus for 2008/09. It would also top a HK$63.3 billion deficit in 2001/02 when the government was suffering the effects of the bursting of the global dotcom bubble. Deloitte said the government would remain in the red 2009/10, forecasting a deficit of HK$20 billion, compared with the government's forecast HK$49.2 billion surplus for 2009/10. However, Yvonne Law, tax partner at Deloitte, said two consecutive deficits should be manageable because the government had huge fiscal reserves, totalling HK$444.3 billion at the end of September. Volatile fiscal balances are a feature of Hong Kong's government finances thanks to a small tax base – salaries tax is a flat 15 per cent and there are no sales or capital gains taxes. Two years ago the government proposed a goods and services tax to expand the tax base but was forced to abandon the plan in the face of public opposition. "The structural problem of a small tax base means that during an economic downturn [government] income falls but expenditure remains static," Ms Law said. Government income will be hit by a 50 per cent drop in the stock market this year as well as falling property prices and worsening corporate profits. Deloitte said contributors to its estimated HK$80 billion deficit would include a HK$29 billion decline in land premiums; HK$20 billion from falling stamp duty revenue; and HK$15 billion from a drop in corporate profits tax. Salaries tax would decline by HK$6 billion, it said. Government expenditure, meanwhile, is rising as the government offered HK$40 billion worth of temporary tax concessions and handouts in its annual budget in February when the economy was still strong. In the summer it provided HK$11 billion in relief for the elderly and low-income groups to cope with rising inflation, which peaked at 6.3 per cent in August. Chief Executive Donald Tsang Yam-kuen said last month that the government faced a "huge" fiscal deficit for the year ending March next year as a result of the global financial crisis but the government has yet to revise its initial forecast for a HK$7.5 billion deficit.

Chief Executive Donald Tsang Yam-kuen has proposed to mainland authorities that they introduce four measures to help local companies cope with the financial turmoil. Returning from a tour to Dongguan , Guangdong, yesterday, Mr Tsang said the government had spelled out the hardships faced by Hong Kong-based firms on the mainland. "In the face of the global credit crunch and economic downturn, the government is highly concerned about the difficulties faced by Hong Kong enterprises on the mainland," he said. Mr Tsang said he had suggested that the mainland government ease requirements on the export-processing sector, such as giving it an export-tax rebate and introducing policies to help the transformation of the industry. He also proposed that the mainland relax enforcement of the Labour Contract Law, a new national law effective from January this year which requires more compensation for workers than before. "Hong Kong enterprises are concerned that in complying with the Labour Contract Law, labour costs will surge, flexibility in managing human resources will be undermined, and labour disputes will arise," Mr Tsang said. Another proposal was measures to help manufacturers sell their products on the mainland, in view of the shrinking export market. He also asked the mainland banks and relevant authorities to relax credits extended to Hong Kong firms operating on the mainland. The chief executive visited a metal ware factory with more than 1,000 employees in the town of Fenggang, and met about 20 representatives of Hong Kong-invested businesses in the Pearl River Delta. The trip came one day after the Dongguan city government announced a 3 billion yuan (HK$3.4 billion) rescue plan to assist foreign-invested small and medium-sized enterprises. Mr Tsang also had a working breakfast with leaders of five major chambers of commerce in Hong Kong to hear their views on how to weather the financial crisis. Stanley Lau Chin-ho, deputy chairman of the Federation of Hong Kong Industries, said obtaining loans was the biggest difficulty currently faced by local businesses on the mainland, and he hoped the chief executive's appeal for more lenient credit could be accepted by the mainland authorities. However, Mr Lau also noted that some export products were unsuitable for transfer to the national market. "Even if they could, the firms would need a lot of support from the government to build up sales channels," he said.
Raymond Ho Chung-tai – chairman of Legislative Council sub-committee inquiry into the sale of financial products linked to Lehman Brothers – said on Thursday the investigation could take up to a year. On Wednesday night, Legco passed a motion under section 13 of the Powers and Privileges Ordinance. This empowers the sub-committee, chaired by Mr Ho, to probe the affair. During the investigation, lawmakers can summon bankers and finance staff to answer questions. Banks might also be requested to submit documents containing sensitive material. Mr Ho said they would ensure the investigations were transparent. Most meetings would remain open and public. However, if investigations involve sensitive documents, they might have closed-door meetings, local media reported.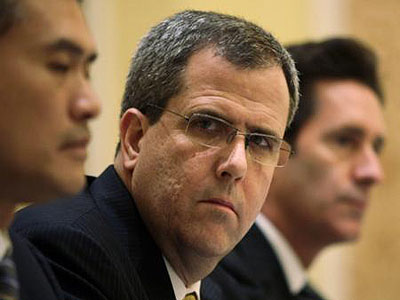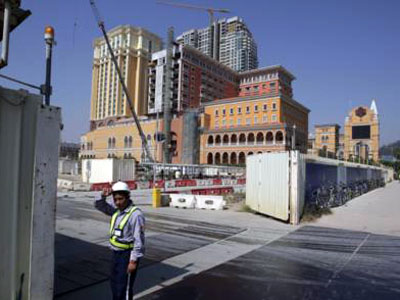 Stephen Weaver, centre, president of Las Vegas Sands Corporation Asia, attends a press conference in Macau on Thursday. Around 9,000 construction workers are to lose their jobs as US gaming giant Las Vegas Sands cuts back on a huge development in the gambling haven of Macau, the head of Sands Asia said on Thursday. Stephen Weaver told a news conference in Macau that most of the jobs would be lost in Hong Kong and mainland. Las Vegas Sands, which operates two casinos in Macau including the giant Venetian complex, announced this week it was halting part of the US$12 billion development on the Cotai Strip. It said it was having trouble accessing credit during the global financial crisis but would continue to seek financing that would enable it to complete the project, which includes an 1,800-room Sheraton hotel and three casinos. Mr Weaver, the firm's Asia president, said the troubled casino company is in talks with a syndicate of banks to raise between US$1.5 billion and US$2 billion. Sands, one of the casino companies hardest hit by an economic slowdown that has ravaged the gambling industry, warned last week it was in danger of violating loan agreements.
The Centre for Food Safety (CFS) said unsafe levels of melamine had been found in mainland-made fish feed used at a farm in Hong Kong. The centre said the level detected was 6.6 parts per million. Hong Kong limits concentration to 2.5 parts per million. "According to the fish farmer, the feed in question... was sourced in the mainland and delivered to Hong Kong by himself," a CFS spokesman said in a statement late on Tuesday. The discovery led to testing of fish from several farms across Hong Kong, but none was found to contain dangerous levels of the chemical, the statement said. Fish feed is the latest product to test positive for melamine after it was found in mainland eggs sold in Hong Kong, causing concern over how far the chemical has infiltrated the food chain. The chemical is normally used to make plastics but some mainland farmers have been using it to bulk out food products to make it appear as though they contain more protein.
The Che Kung Festival Fair stalls were ready for public bidding on November 28, the Food and Environmental Hygiene Department (FEHD) said on Thursday. The popular event is held annually to commemorate a Taoist deity, Che Kung, who was a Sung Dynasty general before he immortalised after saving the people at Sha Tin Valley from a plague many years ago. The Che Kung festival fair will run from January 23 to February 9 for 17 days at Chui Tin Street Soccer Pitch in Sha Tin. The auction will be on November 28 at Wo Che Community Hall from 2.30pm. A government spokesman said bidding for dry goods stalls would be done before wet goods stalls. "The opening prices for the 44 dry goods stalls and four wet goods stalls are HK$2,520 and HK$790 respectively," he explained. Bids are allowed for more than one stall. Che Kung festival is centuries-old and is celebrated by thousands of Hong Kong and mainlander people. Many believe he brings good luck to horse racing and thus, many flock to his temple during his birthday on the second or the third day of Lunar New Year. For more information, call FEHD's Sha Tin District Environmental Hygiene Office at tel 2634-0134.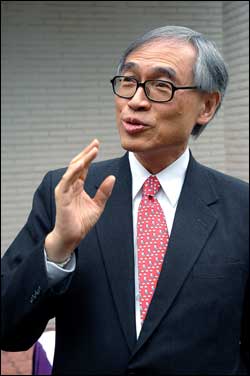 Cross-border co-operation between Shenzhen and Hong Kong would be boosted under five new agreements signed on Thursday, Chief Secretary Henry Tang Ying-yen said. Shenzhen residents should be given free access to Hong Kong to stimulate the local economy, says a member of Chief Executive Donald Tsang Yam-kuen's handpicked task force to deal with the economic crisis. "Tourism is very important to Hong Kong's economy," Lawrence Lau Juen- yee said in an interview with Xinhua News Agency, adding the administration should also provide a visa-on-arrival service for Taiwan residents. Lau was an economics professor at Stanford University before becoming vice chancellor of the Chinese University of Hong Kong. He said anybody who has lived more than five years in Shenzhen, has a household registered there and has no criminal record should be entitled to free access. On other economic issues, Lau attributed recent closures of retail and restaurant outlets to high rental charges. He suggested a portion of the rent for those with longer leases should be linked to the economic environment. "Tenants will pay more if they have better business but will pay less when the economy suffers. This will benefit both sides, at least tenants can continue to run their business while property owners can still receive rent," he said. But he said there was no way to tackle the credit crunch for small and medium- sized enterprises. "Banks lend to SMEs because they provide properties and orders as collateral. Banks won't lend if they don't have any collateral." He agreed with the government that Hong Kong should still focus on financial development to attract capital from all over the world though he did not think the current economic situation was as bad as it was 10 years ago during the Asian financial crisis. "There were foreign hedge funds speculating in the Hong Kong market in 1998 but you don't have that now and many stocks have fallen to reasonable price levels," Lau said. He said the economic situation in the mainland today was much better than in 1998. "China has foreign reserves of US$2 trillion (HK$15.6 trillion) against only US$100 billion 10 years ago," Lau said. He said the negative macroeconomic impact to the mainland can be offset by an increase in internal demand. The Task Force on Economic Challenges had its first meeting last week and will meet again next month to tackle the financial tsunami. Meanwhile, the government said the multibillion-dollar loan scheme to provide 70 percent loan guarantees to help SMEs can be implemented as soon as the Legislative Council's Finance Committee approves the funding on November 28. Secretary for Commerce and Economic Development Rita Lau Ng Wai-lan told a special Legco meeting the government would announce more measures if needed.
English continued to play an important role in the working life of Hong Kong, a new survey conducted by the Hong Kong Polytechnic University (PolyU) said on Thursday.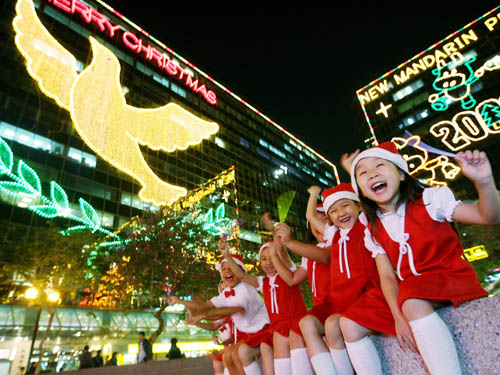 Children get into the festive spirit at the switching on of the Christmas lights in Tsim Sha Tsui East last night. Hong Kong's holiday shopping season had its unofficial kick-off last night when Christmas lights were turned on in Tsim Sha Tsui East. Shopping malls are embracing the Yuletide spirit, and preparing for a busy buying season - despite the global financial crisis. Harbor City in Kowloon would have its own merry and bright lighting ceremony tonight at 6pm, said Canis Lee, assistant general manager of leasing for Harbor City Estates. Spending there appeared to have remained "relatively stable" last month, and, with customer visits and spending increasing this month, the outlook remained positive not only for Christmas, but for Lunar New Year and Valentine's Day, she said. "For the coming few months, we are optimistic about the consumers' buying mood," Ms Lee said. Harbor City would spend about HK$13 million on Christmas promotions - with half of that amount going towards decorations and the rest funding promotional events, performances and a Christmas Eve countdown party, she said. Decorations, performances and promotions were also planned for the IFC Mall, which will hold its lights ceremony at 5pm next Wednesday. "We hope to be able to create an environment that shoppers - whether they come to actually shop or they just come to browse around - will be able to feel the happiness during Christmas, and they will be able to temporarily forget what's been bothering them," said Sonia Lui, IFC Mall senior marketing manager. "That's why we did not reduce our budget for Christmas this year," she said. The shopping centre is expecting to distribute 15,000 gifts this year compared with 10,000 last year, Ms Lui said. The gifts are for anyone who spends HK$5,000 or more. "I cannot say if spending will be better than last year's Christmas, but we do hope we can achieve the maximum," Ms Lui added. Meanwhile, Pacific Place "will have a series of programs" starting on December 1.

Citic Pacific (SEHK: 0267), a mainland conglomerate, has announced a massive bailout from its parent including sales of convertible bonds and disposal of its toxic foreign-exchange contracts. Citic Group, the mainland's biggest state-owned investment company, has agreed to provide an HK$11.6 billion standby loan to Citic Pacific, to be replaced by convertible bonds of the same amount, it said last night. Citic Group will also assume all liabilities from Citic Pacific's derivatives contracts that bet on the movement of the Australian dollar, in exchange for HK$9.3 billion. "We believe that the agreement and arrangements with Citic Pacific will help restore confidence in the company," Citic Group vice-chairman and president Chang Zhenming said. "With this financing in place, Citic Pacific can move forward and continue developing its businesses." Citic Pacific revealed last month that to hedge its investment in an iron ore project in Australia, it had entered into several currency contracts, known as accumulators, that would force it to buy Australian dollars at a rate of 0.87 to the US dollar. The Australian dollar was trading at 0.65 to the US dollar yesterday. Citic Pacific said last month group finance director Leslie Chang Li-hsien had resigned after failing to abide by the company's hedging policy and not obtaining approval before conducting the foreign exchange transactions, while financial controller Chau Chi-yin had resigned for failing to exercise oversight or notifying the chairman of unusual hedging transactions. Its management has been heavily criticised for entering into the speculative deal and for the six-week time lag before its disclosure. Hong Kong's Securities and Futures Commission has launched a formal investigation to determine if there were any breaches of the law by the Citic Pacific board or other parties. Hong Kong Exchanges and Clearing (SEHK: 0388, announcements, news) is also looking into the matter to see if the firm breached listing rules on information disclosure. The company said last night total losses from all contracts, including HK$1.3 billion that had been realised, amounted to HK$16.8 billion as of Tuesday. The bonds will be converted into Citic Pacific shares at HK$8 each, a 32 per cent premium to the last-traded price of HK$6.06 on November 3 before trading was suspended. Trading will resume today. After the bonds are converted, Citic Group's stake in the company will increase to 57.56 per cent from 29.44 per cent. The stake held by Citic Pacific chairman Larry Yung Chi-kin, the son of former state leader Rong Yiren, will be diluted to 11.48 per cent from 19.08 per cent. "We can now move on and begin to put the recent unfortunate event behind us," Mr Yung said. "We have great confidence in the future of the company and the strong team in place to execute our very clear strategy of focusing on our core businesses of special steel, iron ore mining and property in China." The amount Citic Pacific will pay to its parent is smaller than the HK$15 billion loss estimate it previously made arising from the derivatives for this year. A source said the move would take away the sword that had been hanging over Citic Pacific. If the contracts had remained with the company, it would have made it more susceptible to speculative attacks, the source added.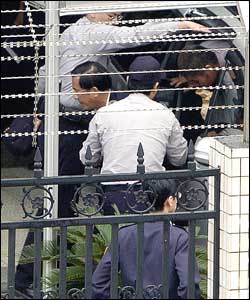 Former Taiwanese president Chen Shui-bian is now known as 2630. That is the number he has to use as long as he remains locked up in the Tucheng Detention Centre outside Taipei.
Hutchison Telecommunications International (SEHK: 2332) Ltd has decided to pay shareholders a HK$33.6 billion special dividend after failing to find a suitable acquisition target in Asia over the past 18 months. Hutchison Whampoa (SEHK: 0013), which owns 60.4 per cent of the telecommunications firm, is expected to reap HK$20.3 billion from the special dividend of HK$7 per share. HTIL also declared a bulk dividend of HK$15.9 billion last year to Hutchison after selling a controlling stake in Indian mobile unit Hutchison Essar to Britain's Vodafone Group for a sky-high HK$86.4 billion.
Hong Kong Exchanges and Clearing (0388) said its earnings during the third quarter plunged as much as 43 percent from a year earlier to HK$959.6 million on sluggish market activity.
The Link Real Estate Investment Trust (0823) said it will invest HK$1.1 billion on asset enhancement over the next three financial years to boost footfall in its shopping malls, but has not responded to a government suggestion that it help tenants of small shops or react to demands for rent reductions.
The market for trade finance has severely deteriorated over the last six months, and the situation is likely to deteriorate further in the coming months, WTO chief Pascal Lamy warned on Wednesday. Reporting to WTO heads of delegations, Lamy said the deteriorating market for trade finance had been confirmed by experts and representatives of private banks, international financial institutions and export credit agencies at a meeting he chaired earlier in the day. He said two key problems were identified at the meeting: one is a shortage of liquidity to finance trade credits, the second is a general re-assessment of risks caused as much by the financial crisis as by the slowing down of the world economy. "The world economy is slowing and we are seeing trade decrease. If trade finance is not tackled, we run the risk of further exacerbating this downward spiral," Lamy said. According to the WTO chief, the market currently estimates the liquidity gap in trade finance at about 25 billion U.S. dollars, which is a sizeable sum. He said a priority task is to enhance capacity to mitigate the effects of the increased perception of risks and to provide the market with earmarked liquidity for trade finance. Both the international financial institutions and the export credit agencies should expand their contributions to cover risk and provide additional liquidity under existing instruments, and they should be supported by public authorities, Lamy said. Lamy also called on WTO members to resist calls for protectionist measures and to promote "further organized, regulated and balanced trade opening" through the Doha Round of global trade talks. "My sense is that we are not that far away from our objective of concluding the round, even if a number of tough nuts remain to be cracked, notably in the agriculture and industrial modalities, which would be a stepping stone towards a final Doha deal," Lamy said. "My sense is that we can achieve modalities in these two areas by the year-end. I remain of the view that it is doable," he added.

China: Guangdong authorities have rejected reports of mass factory closures in the province, but promised several measures to spur the local economy amid a weakening of the GDP growth rate.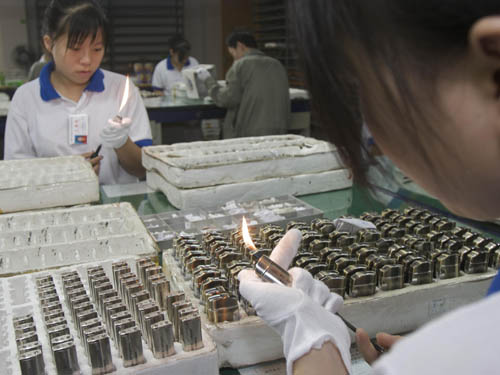 A worker tests a product in Zhou Dahu's factory. In better economic times, Wenzhou sold 850 million lighters a year - 80 per cent of them to Europe. Sitting in a spacious office about the size of an average Hong Kong flat, Zhou Dahu , the mainland's most well-known maker of lighters, looked tired and distracted. The 56-year-old businessman has had a sleepless night. The previous day, an important client from France had visited his factory and asked him to cut his prices in the face of the economic downturn. The request was framed as a matter of survival for both. Mr Zhou spent 16 years building the Tiger Lighter empire in Wenzhou , Zhejiang , where more than 80 per cent of the world's lighters are made. Wenzhou is home to China's largest pool of private floating capital - 600 billion yuan (HK$680 billion) by some estimates - and it has long been hailed as a symbol of the country's private economy. Tiger Lighter Group may not be the largest among the thousands of Zhejiang lighter manufacturers, whose heyday was in the 1990s, but it does make one of the best-known brands, especially after Mr Zhou and other Wenzhou lighter manufacturers won a European Union anti-dumping lawsuit in 2002. Mr Zhou's success as a private businessman epitomises the growth of the mainland's economy since the open-door policy took effect 30 years ago. However, that means taking the good with the bad, and the downturn has taken its toll. Mr Zhou said his survival strategy would be to squeeze into the top-end market of deluxe lighters, but the pressure was tangible. "In 2002, there was a lot of pressure, but I did not feel the real threat," he said. "But this time the real thing has come." Mr Zhou is the son of a revolutionary, his father was one of the Communist Party members who helped found the People's Republic of China, but he was sent off to Wenzhou after his father was labeled a rightist during the Cultural Revolution. In 1969 he left to work as a metal worker in Xian . However, private business was illegal at that time, and there was no freedom of mobility or work, so Mr Zhou was sent back to Wenzhou. After a few years of wandering, he finally settled down with a job in a post office in Wenzhou in 1976. But the stable life ended when his wife was laid off from a state-owned beverage factory with a one-off compensation of 5,000 yuan in 1991. Mr Zhou decided to hire a couple of workers to start a sweatshop assembling lighters, an industry that had emerged in Wenzhou a few years before. Surprised by the potential of the business, he made a bold decision to leave the post office to start a factory of 100 workers in a rundown building in 1992. "There was pressure whether I should give up my iron rice bowl and whether it was the right path to take," Mr Zhou said. Hong Kong and Taiwanese businessmen had swarmed to Wenzhou to buy lighters for re-export to Japan and western countries. The number of lighter factories and sweatshops soon soared to 3,000, as the cost of making a lighter in Wenzhou fell to one 30th of that in Japan. The beginning of Tiger Lighters is typical of many Wenzhou factories and also reminiscent of Hong Kong in the 1960s. Mr Zhou and his family were among 100 workers who assembled tiny components for lighters in a packed, poorly ventilated and dimly lit building by day, and they slept in a cramped attic in the factory at night. Slowly Mr Zhou's business began to build a reputation and was regularly hailed by the media because of his refusal to produce a substandard lighter, compared with others that flooded the market in the early 1990s. Mr Zhou said the ups and downs of his career were a result of the "big environment" - the macroeconomic situations domestically and globally. Tiger Lighters has benefited from the booming, labor-intensive manufacturing industry in Wenzhou. When China joined the World Trade Organization in 2001, the lighter manufacturing industry was among the first to feel the pressure, as the EU filed an anti-dumping lawsuit. According to People's Daily, Wenzhou produced 850 million lighters a year at that time, with 500 million exported - 80 per cent of them to Europe. Mr Zhou, president of the Wenzhou Smoking Set Association, led the team that defended China in the anti-dumping suit, and eventually won. But since last year, Mr Zhou says the "big environment" has produced another threat to his business. Lighter manufacturing has suffered severely from rising labor costs, soaring metal prices and the appreciation of the yuan over the past two years.
Products of a mainland dairy giant at the centre of the melamine milk crisis have returned to store shelves after a two-month halt for quality assessments, one of the group's subsidiaries in Xingtai , Hebei province , says. Xingtai Sanlu Dairy Company marketing director Cao Zhanwu confirmed yesterday that Sanlu-brand milk had been on sale in Hebei , Shandong and Henan since November 1. He said another Sanlu subsidiary started selling milk and yogurt as early as mid-October, but without the Sanlu name on its products. With most of the Sanlu Group's 30 or so subsidiaries still out of action pending inspections, Mr Cao said Xingtai Sanlu was the only company still using its parent company's branding on the mainland. He said the company was confident of winning customers back, and market research before the November 1 relaunch supported its belief. "We believe that up to 70 per cent of our former customers will be back," he said. About 30 per cent of customers who responded to company questionnaires and random street surveys said they would like to buy Sanlu products in the future, Mr Cao said. Sanlu, based in Shijiazhuang , was the first mainland company exposed as producing milk power containing melamine, an industrial additive used to make dairy products appear protein-rich in quality tests. Xinhua reports 1,272 infants remain in hospital with illnesses related to the tainted milk.
China yesterday quickened its pace of economic stimuli by cutting tariffs and raising tax rebates for nearly 4,000 export items in efforts to restore consumer confidence and spur economic expansion. Aimed at helping small and medium- sized enterprises, the State Council announced it will further increase tax rebates on 3,770 export products, including those related to labor-intensive goods, machinery and electronics. The new measures, effective December 1, cover products accounting for 27.9 percent of the country's total exports. At the same time, tariffs on exporting certain steel, petrochemical and grain products will be scrapped, while tax on certain fertilizers will be reduced, the Cabinet said. The tax-rebate increases - the third in three months - will be one of the four areas China will focus on to foster domestic demand and steadily boost the fast- growing economy, Premier Wen Jiabao told a Cabinet standing committee yesterday. Beijing will further approve fixed assets investment amounting up to 188.5 billion yuan (HK$213.9 billion), as well as the 300 billion yuan earthquake relief fund allocation and forestry eco-system rebuild plan in Wenchuan, he added. The measures were announced after macro-economic data released in October showed a declining growth trend, prompting economists to push for more aggressive moves by the central government. There will be about 2.5 trillion yuan of new money injected into the economy on top of the original plan, JPMorgan chief economist Frank Gong said. "The new money will help GDP by 6.5 percentage points in the next couple of years, helping to cushion the slowing economy to attain an 8 percent growth target," Gong added. The central bank yesterday said money supply and total credit last month grew by 15 percent and 14.4 percent, slowing from the 15.3 percent and 14.7 percent rise in September, respectively. Foreign direct investment for the first 10 months climbed 35.1 percent from a year earlier to US$81.1 billion (HK$632.6 billion).
China will spend 450 billion yuan (HK$510.67 billion) over the next two years to ramp up airport infrastructure projects nationwide. In addition to 100 billion yuan already set aside for ongoing works, China will add 30 billion yuan this year to fast-track construction, China Central Television reported.
China's General Administration of Customs on Wednesday announced that the country's trade surplus in the first ten months of this year stood at 215.99 billion U.S. dollars, with the trade surplus of October reaching 35.24 billion U.S. dollars. Figures also showed that the country's combined export from January to October reached 1.2 trillion U.S. dollars, up 21.9 percent year on year. The growth rate was 4.6 percentage points lower compared with the same period last year. The administration said that China's exports topped 128.3 billion U.S. dollars, while its imports reached 93.1 billion U.S. dollars in October.
Nov 12 - 13 2008

Hong Kong: The Hong Kong Monetary Authority was forced to intervene in the money markets three times in less than two hours yesterday, selling HK$5.813 billion of the local currency to defend the peg system.
The CITIC Pacific (0267) saga may soon emerge from the darkness. Sources said its parent CITIC Group has decided to take up new shares in return for a US$1.5 billion (HK$11.7 billion) capital injection - rather than a loan - for the blue-chip firm to deal with its troubles over unauthorized foreign currency contracts.
As legislators prepare to vote on a resolution to invoke special powers to probe the Lehman Brothers saga – more than 300 people who invested in Lehman Brothers-related financial products protested outside the Legislative Council on Wednesday morning. A subcommittee on issues arising from Lehman Brothers-related minibonds and structured financial products will submit a motion to the Legco later on Wednesday, requesting the power to examine anyone in its inquiry. Legco sub-committee chairman Raymond Ho Chung-tai said on Wednesday that Hong Kong people had invested around HK$20.1 billion in financial products associated with Lehman Brothers. Outside Legco, protesters, chanted slogans and waved placards, urging law makers to support the resolution, local media reported. The protesters had bought mini-bonds and financial products linked with Lehman Brothers, but suffered losses after the US global investment bank filed for bankruptcy in September. Many Hong Kong investors also claim they were misled by bank sales staff into believing the products were secure investments. After intensive lobbying by these investors, Democratic Alliance for Betterment of Hong Kong (DAB) chairman Tam Yiu-chung on Tuesday night said nine legislators would vote in favour of the resolution. The resolution would invoke the Legislative Council (Powers and Privileges) Ordinance on Wednesday. This would then allow a Legco subcommittee to probe the affair.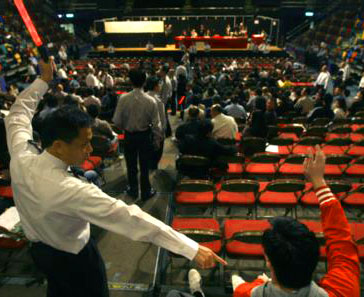 A vendor offered bidding prices at the Victoria Park Lunar New Year Fair stalls auction on Wednesday at the Queen Elisabeth Stadium in Wan Chai. In a sign the international financial crisis is impacting on the local economy, fewer people are bidding for stalls at next year's Victoria Park Lunar New Year fair. Auctions of stalls for five Lunar New Year fairs in Victoria Park and Kowloon start from Wednesday. The stalls traditionally stock food and other products. The winning bidder of the largest food stall, surnamed Yip, said he has been running stalls at the fairs for the last 10 years. Mr Yip said he was worried business would be affected by the financial crisis. He expected revenue could drop by 20 per cent compared with last year. Some 180 wet-goods stalls, 284 dry-goods stalls, eight thematic stalls and three fast-food stalls at the Victoria Park Fair will be bid for on Wednesday and Thursday, local media reported. The auctions for Lunar New Year Fair stalls in Hong Kong and Kowloon will be held at Queen Elizabeth Stadium in Wan Chai on Wednesday and Thursday, and from November 14, 17 to 19.Opening prices range from HK$7,840 to HK$191,820. The auctions for four Kowloon fairs will be held on November 14, 17, 18 and 19. On the first bidding day, prices bid for the fast-food stalls at the Victoria Park Fair were lower than last year. One of the largest fast-food stall's opening prices was HK$190,000 and the highest price bid for it was HK$350,000 – less than last year's HK$390,000. For the new eight thematic stalls selling traditional Chinese New Year's food and gifts, there was only one bidder for an opening price of about HK$28,000. No one has bid yet for the other seven stalls.
There are over 200,000 households in Hong Kong who rely totally on social welfare payments, the Legislative Council was told on Wednesday.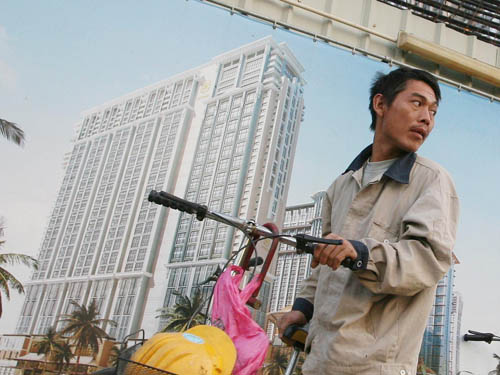 A worker outside the site of Macau's new Sands casino. Macau Chief Executive Edmund Ho Hau-wah yesterday quashed hopes that the Macau government would come to the rescue of troubled casino developer Las Vegas Sands after the company was forced to suspend construction of a US$3.3 billion Cotai resort complex. "The government has no plan to help [Sands] with its financing," Mr Ho said at a press briefing after delivering his annual policy address to the Legislative Assembly. He said that if the company collapsed, the government would take over the running of its casinos until it found a buyer. "The government will allow no gaming operation to go under. If any casino company closes down, the bricks and gaming tables there can't be moved away, and the government can get in," he said. Cash-strapped Sands said yesterday that it would raise up to US$2.15 billion this week and cancel or postpone US$1.8 billion in planned spending to avoid defaulting on bank loans and the risk of bankruptcy. Most of the cuts will come from the temporary suspension of construction on a 6,400-room complex across the street from the Venetian Macao. The complex had been scheduled to open next year, containing the world's largest Sheraton hotel as well as Shangri-La, Traders and St Regis properties. The company has already spent more than US$1.2 billion on the resort, which would employ more than 10,000 full-time staff. The suspension will be bad news for the construction industry. Sands said yesterday that it still owed US$385.5 million in construction payments related to the project. In addition, construction workers accounted for most of the 15,950 foreign staff employed by the company in Macau at the end of June. The company said it was forced to suspend the project after efforts to raise US$5.25 billion in new loans failed, confirming reports last month in the South China Morning Post (SEHK: 0583). Chairman and majority shareholder Sheldon Adelson said Sands might seek to revive the resort with project financing, and it was in talks with an unnamed mainland bank for up to US$700 million in loans. "We're moving along quite aggressively and we're hoping we can solve this problem," Mr Adelson said. "The Macau government has encouraged the Chinese banks to go along with us and we'll see ... whether or not we get that [ financing]." But Mr Ho insisted: "The government will not intervene in a private firm's financing plans." He predicted casino revenue would average 7 billion patacas a month next year, down 25 per cent. "There will certainly be pressure [on gaming firms], but they will maintain a certain level of business income," he said. But he added that there was no plan to cut the gaming tax rate. Mr Ho also said travel curbs from the mainland would not be eased or further tightened in the short term.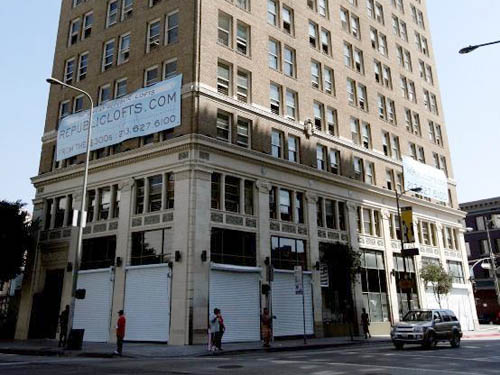 Twenty units at Great Republic Lofts in Los Angeles are on sale in Hong Kong. Property investment group IP Global has launched the sale in Hong Kong of its latest portfolio - 20 loft-style apartments in a central development in Los Angeles - despite some analysts warning of an uncertain economic outlook for the United States. Hong Kong-incorporated IP Global specialises in property investment in emerging and recovering markets and bought some of the units in the distressed development at what it said was a significant additional bulk discount. It now seeks to offload them to cash-up for other investment opportunities. "The turmoil in global financial markets and concerns over property values in the US have created opportunities for smart investors seeking credit-crunch-resilient property hot spots," said Tim Murphy, managing director and founder of IP Global. Up for sale are units in The Great Republic Lofts, with sizes ranging from 665 square feet to 981 sq ft. Prices range from US$328,000 to US$484,000, which, Mr Murphy says, are on average 30 per cent below the price at which the development was marketed in June last year and up to 10 per cent below the market prices of comparable properties. The project would for now be launched only in Hong Kong. Mr Murphy said response was so far encouraging since 10 of the 20 units up for sale were sold within five days of the launch. He said California's history of fast recovery from economic slumps because of its diverse industry and impressive economy was a plus for investors, while the highly regulated and consumer-protected market had limited supply that made an investment in the state's property market all the more attractive. IP Global is also working on securing access to developments in other US hot spots including New York and Las Vegas. Jimmy Fong Man-bun, deputy senior director of Savills (Hong Kong) residential sales, agreed that now might be a good time to go in search of bargains in the US property market since prices had fallen substantially over the past two years, and the market could undergo a quick rebound. He suggested investors could look for scarce and quality properties in big cities such as New York, Chicago and San Francisco, which generally offered higher growth potential and were in greater demand. Since the Hong Kong dollar is pegged to the US dollar, buyers need not worry about wild fluctuations in exchange rates, and investors would be better protected from capital value fluctuation if developers offered a guaranteed return, he said. However, some analysts expressed caution about the economic outlook for the United States, and said the country could have a long way to go before emerging from its current crisis. "I believe that there are further corrections to come and therefore it is too early to buy - unless there is an opportunity to purchase at a price that reflects forced sales or distressed values," said Nicholas Brooke, chairman of Professional Property Services Group. Mr Brooke added that careful due diligence on the history of the asset and any outstanding obligations going forward was important in buying overseas property. "Any buyer needs also to be particularly conscious of not becoming over-extended just because the entry price appears attractive as the cost over time may become expensive," he said. "As cash is king, ideally income should exceed cost and any subsidisation should be avoided to preserve resources."
The property slump in Hong Kong and on the mainland as well as the sale of a key asset have taken a toll on the financial results of Lai Sun Garment. Lai Sun Garment, an industrial property firm, saw its net profit crash 83.4 per cent year on year to HK$45.8 million in the year to July, despite a 25.3 per cent rise in turnover to HK$14.3 million. The huge fall in net profit was due to an 84.7 per cent drop to HK$39.6 million in profits booked from associate companies. Lai Sun Development, a Hong Kong property and hotel firm 11.2 per cent owned by Lai Sun Garment, saw its net profit fall 32.2 per cent to HK$1.01 billion for the year to July, while revenue fell 9.1 per cent to HK$826.5 million. The decrease in revenue was due to the sale of an associate firm that owns the Ritz-Carlton hotel in Hong Kong, whose sale generated a one-off gain of HK$699 million. Lai Fung Holdings, a mainland property firm 40.6 per cent owned by Lai Sun Garment, saw net profit fall 56 per cent to HK$206 million.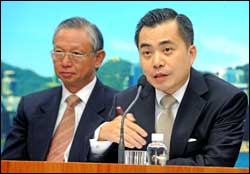 Teenagers suspected of taking drugs across the border may be subject to compulsory drug testing when they arrive at the Hong Kong checkpoint. The move was among the recommendations announced yesterday by the Task Force on Youth Drug Abuse headed by Secretary for Justice Wong Yan-lung to curb drug abuse. Wong said the number of young people going to the mainland to take drugs was alarming as official figures show one in six young drug abusers, or 17 percent, took drugs across the border last year. The report said that abuse of psychotropic substances has replaced heroin as the "No 1 enemy" in Hong Kong's youth drug scene. In the recommendation, young drug abusers will be given a warning and police will inform their parents when they are caught for the first time. Rehabilitation and treatment may also be offered. Prosecution would only follow if they are caught repeatedly. To ensure young drug abusers would not go to the mainland to take drugs, the task force would also consider introducing an extra-territorial coverage of the legislation. Another major initiative is the push for voluntary drug testing schemes in all schools. Currently only a few international schools are adopting the arrangement. The task force, set up in October last year as one of the initiatives announced in the Policy Address, will come up with a discussion paper next year. "The primary purpose of the compulsory drug testing scheme is to enable early intervention for treatment and rehabilitation. Prosecution is our last resort," Wong said. Officials believe the measures would have a deterrent effect on youth if their parents are notified. A government source admitted the new arrangement may draw criticism and even legal challenges from those who see it as an infringement of human rights or privacy. "However, we need to strike a balance between human rights of individuals and public interest. For example, it is widely acceptable to subject drivers to breathalizer test to crack down on drunk driving," the source said. The source also admitted there were concerns among schools and parents about possible labeling effect if their students and children were found to have taken drugs. "The government will map out a mechanism with schools and parents to help those children instead of simply forcing them to accept the policy without giving them further support," the source added. Committee on home school co- operation chairman Wong Po-choi said he agreed with the proposal if the goal was to help students cope with drug addiction, and not merely to punish them. "But keeping children off drugs is everyone's responsibility, including parents and teachers. Parents should have a higher awareness of drug-related issues; we're finding that they lack this." Christian Zheng Sheng College principal Chan Siu-cheuk wanted to see solid solutions in addition to the testing schemes. "I want to see them as a means rather than an end to prevent youth from taking drugs."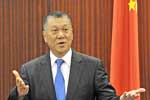 Macau Chief Executive Edmund Ho Hau-wah, in probably his last policy address, announced a HK$13 billion package of infrastructure development, tax and mortgage concessions and cash handouts to boost the economy.

China: Fire devastated a nearly completed 3 billion yuan (HK$3.4 billion) sports stadium in Jinan, Shandong province, yesterday, the second blaze at the venue in less than five months.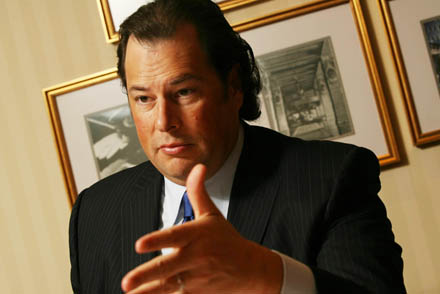 Despite global turmoil, Salesforce.com's Marc Benioff says he has not changed his expansion plans. The growing adoption of online subscription-based business applications on the mainland is encouraging major software-as-a-service (SaaS) players to push forward their expansion plans in the country, despite the global economic crisis and its impact on corporate technology spending. United States-based Salesforce. com, the leading global SaaS provider, is looking to build up its presence on the mainland "slowly but surely", with a focus on educating the market and enlisting domestic partners, according to Jim Steele, the company's president of worldwide sales. "If we're going to make China a huge part of our business, we're going to have to invest heavily in resources there," said Mr Steele, without providing details of any financial commitment. "Ultimately, to be successful, we have to partner with Chinese companies." Salesforce, which supplies on-demand customer relationship management (CRM) software through the internet to more than 47,700 firms and 1.1 million total subscribers worldwide, is currently ahead of SaaS rival NetSuite in obtaining significant market share on the mainland. In September, US-based NetSuite opened its Asia-Pacific office in Hong Kong to help launch its service on the mainland next year. Both companies see growing opportunities on the mainland, despite a softening of information technology investment caused by the economic crunch. "In these uncertain times, people need solutions that isolate them from risk. And we offer the type of solution that does that," said Marc Benioff, the chairman and chief executive of Salesforce. "We haven't made changes to our [expansion] plans." Mr Benioff said the company was opening its first data centre in Singapore to address the requirements of the Asia-Pacific market, covering both large and small companies in the region. The market opportunity, according to research company Celent, is huge. "While the global SaaS market is expanding at an annual rate of 25 per cent a year, China's SaaS market is growing at a rate of 33 per cent every year," Celent said in a report. It estimated the SaaS market on the mainland would reach US$3.8 billion by 2011, up from about US$1.8 billion last year. The worldwide SaaS market is projected to hit US$19.3 billion by 2011. Celent said the advantages of the SaaS model over traditional licensed packaged software included lower capital expenditure, lower maintenance cost, more rapid implementation and lower application risk.
Alibaba.com, the mainland's largest business-to-business e-commerce company, plans to pursue its expansion strategy despite the gloomy economic outlook.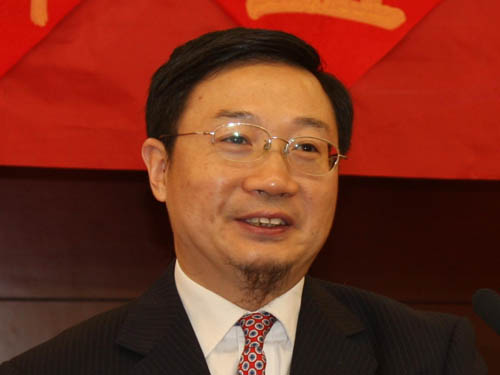 Adam Yan, chief executive, eFuture Information Technology - EFuture Information Technology, the largest vendor of software to the mainland's retail industry, aims to maintain revenue growth at "50 to 70 per cent per year for the next three years, including acquisitions", chief executive Adam Yan said. The company, which Mr Yan founded in 1997, makes core technology systems for retailers such as department stores, supermarkets and chain stores. Its systems are used in areas ranging from store management to finance, logistics, inventory control and customer relations management. More than 30 of the top 100 retailers on the mainland, including China Resources (SEHK: 0291) Vanguard and Lianhua, are its clients. Others include B&Q-Kingfisher China, Gucci China, China Duty-Free Stores and Beijing Wangfujing Department Store Group. The company also provides solutions for manufacturers such as Procter & Gamble and Johnson & Johnson and their distributors. It has more than 950 retailers and 200 distributors as clients. EFuture has 20 offices and over 600 staff. Last year, sales reached US$11.53 million, up 76 per cent from 2006. The firm made a loss of US$3.8 million owing to the accounting treatment of its convertible bonds. Adjusted earnings before interest, tax, depreciation and amortisation rose 86.59 per cent to US$2.91 million. The company expected sales to grow more than 65 per cent this year to between US$19 million and US$20 million, and adjusted ebitda at more than 72 per cent to between US$5 million and US$6 million. Mr Yan said the global slowdown would affect consumer spending. "The export sector is hurting badly with thousands of factories closing in the Pearl River Delta and provinces like Zhejiang and Jiangsu. But domestic demand remains strong and will drive growth for the next few years," he said. The retail industry has benefited from the country's high gross domestic product growth in the past few years. For the first nine months, sales of consumer goods reached 20 trillion yuan (HK$22.7 trillion), up 22.1 per cent from a year earlier. Growth from 2006 to last year was about 16 per cent. To ease the impact of the slowdown in exports, Beijing is taking steps to increase domestic demand. Besides spending over 2 trillion yuan on railway infrastructure, it launched a rural land reform that allows farmers to lease out their land for 30 years. "This in effect allows them to sell their land. As they get rich, they will spend," said an industry insider. "And it is expected 200 million of the 730 million farmers in the country will eventually leave their homes to go to the cities. The growth from urbanisation will drive GDP." Mr Yan expected the mainland's GDP growth to slow, but believed it would stay at 8 to 9 per cent for the next few years owing to land reform and other government measures. In fact, rather than shrinking its operations, Mr Yan has made ambitious plans to grow eFuture. "We want to grow our market share to 18 to 20 per cent in the next three to five years from the current level of 8 per cent," he said. The company is expanding to more than 200 third-tier cities in the country. It is also fine-tuning its solutions to make them more professional. However, there are still many challenges ahead for the company. Apart from the harsh economic environment, eFuture is feeling pressure from both the high end and the low end of the market.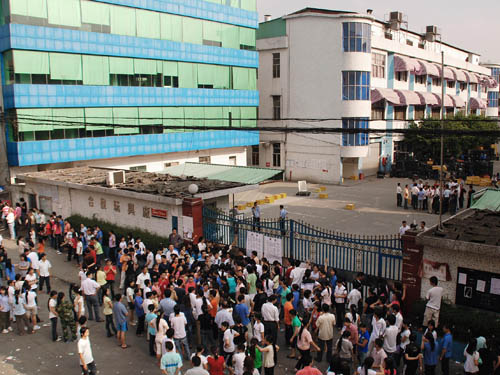 Home prices in downtown Dongguan, the mainland's leading manufacturing city, continue to fall as Hong Kong-owned factories in the area close down and lay off staff. The closure of the factories led to thousands of workers losing their jobs, and the outlook remained bleak with more factories expected to follow as the global financial crisis hits mainland export markets, property agents said. Technicians and middle and senior management at the Hong Kong-owned manufacturers constituted a significant portion of total homebuyers in the city, agents said. And with these would-be buyers losing their jobs, demand for homes was drying up, said Susanna Wang Yingjun, chief of Centaline China's Dongguan office. According to Centaline research, home prices in Dongguan last month fell 2.6 per cent month on month to 4,939 yuan (HK$5,606) per square metre. That compared to prices that ranged between 6,000 and 7,000 yuan per square metre at the market's peak in July. House prices jumped to 6,864 yuan per square metre in July last year, a 20 per cent increase from June. Last month, Hong Kong-owned Chong Yik Toy, BEP International Holdings, Smart Union Group (Holdings) and Peace Mark (SEHK: 0304, announcements, news) (Holdings) declared bankruptcy, leaving more than 8,600 factory workers in various Guangdong cities without jobs. Xinhua reported that more than 3,600 toy factories in Guangdong shut down from January to July this year and at least 2.7 million workers in southern China are likely to lose their jobs, according to an estimate by the Dongguan City Association of Enterprises with Foreign Investment. Ms Wang said prices in Dongguan reached a peak in July last year but started slowing by the end of the year when the government issued measures to regulate the market. She said home prices fell sharply in the first quarter of this year when major property developers cut prices in the city by one-third to lure buyers. Agents said another factor hitting the city's market was abundant supply. There were units in 15 developments offered for sale yesterday, eight of which are in the downtown area. About 298,000 square metres of residential space was sold last month, an increase of 32 per cent from September but down 22.76 per cent on sales in October last year. The major increase was in the Golden Week holiday at the beginning of last month, ahead of the news of factory closures.
Nov 10 - 11 2008

Hong Kong: Hong Kong score again: more HK hotels get five stars than New York's - Another month, another laurel from a luxury guidebook publisher for Hong Kong's hospitality industry. Last month, eight Hong Kong restaurants featured among the top 20 restaurants in Asia in the Miele Guide 2008/2009, more than in any other place. This week, the Mobil Travel Guide gave the city more five-star ratings for hotels than New York and accorded more spas in Hong Kong five-star status than in the entire United States. Kevin Bristow, Mobil Travel Guide vice-president, said no first edition of the Mobil guide had handed out more five-star ratings than its Hong Kong and Macau guide. Mobil awarded five stars to the Peninsula, the Landmark, the Mandarin Oriental and the Four Seasons hotels in Hong Kong, and the Wynn Macau. The spas at Wynn, the Mandarin Oriental and the Peninsula also earned five stars. The guide's inspectors, who pay their own way, use an exacting points system and give hotels scores out of 700. They stay for two nights and two days and often "turn the room upside down" to see how the staff responded, Mr Bristow said. The Mobil Travel Guide reviews only the best 9,000 of the 50,000 hotels in the US. The guide's editor, Kim Atkinson, said service in Hong Kong was "on a different level" from what the judges normally received - even at the hotels which "only" won four stars. For the guide's first international edition, not a single hotel or spa was awarded five stars in Beijing. "One of our inspectors checked in to the Four Seasons during a typhoon and the general manager of the hotel was doing the rounds in the morning ensuring the guests got their newspapers," she said. "Senior staff were going to the rooms and making the guest's beds, just to ensure things got done." Another reviewer was impressed that when his shirt was returned from dry cleaning at the Mandarin Oriental, it came back with silk cufflinks. "Staff in Hong Kong are efficient and have great attention to detail yet the service they offer does not make you feel uncomfortable," Ms Atkinson said. "This is the difference." Despite the plaudits, the people at Mobil believe there is more Hong Kong can do. "The whole world doesn't know how amazing the service is here and what value you get for your money," Ms Atkinson said. "But we will be back next year." One improvement they should make is remembering the "n" in "Wyndham Street", one of the city's most prominent nightlife precincts.
Hong Kong investors will this week step up their campaign against what they say is a land grab by the Philippine government on the holiday island of Boracay. Their action comes days after a masked gang forced their way into the island's Sandcastles Resort and evicted staff and guests at gunpoint, trapping resort owners Greg and Viveca Hutchinson and their children inside. "We've heard [over the years] of people we know who have been killed and this is getting too close to home," said Mrs Hutchinson, who vowed: "We are not leaving." The growing lawlessness on Boracay has rattled Hong Kong residents and investors. Artist Ray Yip, who bought land on the island about 30 years ago, believes its reputation as a little slice of paradise is under threat. "Up to about 10 years ago it was really, really fantastic," said Yip. "But I have heard too many stories about murder, arson, all types of bad things happening ... it looks like this will take it down another couple of notches." Tomorrow a delegation of Boracay landowners will hold a news conference in Hong Kong in the hope of garnering international support for their campaign against a 2006 proclamation by Philippine President Gloria Macapagal-Arroyo that the entire island belongs to the state. "It's very unfair," said Stephen Arseno, a lawyer and landowner who has been fighting the government's move in the courts. "This is an international issue because there are so many foreigners invested in Boracay. The Philippines does not want a reputation for being a place where property rights are not respected." Last month the Philippines' highest court upheld the proclamation, which split Boracay into agricultural land, which can be owned by private interests, and protected forest, which cannot. Many of the island's resorts and developments fall within areas classified as forest. Even on land zoned as agricultural, the occupants must reapply to purchase it. "We are coming to Hong Kong to try to reassure investors that we will keep trying to protect their rights," said Mr Arseno. He said investment had slowed to a trickle. Yip faces having to pay for his land a second time as a result of the recent ruling. "It's a very strange rule," Yip said. "Of course no one has paid; no-one would be that silly. We've all banded together against it." The government claims its aim is to protect investors by formalising property rights which were previously informal and unenforceable. The storming of Sandcastles Resort provided a dramatic demonstration of the difficulties the government says it is trying to address.
Standard Chartered Bank admitted yesterday it had used substandard methods to sell derivatives issued by bankrupt firm Lehman Brothers to some customers. Benjamin Hung Pi-cheng, Standard Chartered executive director and chief executive officer, said the bank had concluded an initial investigation. Although it had not found any systemic problems, there were cases where sales methods had been below the bank's internal standards. "The bank is willing to bear full responsibility and will handle [the cases] accordingly," he said. Meanwhile, Bank of China (Hong Kong) settled with two customers yesterday. Standard Chartered customers have been complaining since September along with thousands of investors who bought Lehman-related products from other banks. The bank sold Lehman-issued derivatives, but not minibonds, to 2,200 customers, 10 per cent of whom were elderly, Mr Hung said. It is initially dealing with customers aged 65 and over with little investment experience. Some elderly customers were financially well-educated, he said. The bank had formed an independent group covering sales issues and would conduct individual and thorough investigations of each case. Mr Hung did not disclose the total amount invested, or what compensation, if any, had been agreed. Elsie Ho, representing a group of Standard Chartered complainants, said so far two investors out of about 150 who registered with the group had reported settling with the bank. She was surprised to learn that more than 2,000 customers were involved, instead of the 300 she had estimated. The Monetary Authority referred 24 more cases to the Securities and Futures Commission yesterday, bringing the total to 96. BOCHK (SEHK: 2388) settled with two customers, named only as Mr Wong and Ms Tseng. Mr Wong was seen leaving the bank smiling yesterday. The customers were satisfied with the arrangements, said the Democratic Alliance for the Betterment and Progress of Hong Kong, which had been helping them. The group Allied Victims of Lehman Products will hold a candle-light vigil this evening.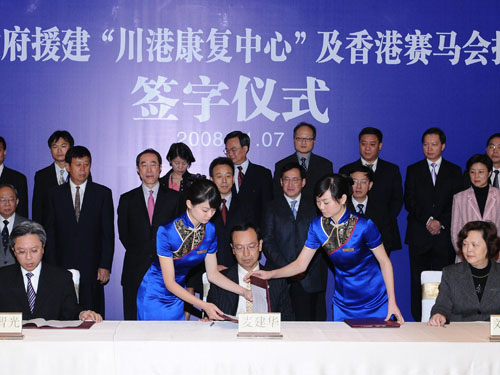 Kim Mak of the Hong Kong Jockey Club signs the memoranda. Hong Kong will fund five more reconstruction projects in the earthquake-stricken areas of Sichuan , including a comprehensive rehabilitation centre for quake victims and an Olympic school to train local sporting talent. During his visit to Sichuan yesterday, Chief Secretary Henry Tang Ying-yen attended the signing of a letter of intent on the construction of the Sichuan-Hong Kong Rehabilitation Centre and a set of memoranda on four medical and education projects funded by the Hong Kong Jockey Club. Work will start on the five projects, together costing more than 600 million yuan (HK$683 million) by the end of this year and all are expected to be completed in the next one to three years. "The global financial crisis is affecting everyone in the world, but the situation of the quake victims in Sichuan is not likely to improve without the help of others," Mr Tang said. The rehabilitation centre will form part of the Sichuan Province People's Hospital, and will provide wide-ranging rehabilitation services including orthopaedic treatment, physiotherapy and occupational care, and clinical psychological counselling. As one of the first batch of 20 projects funded by the Hong Kong government, it will also serve as a training base for medical professionals in the province. Patients with multiple amputations, paralysis or suffering serious trauma will be the centre's main target groups. The four other Jockey Club-funded reconstruction projects are the reconstruction and expansion of rehabilitation facilities at Mianyang No 3 City Hospital, reconstruction of Mianyang Youxian Zhongxing Junior Middle School, construction of new buildings at Deyang No 5 Middle School and the expansion of Dujiangyan High School into an Olympic school. The Olympic school will cater for more than 4,000 students and provide general education and sports training for top young athletes selected from across the province. The Jockey Club will earmark about 400 million yuan for the four projects. Club chairman John Chan Cho-chak said the most important thing at this stage was to rebuild lives and bring hope to the Sichuan people. "We particularly hope to introduce special rehabilitation facilities in hospitals and schools, to enable young people disabled by injuries from the earthquake to resume their studies as soon as possible and continue their rehabilitation therapy," he said. Chen Yu, 15, an amateur weightlifter at the Dujiangyan Sports Centre, hopes to study and train at the Olympic School. "We have around 40 weightlifters sharing just eight barbells. And our training room is too small to accommodate all of us at the same time. You cannot imagine how excited we were on learning this news," he said. Mr Tang said Sichuan party secretary Liu Qibao would visit Hong Kong next week to discuss post-quake reconstruction work.
Major Hong Kong banks lead by HSBC (SEHK: 0005, announcements, news) and Standard Chartered cut their prime lending rates on Friday following a sharp drop in interbank rates, as central banks in Europe and Asia slashed interest rates. HSBC said it would reduce its best lending rate to Hong Kong customers by 25 basis points to 5 per cent, its lowest level since November 2004. Bank of East Asia (SEHK: 0023) said it would cut its best lending rate in the city by 25 basis points to 5.25 per cent. Standard Chartered, and HSBC's subsidiary Hang Seng Bank (SEHK: 0011, announcements, news) , unveiled quarter-point cuts in their best lending rates. All the cuts become effective from Monday. DBS Bank meanwhile said it would keep its rates unchanged but would keep monitoring the market situation. The past week has seen a series of rate cuts in the Asia-Pacific region, as well as in Europe, with South Korea, India, Australia and Taiwan all reducing rates as central banks struggle with the biggest financial crisis in decades. "The interbank rate level has come down, so there is room for an interest rate cut under these conditions," a spokeswoman for HSBC said. Citigroup said the rate cut was "mildly positive" for an economy that could soon tip into recession, but was offset by a global recession, banks' credit tightening and weak confidence among consumers, businesses and homebuyers. "A 25 basis point prime rate cut cannot resolve these problems," Joe Lo, Citi's senior economist, said. Hong Kong interbank rates (Hibor) fell further on Friday, tracking US dollar Libor (London interbank offered rate) rates, which were pushed lower by the Bank of England's aggressive 150 basis point cut and the European Central Bank's 50 basis point reduction on Thursday. The one-month Hibor was fixed on Friday at 1.19214 per cent, its lowest level since February 2005 and down from a recent peak on October 10 at 4.99286 per cent. The three-month Hibor was fixed on Friday at 2.23714 per cent, the lowest level since September 17 just after the collapse of US investment bank Lehman Brothers. A surge in interbank rates globally in the wake of Lehman's collapse has squeezed banks' profit margins. As a result, until HSBC's unexpected move on Friday, Hong Kong banks had kept their lending rates unchanged, and raised mortgage rates, despite official interest rate cuts. Hong Kong tracks US monetary policy because of its currency peg to the US dollar and the central bank, the Hong Kong Monetary Authority (HKMA), has cut its benchmark rate twice in the past two months, mirroring US rate cuts. Hong Kong banks, however, have some leeway to lag US rate moves and ignored those two rate reductions. In Hong Kong, a spate of fund injections into the money market by the HKMA – the latest on Friday afternoon to curb an appreciating Hong Kong dollar – has also put downward pressure on interbank rates. Savings rates offered by Hong Kong banks are virtually at zero and HSBC and Hang Seng did not cut deposit rates on Friday, but Standard Chartered said it would adjust savings rates. Hong Kong's exports and retail sales have slowed sharply in the past few months as global demand for Asian goods has slowed and local consumers have been hit by heavy losses on the stock market. Consumers' declining confidence has also pushed down property sales and a number of economists forecast Hong Kong will soon enter a recession after a five-year boom.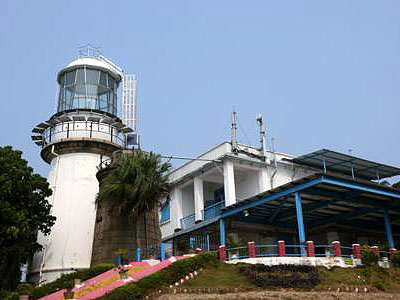 Green Island Lighthouse compound was built in 1875 and was not automotated until the 1970s. The government on Friday declared the Green Island lighthouse compound a "monument" under the Antiquities and Monuments Ordinance, a spokesman for the Development Bureau said. The compound comprises an old lighthouse built in 1875, a new lighthouse built in 1905, former European quarters and a light keeper's house. "Both the old and new Green Island lighthouses have served thousands of vessels for many decades and contributed to Hong Kong's maritime history," the spokesman said. The Green Island lighthouse started operating on July 1, 1875, three months after Hong Kong's first lighthouse was set up at Cape D'Aguilar. Upon the completion of the new lighthouse in 1905, the old lighthouse lost its original function. The new lighthouse was fully automated in the 1970s and is still in use.
DBS Group, Southeast Asia's largest bank, said it will cut 900 staff in both Singapore and Hong Kong this month amid global financial crisis and falling profits. Chief executive Richard Stanley said the layoffs will account for 6 percent of its workforce. "To be a streamlined organisation, I believe we must run a tighter ship,'' he said. "We have been vigilant on costs but as the economy enters a more difficult and uncertain phase, many financial institutions around the world and in Asia have made headcount reductions,'' Stanley added.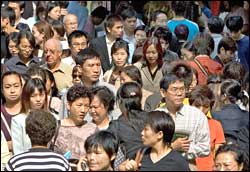 Companies from different sectors are being forced to lay off employees amid a weakening economy and the prospect of mounting losses. Local real estate agency Ricacorp Properties said it has axed 30 percent of employees since June, while two international banks began sacking workers as part of plans to cut more than 12,000 jobs worldwide. "The number of staff was reduced to 1,000 from 1,400 in the middle of this year,' Ricacorp managing director Willy Liu Wai-keung said yesterday. Last month alone, about 200 people were laid off, he said, as the agency is down to 80 branches from 120 in June. The firm said October commission income was HK$22 million, down 3 percent from September, marking a low since November 2005. But Liu said Ricacorp has stopped laying off staff for now. Centaline Property Agency said it has no plans to cut staff. "We plan to run the business by the current scale even though we are still suffering losses," Centaline chairman Shih Wing-ching said. "I think the worst of the market turmoil, which was in September and October, is over." But he would not speculate when the downturn would end. Midland Holdings (1200) corporate affairs managing director Kitty Ip Kit-yee said the firm reduces jobs through natural attrition. She said more than 100 employees had quit each month since July, while Midland stopped adding staff from September. It has 3,100 staff, down from 3,800 in January, as its local branches have been reduced to 283 from 350. Meanwhile, Goldman Sachs has begun telling 3,200 employees, or 10 percent of its workforce, they are losing their jobs, Bloomberg quoted a source as saying. And Citigroup has been notifying staff who are affected by the bank's plan to eliminate 9,100 positions over the next 12 months, about 2.6 percent of its head count.
Cathay Pacific Airways (0293) may report a full-year net loss on worsened income in all segments, after the carrier warned of disappointing yearly earnings on Wednesday, analysts said.

China: Chinese President Hu Jintao and U.S. president-elect Barack Obama Saturday discussed in a telephone conversation relations between China and the United States and major international issues of common concern, including the ongoing global financial crisis.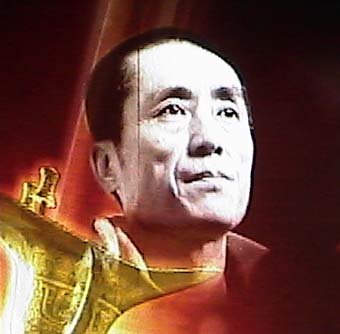 Boston University, based in the United States, said on Friday it would award Chinese director Zhang Yimou an honorary doctorate. Zhang was the chief director of the dazzling opening and closing ceremonies of the Beijing Olympic Games. The award ceremony will be held at the university campus on May17, 2009, the university's vice president Laurie Pohl told an audience at the Beijing Film Academy, the director's alma mater. Few Chinese artists have been awarded honorary degrees by well-known U.S. schools. One exception is Beijing opera master Mei Lanfang who attained an honorary doctorate from Pomona College in 1930. Boston University President Robert Brown said in a letter to Zhang that the degree marked his "successful pursuit of artistic excellence" that had "enriched audiences around the world." Hugo Shong, the university trustee who recommended Zhang for the honor, said the degree recognized Zhang's status as a Chinese cultural symbol. Zhang is known for films such as "Raise the Red Lantern", "Hero" and "House of Flying Daggers". His last film was the 2006 historical epic "Curse of the Golden Flower", after which he devoted his time to the Olympics.
Fresh evidence of the impact of the global economic crisis on the mainland economy emerged yesterday, with Guangdong's governor warning output growth in China's export hub had slowed dramatically this year. Huang Huahua said gross domestic product growth this year would fall to 10.2 per cent. Since 1979 the province has averaged growth of 13.8 per cent per year. Last year its GDP rose 14.5 per cent. Mr Huang said output had fallen sharply in the first nine months of the year because of the global crisis, the worst snowstorms in 50 years in southern China and domestic economic policy changes. He said Guangdong was facing severe trading pressures as more businesses reported losses. The province accounts for 28 per cent, by value, of mainland exports, but growth in Guangdong's exports fell 10.9 percentage points, to 13.5 per cent, in the first nine months of the year. Provincial authorities deny there has been a wave of factory closures, but Hong Kong business associations and officials say at least 3,000 Hong Kong-owned firms in the Pearl River Delta region have shut in the past 12 months and thousands more could fold in the next few months.
China will allow insurance funds to invest in non-listed companies so as to increase their investment opportunities, China Insurance Regulatory Commission (CIRC) spokesman Yuan Li told reporters on Friday. The State Council, or Cabinet, has given its approval to the idea and the CIRC was drawing up relevant measures, Yuan said. Trial programs would start with major domestic insurers, which had the ability to cope with investment risks, Yuan said, without elaborating. Insurance funds now could only take equity stakes in major infrastructure projects, such as the Beijing-Shanghai express railway, according to Yuan. CIRC would not restrict domestic insurers' moves to invest overseas because of the global financial crisis, he said. But CIRC would work to help the insurers avoid risks from such investments.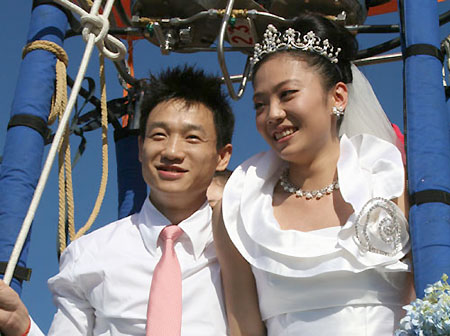 Chinese Olympic gymnastics champion Yang Wei (L) poses with his bride Yang Yun, a retired national gymnast on a fire balloon during their wedding ceremony in Sanya, Hainan province November 6, 2008.
While Hong Kong health authorities remain vigilant about melamine levels in food imports – two egg exporters from Hubei province were being investigated on Friday.
Premier Wen Jiabao said rich nations must abandon their "unsustainable lifestyle" to fight climate change and expand help to poor nations bearing the brunt of worsening droughts and rising sea levels. Mr Wen told the opening of a conference on Friday the financial crisis was no reason for rich nations to delay fighting global warming. "As the global financial crisis spreads and worsens, and the world economy slows down apparently, the international community must not waver in its determination to tackle climate change," Xinhua news agency quoted him as saying. The two-day meeting is to push Beijing's call for rich nations to fund a huge infusion of greenhouse gas-cutting technology for developing countries. But foreign officials at the meeting raised doubts about Beijing's proposal, which could stoke contention over who pays and how much. China is widely believed to be the biggest emitter of carbon dioxide, the main greenhouse gas from industry, power plants and vehicles lifting global temperatures. But Wen threw the onus back on rich nations, with their much higher emissions per person and long history of polluting the air. "Developed countries shoulder the duty and responsibility to tackle climate change and should alter their unsustainable lifestyle," he told the meeting. Mainland officials have said wealthy nations should divert as much as 1 per cent of their economic worth to paying for clean technology transfers and helping the Third World overcome damage from the rising temperatures bringing more heatwaves and droughts, more powerful storms and rising sea levels. This would mean a total US$284 billion a year if members of the Organisation for Cooperation and Economic Development (OECD) paid up based on the size of their economies last year. Over 190 nations have agreed to seek a new treaty to curtail greenhouse gases from industry, vehicles and land-clearing. China wants technology aid to feature in that pact, which negotiators hope to seal in Copenhagen late next year. Climate officials gathered in Beijing welcomed China's growing activism on the issue but questioned its proposal, especially with an economic downturn draining coffers. "It is undeniable that the financial crisis will have an impact on the climate change negotiations," said Yvo de Boer, who heads the UN Climate Change Secretariat. "If we go to citizens under the current circumstances... and say 'I'm increasing your tax burden in order to pay for climate policy', that might not go down very well," he told reporters. Denmark's Climate Change Minister, Connie Hedegaard, who is helping guide negotiations leading to Copenhagen, said other governments wanted to see what the mainland offers in future emissions goals in return for help and big emissions cuts by rich nations. Few rich nations have lived up to vows to give a sliver of their GDPs to development aid, giving little hope for any similar approach to climate change, she said in an interview. "I think we will not be able to do this at an adequately big scale unless we also activate market forces," she said of technology transfers.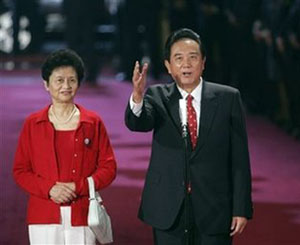 Beijing's top Taiwan negotiator, Chen Yunlin, and his wife bid farewell after their five day visit to Taipei on Friday. Chen Yunlin, Beijing's top negotiator on Taiwan affairs, left Taipei on Friday after a turbulent visit that produced landmark trade agreements but also sparked angry protests by thousands opposed to China's claim of sovereignty over the self-ruled island. Mr Chen completed the highest-level visit to the island by a Communist leader since the end of the Chinese civil war in 1949. His visit, which included deals to open new trade and transit links and a brief meeting with President Ma Ying-jeou, eased official ties between two sides that had in the past come to the brink of war in one of Asia's most dangerous flashpoints. But protests from thousands of anti-Beijing demonstrators dogged Mr Chen almost every step of his visit illustrating the obstacles that remain in the way of a rapprochement. Beijing's shift to charm diplomacy came after new leadership took power on the island under Beijing-friendly Ma and recent Taiwan investment of about US$100 billion in China. "Economically, the two sides, Taiwan and China, have become integrated into possibly one entity in the future," said Raymond Wu, a political risk consultant in Taipei. The mainland has claimed sovereignty over Taiwan since 1949, when Mao Zedong's Communists won the Chinese civil war and Chiang Kai-shek's Nationalists (KMT) fled to the island. Beijing has vowed to bring Taiwan under its rule, by force if necessary. "We believe the road ahead is still very long," Mr Chen said before leaving. "We expect to find this and that difficulty, but we will overcome those to fulfill expectations of compatriots of both sides."
Agricultural Bank of China receives 130 bln yuan capital injection - ABC Thursday signed an agreement with Central Huijin Co. for a 130-billion-yuan capital injection.
Nov 8 - 9 2008

Hong Kong: Standard Chartered Bank (Hong Kong) and Wing Hang Bank have increased their mortgage rates and other banks are expected to follow.
The auditor of Las Vegas Sands Corp, operator of the Venetian Macao and Sands casino hotels in Macau, has questioned its ability to avoid bankruptcy if it fails to obtain fresh funds.
The Hong Kong Monetary Authority yesterday extended the loan maturity of its collateralised lending and hinted at lower interest rates, moves designed to encourage banks to lend to their peers and other industries. The de facto central bank said extending the maximum maturity on loans to licensed banks from one to three months would reduce bank funding pressures as the year-end approached. "As banks provide acceptable collateral for borrowing, the interest rate charged could be lower than the interbank rates," said HKMA chief executive Joseph Yam Chi-kwong. "We hope it can push down the interbank rates." He said interbank rates had fallen significantly after the HKMA injected liquidity into the system and introduced several measures to ease credit since the end of September. However, activity in three-month interbank lending has not returned to normal, prompting the HKMA to refine the collateralised lending program. About HK$10 billion in collateralised lending has been provided to banks so far. "All we have done has been aimed at providing a low-interest-rate environment for banks and we hoped it could be passed on to retail (customers) and corporates," he added. Interbank rates fell further yesterday after the HKMA injected HK$3.875 billion into the system. It was the ninth such move since the middle of September, bringing the aggregate balance of the banking system to HK$37.815 billion. The one-month interest rate fell to 1.25 per cent yesterday from 1.3 per cent previously, while the three-month rate fell to 2.3 per cent from 2.4 per cent. However, the Hong Kong dollar remained strong, trading at HK$7.7506 to the US dollar. Analysts said the HKMA's liquidity injection and the refinement of collateralised lending would help ease interbank rates further. But the moves would not fully restore bank confidence about lending. "Banks still have to evaluate the credit risk when providing lending," said Law Ka-chung, the Bank of Communications (SEHK: 3328)' chief economist and strategist in Hong Kong. "The key for lenders to regain confidence is for the external market to stabilise." Mr Law added that interbank rates had fallen in the past few days, mainly tracking the decline of US interest rates. "The real possibility is that banks tightening credit will adversely affect economic prospects and, in turn, their own asset quality, and that this process might feed on itself, creating a downward spiral," Mr Yam said in his Web column. He said the HKMA had done its part and "stands ready to provide more liquidity to the banking system" if needed. "It is time for the banks to deliver as well." He added that it was understandable that banks had to manage credit risk and price credit flexibly in light of changing conditions and risks.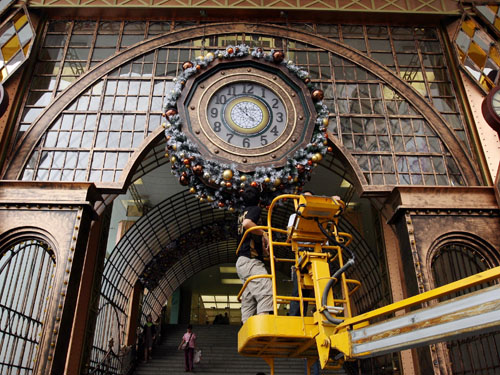 Workers start to put up Christmas decorations outside Harbour City in Tsim Sha Tsui yesterday. Some malls have increased their budgets for Christmas decorations. Undaunted by the financial crisis, commercial property owners remain determined to show their enthusiasm for the Christmas season by, in some cases, spending more this year on lighting and decorations. "Christmas only happens once a year, and is an important occasion," said a spokeswoman for Sun Hung Kai Properties (SEHK: 0016). "We want to decorate our properties and give the season a festive atmosphere, cheering people up, especially in view of the current economic circumstances. "Not only will we not reduce the scale and budget of our Christmas promotions and decorations, but we have in fact increased the budget this year [by 8 per cent to HK$13 million]." Such efforts are not being deterred by repeated government warnings of a looming deterioration of the economy and rising unemployment. Karen Tam of Harbour City Estate said: "We have not reduced the budget, we have not shortened the duration of lighting, and we have not downsized the scale of Christmas lighting or decoration. "In fact, we will invite major celebrities this year to grace our kick-off," she said.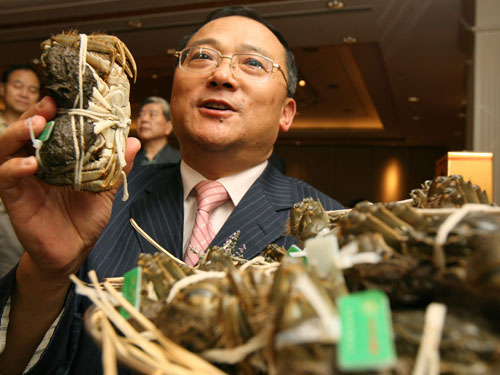 Xinghua Vice-Mayor Gu Guoping displays a hairy crab. Sales of hairy crabs, a popular delicacy, plunged by up to 70 per cent last month as customers fretting about the financial crisis held onto their money. Lau Pak-kin, the owner of Hung Fuk Company, a hairy crab wholesaler and retailer in Kowloon City, said sales had slipped by two-thirds and he had to cut prices to attract customers. A Mr Ho at Perfect Kingdom, a hairy-crab retailer and wholesaler in Kwun Tong, said sales had slumped about 70 per cent last month compared to October last year. The crabs, prized for their thick, creamy roe and named for the hair-like growths on their claws, are at their best in the ninth and tenth months of the lunar calendar - roughly corresponding to October and November. "The gloomy economy must have affected our business. Many want to keep more money in their pockets," Mr Lau said. He said the quality of crabs was good but he had cut the price of large crabs from about HK$240 a catty (600 grams) last year to about HK$200. Thomas Woo Chu, executive managing director and general manager of Hsin Kuang Restaurant, which has more than 20 local outlets, said the consumption of hairy crab dishes had fallen by 10 per cent last month compared to one year ago. Meanwhile, officials of the Xinghua city government, Jiangsu province, yesterday promoted the province's hairy crabs at the Kowloon Shangri-La Hotel, praising their quality.
A travel agency is offering free Hong Kong tours to 3,000 people from Guangzhou in an attempt to bolster the weakening economy.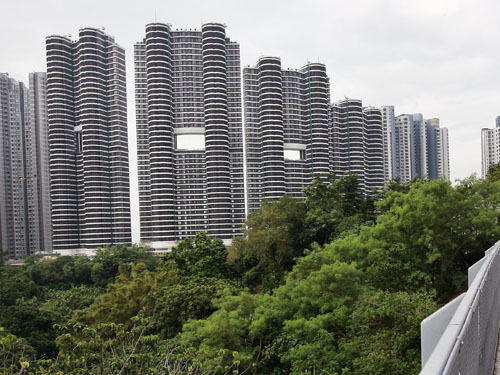 Adding to the decline in transactions and prices at Residence Bel-Air is a rush by investors to quit their properties, with one deal closed at HK$7,360 per square foot recently. Once the favourite of property investors and home-seekers, Residence Bel-Air in Pok Fu Lam is being shunned as prices and sales plunge in the secondary market. Prices fetched by sales at the Cyberport development last month were down more than 40 per cent from their peak in the first quarter, data shows. Despite the big fall in prices, buyers remained in short supply and transaction volumes last month were 50 per cent lower than those recorded in September. Property agents said the success of Bel-Air had been built on its attractive investment returns when it was launched in February 2003. But it has now become a victim of that success as investor demand dries up. As was the case with many other Hong Kong housing properties, the decline in prices and deal volumes was also the result of slowing demand as buyers stayed out of the market in the face of falling stock prices and the uncertain outlook for property and the broader economy. Adding to the decline in sales and prices was a rush by many owners to give up their properties, the agents said. "But the trigger point for the fall was a transaction of a 1,688 square foot unit in Phase 2 clinched at the end of September when an investor cut prices sharply to HK$7,700 per square foot," said Phoebe Leung Yuk-ching, a manager at Midland Realty's Bel-Air district.

China: The worsening global economy has battered the mainland's biggest trade show, with Guangzhou's China Import and Export Fair facing some of its worst declines in signed deals at the autumn session since 1995. Fair spokesman Mu Xinhai said at the closing press conference yesterday that by Wednesday, 174,562 buyers from 212 countries signed contracts worth US$31.5 billion at the fair, a drop in contract value of close to 17.5 per cent compared to the overall spring session. Asked to assess the impact of shrinking overseas markets on the event also known as the Canton Fair, Mr Mu sidestepped the question, saying the final results would take a few more days to compile and the big operational changes in the fair this year made comparisons more difficult. For the first time, the fair was held over 15 days, rather than 12, at the new Pazhou Complex. The trade show's disappointing interim results came despite a 31 per cent expansion in display area and 19 per cent more exhibitors compared to the spring session. With yesterday's results still to be tallied, the number of buyers was down by 9 per cent. A Ministry of Commerce survey of fair exhibitors said 72.4 per cent of respondents said the worst impact of the economic downturn was cuts in overseas orders, and 95.2 per cent said their orders were smaller. The ministry said labour-intensive industries such as textiles, shoes, toys and food were the worst-hit so far and might have a more painful time next year. Mr Mu repeatedly said given the global financial crisis' impact on the economy, the ministry and the exhibitors thought the results were better than expected. But Wang Hui, a Shanghai food exporter, said: "Based on our 20 years of attending the fair, this is the worst."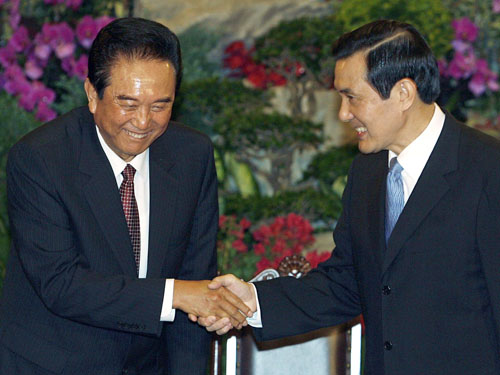 Chen Yunlin, of the Association for Relations Across the Taiwan Strait, meets Ma Ying-jeou. Taiwanese President Ma Ying-jeou and the most senior mainland official to visit the island since 1949 held a symbolic but historic meeting in Taipei yesterday amid fresh protests by supporters of Taiwanese independence, which continued late into the night. The five-minute meeting, rescheduled to try to avoid the rowdy protesters, saw Mr Ma shake hands and exchange gifts with Chen Yunlin, who represents the mainland in talks with Taiwan. The first contact between high-ranking officials of the two sides since Taiwan and the mainland split at the end of a civil war in 1949 came two days after the signing of deals on direct daily flights, shipping and postal exchanges, and food safety co-operation, that will pave the way for full cross-strait links in the future. Mr Chen's visit has been dogged by protests. Early today thousands of riot police were still trying to remove a hard core of 100 protesters from in front of the hotel where the meeting was held. They hurled rocks and sticks at police, and some threw firebombs. Police responded by beating protesters with batons and shields as they dragged them away one by one. Several people, including police and journalists, were injured earlier in clashes involving some of thousands of protesters massed around the Grand Hotel. Most were supporters of the opposition Democratic Progressive Party. Mr Ma condemned the DPP for inciting hundreds of its supporters to besiege another hotel on Wednesday as Mr Chen attended a dinner there. Mr Ma was deeply embarrassed by the demonstration, which trapped Mr Chen inside for eight hours until riot police removed the protesters. All attention yesterday was focused on how Mr Chen would address Mr Ma. While the master of ceremonies at the Presidential Office was allowed to announce "here comes the president", Mr Chen made no attempt to use that title, and did not even use Mr Ma's name. He merely addressed Mr Ma as nin, the polite form of "you" in Chinese, as he presented him with a painting of a horse after the island leader had given him a vase. The character for Mr Ma's surname is also the one for horse. In reporting the brief meeting, Xinhua and China Central Television called Mr Ma "Taiwan's leader".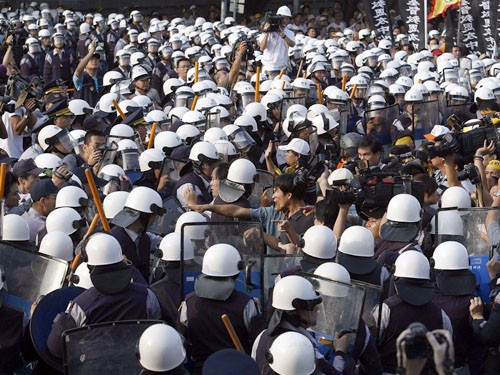 DPP supporters clash with police at a protest against Beijing envoy Chen Yunlin in Taipei yesterday. Thousands of pro-independence supporters in Taiwan, hurling rocks, bricks and full water bottles, clashed with police yesterday in a protest against mainland negotiator Chen Yunlin in which dozens were injured. Blowing air horns and chanting slogans through loudhailers, the protesters shouted, "Safeguard our sovereignty" and "Get lost, communist bandit Chen" as they rallied near the Taipei Guest House, where Mr Chen was to meet Taiwanese President Ma Ying-jeou. The protesters, mobilised by the Democratic Progressive Party (DPP), turned violent when they found Mr Ma had met Mr Chen and left the meeting venue after bringing the scheduled time forward from yesterday afternoon to the morning. "Back off. Back off," they shouted, as they pushed down four layers of barbed-wire barricades, blocking one access to the presidential office. Despite repeated appeals for peace and calm by DPP organisers, protesters attacked police with clubs and bricks, leaving at least 42 officers injured, Taipei police said. Police precinct chief Tsai Chuang-po, whose lips were bloodied after he was hit in the face by an object, shouted: "Peace. There's no need to get violent." Another officer suffered an eye injury when one of the lenses of his glasses shattered. A Taiwanese journalist was hit on the forehead by a piece of rock. "It just landed ... from out of nowhere," she said as she was taken to hospital, the wound needing eight stitches, and she was also treated for concussion. Eleven other journalists were slightly injured after being hit by objects. One man was chased and beaten by a group of protesters who suspected he was a plain-clothes policeman. The victim was kicked and punched until he collapsed on the ground, where he was stripped of his shirt and shoes. A number of protesters, including some DPP lawmakers, were also injured, even though party chairwoman Tsai Ing-wen had pledged that the protest would be peaceful. Ms Tsai, standing in a truck labelled "Democracy Tank", said: "This is not the end, but the start, of [our protest] against the impotent [Ma] government and tyrannical Chinese government. There will be more protests in the future." She said the DPP was doing this "for the future of Taiwanese people" and "defending Taiwanese sovereignty and human rights". As she spoke, several hundred protesters, led by some DPP elected officials, moved towards the Grand Hotel, where Mr Chen was staying. "Let's go there to tell him Taiwan is Taiwan and China is China," shouted a protester who led the crowd. But the protesters were blocked several kilometers from the hotel, where police laid more barbed wire.
The long-drawn takeover of troubled dairy firm Sanlu will see two contenders splitting the Hebei province-based company's assets between themselves. Beijing's Sanyuan is set to acquire seven milk production facilities in Hebei province, while Heilongjiang province-based Wondersun is expected to buy Sanlu's factory in the northeastern region, the 21st Century Business Herald reported. None of three dairies could be reached for comment. Sanyuan's shares were suspended from trading on Sept 26. Since then, the firm has twice requested continued suspension. It disclosed for the first time in its Oct 28 suspension request that it was in talks that could lead to the acquisition of Sanlu's assets. Sanlu has been the target of takeovers by various dairies and beverage manufacturers since news of a nationwide tainted-milk scandal involving its products broke in September. Sanyuan was among the first batch of those gunning for the beleaguered dairy and was widely tipped to be the front-runner in the takeover bid. Talks between Sanyuan and Sanlu were reported to have broken down last month over disagreements that included debts. Sanlu's 2007 revenue, at 10 billion yuan, was about 10 times larger than that of Sanyuan's. Sanlu's total assets also amounted to 1.62 billion yuan as of end 2007, compared with Sanyuan's 1.32 billion yuan. It is not clear how Sanlu will proceed to dispose of its remaining assets following a sale to Sanyuan and Wondersun.
Nov 7 2008

Hong Kong: Cathay Pacific Airways (SEHK: 0293) warned yesterday that weakening revenue and fuel-hedging losses that had ballooned to HK$2.8 billion at the end of last month would result in disappointing results for the year. "Two factors are expected to affect the year's results adversely, and they are accordingly expected to be still disappointing," Cathay said. "These factors are weakness in revenue and losses on certain fuel-hedging contracts." The huge non-cash, mark-to-market losses incurred by Cathay's fuel hedging caught some analysts by surprise. The blue-chip firm's fuel hedging is based on a three-way system that has served it well in managing fuel costs for many years. Analysts expect the airline's share price to drop sharply today. Falling fuel prices caused hedging losses to increase more than fourfold from the end of September to the end of last month, the airline said. The spot price for jet fuel fell to US$76.70 per barrel yesterday, down from US$181.80 in July. Cathay's hedging system was designed to protect itself against moderate fuel price fluctuations, but not severe volatility. Conversely, rising fuel costs caused Hong Kong's main airline to suffer a net loss of HK$663 million in the first half, compared with a HK$2.58 billion net profit in the first half of last year. South China Research forecast a HK$739 million net profit for Cathay for the whole of this year in August, well before the airline announced its unrealised HK$2.8 billion fuel-hedging loss. "The recent rapid fall in the jet fuel price has caused mark-to-market losses to be incurred on certain fuel-hedging contracts," Cathay said. "Along with many airlines, Cathay Pacific entered into hedging contracts." The amount of loss actually realised and payable would depend on future movements in fuel prices, it added. If fuel prices rebounded, Cathay had a chance to mitigate its losses, said RCM analyst Karen Chan. "On the other hand, the company could benefit from the fall in oil prices as its fuel bill could go down significantly in the low oil price environment." Cathay warned: "Revenue has started to weaken materially. This reflects a significant strengthening of the US dollar, and reduced first and business-class travel and cargo volumes in the current adverse economic circumstances. "Adverse currency movements are expected to reduce passenger revenues in Hong Kong dollar terms for the remainder of this year. "First and business-class advance bookings are showing year-on-year declines. Demand for economy-class seats is also weaker than earlier in the year." Cargo revenue was expected to continue falling for the rest of this year, reflecting competition, overcapacity and foreign exchange movements, said Cathay. To add to its woes, the expansion of mainland-Taiwan flights is expected to put additional pressure on its revenue.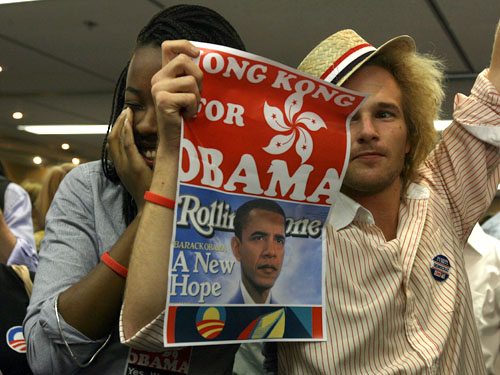 Barack Obama supporters celebrate victory in Hong Kong. Joyce Lewis, an American living in Hong Kong, sang out loud and happily yesterday. The corporate technology executive wasn't seeking attention, but Barack Obama had been named her next president, and friends asked if she wanted to sing for the crowd at Election Central - a special bi-partisan event held at the Hong Kong Club building. "As an African-American and a fellow Chicagoan I am so happy," Ms Lewis said as she stood before hundreds of people. She then invited the group to join her as she belted out a tender, high-pitched version of God Bless America. Just six months ago, Ms Lewis moved from Illinois, where she volunteered for the Obama campaigns for the Senate and the White House. Yesterday, she shared her talent, touching the crowd with a brief, powerful song that can summon feelings of hope, unity and patriotism. Senator Obama's win "is a lifetime, jubilant moment", she said after performing. "It is so special. It's probably the best moment in political history I will ever experience." There was a lot of joy at Election Central, where many Democrats and fewer Republicans came together and watched election returns on the internet and CNN. At about noon, the crowd listened as the cable network announced that Senator Obama had secured Virginia - and shortly thereafter, the American presidency. Most of the group cheered in the large 15th-floor area, which was decorated with American flags, and red-white-and-blue balloons and banners. Anthony Spires, 38, a Chinese University sociology professor, was left speechless once the news of Senator Obama winning the presidency became official. It's "obviously very exciting - just disbelief", Mr Spires, who grew up in Georgia, said. "It's going to change our country for the better, I hope ... He [Senator Obama] represents a different generation, a different outlook on the world." Jaime Smith, 30, a clothing designer originally from New York, said she clapped and "welled-up a little bit" when she heard Senator Obama triumphed over rival John McCain. "I think he's [Senator Obama] a great candidate, and I'm really excited about it," Ms Smith said. "And it's amazing to have a first American black president. That's a big day in history." Baby Hefti, 50, who owns a jewellery business in the city, couldn't contain her tears - and she's not even American. "This is history happening now. We need change," Ms Hefti, who is of Swiss-French descent, said. "Of course, he's [Senator Obama] going to be just the president of America, but it affects all of us around the world," Ms Hefti said. "And we need somebody like him to just change things." Local Republicans at the event tried to take the loss in their stride - many of them giving up expectations when Senator McCain couldn't secure Ohio or Pennsylvania during the morning hours. Chris Exline, a Republicans Abroad board member, had placed a McCain-Palin sign in his shop's window in Wan Chai. He said he would remove it. Still, the loss, Mr Exline said, was "distressing, and it's scary". "The reason that it's so scary is that I've just been hit with a 15 per cent increase in my income taxes," Mr Exline said. "I now, as a person who is in the trading business, have figured out that there are now more protectionist measures that will be implemented in there. "And, like an American, there is change - but I think change is the only thing that I'll have at the end of a day," said Mr Exline, as he offered up a jingling handful of Hong Kong coins. "That's all I got left," he joked. "I just got change." A mock election at Election Central found that 90 per cent of people who voted yesterday favoured Senator Obama, said Kathy Chiron, president of the League of Women Voters in Hong Kong. It's not known how many of the estimated 60,000 Americans living in Hong Kong voted, or how they decided to vote. Joseph Donovan, the US consul general, also addressed the crowd. He concluded: "It's been a very long and hard-fought political campaign, but I would also like to announce one other victor today, and that's the American democratic process."
Hong Kong Tycoon Cheng Yu-tung thinks Barack Obama can bring about a positive change in economic policies, but other Hong Kong business leaders worry that Obama may hurt Hong Kong exports by slapping protectionist tariffs on mainland products.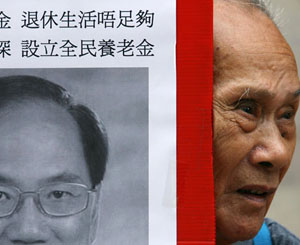 The proposed increase in the old age allowance to HK$1,000 a month will cost the government an extra HK$511 million this financial year, it said.
The latest episode in the long-running PCCW (0008) saga - starring Richard Li Tzar-kai as the dealmaker trying to get Hong Kong's largest telecoms firm off his hands - looks set to prove just as dramatic as previous installments, as analysts expect minority shareholders to balk at Li's low-ball privatization offer.
The Hong Kong Monetary Authority pumped money into the banking system for the third time in a week late Tuesday, selling HK$814 million to stem the appreciation of the local currency against the US dollar.

China: The State Council has approved the construction of a spacecraft launch centre on the southern island province of Hainan , according to Xinhua. From 2013, holidaymakers will be able to watch giant rockets rising from the semi-tropical island on a weekly, if not daily, basis. General Armament Department deputy chief of staff Xia Changfa was quoted as saying the work on the spaceport, China's fourth, would begin very soon.
Top mainland envoy Chen Yunlin was trapped inside a Taipei hotel early today as violent protesters clashed with police in a bid to break into the building. The mainland negotiator had been having dinner with the chairman of the Kuomintang, Wu Poh-hsiung, at the Grand Formosa Regent hotel and was still unable to leave at midnight. Dozens of protesters and some officers claimed they were injured during the protest, which was the most violent so far since Mr Chen arrived in Taiwan on Monday. Taiwanese police will go on red alert in a showdown today between the pro-independence camp and the government of President Ma Ying-jeou over Mr Chen's landmark visit. On the eve of the historic meeting between Mr Ma and Mr Chen, the main opposition Democratic Progressive Party vowed to move tens of thousands of opponents of the Ma government to lay siege to the Taipei Guest House, where the two are to meet this afternoon. "This is the darkest week of Taiwan's history because the government is incapable and reluctant to protect the sovereignty of Taiwan," said DPP chairwoman Tsai Ing-wen, who vowed to rally 100,000 people to protest against Mr Chen and the mainland-friendly president. Mr Chen, who heads the Association for Relations Across the Taiwan Strait (Arats), led a 60-member delegation to Taiwan on Monday for a five-day visit, during which he signed four agreements with his Taiwanese counterpart, Chiang Pin-kung, on direct daily flights, air cargo, shipping, postal exchanges and food safety co-operation. But his talks in Taiwan were viewed by pro-independence and anti-mainland groups as a result of under-the-table dealing between Beijing and Mr Ma with the final aim of handing the island back to the mainland, despite Mr Ma's insistence to the contrary. Government authorities have deployed up to 7,000 police officers to protect Mr Chen, mindful of the attack on his deputy Zhang Mingqing by independence advocates when he came to Taiwan in midOctober for an academic visit. Tight security has been enforced since the first day of Mr Chen's visit to ward off any potential assailants. But wherever Mr Chen has gone, there have been protesters, waving the island's Republic of China flags and shouting, "Get lost, communist bandit," prompting police to remove or disperse them. Ms Tsai said she would face whatever consequences, including being arrested, for staging the protest rally if it ended in violence. DPP spokesman Cheng Wen-tsan said each of the party's lawmakers and elected officials was assigned to mobilise at least 10 tour buses of supporters to lay siege to the Taipei Guest House. He said the party had already applied for permission to stage a march around the building. DPP officials in Kaohsiung said they would send 50 buses loaded with supporters to Taipei, while officials in Tainan, Chiayi and Taichung all said they could send at least 20 buses of supporters. The showdown today is inevitable as Taipei police said they had already approved the protest application. And Mr Chen said he was aware of the protests against him.
China is considering spending as much as 5 trillion yuan (HK$5.67 trillion) on transport infrastructure projects over the next three to five years, including roads, waterways and port terminals.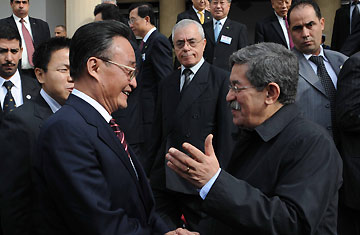 China and Algeria voiced commitment Wednesday to step up bilateral strategic and cooperative relations and called for intensified cooperation in fields such as infrastructure, energy and resource exploration.
China's telecom industry saw rising business volume and profit in the first three quarters of this year as telephone and Internet users increased steadily, the Ministry of Industry and Information Technology (MIIT) said Wednesday.
Chinese President Hu Jintao and Premier Wen Jiabao on Wednesday sent messages to congratulate Barack Obama on his election as President of the United States. "China and the United States share broad common interests and important responsibilities on a wide range of major issues concerning the well-being of humanity. To grow long-term healthy and stable China-U.S. relations serves the fundamental interests of our countries and peoples and is of great significance to the maintenance and promotion of peace, stability and development in the world," Hu said in his message. "The Chinese government and I myself have always attached great importance to China-U.S. relations. In the new historic era, I look forward to working together with you to continuously strengthen dialogue and exchanges between our two countries and enhance our mutual trust and cooperation on the basis of the three Sino-U.S. Joint Communiques, with a view to taking our constructive and cooperative relationship to a new high and bringing greater benefits to people of our two countries and the rest of the world." In his congratulatory message sent to Obama on the same day, Premier Wen Jiabao said "a sound China-U.S. relationship meets the common aspiration of the our two peoples and the need to maintain peace, stability and prosperity in the Asia-Pacific region and the world at large." Wen also expressed belief that with joint efforts of the two sides, the China-U.S. constructive and cooperative relationship would make new progress. Meanwhile, Chinese Vice President Xi Jinping extended congratulations to Joe Biden on his election as Vice President of the United States.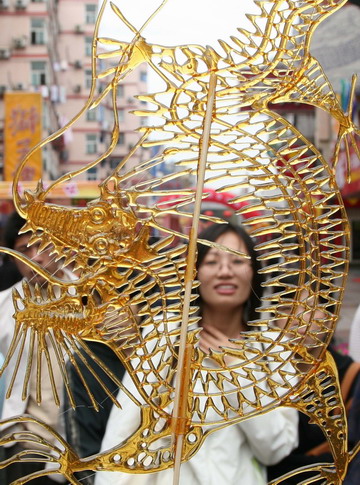 A woman admires a candy dragon made of sweet potato sugar at Shiziqiao Food Street in Nanjing, Jiangsu province, November 3, 2008. The five-day-long food festival started on Monday in the eastern Chinese city.
Nov 6 2008

Hong Kong: Hong Kong faces some short-term challenges because of the global economic slowdown but politicians and media are too quick to criticize the SAR government, Standard Chartered (2888) chairman Mervyn Davies said yesterday.
The global downturn may be starting to bite but Hong Kong's luxury restaurants are confident the appetites of the wealthy will still stretch to Christmas dinners at prices of up to HK$136,000 a head. On the day that the government was announcing details of its food voucher plan for the needy, the five-star Langham and Langham Place Hotels were offering to fly in a top chef from London to cook a banquet for five in a hotel suite or client's home for about HK$680,000 - or HK$136,000 a head. Meanwhile, swanky restaurant Aqua is advertising what it calls the ultimate Christmas feast - a flamboyant seven-course dinner at HK$10,000 a head. The offer, throughout December, includes limousine transfer to the restaurant in Peking Road, Tsim Sha Tsui, and a gift for each guest. The menu, by chefs Eugenio Riva and Tatsuya Iwahashi, includes Australian Coffin Bay oysters with Beluga caviar, premium black truffles, Ise lobster, Boston lobster, foie gras, guinea fowl breast and Kobe beef. All this is washed down with wines including Bollinger Grand Annee 1999 champagne and a Chateau d'Yquem 1996 from Bordeaux. Angela Lee, Aqua's director of sales and marketing, said it had been designed to be extravagant and was aimed at a "very small number of affluent people who want to really splash out and enjoy a truly memorable Christmas experience". Bob van den Oord, vice-president of sales and marketing at the Langham hotels, said the HK$136,000- a-head Christmas feast prepared by chef Andrew Turner was aimed at people for whom money was no object. The menu created by Turner, chef of The Landau in London, features crispy tora fungus with liquid Beluga Almas bon bons and saffron ponzu, slow-cooked Kobe beef fillet studded with white truffle, foie gras, pickled matsutake and Baron du Lustrac 1800 essence. Without wine, the bill totals HK$30,000 a head but the chef's wine recommendations - including a HK$300,000 bottle of Le Montrachet 1978 DRC - add HK$500,000 to the bill, bringing it to HK$680,000. Elsewhere the Grand Hyatt is offering a Christmas Eve dinner with carols at Grissini for HK$1,600 per adult or Christmas dinner at HK$980 per adult and HK$580 per child. The InterContinental's festive feasts range from a Christmas Eve buffet at HK$888 to HK$2,788 for an eight-course dinner on New Year's Eve.
Richard Li Tzar-kai and China Netcom Group Corp have offered to buy out PCCW (SEHK: 0008)'s minority shareholders for up to HK$14.9 billion, an offer analysts consider too low to get enough support. Mr Li's Singapore-listed flagship, Pacific Century Regional Developments (PCRD), and Netcom would buy 3.55 billion shares they did not own at HK$4.20 each, and planned to take the company private, PCCW said in a statement last night. After the deal was completed, PCCW would pay a dividend of between HK$16.9 billion and HK$17.5 billion to the three shareholders - PCRD, Netcom and Mr Li - it said, adding that it might use HK$12.66 billion of bank borrowings to fund the payment. A source said the dividend payment would be mainly used to repay the loan taken out by PCRD and Netcom to pay minority shareholders. "The offer price seems below market expectation," said Patrick Yiu Ho-yin, an associate director at CASH Asset Management. "PCCW investors bought the shares at a much higher price and they won't accept such a lowball offer." The offer price represents a 52.73 per cent premium over the close of HK$2.75 before trading was suspended on October 14, although it is well below its HK$5.10 level in the beginning of the year before the financial crisis deepened. The offer price is also lower than the HK$5 a share that sources said private equity firms had valued the company's telecommunications and media assets in their bids earlier this year. PCCW rejected the offers last month, saying the bids were unattractive. "I think one thing they have in their favour is that due to the environment, hedge funds will be less likely to buy up a blocking stake and push for a bump," a source said. "The only way he could really justify an offer below HK$5 is with evidence that the company's value has seriously deteriorated over the past two months - an argument which I think he'll struggle to make." PCRD, which owns 22.54 per cent of PCCW, will pay HK$11.07 billion while Netcom, which holds 19.84 per cent, will contribute HK$3.84 billion in the buyout offer. PCCW said it would be privatised if the deal received support from more than 75 per cent of minority shareholders and less than 10 per cent of veto votes. Mr Li, together with PCRD, will hold 61.47 per cent and Netcom 33.33 per cent after the deal is completed. "We hope the shareholders note that this is a serious and rational offer in this difficult market," a spokesman for PCRD said last night. "PCRD and China Netcom work together to have an offer at HK$4.20, which has significant premium to the last trading day in this market. We believe shareholders should take this opportunity to accept the offer." PCCW shares reached the peak in February 15, 2000, at HK$131.75 when the then internet company was about to take over Cable & Wireless HKT, Hong Kong's biggest telephone company. If shareholders approve the privatisation, it will end the company's 40-year history as a listed firm. Hong Kong Telephone, HKT's predecessor, was a founding constituent of the Hang Seng Index when it was launched in 1964. PCCW was removed from the index in June. PCCW failed to privatise Sunday Communications, a mobile unit, in 2005, and property arm Pacific Century Premium Developments (SEHK: 0432) this year.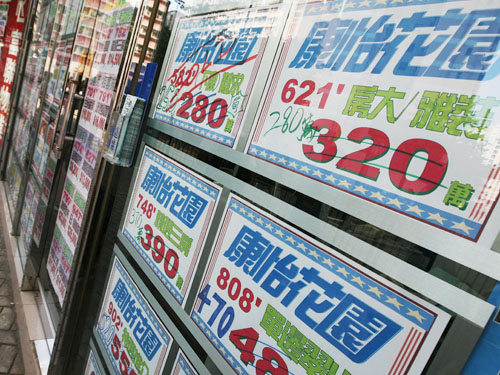 Flat prices are slashed at an agency in Quarry Bay. Tightening credit by banks has been cited as a reason for the decline in transactions. Now is no time to buy flats, says Stanley Ho, as sales fall by 18pc. Tycoon Stanley Ho Hung-sun yesterday advised against buying flats, while the latest statistics showed the number of property sales last month fell by almost 18 per cent. Mr Ho, president of the Real Estate Developers' Association, said it was not the right time to buy property, although he expressed confidence in the long-term performance of Hong Kong's economy. Asked if he would buy in the current property market, he said: "No. [I think you] shouldn't buy anything now." He said it would take at least six months for the housing market to find a clear direction. "Seeing such big turmoil, we have to observe [for] at least half a year," Mr Ho said. He called for people to have confidence in the resilience of the Hong Kong economy in the long run. "In Hong Kong, I have seen all the turbulence [over the years]," he said. "The most important thing is that people should have confidence. I myself am very confident." According to the Land Registry, property transactions in Hong Kong last month fell 17.8 per cent month-on-month to 6,054 deals, the least since January 2006. But agents said the worst was yet to come, predicting that the total number of deals in the market would drop to the 5,000 level, which is close to the lowest mark of 4,622 lodged in February 2003 during the severe acute respiratory syndrome outbreak. The figure of 6,054 transactions was 54.2 per cent lower than last October. The decline came as demand softened in both the primary and secondary flat markets and investors stayed away from the office sector. The value of total transactions dropped 19.6 per cent to HK$18.9 billion as weaker demand - especially in the high-end sector - affected sales. Among the total transactions, the number of home purchases dropped at a faster pace, with a 22.3 per cent fall month on month, or a 58.1 per cent decline year on year to 4,719. The total value of residential transactions last month was HK$16.3 billion, down 13.1 per cent from September and 62.9 per cent from October last year. "The property market has been seriously hit since the global credit crisis worsened at the end of September," Patrick Chow Moon-kit, a research manager at Ricacorp Properties, said. "Sales activity declined dramatically in October, and that will be reflected when the Land Registry announces the figures next month." The official figures for October better reflect market activity in September because of the four-week lag between a transaction and its registration. Mr Chow said the total number of property transactions to be reported by the Land Registry next month could drop to between 4,700 and 5,000. "This will be the second-lowest since February 2003," he said. Tightening credit by Hong Kong banks was cited as a reason for the decline in transactions. Mr Chow said market sentiment was better than during the Sars outbreak or the 1998 financial crisis. But he still expected prices to fall 15 to 20 per cent in the next six months.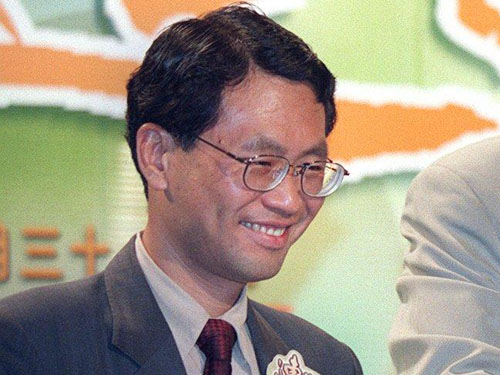 Millions of jobs at risk in delta, HK's trade representative warns - Thousands of Hong Kong-owned enterprises in the Pearl River Delta region will shut down and millions of workers will lose their jobs if nothing is done to help them in the face of the global financial meltdown, the city's trade representative in Guangdong warned yesterday. The director of the Hong Kong Economic and Trade Office in Guangdong, Peter Leung Pak-yan, said the worst was yet to come. He said he expected as many as 3,000 factories to close in the first half of next year, especially around Lunar New Year, as the impact of the financial meltdown sank in. Mr Leung also warned that the closures would have a knock-on effect, endangering even more delta enterprises whose survival depended on Hong Kong-owned factories. Defending Hong Kong-owned factories in the delta as responsible businesses, he said: "Many of them would not have to fold if there was no credit crunch. "They are healthy and energetic. The credit crunch affects their cash flow. So what we have to do now is to make credit easier and suspend fees and freeze minimum wages so they will have more cash on hand." Over the past month, Hong Kong-owned Chong Yik Toy Company, BEP International Holdings, Smart Union Group (Holdings) and Peace Mark (SEHK: 0304, announcements, news) (Holdings) have gone bankrupt, leaving more than 8,600 factory workers in various Guangdong cities without jobs. Rising labour costs, expensive raw materials and the rising yuan have been hitting exporters in the delta for some time, but a credit squeeze is now worsening the situation. Many cross-border manufacturers survive on loans as they compete for foreign orders with thin margins. Xinhua reported that more than 3,600 toy factories shut in Guangdong from January to July. At least 2.7 million workers in southern China are likely to lose their jobs, according to an estimate by the Dongguan City Association of Enterprises with Foreign Investment. The Hong Kong trade office has sent a list of suggestions to the Ministry of Commerce in Beijing after holding an emergency meeting with 22 business groups last week. The suggestions included asking local governments to provide information to banks to make it easier for the factories to get credit, and freezing minimum wages for three years. Guangdong decided last month to put on hold, indefinitely, a plan to allow workers to take part in factory decision making in the face of opposition from tens of thousands of entrepreneurs.
The government's HK$100 million handout to NGOs to deliver food assistance will help at least 50,000 people, authorities say. The funds were one of the 10 measures unveiled by Chief Executive Donald Tsang Yam-kuen in July in response to rising inflation in the city.
Hong Kong will lose nearly a third of its transit passengers between Taiwan and the mainland under the new cross-strait daily direct flights deal, the head of the travel agents' association predicts. "The impact of this new deal is greater than the previous agreement, which allows direct flights only on Fridays, Saturdays and Sundays," Hong Kong Association of Travel Agents chairman Michael Wu Siu-ieng said. Assuming that each direct flight would carry about 200 passengers, of whom 30 per cent would be mainland travellers and the rest Taiwanese, Hong Kong was expected to lose 10,080 transit passengers a week after the number of direct flights increased from 36 to 108 a week. "It will affect Hong Kong's tourism, retail and hotel industries," Mr Wu said. "It adds further pressure to our business, and it's not a good time now as we are already battling the financial turmoil." The Hong Kong Tourism Board said the number of visitors from Taiwan would be affected and it was assessing the impact of the latest arrangements on Hong Kong. "In the face of increased direct flights across the strait, the board has been working with the travel industry to promote Hong Kong to Taiwanese vacationers, to try to mitigate possible losses in arrivals," board chairman James Tien Pei-chun said. Mr Tien said the board would devise multi-destination itineraries involving Hong Kong, Macau and Guangdong cities for Taiwanese visitors, and combination itineraries including Hong Kong and Taiwan for mainlanders. Li Kui-wai, an associate professor at City University's economics and finance department, said although the number of business travellers from Taiwan might drop, Hong Kong was still attractive to Taiwanese travellers because it was inexpensive. A Hong Kong government spokesman said the impact on Hong Kong would be short term and the regional economy would benefit from closer relations between the mainland, Taiwan, Hong Kong and Macau. The government said Hong Kong would benefit as a financial centre as cross-strait ties improved.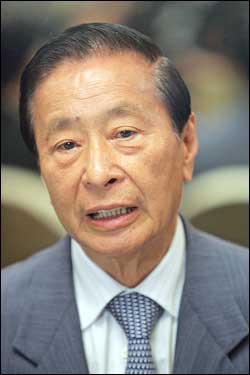 Tycoon Lee Shau-kee has reshuffled his investment portfolio amid the volatile equity market and reduced his stake in one of his favorite companies. The billionaire, who realized HK$616.9 million from selling 31.82 million shares of China Life Insurance (2628) on October 30, said he bought 1.25 million shares in Bank of East Asia (0023) yesterday for HK$20 million. The chairman of Henderson Land Development (0012) said this was a portfolio adjustment, locking in profit on China Life shares he bought five years ago at HK$3.625 each. Lee gained HK$501.5 million from the share disposal - six times the original investment. According to Hong Kong Exchanges and Clearing, the billionaire sold the stake at an average HK$19.387 per share for a total HK$616 million. The sale reduced the number of China Life shares held by various Lee companies to 351.54 million. He bought about 435 million shares when China's largest insurer listed in 2003. Meanwhile, Lee bought about 14.26 million units in Sunlight Real Estate Investment Trust (0435) at HK$1.903 per unit last Thursday for a total HK$27.13 million. He now owns a 30.21 percent stake in Sunlight REIT, from 29.56 percent. Lee had intimated plans to change his investment portfolio in September but declined to reveal details. Shares of China Life have plunged 48 percent from HK$39.85 on January 2 to HK$20.75 at yesterday's close. BEA shares have sunk 69.5 percent to HK$16.20, from HK$53.10, while the price of Sunlight REIT has dived 51 percent to HK$1.14, from HK$2.34 at the start of the year.
The Hong Kong Monetary Authority was forced to step into money markets for the second time in a week to defend the Hong Kong dollar peg system, selling HK$853 million of the local currency against the greenback on Monday night.

China: President Hu Jintao will represent China at the November 15 summit in Washington on the global financial turmoil, the Ministry of Foreign Affairs said yesterday.
Taiwan and the China Tuesday signed agreements in Taipei to prepare for full direct links, in a historic deal marking a watershed in cross-strait relations that have been warming since May. Chen Yunlin, chairman of the Association for Relations Across the Taiwan Strait, which represents the mainland in talks with the island, and his Taiwanese counterpart Chiang Pin-kung of the Straits Exchange Foundation, signed four agreements in Taipei following two hours of talks in the Taiwanese capital. The agreements will allow the two sides to operate daily direct flights, direct cargo flights, direct shipping and direct postal exchanges in addition to forging cross-strait food safety co-operation. Before May, when mainland-friendly Taiwanese President Ma Ying-jeou took office and adopted an engagement policy, it had been impossible to hold such exchanges due to strong differences between the two sides, which have remained at loggerheads since they split at the end of the civil war in 1949. "I believe history will remember this particular moment," said Mr Chen after the signing. "Despite all odds, we have made great efforts in bringing peaceful development for the two sides of the Taiwan Strait." The deal is noteworthy for Taipei's decision to cast aside old security and sovereignty concerns by allowing planes from the two sides to fly into each other's air space directly without having to enter Hong Kong air space as currently required. "It will help save fuel consumption by 40 to 45 per cent, thus greatly helping companies to reduce costs and time," said Mr Chiang. Estimates by local operators put the amount saved at NT$3 billion (HK$708 million) a year. A flight from Taipei to Shanghai would take just 2 hours and 22 minutes, a reduction of one hour, he said. Other major breakthroughs include expanding the current weekly charter flights to daily charter flights, allowing the number of such flights to increase to 108 from 36 and servicing 21 cities on the mainland, up from the current five. Taiwan will continue to use its existing eight flight points. The mainland also agreed to open cargo charter services, with each side designating two or three airlines to operate them. The two sides will operate a total of 68 round-trip flights a month, with Taiwan opening its Taoyuan and Kaohsiung international airports, and the mainland opening Shanghai and Guangzhou airports for the operation. For the first time in nearly 60 years, Taiwan will also allow freighters from the two sides to ply between its 11 ports and 63 mainland ports. So-called flag-of-convenience vessels owned by shipping companies of the two sides but registered in Hong Kong or in other countries will also be allowed. The two sides agreed to extend postal exchanges from printed mail to small packages, parcels, express mail and postal remittances, meaning that such items will no longer have to be sent via Hong Kong. Analysts said the deals not only signalled closer ties between the two sides, but also paved the way for cross-strait peace in the future. "Tension between the two sides is tipped to ease after they signed the agreements, which also represent the institutionalization of cross-strait talks," said Lin Cheng-yi, research fellow at Academia Sinica. The mainland and Taiwan signed their first set of agreements during their historic round of talks staged in Beijing in June, a deal made possible after Mr Ma took office. Mr Chen said yesterday there would be a third round of talks in Beijing in the first half of next year. He has already invited Mr Chiang to the city for these discussions.
'Turning back the tide is impossible now' - The momentum created by the cross-strait deals will be hard to stop, analysts say. Beijing's top negotiator with Taiwan, Chen Yunlin, centre left, shakes hands with his Taiwanese counterpart Chiang Ping-kung as they exchange signed trade agreements after talks at the Grand Hotel in Taipei.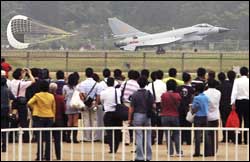 The country's main planemaker, Commercial Aircraft Corp of China, has sealed a deal worth up to US$750 million (HK$5.85 billion) to sell five of its ARJ21 passenger jets to General Electric's aircraft leasing arm - its first major overseas deal for the home- developed 78-seater. The corporation signed a formal agreement with GE Commercial Aviation Services for the ARJ21 at the Zhuhai air show, which opened yesterday. GE took an option on another 20. "It is the first time that an aircraft that is researched and developed by China is sold to the United States - such a high-end market," said COMAC chairman Zhang Qingwei. The ARJ21 is expected to obtain flight certification from Chinese and American aviation authorities by 2010, with the aircraft to be delivered soon after that is secured. The first test flight will be in Shanghai on November 16.
The Ministry of Agriculture said China has become the largest waterfowl producer in the world. It breeds and produces three quarters of the world's duck and geese annually.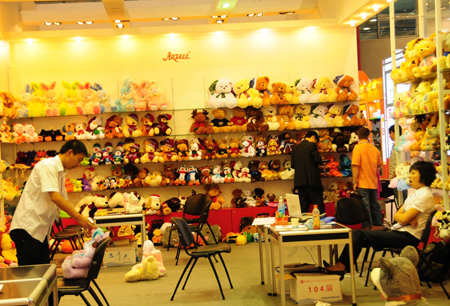 Toy exhibitor's stand at the recent Canton Fair, which runs until Thursday. Cookware seller Qu Yanpeng does not have to open a newspaper or turn on the TV to understand the impact of the global financial crisis. She could tell from the lack of visitors to her booth at a recent trade fair. Qu, a sales manager for well-known Chinese cookware brand Supor, said that she had less than 20 clients on the first day of the ongoing Canton Fair, as opposed to about 100 on previous occasions. She was echoed by Cloyce D. Palmer, a buyer of agricultural equipment from the United States. Palmer said businesspeople from his own country were conspicuous by their absence from China's largest trade fair. In addition, he had no plans to buy anything this year, since US distributors cancelled their orders before his trip. This reflects how China's manufacturing sector is feeling the impact of the financial crisis as demand from developed economies shrinks. Although exports remain robust, the growth rate has declined, and fears mount that the crisis may spread to non-financial sectors.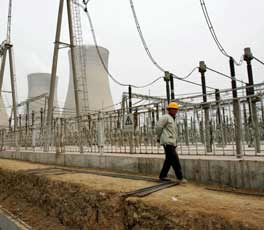 China Huadian Corp, one of the country's five leading power producers, said it will invest more than 50 billion yuan ($7.31 billion) in an integrated energy complex in the Caofeidian industrial area in Tangshan, North China's Hebei Province.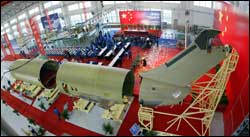 The Commercial Aircraft Corporation of China (COMAC) will sell 25 ARJ21-700 regional jets to GE Commercial Aviation Services of the United States.
Nov 5 2008

Hong Kong: Hong Kong share prices fell 3 per cent in morning trade on Tuesday, as investors took profits from recent gains and crude prices continued to ease, dealers said.

Richard Li Tzar-kai and China Netcom Group Corp have reportedly reached an agreement to privatise PCCW (SEHK: 0008), the city's biggest telecommunications company, in a deal worth up to HK$19.5 billion. Shares not held by Mr Li and Netcom, equivalent to 57.62 per cent of the firm, will be bought for below HK$5 each, according to sources. That means an up to 81.82 per cent premium over the October 13 closing price of HK$2.75, a better than expected return that some investors expected from the perennial market laggard. The privatisation offer comes after the company scrapped the sale of part of its core telecommunications business and a slide in its shares to a nine-year low. The sale would have raised money to invest in telecommunications businesses overseas to augment slowing growth in its home market. Singapore-listed Pacific Century Regional Developments (PCRD), which owns 22.54 per cent of PCCW, and Netcom, which holds a 19.84 per cent stake, reached an agreement on the offer price yesterday, the sources said. PCRD is controlled by Mr Li while Netcom is a mainland-based telecommunications operator.
Chief Executive Donald Tsang Yam- kuen has painted a gloomy picture of the future - one of an increased risk of recession and a sharp rise in unemployment. Speaking after the first meeting of the Task Force on Economic Challenges, he also dismissed talk that the body was a talking shop. "Being a small, open economy, the risk of Hong Kong going into a recession in 2009 has increased. Unemployment is expected to rise as a result of an economic downturn in 2009," Tsang said yesterday. He said the task force would focus on financial services, trade and logistics, tourism and consumption-related services - the four sectors expected to be hardest hit next year. He said the city must not abandon its role as a financial center because there have been some shocks to the system. "It's the pillar of our economy. If it works well all the others can be improved," he said. He said the SAR government is taking a two-pronged approach to tackling the crisis. Daily situations are being tackled by the current mechanism led by the financial secretary, together with the Monetary Authority, the Securities and Futures Commission and other financial institutions. "The task force will look at the wider implications of this global development to see whether there are further pitfalls for financial centers such as Hong Kong, and particularly, opportunities for Hong Kong," Tsang said. Standard Chartered Group executive director Mervyn Davies, one of the 10 members of the task force, believed their ideas will be turned into action. Former Airport Authority chairman Victor Fung Kwok-king said Hong Kong remained strong and Morgan Stanley Asia chairman Stephen Roach said the global economy was in for a rough six months. HSBC general manager Margaret Leung Ko May-yee said the most important thing was to help the businesses ensure their products met demands.
Loan Guarantee Scheme (LGS), enhancement measures to the small and medium enterprises (SME), will be implemented on Thursday, said the government of Hong Kong Special Administrative Region (HKSAR) on Monday. Ten participating lending institutions (PLIs) on Monday completed the legal procedures with the government and are ready to take on SGS applications for the enhancement measures. The Trade and Industry Department of Hong Kong will start to accept applications from the PLIs on Nov. 6. The enhancement measures aim to provide greater support to SMEs in the middle of the global financial turmoil. For SGS, the sub-ceilings for the Business Installations and Equipment Loans (BIE) and Working Capital Loans (WCL) will be removed, while the overall maximum amount of guarantee for each SME is maintained at 6 million HK dollars (775,000 U.S. dollars). In addition, the maximum guarantee period for WCL will be extended from two years to five years. Each SME will also be allowed to recycle the guarantee once after it has fully paid up the loan backed up by the guarantee, which means each SME will be able to obtain a maximum amount of guarantee of 12 million HK dollars in its lifetime. Moreover, the indicative ceiling of guarantee exposure for each PLI will be increased from 1.25 billion HK dollars to 1.5 billion HK dollars in order to provide more quota for the PLIs in granting loans. (7.74 HK dollars = one U.S. dollar)

China: The nation is set to display its latest military aircraft for the first time as part of a showcase of its rising aeronautical prowess at today's Air Show China in Zhuhai , Guangdong province. There will be 16 advanced military planes making their public debut, including one H-6U tanker aircraft, one Xinzhou-600 aircraft and two J-10 "Vigorous Dragon" fighters, the Ministry of Industry and Information Technology said. The show runs from today until Sunday at the 7th China International Aviation and Aerospace Exhibition. The J-10, the star of the show making its first public appearance, will perform six minutes of high-skill aerial acrobatics. Building the J-10 fighter involved a significant amount of new military technology and marks the highest achievement of the Chinese aviation industry. Though international media has speculated on the fighter for years, China did not report its existence until 2006. Today's demonstration is seen by military experts and aficionados as a sign of the mainland's confidence in its domestic aviation industrial prowess. The three Shenzhou VII astronauts - Zhai Zhigang , Liu Boming and Jing Haipeng , who became national heroes after China's first spacewalk - are expected to attend, although the date of their appearance remains uncertain. The national flag that was taken into space will also be present. Also on display will be several types of missiles, including anti-aircraft, coastal defence and ground-to-ground hardware. More than 60 aircraft will be displayed, alongside roughly 600 exhibitors from 35 countries. Airbus' giant super jumbo, the A380, will be also on display, aiming at a bigger slice of the booming domestic market. Miao Wei , assistant minister of industry and information technology, said China's civil aviation industry had been rising dramatically and would not be affected by the international financial crisis. "The scale of this air show is the biggest ever, showing the boom in China's aviation and aerospace market," he said. "The mainland's domestic demand is big enough to support rapid development of the industry." The China Commercial Aircraft Company will sign a US$750 million contract with American aircraft lessor GE Commercial Aviation Services to supply it with 25 ARJ21-700 aircraft, China's 70- to 90-seat regional jet. Xue Li , a senior official from the company, said the move signalled China's civil aviation industry had made a major step towards entering overseas markets. The Air Show China has been held every other year since 1996.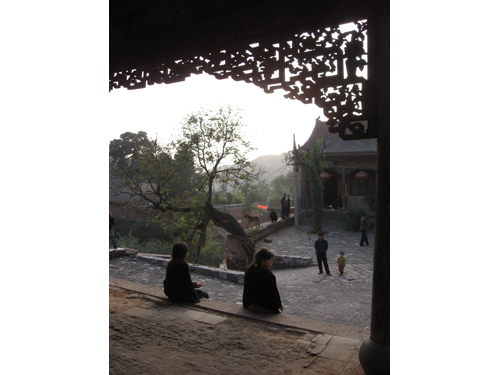 Shanxi village's cave dwellings are no longer a sign of its poverty but the source of its new-found prosperity - At the start of the 21st century, the Shanxi mountain village of Hougou seemed destined to waste away like so many rural hamlets on the mainland. It had few mineral resources to speak of, and farm harvests were usually poor because it lacked other water sources to supplement the region's scant rainfall. Villagers still lived in yaodong, the traditional cave dwellings common in northwest China, and the annual per capita income was just 400 yuan (HK$453). Not surprisingly, many young people, Zhang Zhifang among them, left to find a better life in the cities. "At that time, our entire family of five earned about 2,000 yuan a year," recalls Zhang, who went to work in the provincial capital, Taiyuan, eight years ago. "I made that sum as a waitress in three months." Hougou's fortunes have now been revived thanks to a previously untapped resource: its rich cultural heritage. Although some yaodong are little more than hovels, Hougou has some of the mainland's most sophisticated cave dwellings. "The architecture in this village is unique," says TV producer Fan Yu, who first visited Hougou in 2004 to make a documentary about its cave dwellings. He was so captivated by Hougou that he spent four years working on a book about the village's cultural heritage, An Ancient Village Sealed Off by the Dust. Fan says the village is at least 700 years old and its most splendid cave dwellings are the legacy of ancestors who made their fortunes by trading tea, silk and salt, and those who became important officials after passing imperial exams. "When these wealthy forefathers returned home, they wanted to build grand homes with intricate brickwork and wooden carvings they had seen elsewhere. However, they still had a strong attachment to cave dwellings. The result was a combination of cave dwellings and traditional courtyard houses," he says. These affluent ancestors also left other architectural treasures. Besides a number of Buddhist, Taoist and Confucian temples, there is also a shrine honouring the Dragon King, the deity said to control rainfall, and an opera stage decorated with exquisite wooden carving and murals (above right). A cave temple dedicated to the Zhang clan points to the influence of the family, which is said to have first settled in Hougou. More than half of the 250 villagers share the family name.
Semiconductor Manufacturing International Corp, the mainland's largest contract chipmaker, is cutting its capital expenditure by about 80 per cent as it expects orders to drop this quarter.

Digital China Holdings, the mainland's largest information technology product and service provider, yesterday launched a joint venture in a strategic shift of its business focus amid global market uncertainties. The 2.05 billion yuan (HK$2.33 billion) Digital China Information Technology Service was also backed by China Singapore Suzhou Industrial Park Ventures and Infinity I-China Investments of Israel, which have combined for a 19.5 per cent stake through a joint 400 million yuan capital injection.
Nov 4 2008

Hong Kong: Waste exporters yesterday vowed that business was normal despite a warning by waste collectors of a huge stockpile of paper and metal building up in Hong Kong.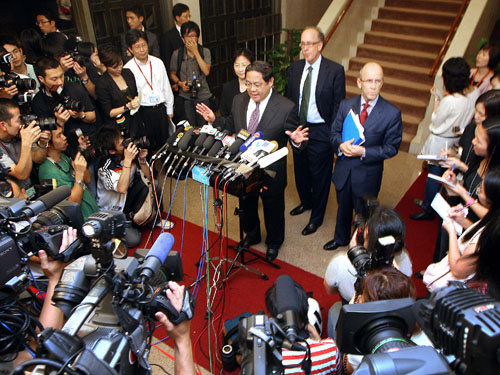 Victor Fung suggested greater protection for exporters - Taskforce to focus on four vulnerable sectors - The risk of economic recession in Hong Kong next year has heightened, Chief Executive Donald Tsang Yam-kuen cautioned yesterday. His remark came after the first meeting of the taskforce on economic challenges, which he set up to discuss ways to cope with the global financial turmoil. "Being a small and open economy, the risk of Hong Kong going into a recession in 2009 has increased," Mr Tsang said after the three-hour meeting. Four sectors were particularly vulnerable, he said. "It is expected that those sectors relating to financial services; trade and logistics; tourism and consumption-related services; and real estate and construction will be hit rather harder in the next year or so. "The taskforce has agreed to focus its work on those four sectors, especially the financial services sector, which is the anchor of all economic activities." Despite recent calls by lawmakers that Hong Kong should consider reducing its reliance on the finance industry, Mr Tsang said the financial sector would remain as the pillar for other sectors. "We will not detour from the proper track just because there are crashes in the financial system," he said. "New York has to do New York's job, London has to do London's job, and Hong Kong has to do Hong Kong's job." The International Monetary Fund's Asia and Pacific Department head David Burton, who briefed the taskforce on the global financial crash and its impact on Asia, agreed that Hong Kong's economic growth would slow "very substantially" next year, but remained confident about its fundamentals. "By and large, Asia is very well placed - with a strong macro framework, its high levels of reserves, and its [strong] banking systems - to withstand these sorts of pressures," he said. "Unlike others, I would emphasise that Hong Kong itself is extremely well placed to weather these pressures because it has very strong fundamentals indeed." He hoped the global economy would start to recover in 2010. Mr Burton said he did not see any need for Hong Kong to reform its financial system or rules governing financial institutions. He also praised the government's expansion of the deposit-guarantee scheme. One of the topics addressed in the meeting was how to help small- to medium-sized enterprises. Victor Fung Kwok-king, chairman of the Greater Pearl River Delta Business Council and the International Chamber of Commerce, suggested that the government-owned Hong Kong Export Credit Insurance Corporation (ECIC) should expand the amounts and areas of insurance it provided for exporters. "This would be of great help to SMEs," he said. "Banks would feel much more relaxed about lending money to SMEs if borrowers had ECIC insurance. In the long run, if insurance services could be extended to Hong Kong manufacturers who operate on the mainland, this would provide a way for them to sell products in the national market." He also said the taskforce would study ways to speed up Hong Kong's economic integration with the mainland. Another member, Margaret Leung Ko May-yee, HSBC (SEHK: 0005, announcements, news) global co-head of commercial banking, did not answer directly whether banks could relax on credit to SMEs, but said the key to the survival of SMEs was sufficient demand for their products. The taskforce was to meet again next month, Mr Tsang said.
Citic Pacific (SEHK: 0267), the troubled Beijing-backed conglomerate, said yesterday it was in the process of negotiating with its parent Citic Group over a US$1.5 billion standby loan, which may involve an equity sale. "The details of the standby loan facility [and the possible equity issue, if agreed] will be published as and when appropriate," Citic Pacific said in a stock exchange statement. The announcement came amid speculation that the company was close to receiving funding from Citic Group after disclosing that it may lose up to HK$15.5 billion from unauthorised foreign currency bets. Sina.com, one of the mainland's biggest news websites, reported that Citic Group might inject infrastructure assets into Citic Pacific in return for a 10 per cent stake. Citic Pacific's top management might be changed as well, Sina.com said. Citic Pacific, which owns major stakes in Cathay Pacific (SEHK: 0293), Hong Kong tunnels and Macau Telecom, disclosed on October 20 that it might lose as much as HK$15.5 billion on unauthorised currency bets on the Australian dollar. Citic Pacific is also in talks to sell all or part of its 56.67 per cent stake in Dah Chong Hong Holdings.
Team agrees on minibond buy-back formula - A taskforce set up to asses the value of Lehman Brothers derivatives has decided on a formula for calculating the buy-back cost of minibonds. Ann Kung, chairwoman of the taskforce, formed under the Hong Kong Association of Banks (HKAB), said member banks and the government had agreed on the formula, proposed by accounting firm Ernst & Young. The government welcomed the decision. Roger Tam Kwok-wah, press officer to the Secretary for Financial Services and the Treasury, said: "This reflects they are making good progress. "We understand that HKAB will continue to work vigorously on the details so they can go ahead with the buy-back in December." The decision on the formula meant that holders of all failed derivative products, and not just some of them as previously thought, would know how much banks would pay to buy them back by the beginning of next month, sources said. The formula would take into account the risk factor, they said, referring to any possible further devaluation that could occur after the valuation was made. Some 43,700 Hongkongers invested HK$15.7 billion in minibonds and other high-risk derivatives linked to Lehman Brothers. Most of their investments became worthless when the US investment bank collapsed on September 15 and thousands of investors claim they were misled by the banks that sold them. Minibonds are high-risk, credit-linked derivatives sold as proxy investments in well-known firms.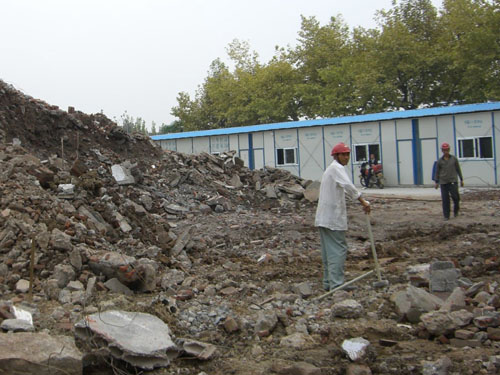 Jockey Club plans Olympic school in Sichuan - The Jockey Club will earmark 400 million yuan (HK$450 million) to finance four reconstruction projects in quake-hit areas in Sichuan , including turning a school in Dujiangyan into an Olympic school providing sports training for mainland and Hong Kong athletes. The Olympic school, which will accommodate an estimated 4,500 students, will be formed at Dujiangyan Middle School. Club chairman John Chan Cho-chak said it hoped to help athletes from 39 counties in Sichuan whose training had been severely affected by the massive earthquake in May. "The club has long been committed to promoting sports development, and the establishment of the Olympic school can benefit athletes across the country, including those from Hong Kong who can benefit from exchange programmes," Mr Chan said. The Olympic school project will cost 139 million yuan. The other three projects to be funded by the Jockey Club are the Mianyang 3rd City Hospital, Mianyang Youxian Zhongxing Junior Middle School and Deyang No5 Middle School. The four projects, which will cost a total of 400 million yuan, are expected to be completed in 27 months. The funding comes from the HK$1 billion donation pledged by the Jockey Club in July for reconstruction of quake-hit areas in Sichuan. Mr Chan said the club was exploring the feasibility of funding other projects in the near future. The club was studying with Sichuan authorities whether any of the four projects would be named after the Jockey Club, he said. Mr Chan and Chief Secretary Henry Tang Ying-yen will witness the signing of a memorandum of understanding with the Sichuan provincial government on Friday. Mr Tang is scheduled to leave for Sichuan's capital, Chengdu , tomorrow. He will meet officials there to discuss Hong Kong's participation in post-quake reconstruction work. He will inspect projects to be funded by the Hong Kong government and facilities operated by Hong Kong NGOs.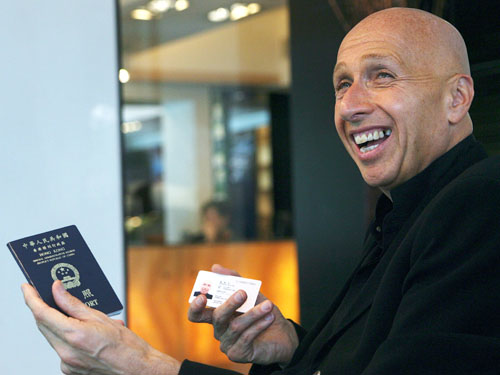 Allan Zeman shows off his new Hong Kong passport and home-return permit at his office in Lan Kwai Fong. The businessman says that, if he didn't live in Hong Kong, he would live on the mainland. Born-again Chinese - Allan Zeman is proud of his new nationality and doesn't care who knows it - I'm Chinese. I'm Chinese. That's what I am," says Allan Zeman, with his trademark grin. "I might not look Chinese, but I'm Chinese." The Ocean Park chairman and colourful businessman is known for his flamboyant publicity stunts - such as impersonating a Brazilian carnival dancer or a ghost - but he is also known for his passion and devotion to a cause. This time, his cause is proving he is a Hongkonger and not just a gweilo who happens to live here. He has done so by relinquishing his Canadian citizenship and becoming officially Chinese. "[It's] just my style, I'm committed. If I do something, I'm really committed to it wholeheartedly," says the German-born Jewish-Canadian businessman who has lived in Hong Kong for 38 years. A few days before this exclusive interview, Mr Zeman had expressed his wish to talk to a Chinese reporter about his new identity. So three of us - a Chinese reporter, a Chinese photographer and an expatriate multi-media journalist - arrive at his spacious and tidy office in Lan Kwai Fong. Mr Zeman proudly shows us his new personal documents - the Hong Kong passport, the light pink home-return permit and the three-star Hong Kong identity card - and says he is happy to be "a real local". "I have always considered myself a local. I understand the culture. I understand what local people want," he says. He understands the mainland too, he adds, having set up his first mainland office in Changsha 30 years ago and then asking a staff member to give him his Chinese name, Shing Chi-man. "I was in China before anyone in Hong Kong was in China ... I was there doing business and so I understood the changes taking place." Now he has the Chinese nationality of any native Hongkonger, but just how similar is he to a native? "There is definitely a difference in thinking. I understand two sides and wear two hats," he says, adding that he believes travel broadens the mind. "Many [Hongkongers] have never been outside Hong Kong so their thinking is still quite narrow." And what of that other barrier, language? Mr Zeman speaks some Cantonese and Putonghua, and says he will continue to learn them from everyday experience. If his new nationality and commitment to public service are not enough to demonstrate his fondness for Hong Kong and all things Chinese, during the course of a 90-minute interview he says the words "Hong Kong" more than 120 times, "China" at least 60 times and "Chinese" no less than 22. "I love China, I love Hong Kong. This is my home," the tycoon says, with remarkable regularity. He is still adjusting to his changed status, he says. Our interview had to be rescheduled for four days later than planned because his Hong Kong passport was not available for the photo shoot; he had to apply for a US visa - something he never had to do with his Canadian passport. "When I got my passport, I then found out that, to go to the US, I needed a visa," he says. "The Canadian passport is very good; you can travel almost anywhere in the world without a visa, but suddenly I felt very strange ... it's like being reborn." It also felt strange when he received written proof from the Canadian consulate that he was no longer Canadian. He says he felt "kind of stateless" or "a man of no country" for a while. At the China Travel Services he was dressed in his suit alongside a large crowd of mainlanders getting their home-return permits. Despite his many years here, it was "really funny", he says. Mr Zeman had better get used to standing out from the crowd. On a recent trip to Beijing, travellers at the airport thought it was crazy to seem him lining up in the queue for Chinese nationals. But the reaction was only positive when he went to Immigration Tower to apply for his Hong Kong passport, he says. "Many of the immigration officials were very surprised, very excited to see me there ... because everybody recognises me, of course, I guess, from Ocean Park and Lan Kwai Fong. They were very excited that I was actually doing this and I could just feel they were honored," he says. "And I myself felt I was doing the right thing when I saw that. I felt very welcomed by Hong Kong people." He said that it further confirmed to him that he had made the right decision. Mr Zeman first came here for business when he was 19. From the moment he stepped off the plane at Kai Tak airport, Hong Kong seemed like another world. He remembers that the smell of the harbour was terrible - the absolute opposite of the city's Chinese name, which means "fragrant harbour". But the hustle and bustle of Hong Kong, the cheung sam-wearing ladies and the expat British - "career civil servants with pipes, short pants and polyester suits" - had all created an exciting new experience for the young entrepreneur. "Whoa! I could be on the moon right now but this is totally divorced to anything that I have been used to," he says he thought at the time. "My God, I want to be part of this community." Unlike many expatriates who think they will return to their home country one day, Mr Zeman says he adopted Hong Kong as his home from day one and never thought of moving. "I always said if I had to move, I would probably move to [mainland] China," he says. "Though they [expats] spend their whole life here, they still can't make the transition that they are living in Hong Kong and this is home." He says that, unlike many expatriates who never travel outside Hong Kong Island or Tsim Sha Tsui, he knows every area. Aside from his well-known business interests, Mr Zeman is also prominent in government circles, sitting on various advisory bodies. He says it is important for him to "give back", especially by convincing young people that Hong Kong has a bright future. He has also become more involved at the cutting edge of Hong Kong politics, having campaigned for two Legislative Council candidates - Regina Ip Lau Suk-yee and Lau Chin-shek - leading up to the election in September. Mr Zeman says he does not have any plans to join a political party, including the Communist Party. But his political stance is quite obvious. "I was quite disappointed to find out in a survey that 70 per cent of young people are pro-democrat and 30 per cent are pro-Beijing, because the government is very misunderstood," he says. He was not thrilled to see bananas being thrown in Legco, although he says that is the style of the League of Social Democrats. There are other ways to show one's disapproval, and such behaviour "doesn't really teach" young people. Asked if he is pro-government or pro-Beijing, he answers: "I am pro-Hong Kong." "I understand all the sides. I understand people marching, I understand why," he says. "Civil servants are always protecting, or trying to protect, the public's money so sometimes they take certain decisions which seem unreasonable to the public. For both sides, they can go about it in a much simpler way." On universal suffrage, he thinks Hong Kong needs to study the different systems and nurture more young politicians first. "It's not possible for it to happen overnight. Remember, 1997 is only 11 years ago. I think that we're at the point now where we are maturing, our parties are maturing," he says, pointing to the problems in the Liberal Party. "Even if we had a universally elected chief executive at the moment, Hong Kong would not have escaped the financial meltdown that is taking place in the world. That would not have changed anything," he says. "We are very lucky because we have China to back us up; China sitting on US$1.9 trillion in reserves. We are part of China now; China will do everything within its power to make sure that Hong Kong does not go down."

China: Food exporters have been confronted with gloomy business prospects at this year's Canton Fair in the face of the global financial crisis and the mainland's melamine scandal.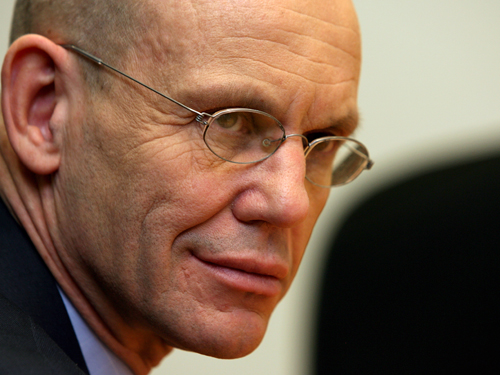 David Burton says the mainland, which heavily depends on exports, should keep reforms going to achieve a balanced economy. IMF official sees mainland as oasis of stability in global turmoil - China will provide an oasis of stability in a world haunted by financial crisis and recession, an International Monetary Fund director said yesterday. David Burton, the head of the IMF's Asia-Pacific department, said that despite China's own economic slowdown, the country had many ways to shore up its economic growth. Mr Burton said China's export-driven economy had been dragged down by dwindling demand from the United States and Europe, and it could even miss the IMF's forecast of 9.3 per cent growth next year. But the country was still sitting on almost US$2 trillion in foreign exchange reserves and had a relatively strong financial system. "The global economy is slowing sharply and [the mainland] and Hong Kong are going to be significantly affected," Mr Burton told the South China Morning Post (SEHK: 0583, announcements, news) before meeting Chief Executive Donald Tsang Yam-kuen yesterday. "With its robust reserves, I have no major worries about China, which will be a source of stability for the globe for the next year or two." He said both the mainland and Hong Kong would be well positioned to get through the crisis. Mr Burton said he would discuss with Mr Tsang the latest financial developments in the US and Europe. He pointed out that America's US$700 billion rescue package prevented the US financial system from collapsing, although confidence was shaken. He welcomed Beijing's decision to cut interest rates three times in six weeks and its move to pump liquidity into the private sector by lifting the limits on bank lending. He also supported Hong Kong's decision to guarantee bank deposits for the general public, which created a level playing field with Europe and the US. "Steps were taken and were the right ones to ensure full confidence in the financial system," he said. On the fiscal front, Beijing intends to plough hundreds of billions of yuan into infrastructure, such as railways and urban facilities, as well as post-earthquake reconstruction in Sichuan, while offering subsidies to lower-income groups and rural areas, in addition to public housing. Monetary measures have intensified, with the savings deposit interest rate cut 27 basis points to 3.6 per cent as recently as last week to boost consumer spending. Economists widely expect restrictions on the property market will be relaxed soon to spur sales. Mr Burton called on Beijing to press ahead with the development of its domestic consumer market, financial reform and yuan appreciation in the near term. "China's economy heavily depends on exports, which are slowing sharply because of a slowdown in the US, Europe and Japan. It should keep reforms going to achieve a balanced economy." The National Development and Reform Commission forecasts the mainland's economic growth will slow to less than 9 per cent next year from 10.1 per cent this year. The economy, which recorded the lowest growth in five years at 9 per cent between July and September, advanced 9.9 per cent in the first nine months of the year.
Chiang Ping-kung (left) welcomes Chen Yunlin as he arrives at the Grand Hotel in Taipei yesterday for talks with the island to help enhance peace. The most senior mainland official to set foot on Taiwan in six decades has called for the building of mutual trust to pave the way for further co-operation across the Taiwan Strait. Leading a 60-strong delegation comprising mainland officials and high-profile businessmen, Chen Yunlin , chairman of the Association for Relations Across the Taiwan Strait (Arats), yesterday arrived in Taipei. He will pursue agreements, including increasing the number of direct flights to 108 a week, operating direct shipping, postal exchanges and co-operating to ensure cross-strait food safety, despite protests by anti-mainland and pro-independence supporters. "Please allow me to convey the goodwill wishes of 1.3 billion mainland people to their 23 million compatriots in Taiwan," said Mr Chen, whose association represents the mainland in talks with the island in the absence of formal ties. "This visit has not come easily. Only through talks shall we establish mutual trust and only through co-operation shall we create a win-win situation for the cross-strait economy," he said in a luxury hotel after landing in the Taiwanese capital amid tight security. The government of mainland-friendly Taiwanese President Ma Ying-jeou had to adopt tight security to ensure the safety of Mr Chen after his deputy, Zhang Mingqing , was attacked by pro-independence supporters during a visit to the southern city of Tainan last month. More than 5,000 police were deployed to safeguard Mr Chen as he travelled from the airport into Taipei, where he is to hold talks and sign agreements today with his Taiwanese counterpart, Chiang Pin-kung of the Straits Exchange Foundation. The security measures infuriated pro-independence supporters who did everything they could to voice their protests against Mr Chen's visit. They believe his trip is the first step towards cross-strait unification. Pro-independence groups, including the main opposition Democratic Progressive Party, have accused the Ma government of trying to sell out Taiwan. They have also claimed that the talks in Taipei are just economic sweeteners aimed at wooing Taiwanese. The protests were joined by Tibetan independence supporters and Falun Gong followers, who unfurled banners accusing Beijing of political persecution. The DPP and other pro-independence groups also started a five-day protest with a sit-in in front of the legislature in Taipei. Mr Chen hinted at the welcoming ceremony that he had not been affected by the protesters. "It was sunny when we boarded the plane in Beijing, but drizzling when we arrived at Taoyuan airport and the Grand Hotel. Despite the drizzle, the breeze is comfortable, signifying a success in our talks," he said. Mr Chiang said Mr Chen's visit and the talks marked an important step to further development of cross-strait relations. The Taipei talks, made possible after Mr Ma of the Kuomintang took office in May, followed a historic round in Beijing in June, during which the two sides agreed to operate weekend charter flights, and to co-operate on tourism. Cross-strait talks had been suspended by Beijing since 1999. Foundation vice-chairman Kao Koong-lian yesterday said the two sides were expected to sign a deal today that would raise the number of weekend charter flights from 36 to 108 a week, and the mainland would also agree to open 16 airports in addition to the existing five.
Nov 1 - 3 2008

Hong Kong: Hong Kong banks refused to lower their prime rates yesterday, marking the third time in a row local lenders kept interest rates unchanged after a cut from the US Federal Reserve.
The Consumer Council said on Friday that it may sue banks which allegedly mis-sold Lehman Brothers' mini-bonds as risk-free investments.

Trading in shares of Beijing-backed conglomerate Citic Pacific (SEHK: 0267) was suspended on Friday, pending a price-sensitive announcement, as a media report said authorities in mainland were investigating the company's unauthorised currency trading. Hong Kong's Securities and Futures Commission (SFC) said this month that a formal investigation had been launched into the affairs of Citic Pacific, which shocked the market by announcing a potential loss of US$2 billion from the trading. Mainland's Securities Regulatory Commission and Hong Kong's SFC were jointly investigating the case and results of the investigation would be released soon, the Shanghai-based China Business News quoted a senior official of the company's parent, CITIC Group, as saying. Officials at the steel-to-property conglomerate would not comment on the suspension or the media report. Citic Pacific, which owns 17.5 per cent of dominant Hong Kong airline Cathay Pacific Airways (SEHK: 0293), is headed by tycoon Larry Yung, who once topped the Forbes magazine list as mainland's richest person. Two Citic Pacific directors resigned and the head of the company's finance department, Frances Yung, who is a daughter of Mr Yung, was demoted this month. Citic Pacific's stock jumped 21 per cent on Friday morning before trading was suspended. But it has lost nearly 60 per cent of its market value in the past two weeks after the foreign trading loss was reported.
Wynn Resorts said on Thursday its third-quarter profit rose 14 per cent as growth in Macau helped offset slower business in Las Vegas and an increase in bad debt reserves. The company, created by casino mogul Steve Wynn, reported net income of US$51.1 million, or 49 cents per share, compared with US$44.7 million, or 41 cents a share, a year earlier. "China is pretty stable for us. Las Vegas ... is a little murky," Mr Wynn, the company's chairman and chief executive officer, said. He said the biggest area of softness is mid-week business in Las Vegas.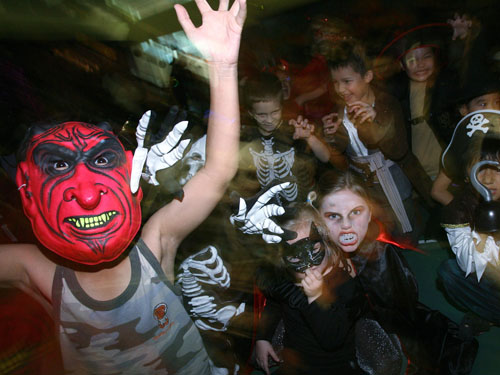 Primary pupils get into the spirit of their Halloween party at Quarry Bay School in North Point yesterday. Halloween is upon us ... and it's got the administrators of the Precious Blood Kindergarten in Happy Valley spooked. Apparently the spectre of a kindergarten teeming with terrified tots has proved too much. They have cancelled the school's annual Halloween celebration, allegedly because of complaints about how scared the students, aged three to six, were after last year's party. However, a source at the Catholic kindergarten said they believed the celebration had been cancelled for religious reasons, an allegation that was denied by other representatives of the kindergarten. "It's not because of religious reasons," said teacher Nathan Cattanach. "We've had the Halloween party for the last three years. But this year we are cancelling it because the children were very scared after last year's. You've got all the axes and the blood and people in costume and the kids were a little unsettled by it. We will try to replace it with something else. The idea is to mix it with another learning activity to soften it a bit." Another teacher at the school said it had received complaints from parents concerned about their terrified tots. However, other preschools contacted by the Post told a different tale. "We have not had any complaints about our Halloween party," said Wu Chiu-ha, chairwoman of St Teresa Kindergarten, which runs a number of schools in the city. "The parents are all very supportive of the party. They dress the children up in wonderful costumes." She said the event was a fun way for children to learn about other cultures and traditions, with the school's American English teacher telling Halloween tales from her home and elsewhere. "It's not a religious issue for us," Ms Wu said. "Halloween is just a happy party ... it's just for fun. Spokeswoman on early childhood education Yung Hau-heung had strong views on the issue. "I'm a Christian so I don't like Halloween," she said before refusing to answer any more questions.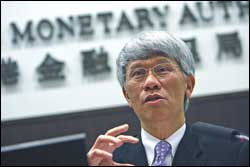 The Exchange Fund, the reserve that backs the Hong Kong dollar, is set to report a third consecutive quarterly loss and is likely to post a loss for the full year for the first time in its history amid the global financial turmoil. Monetary Authority chief executive Joseph Yam Chi-kwong warned yesterday that the HK$1.4 trillion fund "will not escape mark-to-market losses" in its third-quarter investment performance, which will be released soon. Mark-to-market is an accounting standard which requires assets to be shown at their current value, not their potential value.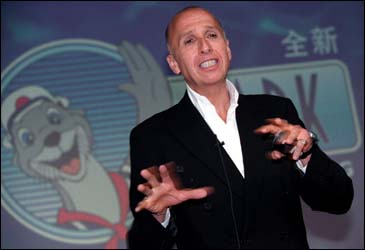 Ocean Park cut admission prices by a third yesterday as the economic outlook continued to grow gloomier. The reduction came as provisional figures from the Tourism Board showed arrivals for the first 25 days of the month were down 1.9 per cent compared with the same period last year. Admission to the park for local adults will drop from HK$208 to HK$145.60. Ticket prices for children between the ages of three and 11 have been cut from HK$103 to HK$72.10. Admission for residents aged 65 or above, and residents and non-residents under three, will remain free. All guests will also enjoy up to 20 per cent off on food and drinks, and souvenir items. A park spokeswoman said: "We haven't seen any effect on the number of visitors [from the economic downturn] so far, but we will monitor the situation closely." A spokesman for Hong Kong Disneyland said its business had not yet been affected by the economic downturn. Tourism Board chairman James Tien Pei-chun said it had revised its forecast of an 8 per cent increase in visitor arrivals for the year to between 6 and 8 per cent. But he said the total might well turn out to be below 6 per cent. Arrivals for the first nine months stood at 21.76 million, or 6.9 per cent more than the number for the same period last year.
Hopes are growing in Macau that Beijing will relax controls over mainlanders visiting the former Portuguese enclave. The travel curbs and the global financial crisis have dealt a double blow to Macau's economy, knocking it off the track of stellar growth and onto the brink of recession. But optimists see a state leader's encouraging words, two upcoming elections and the smooth debut of a national security bill as signs Beijing will ease travel curbs. Vice-Premier Li Keqiang on Sunday said the central government would "fully support" Macau Chief Executive Edmund Ho Hau-wah and his administration when the two met at an expo in Chengdu. Mr Li said the central government would "actively help Macau cope with the impact of the global financial turmoil" and "firmly uphold Macau's prosperity and stability". Macau government economist and legislator Lao Pun-lap said he was hopeful that Beijing would take Macau out of its economic "winter" for the sake of stability ahead of two key elections.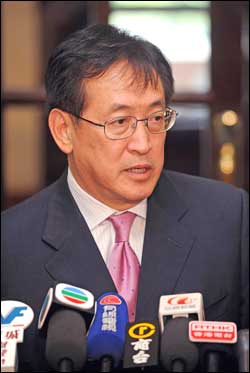 Hong Kong has asked mainland authorities to trace the source of melamine discovered in three egg samples.
But laboratory tests yesterday did not reveal any samples containing melamine above the legal limit of 2.5 parts per million. "We continue to liaise closely with mainland authorities to ensure they will trace the source of melamine and whether there are common factors that affect various suppliers," Secretary for Food and Health York Chow Yat-ngok said. He also said the government is discussing with the General Administration of Quality Supervision, Inspection and Quarantine to see whether it is possible to issue melamine-free certification for Hong Kong-bound eggs. "To our knowledge, Hong Kong is the first region to discover melamine in eggs," Chow said.

China: Fujian has banned a domestically produced glucose solution used in intravenous drips after 12 children developed fever or shivers.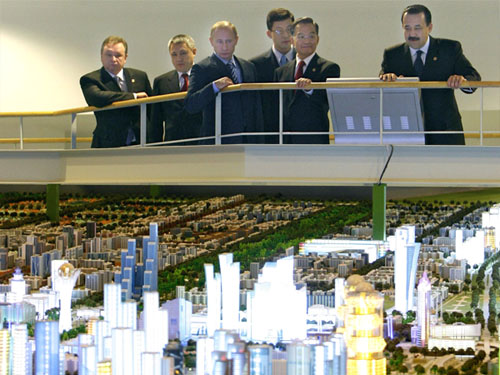 Premier Wen Jiabao and Russian Prime Minister Vladimir Putin look at a scale model for the development of Astana in Kazakhstan. Premier Wen Jiabao said yesterday that China's financial markets would remain stable enough to allow it to help ex-Soviet, Central Asian countries weather the global economic crisis - assistance that would strengthen its increasing influence in the region. Mr Wen, who was speaking to prime ministers at the Shanghai Co-operation Organisation (SCO), said ensuring the security of China's economy would be the country's most important contribution to global financial stability. The organization is a security grouping, dominated by Moscow and Beijing, whose other members are Kazakhstan, Kyrgyzstan, Tajikistan and Uzbekistan. "It is necessary to exercise greater interaction between our financial and business communities," Mr Wen said. "SCO members must work ... to enhance the co-ordination of monetary policies and improve financial controls." According to Xinhua, Mr Wen proposed that SCO members must strengthen co-operation and discuss countermeasures to weather the impact of the financial crisis. On SCO co-operation, Mr Wen suggested increased investment in an interconnected infrastructure network and joint energy, transport and communications developments among member countries. China sits on the world's largest reserve of cash, giving it significant clout in the energy-rich Central Asian and Caspian Sea region, which is believed to contain the world's third-largest energy reserves. Russia and China have used the SCO to try to keep the west out of Central Asia, but they also compete for regional dominance. The Kremlin's hand, however, has been weakened by the financial crisis, which has ravaged markets and left top Russian companies in trouble. At yesterday's meeting, Mr Wen said Beijing would consider issuing loans to members of the organisation to ensure food security and support joint economic projects. "Because of the increasing relevance of food security, China stands ready to assist SCO member organisations in the establishment of important technical facilities for agriculture," Mr Wen said. Food prices have soared because of increasing energy costs and disappointing grain harvests. Impoverished Tajikistan has been worst hit. The crisis has also prompted Moscow to ask China for loans to help energy companies pay their obligations to global lenders. The loans-for-shares deal would oblige Russia to supply 15 million tonnes of oil a year to China from 2011 to 2030 in exchange for US$25 billion in loans to the state-controlled Rosneft oil company and Transneft pipeline operator, Russian news reports said. Russian Prime Minister Vladimir Putin sounded an aggressive note at yesterday's meeting, blaming "economic egoism" for precipitating the current crisis without naming the United States.
A former Beijing district court president was sentenced to death with a two-year reprieve yesterday on bribery and embezzlement charges. The First Intermediate People's Court of Beijing also confiscated all the belongings of Guo Shenggui, ex-president of the Xicheng District People's Court. Guo illicitly amassed a total of 7.97 million yuan (HK$9.05 million) between October 1998 and May last year. He solicited and took bribes from more than 10 people, and in return he helped them win lawsuits or land lucrative construction projects. He also embezzled public funds, Xinhua reported. Guo, 60, was stripped of his title and put under investigation last June.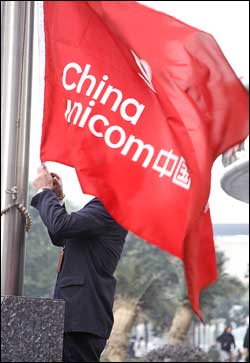 Mainland mobile operator China Unicom (0762) said net profit for the first three quarters jumped 35 percent after last year's one-off charge was not repeated and it cut down on sales and marketing expenses in advance of the industry restructuring. Net profit rose to 6.99 billion yuan (HK$7.92 billion), in line with analyst expectations, from a restated 5.18 billion yuan during the same period last year. Revenue from continuing operations rose 2.8 percent to 48.45 billion yuan. Unicom recently completed its merger with fixed-line operator China Netcom, as well as the sale of its smaller CDMA mobile network to China Telecom (0728). Nomura analyst Kelvin Ho said revenue growth momentum will most likely continue to be slow in the fourth quarter, for both Unicom's mobile business and its newly-acquired fixed-line operations.

*News information are obtained via various sources deemed reliable, but not guaranteed